Stans 1968 camaro LS swap and other upgrades! by bmf5150
By diyauto
You must be logged in to rate content!
Stans 1968 camaro LS swap and other upgrades!
Compliments of bmf5150 @ http://ls1tech.com
1-2-2011
Hi guys,wana say thanks too all the great post on this forum and all that i have learned here from reading all of the camaro swap post.i bought my 1968 camaro this past summer.the car was re done three years ago,everything is pretty much new on the car.it had 1600 miles since the rebuild!when i bought the car i had the vision of putting in a ls1 or ls6!.it currently has a 383 with edelbrockperformer heads and a t10 4 speed. it has around 500hp.the guy i bought the car from did an awsome job on the car!!its like a new car,pretty much replaced everything!over the christmas holiday i started to pull the engine and get ready for the swap.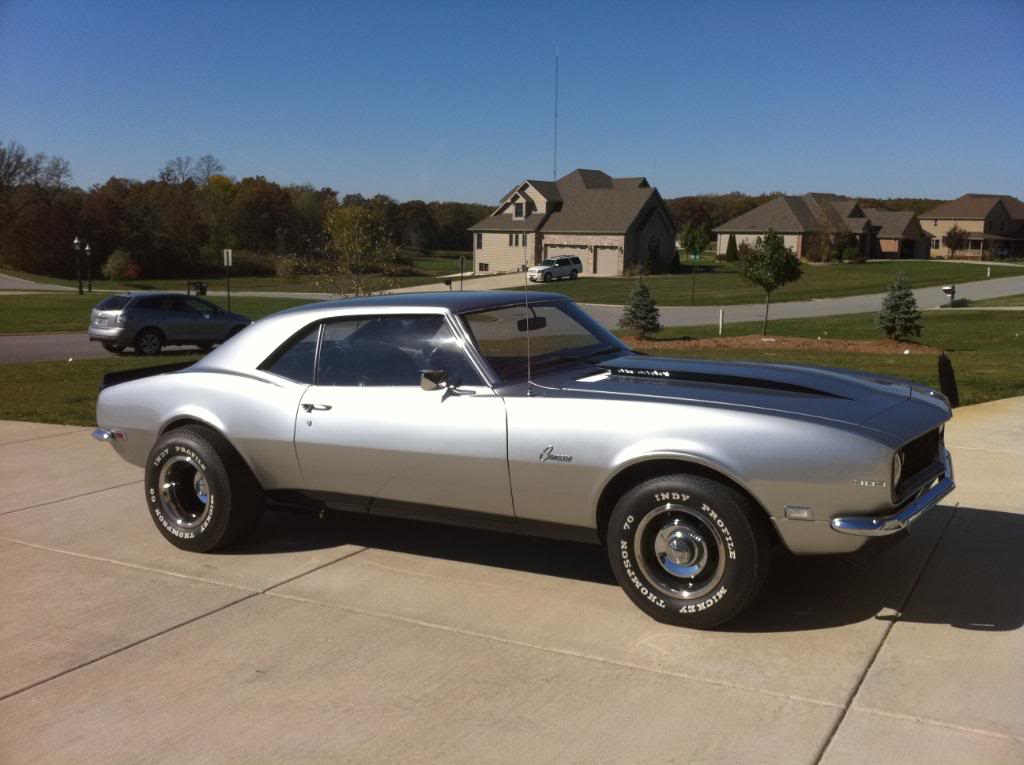 Hate the wide back wheels,got to go!!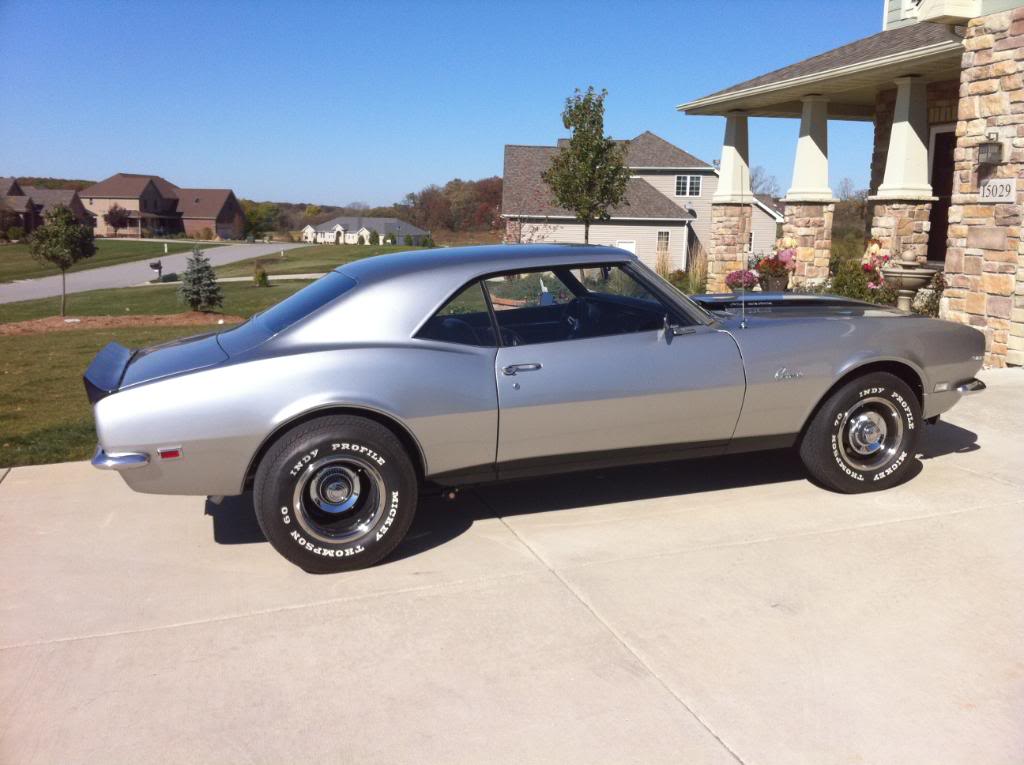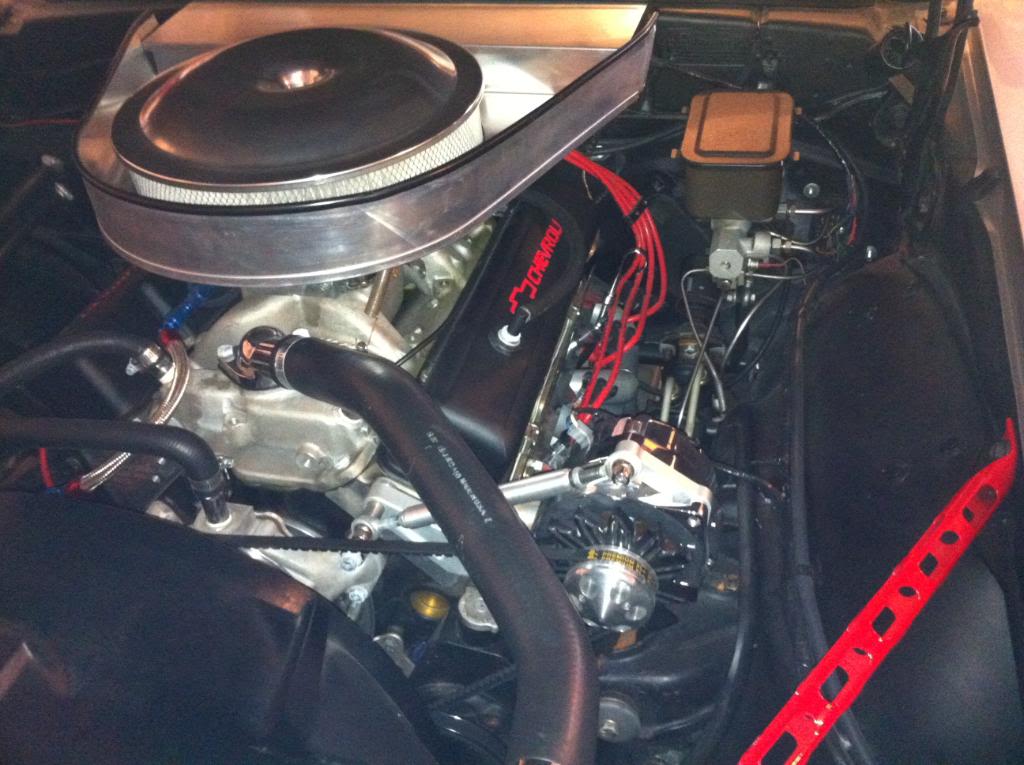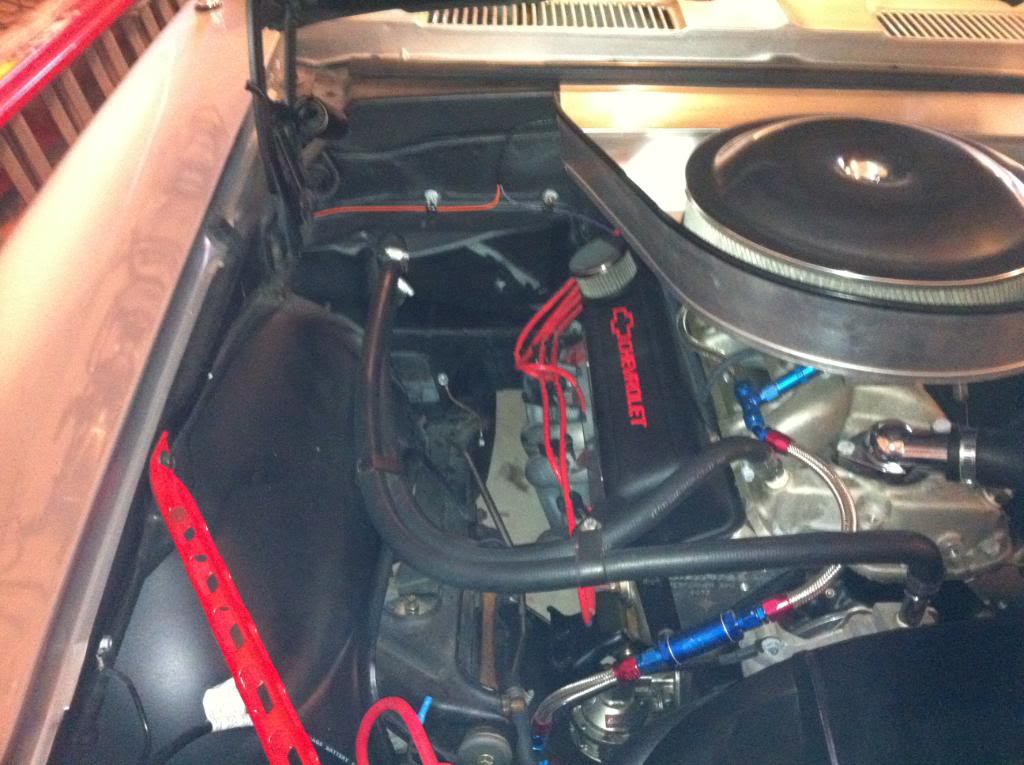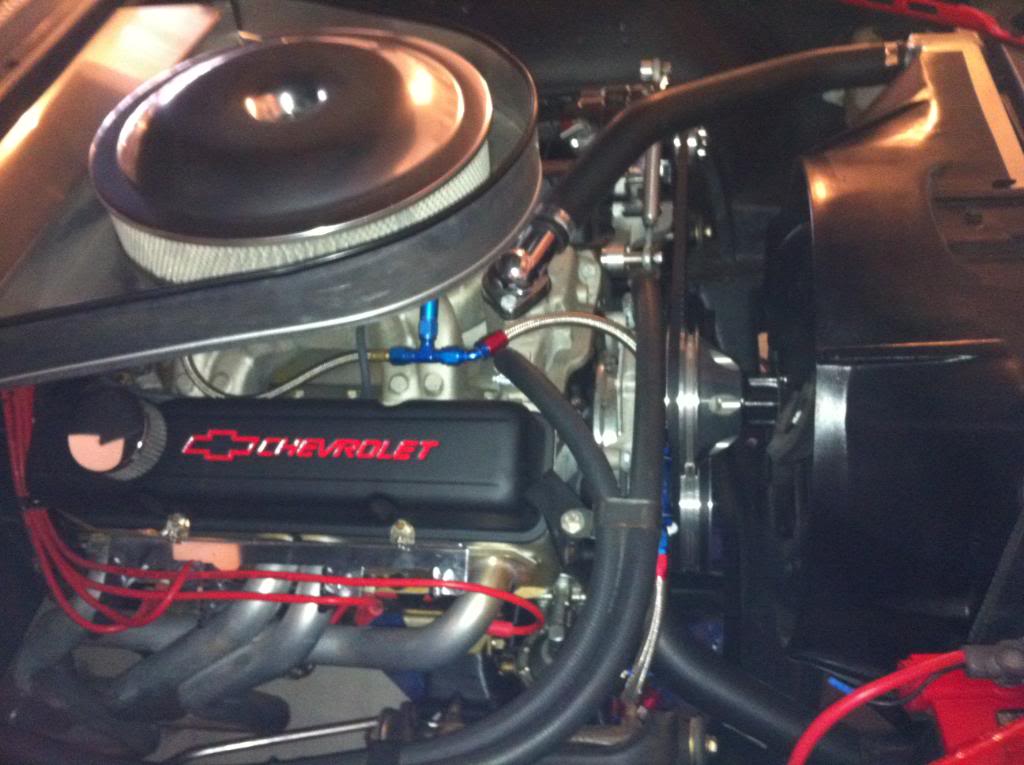 here are some pics from over christmas when i pulled the engine!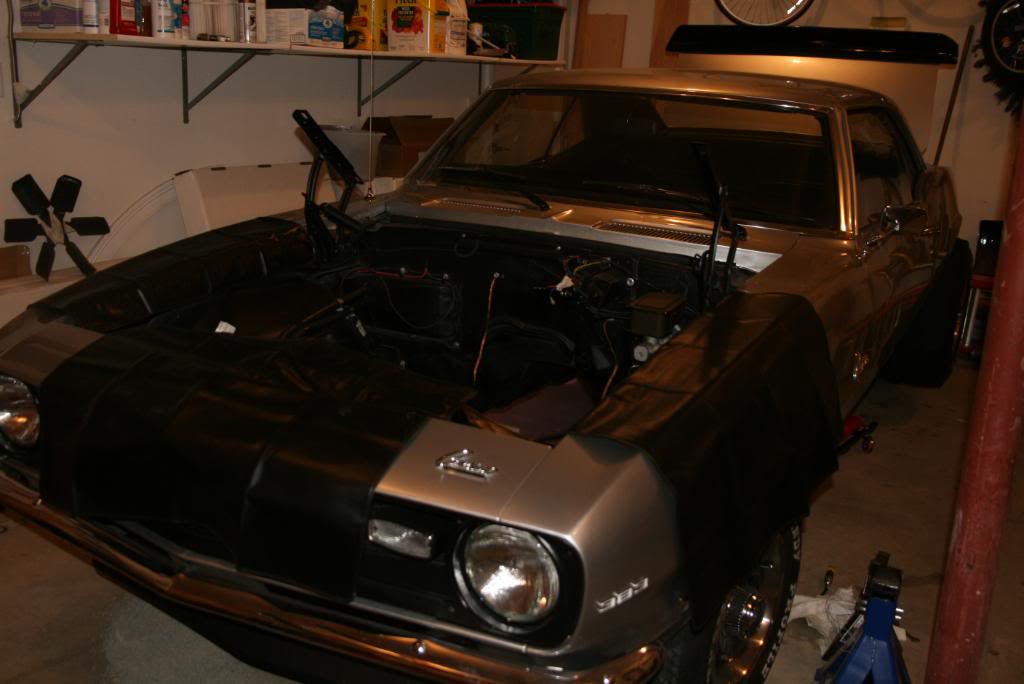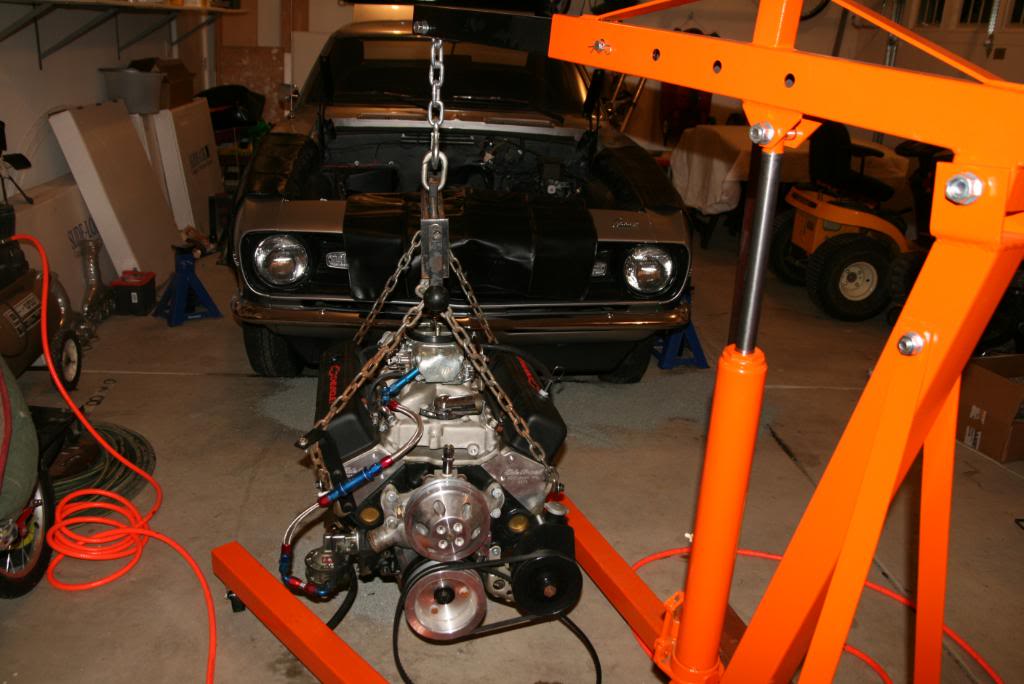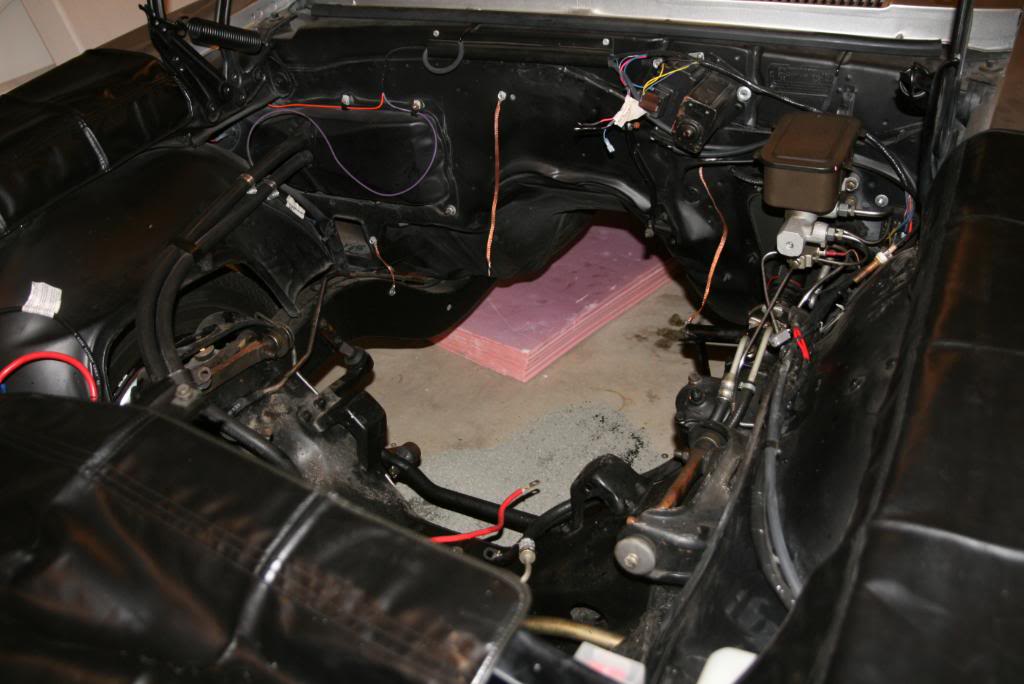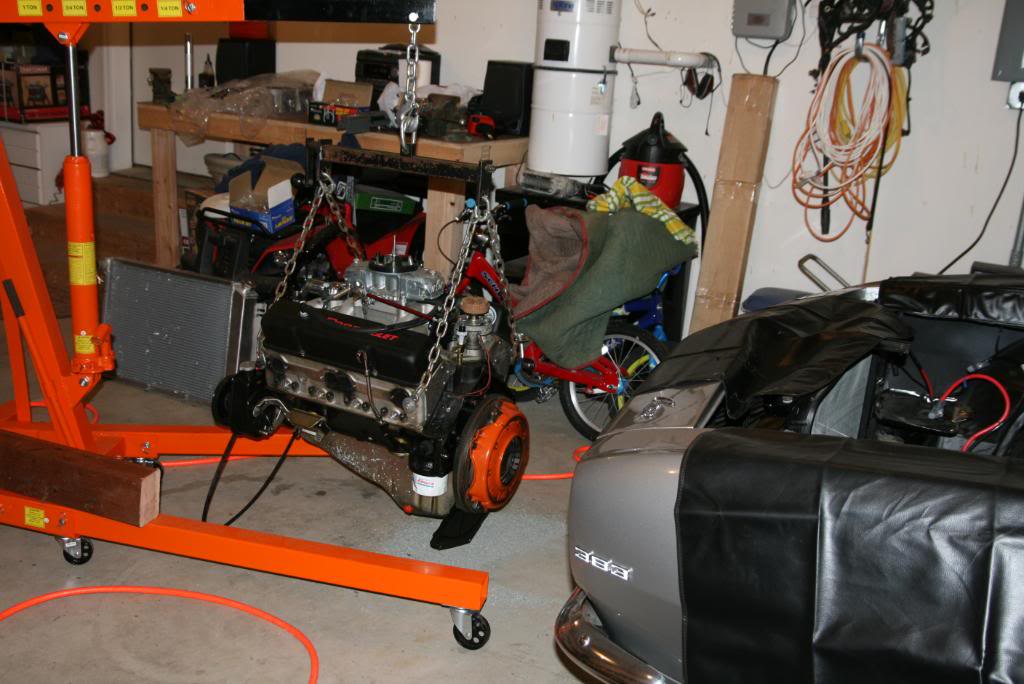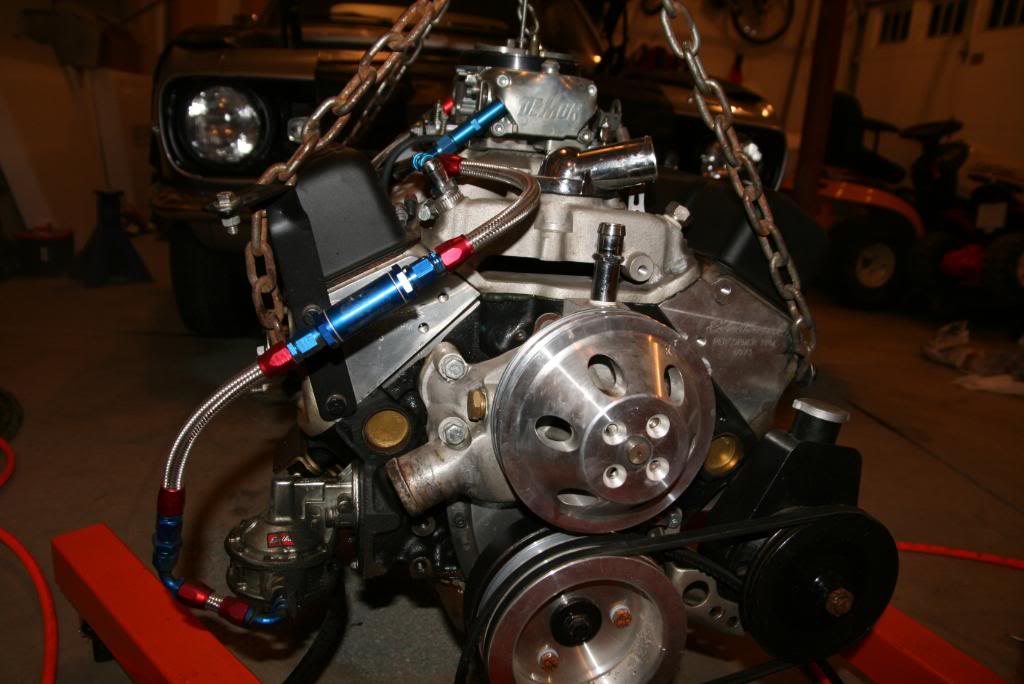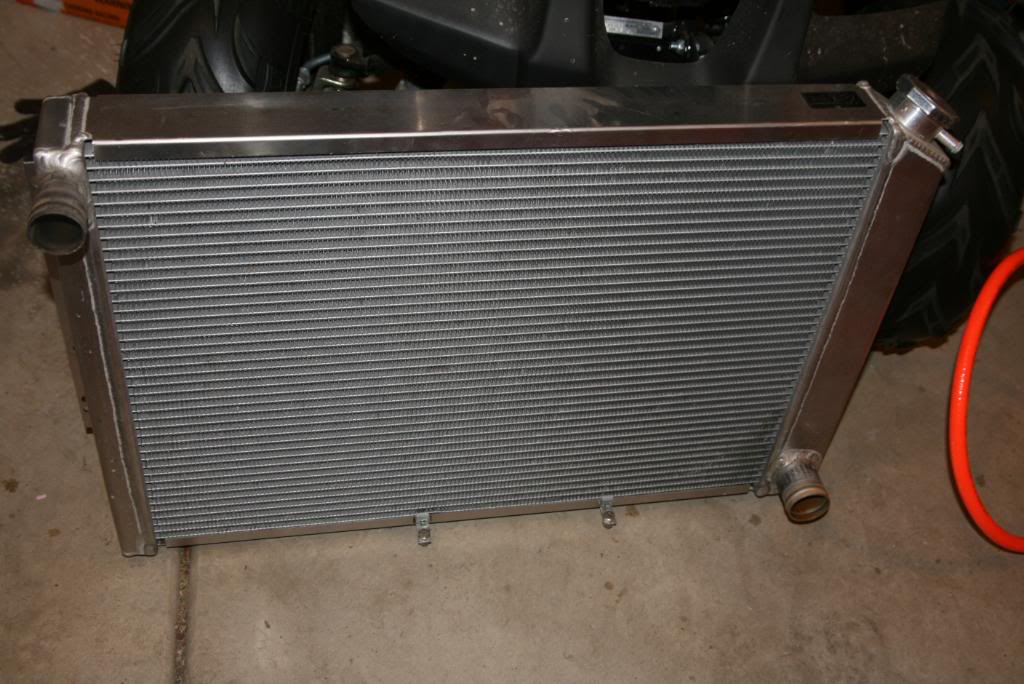 here is the b cool radiator that i may try and re use for the ls1.
i bought a 1997 ls1 from a corvette,the motor is suppose to have low to no miles on it!since the motor was the older ls1 i wanted to upgrade some stuff on the motor,called up texas speed and decided on there 243 stage 2 ported heads and a 228r cam!im also going with a ported oil pump,ls2 timing chain and a stock ls6 intake.my goal was to to get more power,but dont want to kill gas mileage,want to drive and enjoy the car!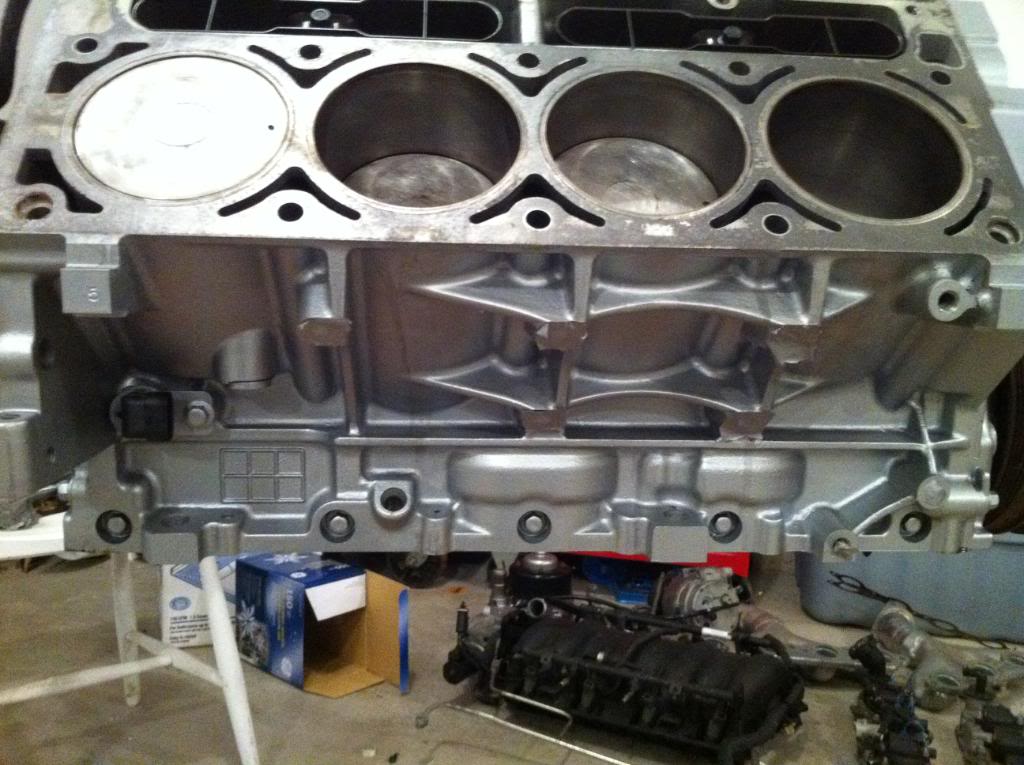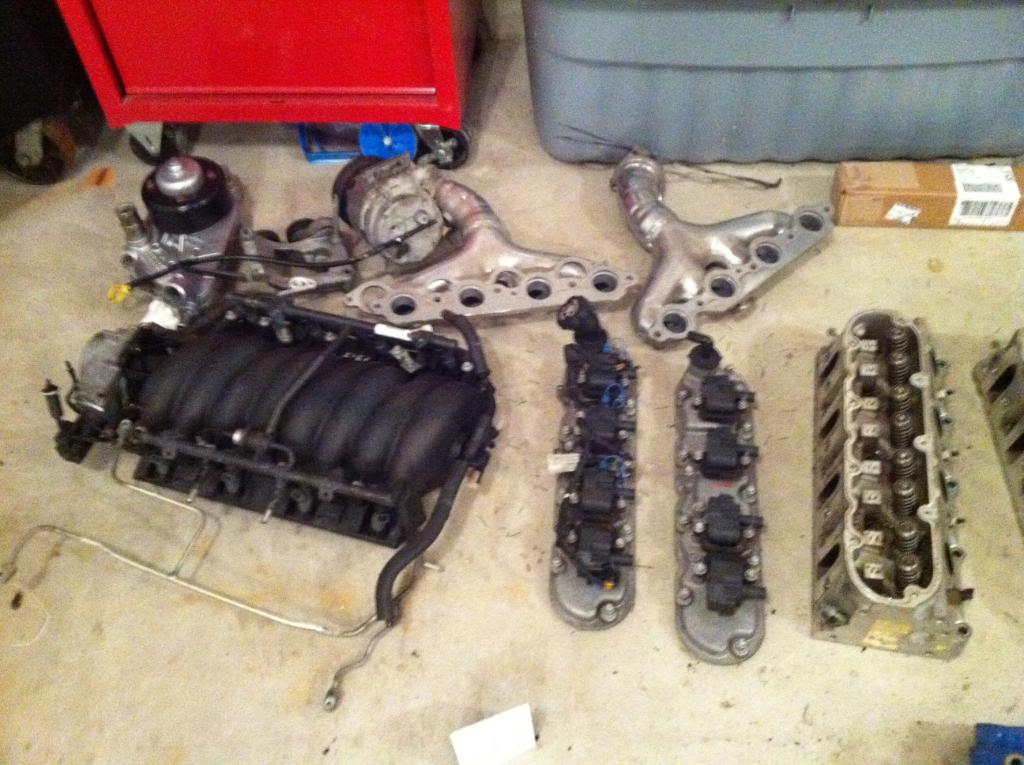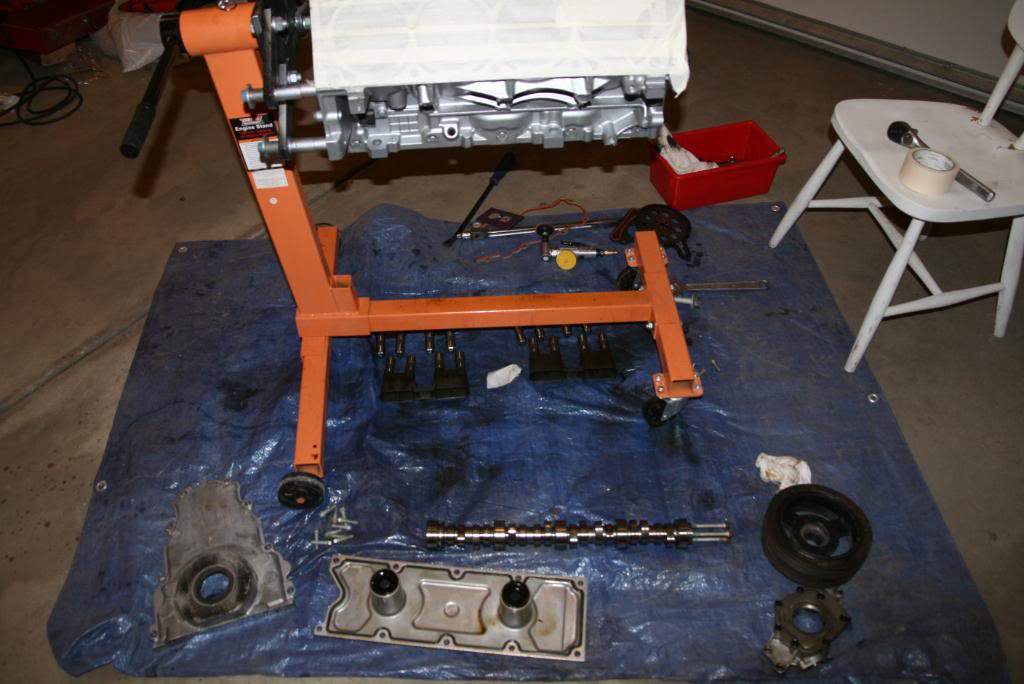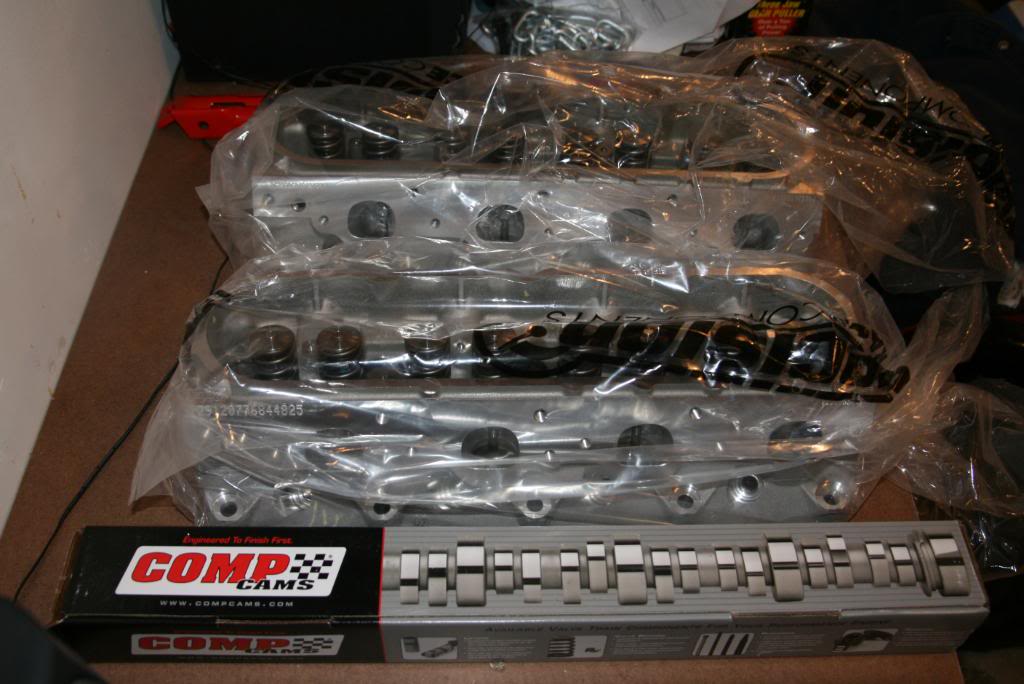 i went with street and performance motor mount plates,there modded oil pan,and 4l60e cross member.love there stuff,but damn expensive...
1-3-2010
if i dont use the radiator i have im going to go with one of these,seems nice for the price!
http://cgi.ebay.com/ebaymotors/Alumi...Q5fAccessories
here is the spectra fuel tank,price is wright.
http://www.rockauto.com/catalog/moreinfo.php?pk=1216811

http://www.rockauto.com/catalog/raframecatalog.php

been reading about issues with these tanks,anyone know if these issues have been fixed?
http://www.chevelles.com/forums/showthread.php?t=298281

http://www.camaros.net/forums/showthread.php?t=186401
1-10-2011
cleaning everything up getting ready for cam..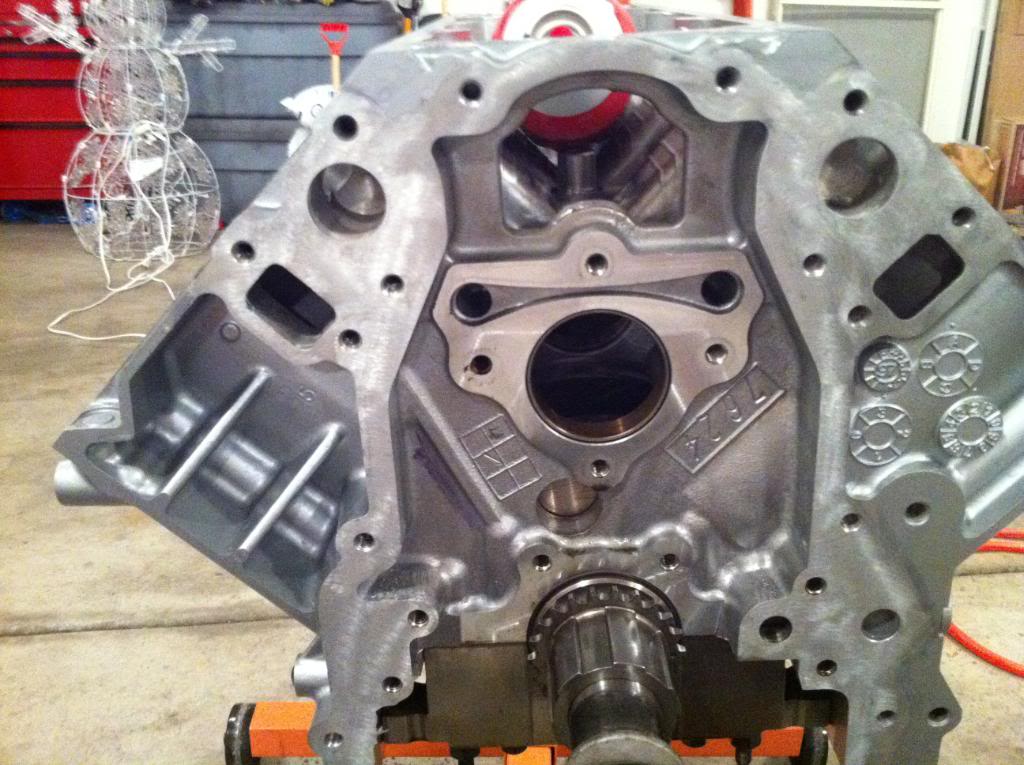 my motor is one of the early 97 with the copper colored stock cam bearings..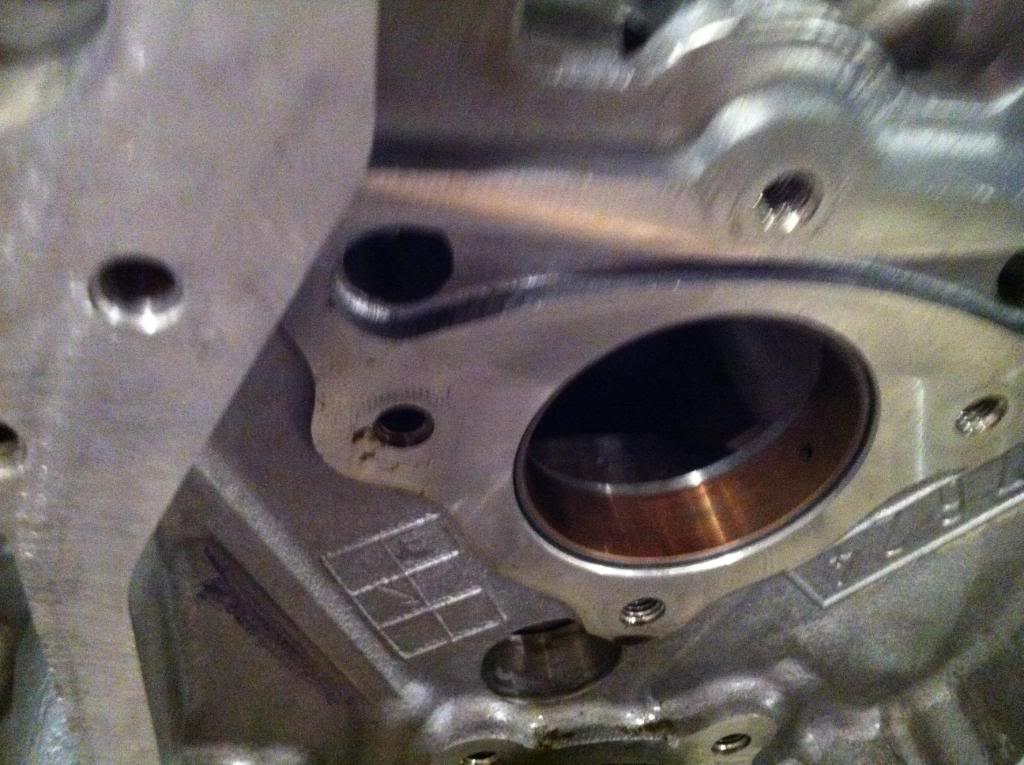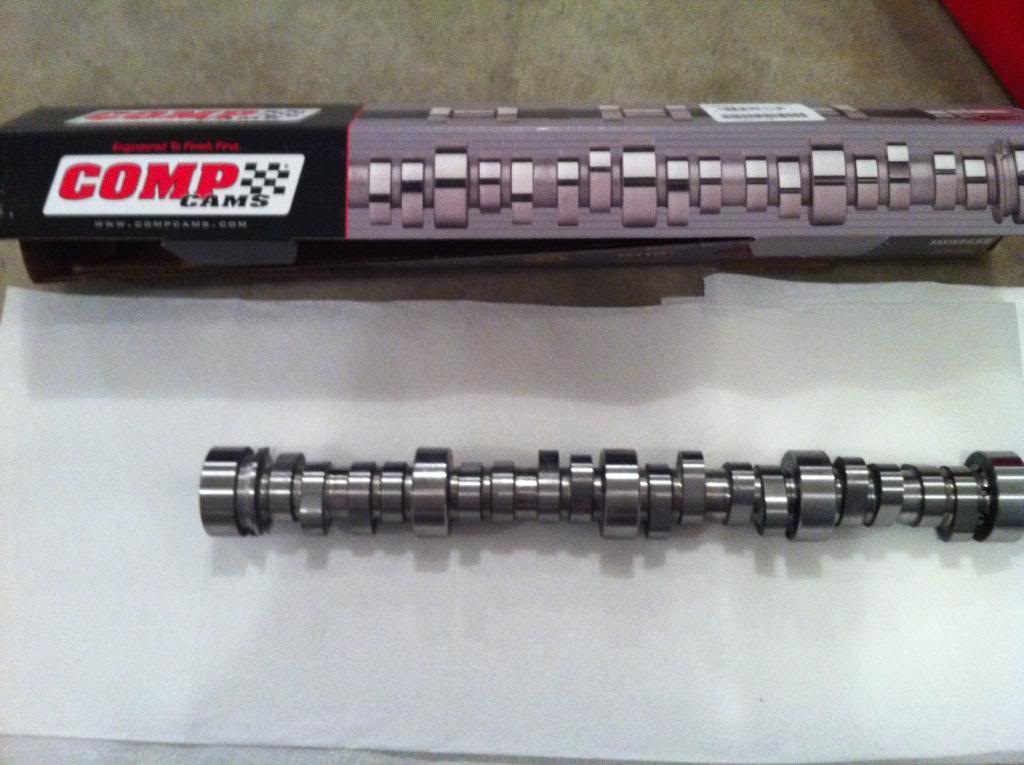 does the deck surface look clean enough to u guys?need to wipe it down one last time..hate those old graphite gaskets!!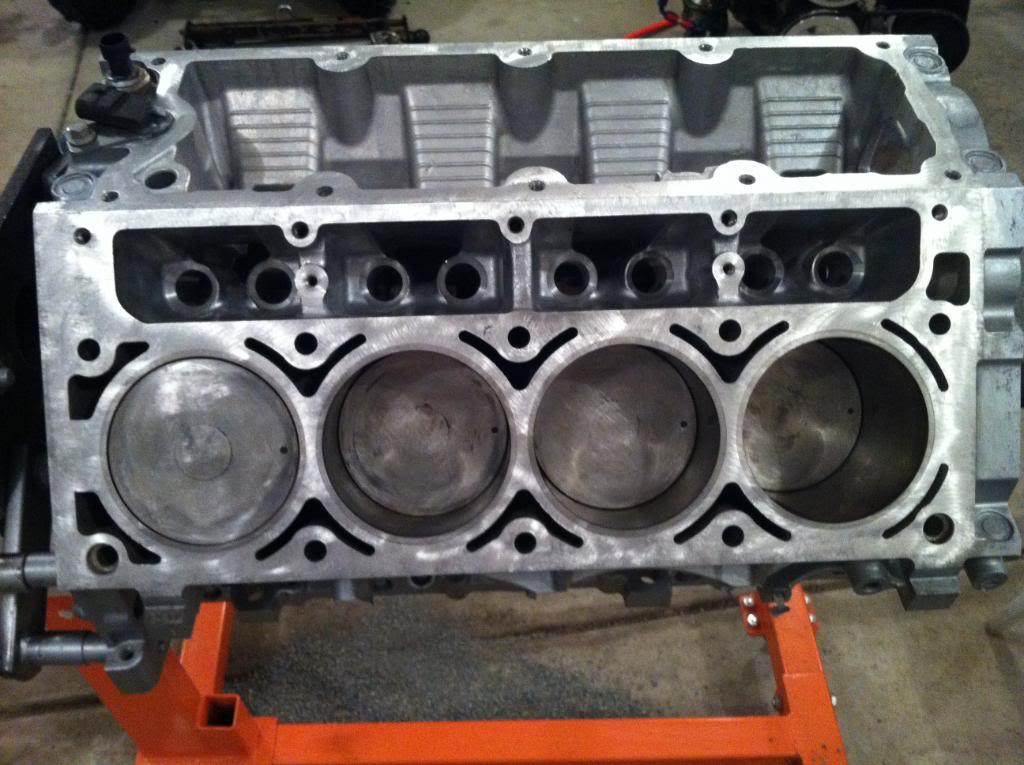 my texas speed 228r with 114 going in,using assembly lube as it goes in..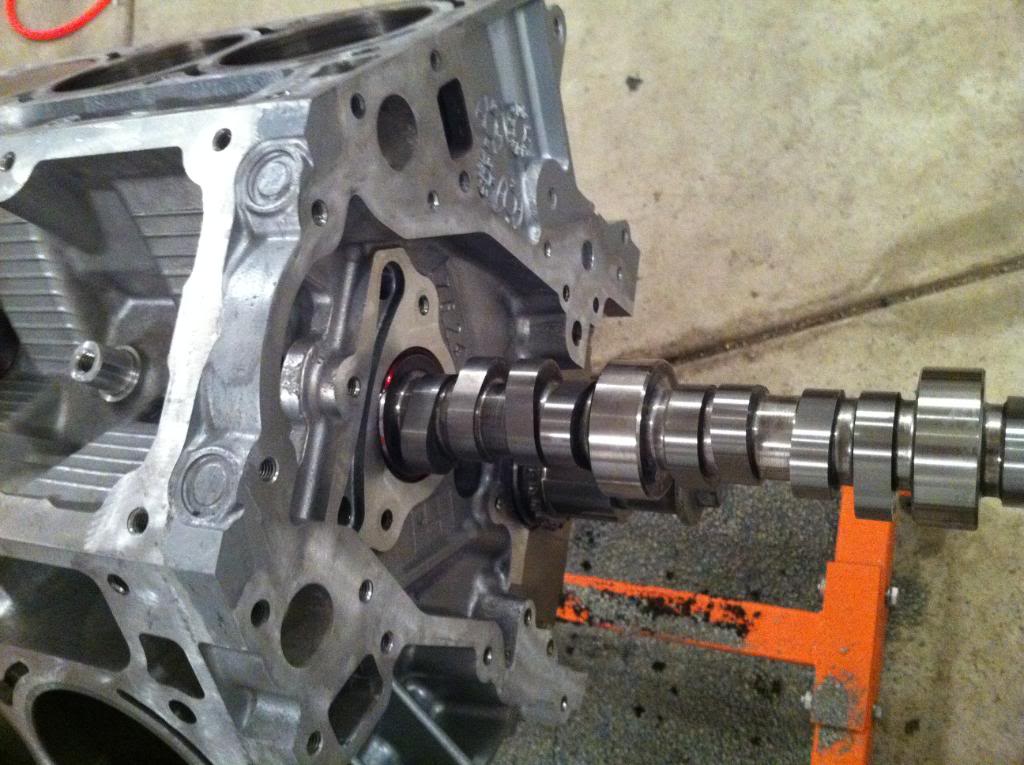 2-3-2011
so with the controversy of the s&p modded oil pan i didnt want to have any issues,so i ordered a autokraft pan.this pan is really really nice!!!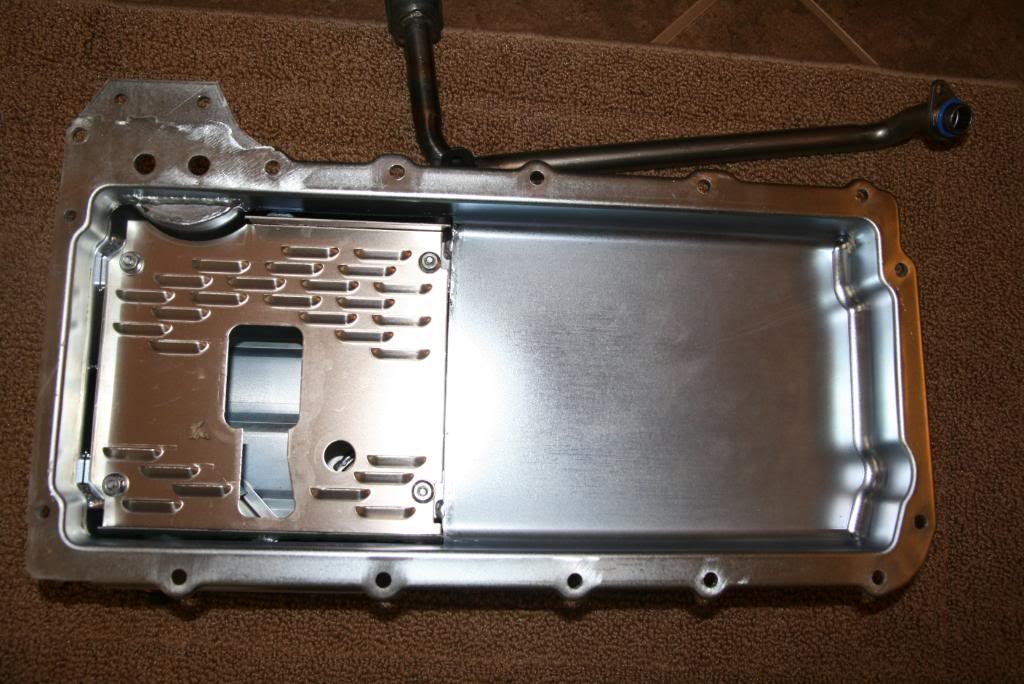 started working on the motor,i went to swap out rod bolts with ARP!i was curious so i lifted a few rod bearings to see if they had any wear.they look very clean with like no wear to them.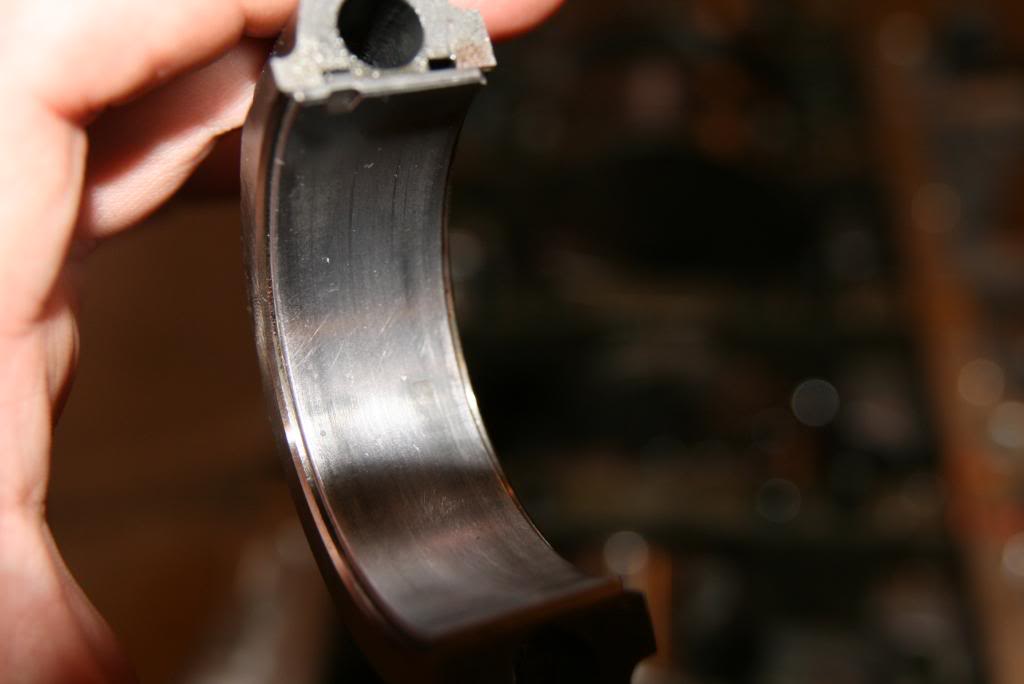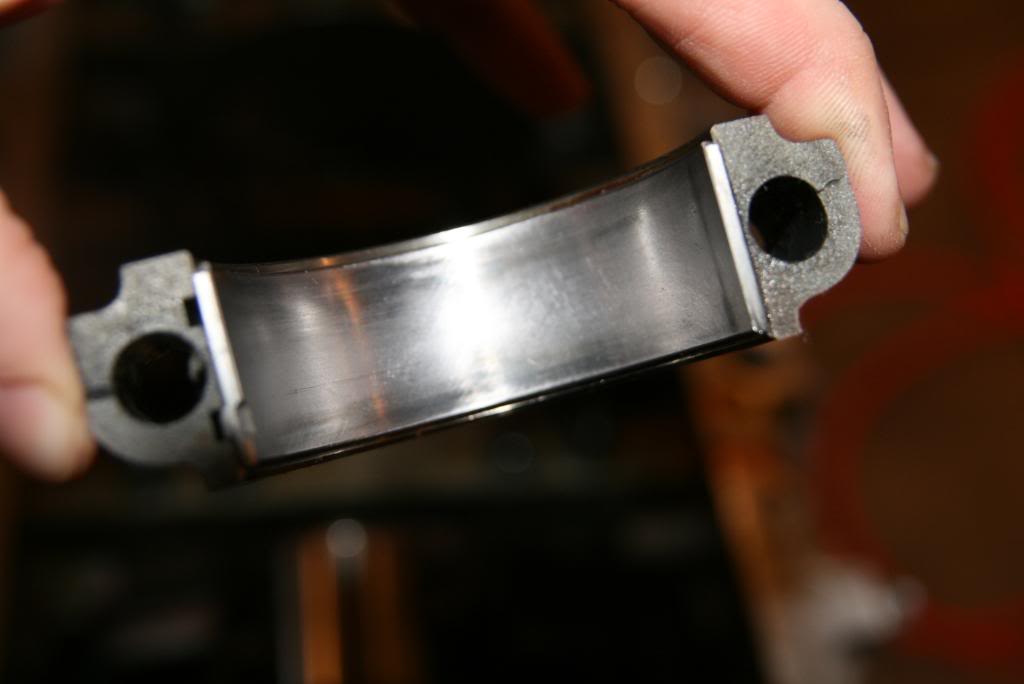 im a little messy with the assembly lube!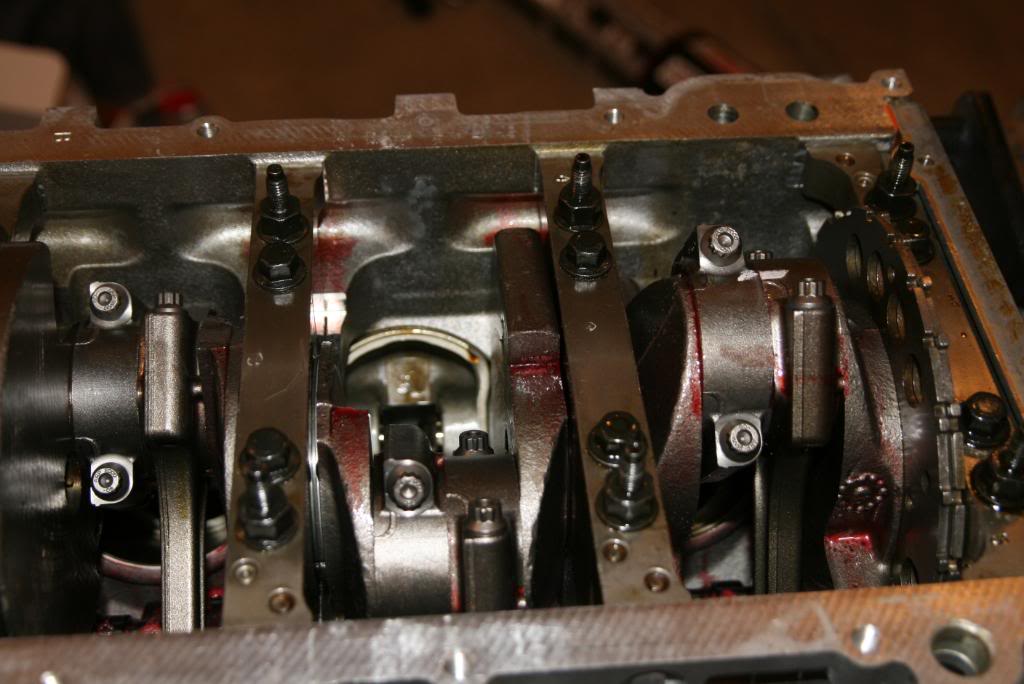 started re assembling the motor!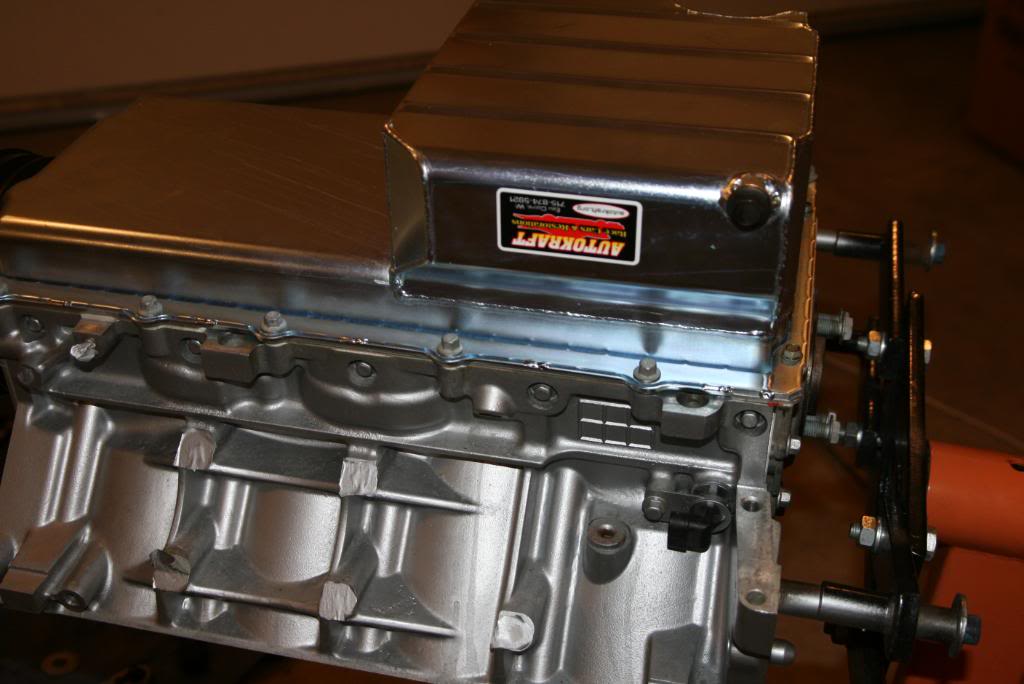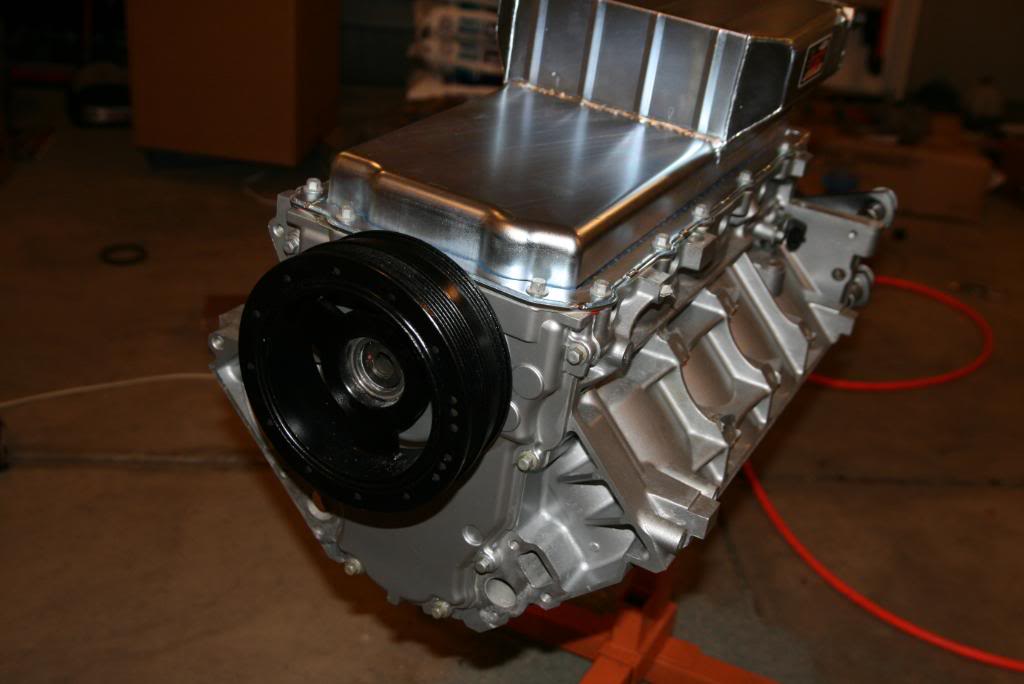 installing the texas speed stage 2 243 heads!!!i have to say these heads are nice!!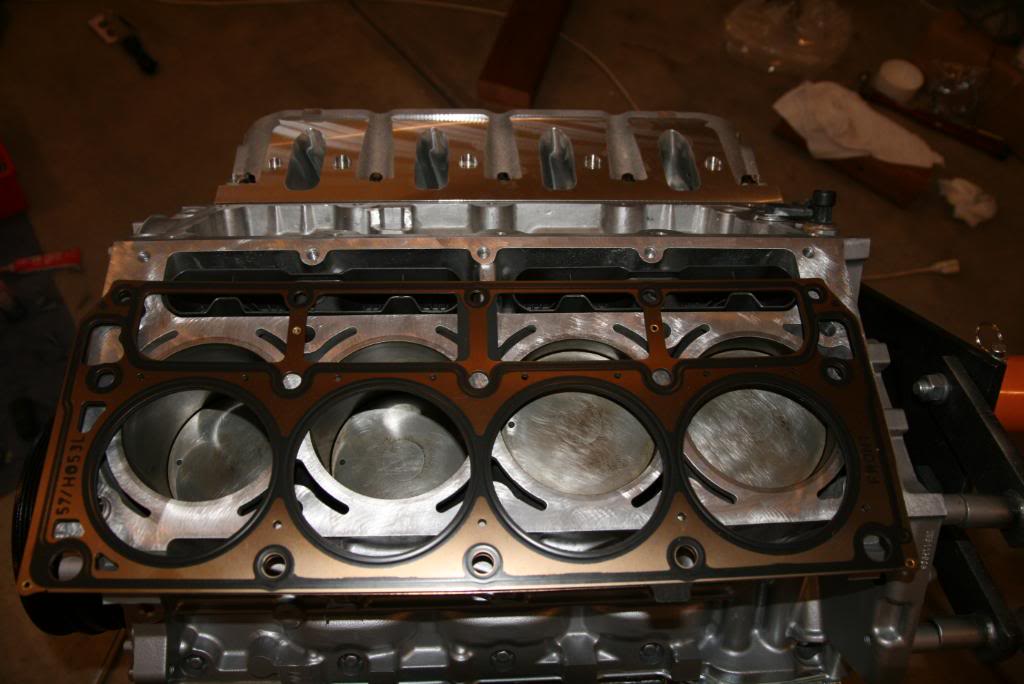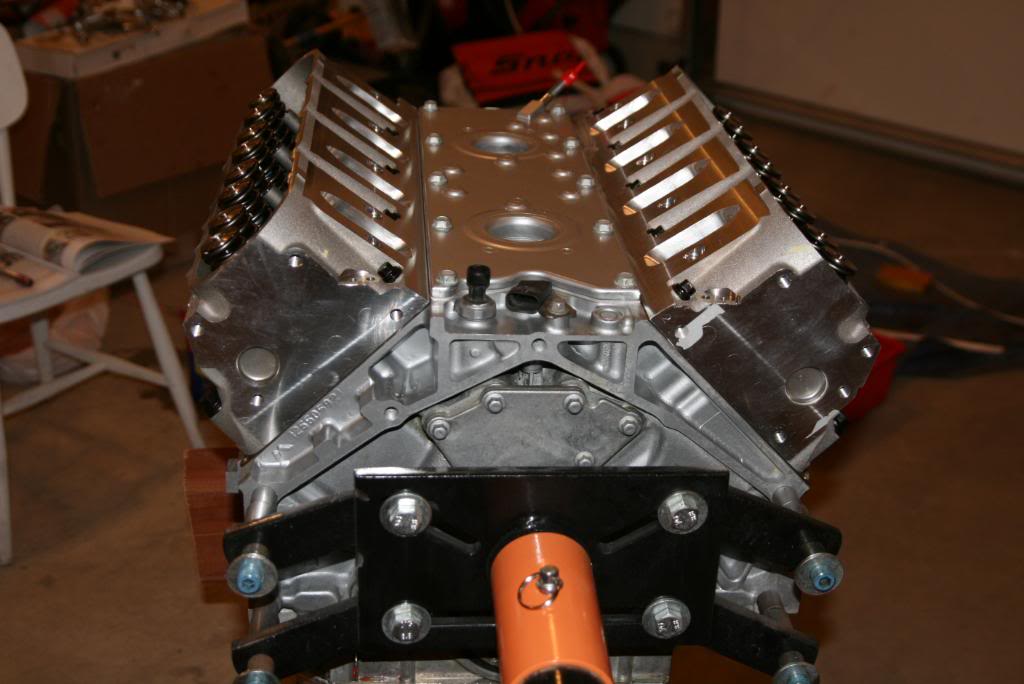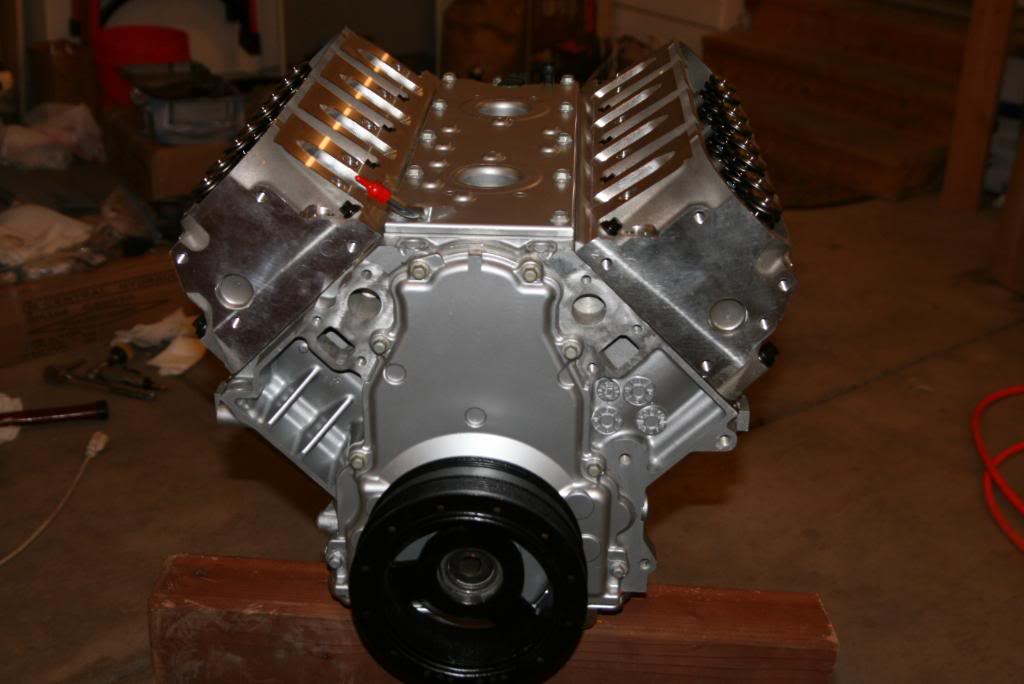 the texas speed 243 stage two heads are nice!!!!!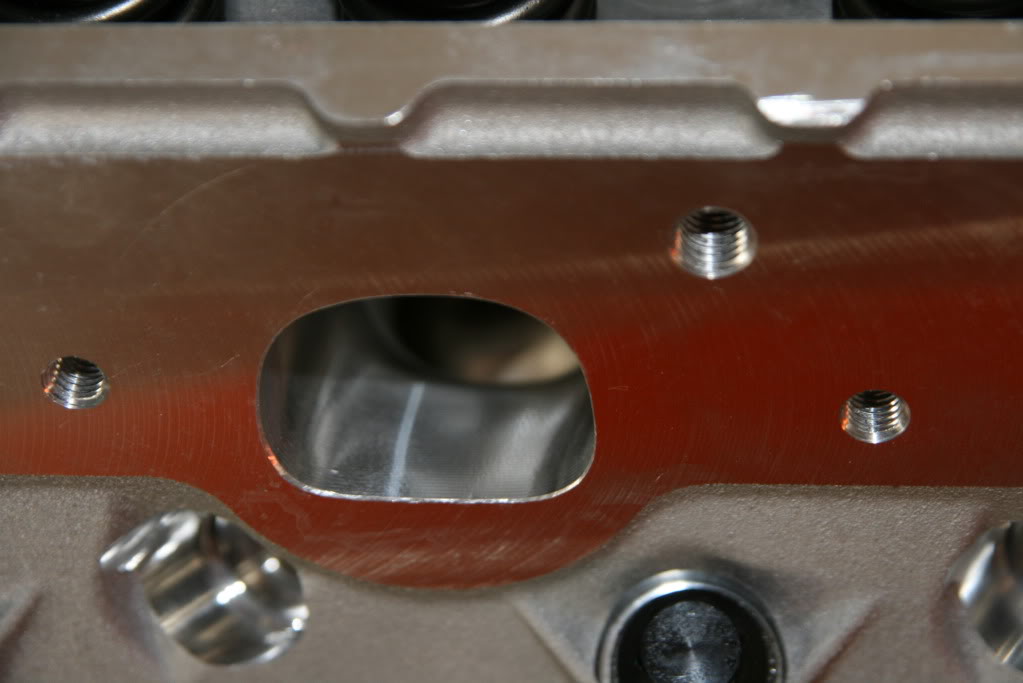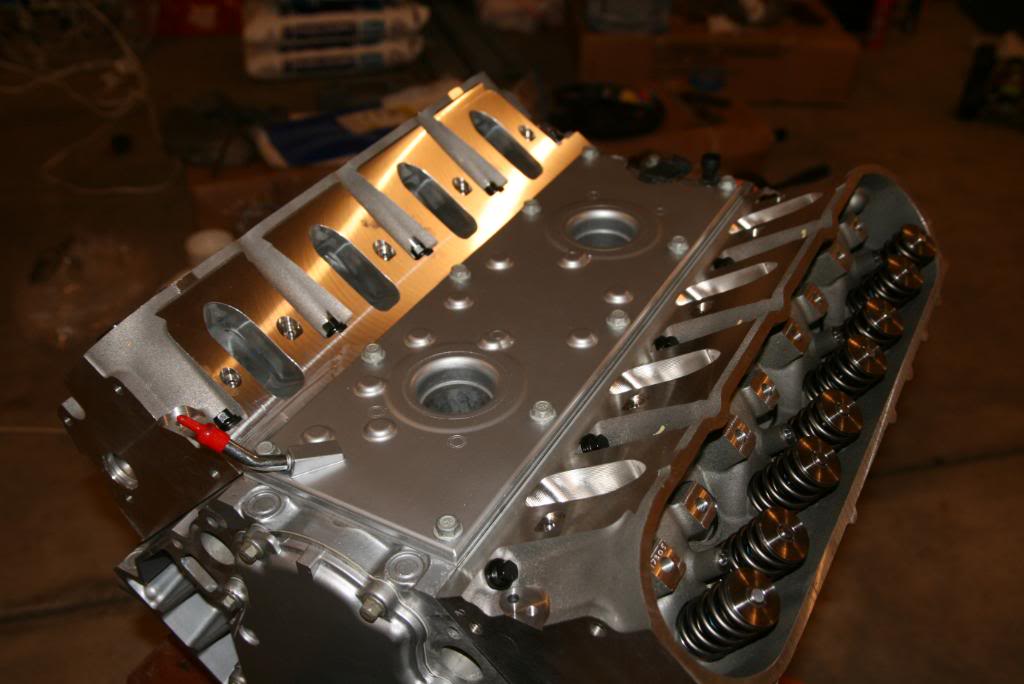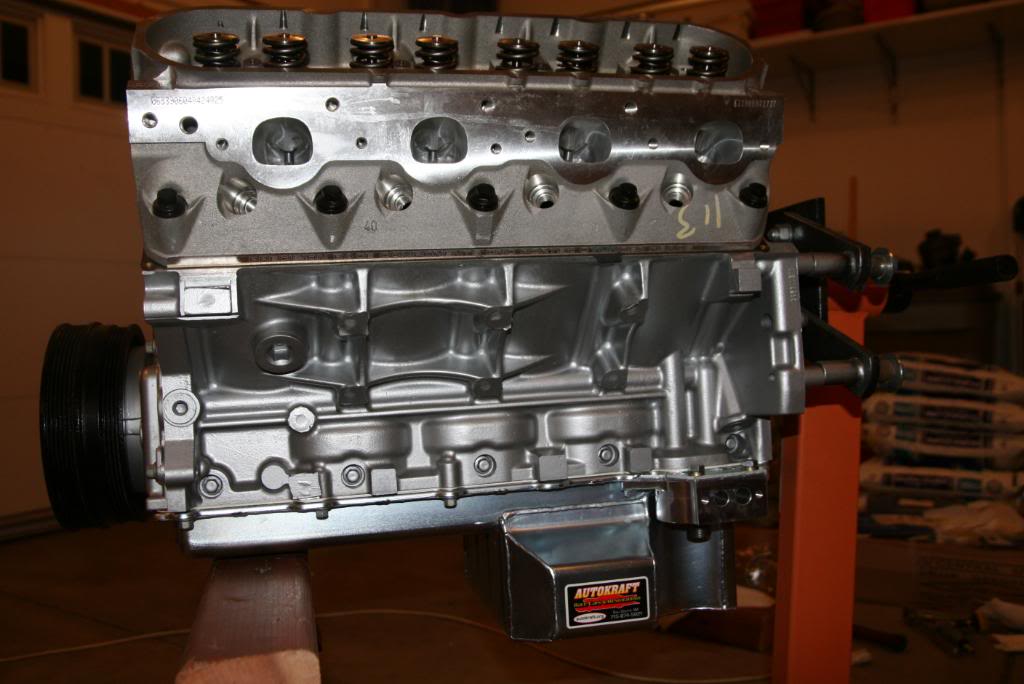 im a little stumped about my dampner and water pump lining up?i have the dampner 3mm from the edge of the crank,the specs are suppose to be 2 to 4mm..the belt will ride on the very edge of the water pump..what you guys think???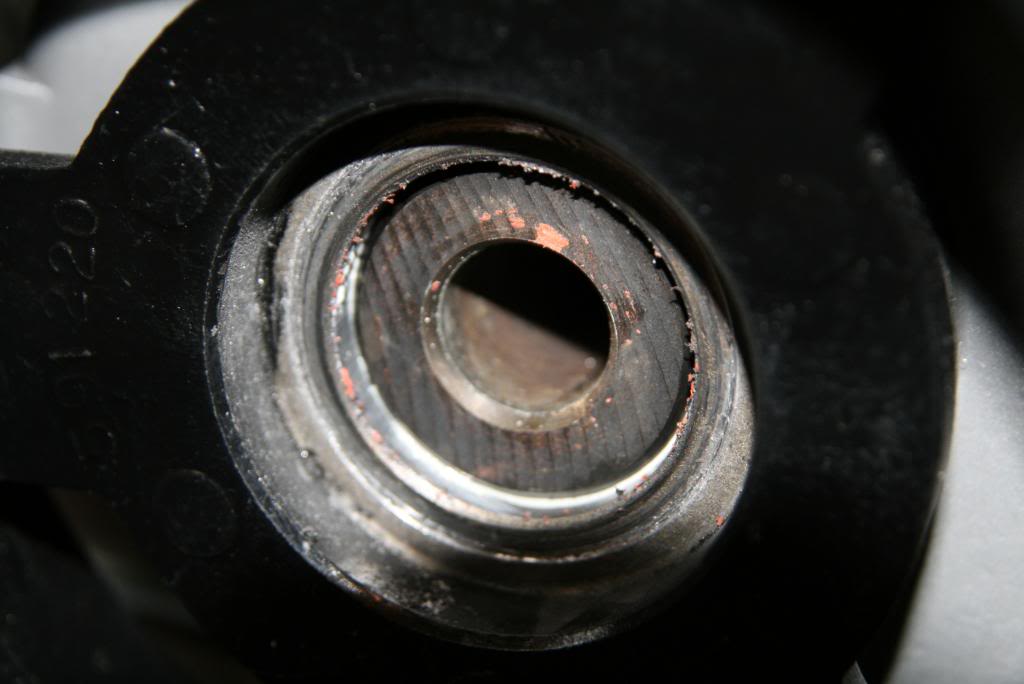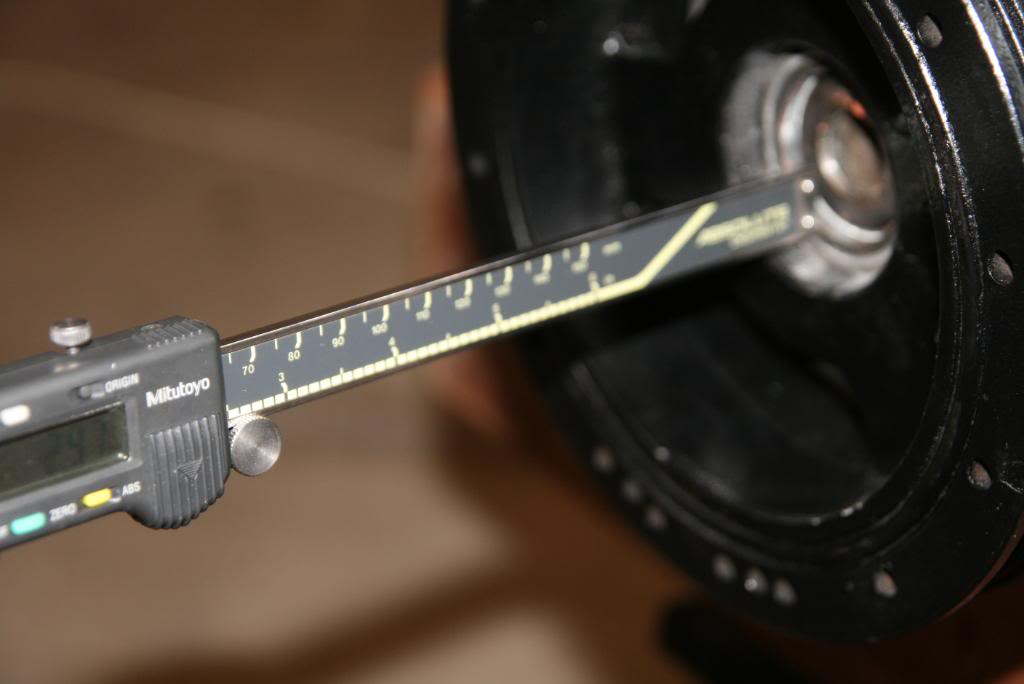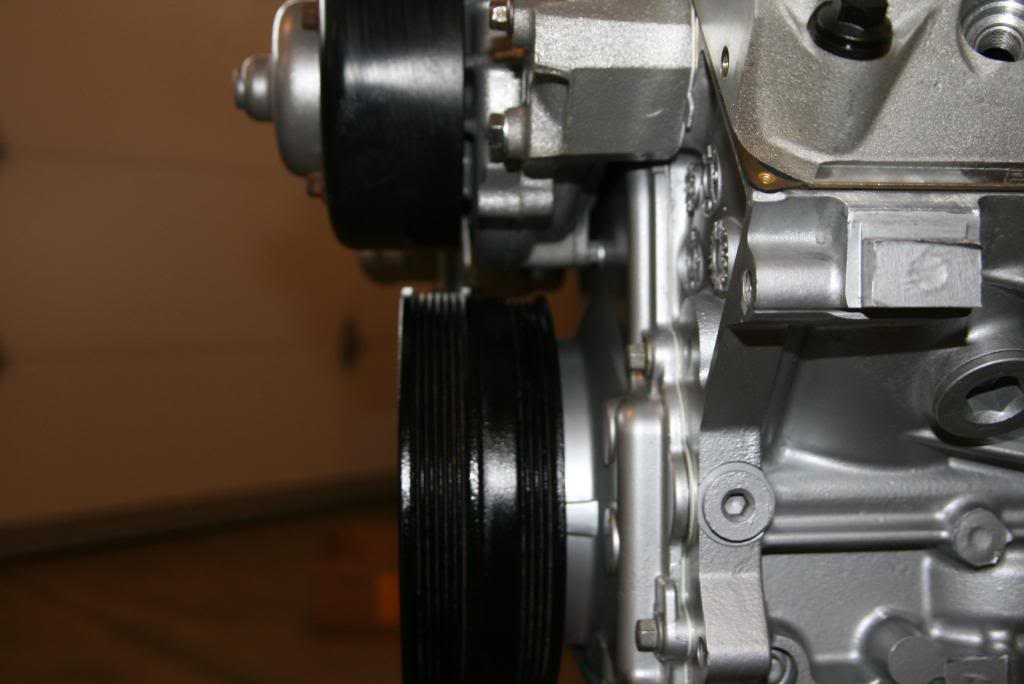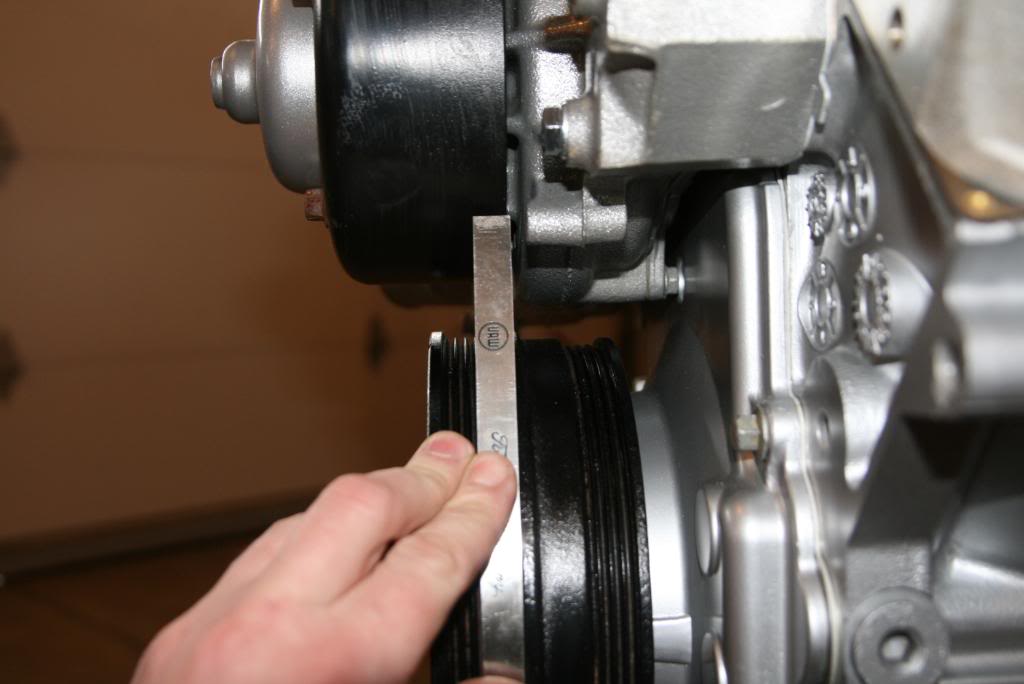 me test fitting the intake,think im going to sand it and paint it!!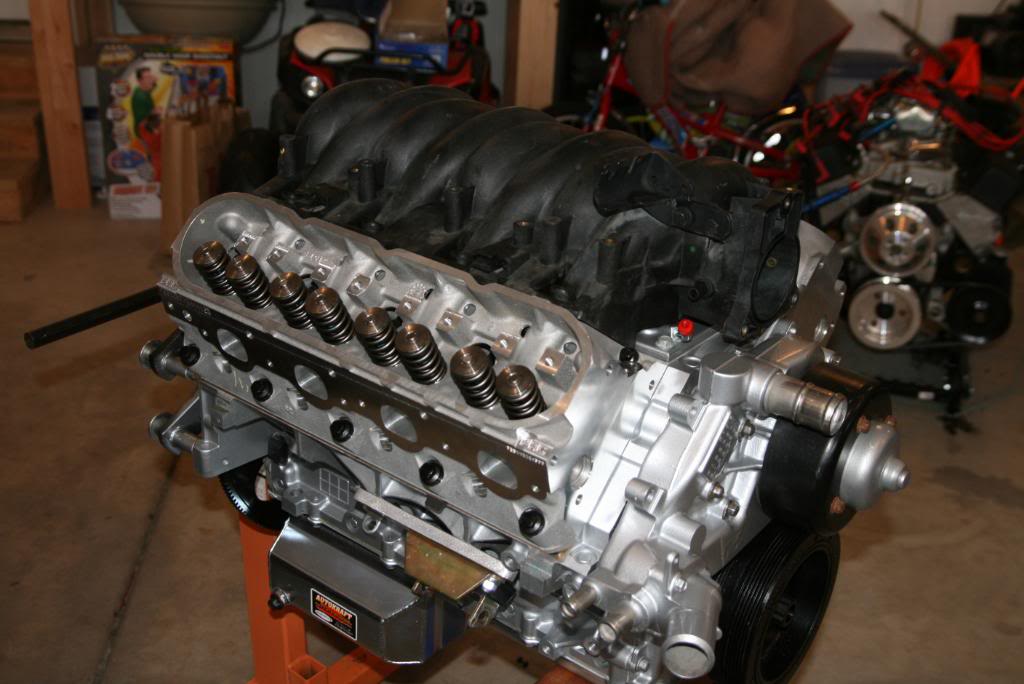 i went with the street and performance motor mount conversion plates!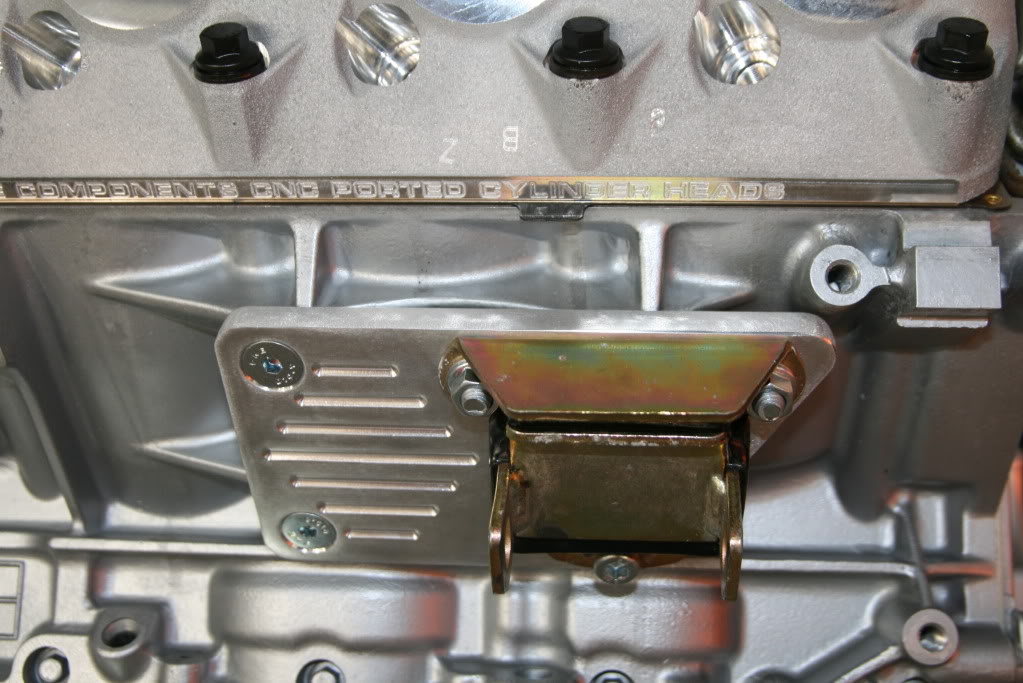 here is my performabuilt level 2 4l60e,they claim its good for up to 700hp..i went with the 3000 stall.im having a heck of a time to get the converter to seat properly!!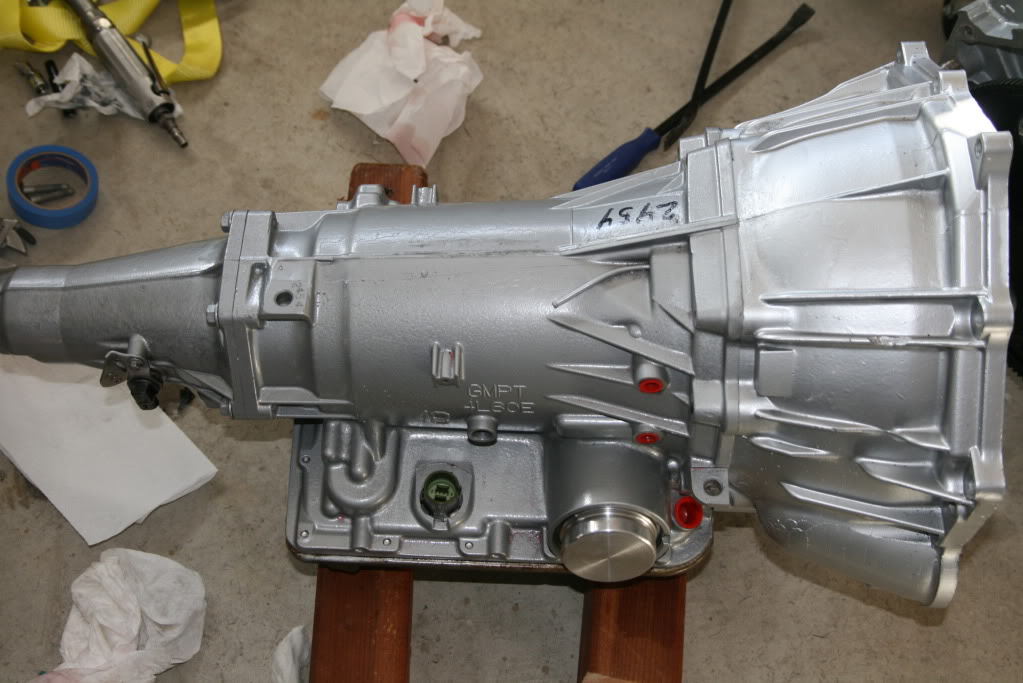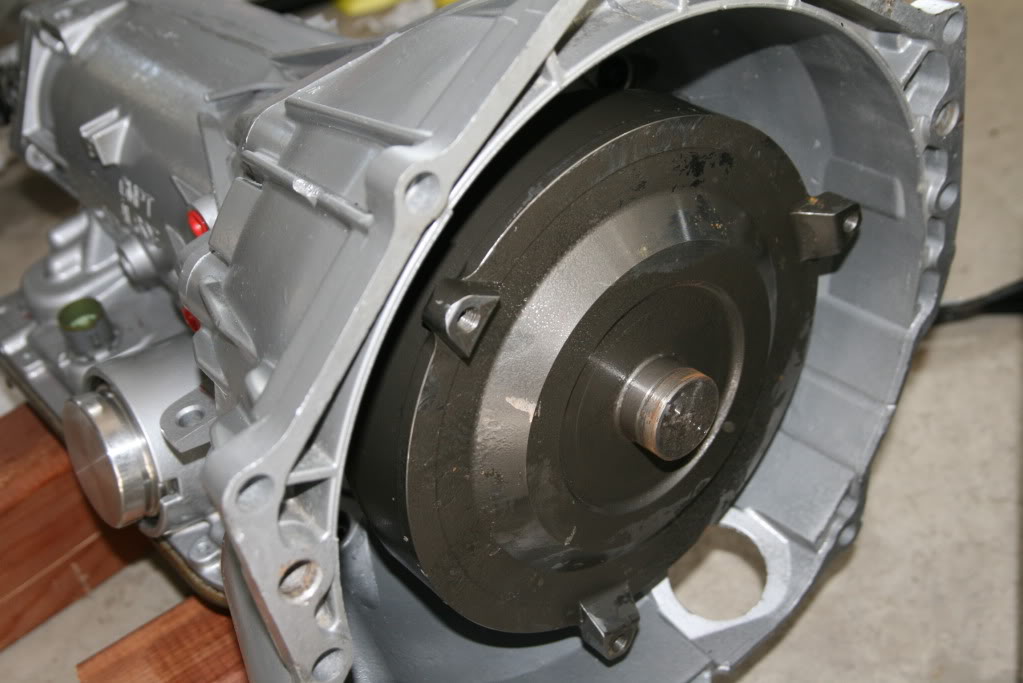 2-4-2011
I am using the Lokar universal cable for the LS. I used a 6 cylinder pedal out of a 69 nova since it was cable actuated versus the lever style the V8's used. If you try to buy a new one they are around $70 since it is the same pedal used on the cross ram Z/28. You can buy the Lokar pedal but it is $150. I got my 6 cylinder pedal for $20 at the local salvage yard. I reinforced it just to be safe. I will post some pics maybe tomorrow of it so you can reference back to it.

As far as I can tell from what I have read, the timing chains on these engines have slack in them. I used a brand new LS2 (improved links) and I had the same amount of slack in mine. All it drives is the cam unlike the old SBC that drove the cam, distributor, and the oil pump. That is why I didnt bother to degree the cam in. I figure with the slack I was wasting my time.
2-5-2011
Woohoo,motor is in!!!big thanks to jeremy and rich for the help getting it back in!!!got lucky,went in easy with no major problems!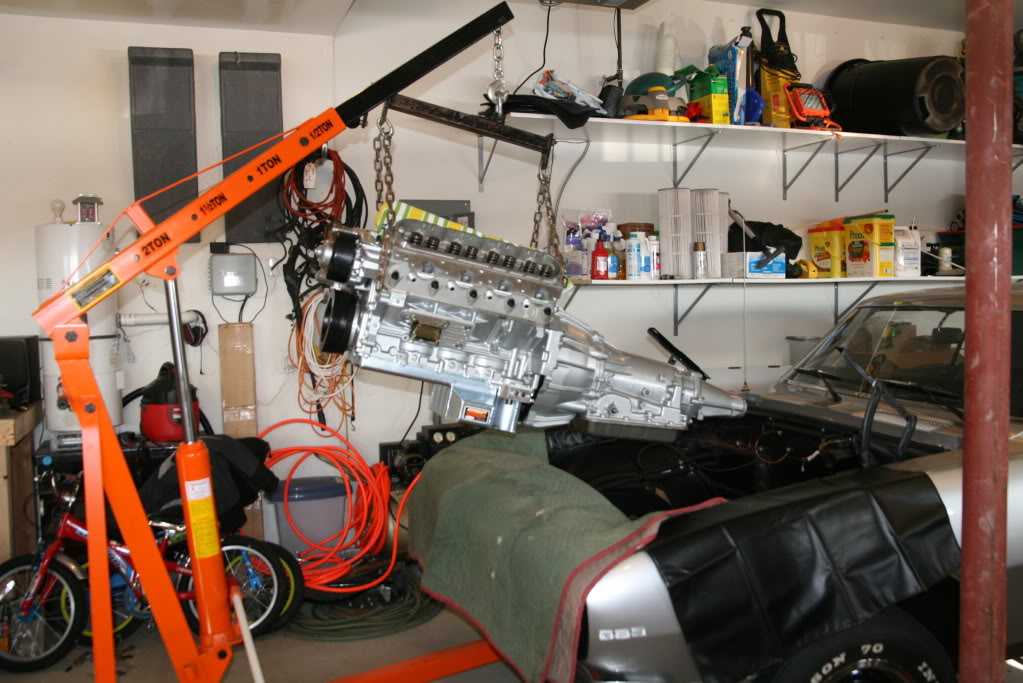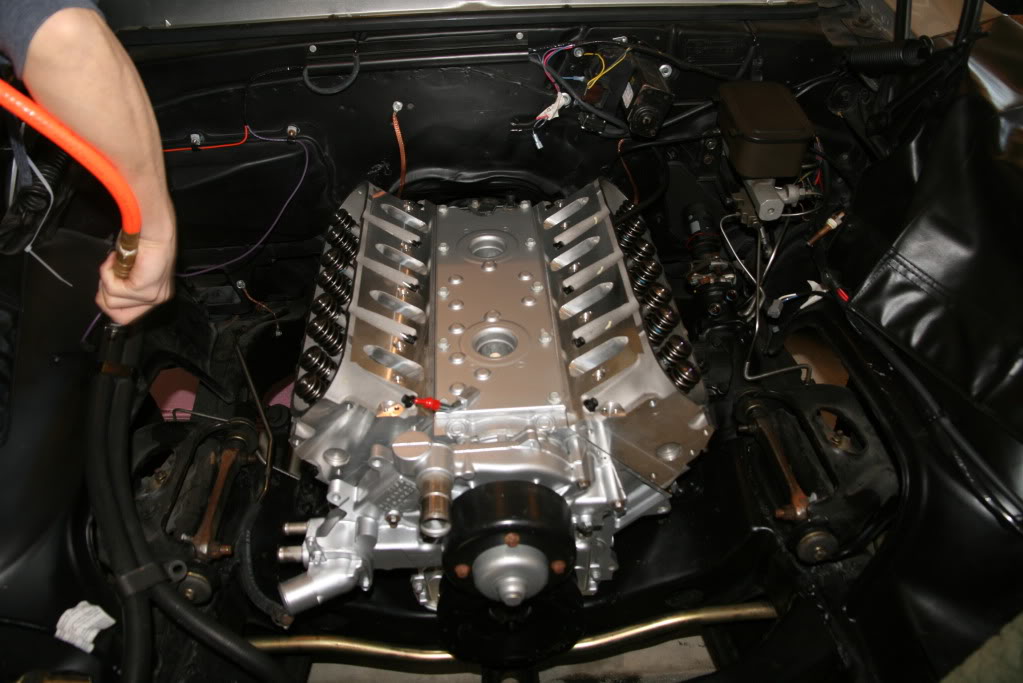 2-20-2011
the ricks tank sure is nice!!shame it cant be more seen!!!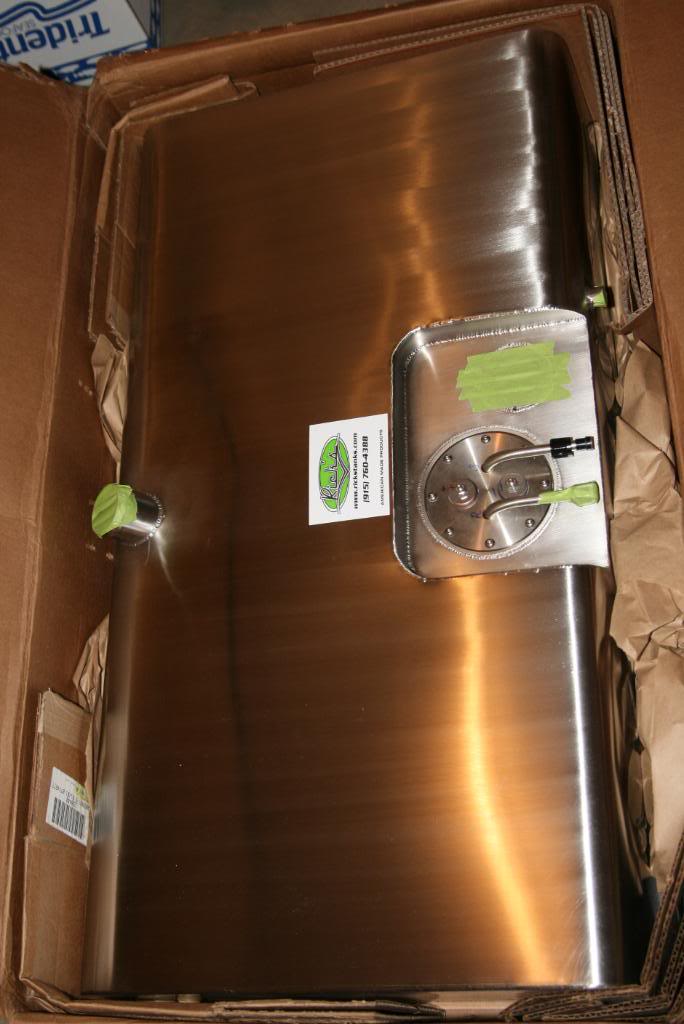 she is getting there slowly!!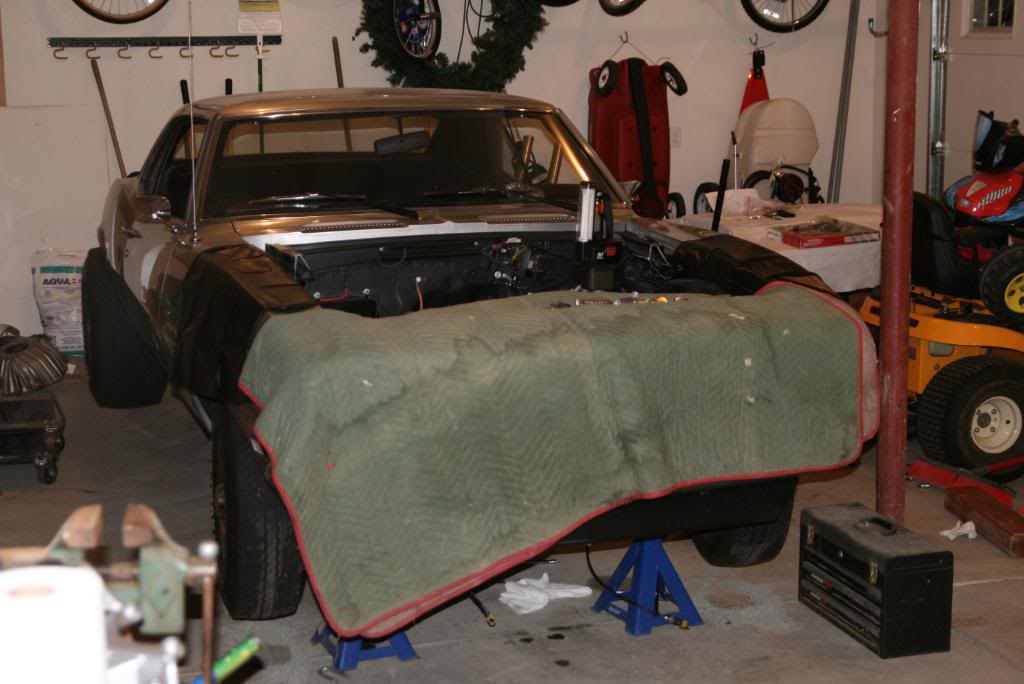 well i got the hole in the floor patched from the old stick tranny and i got the new B&M quicksilver mounted!!
big thanks to my buddy jeremy for taking the intake and painting it for me.looks awsome!!!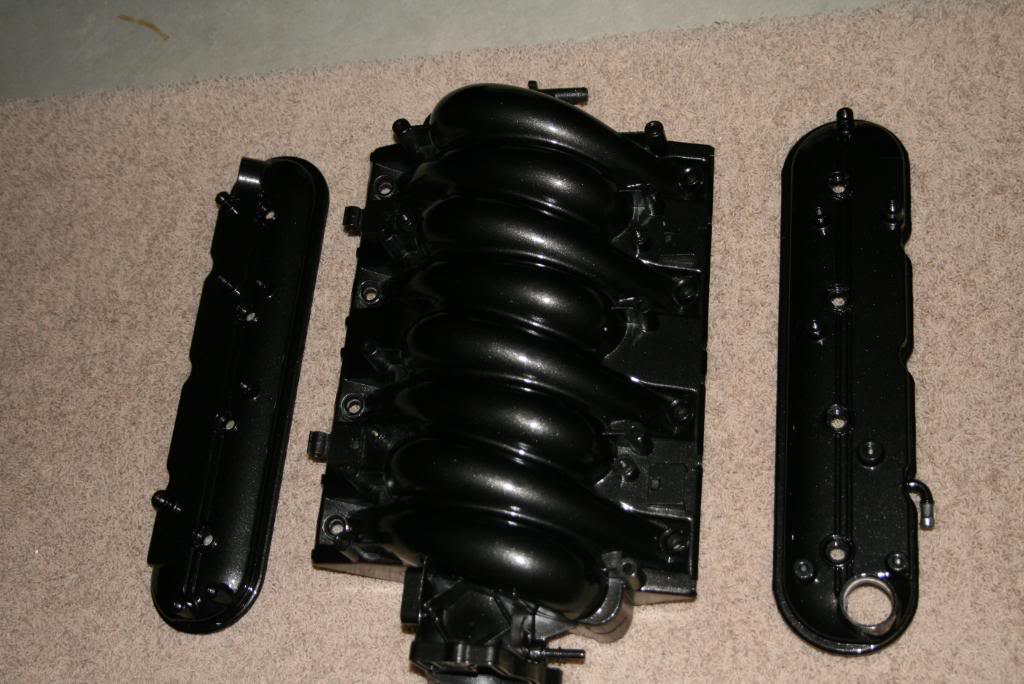 went and picked up all my -6 fuel lines and fittings!hopefully we will get the tank in tomorrow and some of the braided fuel line ran!im doing a send and return line!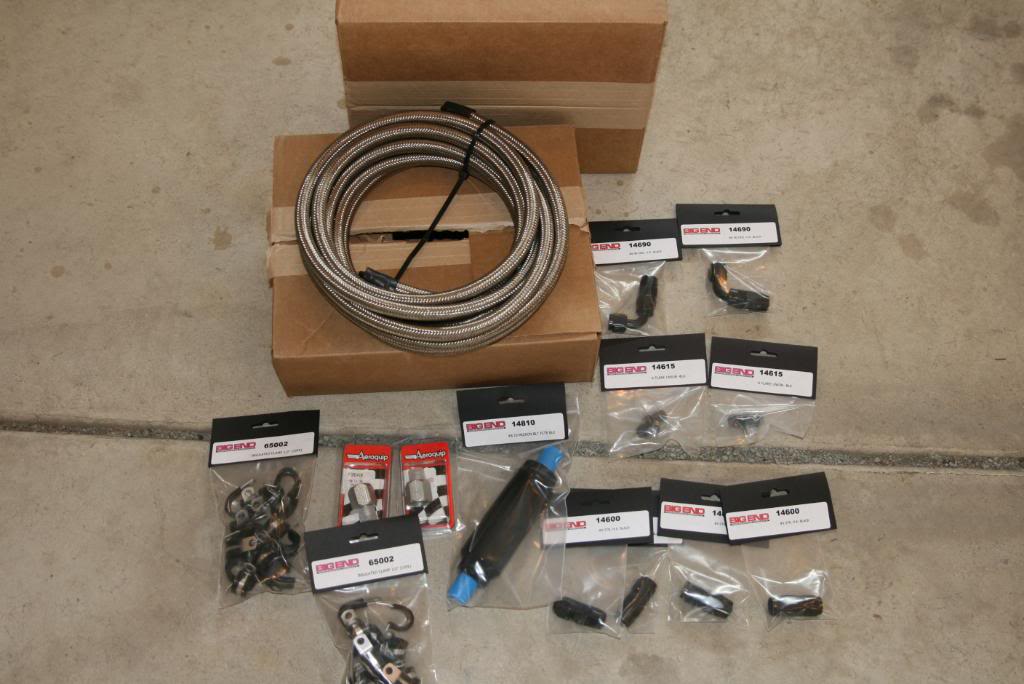 2-22-2011
Since I have the car apart I want to upgrade the steering to the 3rd gen steering box!I'm hunting down parts now,here is the parts numbers I have!!!!
3rd gen steering nod
Rag joint
Gm#7826542 or dorman 31011
Bolt gm#7807271
Pitman arm moog k6582
85 to 92 iroc Camaro
Performance suspension box
Gm#7843512 0r cardone#
276550
Here is a great link on it!!
http://69camaro.nextmill.net/steering.html
I want to do the c5 brakes upgrade to,not sure when I will get to it,but found a great source of info on it!figure I would post it!!
http://www.camaros.net/forums/showthread.php?t=163007
this is taken from the link

"Parts you will need / Services you will need performed:

* Front Drum Hubs. You need original GM front drum hubs (disc brake front hubs will not work), if your car has disc or some other brakes on the front you can easily find these at an old classic carjunkyard in your neighborhood. GM used these for many years so they should be easy to find. Or you can buy them on eBay, or maybe even the auto parts store? You won't need the drums or any other hardware, just the hubs, the C5 rotors will mount on them. You will need to machine the hubs to front and rear to fit the "rotor hats" (the section of the rotor that fits over the hub), you will need to machine a bit less than 6" off, take it to the local machine shop and have them measure and machine it for you.
* C5 Calipers (eBay/craigslist). These calipers are made in Australia by PBR and are badass. They are aluminum, not cast iron like the old calipers and some aftermarket ones. Aluminum means they are much lighter and dissipate heat much better. The C5 calipers and 13" rotors are 5lbs less per corner than the 11" rotors and calipers from the 60's / 70's. So now in addition to better braking you will take 10lbs off the front of your Camaro, unsprung weight too, which is the best weight to lose. Less unsprung weight = good, even on a crappy 40-year-old muscle car suspension. If you have a 68 or 69 Camaro you will need two C5 left rear calipers because of the staggered shocks, get a remanufactured one at Pep Boys (or whatever local auto parts store you have nearby, it was approx $70, use the right side caliper you will not use as the core, they won't check and won't know)
* C5 Rotors (eBay/craigslist). These are 13" front rotors…not 11" like the originals from the 60's and 70's. Rear rotors are 12". Big brakes=good, that's why Ferraris and Lamborghinis have huge brakes! Your best bet for ebay are C5 owners that are tracking their cars and want better brakes, the C5 brakes are great for the street, not so great for hardcore track use, these guys tend to sell their old brakes on ebay.
* C5 Master Cylinder (eBay/craigslist). It's made of lightweight aluminum, and the master cylinder is clear plastic so you can see the fluid level. Yes, you can use your existing crappy cast iron master cylinder if you want but why would you want to when you can use a modern one for $100 extra? Cast iron master cylinders rust which can cause leakage between the internal rubber seals, eventually leading to a mushy pedal. You will need to cut the C5 brake pedal push rod and re-tap the end that I cut it so it will work with the old Camaro brake pedal, this just takes some measuring, then shim the booster at the firewall to get the correct spacing and to make sure it clears the hood, takes a bit of measuring and trial and error but is easy. You may need to shim the booster a bit so it angles down more, mine hit the hood a little. Be sure to use two nuts to hold the rod where it attaches to the pedal and use red Locktite to make sure it does not come loose.
* C5 Brake Booster (eBay/craigslist). Get the master cylinder and booster together if you can, it's almost a direct bolt in. Almost! I think I got booster and master cylinder on eBay for ~$140?
* 4 Adapter Brackets (Kore3.com). To mount the new calipers to the old spindle in front, and axle in back, you will need adapter brackets. You will need different brackets based on different spindles so check the Kore3.com website to see what you have/need. Kore3 bracket kits also include very good directions, follow them closely.
* 4 Brake Lines (Kore3.com). These are the flexible brake lines that go from the hard brake lines to the caliper. These need to be special lines that have different fittings on each end, one end goes to the old original Camaro hard lines, and the other end is designed to fit the new Corvette calipers. Remember, the Corvette calipers have a more modern style fitting…regular Camaro flexible brake lines will not work, and regular C5 corvette lines will not work. You need these special lines. Luckily the guys at www.Kore3.com have em, they are pretty helpful too if you call.
* Disc/Disc Proportioning Valve (eBay). I got an aluminum one on eBay for around $40 I think. Make sure you get a Disc/Disc one since that's what you will have when you are done! Your current prop valve is most likely a Disc/Drum or a Drum/Drum…that will not work with the new C5 Disc/Disc setup.
* 2 Small Hard Brake Lines from Master Cylinder to Proportioning Valve. You will need 2 hard lines to connect the C5 master cylinder to the Disc/Disc proportioning valve. If you use your stock master cylinder you will not need these. This was perhaps the trickiest part of the swap, the lines must be old school type flare at the proportioning valve and bubble-type flare at the master cylinder. I bought bubble type flare stock tubes at the auto parts store and then cut one end, flared them with an old school flare and then bent them to fit, I then borrowed a friends flare tool and created the flare for the proportioning valve. It leaked. So I redid it. It leaked again. I redid it again this time without crushing the fitting so much, I allowed it to crush a bit while I was tightening it, no leaks! If needed some parts stores may be able to do this for you, or a brake shop can, ask around if you don't want to do this.
* Wheel studs (Summit Racing). I recommend upgrading from stock 7/16 studs to M12x1.5 (which are 12mm). I think I used ARP 100-7708, they are a bit long though. Your front hubs and rear axle will need to be removed so a machine shop can drill out and install these for you.
* Machining: As with the front hubs you will also need to machine your rear axle hubs so the rotor hats will fit over the hub, only a tiny amount needs to be machined off, just a few mm, I suppose this could be done on the car but the best thing to do is remove the rear axle and have it machined at a local machine shop. Overall rear hub diameter should be 6", same as the front, measure the inside of the rotor hats to make sure the size is right.
* Larger wheels. 13" rotors are big, my Camaro had 14" wheels from the factory, so these brakes are only 1" smaller than the original wheels! These rotors will fit on some 17" wheels, use 18"s if you want to be sure they will fit. Kore3 has cutouts you can print to check your wheels to make sure they fit.
* Brake line from body to rear axle (Classic Industries). Its probably a good time to change this brake line. I bought the factory original style one from www.classicindustries.com. I'm not positive but the one on my car was most likely original, 40-year-old soft brake lines are not a good idea!"
2-26-2011
i just got my radiator today,WOW this thing is nice!every bit as nice as the B-cool i have!!!i i bought his relay wiring kit,well worth the money..he even added the bung for the thermostat for no charge.
here is his link for radiators.

http://cgi.ebay.com/ebaymotors/Alumi...Q5fAccessories

http://cgi.ebay.com/NEW-Dual-HD-fan-...item51980659a4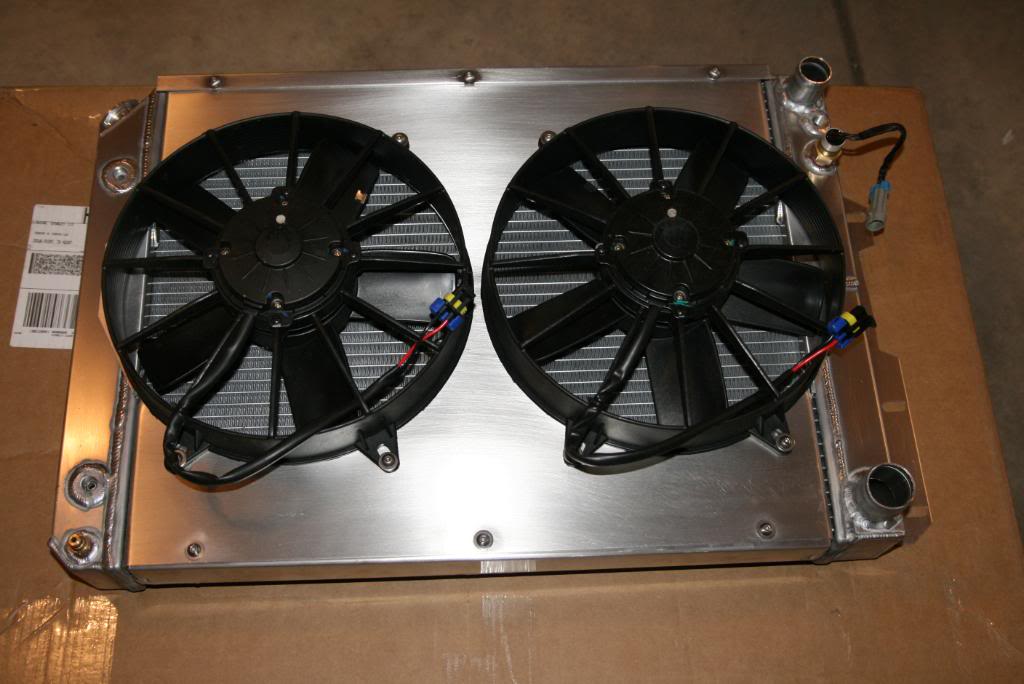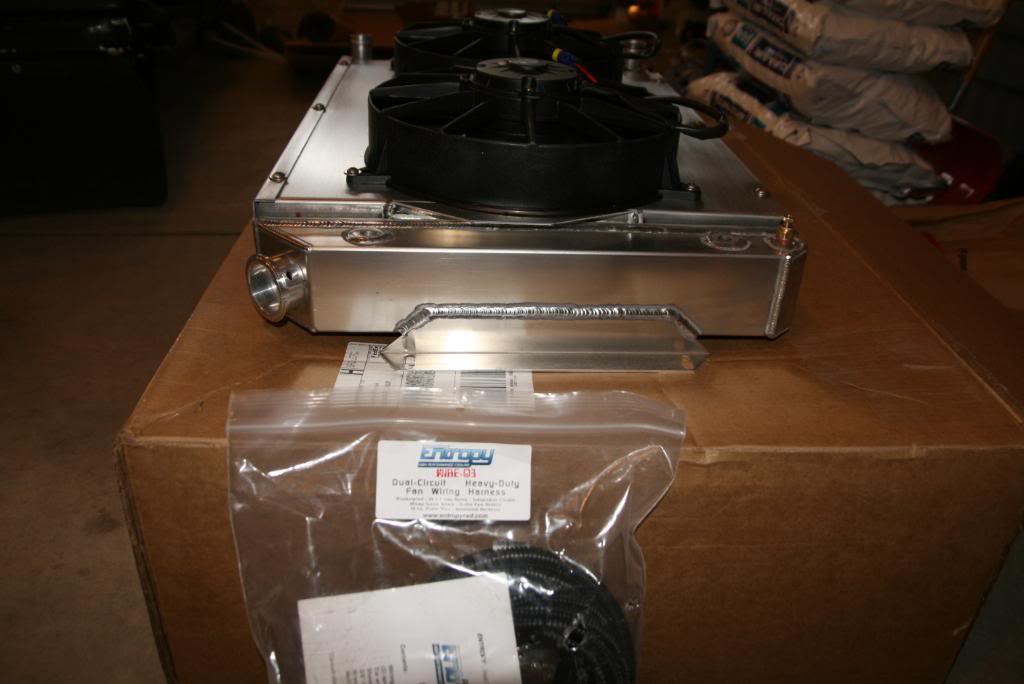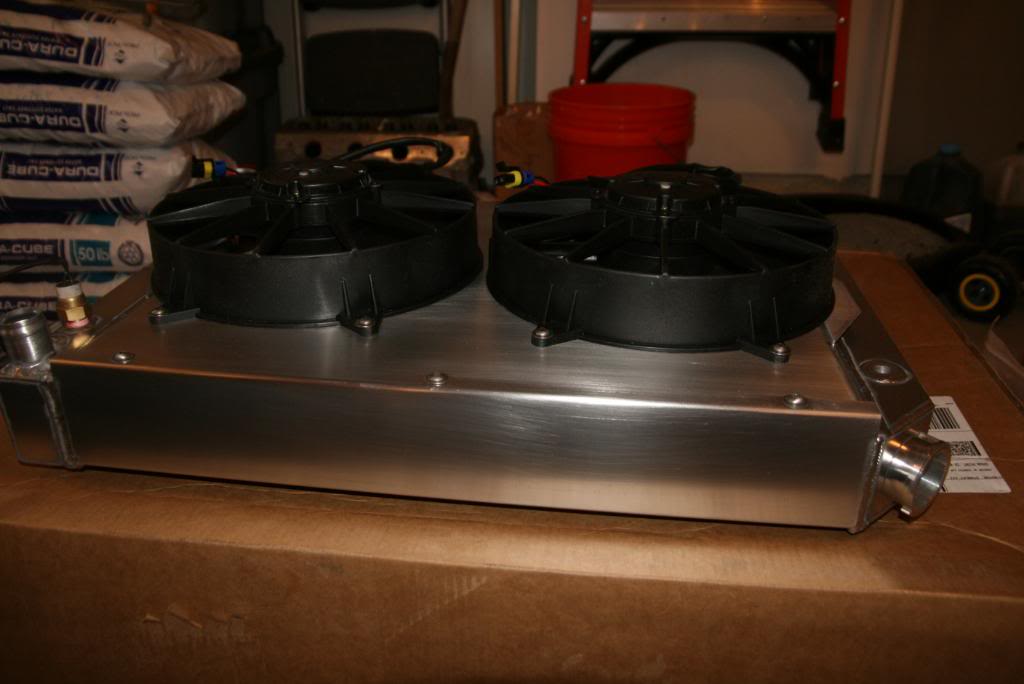 found a great link with tons of info on the 4l60e
http://www.355nation.net/forum/engin...rade-info.html
3-1-2011
well i just ordered wheel today for the car,foose legends from driverzinc.
went with a 18x8 front with a 5 inch back space.tire will be 245-40-18..
went with a 18x9 in the rear with a 5 1/4 back space.tire will be 275-40-18..
the rims should clear the c5 brake upgrade as well.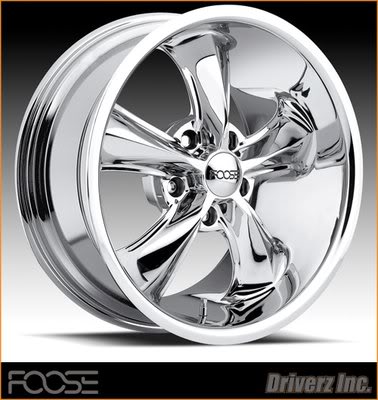 Here is his description from eBay...
"This is our heavy duty Entropy aluminum radiator for the '67 - '69 Camaro and Firebird with 11.5" HP fans and an aluminum shroud. MADE IN THE USA. This listing is for a LS1/LS2/LS3/LS7 swap radiator for either a manual transmission or automatic version setup for a 4L60e (please specify at checkout). This radiator has all of the correct connections required for swapping a LSX into your first generation fbody, with both hose connections on the passenger side as shown. This radiator will fit both original big block and small block cars, as well as all 67 - 69 firebirds. This unit is built using the HD big block core from our big block 1st gen fbody radiator handle the most demanding summer conditions with the A/C blasting. This bolts in directly - no holes to drill or a trip to the hardware store for a parts hunt or drilling holes in your core support. Also included is the aluminum shroud with high powered 11.5" paddle blade fans (not the cheap lower powered fans) delivering a TRUE 3000 CFM. Together, they pull 35-40 amps (check the current rating on the cheapy fans that claim to pull high CFM).dum

Like all of our radiators, it's made with pride in the USA with USA made cores. Unlike most radiators, our cores are purpose built for high performance cooling and not standard passenger car (PC) cores. All of our radiators are fully TIG welded, use heavy duty transmission coolers, no epoxy, a billet filler neck, brass overflow connections and a brass drain ****.

For a plug-and-play wiring kit, please see our other auction for the thermostatic sealed relay wiring kit.

FAQ

We've been offering our Entropy USA made radiators on Ebay for over five years. We make what we sell and all of our radiators are made in house. We've sold 1000s of radiators to many repeat customers and referrals of customers.

How can your radiator be half the price of X-Cool if it's a high quality unit?

Quite simply, we don't have a bunch of middle men fleecing money out of your pockets and running the price up. With a typical high performance product company, there are a bunch of distribution middle man that don't add any value to the product but since they need a slice of the pie, they run the price up. By selling directly to our customers without wholesalers, warehouse distributors, jobbers, product represenatives, etc, in the way, we can keep our costs way down. We also don't have a big marketing budget that most companies employ, which also runs the price you pay up.

How does your radiator compare to the same X-Cool brand cooling module that is twice the price?

Our units are fully precision TIG welded, made with heavy duty cores and purpose built for the application.These days, many high performance radiator companies only TIG weld the top section of the radiator and have unskilled workers MIG weld the rest of the radiator. We do not do this. Our radiators are 100% TIG welded, made with high grade aluminum alloy tanks, billet machined components and will hold their own next to any familiar brand unit costing 2X or 3X more.

What type of cap and coolant do you recommend using?

An 18 PSI or higher cap is recommended. Prestone coolant is recommended for it's superior corrosion resistance.

Do you make custom radiators?

Yes we welcome custom inquiries. Just ask.
3-7-2011
well progress on the car has been slow,my wife had back surgery a couple of days ago and i have been busy taking care of her.i did get my fuel lines ran,which was rather easy.glad i went with braided lines.also figured out with the 243 heads and the ls7 lifters i needed a pushrod length of 7.350 ,this will give me .080 of lifter pre load.got my rockers installed today.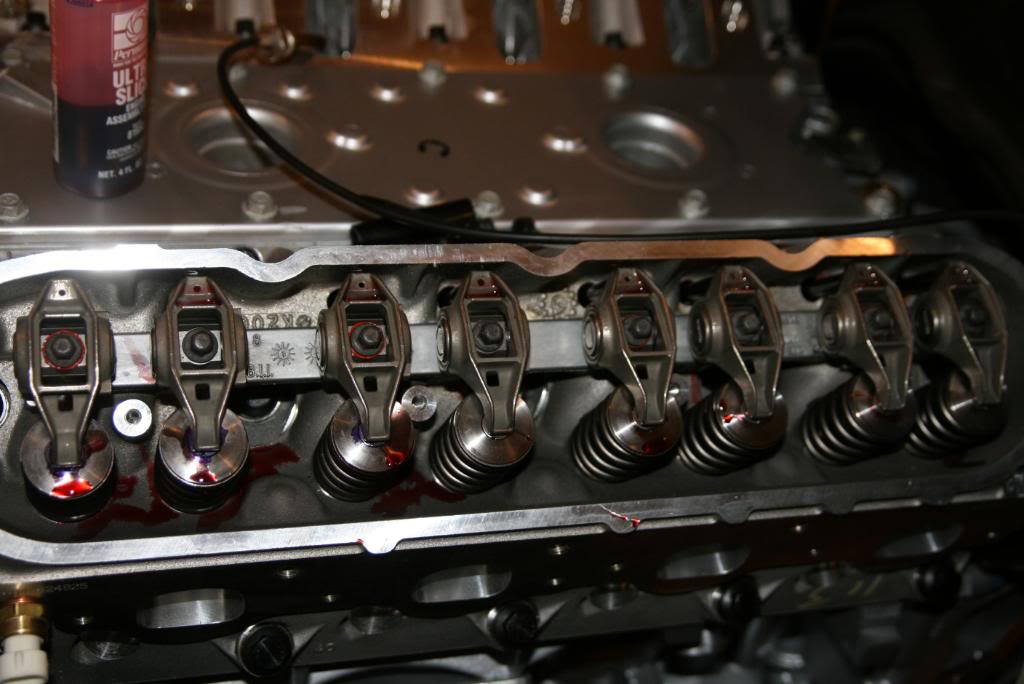 started putting everything on the front of the motor back together.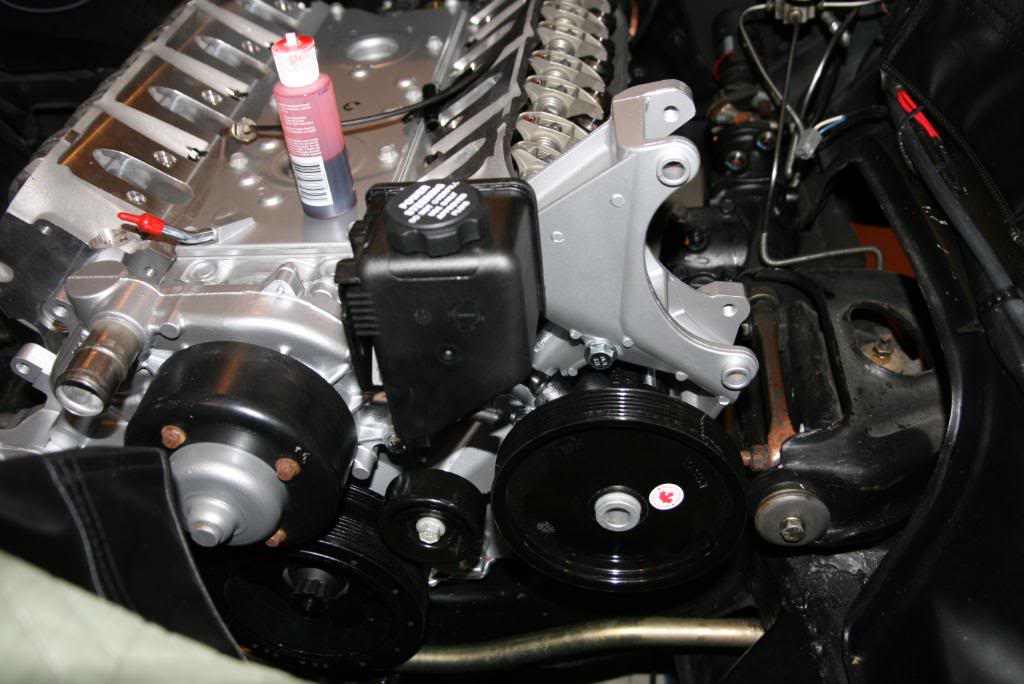 boy the power steering pulley is a tight fit,for the pic i only have the pulley loosely on the shaft to see how it would fit.everything has gone back together soo good i new something would have to give me trouble,lol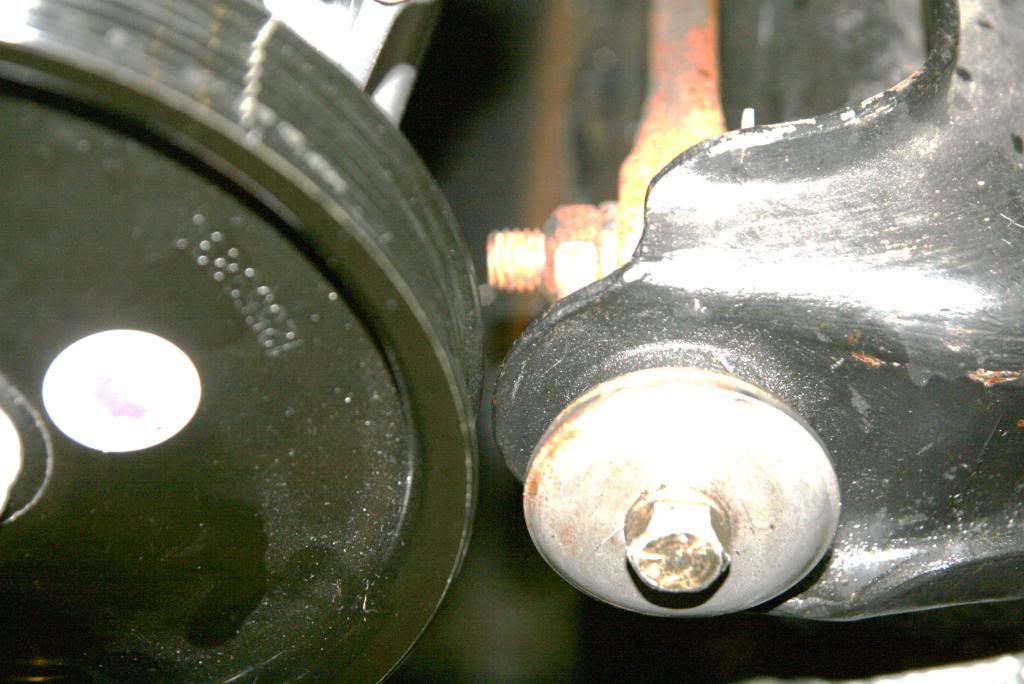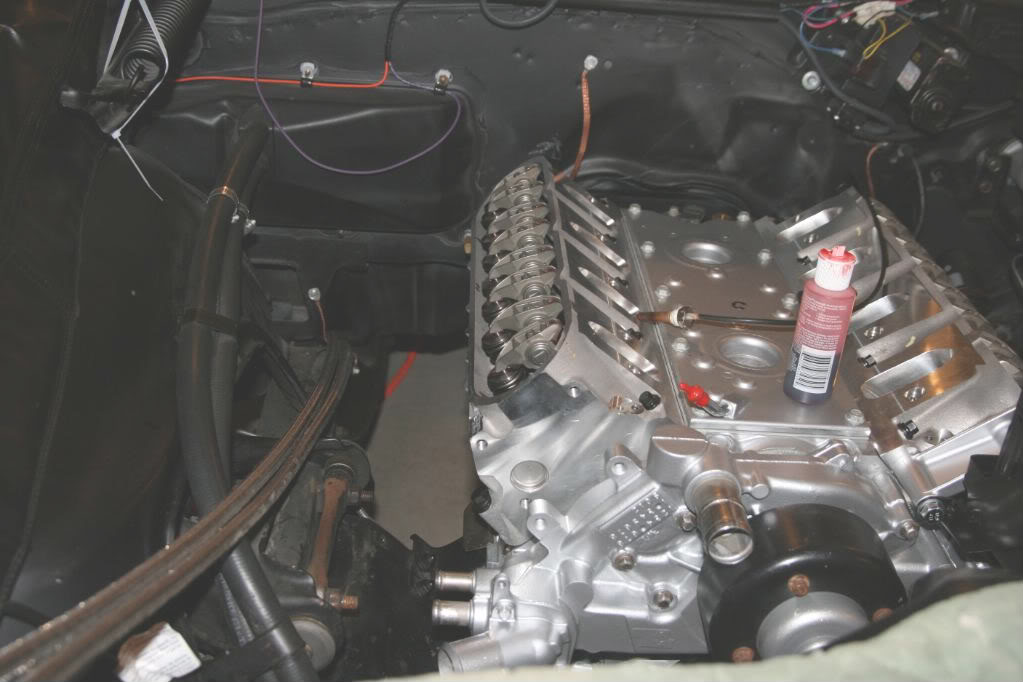 3-8-2011
well i got the radiator put in..
ground it down,looks better now.
3-9-2011
guys,i need some advice,im routing my tranny cooler lines and need your opinion.the way i have them routed here,you think it will be too close to the header?i know heat is the enemy with these automatic trans.my other option is to go around the wheel wheel well.whats your thoughts??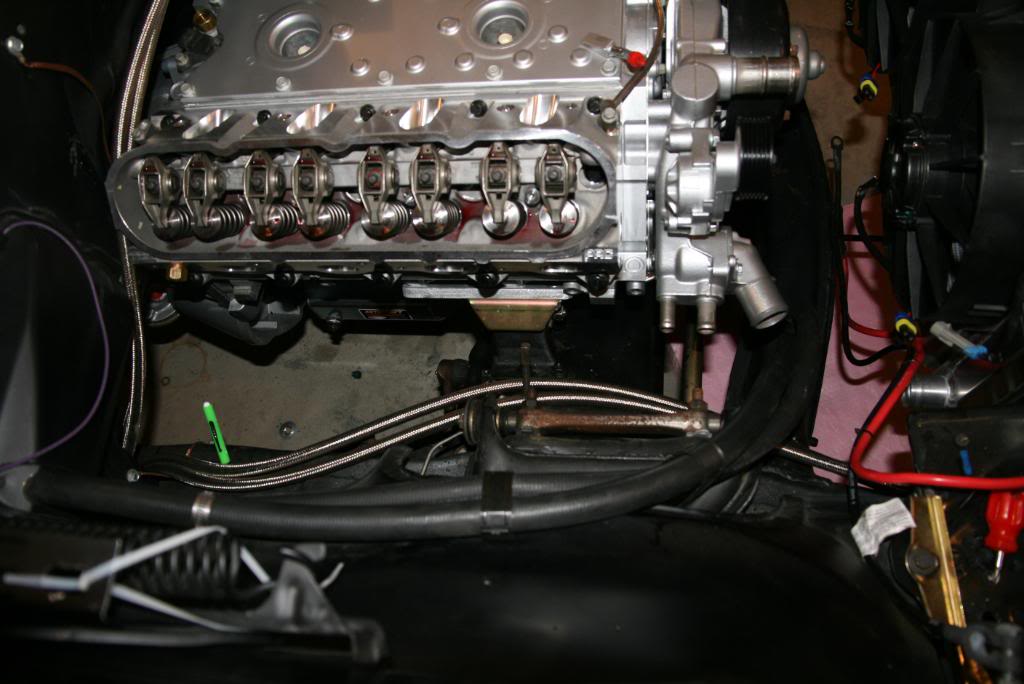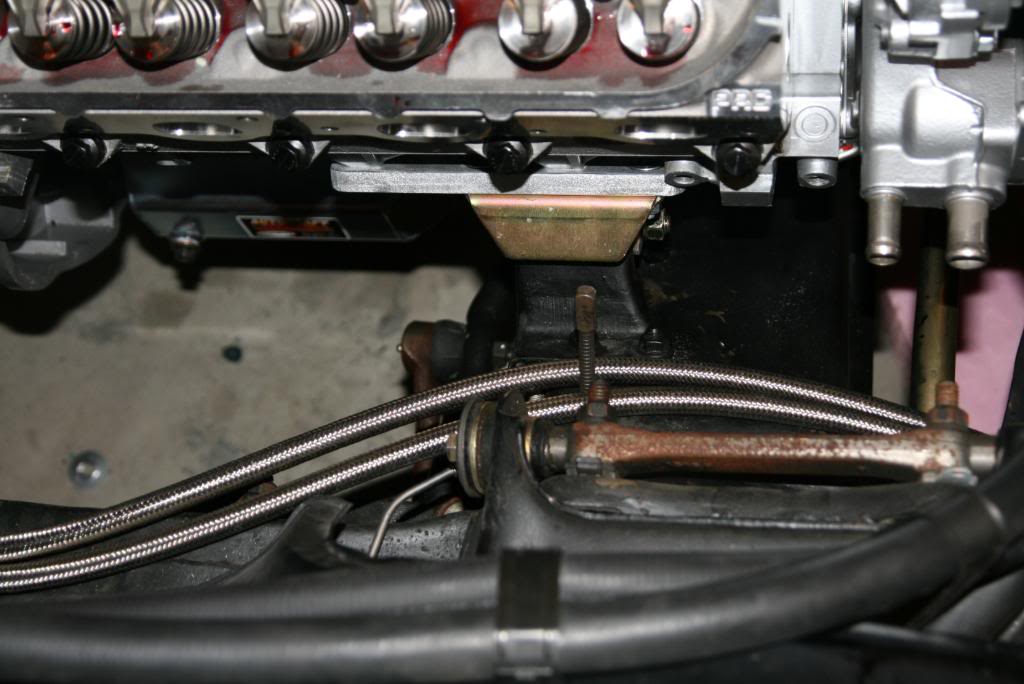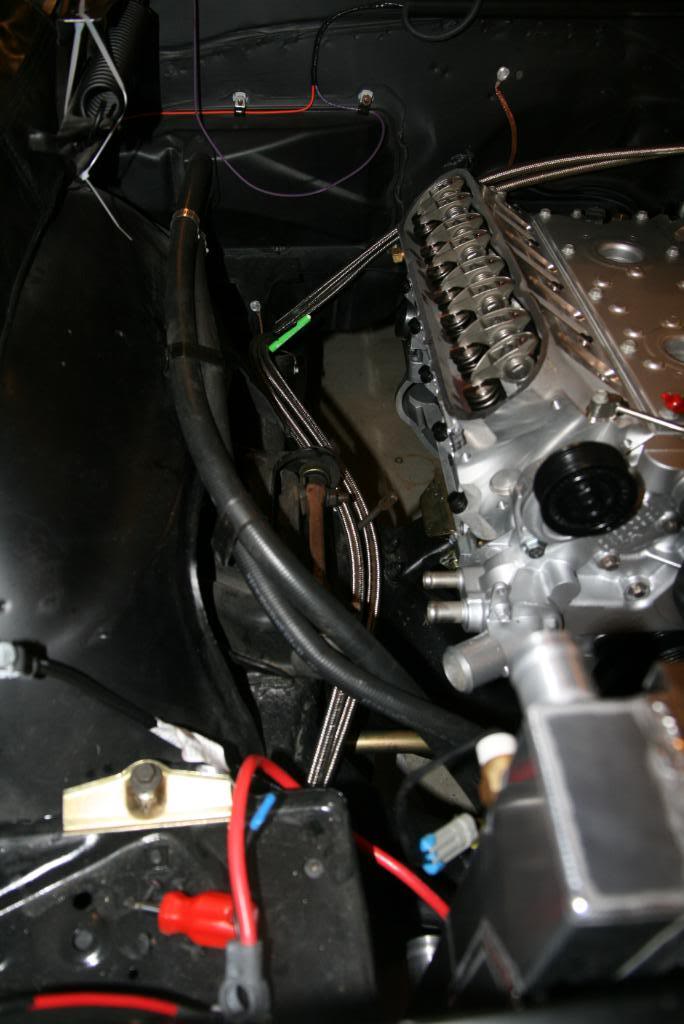 3-10-2011
well i routed the trans lines similar to what the stock car has,take a look.tell me what ya think.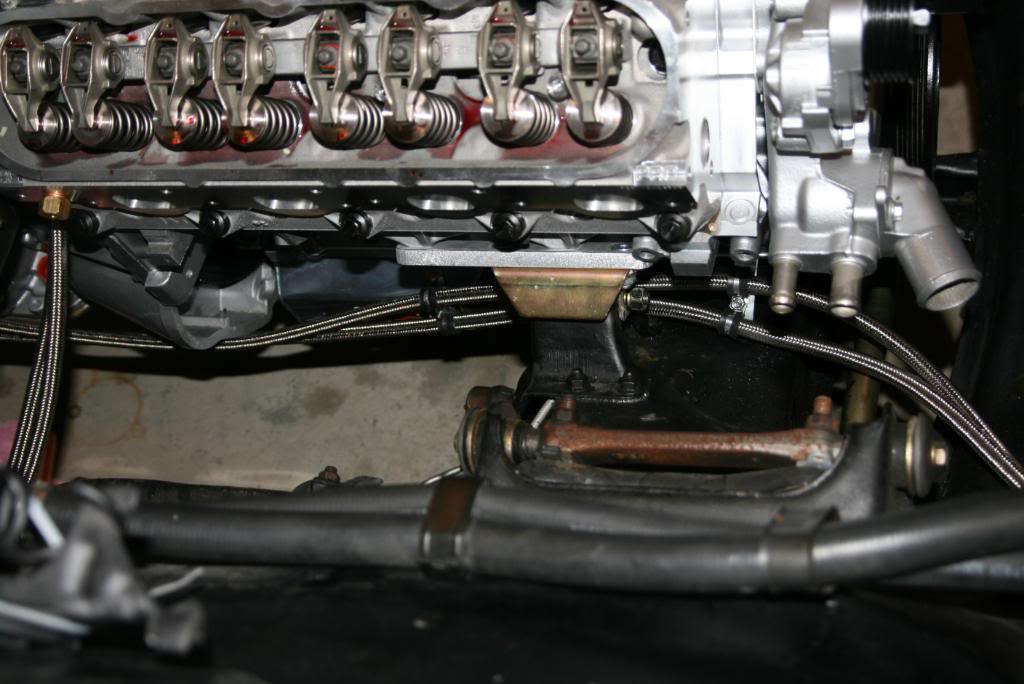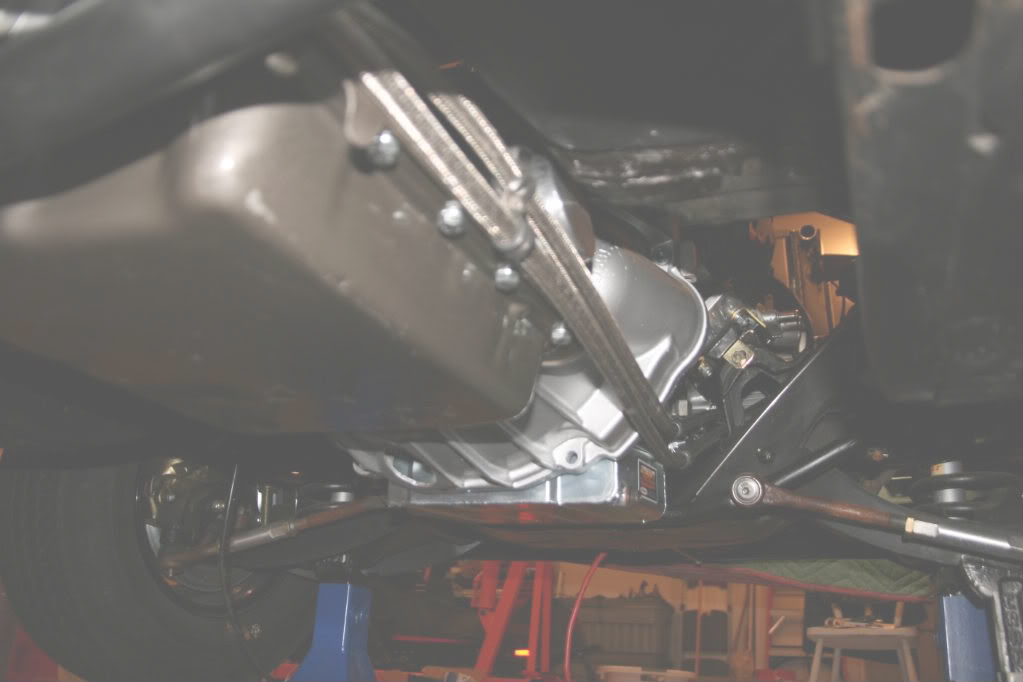 got some works done today.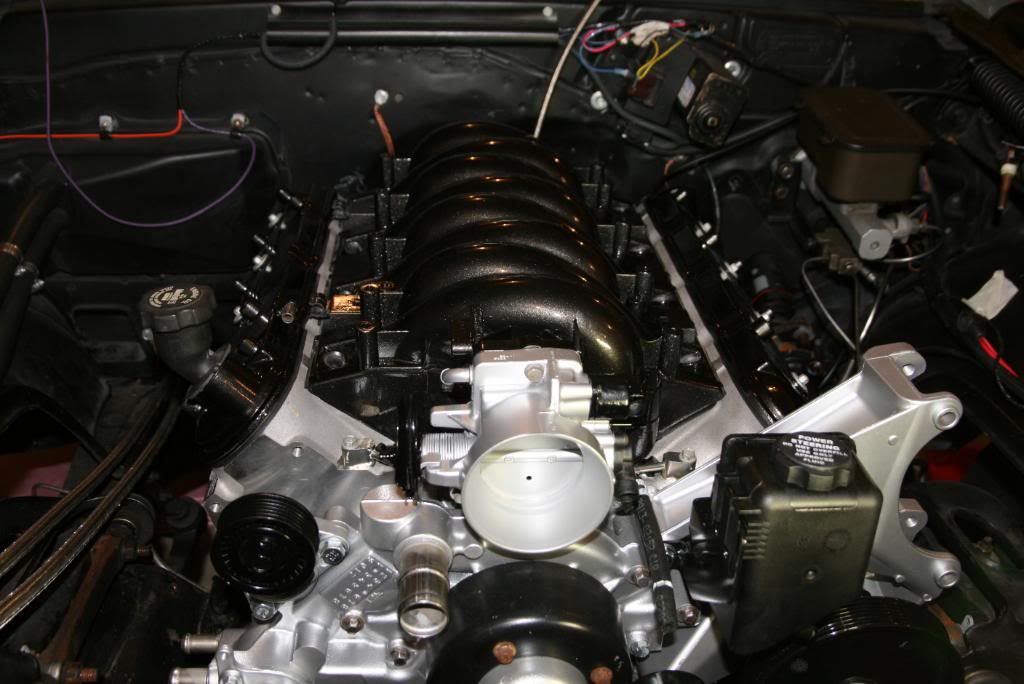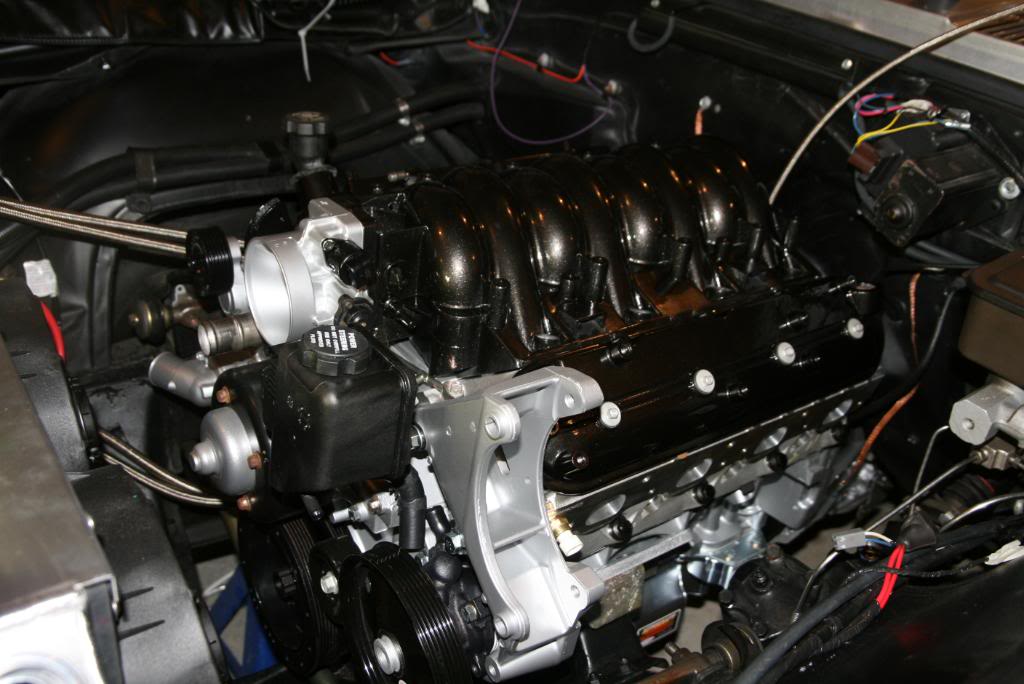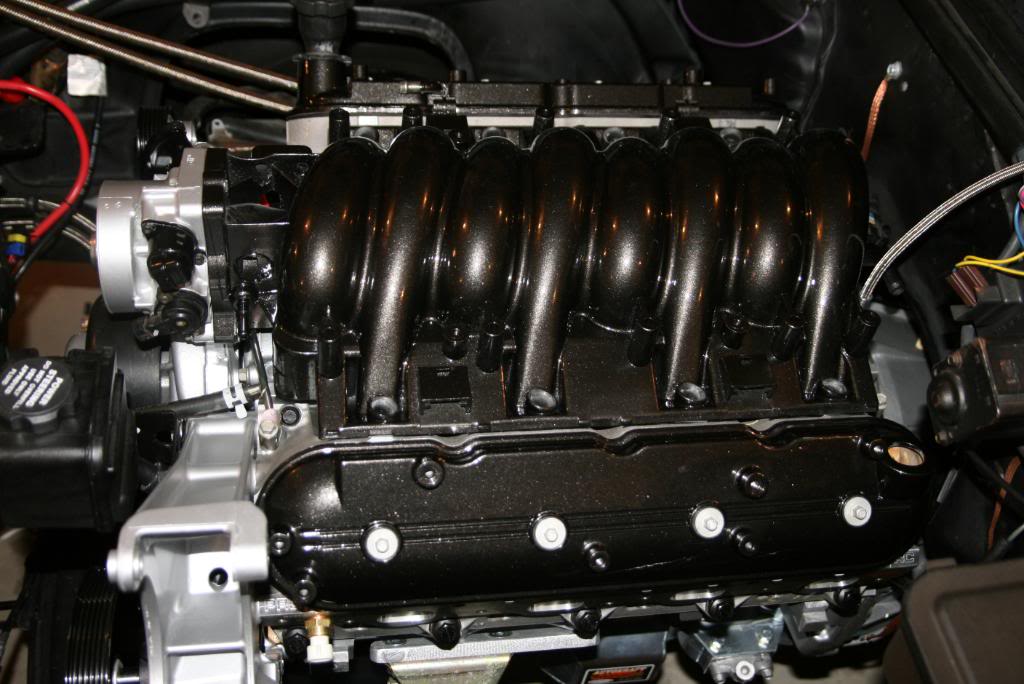 anyone know what line connects here on the rear of the driverside valve cover?where it goes to??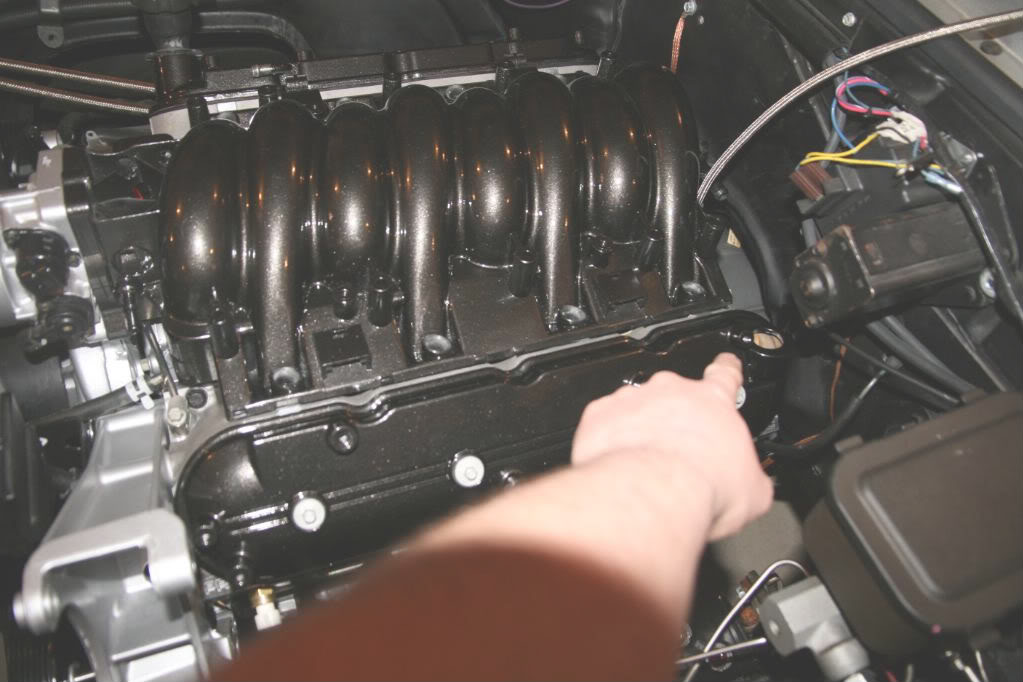 3-17-2011
tsnow,from this diagram it looks like pcv gos into drivers side valve cover and runs around to passenger side and straight back to throttle body on a ls6 intake.this is correct,wright?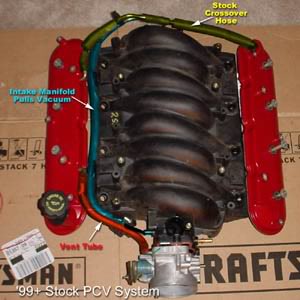 thanks to ls1how to
well i got my wiring harness from street and performance,did a very nice job!!going to try and put the computer under passenger seat!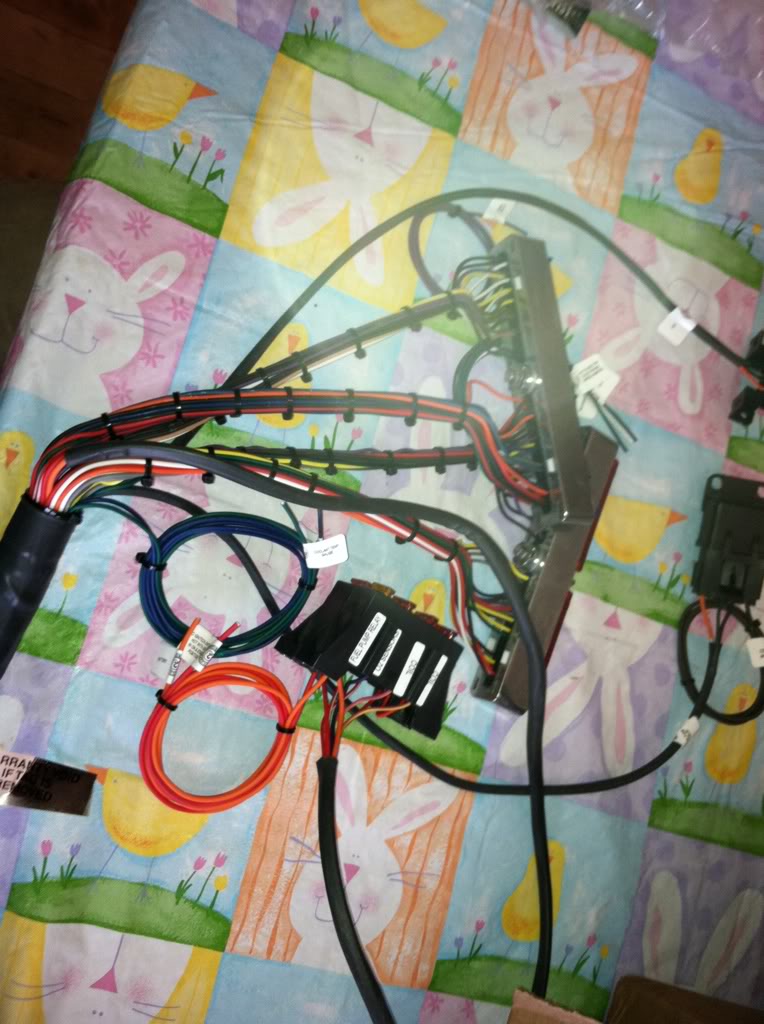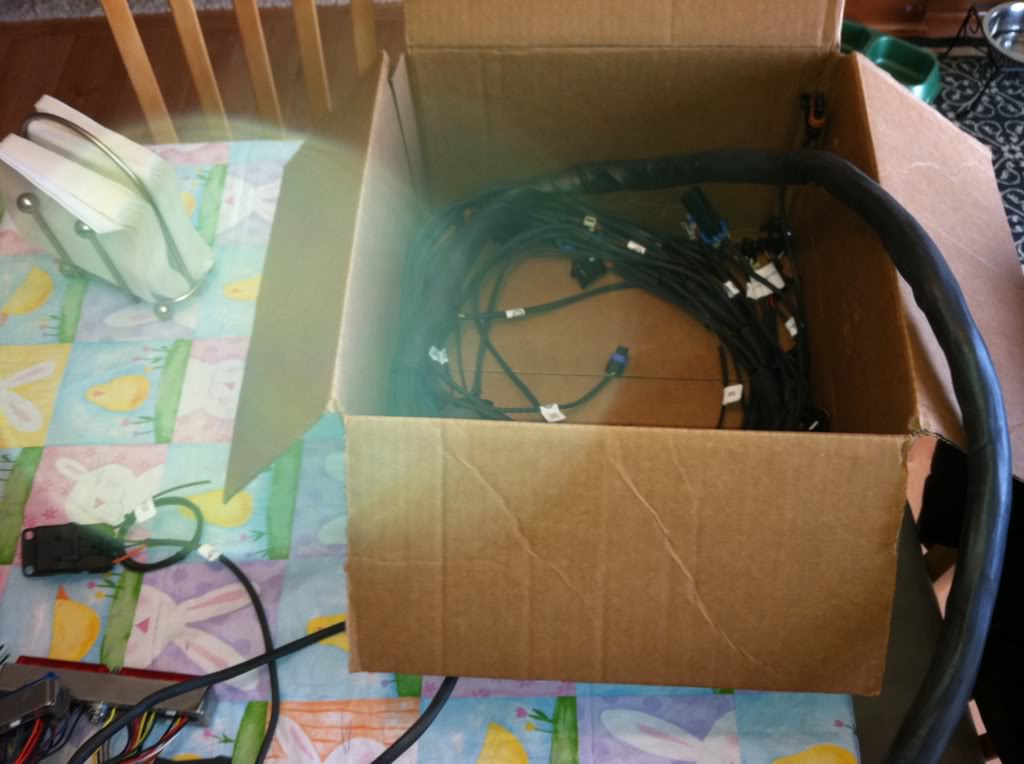 3-18-2011
well what ya guys think??where is my best place to pop the wiring harness through?going to run it to under the pasenger seat where im going to mount the computer!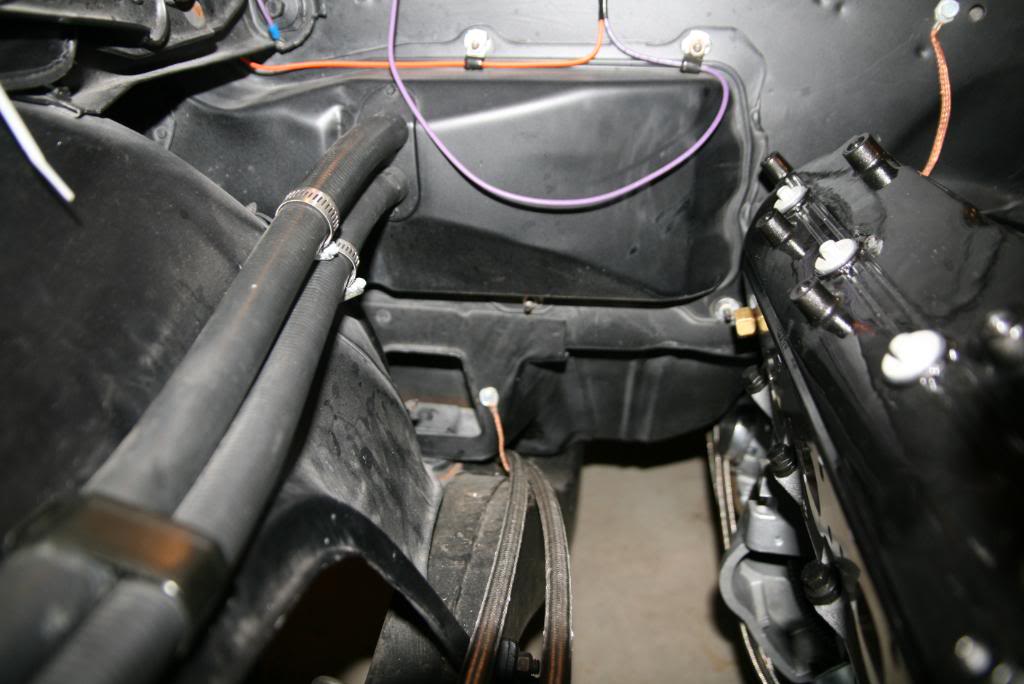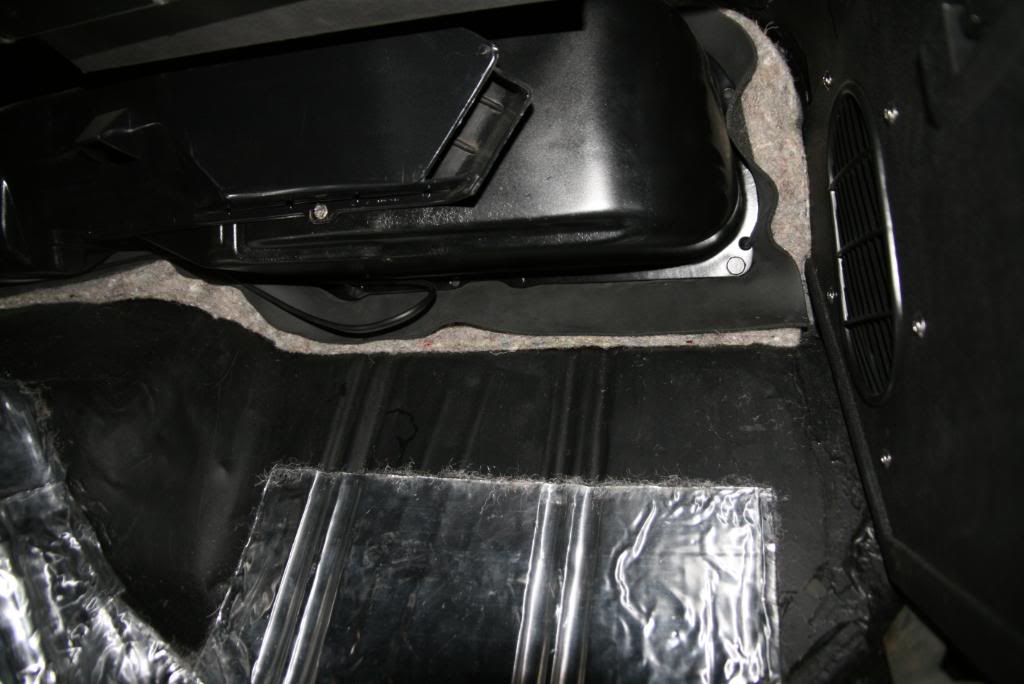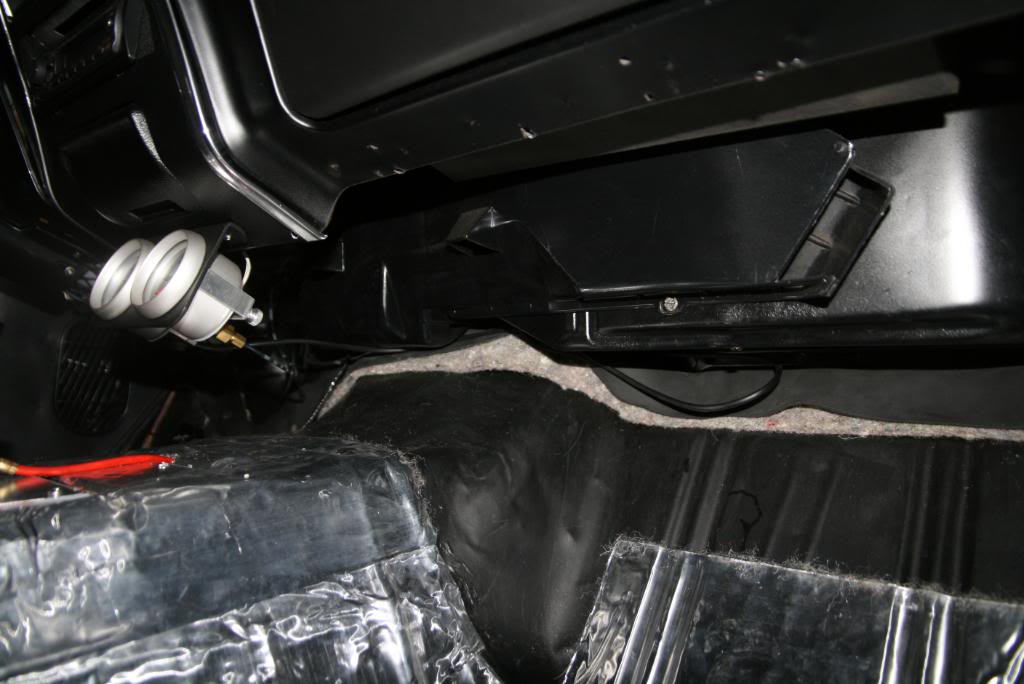 or my other option is to relocate the battery to the trunk and mount it there.i could put a stainless cover to hide it!what you guys think?or you think im ok under passenger seat?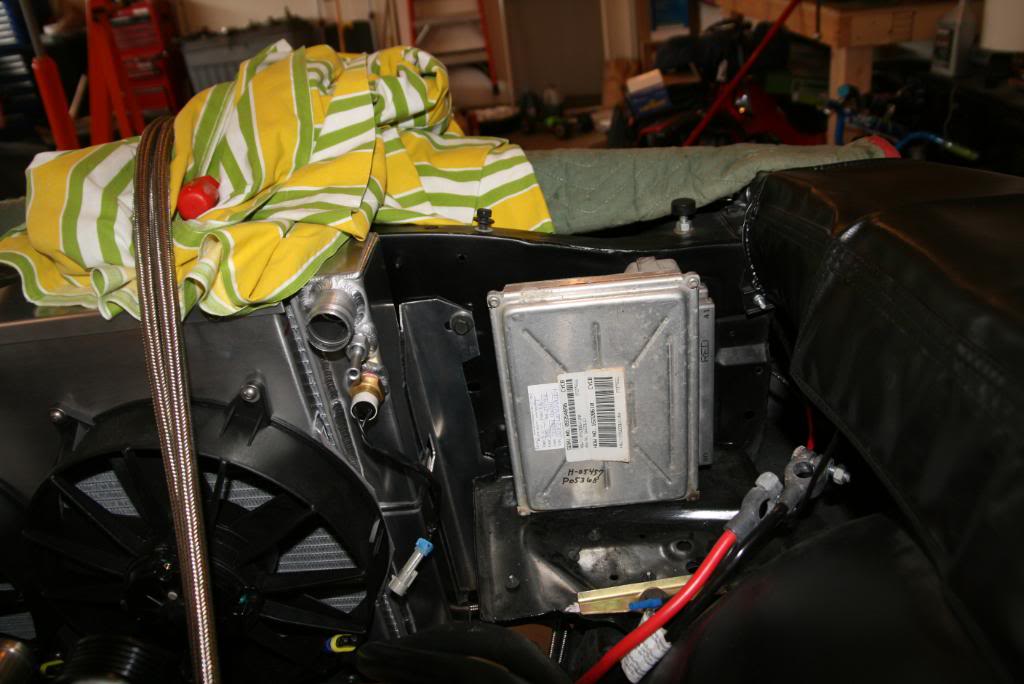 3-23-2011
big thanks to jeremy for helping me get my gas tank mounted this weekend!!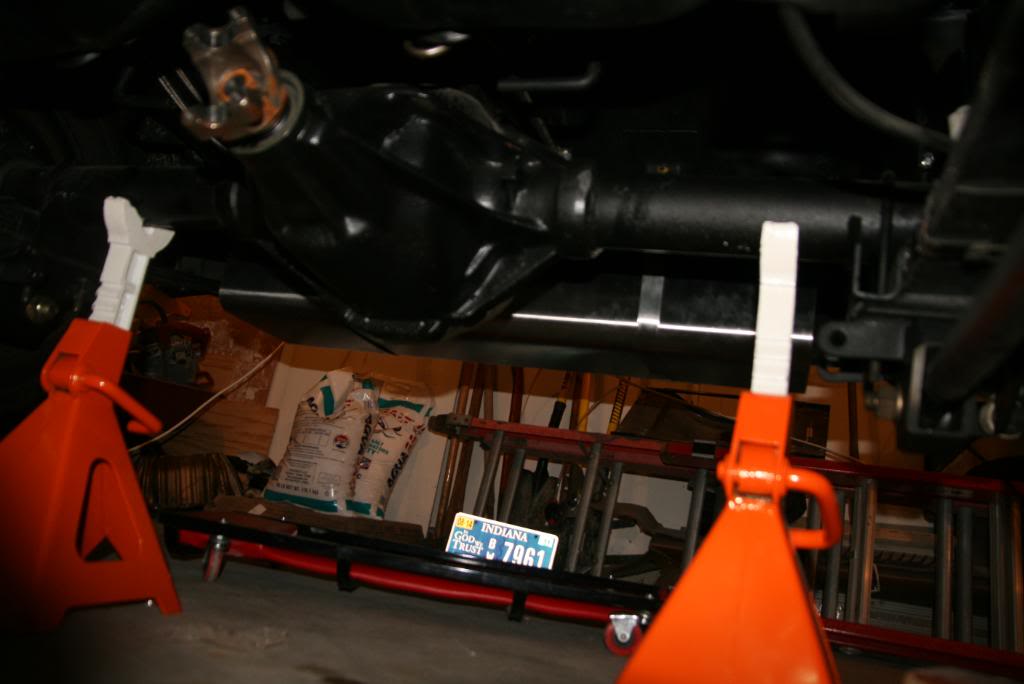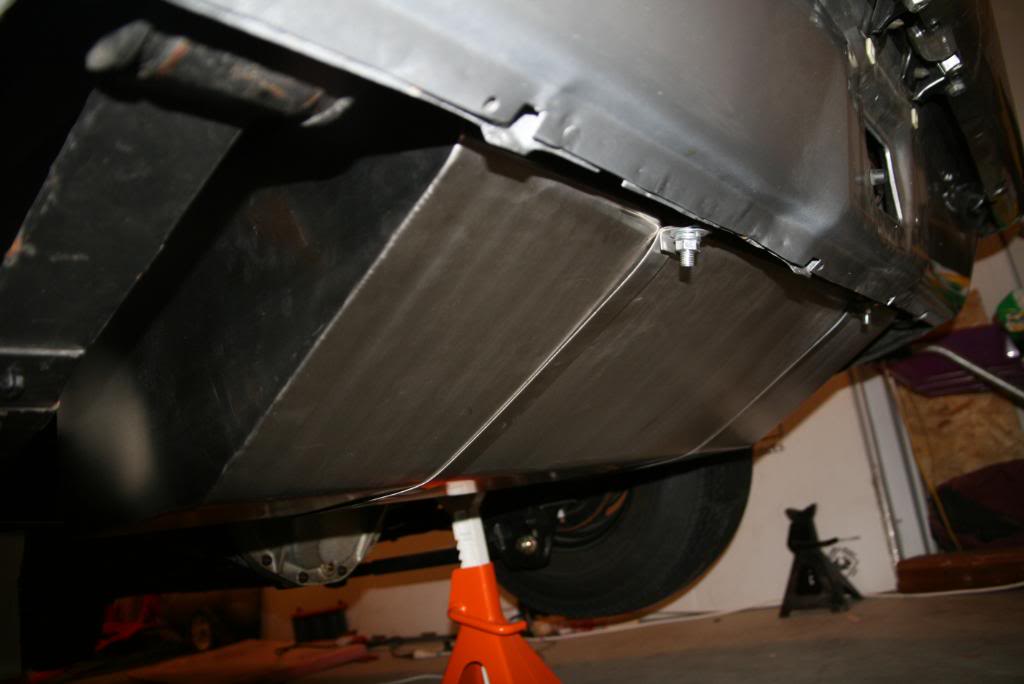 3-24-2011
also got the fuel line mounted..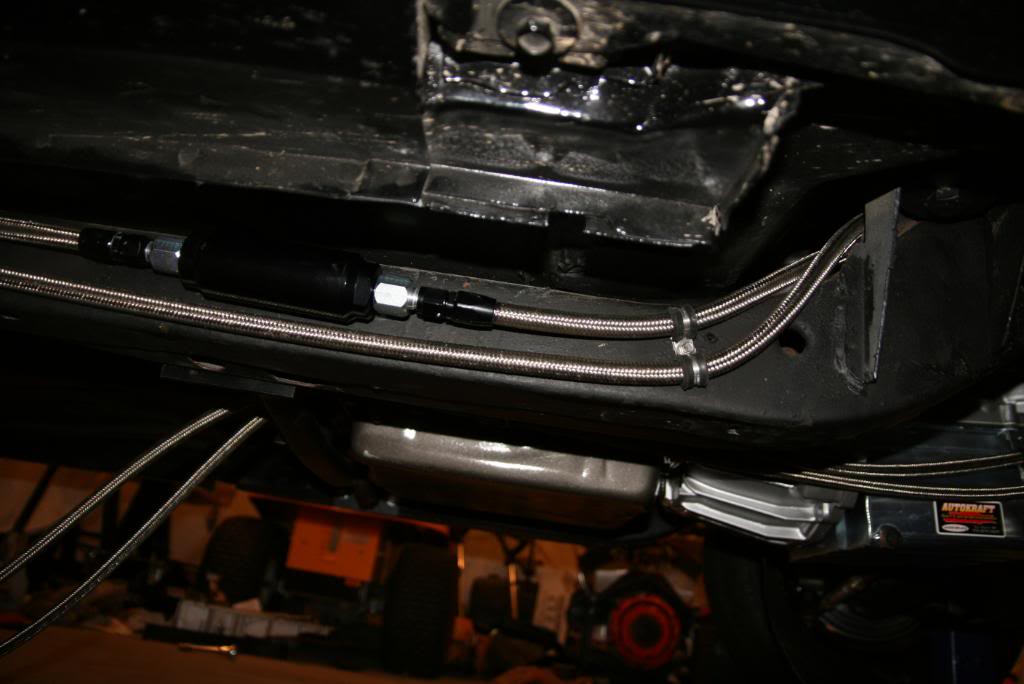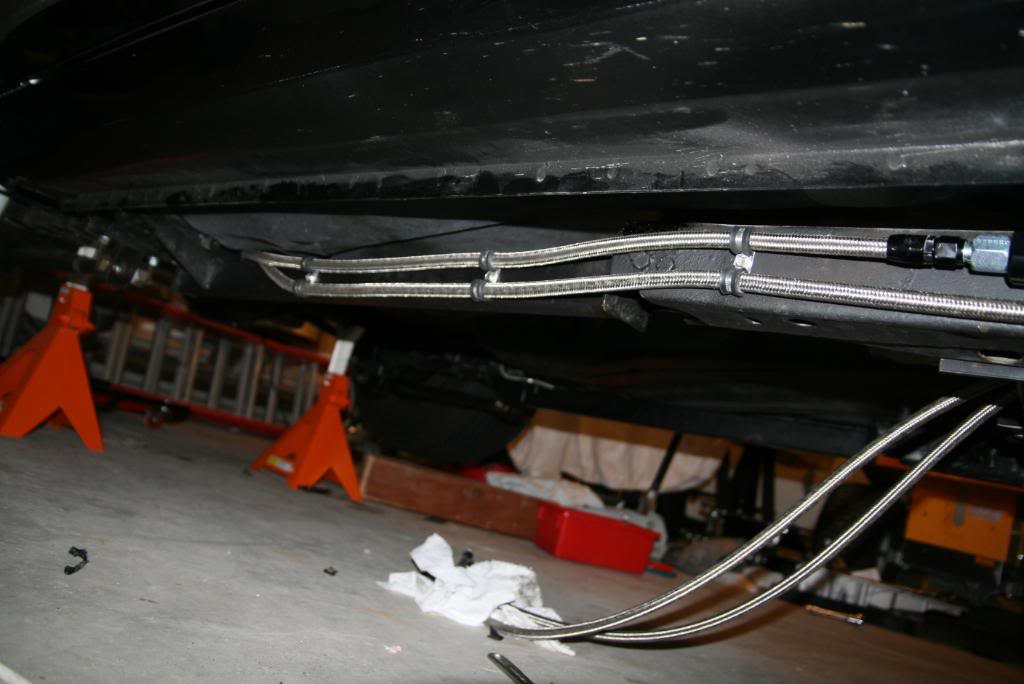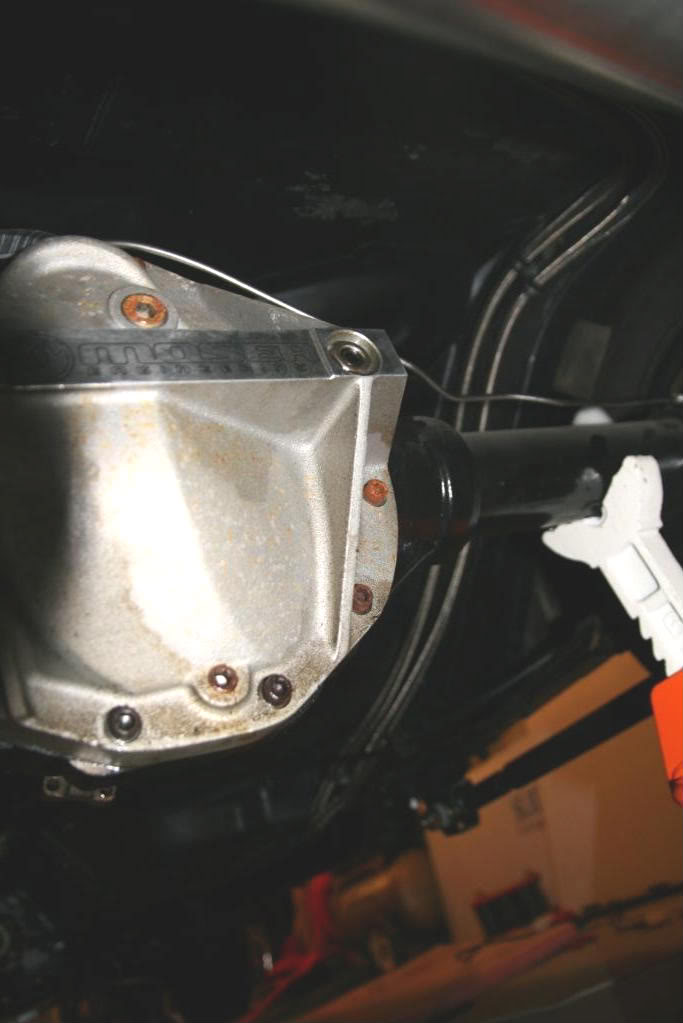 also ran my oil pressure line.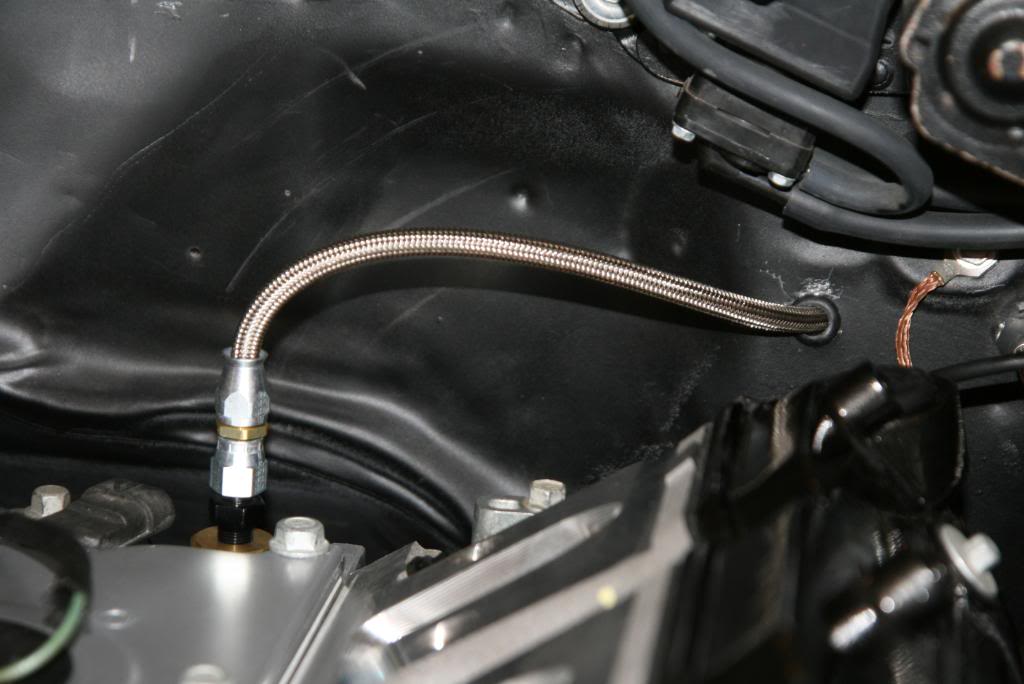 so i made a bracket at work to mount the pcm,it has a lip around it so i can make either an aluminum cover or stainless steel.,the bracket is l shape so it will tuck into fender a bit to mount the relays..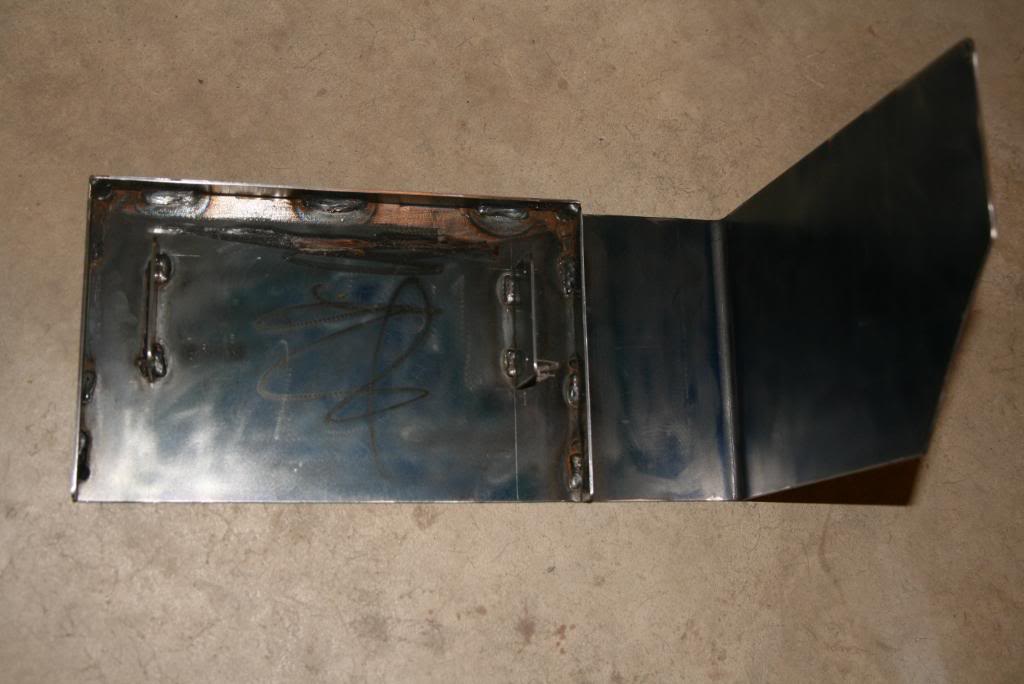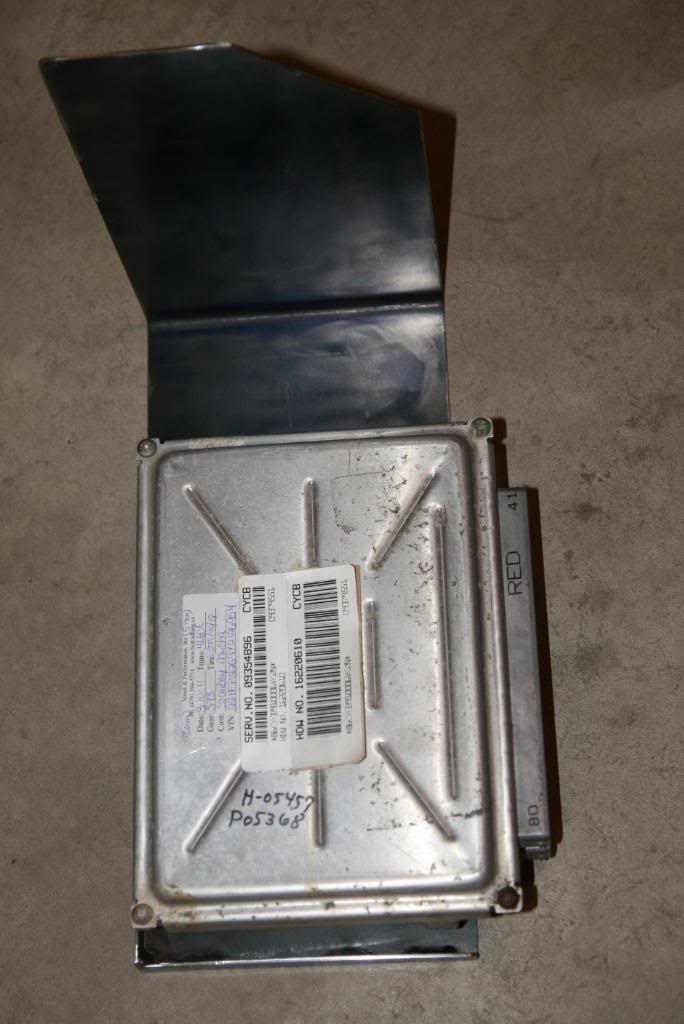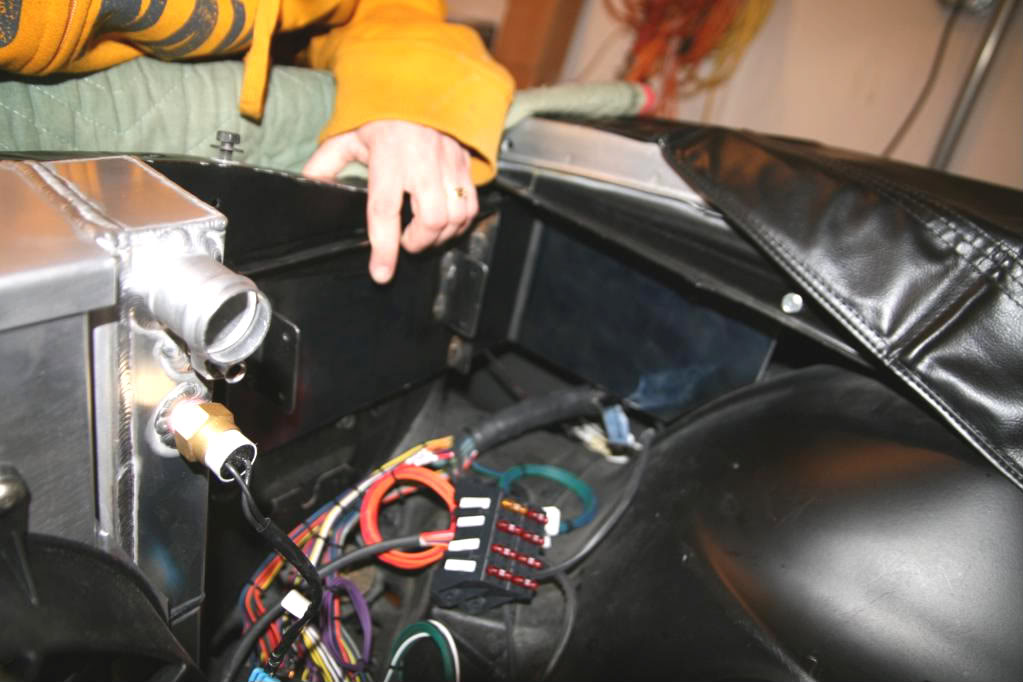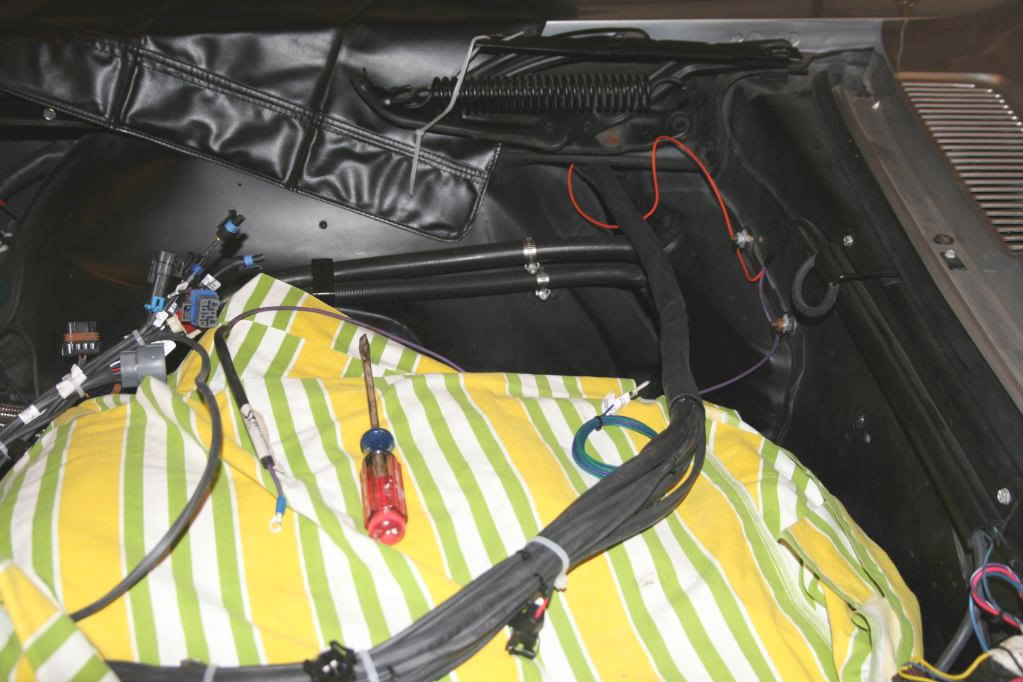 Autometer part #'s to adapt electric gauges to LS based engines.

Oil pressure switch: #2268
Coolant temp sensor: #2277
Or here!!!

http://m.summitracing.com/parts/ATM-2268

http://www.summitracing.com/parts/ATM-2277/
3-26-2011
woohoo,like christmas over here!got my headers too..i went with stainless works header and bought them through http://www.prodigycustoms.com/ he gave me a great price on them,way better than buying direct from stainless works..they tell me they are made to work with the S&P motor plates!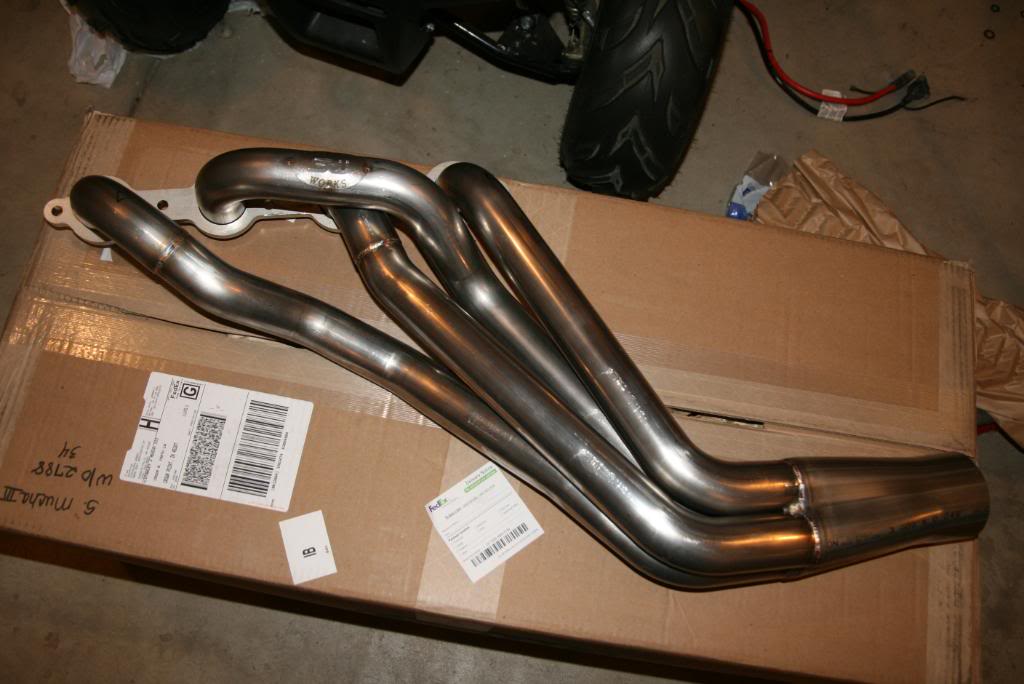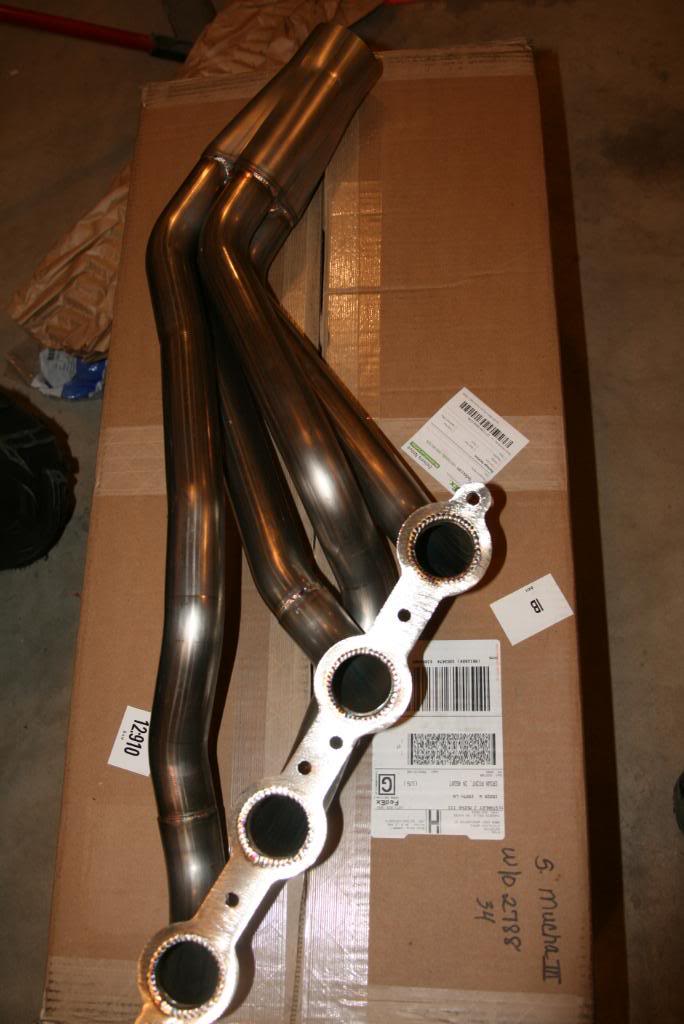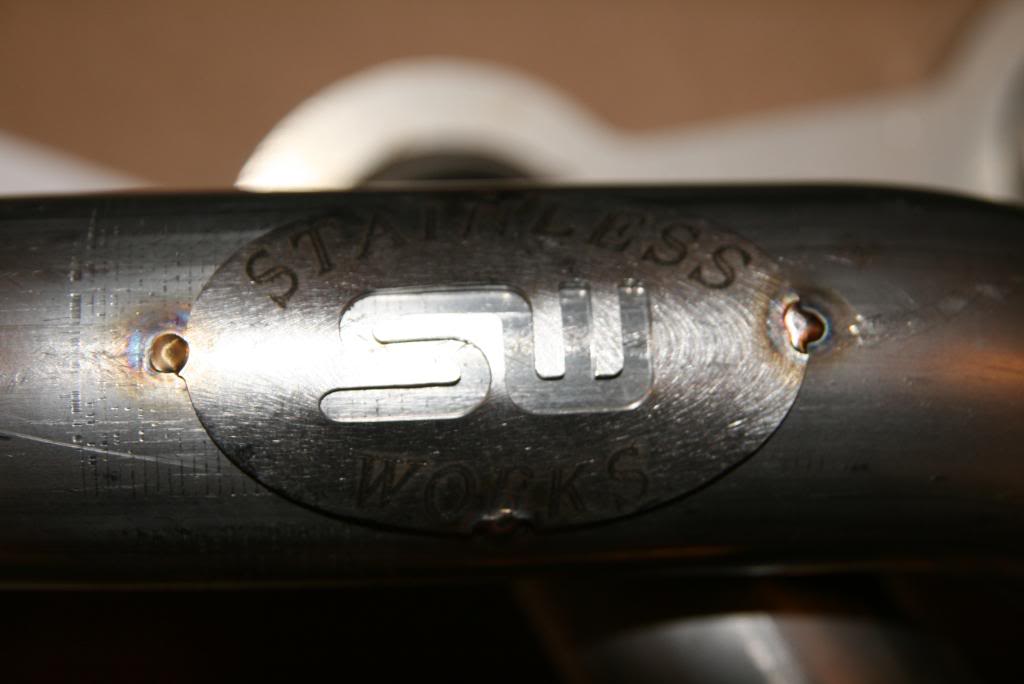 got my foose rims and tires to!!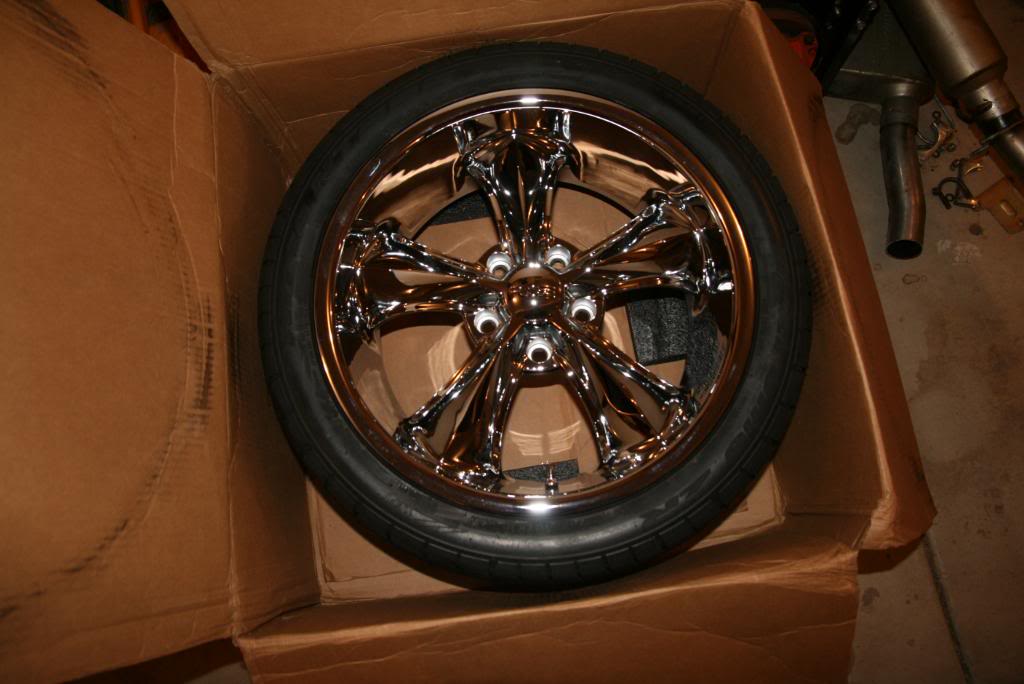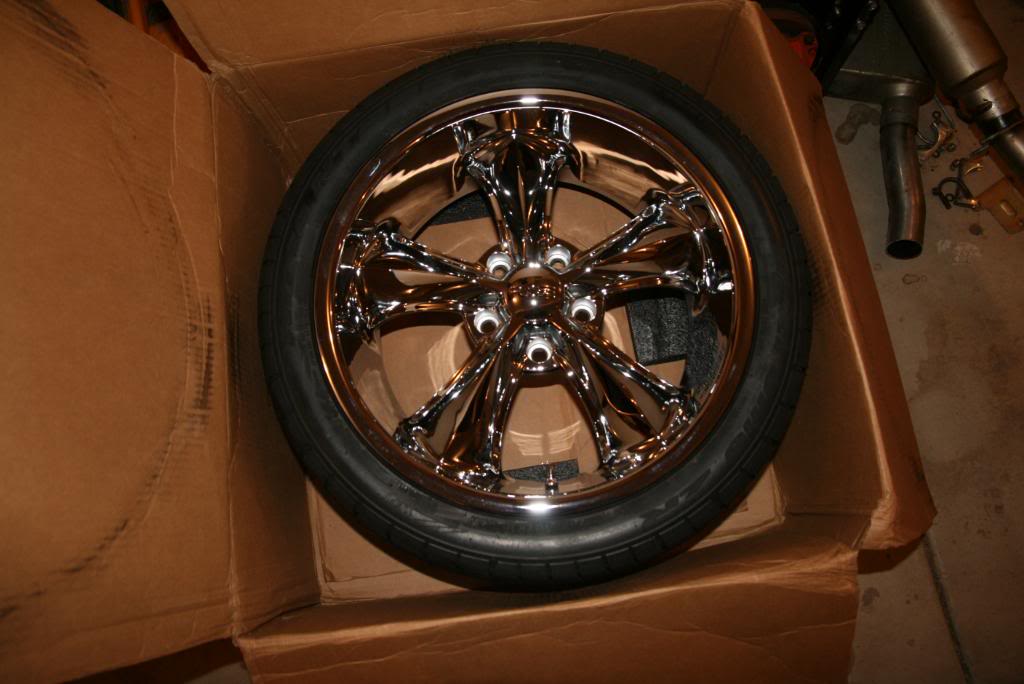 4-10-2011
got alot done,got the new steering box mounted with new pitman arm and steering coupler.also got the headers mounted.talk about a tight fit on the drivers header to the steering box.nothing touches but its close!!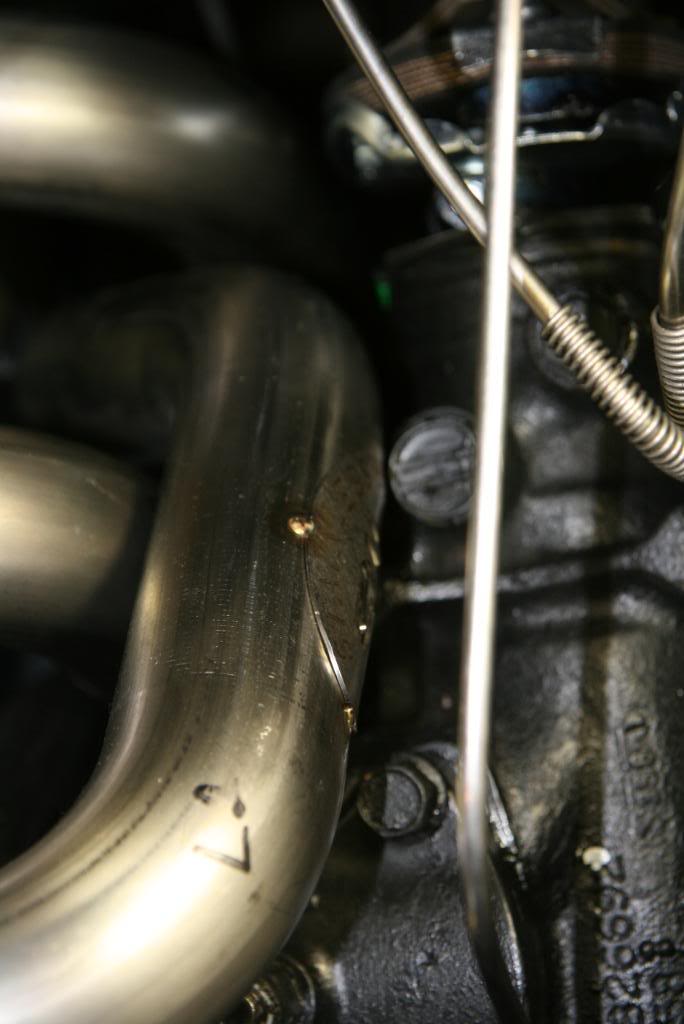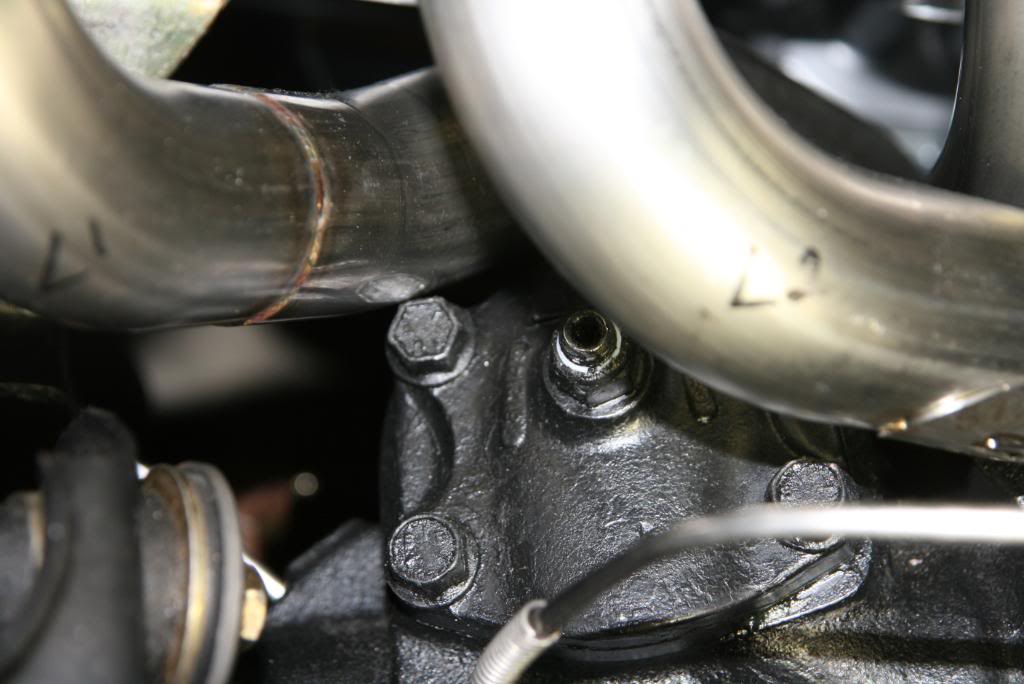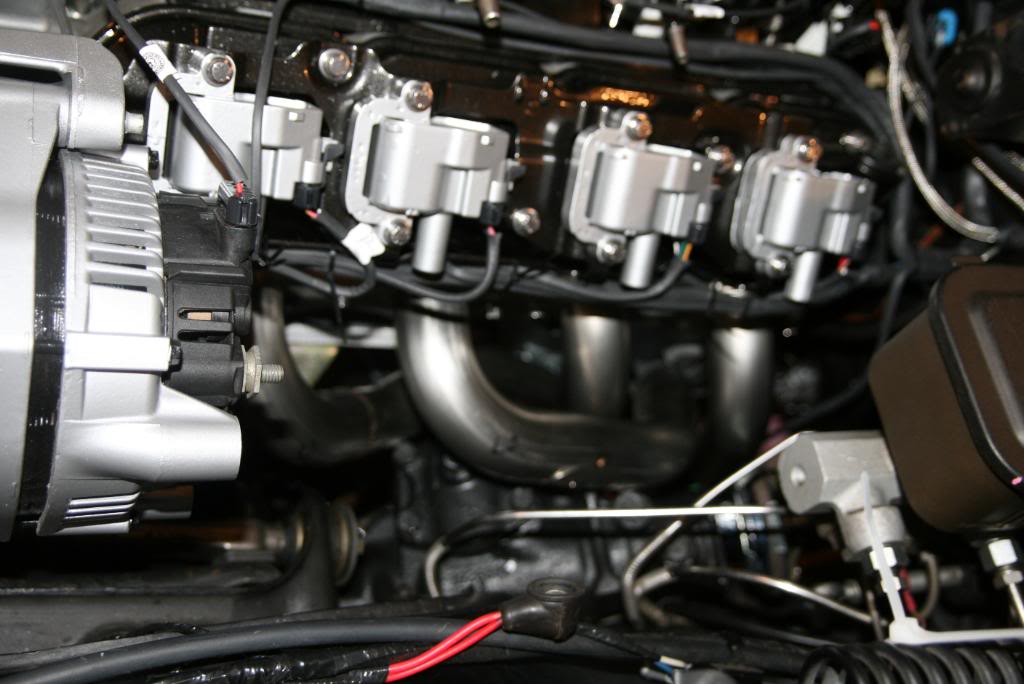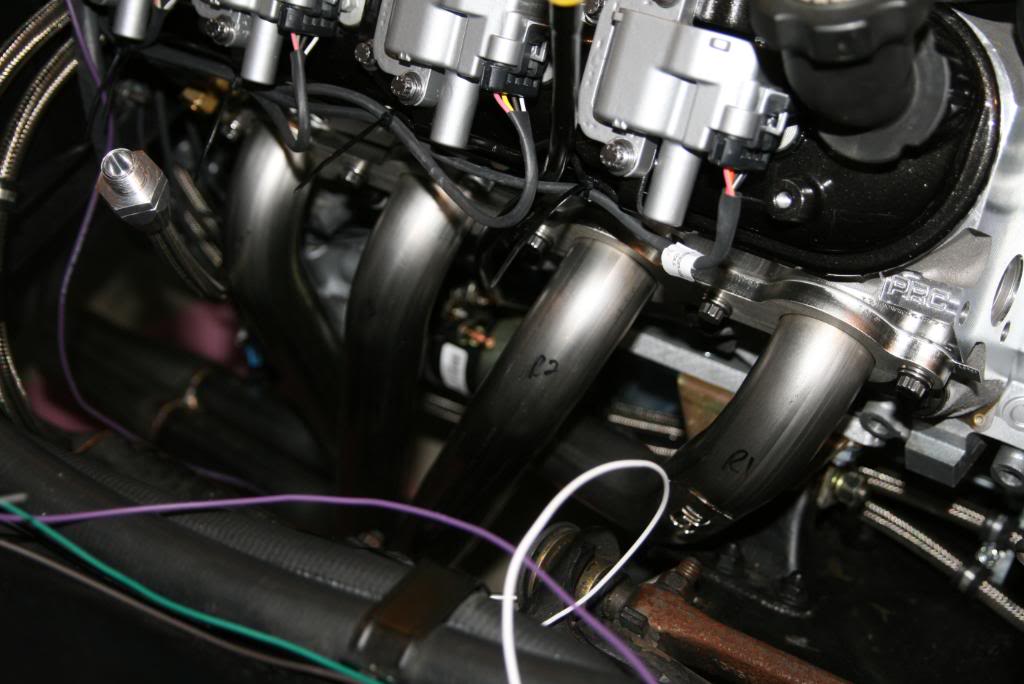 also got my computer mounted and my new wirring harness connected to most of the engine sensor!!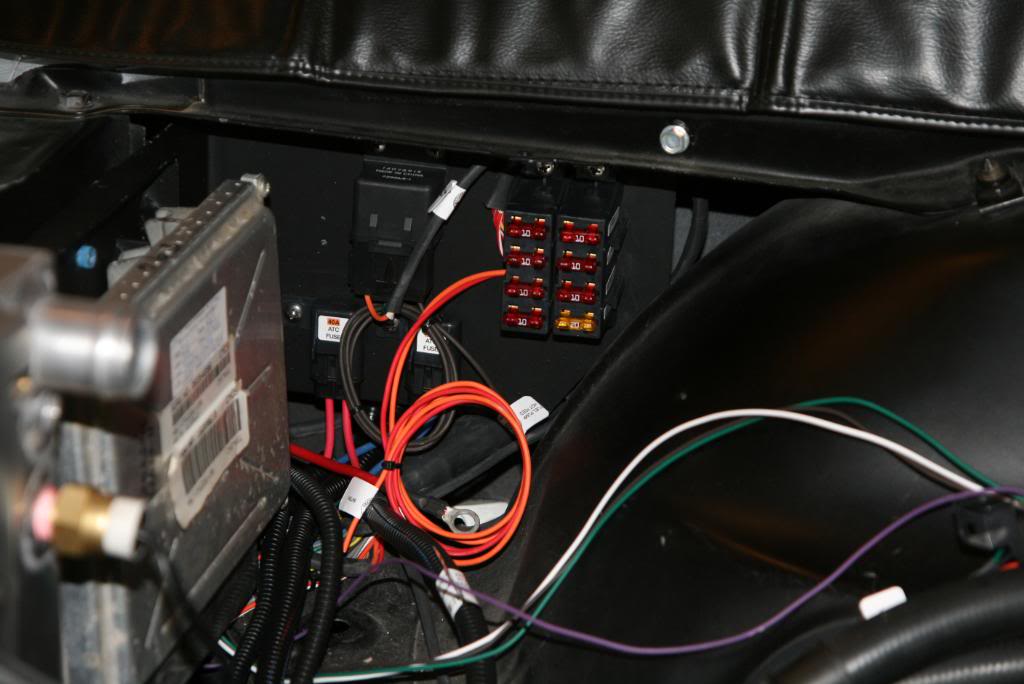 there will be an aluminum or stainless cover to hide the computer!!the fuses are tucked in the fender out of sight.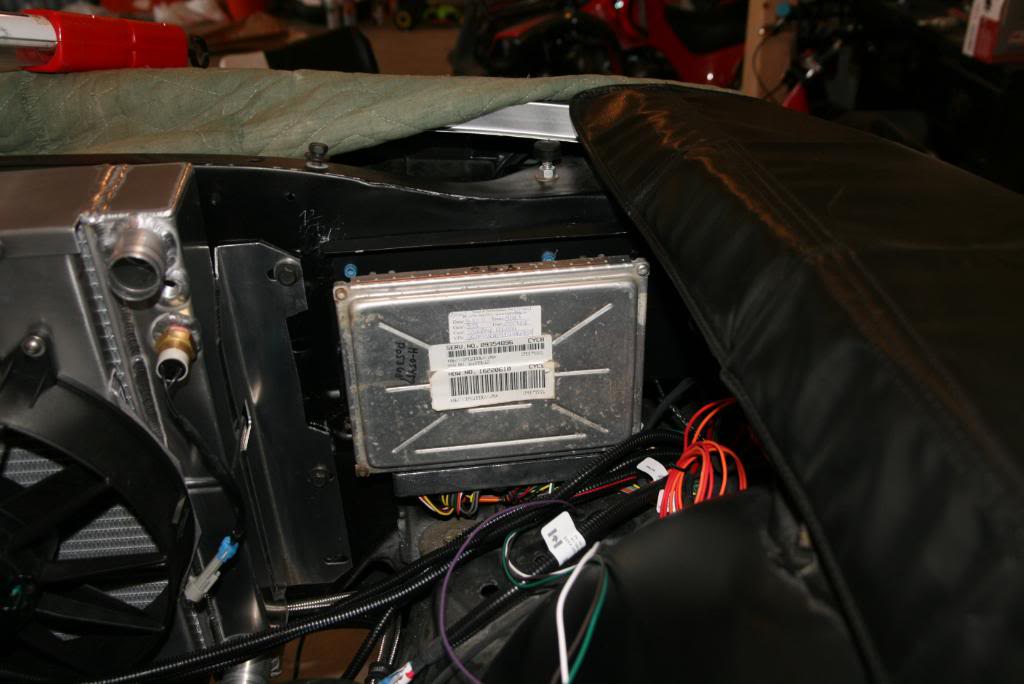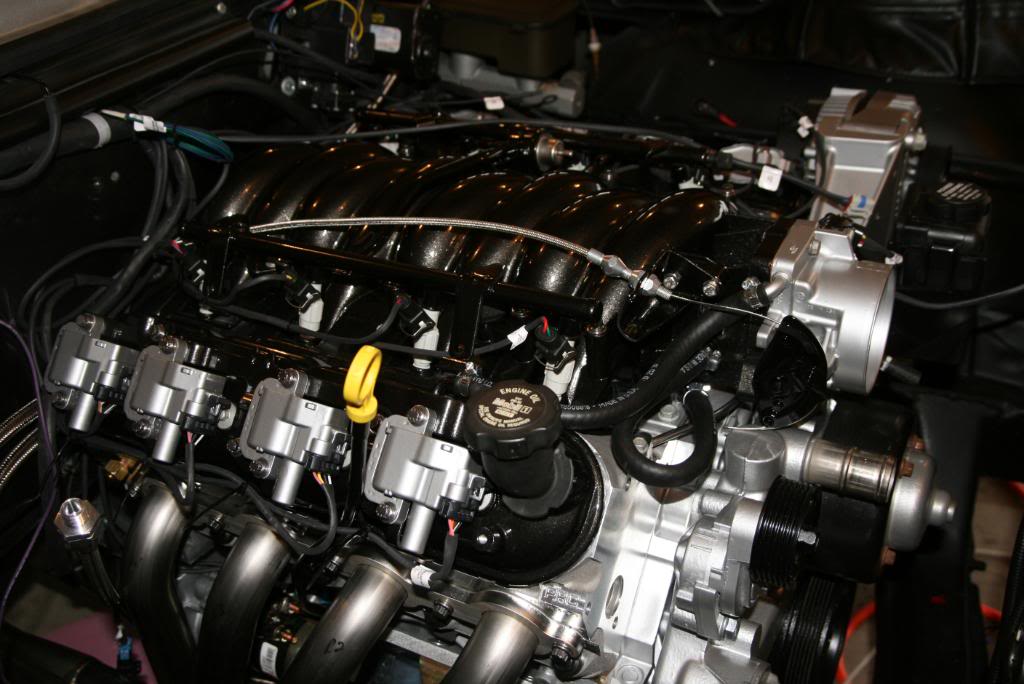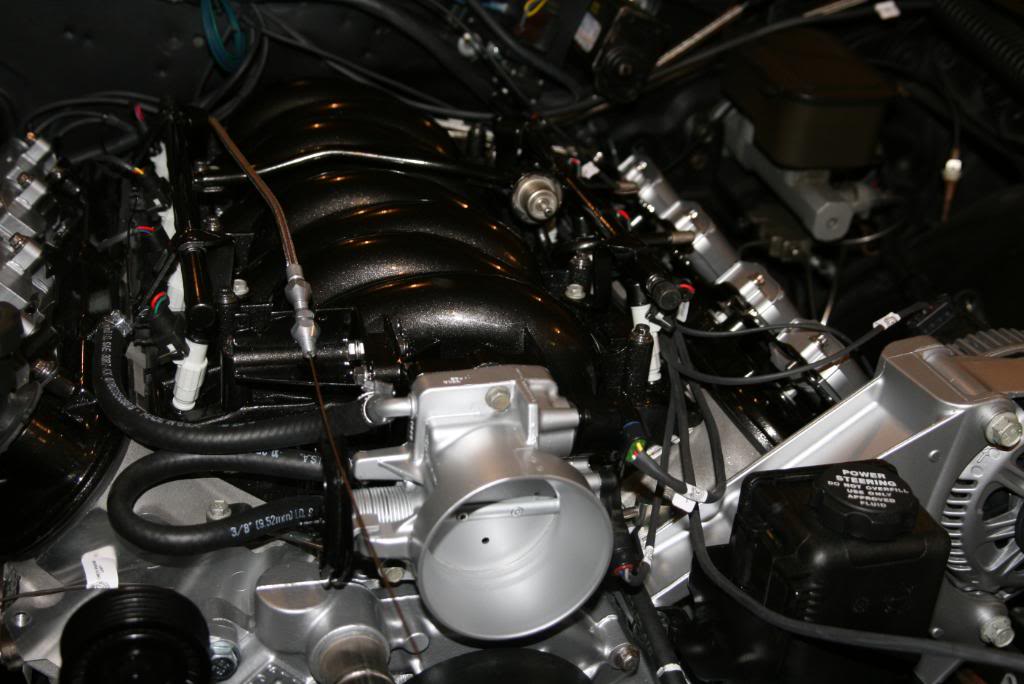 4-27-2011
Been busy working on the car,finishing all last minute details!!I got my new tail housing installed on the trans which will drive the speedo gear!got all hoses on thanks to tsnow for the hose part numbers!went and took my driveshaft to get modified,should be ready Friday!!I hope to be filling all the fluids this weekend!maybe start up this weekend or next!
5-19-2011
making a video now of the car,its weird in order to start i have to hit the gas pedal some to get her to start?wont start just turning the key..anyway check out the video.



5-22-2011
got my new foose legend rims on!!had to change all my wheel studs,all too short.nothing comes easy does it??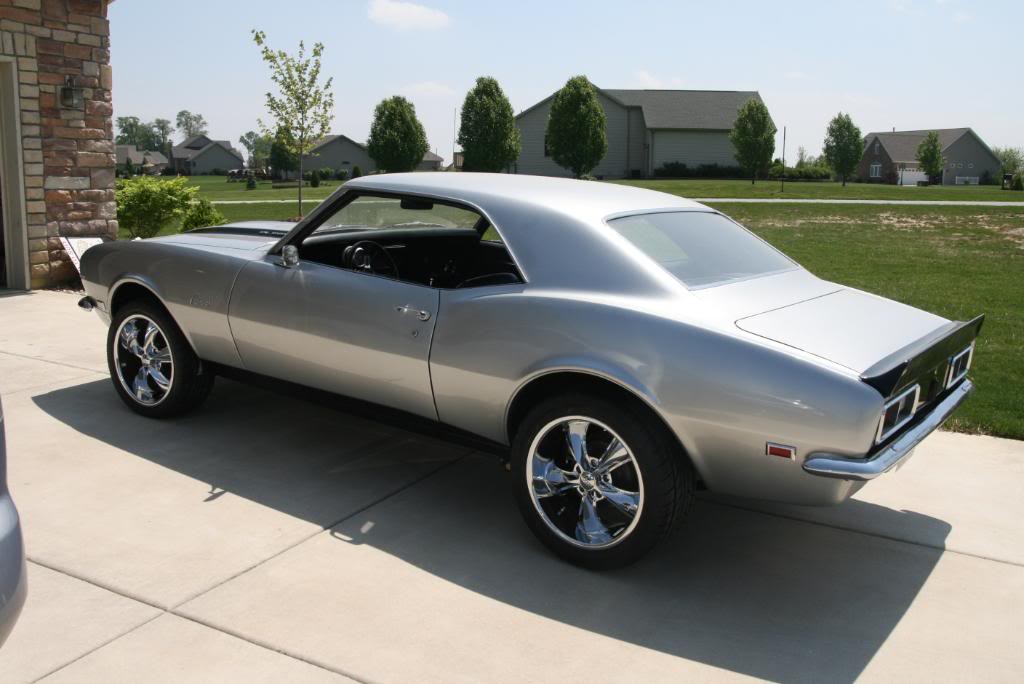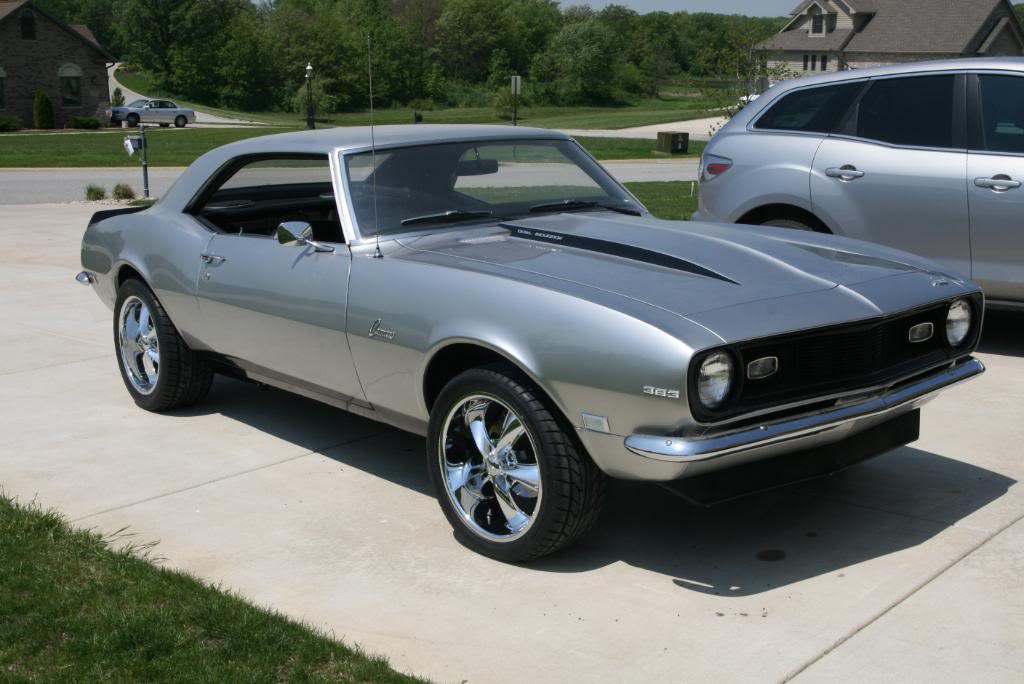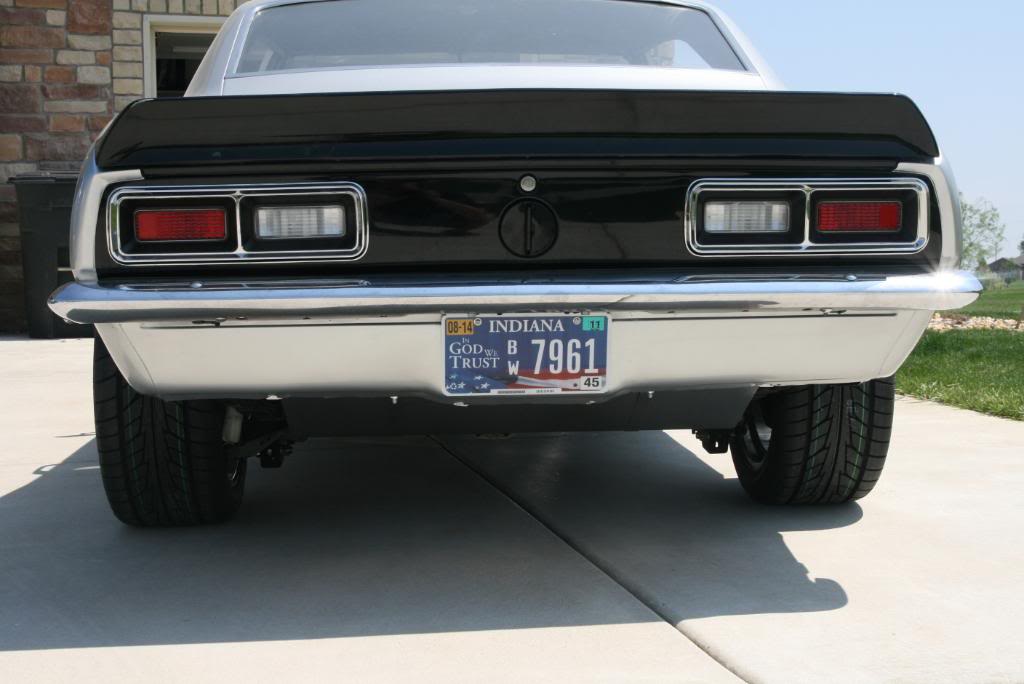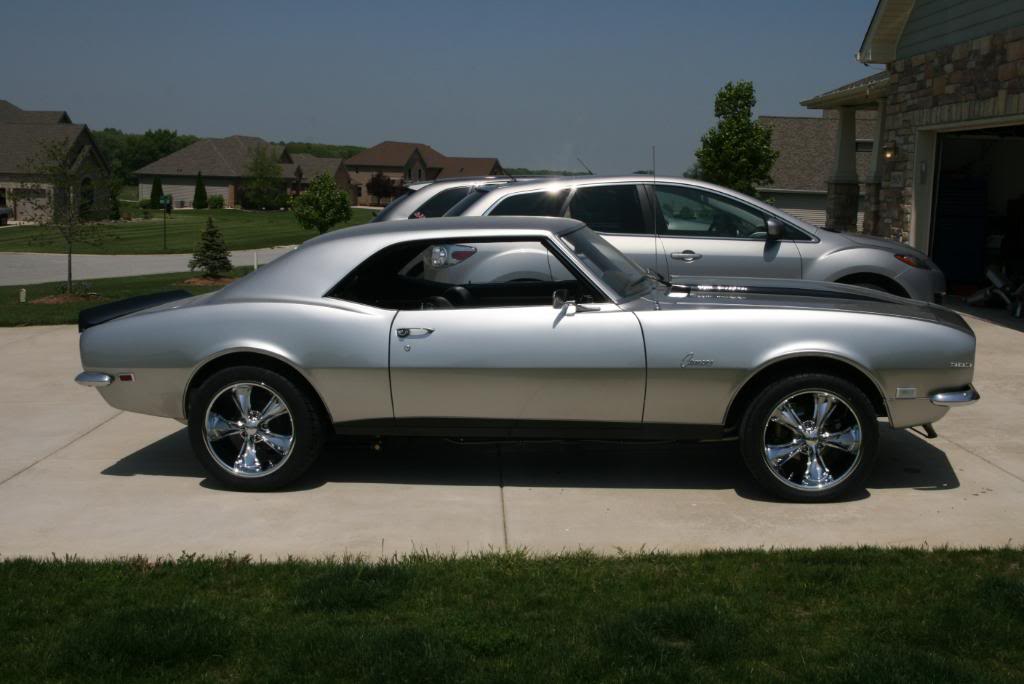 still having problems with idle of the car,i can go to start the car and it idles fine,but if i put in gear it wants to die easy.the second time i have to start the car it doesnt want to start have to use gaspedal to get it started and it still wants to die.i really wonder if street and performance put the correct tune in for my cam and for my 36lbs injectors..i also need to look into the crank position learn,havent found much good info on that!!!i been checking for code,the only thing i get is a po650 code which is a malfunction indicator lamp (mil) what ever that is..any idea guys?
5-23-2011
pulled my computer today and took it to jesse bubb from wait4me performance,he live like 2hours from me.what a huge difference the tune made.he found a ton of stuff wrong in the tune speed and performance did.it was bad enough they didnt turn of vats but the whole tune was fu#ked up!!jesse charged me $75.00 for the tune,cant beat that!i walked into his house and he must of had 100 car computers stacked up by his work area.i will prob take the car back to him for a full dyno tune,he charges like $275 for a dyno tune..any way check out the new video!!!all probs from before fixed with new tune!!
Foose legends
went with a 18x8 front with a 5 inch back space.tire will be 245-40-18..
went with a 18x9 in the rear with a 5 1/4 back space.tire will be 275-40-18..
Yeah start up is fixed, not sure about it being lean,when I was there getting it programed he changed alot of parameters!I dont exactly know what he changed but I know timing was way way off!!I need to work on getting exhaust on next few days so I can take it out for a good drive and really test it!!driving around the neighborhood really isn't enough of a test!I Also need to look into that mil code and if that lamp I used from radio shack will work!
5-25-2011
I haven't really had it Out to check yet,got the car up on jack stands and putting the x pipe up and the old flowmasters back up!need to pull the x pipe back off now that I got it clamped so I can have it welded!!I bought two sets of these to put between the x pipe and headers and between x pipe and mufflers!wanted to be able to pull apart if needed!!!
http://www.jegs.com/webapp/wcs/store...owmaster+15938

I got this x pipe!
http://www.jegs.com/p/JEGS/JEGS-Univ...55652/10002/-1
5-30-2011
My other summer hobby,enjoy a nice memorial day with my son!!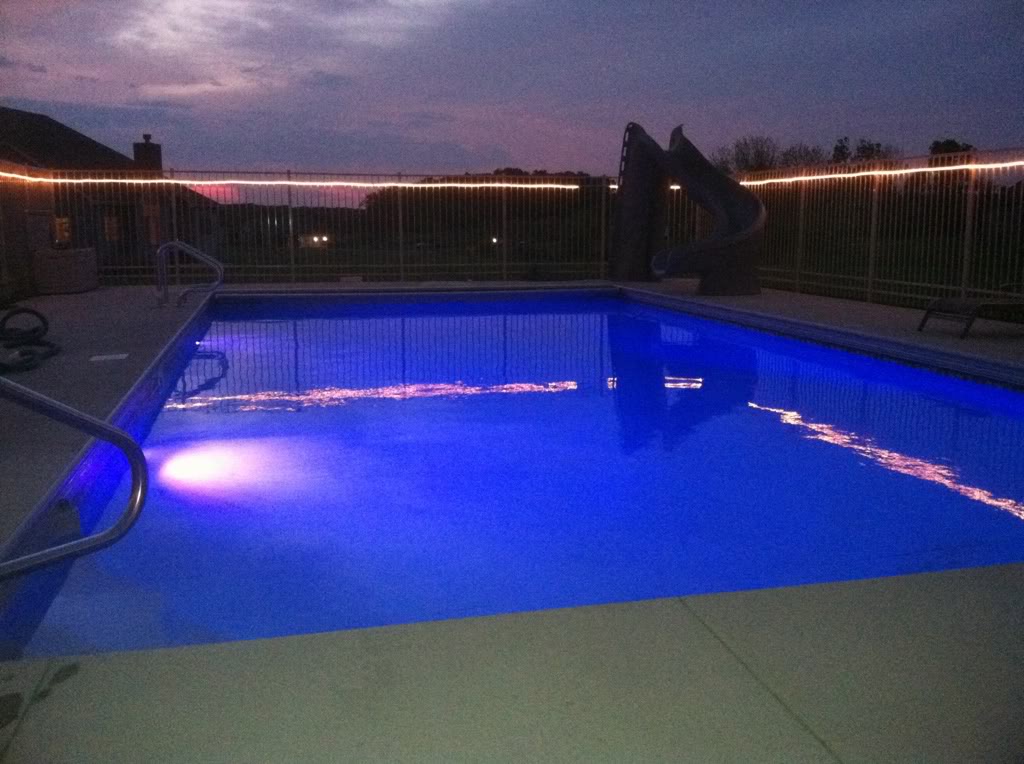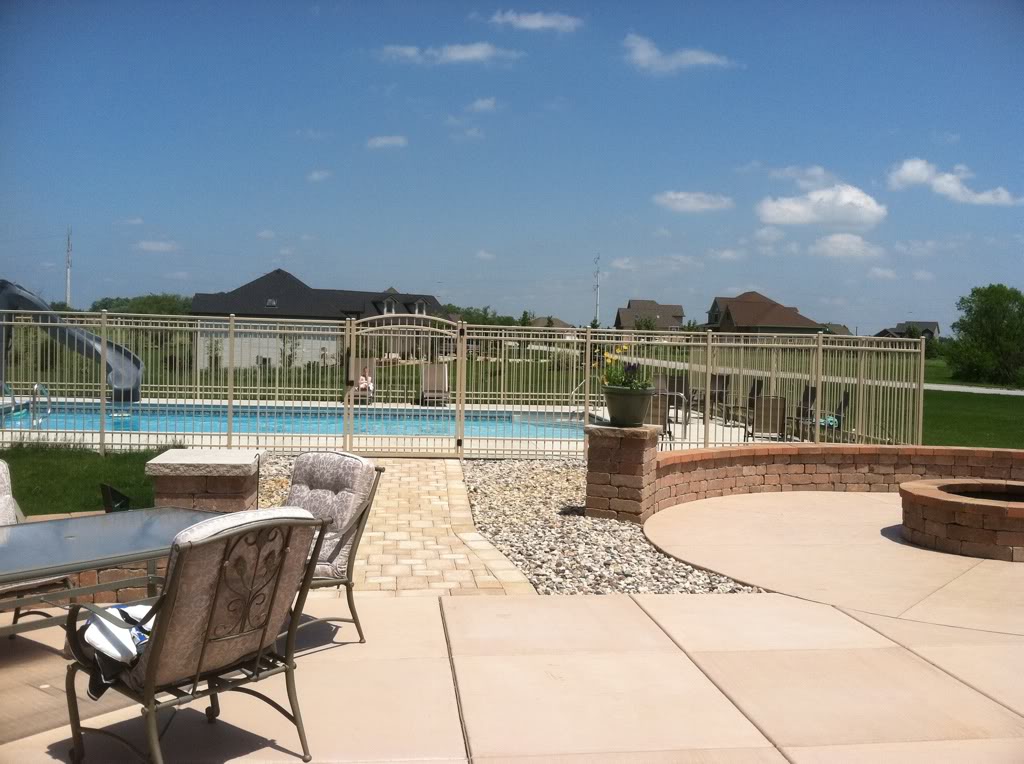 5-31-2011
So far I really like the ls in the Camaro,I still have a few small bugs to work out and I really haven't taken it much farther than my subdivision!need to take it for a good ride and test it out!!!!the 3rd gen steering box made a nice difference to the steering!!!I still have a little play in my steering just like it had with the old steering box!I really wonder if it's the steering shaft?something I need to figure out!!I need to road test it better so I can drive it two hours away to get it proper dyno tuned by Jesse bub of wait for me performance!he charges $250,can't beat that!!!also the old manual brakes have to go!!!!
6-2-2011
Need some advice guys,I have a weird problem !after my car seems to warm to say around 190 degrees if I go to turn the car off and re try to start it , it doesn't want to re start !like the starter can barely turn the motor over ??I have the fans running at that point,but even if I turn off I get the same results!I thought I was happening do to too much draw from battery when fans are running but that's not it?? Battery seems to be charged fine !if I let it cool off some it will re start!
No headlights seem to be fine!I think it may be heat to starter but I really don't think it's that close!here is a pic,what is your thought??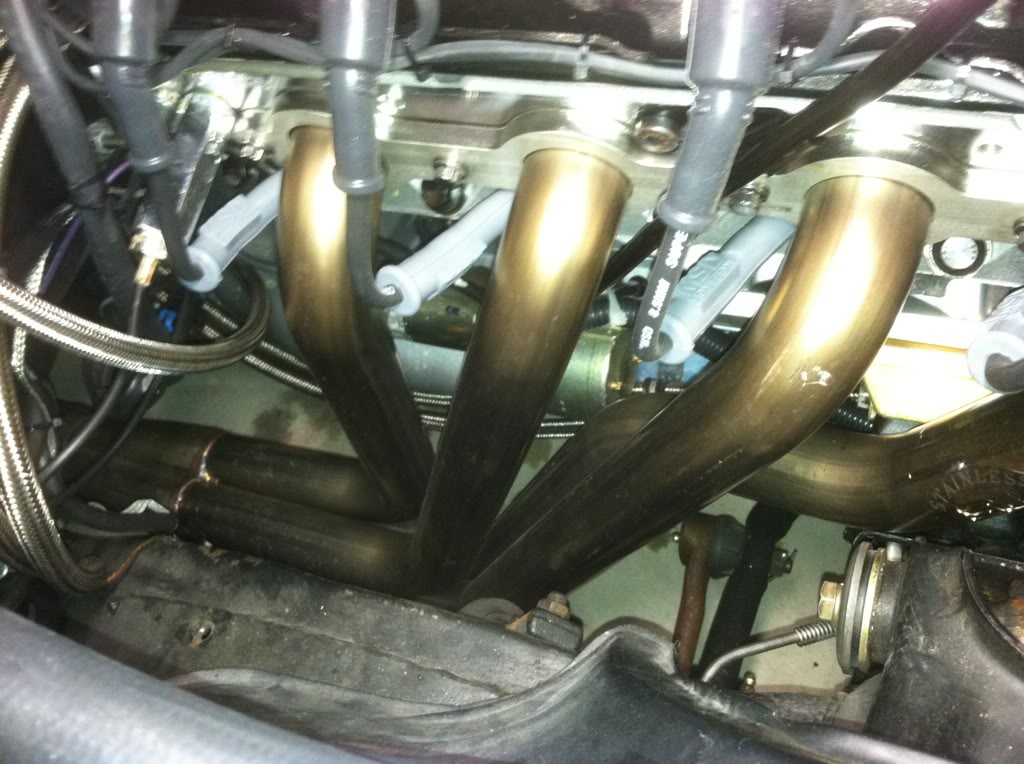 6-5-2011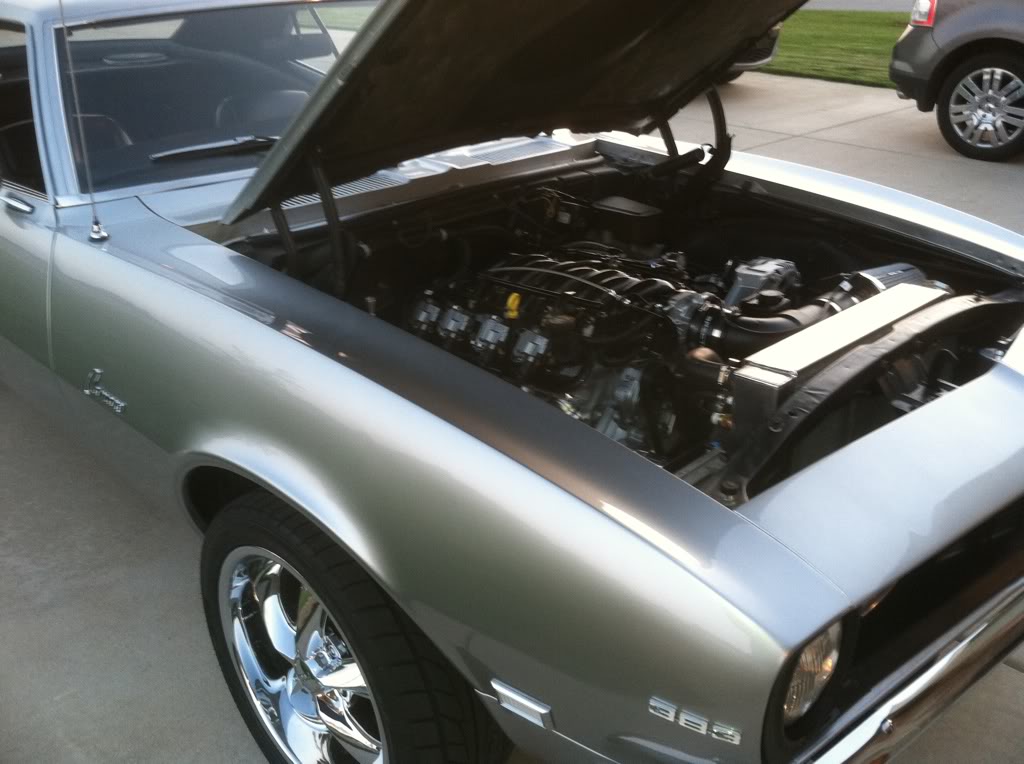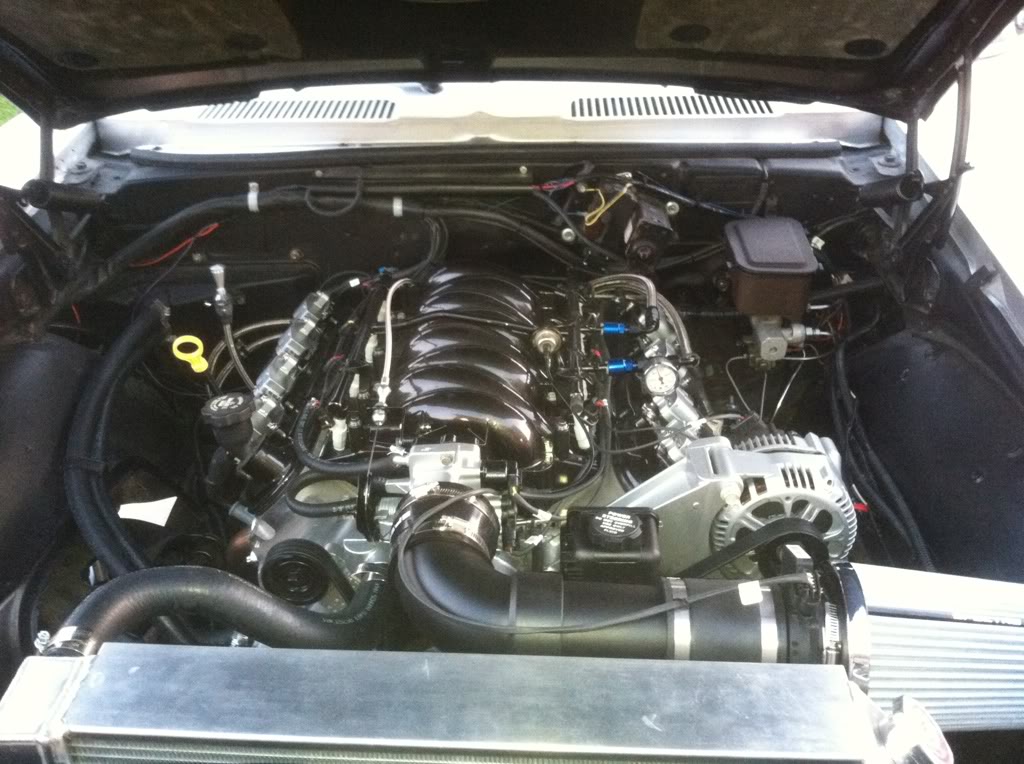 6-13-2011
I love it!!really happy!!I need to get my lazy *** under the car and fix a couple of leaks I have!also need to replace my speedo cable just broke over the weekend!!another small issue my fuel guage reads 1/4 tank even though full!just trying to get motivated to fix the little issues!I drove the car alot on Sunday and its alot of fun to drive!!sure glad I did the swap!!
7-8-2011
Well one of my small leaks was trans fluid leaking from the speedometer cable threads on the tail housing of my 4l60e! I bought the spedometer adapter tail housing from street and performance,well I called mark to tell him It was leaking and to get advice,he said only reason ir would leak there is because the trans was over filled!!I guess I can't trust fluid level on those lokartrans dipstick Im using!!!
9-11-2011
Well I been back to working on the car,putting a custom stereo in!my buddy jeremy did custom stereo for years and talked me in to one!here is the trunck so far,it will be covered with black vinyl!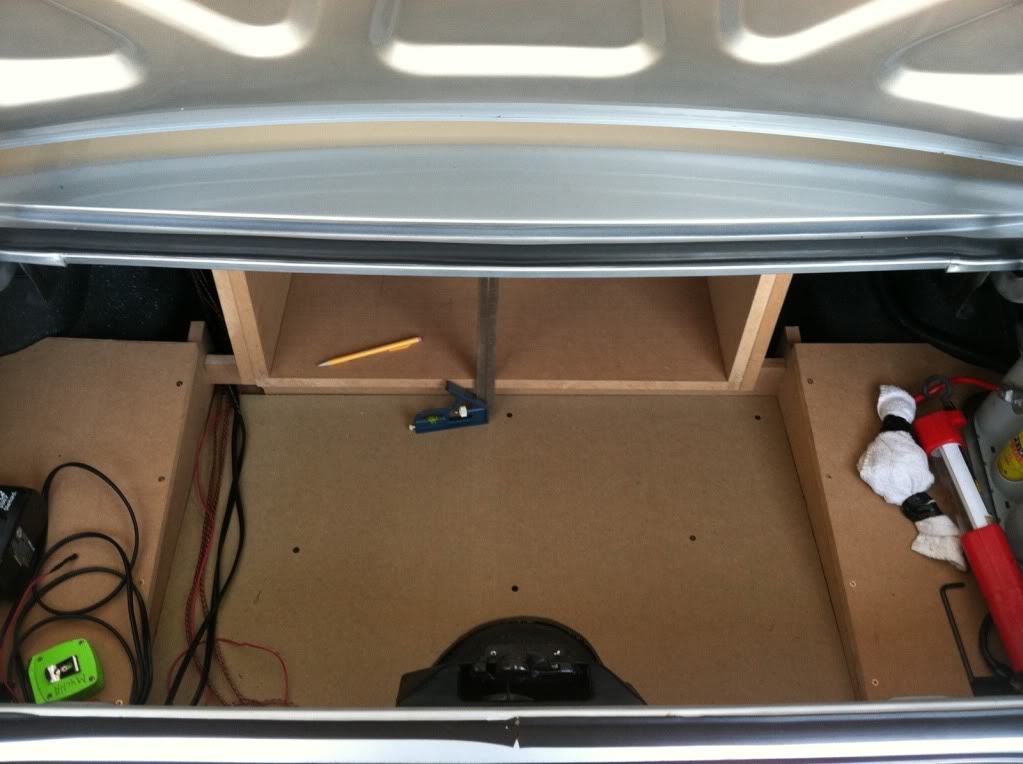 Here are the kick panels I got from screaming performance,they are awsome!!!!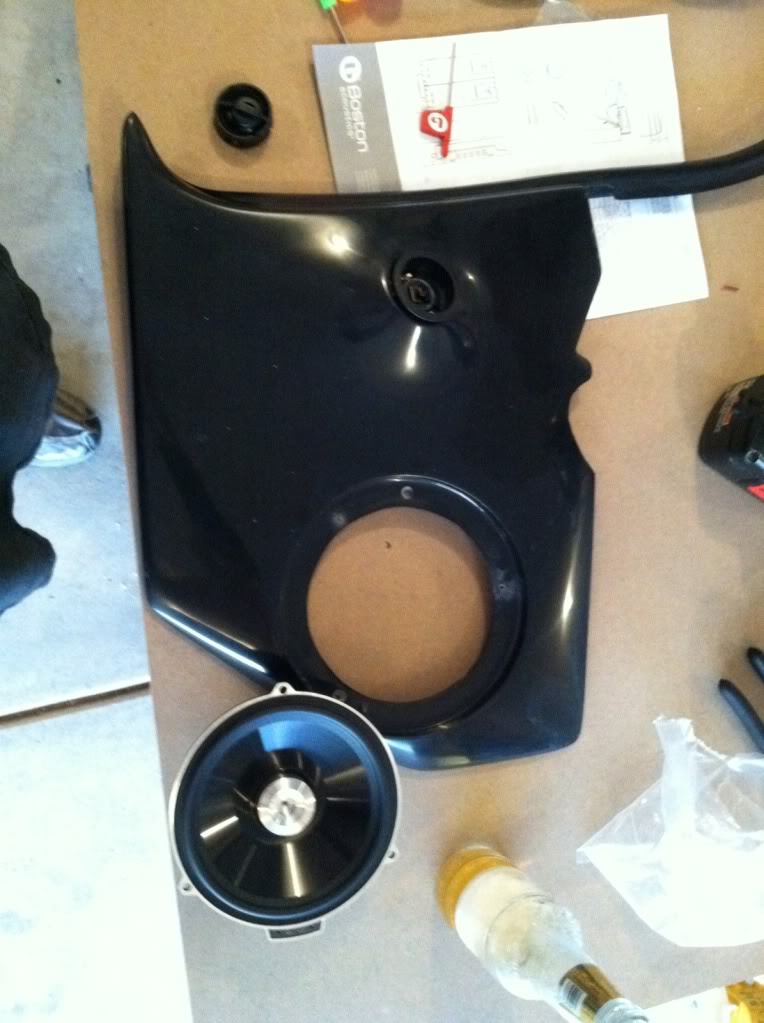 I went with Boston acoustic pro 60 separates in the front kick panels!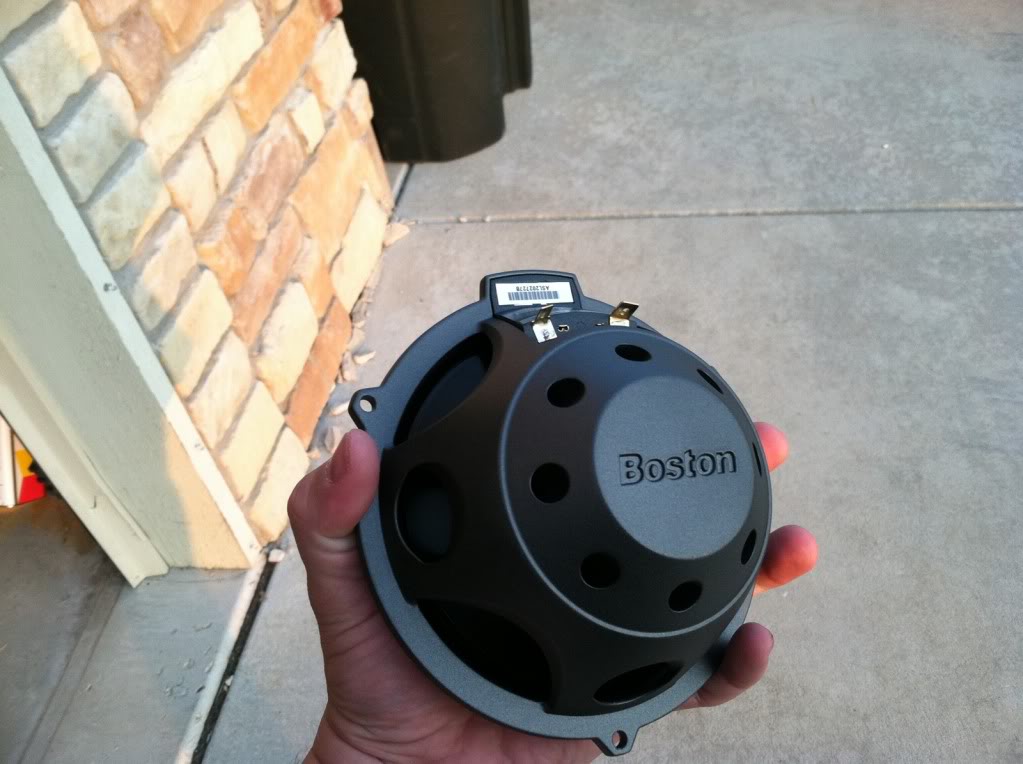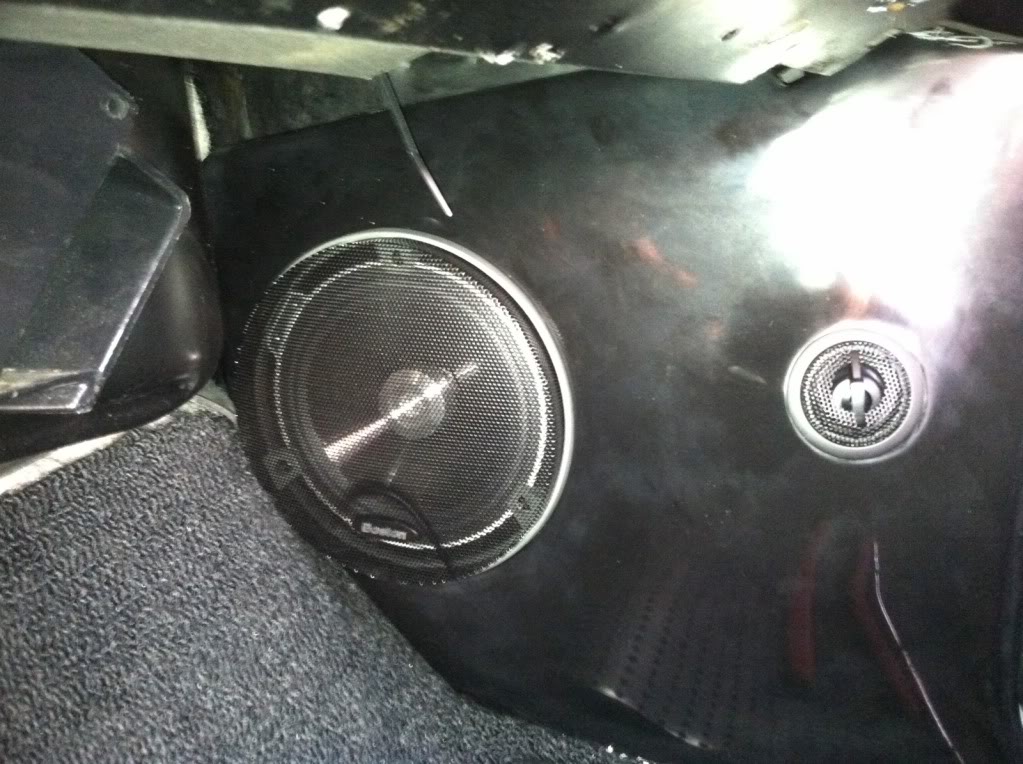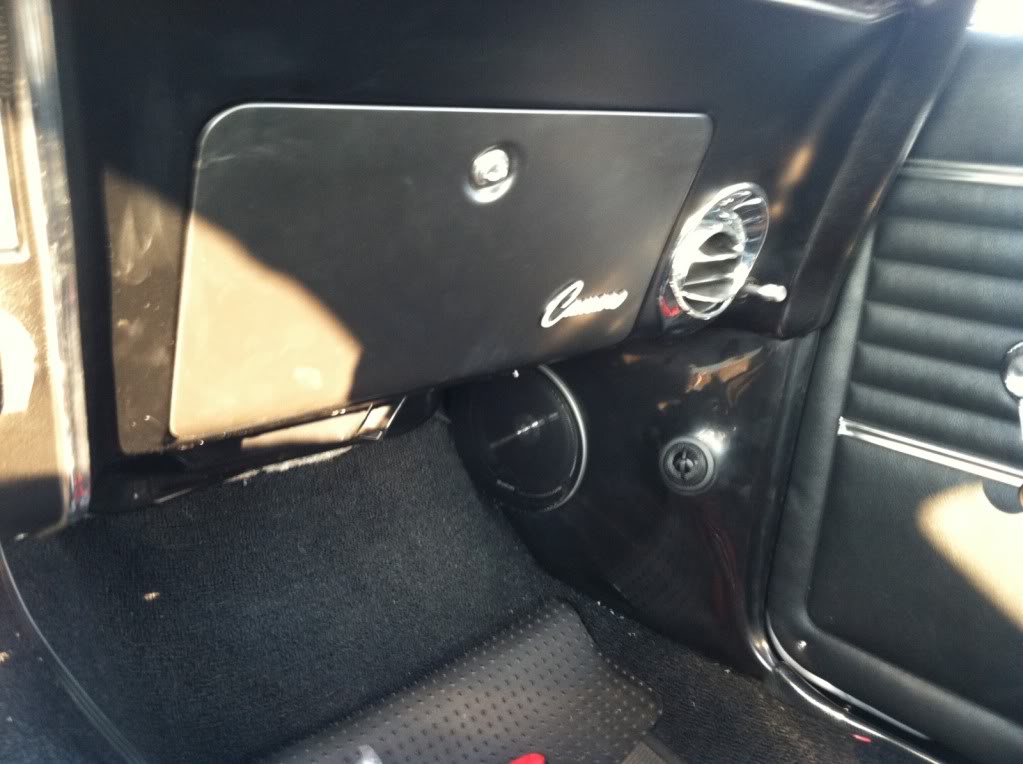 9-13-2011
here is a video of me driving the car,i was doing about 30 to 35 mph when i hammered on it.it chirped the tires pretty good when trans shifted!



9-23-2011
I called magnacharger and talk to them and also called whipple and talk to them about a tuner kit for my car!I talk to Texas speed last week they used magnacgarger in past but now seem to be using whipple more now!said they are making more power with whipple!I'm up in the air!magnacharger is hard to beat for reliability
9-25-2011
Well I got some more progress done on the stereo,I got side panels made!I will be mounting the battery sideways where the face of battery will be showing!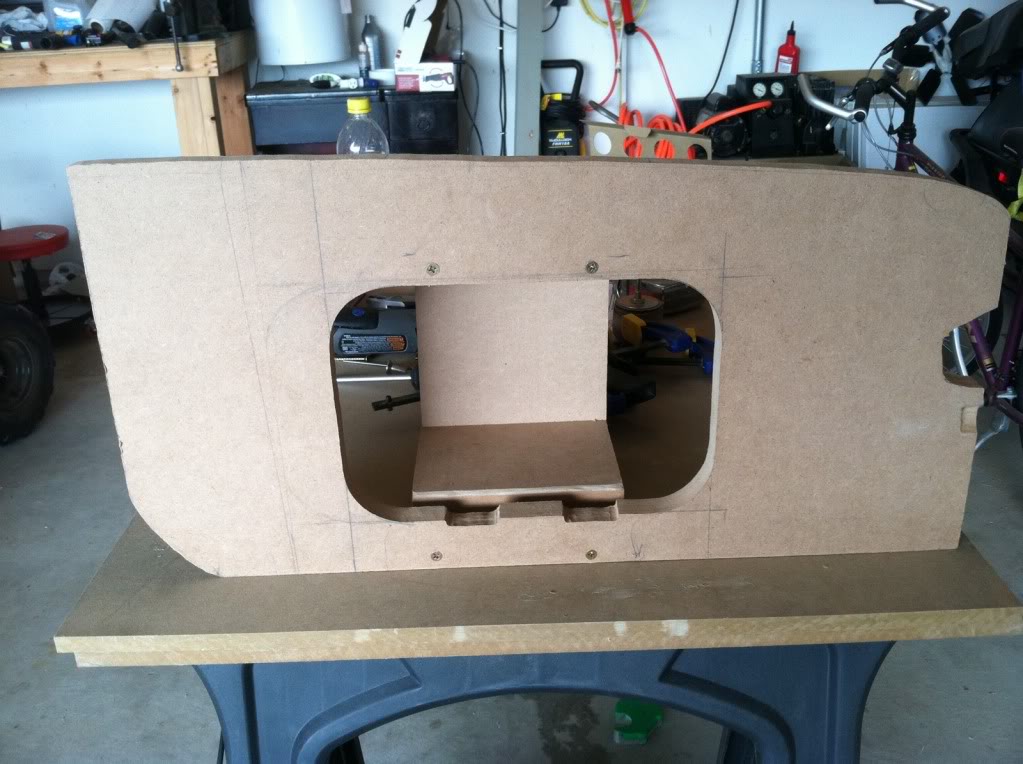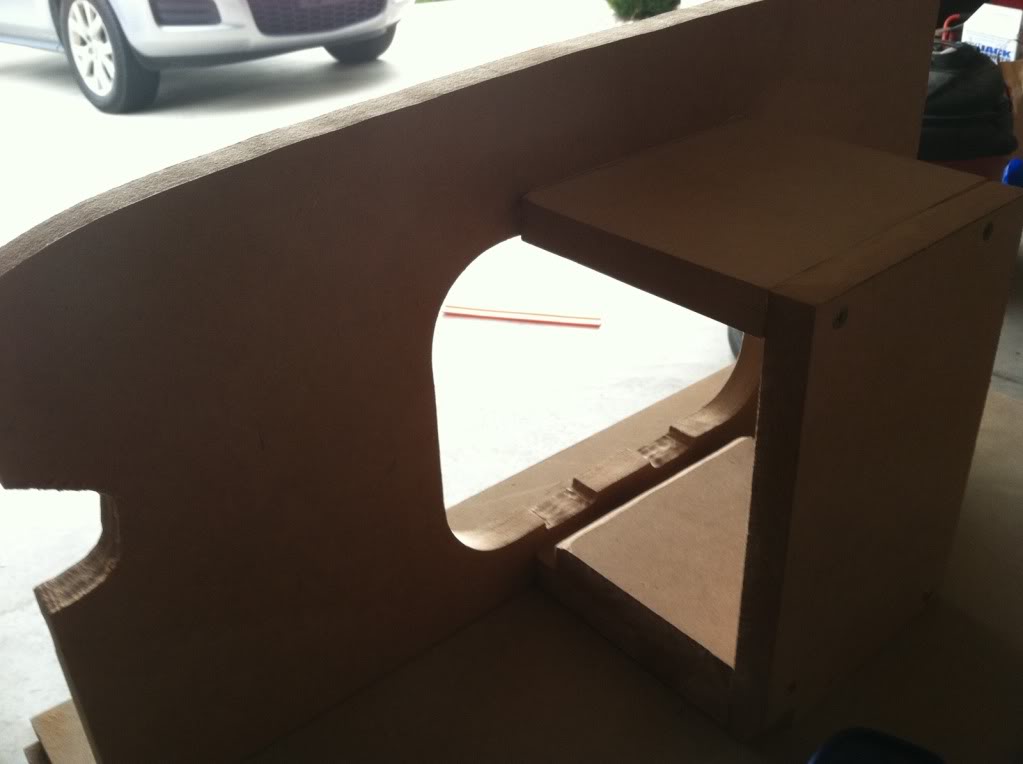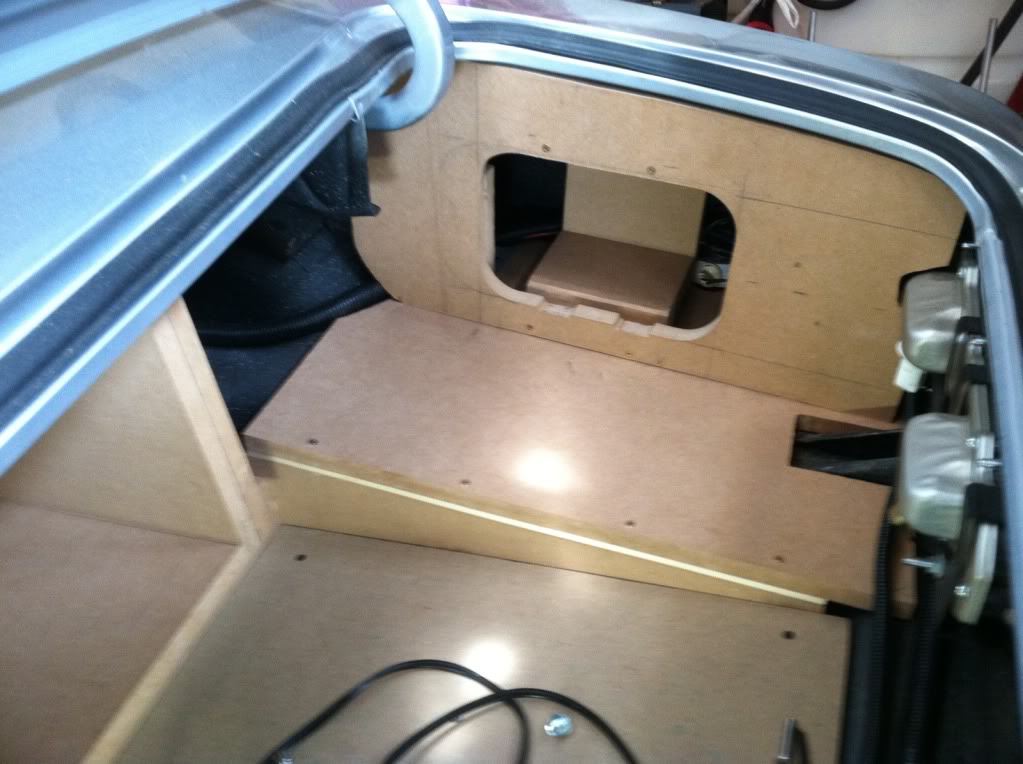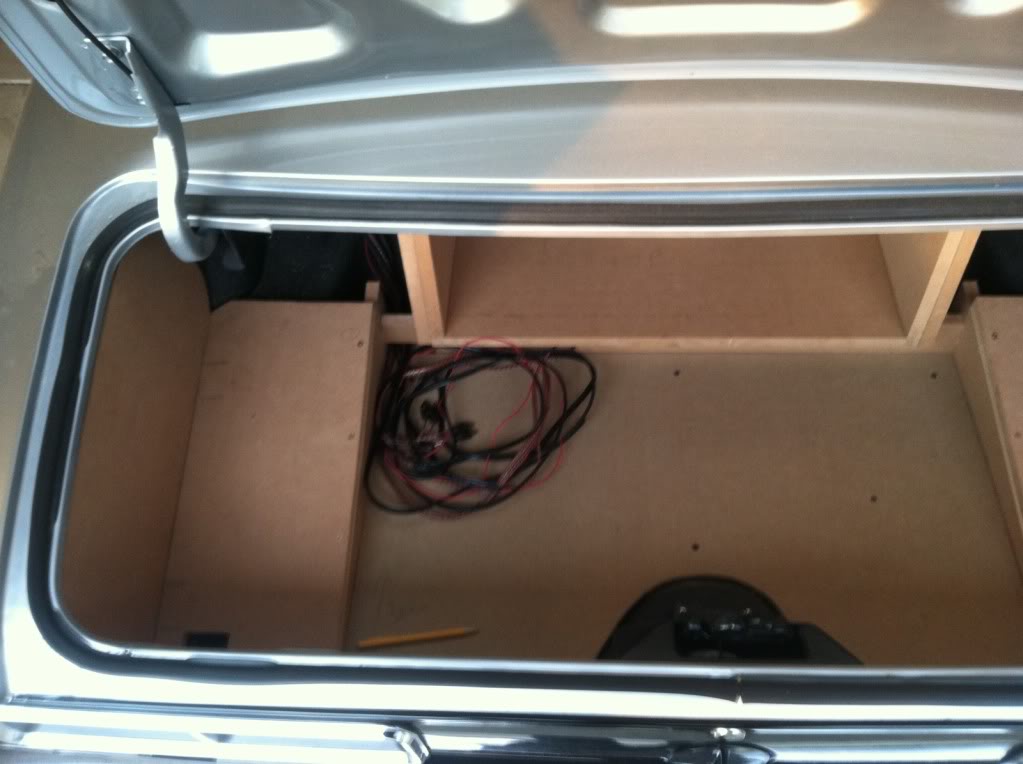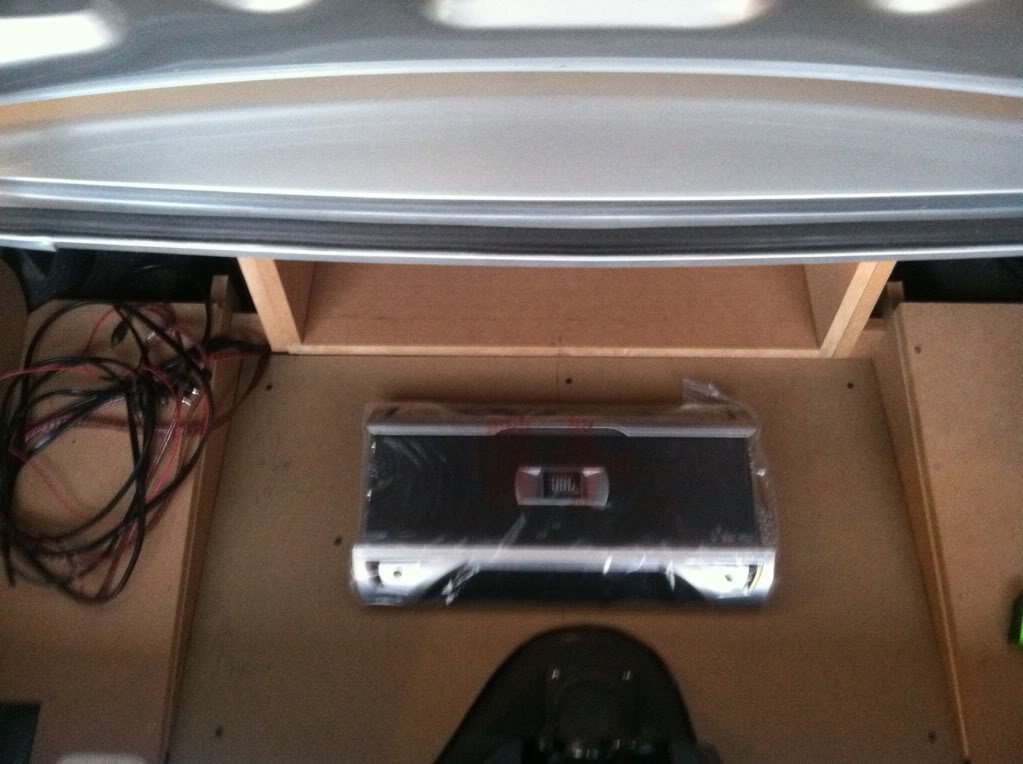 10-3-2011
Slowly still working on stereo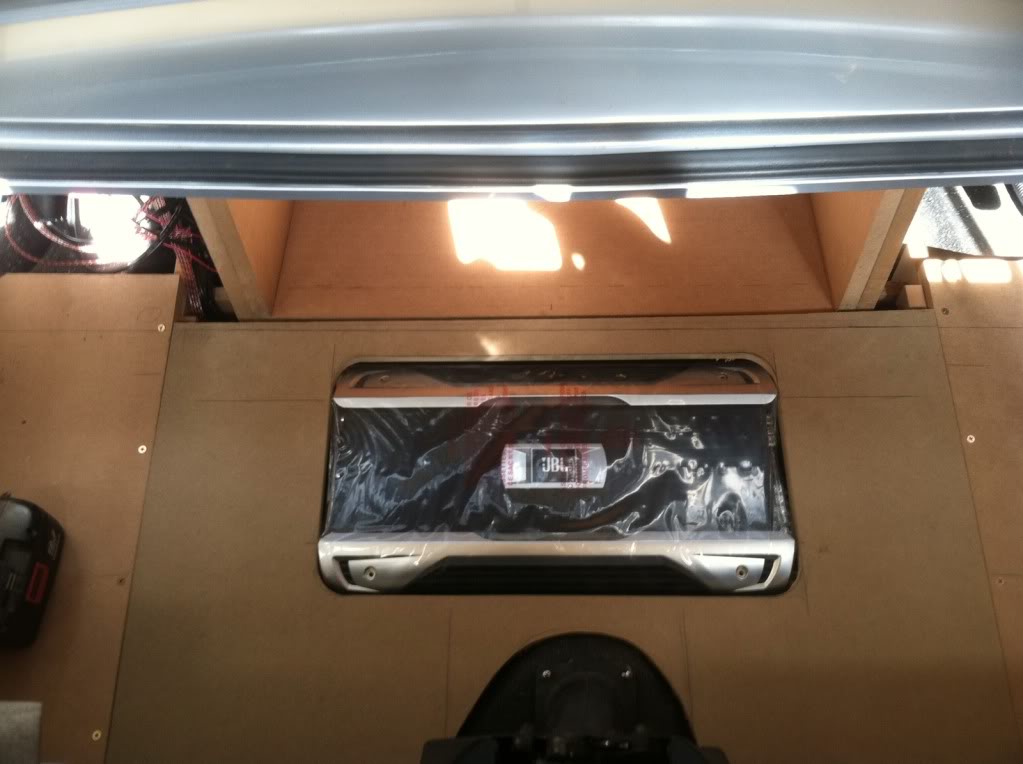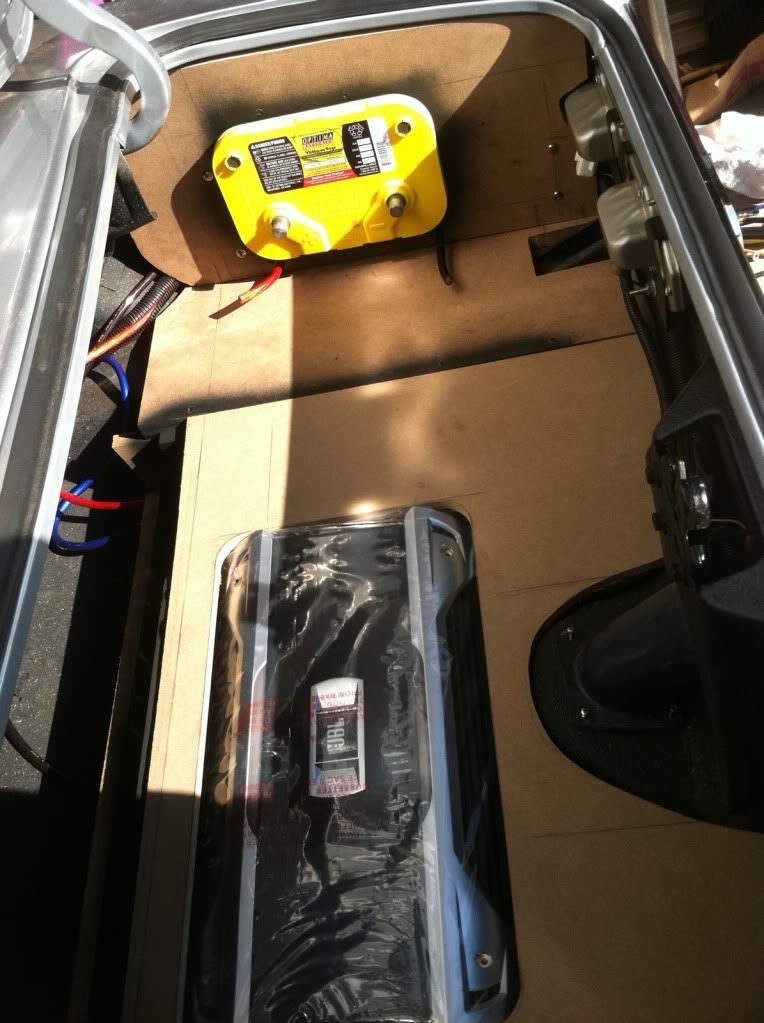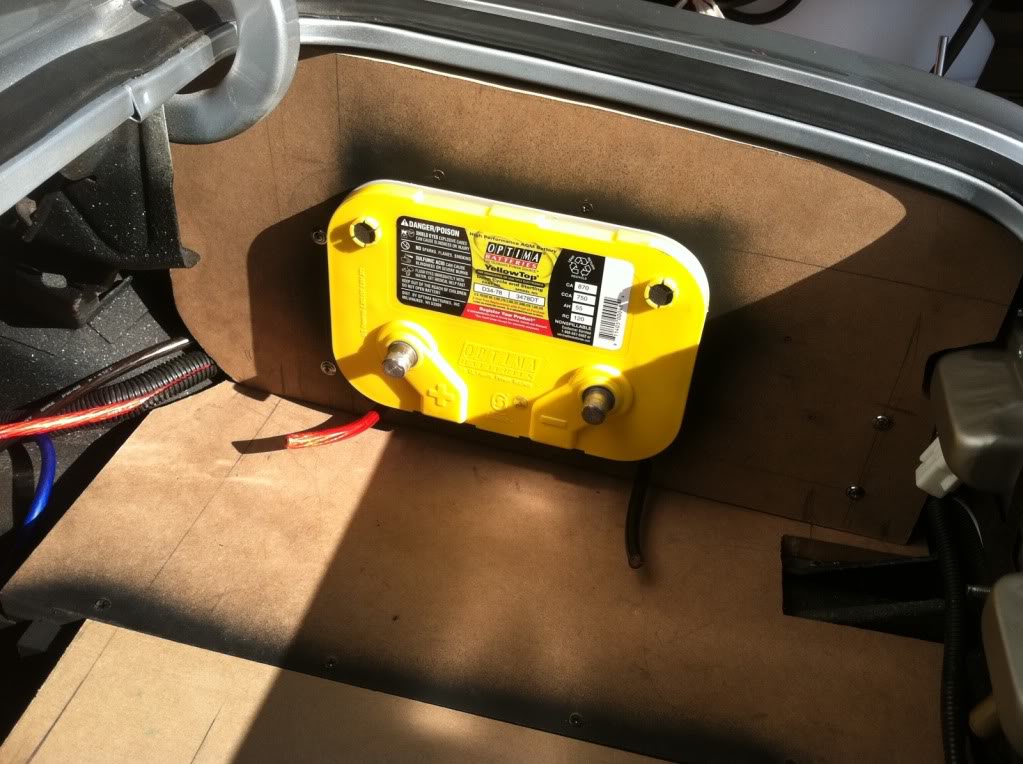 I'm going to paint top of battery silver to match car!all panels will be finished in black vinyl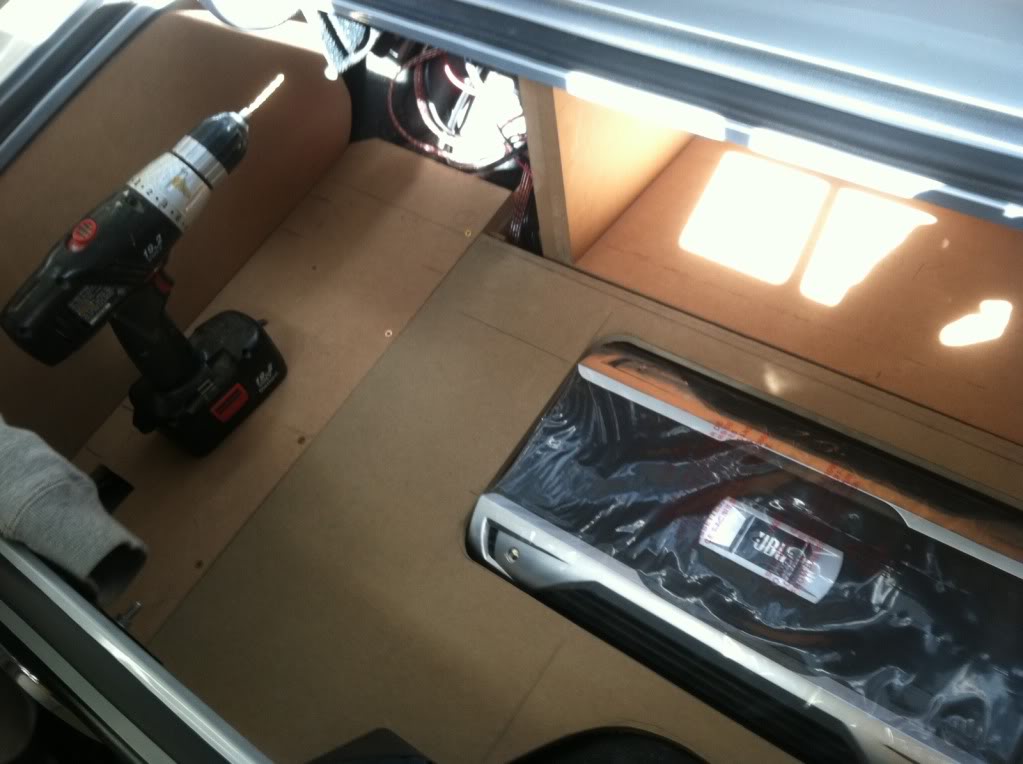 10-16-2011
Well I'm now to the point to take it all back apart and start glueing vinyl on everything,need to pull sub box and finish the inside with aluminum!also need to take paper off of the plexiglas glass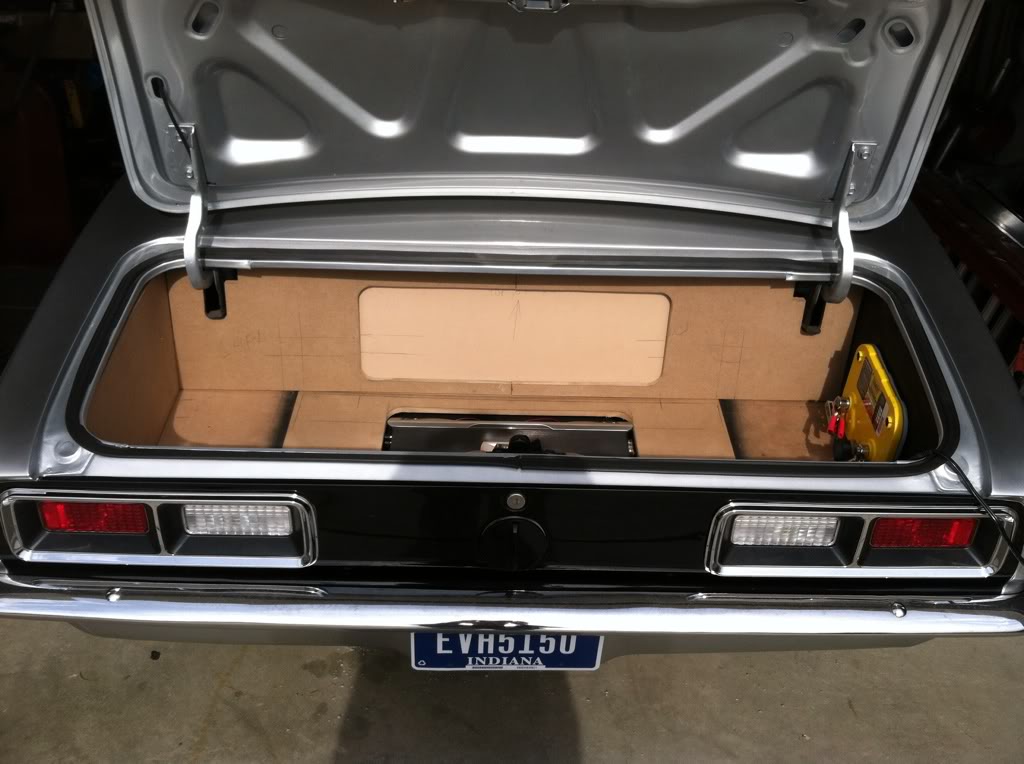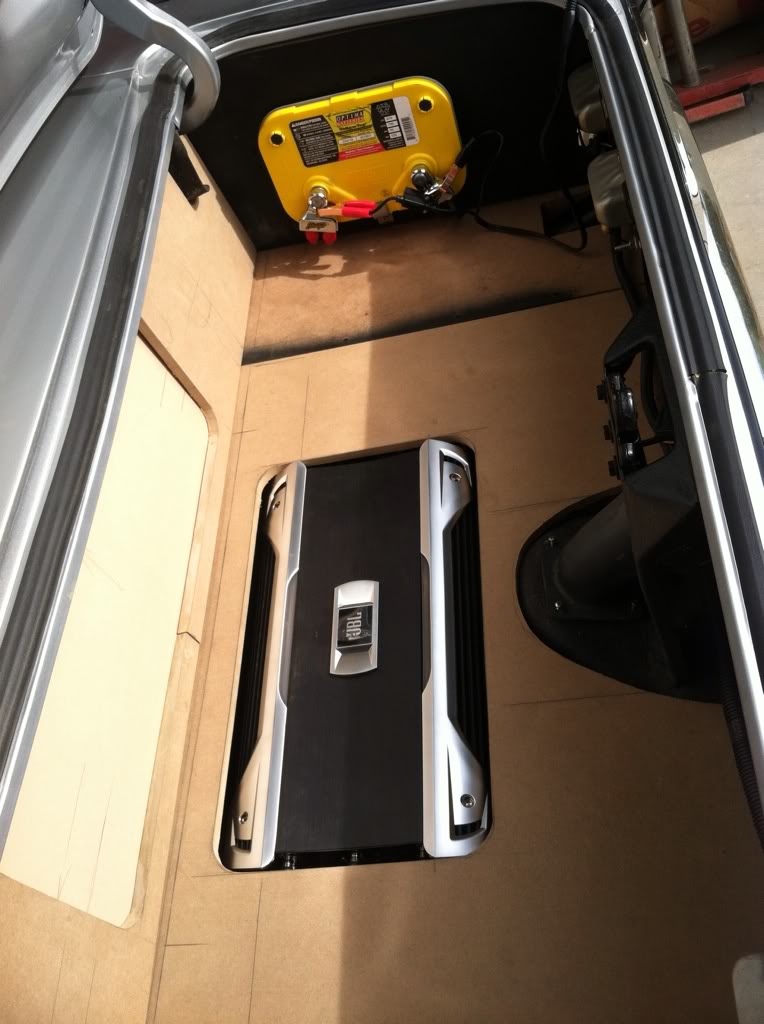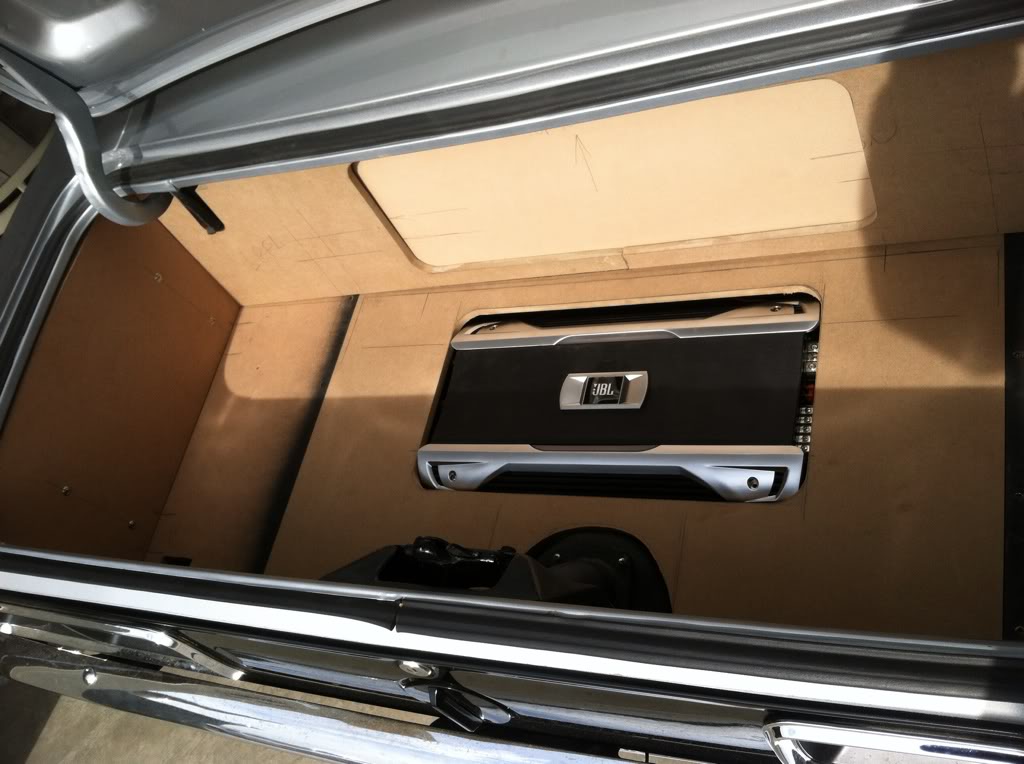 11-1-2011
Well it's started!i ordered all my c5 brakes from kore 3!(big thanks to tobin)just waiting for parts to get here to get going!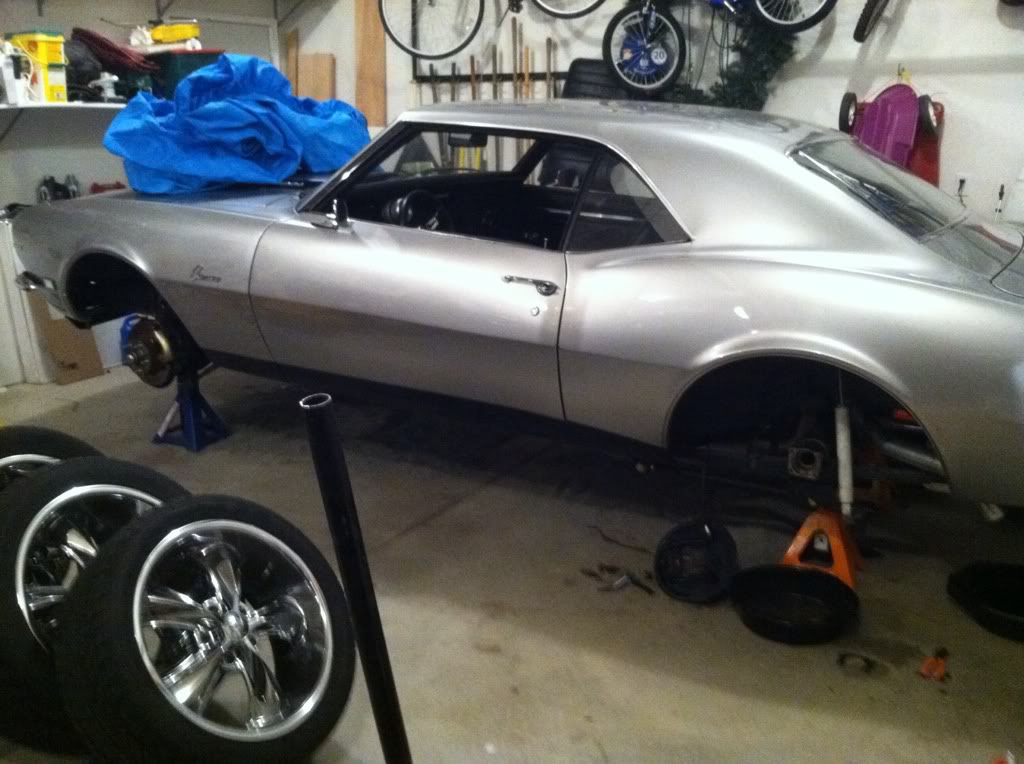 1-16-2012
here are the front brackest from kore 3,thanks mike for powder coating them..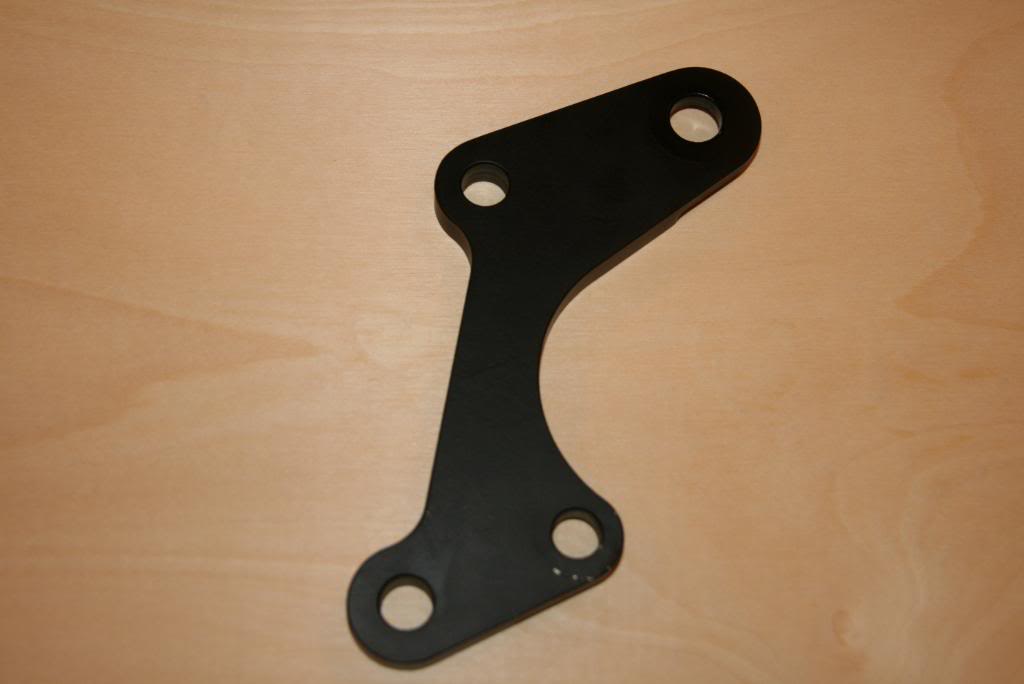 mounted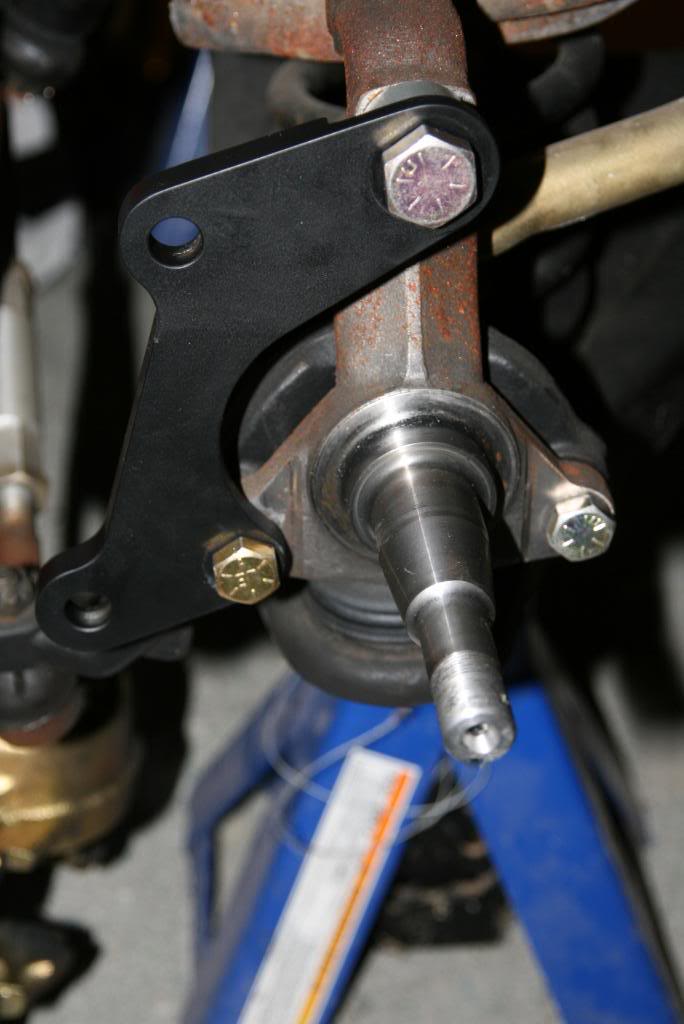 with my drum brake hub,that we turned down to kore 3 spec of 5.94 with a 1/8x45 degree chamfer..thanks mike for the nice powder coating.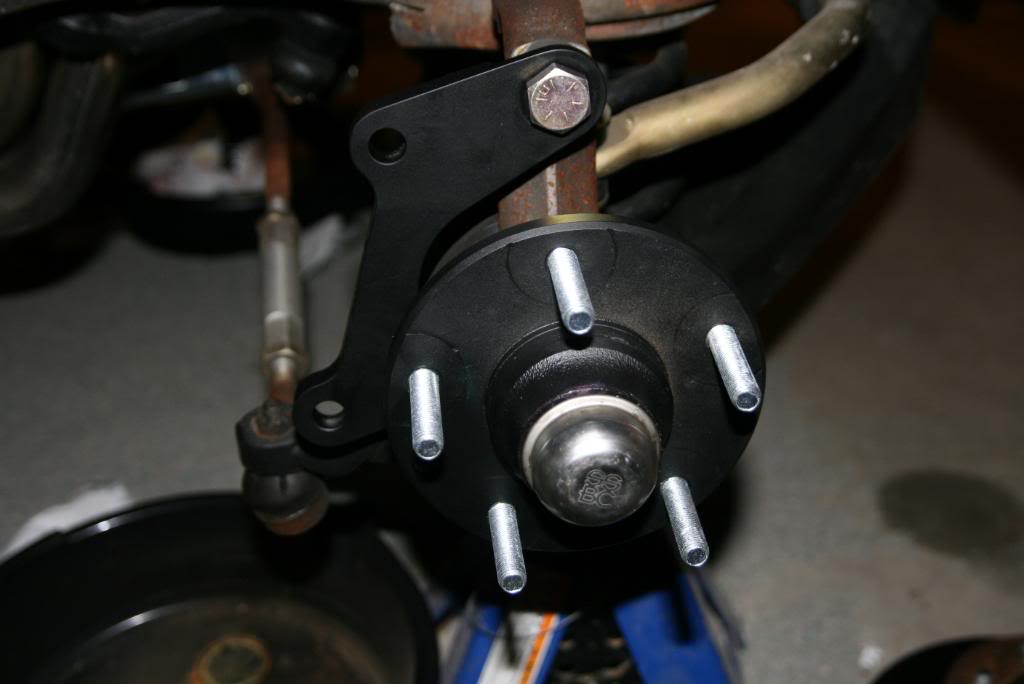 here is the finished passenger side!
here is my c5 master i bought off of ebay,i did not have mounting brackets so i bought them off of detroit speed..i cut the rod and im now going to use a 3/8 die to thread it..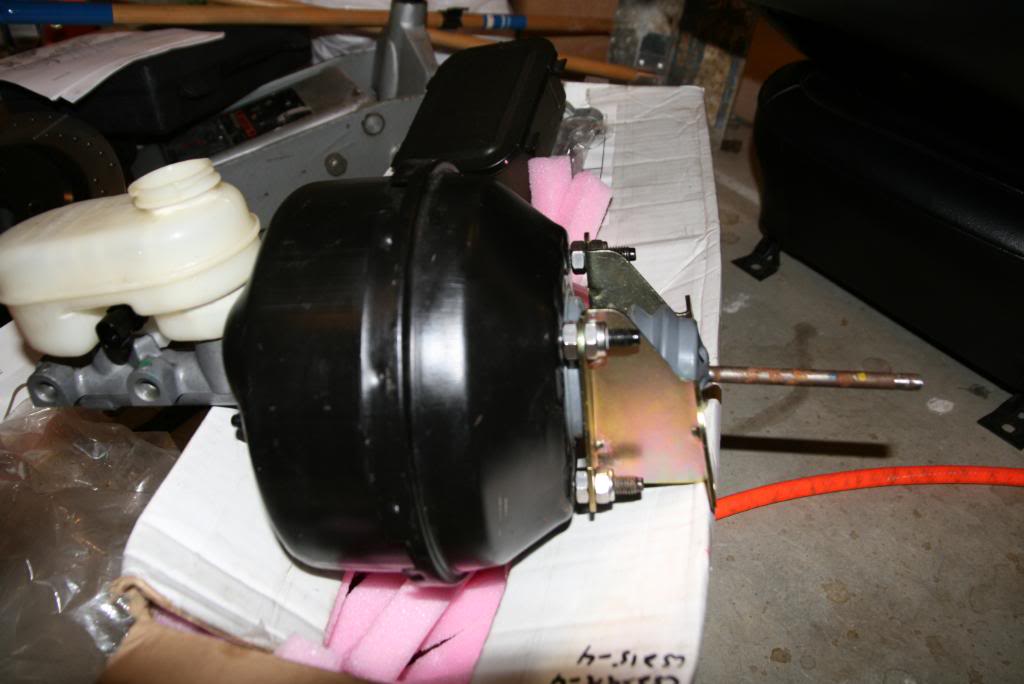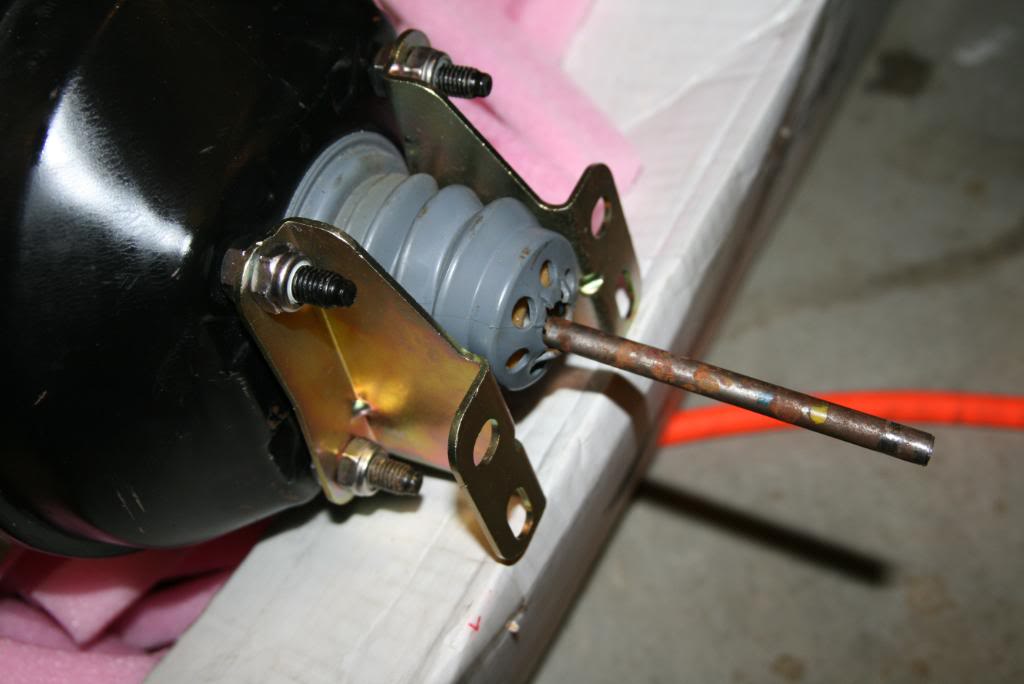 2-5-2012
got some work done on the rear brakes.
here is the main bracket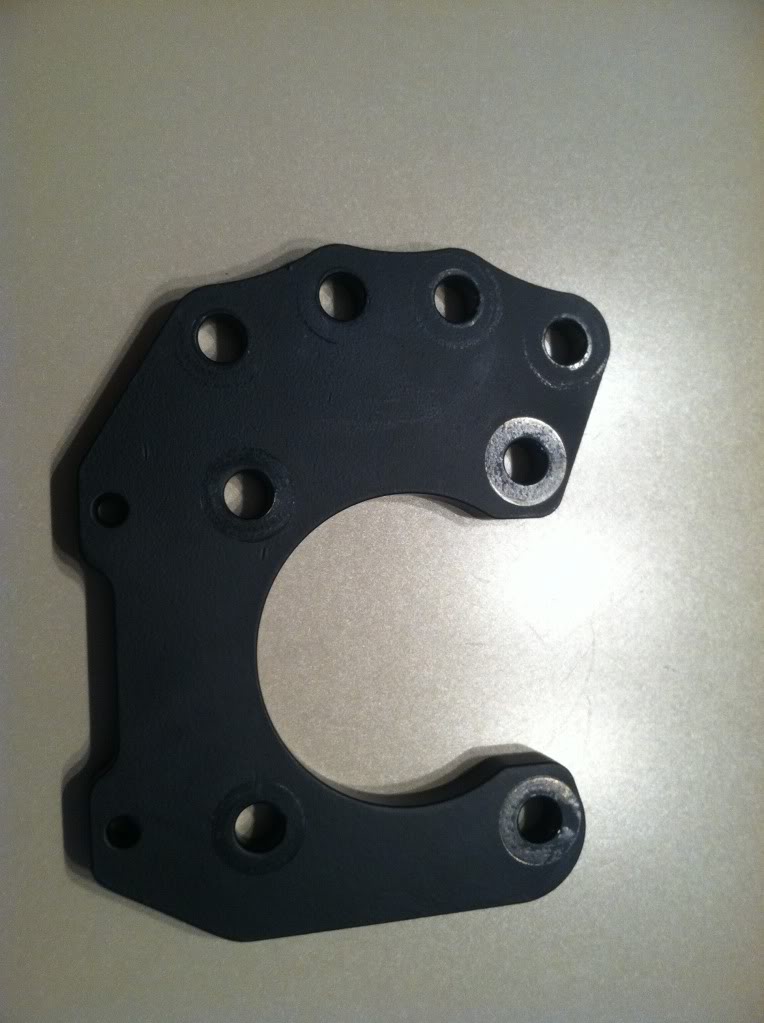 mounted with the secondary bracket as well.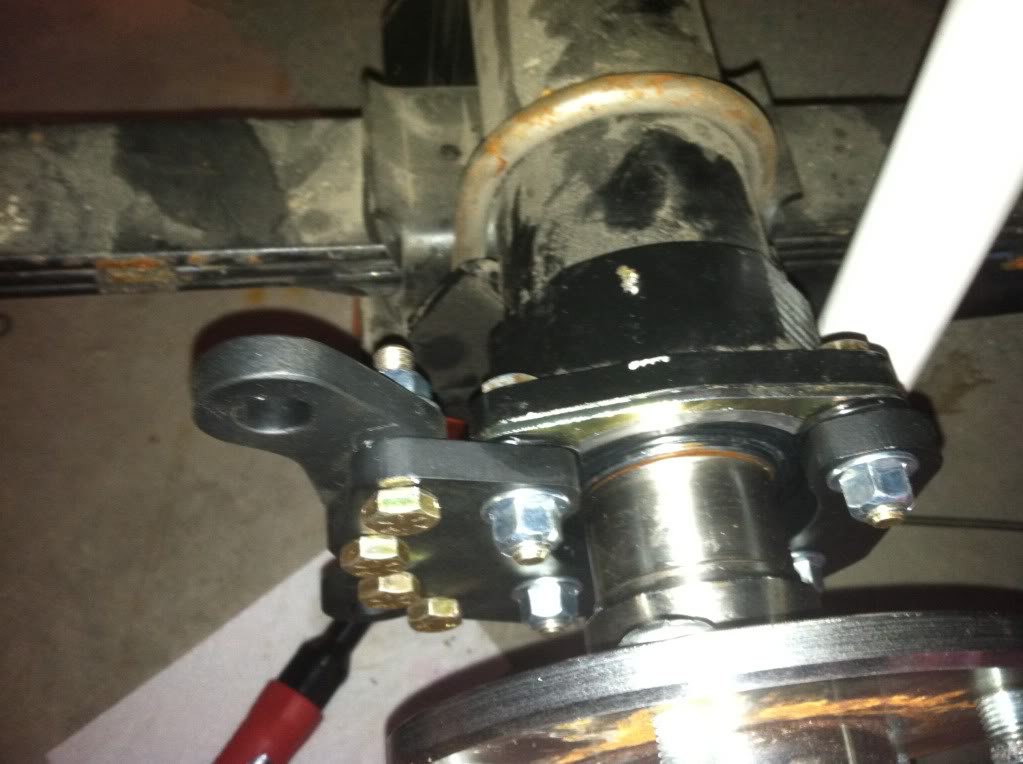 done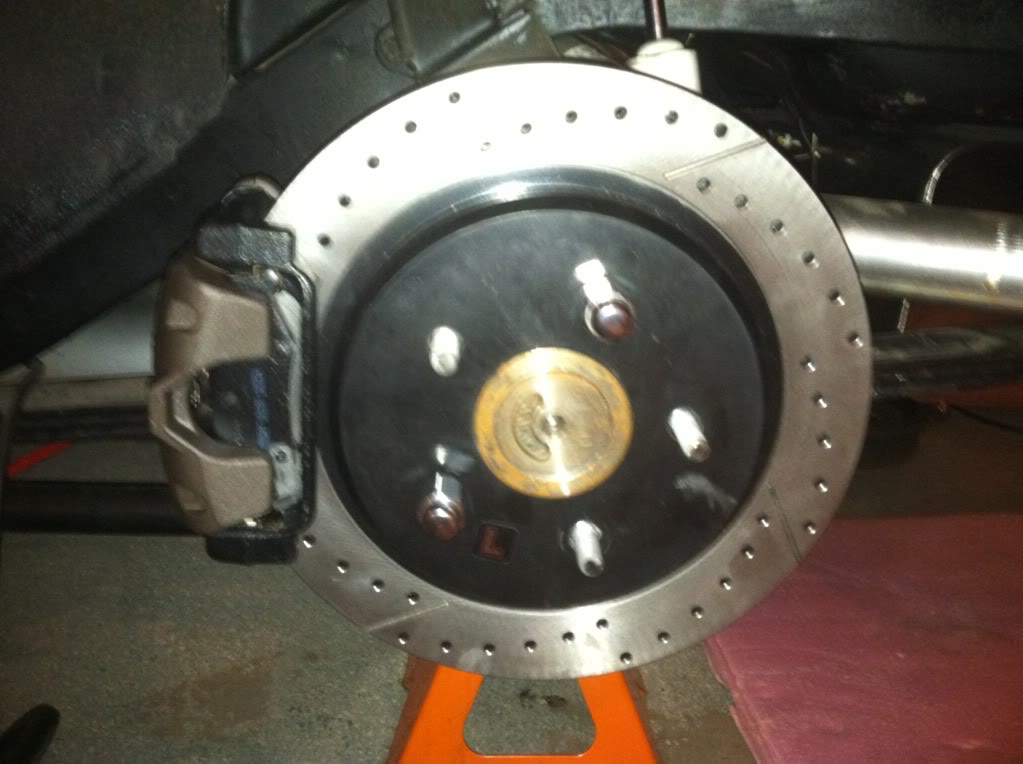 2-7-2012
The nice thing with the Holley dominator efi setup is that it u load a base tune in and select your fuel injectors,u set the ECU to self learn and it will self learn the fuel tables!its much easier to use for a novice like my self than efi live or hp tuners!if I would have known about it last year when I did my swap I never would have put a stock computer in my car!!here is a great writeup about it..

http://www.johnnycichowski.com/2011/...p-efi.html?m=1
2-28-2012
Well little update guys,brakes are one,lines are ran!just need to put master cylinder booster in and hook lines up !then fill up and bleed!!been slow going !!also got my Holley dominator EFI and all harness except for the 4l60 harness!!started pulling stock computer out and the stock wiring harness!!!
3-14-2012
Holley dominator efi!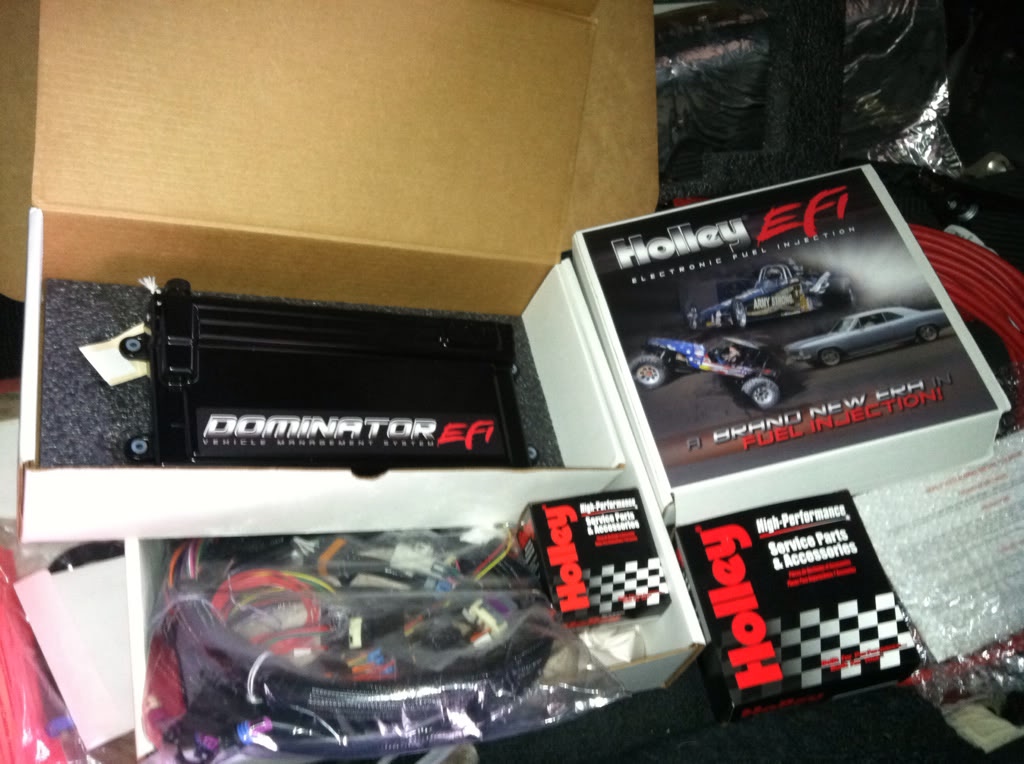 3-19-2012
Mark at street and performance told me
Alternator
D-12 v post on back of alternator.
C-12v key on power source!

Then another forum member told mePin D is voltage sense usually goes to battery.

Pin C is field control goes to PCM so PCM can control alt output. (C2/11)

Pin B is lamp control. On stock setup is goes to PCM (C2/77)

If you're running it non-PCM controlled can just use pin B to the lamp. If not using a lamp put a resistor inline to switched +12; 560 ohm 1/2 watt will do the trick.
3-20-2012
Well guys I got a new toy for the camaro!!!!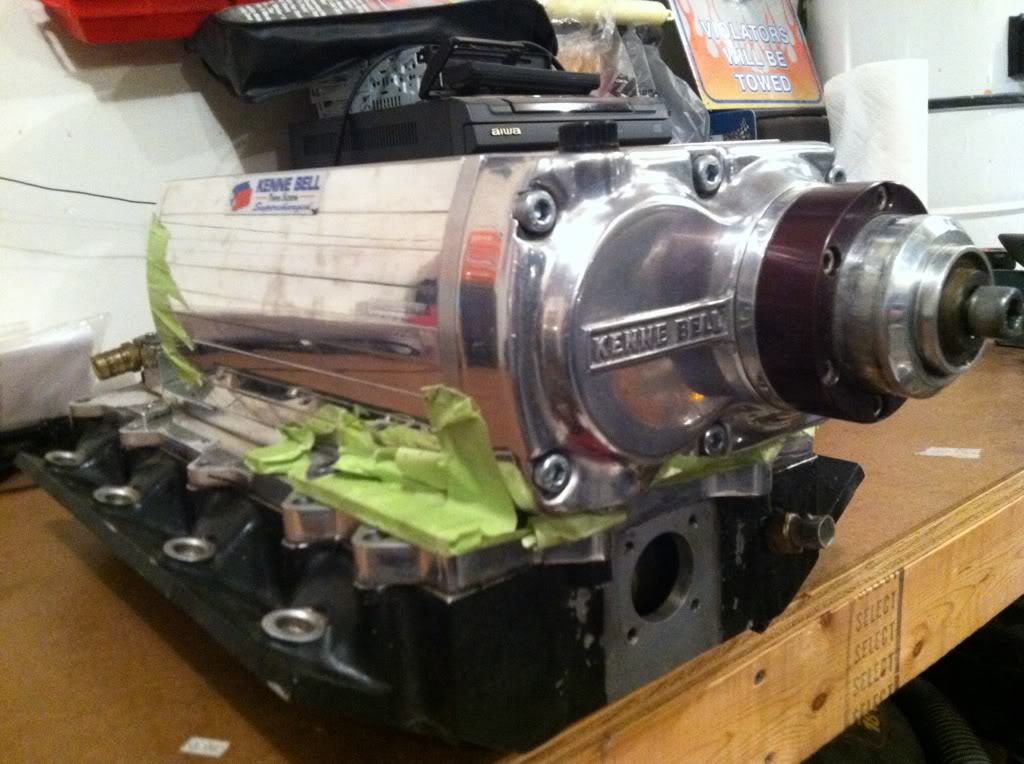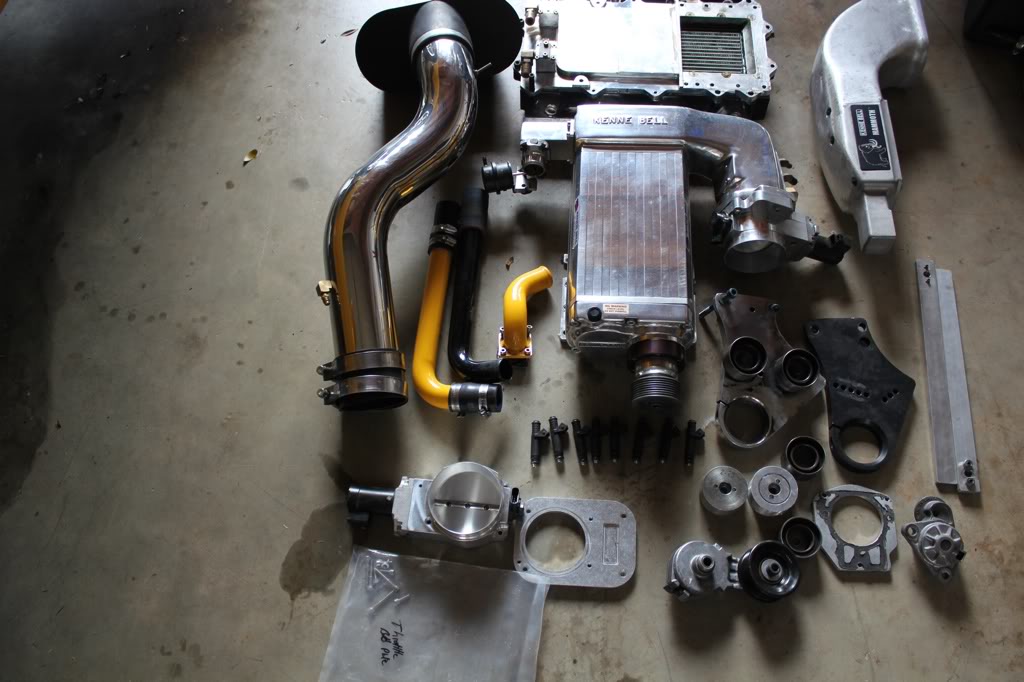 Kenne Bell 2.8L "H" Big Bore blower with both stock Corvette (ported though) and Camaro Mammoth. NIck williams polished 90mm and 102mm DBW throttle bodies. Lower and upper manifolds with intercooler.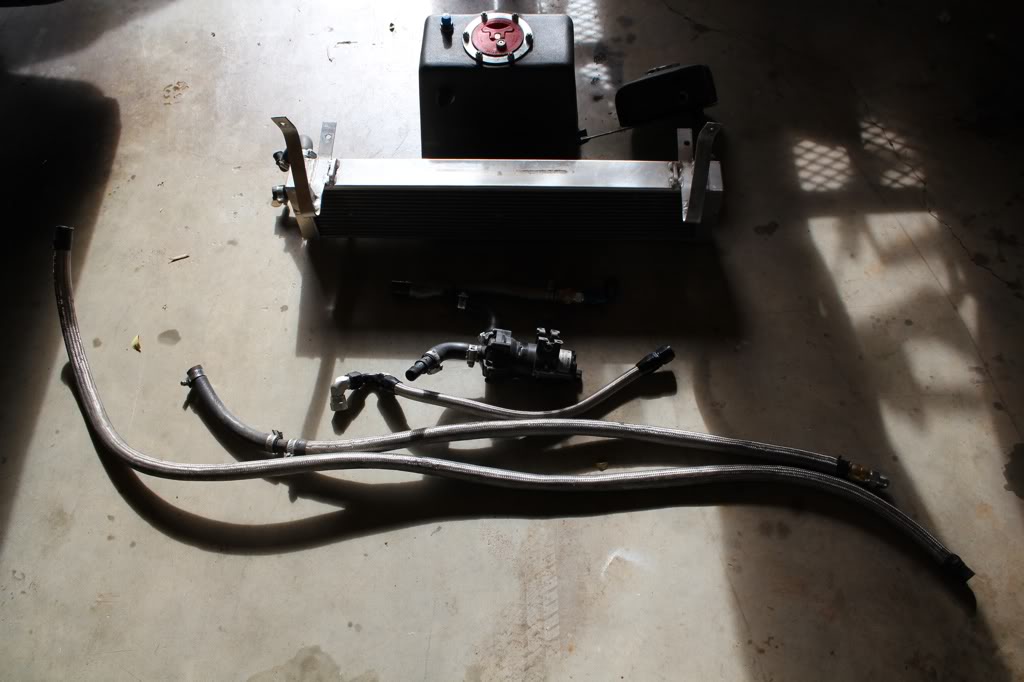 LFE 2003 Cobra heat exchanger, Bosch pump which has more capacity than what KB supplies, and a 3 gallon Jaz cell as well as the stock KB reservoir.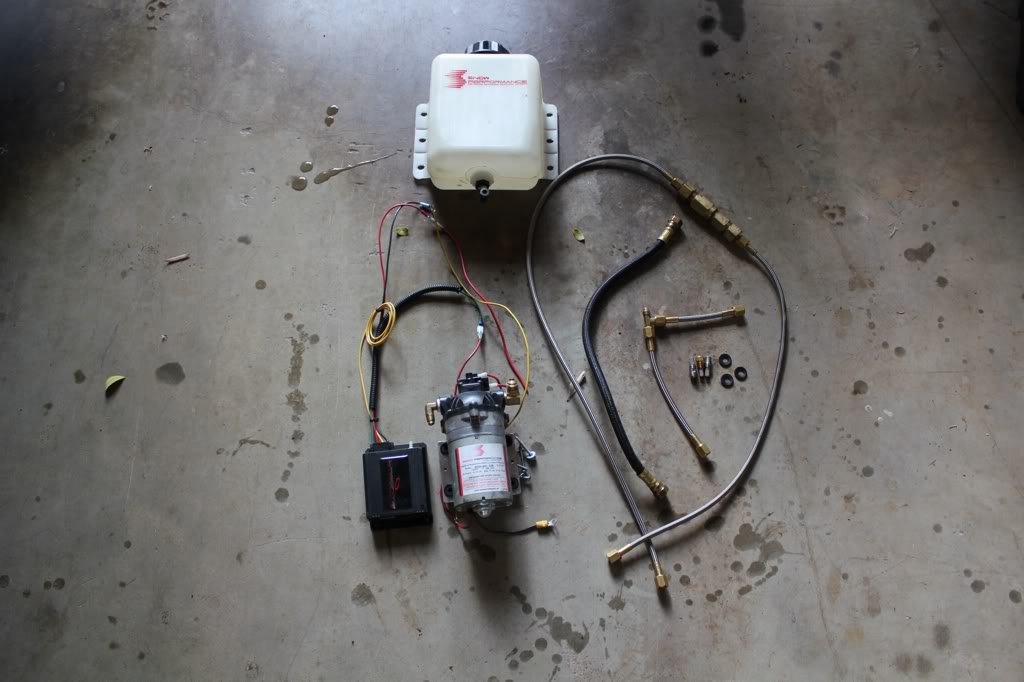 Methanol system which is a Snow Performance, Labonte controller from 6-25 psi, and a Alky control line kit.
3-26-2012
Just an update,got all the c5 brake conversion done,just need to fill up and start bleeding!!praying for no leaks or issues!!!!also almost have the Holley dominator efi done wired up,hopefully next week I will be programing it and starting the car!!!
3-30-2012
If any of you guys have any interest in Holley HP or dominator EFI,this is a great read on setup of the software and how easy it is to use and how it works!

http://www.johnnycichowski.com/2011/...p-efi.html?m=1
3-31-2012
Hey Tsnow,or any other person who has advice!i have this spedo conversion on my 4l60 trans to run my mechanical speedometer!
http://www.shiftworks.com/tailhousing.htm

I been leaking trans fluid from where the spedo cable screws in,me and Tsnow where talking about it on page 23 of this post!here are some pics,but I think I'm missing orange seal on end of the housing ,but even if I am not sure how it will seal leak from speedometer cable!here are couple of pics,tell me what u guys think!!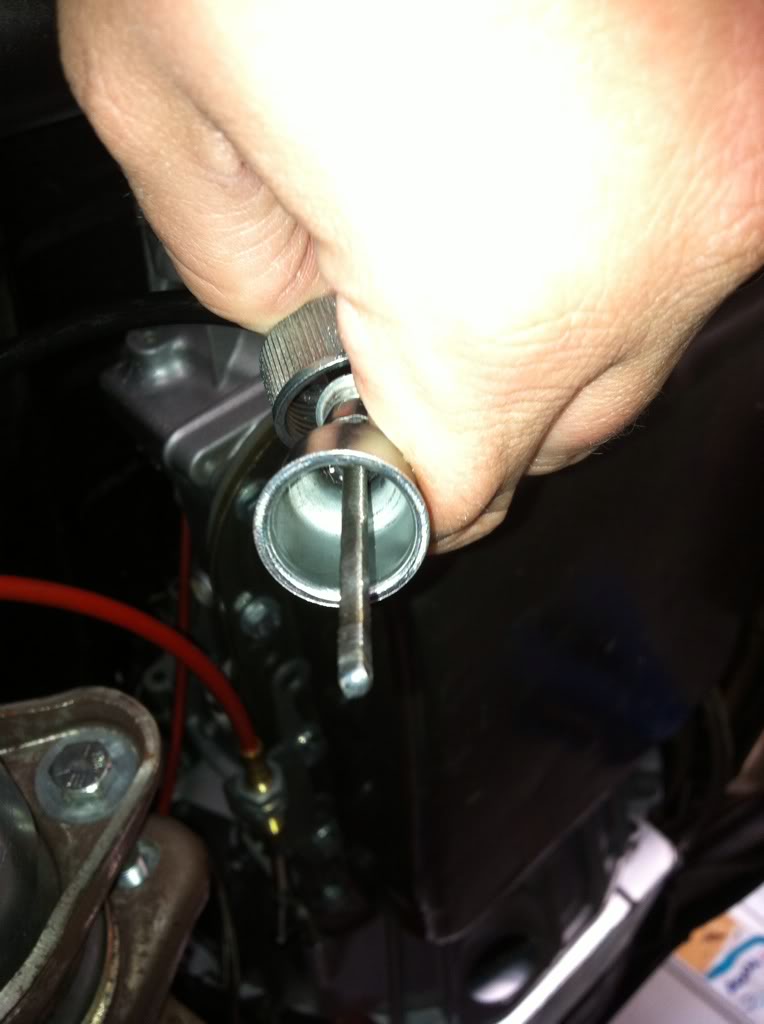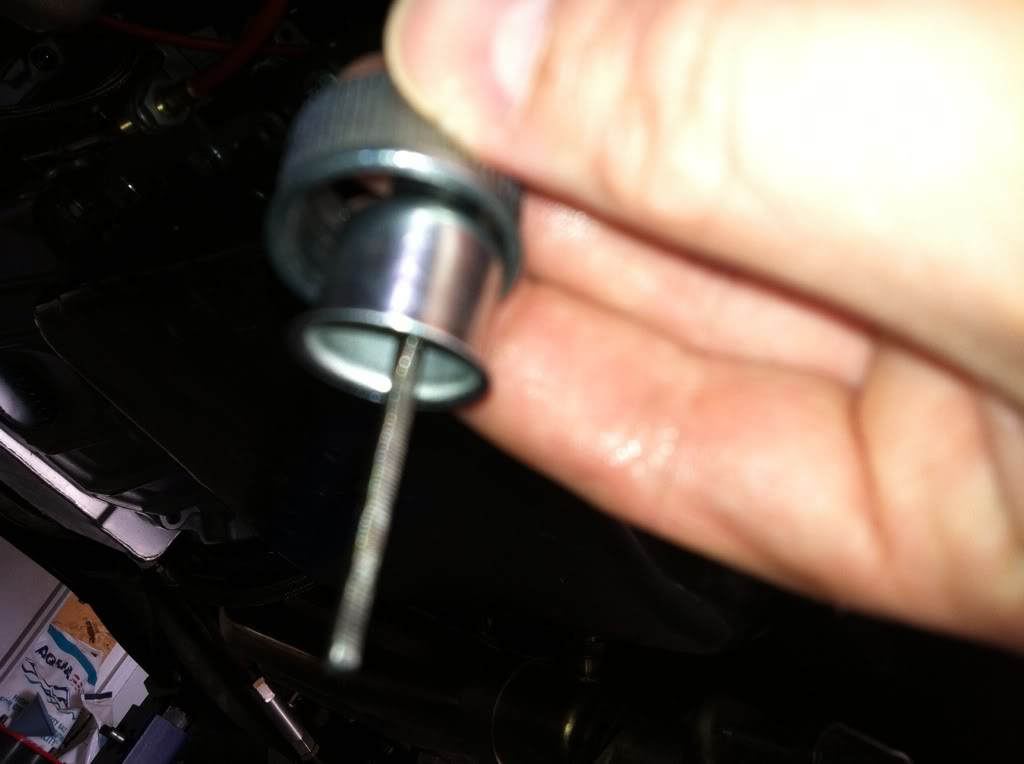 Here are instructions and u can see it better!
http://www.shiftworks.com/instruct/93974L60E.pdf
I have a video on hp tuners and how to tune !u want a copy of it tony ??ill send it to u!seems way more complicated to me!
Here is pic from instructions,it looks same as mine??what you think Tony?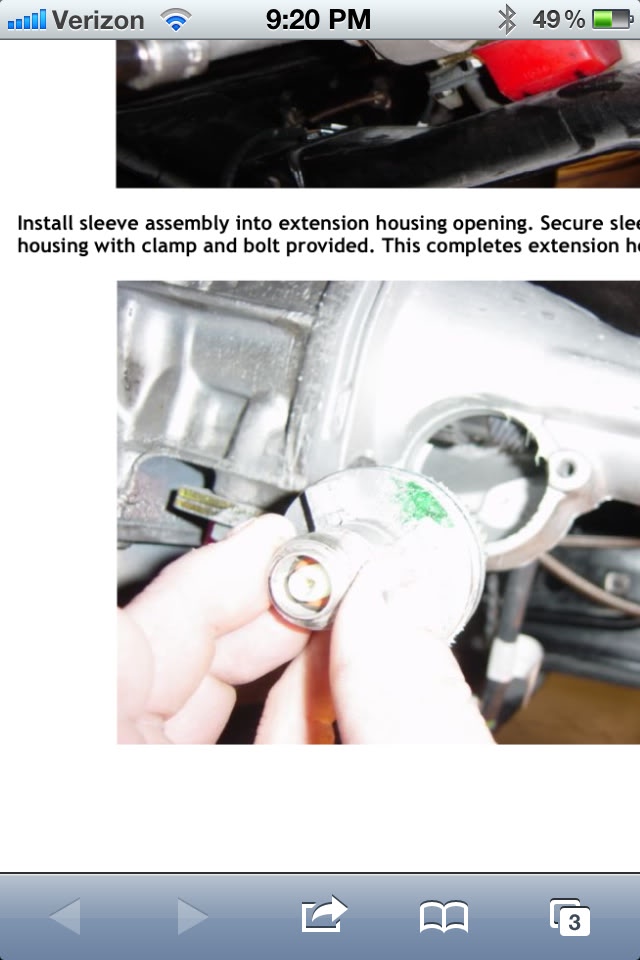 4-2-2012
Well brakes are bleed,and I don't see any leaks!!!woohoo!!i just program the new Holley dominator EFI!incredible simple!!!ready for my first fire up!!!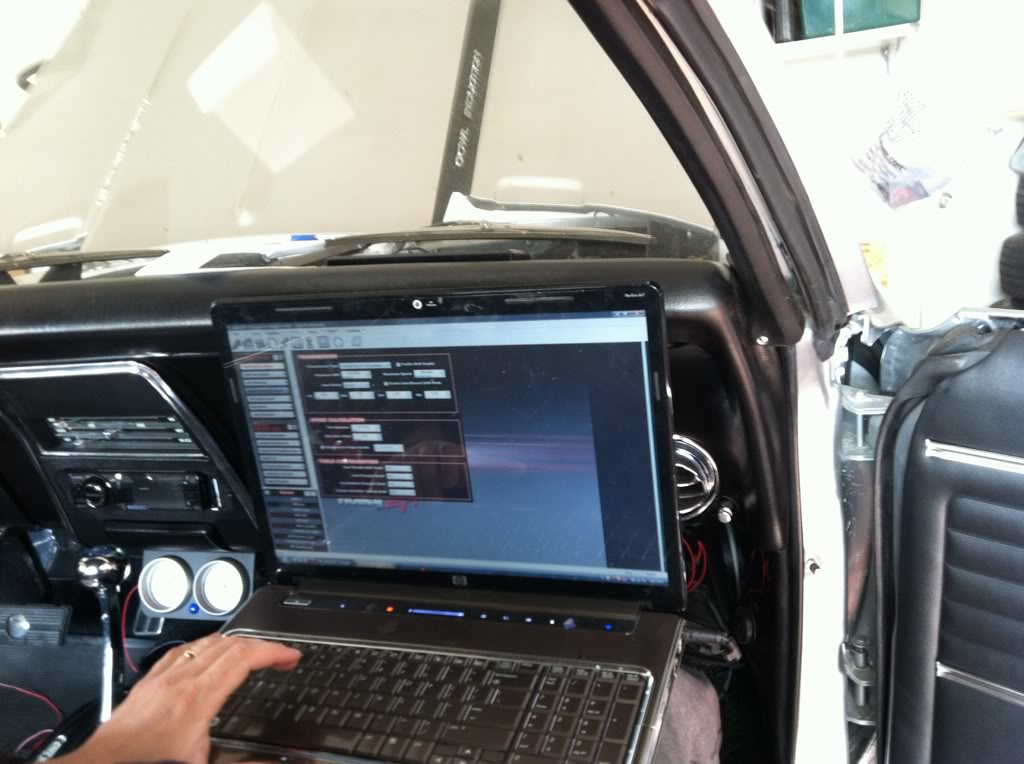 4-3-2012
Woohoo,she started!idle very rough at first but more I let her idle seem to get a lot better!the self learn fuel tables must be working!!i did notice with car running one of my brake lines going from master cylinder to distribution block is leaking!
4-10-2012
Well I replaced the line to my master cylinder from the distribution block and my leak went away!!i ended up pulling my gas tank for two reasons,the pump that came with my ricks hot rod tank was not big enough for the hp my motor was putting out !second my sending unit never worked correctly!so I ordered a Aero motive 11140 pump,they claim it's good for 900 hp natural aspire or 700 hp with boost!!i also talk to ricks about the sending unit,they said they have lots of problems with them with the float arms!they told me to contact ISSpro and they could custom make me one that works great!so I called them and they new exactly what I needed,should be here by the weekend!!!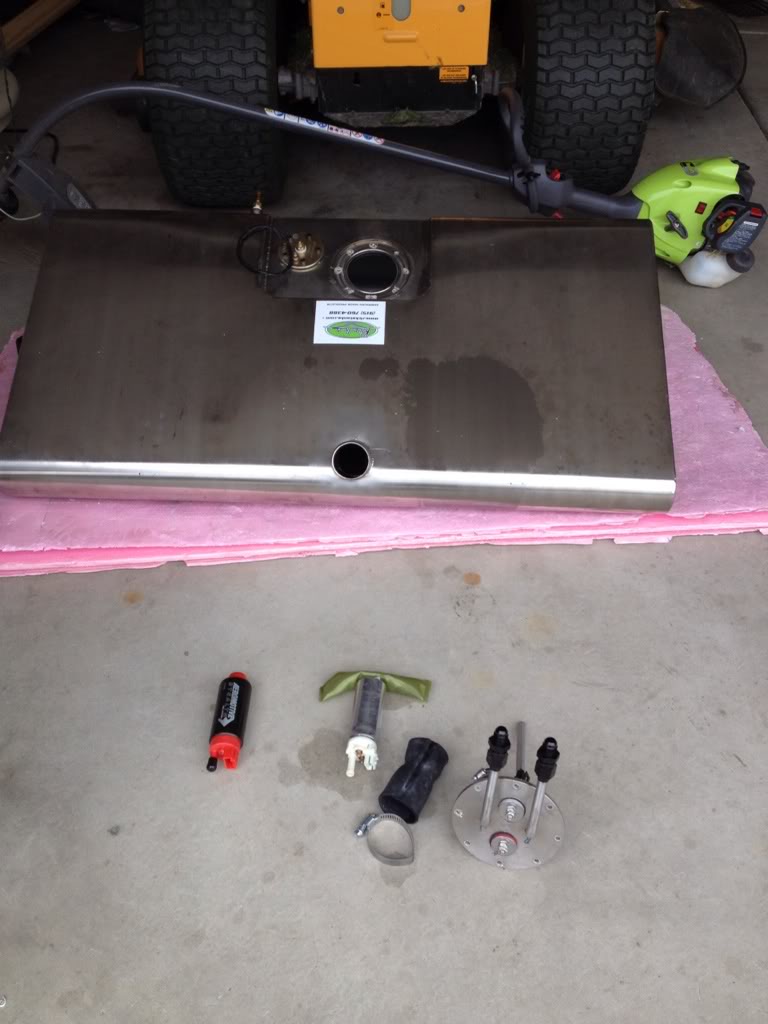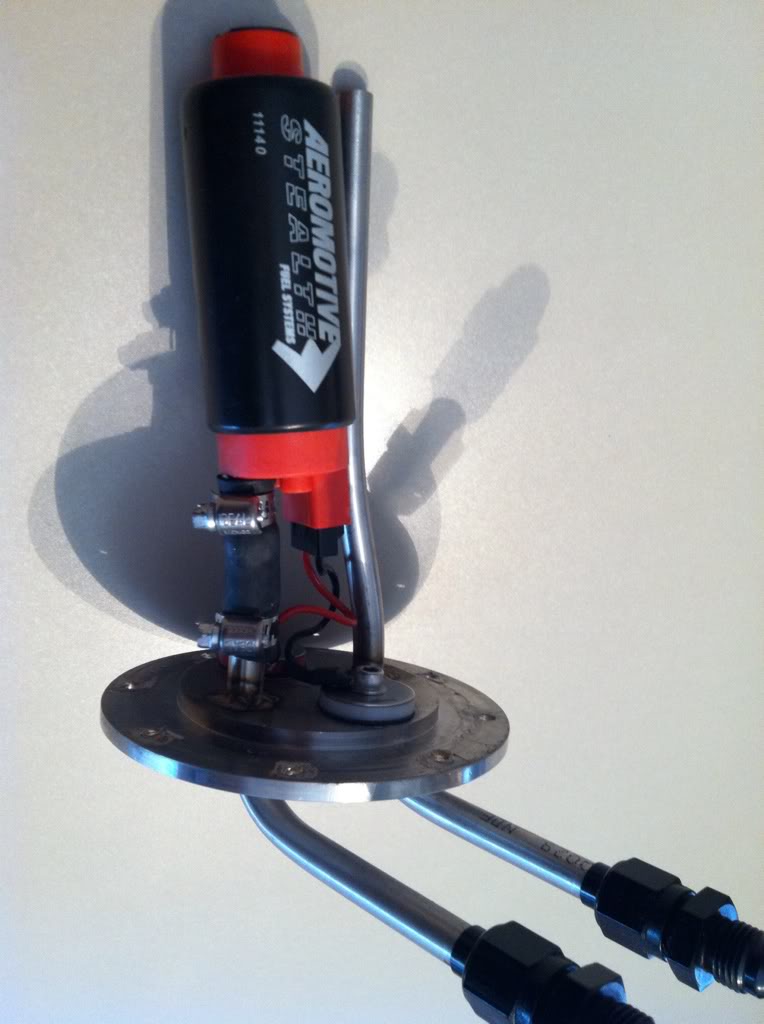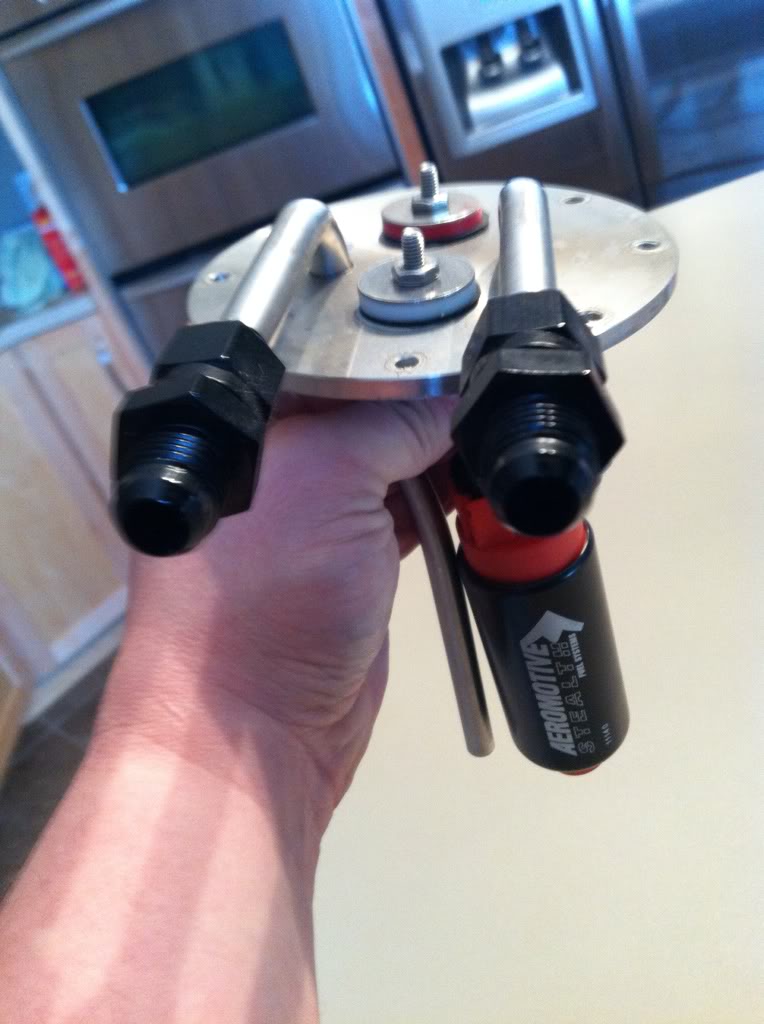 4-12-2012
Much better clearance with the spacer!!i did not measure but I would say around .200 of clearance!i think that should be fine!what ya think tony?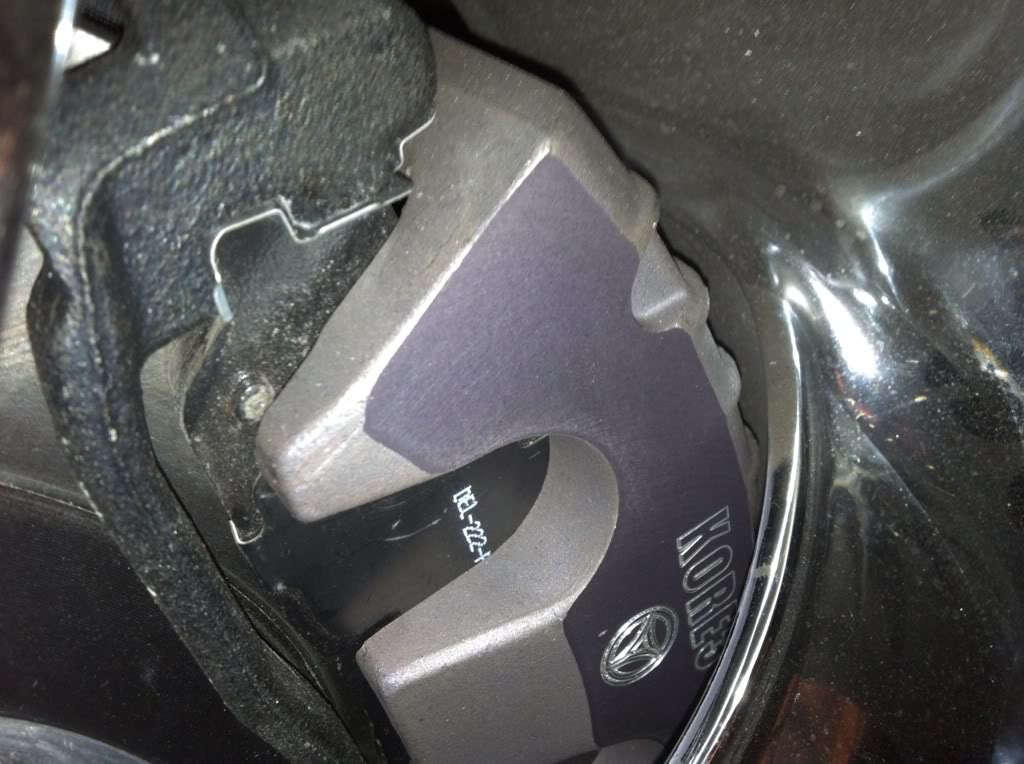 4-16-2012
Well I got the fuel tank back up,took it for a ride around the subdivision yesterday,everything seems good,I do have one brake fitting that weeps at distribution block that I can't seem to get it to stop!!doesnt seem to effect braking!want to drive it around subdivision a lot to really test out make sure no failures before it goes on the street!
Little update on the Holley efi,the car is idling little rough,goes between 400rpm and 1000rpm!i have only started car on jack stands and put put around the subdivision,I called Holley today to get there opinion if I had anything wrong,they told me I need to drive the car a good 50 miles with self learn for all of those issues to correct them self!so looks like I need to just drive!
Baby coming on may 7th!!!yeah it was correct flare,I'm going to drive it a little bit and se what it does, if it continues then I will have to change the line!i checked it today before I left for work and don't see anything so I'm not sure yet!
4-18-2012
Well we had a suprise last night!katelynn Mucha born at 8:14 pm 9lbs 8oz !!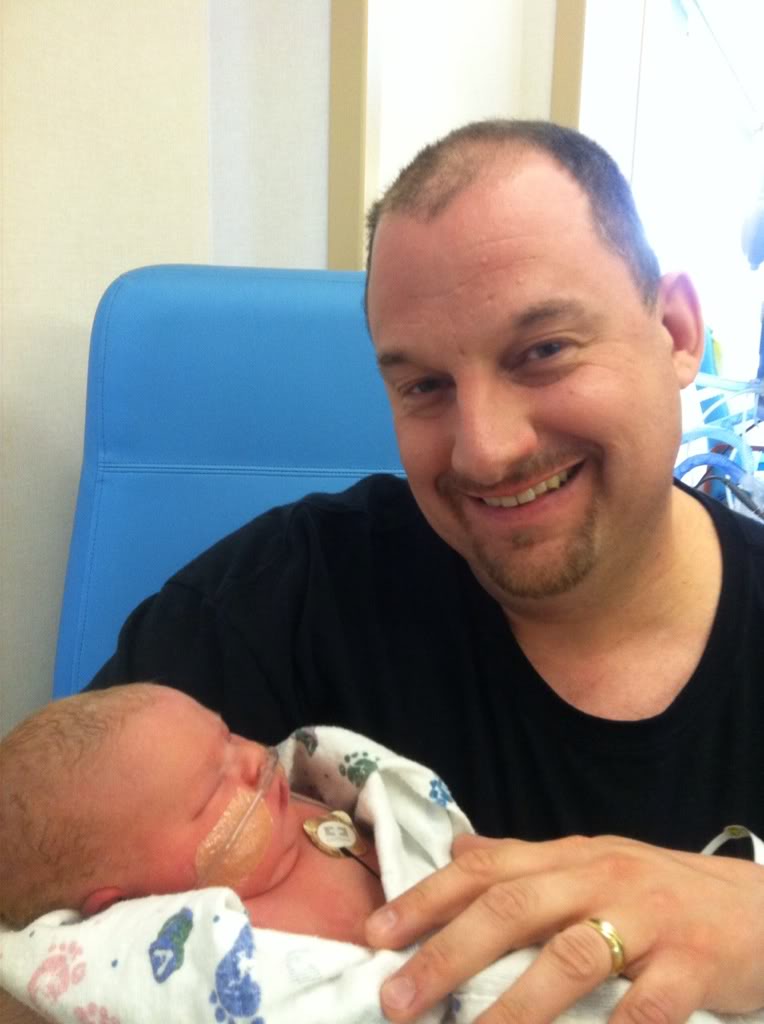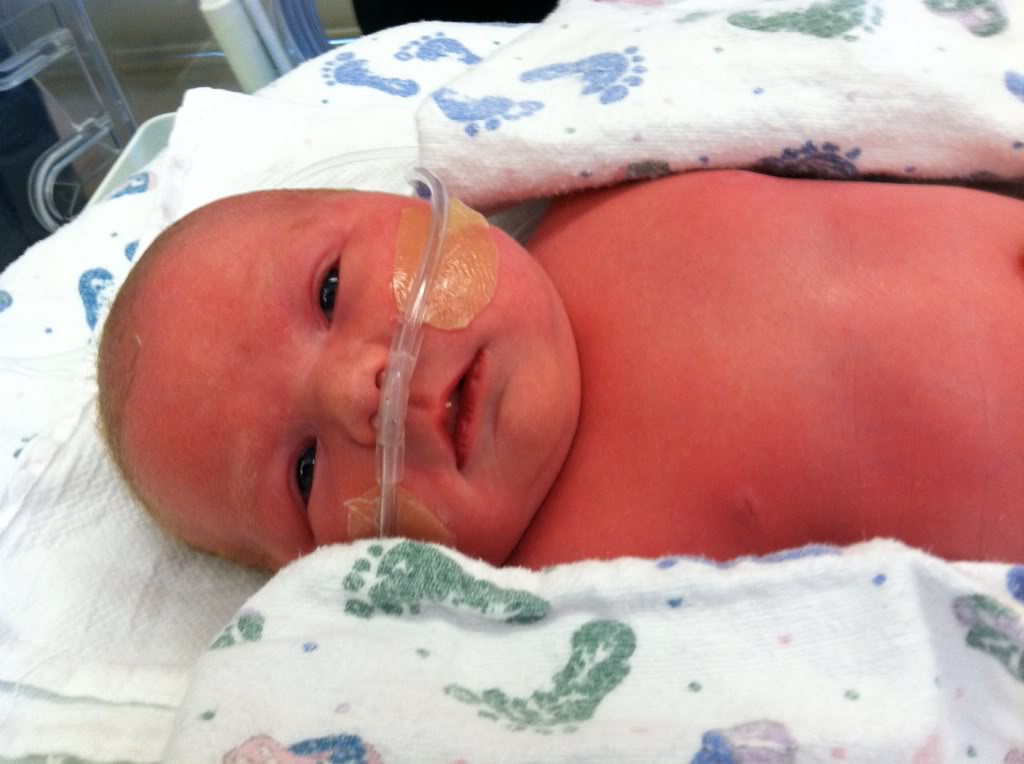 6-8-2012
Sorry been busy with baby,family and camaro fun here and there!wanted to give u guys an update!!the C5brake upgrade is awesome!!i highly recommend!!makes a huge difference !u stomp on the pedal and u feel your seatbelt!!car feels like it will stop on a dime!!for the price u can not beat the brakes!!!very happy I did the upgrade!!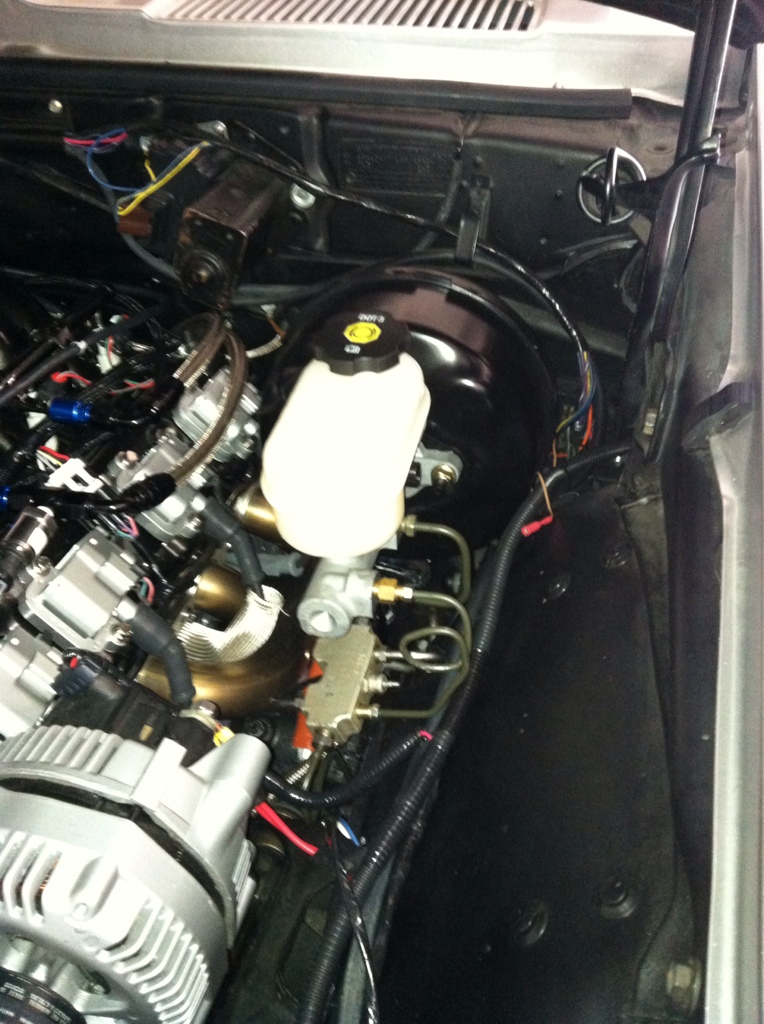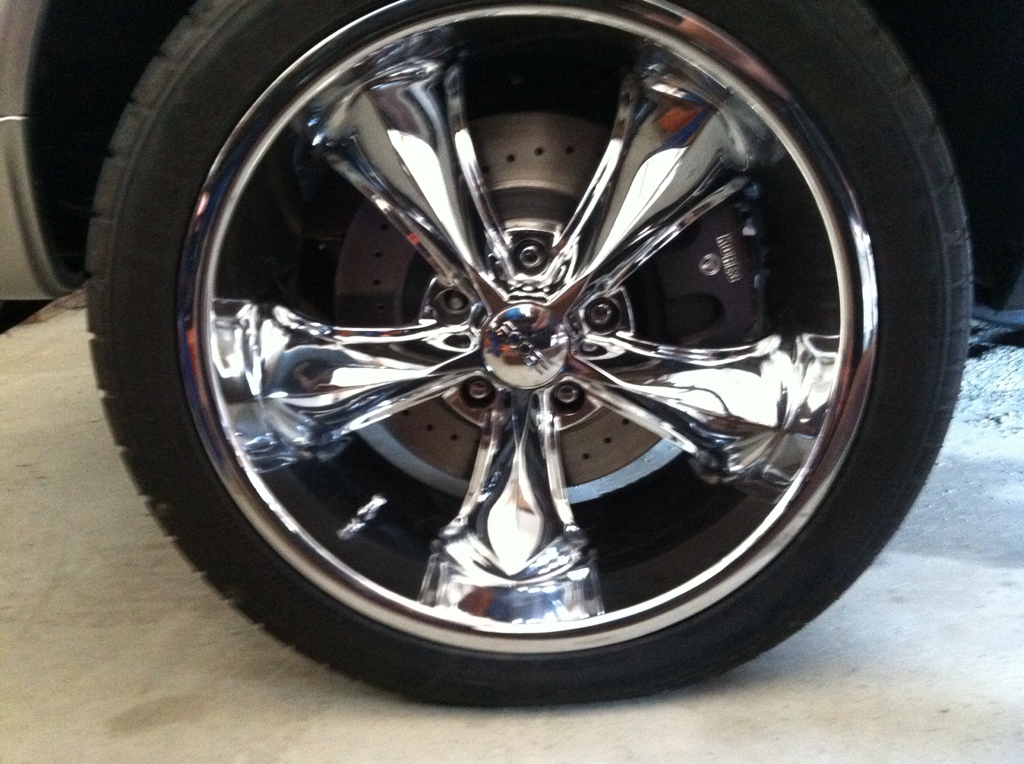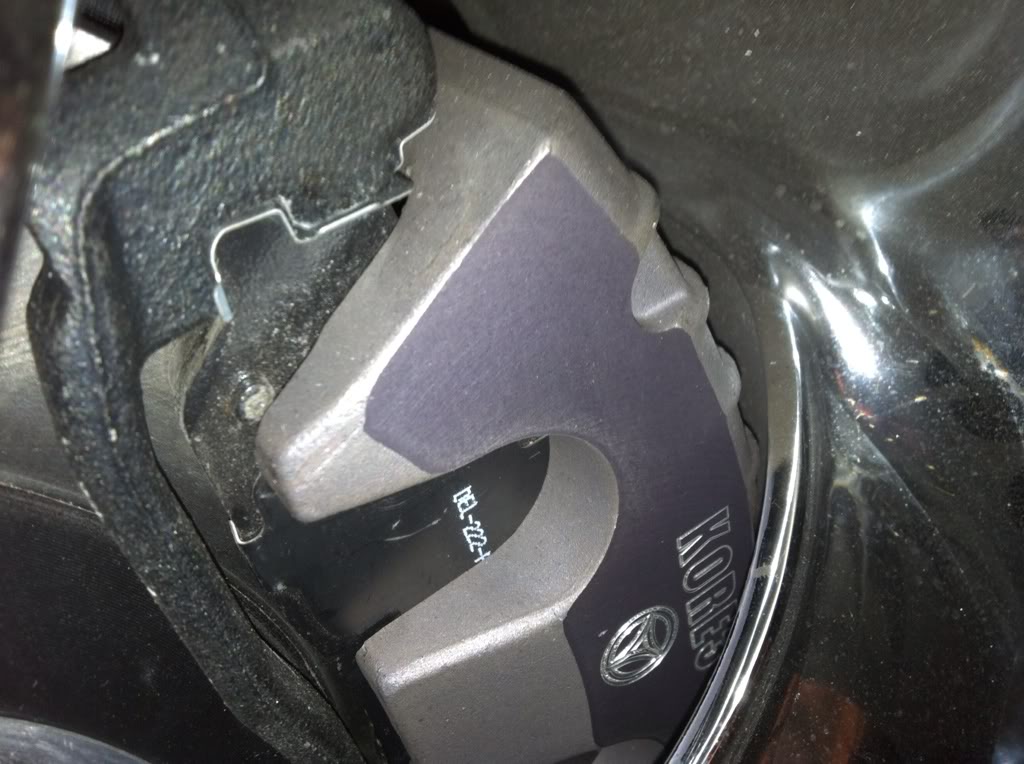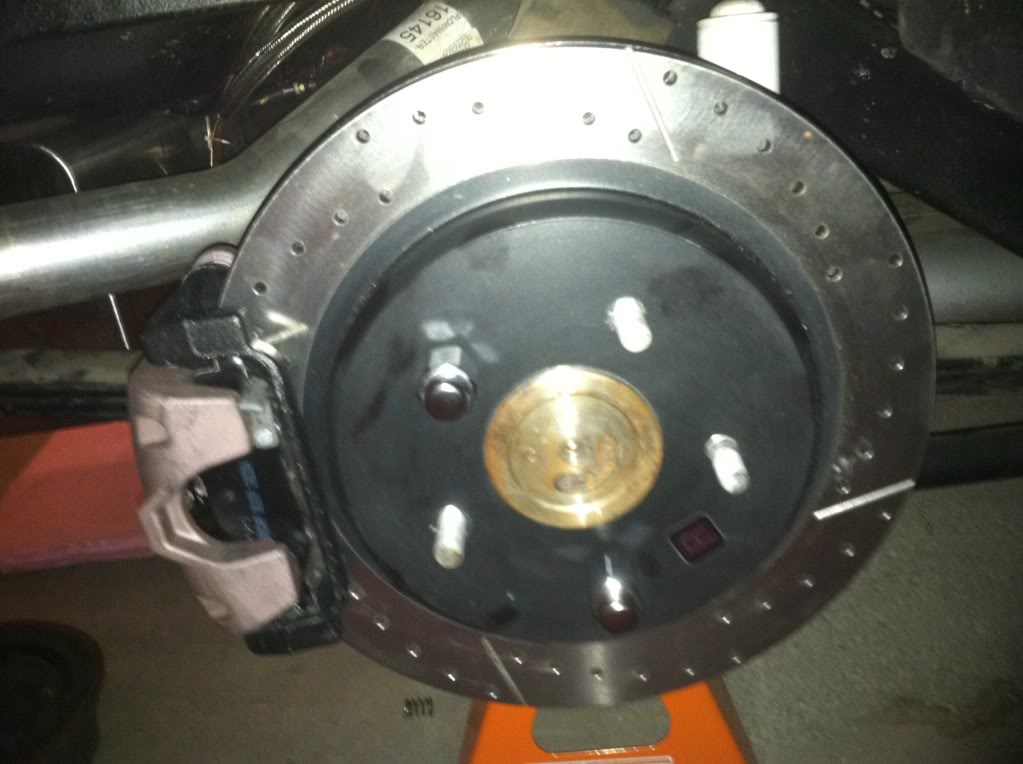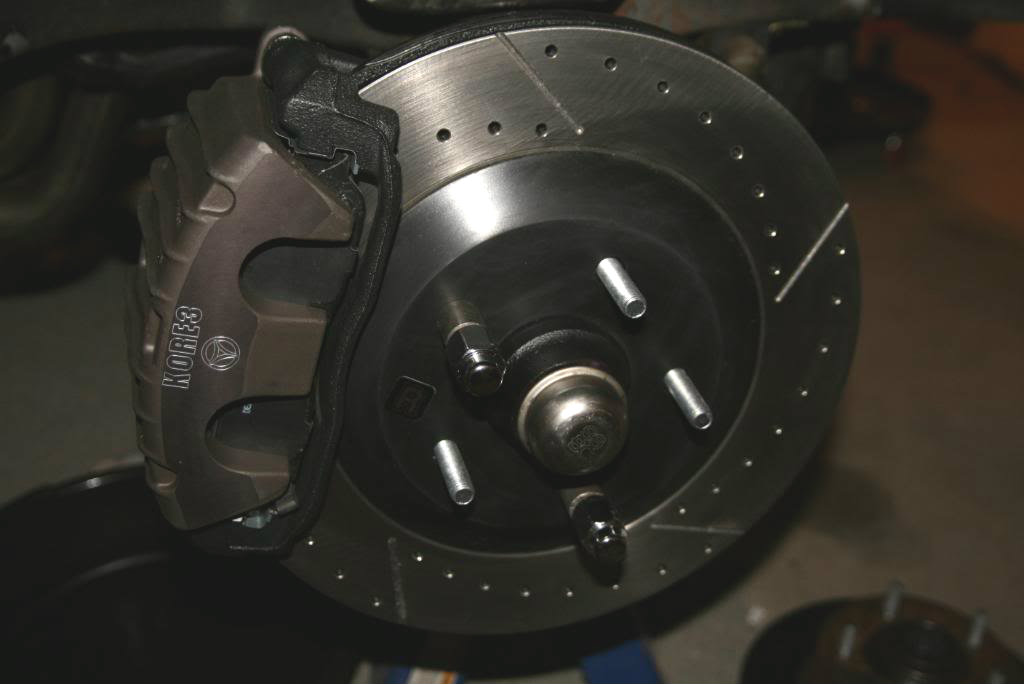 Holley efi is awesome!!im so glad I went with this system,my car seems to run better and car feels faster than what I had before!!if my car was a stock motor it would have been plug and play,but since I had a cam and ported heads the idle area needed some adjustments to get it to idle properly!!im a total noob to tuning,and am pretty lost!lots to learn!!with some help from sound engineer (really knows his holley efi)here on the forum and some stuff I tried from advice from Holley techs,the car idles best it ever has!!I had to make little changes like adjusting idle rpm and added couple degree of timing to idle area!also had to adjust my IAC via throttle body screw!other than that it was all Holley efi self learn!!if I can do it anyone can!!with me adding the kenne bell this fall and possible wanting to try different pulleys ,the self learn of the fuel table was a must!!!im very happy with the result of this system!!
Tony she is great!!!here are few pics!!been enjoying her and the car!!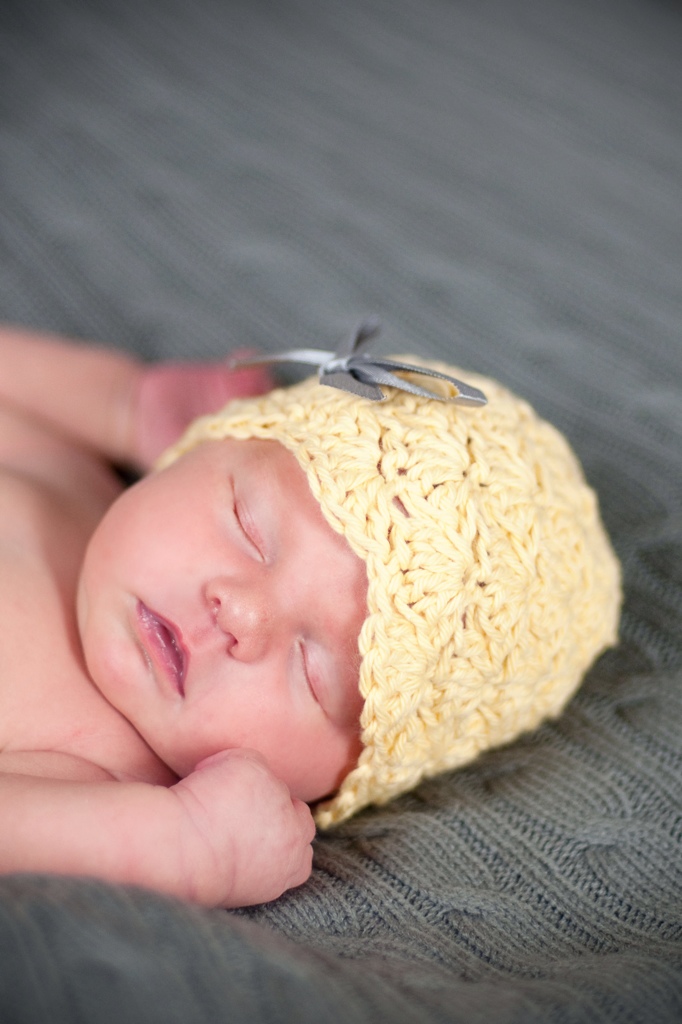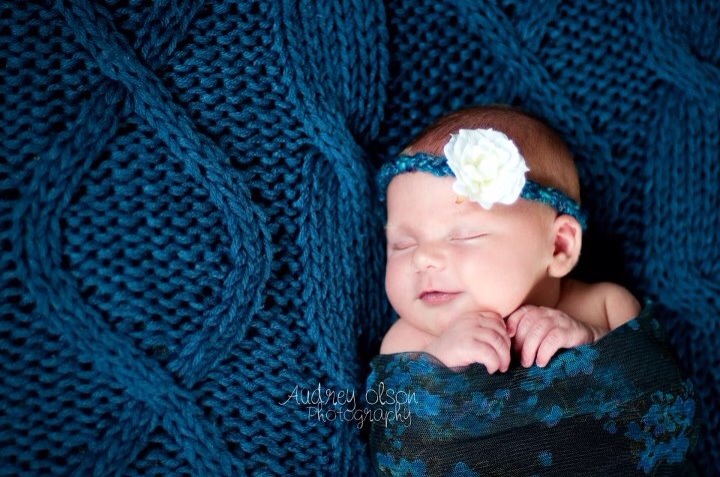 7-9-2012
Few new pics !!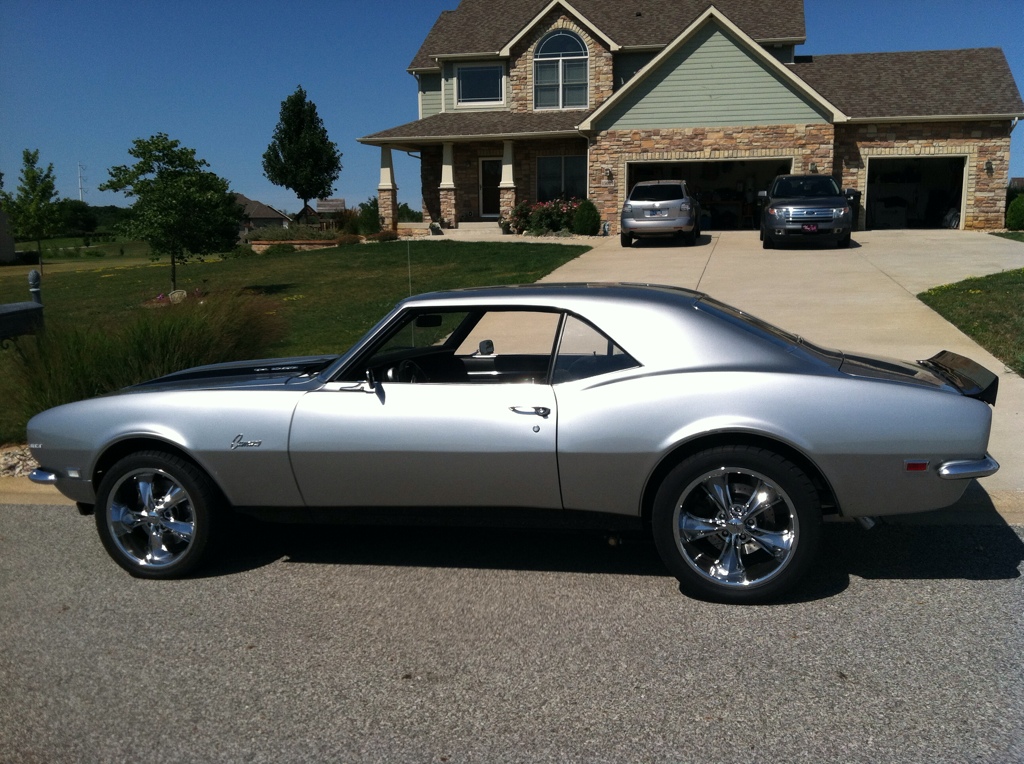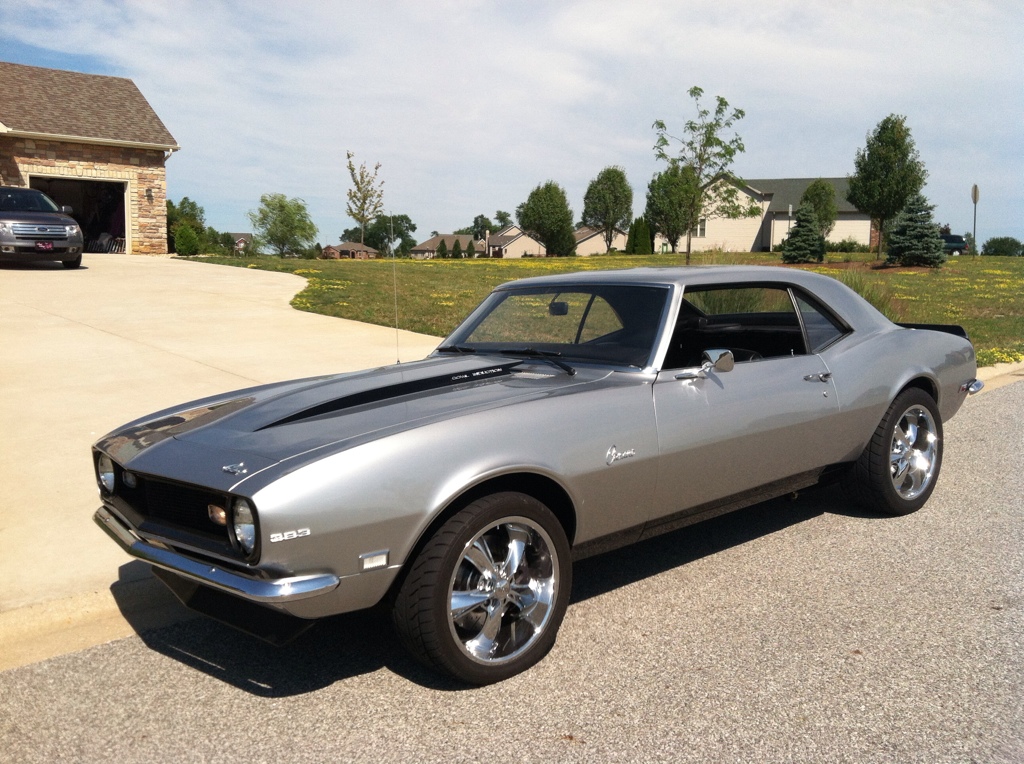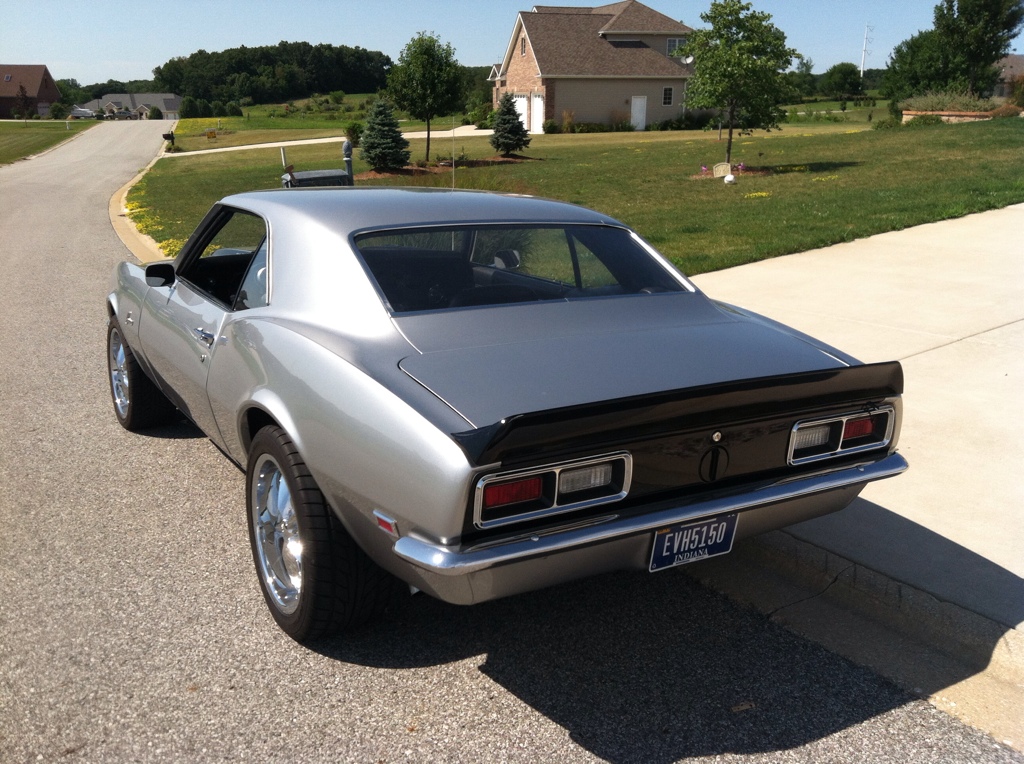 8-18-2012
Getting my stuff together to start putting the kenne bell on over winter,other than that I just been driving and enjoying the car!!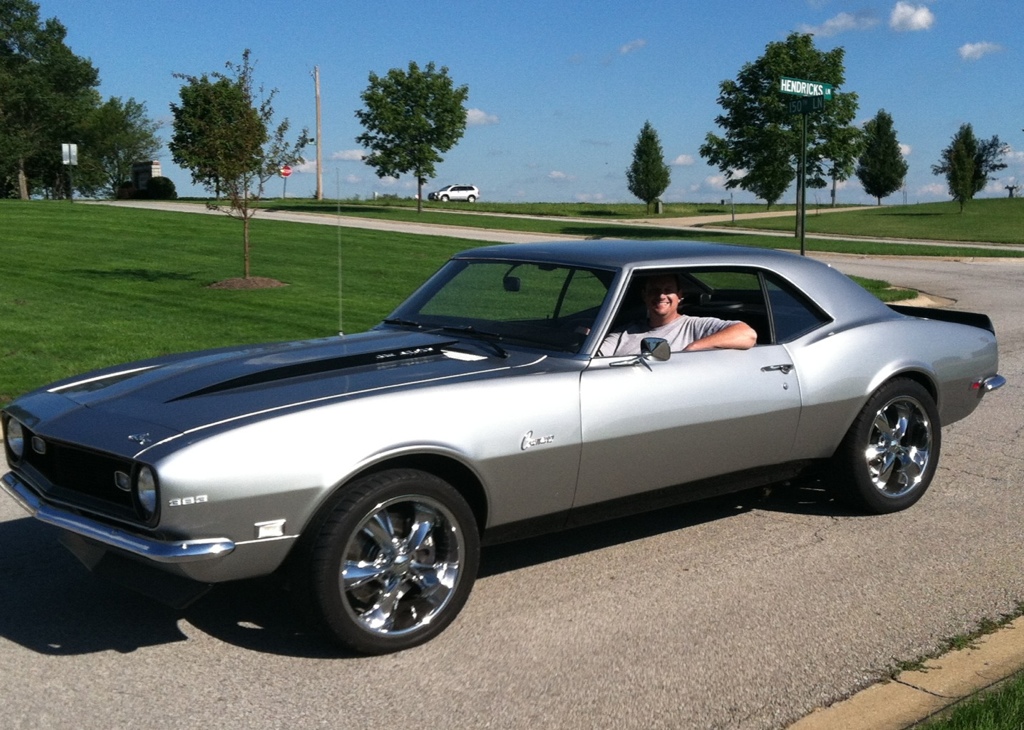 10-26-2012
well its not much,but i got my crank doweled tonight!!next will be mounting my intercooler!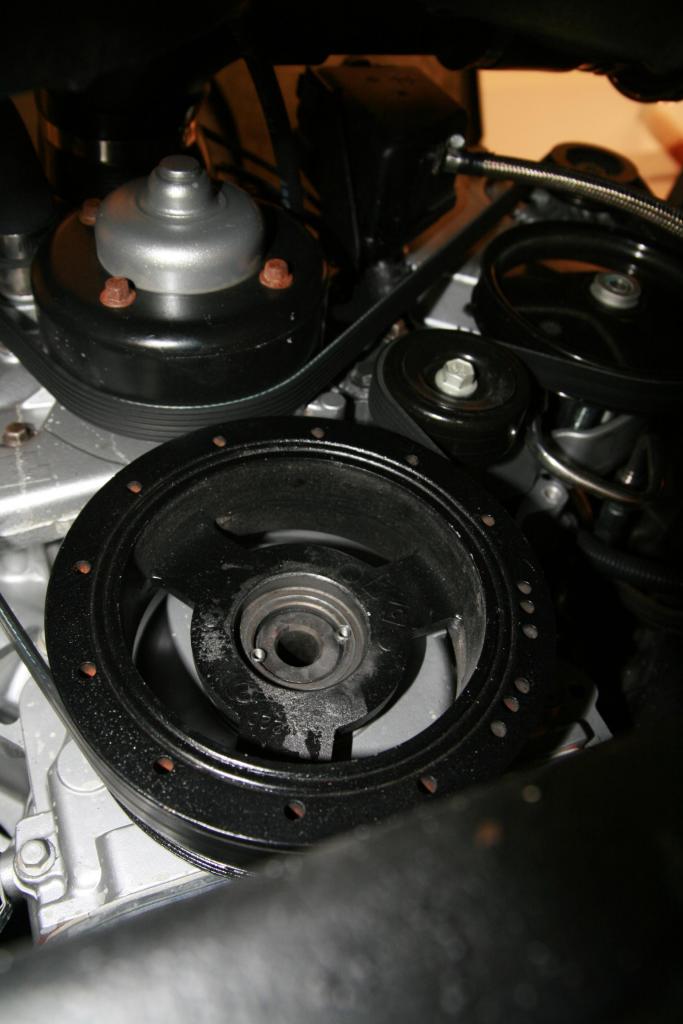 11-19-2012
Well ,can u guys guess what I'm doing next?? Lol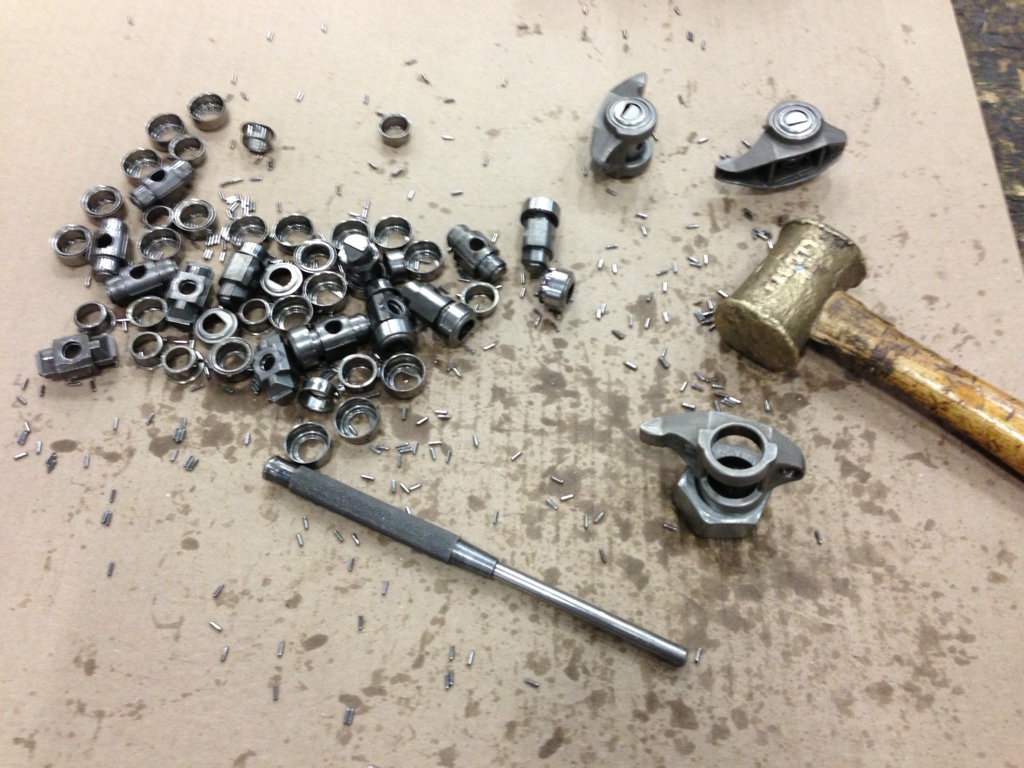 11-21-2012
Intercooler mounted ,should I paint black to hide better???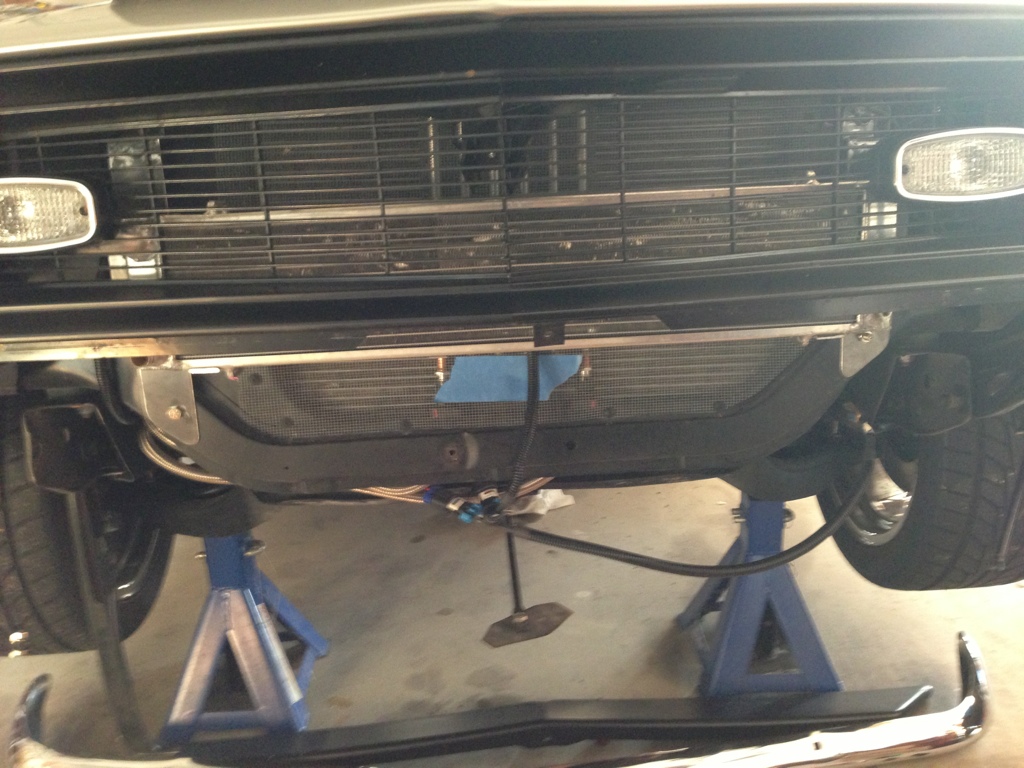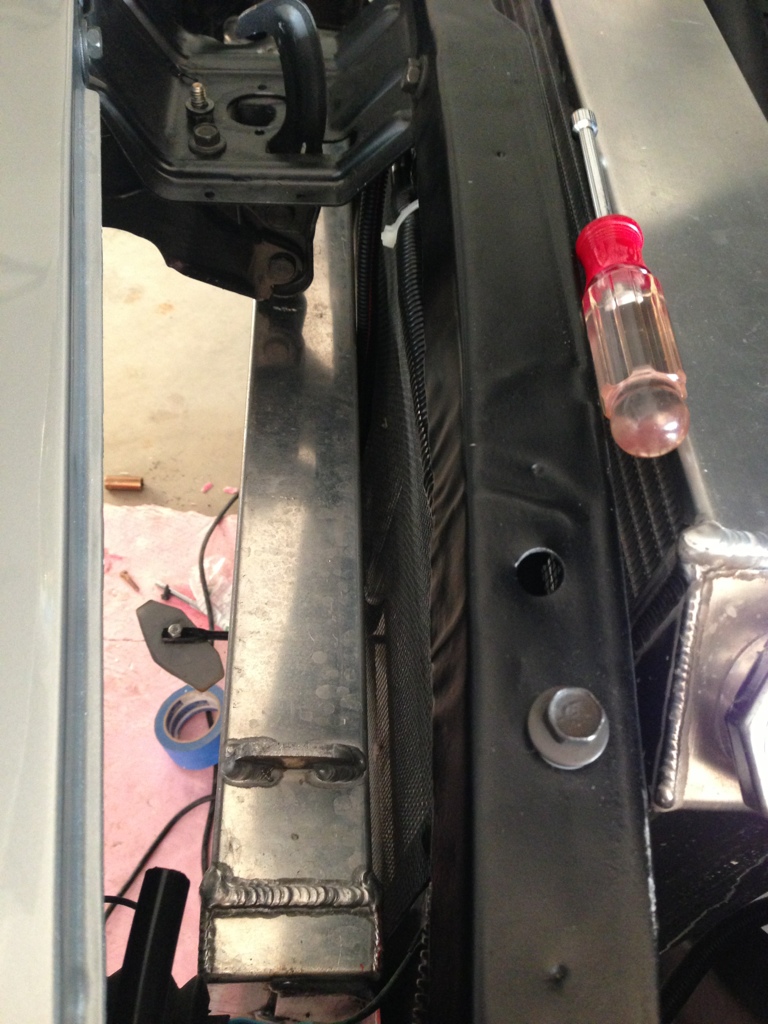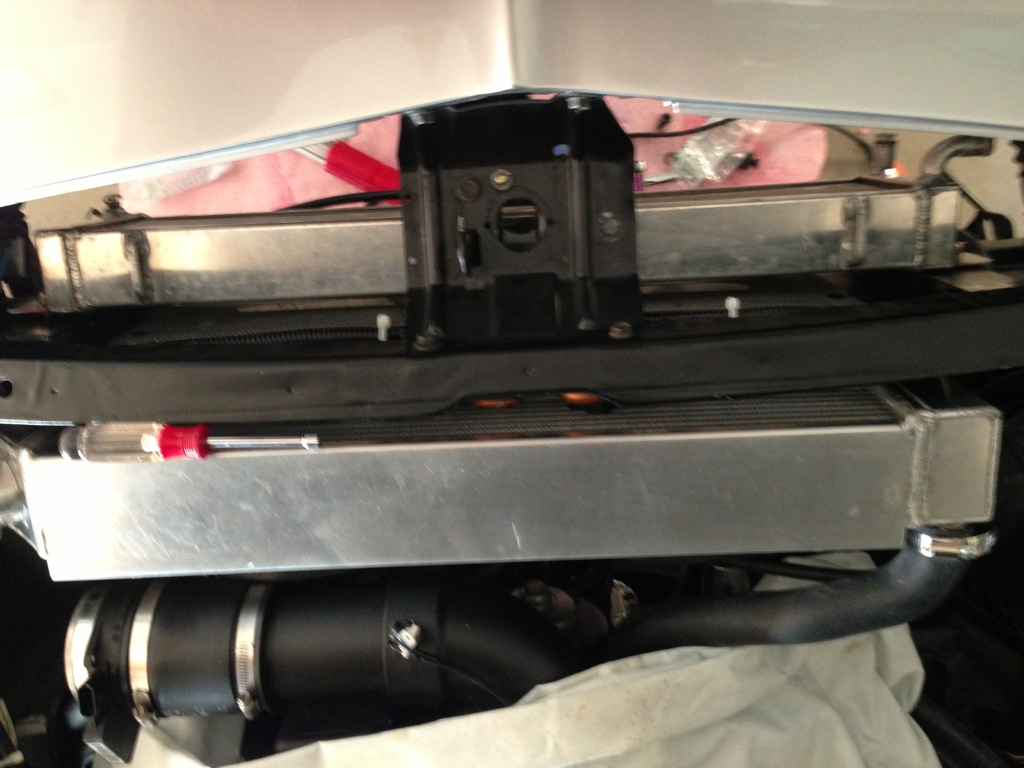 3-16-2013
Inter cooler and brackets all mounted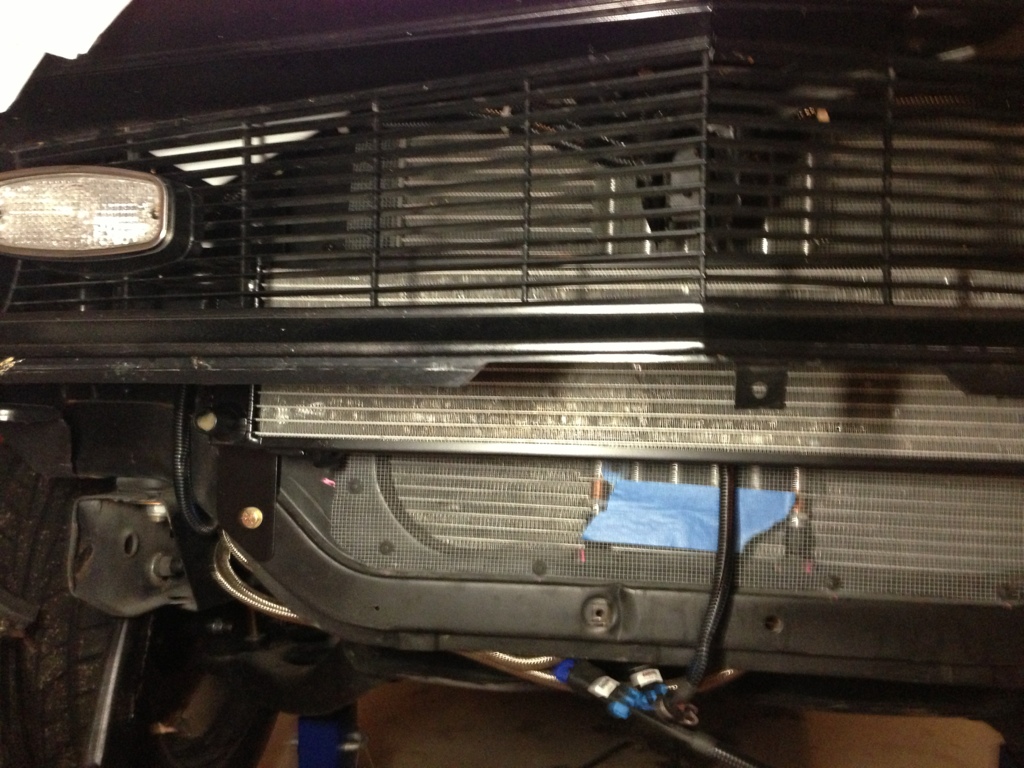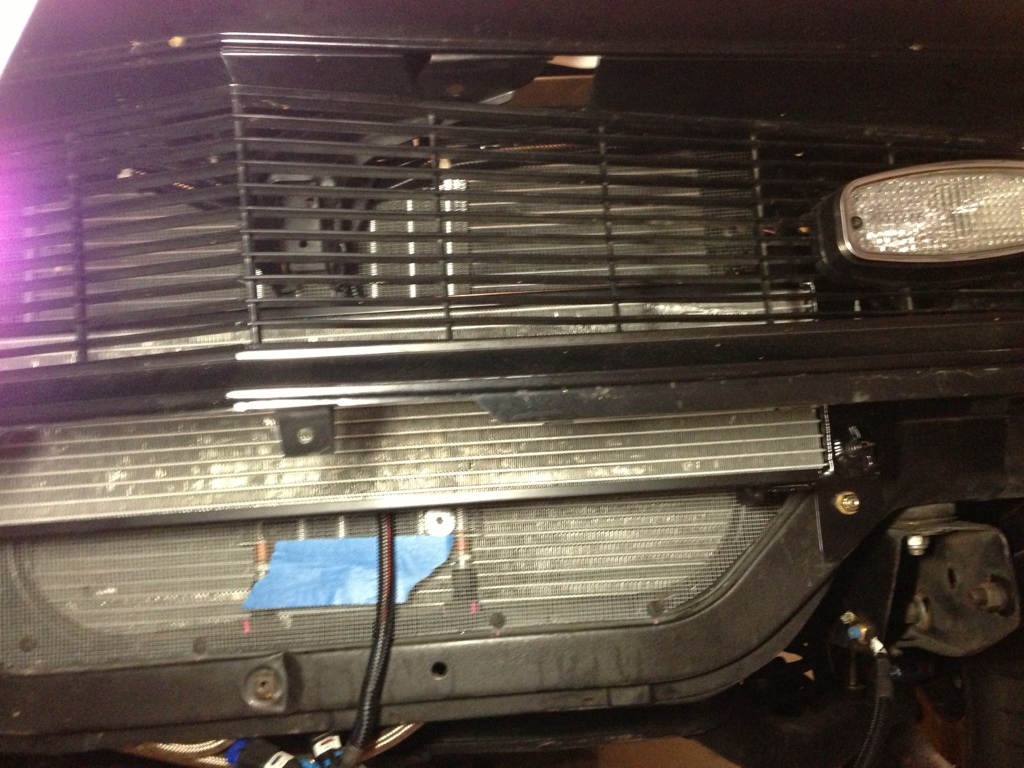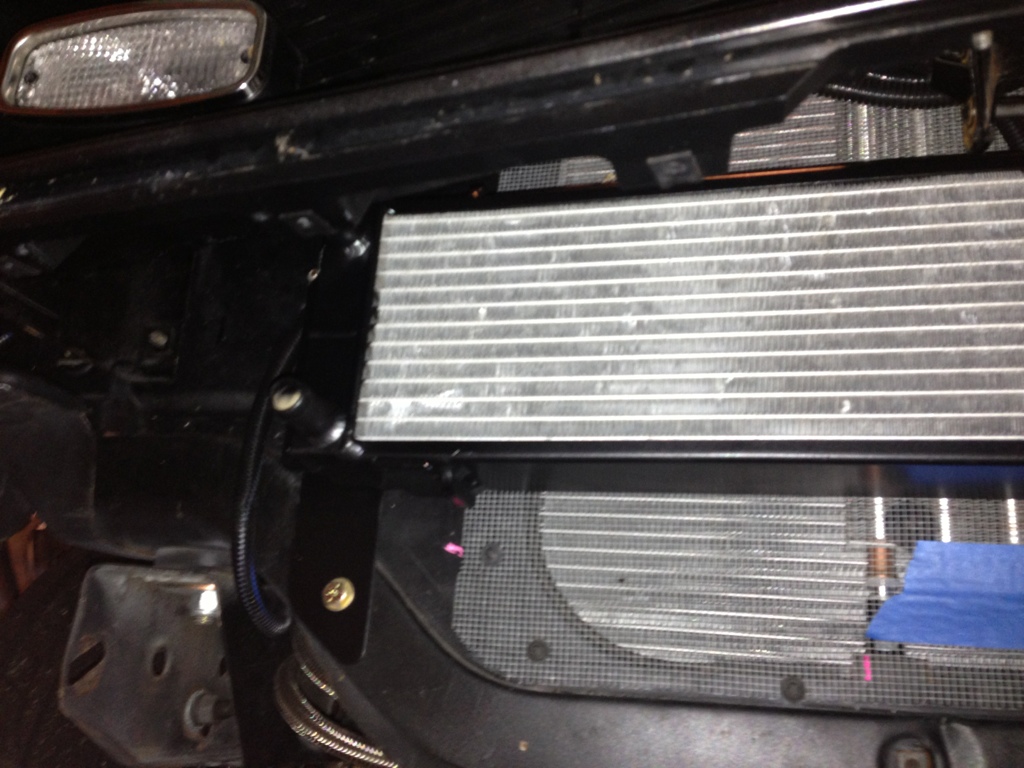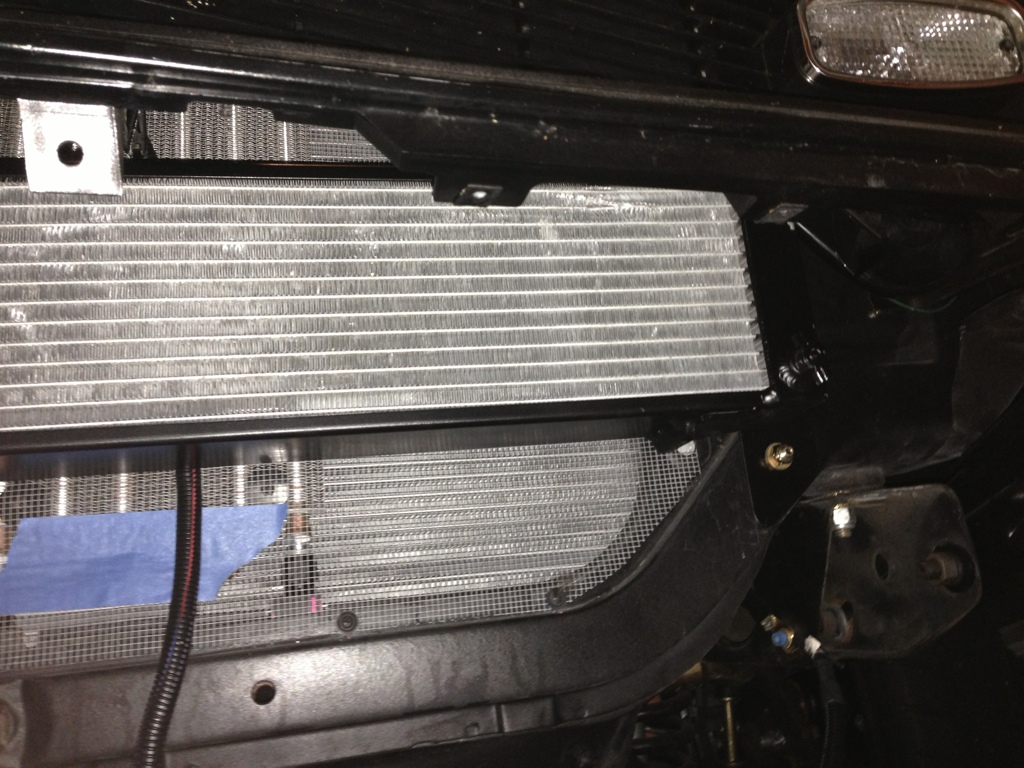 Well I'm throwing car back together with stock intake so I can drive the car ,me and the wife decided to go our seperate ways so will need to get the car moved in the next few weeks!!just have not had much time to work on it!!looks like blower will be done next winter
5-18-2012
If any of you guys wana convert your 4l60 to a speedo, I think the tail housing that street and performance and other company's sell is from a 95 Cadillac tail shaft gm
Part number 8673406..with a slight mod ...there around $200..read more here...

http://www.hotrodlane.cc/08%20catalog/Page%20147.pdf
5-26-2012
If any of you guys consider going with Holley efi..Here is a great read on another forum of guys using windows based tablets to control there holley efi instead of the Holley touch screen..
http://www.yellowbullet.com/forum/showthread.php?t=559816
http://www.yellowbullet.com/forum/sh...d.php?t=559816
8-14-2013
I think I'm going to upgrade my short block while I can still sell my ls1 short block. I'm afraid to put the kenne bell on it and blowing it up.. So need opinions I'm between a LS 3-418 or a LSX 427???what your guys opinion?