Thrift Shop Camaro by Payton King
By diyauto
You must be logged in to rate content!
Thrift Shop Camaro
Compliments of Payton King @ http://www.lateral-g.net
3-26-2013
I am finally getting around to starting my build thread as I have been putting it off for a while now. Some of you might remember my last car, Dead Cat, for those that do not here are a couple of pics.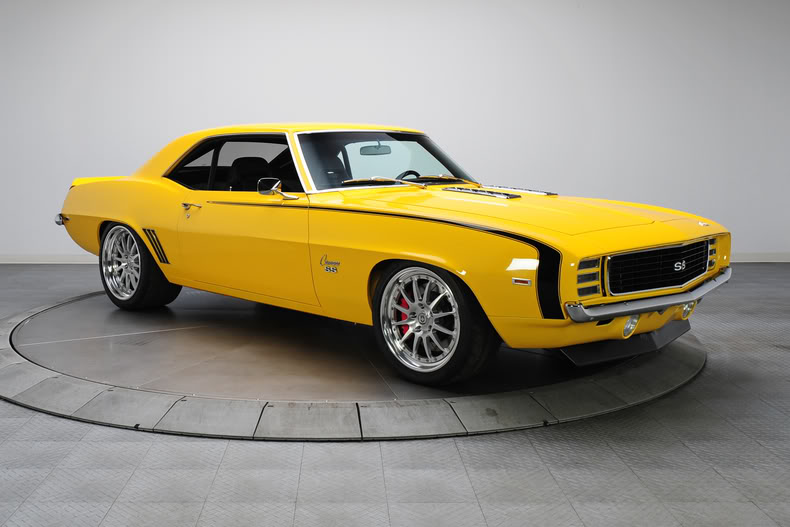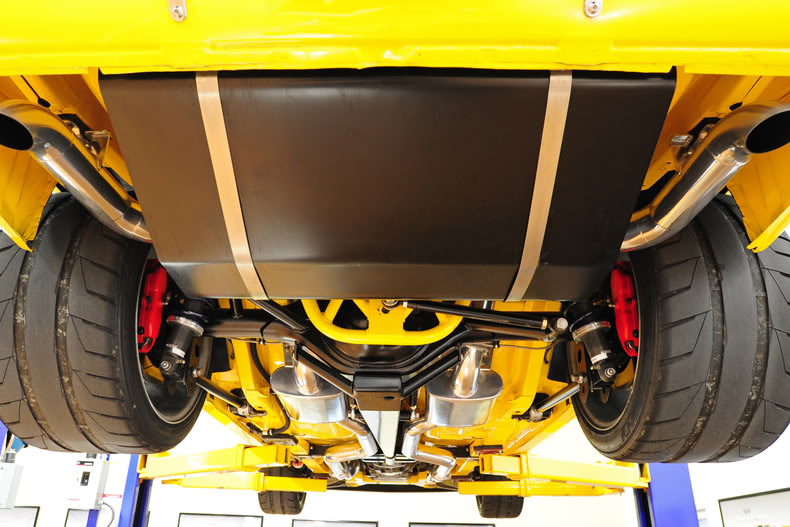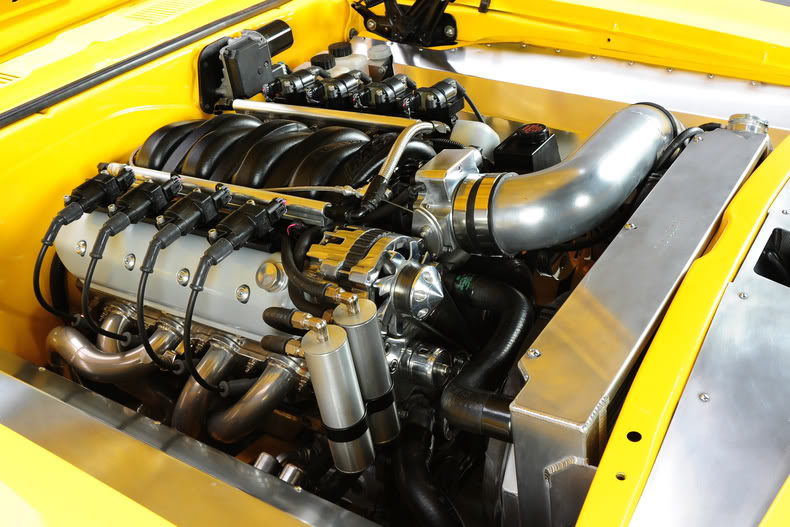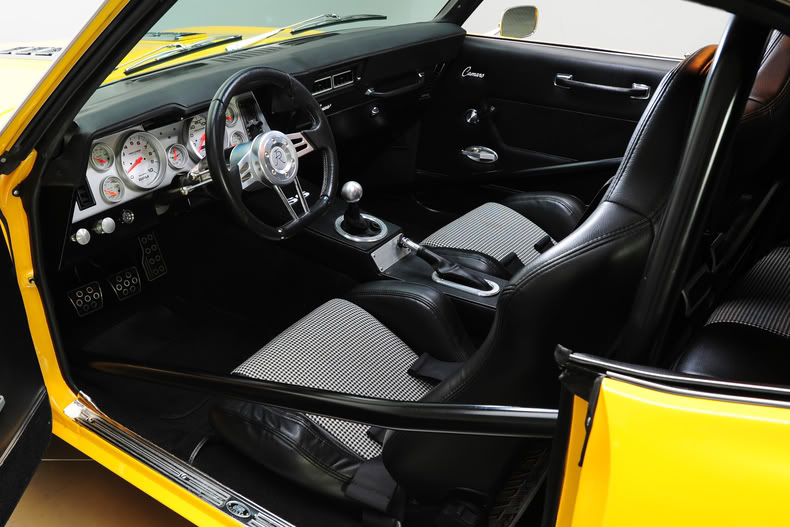 My new project is going to be the polar opposite of the one pictured above. It is going to be very raw and hopefully very fast.

I owned the yellow car for 19 years and always wanted a magazine quality car. After the car was complete and I started doing the "Run Through..." events, I found that I liked driving on the track way more than I liked driving on the street. Dead Cat was sold last year and now lives in AZ.

My new project is the Thrift Shop Camaro. Since I live in the heart of NASCAR country, I plan on using as many used race parts to build my car as will work with the direction I want this build to go. The name came to me when I met a guy that deals in used parts and I went to his storage building. As you can tell by the photos, the name just kind of jumped out at me as I was shopping.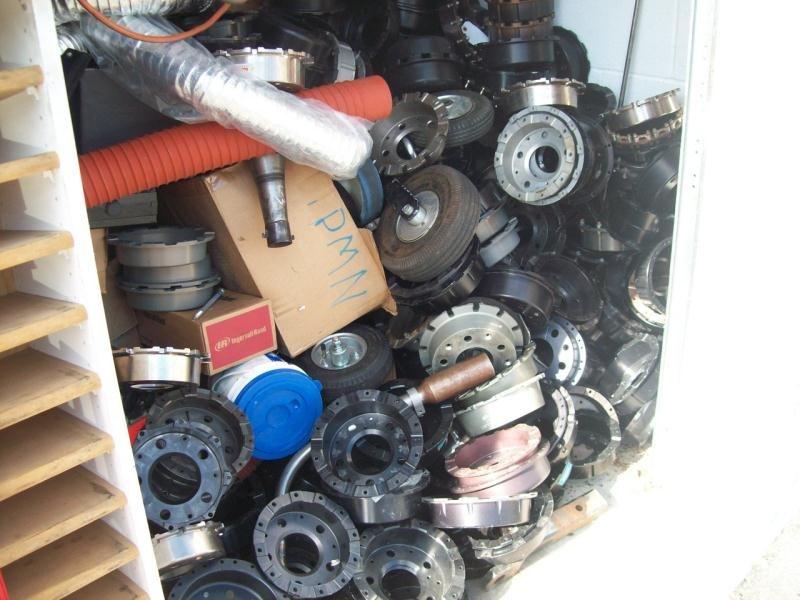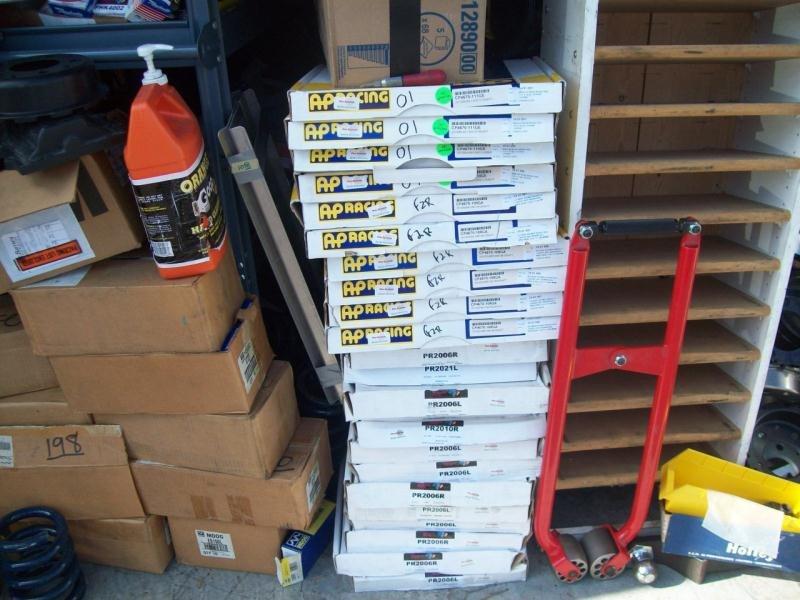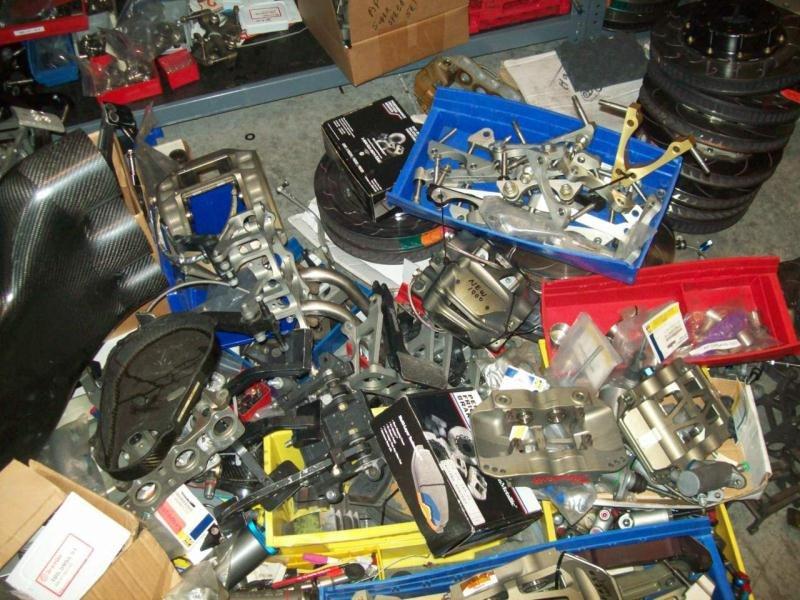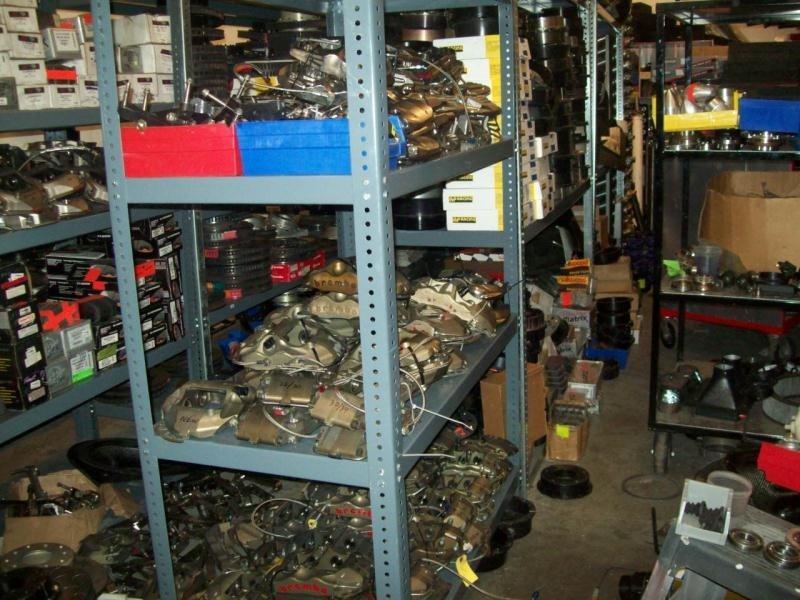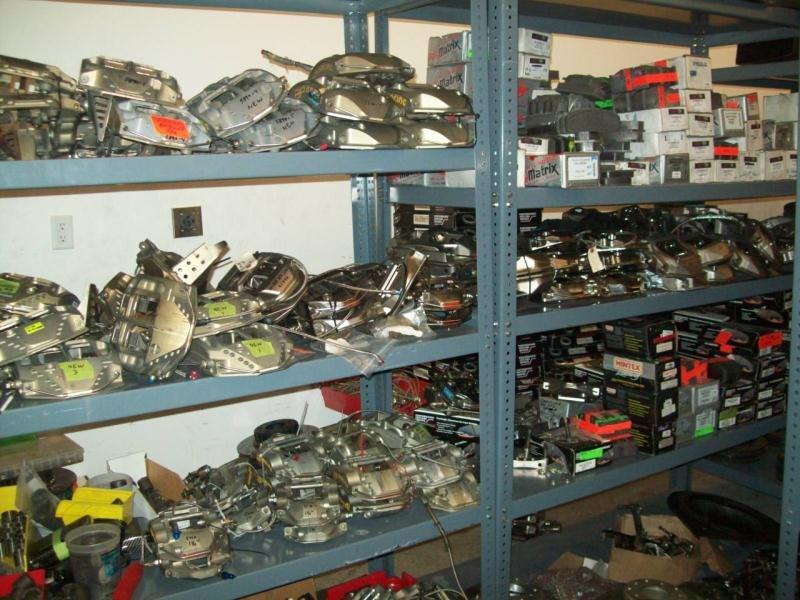 So here is the project car in all her glory, rougher than most but a diamond in the rough...at least that is what we all think when we are buying one of these piles.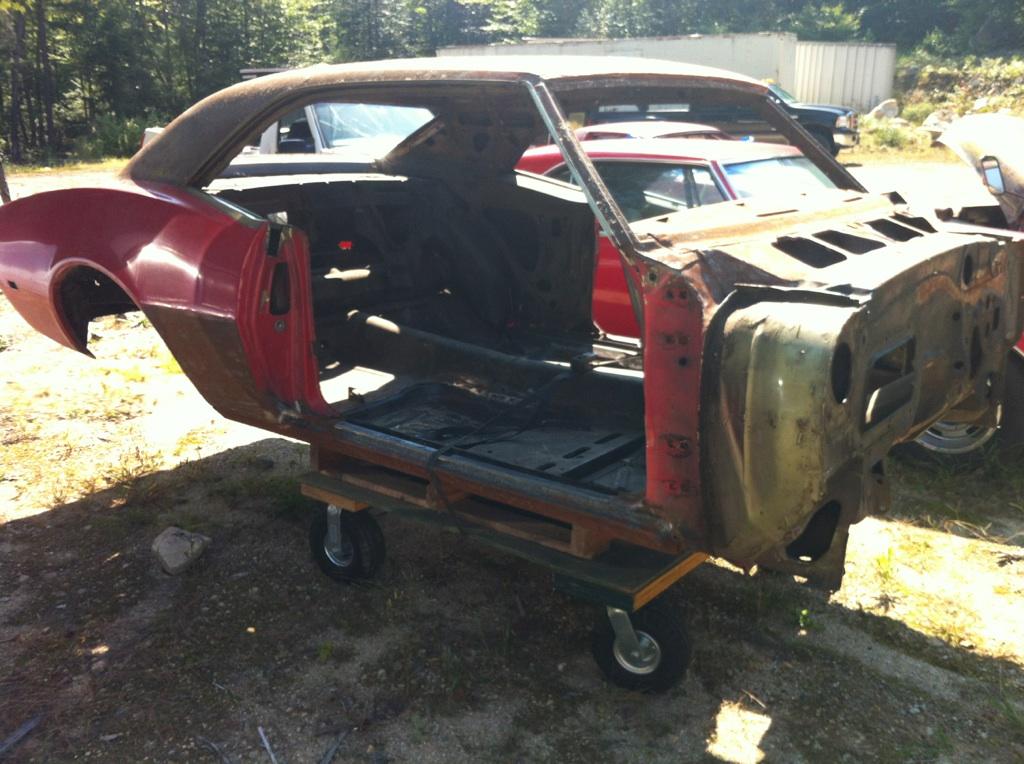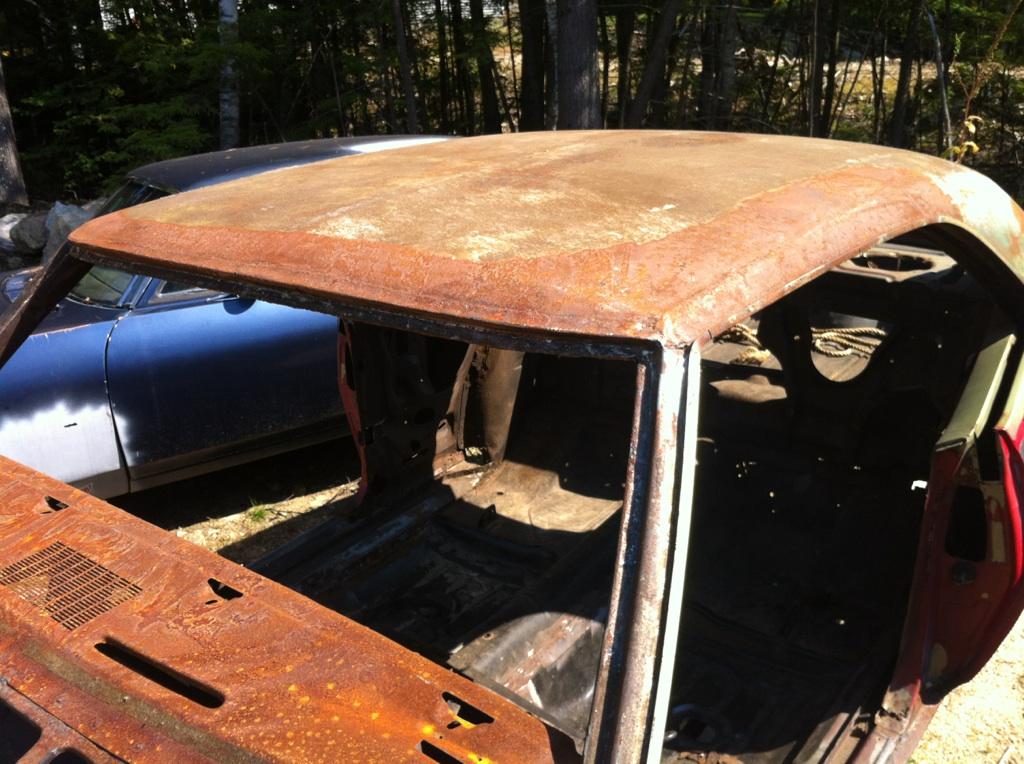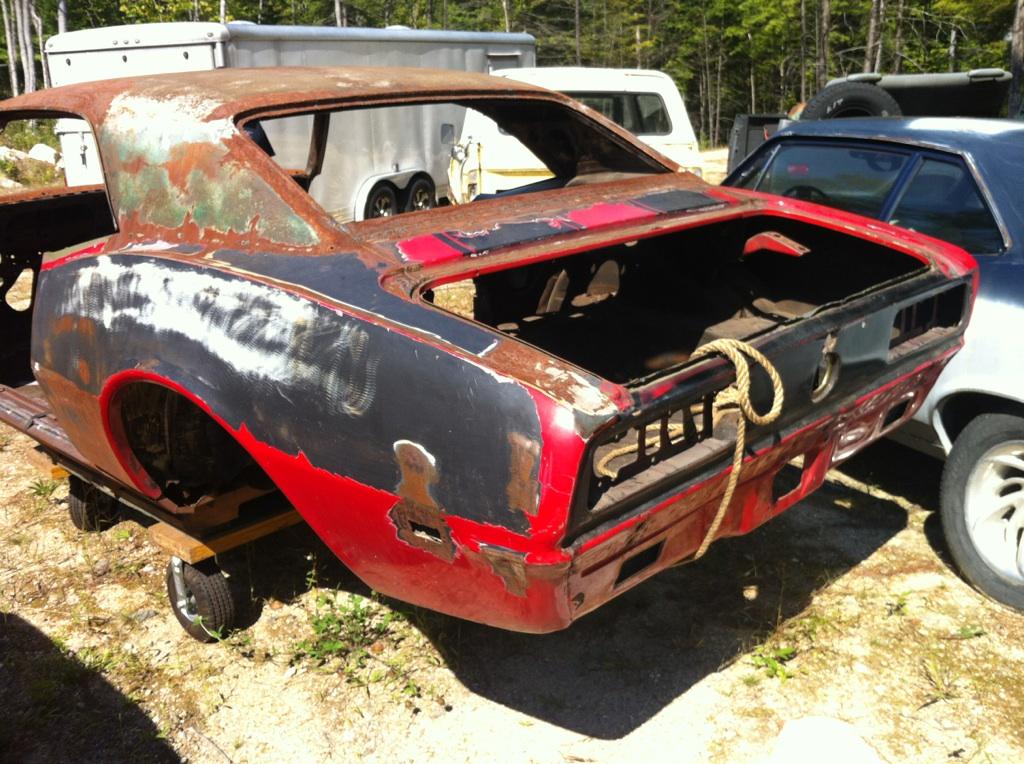 Dave has been on me to post up my build. I told him that it was so similar to what he was doing that I was just going to add my name to the title of his thread. If you have been following his thread, you have a good idea what I am about to lay out for mine. Same idea, but different coast, the highlights of my plan are as follows:

All aluminum SB2.2 10:1 stroked to 400 ci (actually 393 but close enough)

Jerico or Tex dog ring 4 speed

Full frame with Jake's Hot Rod Shop suspension

Body dropped on frame with a ride height of 4 inches

11.5 front rims and 13 rear

Lexan

Wide body

Full cage
3-27-2013
Matt is about right on the video. I have 2 boys 10 and 13 and I have listened to that song about 1 million times to and from soccer practice. It does fit though. First time I went to that guy's storage building I had a specific amount of cash in my pocket to get a gas pedal. Once I was there I knew I was going to be short on cash. Next time, I had more than $20 dollars and I was poppin' tags.

Lots of used NASCAR and circle track re-sellers in the area. He is just one of many. Next time I go up to Roush /Yates I will get some photos. Imagine a Home Depot, but with race parts filling the shelves. Motors on pallets stack in the shelves, entire car on one isle. It is crazy.

As soon as I figure out how to do the questions in quotes it will be easier to answer specific questions. Before I started the build, I was going to get a Howe road race front clip and run the 5x5 hubs and all the circle stuff.

Tough to be creative with a name for a project when I am not creative enough to do something other than a Camaro. It is a little goofy to name you car or project anyway, but how else do you keep your seperate from the others? "I am the guy doing the 1st gen Camaro on the site." Yea, that narrows me down to about 1000 projects. LOL

Somebody asked about NASCAR brakes. Kind of...using an AP calliper used in circle track with a lug mount on a floater with a Grand National hub in the rear. I will post up some pics later on that one.

The yellow car was on the Cover of Camaro Performers and had an 8 page spread. April of 2009 (Thank you Mr. Rupp!)

As far as paint, you may be looking at it. Going to replace the roof so it will be in primer, may leave the rest of the car as is until I get it sorted. It will be a wide body, but may cut out the fenders and quarter dirt track style for a season.

This is my inspiration photo/drawing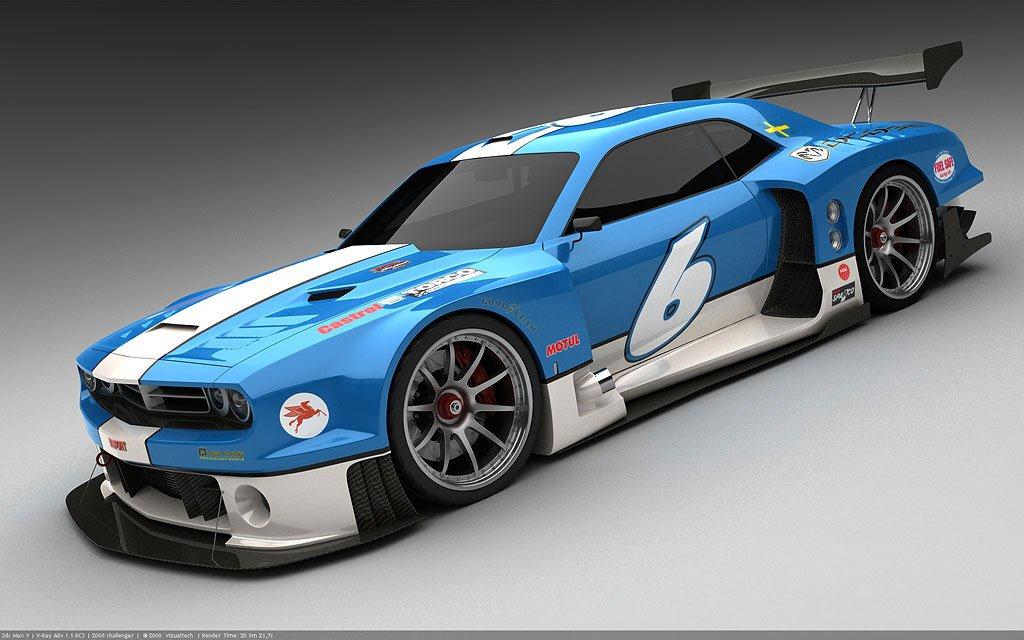 You cannot have a full frame car with the floors and trunk in the way, unless you are The Roadster Shop. The plan is to cut out the offending metal, plate the inner rockers and slide the body over the frame.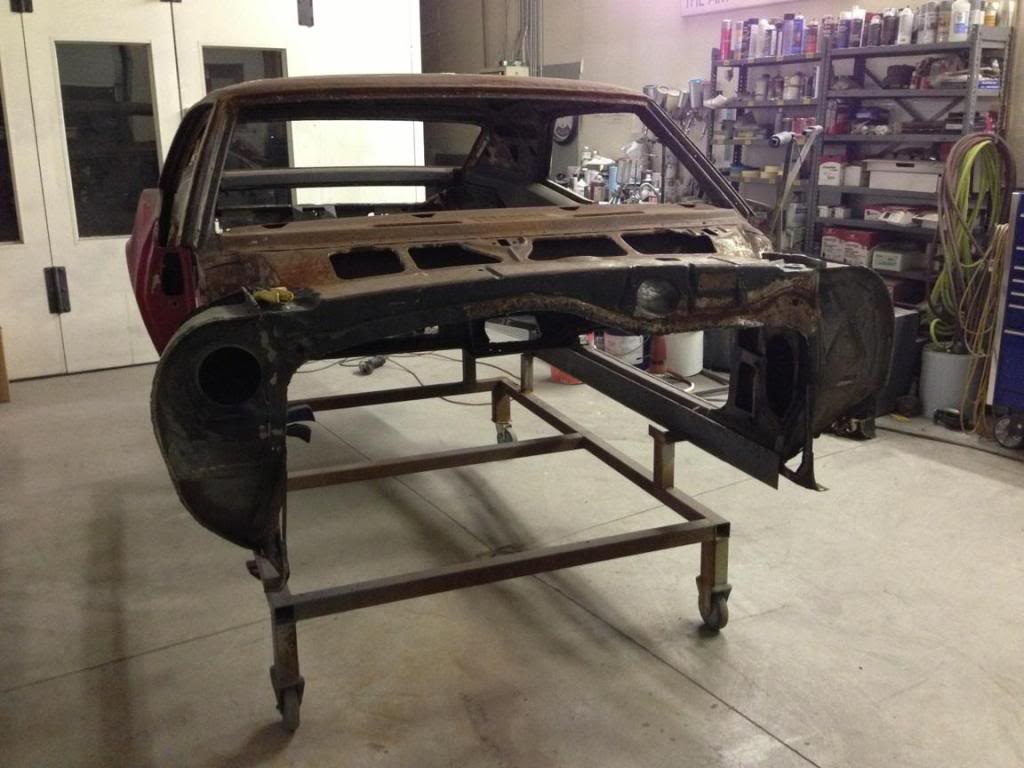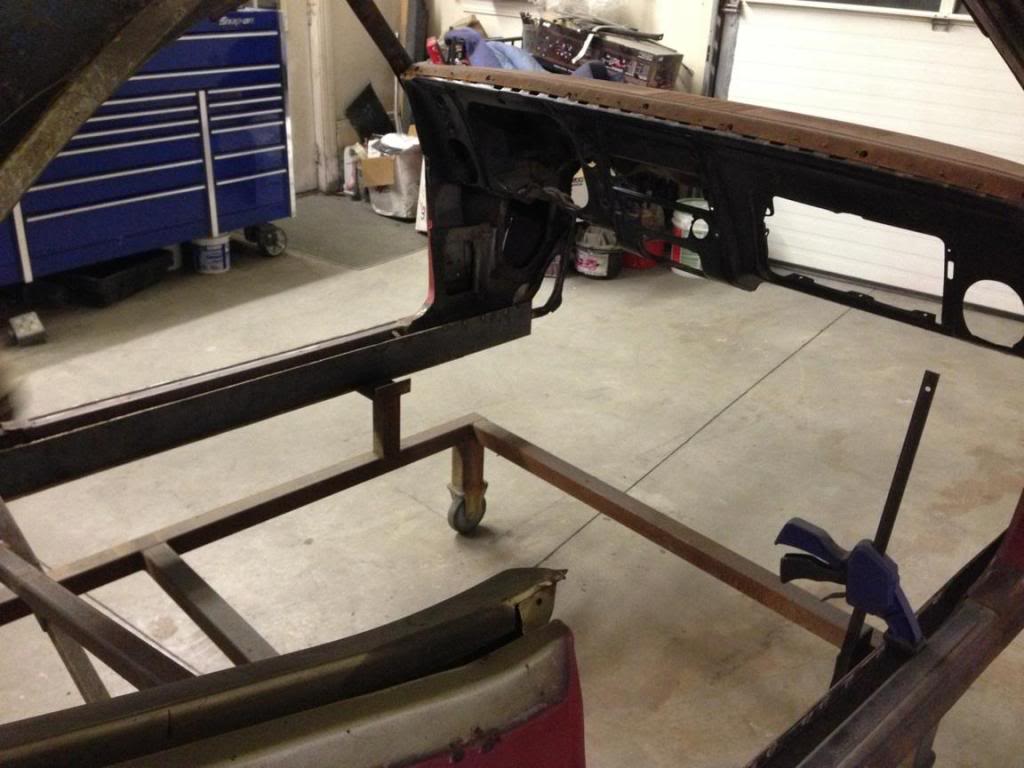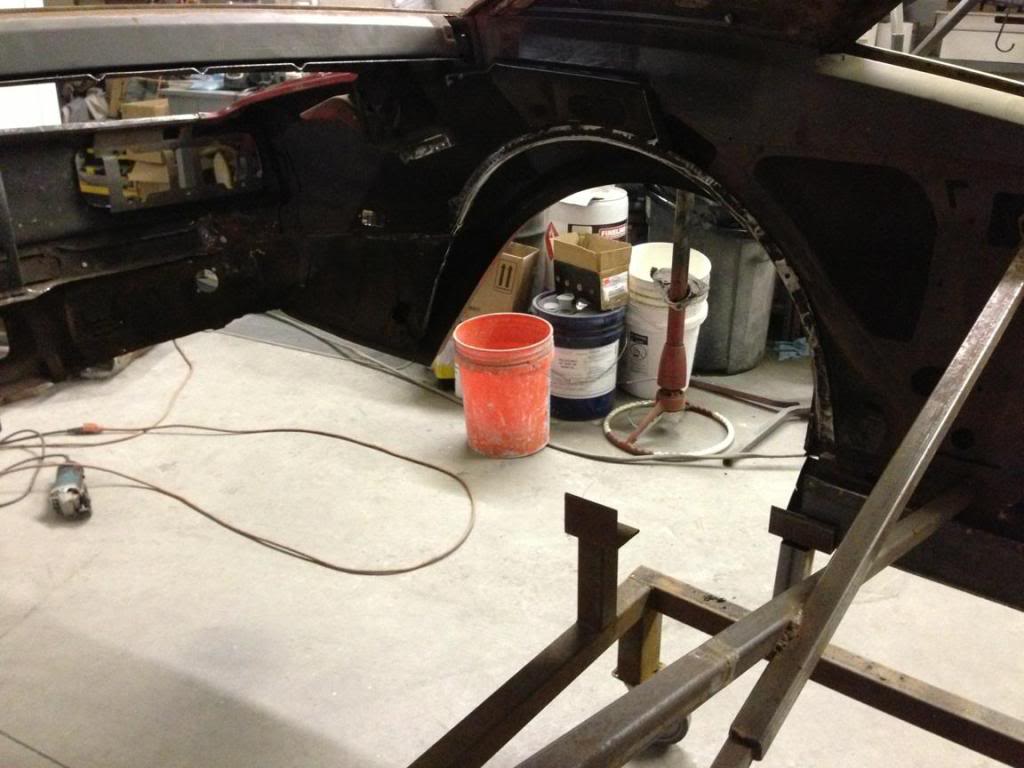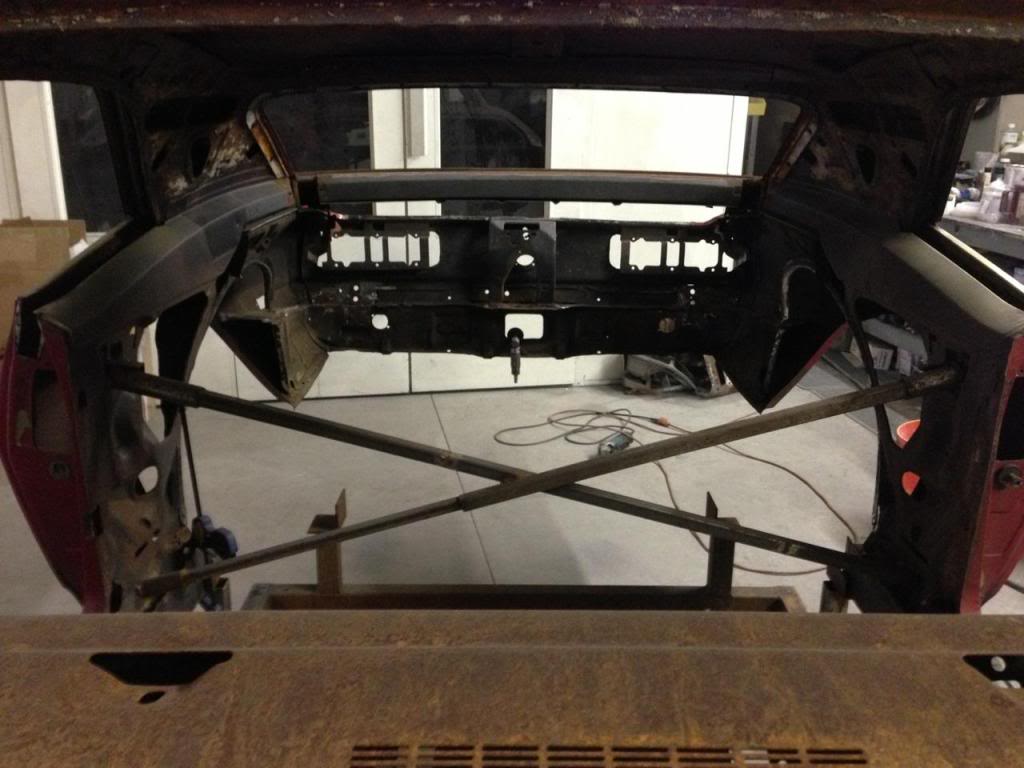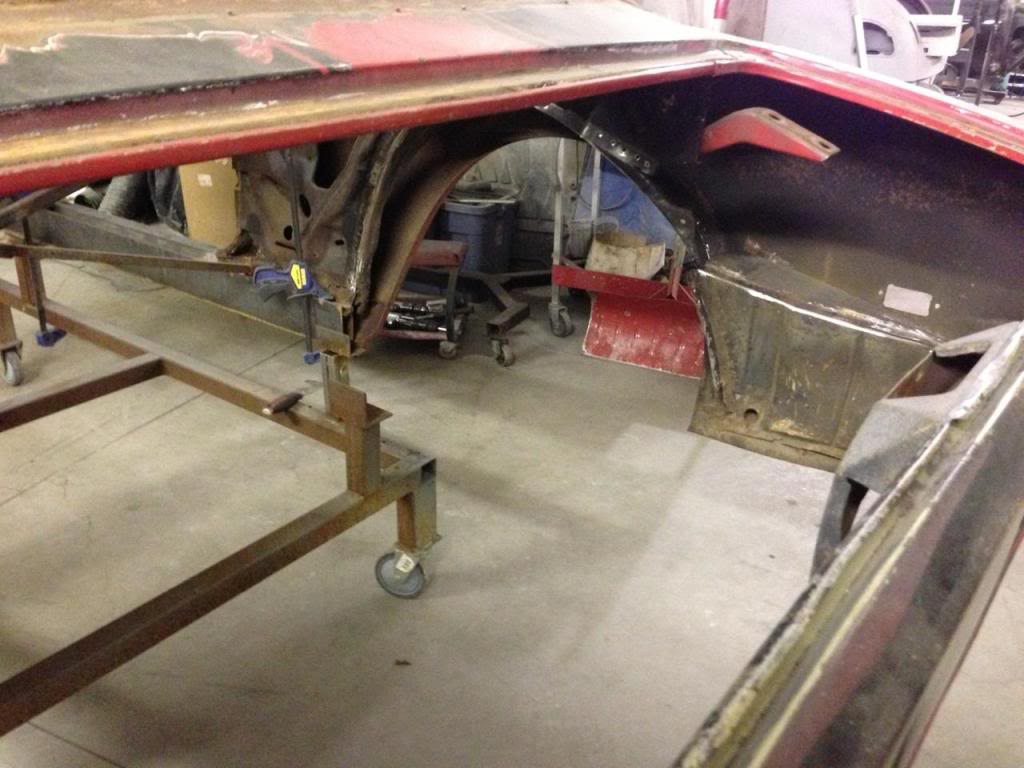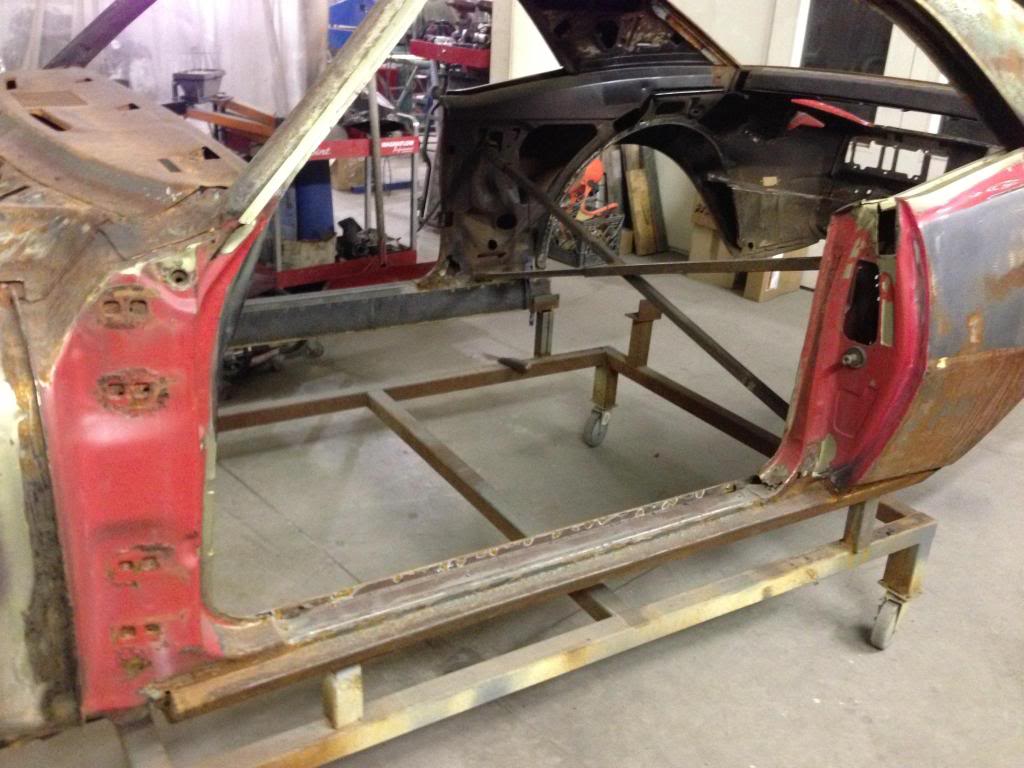 3-29-2013
that someone did that got me thinking about the DTM style...almost made me do a Cuda that Ron had.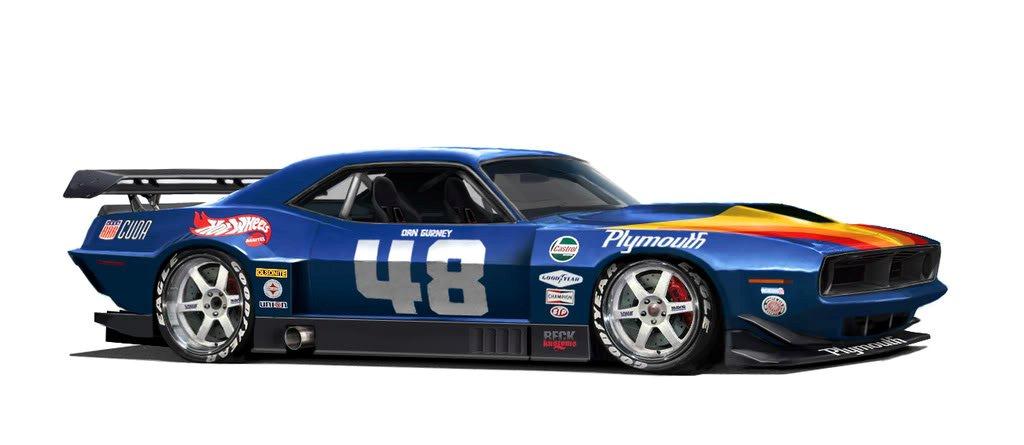 4-5-2013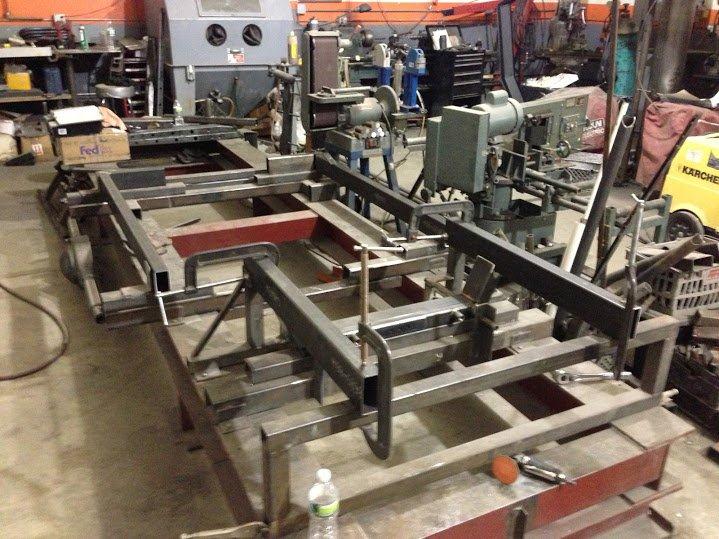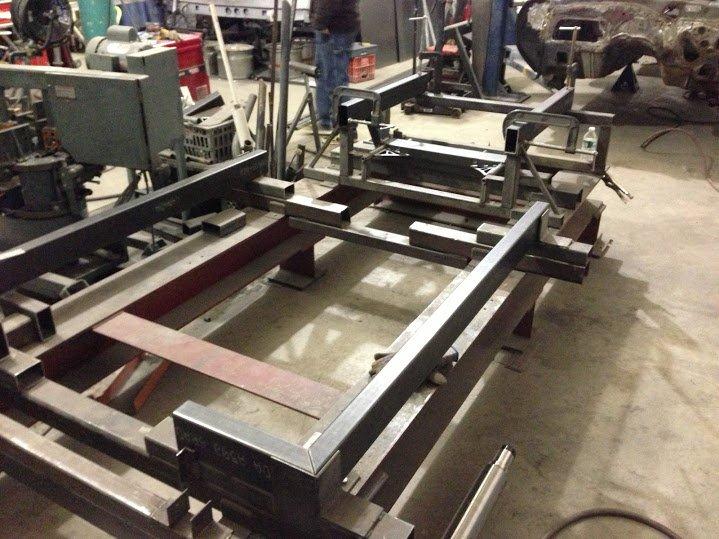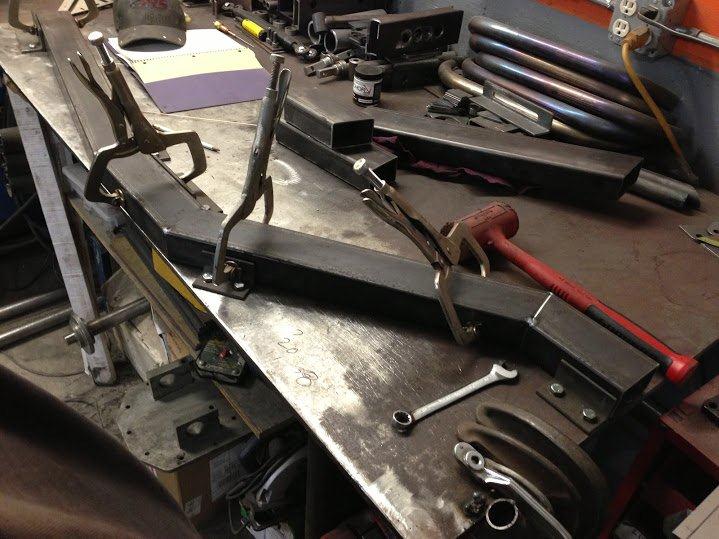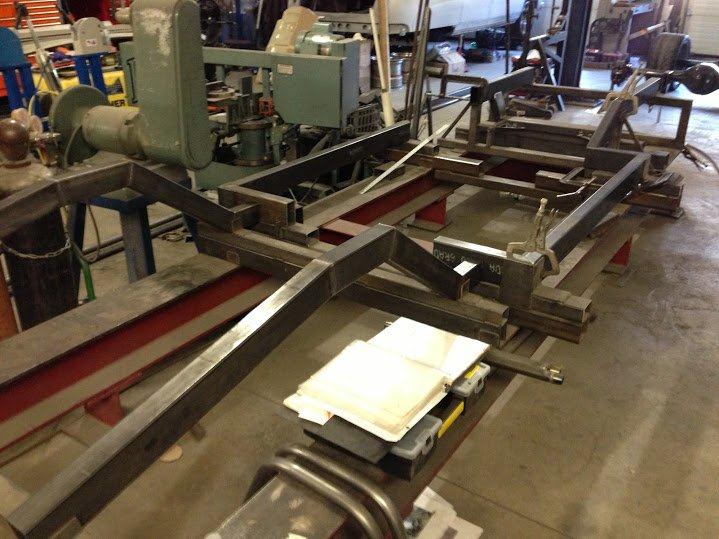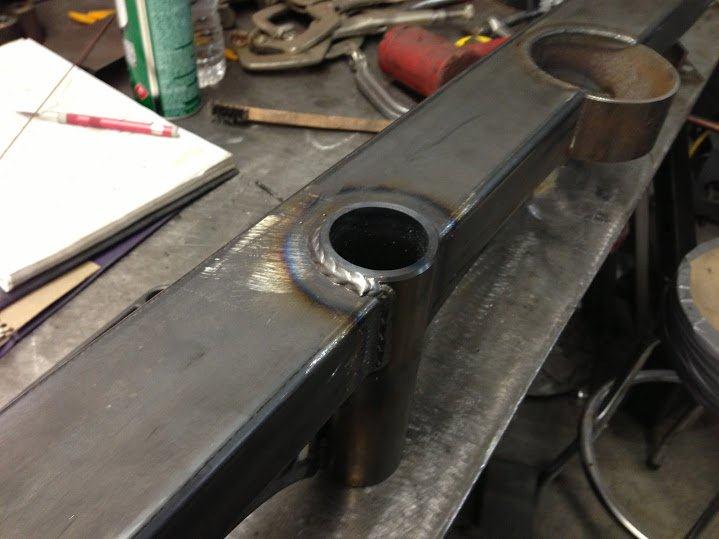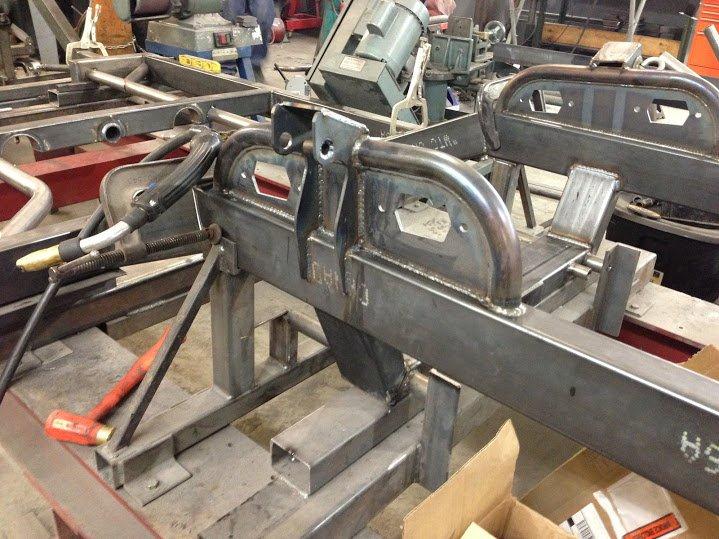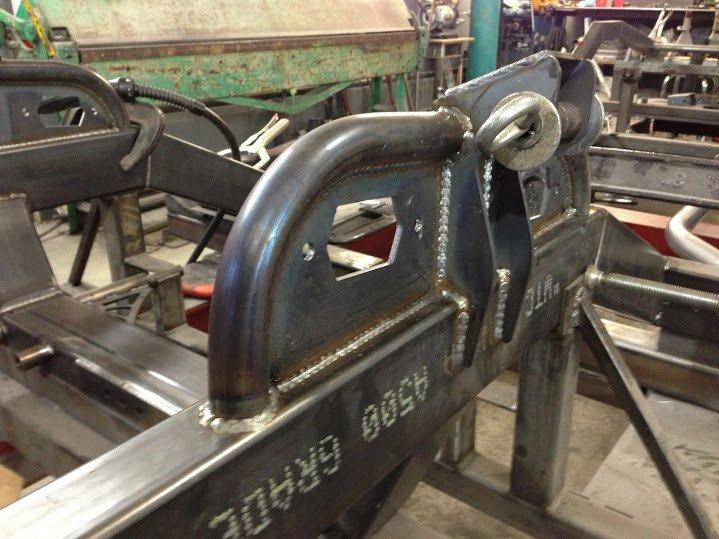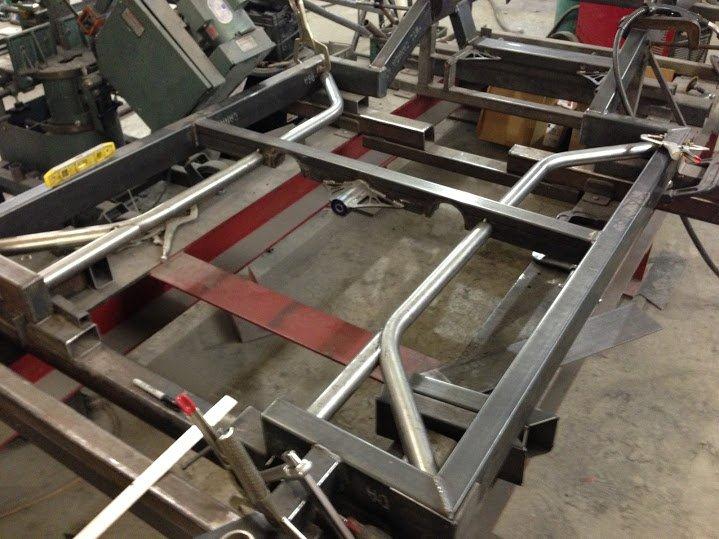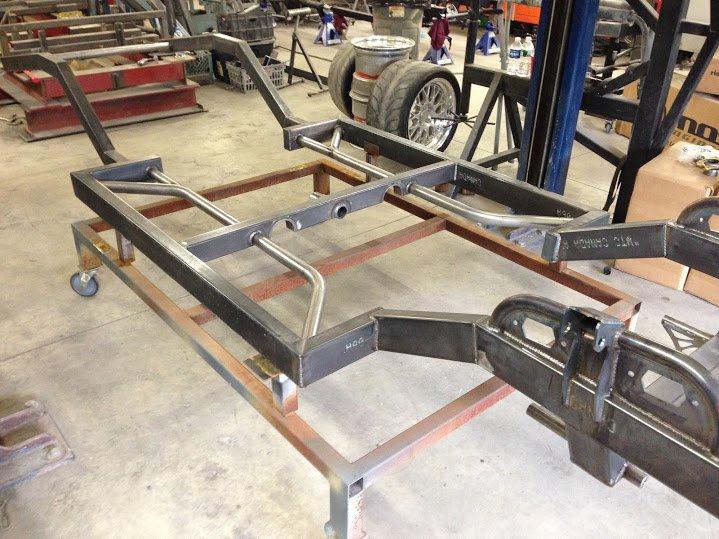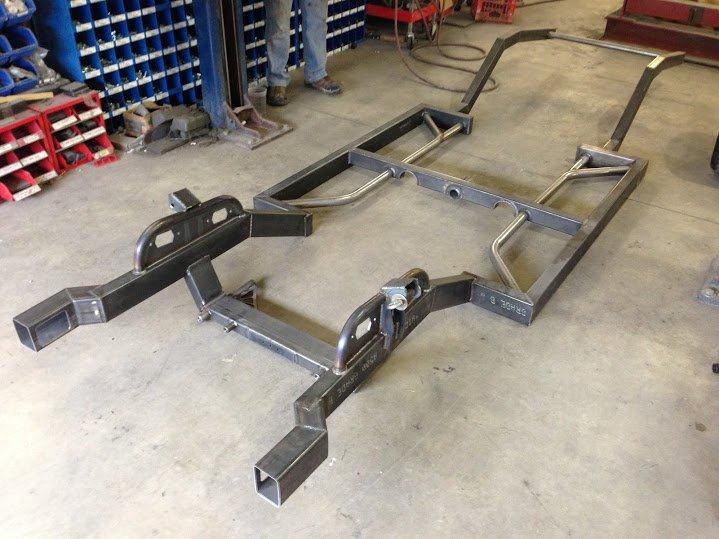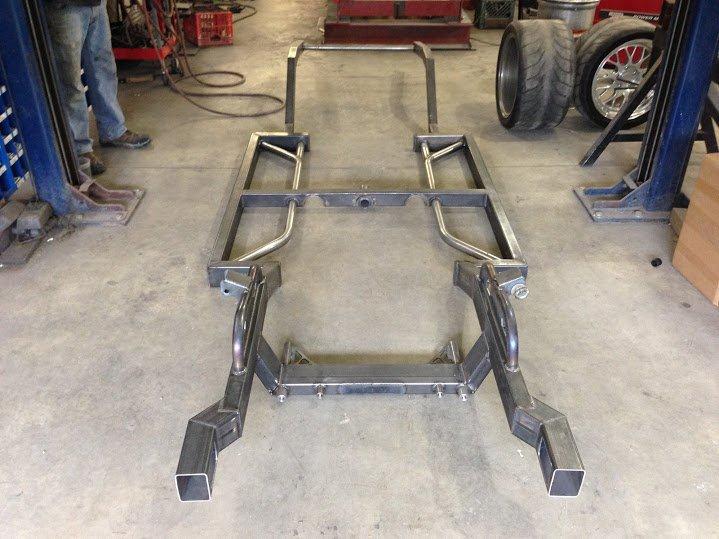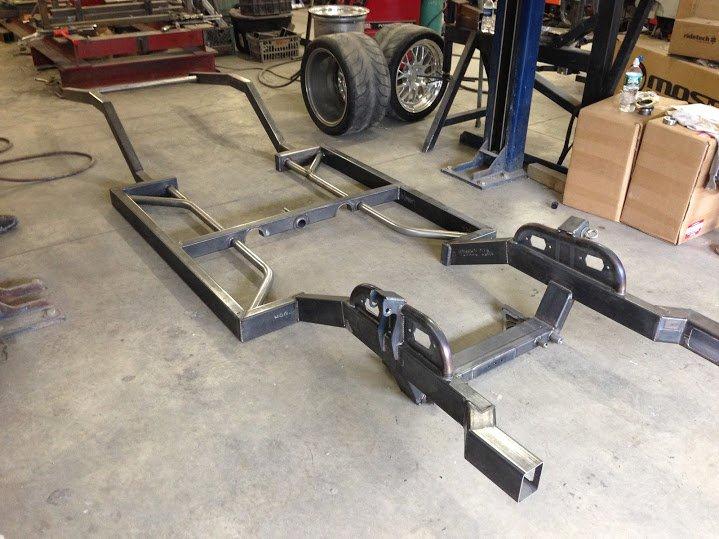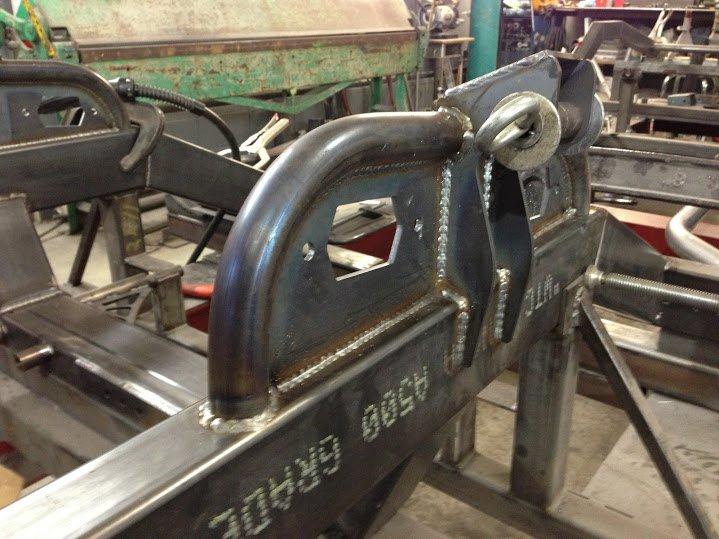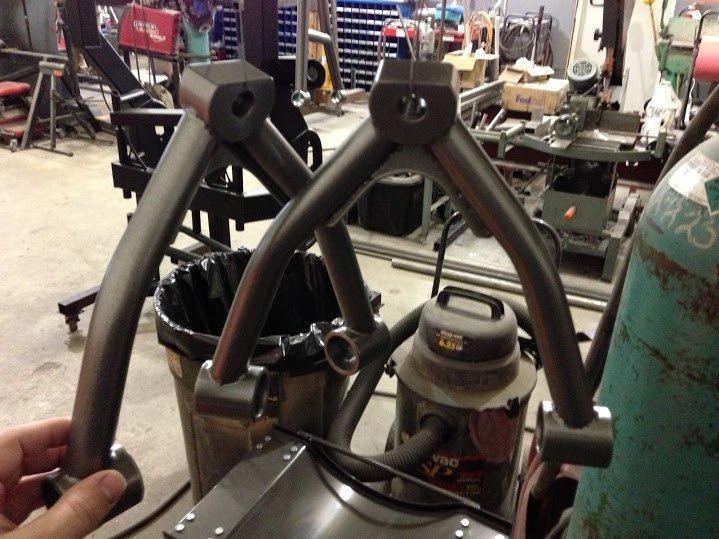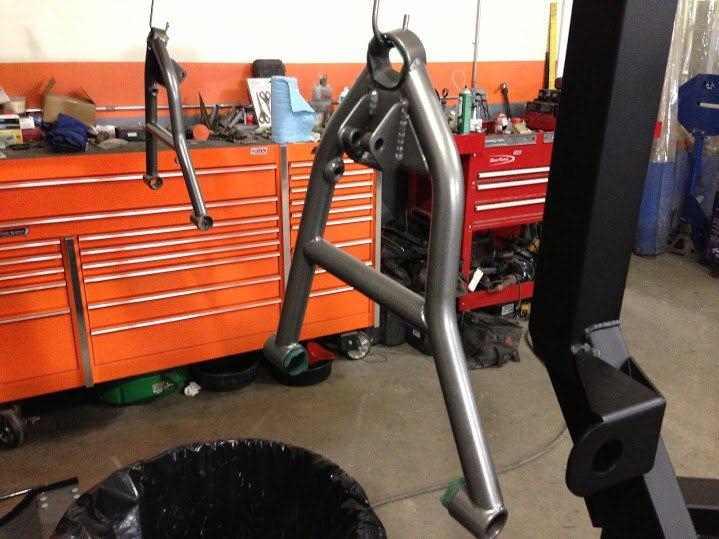 4-8-2013
Figured that I would get some work done and not stretch the build thread out for 2 years.

I got some mock up engine parts from my friend Jim Pettigrew, who works for Hendrick and did some work on the yellow car. These parts were sent up to Jake. SB2.2 heads from a blown up Cup motor, the motor plate is mine that I got from Hendrick. Mock up oil pump and a set of tri-y style stainless headers from I believe Jimmy Johnson's car. They are made by Pro Fab. 5 gallon Peterson oil tank.

So my thrift shop buys are the oil tank, headers and motor plate.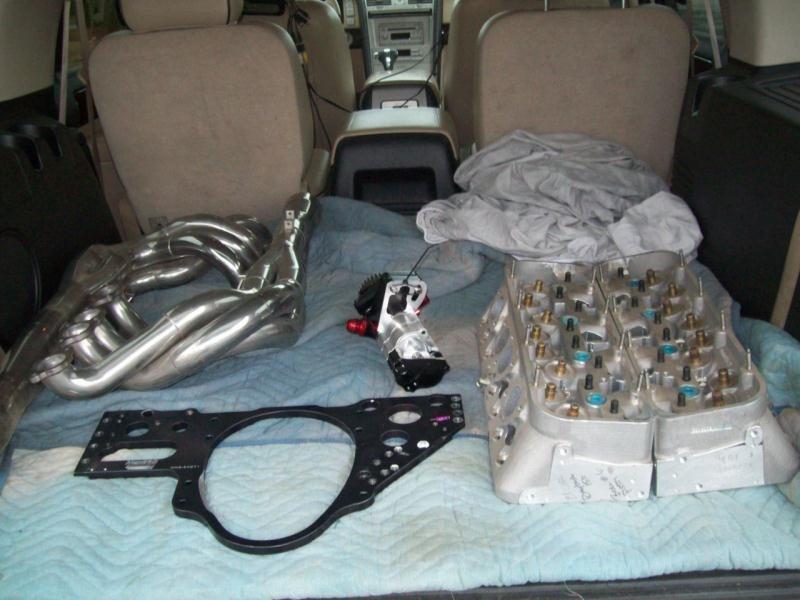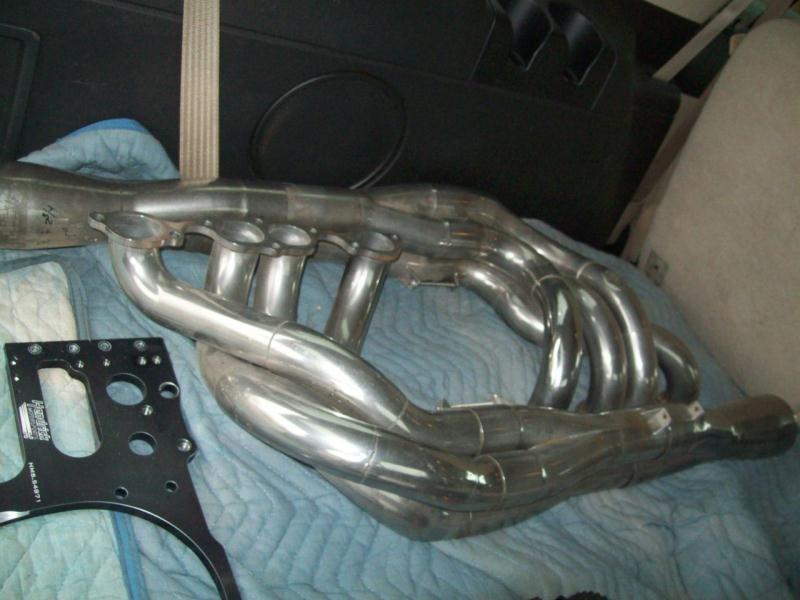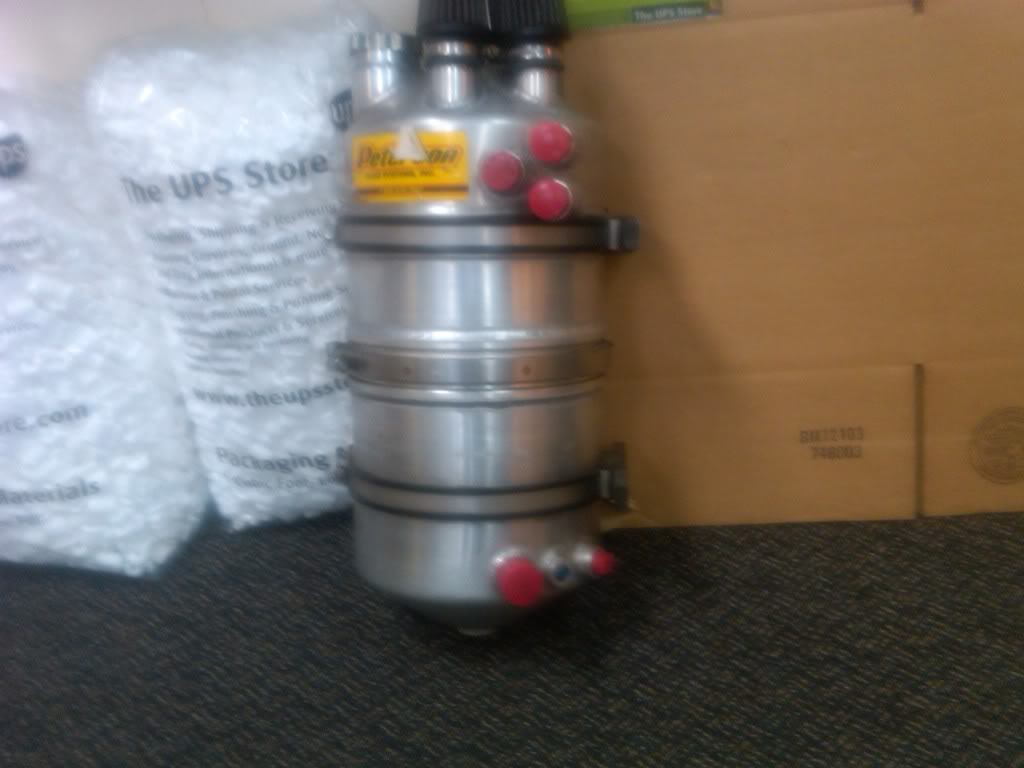 Oil tank will be in the trunk or rear seat area.

Headers are up there to see if they clear. I can get different Y's and a different merge collector if needed as they all slide on. More concerned with floor clearance. They should clear everywhere else or with a small amount of additional fab work. Figure these new are $3600 and I can get them for $600...way cheaper than having a custom set made.
4-9-2013
Magnesium Quarter Master bell housing, flywheel, Tilton tri-lite throw out bearing, Quarter Master 7.25 triple disc clutch and billet starter....$500 for all.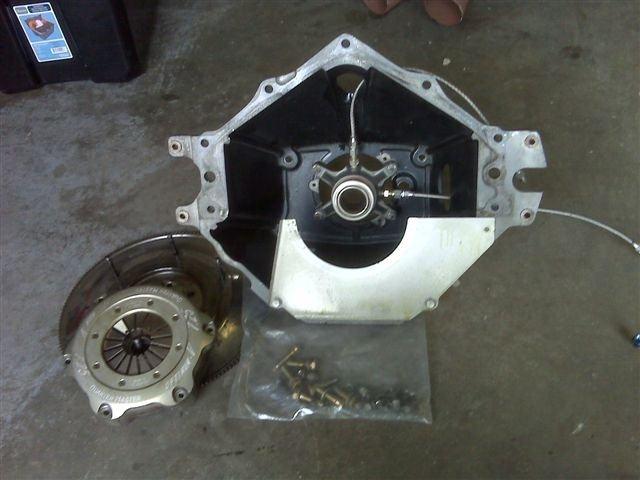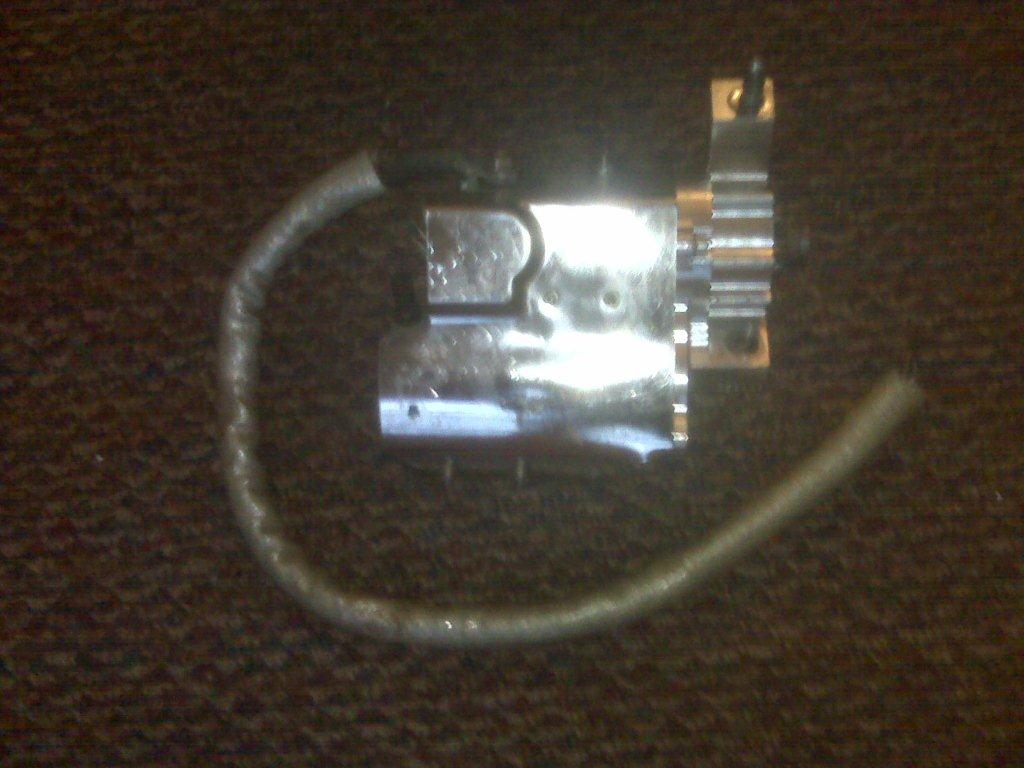 4-11-2013
Got to attend a private track day at Charlotte Motor Speedway and they had the road course set up. Basically you turn into the infield just before turn 1, run the infield and back on the track about mid-turn 1. On the speedway all the way around until your turn back in at the start of turn 1. I brought Peter along and he let me take a few laps in his 69 since I have no car. On Goodyear R1's, full DSE suspension and 632 ci NELSON big block. Need to get my car done asap. His car was a rocket.

Jim, good to see you are still around and will look you up if I am down that way.

Still need to locate me a Jerico

GW, love your little mustang. After driving on those slicks it is almost silly to go back to street tires, but I don't have to tell you that.
4-12-2013
Peters motor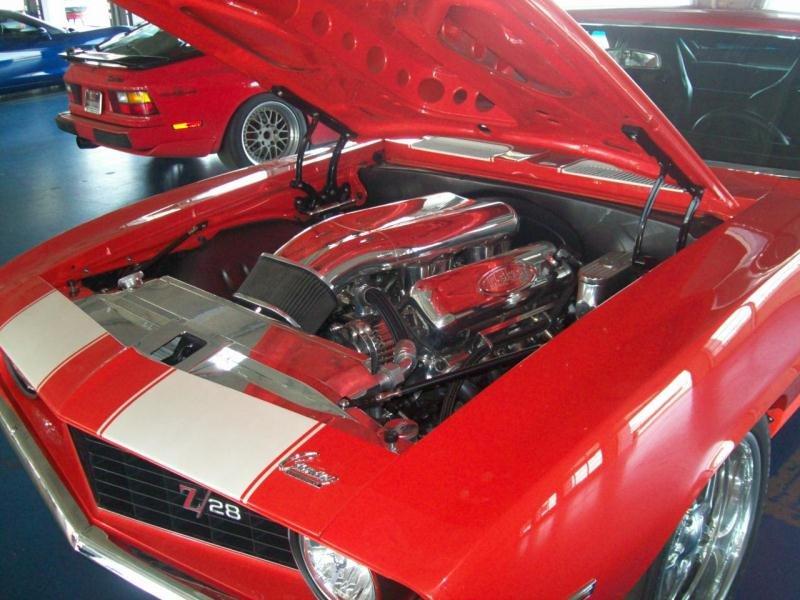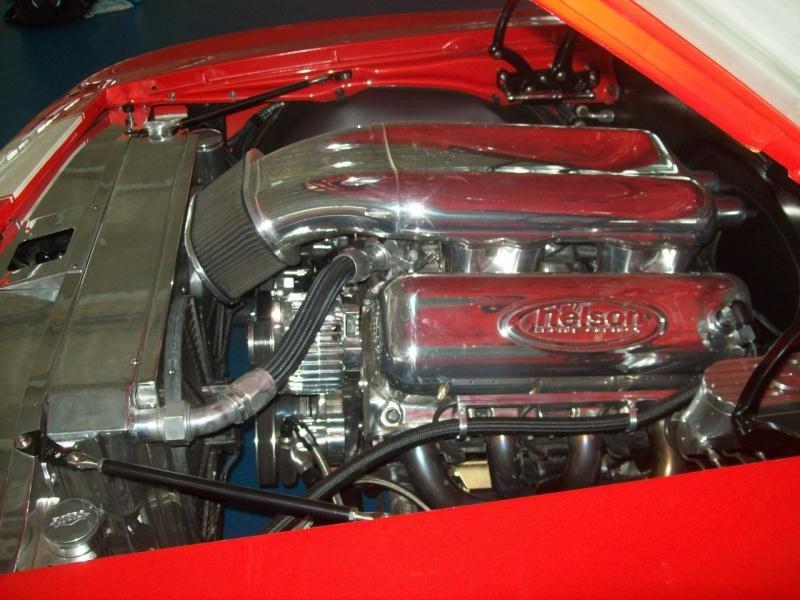 Got to love the real race car stuff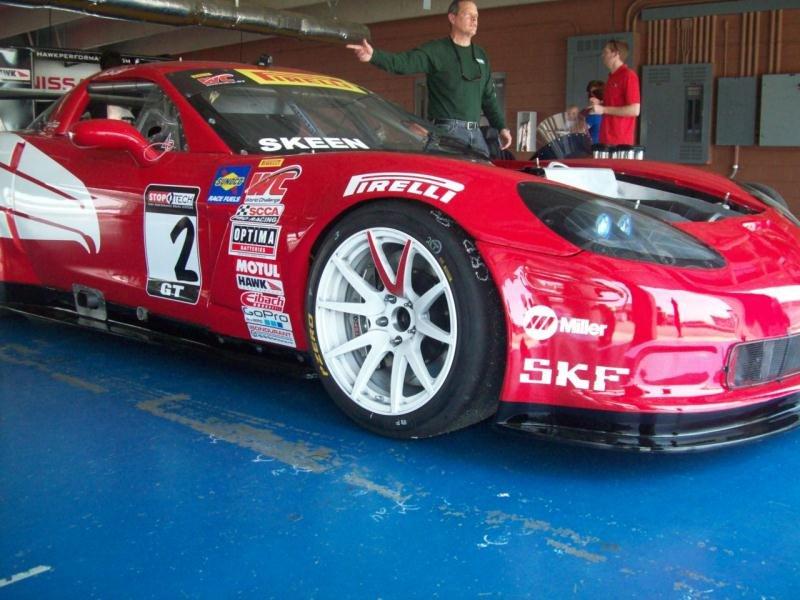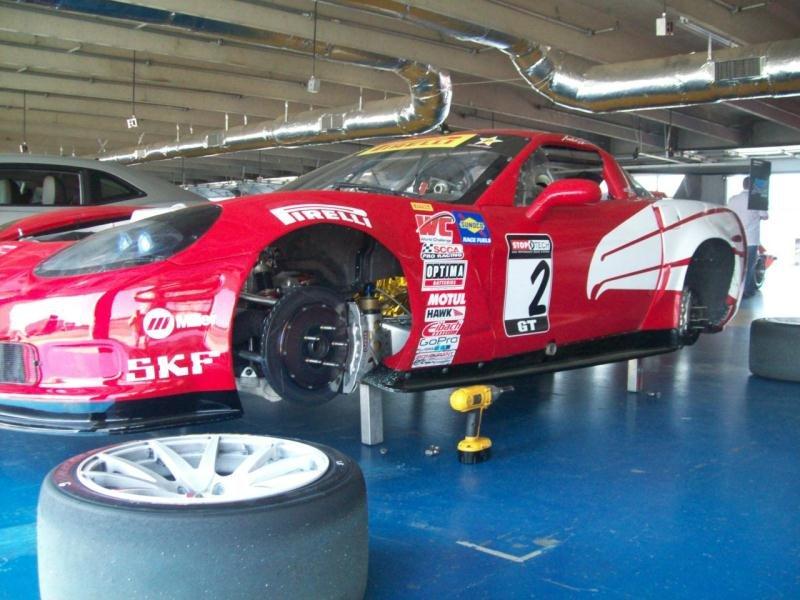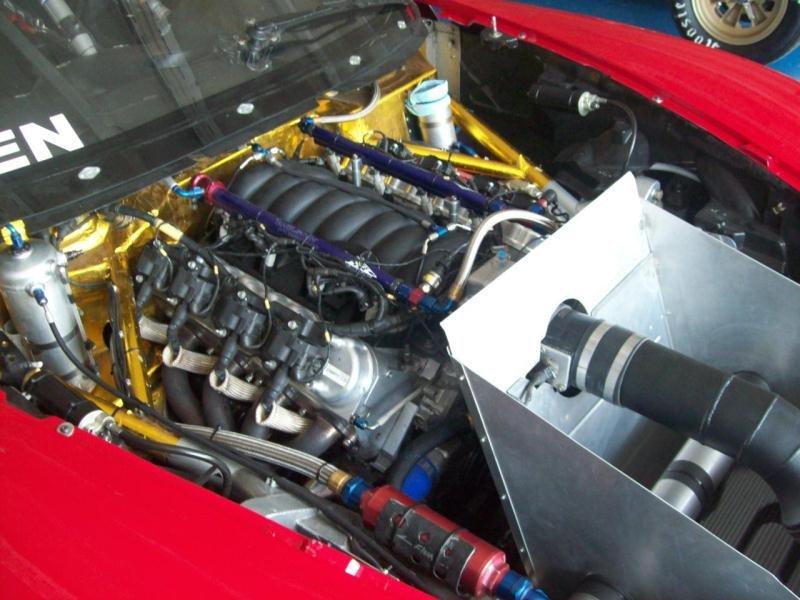 from a dirt track guy in CA. Was going to use it as a back up motor and never did anything with it. It is used, got it for about 1/3 cost of new. Brodix aluminum block that has been lightened.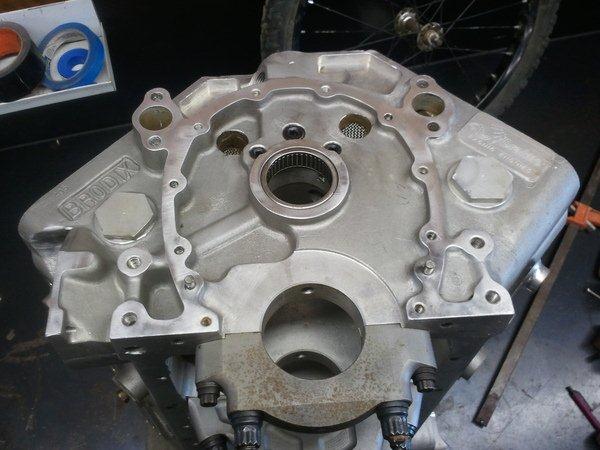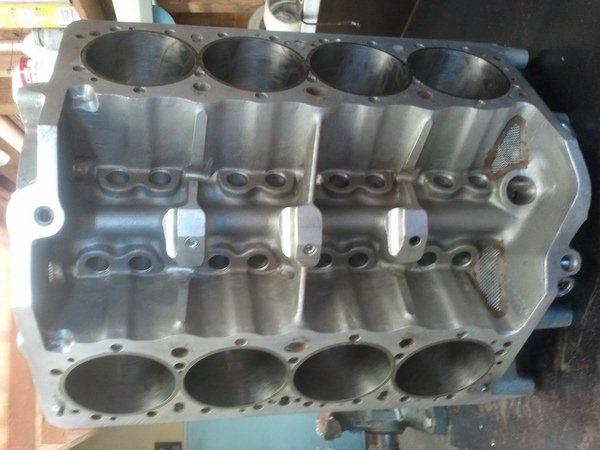 5-3-2013
Been crazy busy with going to the Southern Slam in Kershaw and trying to wrap up both of my boys soccer season that will never end.

Ed, the engine builder, has been slowly coming up more and more great scores. He found a set of 6.2 Pankl rods with just a couple of dyno pulls on them. Apparently Roush was doing some rod/stoke testing and made 3 pulls, changed the combination and like what they found. He also found the fittings we need to use with the oil pan I picked up.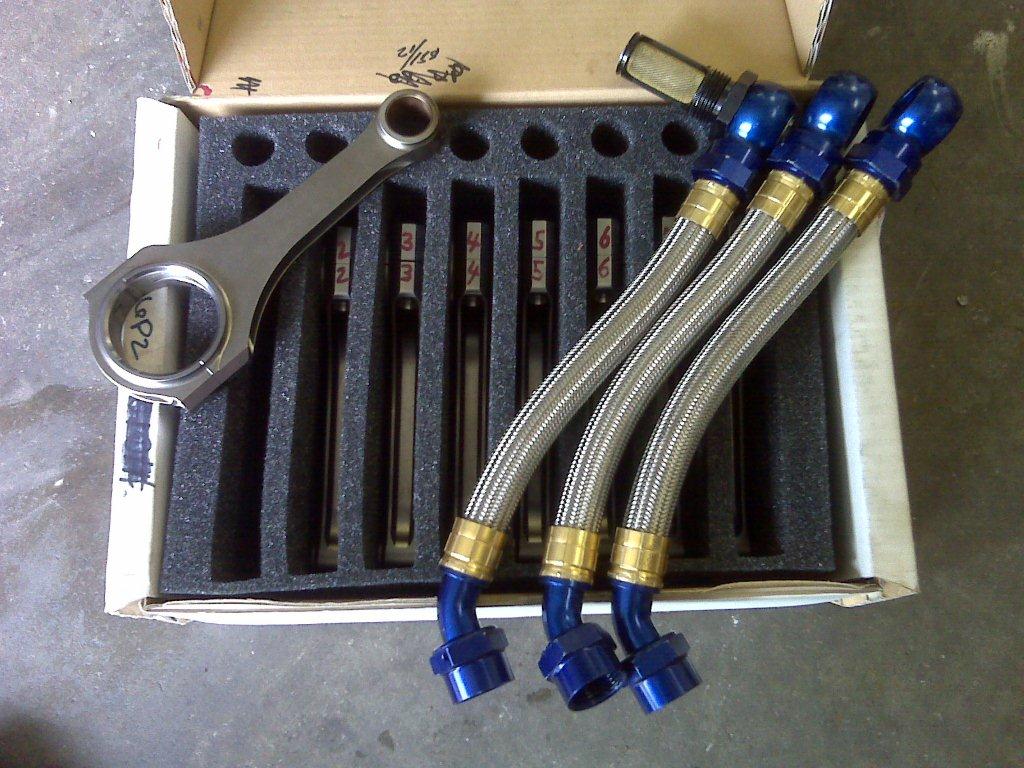 These rods have a hole laser drilled up the center to oil the wrist pin. The dry sumps were pulling so much vaccum that is was sucking the oil out of the wrist pin and causing motors to blow up.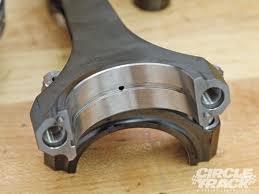 Here is the oil pan that I picked up from Hendrick. Left over Busch Grand National pan that was never used with piston squirters.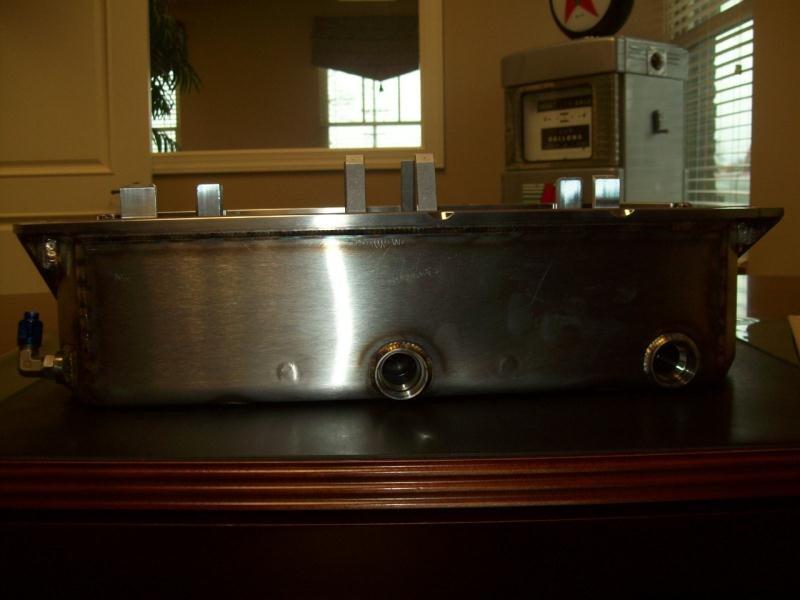 90 degree fitting on the front of the pan is for the piston squirters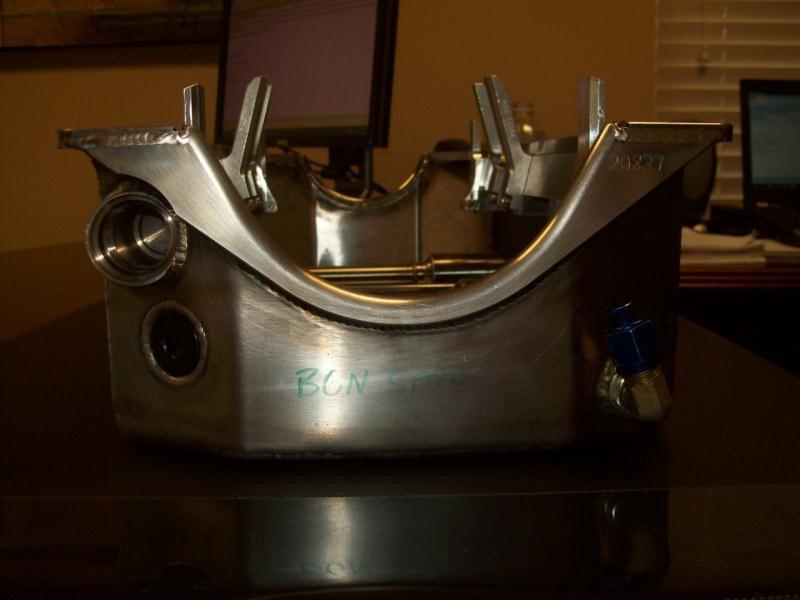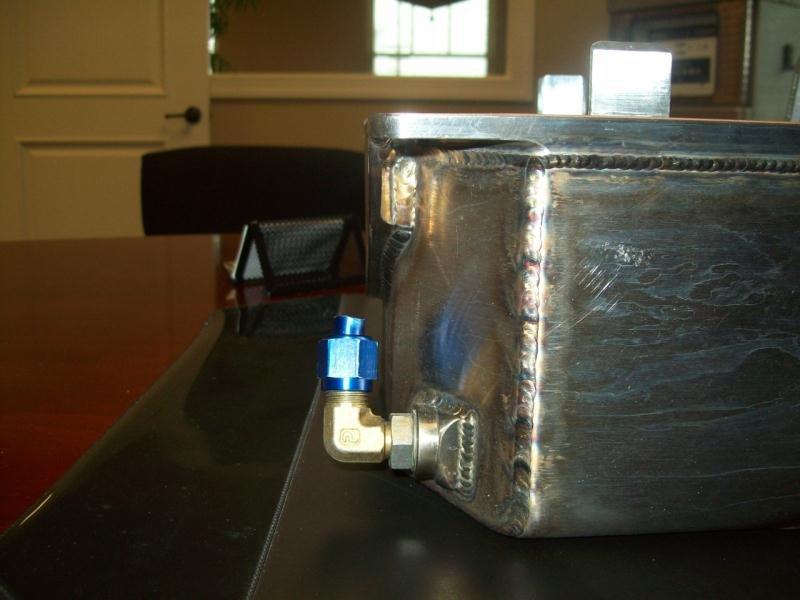 5-7-2013
the car being street legal. Here is the AP Racing NASCAR pedal box I picked up. Per NASCAR rules the masters must be on the firewall and not in the car and the brake pedal must be steel. This system is the only one I know of that takes a pull type master. The "cage" holds one end of the master and the pedal pulls the rod...No side load with this set-up that can happen with a push type master.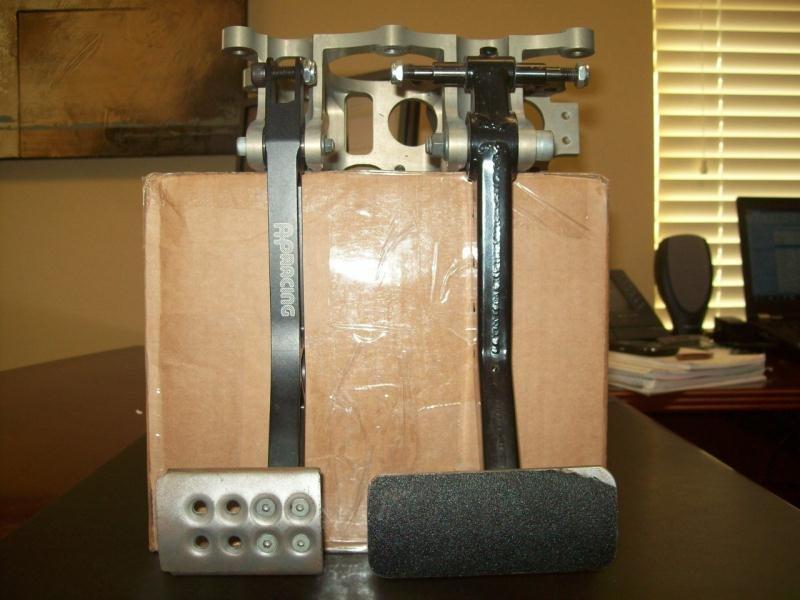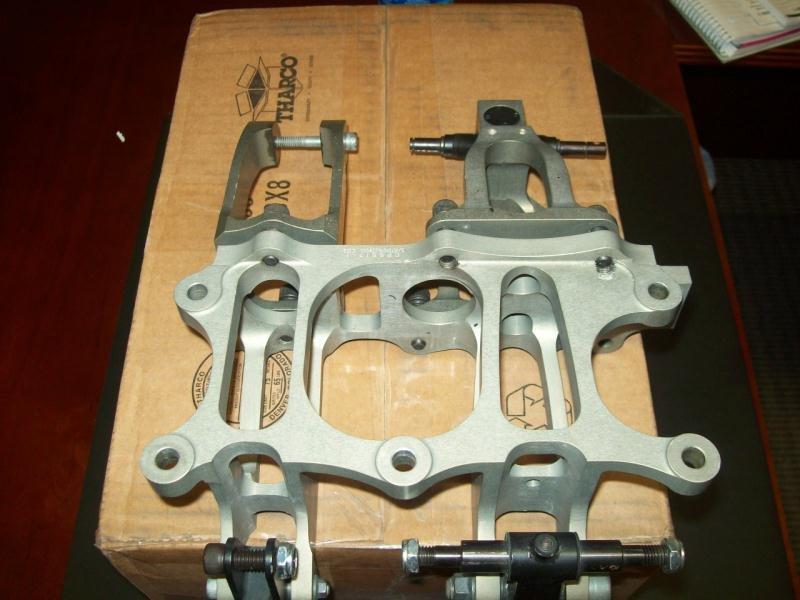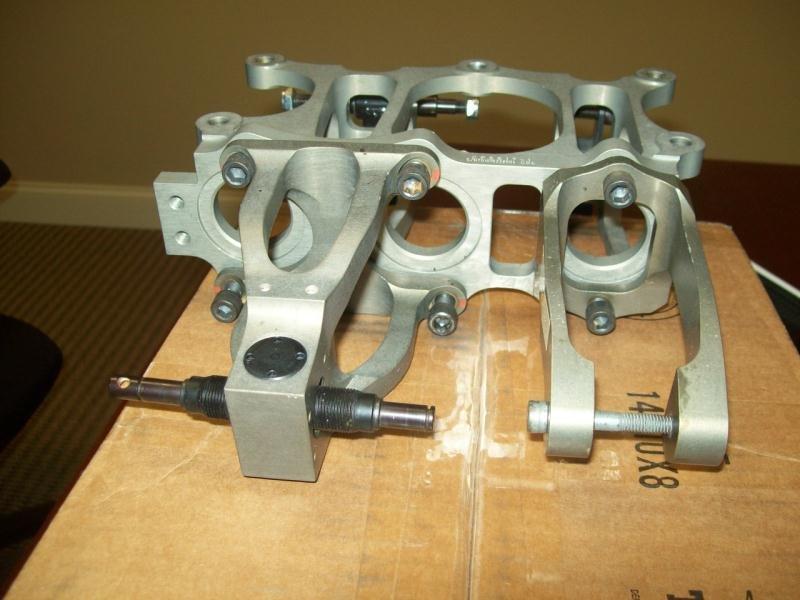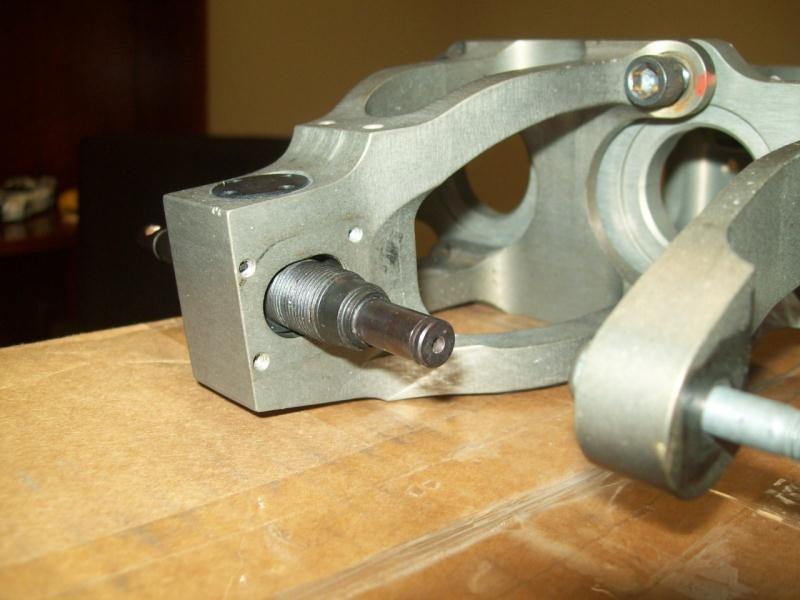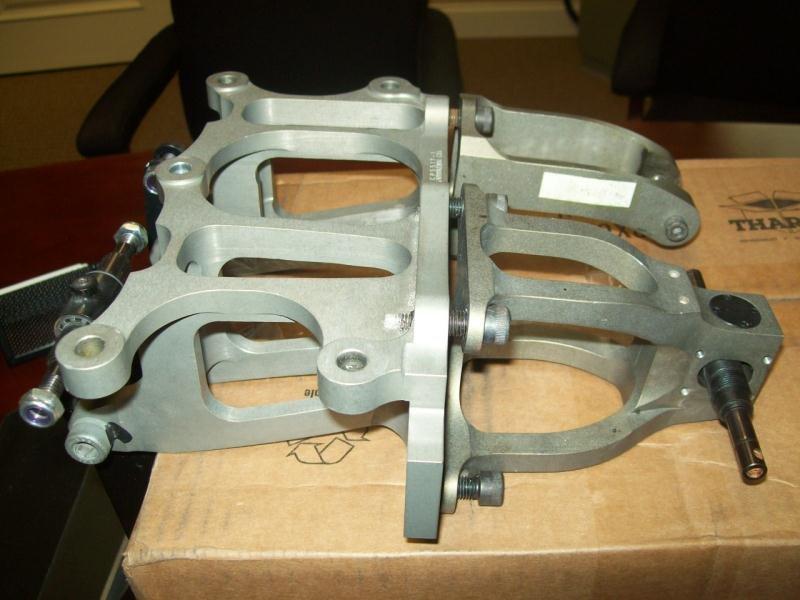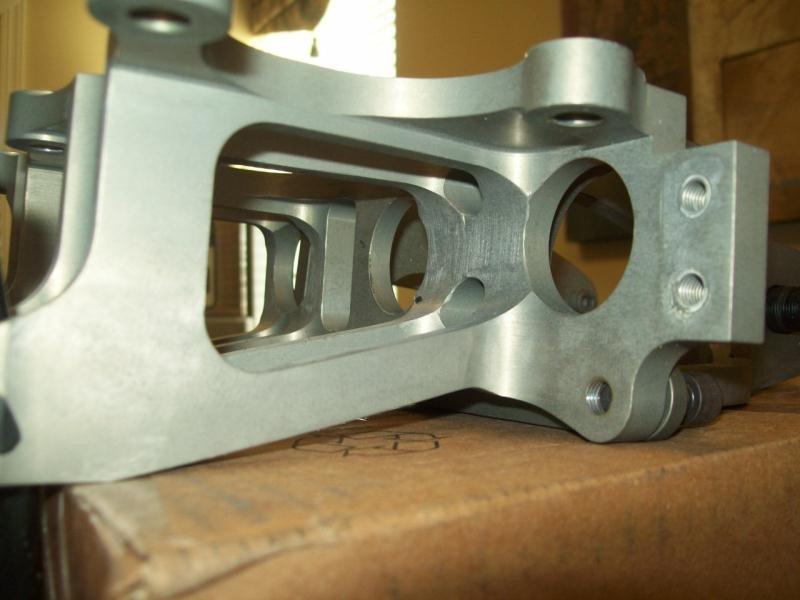 This is the gas pedal made for the set that bolts to the pedal box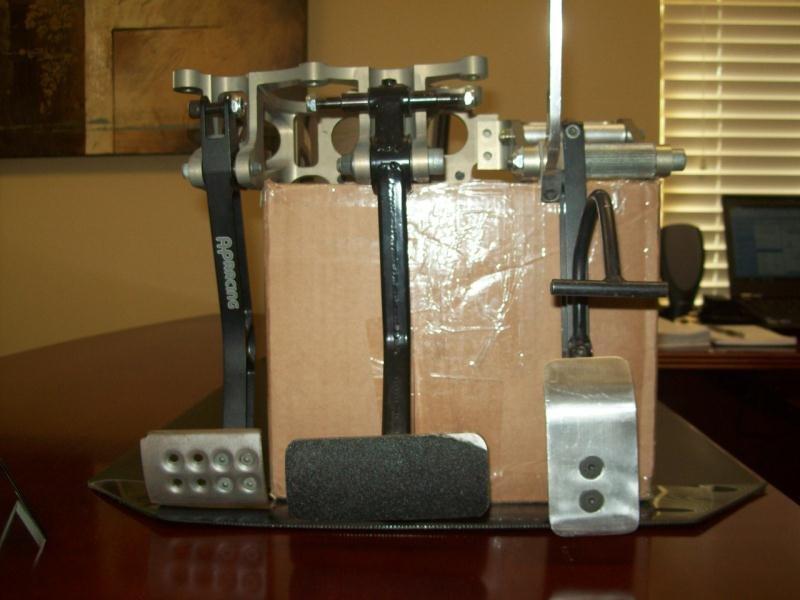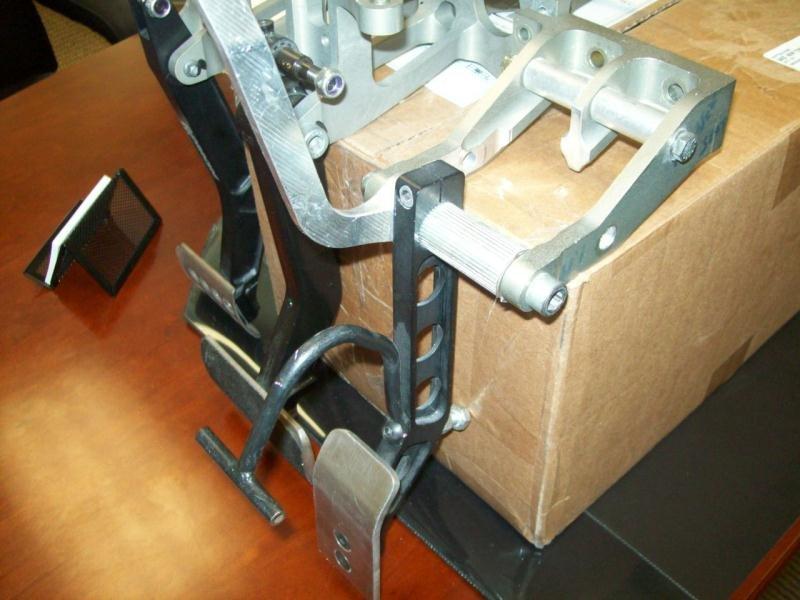 5-9-2013
I have tons of pics of the cage construction, but they all seem to look the same after a while. Will try to pick and choose to give someone an idea of what is going on. Cage, when completed, will be NASA certified with a log book. I do not plan on going wheel to wheel racing, but you never know...I also have young kids, so I want to be as safe as possible.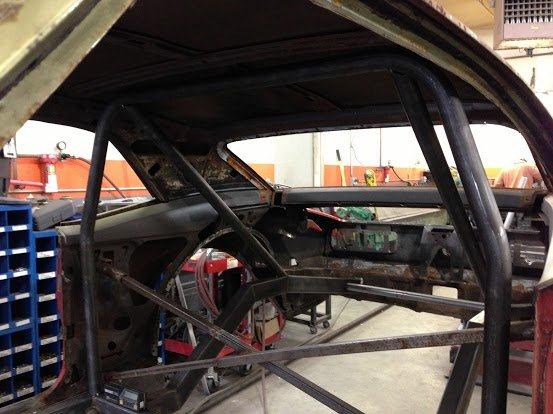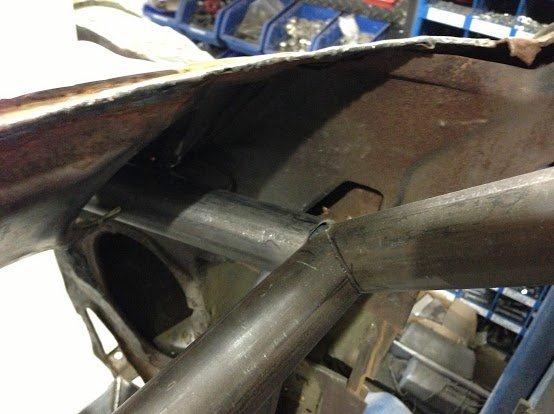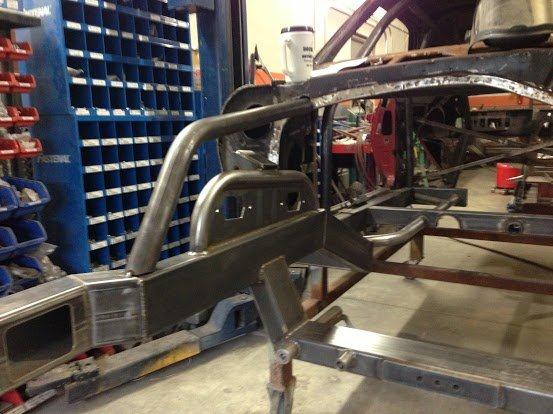 posted and the following, Jake put the frame back into the jig to finish welding the cage so the frame does not move.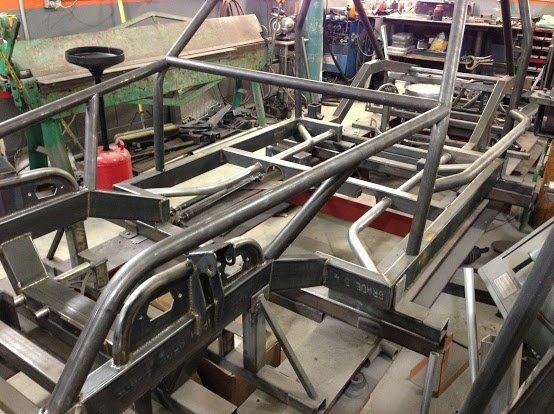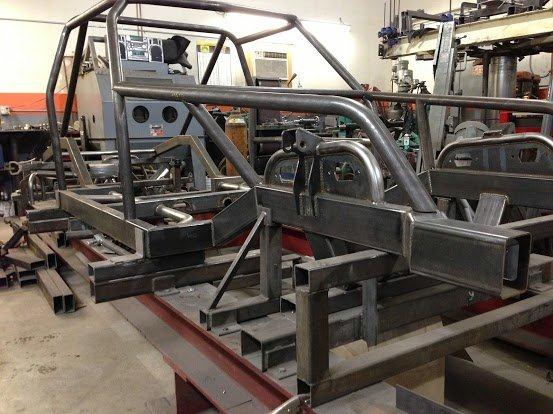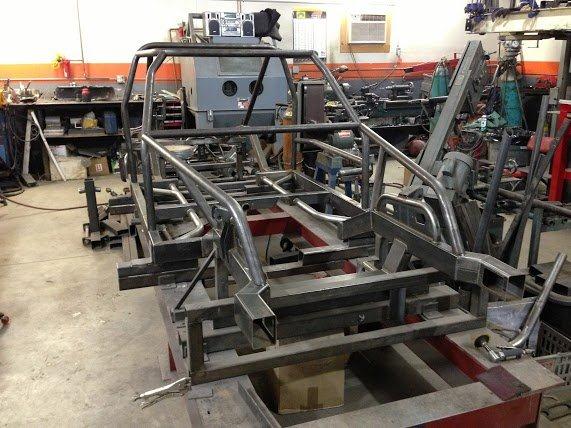 7-30-2013
to dig this thread up. Been a busy summer for sure on my end.

I have a few small updates. Ended up with a 6.2 rod, looks like the bore will be 4.180 so I am going to be a little larger than the original 393 ci.

Heads are back and ready to assemble. Need to "cc" and see where we are so we can have some pistons made. Compression may bump up to 11:1 because I am back on making this thing fuel injected. No flow numbers on the heads...the guy that did them ran a TRD (toyota) program on them and they do not want the numbers out. Here are a few cell phone pics of the heads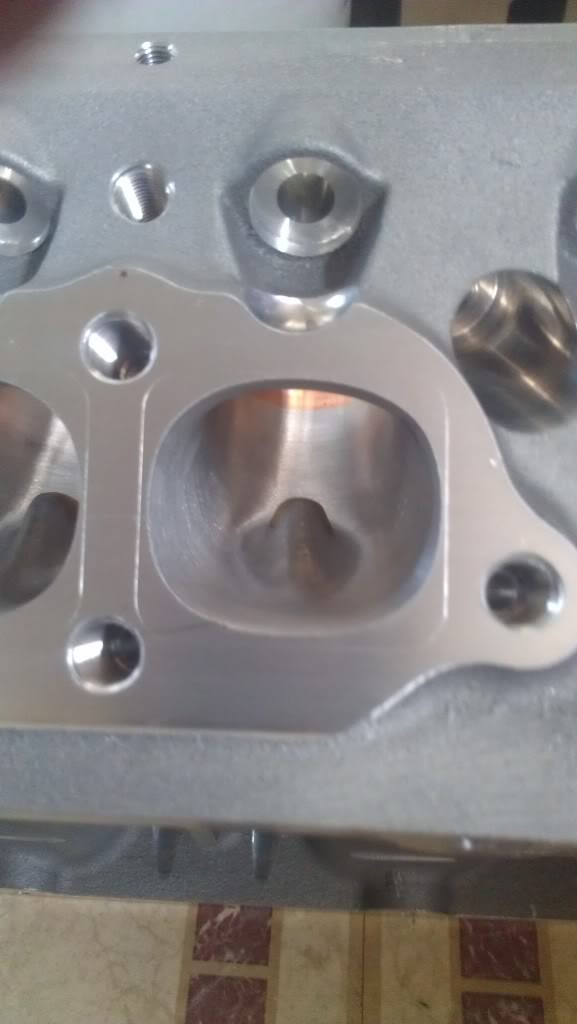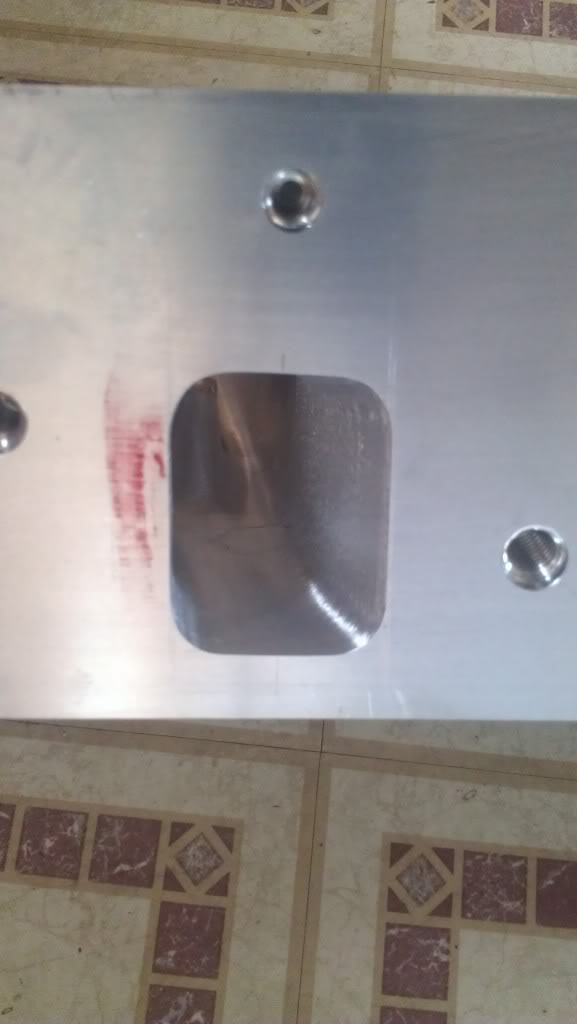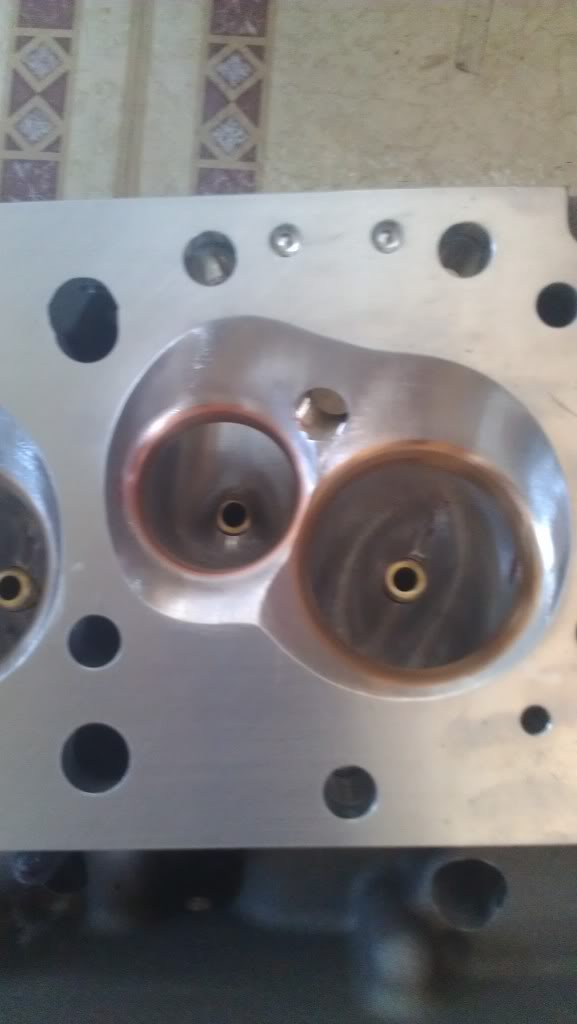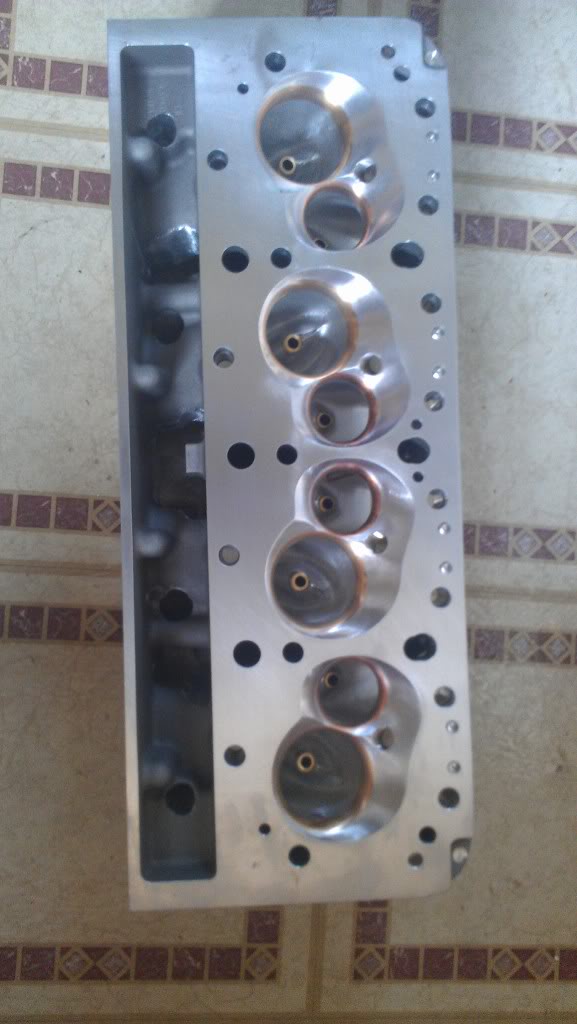 from having the lifter bores done.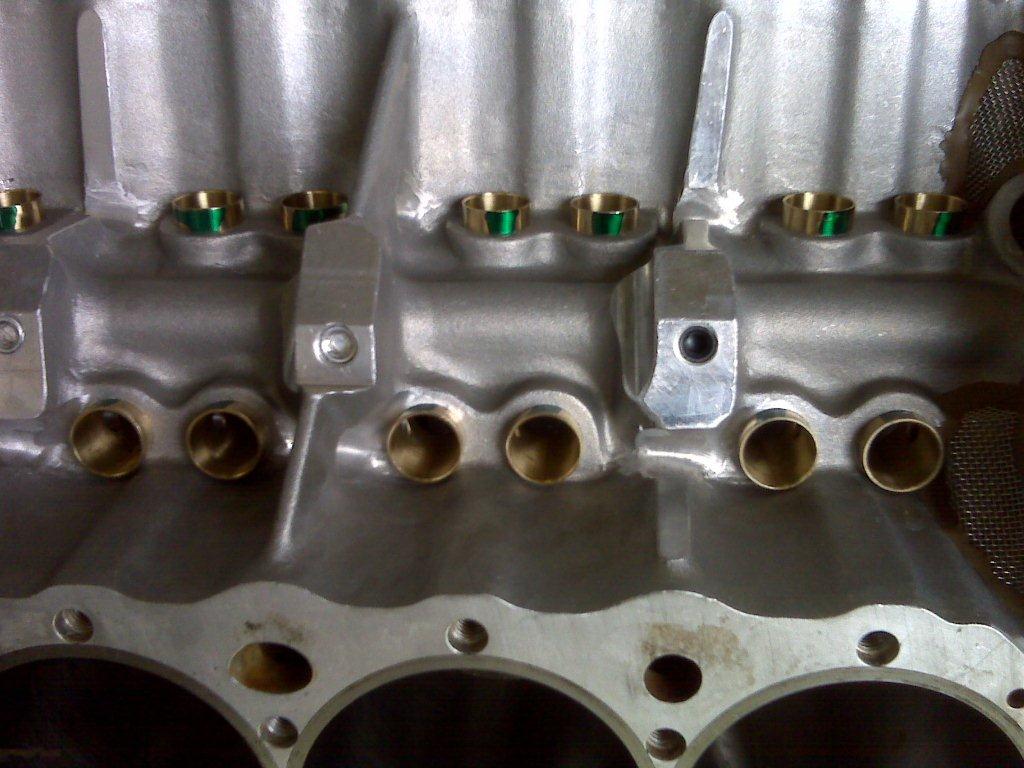 8-22-2013
Glad your back DFresh

Have lots of pictures to share and seem like no time to post them up. Here are a couple of pics of a quick motor mock up and to see if my Cup headers are going to work.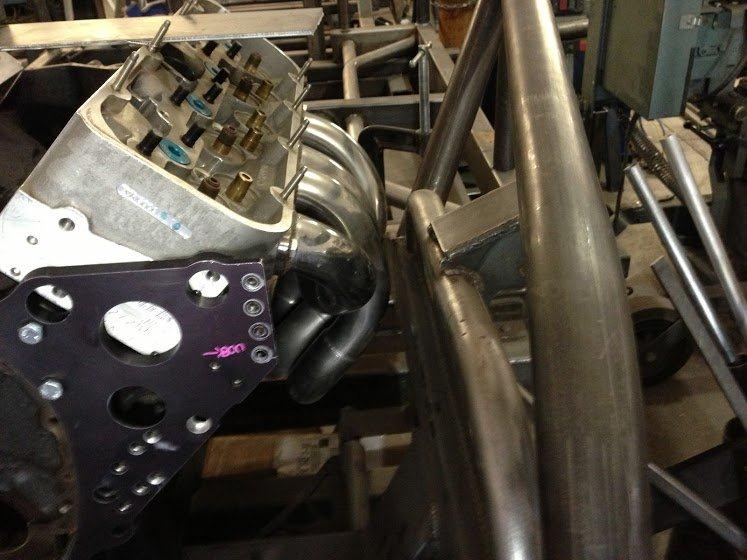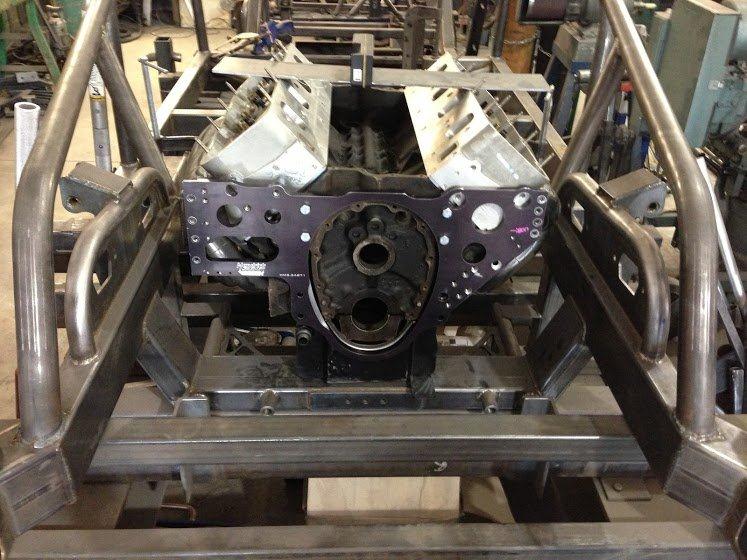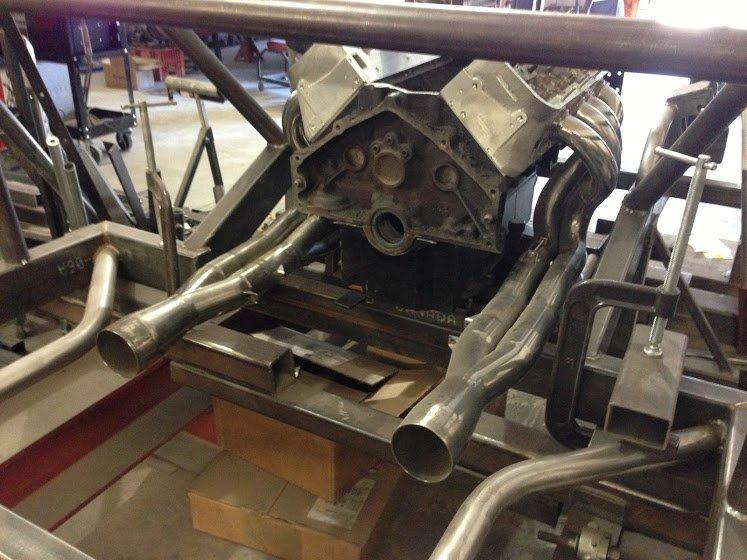 So Jake notched me a place out of the lower cross member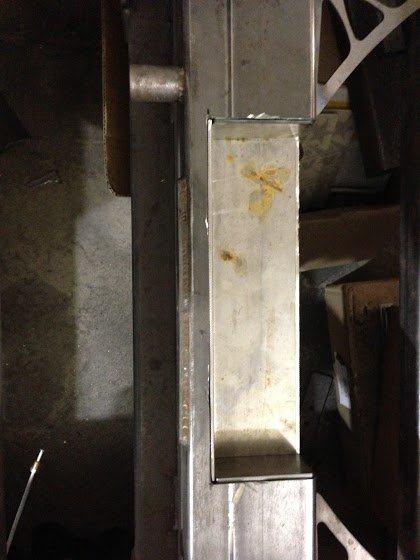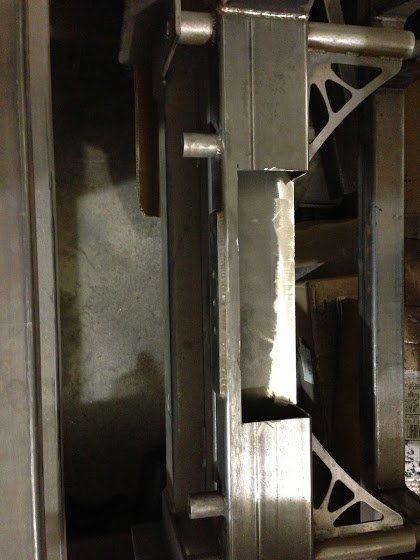 8-26-2013
Should have been the perfect time to powder coat the frame and paint inside of car before the body went back on but it did not work out that way.

Body is on the frame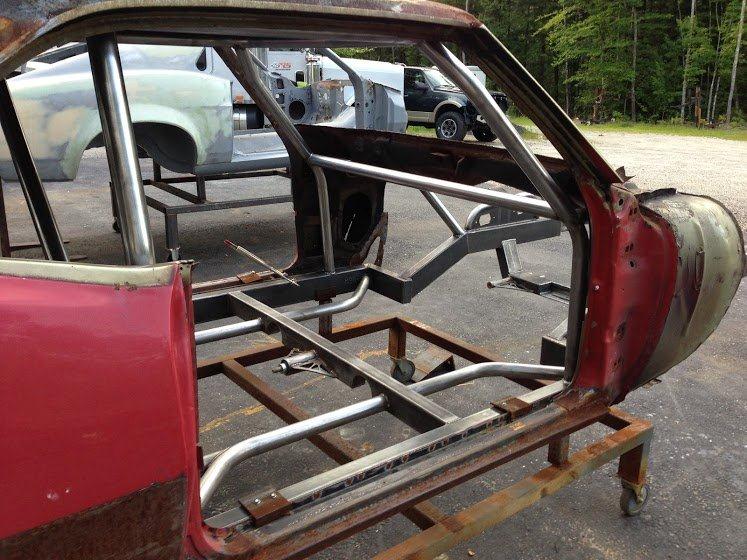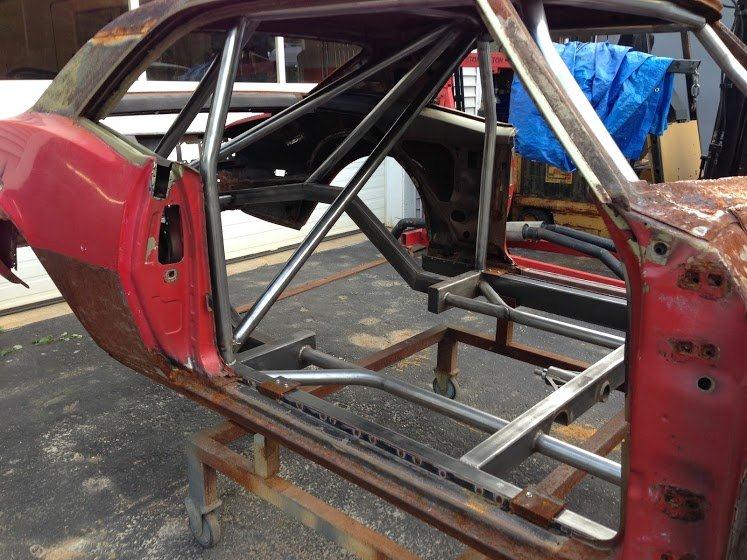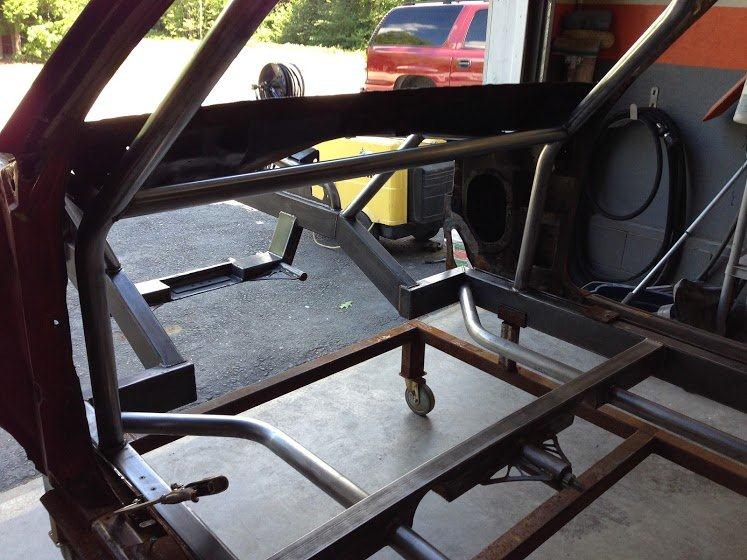 8-28-2013
Almost went with a gold anodized rim for an old school look, so you were not that far off on the gold plating.

Now that the body is on the frame time for a little tin work. First order of business was the fire wall.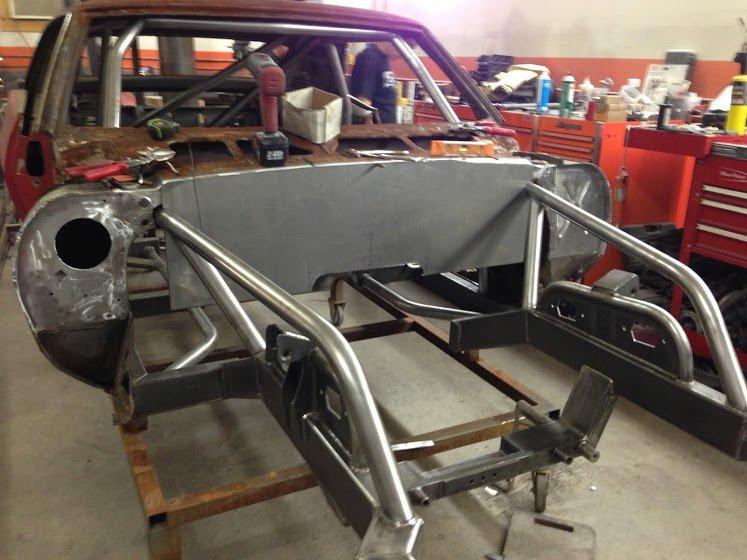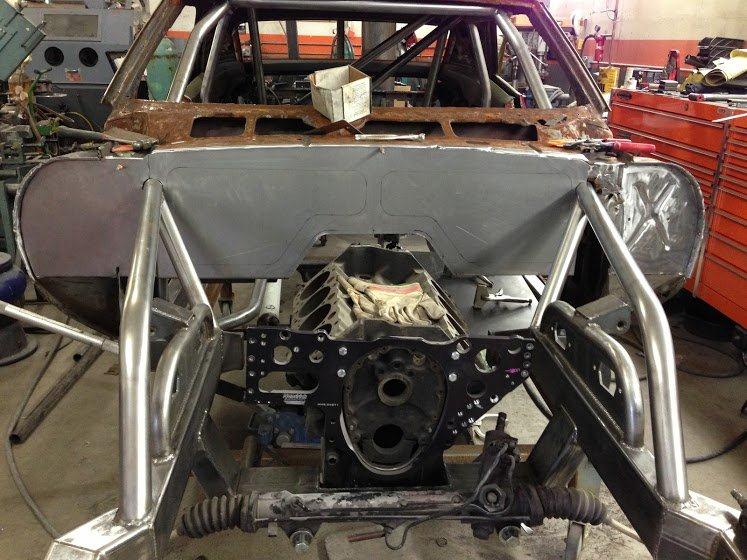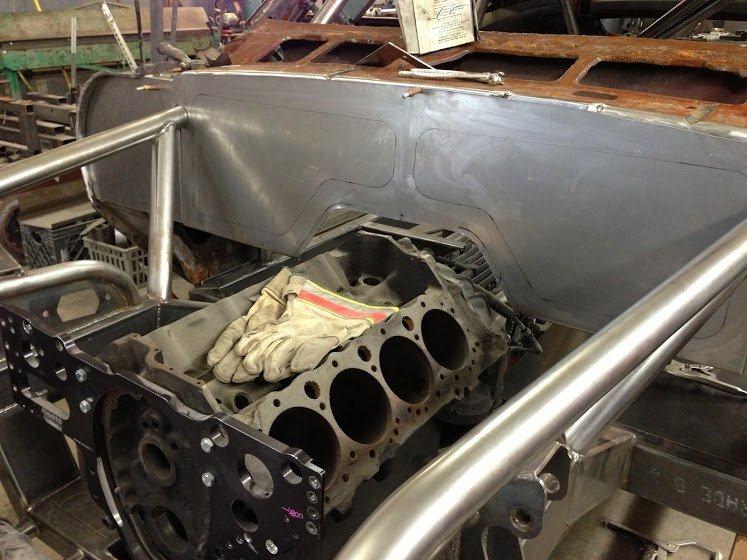 9-3-2013
9-5-2013
9-6-2013
been almost 2 years since I had my yellow one out.

Here are some pics of the front A arms that Jake built. They are 1 inch longer than a stock C6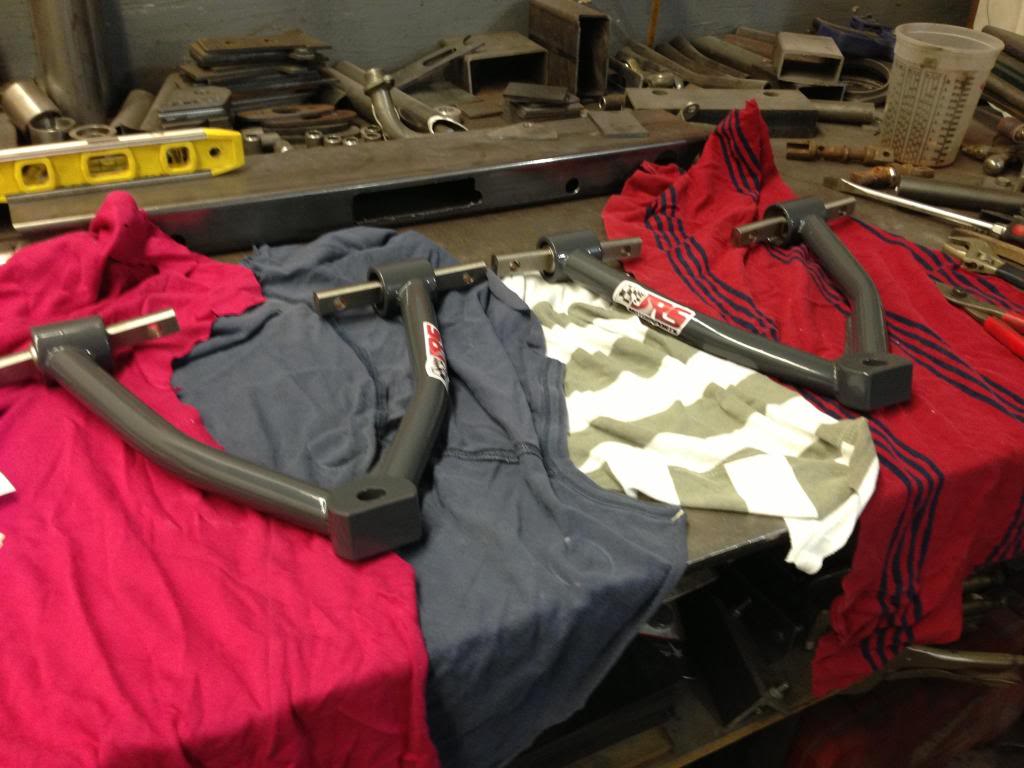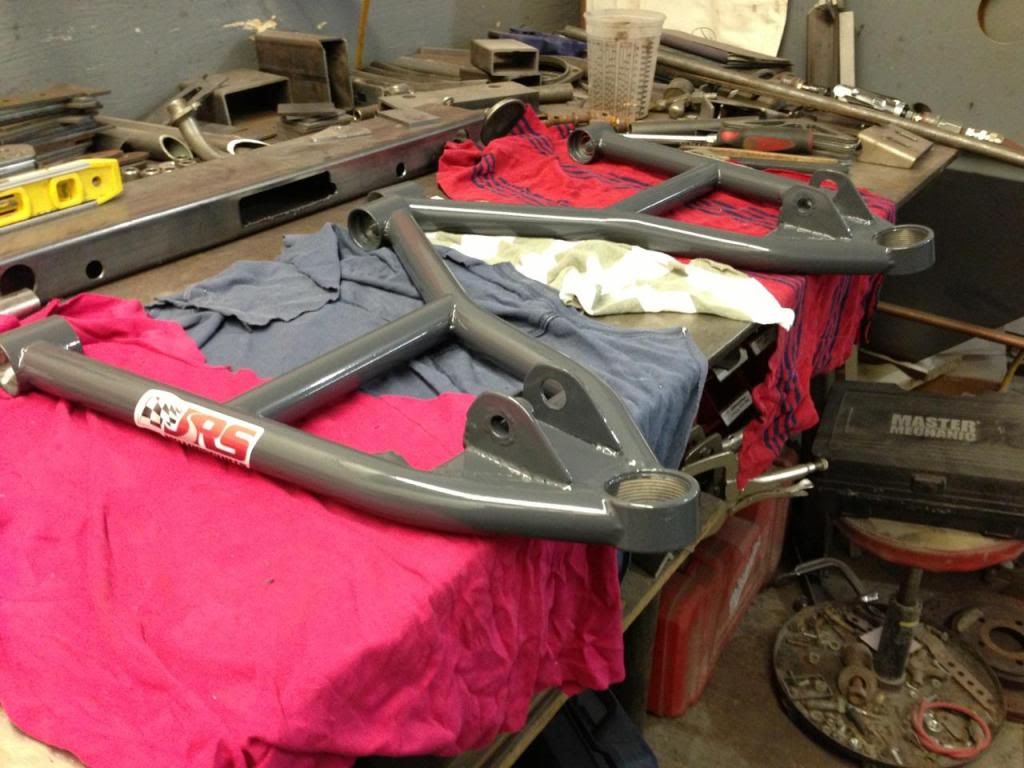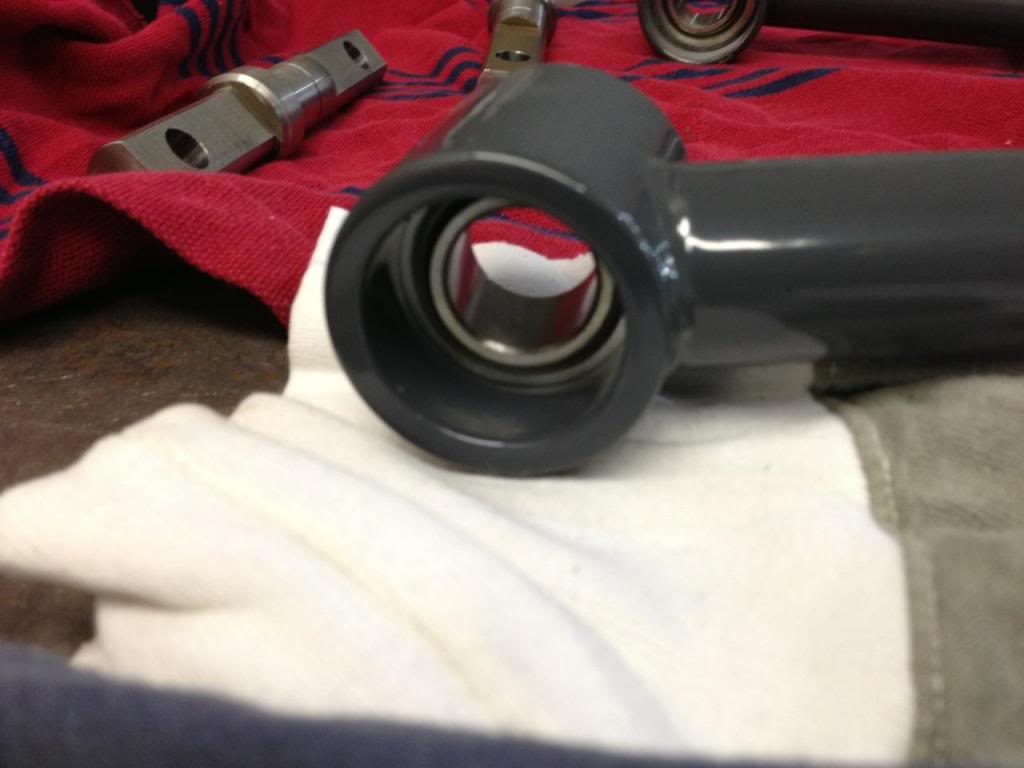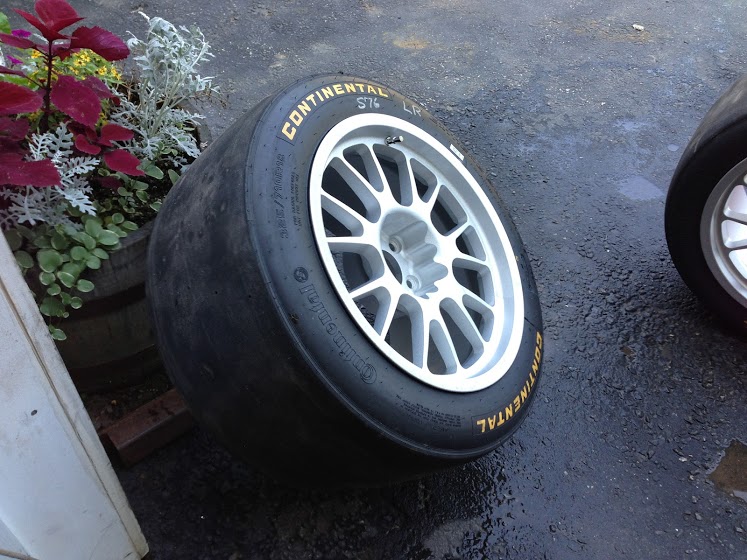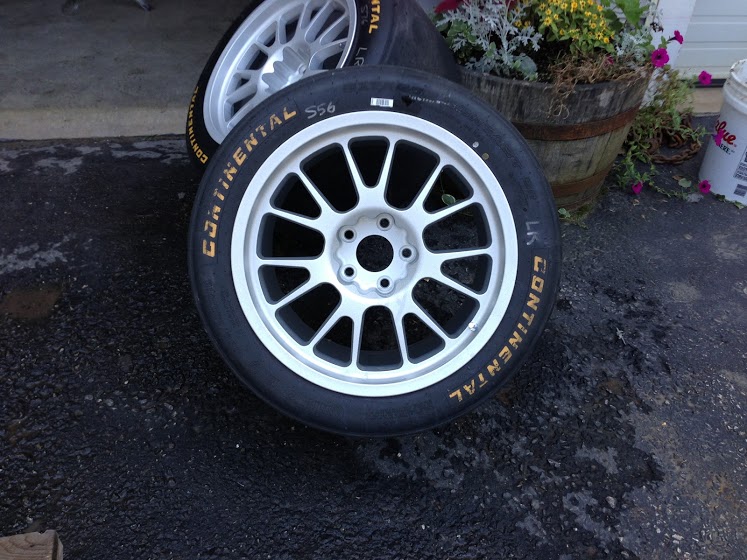 Fronts are 18x12 with 680x325 slicks rear 18x13 710x325 You can see the height difference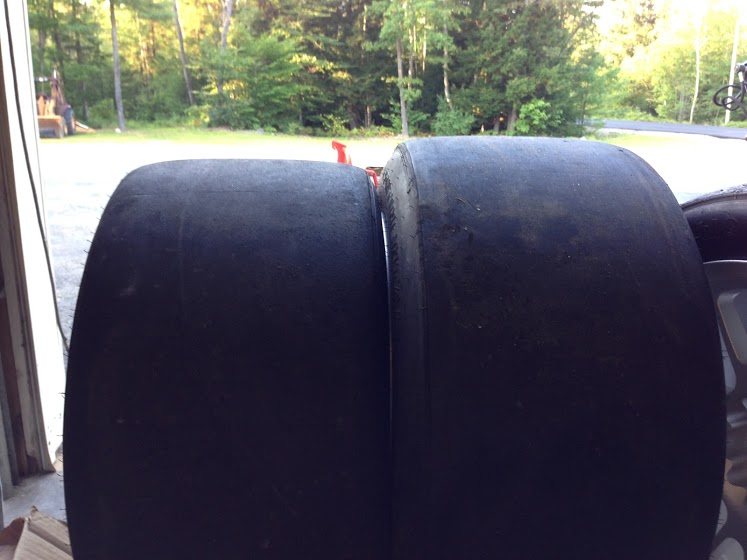 Jake cut the quarters to make it a roller.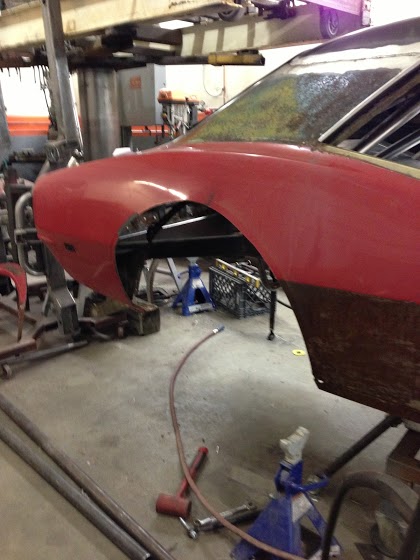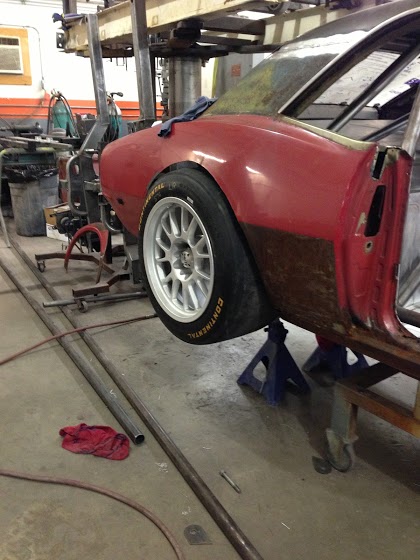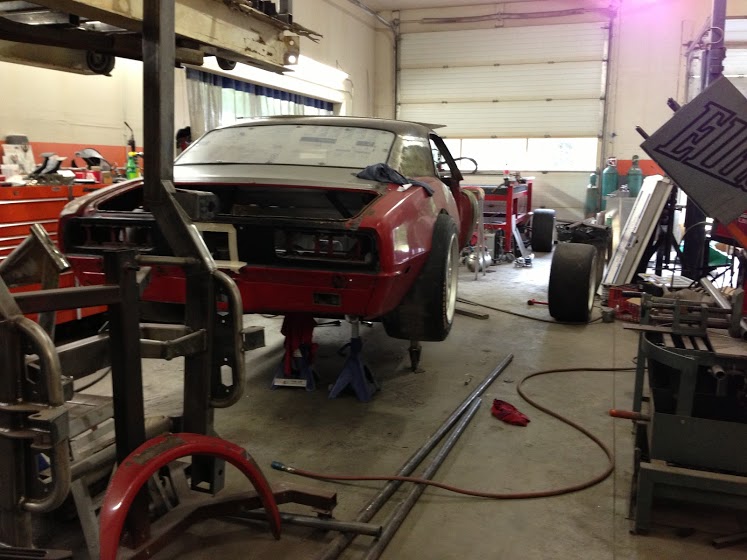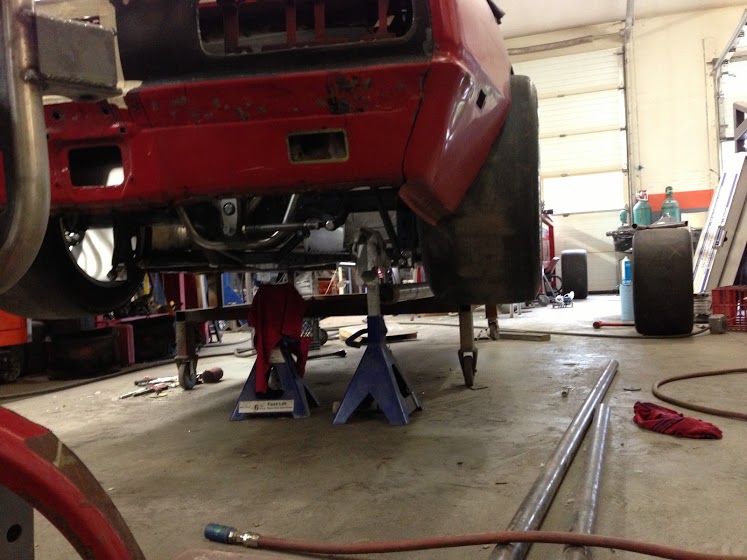 plenty of room inside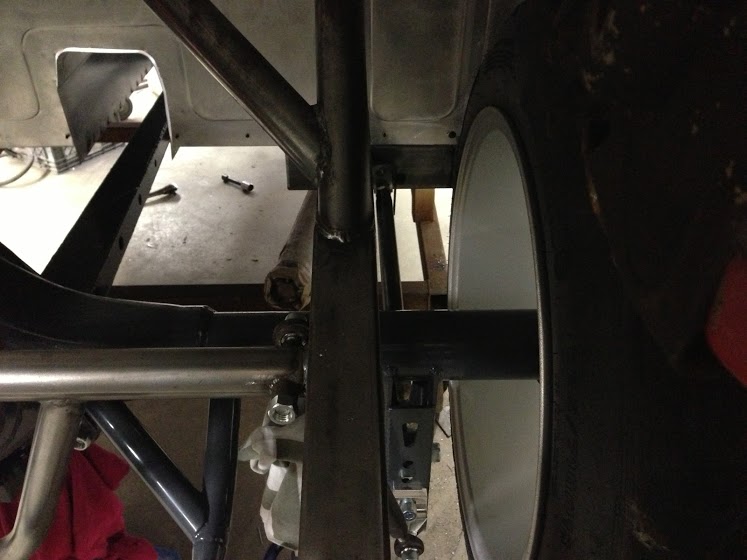 I am leaving Sunday to go and bring it home. Here it is as a roller. 46.5 inces from drip rail to ground at ride height.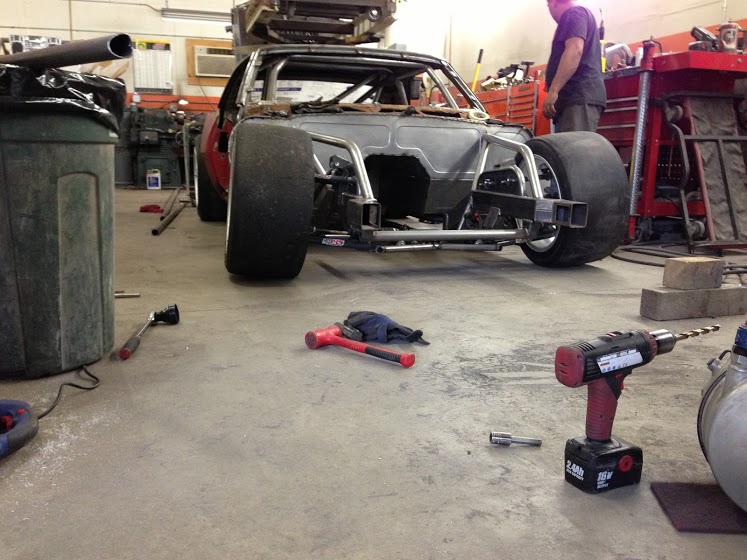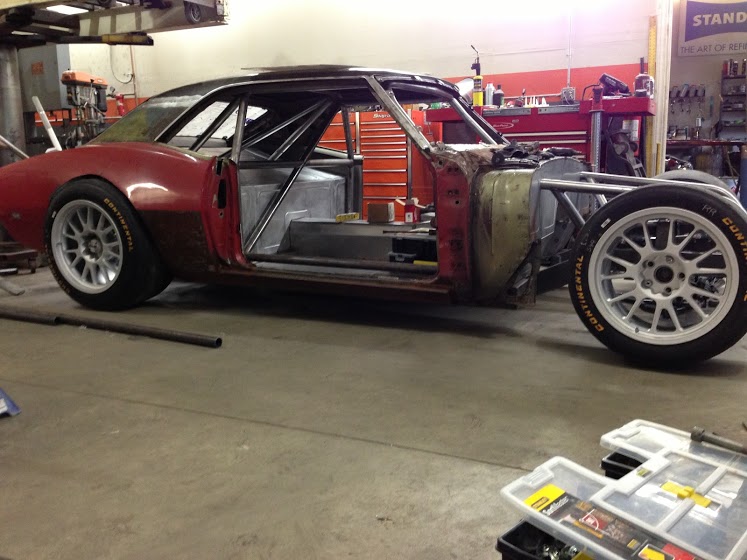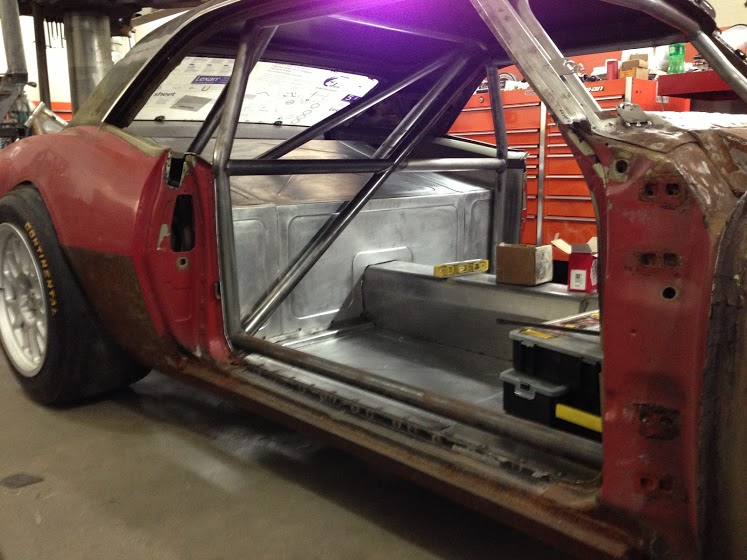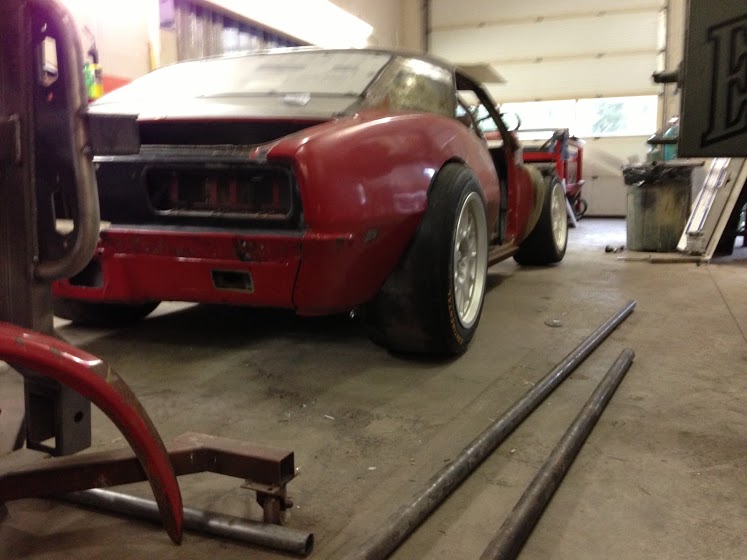 9-11-2013
Stayed with Ron Schwarz Sunday night and his family could not have been nicer. They cooked me dinner and we sat around and told stories out by the pool. Thanks again Ron for helping me out! Got up and left about 10 til 6 monday and met Jake. Ron rode shotgun and laughed at me cussing the traffic. All of you that live in and around NYC...what are you thinking? LOL

Met Jake in Ct picked up the car and headed back to Ron's. Only 14 hours in the car that day. Ron was ready to start building flairs but from the drive and what time it was, that will have to be another time. Left yesterday at 6 and was unloading my car at 3 that afternoon at the house.

If you are looking for pictures my tired, worn out ass did not take any. Will get some in the next day or so.

Cannot say enough on the job Jake did on the car. Looks way better in person and the car is very, very low.

Scott, If I put carpet and roll up windows in it can I still play?
9-13-2013
This is the Lexan installation with Dzuts fasteners.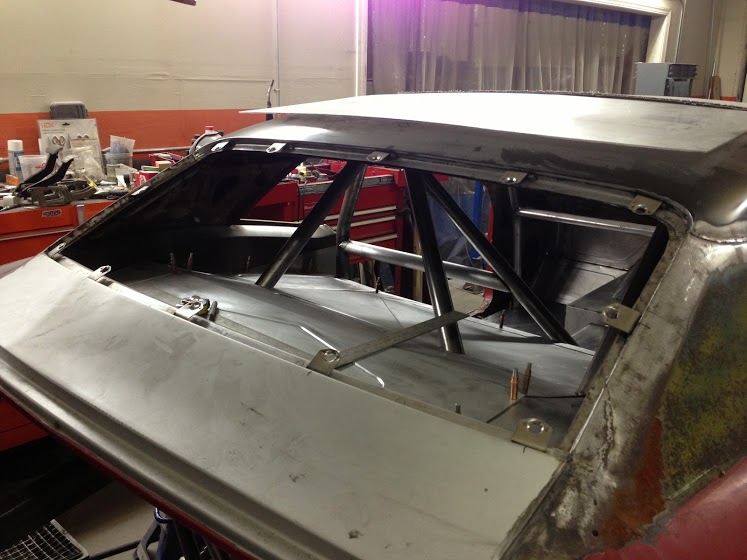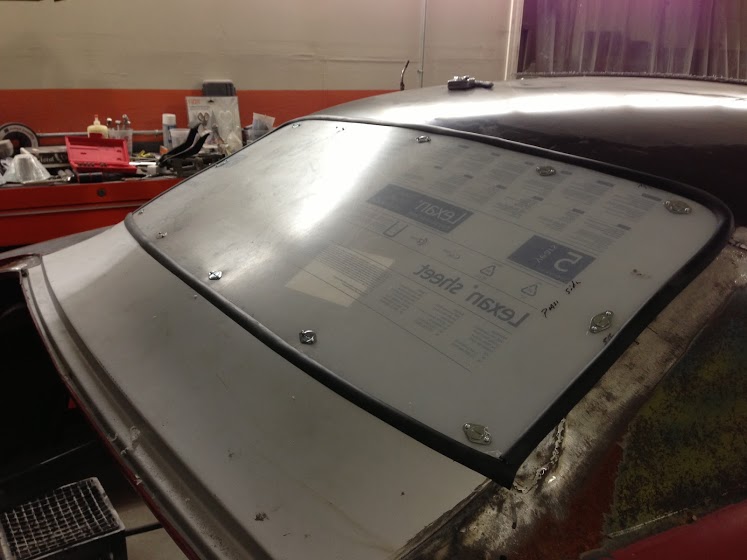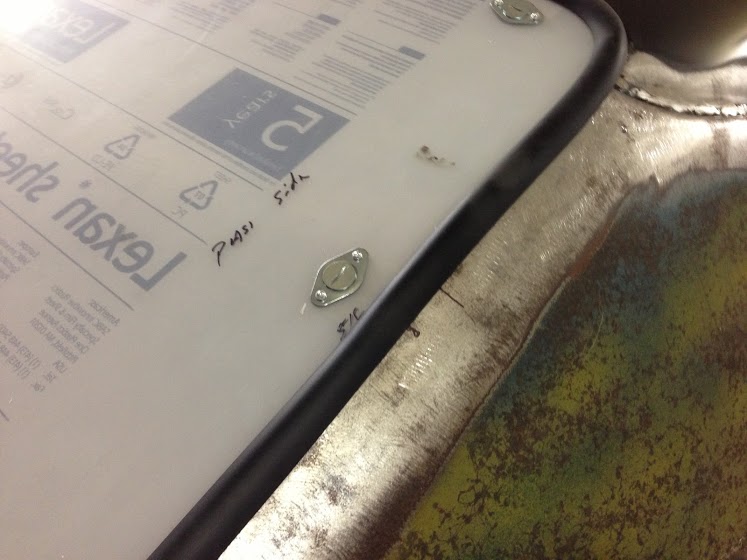 if you are going this far. Jake "wedged the frame so the cell will be flat with good mounting spot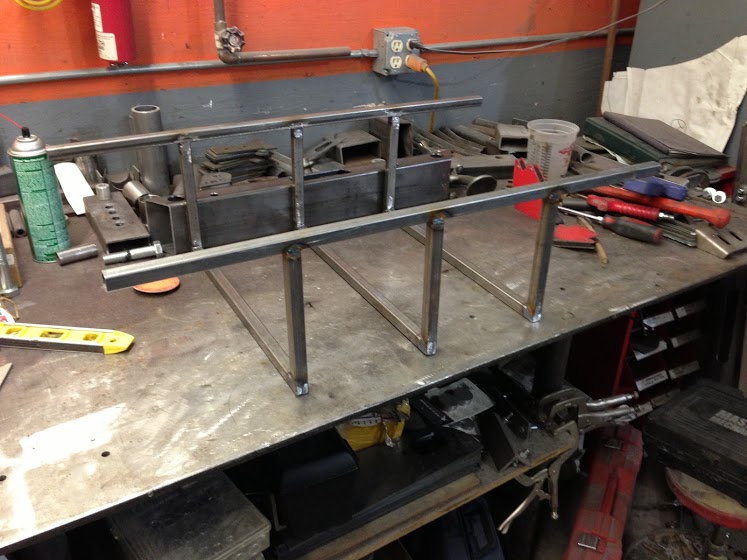 CNC plasma cutter to make fuel straps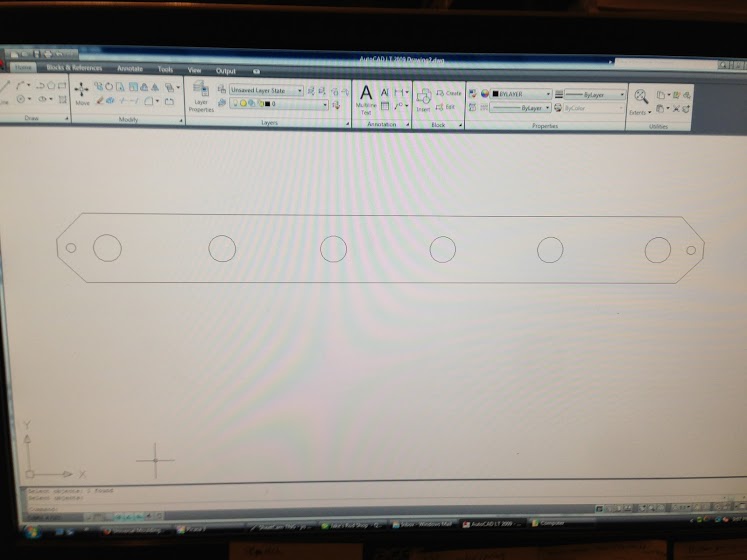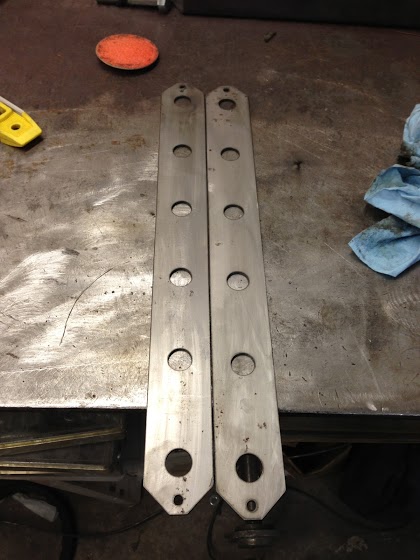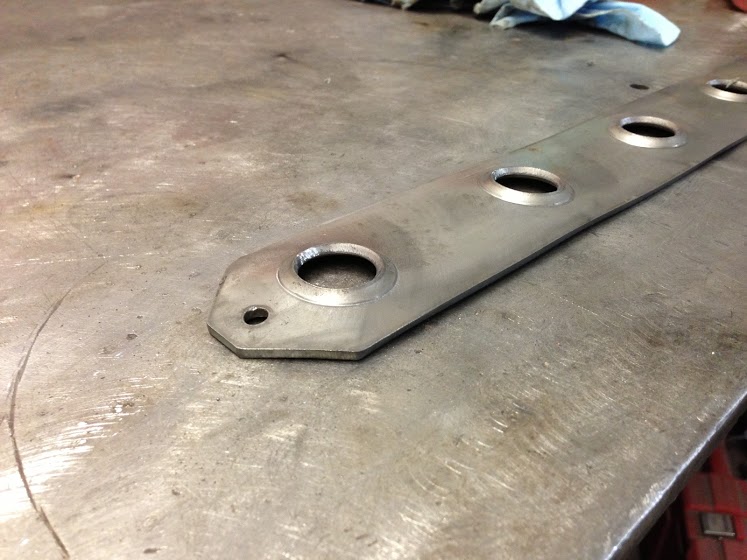 11-1-2013
Since it has been home, my 2 door luxury coupe has been sitting in an automotive cocoon in my garage....slowly getting a surface rust patina on all of that bare metal.

I have sanding disc and self etching primer, but no time to work on it. Both of my boys (13 and 11) play travel soccer. To give you an idea, we have 4 games this weekend with one being out of town. 2 on Sat and 2 on Sun. Last weekend we had 2 in Asheville, NC. about 2 hours away.

Anyway, with all of that being said, this weekend will wrap up the heavy travel and the outdoor season is coming to a close. More progress will be taking place.

I have recently purchaed a set of Jesel shaft rockers, intake manifold, Hendrick vavle covers with spring oilers and baffles, Jesel belt drive. About to order a custom ground 50mm cam and a set of custom pistons from CP. I will soon be sending the manifold off for fuel injector bungs and fuel rails to be made.

The car is going to Jim Pettigrew in December for header work and motor mounts...along with anything else I can come up with.

Hopefully lots of cool stuff with pictures coming soon
12-23-2013
But not too much to report. Living in the land of NASCAR, I have lots of cool places all around me. One of those places is MSI Racing, they do custom wheel studs and lug nuts. They supply pretty much all of the NASCAR guys and have starting suppling most of the guys in GT, Grand Am, etc.

I was nervous about the 12mm stock studs in the front hubs so I went up to see MSI. They are hooking me up the a 14mm stud from the front and a custom 14 mm stud for the floating rear hub...replacing the 5/8 stud that is in there now. The cool thing is they are building it the same size as the 5/8 stud at the bottom so my drive plate will still have some support and then the front and rear will match.

Finally made a decision on a seat and will be mounting it, steering, pedals and making some mounts for the motor plate.

Updates coming soon.
5-8-2014
I have been picking up a few parts here and there. I will try and get some pics this weekend. Car is due to go to Jim Pettigrew's for exhaust, motor plate mount and a few other things so there will be progress in the future.

Parts:

woodward with sparco steering wheel

2 Butlerbuilt full containment seats

71 inch wing

Jack screw style watts adjuster

New rear end housing because the first was built too narrow

14mm studs front and rear
This is where the wing came from...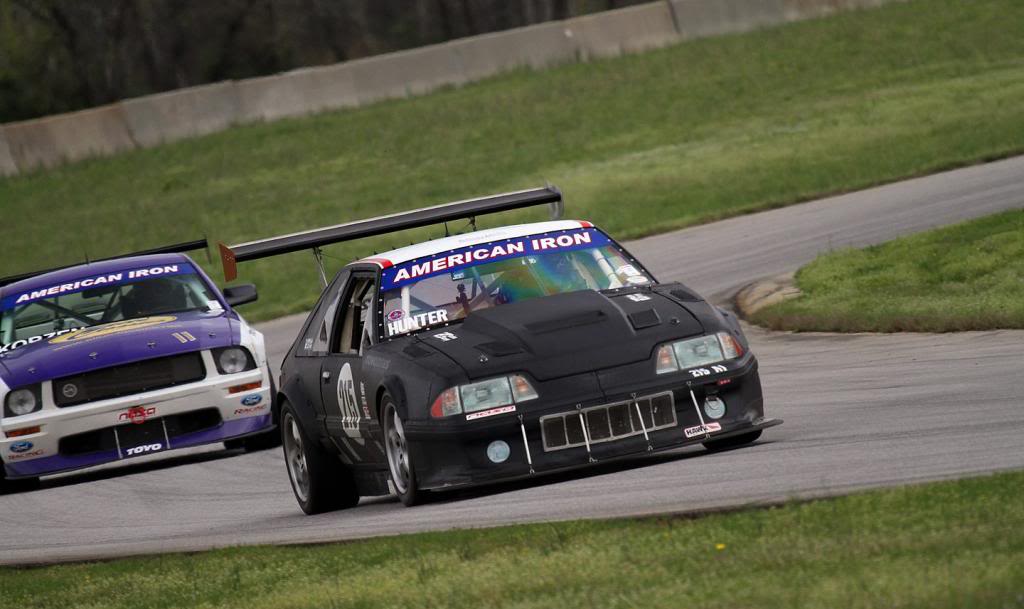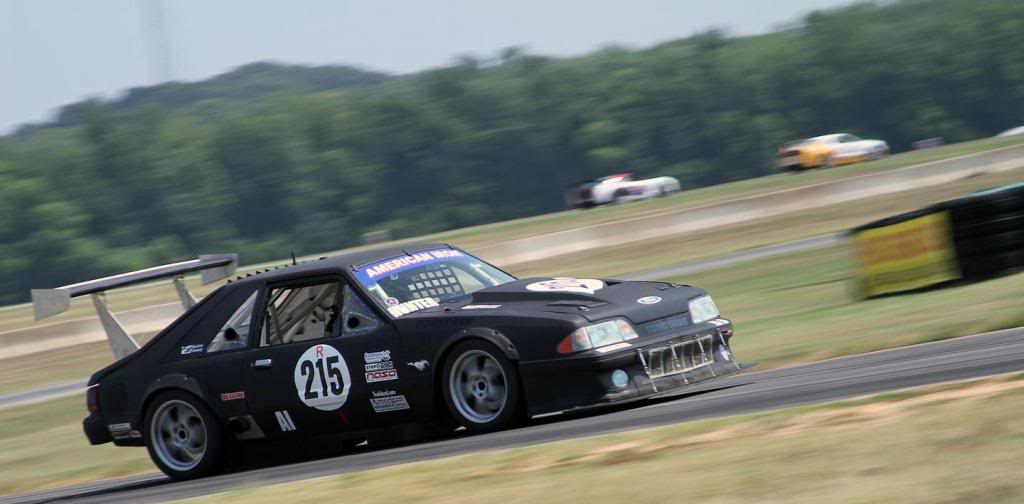 6-11-2014
It has 7 degrees of caster now, it would have to have 60 degrees to get the wheel base to 108 inches.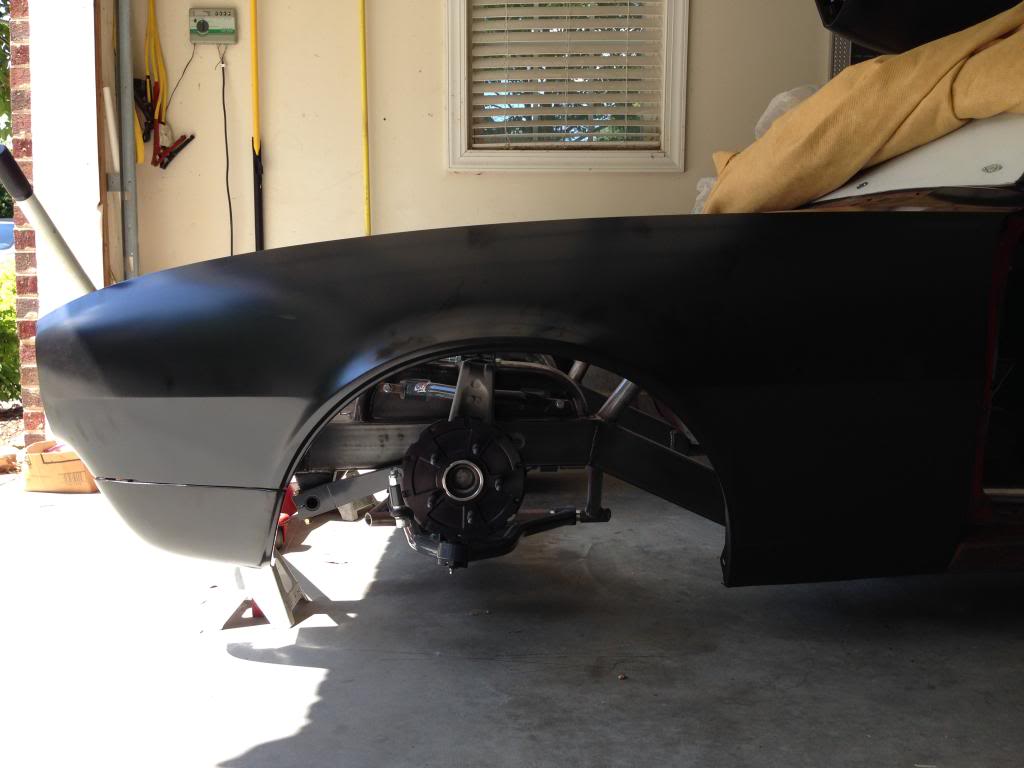 My car has 110 inch wheel base, the extra 2 inches are from the firewall forward. Rear is in correct spot. The front will have to be cut off and moved back 2 inches. Probably up 2 inches as well to correct some geometry problems.
6-12-2014
Here it is at Pettigrews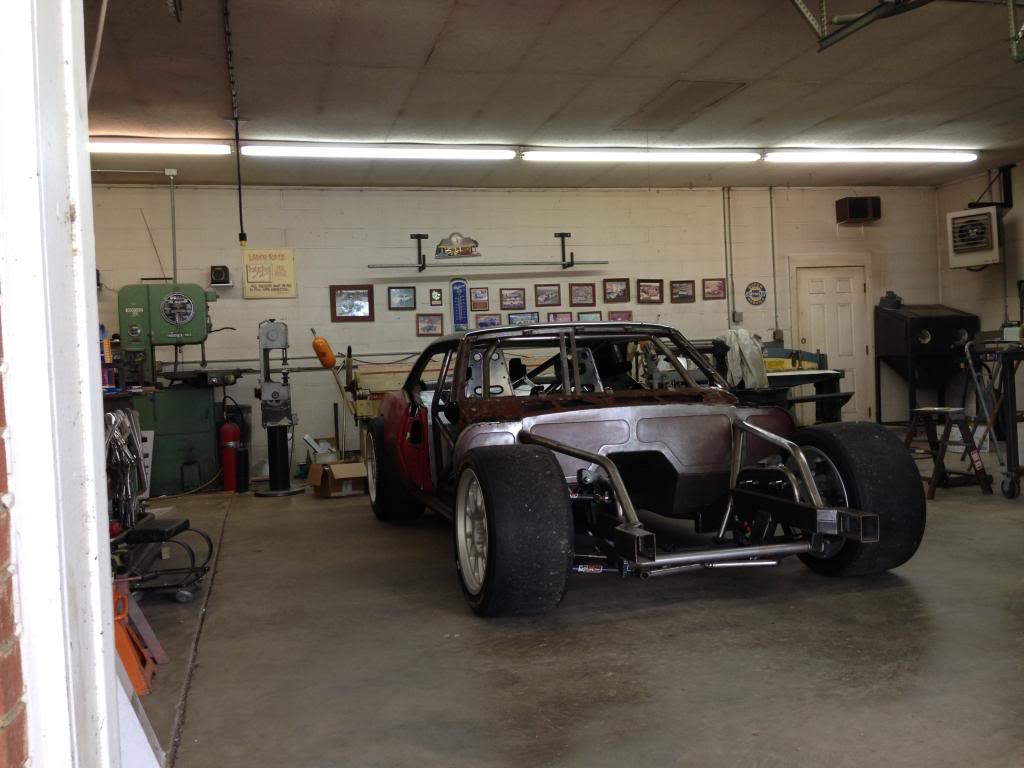 If any of you remember, I ran a 21st Century front clip on my yellow car and Rupp had one in Bad Penny. That is the jig for it on the left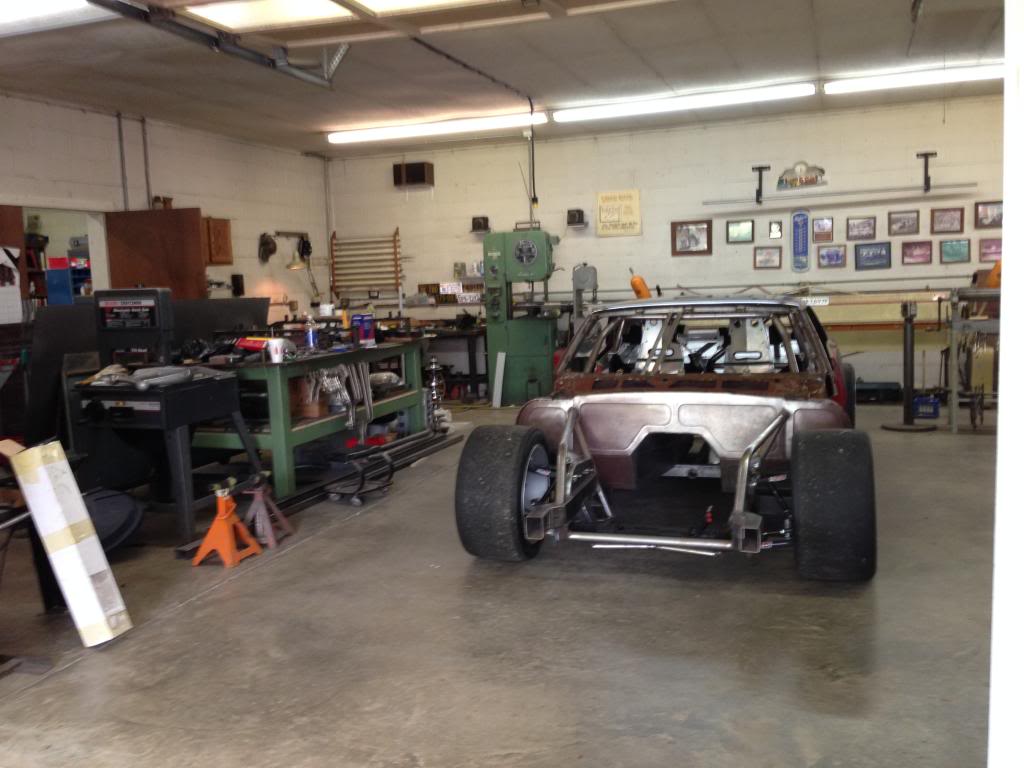 Here are a few shots of it while I was waiting for the roll back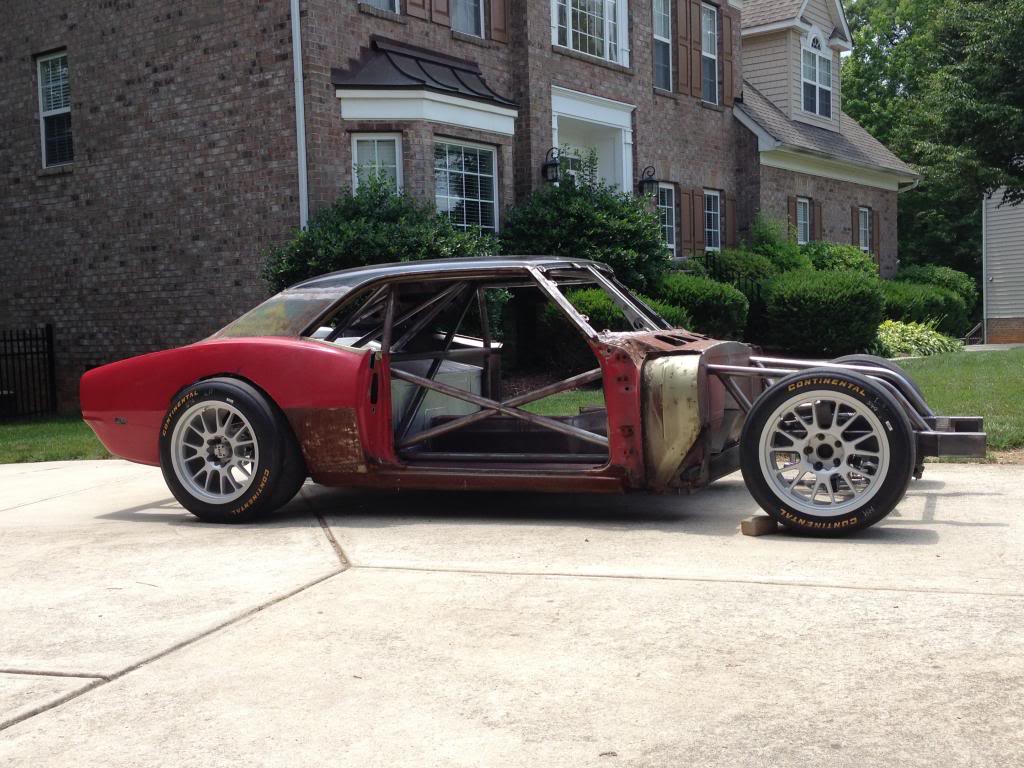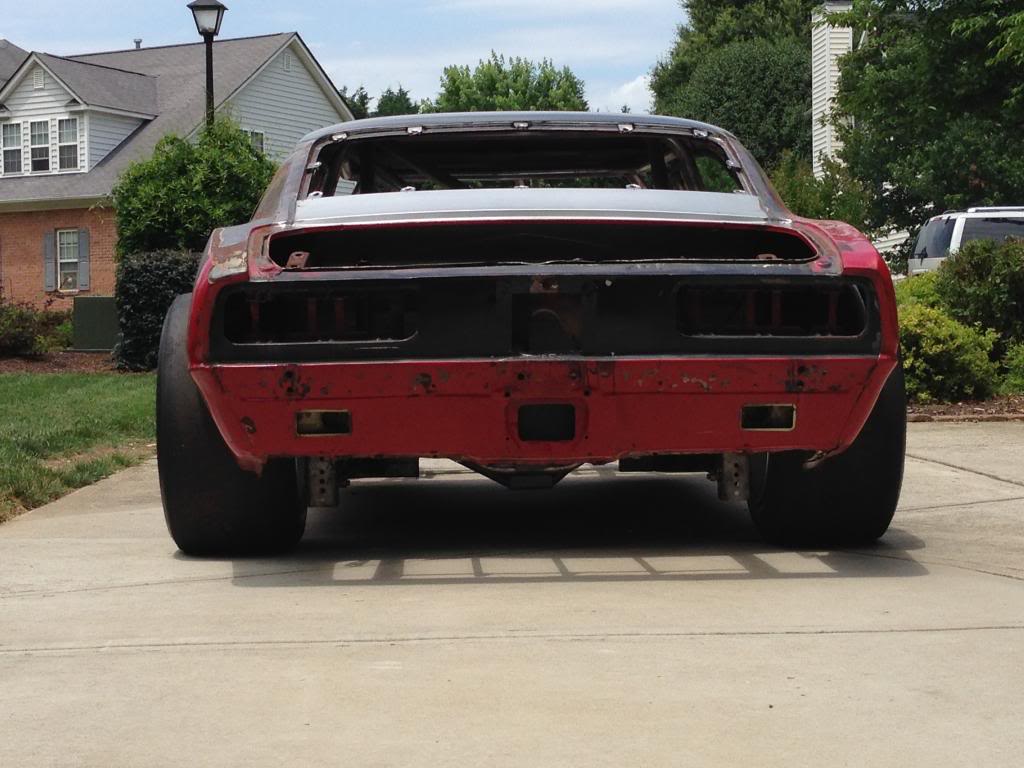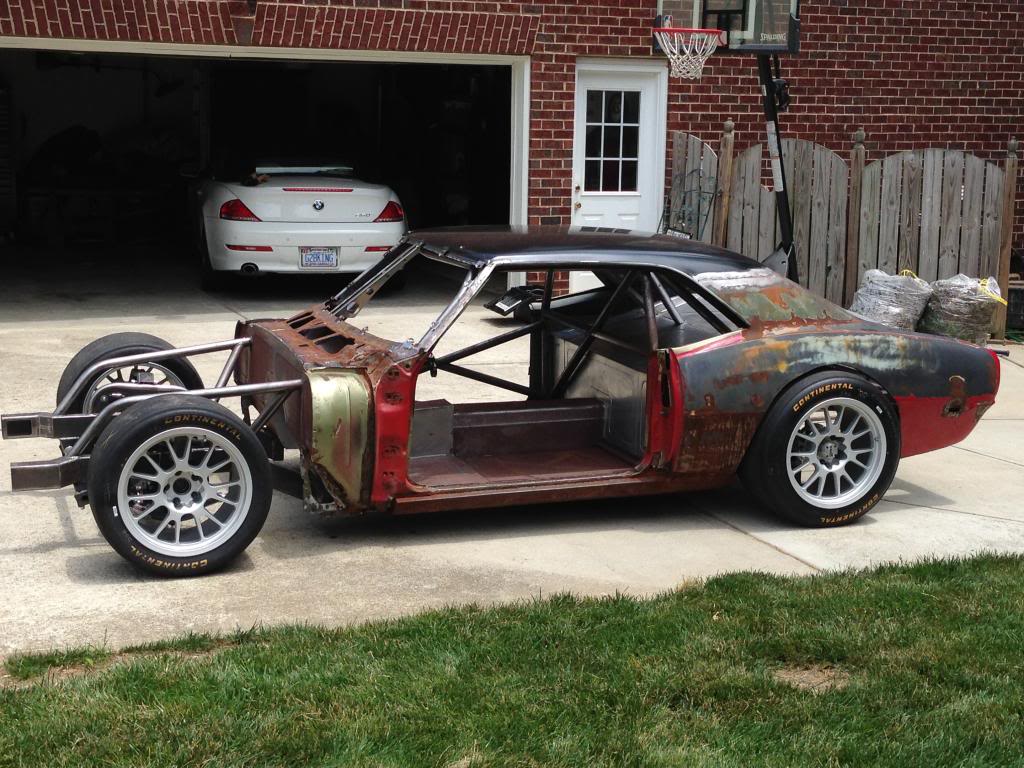 Few more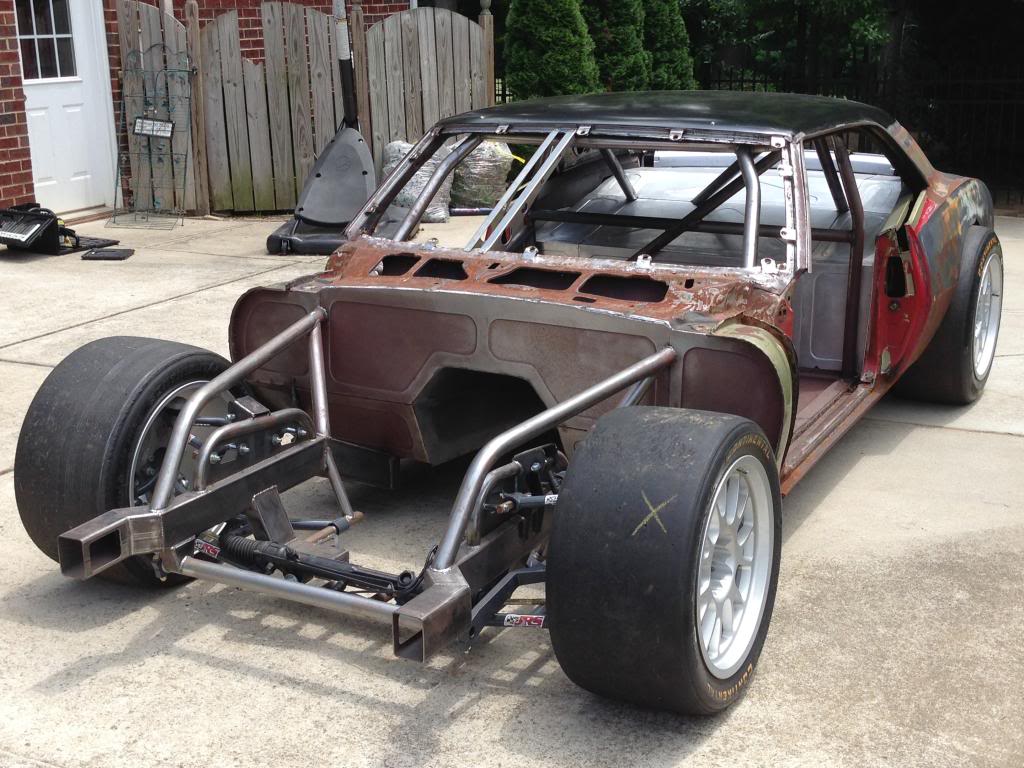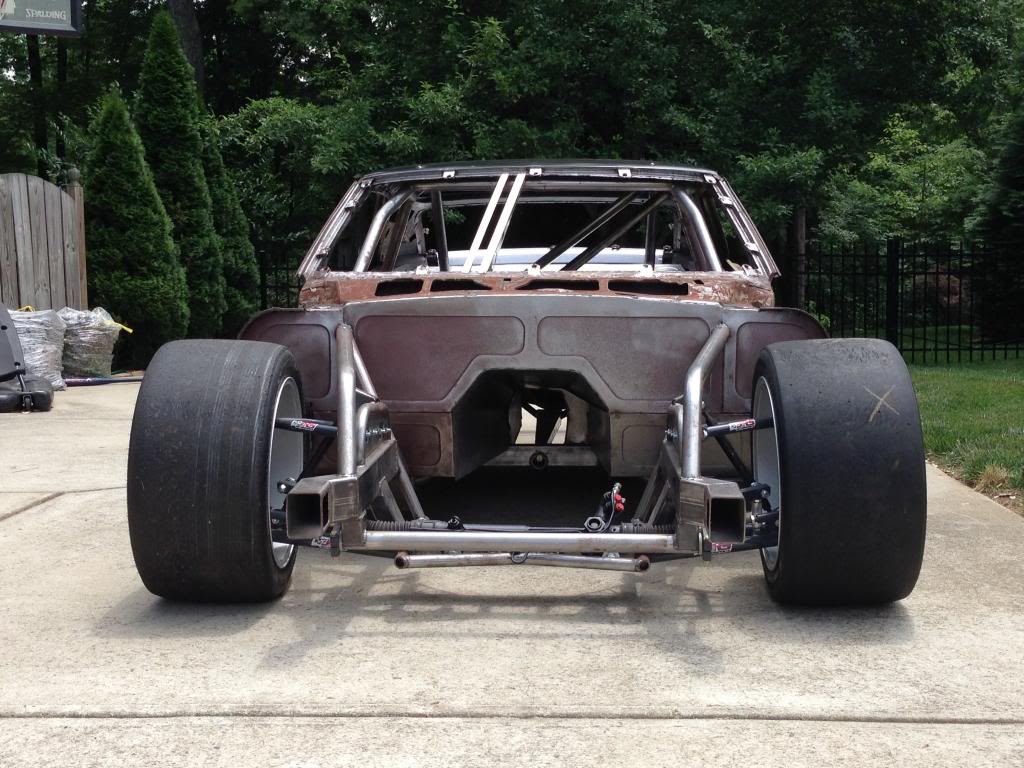 and attempt at an artistic shot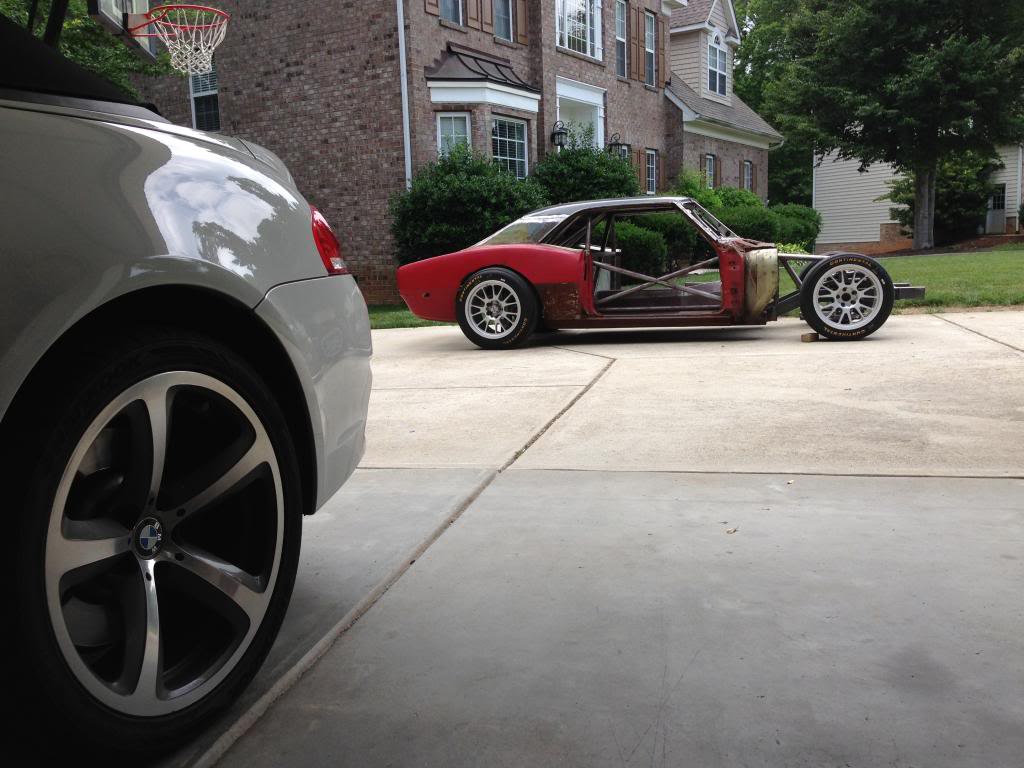 Yea, I have thought about all of that stuff...going to move the clip back and keep the wheel base where it should be. Fender are going to be custom regardless of the wheel base.

Going cut out cage from main hoop forward and put it where it should be, not in my line of sight. Down bars are out too far and come in contact with front tires and the kicker bar keeps me from mounting my pedal box. Funny as I sent my pedal box to him before he started the frame, much less the cage, for him to mount.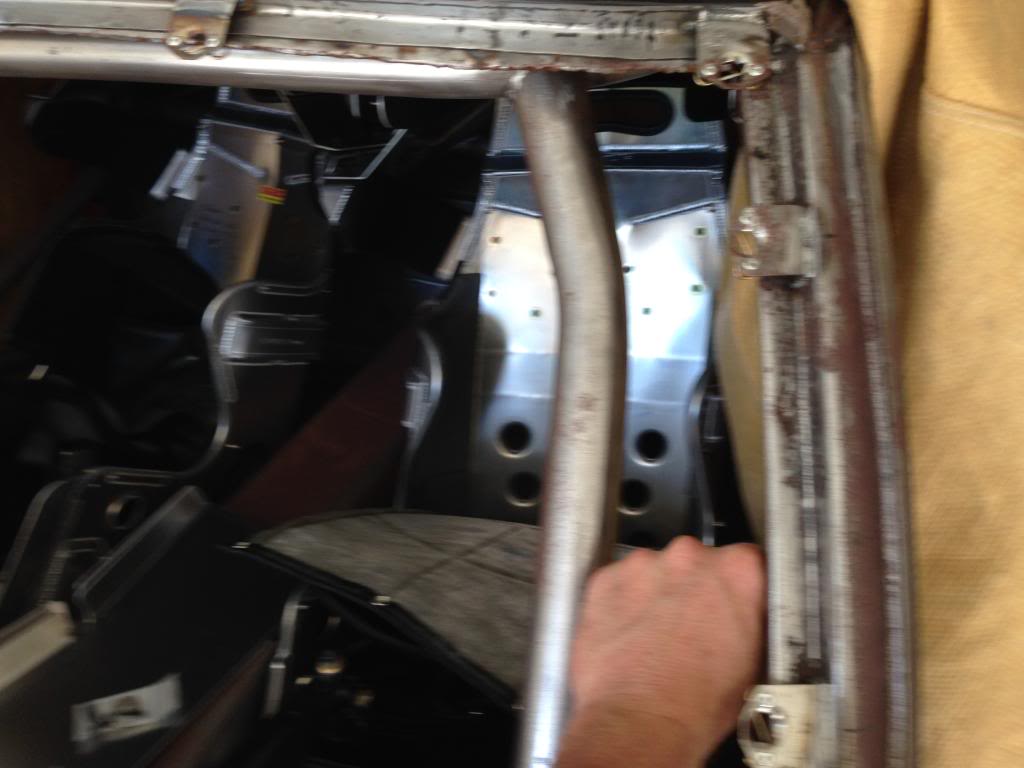 6-13-2014
Thanks for the words of encouragement guys.

Here is some of what has happened up to this point. Once I got the car back to my house in September, I noticed a few things right off and broke out the tape measure.

First issue was he built/ordered my rear 2 inches too narrow. He did correct that problem but it took me 6 months to get it...and then he did not weld the lower TA mount on so I had to have that done.

At the same time I noticed that he built the "bird cage" for the watts to close to the stanchion tubes on the rear end housing. I have 1.25 inches of compression travel before it hits. The shock mounts are on the inside of the frame rail an is part of the "bird cage." The mount is too close to the frame so I cannot attach a shock without it hitting.

While we are still at the rear, the mount for the fuel cell was built to the wrong measurements. No off the shelf fuel cell will fit, so that has to be remade.

Front LCA that he fabbed are too wide. Can only get 18 degrees of turn at ride height and about 8 degrees at compression. I let him know about the problem and told him he needed to move each side in a minimum of an inch. Had a conversation and sent pictures. Where the wheels contact the control arm is 9 inches wide; on the same spot as a stock C5/6 arm it is 7 inches. He made me a new set of arms and sent them when he sent the rear end. The new arms are still not correct. He moved the leading tube in but left the back profile of the arm the same, essentially no correction since it was hitting in the rear.

Everyone knows that the car's wheel base is 2 inches too long. I texted Jake and asked "so how are we going to resolve this?" He said to move the entire clip back 2 inches. I asked who is paying? He said "I will to a point of what makes more sense of me doing it or someone there."

We will see if he steps up and pays for it to be corrected. I know for sure there is no way my car is going back to his shop with as many issues as it has now and the time frame he is on to complete anyone's work.

In the next couple of weeks we are going to level up the car and start pulling measurements and checking geometry, so I will keep you posted.

Almost forgot, to add insult to injury, he cut out my gas fill location off of the tail pan and used it to make a part for another customer without asking me.
7-22-2014
Minor update...wheel base is actually 111 inches. I am looking for a long wheel base C10 to put the frame under.

Should be cutting the front clip off and moving back 3 inches and up 2 inches. The cutting starts Saturday.
7-23-2014
Moving it back 3 inches to get the wheel base to 108, where it is supposed to be.

Moving the front clip up 2 inches so I can get my LCA's to a more level postion. I am wanting to travel my tire around 3 inches and Jake has it set up where I am already compressed 2 inches at ride height. If I try and travel it 3 inches where it sits now I have bump, camber issues, Etc. and it will be out of the designed range. He assumed that I was going to travel the front 1.25 inches. I told him before he started that I wanted the control arms level at my 4 inch ride height...

Ride height will still be 4 inches at the rockers, relocting the shocks with some trick adjusters from Ron Sutton.
9-29-2014
I have been pretty slack lately...I spend most of my free time trying to clear out all of the texts coming into my phone.

I will try and do a big update this week. Front clip has been cut off and moved back. Cut out the firewall and tunnel to move the engine back. Going to run the oil pump on the right side, so we are in the process of making a new motor plate.

Things should start moving quickly.
11-20-2014
and have been called out more than a few times. In this soap opera that I call a car build, it was discovered that the wheel base was 3 inches too long. Time to roll the car out of the garage and get it to someone that actually has a brain and a boat load of talent. Jim Pettigrew to the rescue!

Car waiting on the roll back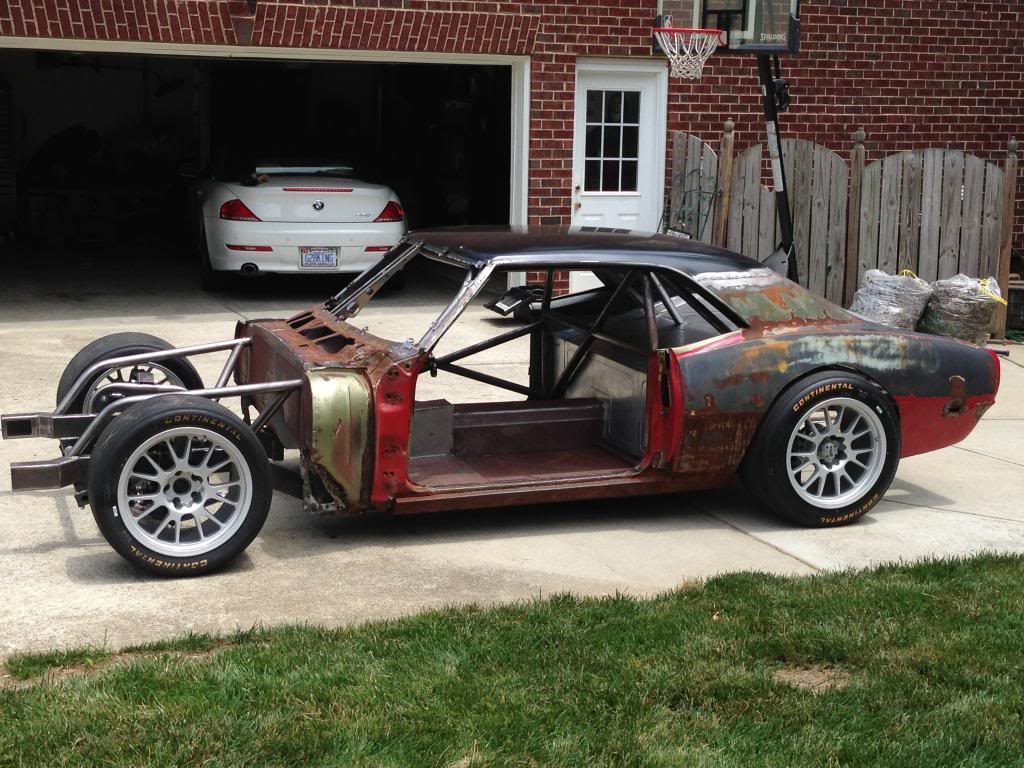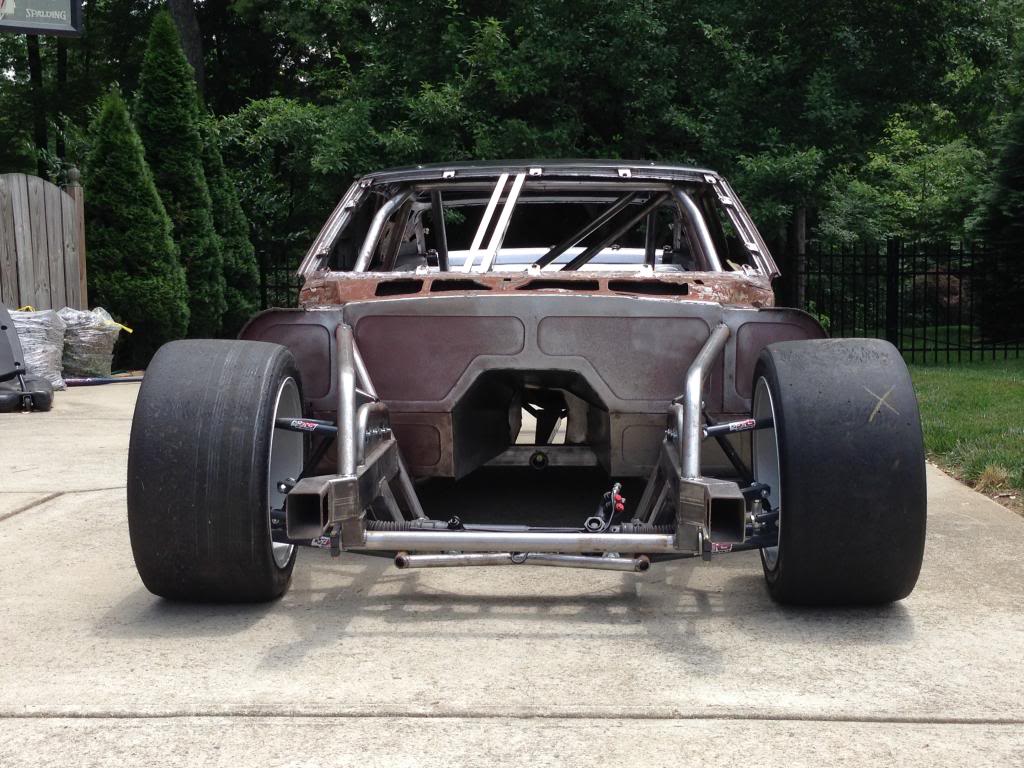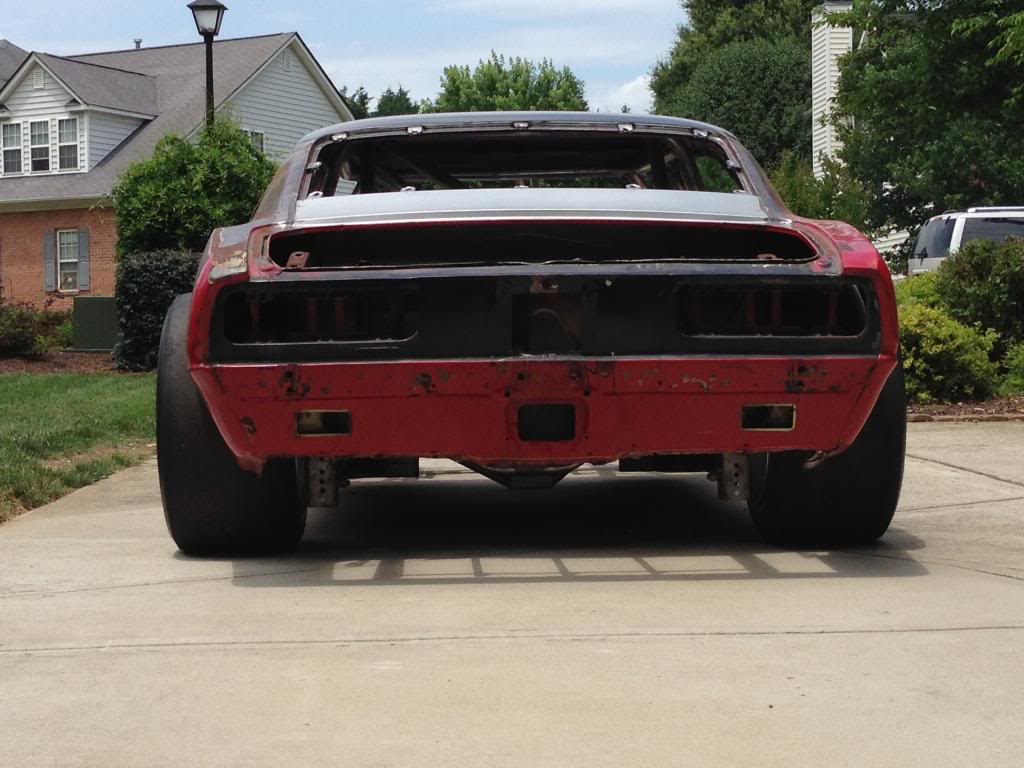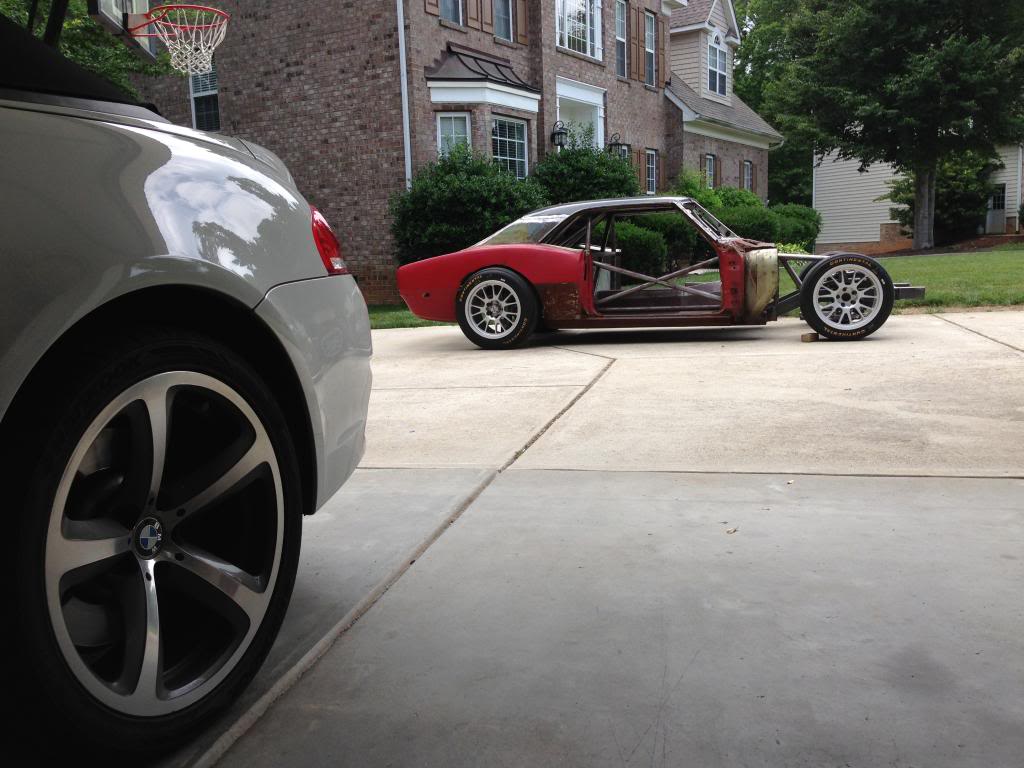 First We had to get the car up in the air and level and Jim made a jig for the front. I am glazing over this, but great care was taking to insure the car was perfectly level, secure where it would not move and referenced on the floor in case it did move that we woulld see it and could move it back to the correct position.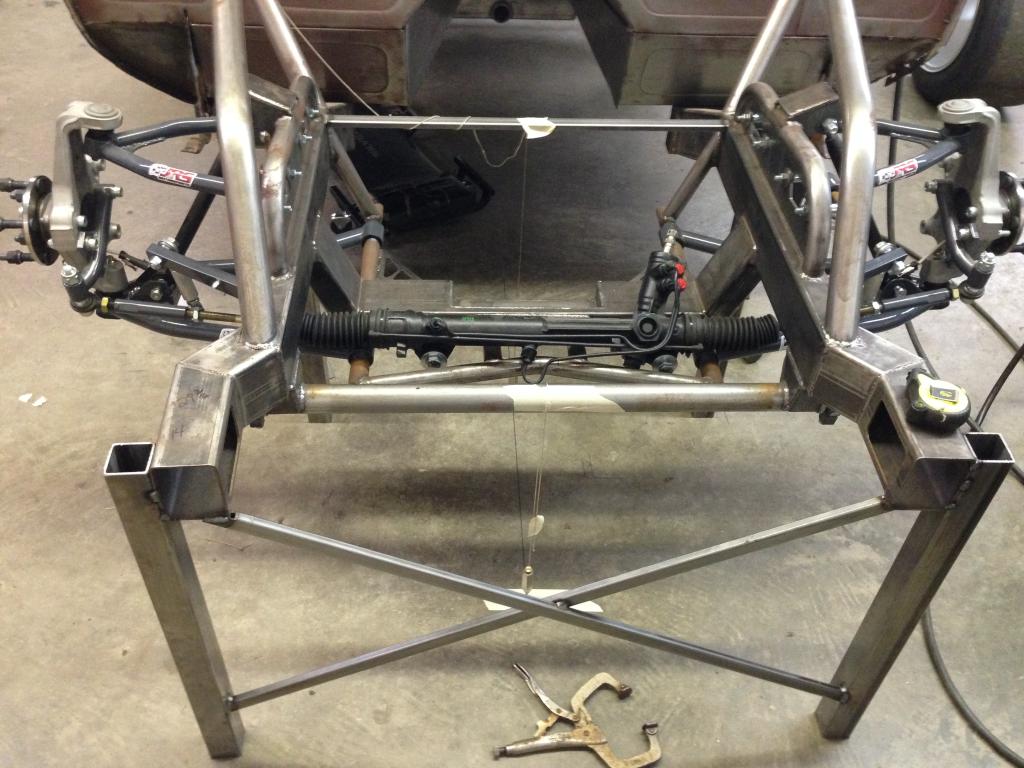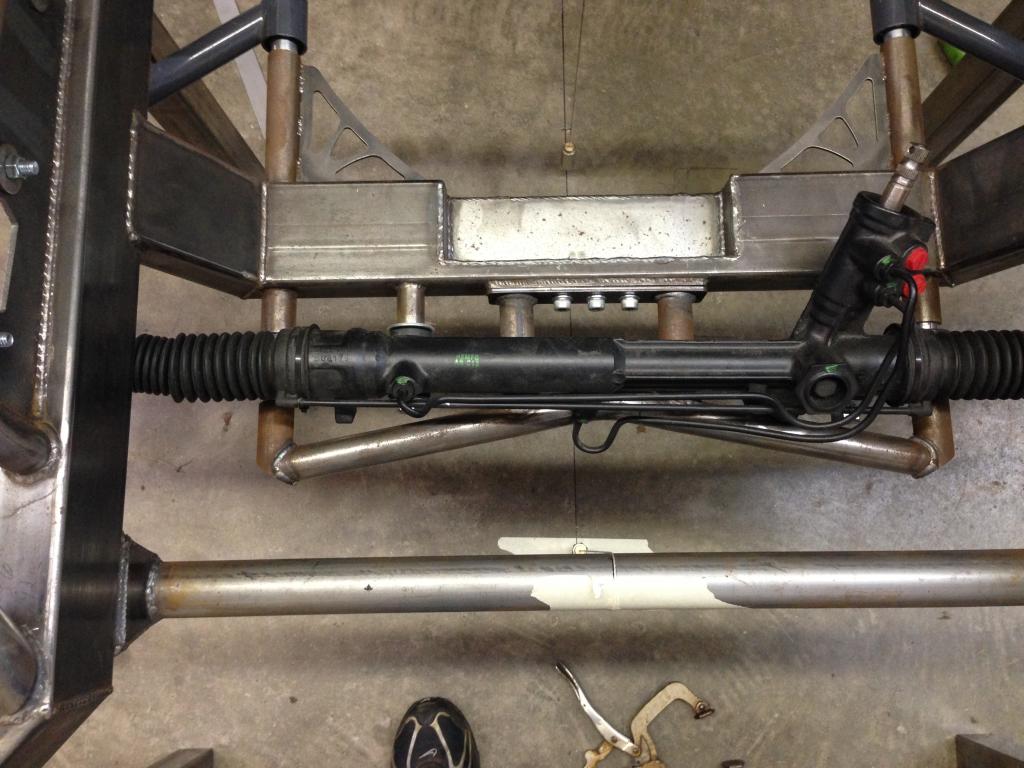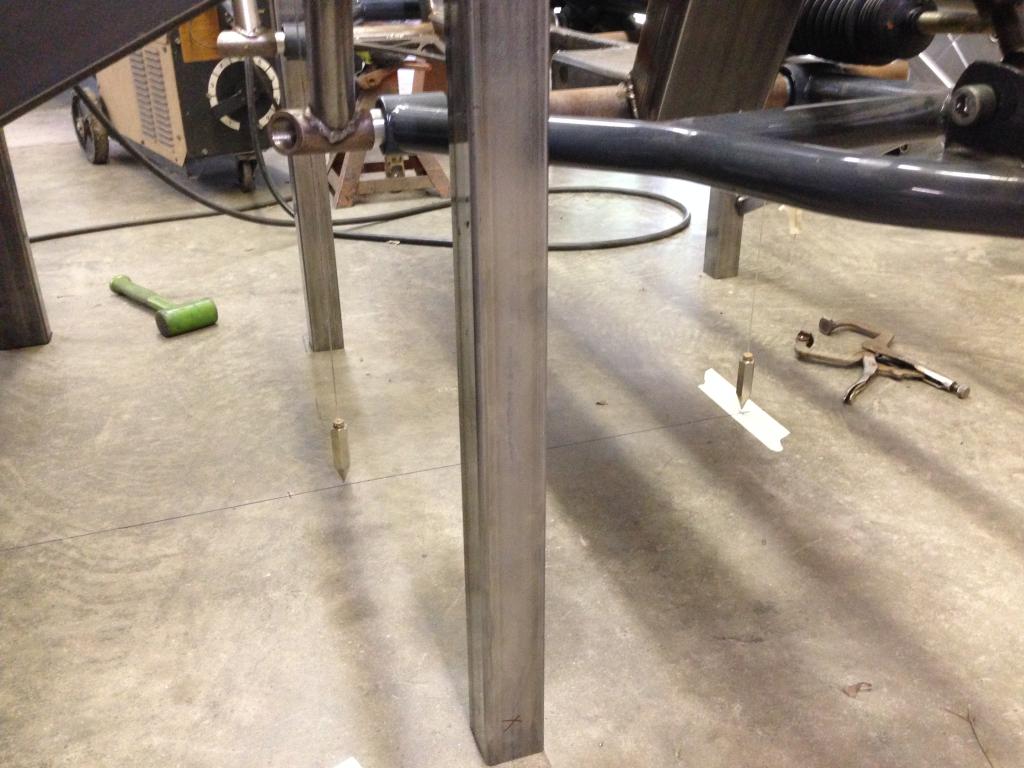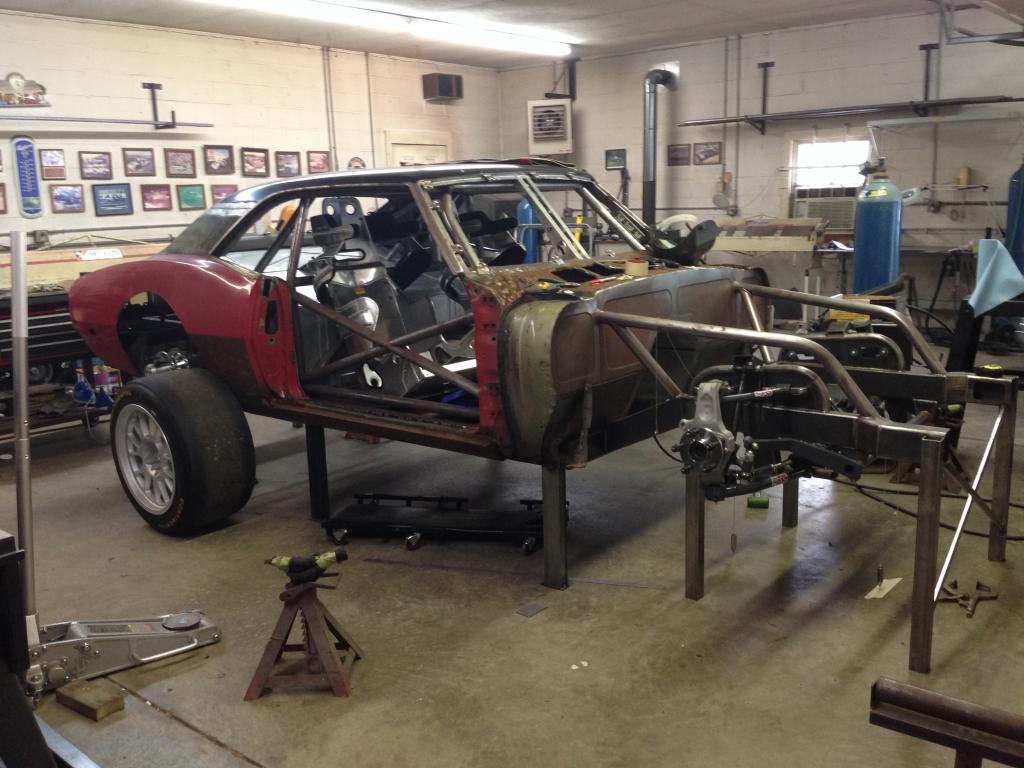 11-24-2014
Continuing on the thrift shop theme, picked up a GF4A from a local race team.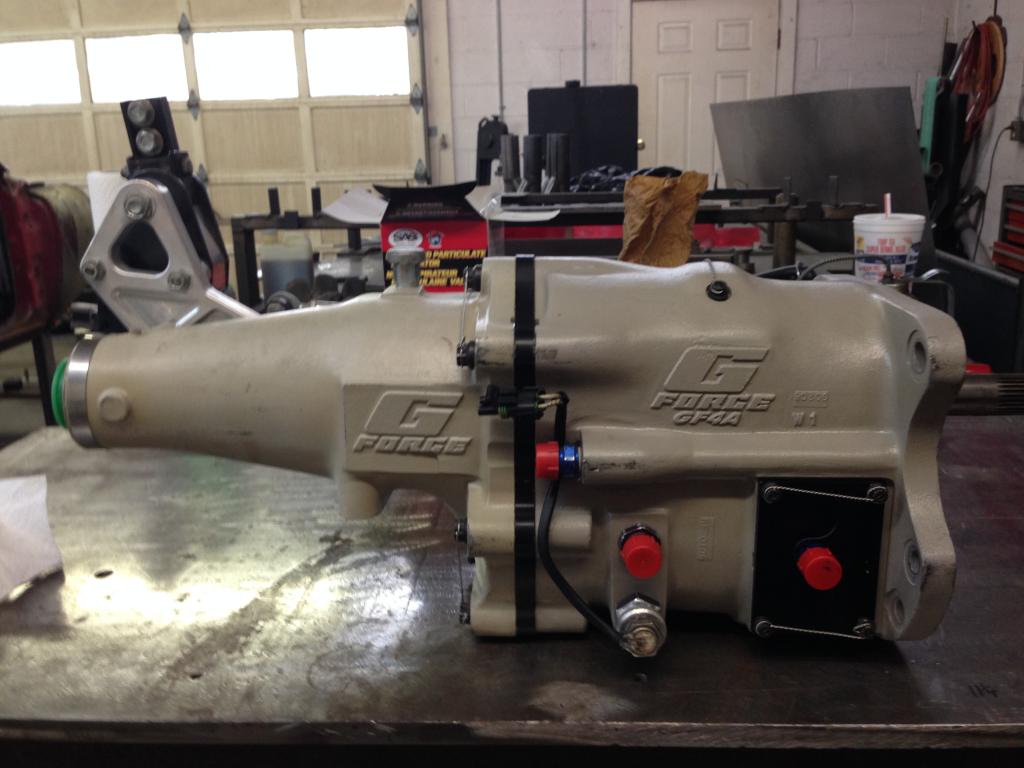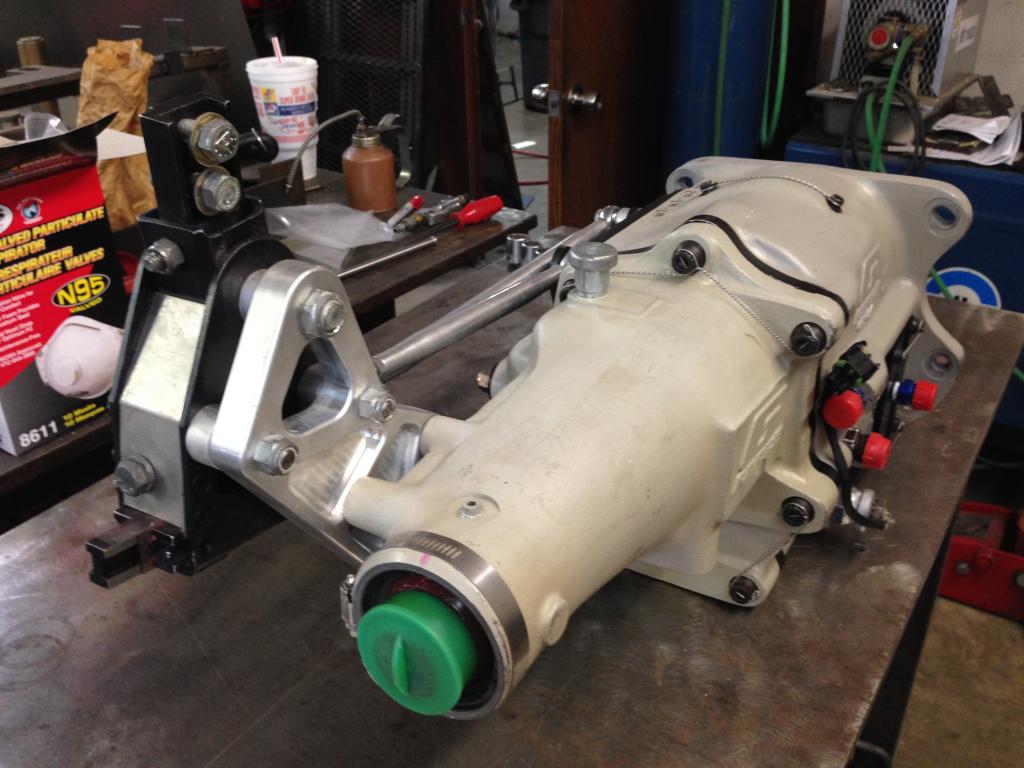 Here is a little piece of information that I did not realize. The bearing retainer on these boxes are indexed for either a Ford or Chevy. The Chevy one is smaller. Guess which one was on my trans?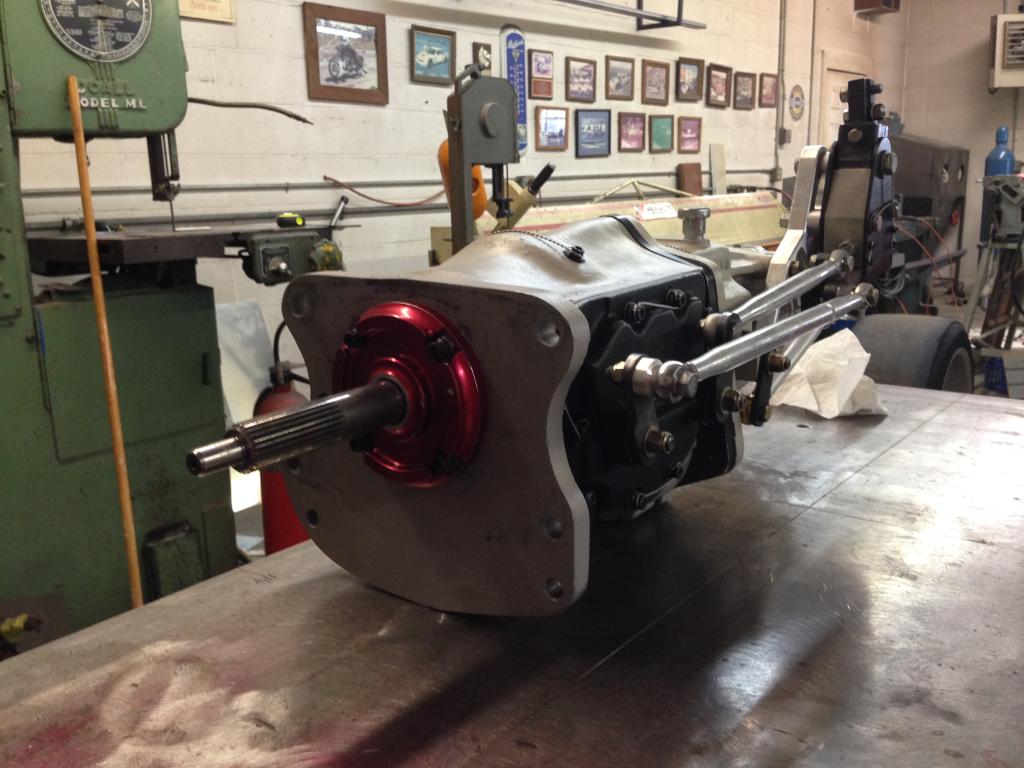 So we had to remove it and Jim turned it down to fit my Chevy/RCR bellhouse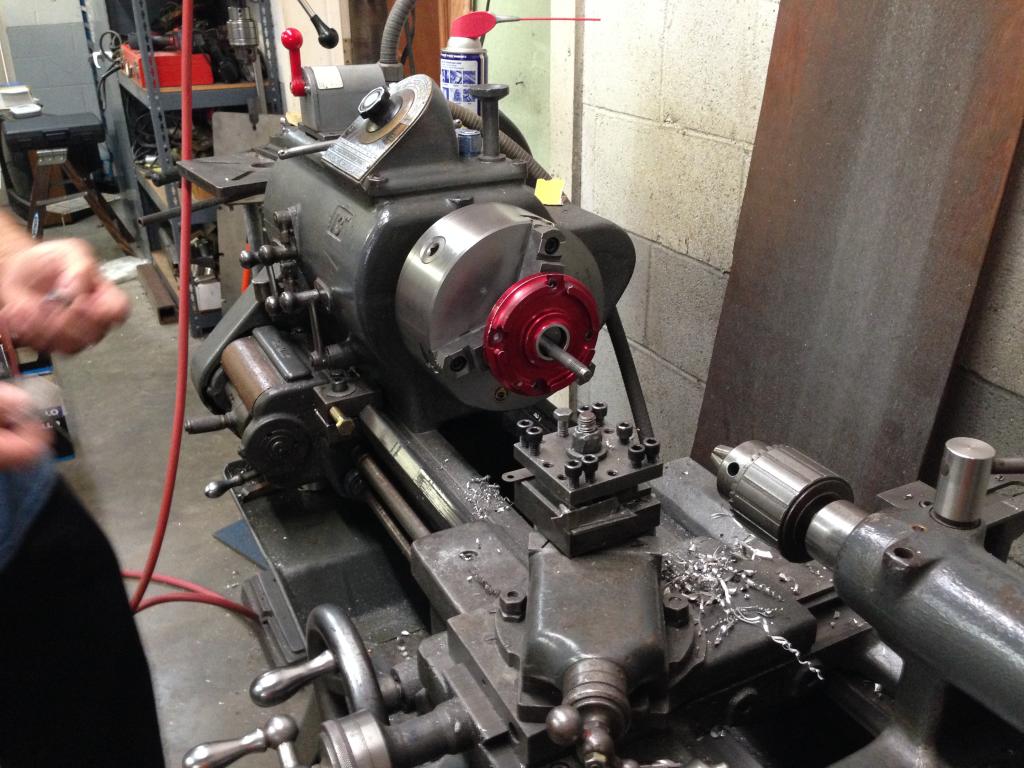 Ratios:

2.71
1.78
1.29
1.00

Actually there is good room for the shifter. We moved the motor to the right side about 1/2 inch for steering shaft clearance and it helped with the shifter as well. I did look into a rail shifted box and they are cubic bucks.
11-26-2014
With a transmission, frame back in the correct spot, it is time to fit the motor to the car. Here is the mock up motor. SB2 block that had been vented by one of the Hendrick drivers along with a set of heads that had dropped a valve.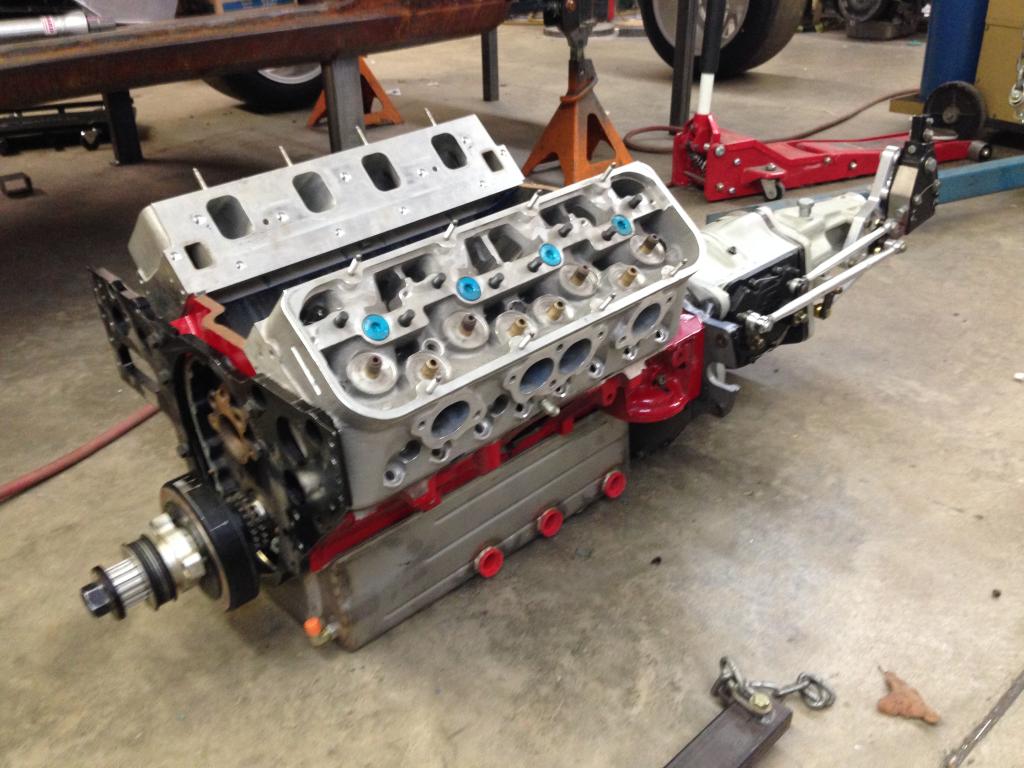 We were trying the get the motor back and low as possible and the firewall was not cooperating. Break out the plasma cutter.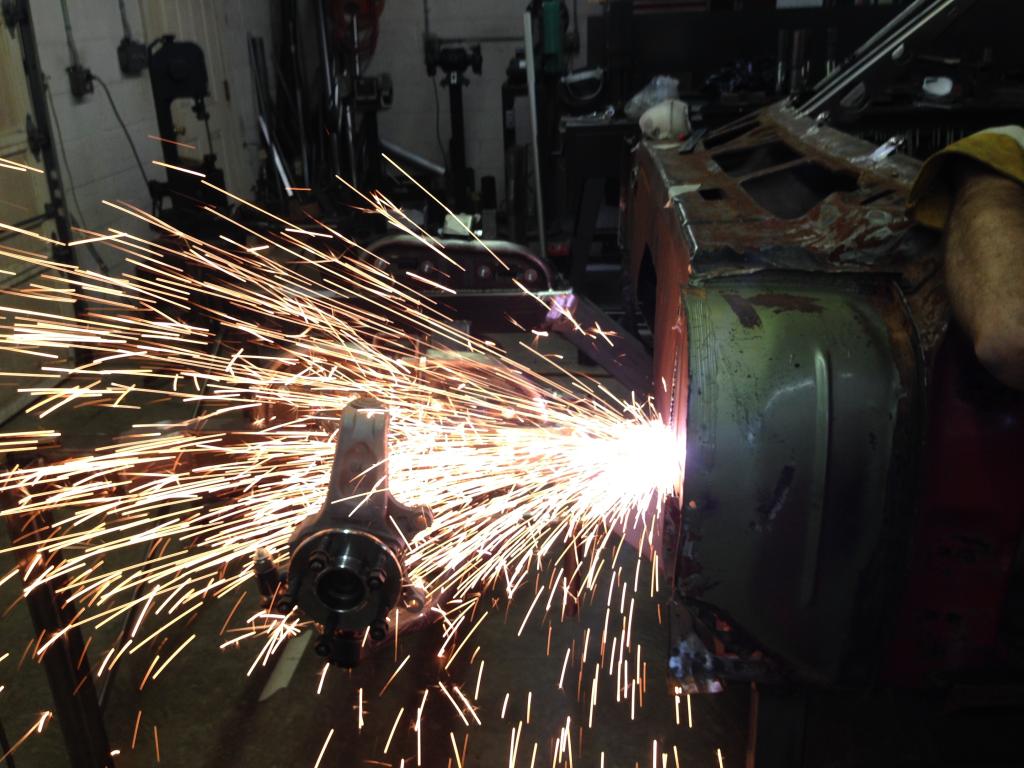 This is our first cut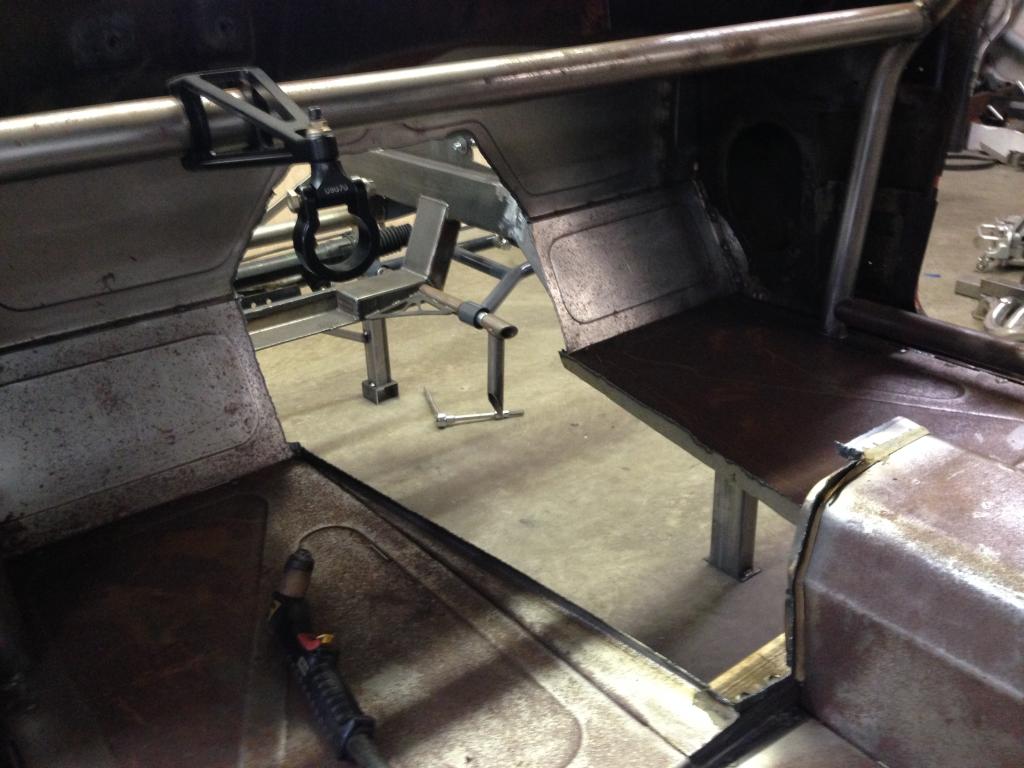 The firewall still did not want to play nice, so we had to be more forceful.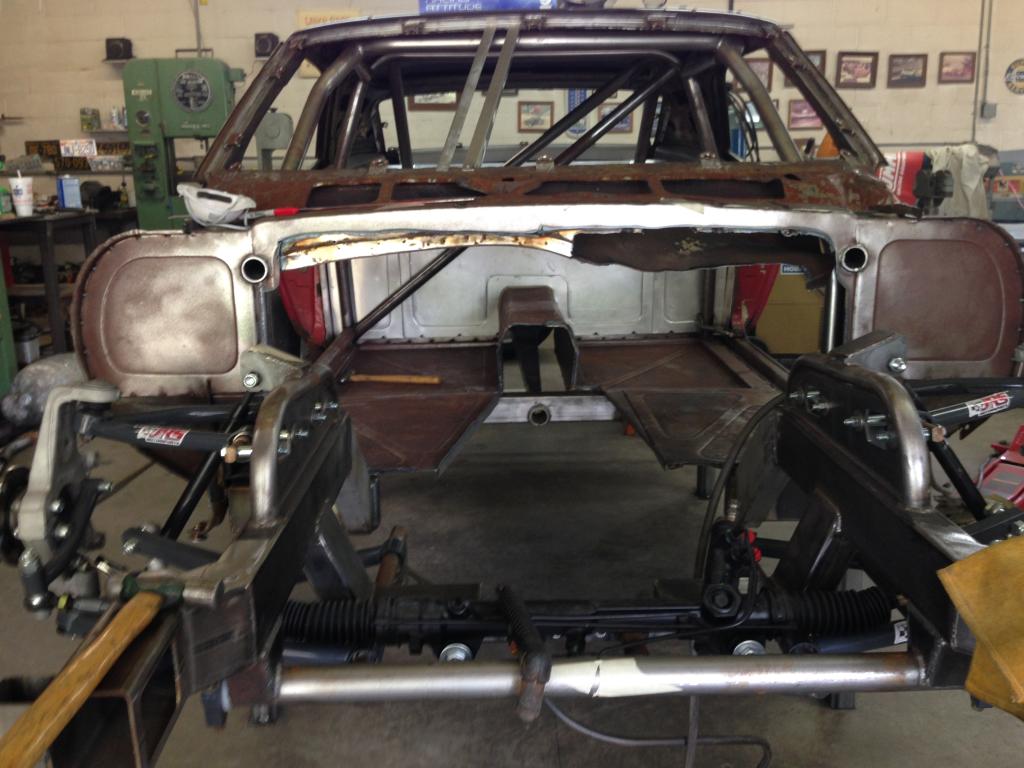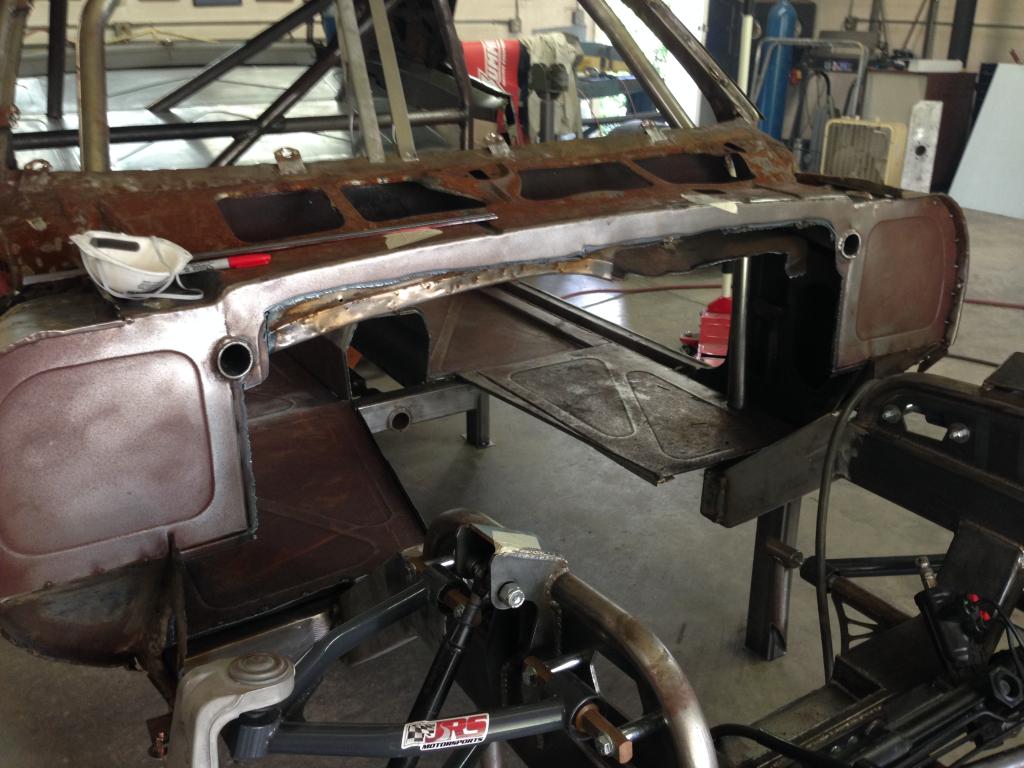 The motor slid right in and Jim locked down the motor positon. About 5 inches back and over to the right 1/2 inch for steering shaft clearence.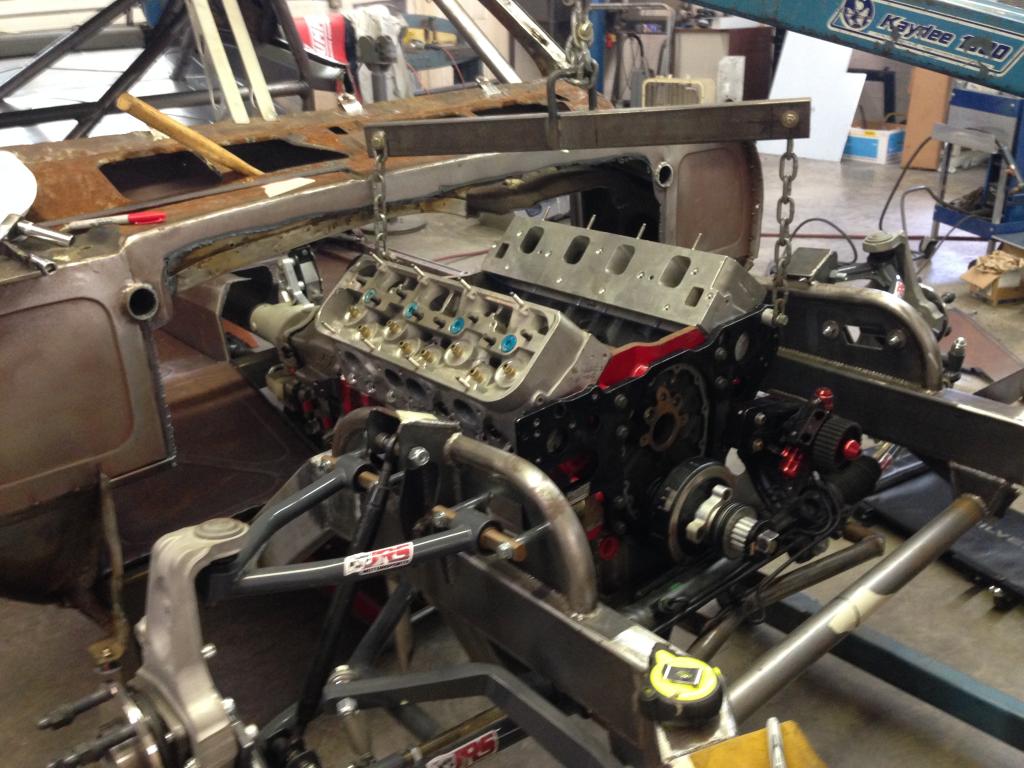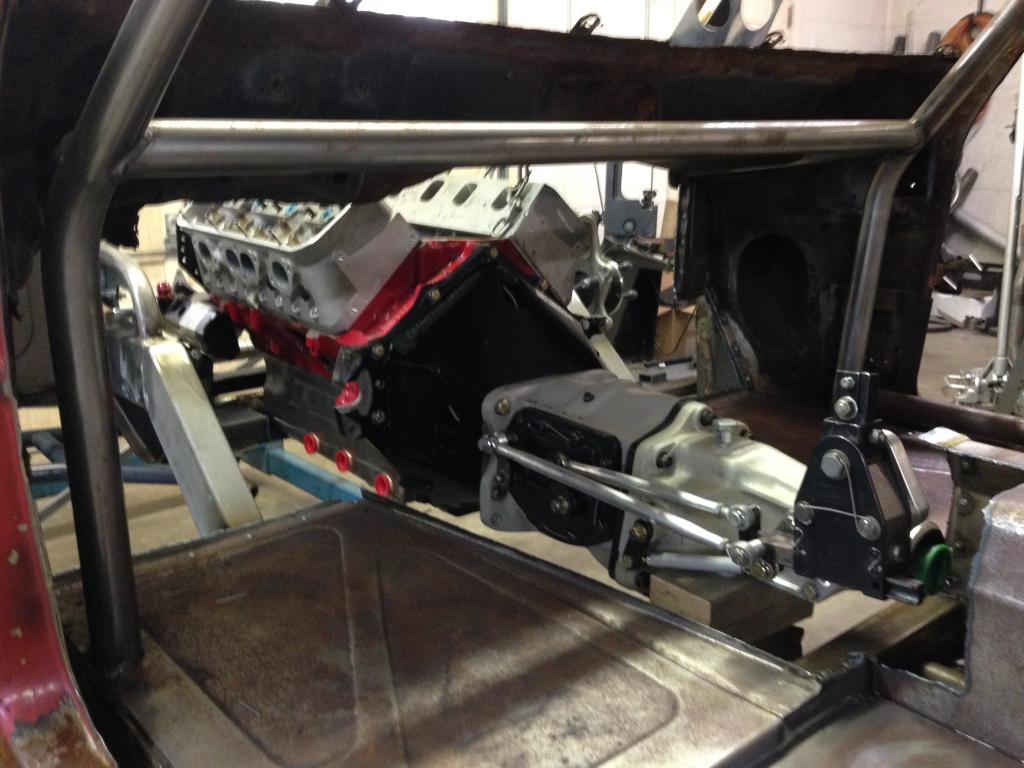 I had to throw my intake on just to see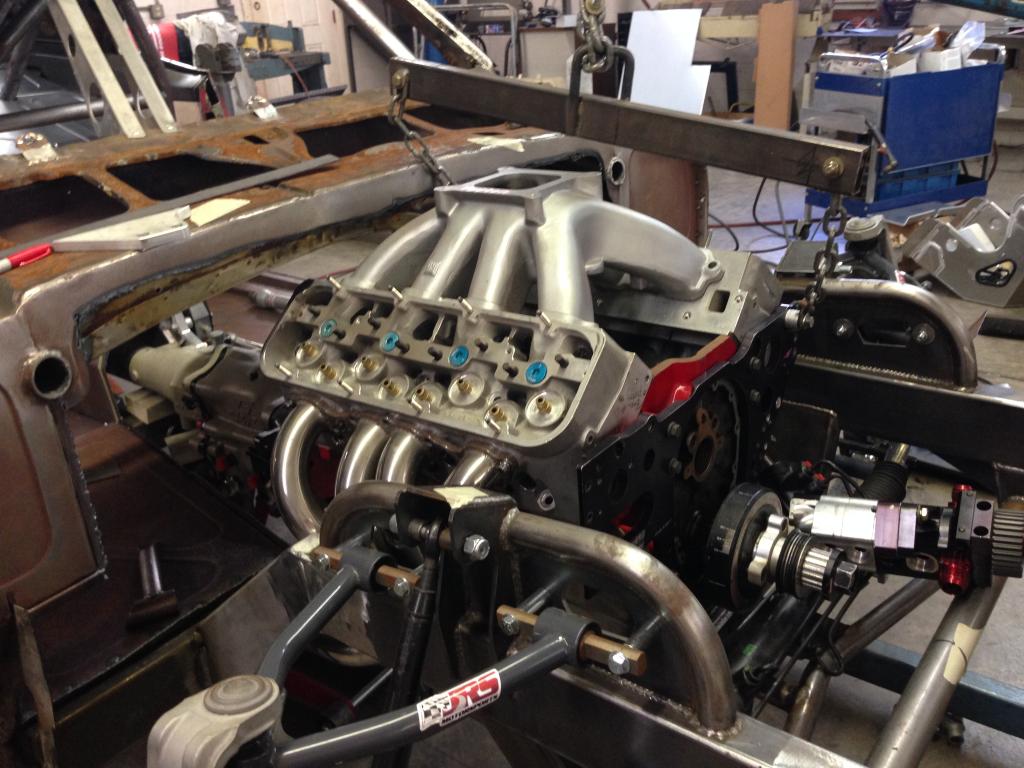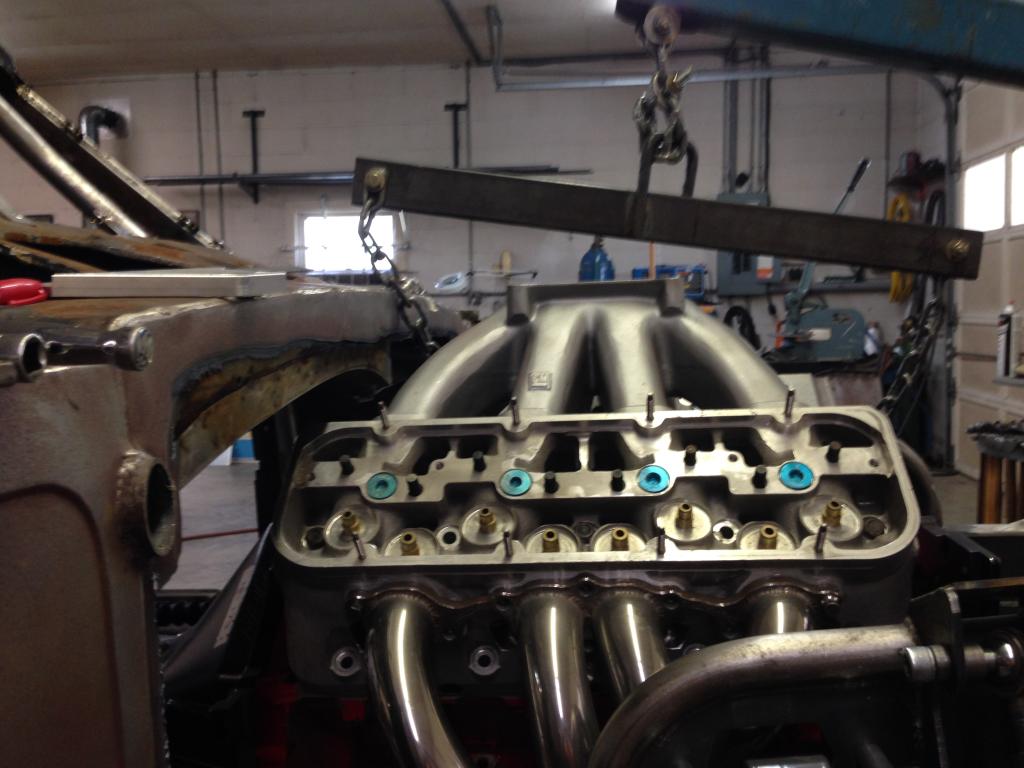 A cage that was less than user friendly with more than a few questionable welds...time to start over. I am doing this for fun on the track and not to get hurt if something goes wrong. With 2 kids and a wife, safety is the biggest focus of this build.

Out with old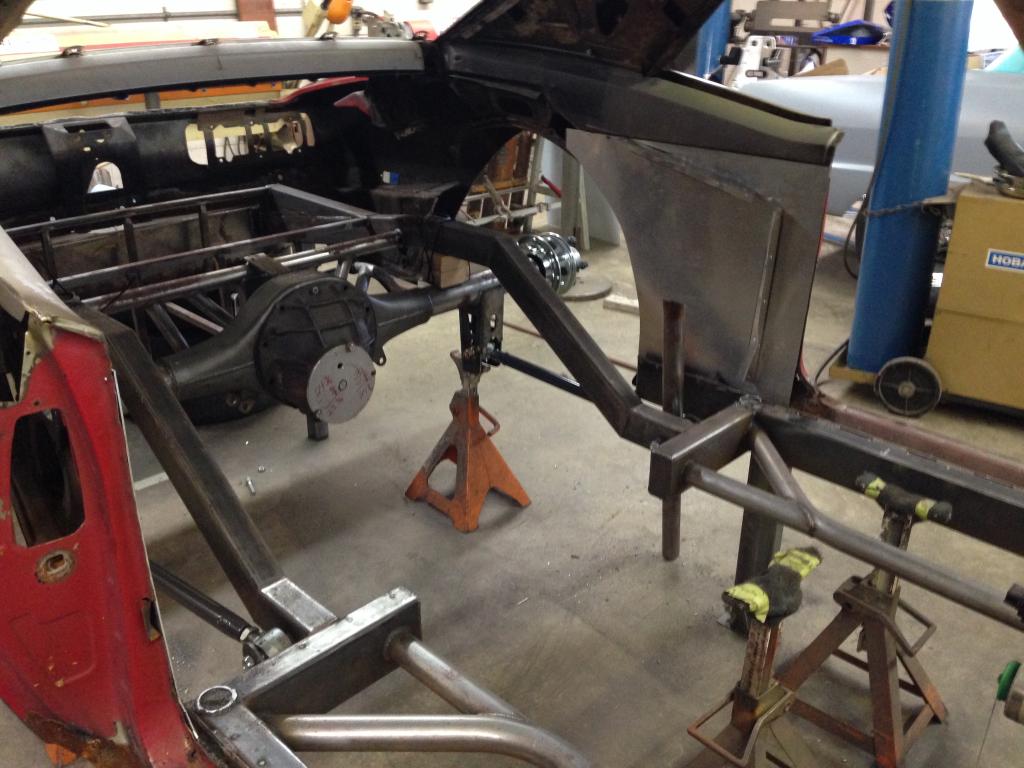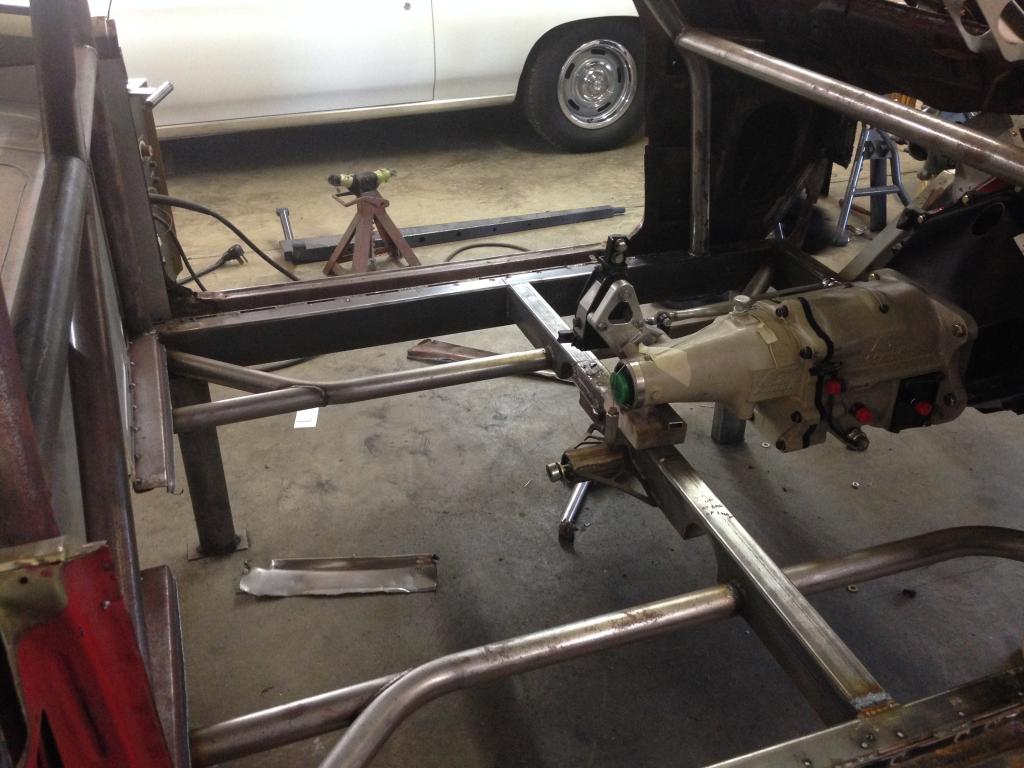 Jim started by making me a transmission mount...it never had one.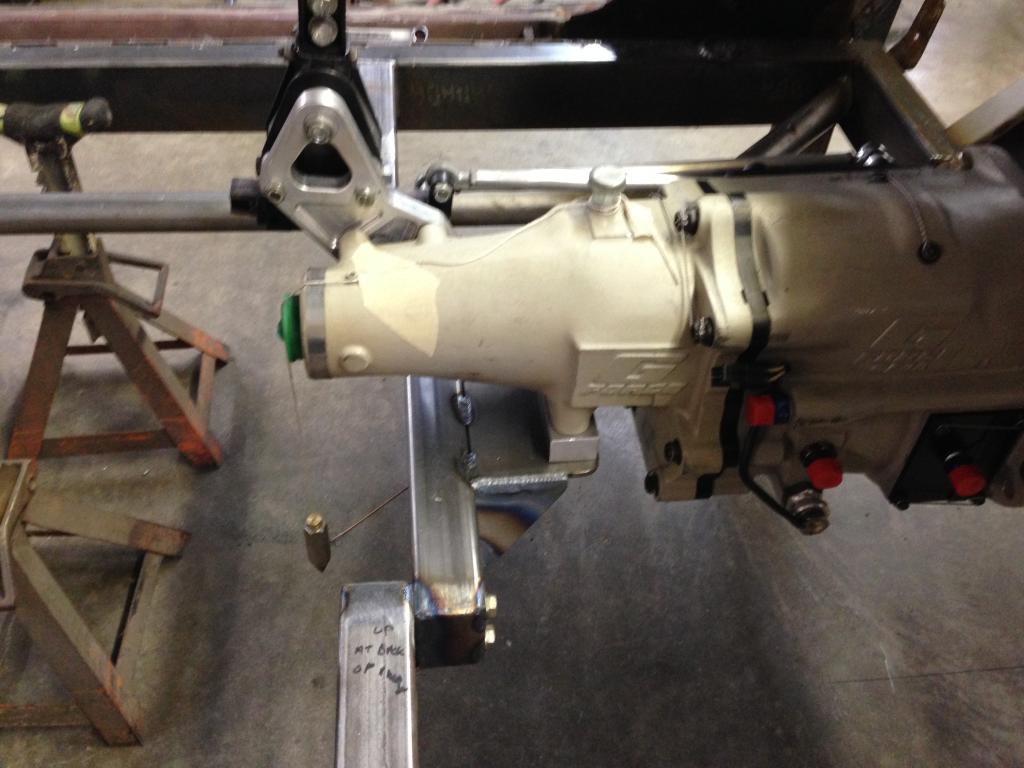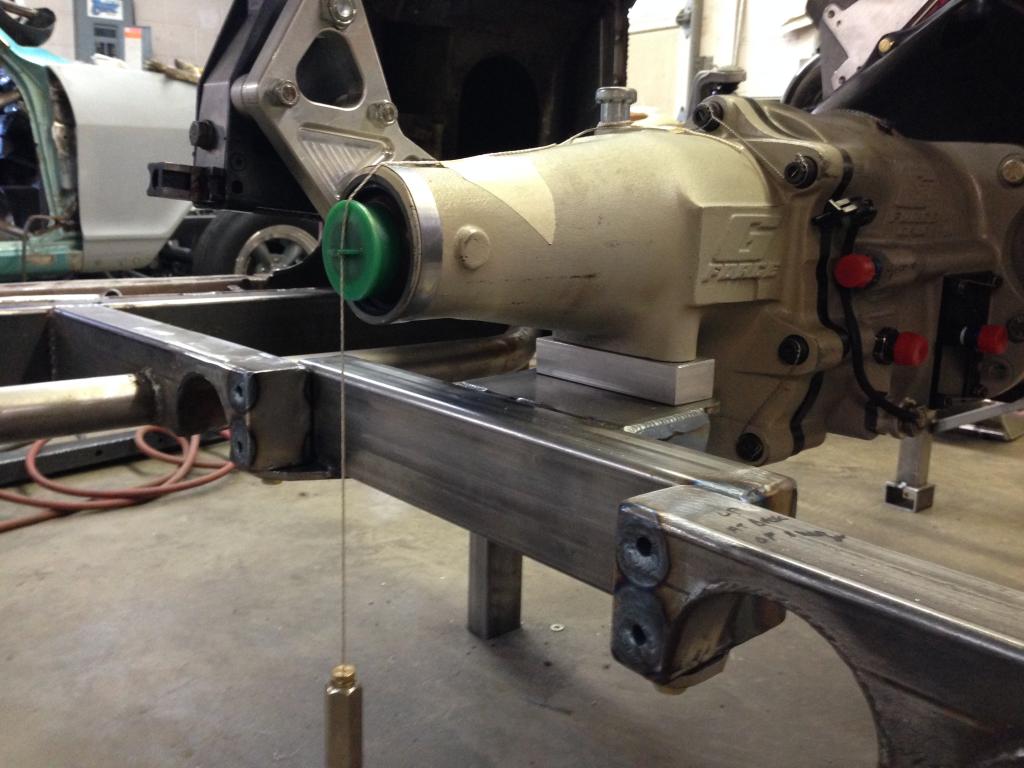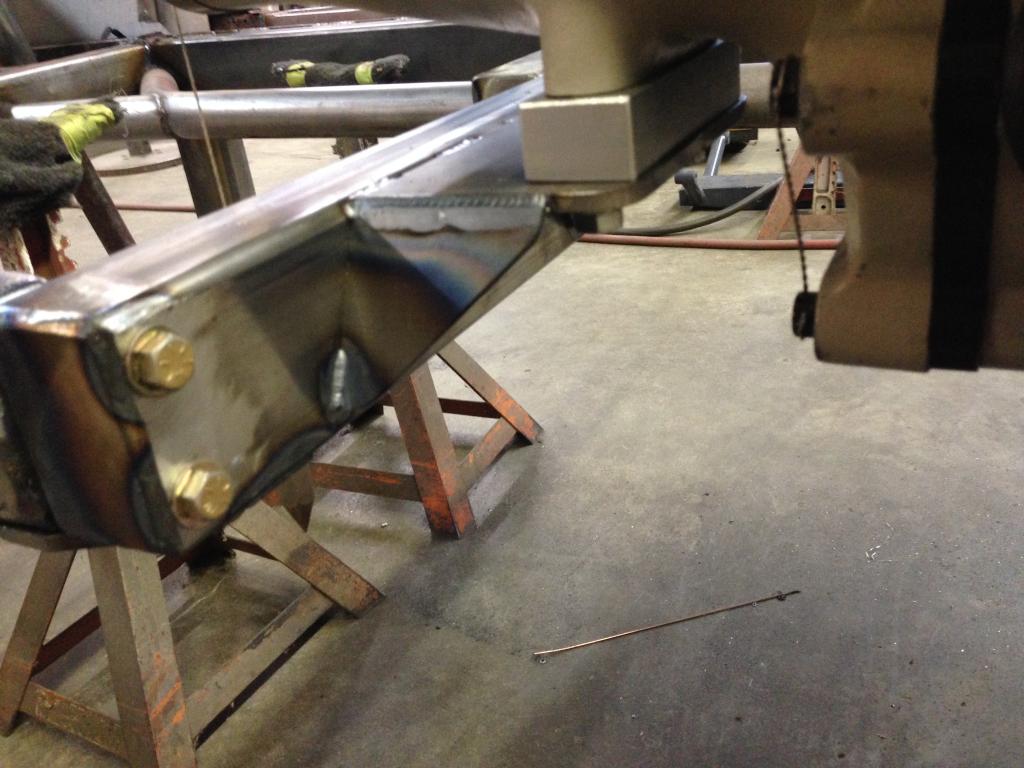 12-2-2014
Time to get the motor plate all sorted out. Good news, bad news. Bad news is the Hendrick motor plate I was going to use will not work. Just not enough room for the rack and the oil pump on the same side.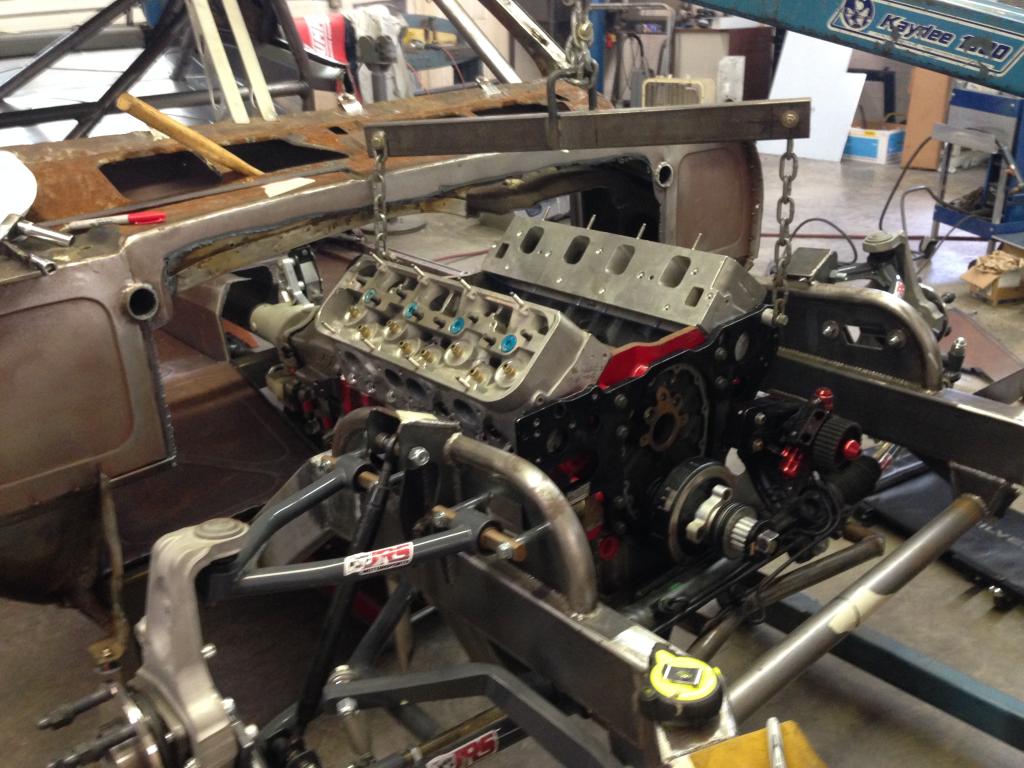 Good news is Jim can build another one and put the pump where it needs to go.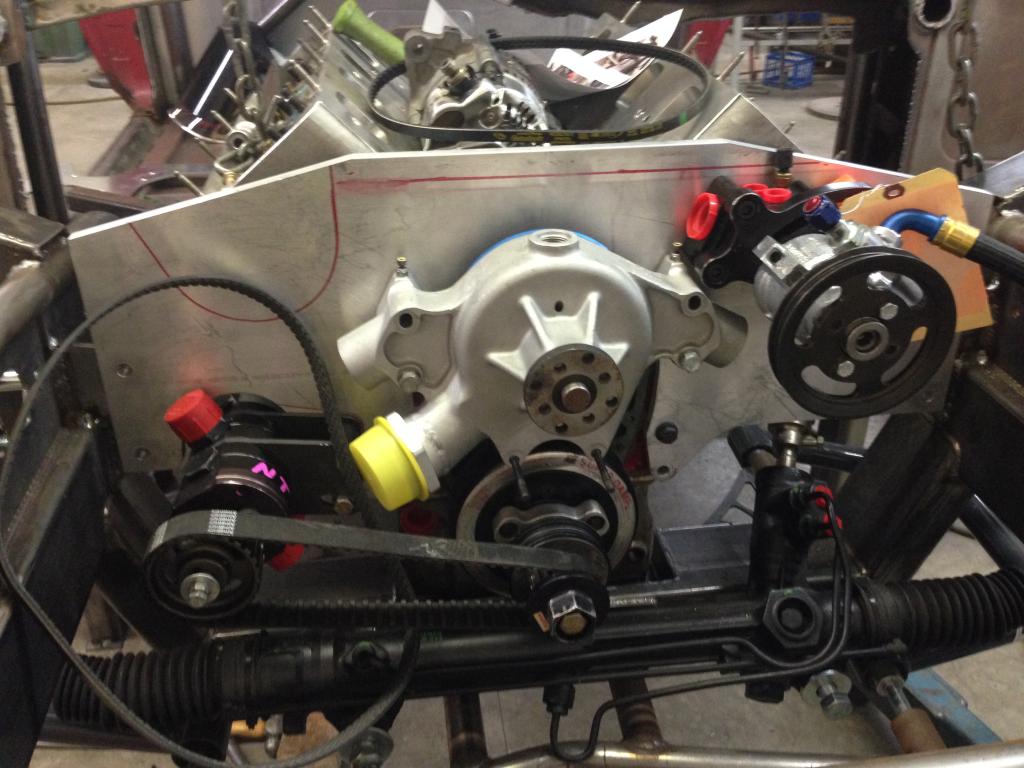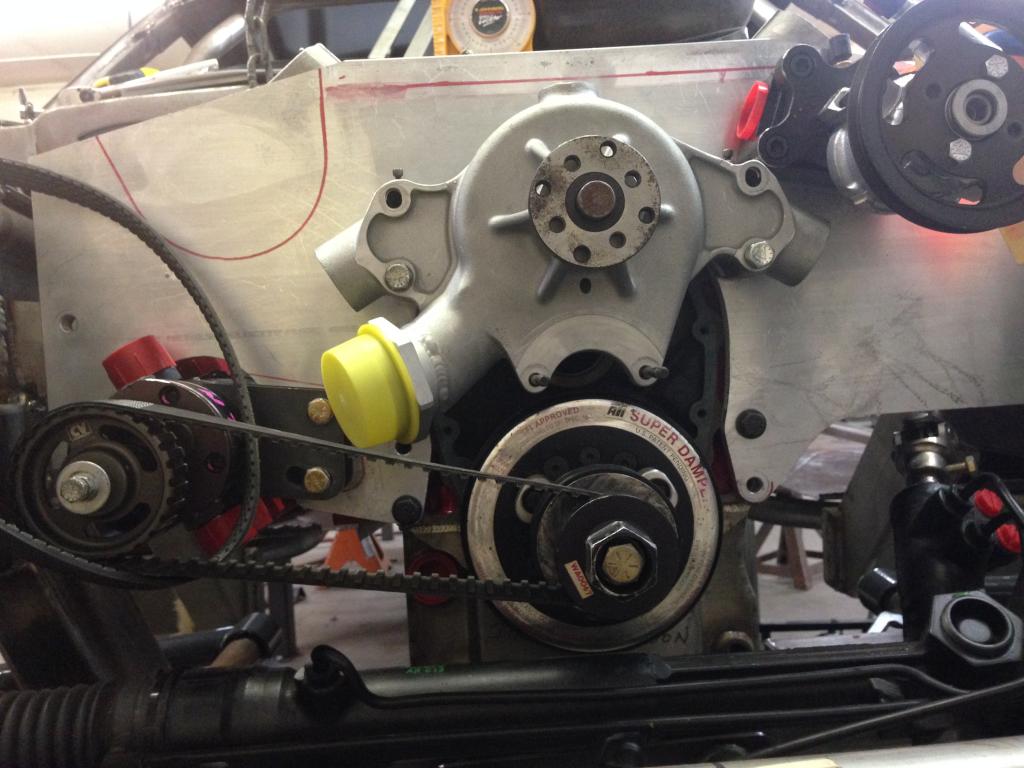 Here is something you do not see everyday. These are pulleys that Hendrick machines up for their motors. They are modular and they make them in different diameters to change the pulley ratios for different tracks and RPM ranges.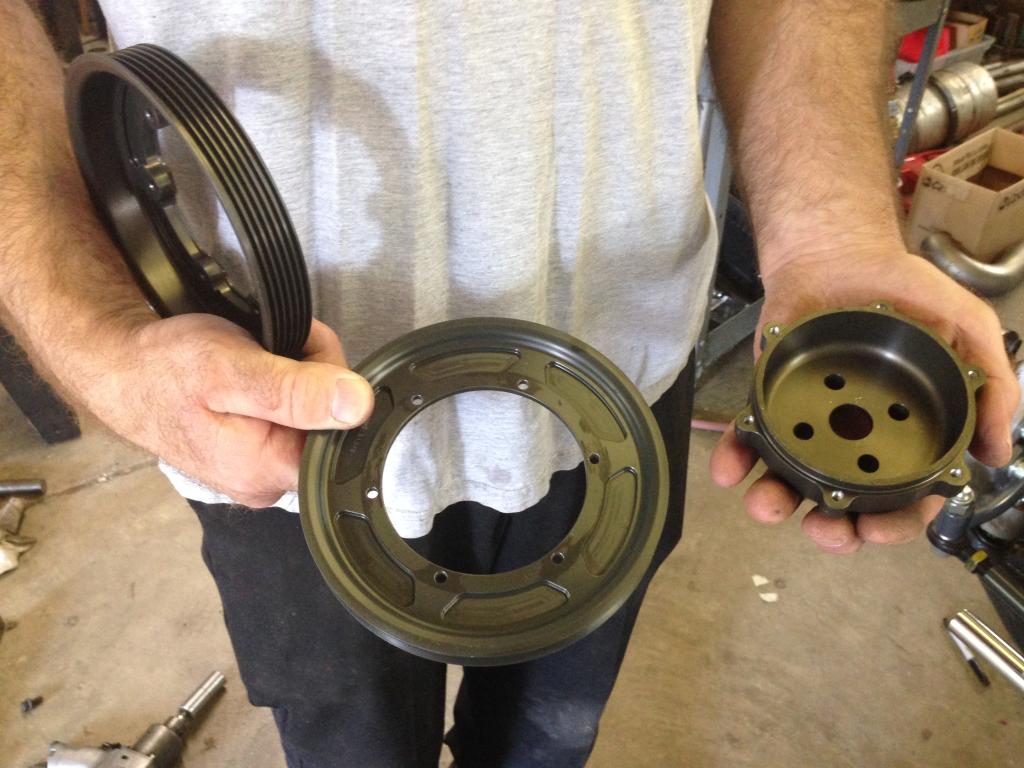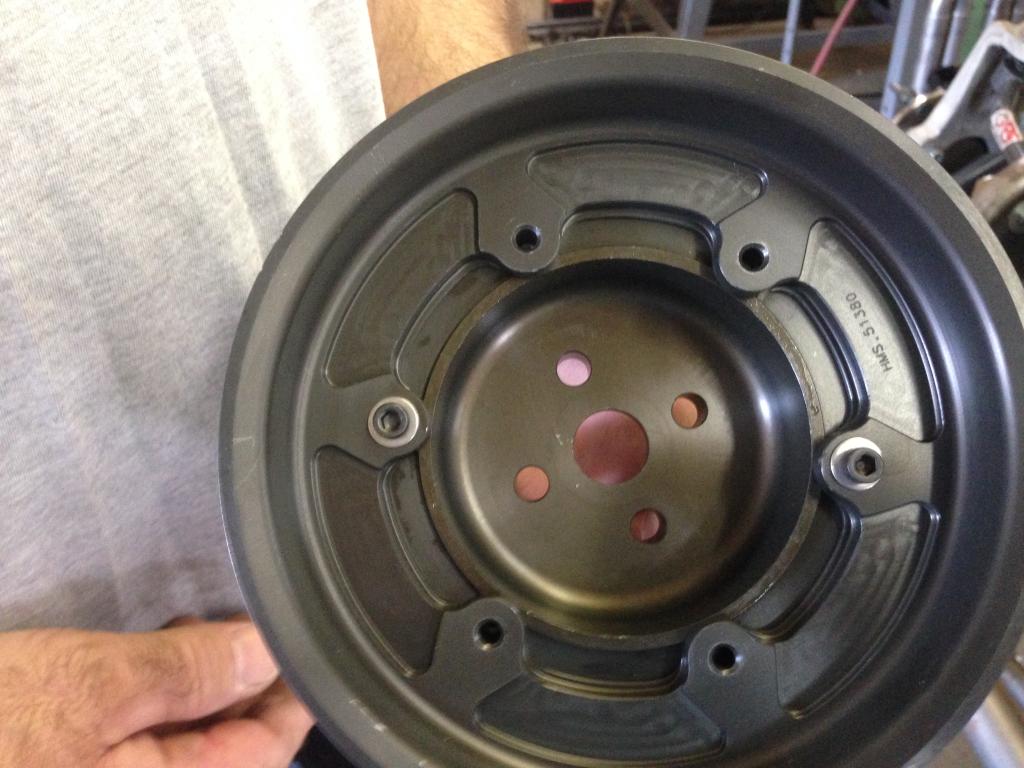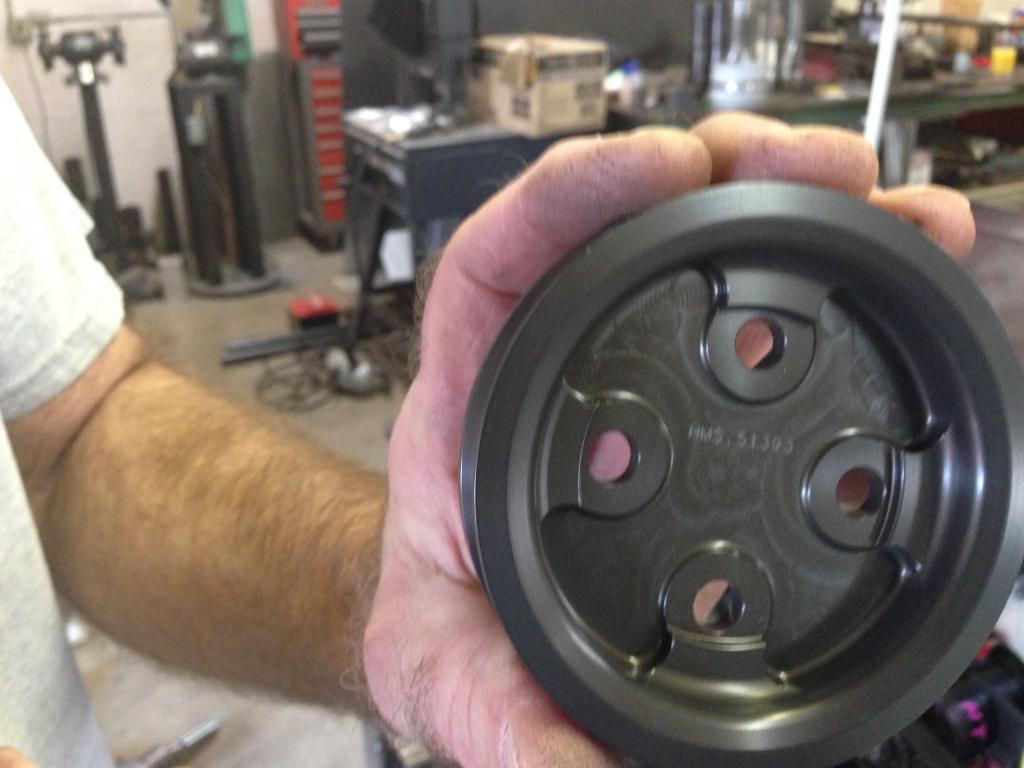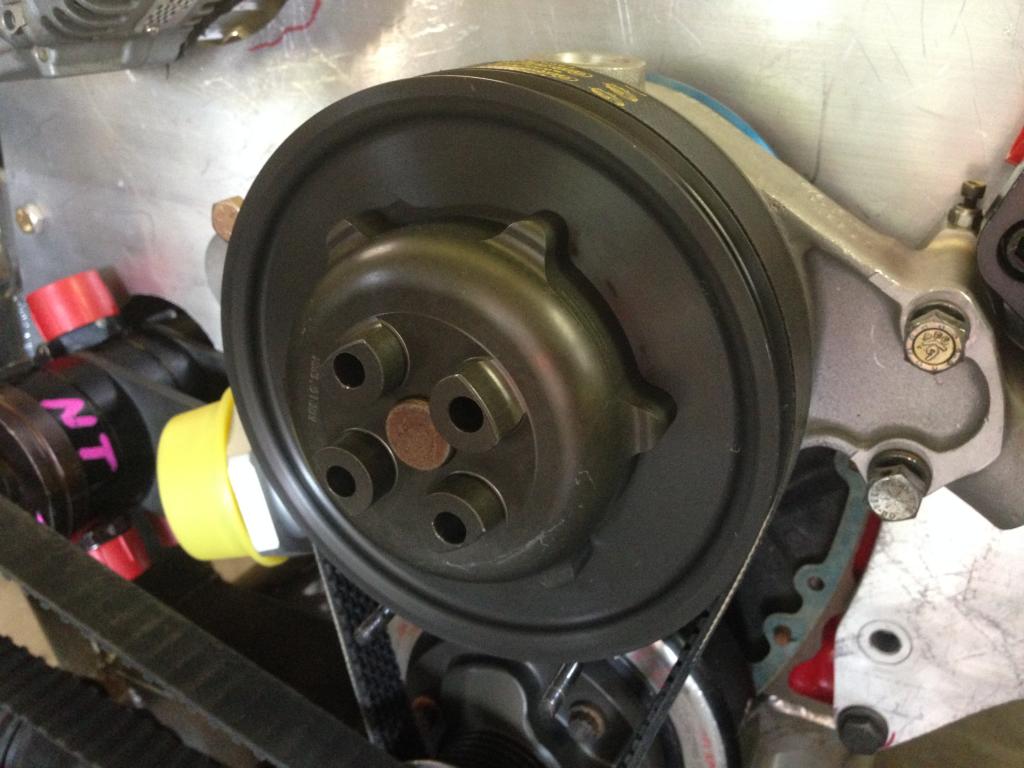 New oil pump location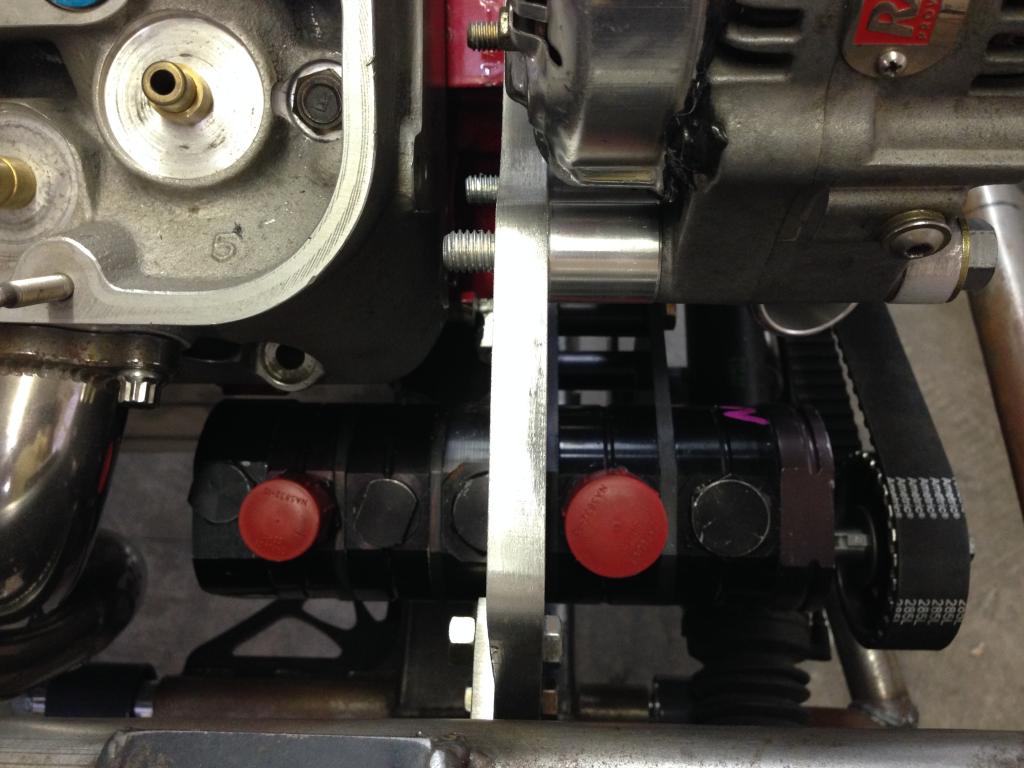 Alternator bracket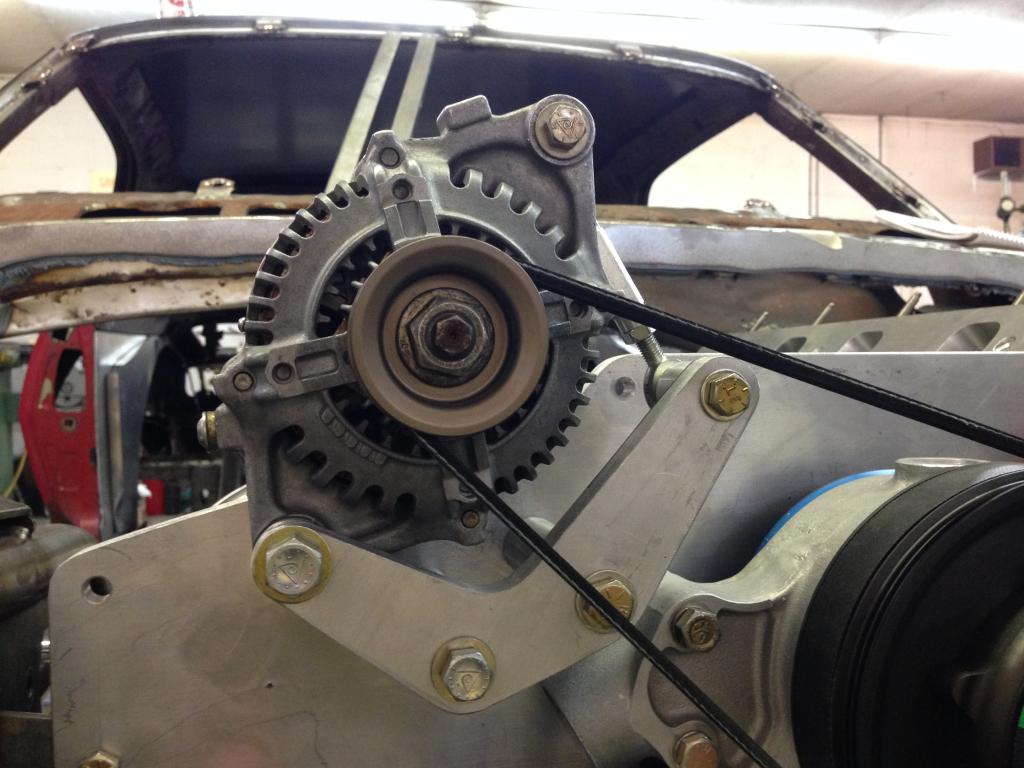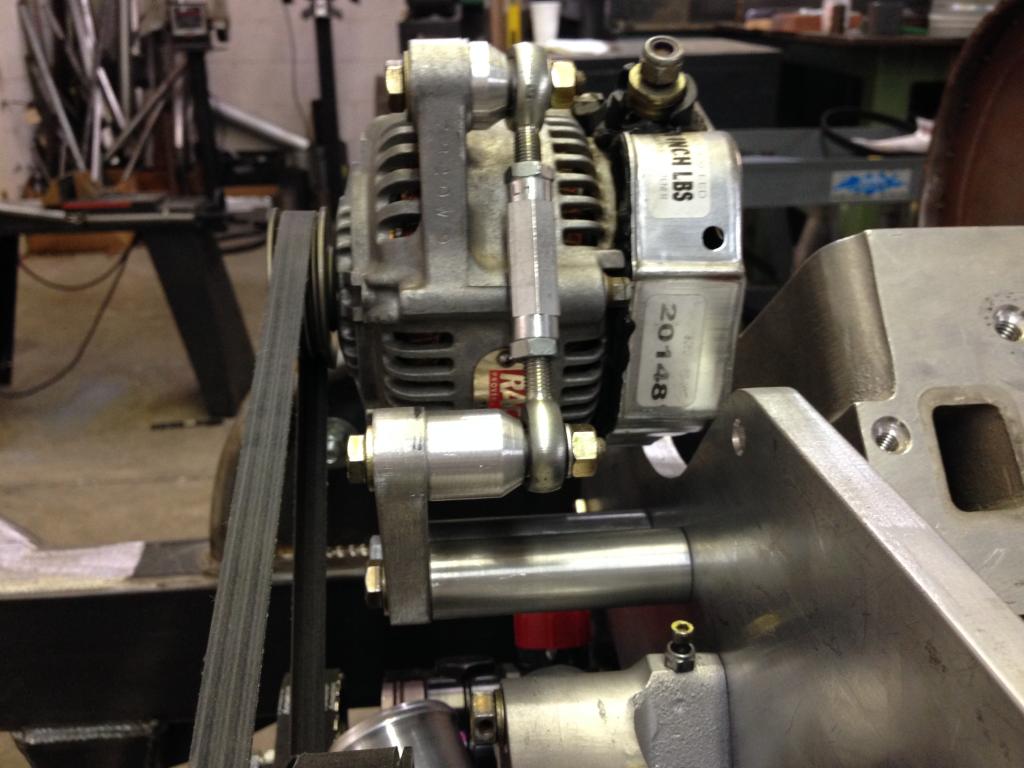 We had to alter the water pump inlet to clear the right side oil pump and belt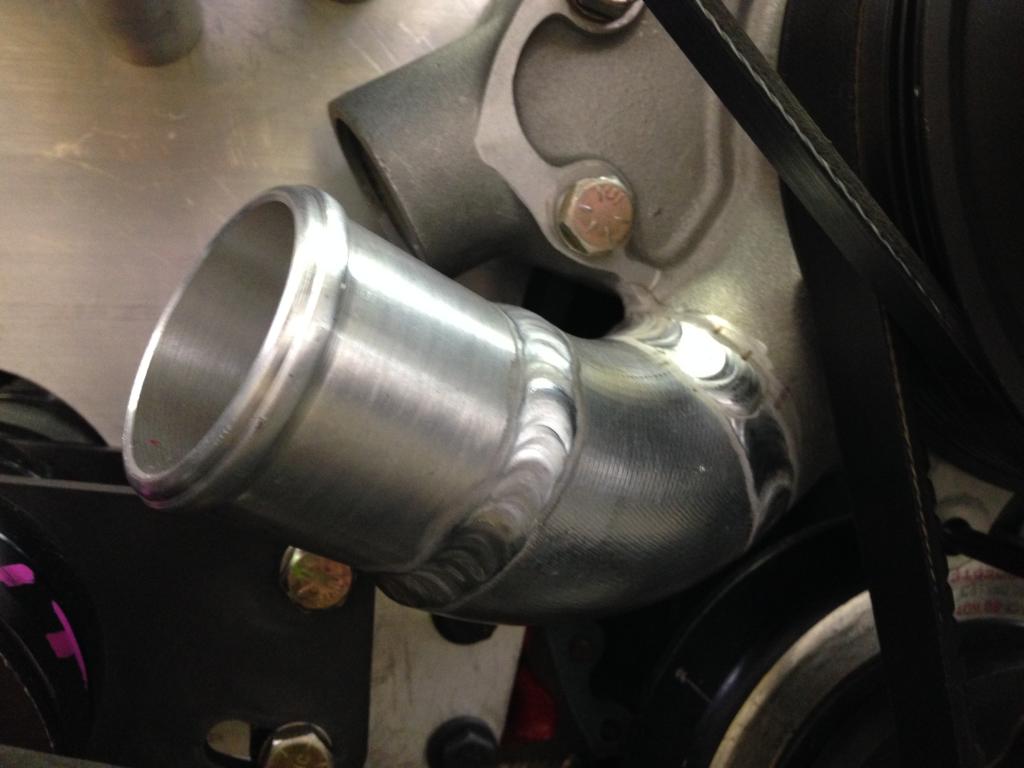 You can see in this picture the clearence we gained with the water pump inlet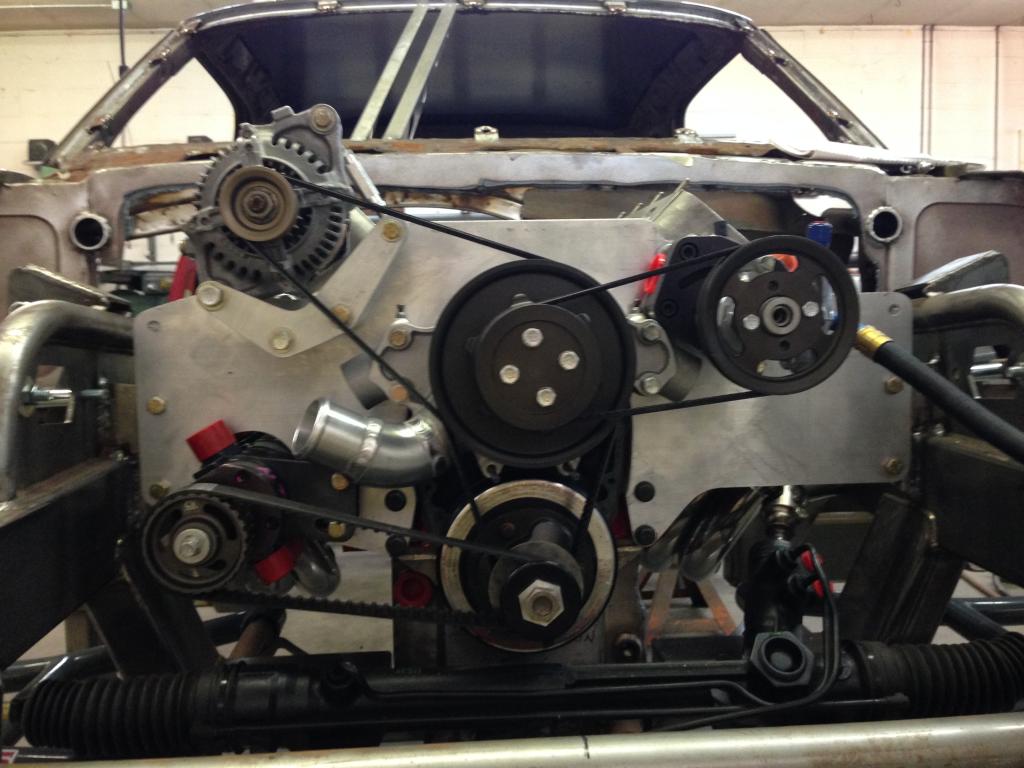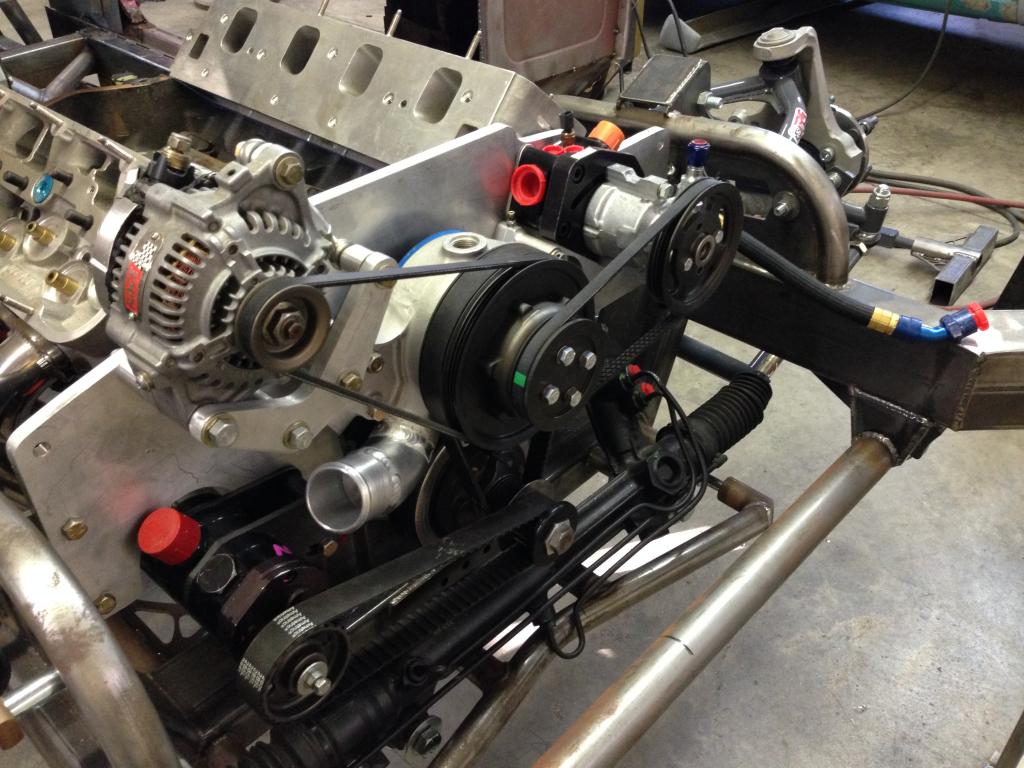 Lower mandrel...just because it looks cool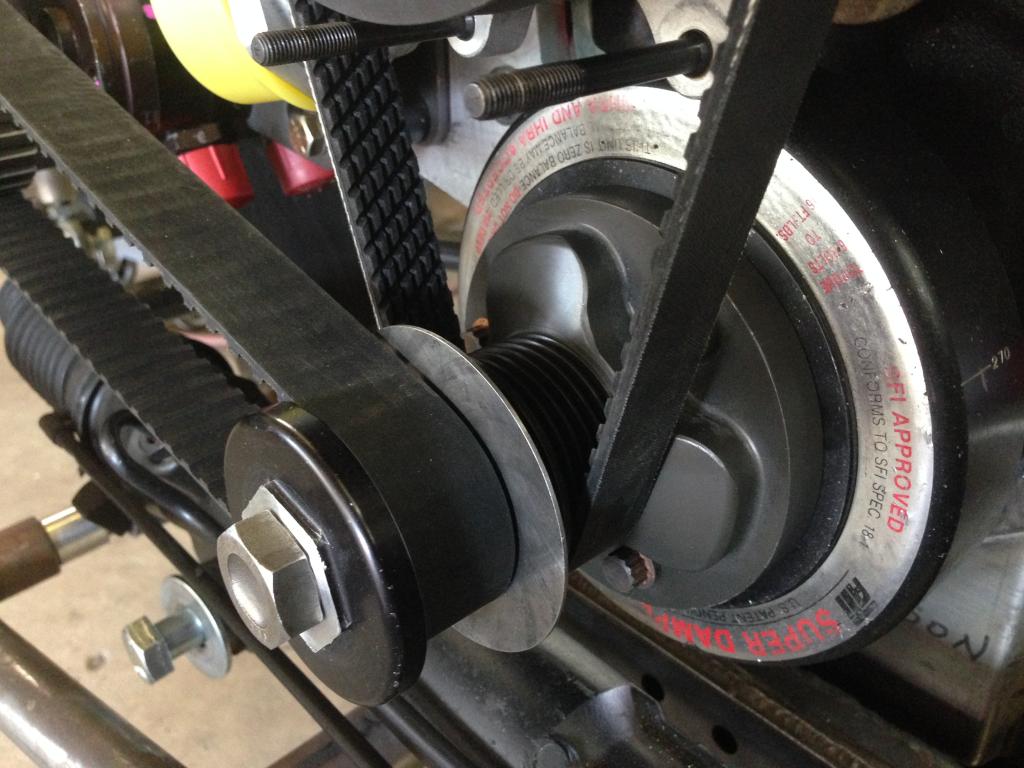 12-3-2014
My car building project now has just been a pleasure. The stress of my project is completely gone, so yes, the right person/builder makes all of the difference.

Ron, with the motor moved back as you noted, needed a remake of the fire wall which makes a great transition to my next set of pictures. That was almost like it was on cue.

Before we get to the firewall, we needed to do a little header fitment to make sure we were going to have room. These headers are from Jimmie Johnson's 48 car. They are made by Profab.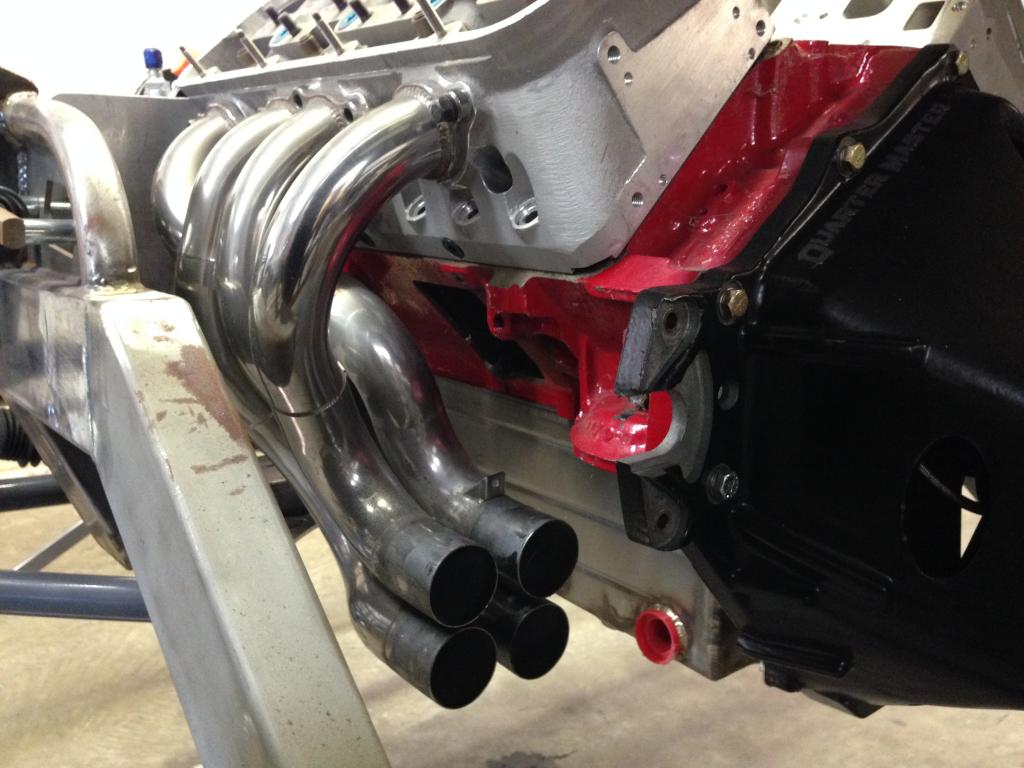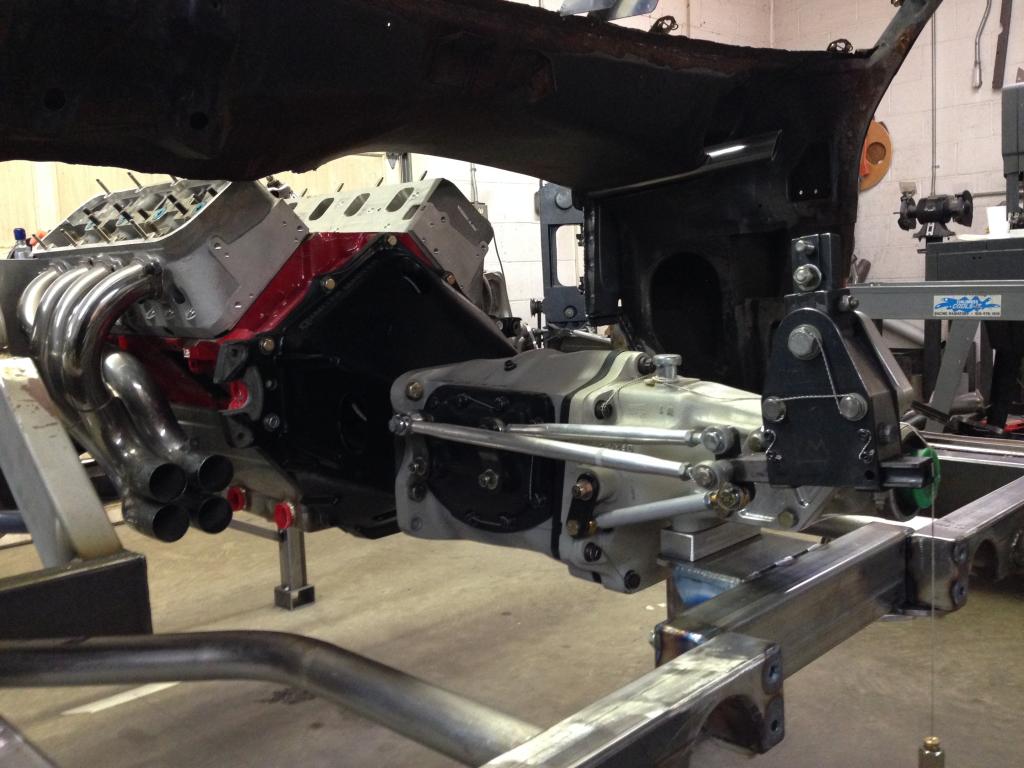 Since we moved the motor over about 1/2 inch and how wide these headers...a little frame notching was in order on the passenger side.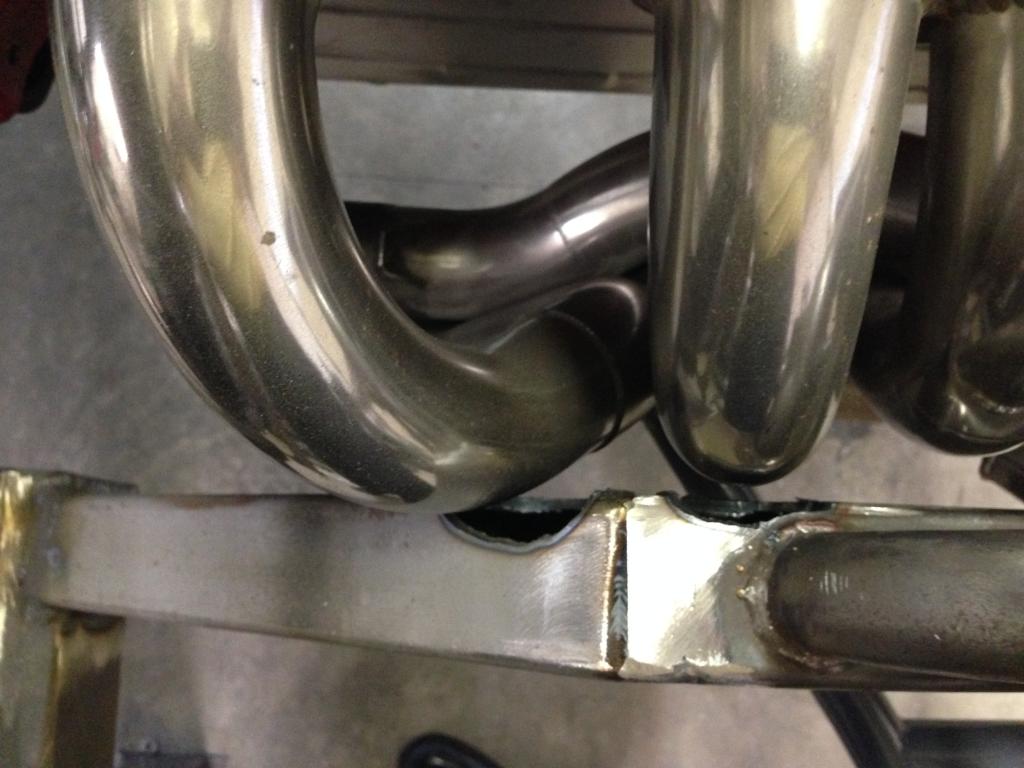 This is the driver's side. Needed the room for the steering shaft. May still need to alter a tube but it is looking good.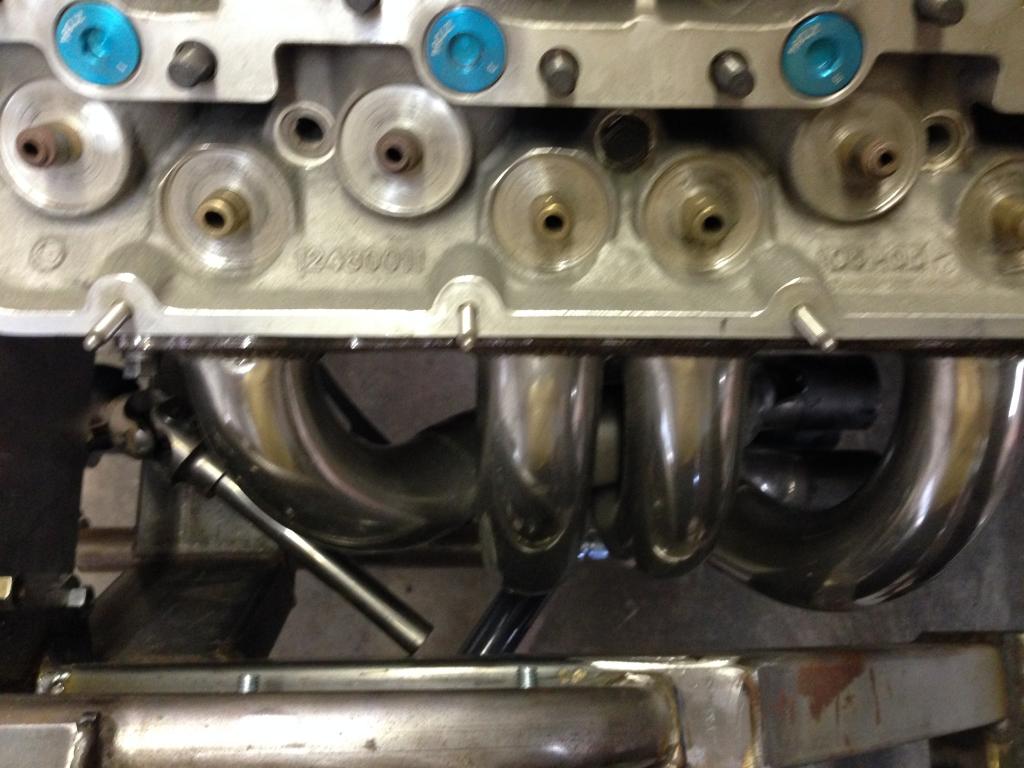 12-4-2014
Well I only have a few more pictures left to bring this thread up-to-date where the car sits now. It is taking a few weeks off to catch it's breath and then we will be starting on the rear suspension and cage.

Seat mounts made prior to floor installation.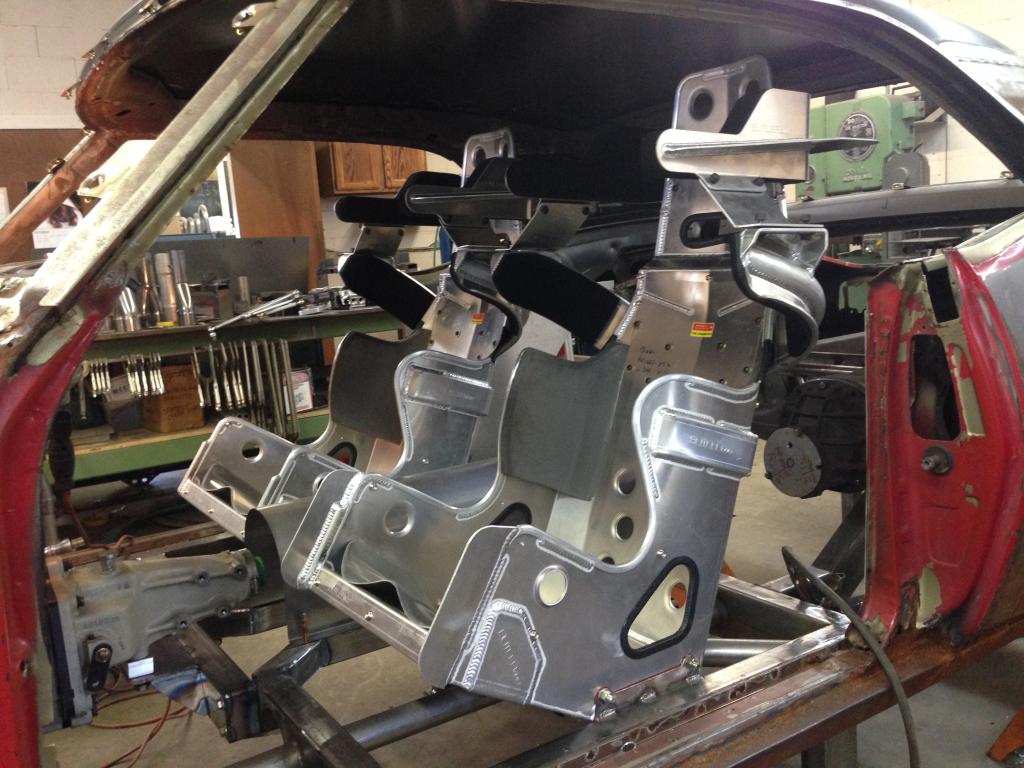 Firewall, toe kick, tunnel and floors were next. Floors were stopped behind the front seats until the rear suspenson comes together.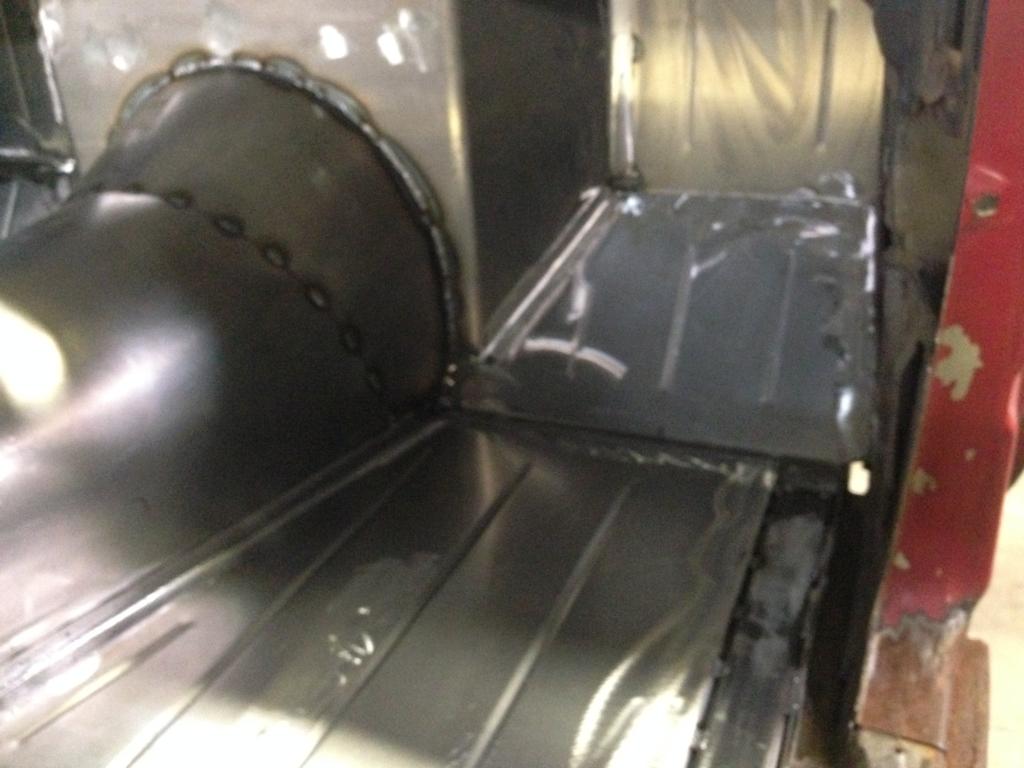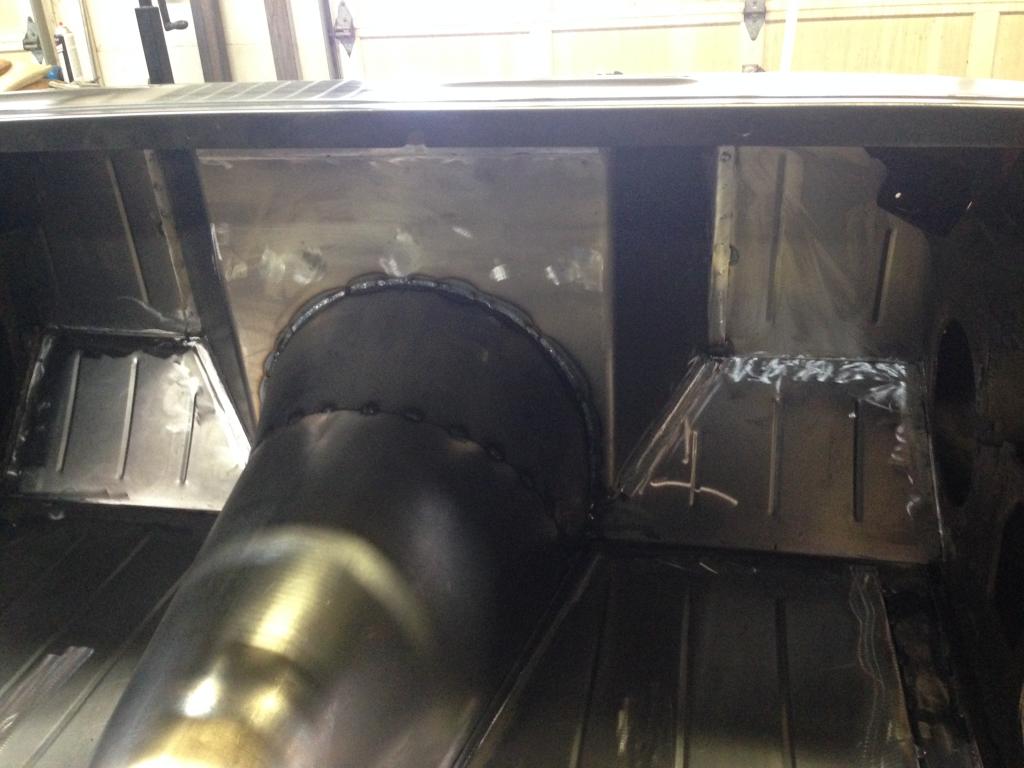 3-17-2015
I had to go back in my thread to see where I left off. Have pics downloaded so here we go.

When I last left off we (Pettigrew and myself) decided the cage was not safe with poor weld penetration in many areas. Cage and floors cut out, new firewall, floors and tunnel. Now time for the new cage...and yes the roof needed to come off to get good welds all the way around.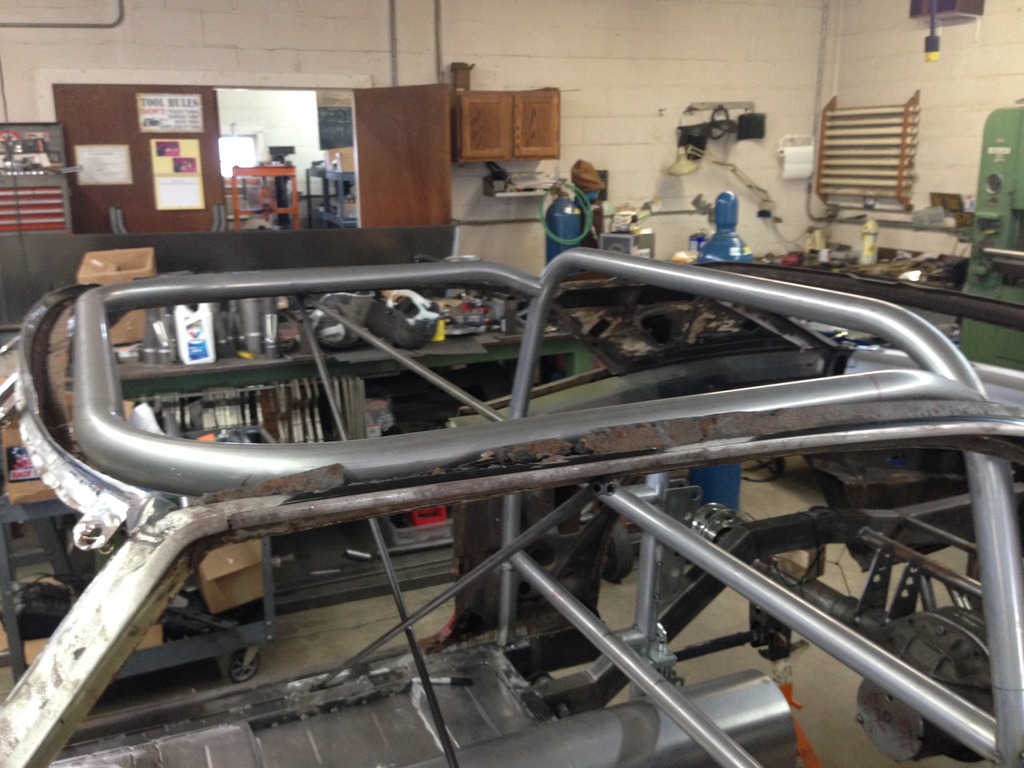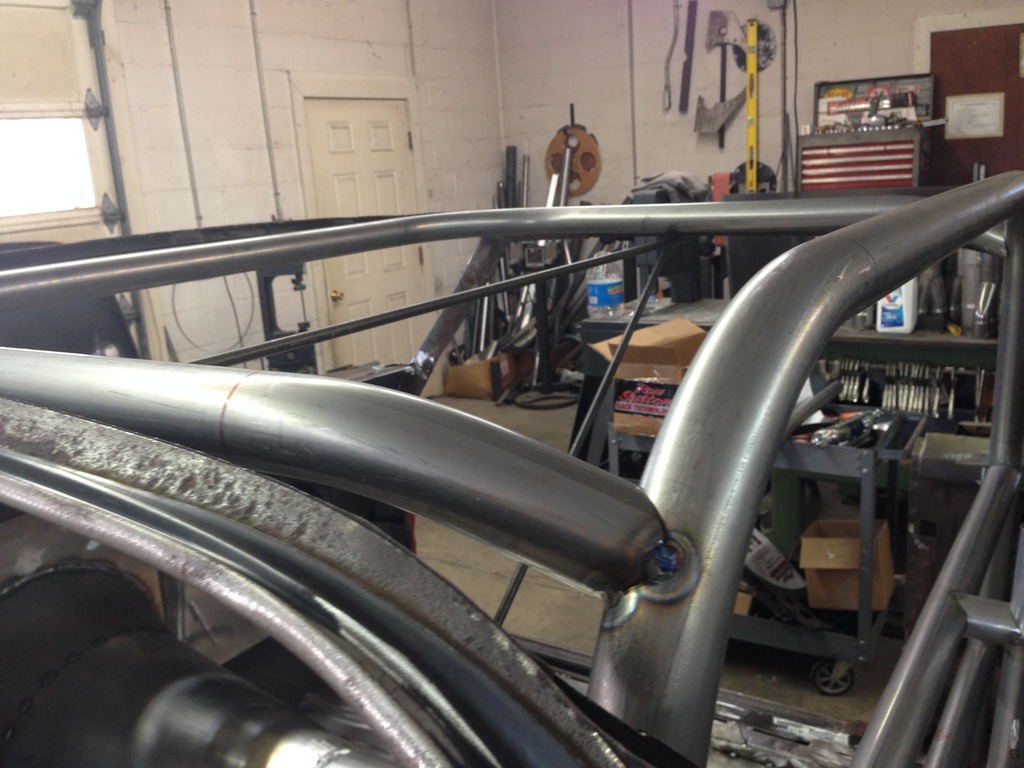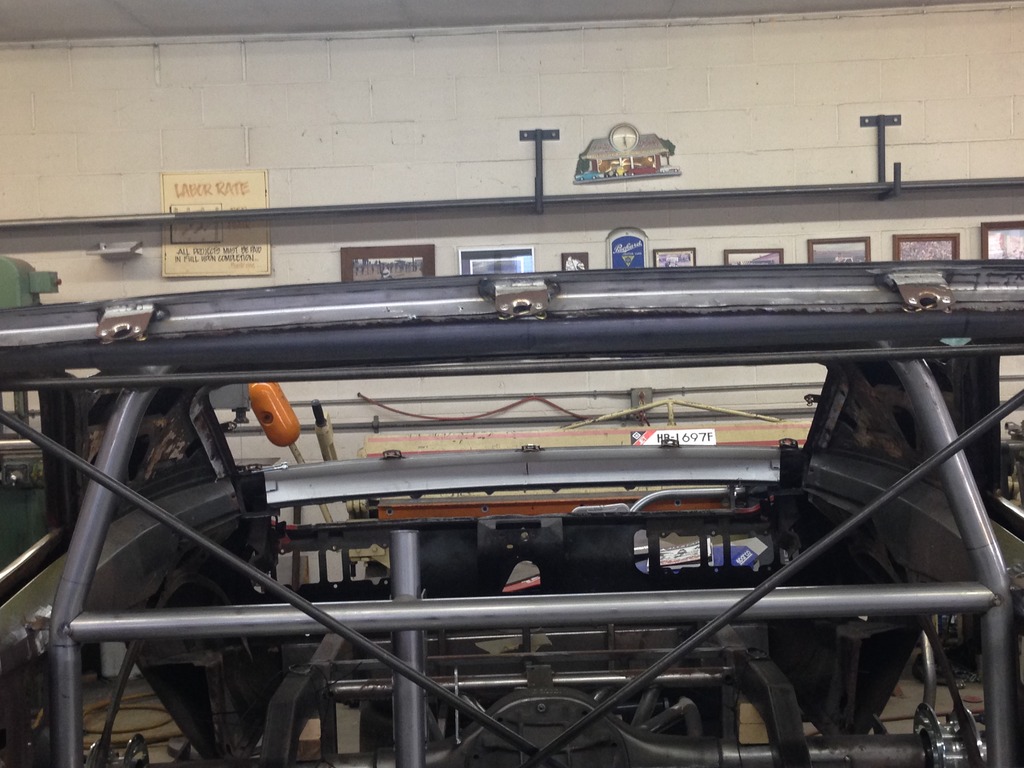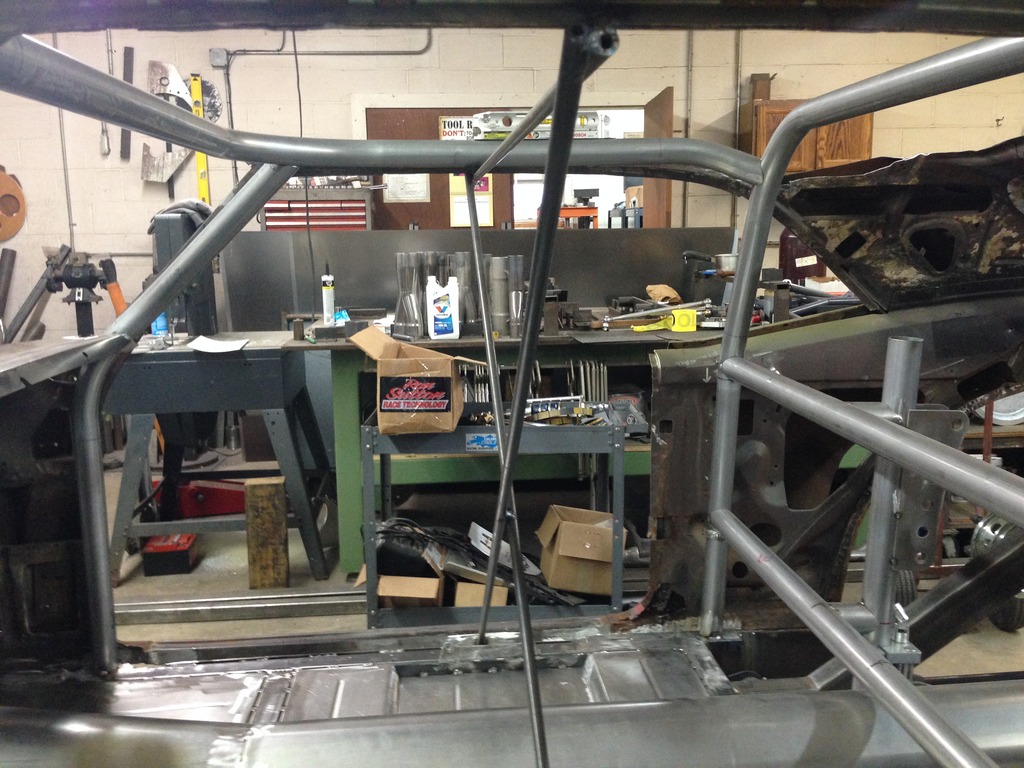 We pushed the cage further out so he had to make some mods to the frame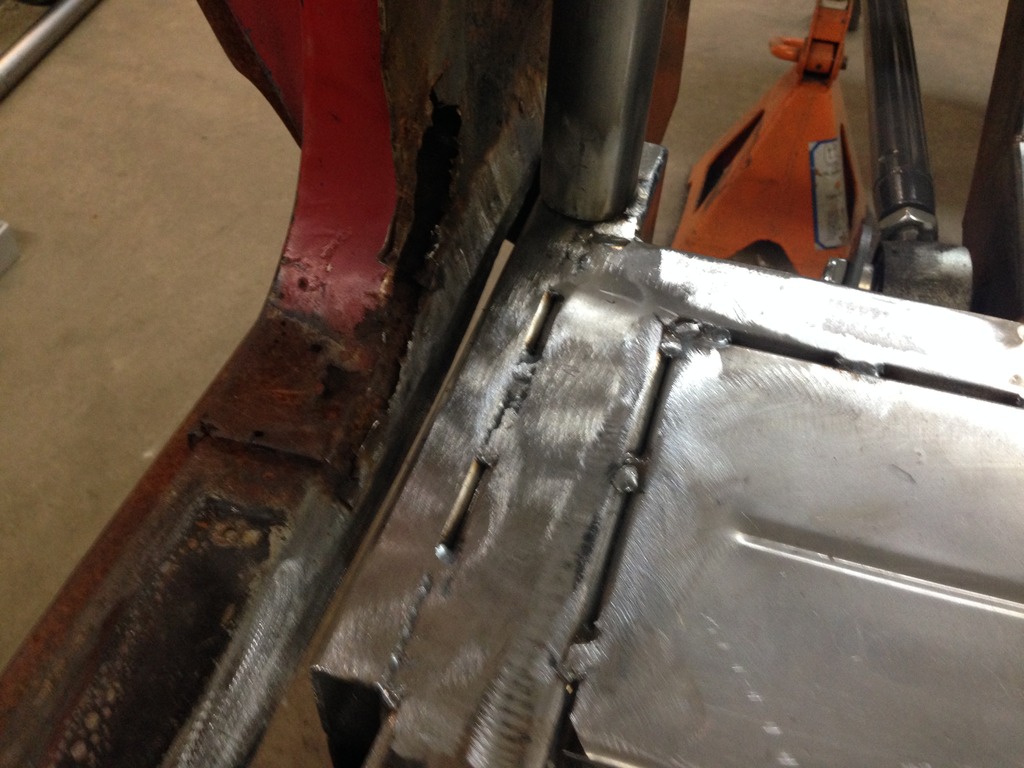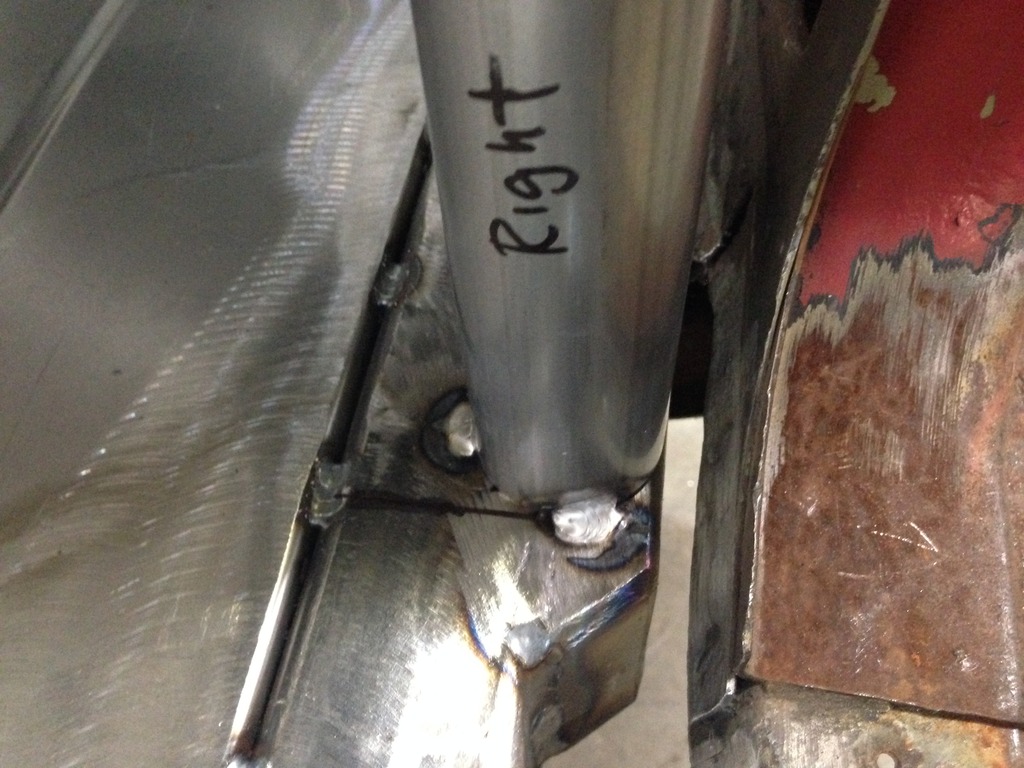 Here is a before picture of my A pilar bar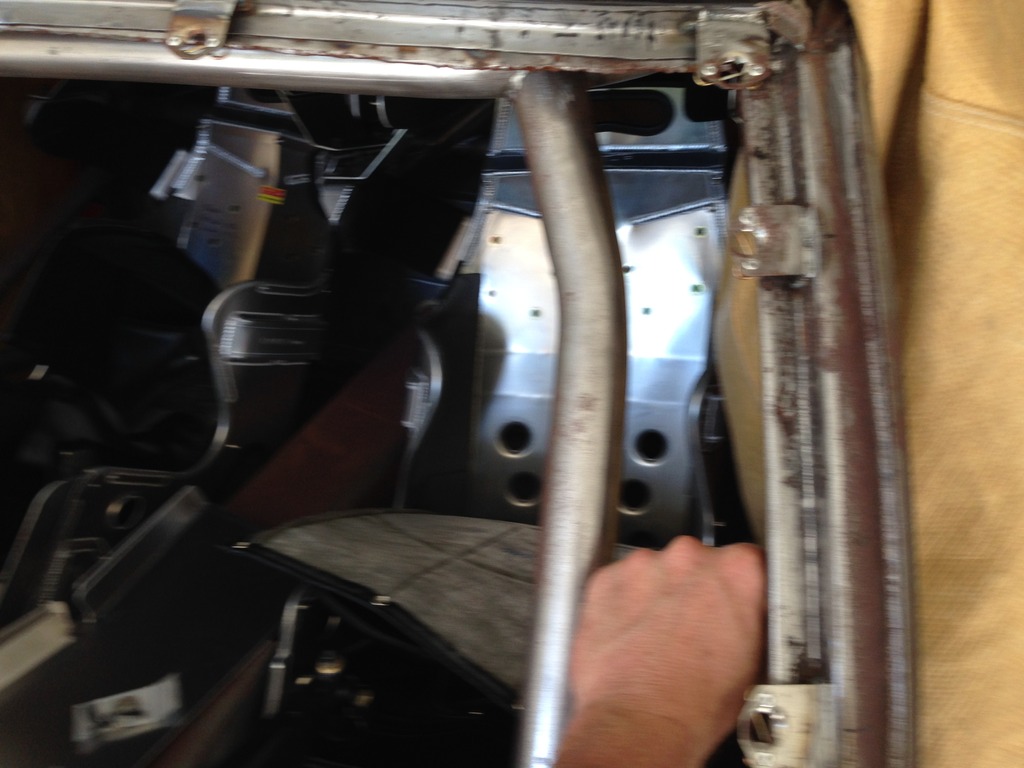 This is what it looks like when a professional does it.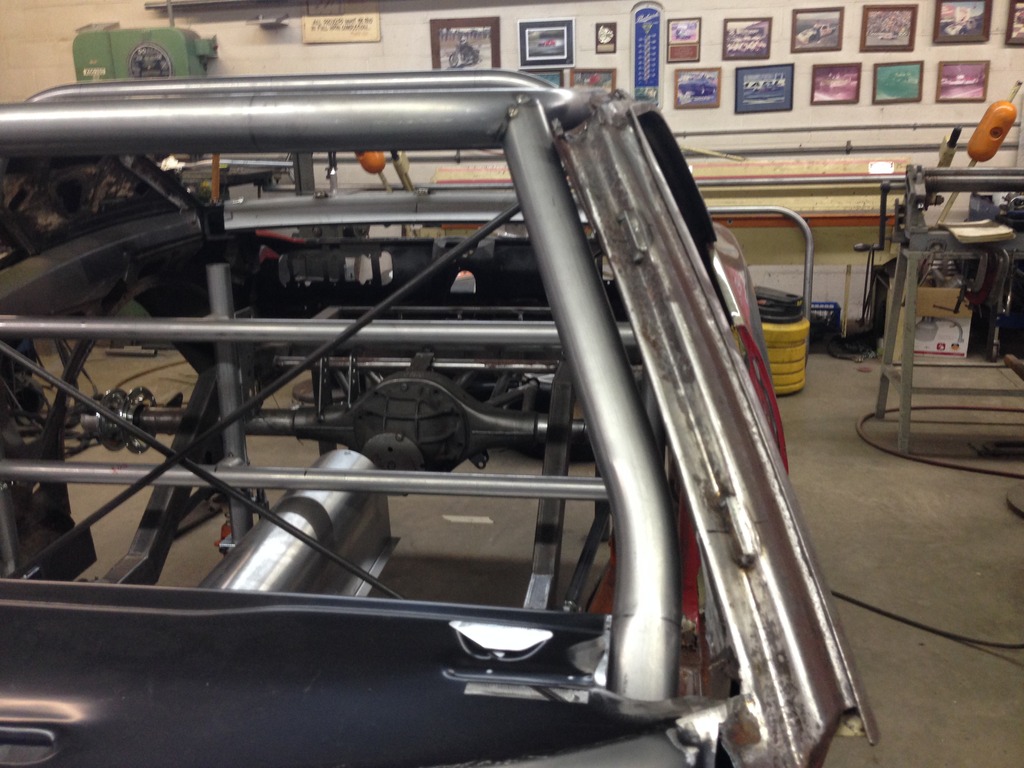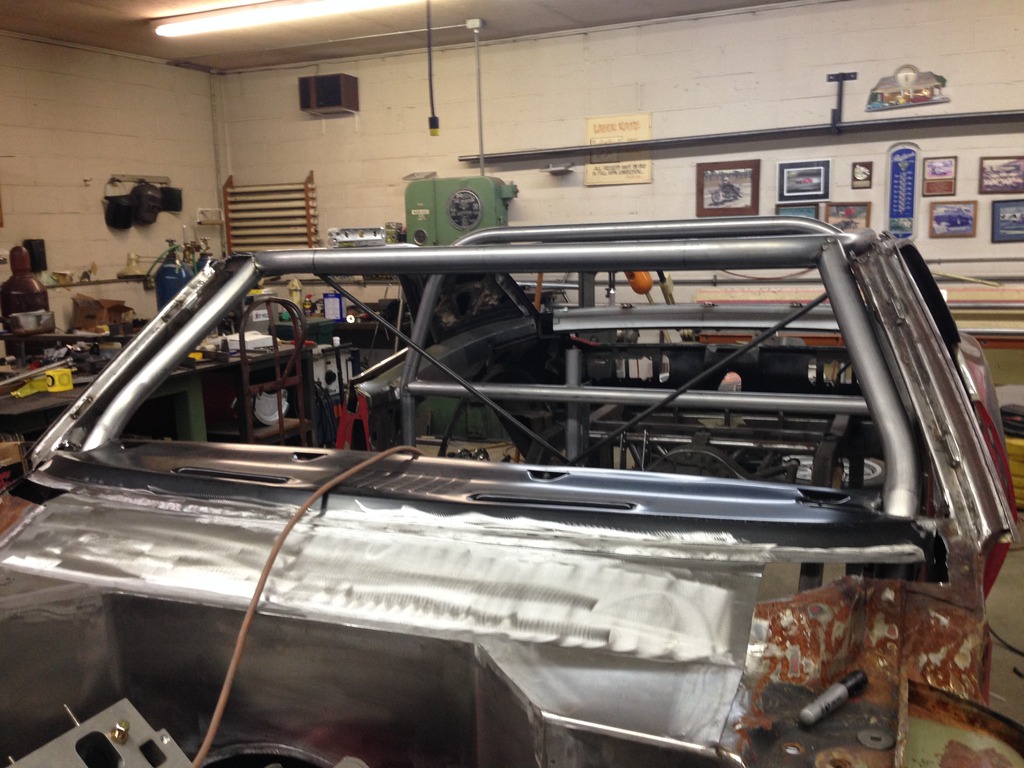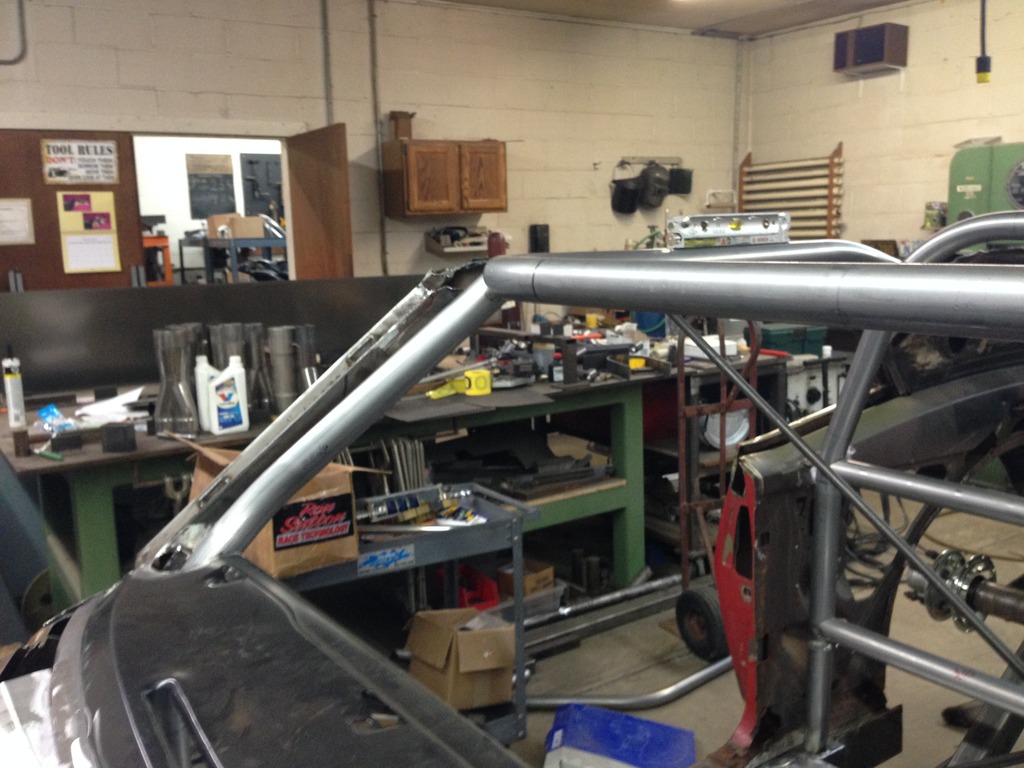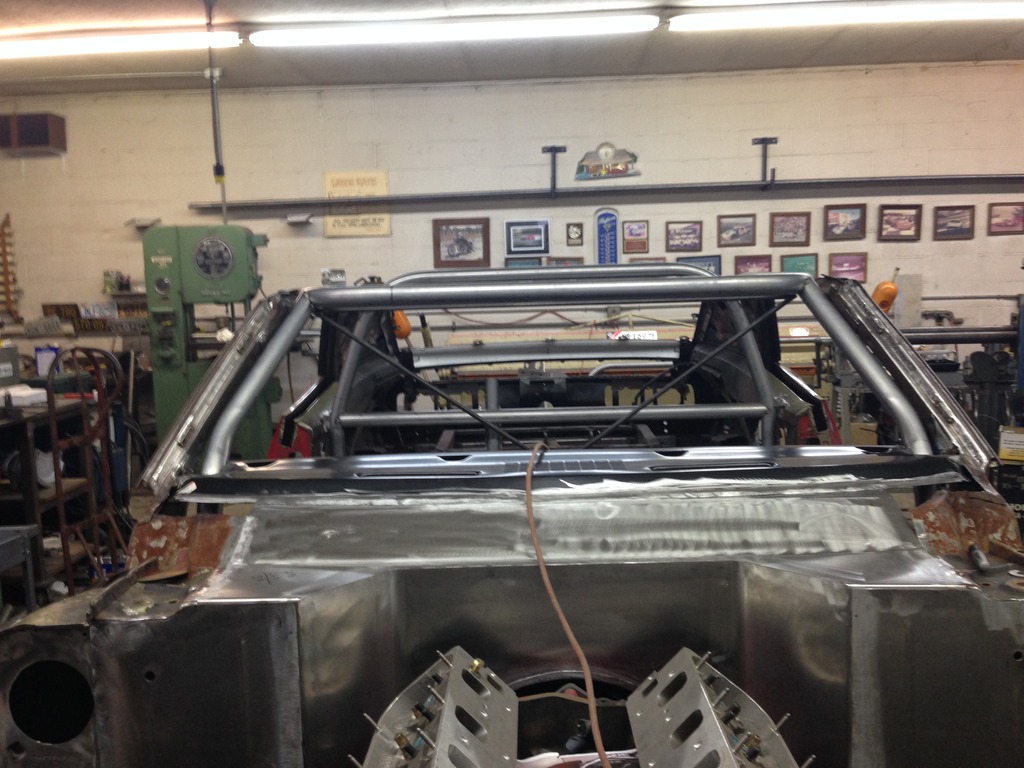 Here it is tied into the A pilar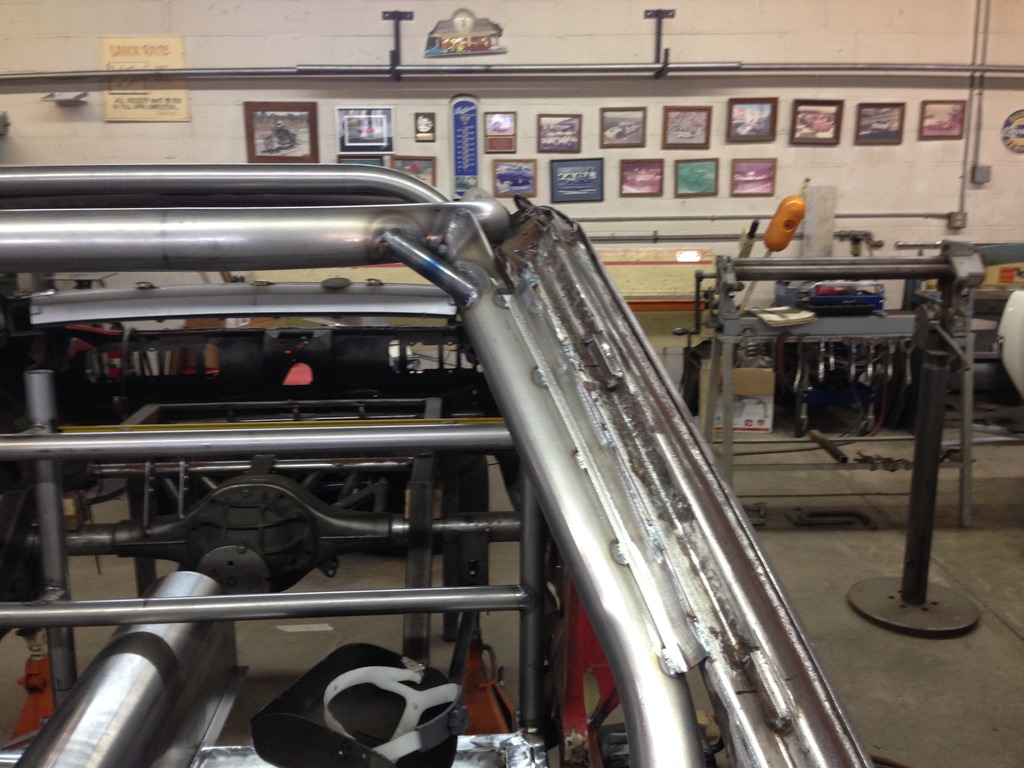 3-18-2015
Thanks guys!

Some parts have been used and some have been new. My braking system is all new stuff and so is all of the suspenion. As an expample, the rods that I have for the motor are $3600 new. I got them from Roush with 3 test dyno pulls when they were working on bore and stroke combinations...$600.
Do you consider that used or tested? I call it a bargin.

Ron Sutton is working with me for front and rear suspension design and car set-up.

Which goes right into my next few pictures of the decoupled 3 link mock up. Sutton took my information and made a blueprint for the install. After installing the housing mount I had see what it looked like.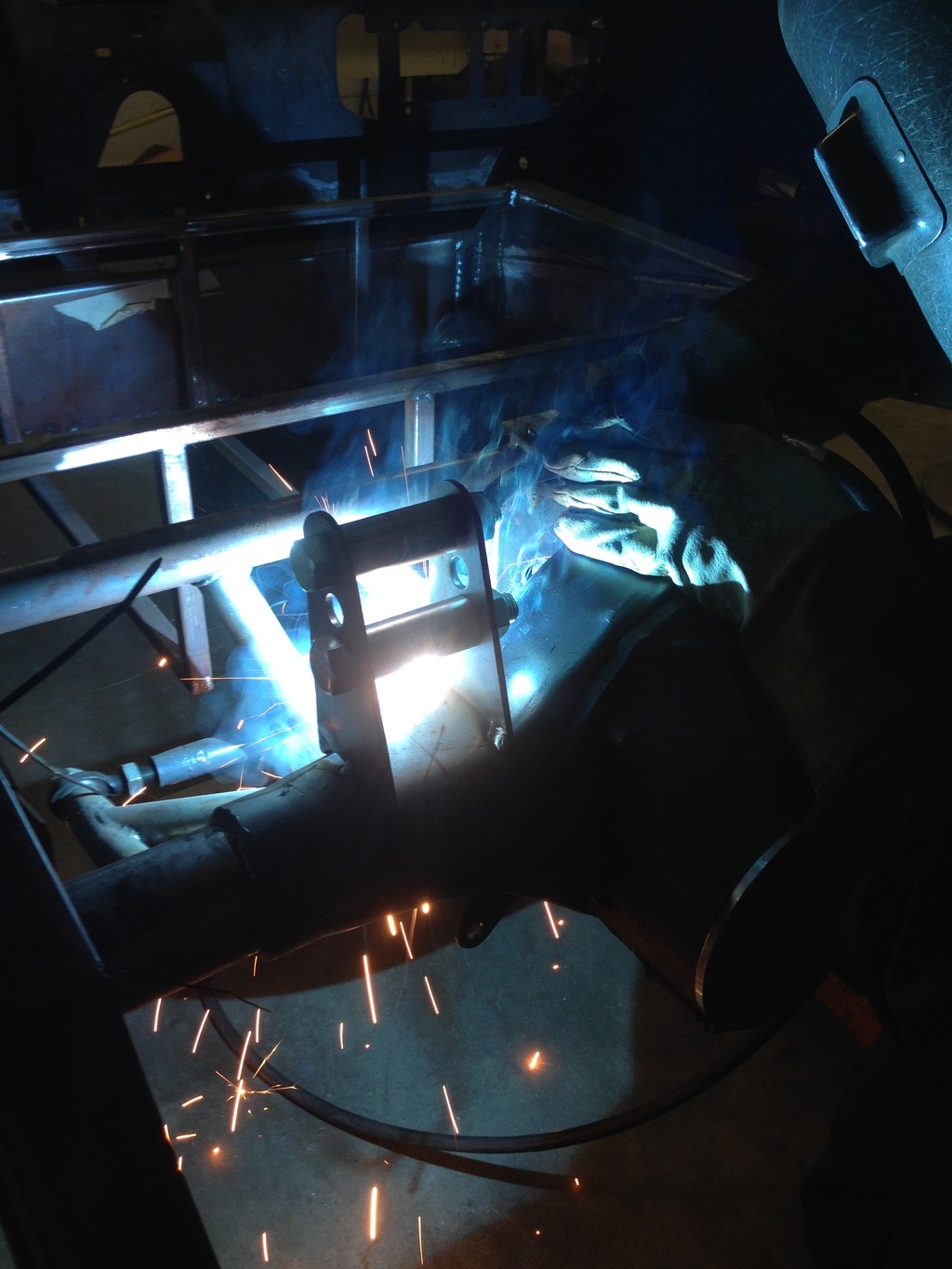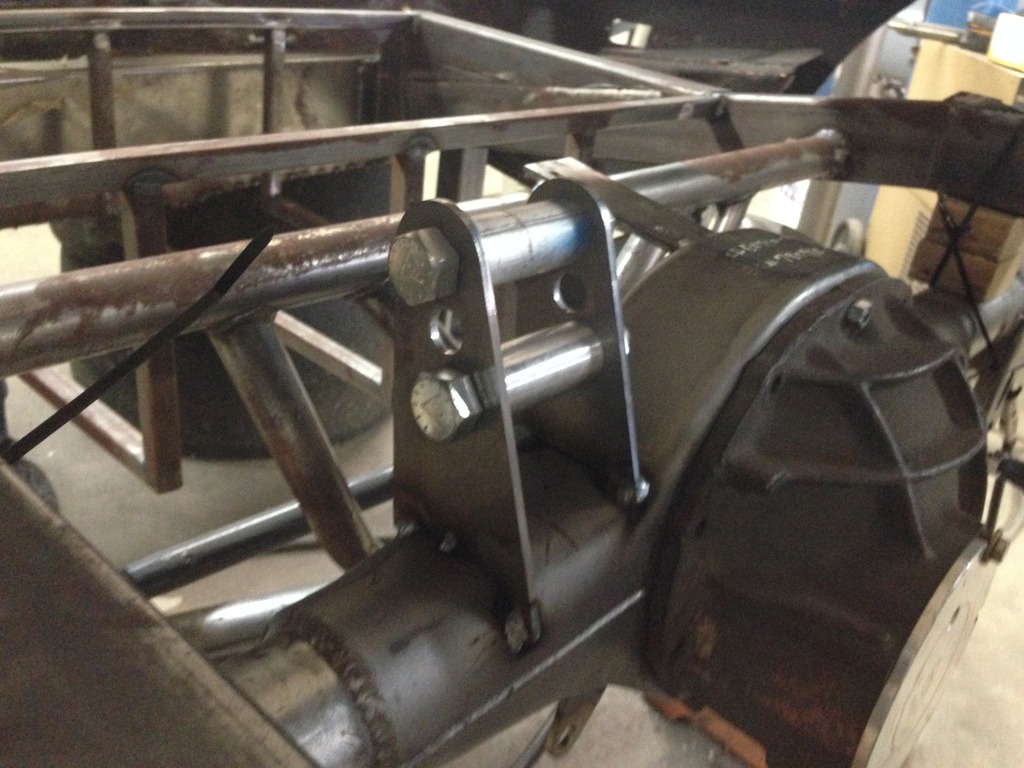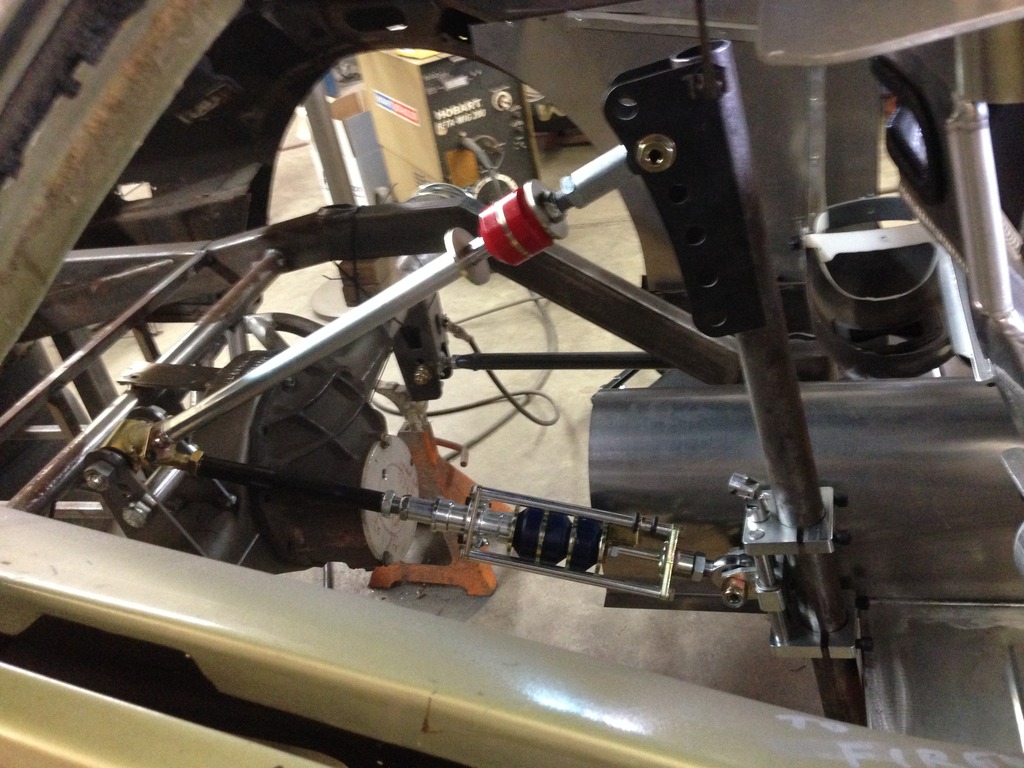 Ihave been holding out on the pictures for some time, so here are more of the front down bars and dash bar.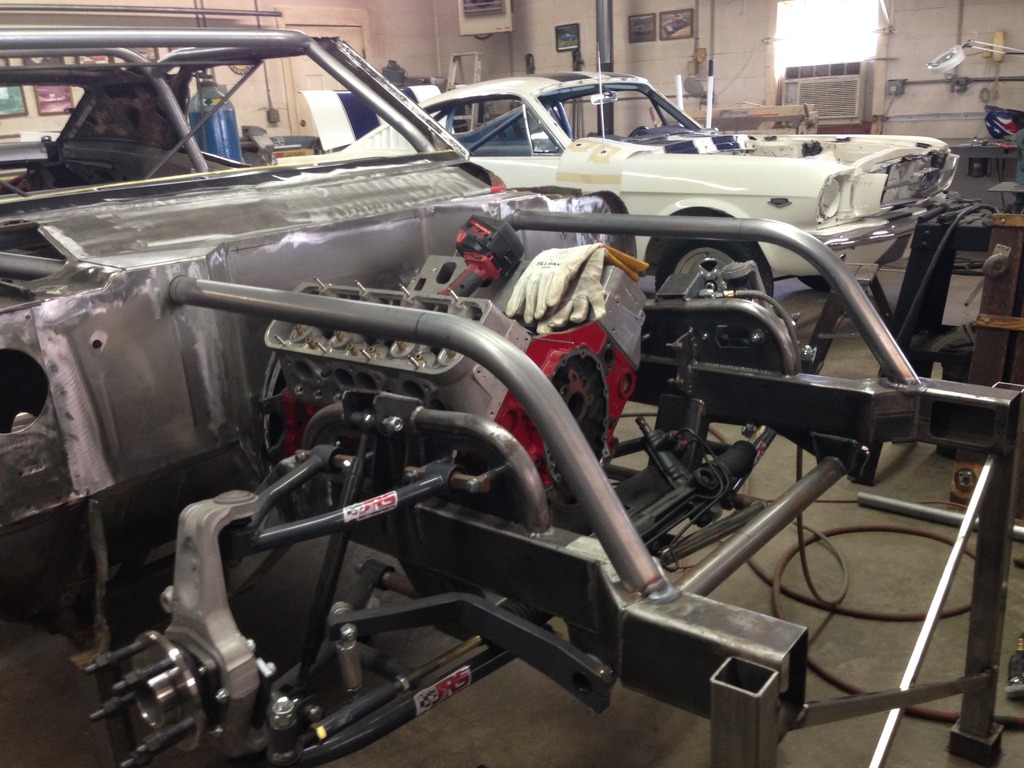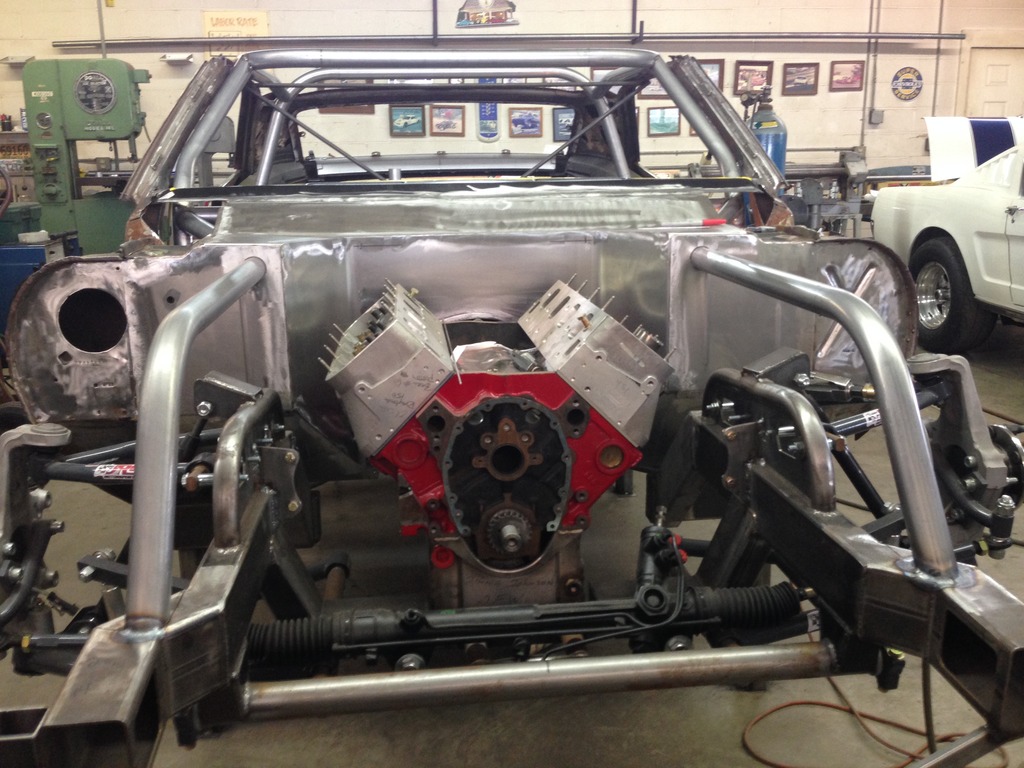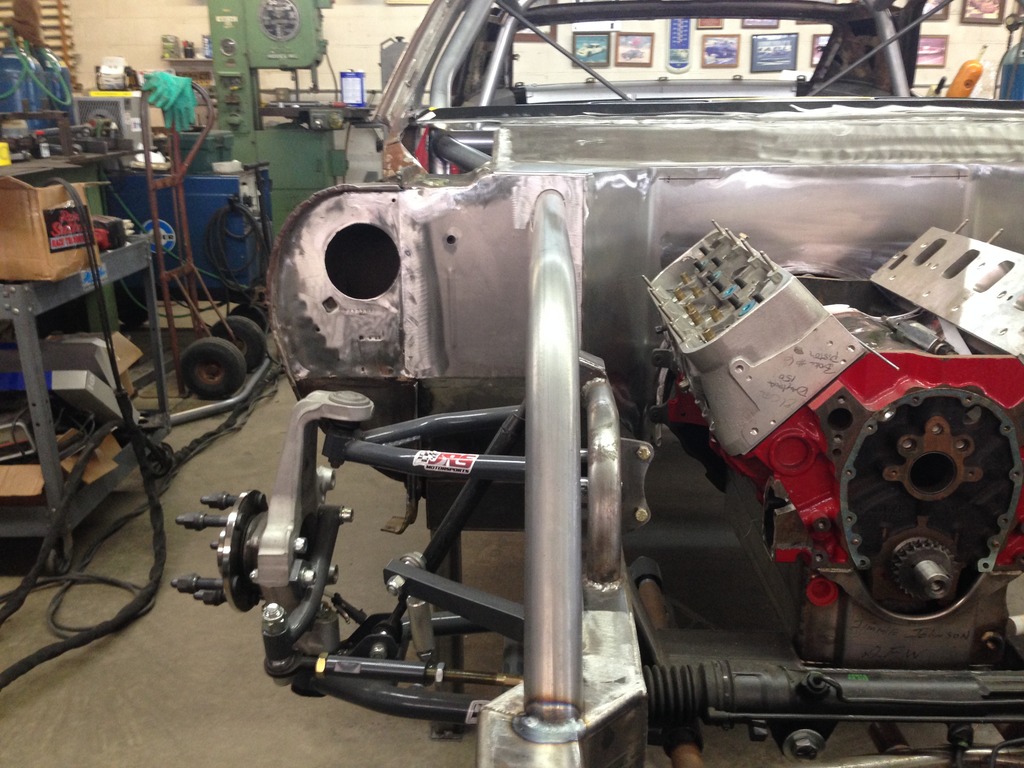 The next shots are bars that triangulate at the dash bar.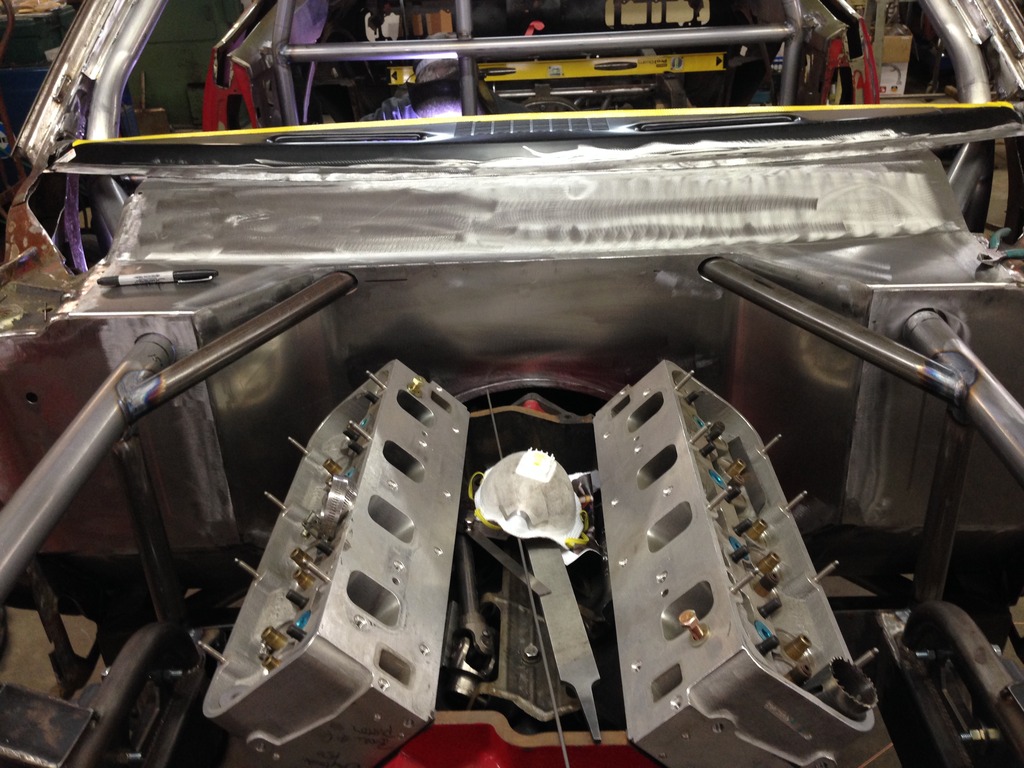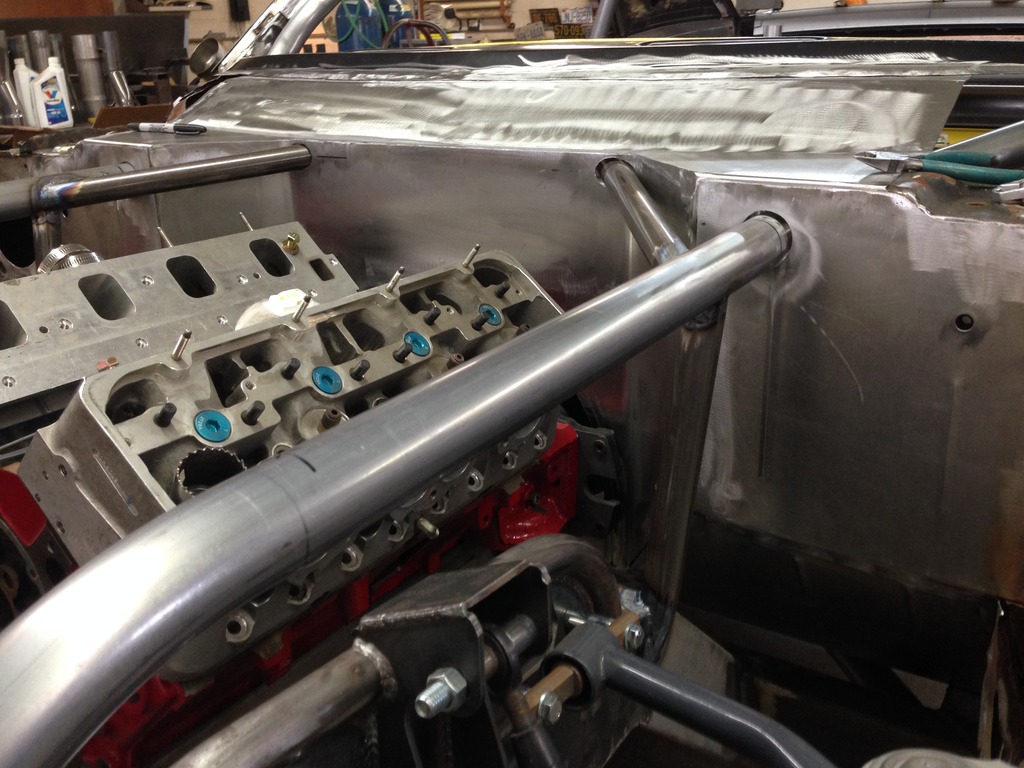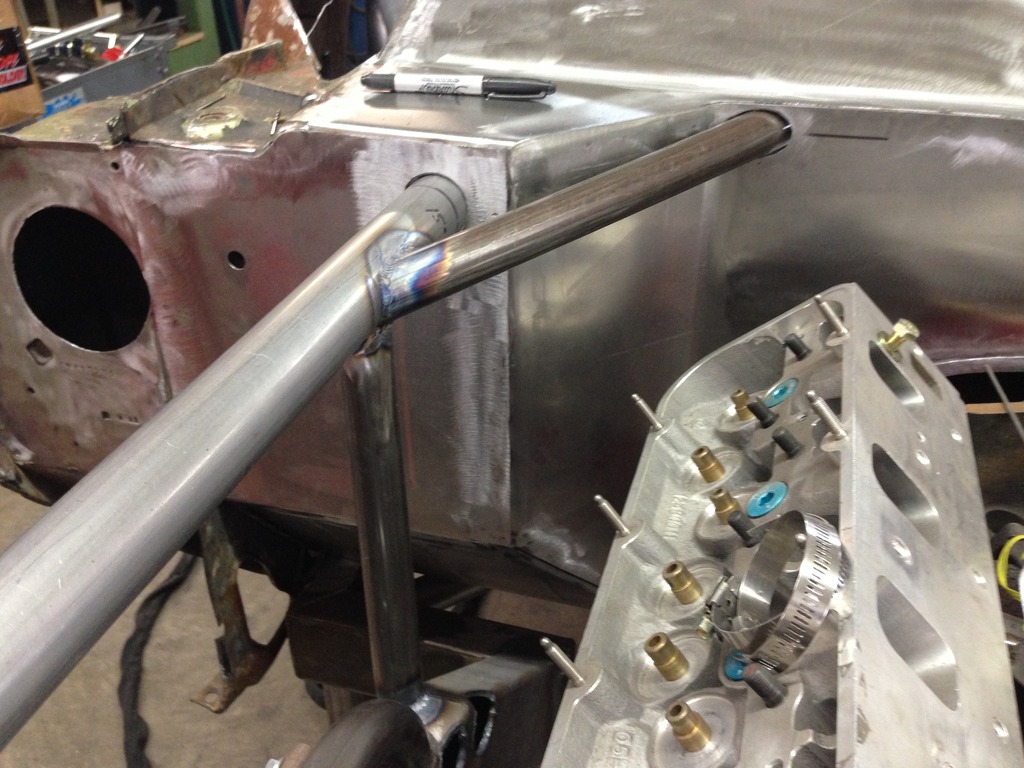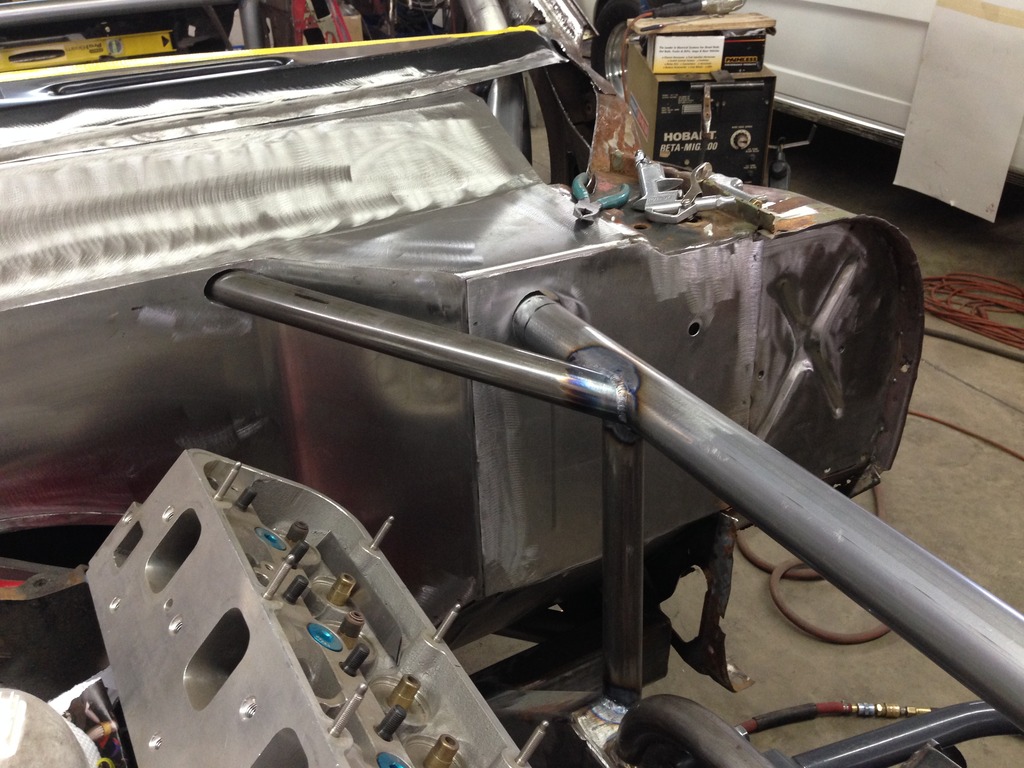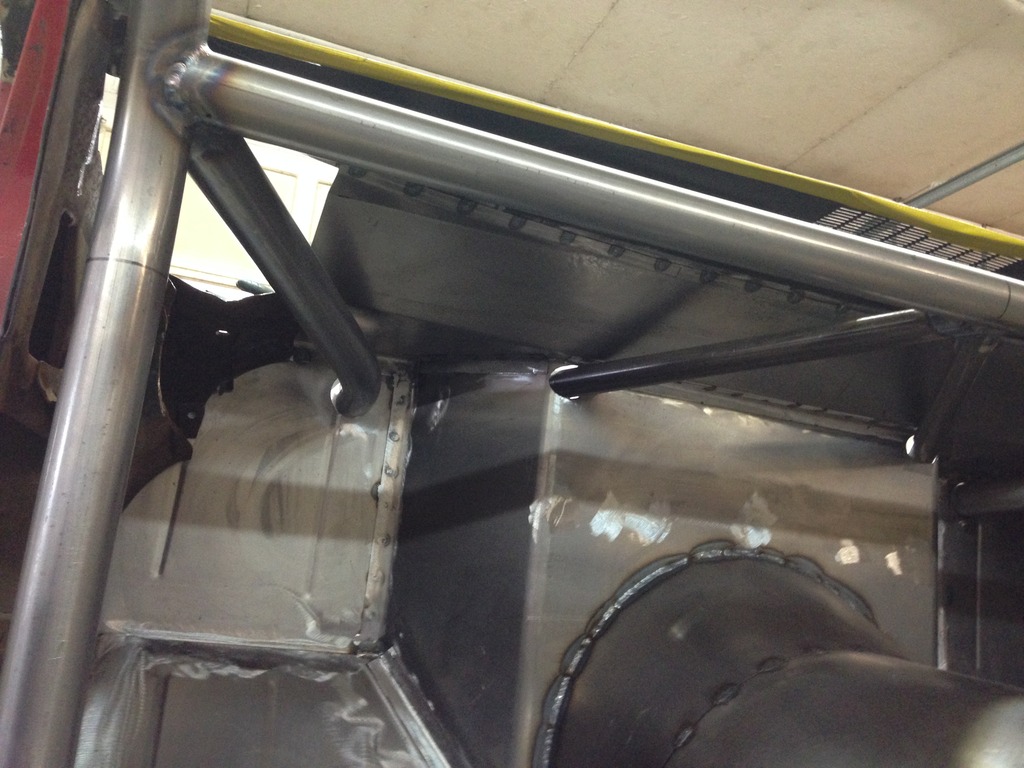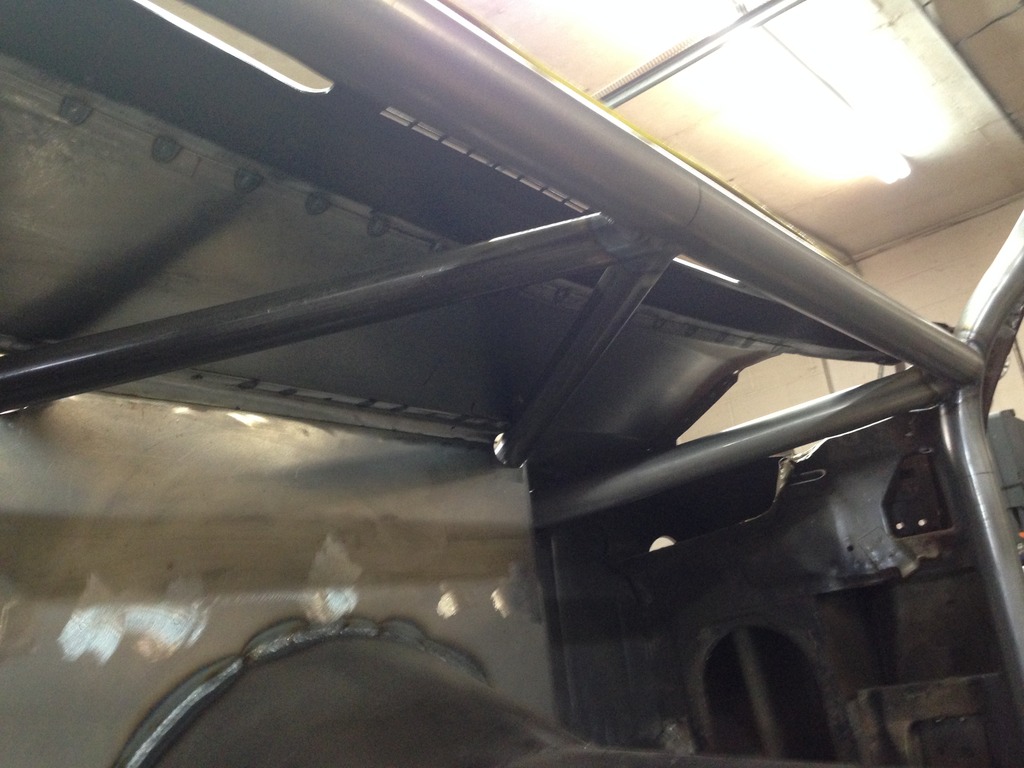 3-25-2015
Went to visit the car this morning. Have a few nice shots of the decoupled 3 link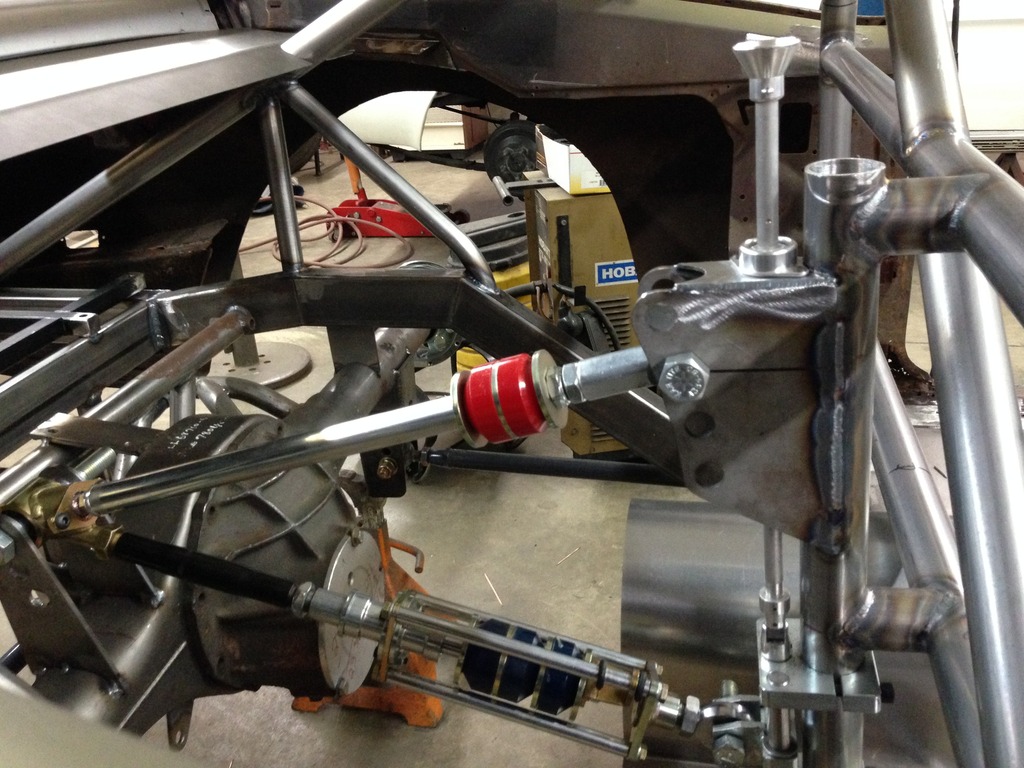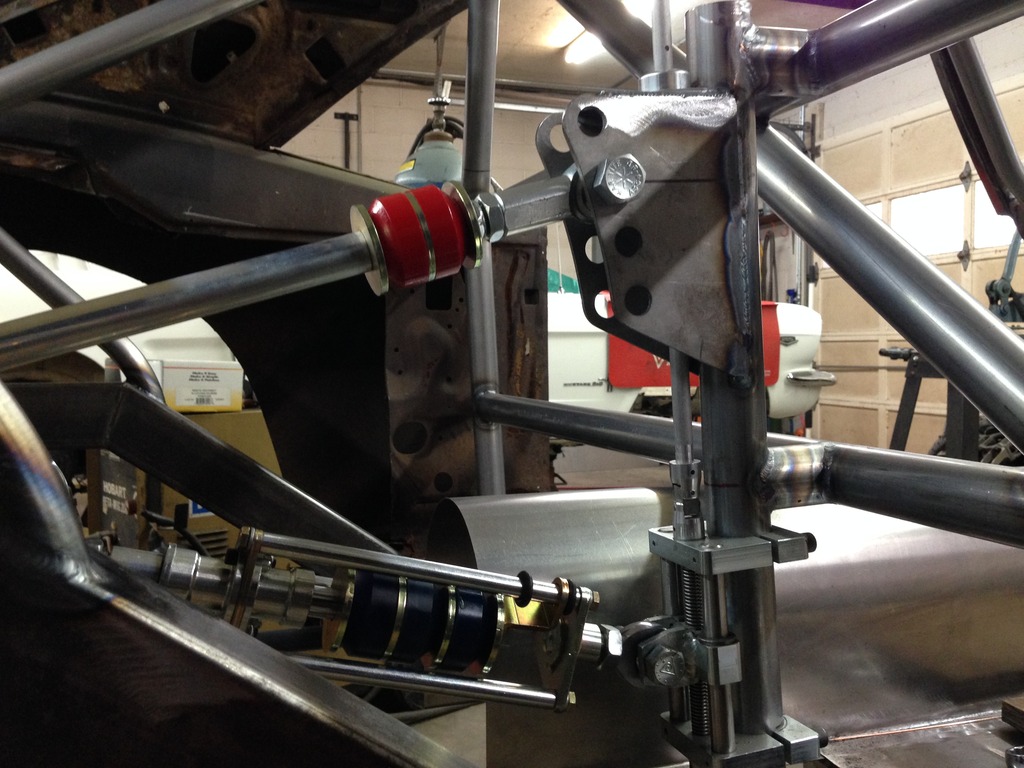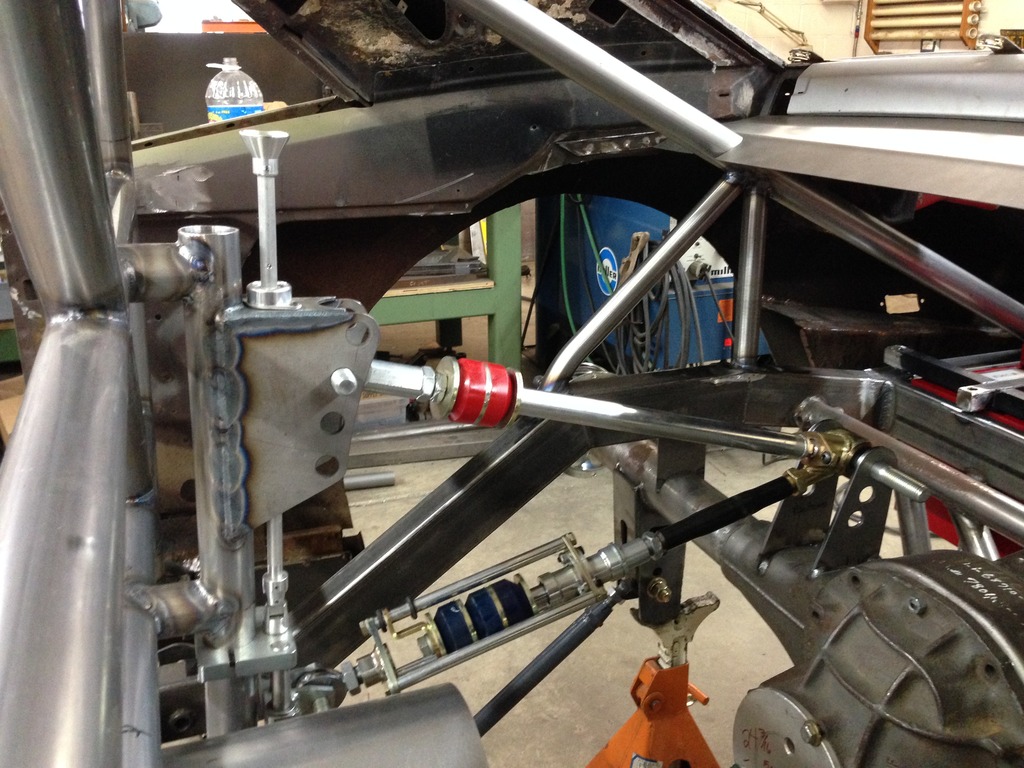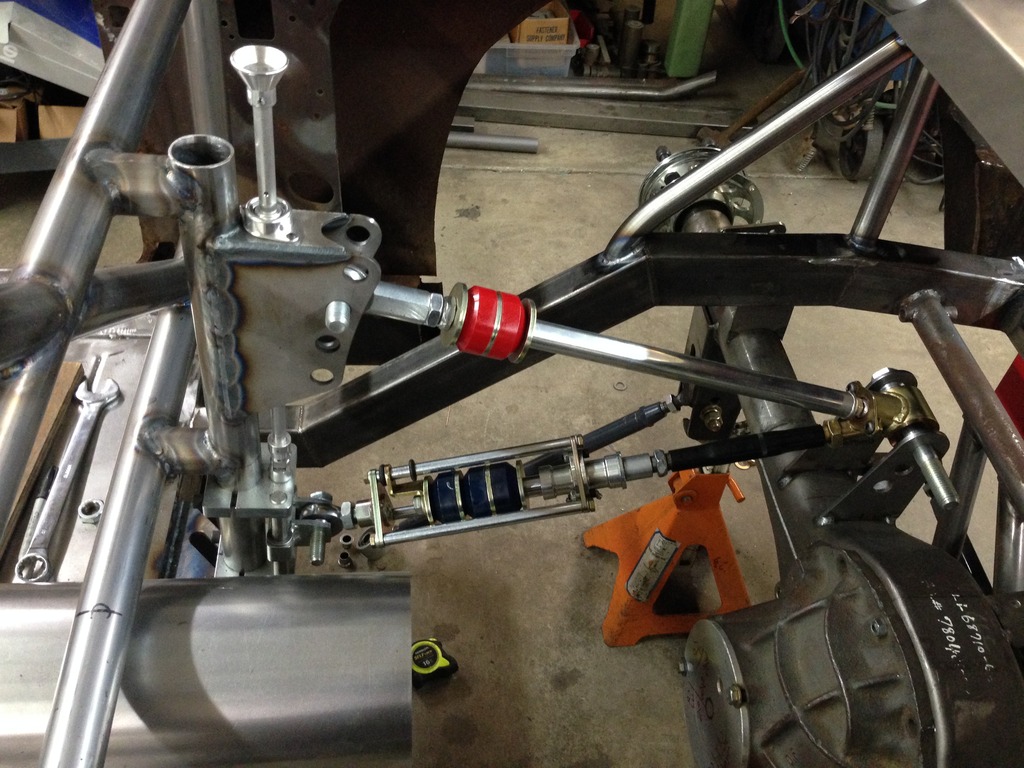 Here are shots of the Accel link adjuster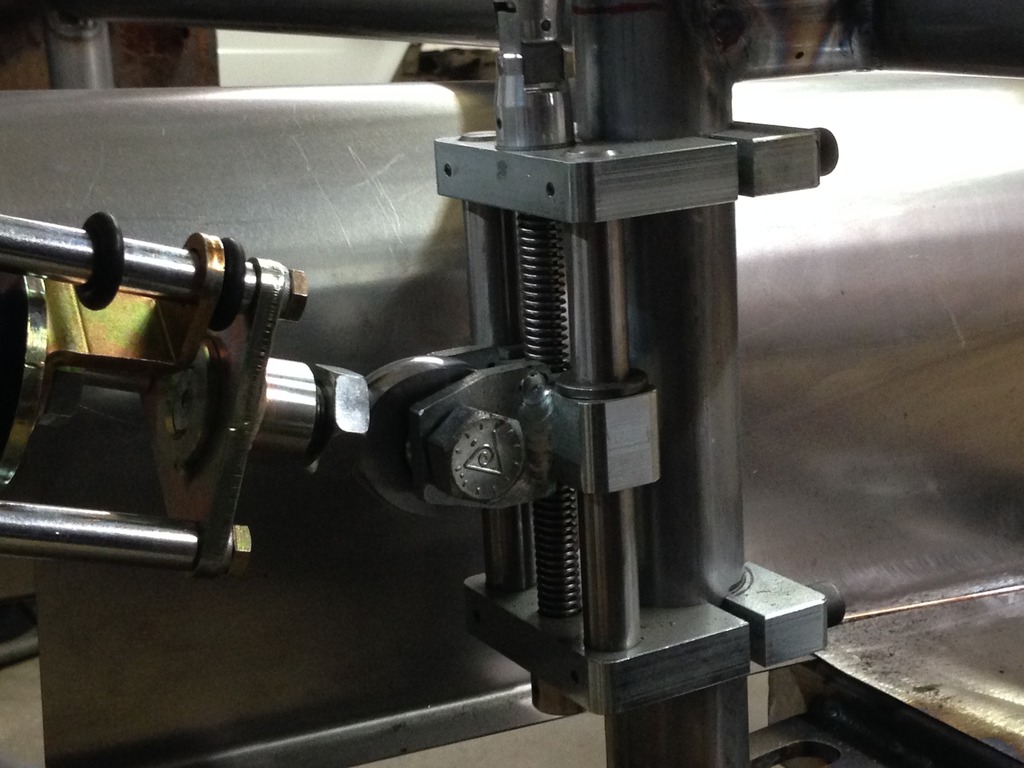 3-26-2015
Too Funny Skip!

So just like about everything else on this car. The place for the fuel cell was made to a dimension that no off the shelf fuel cell would fit. We also did not like that there was no protection for the cell in the event of a rear impact.

The rear section was cut out and re-made.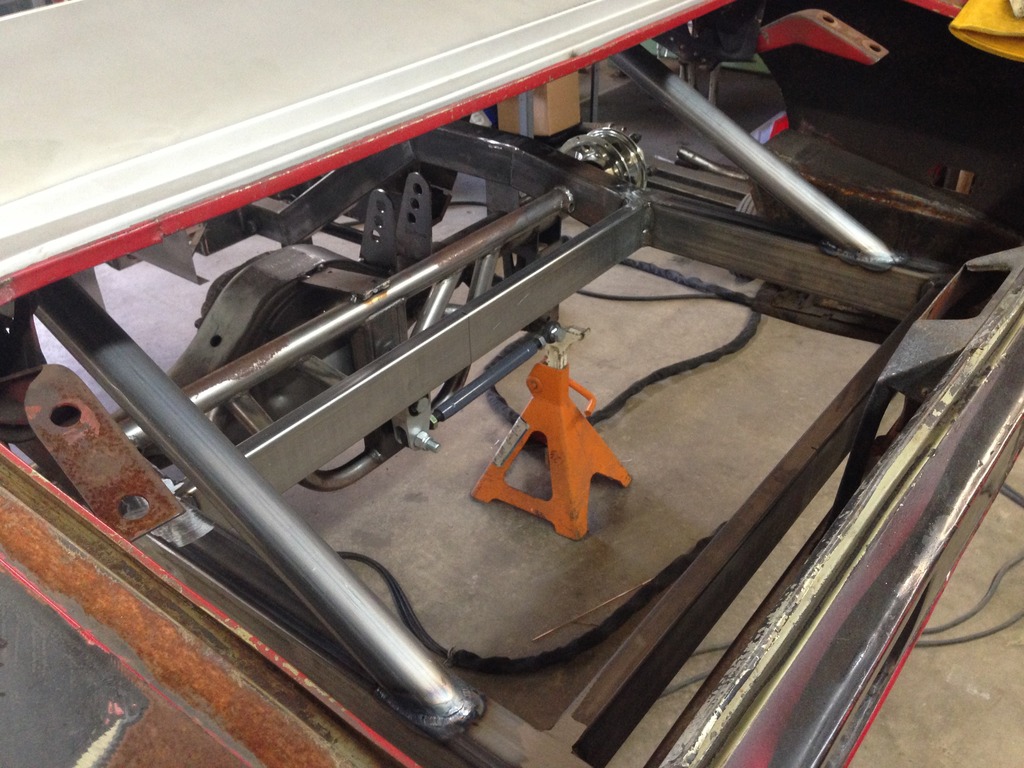 One of the benefits of living in Charlotte is all of the used NASCAR parts as previously stated. I picked up this used can for $50.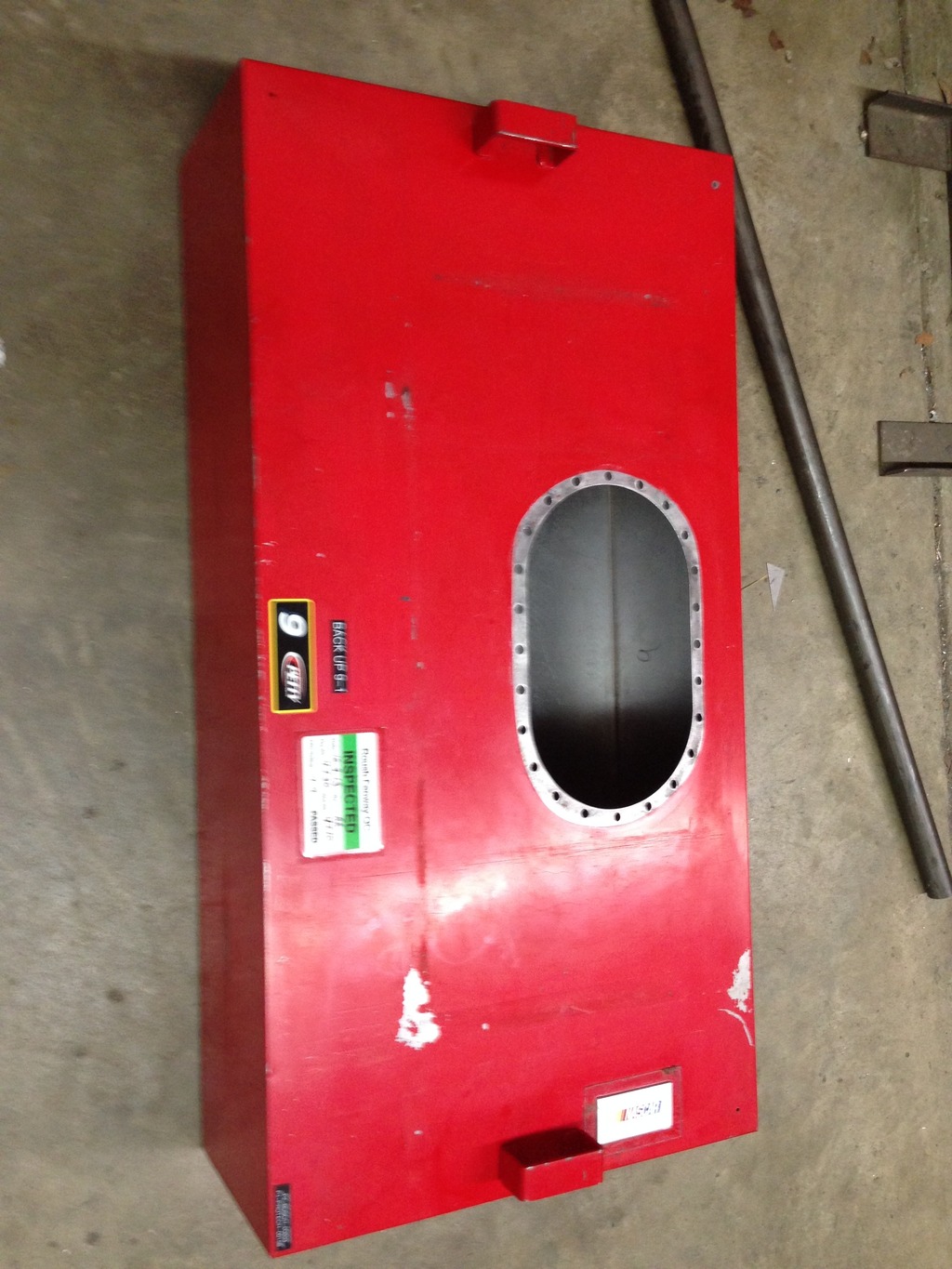 Can in place and ready for top bracing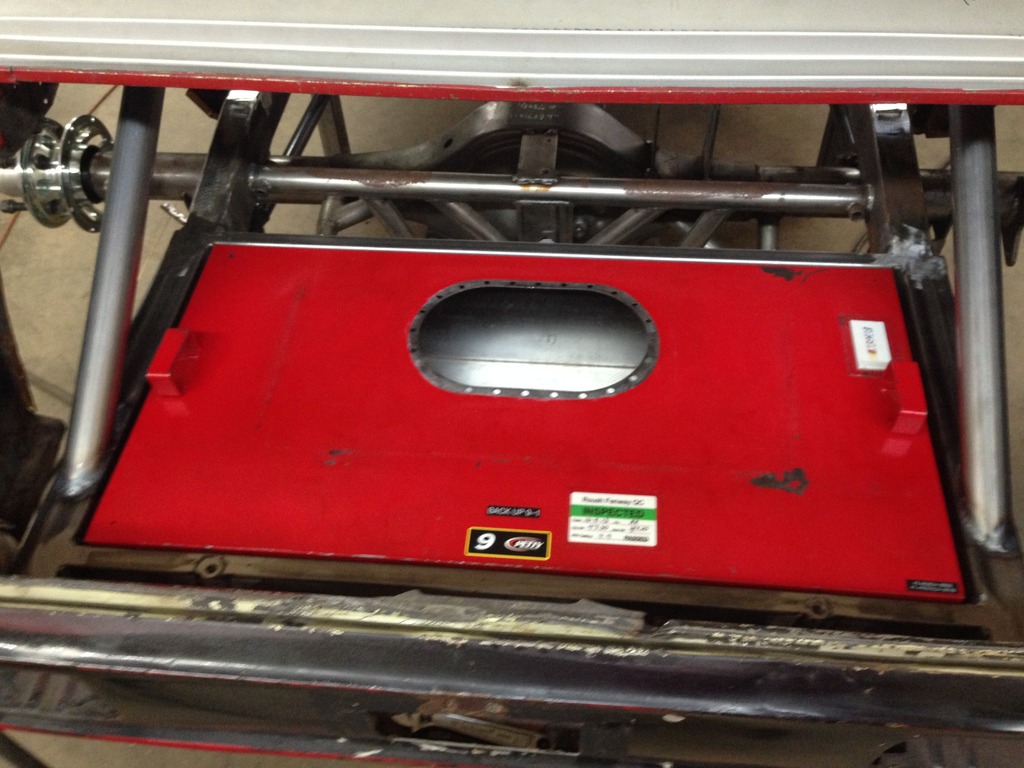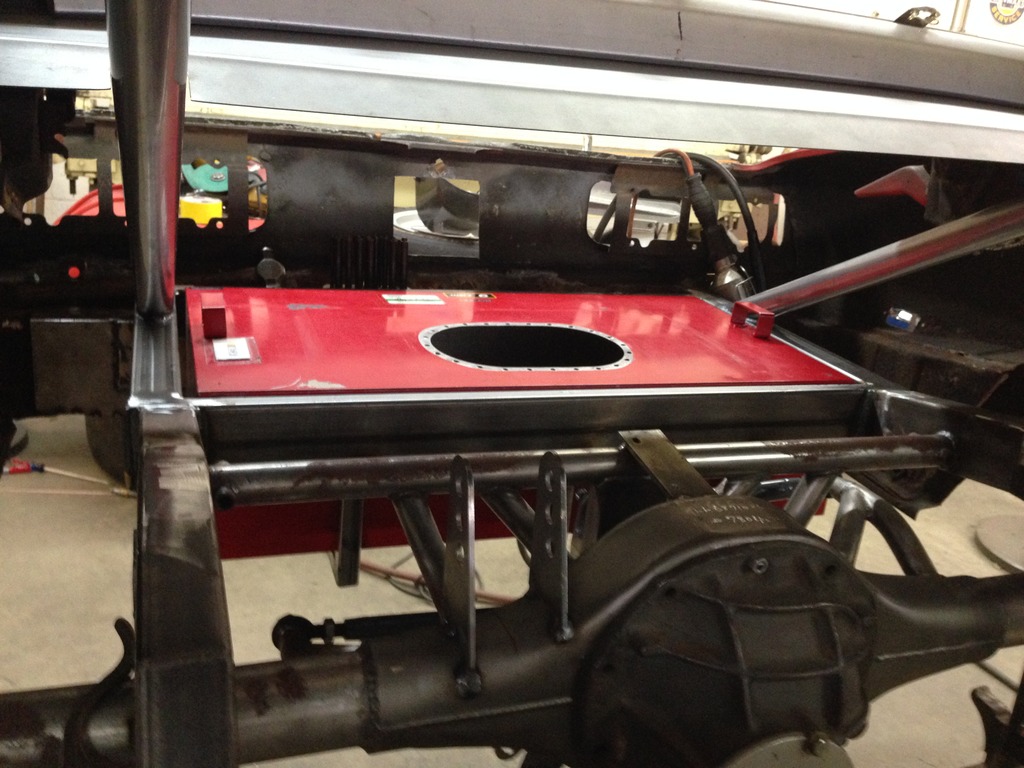 This is the finished top portion.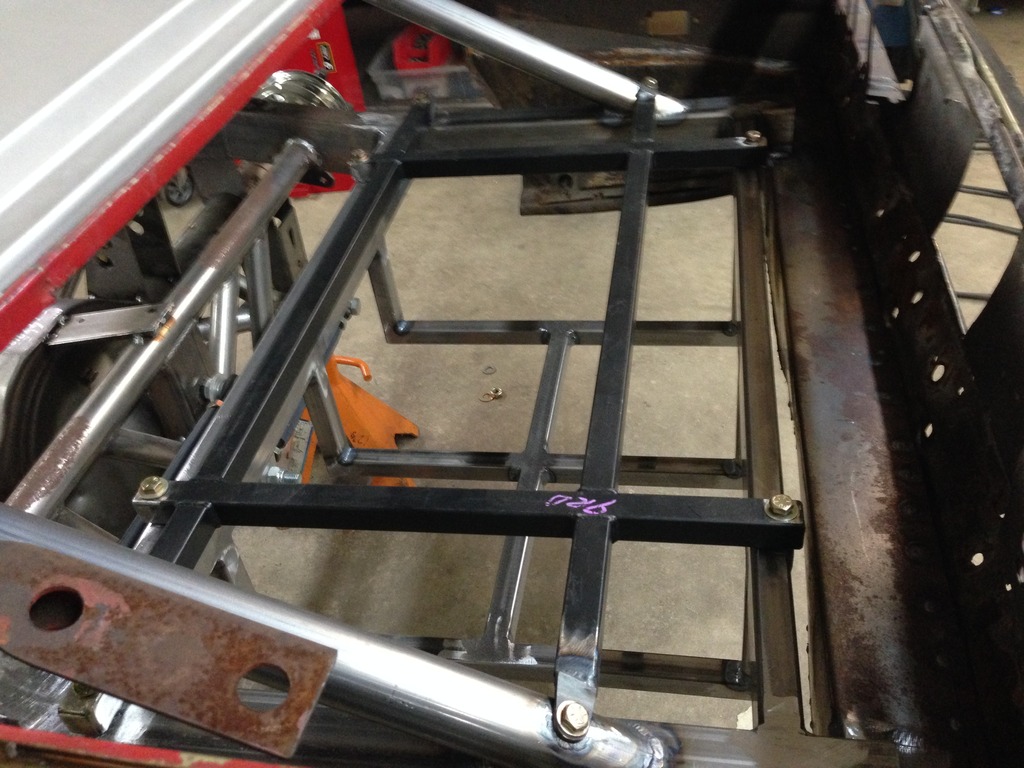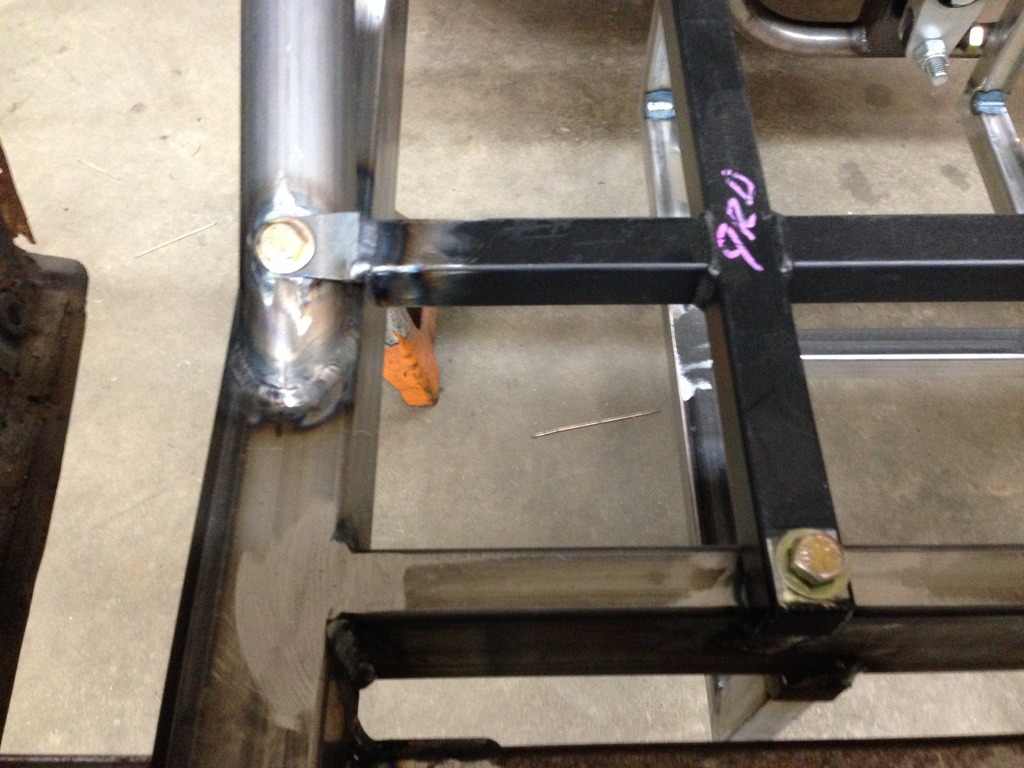 3-27-2015
So you heard about my mid-life crisis / daily driver/ tow vehicle?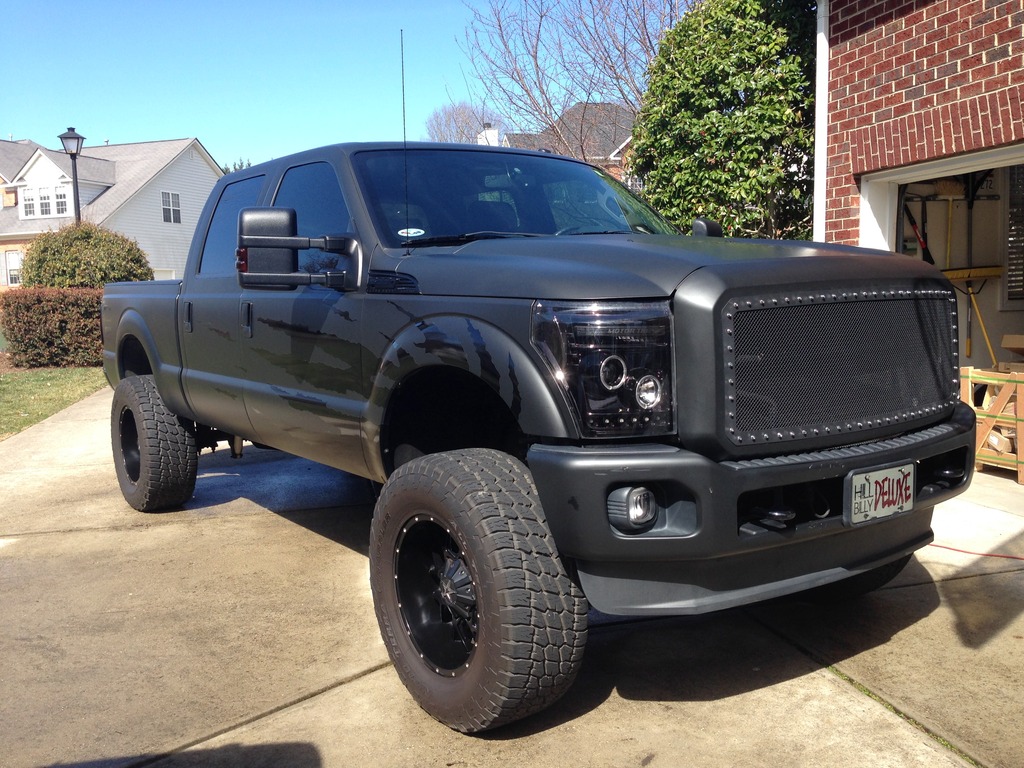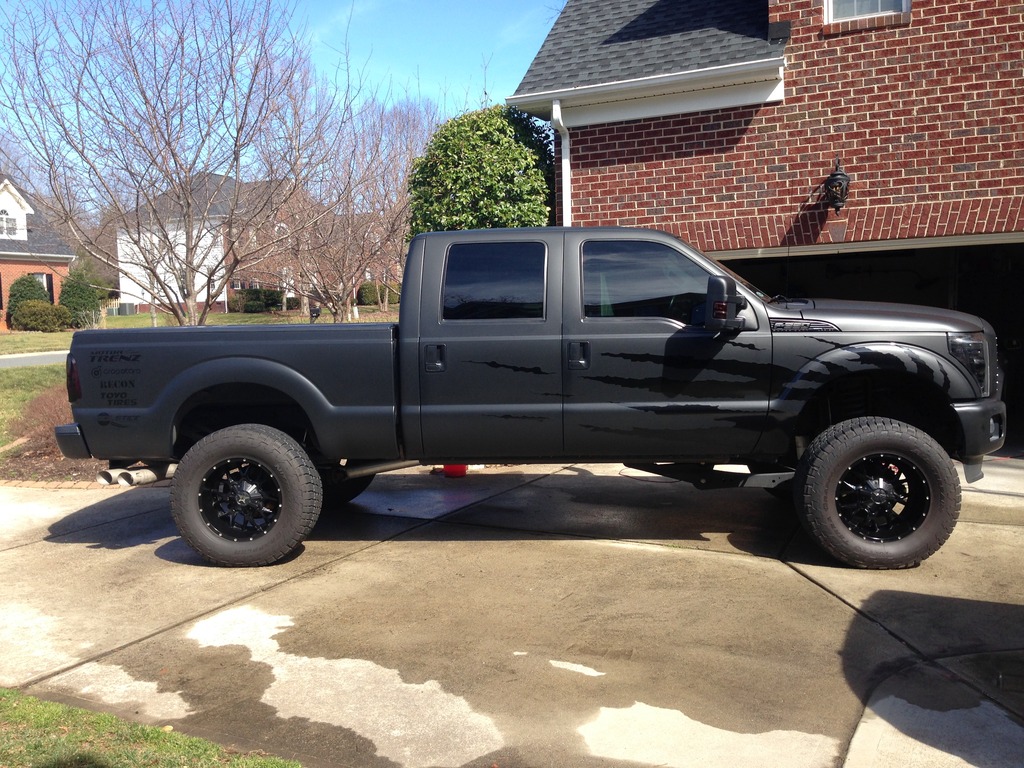 Skulls on the dash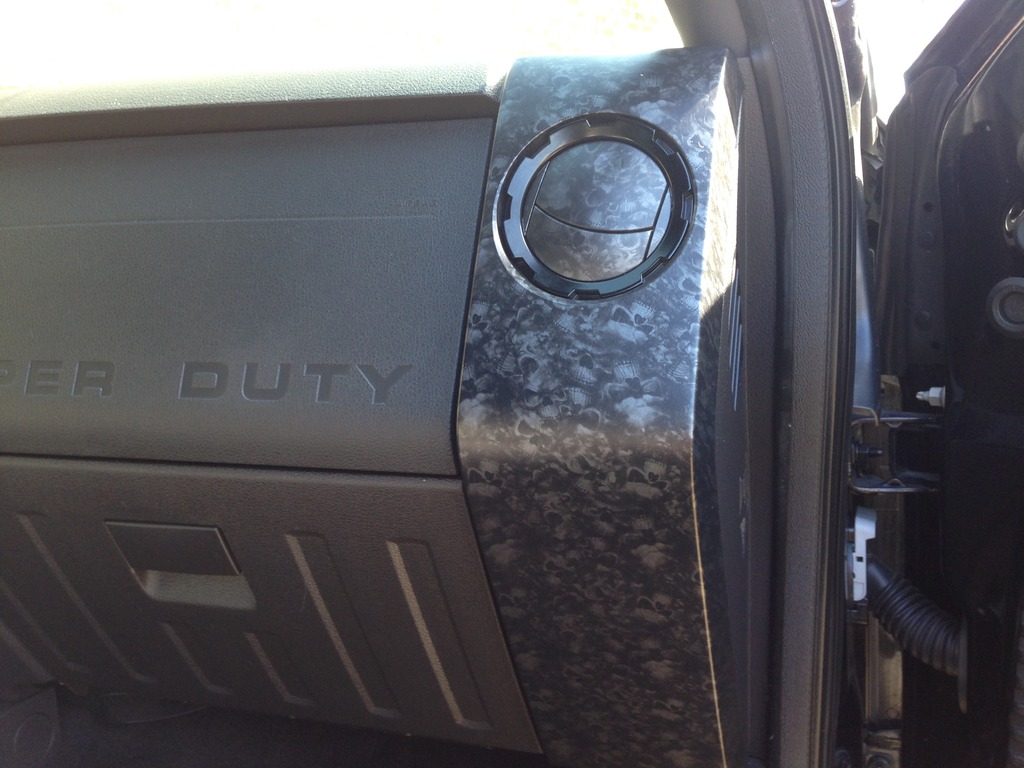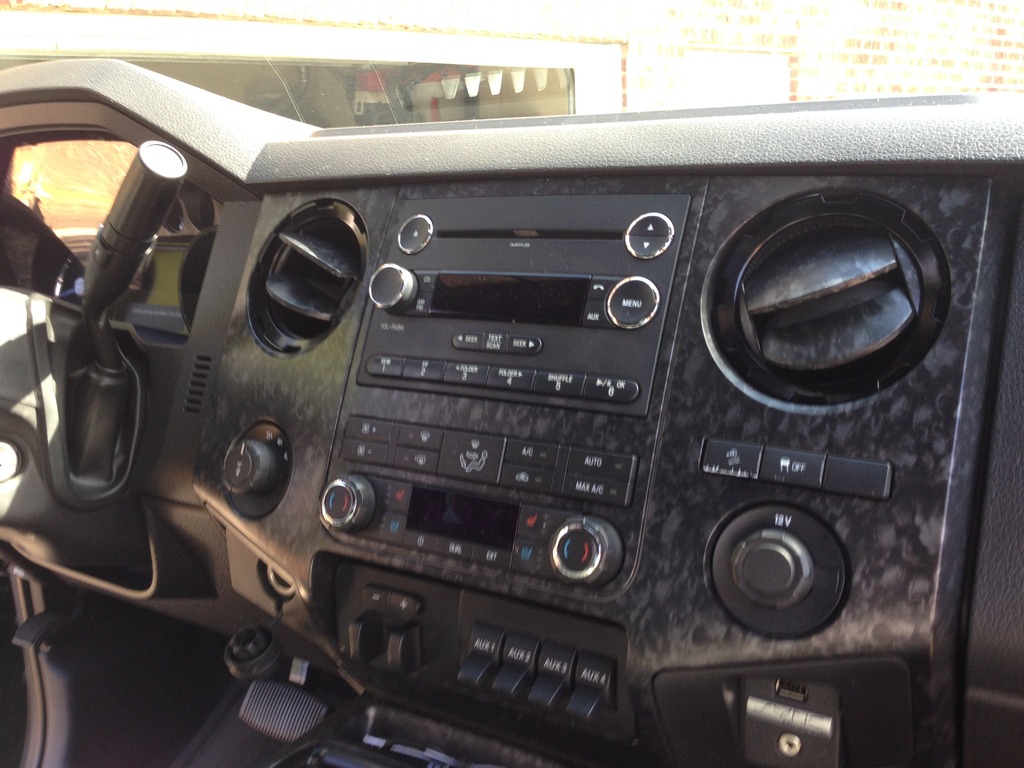 And the plate that sums it up.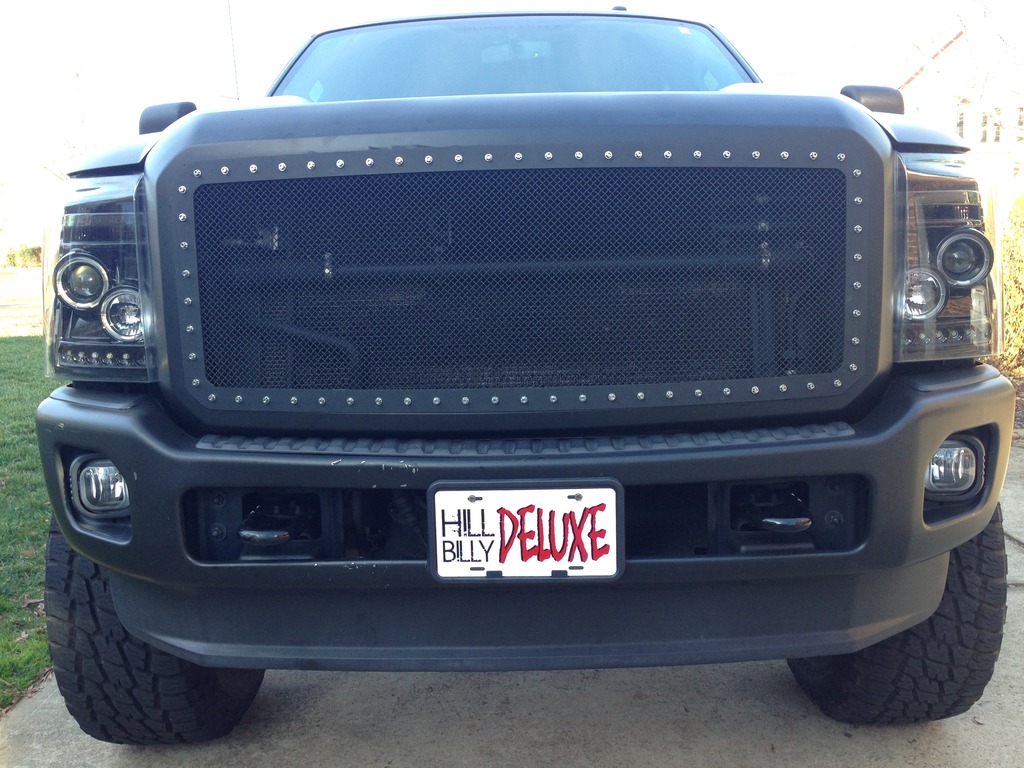 4-2-2015
While the chassis stuff is coming along, we have also been getting the motor ready for assembly. After Jim made the motor plate, I took it to Ed to get my water and oil lines together.

The water pump I am using takes an o-ring and snap ring for the lines to the block.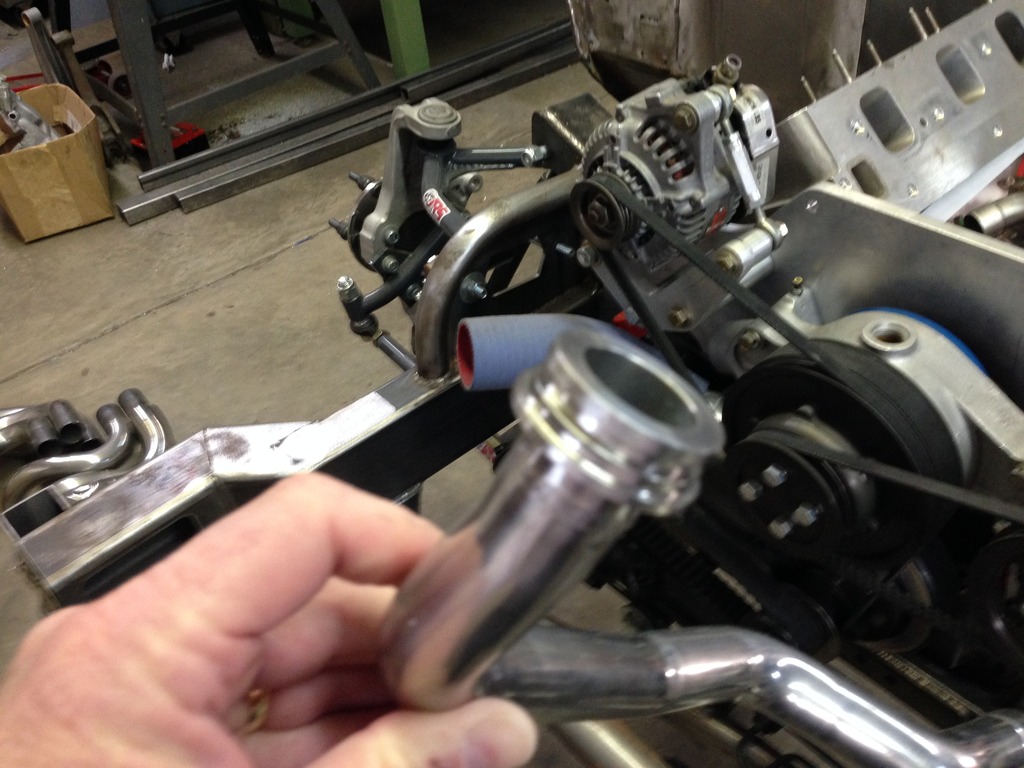 From each side of the water pump water goes to the side of the block. Water also enters the block from the front just like a normal small block. My motor also has spark plug cooling so there are 3 ports on each head.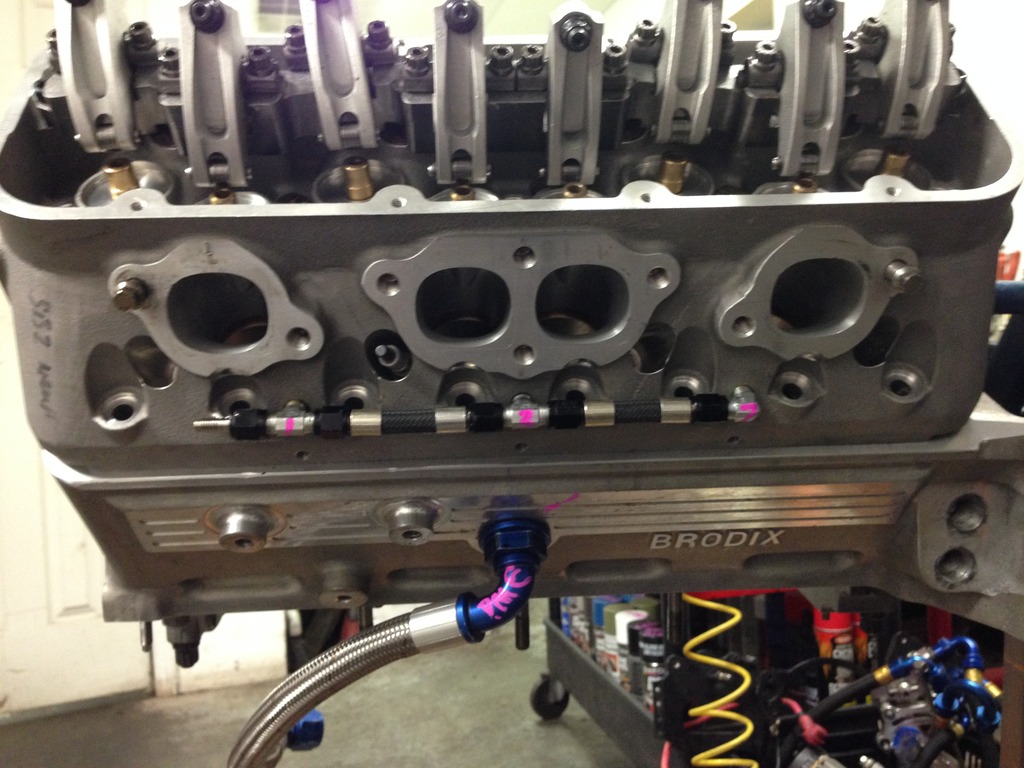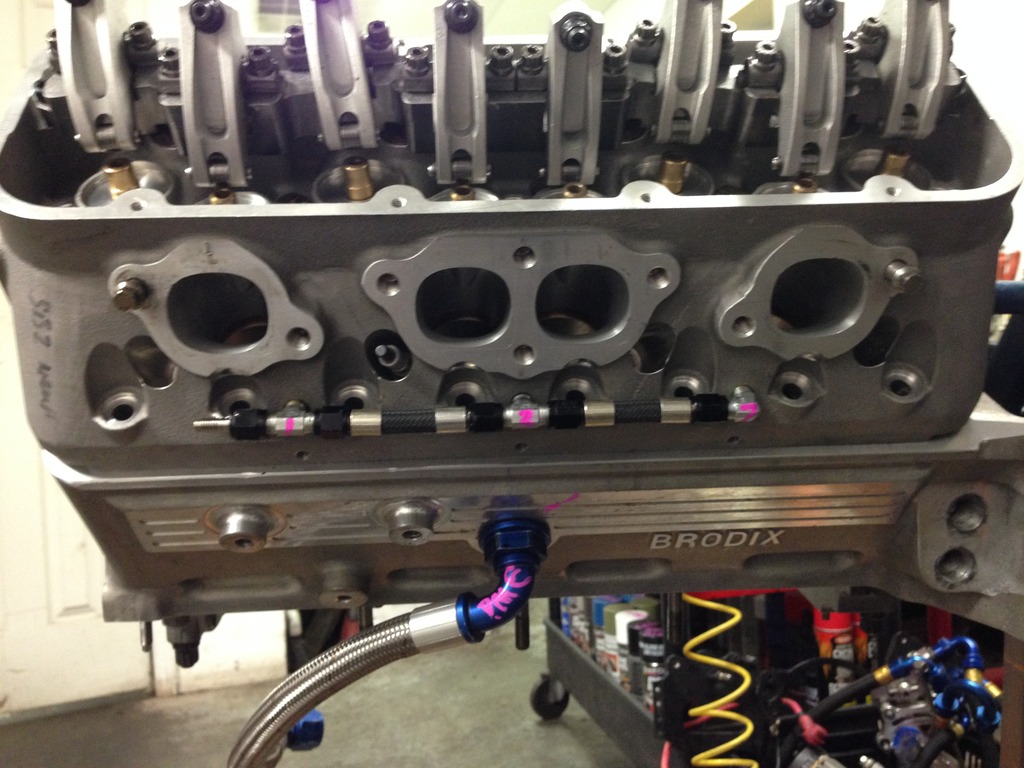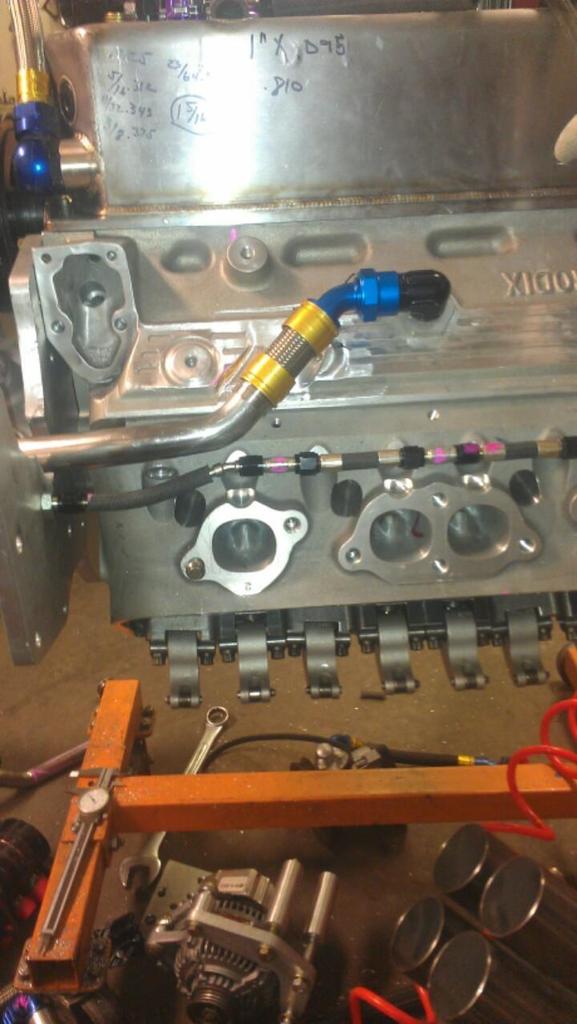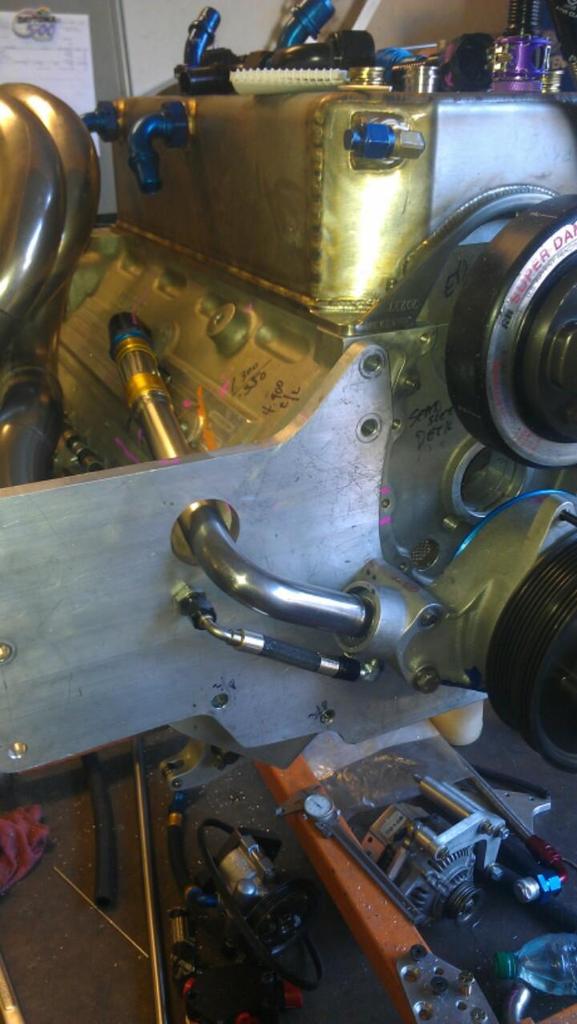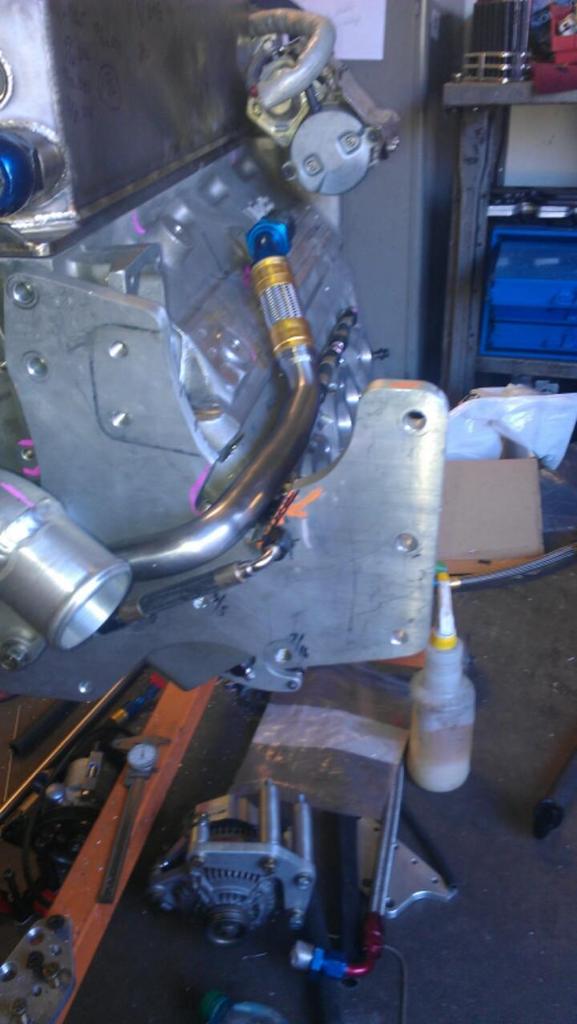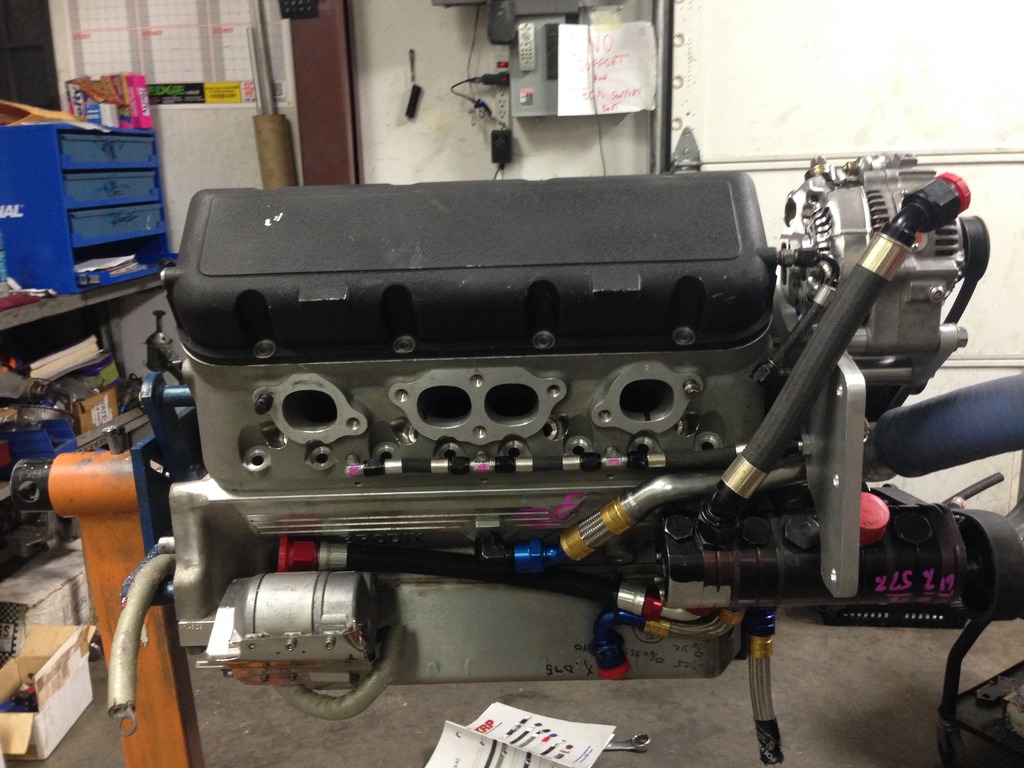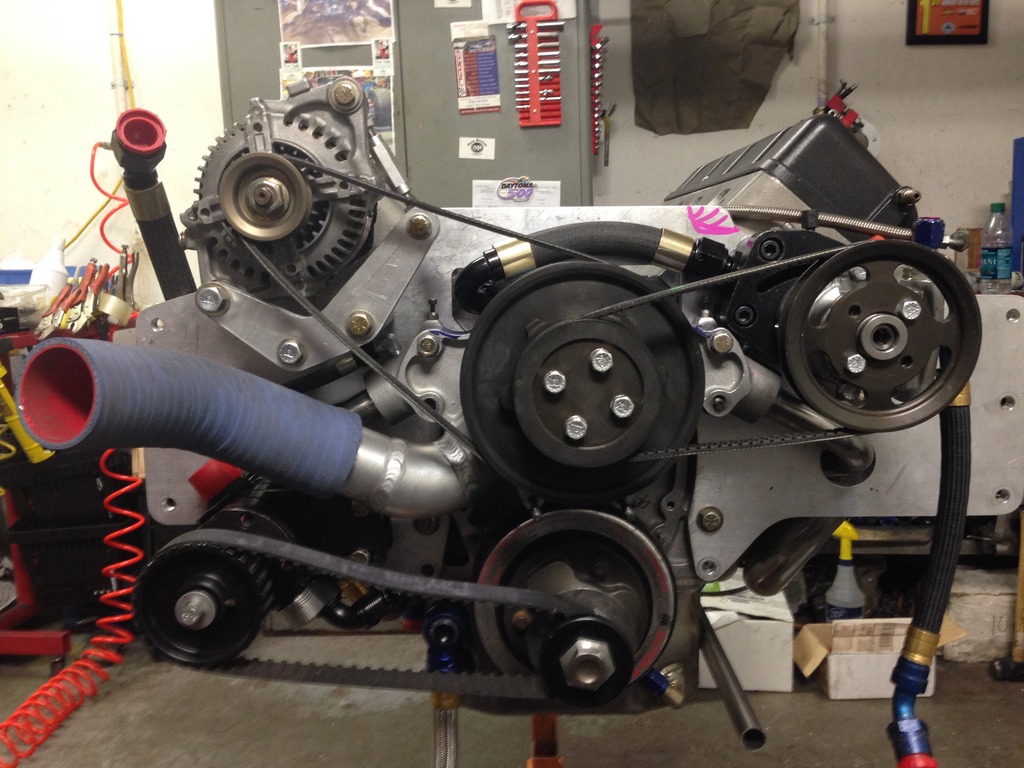 After the water lines were complete, we loaded up the motor and mocked it up in the car to get the layout of the oil lines. Because we moved the oil pump to the right side, we will need to run the lines around the front of the motor.

Check out how much material has been removed from the back of the block. This was the way a lightened block comes from Brodix.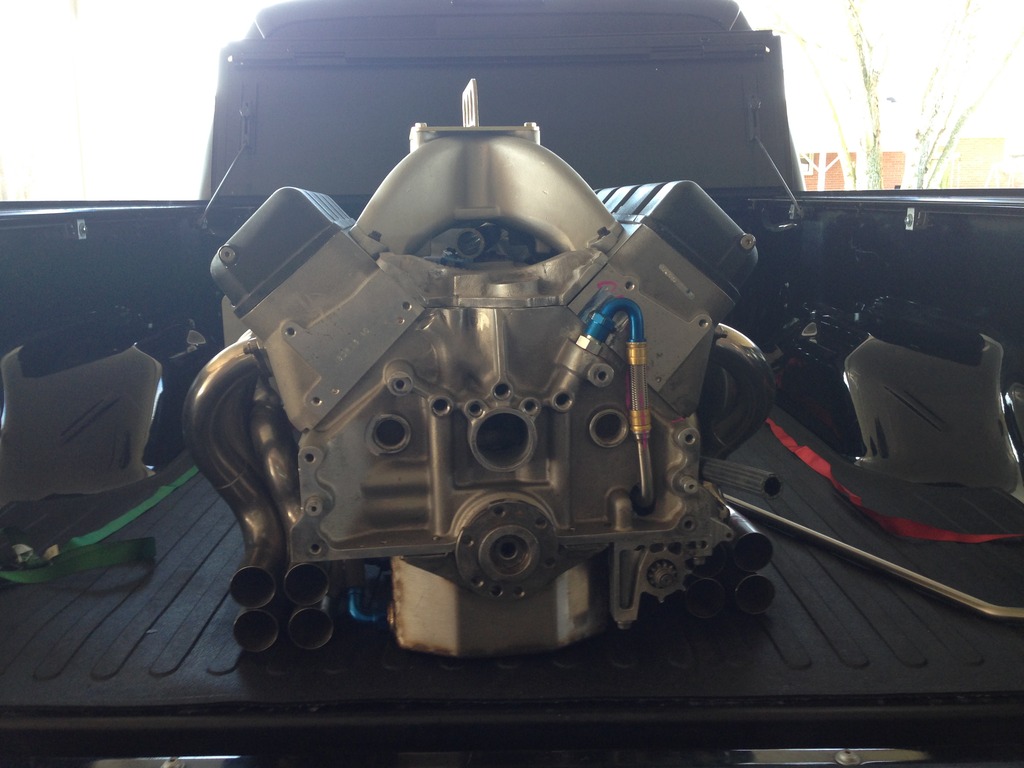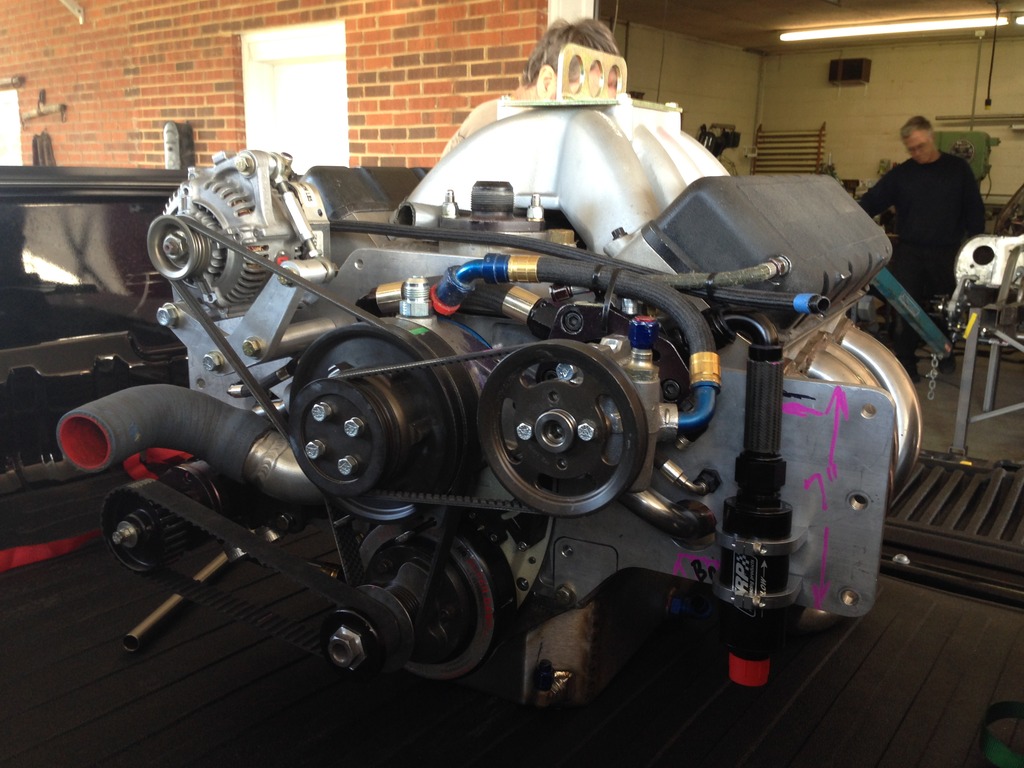 Not much room to work with for the 2 oil lines that need to pass to the right side. They will run behind the rack and below the ballancer.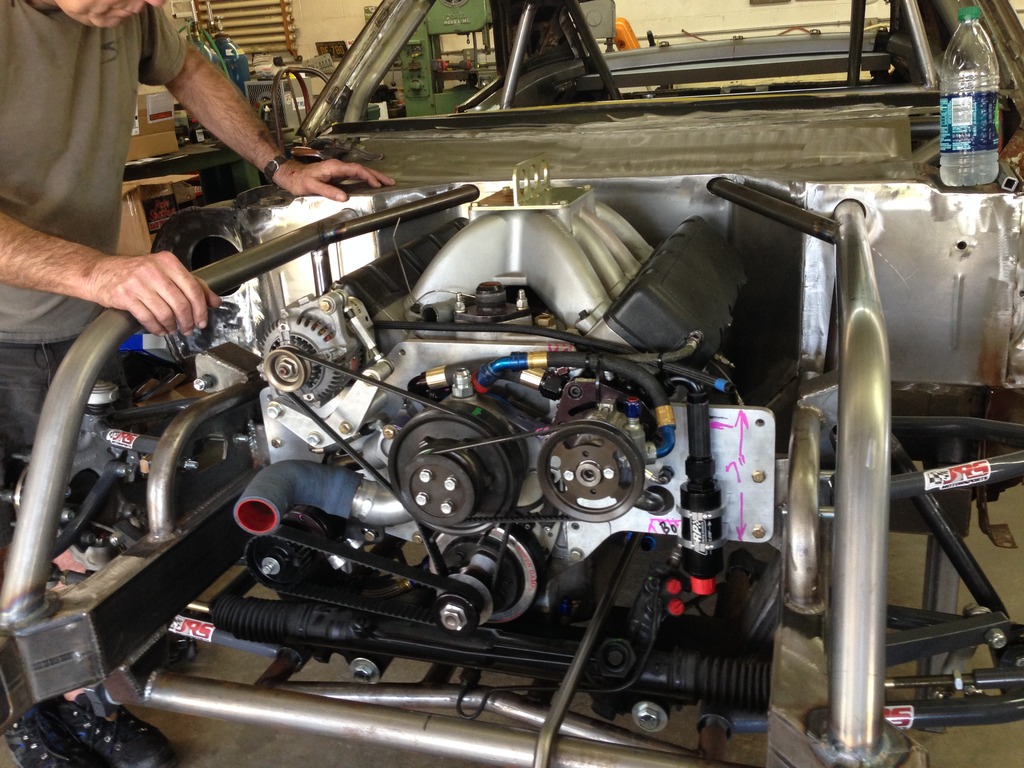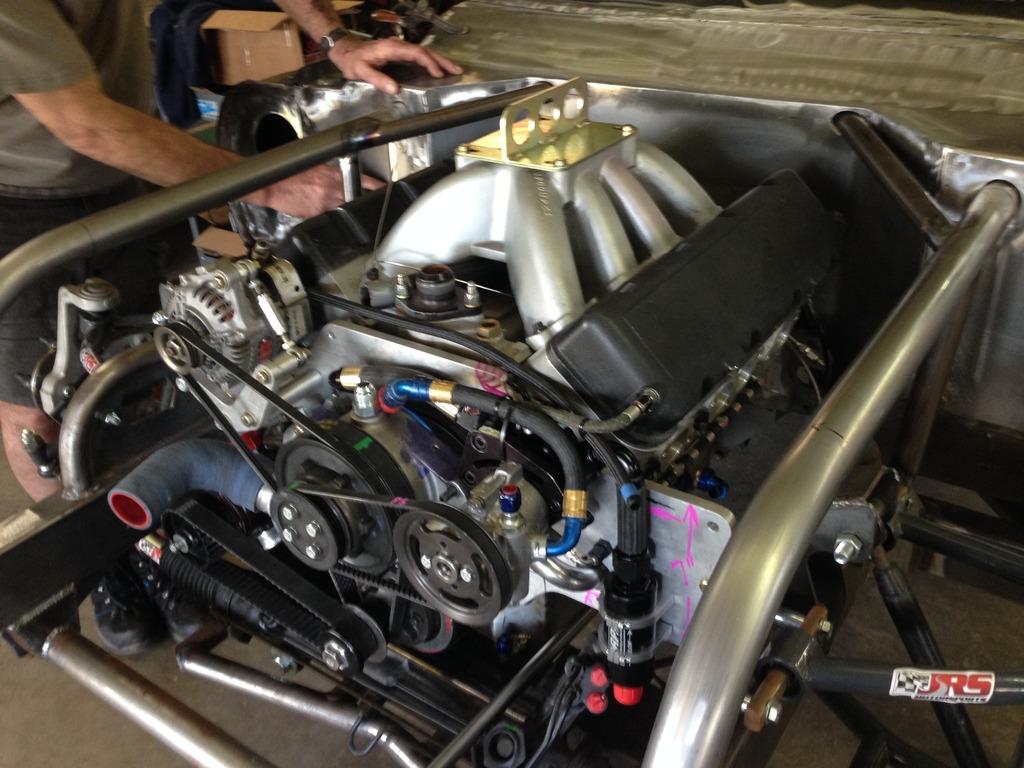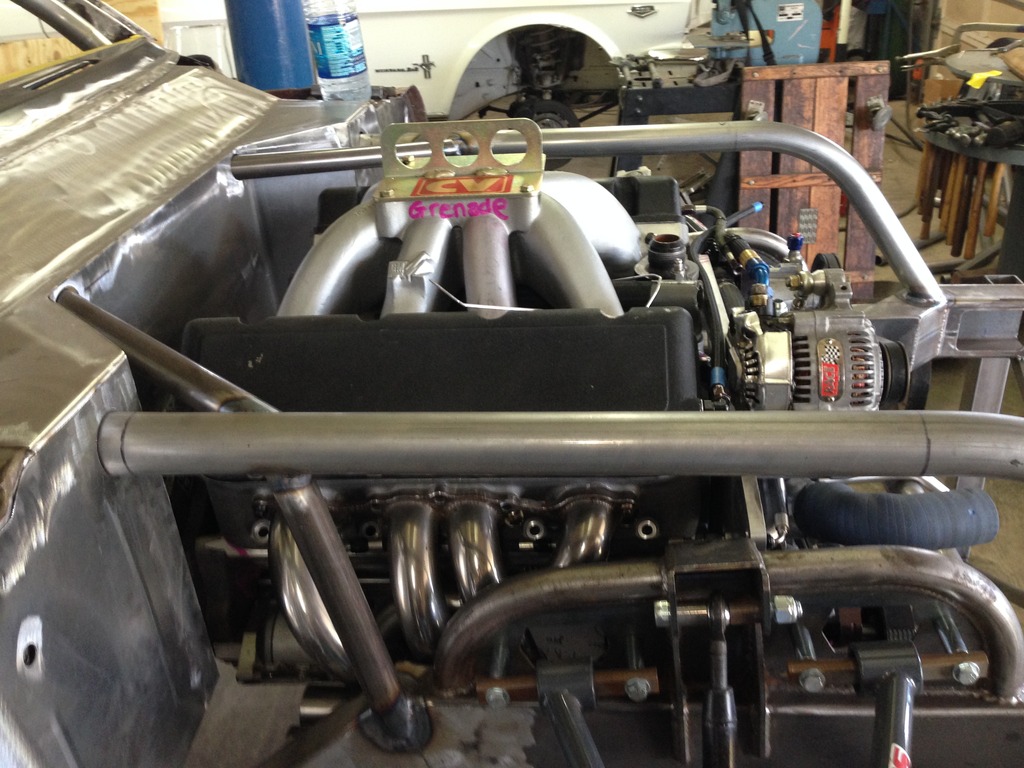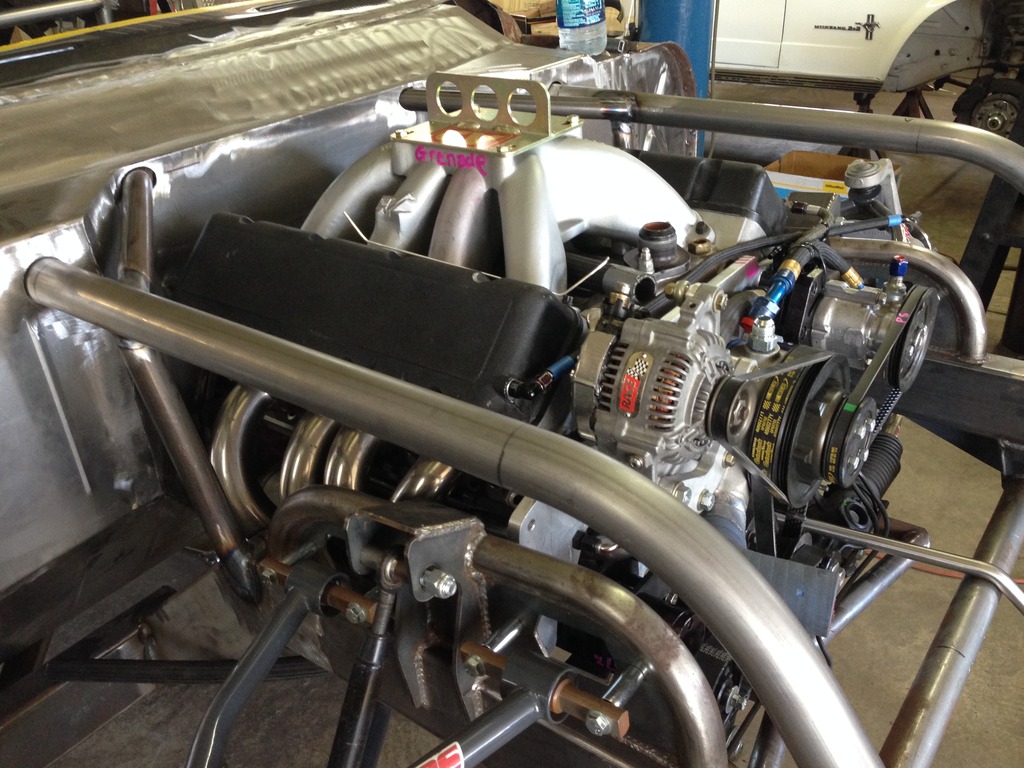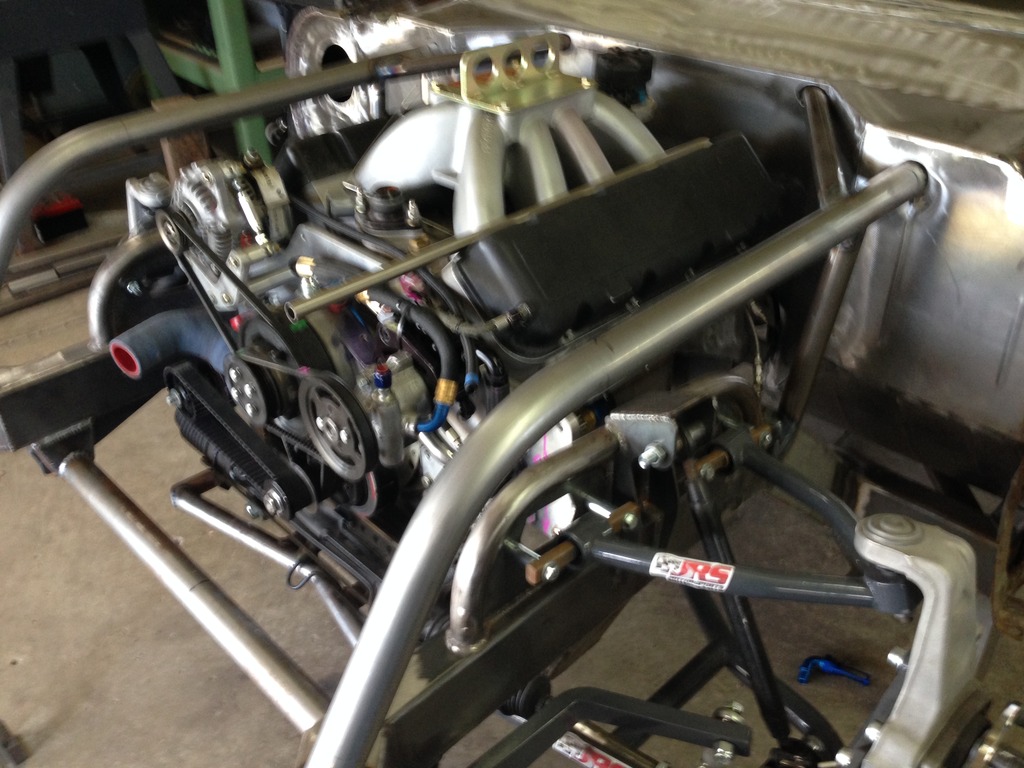 The scavenge line running fom the lifter valley was tricky. Ed machined a spot in the block for the line to pass through.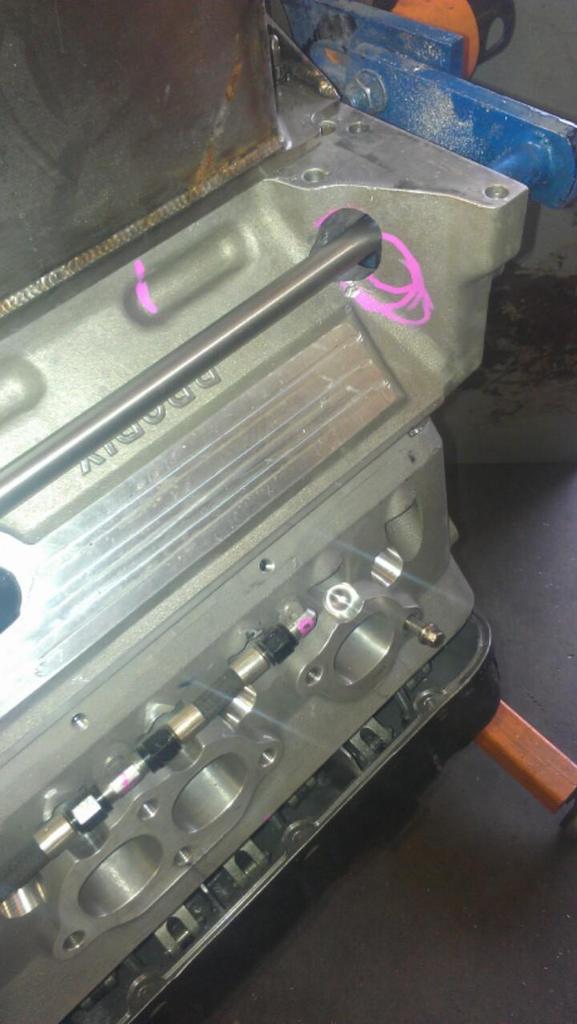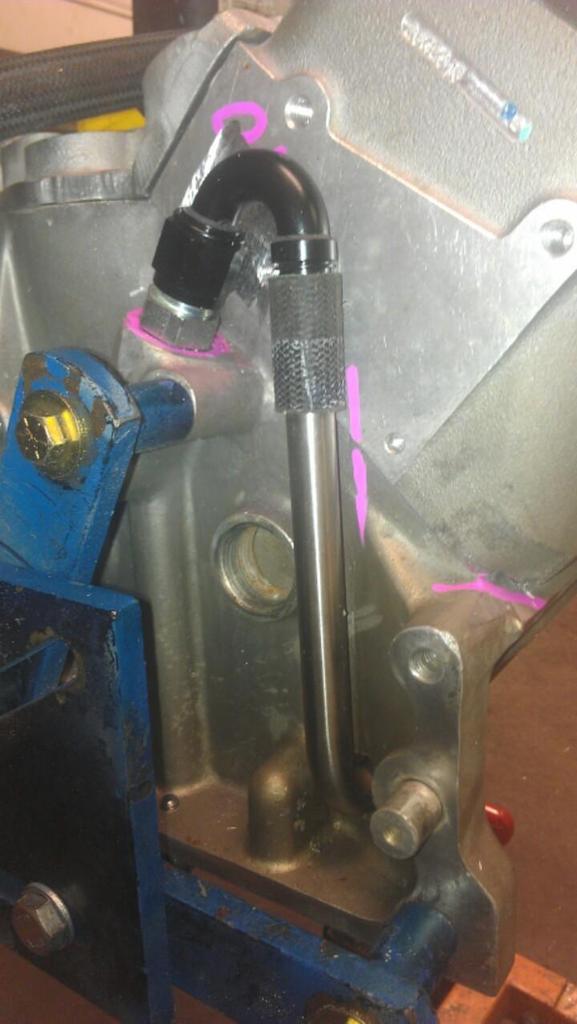 and to the pump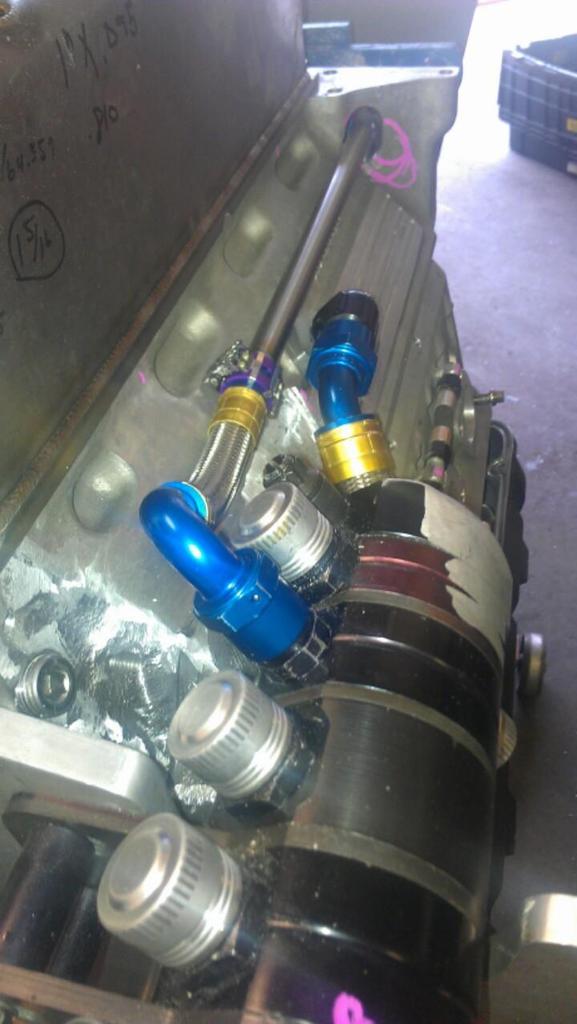 One of 3 scavenge lines from the pan.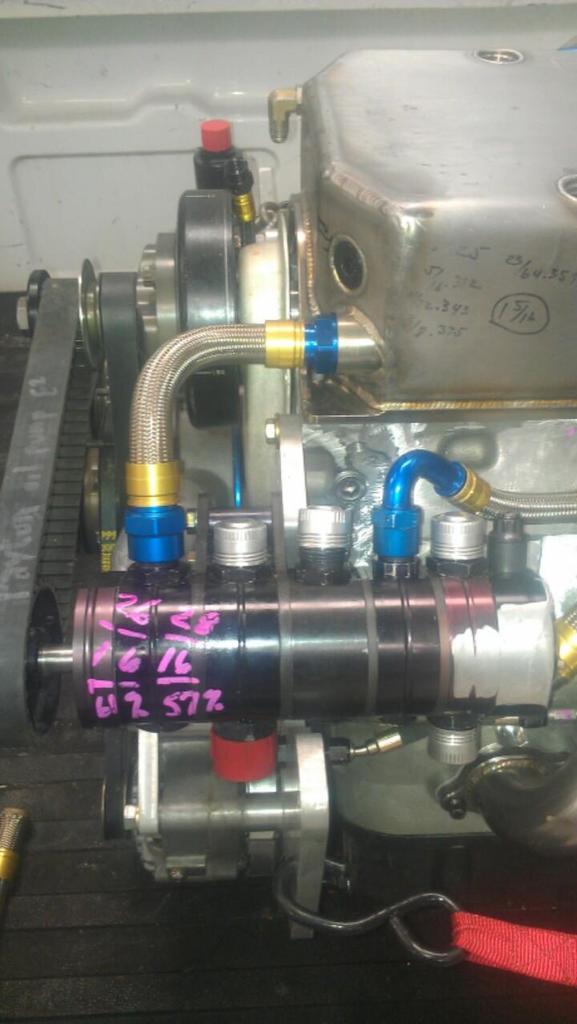 The motor made a trip to Brown & Miller for the other 2 lines.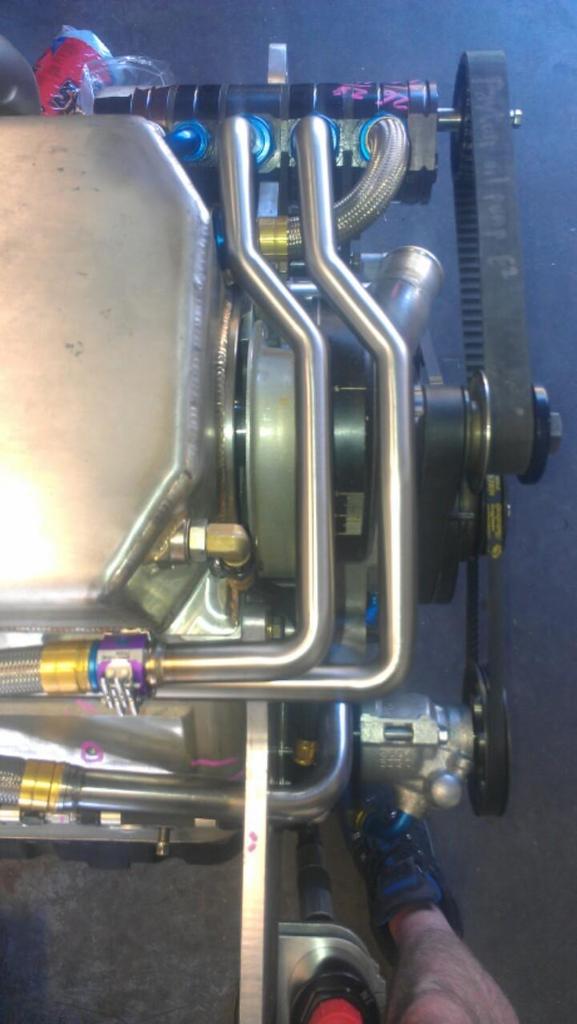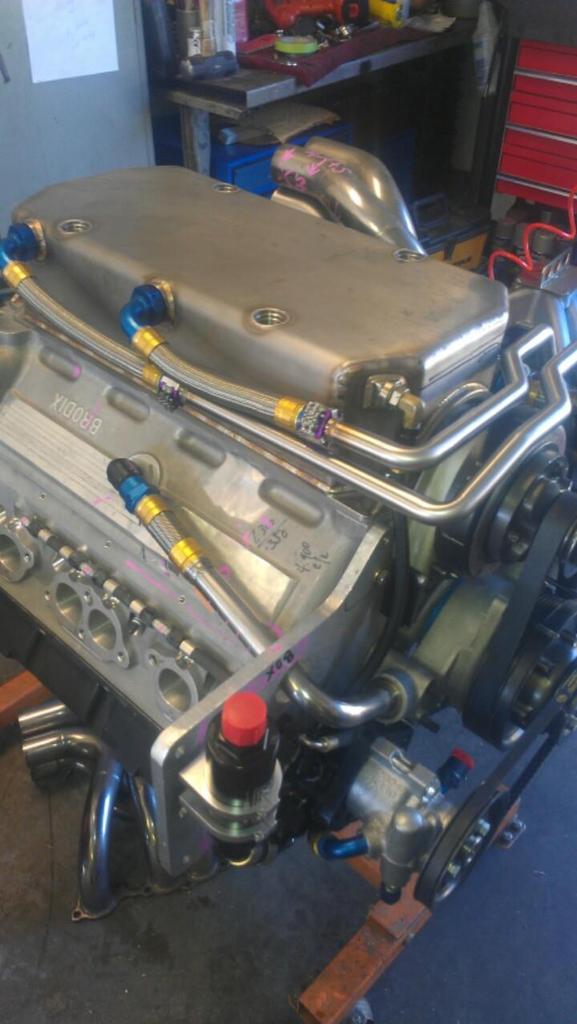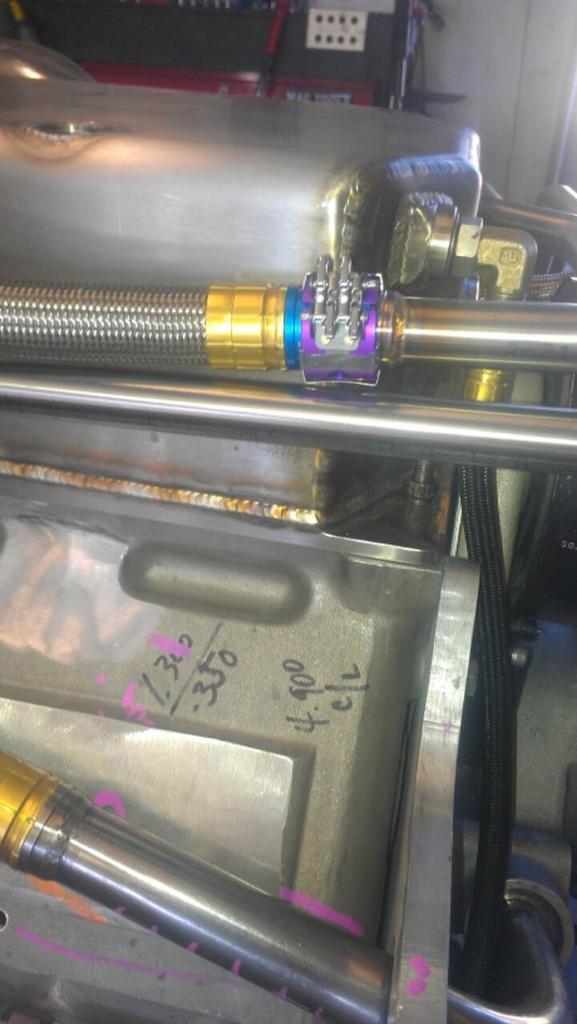 The other line that you see in the above picture going into the pan is for the piston oilers.
4-17-2015
Yes, all the custom work was done by the previous owner. Frank Garcia, who was the center for the Carolina Panthers.

No way is that truck fitting in my garage. Top of the roof is 7'2"

Pistons and rings just came in so all I need is head studs and a cam. Motor vids are a few months away. Have not decided on an injection system, either AEM or Holley. May have a line on a throttle body off of an RO7.

What amazes me is I will be running an LS firing order and we called Comp cams. They have 50mm, SB2 cam blanks with an LS firing order sitting on the shelf. Just need to come up with specs to have it ground.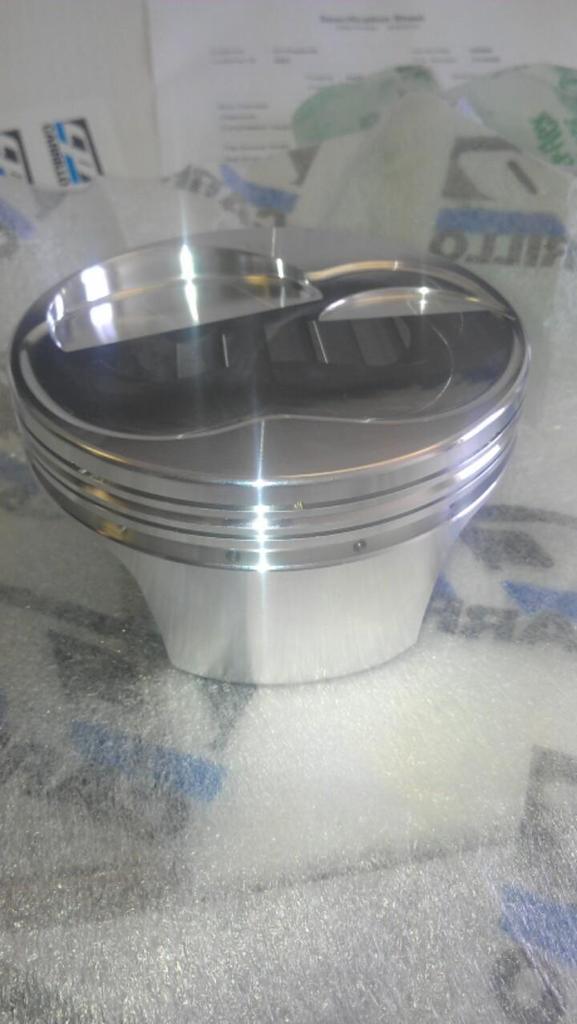 6-10-2015
Now that this thread got brought back up, I need to update.

Center bar on cage and gussets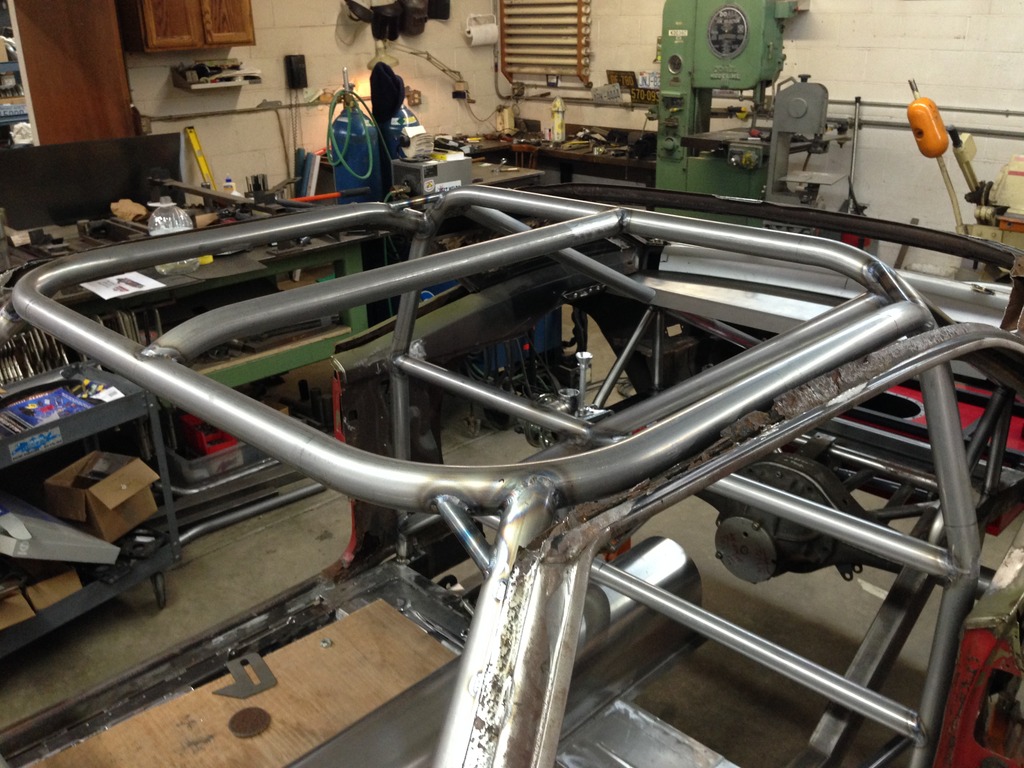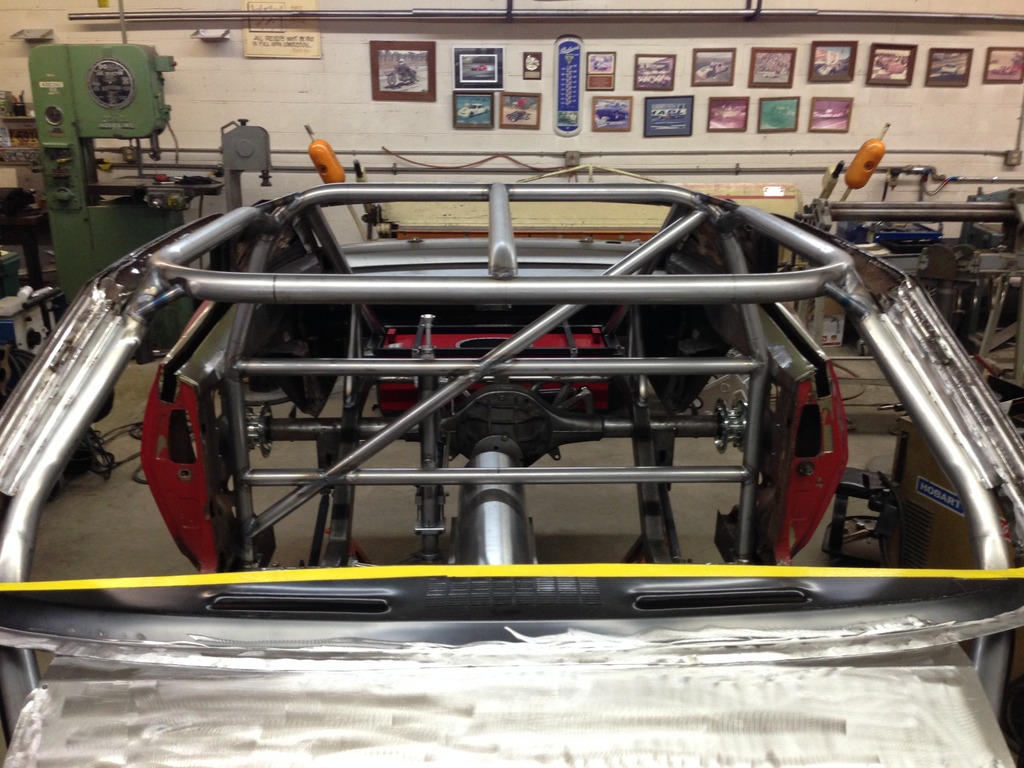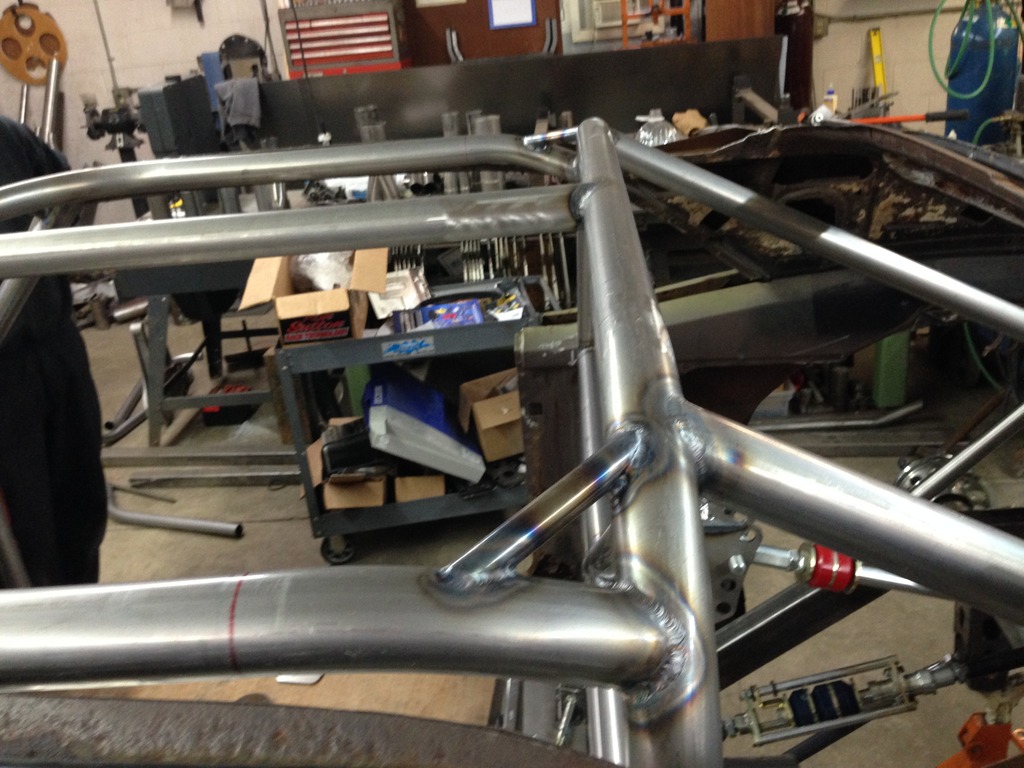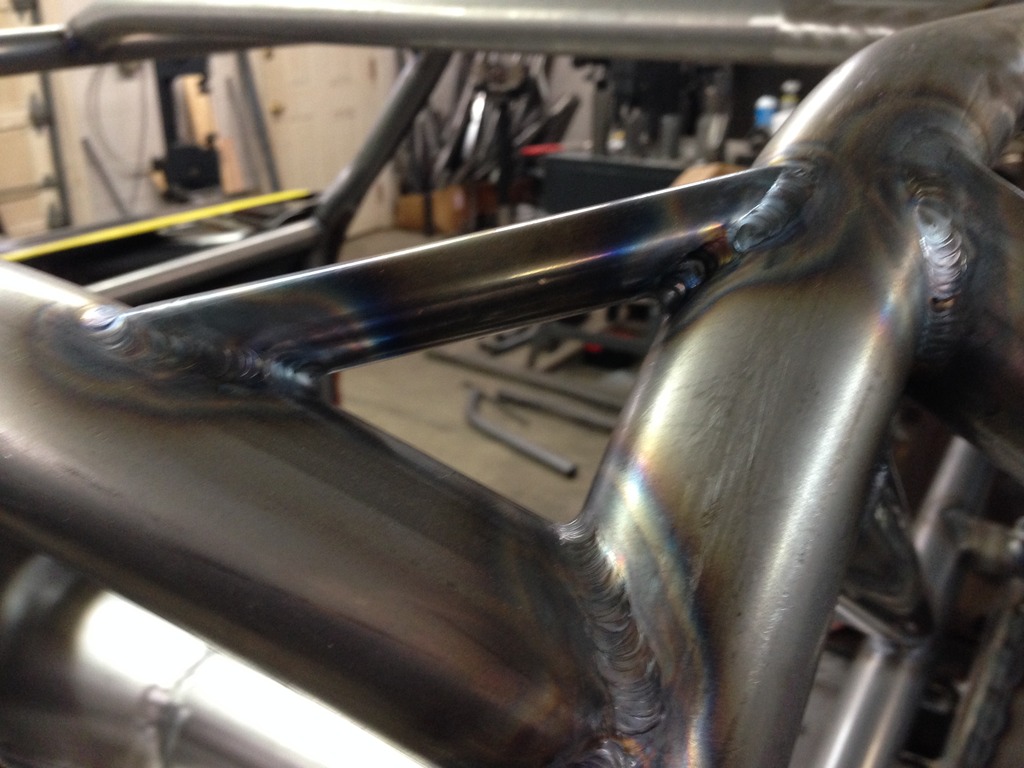 The watts mount was too low to the station tubes. We cut it out, modified it and added the trick adjuster so we can make fine changes instead of an inch at a time like it was before.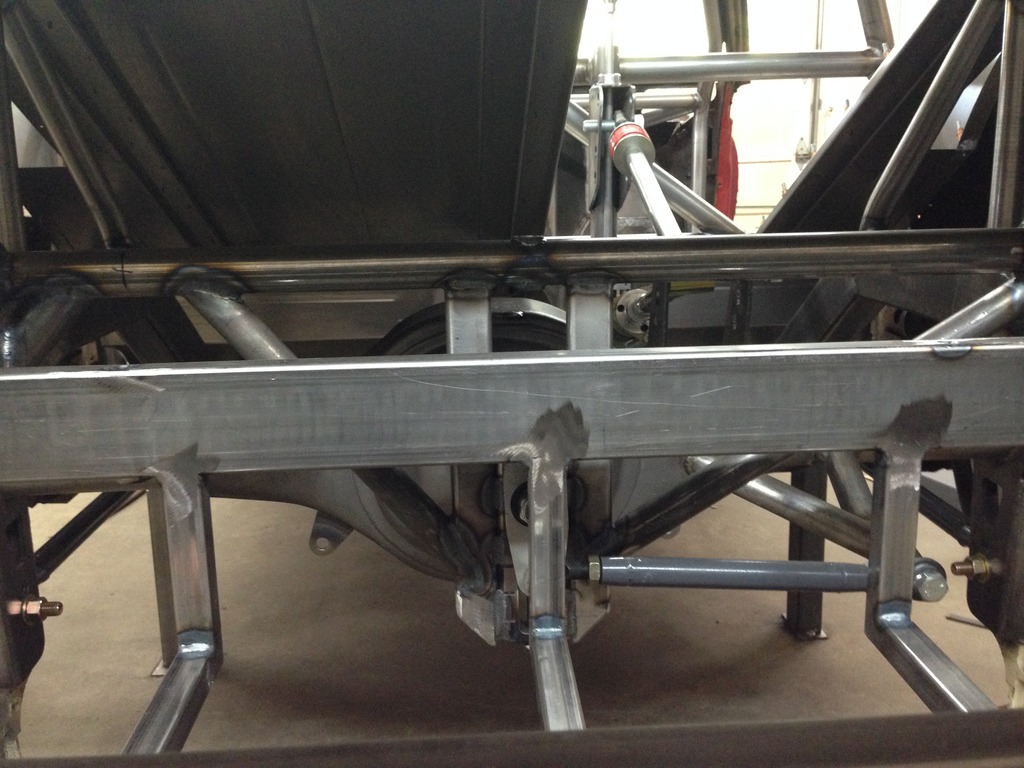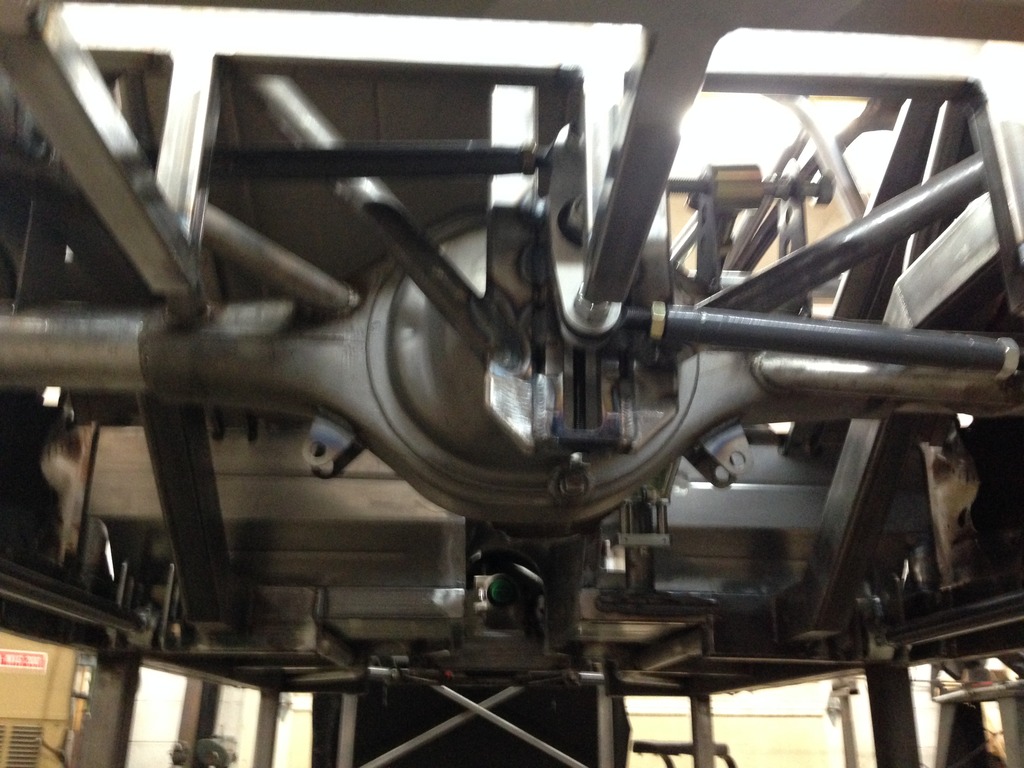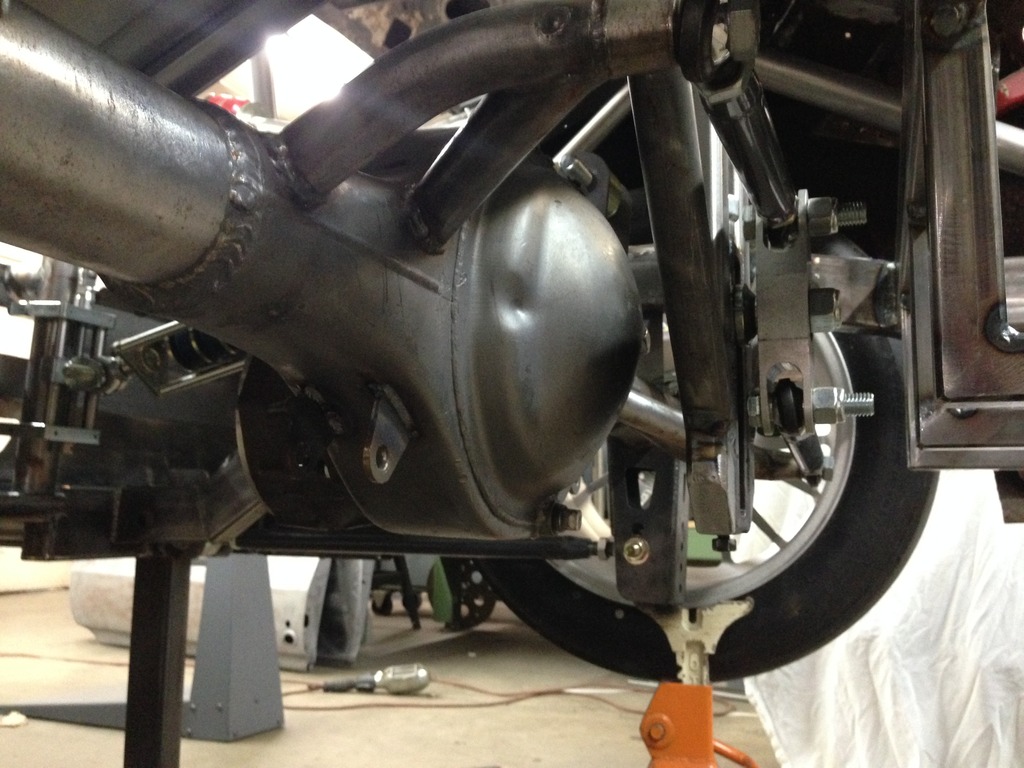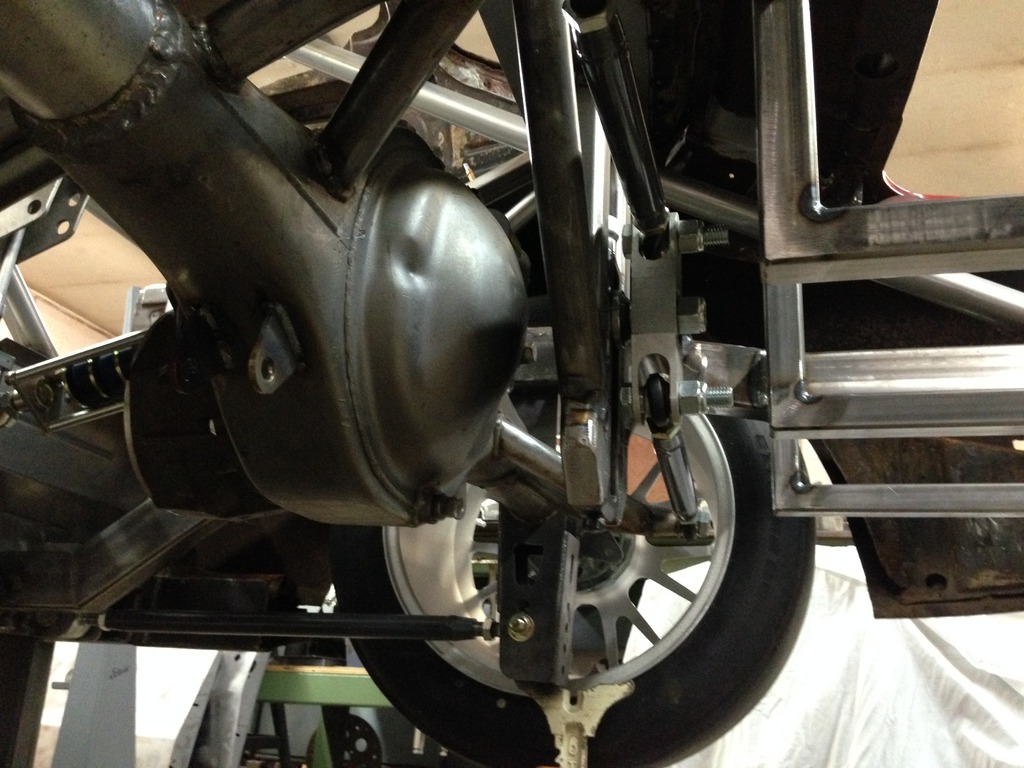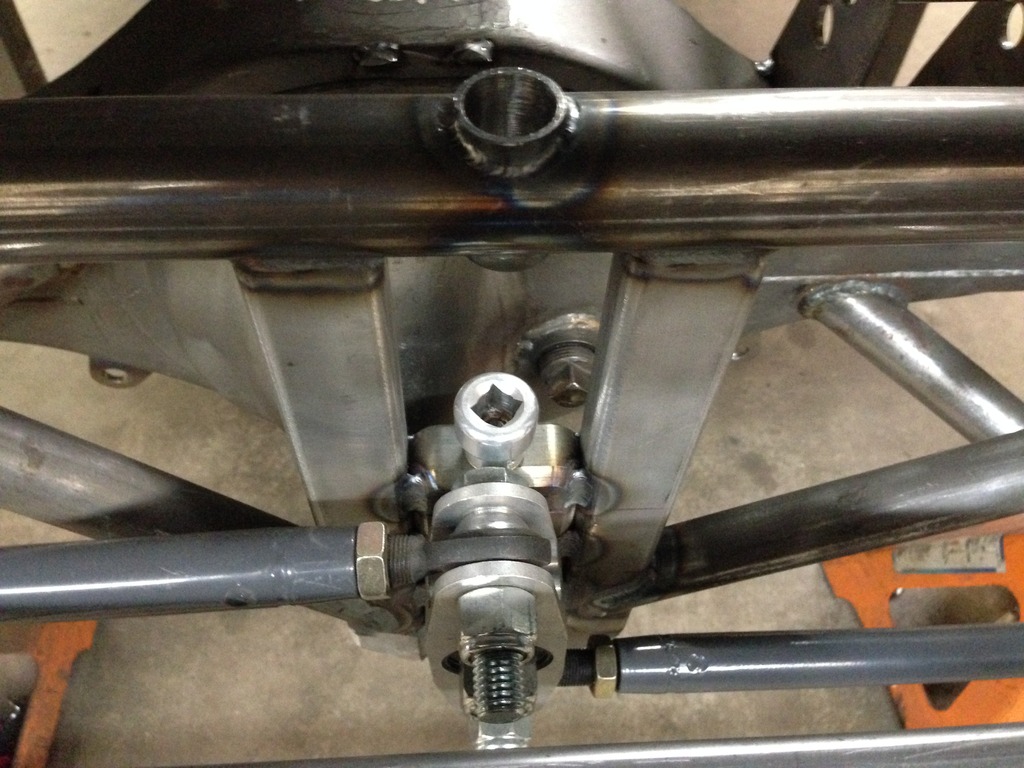 Finally time for a tin work. Starting to come together and look like a car again.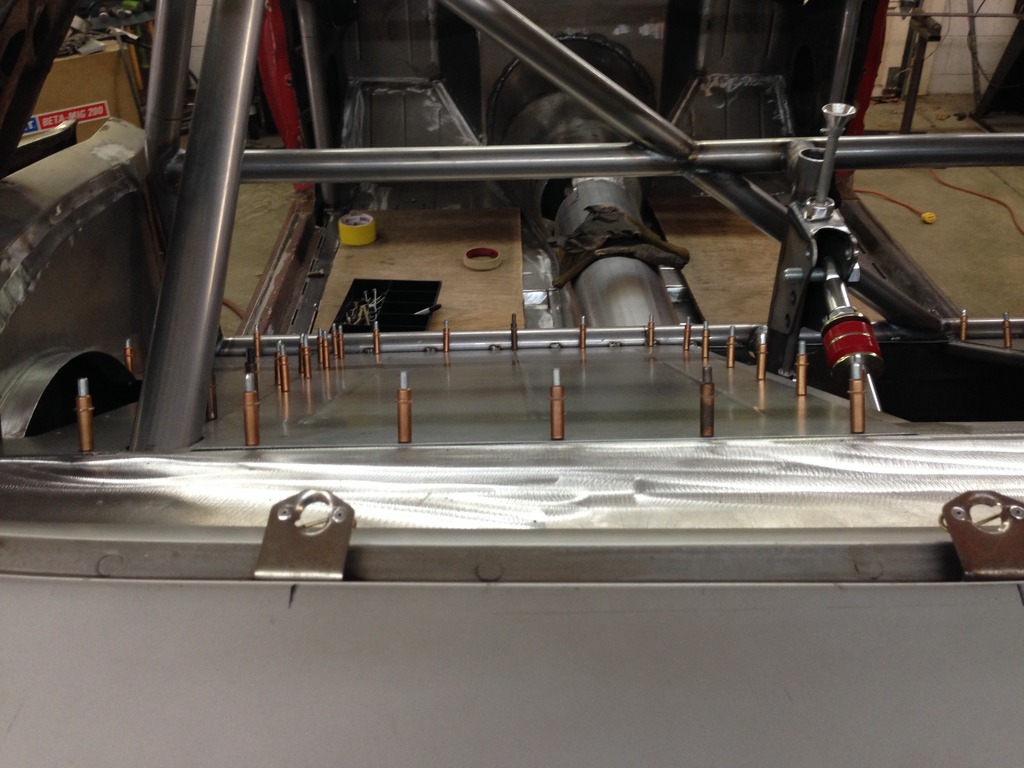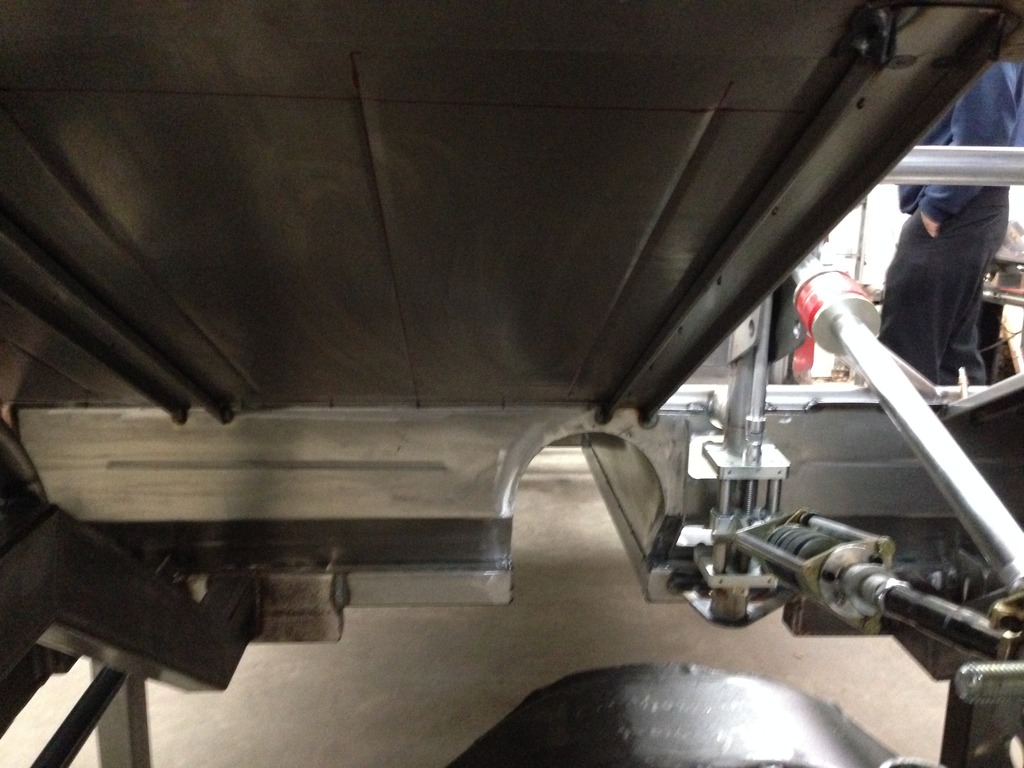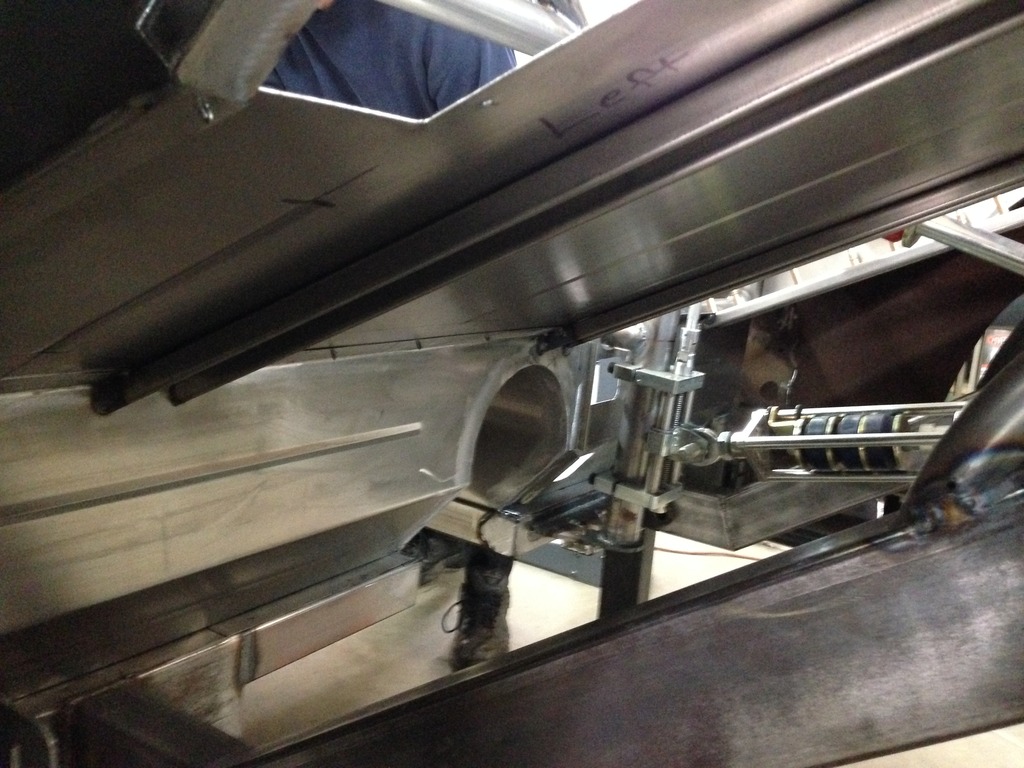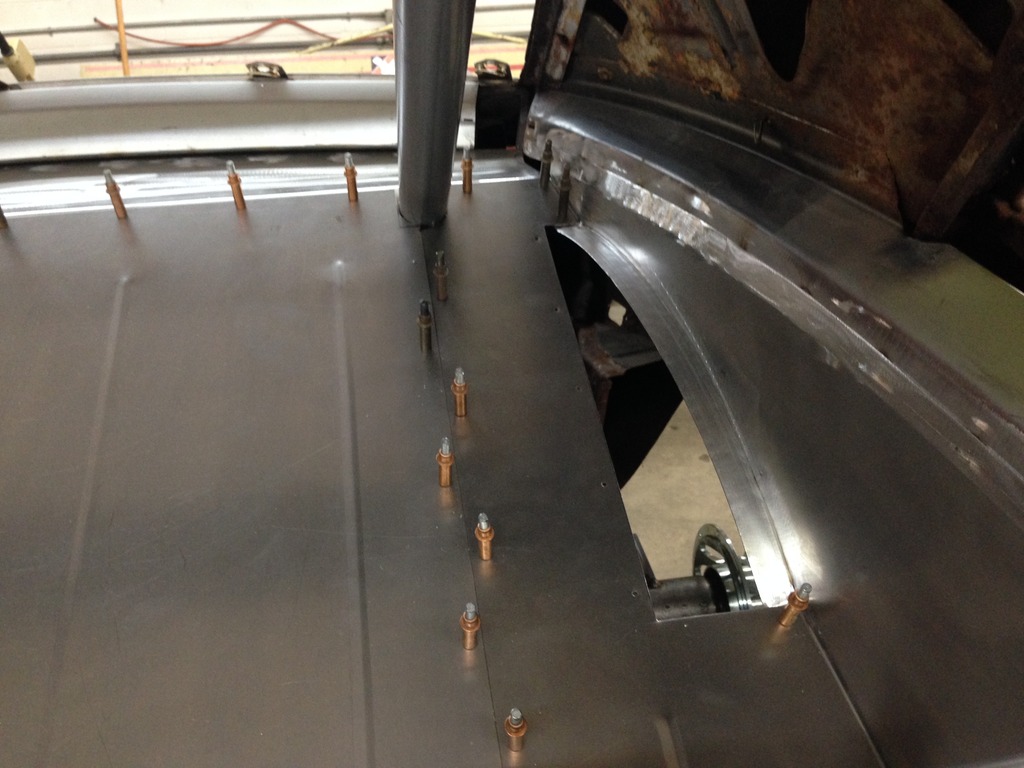 ...and finally, the mini'est of mini tubs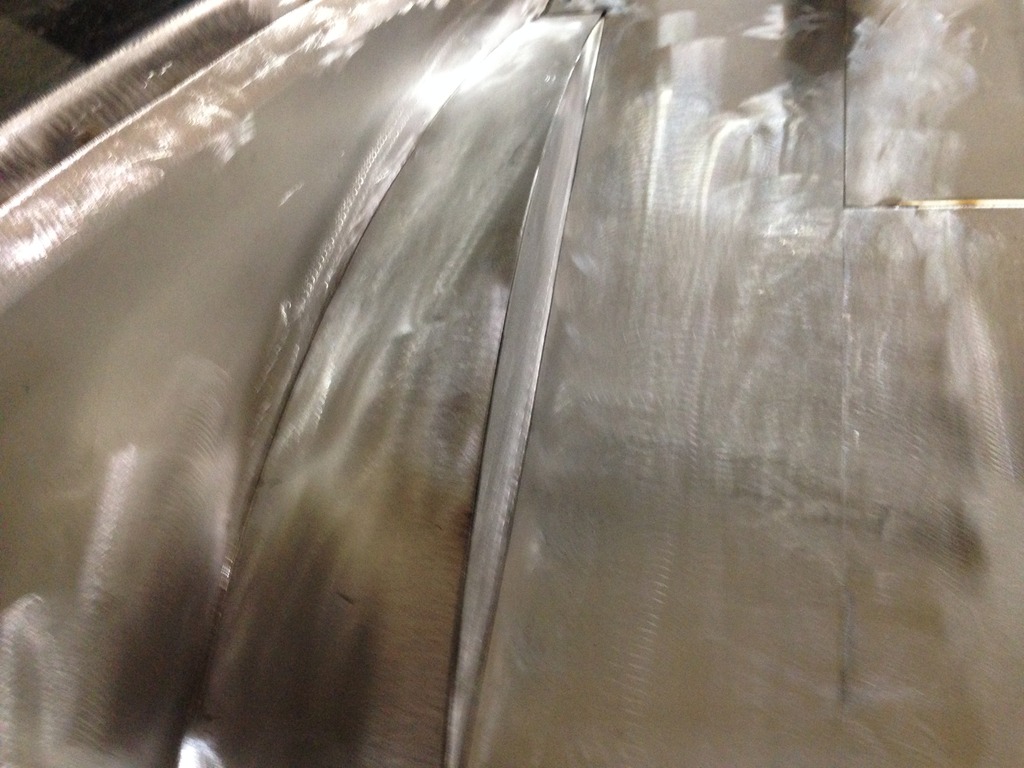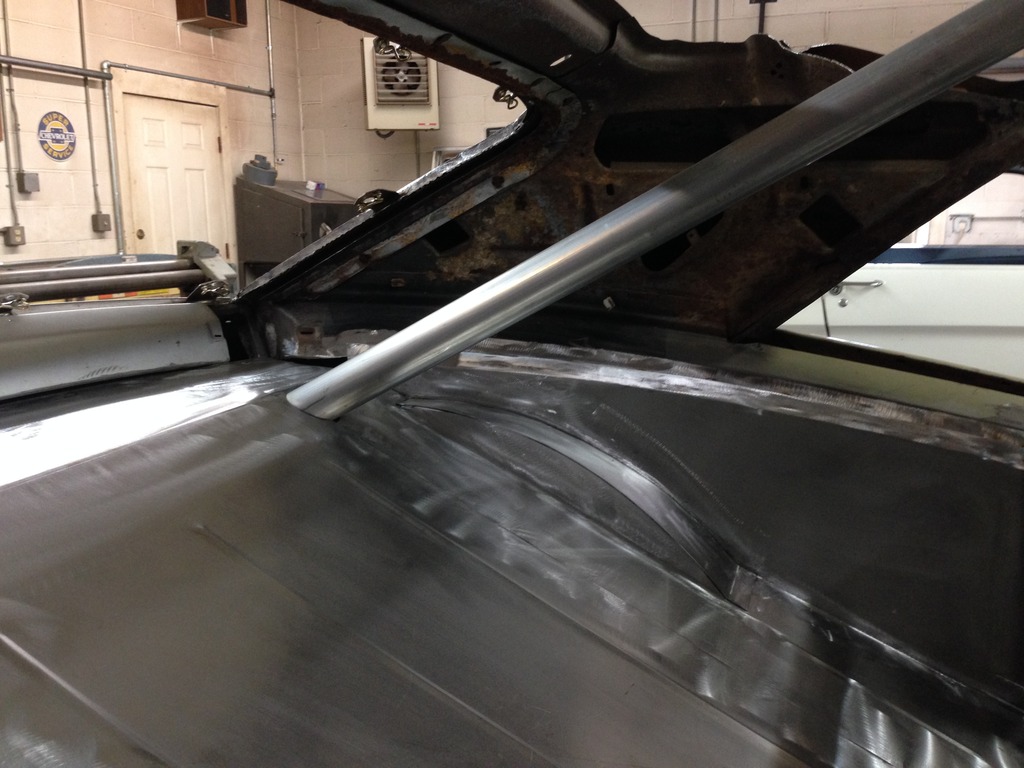 8-14-2015
Well it has been a busy summer with the kids out of school.

Went golfing at Beech Mountain in NC. That is the 10th tee box with about a 400 ft drop to the fairway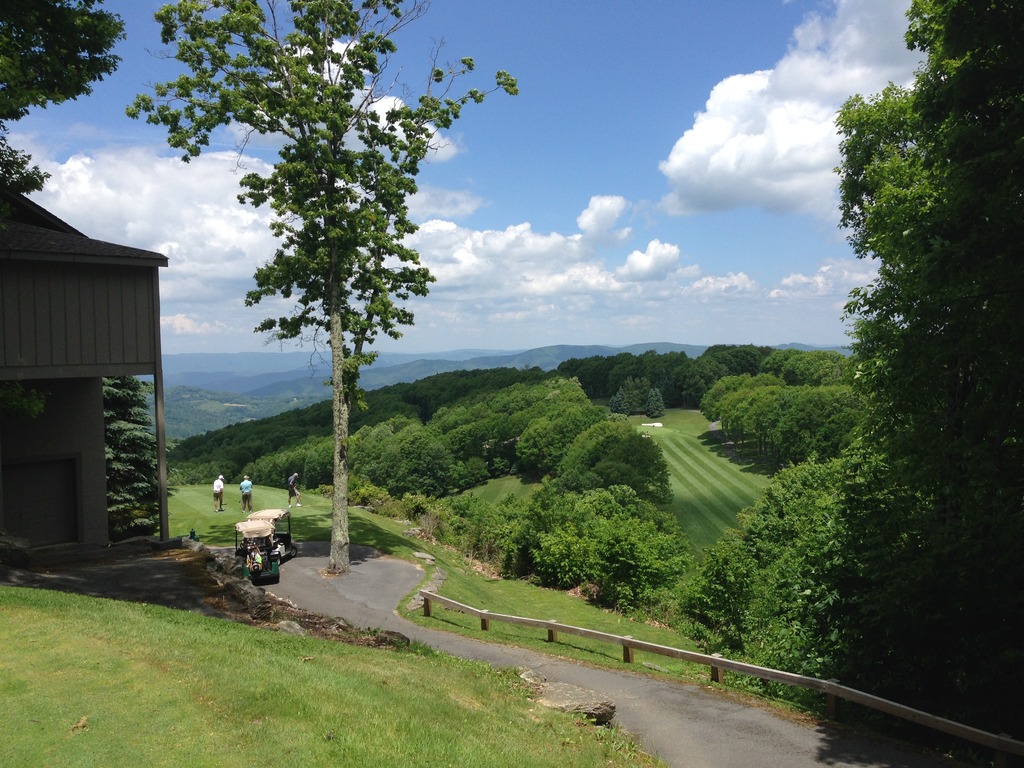 Went to Clearwater Beach, Fl for a family vacation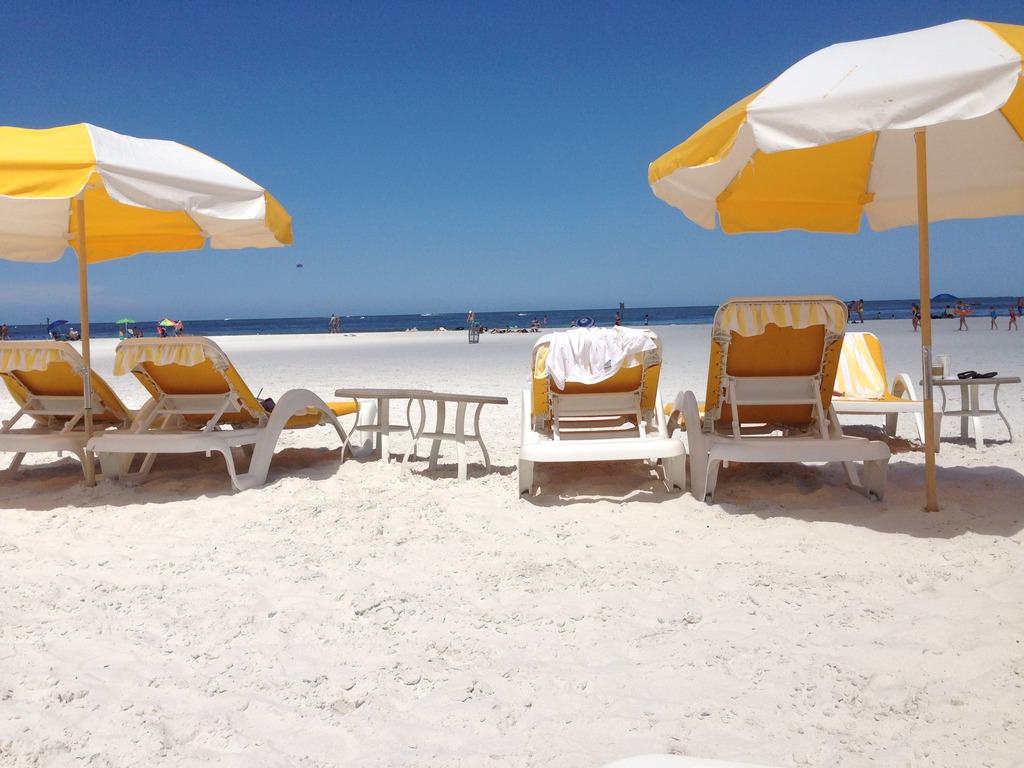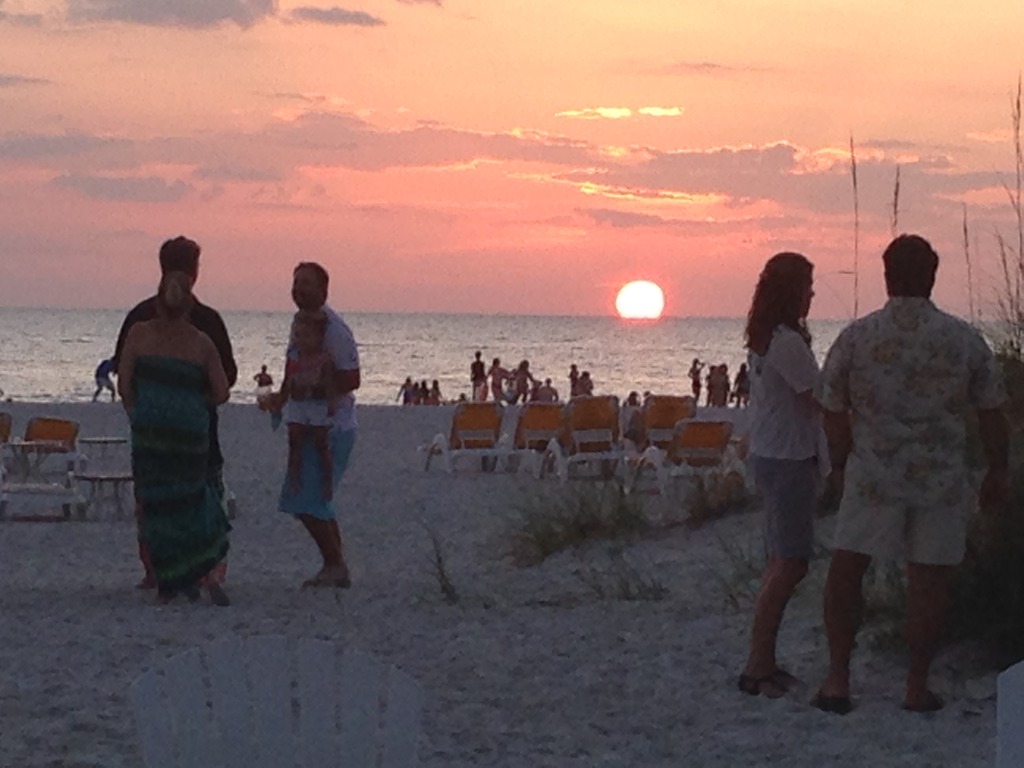 Camping trip to Pisgah National Forest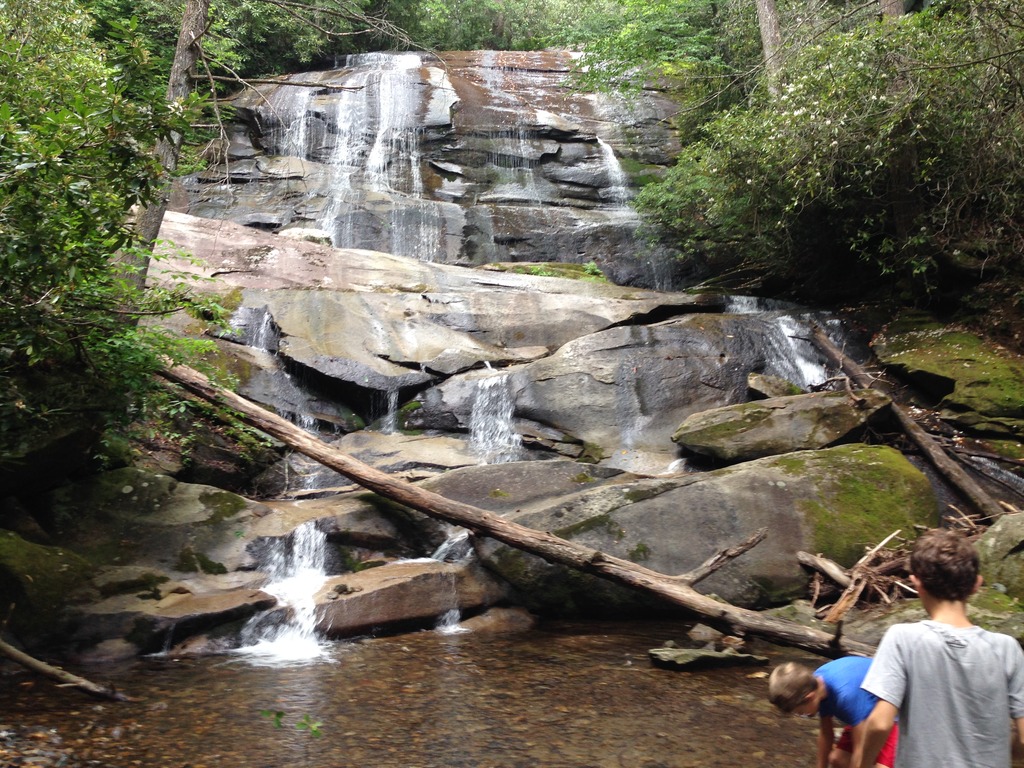 Chelsea and PSG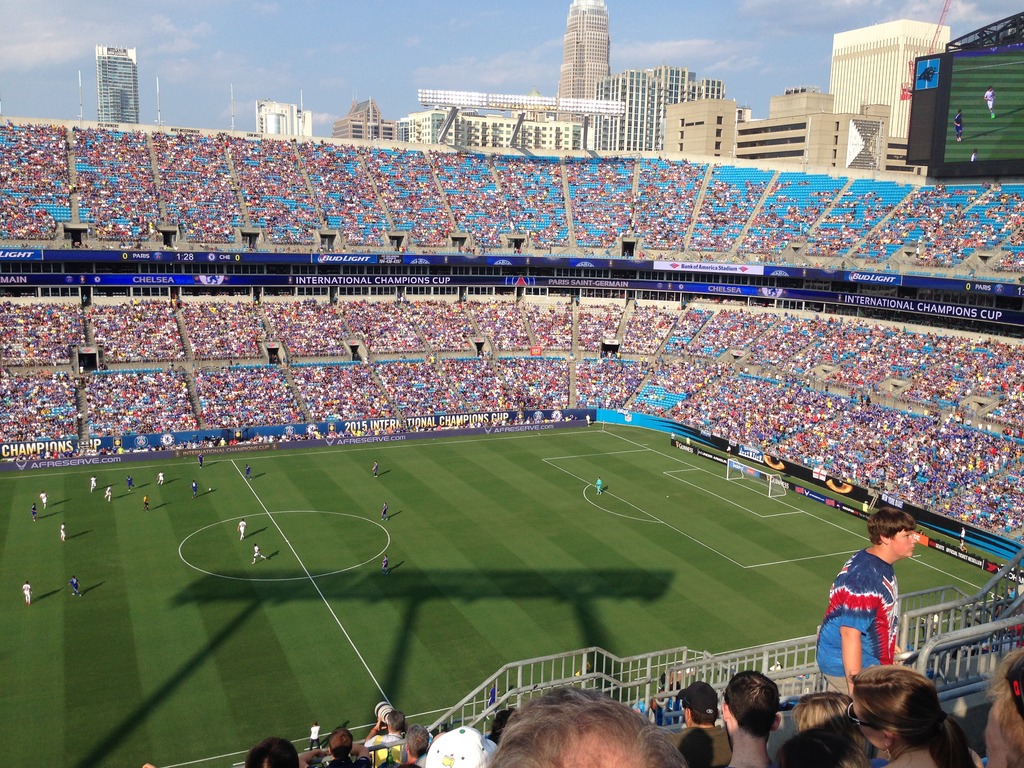 and capped it off with the Optima event in Charlotte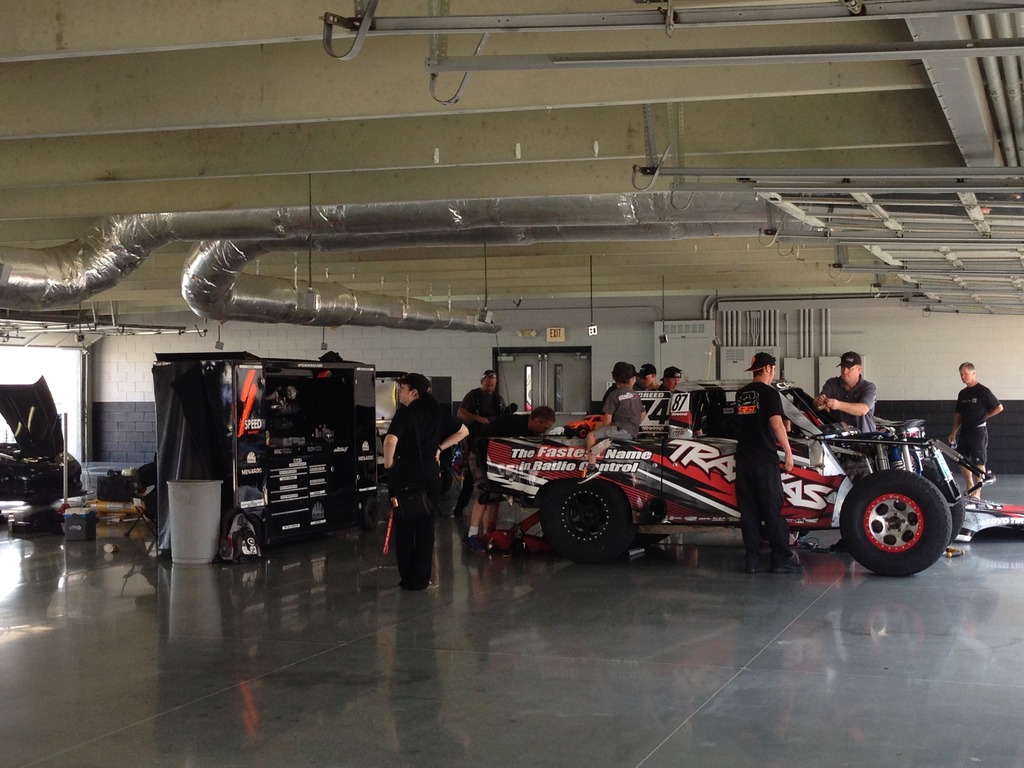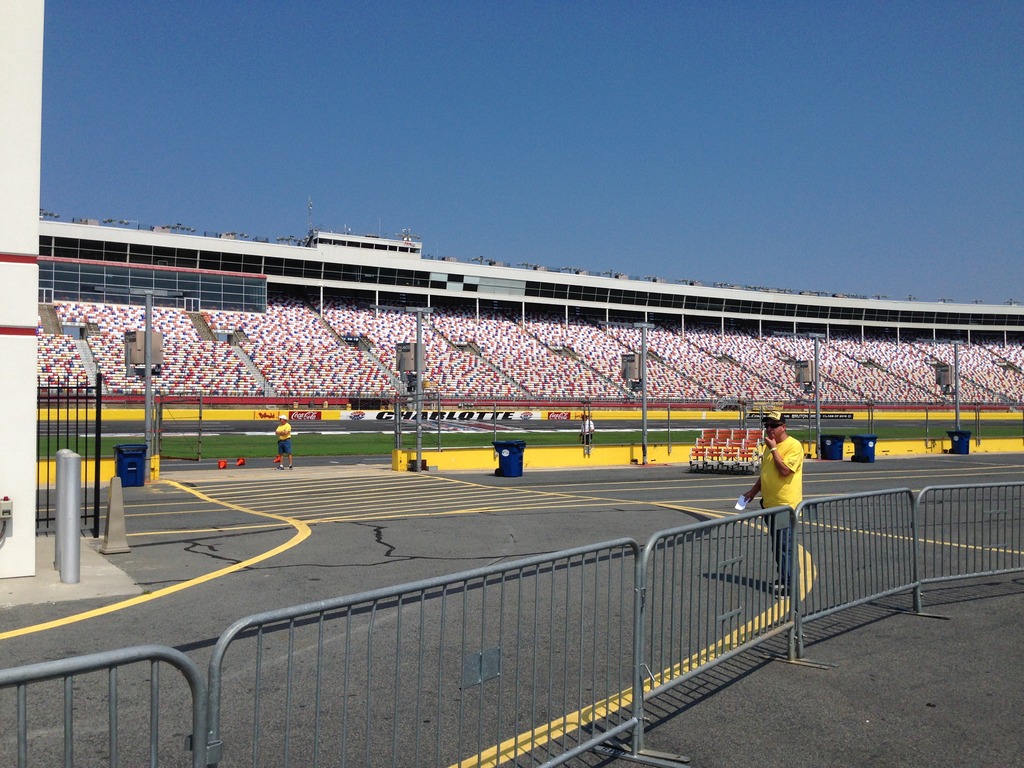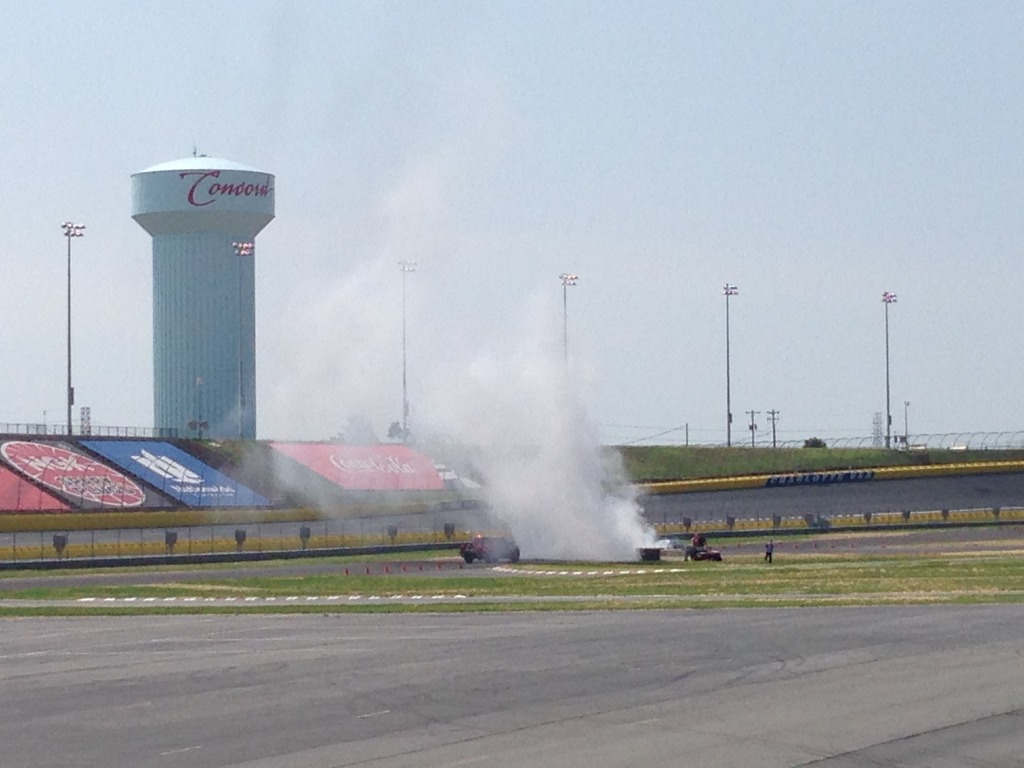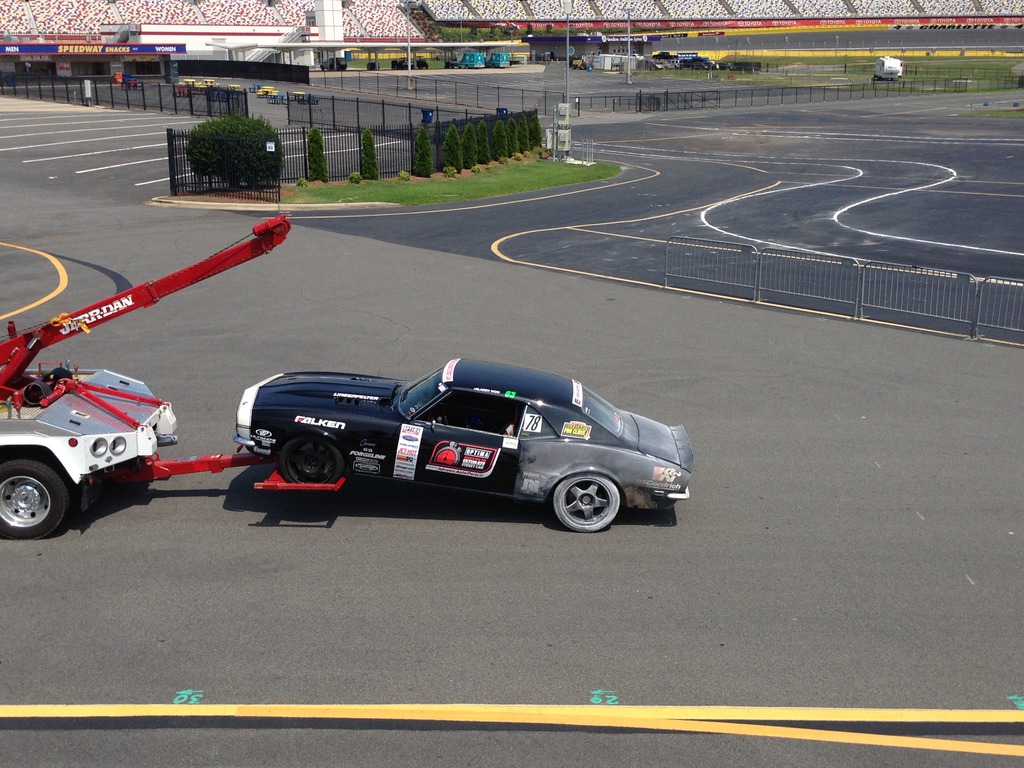 and bought my son a car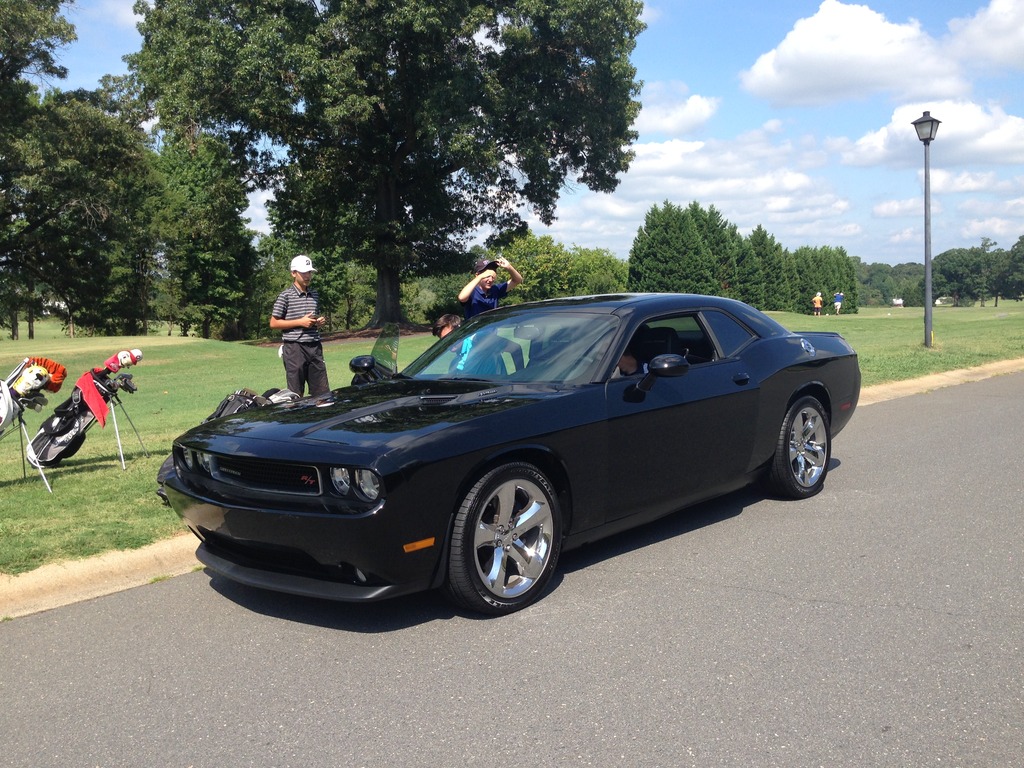 Time for some updates

Getting steering column in place and driver position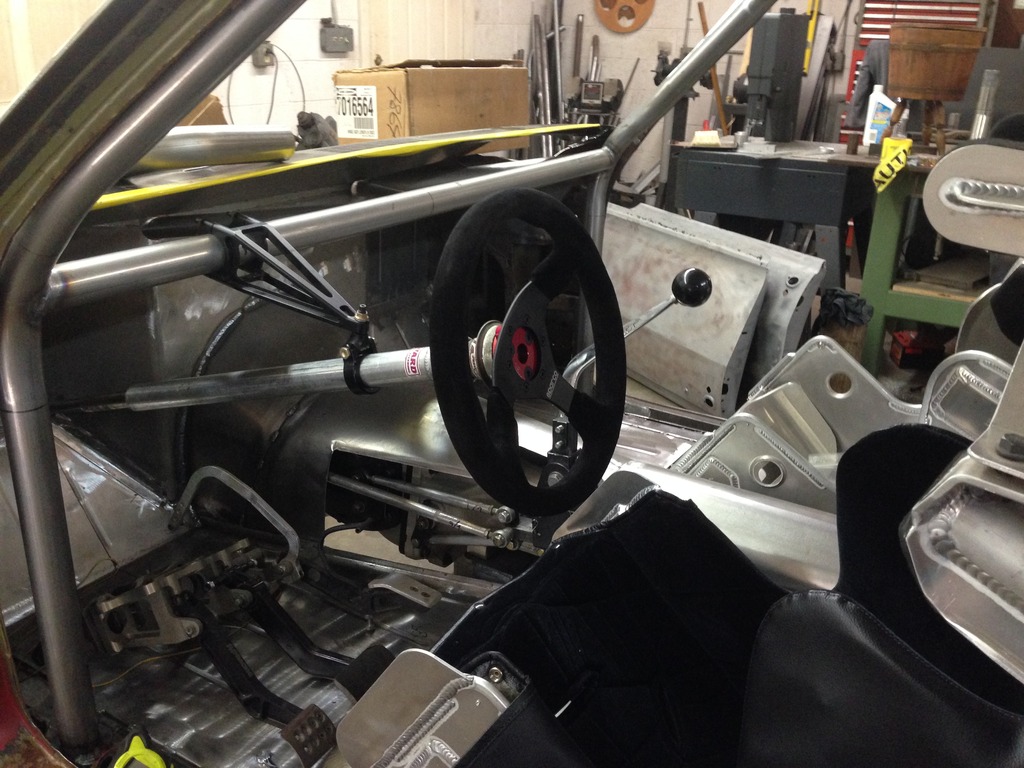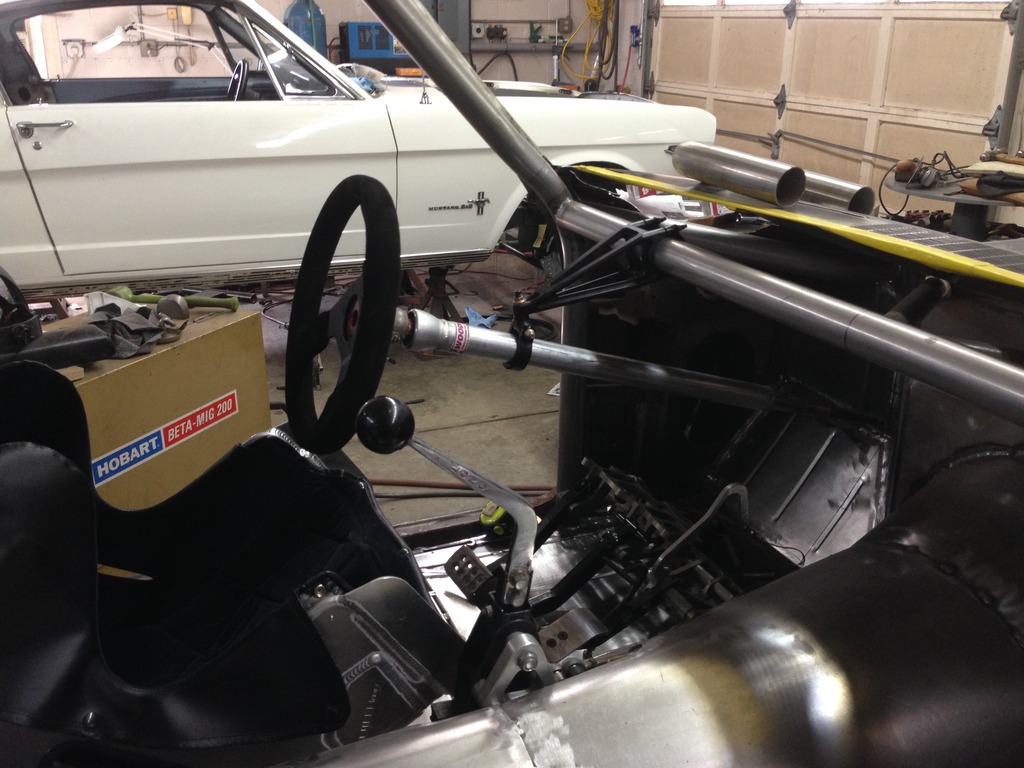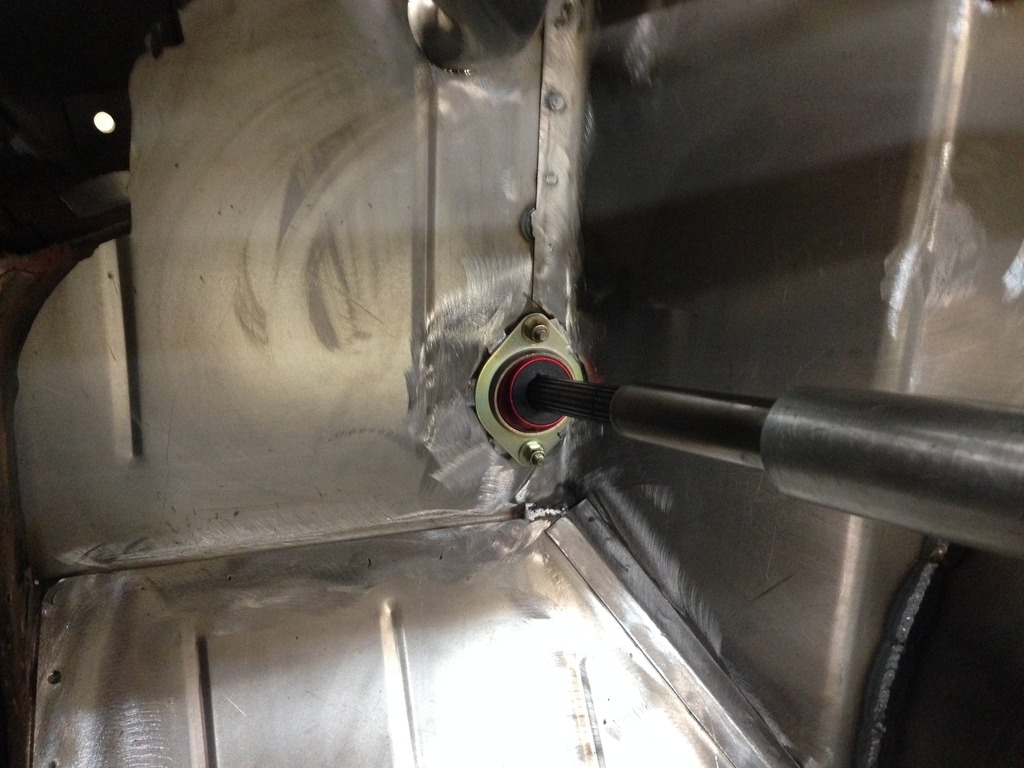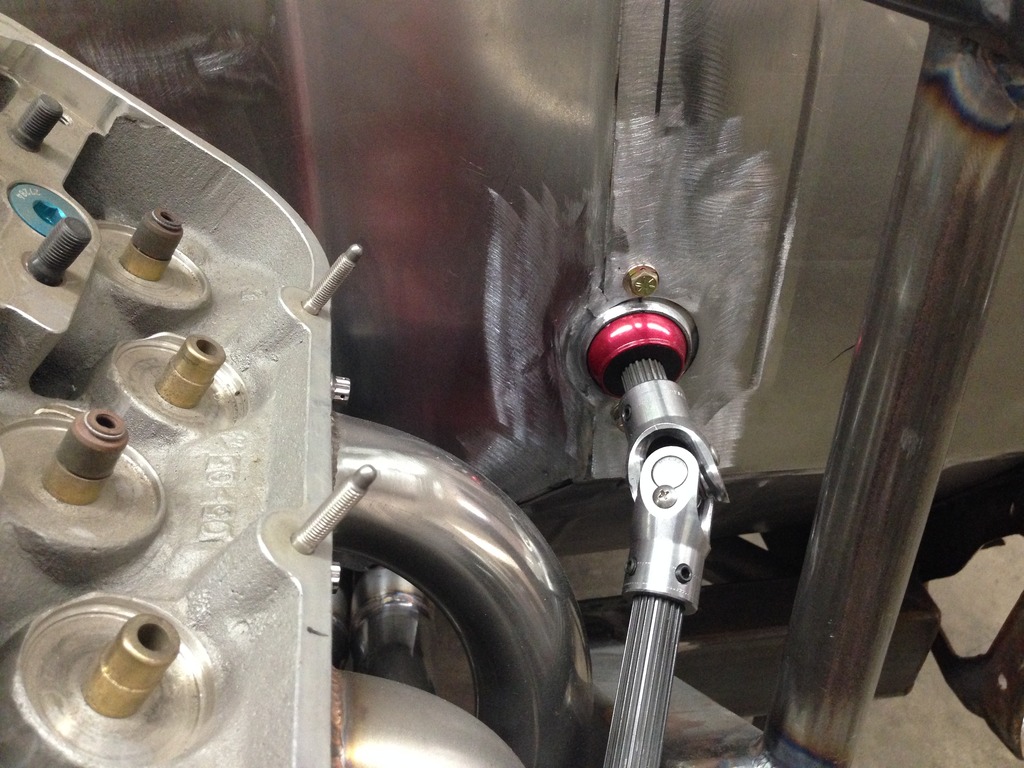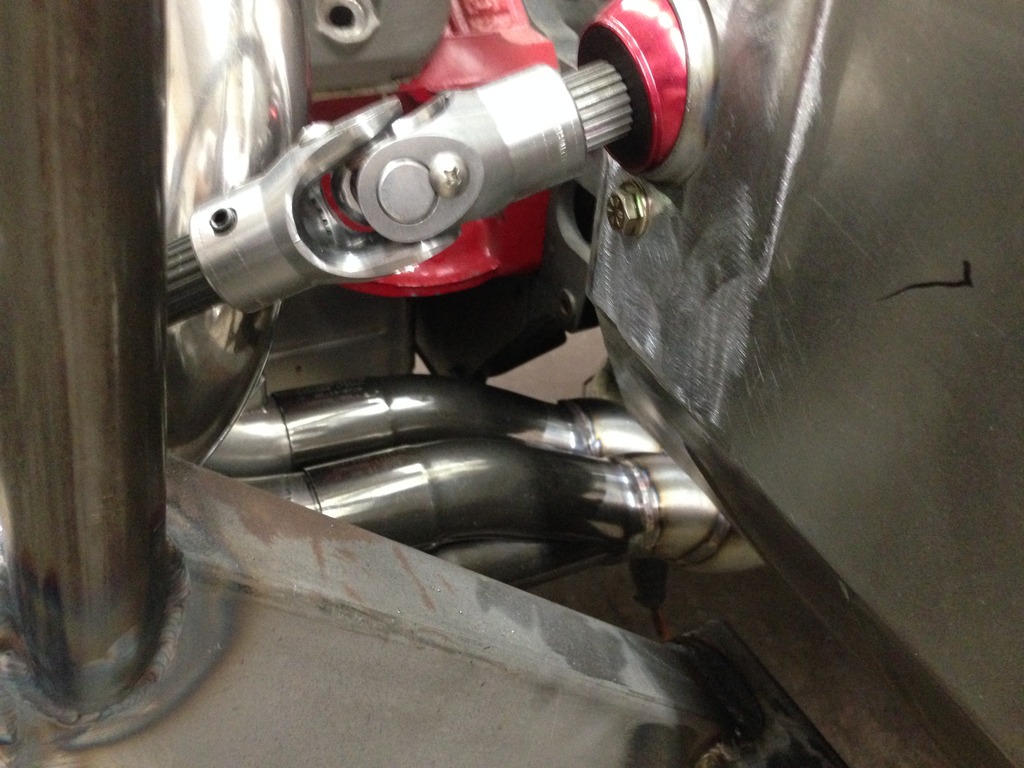 Had to move a couple of tubes on the headers for clearance and also rolled the rack back for a better u-joint angle.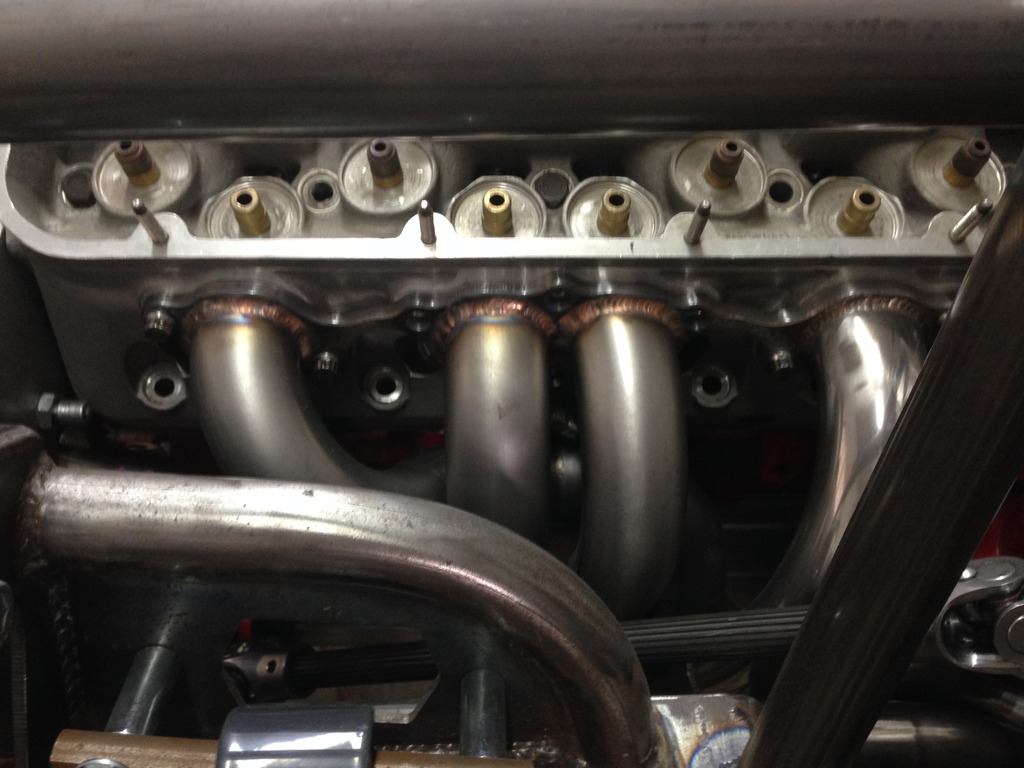 After the steering shaft was final, Jim fabbed up a mount for my pedal box. It is made where I can change the pedals front to rear instead of moving the seat.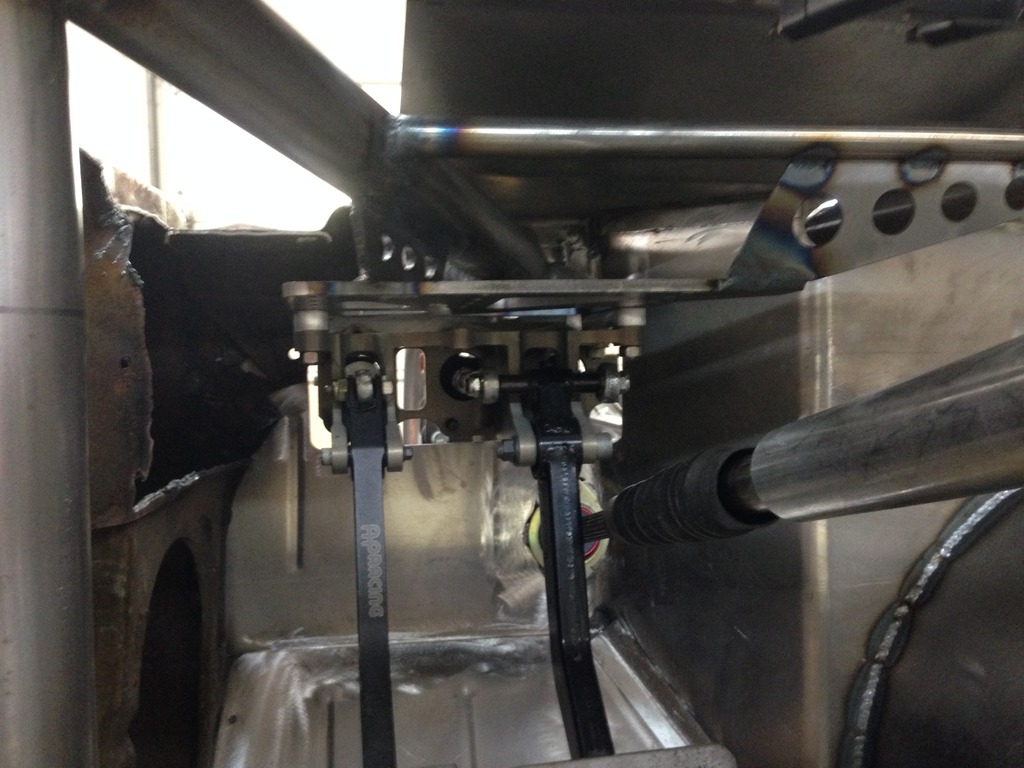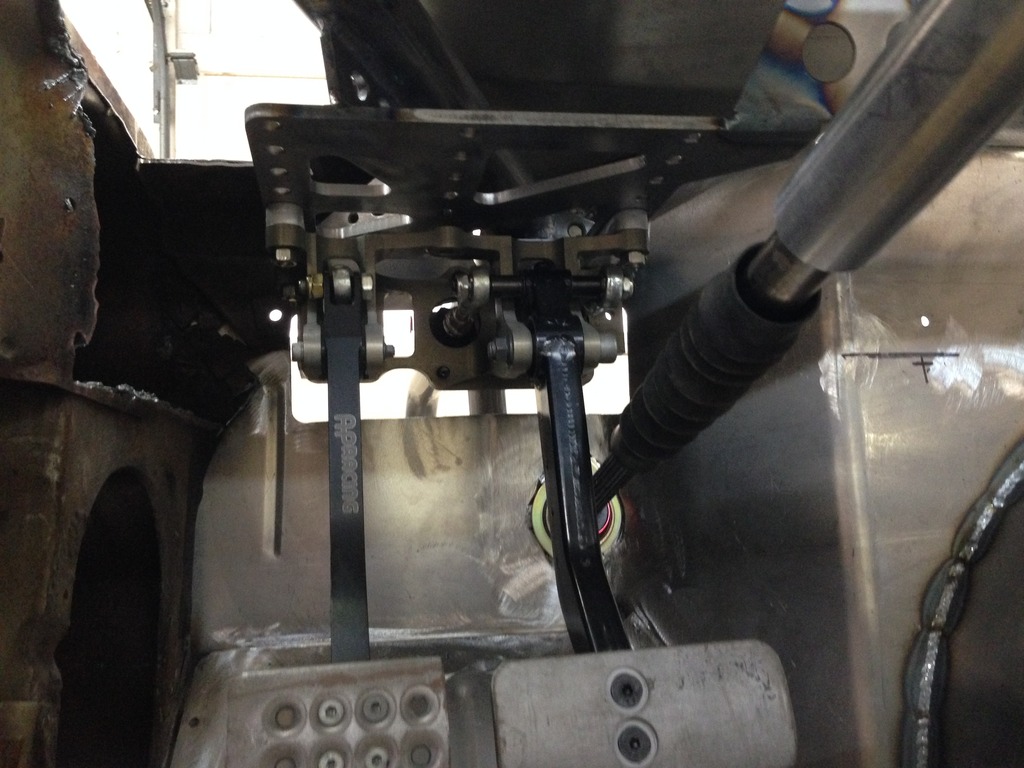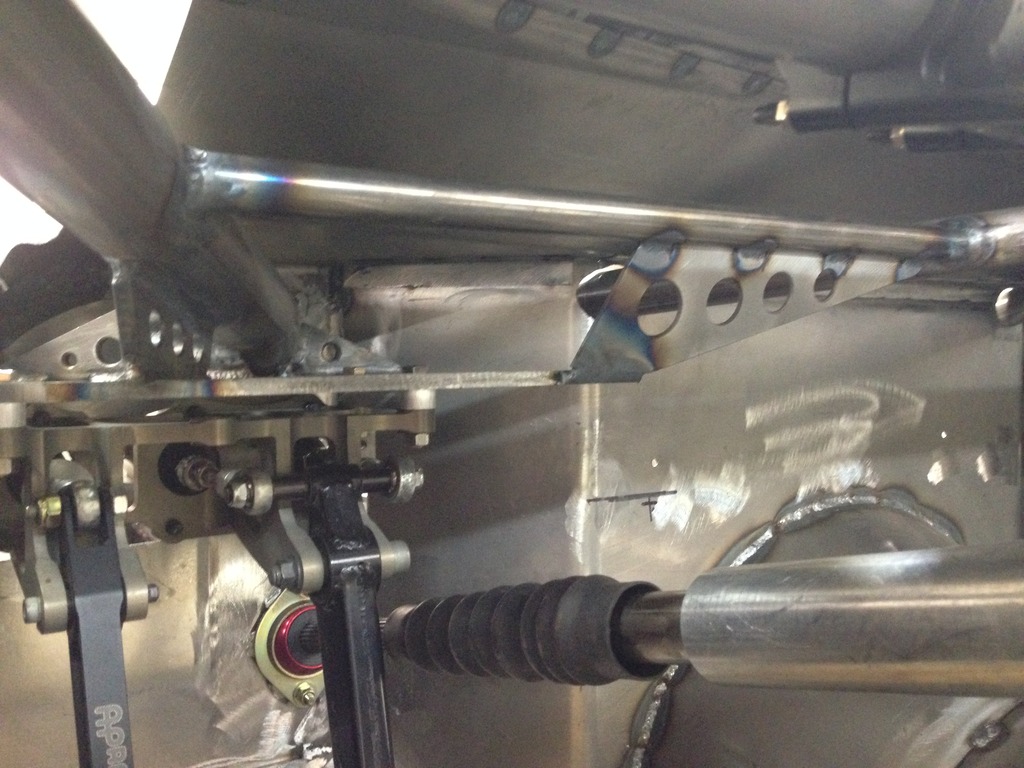 And yes he did mill the mount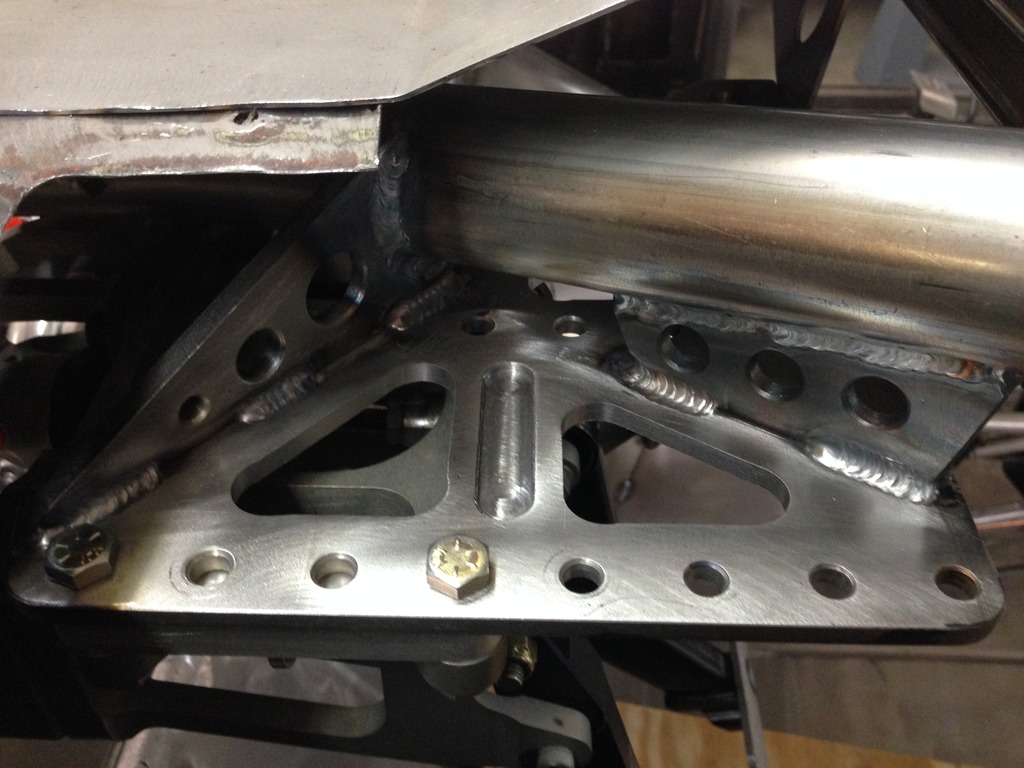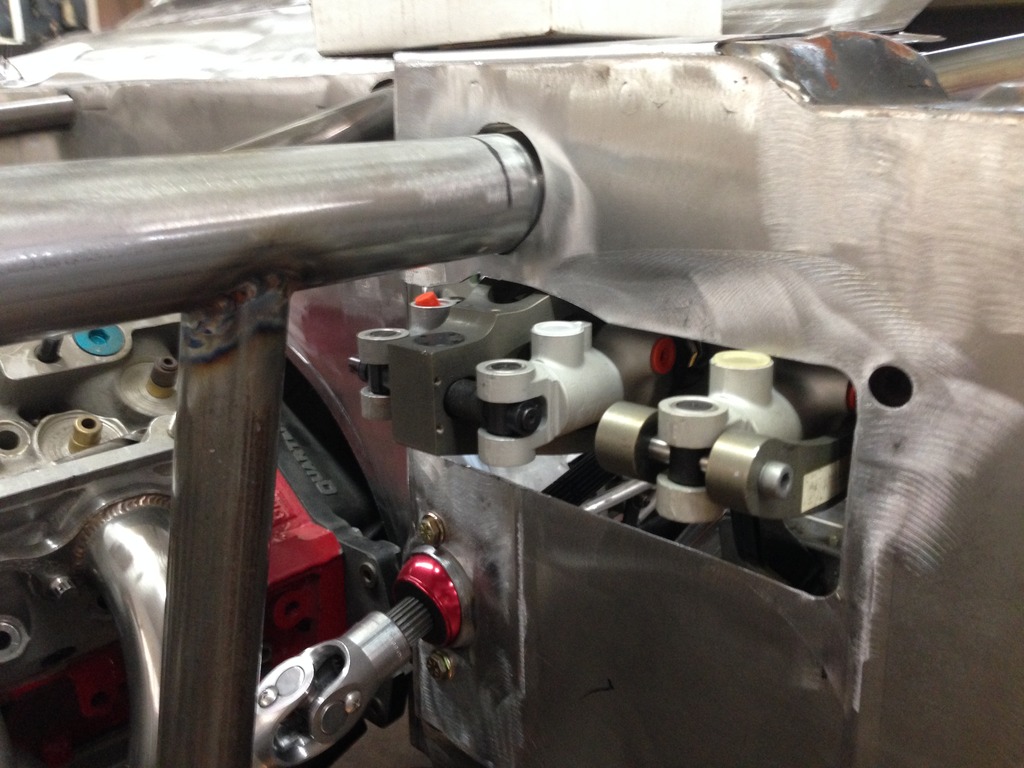 From there, Jim moved onto getting the exhaust routed. He had to drop the intermediate collectors 2 inches to get them under the car and he still had to do a small mod on the floor. Those headers are off a cup car...Jimmie Johnson's 48 to be exact.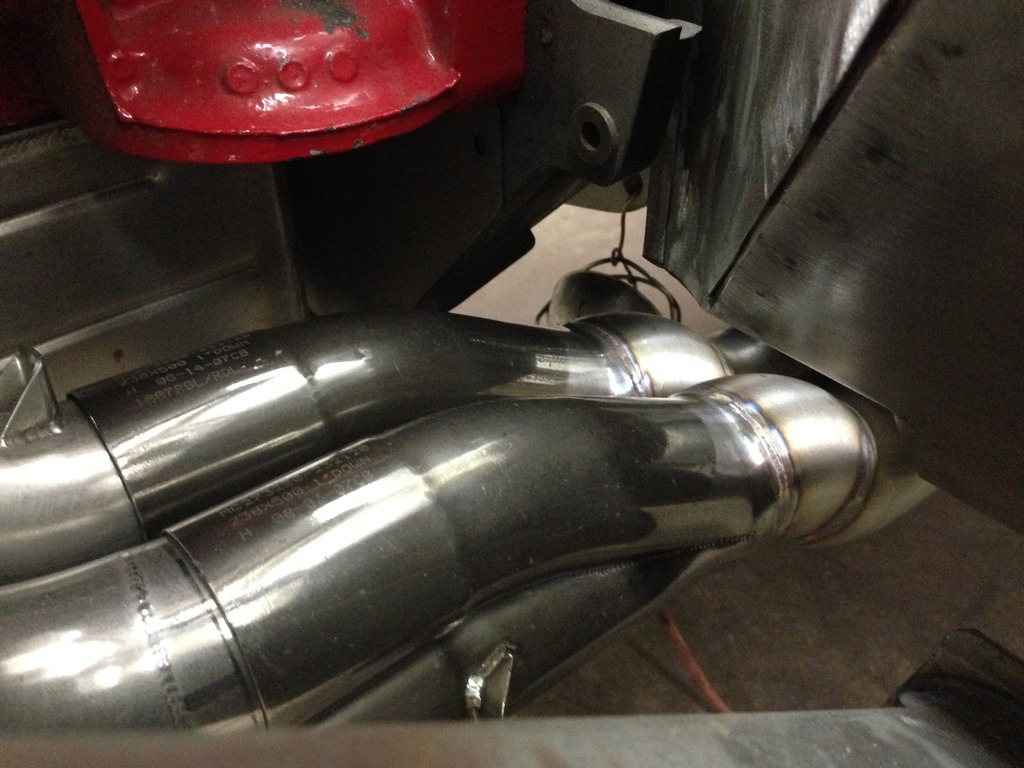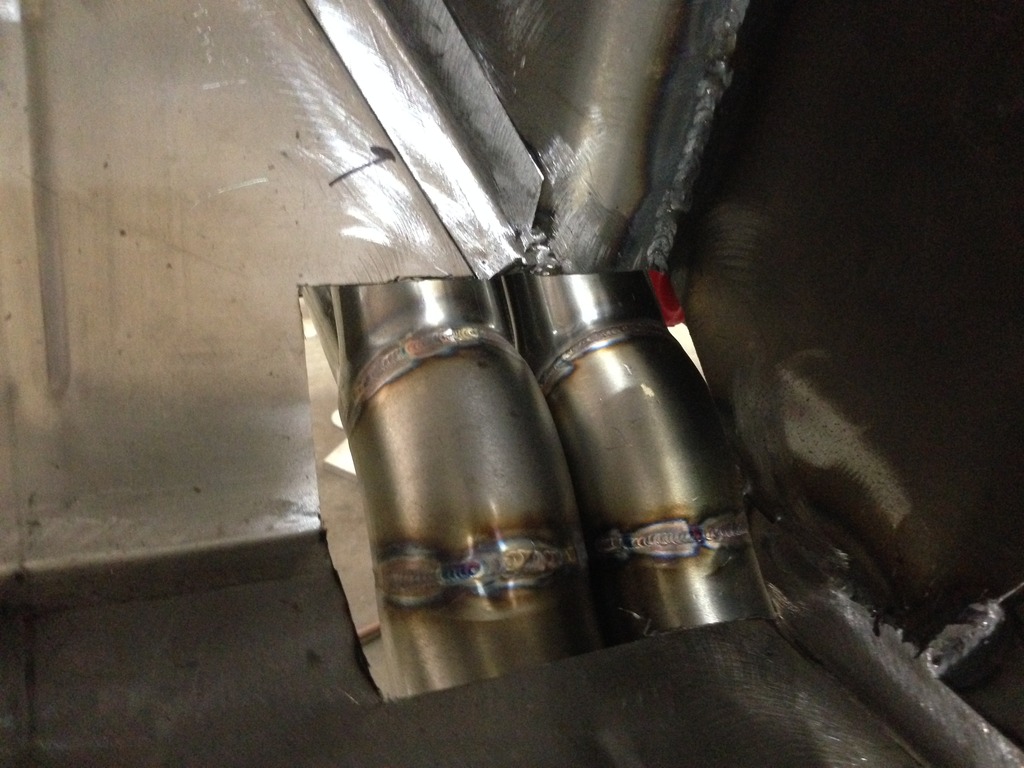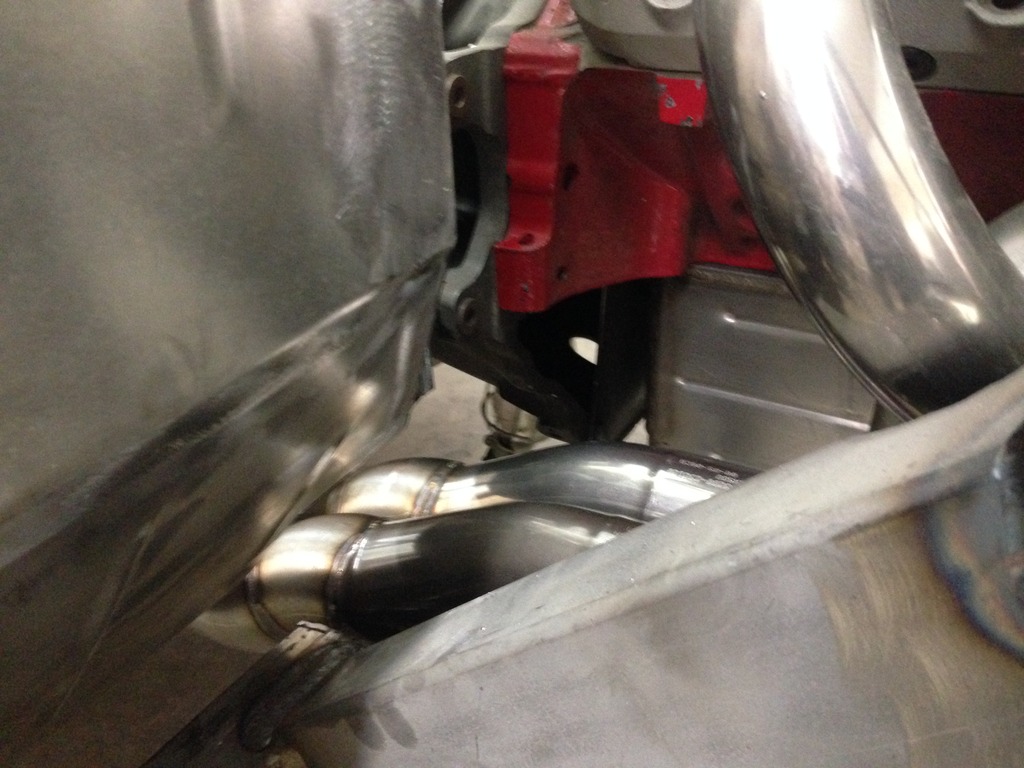 From underneath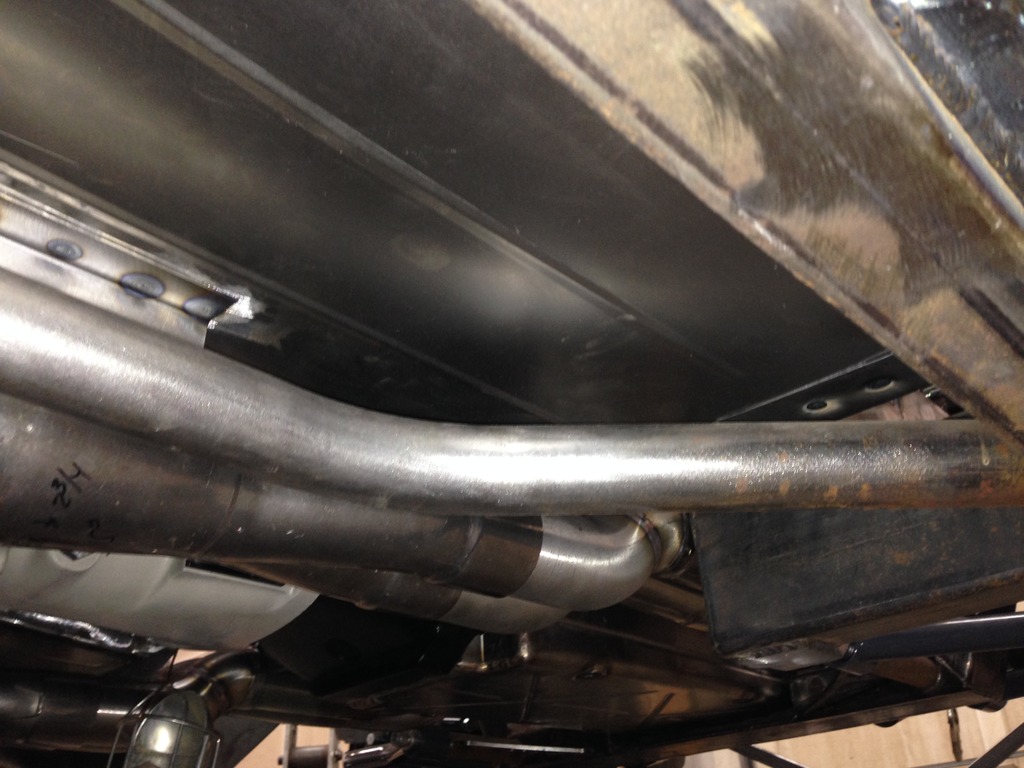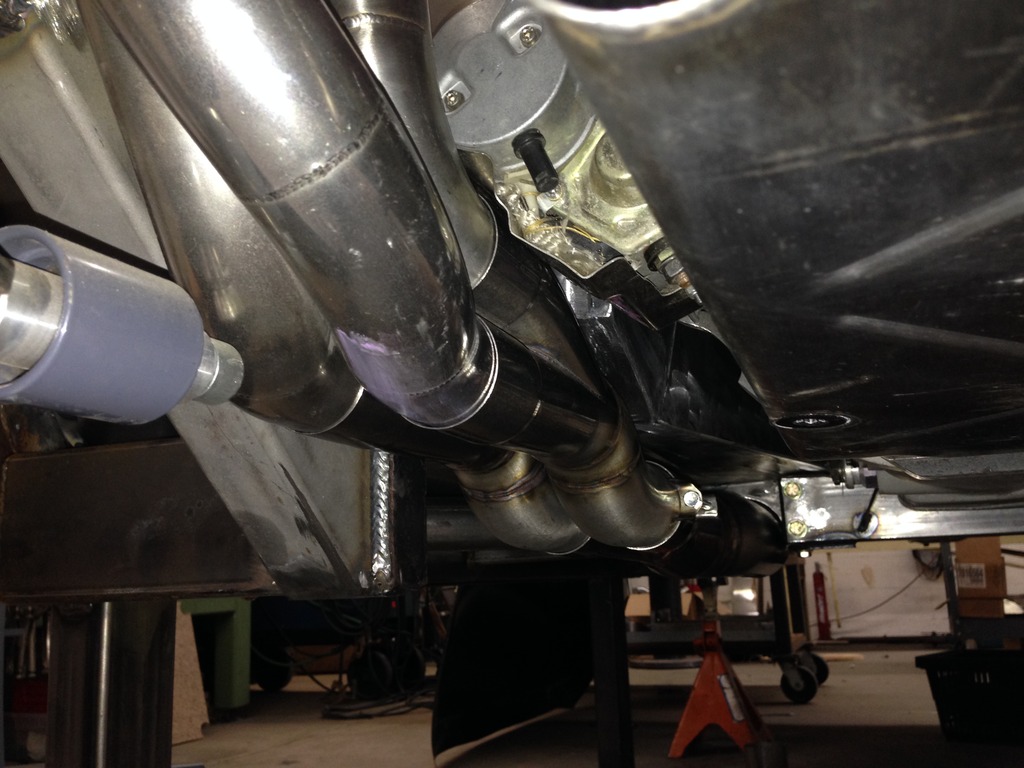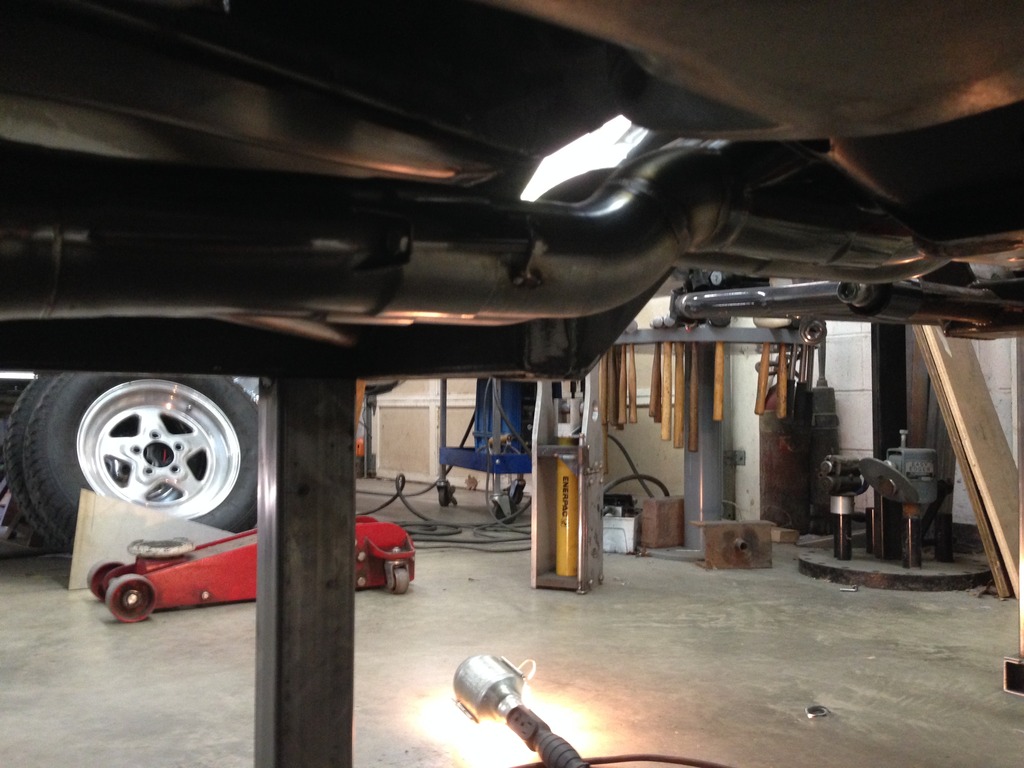 We are trying to keep as much heat away from the driver's side of the car and also keep the exhaust as high up in the car as possible for ground clearance.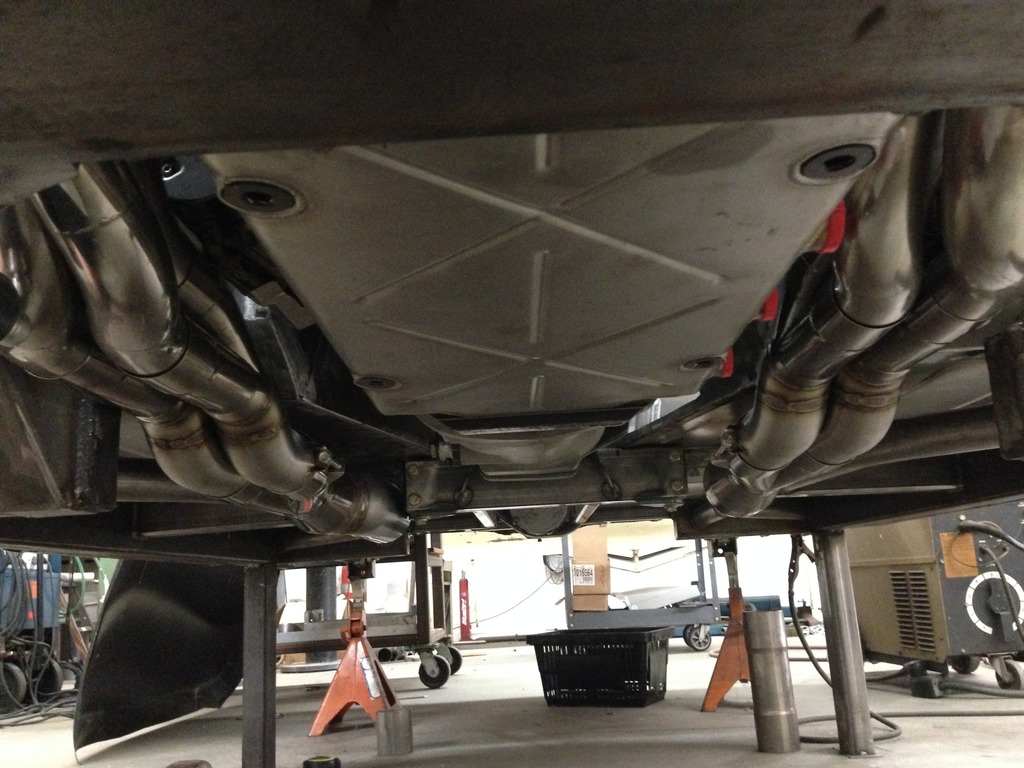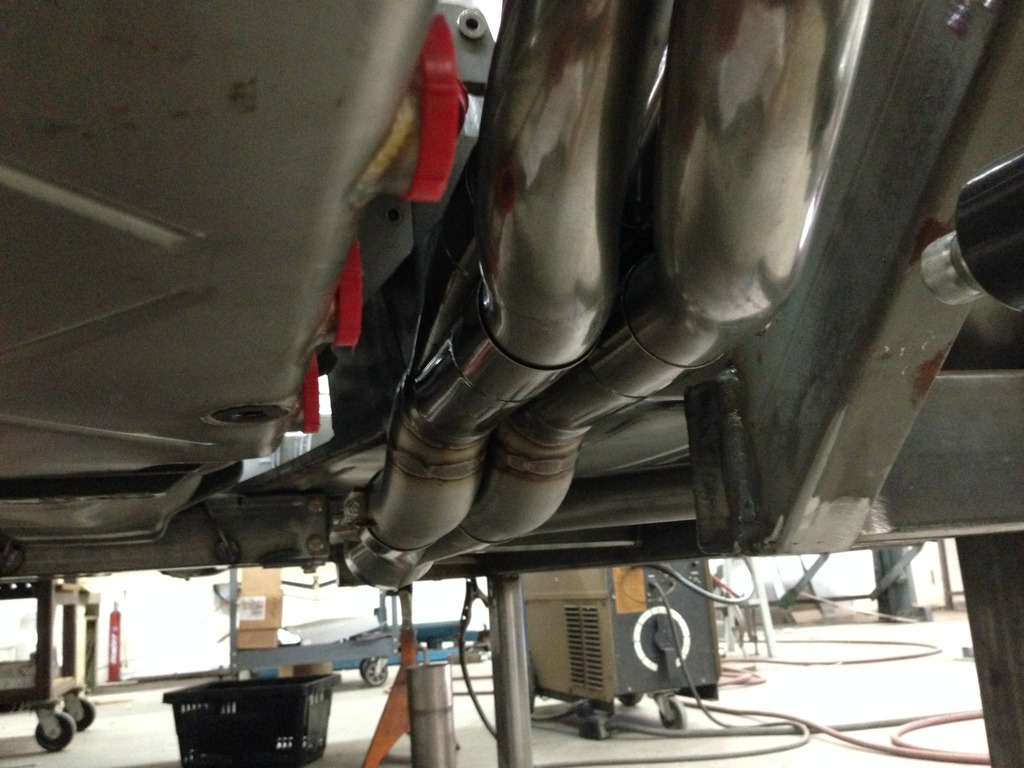 Jim made the transition to oval tubing. Notice that he made a connection between the to oval pipes as a H pipe/balance tube.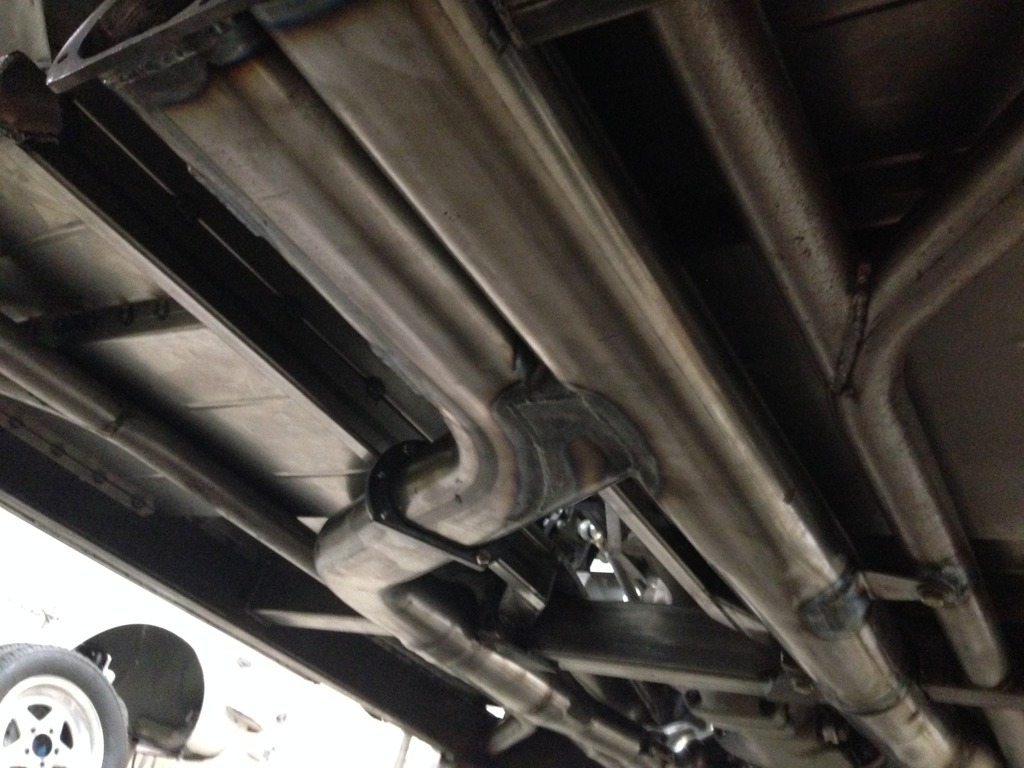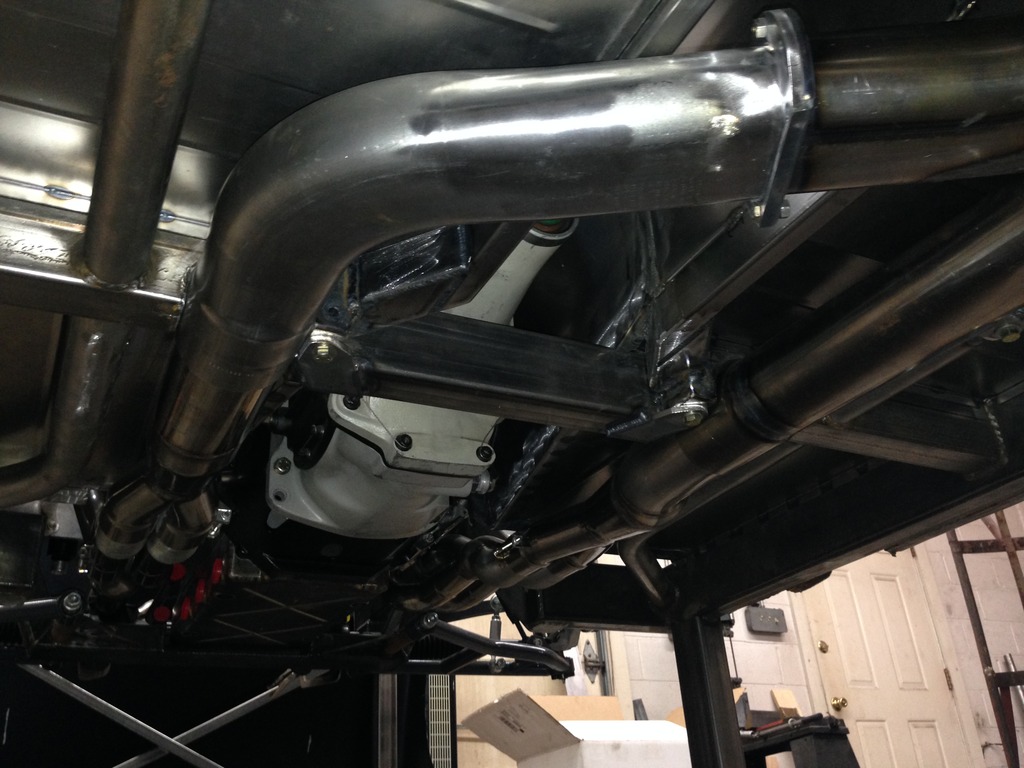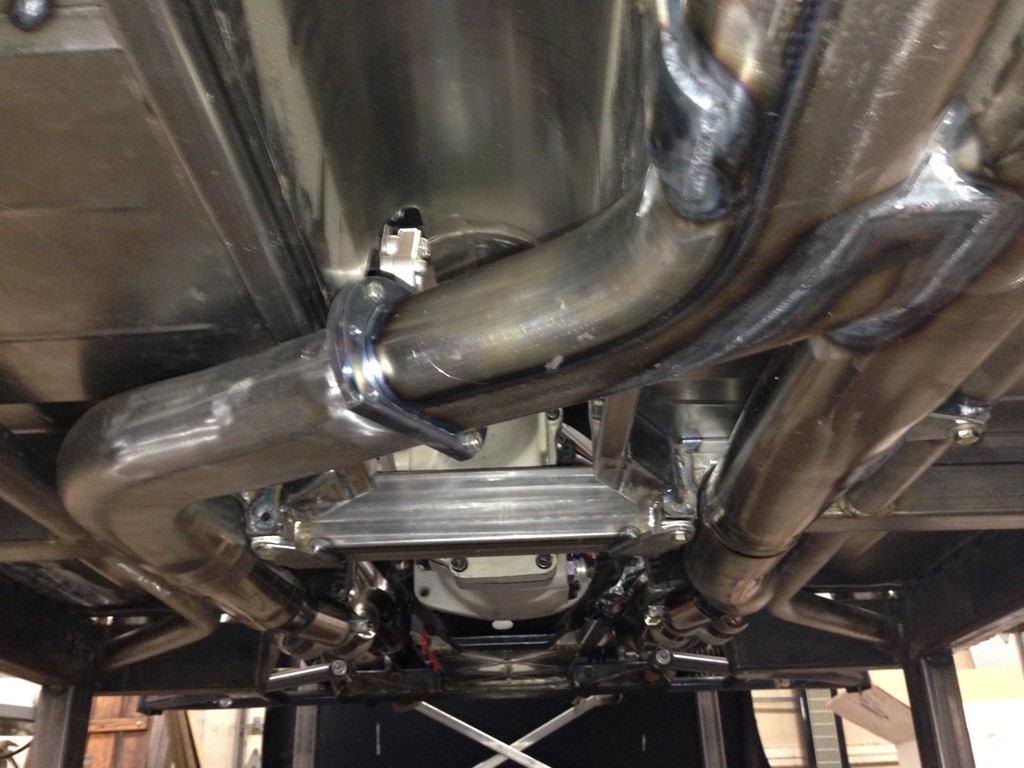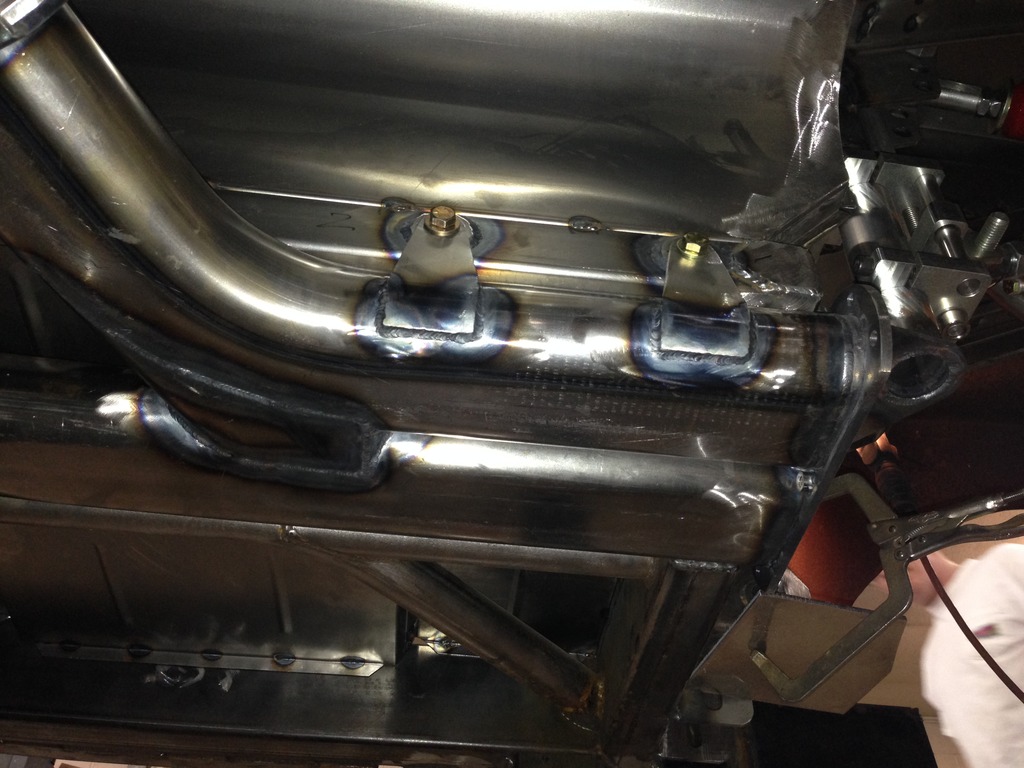 8-17-2015
Thanks Guys!

I did actually par that hole on the second day.

The mufflers will bolt to that flange and exit the passenger side quarter panel. Here are the mock mufflers Jim built and Spintech are making them as I type.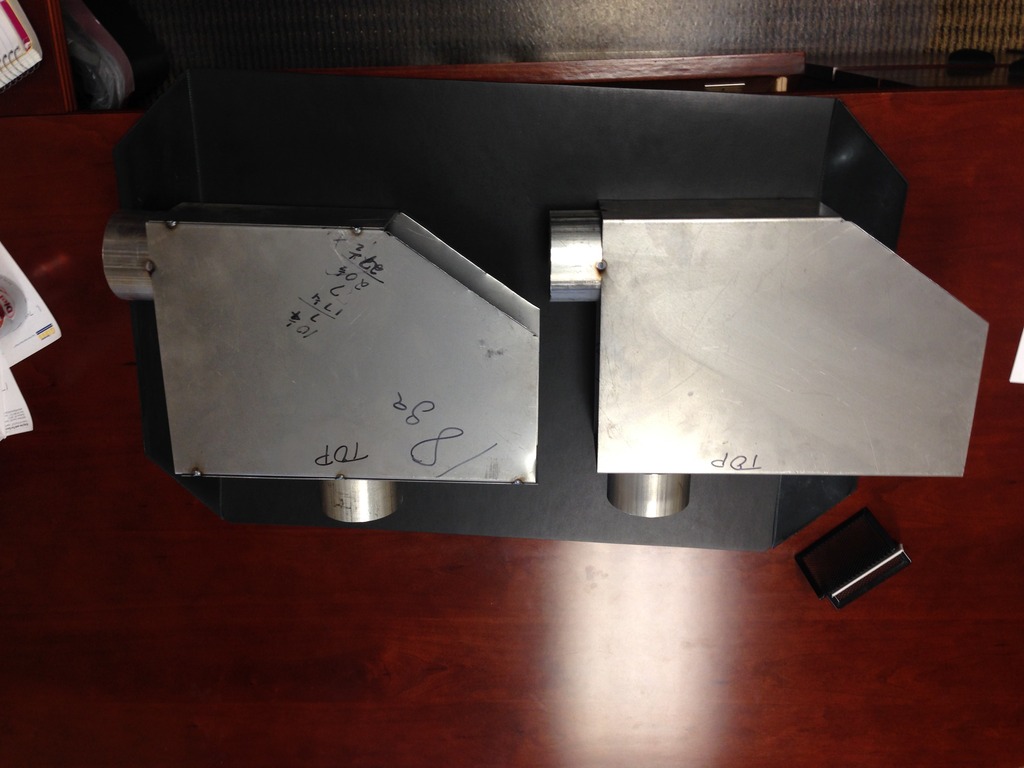 Got the gas pedal in and finished up the cover on the fire wall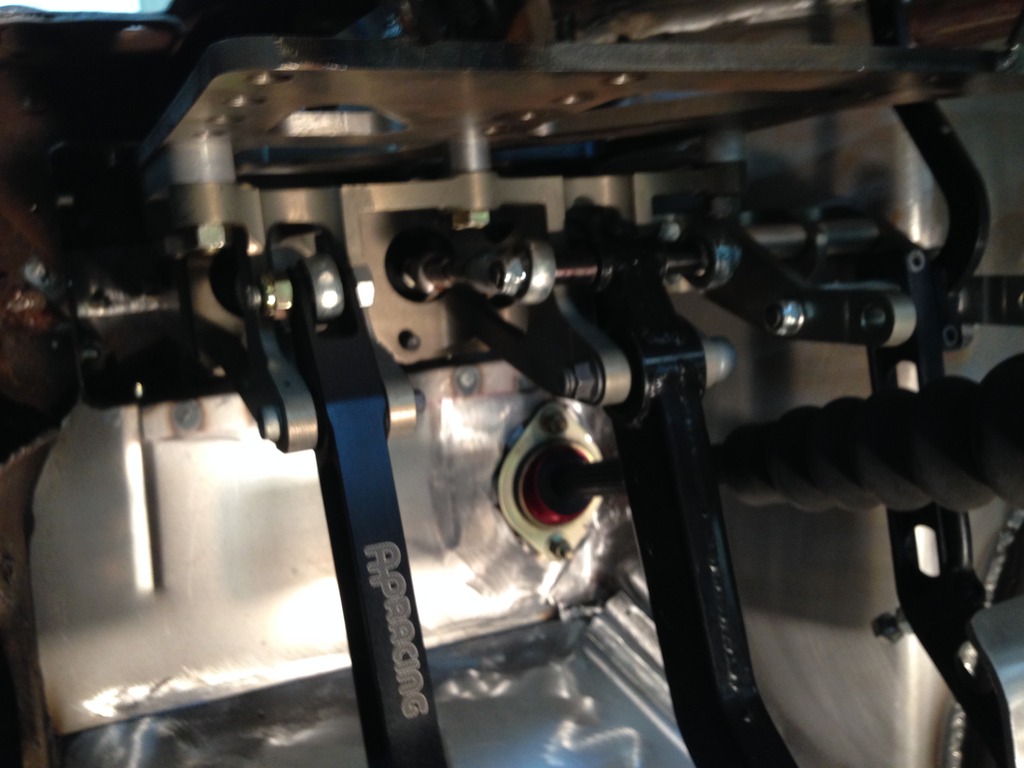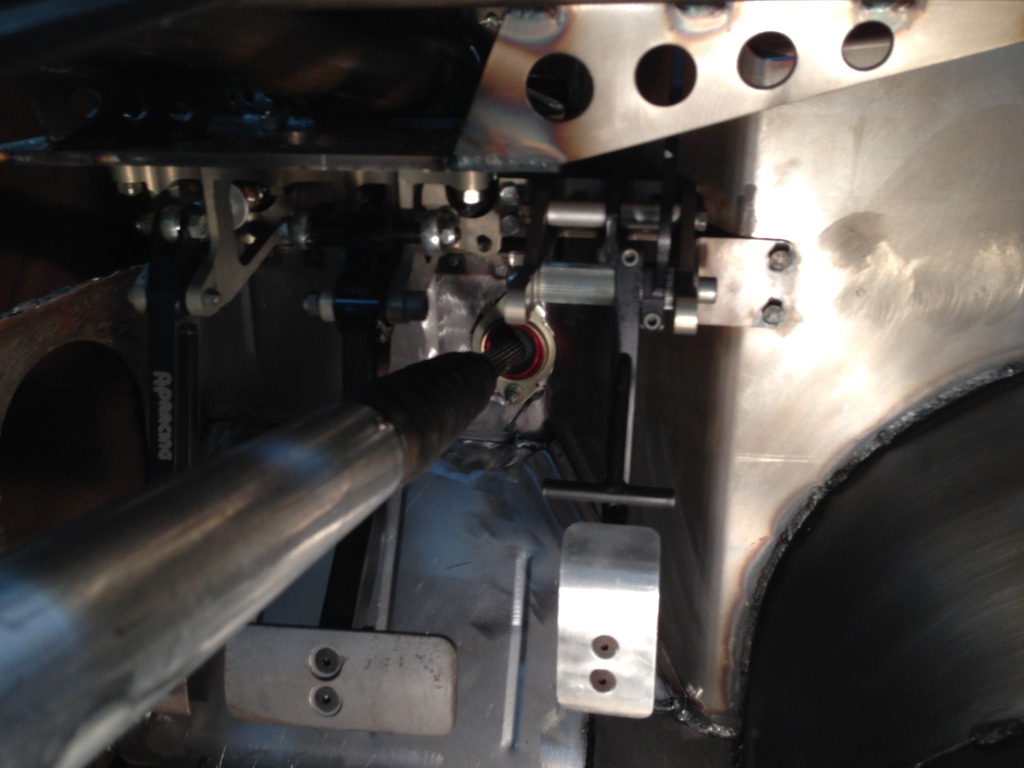 Cover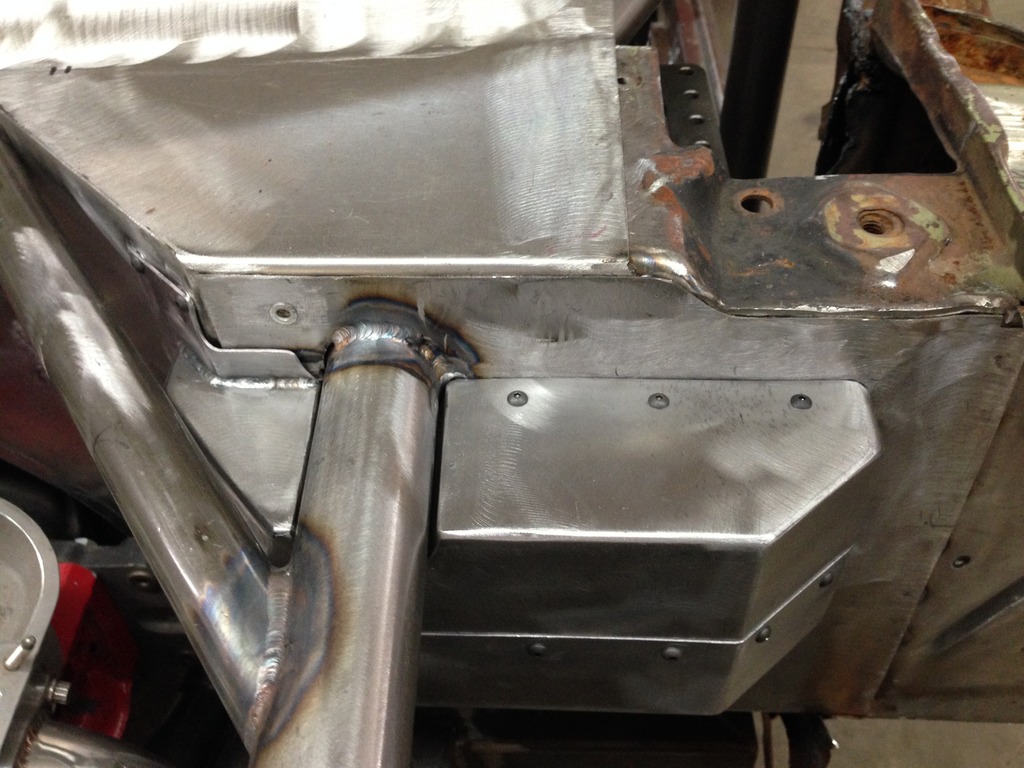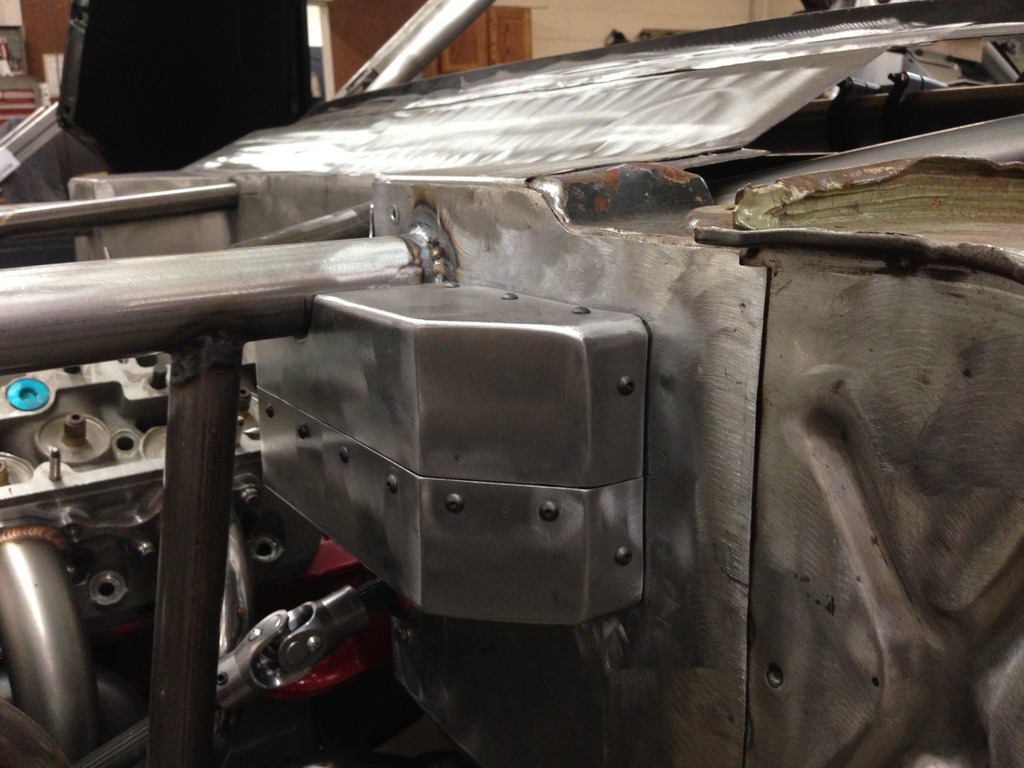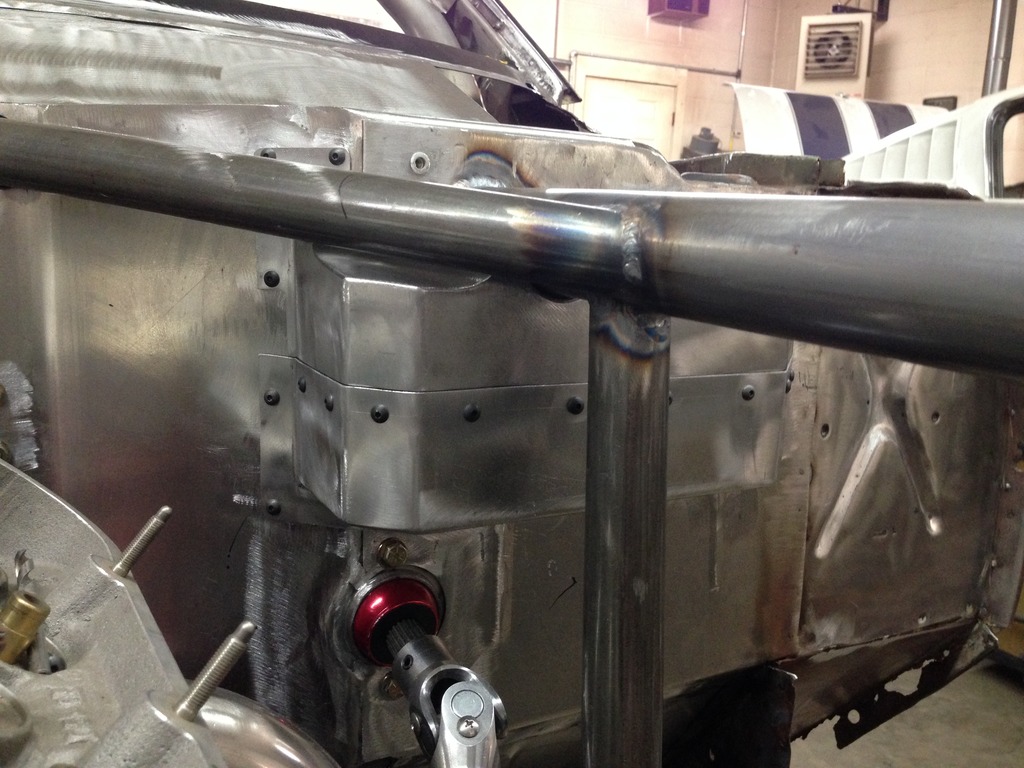 Oil tank mounting in progress this week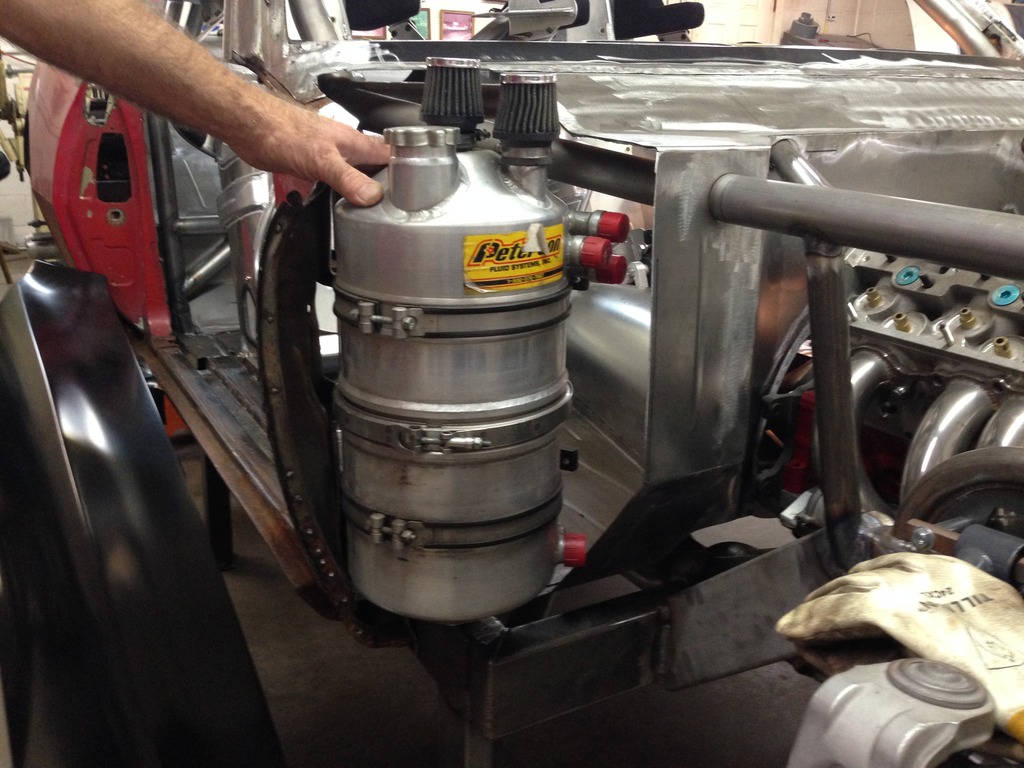 8-18-2015
Thanks Justin!

Stopped by this morning. Removed 1.5 inches from bottom of tank and relocating the oil drain. Rough mounting complete.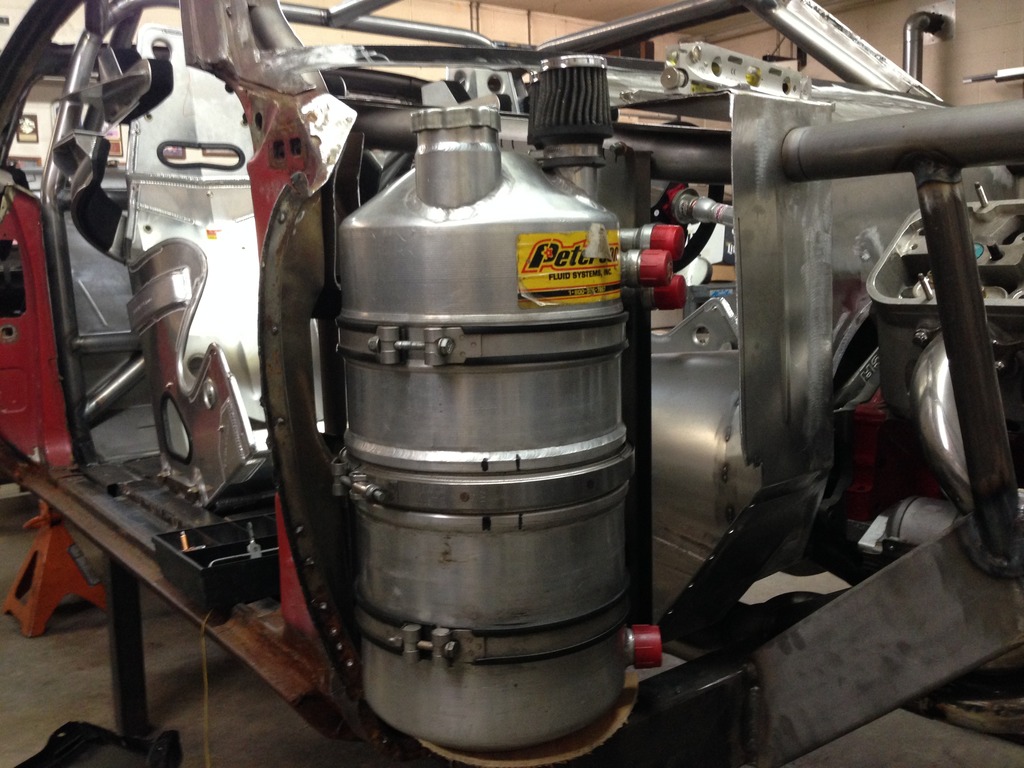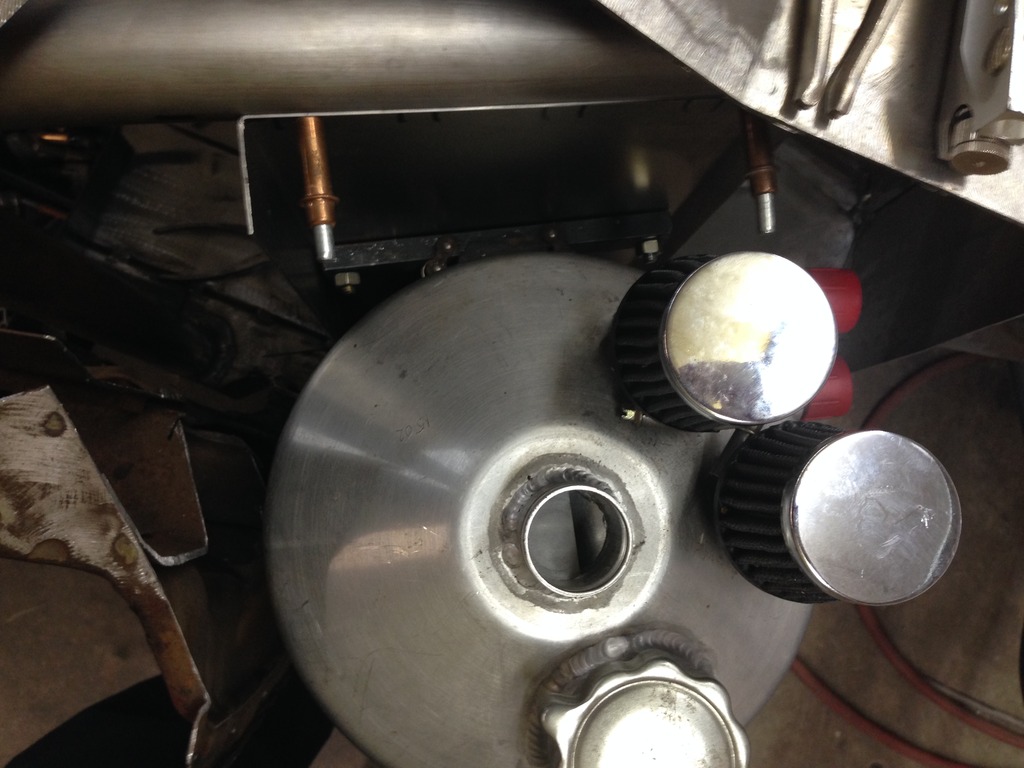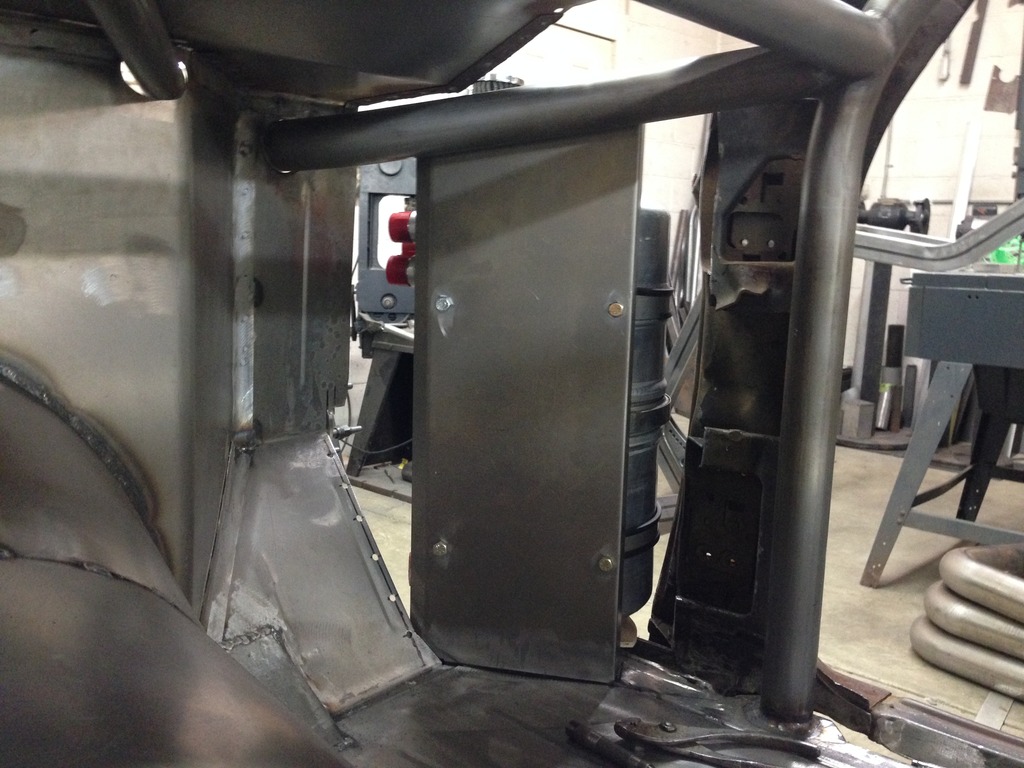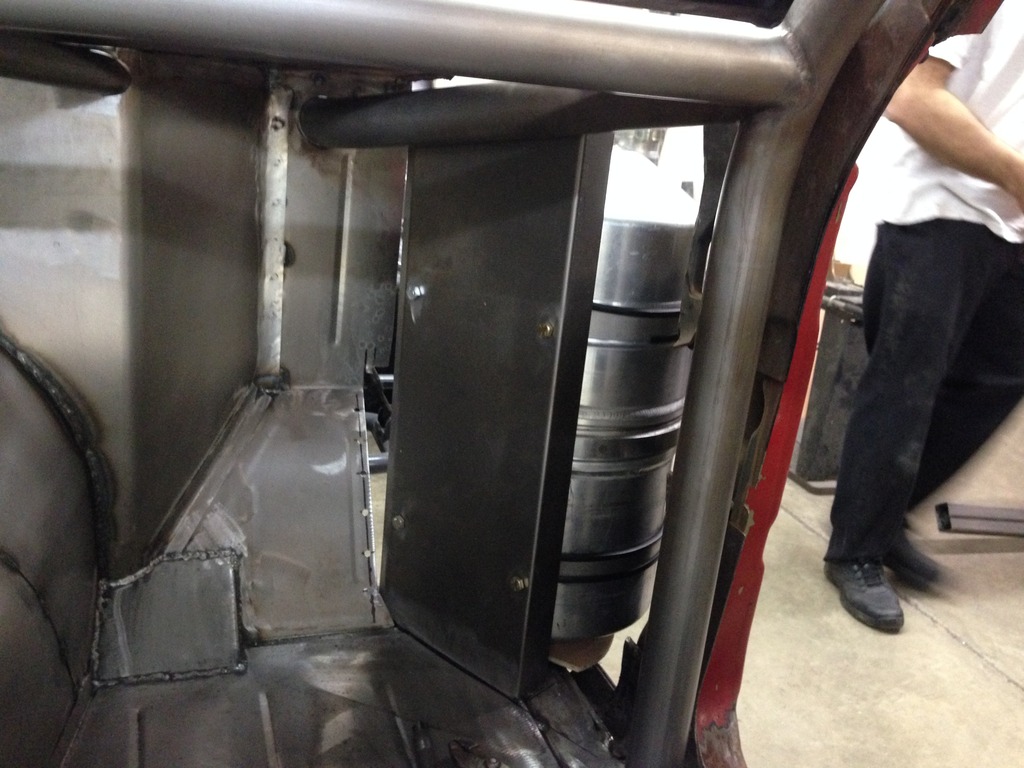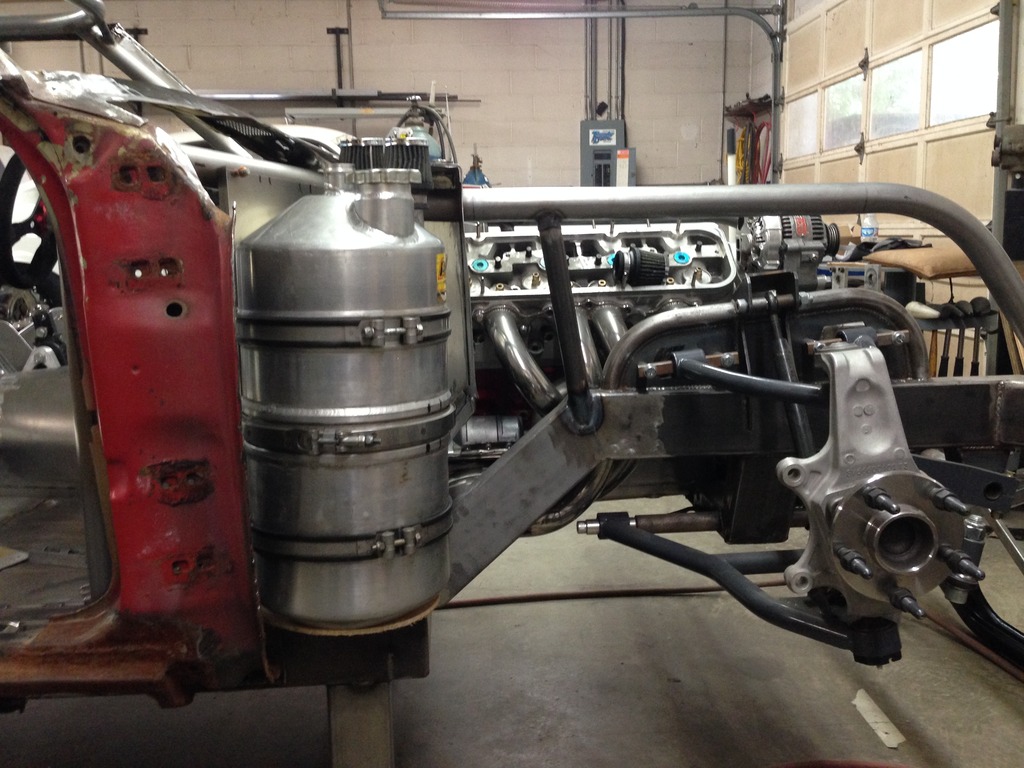 9-2-2015
Good to hear from you Tim. I was wondering what happened to your project. Time to pull it out of the trailer and get to work.

Stopped by to see the car today and the oil tank install is complete. We modified an existing tank by changing from 3 inlets to one 16 AN and changing the outlet to 16 AN. 3 breathers to 1 that will have 22 AN and will run to a catch can/ breather combo. Moved the drain to clear the frame and be able to drain the tank without making a mess.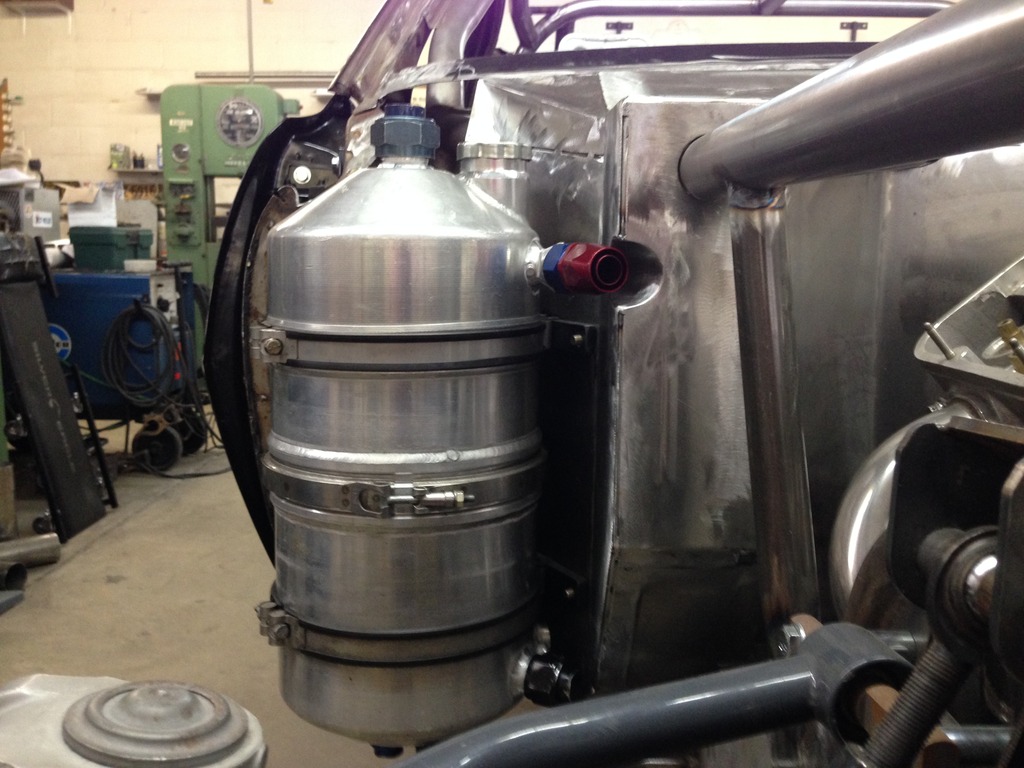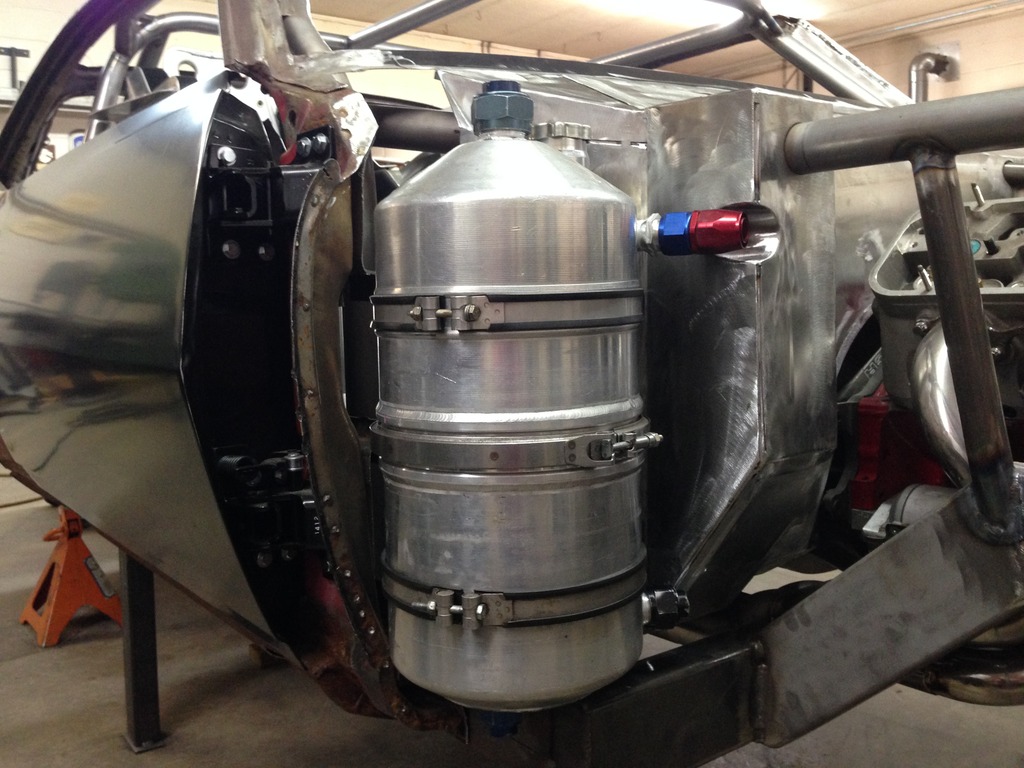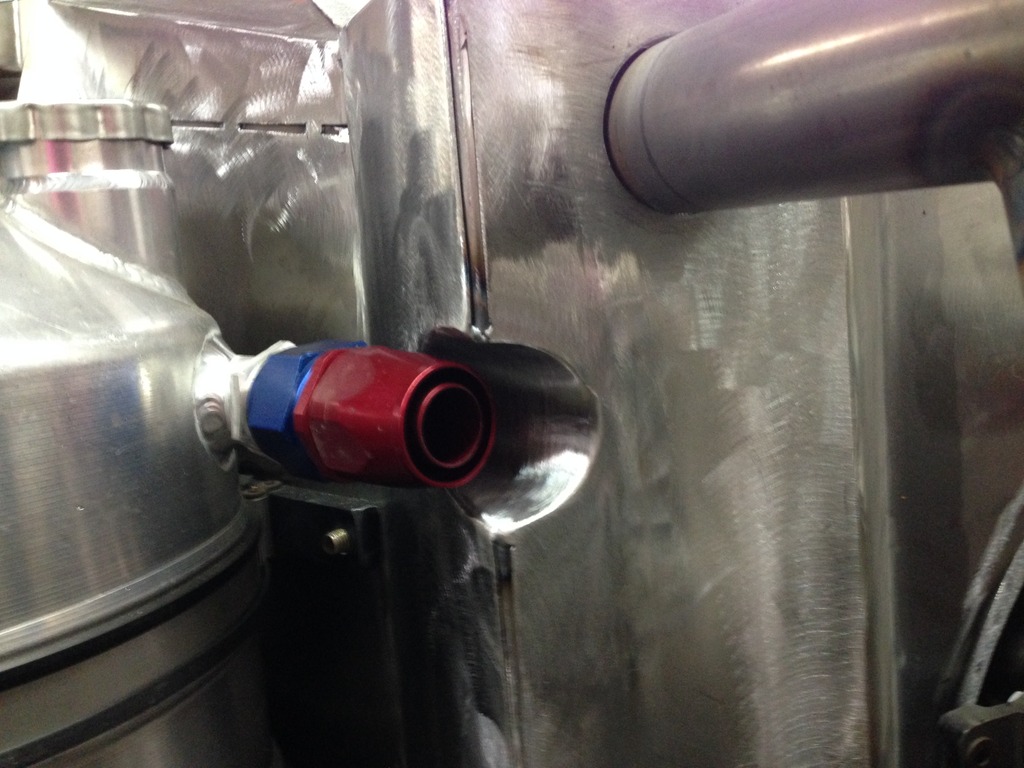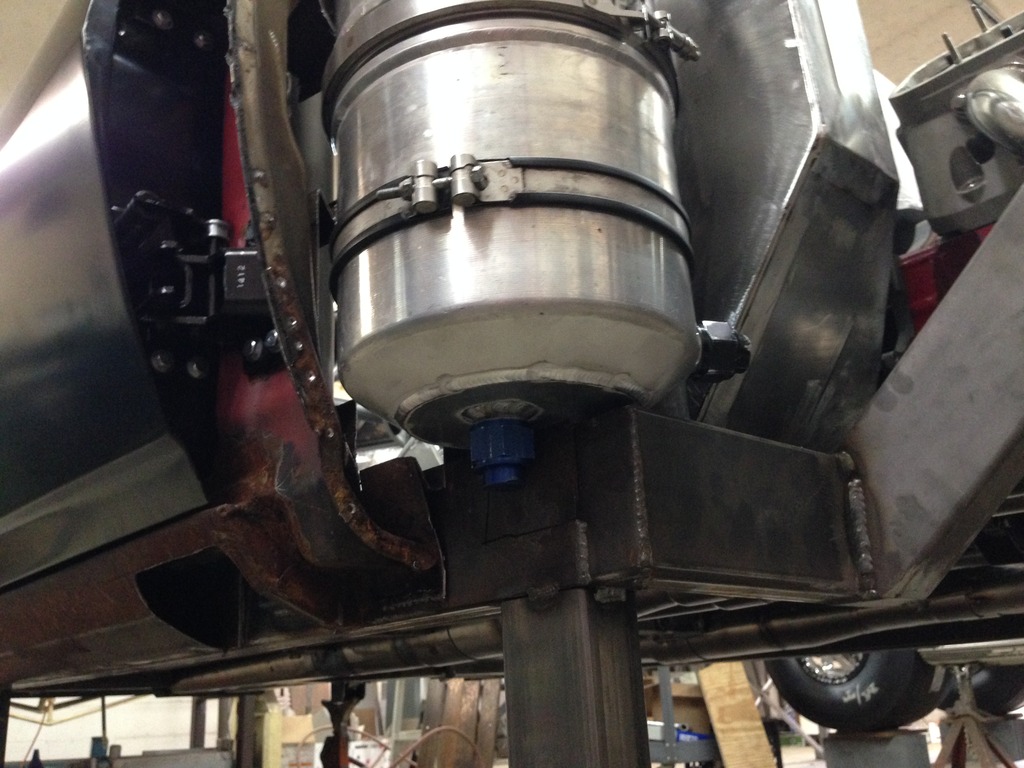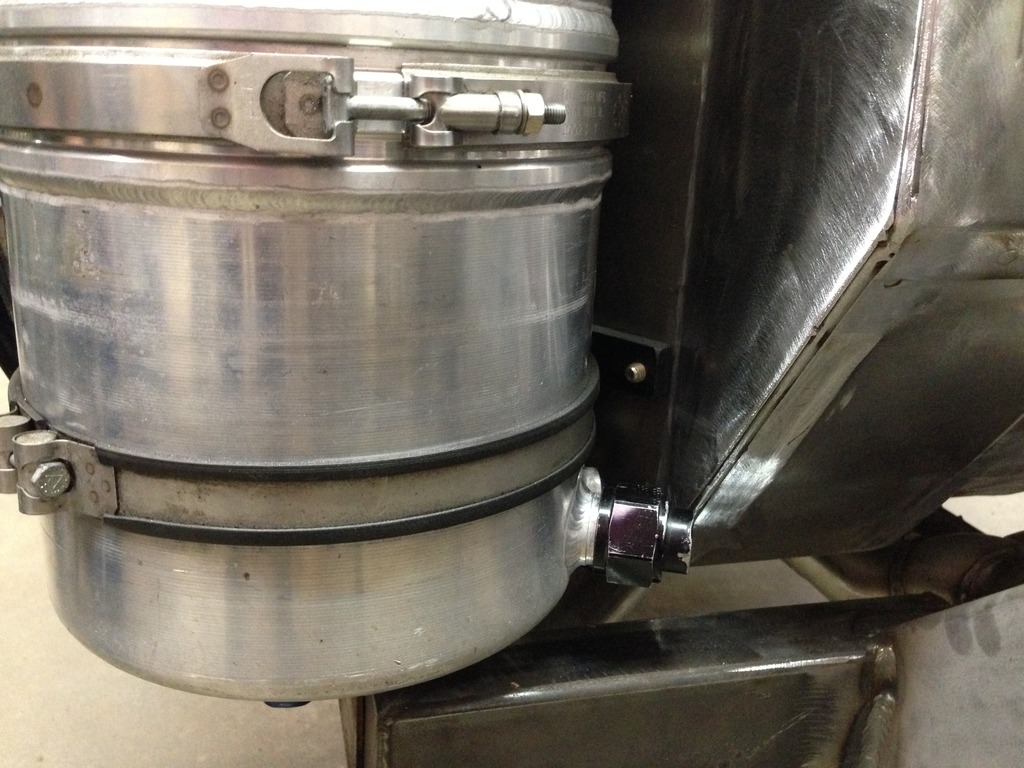 We also bolted the doors on in prep for to door bar placement.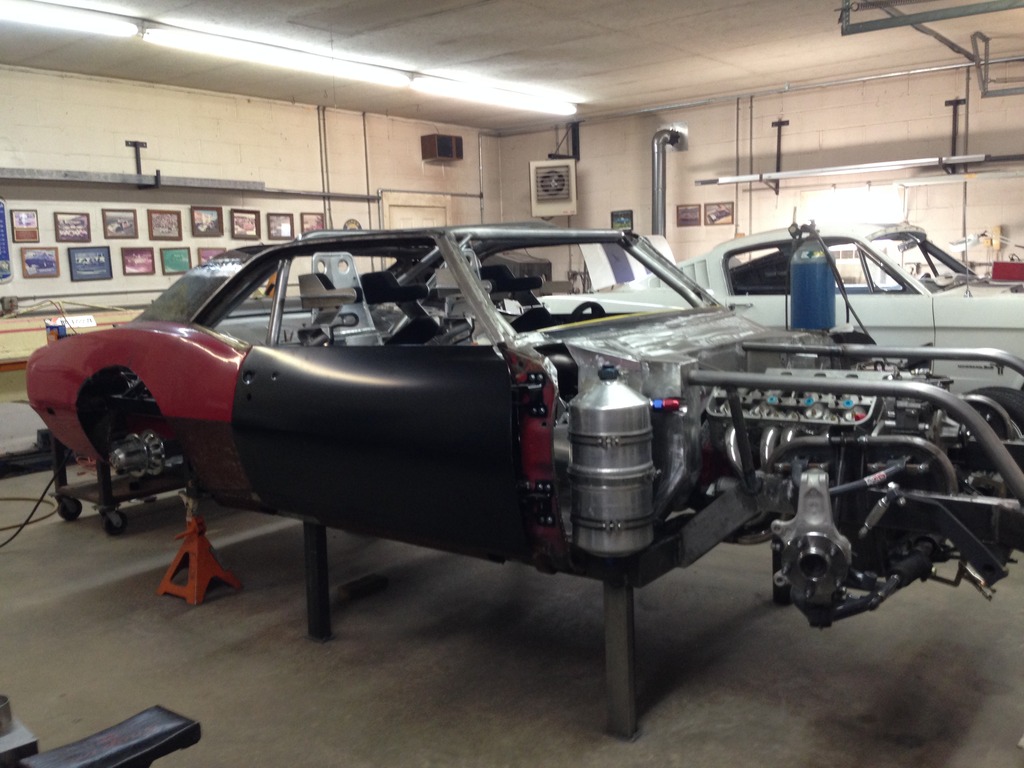 1-18-2016
Where I left off...we are removing some of the driver's side cowl area. Here are some photos of the pedal box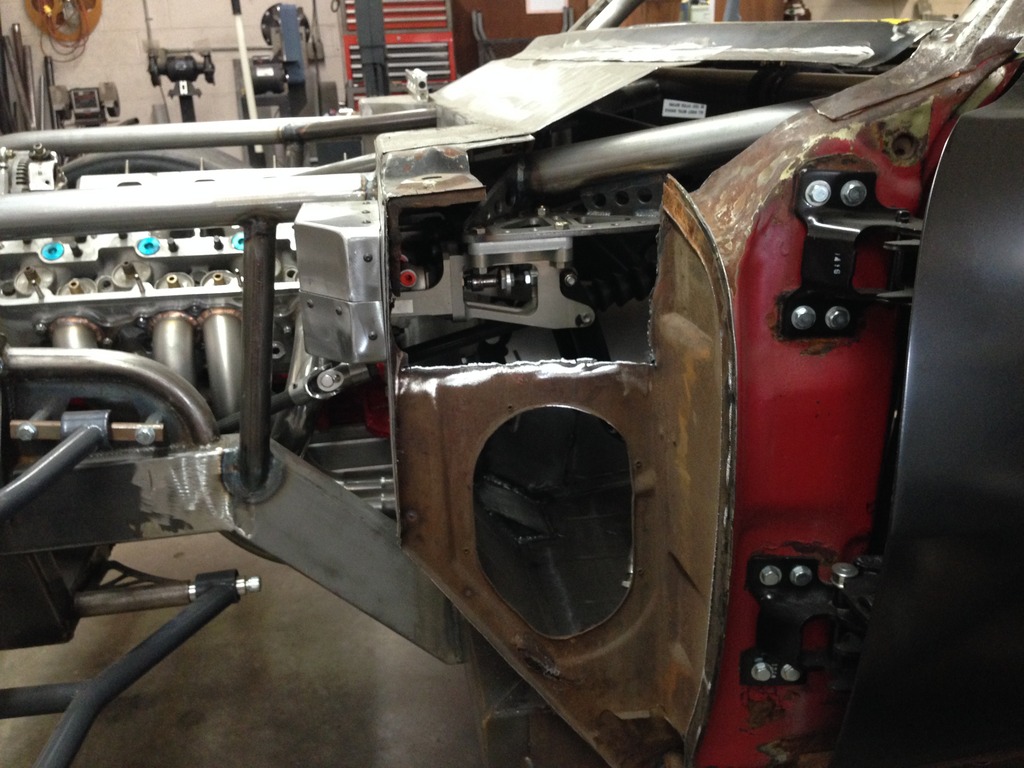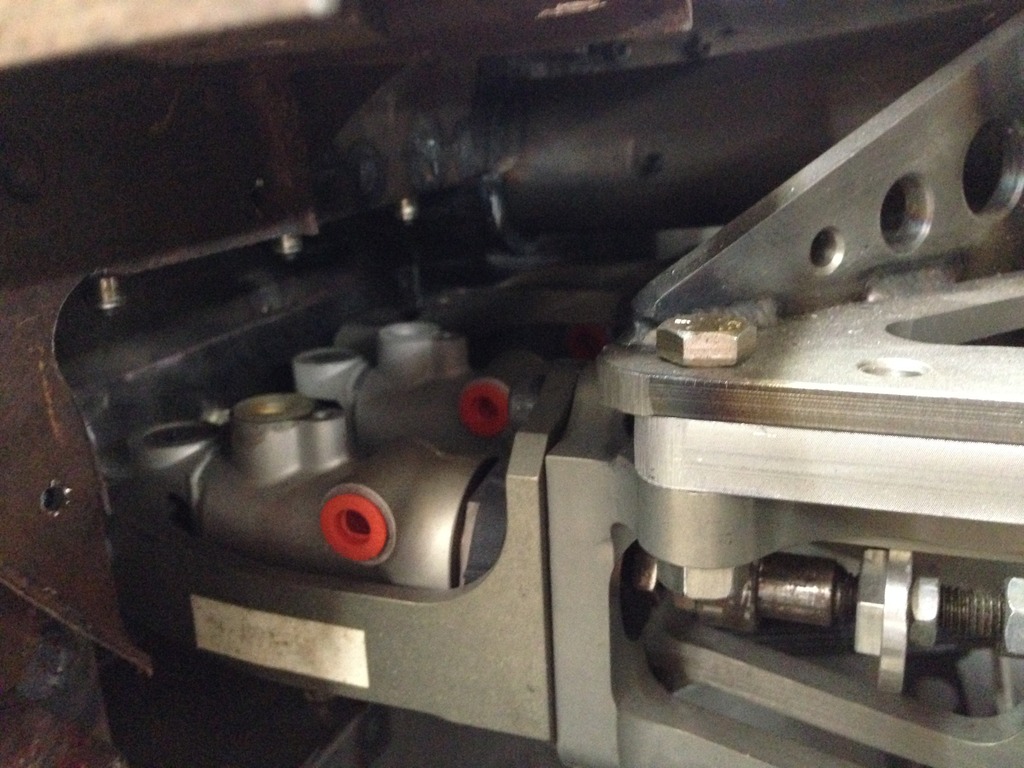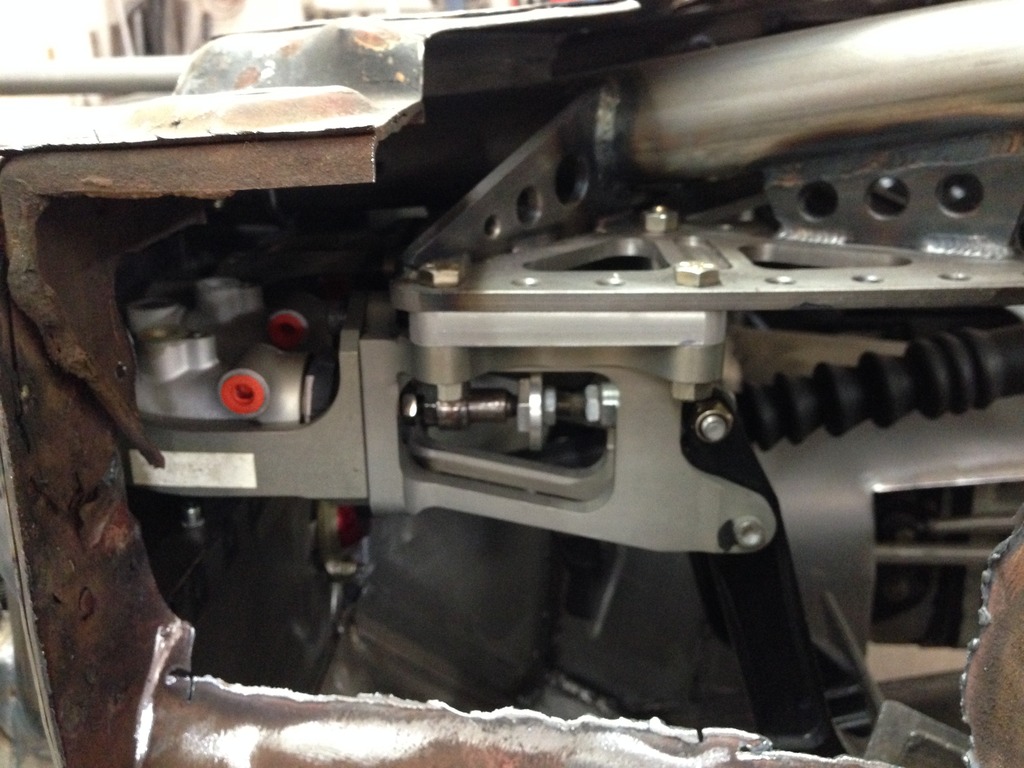 My custom mufflers came in from Spin Tech. 3.5 inlet and 3.5 outlet. Here is the tricky fab work from Pettigrew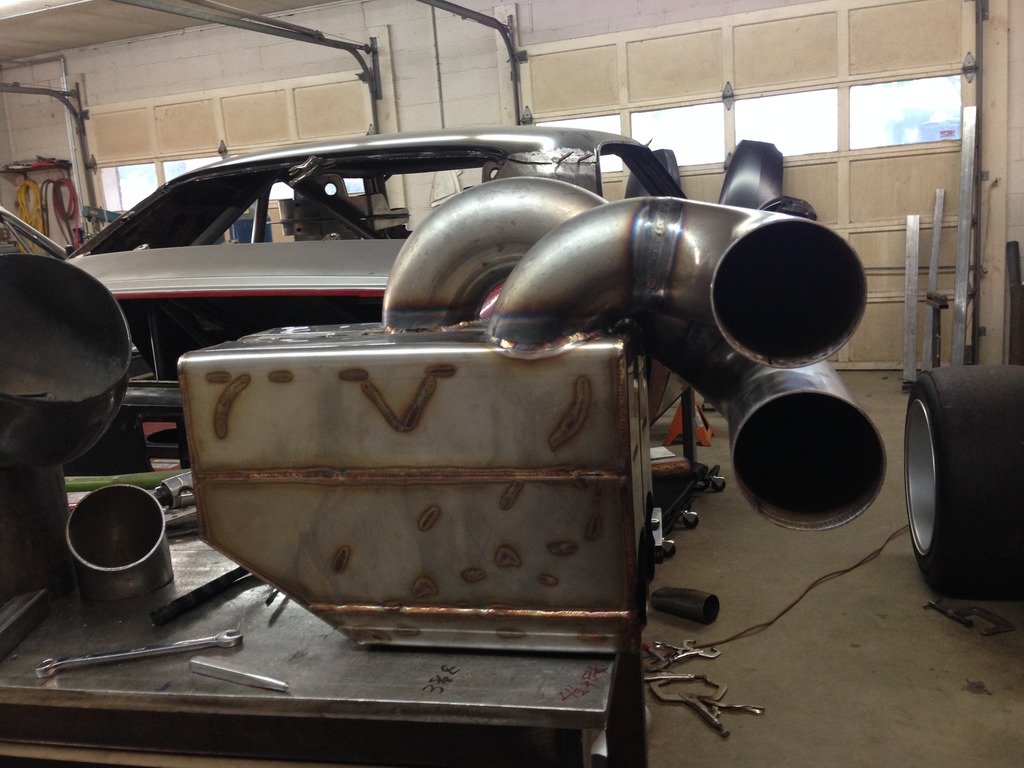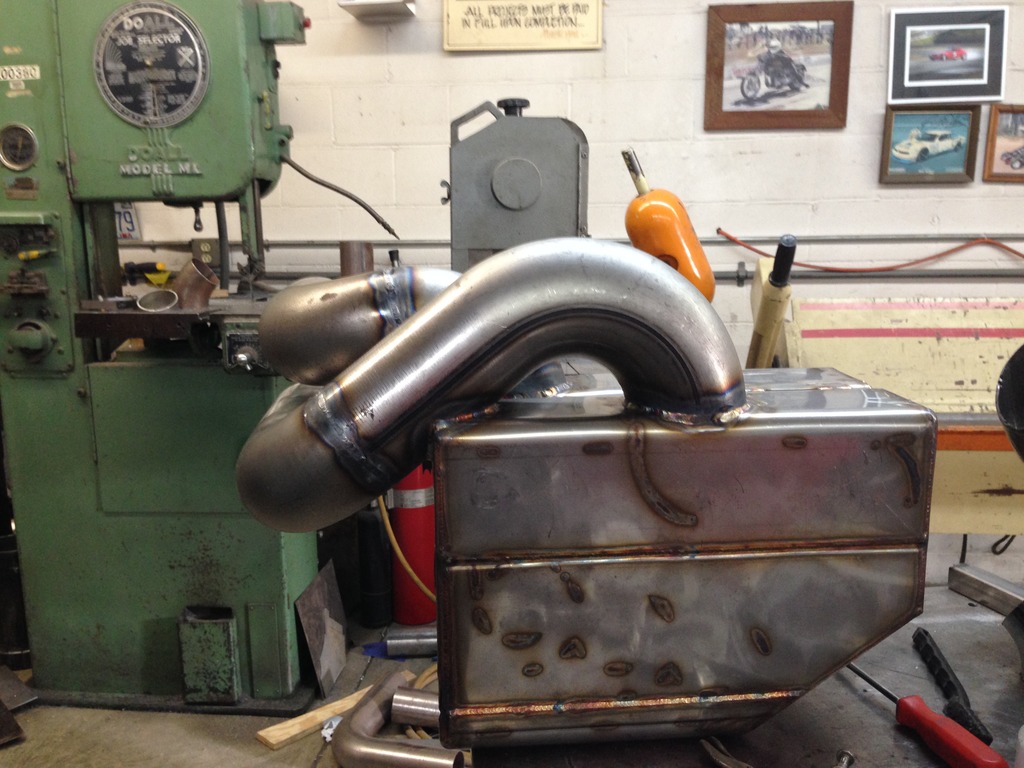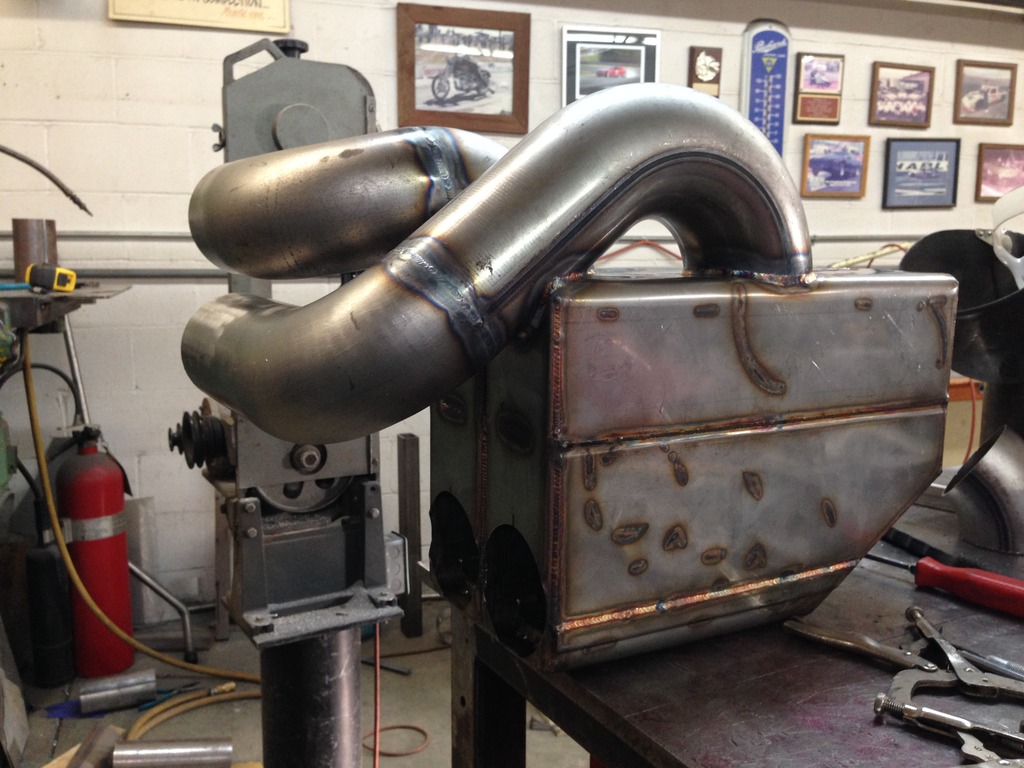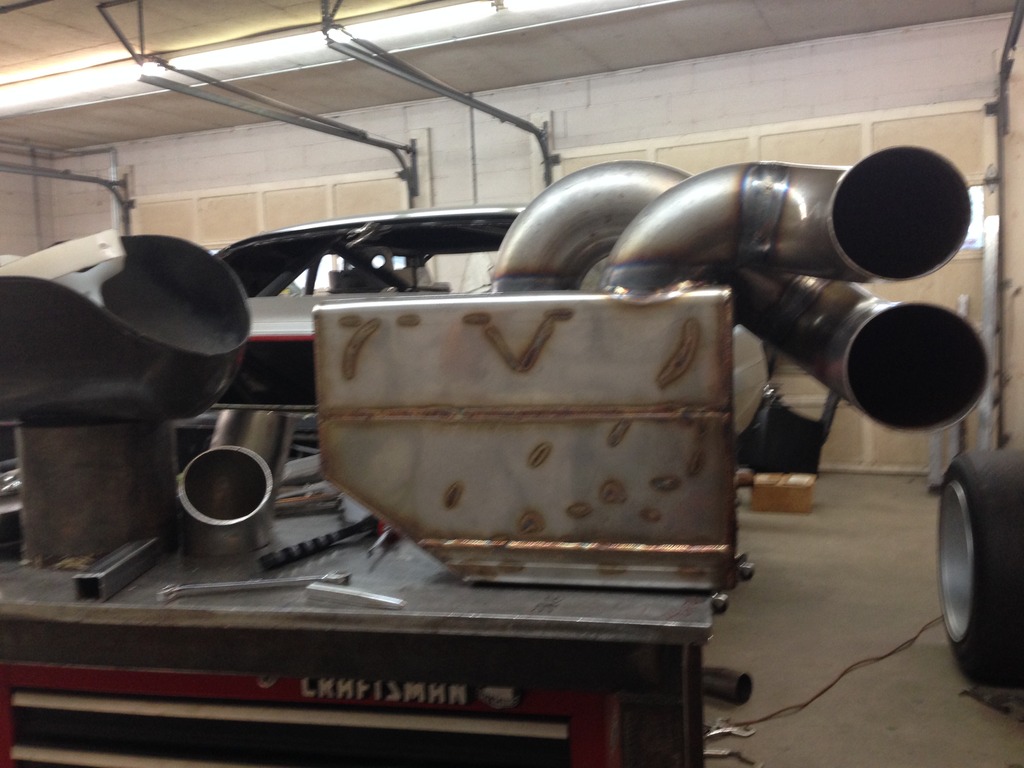 This is the other side making the transition from oval to round tube.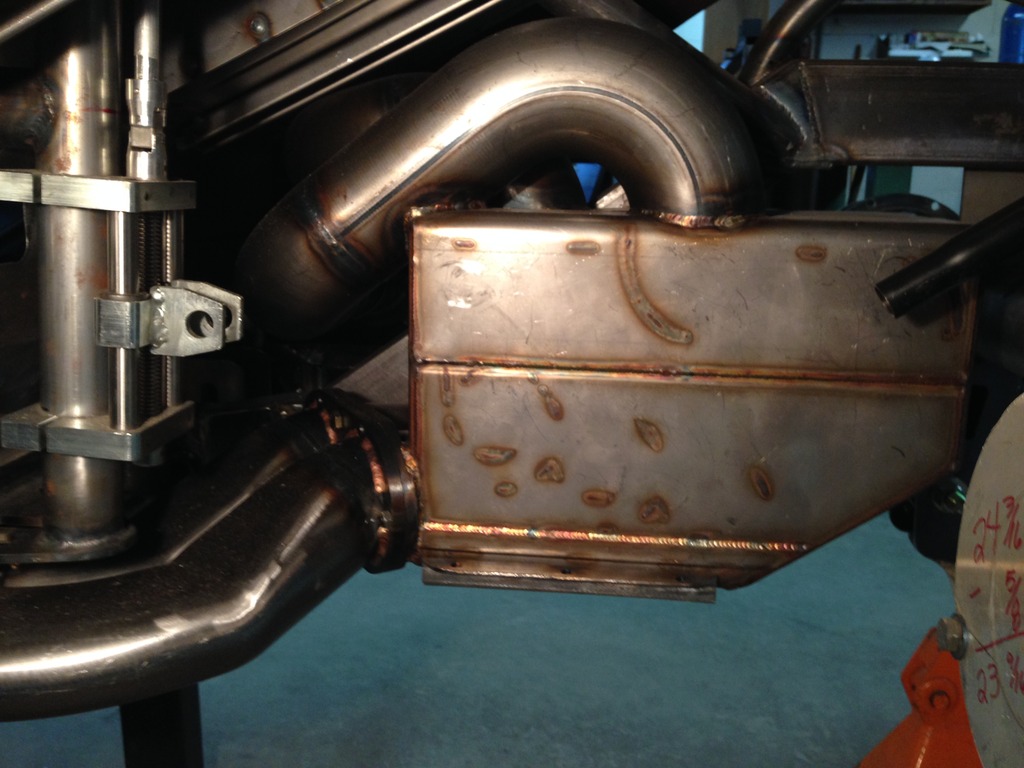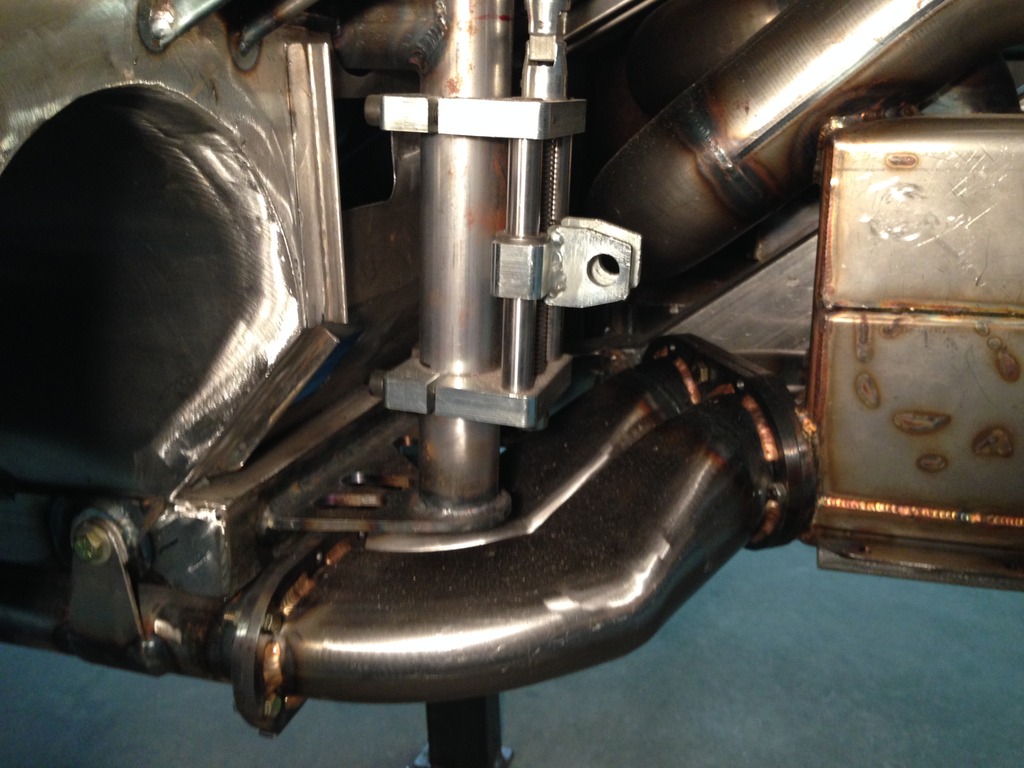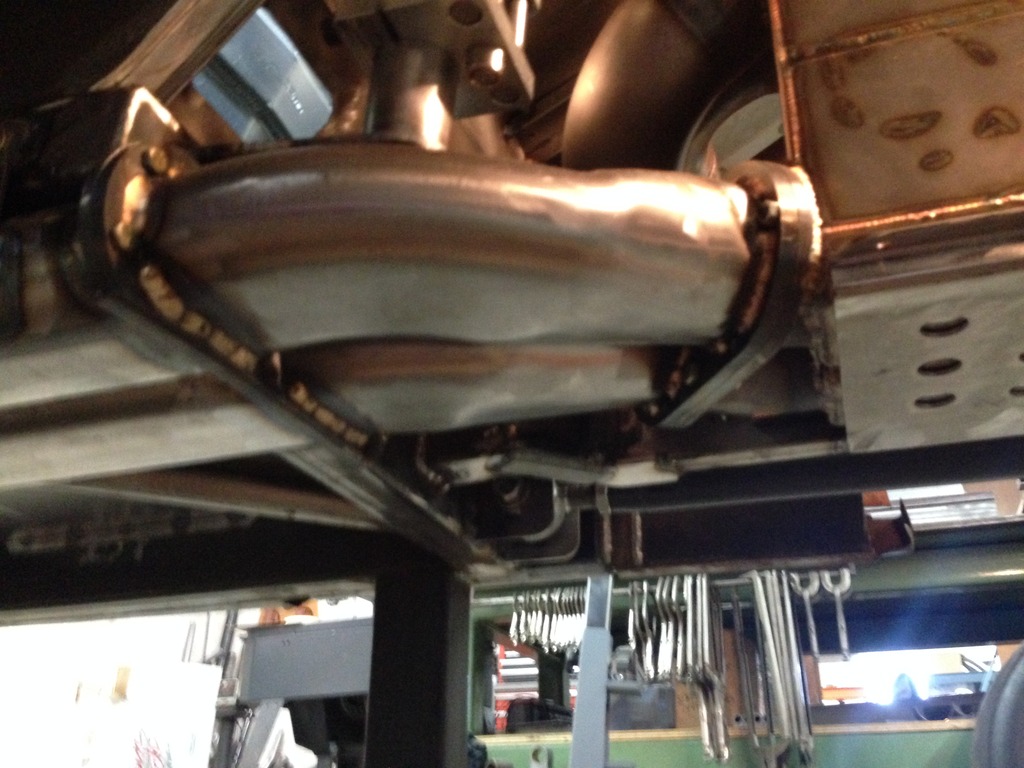 1-24-2016
So DG's car arrived at Pettigrew's and i decided I had to see it with sheet metal on it before we stopped for a while.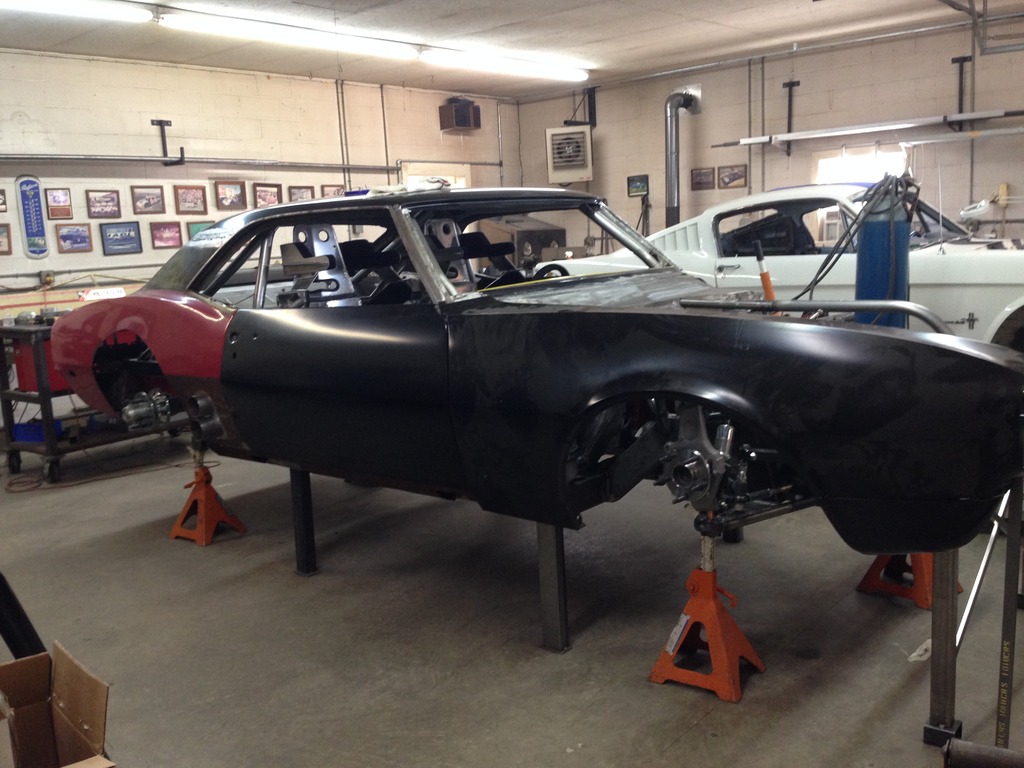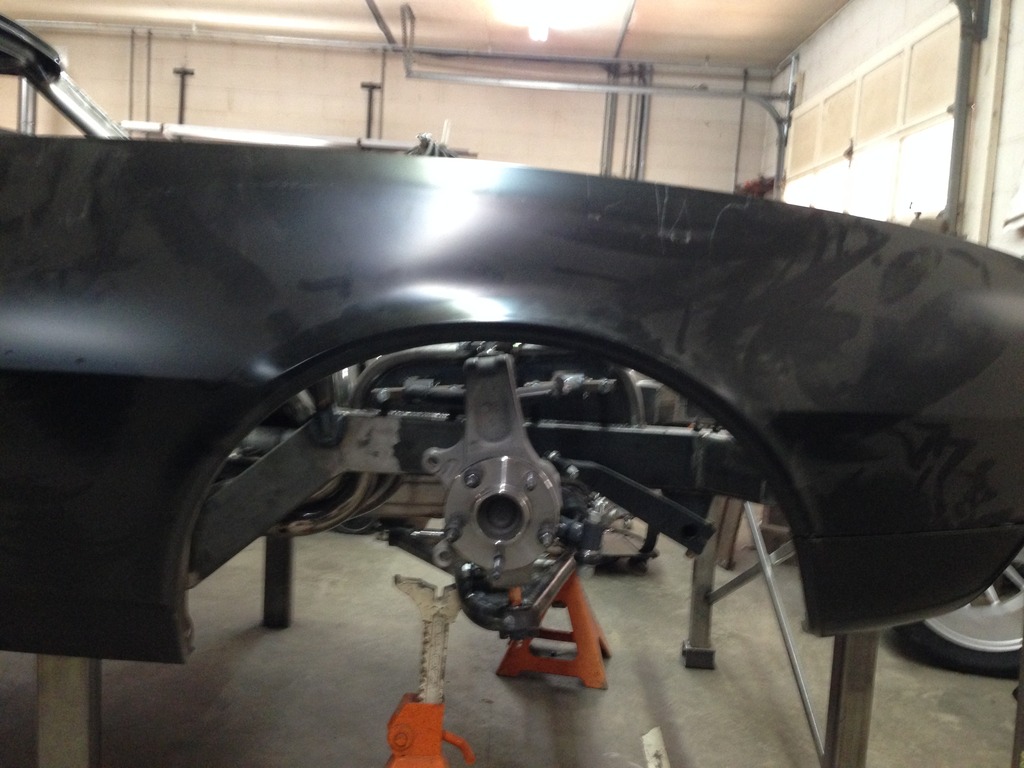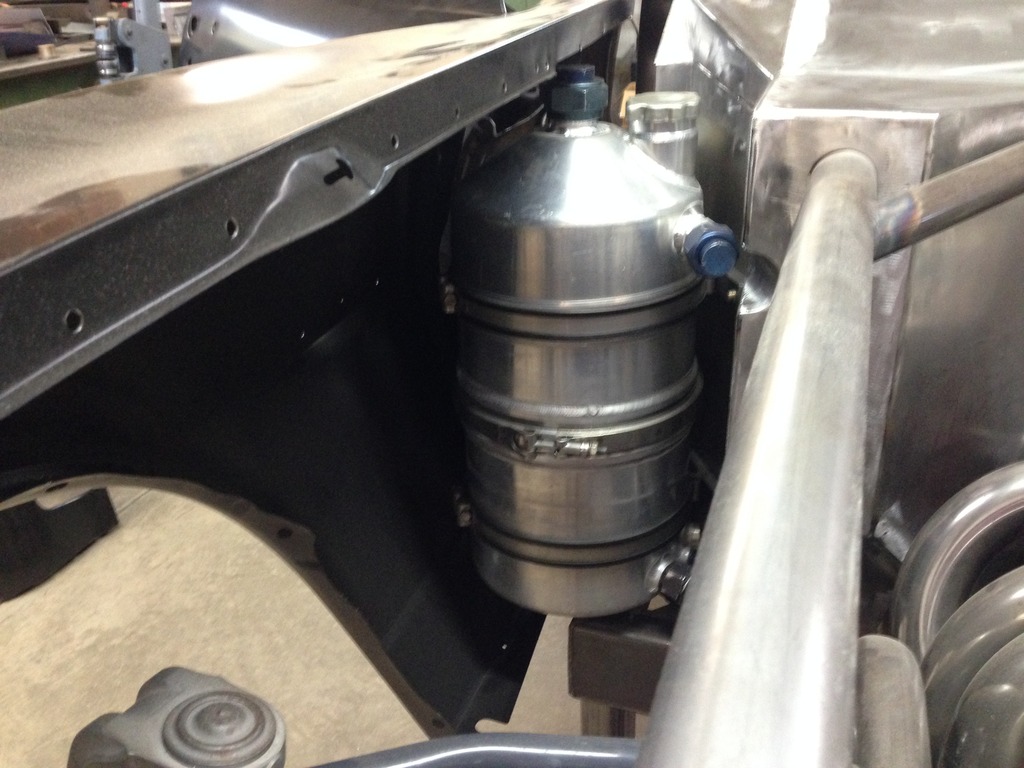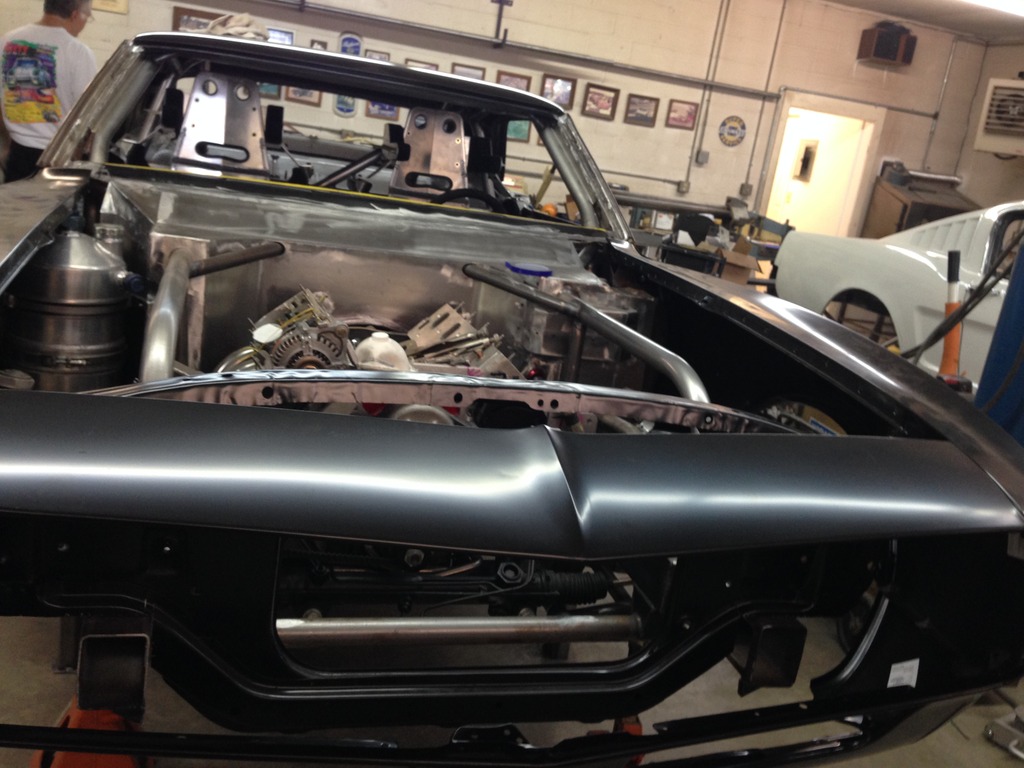 As low as this car sits, 4 inches at the frame at the firewall and 4.5 inches at frame in front of rear wheels, we were going to need to cut the front fenders. This is the first rough cut just so we can get the wheels on. I am going with Sutton's high travel low roll strategy and will be traveling the front wheel 3.75 inches.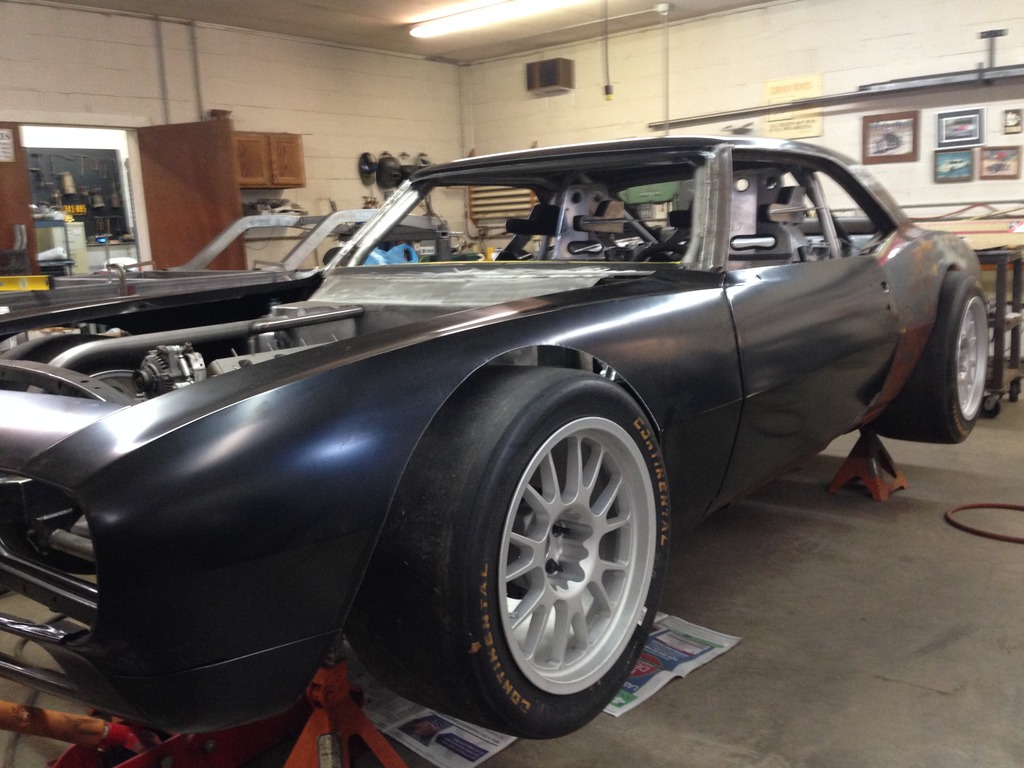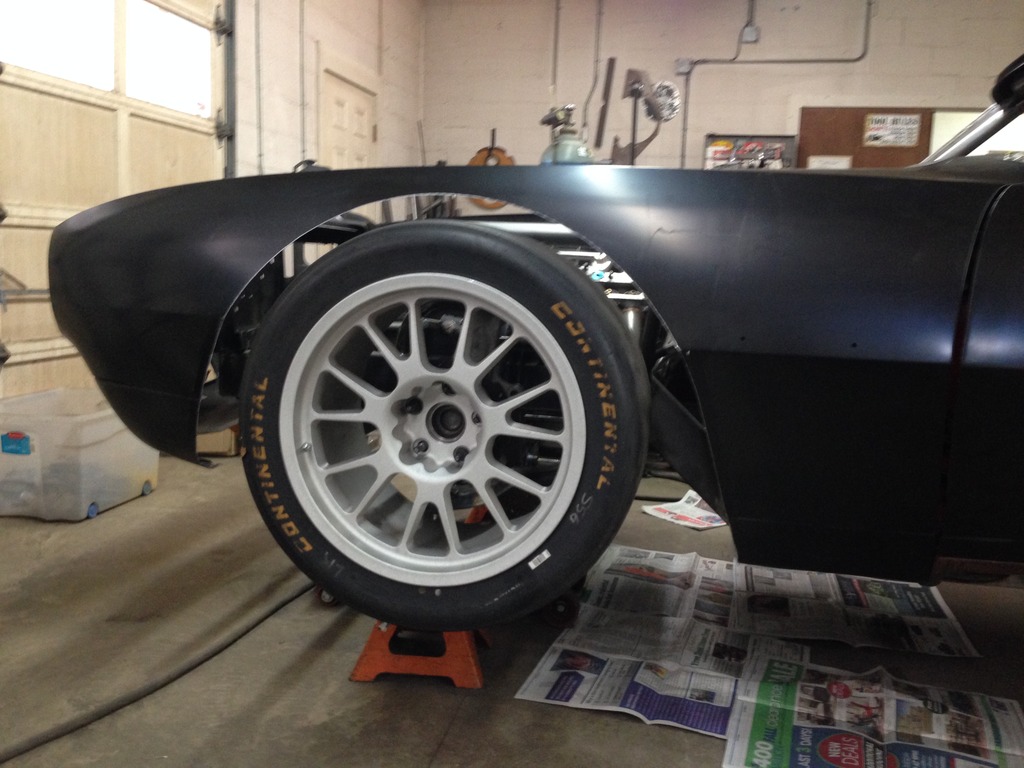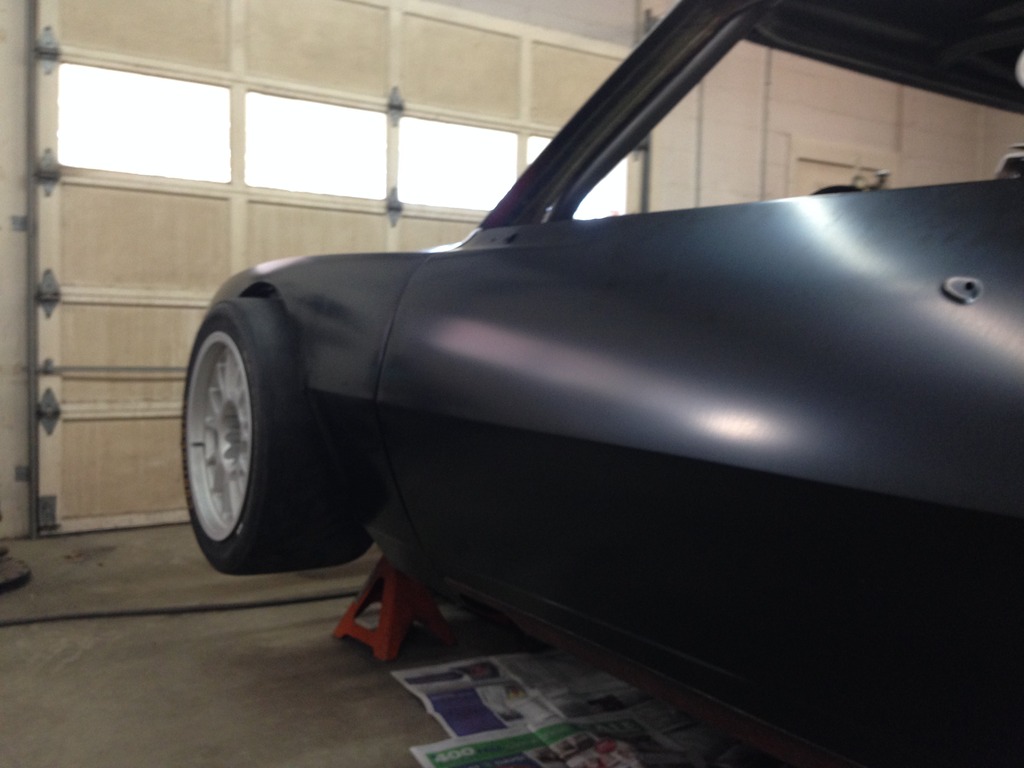 9-7-2017
Car got back burnered for a while, but is back in production as of last week. Motor is together and about to go to the dyno
3-14-2018
bringing the car from the back of the building and putting it back into production

Yes that is DG's turd in the background. I am using it as a parts storage shelf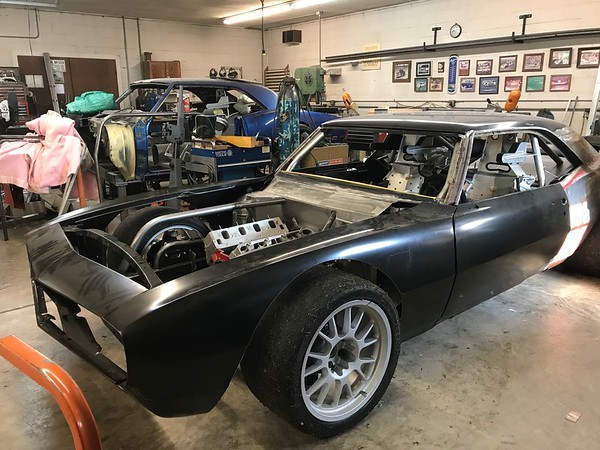 Needed a little coaching
So the first order of business was to completely alter the front suspension. Ron Sutton redesigned the front to go with the rear suspension he had done earlier for me. Let the cutting begin. This was Jake's UCA mount shown below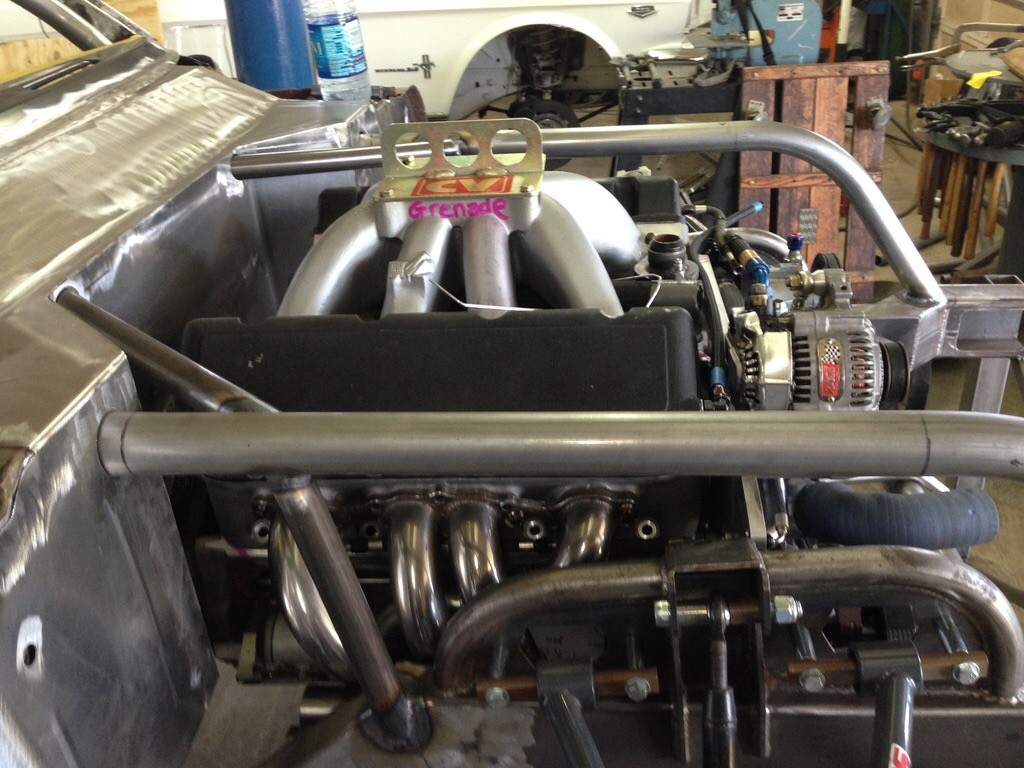 And this is what Jim Pettigrew came up with.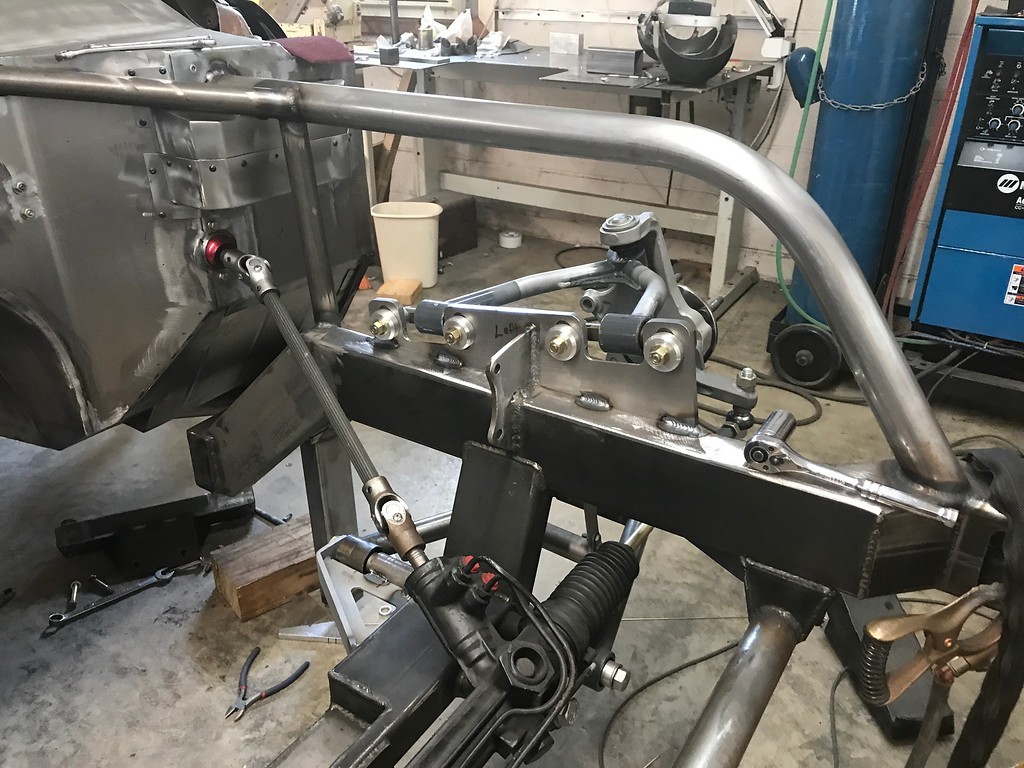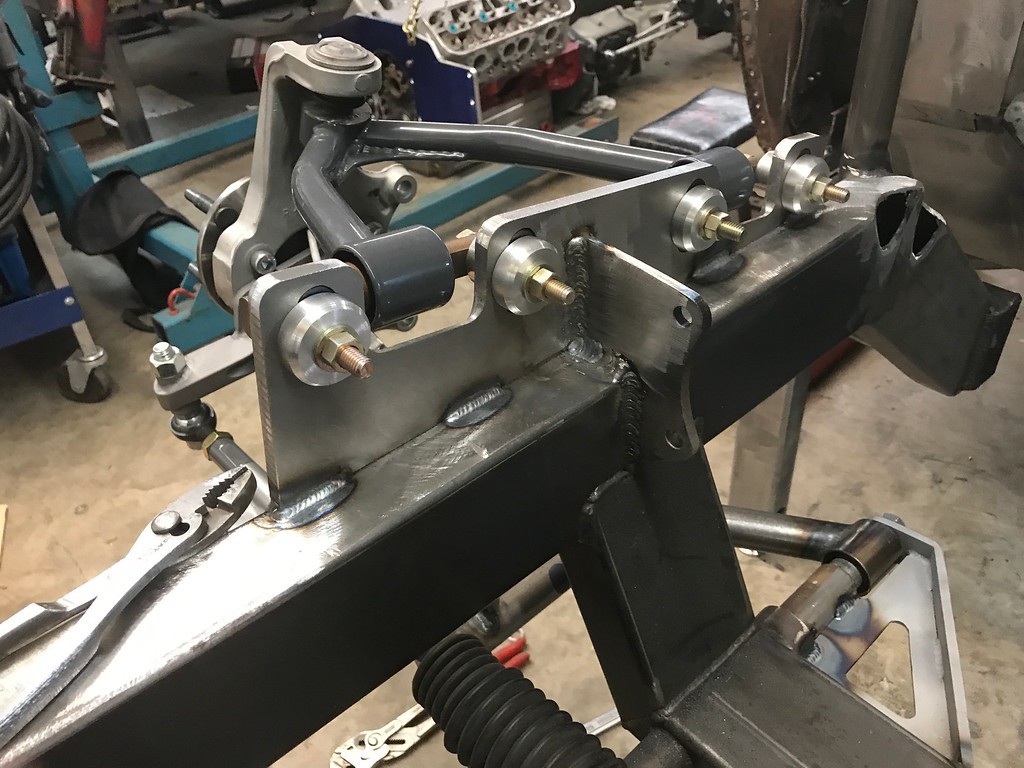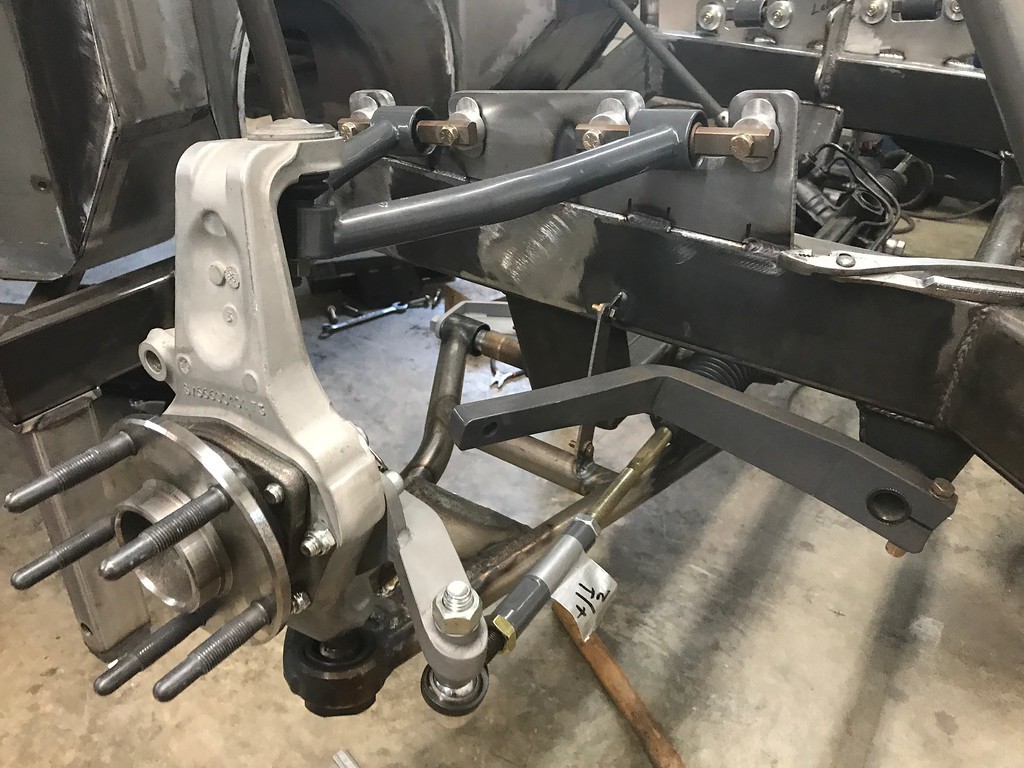 If you were wondering what the cut outs in the frame are for on the right side...we moved the motor to the right side of the car 1/2 inch. The cut outs are for header clearance. Here they are finished.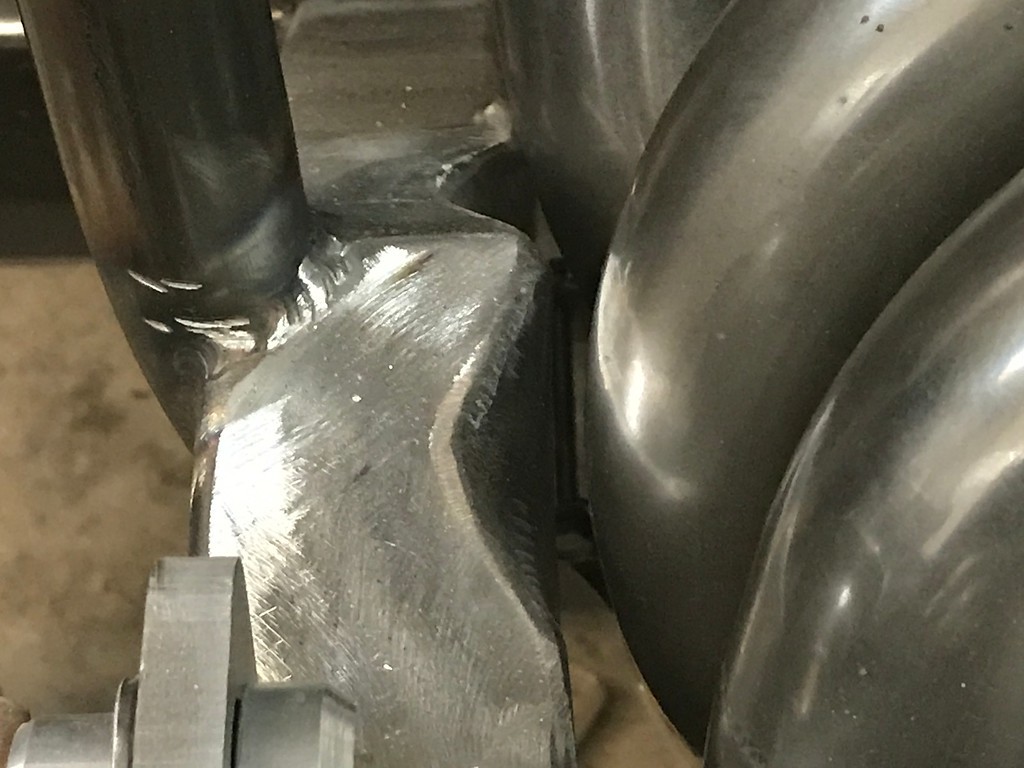 3-15-2018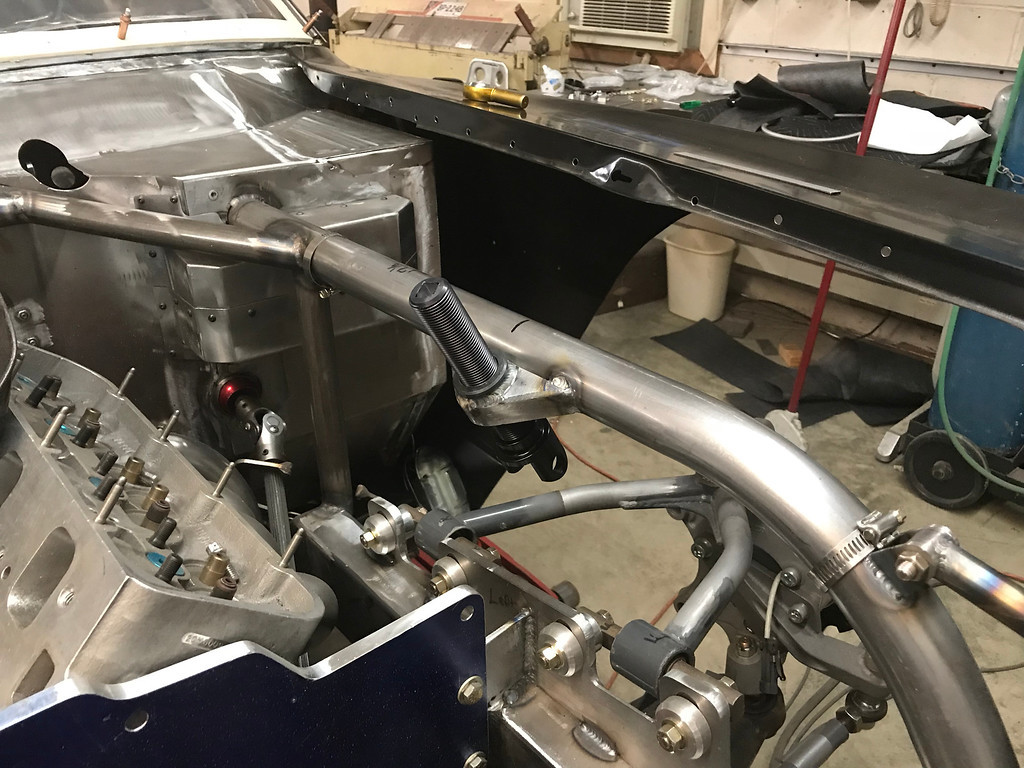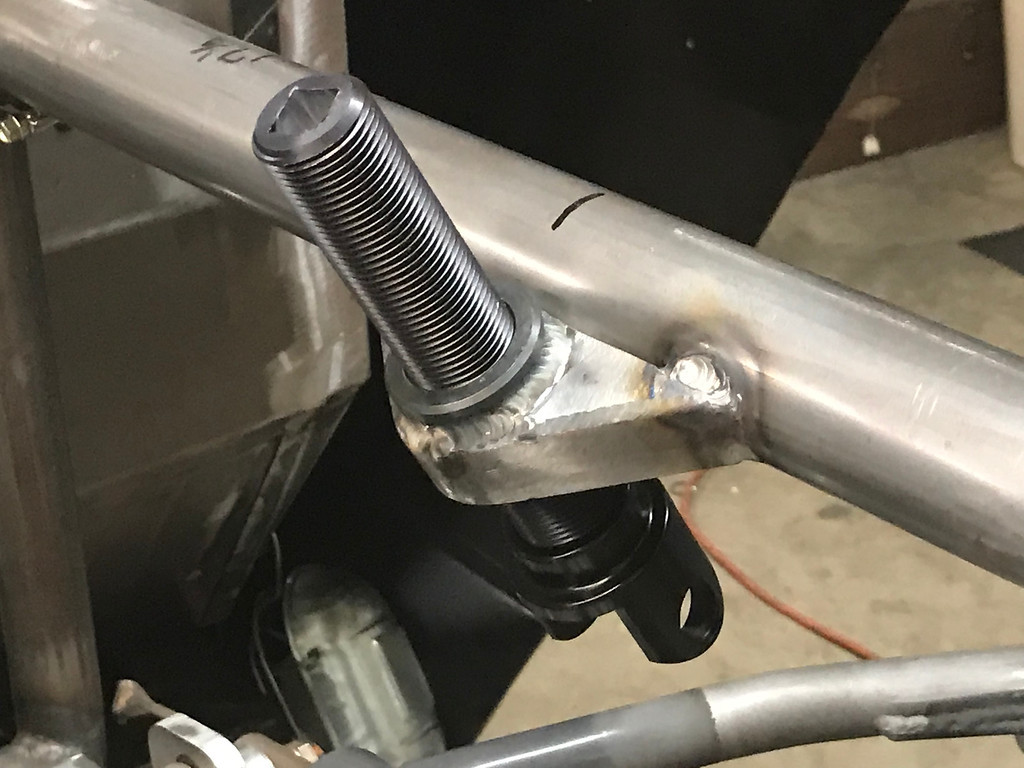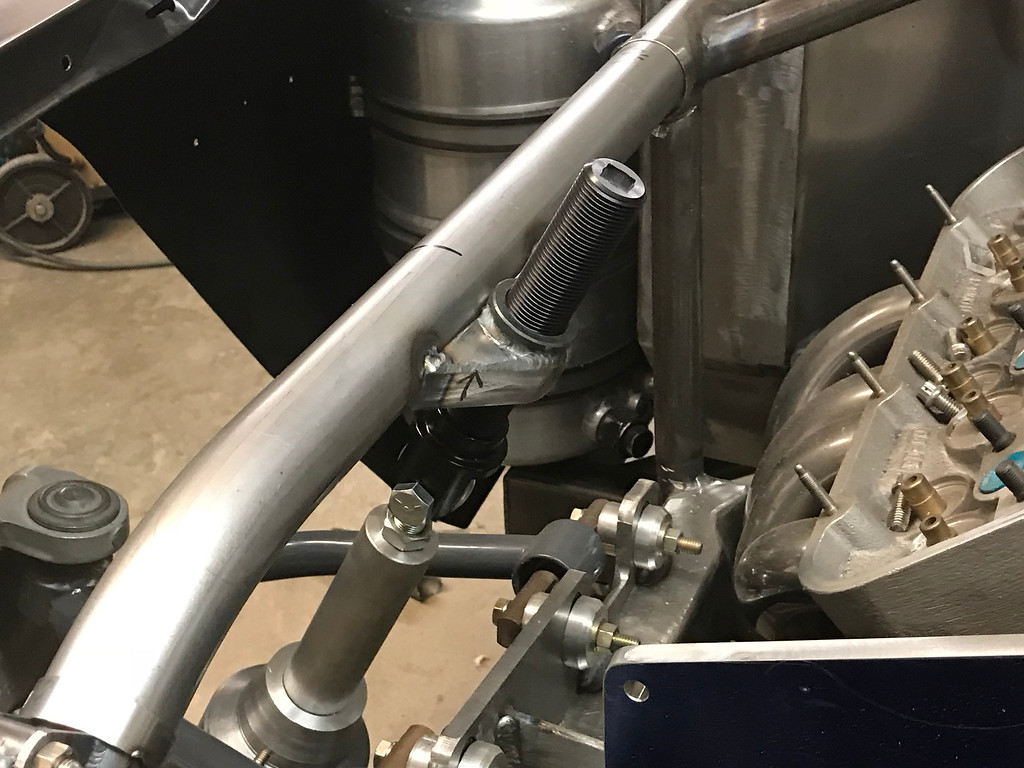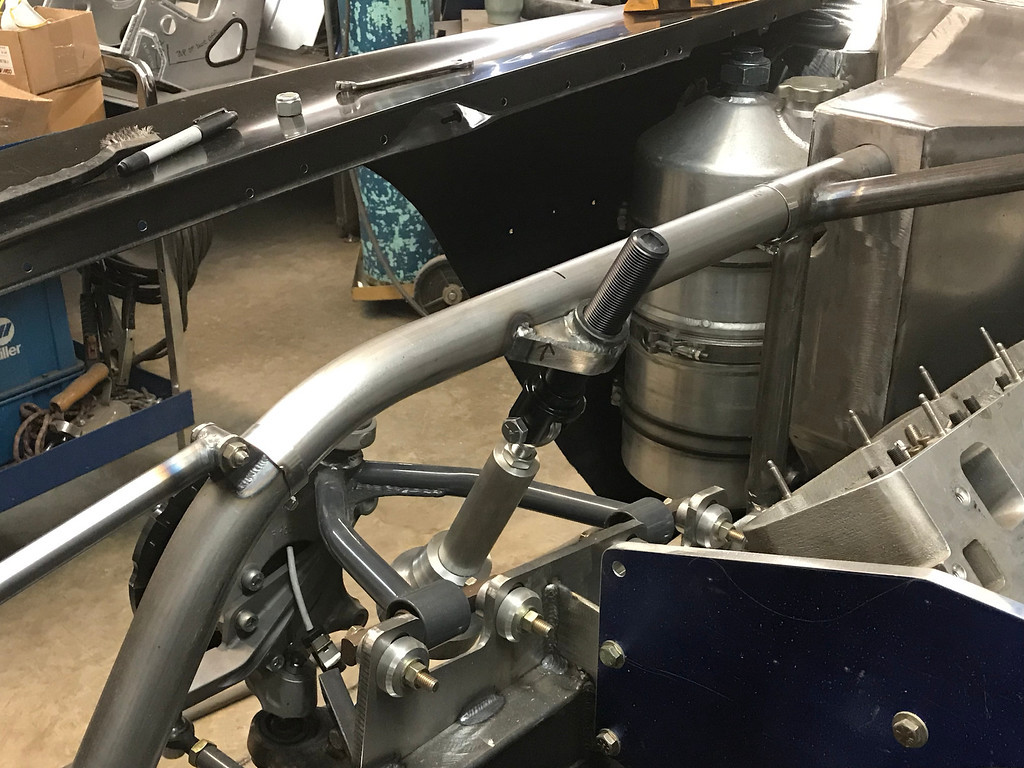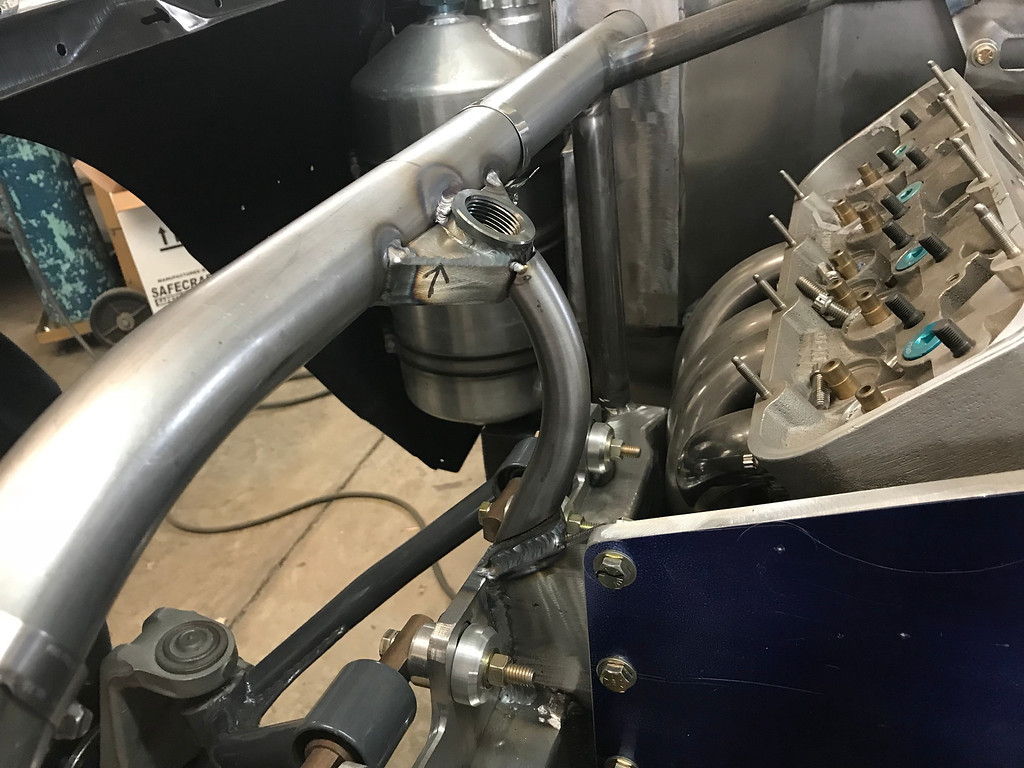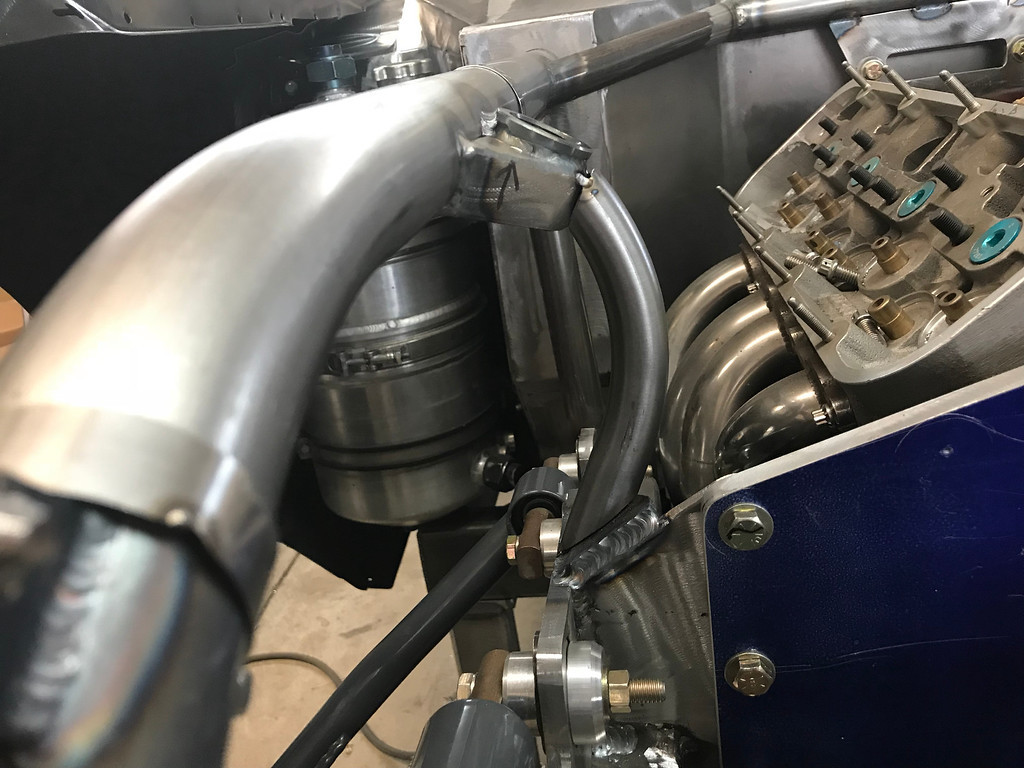 Bay bar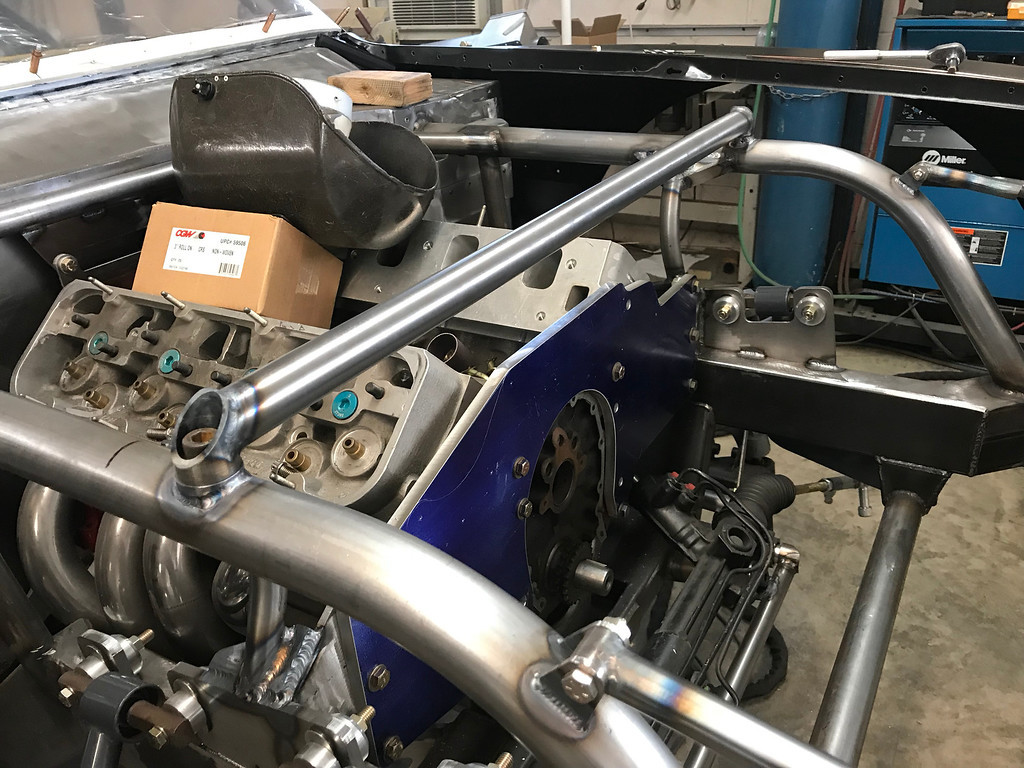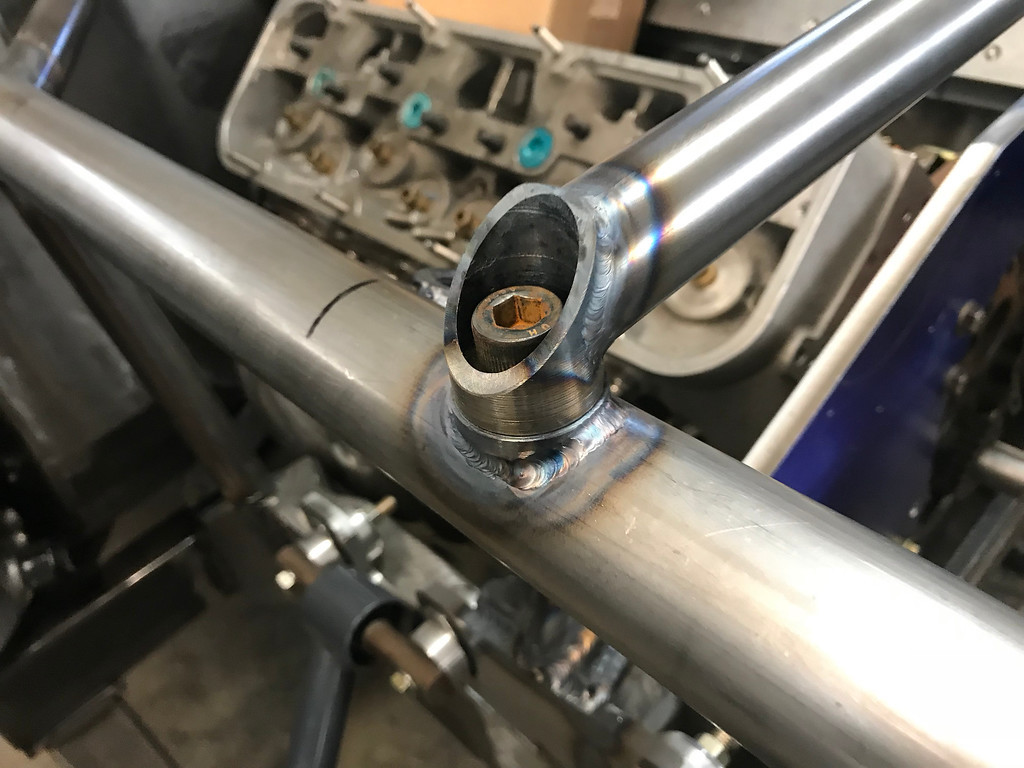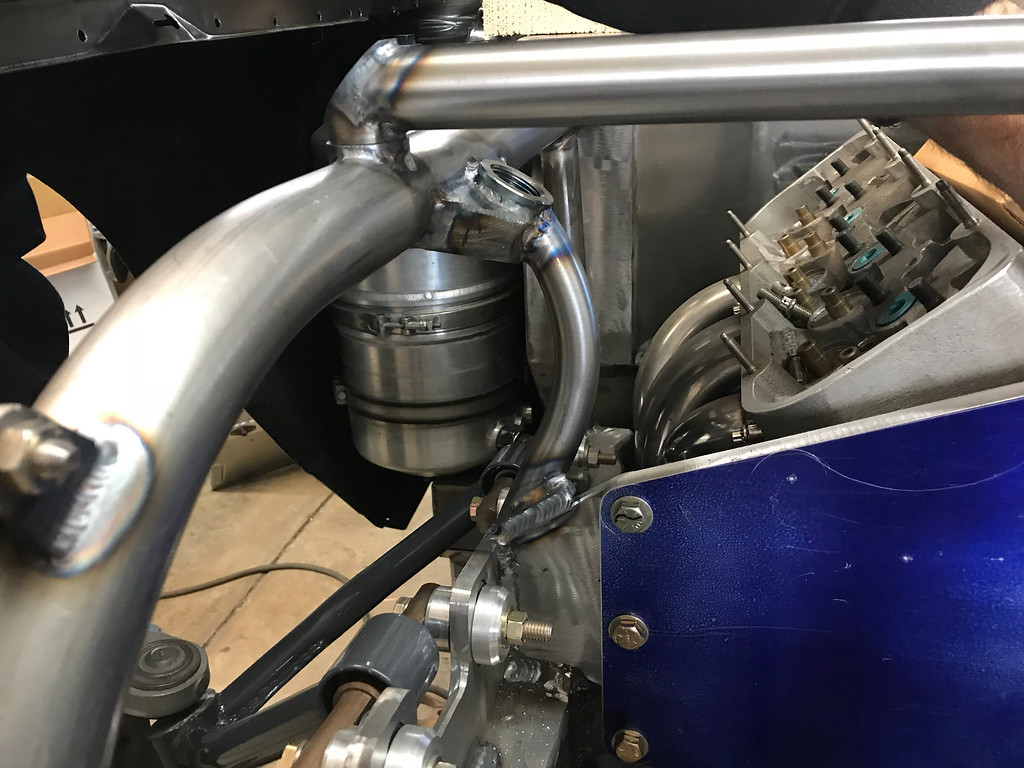 3-16-2018
New core support and rad mounting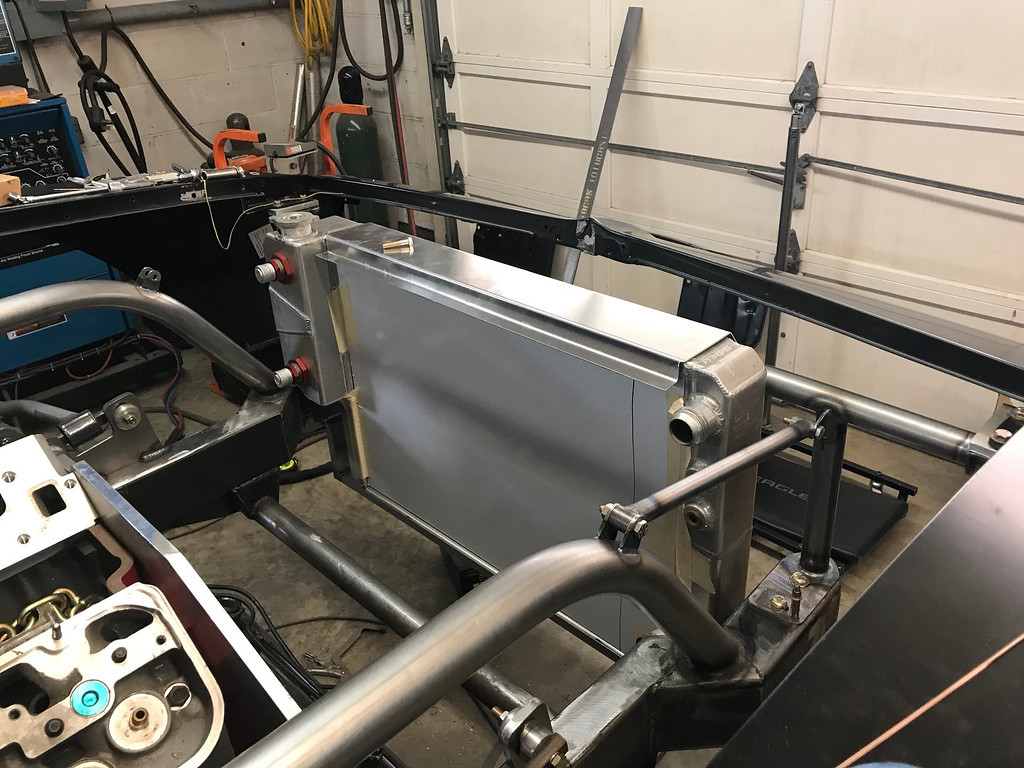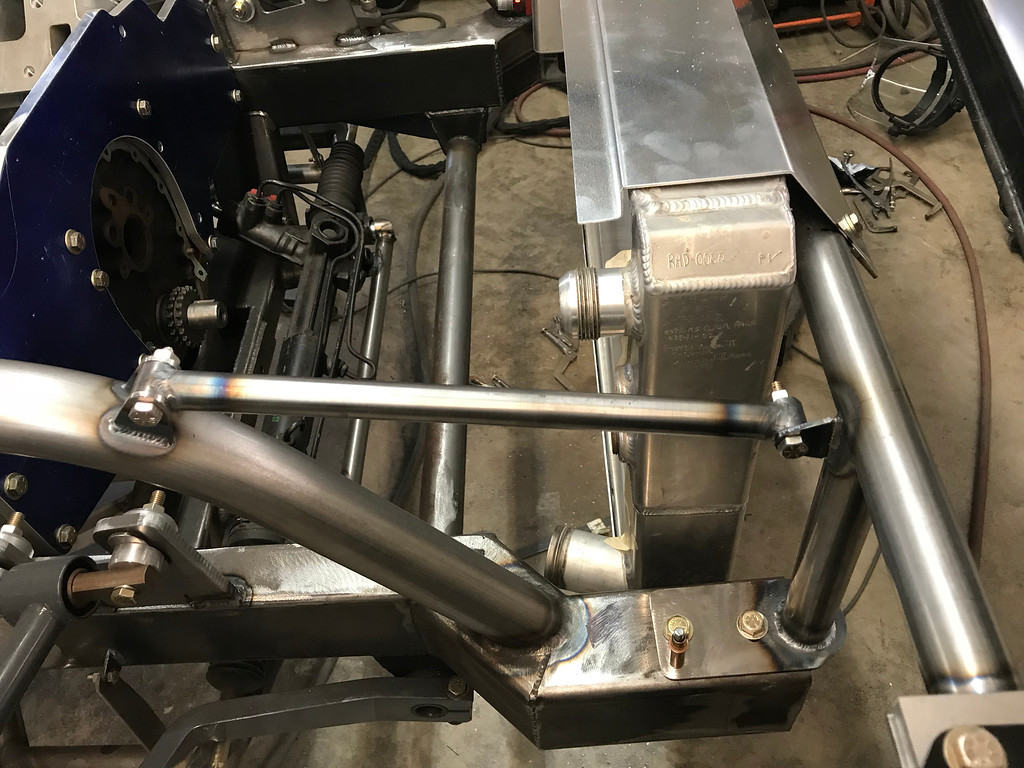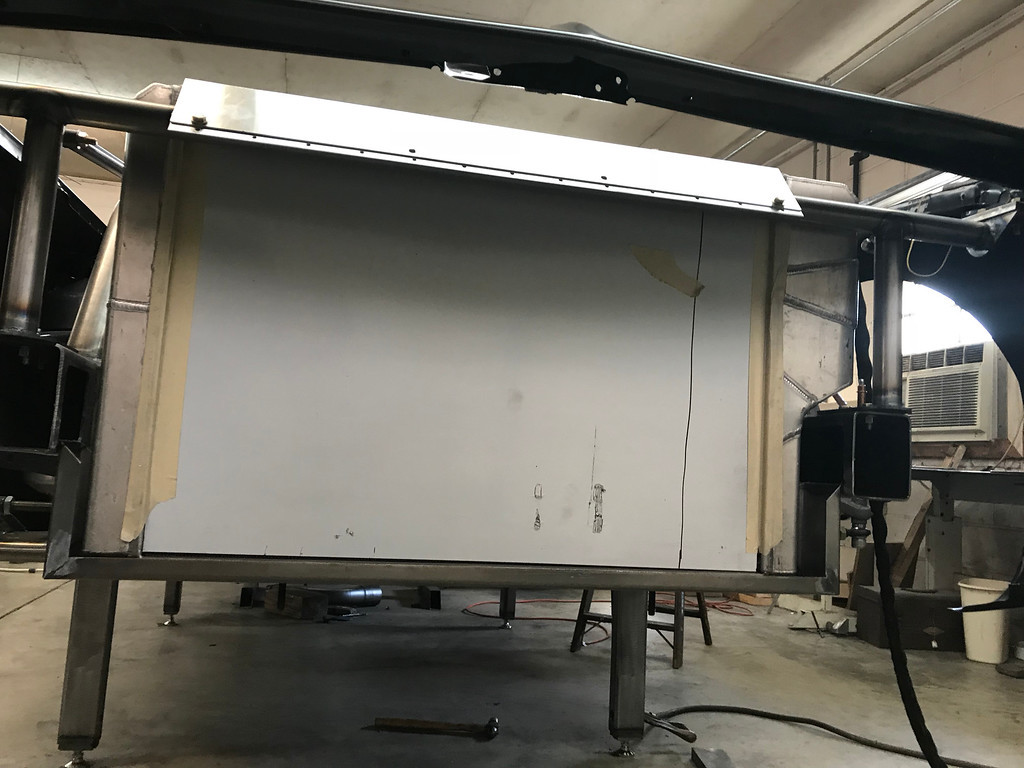 Fan mount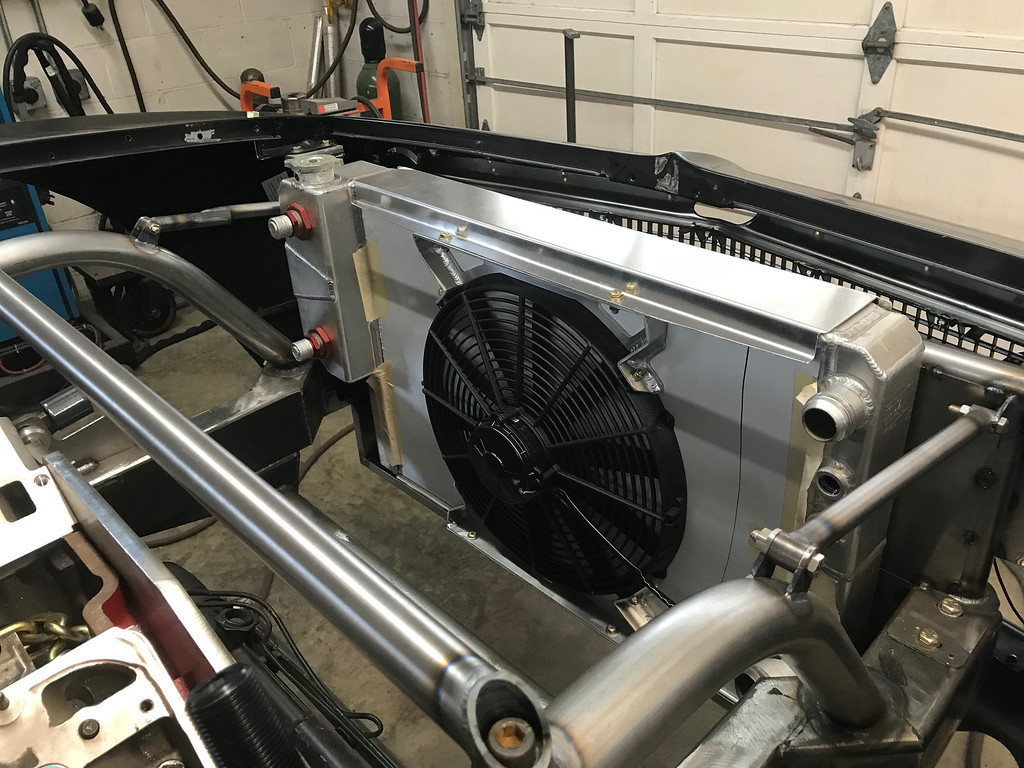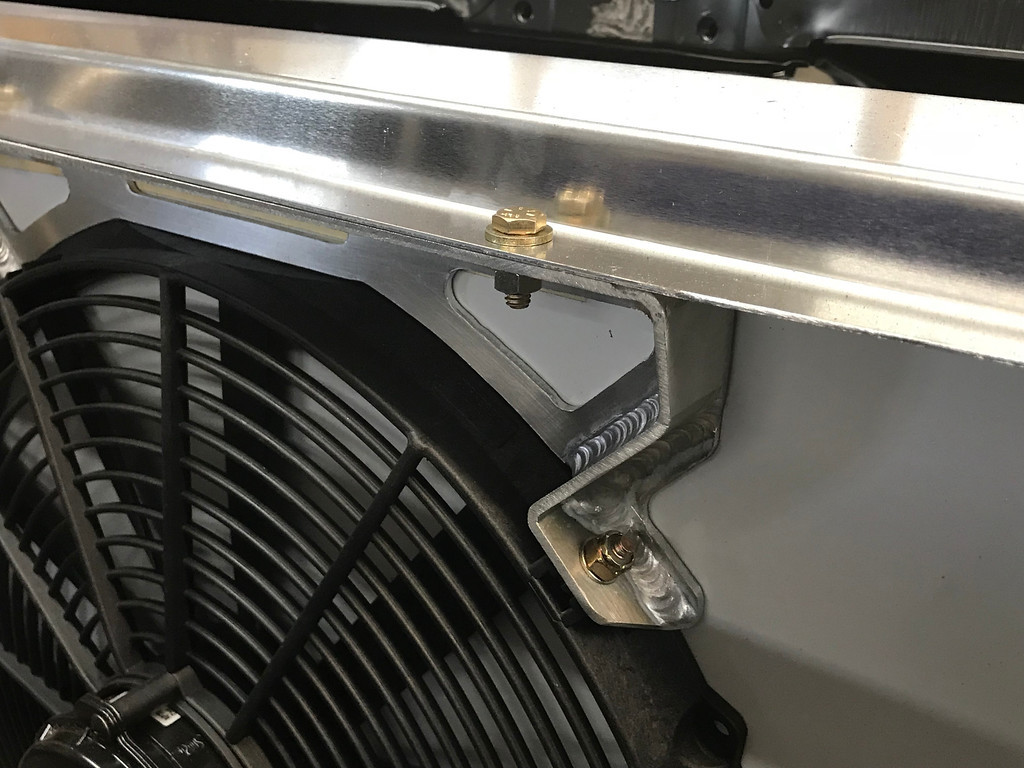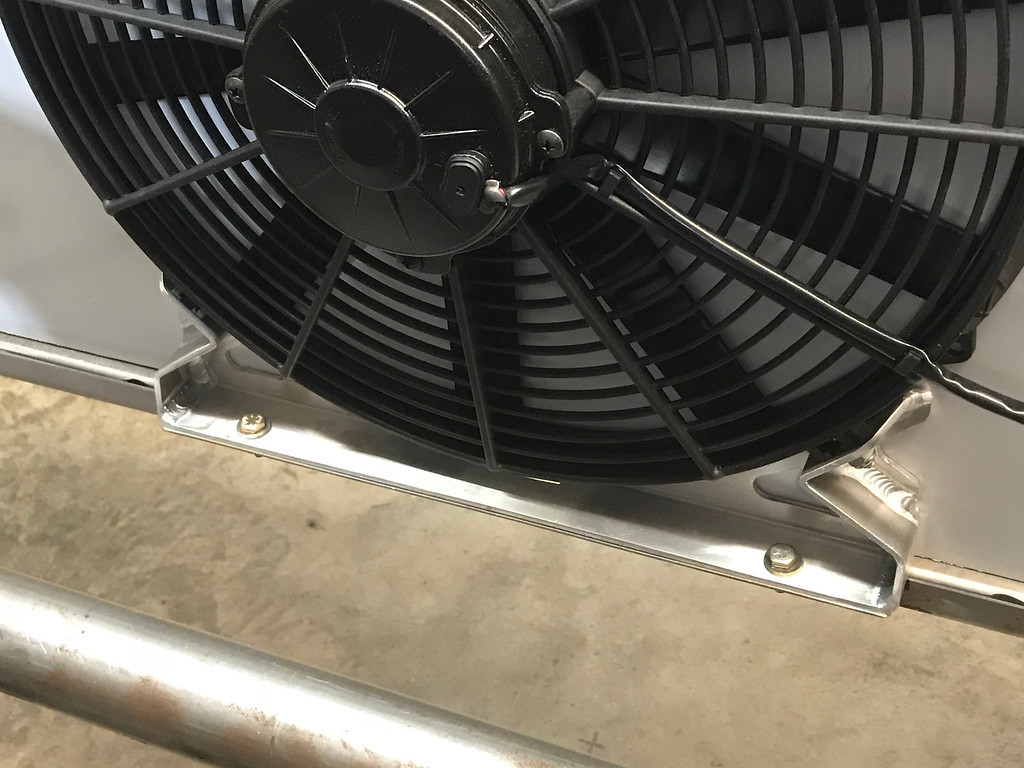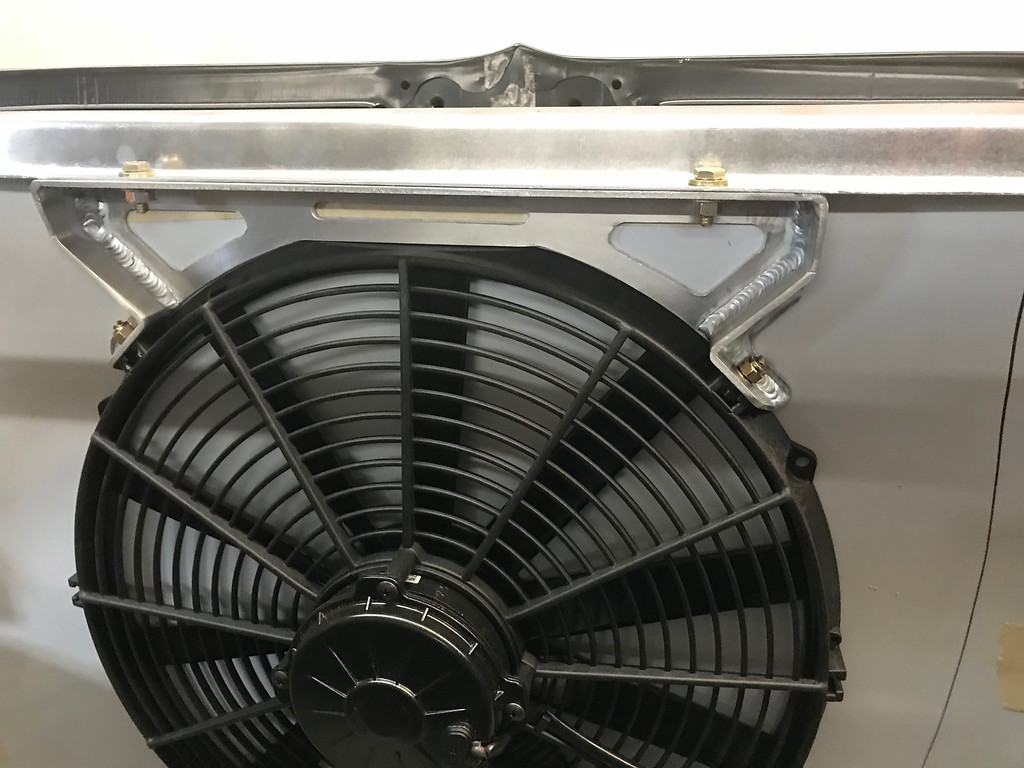 Mid Plate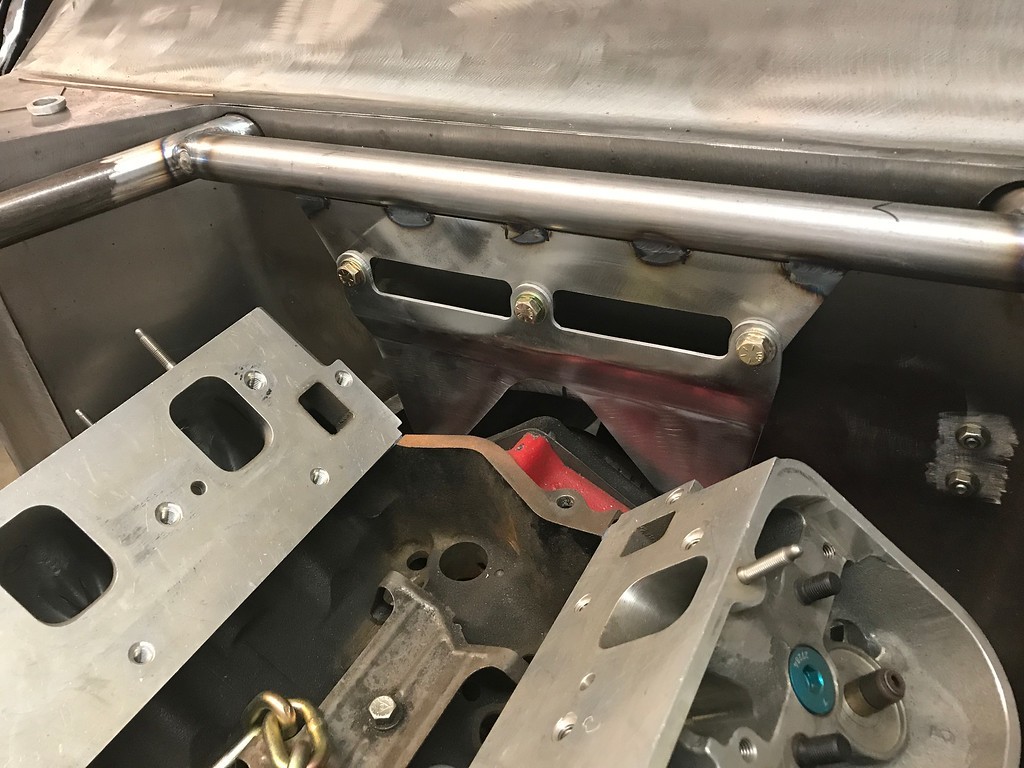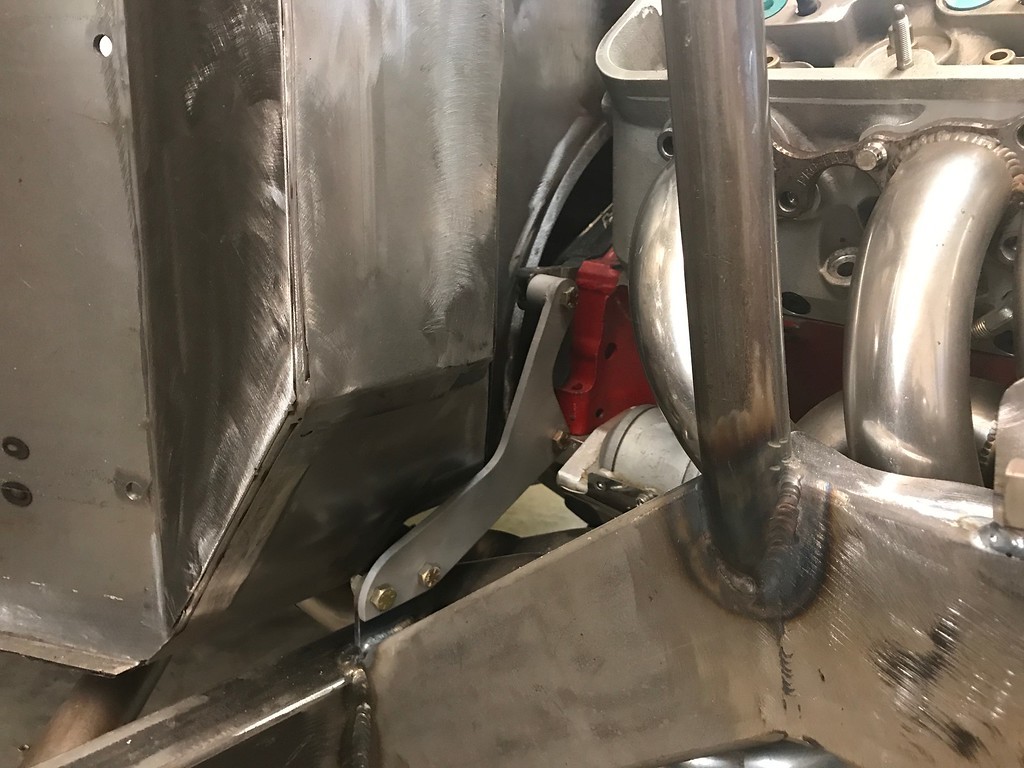 That is a new Spal fan. It came from Hendrick Motorsports. Hendrick now buys Spal fans, takes the motors out and makes the blade and everything else out of carbon fiber to run on their race cars.
3-19-2018
Access panel to service brakes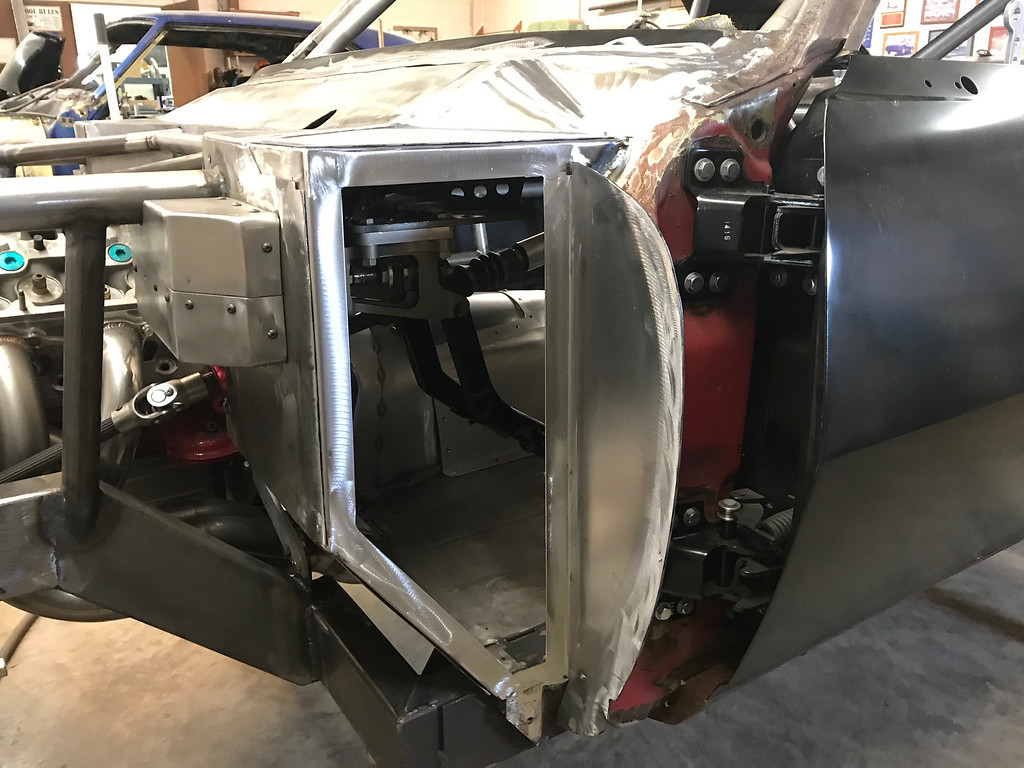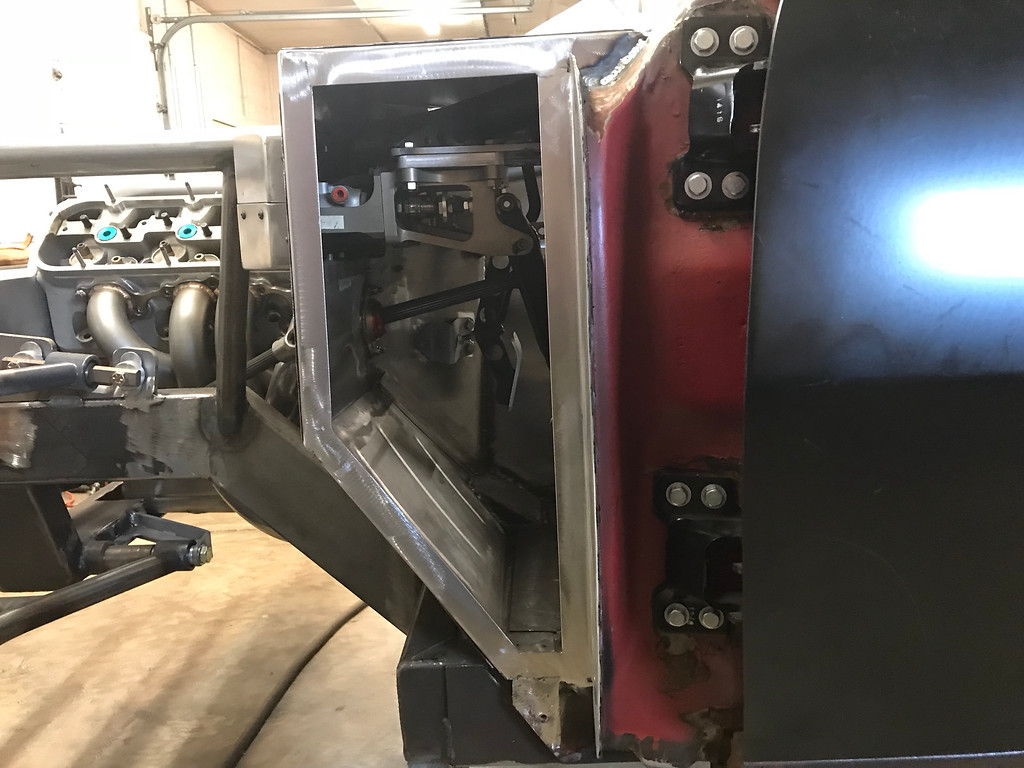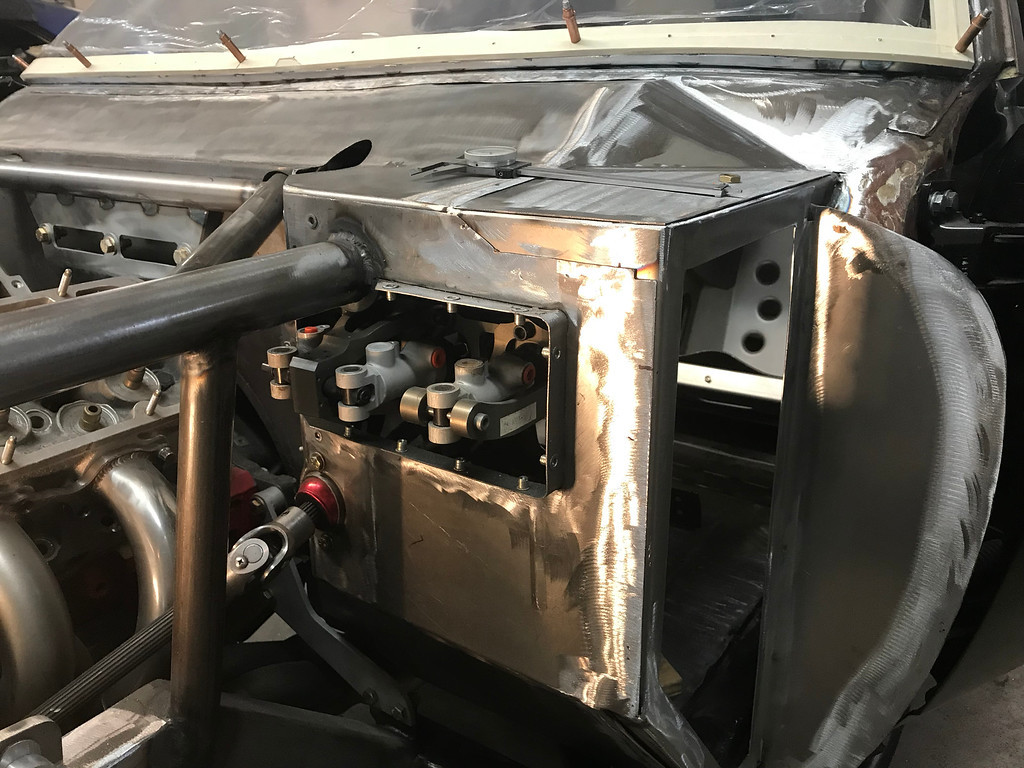 Ran into a problem trying to package the brake res. May eventually come up with something different for access once we remake the fenders in glass...something more like a fuel door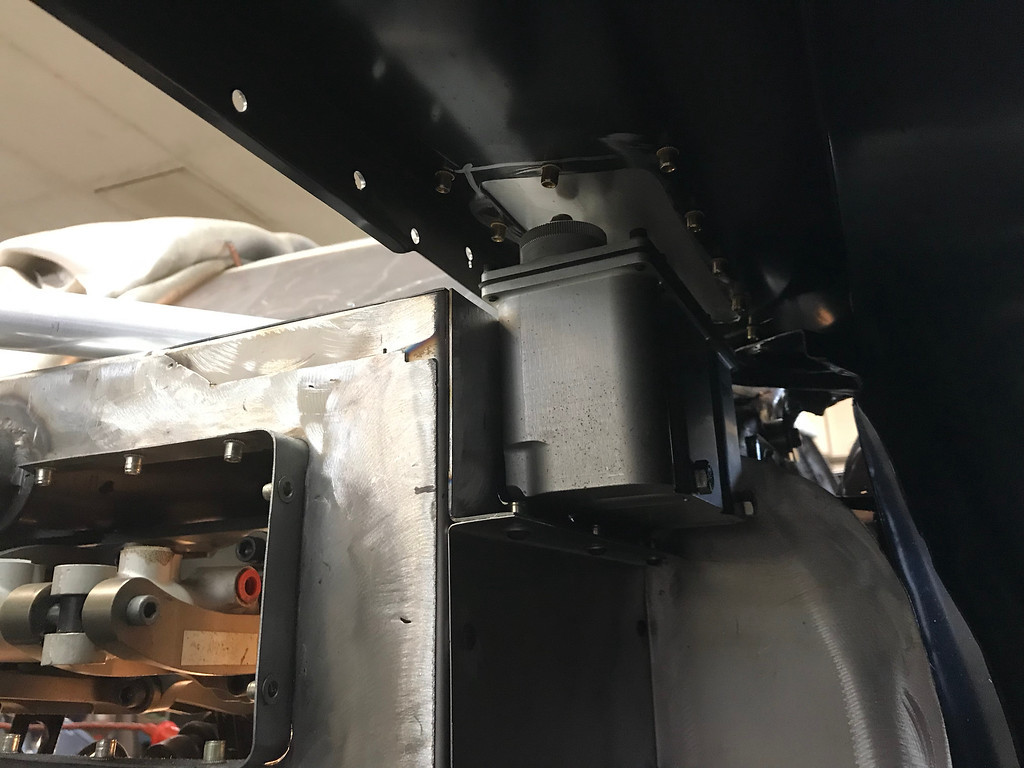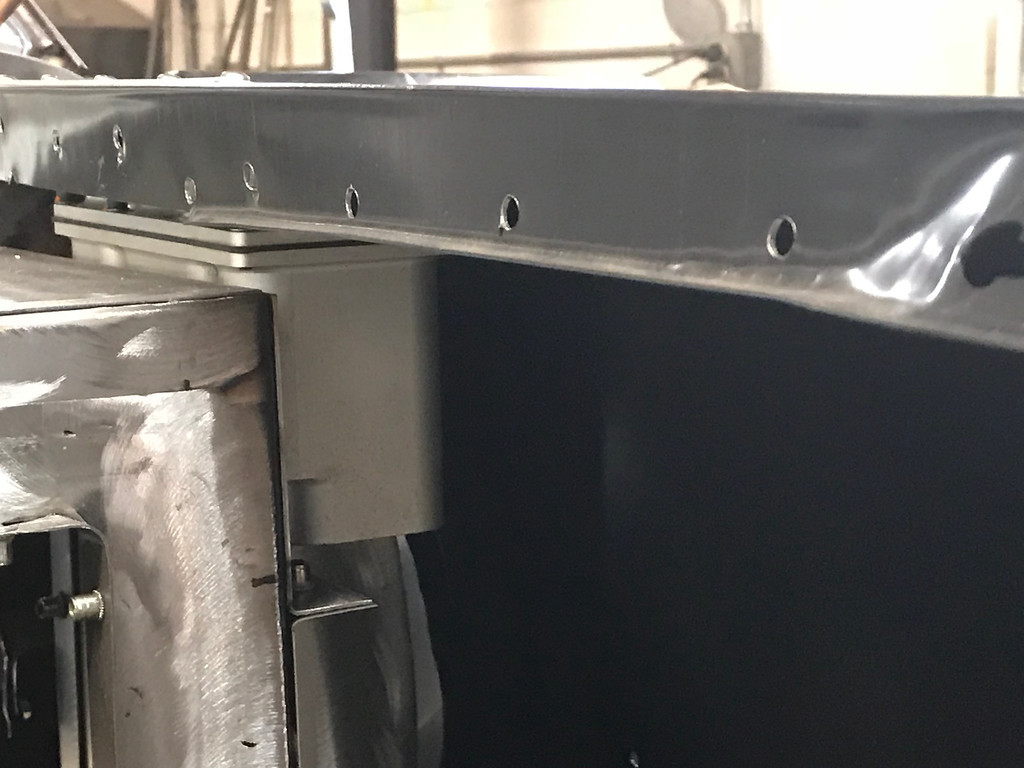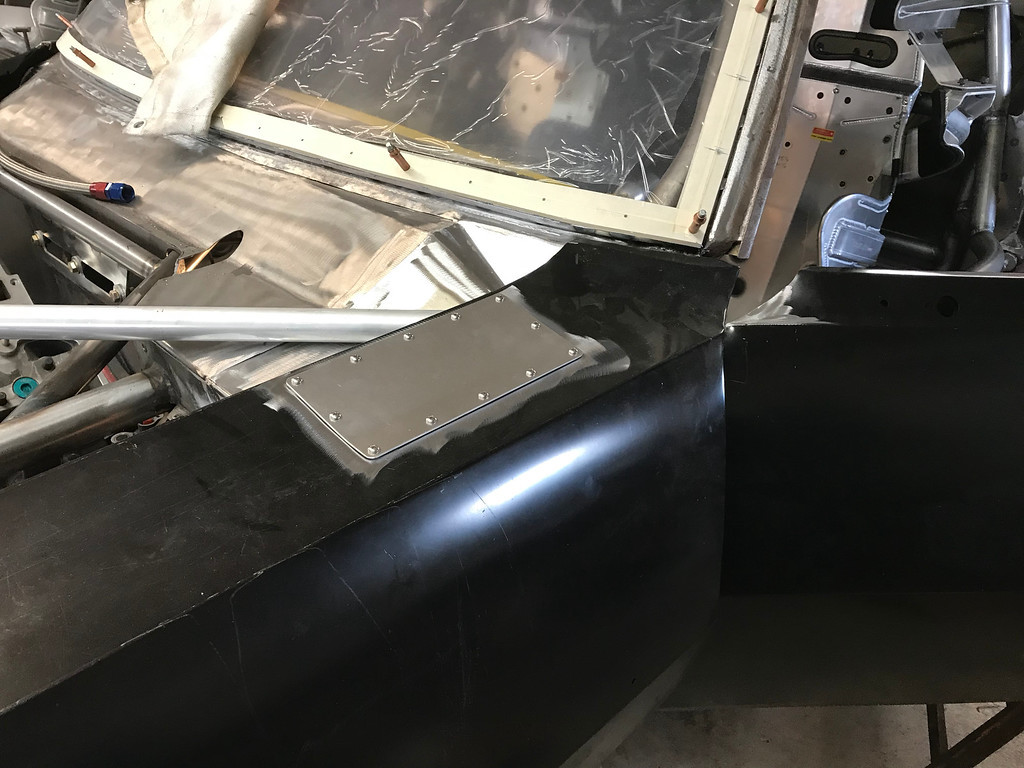 Transmission access panel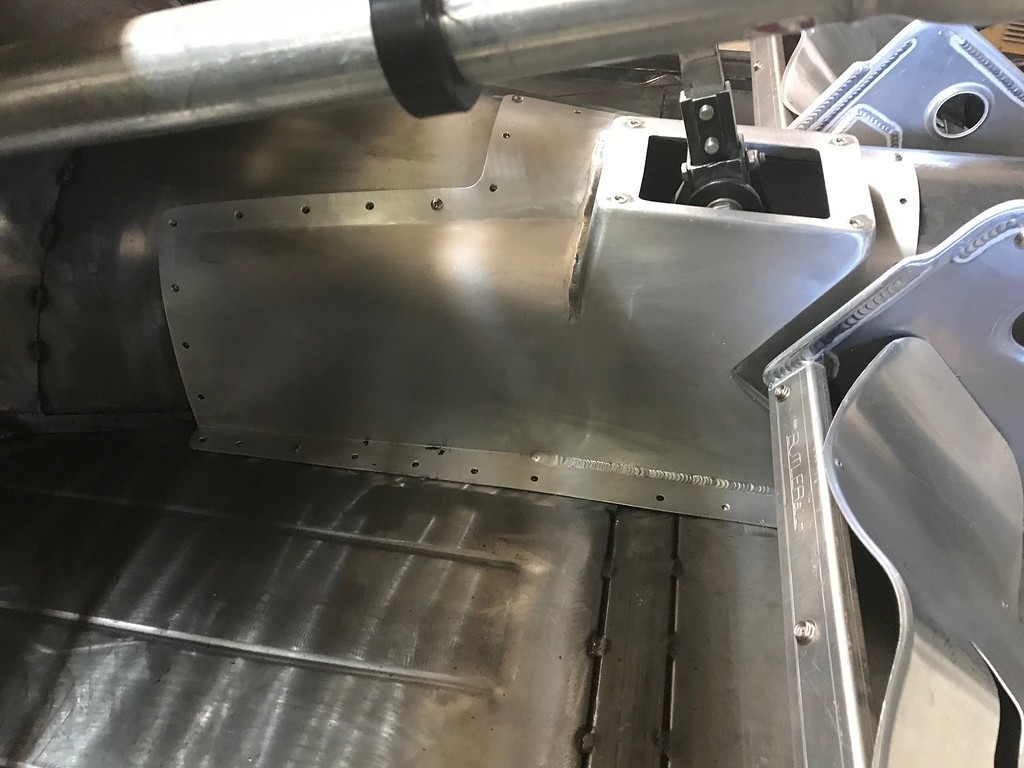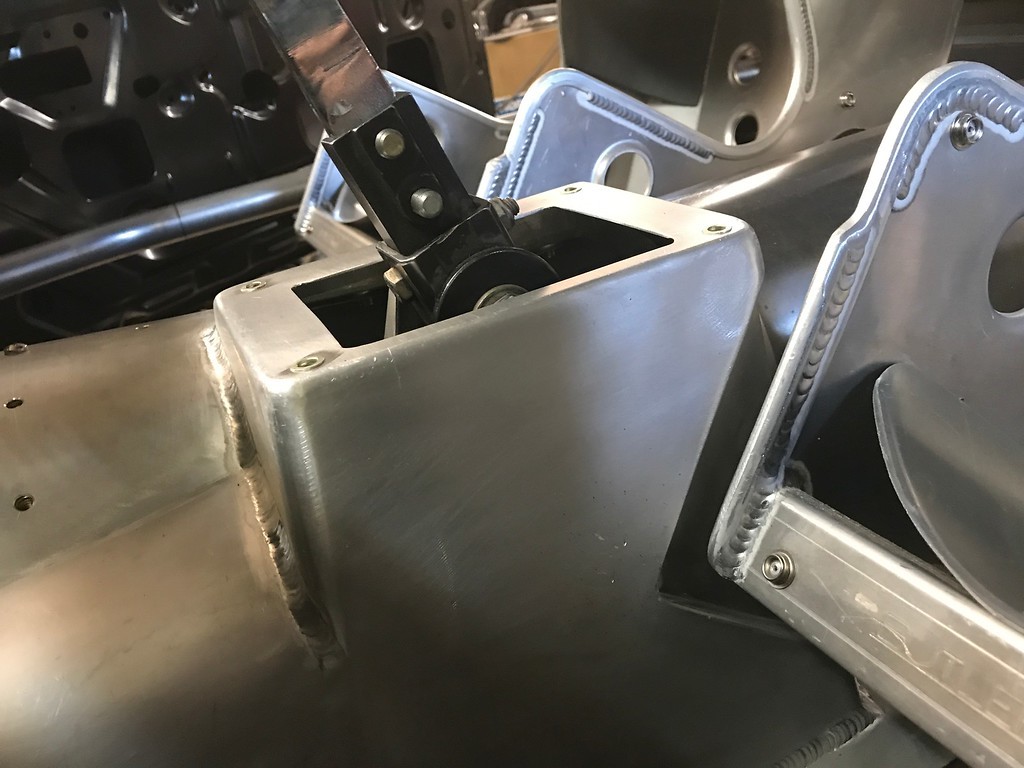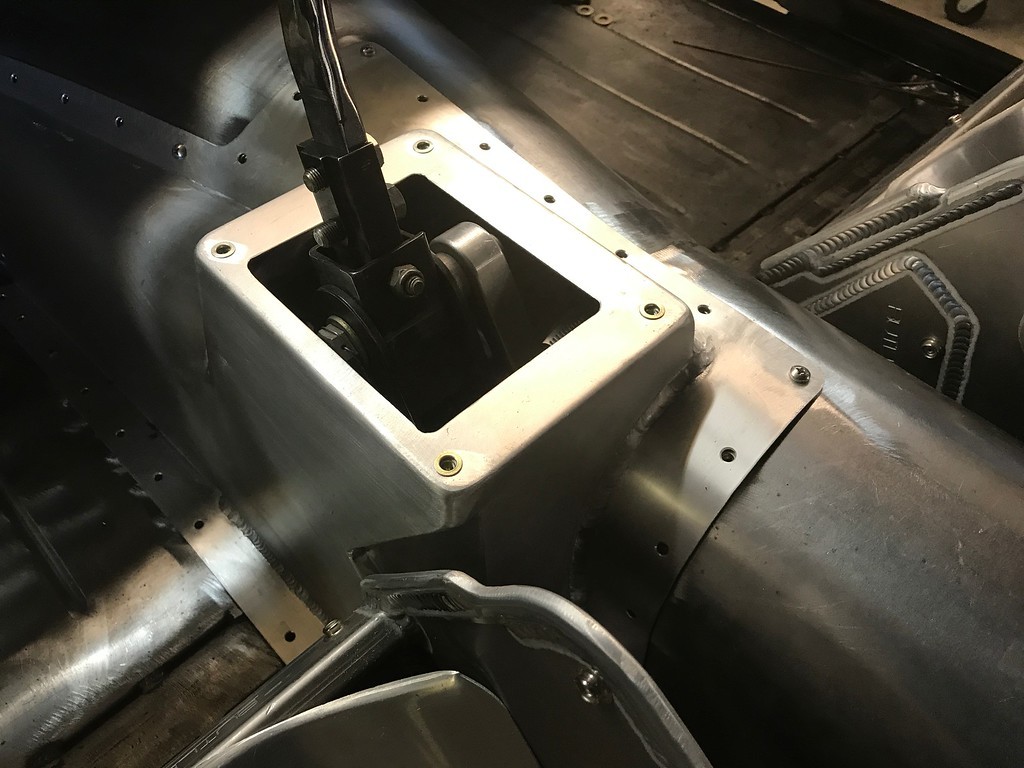 door bars added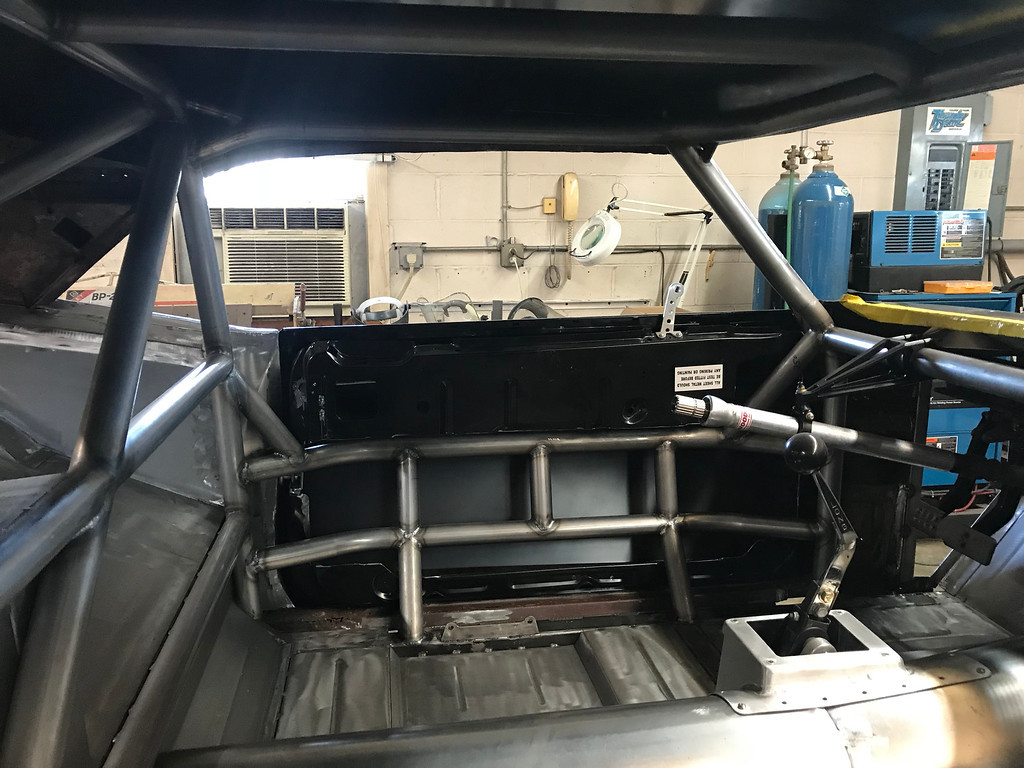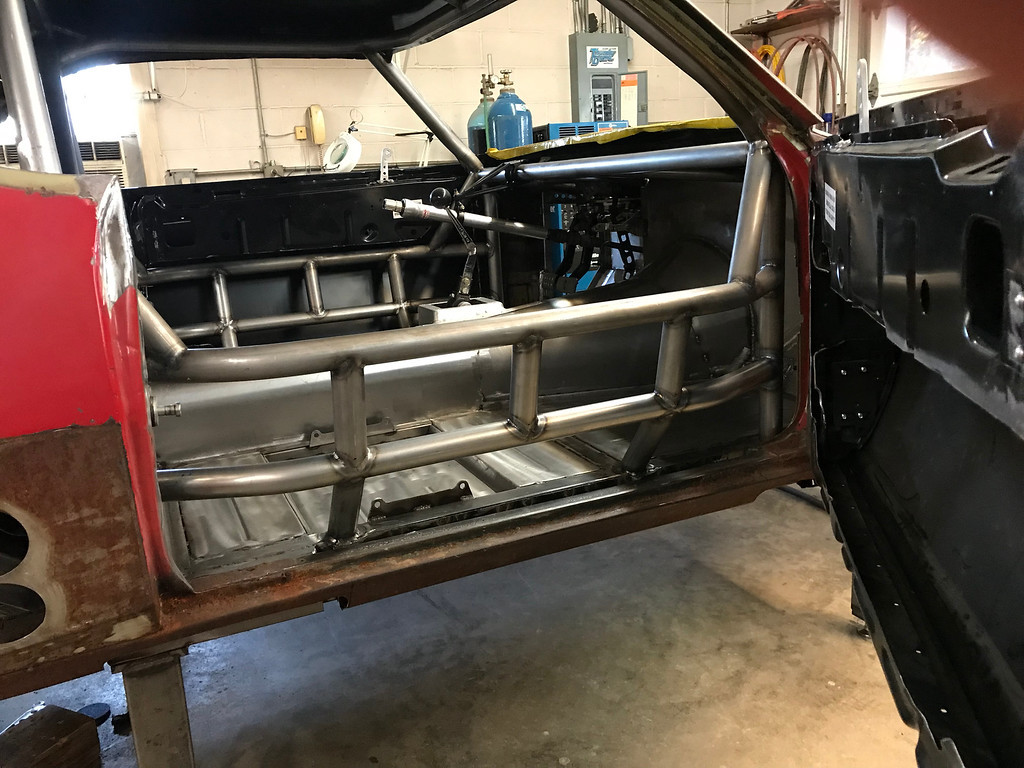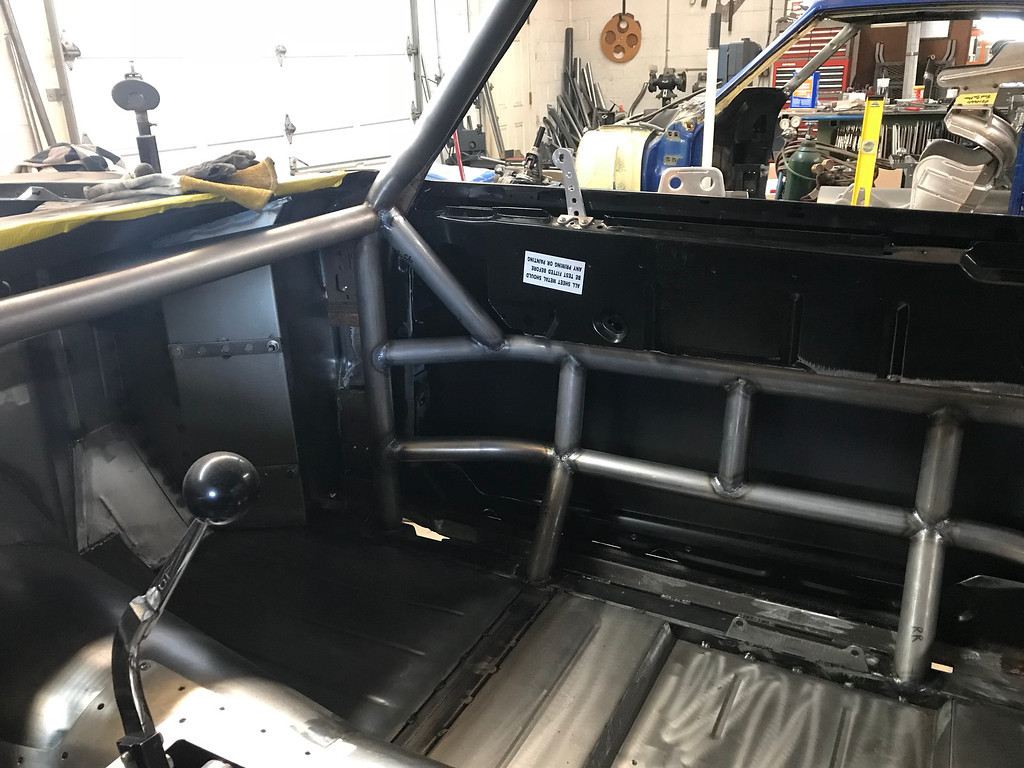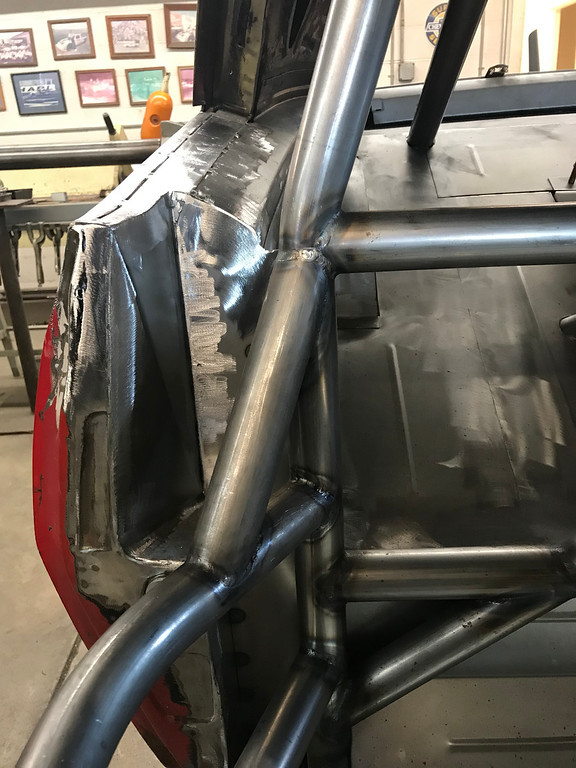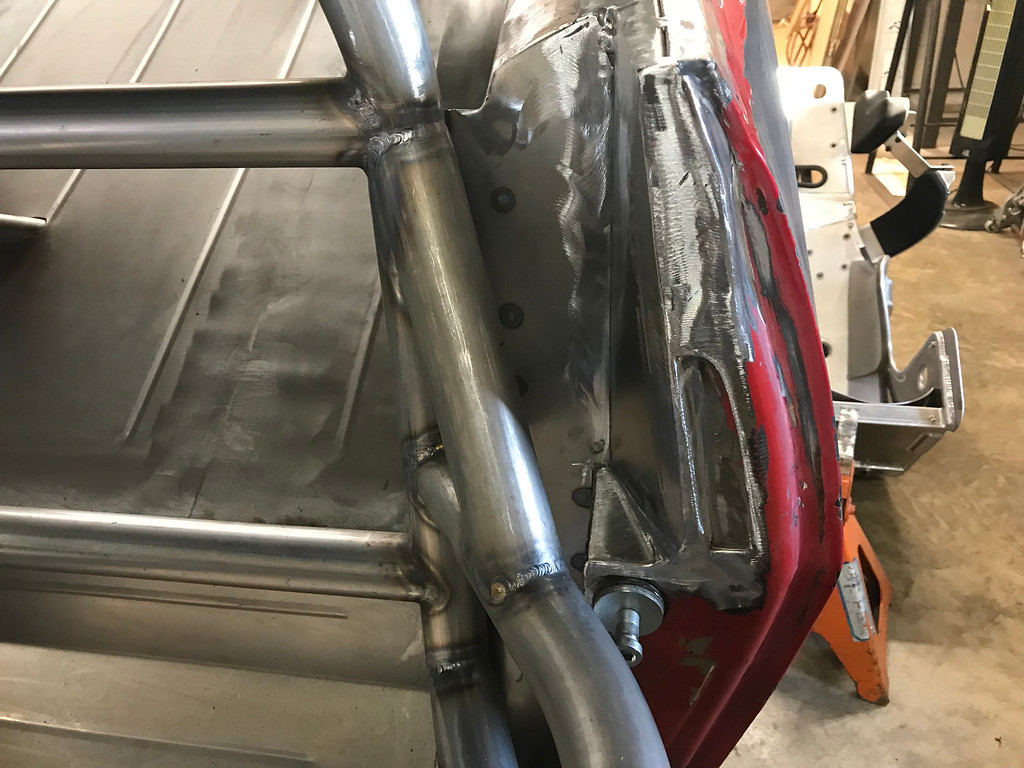 3-20-2018
This is supposed to be fun and catching on fire is not fun...so fire suppression was in order. 10lbs bottle heat activated for fuel cell and 5lbs bottle cable pull for driver and engine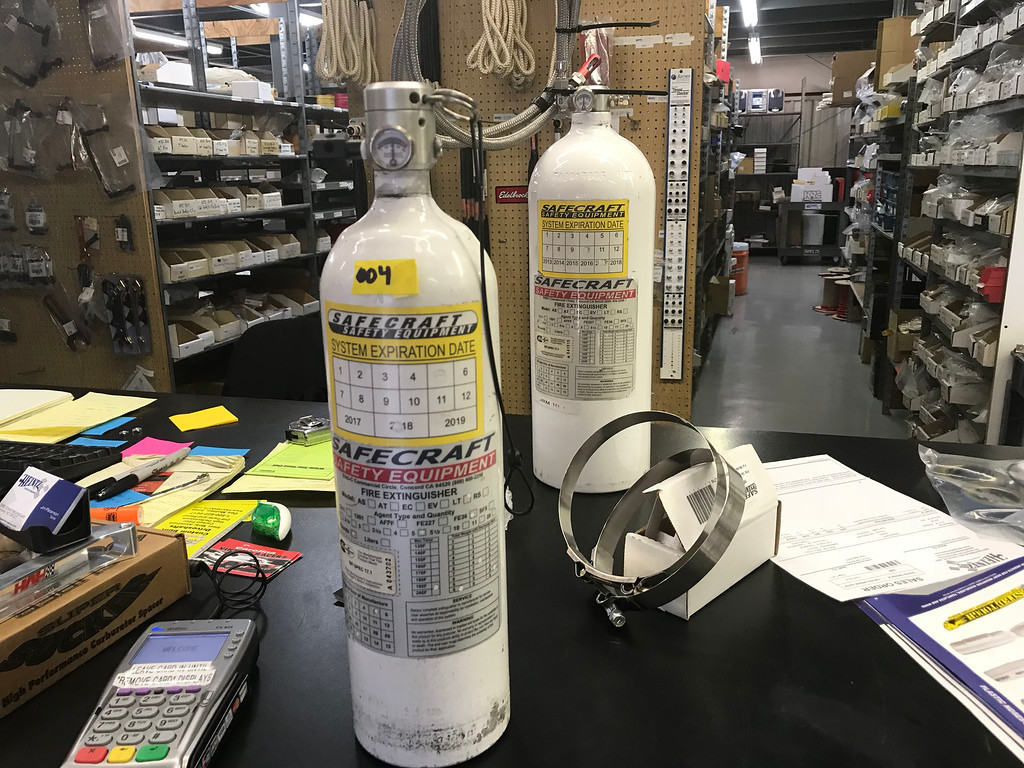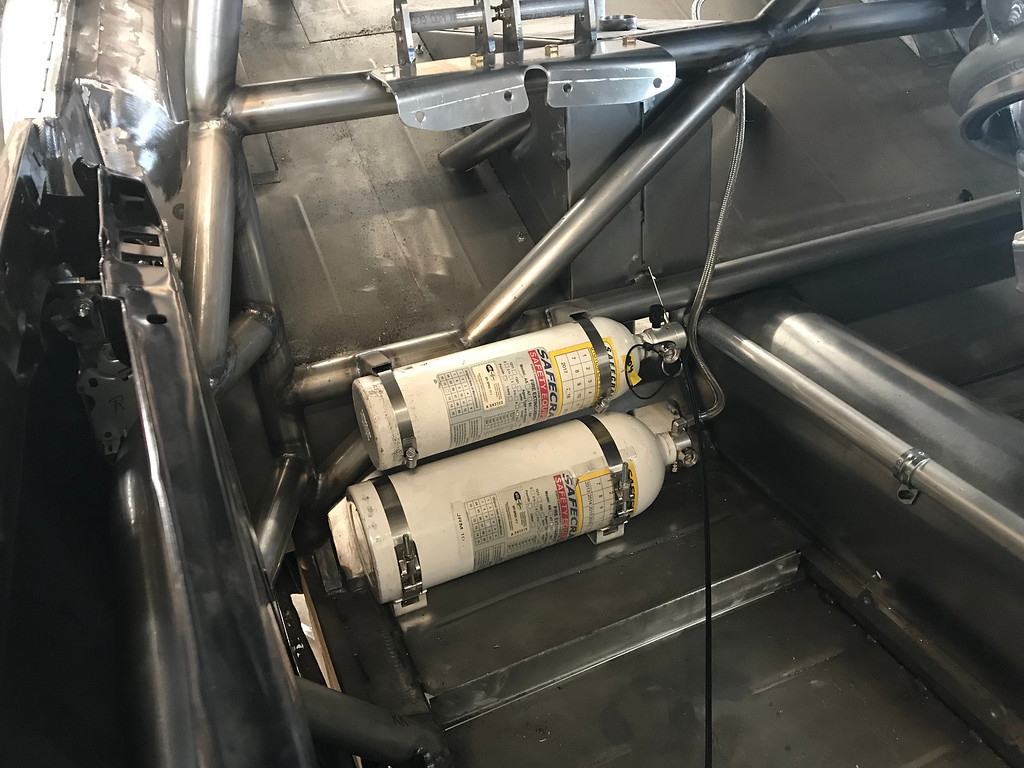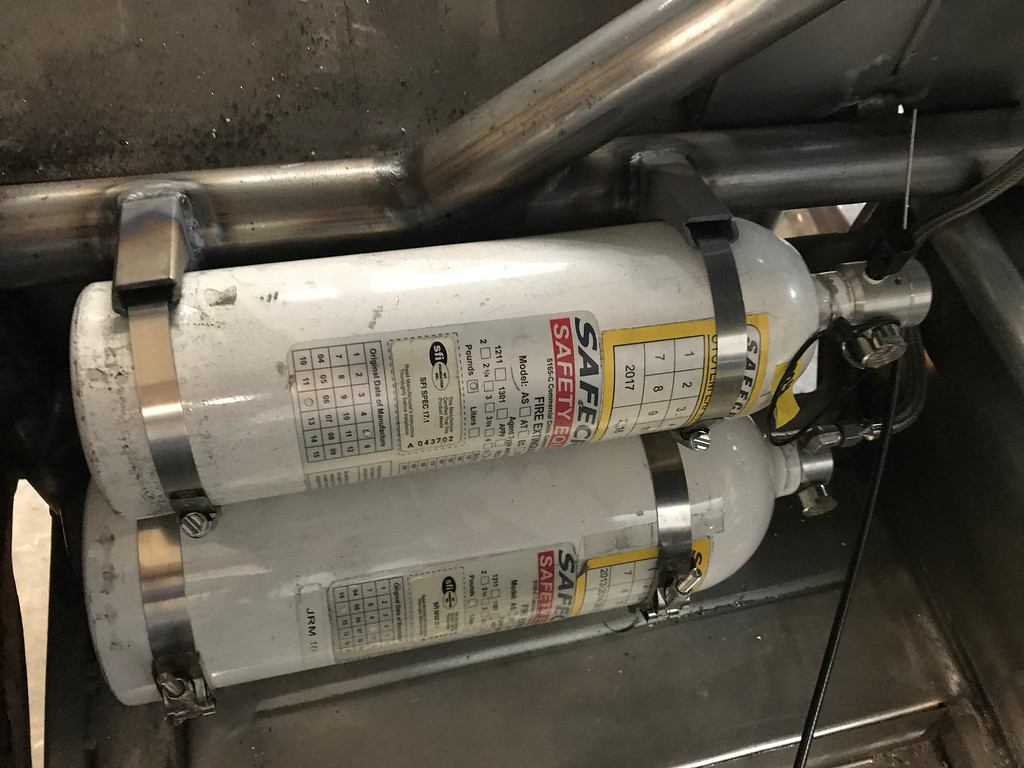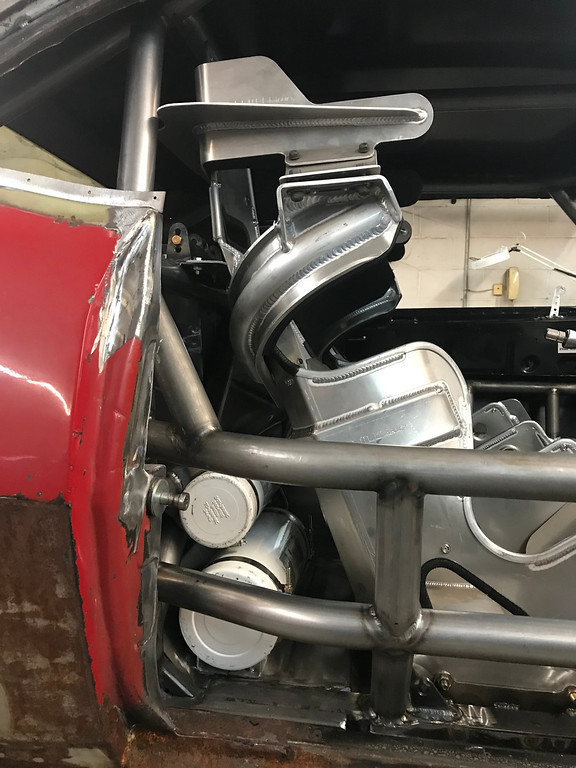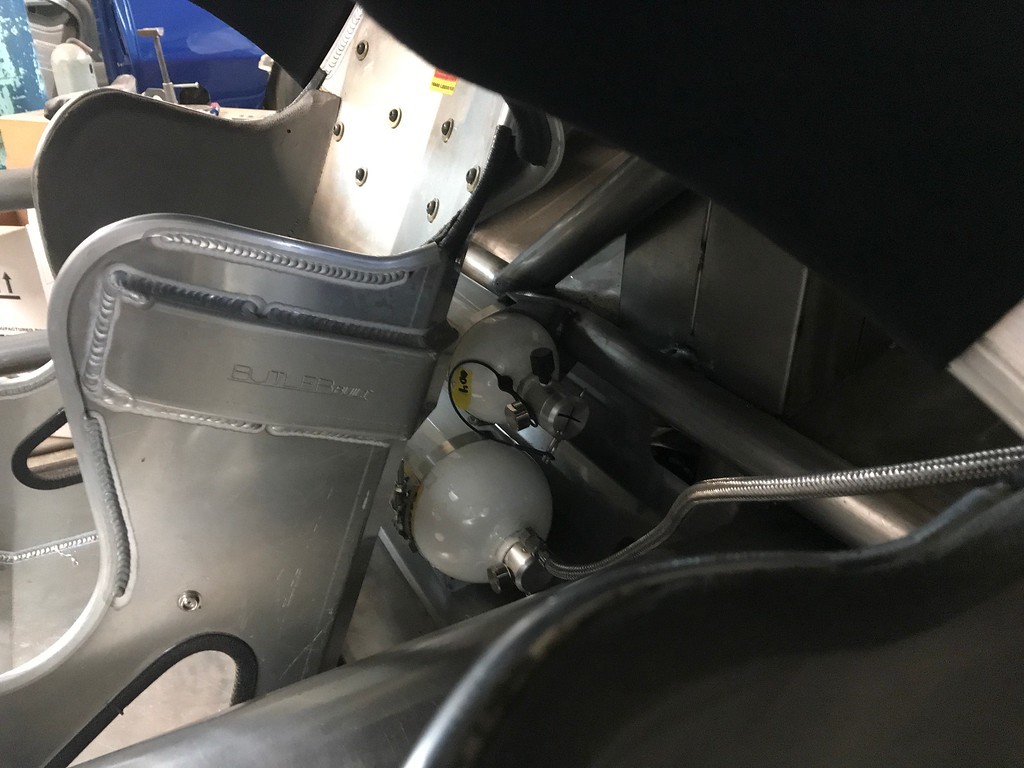 Back brace for seats and seat belt mounts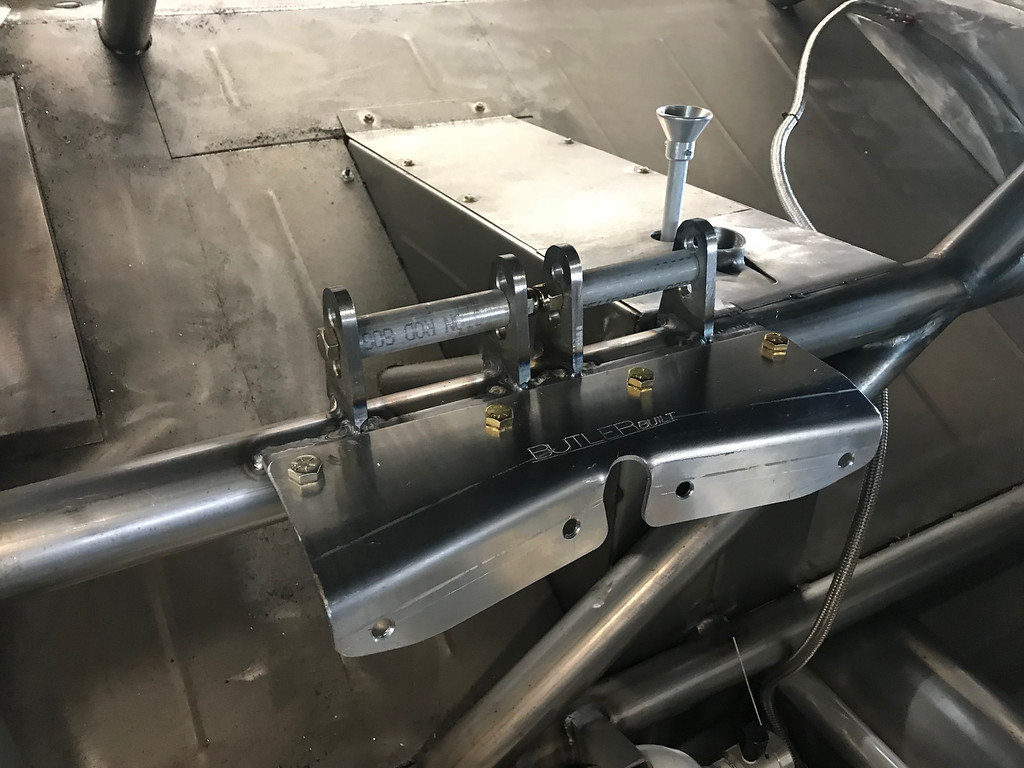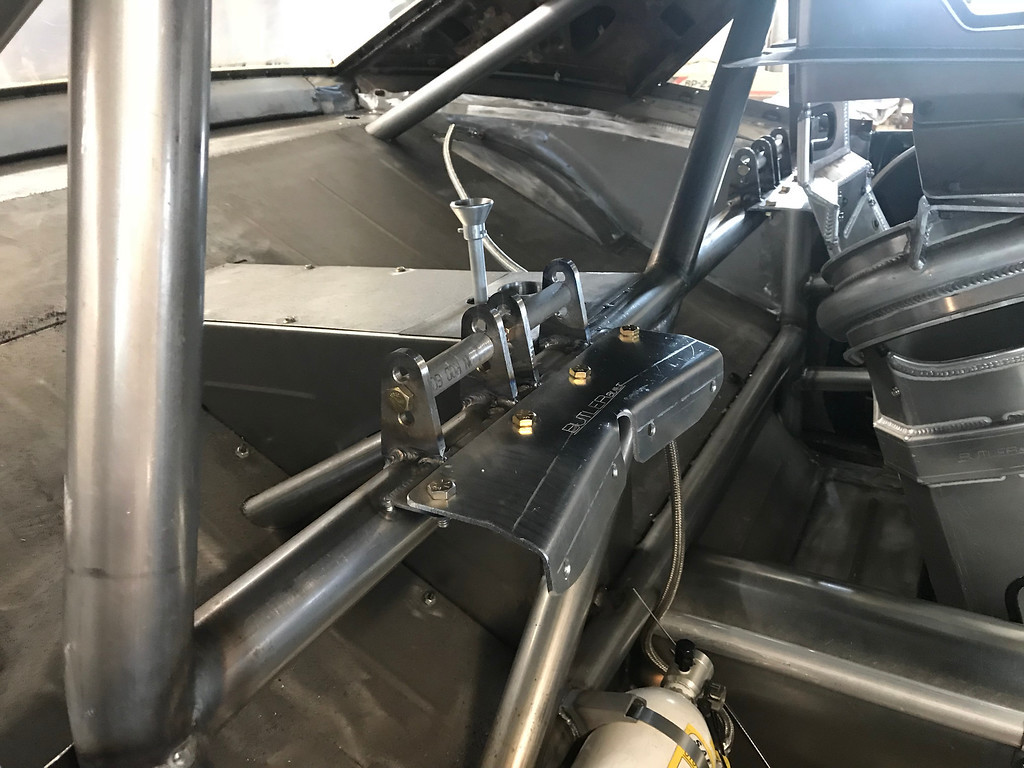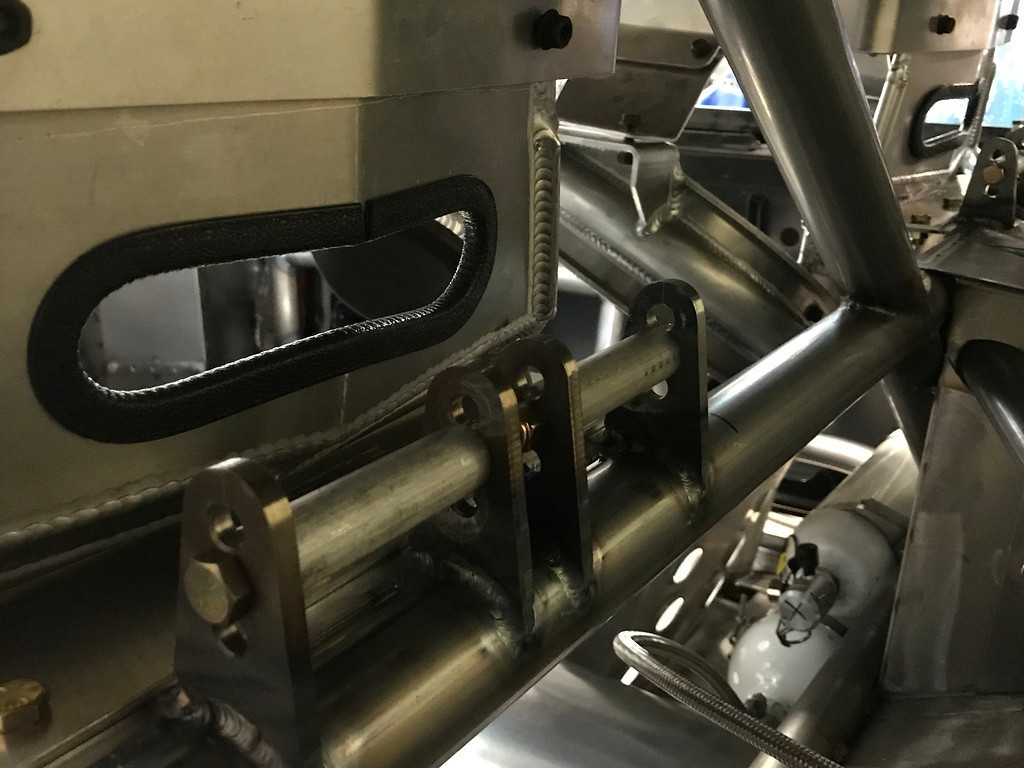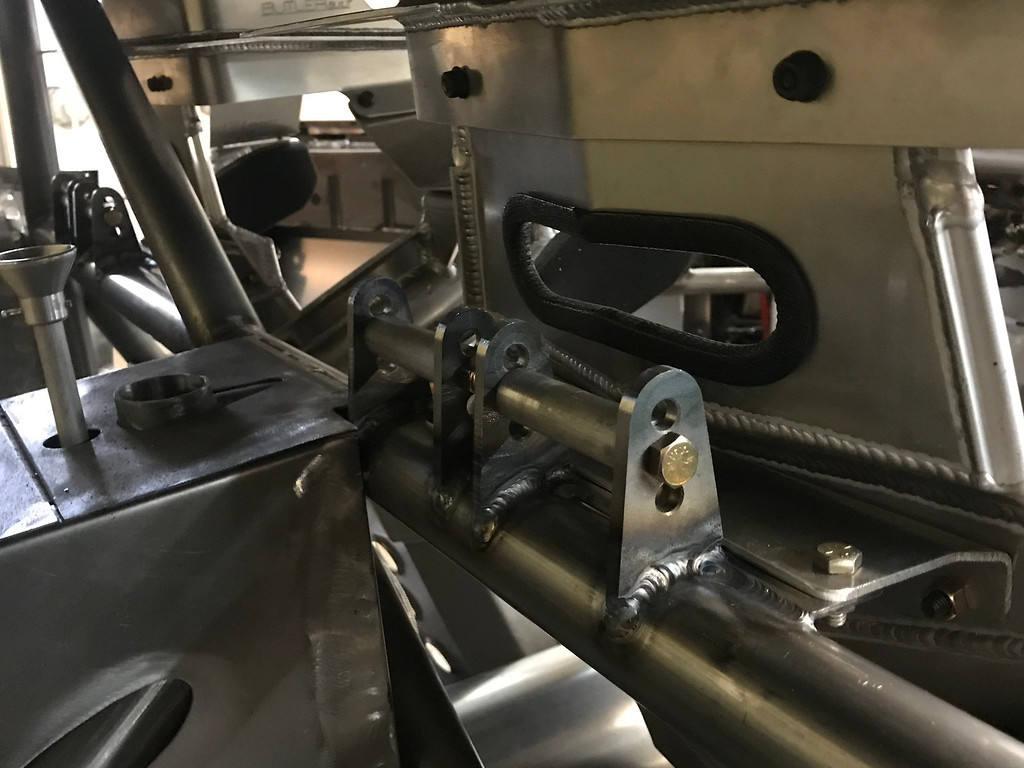 3-21-2018
I just can't hold these pictures back any longer. This is what it is like to work with Jim...I need a wing mount off the back of the car, wing height needs to be even with roofline. That is about all the input I gave him and this is what I got.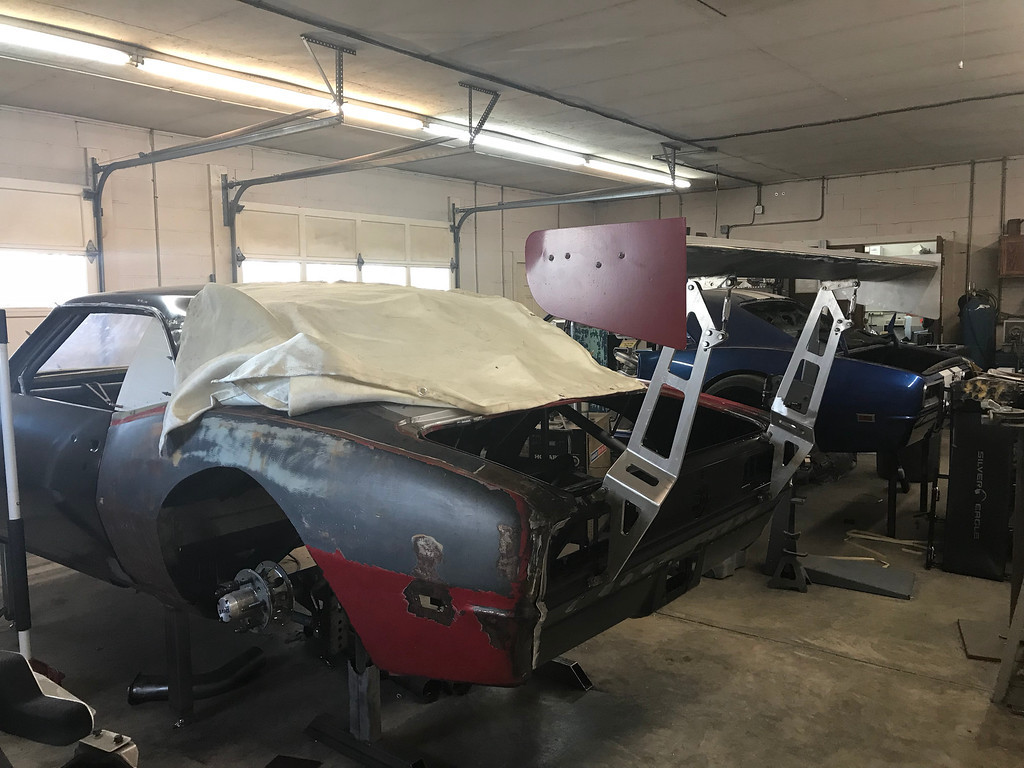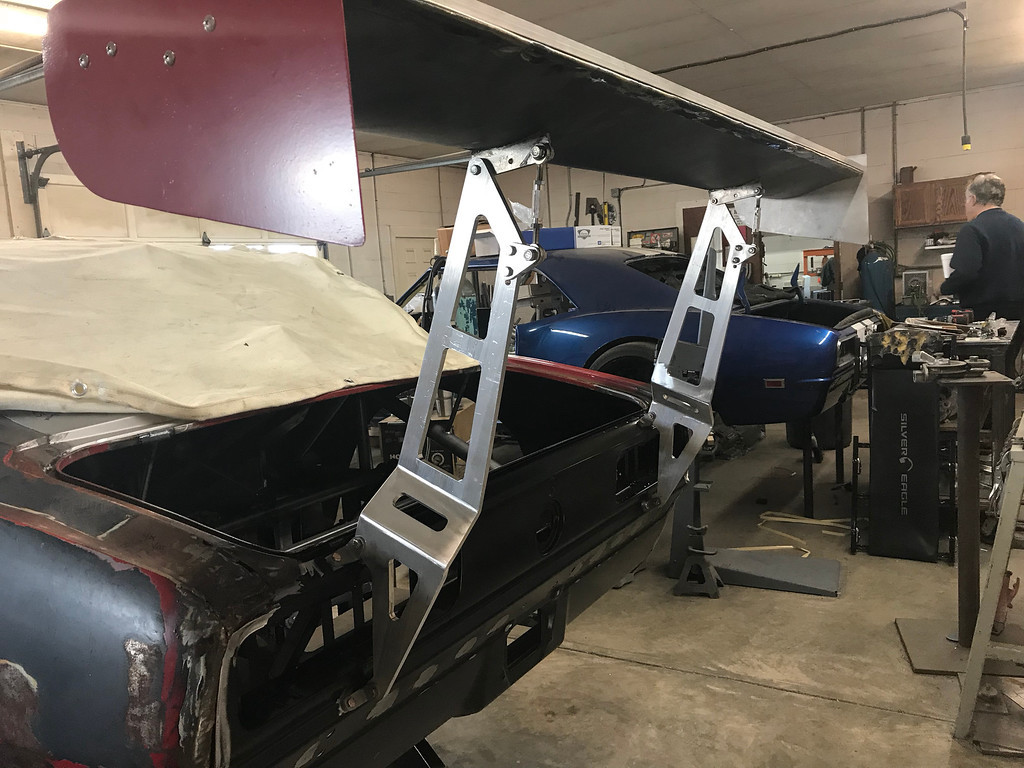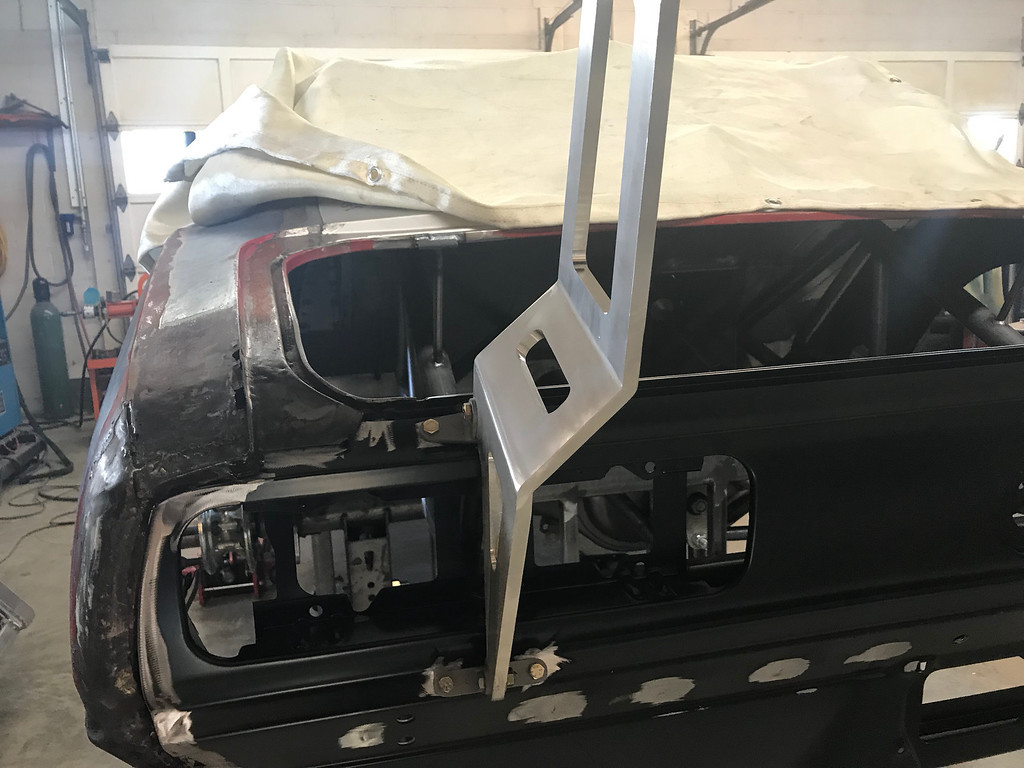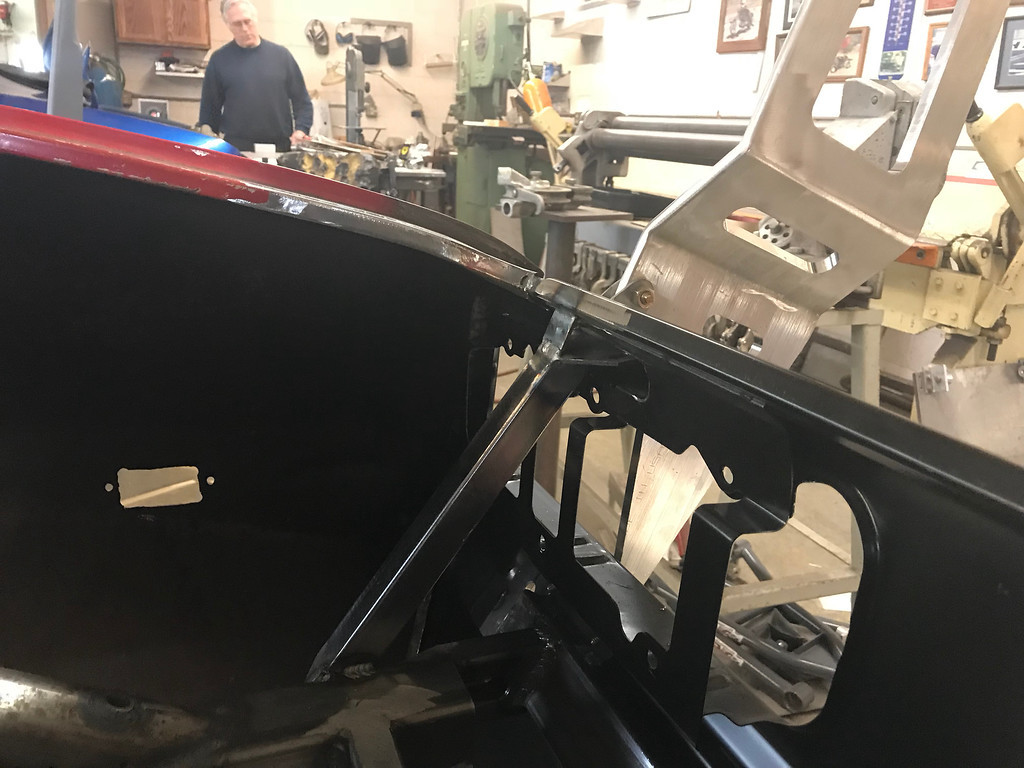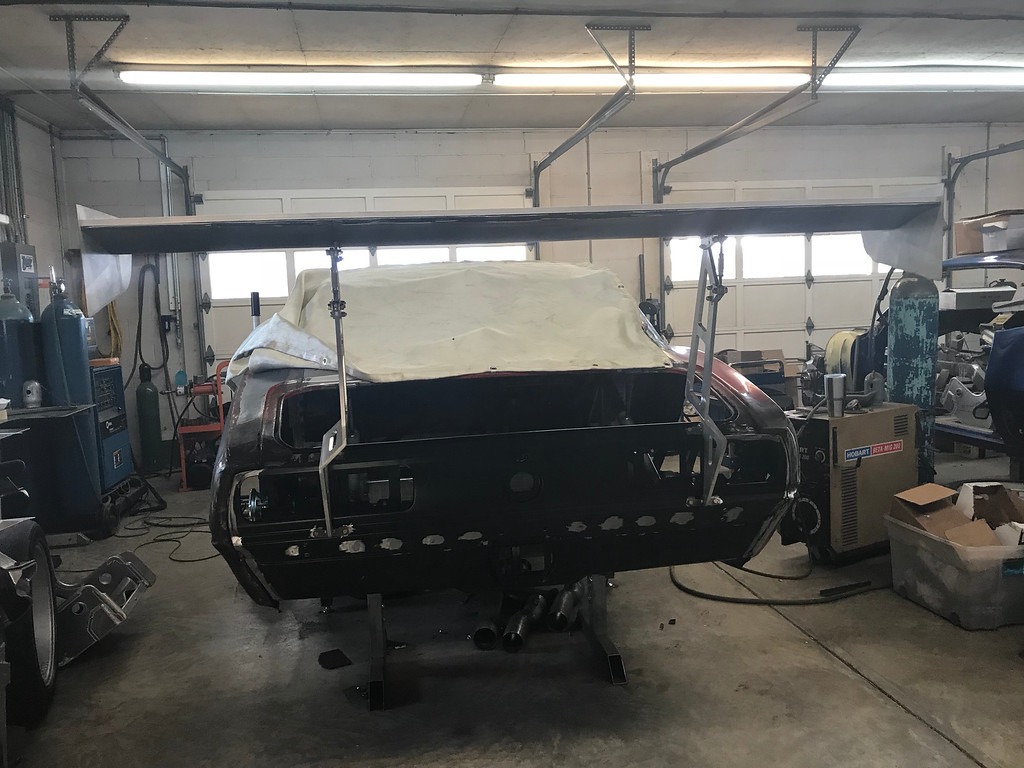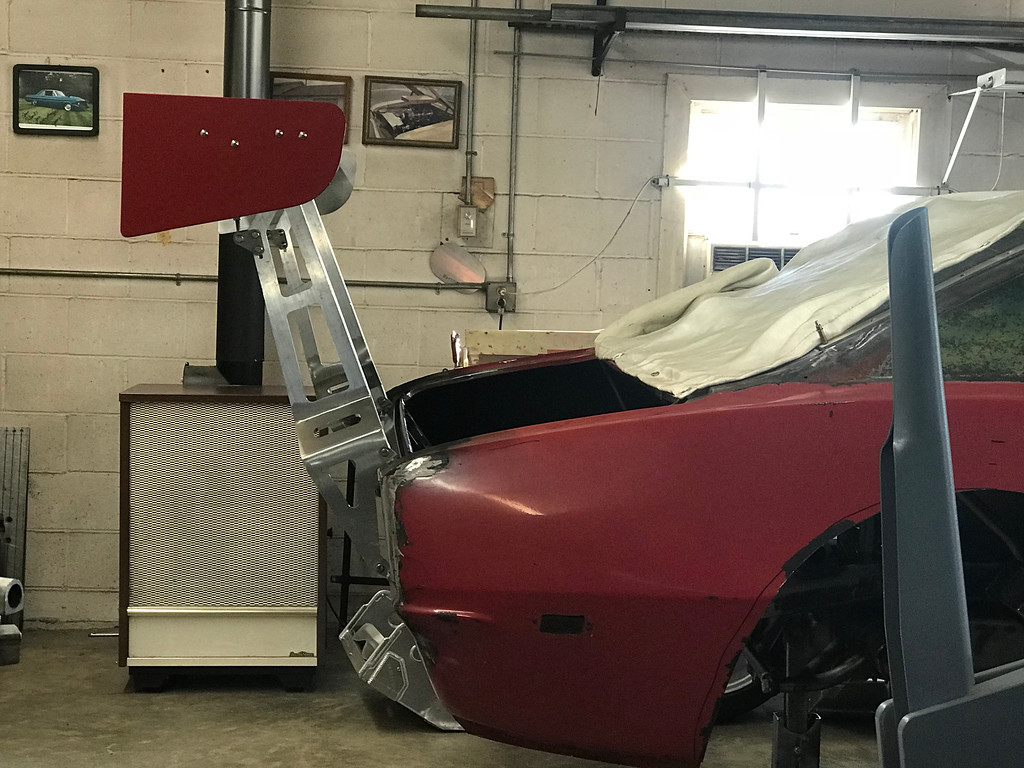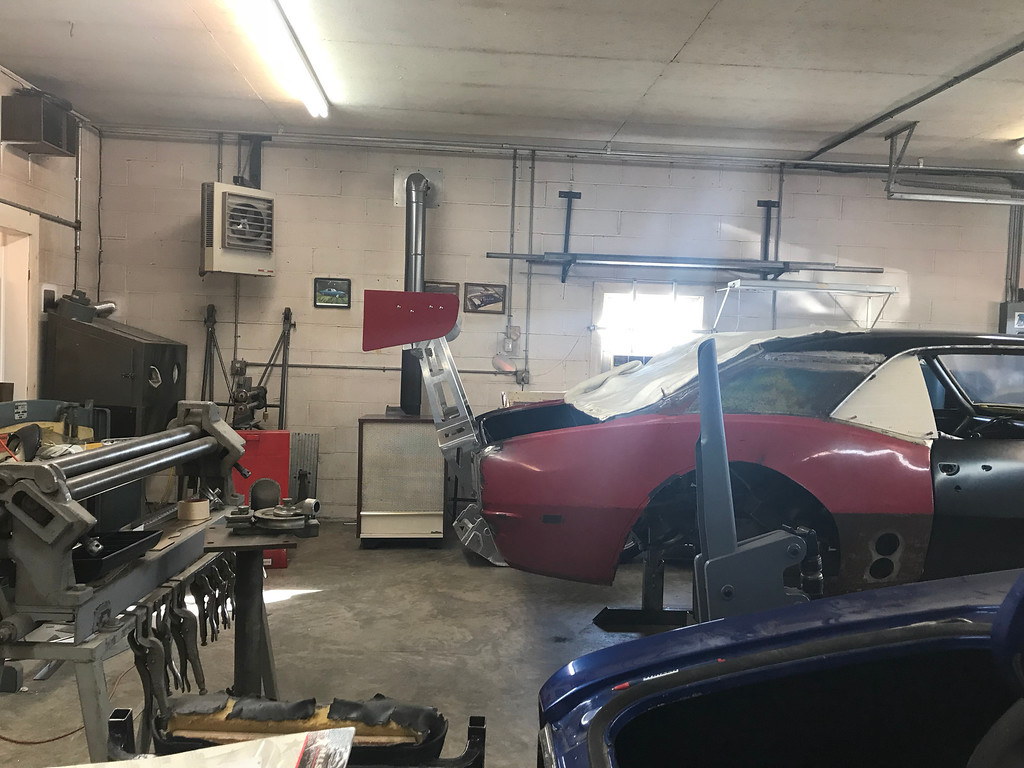 3-22-2018
Brake bias adjuster and adjusters for the decoupled 3 link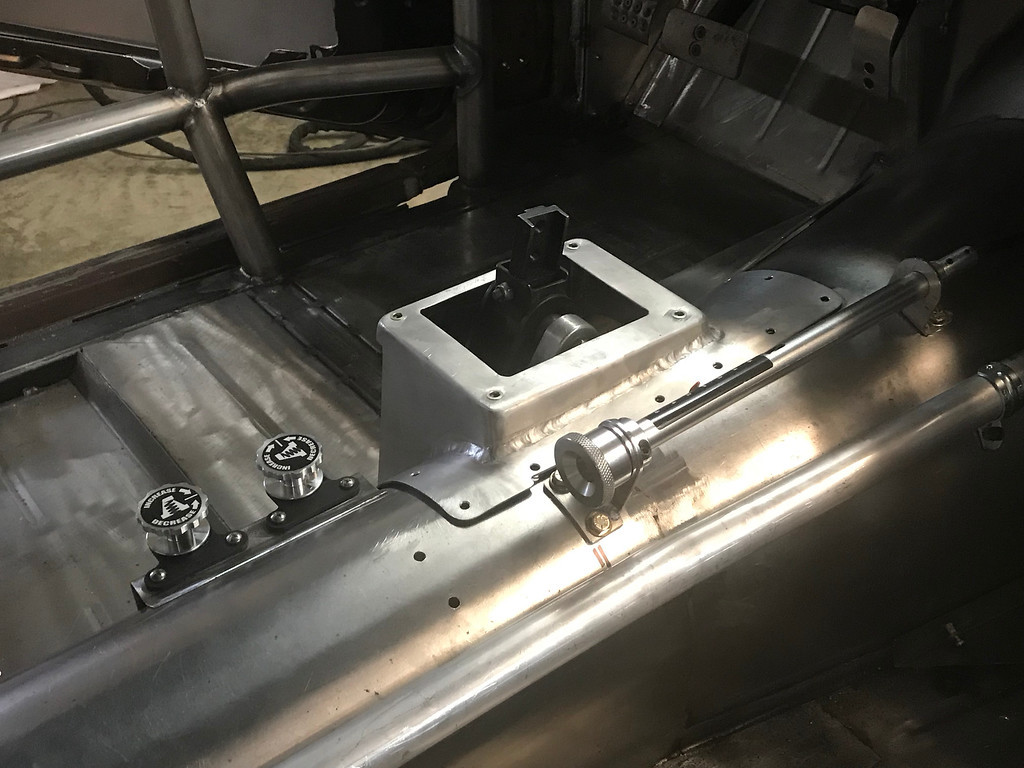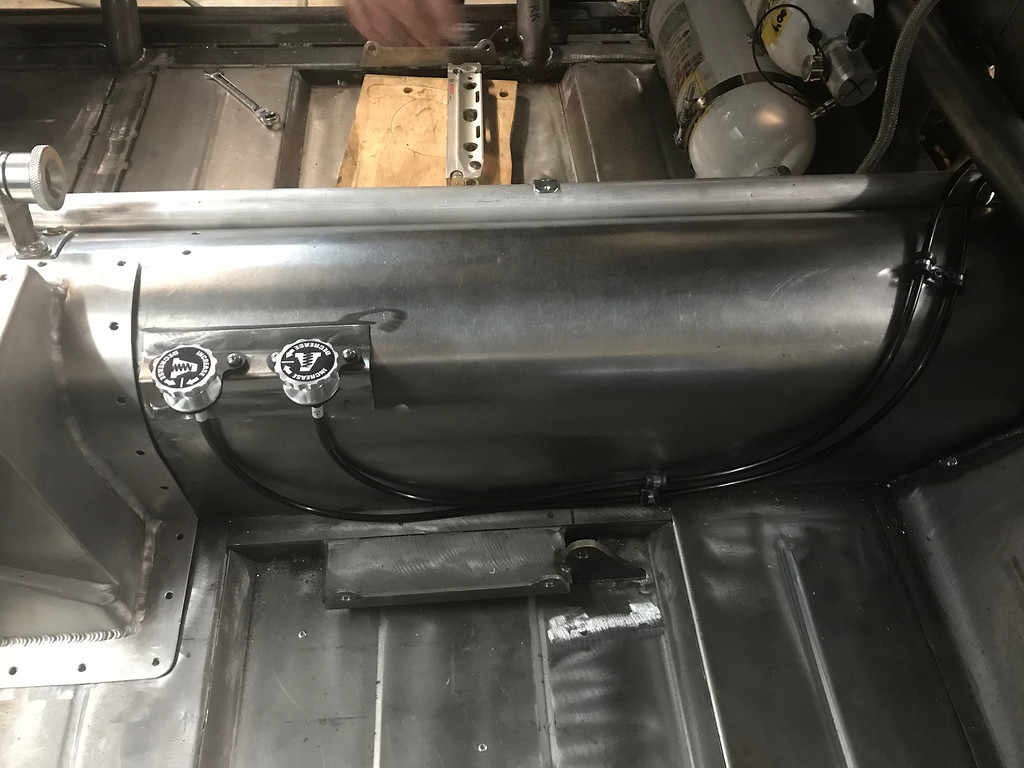 fire pull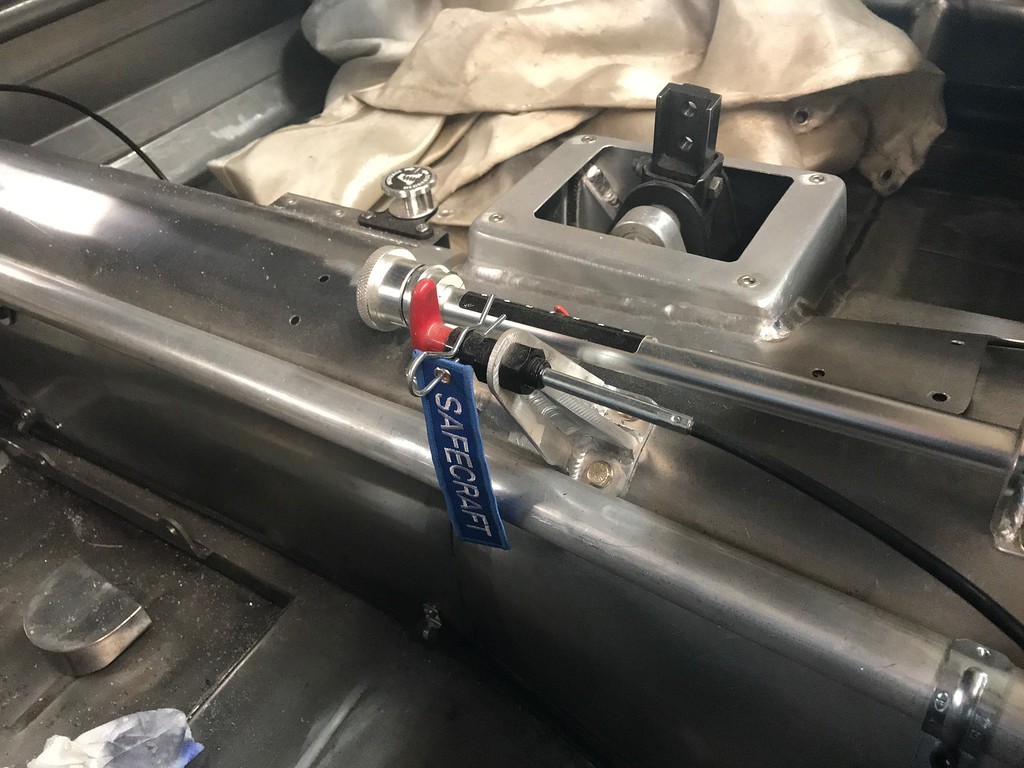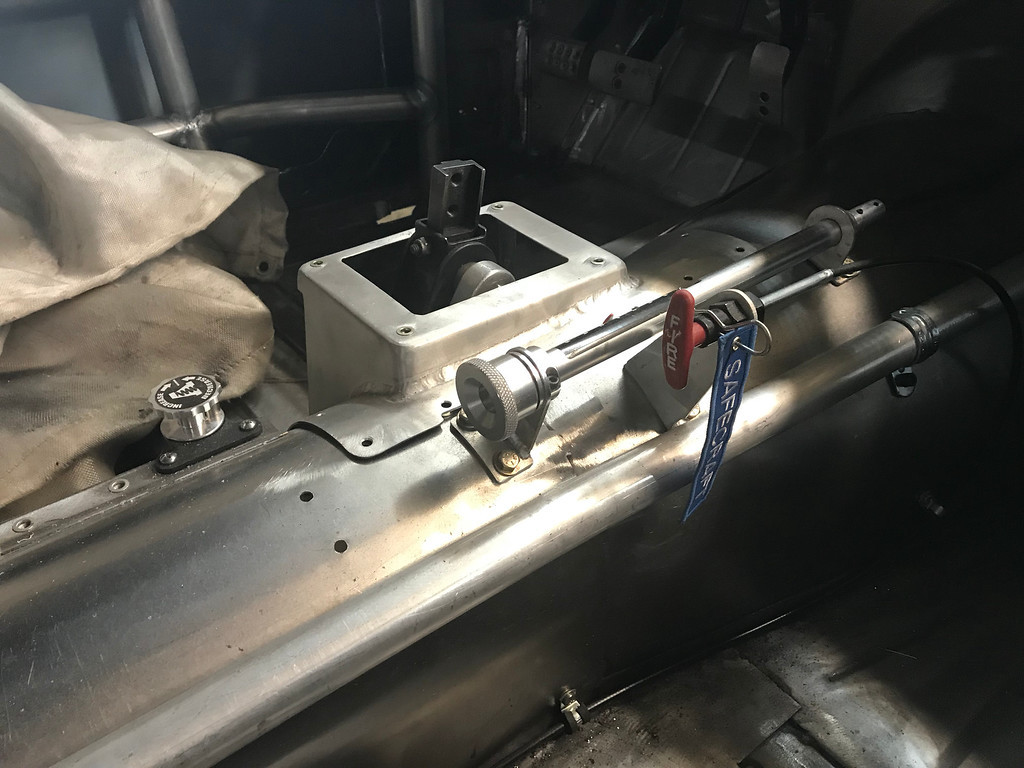 I did have this decoupled 3 link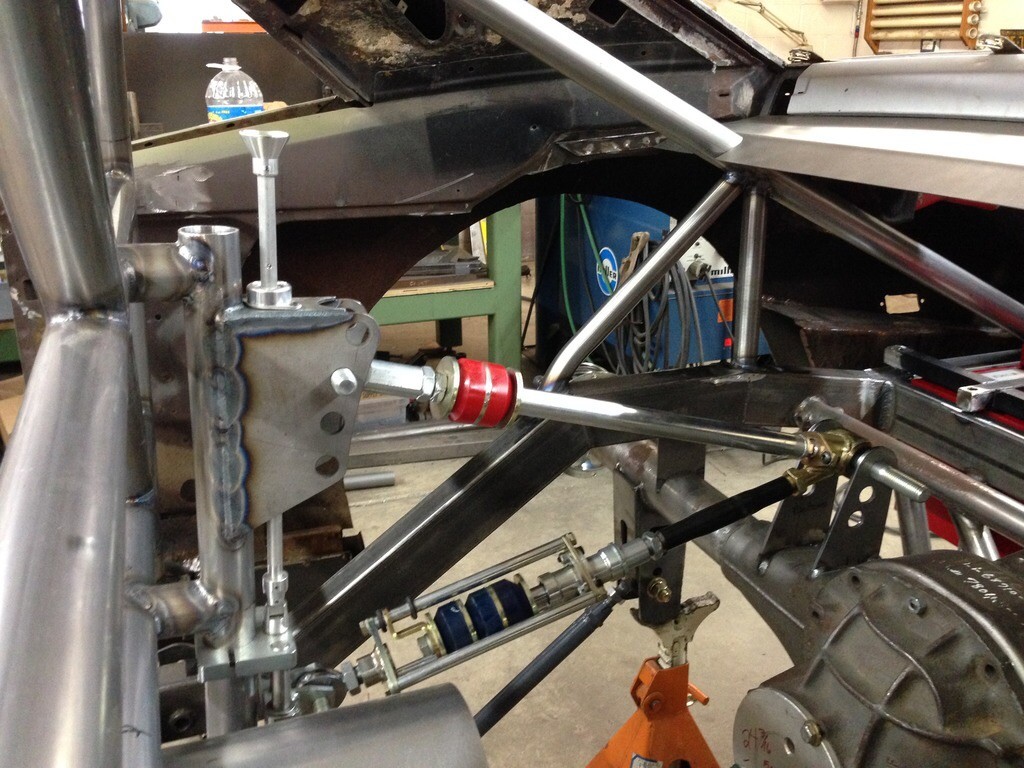 and I changed to this...has a shock on the decel side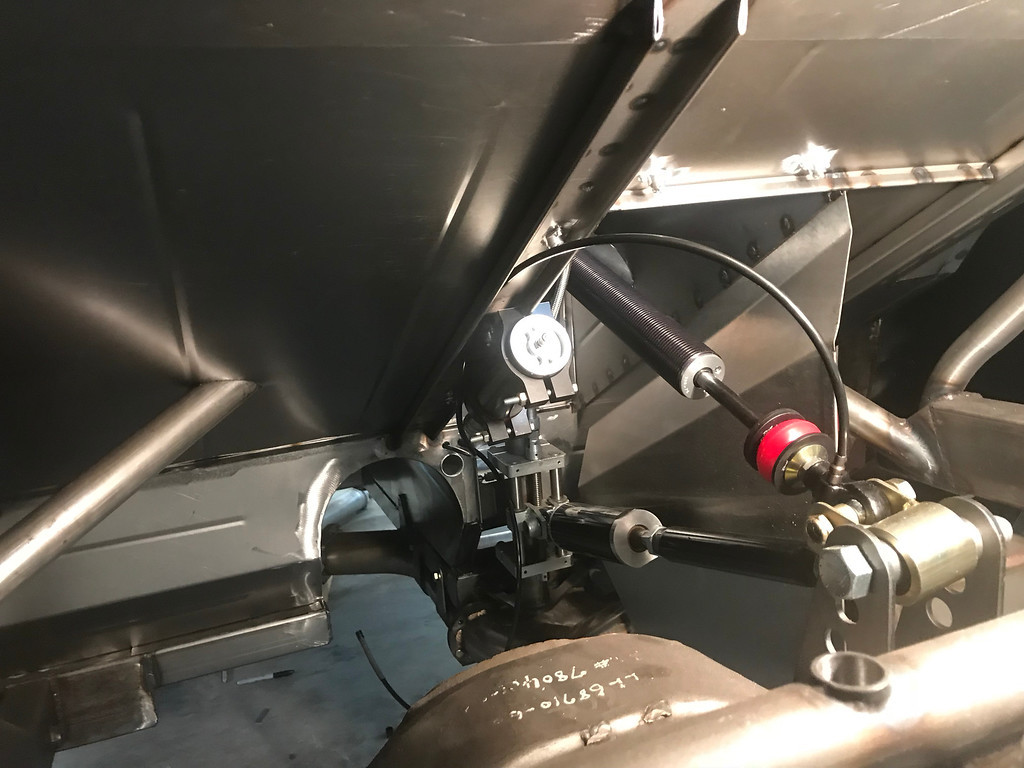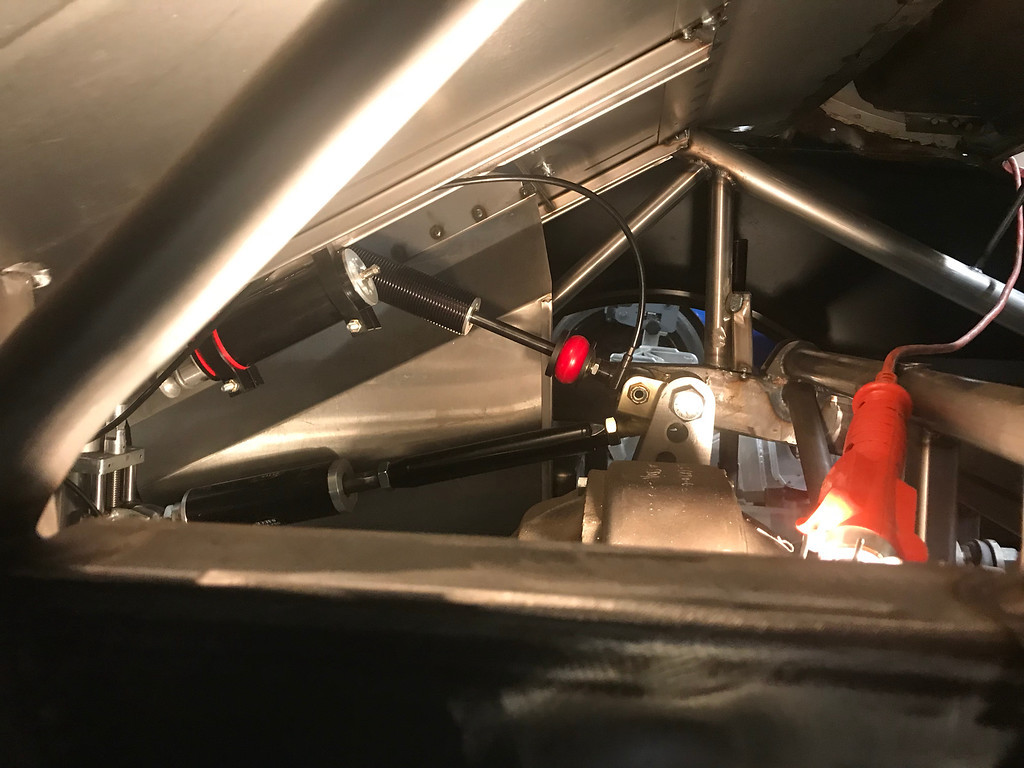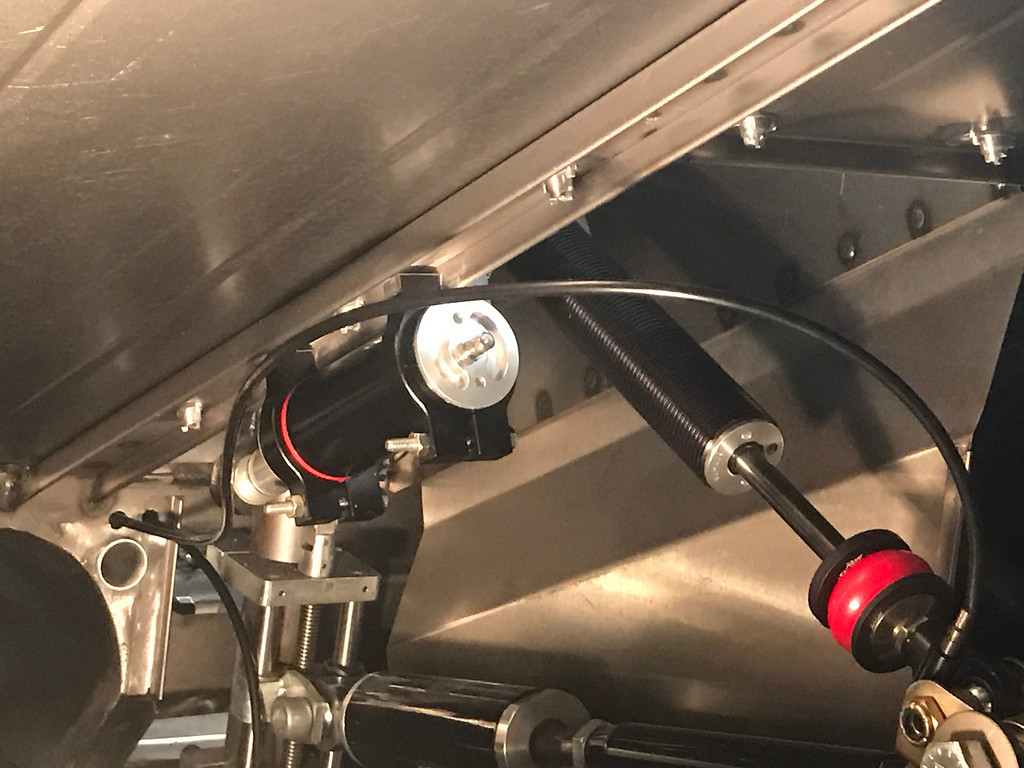 3-23-2018
Thanks guys! It has been a fun project. This is the absolute last Camaro I will ever do.

I went with an AEM CD7 dash. It will plug right into the Holley harness via can/bus. It has data aq and track mapping, etc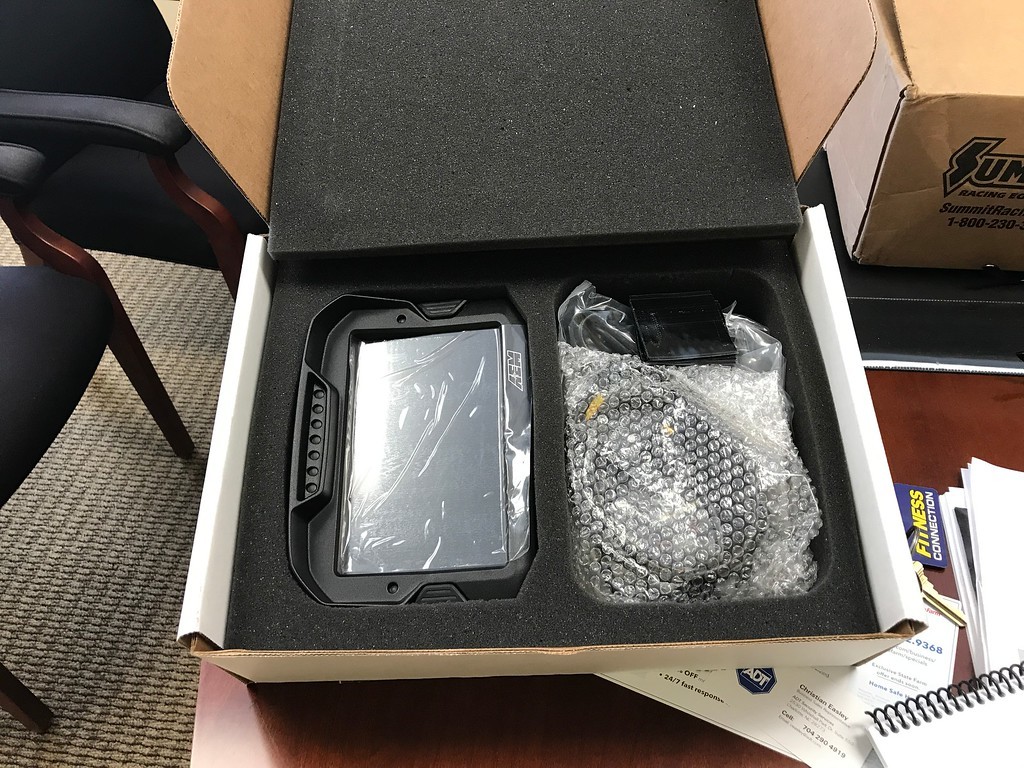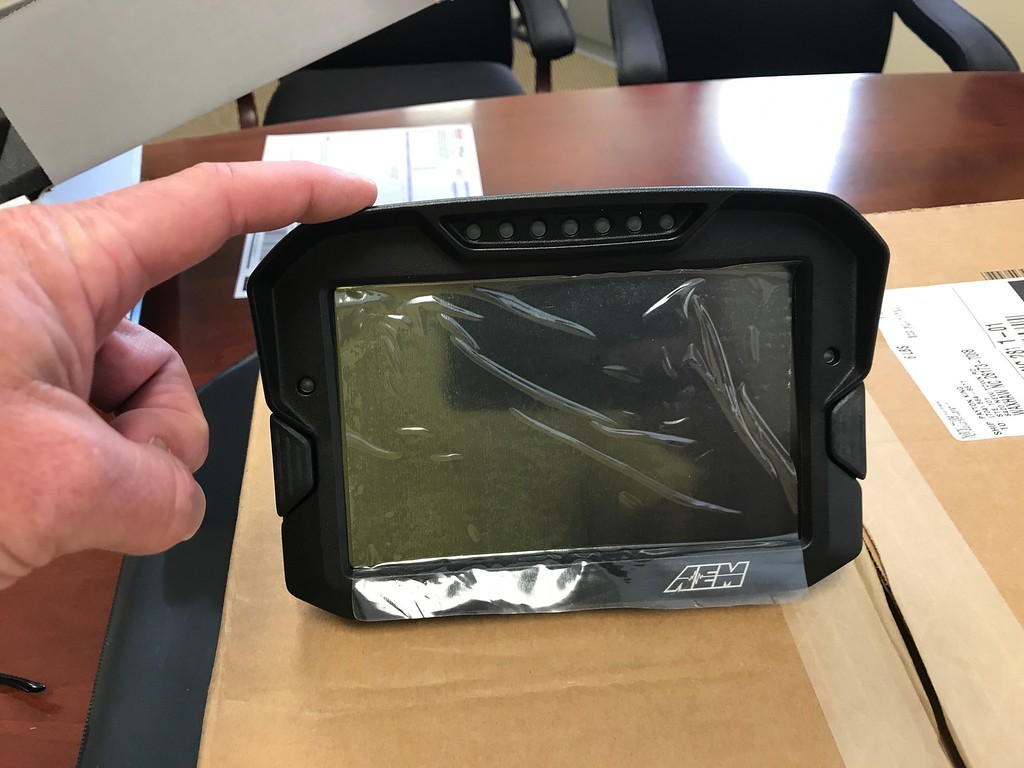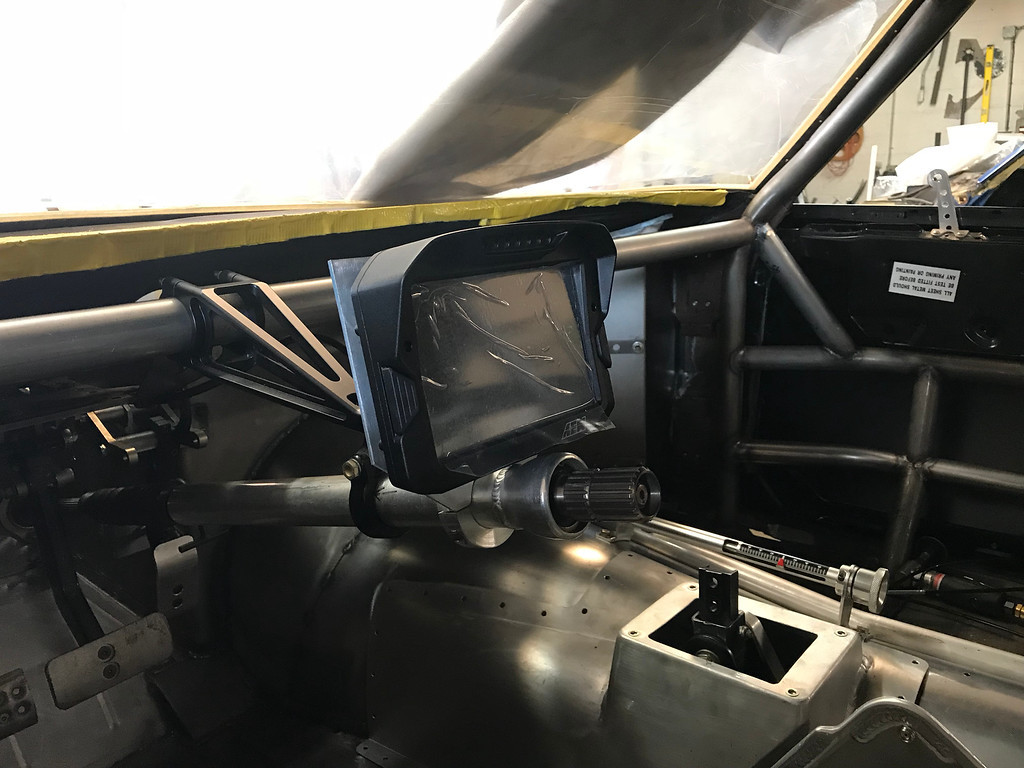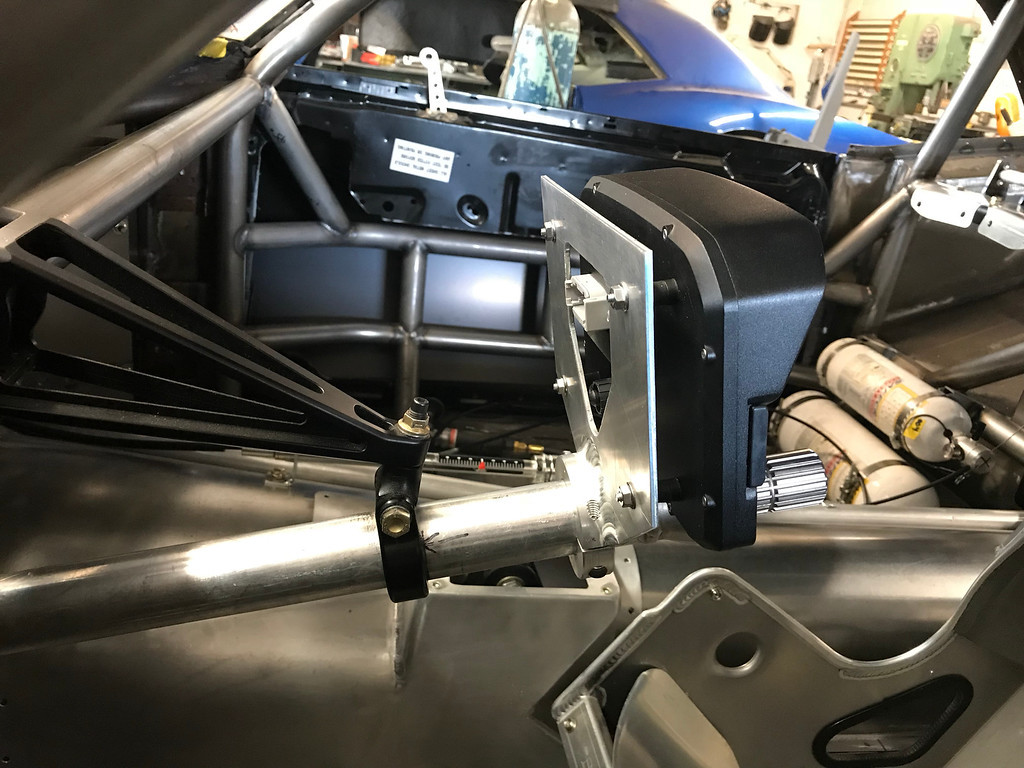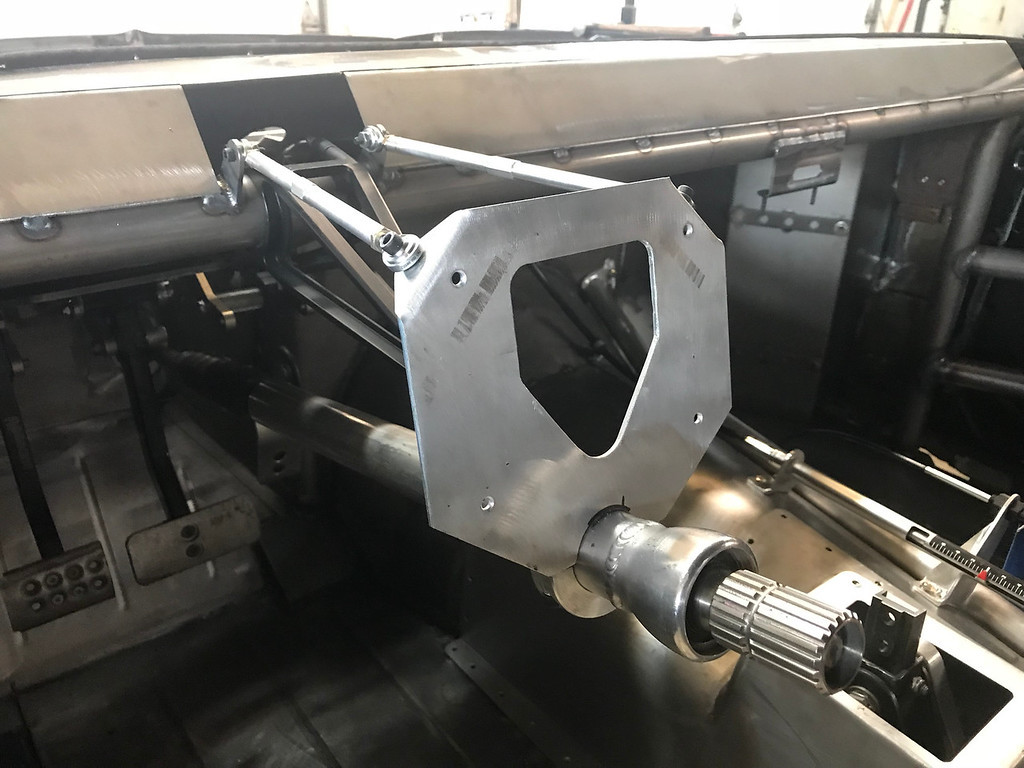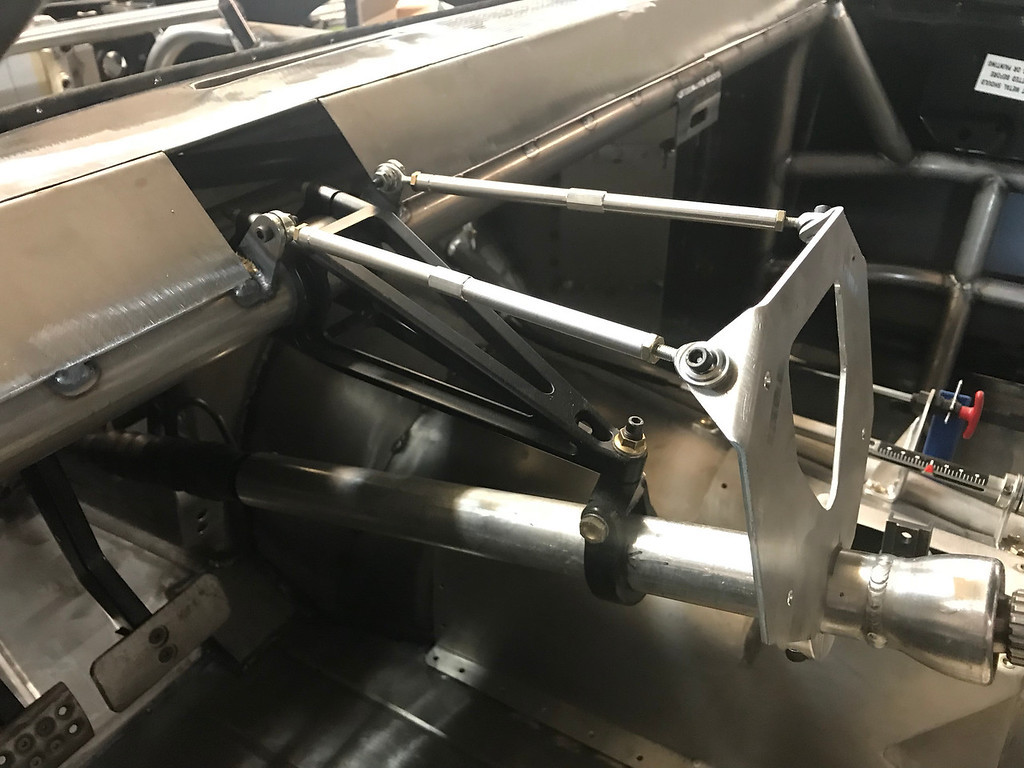 3-28-2018
GForce is not far from Charlotte and I got the name of a guy there that does about 85% of the rears for the Trans Am guys and gal. He told me they use the Aluminum Strange unit and the vast majority use a Detroit tru trac. That was surprising to me, but they are not breaking them. Same guy set up my center section, but I am using a Winters wedge loc.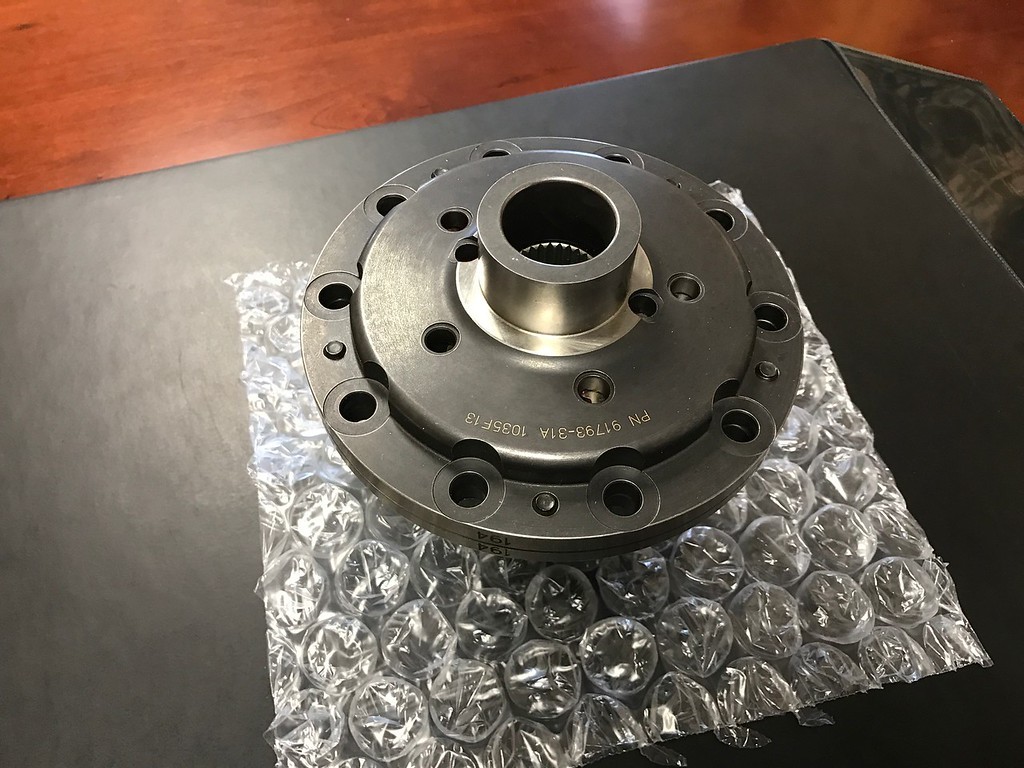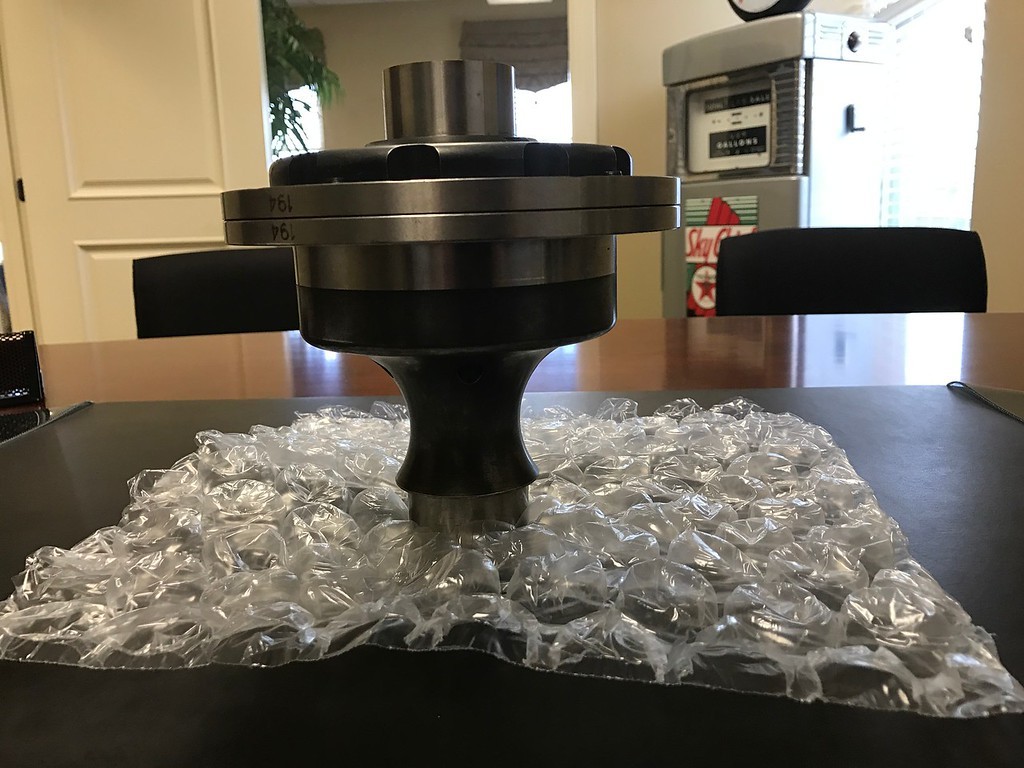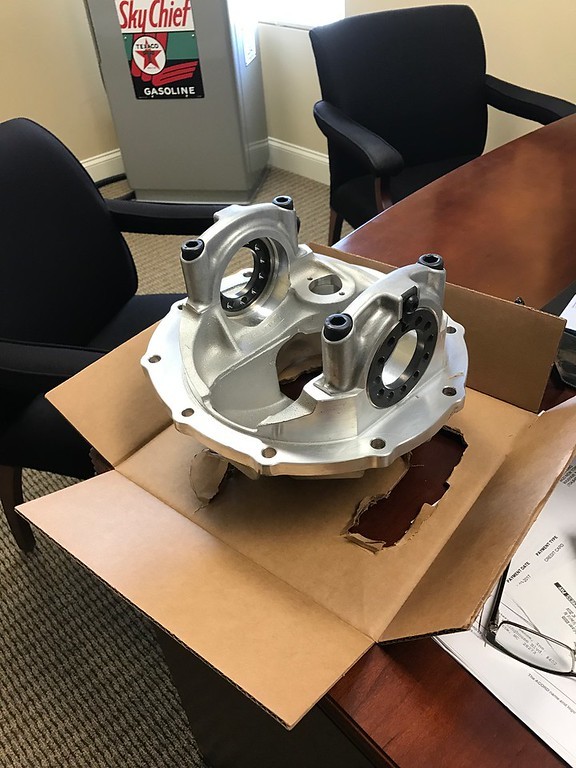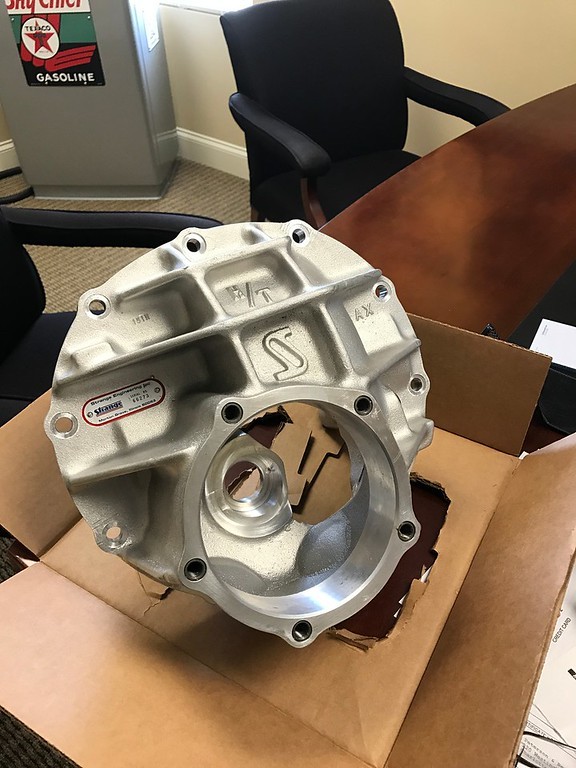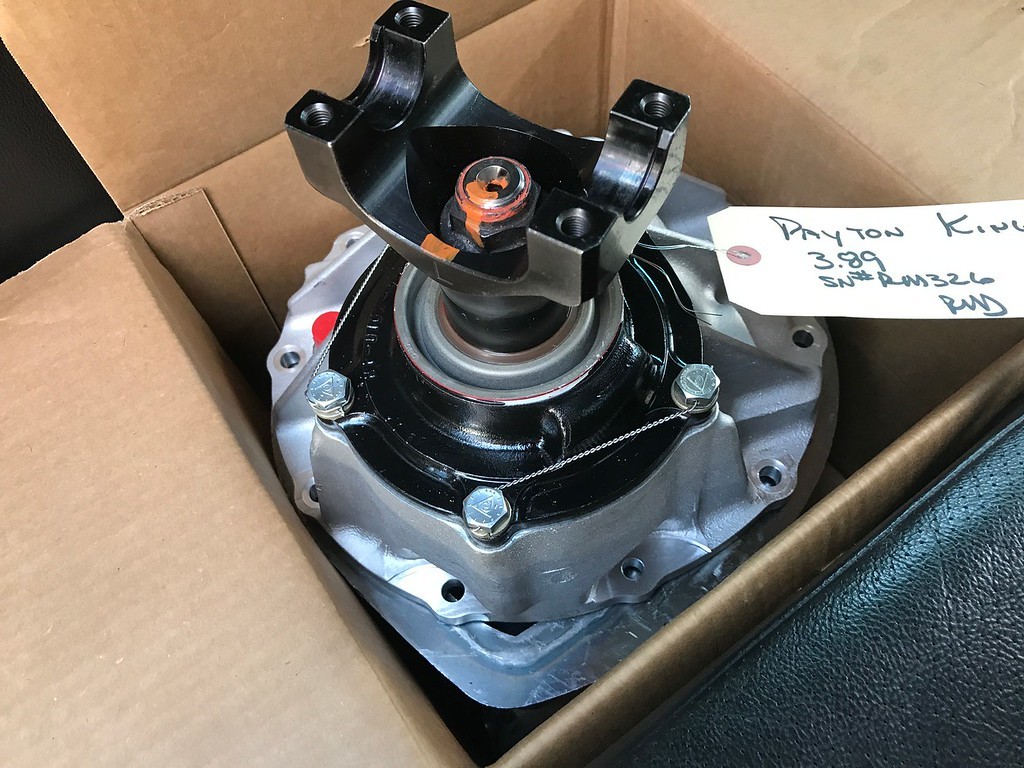 REM polished and lightened gears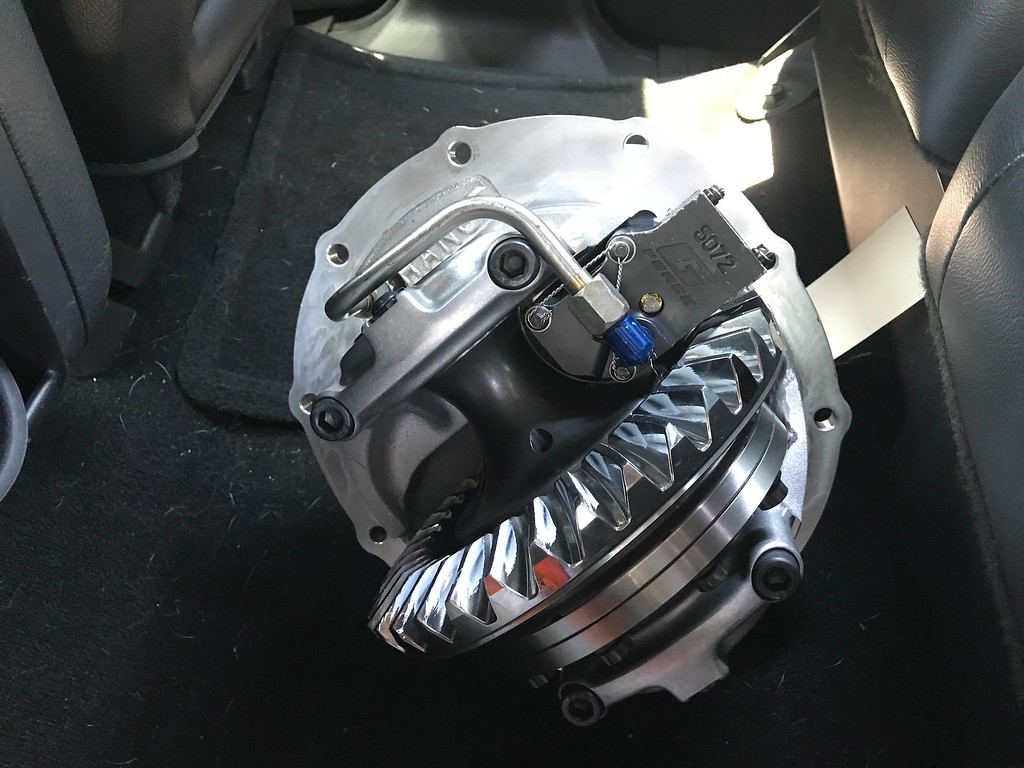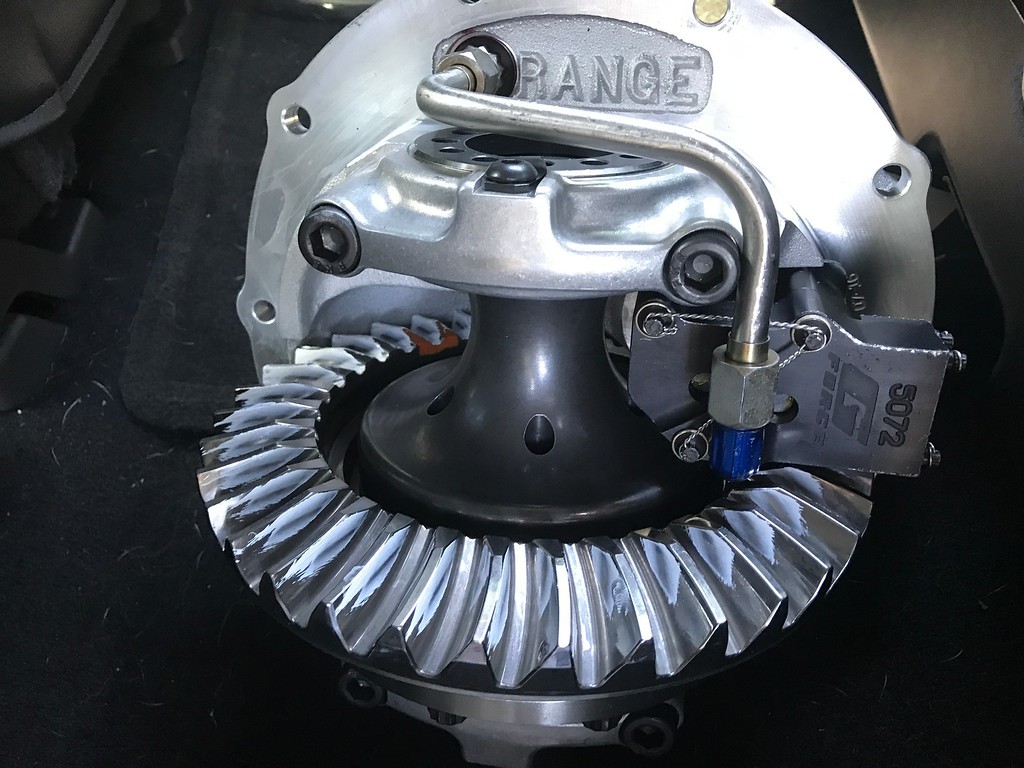 3-29-2018
My guy knows a guy that works for one of the NASCAR teams. He made the rotor adapters for the 14 inch StopTech rotors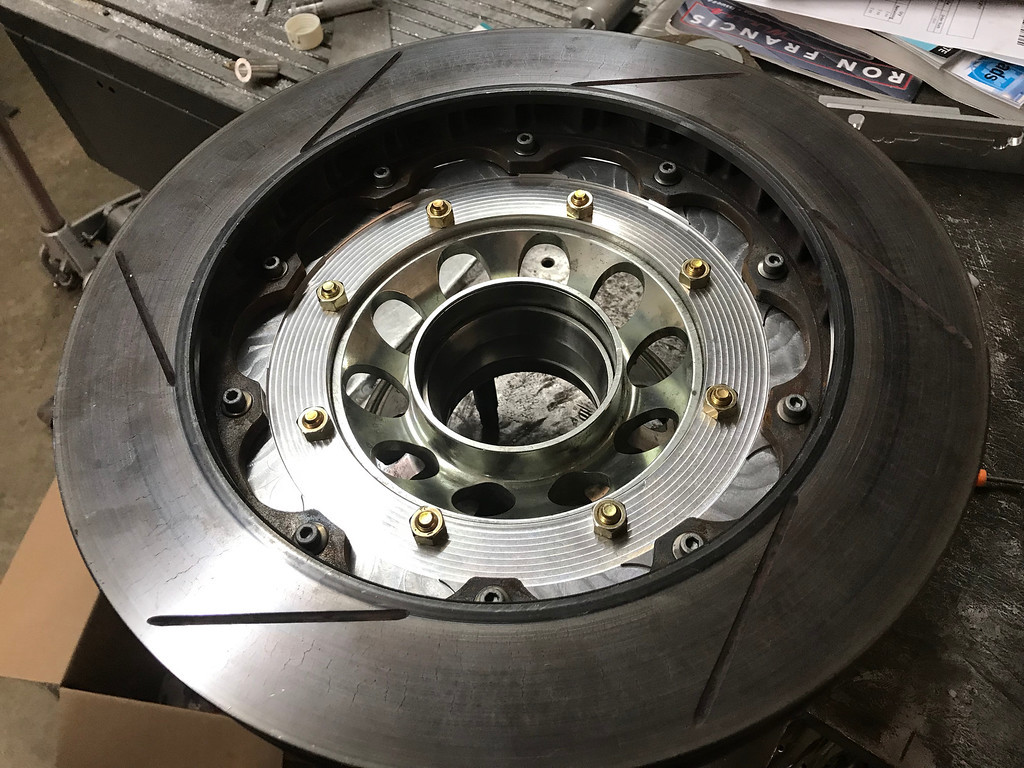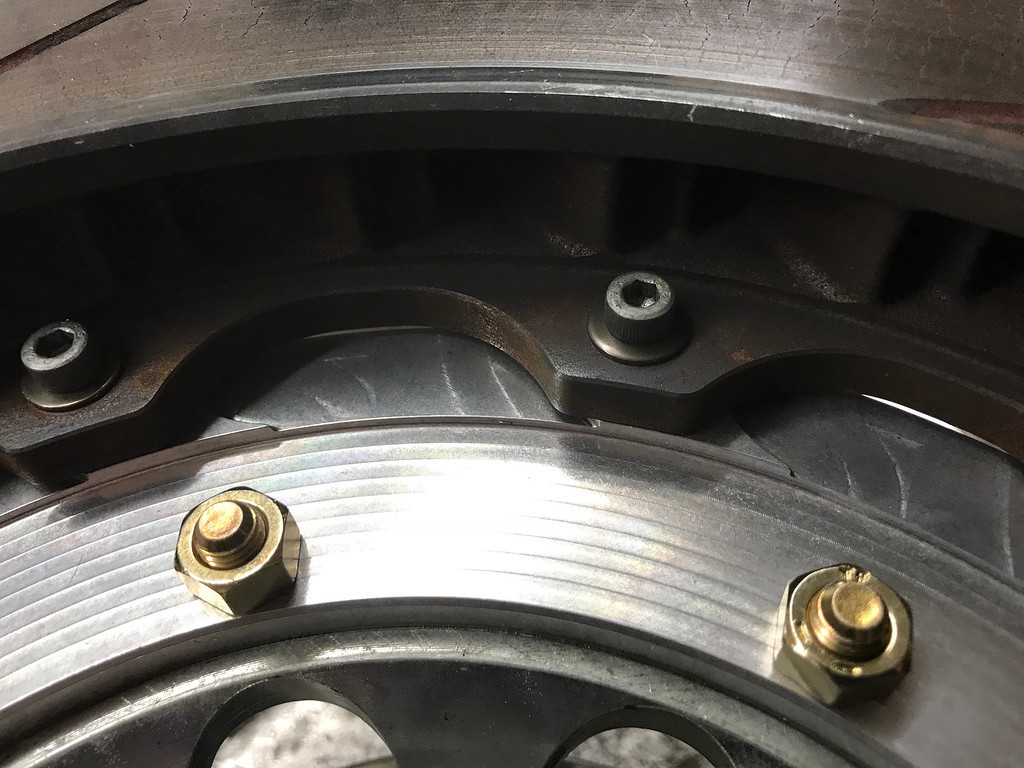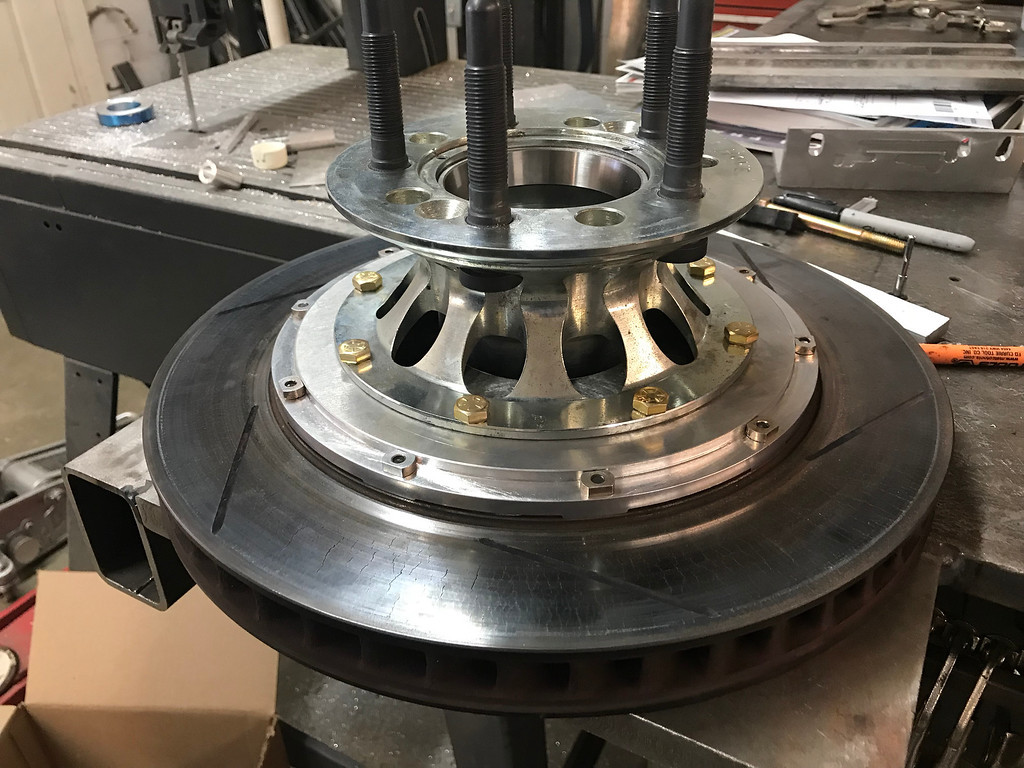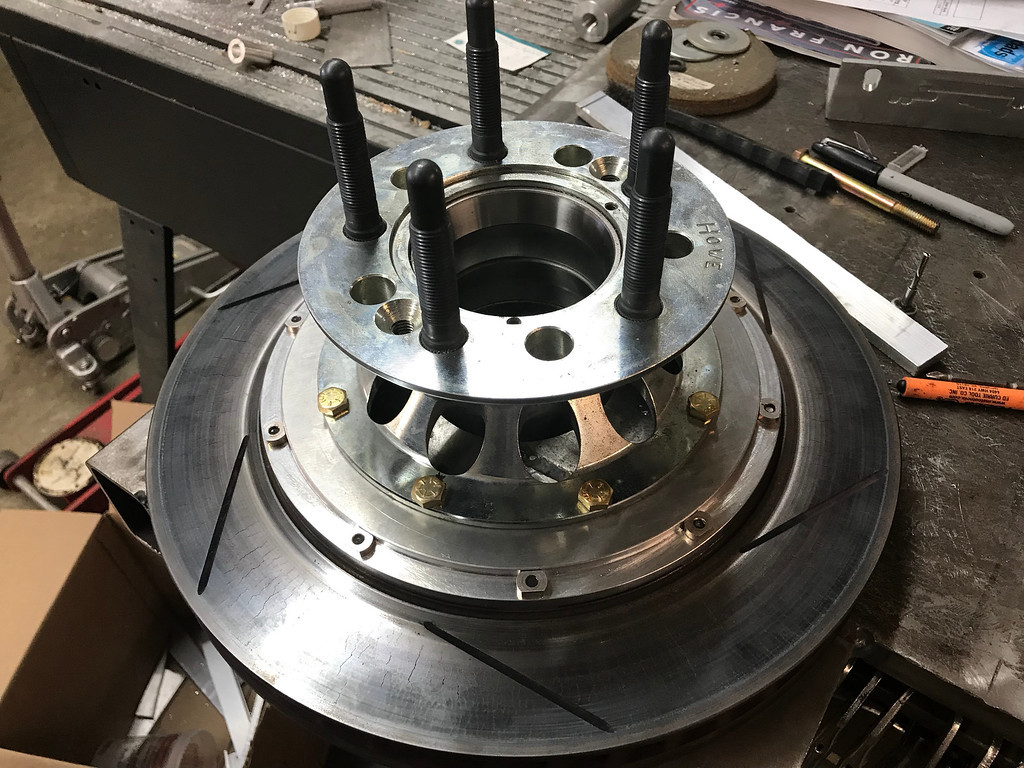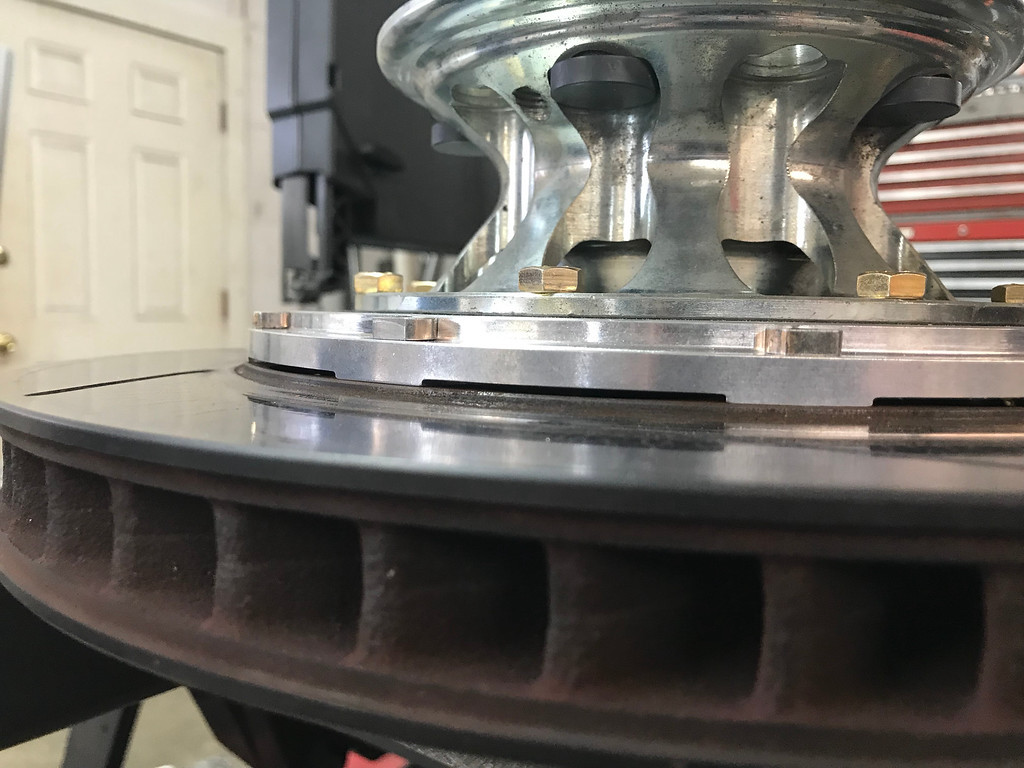 4-2-2018
No safety wire at this time. Will use green thread lock.

No idea on steering column mount. Got it from a used NASCAR re-seller.

Here they are on the car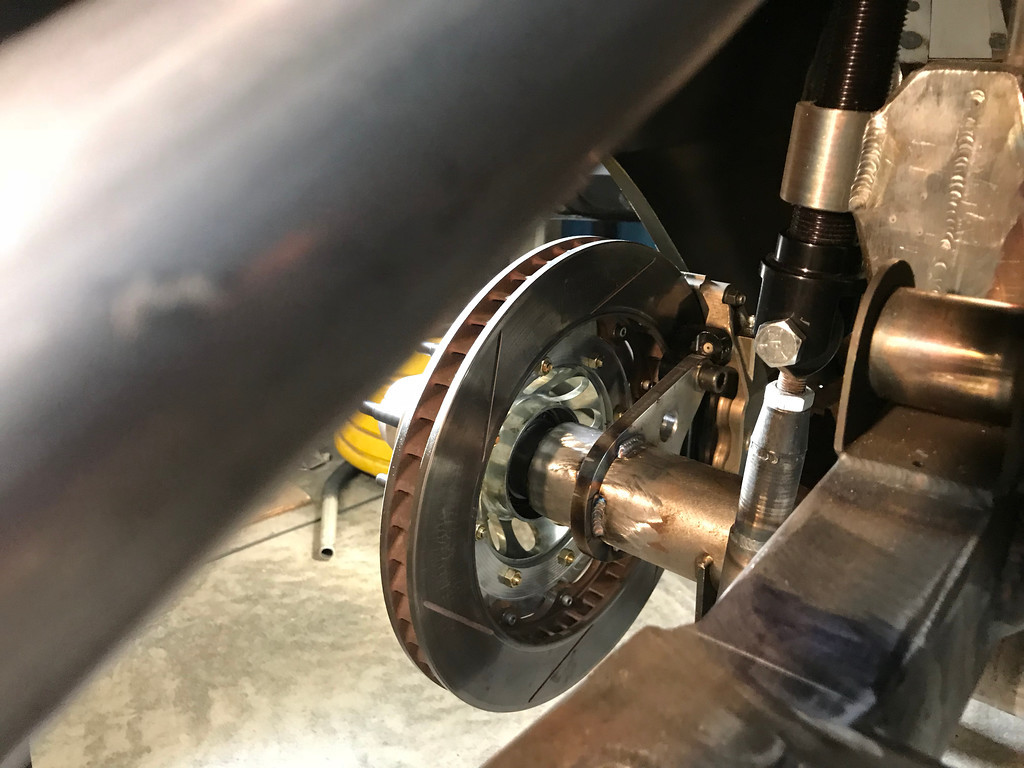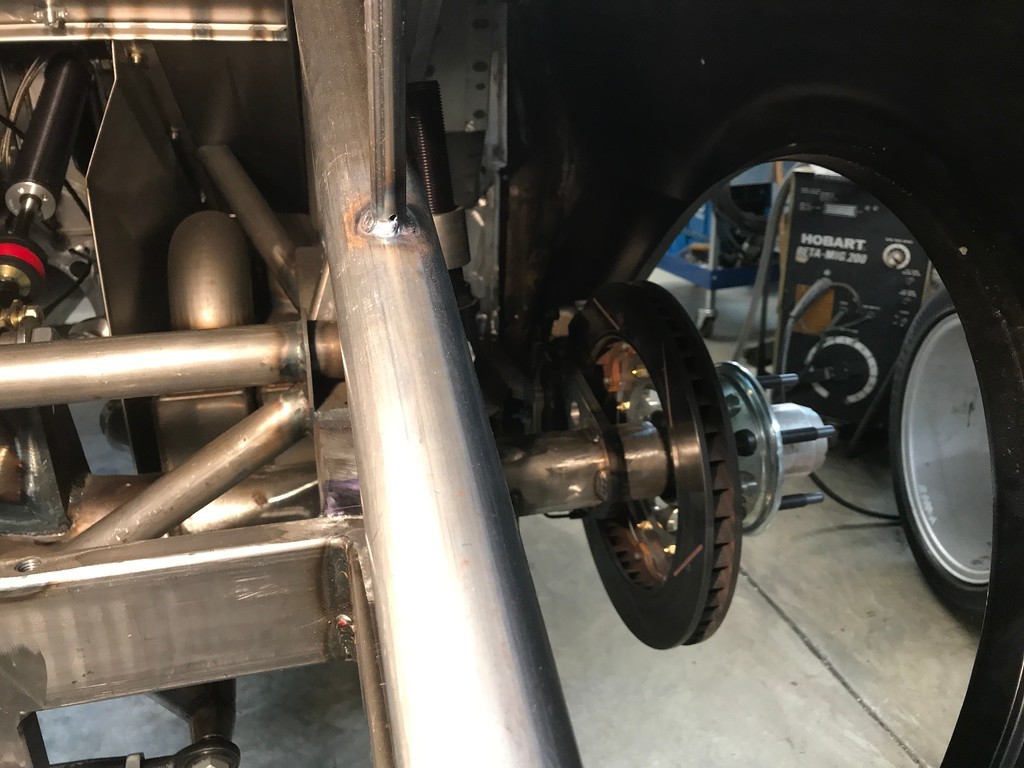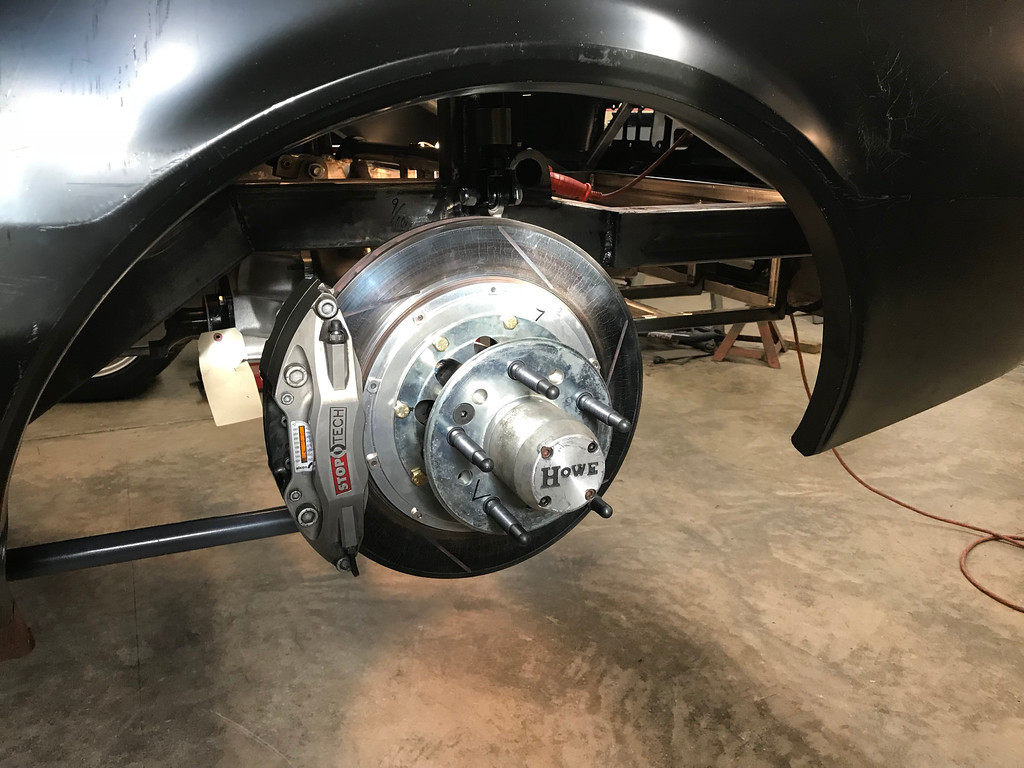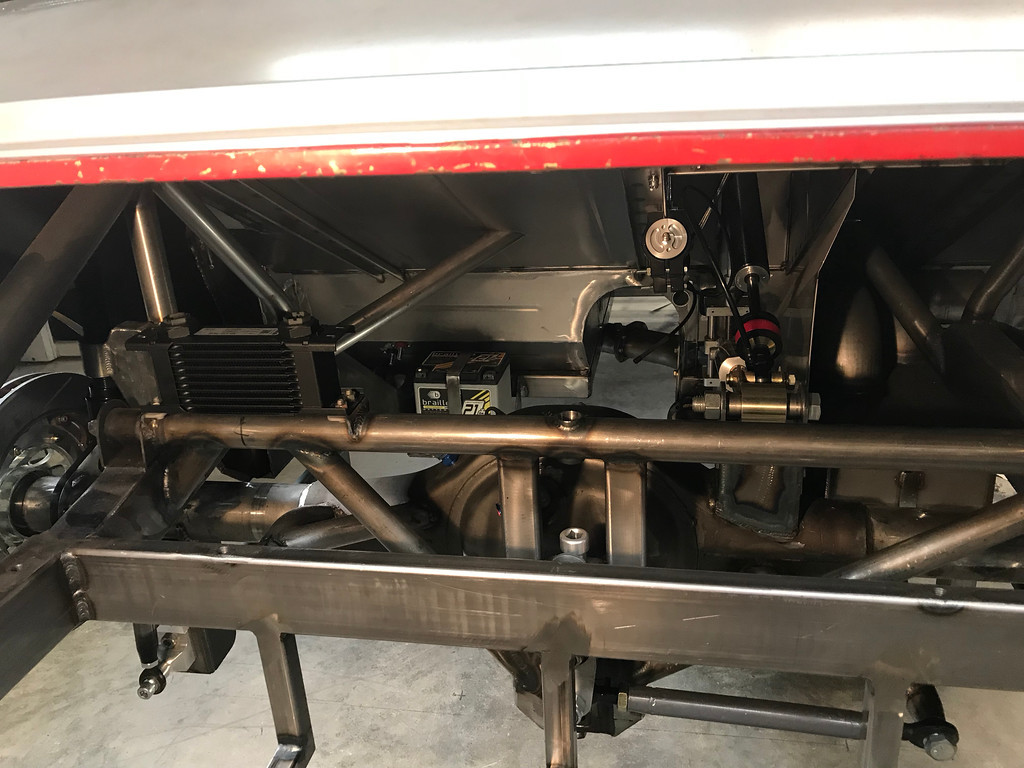 While we are at the back of the car, here is the battery mount and rear end cooler
5-4-2018
Small updates as the car is almost complete. Waiting on motor to go into car to fab up the air box

Simple hood hinges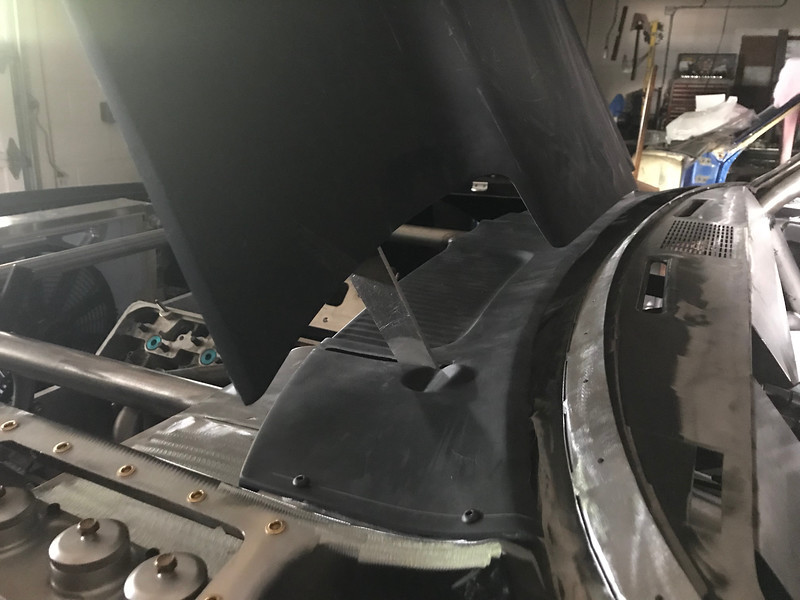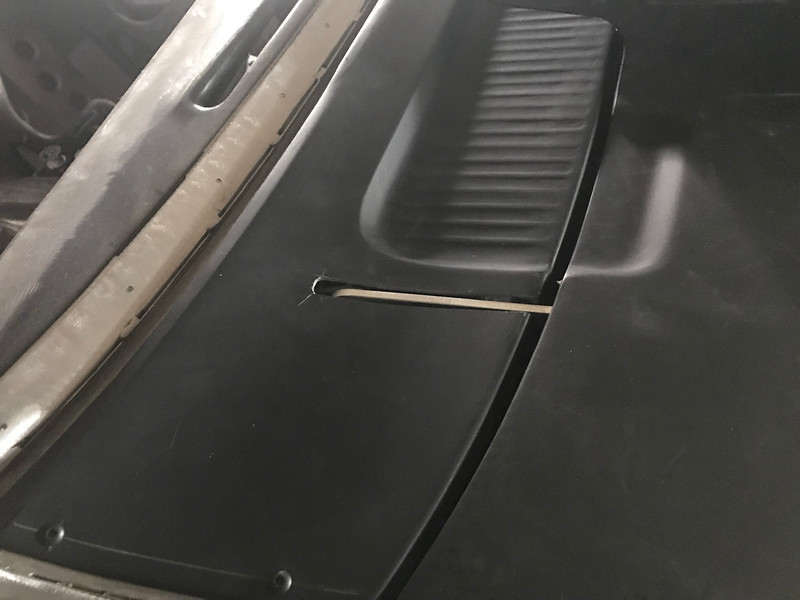 Hood latches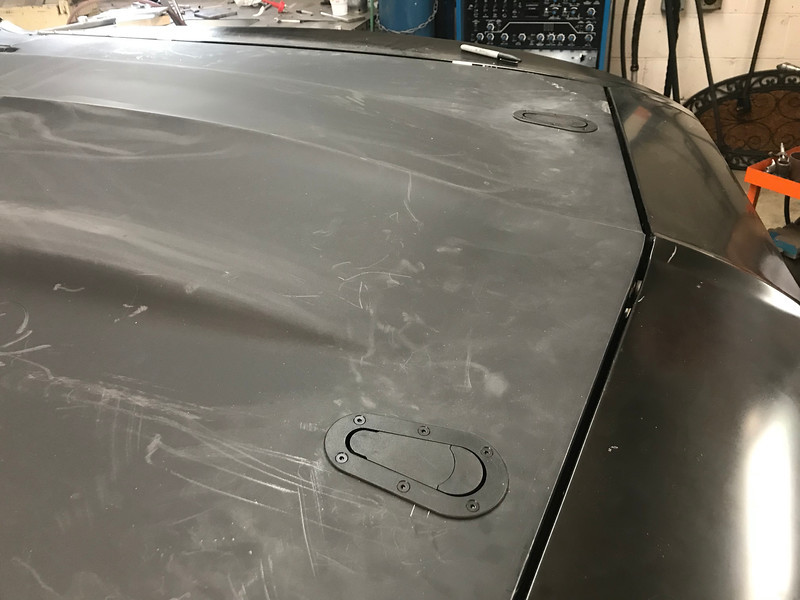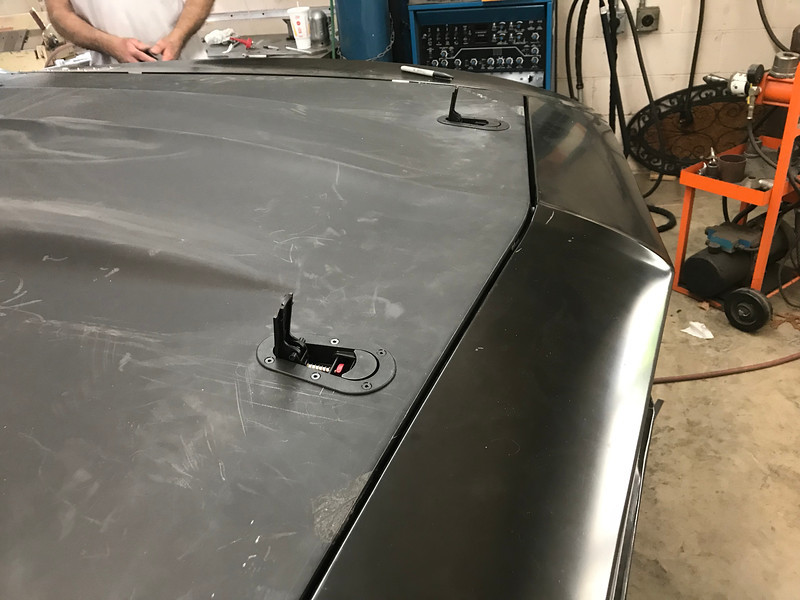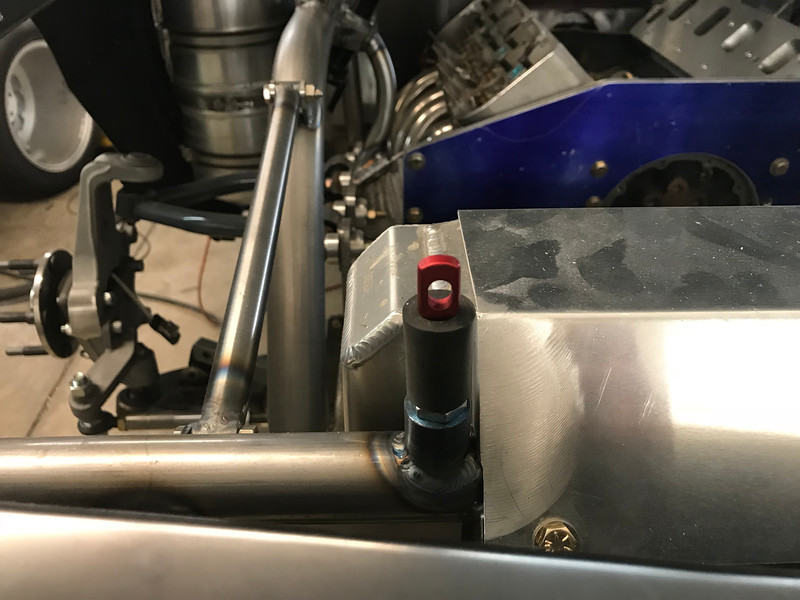 Deck lid installed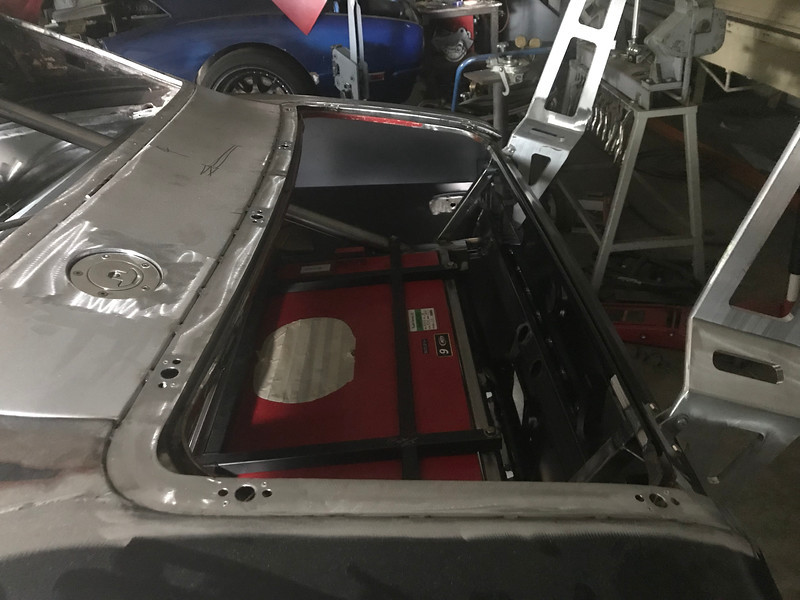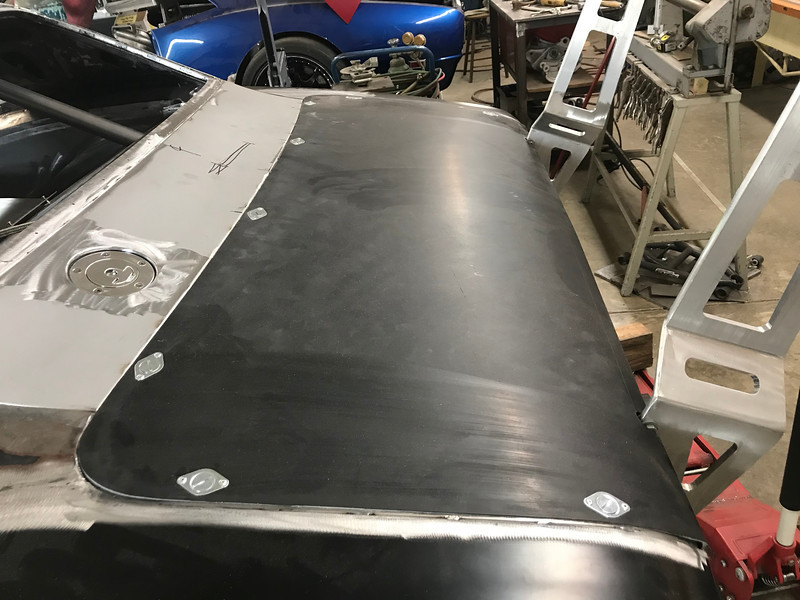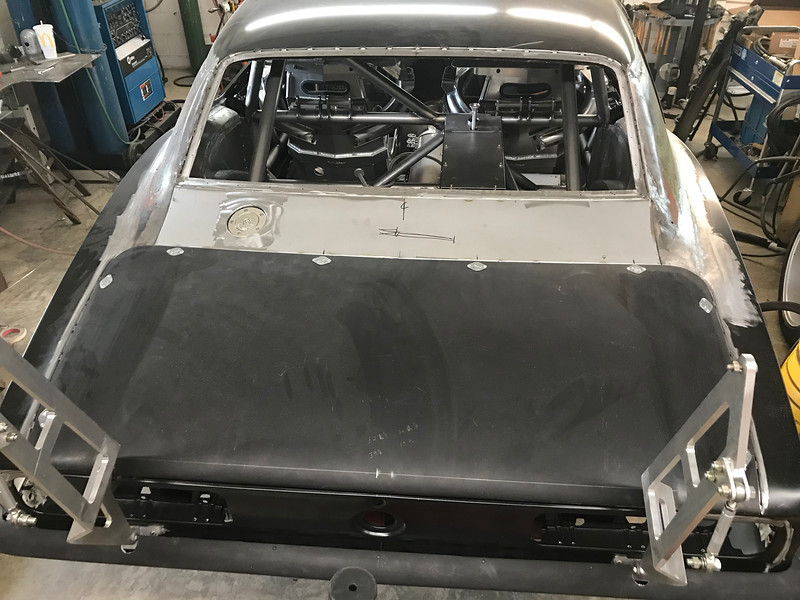 Fuel fill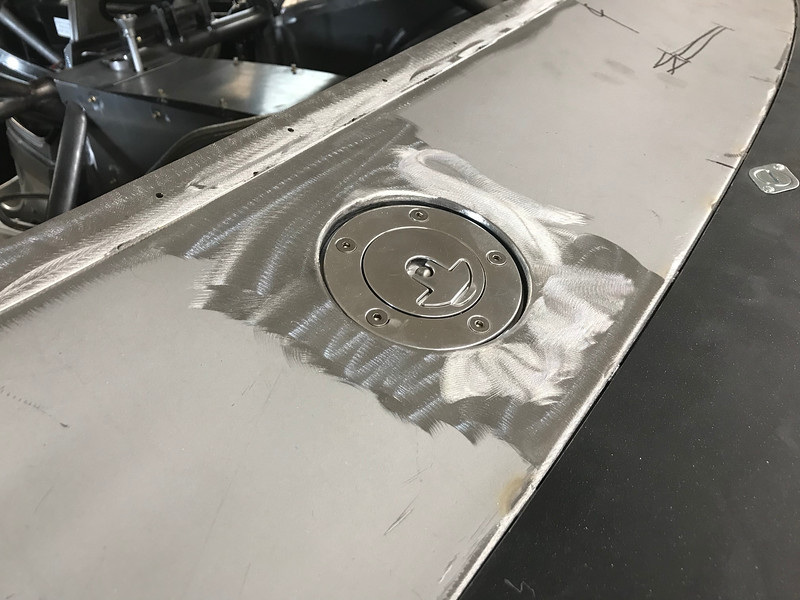 Random shot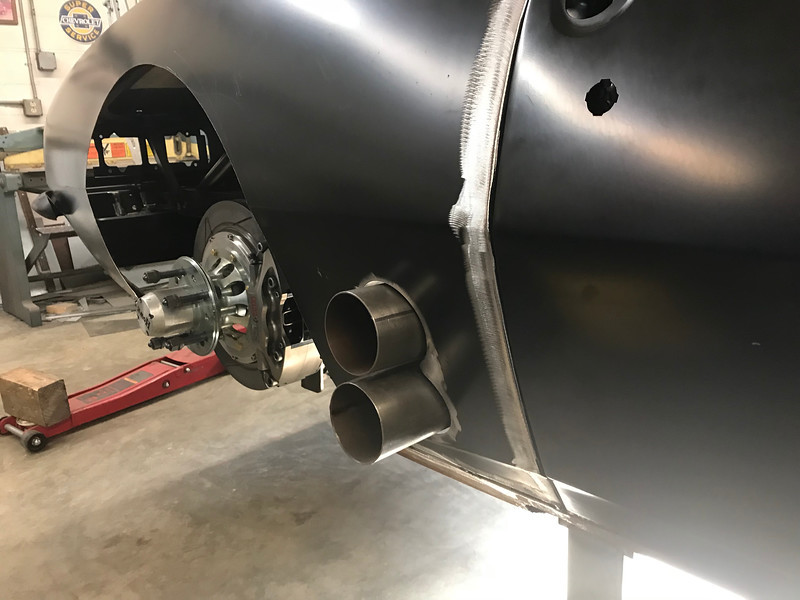 5-25-2018
A few small updates

We decided the deck lid needed another support and a couple more fasteners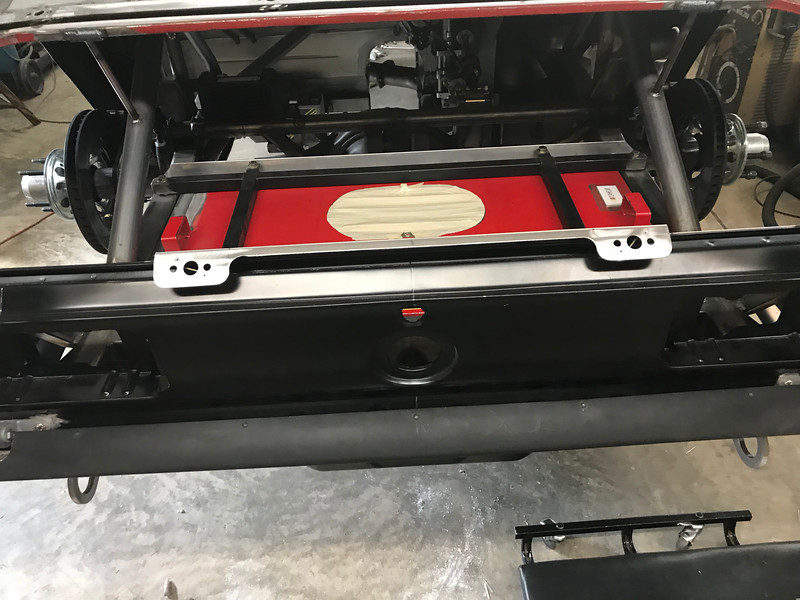 Also made tow hooks and vents for the rear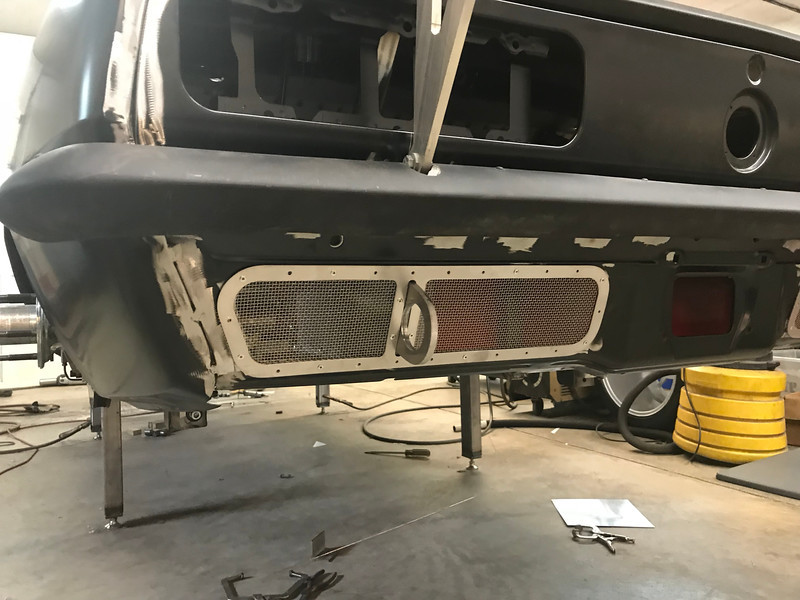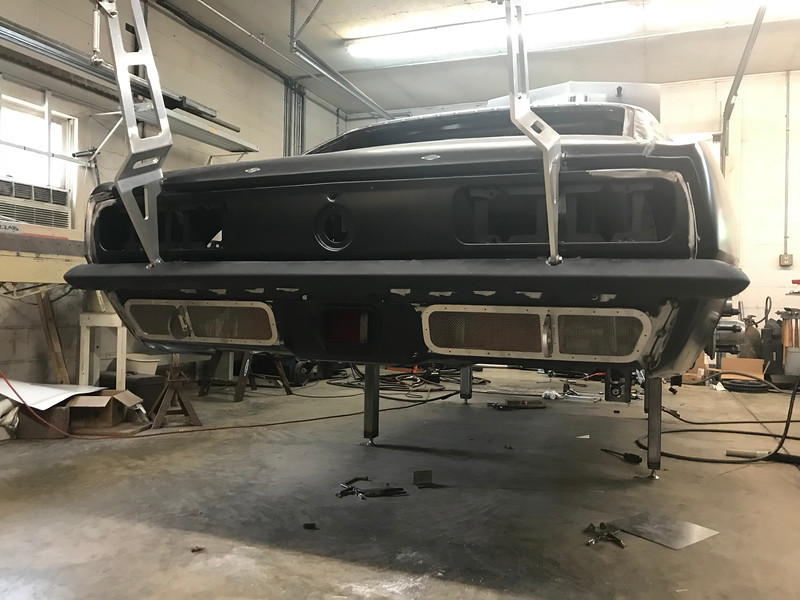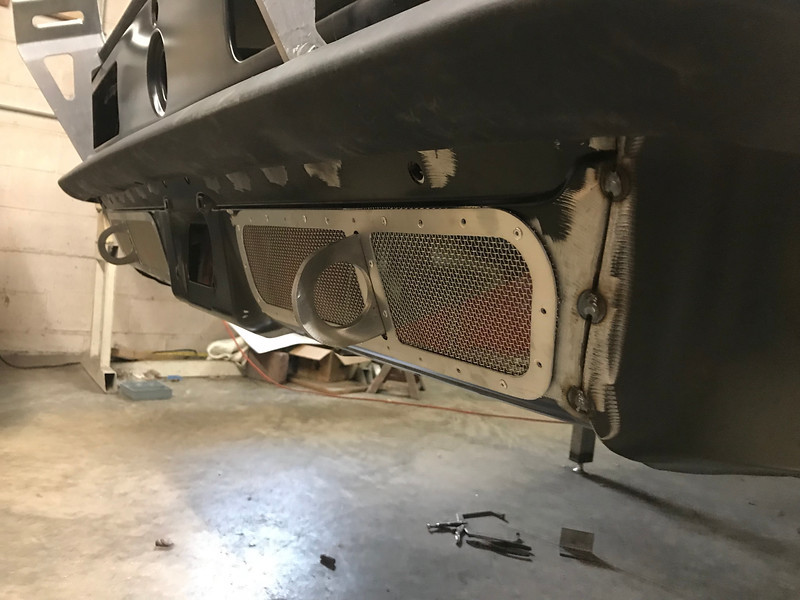 Tow hooks for front of car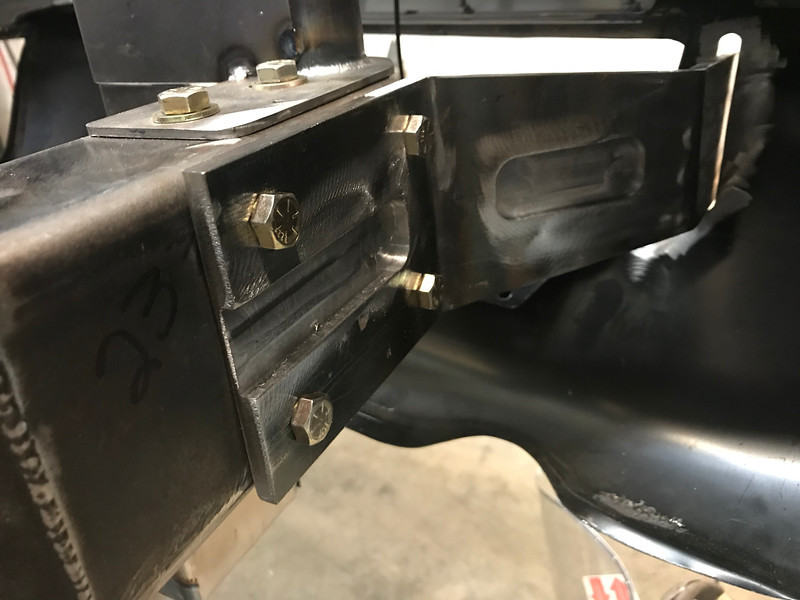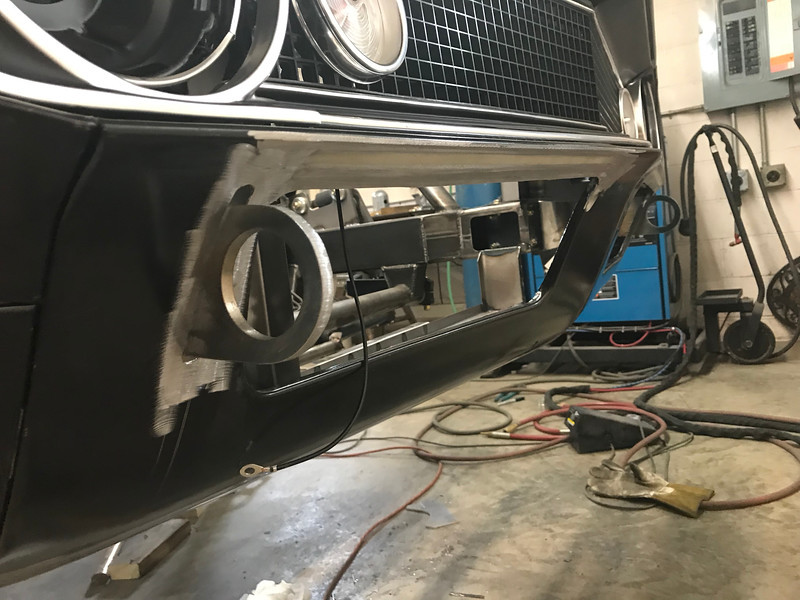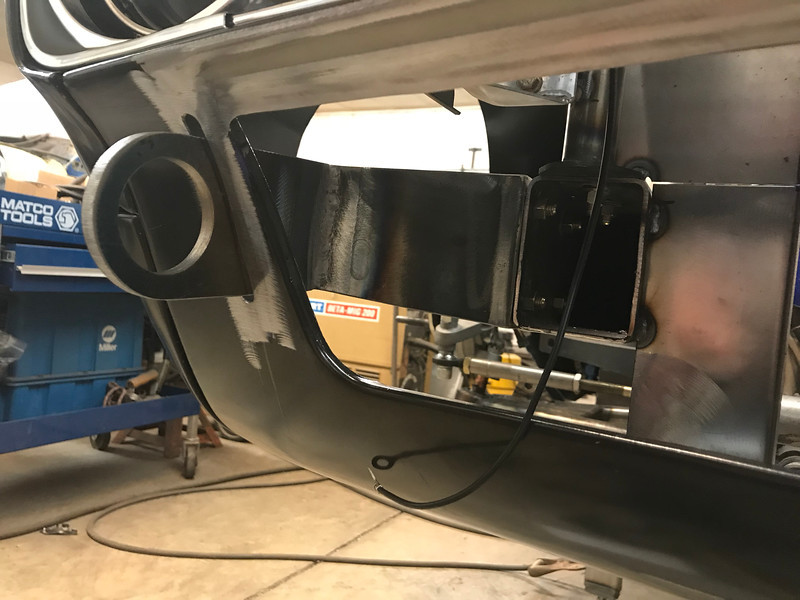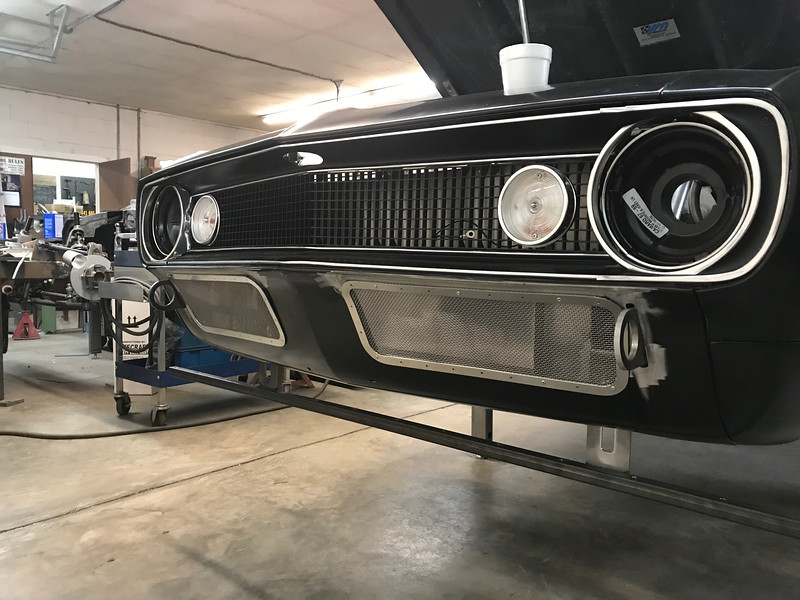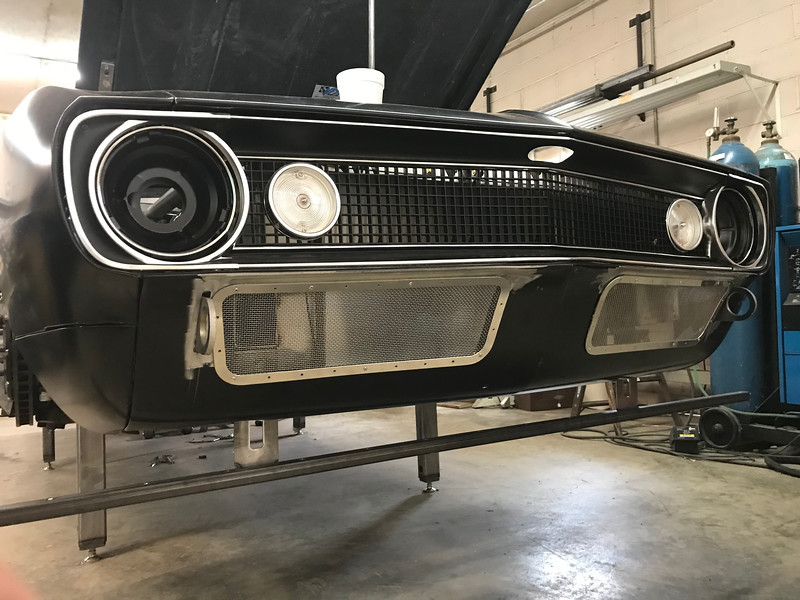 False floor will have insulation under it for heat control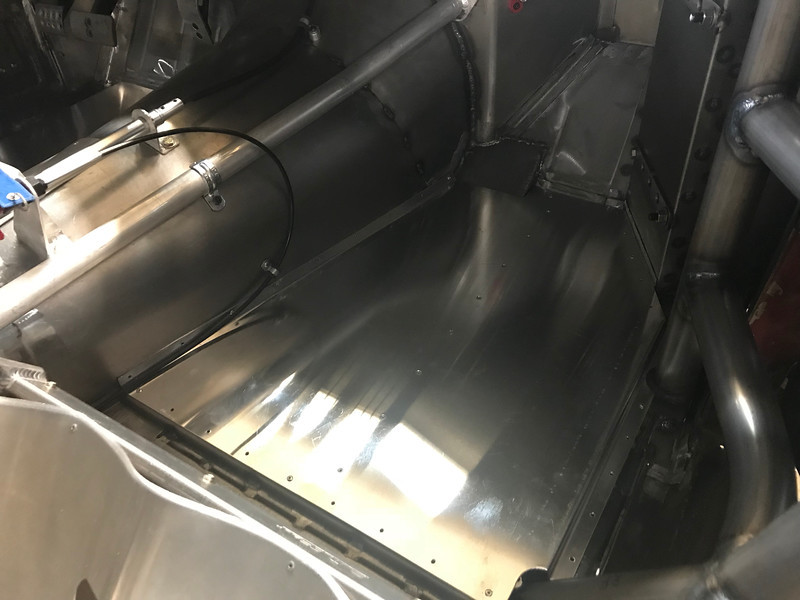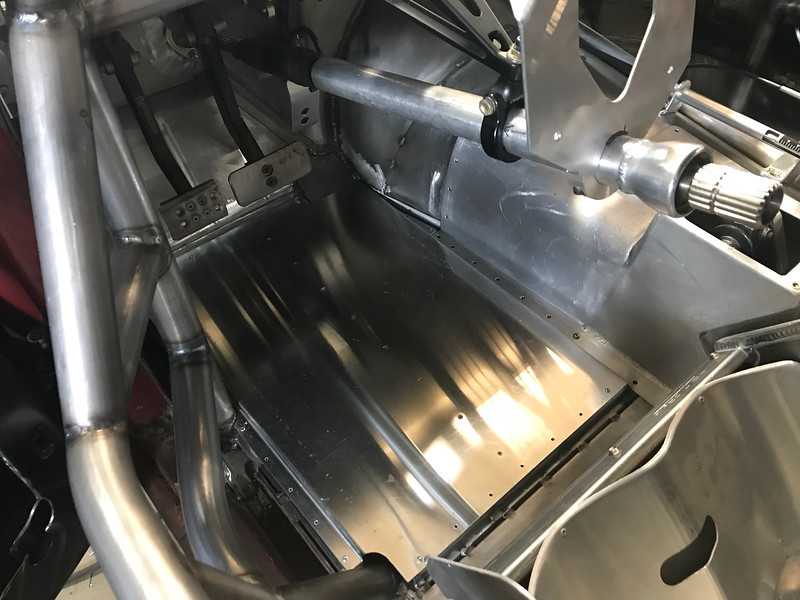 Finally put the front brakes on too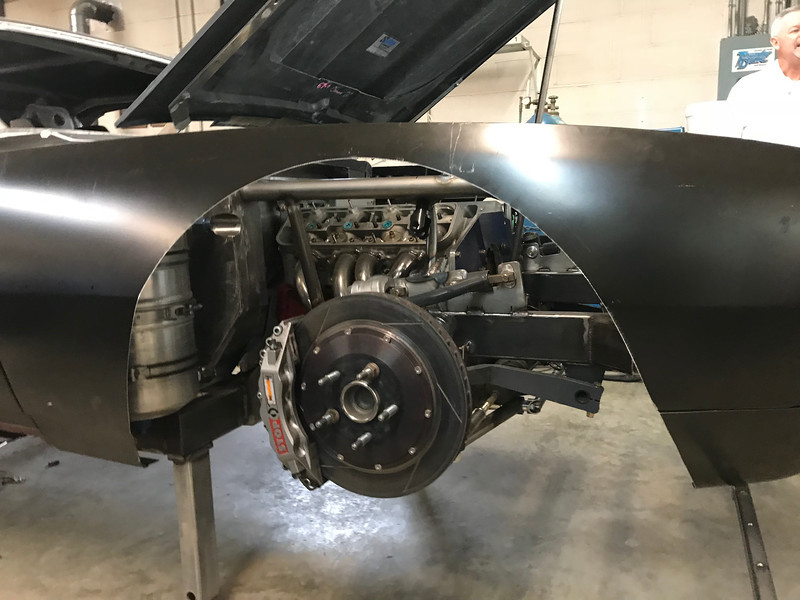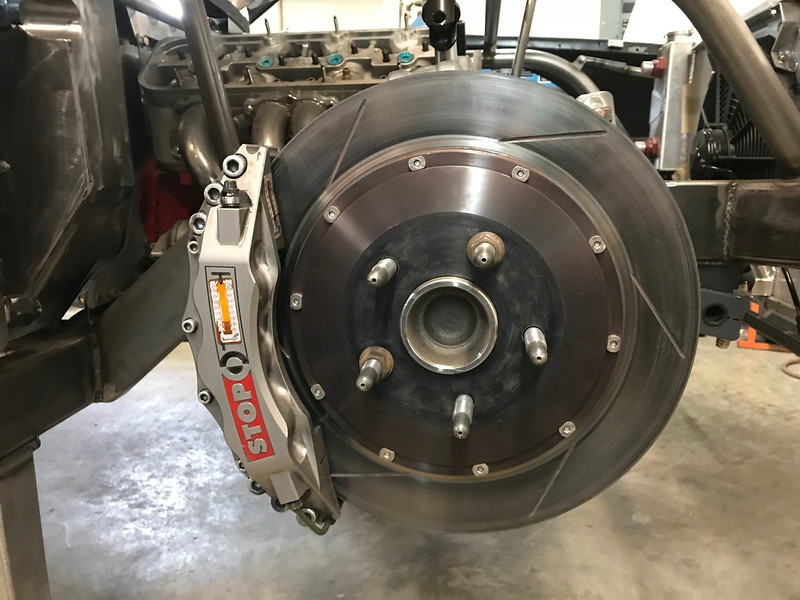 5-29-2018
Starting of splitter mock up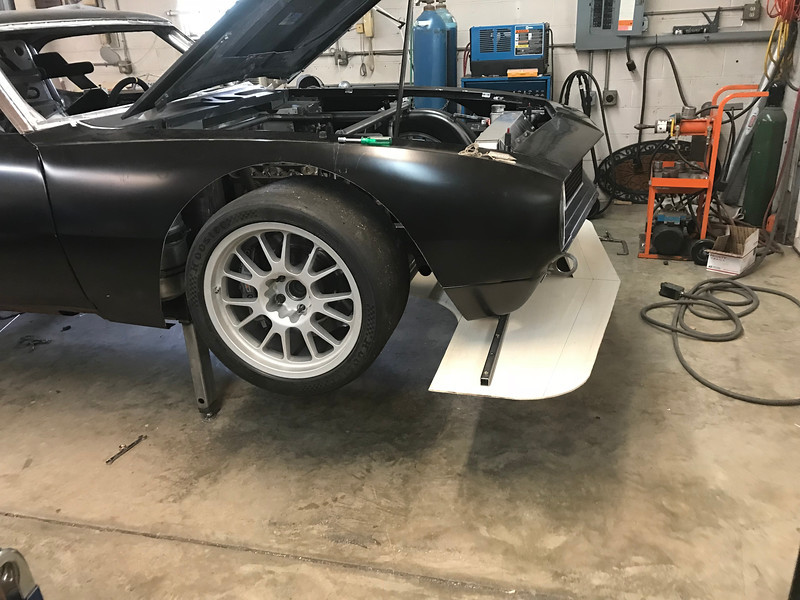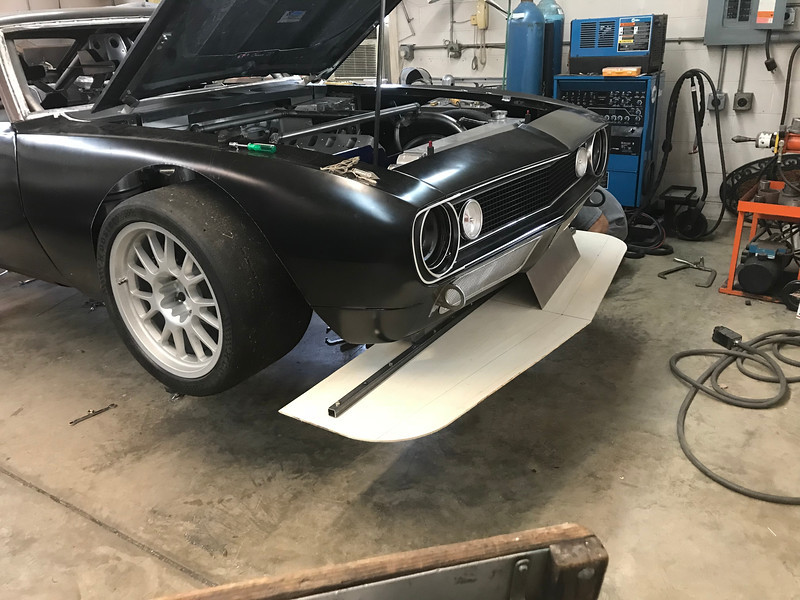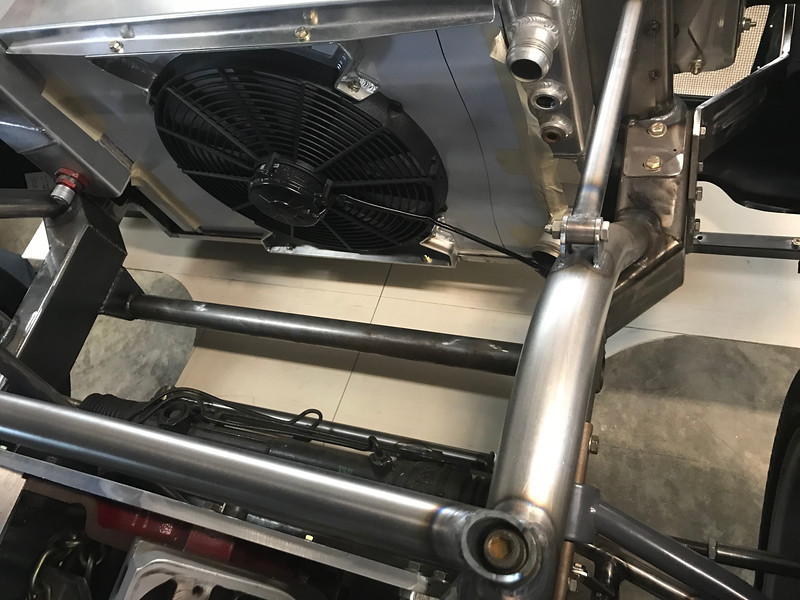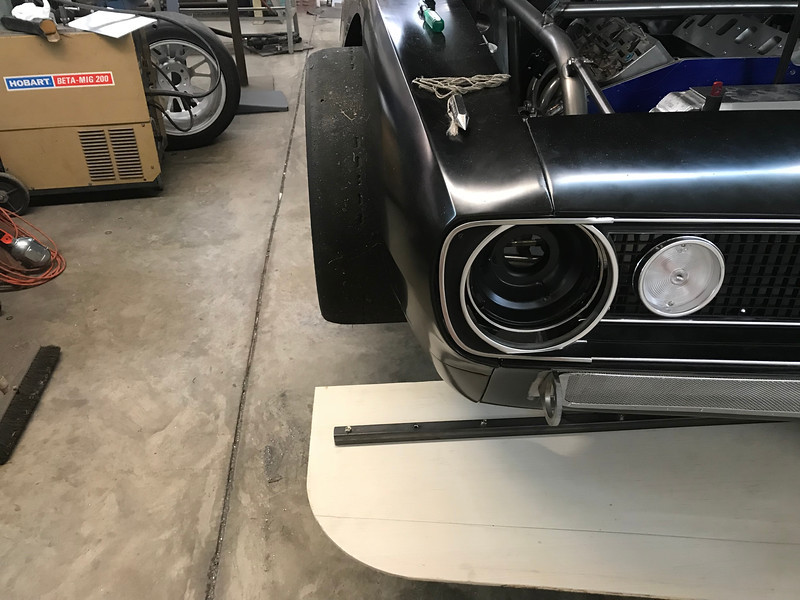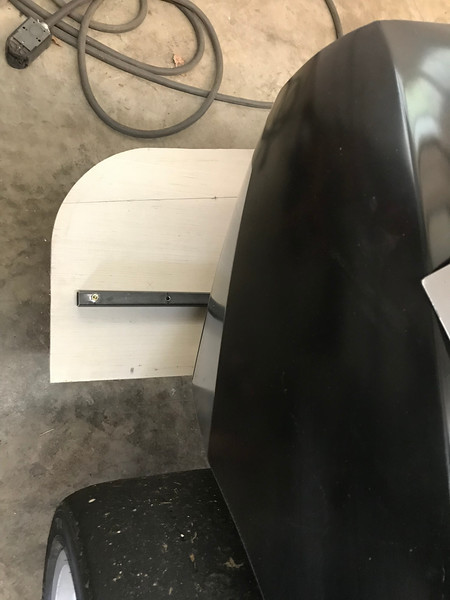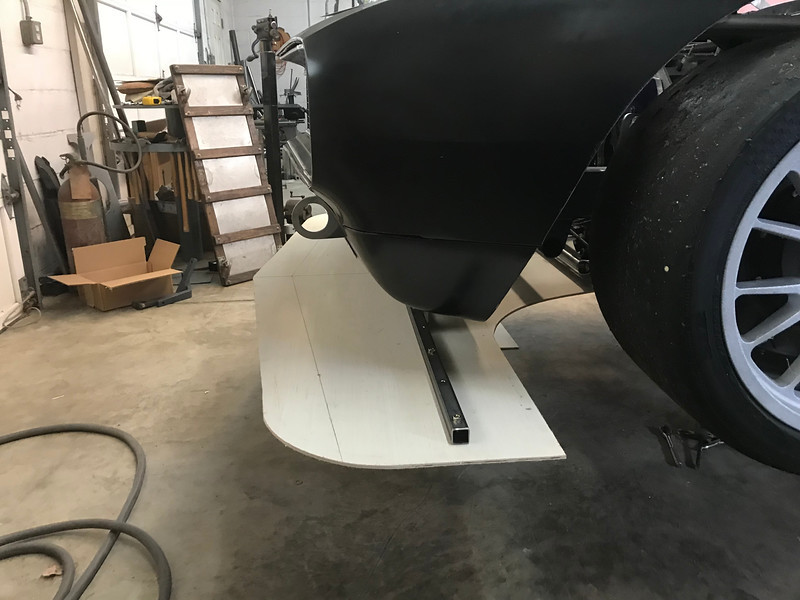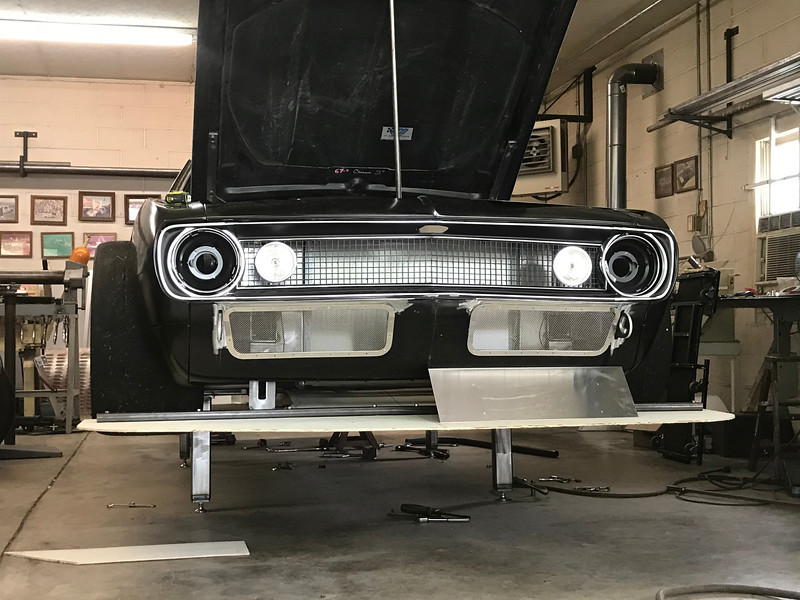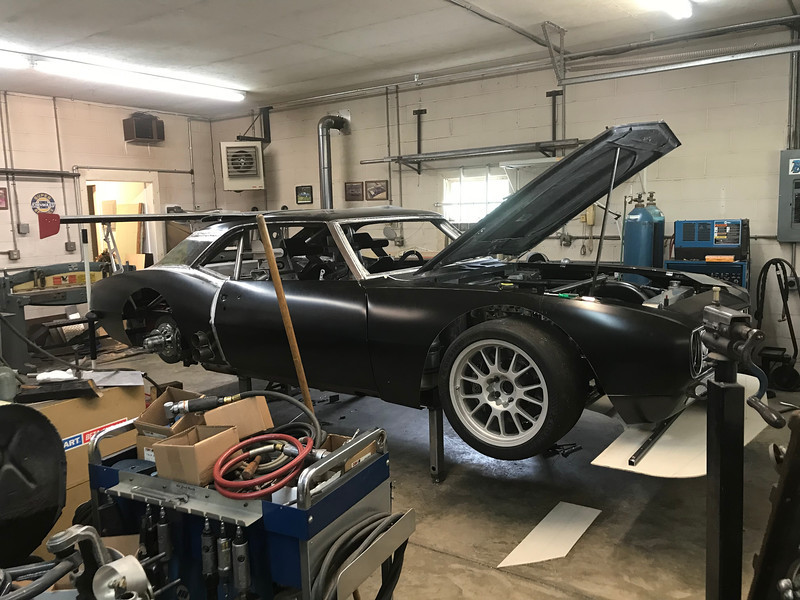 9-26-2018