1970 RS Project by aps63
By diyauto
You must be logged in to rate content!
1970 RS Project
Compliments of aps63 @ http://nastyz28.com
10-5-2011
Here is what I started with.
California car, body is in excellent shape.
Interior practically gutted, engine compartment definitly needs some lovin.
More pictures to follow.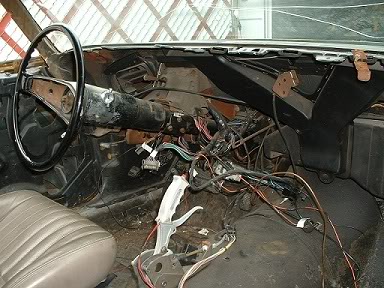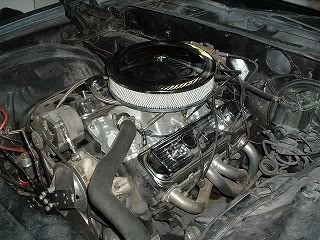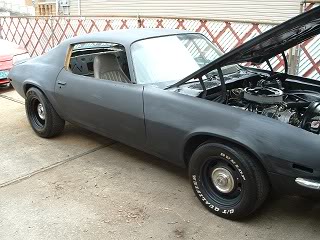 This is how the interior looks now.
After alot of help from alot of differant people from this forum.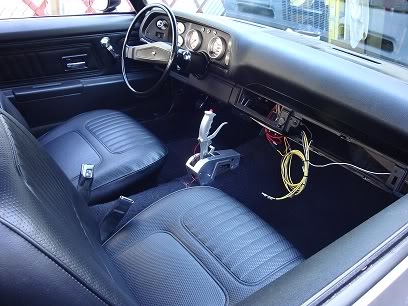 I got rid of the mid 70's high back buckets that were in the car.
The guy I bought it from, almost as an after thought, asked if I wanted the original 1970 seats. He said he would throw them in if I wanted them.
"HELL YES" I said.
10-7-2011
I couldn't get the words out fast enough.
I sold the high back buckets to a local guy and that paid for new seat covers and cushions.
Here is a picture of the interior before I installed the rugs and all the panels.
Got a little carried away witht the dynamat.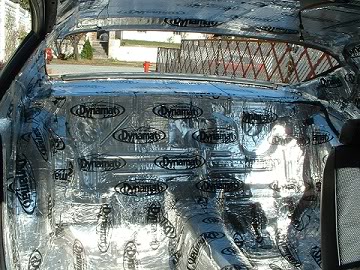 I ripped out all the old wiring and installed a new 21 circuit wiring harness.
I Plan on putting a Vintage Air system in along with dual fans, and maybe power windows and seats at a later date.
I also installed new Morrison 3 point seat belts.
Here is the guage package I installed. Autometer guages in a Covans insert.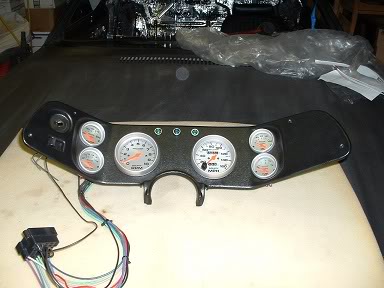 Took the frame out, stripped and coated it with KBS.
Here is a before and after shot.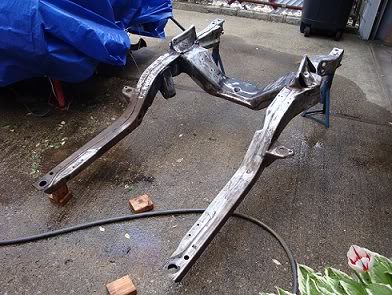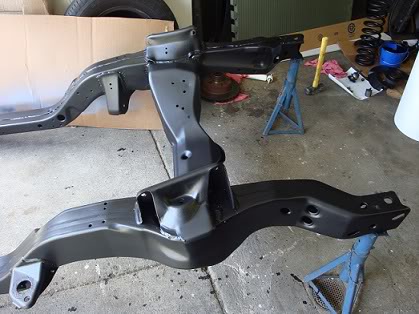 Engine compartment and front clip is all satin black.
10-8-2011
KBS is a paint on rust inhibiter like POR.
They have a whole kit for frames.
It cleans it, then etches it, and then you paint on the coating and it self levels. The stuff hardened up pretty good. I have already dropped stuff on without a mark.
The hubs are just stock camaro caps, just without the trim ring.
I had them powderedcoated black satin and may leave them that way for awhile.
I just have to give it a better stance.
This winter I would like to change over to a hotchkis suspension and a Kore-3 big brake setup. Well, that's the plan anyways.
Detroit Speed Heater delete plate in with Vintage Air bulkhead fitting setup.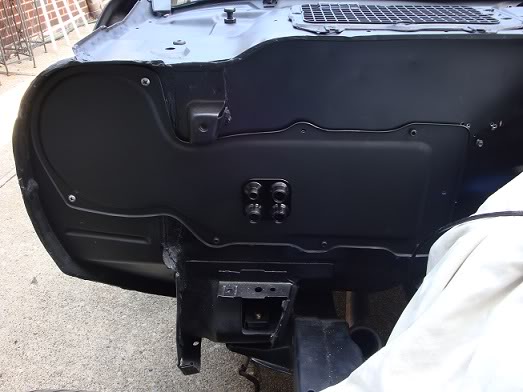 Engine compartment is starting to come together.
Lots of loose ends to finish up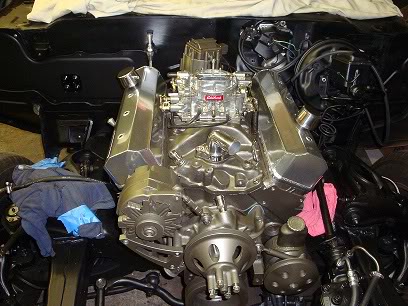 10-9-2011
Fans attached to the radiator and in car, now for the controller wiring.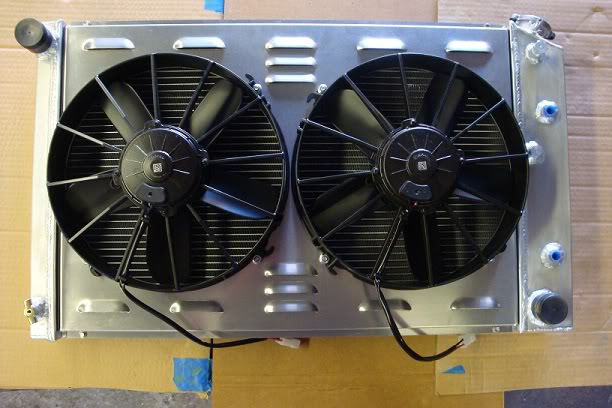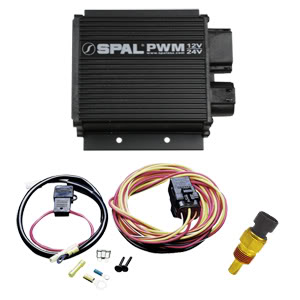 10-10-2011
Hoses are going on now, fuel, cooling, vacuum, etc....
Love the look of these gates shrinkable clamps and have heard great things about them. Have never used them before so I will keep a supply of regular cheap ugly hose clamps in the trunk toolbox just in case.
They do look trick though.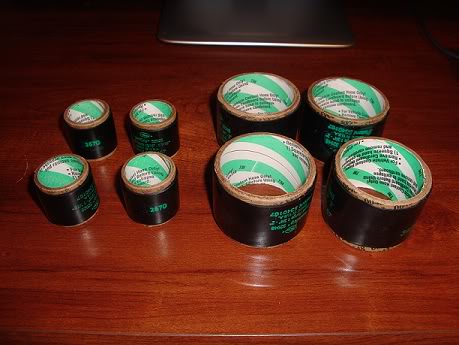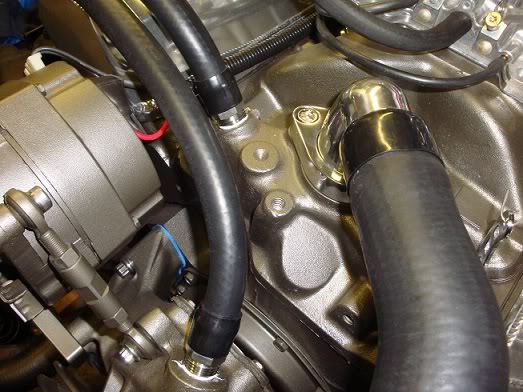 Thanks guys.
Test fitting the Anvil Auto radiator closeout.
Seems to fit pretty good.
Now I just have to paint it and the Customs Works rad cover.


Got the new shifter from Lokar.
Started fabricating the center console for it to fit into.
More pictures of that tomorrow.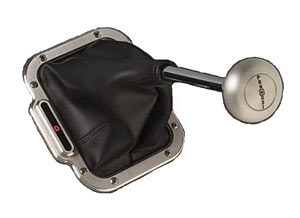 10-12-2011
Here is the center console I started fabing up.
I wanted something that was close to the stock shape but stronger.
As a beginner welder I though this would help me further my welding skills.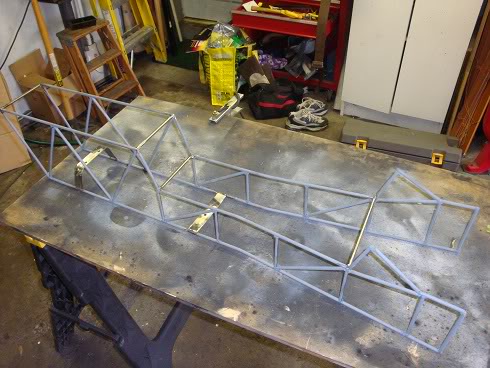 10-13-2011
With the lid.
A few more braces and I can cover it with sheet metal.


Finished the wiring for the a/c, fans & controller, hooked up the fuel system and ran the ducts for the ac.
Almost ready to fire up.
Just need fluids, new spark plugs, and belts.
Hopefully by next weekend.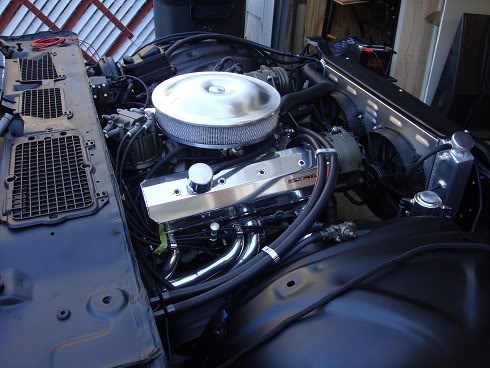 I just can't leave things alone, I think it's a sickness.
I love the nose on these RS's. But I really love the look of
Custom Works Products Fiberglass nose.
Trying to decide which one I like more.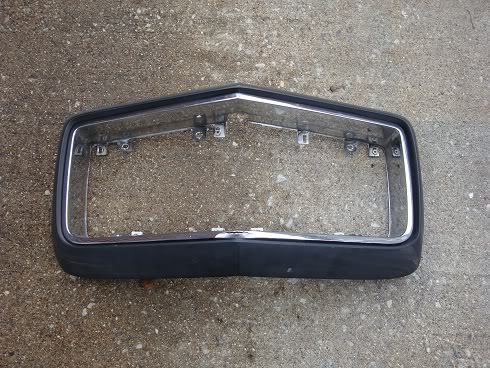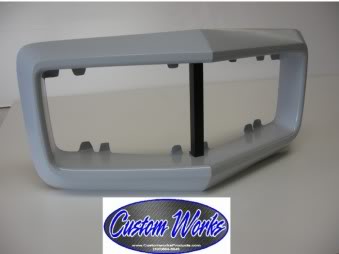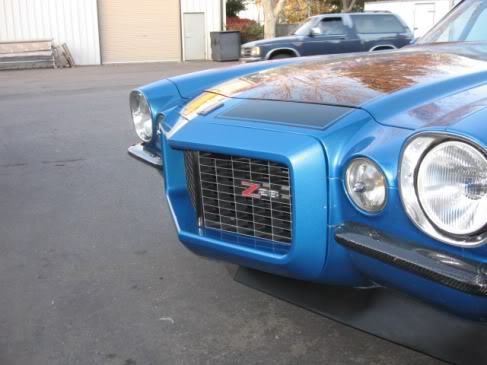 I'm also checking into this one piece carbon fiber piece from Anvil auto.
Bought a radiator closeout from them and the quality and fit was excellent.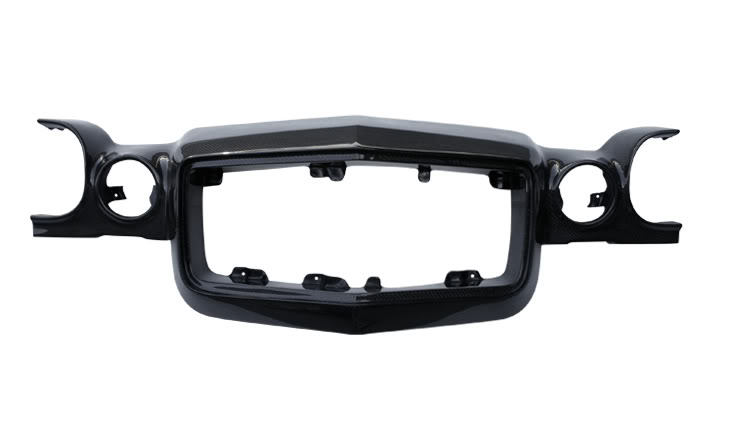 Most of the brackets are on and ready for the sheet metal.
Still trying to decide between stock, carbonfiber nose, or full carbonfiber nose & valance. Decisions, decisions, decisions.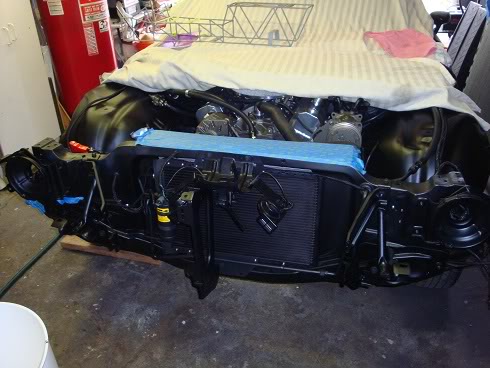 10-16-2011
Had a chance to start covering the console frame today.
Does not seem like much but this is my first time doing any kind
of metal shaping so it was slow going.
First picture is the extra braces for the cup holders. Don't ask me why I need extra bracing for the cup holders, but I figure better to be too strong than not strong enough.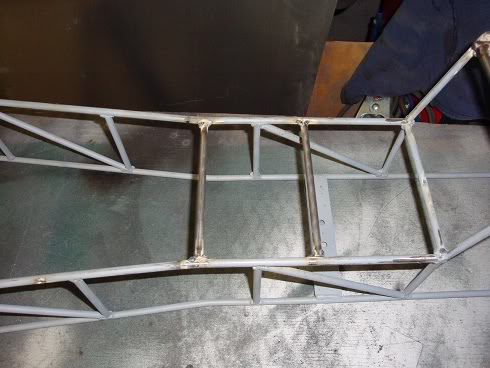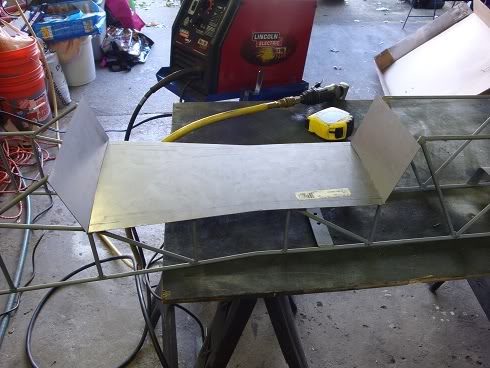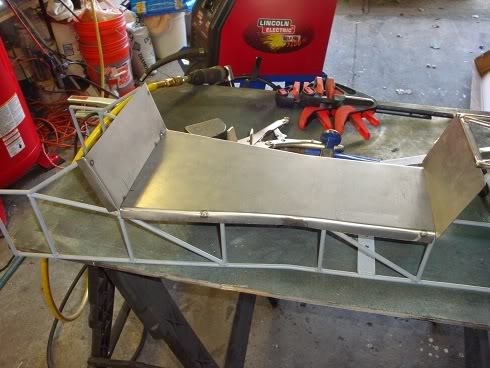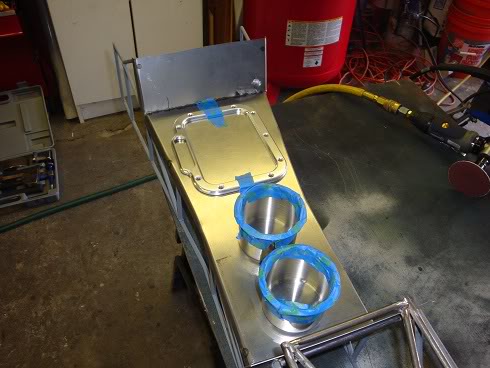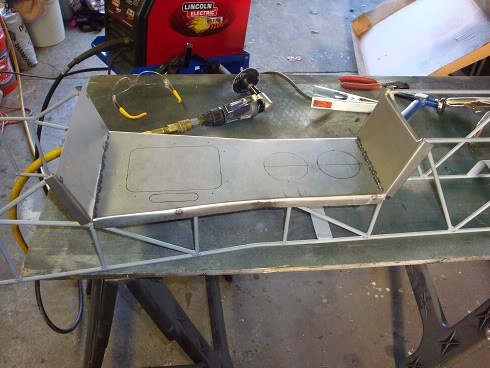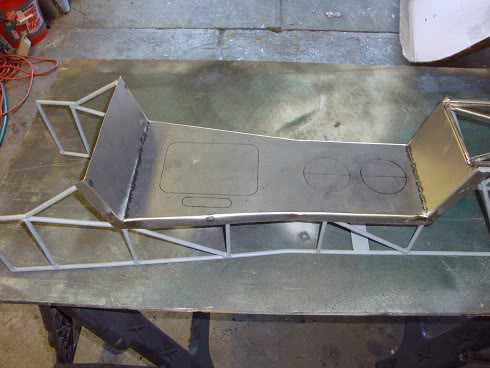 10-18-2011
Started the console box today. Hopefully more tomorrow.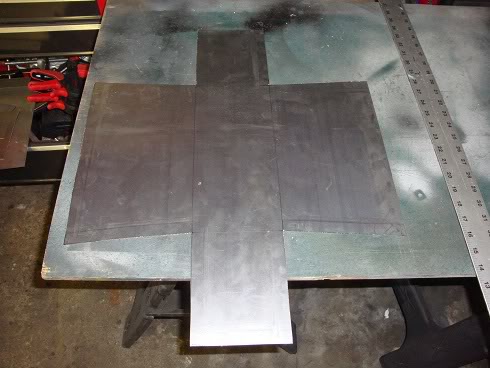 Homemade sheetmetal brake.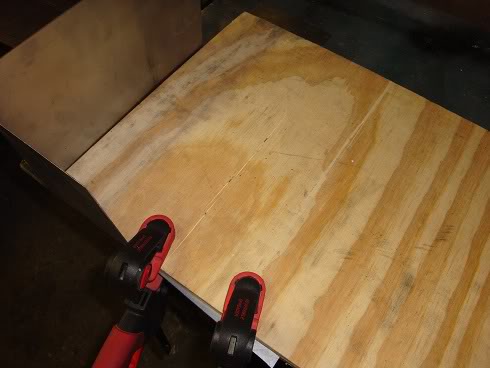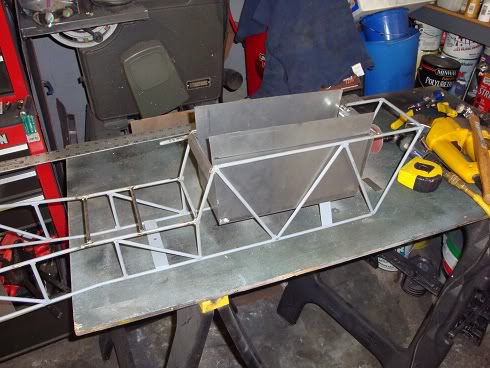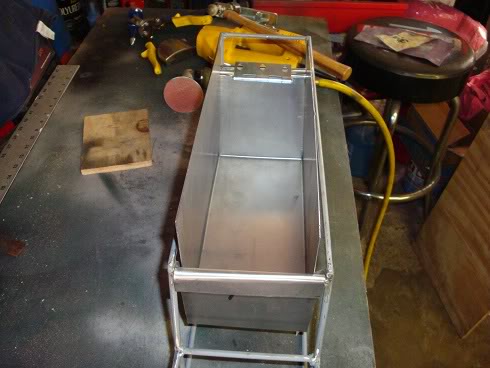 10-19-2011
1972camaro - the piece is $475, but if you were to buy a new nose and a new grill trim piece it would be almost $800. I can sell off the old pieces and eaily get the $475. So the old parts can pay for the new parts.

Chevrolaine - It is KBS, you brush it on and it self levels. Very tough stuff.
But, this was their idea of satin black. way too glossy for me.
So I painted it a low gloss black. It came out perfect.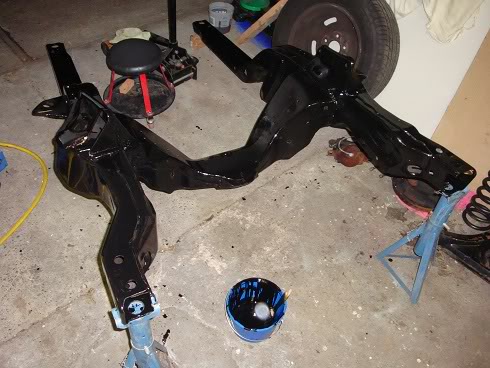 10-21-2011
More progress on the center console today.
Got the top and the box almost done.
I just have to trim some extra metal off and weld in a few small finish pieces.
Then I can start on the side panels.
Hopefully this weekend.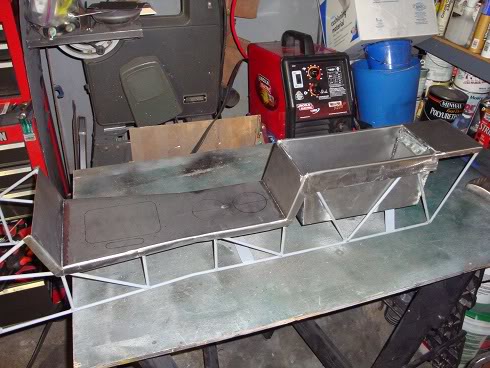 10-23-2011
Got the lid pretty much finished up.
Made a wood top so I can put padding and then material and staple it to the wood.
Welded in the nuts to attach the side panels to.
And started to sand the metal that will be natural.
Started with 220 and will end up with about 400 or 600 so you can still see the grain.
Will use a sanding block to get the grain straight for the final finish.
Got the stainless steel hardware to attach the side panels.
Hopefully finished up this week. Hopefully.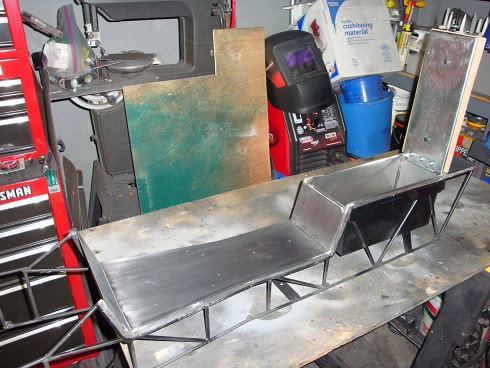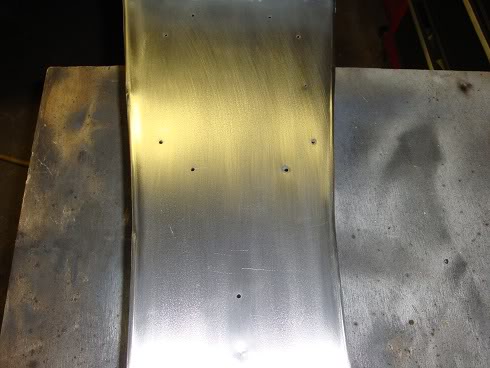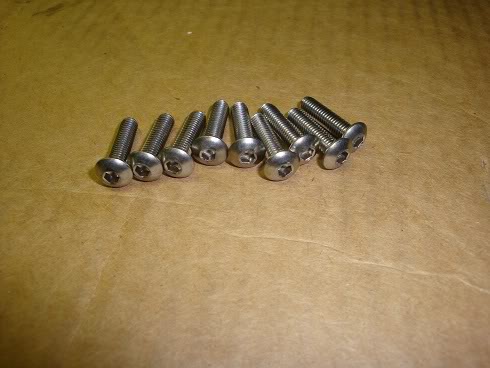 10-26-2011
Got the side panels cut out and fitted today.
I have to go and buy the padding for the lid and sides tomorrow.
Then I can start upholstering it.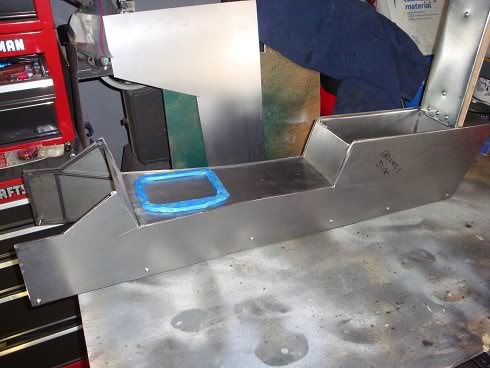 10-28-2011
Thanks Philly.
Picked up the material for the side panels today.
Ready to cover.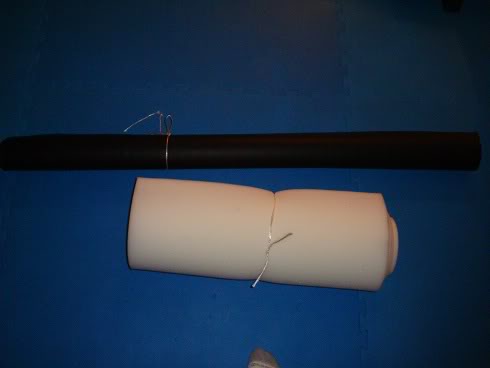 10-31-2011
I really was not happy with the way the lid came out.
I covered it with metal and my skills are just not there to be able to really make the lid clean.
So I decided to show the lid frame and attach it to the actual lid top with 2 s/s hex head bolts.
Besides, it gave me a chance to do some more welding which I REALLY need the practice.
The one on the left is the new one.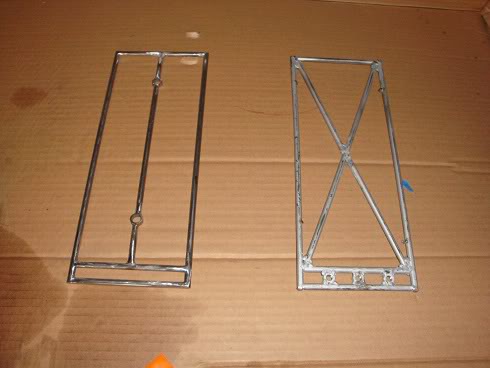 11-1-2011
Got to work on the lid today.
Had some dynamat dynaliner leftover from covering the interior.
Used it to cover the lid, density was perfect.
Got it covered also. I have to weld in the nuts to the frame and then
finish smoothing off the welds.
Hopefully get that done tomorrow.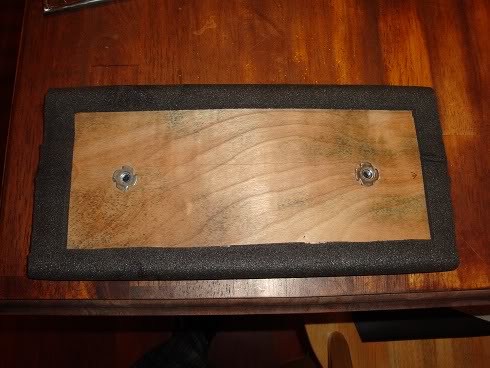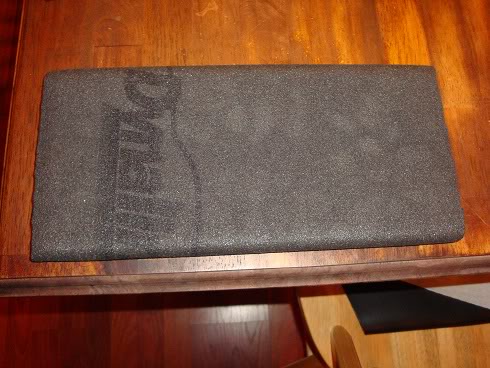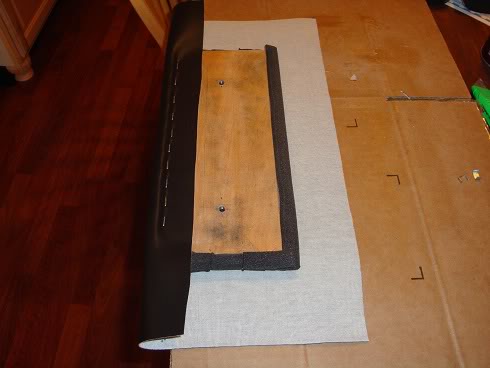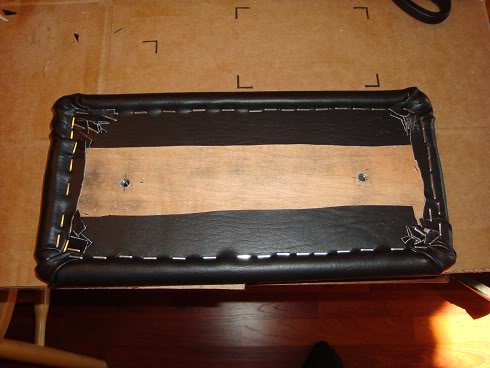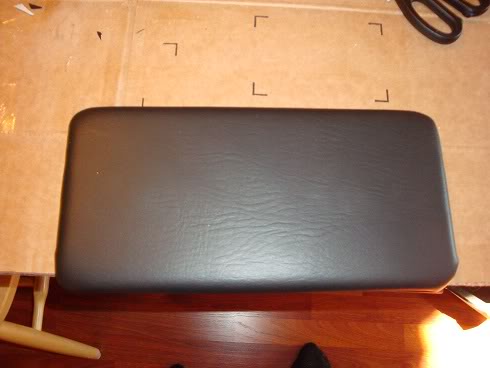 11-2-2011
Thanks,
I covered it and will powdercoat the frame satin black.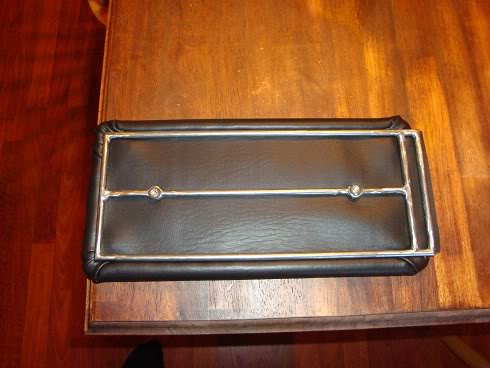 11-7-2011
I didn't like the density of the foam I got, too soft.
I ordered some 1/8" regular 2-A VOLARA Closed Cell Foam from a compnay called http://www.yourautotrim.com/
Just got it in and it's the perfect density for what I want.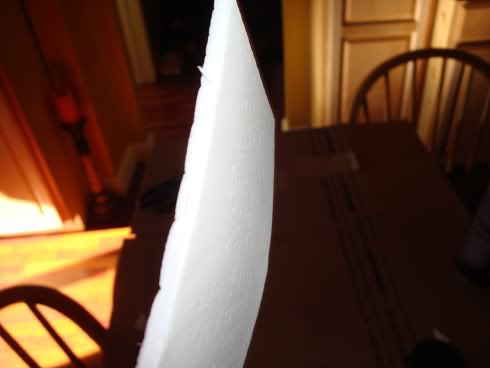 Now I can start covering it. Hopefully tonight.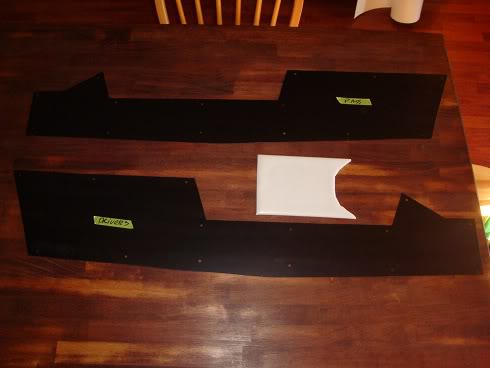 11-8-2011
Got the padding on and the vinyl on.
I shouldn't quit my day job to do upholstery but not bad for a guy who doesn't know what he's doing.
Now I just have to sand and clear the top and cut out the holes for the shifter and cup holders.
More soon I hope.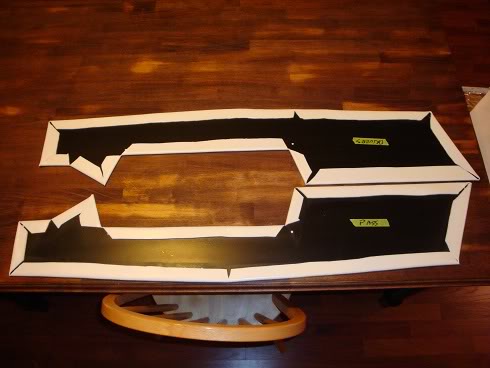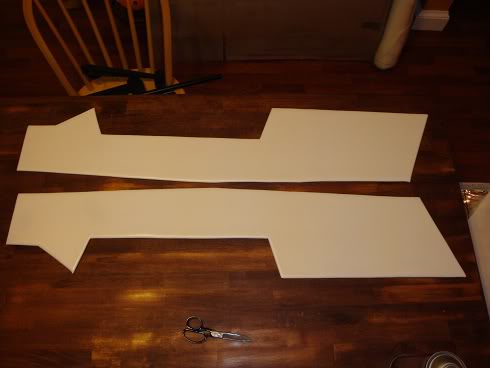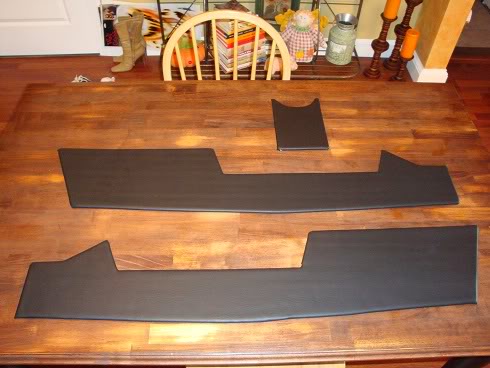 11-20-2011
Just when I thought I will be able to finish it up, I hit a snag.
I finished sanding the metal and painted the sections I wanted black.
I cleared it and the clear came out much glossier than I wanted so I had to sand it all off and start again.
Today I cleared it with a matte clear and it came out with just the finish I wanted.
Now I just have to put it together. The end is in sight!!!!!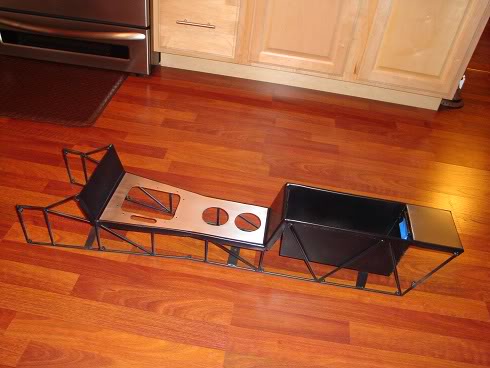 11-25-2011
Well, I cleared it again and all these white dots are appearing all over the bare metal sections.
Read up on clearing bare metal(I know, a little late) seems to be a lot more involved then I thought.
Oh well, another lesson learned. Tryed it one more time.
Same thing happens and it will be painted satin black to match the rest of the interior.
I need to to start other sections of the car and stop messing around with the console.
Just ordered Chassis Max Handle Bars from Hotchkis.
Another piece of the suspension puzzle on order.
12-4-2011
Got a chance to work on the Camaro today.
The Lokar shifter & linkage was pretty easy to install.
Had to cut a slot in the floor for the shifter lever.
I need to make some kind of rubber gasket to keep anything from coming inside.
I'm thinking just a piece of rubber with a slit in it so the linkage lever can fit through it.
Now for the shift indicator sensor and linkage.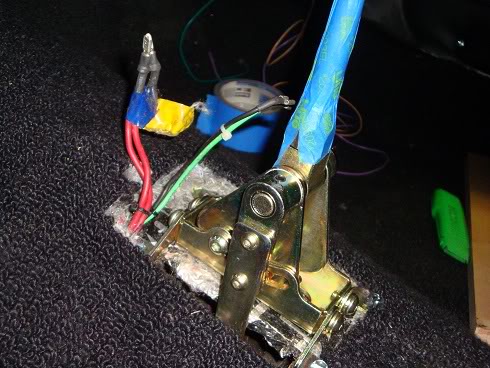 12-5-2011
Got my Hotchkis handles bars in today.
Another piece of the suspension puzzle has been obtained.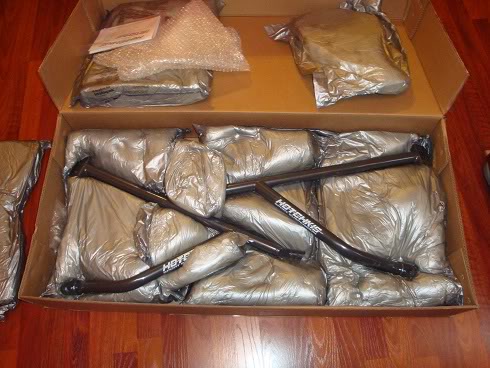 12-9-2011
Spent the morning under the car and got the Lokar shifter sensor module hooked up and wired today.
Also, Hotchkis upper control arms came in today.
Leaf springs are on their way. Getting closer everyday.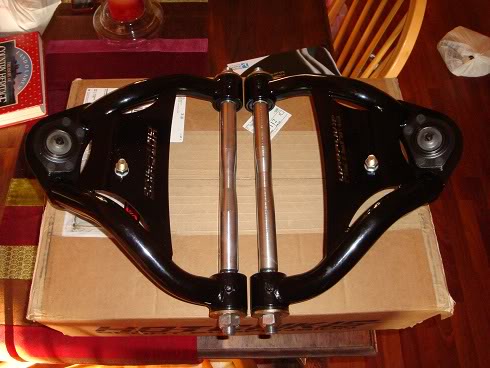 12-11-2011
I forgot to put up a picture of what else I got in this week.
It doesn't make the car go faster, handle better, or make it lighter.
It just looks cool, and sometimes that's just enough of a reason to buy it.
Fesler billet door vents.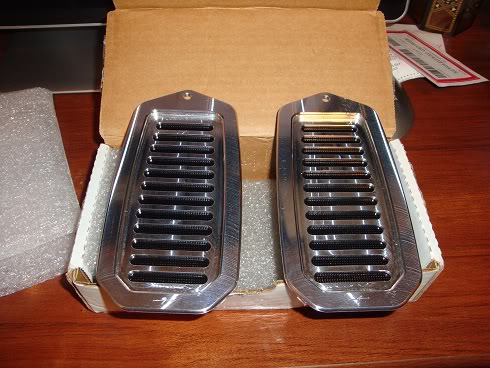 12-21-2011
I came home today and Santa had come(that's what I like to call the UPS guy).
Hotchkis leaf springs. Made my day.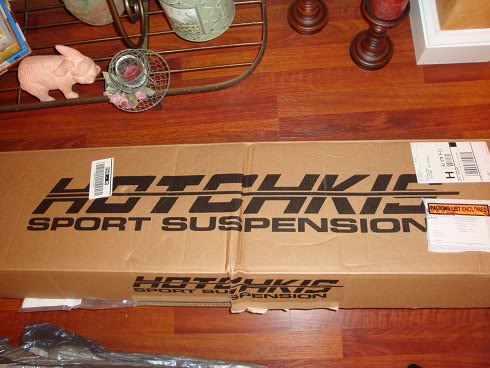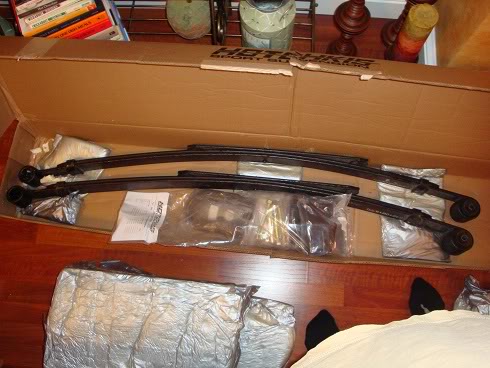 1-1-2012
Finally got a chance to work on the Camaro today.
Went to Pep Boys to get u-joint bolts and straps only to have the parts guy tell me they don't carry them.
I told him "Yes you do." and then had to show him how to look it up in their computer. Maybe, I should get a part time job there.
So then, got the drive shaft in and started to wire the shifter up.
This shifter has more wiring than any shifter I have ever seen.
Not sure about how to wire in the nuetral safety switch relay, so I will call Lokar on tue to finish it up.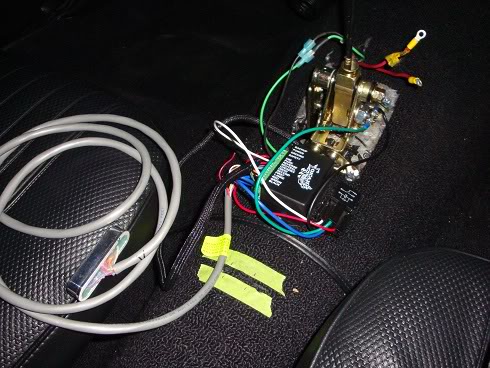 1-7-2012
I love Lokars tech line, they are knowledgeable and spend extra time with you to get things right. Thanks lokar.
I get such a thrill at seeing the UPS or Fed-Ex truck pull up to the house.
Today I got more goodies from Hotchkis.
Front springs and tie rods sleeves.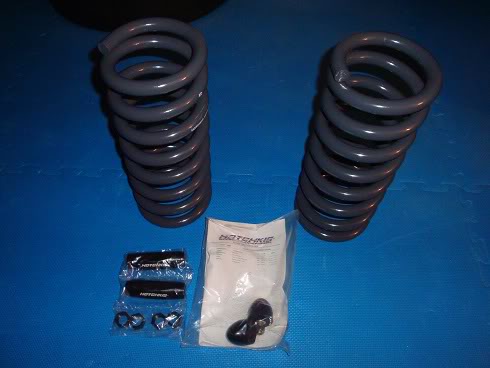 1-14-2012
Well finally got to the garage today to install the center console.
Not a bad result for my first time welding, metal shaping, and upolstering from scratch.
Would definitly do some things differently but that's for next time.
Love the shifter & bezel.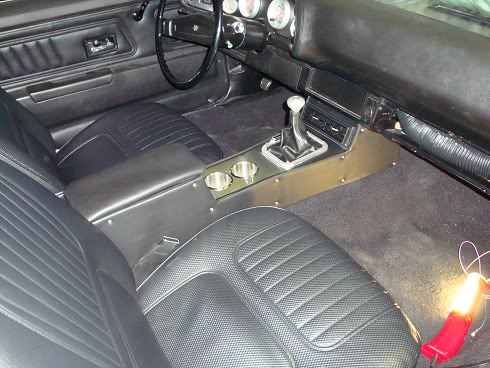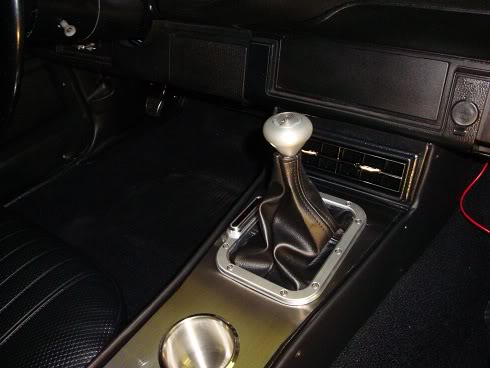 1-24-2012
Got my mockup tires in.
Big thanks to Bret & Greg over at Ridetech for putting up all their old testing tires for sale.
Picked them up for $20 a piece. Wasn't sure what size I wanted to go with but now I know.
These are BFG KDW 275/35/18's and I think I will go with 285/40/18 for the rear and 245/40/18 for the front.
Now I just have to find a set of wheels that I like.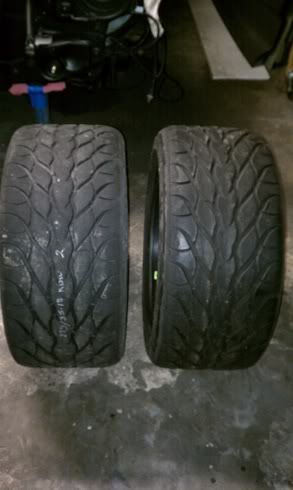 2-4-2012
Just finished putting in the Russell speed bleeders and bleeding the brakes.
WOW!!!! Are they easy to use. This is the first time I have used them. I think it took me about 15minutes to bleed all four corners.
I'm sold.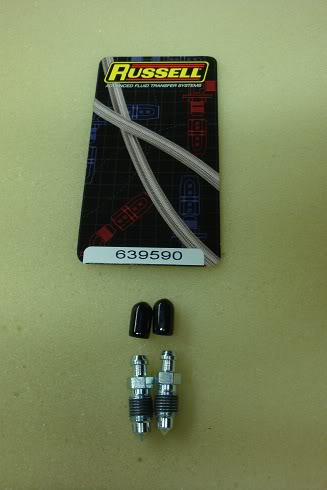 2-10-2012
More parts today. Bilstein shocks from Hotchkis.
Almost ready to start installing all new suspension.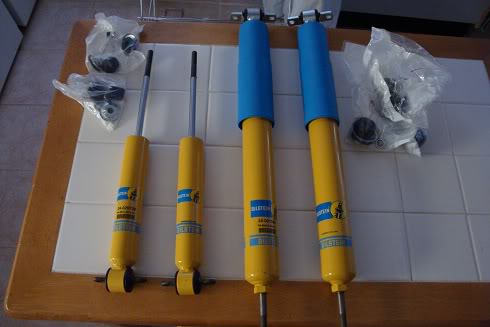 2-12-2012
Scubbed down the gas tank today and will hit it with a coat of bed liner tommorrow.
Inside of the tank looks like it was just put in last week.
Pretty amazing for a 40 year old tank.
I was going to coat the inside of the tank until I saw what great condition it was in.
Orderd a new pickup and anti-squeak pads.
I have read alot of stuff about differant vent systems but I think I will just keep the original.
Just going to replace the charcoal canister with a filter hidden in the front fender.
2-15-2012
Coated the gas tank with bed liner, installed the new gas tank sending unit today.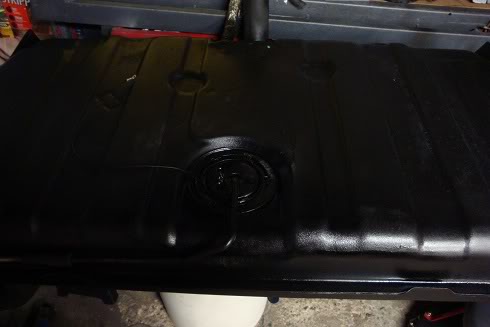 Also got the K&N filter in for the gas tank vent tube.
Read alot of the posts out there about vent systems and the common thread through all of them is that the stock ones work really well.
So I just descarded the original charcoal canister and replaced it with a small K&N filter hidden in the front fender.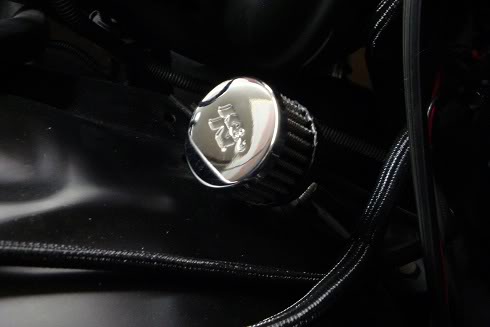 2-16-2012
Ok, I know it's a small thing but, I love the small details.
The K&N filter just didn't fit with the anti-chrome look I'm going for.
So, I painted it satin black.
I know it will be hidden in the fender but I couldn't help myself.
I would know it's there.
Again, I love the small details.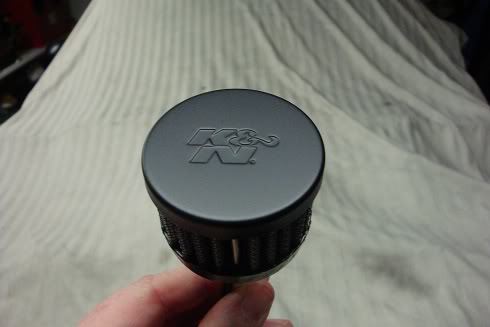 3-4-2012
I've been looking for these fender seals for awhile.
Just found them on ebay. Not sure if they are really needed, but anything that keeps alittle more noise or wind out of the cabin I figure is a good thing.
At $15 you can't beat it.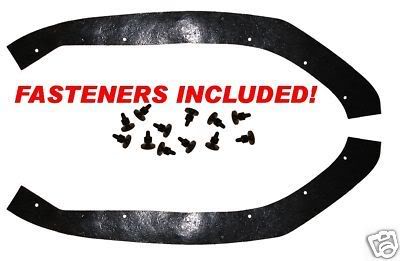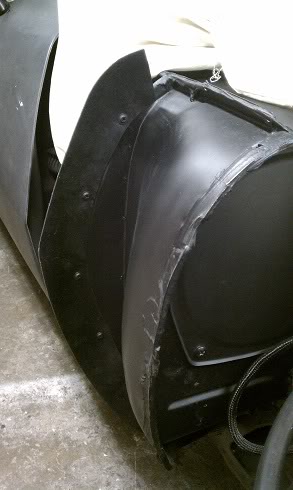 They fit perfect too.
3-11-2012
Picked up 4 MRR Gt-1's mounted with Nitto's today for very cheap.
Even if I don't use them, their good for mock ups for future projects.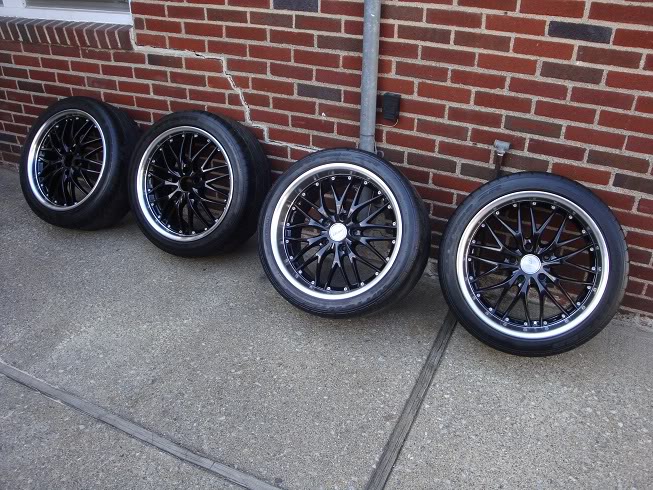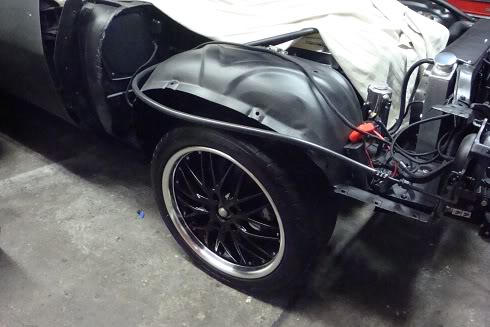 3-22-2012
Decided to go in a differant direction with the wheels.
Found these 18" wheels with the perfect backspacing and the satin black with the brushed machined look to the outer rim of the wheel.
Matches the engine compartment perfectly. Plus I want to brush the bumpers too.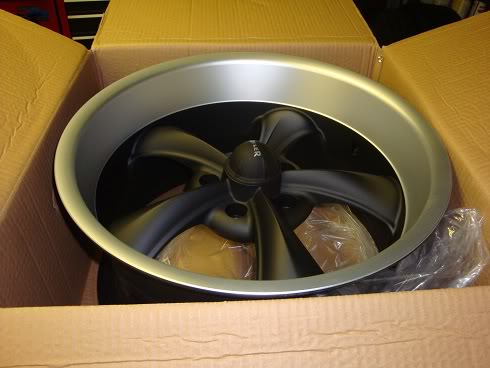 4-8-2012
Your right about never knowing when you will find an answer to something on this site, it's awesome that way.
Had the original rally wheels soda blasted and painted just because I like the look of the rally's. Almost went with 18" rally's from Wheel Vintiques because I like the look so much. But 18" steelies, that's alot of weight.
I will use the rally's for rollers and until I swap in the hotchkis suspension and big brakes.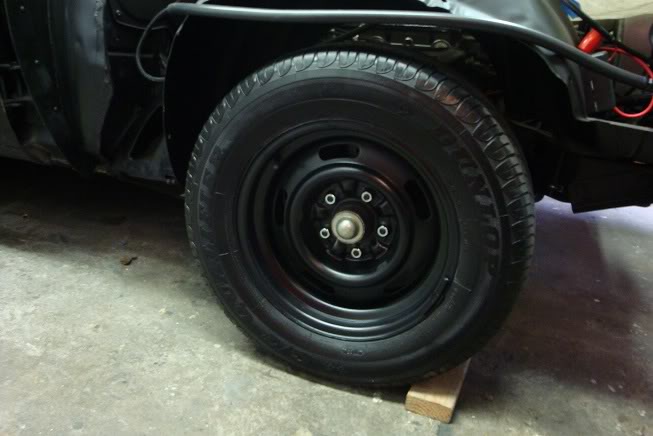 4-26-2012
FINALLY!!!!!!
The last parts of my all Hotchkis suspension have been collected.
LCA and rear sway bar. Next week work should calm down and I can get back to it.
I still want to drive on the 1970 suspension for a few days and then completely swap it out for the new stuff.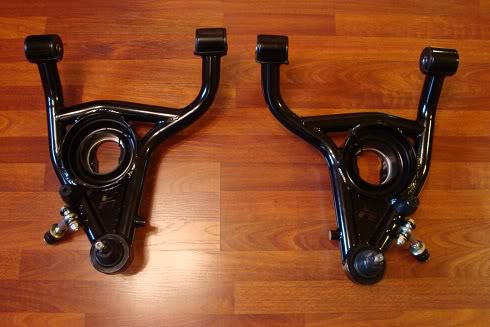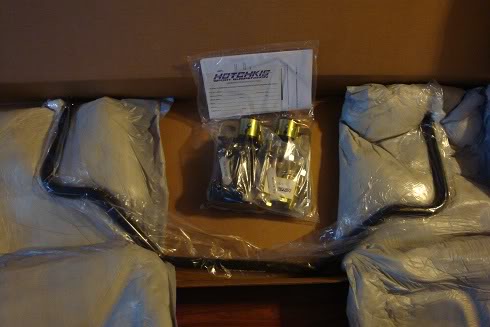 4-30-2012
Now that the suspension is collected, on to the brakes.
Had the 20th Anniversary of my business this last weekend and my wife bought me a very large gift certificate from Tobin over at Kore-3.
LOVE THAT WOMAN!!!!!!!!
Wanted to use the Kore-3 ZO6 stuff but I downloaded the templates from their website and they won't fit with the 18" wheels I'm using.
So, onto the next size. The C6 Z51 calipers. Still a whole lotta brake for a
2nd gen Camaro. I'm sure I will love them.
Tobin, If your out there you will be hearing from me this week.
These templates cut out a lot of the guess work.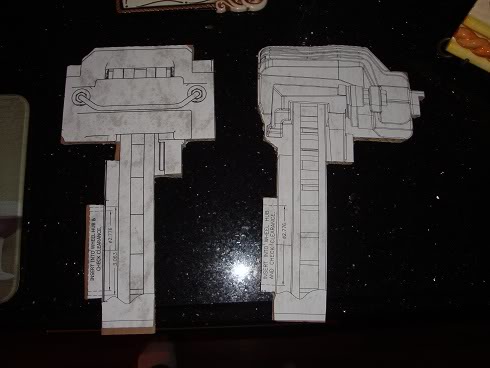 5-7-2012
Just got off the phone with Tobin from Kore-3. WOW, everybody was right. Very nice guy and ultra knowledgable.
Ordered the c5/c6 Z51 brakes front and back. Should be here next week. Can't wait.
Almost ready to gut the whole suspension and brake system.
Man, I'll have a lot of stock parts left over.

Front brake kit.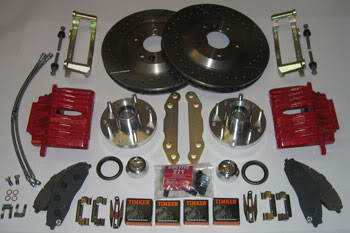 Back brake kit.



5-11-2012
Tires came in, now just waiting for the Kore-3 brakes to come in and we're off.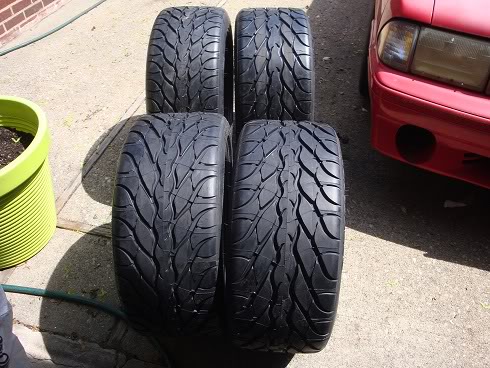 5-23-2012
I got 3 big boxes from Kore-3 today.
It was like Christmas opening all those boxes.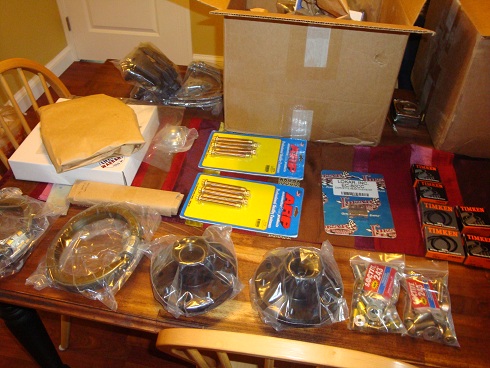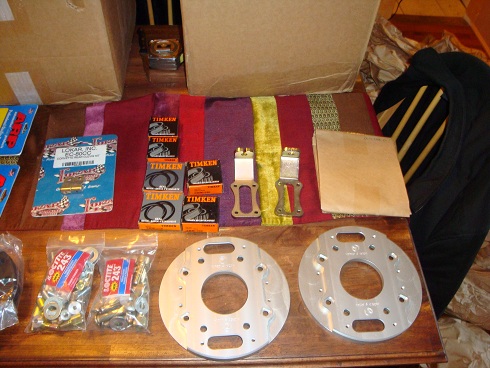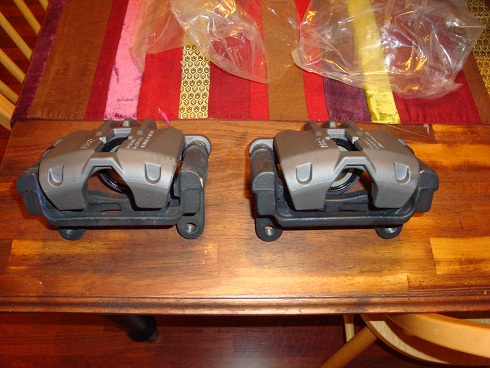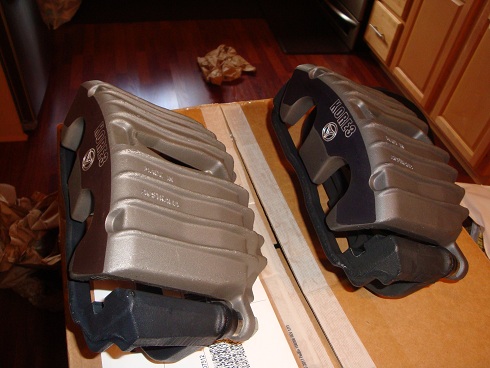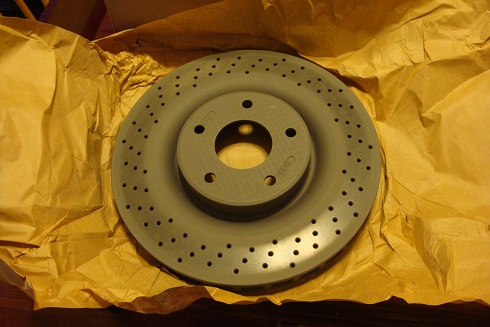 6-24-2012
Finally got back into the garage.
Working out a few kinks with the fan controller but seems to be working good now.
Fitted in the Anvil Auto radiator closeout panel today.
Should funnel alot more air through the radiator, plus it really cleans up that area.
Now I just have to paint it.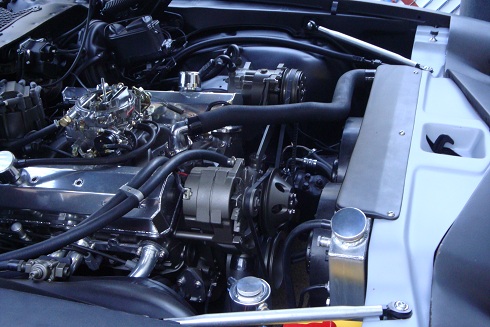 7-11-2012
My buddy the UPS guy came today.
Nice shiney new ididit 2nd gen steering column.
WOW!!! What a nice piece of work. Hopefully this weekend I will have time to put it in.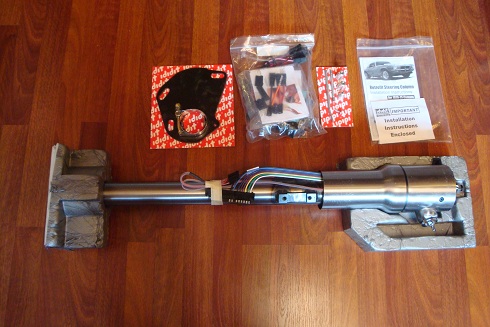 7-12-2012
Got the column painted today and started to take the lower part of the dash apart and the steering wheel off.
Trying to get a head start so I can get the whole column swap done this weekend.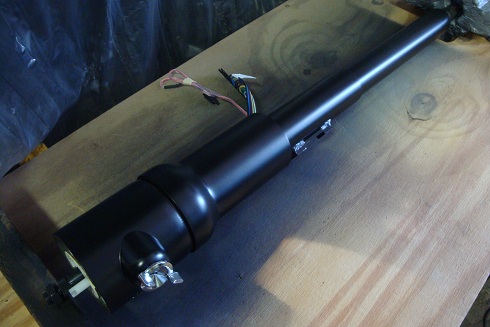 7-14-2012
Here's my new Momo wheel & NRG quick release and hub.
Both the Momo & the NRG stuff is awesome.
I really like the small bits of carbon fiber.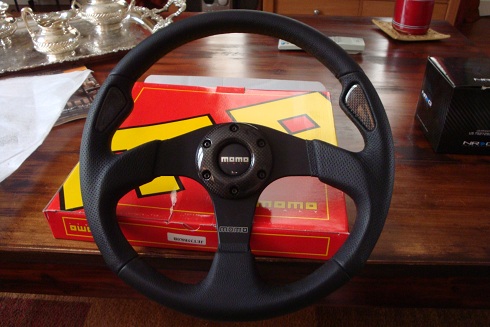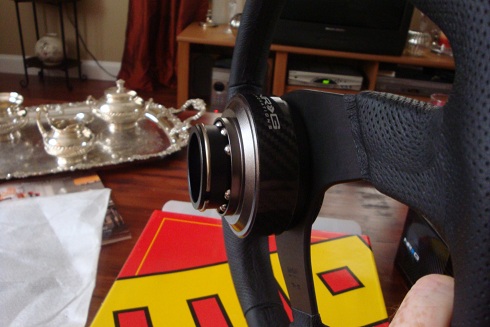 7-15-2012
Just finished putting in the ididit steering column, NRG hub & quick release and the Momo Jet Black Steering wheel.
IT LOOKS AWESOME!!!!!!! I'm really happy today.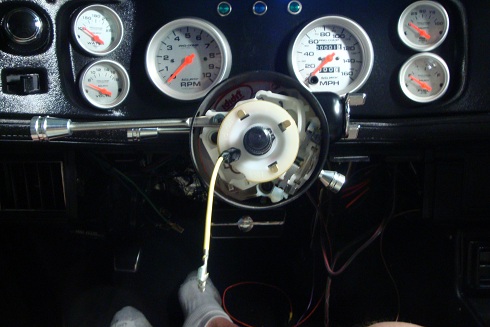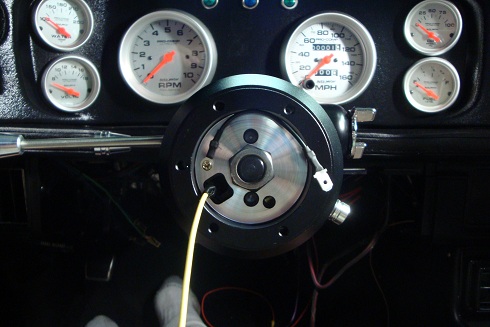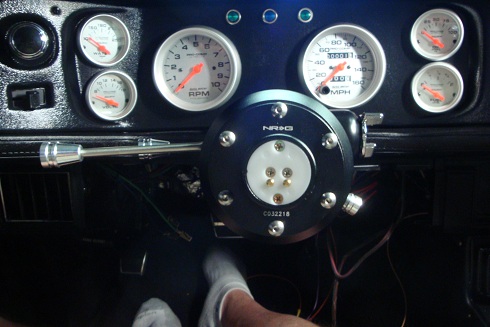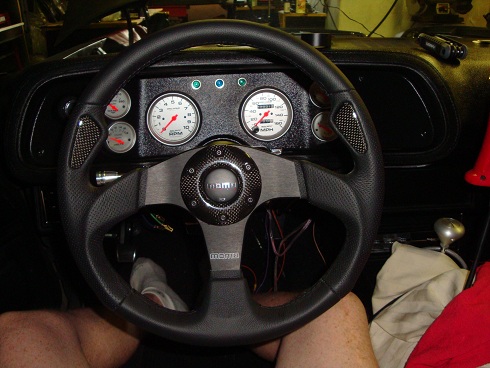 7-28-2012
Got the column and wheel setup all in and now chasing down an electrical gremlin. The Lokar shifter has a control box with the nuetral safety switch in it. Found out I have no juice coming out of the relay so I'm assuming it's bad. Try and pick one up at the local parts store tomorrow. Hopefully that fixes it.
7-30-2012
Quick call to Lokar today to help with what I thought was a bad relay.
Turns out the relay will not work until the control box is programed.
Spent a few minutes programing and everything works and fires right up.
Big thanks to Steve at Lokar for walking me through it. Great customer service.
7-31-2012
Spoke too soon.
The digital indicator unit lights up on the start position but turns off on the run position.
Lokar is trying to find a solution as we speak.
There is power going into the decoder box and the relay in the run position but the decoder box and indicator are turning off in the run position.
More tests tomorrow.
8-1-2012
Got the new master cylinder in. Now just waiting to match up the booster with it. I want that new performance car feel.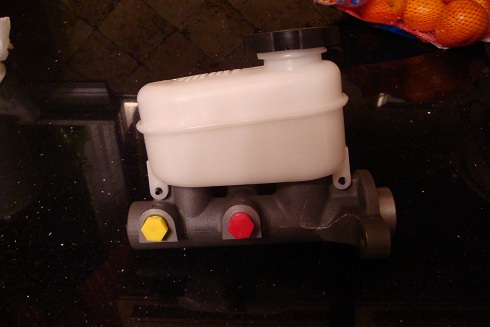 8-8-2012
Well the Camaro is offically on the road.
Got the registration and plates today. Didn't waste time, drove around the neighborhood. Fixed a few small thing's.
Taking it out on the highway tomorrow. Everything seems pretty tight.
Hope to take it to the local car cruise this saturday, Whiskey Cafe(great name) is the host for several hundred cars every sat night.
1970 suspension & brakes perform as I expected them to.
Next week starts the Hotchkis & Kore-3 conversion.
Should be an amazing differance. Can't wait.
8-25-2012
Ok, the car is on the road and getting ready to start setting up the new suspension & brakes.
Have been working 12 hour days all week and will have to do the same next week. Long weekend coming up though and should make lots of progress next weekend. While I was driving around the other day I started to think "what if I get a flat?". So this week I stated to research what spares will fit over the Z51 big brake kits. Found out the GTO space saver spare will fit over the rears but not the fronts.
Talked to Tobin over at Kore-3 and he's looking for a solution also. Found out that the Cadillac CTS has an 18" spare.
Pretty slick looking. Still checking into if it will fit correctly.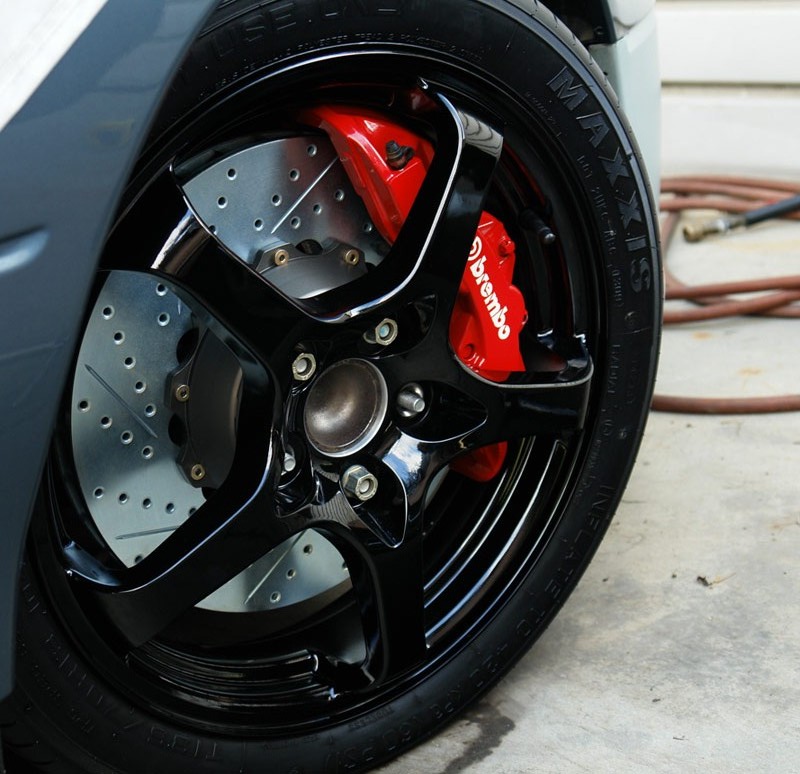 Kept thinking and realized I will need a jack and found this kit for the GTO.
Includes jack, wrench, and collapsible wheel chocks. Found one on ebay for $32 shipped.
Now, just have to make a perch under the car to accept the scissor jack. I want to update the trunk and build in the spare and the jack kit.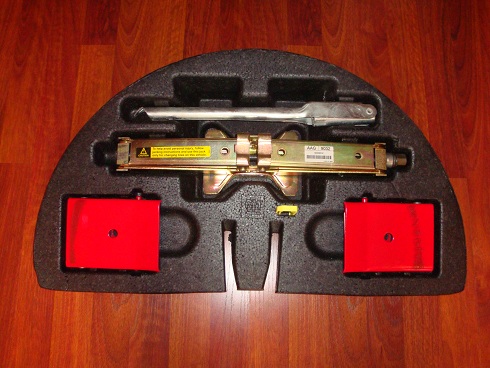 8-26-2012
The jack kit fit perfect in the trunk. Once I build it in and cover, it should look factory.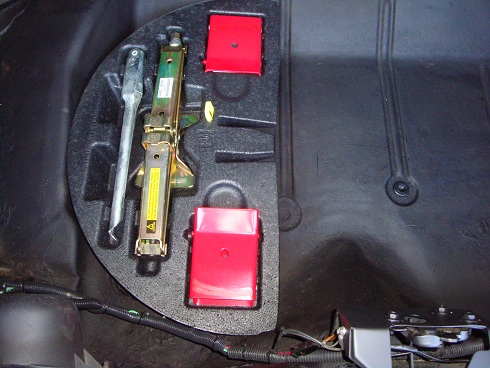 9-1-2012
Power Washer. Best $300 I ever spent. I love clean parts to work with.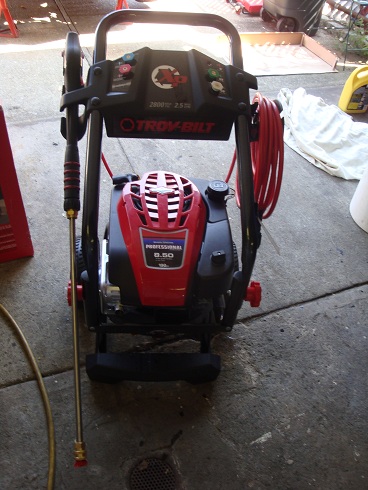 9-3-2012
The suspension & brake upgrade has offically begun!
Got the rear suspension & the old brake lines out and the new Hotchkis leafs in.
Talk about beefy hardware, I call this picture "Stock U-bolts & BIG ASS U-BOLTS"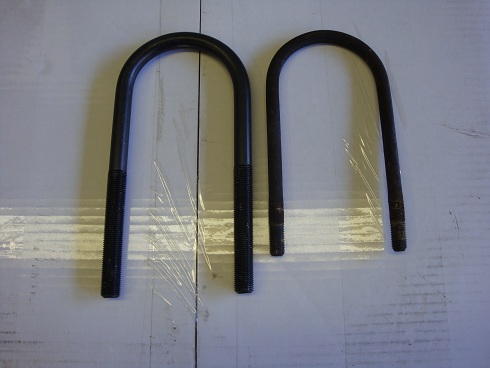 The original suspension comes with only 1 u-bolt per side. And of course they put the brake line clips right inline with where the 2nd set of u-bolts go. A quick run with the grinder and no more clips.
A coat of por-15 plus a coat of bed liner keeps the rear right inline with the rest of the car.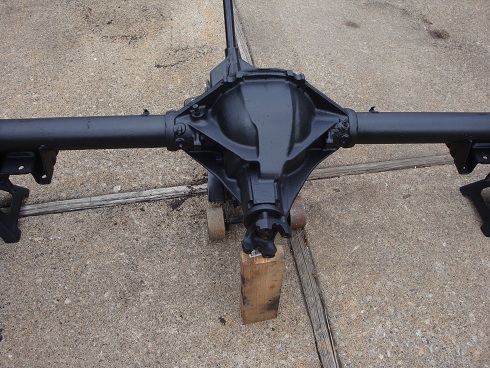 I even sprayed the leafs and all the brackets after a coat of POR.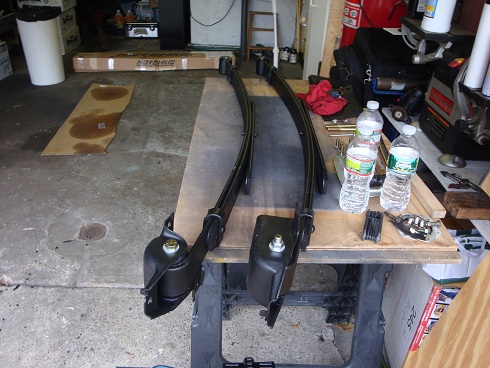 Now to pull out the axles and have the flanges turned down to fit the Kore-3 brakes.
Hopefully more to come tomorrow.
9-7-2012
Well, I got the 18" Cadillac spare tire kit in.
The wheel is awesome!!!!!
Although, I do like that the GTO jack kit comes with 2 tire chocks.
I am going to try and incorporate them into the Cadillac spare kit.
I just need to mount the tire and order the adapter and I will have an awesome 18" spare.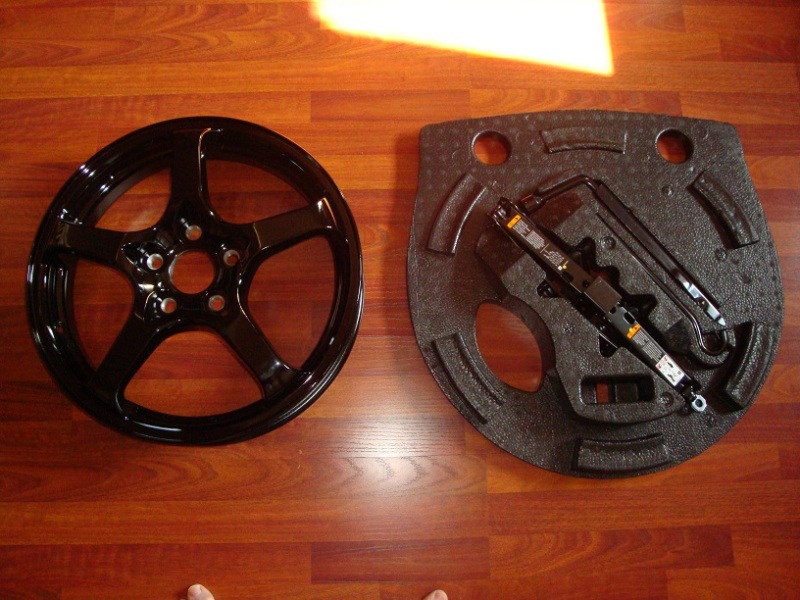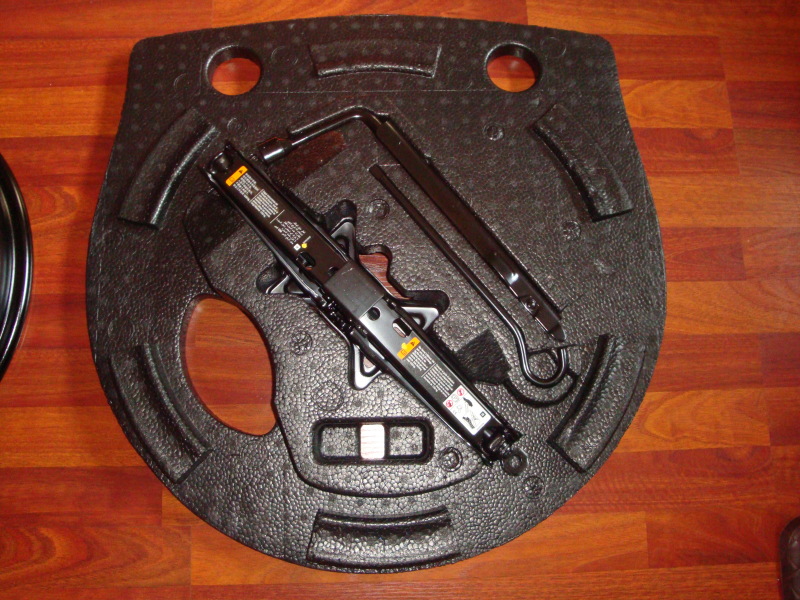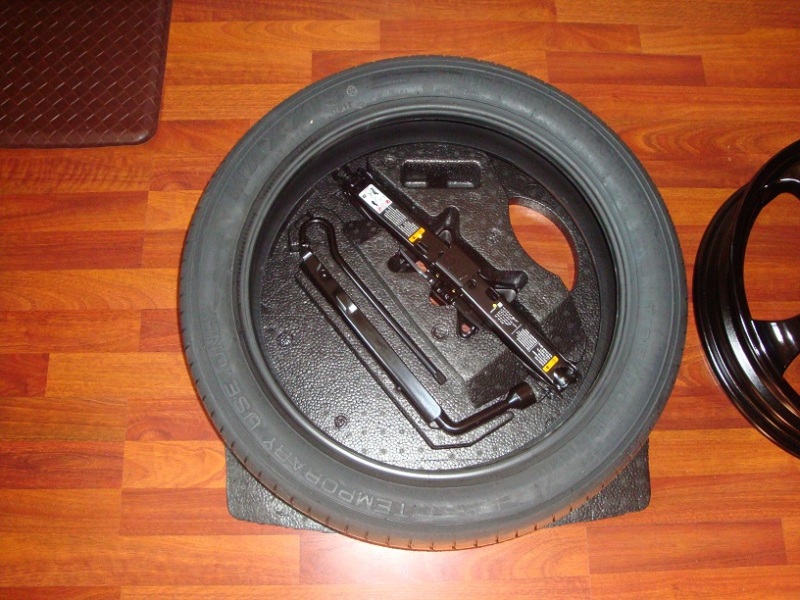 9-8-2012
The info I have collected from the web is that this wheel should be a 5 x 4.53 bolt pattern.
Turns out it is 5 x 4.75 bolt pattern which makes it lug centric on the Kore-3 hubs, but not hub centric.
The hub opening needs to be machined out to fit.
I think I will see if a local machine shop can make it hub centric too. This way, no spacer or adapter.
9-9-2012
Had to do something about the Bilstein shock color.
Just didn't go with the rest of the car.
Now if I could just find some black Bilstein decals, it would complete it.

Before -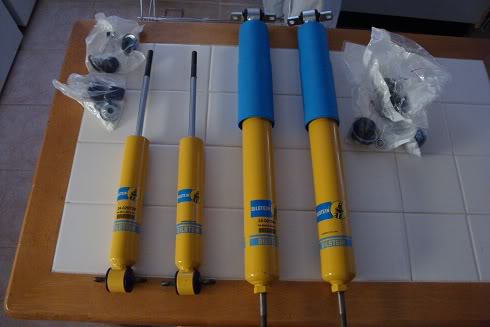 After -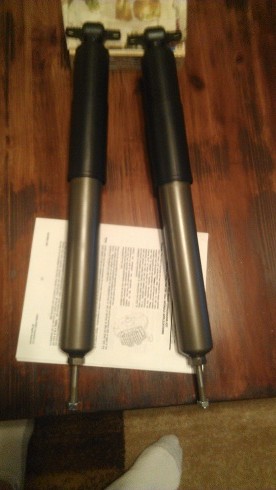 9-10-2012
Pulled the axles out to start mocking up the Kore-3 brakes today. The stock axles flanges have to machined down to fit the rotors.
The axles looked a little worn so a quick call to Moser and they are making axles to fit my application including the screw in ARP 1/2 studs.
Also ordered a new set of bearings while I'm at it. They said I will have it by friday, so hopefully the back will be done this weekend.


9-11-2012
I had read the Kore 3 directions twice and just read them a third time and just realized that I forgot to order one little but very important part.
The parking brake clevis to attach the Lokar parking brake cable to the Kore-3 actuator. Quick call and the part is on the way.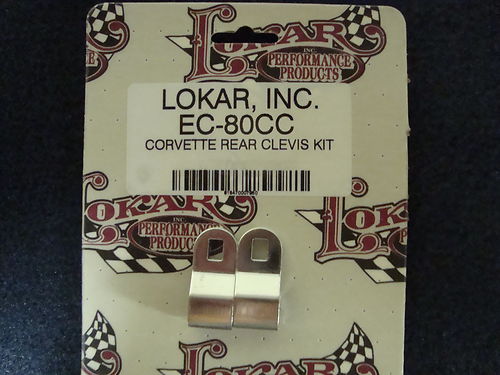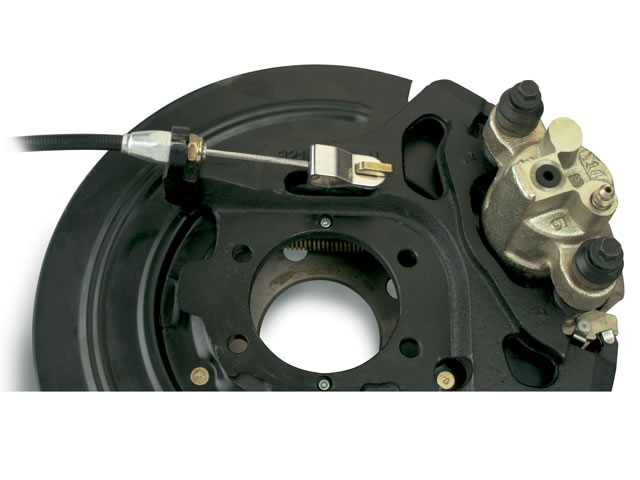 9-12-2012
I used the same paint (cast coat iron) that I used under the hood.
It's high temp and very durable. The black part, I tried (without success) several differant kinds of paint. Including paint for plactic and rubber. Each time it peeled off or bubbled as soon as I squeezed the boot.
I finally used the same bedliner that I have used on the underneath of the body and all the suspension parts. It gives it a low gloss look and a slight krinkle finish. Hard to see in the pictures but it really looks great. Time will tell.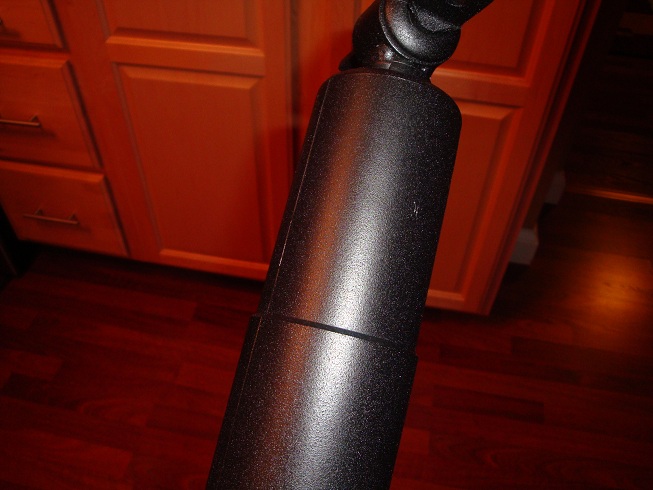 9-13-2012
Getting ready to install my Moser axles and Kore-3 brakes this weekend.
Laying everything out to help me get started. I'm waiting for the axles which should come friday.
Then I can get started.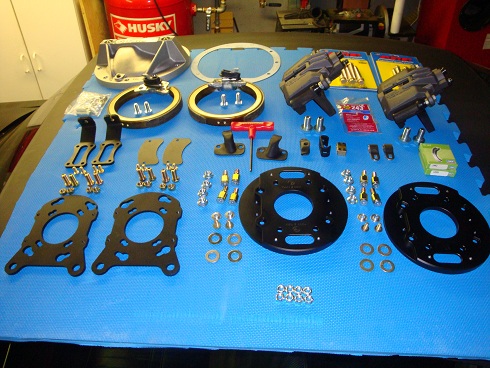 I really like Kore-3's flex brake lines. They are steel braided but have a plastic shield over them to keep them clean and protected.
Nice touch.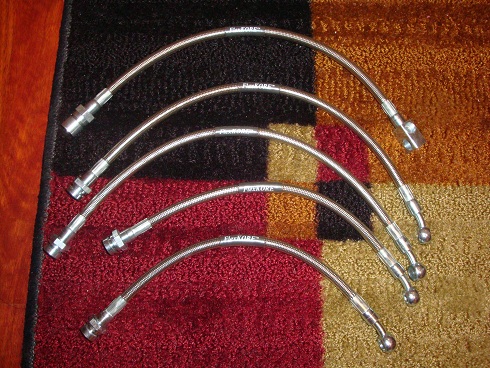 9-16-2012
Axles didn't come so I kept myself busy with the brake pedal and mocking up the booster & master cylinder.
I didn't like all the extra play in the brake pedal(side to side) plus I had to adapt the clevis to the pedal. I drilled out the hole and put a sleeve in so the pin would fit perfect. Plus I installed new bushings.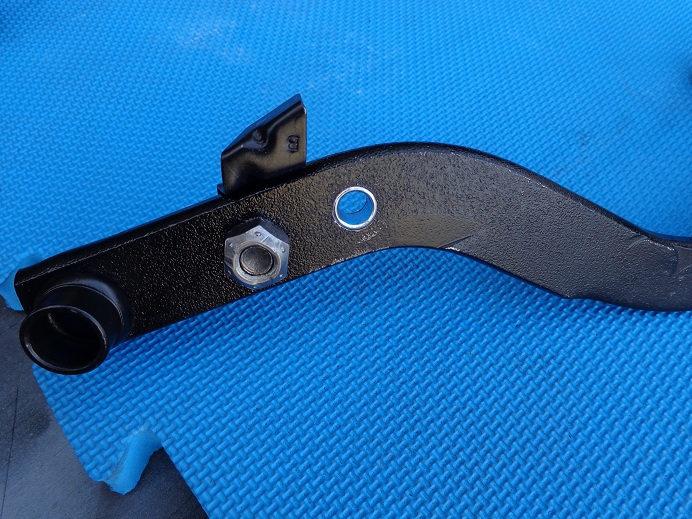 Got the the m/c, booster, & Wilwood proportioning valve mocked up.
Got a nice stainless steel bracket from Tobin over at Kore-3 to keep the prop valve nice and compact.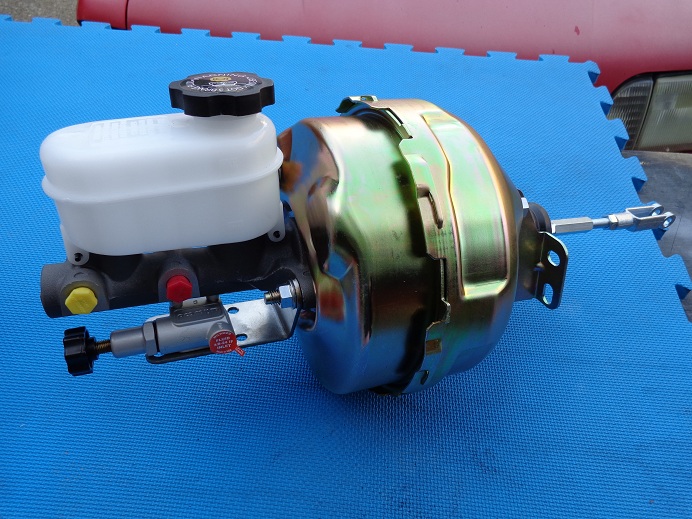 Even had time to go to a local car show and talk with a couple of other Nasty Z28 members. Didn't know there where so many so close to me.
9-19-2012
Well, out with the old and in with the new. Axles that is.
Moser really set up the axles for my specific application. Flange being machined to Kore-3's specs and the bolts holes being set up for 1/2-20 screw in ARP studs.
Got them in and I'm ready to go.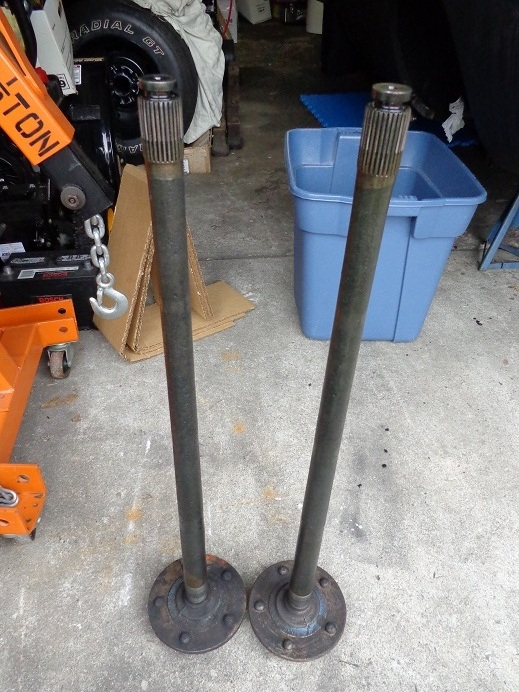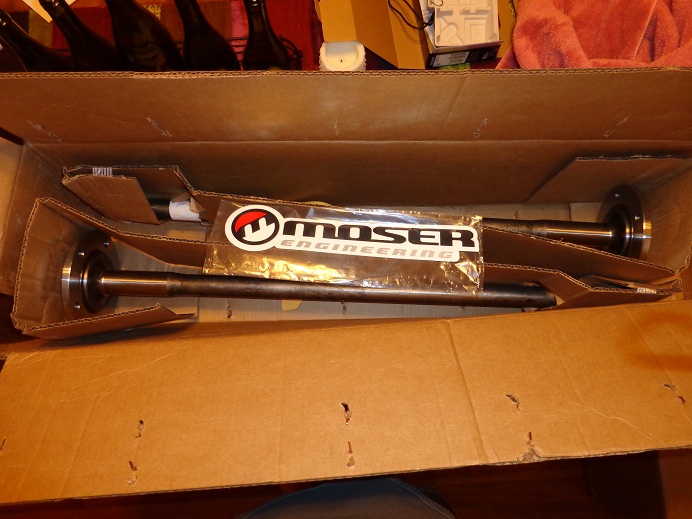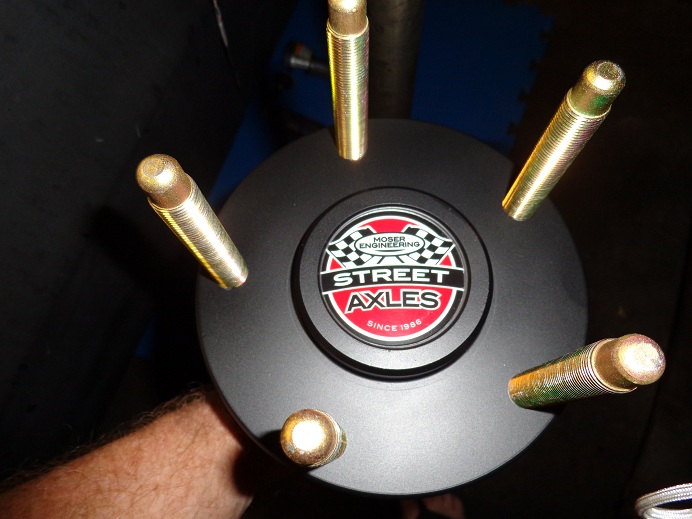 I got out to the garage for a little while today.
New bearings & seals.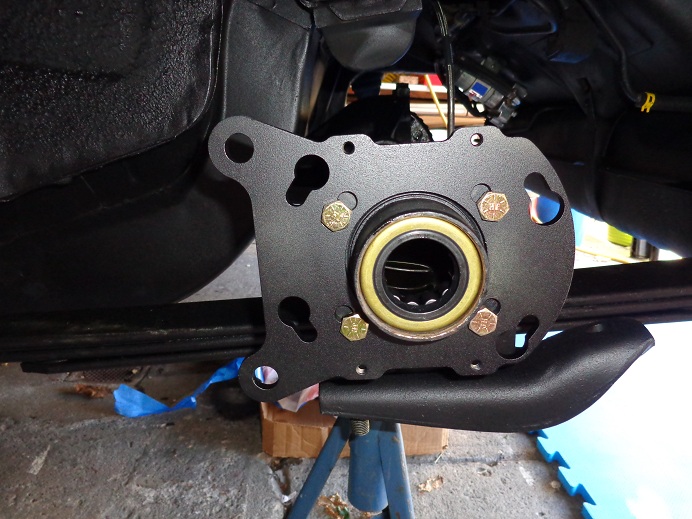 The Moser axles & dif cover went it. Really nice pieces.
Plus the Kore-3 parking brakes. Love their directions, very detailed.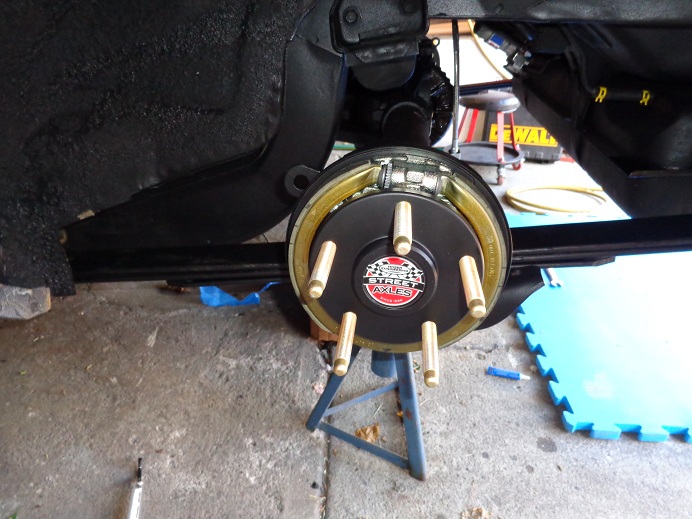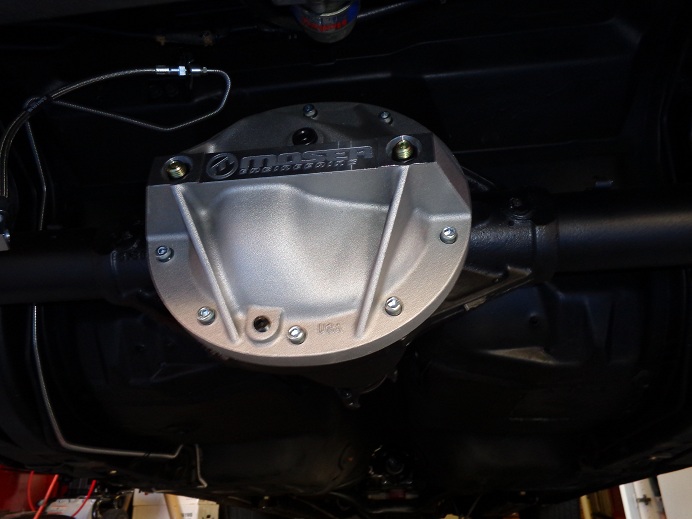 9-20-2012
You got that right.
Got the back brakes almost done. Just have to shorten the new brake lines to mate up with the Kore-3 Flex lines and hook up the lokar parking brake cables.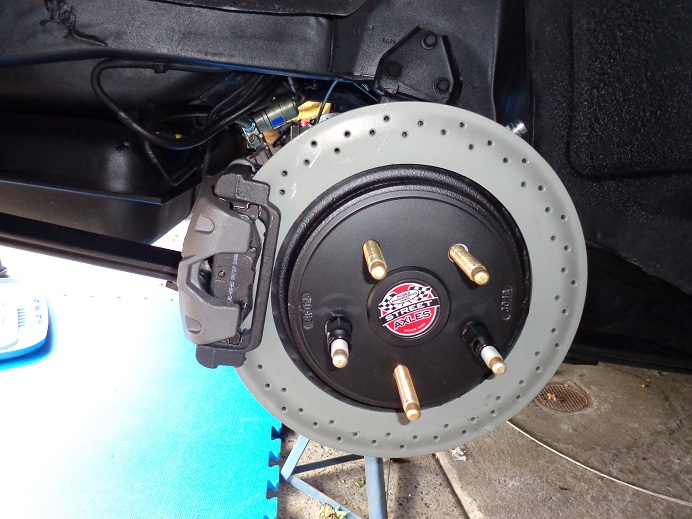 New wheels & tires to go around the brakes.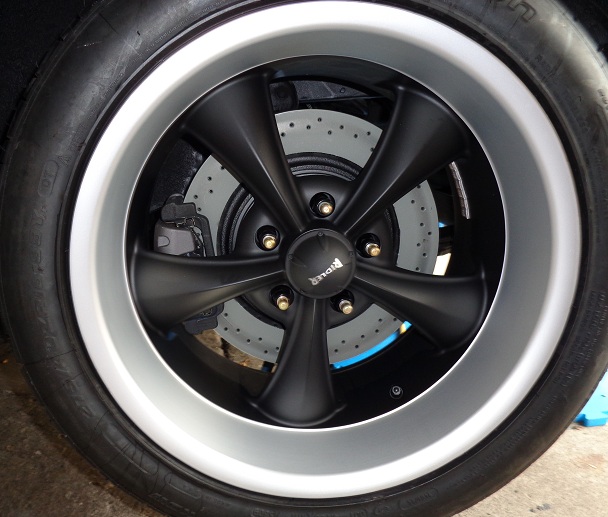 9-22-2012
Drilled holes in the frame for the sway bar brackets and got everything installed.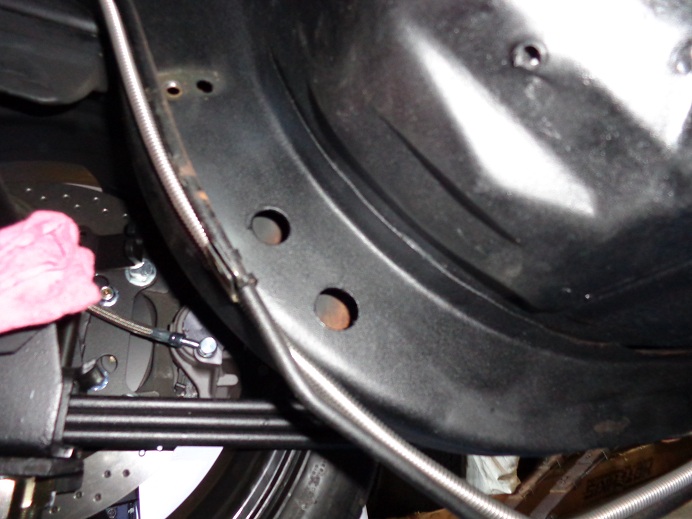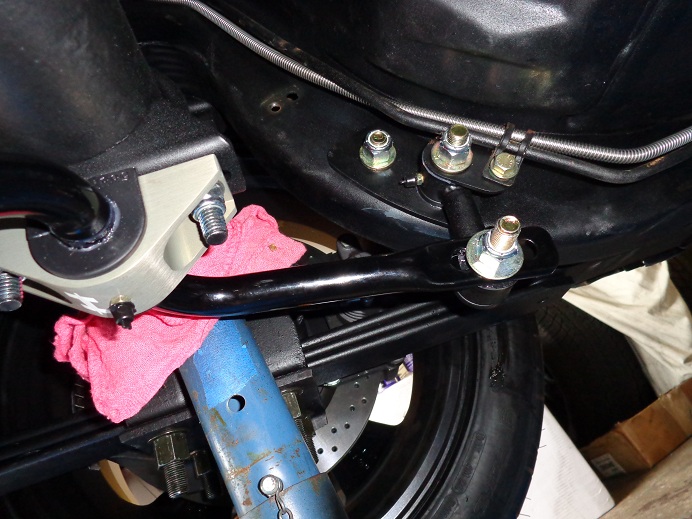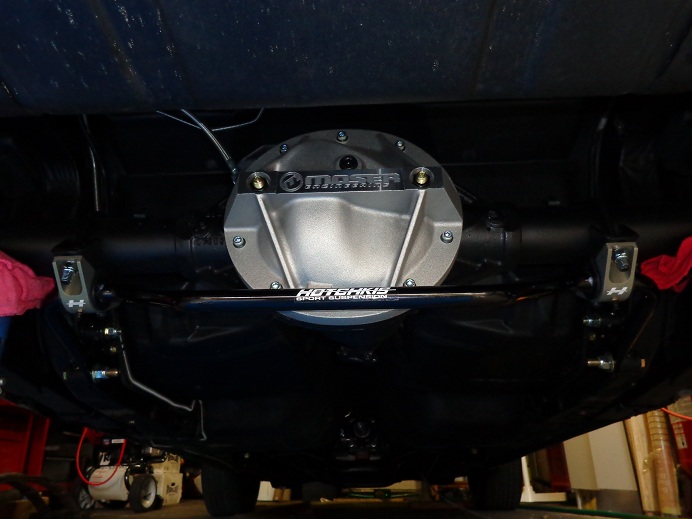 9-26-2012
Spent some time today cutting and trying to reflare the rear brake lines to connect up to the Kore-3 braided lines.
I have a flaring tool, you know, the hand cranking kind. First time I tried to do stainless steel lines. WOW!!!! they came out bad.
Took a drive down the road to Lou's automotive. He has a hydraulic flaring tool. SOOOOO much better and faster. Can't see spending $500 on one though.
Lou has a 67, 68, 69 camaro, 68 Camaro race car, 65 chevelle racecar and a 68 442 that he bought new when he worked at the Olds dealership back in 68.
Nice guy to have right down the road from my house.
Fedex guy just left a present for me. Didn't knock, ring the bell or anything. I just went outside and here was my present.
My new exhaust.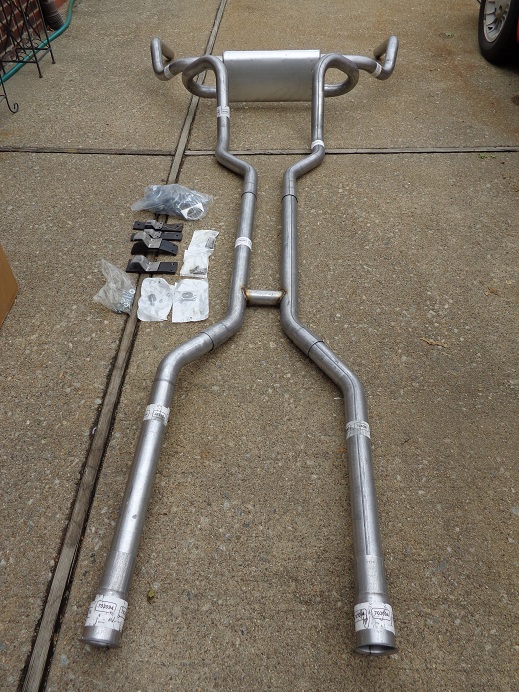 The kit is from EZwire. The guage cluster was put together by me and I used a stock connector so the whole guage panel can just be unplugged and taken out if needed.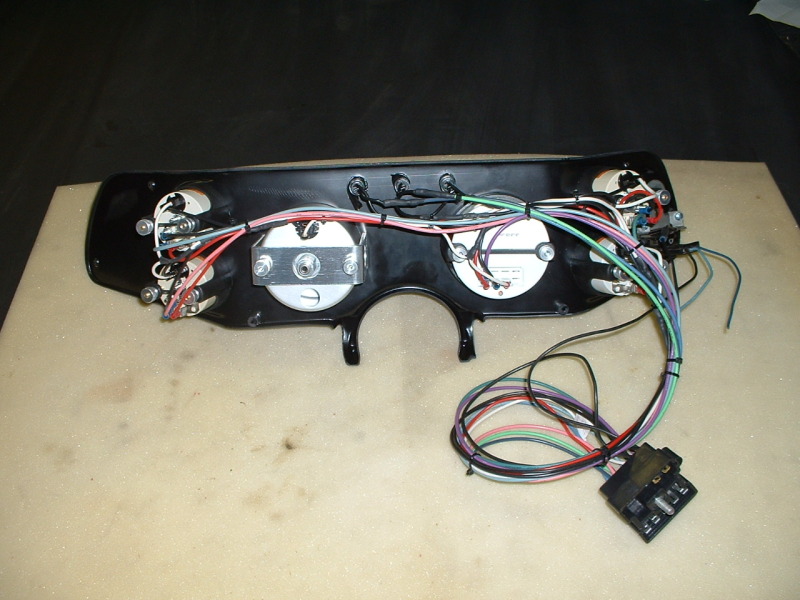 9-27-2012
Ok, I'm want my exhaust to be black without spending a fortune getting it coated. I found this stuff that they use on professional high temp stoves and cookers like this one.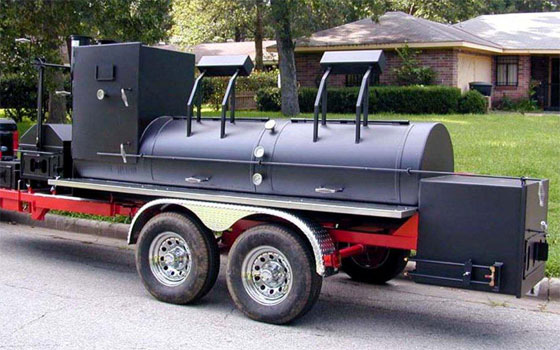 Both the primer and the paint protect up until 1200 degrees.
I figure if my exhaust is going that high, the paint coming off is the least of my problems. It is also suppose to be scratch resistant.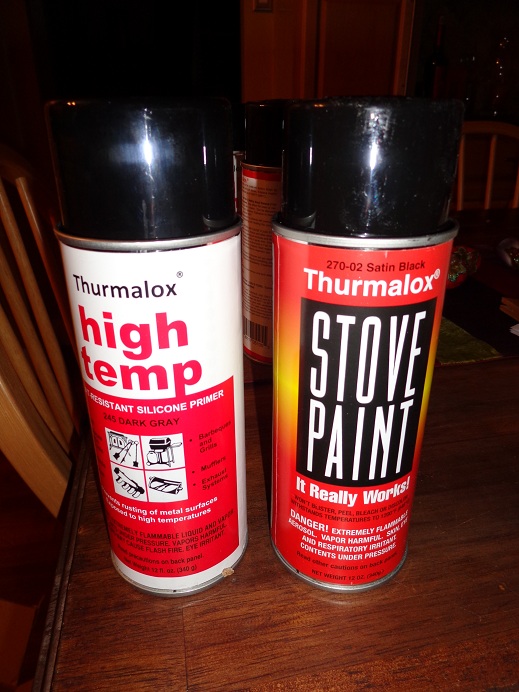 Worth a try, I will gladly let my exhaust be the guinea pig for this stuff.
9-29-2012
Today I started the front brake and suspension upgrade.
Here is what I am starting with. Completely stock, good system from 1970. Just falls a little short by today's performance standards.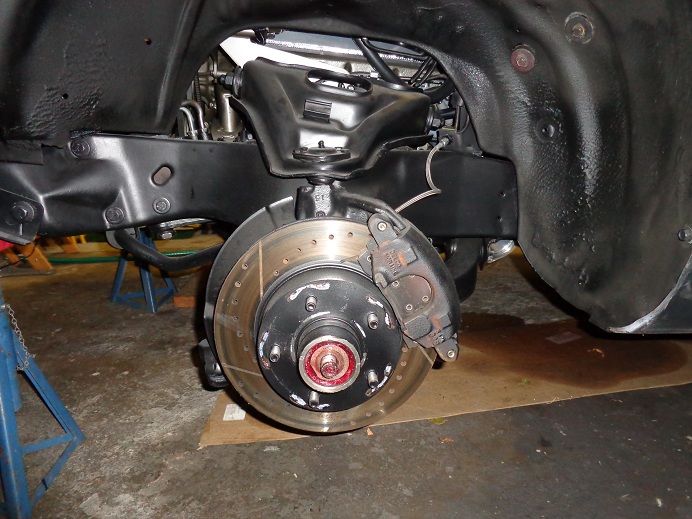 Standard for 1970 & standard for 2012. I love this picture.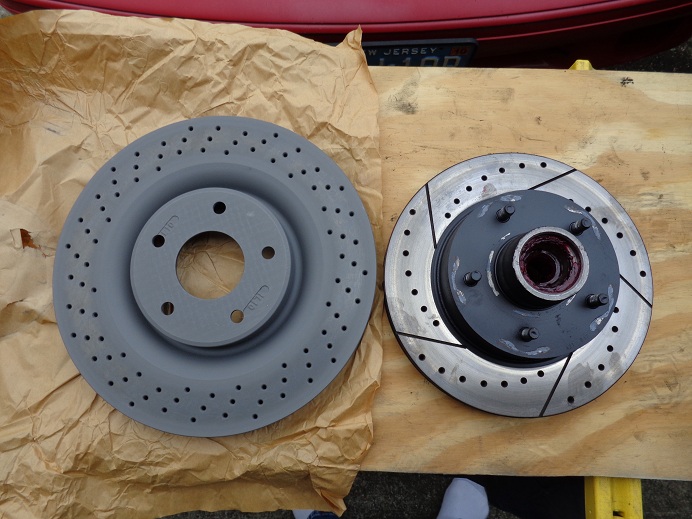 Hope to have everything upgraded by sunday night.
9-30-2012
Well, didn't get as much done as I had hoped today. Got all the old suspension out.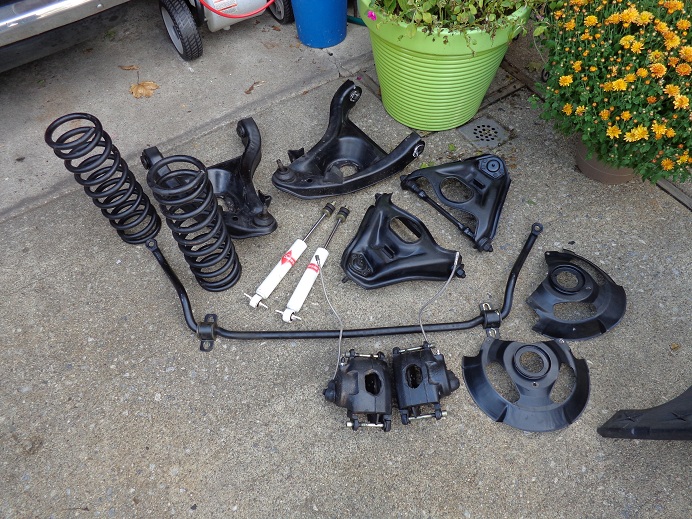 Started to cut the extra material off the old spindles to accept the Kore-3 brakes.
A little more cutting to do and then lots of grinding to make it look good.
Also drilled and tapped the old dust shield holes for the new caliper bracket.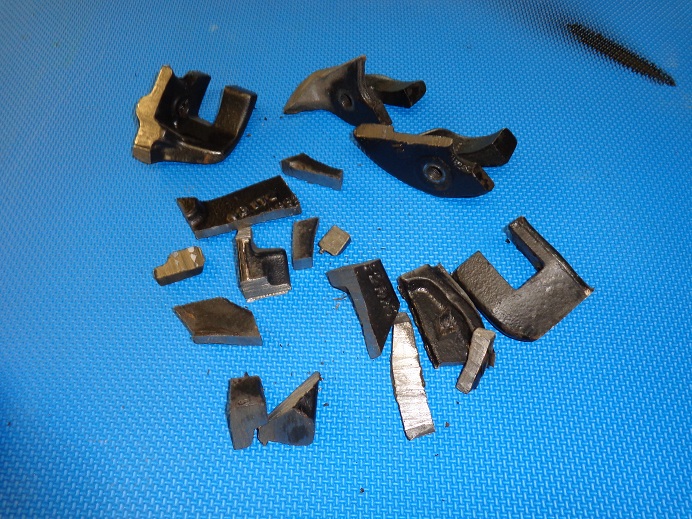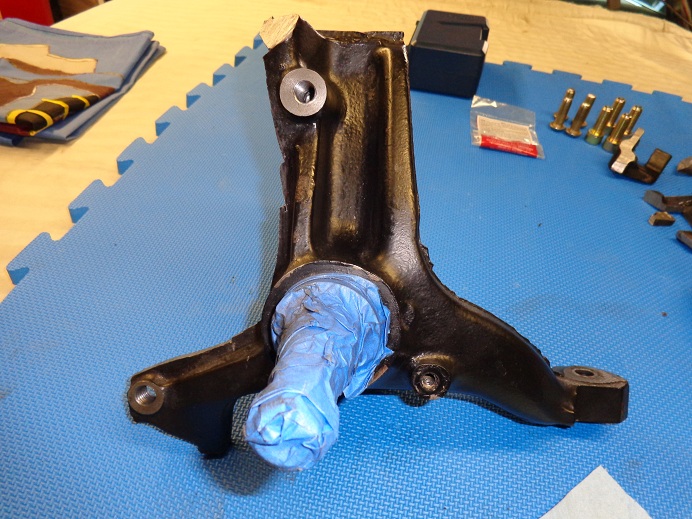 10-1-2012
Thanks John, picked up a flap disc this morning.
It made quick work of all the sharp edges.
I had stripped the old suspension and repainted everything so I could drive it for a couple of weeks to really get a true before and after feel of the car.
So this is the second time I have taken this suspension apart. Didn't even get my hands dirty this time.
Got the spindles cleaned up and painted today. Assembly should start tomorrow.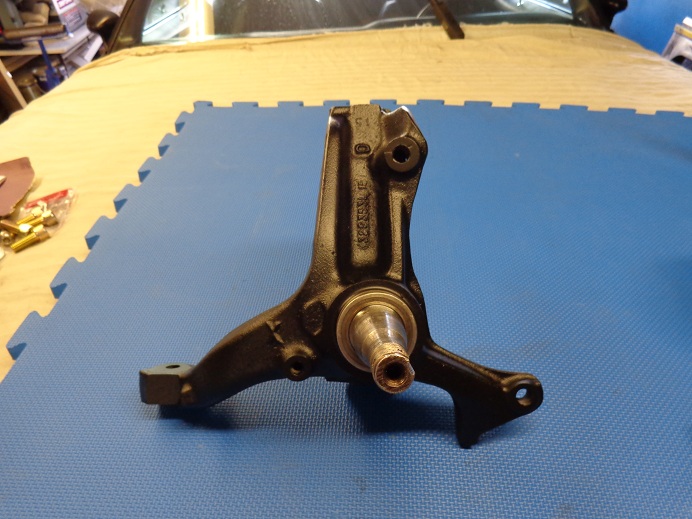 10-2-2012
Started early today. Got the upper & lower control arms, springs, tie rods sleeves, and the front sway bar in.
Here's a few comparison shots of 1970's versus 2012 technology.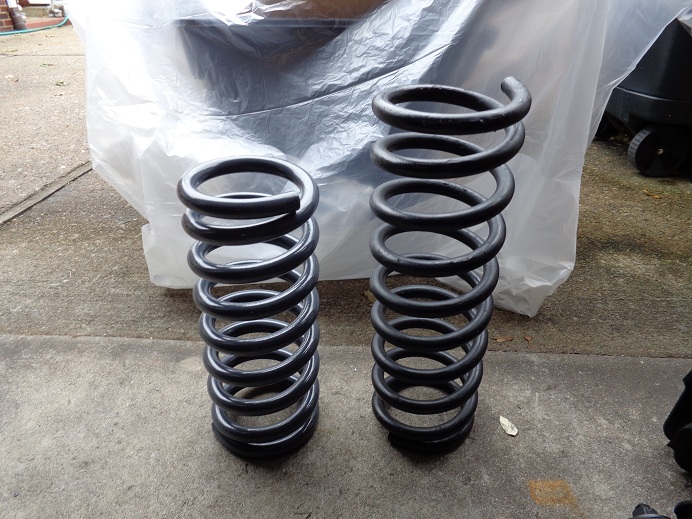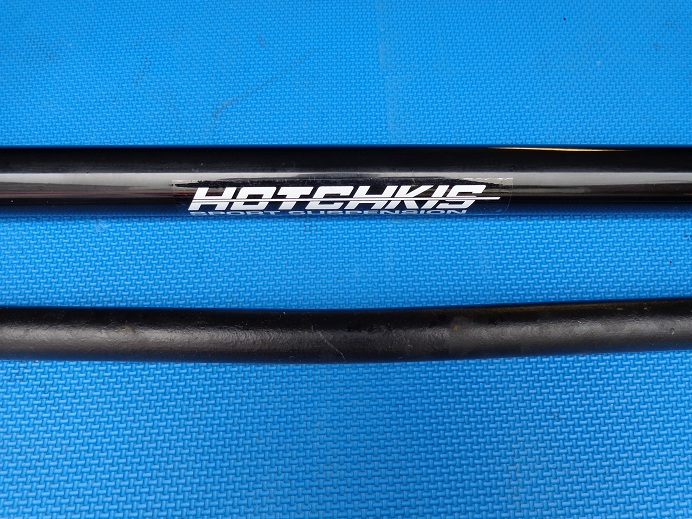 Kore-3 hubs, really nice pieces.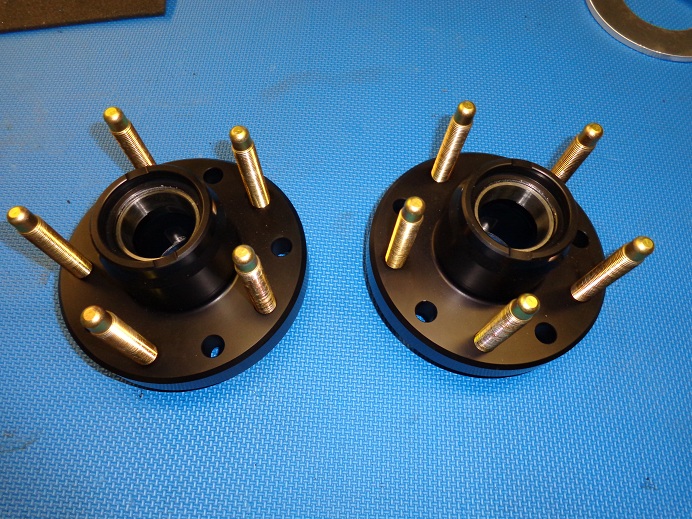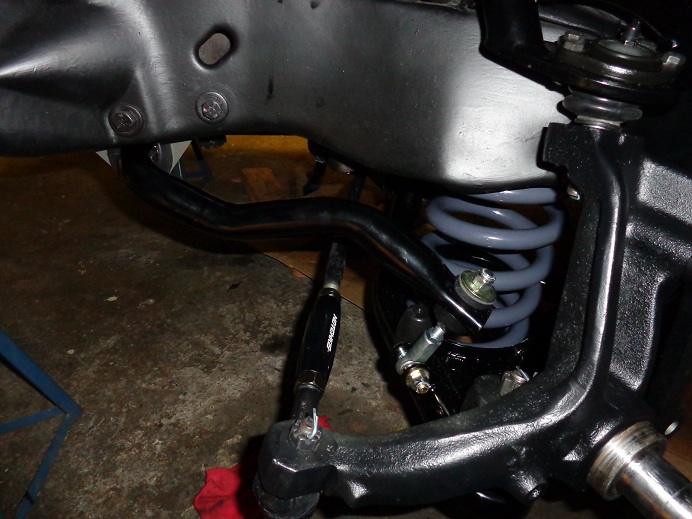 10-3-2012
Wife went to bed early tonight, so out to the garage I went.
Got the bearings packed, I don't know, I still like to do it by hand. Call me old fashion, I can't bring myself to buy a packer.
Got the hubs & the rotors on. Hopefully tomorrow the new front brake lines and the calipers.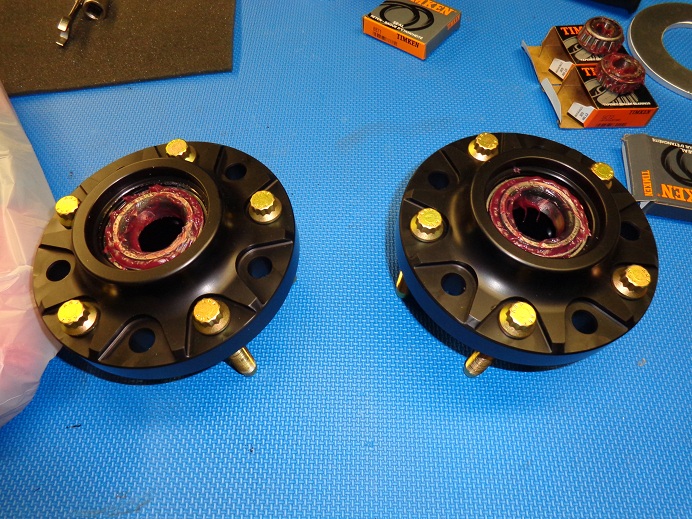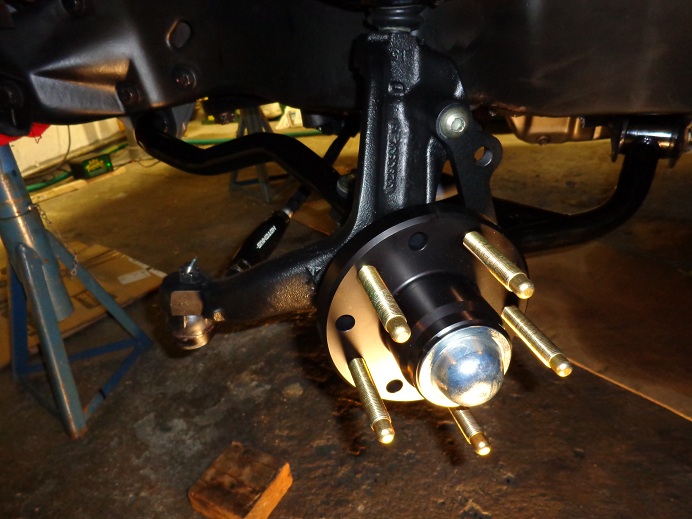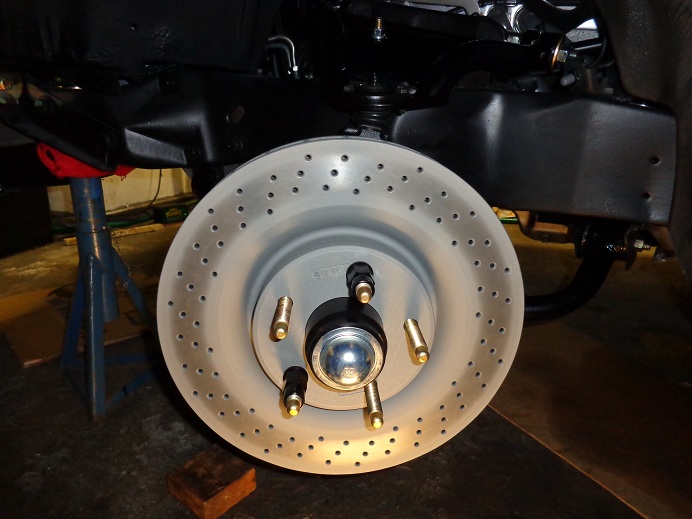 Put the new brake lines in today. Got the calipers on.
Checked the clearence on the wheels, WOW are they close.
Like 1/16"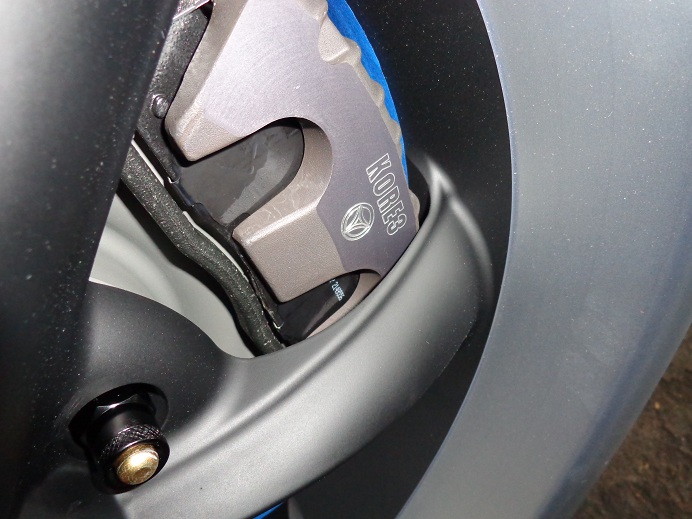 Not crazy about having such a small gap between the rotor and the wheel.
Talked to Tobin over at Kore-3 and decided to order a couple of 1/8 spacers.
Better safe then sorry.
10-5-2012
Got the spacers in today. They are just a little to big for my wheels.
Quick trip to the machine shop to turn them down and you won't be able to see them behind the wheels.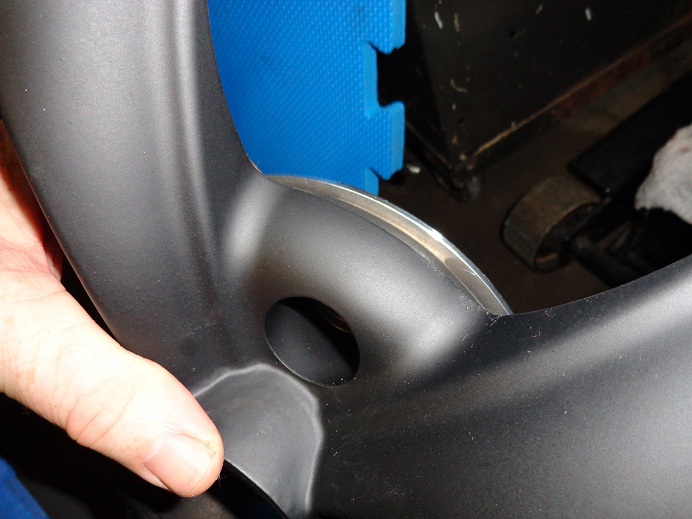 10-6-2012
I got my driveshaft back today. It's been in the garage for a couple of years so I figured I should get it hot tanked and rebalanced.
Looks brand new.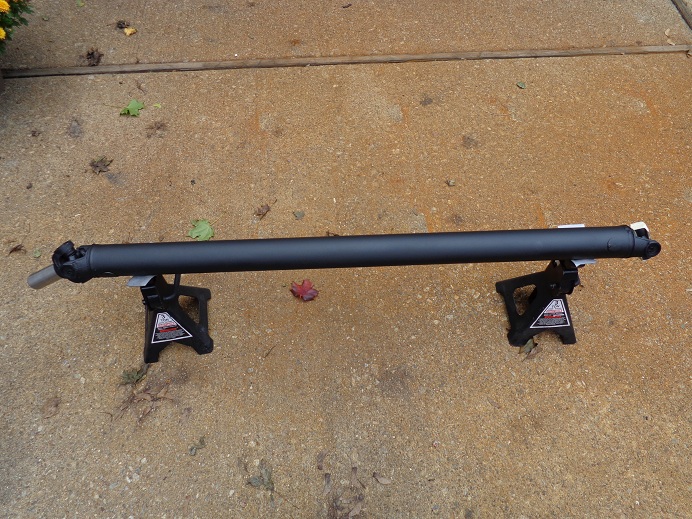 10-7-2012
Had my first pro-touring mechanical moment today.
Got the brakes finished up and the wheels on, jacked up the front, took out the jack stands,
lowered the car down, went to pull the floor jack out and nothing, the jack was stuck under the car.
The car is now low enough that the jack won't go under the front subframe.
VERY COOOL!!!!! Should handle great!!!!!
Guess it's time for a low profile floor jack.
10-11-2012
All right, I know I said I would not spent the money to get a hydaulic flaring tool.
But after seeing how good it works, I couldn't resist. I'm weak, I can't help it.
Got it in today and did my first flare in less time then it took me to set uppack it and it was perfect.
I will never go back.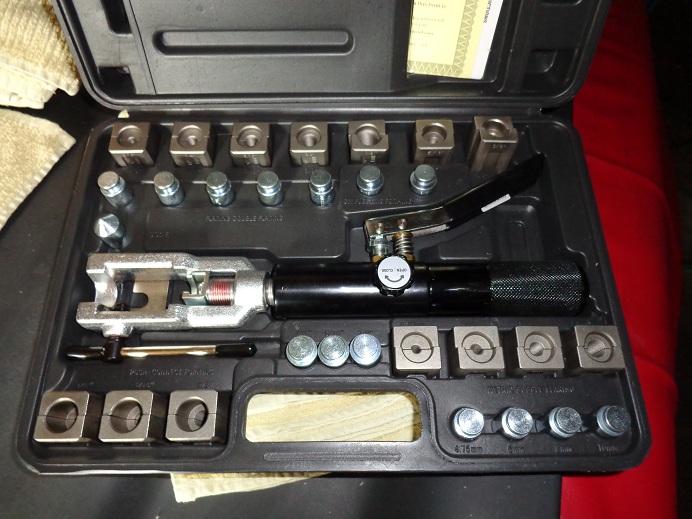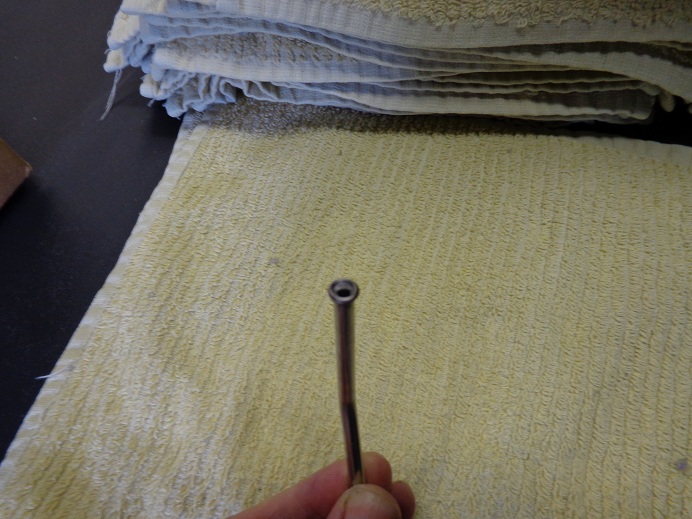 10-19-2012
Starting to do homework for my next big upgrade for the Camaro. It's probably a couple of years off but you never know.
Just want to be knowledgable for when the time comes.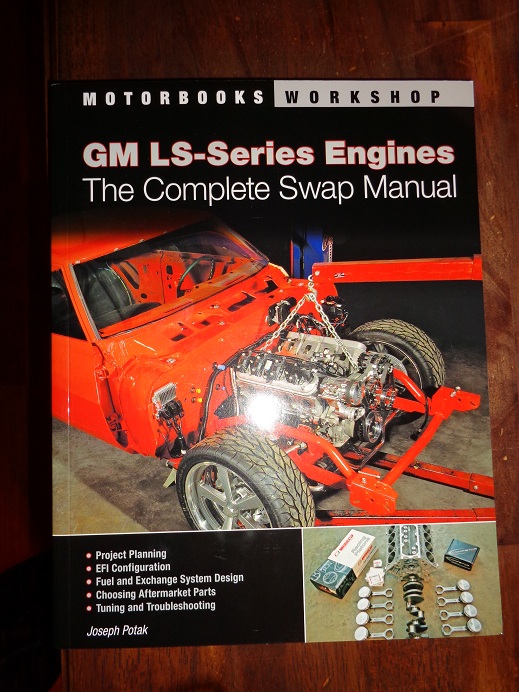 11-11-2012
Placed it in the swap meet section also.
Just trying to get an idea of an asking price.
Don't want to part it out, just sell it whole.
Any thoughts?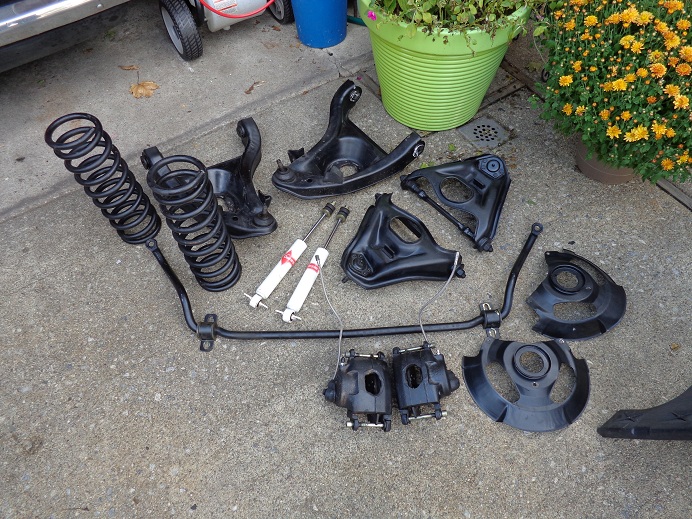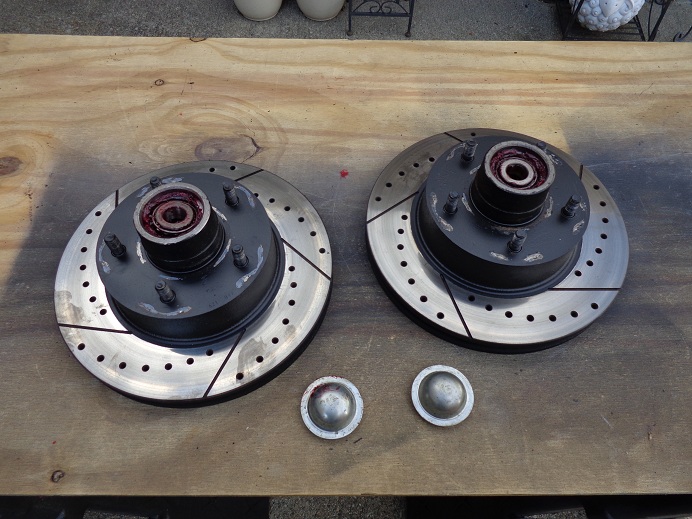 11-28-2012
Been awhile since I've posted or been able to get to the garage.
Got the m/c bench bleed and the front lines bent and flared.
Bought stainless steel straight tubing, spring wrap, and s/s nuts from Inline Tubing and made the lines for the m/c and prop valve.
Now I just have to bleed the brakes and I'm done.
Then on to the exhaust.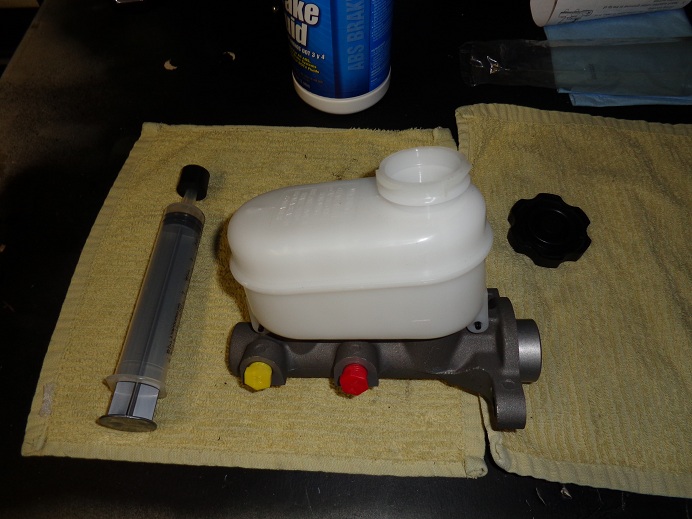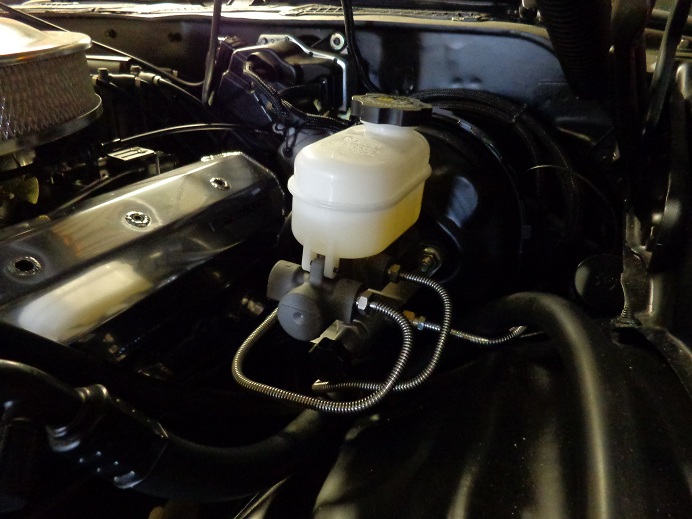 12-30-2012
Looking to replace the stock steering box with the Delphi 600 from Hotchkis.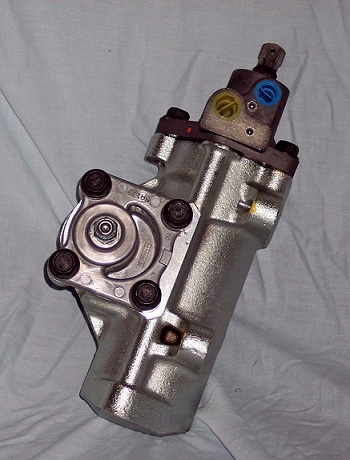 Now just have to mate a new style power steering pump to it.
Looking at this aluminum GM high flow unit right now.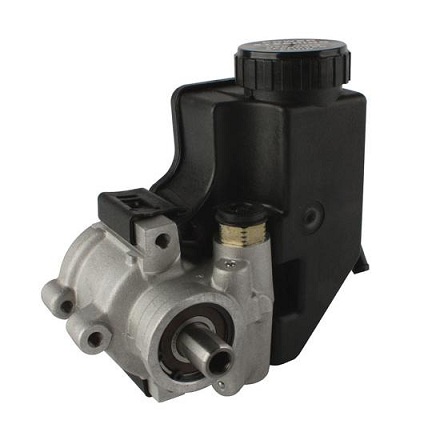 12-31-2012
Just ordered the steering box from Hotchkis.
They are having a 25% off holiday sale on everything.
Not bad, just saved $150.
2-10-2013
I Haven't been in the garage or posted in awhile, but we had a big storm out here this weekend so I was house bound for a couple of days.
So I got a chance to get out to the Camaro for a couple of hours.
Had a leak in the trans speedo cable so replaced the speedo bullit and gear.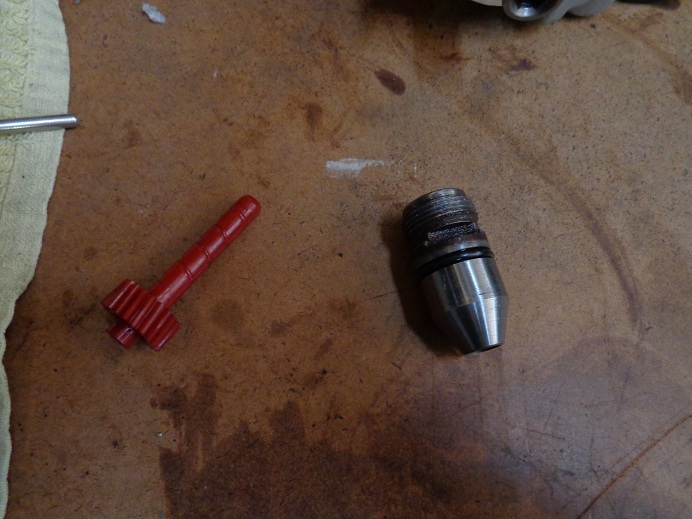 Been waiting for the Hotchkis steering box for about a month (they were on backorder from their supplier).
Should be here monday so out with the old 70's steering box & pump.
The only times I have ever used this socket is to take the nut on & off the steering box.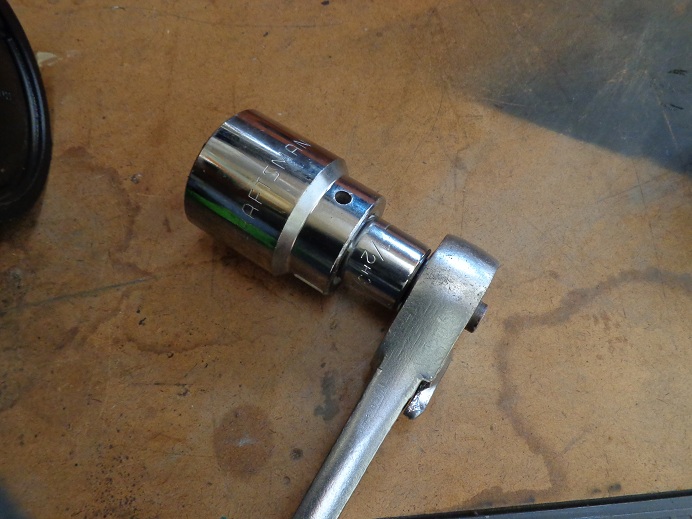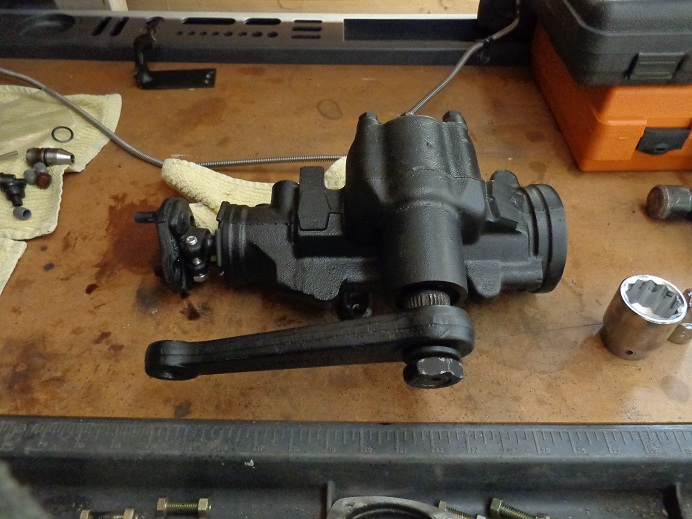 Old steering pump, New steering pump. Slight differance.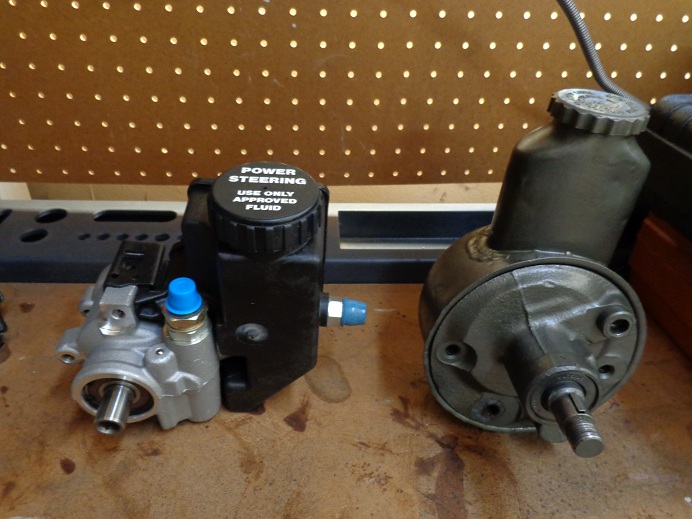 Hope to get it all mocked up this week so I can order the braided lines & brackets.
2-11-2013
Got my new Delphi 600 steering box from Hotchkis today.
Paint it then install it.
Now I have to order the pulley and the hose kit from Detroit Speed, ss bolts from ARP for the GM Pump and I'm set.
Hopefully everything will be in by this weekend and another upgrade checked off.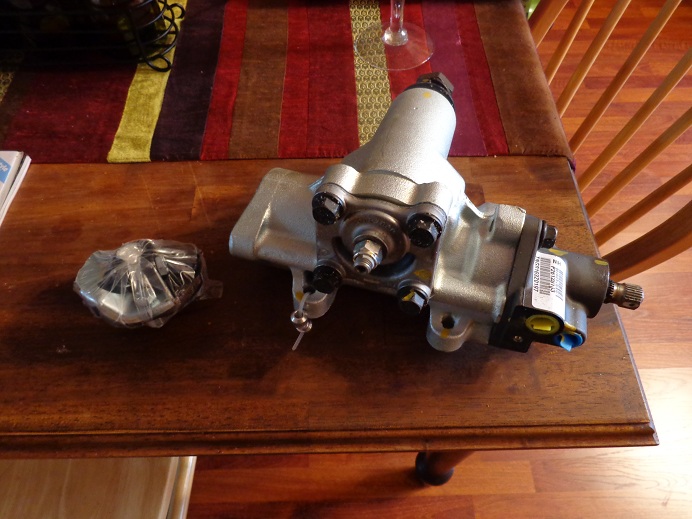 2-12-2013
Got the box & pump mocked up today and they are very close.
Not much room to plumb the lines. Should be able to redrill the mounting holes on the bracket to move the pump over almost an inch.
That should do it. Just waiting for the DSE pulley and line kit to get here so I can make sure.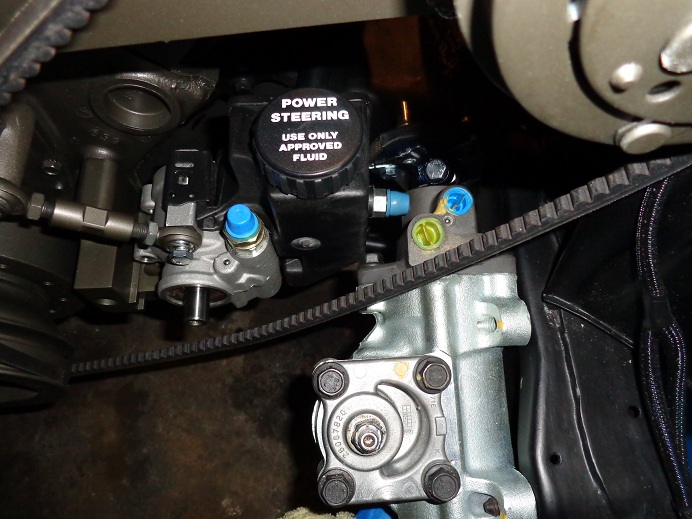 I redid all my brake lines in stainless steel several months ago.
Bought a kit from Inline Tube, very nice.
Once I started to change out the mc and put in the Kore3 brakes I had to shorten or change up the lines.
So, I bought a Mastercool Flaring kit, also a great tool.
I have had sooooooo much trouble flaring the ss. I just have not been able to get them to seal correctly.
I have redone them several times, I have loosened then tightened them several times. Nothing seems to work.
I surrender and I'm going over to the other side.
I ordered a roll of Cunifer alloy brake tubing from Fedhill.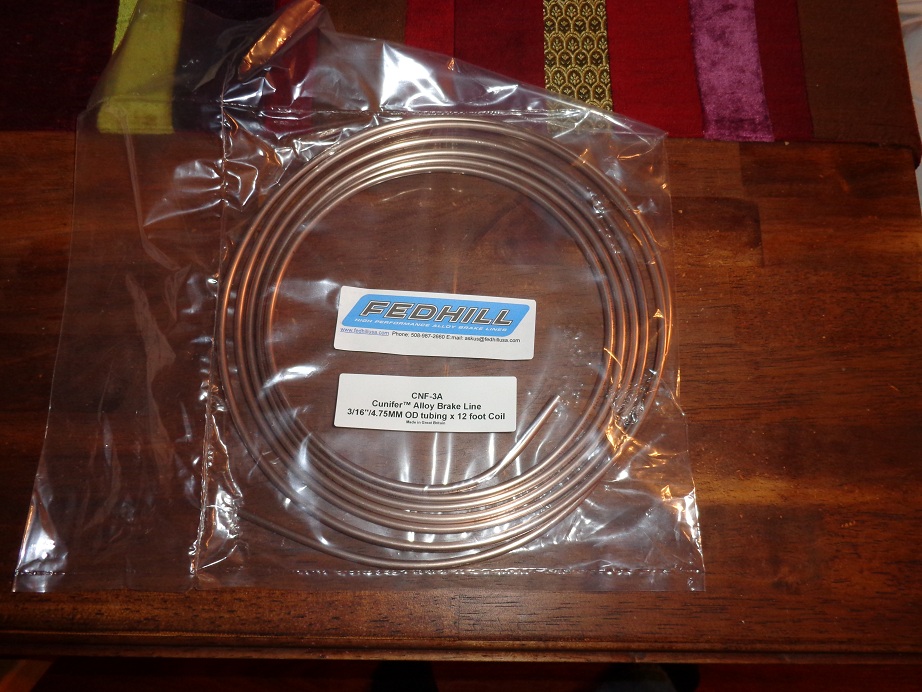 Everybody I have talked to really likes this stuff.
All of the advantages of ss and none of the disadvantages.
Now I just need a way to straighten it.
Looked online to find a tube straightener, WOW!!! Most were about $350.
Does not seem like a complicated tool.
Found a guy on a tool website who made his own for $30.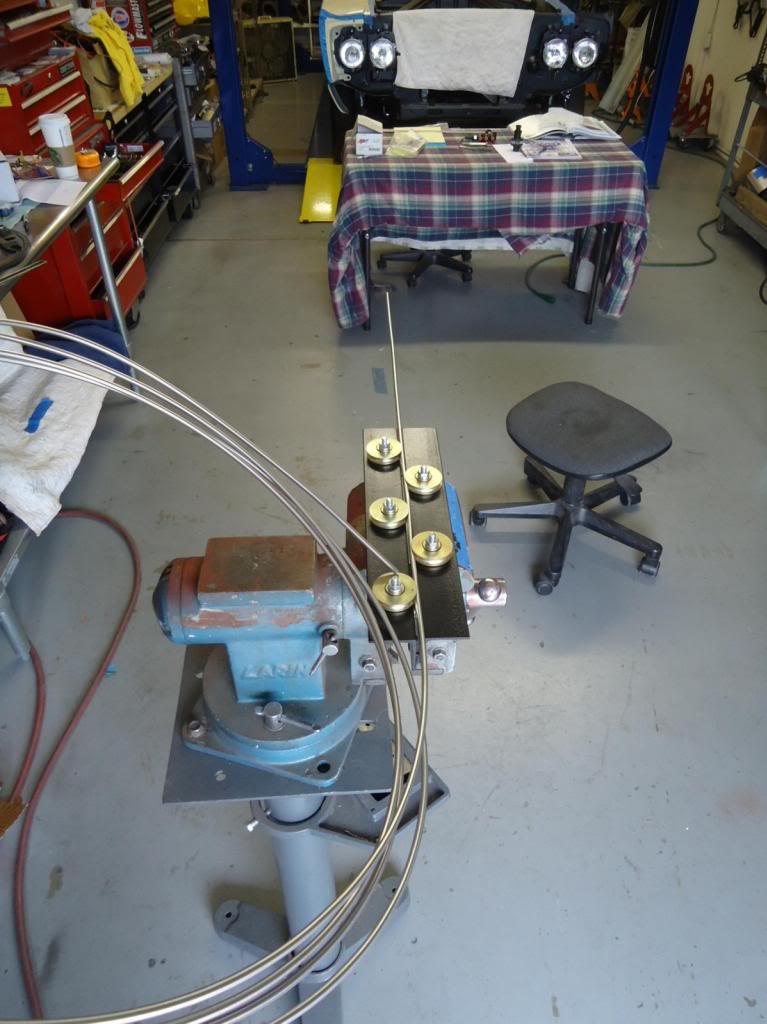 Went to Lowes today and bought all the parts I need as per his list and tommorrow I will build my tube straightener.
2-13-2013
Thanks John but that one's not mine. This one is.

Polar Bear - here is the link, it starts at post 334.
http://www.jalopyjournal.com/forum/showthread.php?t=549153&page=17

I made the tubing straightener today, came out pretty good.
On the softer Cunifer tubing the spacing of the rollers were a bit too much.
So, I made a 2nd one with the rollers closer together. I now have very straight tubing.
The one with the bigger spacing might be better for ss, which is what the guy I got this idea from was using it for.
So instead of a 2" spacing between rollers I used a 1-1/4" spacing. So now I have 2 for about $30. I also could not help myself, I had to paint it.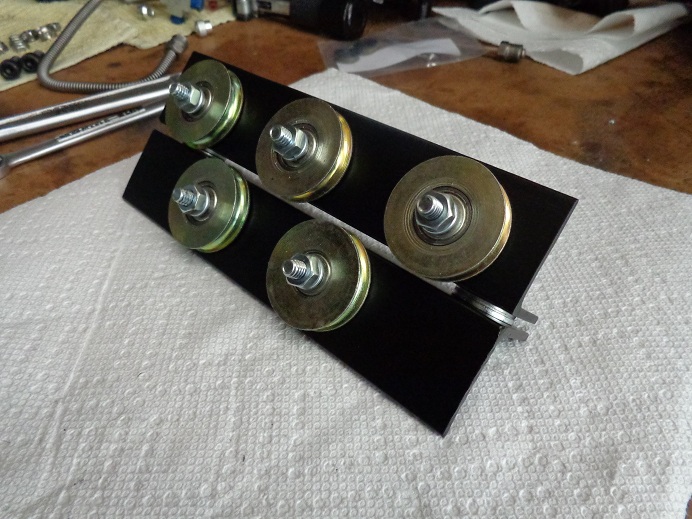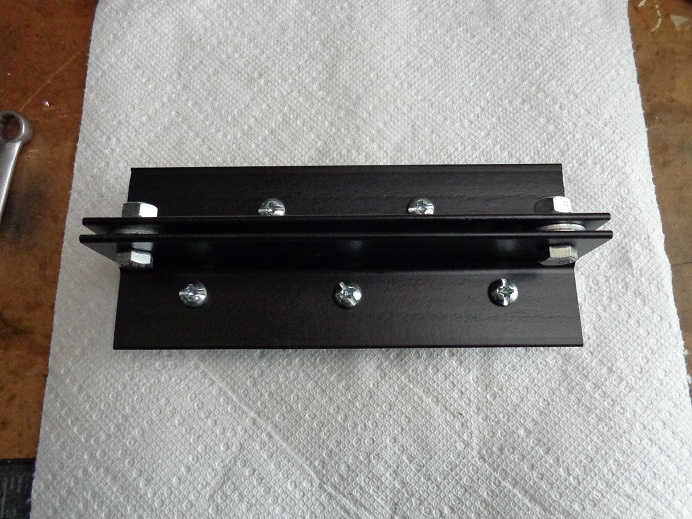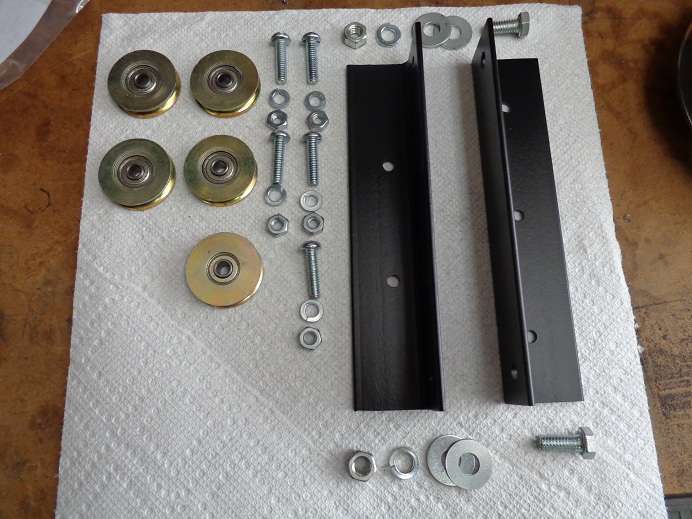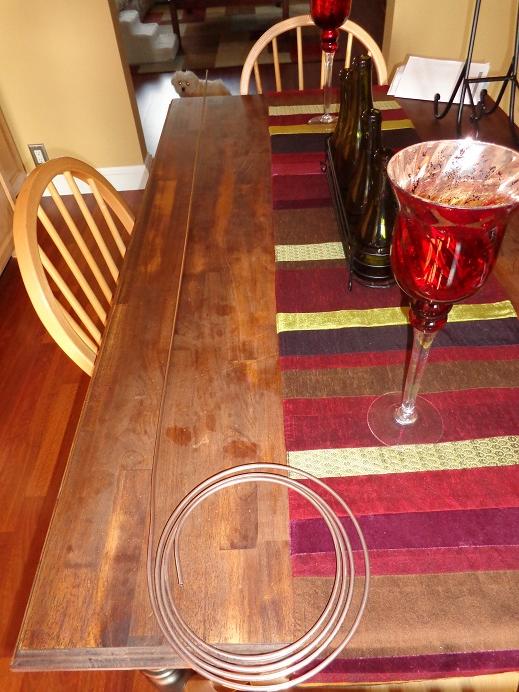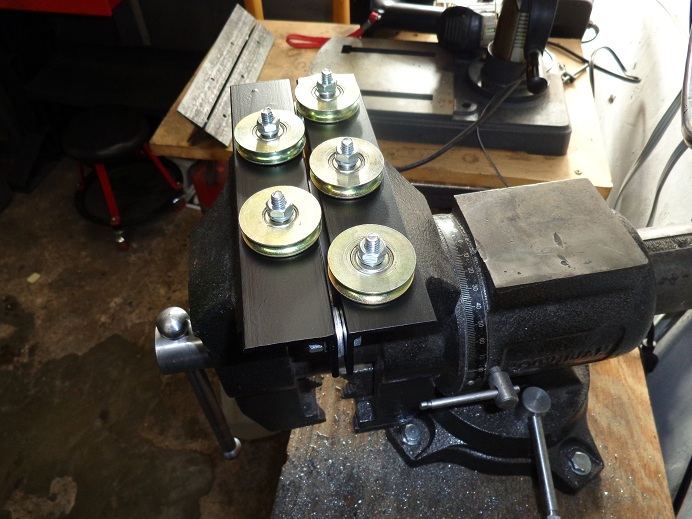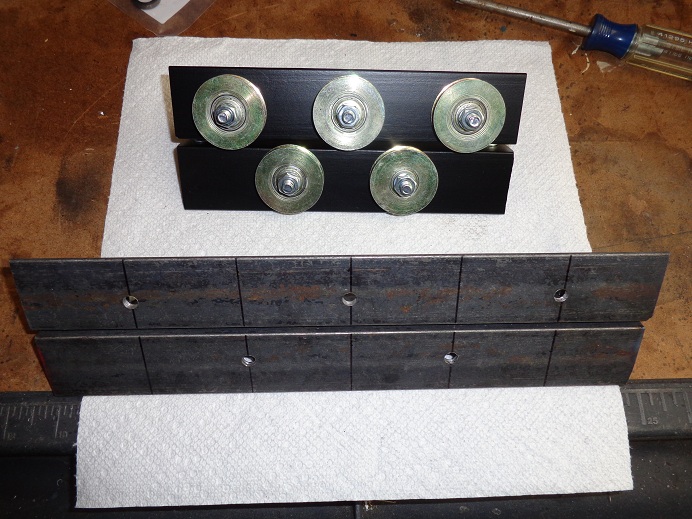 2-14-2013
Well, I flared the cunifer tubing for the first time today. WOW!!!
This stuff flares and bends sooo easy. I'm going to wrap it in stainless steel spring wrap anyway's (I love the OEM look of the spring wrap) so you won't be able to tell it's not ss.
Like Tobin said, "All of the advantages of SS without the drawbacks".
2-15-2013
I got the rest of my parts from DSE today.
Hope to have everything in by the end of the weekend.
Should have all the front brake & mc lines redone in the cunifer tubing too.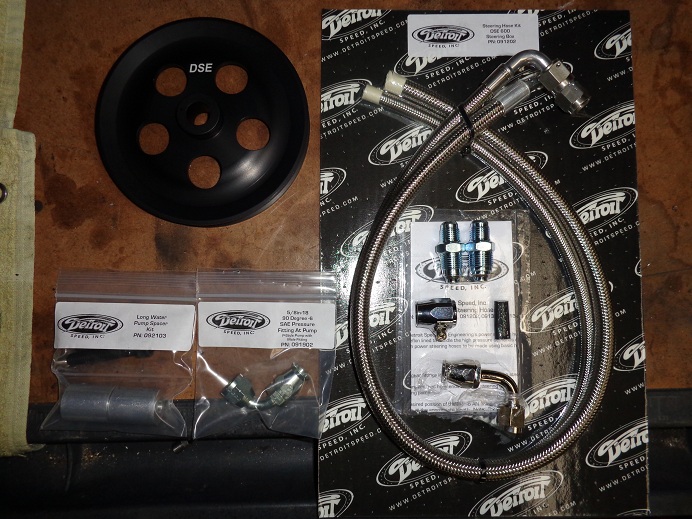 2-27-2013
Ok, I just can't take it anymore. My garage is a disaster area.
It's time for an intervention.
I'm truly out of storage, workbench space, heat, light, and room to move.
I needed to take drastic steps. It's time for a complete garage overhaul.
I sold off several old tools cabinets, 2 band saws, unneeded cars parts, and crappy shelving units.
I ordered a new GarageTrac floor(same company as Racedeck).
Ordered 2 new Craftsman stainless steel top wokbenches, one 6' and one 8'.
Four 5-drawer cabinets for the benches.
One big 36"w x 72"h cabinet. A new wall mounted shop vac.
And a new window for the garage.
I went shopping at Home Depot and picked up 10 outlet boxes, 70ft of conduit, outlets, insulation, sheetrock, and shop lights.
I still have to get the heater, TV, and a whole bunch of other needed items.
Here is a picture of my garage now. See what I mean!!!!!!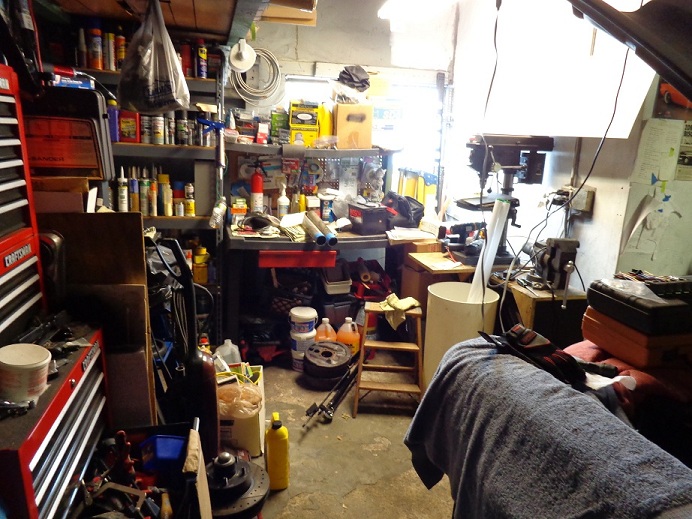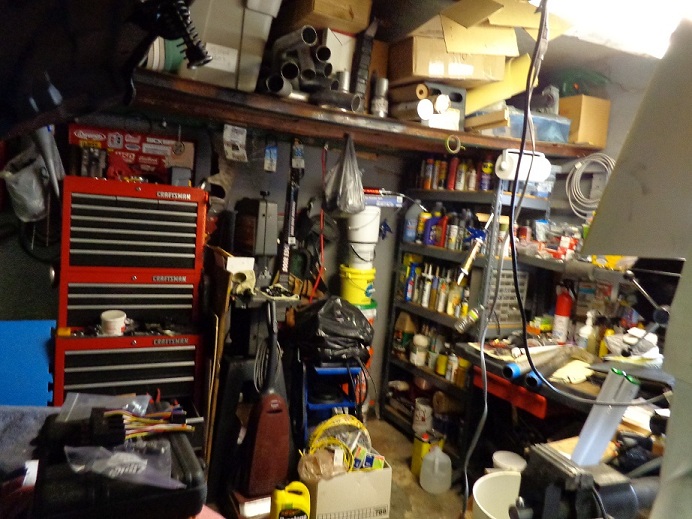 Here is the floor plan that I have come up with to maximize the space that I have.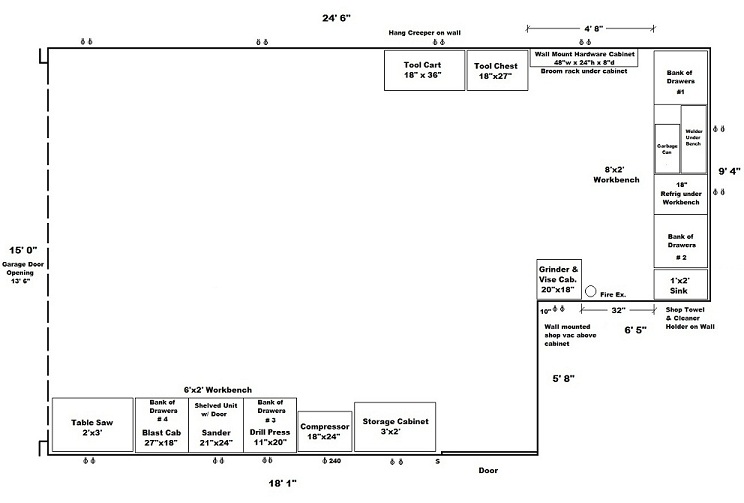 This is the GarageTrac floor layout.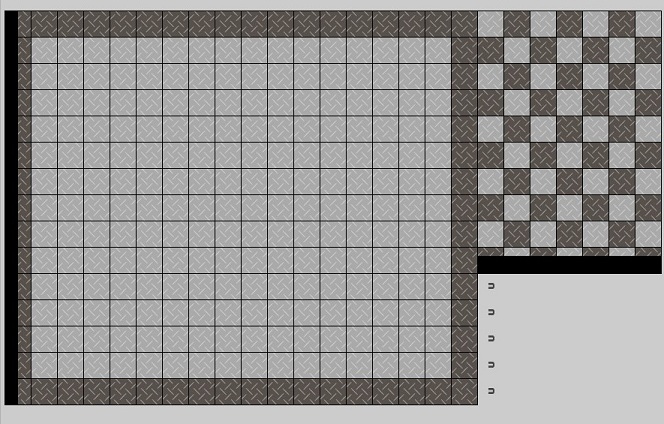 3-2-2013
The new floor has ARRIVED!!!!! Bummer that the garage won't be ready for it for a while. At least I have it ready to go.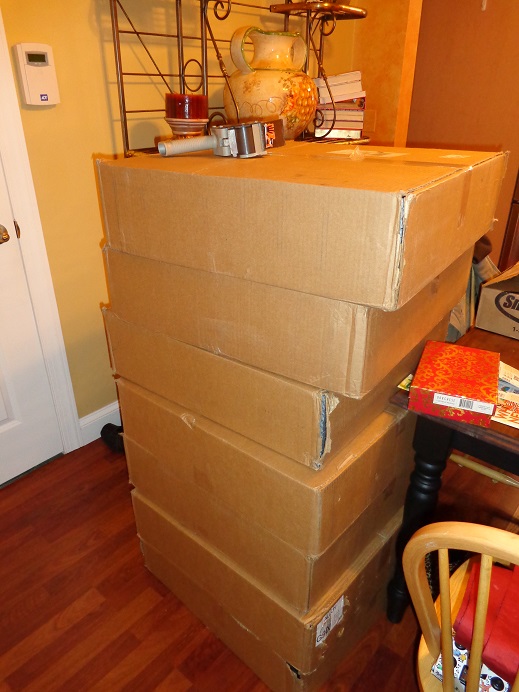 5-19-2013
A little update on the Camaro's home.
What started as a simple garage re-organization turned into gutting the garage.
Including ripping down the sheetrock and concrete ceiling (about 3/4" thick).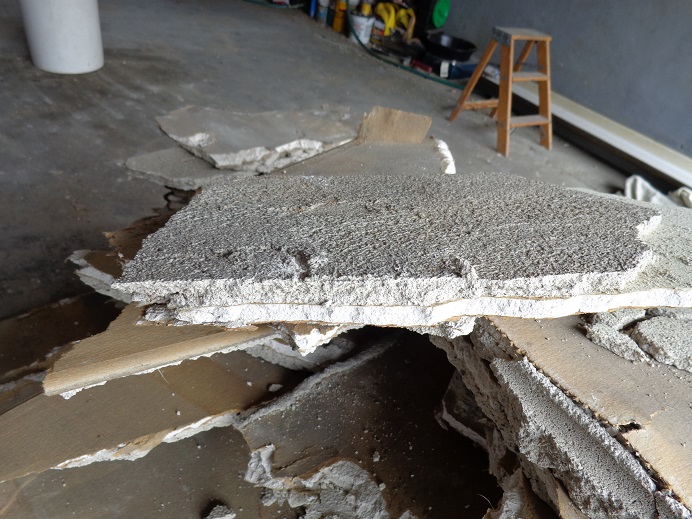 Quite a mess, but if I'm going to do I might as well go all the way.
Lots of light, outlets, and all the wiring will be hidden unlike the original plan of running all lines in conduit on the surface.
I have all the cabinets, workbenches, flooring, light fixtures, and accesories to make this a great place for the Camaro.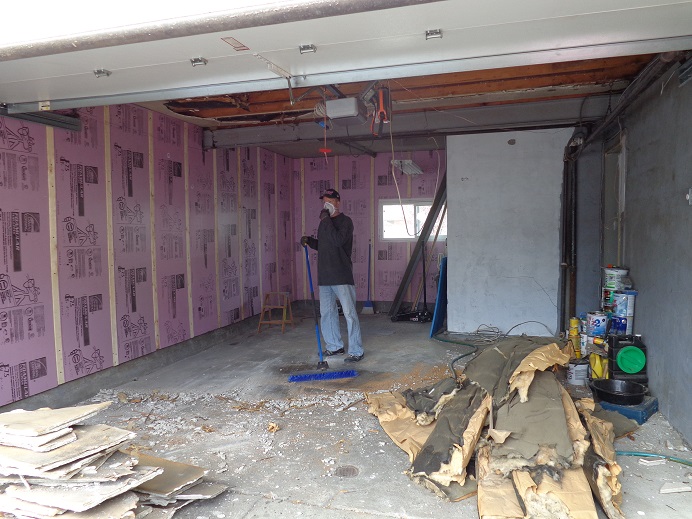 I rented a POD to store everything that was in the garage to make working on it much easier.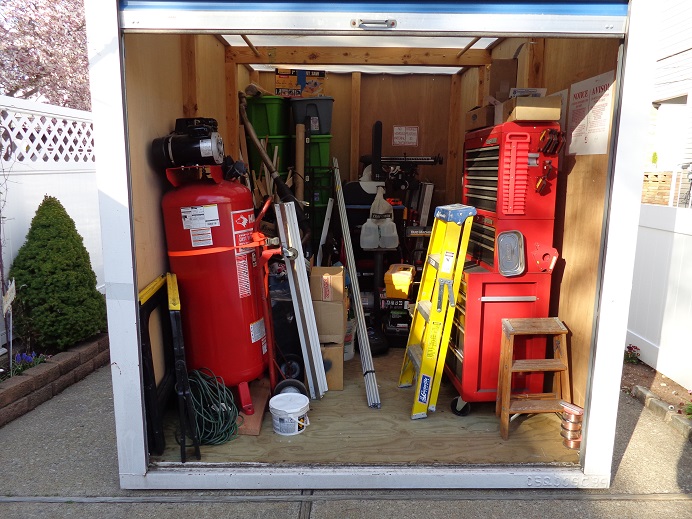 Hope to have it done by the end of May and then back to the Camaro.
7-1-2013
Garage is coming along pretty good. It's almost ready for the Camaro to come back in and get some more lovin.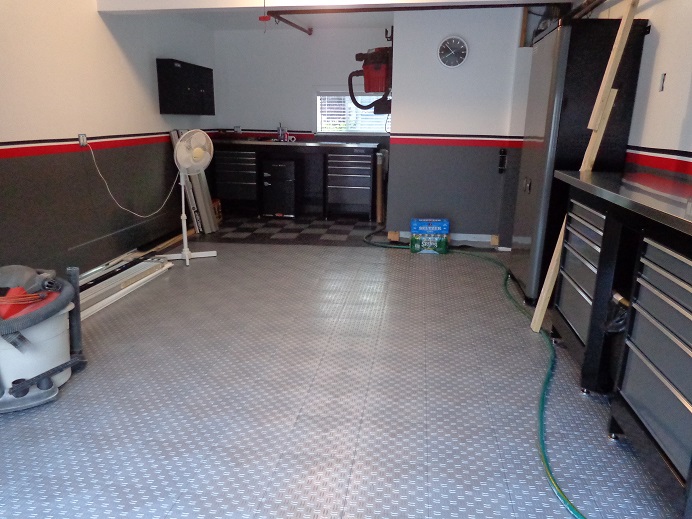 7-28-2013
The garage is mostly done and I can get back to work on the Camaro.
Had to hang up the final touch just to make sure people know what kind of garage this is.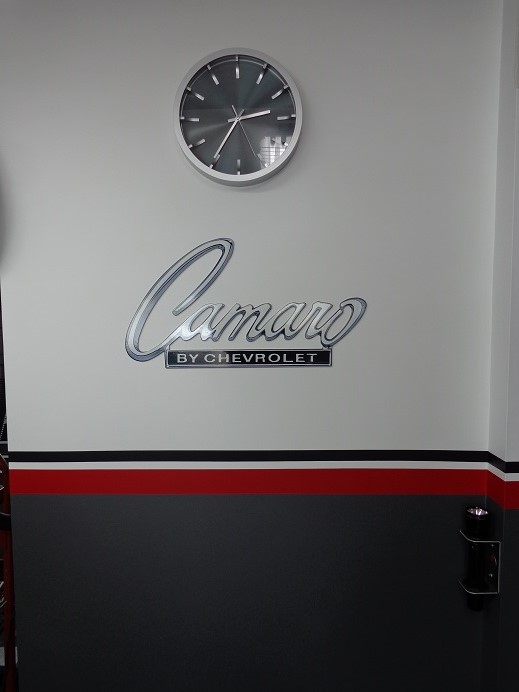 7-30-2013
Back to work on the Camaro today. I left off mocking up the new power steering pump.
As you can see, not enough room to plumb the reservoir fitting.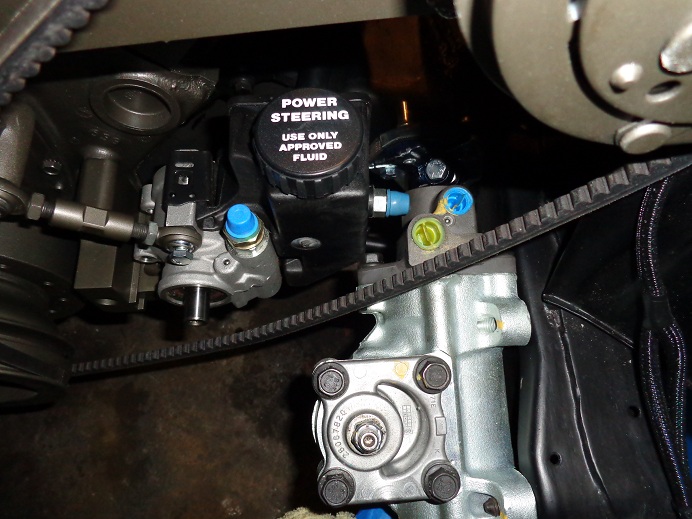 So, I ordered a replacement reservoir with the fitting molded in.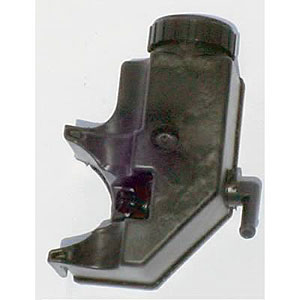 Will work perfectly with the DSE line kit I already have.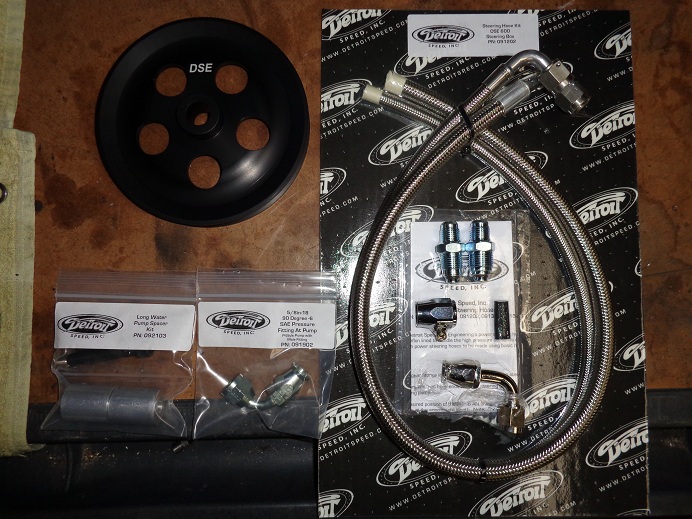 8-2-2013
I got the new ps tank in today and it didn't give me as much room as I thought.
So on to changing the mounting bracket. Ordered a new March bracket from Summit that should place it about an inch higher.
That should give me enough room to plumb the ps lines.
8-3-2013
I would, but my a/c comp is right above it.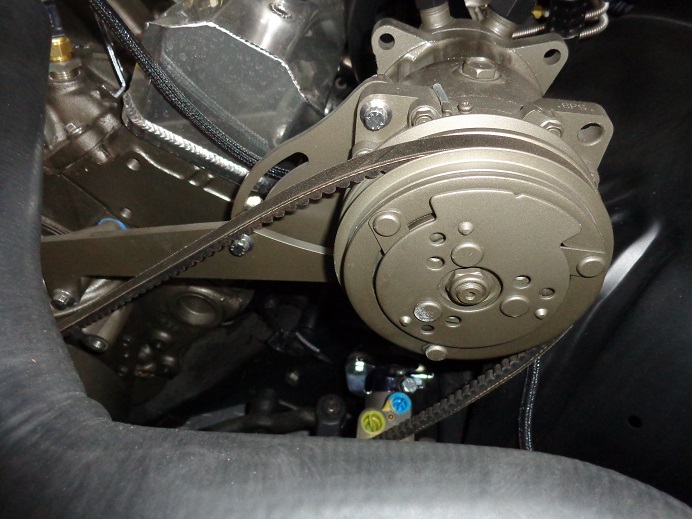 8-11-2013
It actually moved 2-5/8" higher than the original March bracket that I had on it.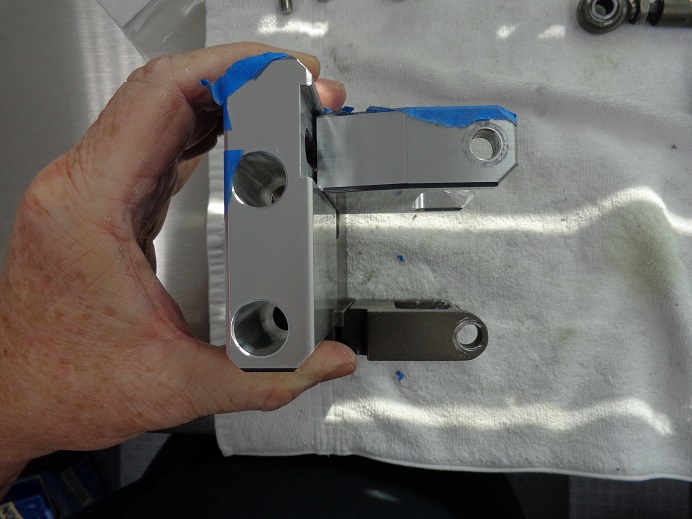 The March part # is 20118

http://www.summitracing.com/parts/mch-20118

Hope this helps.
8-14-2013
Everything mocked up and on to paint.
Got the steering box painted and reinstalled, now just have to put the ps pump and reservoir back together and in. Hopefully in the next few days.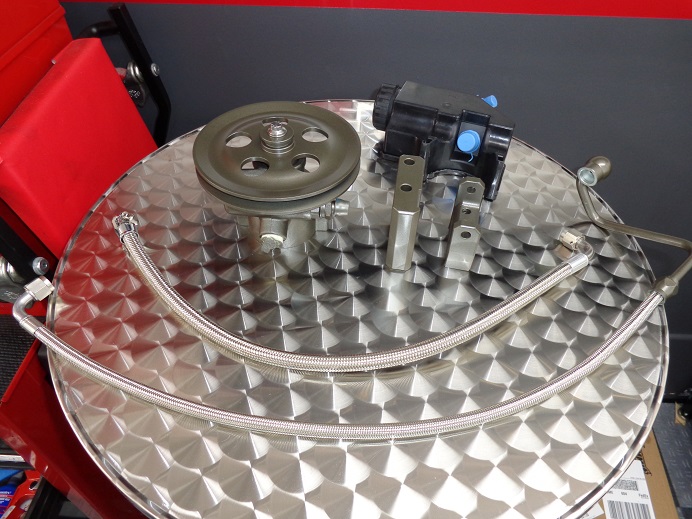 8-18-2013
Got the pump and all the lines done today. Now just have to get the right length belt.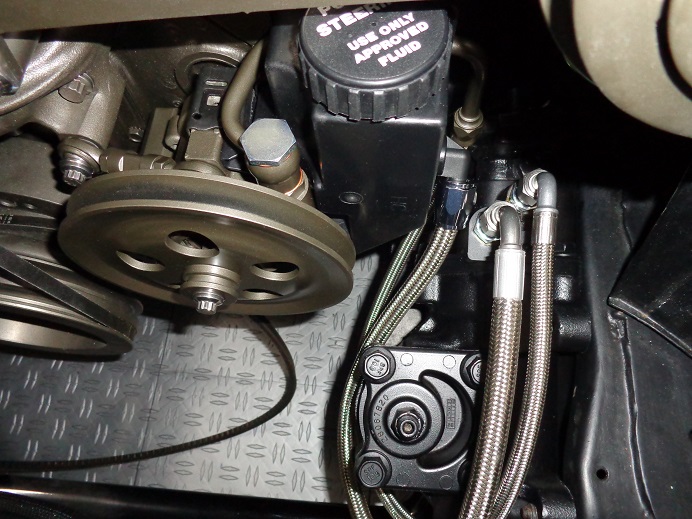 Hopefully on to the exhaust this week. I want to build some wood jack stands like Scott built. Should make it much easier to work under the car.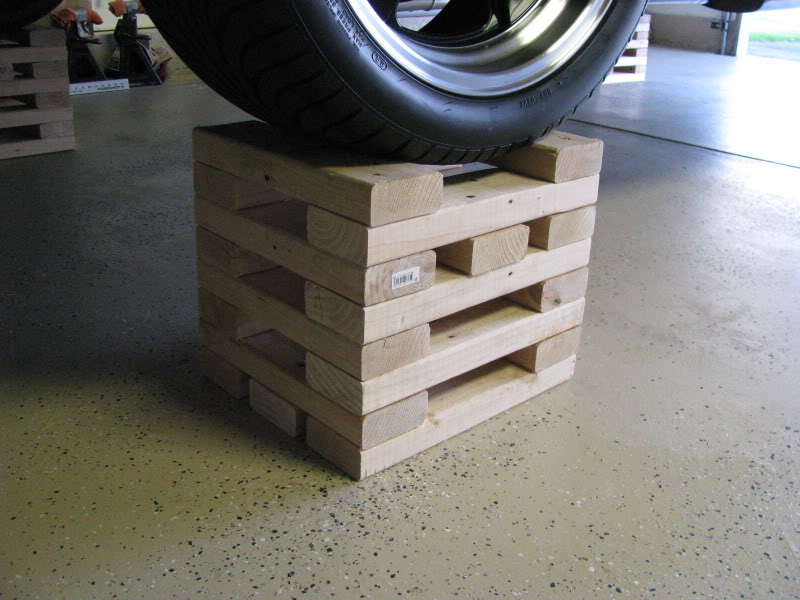 I have seen many people use 12" x 12" and 12" x 14", which is what is in that picture. I decided to go with 12" x 16" so it would cradle the tire a bit more. Plus I used 1/2" dowels for the the top 2 sections so I can make the height adjustable without having to screw and unscrew.
I thought it would only take me a couple of hours. WRONG, my ocd kicked in and I found myself spending over and hour just sanding each piece. Then I came up with the dowel idea and that added even more time. So much for a quick project. At least I'm happy with the outcome.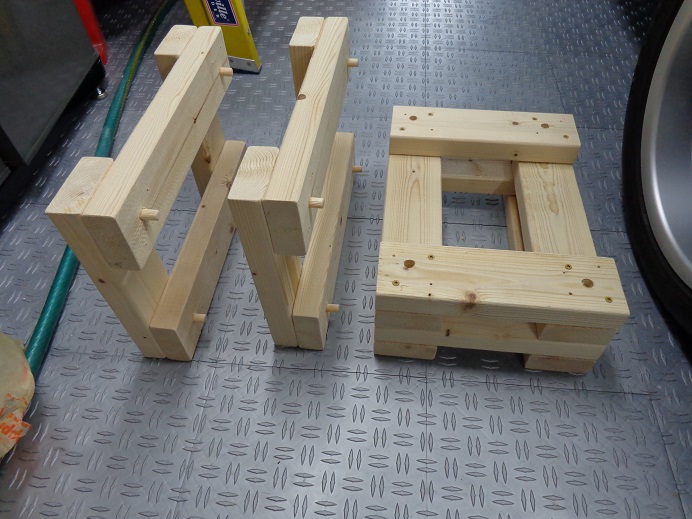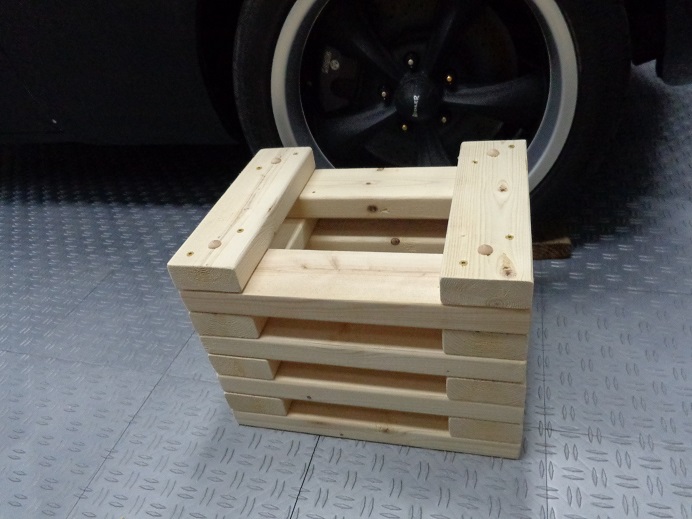 8-19-2013
Had some extra time today so up it went.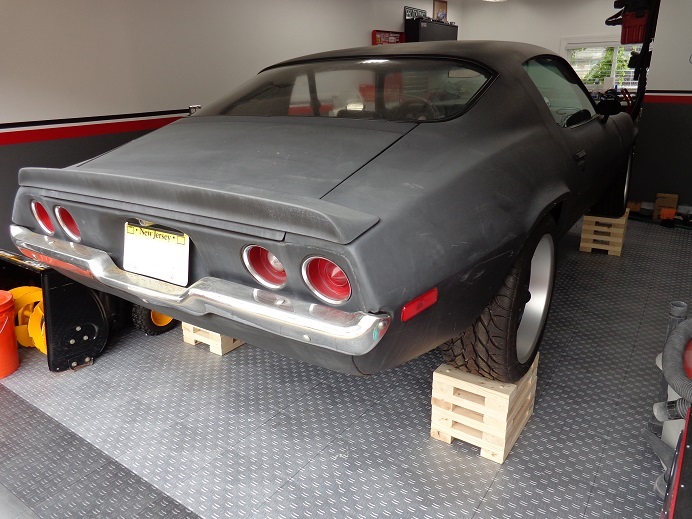 9-2-2013
I figure while the car is up in the air, I might as well swap out the old, stock trans pan and get a new cast aluminum one.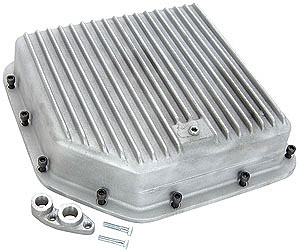 Replaced the linkage shaft seal awhile back and it's still leaking. Driving me alittle crazy. I guess while I have the pan off I will replace the seal again and check the shaft. I have read several places that it's rarely the shaft that has worn out. We'll see.
9-7-2013
Got the new pan in today, should have it in tomorrow. Have a nice day of all car stuff planned out for sunday in my new garage.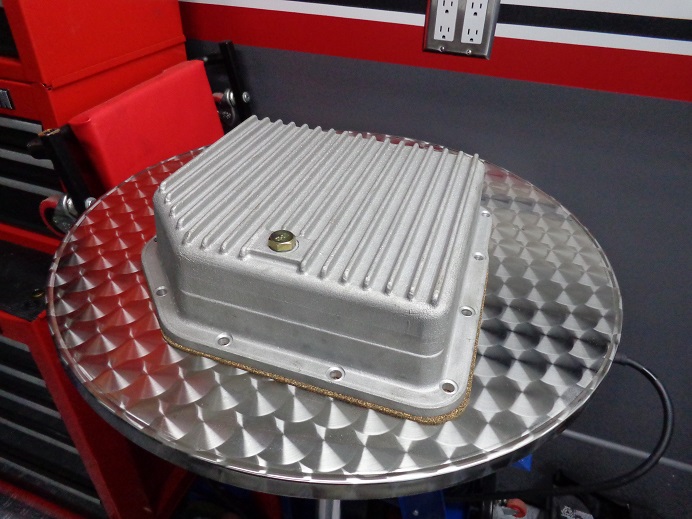 Also got one of Spectre's headlight air funnel's in so I'm looking to see if I want to put them in.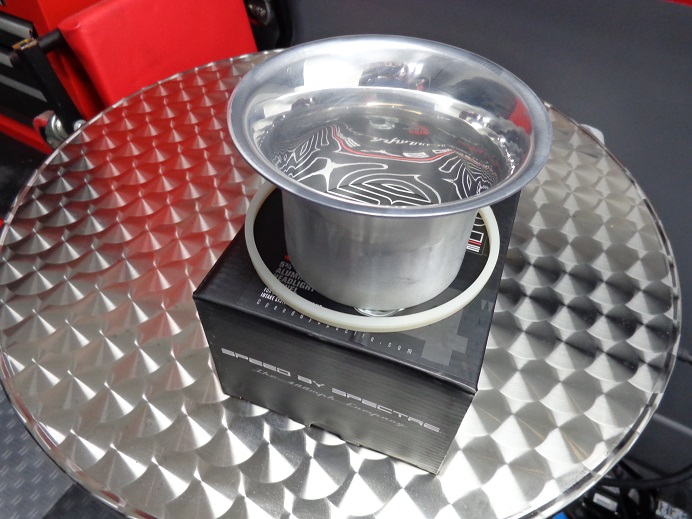 I really love the way the Spectre Camaro looks with them. Badass!!!!!!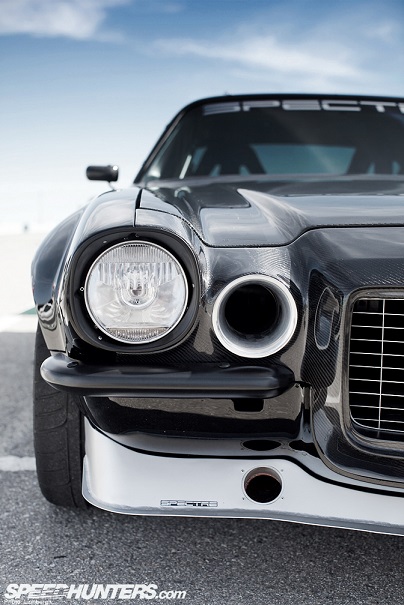 9-8-2013
I have read many times that the trans linkage shaft is 99 times out of 100 not the cause of the leak in that area. It's always the seal. So I replaced it awhile back. Still leaking. Maybe I messed the seal up when I installed it.
With the tool I got they come out very easy, so I'll just put in another.
Well, while I have the pan off today why don't I spend a few more minutes and pull the shaft. This is what I found. It's not the seal. The trans was rebuilt right before I got it. Works great and the inside is very clean. I'm not sure who thought putting this shaft back in was a good idea. Must be the same guy who left the speedo gear clip off and in the pan(scroll back and you will find that discovery). I'm tempted to pull the whole trans and have it redone.
For now I will try and find a new shaft, which I have read is not an easy thing.
Anyway's, check out this shaft. The grooves are right where the seal is.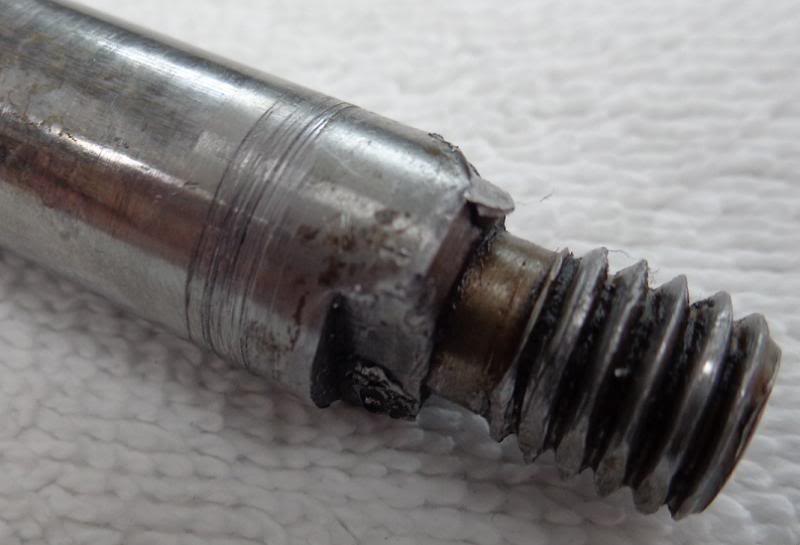 9-9-2013
Spent a couple of hours yesterday looking on the web for the shaft. No luck. Seems nobody sells them.
Went to my local trans shop and his response was "Oh yeah, I have a drawer full of them." Problem solved.
10-26-2013
Got the last pieces of the exhaust today. Was just waiting for 2 elbows, they came today. Hope to get some of the exhaust mocked up tomorrow.
First going to run up to NY to pickup a new fender for the Camaro.
10-27-2013
Just got back from NY. I guy had a brand new Goodmark fender for sale for $80.
Couldn't pass it up. The shipping alone would have cost me $150.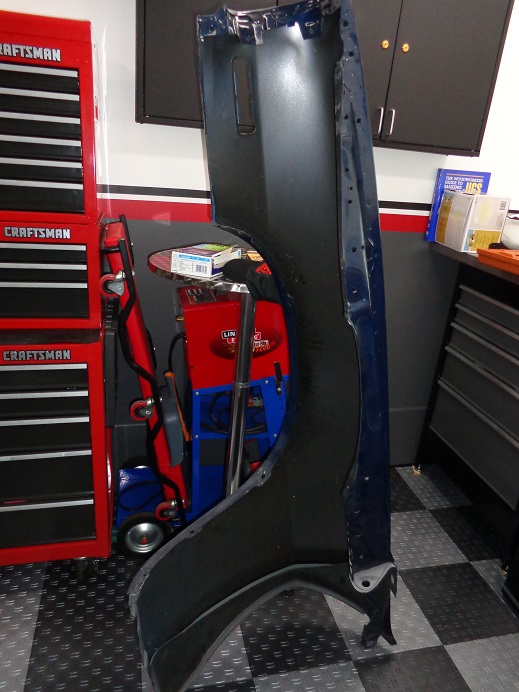 11-10-2013
Had some time slotted for cleaning up the leaves today. Started to rain so out to the garage I went.
Haven't had much time lately so I took advantage of the rain delay.
Bleed the brakes with my new Phoenix reverse bleeder. Got it a while back and this is the first time I've used it.
Pretty easy to use but I guess the real test will be when I drive it.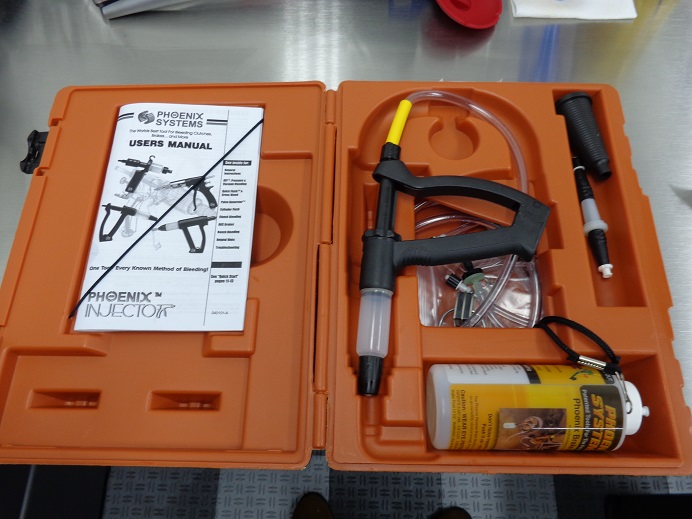 11-12-2013
I want to start on the exhaust but am realizing that the fuel pump is in the way of the new muffler. The new system has a transverse muffler and will be tucked up in front of the fuel tank(original position, as everybody knows).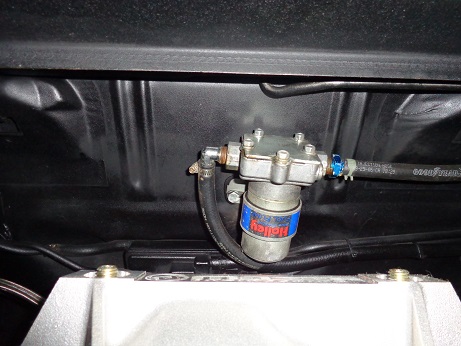 So, Pulled out the fuel pump and I'm looking for a new location. Plus I'm thinking of replumbing all the lines. I have been looking at Jiffy-tite quick connect fittings. A little pricey but makes swapping out parts spill free.

http://motorsports.jiffy-tite.com/
Started to mock up the exhaust today after I removed the fuel pump. Not really liking the thrush hangers. They want me to drill holes in the body to bolt in these hangers.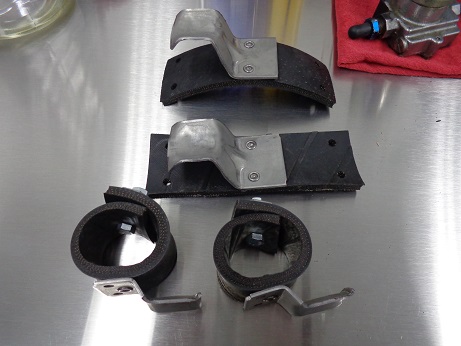 Not thrilled with that. I still have the stock hanger pads in place, so I figured why not just order stock hangers. Should be a cleaner look and no extra holes drilled in the floors.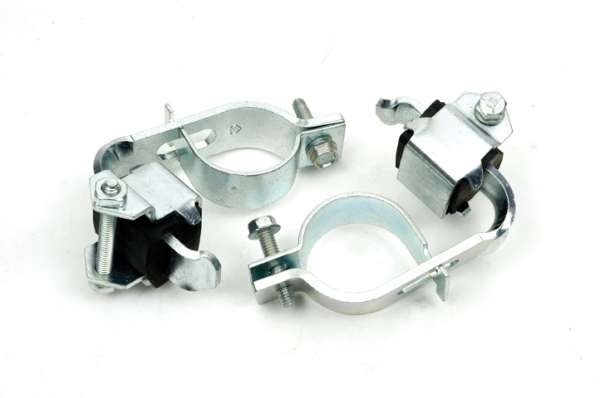 11-17-2013
I got the hanger brackets in and they are meant for a 2" exhaust.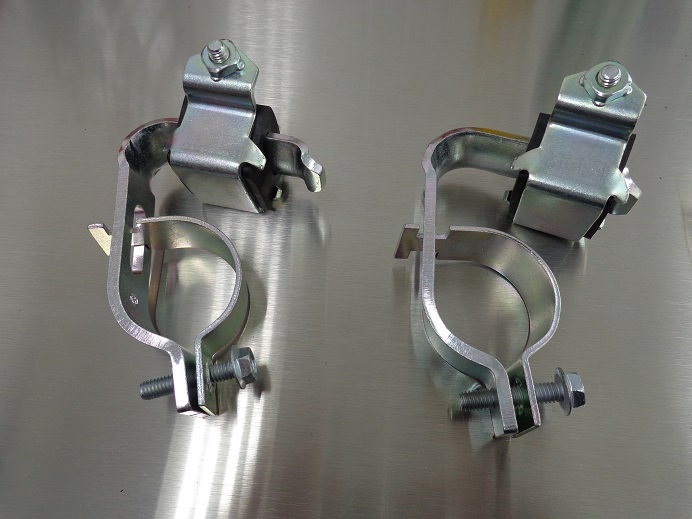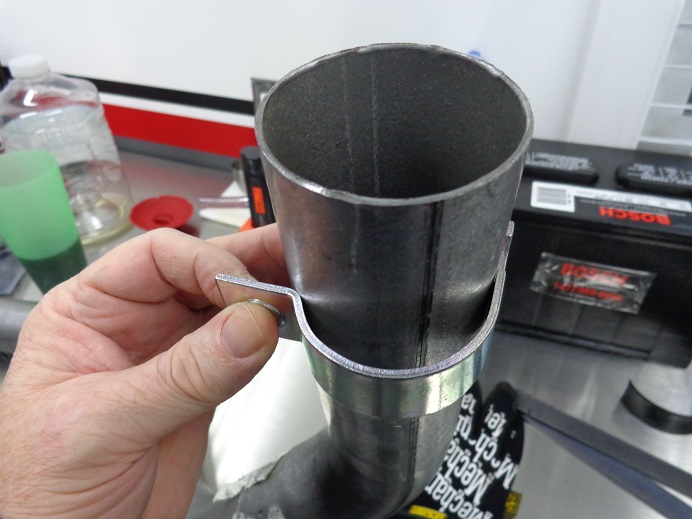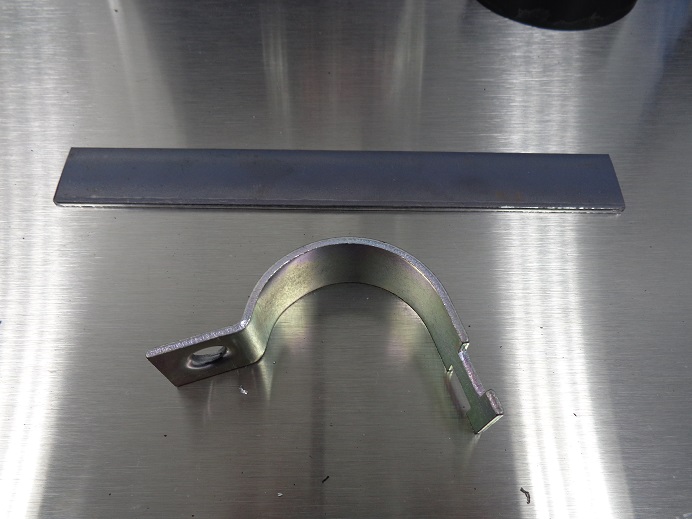 Tried to bend them into place, but then they are not long enough to get the holes to line up. So, time to make my own extended brackets. Not enough time today. Should get to it this week though.
11-28-2013
Finally got the new brackets made for the stock exhaust hangers. New one for the 2.5 exhaust is on top.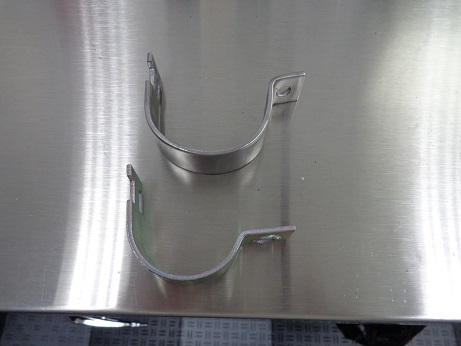 11-30-2013
The new brackets I fabbed and the stock exhaust hangers fit together great.
Did some cutting and welding on the exhaust today too.
Started with some exhaust extensions and some flanges and got them cut and tack welded.
Not a ton of progress but these days even a little is a step forward.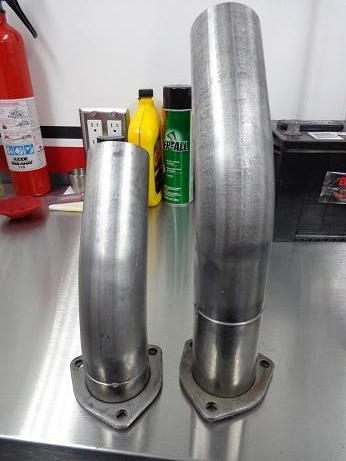 12-19-2013
I have been spending a bunch of time trying to find a new spot for my electric fuel pump. The transverse muffler takes up just about every inch of room. So, I have decided to go back to a mechanical fuel pump. Should be plenty for the motor that I have.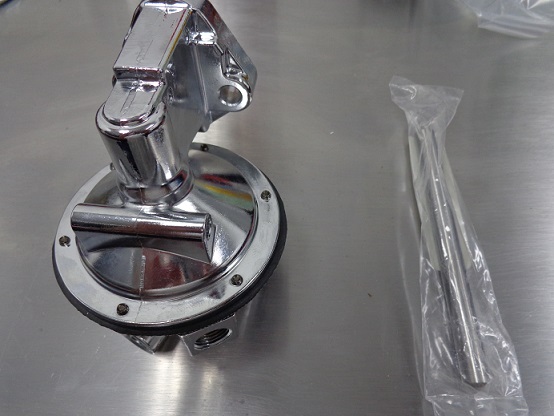 12-24-2013
Now that I have the stock exhaust hangers set up, I want to put one more hanger in for the tail pipes.
I was going to use this type. It doesn't really match the stock hangers that I have though.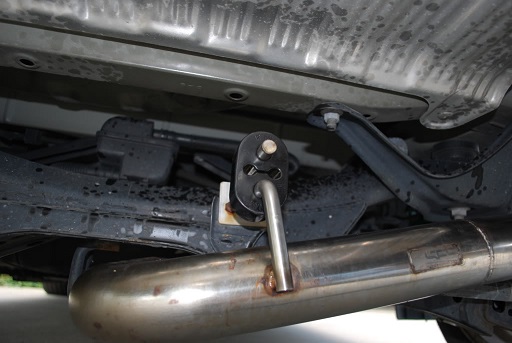 I have seen this type used before and I really like them.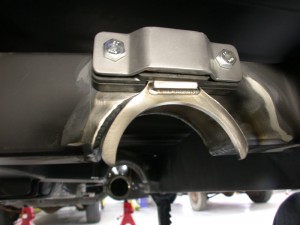 So I ordered 2 of these from Summitt Racing(for $5 each) and I will fab up the other part.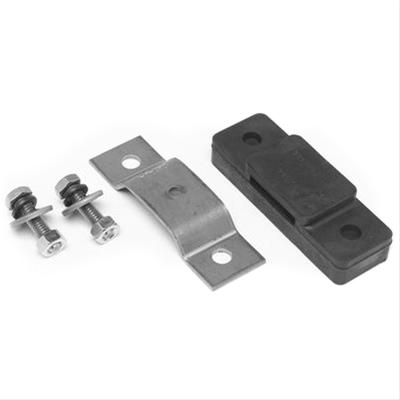 1-19-2014
For a while now I have been pondering the problem of my new power steering pump pulley not having enough contact area with the belt.
I have tried several times to relocate the power steering pump (using differant brackets) to no avail. Finally I decided to use an idler pulley.
Not having much room, the only possible location for it was on the a/c bracket. I basically spent the half the day on it.
Fabbing and then refabbing each small part of this puzzle until it goes together perfectly.
In the first picture you can see how the belt would not contact the power steering pump pulley enough. Now I just have to get a longer belt.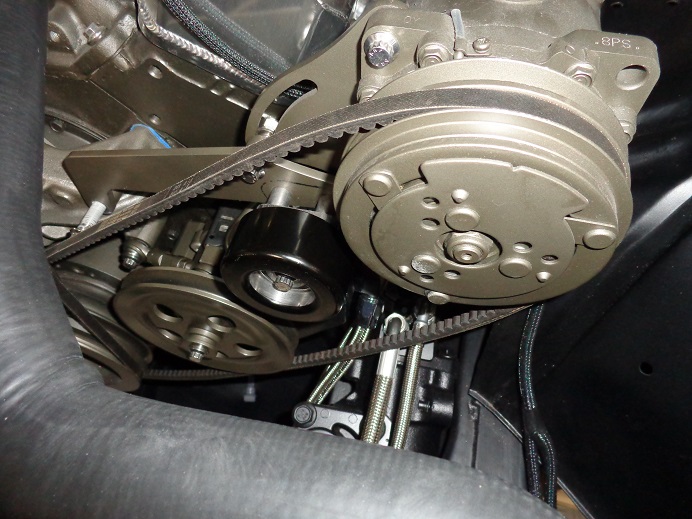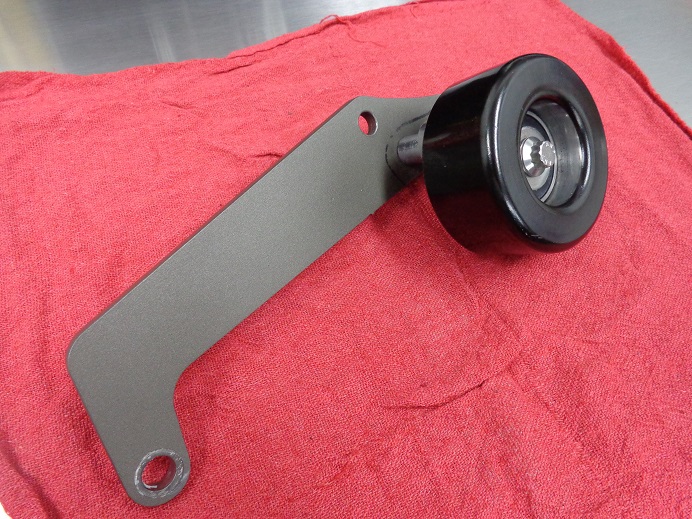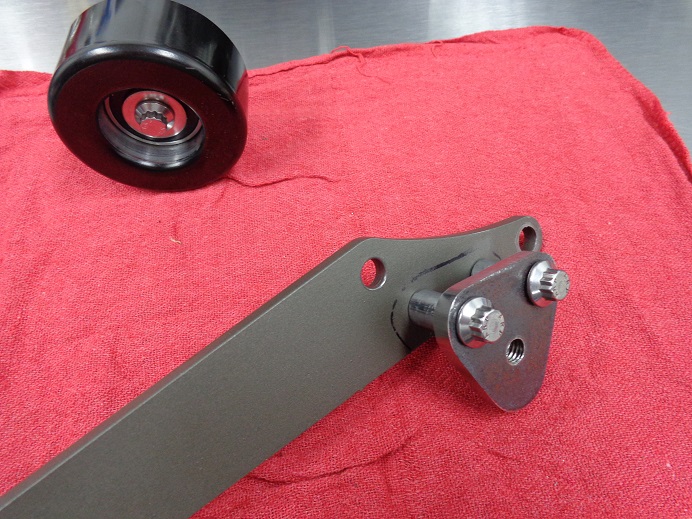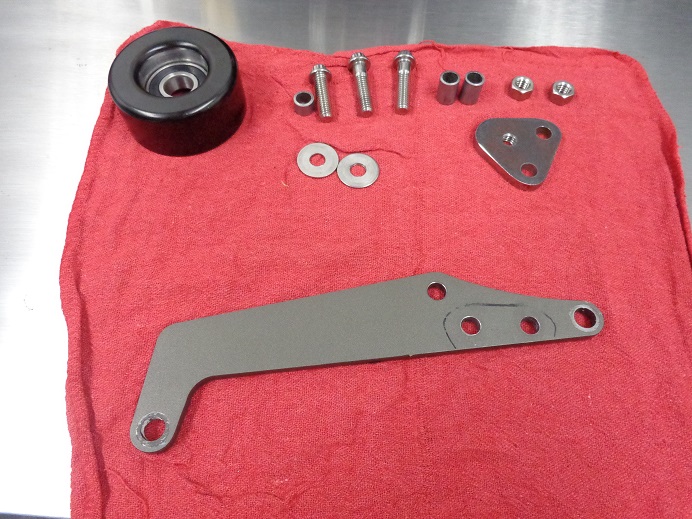 1-26-2014
Went to roll down the pass side window and the front of the glass dropped about a inch. Took the door apart to see what was wrong and found one of the rollers had broken. Just spent the day pulling both doors completly apart.
I have wanted to install electric windows for a while now and I guess this was my sign that it was time.
I have been looking at the Nu Relic's kit. The kit seems pretty complete. Includes the regulators, motors, wiring harness w/switches, and the wire conduit for between the door and body.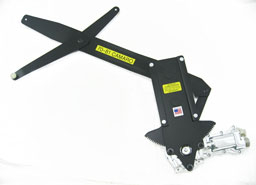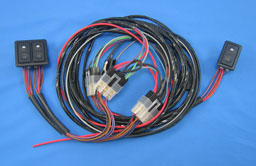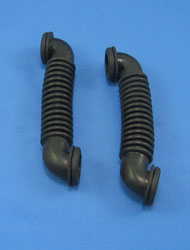 2-12-2014
Starting to rebuild the door glass. The right tools alway's make things easier.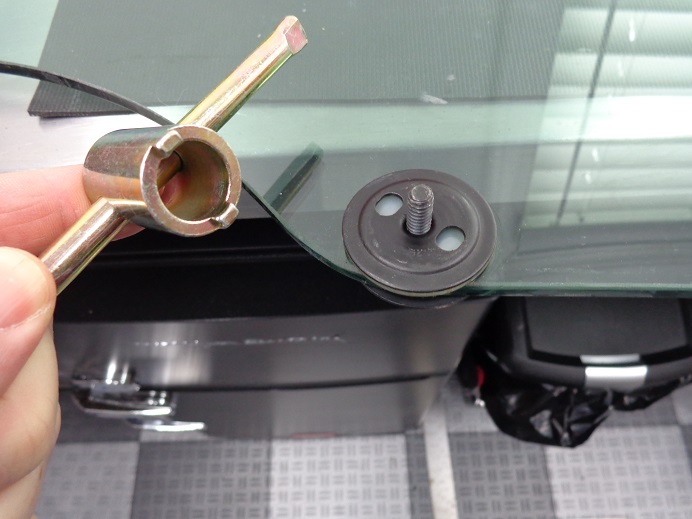 2-13-2014
I changed all the hardware out on both windows in about 10 minutes.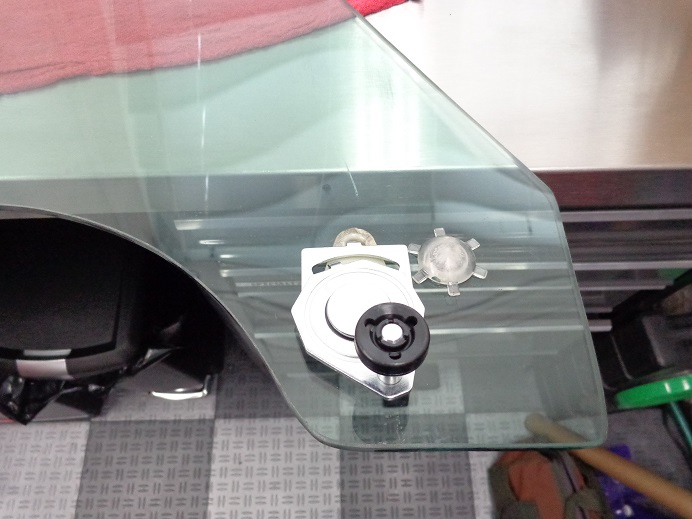 2-18-2014
Thanks guy's.
Just added a new picture to my new garage. The Spectre Camaro.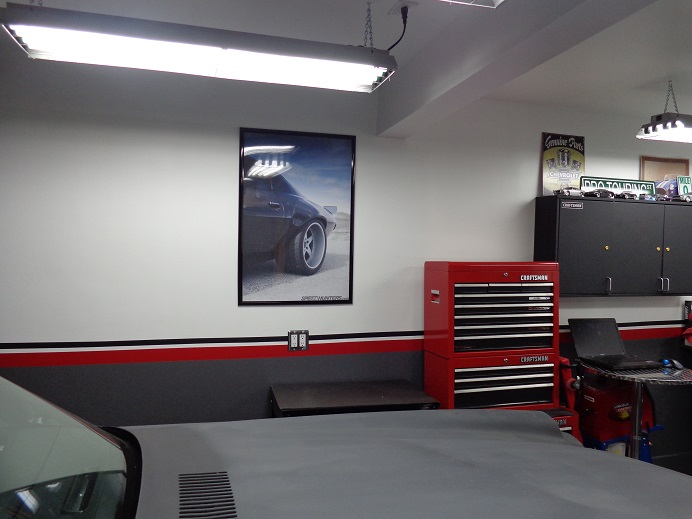 2-23-2014
Do you mean how do they attach to the glass? If so, they just screw together.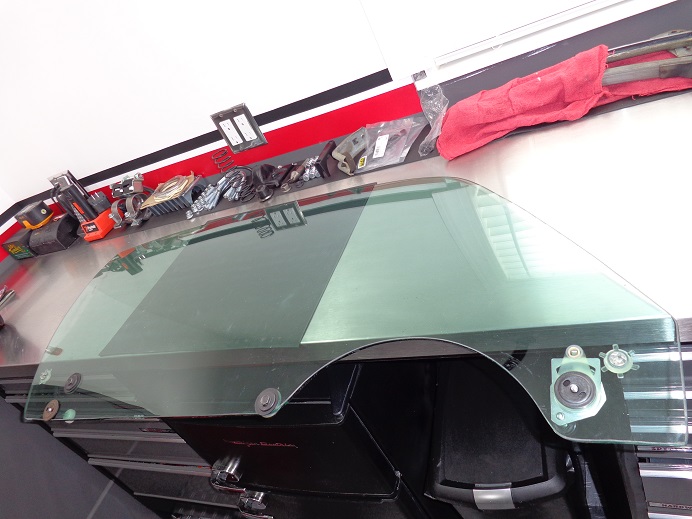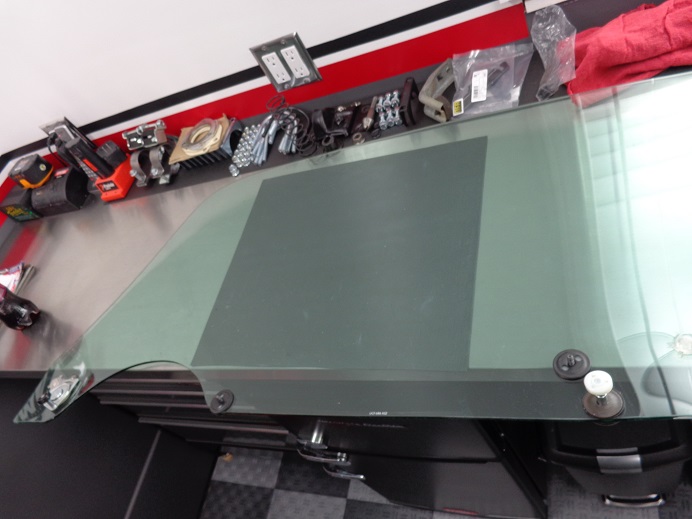 Before I started the garage project I sold off 2 band saws that I had, mainly because they took up alot of room that I didn't have. I need to cut thicker metal often enough that I have wanted to get this combo for awhile now. It's portable and I can take it apart and hide it away in a drawer when I don't need it. Once I get the table I can use it to pie cut the exhaust ends and then finish up the exhaust.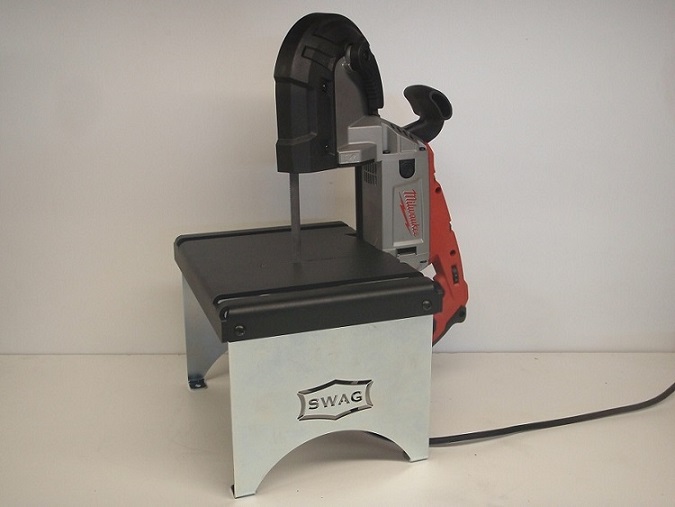 Just got the first piece from some friends of mine for my birthday. Wife ordered the table for me and I'm now waiting for that. Very nice piece, it has 5 speeds and a light. The table comes with a foot pedal option for $20. I had to have it.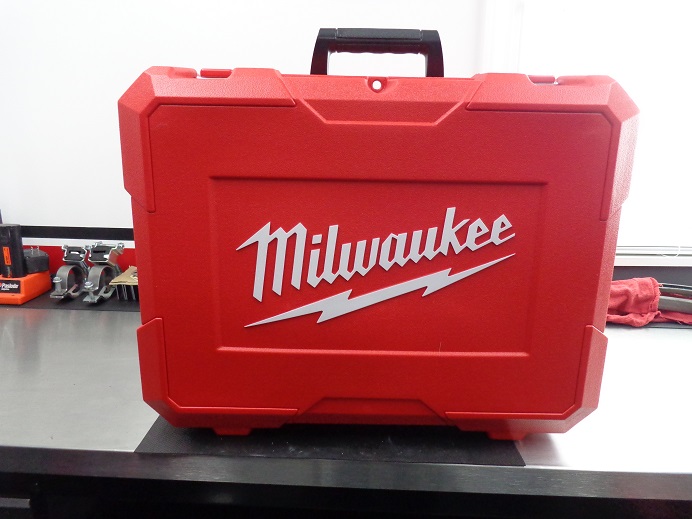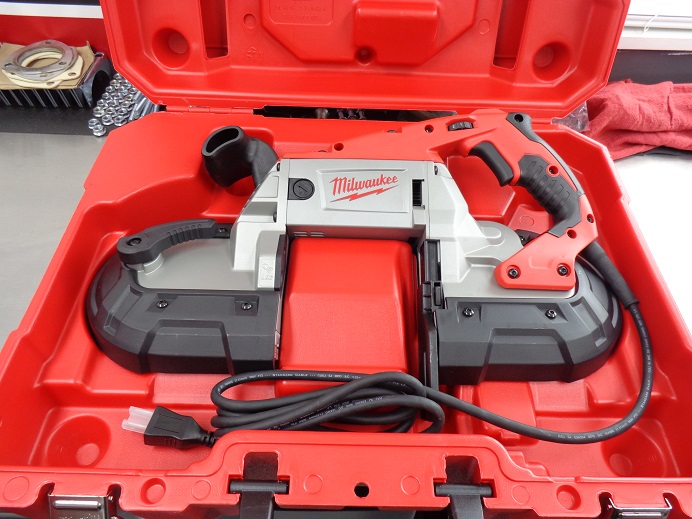 2-28-2014
Got my Swag table in and painted, saw hooked up, and I'm ready to cut some exhaust pipe this weekend.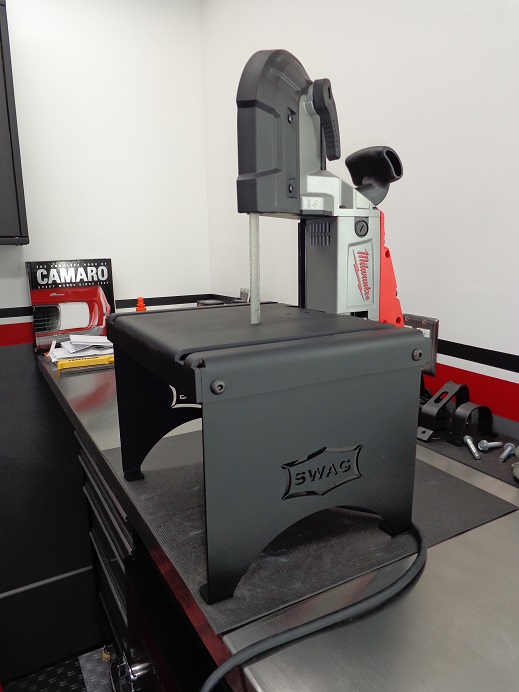 3-3-2014
Did my first cuts with the new band saw and table. This will change things for me for sure. No more hack saw or sawzall to cut metal.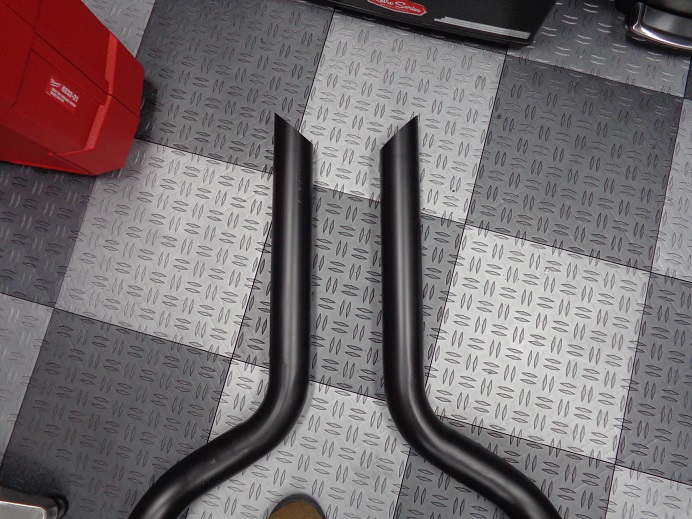 3-30-2014
Have decided to not go with the power windows for now.
So I cleaned up the regulators and will reinstall them this week.
While I had them out I decided to address another problem I had.
I have deluxe door panels but regular regulators so the window cranks brush up against the top door panel. I really didn't feel like spending a couple hundred dollars on new window regulators, so I went a differant route. The cranks I have are a 2 piece design.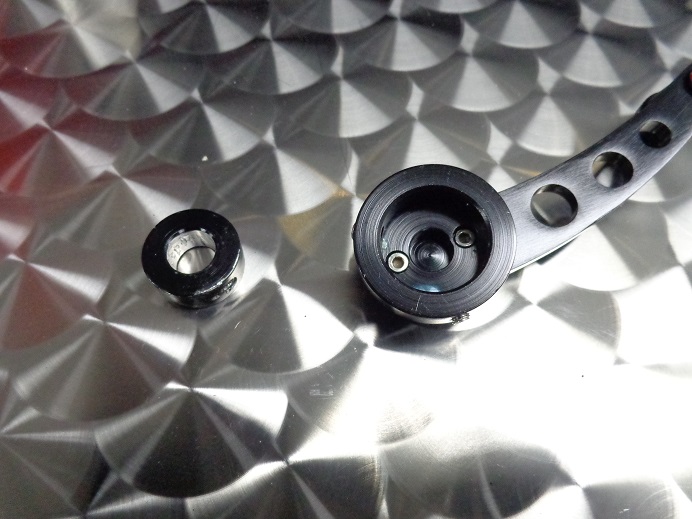 So I took a piece of aluminum stock I had and made new inner pieces.
This should bring the window crank out about 1/4". Problem solved and it only cost me my time.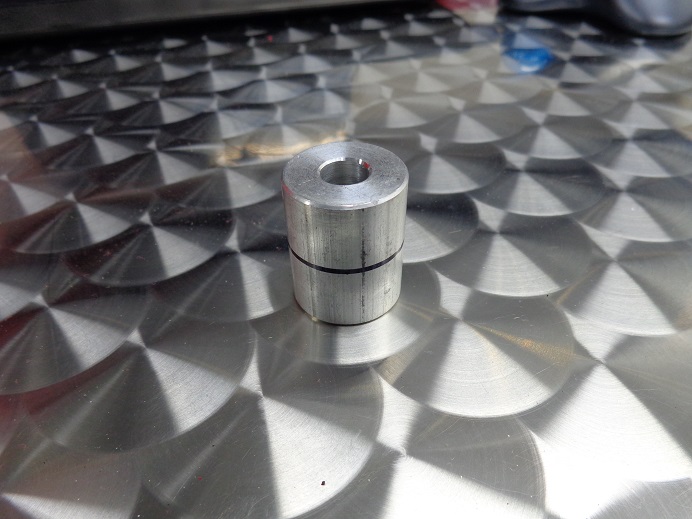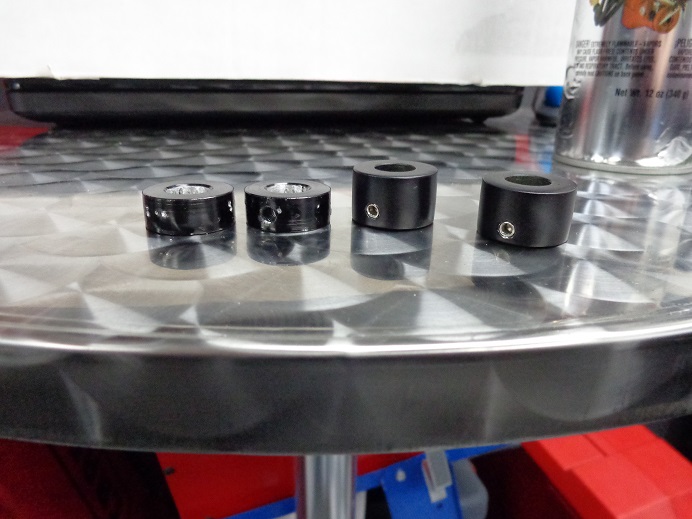 Before: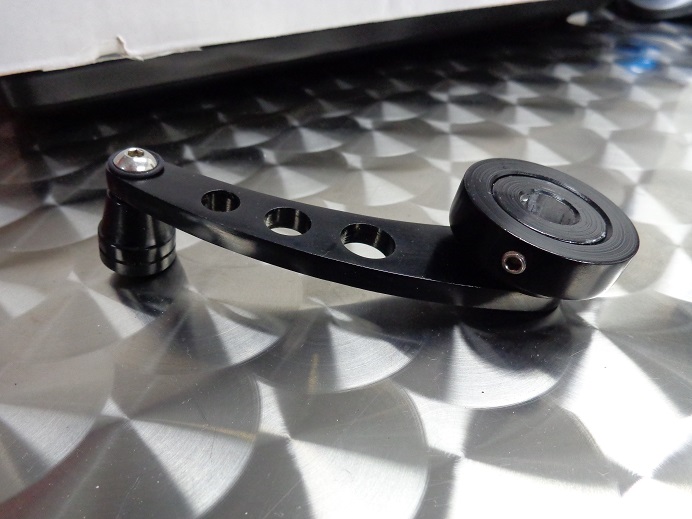 After: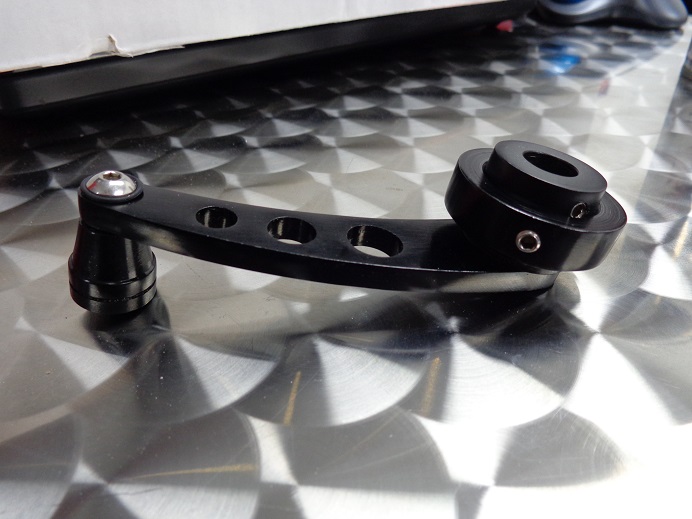 3-31-2014
I sometimes feel the same way.
Then I look at my before picture on GarageJournal.com
http://garagejournal.com/forum/showthread.php?t=189511
I promised myself it will never look like this again.
You know it's bad when your car is cleaner than your garage.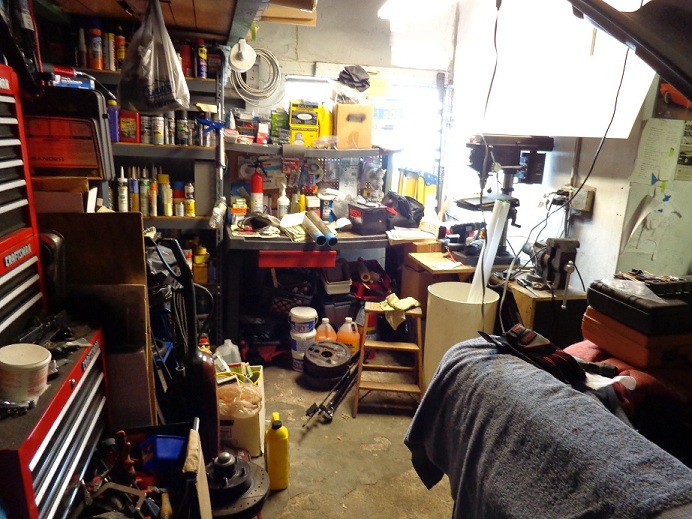 4-6-2014
While I had the doors apart I figured I would weld up the extra holes the guy before me drilled in the door. Can't think of why he would need them. They were not covered up by the mirrors. Another chance to practice my welding.

Before


After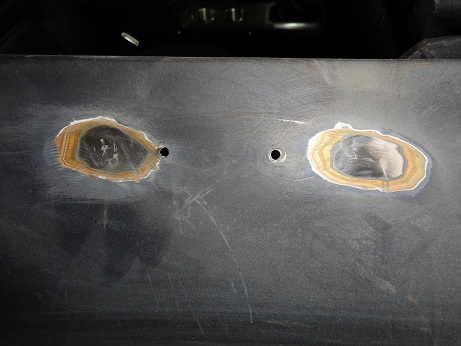 4-7-2014
They were very oddly shaped holes, they were not really round.
The other side had even more holes.
I'm using bullet mirrors so the outer holes on both sides are out past the edges of the mirror base.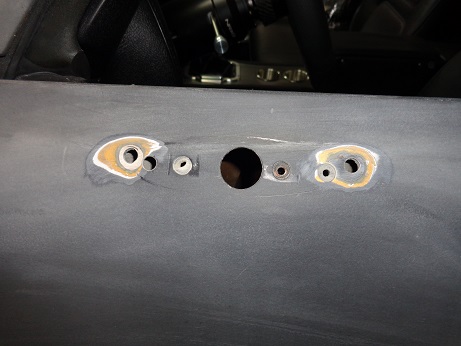 4-13-2014
I spent the day trying to fit the new fender I found on Craigs List to the car. WOW, nothing fits like the original. I could have spent half the time on the old fender and fixed it. Which is what I'm going to do. The new one just does not fit well, even after a ton of massaging.
4-23-2014
Started to pick away at the bondo on the lower fender. Much worse than I thought. The fender had a large rust hole in it and the guy before me just filled it with bondo. Glad I ordered the patch panel. The brace behind it looks to be in good shape but I'll see after I strip it down this weekend. Never did this kind of body work before but I'll try anything once.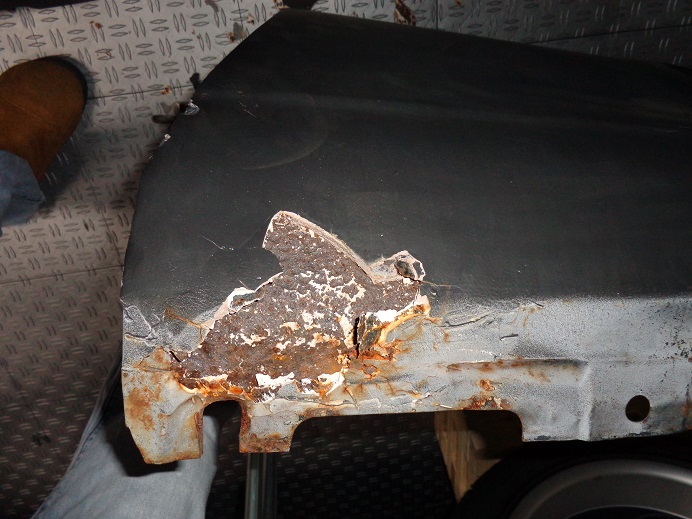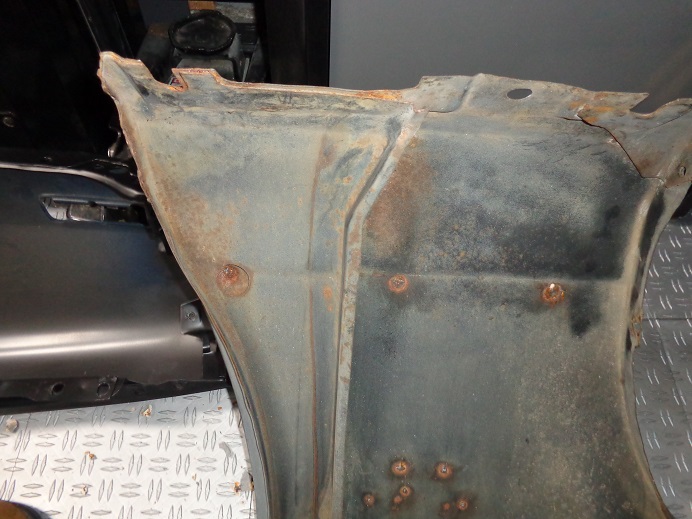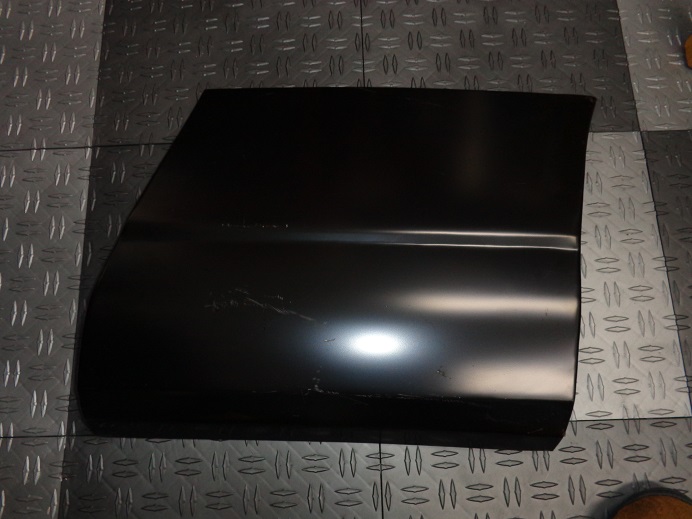 5-3-2014
I only had a small amout of time for the fender today.
So I cut out the rusted section and ground out the ton of filler that was in and under the sheet metal. I'll hit it with some rust reformer and hopefully get the patch panel cut, fit, & tack welded in tomorrow.


6-24-2014
Finished up the fender this last weekend ChevyReb. I don't think it came out too bad for my first body repair.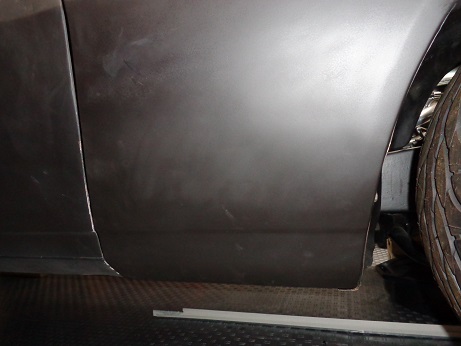 I'm hoping to get it off the cradles this weekend and go for a shakedown ride. I need to align the front end so with that thought in mind I was going to but a DIY alignment kit like this one.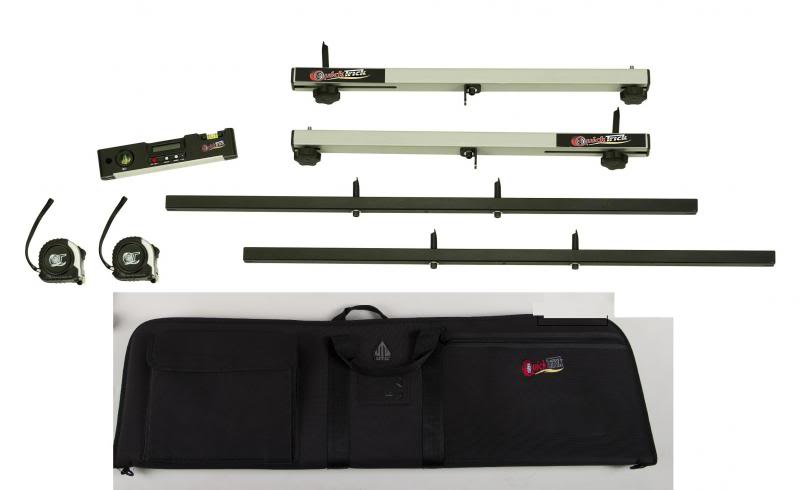 I just can't shell out the $400 bucks for it when I can build one myself, but more on that later.
6-29-2014
Had the car out over the weekend for it's first shake down run. Everything worked great. Small leak in the new power steering pump line, but a quick tighting of the fittings and problem solved.
Next on the list are the Hotchkis subframe connectors and handle bars.
8-24-2014
Beautiful day today so we went out and enjoyed the day and the car.
Don't feel like working on it today just driving it.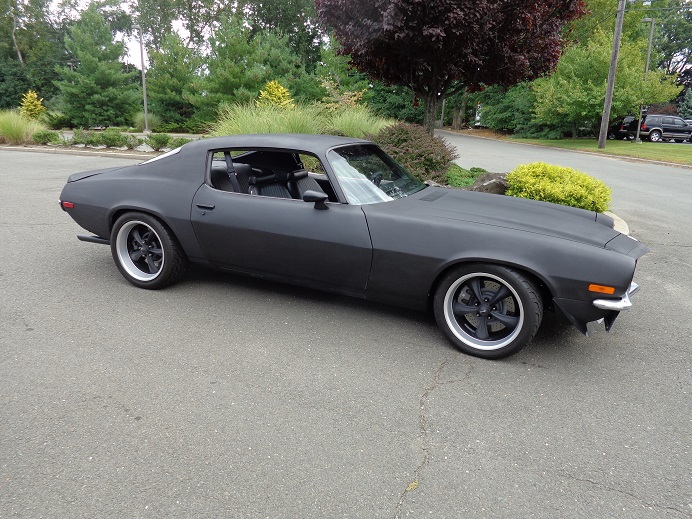 8-28-2014
I think I got a little carried away with tucking up the exhaust under the car. At idle the exhaust taps the trans crossmember.
I think it's one of the last original piece's left on the car. I don't know why I didn't change it when I did the exhaust. Temporary insanity I guess.
Anyway's I ordered a new crosmember from Summit. Should be here tomorrow.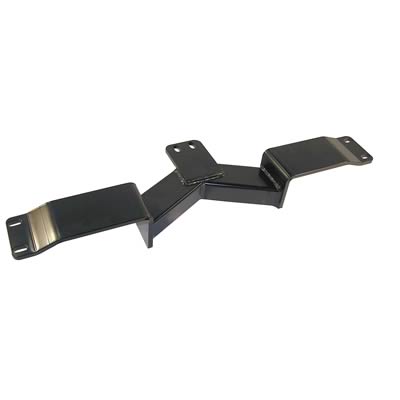 8-31-2014
Beautiful day yesterday, spent it at a car show called Lead East.
Held every year here in NJ.
Here are a few things that caught my attention.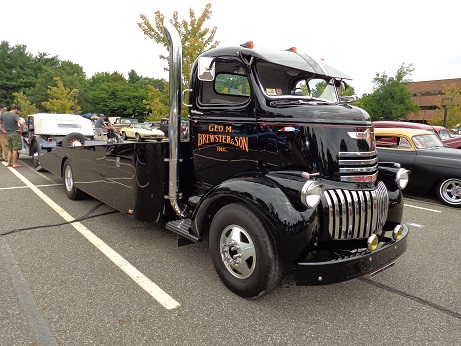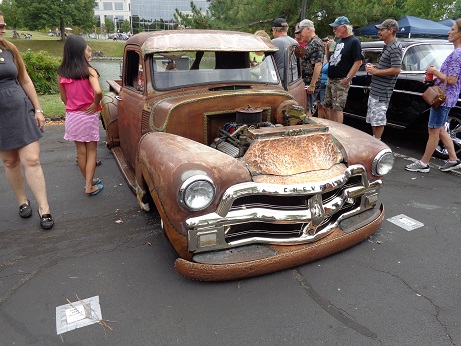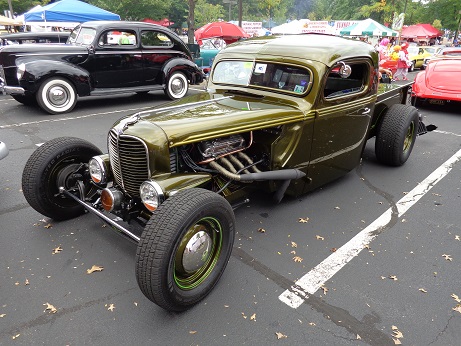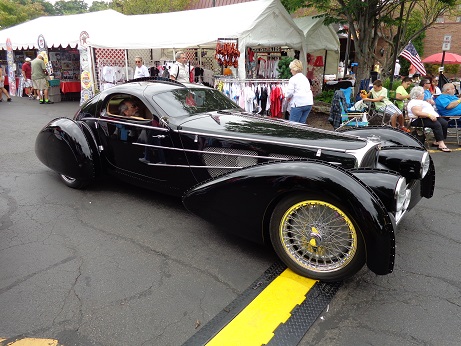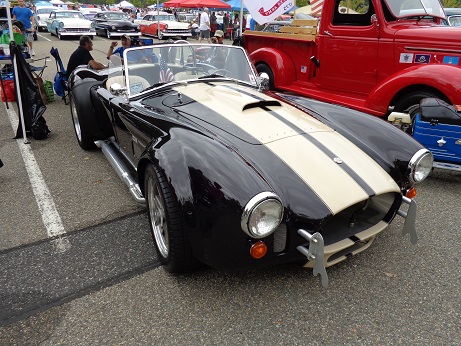 9-1-2014
Well, I figure since I'm driving the car around now I had better get going on the spare.
I had posted the 18" spare that I found for the car that would fit over the brakes.
This one from a cadillac. I still think it's the coolest spare I have ever seen.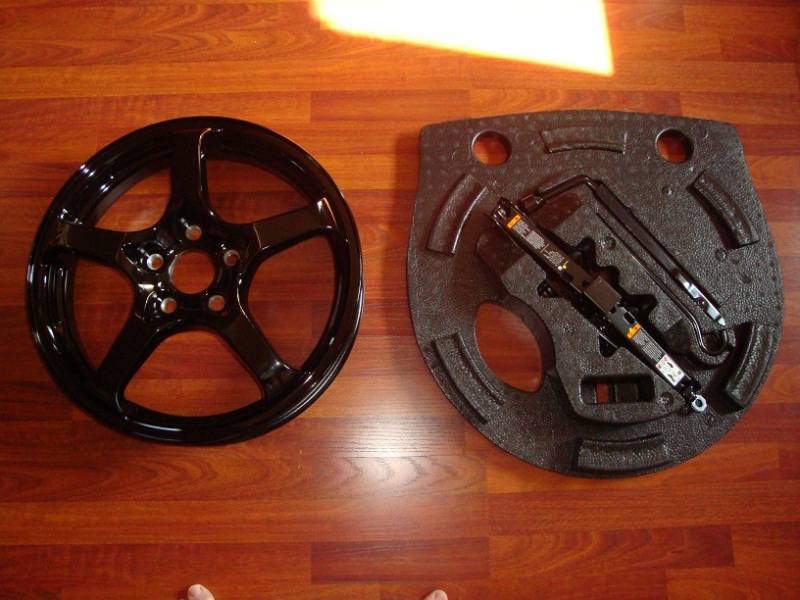 I started with 2 differant spare kits. The top one is from an 04-06 GTO. I liked it because it has the wheel chokes built in.
The bottom is from a cadillac. I got it online from GM. I like it because it fits perfect with the tire and wheel as it should because they come as a kit.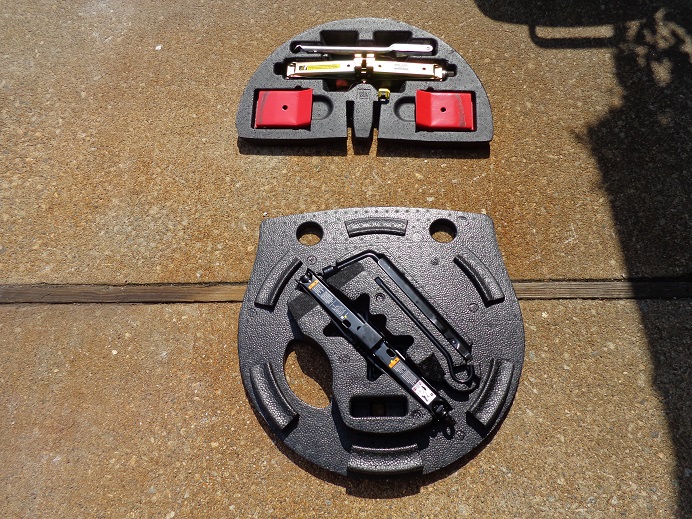 I started today by placing the kit in the car to see how I would attach it. It fits good on an angle pushed up against the front of the trunk.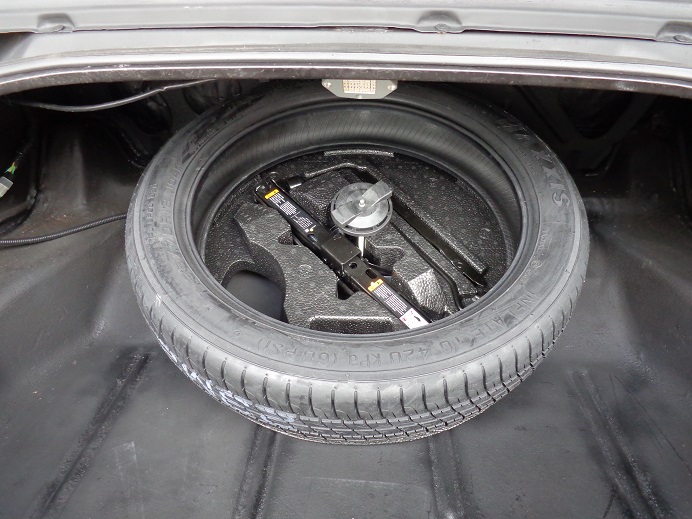 The kit came with the rod that clips into the trunk floor of the caddy, but not the clip. So I made my own.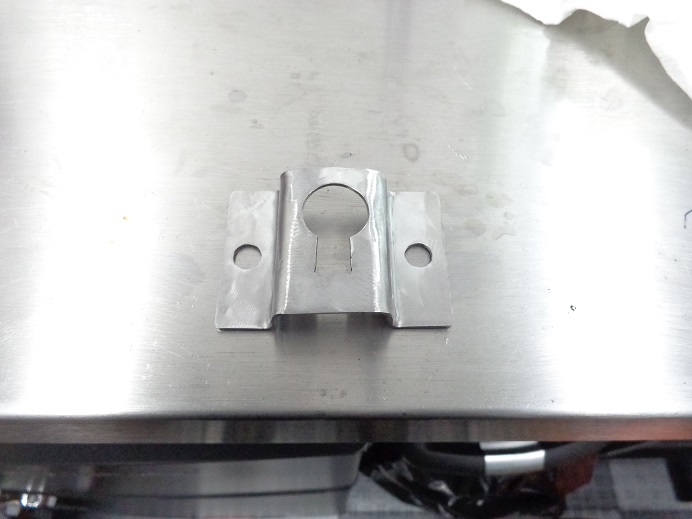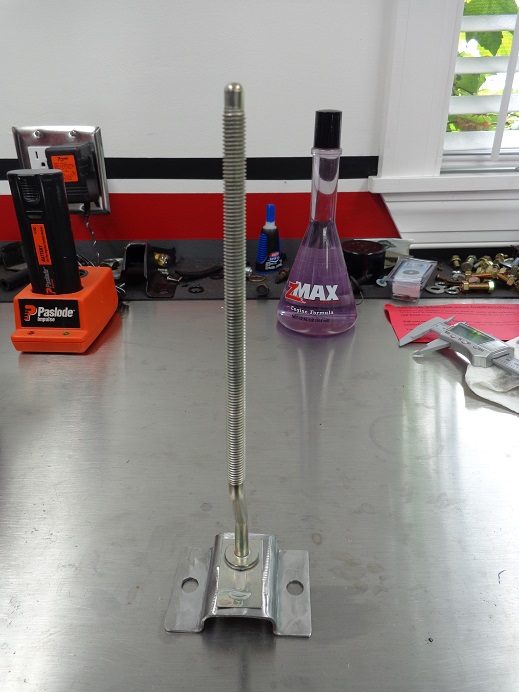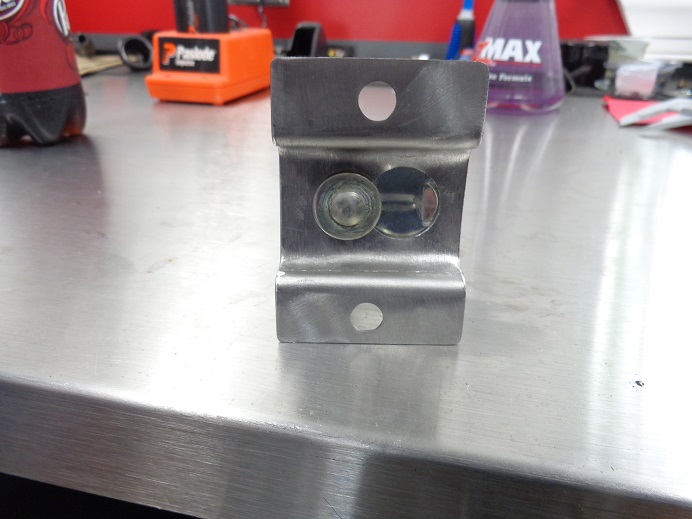 I wanted to use the lug wrench that came in the kit but it didn't fit the lugs or the wheels. So I took the 3/4" deep socket I use for the lugs and modified it to fit inside the wrench.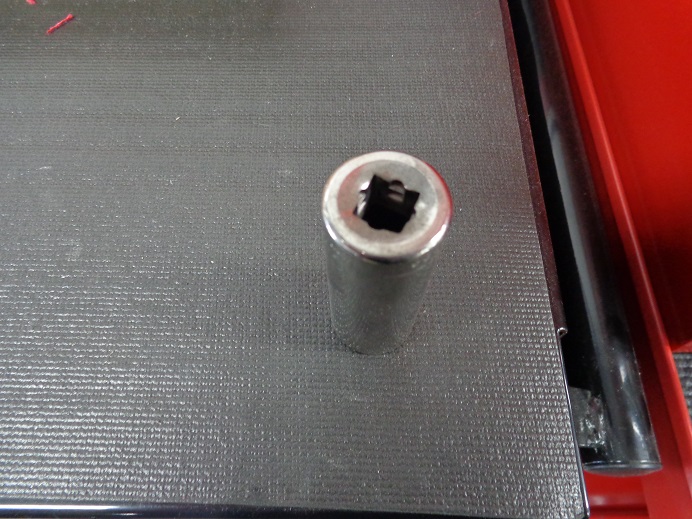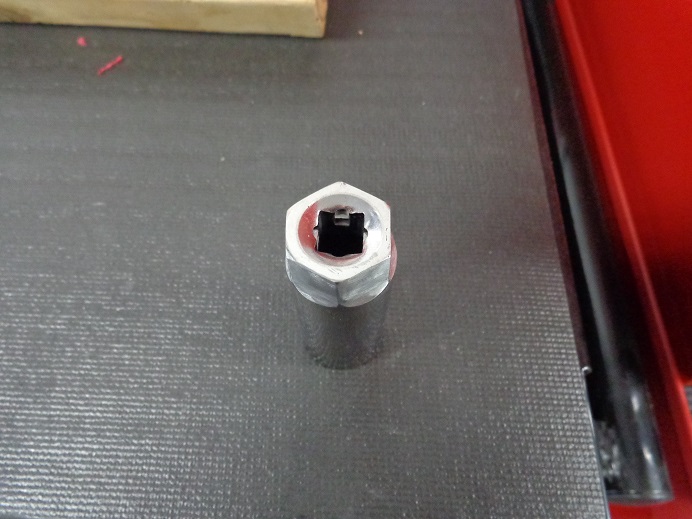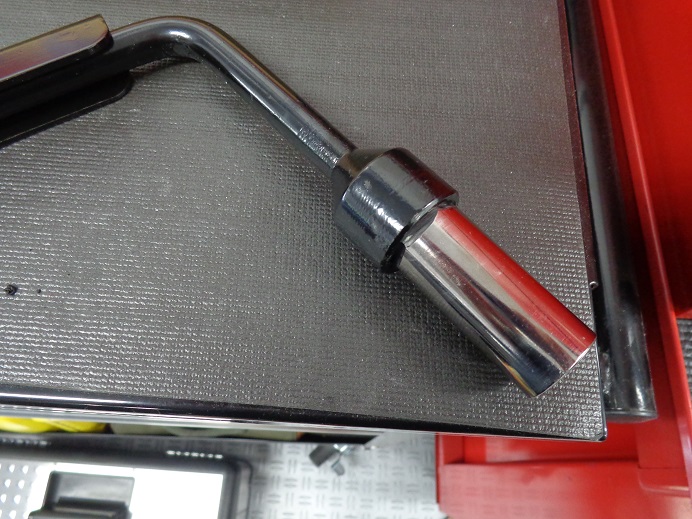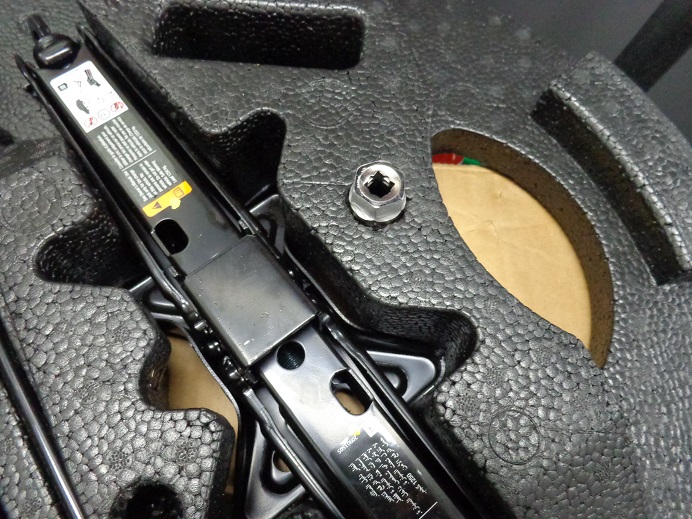 So now I just have to have the center of the wheel enlarged to fit over the hub and mount the tire.
Then I can build in the tire and cover the spare and the rest of the trunk. Hopefully next weekend.
9-3-2014
Took the tire & wheel over to Cadillac today and they mounted it for free. Now I don't have to wait for the flatbed to come get me for a flat tire.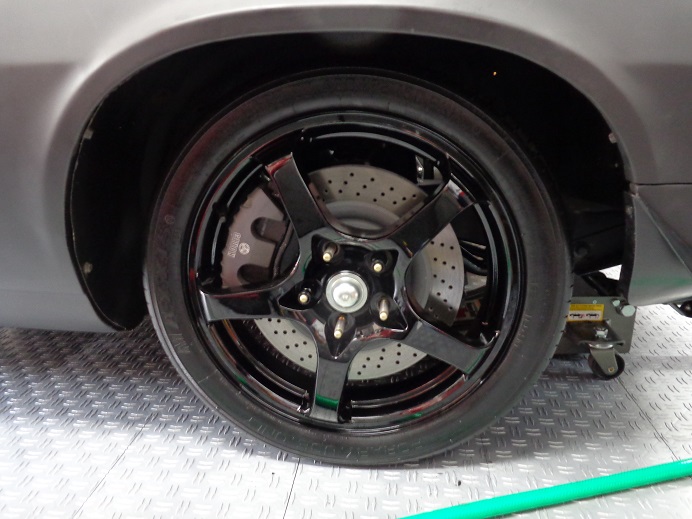 10-5-2014
I haven't posted in a while because I've been out enjoying the car. Except for adjusting the suspension a little I've done nothing to the car except drive it.
It's been a blast. Have run into one small problem thought, front tires rubbing on the inner fender when I hit any big dip in the road. I have looked into getting wheels with more of a backspace but I really like the way the car sits and looks right now. So I have decided to modify the fender lip and inner fender to make more room. The design of the fender allows for the inner lip to be modified from a horizontal position to an almost vertical position thus opening up almost an inch of extra room. Tomorrow I'm going to take the fenders off and start cutting and welding. I will take pictures and post them.
Started the fender & inner fender today. Did not get as much done as I had hoped but most of the cutting is done.
Started with the fenders first. There is about an inch wide lip in the wheel well that needed to be bend back.


A few cuts and it folded up pretty easy. Just have to weld up the cut lines and good as new.


I left about a 1/4" on the fender so I have picked up 3/4" already. Then I went onto the inner fender and cut out the piece I want to raise up.
I actually cut out one more inch up into the inner fender after I took this photo. This will be the section that I square off to get 2 additional inches of vertical wheel travel.
Should end up with plenty of wheel room. More to come.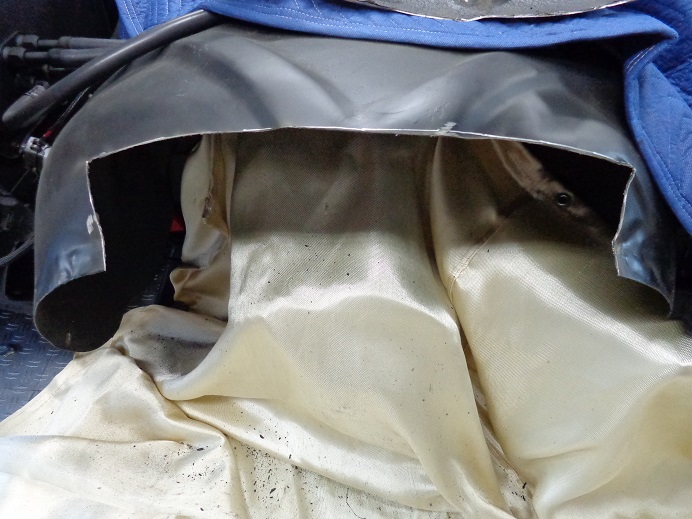 10-12-2014
Spent the day cutting cardboard and making templates then cutting out and shaping the pieces for my inner fender extensions.
Got all the pieces done, now just have to weld everything together. Didn't think it would take me this long. Doing modifications like this always gives me a greater appreciation for guy's who do this for a living. It would also take them a fraction of the time.
10-16-2014
Truthfully the real reason I went with 18's was that I wanted to use the Z51 Corvette brakes from Kore-3. So I needed 18's to fit over them.

Well, I got the passenger inner fender done today. Now I just have to weld up the inner fender lip and that side is done. Then onto the drivers side. Should get done quicker now that I have an idea of what I want to do.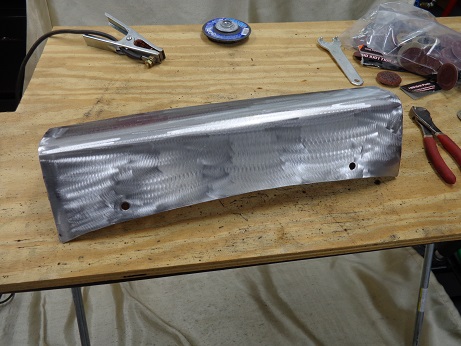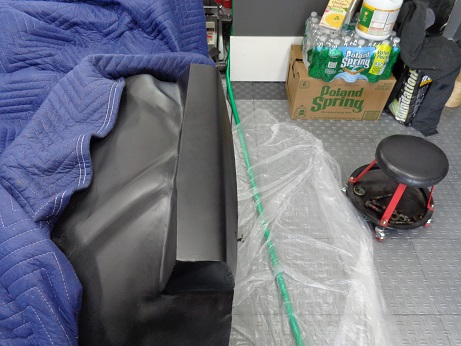 10-25-2014
Both sides all done and everything back together. Weather was 70 degrees today so I went for a nice long highway blast today.
Looking for every dip in the road I could find and no rubbing. I didn't want the ride to end. Probably one of the last nice weekends left, maybe one more cruise tomorrow.
11-1-2014
I have driven a couple of times at night now and 1970 headlight technology is just not up to what I am used to anymore.
So it's time to step up to some LED headlights. I have looked at several and one of the best seems to be these Trucklite LED headlights. They are a direct plug in to the stock connecters and they seem to fit into the original headlight buckets. A bit pricey, but I think me and my families safety is worth it.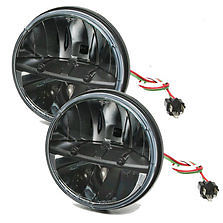 11-30-2014
Well, winter is here and the winter projects begin. There are a few spots on the Camaro's body that I have wanted to redo. The rear tail panel has a few dents and I don't want to replace the whole thing. And as I promised myself when I bought the car I would do everything myself. If I didn't know how I would learn something new. Well here it goes. I bought a stud gun and will try and straighten the panel myself. Plus there a few subtle modifications I would like to try. So here is my new toy. An early Christmas present from my wife.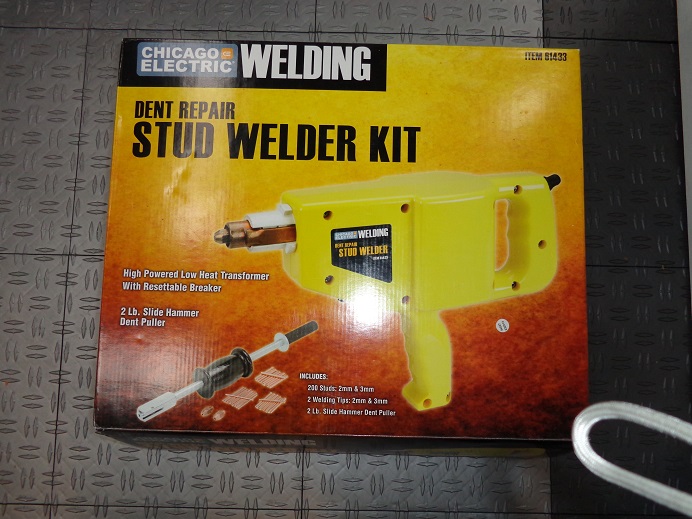 12-16-2014
Started mapping out the winter projects today.
The line between the body and the trunk has always bothered me. The trunk line is perfect and the body line almost never matches it. Some Camaro's are worst than others. Mine is definitly one of the really bad ones. I want them to match perfectly. Plus I think adding small indents in the bumper to match the taillights would be a nice touch. Also the bumper pockets in the rear of the quarter panel seem to have been hit. They will need to be cut out and redone. I think I can order some quarter patch panels and cut out the section I need.


12-21-2014
Started to correct the trunk area today. I used my new toy, the stud gun, to correct the lower panel & tail section that was quite wavey. A little more work and it will just need a thin skim coat to make it perfect. Used some round bar to make a nice line to match the curvature of the trunk lid. Much more work to do on that, but I like the line much better now.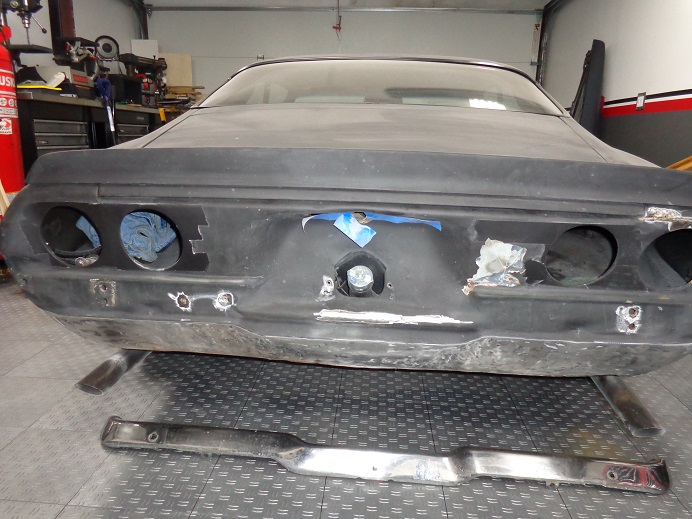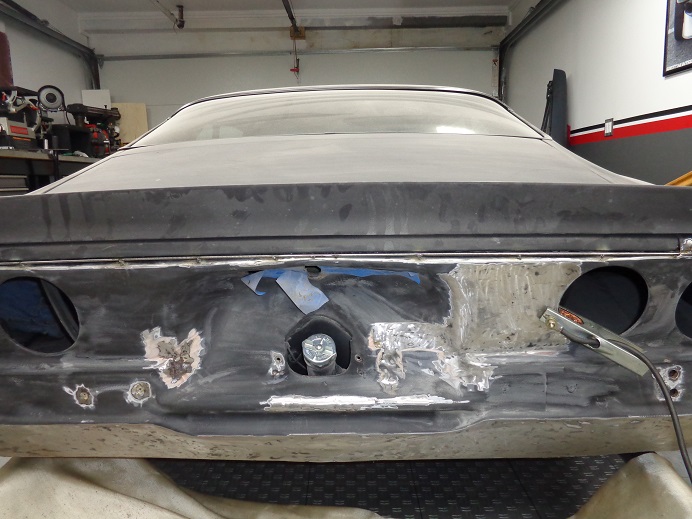 1-17-2015
Got the trunk lid section mostly welded up. Now for the pocket tthat the rear bumper fits into(not sure what it's called).
Looks like the bumper got pushed into it. Passenger side if too far gone. Bought a rear patch panel and cut out what I need to repair it.
Cut out the damaged section now just have to trim the new piece to go in. These pictures are from before I started the trunk section.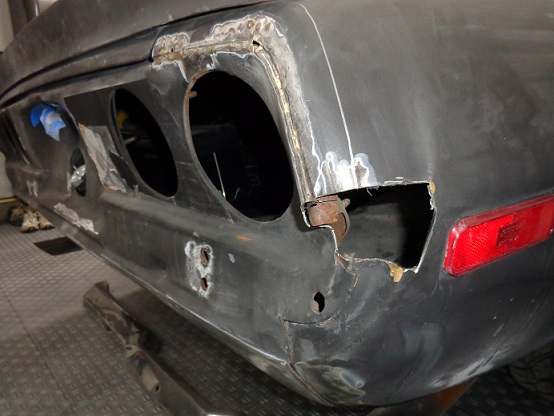 This was the piece that came out.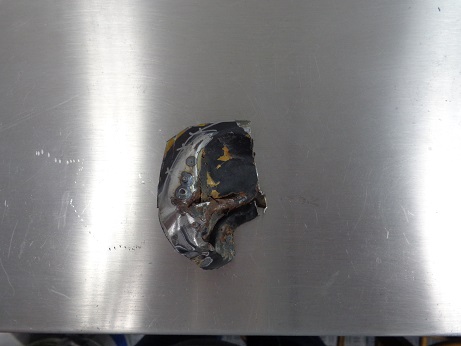 Drivers side is better, I will see if I can pull & hammer it out first.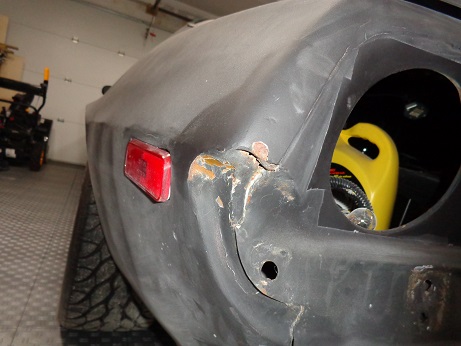 3-5-2015
Just started another of my winter projects for the Camaro.
Replacing the weak open 8.2 for an 8.5 10 bolt, upgrading to 30 spline, installing a posi and upping the gears to 3:42. Plus I already have a Moser stud girdle for it from the 8.2.
I wanted a 12 bolt but it just wasn't in my budget right now. Picked up this housing for $75, I couldn't pass on it. A little cleanup, a coat of POS and it will be ready for some great new parts.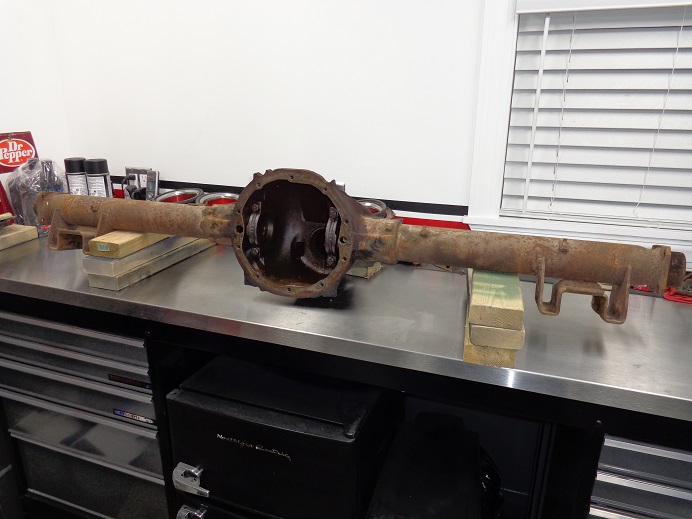 3-11-2015
I've been doing some bodywork on the rear of the car lately, and I'm always looking for something to mix the filler on. In the past I've used cardboard(I know, not good), thick plastic boards, etc.....
I found this on Eastwoods website and MAN!!!! I love this thing. No more messy cleanup(except for the spreaders). Just tear off the sheet and throw it away. I think if I did bodywork all day long, it would get expensive. But for me, $19 for 100 sheets, well worth it.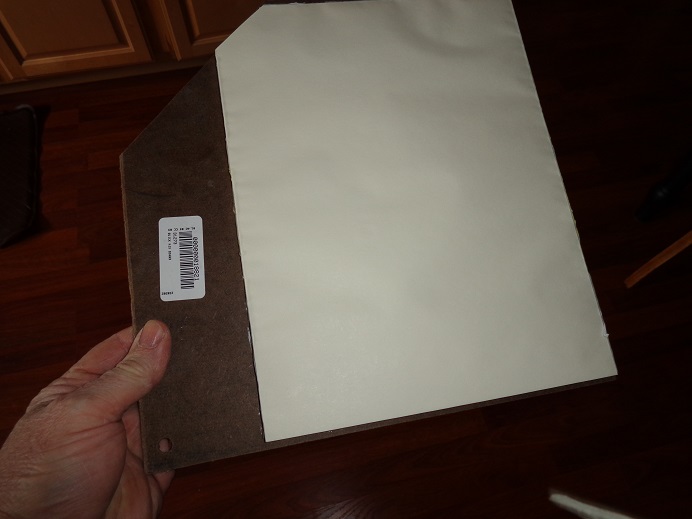 4-13-2015
Here is the done tail section. The line between the body and trunk is much cleaner now.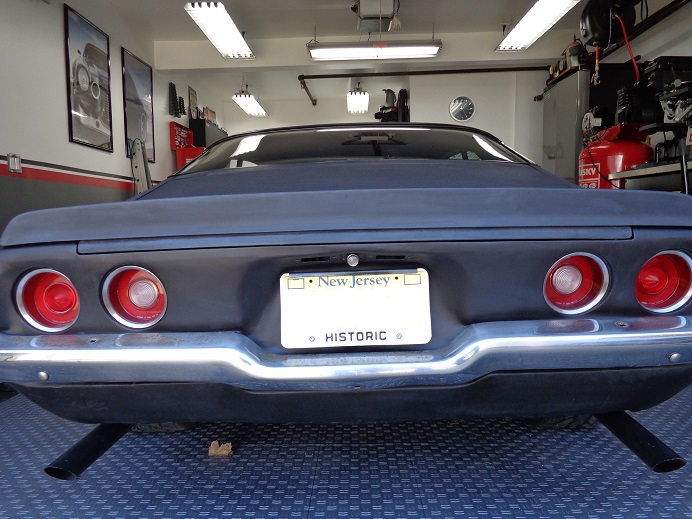 4-15-2015
I installed the Trucklite LED headlights. I love modern technologhy, these lights are super bright and they truly are plug & play. Took about 15min for both lights.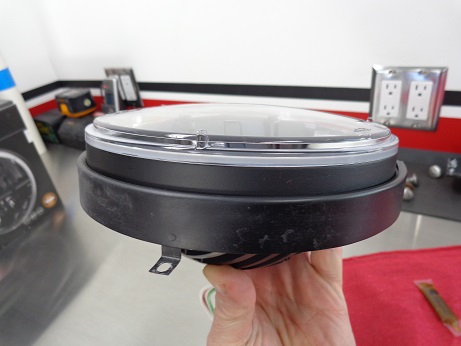 They have a flater surface then original so the sides stick out further, but I'm ok with that.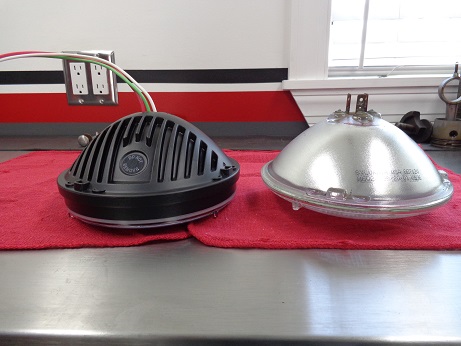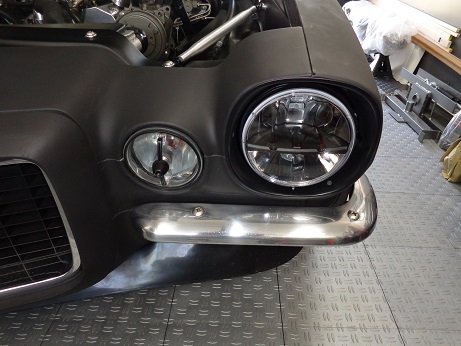 Plus I REALLY dig the look of them.
4-26-2015
Painted and installed a/c pulley cover. About time!!!!

No cover


Cover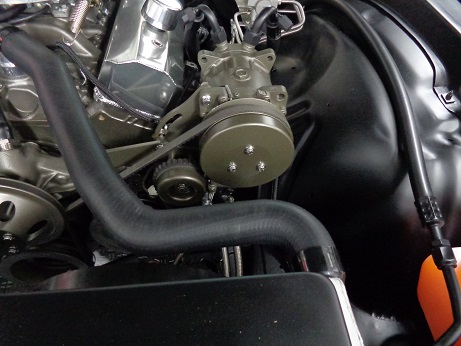 4-28-2015
Finally put together my new toy that I got for my birthday. Should come in handy when I build the new rear end.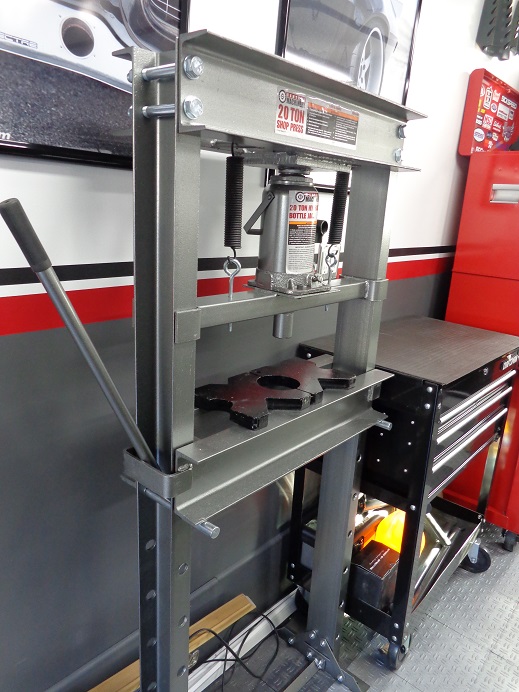 5-23-2015
You are all going to think I've gone nuts.
But, I was watching youtube about a month ago and came across these video's from DipyourCar.com. Again you will think I'm nuts but I think it's the coolest and most unique thing I've seen in quite awhile. Change the color of your car, whenever you want, all for about $200 in material? I'm in!!!!!!
So I bought their kit which includes the sprayer, spray gun, hose etc.... Everything you need to do the job yourself. All for about $400(that includes the 4 gallons of product).
They also carry this stuff called Dip Coat which comes in a spray bottle. You spray it on a rag, wipe the car down and it takes away the rubbery feeling of it. Feels almost like a vinyl wrap.
Taped off the car and garage and away I went.
I have to say, I love this stuff. Plus the car came out awesome. Plus if I get tired of it I can just peel it off and and it doesn't hurt the paint.
Win, win in my opinion.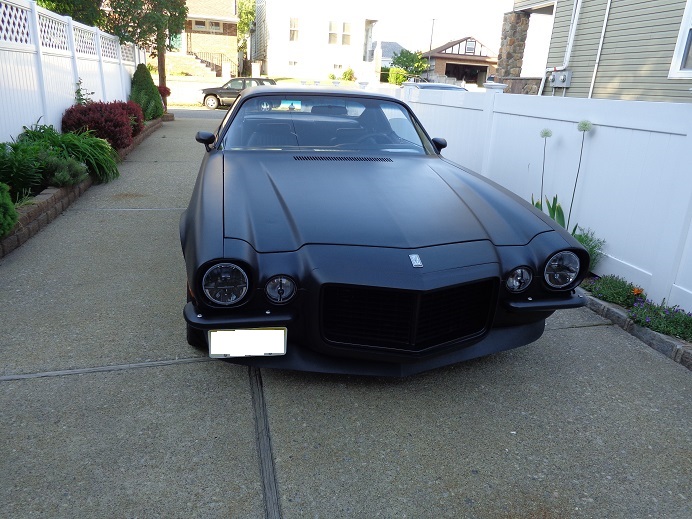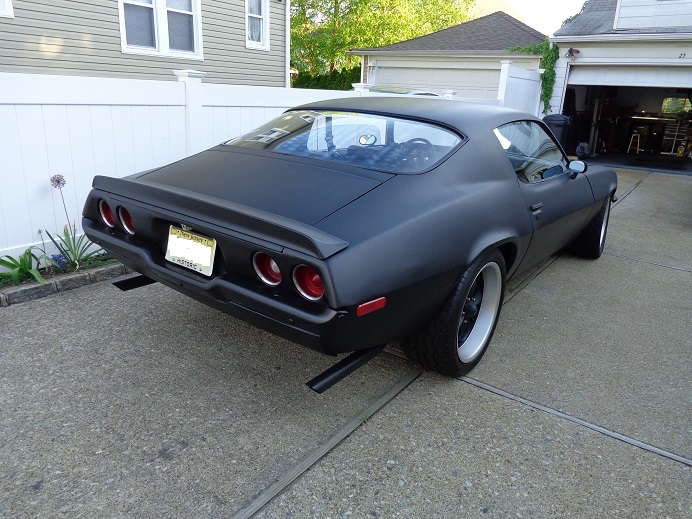 5-26-2015
Went to switch on the a/c and no blower. Checked a few things with Vintage Air on the phone and turns out, I have a bad control panel. They asked for the serial # on the unit and sent me out a new one, no problem. Big thanks to Vintage Air for backing up a great product with great customer service.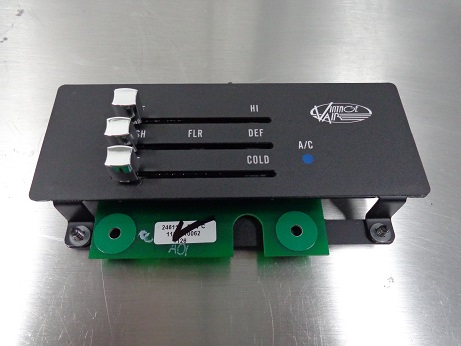 5-31-2015
Installed a fuel pressure guage today. I couldn't put a chrome one in so I took some scotch brite and not it looks brushed. Much better.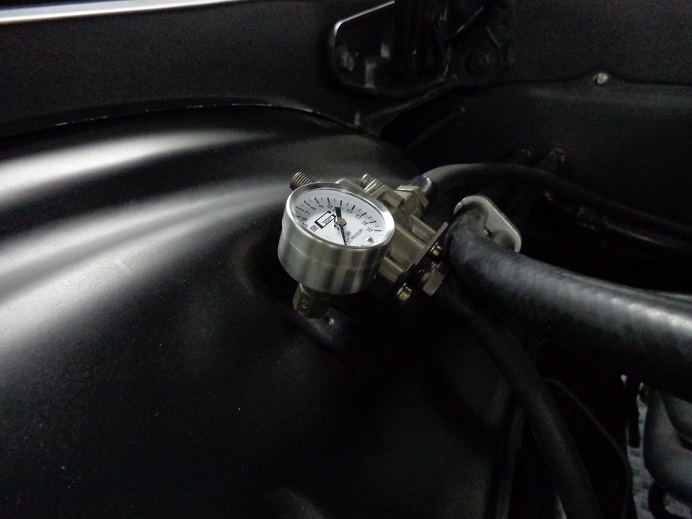 6-7-2015
As I've said before, when I started this project I promised myself that if I didn't know how to do something I would buy the tools and learn how to do it myself. Whatever "it" was.
Well it was time to evacuate the a/c system and add refrigerant. So I read up and watched many youtube video's. Bought the right tools and did it myself.
Started by evacuating the system. Good news, no leaks first time. So in went the refrigerant. Now I have nice cold air. This summer will be a blast.

Vacuum pump.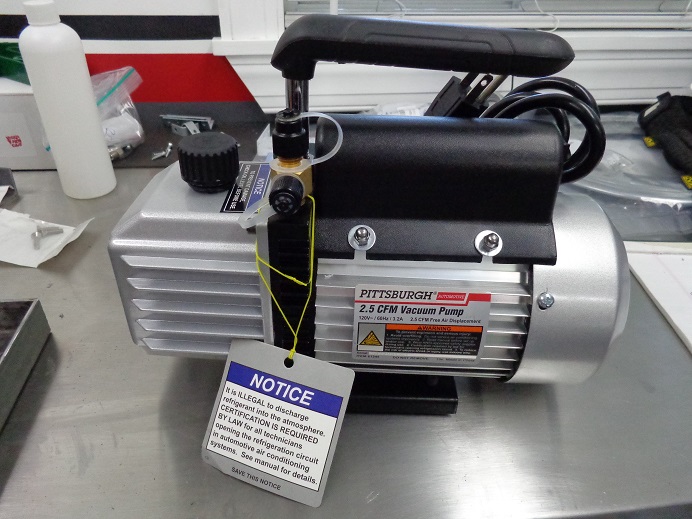 Guage set.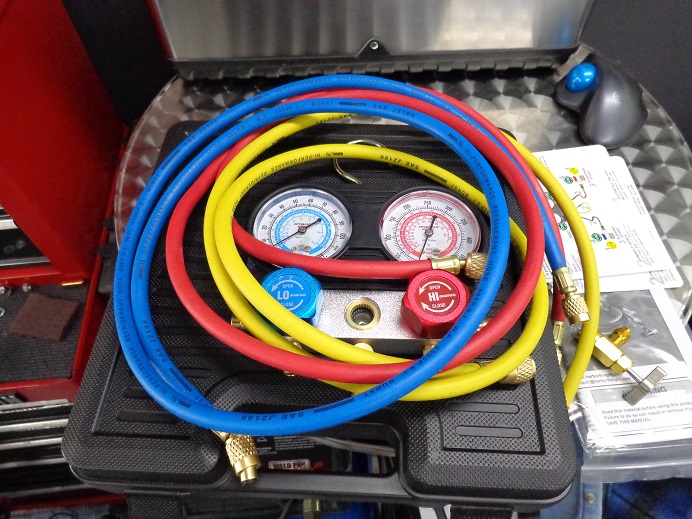 Evacuating the system.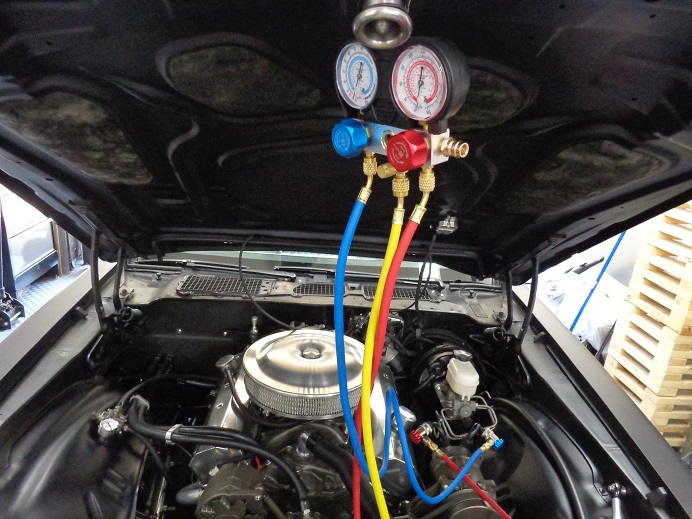 Putting in the refrigerant.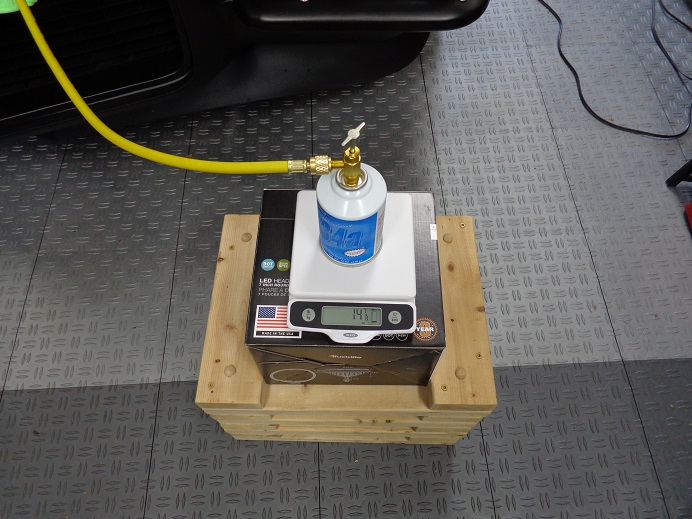 6-9-2015
Getting ready to take the car on it's first long ride, out of state to visit some friends.
I have the a/c taken car of, an 18" spare tire, now I just think I should have a tool box mounted in the trunk(you never know).
I found this one a few years ago and thought it would be perfect for the Camaro. It's been sitting on a shelf just waiting for me to get around to mounting it.
I have an idea for securing it in the trunk. Now I just have to get some angle iron, velcro straps, nut zerts, s/s bolts, my welder, some paint, and I should have it done.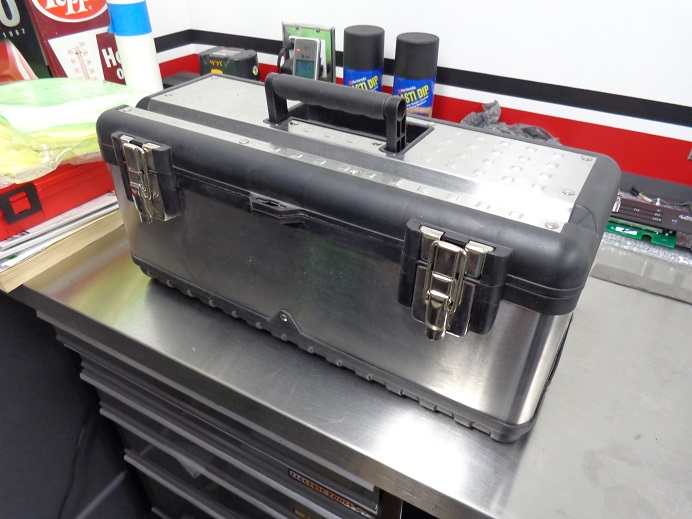 6-12-2015
Spent some time making a tool box frame and tie down and here is what I ended up with.
Holds the box in nice and tight.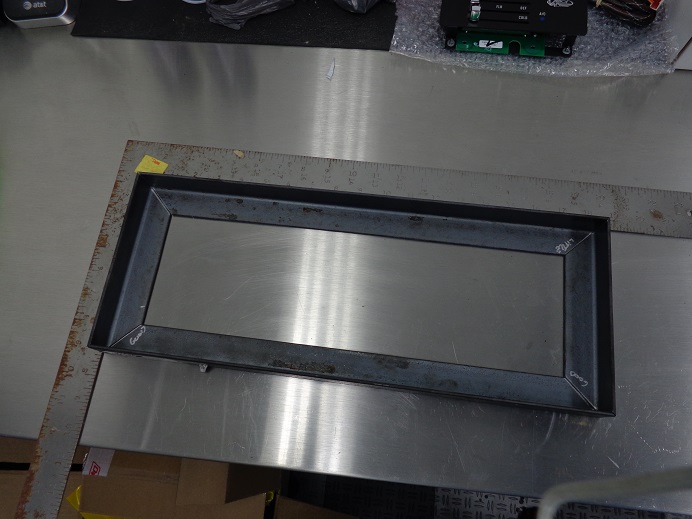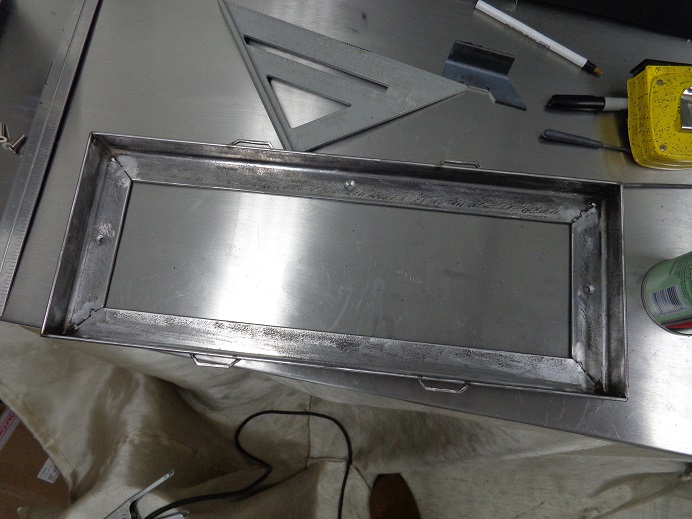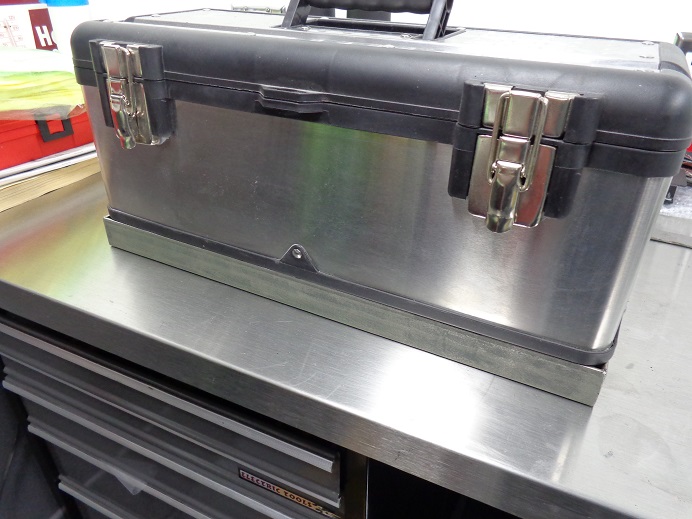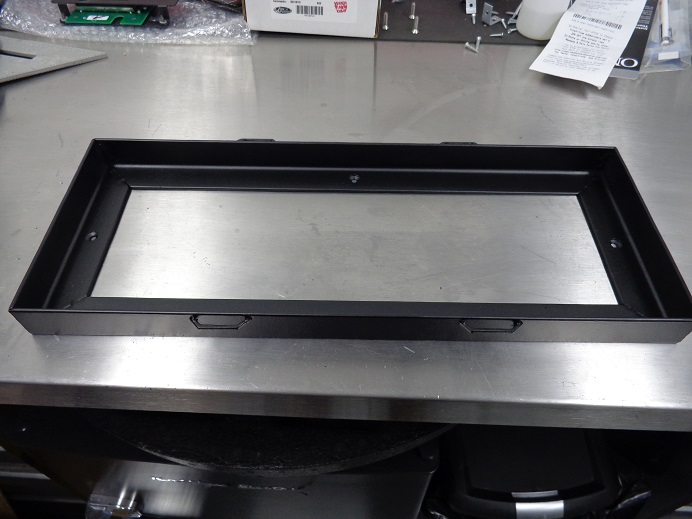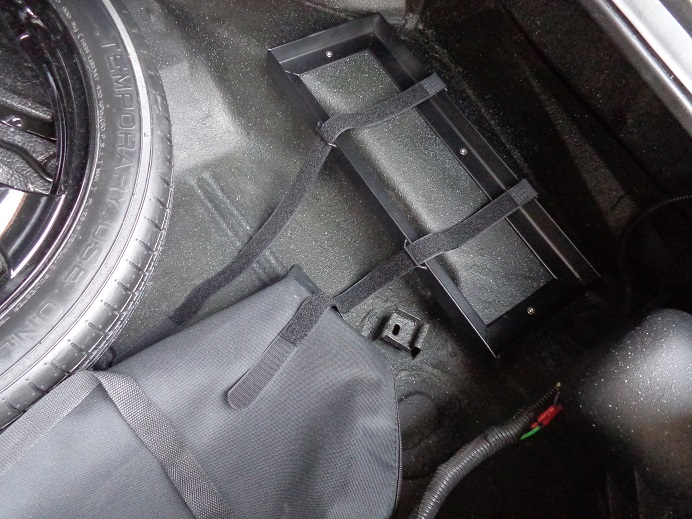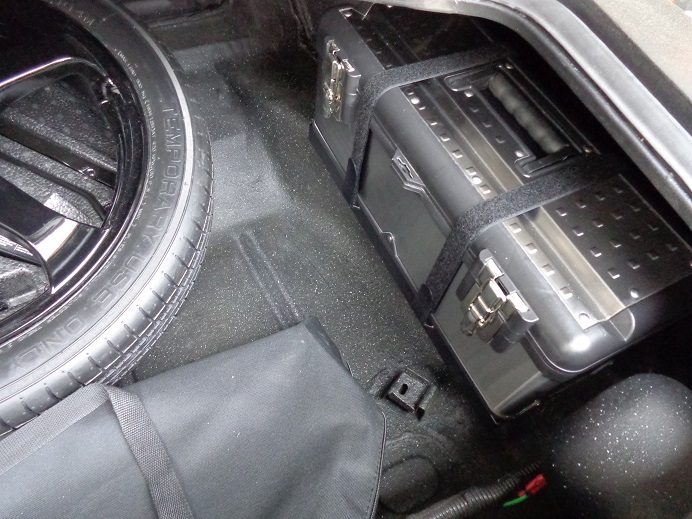 6-13-2015
Yes Mike, it's an 18" spare from a Cadillac. Best looking spare there is.
There is a 17" version from the 2002-2006 GTO also, but it would not fit over my brakes. Here it is on the car, I was checking the fit.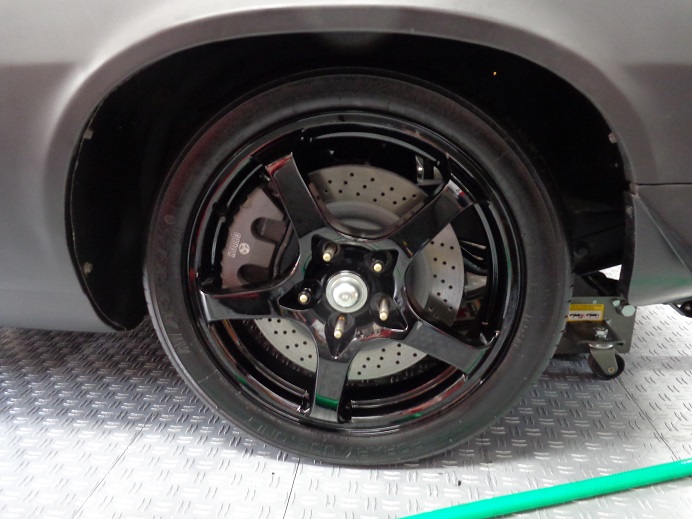 6-14-2015
This is the original picture I found of the spare. I believe the Brembo's are 14" but don't quote me on it.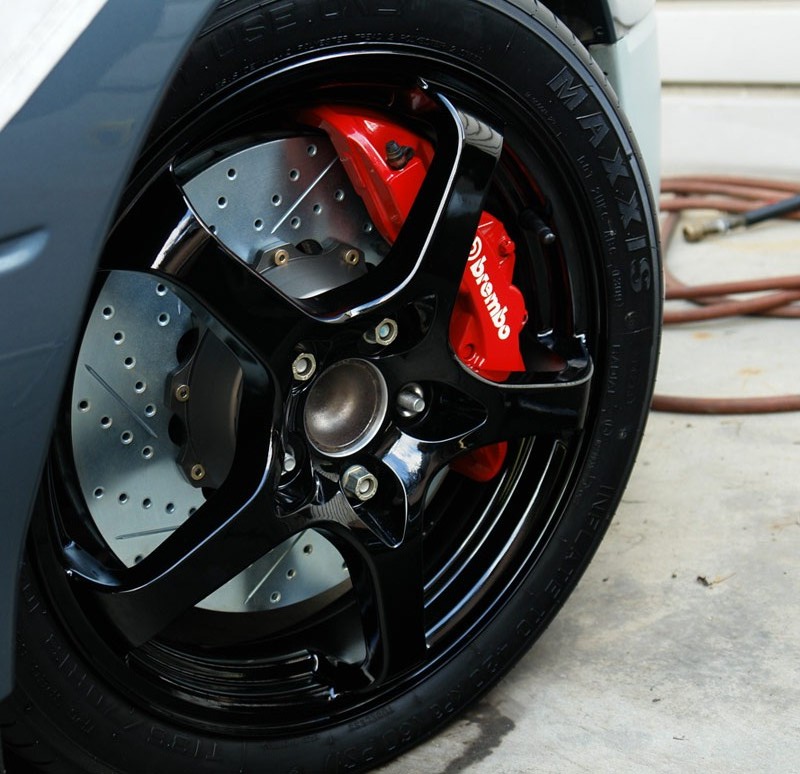 6-20-2015
My new seats came in and I wasted no time getting to work on them.
I have read a lot about these seats on many forums, the reviews were always good. The main thing I kept reading was how if you were 6' tall you were going to have cut and reweld the seat brackets.
The way they come puts you way above stock. So I scheduled the whole weekend in the garage to be cutting, fitting, and rewelding. Opened the box put everything together, set the brackets on the lowest setting and put them in. Well, to my surprise and delight they are perfect. They place me at the exact same height as the stock seats. I could not have asked for a better fit.
The look of them also fits the car perfectly. They look like they were made for it. Plus now the seats match the suspension and my butt won't slide all over the place.
It's raining today so I can't drive it but I did sit in the car and make vaaaarrrrrooooommmmm noises.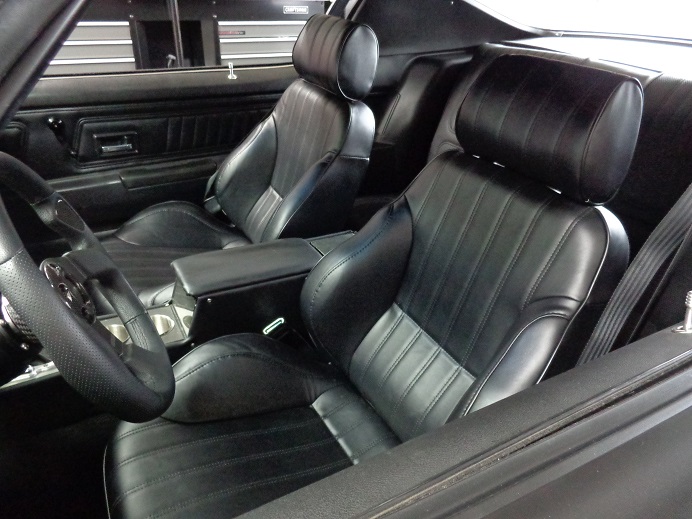 6-26-2015
So, I bought a cheapy home depot fire extingusher holder for the trunk. I just could not bring myself to put it in my car.
I started to look online for a nicer one. Well I found several for $150 & $200, sorry could not justify it. I know, this is from a guy who spent $300 on a spare tire and jack kit from cadillac.
Through my searching I found this one from Drake Off Road. It's quick release and billet. Very nice piece. Looked for the best deal and found it on Amazon for $58. Could not pass it up.
All I need now are some nutcerts and a few arp s/s bolts and it will be installed. Ok, maybe I will change how the fire extingusher will look. Not a big fan of the red, at least not on this car. Maybe a black or brushed one. Will have to investigate and experiment.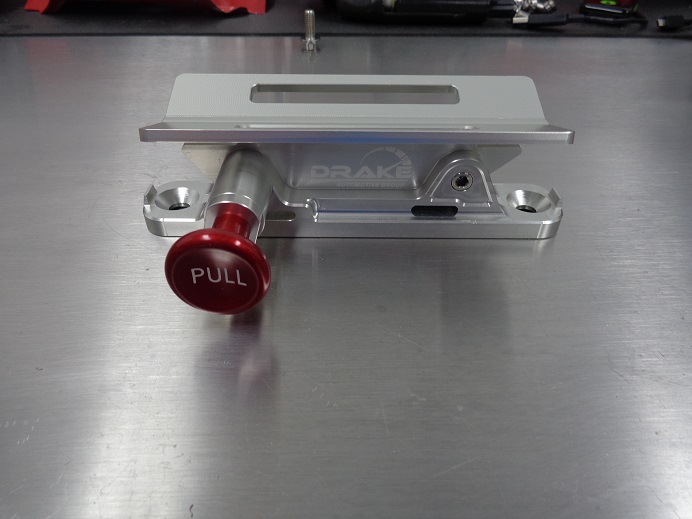 8-21-2015
At first I thought I would just go to Home Depot and buy a fire extinguisher for the car. I started reading and discovered all extinguishers are not the same, at least for the automotive world.
I found out that a regular fire ext will leave quite a mess in your engine compartment if you have to use it. Plus it can damage the paint and wiring. Most people will say "The fire will create more of a mess." True, but if you catch it early before anything is really burnt or engulfed in flames. You don't want the fire ext to do even more damage.
In comes a company called H3R Performance, the clean agent they use is advertised not to damage paint or wiring. You can just hose it off with soap and water.
Plus it's the coolest looking one I've seen.
Now to mount it in the trunk. Should have it done today.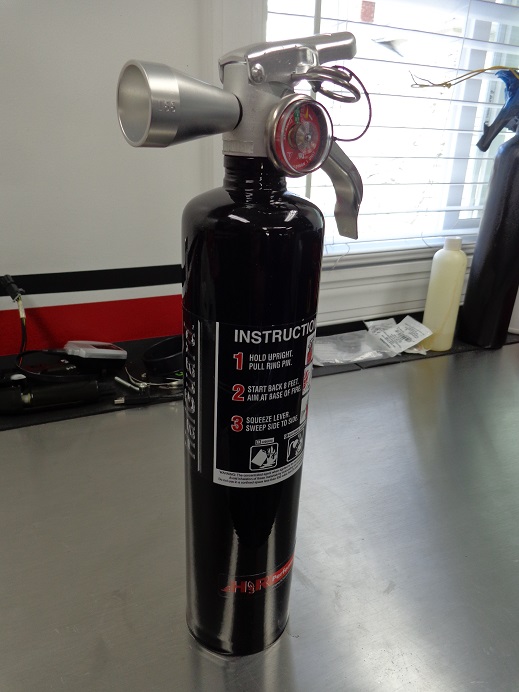 8-21-2015
Fire extinguisher in and hopefully never needed.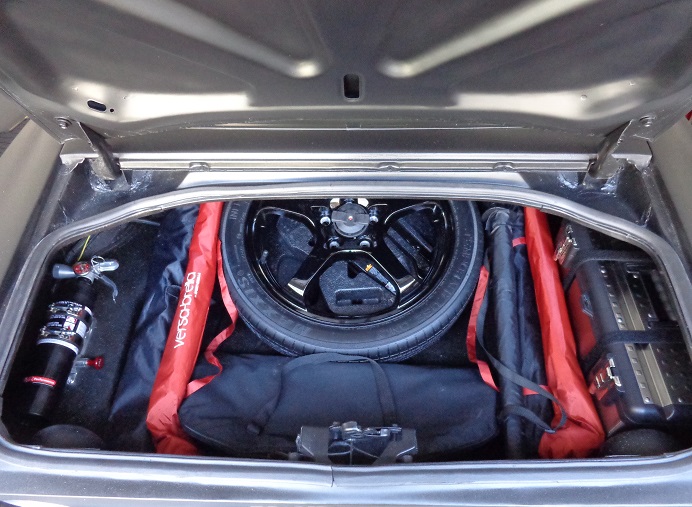 9-10-2015
Picked up another winter project for the Camaro.
A 700R4 out of an IROC. Pulled the pan and it looks brand new.
For $50 I think I lucked out.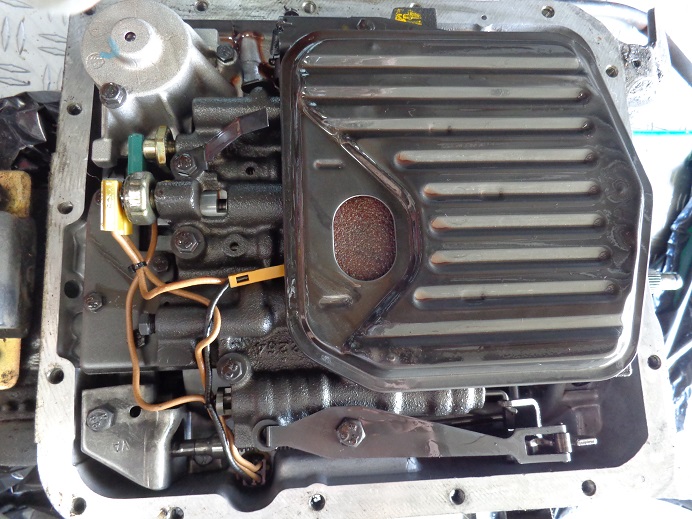 10-13-2015
Started working on the 700R4 today. Pulled the pan and welded in a magnetic drain plug.
Ordered a Painless Lockup kit for it, and got the internal transmission wiring done.
Now I just have to install & wire the new brake and vacuum switches.
Kit was a little pricey but included everything I needed and very easy to install so far.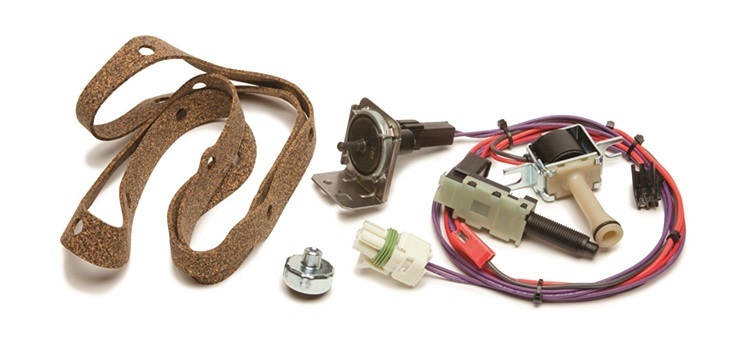 10-18-2015
Bought something to help with the transmission swap, a trans jack.
The car should be high enough to get it under.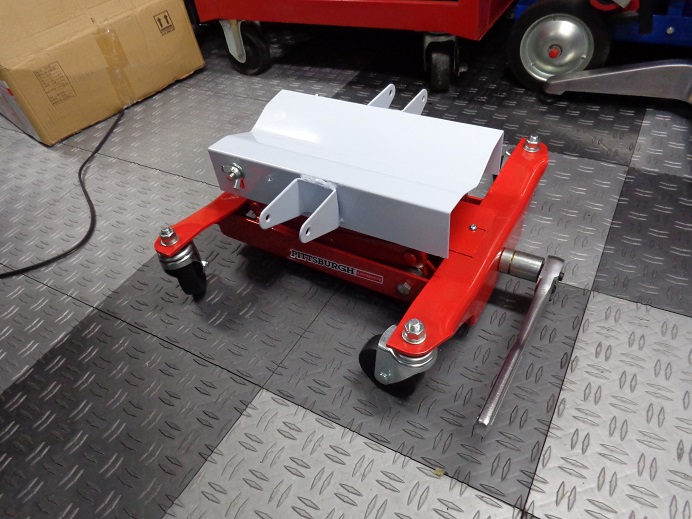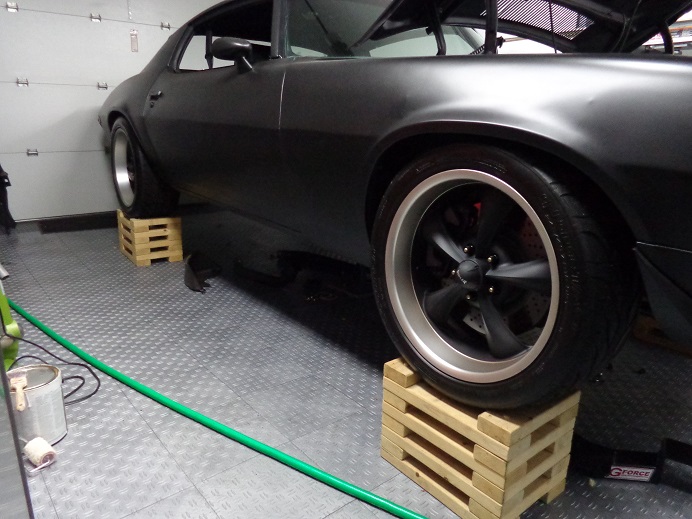 10-25-2015
Just want to do a quick product spotlight. I like Lokar's products and have used them on the Camaro as well as in the past.
I have never used one of their locking transmission dip sticks. Just got it delivered and WOW, it's a a great piece.
Not only does it have a way to lock it in, but it also has a quick release fitting on both ends.
Plus, a quick release plug so you don't have to remove the entire dip stick with the transmission if you have to pull the trans out.
Cuts down on excess spillage.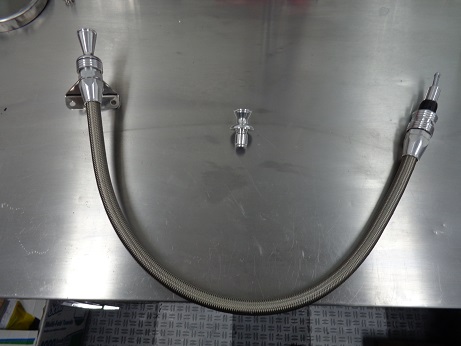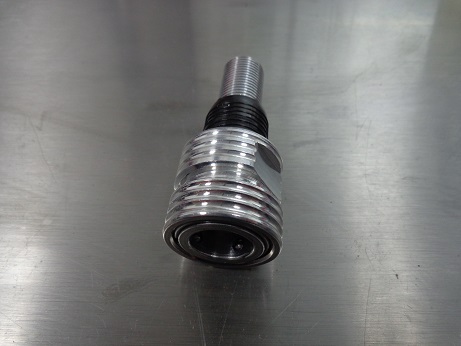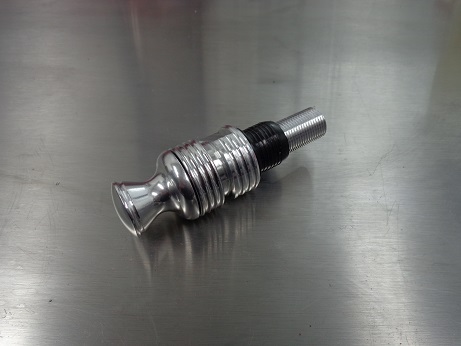 12-9-2015
Just finished the 700R4, replaced all the outer seals and gaskets, new detent cable, and new Lokar dipstick. While I've got the trans out I'm going to replace the engine oil pan gasket. Very small leak I noticed while messing with the trans. Sold my old trans plus the extra parts that came on the 700r4 and that paid for a new trans pan, seals & gaskets. Had enough left over to get all the parts I needed for my new posi rear. I love when a plan works out.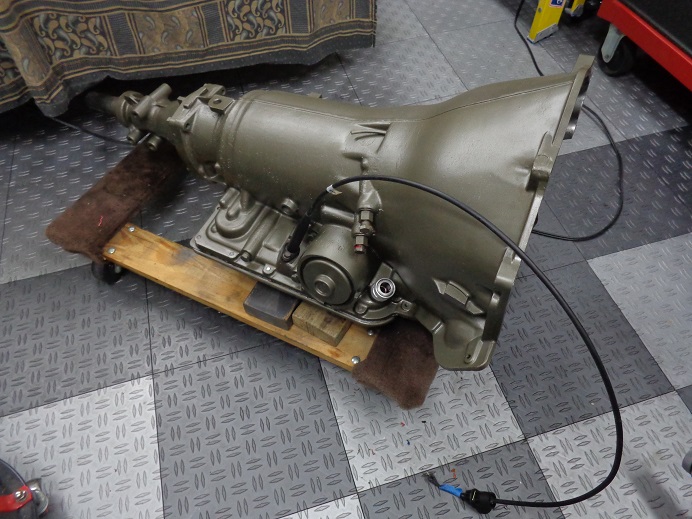 12-15-2015
While I have the trans out I figured I would replace the oil pan gasket & rear main seal. Pulled the oil pan and found an unpleasant surprise. The oil pump pickup sitting in the bottom of the pan. It must have just happened because I never noticed a drop in oil pressure. Must have been my lucky day.
Bought a new one and pressed it in. In also found a missing tooth on the flexplate. Just waiting for the new flexplate and I can put the trans back in.
1-7-2016
Got the trans in and it runs great. On to the next of my winter projects, a new rear.
I've got the rear all cleaned up and ready to get POR-15 this weekend. Then on to stuffing it with all the new parts I have on the workbench.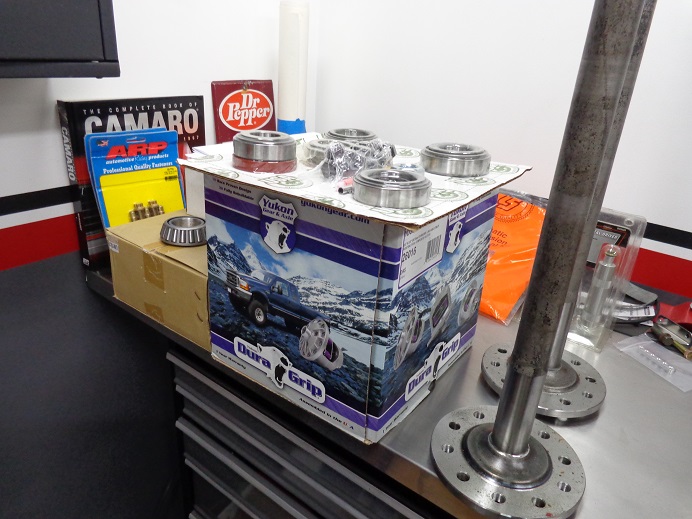 Ok, this is a small thing. But, I do love the tiny details.
I had a spacer between the carb and the air cleaner so it would clear the electric choke.
It was the only one I could find at the time. It was plastic but served the purpose.
Last week I removed the air cleaner to hook up the tv cable for the new trans. Sitting there are what's left of the plastic spacer. The rest of the pieces are sitting inside the carb.
Luckily I had not run the car or all of those pieces would now be inside the engine. I went on a hunt for a new carb spacer(Non-plastic) and found this. Got it today and for the price, it's awesome.
Made by Bryke Racing for $8.99. Has a rubber o-ring seal and everything.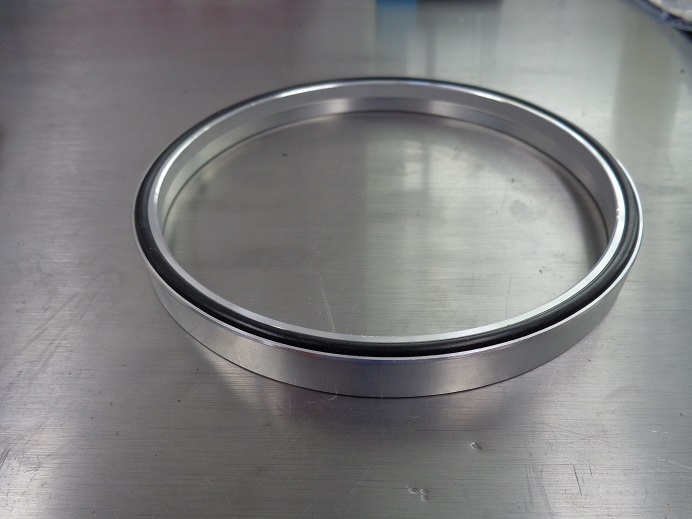 2-7-2016
Here is what I started with. A very crusty 8.5 rear and a bench of new parts.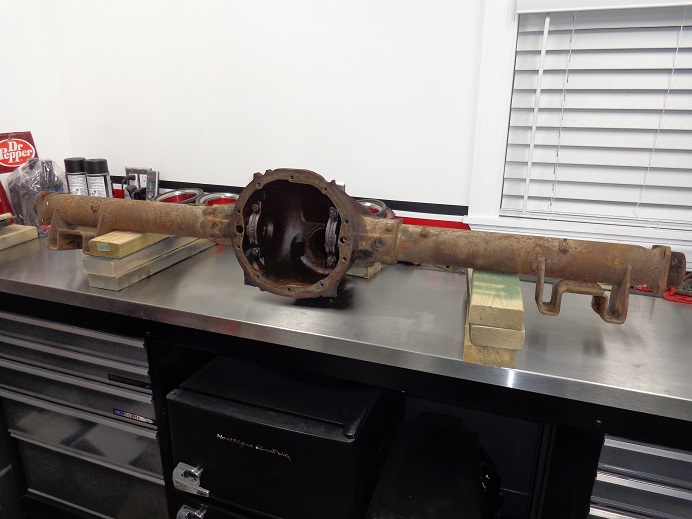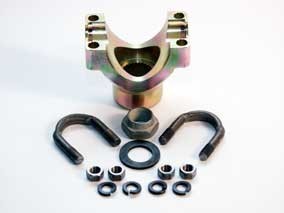 After a lot of cleaning and POR and a bunch of new parts from Moser, Yukon, and ARP, plus the stud girdle from the old rear. It's finally in.
The 3.73 gears should work good with the 700R4. Just have to have the drive shaft shortened and it's ready for a test drive.
Hopefully by next weekend if the warm weather hangs around.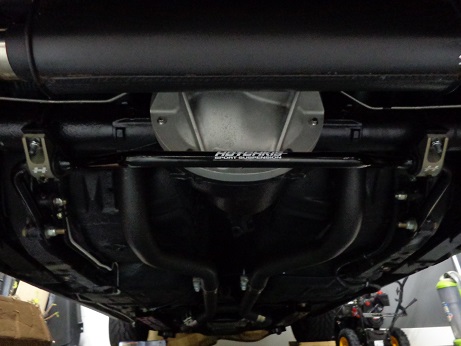 2-28-2016
Now that I have all the mechanical winter projects done, I have started on the winter body projects.
So I started to peel the car before I do the body work.
I have learned that it peels off really well except for the places you don't spray it on thick enough.
Mainly the edges and the bottom of the car. Still it's coming off pretty easy.
What color for this season? White? Orange? Or maybe black again. I have time to decide.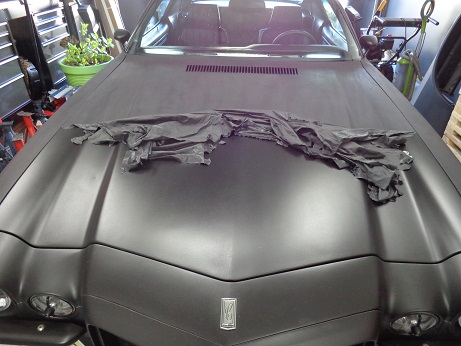 3-17-2016
Started on my first body winter project.
The rear pass wheel lip was repaired very poorly before I got the car.
I assumed that the wheel lip was rusted out or worse. Turned out it was just creased in a bit. The damage was not that bad.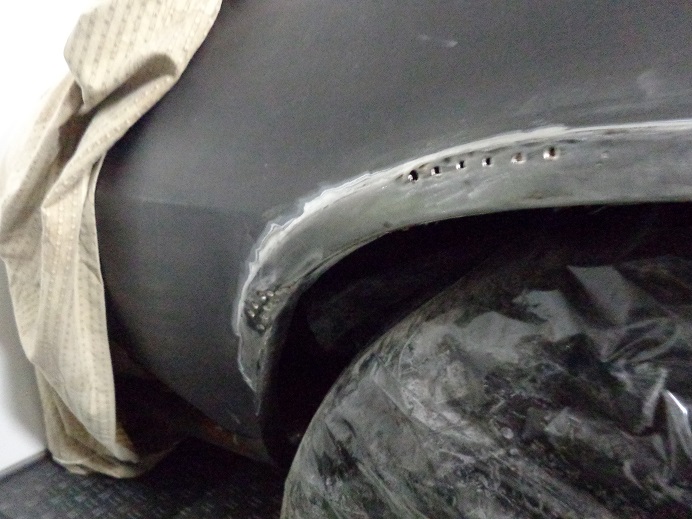 The guy who repaired it did more damage by drilling holes and then just slapping a bondo on it.
Once I welded up the holes and pulled out my stud gun I needed just a light skim coat of filler.
I was expecting to have to cut and replace the whole lip, or worse, the whole quarter.
Turned out to be a very minor repair. Sure glad I didn't order a new quarter.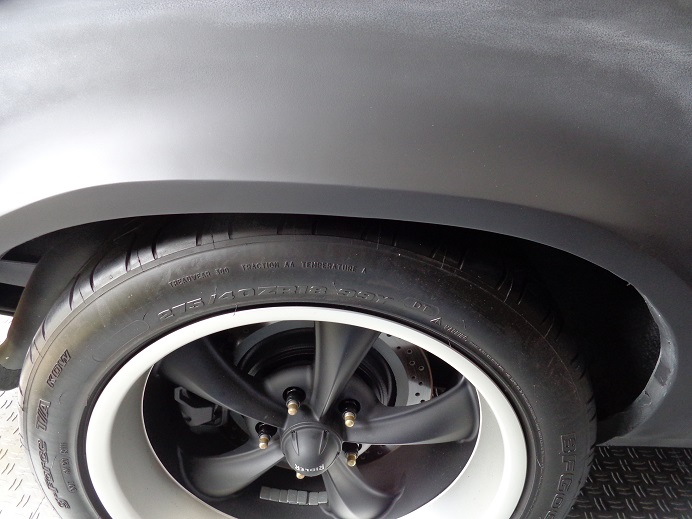 5-30-2016
Took the Camaro out for a cruise the other day and something did not feel right.
By the time I got home the trans was slipping pretty bad. Time for a rebuild.
Ordered a kit from Monster transmissions and should be here by wed.
Will be my first trans rebuild. Bought a special tool to compress the springs to aid in taking out the snap rings.
Turned out to be easier to push down with the handle of a hammer and pop out the snap ring.
Now I have a bench full of parts for my giant trans puzzle.
Should be fun. New learning experience.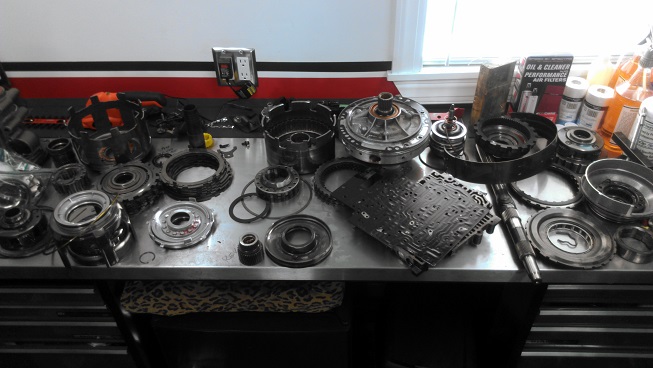 8-20-2016
So the 700R4 is all rebuilt and back in the car.
Took me longer then I had anticipated because I ended up replacing a few more parts that were not included in the rebuild kit.
Got it back in and it was not locking up in fourth. Called Painless and they helped me figure out it was a bad solenoid. Shipped me a new one right away. Thanks Painless for the great customer service.
Well worth the wait though, cruises down the highway great and has plenty of grunt down low. Hopefully if the weather stays nice today we will go out for a nice long blast.
12-24-2016
I have been thinking about building the next motor for the Camaro. Going back and forth between old school and new school.
Looking through Craigs List last week and my mind was made up for me. An LQ4 for $550 five minutes from my house, after a little negotiating we settled on $400. I think it was a good deal. Everything looks in very good shape. I have a pretty modest goal of 400 to 450hp. Should be attainable without to much trouble. I hope. Early Christmas present.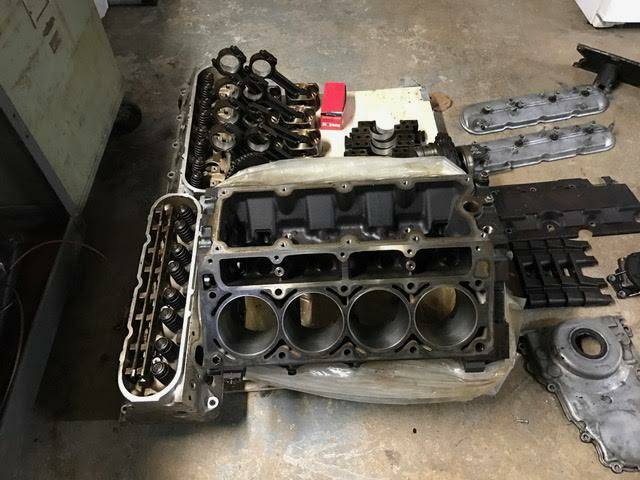 2-9-2017
Picked up another piece for my LS today. I bought the motor with 317 heads but found a set of L92 (823) heads for $350. Pretty good deal I think. Hopefully I will get everything to the machine shop in the next few weeks.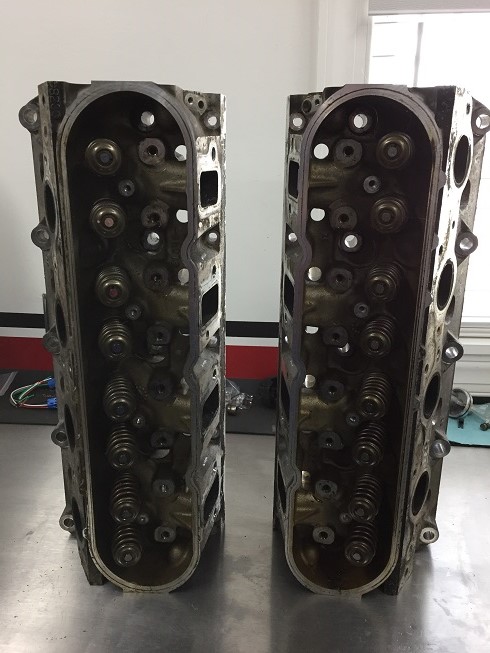 3-27-2017
Well the block is off to the machine shop. Should be back by the end of the week.
4-2-2017
Got the block back and it looks brand new, very happy.
Before I took it to the machine shop I spent some time deburring the oil passages. Always time well spent.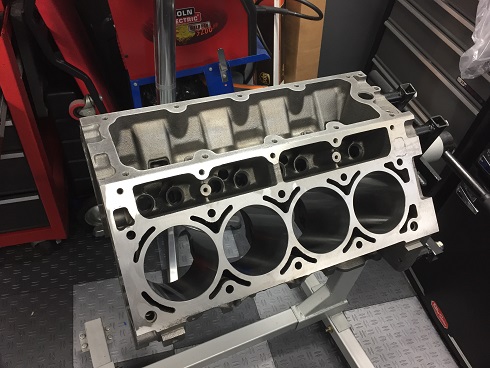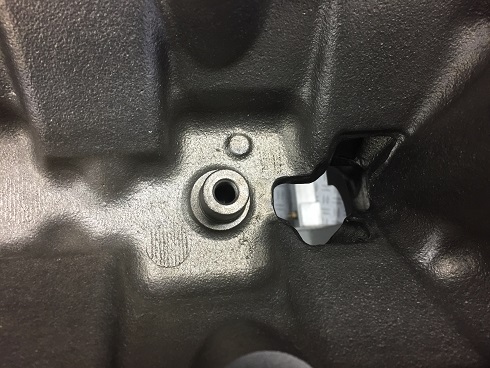 Spent some today cleaning and getting the block painted.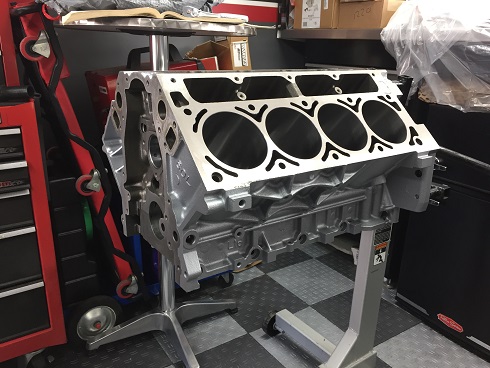 4-28-2017
Starting looking around for a set of cylinder head stands. Most were at least $50, so out came the tools and for $10 here's my homemade stands. The OCD in me won't let them stay looking like that for long. A little smoothing out & polishing is in order. They work great.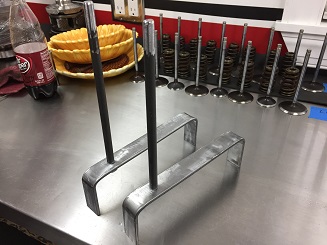 Used some over cleaner and all the carbon came right off.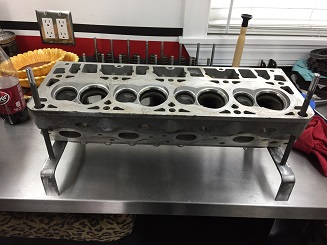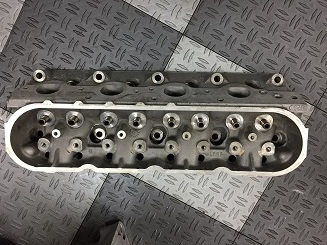 9-4-2017
Looking for a fast weekend fab job and came up with this, crankshaft stand.
Only one I found online was a Goodson one and it was $124.
Sorry, but for about $20 I can build my own.
Here it is.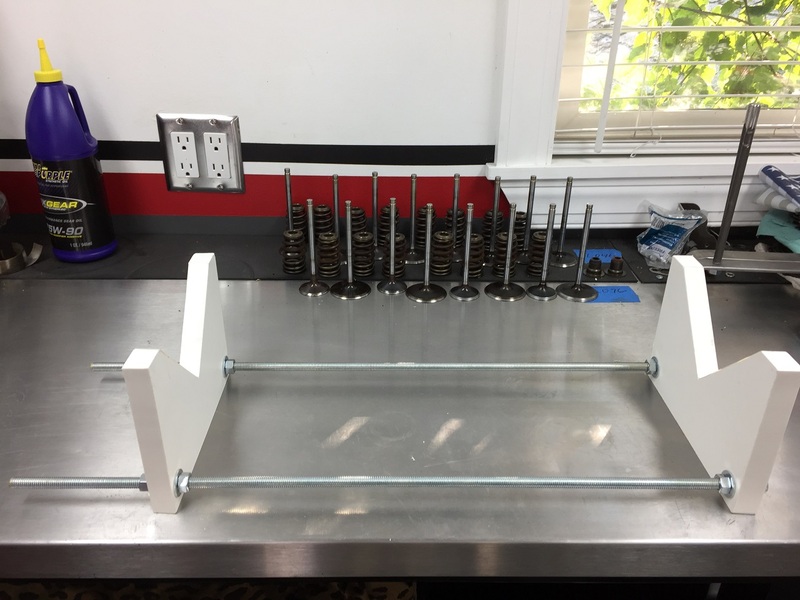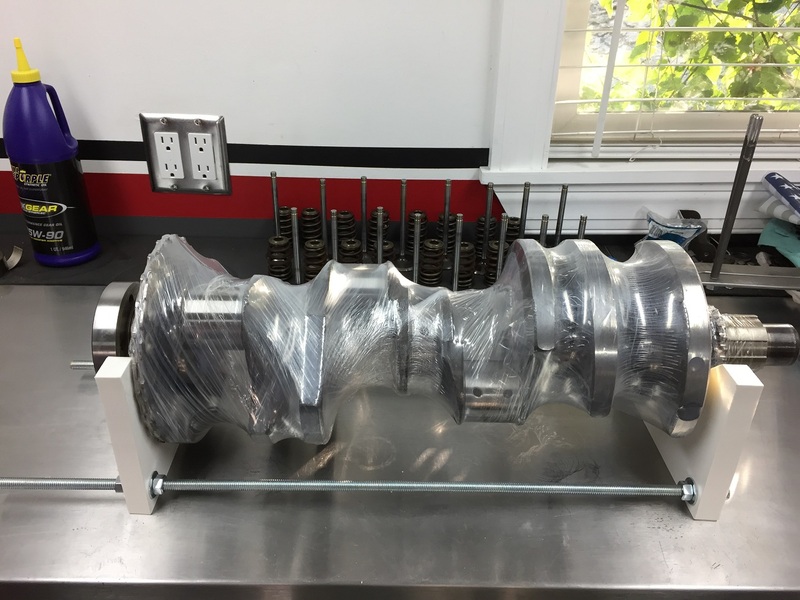 9-5-2017
Eagle Rods came in for the LS, another piece of the puzzle is here.
Researching cams at the moment for the next piece.

Also, starting to look for an old pickup to stick the Camaro's driveline in, another project. YEAH!!!!!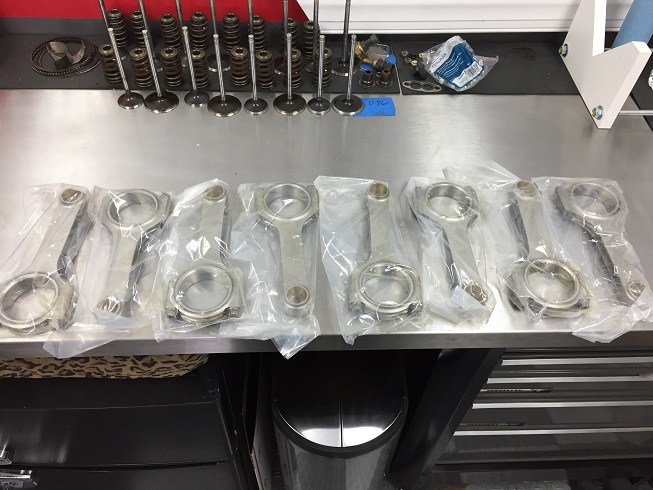 9-16-2017
Spent the day cleaning and straightening the garage getting it ready for the winter projects. Have to build a new motor for the Camaro and rebuild the Mustang's 5.0.
Should be a busy winter.