Aaron's 76 Type LT Project
By diyauto
You must be logged in to rate content!
Aaron's 76 Type LT Project
Compliments of 76_TypeLT @ http://nastyz28.com
8-1-2008
Hey everyone, my name is Aaron and I own a 76 Type LT in Houston, TX. I've had my Camaro since March 1993 (got her when I was a junior in HS). I drove her for 8 yrs/130k miles until April 2001. She has been sitting in my garage since then. I've been slowly buying parts (mainly interior and body) and am at the point I can start doing some real work. Mainly wanted to say hello and start a project thread for my 76. This site has been great and has been very inspiring, so I will be doing lots of reading in the meantime since it looks like every question imaginable has been asked and answered already!

Here she is now in my garage looking kind of sad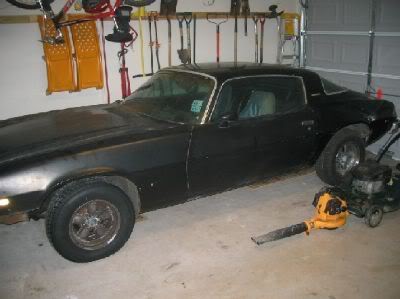 Here she was back in March 1993 looking a little better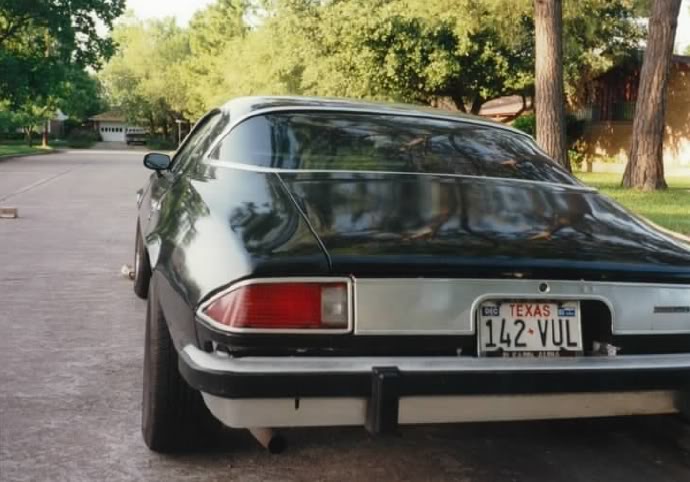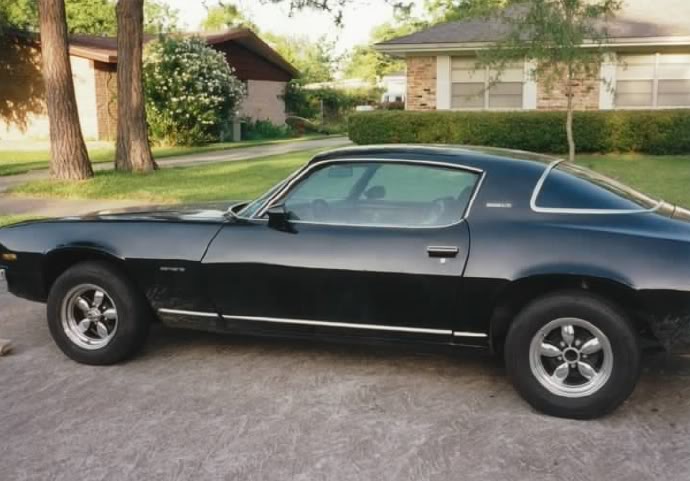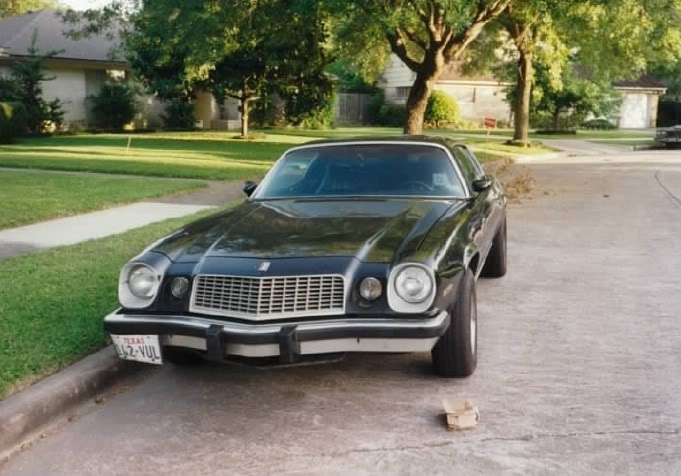 8-3-2008
Thanks for the warm welcome everyone. I tore the rest of the interior out down to sheet metal on Saturday, which is my "Phase 1". Discovered rust-through in some spots of the floor board, which I expected. But I am not focused on any body panels right now, just mechanicals and electrical.

I would like to rebuild the steering column and move down to replace the power steering box/pump and steering components. Will be posting some more pics of the progress, although it won't be too exciting
8-5-2008
I suppose some obligatory "holy crap, where did my interior go?!" pics can be posted I used my old floor mats to cover the rust areas while I worked inside but you can see how rusty the floor is. Just one more thing that will need to be fixed.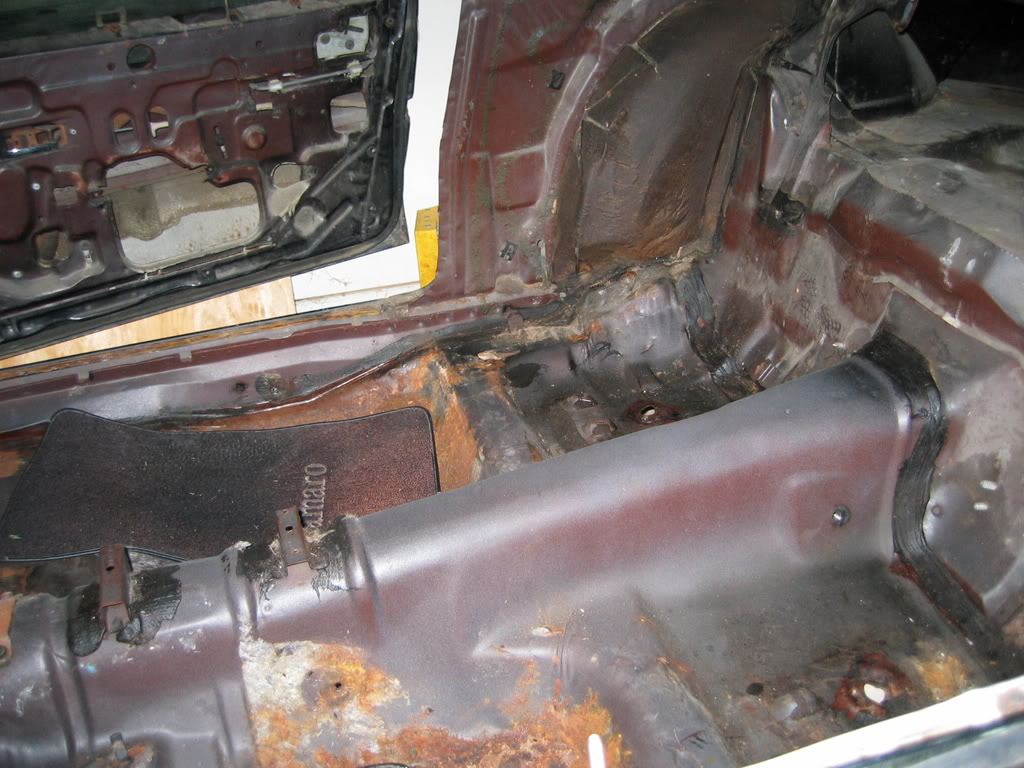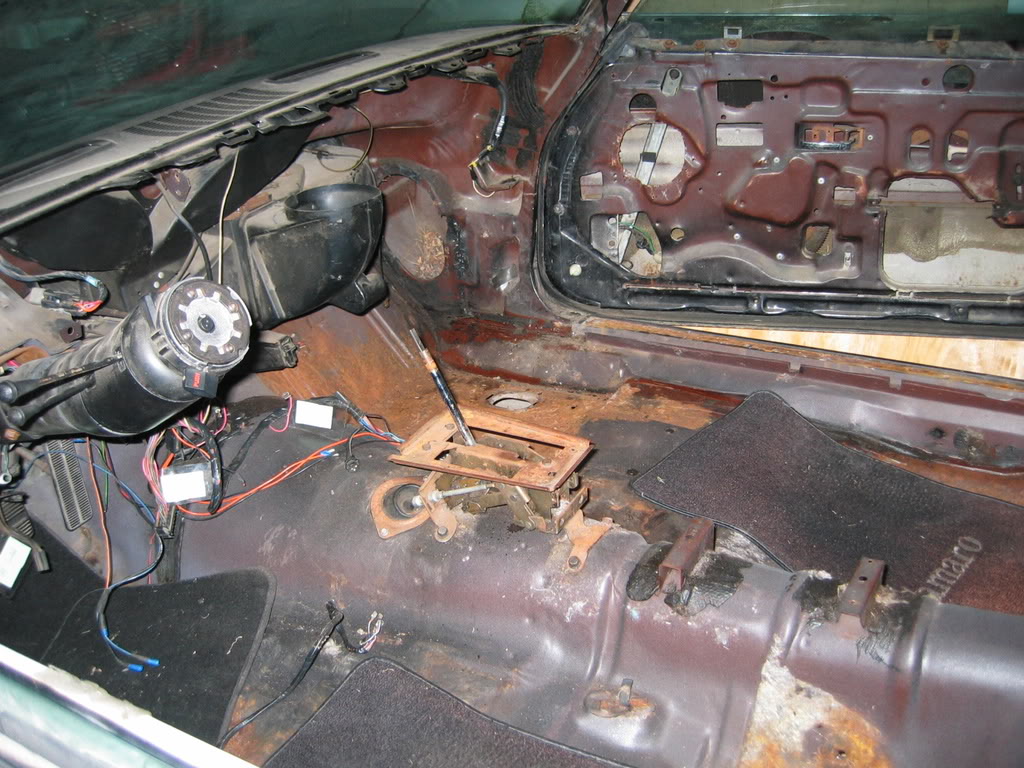 8-28-2008
Well, nothing too "sexy" to share, but it is progress

I started cleaning the frame some and it's not too bad to clean up. Going to spend some time this long weekend on some more cleaning.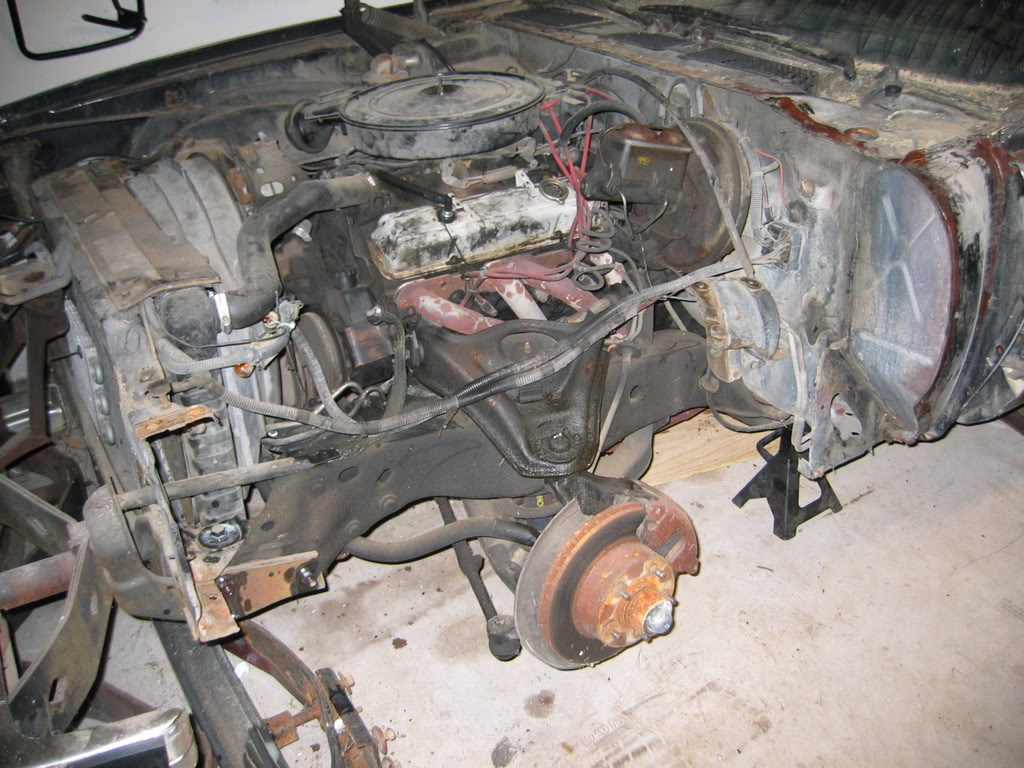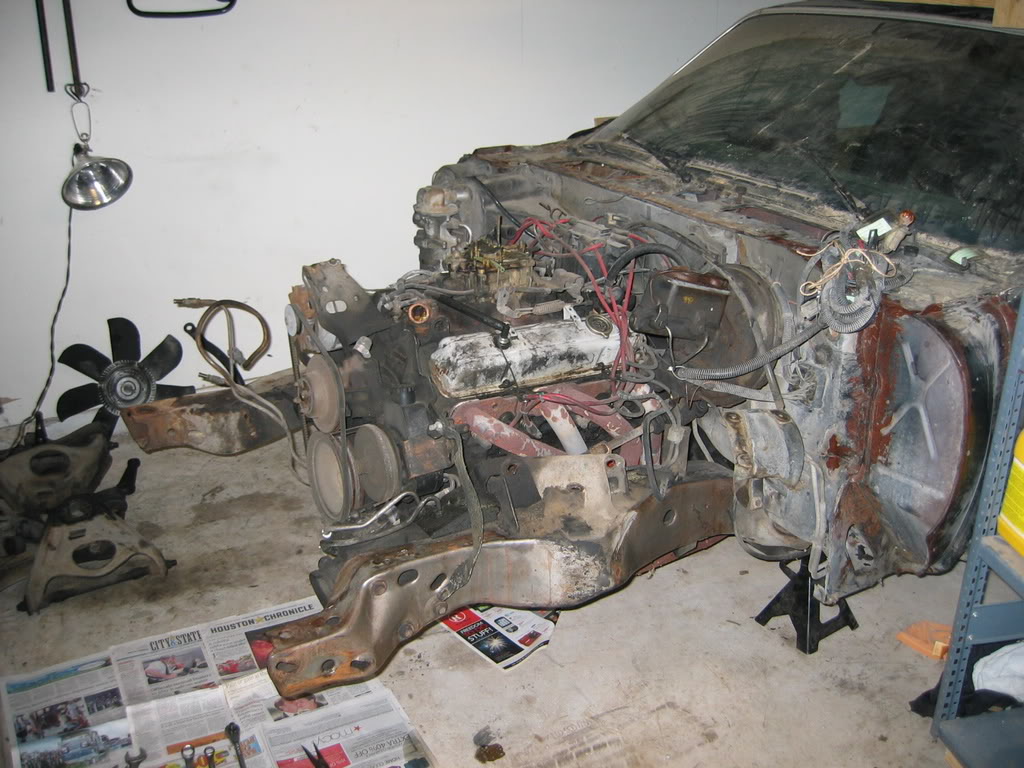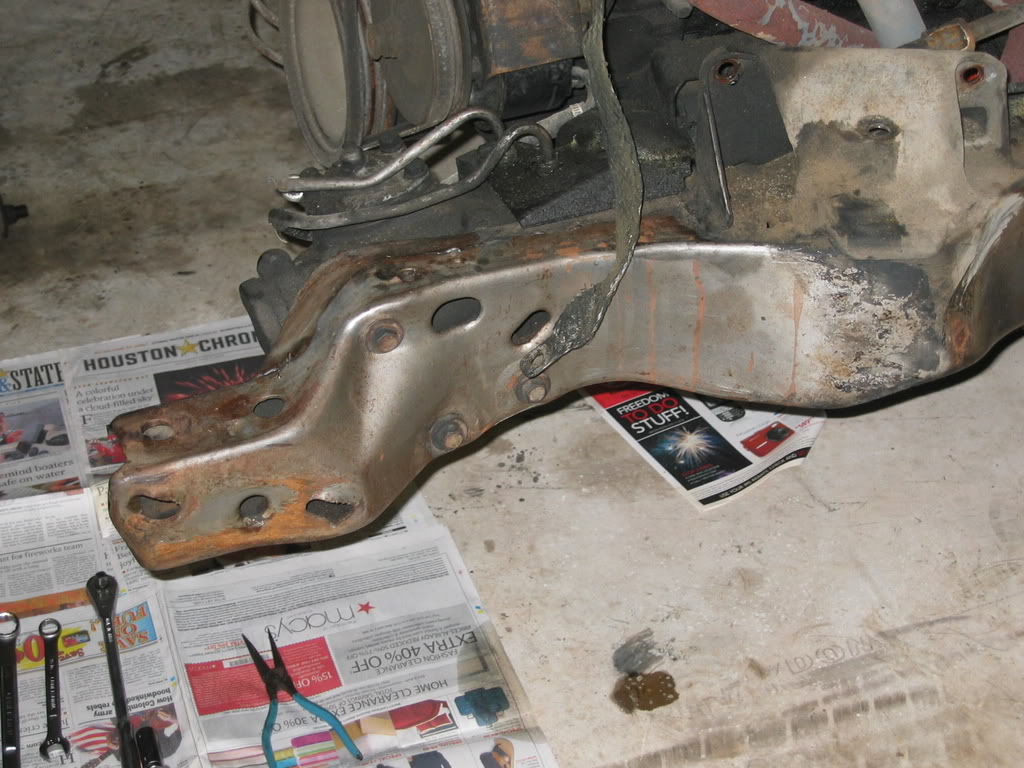 9-2-2008
Nice! Glad to see another 76 Type LT getting done. Let me know if I can be of any help (and vice versa) - I know this car fairly well after 15 years of ownership. I've got a few extra parts here and there, so let me know what you are looking for and maybe I can help. My main advice is to document things really well as you remove parts and take lots of pictures. You can't do too much of either!

I took more apart this past weekend - outer heater/AC box is off, booster/MC and lines are gone, power steering box, steering shaft and steering column are out. Also took out the "aftermarket" wiring inside the cabin. Had some old alarm wiring and some other non-stock wiring that had to go. Now it's easier to see what is what esp with the steering column out. I am pretty sure the next "major" step is to pull the engine/tranny so I can take the frame off and re-finish it, as well as re-finish the firewall.

The car will be painted black (originally all black), but I won't be re-painting her myself. Just not enough space to do it and the body work really needs a professional's touch (like welding in rear 1/4s). I *could* do it myself (painted this car way back in 95), but this is a job I am willing to outsource esp for the type of paint job I want. I am going to handle enough other stuff to keep me busy
1-3-2010
Well, it's been a loooong time since I posted in here. Been mainly acquiring parts, getting rid of old parts, and doing other "boring" stuff that is not post-worthy (not to mention a ton of house projects that sucked up all my free time it seemed, but those are all done now). Finally did some actual work though over the past few weeks and intend on doing a lot more in the next few months as I inch closer to getting my 76 into the body shop.

Got the front sub-frame removed, completed gutting the interior and made some more room so I can put her on a rotisserie in the next few weeks, which I have to build. Here are a few obligatory pics of my 76 in a reduced form. Next step is to pull the rear end and windshields.

And my temporary shelf above the Camaro was taken down today. I moved all my boxes of parts into my wife's craft room, with her blessing of course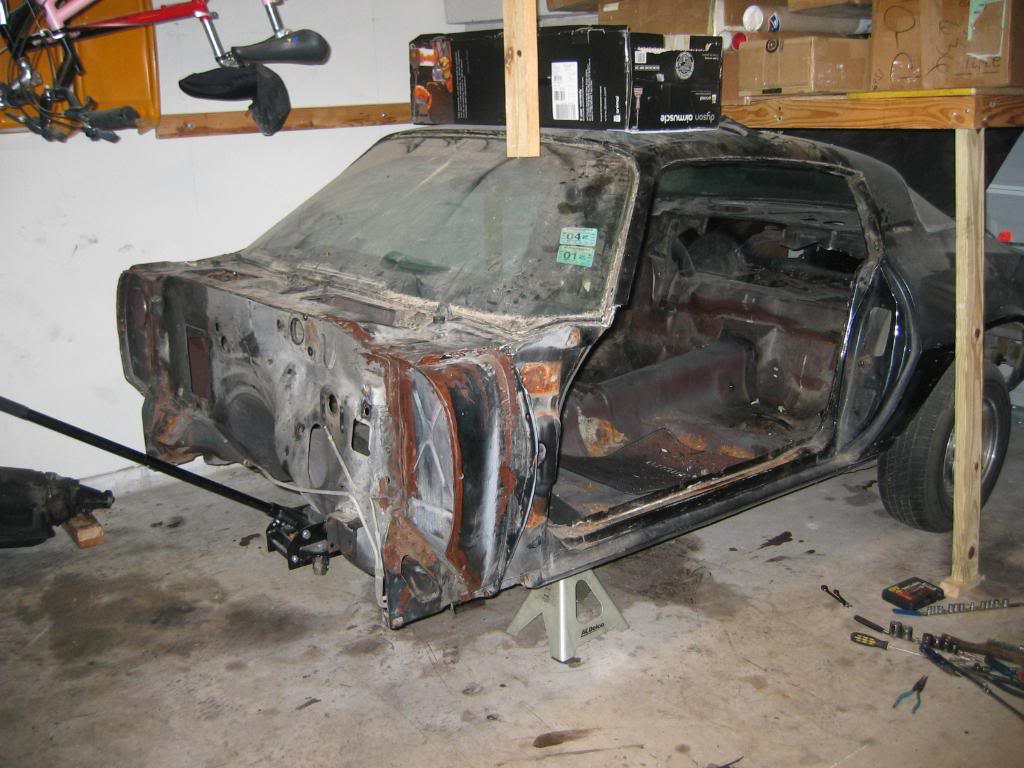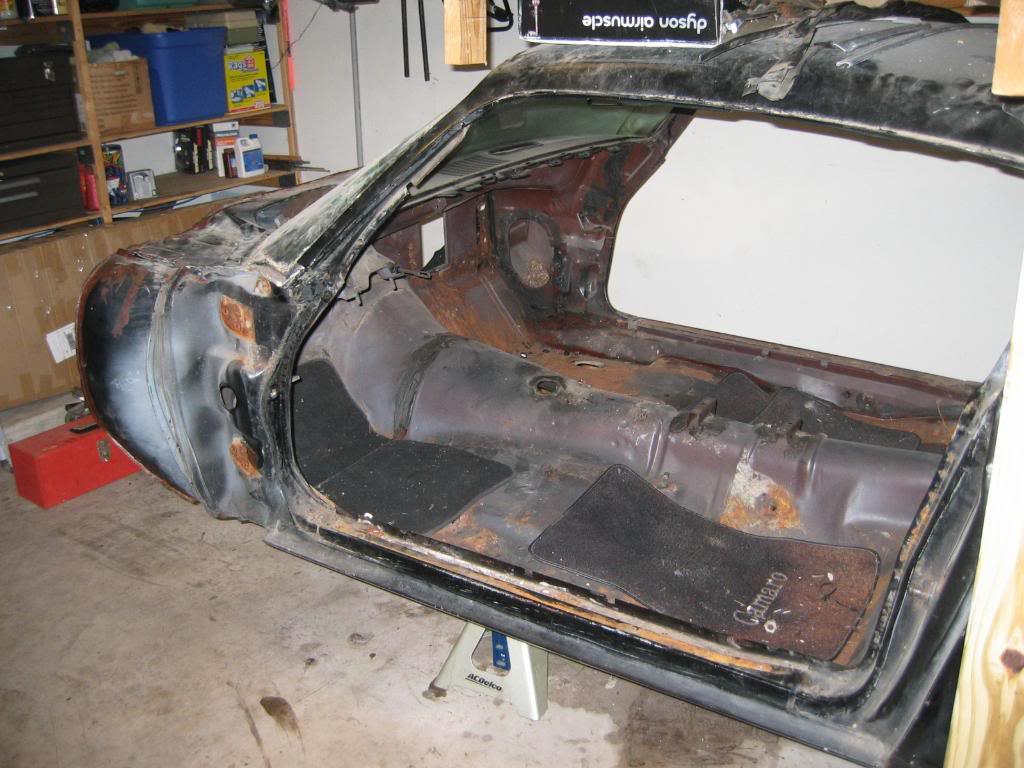 1-17-2010
Got the rear end out this weekend - started building the rotisserie but felt like crap on Sunday so will have to finish that up next weekend.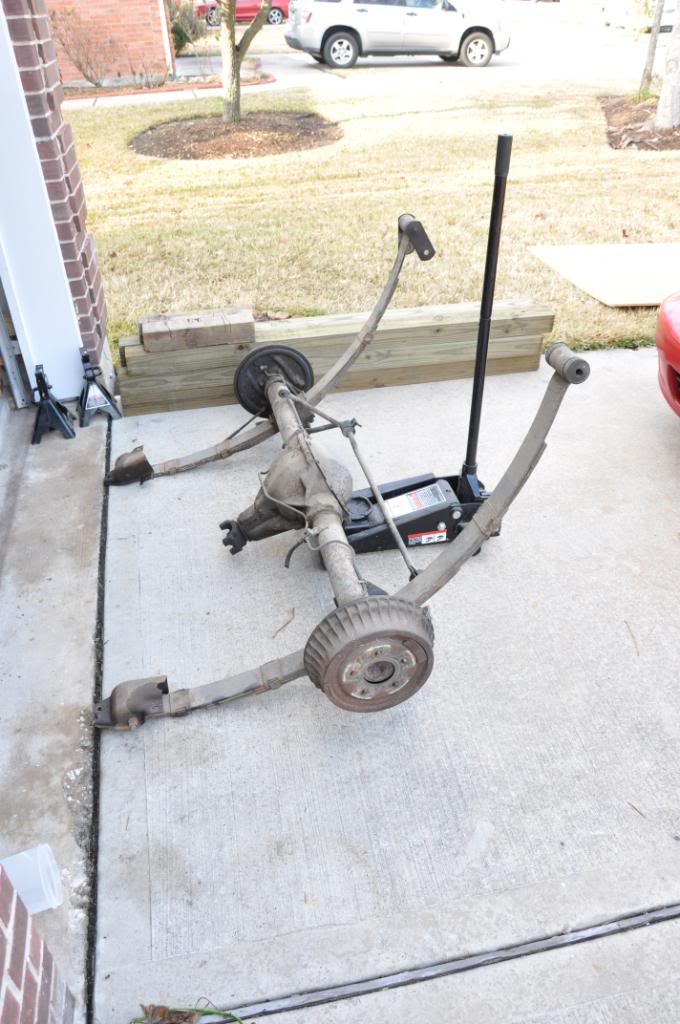 So this is what she looks like now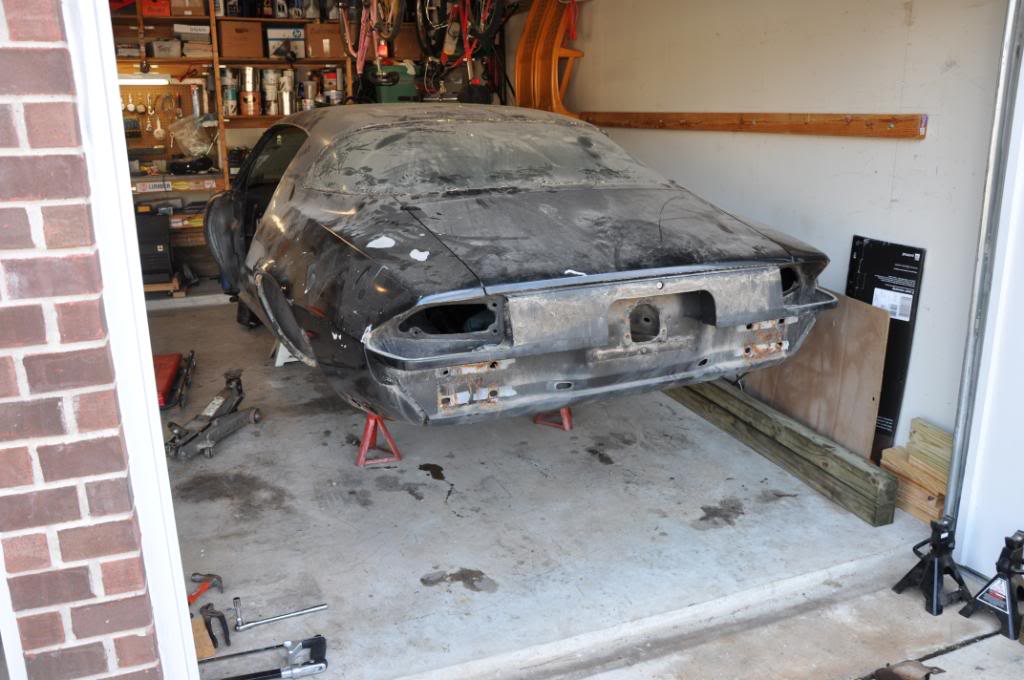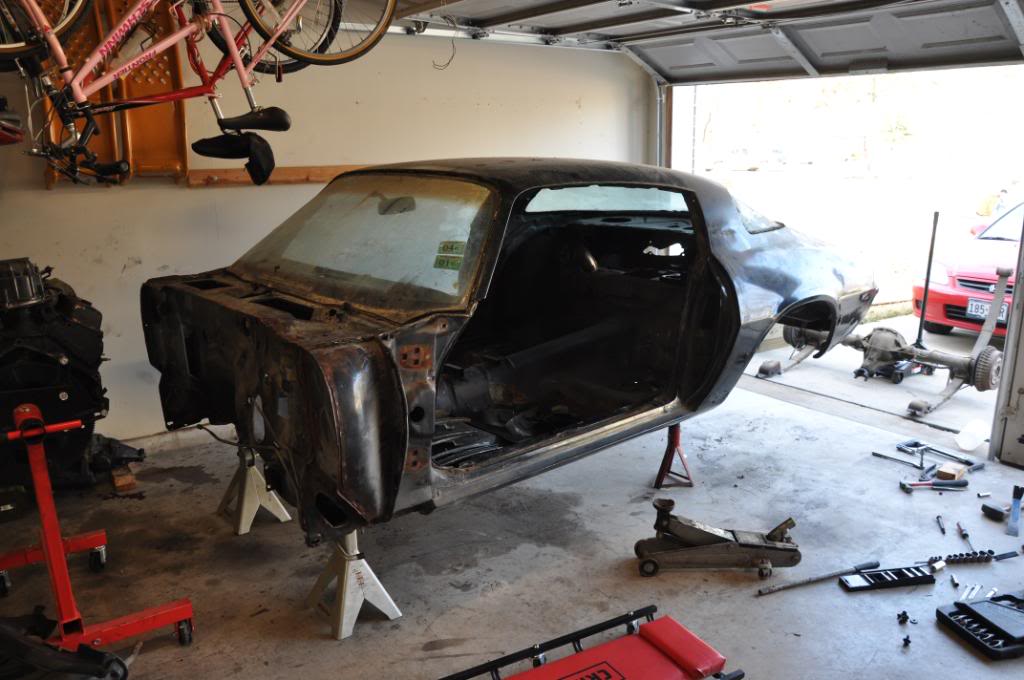 1-24-2010
Made another big leap this weekend - got the shell on the home made rotisserie. The design was inspired by szalkuskt. It rotates well and feels solid, so can't wait to roll it out into the driveway and get some real work done!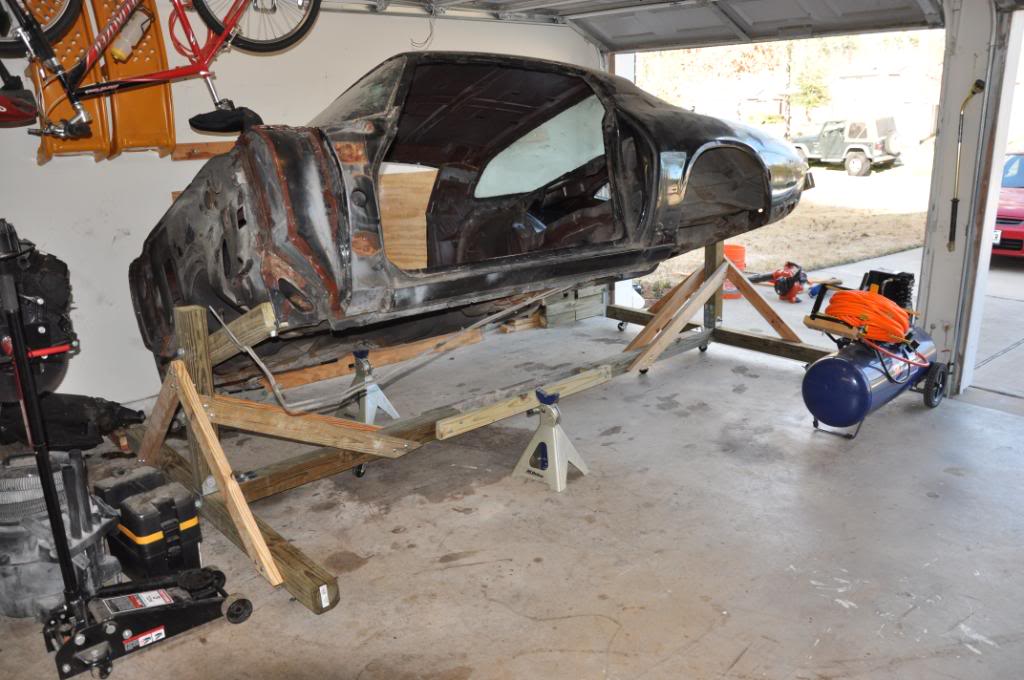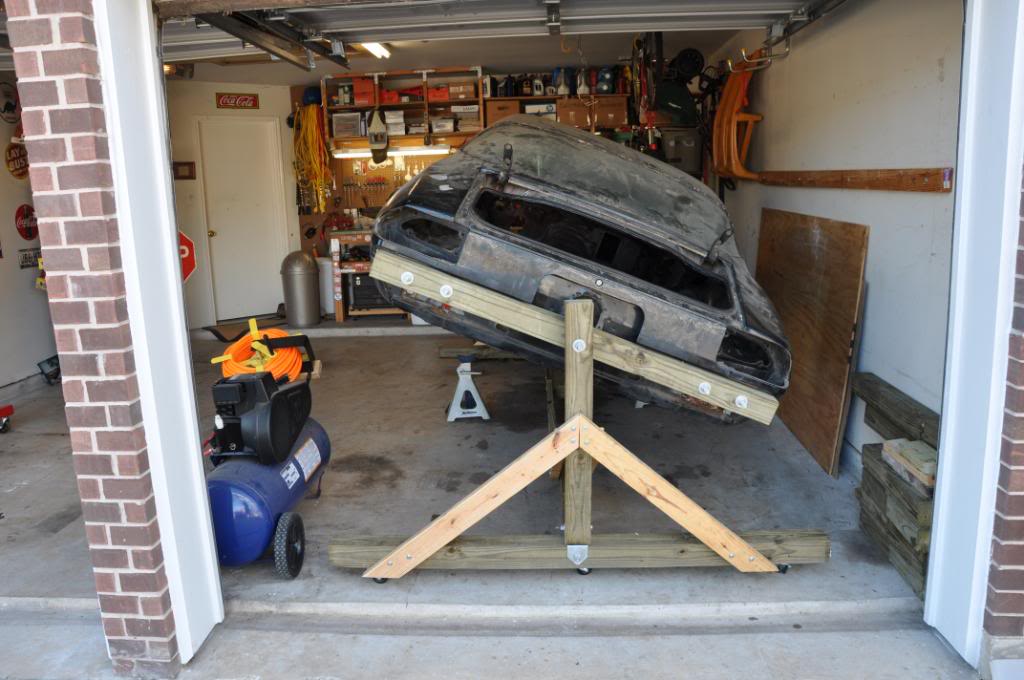 1-25-2010
February should be a good month - going to rock and roll on the shell, the frame and the rear axle housing.

I have actually started thinking about hiring someone to do all the welding work and then painting the car myself. Is that something any of you guys have done?

I am not prepared to dive into any welding work, at least on this car. I have painted this car before (and others) so I am not apprehensive about doing that, esp since I have clean body panels. I know I'd save a ton in money - just a lot to think about.
Unfortunately I have to replace both 1/4 panels. I don't want to jump into welding and use that as one of my first practice runs, ya know? But I hear you loud and clear. The trunk area that needs work is rather small in size and that does not need to look pretty, same with the floor pans.

Just another thing to think about. Part of me wants to just put her in the shop and let someone else do it all, but I know I could save some serious cash and use that for something else if I did the prep and painting myself.

The good thing is that this represents the lowest point of this project - I can't tear her down any more. I can only start moving forward from here.
2-15-2010
Took today off and was able to get some nice work done. Yesterday I degreased, power washed and scrubbed the underbody (except for the areas that I know will be replaced). I was pleasantly surprised by how good of condition the underbody is. The factory red primer is still very solid. I had intended on sandblasting the entire underbody but now I don't think that will be necessary.

I also was able to blast the firewall, but still have some touch up to do. So one step closer to being able to replace the floor pans.

Some shots of the cleaned underbody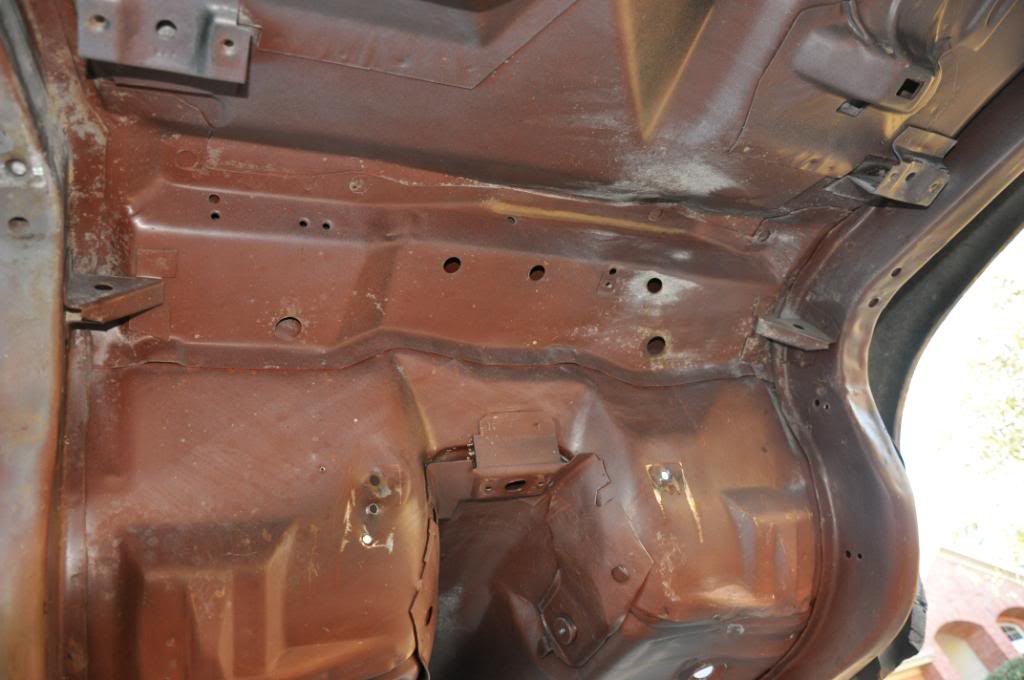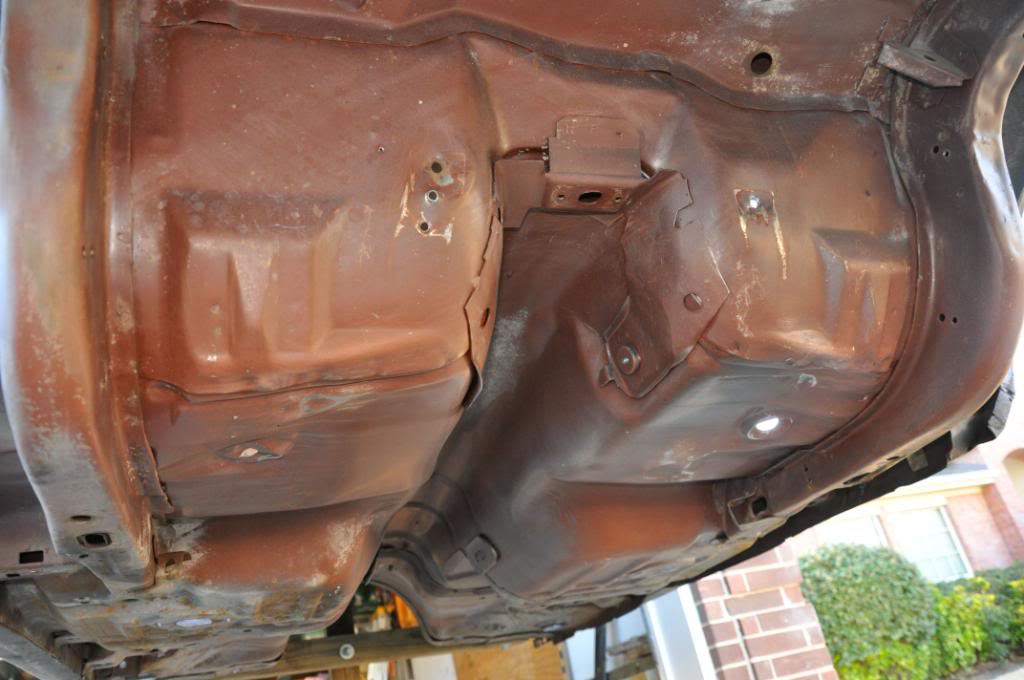 Before and after of the firewall.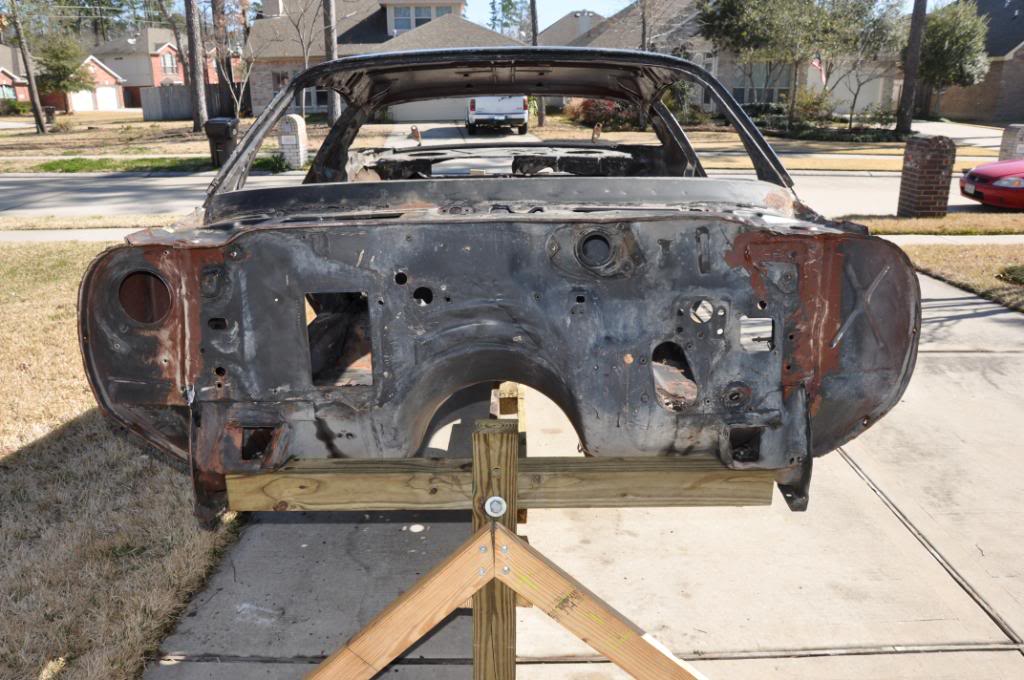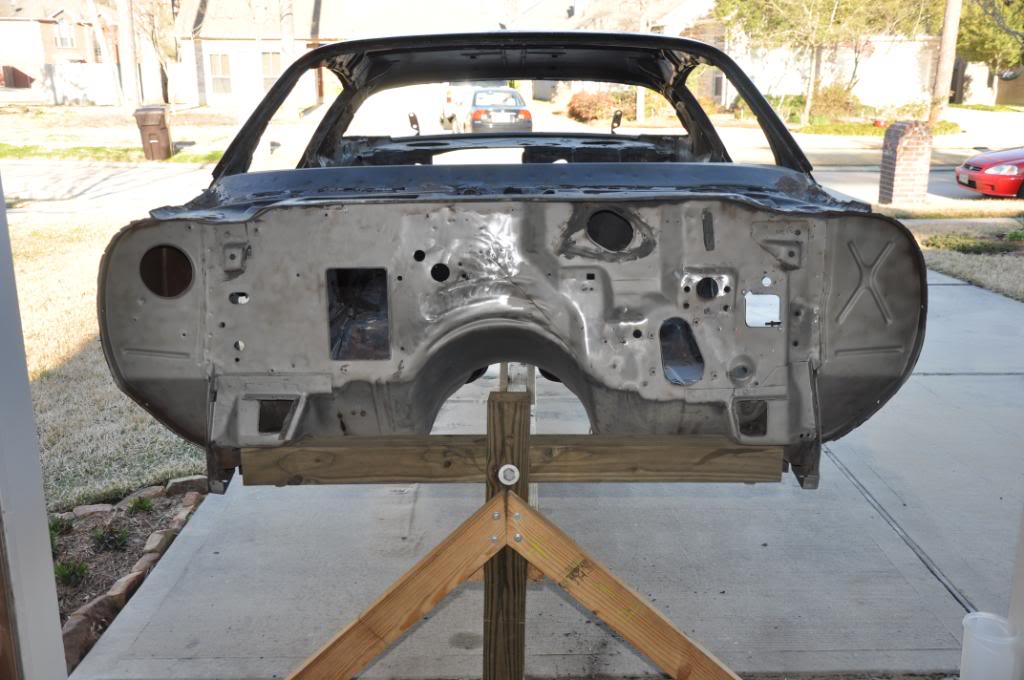 A few steps closer with many more to go

2-28-2010
Spent some time this weekend stripping paint off the shell. Removed all the paint layers from the roof top and rocker panels and took off as much as I could from the door jambs and cowl using a 4.5" stripping disc on my angle grinder. Will be getting some abrasive supplies in this week which will let me finish up these areas. I didn't touch the 1/4 panels since those will be getting replaced down the road.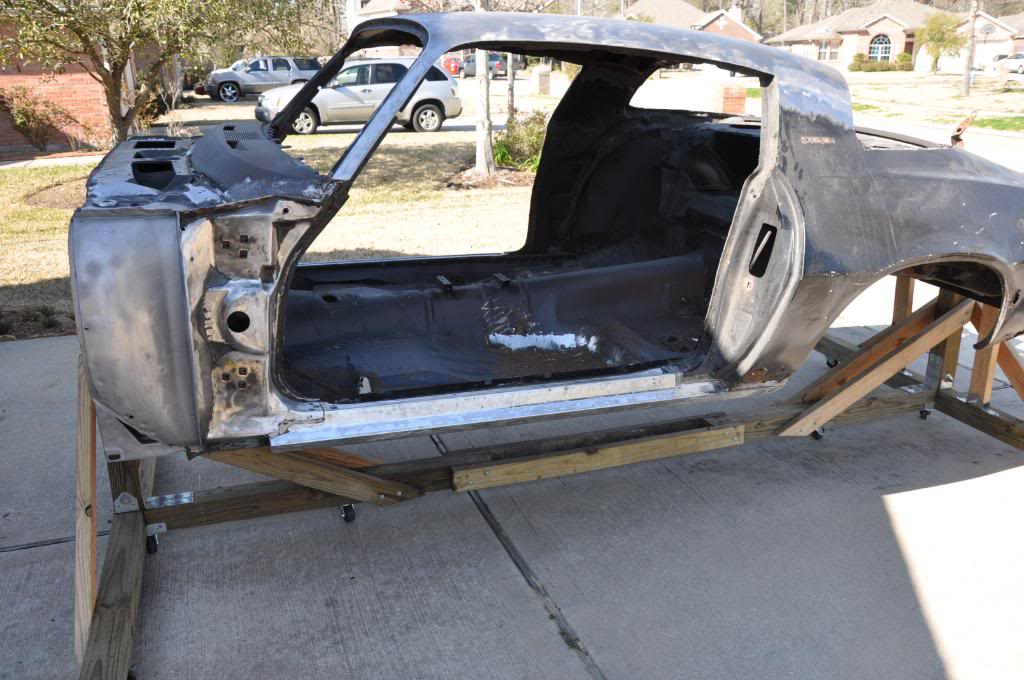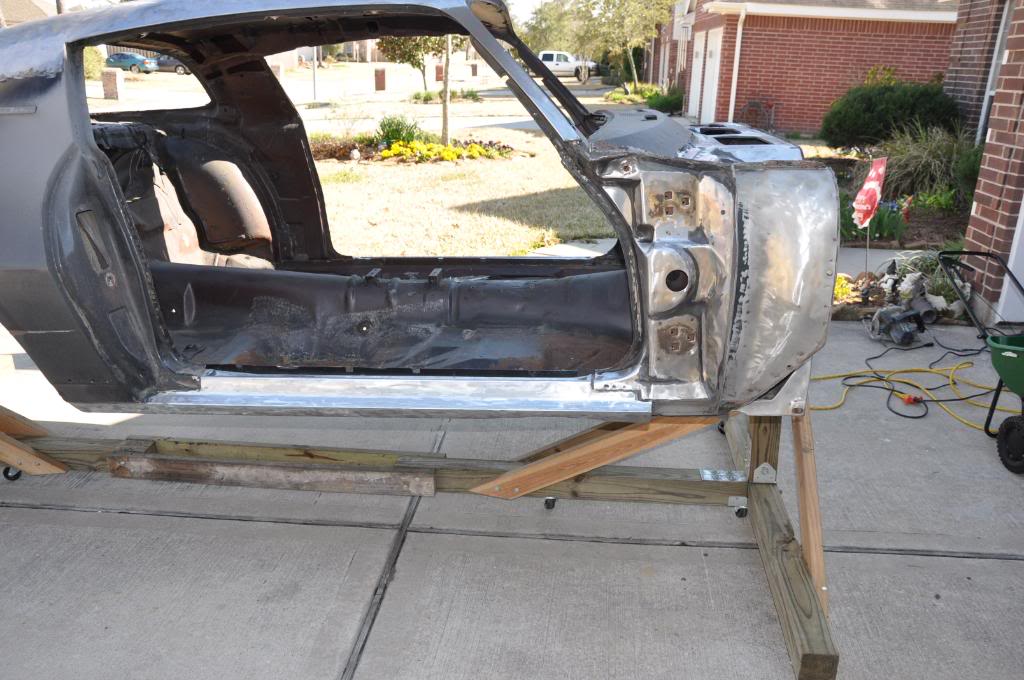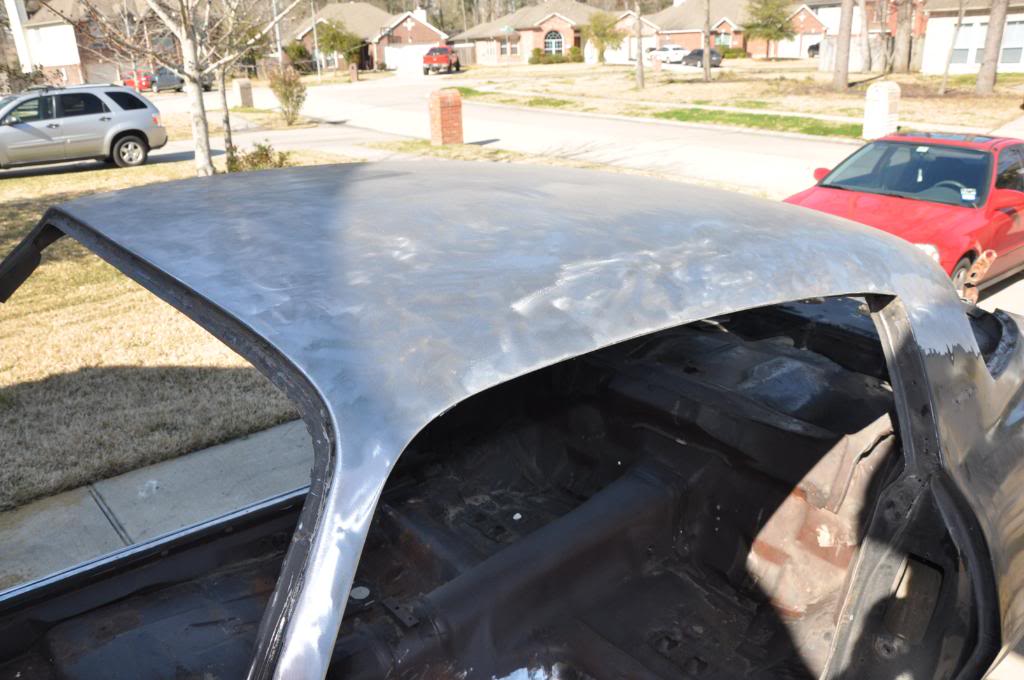 And the new addition to the family Floor pan replacement will begin soon.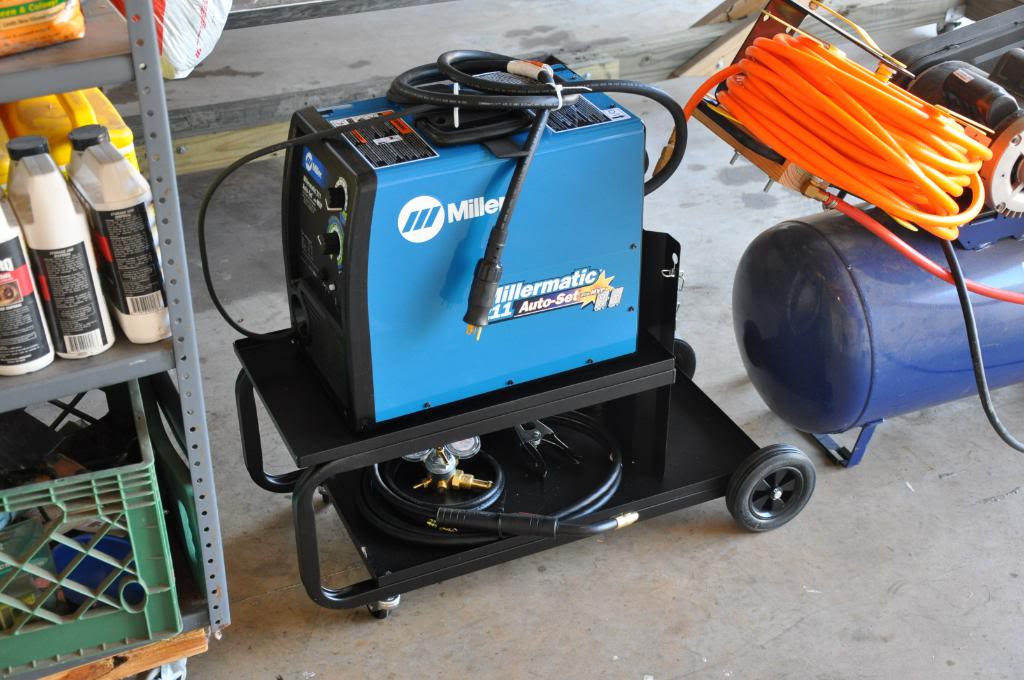 3-8-2010
No new pics to share, but was able to use the 2" stripper discs on my die grinder to remove paint in the tight areas on the door jambs, cowl and other areas. Also stripped the paint off the metal dash and the front windshield "lip". Have just a few small spots that I will have to use the sandblaster to remove. Going to wait until I am basically done removing all I can with the angle grinder and die grinders before doing any sandblasting. Did some more yard work to get ready for 2010, so that cut into the Camaro time. Also spent Sunday doing some more organization work in the garage.

Think I can get my hands on a good driver side toe board, so will work on removing the old pass side floor pan this week. Probably will take a few weekends since this is all new to me and I want to do it right. Going to try and do butt welds on the floor pans too, which will add to the required time.
3-9-2010
Started cutting out the driver side floor pan this evening. Took my time marking where the two braces were and the other things I didn't want to slice through. Used my angle grinder with a cut off wheel and just started cutting. Went a lot faster than I thought. Still have some small areas to cut before the entire pan is out but should be able to start touching up the edges, fitting the new panel and maybe even welding in the driver side pan this weekend. Not going to rush it though, I want it to fit properly. More pics to come soon.
Only because you asked nicely, I took some pics, although they are kind of boring - the floor pan will be gone tomorrow night.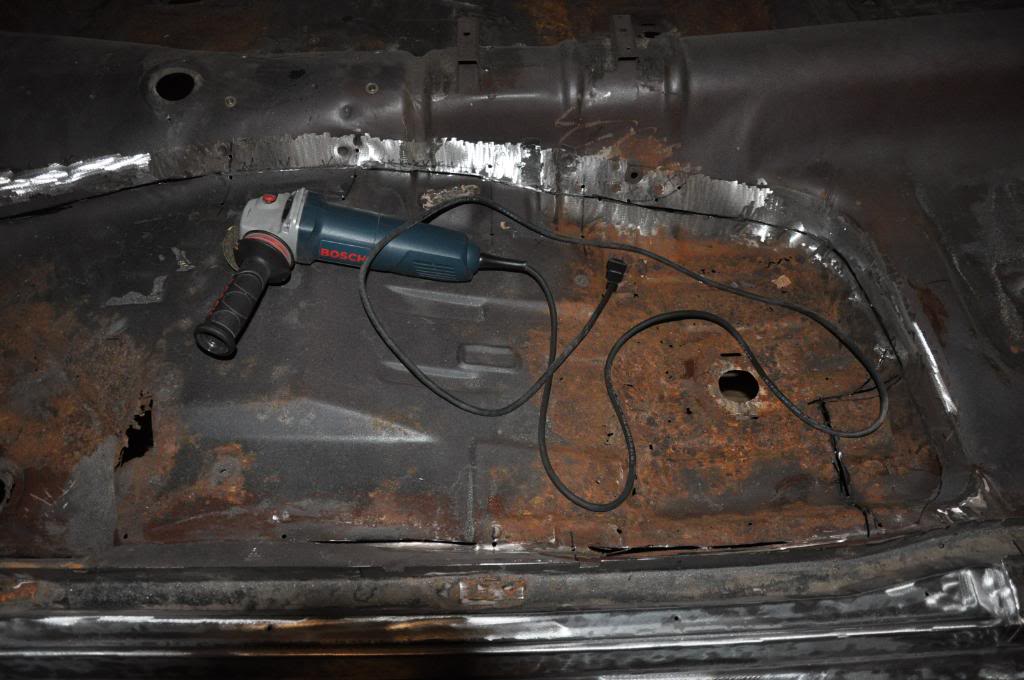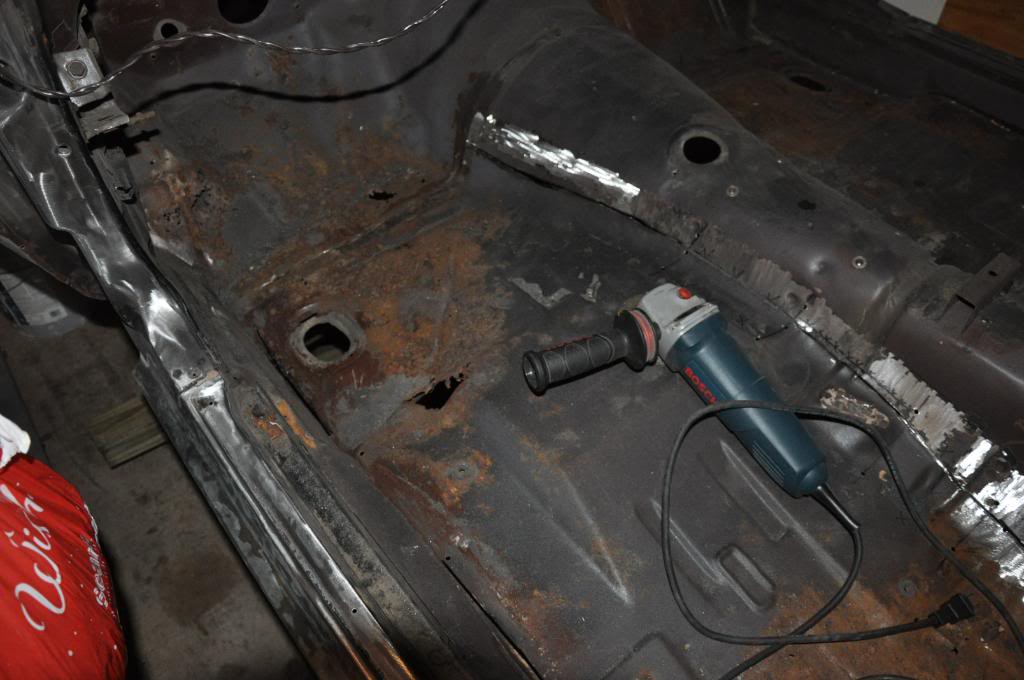 A crappy pic of the cowl and interior metal dash - hard to tell but it's pretty much stripped down to bare metal.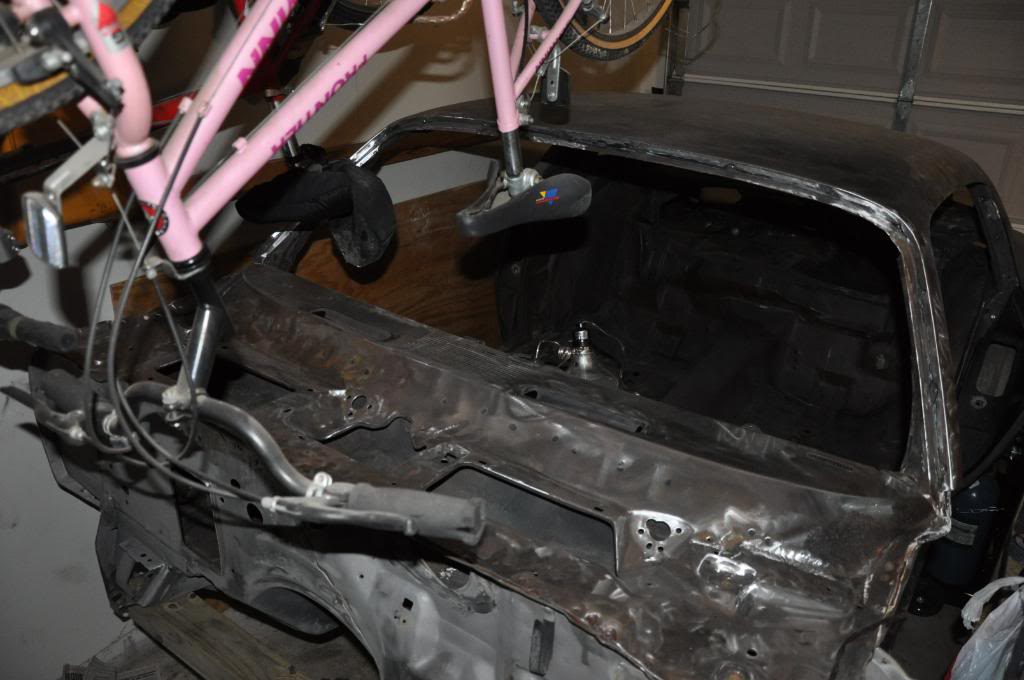 Spent Sunday building this cabinet for my tool boxes. It, like my garden shelving unit, is on casters so I can roll it out of the way Everything in my garage is on wheels it seems...except the Camaro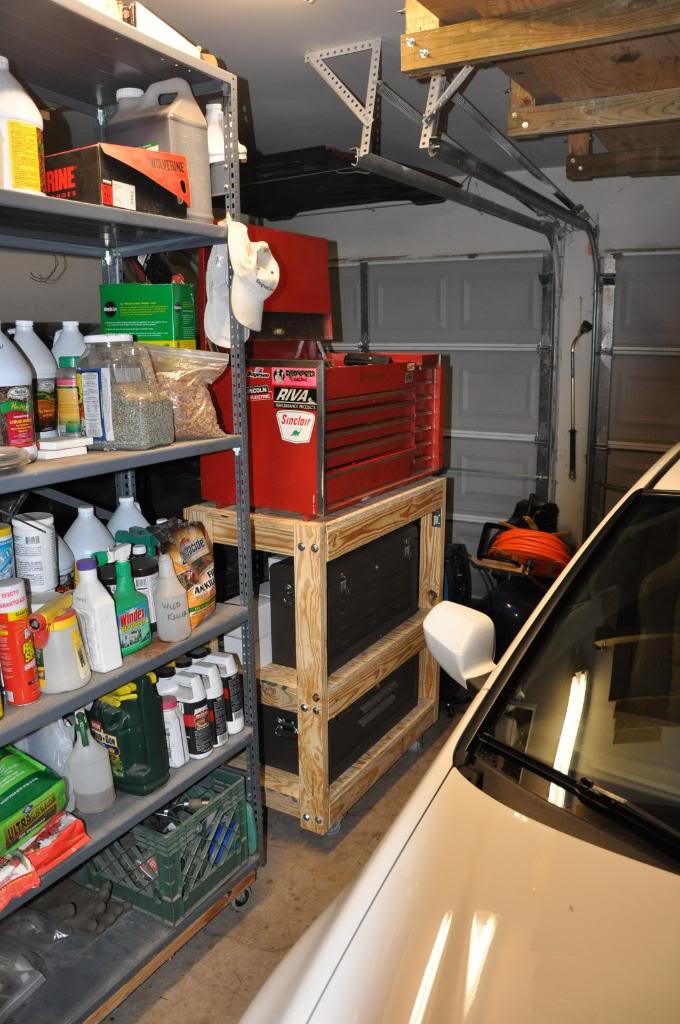 3-10-2010
Got the driver side floor pan removed tonight. Need to spend some time getting the section in the left-rear area removed still, but that is not a big deal. Will get the edges cleaned up and the spot welds ground down and then time to fit the new floor pan.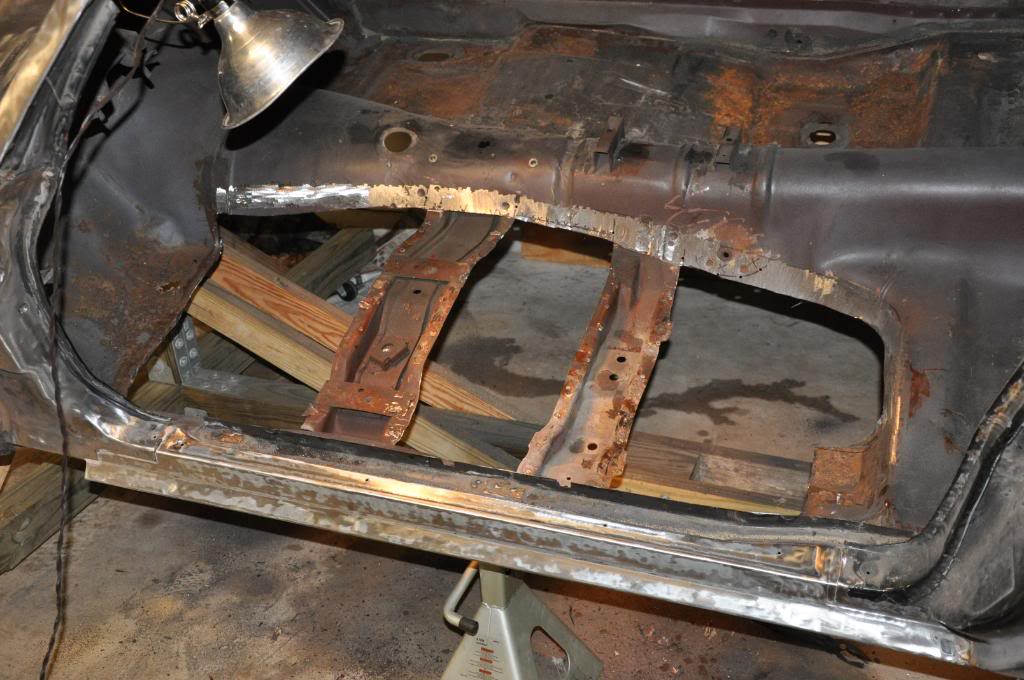 3-14-2010
I decided that I just don't have enough to do so I began stripping the interior down to bare metal so I could re-finish it. It's probably overkill, but I figured I might as well go ahead and do it. What's a few more weekends in the grand scheme of things? Just a lot of grunt work, but I think it will be worth it. I'll take off as much as I can with my 4" angle grinder and some 40 grit flap discs and then touch up with the die grinder and sandblasting. Fun, fun, fun!!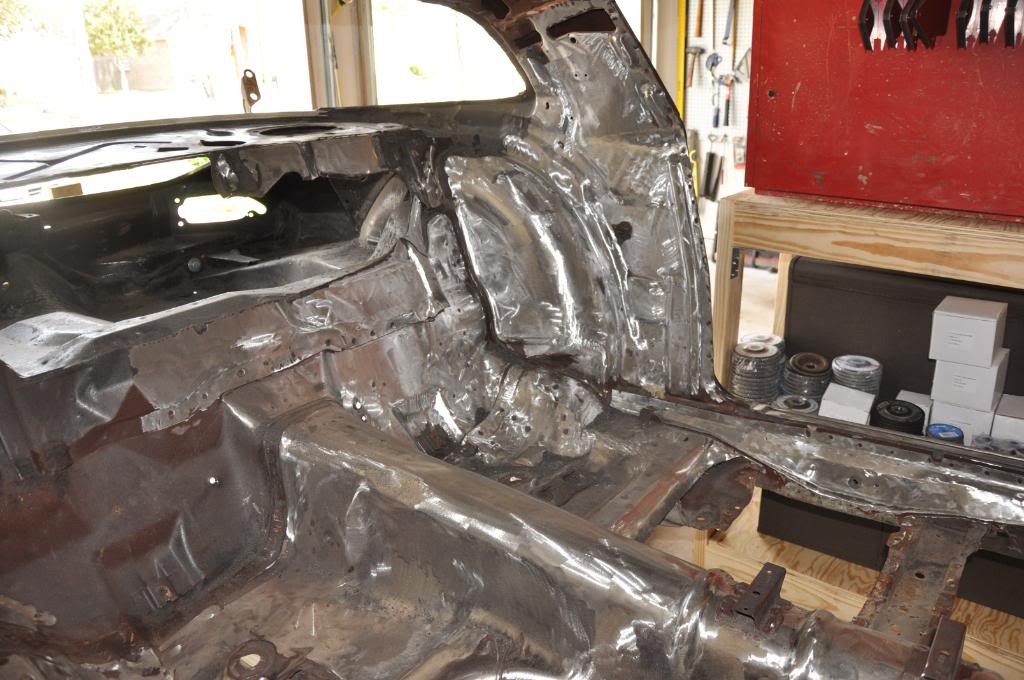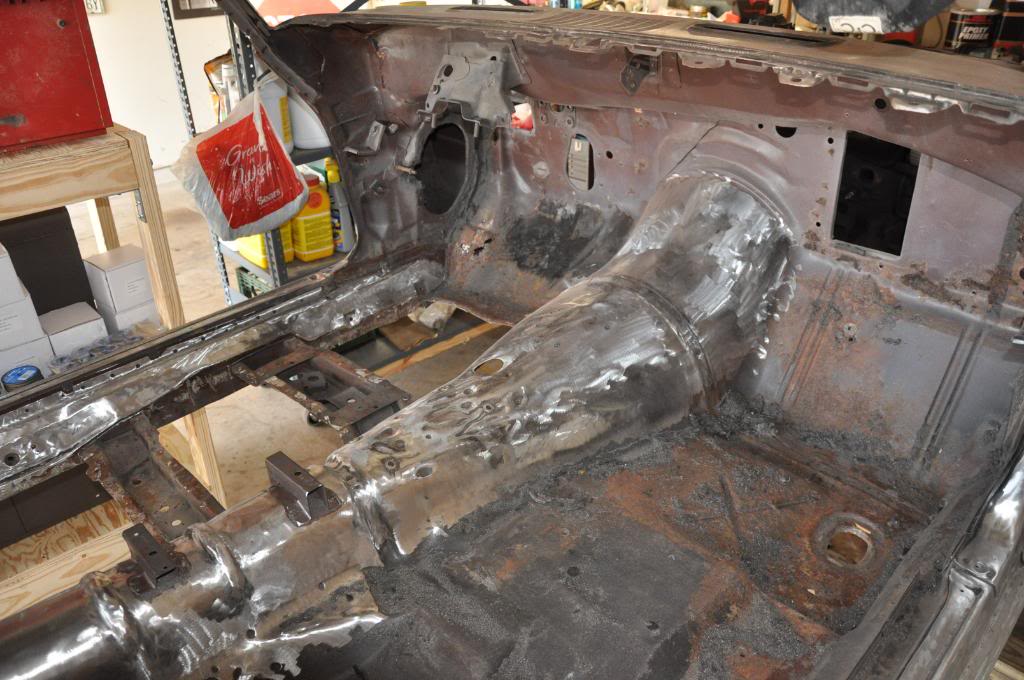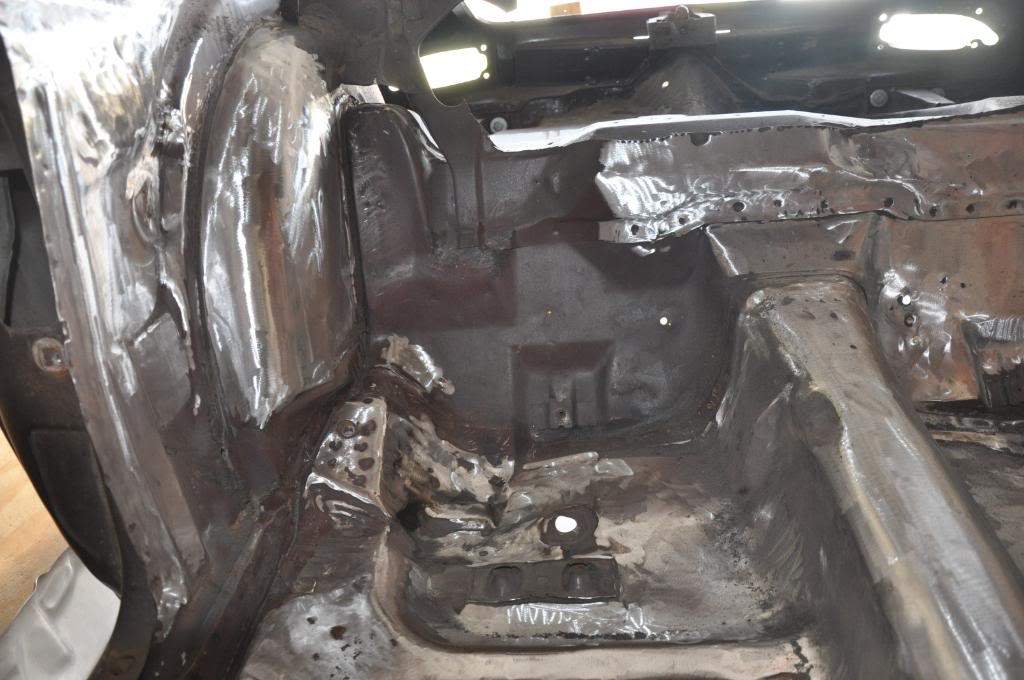 3-17-2010
Got off work a little early today, so I spent a few hours stripping more paint off from the interior of the shell. Knocked most areas down to the point of switching over to the die grinder. Should be able to get more done the next few days. I have to go away on business Sat-Tues, so going to lose a weekend, but a break from the Camaro is not a bad thing - will make me come back and hit it harder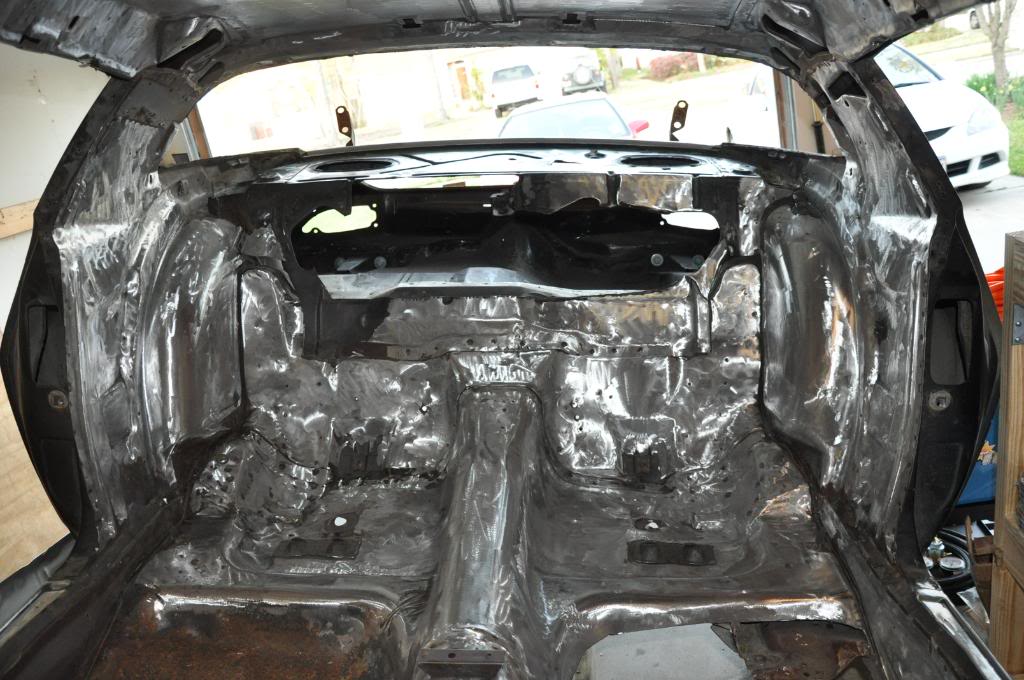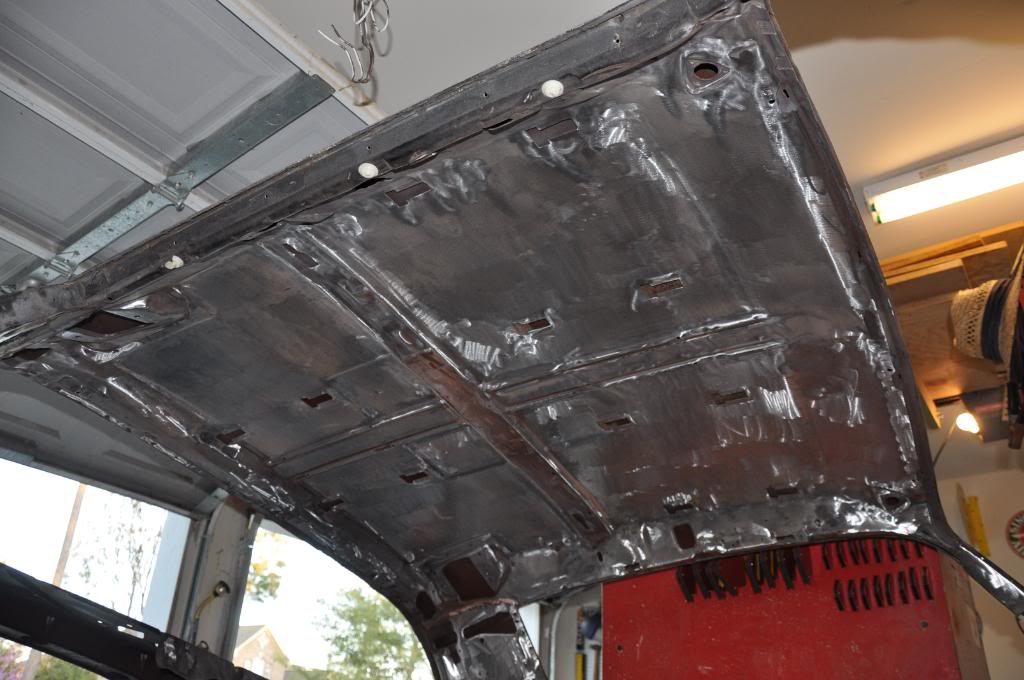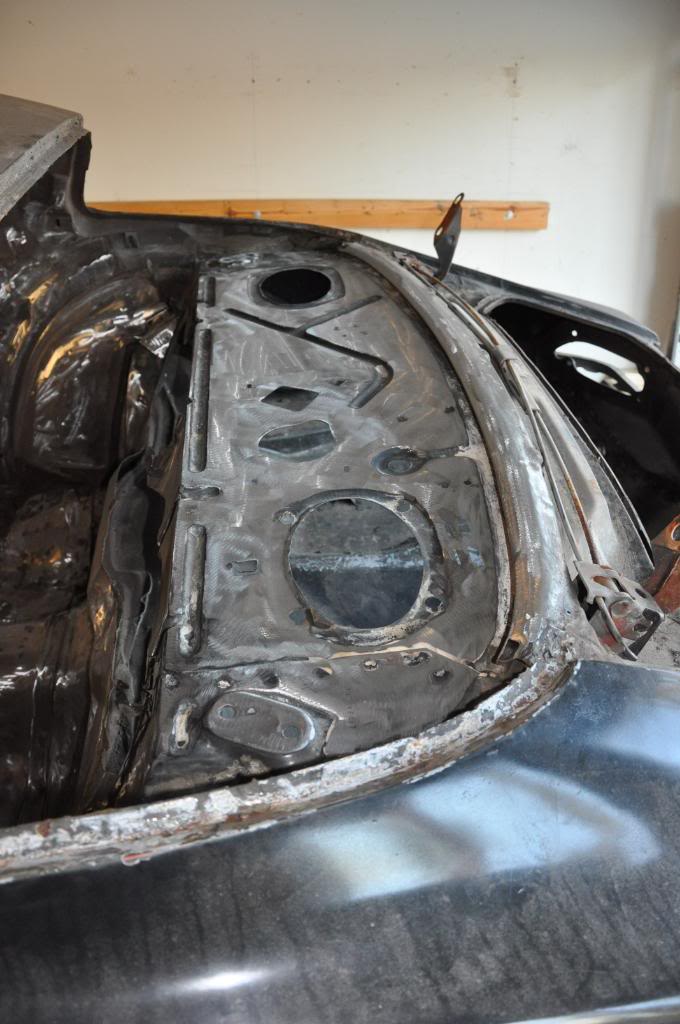 3-26-2010
Focused mostly on the firewall area today. I will be able to get most of the remaining work done Sunday before I bust out the sand blaster again and hit all the little hard-to-reach spots throughout the shell. Then I can work on the floor pans.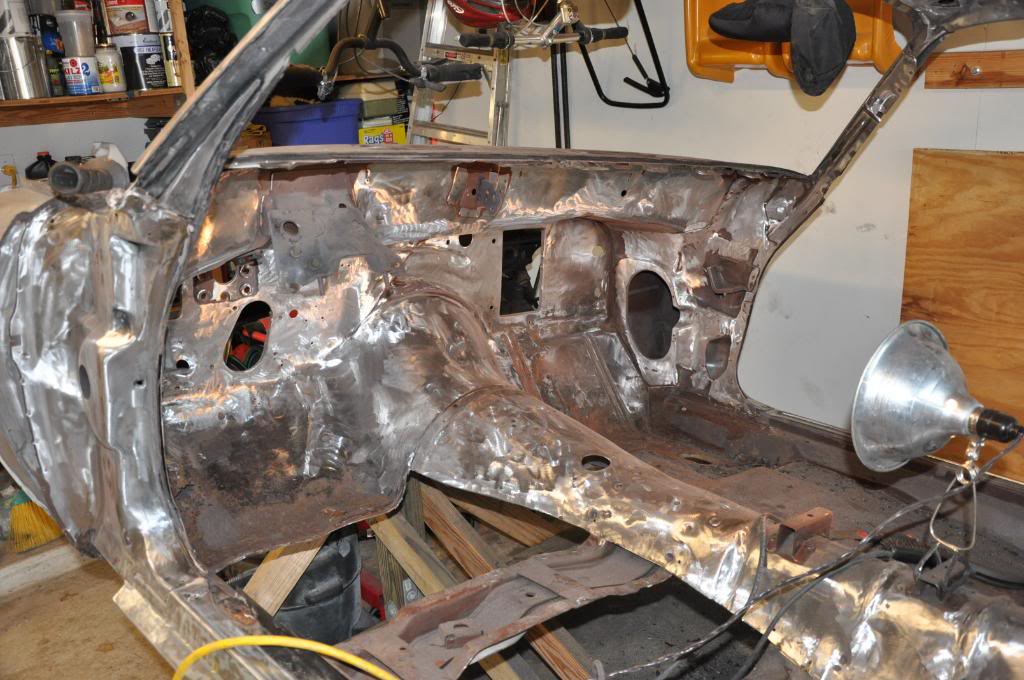 You can see the area of driver side toe board that will need replacing.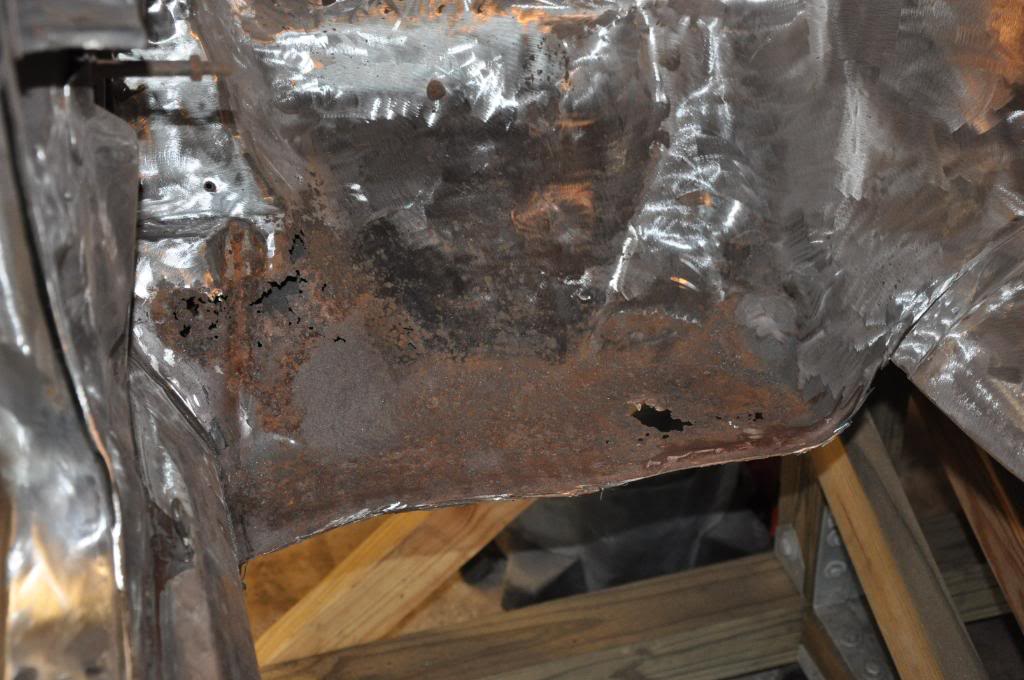 Here is the toe board I bought from a board member that will eventually go in (at least part of it will)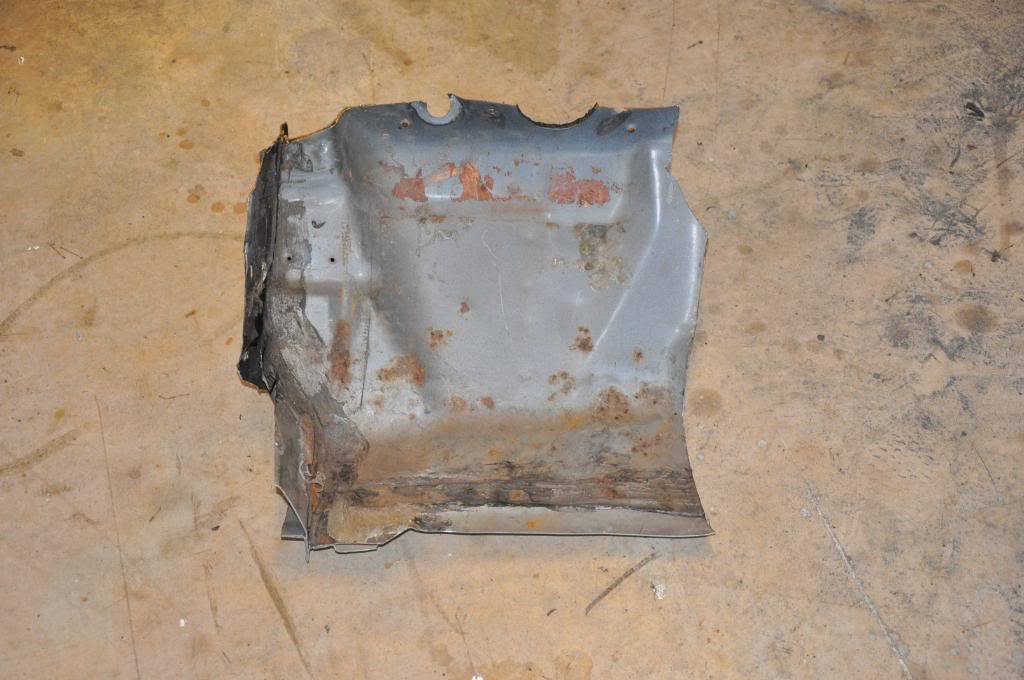 4-1-2010
Getting the shell prepped for sand blasting this weekend. It's supposed to rain so hoping that happens tonight. While it might seem crazy, I really, REALLY, REALLY don't want sand getting into all the little nooks and crannies in the shell, so I taped off all the holes. Didn't take long though. Just heard of too many stories of people blasting their shell and then finding sand pop up here and there throughout the rest of the project. I am really trying to prevent it from f'ing things up when it comes time to paint.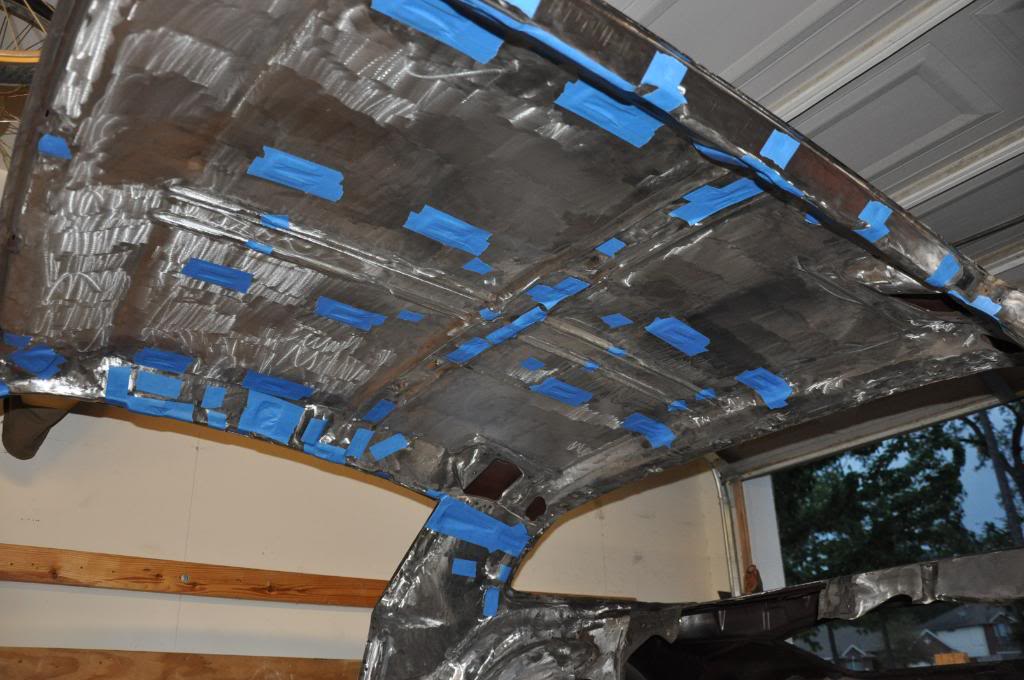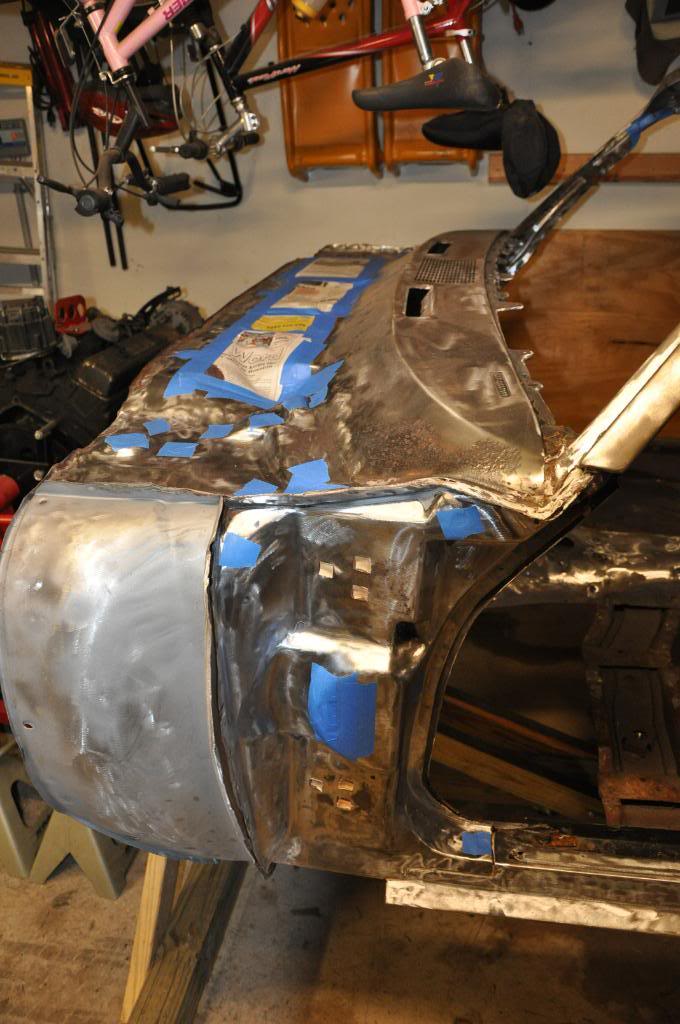 And this arrived today. Decided to buy a NOS upper valence panel, but I am not quite ready to put it on. Wasn't too much either (WAY less than a re-pop). Probably because it has a VERY minor blemish on the left side. That'll be a snap to fix.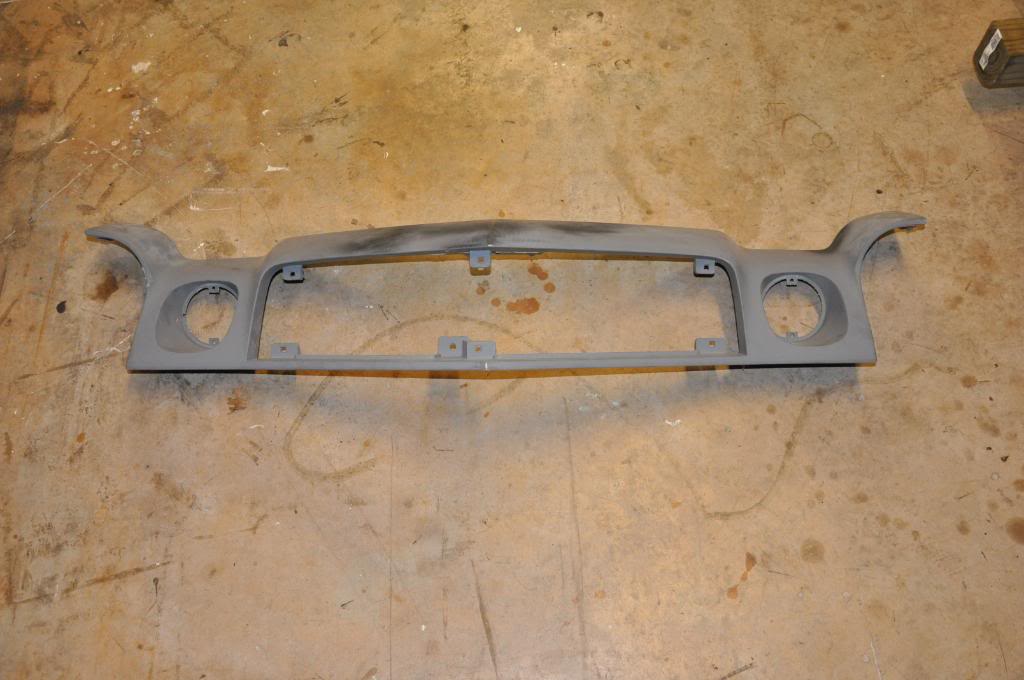 4-2-2010
So I postponed the sandblasting until tomorrow since it was supposedly going to rain today...turned out to be a gorgeous rain-free day, but I still got some stuff done. Started stripping the underside with the angle grinder. Got most of the old paint off. I will hit the other areas of the shell with the sand blaster tomorrow.

Pics of the progress made today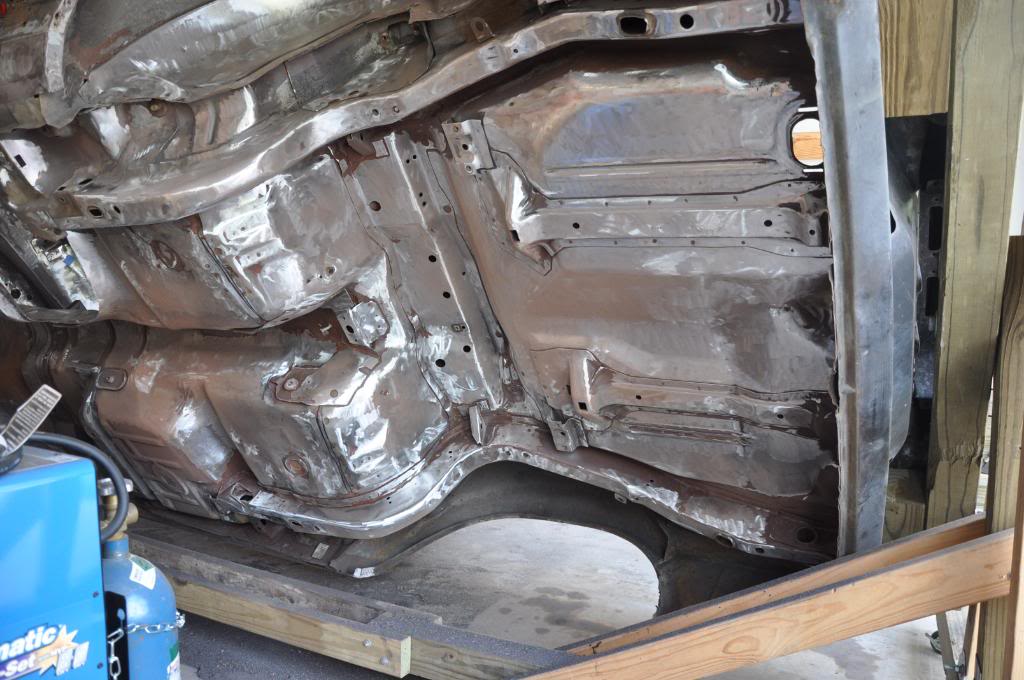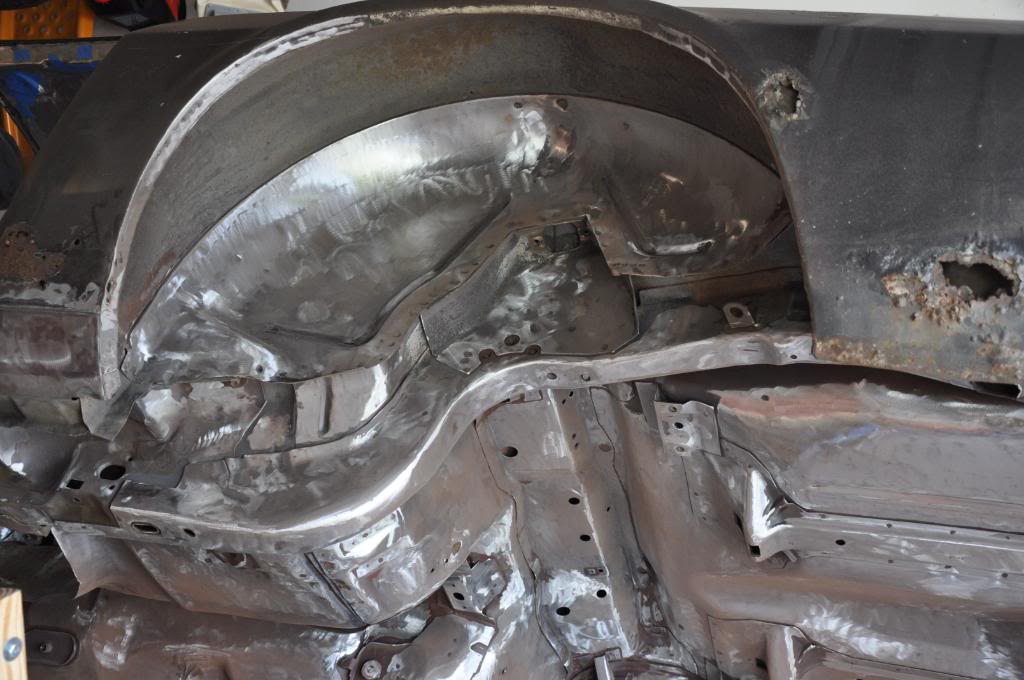 4-4-2010
RANT TIME!! I was all geared up to sand blast some more this morning and of course there is a slight drizzle coming down, so can't do jack squat until it clears up and the ground dries out. Wet sand and sand blasting tanks don't get along so well.

And of course since I left my shell outside over night there is some very slight surface rust on some areas, which isn't too big a deal. Just something else to deal with, what's new Pray for sun to come out soon!
So the sun finally came out and I was able to do some more sand blasting today. Focused on the underside mostly. Still have some spots to do next weekend, but it's 95% done. I did not blast the pass side floor pan since I will be cutting it out.

With surface rust forming on some of the interior from very light rain last night, it looks like I will be using some POR-15 to finish the inside, which is fine. I was not 100% sure how I'd be finishing the inside, but this makes that decision easier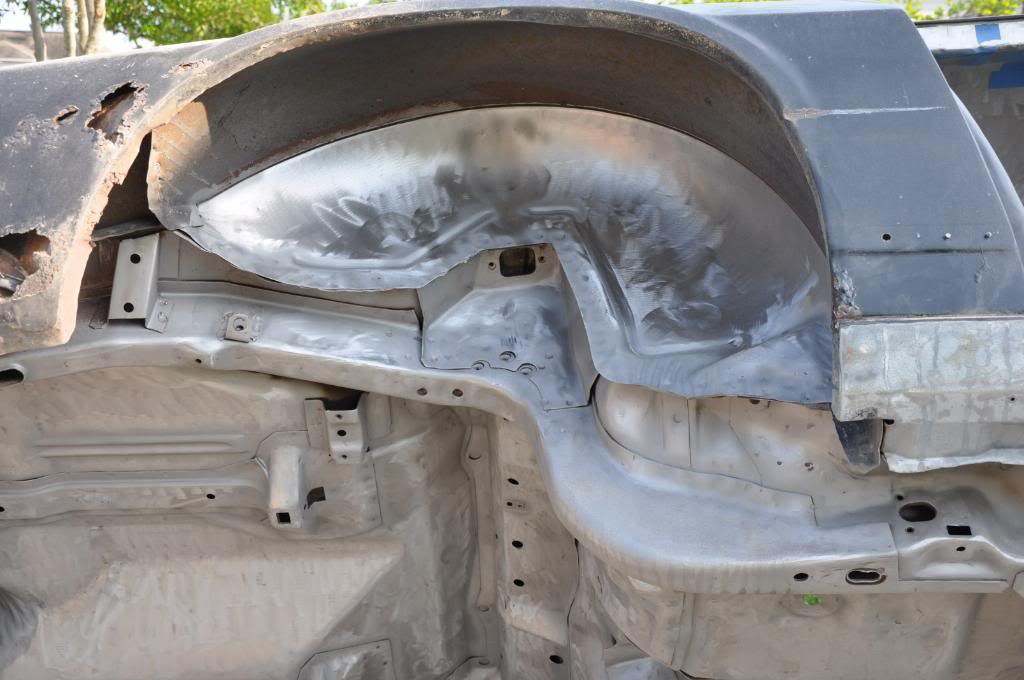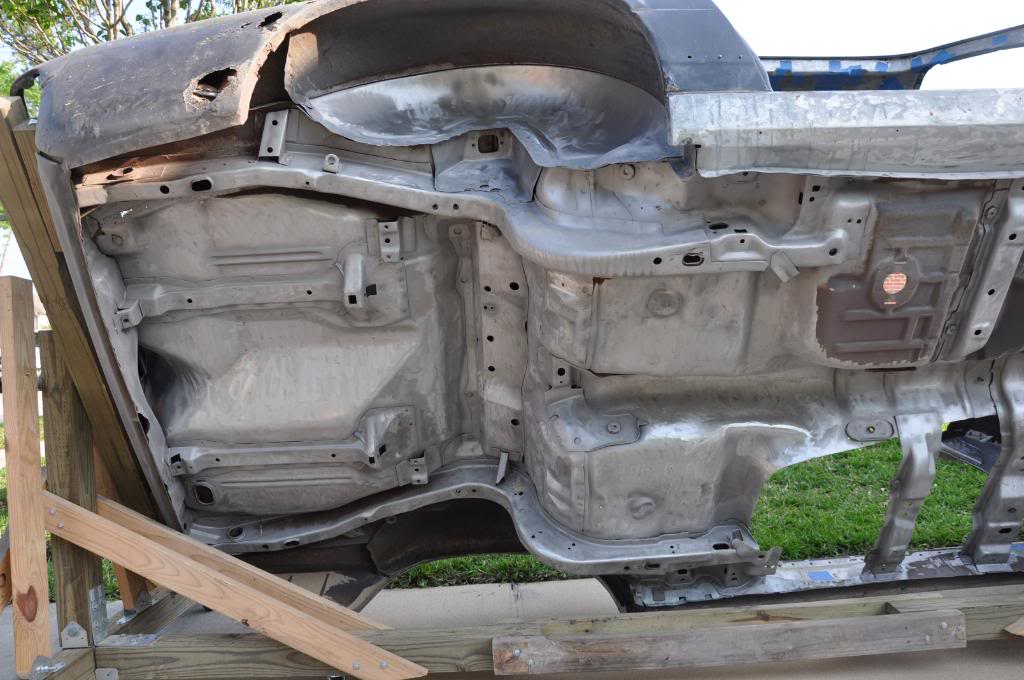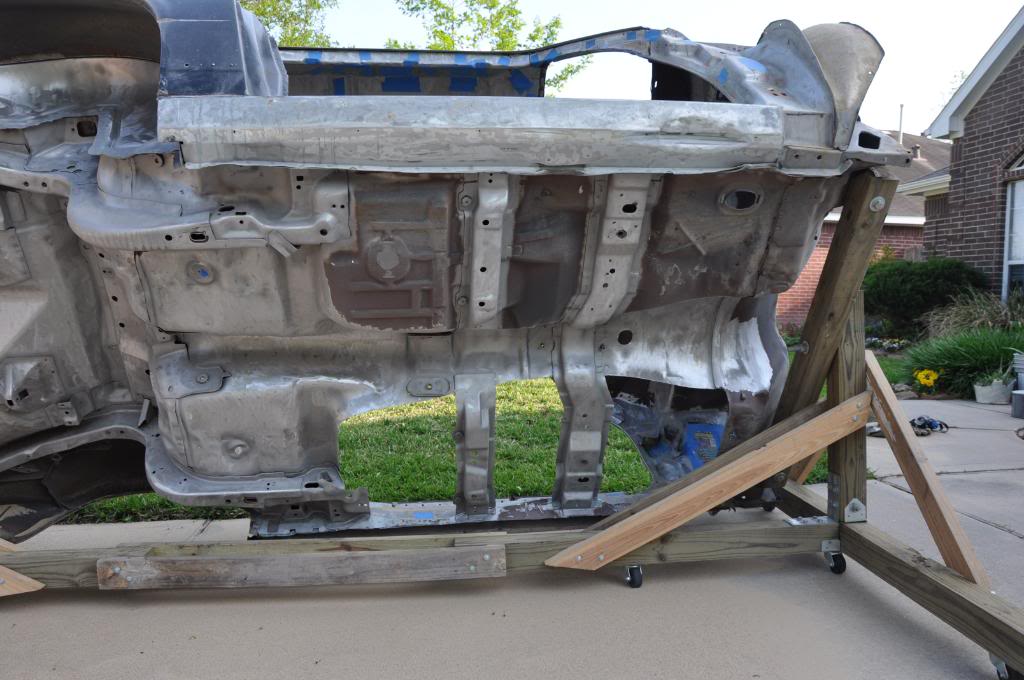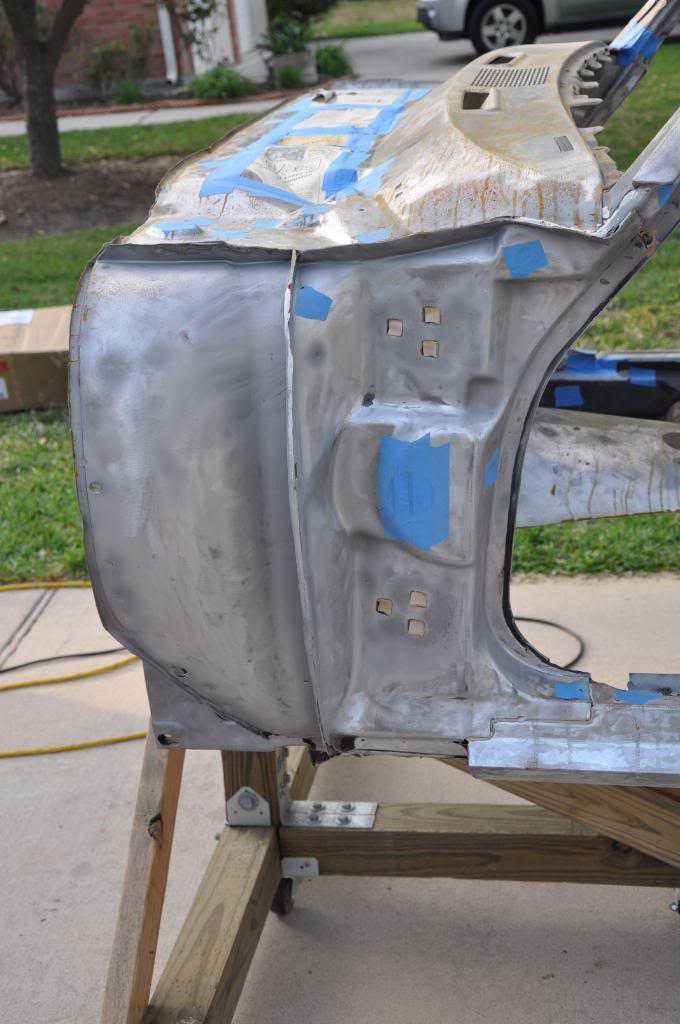 4-11-2010
Sorry, no new pics, just words...wrapped up the sandblasting today (the sand blasting I needed to get done immediately anyway) after spending all day Saturday doing some spring garden work with the wife. Good news is that now I can start finishing the inside metal and start with the toe boards and floor pans (no really, I can ). Some more pics to come this week - should be able to work in some POR-15'ing after work this week.
4-19-2010
Thanks man, I wouldn't be doing this unless I've owned the car for so long.

So I got some stuff done on Sat and this evening. Sat I cut out the driver side toe board area and worked on shaping up the new patch from my donor. One small problem - I need to practice welding before I can do anything with the patch. I plan on doing that Thurs/Fri evening and trying my hand at some MIG welding during the weekend.

Removed the area around the high-beam switch first: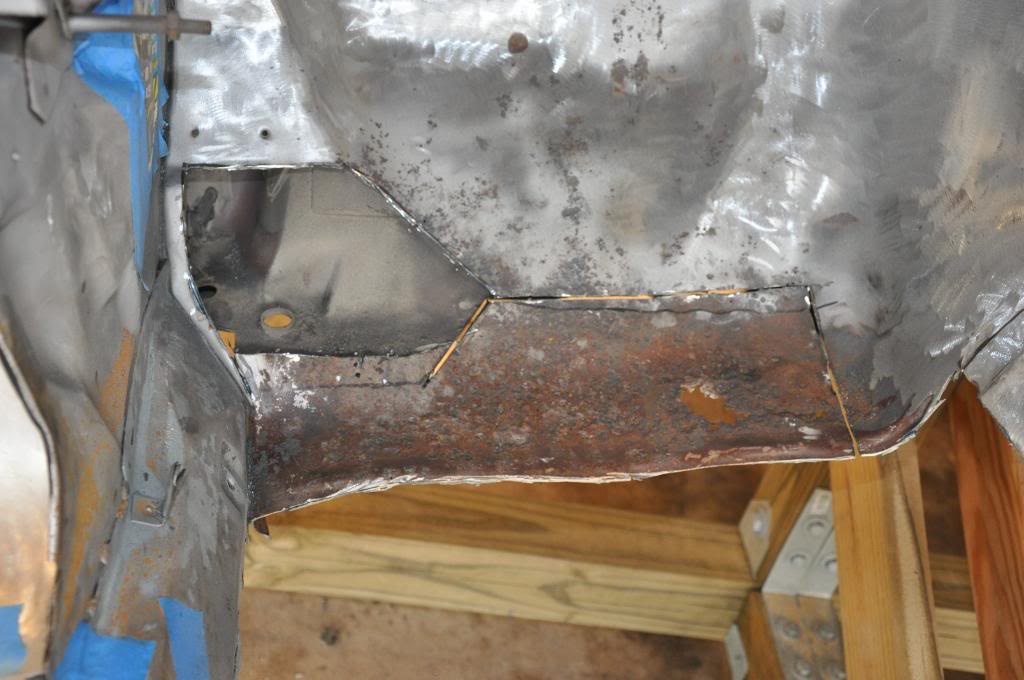 Removed the next part of the rotted area: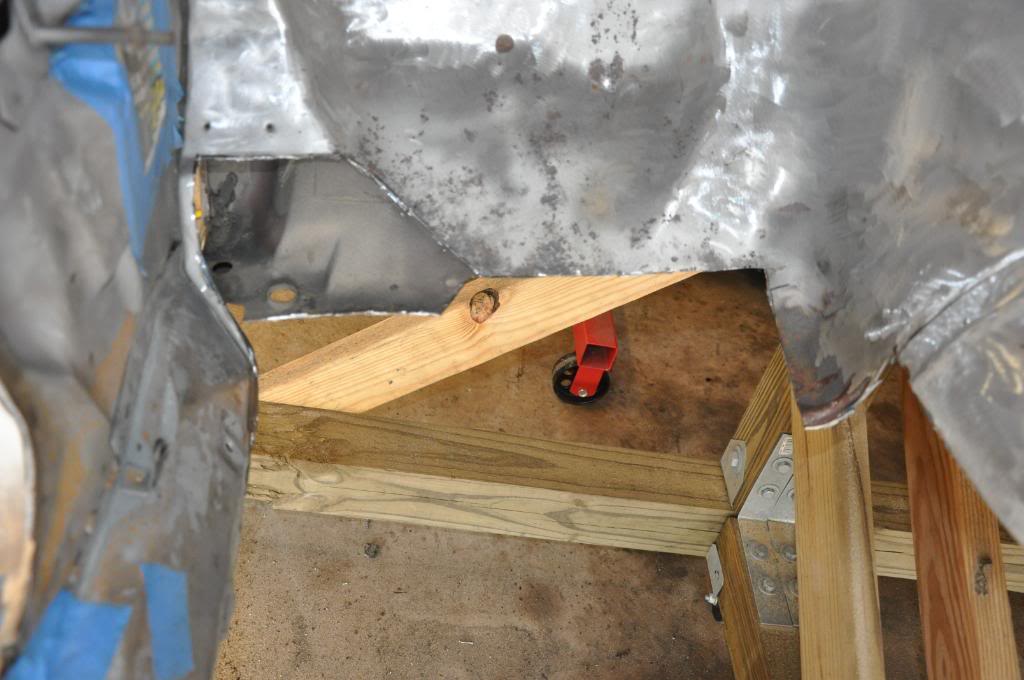 The patch in it's almost final form: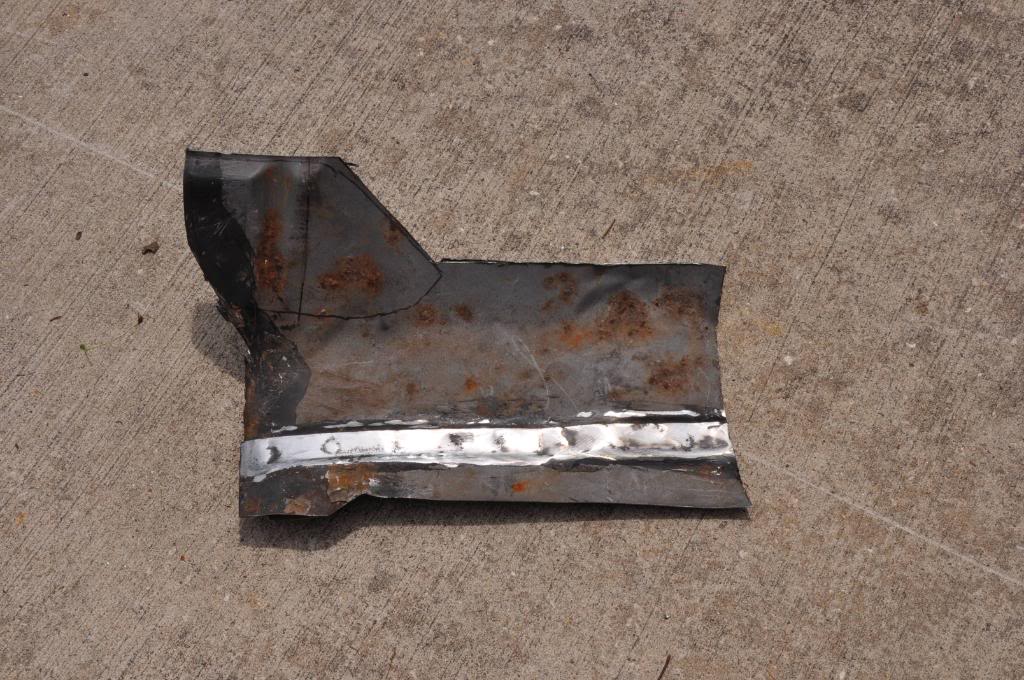 Not a bad fit - will need a little "massaging" but it should work: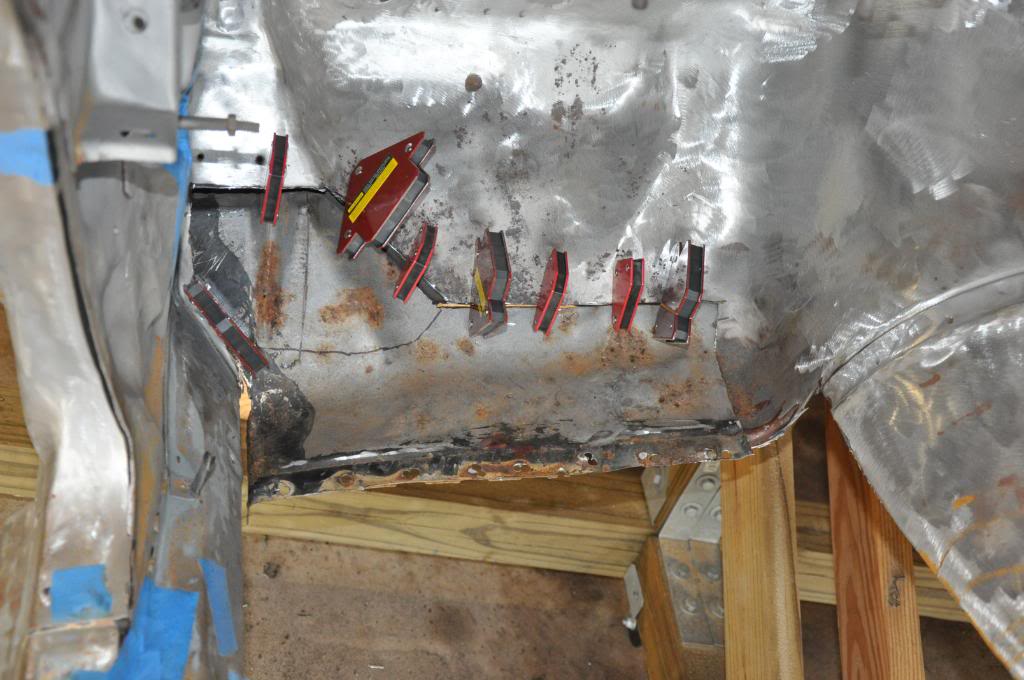 Started applying some Eastwood Rust Encapsulator to the inside of the shell. I got this when Eastwood was having one of its many sales and it was a good price, so figured what the heck.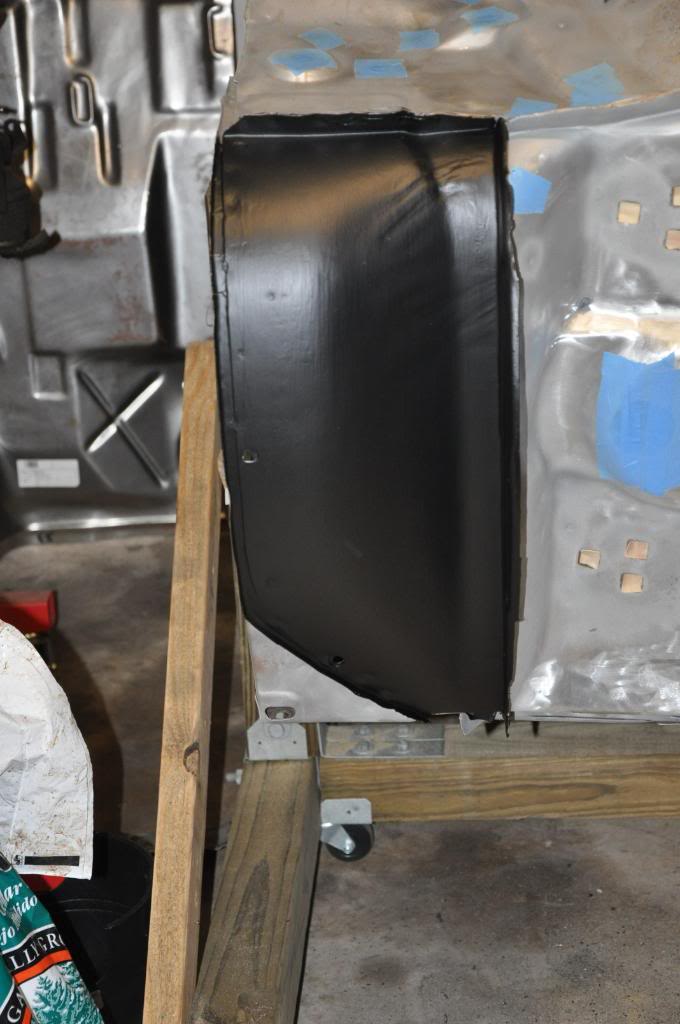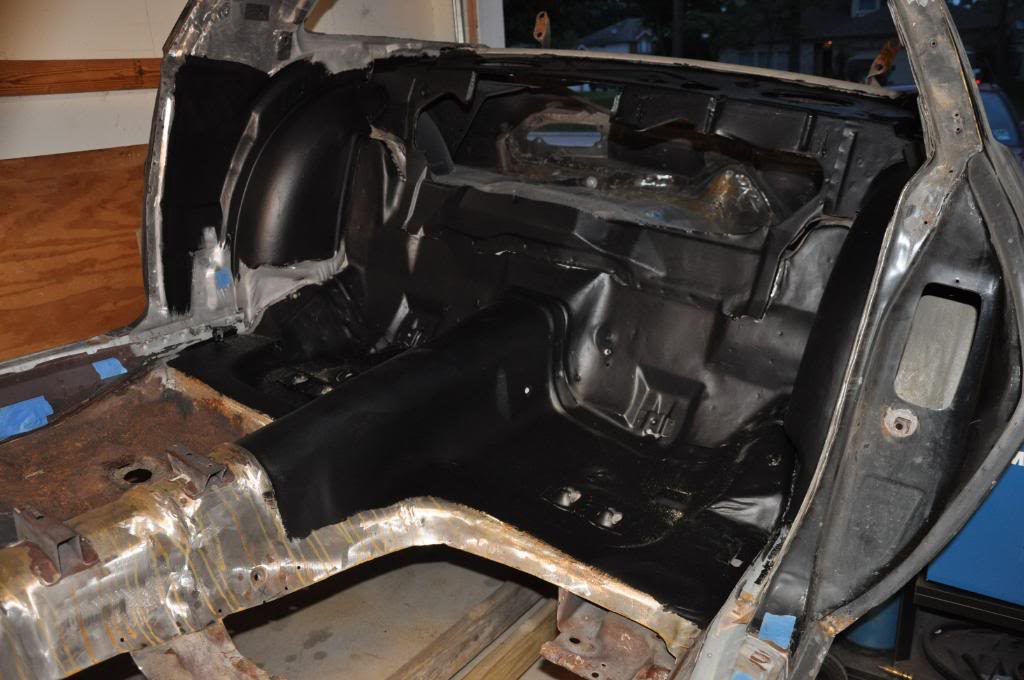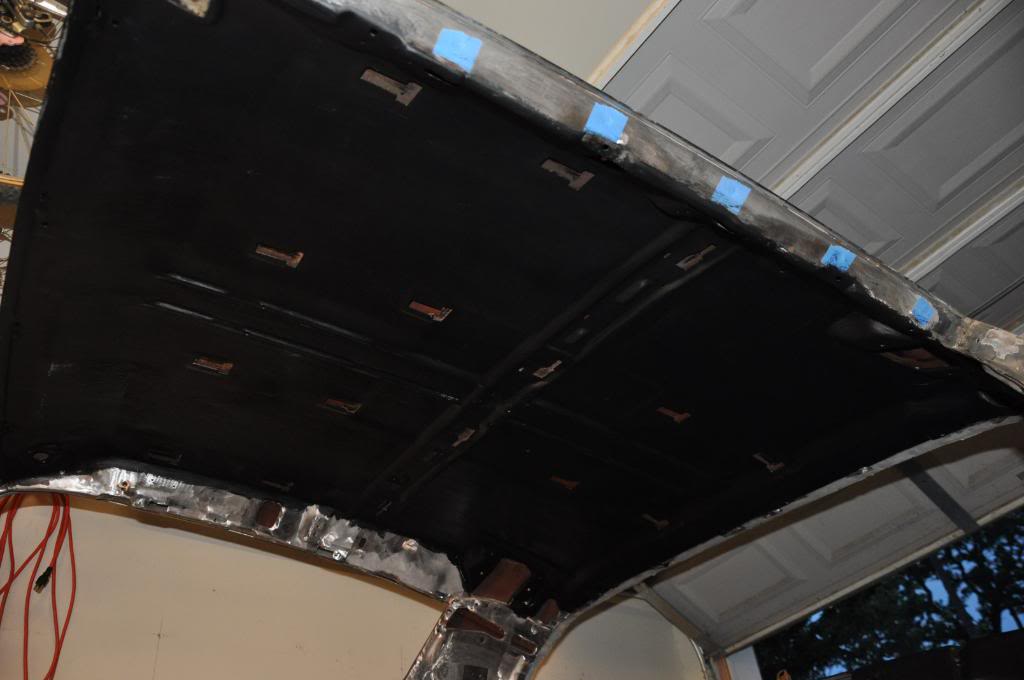 4-20-2010
Holy crap, what a busy week - can't wait to do some work on the car. Stopped by the big box store tonight and got some copper to use as a backer when welding, a fire extinguisher and some foil duct tape. Going to try a trick a guy at Northern Tool told me about - take some of the small square ceramic tile strips, wrap them in the foil tape and then tape that to the backside of where you are welding. Helps prevent blow outs....or so we shall see.

Pics to come tomorrow...hopefully of some decent welds
4-24-2010
Easy Guy, easy....

I had to do some final sand blasting to clean up the areas that would get welded and did a little extra blasting while I had everything set up. Then I got around to setting up my welder - hadn't really done much with it except put it on the cart. I was able to practice on some 16 gauge sheet metal.

Here was round #1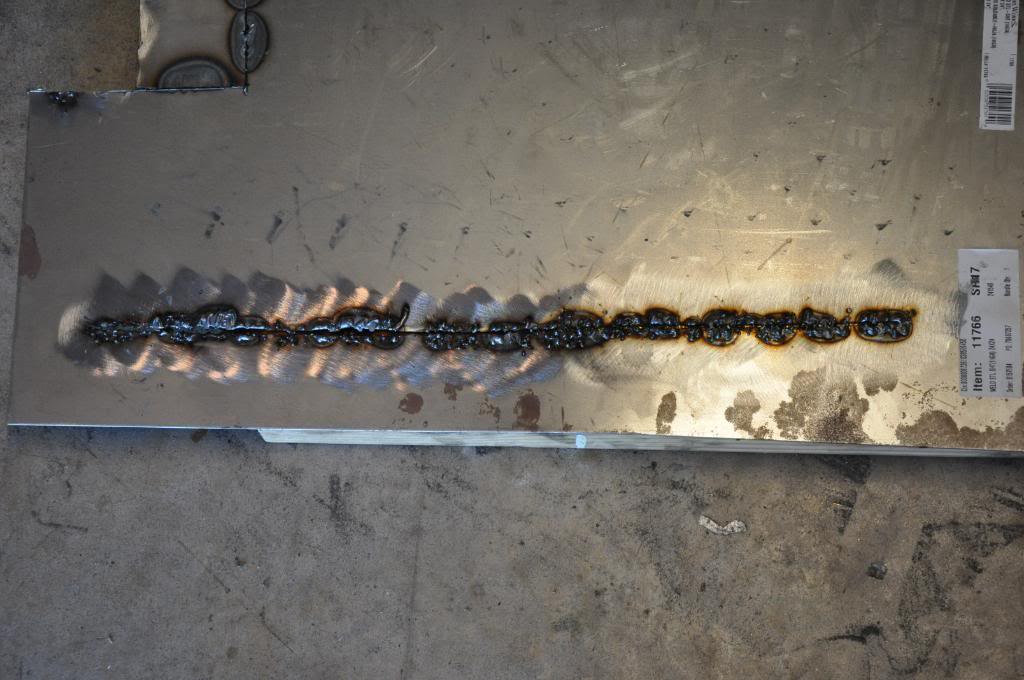 This was the last round - considerably better, but still need to practice some more tomorrow morning before I weld "for real". I think I was not holding the gun close enough to the metal and was moving the gun at the wrong speed. I think I have the right wire speed and voltage.

I circled the best weld from my practice runs - that is what I want to achieve.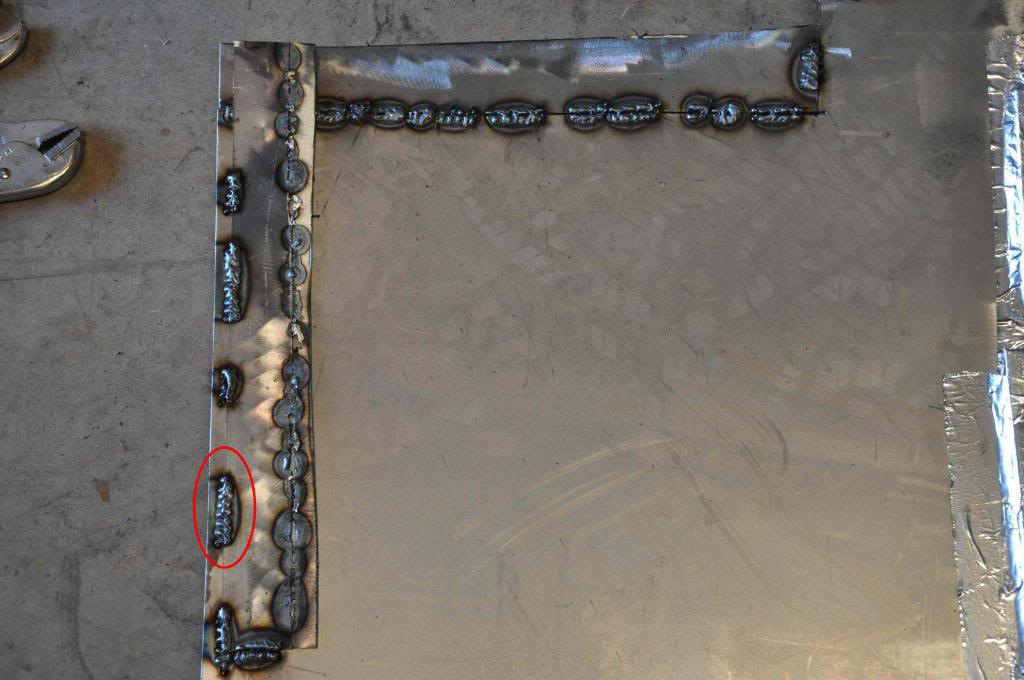 4-25-2010
So I figured you could all use a good laugh. Turns out the gaps between the butt joints on my toe board patch were just too big for me to fill using a copper or ceramic backer (inexperience issue). So I decided to make some patches out of 16 ga sheet metal to go over the seams on the interior side. The idea is that I should be able to make the underside look pretty (or prettier than the interior side).

I started grinding the welds along the top patch and will clean that up more this week. I did not touch the welds on the right-side patch (I know, hard to believe

). I have one more patch to add along the diagonal seam.

Anyway, it was a learning experience. My welds slowly got better, but they still suck balls. Just need to take my time. Will keep at it this week.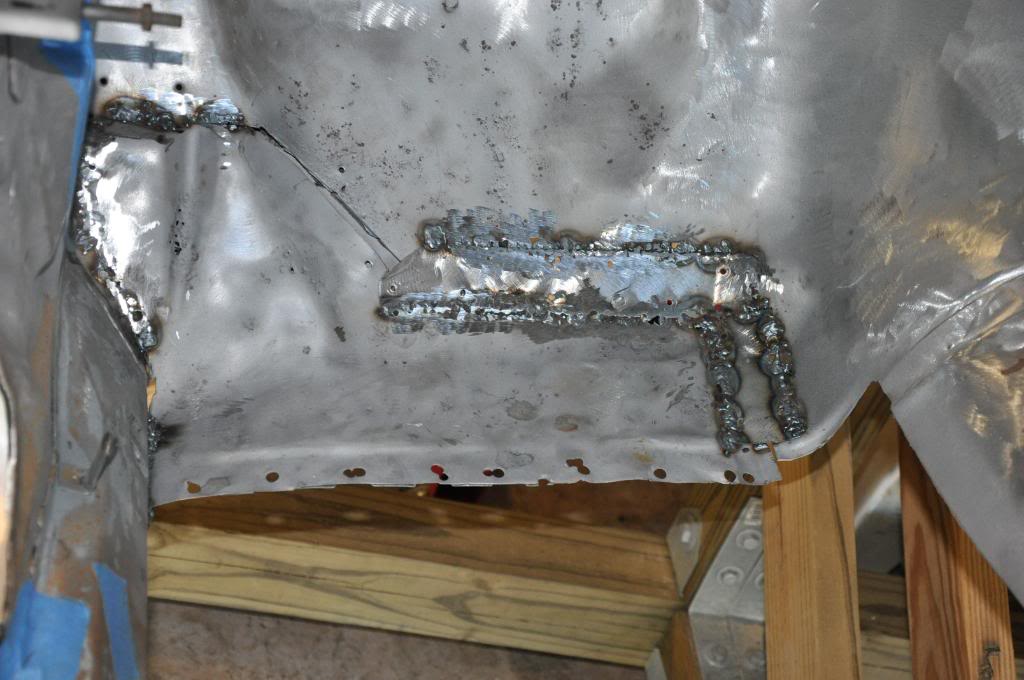 4-27-2010
Added the other patch piece to the inside of the toe board and did some grinding on the welds. I will make it look pretty after I a do a little more grinding. Should turn out fine.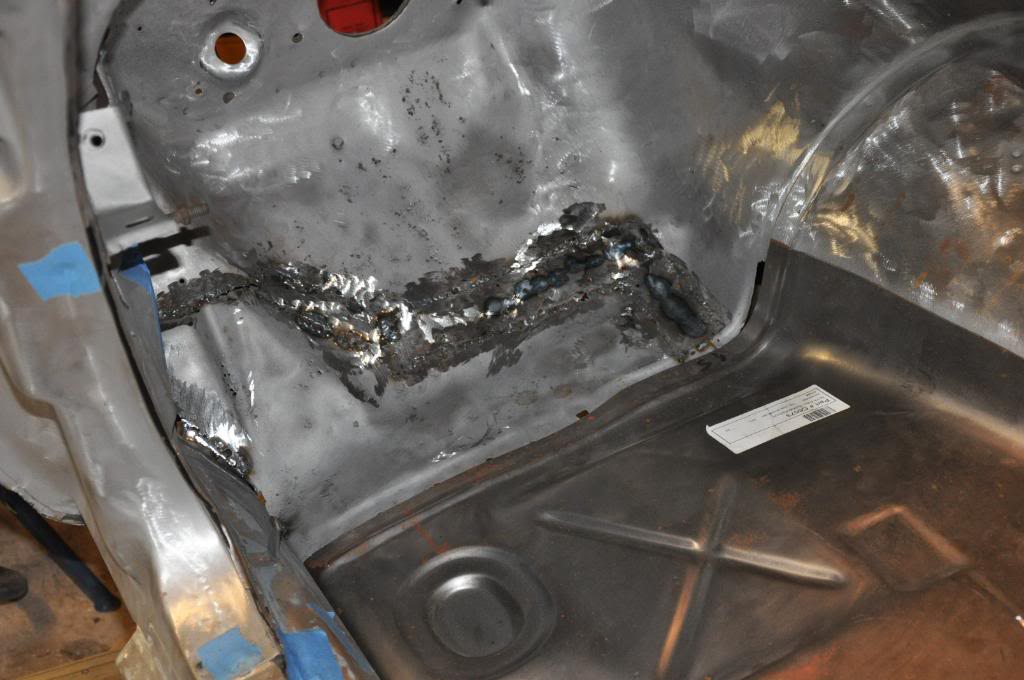 Did a dry run on fitting the driver side floor pan. Not a bad fit for such minimal adjustment. Should be a really nice fit once I secure it with some screws. Got all the seat track holes drilled in the right spots, so that was a plus.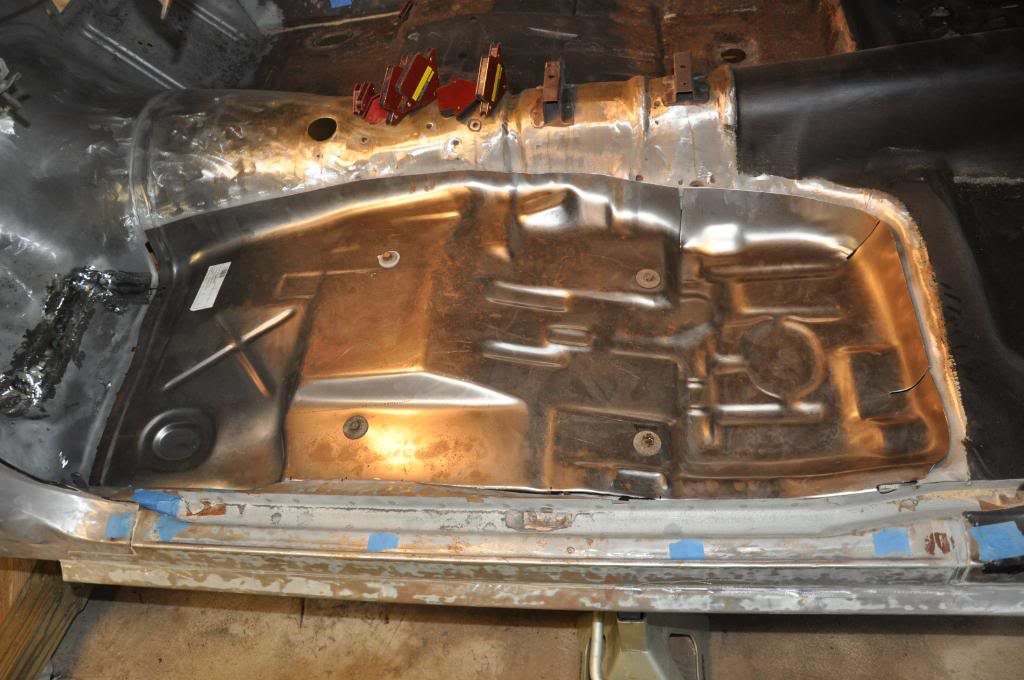 The underside of the pan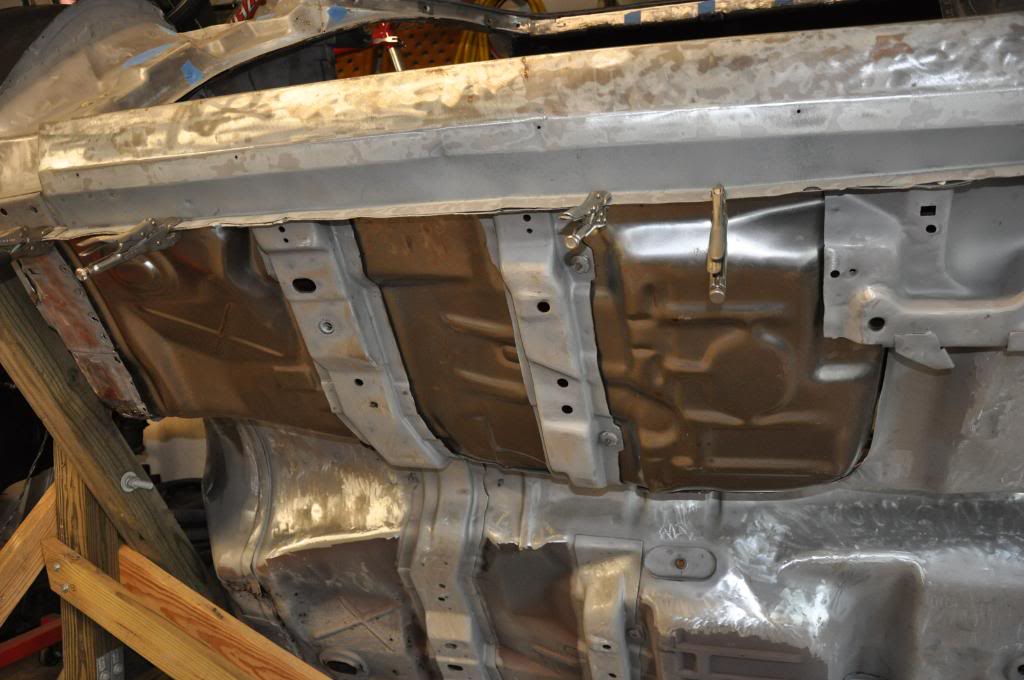 5-2-2010
Kind of a ho-hum weekend. Didn't get jack done on Saturday - wife "asked" me to go to a boot camp at her our gym at 2:00 (which I have never done, I lift weights mainly) and it kicked my a$$. Felt like crap the rest of the day.



Worked on the toe board today and got the floor pan mostly fitted. Will need a little more tweeking to get the floor pan "perfect" before I begin welding it but should be able to start welding it in Wed night.

For the toe board, I heated the seam with a propane torch and hammered the gap closed as much as I could to make the welding a little easier. My welding skills are improving, but not quite there yet - they're still too globby. I adjusted the way I was holding the gun to give me more control and cleaned the welds more frequently with a wire brush. At least I am not blowing holes through the metal and not getting as much spatter as before.

First round of welding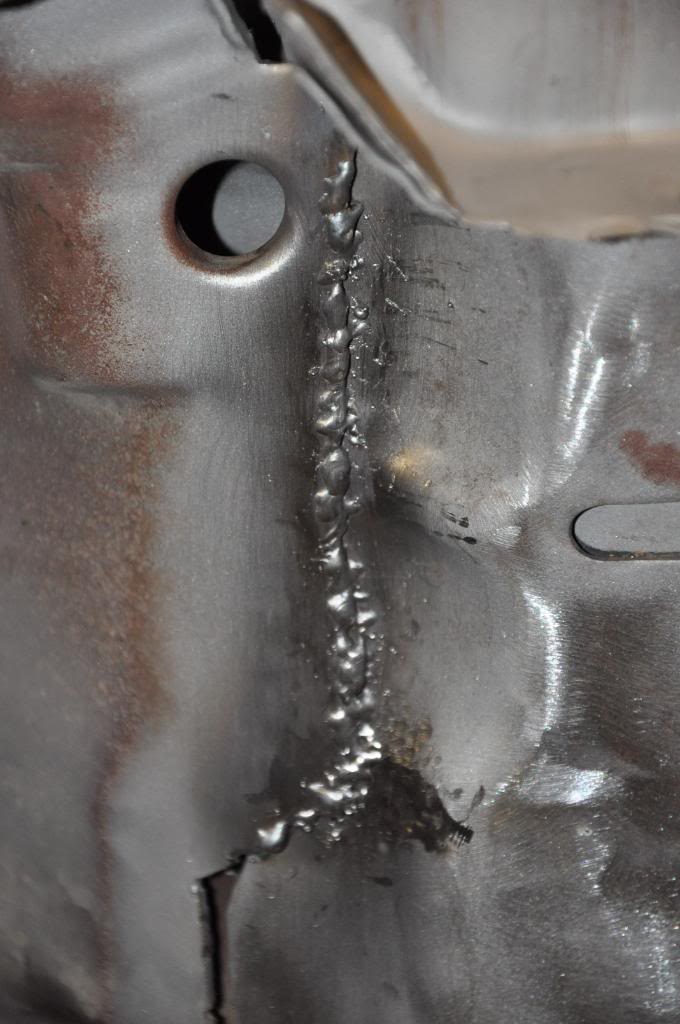 After a little grinding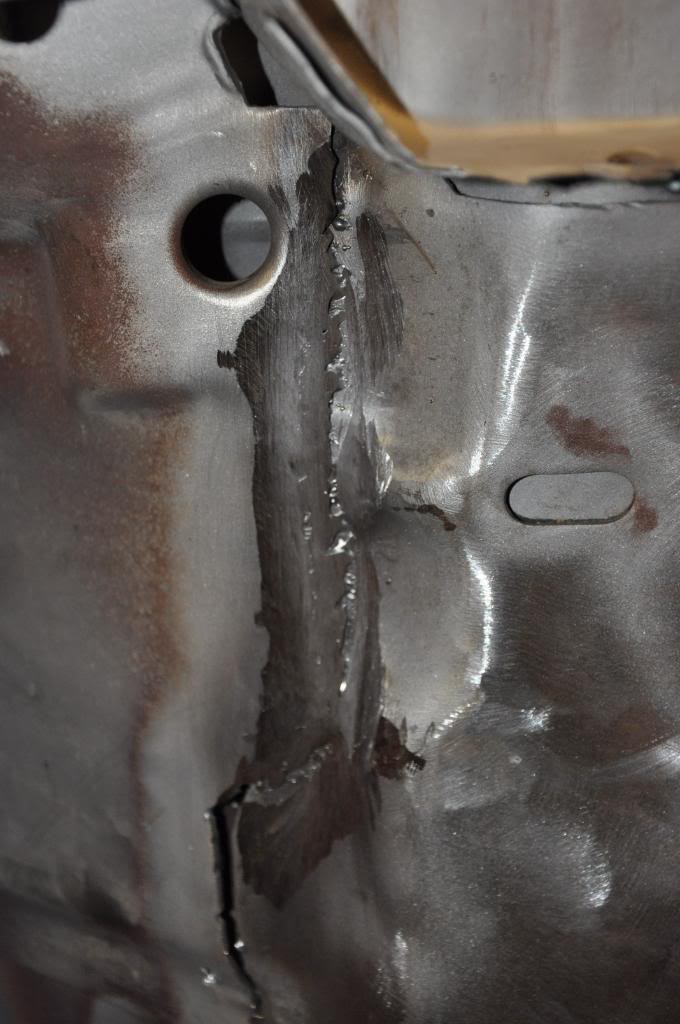 5-3-2010
Thanks guys, this toe board actually ended up being my practice piece, which I can live with. I didn't intend on that happening, but would rather have practiced on this patch than other pieces. I expect the floor pan welds to look much nicer now that I have *somewhat* of a clue. But I am definitely becoming more comfortable with the welder, just gotta keep at it.

Didn't mention that I sliced the bottom of my right hand on a metal shard from one of the holes I drilled in the floor pan for the brace welds. Was about 1" long but not terribly deep. That wasn't too pleasant and ended my day early

I'll be lucky if I get to work on my car one day this week before we go on vacation. Have things going on tonight and tomorrow night and gotta mow the law Wed or Thurs night. So the progress will pretty much come to a halt until May 15. It will just make me want to get back at it after the layoff.
5-7-2010
No progress to share, just figured I would share some pics of the hinges 78LT383 (Douglas) built for me. These aren't just re-built hinges, but re-engineered to better withstand the heavy 2nd gen doors. I read through his how-to document and decided in this case it made more sense to ask if I could pay him to build me a set Can't wait to get these on and test them out. Will have to use them when I replace my 1/4 panels this summer.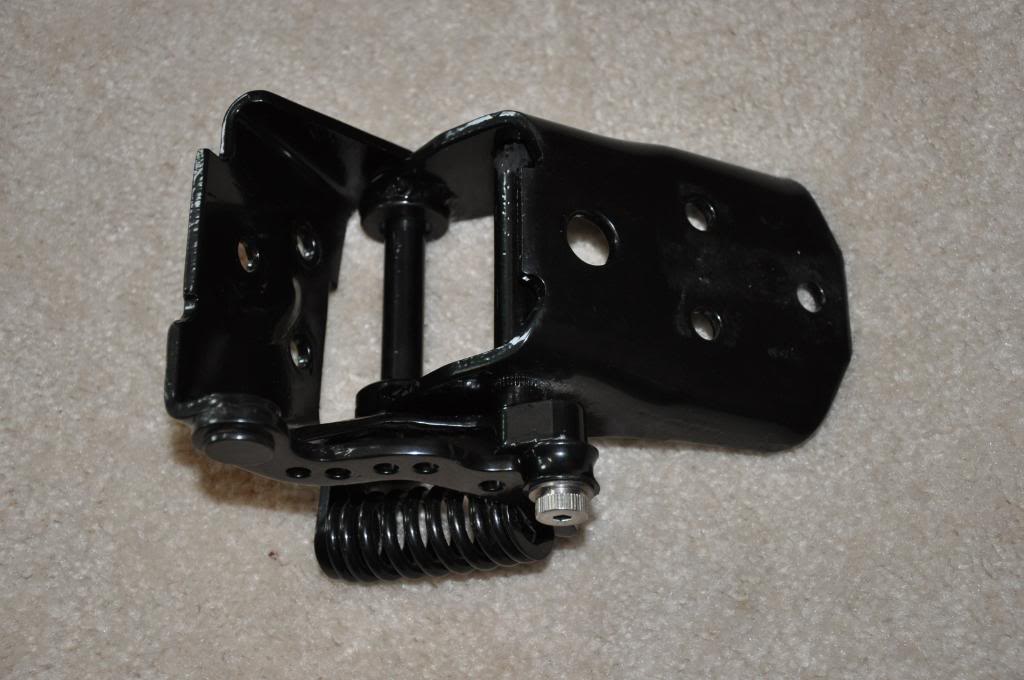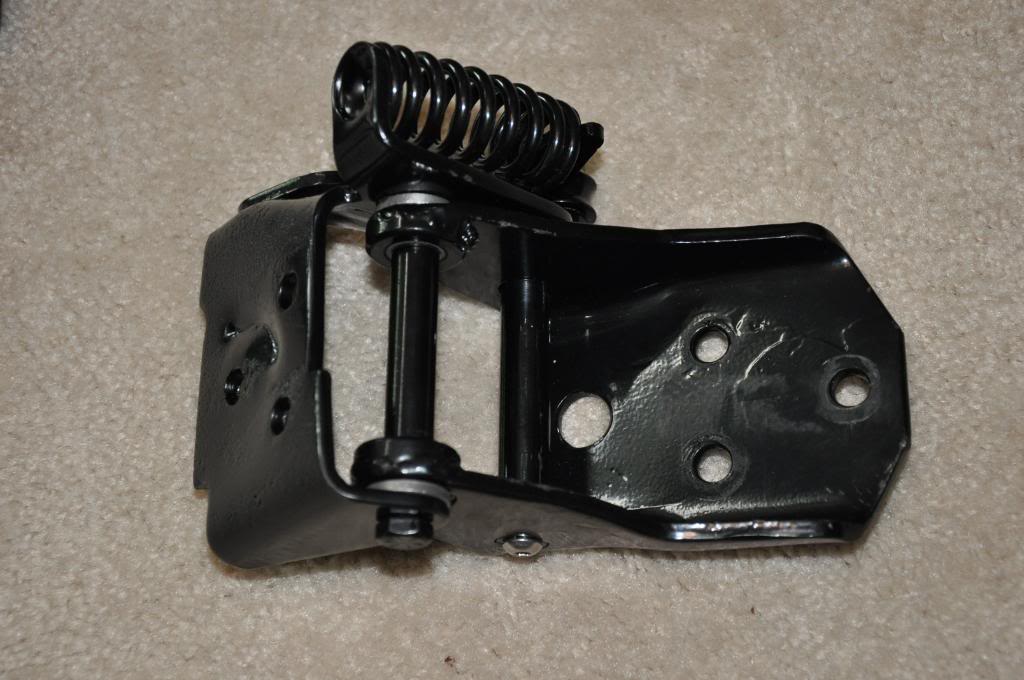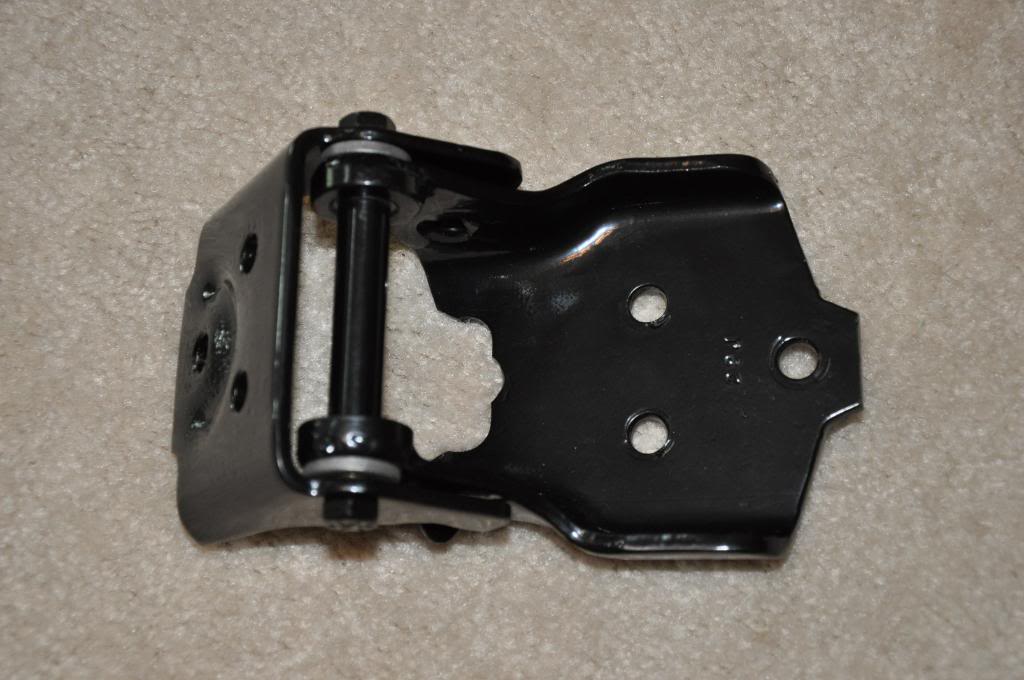 5-23-2010
Been a couple of weeks since I was able to do some meaningful work on the 76 (vacation followed by a busy week with work). Welded in the driver side floor pan this weekend using a lap joint. It's 90% done, still need to fill in some screw holes and place a patch over a gap between the toe board and the floor pan (you can see in the upper left area).

I've got a 4 day weekend ahead so should get into the pass side floor board then. Thanks for looking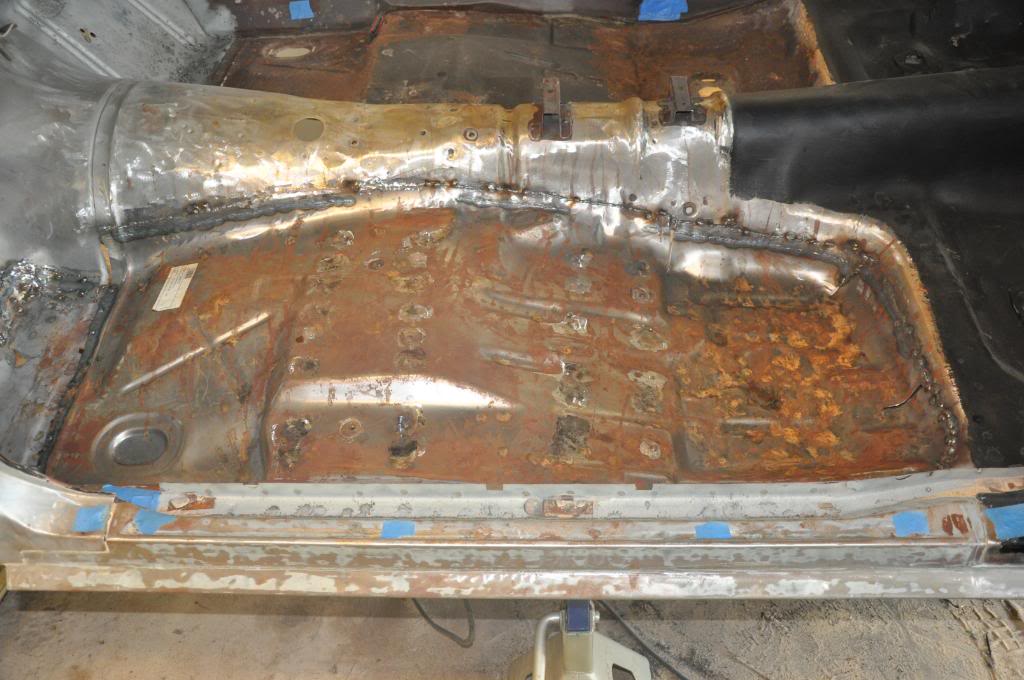 Oh, here are a couple of pics from our vacation to Colorado. We weren't expecting snow at all but got ~12" up in Estes Park. We still had a blast.

Here's us snow shot hiking in Rocky Mountain National Park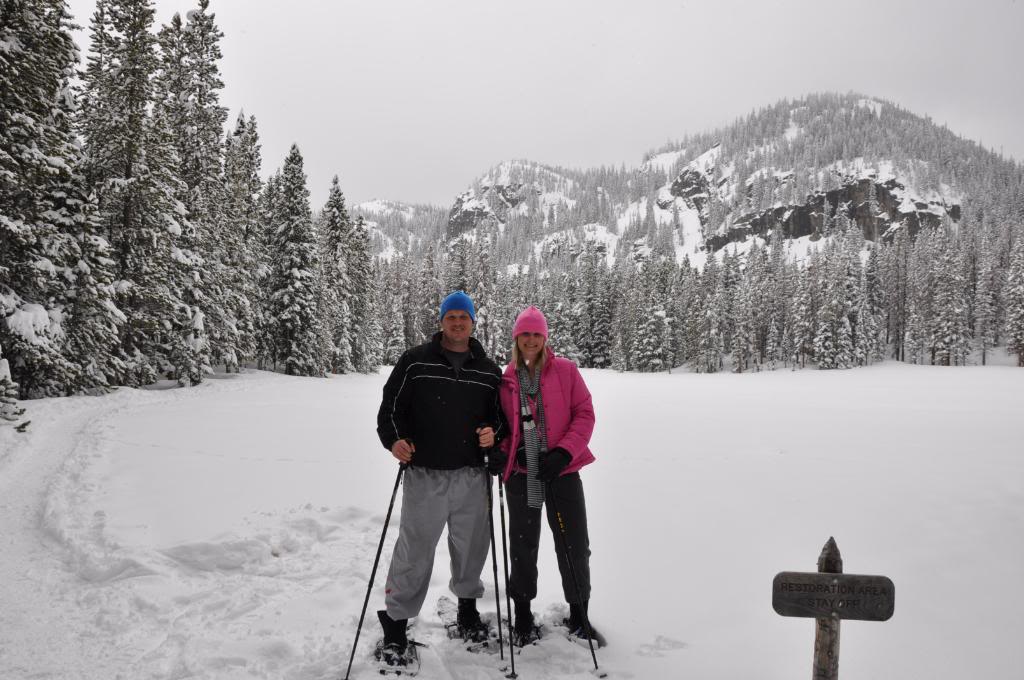 Pike's Peak in the background during a nice 6 mile hike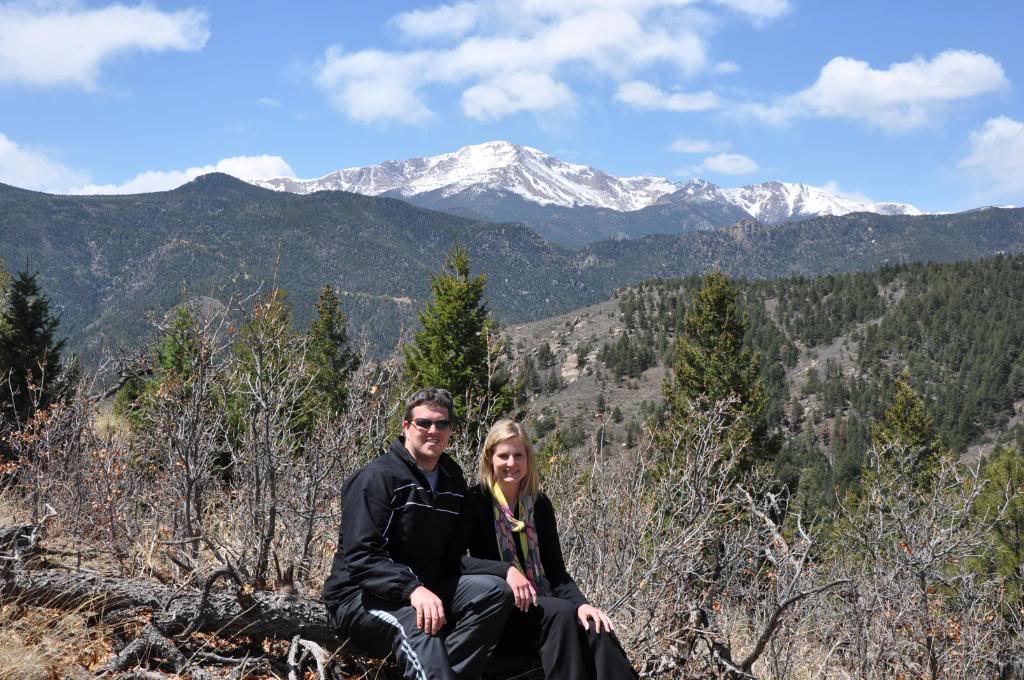 One more of my favorites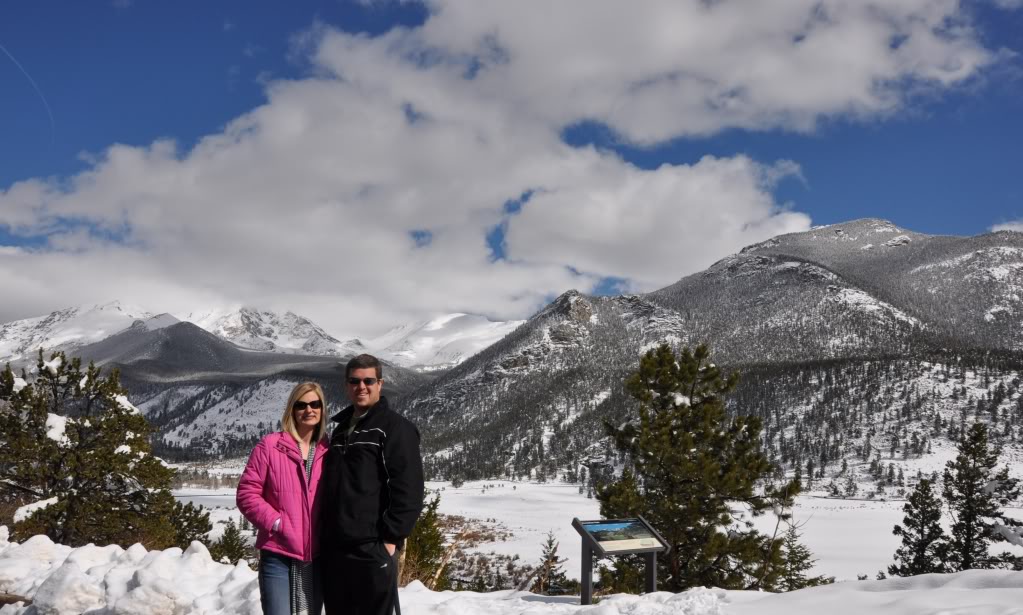 6-7-2010
Sorry for no updates lately. I've been doing work but not been so good about uploading pics. Then I left my only memory card reader at work last week so that didn't help I'll toss some pics up tonight, I promise. The pass side floor pan is going better than the driver side, as it should be. Hope to have the pass side pan done by this weekend and then I can move on to spraying the firewall and underside with epoxy and coat the rest of the interior metal.

After that it will actually be kind of exciting since I will be putting the frame and all the suspension back on, so it will look more like a real car. I decided to put the car back on wheels before I replace the 1/4 panels. I think that will allow me to achieve a better fit with the car sitting in a more normal manner. If the car was on a steel rotisserie then I might not put the car on wheels, but it's on a creaky wooden rotisserie.
Picture time!

Decided to cut out a pitted area in the floor pan and weld a new piece in. Was pretty badly pitted so did not want to mess with trying to make it acceptable.

Piece that was cut out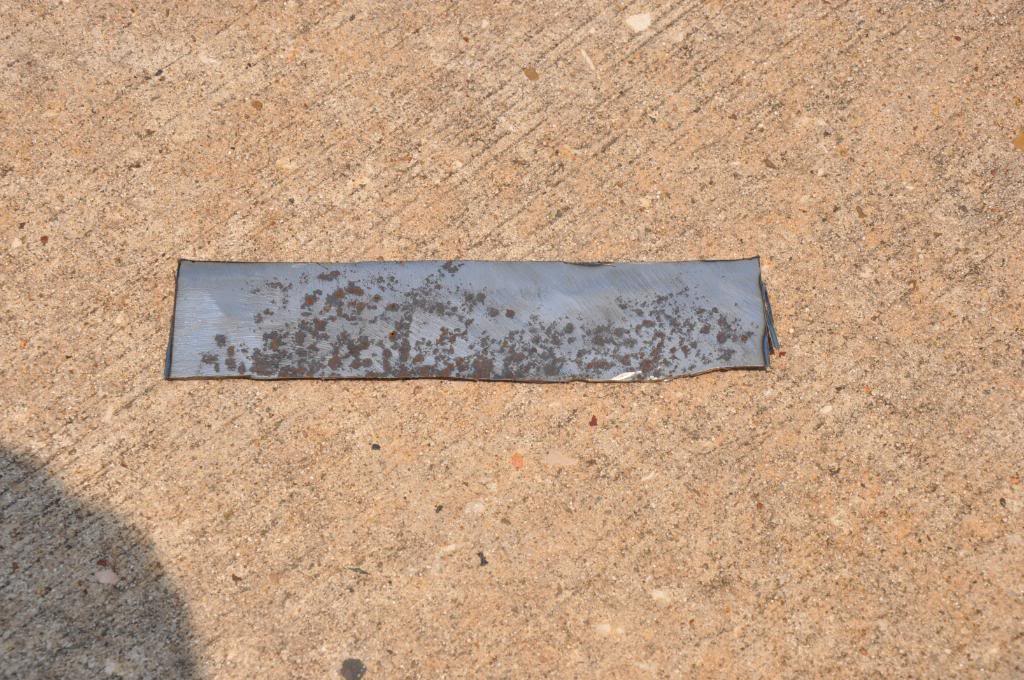 New piece fits pretty well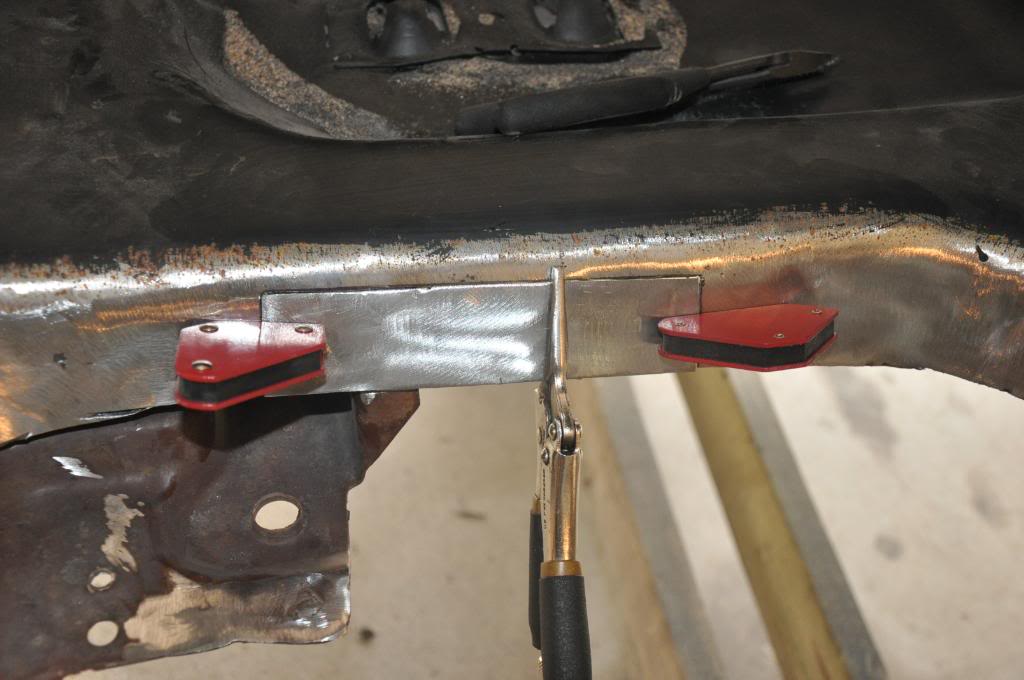 And we'll skip what the welds looked like and get to the final product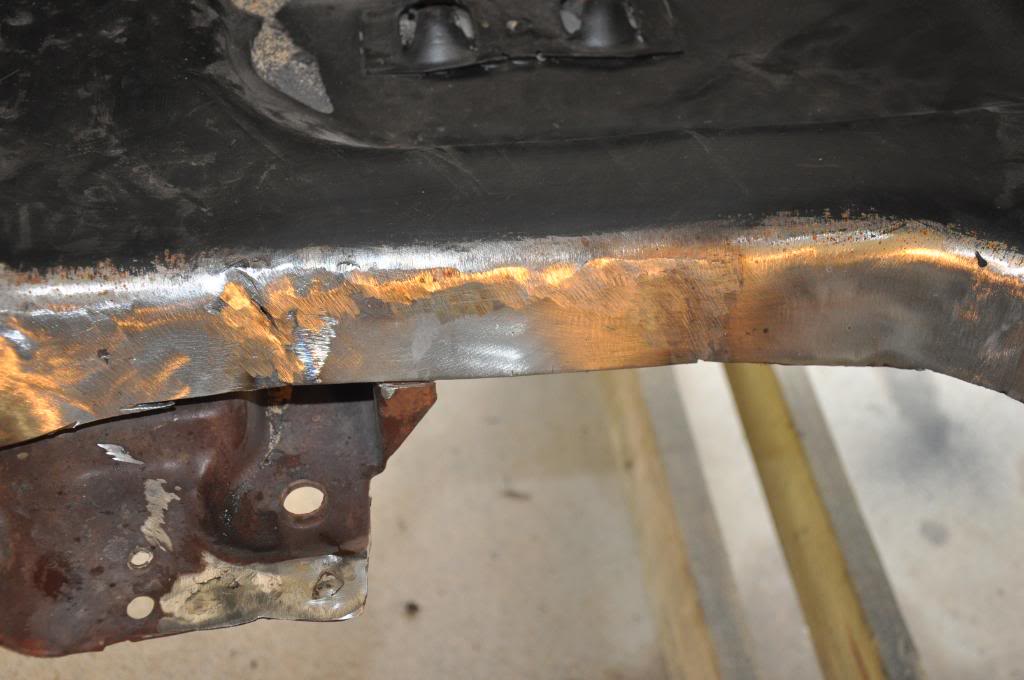 Another patch I had to make where the driver side floor pan meets the toe board

Think I have enough screws? (BTW, I love these elf-tapping screws)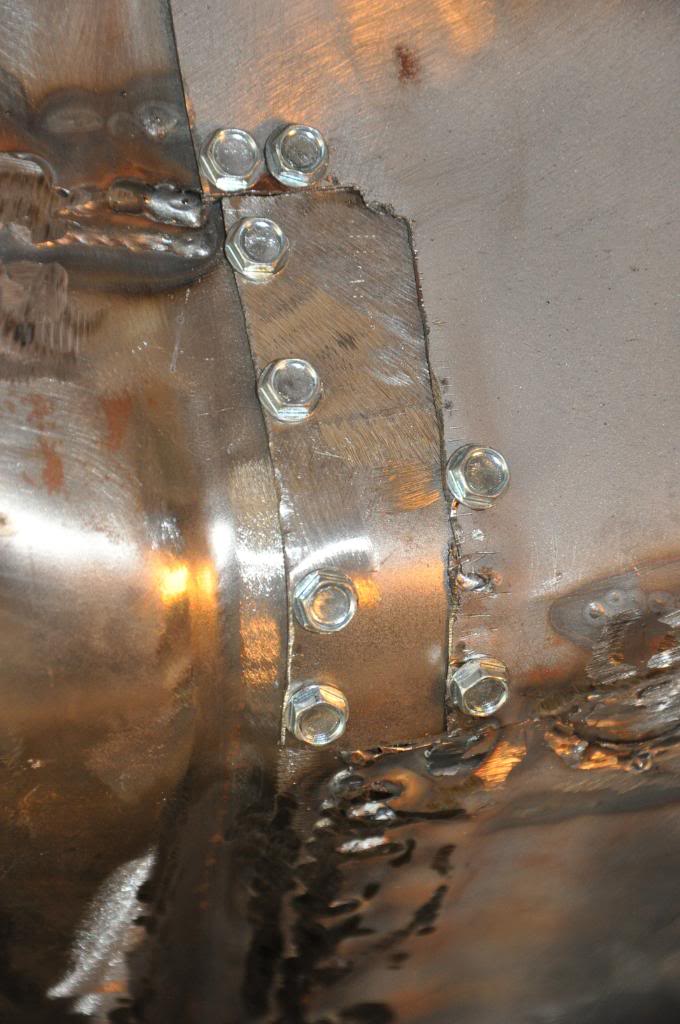 After a few spot welds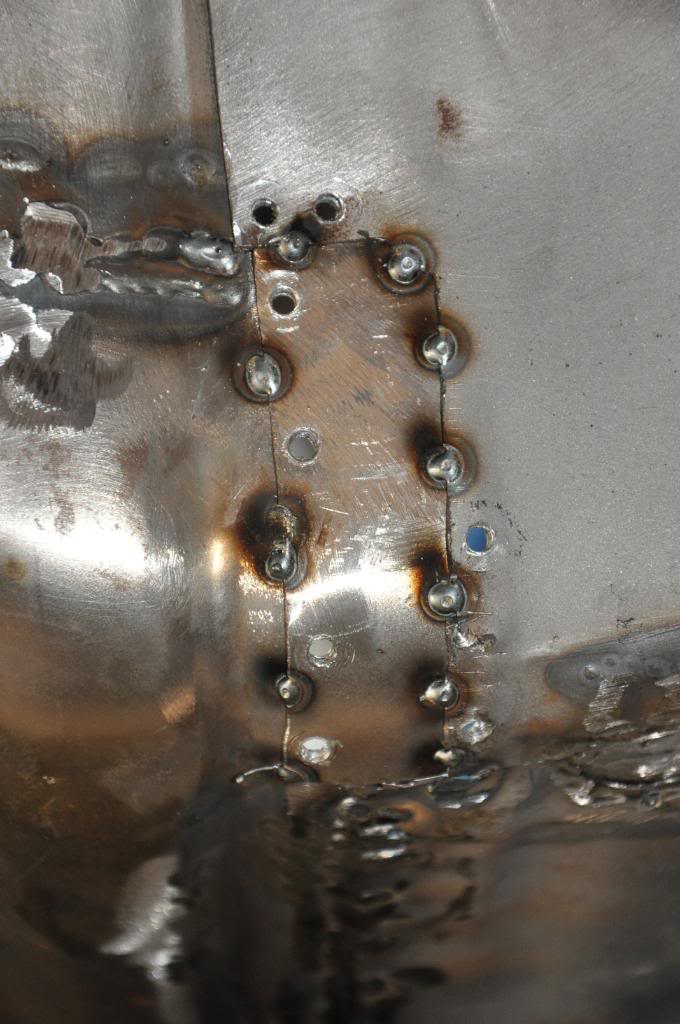 And ground down to its near final form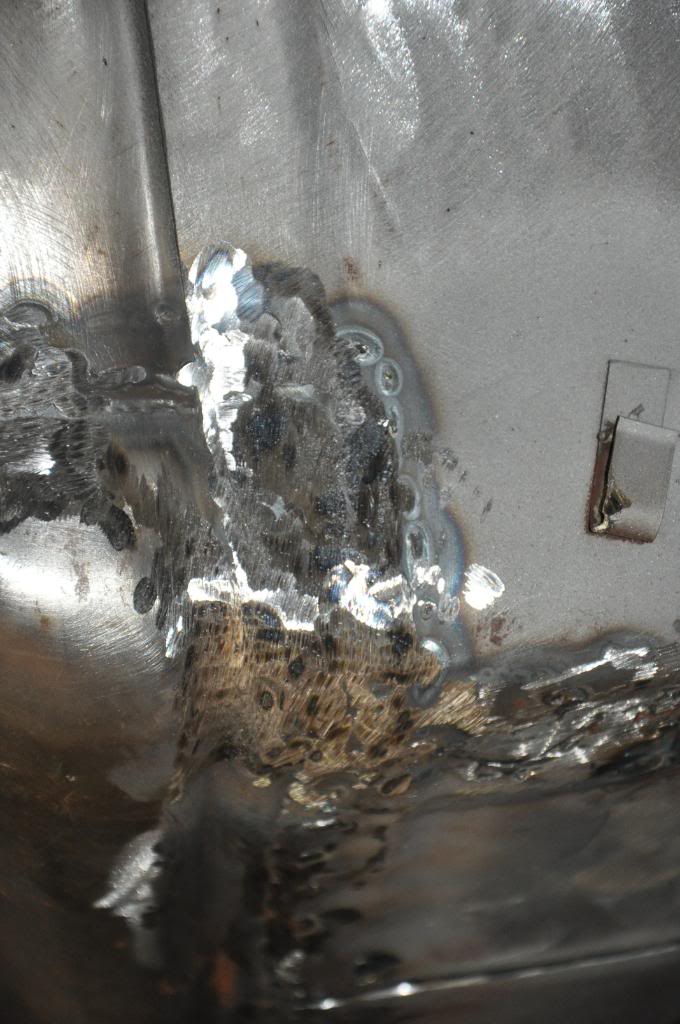 Working on the passenger side floor pan now.

Not a bad fit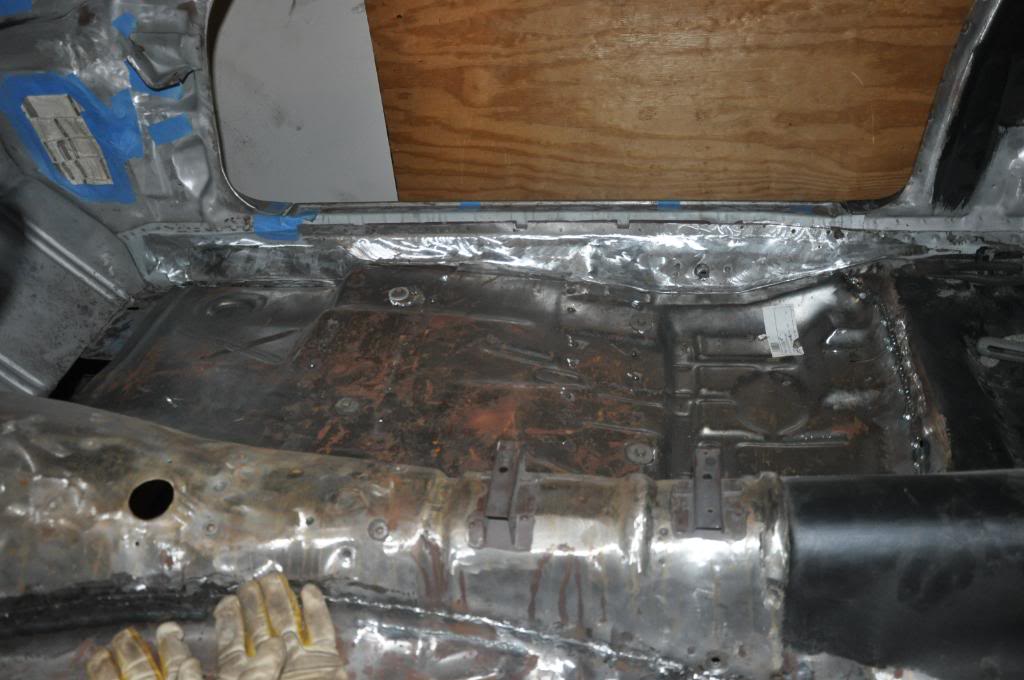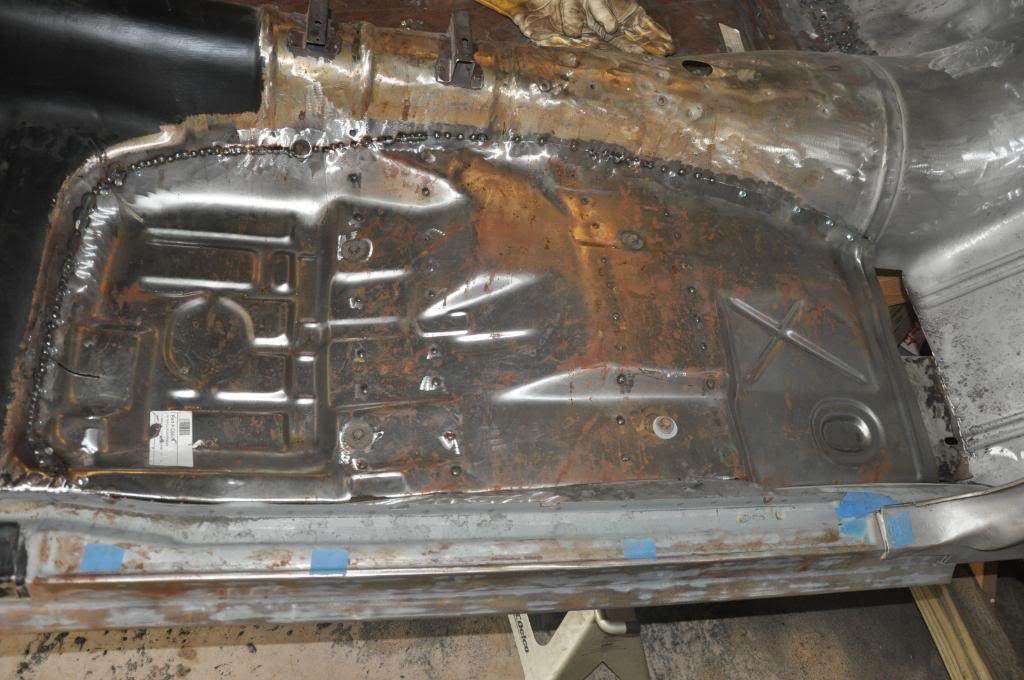 Decided to use smaller spot welds on the pass floor pan, mainly to try something new and see how it goes. Takes a little longer but should be easier to grind down. Just ignore that blow-out spot there...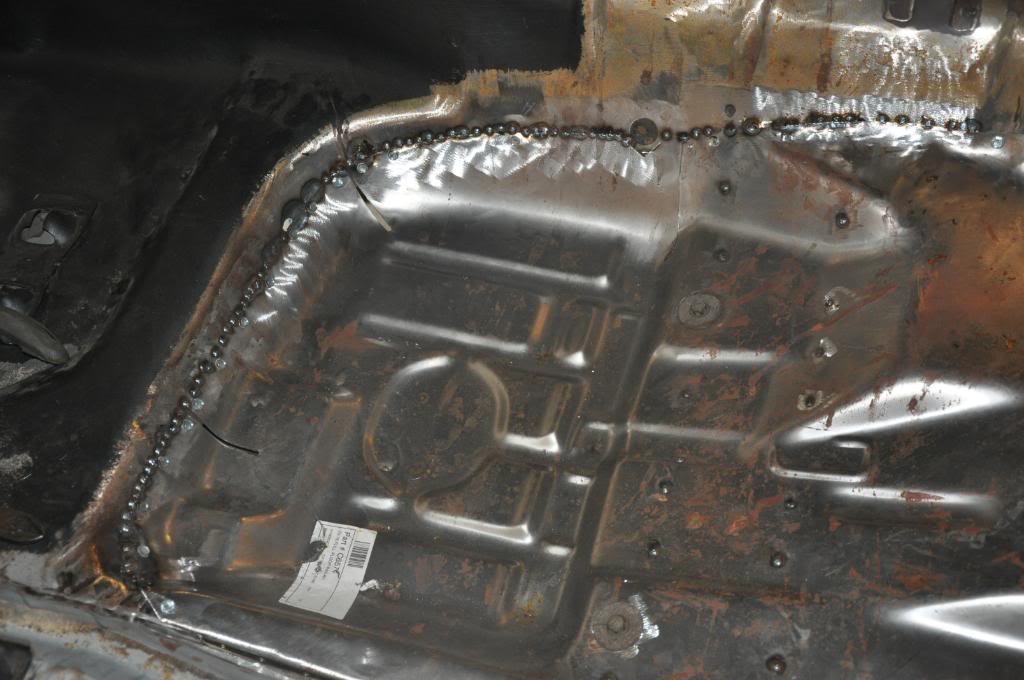 I will need to replace a section of the toe board but that should be pretty easy. Luckily the sheet metal underneath is fine, so I will have a nice foundation to work with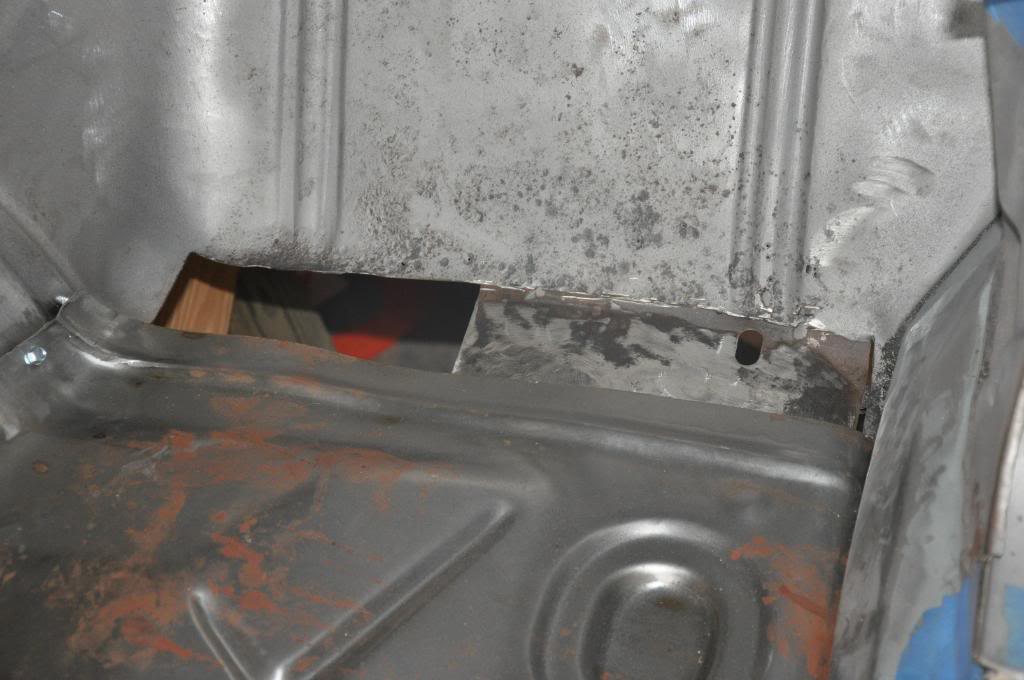 6-22-2010
I am bad at these updates - so many things going on the past few weeks. Mom had back surgery (she is doing OK), father's day and just all around "stuff" to deal with that gets in the way of Camaro time. Anyway, I began working on the pass side toe board patch. Welds are getting cleaner so I am pleased with that. I also am experimenting with using 40 grit flap discs to grind down the welds versus a grinding disc. The flap disc works surprisingly well and are less aggressive so it has a better smoothing effect and does not tear through the metal like grinding discs.

So for some pics

This is what I need to fix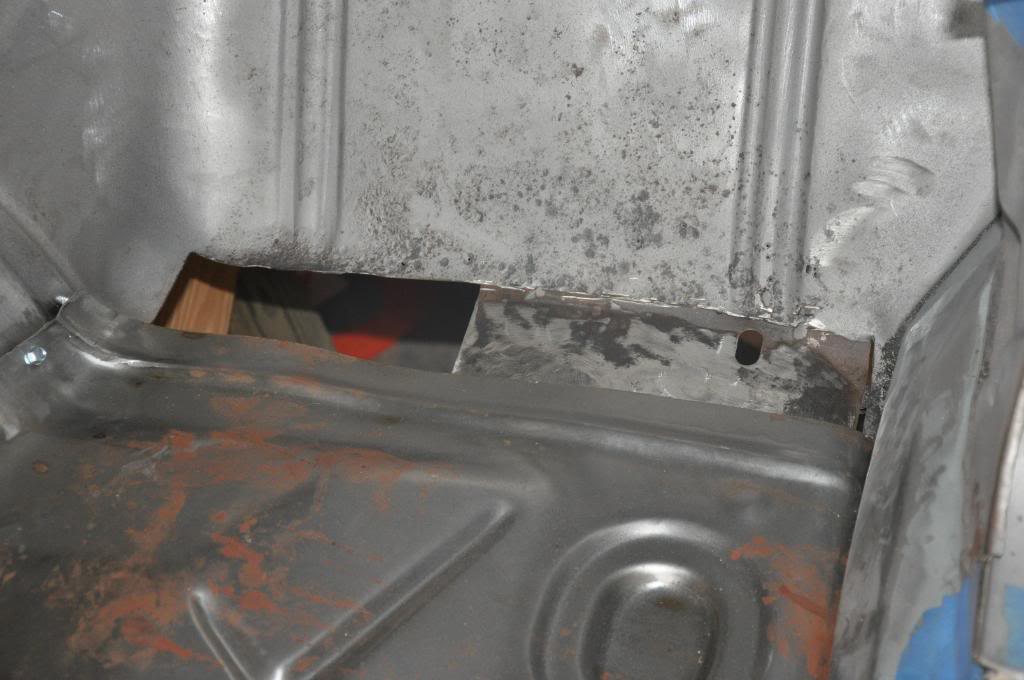 The patch from the underside secured with a generous # of screws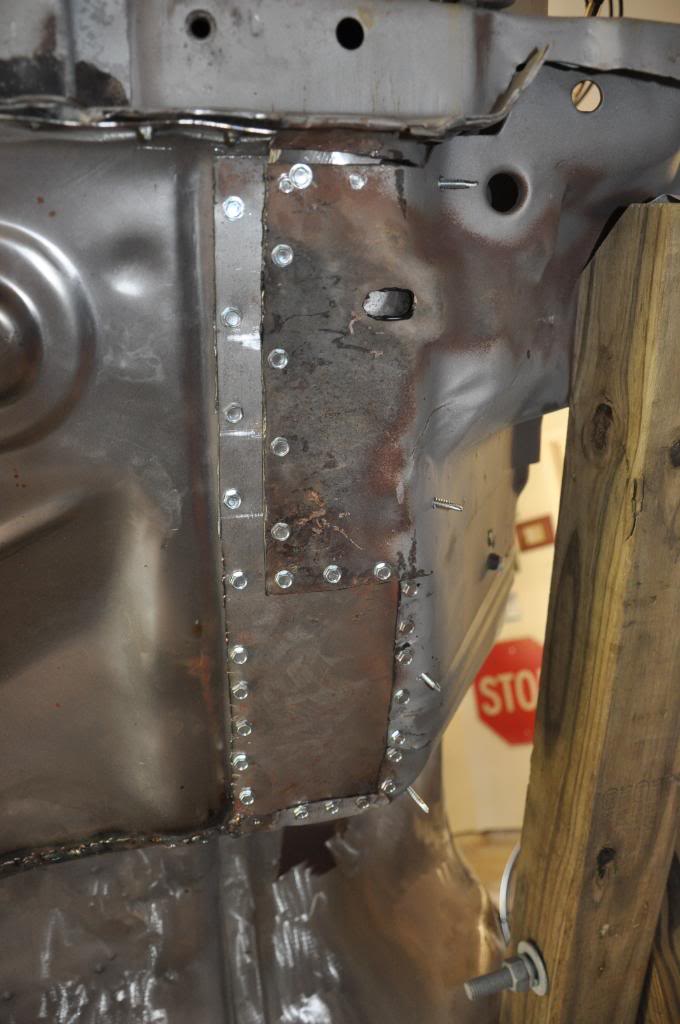 The patch welded from the underside. Welds are getting better!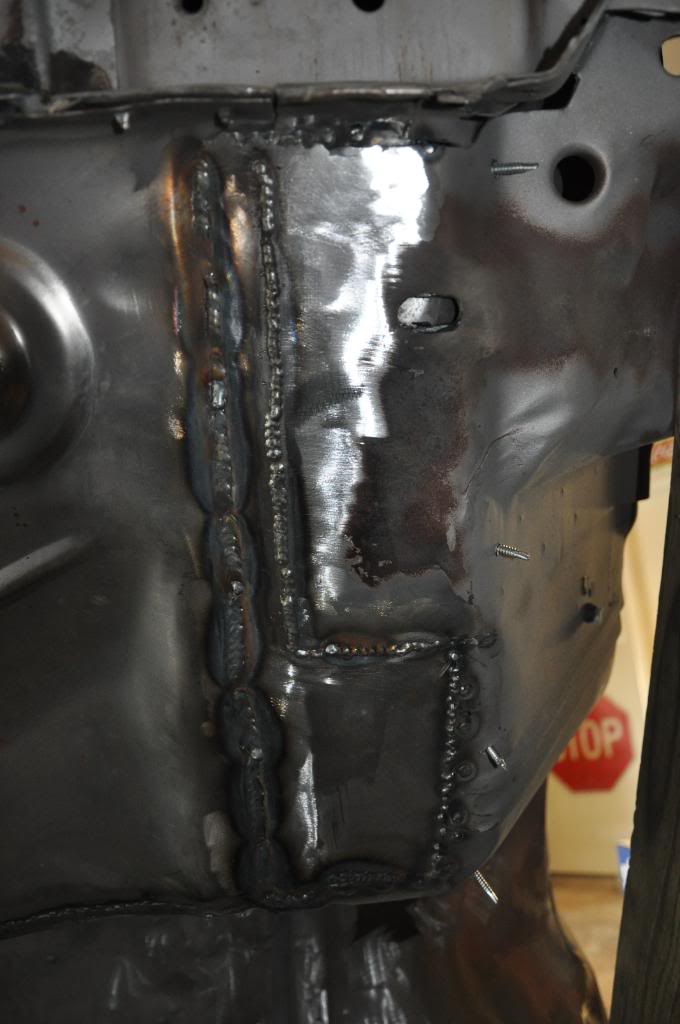 Some of the welds smoothed down with a 40 grit flap disc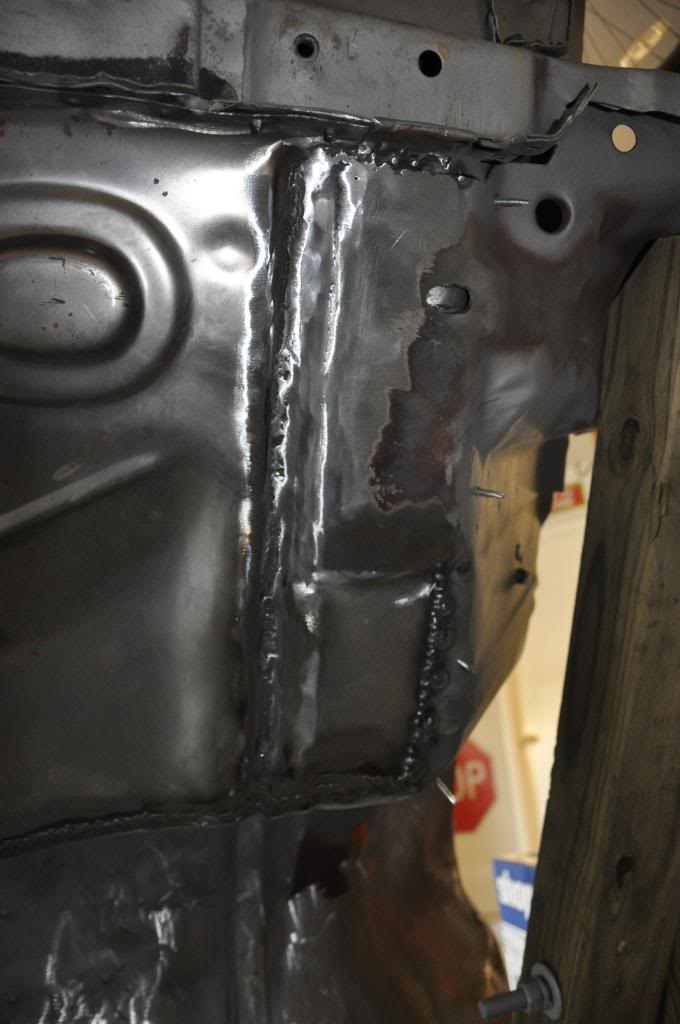 6-27-2010
Not too much progress that is picture worthy. Mainly been cleaning up all the welds in preparation for spraying the underside and the firewall. The idea is to do that on Monday July 5. I'll sand blast some on Friday July 2 and do prep work on Sat July 3. That's all in theory though

Decided to replace a pitted area on the cowl area - this seems to be a pretty common area to get rust damage. There were still a few small pitted spots that did not get cut out, but I figure I can treat those and fix with some body filler. Got the worst part repaired.

the piece that was cut out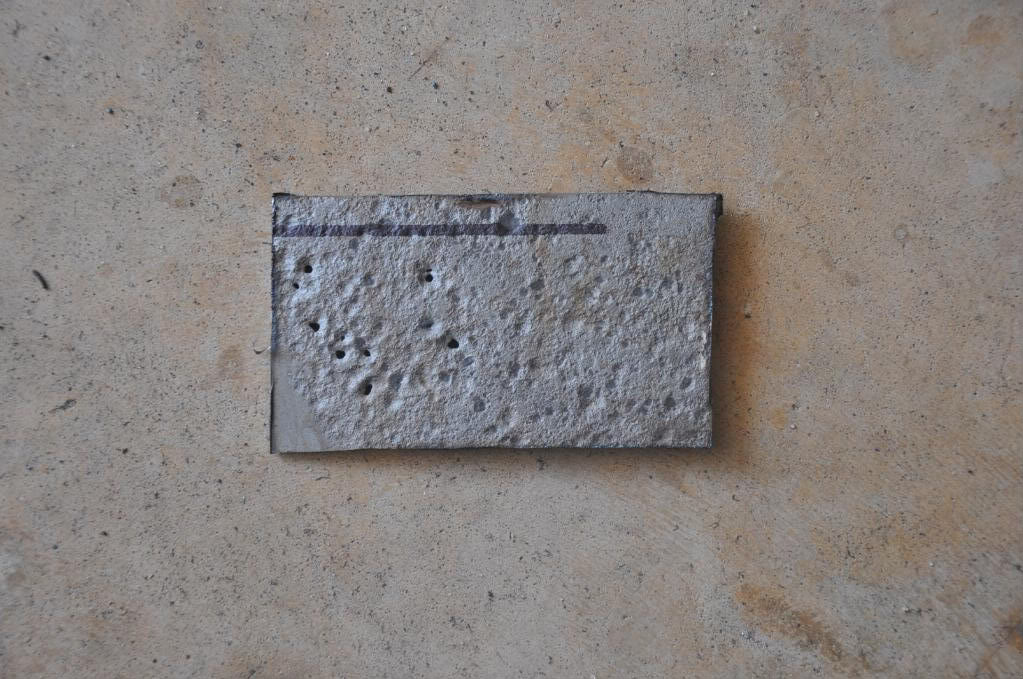 the hole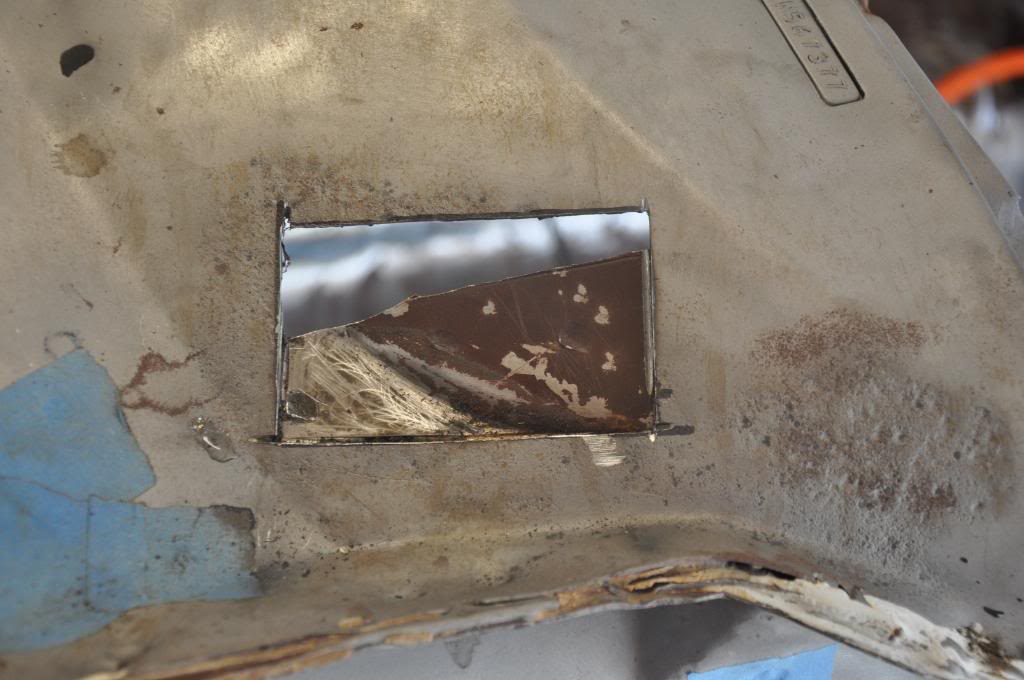 after a little grinding with a 40 grit flap disc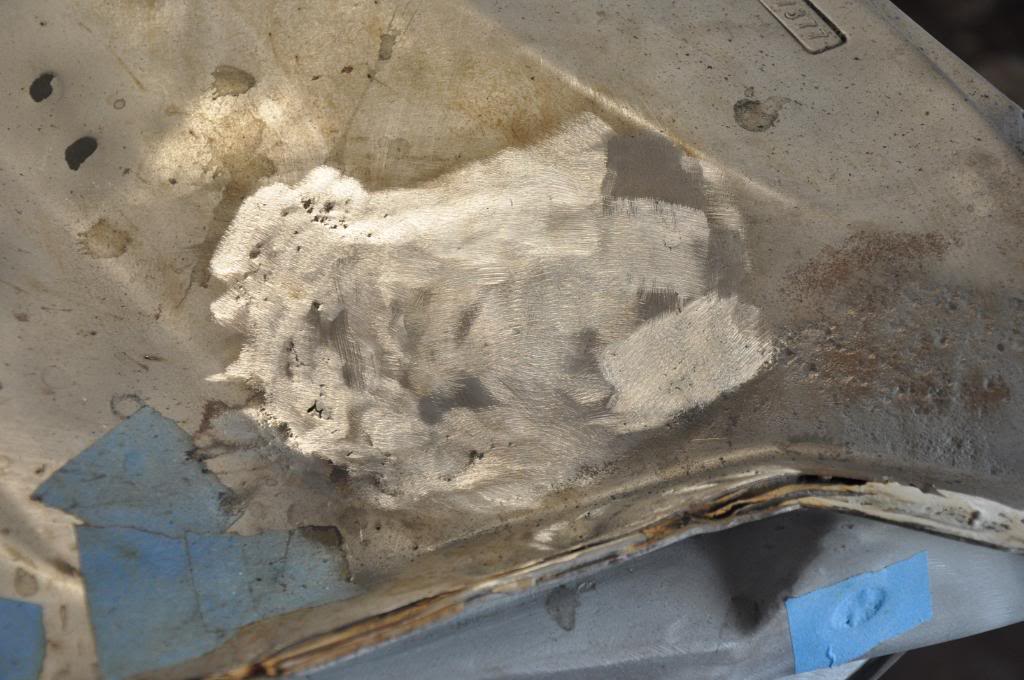 Oh yeah, I had my first "real" welding related scare today. I have the cowl vent holes covered with newspaper and tape just to keep junk out and when I was welding the above patch some of the paper caught on fire. I assume some sparks caught the paper on fire or the heat on the inside was enough to catch the paper on fire. I smelled something and looked up and I had my own campfire, just no marshmallows. No harm though, thankfully.
7-5-2010
So I've been prepping the newly installed floor pans so I can coat them (inside with Rust Encapsulator and outside with SPI epoxy primer). I was hoping to get the epoxy sprayed while I had 4 days off, but didn't work out that way (what's new). They floor pans had some rust on both sides from my sweat (thanks to the Houston weather), so pulled out the right angle grinder, die grinder and today the sand blaster to get those pesky areas. I decided to go ahead and blast the trunk while I was in blasting mode. Will toss pics up of the trunk before and after tomorrow.

I really pushed myself today and for a few hours afterward felt like total crap - probably got a mild heat stroke or something. I really wanted to get the blasting done though, which I did. Once I weld in some e-brake and hose retainer brackets, I can officially spray with epoxy primer. So have that to look forward to.

Obligatory pic of the underside with the nice, new, clean floor pans. Thanks for looking!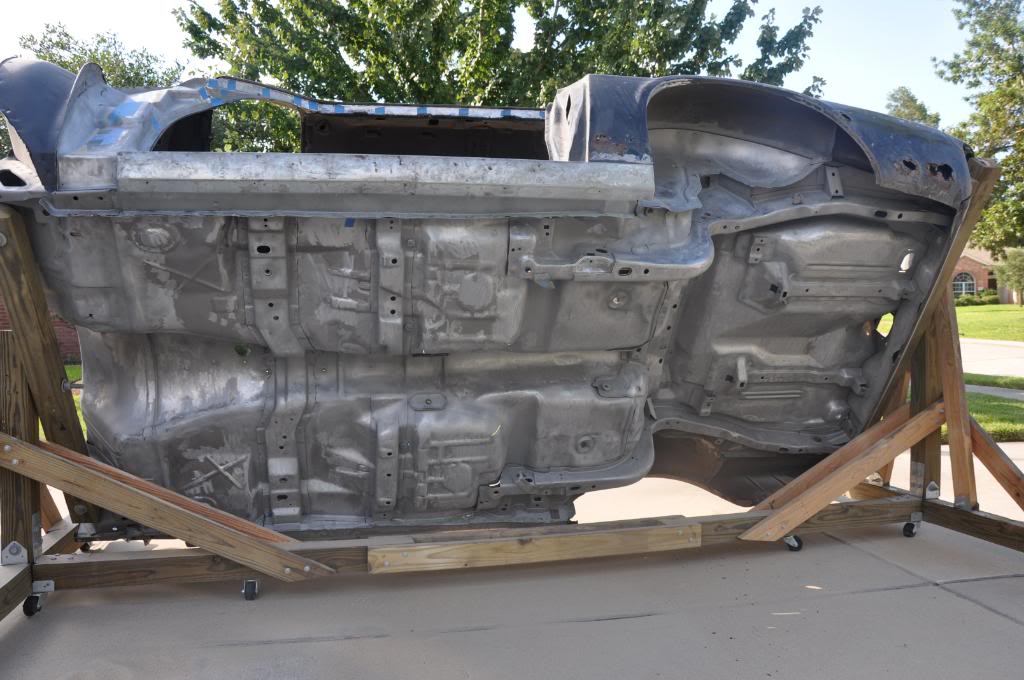 7-11-2010
Well, spent the weekend fixing little areas before I eventually spray the underside. I applied one coat of Rust Encapsulator on the trunk just to get it coated with something. I will eventually apply some type of trunk splatter paint, but not until much, much later.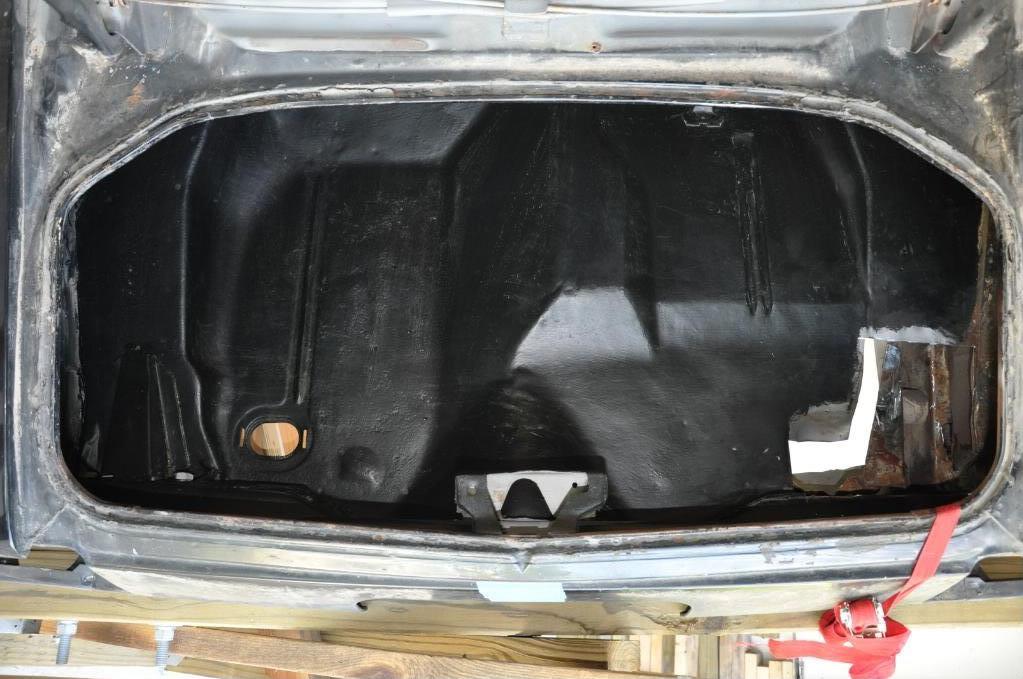 As you can see in the above pic, I had to cut an area out of the trunk floor. I hadn't planned on doing that, but after closer inspection it was clear that I had to remove the bumper brace to replace the trunk floor underneath. It was pretty badly rusted.

What I saw initially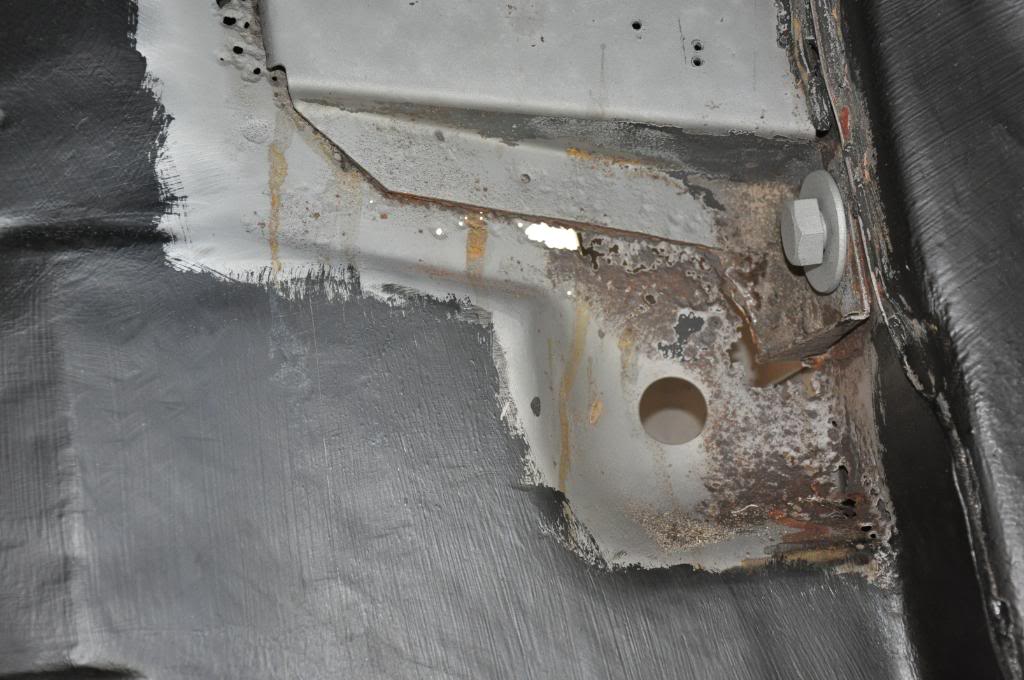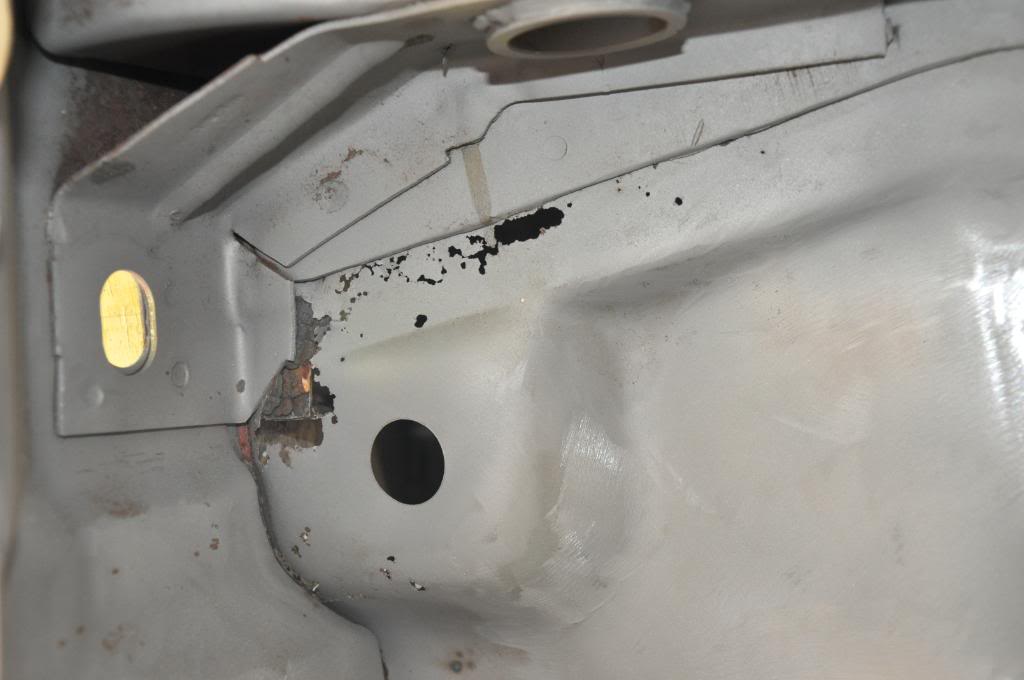 What I ended up cutting out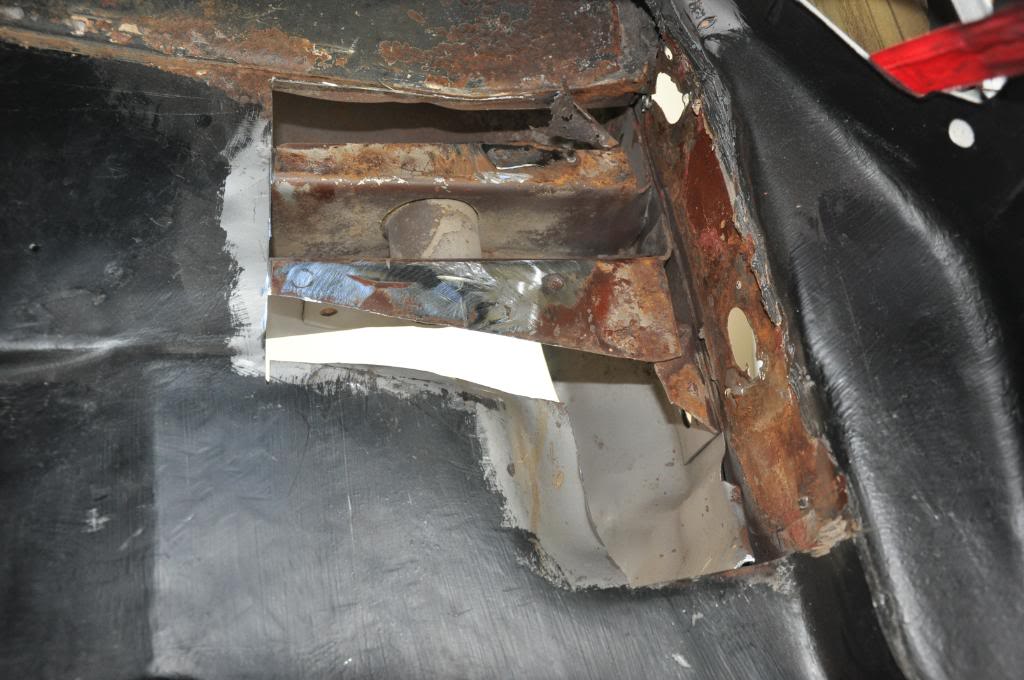 Here is the bumper brace cleaned up some. I will need to sand blast it. It's pitted on one side, but still has good metal. I might reinforce it or even replace it with new metal, won't be sure until I sand blast it.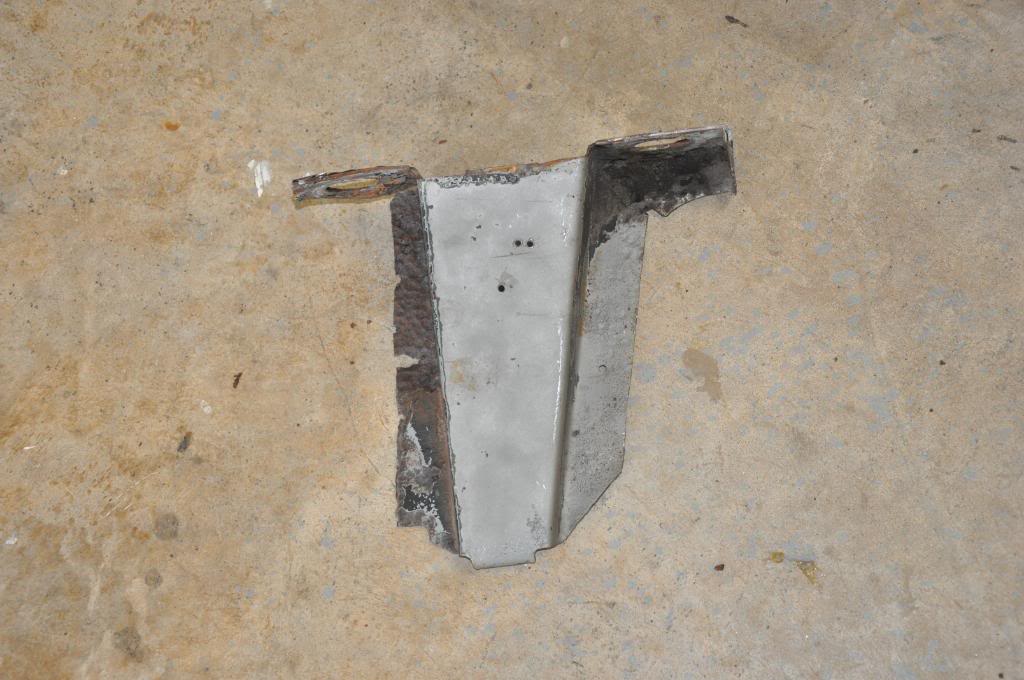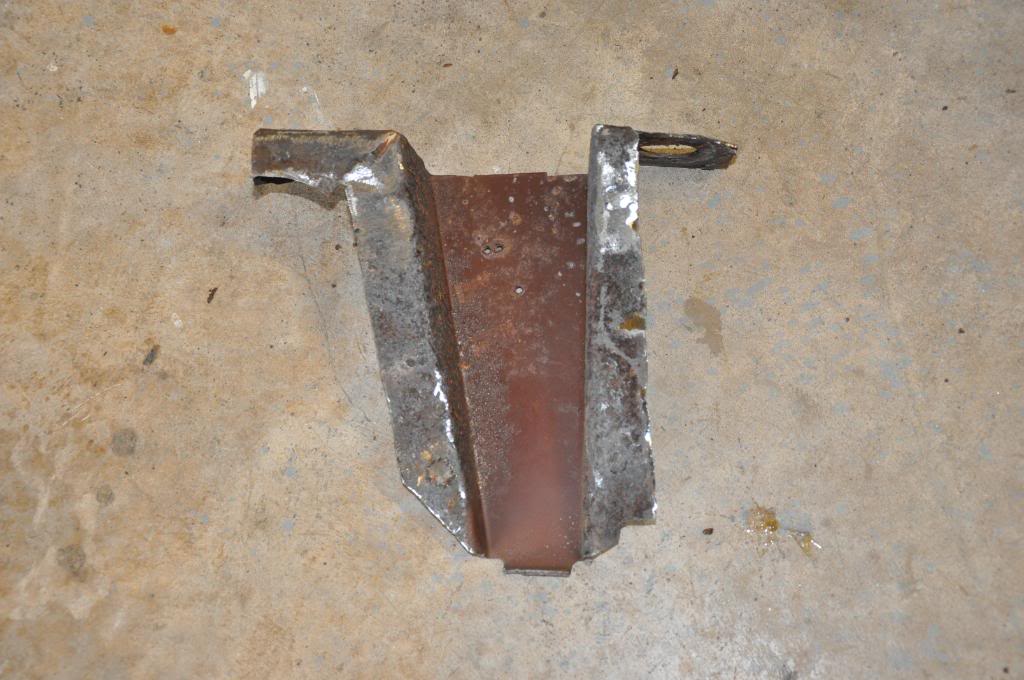 7-12-2010
Got the idea from another member here, szalkuskt. I did a write-up on how I built mine: http://www.nastyz28.com/forum/showthread.php?t=178058

I did not know how to weld, much less didn't own a welder, so this was the next best thing. Guy (olstyle) made a rotisserie using two engine stands and some metal stock. If you want to make your own metal rotisserie, you might PM him for advice.

Re: the trunk patch. I thought about it on the bus ride in this morning and I am going to see about eliminating that drain area and just run the patch all the way across. We'll see though, I need to look at it more. It shouldn't be too hard a patch to make in any case. I'll post pics of the patch and the install, so check back later.
7-25-2010
So spent the weekend working on the "new" front subframe I got from procharged_z28 the weekend before. I sandblasted all the seams and then started welding. I ran into a few speed bumps, so did not get as much done as I had wanted to. First I had issues with the welder (it was user error) and finally figured out that the gun line was not all the way in the welding unit. Then my Northern Tool welding mask stopped working - it wouldn't "undarken" so I had to go exchange it for a new one.

So got one side of the frame welded. I will clean the welds up later, although I am not as concerned about making them "perfect".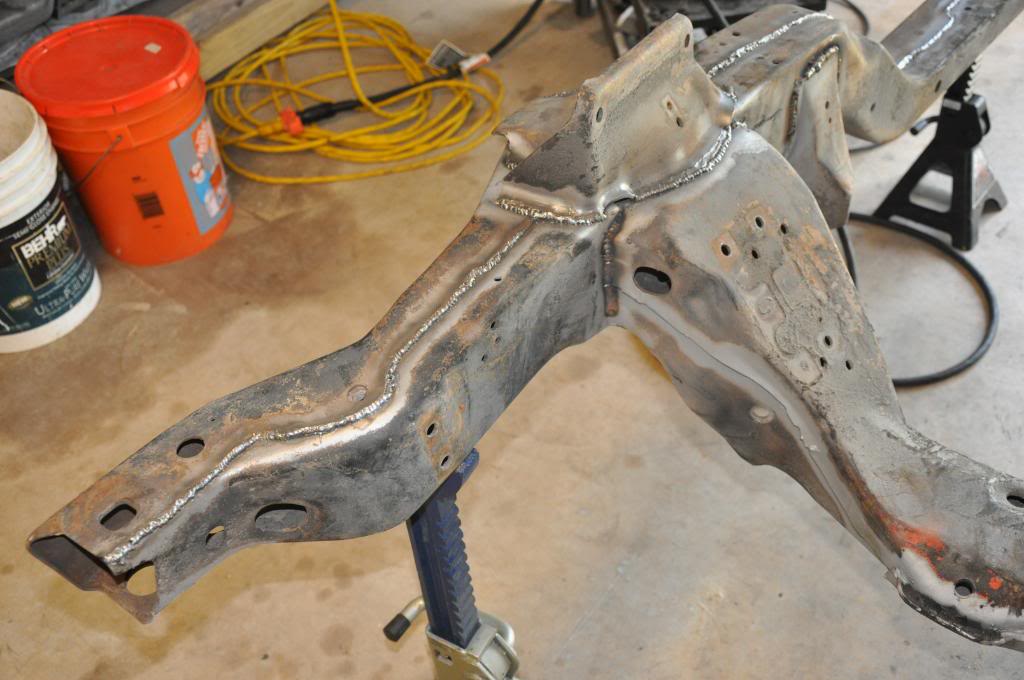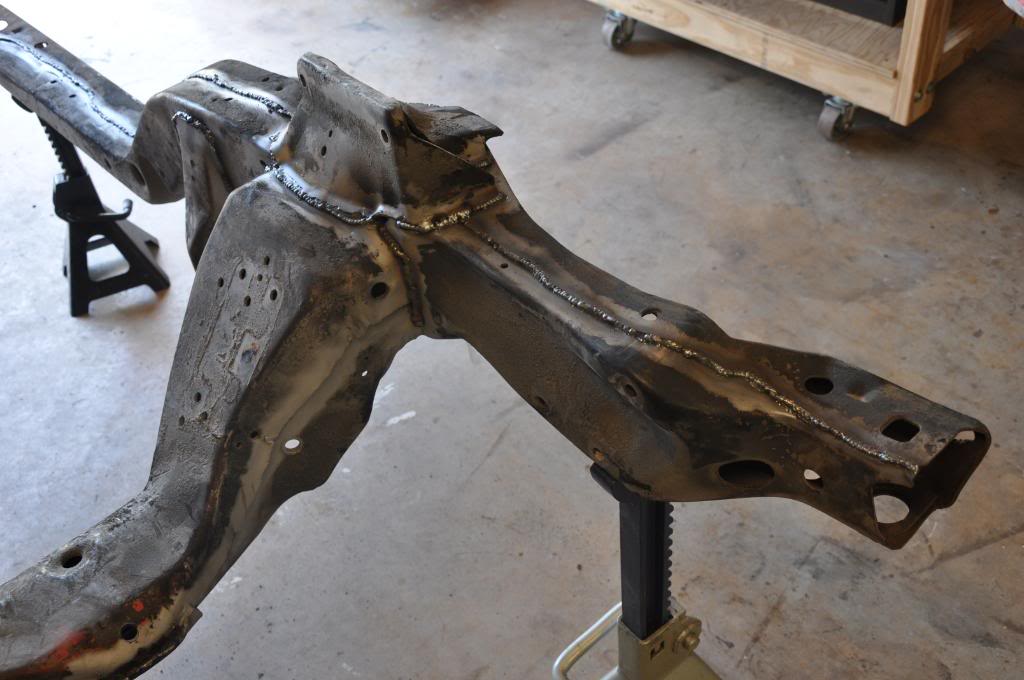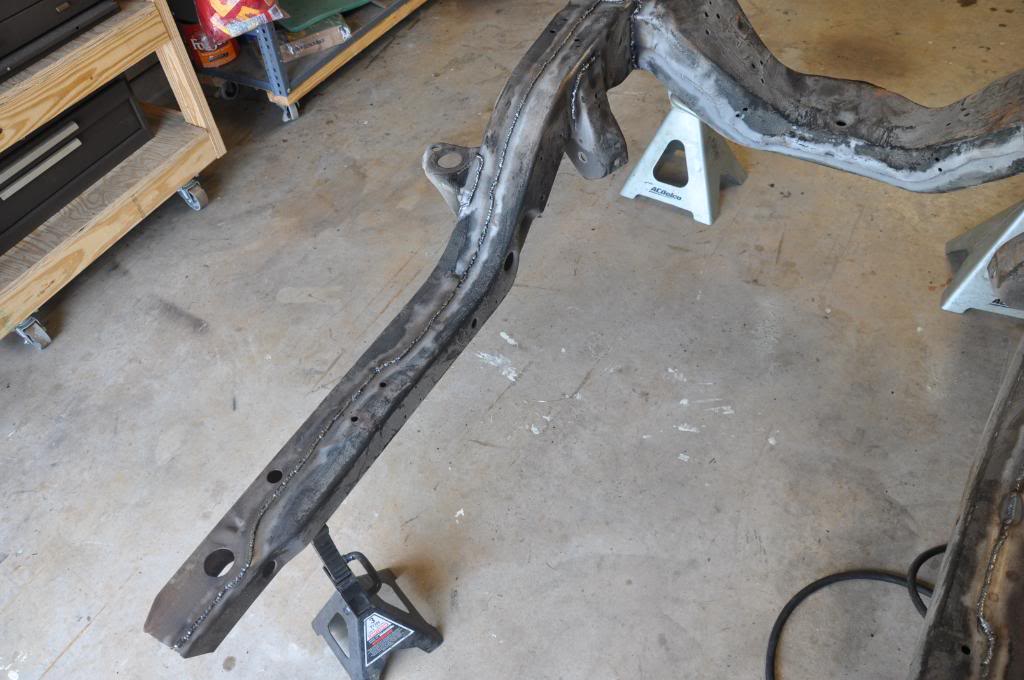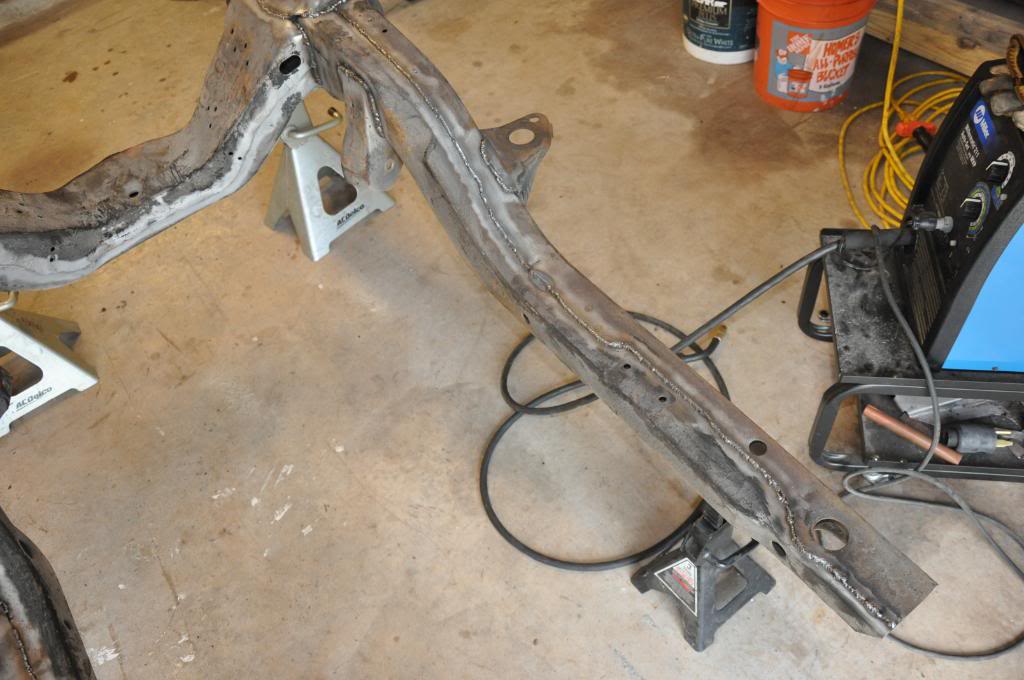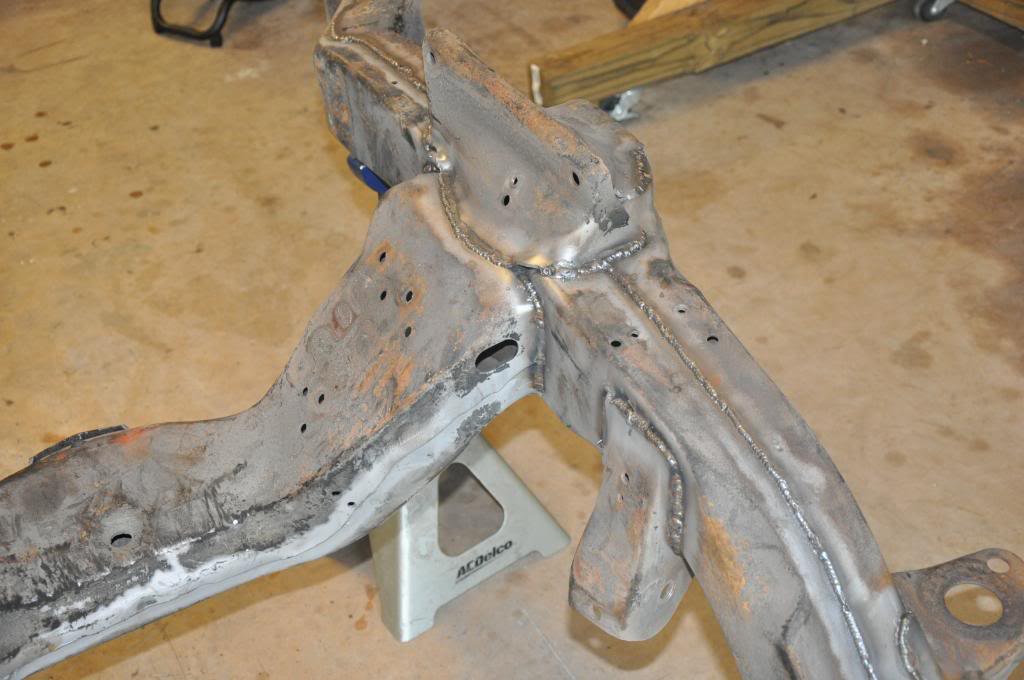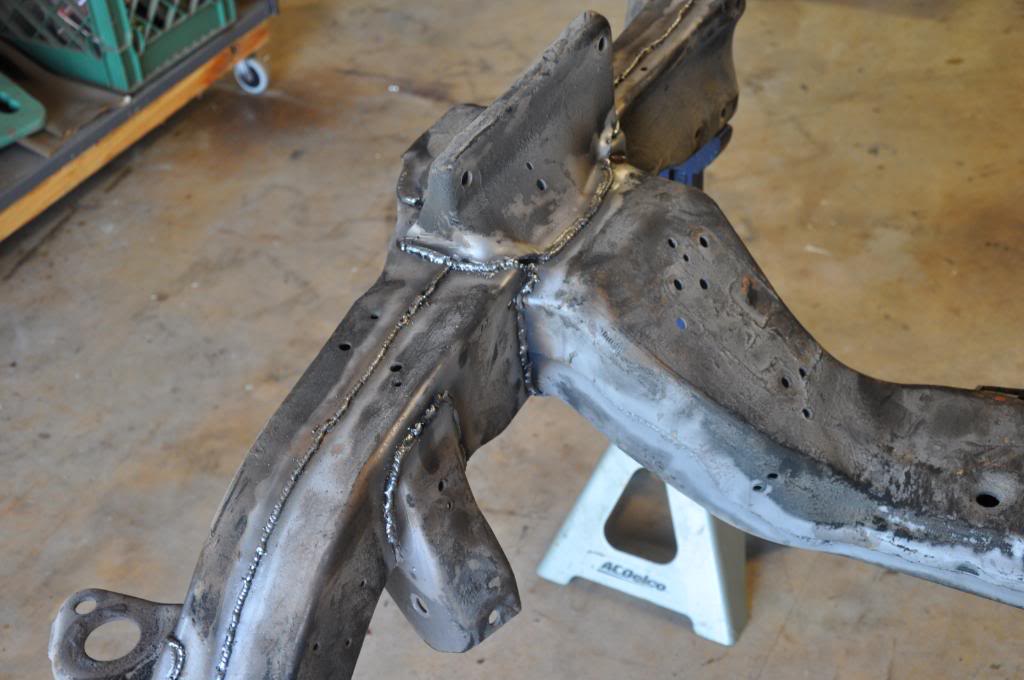 7-27-2010
So I started welding the seams on the other side of the frame. I took Jon's advice and turned the voltage up some and the welds look a lot better. Live and learn!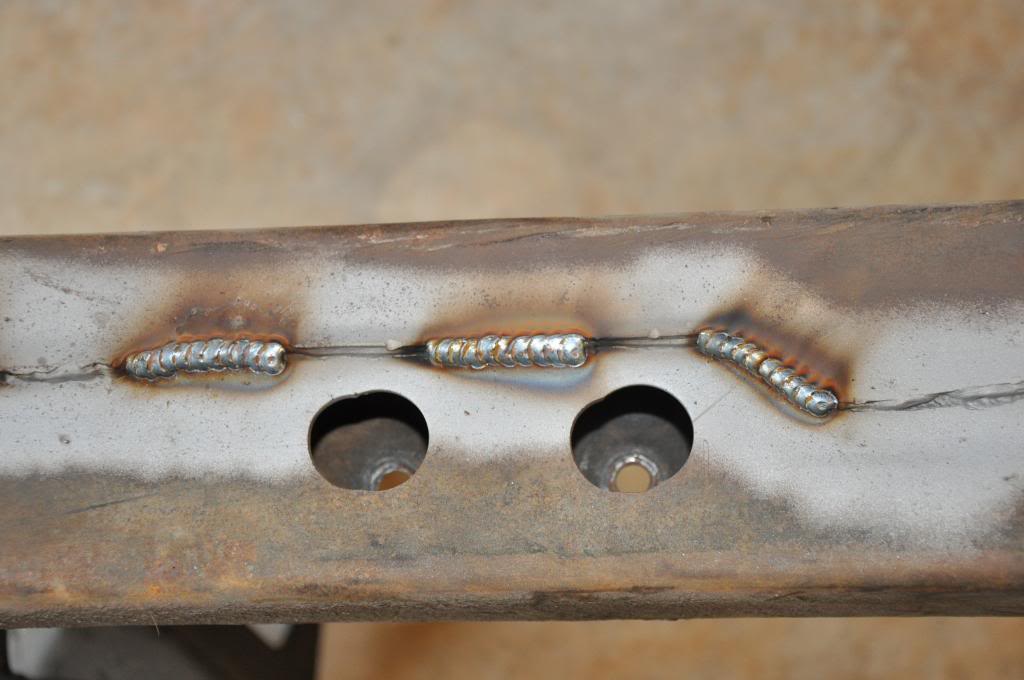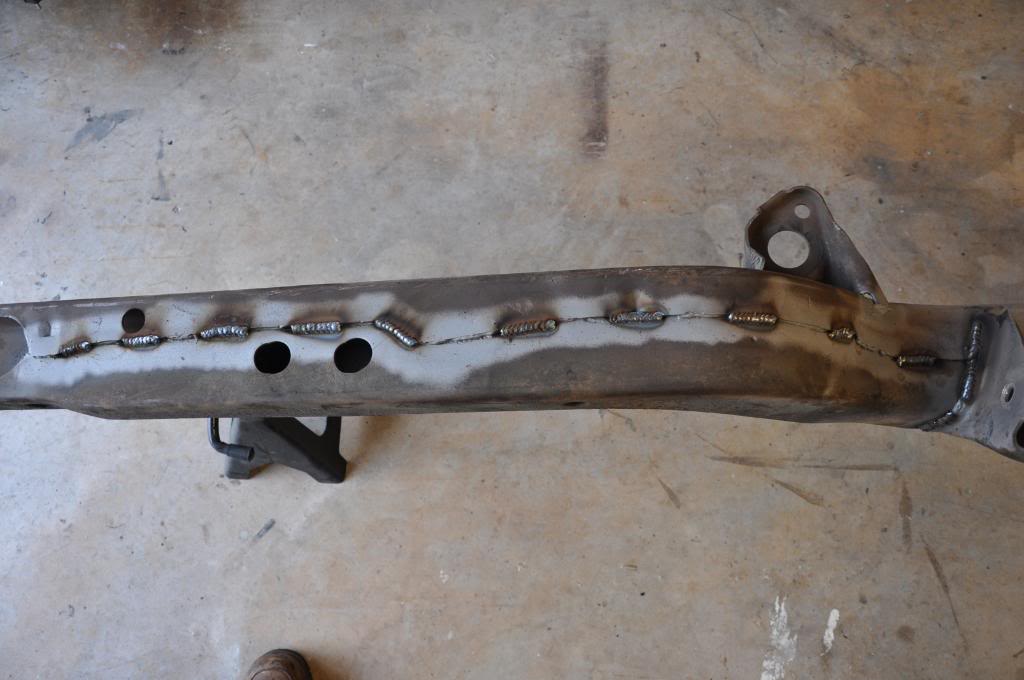 8-2-2010
No progress (sorry!) but just a few thank yous to a few members for helping me out. I wanted to give props where they are due. It's members like these guys that make this site great and help keep this hobby going strong!

Thanks to Jon (QUAKE WARS) for dropping off a "new" hood at my house and saving me a trip, that was a huge help.

Thanks to Guy (olstyle) for sending me a nice, RUST FREE rear bumper brace that mounts inside the trunk - mine was totally shot

And thanks to Rob (Done Yet?) for sending me a VERY NICE trunk patch for my rusted out area and a VERY NICE three-piece rear spoiler - you are the man!! I also got some brackets a few weeks ago from Rob that mount on the bottom of the driver-side floor pan that are already installed.

I'll be working on the frame after work this week getting welds ground down and then installing the trunk patch Rob sent me. Thanks again fellas!
8-8-2010
I was able to work on the trunk patch today, among other things. I need to do some more welding and grinding, but the patch is installed and it's looking good so far. Thanks again to Rob (Done Yet?) for the trunk patch off his donor car.

The hole in the trunk being addressed




The patch sandblasted and ready to go in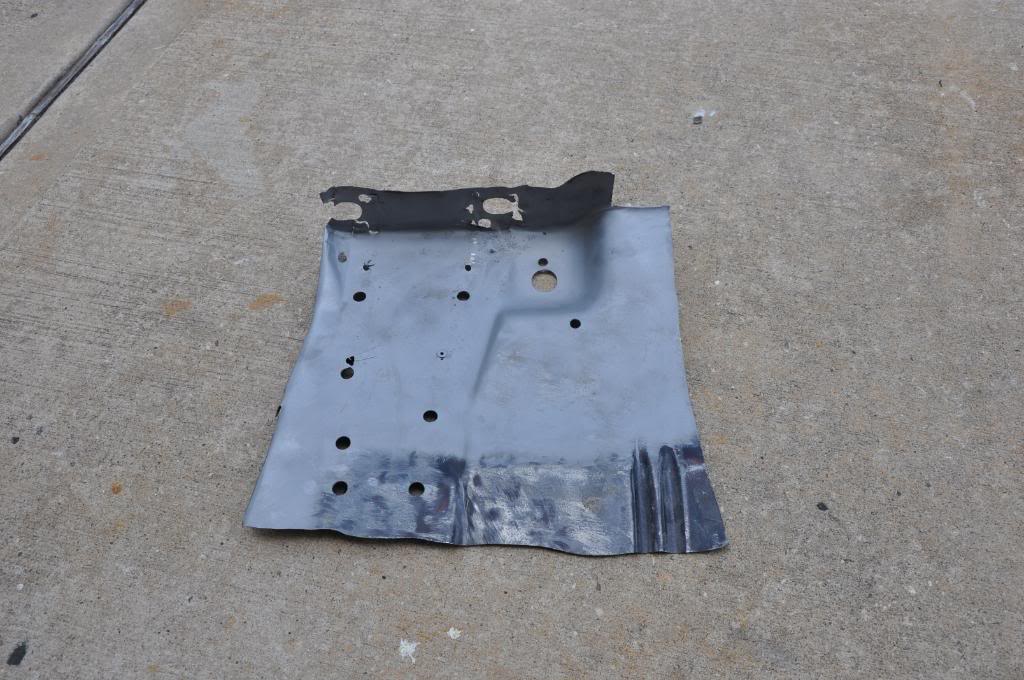 Spot welded from the underside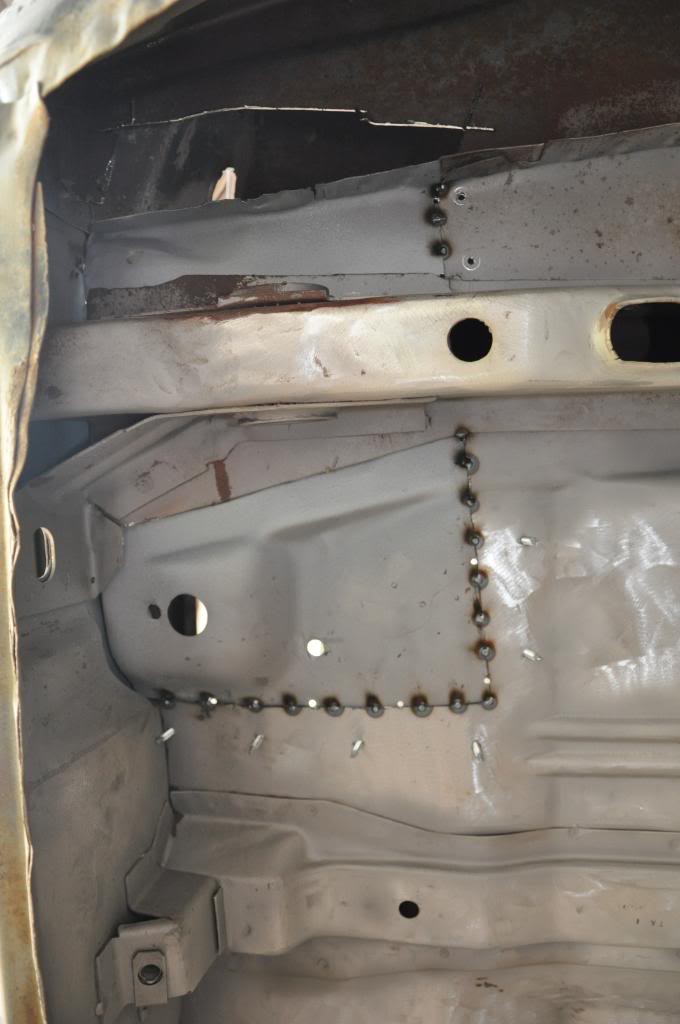 Spot welded from the top. I installed the patch without trimming it and started with some spot welds along the bottom. I then drilled a few holes to define where the seam was and then took my grinder and scored metal just next to the line defined by the drilled holes. I then was able to move the metal back and forth (I did this in two pieces of course) until the pieces broke off and left me a nice fitting patch.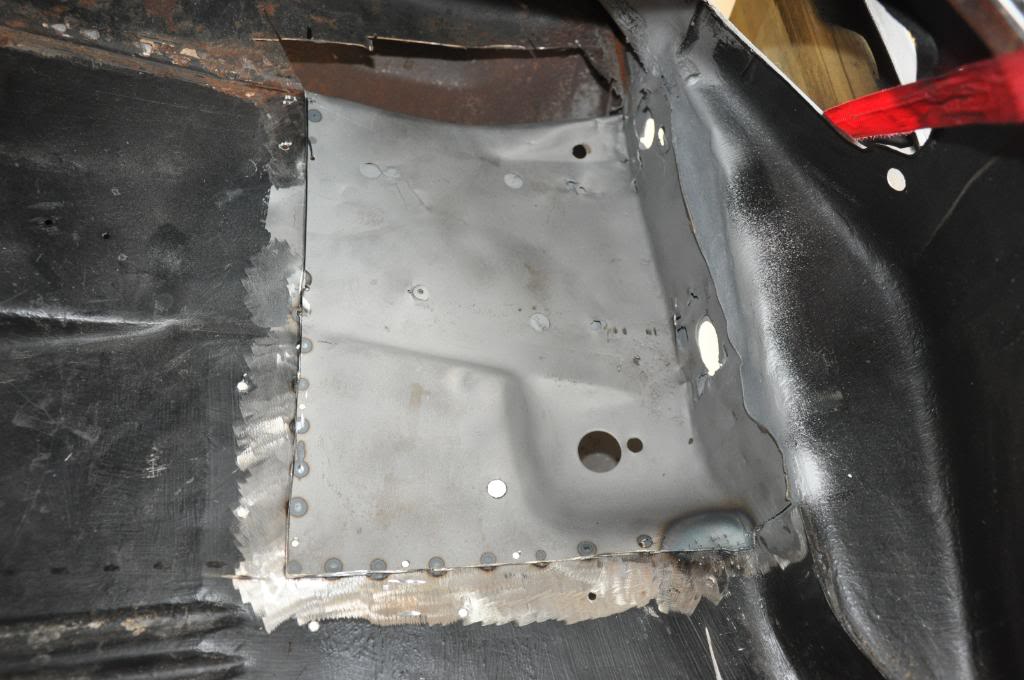 The patch after a little grinding - have a little more to do but should go pretty quickly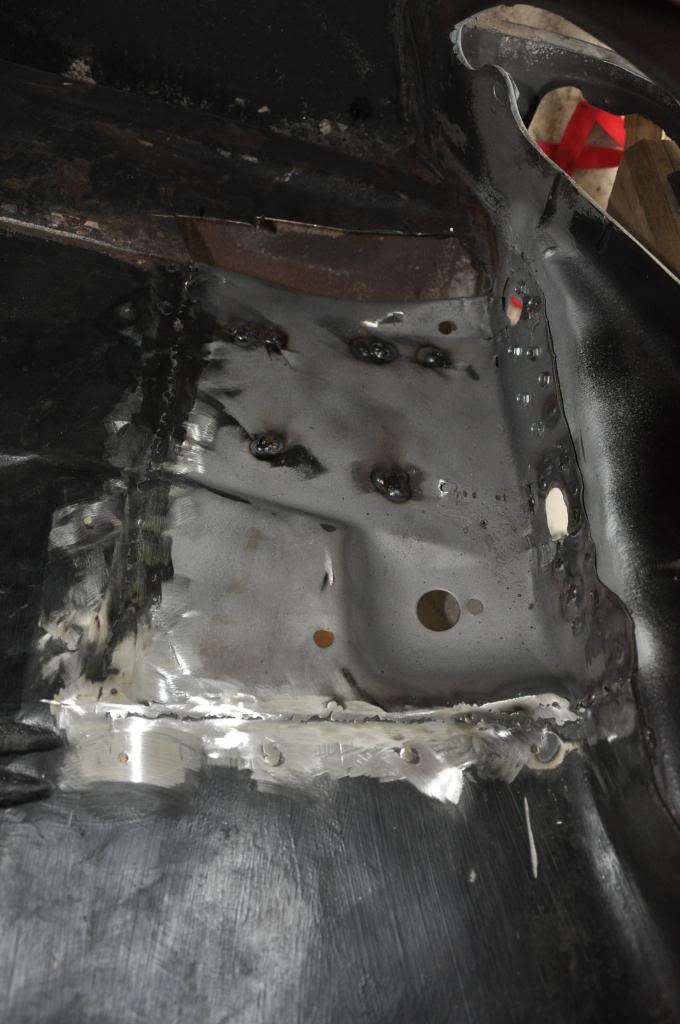 8-24-2010
Nothing too exciting to report, been doing little "touch ups" to the underside, trunk floor and firewall to get it prepped for epoxy primer. I just keep finding little things that I might as well address while I have the chance. The REAL plan is to spray during the 4-day Labor Day weekend after I get my respirator stuff in (taking a day of vacation on Friday). That will give me time to watch wookie's DVDs a 2nd time.

So in the meantime, here is a shot of one of the wheels I bought for my 76. There are 3 others that go with it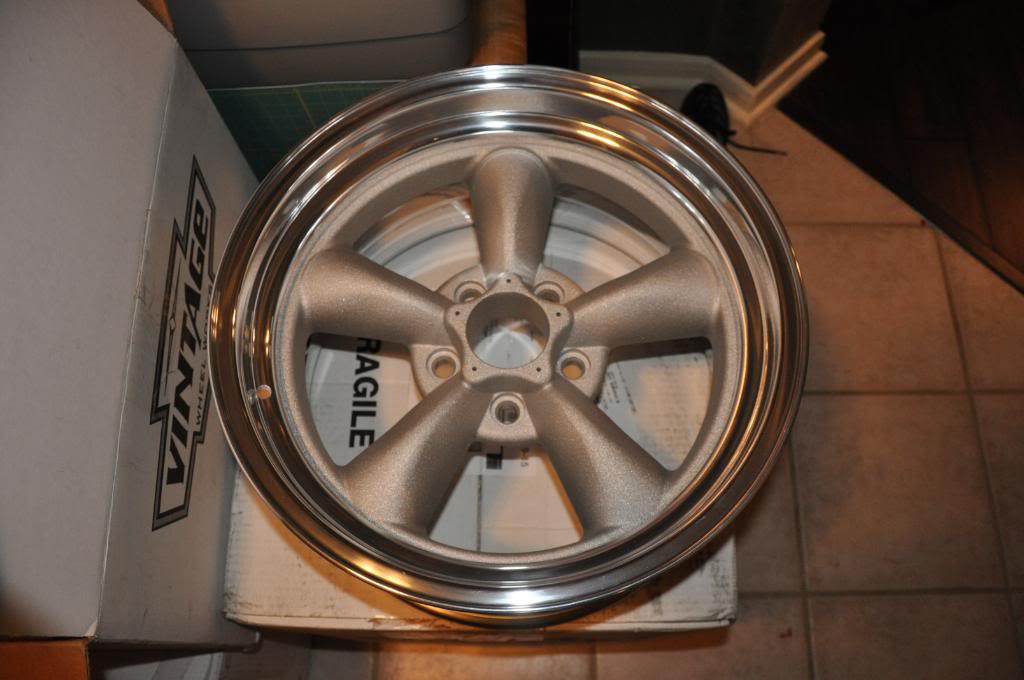 8-29-2010
Yeah, I looked at 4-5 different 5 spoke design wheels (including the two you mentioned) and went with the V45s in the end. While a simple design, I really dig the classic 5 spoke look on these 2nd gens. The spoke on the 200s were a little too "beefy" for my taste now, but they are still cool wheels.

While I am posting, I got the last of the little patches and other boring "crap" done this weekend and started taping off in preparation for spraying the firewall and underside. I've had to push this step of the project back a few weekends, but I will have 4 days to get it done this upcoming weekend. I expect to have to apply a little filler in a few small spots in between coats of epoxy primer, but nothing major. Then I can start having some real fun!

Obligatory pic so nobody thinks I am BS'ing over here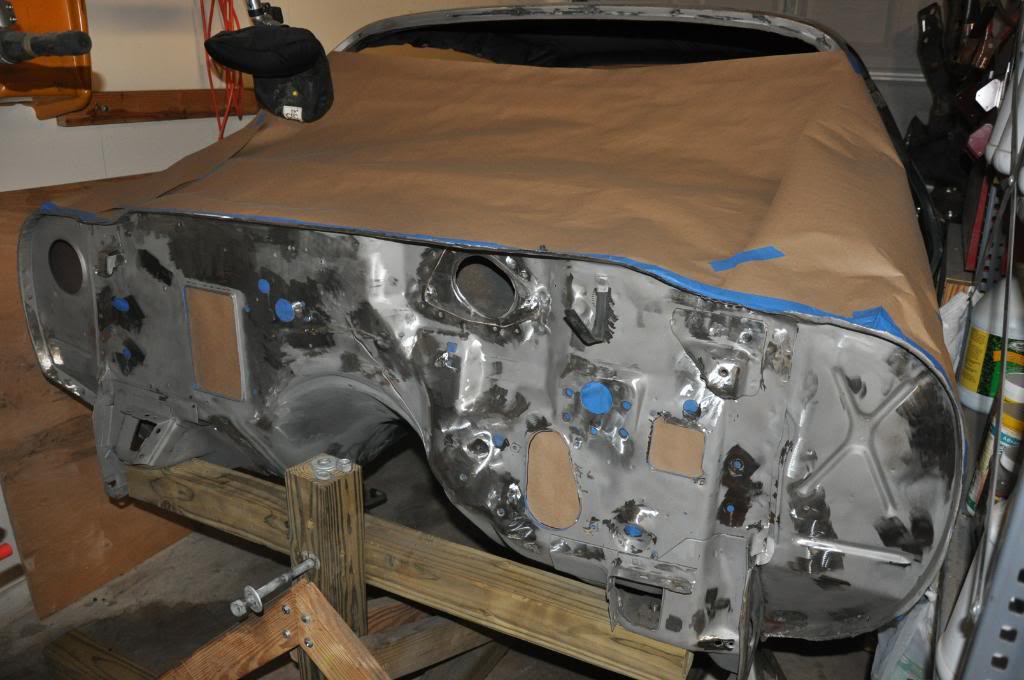 8-30-2010
Thanks guys, it will be awhile before the car is FULLY assembled.

The game plan for the next 2-3 months is to:

1. get the firewall/underside sprayed with epoxy primer
2. re-finish the front sub frame and get it installed
3. start putting all the suspension, steering, rear end back on so I can get the car on tires

THEN I can start on the 1/4 panels, which will be replaced with full GM panels. I made the decision to replace the 1/4 panels with the car on wheels (or at least on jack stands under the rear end).

I sound like a broken record, but progress hasn't been as fast as I would have liked over the last few months.
9-4-2010
So I made a big leap today by getting the firewall and underside coated. I used SPI black epoxy primer. This will be the final coat for these surfaces. I need to pull the front part of the rotisserie off and spray some small areas covered by the 4x4, but that should be simple enough.

For those interested, I sprayed using a "silver purple" Harbor Freight gun (the one that comes in the 2-gun set) using my C-H 26 gallon compressor. I had the fluid adjustment (fan size) knob two full turns off the bottom seat and the pressure at the gun regulator was ~37-38 psi. Temp was in the low 90s so I reduced the epoxy by ~5% with PPG 885 reducer after my first run.

I got a VERY small amount of orange peel the first time around on the firewall, which was pre-reducer. After I reduced a little, it went on pretty flat. The SPI is a great product to spray, can't wait to spray their clear.

And now some pics.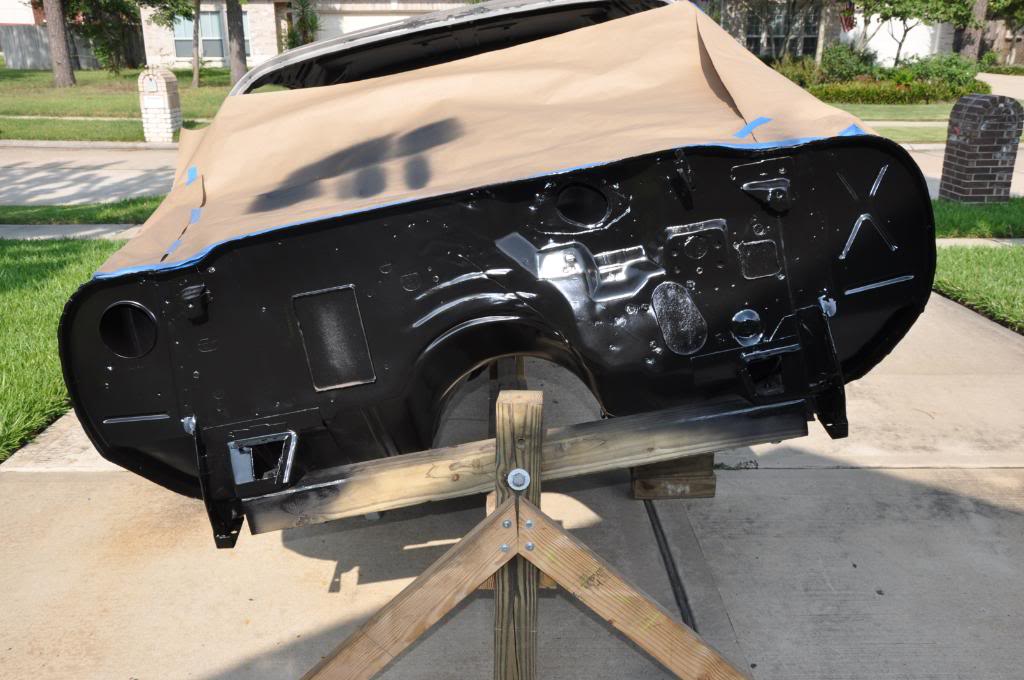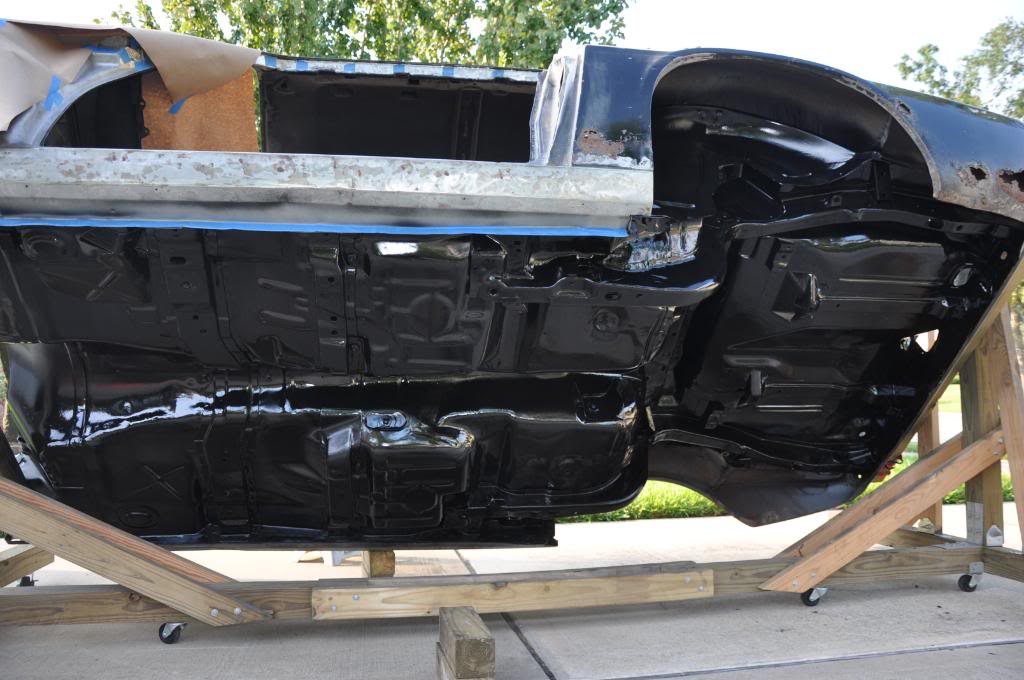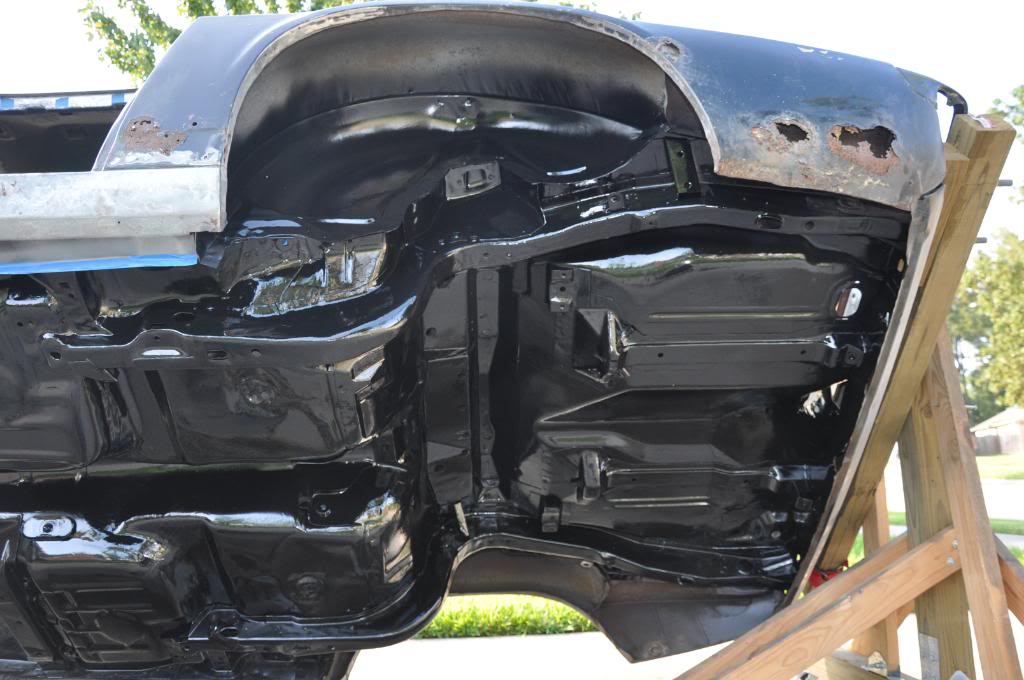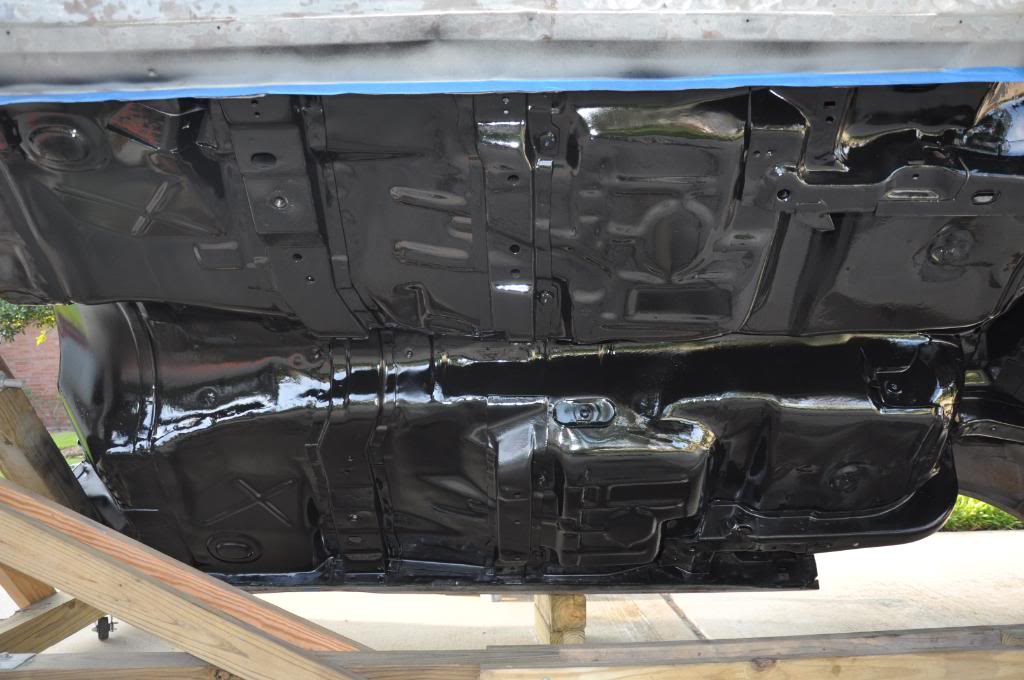 9-18-2010
I worked on getting the trunk divider panel welded in that I got from Rich Schmidt from his donor parts car. This is the last thing to do before I finish the front sub frame.

So this is what I was trying to fix. Some previous owner really hacked up the divider panel. I already removed the lower portion so it looked much worse before this pic was taken.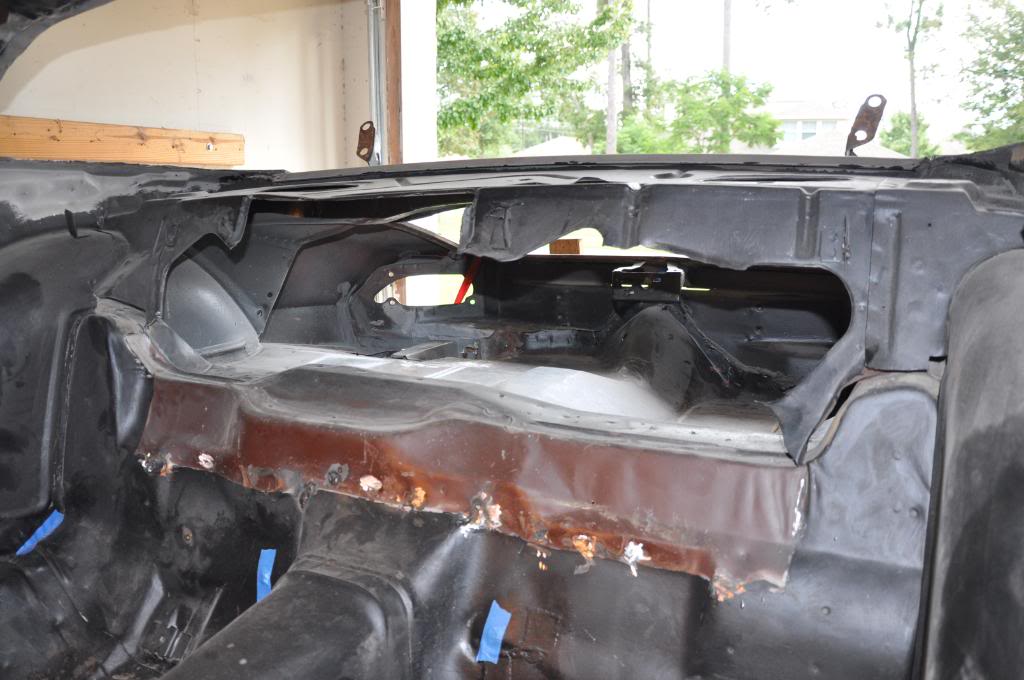 I trimmed up the top edge and side edges and ground down any factory spot welds. I left a little lip along the top to weld the new panel to.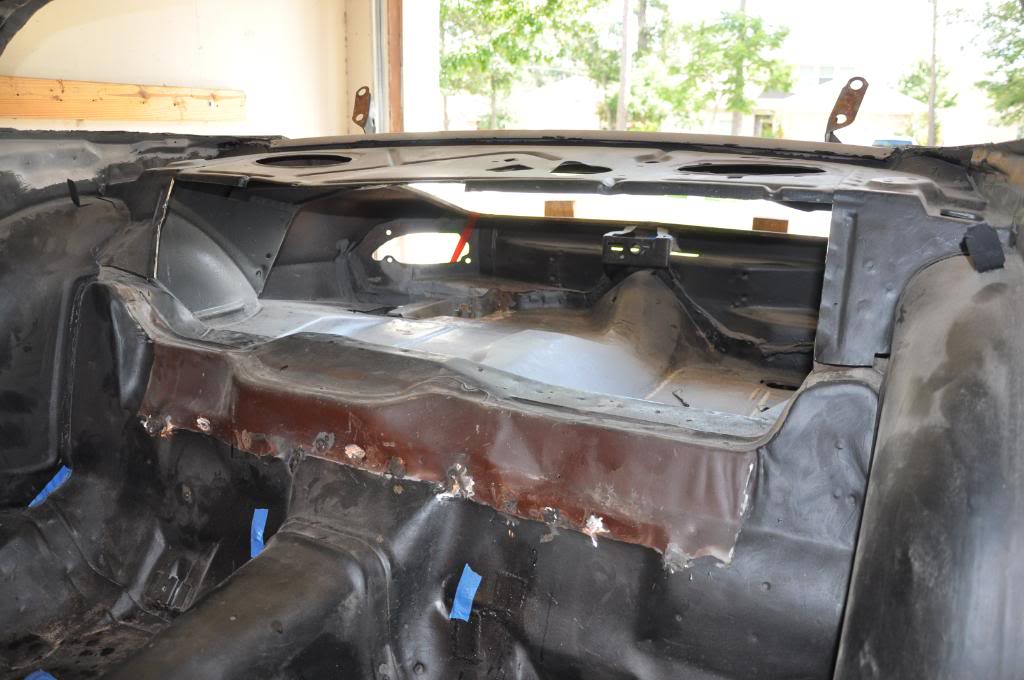 Got everything cleaned up before I welded the new panel in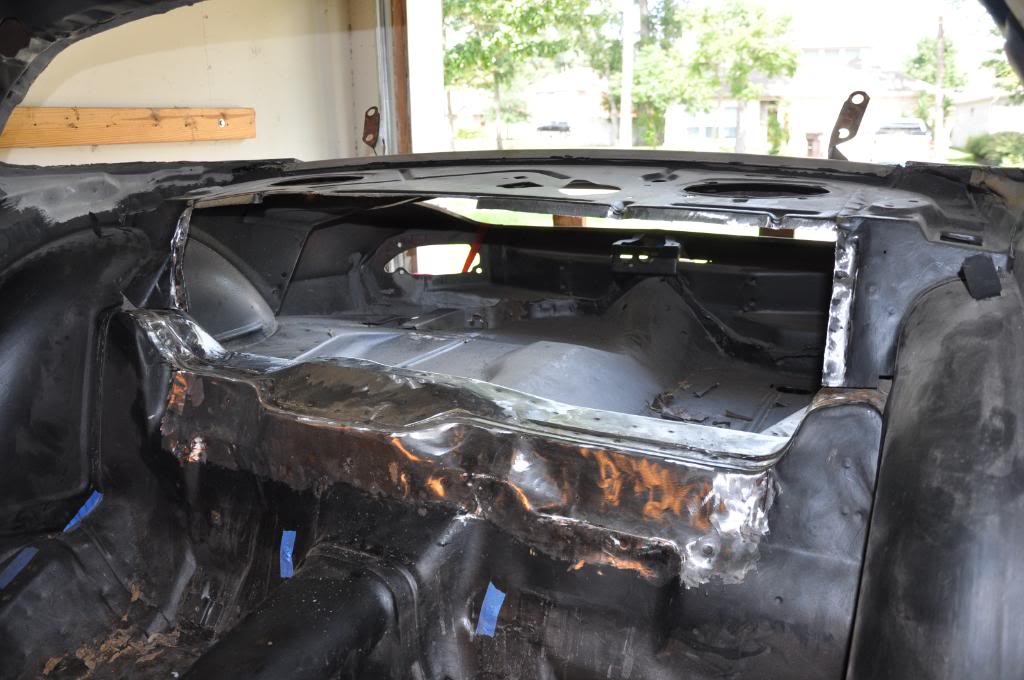 The panel fitted with some self tapping screws. The little rust spots are from my sweat, but those will be easy to deal with.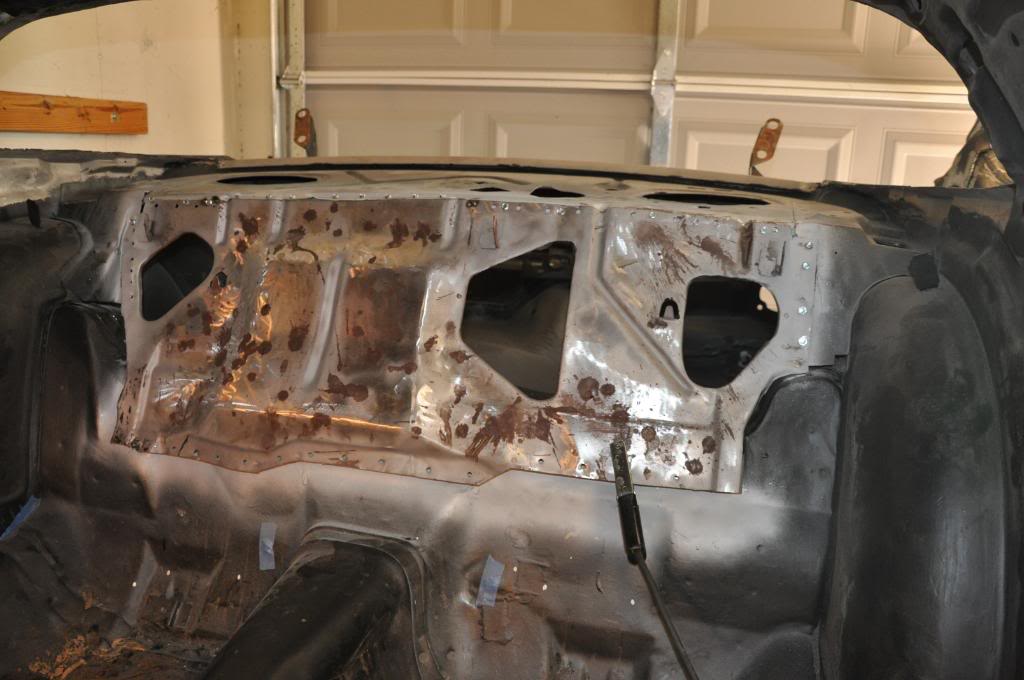 The panel welded in - it's not going anywhere. I had to get creative to fit the new panel in, but it fit well. So I am happy to have a divider panel again. Tomorrow I will grind down the welds some more and paint it and that will be that.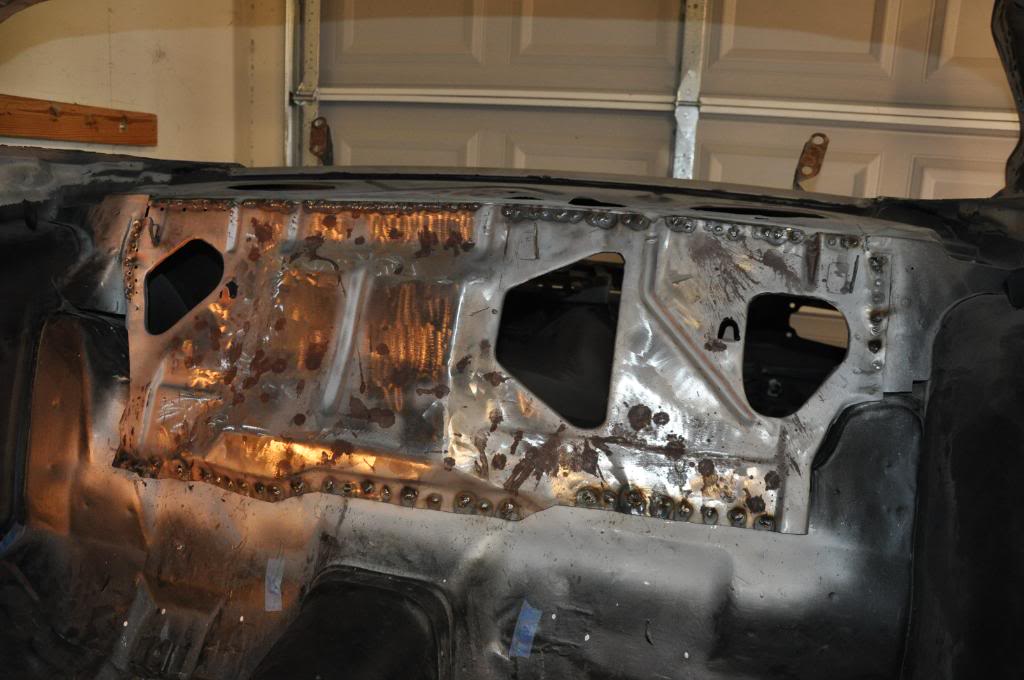 9-19-2010
So I got the trunk divider panel painted with some Eastwood Rust Encapsulator (same stuff I used for the rest of the interior). So that is all done now.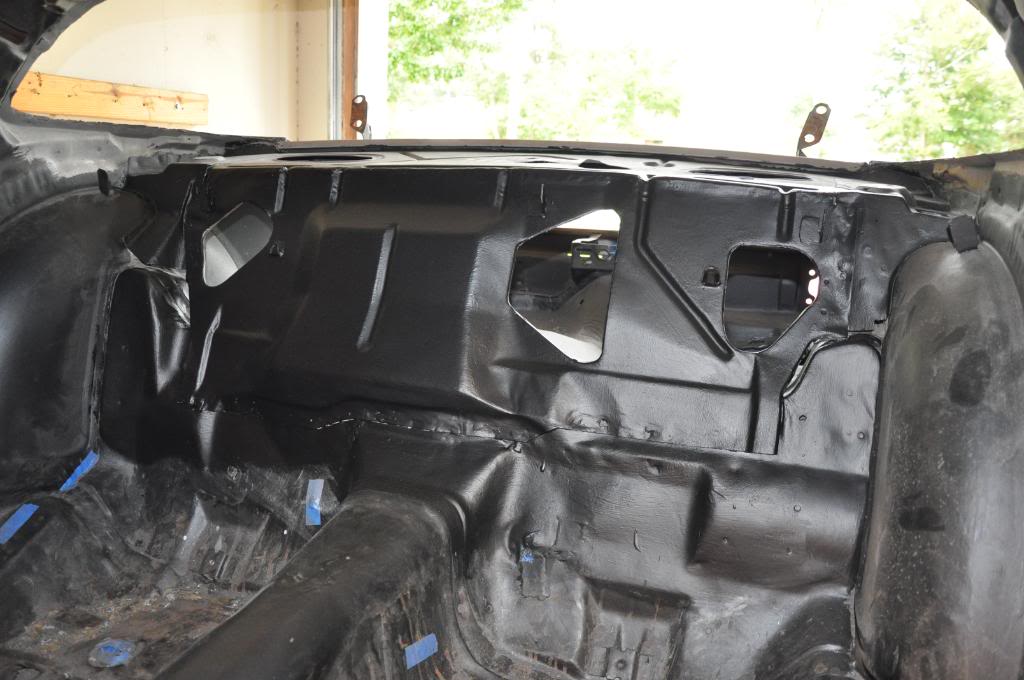 Also began stripping the sub frame down to bare metal. The plan is to do the final stripping on Sat, which means I gotta sandblast some (yippee...), and then paint it on Sunday. Then I will start to be able to put some parts back on the car.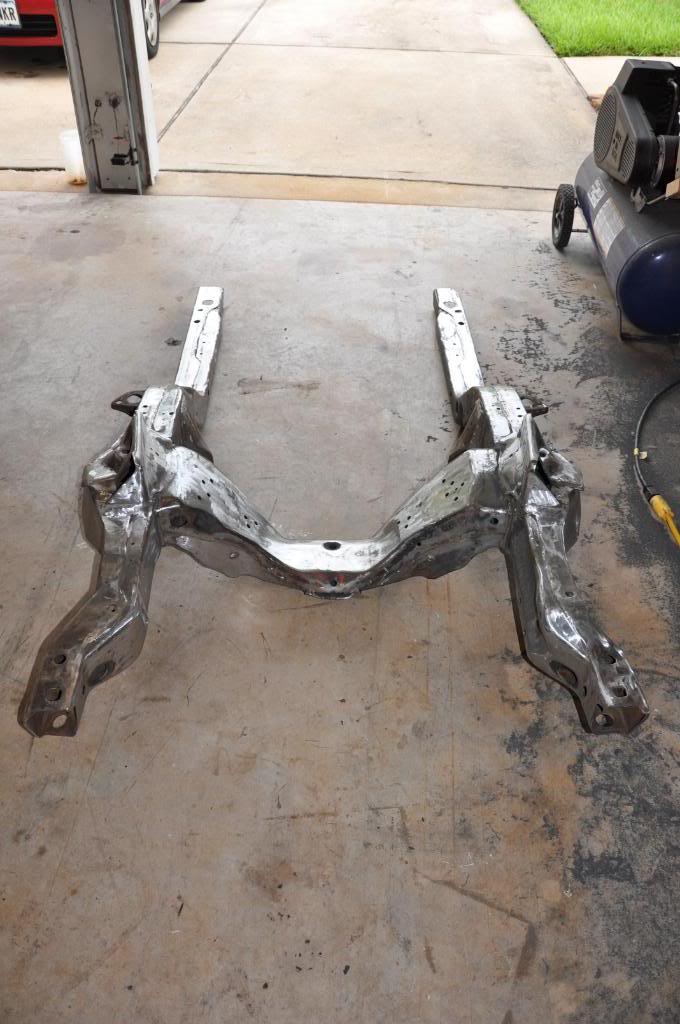 9-22-2010
I figured I would start here with some general engine related questions since I have to start thinking about this eventually. I am reading more about engine building (reading a few David Vizard books and some other forums) and I am curious about a couple things - right now my ADD is taking me in the direction of learning more about pistons.

1) What is the best way to go about determining what CR you want to run? It seems that before you decide what pistons, gaskets to run or if you need to deck the block, you need to have some CR in mind. My gut feeling is that I will be around 9.5:1 to 10:1 CR based on my reading.

2) With that said, would there be any reason to run something other than a flat top piston if I end up running the CR mentioned above? From what I have read, flat tops are better suited for that CR and yield better flame travel. Domed pistons are better suited for higher CRs since that reduces the volume. Not sure dished pistons would have much benefit in the build I intend on using.

I know that the heads, cam and other things factor into this, but trying to wrap my head around the pistons subject and better understand that aspect. FYI, I have a pretty good idea that I would like to build a 383 w/ AFR 195 heads with something like an XR288 cam. I have always wanted to try AFR heads in a 383 build, so that is acting as the centerpiece of my potential build. I intend on talking directly with AFR and seeing what they advise for my goals to get more ideas.

Appreciate any feedback that will help me on my quest. I don't want this aspect of the project to sneak up on me
9-25-2010
Small update. Sandblasted the frame today so should be able to paint it tmro. That will be another big step forward. I'll be back soon with more pics of the finished product. Thanks for looking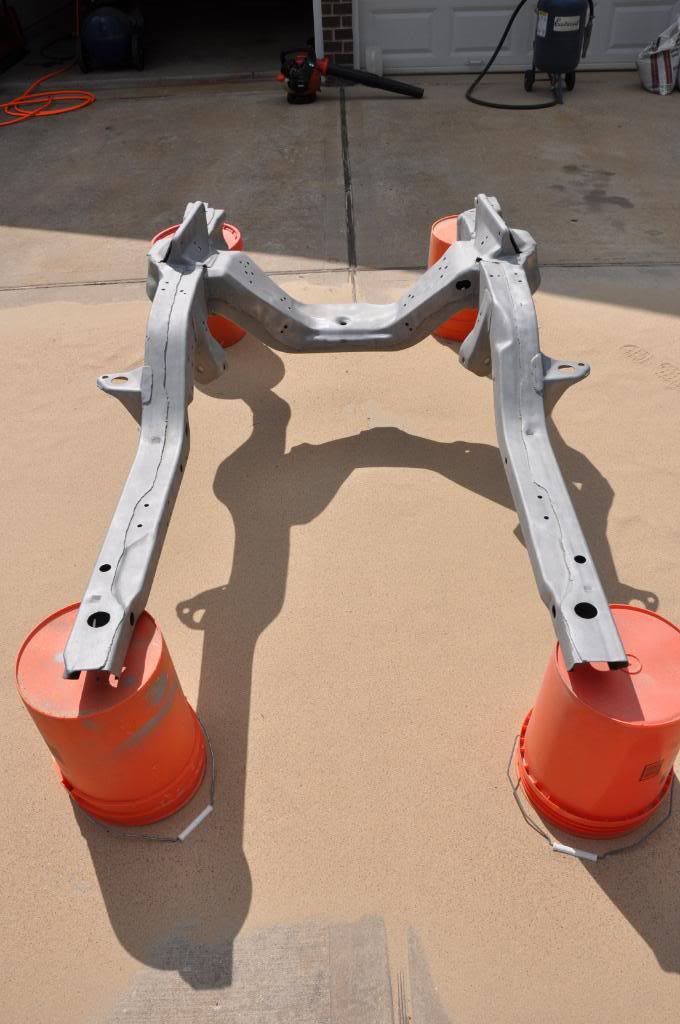 9-26-2010
Did somebody say something about painting?

Bare frame hung from my lumber rack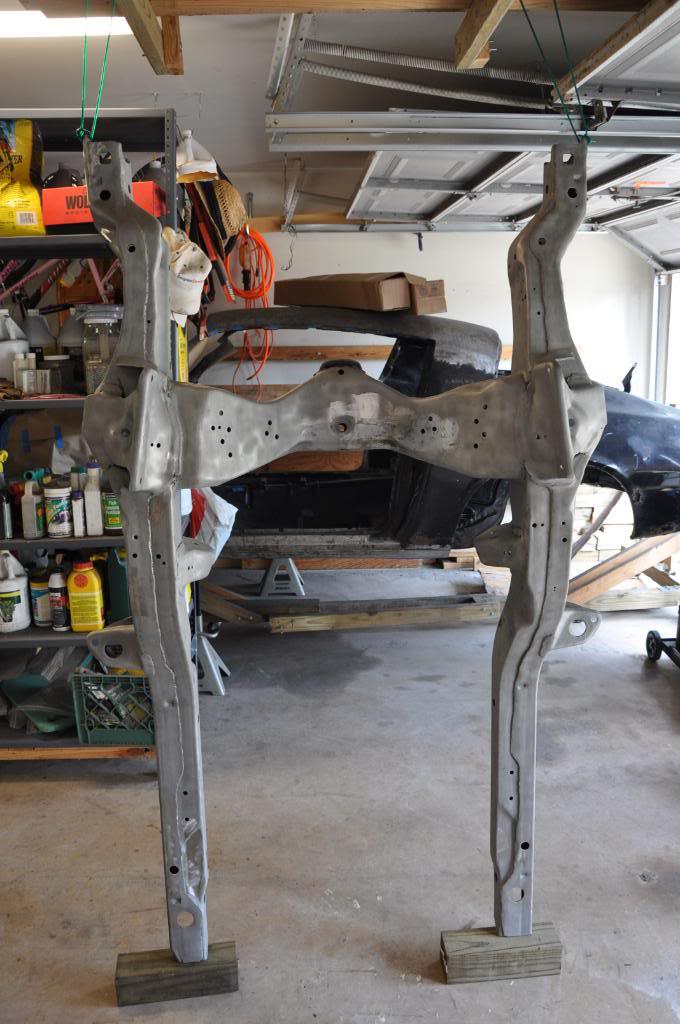 Frame sprayed with back SPI epoxy primer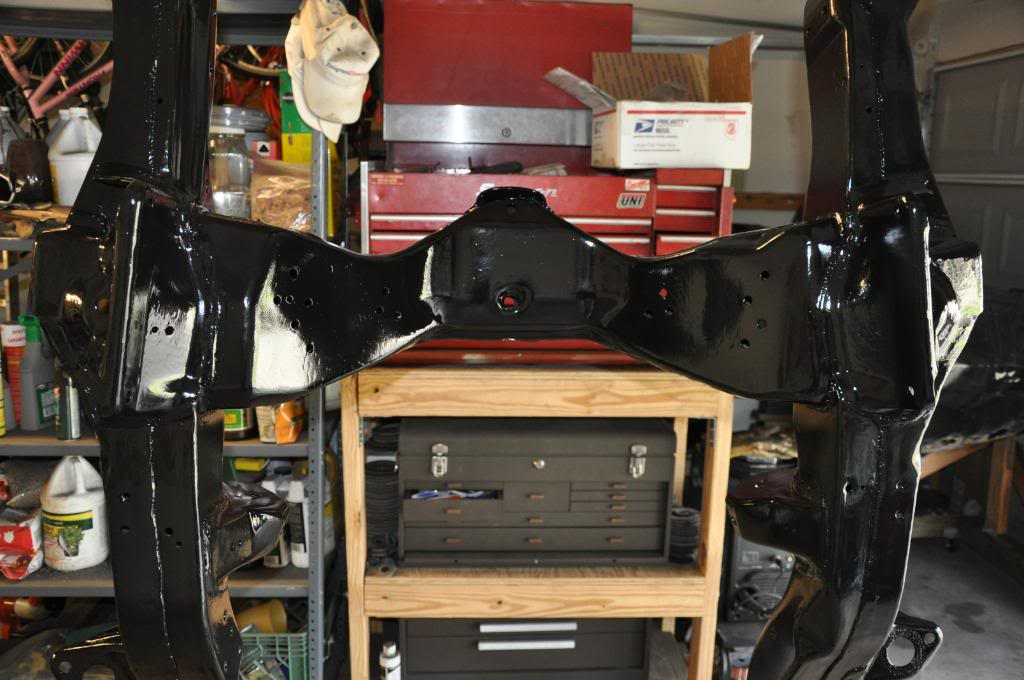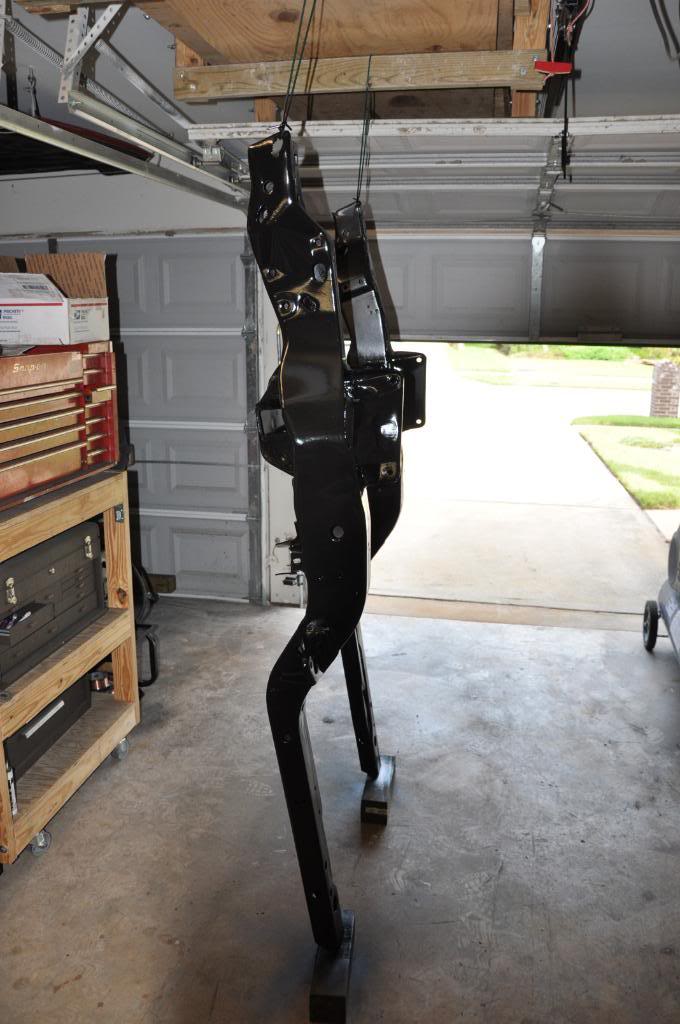 9-27-2010
FYI (since Brent brought it up), this is what the SPI black epoxy primer looks like once fully dried. The light is kind of crappy, but you get the idea that it's more of a satin black finish. My other pics were all taken right after spraying, so the finish was glossier than it actually turned out to be.

I'm not whoring up my own thread, I promise.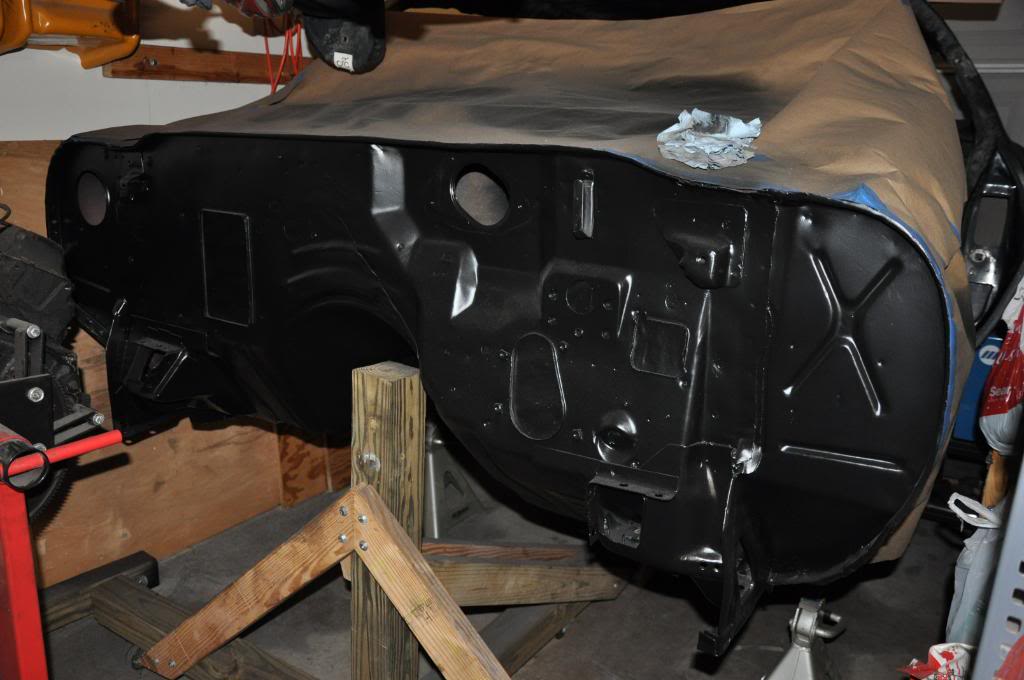 9-29-2010
So I figured I would share a "bangin' parts update" (that's a krabben-ism). I ended up going with an "upgraded" GT Kit from Keith @ Custom Works for the suspension and part of that kit was some composite rear leafs. They just arrived today. They weigh in at an astonishing 11 lb each. I plan on getting them installed next weekend after a few more parts come in.

Here's what they look like.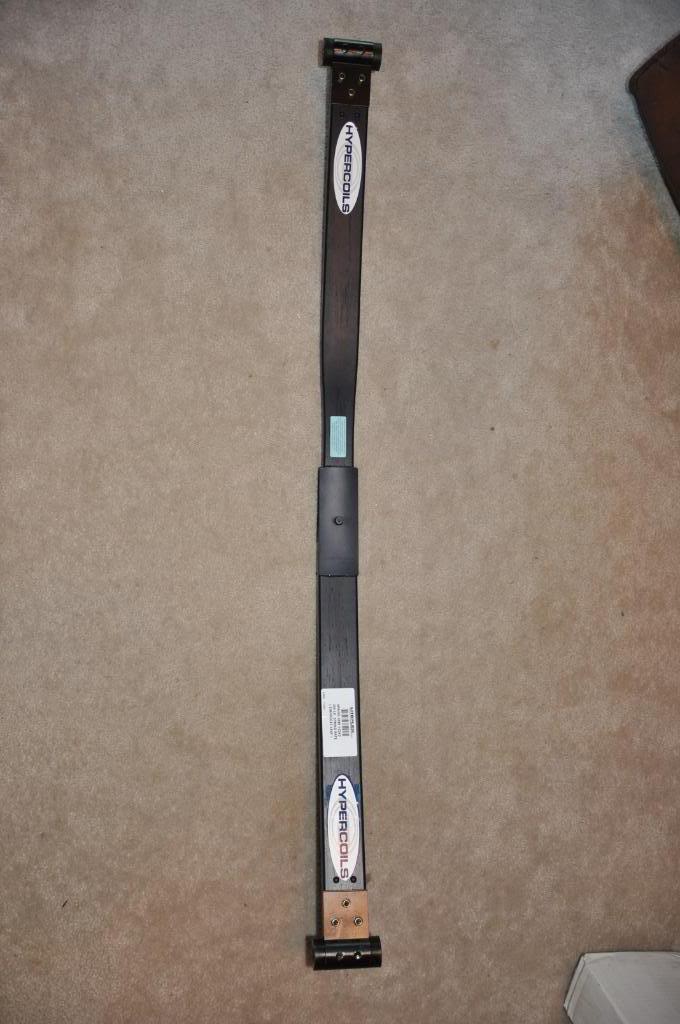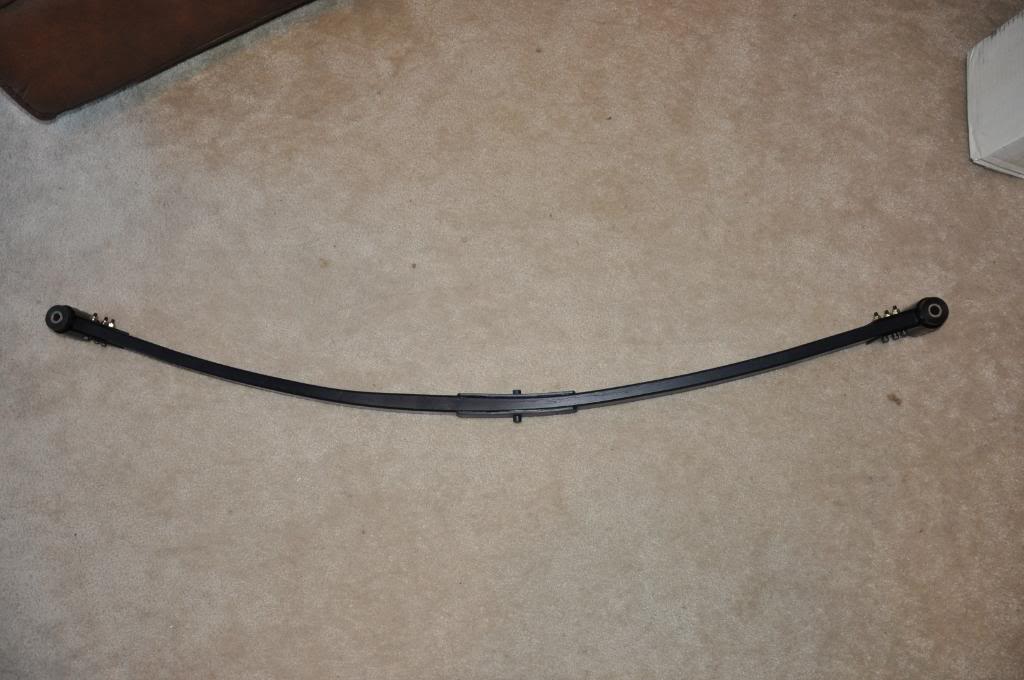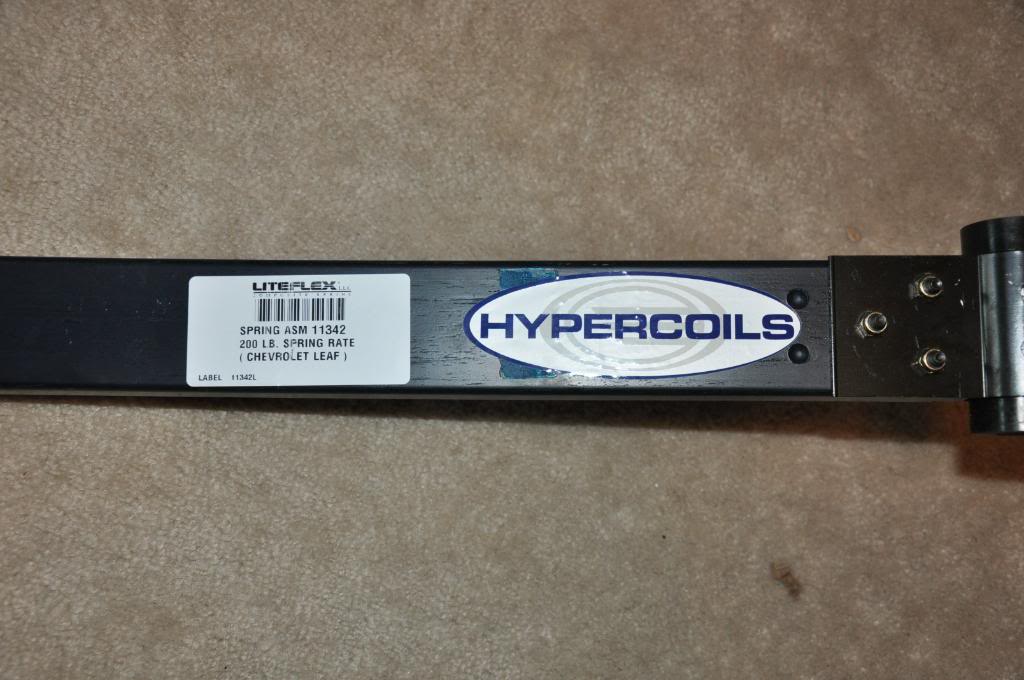 10-10-2010
Got my solid body bushings and leaf spring shackle kit from PTFB on Friday, so was able to re-install the front subframe and install the composite rear leaf springs. It was kind of a busy weekend with family stuff, so wasn't able to get too much else done. Next weekend should be a little more productive - hopefully I will get the rest of my parts in so I can keep making progress.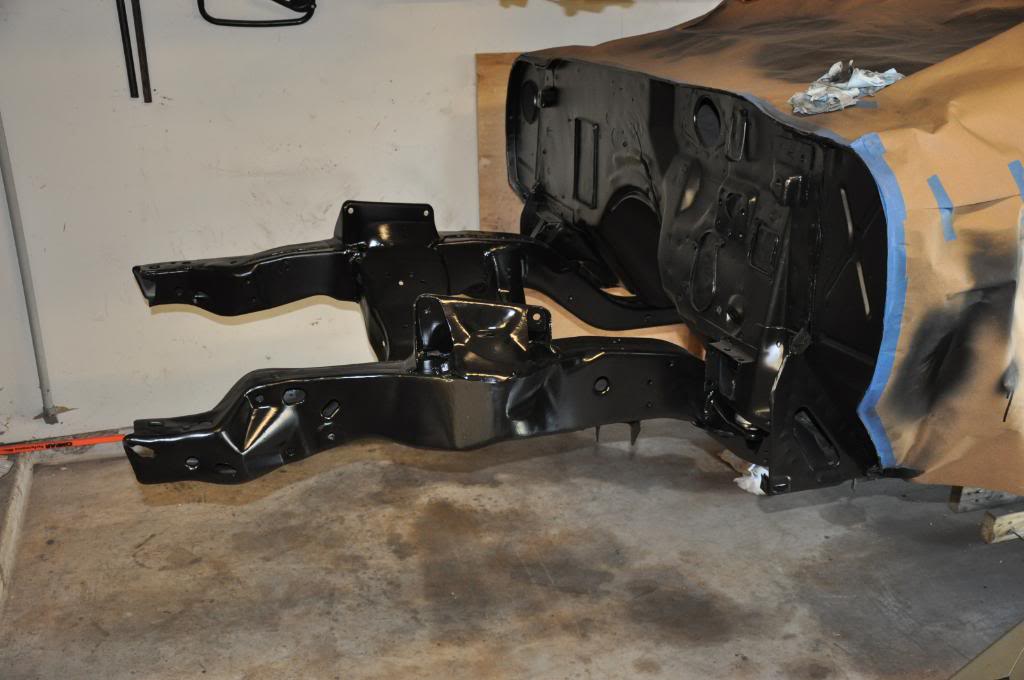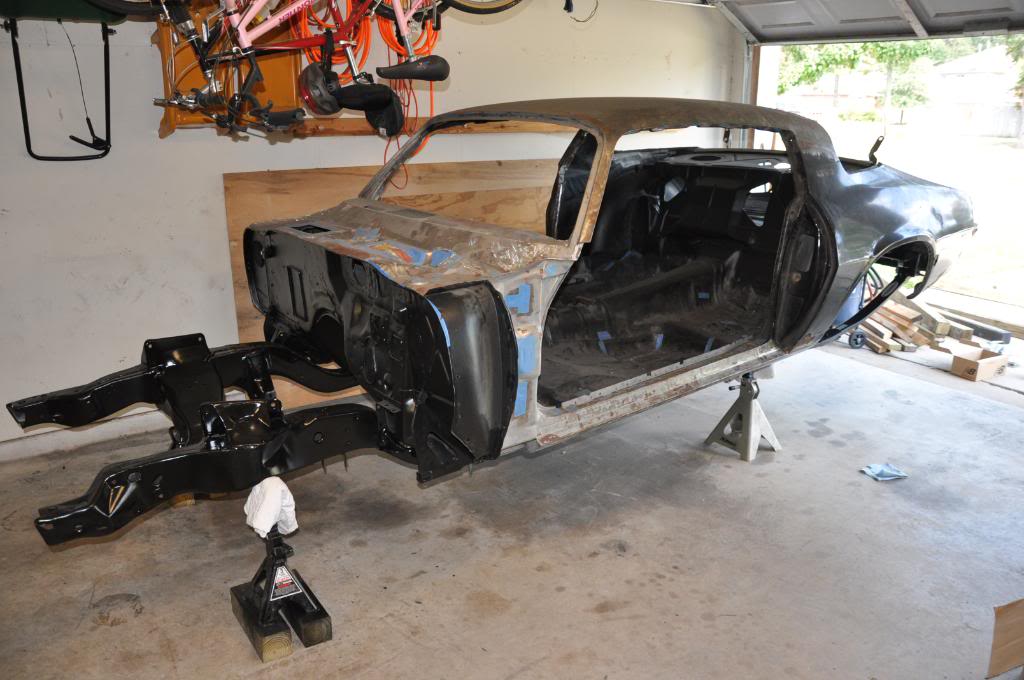 This used to be my rotisserie. It did it's job, but time to move on.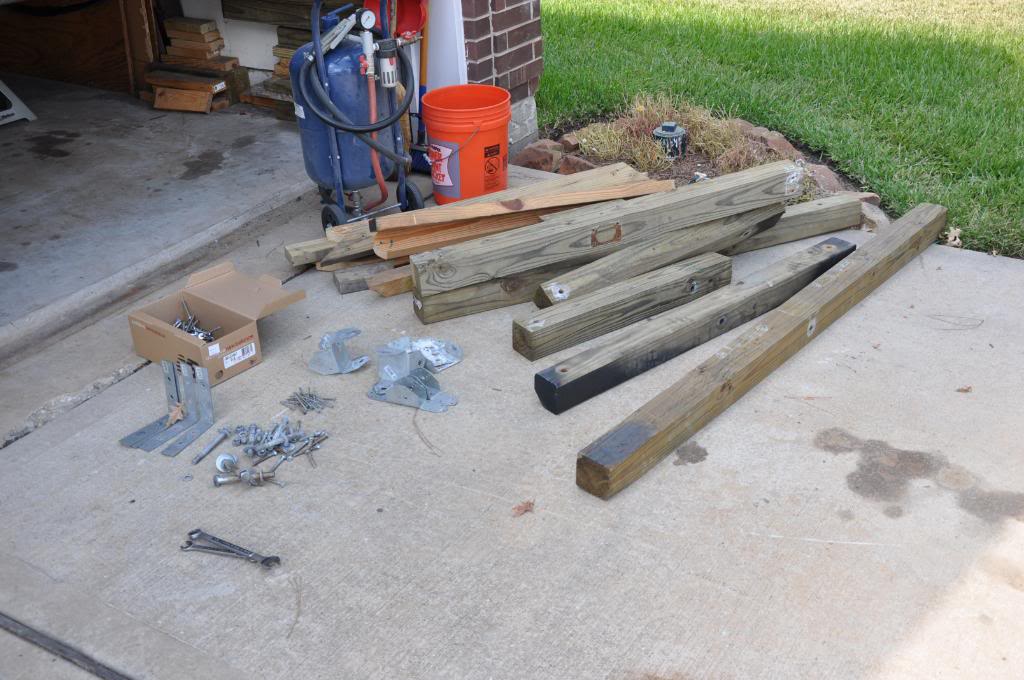 Boring shot of the leaf springs installed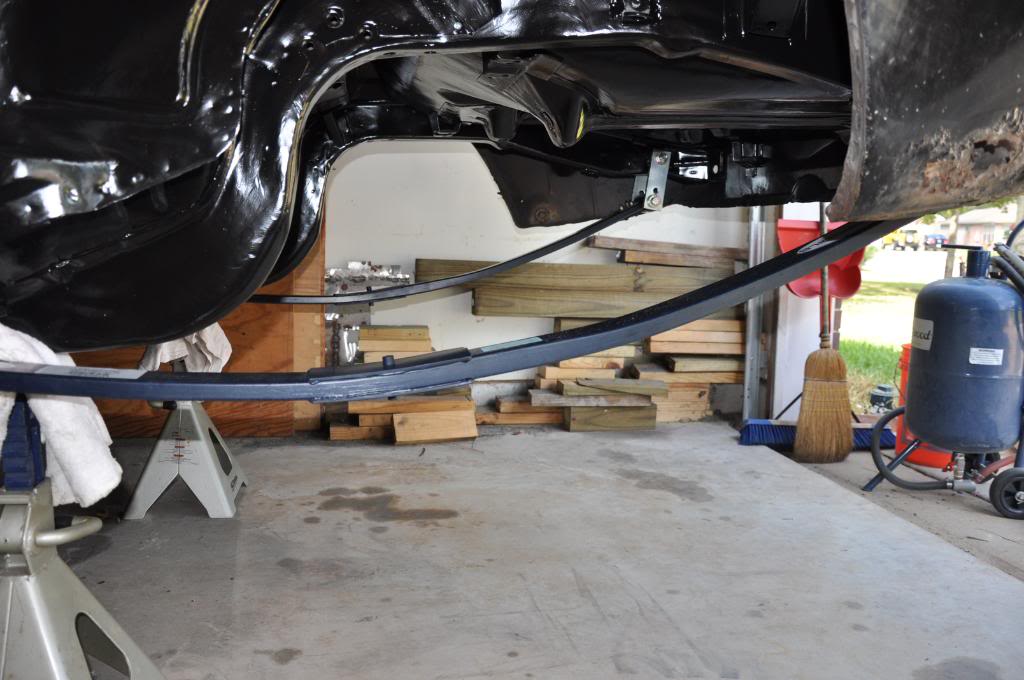 10-11-2010
BTW, I wanted to share some info about some clip nuts I got. The clip nuts for the front leaf spring hangers (3 per side) were in poor shape on my 76, but some members here informed me that I could get replacements from GM.

Mine resembled the clip nut on the bottom. The GM replacement is the top part. GM part #378276. $1.50/each at the GM dealer. You can also order them online from GM parts for less than that, but I think you have to get 10 at a time. I was able to get 6 at the dealer.

http://www.nastyz28.com/forum/showthread.php?p=2145304#post2145304
11-2-2010
Just wanted to update my Nasty Z family that our sweet Reggie passed away the morning of October 29 from complications due to his liver illness. He was about 9 years old when he passed. My wife and I are devastated by his passing, as he was a member of our family and we loved him like a child. I will work on the Camaro again and most likely soon, as that is what Reggie would have wanted. But my body, mind and soul are all drained right now, so I hope to have some progress to share with you all soon.

I know most of us have family pets and understand how big a part they are in our lives. The price we pay for bringing pets into our homes is the pain we feel when they someday leave us. But it's always worth it, otherwise nobody would welcome these furry friends into our lives.

Thanks again for listening.
11-7-2010
I got a little progress done this weekend. Spent Saturday parkerizing various hardware. I followed the instructions in Rob's (DoneYet) thread. I used manganese sulfate to achieve a darker finish. The parts turned out a dark charcoal gray rather than true black, but I like the uniformity of the finish. I did a few more parts on Sunday and then got the rear end put into place.

Nothing too crazy, but it's a little progress at least.

The new rear end - Moser 12 bolt, 30 spline axles, 3.73 Detroit TrueTrac, 1350 yoke. It's overkill, I know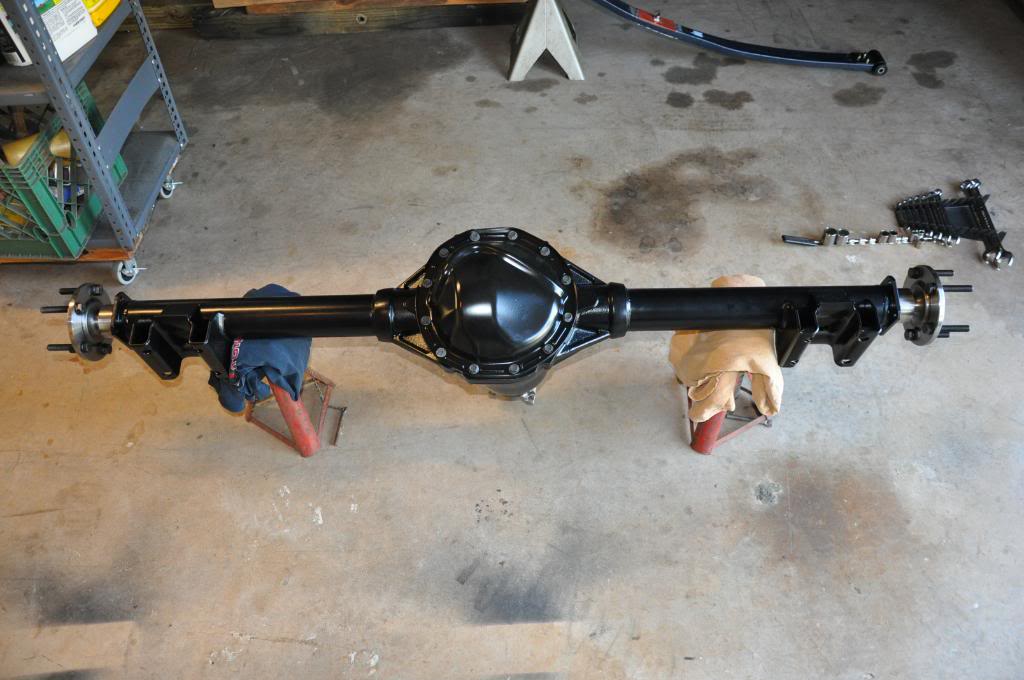 The rear end in it's almost final resting spot.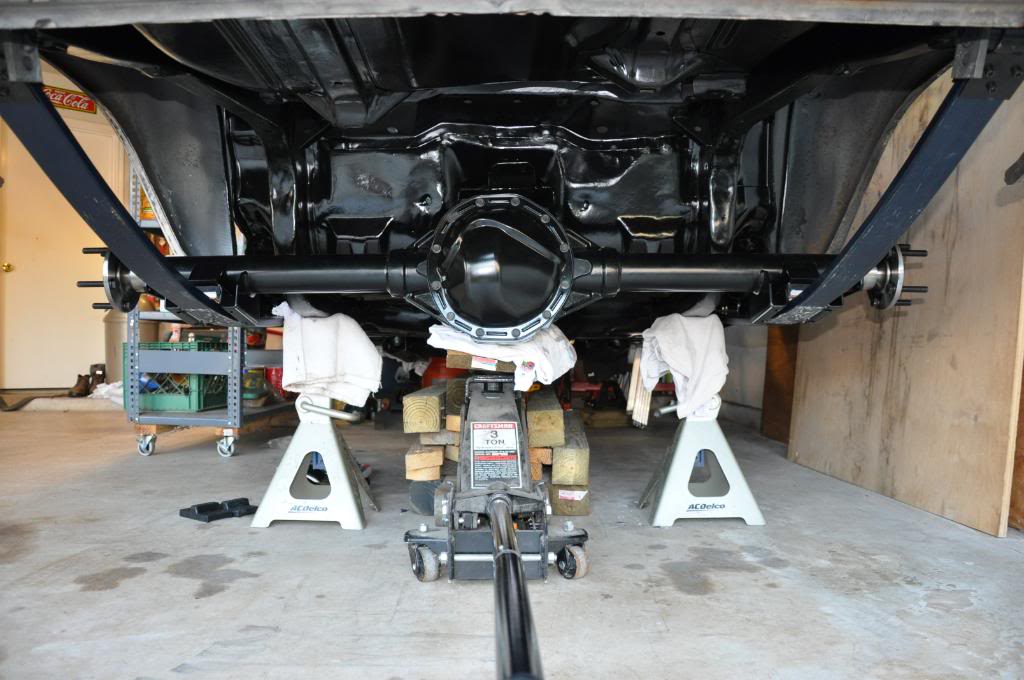 Another shot - not going to mess with the brakes for awhile, but wanted the axles in to keep dust from getting into the housing.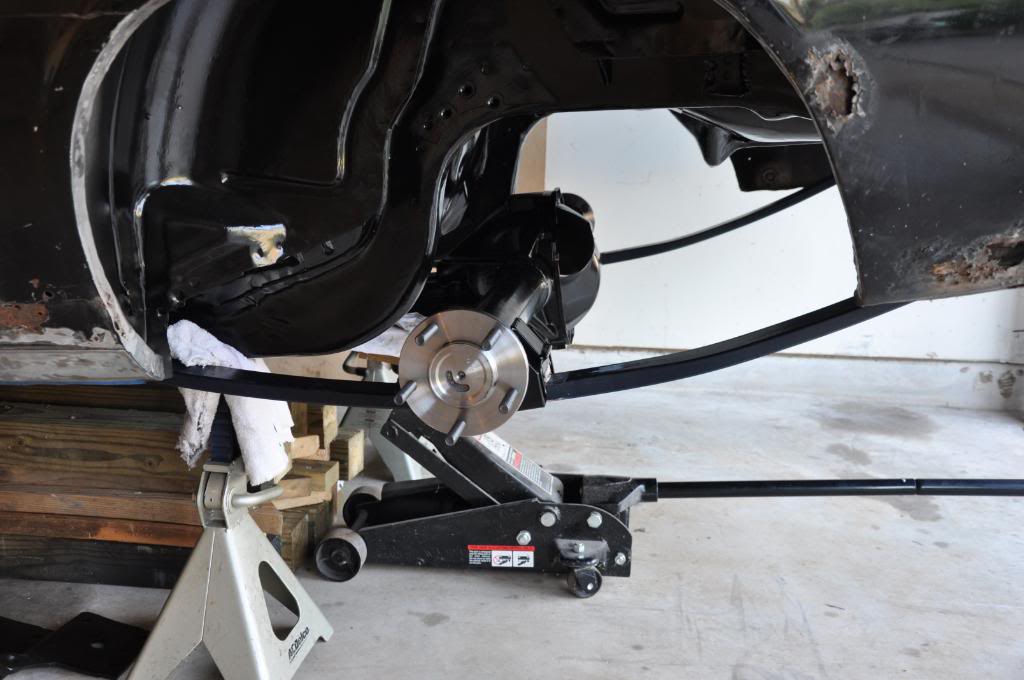 A shot of the leaf sprng hardware after parkerizing. Before it was different colors, so this blends in nicely with the black finish of the underside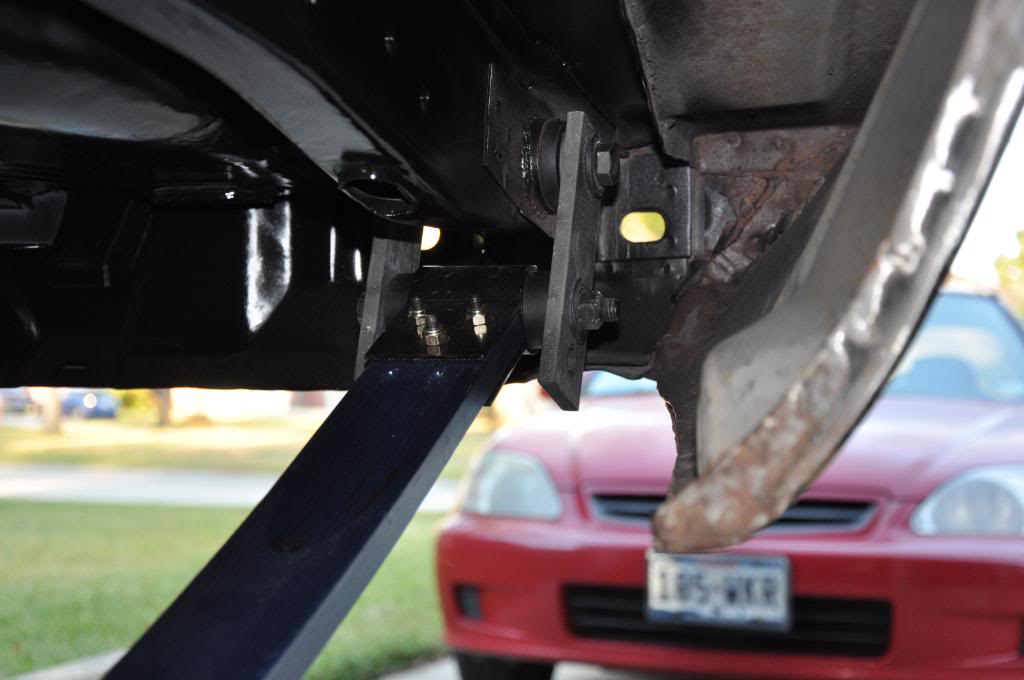 So I am confused about something. One of the leaf spring pads that came with my composite leafs doesn't look like it's going to work. The raised ridge in the middle of the pad implies that there needs to be a similar indentation either in the rear end perch or the shock mounting bracket. But neither has an indentation to accept this pad. Perhaps because I am using a different rear end, then I need to get another set of pads without this raised "ridge"?? I just don't see how I can use it at all with my setup.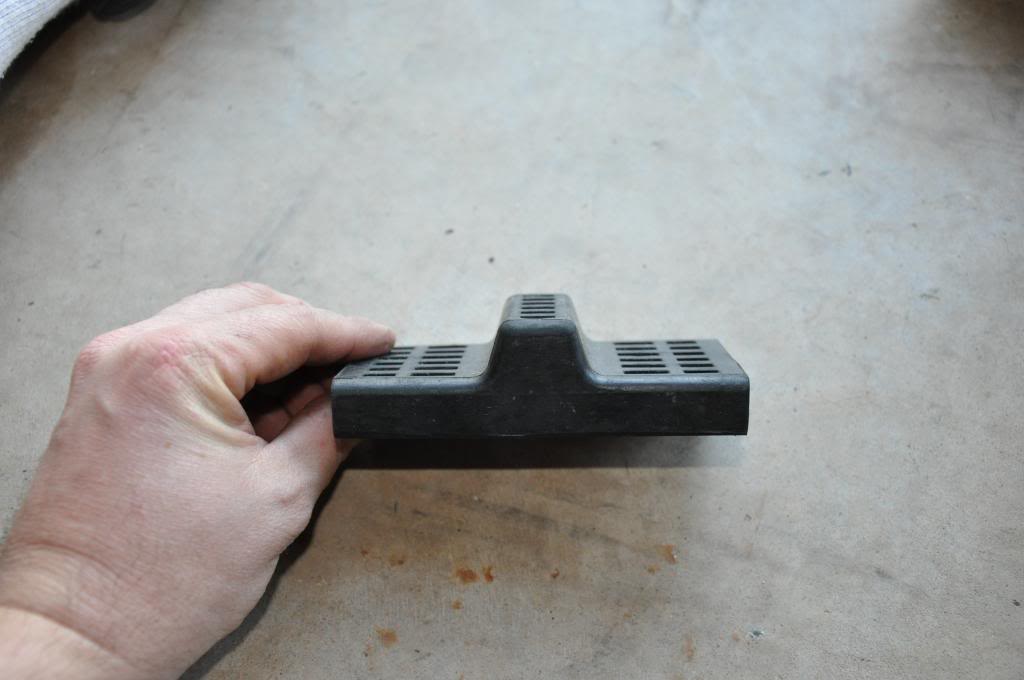 11-14-2010
I made a little more progress this weekend. I was able to get the control arms, coil springs and spindles installed. It took a little longer than I thought it would, since the LCAs were a little stubborn and coil springs are always tons of fun. But it all went together well.

The UCAs, LCAs and coil springs are PTFB. I went with the low friction ball joints for both upper and lower and the tall upper ball joint. The LCA bushings are the spherical style. I'd like to take this car to the track, so decided to upgrade these areas to improve the suspension. Keith Smith @ Custom Works did the work to the spindles to accept C5 calipers, which will get installed down the road. I am waiting on a set of rear leaf spring pads to arrive so I can finish installing the rear end. Then it's time to start work on the 1/4 panels.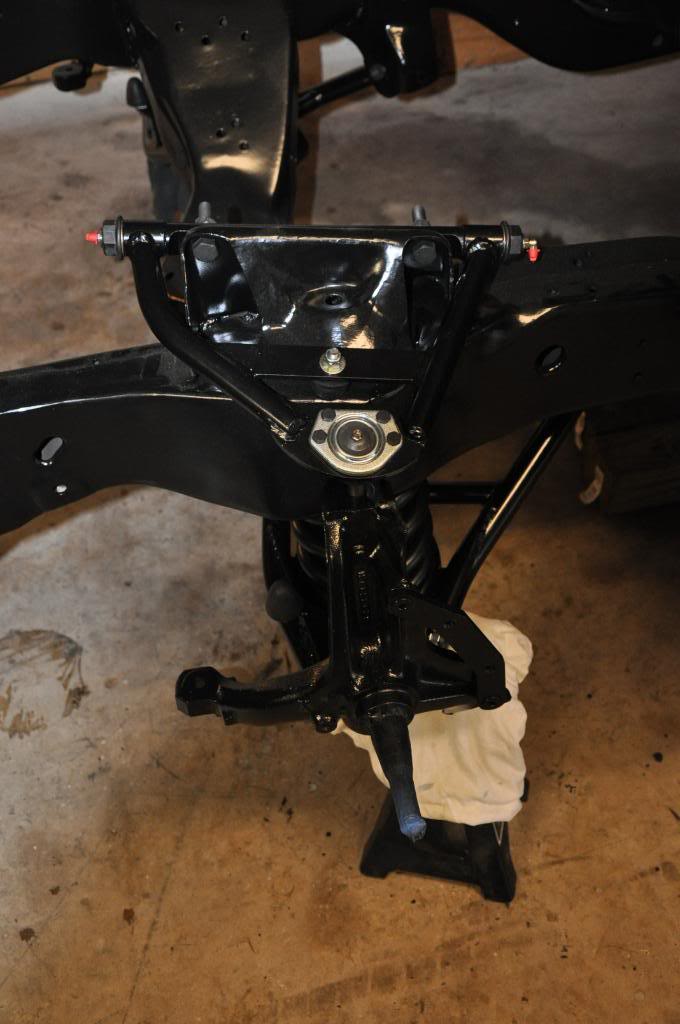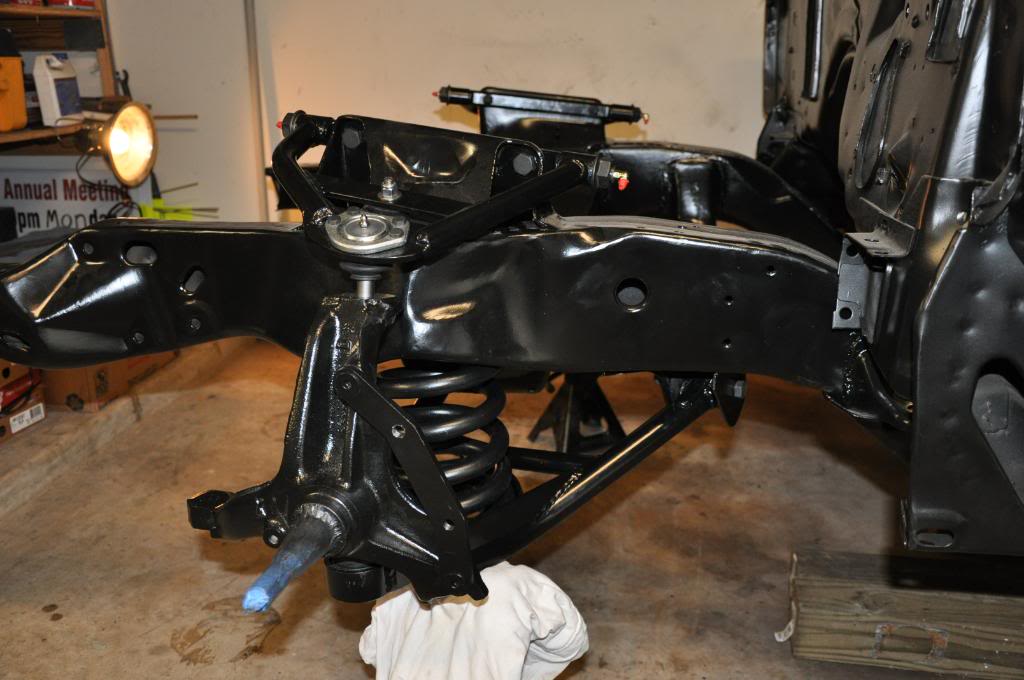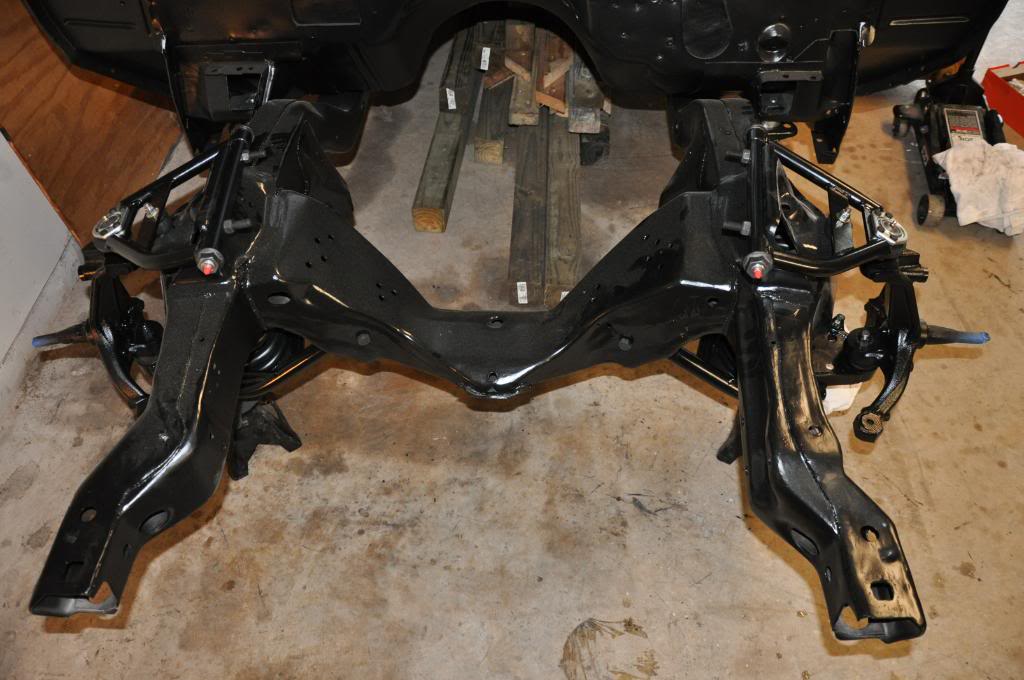 11-17-2010
Not much to report. I got the other pair of leaf spring pads in so I was able to get the rear end secured into place. Since that was done, I decided to pull the driver side door down from the attic so I can bolt it up in preparation of removing the driver side 1/4 panel.

Pat, is this one of your doors? The shade of brown is a little off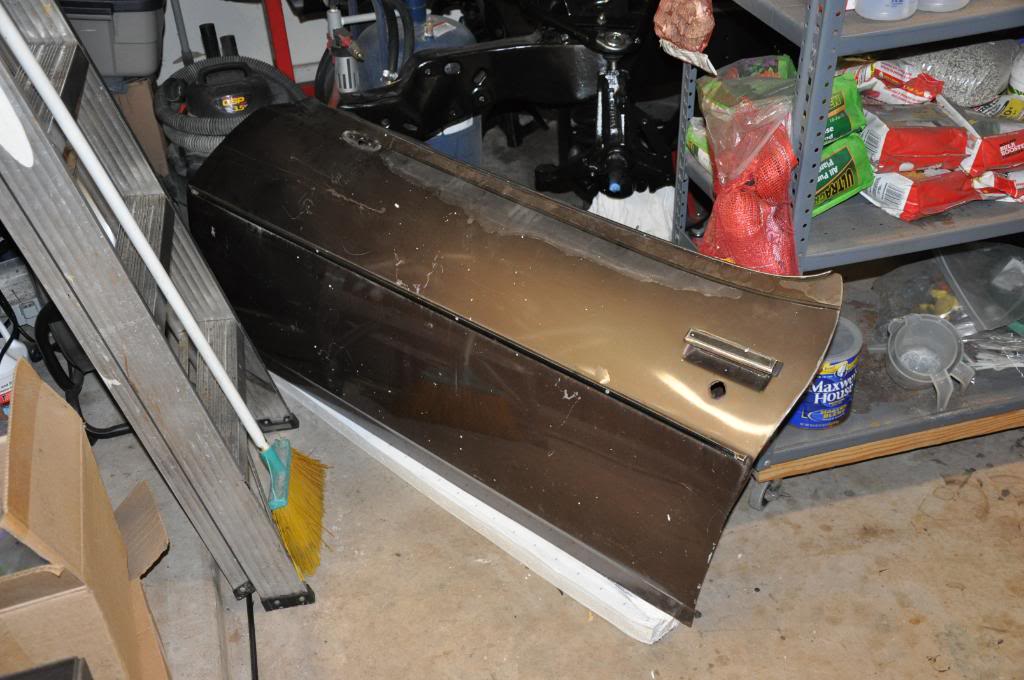 I have a legit question though. The door has an edge guard on it. It appears that the strip mount is held on with rivets. Do I need to simply drill these out with like a 1/8" drill bit or is there another way to remove them?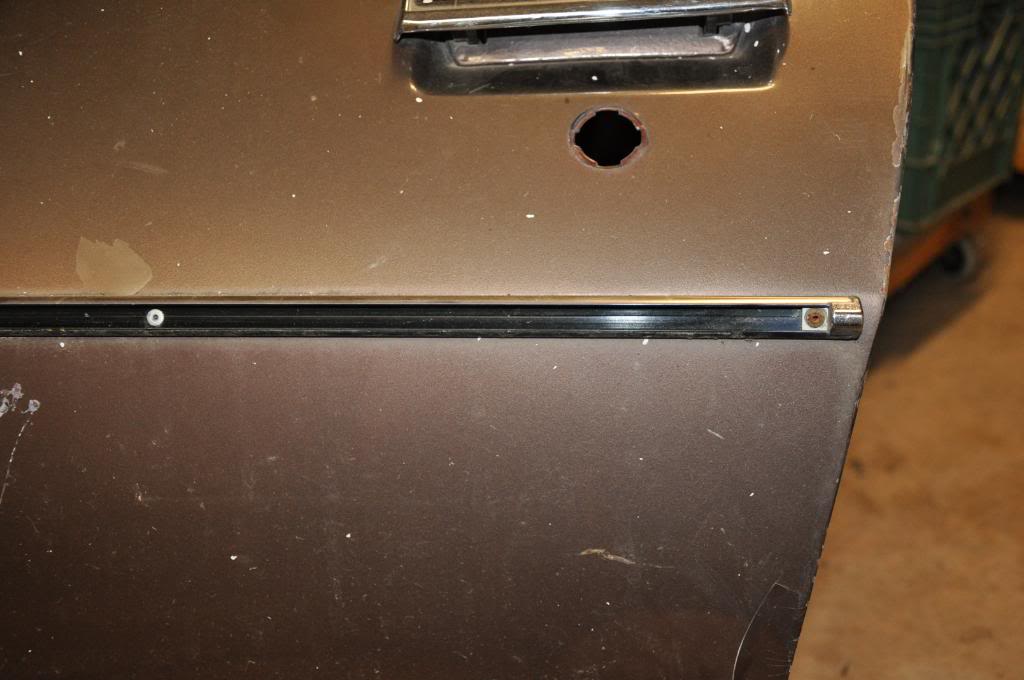 11-26-2010
Thanks bud, I saw you are well into the disassembly process. Your 77 project looks like a good one.

The only progress has been getting the tulip panel, trunk lid and driver side door on so I can measure all the gaps before removing the old 1/4 panel. Been helping my dad get their tile installed in their living room so not as much time for the Camaro.

Here's a few pics of the door on - the door-to-1/4 gap is almost there. I need to get the top of the gap narrowed some. I will tweek it some more tomorrow and hopefully begin removing the old 1/4 panel.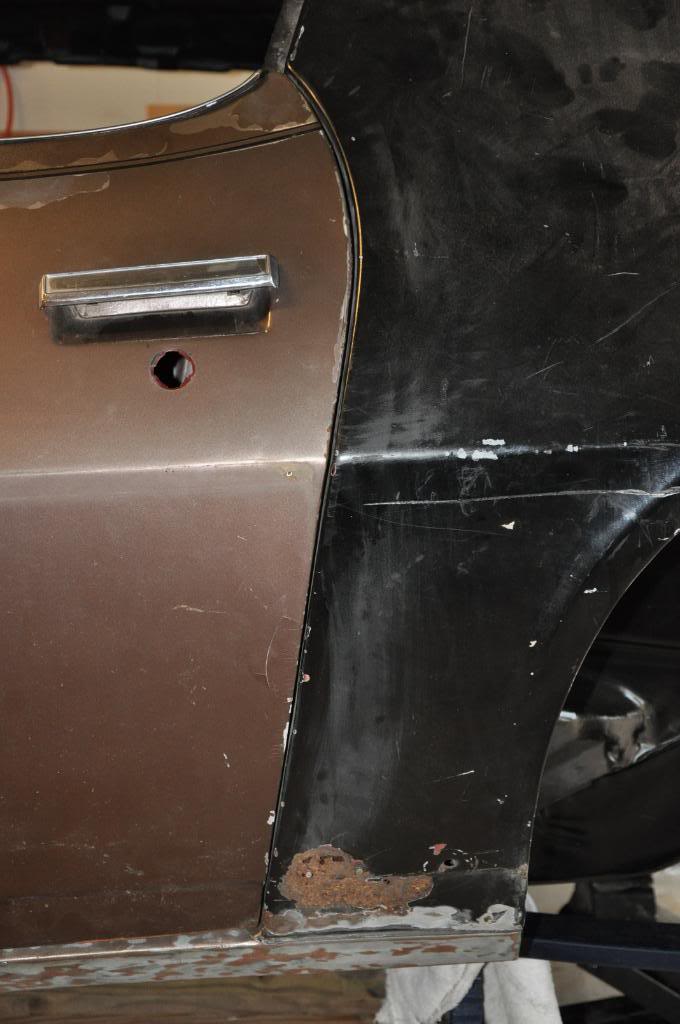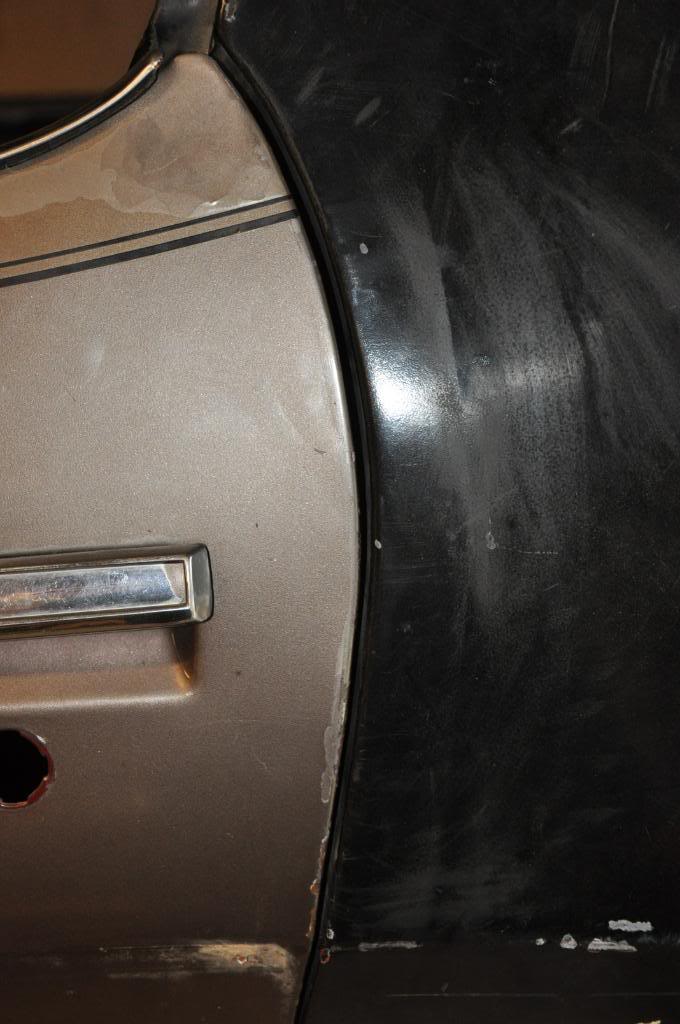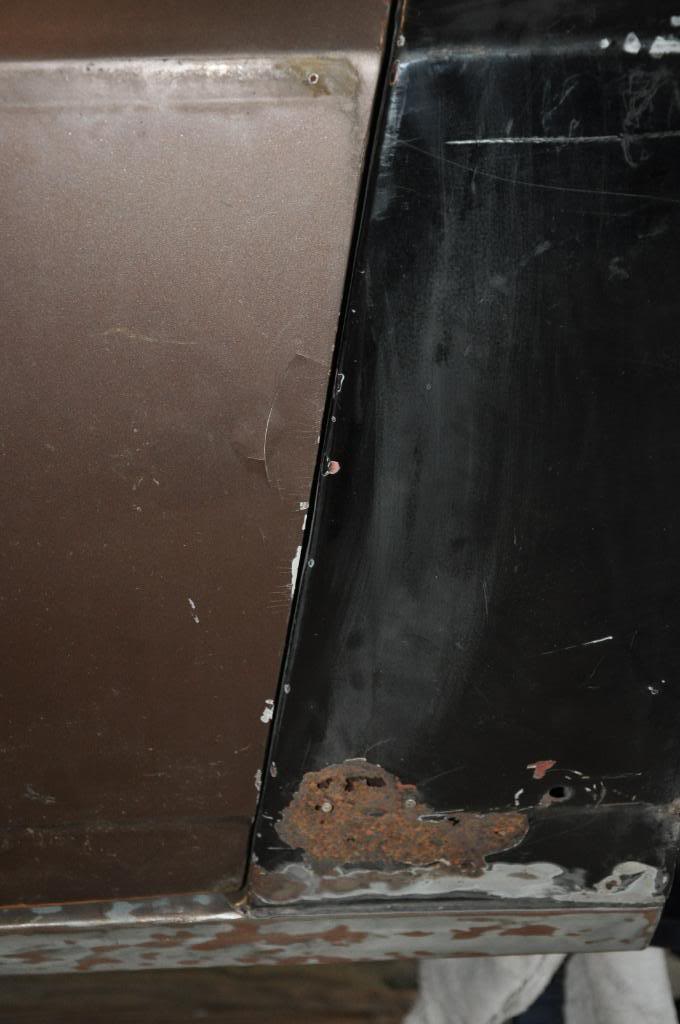 11-27-2010
So I fidgeted with the door some more and got the door-to-1/4 gap a more uniform 1/8" (slightly over 1/8"). The gap at the very top is 3/16" but I think that is more due to the "uniqueness" of the door than anything else. The door-to-rocker gap is a consistent 1/4". So I am going to run with this. Keep in mind that this isn't the FINAL fitting, so I just need to make sure the gap when the new 1/4 goes on is the same as the old gap.

Thoughts?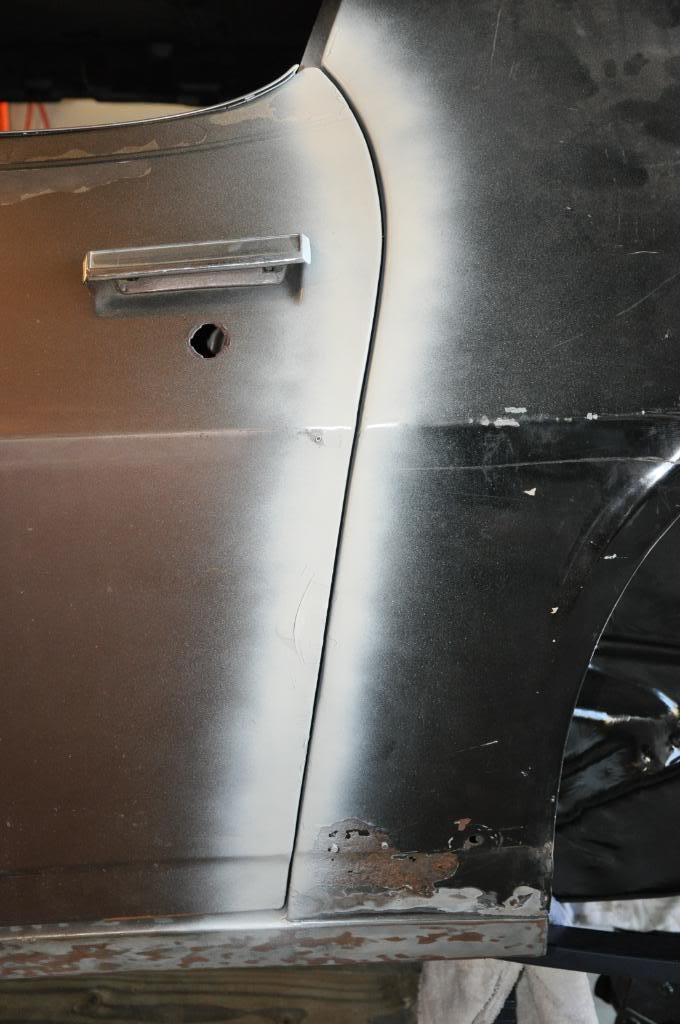 11-28-2010
So I did what I mentioned in my previous post and was able to get the door gap a nice consistent 1/4" (slightly over 1/4" in most spots). Any variations are from the sheet metal as the top, middle and bottom gaps are all the same. The door to rocker gap is consistent too, right around 3/16". I took a ton of measurements and pics, so think it's time to start taking the old 1/4 off. Wish me luck!!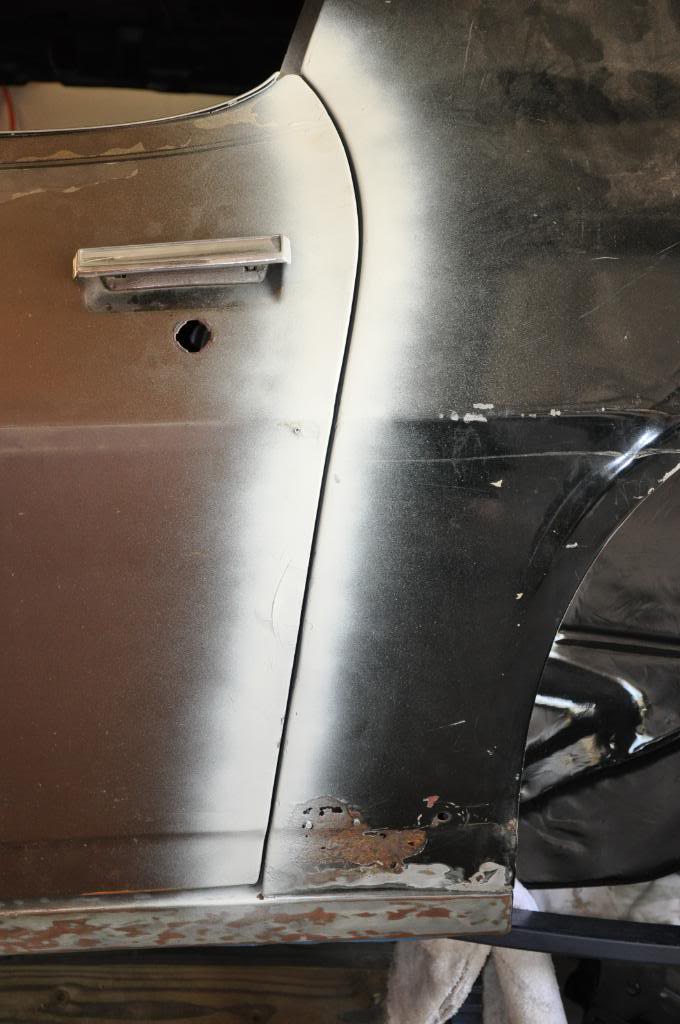 I got a good chunk of the 1/4 removed before I ran out of cutting discs

BEFORE: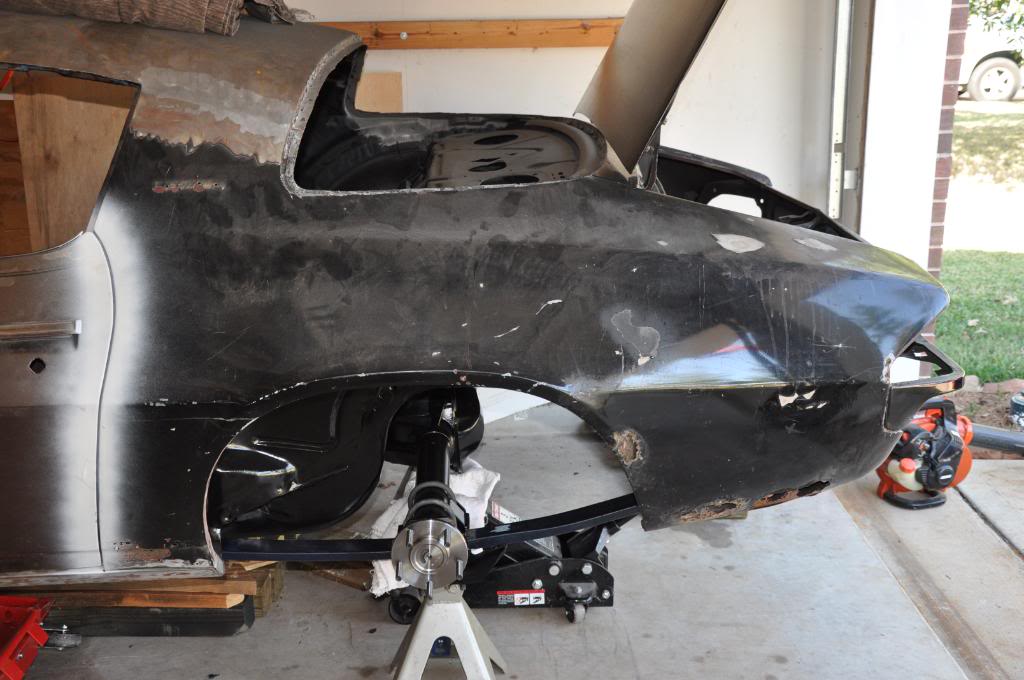 AFTER SOME SLICING AND DICING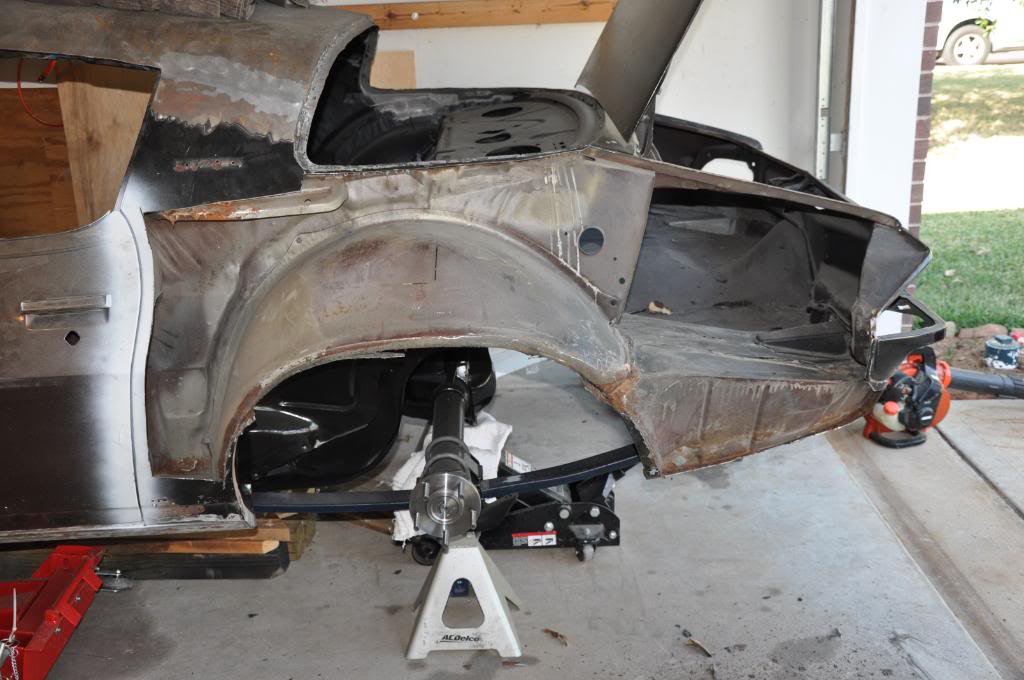 THE EVIDENCE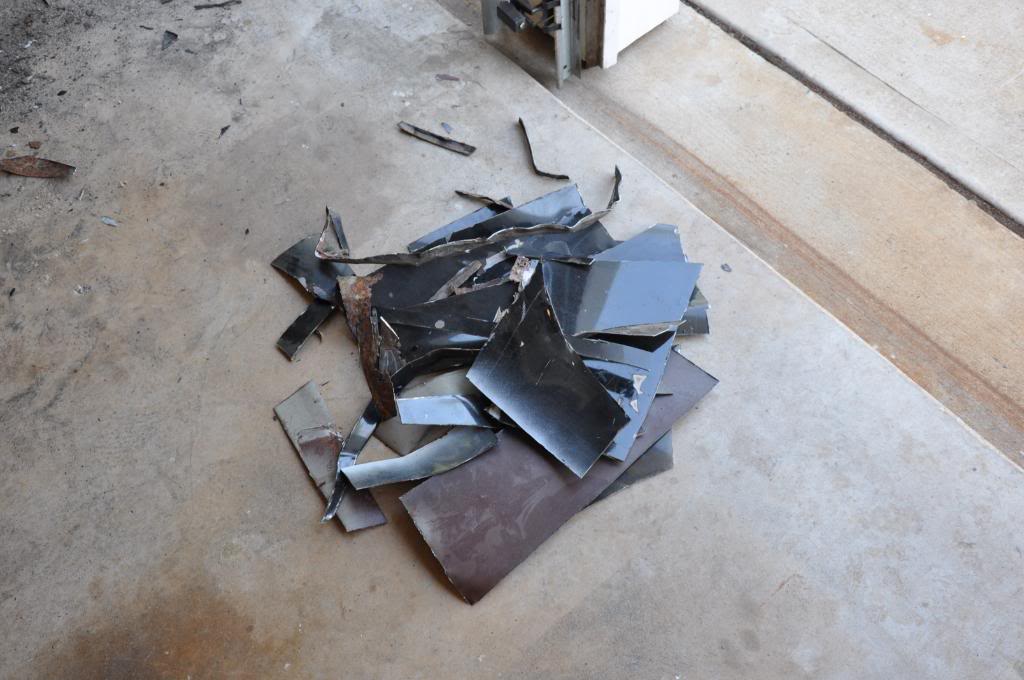 12-21-2010
Worked on removing the 1/4 panel some more today. That spot weld cutter is worth every penny. Only a little more to go and then I can work on replacing the trunk drop down and then strip and refinish the other metal.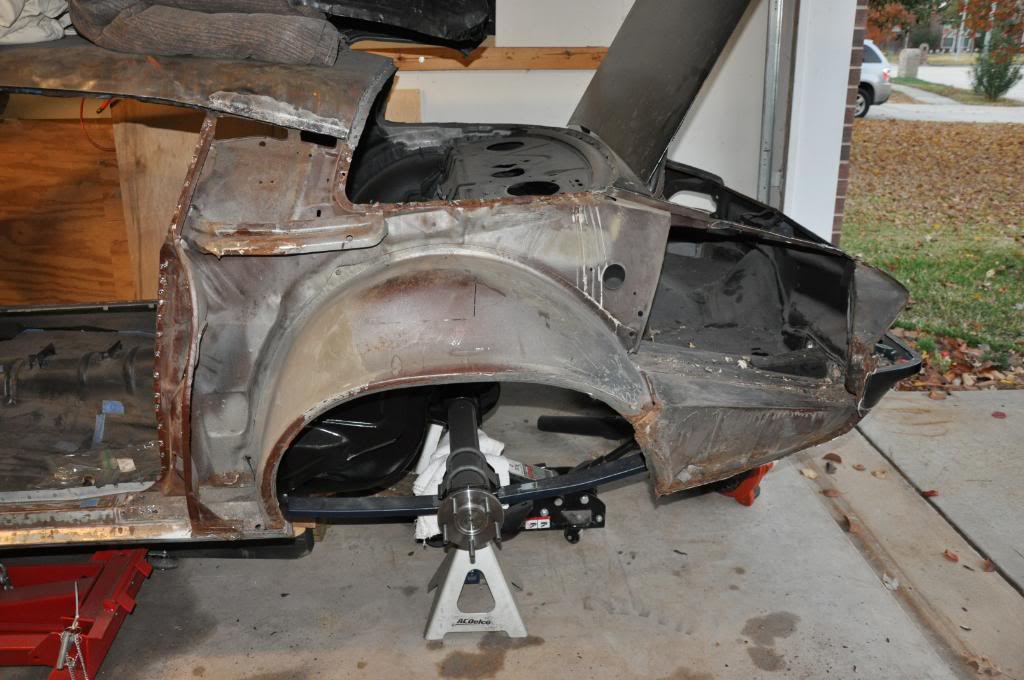 In the below pic, how is the 1/4 panel held in place between the rocker panel and inner brace? Are there spot welds there?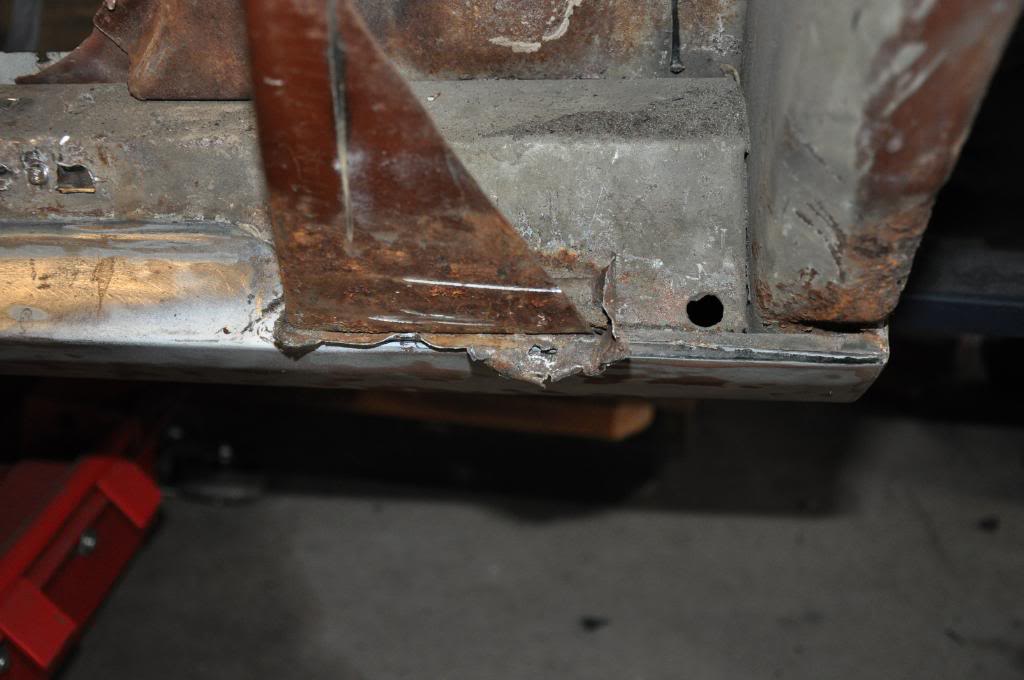 Are there spot welds securing this part of the 1/4 (the triangular area)?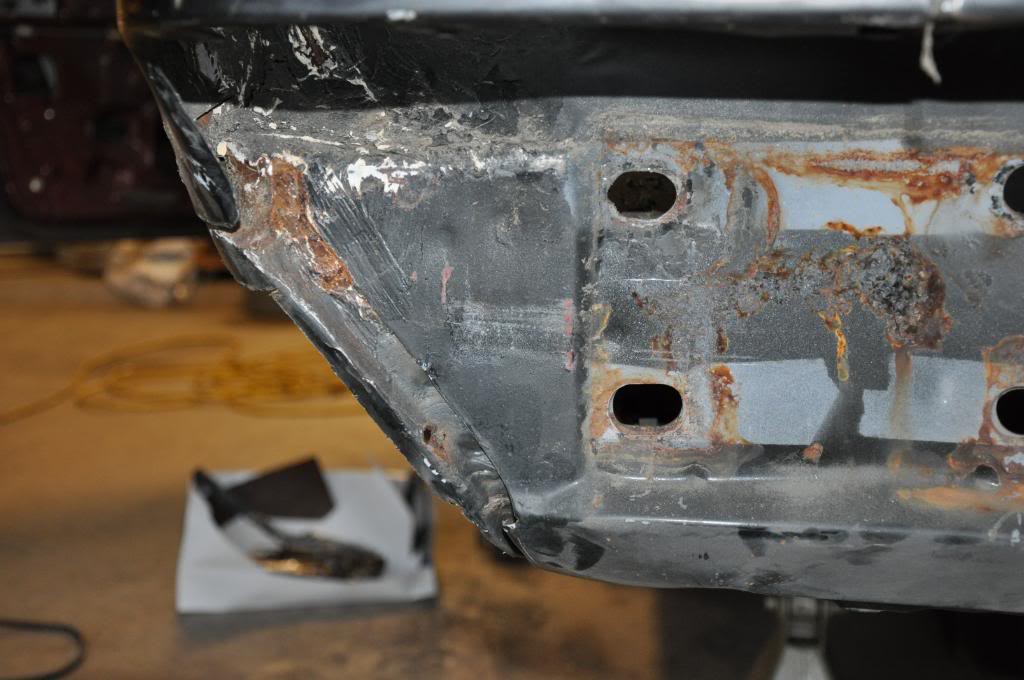 12-23-2010
The old 1/4 panel is completely off now, so I can start cleaning the metal the lives underneath the 1/4 and recoating it, as well as installing the new trunk drop-off. I will need to put the old wheels on so I can roll the car into the driveway for some sandblasting (yay...) There is some rust in a few spots but I don't think I will need to replace any metal under the 1/4. I will know more after the sandblasting is done.

Here's a few pics of the 1/4 completely off. The pics aren't too exciting, so they are more for reference than anything else.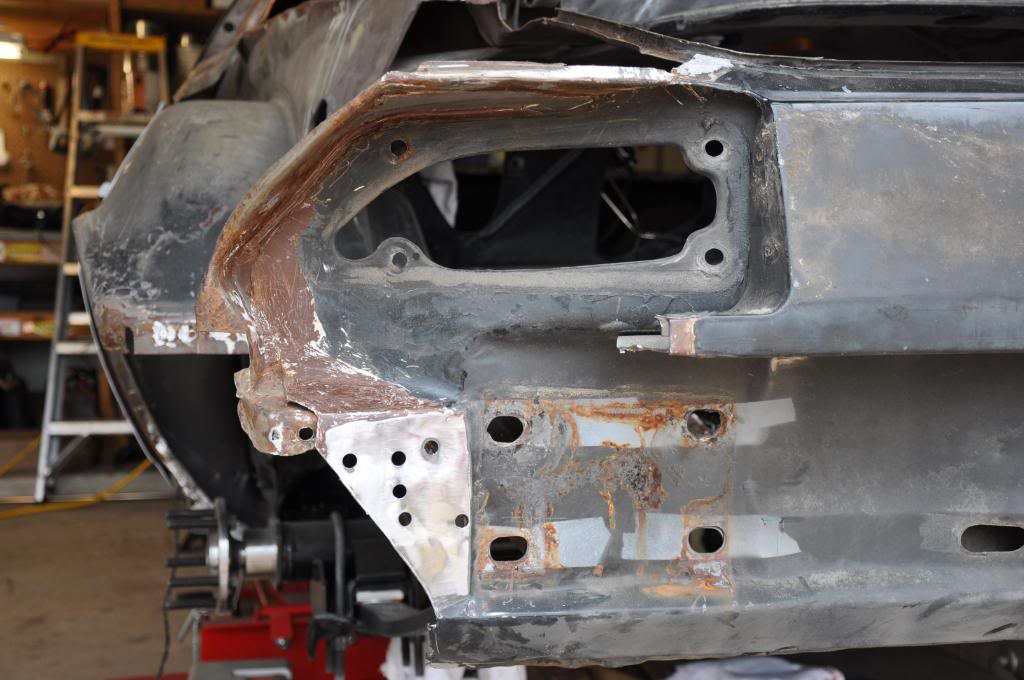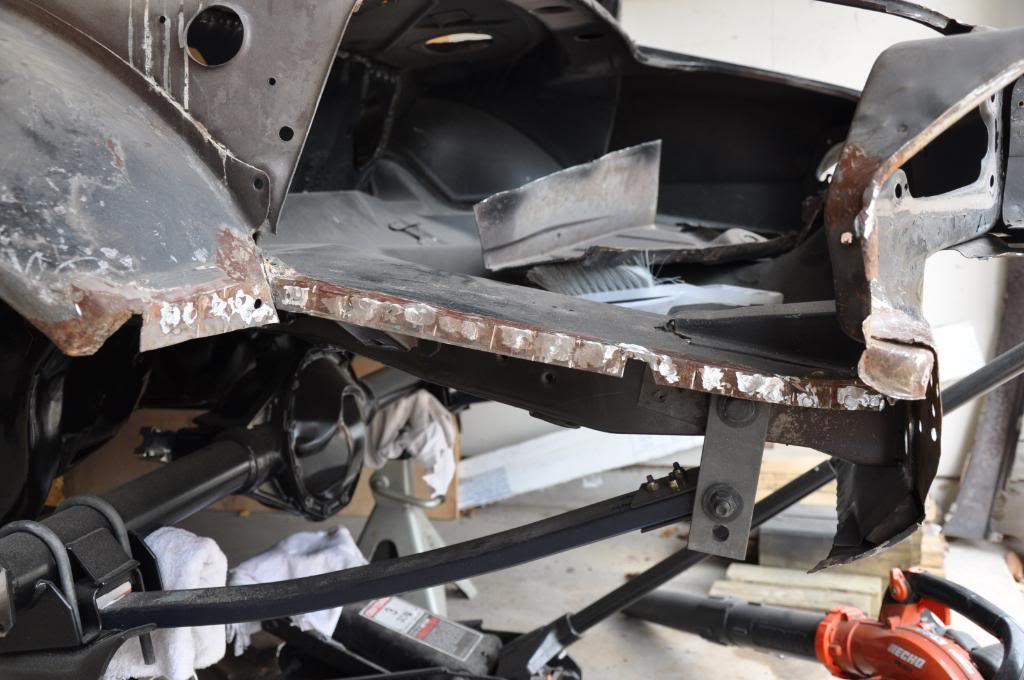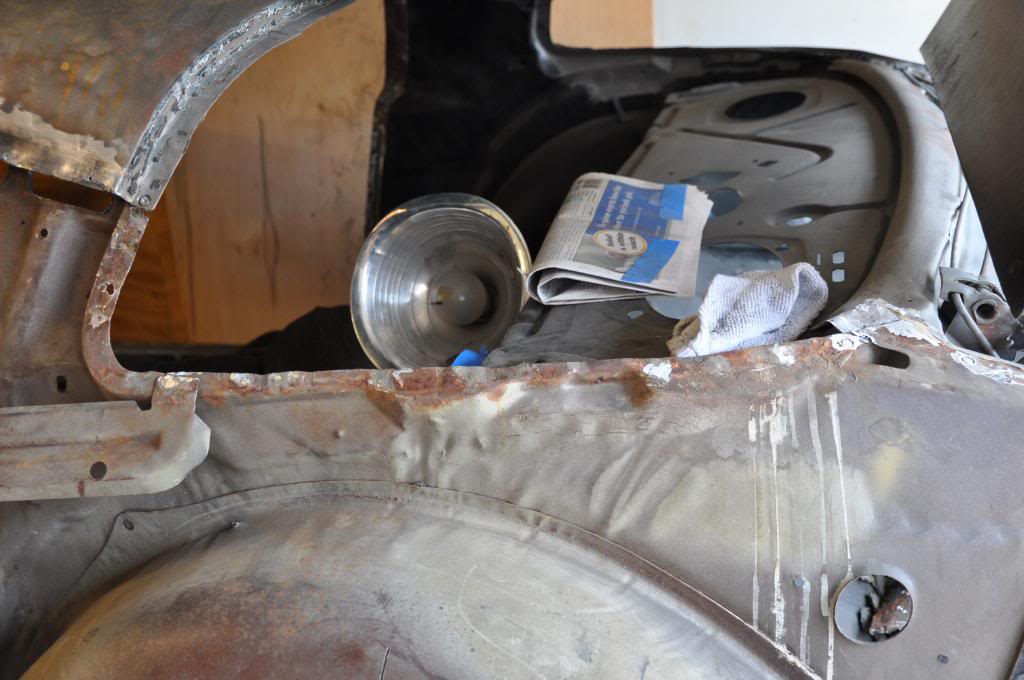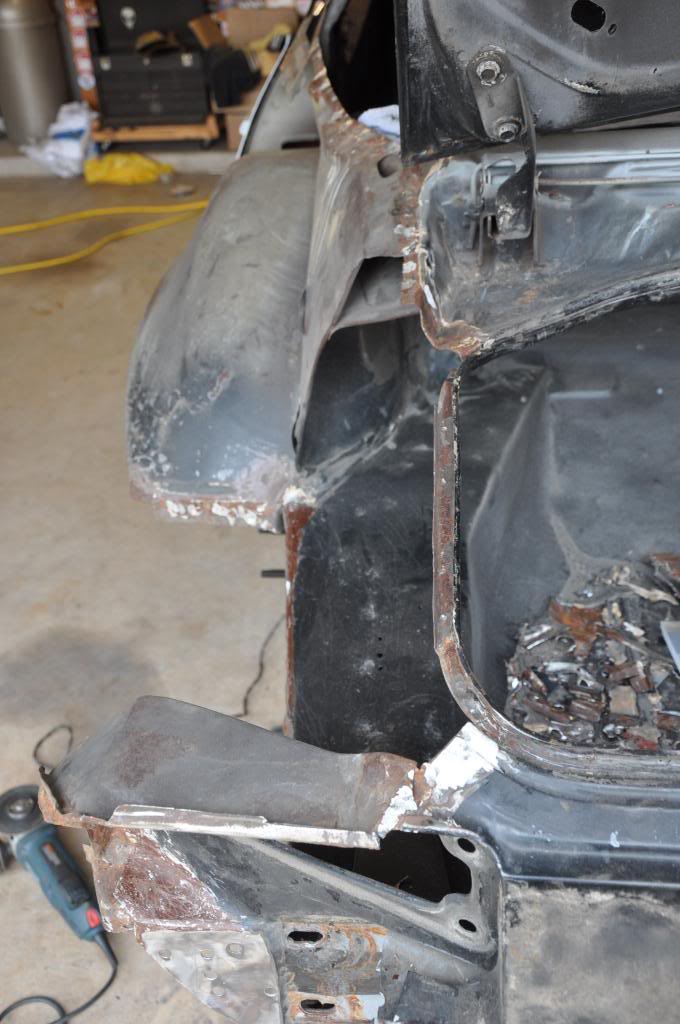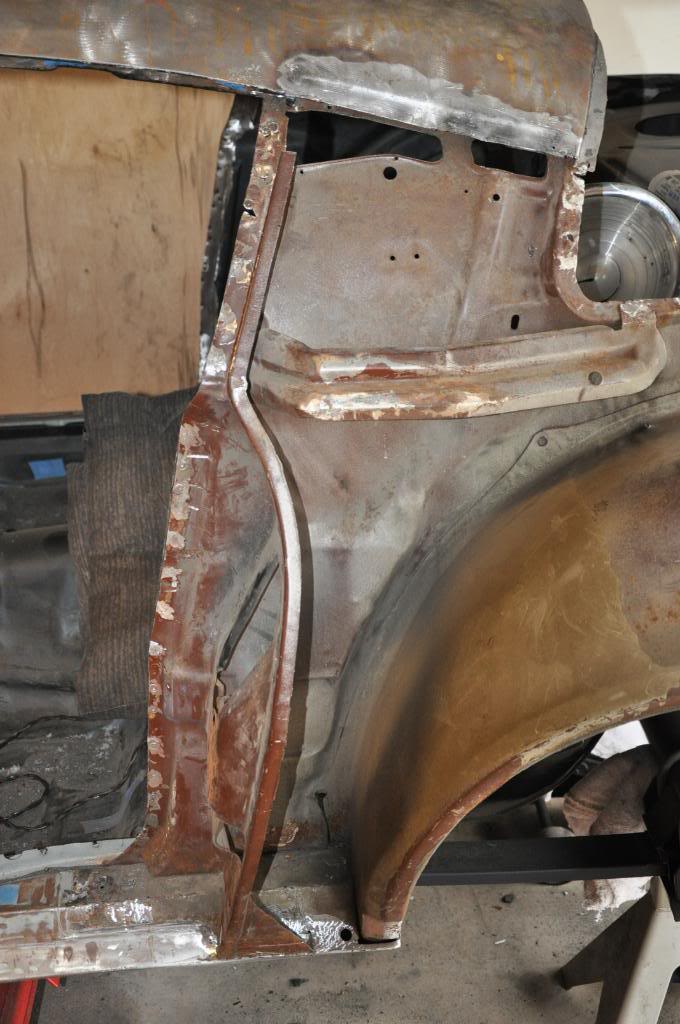 12-26-2010
And BTW, earlier this year I had NO intention of doing any body work myself. I was pretty much set on sending my car to the body shop, where it would have cost $10k+ (thinking at least $15k at this point) to do all the required work. I'd never welded anything in my life and certainly had never replaced entire body panels before. So I am the epitome of a novice when it comes to this stuff. I just read tons of threads here, asked tons of questions and decided to tackle it myself. Just depends on what your comfort level is. There are plenty of people like us who are not body shop pros, but with enough time it can be done. Having the right tools helps obviously, which might be out of reach for some. However, if anyone was thinking of getting extensive paint and body work done, then that means they have the funds to buy the right tools (which costs a fraction of what the P&B shop would charge) and you get to keep the tools!
1-2-2011
Yesterday was sandblasting day for the metal under the 1/4 panel. Today I am going to topcoat the cleaned metal with some Eastwood rust encapulator. Ideally I'd like to epoxy prime it but I want to use up the rest of this Eastwood stuff and this is the perfect place to use it.

Before sandblasting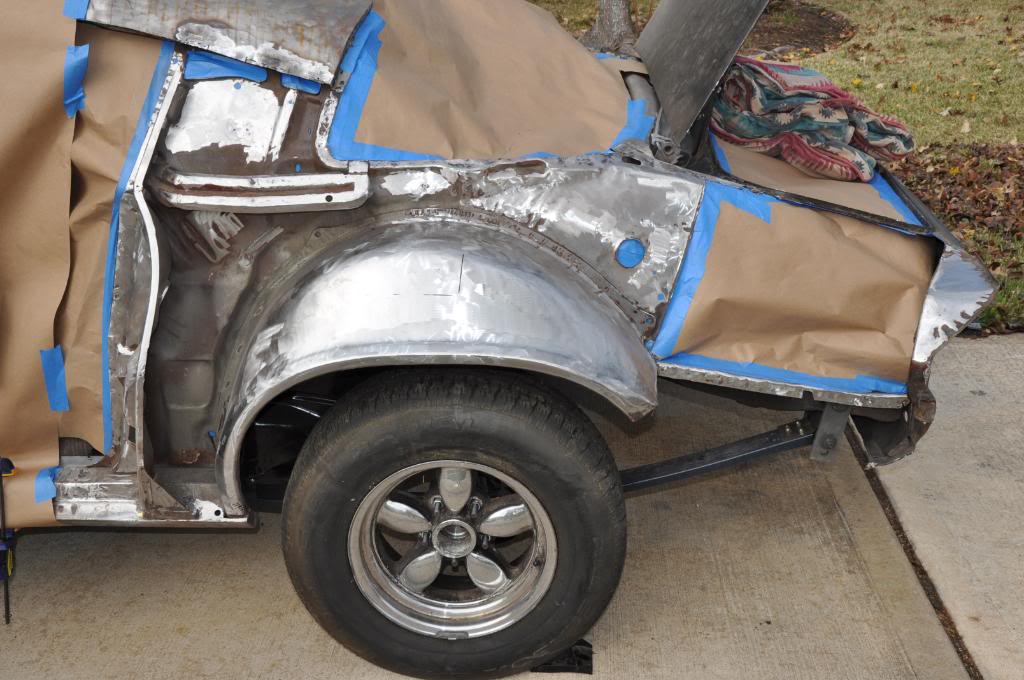 After sandblasting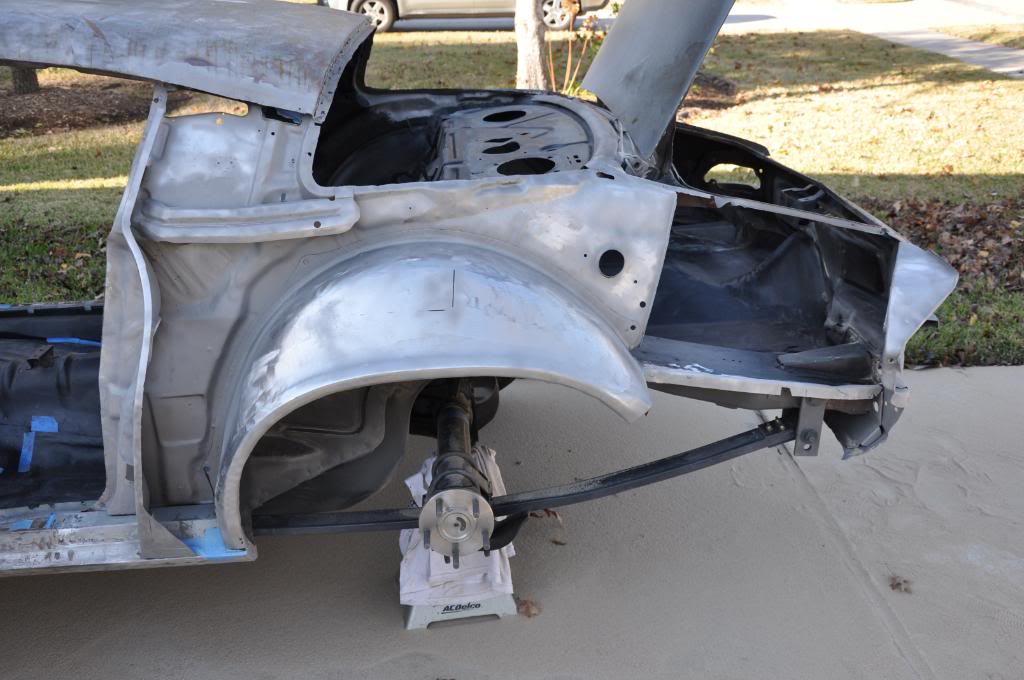 Another look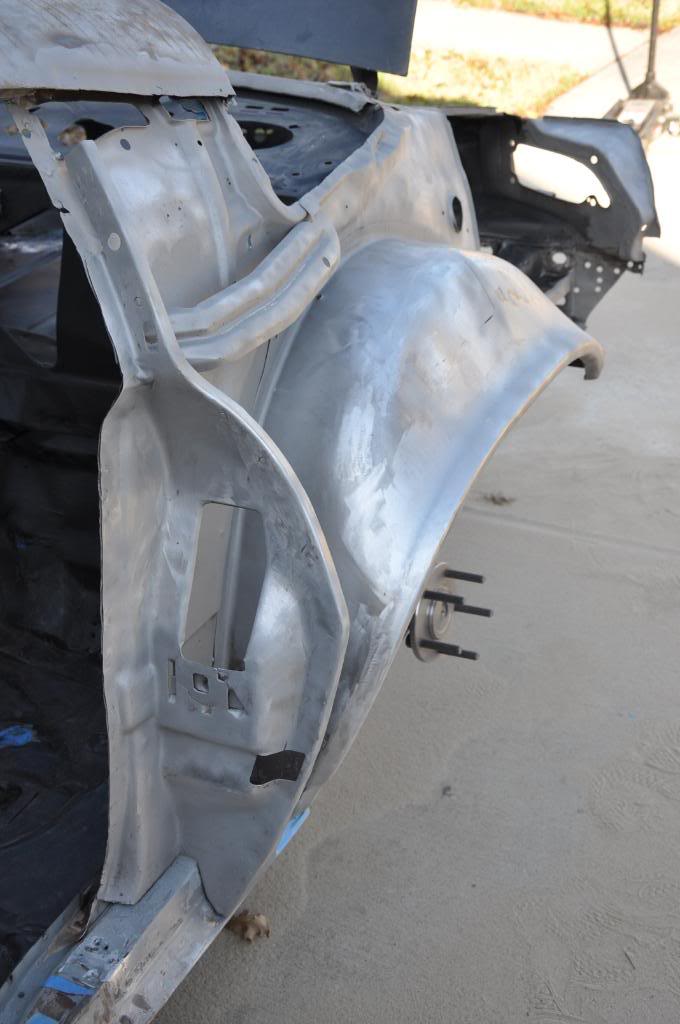 Redneck steering linkage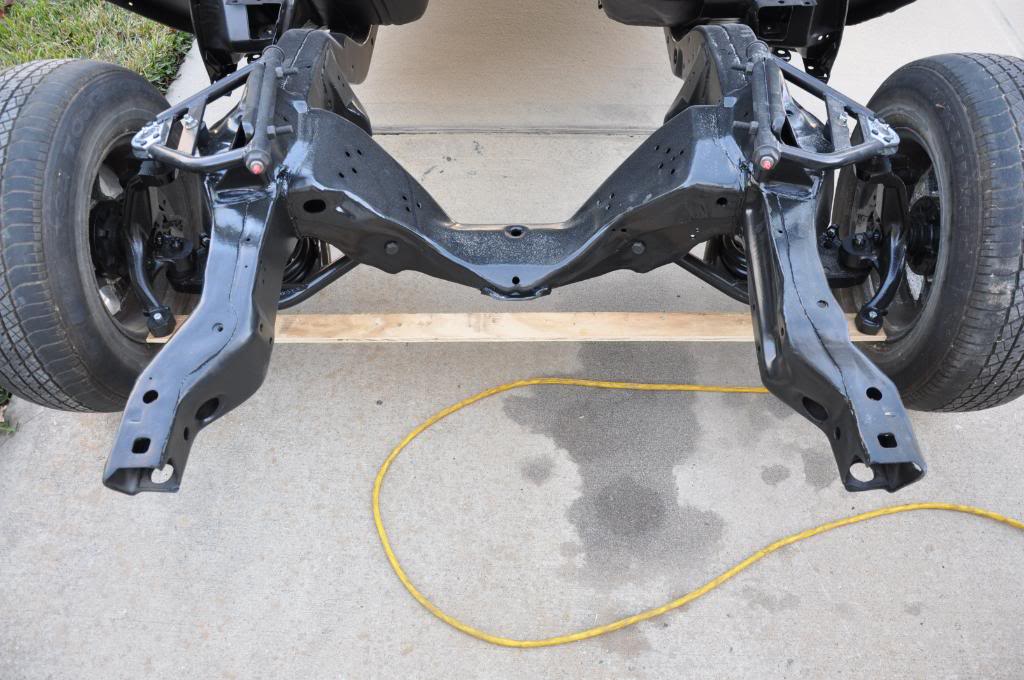 So I brushed the coating on, nothing too exciting to see but it's a little more progress. I will be able t start test fitting the 1/4 panel really soon now.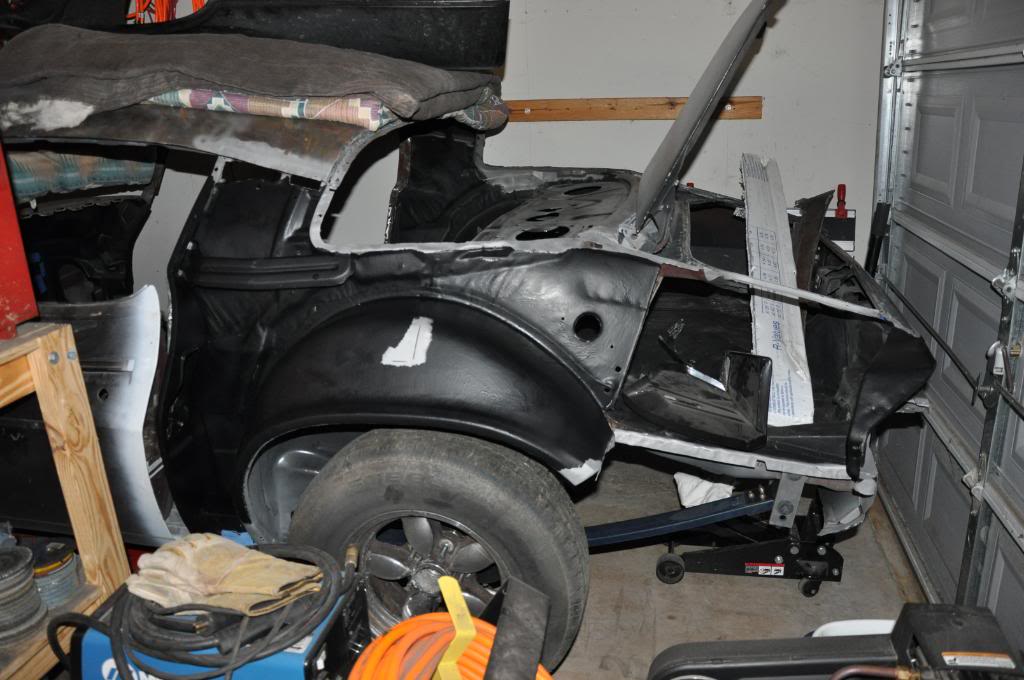 Here are the two spots I mentioned in my other post. I think the spot in the first pic is OK as-is, it's just some pitting but the metal is still good.




This spot has some small holes, so my gut feeling is to cut this small spot out and weld in some clean metal. I should be able to use some sheet metal to form a small patch.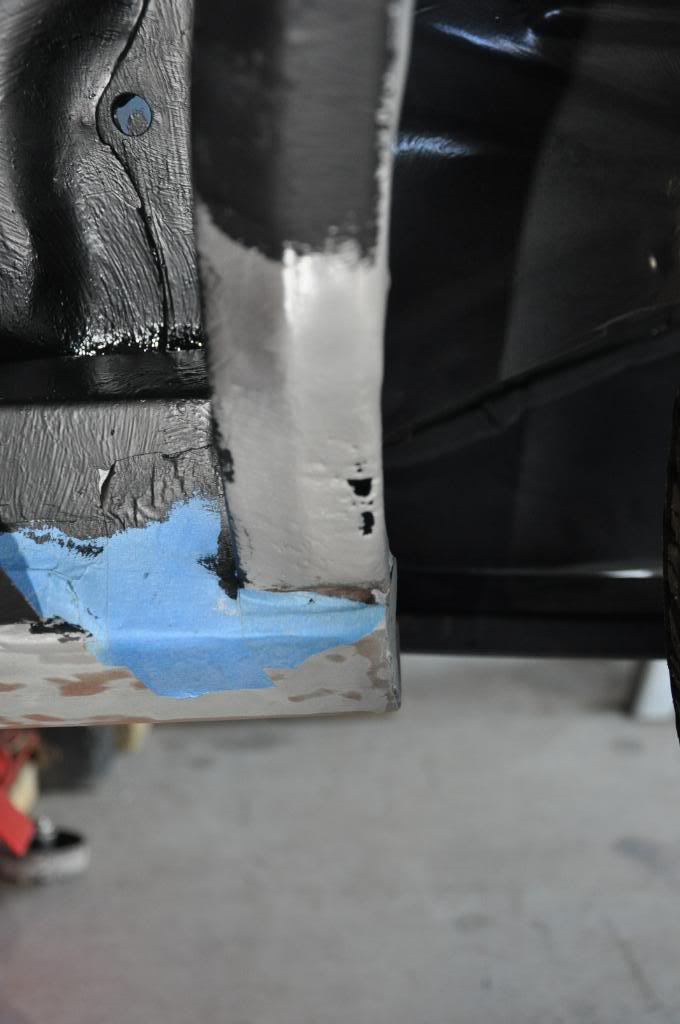 1-4-2011
So I really wanted to have a look at the rest of the wheel well behind the rocker, so I made the brave decision to cut that section of the rocker panel off and weld it back on later. I am glad I did - it gives me peace of mind knowing how that wheel well metal was.

The rest of the pics are just the patch work on that small spot, nothing too exciting but at least it's more pics to look at. It's amazing how much time it took just to get this little patch done and I didn't run into any road bumps.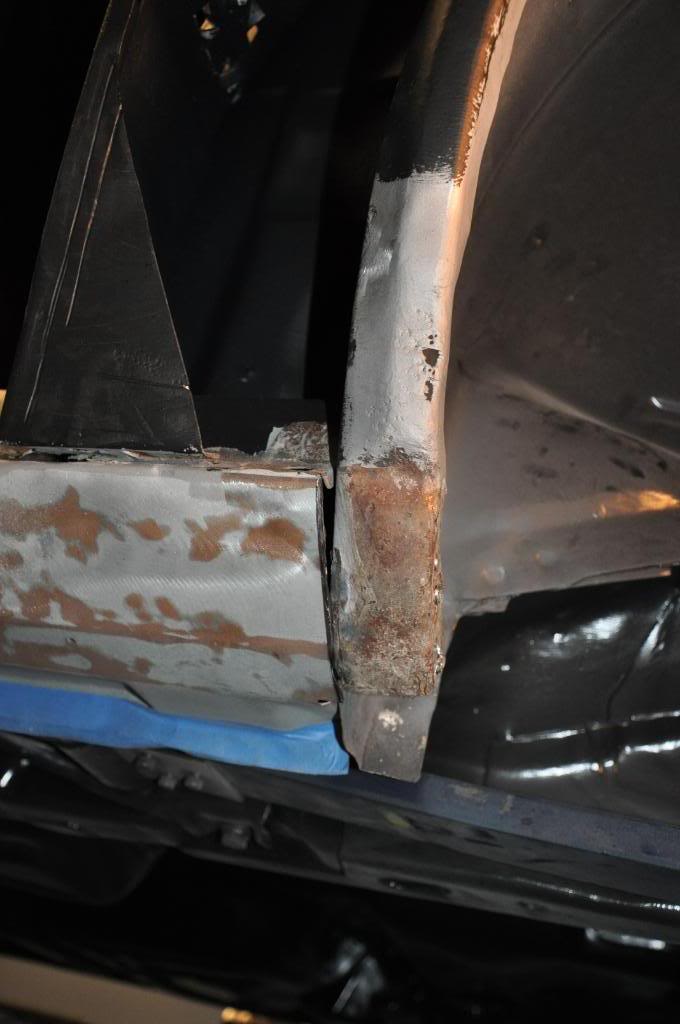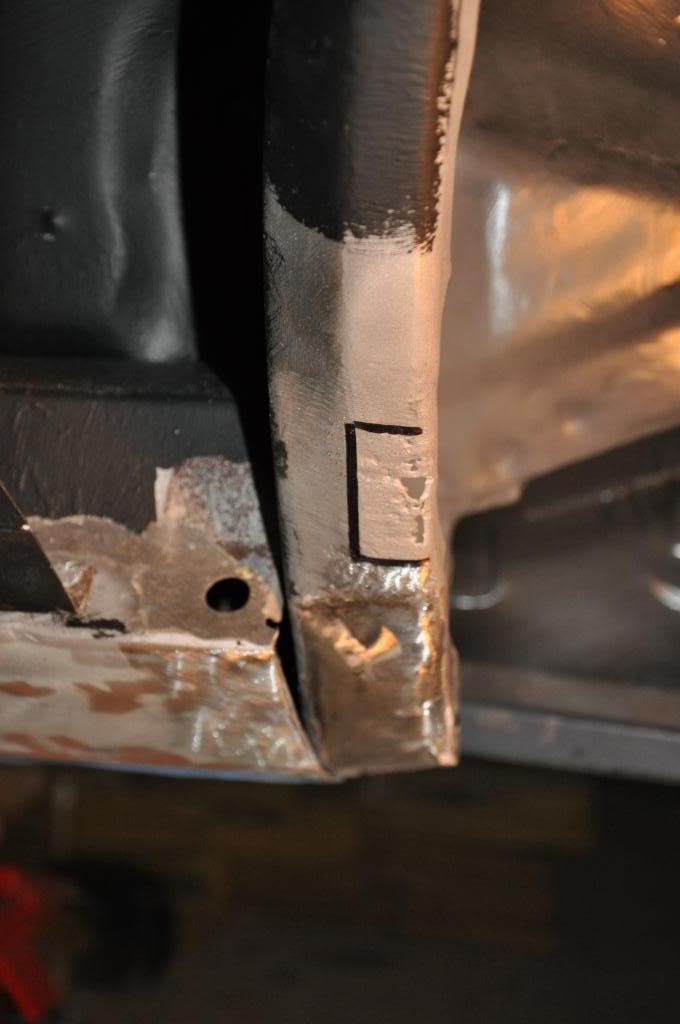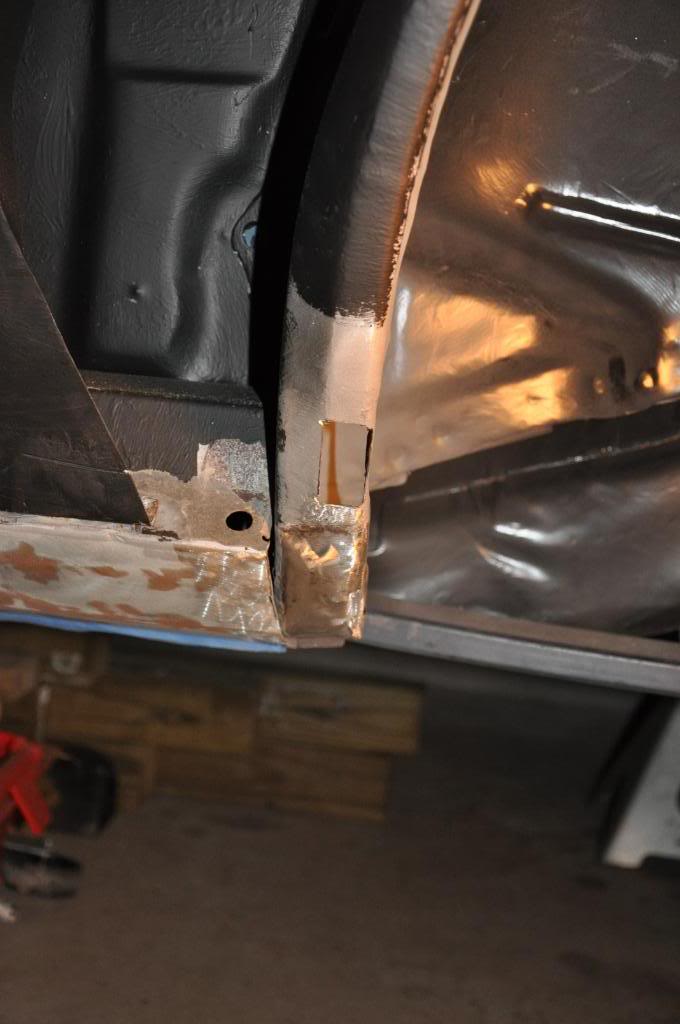 My mini sized patch fitted up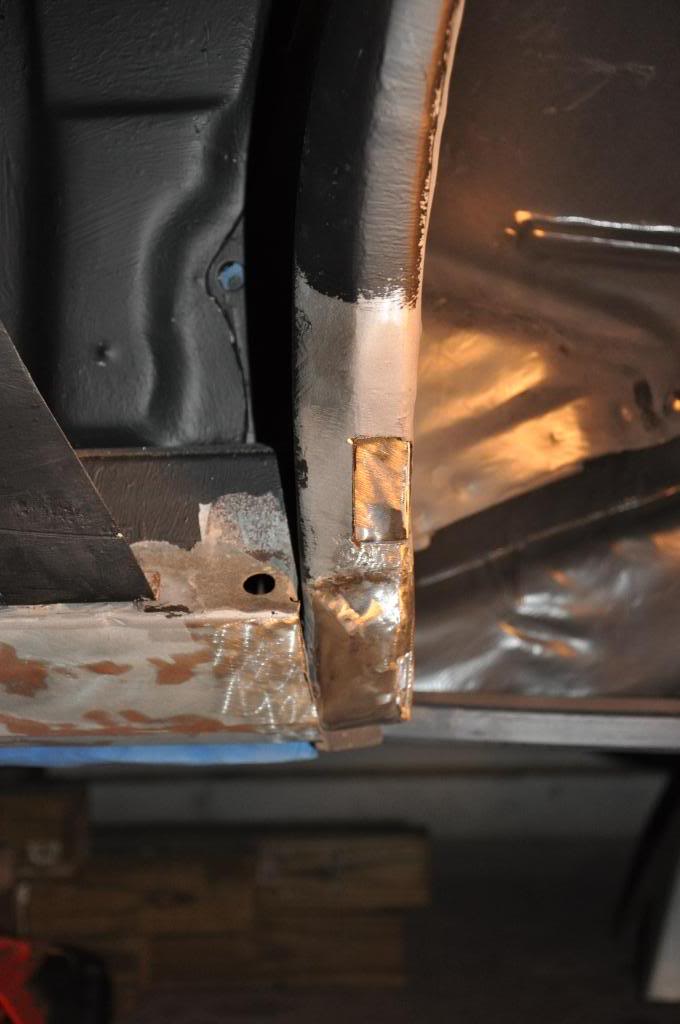 Patch tacked into place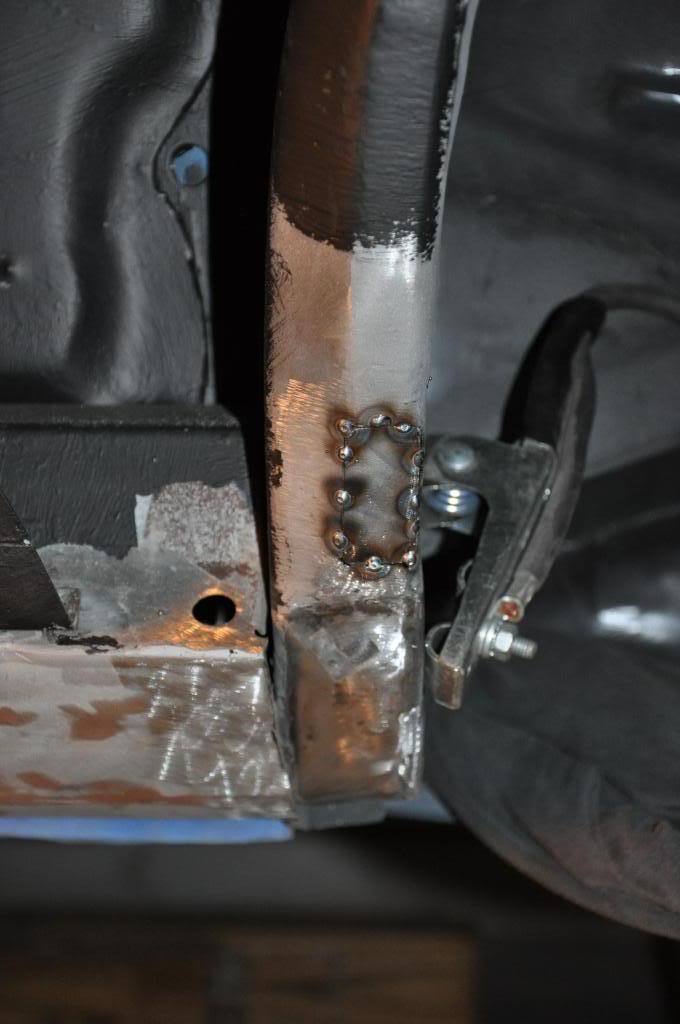 Ground down and good as new again


1-8-2011
Got some more done today. I needed to do a few small, but time consuming, things before I started fitting the 1/4 panel up. When I removed part of the rocker panel I could see lots of debris inside the rocker, including some sand from sand blasting.

So I decided to make a little doorway so I could vacuum out the trash. This area is completely concealed under the 1/4 panel so it was the best spot available.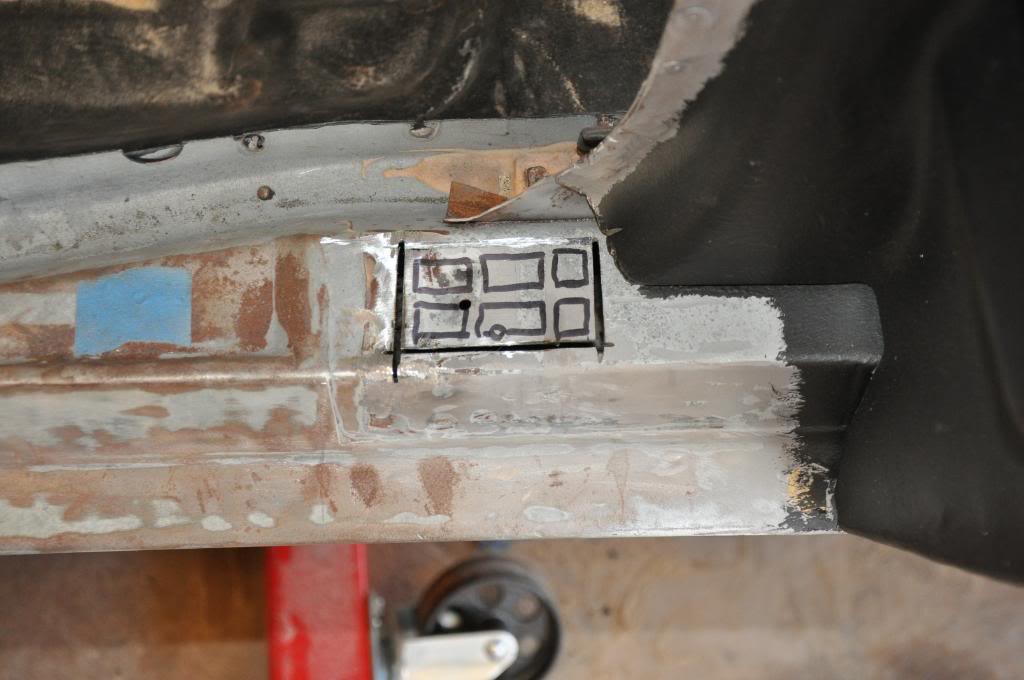 You can actually see all the leaves inside the rocker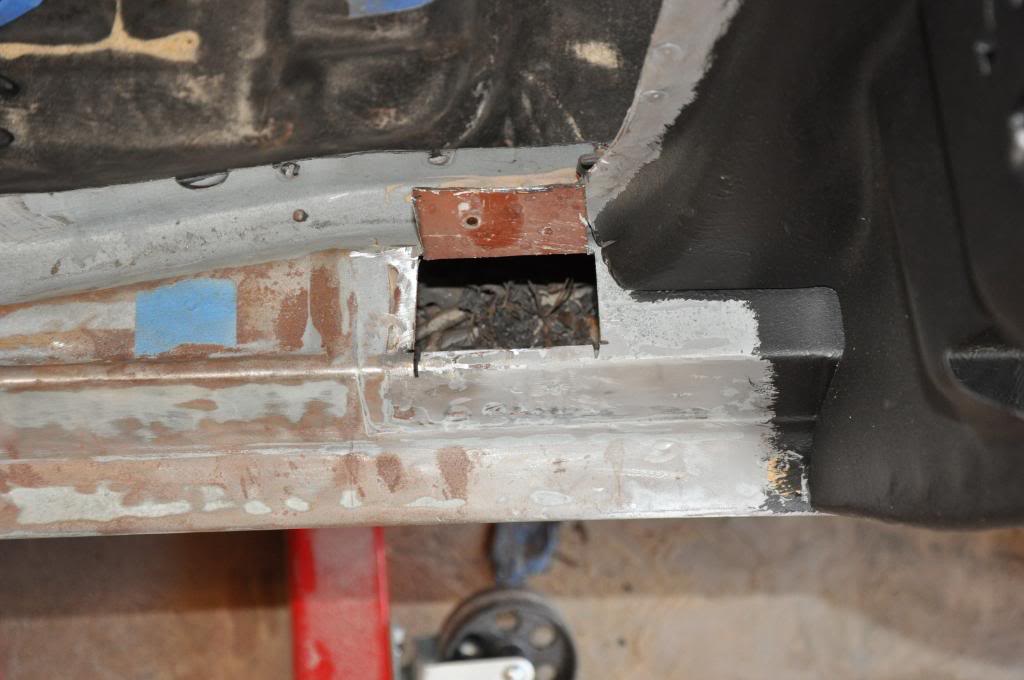 Door closed up for good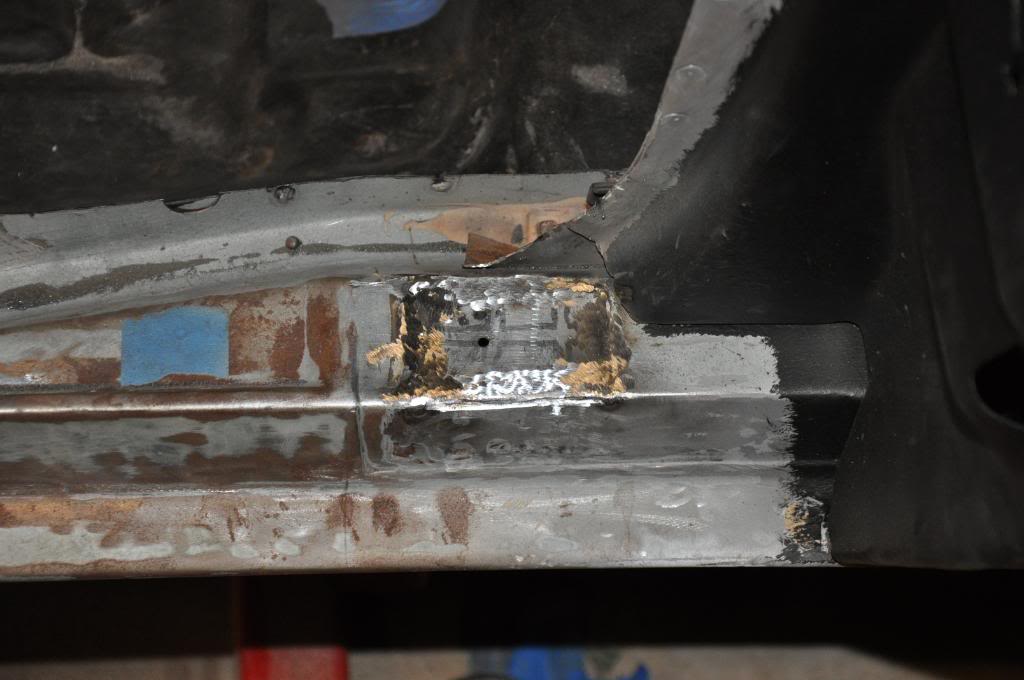 I put the 1/4 panel on just to get the ball rolling. It went on fairly easily, to my surprise. I will work on fitment tomorrow.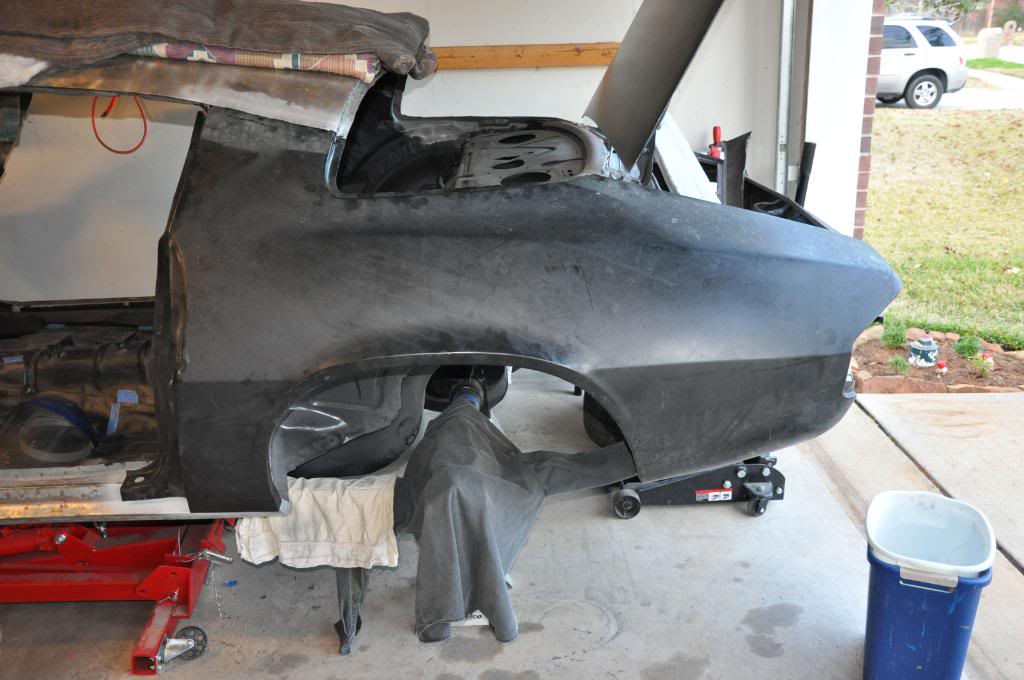 1-9-2011
Thanks guys, you're both right. No need to rush this at all.

I made a thread in the Body Work forum asking for advice on getting the gaps right. The plan was to have it on in its final position by the Jan 15-16 weekend, so I am still on target at least.

The top of the door to 1/4 gap is nice, it's just the rest that is too tight. The door actually closes fine, so I just need another 1/16" to 1/8". The body lines also match up nicely, so that's another plus.

These are the same pics that are in my other thread.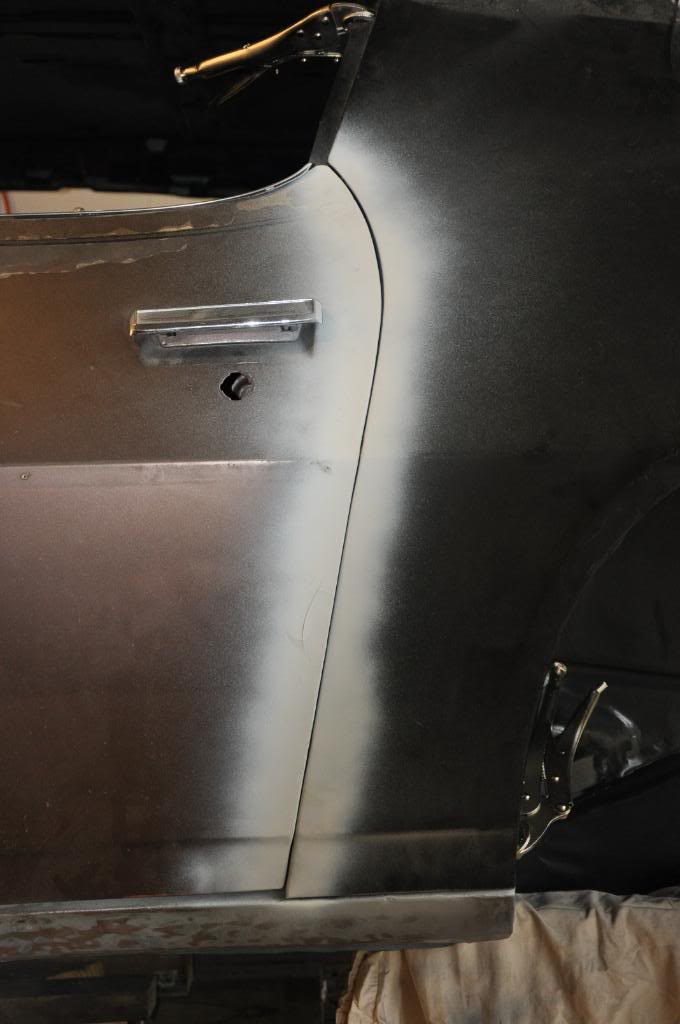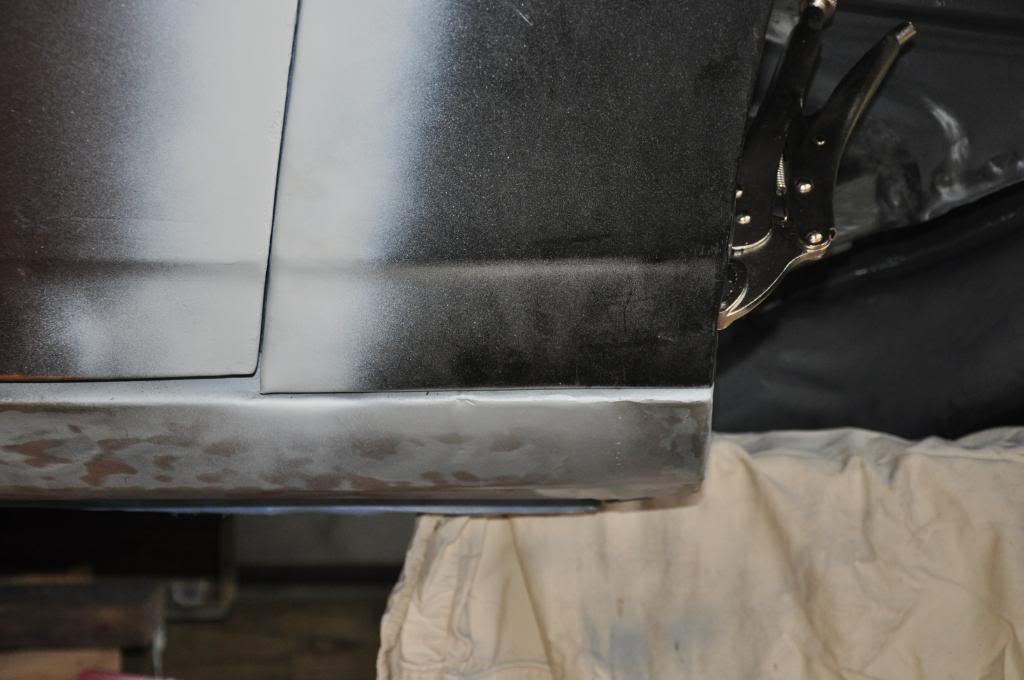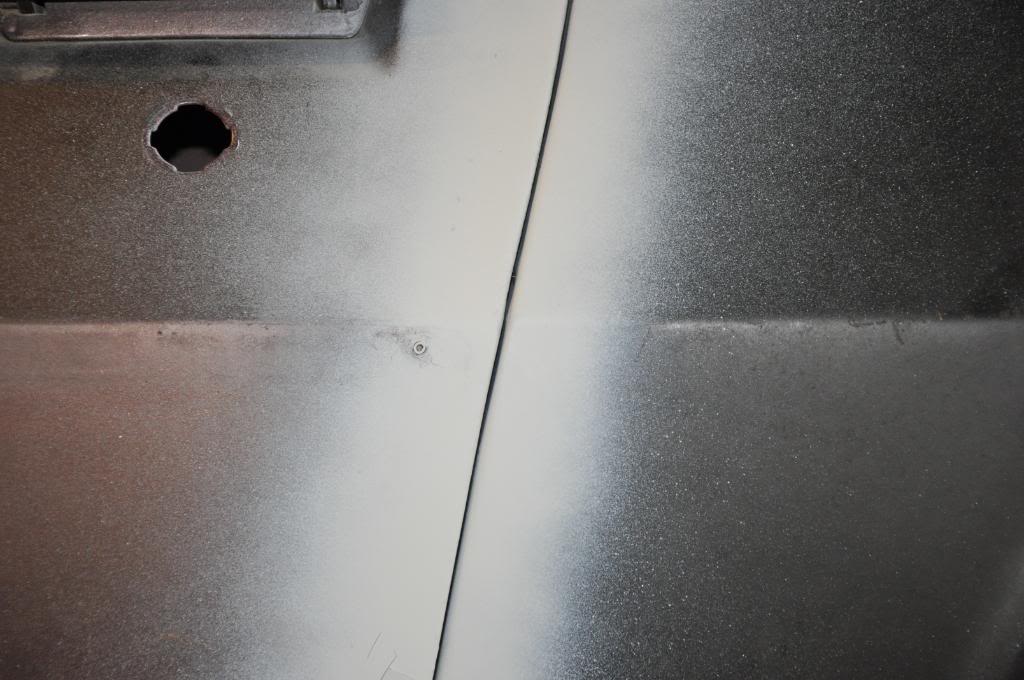 1-16-2011
I was able to start welding the new 1/4 in place, one weekend ahead of schedule. This might be the first time I have been ahead of schedule on this project

So I got my new spot welder set up and that thing was nice to have. I *could* have plug welded with the MIG but this thing is a real time saver. It's a workout using this though since it weighs 30 lbs.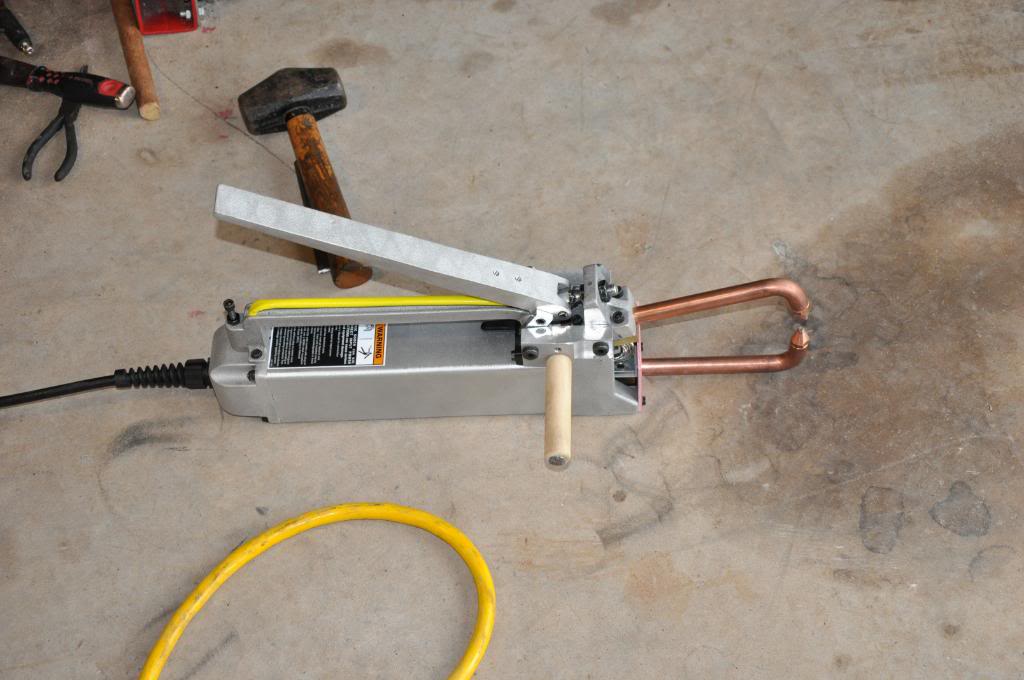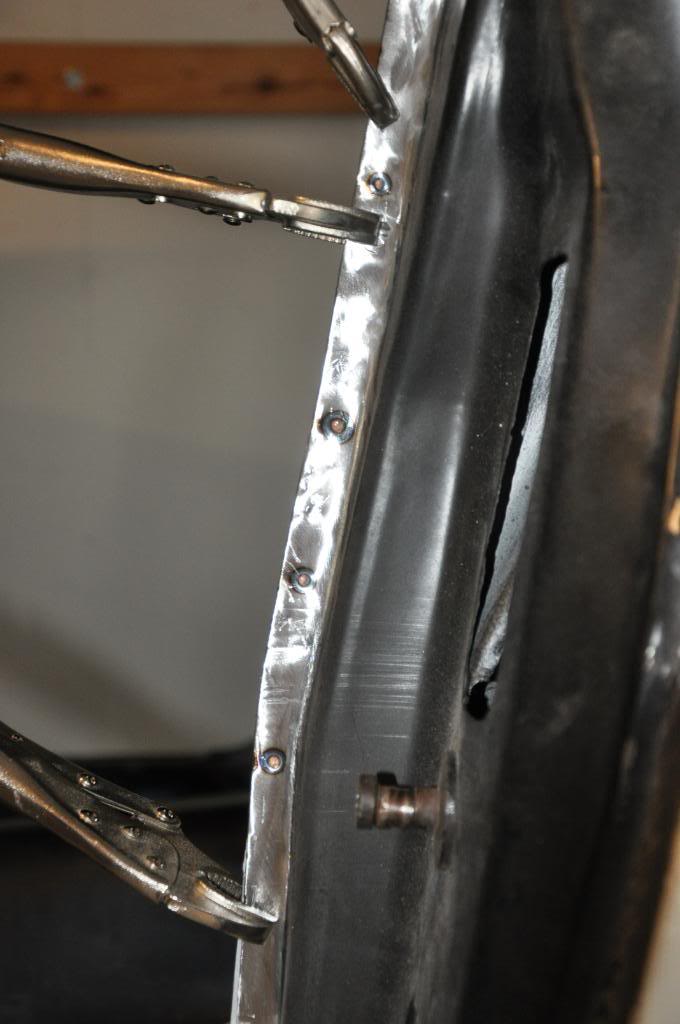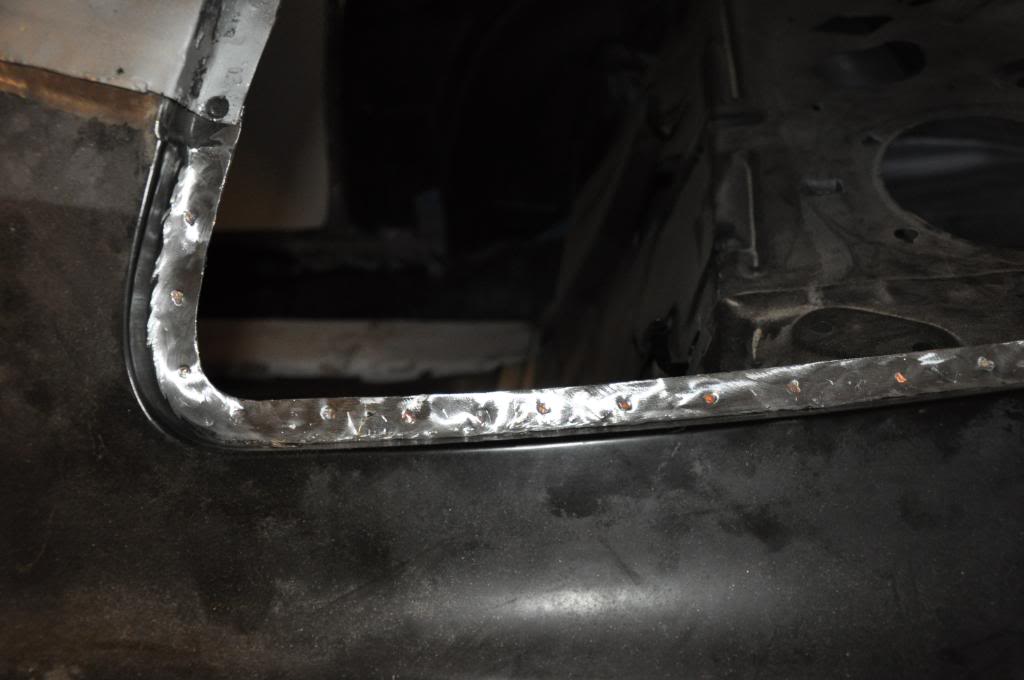 The trunk gap lined up nicely.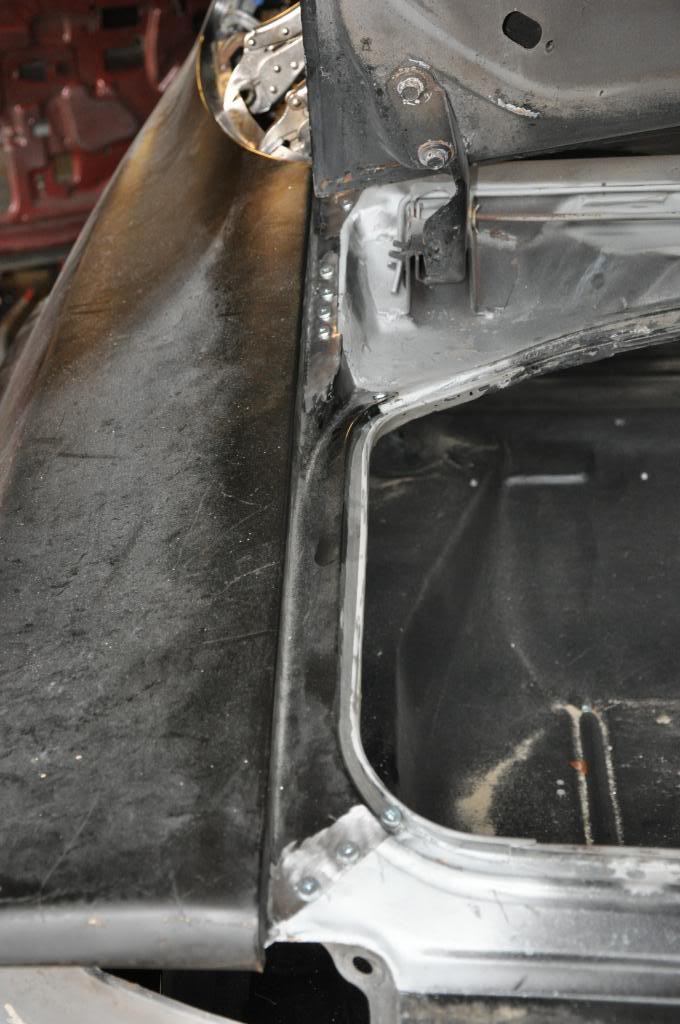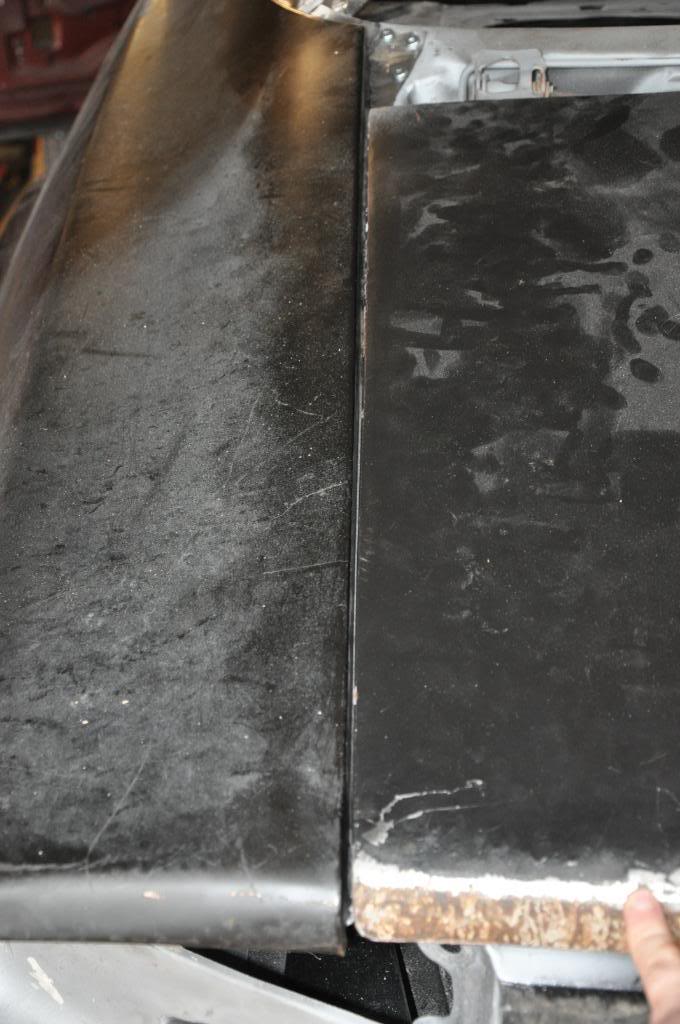 Spot welds along the bottom of the 1/4 for the trunk drop off. I was able to spot weld the drop off panel without removing the 1/4 panel, so that saved some time. I was surprised that the drop off panel only needed minor trimming to fit.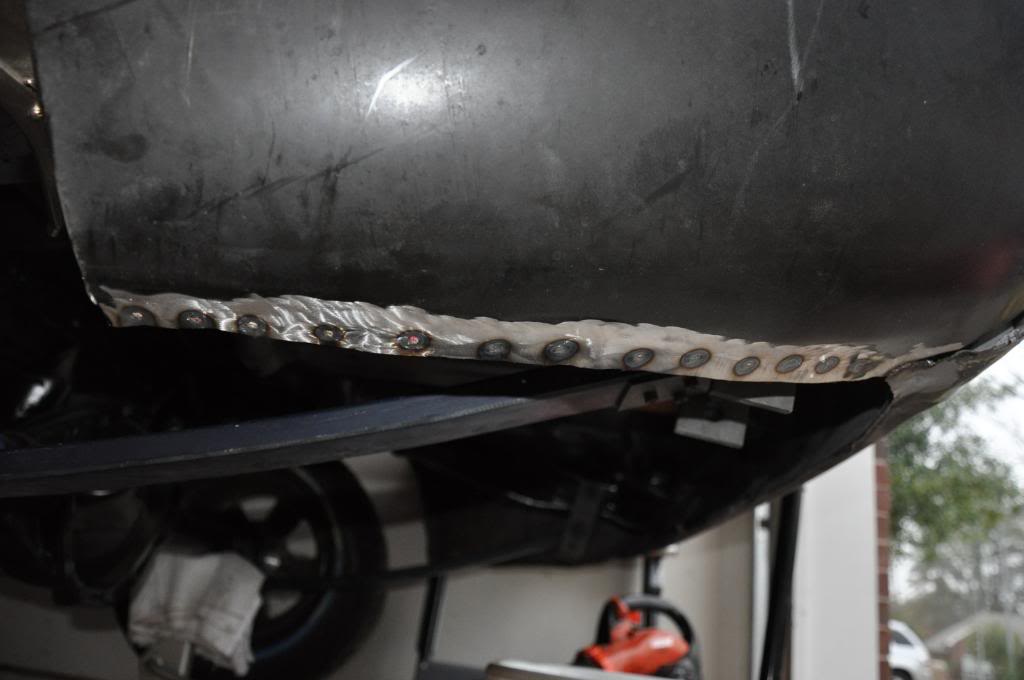 I had to MIG weld the 1/4 to the wheel well since the spot welder did not really fit in that space well. That was the only area I could not use the spot welder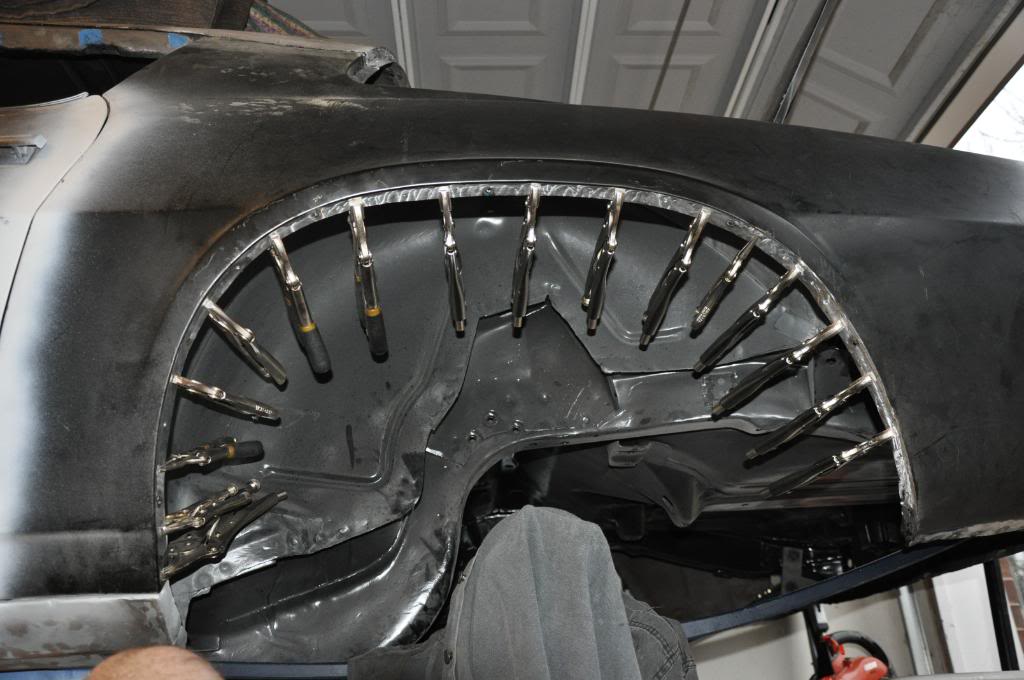 The 1/4 secured in place - need to do a little more welding but should get that done this week after work.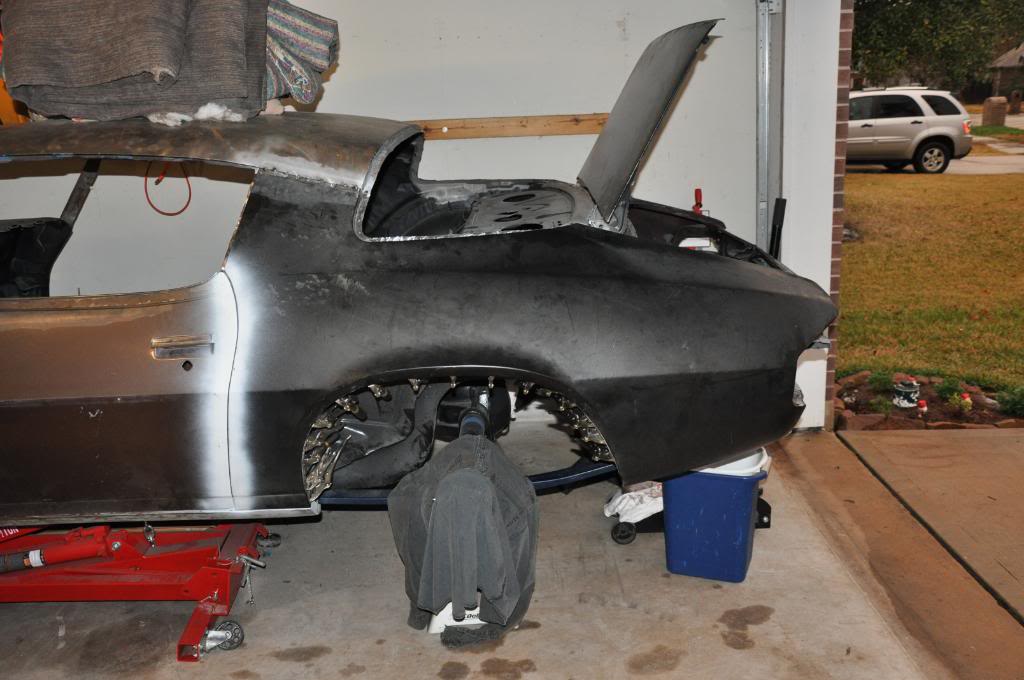 1-24-2011
Sorry, no pics, but I spent the better part of Sunday doing more welding, grinding and polishing on the 1/4 panel. That thing is secured in place in any case. I'll get some pics tonight, although not much has changed as far as appearances go. I will begin work on the pass side 1/4 this weekend though. Hopefully that will go a little faster than the driver side.

I tweeked my right knee somehow and sat out all of Saturday to try and rest it. I have no idea what I did, I woke up early last week and my knee was killing me. Couldn't bend it back all the way but can straighten it, so it's not a torn ligament or tendon. Must have sprained it somehow. I guess I am getting old

1-27-2011
Some boring pics of the 1/4 panel welded into place. I need to touch up the roof panel-to-1/4 panel welds but all the welds are done, ground down and polished up.

I'll start on the passenger side 1/4 this weekend. I plan on taking more pics this time around to detail the whole process for future reference.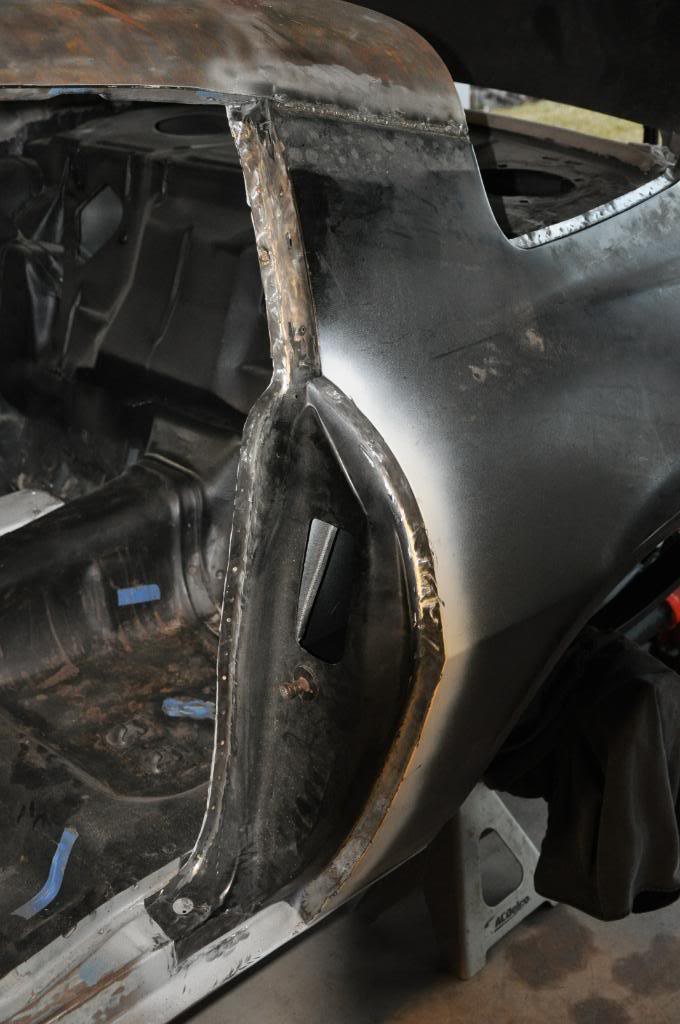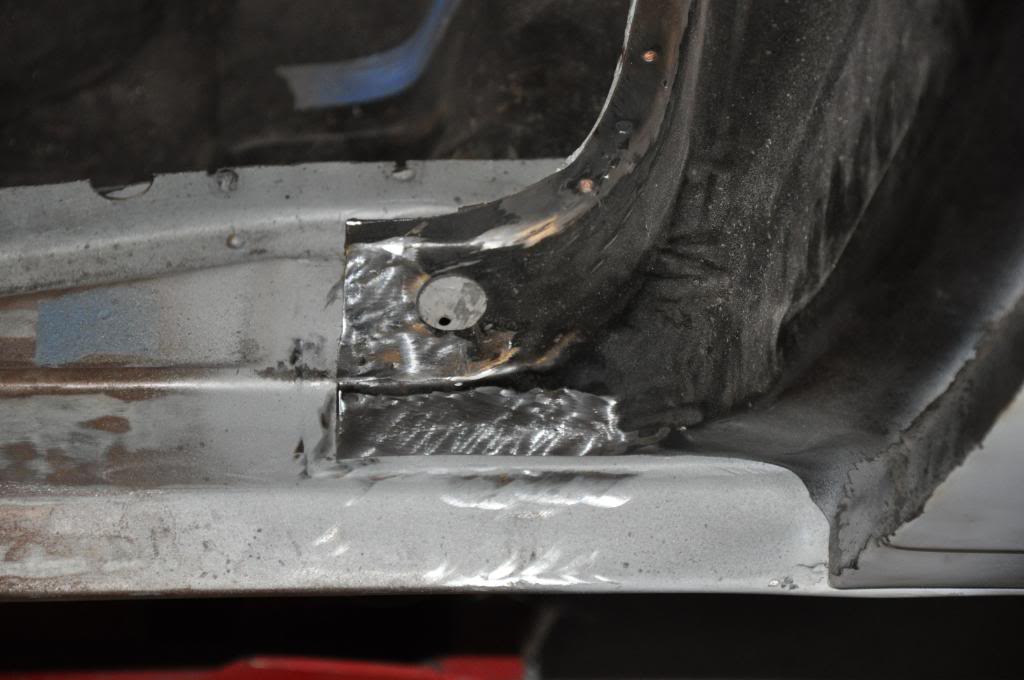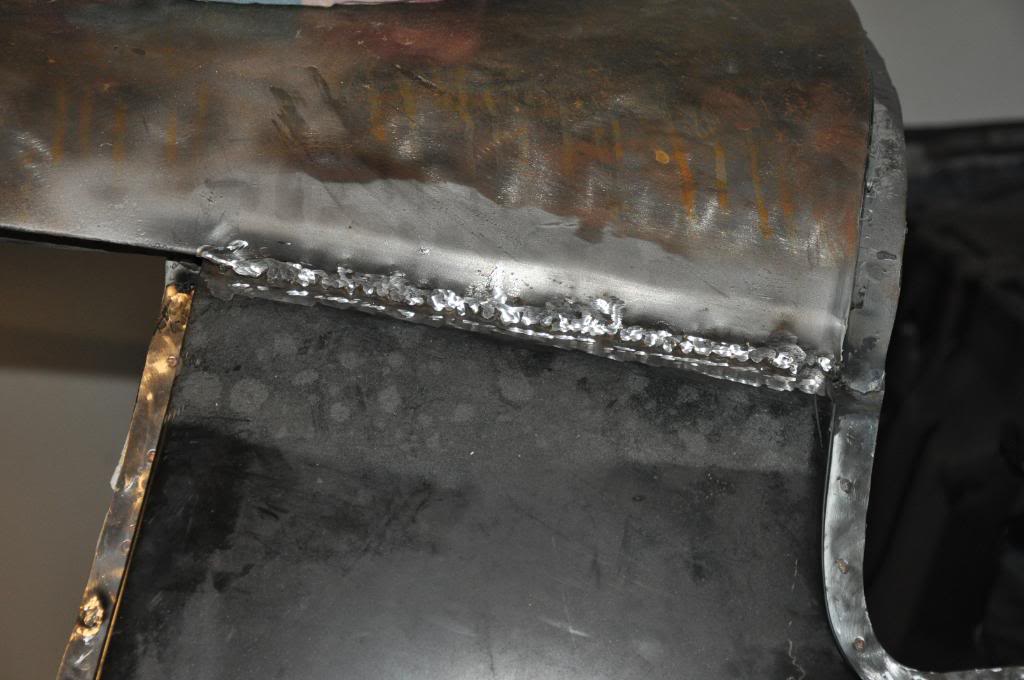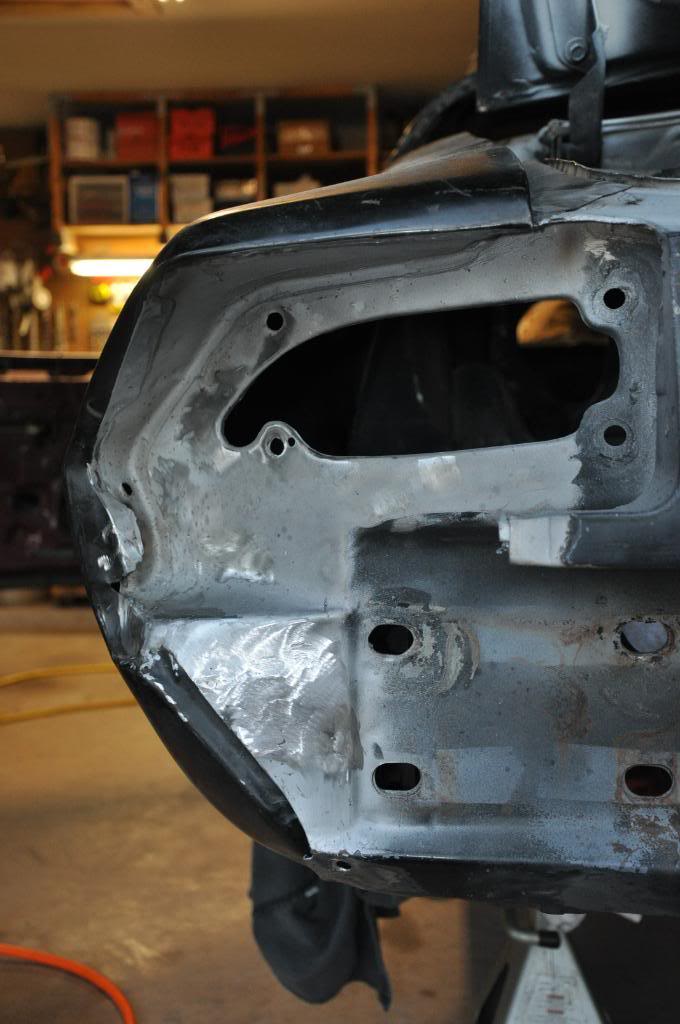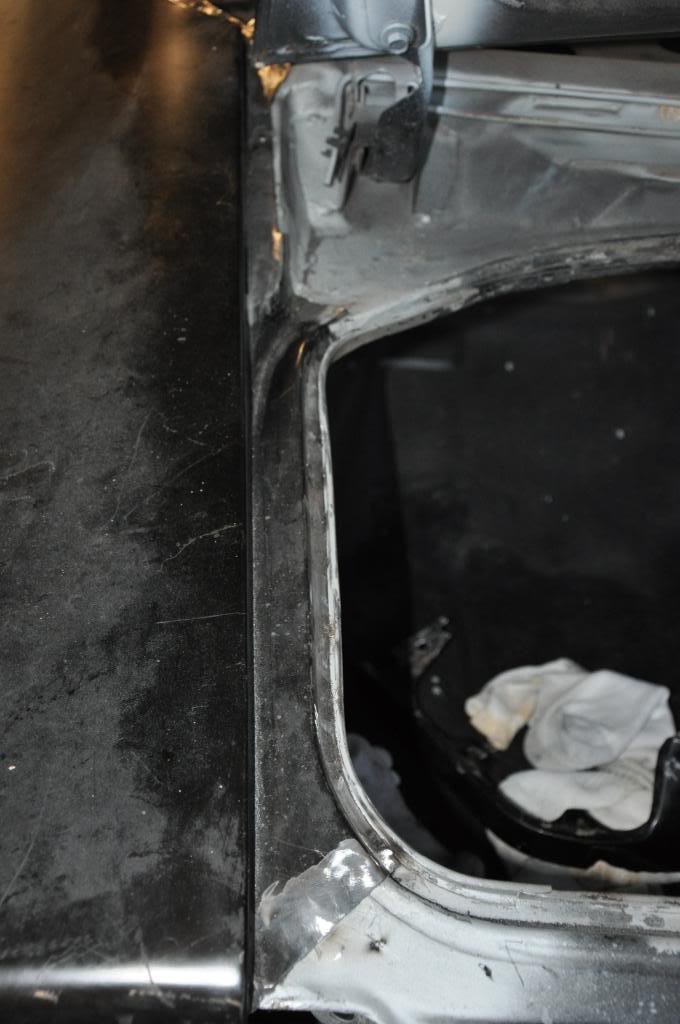 1-30-2011
I cleaned up the welds along the roof-to-1/4 seam and added another row of welds. I mainly wanted to create a nice foundation for the body filler to go over, although it added some more strength along that seam




I filled in the seams along the window channel and smoothed them out. I also added some metal with the MIG to that back edge to help when it comes time to add filler. It's obviously still rough, but you get the idea.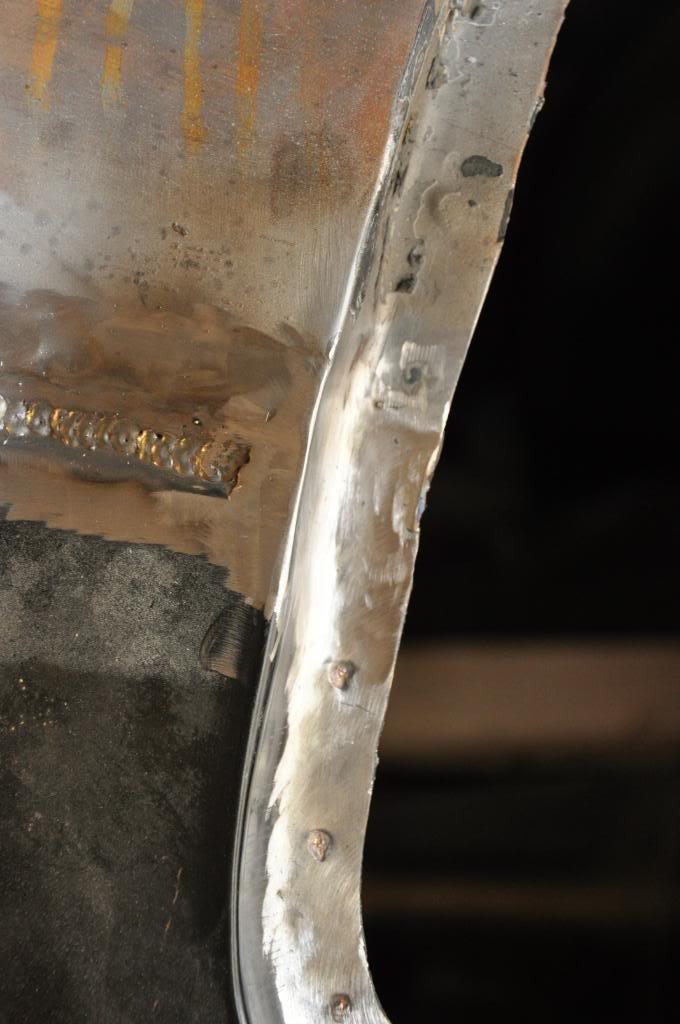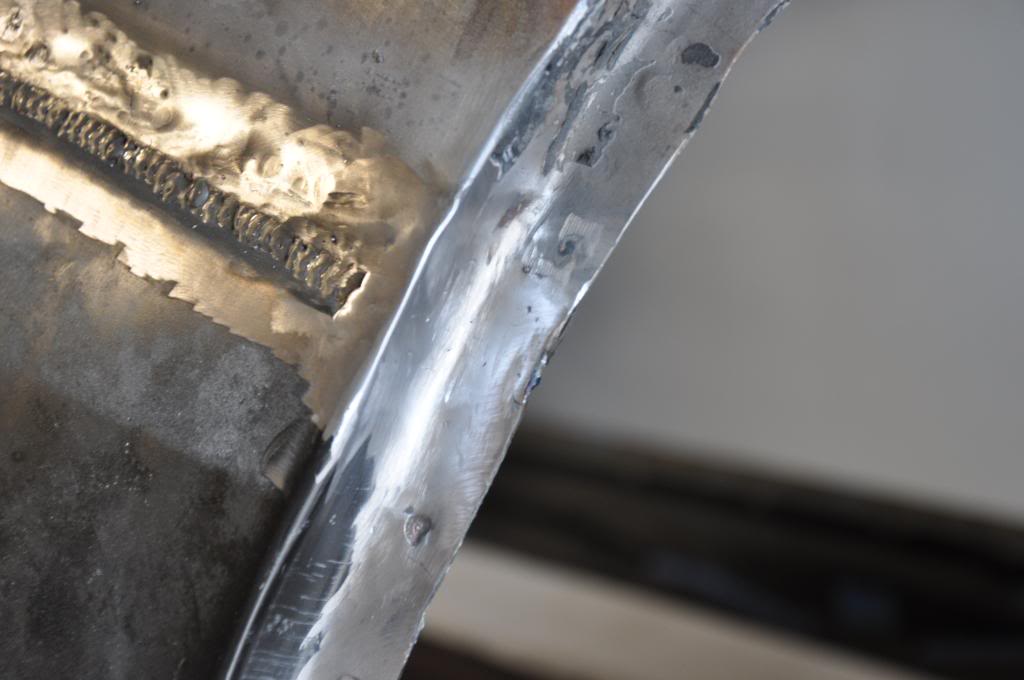 Aaaaaaaaand now she's turned the other way so I can start working on the pass side panel




You can see a few reasons why this panel has to go. There is filler on the upper section too, so this 1/4 is pretty much shot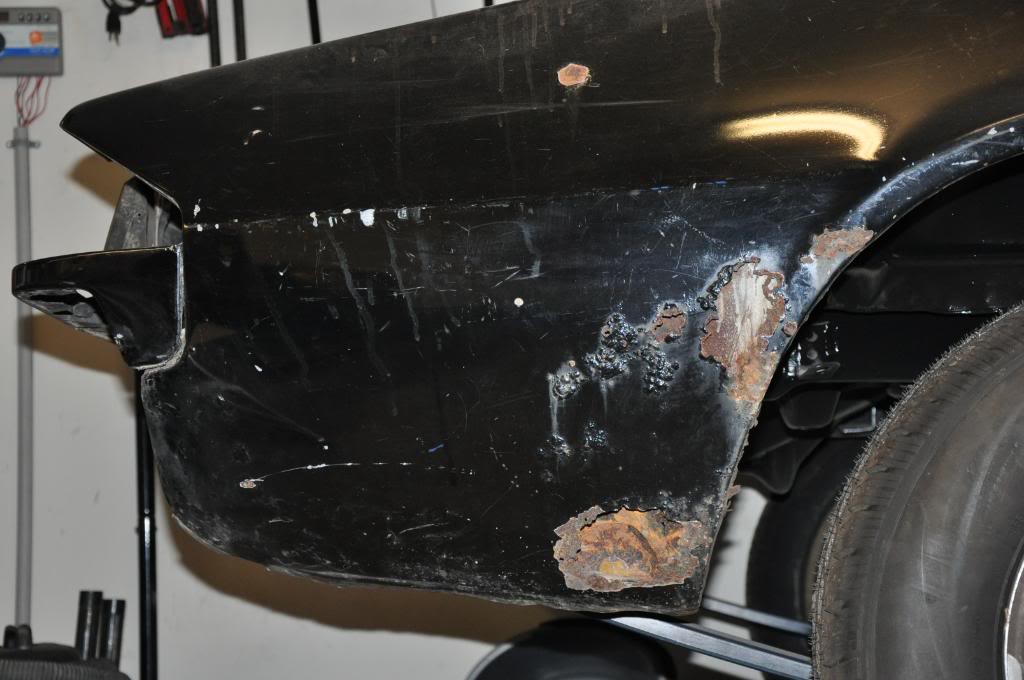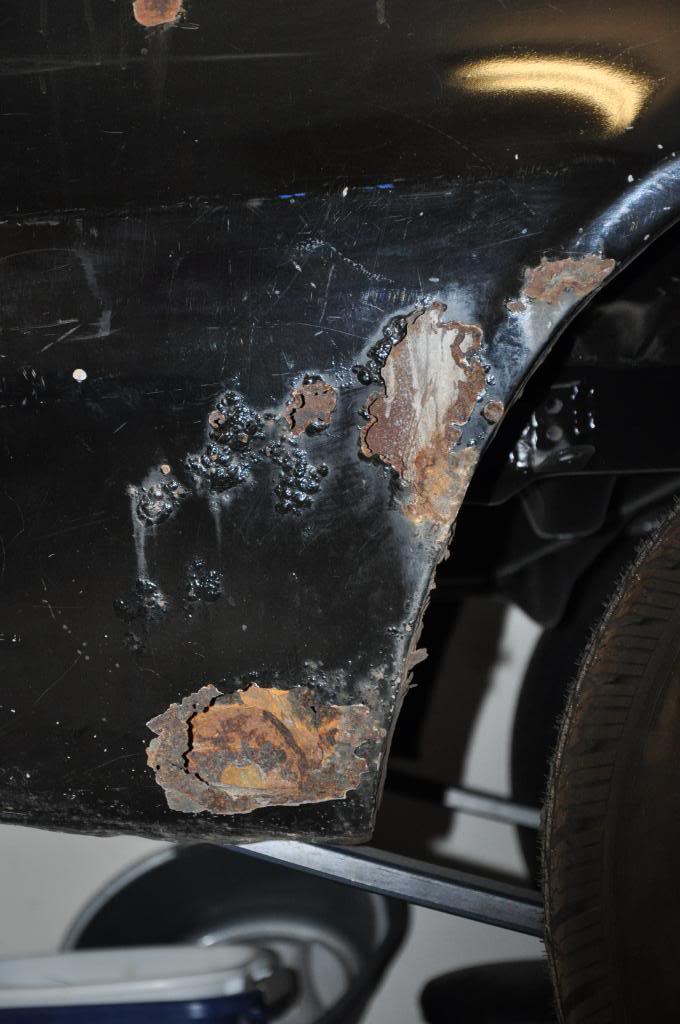 I plan on hanging the door and doing all my measurements today. I'll try and start removing the old 1/4 if time allows.
1-30-2011
I was able to hang the pass side door and get the gap sized up. Using the engine hoist really is helpful - like having a really strong friend.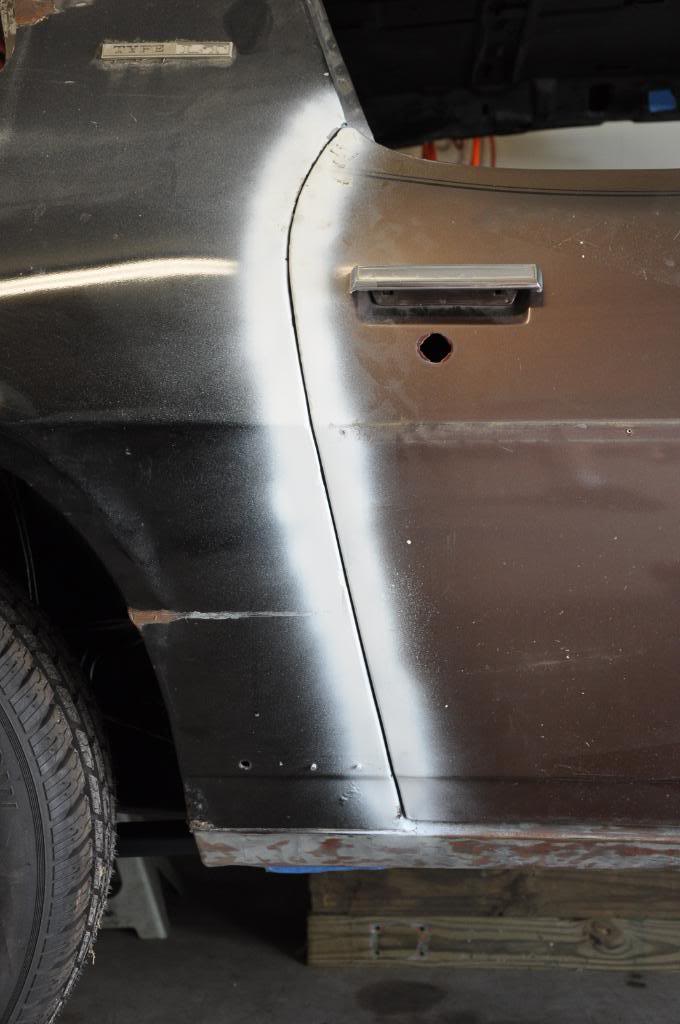 I decided to write the trunk lid-to-1/4 gap measurements right on the trunk lid. I saw a few others do this and it makes sense. With the exception of the very top corner, all the gaps were 1/8". The trunk lid has a little bump at the top corner so the gap was 3/32". I have some room to move the lid to the left some to achieve a 3/16" gap on both sides, assuming the new gap remains at 1/8".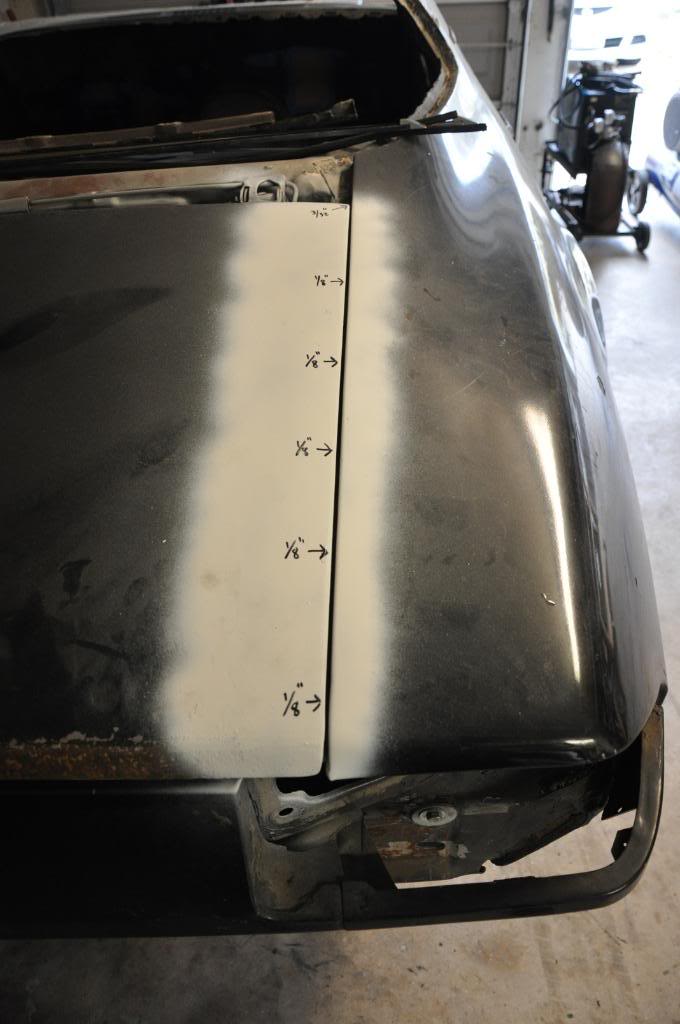 Not sure this will work or not, but I decided to mark the edge of the 1/4 at the top and bottom under the trunk lid. I figure if I can get the new 1/4 close to or right at these marks, then I know I am close. I still took measurements just in case.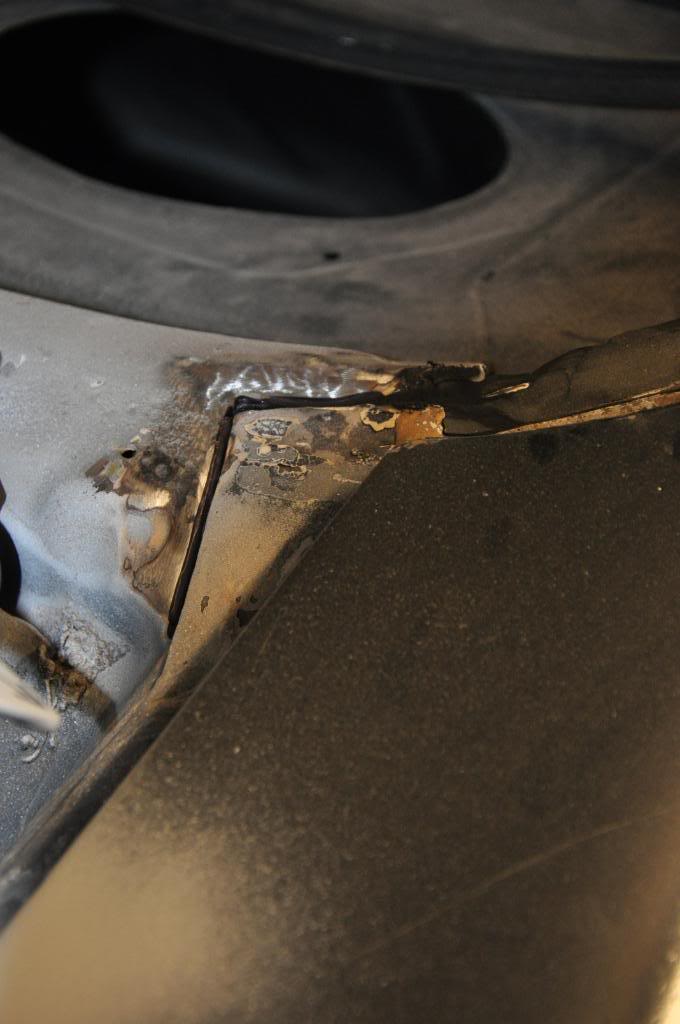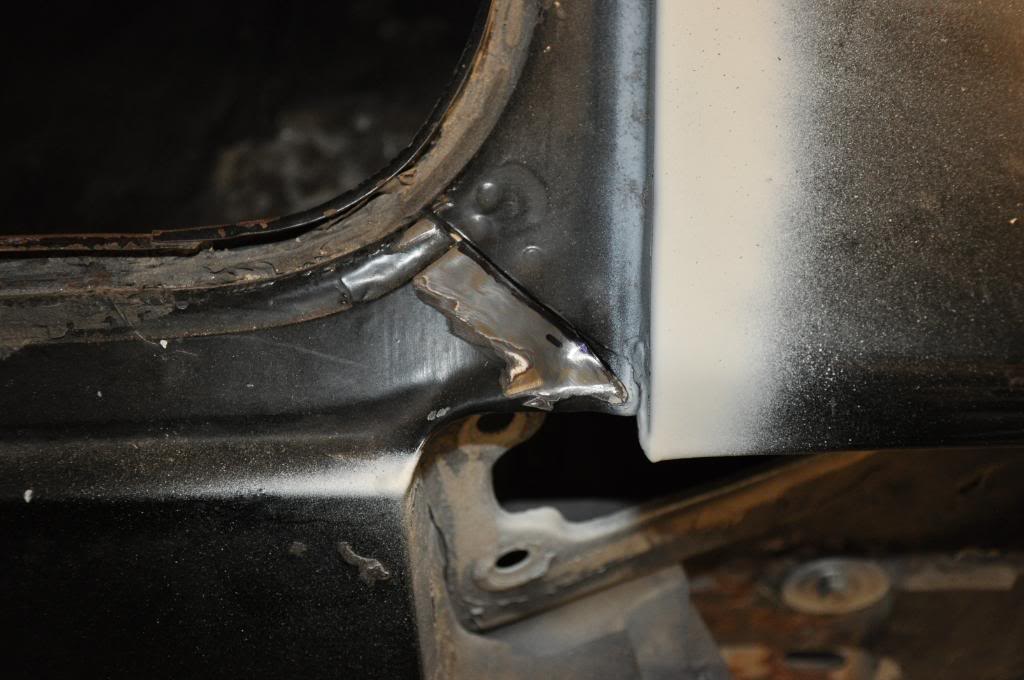 I drew some reference lines where the 1/4 and rocker meet and marked the gaps on the rocker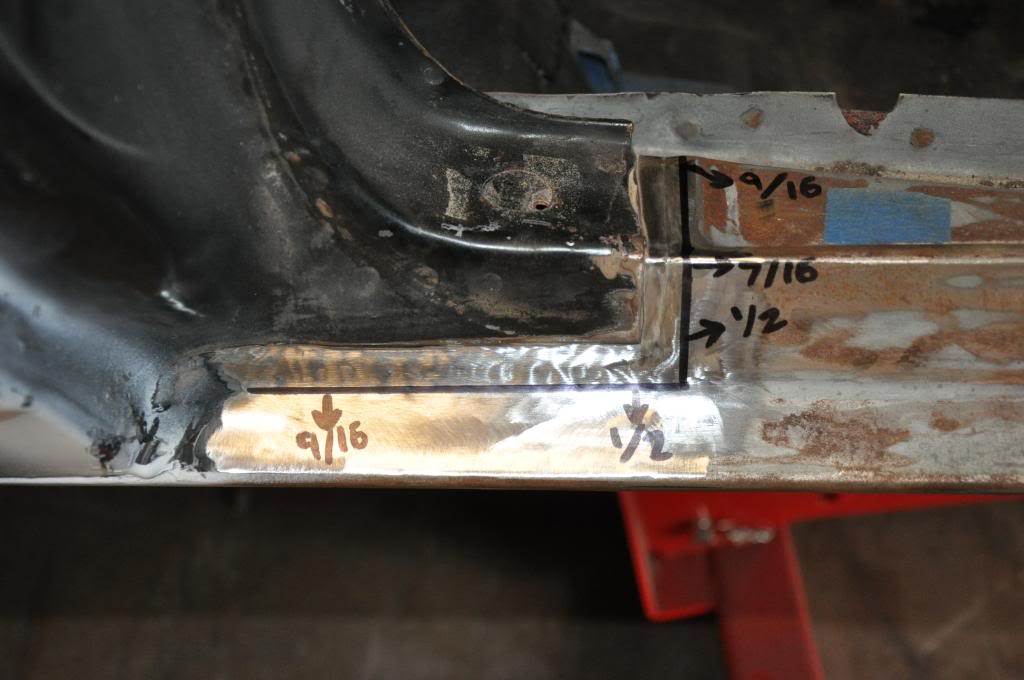 Here's round one of the 1/4 panel removal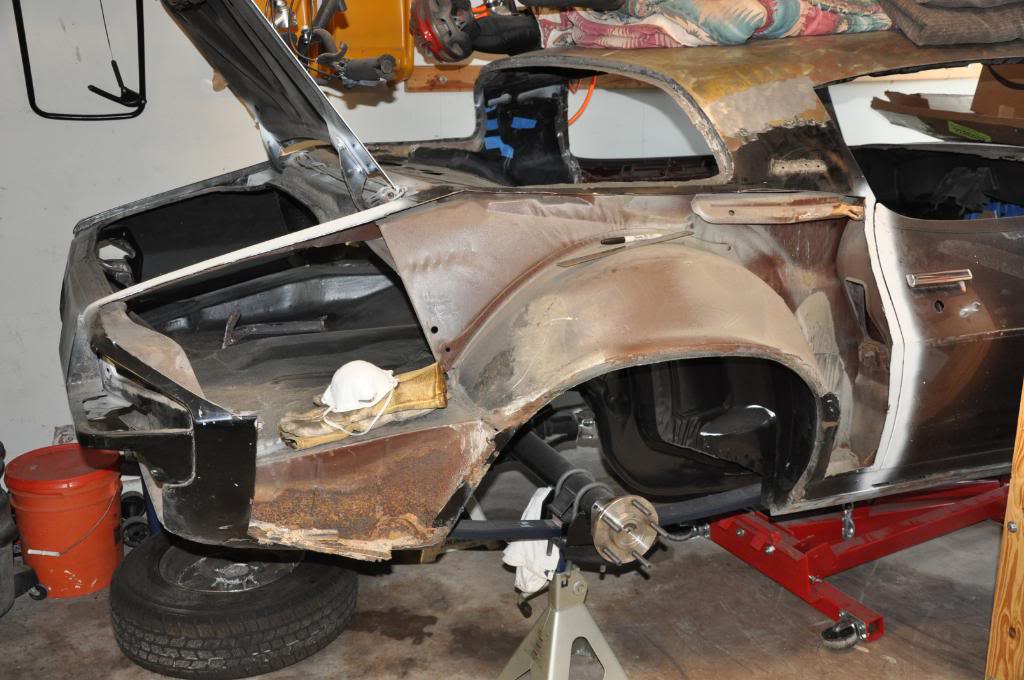 There's that damn screwdriver!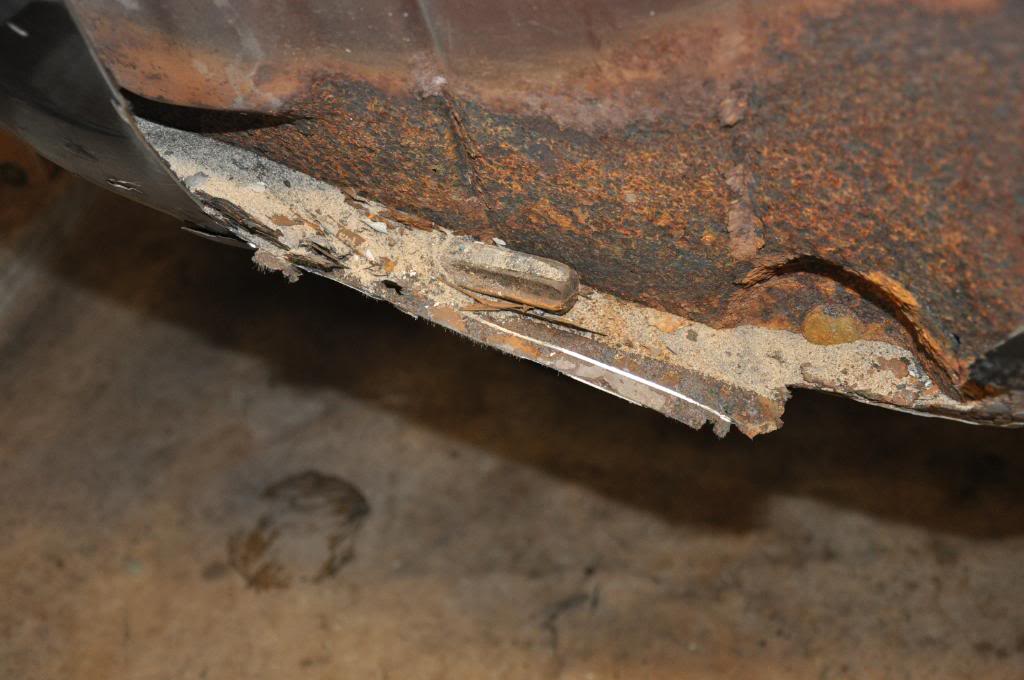 2-3-2011
Thanks Dave



I got some more of the 1/4 panel removed and began removing the area welded to the outer wheel well.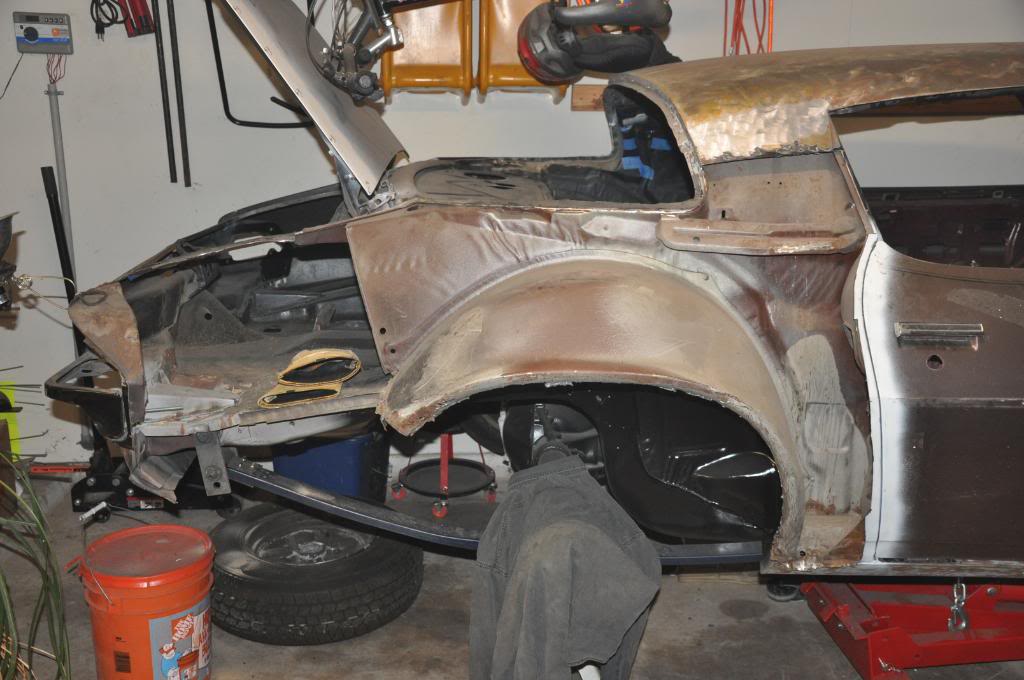 Here's the area that I am going to have to repair. It shouldn't be too difficult.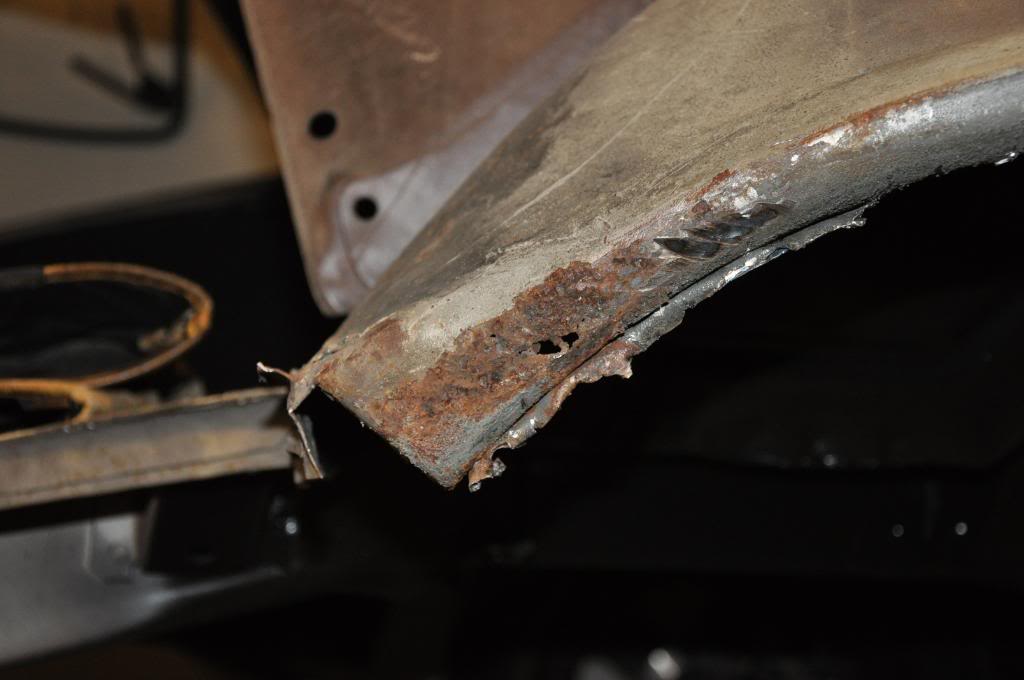 I came up with these primarily for my own benefit but wanted to share in case anyone could use the info. The first one shows the location of the emblem holes. The second one shows the location of the window trim retainer pins.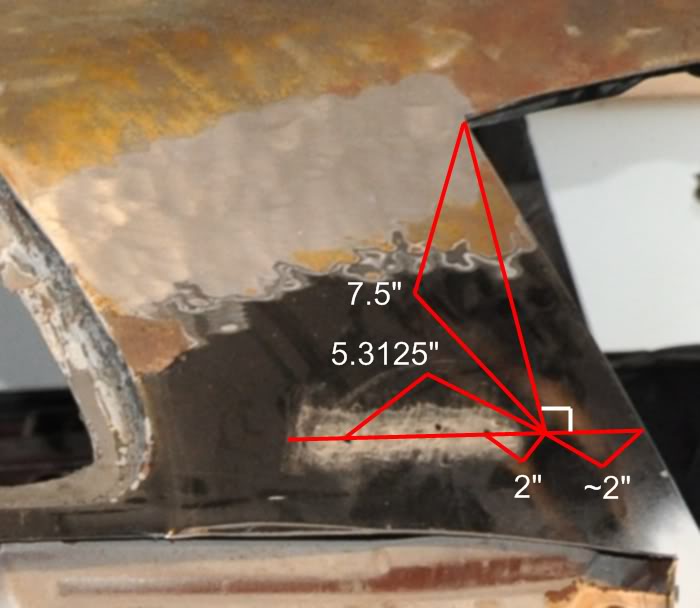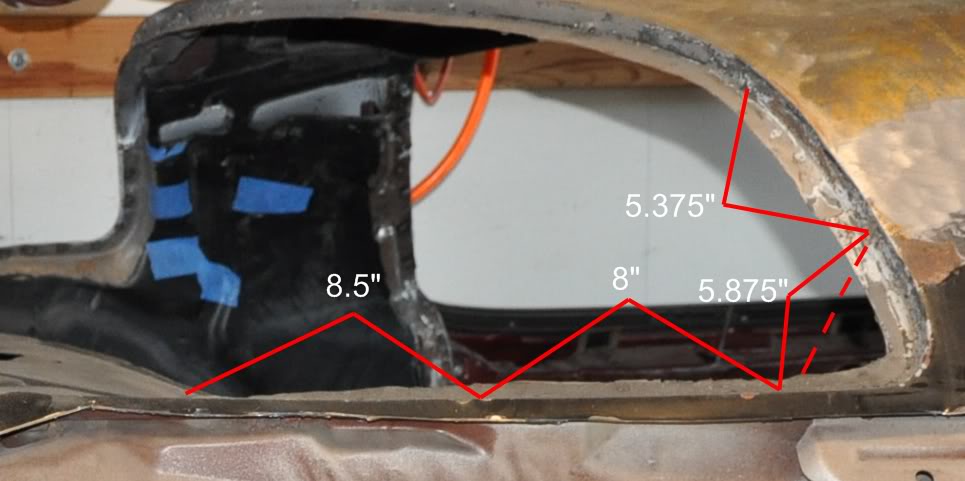 2-4-2011
No prob Paul, glad you are enjoying the thread. Thanks for the kind words. There is still LOTS more to come, so stay tuned.

BTW, I made a write up a few months ago for my wooden rotisserie to give others some ideas. As with anything, it can be modified to meet your needs.

One thing I would advise (that I should have done myself) is to use METAL casters. They will hold up better. I also should have made mine 12-18" taller, but that is ancient history now.

http://www.nastyz28.com/forum/showthread.php?t=178058
2-5-2011
I was able to get most of the remaining 1/4 panel removed. The pass side is going considerably faster than the driver side. What a difference doing the driver side 1/4 panel makes.

Here are a few pics, most of them are reference pics for anyone else looking to do this type of job on their 2nd gen

I cut most of the old 1/4 away and left some along the welded seams. I like to take my die grinder with a cutting wheel and lightly remove the old paint to reveal the spot welds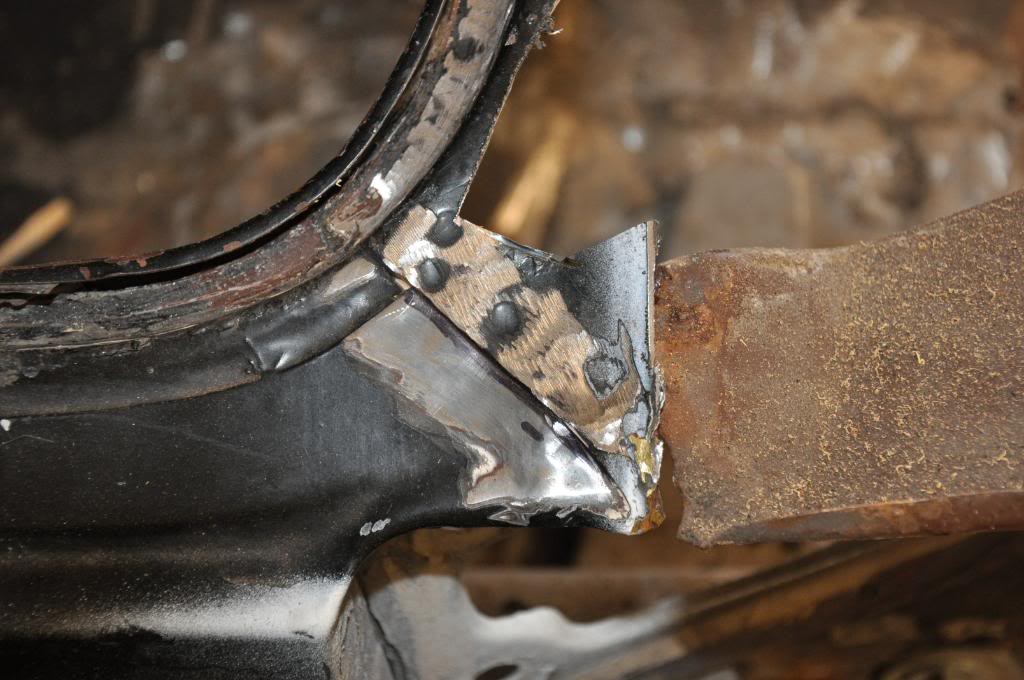 You can see the spot welds in the trunk weatherseal channel. I used a spot weld cutter on these. Make sure you are gentle since the metal is not all that thick in this area.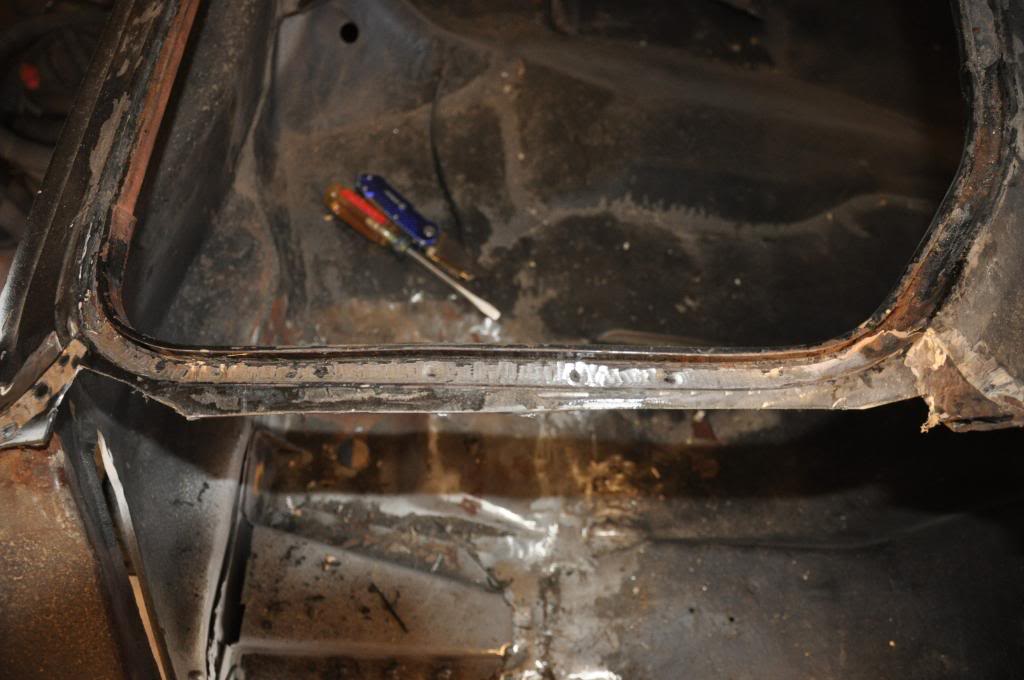 The trunk area after removing the 1/4 panel metal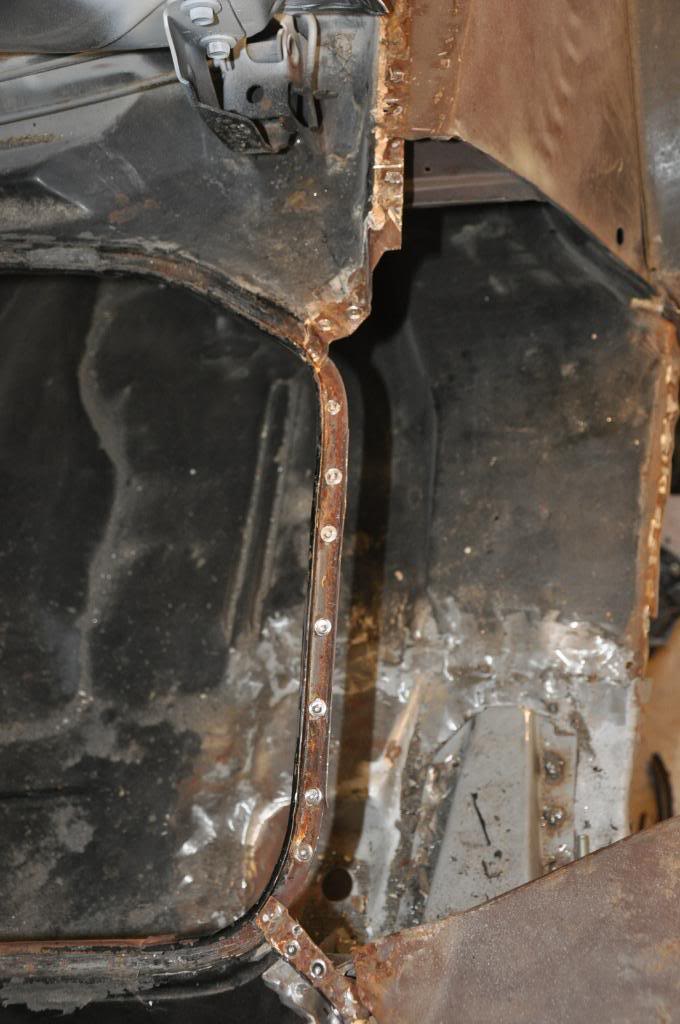 For the door jamb area I used an 80 grit flap disc on my angle grinder to tell me where the spot welds were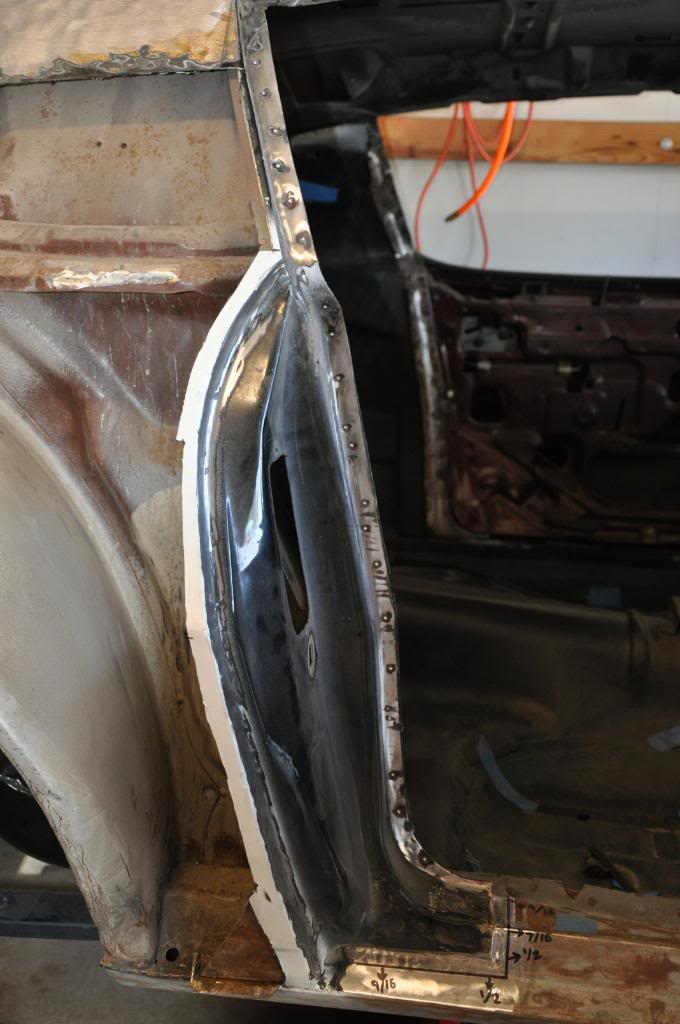 This is to give you an idea of how many spot welds are on the lower area by the rocker panel. This was after I removed the old 1/4 panel metal.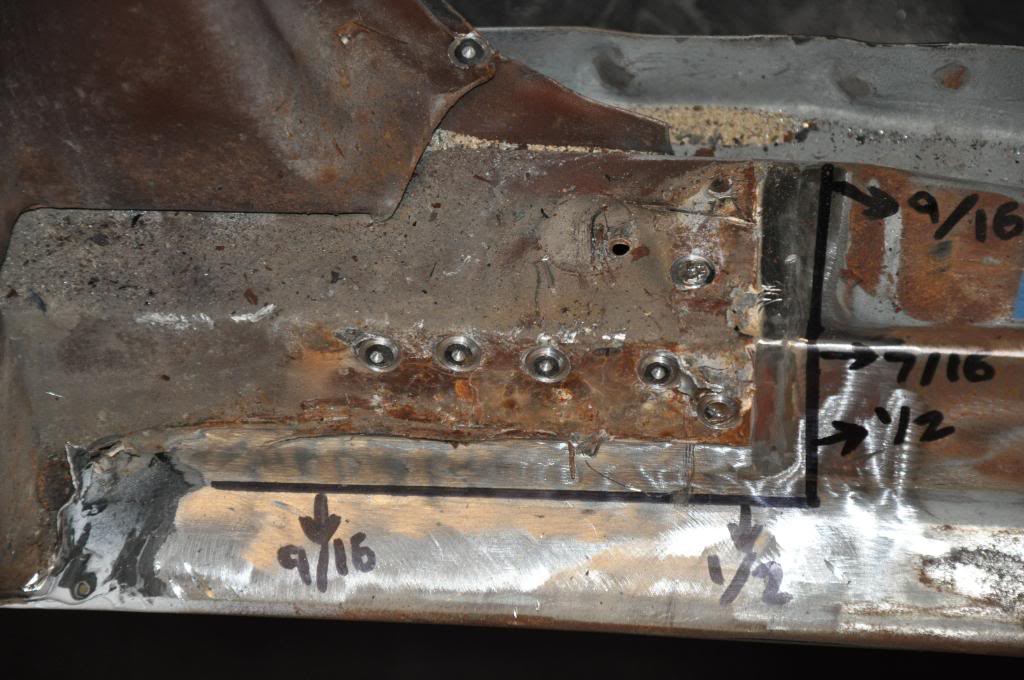 I will need to fix this piece that cracked. Nothing a little welding can't handle.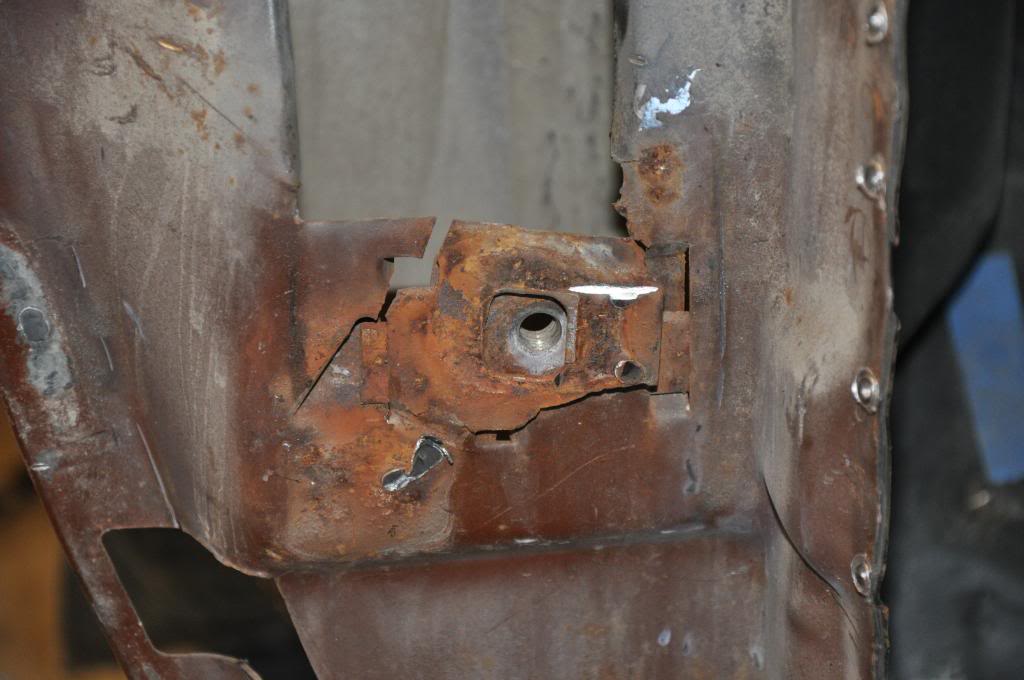 Here's my contraption to catch the lead filler as I heated it up with a propane torch and scraped the lead away.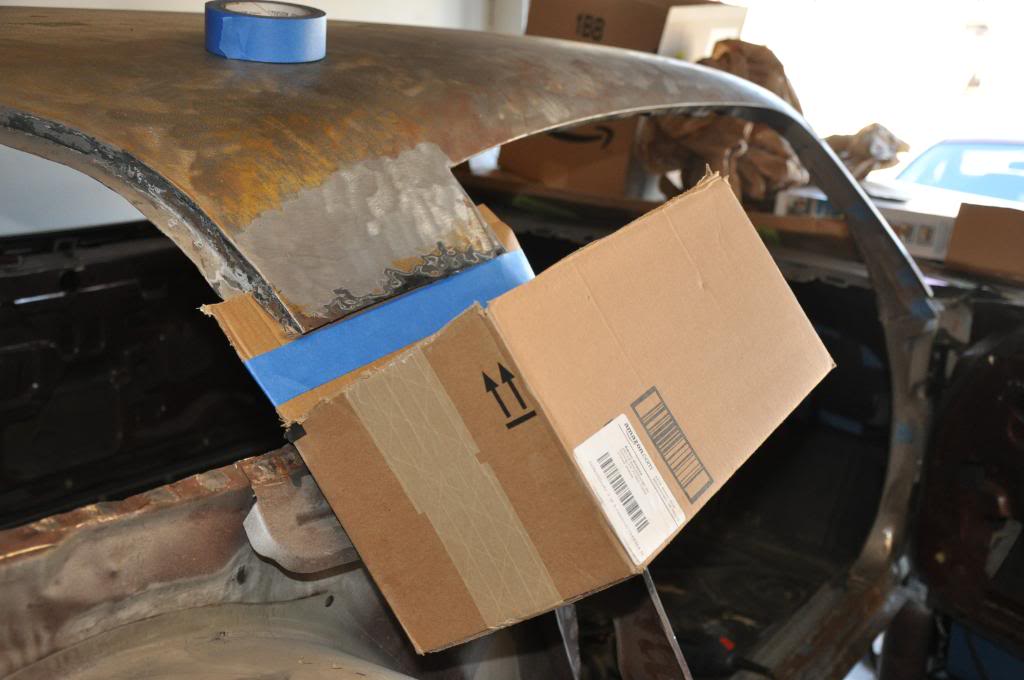 Almost done - I still need to remove the old 1/4 panel that is between the door brace and the rocker panel. Then I can start preparing to sand blast the underlying metal and re-coat it.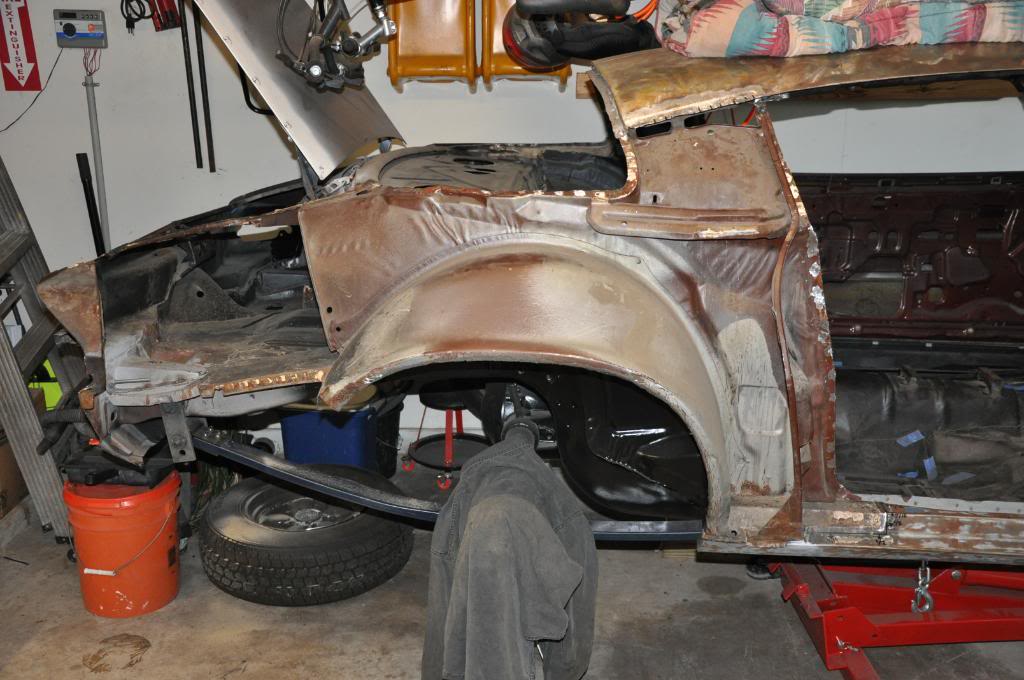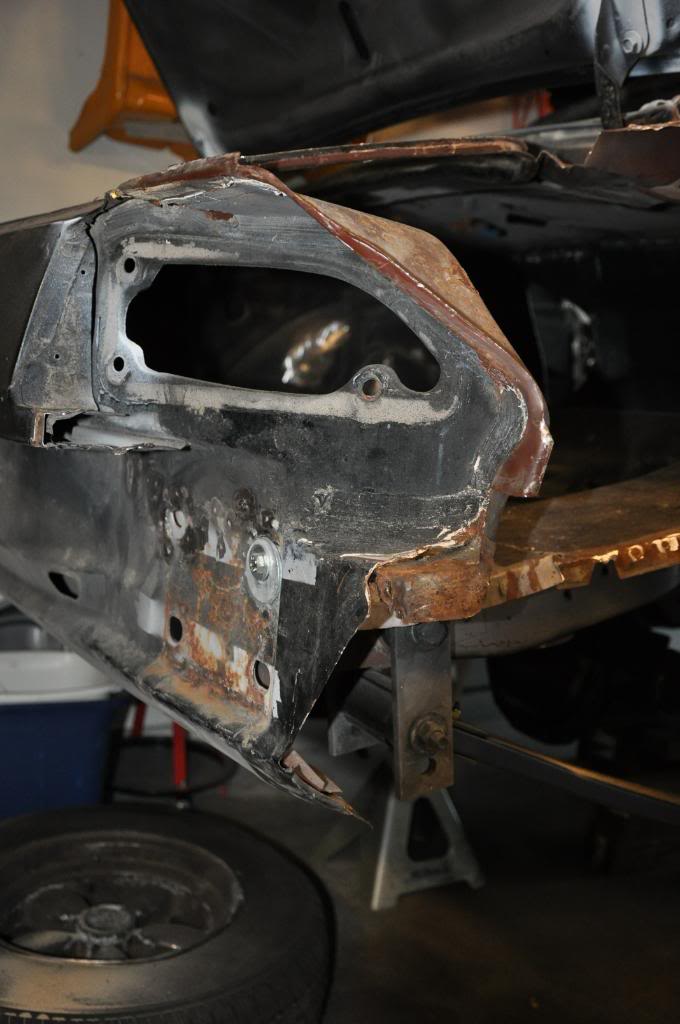 2-6-2011
Well, I think my compressor's electric motor is going bad. Late yday the compressor was working like normal and then all of a sudden it made a very weird noise. I turned it off and let it cool and turned it back on and smelled that unmistakable "electric motor is going bad" burning smell. Today I turned it on and it was pretty much the same thing except today it blew the 40 amp breaker. So looks like I get to take it in for repairs. It's under warranty, but I can't run air tools with a warranty. Hopefully it won't take too long to fix.
2-13-2011
No compressor means I spent time working on the steering column. swerven has been kind enough to send me a little spring I need to re-assemble the column. I stripped down the upper column housing pieces and repainted them with some SEM Landau Black and SEM low luster clear coat. Hoping the compressor comes back soon and I can get back to the 1/4 panel, although it will be nice to have the steering column rebuilt and out of the way.

The upper bearing housing cover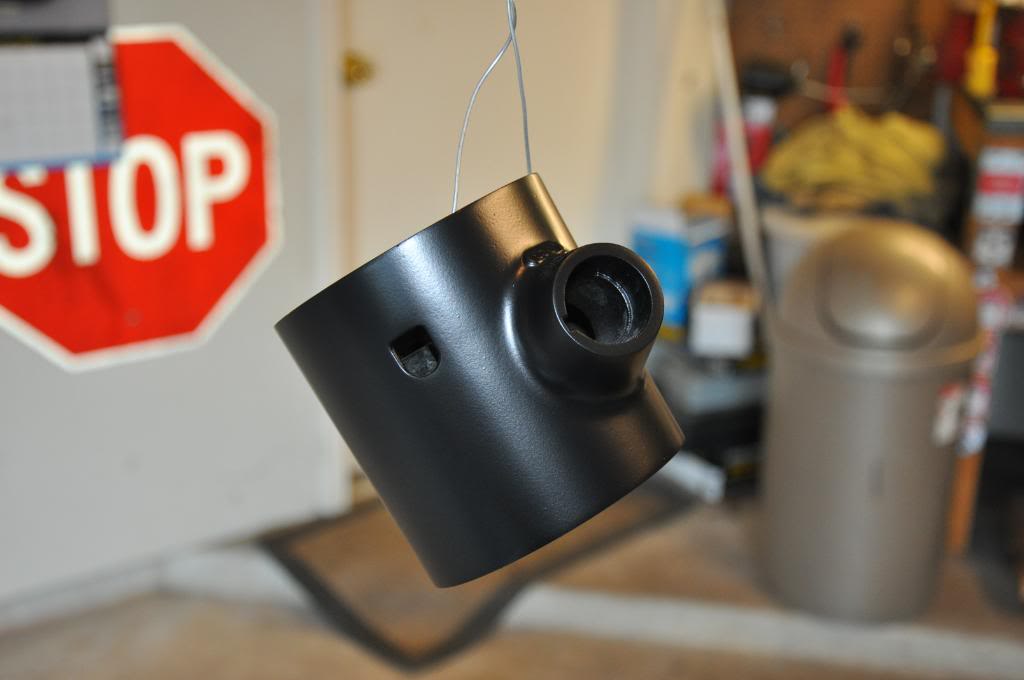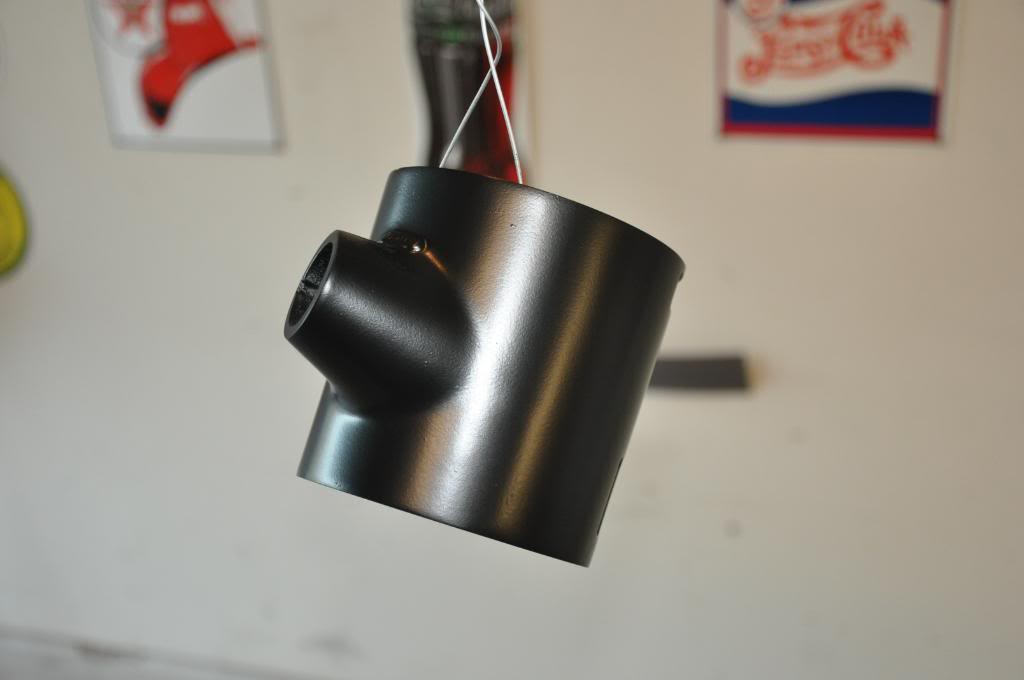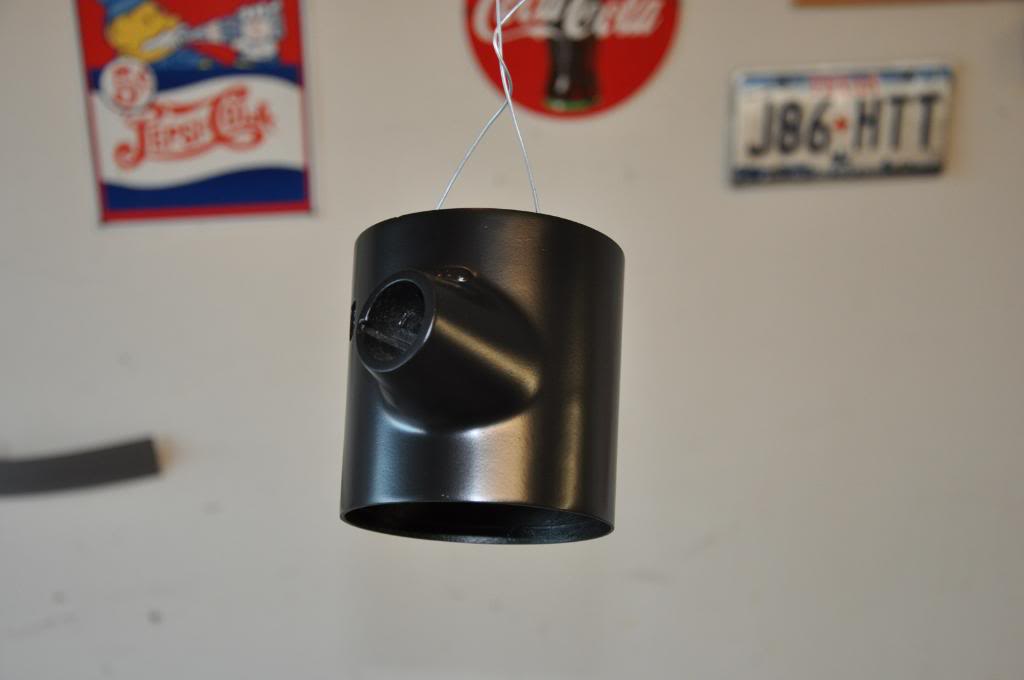 The bearing housing that contains all the "guts"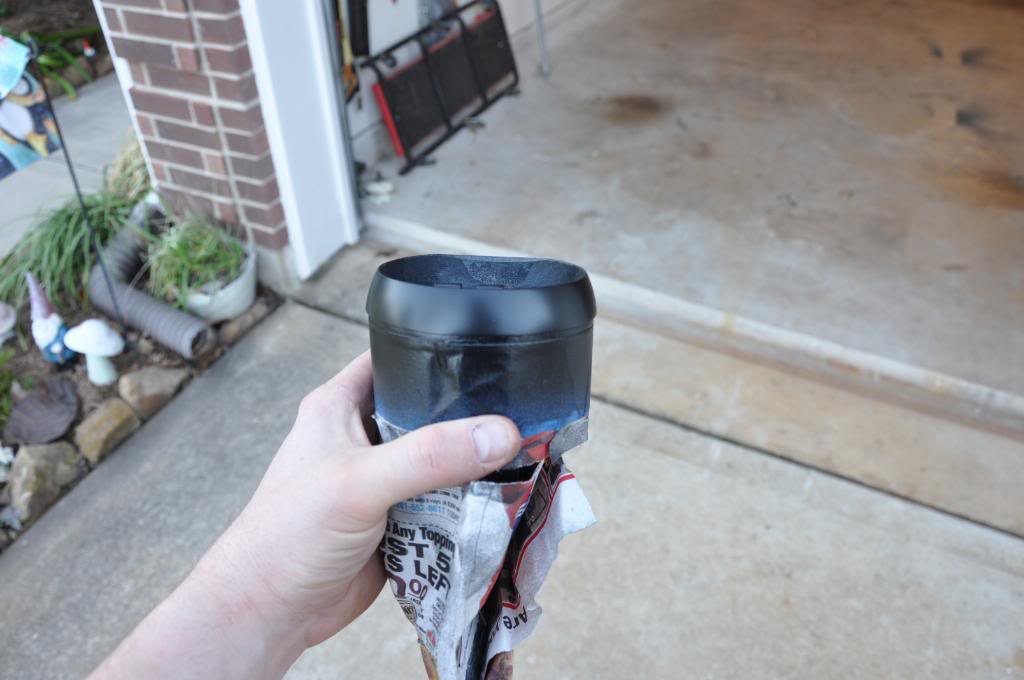 2-16-2011
Progress (for the most part) is going to come to a halt for the next 6-7 weeks. I have to get arthroscopic surgery done on my right knee. The surgery itself is very non-invasive, but I have to be on crutches for 6 weeks to take all weight off my right knee in order to allow the scar tissue to heal properly. I am missing cartilage in a 11mm x 11mm spot on a bone in my knee and need to go ahead and address it now.

I am obviously bummed since this will set the project back but that's life. I can try to do small things here and there to keep things going. But looks like I won't be painting until the fall (was shooting for this spring). Oh well...
2-27-2011
I got a little work done on the steering column. I took this apart a long time ago, so I might as well get it re-assembled while it's still sort of in my head. Let me know if you ever have any steering column questions. I messed with this thing a lot so have pretty good knowledge about how to dis-assemble and re-assemble it (mine is a tile column BTW)



These are a few reference pics for anyone who decides to re-assemble their steering column. The shop manual is helpful but does not always tell you where or how certain parts go back together.

To get the rack (silver part) to engage the sector (the rotating gear), assemble the sector, sector shaft, steering locking pin and spring as seen in the first pic. Then rotate the sector clockwise until the large tooth is at about 8:00 position and move the rack into position so the large tooth engages properly (seen in the 2nd pic)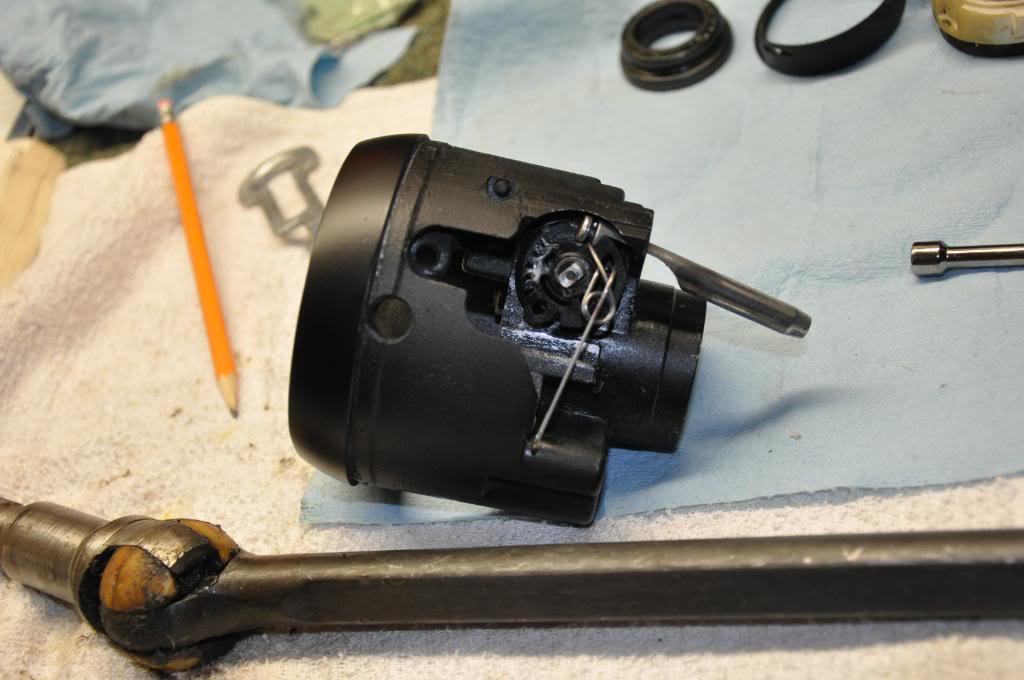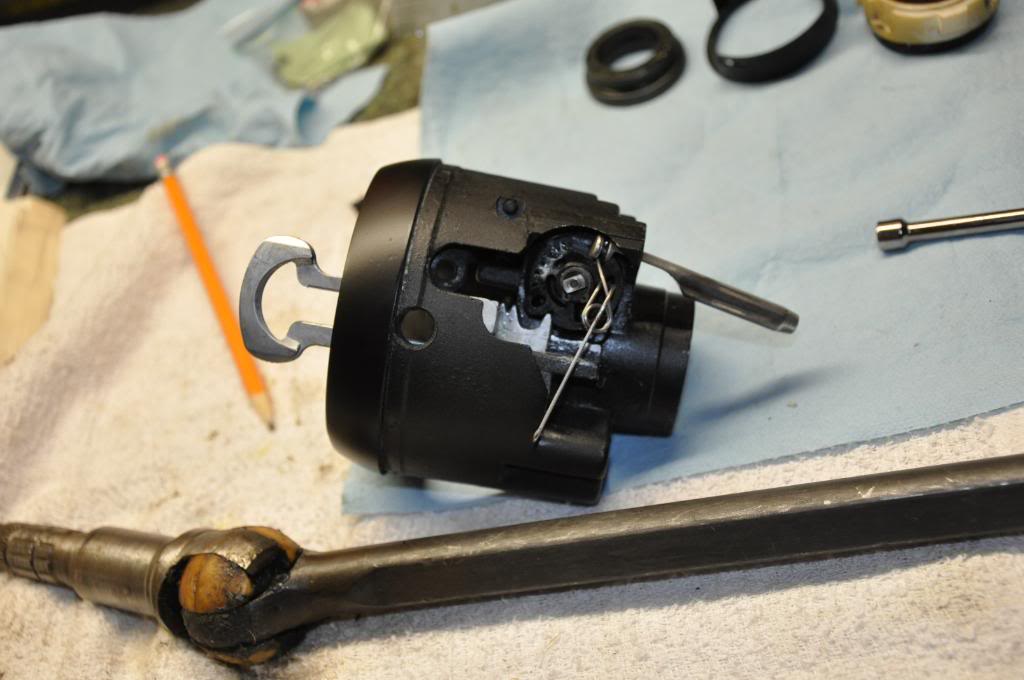 While not too complicated to figure out, here are a few pics showing how the tilt lever opening cover sits. The shop manual does not have a picture so it took me a few minutes to figure it out.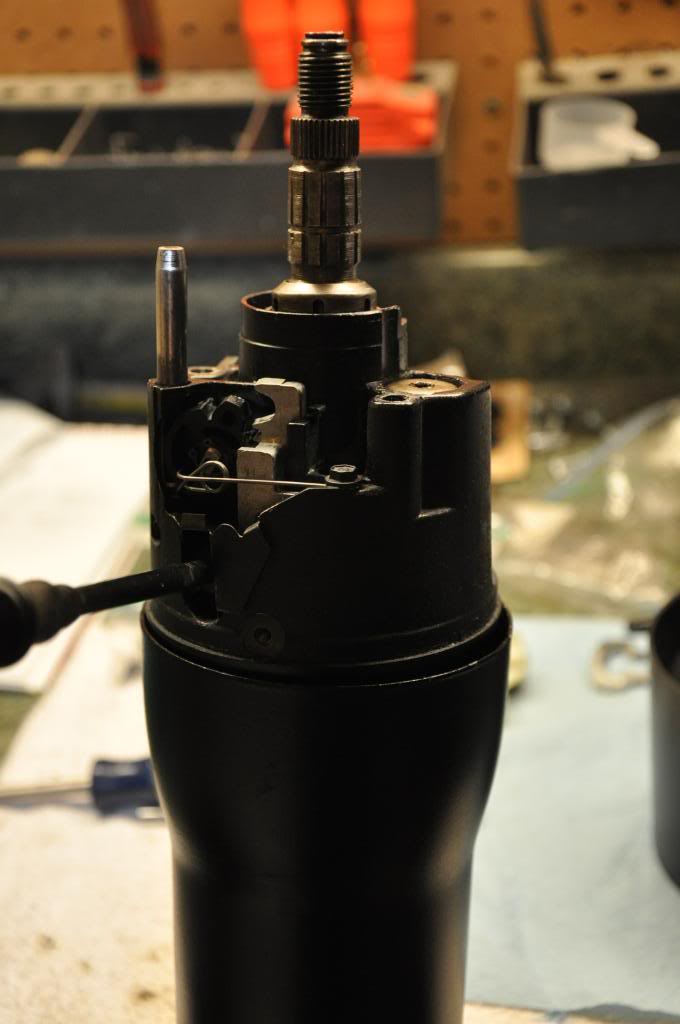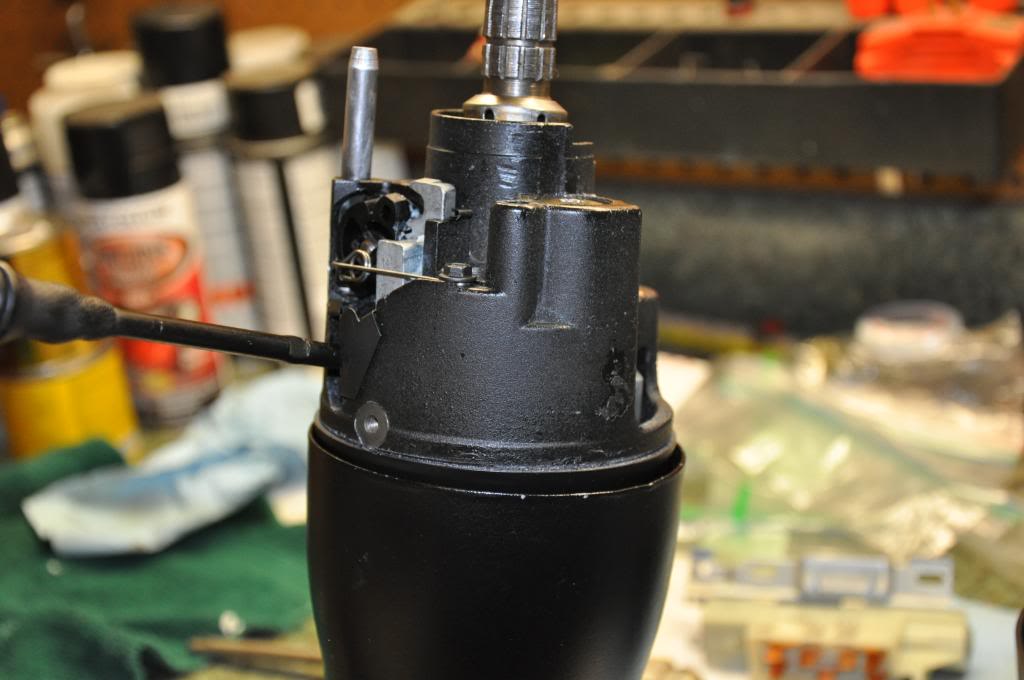 These little pieces are for the ignition switch warning. The solid metal piece acts as a tension spring and sits below the other piece. That assembly then rests in the opening as shown in the 2nd pic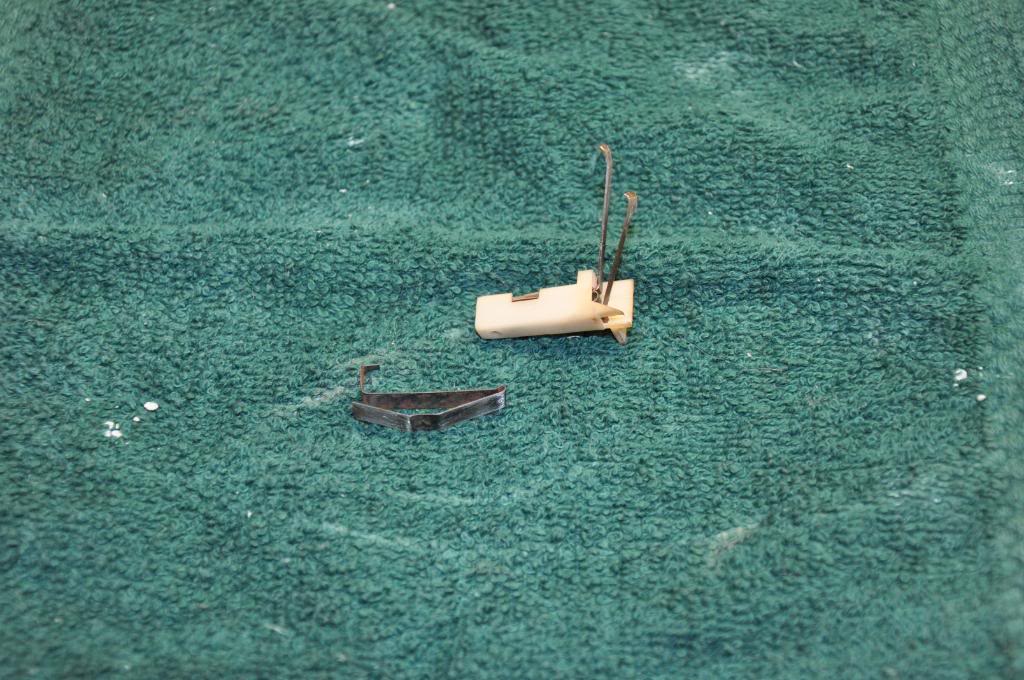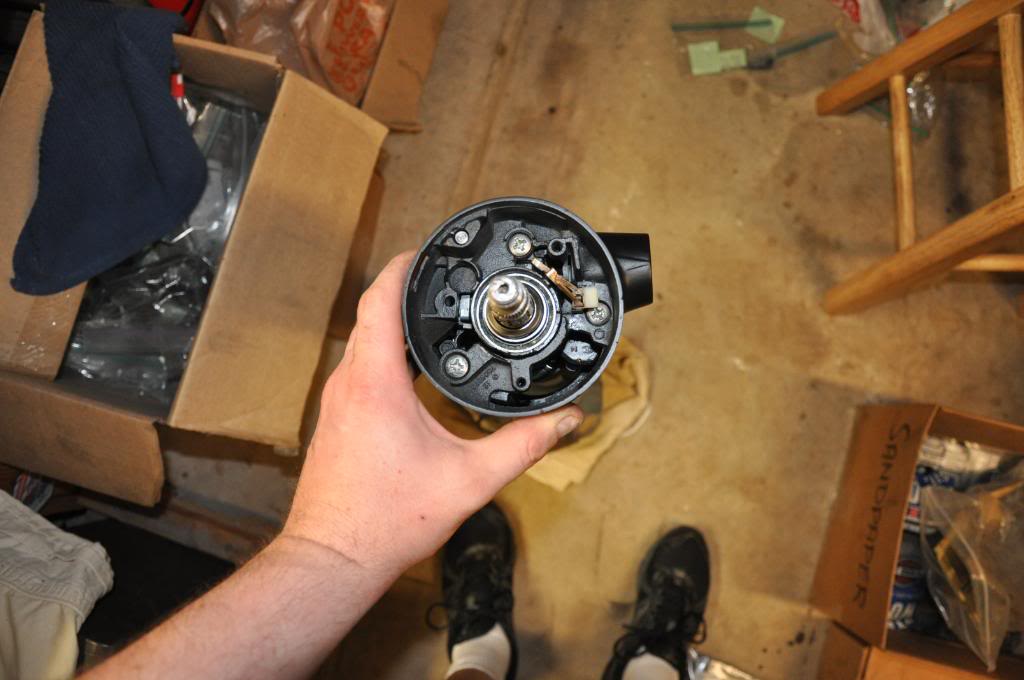 A few pics of the (almost) finished product. I replaced the turn signal switch and the ignition lock cylinder.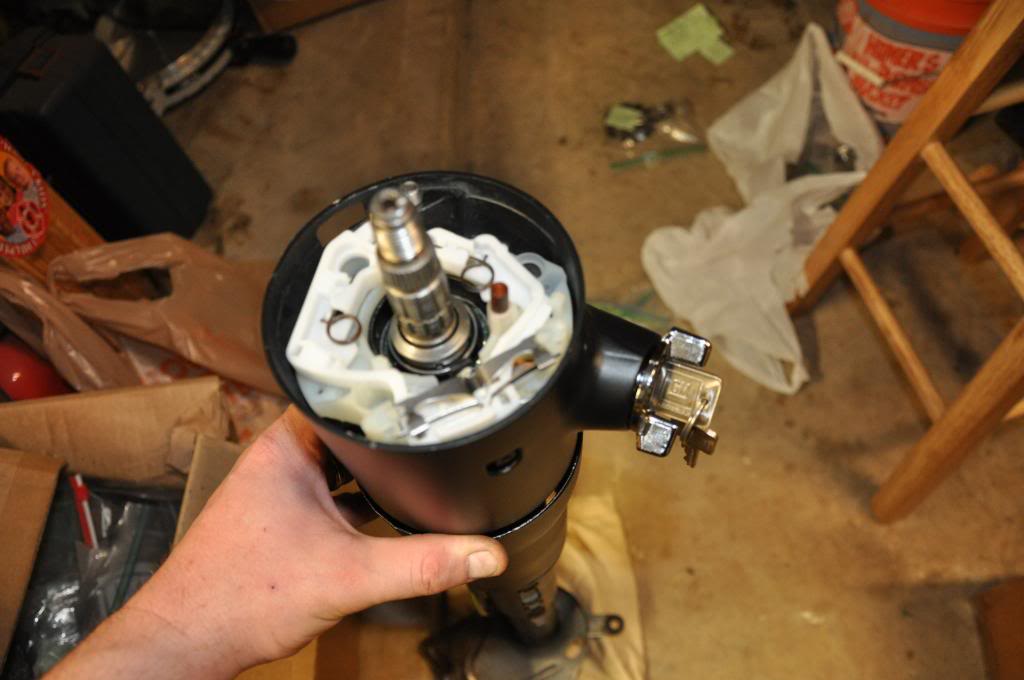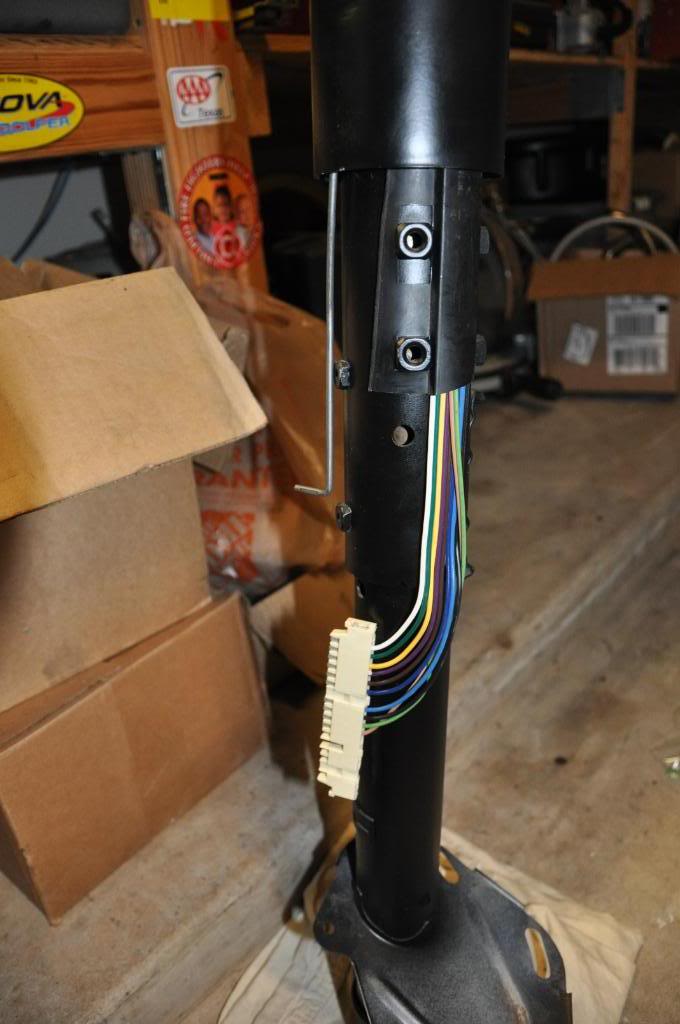 3-27-2011
Been a few weeks since I had a meaningful update. I was able to get the metal under the pass side 1/4 panel blasted. I went with Black Diamond media and it worked well.

You'll notice that I cut the bottom of the door jamb brace and bent the metal out. The welds to the rocker panel were being "difficult" so I cut the brace down low and bent the outer brace to access the welds to the rocker panel. I will bend it back and add in a patch, which shouldn't be too difficult.
I had a few spots that needed patch repair. The first was along the back of the outer wheel well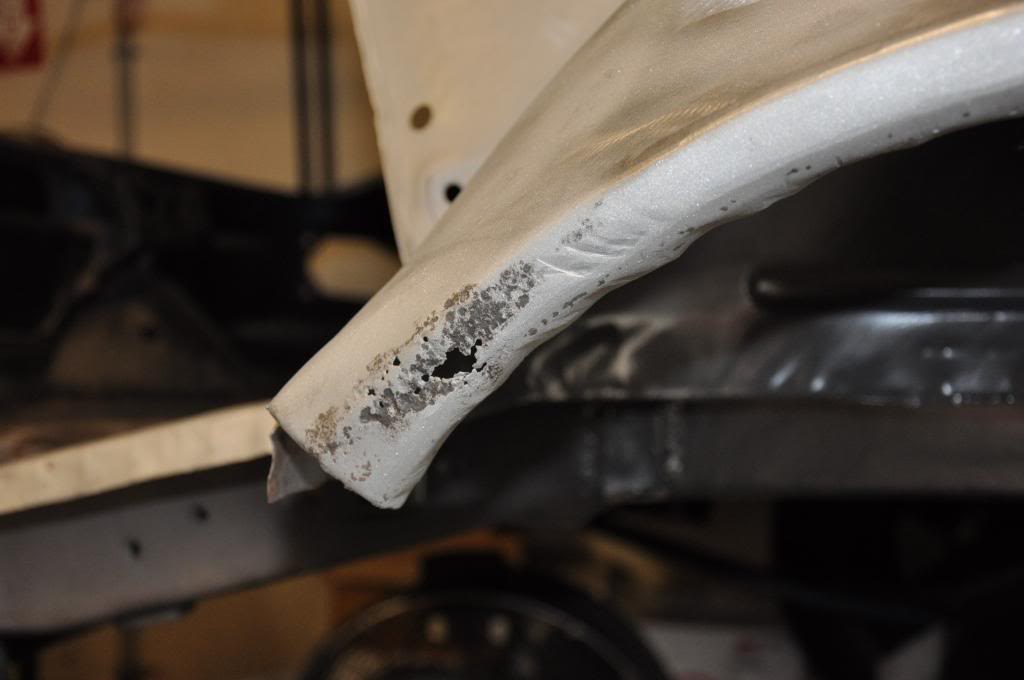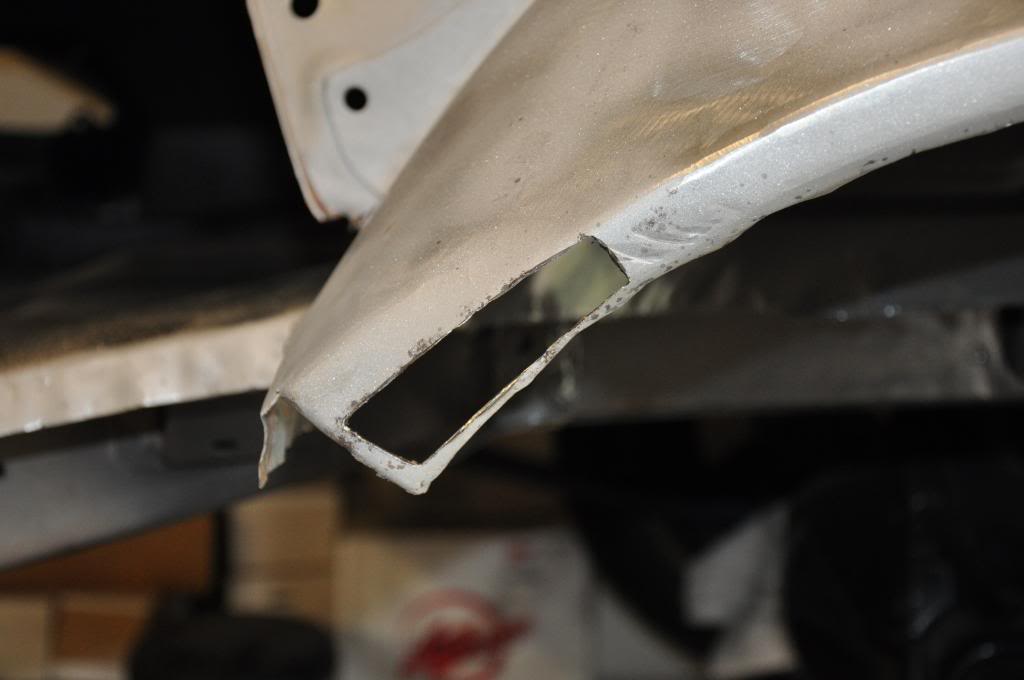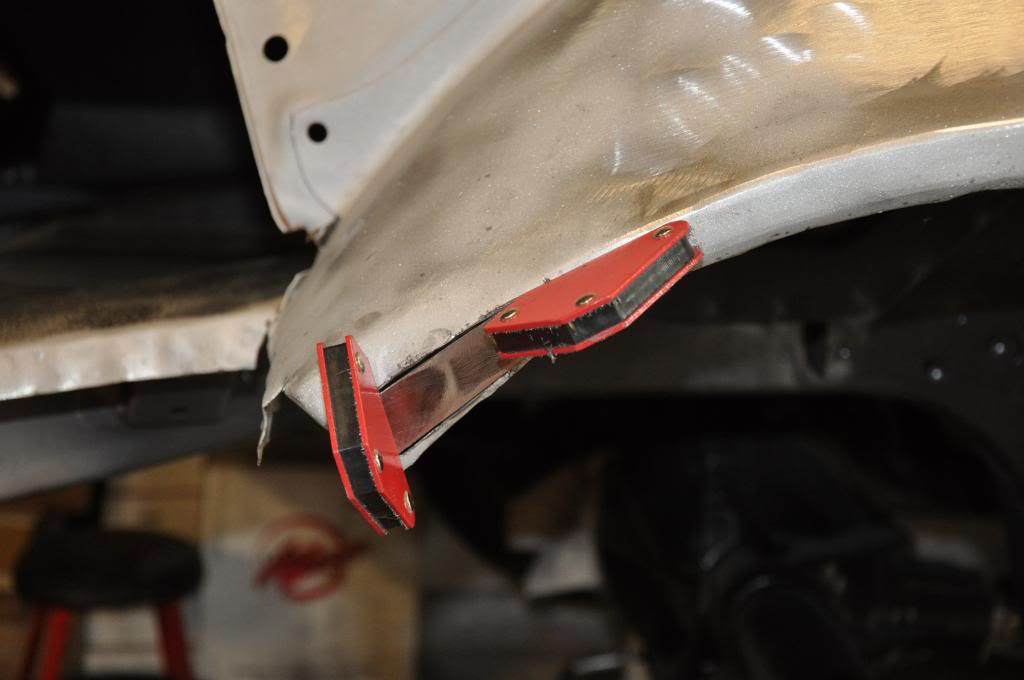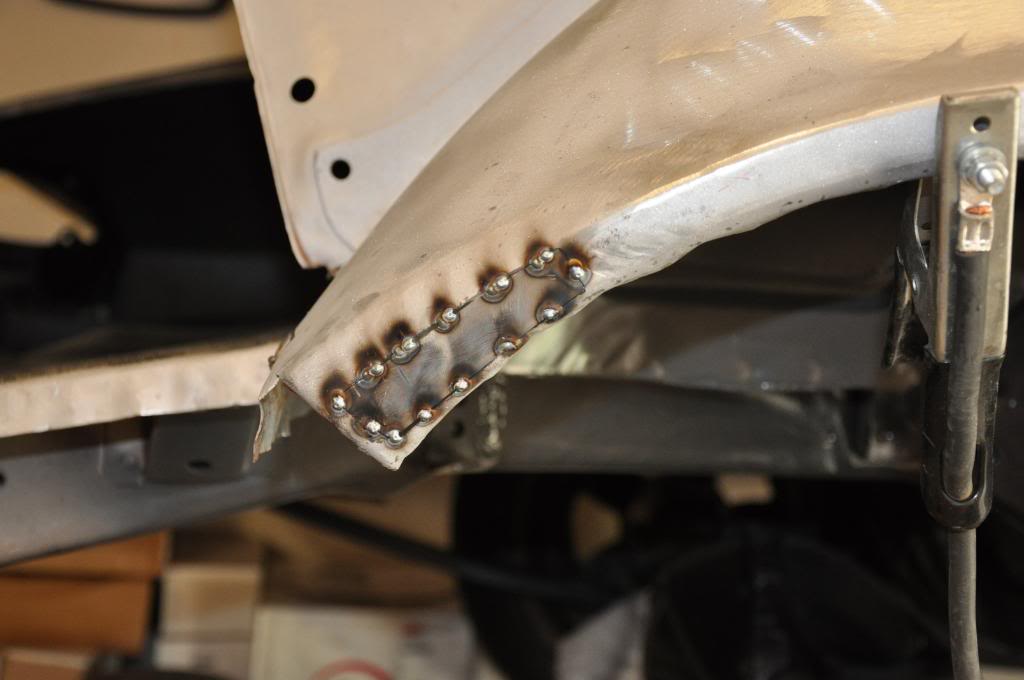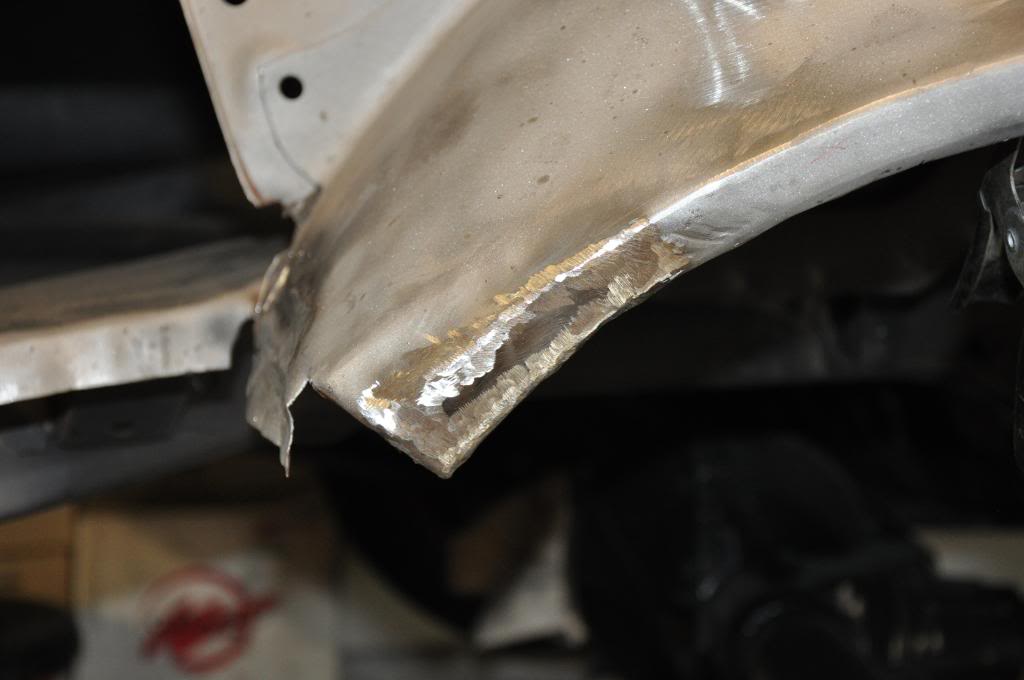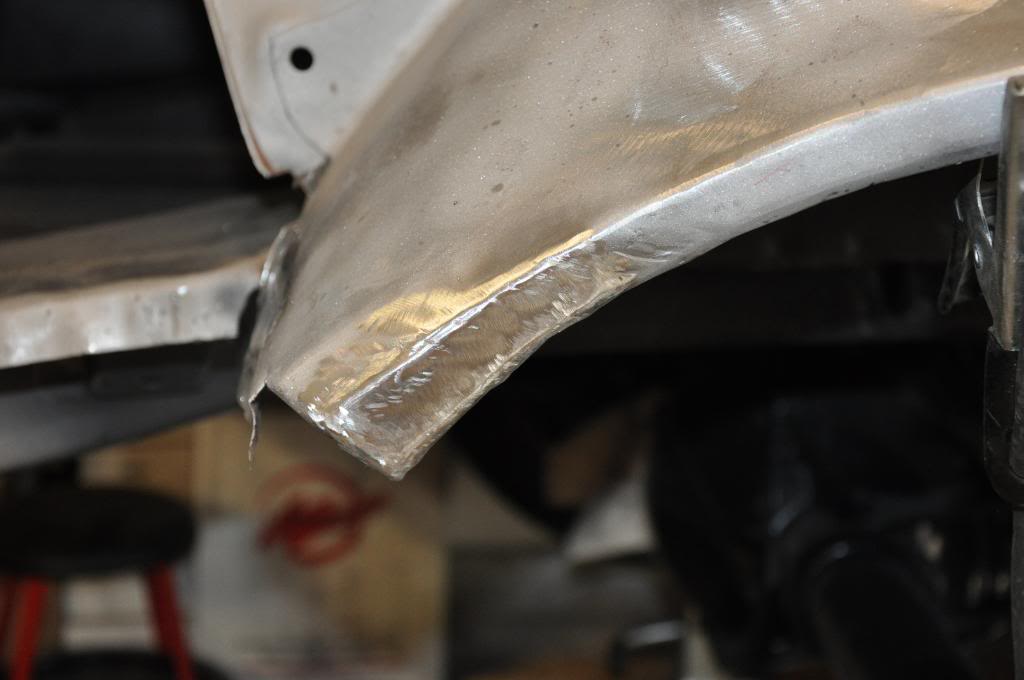 The other major problem spot. This area was like this before I began removing the outer 1/4 panel. I made a sad attempt to fill in some of the holes but decided a patch was a better idea. I spot welded the top seam first and then held the bottom edge flush with the surrounding sheet metal using some vice grips.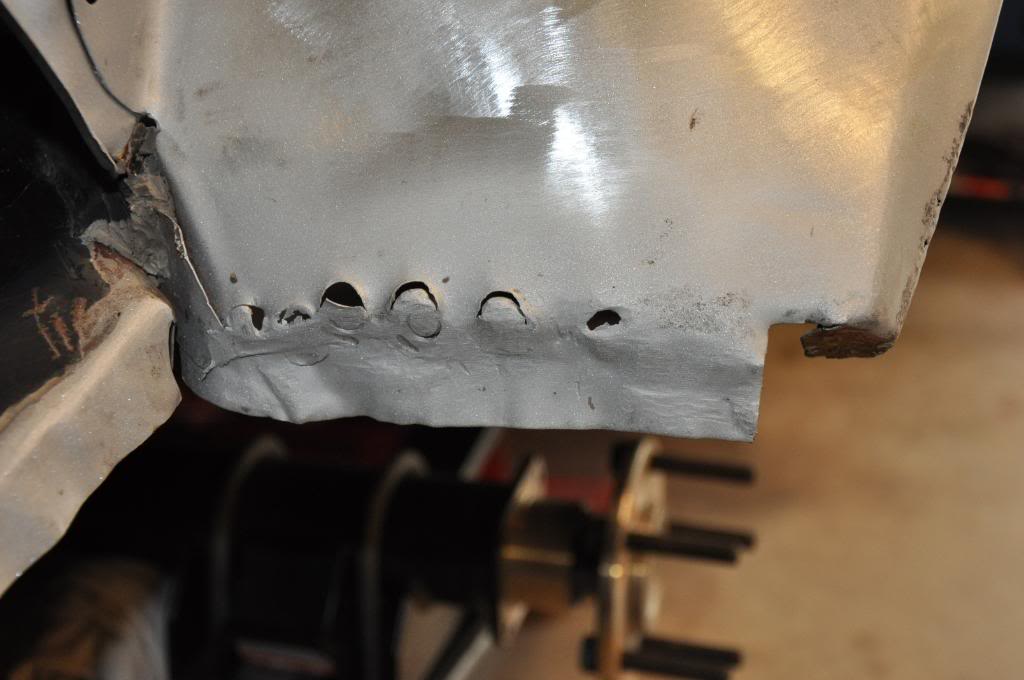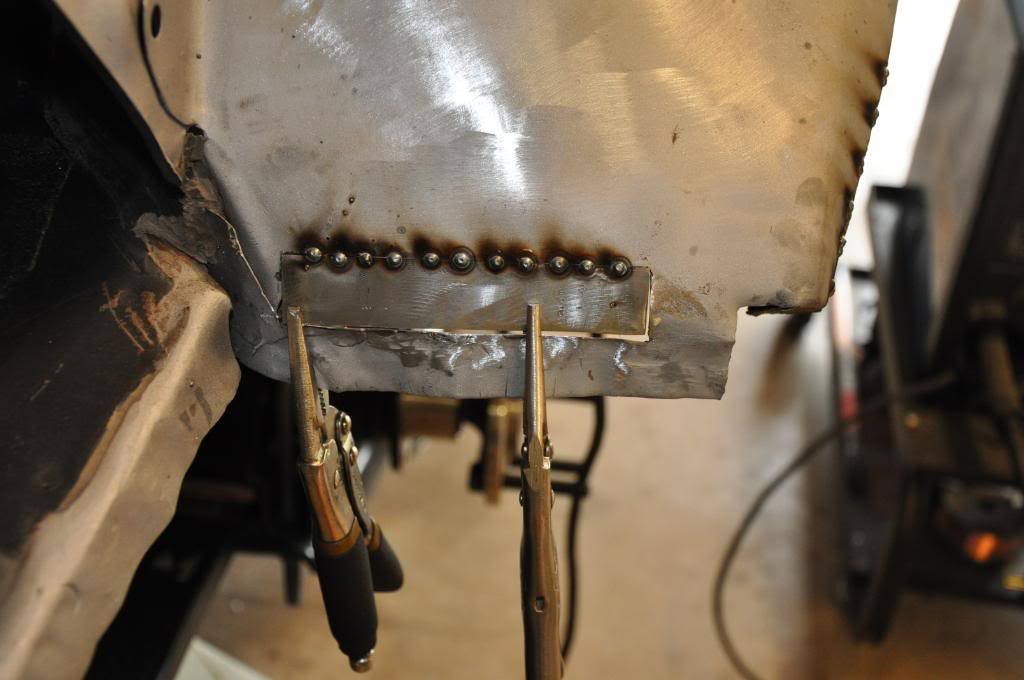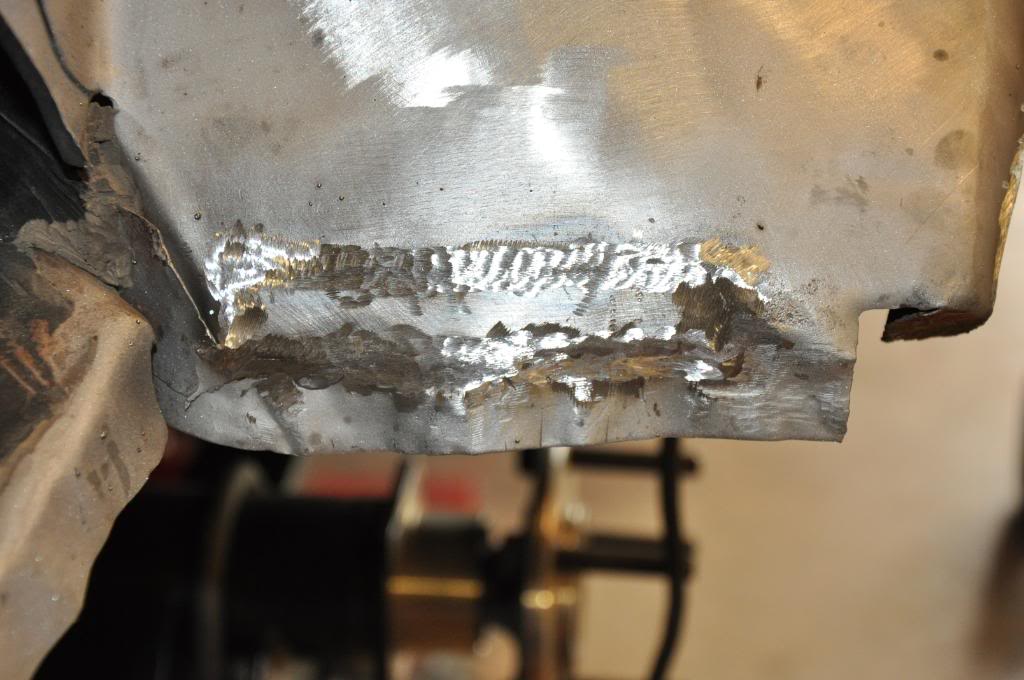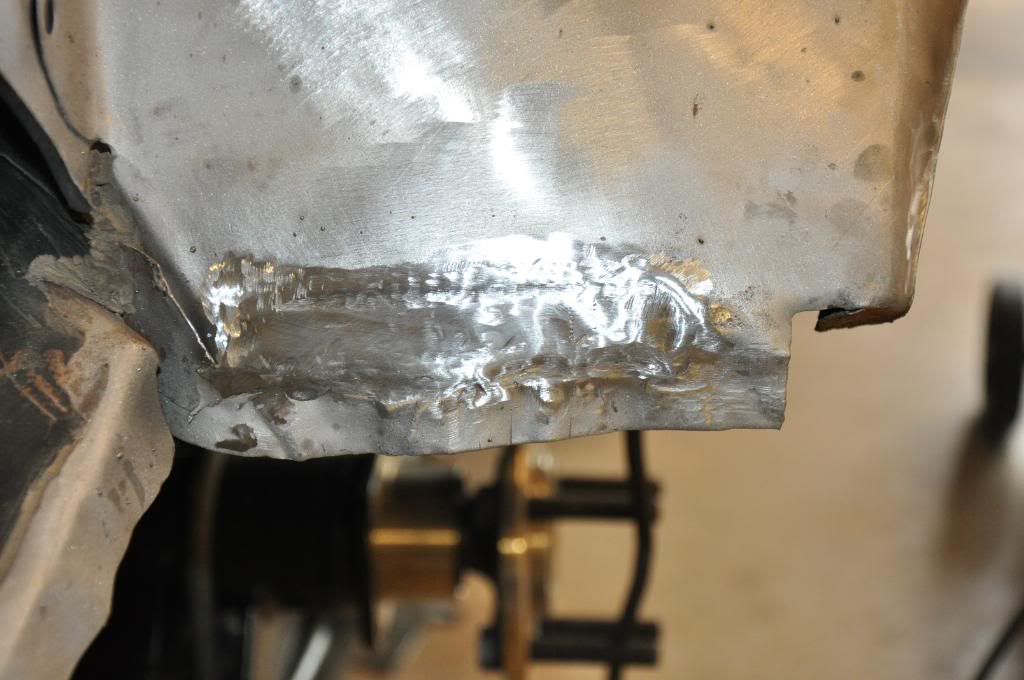 5-9-2011
Just wanted to give an update about the lack of updates. Wife and I decided to start looking at new homes in our area. Long story short, we aren't going to build on our 1 acre lot we own for different reasons, so we decided to look at what options there were in our area because we want to stay close to our family (both our parents are like 10 min from us). We have been doing a lot of "tire kicking" and discovered that there aren't too many options that fit our needs. However, we finally found a neighborhood that we like and put a hold on one of the lots (90 day hold). So progress on the Camaro will resume soon, as we would be building a home on this lot from scratch if we end up actually buying, which means early 2012 move-in.

But that means I need to get some work done!! I doubt I'd have the engine in before we move (assume we move), but can get a lot of other work done in the meantime. If I can get her painted this fall, then that would be great.

Hope everyone is doing well and making actual progress unlike me.
Thanks guys. I know I won't be dropping a motor in until next year (need to save the cash for now), so at least that pushes the time line back some. I have my old 350 I can put on some cheap motor mounts to put some weight on the suspension while I install the front sheet metal on and get it all measured up.

It's been a hectic past 6 weeks with NO work done on the Camaro, but that's life. It's bugging the crap out of me though. Good news is that we aren't going to my MIL's family reunion on May 23rd, which would have been an all day affair
5-30-2011
Nobody could afford my rates Hell, I can barely afford my own rates! Thanks for the kind word man.

Finally got the passenger side 1/4 panel trial fit over the weekend. I had some small patches to weld in here and there, but got that done in time. My goal is to get the 1/4 panel welded into place within the next two weeks. Then I can move on to (hopefully) more straight forward work, particularly fitting the rest of the body panels. I might go ahead and get all the brakes and remaining suspension installed too to get it on the car. With us moving into a new home in early 2011, my main goal is to have the car painted before we move. That means having it ready by Oct or so when conditions should be good.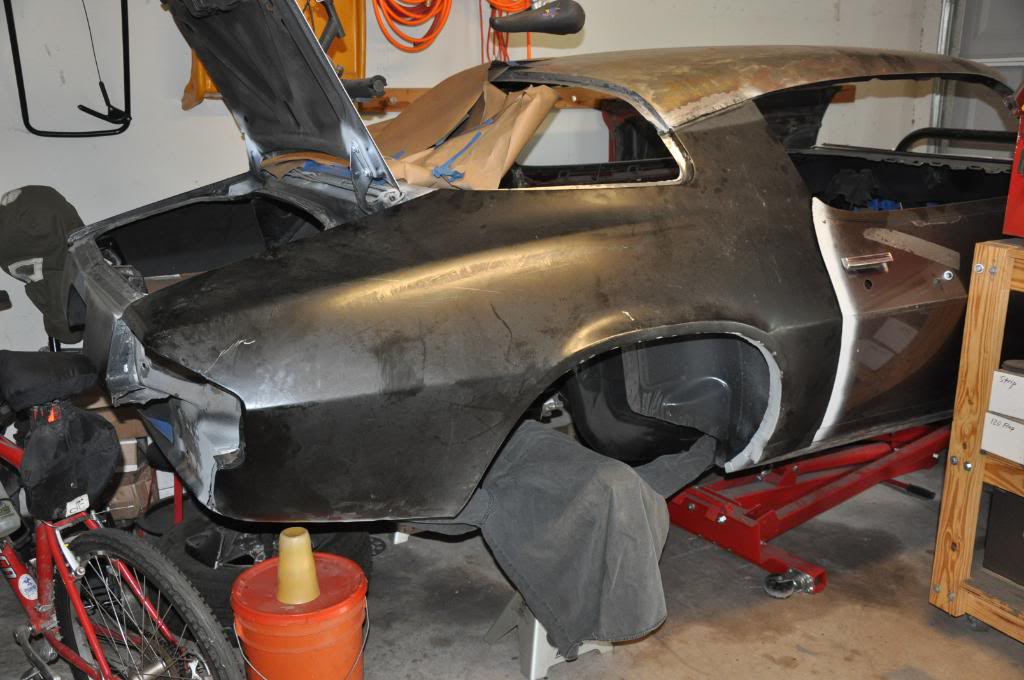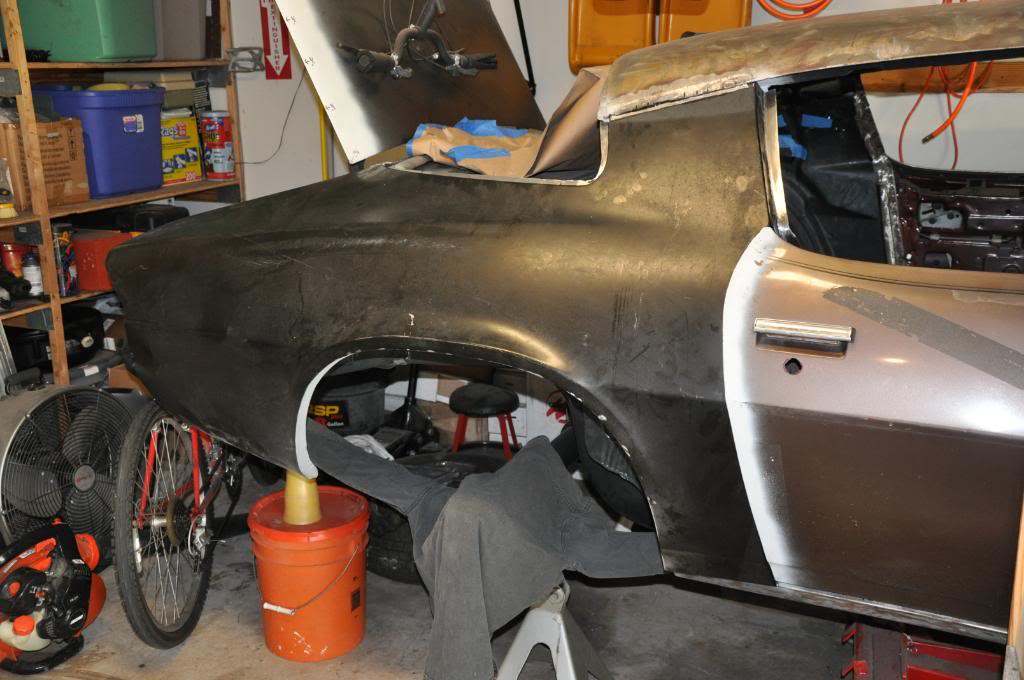 11-29-2011
Just checking in to say that I haven't done jack squat on my Camaro in awhile. The combo of building a new house, getting into rental properties and other stuff has sucked up pretty much any free time I've had. Good news is that I will have a lot of time off in Dec, so should be able to do some more work.

Quite frankly, I am 99% sure I won't finish my 76 until 2013, so that kind of zapped my motivation to keep at it every single weekend (not that I have much time right now). I'd like to have the body assembled by the time we move next spring, so that is my primary short-term goal with the Camaro. When we get into the new house, I'll have way more room to work, which I am looking forward to. Below is a shot (as of 11/27) of the garage setup in the next house. The Camaro's garage will be the one on the right

Hope everyone is doing well!
9-3-2012
Wow, talk about timing Keith, thanks for asking. To put it bluntly, life has been f'n crazy the last 12+ months. We moved into the new house back in April and it's been nothing but projects to turn our new house into our new home.

We were in our last home for ~10 years and we are working hard to get things done ASAP so we don't take another 10 years doing projects. The good thing about that is when the projects are done, they are done for a long time, which means lots of Camaro time. We are down to mostly small projects we can tackle when we feel like it.

Sadly, my garage was not at the top of the to-do list, but I spent most of this weekend getting it organized so I can start work on the 76 again very soon. So you'll start seeing some progress pics, FINALLY!

In the meantime, here are a few pics of the 76's new home and the new house.
And the last thing I did was put the pass side 1/4 panel on before we moved, more because I really needed to before the car was flat-bedded to the new house. So the first thing I need to do is finish welding the 1/4 panel, weld in the drop-off panel between the trunk and 1/4 and clean up the trunk floor.

Then I need to decide what to do next. I have a dent in the pass side rocker panel that needs addressing, so I could do that. But then it will be time to get body panels on and lined up so I can move toward painting the car. We're talking next spring time line for painting. I need to stat another thread and make sure I have the right idea as far as what to do and in what order.
4-19-2014
So I am back (I never really left). After shelving the project for a while (I was always working on it in my mind, does that count?), I am re-starting the build. My 76 was patiently waiting in my garage while I got through this and that, which I won't bore you with.

I don't have any pictures today, only what I have on my immediate list of things to do before I can move on to the rest of the body panels. I began the list yday but it's pretty boring items that don't make for many Kodak moments.

Below is what I will get done in the next few weeks, after which I will begin getting the other body panels installed to get sized up. Then I will take them all off and start stripping them down to bare metal. Luckily I won't have much "bondo" work to do except for the pass side rocker panel and some small spots on the roof.

* Finish/clean up welds on the passenger side 1/4 panel
* Finish/clean up welds from passenger side 1/4 panel to roof
* Install trunk drop down panel on passenger side
* Adjust gap on passenger side door
* Make sure sub frame is properly lined up (doing today actually, almost done)
* Fix a couple of floor board welds

I will be back soon with some updates (and pictures).
Alright, one picture to at least get the ball rolling. The metal dust on the floor proves I am doing actual work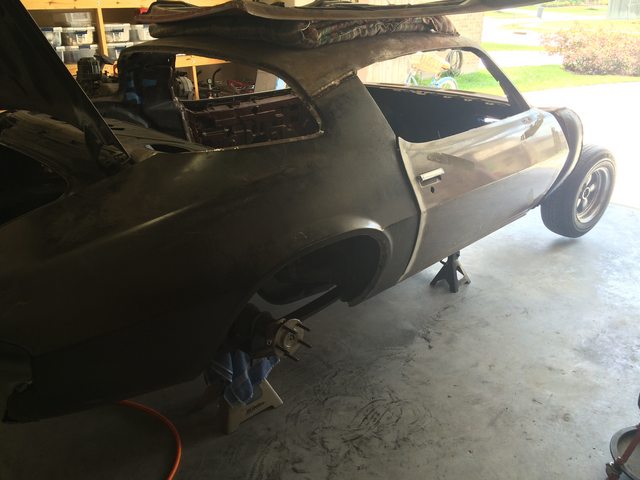 4-27-2014
Not really any Kodak moments from this past weekend. I spent the bulk of the time cleaning up the pass side 1/4 panel welds and doing a crap load of grinding.

I got the pass side trunk drop-down panel installed and need to clean up the welds along the bottom where the drop down meets the 1/4 panel. So I will be able to cross that off the list by next weekend.

The spot where the 1/4 panel meets the rocker panel got a little out of whack, so I will have to address that. I am not sure how that happened but nothing I can do except fix it. Shouldn't be a big deal but it's another thing to deal with.

I didn't touch the pass side door any more, but here's a picture of where it stands. The gap along the bottom is maybe 1/32" wider than the top, which I should be able to clean up. For some reason this door was a bigger PITA than the driver side door. I will address the door after the 1/4 panel is all done which will be in the next few days.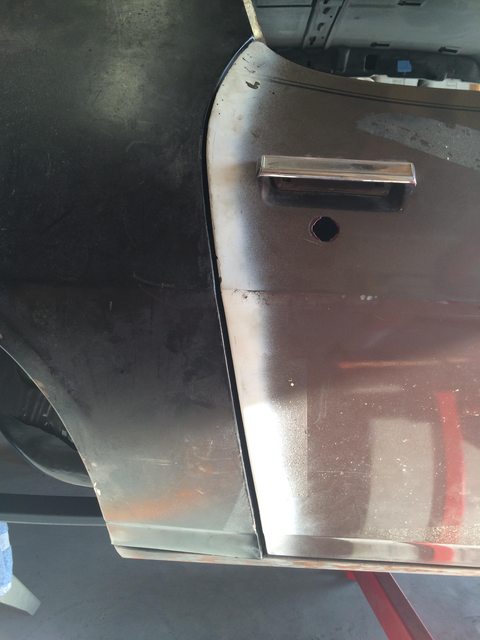 4-30-2014
It's in transit. It's an LS376 480 I've been set on doing an LS conversion all along but wasn't sure what direction I wanted to do re: the engine. So I took the "lazy" route and got a crate motor. I will get to the point of putting the panels on so I need the drivetrain in place so the car is sitting properly. It will give me something to do if/when I need a break from body work.

BTW, here is a WTF picture from my car. This is a factory weld on the trunk hinge. I have done some bad welds in my day, but this is BAD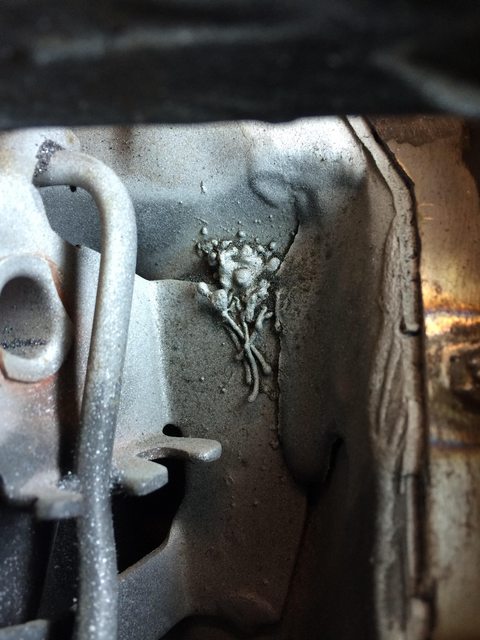 5-5-2014
I got something in the mail today

I admit it's a little early, but I fully expect to start putting the other body panels on the car for initial fitment within the next 4-6 weeks and I wanted to have the suspension weighed down properly when I do that. I also figure if I have this thing staring at me in the face then it will be an even bigger motivation to get the pedal to the metal.

I worked on the driver side door and got it pretty close but decided to look at the door latch. It was worn quite a bit so stopped until I get the replacement door latches in so I can align them with all the components replaced so it's a TRUE fit.
5-10-2014
After starting a thread in the Body section I decided to add some metal reinforcement to the 1/4 panel-to-roof seams. I am glad I did it as it gives me added peace of mind with this joint. It's rock solid now. After filling in with All Metal it will be good to go. I need to clean this up a little but it's essentially done. Now I have the driver side to do.

You'll notice I cleaned up the roof rust. I had to kill time in between welding the patch so this was a good job to do. I hit the cowl as well.

Here's what I started with. The seam was solid but decided to add some more strength.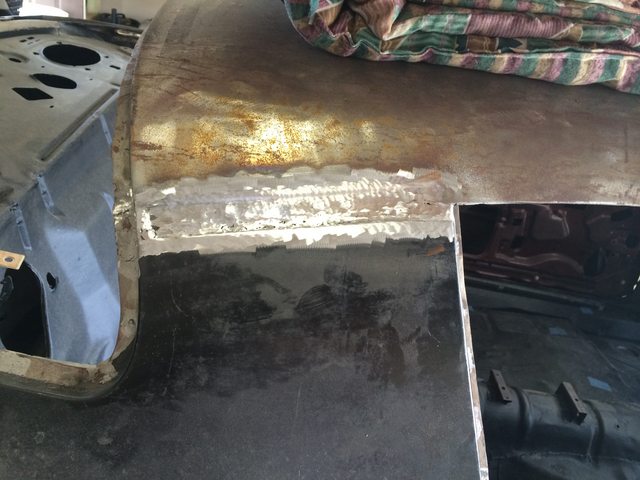 The patch in place with HF magnet clamps. I didn't go all the way to the ends since I had built that up some when I was welding the seam the first time around.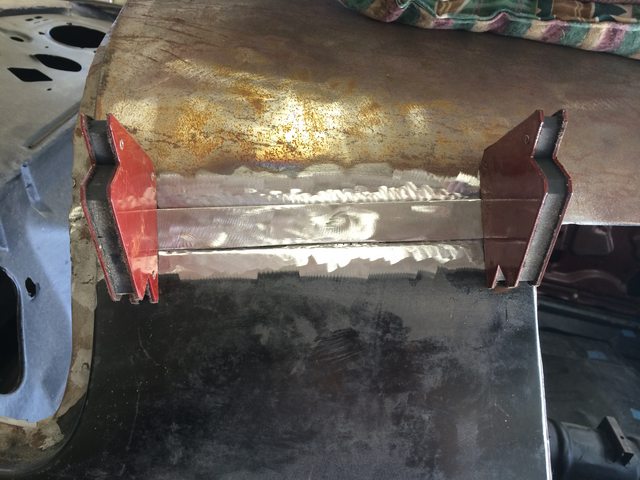 The patch secured down snug with self tapping sheet metal screws. I drilled some holes in the field for added security.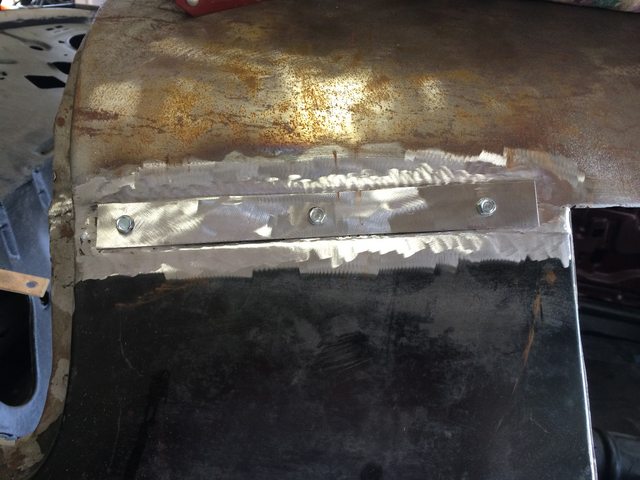 A few tack welds around the premiter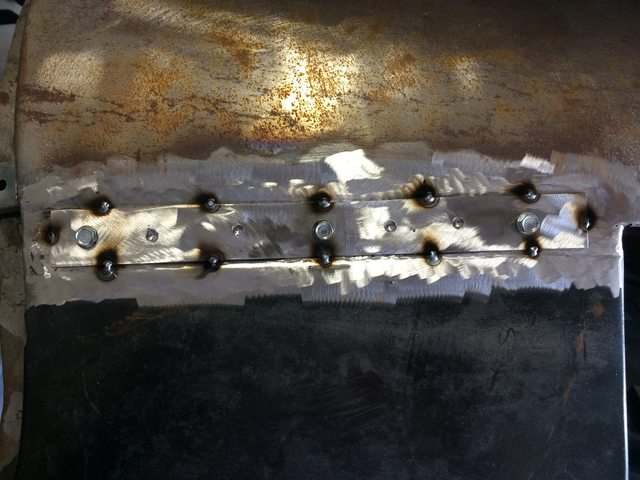 The patch welded in place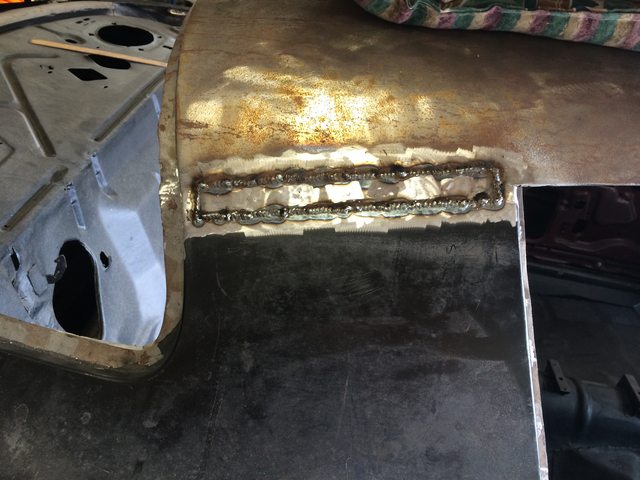 The seam after some grinding. Looks kind of like it was before, but it's obviously much stronger now. I need to address the ends of the patch but I decided to stop here to get ready for a date with the wife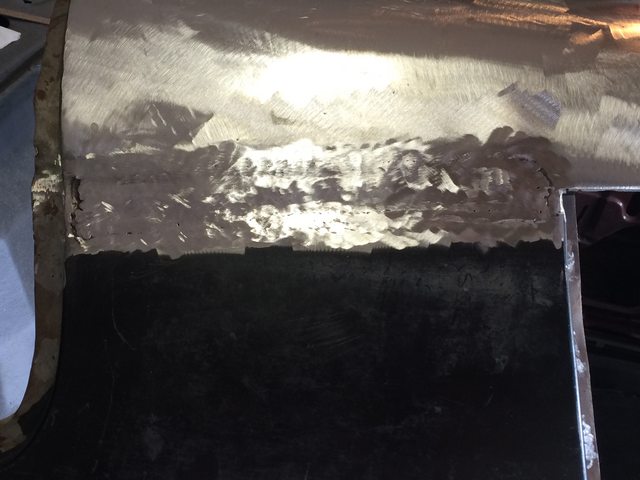 5-11-2014
Yeah, I agree Kenny and am glad I went forward with it. It's not that much work to add some significant strength.

Thanks Tony. I feel like I have my old mojo back finally. I am waiting for the door latch assemblies to arrive so I can tackle the door alignment. I also need to address the rocker panel, which should be fairly easy. After those items and putting the All Metal on the roof seams, then I should be able to put the other body panels on for alignment. Then I will be able to really hit the shell for paint prep.

Here is the passenger side ready for some All Metal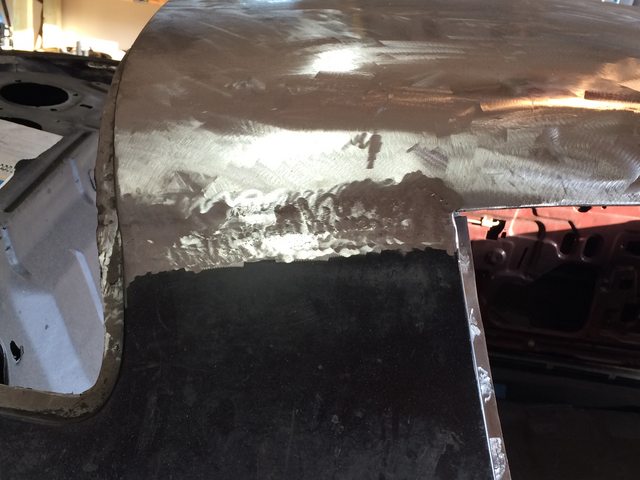 Here's the driver side welded up and ready for some grinding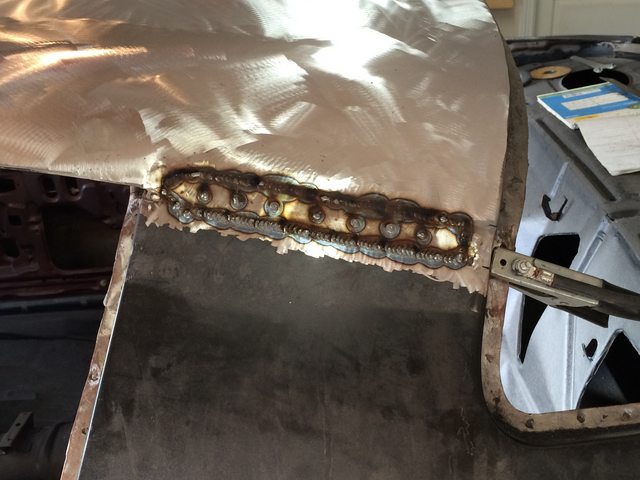 In between welding I started stripping the back panel. I was using the stripping discs for this job, which work very well and are kind to the metal.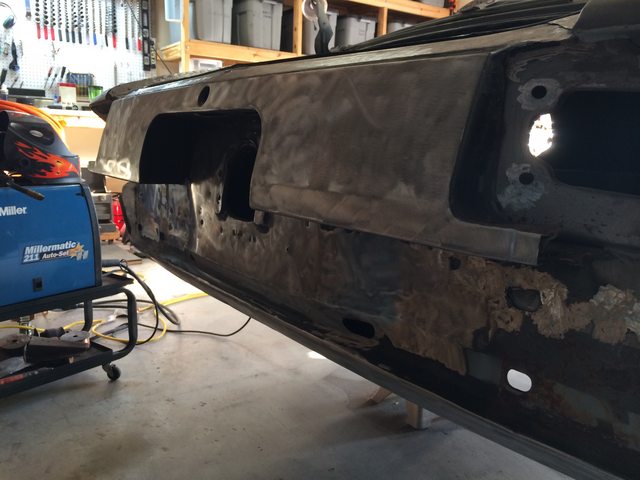 5-17-2014
I got the replacement door latches in so it was time to get the doors aligned.

I got the driver's side door done, but I am going to take another look and make sure it's correct.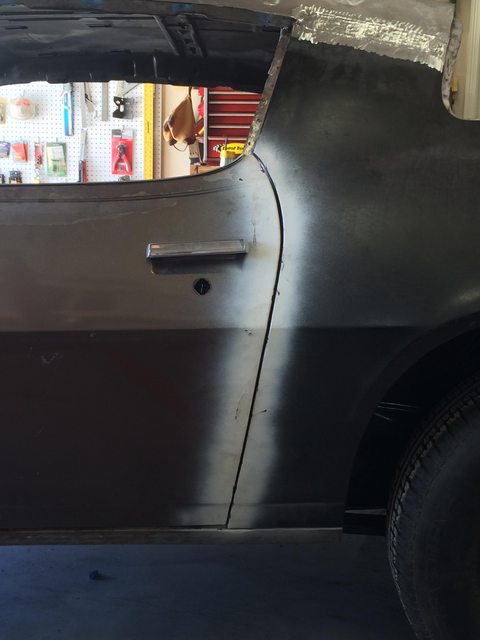 The only compromise I am going to have to make is the top of the rocker panel peeks out a little beyond the bottom edge of the door. I don't have any choice as this is the only way I can get the back edge of the door to line up with the 1/4 panel. This might be standard fitment.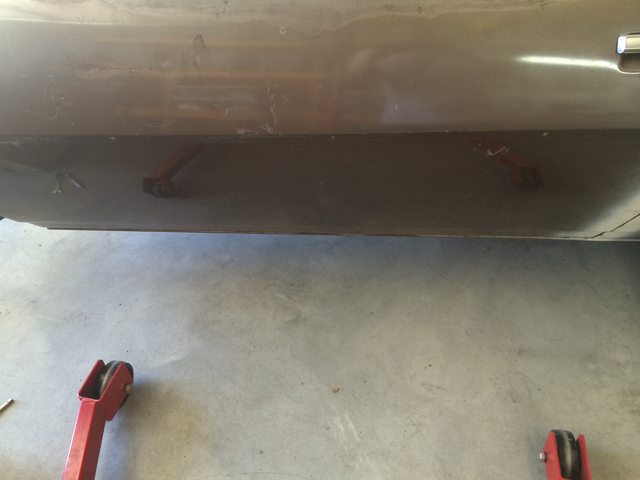 Here's some fun pictures.

I had to get creative to remove the door latch screws. I tried to get those damn screws out and could not get proper force applied, even when using a T-bar style screwdriver. I am 230 lb man so I went to plan B



Here's the warning label on my engine hoist. I like some of these warnings.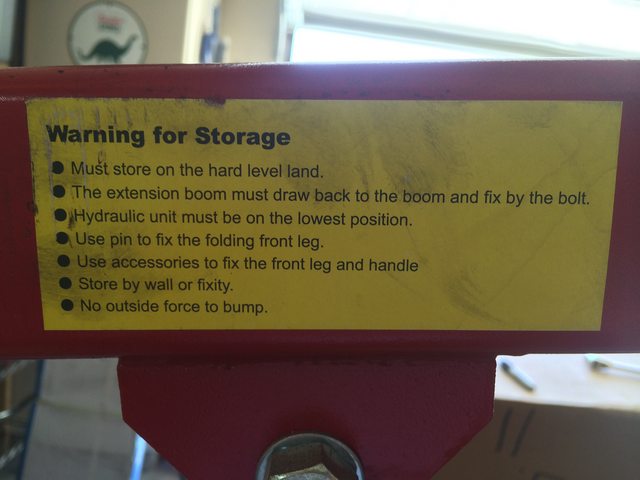 5-18-2014
Thanks Bob, baby steps

So I kept looking at my driver side door and it seemed a little thick so I stripped down the back edge area and it turns out there was a repair done. It's not a really deep dent, as it looks like someone pulled it out a bit. But I was really hoping to not have to deal with crap like this, but it could be worse.

You can't see any depth in the below pic, but it shows the size of the repair area.

The question is do I fix it with All Metal over bare metal or use something like Rage Gold over epoxy primer?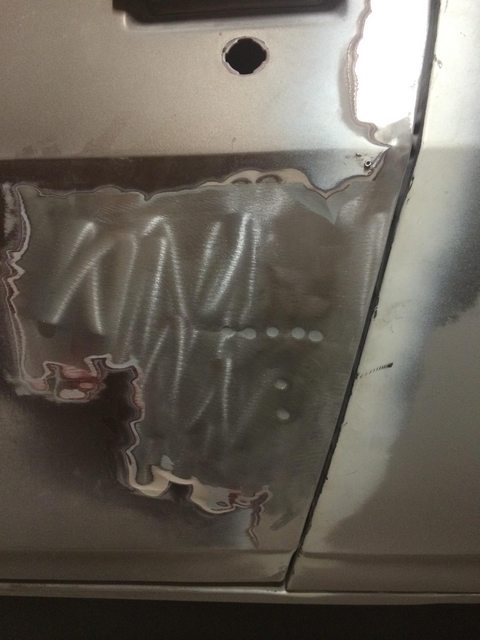 5-23-2014
I got off a little early today so I started welding the firewall panel on. I had to do some minor work on the opening for the fender support, but otherwise the panel fits very well. It's the Detroit Speed panel for anyone curious.

I doubt I will do much to the edges as this is not a show car. But that is still TBD.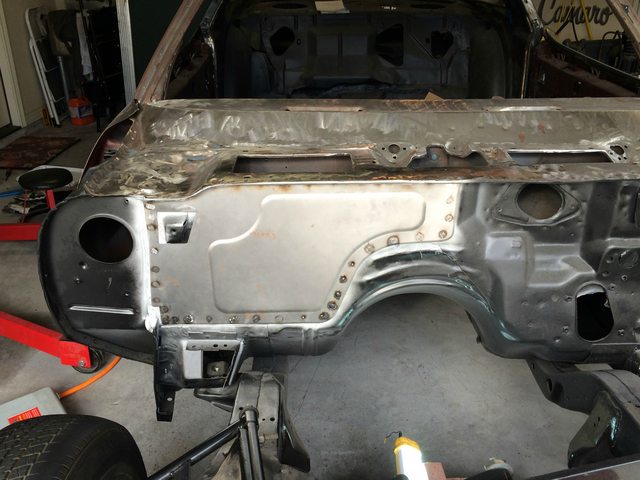 Here are some pics illustrating why I always wear a full face shield when I am cutting, grinding, etc. My cutting wheel split for some reason and smacked my face shield right in the middle. I was doing normal cutting and all of a sudden it just broke.

I can't imagine what that would have done to my face and/or my eyes had I not been wearing my face shield. After it happened I had to stop working and take a 5'er.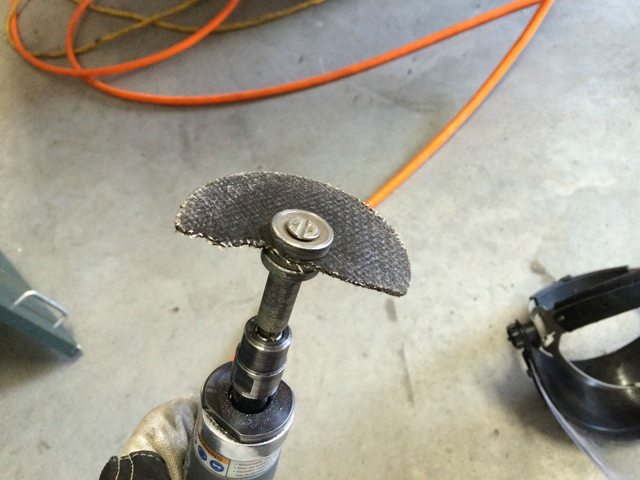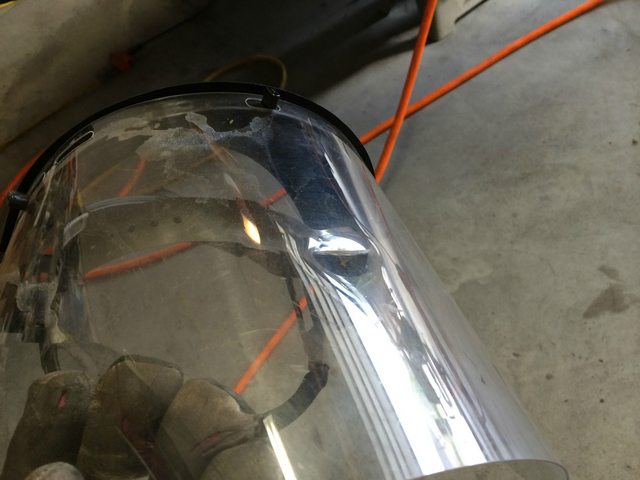 5-26-2014
I got the rocker panel patch welded in today. Welding upside down was causing me issues yday but I finally found the right voltage/wire speed combo and was able to get better welds. I still had some stalactites to grind down, but at least it's in.

First two pics show the area I removed. I didn't want to jack with pulling it so decided to weld in some clean metal. In the end it will be the same amount of time but I am a little OCD about having big fixes like this on my car. The only one I will (hopefully) have is on the driver side door.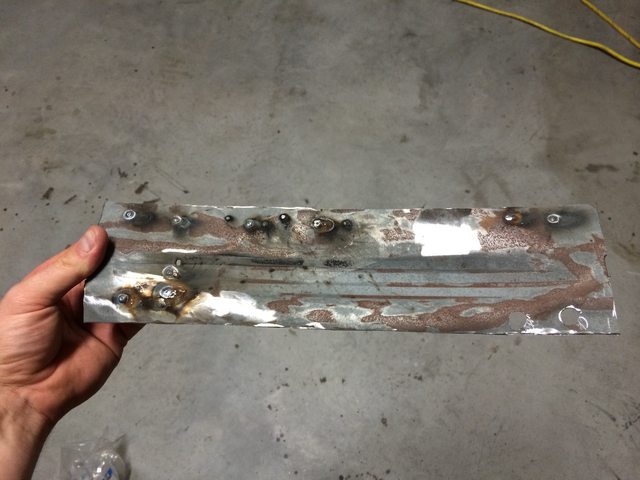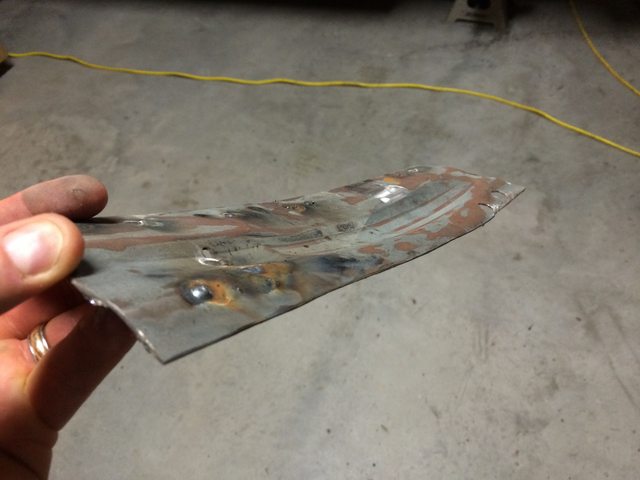 Kind of a crummy pic but here is the patch welded in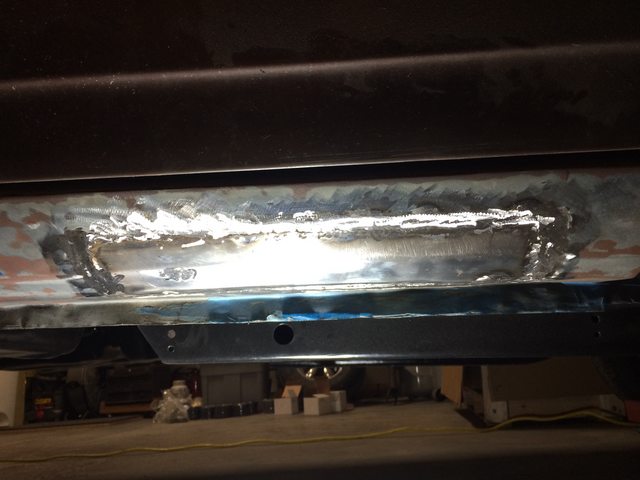 I got the firewall plate completely welded in and the welds ground down and polished with 60 and 80 grit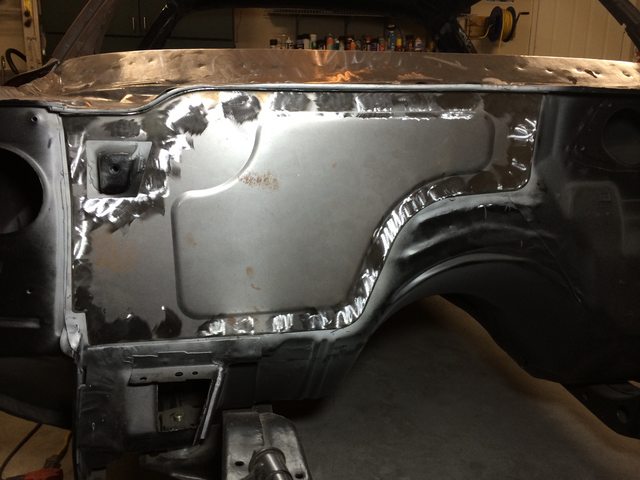 I got some other things done, none of which are very picture worthy. Most of it was taking areas down to bare metal as I move closer to spraying epoxy on the shell. At this stage the main things I have to do before I can spray the shell with epoxy are:

* get the rocker panel patch welds cleaned up
* apply metal filler to the roof-to-1/4 seams. The filler should arrive Tues or Wed.
* get the doors completely aligned. The real issue is the driver door as I uncovered some body work that affects how far inward the door sits. I likely need to address this and then get the depth dialed in before moving on
* stripping the rest of the shell down to metal
5-31-2014
started shaping and sanding the roof-to-1/4 panel filler. I will hit it again tomorrow but unfortunately I ran out of filler (I had some other spots) so I will go as far as I can and then touch it up with a skim coat of metal filler.

I think I need to extend the filler downward as there is a slight dip as shown in the 2nd picture. I sanded the filler with 40 to shape and then 80 and I don't think I can get the filler down far enough to close up that gap. Or maybe the filler is still too high?

Thoughts?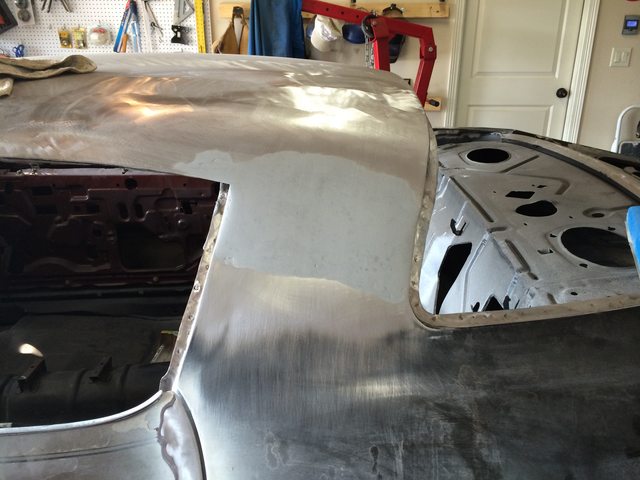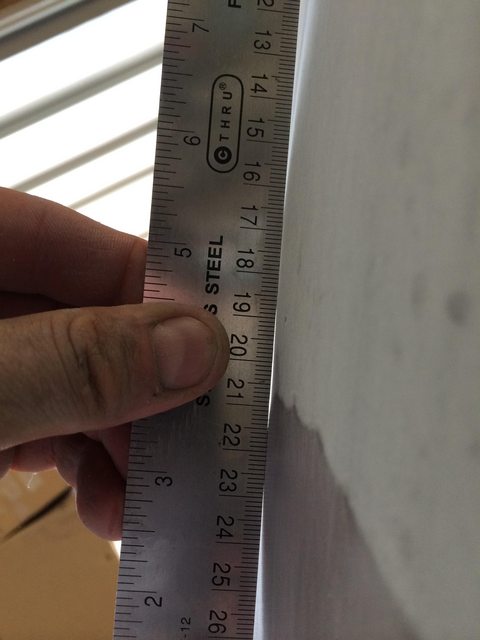 6-8-2014
No exciting updates but I actually made a lot of headway this weekend, just not much that is picture worthy.

The immediate game plan is to spray the trunk floor with the Raptor bed liner. I thought it through and think spraying the trunk floor before I spray the shell will be the better approach. Basically, I'd rather not spray the trunk AFTER the shell is done. I am thinking about spraying the inner wheel wells with the Raptor truck bed liner too based on what others have done. It's a nice black textured look that is durable. I'd do this the same time as the trunk, of course.

I got the inside of the trunk ready for seam sealer but of course what I had was bad so I had to order some new sealer. In the meantime, I got the roof-to-1/4 panel areas just about done. I need to feather the edges some more but they are almost where I want them before spraying. I am being a little OCD with these areas but I want them to be right when I apply a skim coat of plastic filler.

I hit the rocker panel patch with some metal filler and sanded it down. I will finish it up with some Evercoat Quantum after epoxy primer is sprayed. I did some more stripping of the annoying areas, like around the trunk opening and the rear tail panel. I also got the inner wheel wells stripped down for refinishing.

So all in all I took a nice step forward.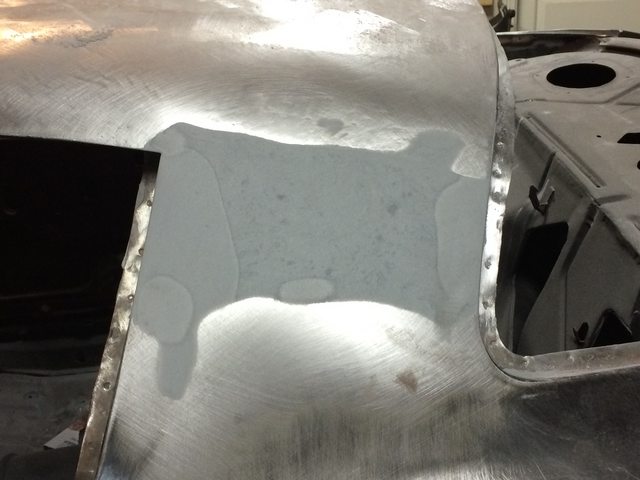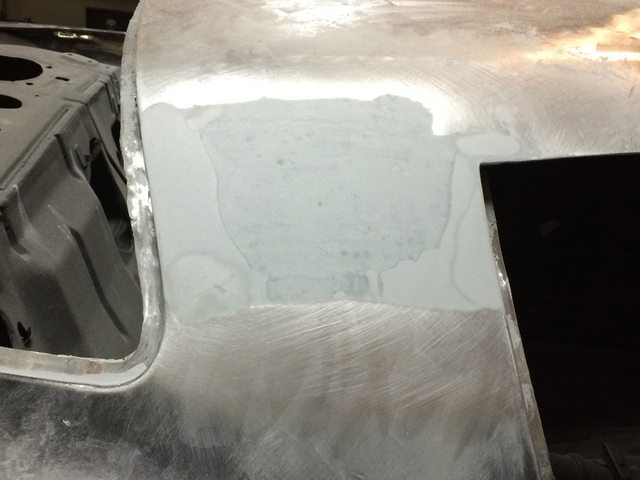 6-9-2014
The new compressor should be here by Thursday so I spent time running the air line. I got the MaxLine RapidAir 3/4" kit. I need a few more small items to install the rest of the items which should happen tmro. I will also add some drains to the "valleys".

In a perfect world I would have added more line but this is more than enough. I will add a flex line from the compressor to the inlet that will add some more length.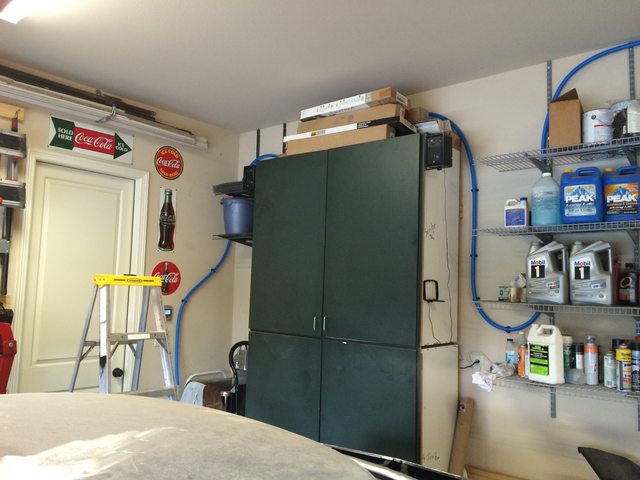 6-18-2014
Just got back from a biz trip in Boston so will work on the Camaro some these next few days but I first need to get this big mamma jamma set up, which I will work on tomorrow night. It will be replacing my stout 26 gal compressor (which is for sale if any Houston area guys are interested). On the plane ride back home I mapped out the rest of the game plan through painting the shell. I just need to execute the plan. The new compressor will help a lot with the rest of this project.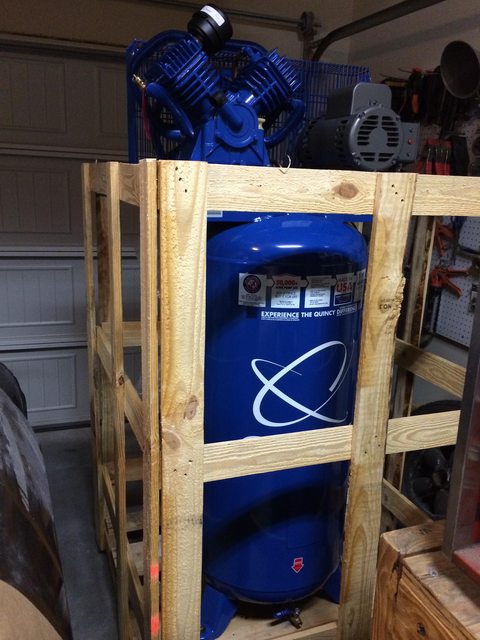 6-22-2014
Didn't get anything done on the Camaro but got the compressor line finished with the drains, the filters installed and the compressor on its mobile base. Ideally the compressor would be bolted to the slab but my garage does not allow for it has to be move-able. I will secure the compressor to my workbench when it's in use however. Getting all the lines installed to my liking took more time than I expected, but this was a critical step of the project.

I will spray using the top filter and do everything else using the bottom filter. I need to run a line over to the hose reel for air tools, which will be easy. I also need to hook up the electric line. After that I can switch over the new compressor and start spraying, among other things.

For anyone interested, the paint filter is the Devilbliss QC3, the air tools filter is a water filter and regulator from tptools.com, the hose reel is a Cox Reels, the hard line is Rapidair Maxline. I connected the QC3 to the Cox via a hydraulic line from Northern Tools.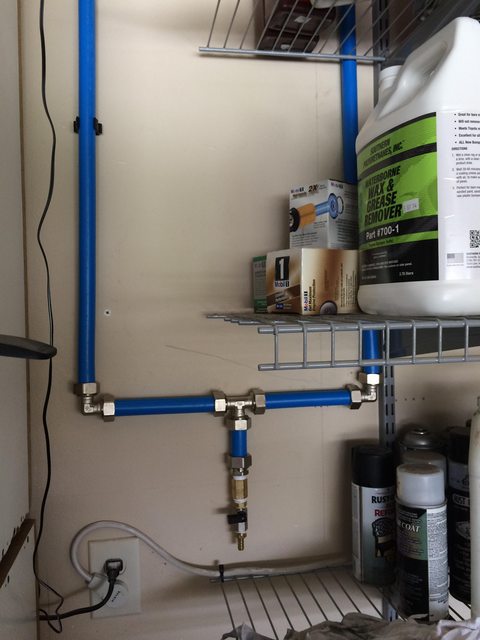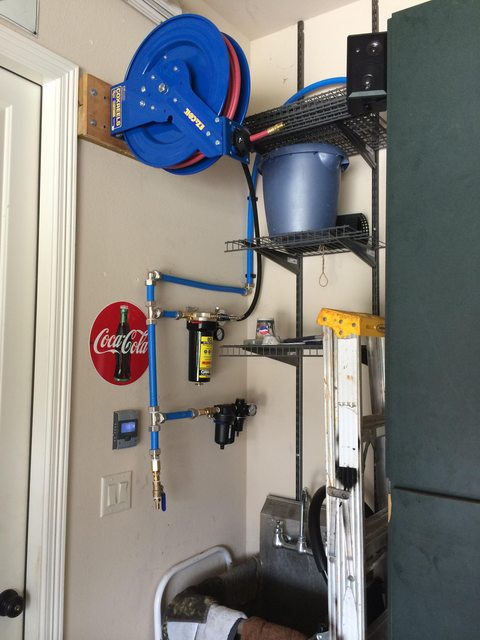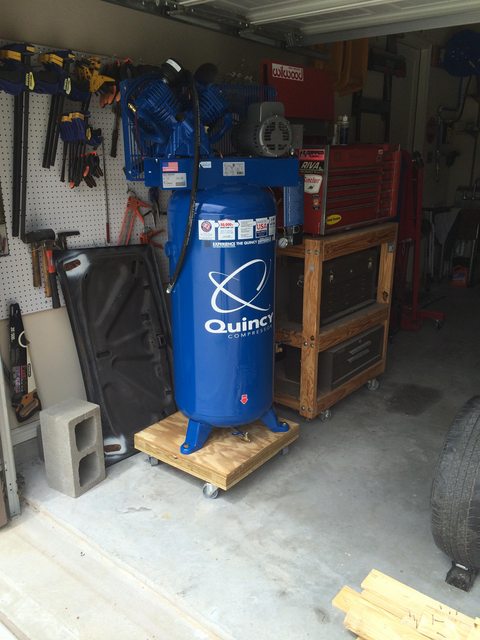 6-29-2014
So I got the air compressor system all working yday, which is nice. The extra capacity is really great to have.

I spent time stripping the wheel wells to spray this week and prepped the firewall for another few coats of epoxy primer. I decided to install the 4-speed hump so I could spray epoxy primer where I will be cutting. It will be more efficient to just spray all these areas at once.

I posted this in the Body forum, but I am unsure if the placement of my aftermarket 4-speed hump is too far to the left or if that is correct. I am using others' measurements as a guide.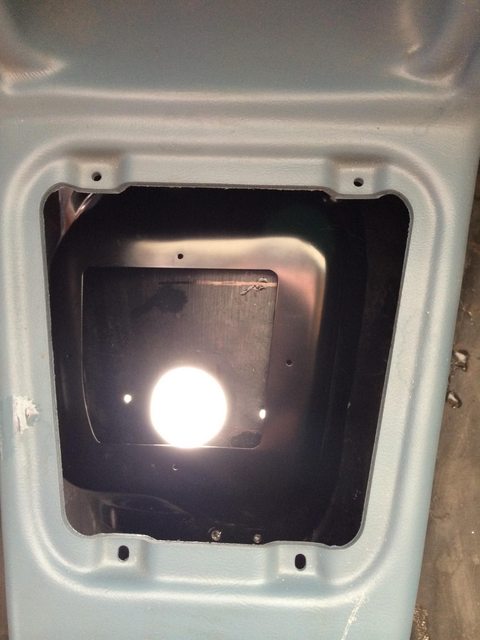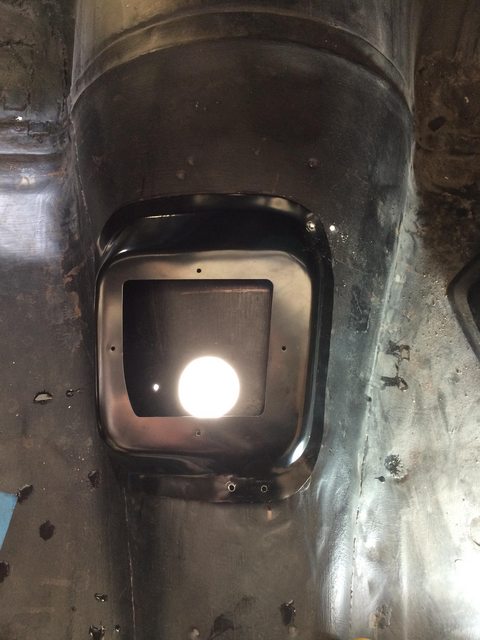 As you can see the top is level in that position, which I would expect.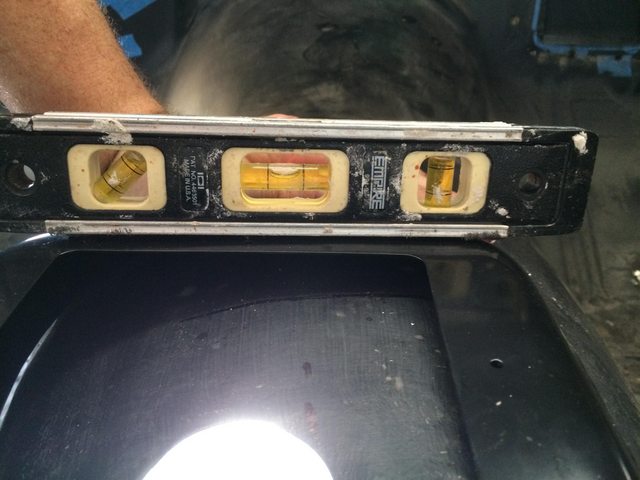 7-1-2014
I pulled out the rubber boot and the plastic bezel to fit it on the 4-speed hump and everything looks good. The boot is positioned a little rightward and the plastic bezel angles toward the left to compensate for the hump being installed left-of-center.

For future reference, here are a few posts that have measurements for factory location of the hump

http://www.nastyz28.com/forum/showpost.php?p=442339&postcount=29

http://www.nastyz28.com/forum/showpost.php?p=1811978&postcount=8

http://www.nastyz28.com/forum/showpost.php?p=2625721&postcount=1

I am sure there will be some slight adjustment needed when everything is installed but I will be able to install the hump tomorrow.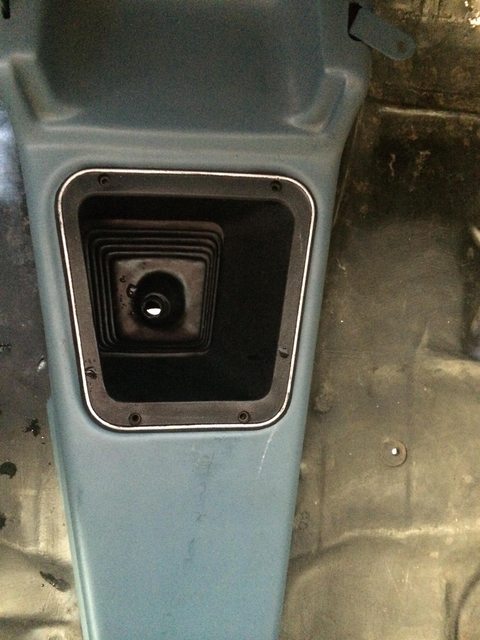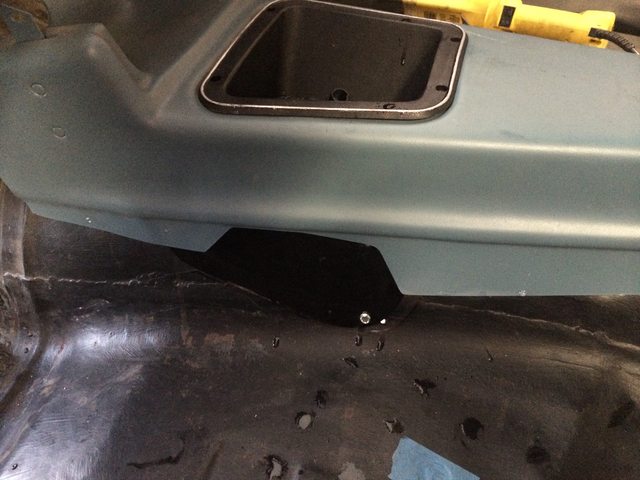 7-2-2014
I got the 4-speed hump welded in, there's no turning back now!



I used my jig saw to make a nice, clean cut. I left about 1" of metal for the hump to attach to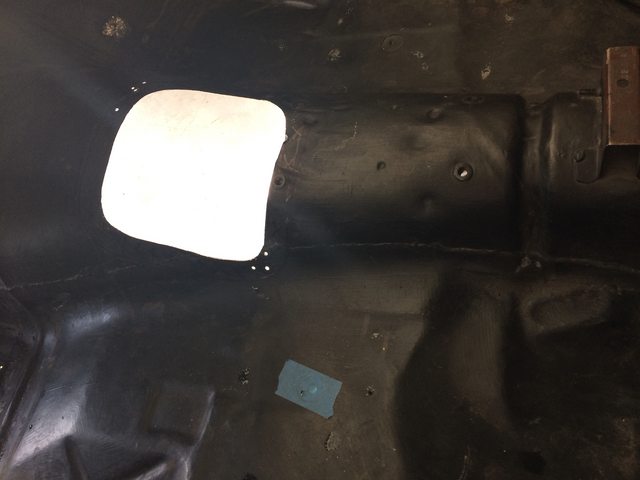 Stripped both mating surfaces down to bare metal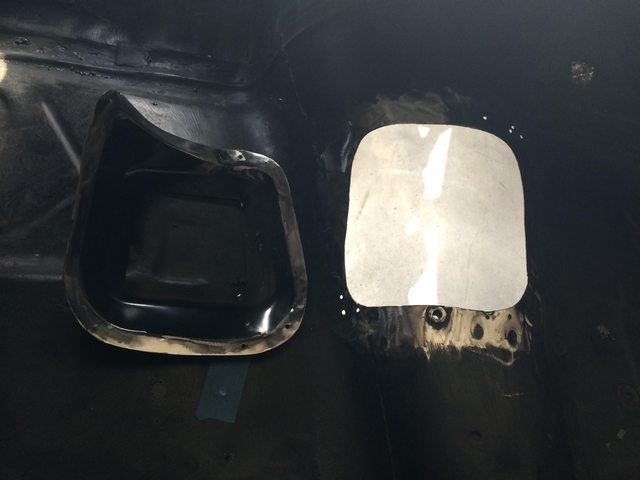 I got to use my Harbor Freight hole punch. This was one of those purchases I didn't need to make but hey, it's a cool tool!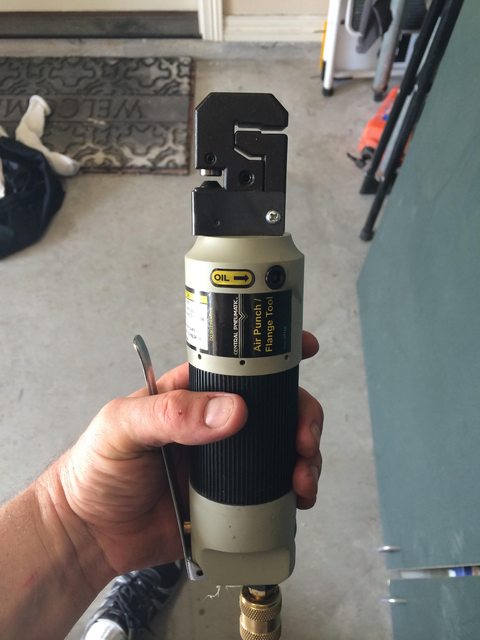 It makes nice pretty holes perfect for spot welding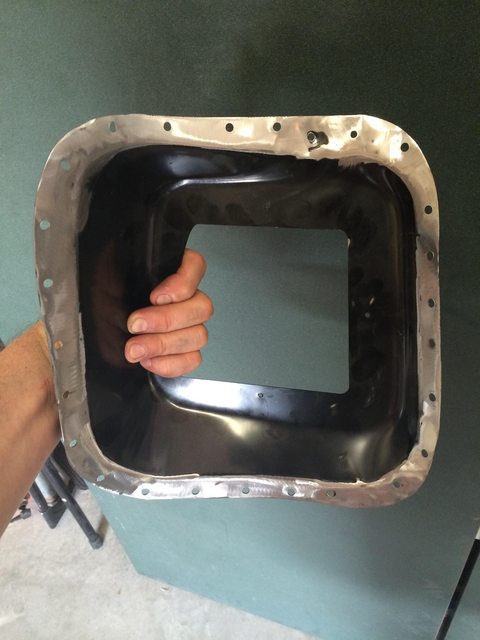 I sprayed both mating surfaces with weld through primer for extra protection. I will eventually seam seal both sides of the joint.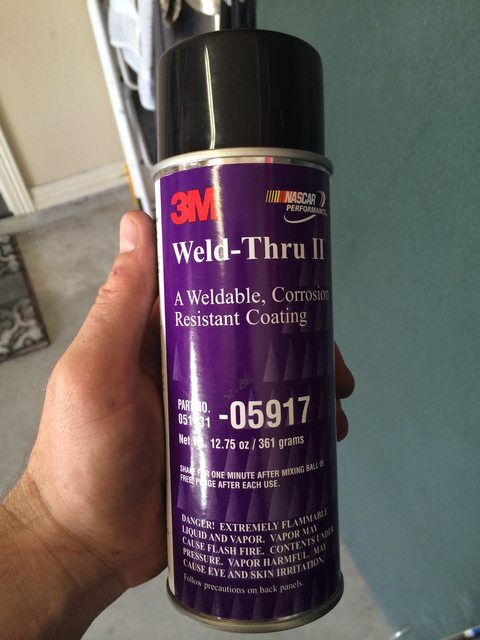 The hump welded in place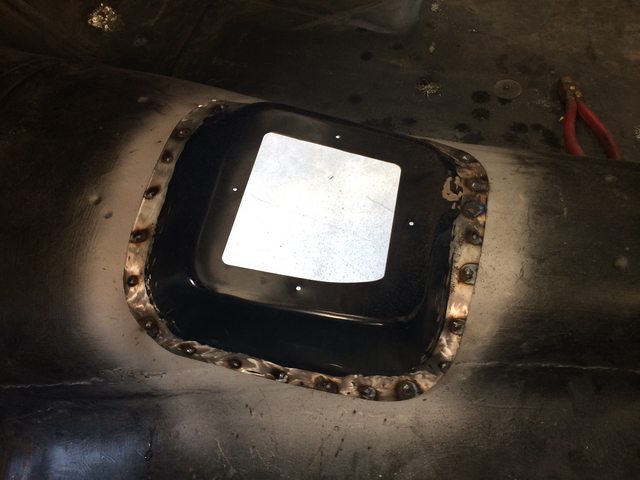 Thanks guys. It was a simple task but I figured the extra pics might help someone else.

The goal is to get the hump all done, which is just a matter of cleaning up the welds. Then I can mask off the areas around the wheel wells and trunk for spraying. Then I will spray epoxy primer on these various areas, apply seam sealer and then do the truck bed liner on the trunk and the wheel wells. I also need to spray the firewall, which I will do when I spray the trunk and wheel wells.

After that the plan is to:

1. Get the doors lined up
2. Move the car into the driveway and do some spot sand blasting for areas I cannot strip by hand
3. Install the motor and tranny

This should be pretty straightforward actually
4. Get the all the body panels installed and measured up. This will be time consuming, no doubt
5. Remove all body panels and start focusing on the shell for final body work and painting

So that should keep me busy, but I can truly envision making some strong progress in the next few months.
7-5-2014
I got the firewall, rear wheel wells and trunk sprayed with epoxy primer today after doing prep and masking the surrounding areas yesterday (and doing some grilling and beer drinking ) It was good to get used to spraying again in some pretty "low risk" areas. I will apply seam sealer where I need to and then coat the trunk and wheel wells with truck bed liner. I am using Upol Raptor bed liner.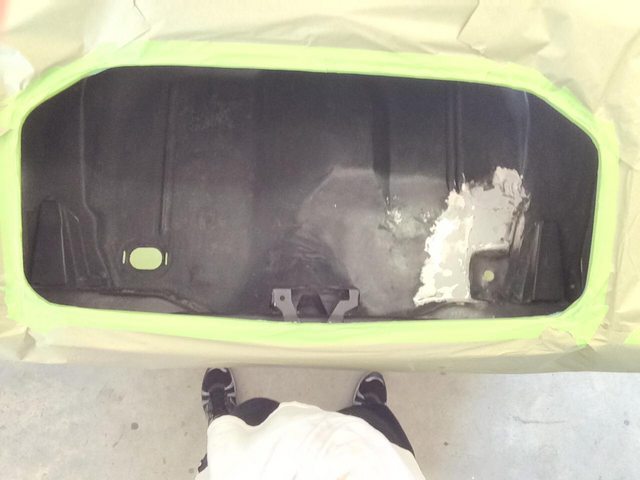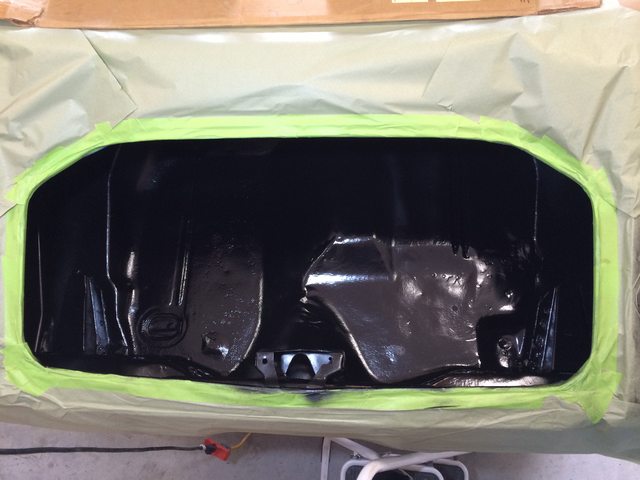 The firewall was like deja vu all over again since I sprayed it a while ago. I had to re-spray it since I added the Detroit Speed AC delete cover.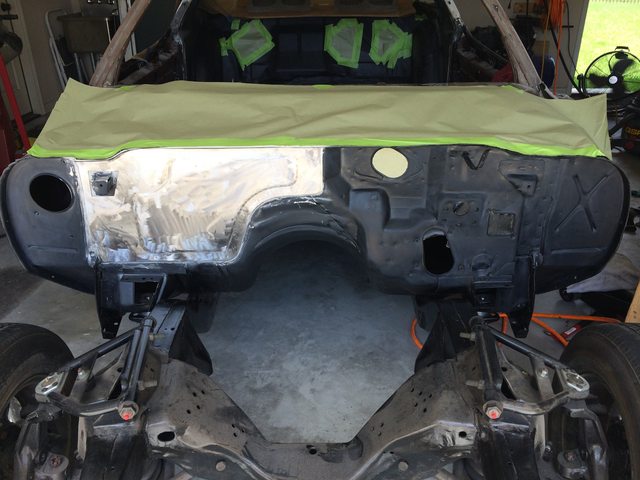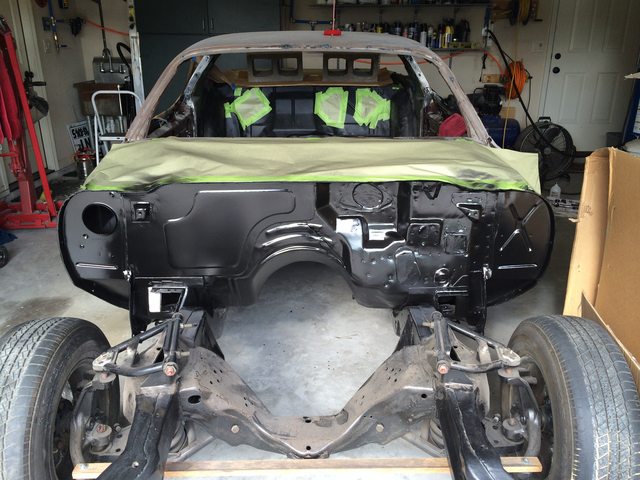 Thanks bud. I am going to use a Vintage Air aftermarket AC system, so the old factory "suitcase" won't be used. Aside from the compressor and condenser, everything else is under the dash in a compact system. The lines will run through the heater core opening.

While his setup is WAAAAY nicer than what I will have, this pic is what prompted me to get the DSE cover panel. speed_m5 did a lot of work to the firewall, as in completely smoothed. You can see the AC lines are run between the fender and wheel well for a nice, clean look.
7-7-2014
I got the Upol Raptor truck bed liner sprayed on the trunk and wheel wells tonight and I am pleased with how it came out. I only snapped pics of the trunk after the first coat since the wheel wells still have the masking paper up and the pics were crummy. The idea came from a few other members in the Body forum, so props for the idea.

Here is the exact kit I got: http://www.amazon.com/U-POL-Tintable-TRUCK-LINER-COATING-Bedliner/dp/B002M0S9AE

Two containers (1/2 the kit) did the trunk and both rear wheel wells. So I have plenty to do the front wheel wells. I set the pressure to ~55 psi and it came out a nice thickness. I sprayed SPI black epoxy primer on Saturday before spraying the Raptor.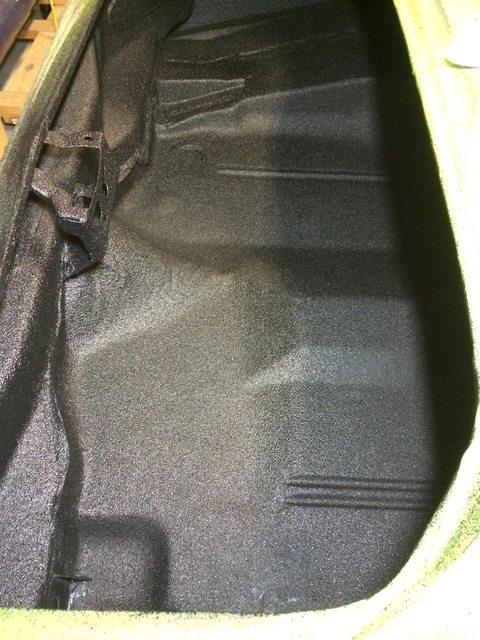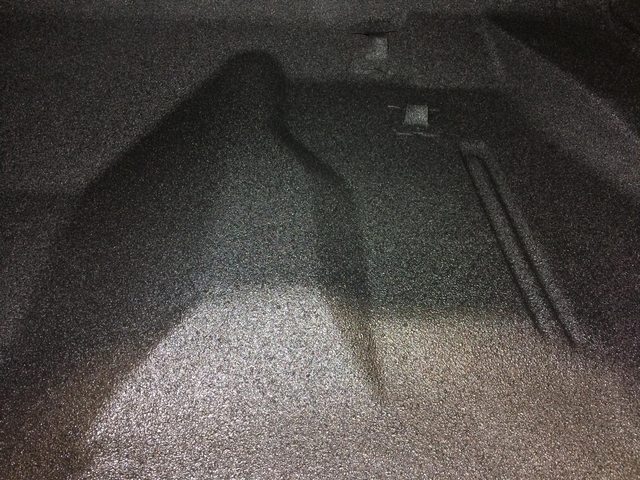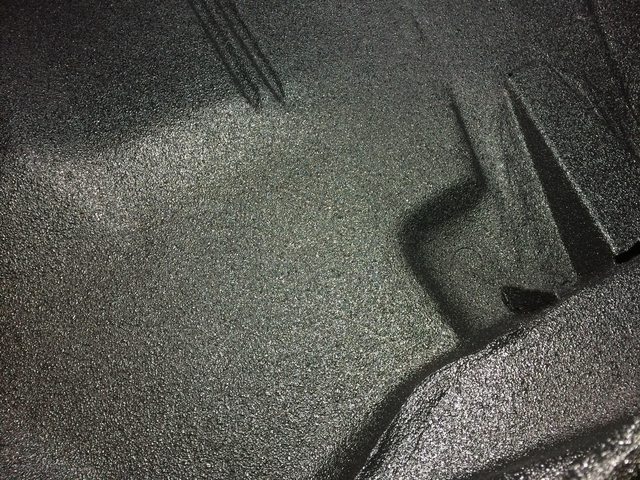 Thanks Tony, I will snap some pics tomorrow after the second coat is cured and I can remove the masking paper.

To be clear, the color is black. It looks speckled only because the light is reflecting off the texture. But I did not tint it or anything, just went with straight black.

You will recall the pits and dings in the floor in the below pic - the bed liner makes all that go away but it's not super aggressive texture so it still looks good.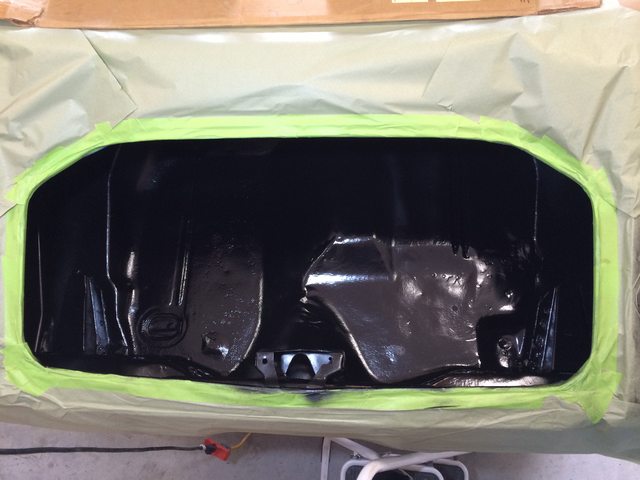 7-9-2014
I tried to get pics of the trunk after the second coat of bed liner cured but the pics are not any more helpful than the first round of pics. I was trying to show the texture in better detail in case anyone was thinking of doing the same thing

Here's a closer shot that shows the texture I achieved at 55 psi.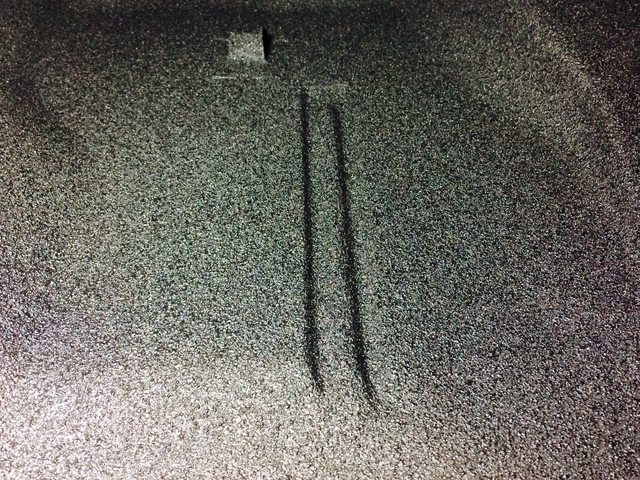 Here's the wheel well, which I think shows the color better. I did the inner and outer wheel well, so I stopped at the bottom lip of the inner wheel well before the frame. It's not for everyone but I like the look and the protection, plus a little sound deadening.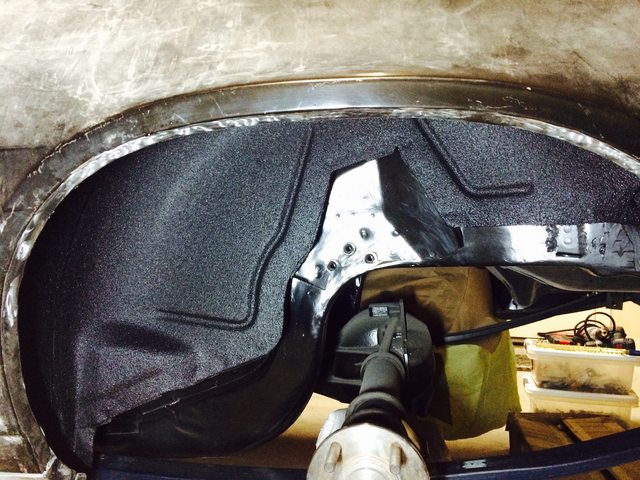 7-12-2014
Yep, I sprayed it at 55 psi at the gun gauge. Re: the gun, you have to use a siphon gun with a larger orafice, so there was not much overspray at all. This is the gun: http://www.tcpglobal.com/UPO-726.html?gclid=CPTuspyAwL8CFUYA7AodSmEAmA#.U8FIc_ldV1Y You can use other guns as well.

Re: the trunk, I hear you. This is certainly not for everybody but I am genuinely very happy with the results, both from an aesthetics and practical point of view I wanted a durable finish that helped conceal some imperfections and this delivered wonderfully.

The pics I have posted previously were from my phone camera and were not the best so I took some better pics with my Nikon. I don't mean to beleaguer the point, I mainly want to provide others with the best info possible so they can make an informed decision since this is something you can't reverse very easily. I somewhat took a leap of faith in using this product so maybe I can help others feel better about whatever decision they make.

Here's links to the original sized pictures so you can see more detail

http://imgur.com/OCiTAzQ
http://imgur.com/S9ZLbqJ
http://imgur.com/t7GAa1y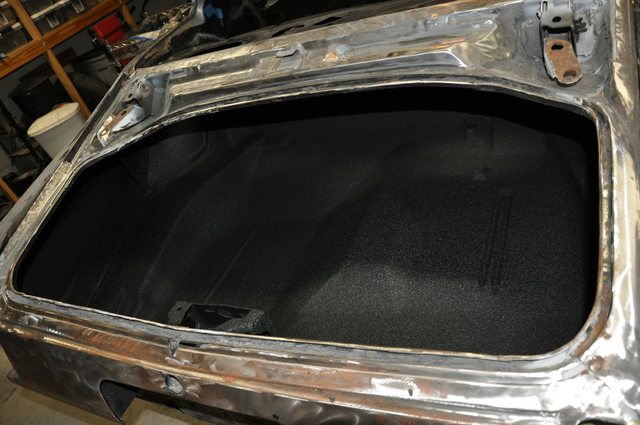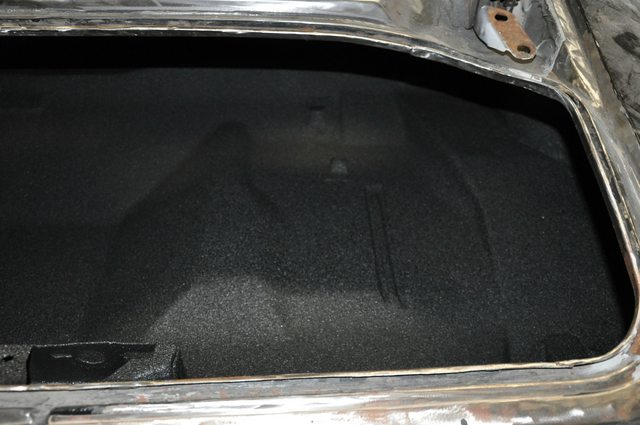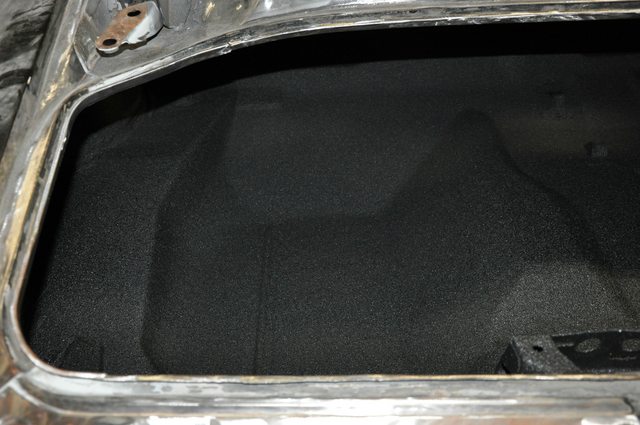 Good stuff man, as always. I actually saw someone else post pics of this product applied so it wasn't a complete leap of faith, but pics are not always the same as seeing the product in person. But I am definitely happy with the results, so all's well that ends well And I am glad I was able to assist some others.

Re: the gun, a 2.0 tip won't cut it, you need this gun or a similar Shutz style gun.

Here's a pic of the gun tip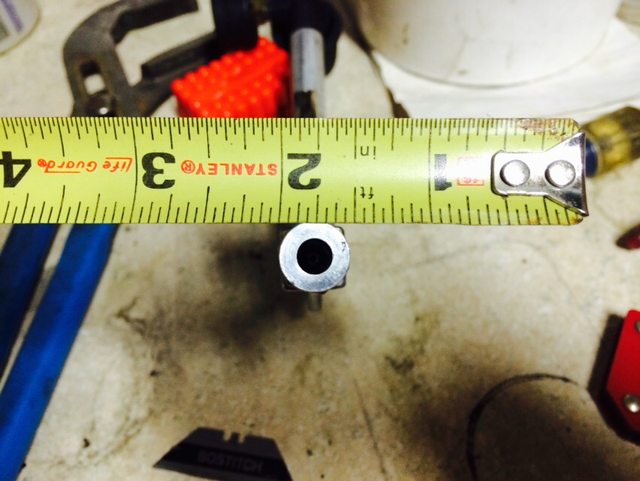 7-13-2014
Got a few things done this weekend. I started off applying seam sealer to the firewall and then re-coating with epoxy primer for aesthetics since the seam sealer is a a lighter black color than the epoxy primer.

I taped off the areas to keep the lines clean. I applied the seam sealer with some acid brushes, which are like $1/pack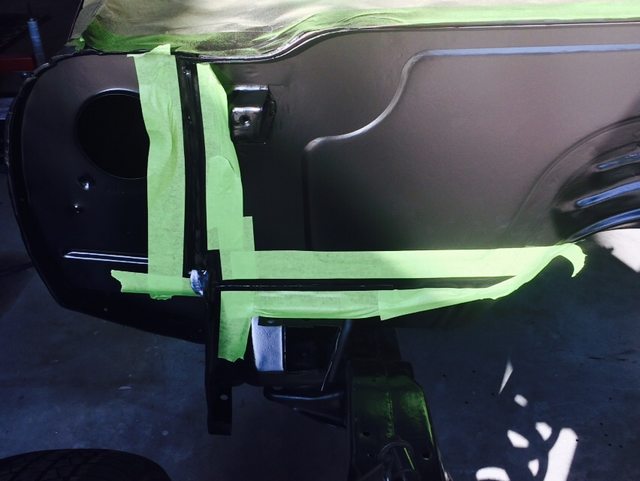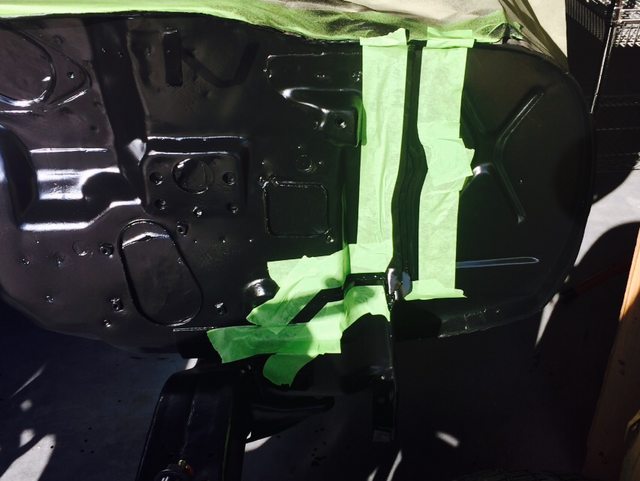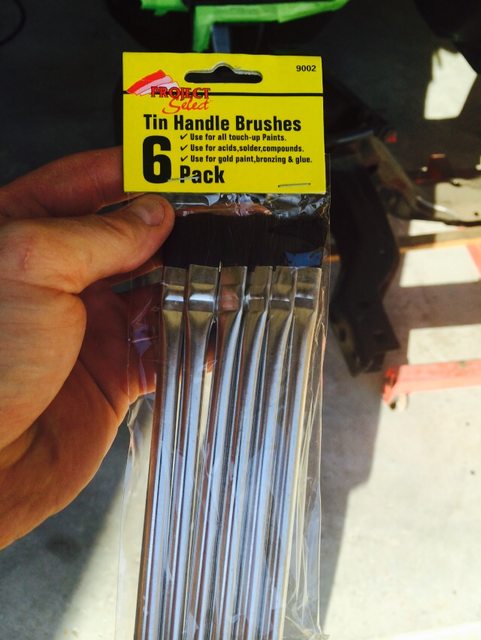 Here's the seam sealer I went with. I liked having more control of where I apply the product. If you tape off the area you are sealing, then remove the tape a few minutes after application for a nice clean line.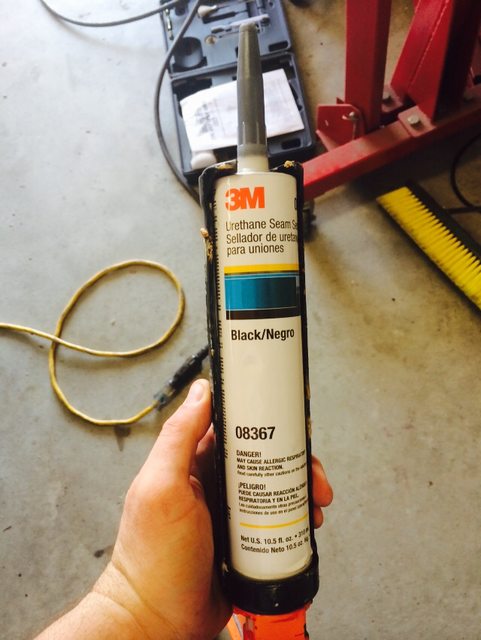 I also got the 4-speed hump sealed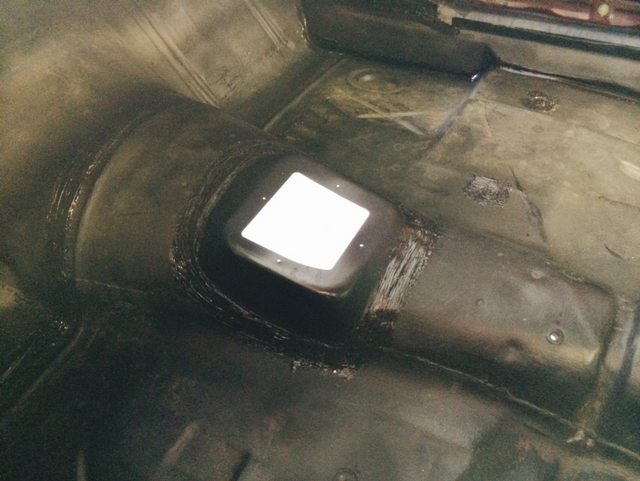 So the door-to-1/4 panel gap along the lower half of the passenger side door is as good as it's going to get with the hinge adjustment, which means I need to close the gap somehow. I can either add metal to the 1/4 panel or to the door and I decided to go the door route. I decided this would be less intrusive as most people are not looking on the backside of the door. I may add some metal to the top half of the door lip if it looks too awkward, but that would only be to achieve a uniform thickness the entire length.

The plan is to add a piece of sheet metal (shown below) to the backside of the door lip and then weld along the door edge to provide a solid edge. I will then shape the edge to achieve the proper door gap. It will take awhile but I would regret not getting this door gap correct.

This is still very raw, but the general shape of the metal piece is good, minus the edges which I intentionally left "long" since I can easily remove metal easier than I can add it.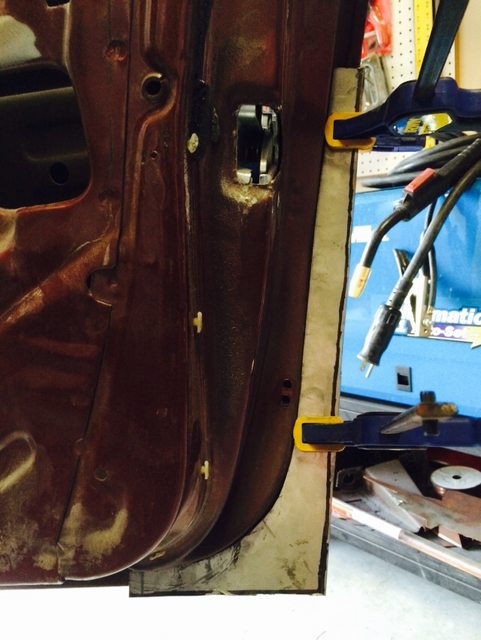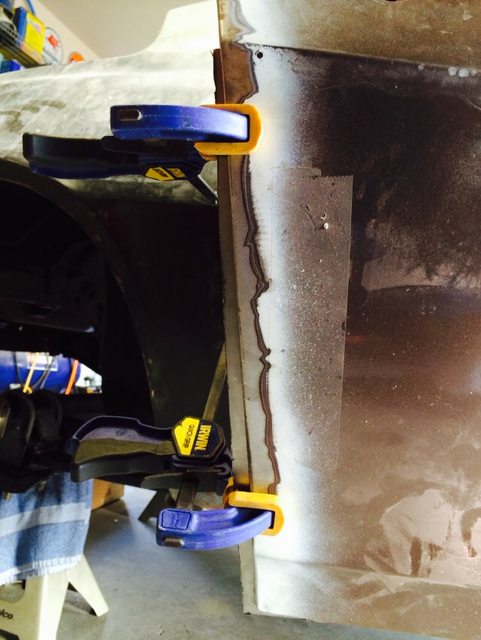 A few fun things.

I typed up a list of sub-projects I need to get done that pertain to the body work and taped it in my garage. That way I can stay focused and work down the list one item at a time.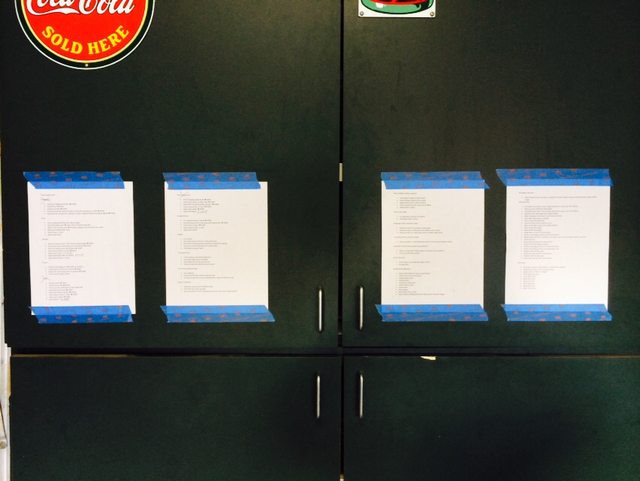 I changed over to higher flow air tool fittings and it definitely has a positive impact. My air tools definitely feel like the have more umph. I thought I'd share since I didn't know about this until a few weeks ago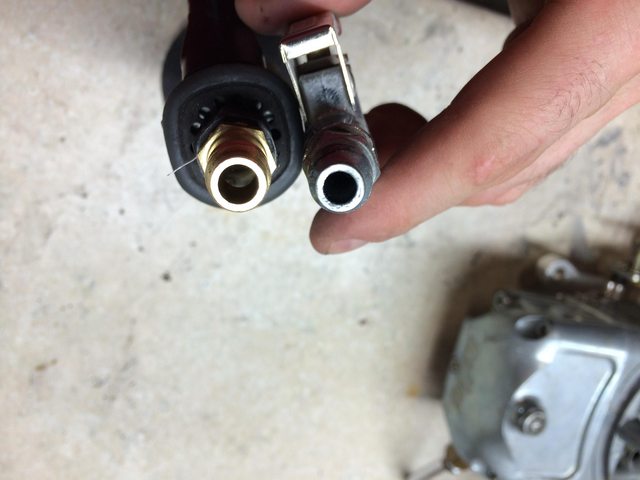 7-15-2014
I got the new piece cut and the door area primed for welding, which will take some time since I need to keep the door metal from warping.

The rough template taped in place to outline the inner edge where the metal piece will fit against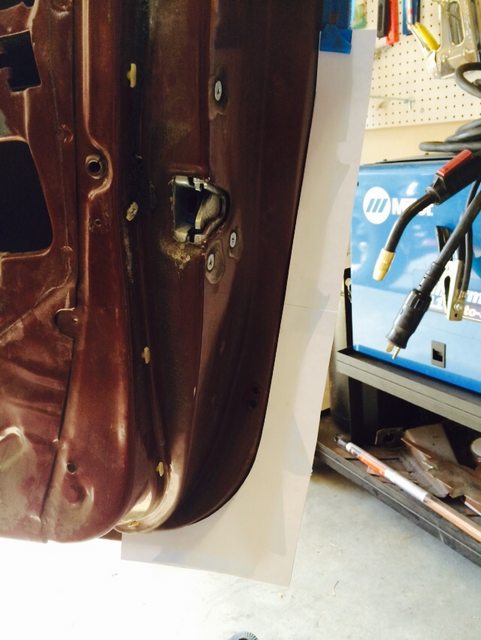 I taped a little wood dowel to a pencil so I could trace the edge onto my template. The template was intentionally larger than necessary for this reason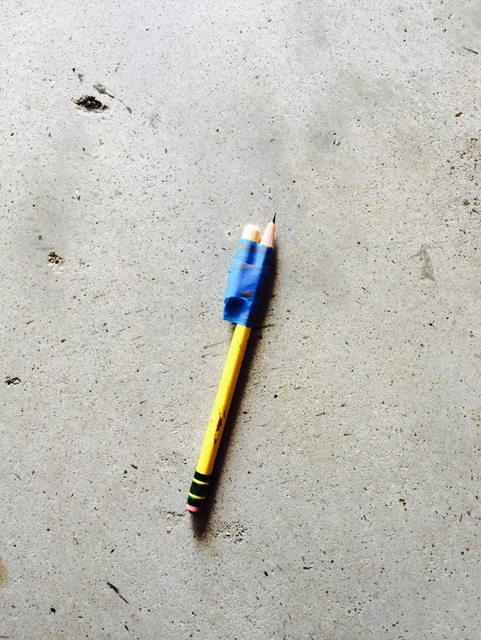 Here's the result of tracing the edge. Once I cut the new template I will have a nice, true line to transfer onto my sheet metal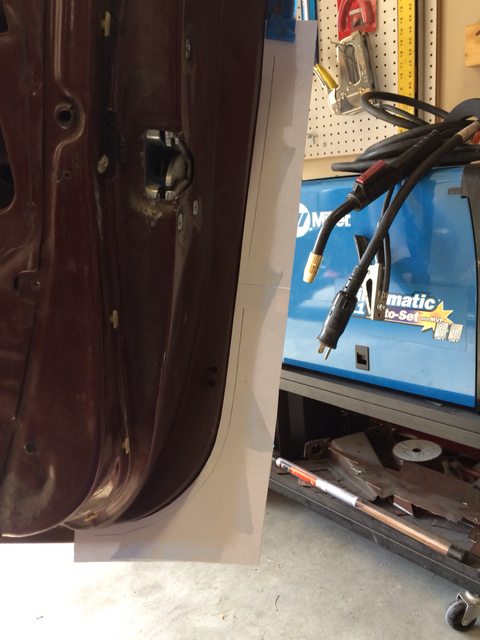 Here's the new metal piece I will weld in place and eventually grind down to get the door gap correct. I put two small relief cuts so the metal would contour to the crease in the door.



The door stripped down to bare metal. Of course I uncovered some rust/pitting. I decided to cut it out since I will have the metal piece as a backer.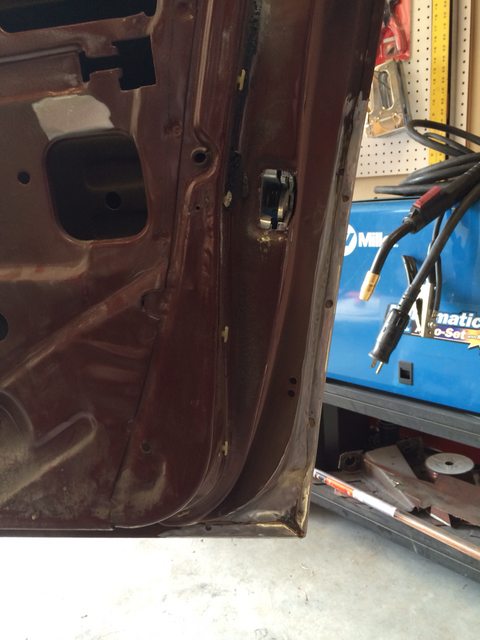 The rust is not too bad but I won't take any chances.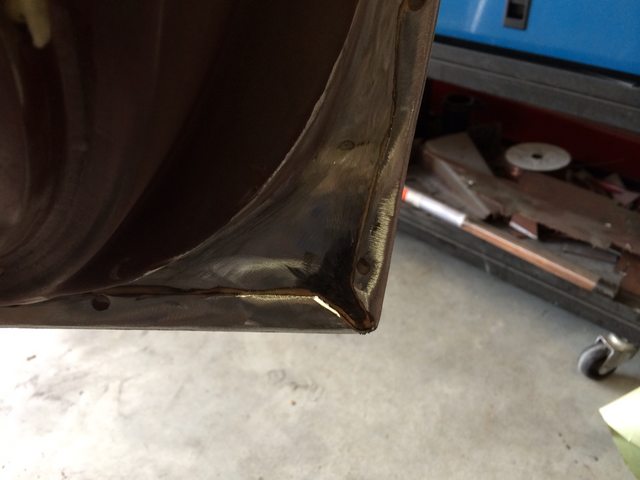 The door primed in 3M weldable primer ready for the metal piece to go in, which I will do ASAP
7-20-2014
So you recall the bottom-rear corner of my pass side door had some rust rot, so I cut out the affected area to replace



I cut two pieces to weld together since this area has two pieces of metal on top of one another. I used my pneumatic hole punch to create some welding holes. I coated the mating surfaces with weldable primer.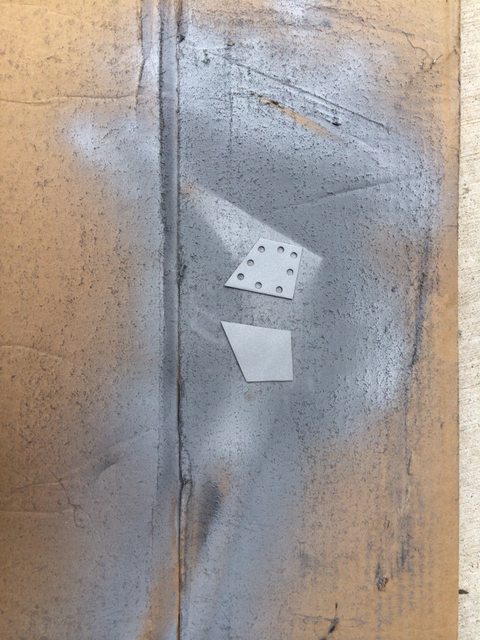 Two brought together to become one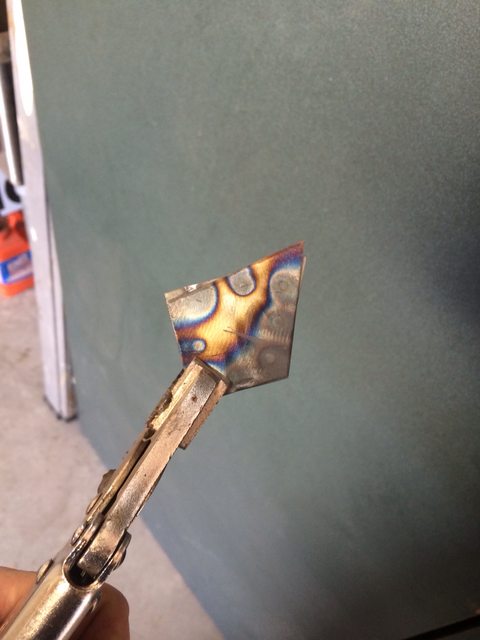 The welds ground down. Don't mind the mis-matched shapes, the two pieces were both oversized and the edges were ground down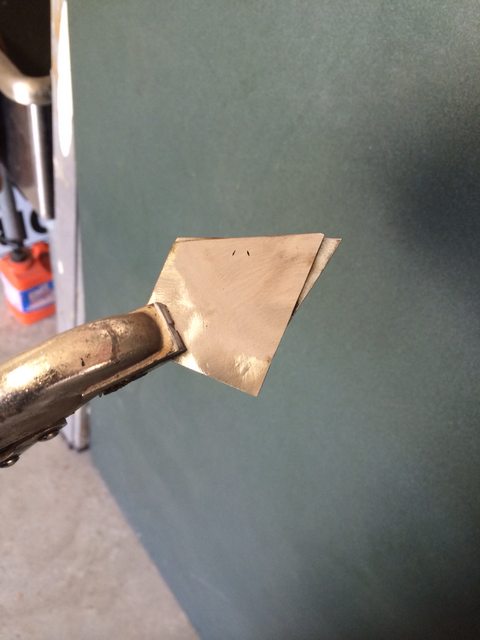 This worked out well since it gave me a bottom edge to weld against as I closed up the door gap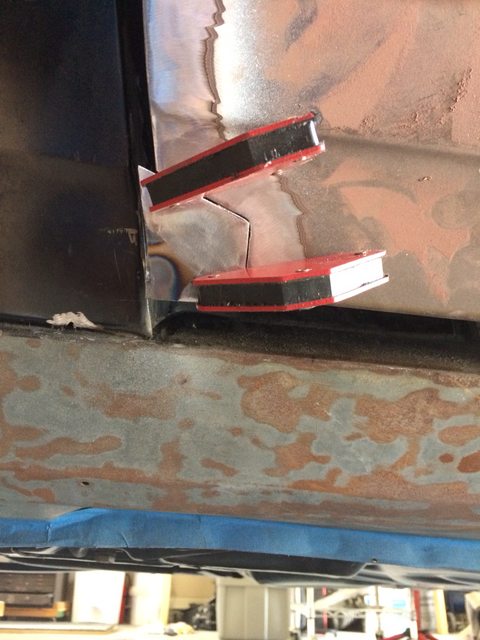 Just like new!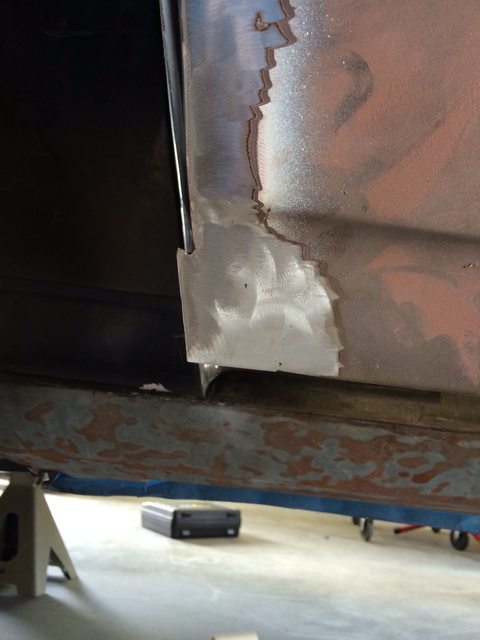 The other tall order of the weekend was closing up the door to 1/4 gap.

Here you can see what I have to do. The patch on the bottom is close to the gap I want. The gap gradually tapered to the correct dimension as you got to the middle crease of the door.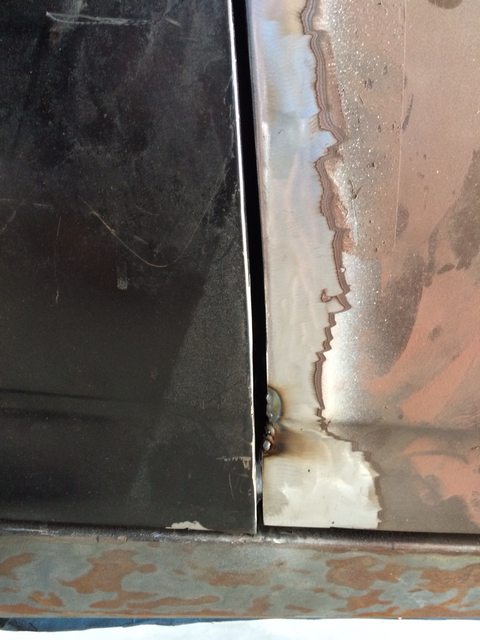 Here is a shot after adding some metal with the MIG welder. This whole process took a while since I had to take my time welding on new material




Fast forward to today and the edge looks WAY better. I have some clean up welds to do but this is really close to the gap I want. I will have to add a small amount of filler to this area but that is expected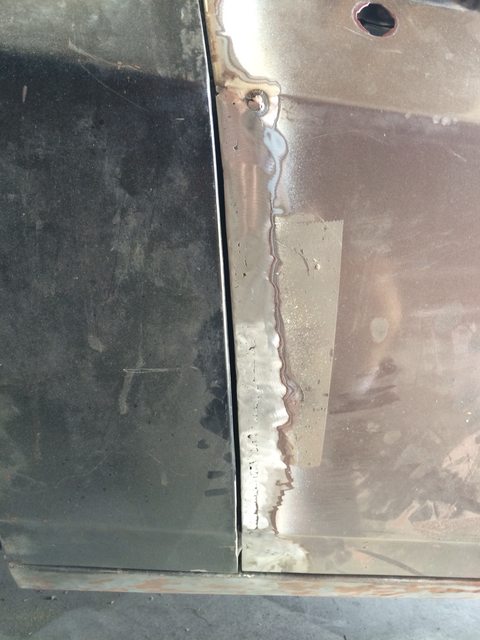 7-26-2014
In between working on the doors I installed the tulip panel and trunk lid, with the real goal of getting the spoiler installed so I can get the holes drilled. It felt good to put something on the car, even if just temporarily. The gaps look good, which was nice to see for a change.

I plan on using the technique of placing modeling clay where the studs are to mark the hole locations. This will allow me to get an accurate fit (in theory).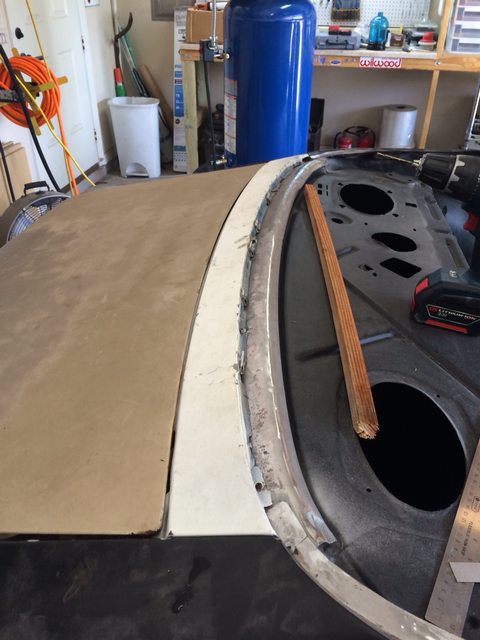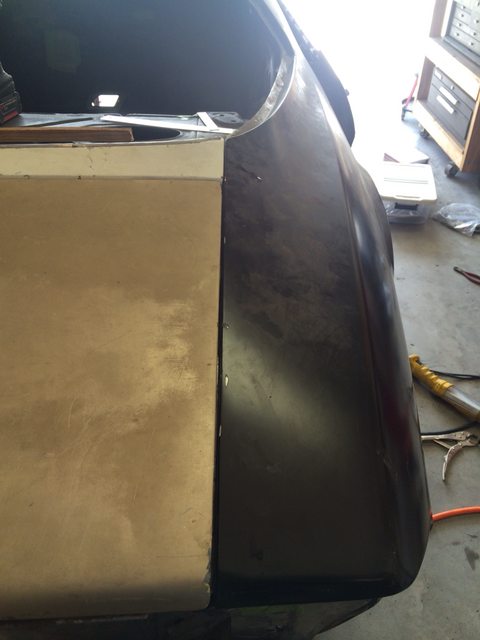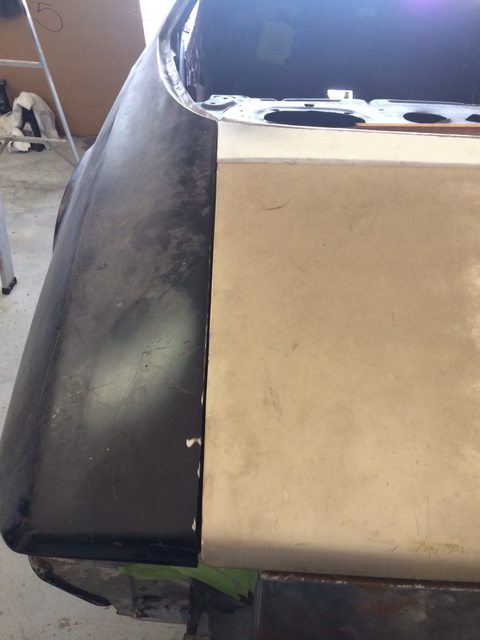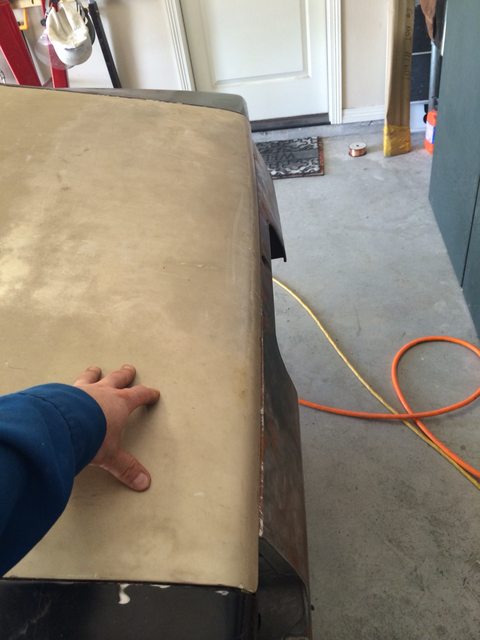 Thanks man. Pretty soon the rest of the sheet metal will be going on to get it all sized up. That should be loads of fun.

I removed the studs in the spoiler pieces and got the pieces fitted on the 1/4s and trunk lid. I have to get the holes drilled eventually so might as well cross it off the list.

Once the pieces were fit I marked the edges with a pencil. Then I will apply modeling clay under the stud locations and then drill the holes.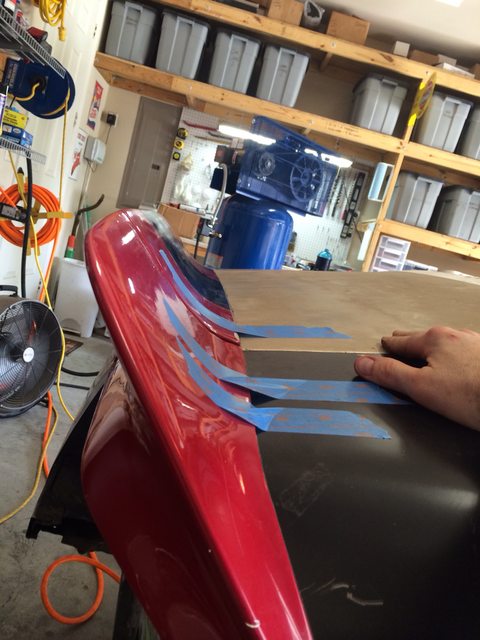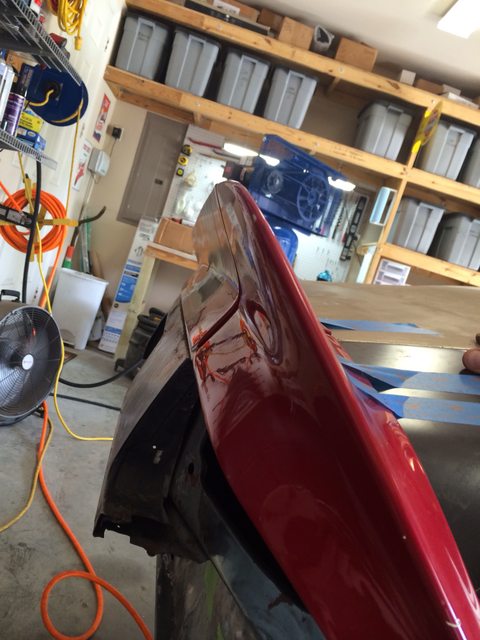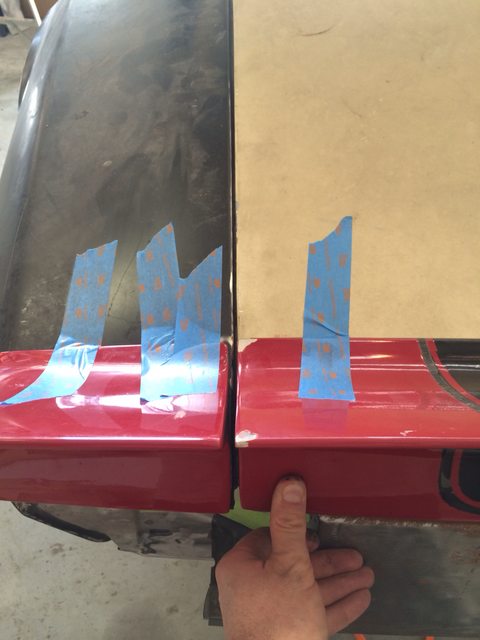 7-28-2014
I first read about it in a thread in the Body forum but have since seen others discuss doing it in their project threads.

The idea is pretty simple. You first mark the edge of your spoiler on your trunk lid and 1/4 panels. This will allow you to place the spoiler back in the correct location when you are pressing it into the clay. Next mark the general area of where the spoiler studs go. Then apply some clay in the stud locations.

You need to remove the studs from the spoiler, which can be done by locking two nuts together and then removing the stud.

This is what it looks like when you put the clay on the body. The clay sticks well to the body. Make sure the clay is thick enough to capture an imprint of the stud hole locations.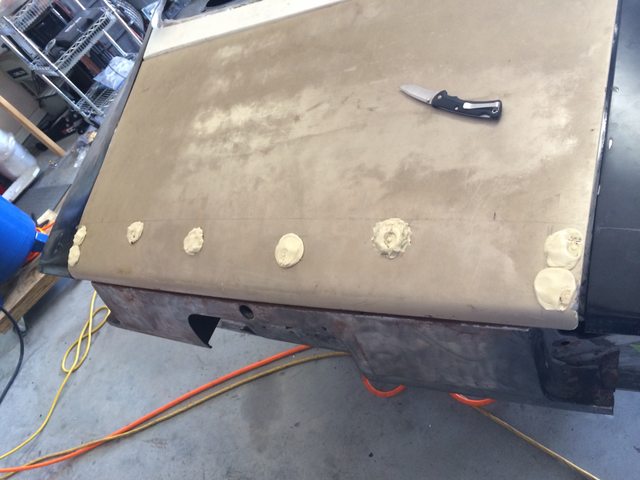 Then you will see something like this. I drilled small holes first and then removed the clay and slowly increased the hole size. I stopped at 1/8" and will increase the hole size as-needed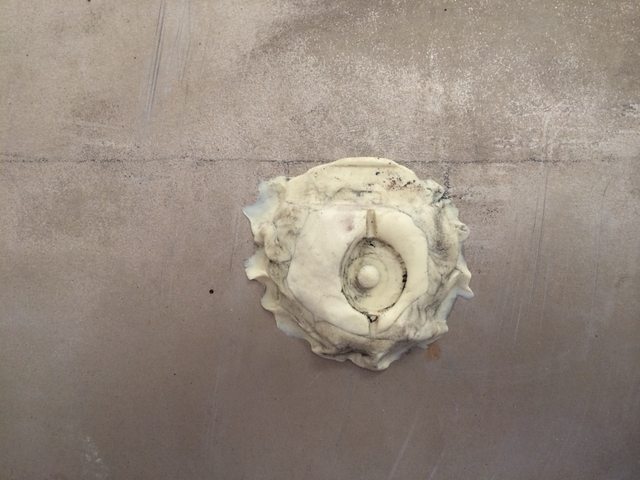 8-4-2014
I got some smaller items done this weekend, nothing Earth shattering. I got the trunk drop off sections epoxied where I welded to the 1/4 panel and covered with seam sealer. I also got the studs for the rear window trim clips drilled.

I also began working on the dent at the rear of the pass door. I have to address this so I can make sure I pull the door out properly before I begin fitting the front sheet metal.

I applied some dry guide coat to show me the dent, which I could visibly see, but this helped me determine the full area. Basically it's the entire bottom half of the door about 6-9" from the back edge. Luckily the back edge looks unaffected, so I can use the back edge as a guide.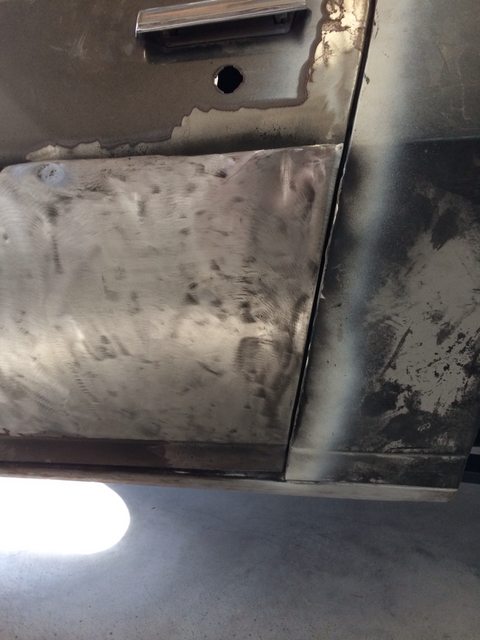 A view from above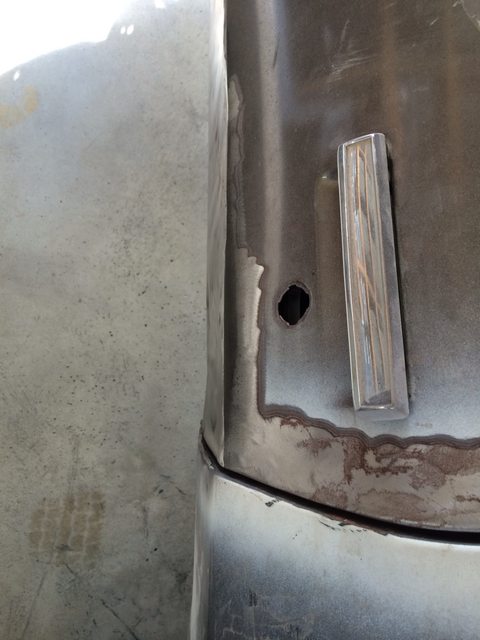 I busted out the stud welder and was ready to pull the dent some and.....the sliding hammer puller wouldn't play nicely. I could not for the life of me get the puller tool onto the studs. So I am either doing something wrong (doubtful) or the stud puller is broken (likely). It's a Harbor Freight tool so my bet is on a defective stud puller tool.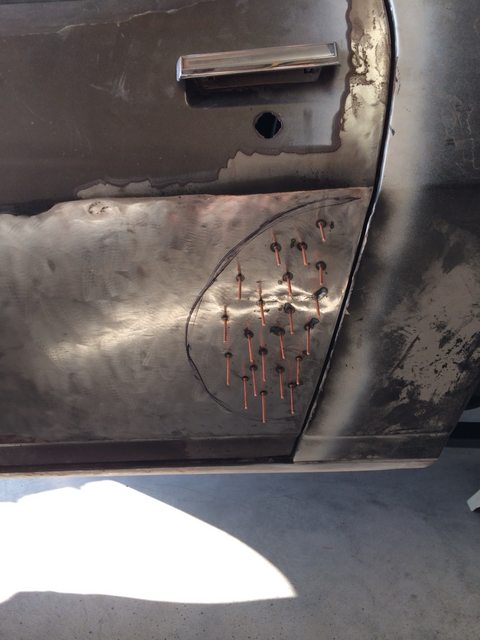 8-12-2014
I got filler applied to the back sections of both doors in order to smooth out the surface alignment between the 1/4 panels and the doors. I need to snap more pics tonight but here are a few pics of what I worked on over the weekend. Getting these doors done will be huge as I can then move on to putting the front sheet metal on for alignment and then onto doing the shell bodywork and paint. I will get the filler on the doors shaped but will finalize everything with the doors off the car. I only needed to get the general shape done for alignment purposes.

The driver side door had a fairly good size dent in terms of area. I was able to pull it out a bit with the stud puller to minimize the depth and then feather the filler out over a larger area. As I suspected, the previous owner really gooped on the filler, which was unnecessary. The back edge of the door was at the same level as the area to the left of the dent.




You can see how far the door was pushed inward due to the filler being built up so much previously. I was able to move the door out quite a bit but still needed to add some filler along the back portion to smooth things out so it looked correct.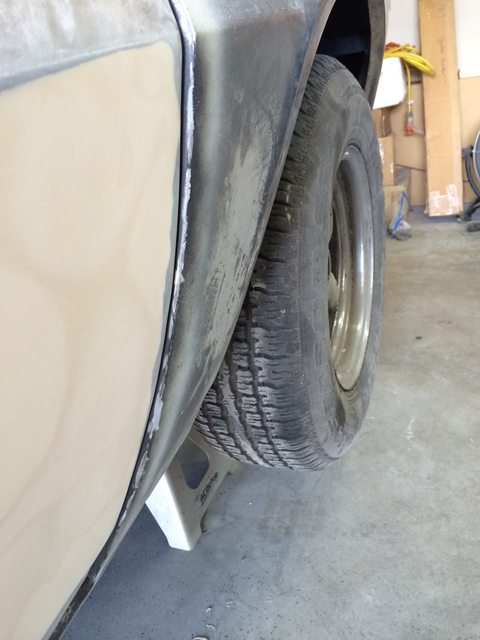 Here you can see the scope of the dent from above and then after applying filler and sanding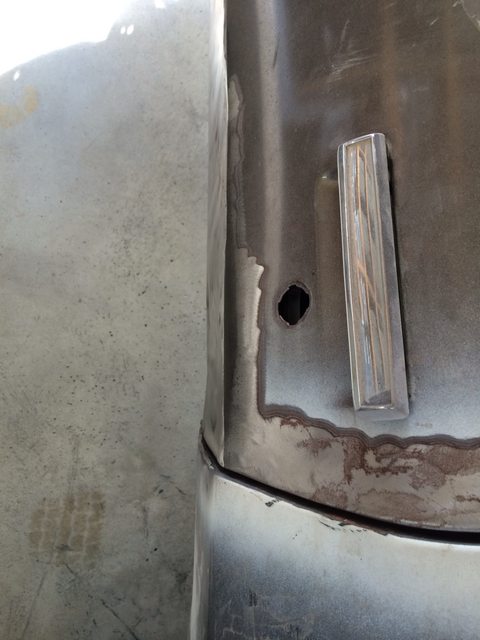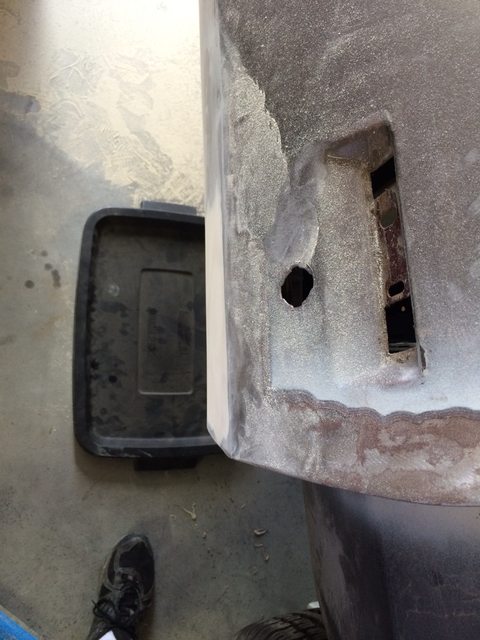 thanks for the kind words guys, I really want to turn this next corner so I can move on to the next major step of the project. I should have the back areas of both door done in the next few days after some more minor sanding and feathering. I am being OCD about these doors (and probably doing things that are a bit odd) since they have a lot of contours to deal with. If anything it's a great challenge for me. I should be able to tackle most any other dent I come across.

Here's the latest pics of the doors. I need to do a little more work but they are really close to having the back areas shaped properly.

I am probably going way overboard, but I added a skim coat of filler along the back area of both doors to get the outer surfaces flush with the 1/4 panel surfaces. I figured it was a good time to do it now with the doors still hung.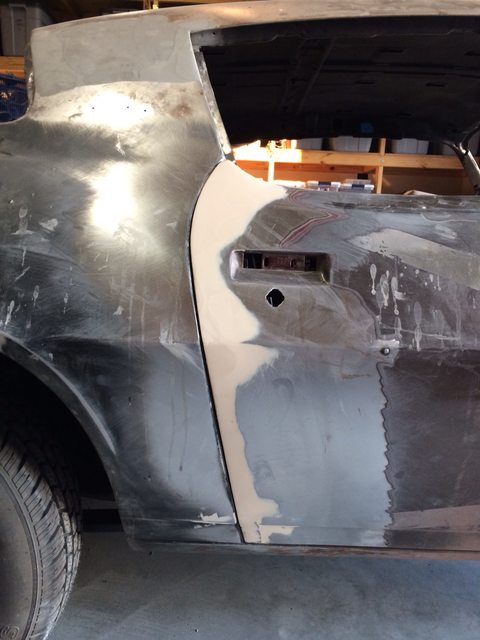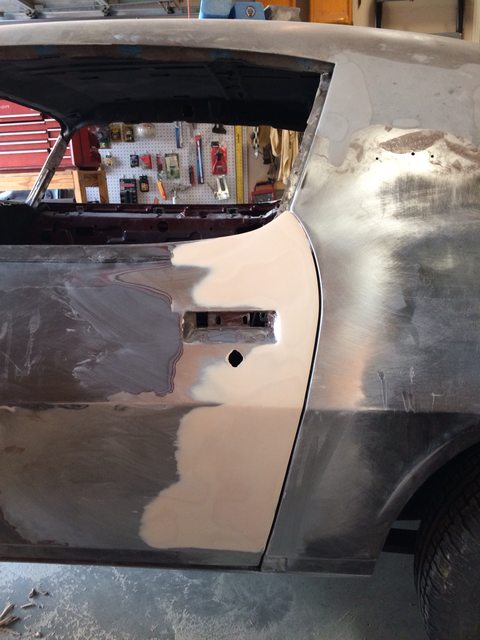 8-23-2014
Today was sand blasting day (media blast actually) for the shell. I used Black Beauty media. I needed to blast some tight spots around the trunk, door openings, tail panel and cowl panel. Media blasting in near 100* heat is not fun, but it had to be done.

The plan is to spray epoxy primer tomorrow, but I might not get to that until next weekend. But we'll see.

Before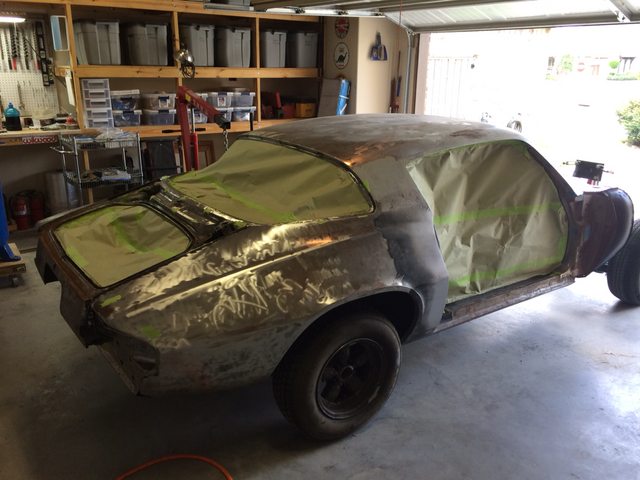 After - kind of hard to tell the difference, but I sanded the roof and both 1/4s with 80 grit for the epoxy primer. I need to do the rocker panels, tail panel and cowl panel some more, but just some touch up sanding. Then I can think about spraying epoxy primer on the shell.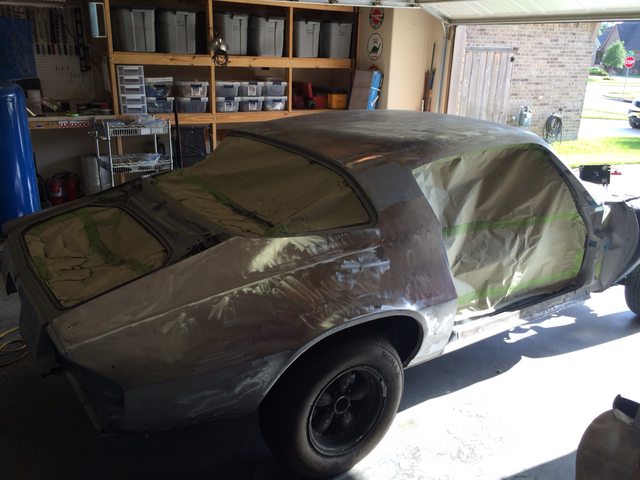 Trunk area all nice and pretty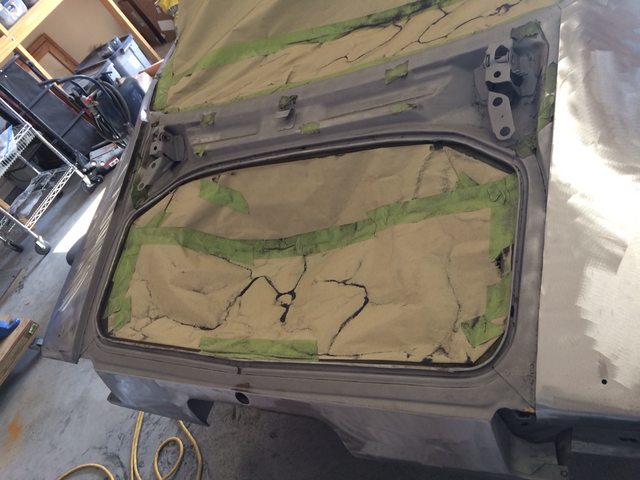 Most of us know this trick, but I will share it anyway. Once the door hinges are correct, drill a few alignment holes to make it easier to re-install the hinges later. A 1/8" bit will do the trick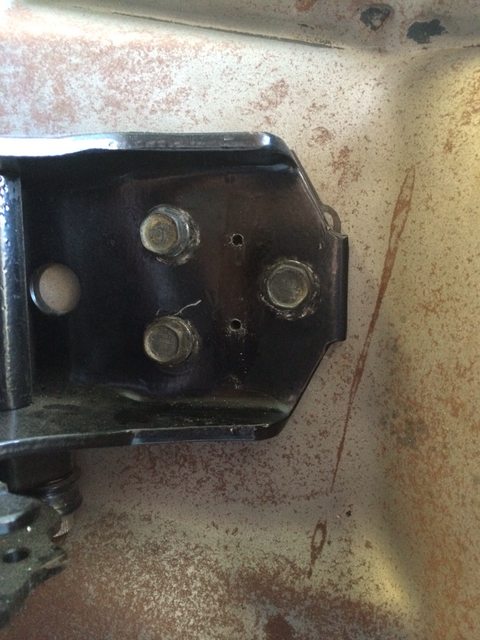 8-24-2014
I didn't spray the epoxy primer today, there was still a lot of prep work left to do which I did not want to compromise on. I also had to do a little more media blasting along the bottom of the car. I plan on spraying it tomorrow night if all goes as planned. I need to put some new masking paper in place which I will do tomorrow morning. I will also do an initial wipe down in the morning if time allows
it. But tomorrow might be one of those late nights.

Here's a few pics of the car BEGGING me to spray something on it.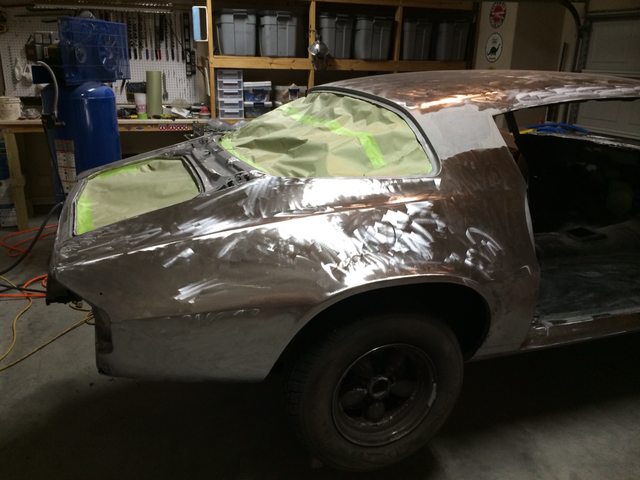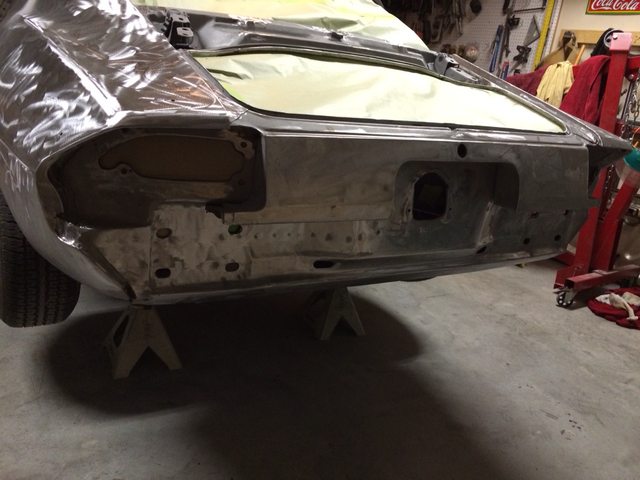 8-26-2014
So I am spraying the epoxy primer tonight, I did not have enough time after final prep and masking was done. I got the shell wiped down with W&G remover and then tacked it off. I will tack it off again before spraying.

Just for reference, I called Barry @ SPI today and this is the advice and settings he provided for the Harbor Freight "purple" gun w/ the 1.4 tip

* For just the shell he thinks 3 pints of mixed product will be plenty for 2 coats
* No need to reduce with the garage temp in upper 80s, he said SPI epoxy primer loves it at that temp
* Fluid adjustment - 2.75 turns off seat
* Fan adjustment - wide open then close ~10%
* If using a wall regulator, open it up as much as you can
* PSI at the gun regulator with a trigger pulled wide open set to 26-28

Hope this info helps some others
So I got off to a poor start tonight. My HF purple gun was malfunctioning, as in primer was dripping heavily out the tip. At least it decided to break before I got going. I could not fix it (took it apart, cleaned it and no change) so I drove and got another one and will return the broken one later. Then a damn mockingbird flew into my garage and I had to chase it out with a broom, which meant I needed to tack rag the body again (whatever). So I was convinced the Camaro gods were not going to let me spray tonight, but I defied all odds and sprayed two coats. I will spray another coat on the roof and 1/4s (maybe the entire shell) no later than this weekend, it will be worth having a third coat between the metal and me block sanding.

All in all it turned out well. A little trash got into the primer in a couple of spots but that's not a big deal. It felt good to get the metal covered up finally.

Please ignore the crummy masking job on the door openings, I didn't care enough to fully cover them for this.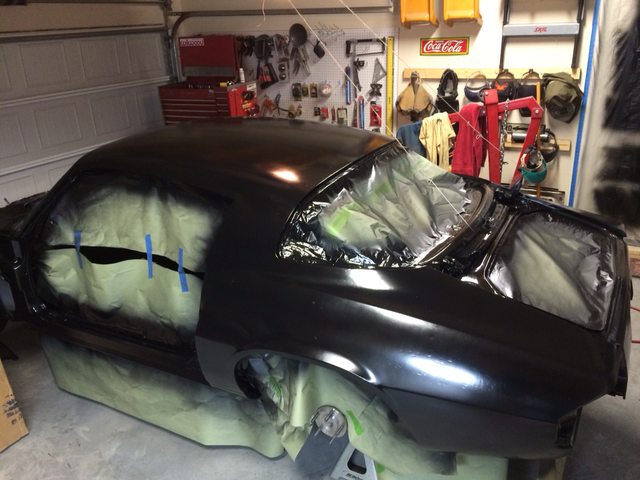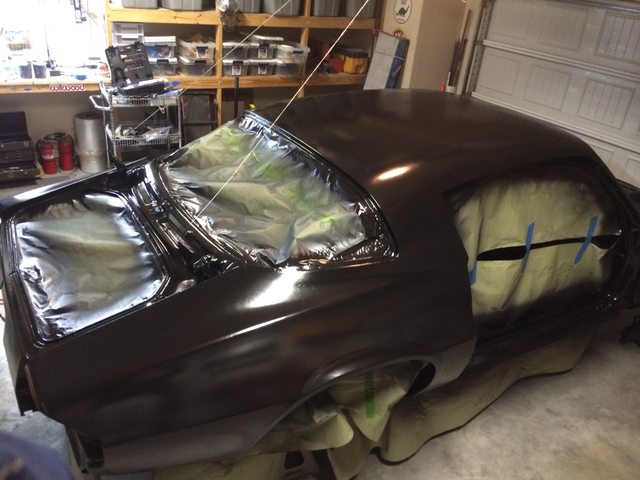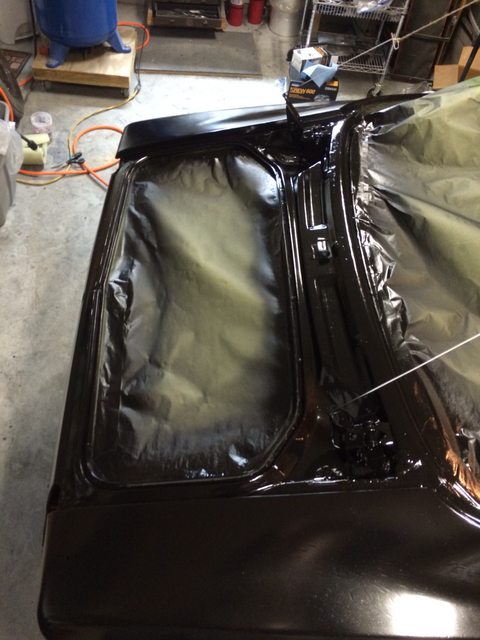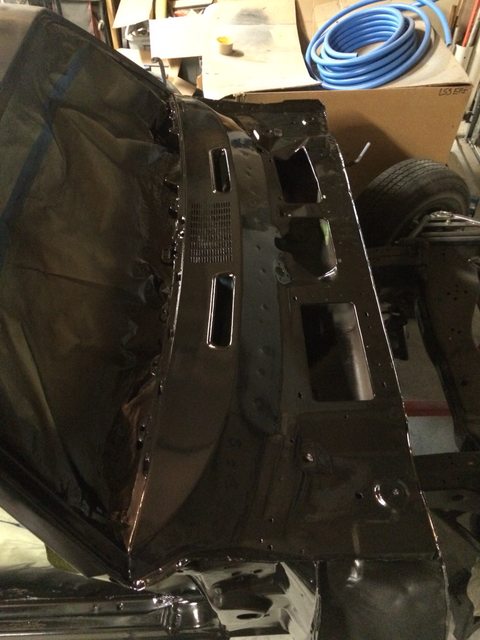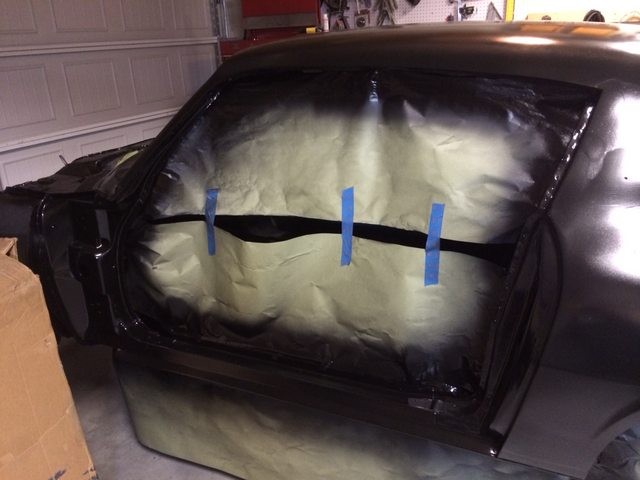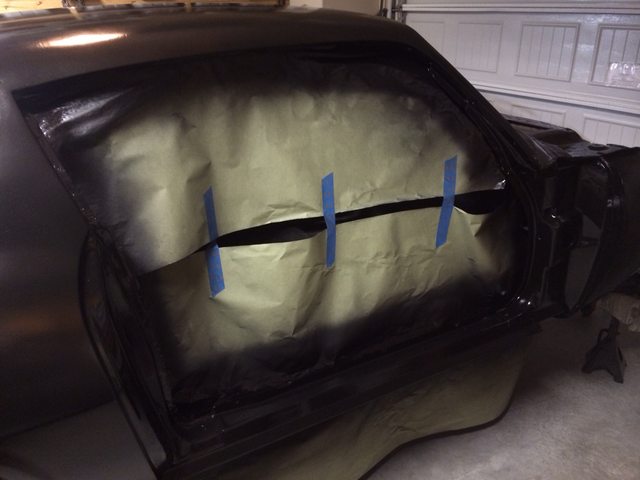 8-27-2014
Thanks guys. Yes, seeing ANY color on the body feels good, esp since the car will be painted black. I was mostly concerned with getting the bare metal coated, so that is out of the way. I plan on spraying one more coat tonight, but that should take all of an hour.

The immediate plan after that is to:

* Prep the dash/cowl area for hot rod black and then spray
* Perform any major spot dent repairs on the shell. The main areas are the roof-to-1/4 patches and the rocker panels. The roof and 1/4s are pretty clean
* Spray Slick Sand on the shell and start blocking!

I think I will fit the rest of the body panels for alignment after I block the Slick Sand. I don't think installing and removing the doors and front clip would be wise with the shell completely painted. It's the dilemma when painting the car in pieces. It definitely adds more time but I think it will be worth it
8-30-2014
I spent a few hours working on the dash area. I applied a light coat of filler to smooth out the entire area. I skimmed a few areas after sanding and called it a night. I burned through in a few spots so I will spray another coat of epoxy primer and then spray the Summit hot rod black. I should have it completed by Monday.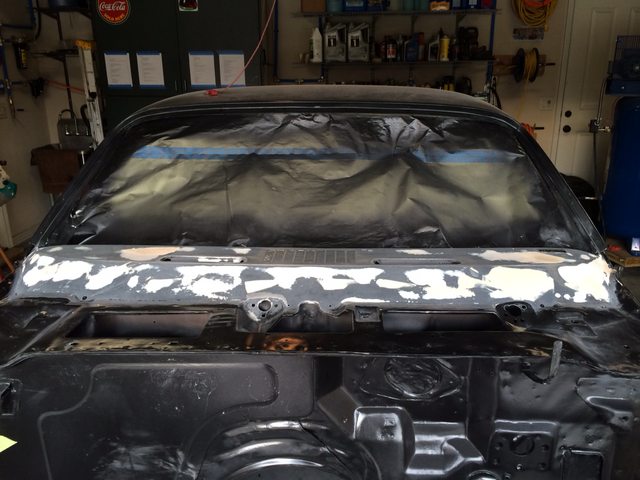 I started the day off by demo'ing a structure in the backyard of a rental property we bought on Friday. It was a patio cover and the deck was decent but had to come up since they built the entire thing so poorly. I listed the lumber on CL and it went fast, so that was good. I have to go back tmro and finish the demo, but that should only take 2-3 hours.
9-2-2014
So I began working on the sail panel areas and have a few questions. Most importantly, how big of an area does the filler need to be? I began with the driver side (first two pics) and then worked on the passenger side as an experiment (last two pics) to compare two different area sizes. I did not add as much filler on the pass side along the top edge. It seems like I need to add the same amount as the driver side in order to feather that area properly, but I have no frame of reference. Should I sand it down further until I start seeing a little burn through to the primer along the actual seam repair?

And ignore the really low area on the driver side, there is a low spot there so that area needed filler whereas the passenger side is fine.

Driver side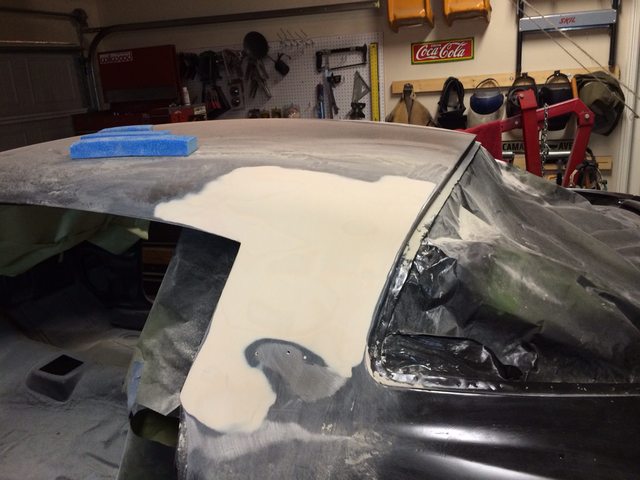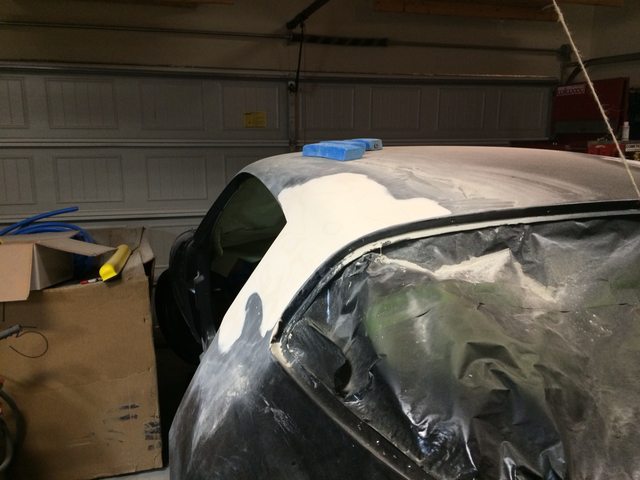 Passenger side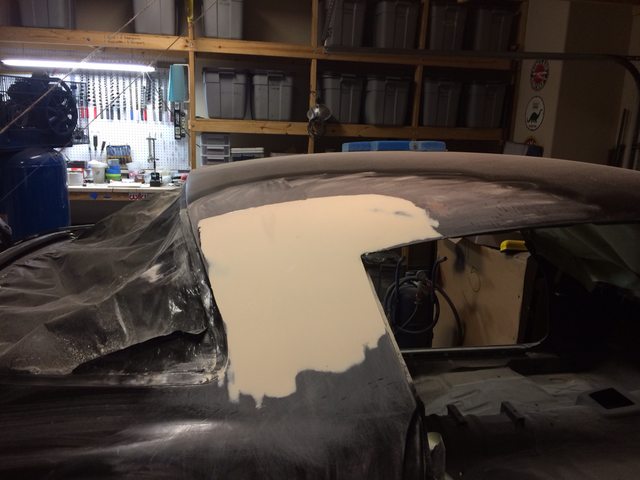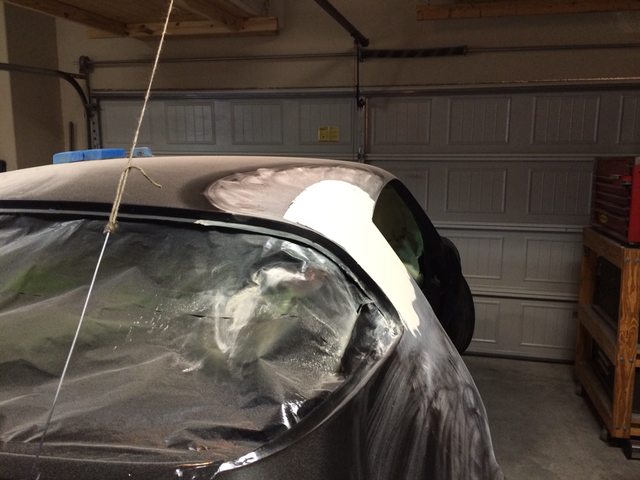 9-3-2014
Thanks Kevin. Interesting idea with the wet rag.

I agree about using a block. I have Durablocks and Soft Blocks. I am using the Soft Blocks now on the sail panel area due to the curves involved. Those things are well worth the money.

I worked on the sail panel areas again tonight. I burned through the primer on the driver side in particular, but not much I can do about that except re-prime when I finish the body work. But the filler cut down quite a bit versus where I left off Tuesday night. I wiped them down and will apply a skim coat to address any pinholes and then work toward finishing the filler with 180 grit. I really need to get a glaze for pinholes and such.

Once the sail panels are done I can hit the rocker panels and the small low spots on the shell. I still need to paint the dash, which I can do this weekend (or whenever really, but fairly soon).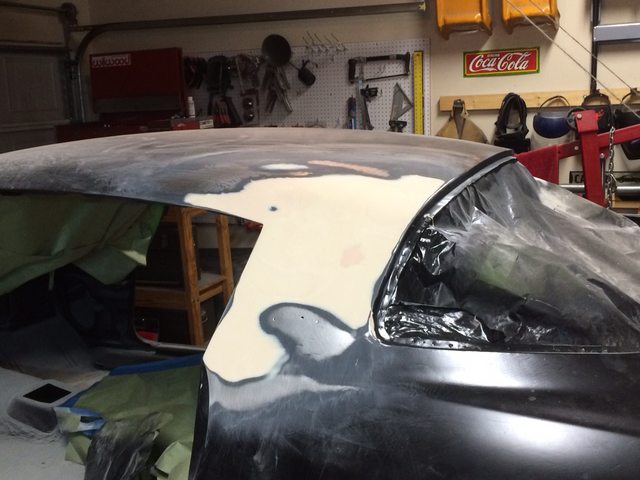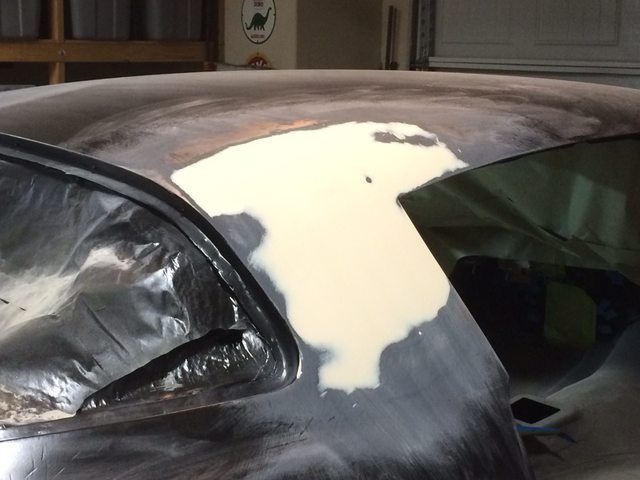 9-22-2014
It's been a few weeks since I had time to work on the 76. We picked up another rental property in late Aug so I had to get that handled, but we found a tenant in ~2 weeks after closing so it worked out well. Then we had to go new car shopping for the wife, but got that done this past weekend. I was able to tackle some of the body work today, which is the next big thing on the list before I can spray Slick Sand.

I think I can get the body work done this week so I can move on. I will need to hit the sail panels once more but it should be pretty minor coats of filler that I need to apply to get it right.

I need to apply another layer to each rocker panel patch but they are close to being done.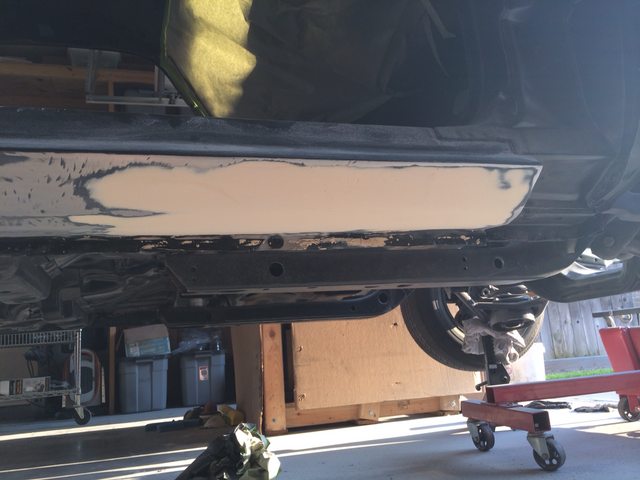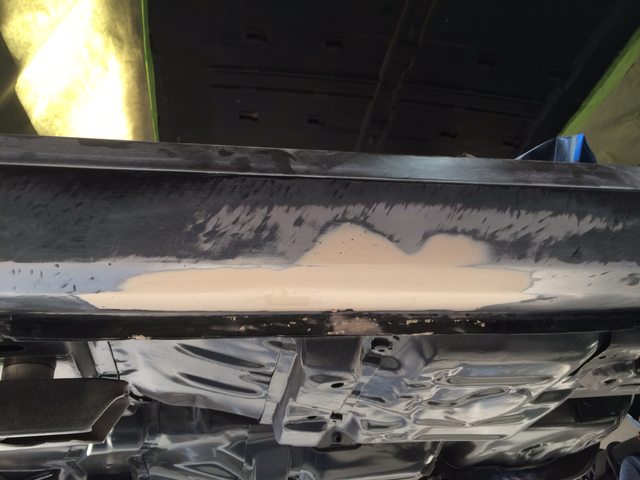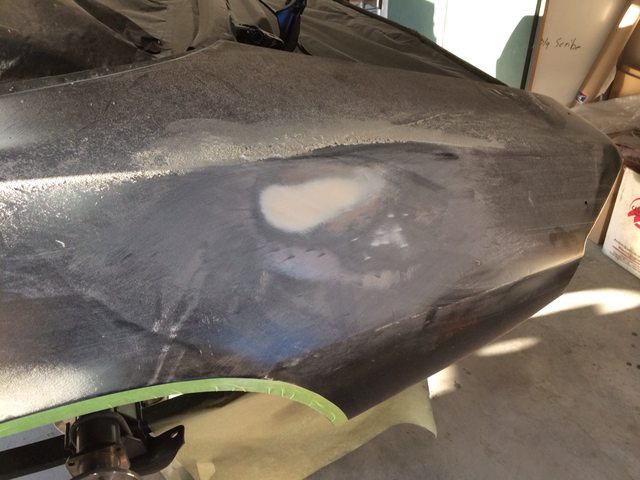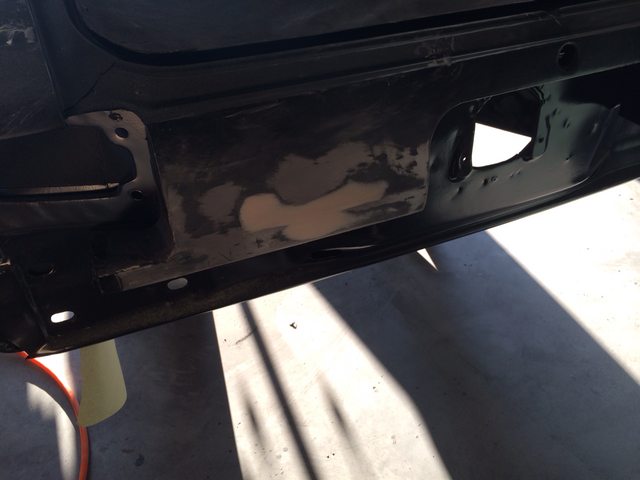 I actually took the affected areas down to bare metal with 40 grit. SPI does not state this is necessary and in fact says you can apply filler directly over their epoxy primer, but I decided to go the route of applying filler over bare metal. Once the areas are done (I will finish the filler to 180 grit) I will spray a coat of epoxy primer on the bare metal and leave most of the filler exposed for Slick Sand.

I might have to spray epoxy primer on the sail panels to make sure they are correct, as I am not good enough to tell if those patches are correct without some extra guidance. I will first try to spray some wet guide coat (W&G remover in a compressed sprayer) and shine a light over the sail panel area to see if there are any waves. While I think leaving filler exposed for Slick Sand is the better way to go, it's not unacceptable to spray epoxy over filler.
9-28-2014
I got all the major body work done to 80 grit. I need to add filler in a handful of small spots but it's basically ready to sand down to 180 grit and then spray bare metal with epoxy primer before I spray Slick Sand on the shell.

Most of the work was down low, which was a pain in the neck but it had to be done. I had a few spots on the rockers, the bottom of the 1/4 panel by the drop off panels, the wheel well lips, and the sail panels.

The pass side sail panel was particularly a pain. I had to add filler 5-6 times before it was right. I am being OCD about all the body work, but the sail panels especially.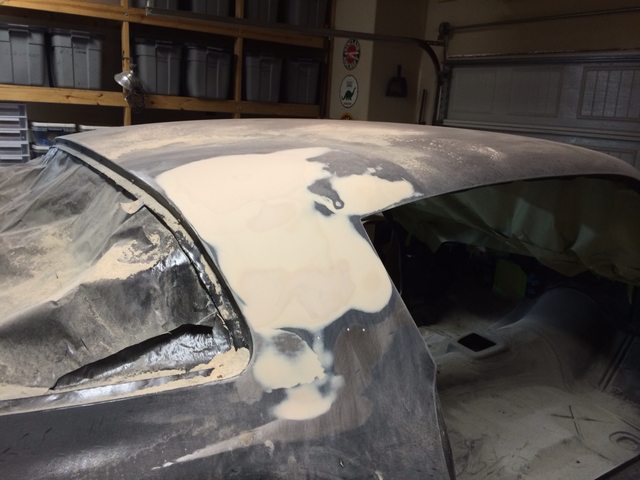 Rear driver side rocker, I need to add a little more in one spot as you can see. I was done for the night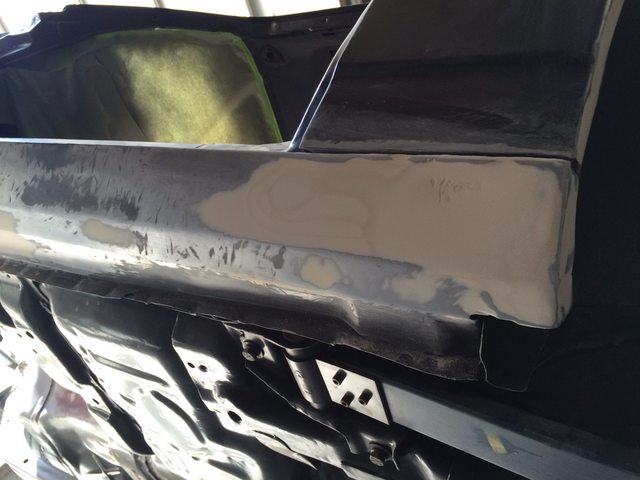 Driver side rocker - this was an area that got pressed in so I had to pull it out using the stud welder and then added filler over that.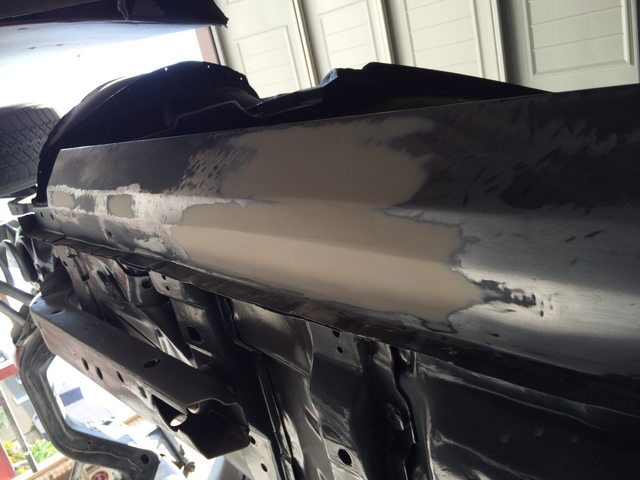 1/4 panels where it meets the drop off panel. I decided to smooth these areas some. They are not PERFECT but they look way better than before.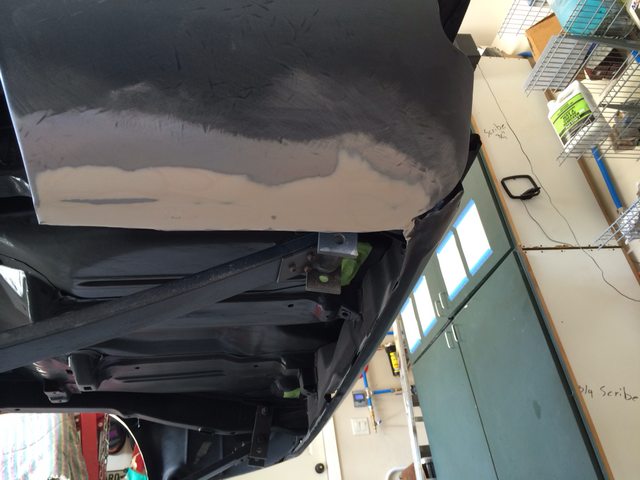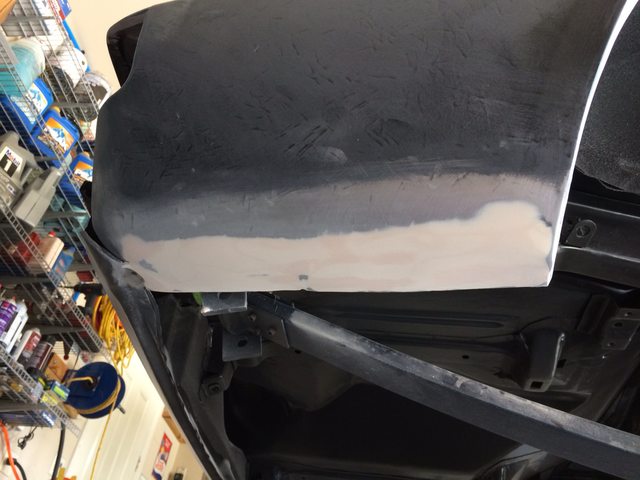 Pass side rocker - this might have been the toughest patch to deal with, but I finally got it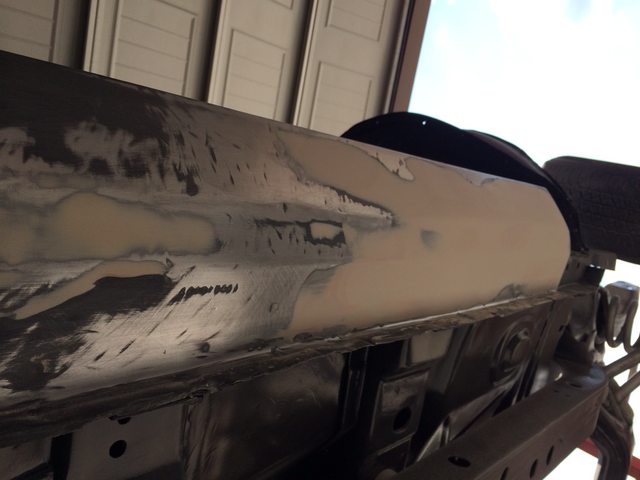 10-1-2014
I got some minor progress tonight made tonight. I media blasted the support pieces that mount under the rear tail lights. I will spray these with epoxy primer when I spray the bare metal spots, which I plan on doing this weekend. After spraying epoxy primer I will get these supports installed.

I began scuffing the shell with Scotch pads to prep them for Slick Sand. In my head I am thinking I am not THAT far off from being able to spray the shell with BC/CC. It will be a lot of block sanding, but the shell is pretty damn straight so it should go fairly well (in theory). I won't rush the blocking stage, don't get me wrong.

The scene of the crime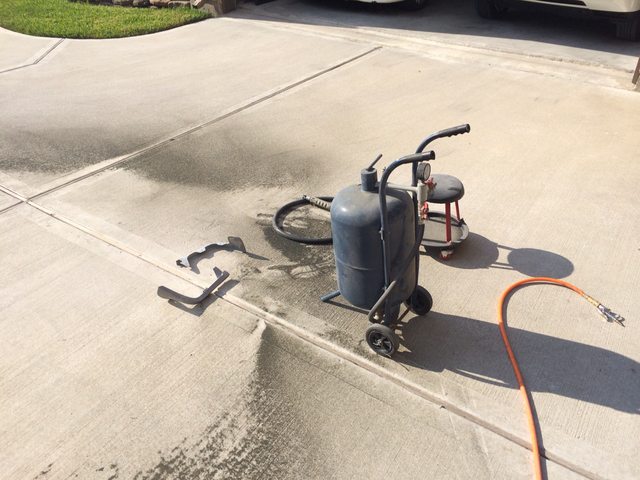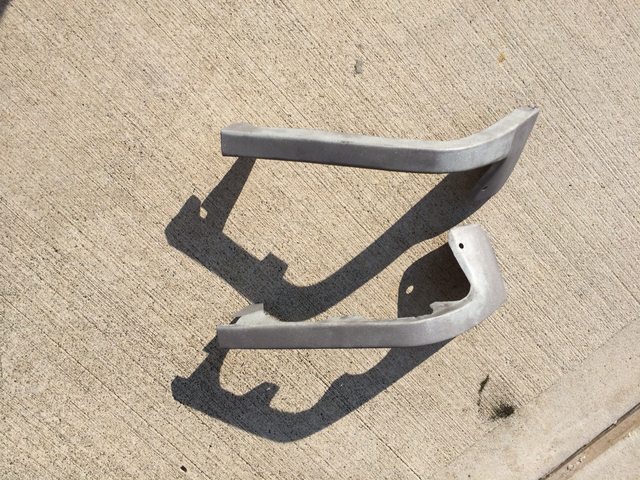 The shell getting one step closer to being painted someday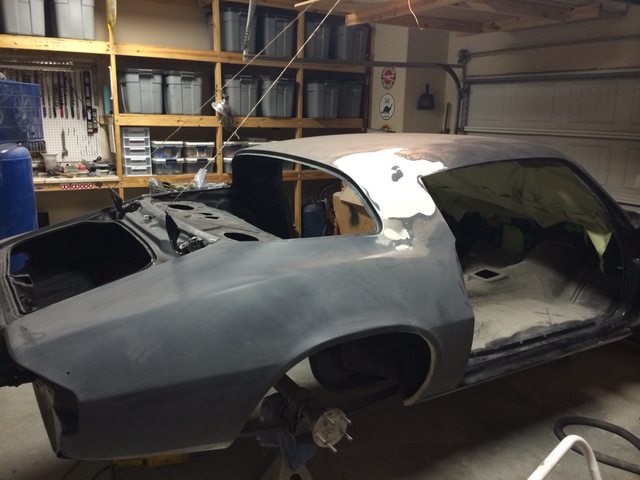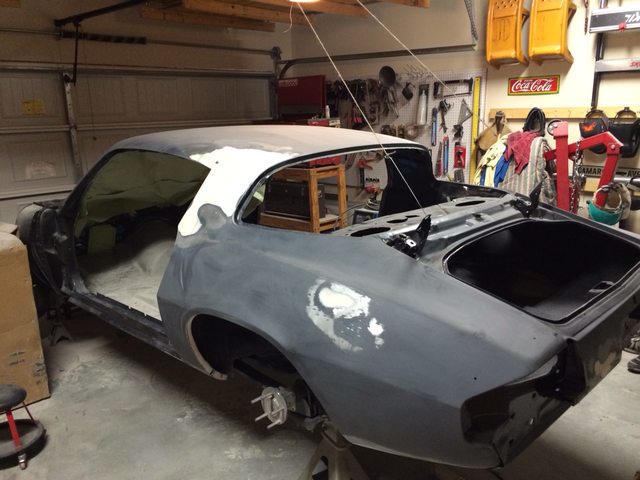 10-6-2014
I got the bare metal sprayed with epoxy primer and left it at that. Sorry, no pics but its not pic worthy.

Next up is to weld the tail light supports in and then paint the dash. I am unsure about spraying Slick Sand first or getting the front clip installed and aligned. I will take the front clip off after alignment. My gut is to take care of front clip alignment, remove the body panels and then spray the shell with Slick Sand.
10-11-2014
I got a few more things done today on my quest to spray Slick Sand on the shell.

First item is to get the dash sprayed in satin black. I sprayed a few coats of SPI regular build 2k primer first. It sprayed nicely from my 2.0 tip primer gun and sanded well.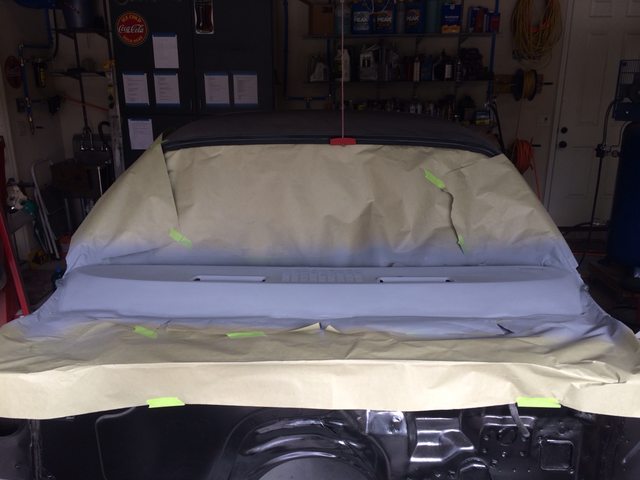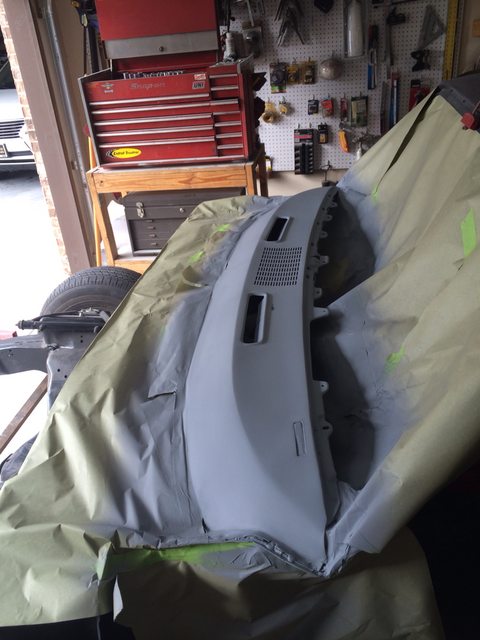 I also got the taillight support pieces installed. I will need to spray some bare metal spots with epoxy primer, which will happen tomorrow. The pass side support had a small dent I had to deal with.

I will need to let the epoxy primer cure for 48 hours before spraying Slick Sand, so I plan on doing that one day after work if I can get home early enough. Then I can begin block sanding.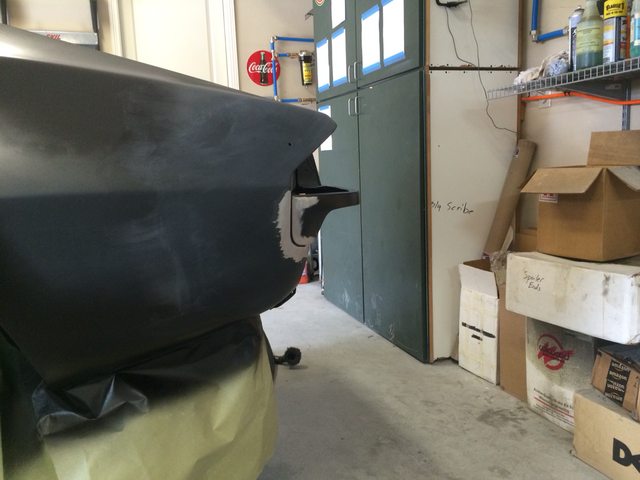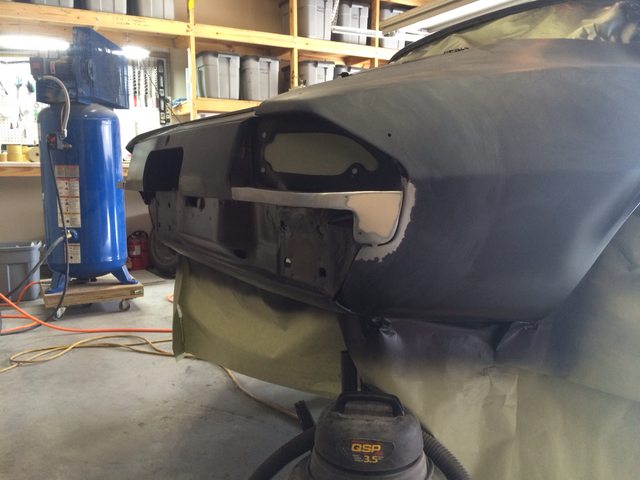 10-12-2014
I got the dash painted using Summit's satin hot rod black. This is a single stage product. There is a little OP, but I am not sure it's enough for me to sand and buff it. I will think about it some more.

I was able to get the door openings masked off for when I spray Slick Sand this week. I just need to mask the windshield opening.

I had the genius idea of cutting the masking paper when I remove it and use those as templates for the next round of masking, particularly the door openings.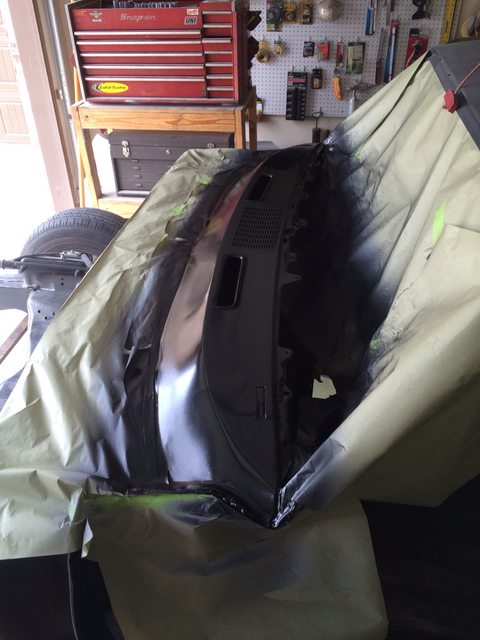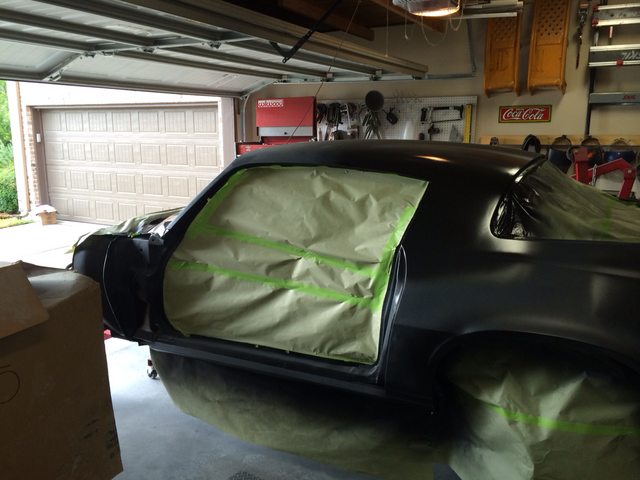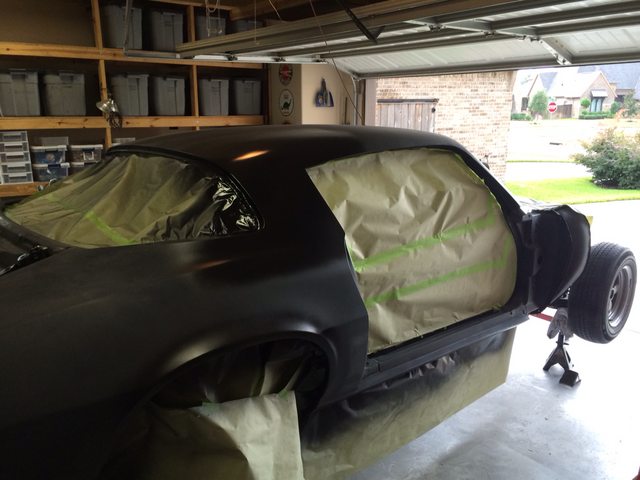 10-18-2014
I re-did the dash area and it turned out much better. I sanded the previous paint with 400 grit. I then sprayed with a 4:1:1 reduction using the "slow" reducer and that did the trick. I sprayed this through my HF 1.4 tip purple gun at ~80 degrees with ~28 PSI at the gun. Fluid adjustment was ~1.5 turns from the bottom, almost full trigger pull.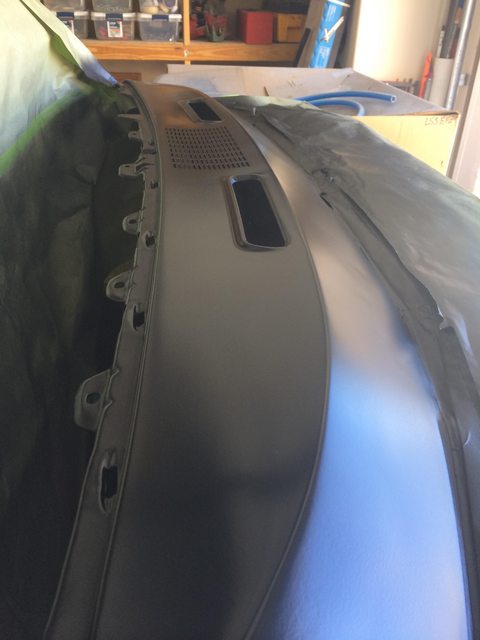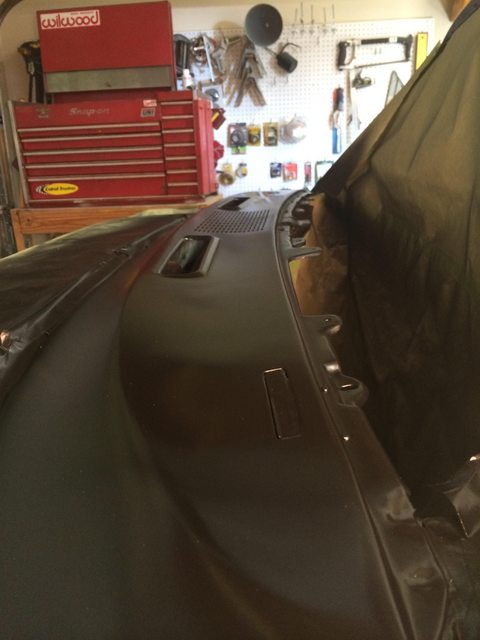 10-20-2014
I started block sanding today and got the roof and quarter panels mostly done to 150/180. I started with 100 grit to remove most of the peel and then moved to 150/180. I will finish with 220. I still need to sand the rockers, jambs and tail panel. I ran across a few high spots (I think), which I will gently hammer down and then re-spray with Slick Sand. The 1/4 panels sanded really nicely, which they should have since they are new panels. Overall it went well. I would like to wrap up all sanding by this weekend so I can move on to fitting the front sheet metal. I have low expectations about the gaps being right without some metal work, but that's the nature of the beast.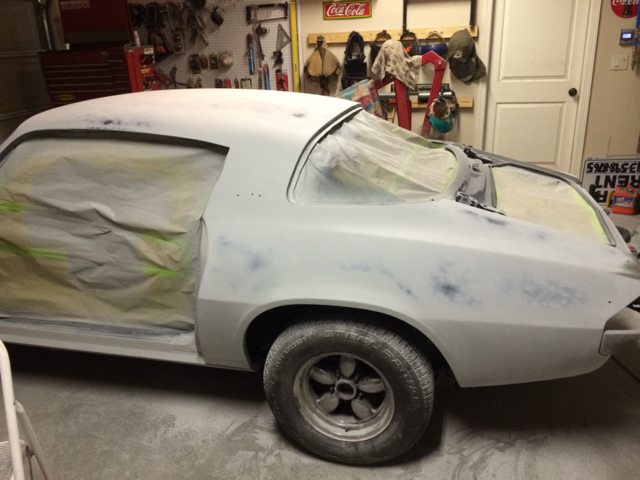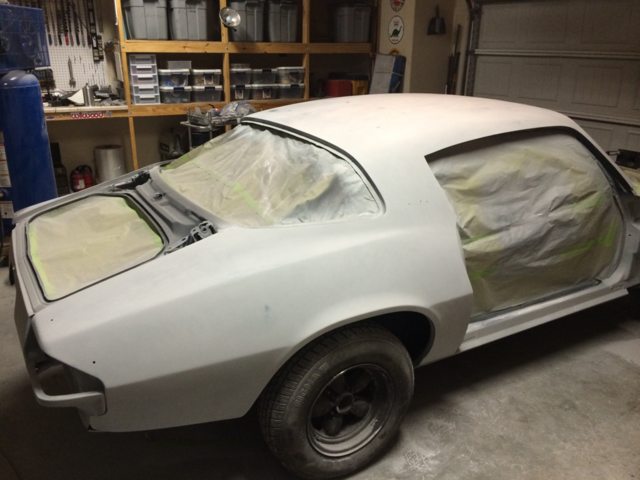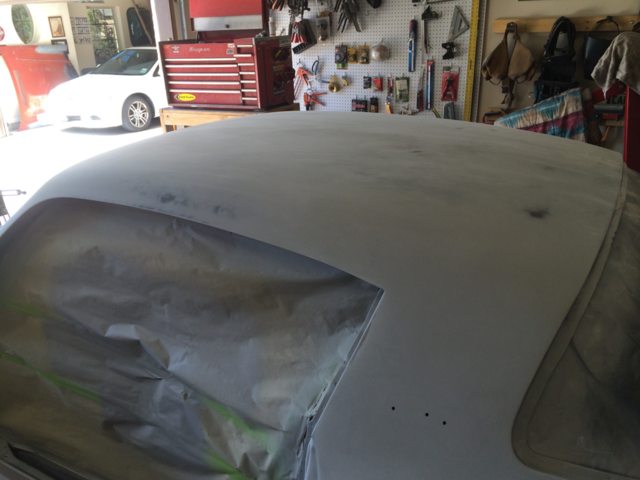 10-21-2014
And I assume I want to achieve something close to the below pic? I want to see the epoxy primer just start to peak through the Slick Sand, as if there was a slight, milky haze over the epoxy primer. As soon as you start to see any significant black color, then you can stop blocking that area of the panel.

I want to avoid burning through to bare metal, although that isn't the end of the world.



Oh, I am sure the doors will take time, but even then the 1/4 panels have some interesting curves to them as well. It took me a long time to address the back edges of the doors when I was getting the gaps and surfaces aligned.

My original plan was to paint it in pieces and assemble, but I am now thinking of going another route. At worst I think I will paint the shell with the doors off, then paint the doors and install them and then re-install the front clip (after I aligned it once before) and paint the fenders and front nose at one time. It will mean extra masking, but that doesn't bother me. It's just tape and paper. I would paint the trunk lid and hood off the car and then install those pieces.

Re: blocks. I have a huge arsenal of blocks. I have Soft Sanders, Durablocks, and some other block sanders. I need all the help I can get. I really like those soft sanders, they are versatile.

One thing you can do with the Soft Sanders is stick sand paper about 1/8" away from the long edge of the block and then you will be certain not to sand past the edge in question, assuming you control the block properly.
10-27-2014
Not much to update, just been block sanding and getting the shell closer to spraying 2k primer. I need to do a little unexpected work on some high spots on the driver side rocker and then re-spray both rockers with Slick Sand to get them right. It shouldn't set me back much, if at all, but I need to do it or it would bug the crap out of me.

Below are some pics for any "noobs" like me who are going to embark on block sanding their Camaros. Pictures are always helpful. This is info I have picked up from others, so none of it is original.

Here is the roof after a 2nd round of Slick Sand. I sprayed Slick Sand through a 2.0 tip primer gun (Pneustream from tptools.com) at about 30 PSI. As someone else told me, this stuff goes on a bit transparent for the 1st coat but then covers up with the 2nd coat. Don't let this stuff sit in the gun more than 30 min or it can be a pain to clean. I use disposable paint cups to make life easier.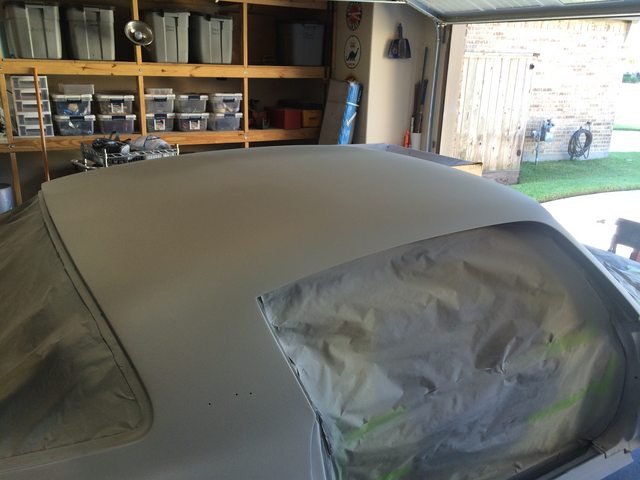 Take some of this dry guide coat (or another brand/color depending on the color of the coating you are sanding) and rub it over the panel being sanded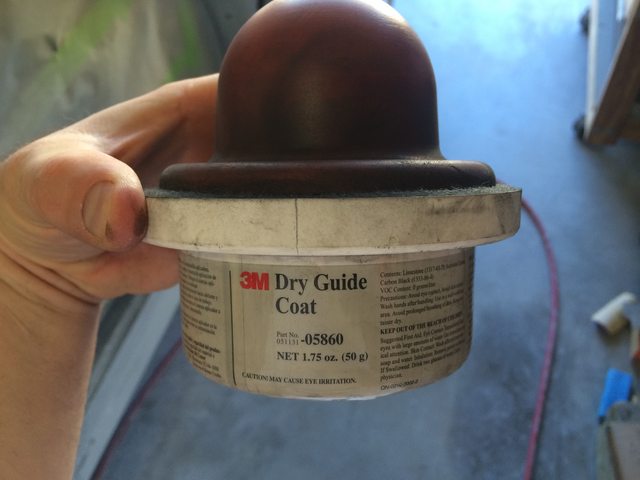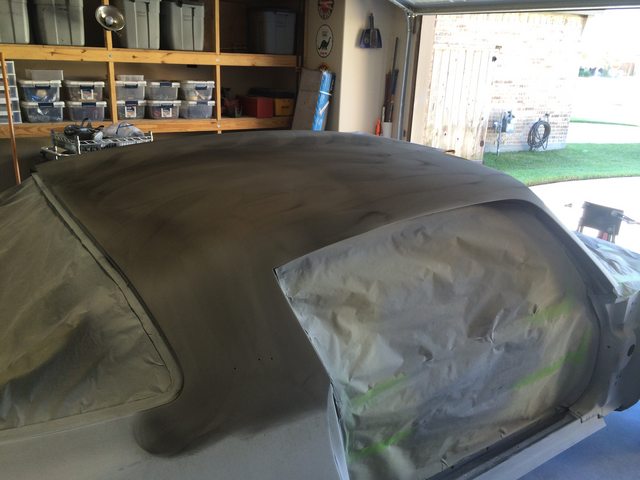 I used this flex sander for much of the roof, but having a variety of sanding blocks is a good idea since there are many curves and profiles to deal with on these cars, like Soft Sanders, Durablocks and others. Use a nice criss-cross pattern and apply even pressure on the block. Don't stay in one place too long. I like to vacuum the dust off the panel when it builds up so I can see where I need to sand some more.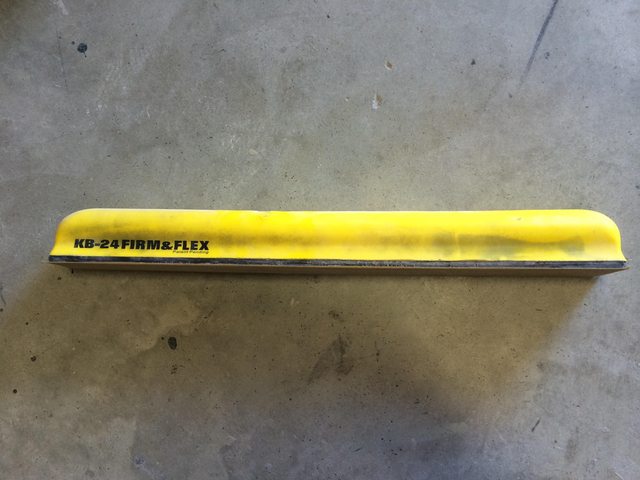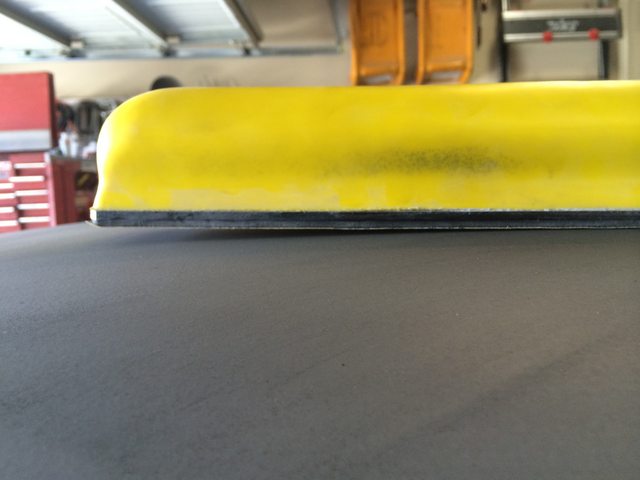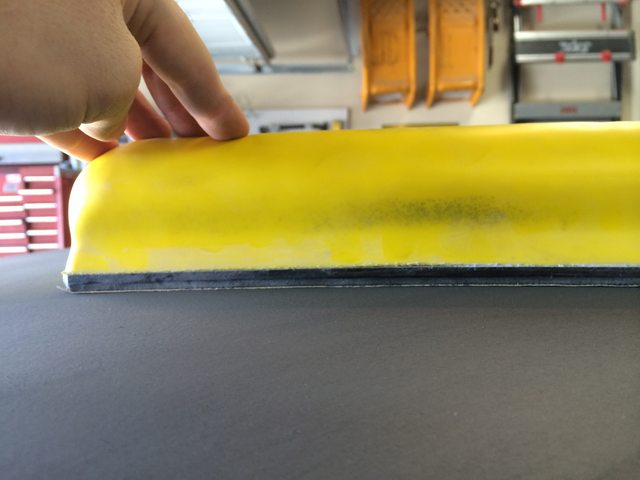 I used 100 grit for the first pass to knock down most of the orange peel. Then I switched to 150/180 and will finish up with 220 to prep the surface for 2k primer. Below is a pic after some sanding with 100 grit. Others will attest that 3M "gold" sticky backed paper is good to use. I have used Dura Gold for coarser grits and it also worked well.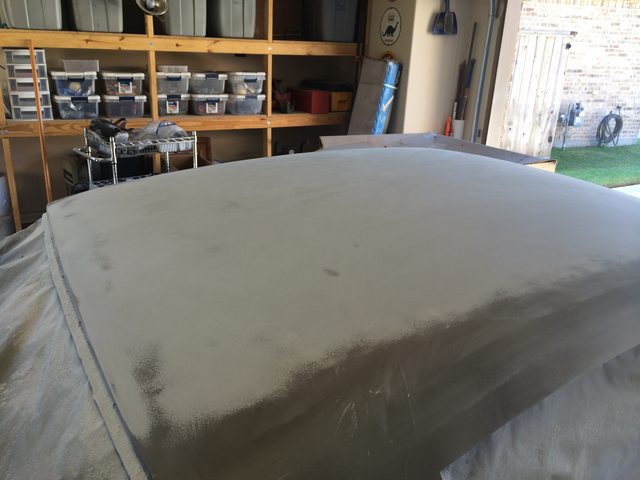 11-1-2014
I've been sanding, sanding and more sanding. I was going to spray epoxy primer on the bare metal for the driver side rocker but it's a little too cold, so I will do that tomorrow. In the meantime I am doing the final 220 grit sanding on the shell before I spray in 2k primer, which I hope will happen on Tuesday. I need to get the sheet metal installed before I spray 2k primer, which could take days or longer depending on what issues pop up.

Here's a few pics for your viewing pleasure. I didn't like the way my driver side rocker felt so I knocked down some high spots and skimmed it with filler. I will epoxy prime the bare metal spots and then spray Slick Sand over the entire rocker.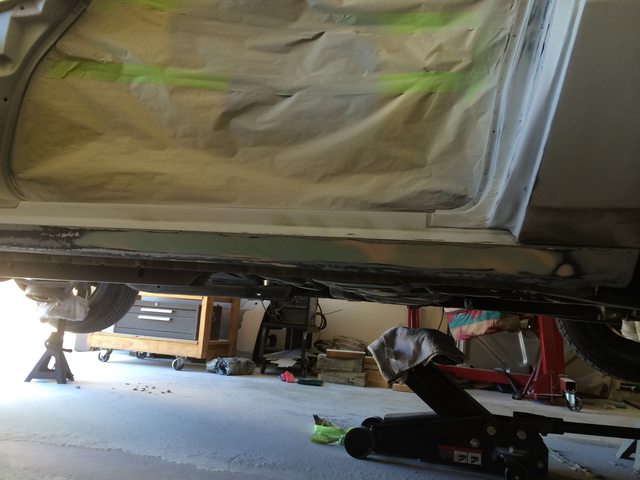 Nothing says fun like sanding the jamb areas. I sanded it with 220 grit right off the bat since I am not making the jambs look like the exterior panels. But I still want them to look good.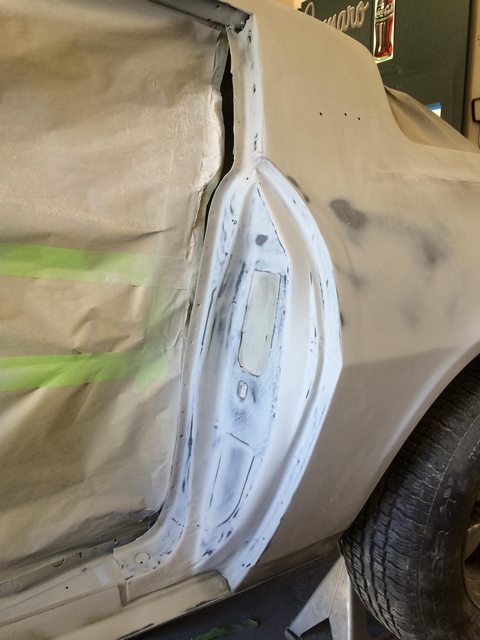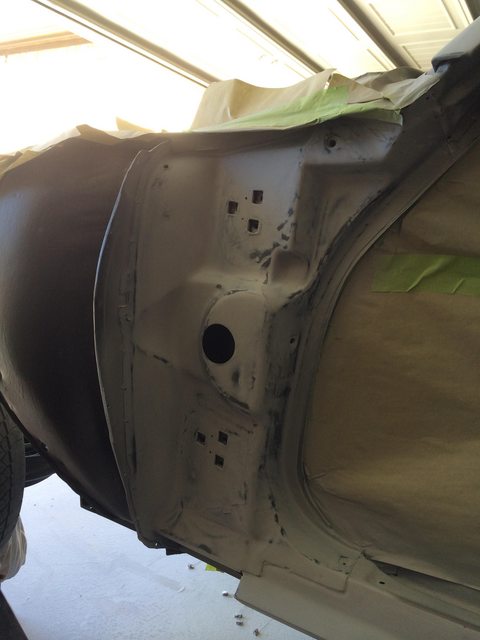 11-2-2014
BTW, nothing pic worthy to share, I was doing more prep work all day today. I am going to spray the bare metal areas with epoxy tomorrow and then I will decide if I need to spray Slick Sand on the driver side rocker or just go straight to 2k primer. I think I will end up spraying a few coats of SS just to be safe. In either case I will have to wait 48 hours for the epoxy to cure before I can spray so that will mean Wednesday is the earliest I can spray SS. That might work out well since it's supposed to rain Wednesday, which means I could spray 2k on Thursday and begin sanding that day or Friday and have the weekend to sand. I will begin fitting the front sheet metal tomorrow, so wish me luck.
11-3-2014
I did more prep work, sprayed some areas with epoxy primer and masked off all but the door openings.

I started putting the front sheet metal on, which was a pretty big milestone for me. Just seeing the fender on loosely was a nice mental boost.

I am using PTFB solid bushings, so I had to enlarge the holes in the radiator support just a little. This radiator support is in great shape, although I will still strip it down and spray with epoxy primer for peace of mind.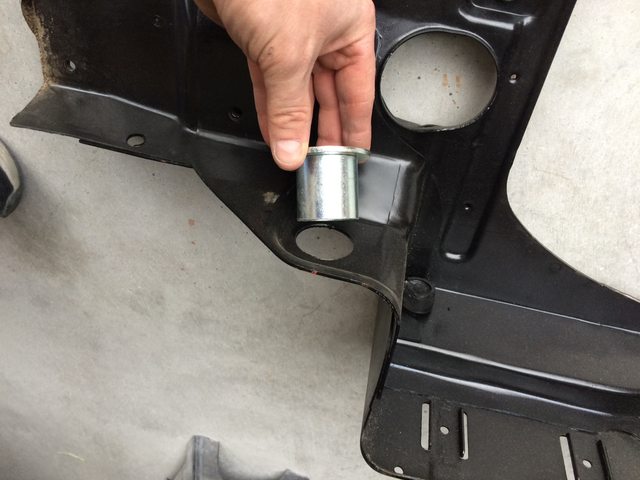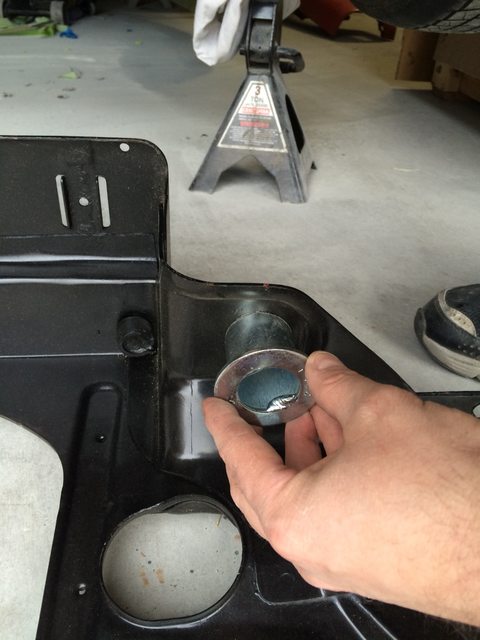 I got the passenger side fender loosely installed. I was actually able to move the fender to where the body lines and gap look good, but I think I am going to need to remove a little bit of metal on the back of the fender so I can move it up a little bit. A small support piece is hitting the seam between the dash and door jamb. I think removing 1/4' to 1/2" will suffice.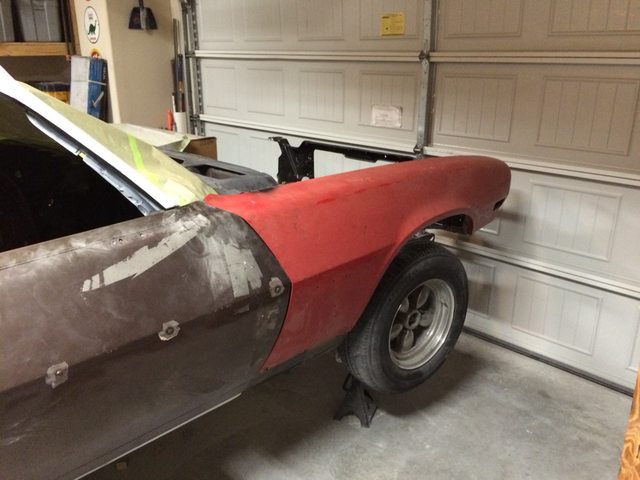 The arrow identifies the metal on the back of the fender that I need to remove.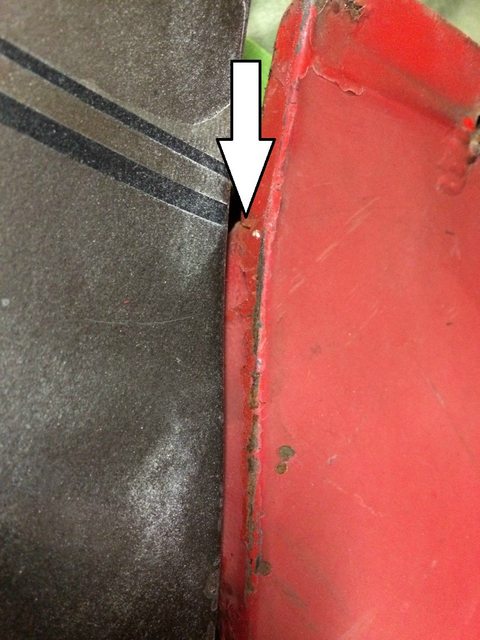 11-4-2014
I got the pass side fender dialed in pretty good, but I will have to do some work to get the door and fender surfaces lined up.

I shimmed the upper door hinge using some standard washers (~1/32" thick) and that helped a lot, but I think that's as much as I can use without affecting the rest of the fender alignment. The only issue is the upper part of the fender/door area, which I can massage a little. The upper part of the door looks bent so I can address that. I will think about it more and decide how to proceed once the other pieces are installed.

Back to the garage!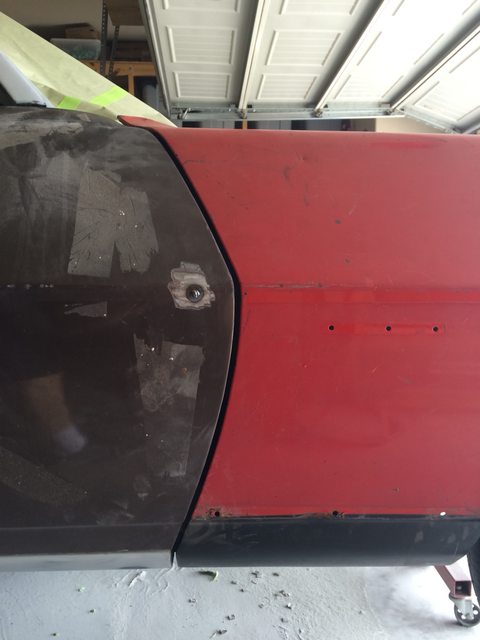 Here you can see the door looks like it's bent inward some. Nothing a little heat and hammer/dolly work can't fix. I will obviously have to do some filler work afterward.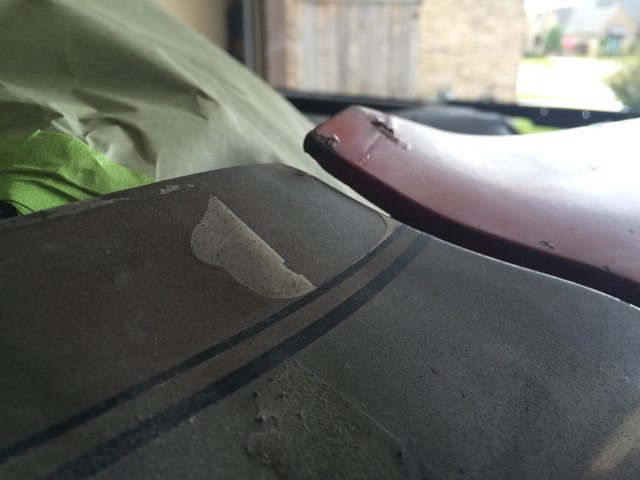 This pic shows a little better how the upper part of the door-fender area is not flush, esp at the "hump" in the fender. I can get the top edge of the door to look more flush, but I will have to do some filler work to get it just right.

The good news is I was able to remove some filler on the back edge of the door when I shimmed the upper hinge, so some good came out of that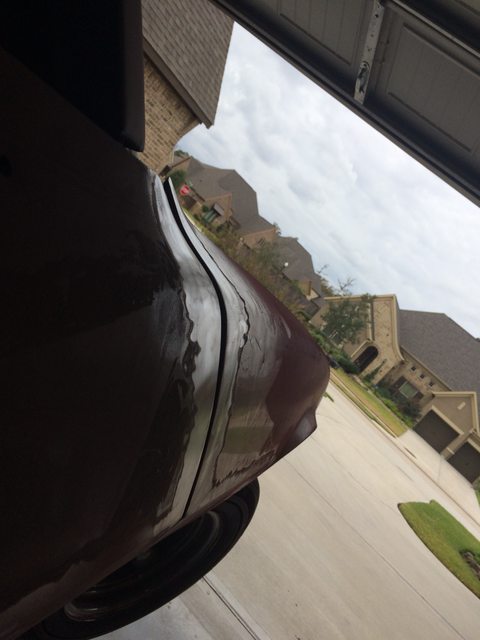 I got the rest of the sheet metal installed and I am pretty happy about how it all went together. The most work will be on the passenger side door/fender. I had to shim the crap out of the top bolts on each fender, but at least it was consistent. The sheet metal went on about as well as I could have hoped for. I need to get the hood dialed in, but I need a 7/32" hex head that I can use on my socket and drill to make life easier. I will pick things up tomorrow.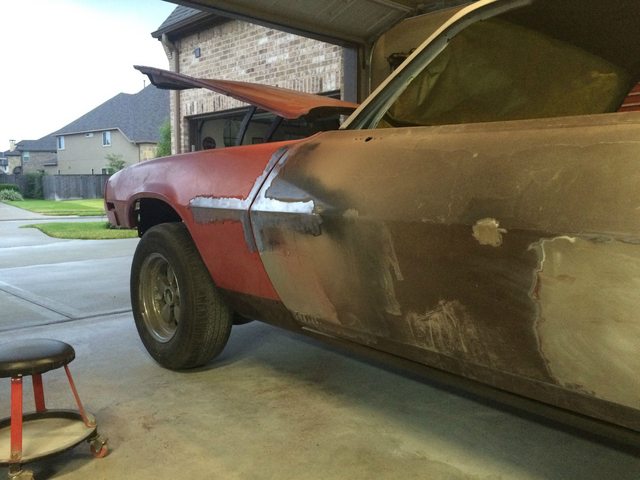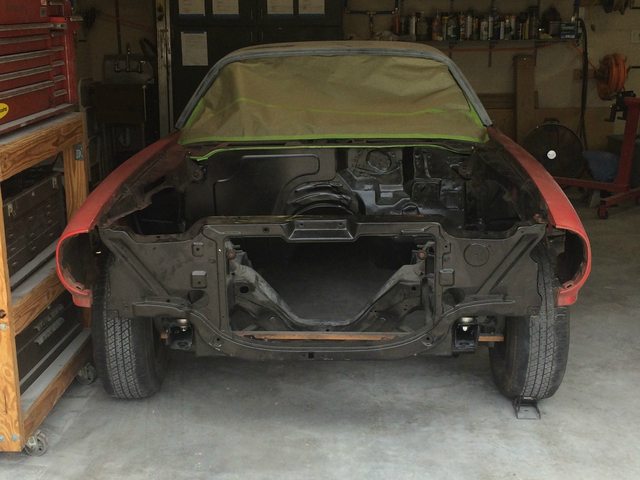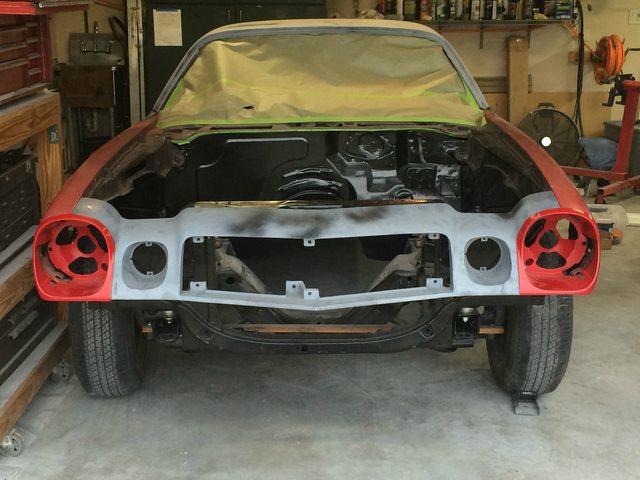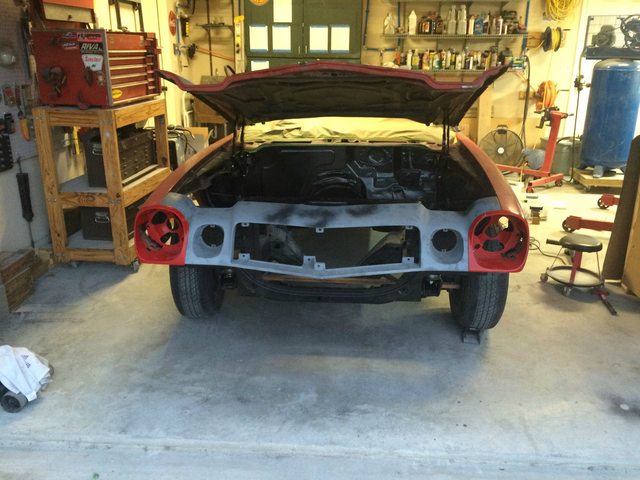 I need to clean up the gaps some on the driver side, but that should be easy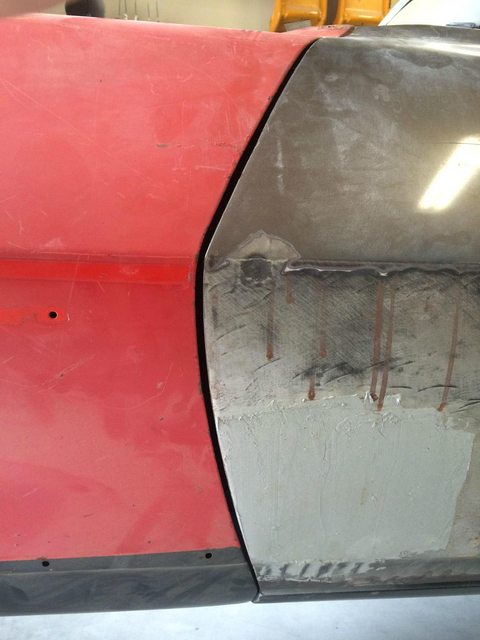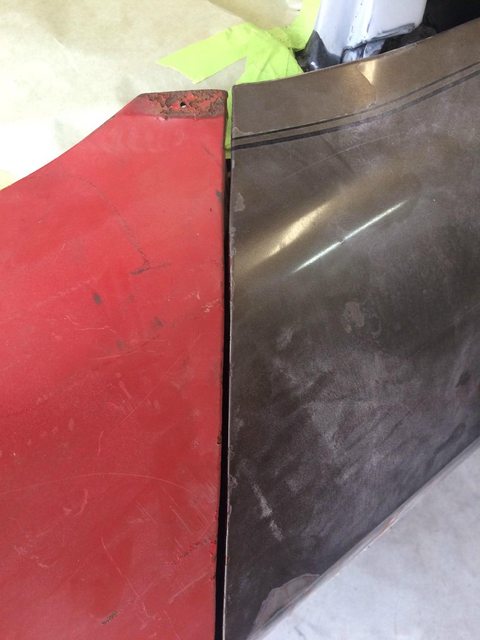 I splurged a little on the hinges But hey, life is short!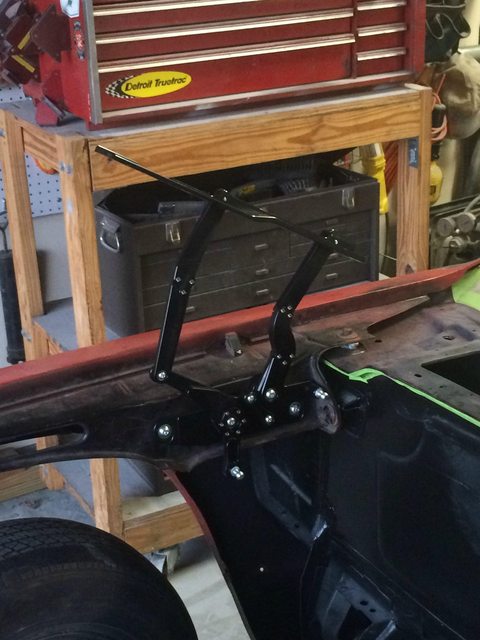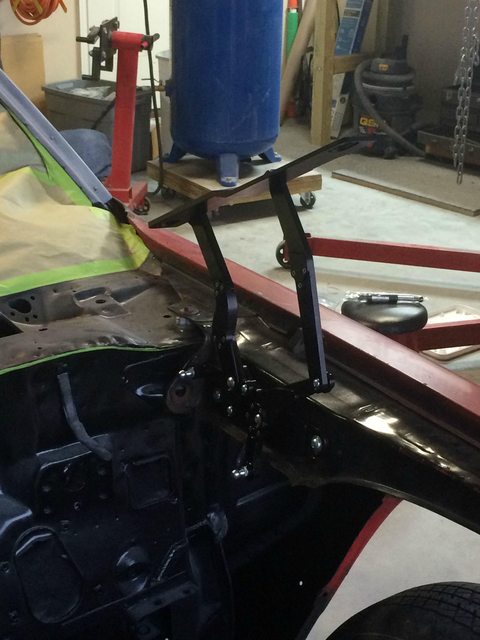 11-5-2014
I got the hood pretty much dialed in. I will do a final check on all panels to do some final adjustment, but I am happy with how it all went together and the work I will need to do to get it all just right

The left/right/front gaps. I did not installed any rubber bumpers or stops, so the front corners are lower than they will be at final assembly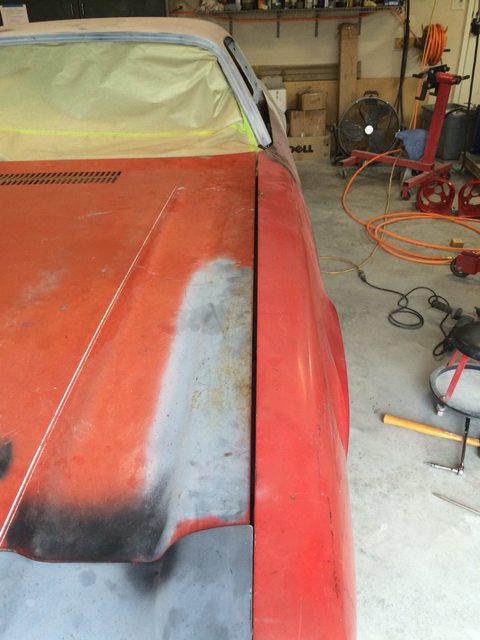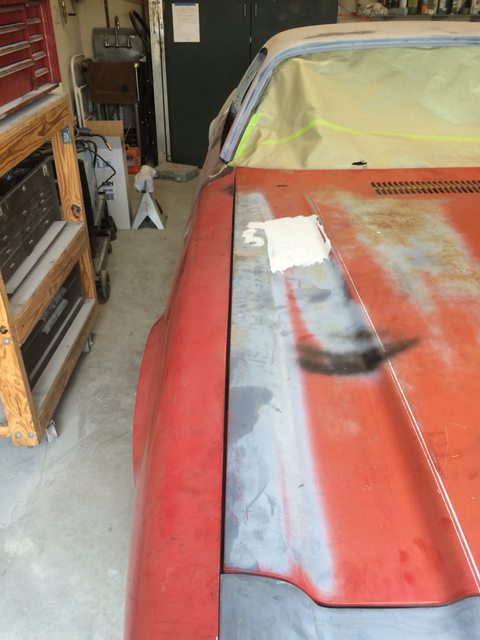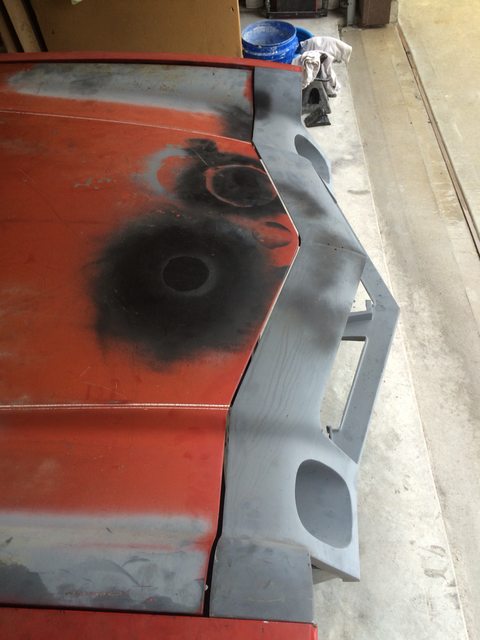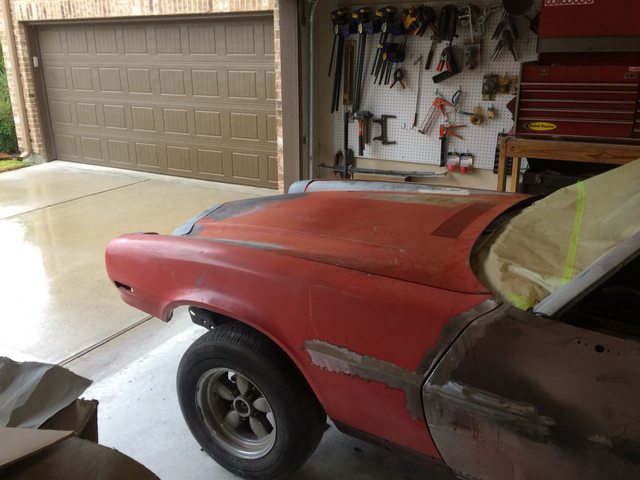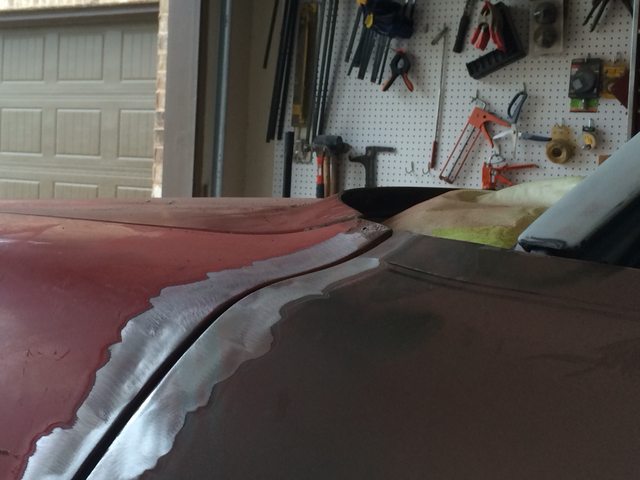 I will need to add some metal to the fender lips to get the edges lined up, but that should be easy enough. The driver side needs more than the pass side, but both need some love. I will make some templates before I disassemble the parts and then do the welding later, as I need to media blast these areas before doing any welding work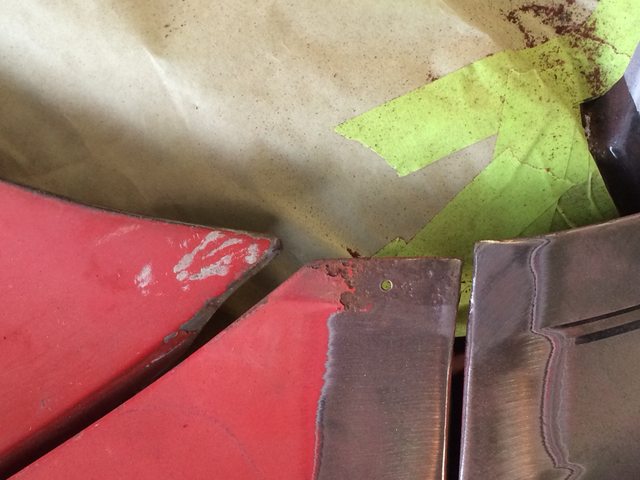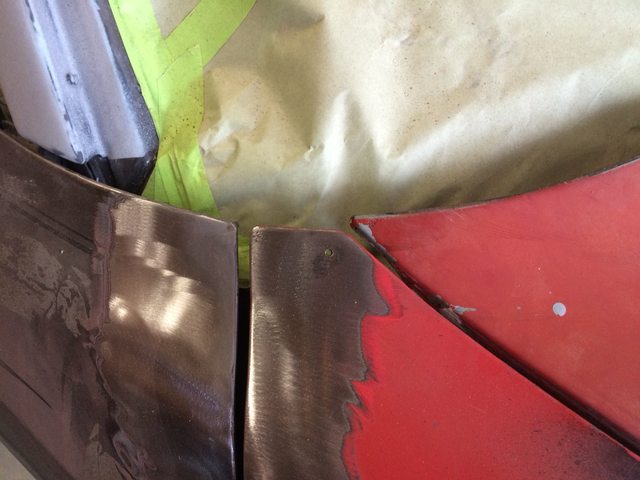 Thanks Pat. I think I will spray 2k on Friday, as the weather is still iffy for Thursday. That works out as I can finish up the minor work on the front sheet metal and look over the shell one last time.

I decided to smooth out the fender-to-door surfaces where it was bad. The pass side was the worst, but after some grinding and filler work, it's pretty damn close.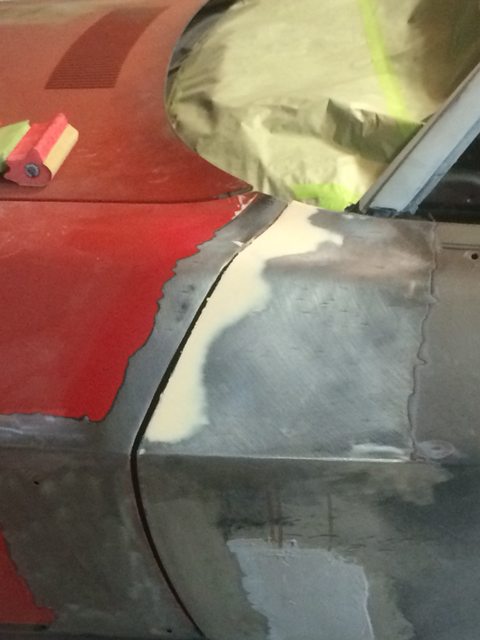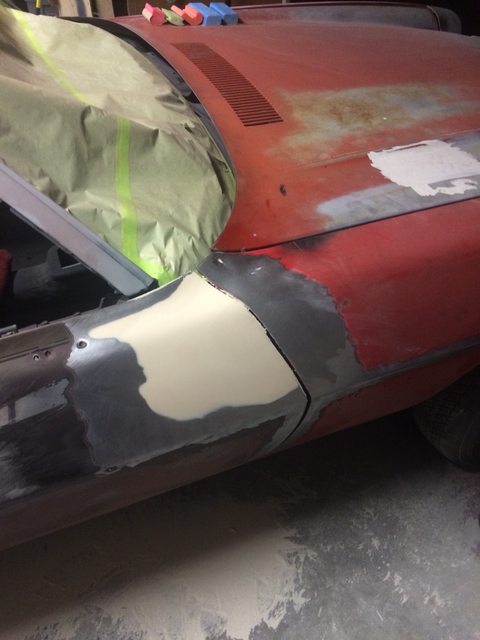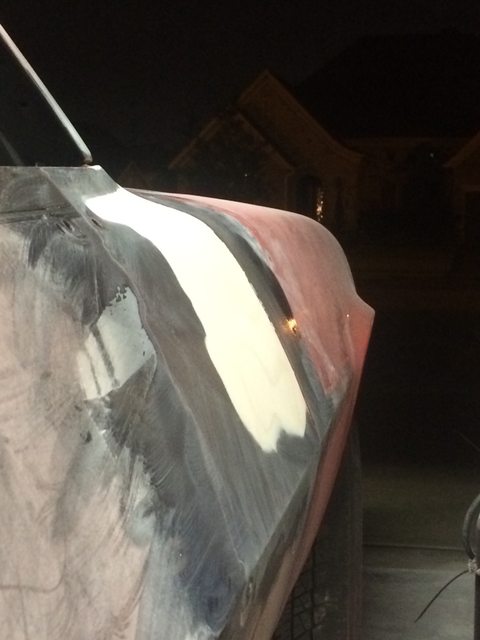 The one thing I am unsure of right now is if I should worry about the lower half of the driver side. Perhaps I am being OCD about it, so I will think about it tonight.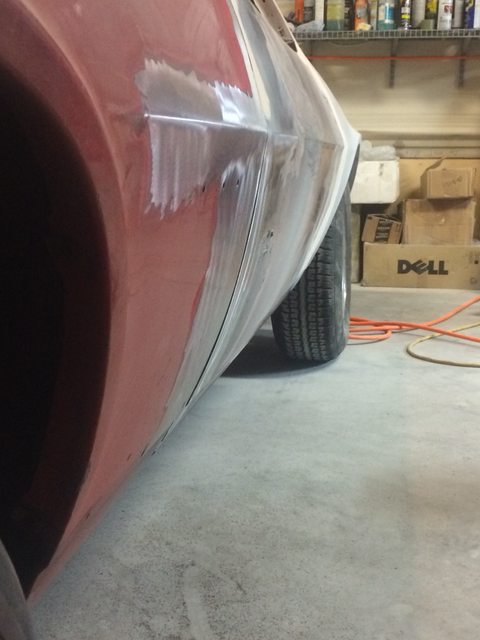 11-7-2014
Not much that is update-worthy from today. I got the door/fender surfaces flush after several filler sanding sessions. While I was waiting on my father in law to come help remove the fenders and doors I decided to strip the paint off the fenders and doors...might as well get those suckers started now.

I will spray 2k primer tomorrow and begin sanding, but will let it "bake" in the sun after I am done with the 320 grit sanding. Then I can move on to 400 and 500 grit sanding. I am not sure how long this phase will take, but I hope to have the shell painted by Dec 1.

Here are some obligatory pics of the 76 with the paint removed on the doors and fenders before we removed them.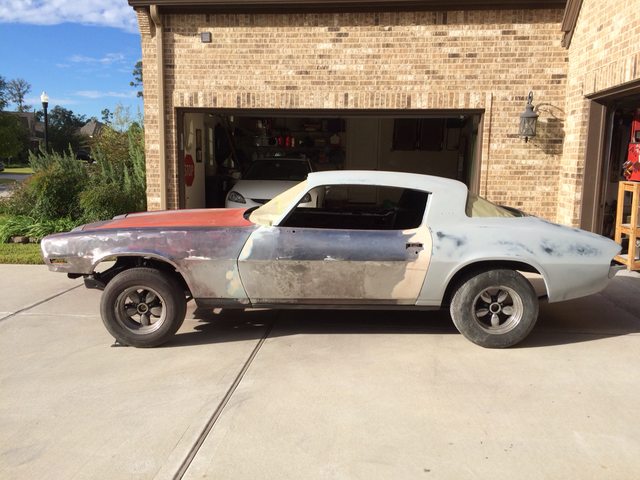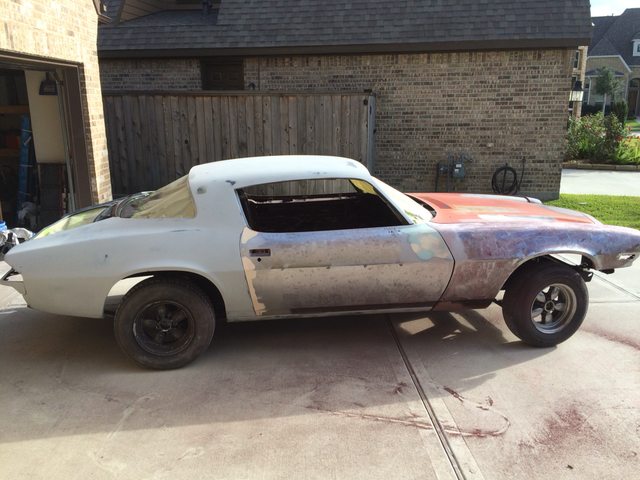 11-8-2014
I sprayed 2k primer today. It started off as a perfect, sunny day and when I was just about done I felt some small rain drops. You wouldn't believe how fast I put the two rear tires back on and got the car off jack stands so I could roll it back in the garage. Nothing bad happened, so that was good. The rest of the day was nice and sunny, of course.

I screwed up initially as I didn't properly anticipate how much material would come out of the gun. I started at the lower tail area and got some runs, so I will have to sand those out and re-spray. But at least it's not a visible area. After dialing everything in I was able to spray the rest of the shell with minimal peel.

I sprayed SPI 2k primer using a 2.0 tip primer gun. I sprayed ~30 psi at the gun gauge. I applied 3 coats and 4 coats in a few areas so I didn't waste any material.

I should get the shell sanded by next weekend and then it's on to spraying BC/CC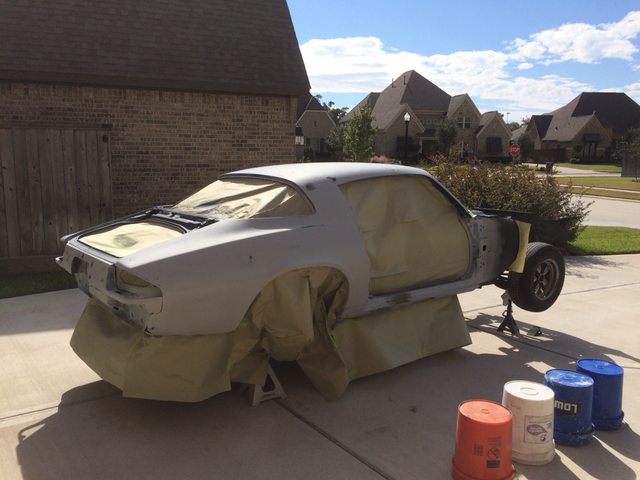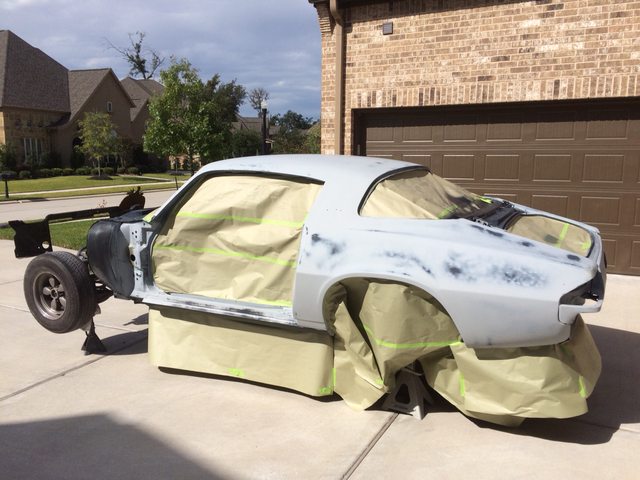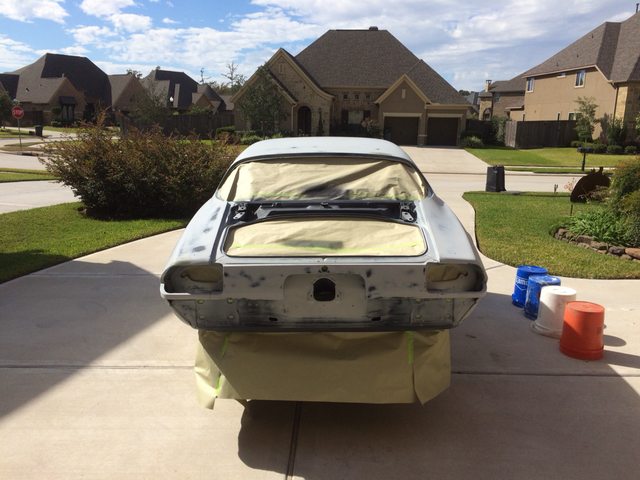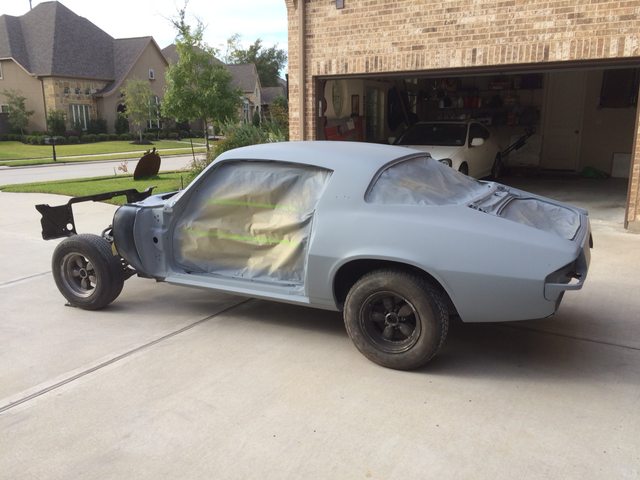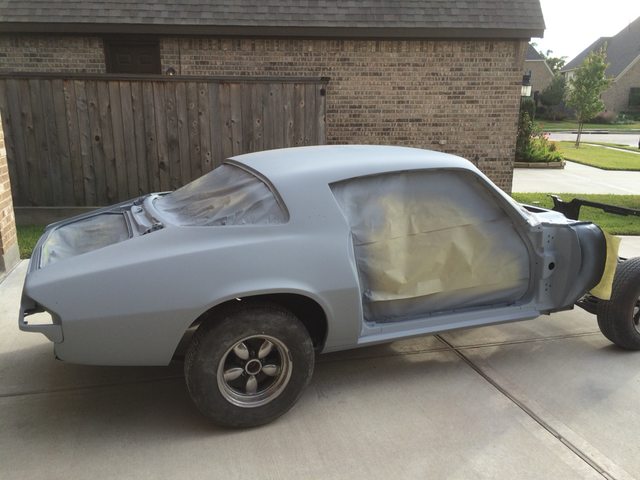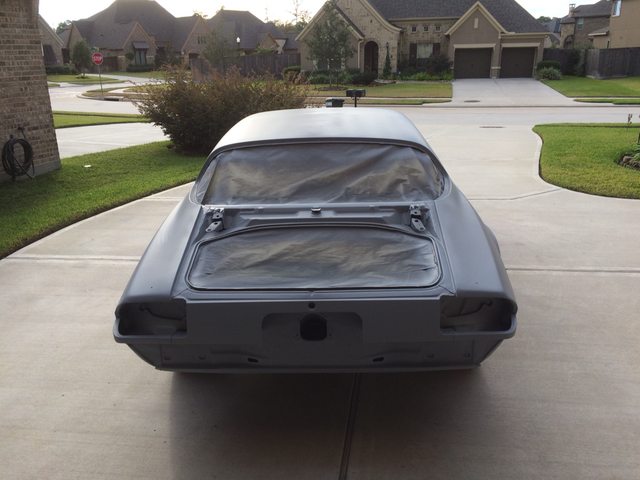 11-9-2014
thanks Pat

I let the car sit in the sun today so the 2k could "settle" and began sanding in 400 grit later in the day. I got a large chunk of it sanded to 400, so I think I can get the entire thing sanded in 500 within the next few weeks. The good news is I haven't broken through the primer (yet). Woo hoo!

Then I have to begin planning for color/clear. The biggest thing is building my booth to make sure I have enough space on all three sides. I may just build it in the driveway so I have natural light.

Here's a few (boring) obligatory pics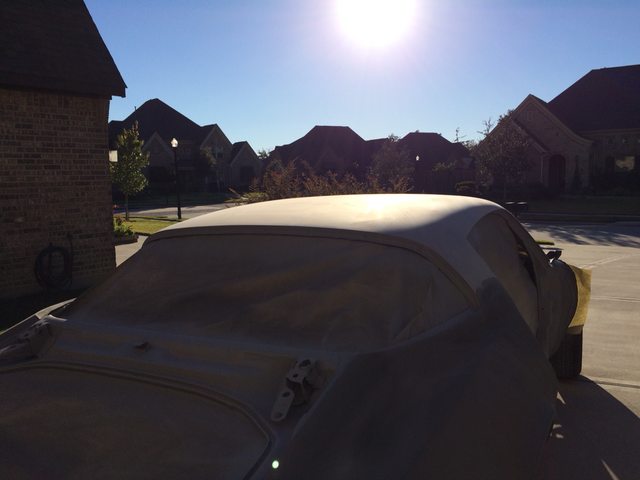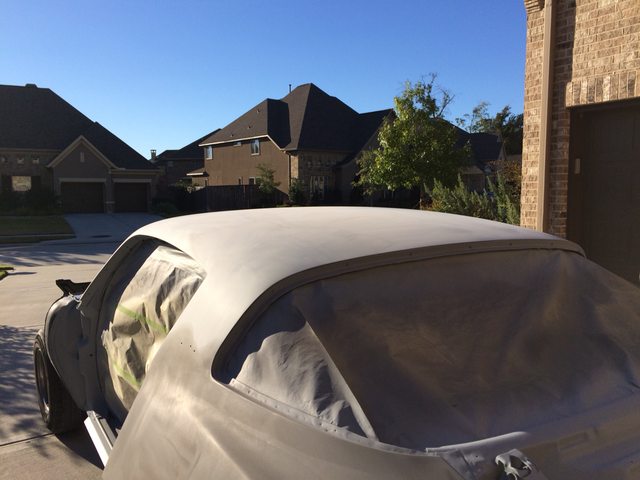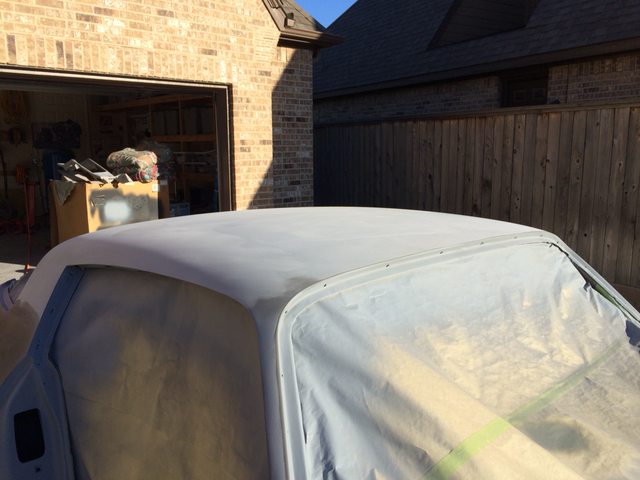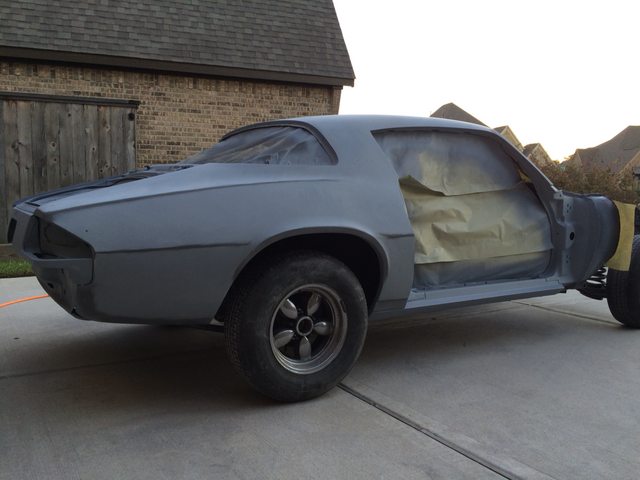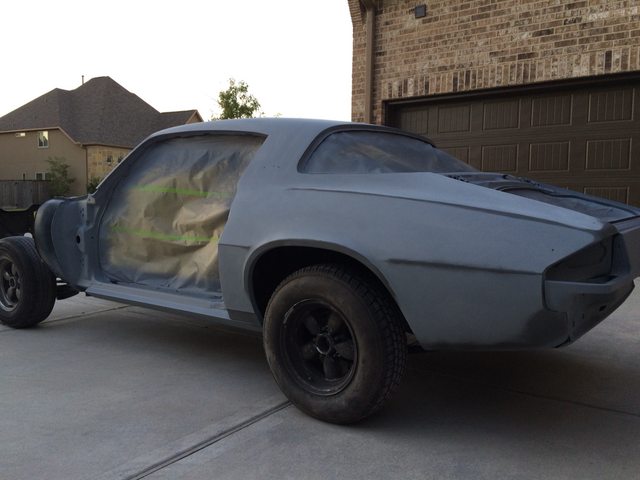 11-18-2014
I forgot who advised I go ahead and make sure the rear window trim fits, but I went ahead and did that and everything checks out. I was mostly concerned with the side pieces, as that corresponds with the new 1/4 panels. Everything checked out, thankfully. Ignore the top piece, as it has nothing to support it so it looks "off".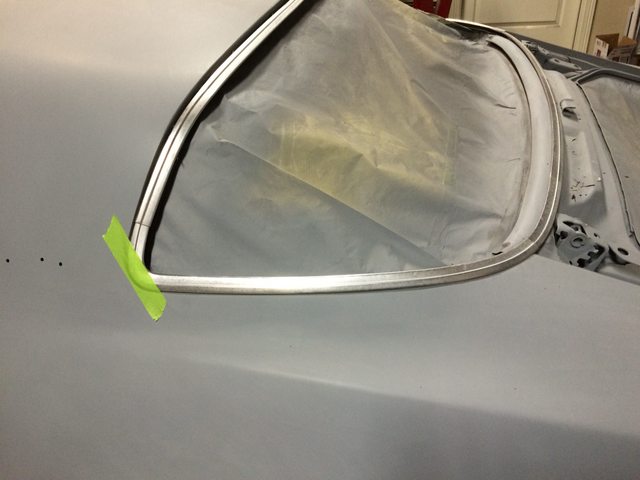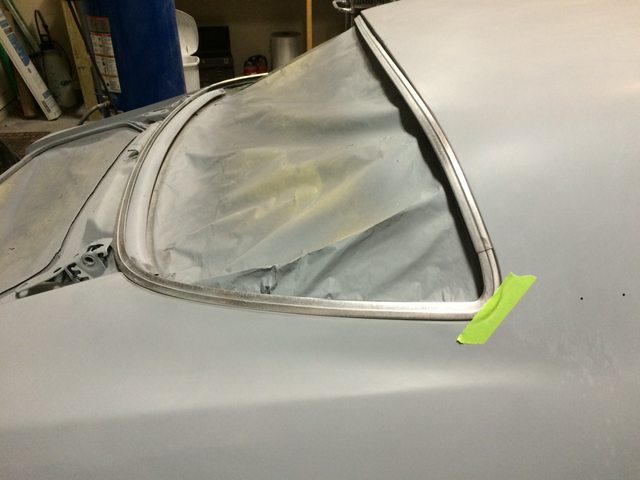 12-1-2014
Since I don't have enough to do we bought another rent house in late Nov, but we are hoping it will be rented this week (fingers crossed). So that took some time away from the Camaro, but it's all good. All the work is done, so now to find someone to live in it.

I sanded the shell and had to re-spray a few areas where there was some burn through, but this was isolated mostly to the rocker panels, tail panel and door jambs. I hope to have the shell completely sanded to 600 grit by this weekend, then I can start thinking about color/clear. That wouldn't happen until the week of Dec 15. I have to get the supplies to make my booth and then assemble it as a dry run so I can make sure it works and is proper size.

A few pics of me covering up as much of the shell as I could to avoid overspray. That's all I got for now!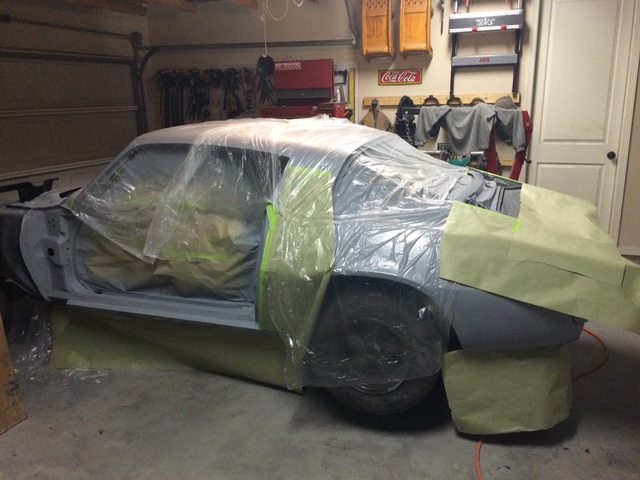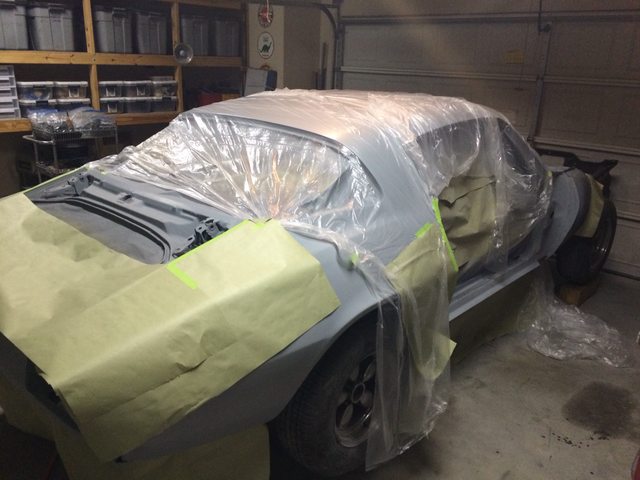 12-22-2014
You'd think so, huh? I was off from 12/12 to 12/21 but only worked on my Camaro for 1 of those days - no joke. First 5 days we took a short trip as our Christmas gift, Wednesday my wife had an outpatient procedure done and the next few days I spent on rental property stuff. So that left Sunday to do some more sanding. I have another 1-2 days of sanding and it will be done. I will need to do some spot spraying in a handful of small areas and sand those down, but that will be nothing compared to the work done so far. That's just so I can have complete coverage in 2k primer for peace of mind.

I am actually thinking of waiting until spring to spray color/clear for two reasons. 1) I can spray when conditions are more ideal since it's in the 70s and low humidity in March/April and 2) I can spray EVERYTHING, not just the shell. Since the car is garaged it should not pose an issue to wait a few more months. I will finish sanding the shell and go directly to work on the doors/fenders/hood. I think the likelihood of this happening is pretty high.

This is what I did tonight - the tail area is not a huge concern but I still took time to prep it properly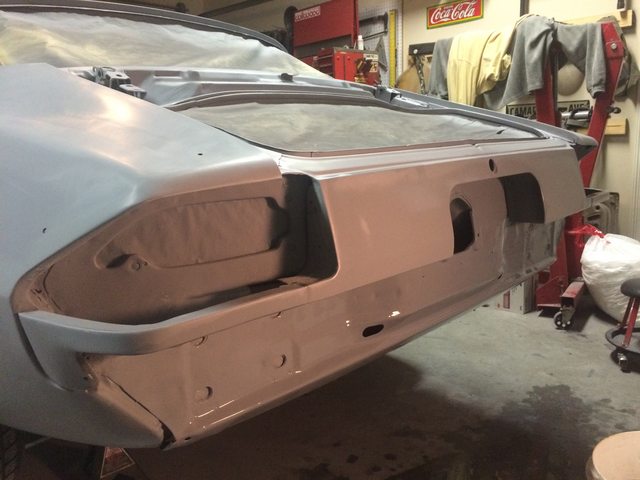 1-10-2015
Since I can't do much more on the shell right now I decided to start on the front sheet metal. Today I stripped the top of the hood. I will hit it with 80 grit DA before spraying epoxy primer.

I was pleasantly surprised not to find any body filler on the hood. The worst spots are some minor pitting, which will be easy to handle.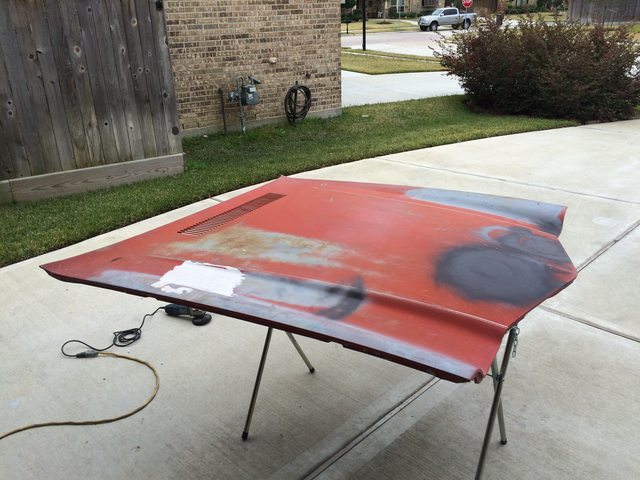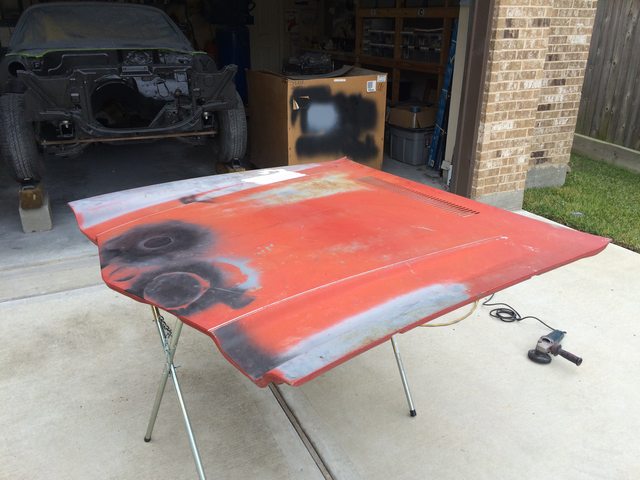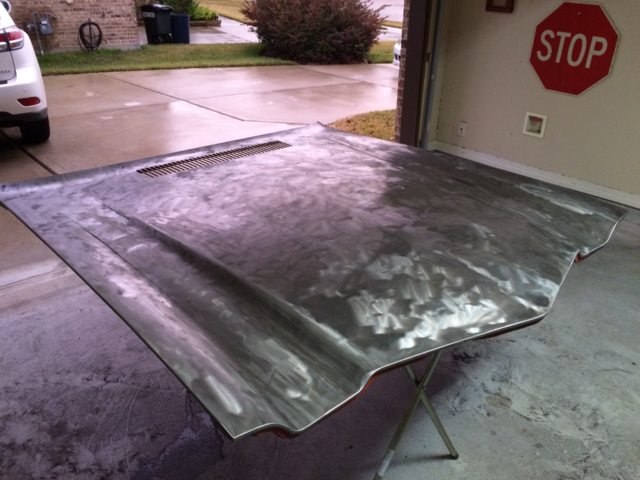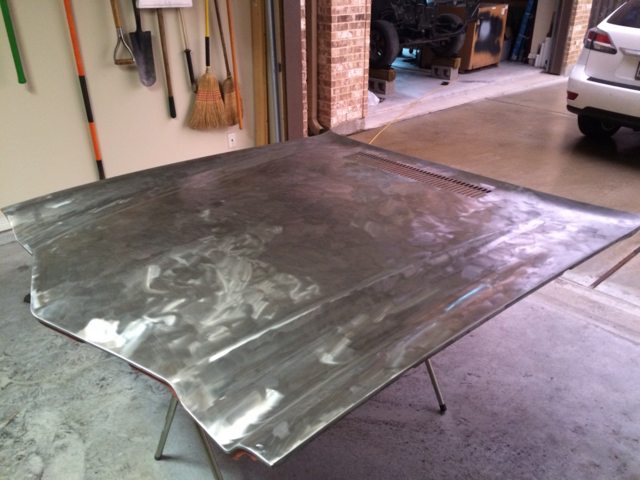 1-11-2015
I use a one-two punch on panels like this. I first strip the paint using "clean & strip" discs like these on an electric angle grinder -- http://www.lehighvalleyabrasives.com/servlet/the-4/4-dsh-1-fdsh-2"-Non-Woven-Clean/Detail They are gentle on the metal and generate much less heat than sandpaper would. After the paint is stripped I will come back and finish with 80 grit flap discs to condition the metal for epoxy primer. It's pretty quick work since the paint has already been stripped. I won't do the 80 grit stage until I am ready to spray epoxy primer. It takes 2-3 "clean & strip" discs to do the hood, for instance and then 1-2 80 grit flap discs. I recommend Lehigh Valley Abrasives for flap discs, etc. They are good quality and fairly priced.

I will have to do some media blasting for the awkward areas, like the entire underside of the hood. But that should come off really quickly. I am keeping the fenders inside right now to keep rust from forming. I might do the same with the hood and doors, which the wife will love.
So I am stripping the fenders today and I came across this monstrosity. I have no idea what they were thinking. It had a nice glob of bondo that I had to grind out. I will cut this out and replace with new metal after I am able to media blast the rest of the fender.

The filler even came through to the backside of the panel. This is why I am stripping the entire panel, front and back. I don't want to leave anything to chance.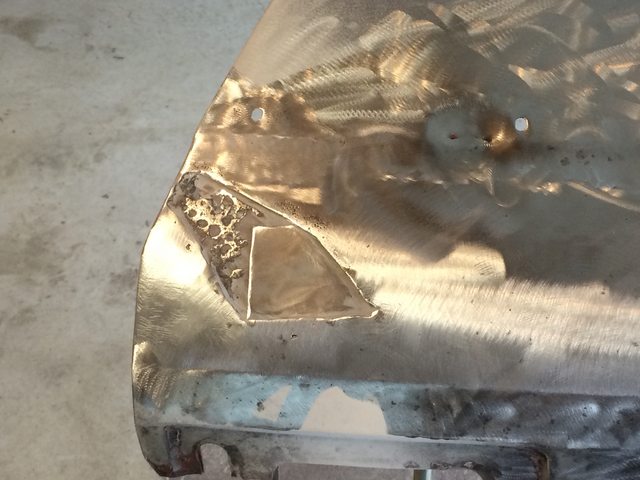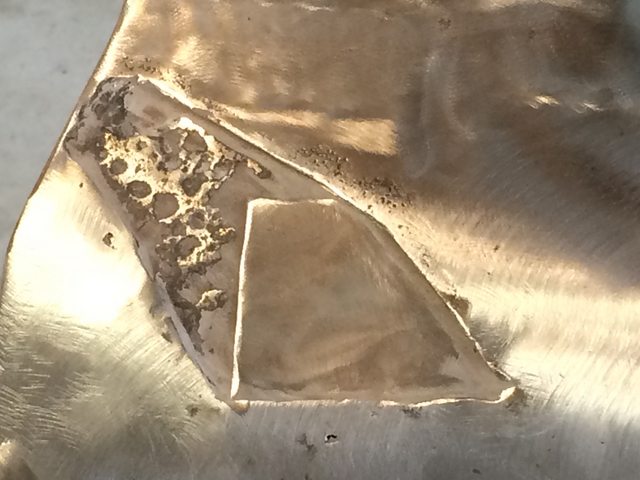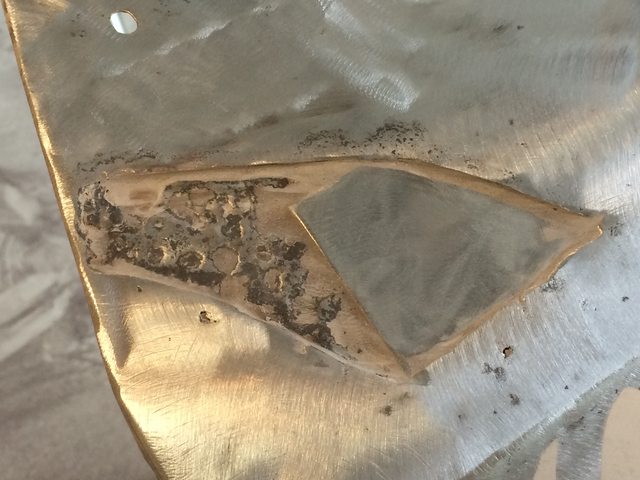 BUT WAIT, THERE'S MORE!!

The driver side fender had more of the same. It was amateur hour on these fenders. These are the classic rust-out spots where leaves and crap got stuck, so this is not surprising. I will probably buy the patches and cut put what I need.

They smeared the filler on way too thick, it was ridiculous. The area to the front of the patch is fine, so this should be an easy fix.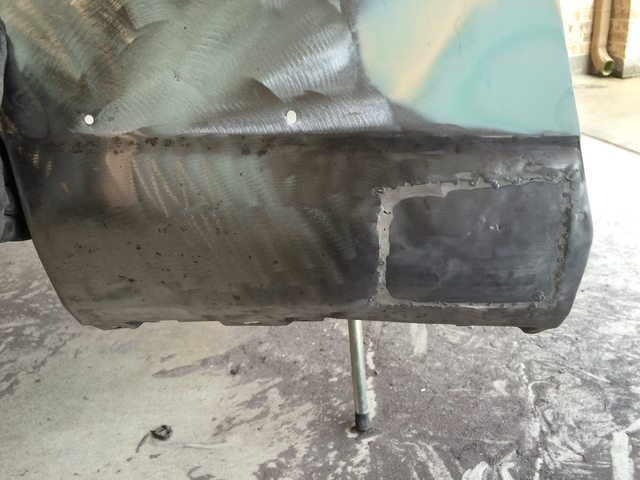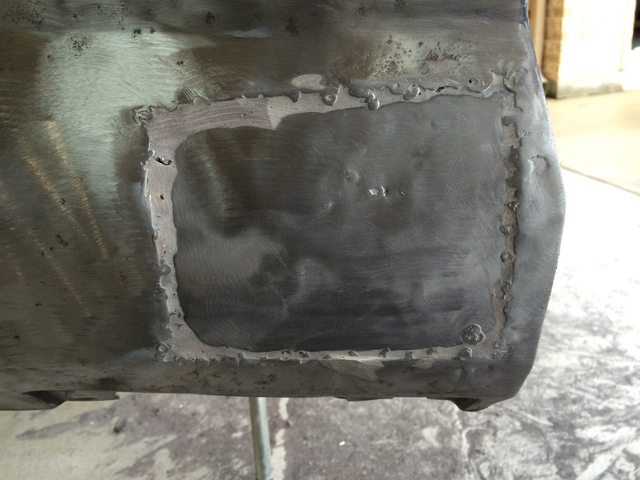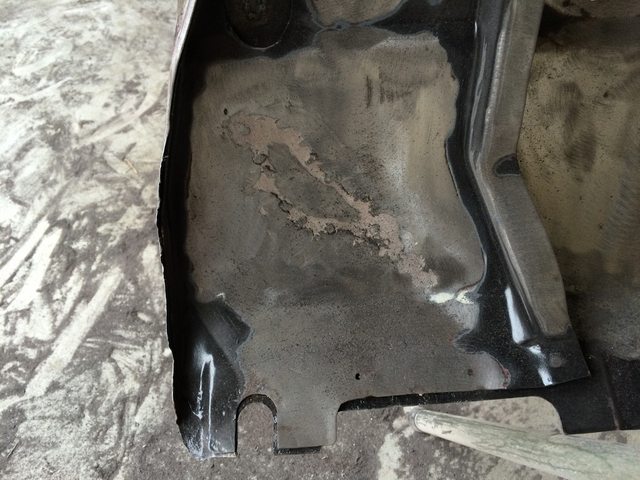 1-17-2015
Today was a gorgeous day so I took advantage and did some media blasting. I got both fenders and both doors ready for epoxy primer. I hope its warm enough tomorrow to spray, but it will be close. Forecasts call for a high in the mid 60s. I might take off early Tues or just take the day off since that is supposed to be the warmest day this week (high in the low 70s being forecast). I will have to play it by ear. In the meantime the finished body panels are upstairs until they get sprayed.

I got a lot of the old paint stripped using my angle grinder and finished up using media blasting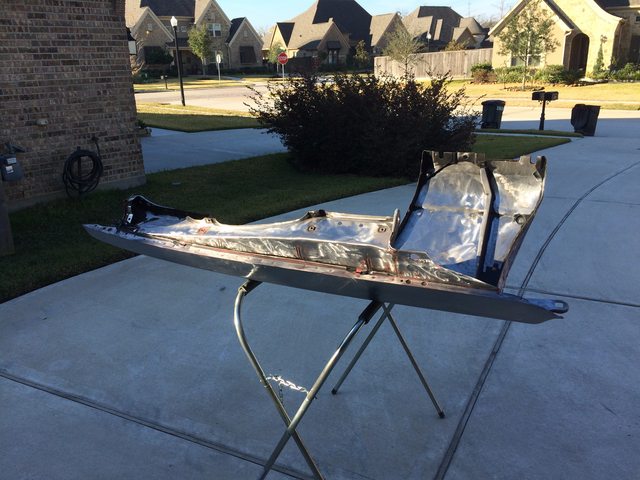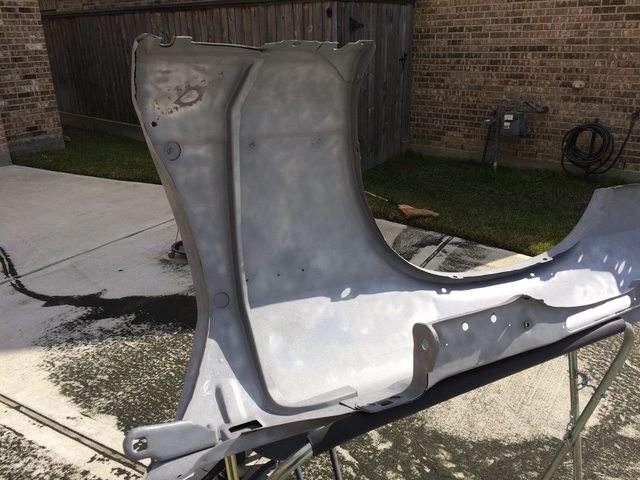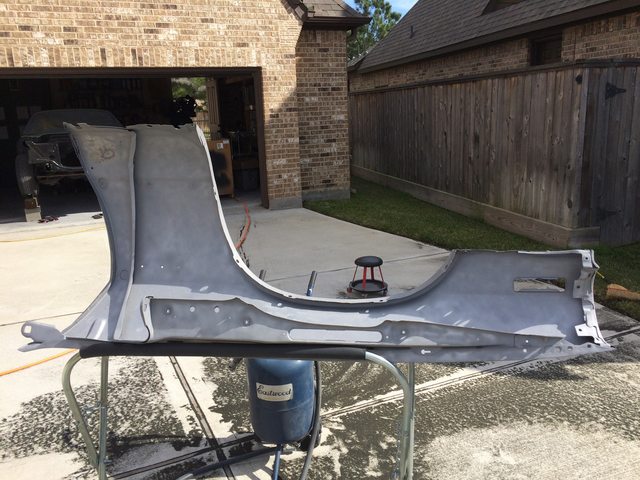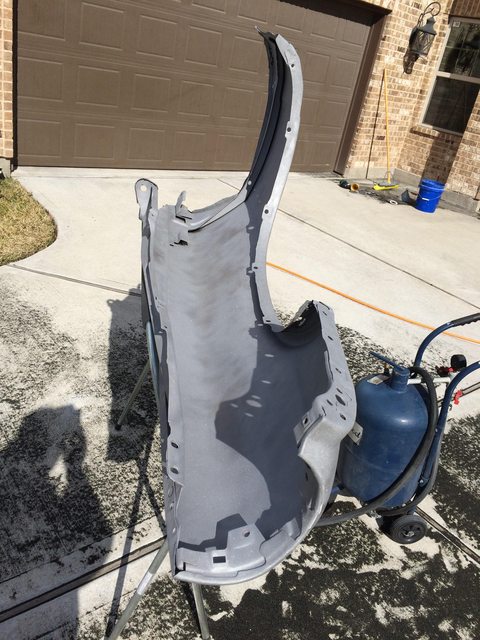 some shots of the doors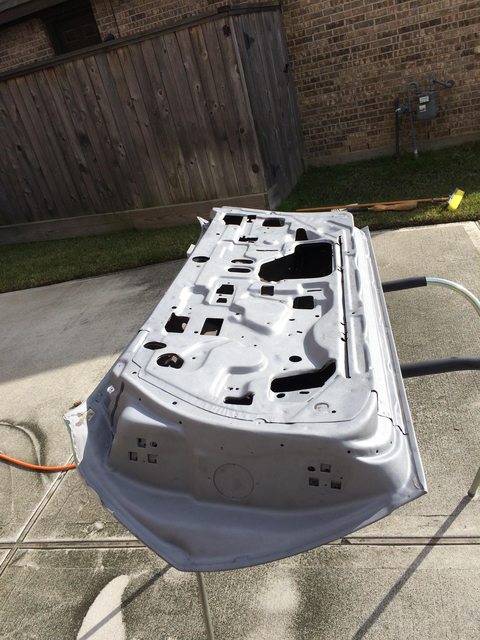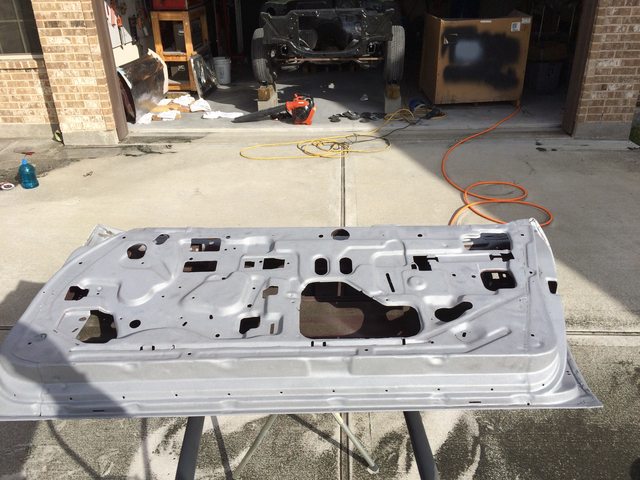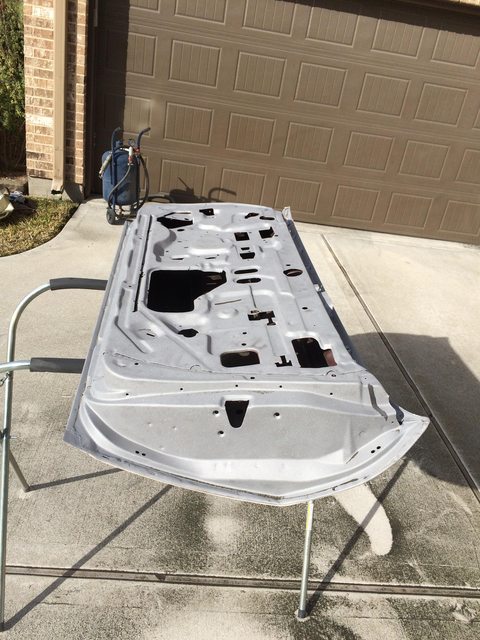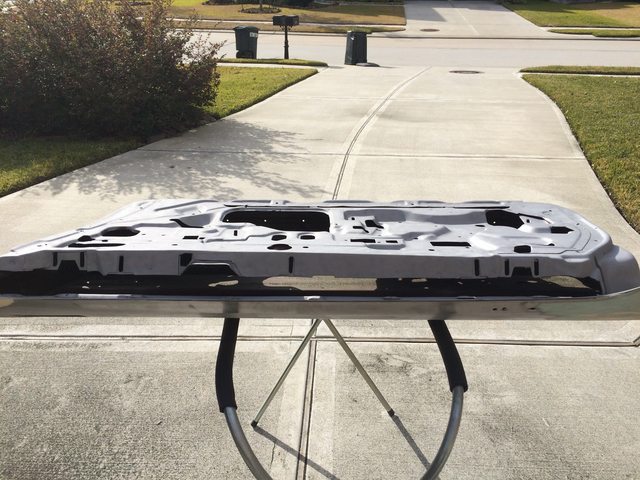 1-18-2015
I got the hood blasted this morning. I just sprayed the first coat of epoxy on the hood, doors and fenders and am waiting to spray the next coat.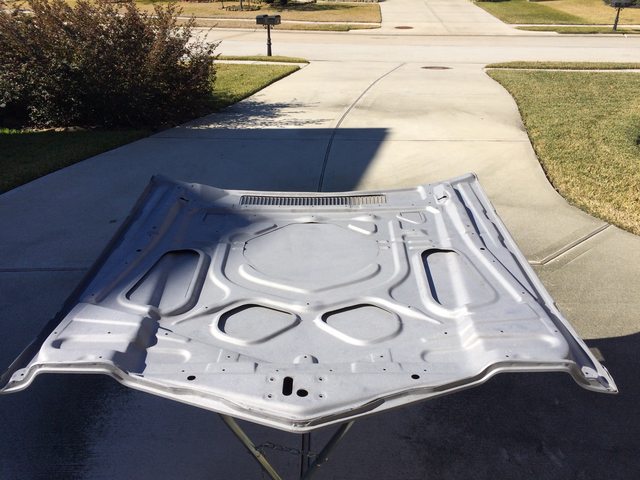 Prepping the panels in the driveway as I am for the "neighbor of the year" award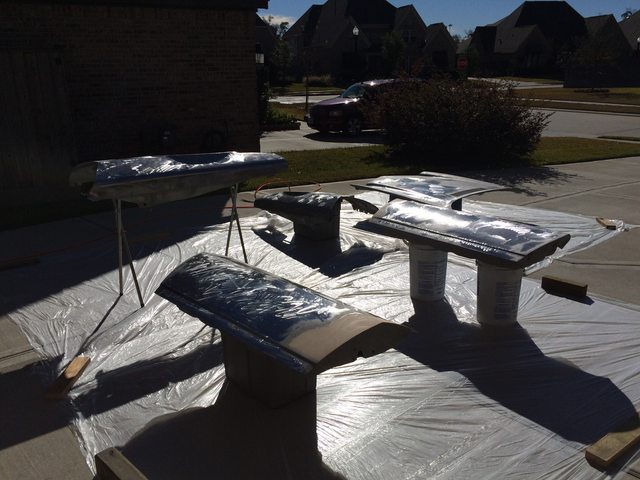 Got the exterior sides sprayed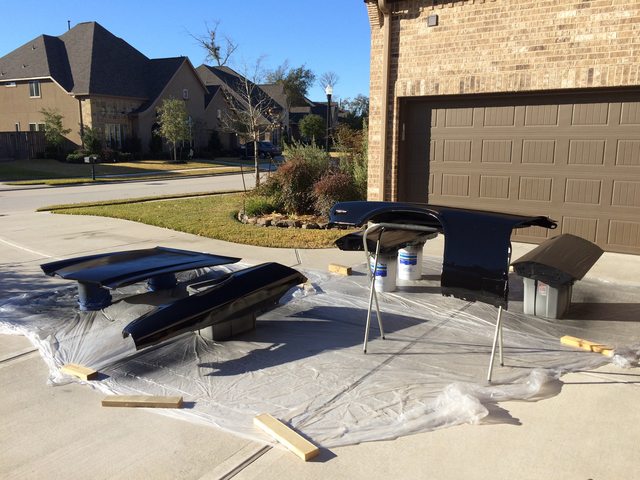 1-19-2015
I touched up the hood and doors after work today, so they are ready for the next phase. The driver door needs some filler work on the front/lower area and the hood has a small spot near the nose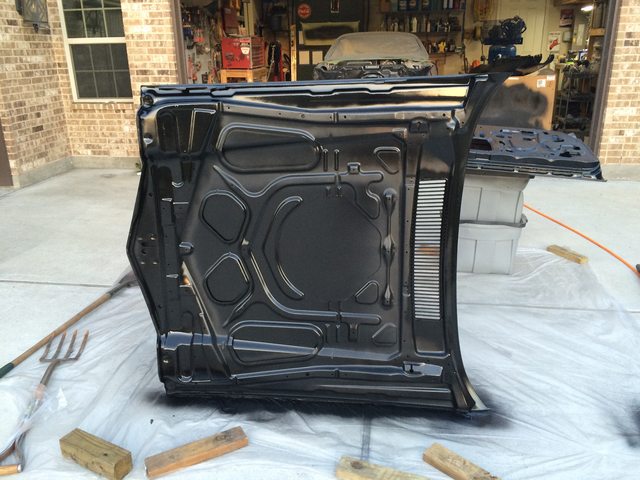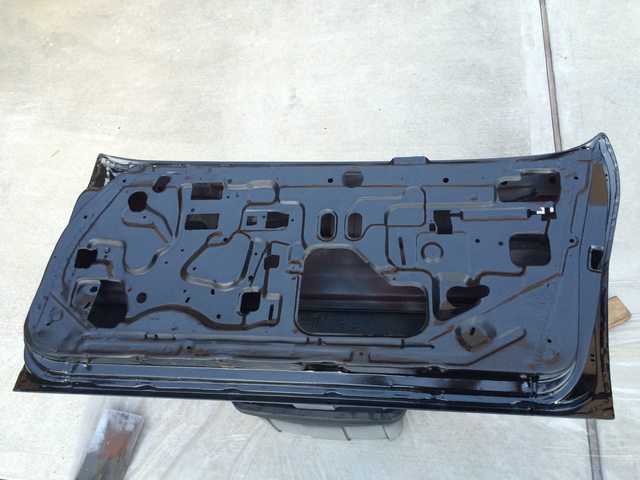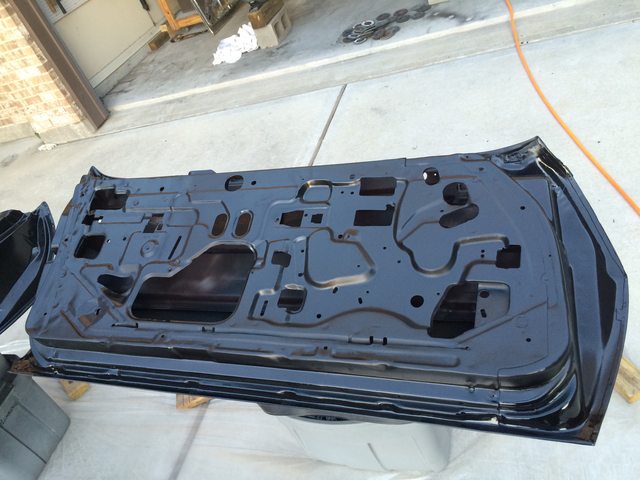 I cut this crummy spot out of the passenger side fender. I am not sure what is original metal and what was part of the redneck patch. I figured you'd enjoy this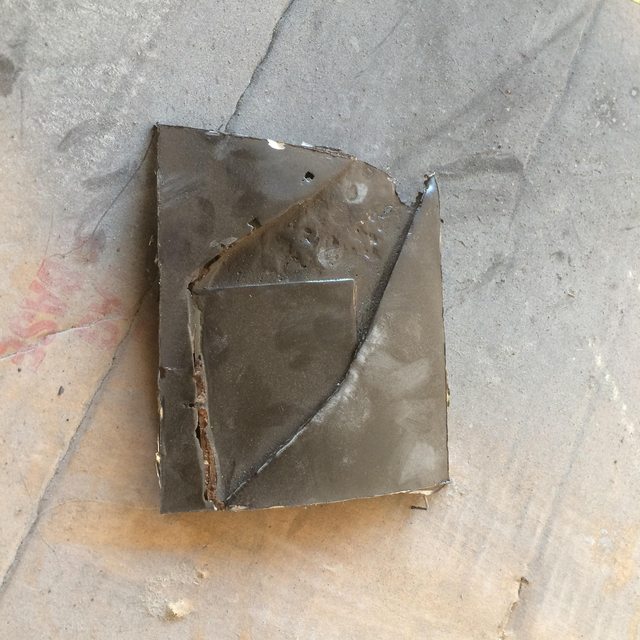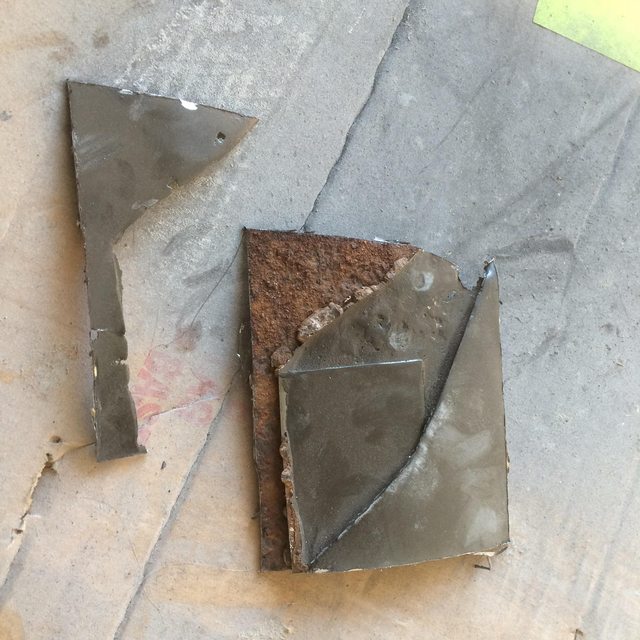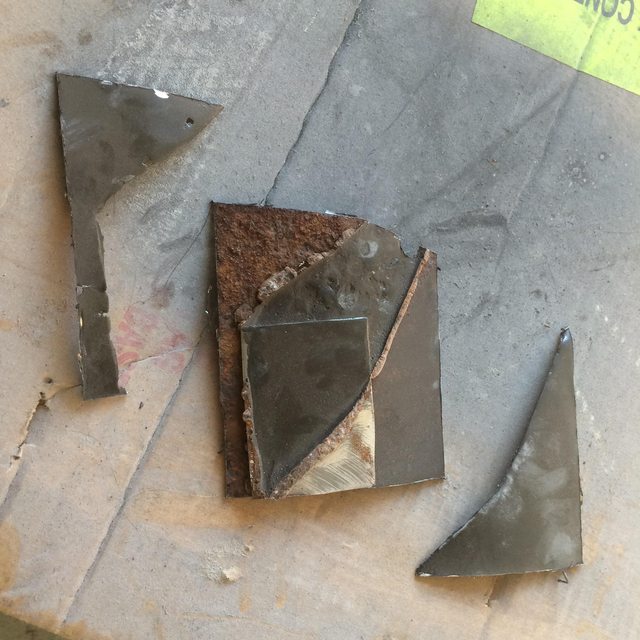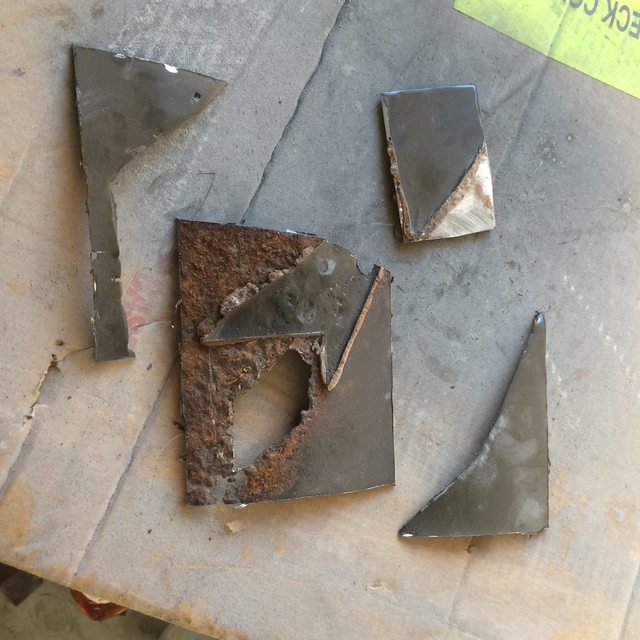 After I removed the redneck patch, I cut away more metal a little at a time. It looks like I will need to replace more than I originally thought. But it's gotta be done.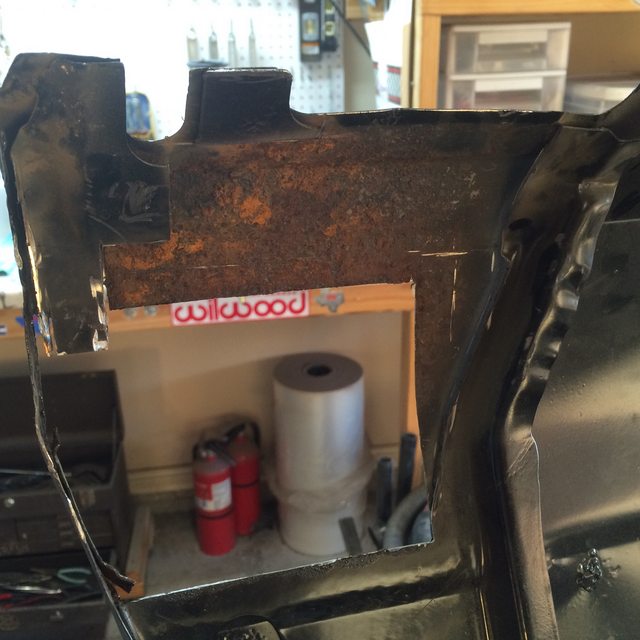 1-21-2015
Started on the passenger side fender repair. I had to cut a somewhat odd shape to compensate for the rust on the back of the original panel. I cut the patch about 1/2" long on the edges and then I cut it to the final shape. I got the welding started and will pick it back up tomorrow.

The Goodmark patch doesn't have the cutouts on the bottom for the bolts, so I will have to add those later.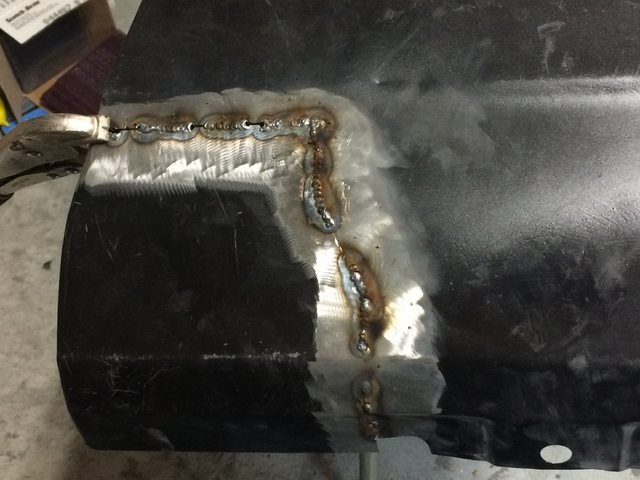 1-25-2015
It was a gorgeous day so I decided to do some more parts blasting. I got the wheel wells, trunk lid, tulip panel, headlight panels and other small parts done. I am down to just a few more things that need to be blasted, most notably the seat frames. I will be a happy man when I am done blasting for good.

I will keep the bare metal parts inside until I can spray them.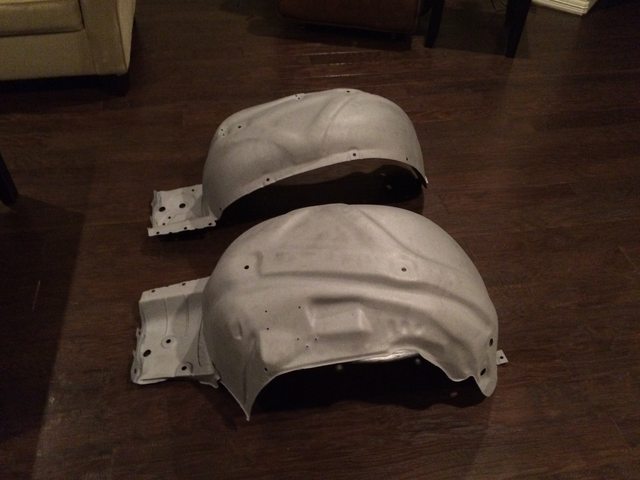 1-31-2015
I started dong the filler work on the doors and hood. The pass door only has the small spots along the centerline where I welded up the holes for the molding supports. The hood only had a small dent near the nose. After some more 180 sanding I will be able to spray the bare metal with epoxy primer and then spray with Slick Sand. The doors should be ready for the same treatment pretty soon.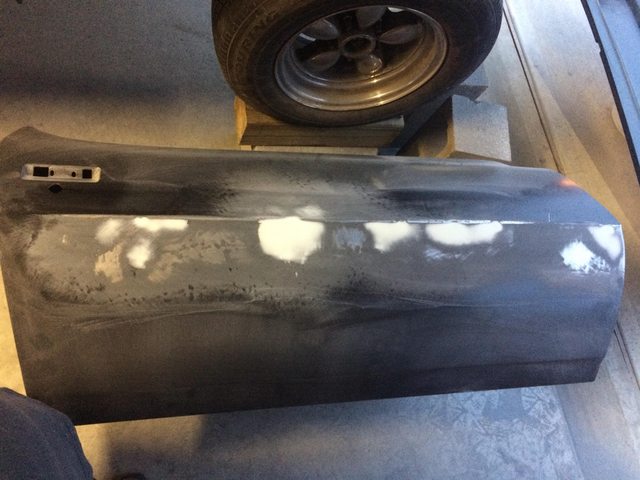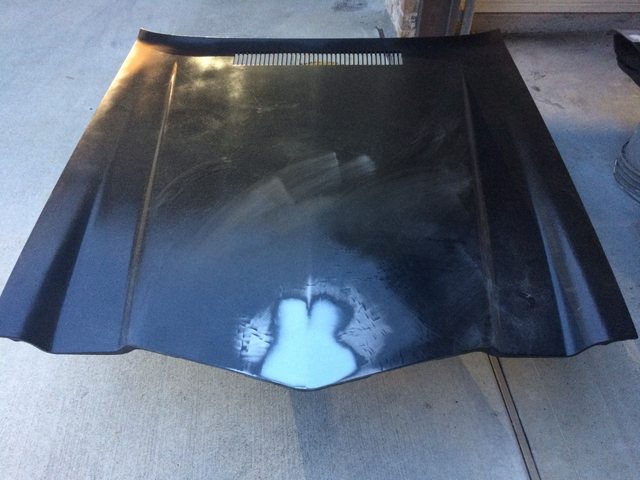 2-1-2015
I got the doors nearly done. I need to finish the filler in 180 and check for any other spots that might need a skim coat. The driver door had an old dent on the front/bottom area I popped out with a stud puller a few months ago so I finished it off with filler (I used Rage Ultra, which sands nicely).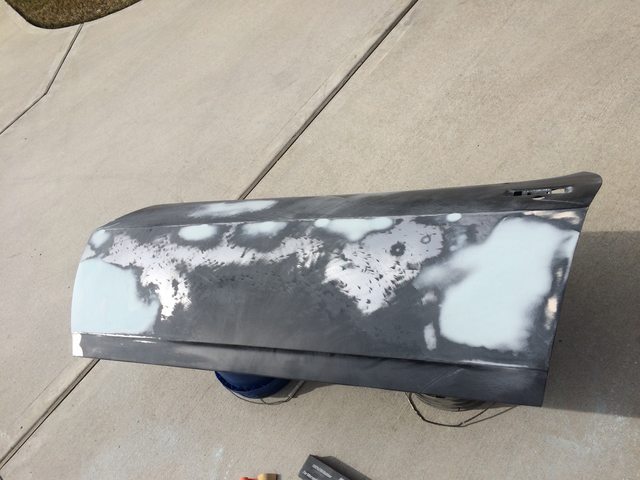 I addressed the rear/lower corner of the pass side door. It took me a few attempts to get the contour right along the bottom but I finally got it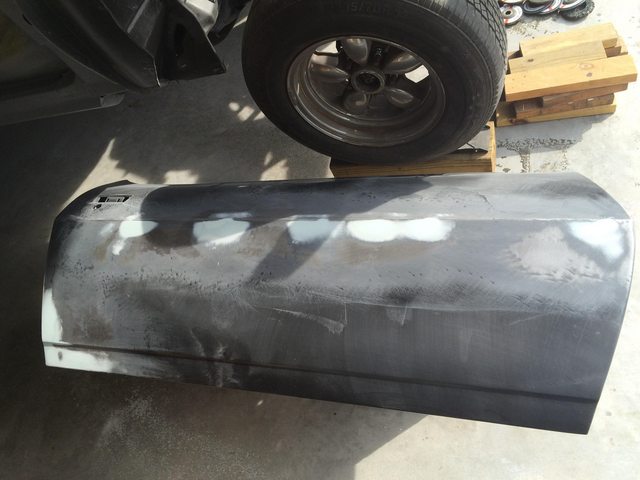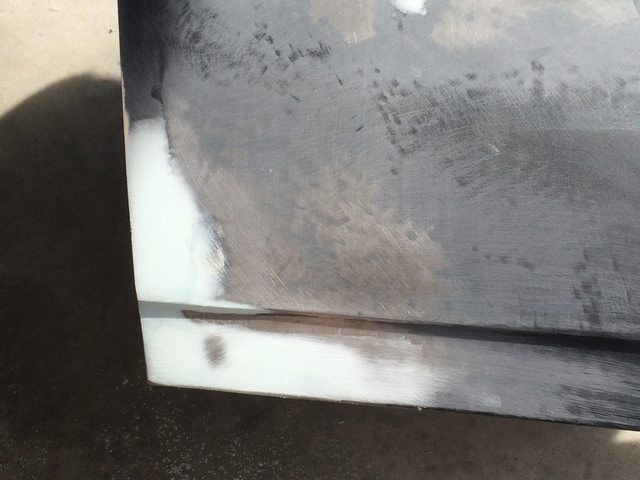 2-7-2015
I took advantage of the fantastic weather to media blast some more parts and spray them in epoxy primer. I have a handful of metal parts to blast but couldn't find them

I will finish the body work on the doors and hood tomorrow and spray the bare metal spots in epoxy, then they will be ready for Slick Sand after 48 hours. I need to finish the fenders this week which I will do after work.

I didn't paint the small parts in the garage. I only hung them to dry.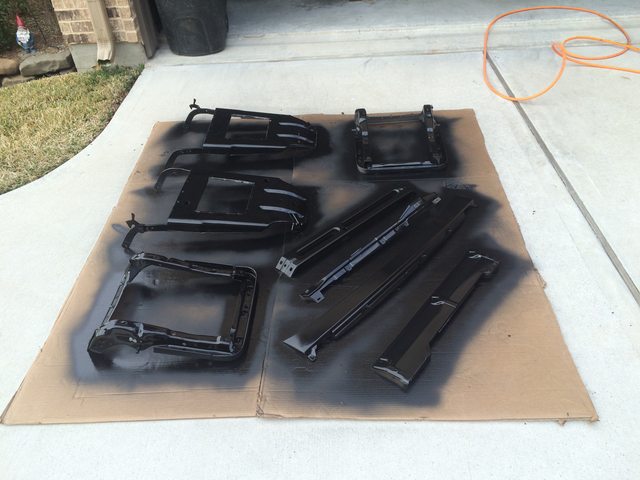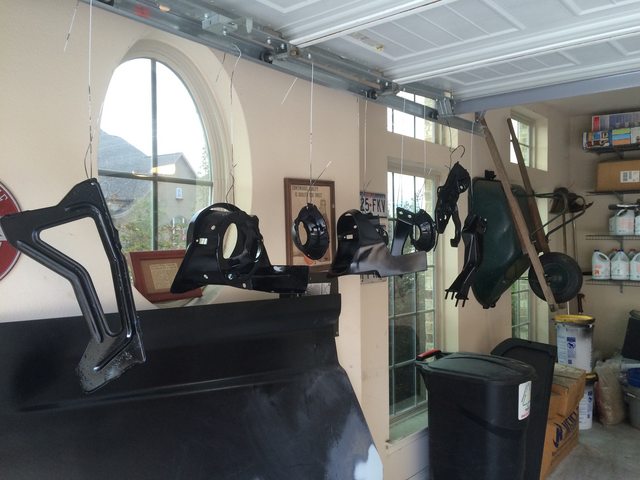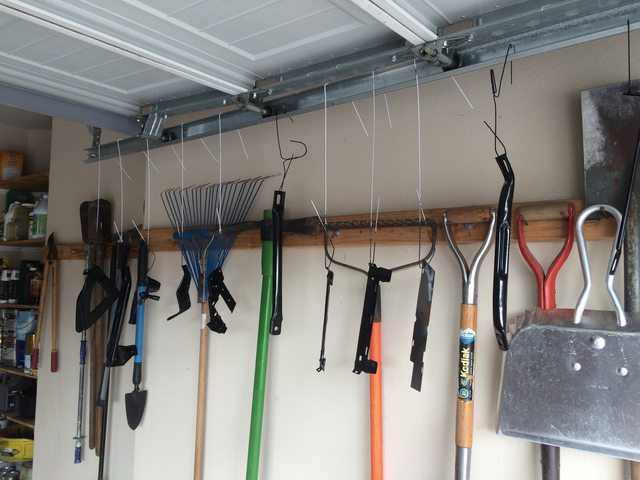 The wheel wells turned out very nicely. I had to bring some parts inside so the metal would stay warm for tomorrow. I have to spray the opposite sides of those parts which should not take long.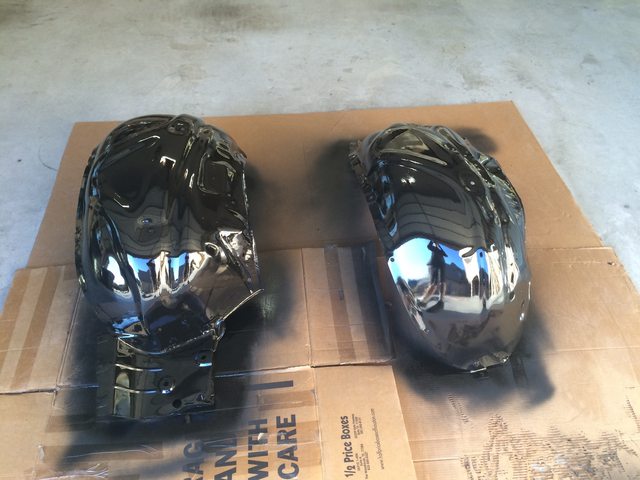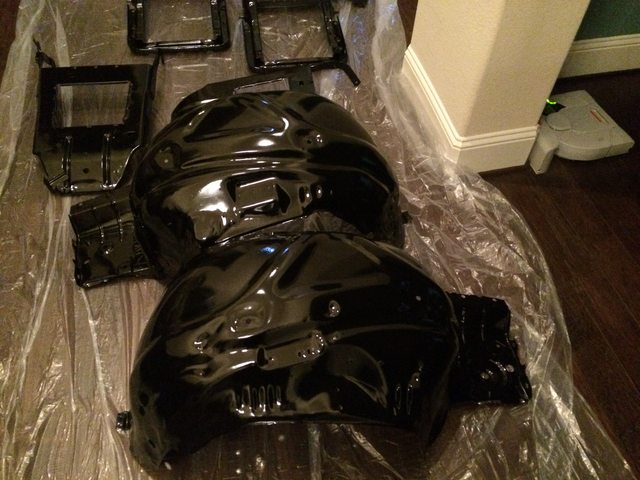 2-9-2015
I got the rest of the parts sprayed and got the doors and hood sprayed too. I am off Friday-Mon so I will shoot the doors and hood with Slick Sand and begin the blocking process. I decided to re-do the fender patches as I was not happy with the way they turned out. So I have to tackle that, but I plan on getting the 2nd patch ready to weld tonight so I can wake up before work and get some welding in. Long story short, I chopped off the entire bottom portion of the fender just above the lower body line so I would have just one visible seam to weld.
2-10-2015
I started welding the new patch in place for the drive side fender. ChevyReb gave me some pointers for dealing with the thinner sheet metal on the Goodmark patches. I have been fortunate to NOT need to use any aftermarket patches up until this point. Every patch I did was either original GM metal or I made it from thicker gauge metal. I am not sure why the metal has to be so thin on these patches, aside from cost savings. I'd gladly pay more for a patch with thicker metal.

I decided to replace the entire lower area of the fender so I could deal with one long seam across a flat area. I first trimmed the patch and left ~1" extra and got it measured up on the fender, paying close attention to the distance between the two body lines. Once I was happy with the placement I secured it and cut through the patch and slightly into the fender to get an exact line between the two pieces. Then I removed the patch and finished trimming the fender.

I then laid one small weld about three inches apart and let those cool naturally until laying more welds (one at a time in each spot). I laid maybe 8-10 welds (per section) over an hour's time. I began stripping the paint off the spoiler pieces so that kept me busy as the welds cooled. I will take my time this round so I have as little filler work to do as possible and to minimize warping.

The 2nd pic shows the extent of the welds I was laying. Enough to fuse the two pieces properly.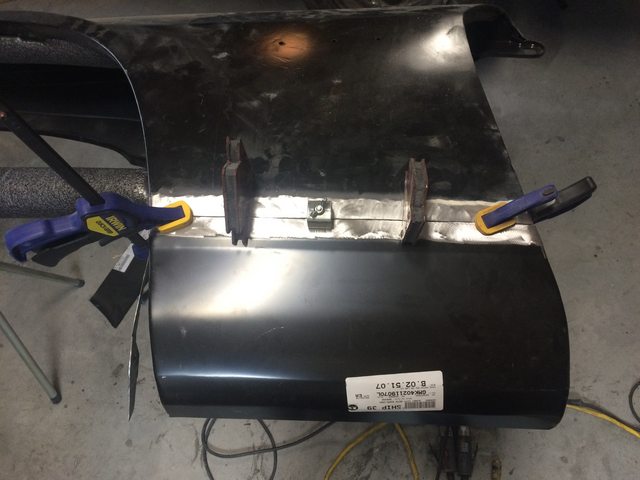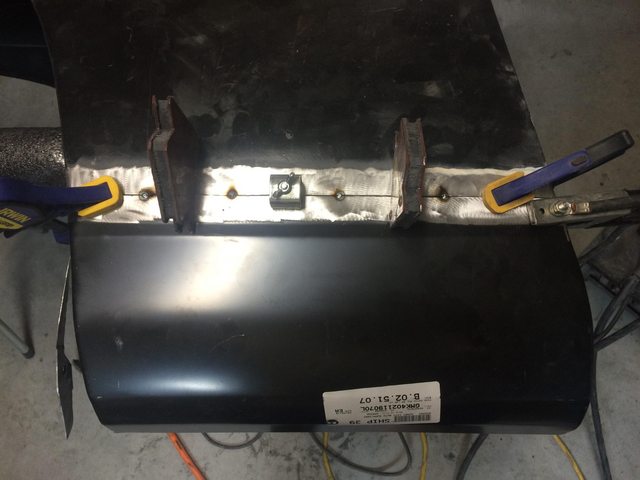 2-13-2015
I changed plans today and took apart the bumpers and blasted the various brackets and some other items. I still need to blast the actual bumpers tomorrow but that should be quick since they are not painted or rusty. I will spray these parts tomorrow with epoxy primer and spray some already-primed pieces with Slick Sand.

I wised up and got a 20' x 20' tarp to catch the bulk of the media, as well as use when I am spraying primer.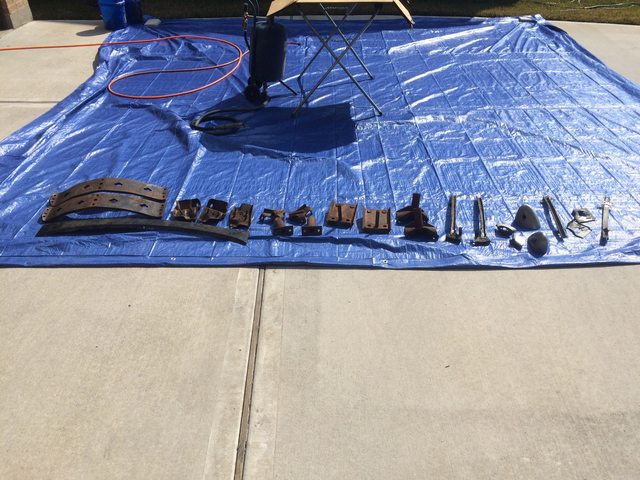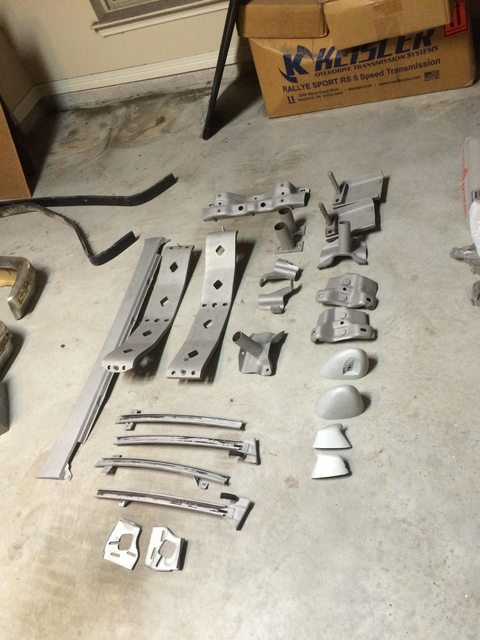 I bought some side view mirrors a long time ago with near perfect original glass. It was a nice surprise pulling these out. Maybe they will be on my car someday.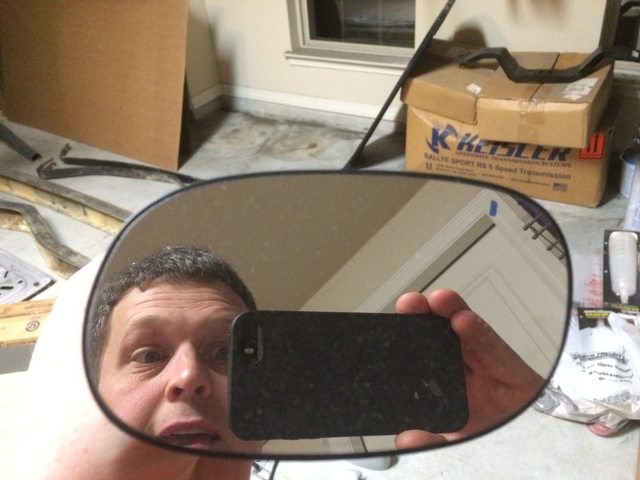 2-14-2015
thanks!

I got the blasted pieces primed but still need to do the back sides of some pieces. I also got the hood and passenger side door sprayed in Slick Sand. I hope to get the trunk lid and the driver door sprayed in Slick Sand on Monday after 48 hour cure time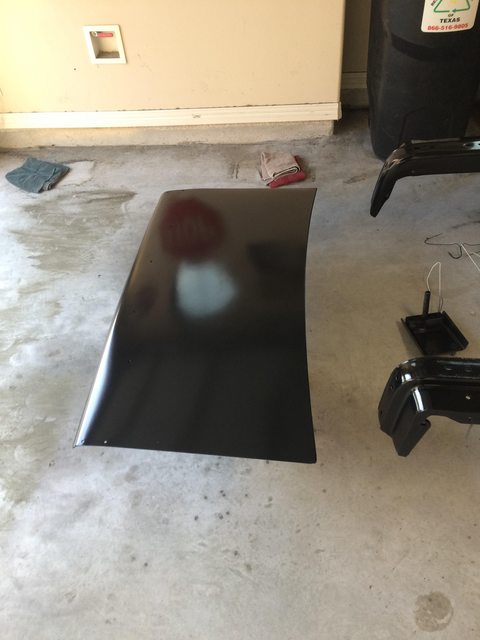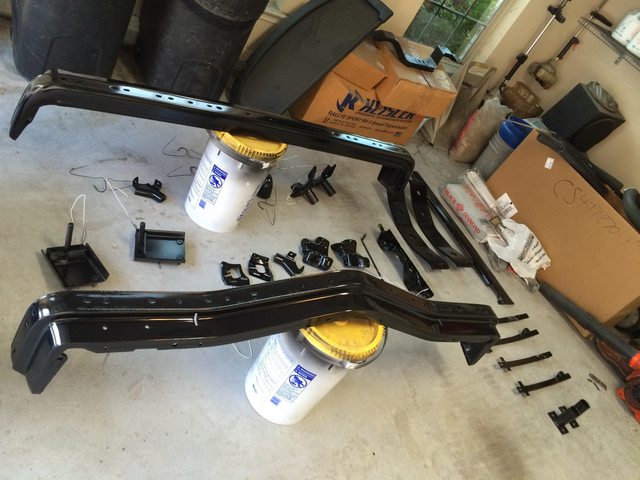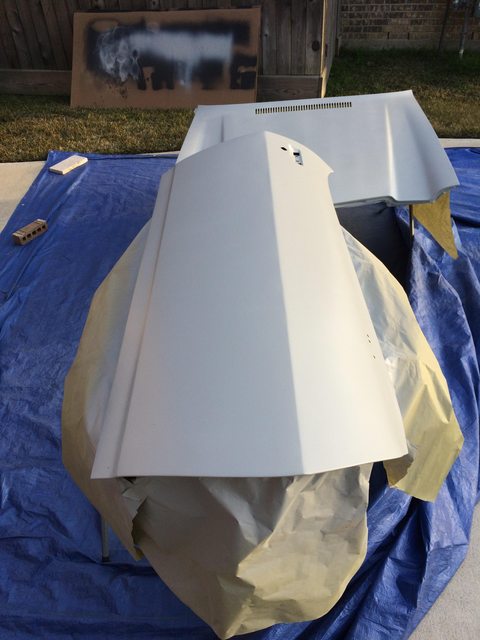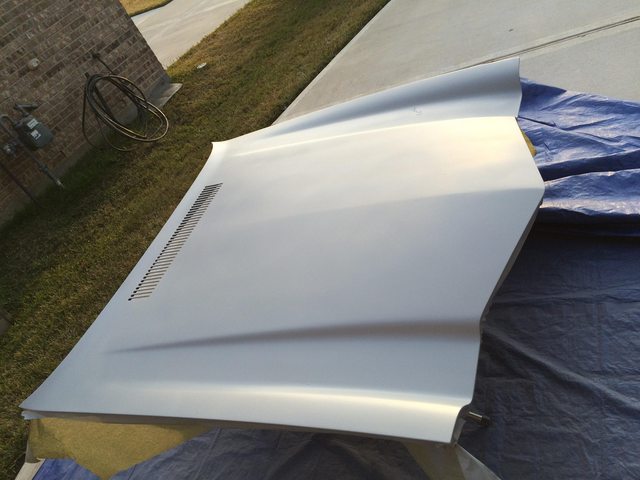 2-16-2015
I got the other door, trunk lid, tulip panel and one of the headlight buckets sprayed with Slick Sand this morning. I began replacing the patch on the other fender so both of them should be done soon. The spoiler pieces are almost stripped so I can begin fixing the dings and cracks in all the fiberglass pieces.

A funny (looking back anyway) thing happened today. I was stripping paint off the spoiler pieces and set one of the smaller pieces off to the side and did a few welds on the fender and all of a sudden I felt a burst of heat. One of the sparks hit the spoiler end and it just ignited into flames. I kicked it into the driveway and sprayed it down so no harm, no foul. Remember kids - paint remover is flammable

2-19-2015
I got the face of the pass side patch welded up and began grinding down the welds. I took my sweet time doing it to but it turned out well.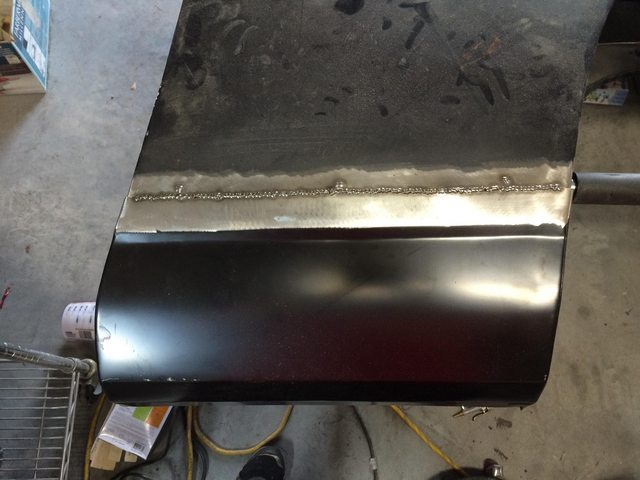 The driver side with welds ground down is shown below. I have to weld the outer edges with particular focus placed on the wheel well. I ended up leaving the original lip and then cut it to fit the patch lip. These patches leave a lot to be desired in terms of thickness and the outer edges but they will work.

I should be able to get the fenders re-primed this weekend and then I can begin the filler work. The goal is to get the fenders and the fiberglass pieces all primed this weekend. Once everything is primed and sprayed with Slick Sand (as needed) then I can start blocking.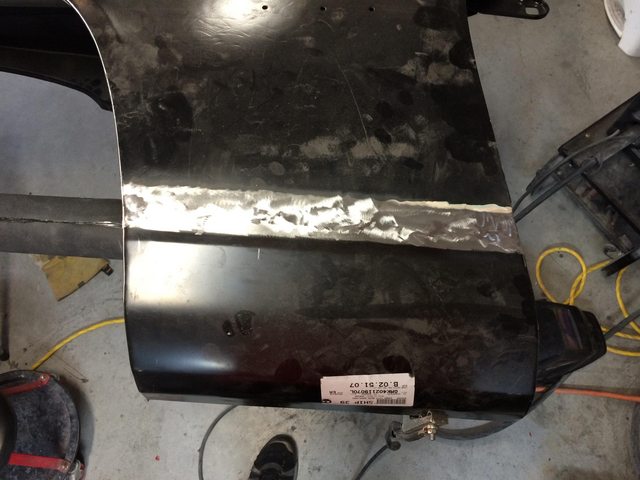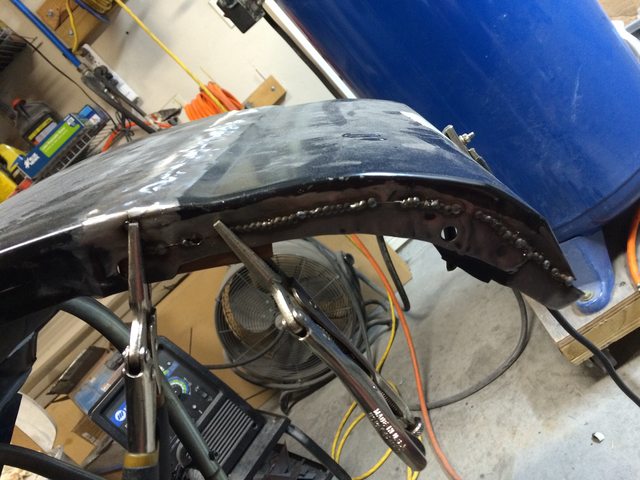 2-21-2015
Long but productive day. Got the fender patches welded completely so now I need to media blast those areas and spray epoxy primer. I hope it's warm enough tmro but I have no control over that.

I repaired all the cracks in the fiberglass pieces so I will look to finish those up tmro. I only had a handful of minor repairs to make so it shouldn't be a big deal. Then I can spray those pieces with epoxy primer.

I started block sanding the doors and the trunk lid in 100 grit. I have already decided I will spray another 1-2 coats of Slick Sand on these panels to really get them dialed in. I had some tiny burn through spots to bare metal so I will have to touch those spots up, perhaps just brush it on.

I will post some pics tmro Now it's Miller time.
2-22-2015
I was in a blocking mood today, so I blocked both doors, the trunk lid and the hood. I blocked everything except the hood to 150 and the hood to 100. I am going to stop at 150 and spray 1-2 coats of Slick Sand to really dial in these panels. The hood I can probably focus on the middle section since the valleys look really good after the first cut.

I got the fender patches sprayed in epoxy so I can begin filler work in 48 hours. I will address the fiberglass pieces in the next few days while I wait for the epoxy to cure.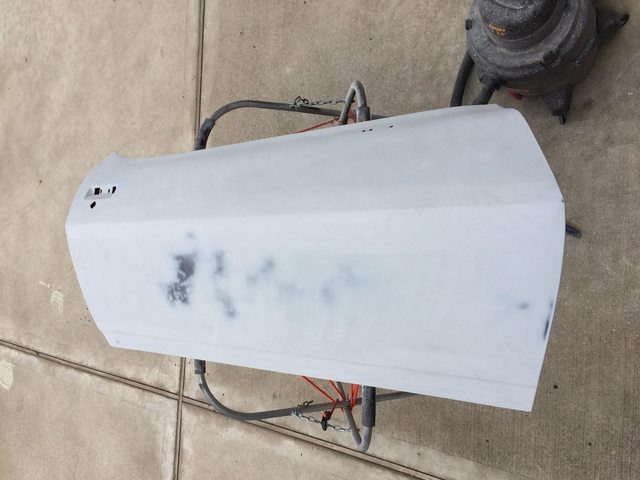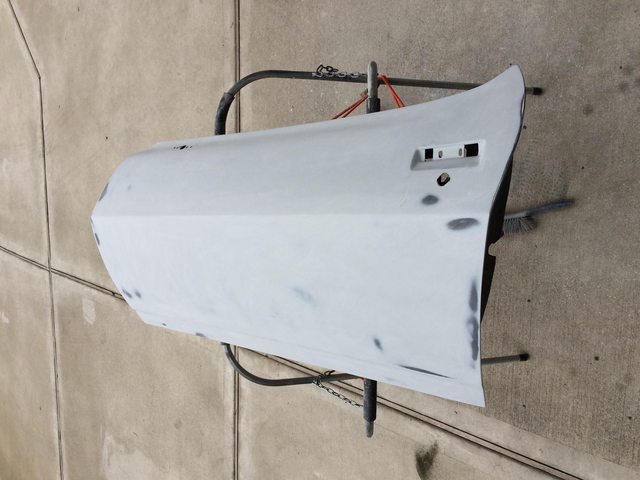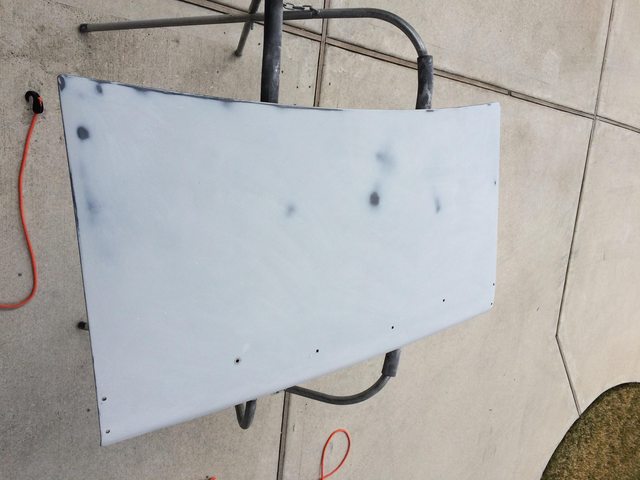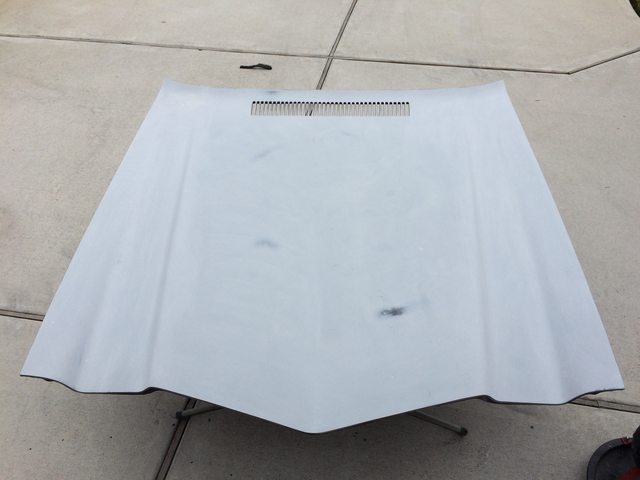 2-26-2015
Been working on the fender filler work the last few days. I have only sanded the filler with 80 grit to shape it and need to apply another skim coat before hitting it with 180. I should be able to knock down more filler and be left with a fairly thin coat. The right side of the driver fender has a little more filler from when I got the fender and door faces lined up.

I will get these done in the next few days and then resprayed with epoxy on Sunday before spraying Slick Sand. I will likely mount the fenders when I block them.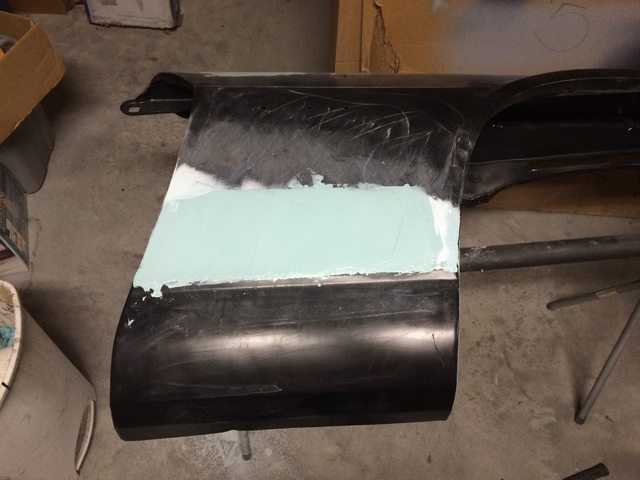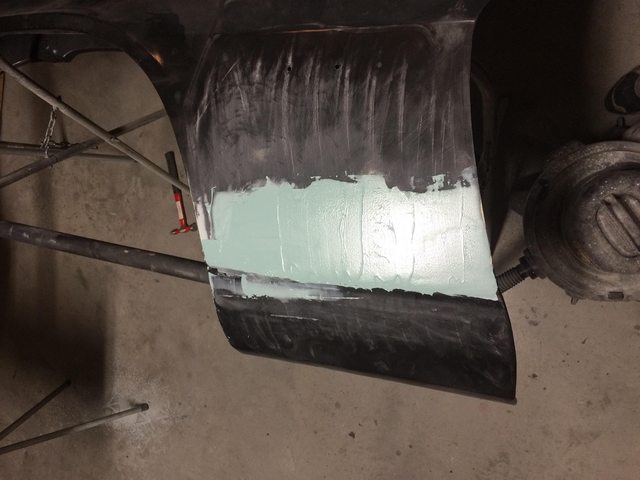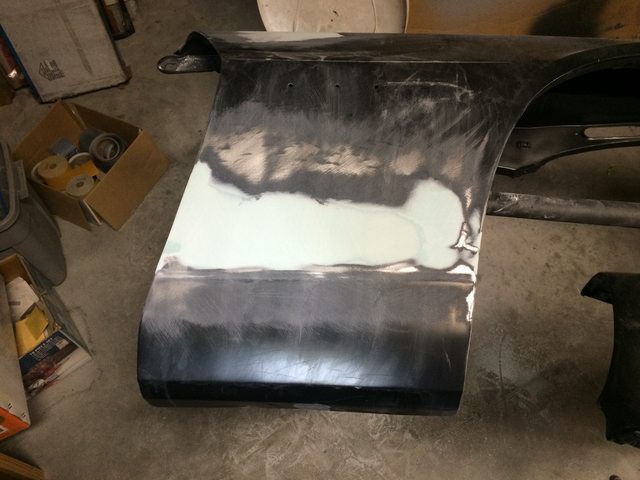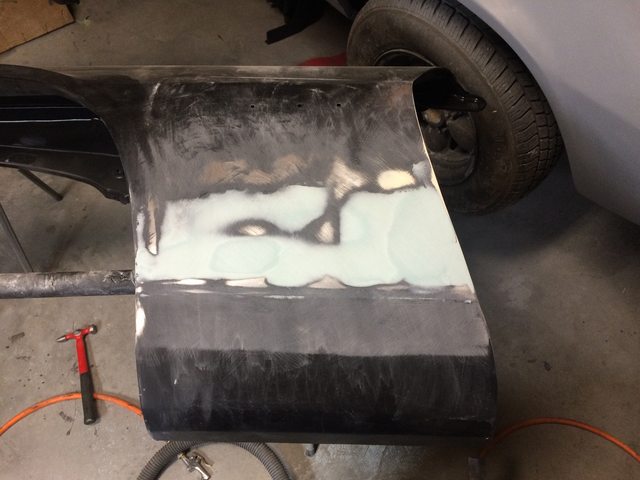 2-27-2015
I never said WHEN in April

Once the doors, fenders and hood are in 2k and sanded then it should move pretty quickly. I am going to re-spray the doors and trunk lid in SS this weekend and re-block and hopefully they will be ready for 2k. They are close already but I want to be sure.

Unfortunately I have to spray the fenders and hood (small spot) with epoxy which means waiting another 48 hours to spray those with SS. There might be some mornings I do some blocking before work. Even an hour here and there adds up.

The front fiberglass pieces need very minor work and then I can spray them in epoxy and then probably just 2k primer. I don't think those pieces need Slick Sand. The spoiler pieces and mirrors are at the very bottom of the list.
2-28-2015
I got the doors, trunk lid and tulip panel re-sprayed in Slick Sand. I only did two medium coats since the panels were pretty good before, so I will have plenty of material to work with. The doors look really good after the re-spray so I am thinking those will block out nicely. I worked on the fender filler work some more and almost have that done. I will re-spray with epoxy tomorrow so I can get Slick Sand sprayed on them Tues or Wed night.

I decided to re-do the AC delete panel and the dash. The delete panel had some minor imperfections that were bugging me so I filled them in and sanded the panel down. I was also not happy with the dash and the satin black paint. After deliberation I am going to spray the entire dash/cowl area with color/clear. Some people say the glare can be an issue but others who've sprayed their dash in color/clear have no issues. I guess I can wear sunglasses

I feel like I am in a good groove now and can begin to see the faintest bit of light at the end of the body work tunnel.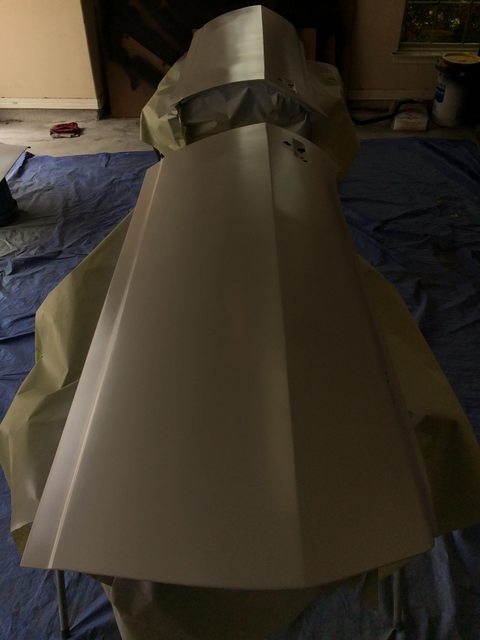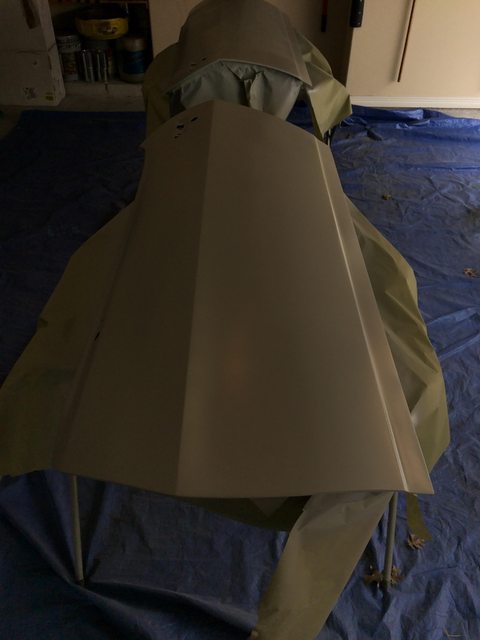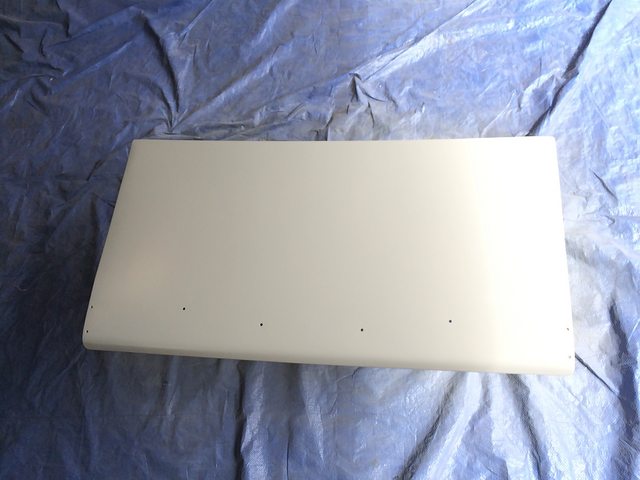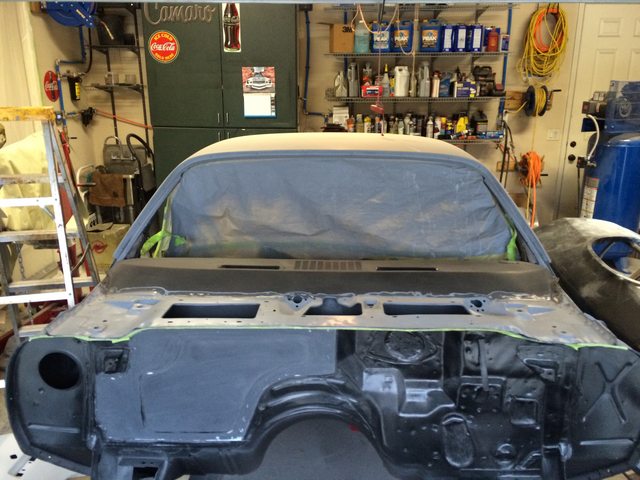 3-1-2015
Thanks man, me too

I got the doors and trunk lid blocked down to 220, so they are all ready for 2k primer, which is a very good thing. Once a panel is in 2k it will sand down quickly. It was too cold to prime the fenders and hood so I will try tomorrow night. I have plenty of other stuff to keep me busy.

I secured the doors to my stands using some bungee cords, which worked very well.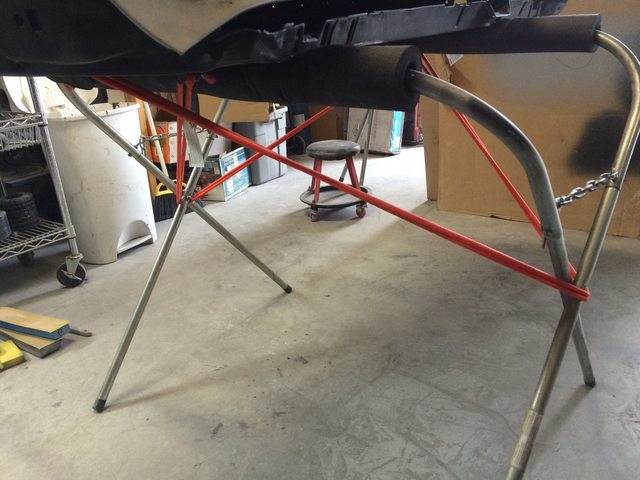 The door blocked with 100 - I leave a little peel for the next grit (180).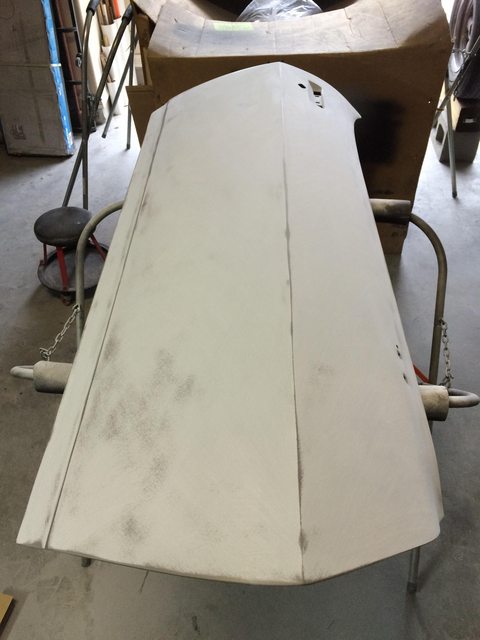 A door finished in 220




Trunk lid finished in 220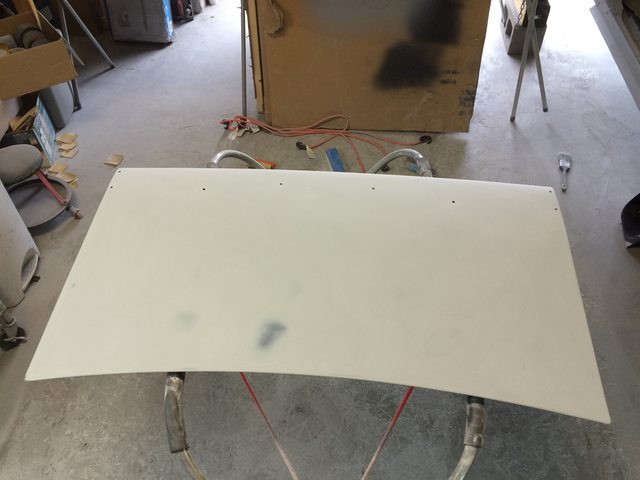 3-2-2015
Spent a little time stripping the header panel down. I hit most of it with the electric random orbital sander but tested a small spot by the passenger side headlight opening with some paint stripper. It seemed to work OK so I will address the tighter spots that way.

It was still too cold to primer the fenders and hood but it should be good tomorrow.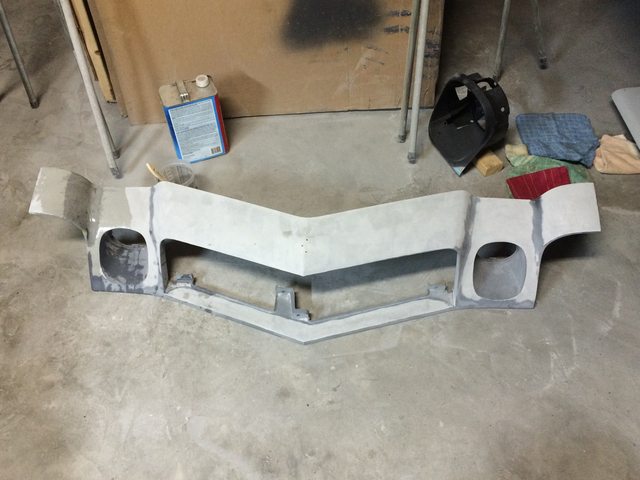 3-3-2015
I sure hope so Bob

I got the fenders and hood sprayed in epoxy. The fender patches look good. I see some minor waves now that it's in epoxy but those should block out. I will now turn my attention to the fiberglass pieces and getting them ready for epoxy until I can spray the fenders and hood in SS.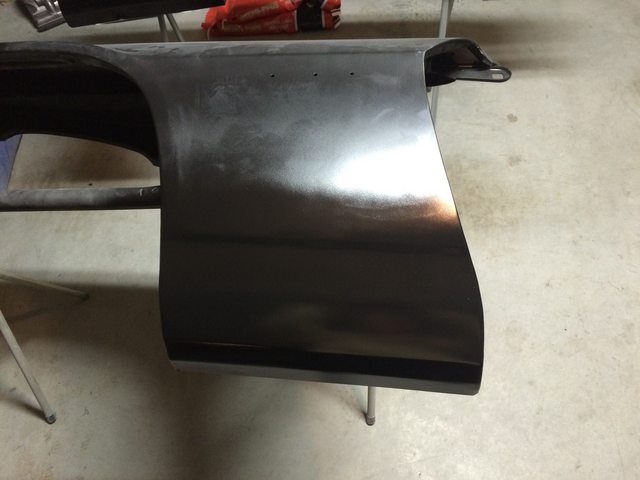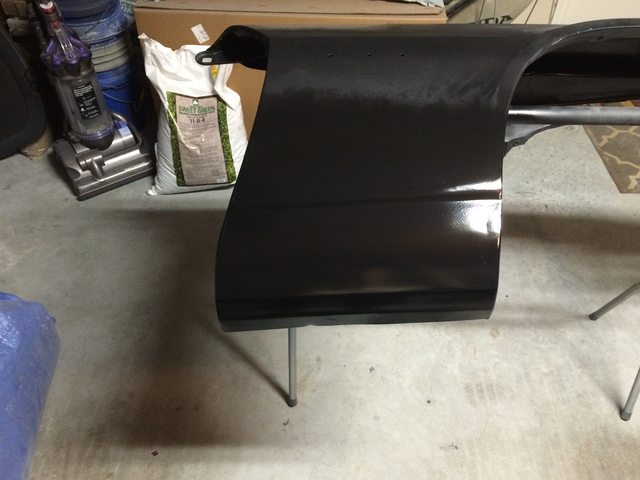 3-9-2015
I had to travel on biz this past week so I lost a few days. I got home early today so I sprayed the fenders, hood and other headlight bucket with Slick Sand. It's like deja vu all over again. I should have the hood ready for 2k soon and the fenders ready for the next coat of SS, assuming they need it.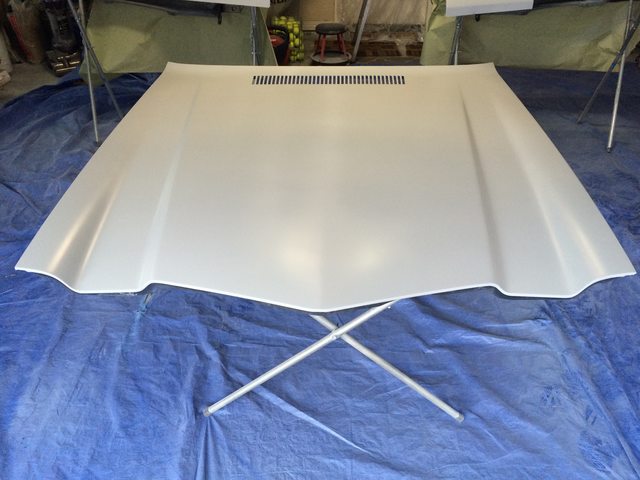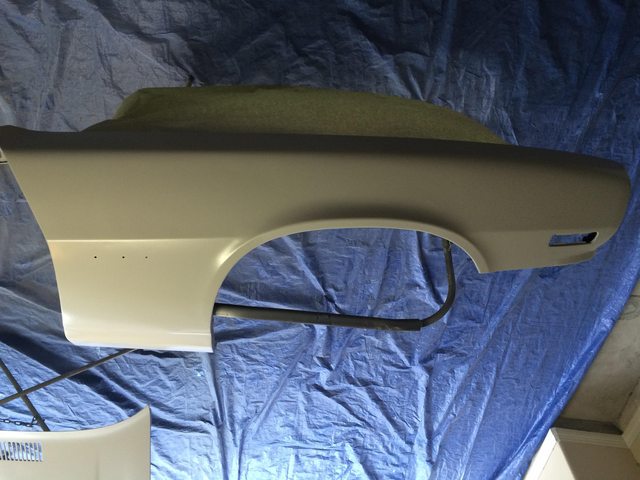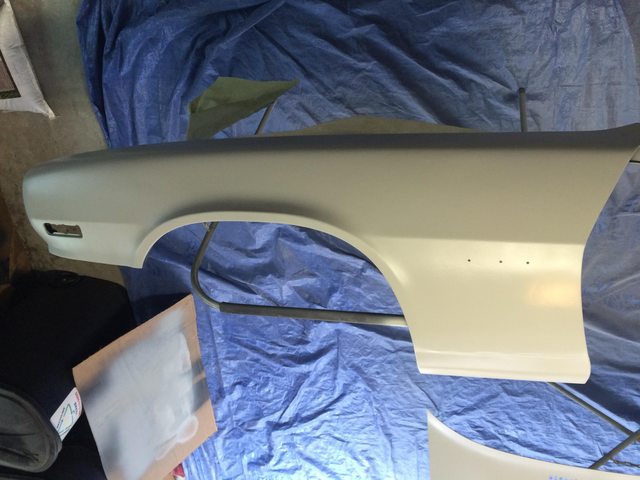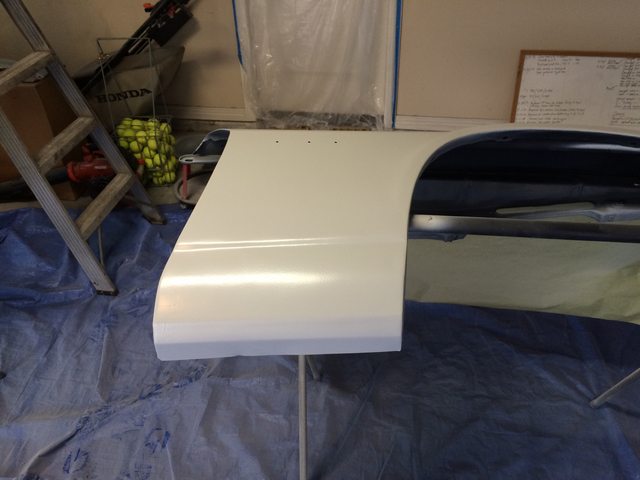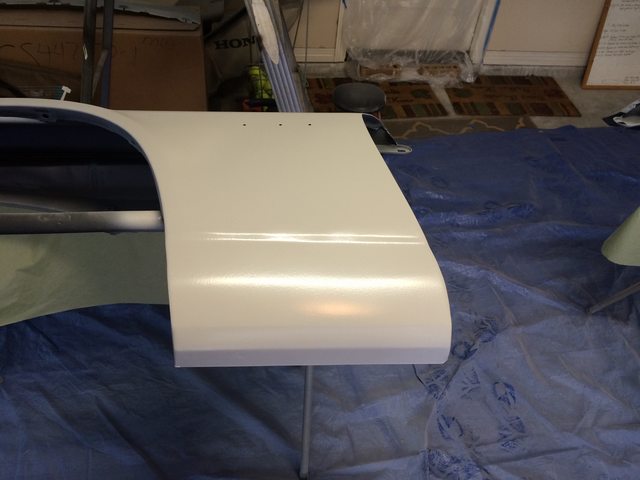 3-13-2015
Here's my to-do list for the weekend, which starts tonight. Let's see how many items I get done. The goal is to get everything ready for 2k by next weekend so I can do the final sanding.

•Block sand hood to 220 for 2k primer
•Mount fenders and block sand to 150, re-spray with Slick Sand if needed
•Block sand fenders if re-sprayed with Slick Sand
•Block sand 2nd headlight bucket to 220 for 2k primer
•Finish prepping front header and lower valence pieces
•Spray front header and lower valence with epoxy primer
•Sharpen the body lines on shell ==> they were a little rounder than they should be, so I am cleaning them up with 320 and will re-spray with 2k
•Finish fiberglass work on spoiler pieces
•Spray spoiler pieces with epoxy primer
3-14-2015
I started blocking the fenders. I mounted them to make life easier. I will have to spot prime the driver side, not sure about the passenger side. I will then re-spray with SS and block down again.

Pass side blocked to 100 grit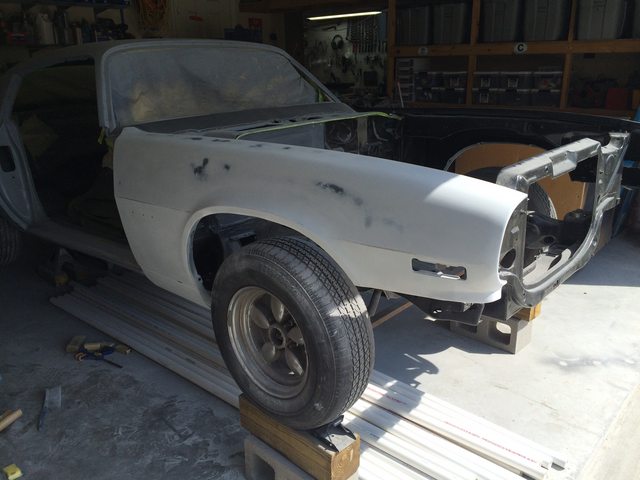 Driver side blocked to 180 - I was pretty aggressive since I had already decided to spray twice with SS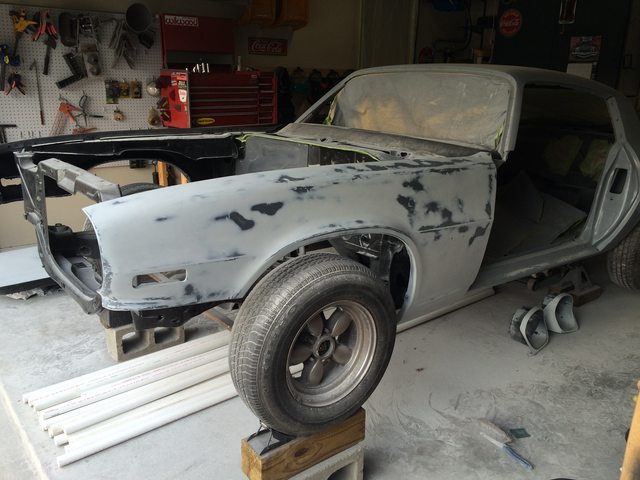 I got the fenders spot primed with epoxy where I broke through to bare metal, so I will re-spray them with SS on Tuesday. I also re-sprayed the middle area of the hood with SS one more time to get it right. I will be able to spray 2k on the hood after blocking it, which I can begin as early as tomorrow.

I went ahead and sprayed the doors, trunk lid, tulip panel and headlight buckets in 2k so I would have some parts to sand after work.

The goal is to have everything sprayed in 2k by Sunday evening. Then I can get everything ready for paint.

Here are some boring pics.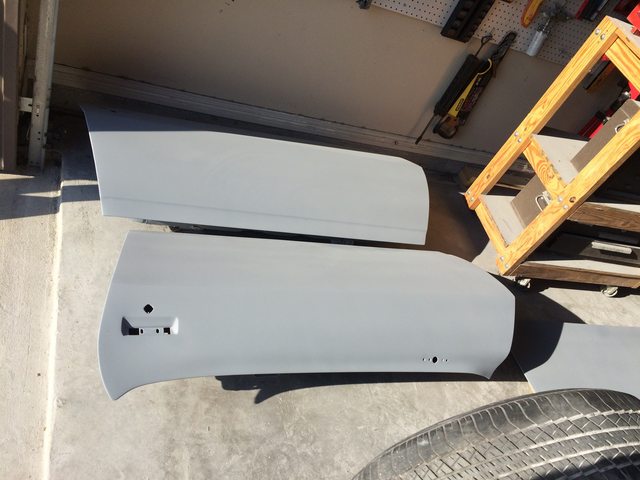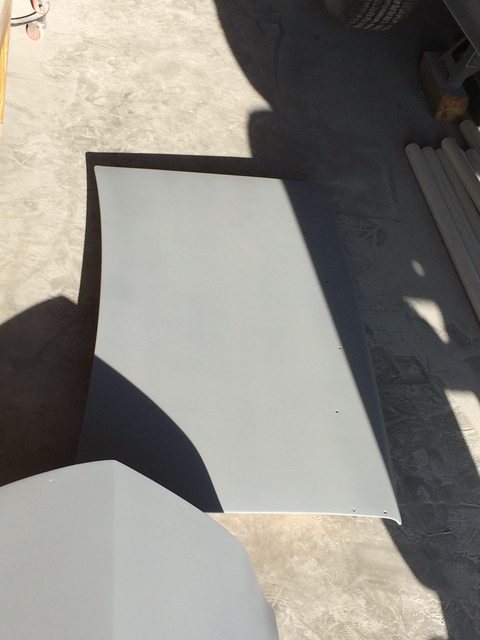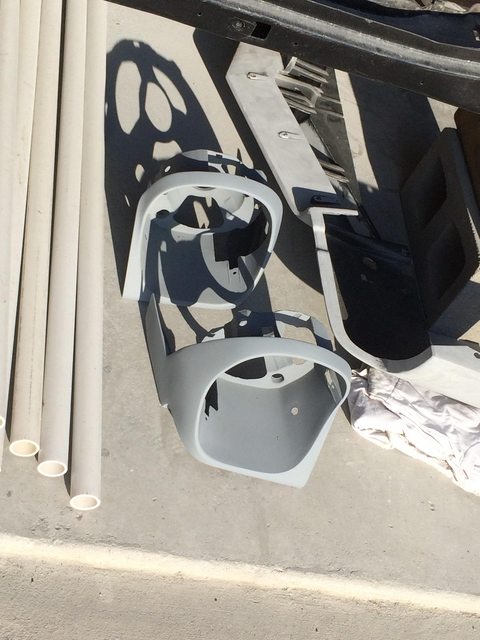 3-18-2015
Small step forward. I got the fenders re-sprayed in SS and will begin blocking tomorrow or Friday. I have a lot planned for the weekend, hoping to cross a lot of items off the list!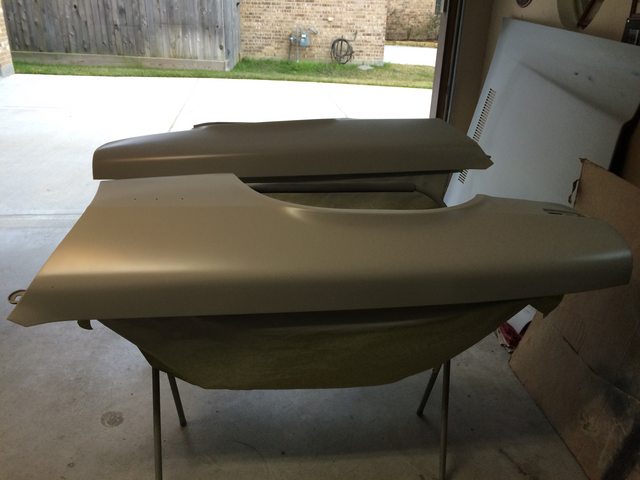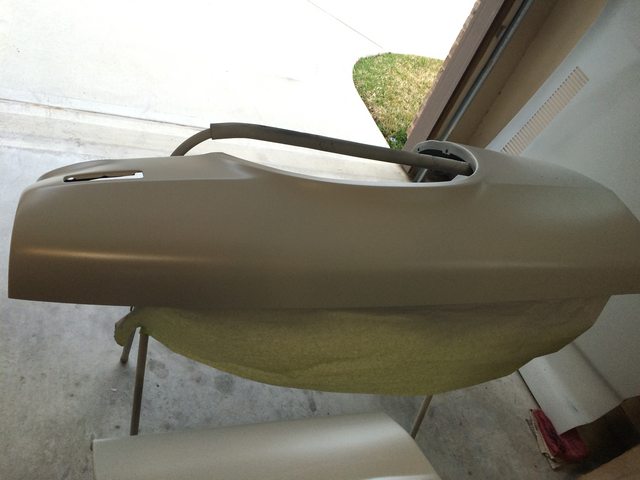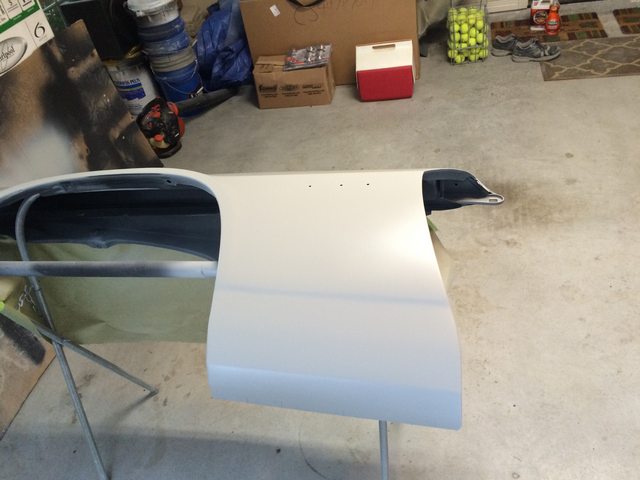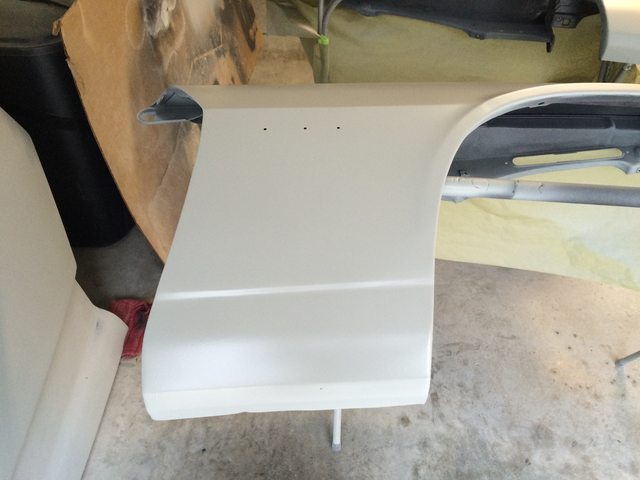 3-20-2015
sure thing, hope it helps.

So I decided to spray the backsides of the pieces in 2k to cross that off the list. I also got the topside of the hood sprayed in 2k, so I will begin sanding this weekend.

Tomorrow is going to be sand-a-thon in my garage. Will first start with the fenders, which are re-mounted and have guide coat on them so I can hit them first thing in the morning. Assuming the fenders block out nicely, then I can spray them in 2k. I will begin sanding the other panels and get them ready for color/clear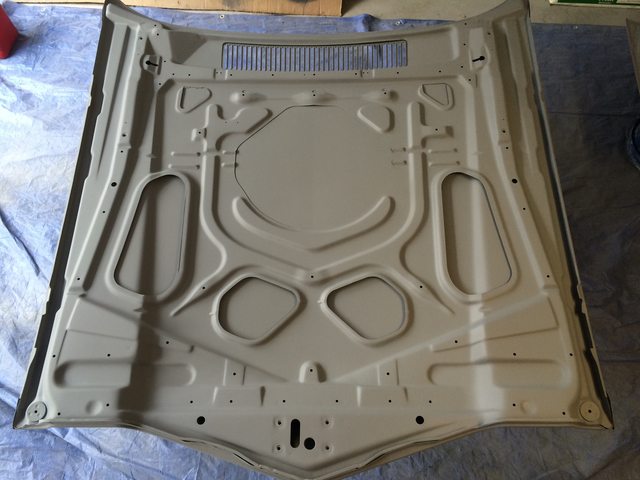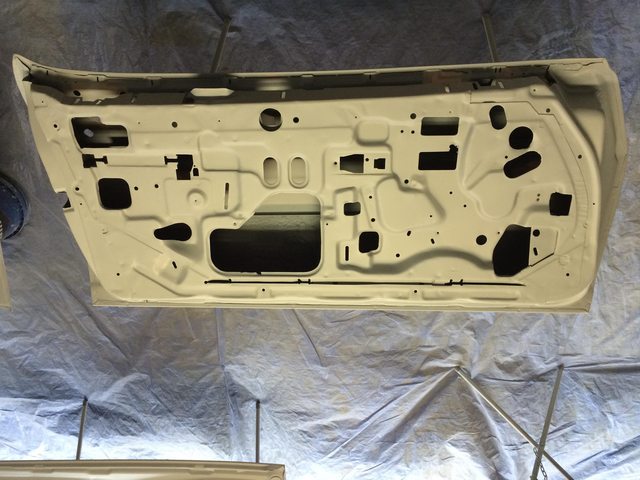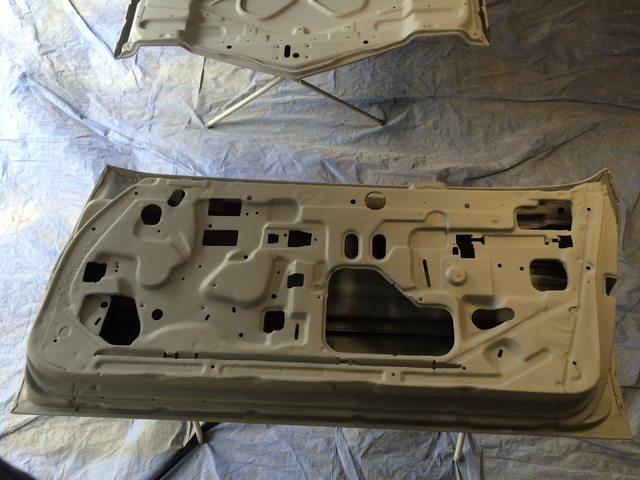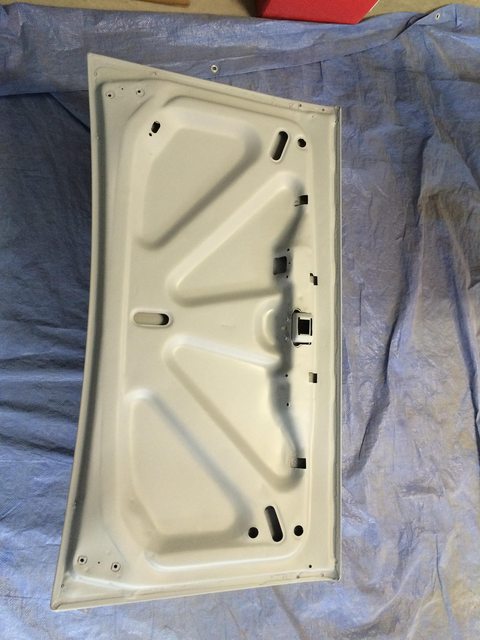 3-21-2015
I got both fenders re-blocked to 220, so they are ready for 2k. A little epoxy primer was peeking through along the top but otherwise they blocked out nicely. Sanding fenders isn't the most fun thing I have ever done.

I needed to cut the holes in the bottom lip so I went ahead and knocked that out. I will take a tiny art brush and touch up the edges with epoxy primer. I don't think spraying them is necessary. I will clean up the edges and remove any burrs first.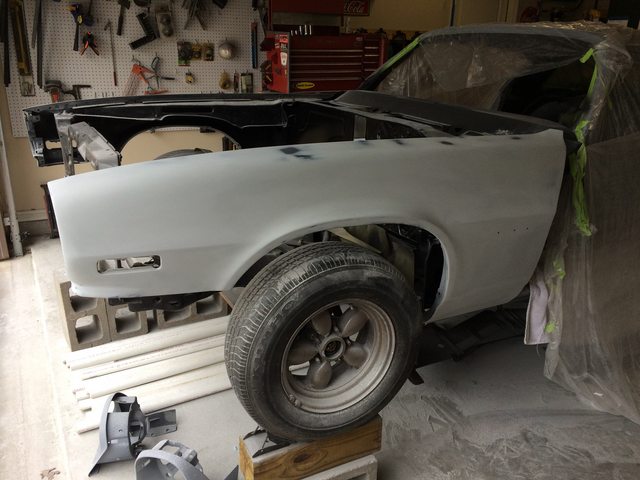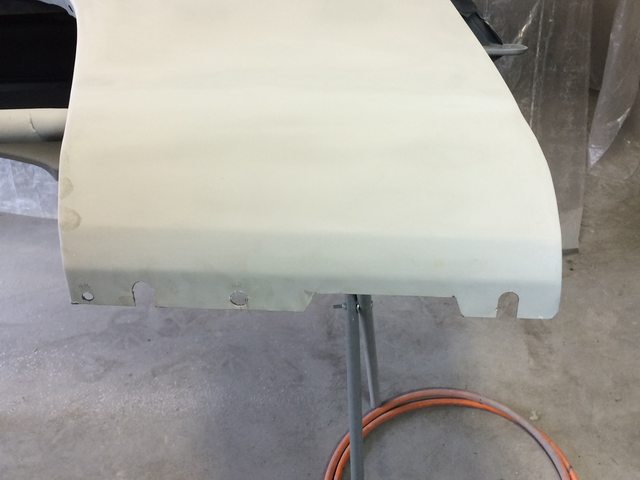 3-23-2015
I got the fenders sprayed in 2k and holes cut in the bottom of the fenders. I applied the epoxy primer on those cuts and will spray those areas with 2k in the next few days.

I got the back of the trunk lid sanded and applied seam sealer on three of the edges. I wanted to pull the tape off which was connected to the 4th edge, so I will apply the rest tomorrow.

I taped the edges with 3M green tape and used the trick of dipping my finger in lacquer thinner to smooth out the seam sealer. That worked quite well.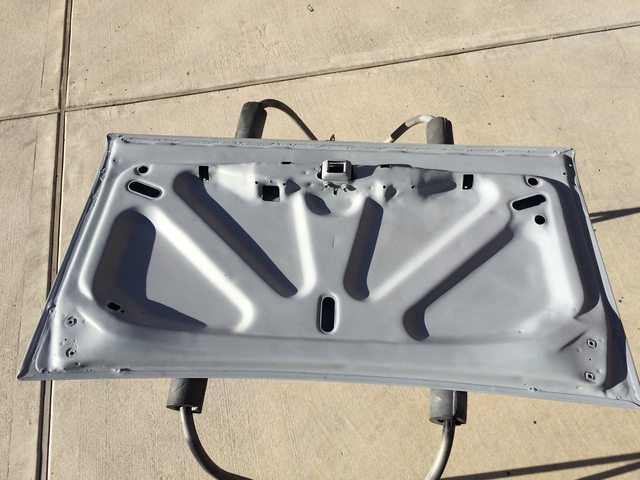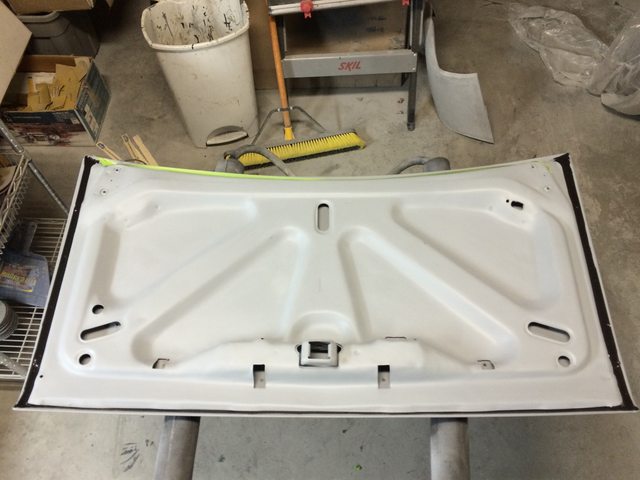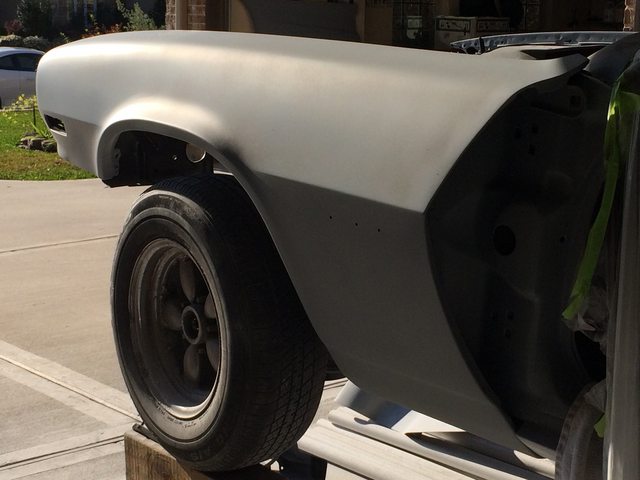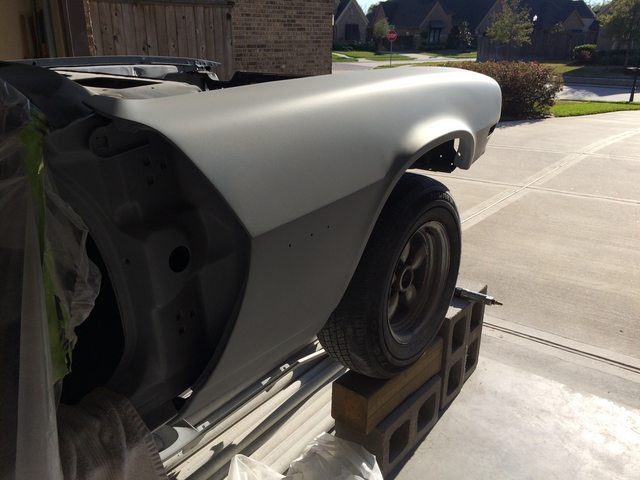 3-29-2015
Not as busy this weekend with some family activities going on, but managed to sand the trunk lid and both doors to 400. I did some touch ups on all three panels where I broke through to Slick Sand. I got seam sealer applied to the backs of both doors, so that's done.

I had a small corner repair on the pass side fender, so I had to tend to that. I will re-spray the repair area with 2k later this week.

I finished the repairs on the two front fiberglass pieces and sprayed them both in Slick Sand. I will not be as worried about burn through on these panels. They should sand up nicely and then I can spray 2k on them.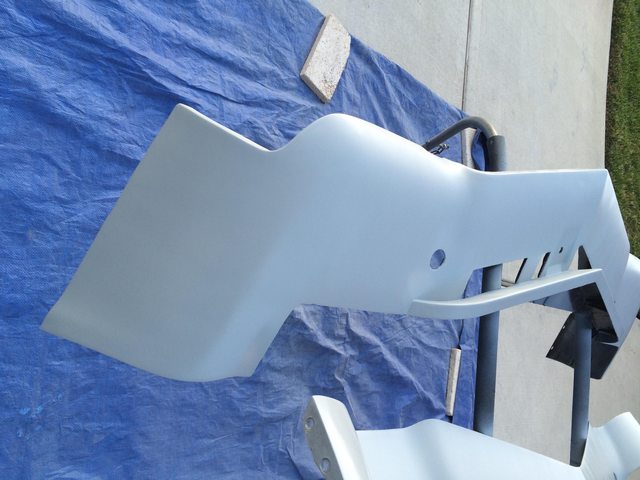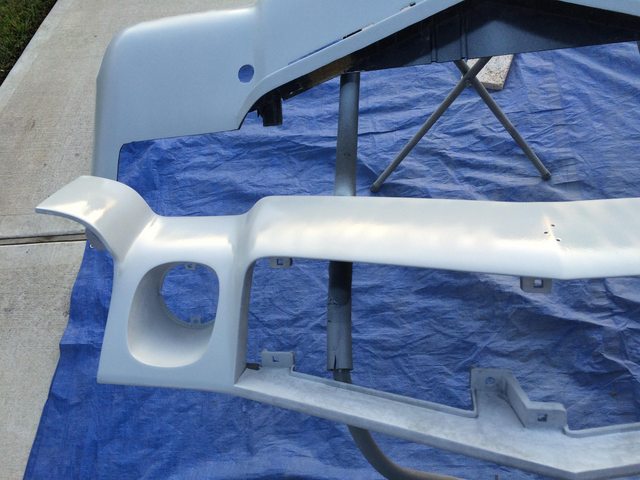 3-31-2015
Did some more priming today. I got the outer side of the wheel wells, the side mirrors and the pass fender primed in 2k. I decided to go ahead and spray Upol Raptor on the underside of the wheel wells. I'd rather spray it with them off the car than mounted.

These are the wheel wells after removing the masking and taped up holes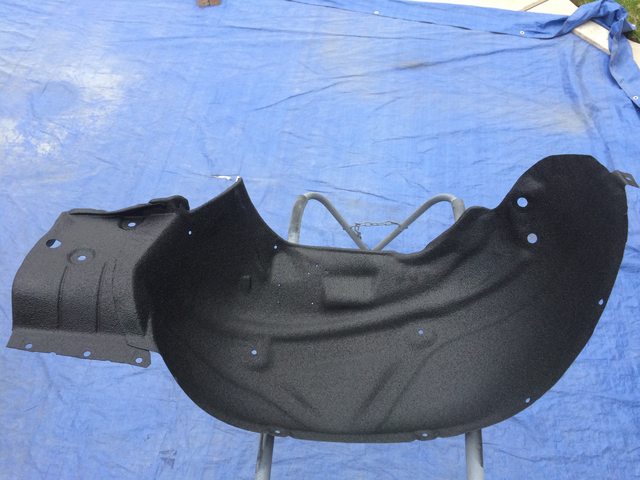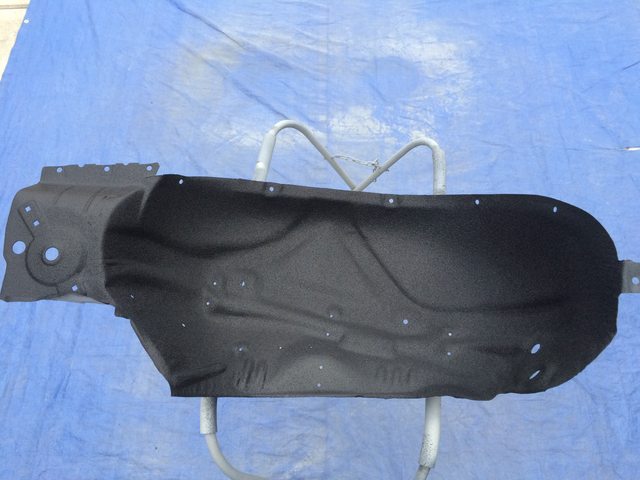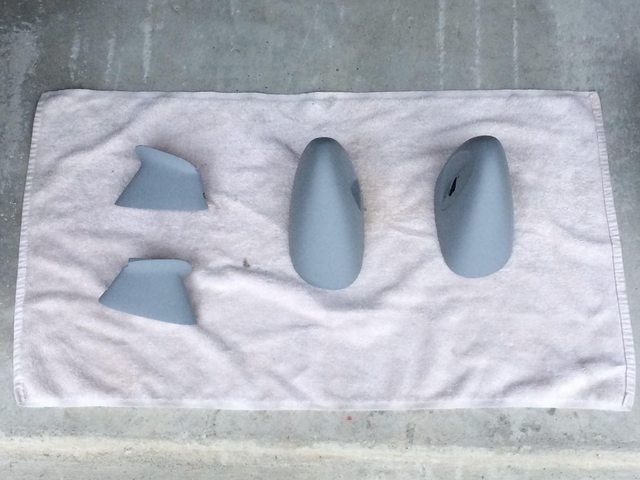 4-4-2015
I got the bumpers re-sprayed with epoxy, the front header and lower valence sanded down and sprayed in 2k and the spoiler pieces sprayed in Slick Sand.

I had some minor filler work on the fiberglass pieces, so those should be good.

Tomorrow I will sand some more body pieces.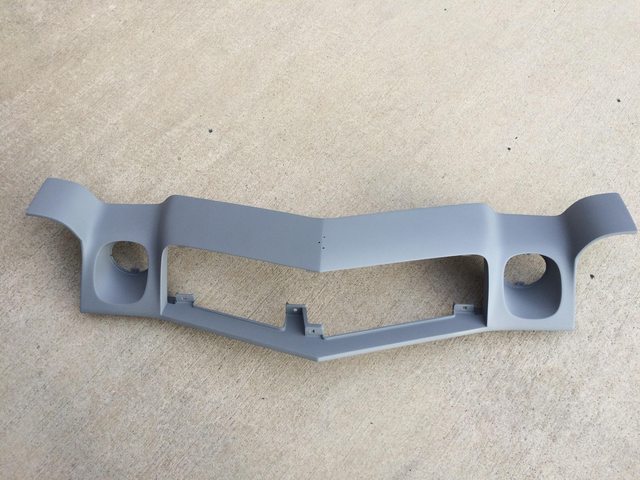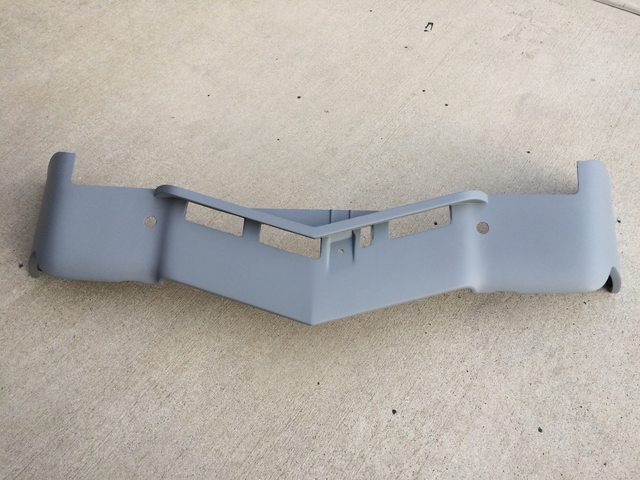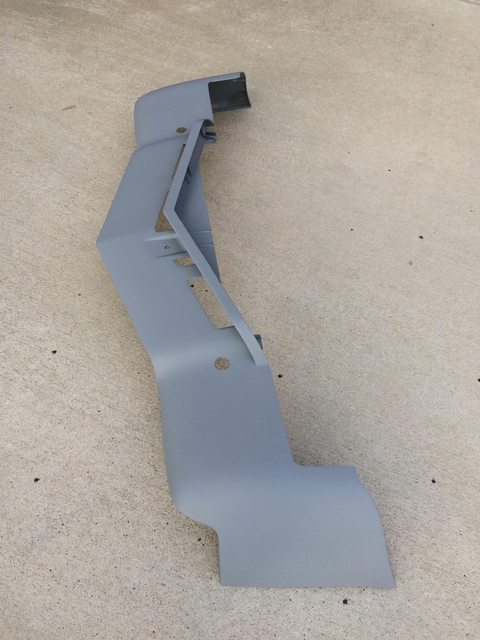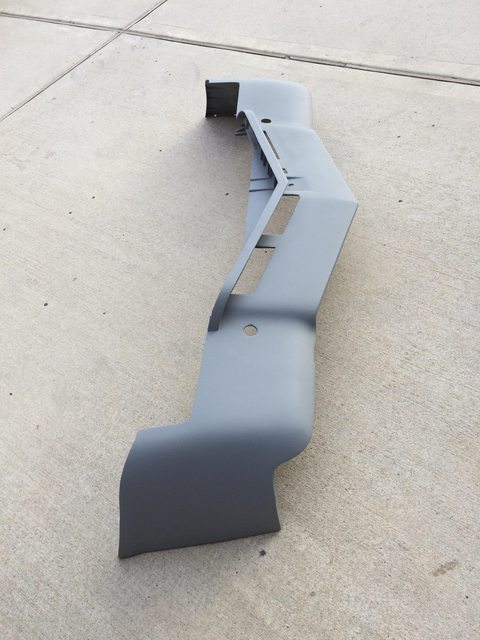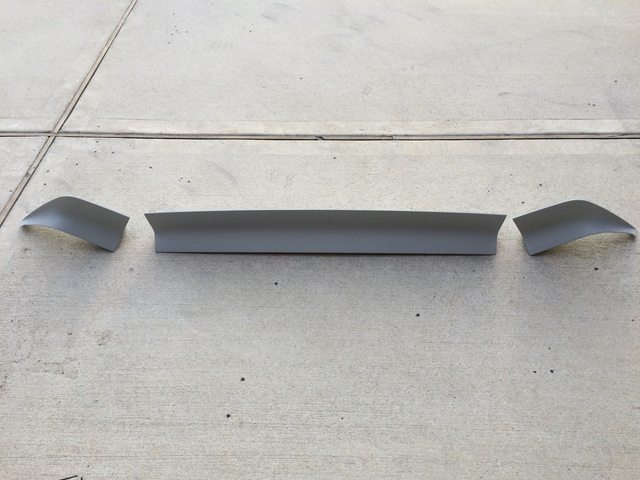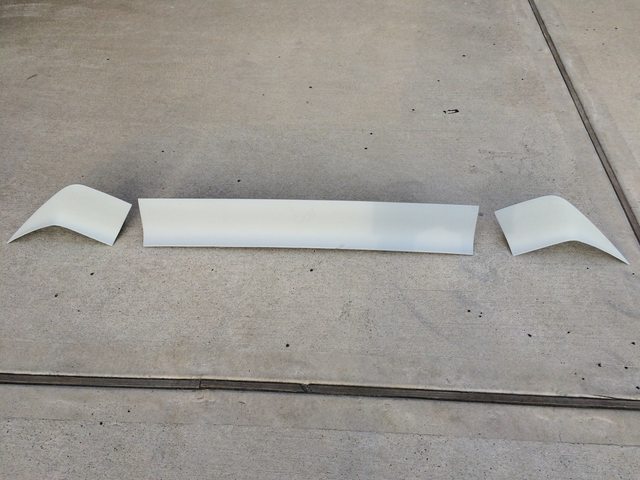 4-6-2015
Main thing tonight was spraying the bumpers in Slick Sand (what's new?). I sprayed 3 good coats so that should give me a lot to work with. I need to address some very minor areas with glaze.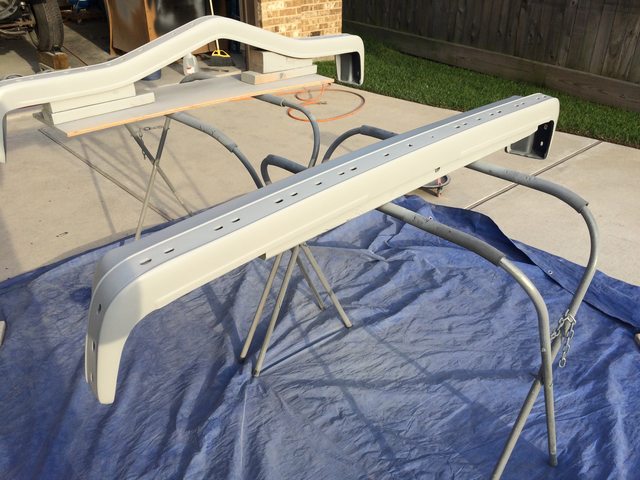 4-7-2015
BTW, my parking space has become my temporary part storage area. I will have some minor 2k touch ups to make and the spoiler pieces and bumpers need to be sprayed in 2k, but that is the main work left before I move to stage "let's get this mofo painted!!"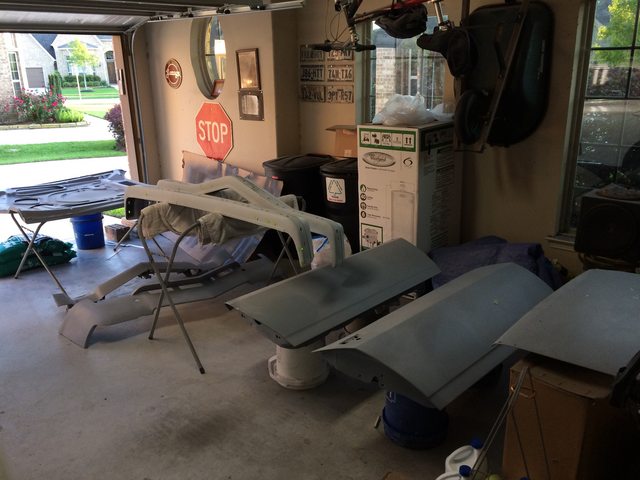 4-24-2015
I was not happy with the body lines on my shell, especially after getting them dialed in on my doors and fenders. So I sharpened them up and then re-sprayed the entire shell (just the outer panels, not the jambs) after blocking it with 320. I primed the shell first and my skills have improved, so I decided to re-do the roof and quarters. It should sand up very nicely and quickly.

Driver side body line after re-priming.

Aside from sanding the shell, I am down to mostly nit picking and doing a final check of edges, etc. I have to spot prime a few spots on other pieces, but nothing major. I think I can get everything sanded this weekend and then turn my attention to cleaning the garage and getting ready for Paint-A-Thon 2015.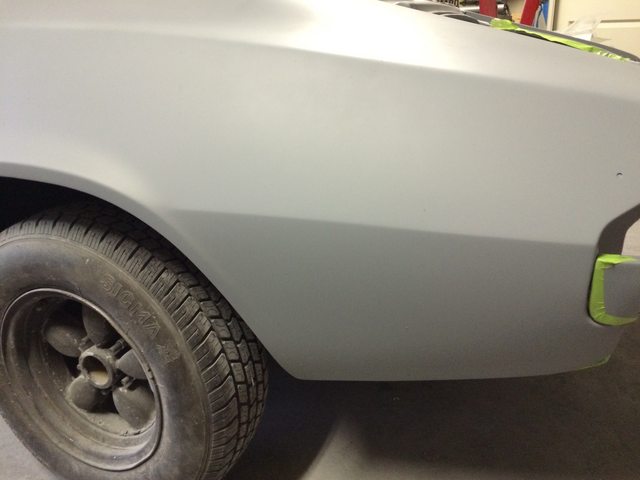 Got the shell (minus the edges) sanded to 400 tonight, so I have 600 grit left to do. I need to touch up some small spots along the passenger side door jamb, which I will do before I sand with 600.

I also sanded the dash to 400, which is all I am going to do. I sanded the cowl with 400 where I could and scuffed with red pad.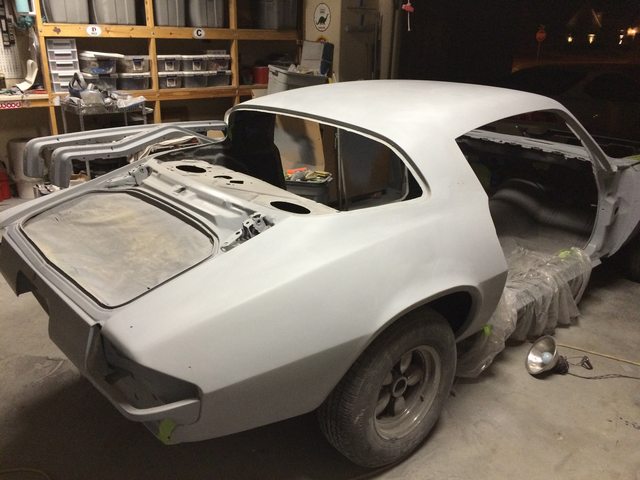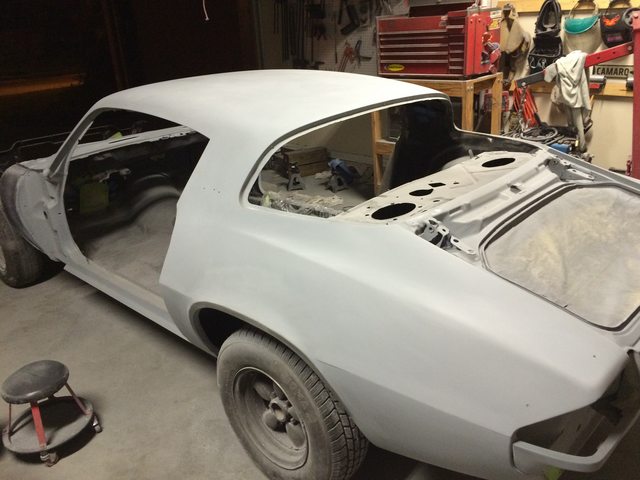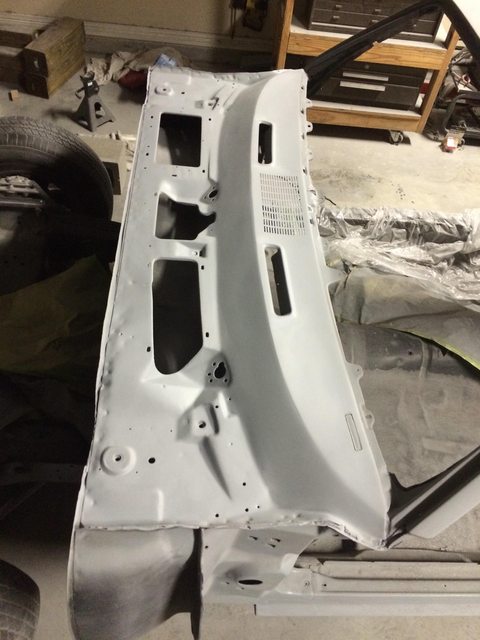 4-25-2015
Brent, you are correct about the color, so your old man brain is working well Many thanks for that info, that is fantastic.

While they are all great bits of advice, I especially agree with #9. I'd rather deal with runs and drips than dry spots. Paint can be sanded so I won't be too timid when spraying. That's why I am giving myself over a week to do this because I think I will need it all. The good news is I have sprayed so much stuff (for me anyway) that I am confident in gun control and set up. I am going to follow Barry's advice for setting up my LPH-400. I also have a call into Barry next week for some last minute questions. I will post the results of those.

Here's a fun pic of the roof after wet sanding with 600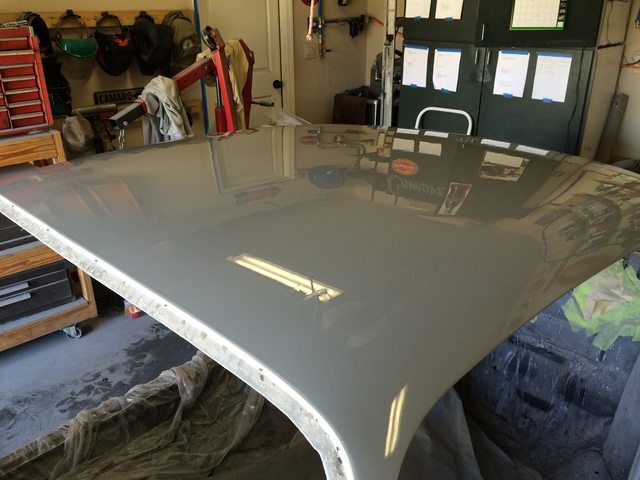 4-28-2015
I had a call with Barry @ SPI for some last minute questions. I wanted to post the Q&A in case it helps anyone. Keep in mind I am spraying their 2000 series base coat and their Universal Clear.

Iwata LPH-400 gun settings per Barry. These are merely STARTING settings, tweek them as you do test spraying ==> trigger pull @ 90%, Fluid backed out 2.5 turns for their base, Fluid backed out 2.75 turns for their universal clear, trigger pulled 20-22 psi at the gun regulator for base, 28 psi for clear.

Spray a foot section in a test area (very bottom of a 1/4, back of the hood, etc, or any test panel) and look at it after 3 min. That is how the clear will look the next day.

LPH-400 gun tips ==> toss the little plastic strainer, silver cap is preferred for base and clear

Additive needed for spraying base/clear over fiberglass pieces? ==? nope

Flash time between coats of base ==> allow 45 minutes between coats

Scuff the panels with gray Scotch pad the night before since my panels are all in 2k.

Base coat #1 - should this be a wet coat or medium coat? ==> all coats should be wet. The first coat should achieve considerable coverage, like 95% coverage.

What is the ideal overlap for base and clear? ==> 50% overlap for both

Cure time between last coat of base and first coat of clear? ==> Two hours is good to begin spraying clear

Flash times between coats of clear ==> 30 minutes exactly

Reducer for the base ==> best to use a slow reducer based on temps in the 85-90 range
5-2-2015
Today was garage prep day and it was a loooooooong day. I got going about 8 am and stopped about 8 pm. The good news is the hard work is out of the way.

I made a frame to fit into the door opening at the rear of my garage that will serve as the air inlet. I will start with two filters (20"x 30") and can expand to as many as four. I will cover the other openings with cardboard.

I made some quickie light stands out of 2x3 lumber. I can spin the lights if I want them positioned vertically.

I made my short false wall for the front of the garage where I will run the squirrel cage fan Dogwater was kind enough to sell and ship to me. I placed an HVAC filter before the outlet to catch some of the overspray. I will cover the areas to the side with cardboard.

I screwed some 2x4s into the ceiling and then tied into those to give me something to hang some new, CLEAN drop clothes from. I create a "hallway" of sorts to the rear door so the air will flow (hopefully) across the spraying area. The last pic shows the spray area I am creating, which will be plenty big enough.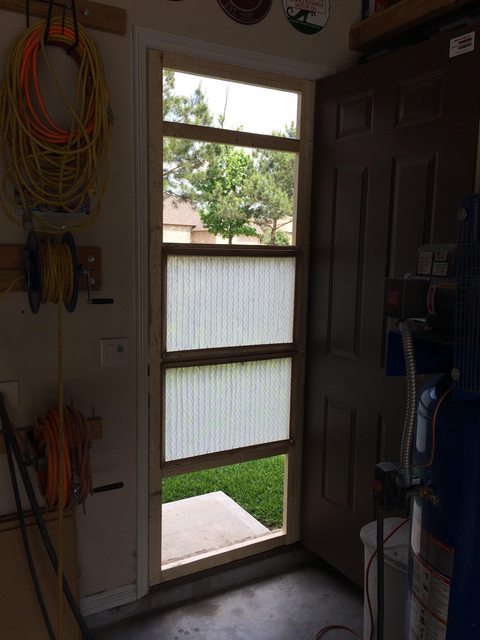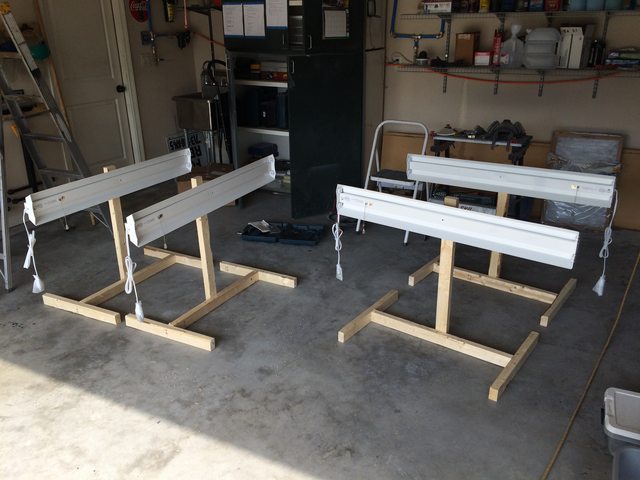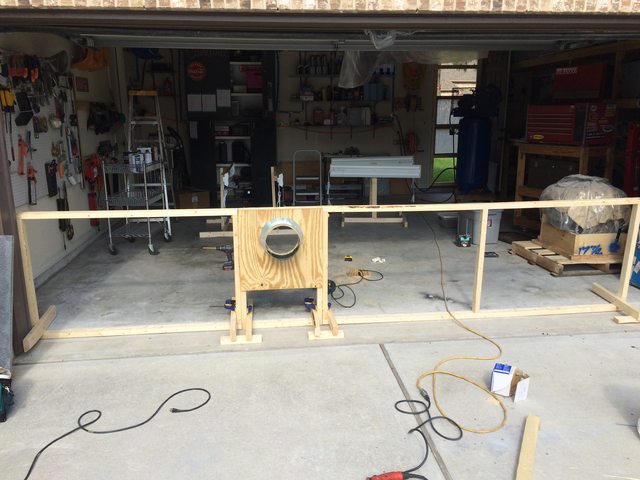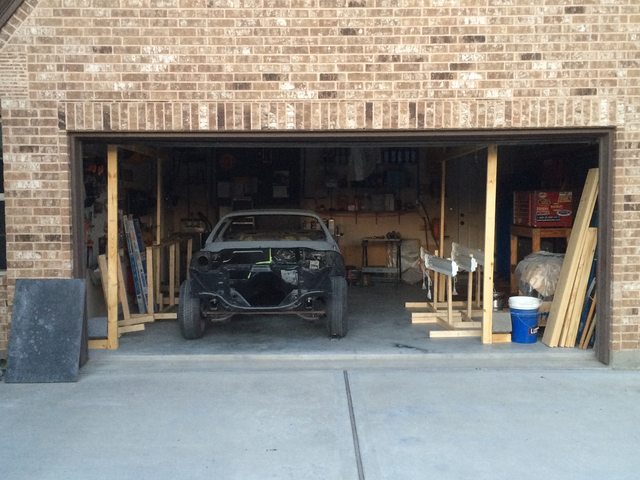 5-3-2015
And I didn't spray anything today. I was dragging after a loooong Saturday and had more prep work to do today in the booth and spraying some pieces. So I am going to hit the grounding running on Monday after a good night's sleep. My first task will be to spray my test panel, which I have sanded to 400.

I assume I need to spray this the exact same as any other panel, so that will take 4-5 hours from first coat of base to last coat of clear. I have PLENTY to do in between spraying, so that's fine. I am going to spray clear on the test panel using a couple of different pressures so I can dial it in.
5-4-2015
I got the base coat and first coat of clear sprayed on the test panel. Like a dummy I did not blow off the panel in between base coats so please excuse the nibs Glad I did it now rather than the first REAL panels.

I used 1981gmachine's settings -- fluid all the way out, fan all the way out, 17 psi at the gun regulator. It laid down nicely, but I will see what it looks like after 30 min when I spray coat #2.

I plan on at least spraying base on the trunk lid, hood and spoiler pieces later today. I will see if I can spray clear tonight or tmro.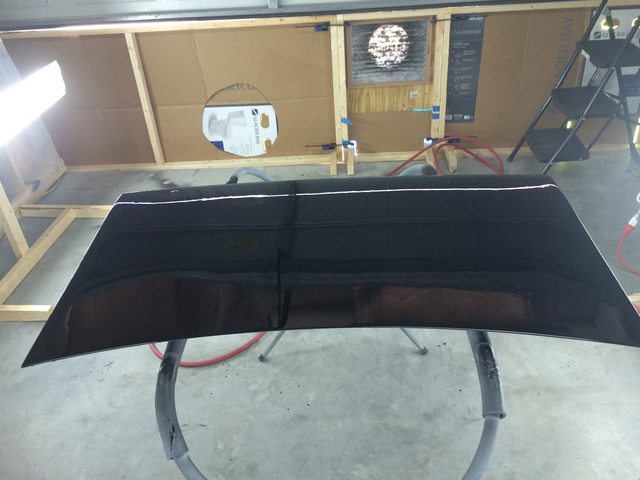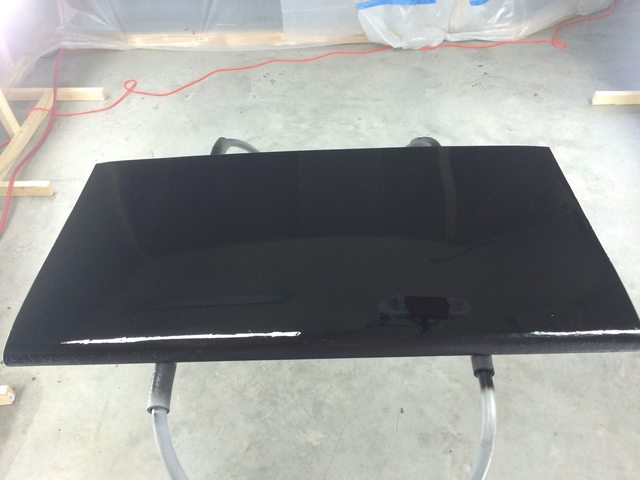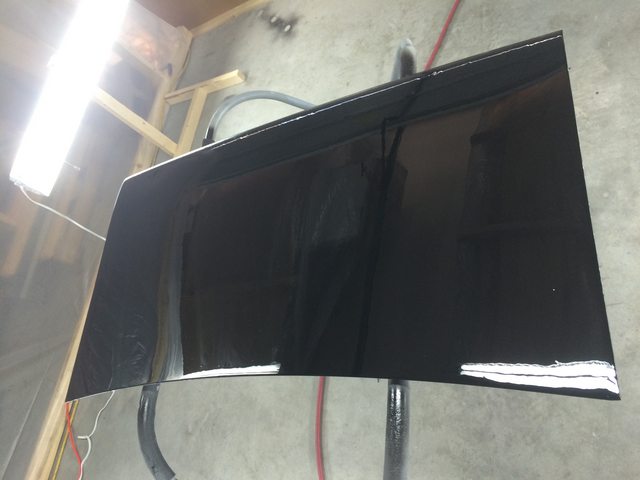 thanks, aside from the nibs, which was just me not thinking as those are totally avoidable, I am happy with the first test run. The base went on well with no peel. The clear looks nice after the second coat. There is a faint amount of peel but nothing a good cut & buff won't fix.

I plan on spraying three coats of base and three coats of clear on each panel. I didn't prep this test panel anywhere close to the other panels so the results should be better. I am going to wrap up the garage door opener and the rail to be safe, as I think the dirt may have originated from there.

Here is the test panel after the 2nd coat of clear. I am stopping there as I am happy with the gun settings I use and the speed with which I applied.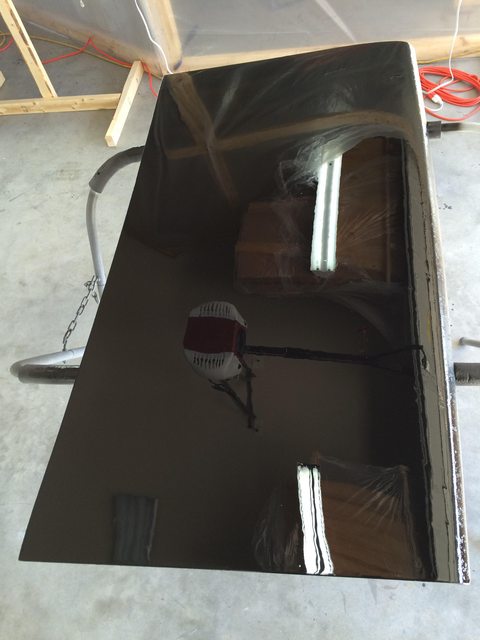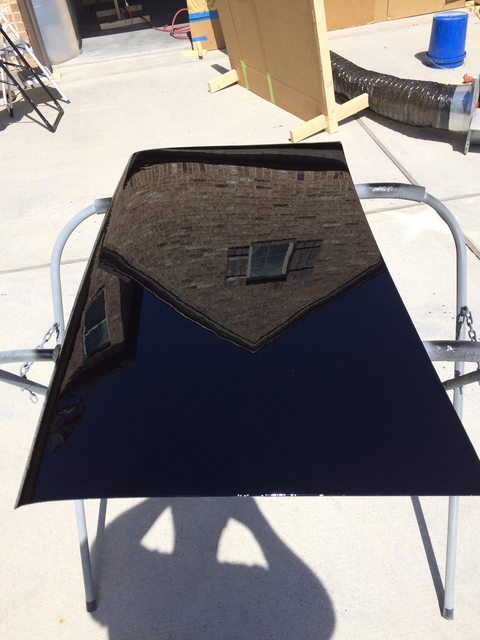 I got the hood and trunk lid in color. After the last coat (3rd coat) there were some "lighter" areas when viewed from certain angles (they are somewhat random in shape and location), which is either from me spraying wrong (bad angle, bad speed) or those areas drying at a different rate or who knows what. I definitely have full coverage. In fact the hood looked good after the 2nd coat. I chatted with 1981gmachine and he advised I wet the areas in question with W&G remover to see how they'd appear as if they were sprayed with clear. The "lighter" areas completely disappeared and the color was uniform (which he figured would be the case), so tomorrow I am going to de-nib with 800 wet and clear if the weather allows. Wish me luck!!
5-5-2015
I decided to spray another coat of base on the trunk and hood after doing some wet sanding in 800 to remove any trash. Below is the hood right after spraying. I think it will turn out well after I spray clear. I hope to do that around 3 pm if the weather cooperates. Stay tuned!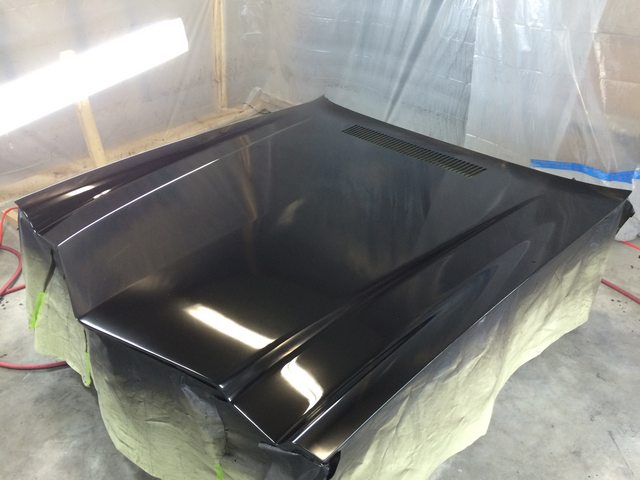 Got two coats of clear sprayed. I have some boo-boos to fix on the hood later....the effects of sweat drops Not much I can do except dab up the sweat and keep spraying. Otherwise it's going well. I think the rest of the body panels will go better than the hood since I don't have to stand over them. Then the grand finale will be the shell.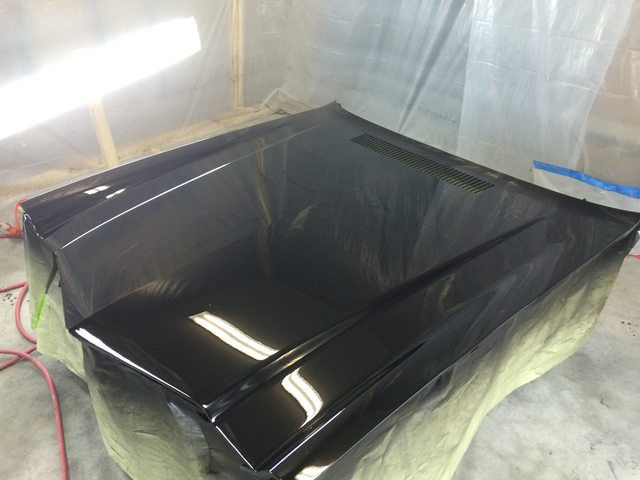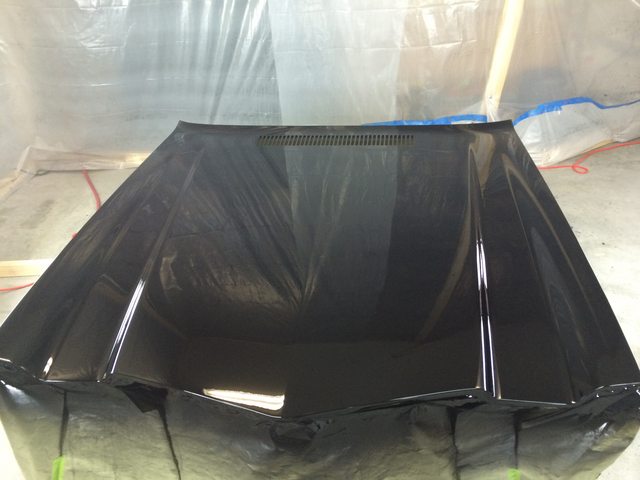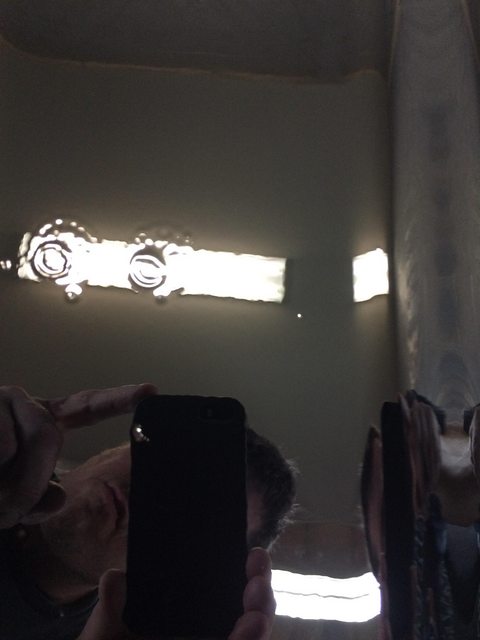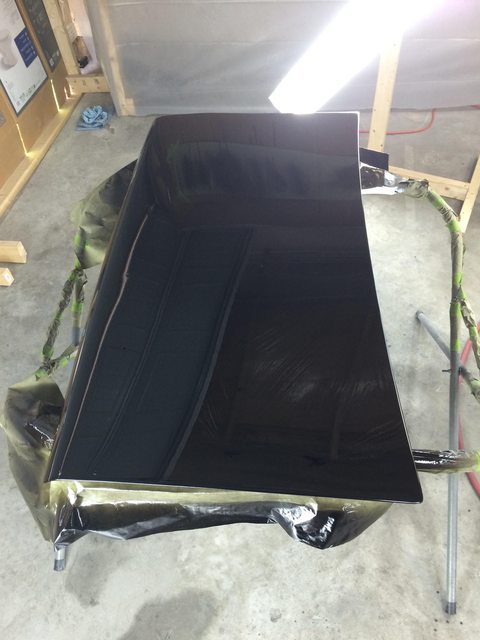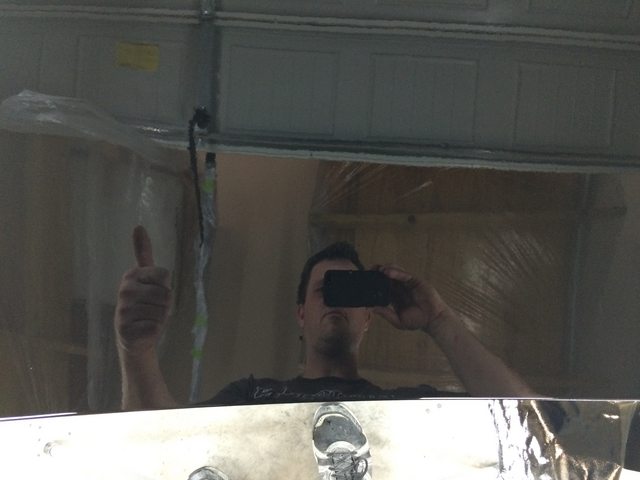 5-6-2015
I am painting the doors, wheel wells and front upper header today. Tomorrow will be fenders, lower valence, back of trunk lid and some other small parts as space allows. I have to do the bumpers but I am going to seal those since I have a lot of little burn through spots where I sanded. Will do those Friday or Sunday along with the remaining small parts. It's definitely seems to be going better today than yday.

I am going to push the shell to next weekend just for the fact that I have some non-car things to do on Saturday. Not a big deal, I can keep the booth up until I am done.

Today's parts after two coats of base.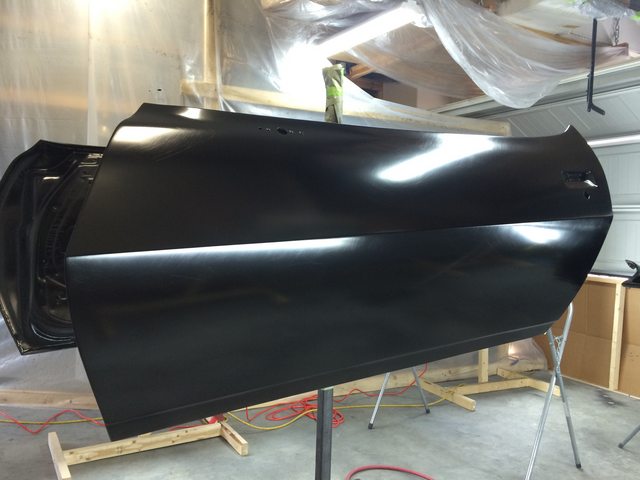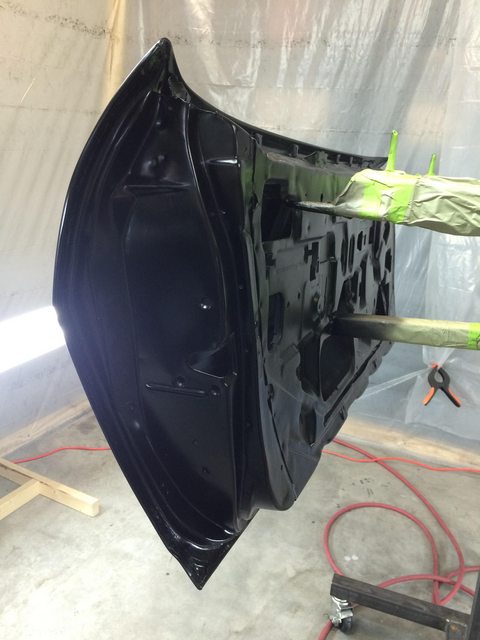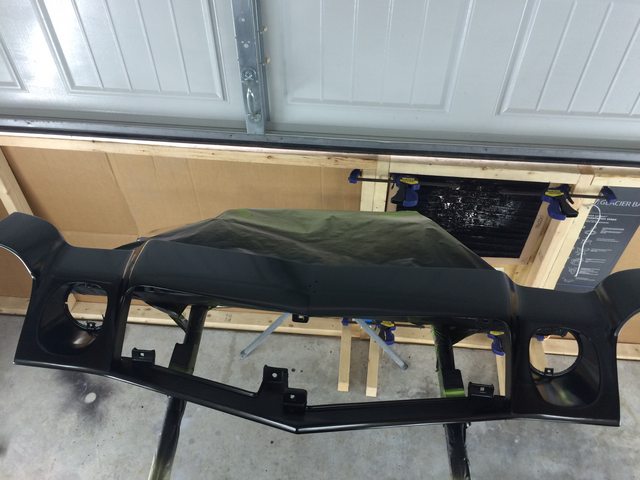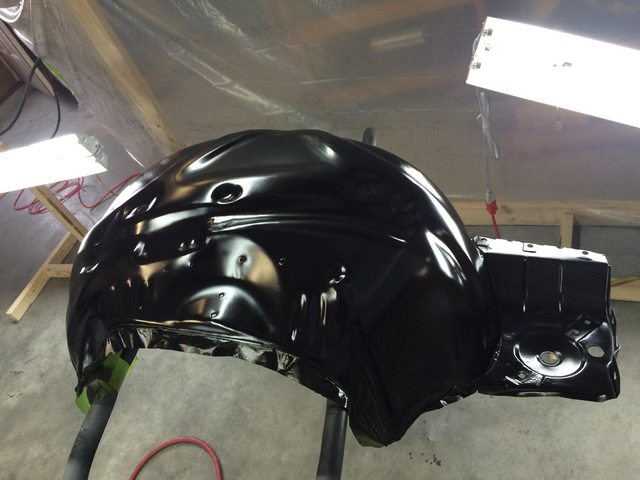 Some pics of my booth setup. Yesterday I was going in/out of the rear door contraption I made and I changed it up today. I made a little trap door in the front to go in/out. It's working WAY better.

Rear door for the air inlet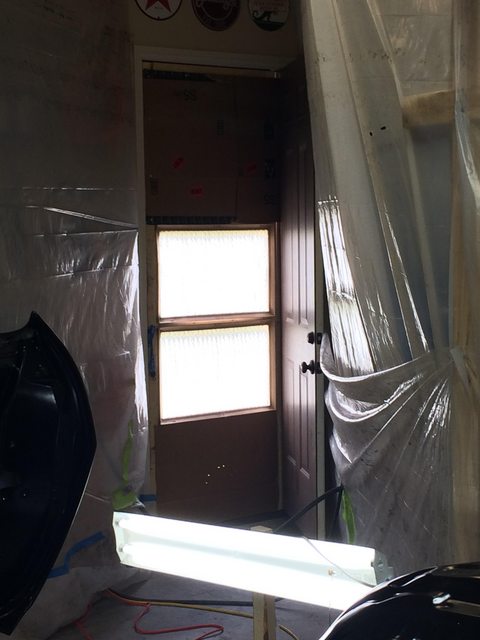 Front with the fan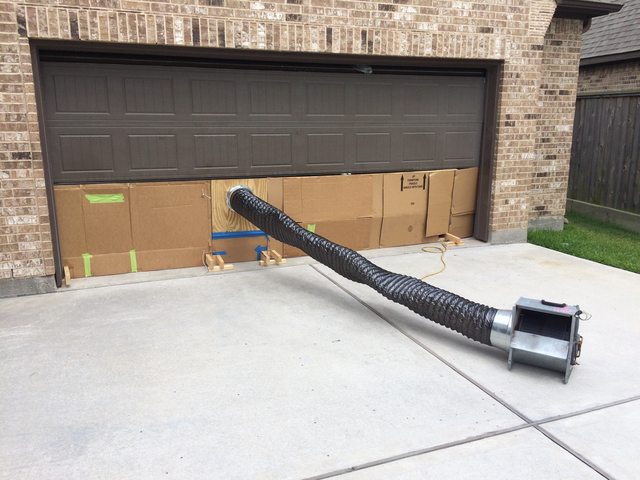 I added these little strings tied to some nuts to secure the doorway from the inside. Doesn't need to be air tight.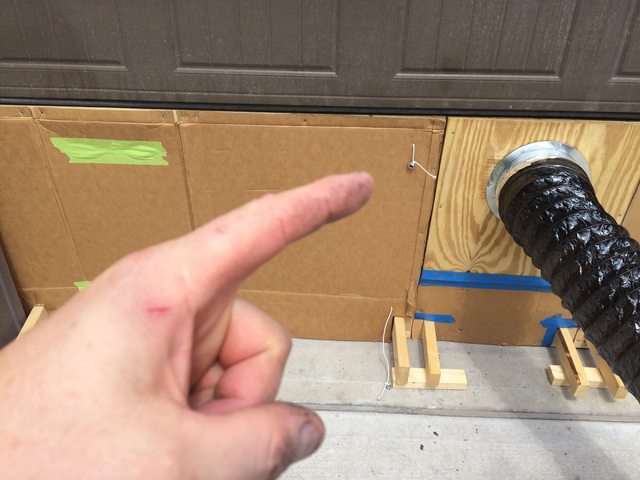 5-7-2015
I waited until today to clear yday's round of parts. I got a few runs in the door but nothing that can't be sanded out. Overall it went much better than the hood/trunk lid as I improved my process and technique. By the time I do the shell I should be really good to go.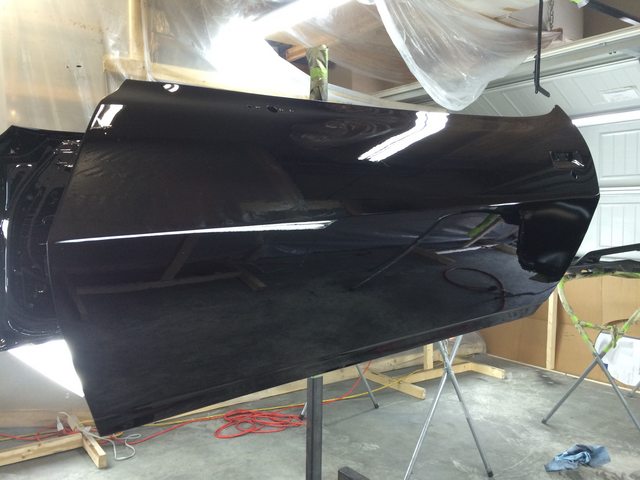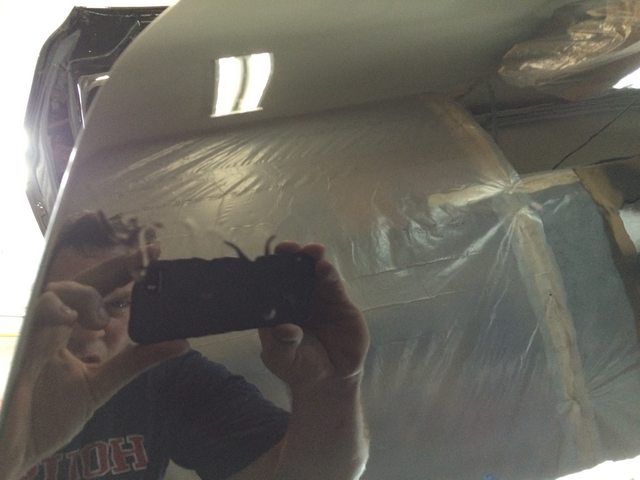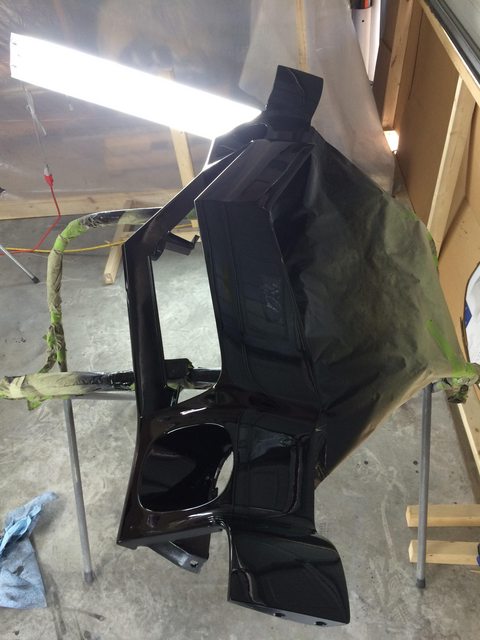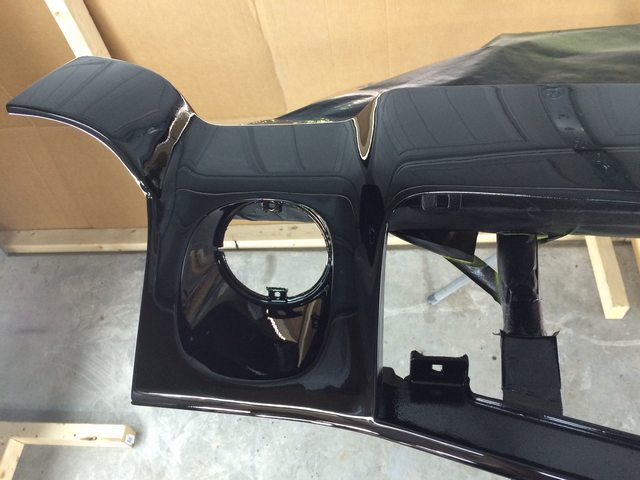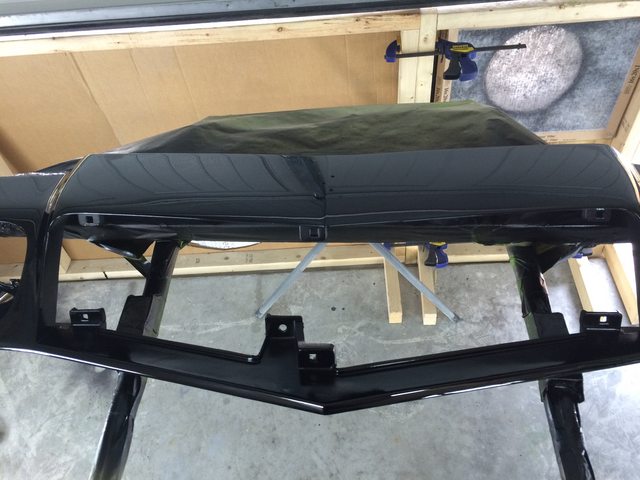 5-8-2015
The fenders and lower valence after three coats of color. I will shoot clear on these tomorrow and move on to some smaller parts.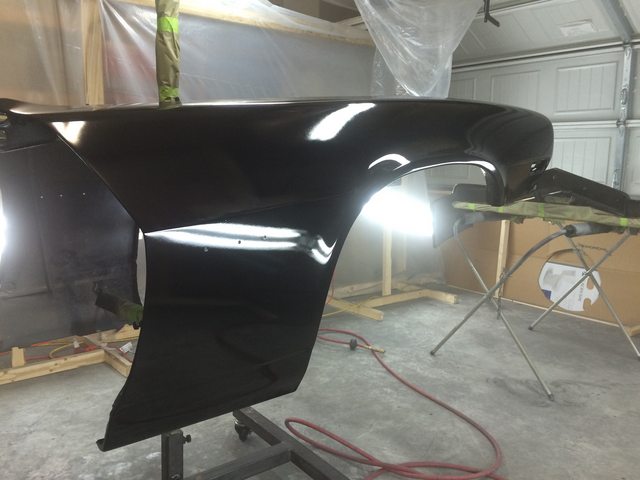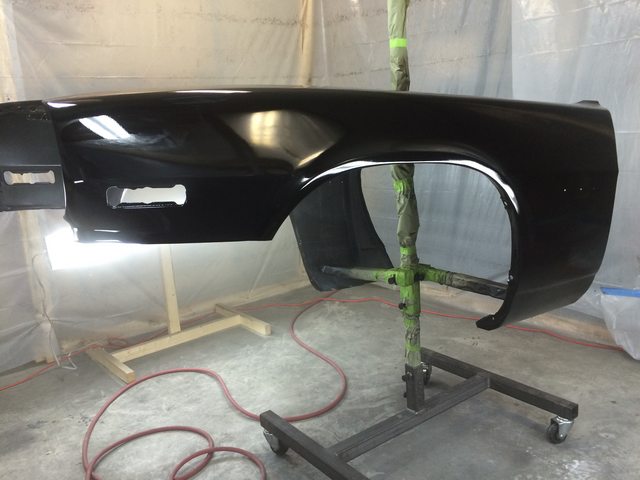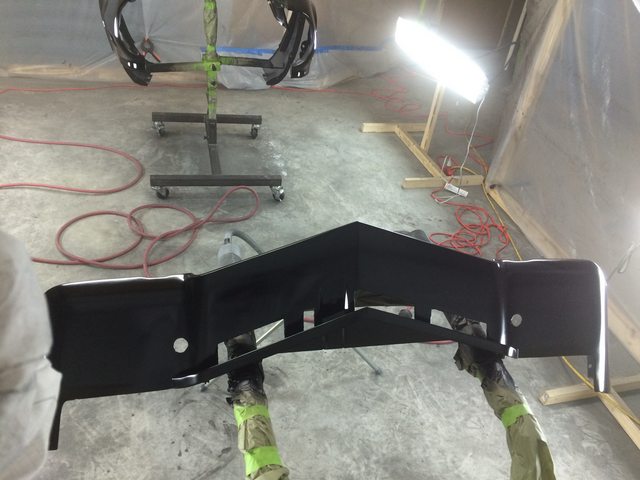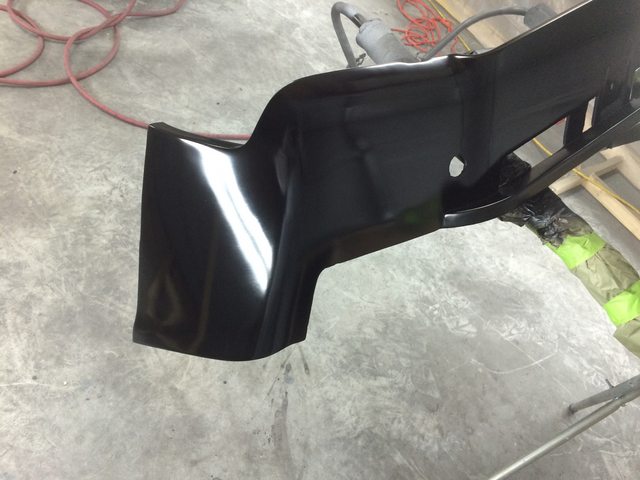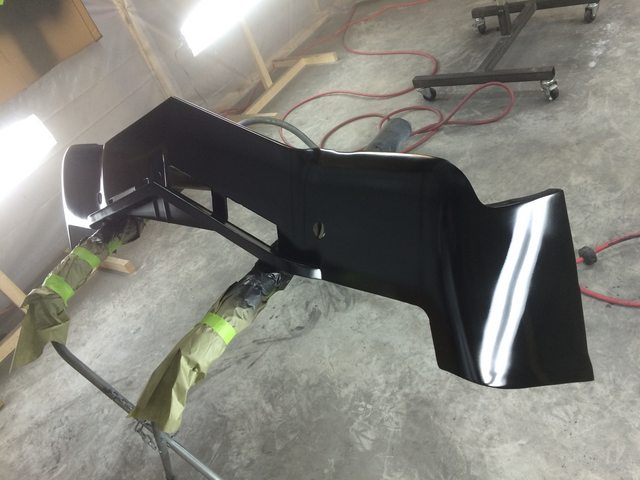 I posted this in my other thread, but might as well ask here.

Using my hood as an example, what is my approach on the center body line and the creases/edges next to the side valleys? Those get sanded at some point, right?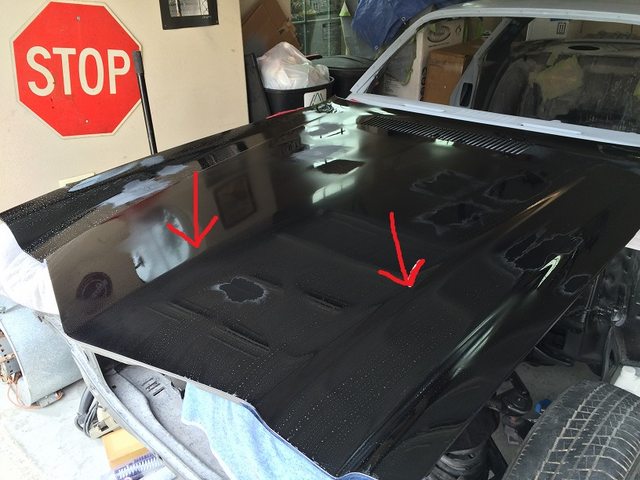 fenders and lower valence are sprayed in clear. Now for the smaller parts, bumpers and backs of hood and trunk lid.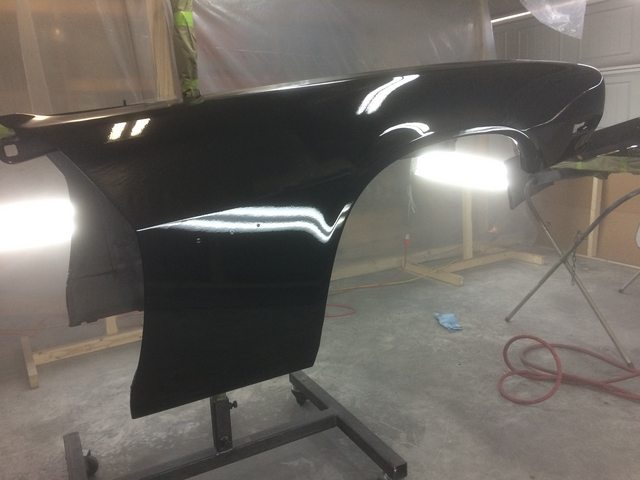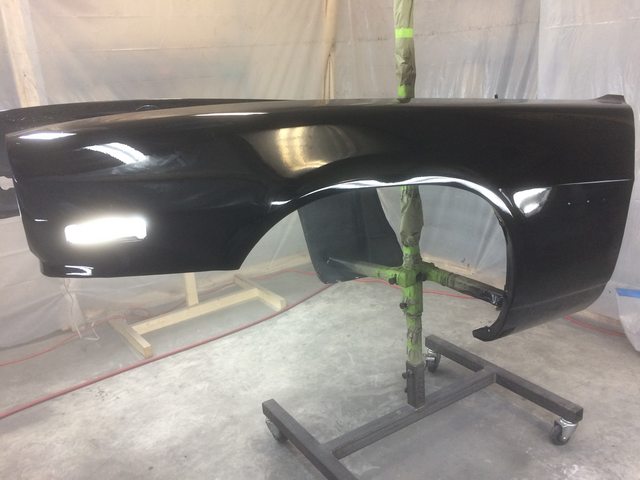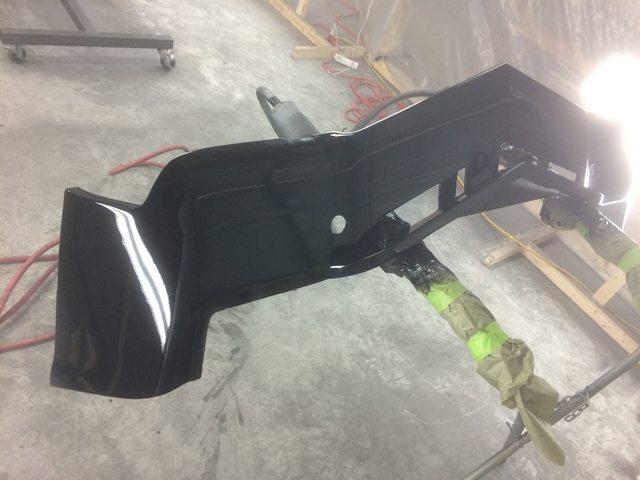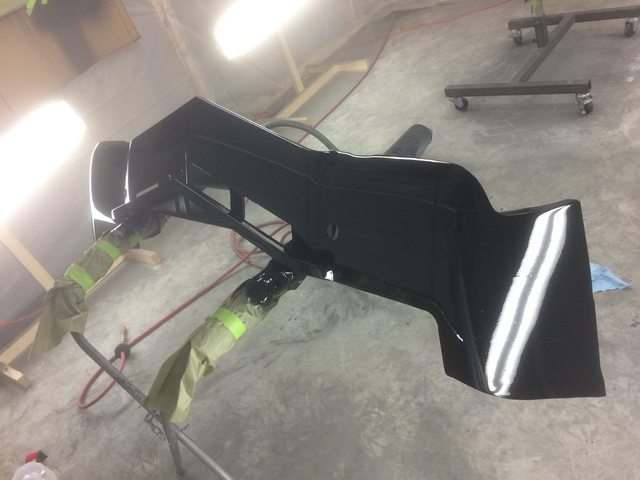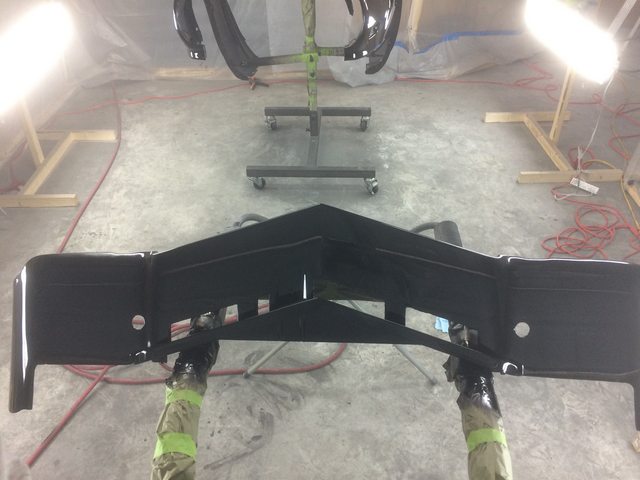 5-10-2015
I spent yday mostly removing runs and other big issues from my panels. I was going to spray some more this weekend but stopped after the spoiler pieces and side mirrors. I got to the point where I felt like I was spraying just to get it done and didn't think my focus was all there. So I will spray those in a few weeks after I spray the shell this upcoming weekend. So my attention now turns to getting the shell prepped.

I did try my hand at wet sanding some flat areas and it went well. It was actually a nice change of pace. Sanding doesn't bother me so I think I will somewhat enjoy the "cutting" stage. If anything it was nice seeing the peel sand away and having a preview of what the panel will look like when it was wet. That was a nice mental boost.

A boring pic of me doing some 1500 sanding on the fender. I was very deliberate when I did this. I would make 5-10 sanding passes and squeegee off to see what peel was left. Fortunately this SPI clear sands very nicely.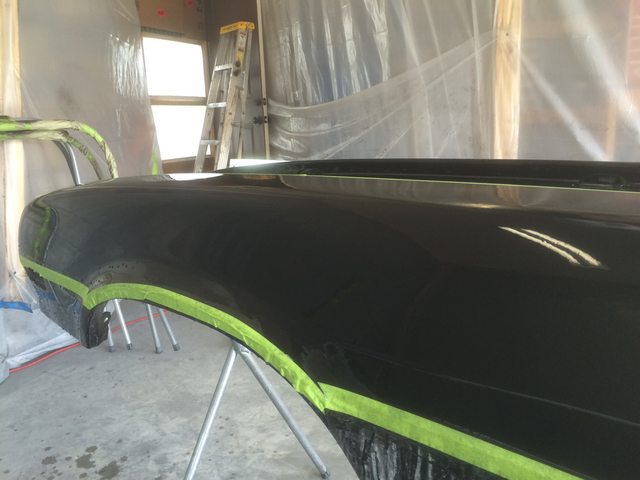 5-16-2015
I spent all day prepping and masking off the shell. I wiped down the shell twice with soapy water (blue Dawn) and twice again with just water. I intended to spray color tonight but I was feeling too tired so thought it would be better to spray everything on Sunday so I didn't make any mental errors. My wife's great uncle came by for lunch so that set me back a few hours, but it's all good. I should be able to hit the ground running tomorrow.

A few pre-painting pics for the heck of it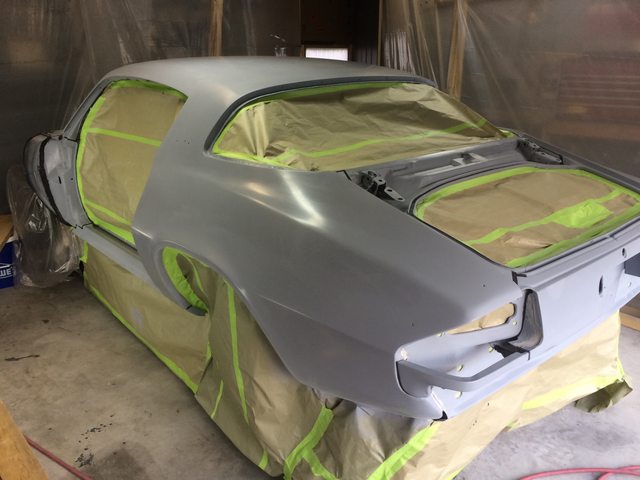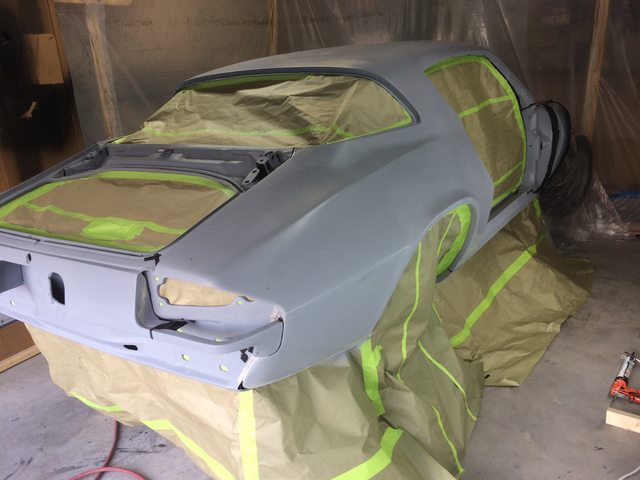 5-17-2015
Got color sprayed, now just need to spray clear. We had some rain move through but I should be able to spray clear late afternoon or this evening.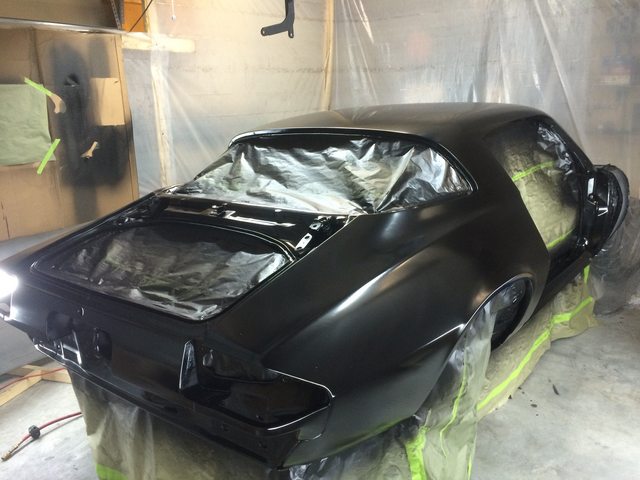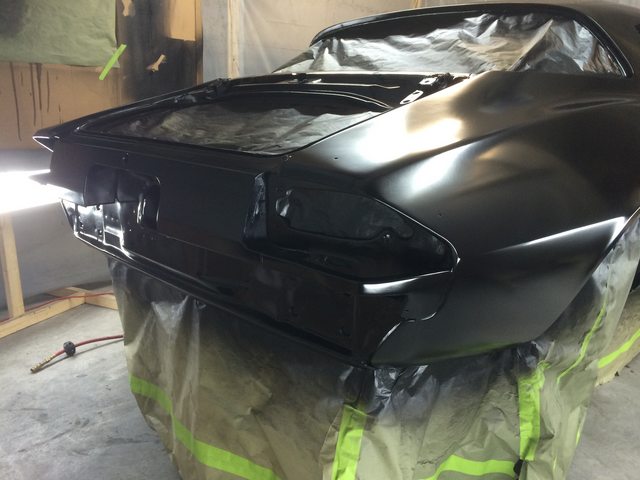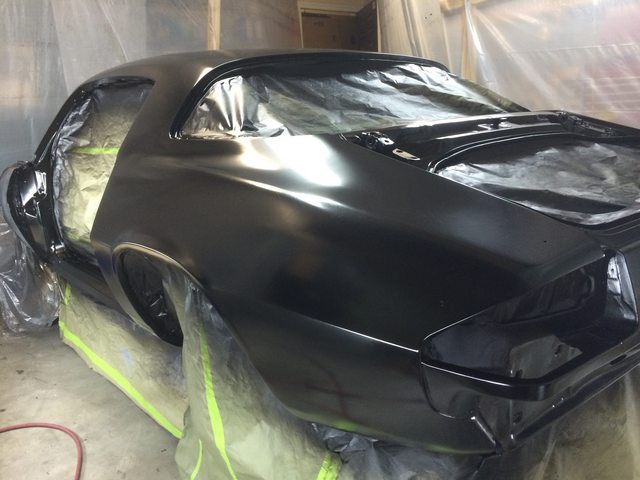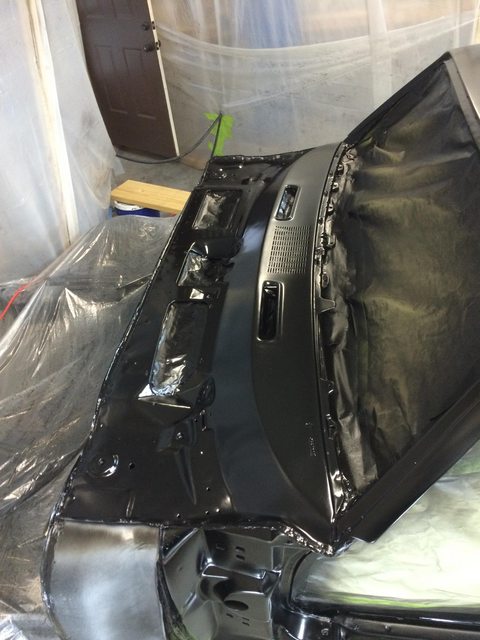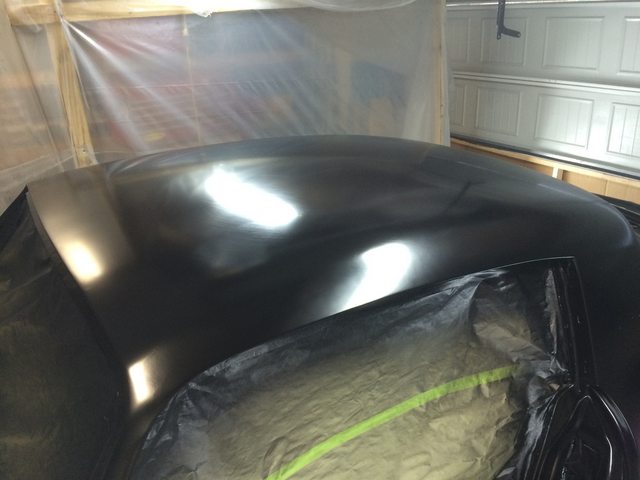 5-18-2015
I got three coats of clear on just before midnight

There's some minor trash that will need to be sanded out but no runs to speak of, at least none I could see upon final inspection.

Now I have the backs of the hood and trunk lid, the bumpers, headlight bezels and tulip panel left to spray. I should be able to knock out some of that next weekend.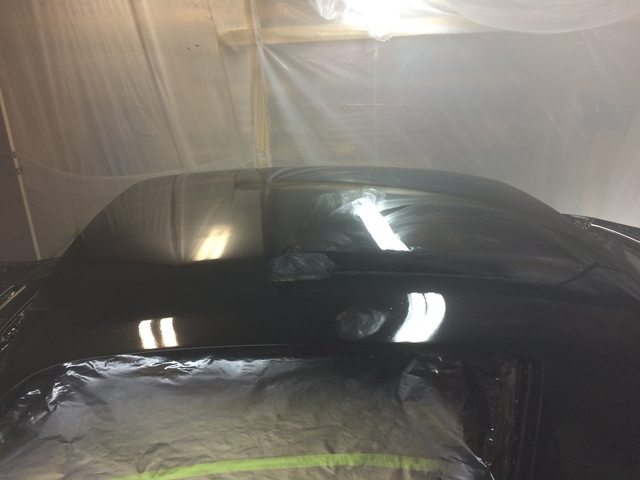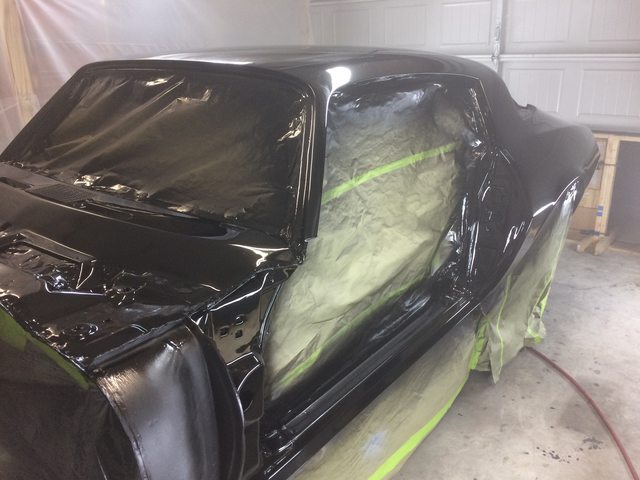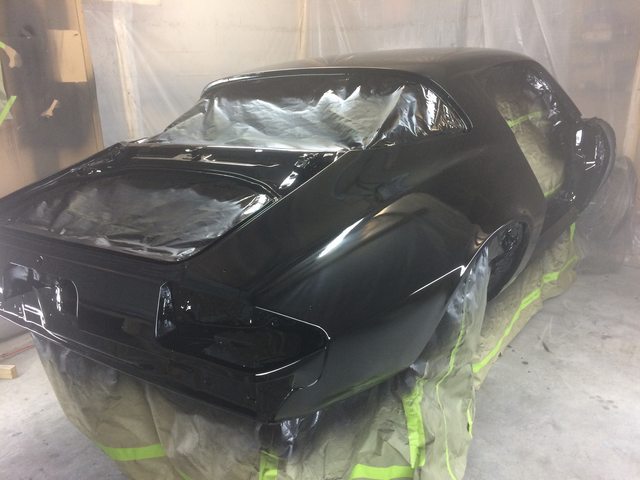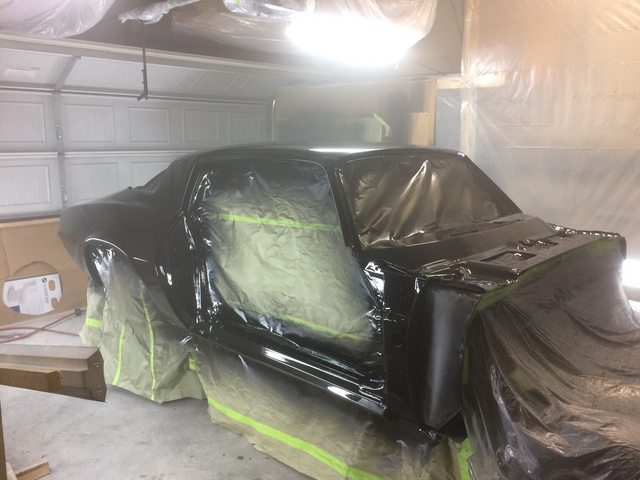 5-19-2015
I re-examined the shell last night and the dash/cowl looks awesome, I shouldn't have to do anything to that, which was the goal. I saw one tiny run on the passenger side door jam, but it's on an easy area to get to. Other than that all the jams look nice and glossy and shouldn't need any work. The less I have to do on those weird areas, the better.

I should be able to tackle the roof and 1/4s really soon.
5-20-2015
LOL, nobody will ask me to paint. They know I will laugh them off my property

I was wet sanding the hood last night and I am noticing the presence of a handful of teeny-tiny light colored specs. Obviously they are somewhere in the clear, but I am not sure where. The hood was the first panel I sprayed and I honed my process to decrease trash getting into the work space, so I am trying to decide what my approach should be with this panel.

I was chatting with 1981g and he reinforced that I can get as OCD as I want, but at the end of the day a few tiny specs here and there won't be the end of the world for my project. So I need to decide if I want to remove EVERY last little spec or draw a line somewhere. I am not averse to shooting clear on the hood again if I think I removed too much to get the trash out and want to make sure I have proper coverage.

My plan is to sand with 1200 and see what I can get out and then re-evaluate. If there's just a few microscopic specs left then I will just leave them.

I think no matter how good a paint job is, the one who sprayed it will always know where the flaws are and you just have to figure out what is acceptable to you. The average person wouldn't know since they aren't looking at the body from 6" away like I am right now.
So I am sitting here at the airport having a beer and I know what my problem is. I spent many months on the body work and I have convinced myself that nothing short of perfection is acceptable. But the body work I did isn't perfect so why does the paint job need to be perfect? So this mini break (little 3 day trip with wife) is perfect for me wrap my head around where I am at and what I want out of this car. Its not a damn show car, its a driver. So I need to approach it that way.

I am pumped after chatting with you guys. I was so pissed yday seeing these little flaws but I now know that's not the end of the world. I just needed a serious reality check.

Thanks for hearing me out.
5-26-2015
So I was sanding more of the hood and the trunk lid and I notice more little light colored specs, so I am going to re-spray both panels. I am 99.9% sure I know what happened. When I sprayed the hood and trunk I was entering the spray area via my combination back door/air filter assembly that serves as the air inlet. This allowed too much trash to enter the space and thus it got into the clear during the first coat.

I was sanding the doors and fenders and none of these panels have any such trash in them, they look damn near perfect as far as trash goes. Not coincidentally, I changed how I entered the spray area AFTER the hood/trunk were sprayed (entered thru the front via my little trap door versus through the back). You put 2 and 2 together and this is the most logical conclusion.

All told it's a few extra days of work but I owe it to myself to have consistent results, especially since I know how the other panels look.
6-2-2015
quick update - I decided to shoot more clear over the pieces to achieve an even better end result. I wet sanded the panels with 800 grit to get the peel/trash out and then laid 3 more coats of clear. Thus far I have re-sprayed the doors, fenders, front upper valence and some small pieces. I can officially say both wheel wells are done at least!!

I am going to knock out some smaller pieces tonight/tmro and then move to the hood on Saturday and then the bumpers and headlight buckets on Sunday. I should have everything sprayed by Sunday except the shell. Then I can begin prepping the shell next week for round 2 of clear.

I wrestled with the idea of shooting more clear but in the long run a few more weeks isn't going to make or break my project, so I decided to go for it. This will give me a lot of material to work with when sanding/buffing, so that's not a bad thing.
6-4-2015
thanks Tom

I am down to just a few pieces left to spray (or re-spray) so making some good progress toward starting actual cutting & buffing. Thinking I can spray the shell with more clear next weekend and then move to the next stage. I am getting sort of good at this painting thing now that I am basically re-spraying everything



I am going to spray the back of the hood and back of the trunk next, then the top of the hood, then the bumpers and headlight buckets. I've taken over a spare bedroom to store most painted pieces until I can begin installing them, so here is an obligatory pic. The number of gray pieces are shrinking.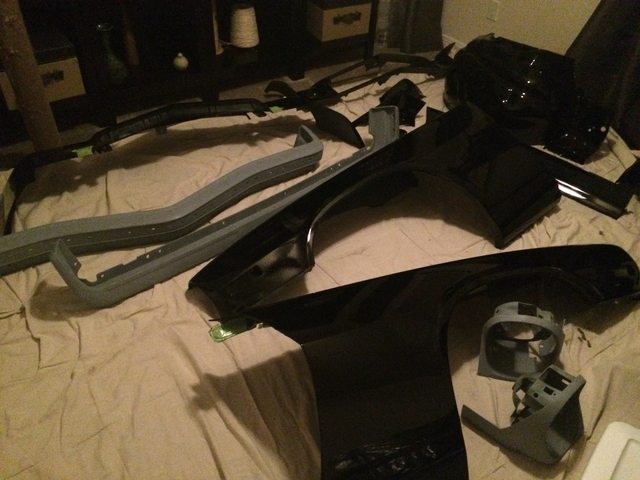 6-5-2015
Got the backs of the hood and trunk lid sprayed in clear tonight. I obviously won't be doing anything else to these. I didn't see any runs so that was good.

Tomorrow I will focus on the top of the hood, which I should be able to knock out.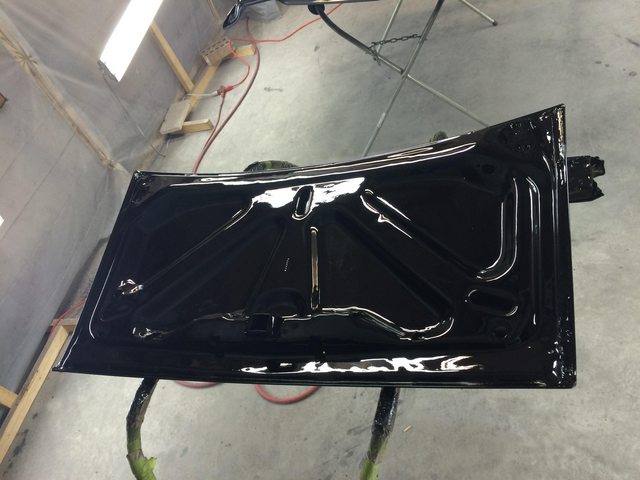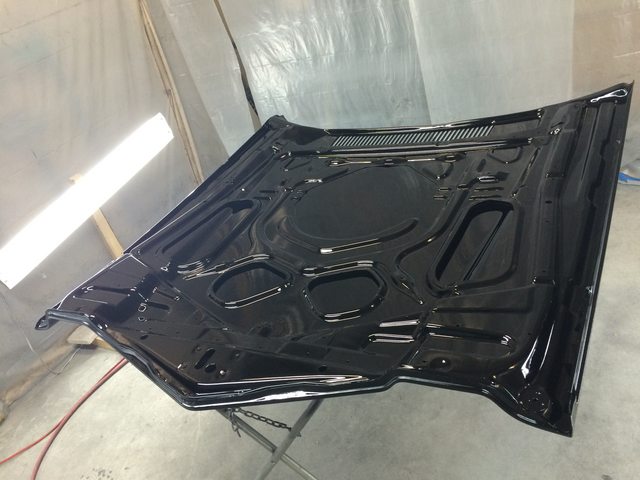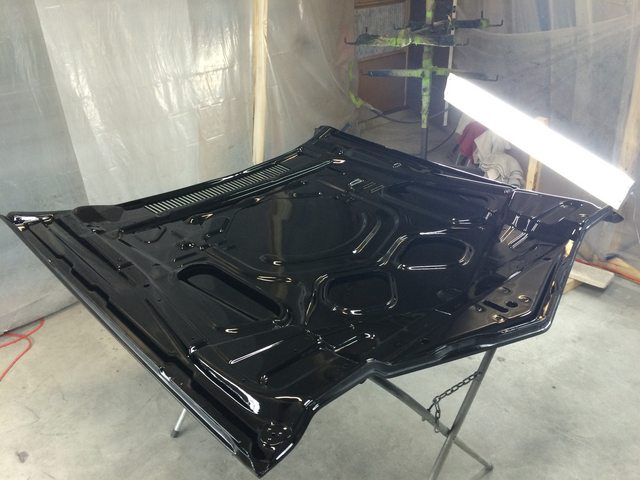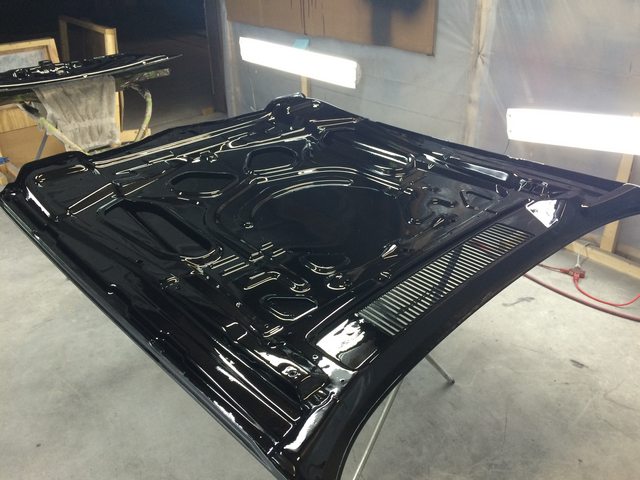 6-6-2015
So I got the top of the hood sprayed with base and clear....again. It went many times better than the first time, so at least I have that going for me. No sweat bombs, no runs and only minor trash to deal with. I went ahead and shot 4 coats of clear to give me some extra wiggle room.

Tomorrow I plan to spray the rest of the remaining pieces and then I can turn my attention to sanding the shell for more clear.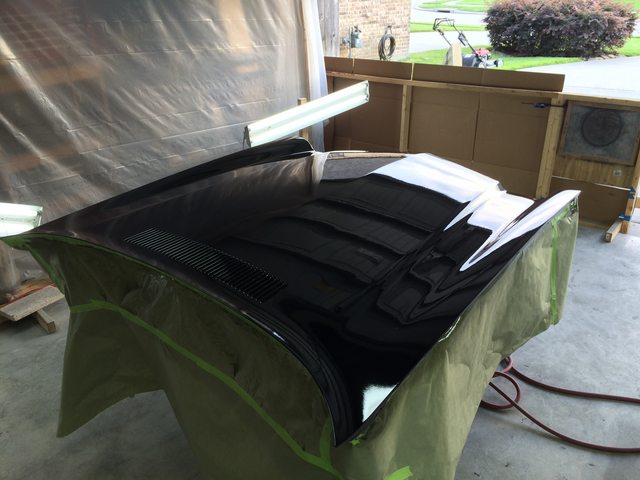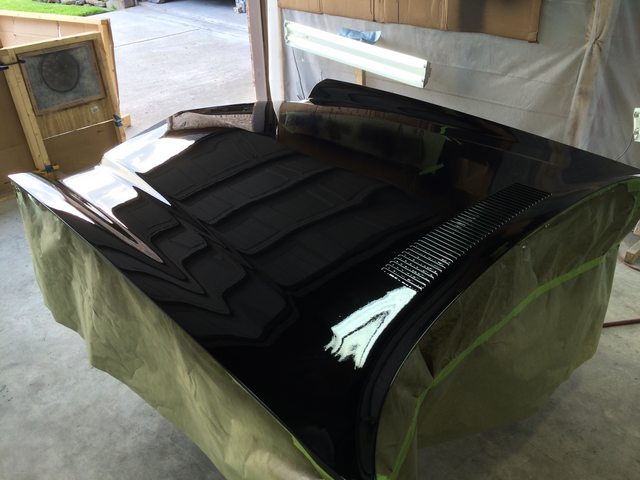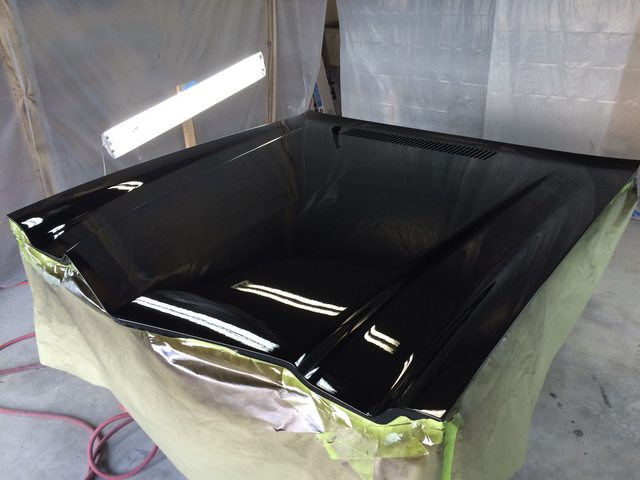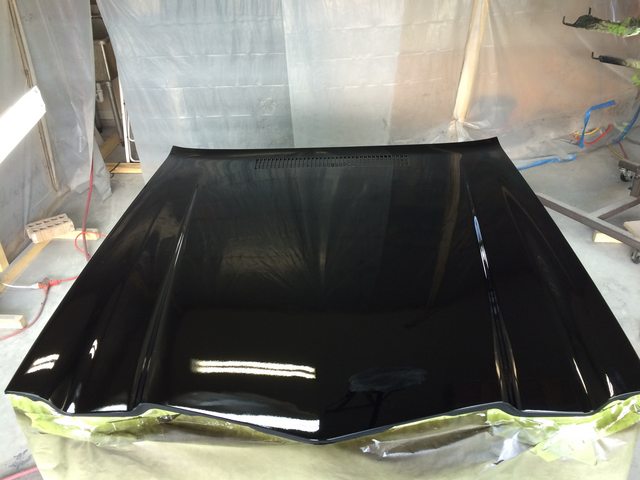 6-7-2015
so I can say that all pieces are officially painted, even though I am re-spraying the shell. This was without a doubt my best spraying session thus far, oddly enough. I hope to keep the momentum going on the shell.

I should only need to do a small amount of sanding on the tops of the bumpers. I doubt I will do anything to the area below the middle bumper strip.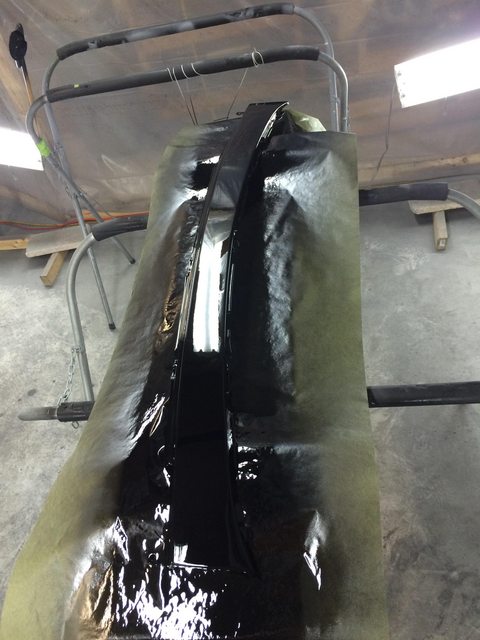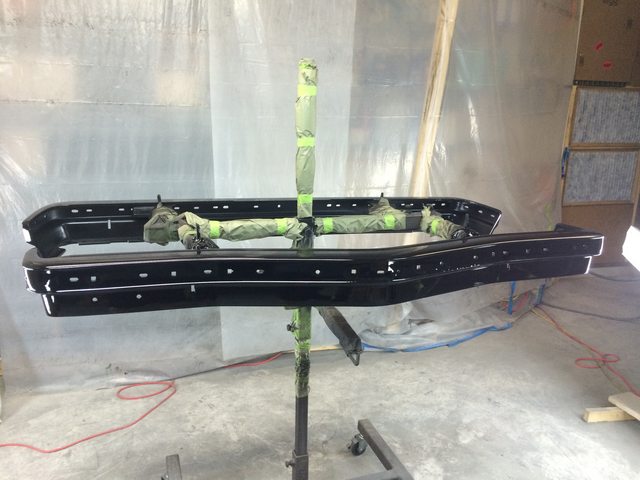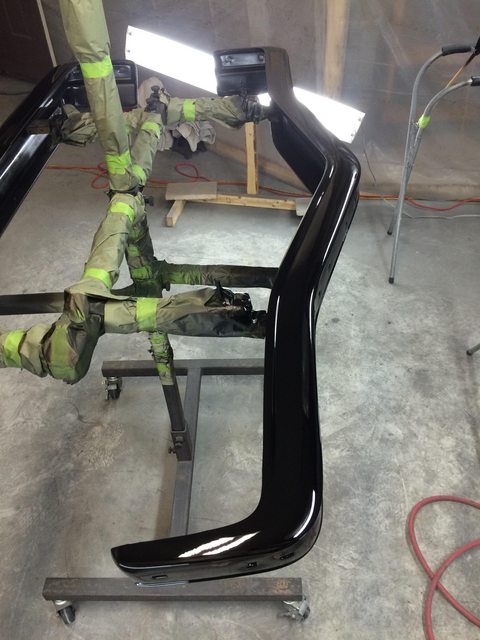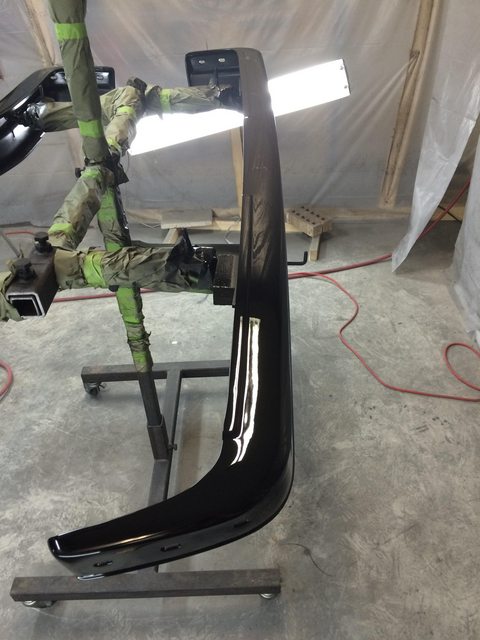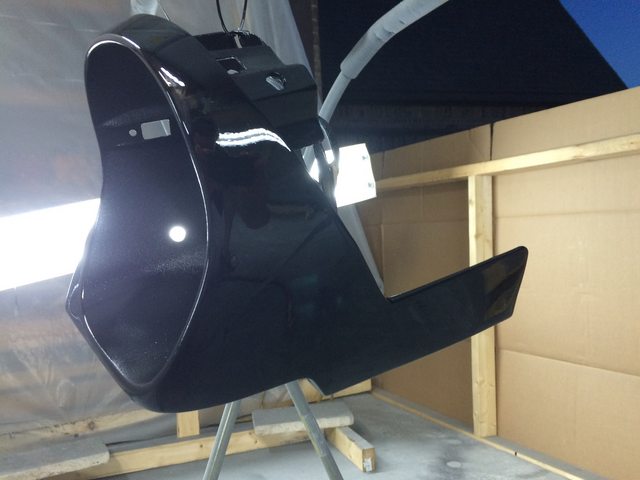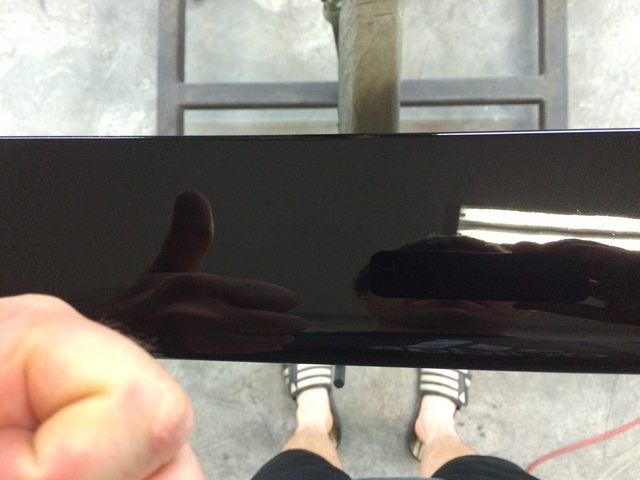 6-20-2015
I finally got started on sanding the shell in 800 to re-clear next weekend. I have most of the outer panels done so I should be able to get the rest done tomorrow and then I can begin cleaning and re-masking.

After that I can begin the real cutting & buffing stage of the project.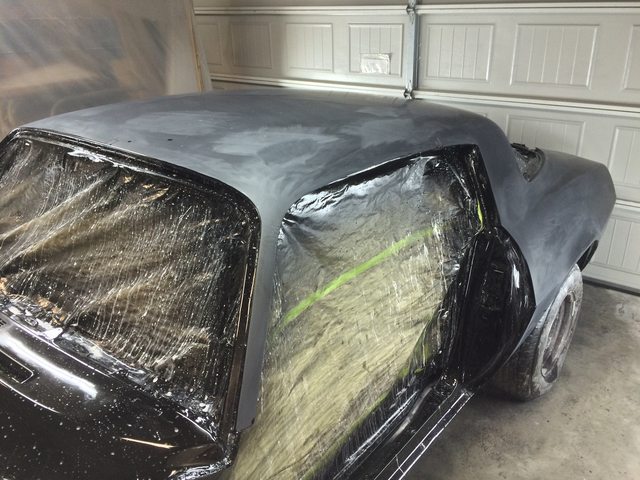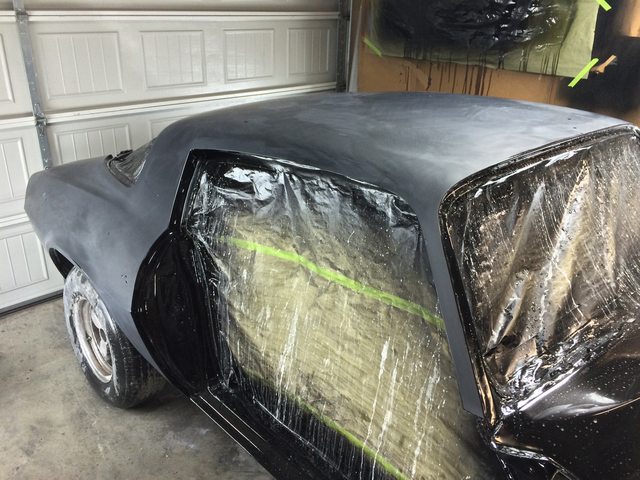 6-30-2015
I am getting the shell masked off for spraying clear, which I plan on doing this Friday. So nothing too sexy to share at this time.

However, here's a first look at the next member of the household. He was being a little shy so we couldn't get a good look at his face. But everything looked good so that was great news.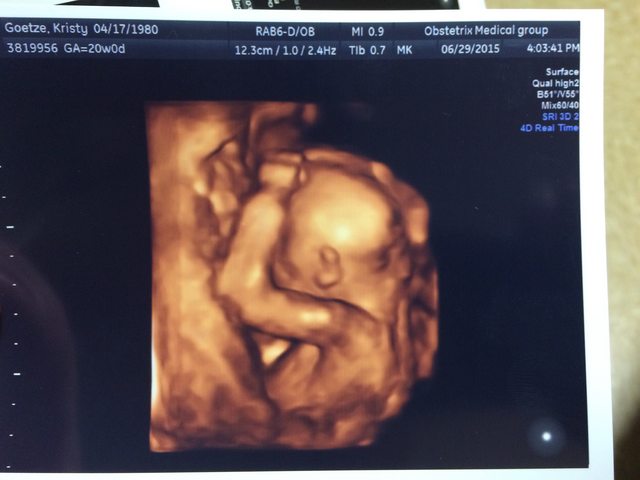 7-1-2015
It's like deja vu all over again....I have the shell ready for round 2 of clear. I need to do some minor color touch up tomorrow and then will spray clear on Friday morning. That will give me 3+ days to do some sanding in preparation for buffing. I should be able to do some serious sanding in that time.

I masked off several areas I was happy with and didn't want to re-clear. The biggest mistake I made the first time around was not spraying color along the very bottom of the rear tail, so I left that exposed so I could address it.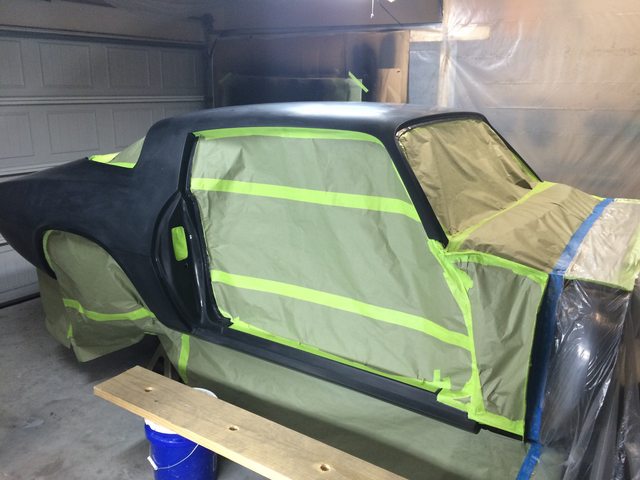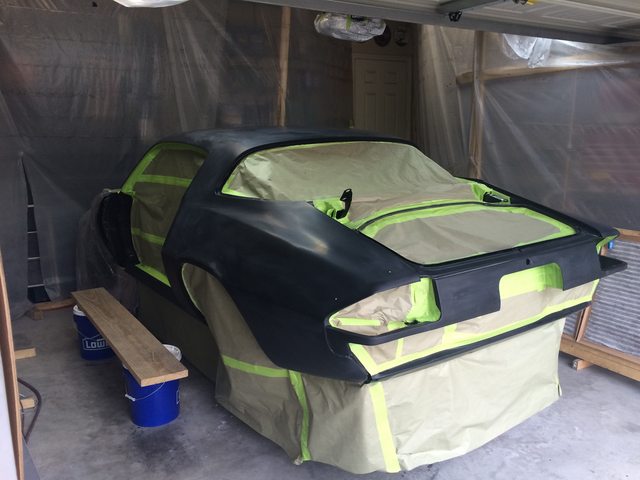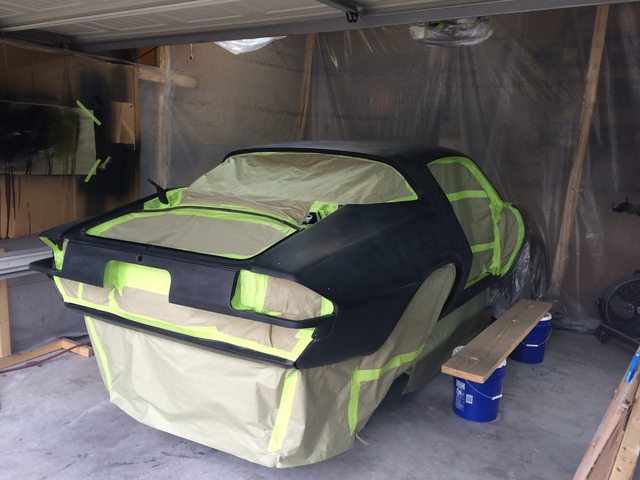 7-3-2015
Got the shell re-cleared. I took her out in the sun to enjoy the heat a little.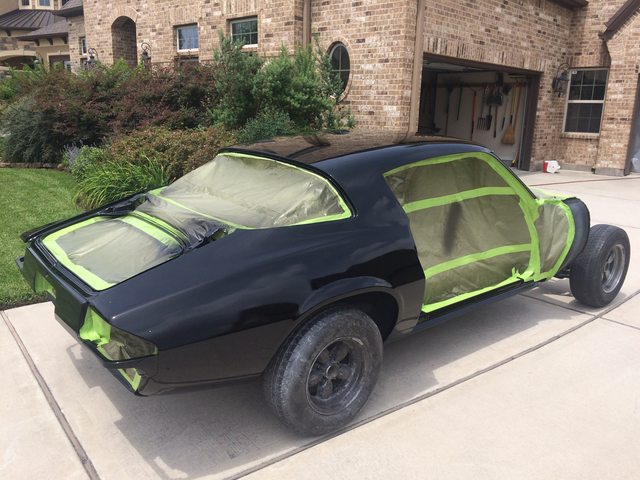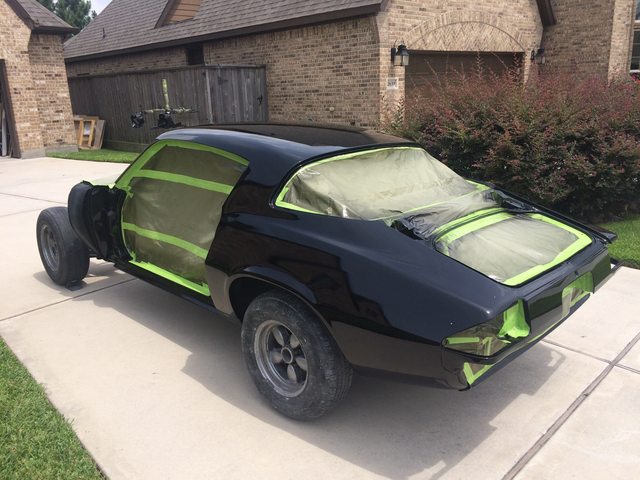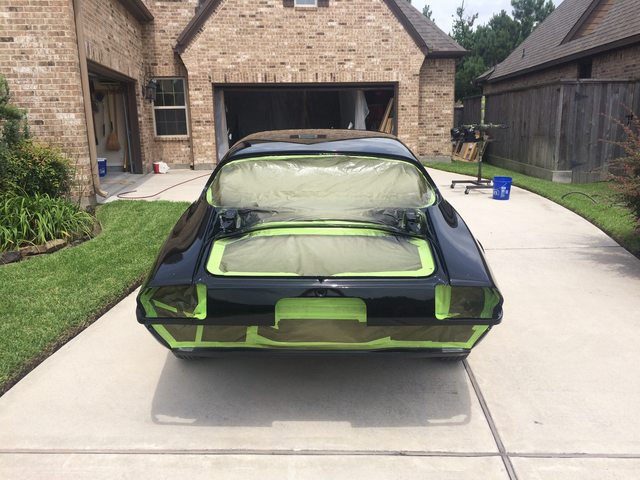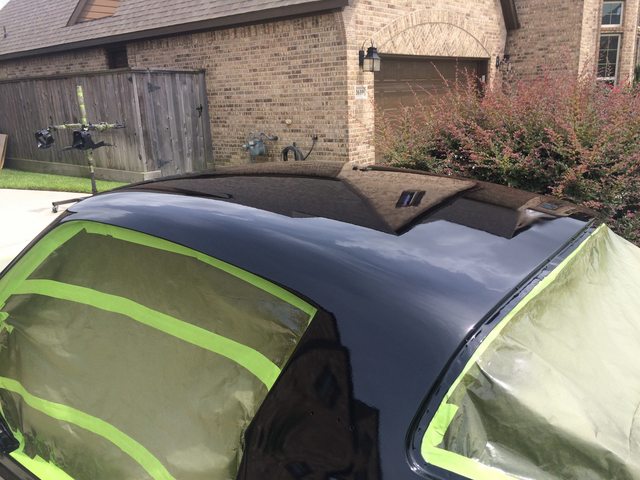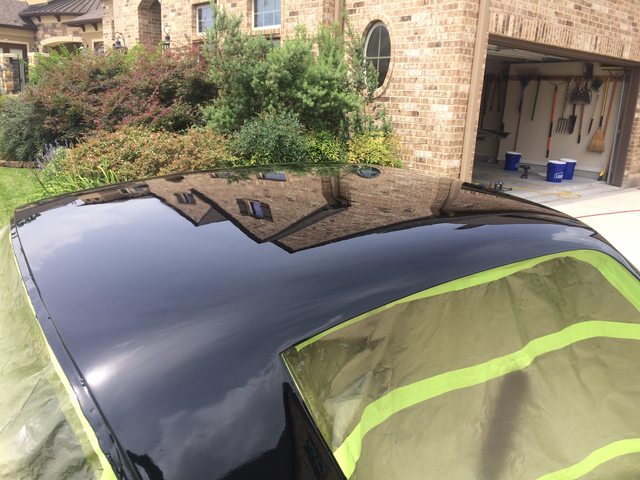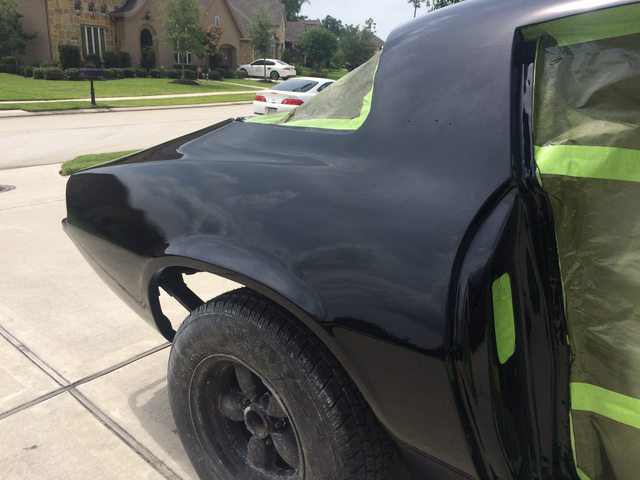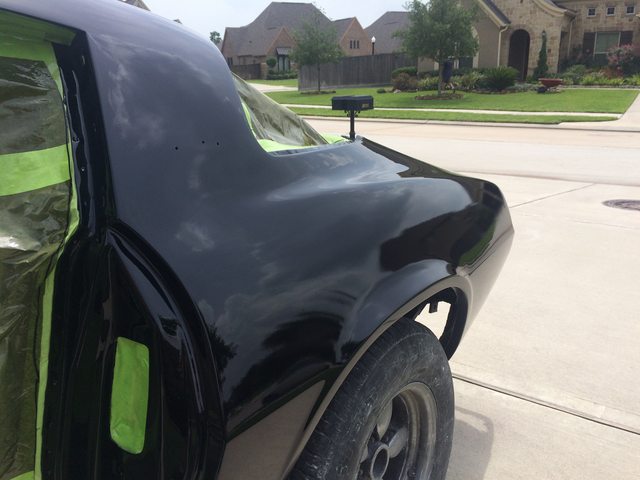 7-5-2015
I got the hood and doors sanded to 1500. I am off tomorrow so I will start on the shell and get all the peel sanded out of that. The clear should sand more quickly since it's only a few days old. That means I need to be more careful. After that I will sand with 2000 and 2500. It was suggested I sand to 3000 but will stop at 2500 for one main - the sandpaper I use only goes to 3000. I use a good adhesive backed sandpaper that helps the job a lot, but they only go through 2500. It should not pose a problem.

I use this sandpaper for anyone interested. I have been very pleased with the quality and lifespan. It sticks VERY well to whatever block you are using.

Hood before sanding




Hood after 1500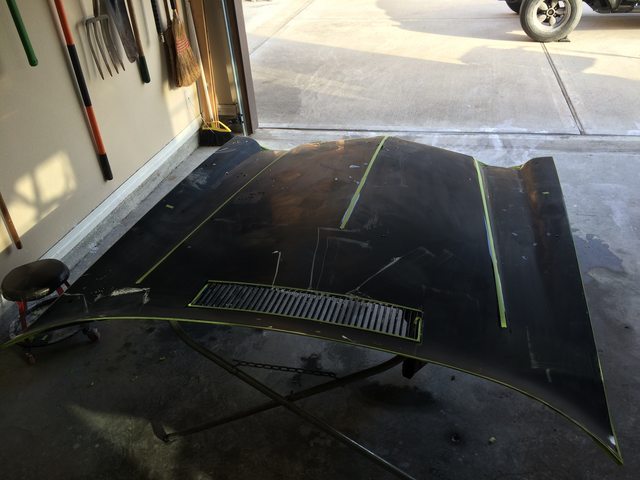 Doors after 1500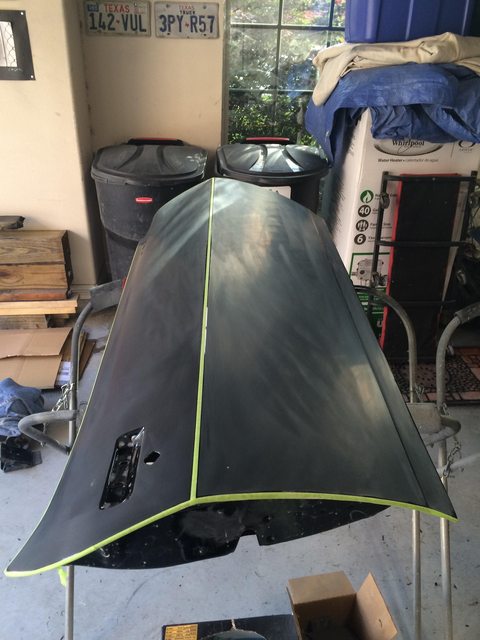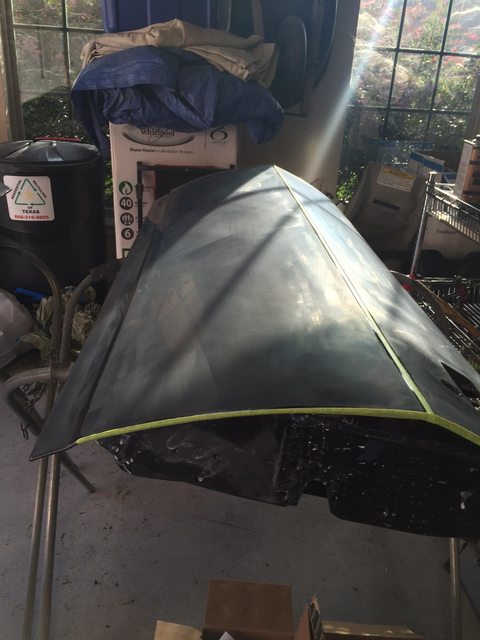 7-6-2015
I sanded the "top half" of the shell to 1500 today. I didn't make my goal of having the shell, hood and doors completely sanded, but at least I have a lot of the heavy sanding done. I am going to put the shell up on jack stands to do the bottom panels, which should not take as much time as the top panels.

It's exciting seeing these panels even in 1500 as I can envision how they will look once they are polished. Despite all my work I still see some little specs here and there but I am way past being concerned about it.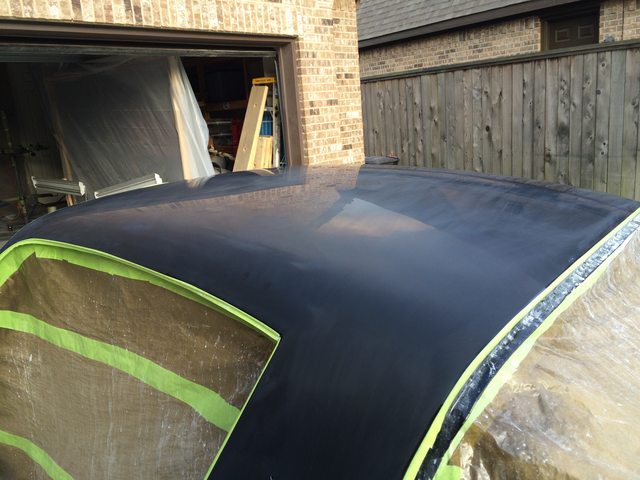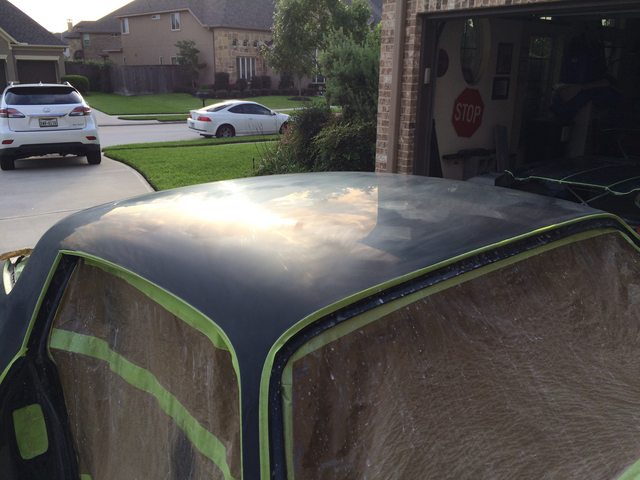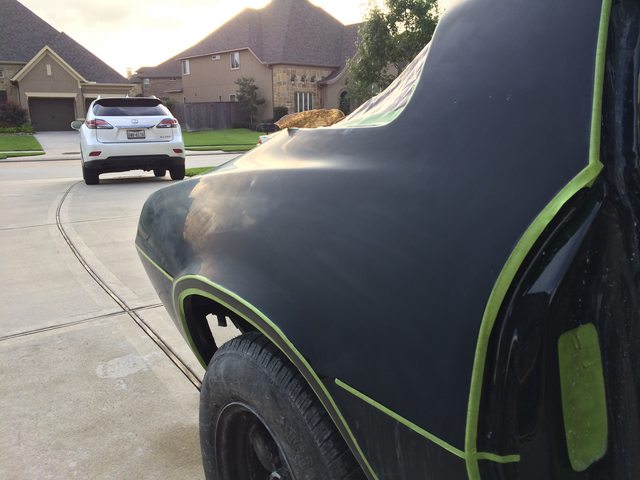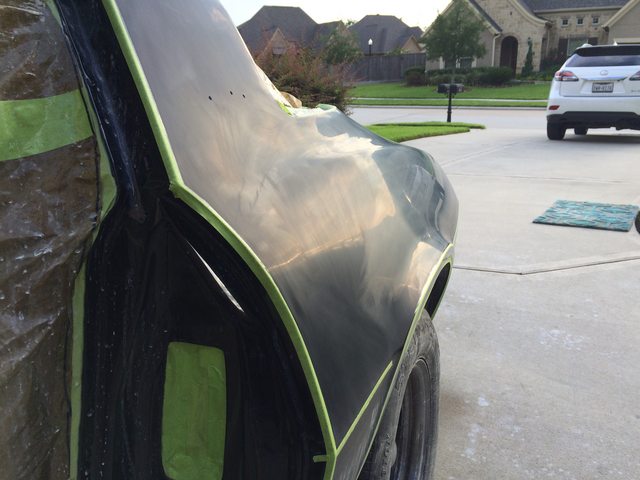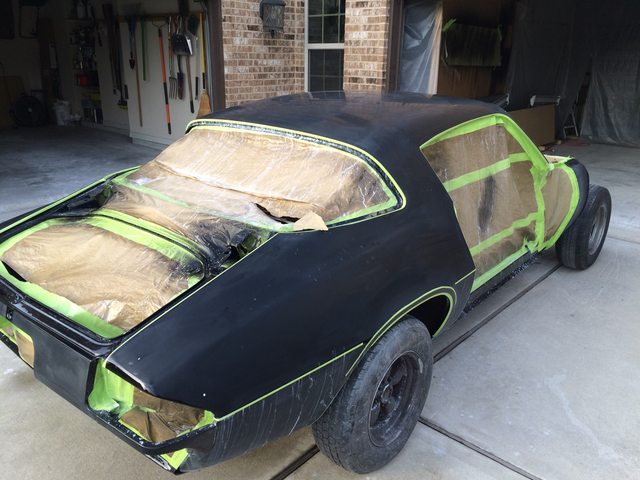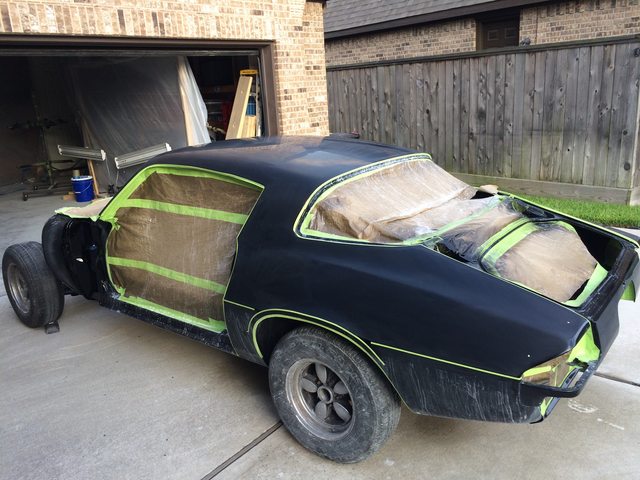 7-9-2015
Got the hood sanded to 2000 and the doors sanded to 2500 (except the bottom section below the body line). I will finish up the doors and hood tomorrow and move on to the shell. I think I can get a large portion done this weekend. Moving a little closer to buffing!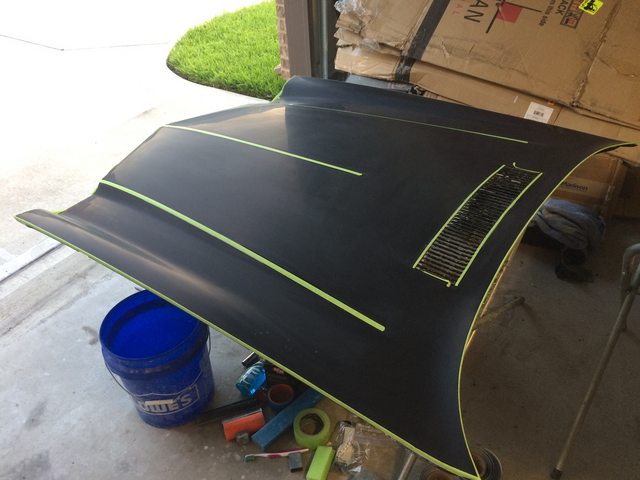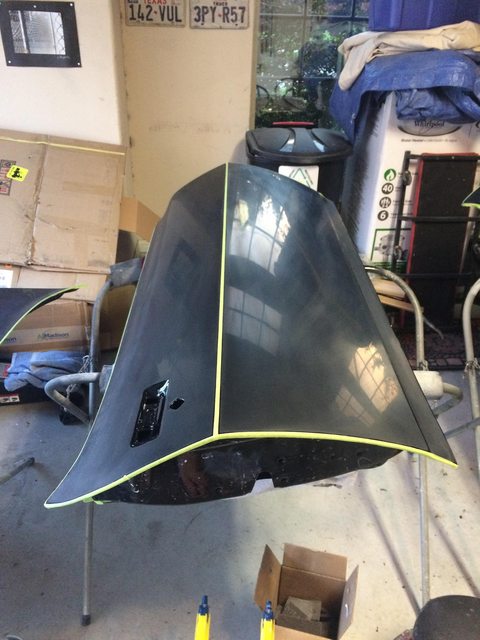 7-13-2015
Here's my first attempt at buffing. I still have some small sanding marks and swirl marks to buff out, but I am pretty close to having the roof done. I took my time learning the compounds, pads and the buffing tool so other panels should go faster, as you'd expect.

FYI, I decided to use The Chemical Guys "V" line of compounds and polishing products with Hex-Logic pads. They had a good kit that includes a Torx buffing tool that works well.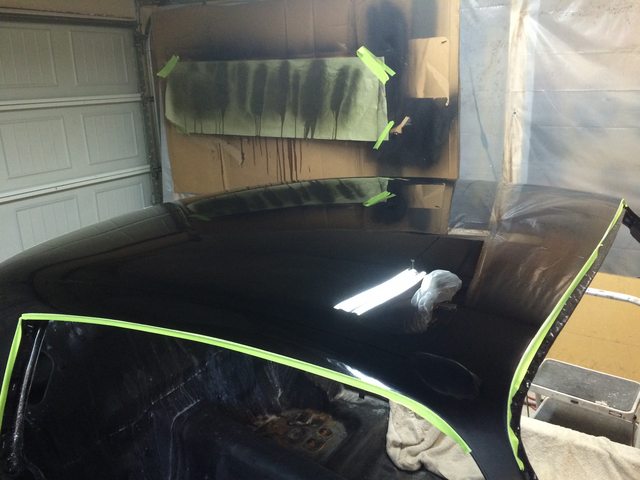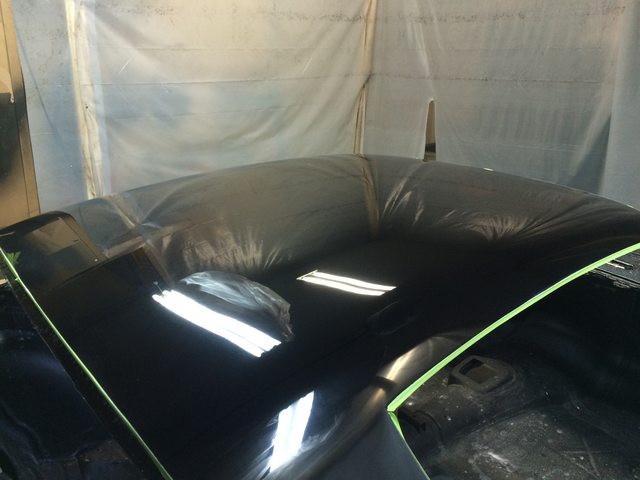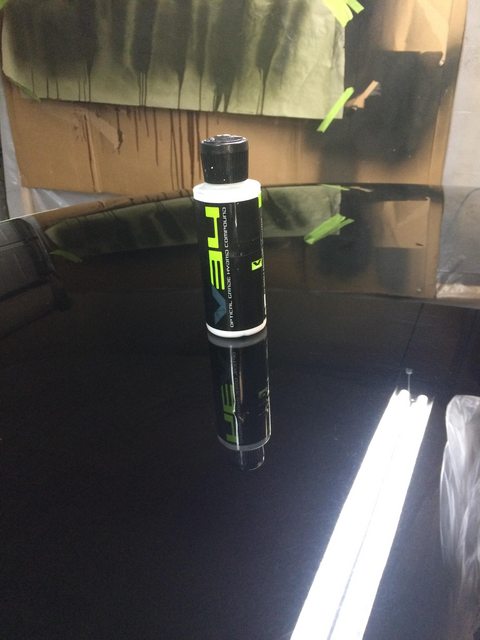 7-19-2015
I worked on the roof more today and sanded the 1/4s some more and began buffing the pass side 1/4. So far so good. They aren't show car perfect but they look really good....good enough for me anyway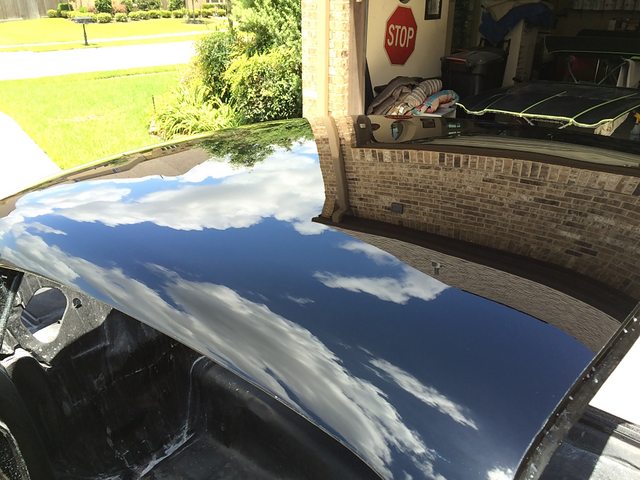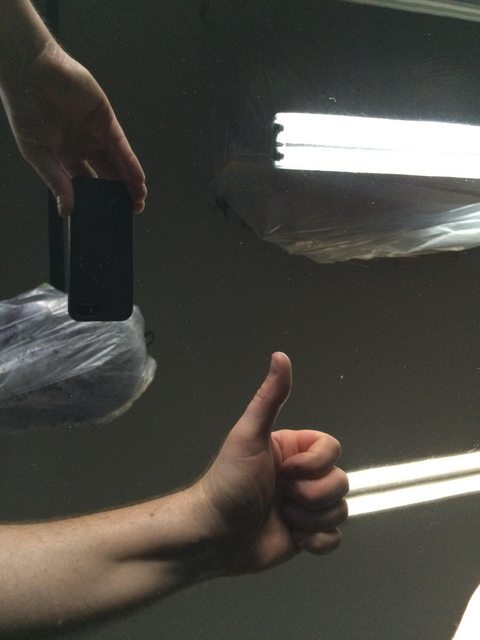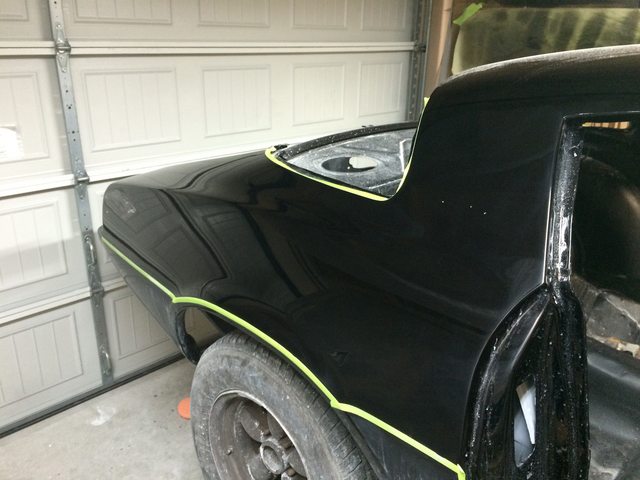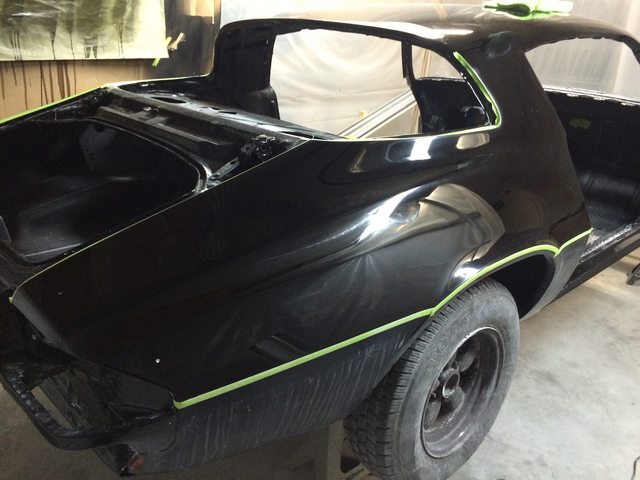 7-21-2015
and thanks for the replies. It's good to see something that looks close to the final product. Even though I decided to sand the other panels to 3000, I see a stray sanding mark here and there that I need to re-sand. It's really annoying and takes as long to do as the actual buffing.

Here is a mini-update. I unexpectedly took yday off as my wife was not feeling well so I wanted to stick around in case she needed to go to the doctor. I took down all the paint booth plastic and supports and got "my" garage re-organized again. I cleaned up the garage we park our cars in. I really needed to do that.

I also have to complete another side project - we have a metal fence in our backyard and I need to weld up and install some "puppy bars" so our little Maltese don't squeeze through (as well as other dogs coming into our yard). I've put if off for too long so I need to get it done now. So I will be doing a ton of welding the next few days. It's nothing more than 16" long, 3/4" square stock welded to a 1" square stock cross bar. Then that will get welded to the fence posts. I will have to paint the fence too.
8-30-2015
I finally had some time to spend on the Camaro. I picked up at the 1/4s and got them buffed to the point of just needing final polishing. I knocked out some home projects before our son arrives in November so I was a little pre-occupied.

I am taking a few days off before Labor Day so I will have 5 days to do some more sanding and buffing.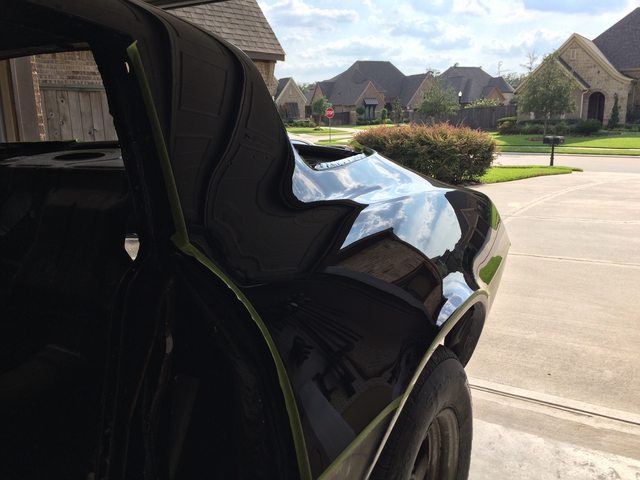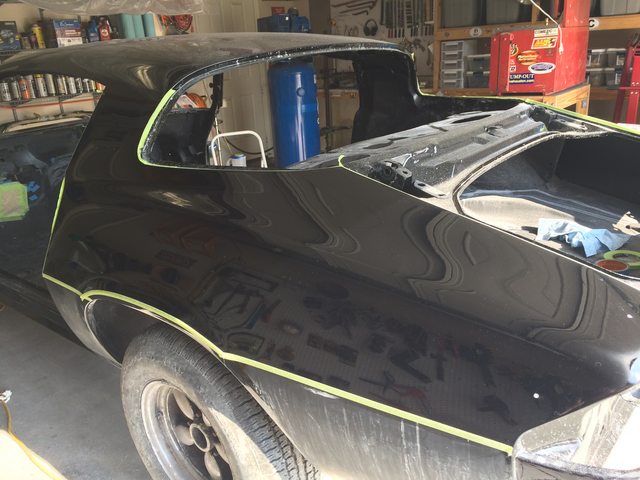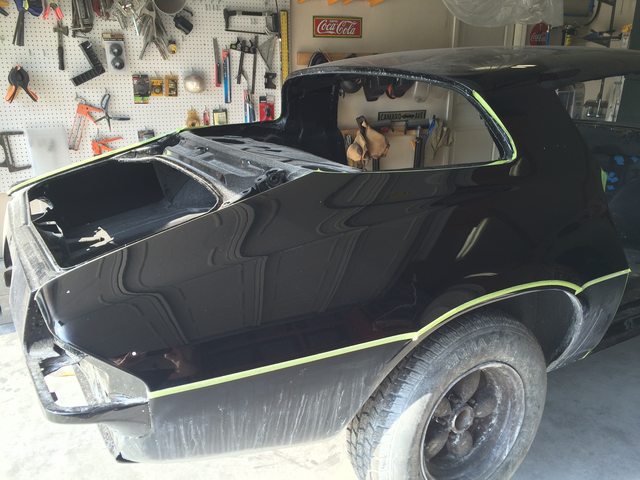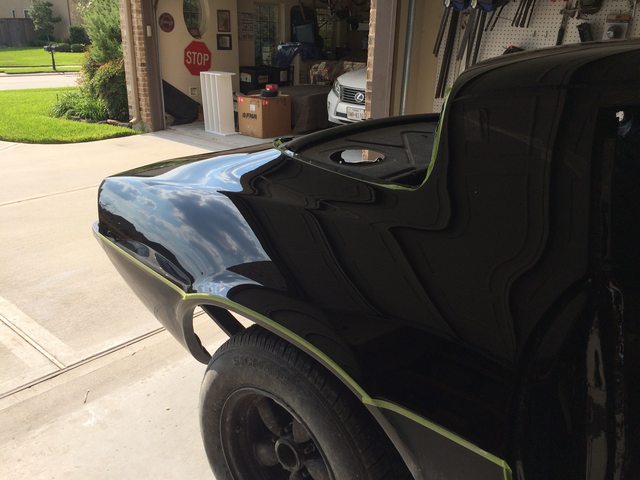 8-31-2015
thanks guys, I did some more buffing on the 1/4s tonight. I am down to the final "grit" of polish, aside from some spot treatment but I am going to deal with that later. I plan on doing some of that tomorrow.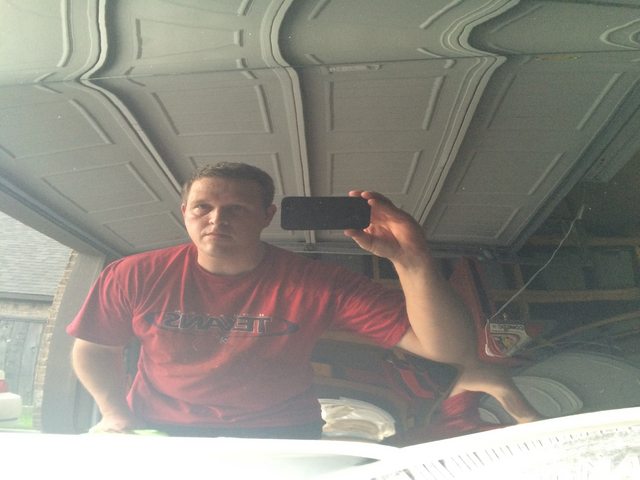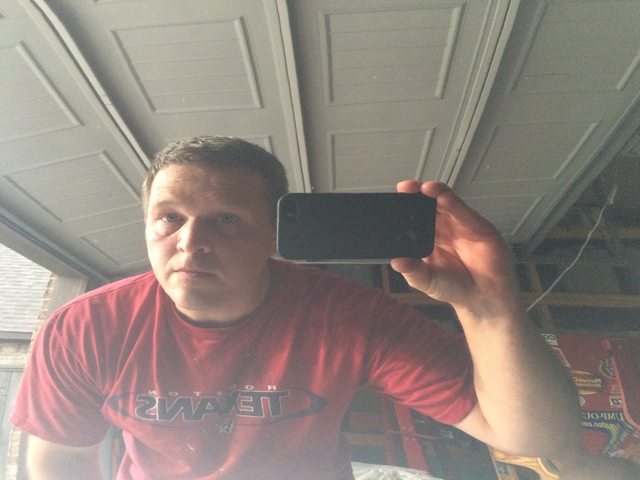 9-1-2015
thanks fellas, it's good to get back into the swing of things. I am looking forward to the long weekend to get more done. I need to move parts out of my wife's craft room so once the shell is done I will tackle the doors so I can install them. That will make room to move some more parts to where the doors currently are located. After what I have learned on the shell, the doors should go pretty quickly.

It's funny (and a little frustrating) as I am noticing stray scratches here and there. They are all fairly minor and can only be seen when you look at the panel at the right angle. I should be able to buff them out fairly easily though. I will likely wait and tackle those down the road when the entire car is done and I have a chance to determine which defects bug me the most. I will have to draw the line somewhere.
9-13-2015
Got some work done on the doors. If you are thinking about painting your car black....don't do it This has definitely been a lot of work and I think will look good in the end. But it's been a whole lot of sanding and buffing.

The most frustrating part has been despite taking necessary steps to eliminate dirt when sanding, I still get stray scratches from some renegade spec of dirt or trash. So I get to resand those little scratches and re-buff.

The fenders should be more forgiving as I sprayed those much better than any other panels. I am not sure if I will (or should) sand and buff any of the smaller pieces. My gut feeling is "no".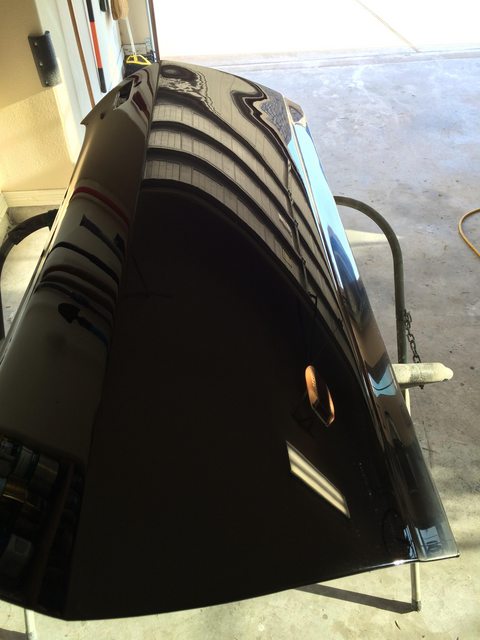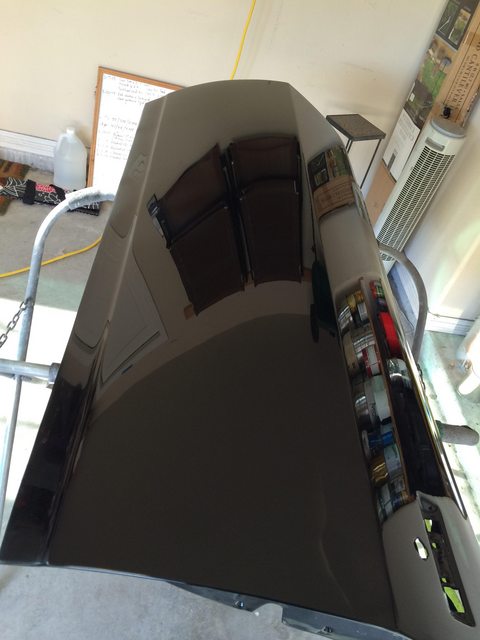 10-15-2015
oh yeah, we are really excited. We have a few small things left to do but we're pretty much done with the new baby tasks. Now we just need a baby.

I know it's cheating, but I am going to talk to a detailer and see what he'd quote me on getting most of the panels buffed the rest of the way.

I got more of the hood buffed tonight. I should get that done this weekend. Then I can hang the doors and buff whatever else time will allow me to do.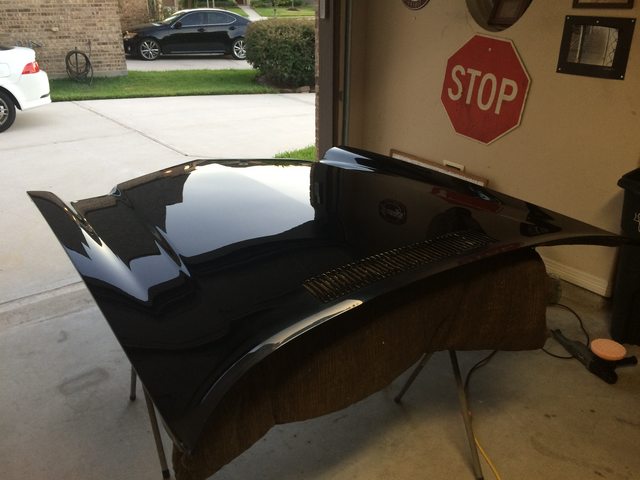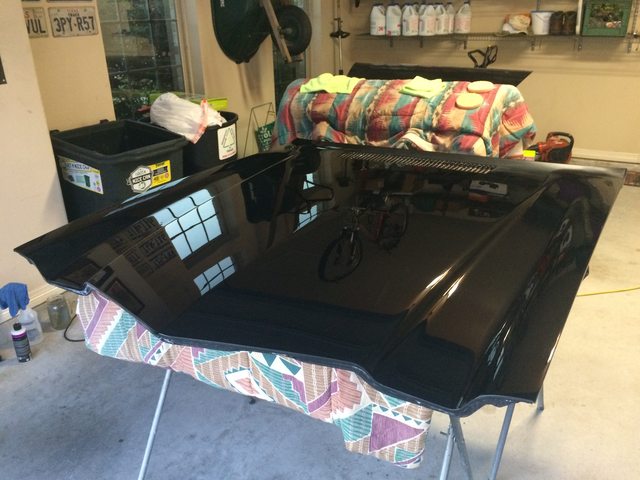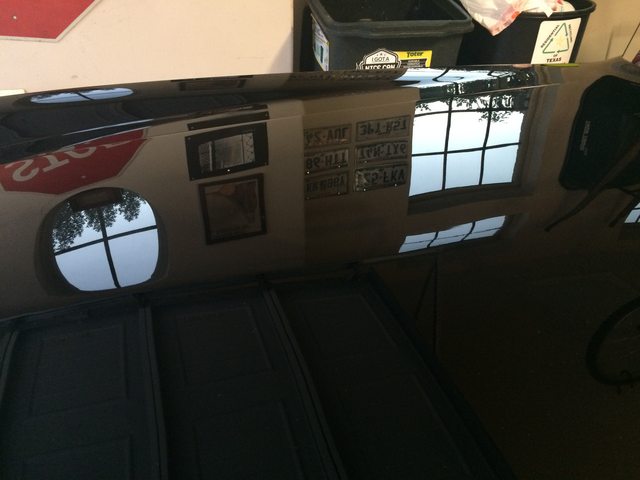 10-18-2015
I got the doors mounted, which was as much about getting them out of the way as it was just getting them installed. It was a nice mental boost to actually install something for a change. I drilled guide holes in the hinges once the doors were aligned, so that helped greatly when I reinstalled them.

I still need to buff the 1/4 panels below the body line so that's why the look different in the pics.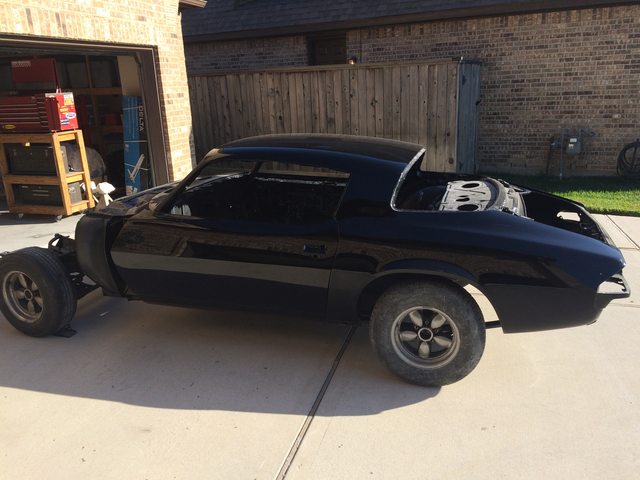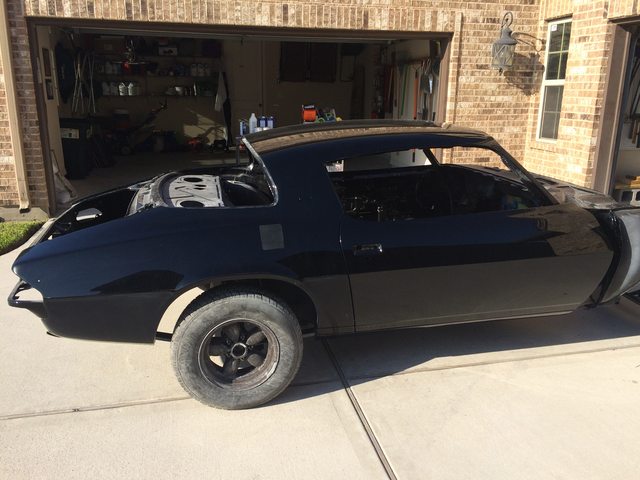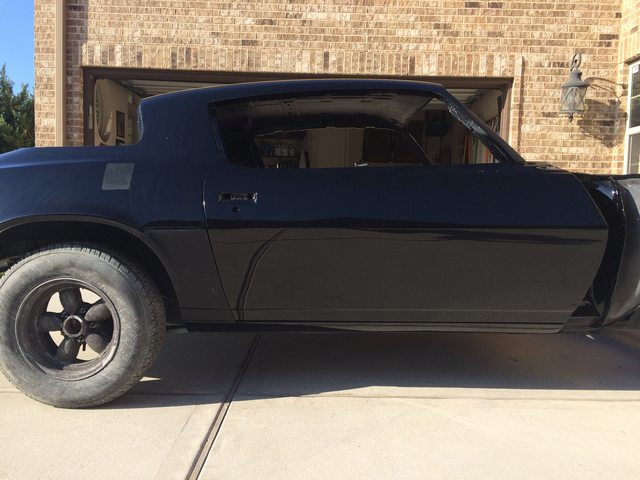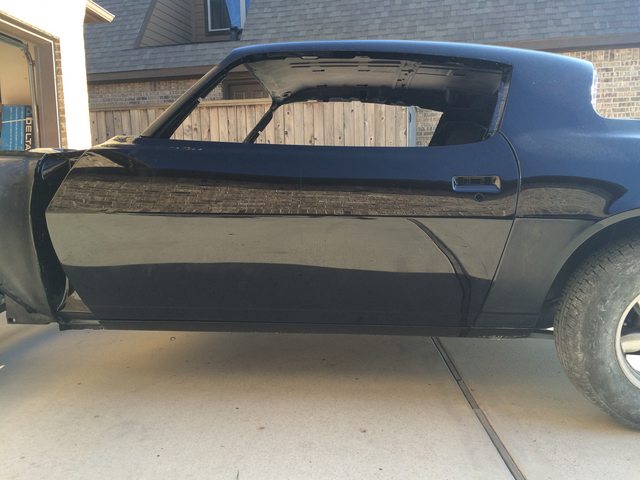 10-22-2015
So we'll be going to the hospital Tuesday morning to welcome our son to the world. So you might not see me posting for a little while after that
10-25-2015
I got a little more work in before D-day. I figured it would be good to have the ability to work on some mechanical sub-projects since those can be split up into smaller "packets" of time. One big hurdle was getting to the point of being able to mount the transmission so I had to do some tests and dial indicate the bellhousing. Lucky for me the T.I.R. was < 0.010" so I don't have to mess with any offset dowel pins. That's where I left things off, so the next steps (whenever that is) will be to install the clutch and clutch plates, measure for the cushion and then mount the transmission. Then I can actually drop the drivetrain in.

A few obligatory pics of the LS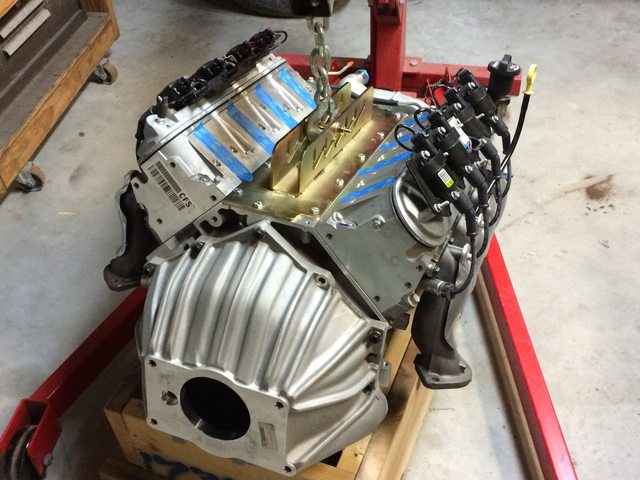 LOL, this was more or less the plan all along, with a few modifications. I had planned on having the body, doors and roof TOTALLY buffed before I turned to the drivetrain. Unfortunately I only had time to get them PARTIALLY buffed so I could give myself the chance to still do some work on the Camaro. I think it will work out well. I am already planning ahead in how I will tackle buffing the rest of the body. It will require me burning some vacation time, let's put it that way

Having a child definitely puts a different spin on this project, that's for sure.
10-28-2015
I am officially a father. Our son was born 10/27/15 at 3:52 pm. He was born at 37 weeks so he weighed in at 5 lbs 12 oz, but he is a healthy little dude. Mom and son are doing well. He is eating well now and is sleeping in 2-3 hour stretches, so we hope that holds up (and turns into 6 hours down the road )

I will post pics later since the hospital wifi blocks imgur.
10-30-2015
thanks guys! We made it home yesterday and he is doing great. He is eating very well and sleeping great. Fingers crossed we get more of this than the alternative, but we'll manage with whatever come our way.

Here's a few pics. I was pretty tired by the time this got taken. We'd been up since 4 am that day. I was well past my nap time!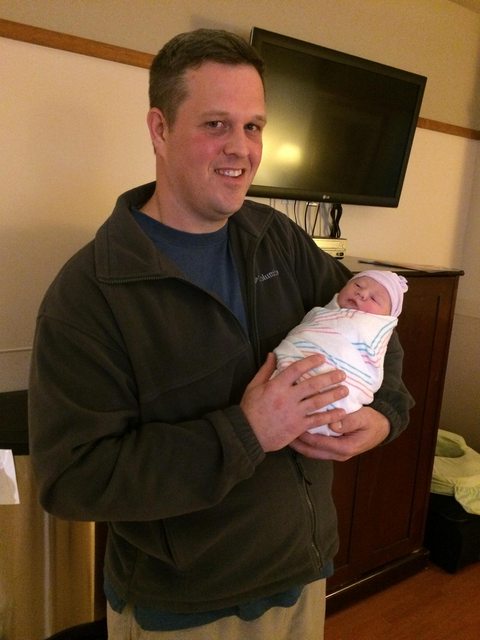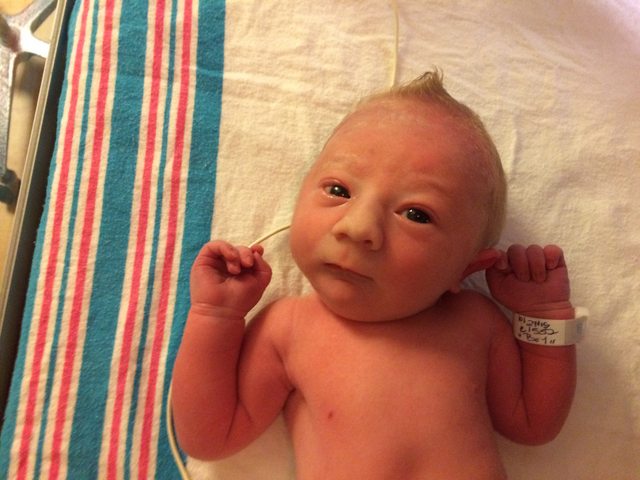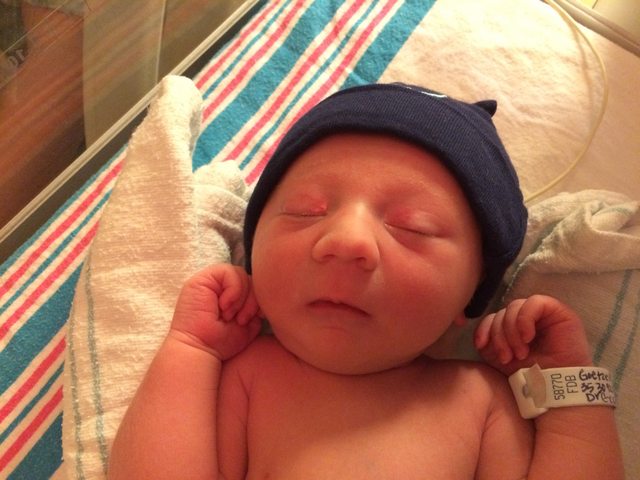 11-3-2015
thanks guys. He is being so good right now, it's scary. I think weeks 3/4 can be more challenging as they begin to realize they are not in the womb, but maybe we will luck out.

I am going to try and install the drivetrain before I go back to work so I can clear up some space and feel like I accomplished something. It shouldn't be too difficult since the front sheet metal is not installed. I just need to hook up the tranny to the motor, install the motor mounts and tranny crossmember and hope she fits.
11-15-2015
I got the spacers I needed for the transmission so I was able to get the tranny mounted to the motor. Now I need to swap out the oil pan and install the motor mounts before I can attempt to install the drivetrain.

Obligatory pic of some progress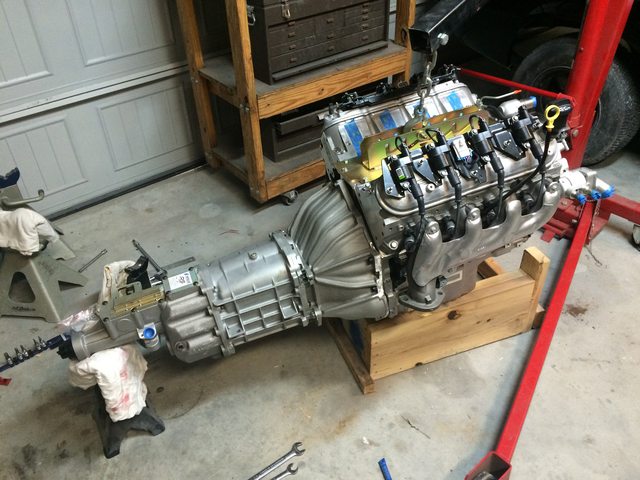 On an aside, my bro-in-law took some photos of our son and he got this unplanned pic of me shoosh'ing Coen to settle him down and it turned out to be one of my favorites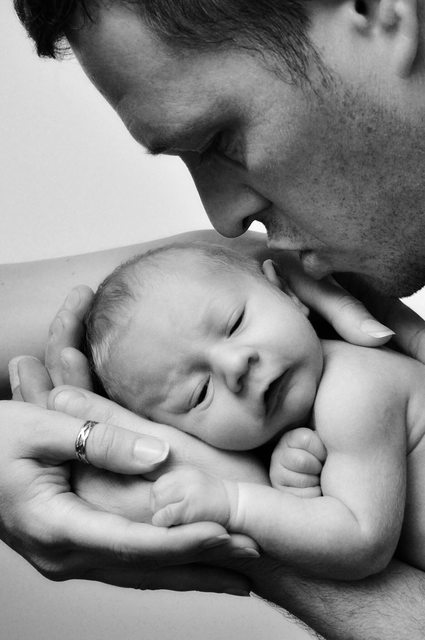 11-29-2015
I was able to get the new retro-fit oil pan installed, along with the retro-fit engine mounts and the clam shell mounts on the frame. I should be able to install the drivetrain next weekend when I have some extra help. Fingers crossed I don't run into any major problems.

The oil pan kit is Holley 302-2 and the motor mounts on the engine block are Hooker 12613HKR.

Boring pic of the oil pan installed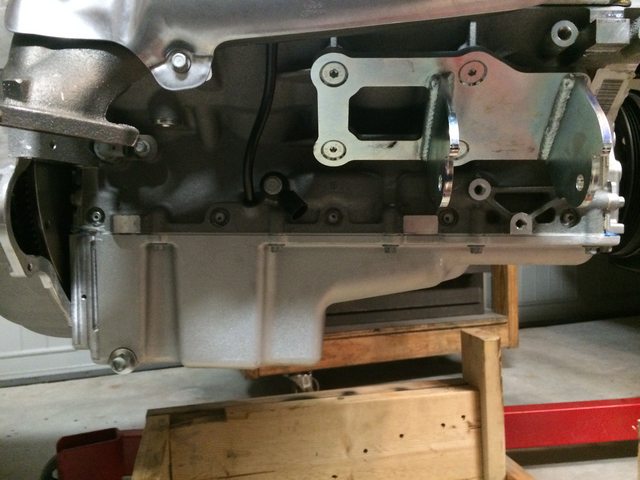 12-2-2015
Last night I got most of the accessory drive kit installed, which was not too daunting. I am missing the spacer for the bottom idler pulley but I can install that after the drivetrain is installed.

I will attempt to drop it in this weekend. Then I can start on other tasks.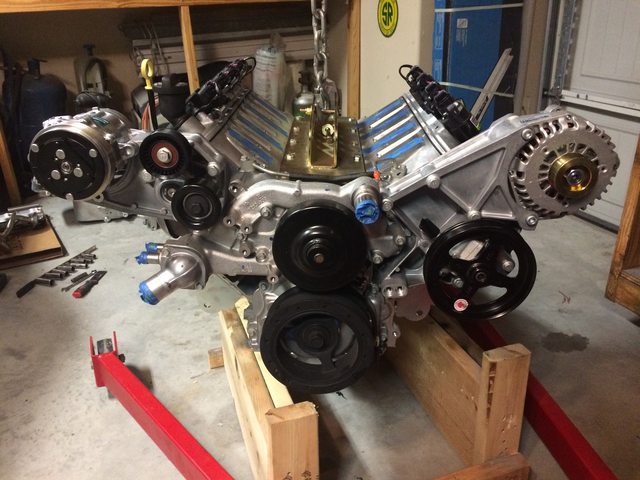 12-4-2015
I would be happy with it going 20 mph at this point, lol!

I am actually enjoying the project as much as I have in a while, mainly because the body work grind was just so monotonous. I still have to cut & buff some panels, but I cannot do that with the little one here until I can take a week off work when the in-laws are watching him. So that means I can tinker with all the mechanical stuff, which has been fun.

I got out the steering linkages and gear box last night to install once the drivetrain is dropped in. After that it might start looking like an actual car. Then I can move on to the brakes, fuel system, etc. I plan on doing electrical very last.
12-11-2015
I did some more remedial work today, this time installing the steering components. I suppose it's more remedial since the front sheet metal is off the car. I am using AC Delco steering components and a fast ratio steering box from Custom Works. I need to paint the pitman arm and get some bolts to install the idler arm. Everything is loosely installed now so I will get it dialed in more when the engine is installed.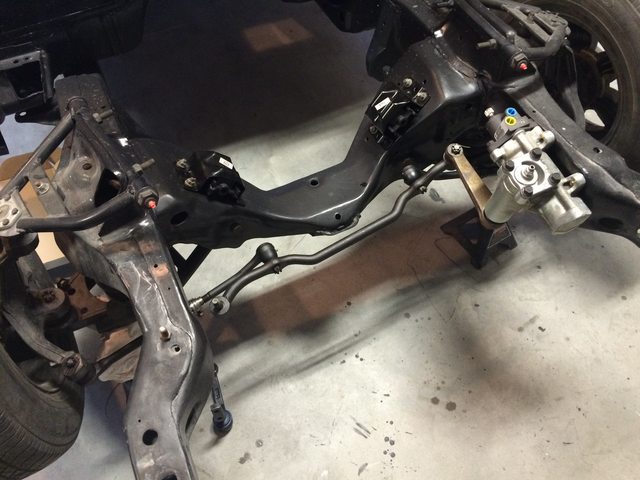 12-12-2015
I decided to drop the drivetrain in tonight. Due to time constraints I was only going to get the drivetrain in place and drop it in tomorrow but it was going so well that I went the rest of the way. It's a nice emotional boost to get this out of the way.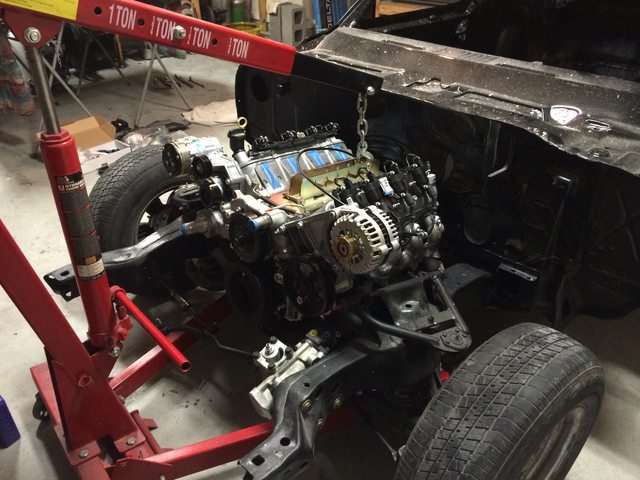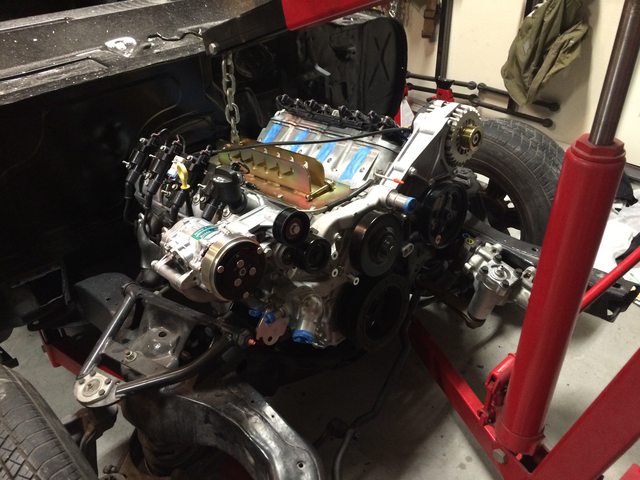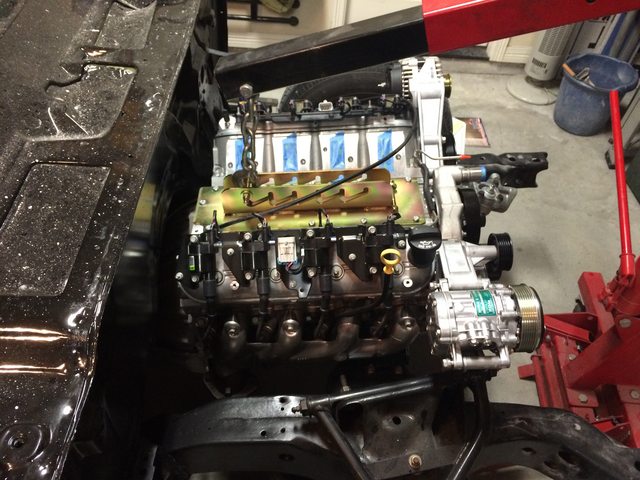 Maybe the best part is the shifter fits just about where it's supposed to, so that was a nice feeling.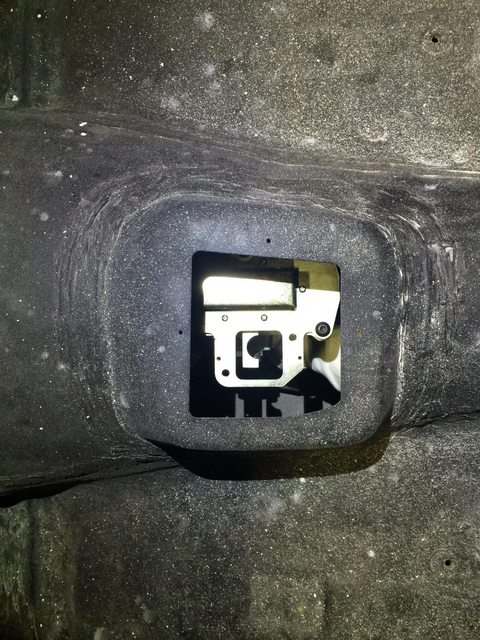 12-13-2015
A couple of better shots of the engine installed fully. Now I can create a list of "tinker" items to do when I have some time here or there.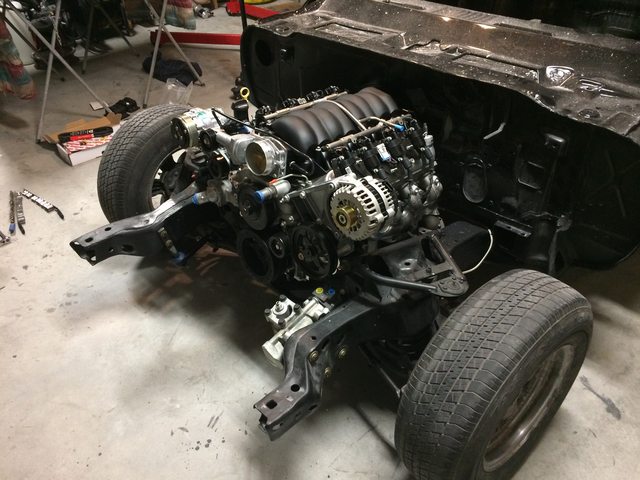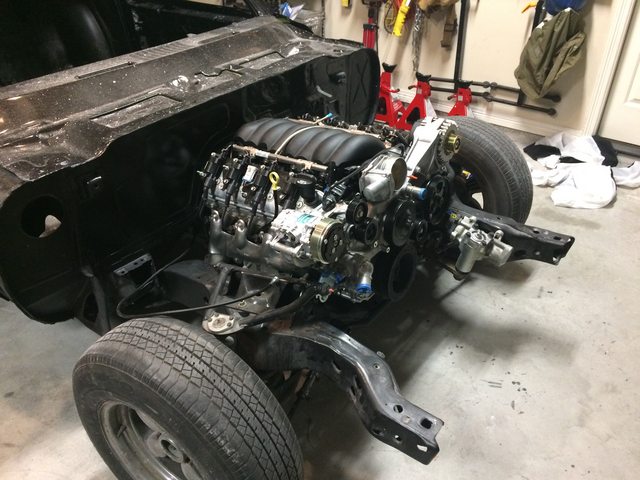 12-14-2015
thanks, when he goes down to sleep I get to it! Having a child gives me a greater appreciation for time management I made sure to read all these installation manuals many times over to make the process as quick as possible.

It's a Keisler RS600, which is basically a modified TKO 600. They got bought up by Silver Sport Transmissions. But it would be the same kit as the auto-to-manual kit Hurst Drivelines sells, for instance.

The only thing I had to do was install a 4-speed hump, which I put in the stock location per measurements I got from some other threads. That's the good thing about these transmissions in there isn't any need to modify the tunnel.
12-20-2015
Nothing too exciting but made some more progress.

I got the tranny crossmember installed and the motor mount bolts installed. I had to get some 5.5" long bolts online since I am using aftermarket motor mounts. I also got the headers test fitted and they fit nicely. These are Hooker headers specifically for LS installs in the 75-81 2nd gens. I used the Holley motor mounts that match up with these headers but did not use the Holley crossmember, which I didn't think I would need.

I am going to have these headers recoated (a la Jet-Hot Jet type coating) since the factory coating doesn't hold up well from what I have read.

A few pics for reference in case anyone is curious.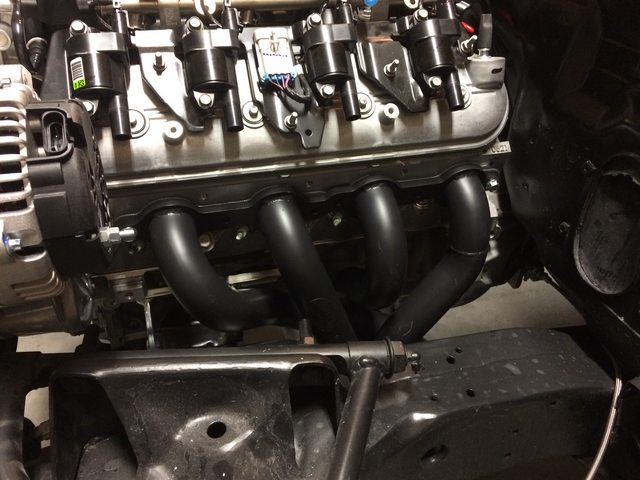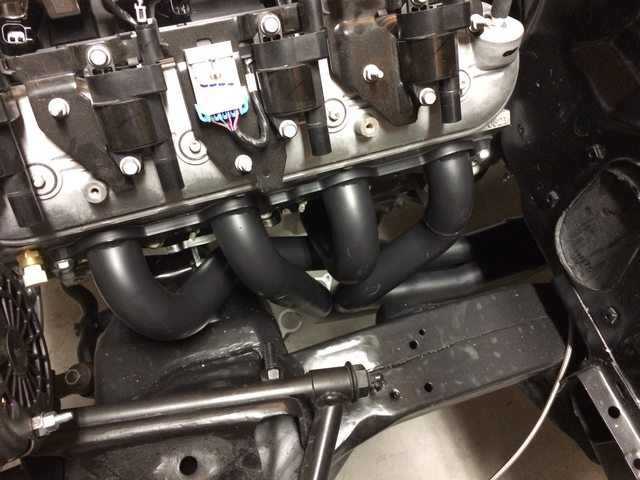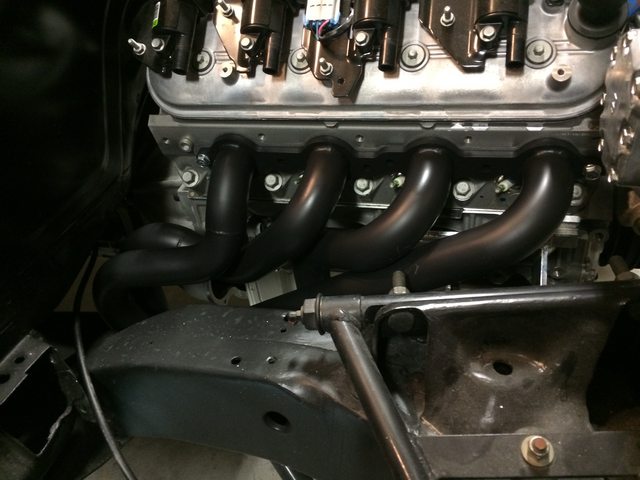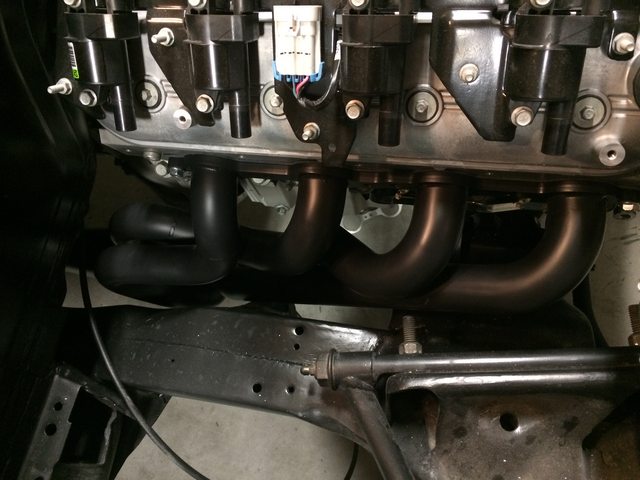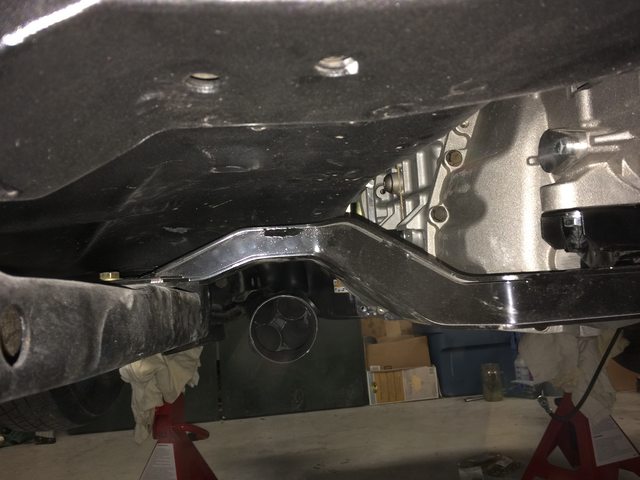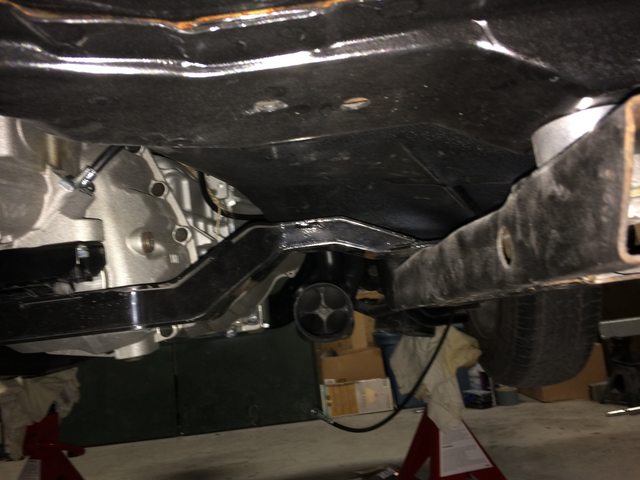 12-22-2015
I decided to begin installing the sub-frame connectors for no particular reason. These are the PTFB connectors. They fit nicely and just needed to get clamped to bring the metal closer to the frame where I did the welding.

I got the driver side connector 90% welded in and will do the passenger side whenever my son allows me to

I taped some aluminum foil along the rocker and bottom of door just to be safe. I did 4 layers.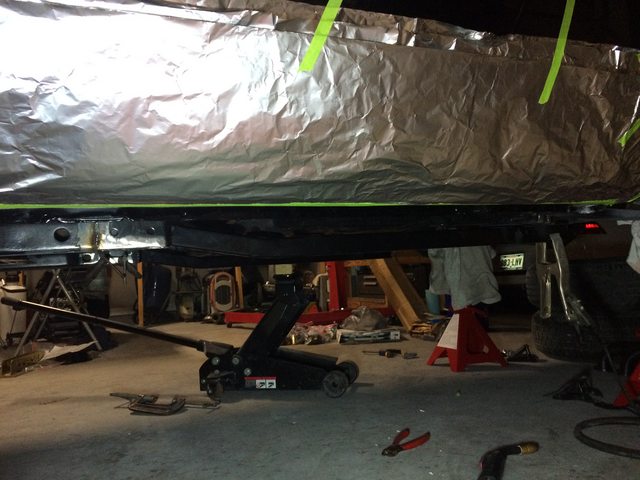 2-1-2016
I have been focusing on getting the AC system installed, at least as much as I can do. It's mostly been the evaporator unit and getting the hoses run through the firewall. I sent my radiator core support to get powercoated so I will look to install that so I can get some more AC items installed, but that is secondary to what I am doing now. I want to get the motor electronics and some other things installed before I install the core support.

These pics are mostly for reference for anyone thinking about donig a Vintage Air install. It's obviously much easier doing this without the front sheetmetal and the interior installed

Below pic shows the hoses coming though the old heater core opening. These will be mostly hidden in between the fender and the wheel well and will enter the engine bay around the battery area.

I installed some Second Skin Audio sound deadening under the evaportator. This is the 4th project I have done using this brand sound deadener and it's an excellent product. The best example of how well it works is how I installed some in the outer wheel wells of my current DD and it's still there like the day I installed it. That was nearly 10 years ago. But in general it's a great idea to add something under the evaporator while you can.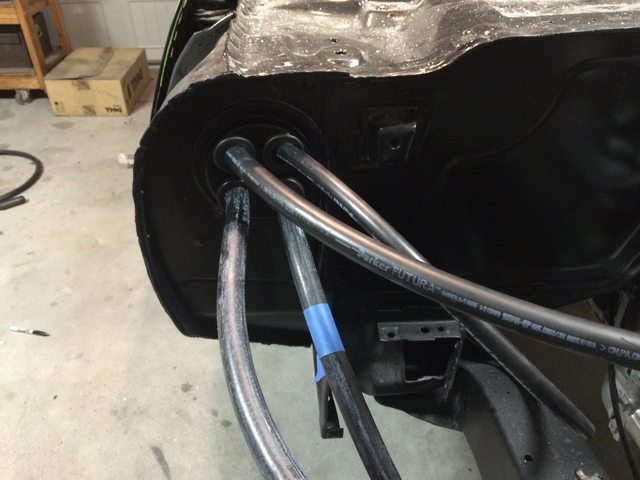 Below pic shows the hoses entering into the cabin via the kick panel. Vintage Air provides a baffle that sits in the fresh air opening of the kick panel. Then you attach the baffle and kick panel using the OEM screws. I would highly advise protecting the baffle with some tape during the install process as it seems a little prone to scuffs/scratches. I used blue painter's tape and it worked fine.

I decided to run the hoses into the cabin and then attach them to the evaporator since running the hoses through the grommets in these baffles can be a pain, esp the #10 AC hose that is thicker. I left the hoses a little long going into the cabin, attached them to the evaporator and then slowly pushed them back through the baffle and pulled them through the firewall baffle until the evaporator was in place. The AC hose ends in the engine bay will eventually be cut to length and the ends crimped to create a custom fit.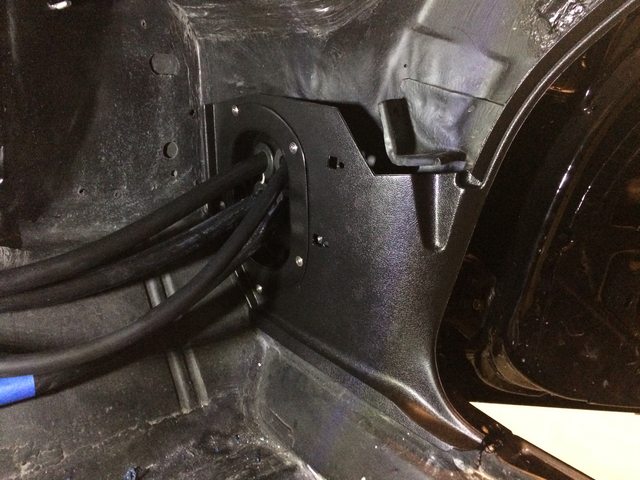 See my note on the below pic about installing a bolt for the bracket to attach to if you decide to smooth your firewall or add a panel like I did. Normal install calls for a bolt/screw to go though the firewall into the bracket, but this was not an option for me. So I removed the head off a bolt and welded it to the firewall from the inside. The bolt would go where the top-right factory hole is located for cars that had factory AC.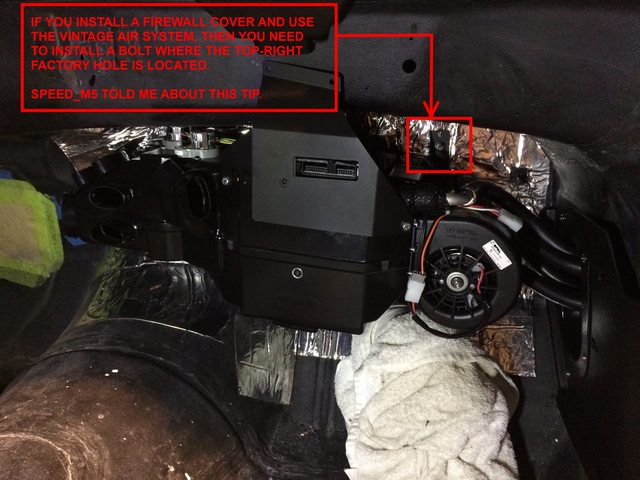 Here's the hoses coming through the kick panel with the evaporator close to its final location. This is the first interior panel I have installed. I need to protect it with some thick paper or packing foam. The hoses will be concealed with the "half moon" cover that I will install later.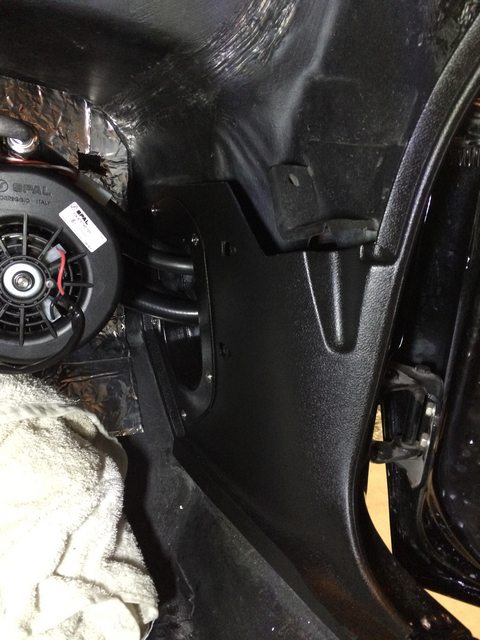 I will need to run the power window/door wiring through the door jamb grommet and the wire for the dome light switch, but those are accessible with the kick panel in place. I can move the kick panel some if needed to access these holes.
There is only one bolt on the firewall, thankfully. The bracket in the front attaches to the dash interior metal using two sheet metal screws (which I have not done yet). The evaporator doesn't weight much so you don't need much to secure it in place. The hoses also give some support.

The below pic might explain things better. Notice the bracket on the back firewall has two holes - the bottom hole is for factory AC cars and the top hole for cars w/o factory AC. The hole in the bracket I had to use was threaded so I drilled it out to the proper size. I think there are 4 holes in the firewall where the factory suitcase attached to the firewall, so the top-right hole you'd use should be obvious. That's the one you want to use to attach a bolt to. I just welded it on using my HF magnetized braces to hold it in place.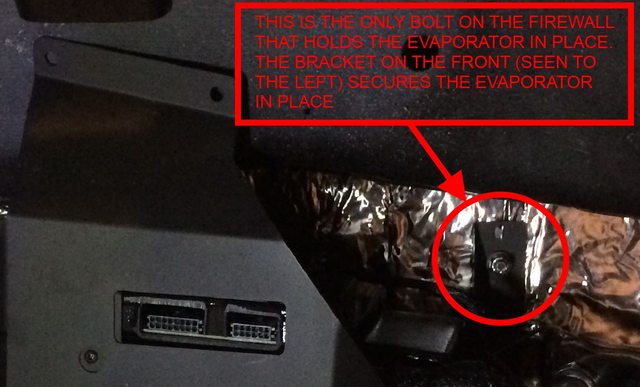 2-2-2016
I crossed a small item off the list by installing the front sway bar. This is the PTFB sway bar with adjustable end links (which are not completely installed yet). I figure I can do little tasks like this when I have 30-60 minutes to spare.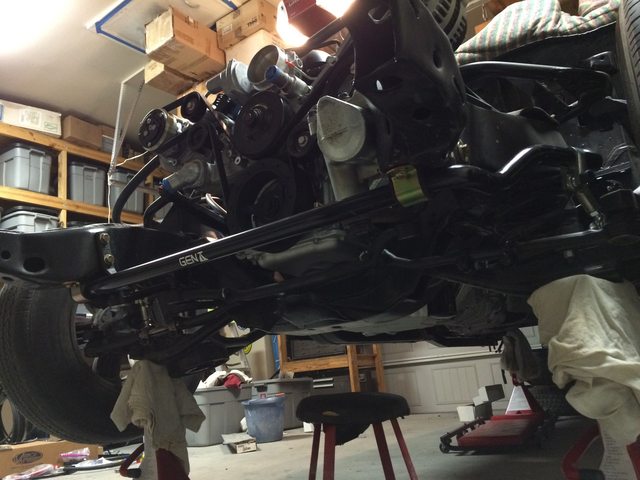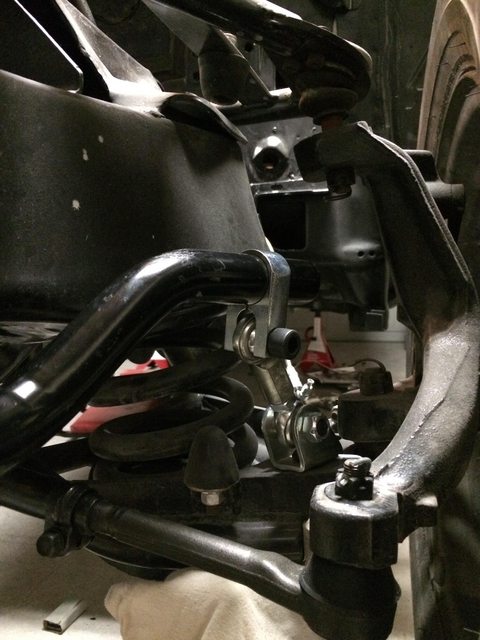 2-6-2016
I started adding sound deadener to the cabin when I have a few minutes here and there. I figure this has to be done before I can proceed with electrical or other cabin-related tasks. I am using Second Skin Audio Damplifier and Damplifier Pro. The "Pro" is a thicker product but I had less of it, so I used up what I had and moved to the "regular" product. I will come over the top of of this product with a "Mass Loaded Vinyl Barrier" product to create an even quieter cabin (called their "Luxury Liner" product).

I am a little over 50% done with the cabin (excluding the roof). I like to cut the deadener into smaller, more manageable sections. It goes pretty fast without anything installed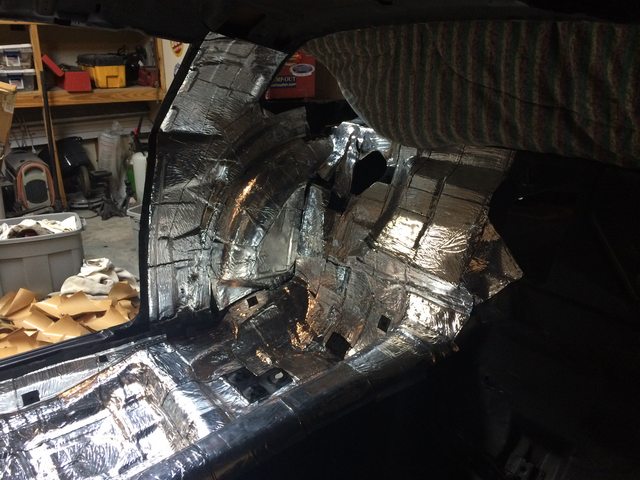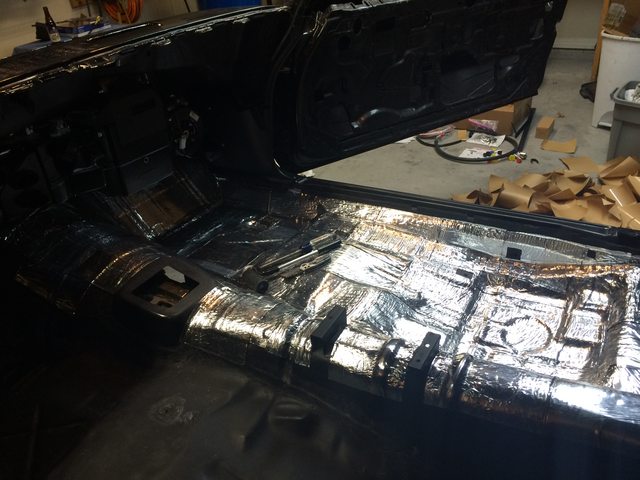 I got the other side mostly done and a little extra. I have the roof, dash/firewall area and a few small spots to do.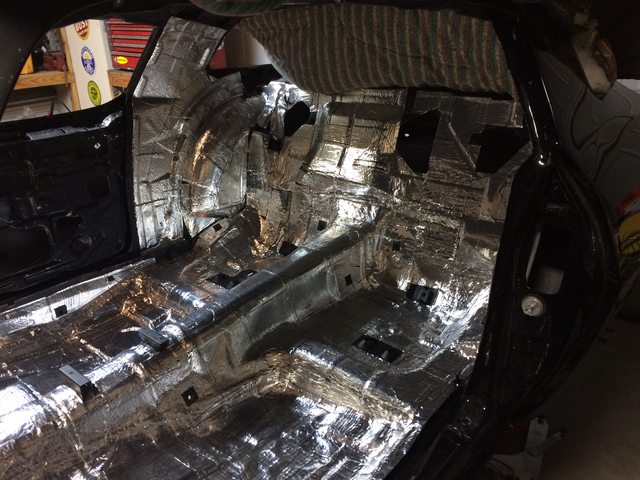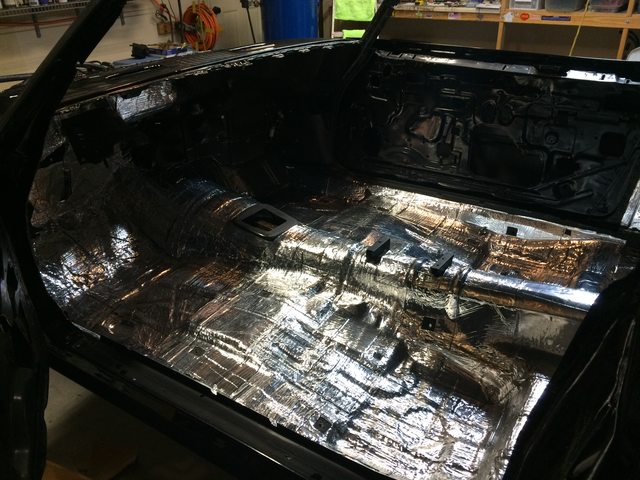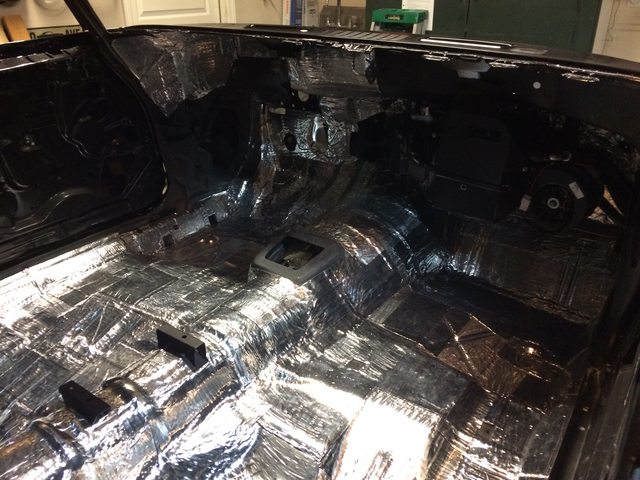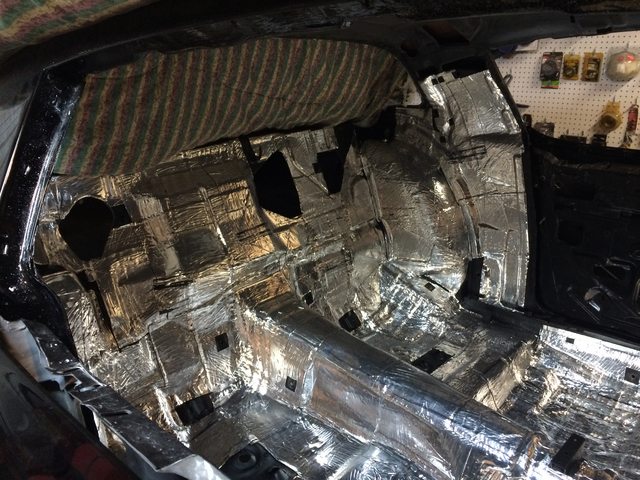 2-11-2016
In the spirit of getting some stuff out of the way, I had the front seat covers made. While I wont be installing the seats for a while, it is a huge boost to see them. The interior of my 76 was always one of my favorite things about the car with the "hounds tooth" insert on all the seats and the door panels. I was lucky enough to find original door panels and rear seats, but the front seats were always elusive. So I got some NOS material from SMS, repop seat foams and some sacrificial seat covers in the same style. The place I used is called Pro Tops & Trim in Pasadena, TX. They did a great job.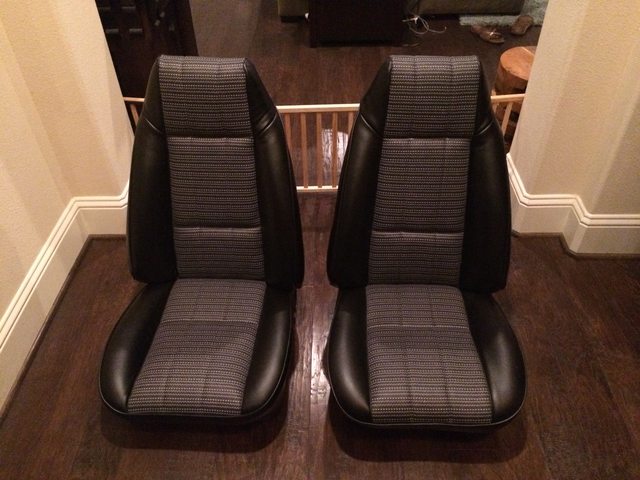 2-12-2016
thanks, they really did a great job. I called a place called Classic Cars of Houston to see who they use for upholstery and recommended these guys. They've been in the same location for 30 years now, so that was a good sign. Their shop is tucked away in one of those business row type places and the inside is organized chaos. Fabric and supplies all over the place. It was almost an upholstery museum of sorts. You'd never know they were there and likely would never use them unless someone told you about them.

Getting a set of aftermarket seat covers to use as a pattern really helped and was a cheap way to get optimal fitment. They said they could have made the covers without them but it would have taken more time, which means more cost and possibly not having enough material. I found some closeout set of funky blue covers for like $99, so pretty cheap in the grand scheme.
I finished the sound deadener install today. I think this is as far as I am going to take it. I MIGHT install some other product I have for rattles, but that's it. I think this will get me the results I want.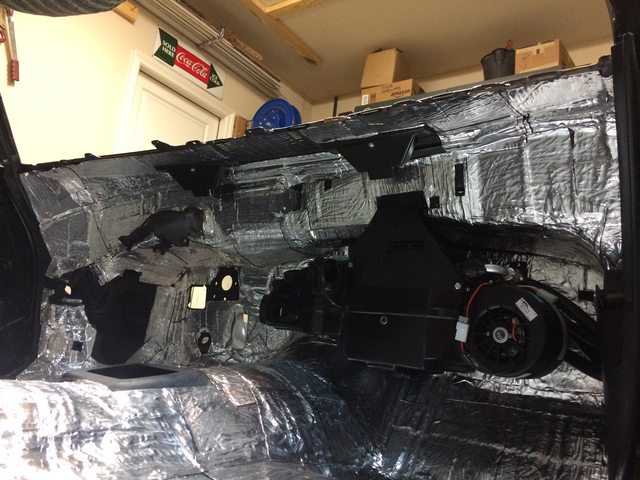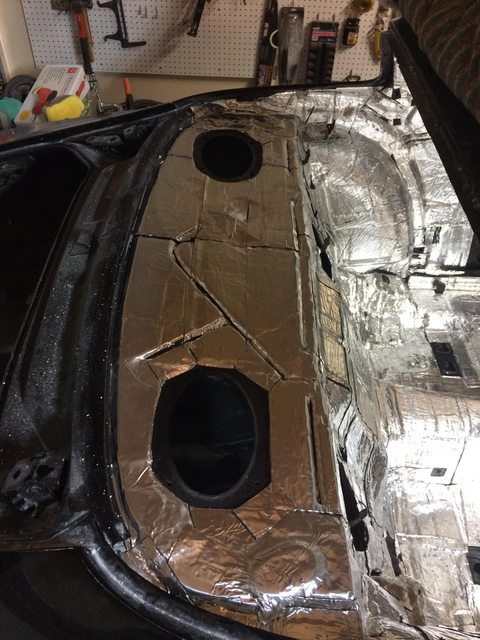 It's a vinyl material in a black/white color. It's not really a true houndstooth pattern. I have some material left over if you want a small sample. I am not sure what other years had this interior style, but I know it's at least original to my 76 Type LT.

Here's some pics of the material.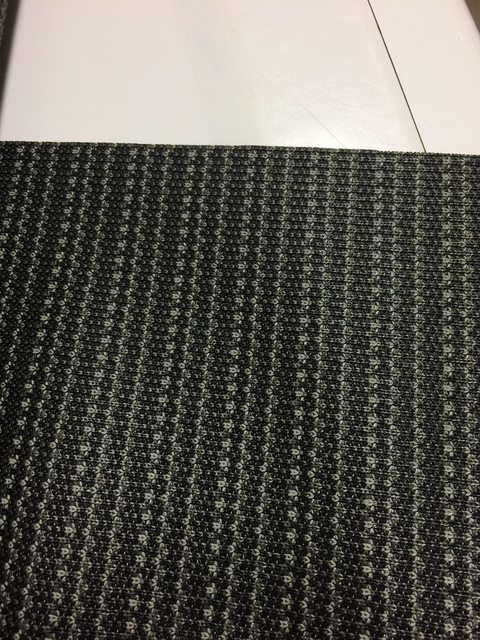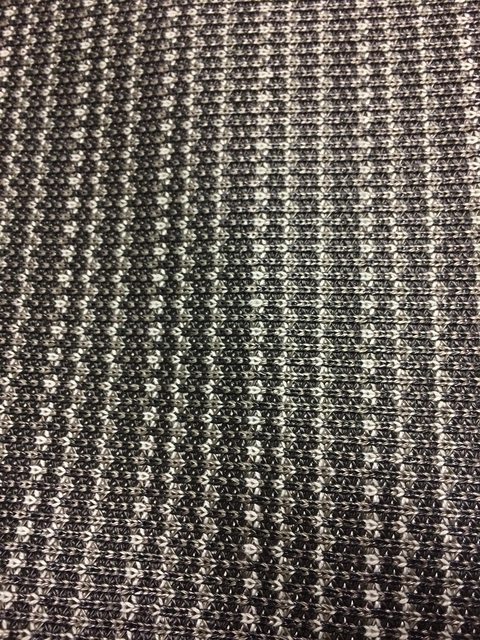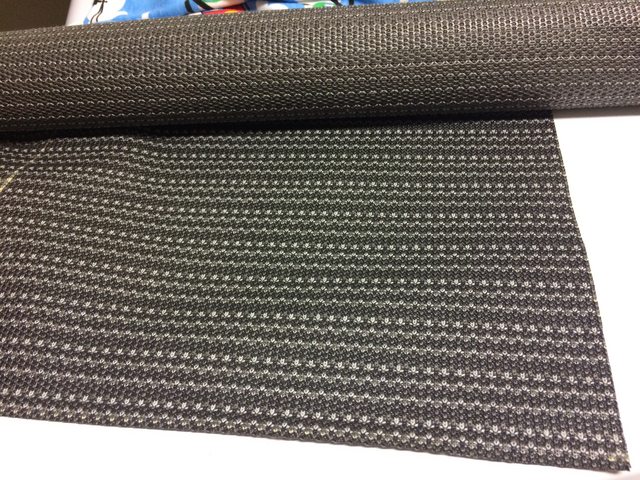 2-13-2016
I was messing around with my electric door lock set and decided to investigate the door rods while I was in the mood. The plastic clips on my door rods are a little worn so I ran across this nice replacement clip set on ebay for anyone interested. I tried mixing and matching the separate pieces but it was hard to beat the price of this set.

http://www.ebay.com/itm/NEW-COMPLET...ash=item2811ac2ab4:g:aGUAAOSw-jhUGzcU&vxp=mtr
2-14-2016
While I wait on a few things to arrive before I can tackle the AC hoses and heater hoses I decided to start reassembling the door internals, which is a task I can start and stop pretty easily.

I decided to use the power window setup by Specialty Power Windows. They seem to be well made and bolted up without any problems. I have some original, unused power window motors I will be selling soon since I decided to use an aftermarket kit.

I am also installing some power locks. I decided to use a Klassic Keyless kit. While the install is easier due to my car being apart, the install is straightforward and fits well. The actuator attaches to a bracket that is held in place via the two lower screws for the door latch assembly. Aside from the need to drill a larger hole for the actuator clips to fit into (the yellow clip in the pics below), the install was pretty much bolt-on. We'll see how well it performs, but reviews were favorable for this kit.

A few pics for anyone interested in how it goes together and installs.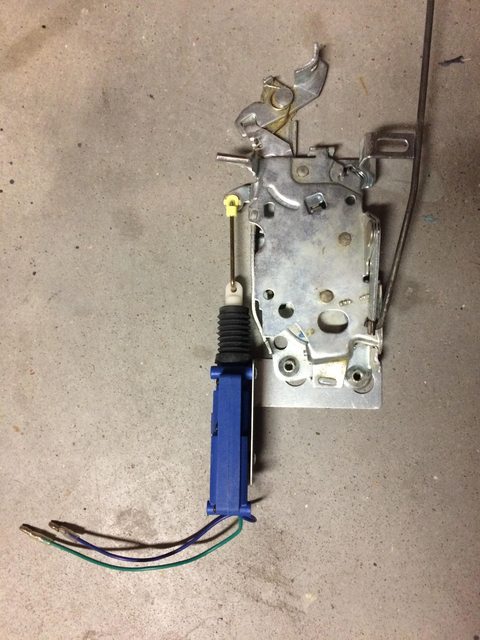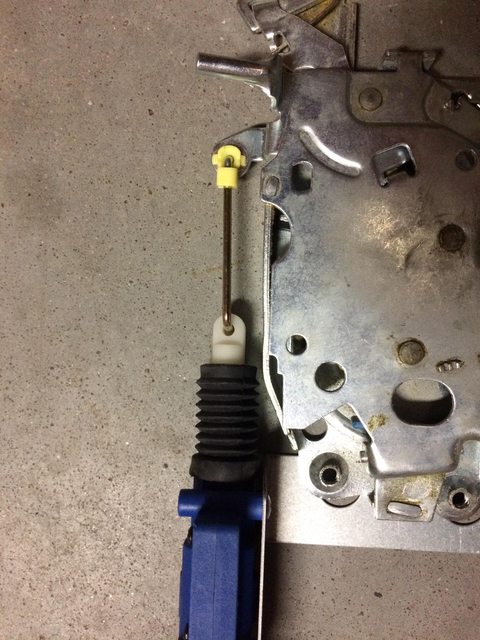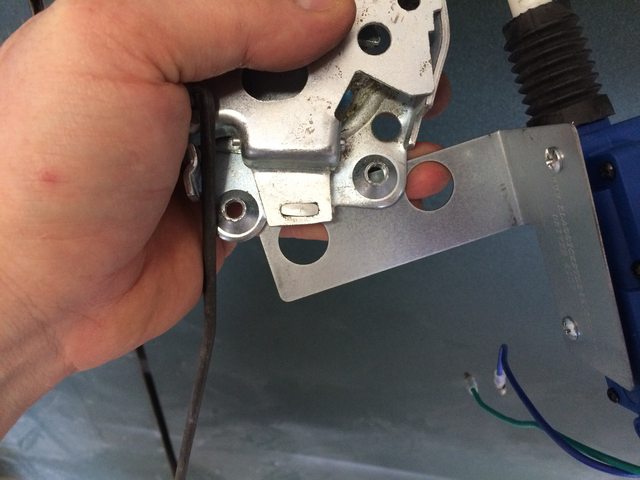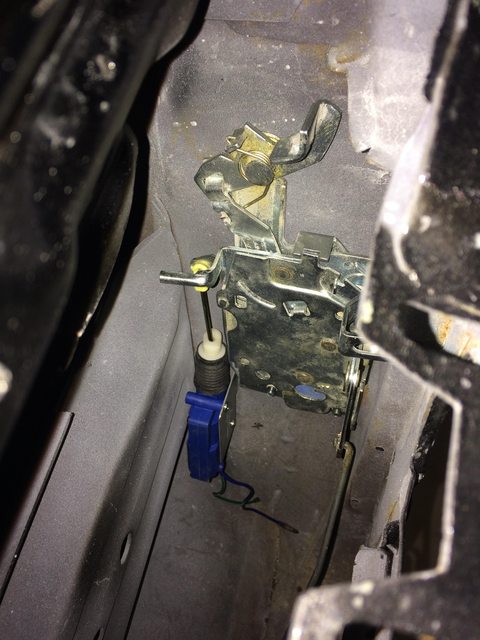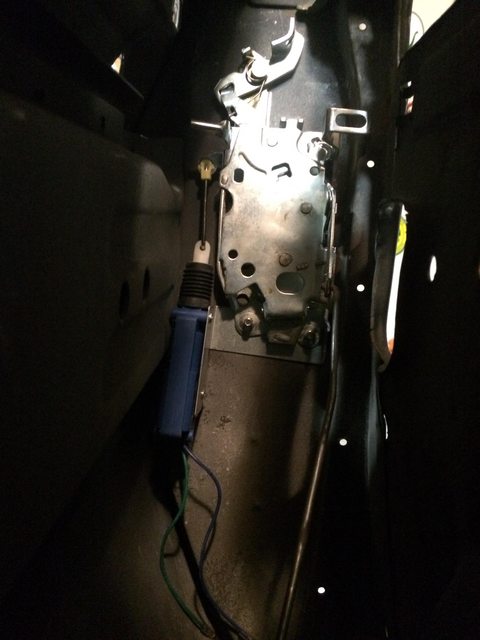 2-18-2016
I rebuilt the steering shaft as one of my smaller side projects. I used this thread as a reference: http://www.nastyz28.com/forum/showthread.php?t=92926

That thread covers pretty much everything you need to know in order to rebuild the steering shaft, which isn't difficult (esp if you have a bench vice). The one thing I would advise is when you go to re-assemble the two pieces, consider using a pipe clamp. I tapped the two pieces together a little bit with a hammer and then finished it off with the pipe clamps. Just make sure you use padding and blocks when doing all this so you don't booger up the ends or scratch your nice paint job

The Jeep boot suggested in the above thread fits well. I had two steering shafts and took the little rubber sleeve from the other to wrap around the replacement boot.
2-20-2016
I did another small job when I had 30 minutes to spare and installed the LED brake lights. This is more of a necessity than anything else with the psychos who drive in Houston. It was easy to do. I used the Dakota Digital kit, for anyone interested. I will just need to wire the lights up when the electrical gets run.

Here's how the sit inside the tail light housing.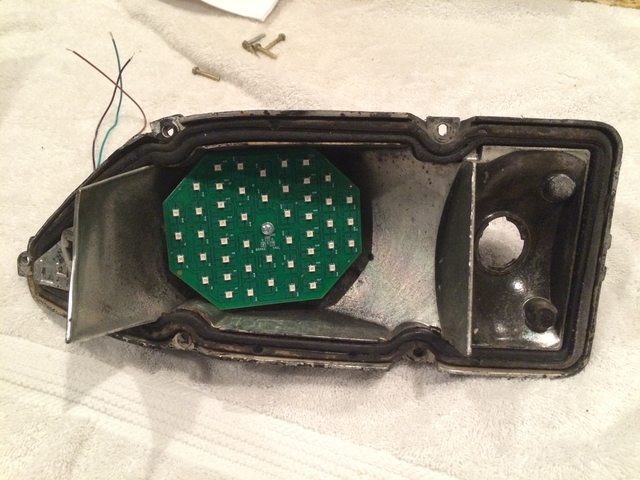 Pretty straightforward mounting plate on the back to hold everything in place. The lense separates from the housing after 5 screws and a tab are removed.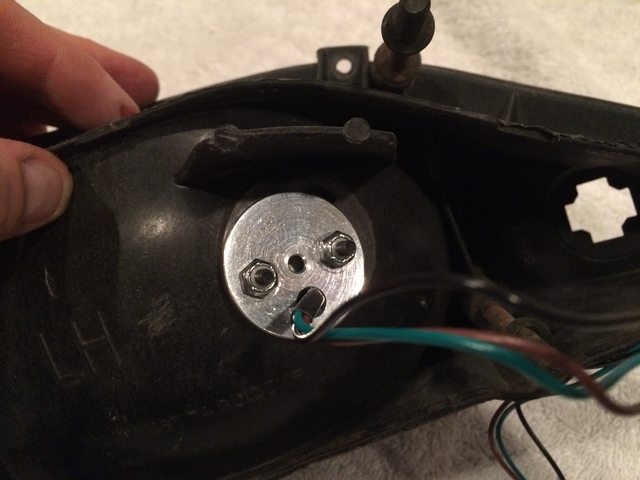 2-21-2016
I finally mocked up the core support and wheel well so I could run the AC hoses and get them sized up and the fittings installed. I was able to get the condenser unit assembled so at least that is out of the way when I am ready to do the final install. I had to buy a 90* fitting for the #10 AC hose and some adapters for my Sanden compressor, so I will get the fittings installed later this week after those arrive.

Here's the mock up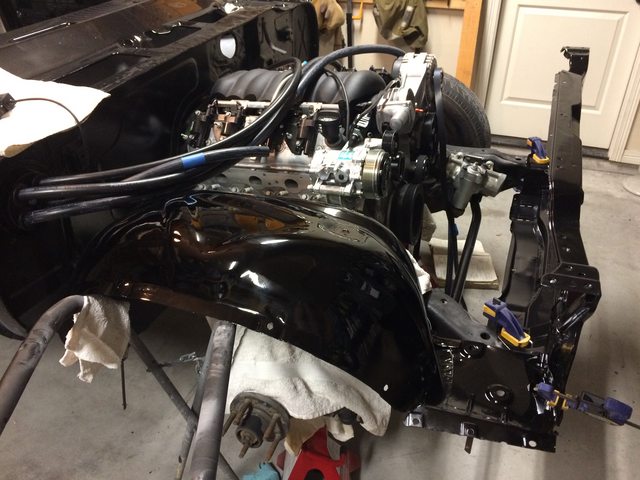 I clamped the beadlock crimper to my portable workbench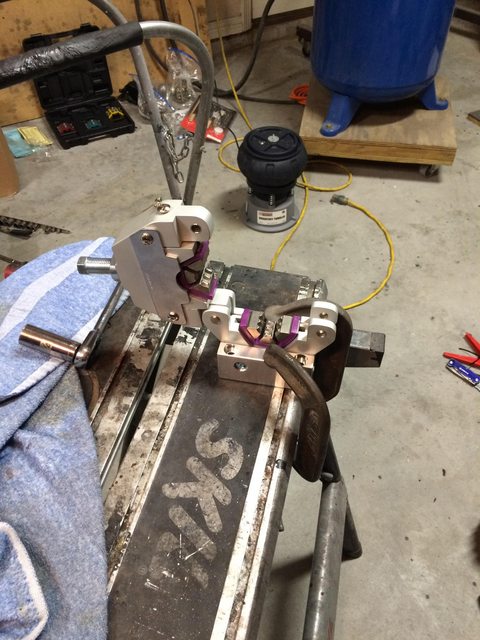 and VOI LA! One fitting installed




BTW, here is my core support after getting it powder coated in chassis black finish.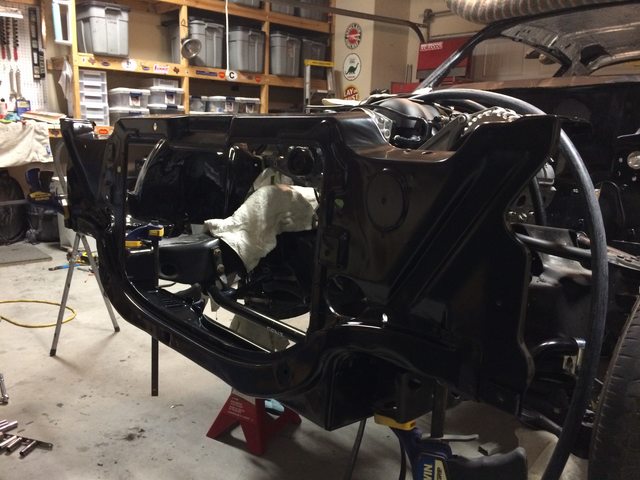 I will have to notch the wheel well for the compressor bracket arm, which I knew ahead of time. I will try and notch it in a nice "soft" pattern so it doesn't stand out too much.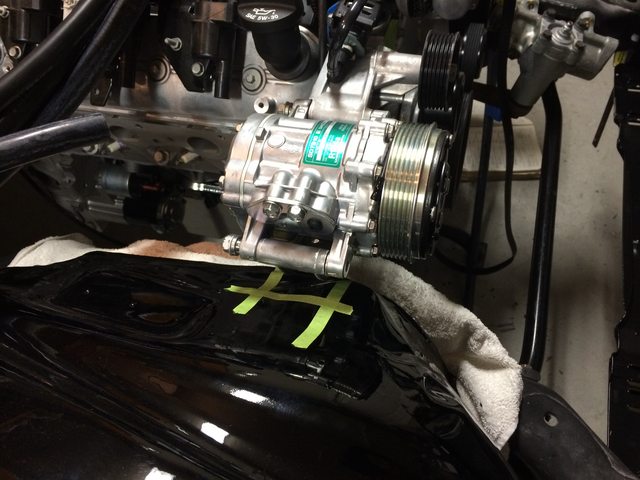 2-22-2016
I thought more about the route of the #10 AC hose and decided I am going to incorporate some 90* connections on the corners to clean up the appearance.

This is the general route the #10 AC hose will take. So I am going to turn those rounded corners into something sharper looking.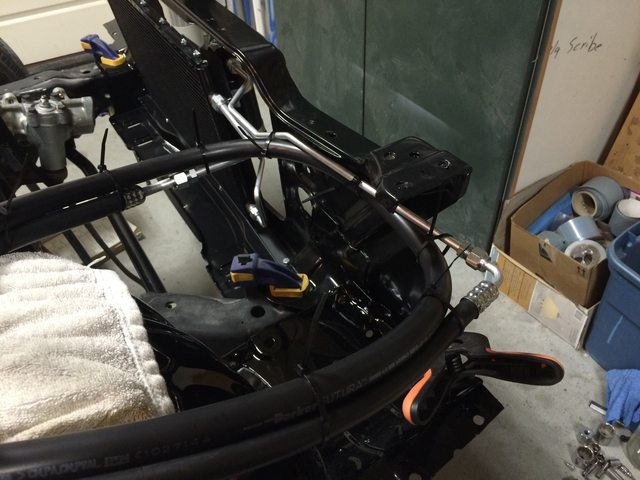 Here's the fitting I got (2 of them).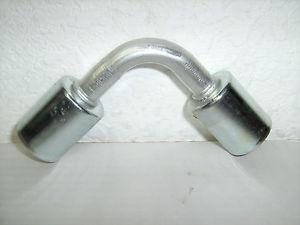 It's this one, the Mastercool 71550. I found it closer to $100, so for me it was worth the cost so I could have the flexibility of fitting my own lines exactly how I wanted.

I would be happy to rent it to anyone else who is doing the same thing after I am done, just pay a deposit and shipping It can do #6, 8, 10 and 12 beadlock crimps.
Thanks, I thought so too. I would have gladly paid the normal price to have the flexibility, but I won't pass up a good deal. It was an "open box" type item, but everything is there and in good shape.

I thought the same thing about a loaner tool program, although most parts stores loan almost anything you could want. This crimper is an exception. Obviously AC shops will have hydraulic crimper units, but this one does the job fine if you are doing just one project.
2-24-2016
I got the 90* AC hose fittings in, which was just one day after ordering. That was ridiculously fast.

I got the hoses mocked up and now just need the adpaters and fitting for the compressor. I am glad I got the 90* fittings, it will be a much cleaner install. I might do the same with the heater hoses, but I can think about it more before deciding.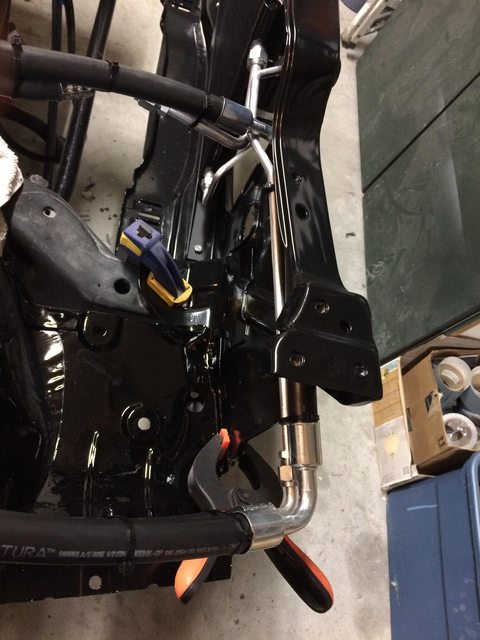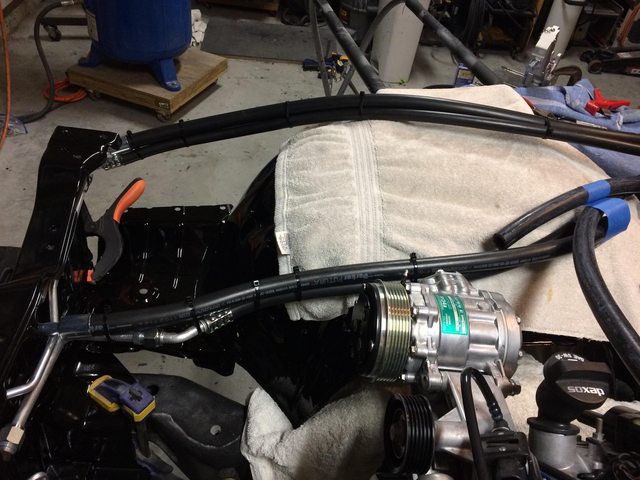 2-28-2016
thanks John, I got the 90* fittings crimped and am happy with how they turned out. When everything is put together the hoses should tuck away nicely and shouldn't be very visible. I will have to decided on some hose separators at some point to keep things organized.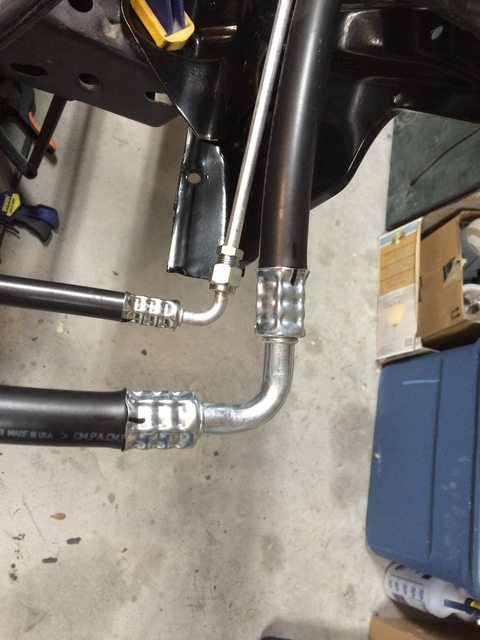 I am waiting on a few small parts to wrap up the AC and heater hose routing, so in the meantime I decided to re-install the headers, install the brake MC, the hydraulic clutch MC and the brake/clutch pedal assembly.

I got the headers re-coated with a high performance ceramic coating by a local place called PolyDyn. The factory coating has a bad rep in terms of longevity (on most headers, not just Hooker), so I bit the bullet and got this done.

The brake MC is a manual MC by CNC, courtesy of Custom Works Performance. I know it's kind of weird to run manual brakes and a hydraulic clutch, but my first goal was to create a cleaner appearance under the hood and decided to give manual brakes a shot, particularly with the right MC. So we will see how it goes. If this was a DD, then I'd likely go with hydroboost or similar.

The hydraulic clutch MC is a Willwood unit. I was turned off by installing a mechanical clutch linkage so went hydraulic.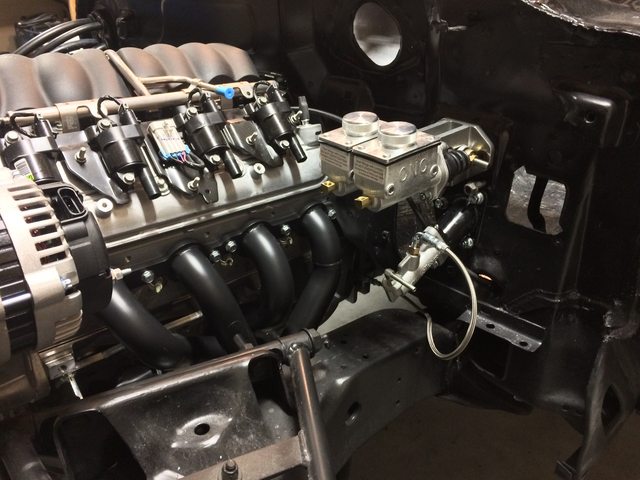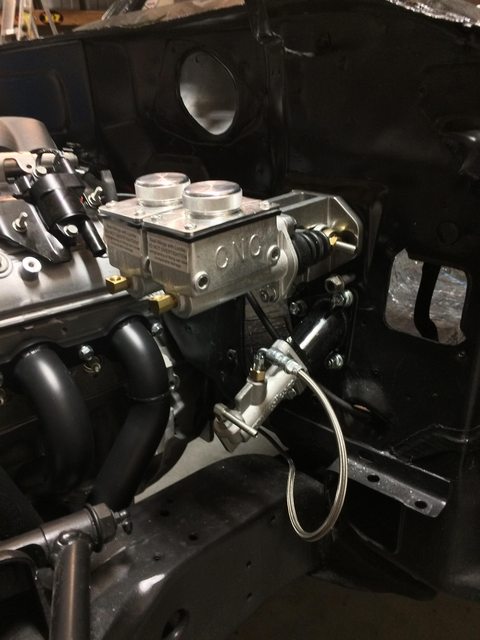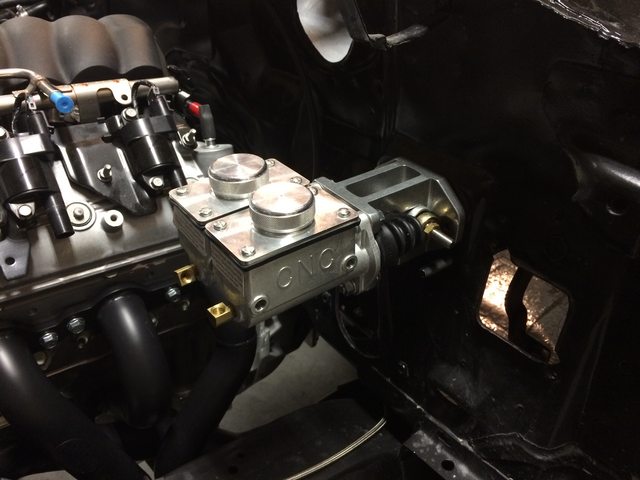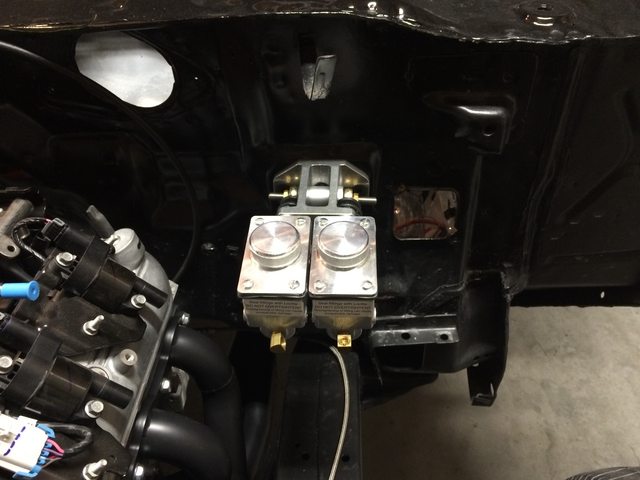 Rotors are C5 and calipers are US Brakes. I sourced the package through Custom Works (common theme for my car). Brakes will probably be the next big thing I tackle after getting the motor wiring installed.
3-2-2016
thanks Jason, I was happy to have the chance to get them done the way I wanted.

Separate topic - I saw a good price on the door clip set on ebay for anyone in the market. The shipping costs are what usually make these little parts cost more, so this looks like a good package. $8.99 shipped.

http://www.ebay.com/itm/130701734020?_trksid=p2060353.m1438.l2649&ssPageName=STRK:MEBIDX:IT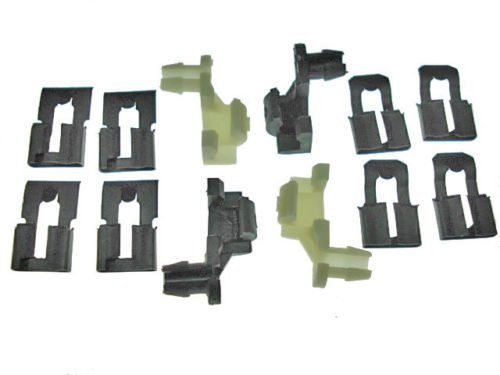 I went ahead and notched out the wheel well where the AC compressor bracket needs some extra space. I taped and covered everything to protect from the sparks. I cut away most of the metal and then nibbled away to get it finished. I had a small chip on the edge but touched it up with some epoxy primer, along with the exposed metal.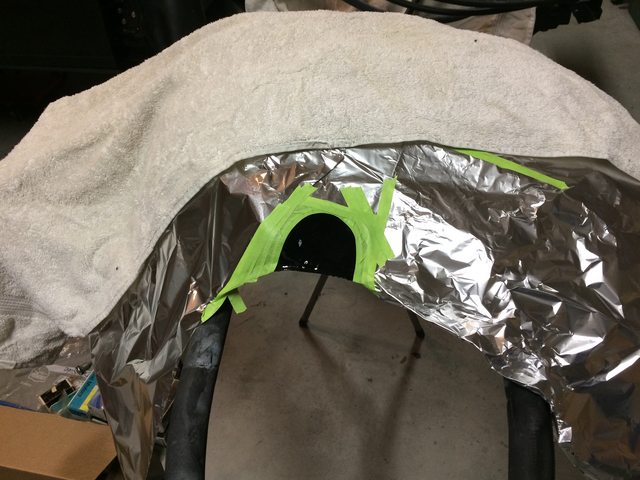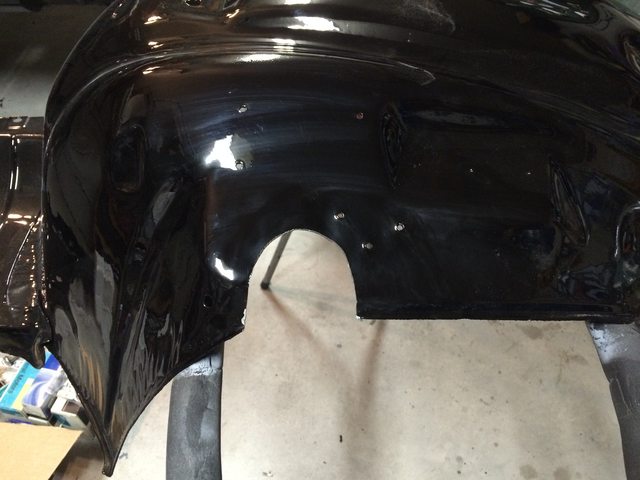 thanks man, it's motivation for me to know I might be helping others with their projects. Your 70 looks like a really clean project.

So I got the water pump fittings in. I went with some Summit 90* swivel fittings due to the tight conditions. I thought 45* fittings would work but there isn't enough room to use them properly. I had to remove the hose nipples from the water pump and tap the two holes. I used a 1/2" NPT tap for the return line and a 3/8" NPT tap for the pressure line. Then I installed some NPT-to-AN fittings and finished them off with the 90* AN fittings with 5/8" hose barbs.




I mocked up the heater hoses with some 90* fittings like the AC lines, which I still need two more of. I also still need to get one last fitting to install the #8 AC line to the compressor. When the fender is installed and the hoses are properly secured to the core support it should look nice and clean.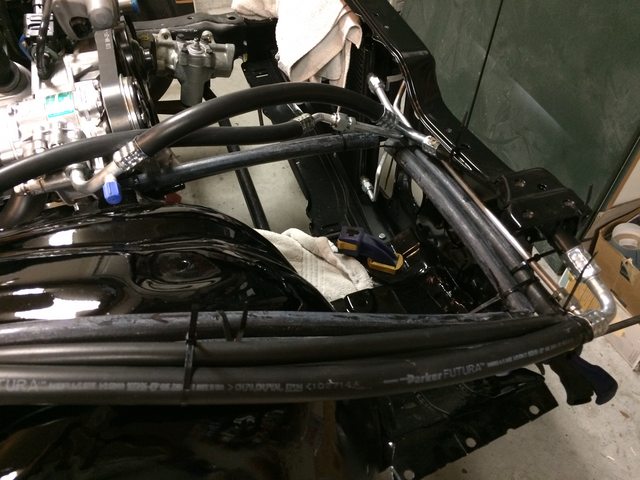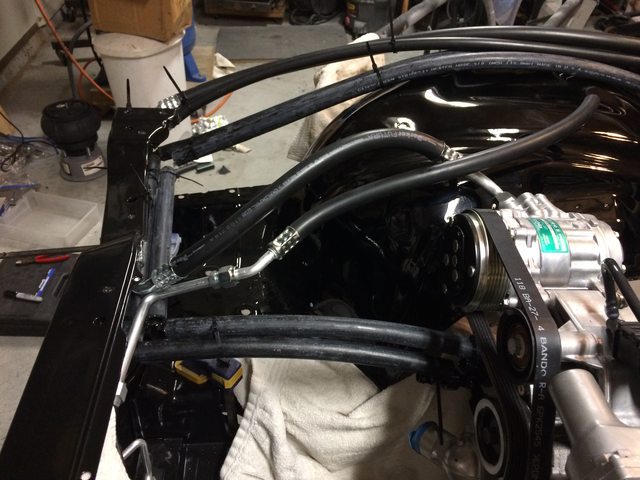 3-12-2016
I got the DBW pedal assembly installed using a bracket I got from Scarebird. I decided to try this bracket since it allows me to install the DBW assembly using an OEM style gas pedal. The job was straightforward - I had to take the supplied arm that connects the pedal to the DBW arm and clamp it to the DBW arm until I was happy with the gas pedal placement. Then I welded the supplied arm to the DBW arm. The bracket installs to the firewall using the three factory holes.

Link to bracket for anyone interested: https://scarebird.com/index.php?route=product/product&path=61&product_id=163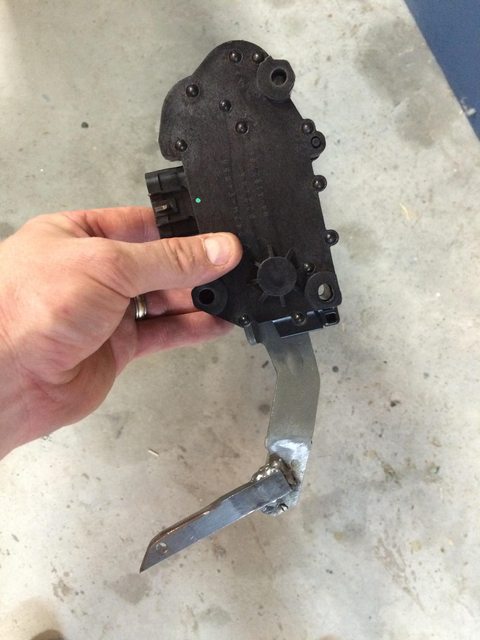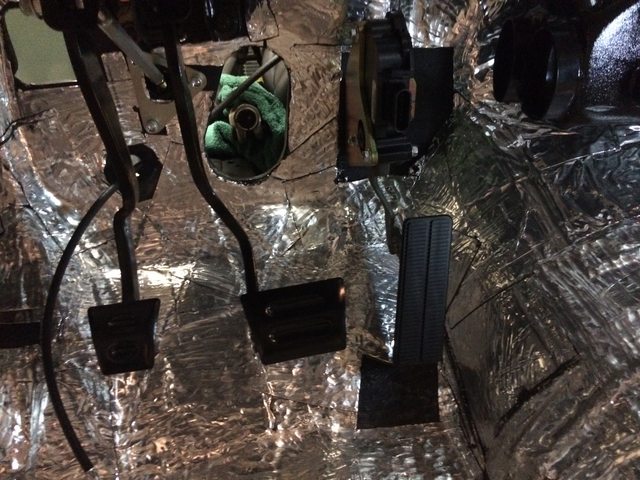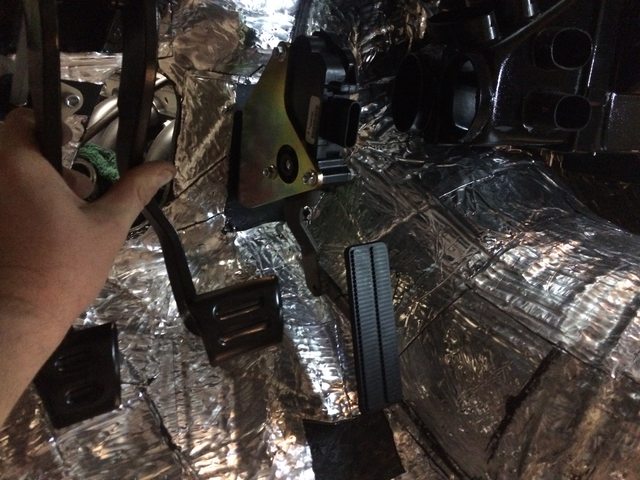 I also decided to install some of the door opening mechanisms to get a few parts off the shelf and onto the car. I replaced the white plastic clips that hold the door lock rod as well as the various connecting clips. I also got some new door pull rod silencer rubber pieces. The inner door pull is original GM that I picked up a loooong time ago. I used the original rods since those were still in good shape. I found some of the fabric tubing material that goes over the door pull rod since the original fabric was pretty sad. So these doors should be good for another few decades.

I need to decide if I am going to rivet the door pull to the shell or just use a bolt/nut.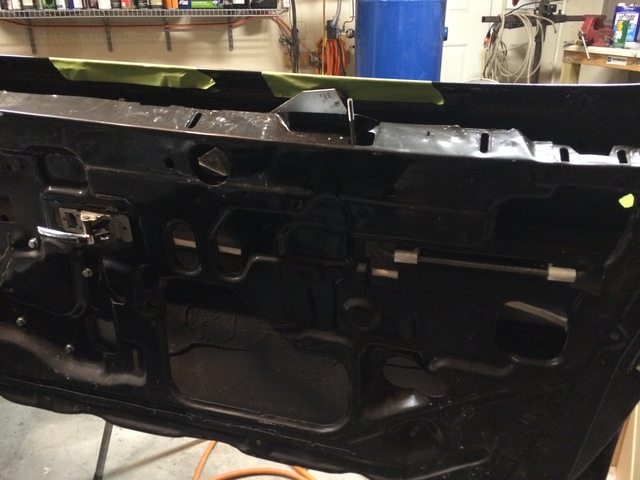 yeah, I bet nut/bolt would be fine.

BTW, I got some clips with the door clip set I bought and have no idea where these go or even if they need to get used. Here's the clips listed on CI's website.

Door latch rod retaining clips -- http://www.classicindustries.com/product/1976/camaro/parts/1253544.html

Door inside locking rod clip - http://www.classicindustries.com/product/1976/camaro/parts/g6881.html
3-15-2016
I was piddling around last night doing some smaller tasks and decided to cut the hole in the firewall for the Speartech grommet the motor wiring will pass through. I was able to locate the dimple in the firewall that Dennis alluded to. I didn't see the dimple from the motor side since my DSE firwall panel was covering it so I found it on the cabin side.

I can begin running the motor wiring, which I think should be fairly straightforward.

Obligatory picture of a hole in my firewall.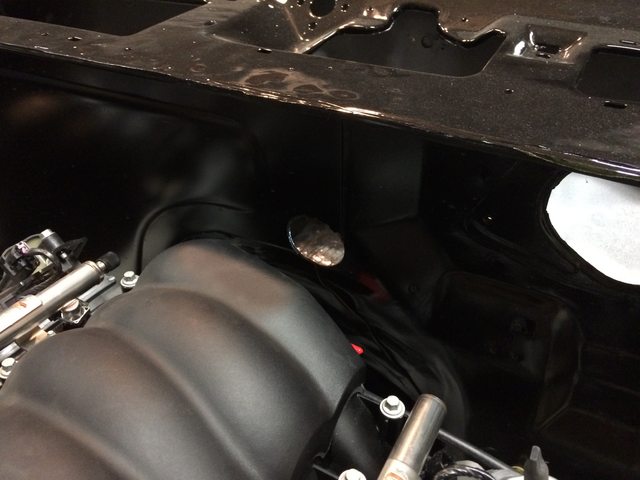 Allow me to post-whore it up and share some remedial progress. I figured I'd get the firewall grommet fitted on the wiring harness and got stumped because I wasn't sure how the heck I was going to get the ECU plugs through the grommet (child birth comes to mind).

Dennis had the ingenious idea of simply modifying the grommet, so I cut the backside some and streeeeeeeetched the grommet over each plug, one at a time. Once the grommet is installed nobody (except us) will know the difference. Now I can start to get the harness installed and fitted. I will eventually install the fuse block on the wheel well when the body is assembled, but the rest I can get installed and looking pretty.

Once the harness is installed I will run some quality electrical tape around the grommet and loom to close it up some more.

The backside with some much needed relief cuts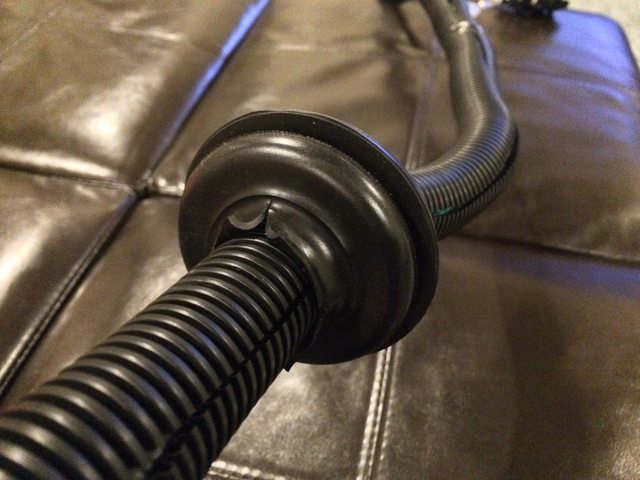 The front side - looks good to me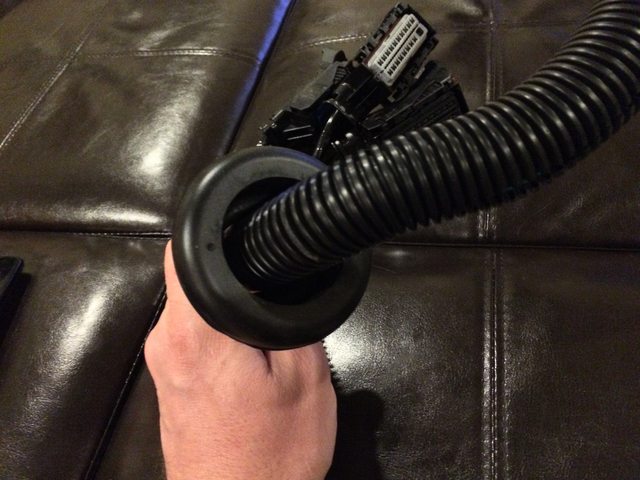 3-18-2016
I got the engine wiring harness "roughed in". I had to take apart some of the loom and some of the electrical tape to move certain wiring around so it was better suited for my install. Since I shifted some wires around I had to buy a slightly larger wire loom where the harness goes through the firewall. It's only 12" of loom but I will have to wait until that arrives before I can get everything cleaned up. Ignore the zip ties, those are just holding things in place for now. I am not sure how I will secure the wiring, but should have a better idea once all the connections are installed.

I will have to re-tape the wire loom joints that I un-taped. I will use 3M Super 33+ electrical tape. It seems to be the same as what I removed from the loom.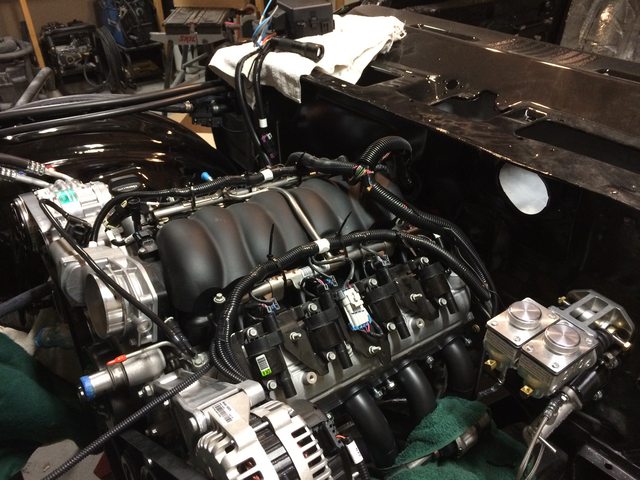 The alternator connection is just a smidge too long, so I will have to shorten it. I am not even sure if I need this connection.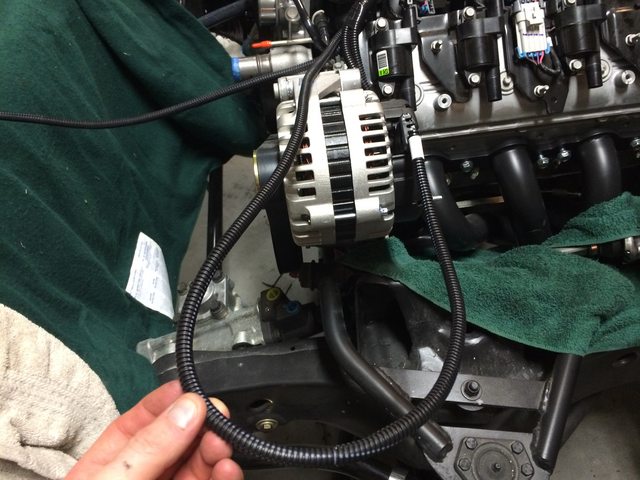 I went ahead and tossed the rear sway bar on to get more parts on the car. This is the PTFB adjustable sway bar.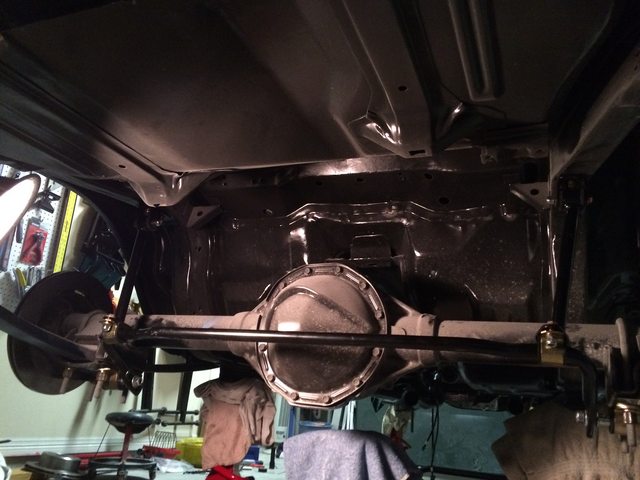 3-27-2016
I decided to get some self-fusing tape and in the words of my wife...this stuff is fabulous! Good call to those who suggested this stuff.

I got the larger wire loom in and re-taped the harness where it goes through the firewall. I started re-taping the joints I un-taped when I was doing some wire re-routing.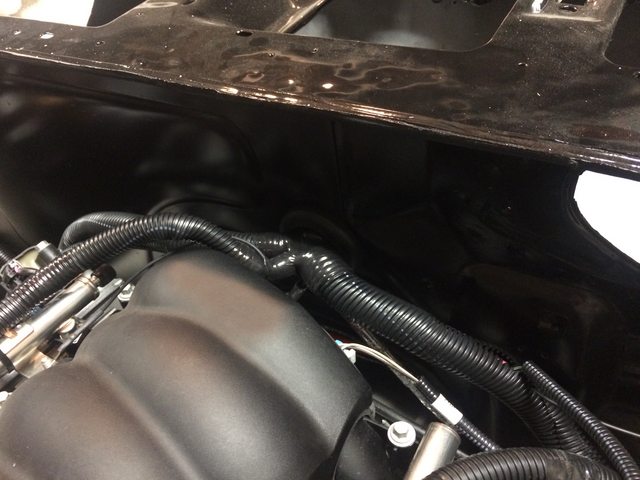 This is one of the re-taped joints, which isn't totally done yet. This self-fusing tape is strong and has a nice look.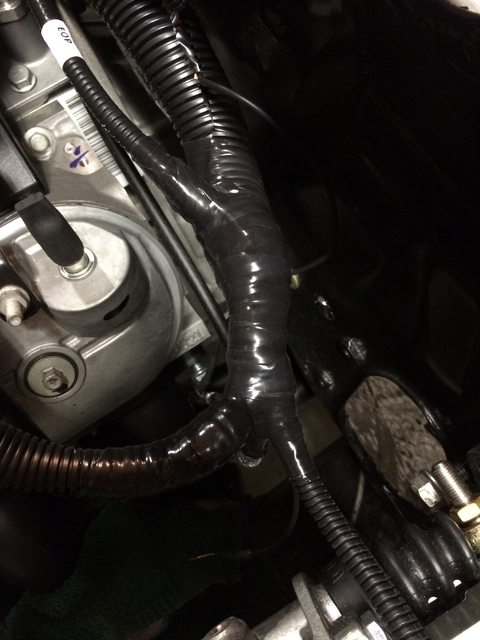 I also decided to start putting the brakes on because....why not??

The front brakes are 13" (1.25" thickness) Coleman rotors with Wilwood hats. The calipers are US Brake F88i quad-piston. Keith @ Custom Works modified the original hubs to accept this brake setup. If these things stop 1/2 as well as they look then I should be good.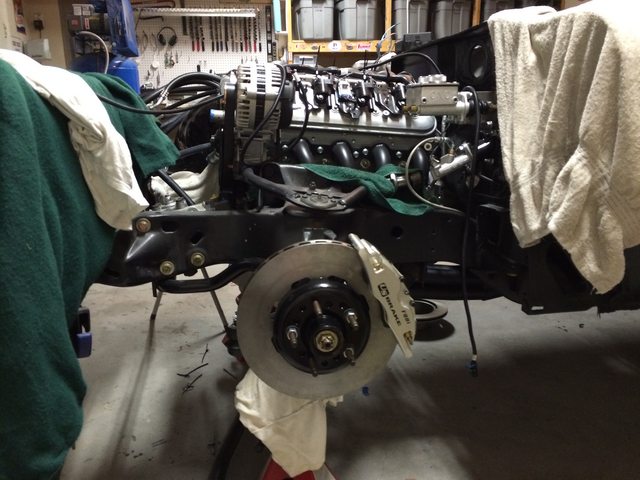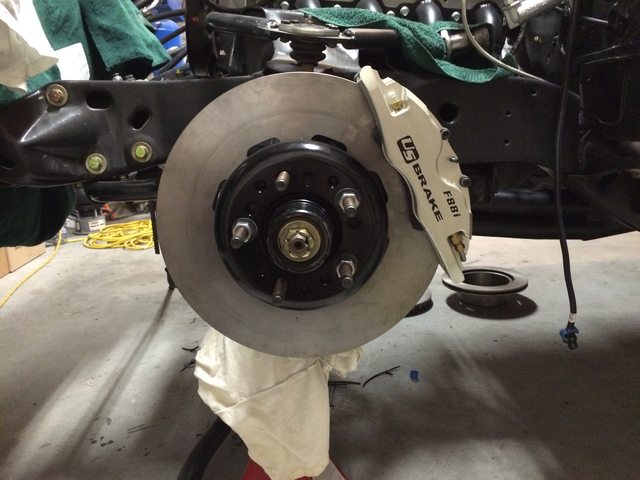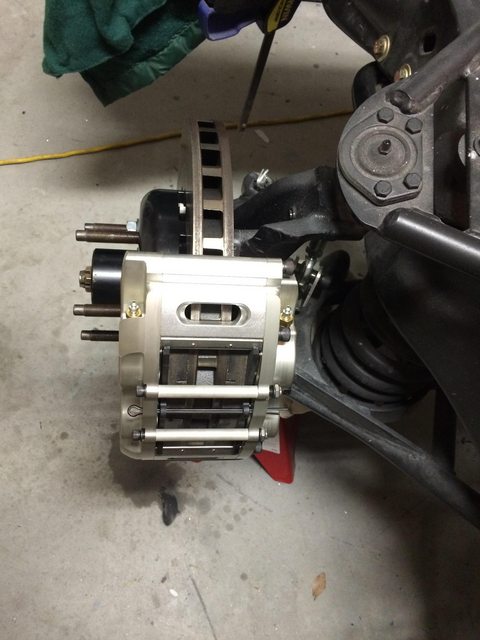 4-2-2016
I got the rear brakes installed after some hiccups, which were my doing. I am running 11" one-piece Wilwood hubs and the center hole was too small for the axle flange. I got the center holes on the brake hubs increased once and it was not enough so I had the holes increased a second time and it did the trick. I had to shim the driver side e-brake assembly/caliper bracket ~1/16" outward so the caliper was centered properly.

All four brake assemblies are now installed so the next steps are the form the brake lines and install the e-brake cables. I will likely install the exhaust before the e-brake cables so I know what I need to do to clear the exhaust.

Here's the e-brake assembly/caliper bracket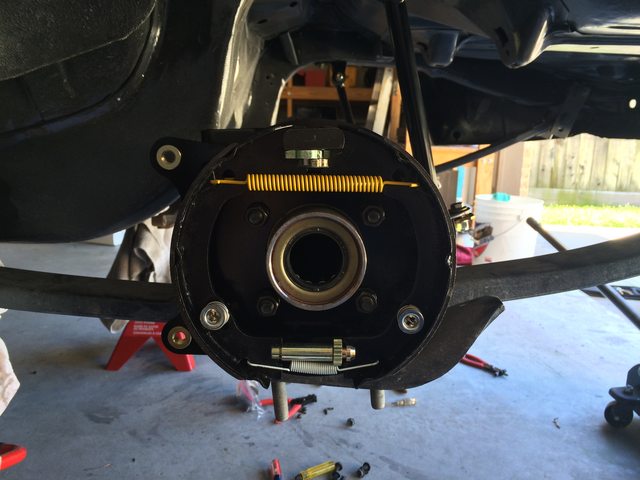 Here's the brake assembly installed. The calipers are US Brake, like the front.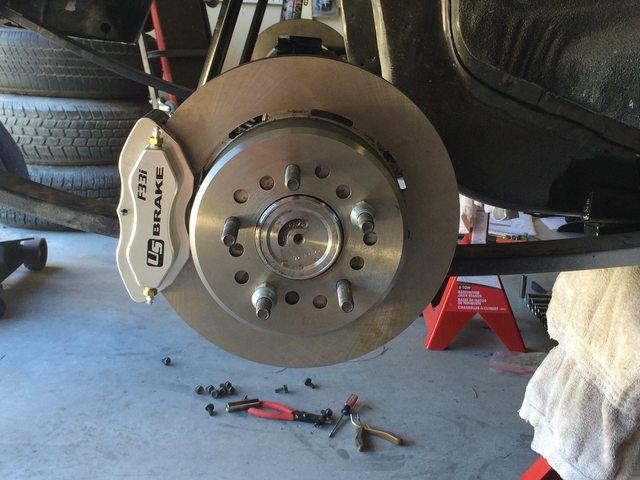 4-3-2016
I need to shorten a few of the wires on the LS harness which means I had to order some Metri-Pack terminals and seals. In the meantime I started wrapping the other wires in Painless ClassicBraid. The intersections are wrapped with black self-fusing tape (did I mention this stuff is awesome?).

I still need to secure the wires to the fuel rail, firewall, etc.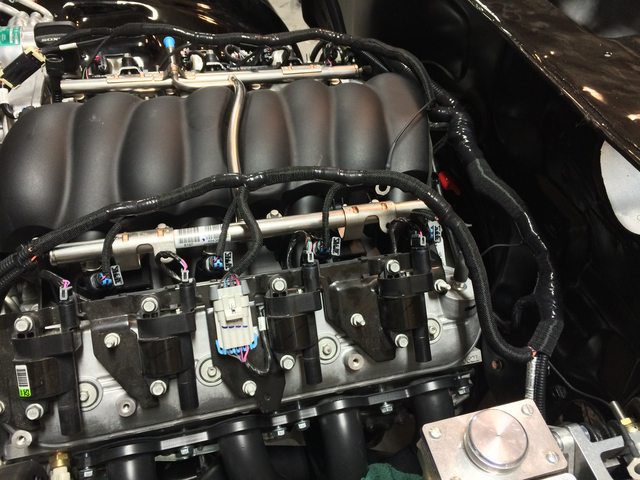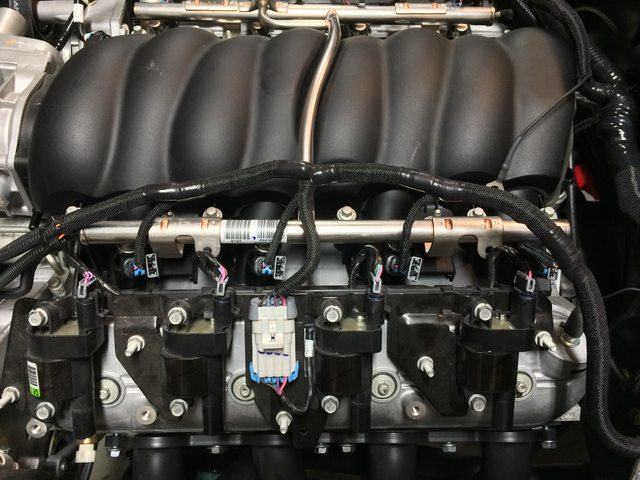 4-4-2016
Yeah, the more I looked at the plastic loom the more I wanted to do something else to dress up the wires. I saw someone else who installed the Power Braid and that was the motivation I needed. I liked the flat, cloth-like appearance of the Classic Braid.
4-9-2016
I got most of the engine harness wires shortened (O2 sensor wires, CAM wire, alternator wire), the crank wire lengthened and the wire braid installed. I cannot do anything at this time with the fuse block wire or the MAF wire, so I will move to the cabin and mount the ECM and get the gas pedal and diagnostic plug wires shortened and situated.

I zip tied the wires to the fuel rail for now but it actually looks better than I had thought it would. I will see if I need to secure it any further with wire clamps. I will definitely secure some other wires using wire clamps, especially the wires along the firewall.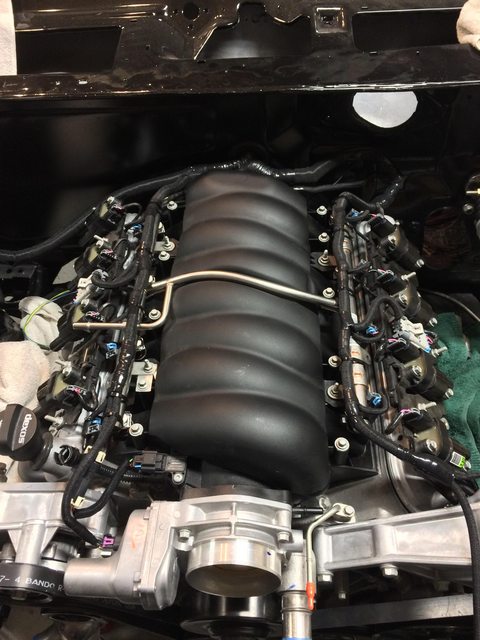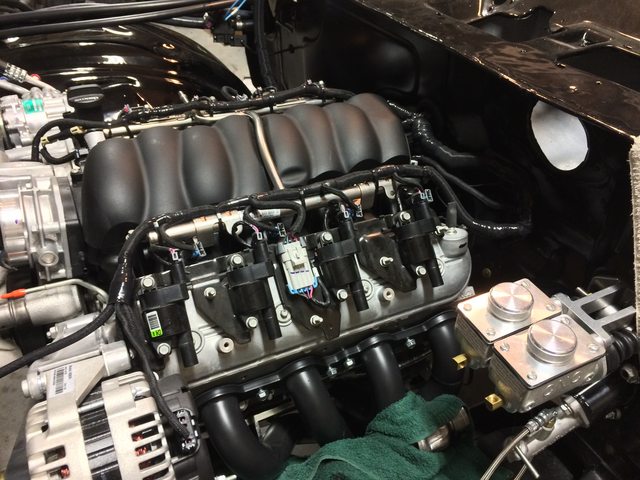 4-19-2016
So I decided I did not like the factory fuel rail and went with some aftermarket Holley rails for a cleaner look. I need to run the lines, but will wait until I run the main fuel lines to do that. I also ditched the intake cover for now, which I think looks much cleaner. I am looking at some coil covers to complete the look, but that is not urgent. It will be something clean and black.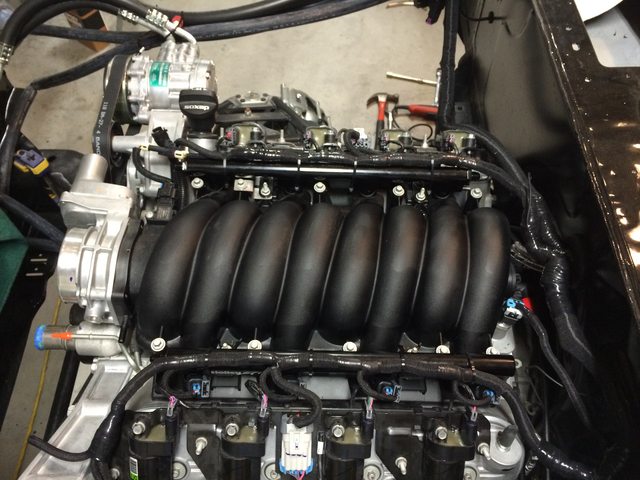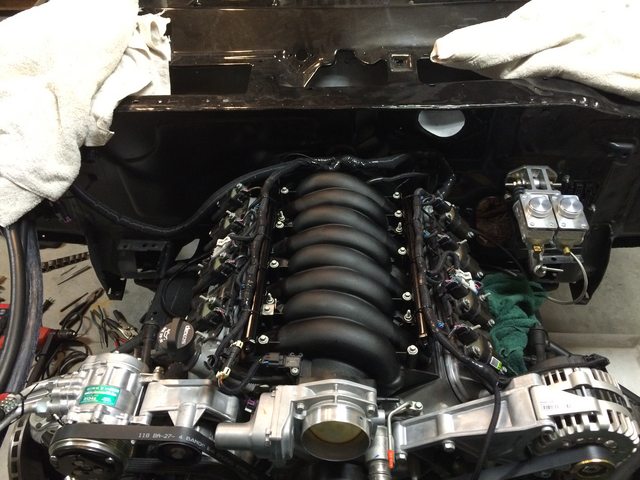 I decided to swap the upper leaf spring shackles with the Delrin kit, which some others advised to do since I am running the composite leaf springs. I also decided to install some bolt-on coilovers on the front, which I will get done soon. The A-arms are ready for me to install the coilovers. The reason for this change was the changes I have made since the original suspension plan has lightended the front end a lot, so regular coil springs and Koni shocks would probably mean the front end would sit too high.

This means I am going to sell my coil springs (SBC version from Custom Works) and my Koni shocks (all 4) if anyone is interested They have 0 miles on them. I was re-painting the Koni shicks in black since red clashed with the black theme, but otherwise they are brand new shocks.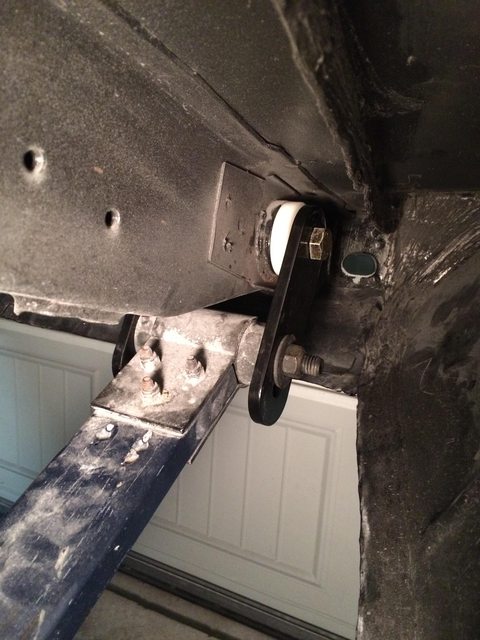 4-30-2016
I got the engine wiring harness mounted inside the cabin, got the ECU mounted and got the HVAC evaporator mounted. I wrapped the wire loom with anti-rattle pad from Second Skin Audio. This was a bigger PITA than I had expected, but I am glad I got it done. I used "nyloc" nuts and lock washers to make sure these things don't come loose later. I got some stainless steel wire loom clamps off ebay to hold everything in place.

I had to get a few more wire terminals so I can shorten the gas pedal and install the starter solenoid wire.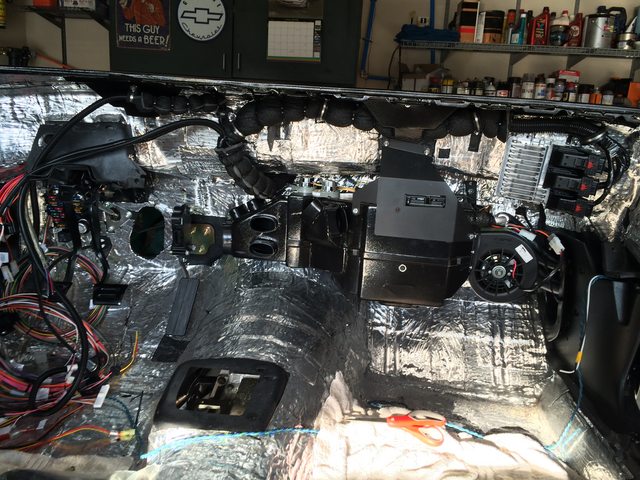 I am going to tackle the fuel system next. I bought a gently used Rick's Tanks fuel tank from another member on the site for the LS. It was made for the 75-81 and has the width has been reduced for a mini-tub, which I am not doing. So I will have a little smaller fuel tank (like 18 gal). It already has a Walbro 255 in-tank fuel pump. I am looking at one option for the venting system, which I will know more in a few weeks.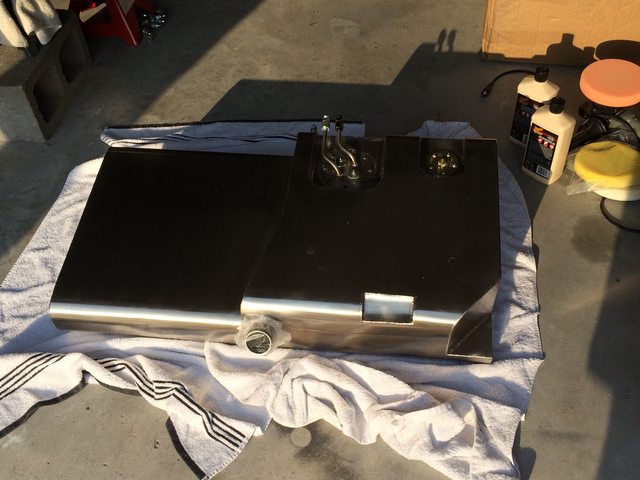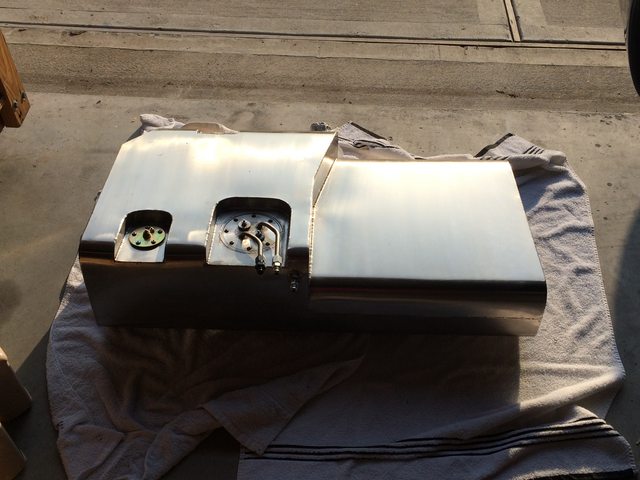 5-14-2016
I've been piddling around but wanted to share a few pics of some pic-worthy work.

I got the fuel tank pump and sender unit wired up at the tank so I can get the tank installed and plumbed.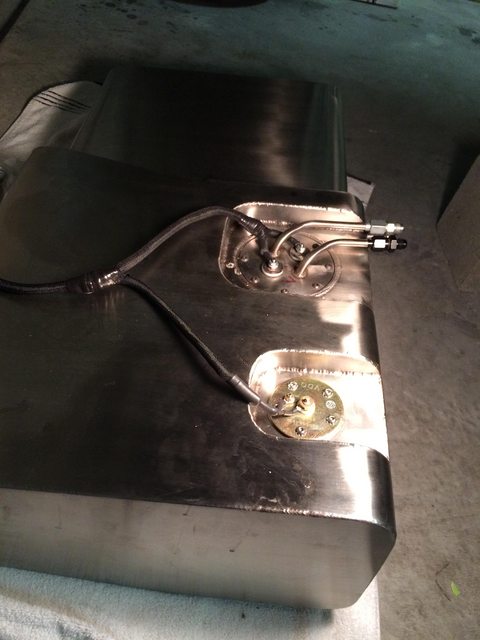 I had to swap out the lower control arms so I could use coil overs. I went ahead and swapped out the upper control arms with some adjustable SPC arms.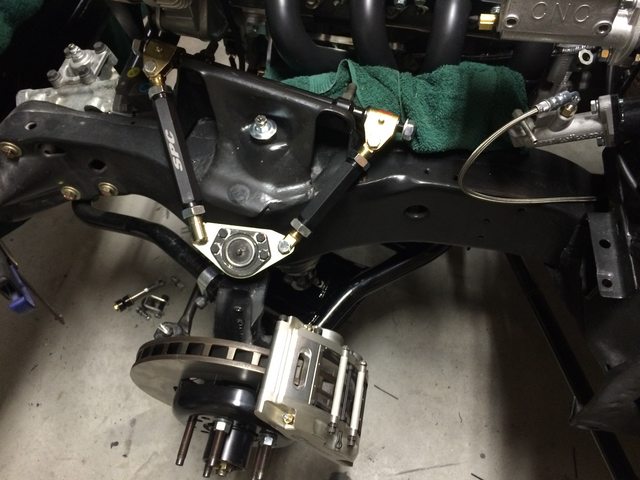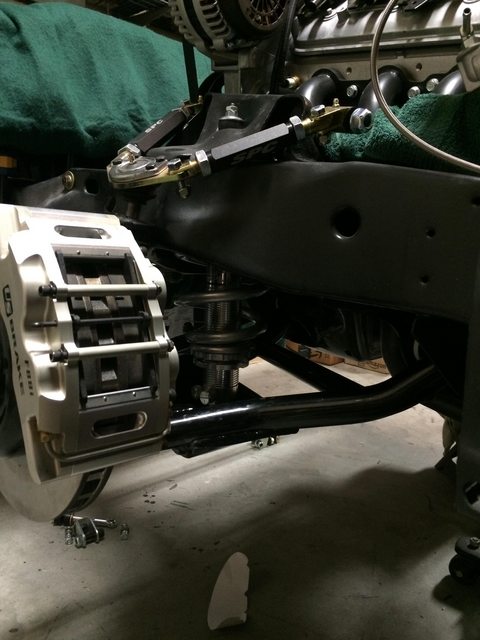 5-16-2016
Got the fuel tank installed today. I had to drop the tank and re-route the wire over the shorter part of the tank, but other than that it went pretty smoothly. Next step is to run the fuel line to the engine bay. I have the hard lines that will get cut up to some degree, so I need to mock them up and decide where I need to cut.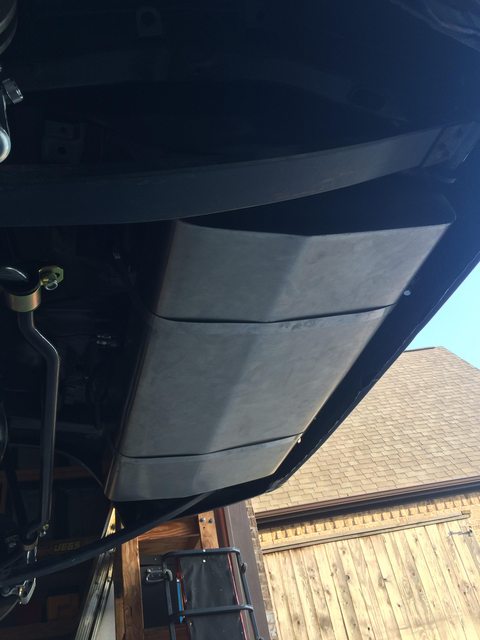 5-18-2016
I got 50-60% of the fuel line installed today. As usual I underestimated the job but still got a good amount done, but I wasn't working at a world record pace or anything. I will try to install some more flex lines tonight after the little one goes to sleep.

I decided to mount the filter/regulator up high on the bottom-side of the car rather than the frame rail. I didn't really like how the filter would have mounted on the frame, so went with this location. The nice part is the filter will be on the same level as the tank fittings, so those lines should have a direct path to the tank.

For anyone curious, I am using the following parts for the fuel line install:

* The Right Stuff stainless steel fuel line (3/8", 2 pieces) -- I used ~60% of the lines, the rest will be braided line

* The Right Stuff fuel line clips, but these are available everywhere

* Earl's Performance fittings -- I used some 3/8" line to -6 AN, some braided line to -6 AN (both straight and 90*)

* I wrapped the hard line with some rubber tube to provide some extra protection once installed in the clips

A few pics of the rear line installed, minus the lines to the tank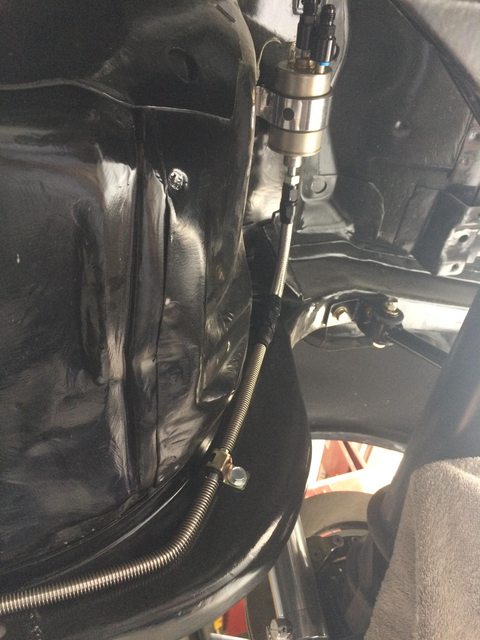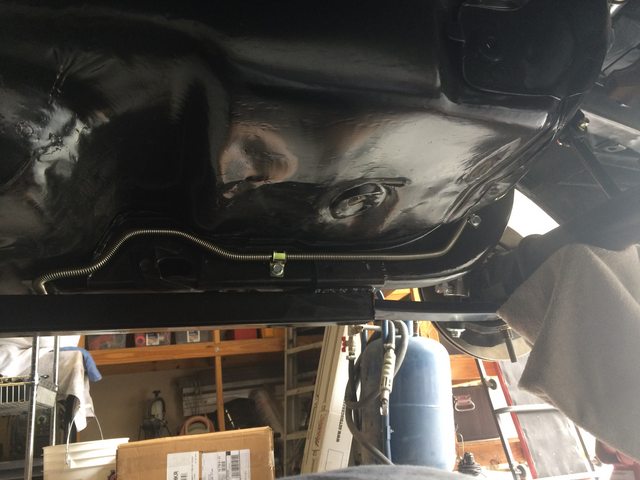 This is where I decided to terminate the rear hard line. There will be 12-15" of flex line in between the front and rear hard lines.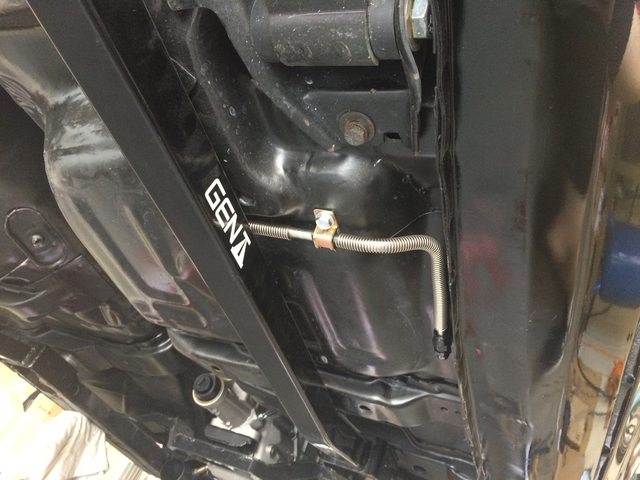 Here's the front hard line section ready to go. I used all the "gravel guard" (aka spring wrap) so I need a few feet more, just to complete the look.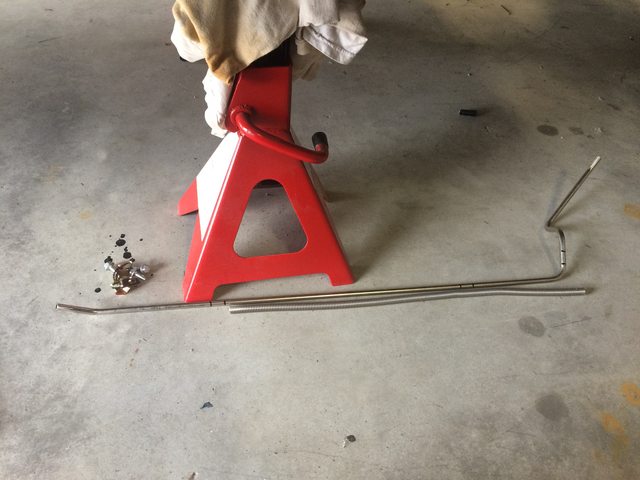 5-19-2016
the return line will come off the filter/regulator. There's the supply fitting and return fitting on one side of the filter/regulator and the outlet fitting to the motor on the other side.

Here are some crummy pics of the supply and the return lines connected in between the filter/regulator and the tank.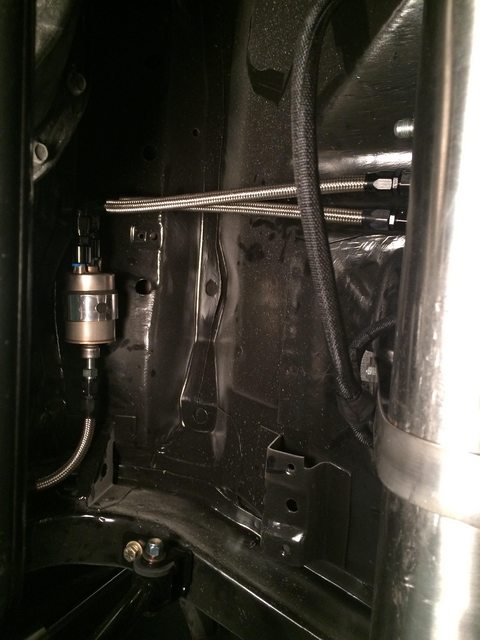 The short run of flex line in between the front and rear hard lines.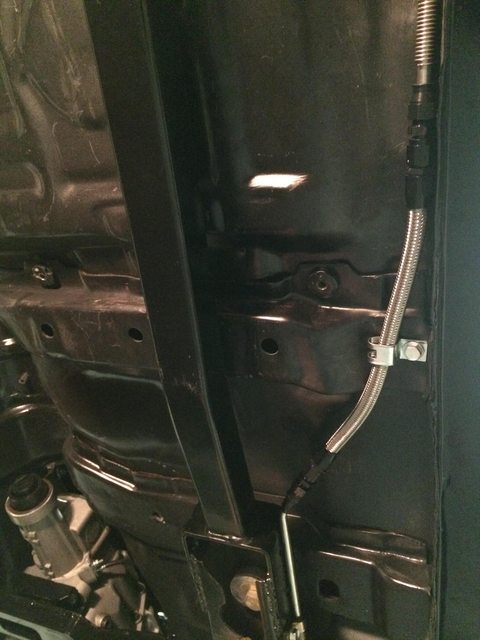 I started assembling the gauge cluster while the wife and I caught up on some shows. It was a fun change of pace after crawling around under the car the last few days (and much easier, lol).

I decided to use an aftermarket bezel versus modifying an original bezel. I sprayed the bezel with SEM Landau Black. I am pleased with the way the gauges sit in the bezel. I added a clock to the right as I always liked the original clock so wanted to have something there. The gauges are Auto Meter Sport Comp II.

I added some Painless indicator lights for the blinkers, high beams and check engine light. I still need to get the headlight switch and wiper switch sorted out.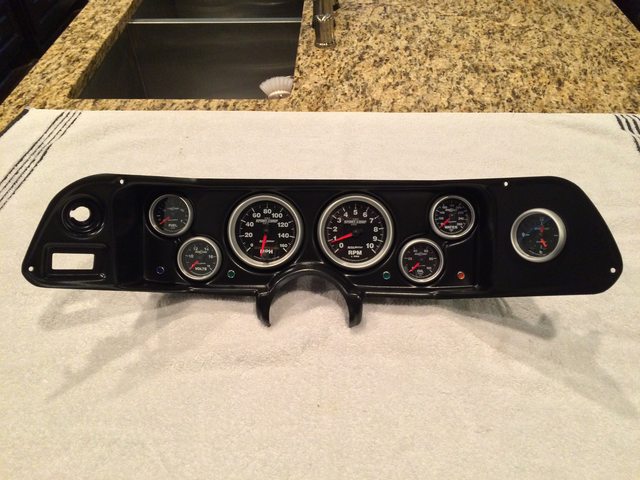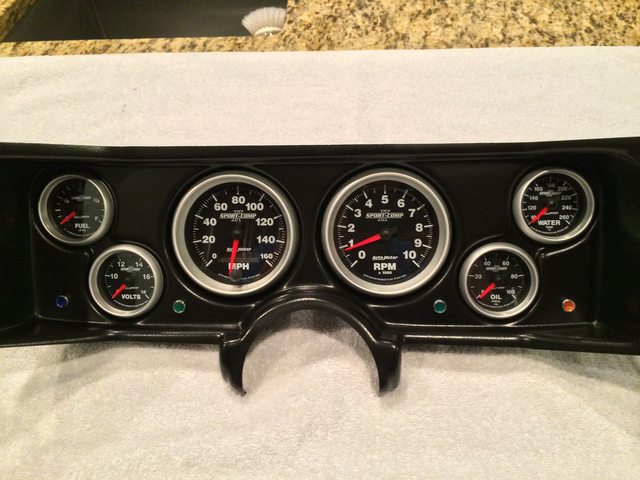 5-20-2016
BTW, I am planning out the audio portion and discovered the doo-dads below are called "cable pants". I see them on RCA cables but never knew the name of them. I wanted to get some eventually for the speaker wires in the trunk to dress up the ends. Figured I'd share my discovery.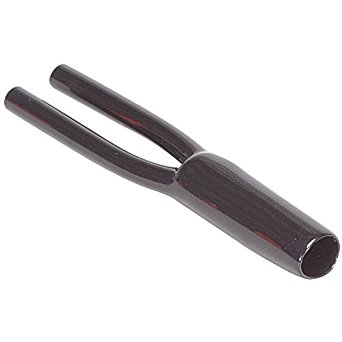 7-4-2016
It's been awhile since an update. My wife, son and I all got some nasty virus that was like an extended version of the flu, but not as severe. That knocked us on our butts for 2-3 weeks. I finally got some work in this past week, mostly electrical related items.

Since I am not going to run a subwoofer I wanted to get some beefy 6x9s. The ones on my list perform the best when amp'd, so I decided to construct a floating panel to mount the amp. I wanted to have easier access to the amp if it fails or I need to make adjustments. I had some U-Pol Raptor bedliner left over so I sprayed the trunk again and the amp panel, which is just 1/2" plexiglass I got from my work. The panel will be mounted using 3/8" carriage bolts that pass through the trunk divider. I made the holes more square for the bolt flange so they sit flush. They won't be visible when the amp is installed. In fact only ~1" of the panel's perimeter will be visible, which was the idea. I need to buy some locking washers so it's not fully mounted, but you get the idea.

Here's the panel: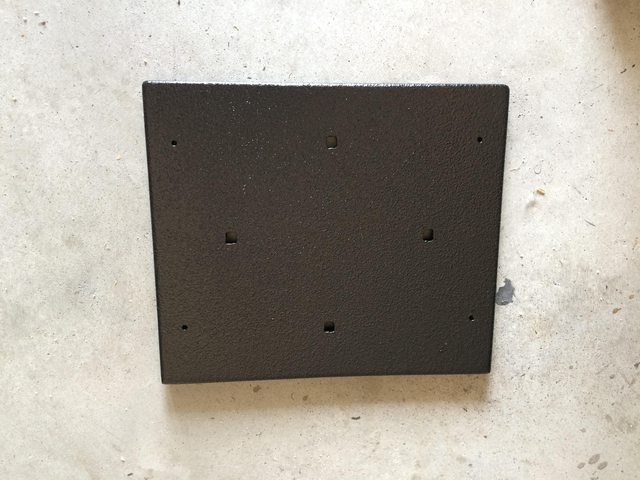 Here's the panel loosely installed: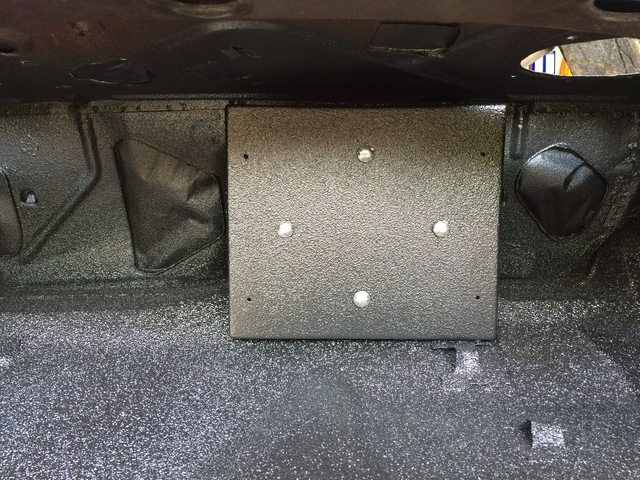 I have gotten some electrical items done too. I have the gauge wiring harness pretty much ready to go. I made the connecting wires longer so I could have ample room to make connections (and disconnections) away from the dash.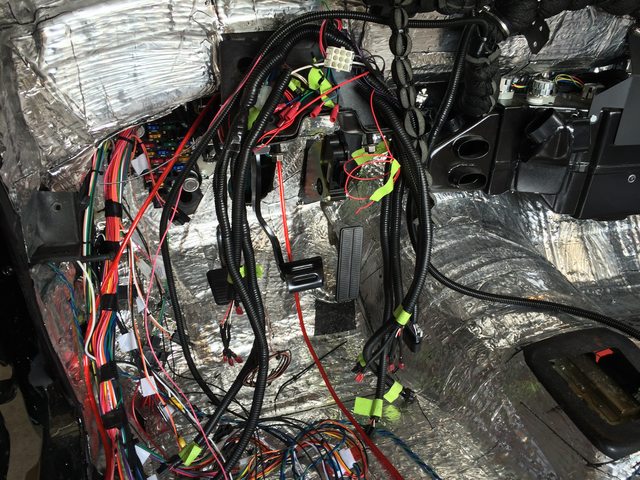 I removed all the un-needed wires from the Painless harness and have that ready to go. I am getting closer to the point of having to install the dash to do any further electrical connections. Same goes for the engine-side wiring. I will knock out the brake lines and exhaust before I begin installing more parts though.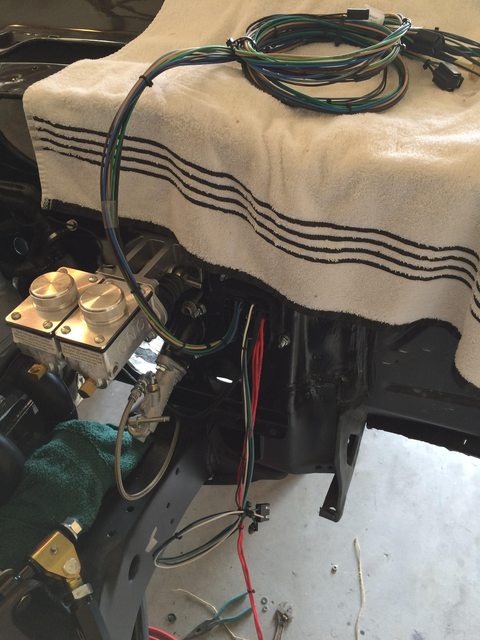 7-17-2016
Progress has been slow but I was able to get the interior wires run and organized as far as possible before the dash has to go in. I can run a few 12V wires to the fuse block, but that is about it. The wires look like a mess but they are pretty well organized and should be easy to install.

I got the amp loosely installed in the trunk. I like the way it looks on the "floating" panel. I ended up only needing two carriage bolts to secure the panel to the trunk divider. I will clean up the wires when I am closer to actually connecting them.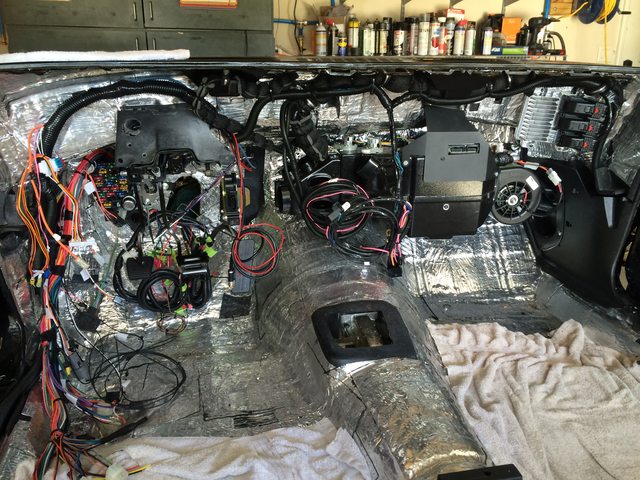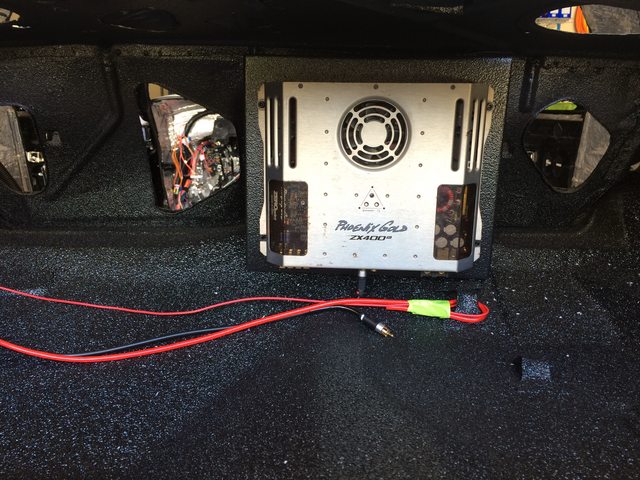 8-5-2016
So I finally got the steering column installed, which means I got to the point that I *HAD* to install it so I could keep making more electrical connections I can start making some more connections (turn signal switch, ignition switch, etc) and getting the AC wiring run before I have to install the dash so I can make those connections.

FYI, I ended up going with the IDIDIT steering column. While the IDIDIT column says it fits 70-75 Camaros, it will fit models beyond 75 (like my 76). The IDIDIT rep said their following in terms of which models their column will fit: "it has to do with where the dimmer switch and wiper/washer switch are located. If you have dimmer on the floor, and Wiper/Washer on the dash, you should be good to go! If it is all located on the column, then I can't do all that in the space of the 4" upper head of the column."

It's a stock-looking steering column but does not have the OEM style ignition switch with the rod that travels down the column to the switch. Instead the ignition switch is internally located and ties into the wiring harness via a plug and relay system. One small drawback is there is nothing alotted for key buzzer on the IDIDIT column, but that was not critical for me. This column is really intended for cars with manual trannys, as there is no shifter linkage on the column. But it fits well and looks stock.

Not that I will be installing a steering wheel anytime soon, but this is what I am leaning toward. I looked at all the steering wheels I could think of and kept going back to what I had installed years ago. I had a 13" version of this same wheel (the one below is 14") and always liked the understated, all-black look of it. I had been eyeing a Budnik three-spoke wheel but felt it was not consistent with the look I am trying to achieve.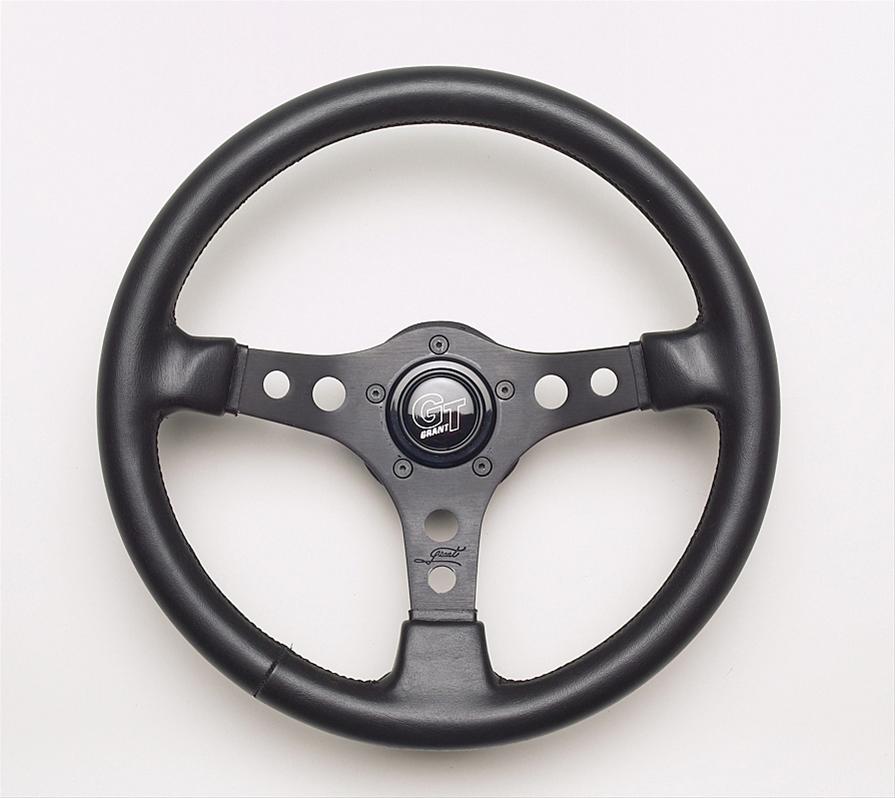 8-7-2016
I spent 2-3 hours last night getting the interior wiring cleaned up. The bulk of the work was getting the AC system wiring installed and tied up. With the exception of a few keyed ignition wires to install, this is as far as I can go without installing the dash. So the next step (among many next steps) is to see if the dash fits properly and start thinking about getting that installed. The REAL next step is to run the brake lines. I don't think that will be too bad.

The mess of wires in the middle is for the gauges, dash and the power window harness.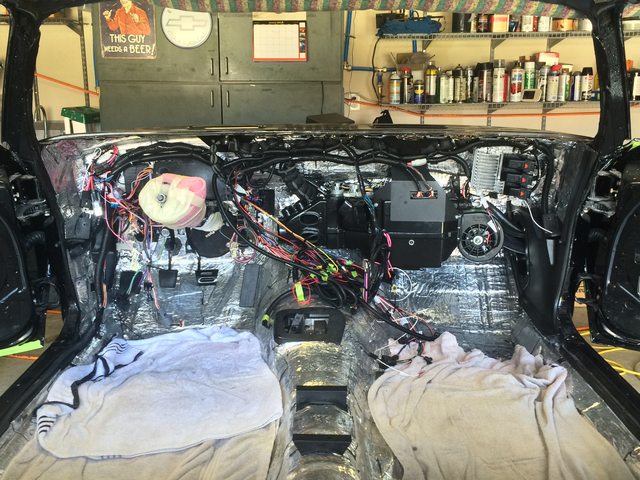 And here's what I have to deal with later in the engine bay. It's mainly 12V wires and ground wires so it will be a breeze getting them run.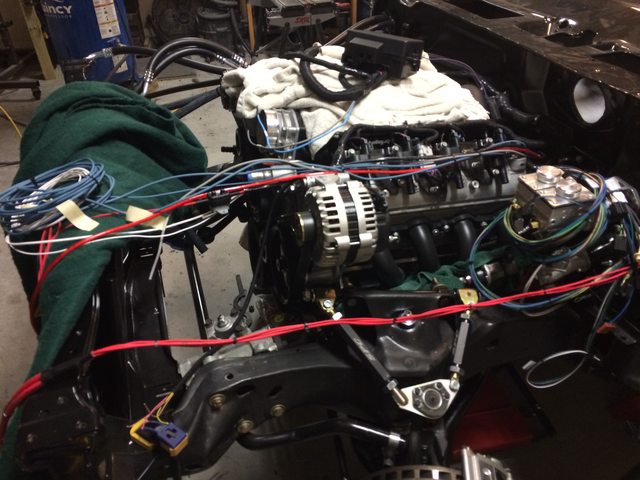 8-18-2016
I forgot I need to do one more major "under the dash" task....fit the speakers in the center. I stole an idea from Motion Clone and mocked up a housing for a pair of 4" 2-way speakers. I angled them away from each other to get a little better imaging. I will weld up the final version using 1/8" steel. I will cut the individual pieces and weld them up. I will need to modify the GM bracket some, primarily filling in the hole in the middle since I will need to cut away some material to allow the speakers to fit, although I will shift the speaker holes outward in the final version. It will all (hopefully) make more sense when I create the actual housing.

Here's the top view. I flattened out the middle-top area to shorten the overall height.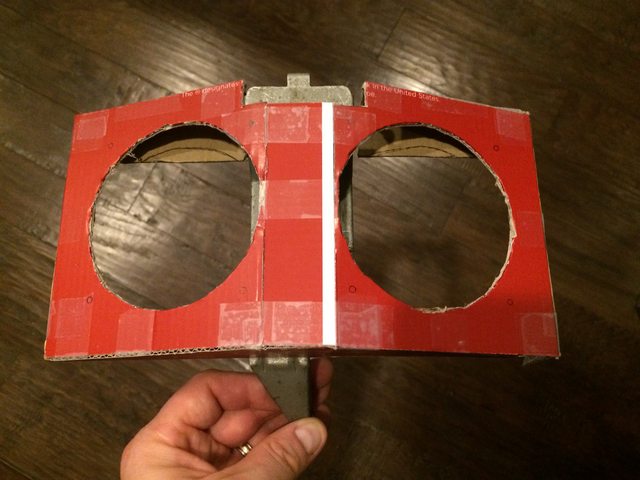 A side view showing how I chopped off the top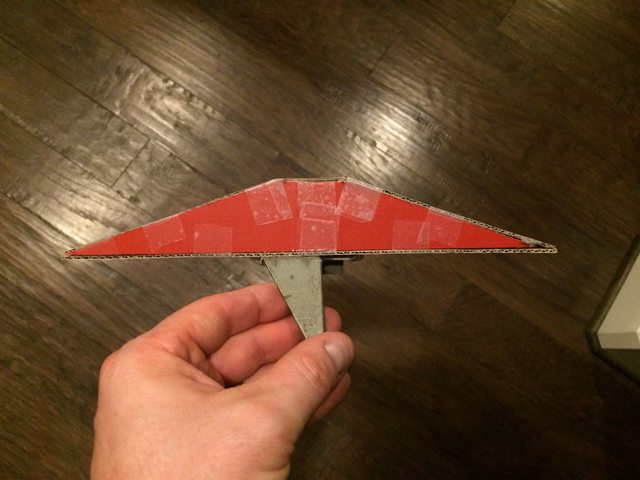 A view from the bottom. I will fill in the space between the housing and the GM bracket as needed to make it more rigid.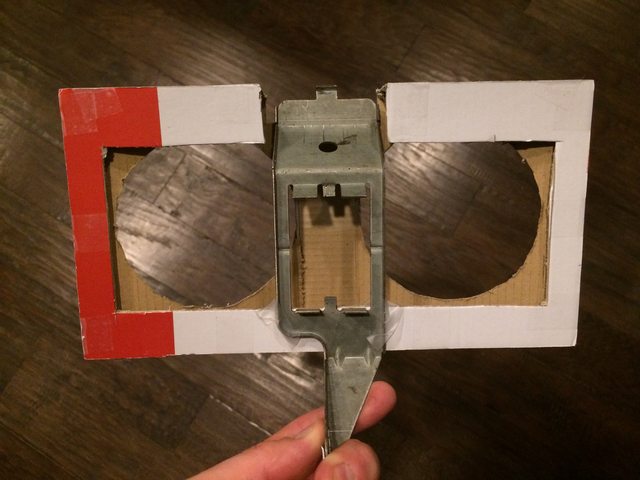 The front side showing how I notched it. I will close up the gap so the housing fits snug on the bracket.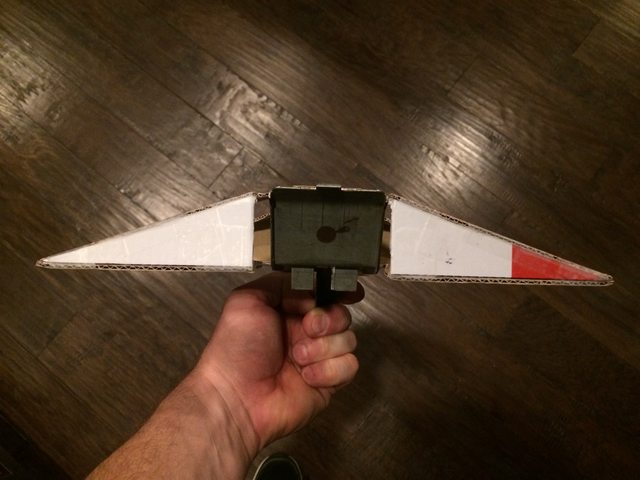 This is where I will fill in to secure the housing and the bracket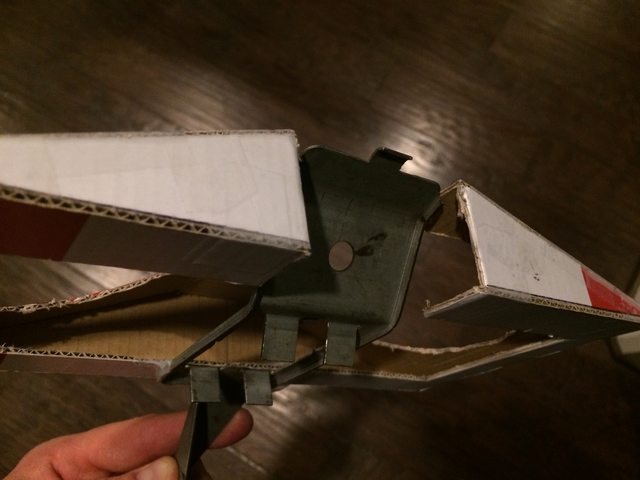 8-26-2016
I wanted to share what I did to dress up the speaker wire connections on the 6x9s. This was something I could do easily when I had a few minutes to spare. It's a bit overkill since most people will never see the speakers or wiring but I like doing little touches like this.

I ordered some speaker cable pants off eBay from seller knukonceptz.com. These are NOT heat shrinkable, but they fit the speaker wires well. I wil add some loom to the speaker wires once I cut them to length.

I decided to solder the speaker wires to the terminals and then add heat shrink tube over the terminals for a cleaner look.

Here's the speaker cable pants. They come extra-long so you can cut to fit.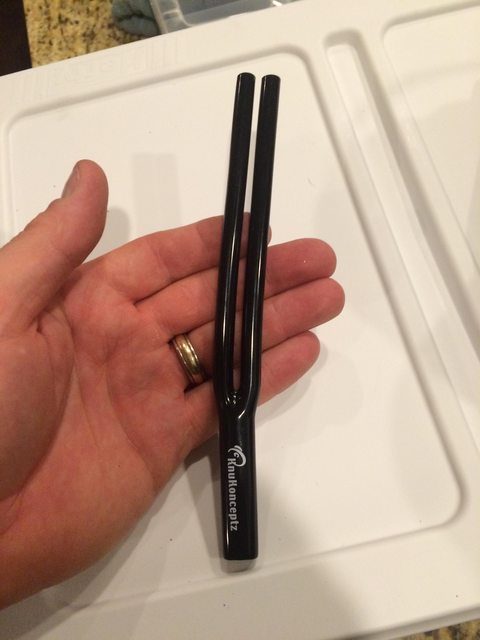 I added the shrink tube before soldering and taped it up so it would not be in the way. I added lots of tape around the speaker in case any solder dripped off the terminals.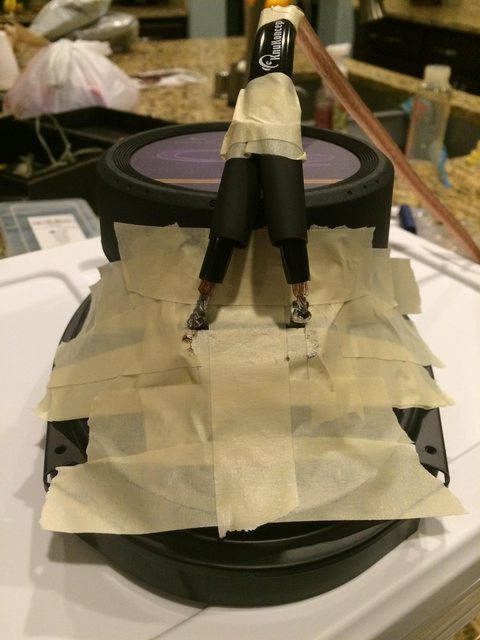 Here's the semi-finished product.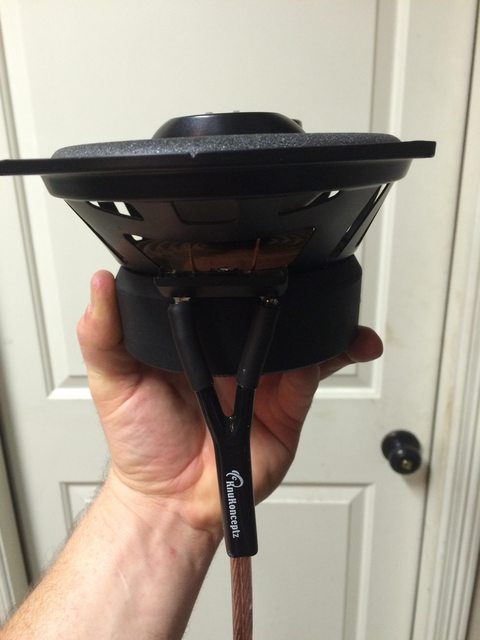 8-28-2016
So I've been hitting it a little harder lately with our son going down for bed earlier now. I had to split my work into "quiet" and "loud" tasks and knock them out when he's asleep or awake.

Here's the picture worthy stuff I've done recently.

I got the front dash speaker housing welded up. It turned out pretty good and fits well. I will just spray paint it black and then cover it with sound deadening, so looks were not that critical to me. I took measurements and will share those later for anyone interested.

I did most of the welding on the underside. Once assembled I welded the housing to the original bracket. It's now all one piece. You might notice I reinforced the GM bracket in the middle with some 1/8" metal to be safe. It also allowed me something more substantial to weld the housing to.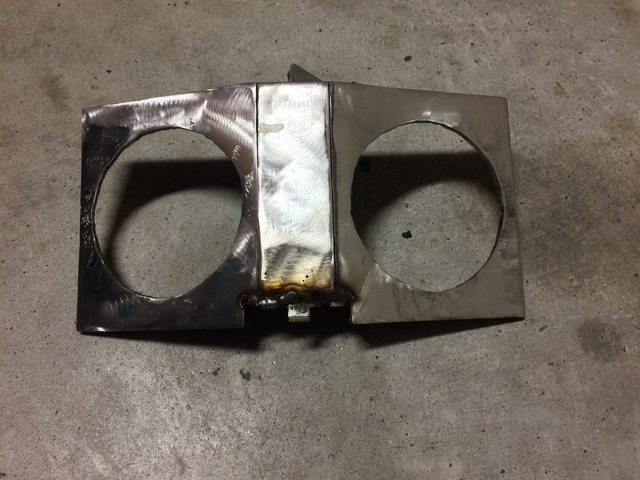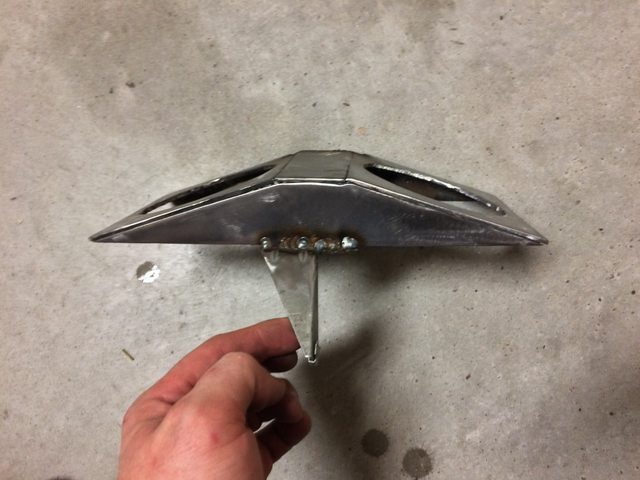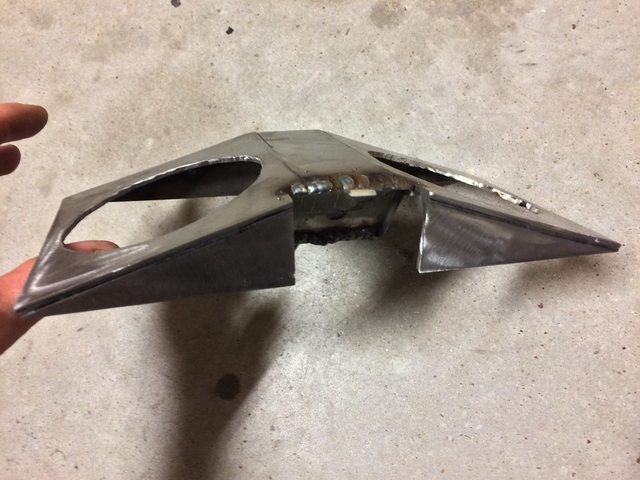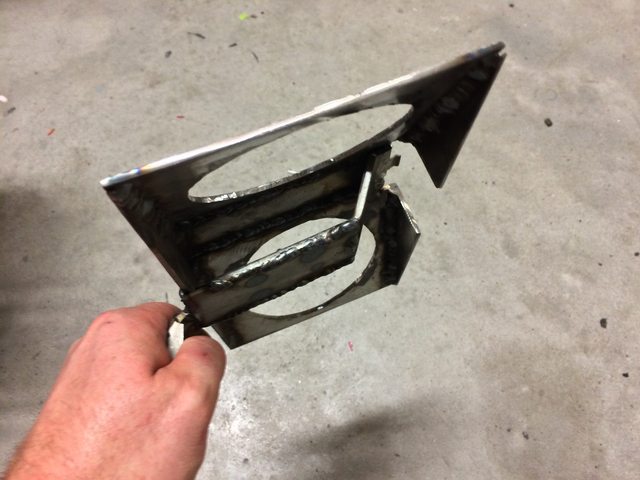 I got the amp wires all prettied up. I also went ahead and installed the rear 6x9s (quiet work) and will hook those up to the amp later. I incorporated the cable pants on the ground and power wires to clean up the appearance. I thought about making the wires more concealed but decided I didn't care enough, lol. I wrapped the plastic loom with some left over Painless Classic Braid, which adds a nice touch.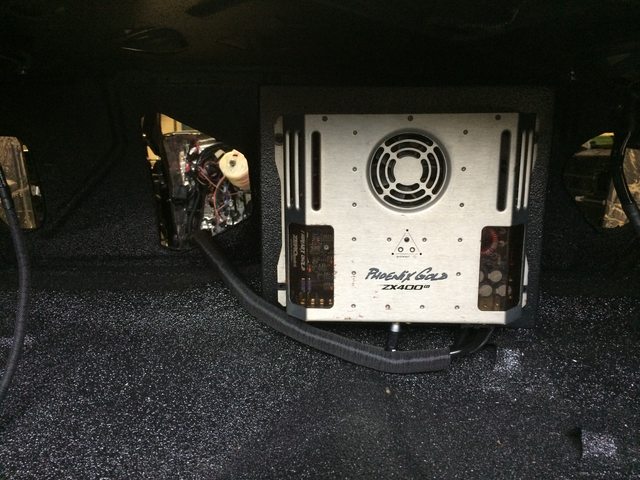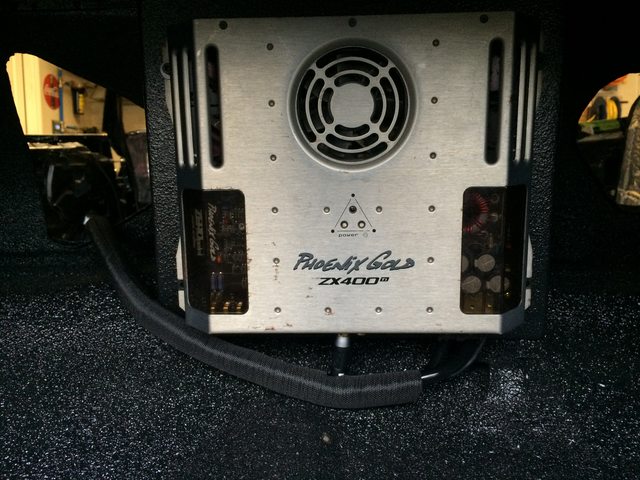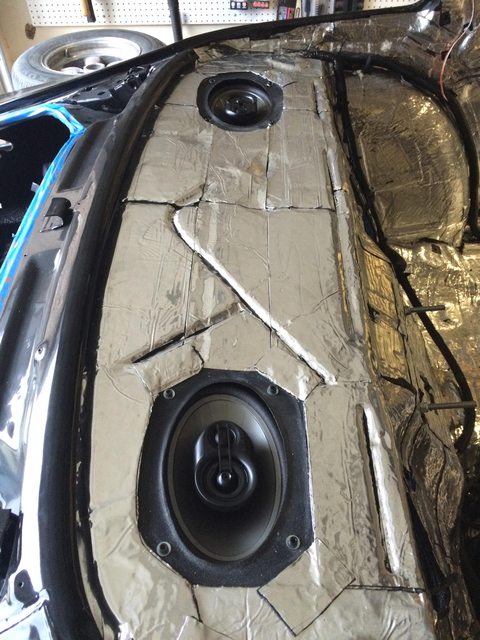 8-29-2016
So a light bulb is starting to flicker with the rear brake line install.

I found this pic showing the flex line tying into the differential and then going to each wheel. I forgot that the line comes from up top.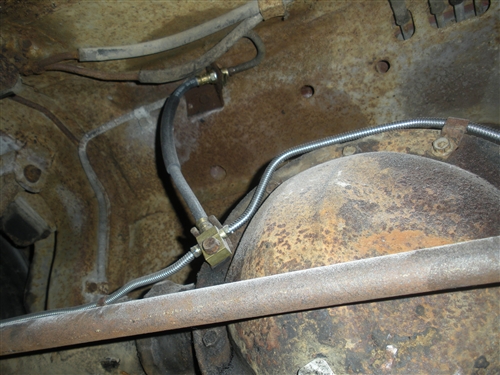 8-31-2016
I got my dash speaker housing done and installed. I am going to embark on the brake line install this long weekend. I am starting with the Right Stuff steel brake line kit, so hopefully I can modify that as needed for my 76.

The housing painted: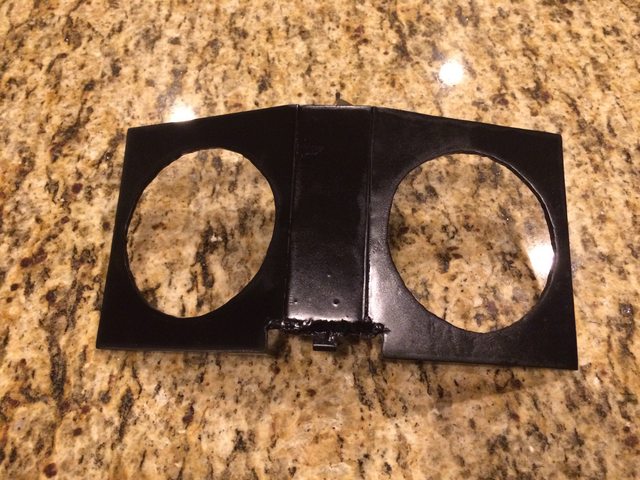 The housing with sound deadener and speakers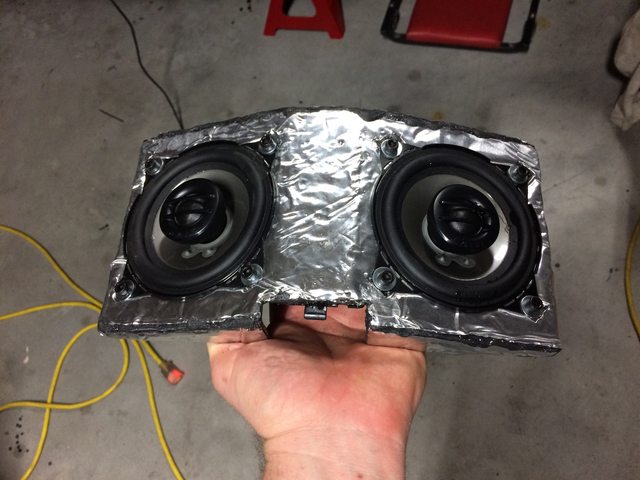 The housing installed: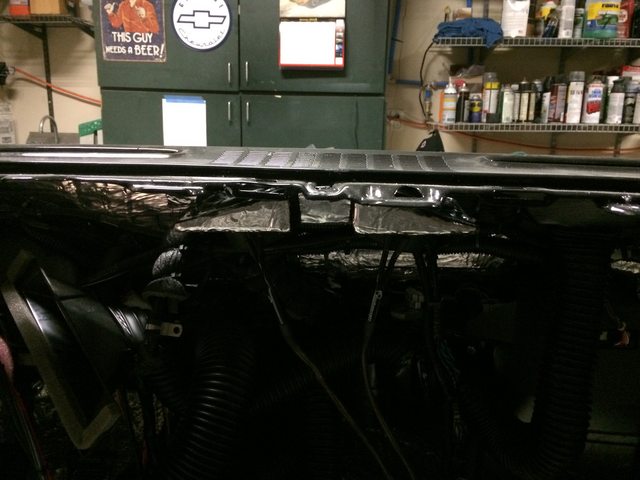 A pic to show where the edge comes to. It sits back enough to be out of the way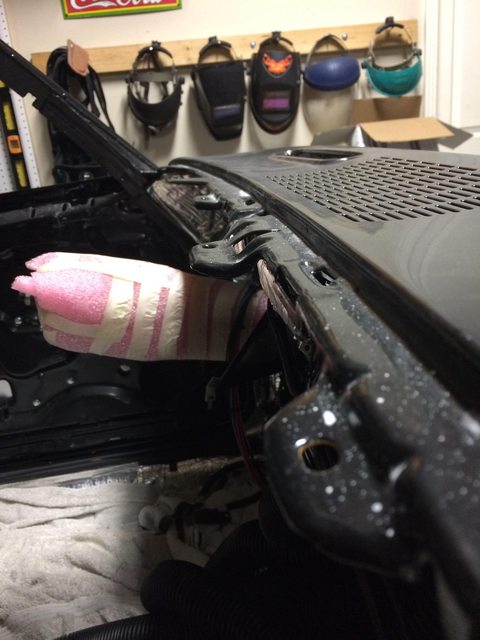 9-1-2016
I have today and tomorrow off, so I started on the brake line install. It went way better than I expected for day 1. I got the front-to-rear line installed (not the the MC yet), the front-right line installed and the rear lines are mocked up.

I need to cut the rear lines, re-flare the ends and make some brackets to weld to the axle. I also need a couple of fittings to complete the front-left line, which is a really short run.

Some boring pics of the brake lines installed.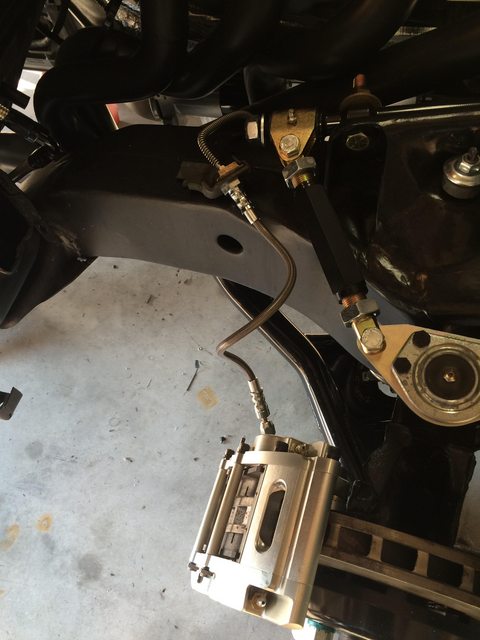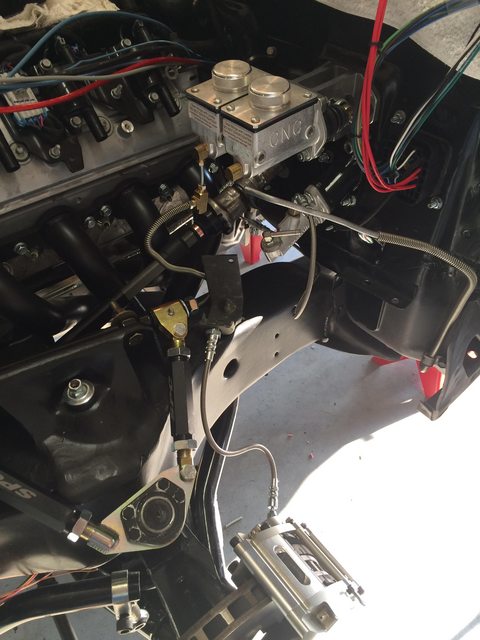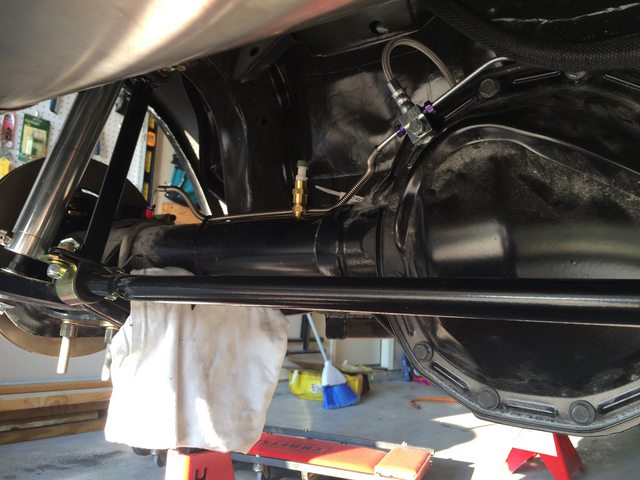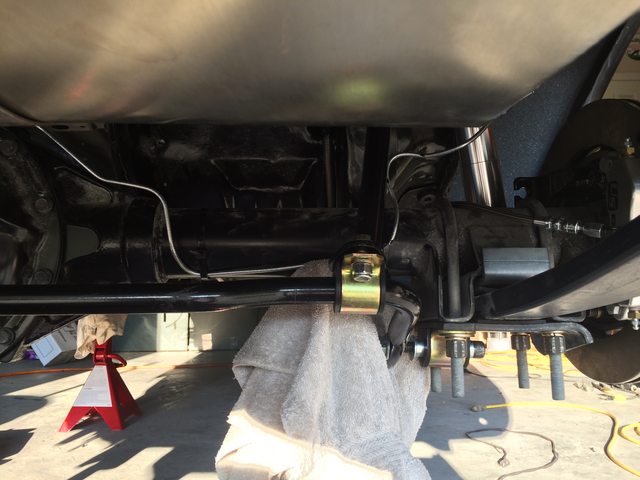 9-3-2016
I piddled around today for the most part, but was able to do some more work on the brake lines and started test-fitting the dash. I got an NPD dash, which is the version before the most recent version they have available now.

I am not sure about the height of the dash front edge versus the metal dash. In some spots it's 1/4" to 3/8" taller than the metal dash. Perhaps the dash edge will look better once the dash is fully installed, but I don't know what original dashes looked like. What are your thoughts?

The contour is pretty good - being all black helps conceal any gaps.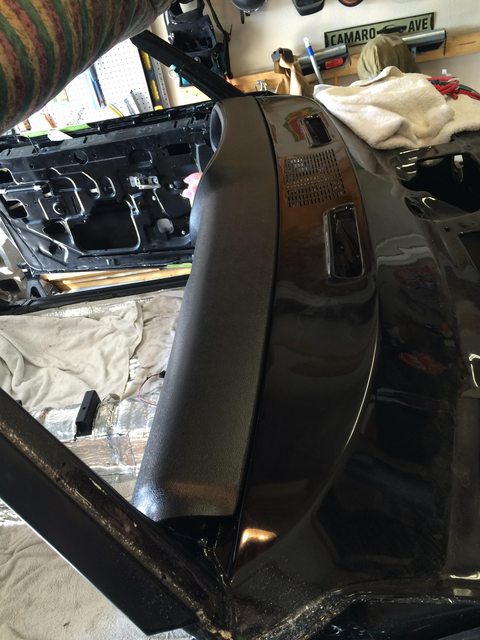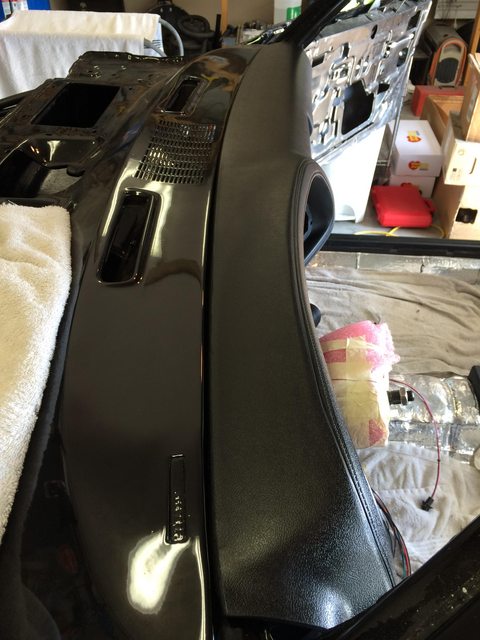 The height in the middle seems too high. The outer edges seem more reasonable.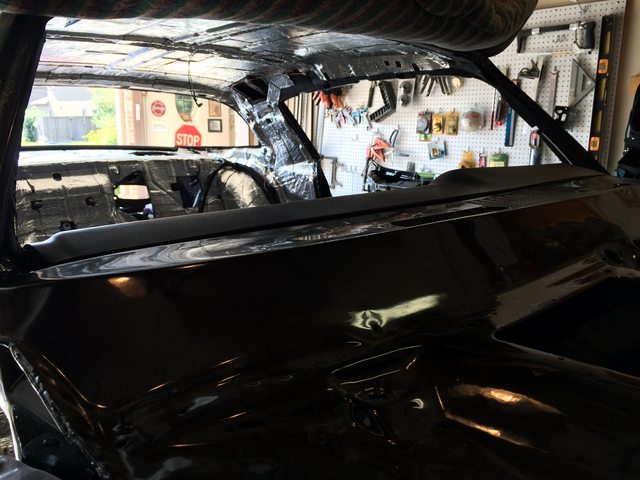 From the front the dash looks nice


9-5-2016
I did a little of this and that over the weekend, most of which was not too picture worthy. But I can finally look at my car and think I might be able to drive this thing someday.

I got the front-left brake line installed and just need to run a short line from the MC to the rear line. Once I weld the brackets to the axle the brake lines will be done. I also got the clutch MC reservoir installed, but still need to decide on the line I want to run.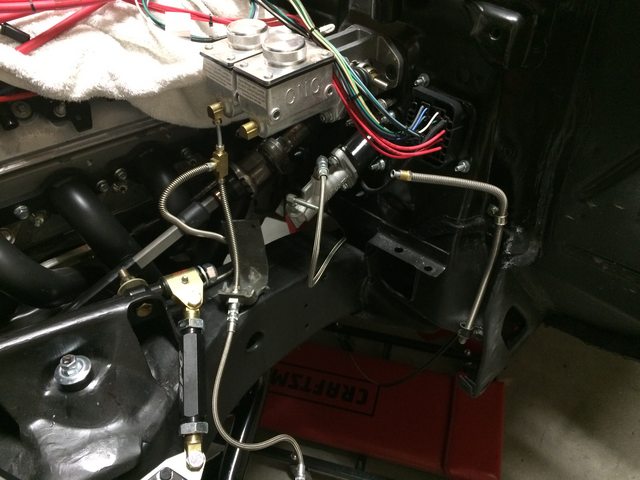 The cluch MC reservoir is a Ring Brothers. The Wilwood reservoir was a chincy plastic piece so I decided to get something a little nicer.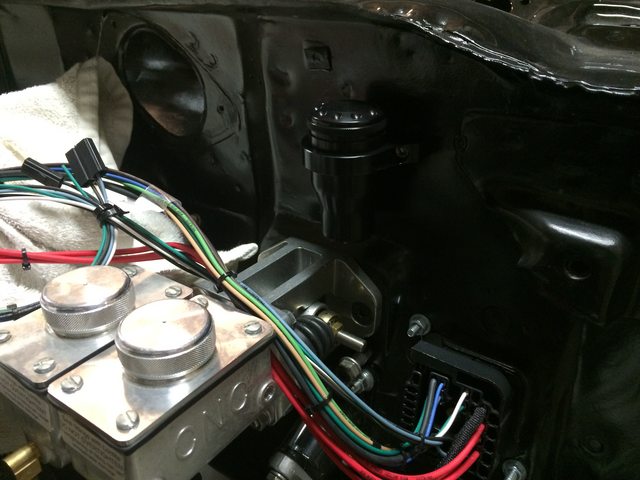 9-20-2016
I have been knocking out odds & ends on the 76 the last few weeks. I have a list of items to get done before I install the passenger side fender so I can run the rest of the electrical. Most if the items are small stuff, with the larger tasks being exhaust, e-brakes, wiper assembly, etc. Seeing the fender on there will be a big deal for me, but I also need to tweek the door alignment just a hair before I do that.

I got the PS pressure line made and installed. Now I just need some other fittings to get the return line installed and that will be done.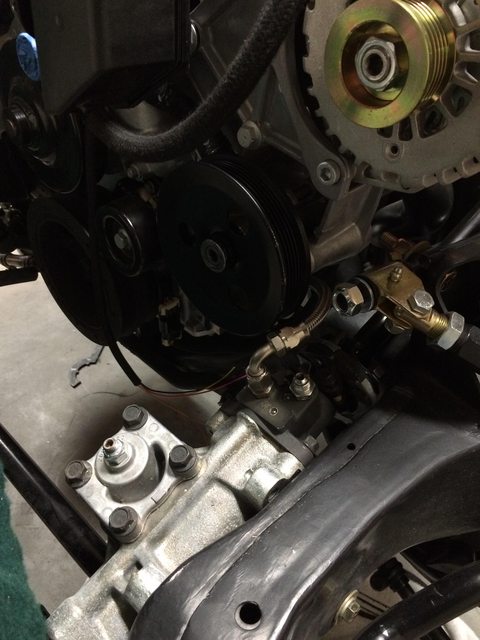 I got the brake lines all done and installed. The last things to do are install the C-clips at the flex lines and secure some brackets.

I also got the clutch MC reservoir line made and installed. I decided to ditch the crummy rubber hose on the barb fittings and went with some nicer compression style fittings. I like how it turned out.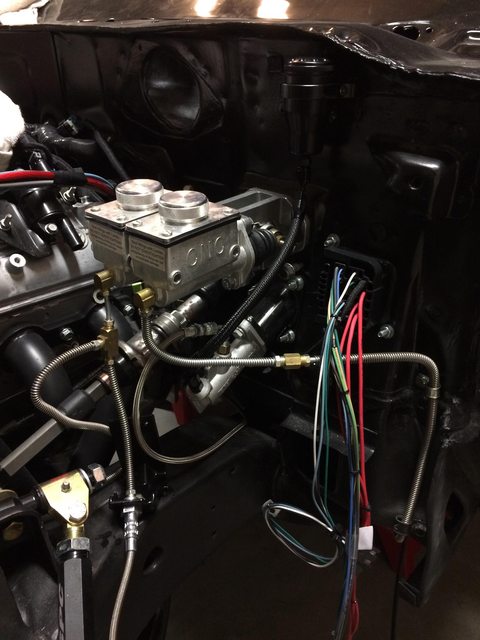 I got the brake line brackets welded onto the axle and painted with some SPI epoxy primer.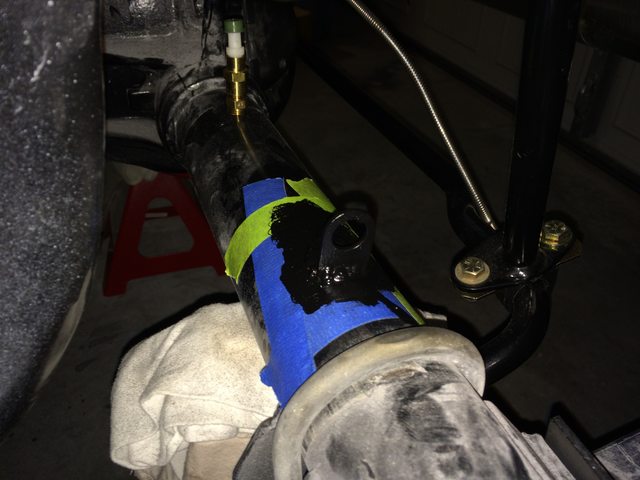 10-30-2016
It/s been a awhile since I had an update. We've been busy with this and that....sons 1st birthday party, getting our last rental property listed for sale, blah blah blah. BUT, I am off 4 days this week so I plan on getting some work done as I march toward getting the fenders installed. So I hope to have some good updates this week.

I was able to get the wiper assembly mostly installed, got the hoses done for the PS system and some other little stuff.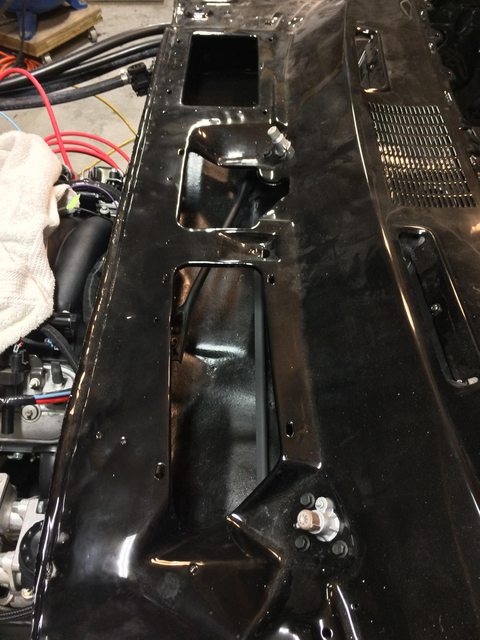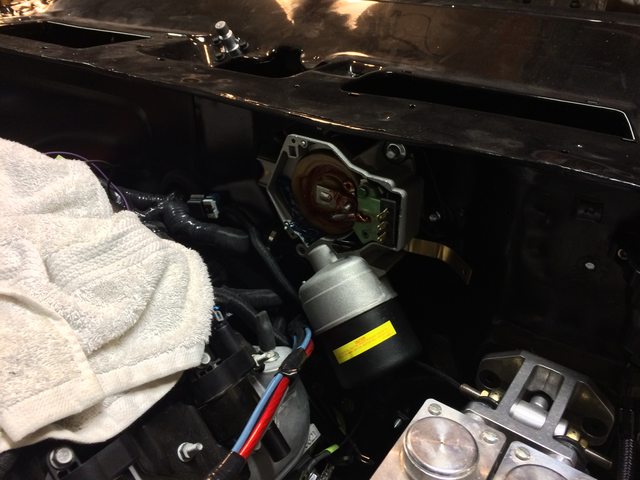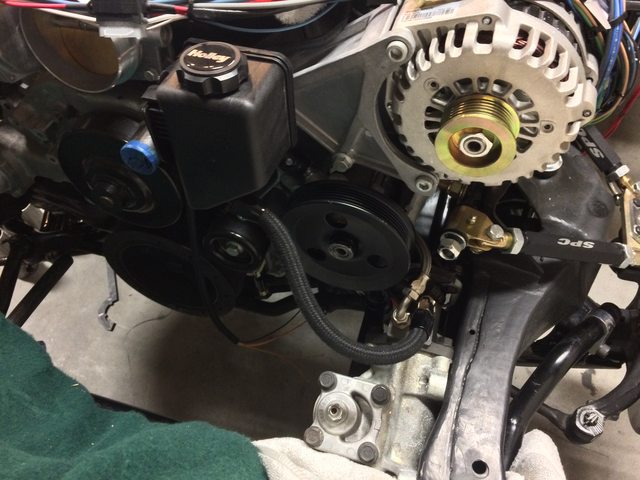 Here's my to-do list. The items range from installing the exhaust system to torquing bolts, so we'll see how many items I get done. The goal is to have at least one full page of green "done" items by next week.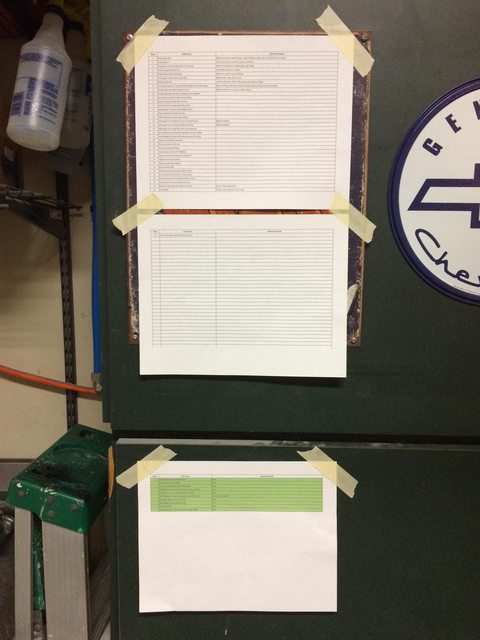 11-2-2016
I've been chipping away at the list, with a special focus on installing the exhaust system which will allow some other things to get done. The two "big" items left on the current list are installing the fuel tank vent (waiting on that to arrive) and install the e-brake system. I will begin with the e-brake system, but I need to order some small end clamps for the cables since I will need to shorten the Wilwood cables.

Here's a few pics of the exhaust system installed. I went with the Holley/Hooker exhaust kit for 2nd gens (42501HKR) that works with the 2nd gen LS headers I am using. The system uses clamps to secure the pieces, which I am sure is fine, but I will likely get everything welded once the car is up and running.

I will trim the exhaust tips a little at some point but want to let everything get settled before doing that. But their general location is what I had in mind.

The right tip is a tad longer than the left tip for one reason or another, which will be an easy fix.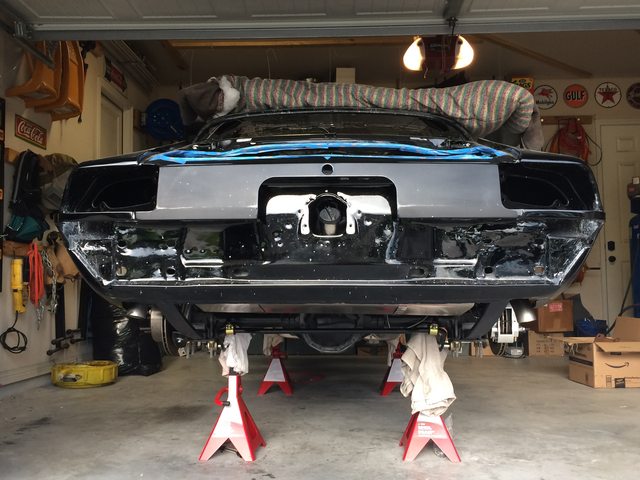 I might be able to rotate the right side pipe a little but it's pretty solidly installed, so cutting it will be the likely option.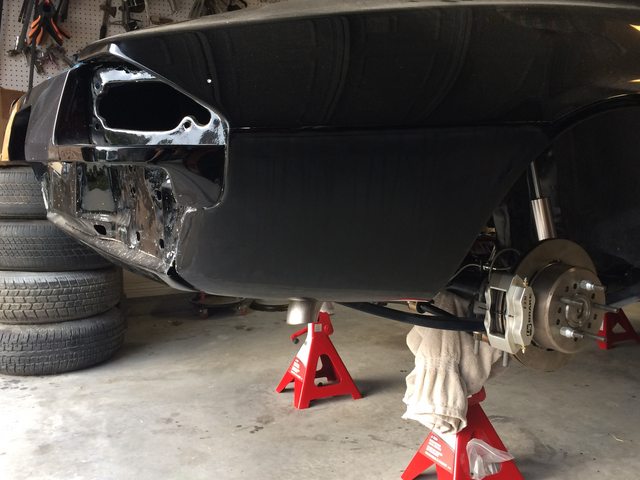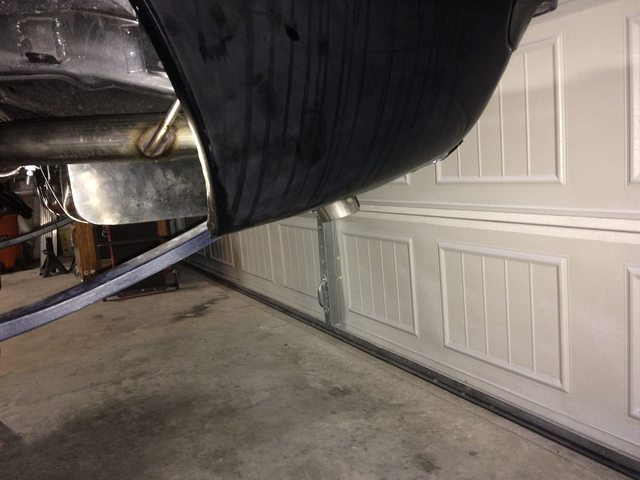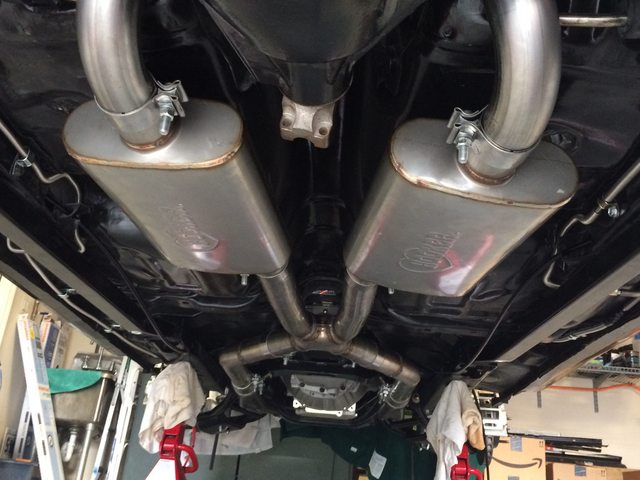 The mufflers hang below the bottom edge of the s/f connectors by just a tad.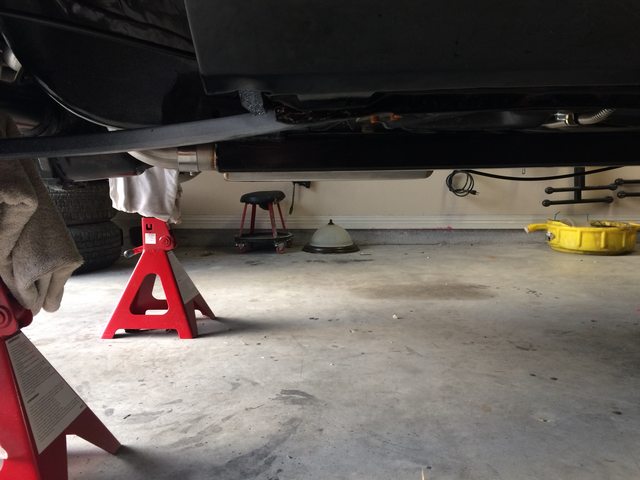 Here's the front of the exhaust in relation to the sub-frame.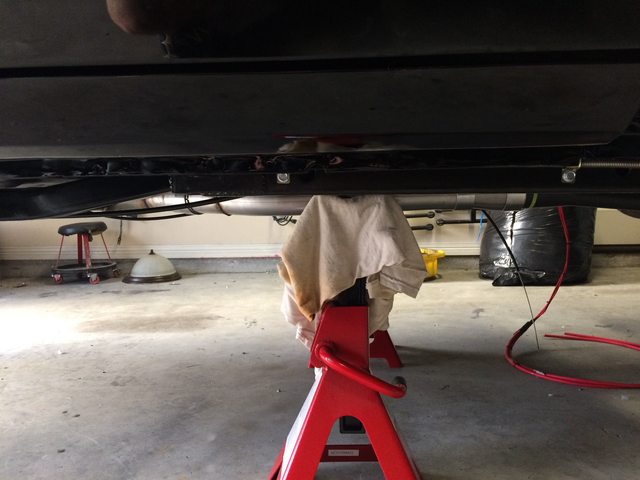 11-27-2016
I've been working on odds and ends that aren't really picture worthy but it's been good progress nonetheless. Most of those tasks were leading up to installing the passenger side fender, which is critical so I can run the electrical.

The fender went on pretty good. I still have some adjustment to do but it's 90% of the way there. The door-to-fender gap is a little wider than I'd prefer but I will take it, esp being a black car. It might get a little better once I am done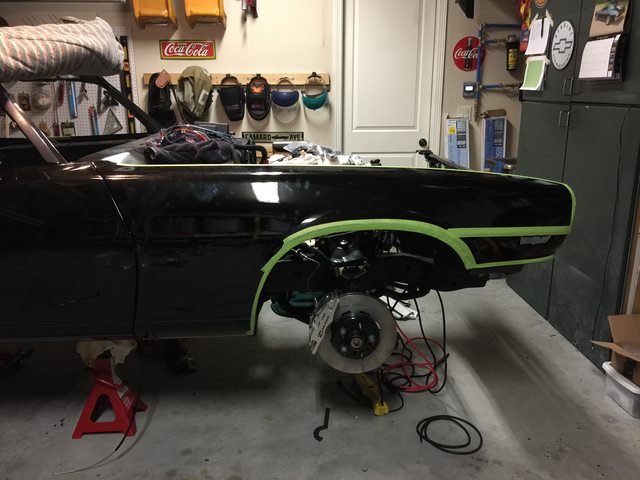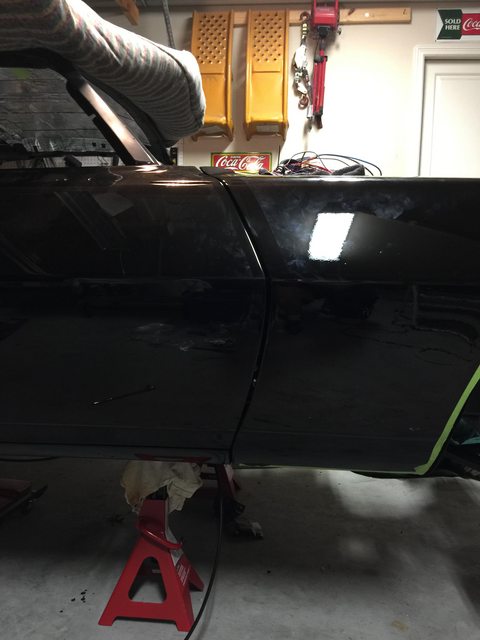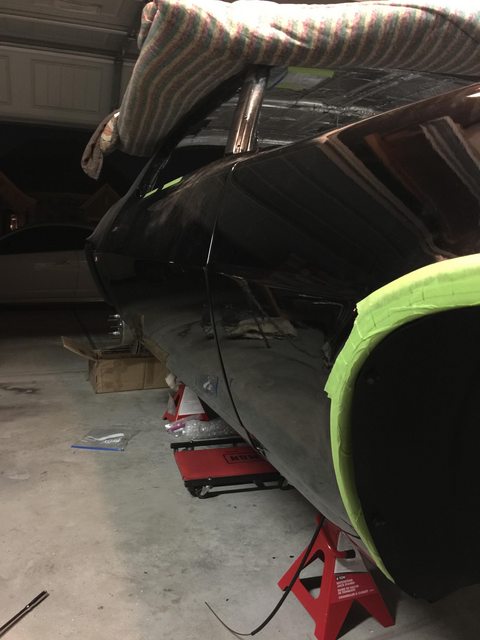 11-28-2016
I wanted to offer a PSA for anyone embarking on a new project. This is inspired by me having to sort through multiple boxes of bagged stuff to get it better organized. The one thing I did but wish I had done BETTER was to catalog and photograph the disassembly of the car with more detail and more organization. I am doing more modern touches, so it's not 100% applicable that I know what every piece of hardware does, but the time saved knowing which bolts or nut was used for which application is so huge. I like being able to look up my list of bags in Excel and find what I need.
A few ideas, which might be obvious to most of us.
Get the biggest damn spiral notebook you can and use that to take meticulous notes. Date your comments and make drawings and measurements as needed.
Take tons of photos, which is easy since most of us have smart phones now. Upload those pics to an image hosting site and make albums for the various steps. I like www.imgur.com, but there are plenty of good FREE image hosting sites. I have dozens of albums for the various stages of the build which has been a huge help, but even then I am missing certain info.
"Tag and bag" EVERYTHING, even broken things or the most mundane looking piece of hardware. I like to use the slider baggies and number them. I then have a spreadsheet detailing what is inside each bag. This is where your huge spiral notebook comes in handy. Write down the bags' contents and enter it into a spreadsheet later.
11-30-2016
This is where I am thinking I want to put the fuse box. It's mostly out of the way and I can make the wires less obvious. I don't care for mounting it on the wheel well. It looks a little too clunky there.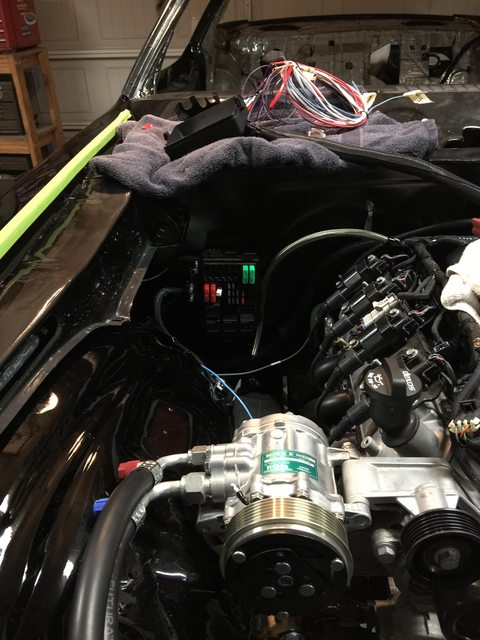 12-4-2016
Thanks, that's really kind of you to say. It's also one of the slowest builds, lol!

Side note - I ordered the ACC carpet so I could start assembling the interior when I need "quiet" work to do. I figure I am at the point that I can get most of the interior installed. I might even get the windshields installed just to get it done. No real point in delaying it now.

Once the fuse box housing comes in I should be able to finish routing the wiring. I went ahead and wrapped the other wires for the headlights, trn signals, etc with the Classic Braid so it would be ready to go.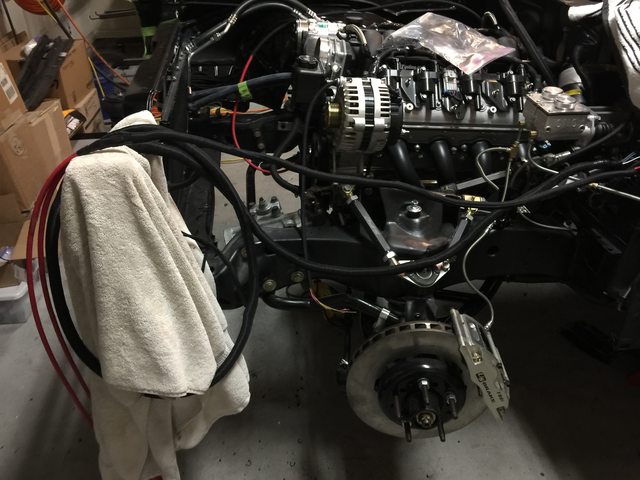 I adjusted the passenger side fender so the center lines matched up better. I think this is as good as it's going to get.

I need to tweek the lower bolts some to bring the fender out a hair, but that should be easy. I went ahead and put the Camaro emblem on while I had the chance. Hubba hubba.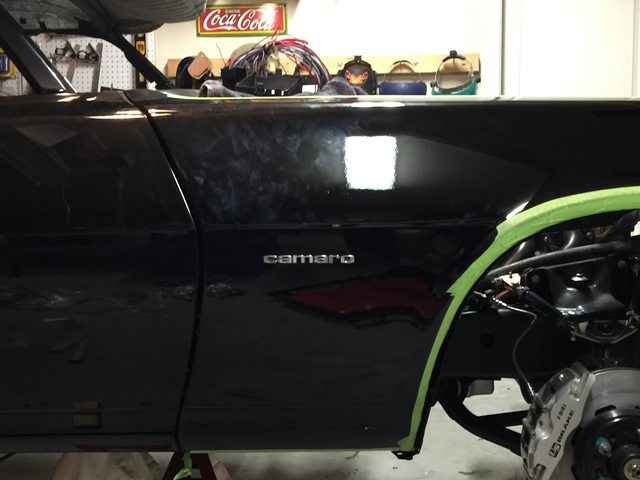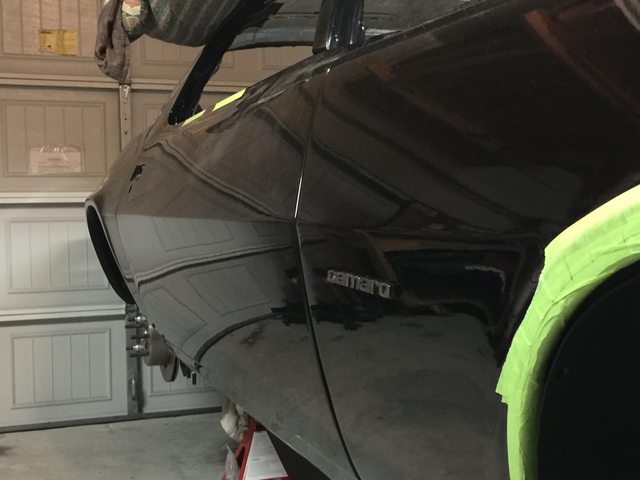 12-11-2016
As I waited to my fuse box holder to arrive I decided to install some interior items. I got the rear sail panels installed, the headliner mostly installed and the carpet in place. I have to get different hardware for the rear headliner trim piece but that should be it. There are some creases in the headliner that I will have to work out. I think I can take my wife's steamer and work them out some. It's perforated material on a plexi-glass material, so I might have to live with SOME creases when it's all said and done.

I have to trim the carpet and cut holes for the various bolts, but it fits in place nicely. I ended up going with ACC black, "Essex" with mass backing.

Once the carpet is in place I can install most of the rest of the interior. The dash will be last since I need to do a little work to the NPD dash pad, but that should not be too bad.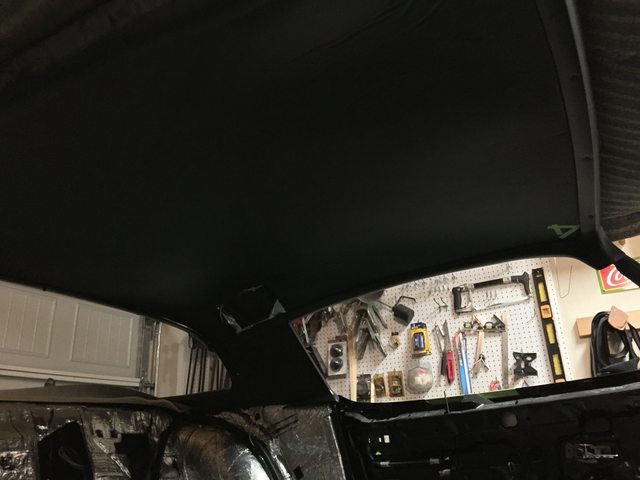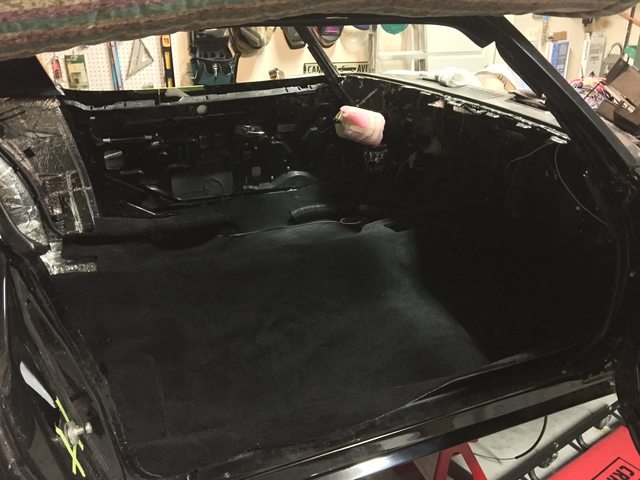 12-16-2016
I have been working on running the electrical the engine bay. I got the fuse box holder and modified it a bit to meets my needs.

I had to remove a little bump on the backside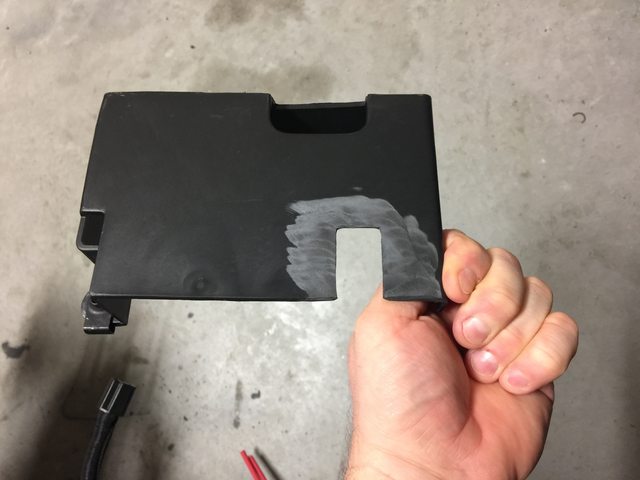 I cut off a tab on the top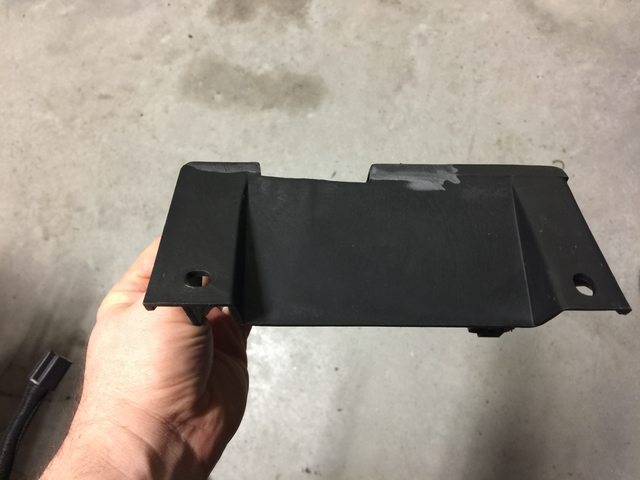 And ended up with this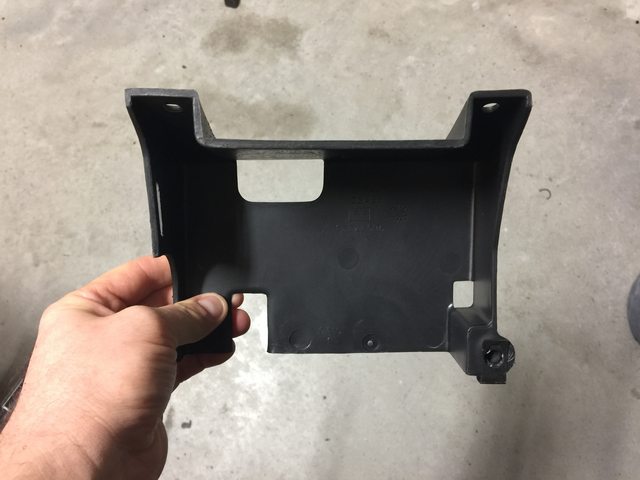 I used "elevator bolts" to secure the box to the firewall in order to achieve a cleaner look. The bolts are offset due to the space constraint inside the cabin. But it works fine.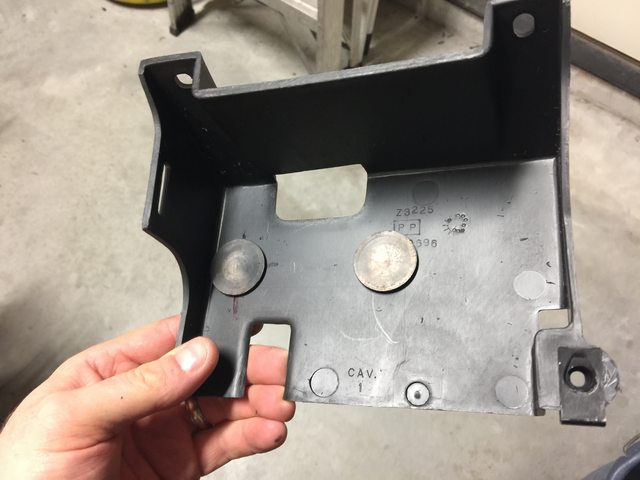 Here's the fuse box installed with the wires mostly in place. I need to do some final securing to the firewall but that will be easy. The rest of the wires were run under the fender.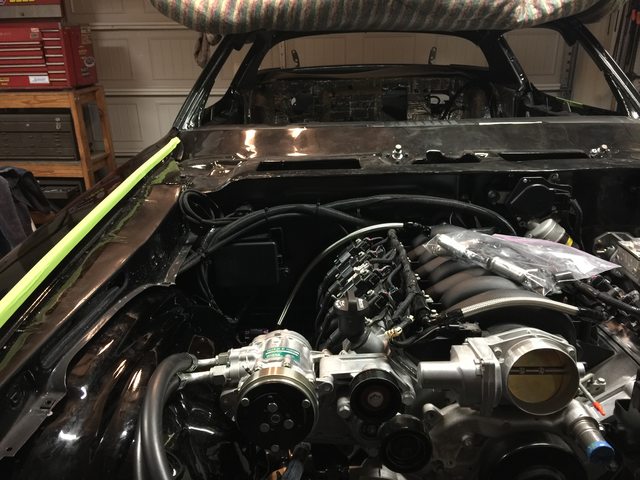 I secured the AC lines and heater hoses to the core support using some stainless clamps wrapped with rubber.




This helped keep the amount of visible heater hose to a minimum. It was overkill but I dig it.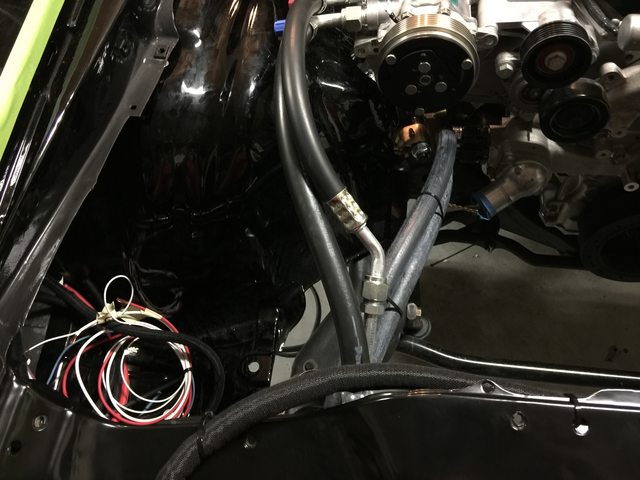 Slowly getting the wiring all in order. I need some more hardware to finish things up.

I started getting the trinary switch wired up for the AC-cooling system integration. Looks like I will need to get a battery soon so I can start getting the other wires cut to length and install the terminal ends.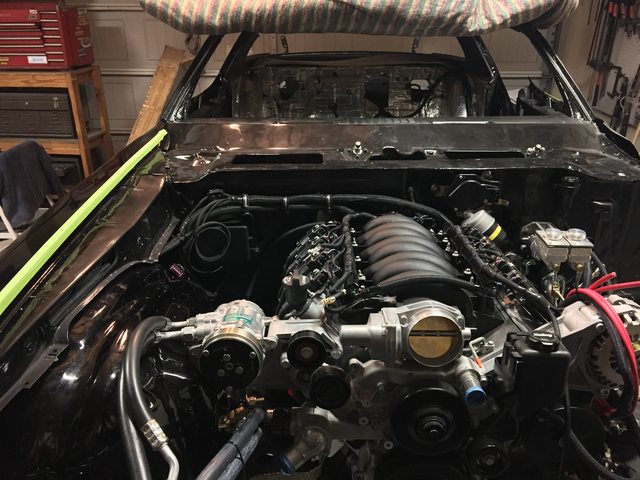 12-17-2016
For today I turned my attention to the carpet and interior. The ACC carpet fits very well. I did have to add a little extra padding under the area behind the front seats, but that is likely due to the floor pans and not the carpet. They provide plenty of material to trim off.

I got the rear side panels installed, which was a nice mental boost. You might notice I removed the headliner. I am not happy with the fit. The headliner I got is a flat piece of ABS (cut to the right shape), rather than having bends for the outer edges. So that led to poor appearance once installed. So I will be trying another headliner.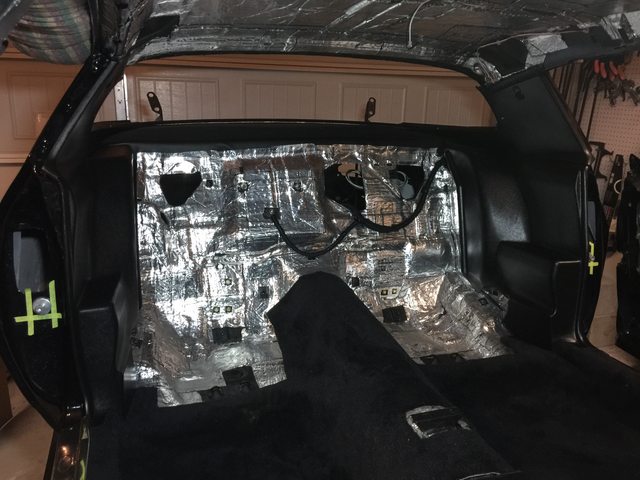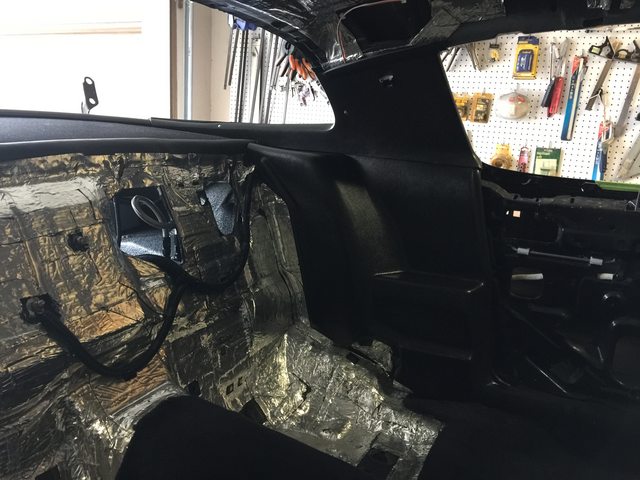 The rear deck cover installed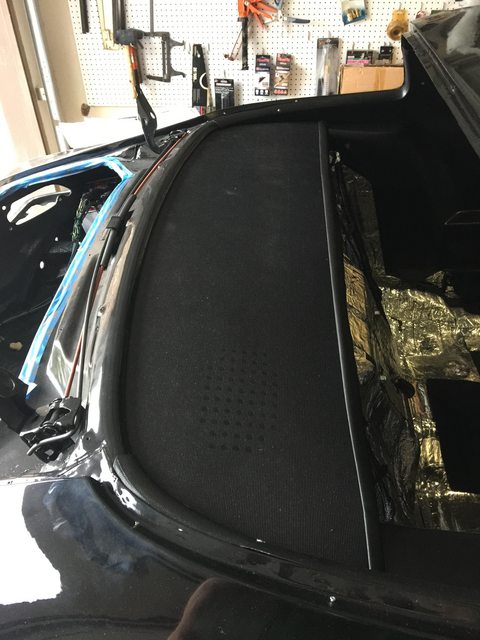 Here are some original seats I picked up years ago with the correct vinyl insert. I will need to have the seams re-sewn since the thread has aged, but the material is still in great shape. The interior on this car was always one of my favorite things about it.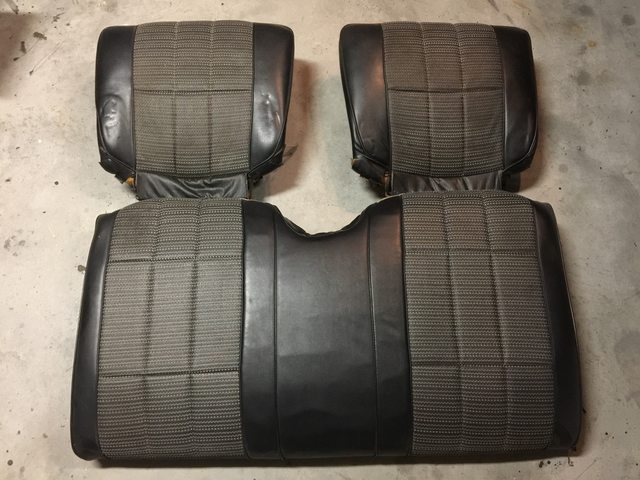 12-21-2016
I got the radiator, fans and close-out panel installed, along with the hood latch since it has to go in with the close-out panel.

The radiator is an AFCO which has a built in steam vent port, which will come in handy. The fans and close-out panel are from Custom Works. The fans and close-out panel are integrated for a cleaner look.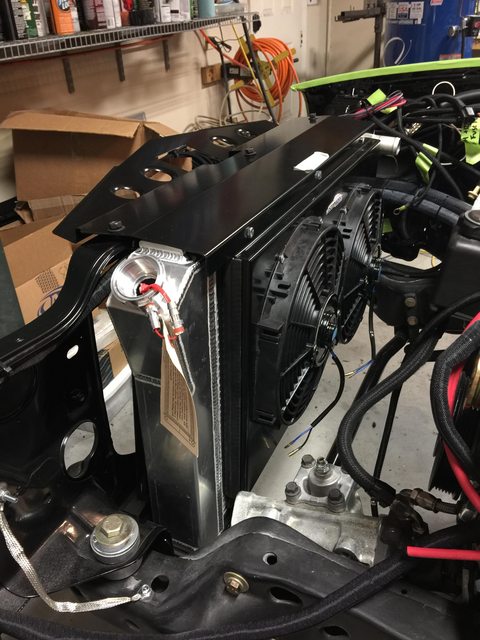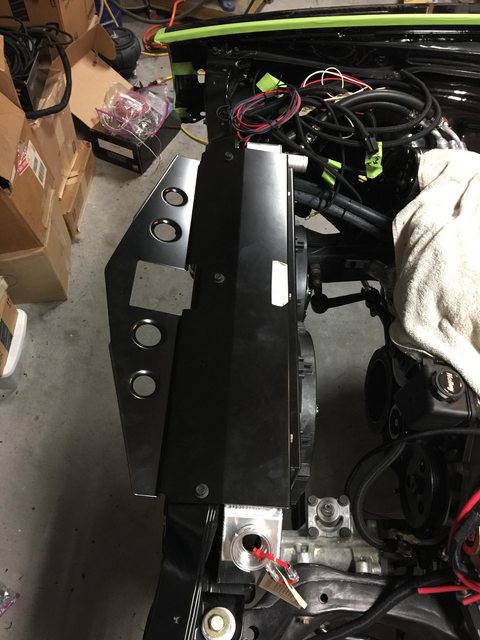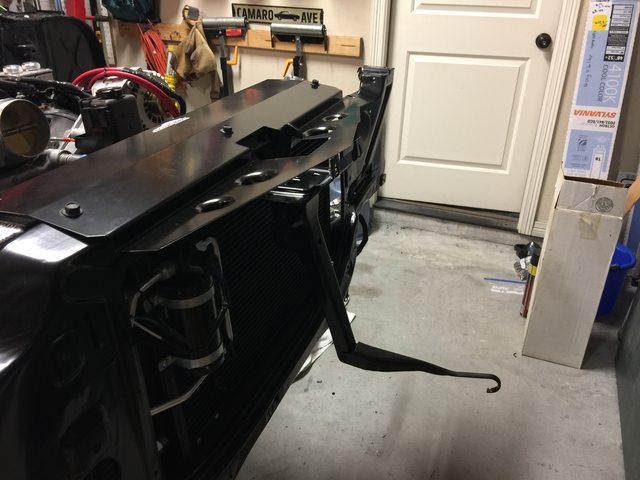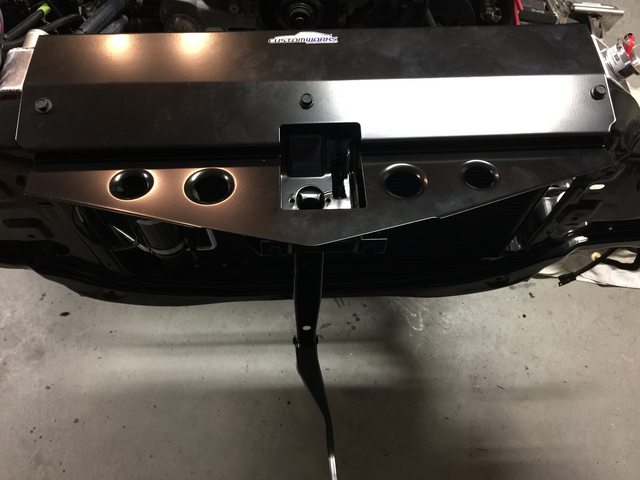 1-3-2017
Not a ton of picture-worthy things to share, as I've been working on finishing the wiring, installing the radiator and fans, and other boring stuff. I'm actually at the point that I was able to install the battery but I have not hooked any of the wires up. I need to get the radiator hoses sorted out and install the driver side fender so I can fit the air intake. After that I think I can actually attempt to start the engine, mainly to make sure it actually starts and check for leaks, etc. So that will be exciting.

I wanted to share at least one picture. I am cleanng some original back seats and wanted to show what 40 years of grime looks like. I cleaned the material with blue Dawn and a soft bristle brush. I had to go over it twice to clean it well.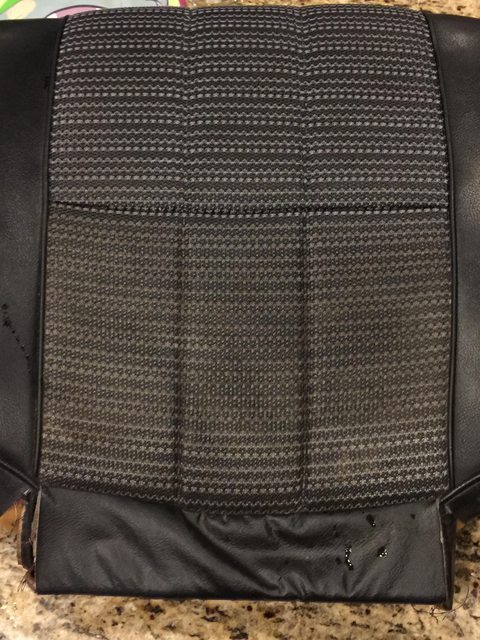 1-22-2017
So the engine bay is 95% done. The main things left to do are double-check all hardware is tightened, replace the serpentine belt, get the air intake fitted and get the G-braces installed (already working on the pass side). So now I can move forward with installing the driver side fender, which will unlock some other things to do, like get the rest of the body installed!

For the heater hoses (second photo) I used an upper for a 98-2002 Camaro and a lower for a 2006 Toyota Tundra (no, really). I went to the parts store and found a heater hose that was basically two straight pieces with a 135* bend with the right hose diameter. I cut it to fit and it worked out really nicely.

For the battery terminals (third photo) I went with some "military" style pieces that did not cost much but allowed me to make all the connections in a neat manner. I used some copper washers in between the terminals so there was some spacing.

I also got the back seats installed which was pretty cool. I sat in them for a while just to enjoy the fact there were some seats finally installed again. I luckily had enough material from the front seats to re-do the upper back seats. The lower cushions are original. After I cleaned them they ended up looking really nice.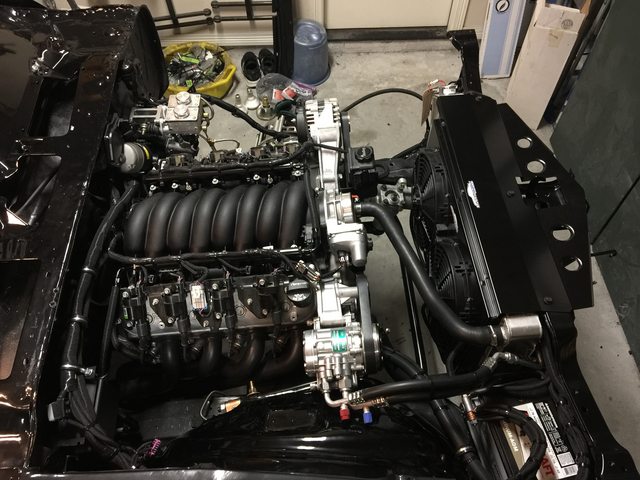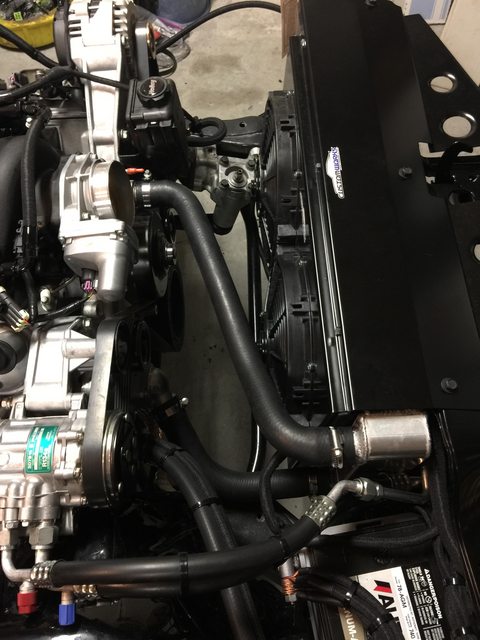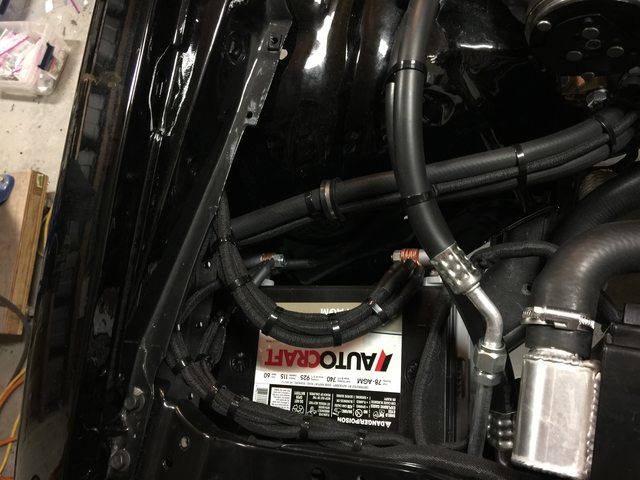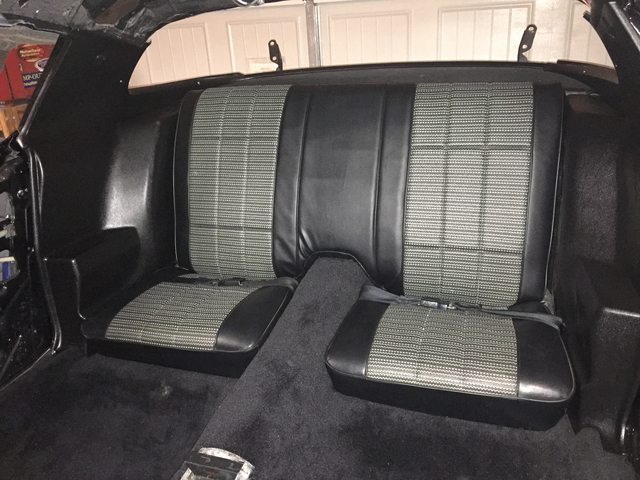 1-31-2017
I am off this week with the intention of getting some good work done. Today and yday have been mostly about the body. I think tmro will be more about the dash and getting it installed. Once the dash is installed then it will unlock some more "fast" work (hopefully). I got some more body panels installed, minus a few bolts. I also got the G-braces mostly installed (need some different hardware for the passenger side).

I also did some "improvements" to the NPD dash, which fits pretty well by itself. I added seven threaded inserts along the back edge where the dash rests on the metal lip. These are more to pull the dash tighter to that metal edge and give it a little extra support. It won't be "perfect" but it will be BETTER. I sprayed the dash with SEM paint today and will mess with it more tomorrow after it has proper time to cure.

Now some pics. Sorry for the crummy angle for the front shots but I was limited on space.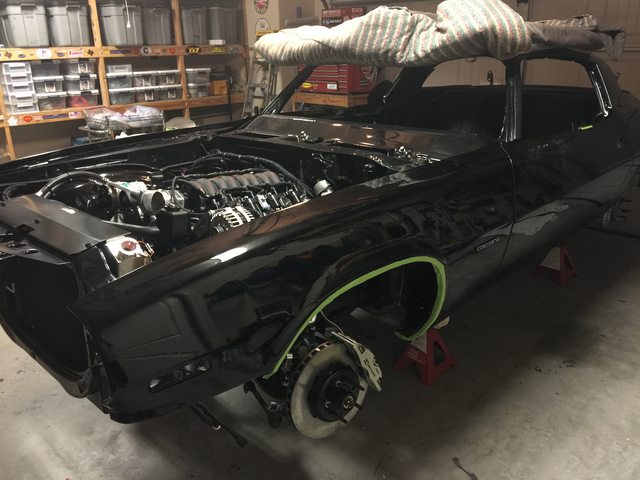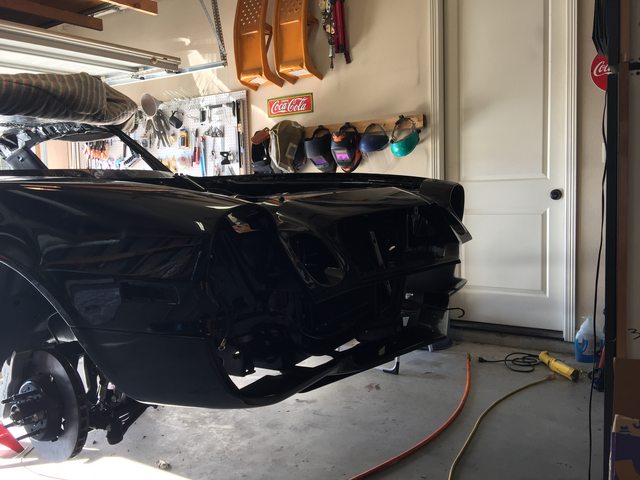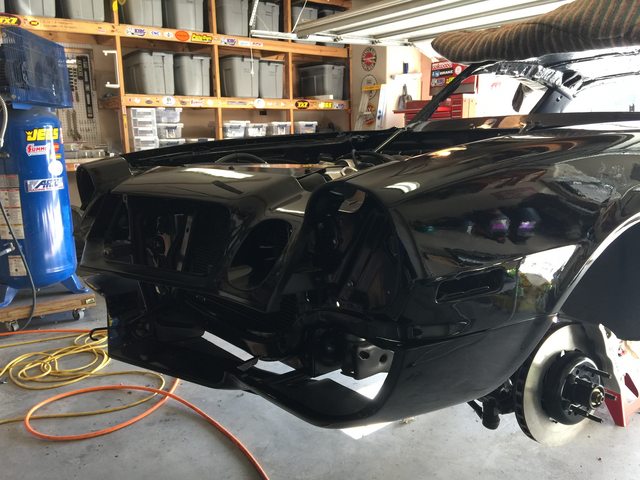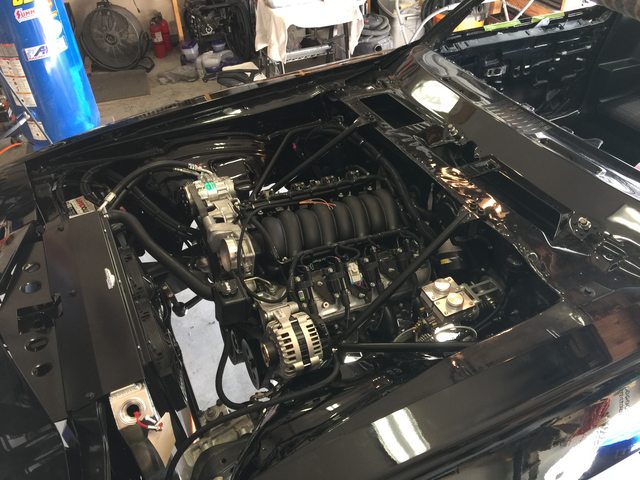 Here's some pics of the dash work I did. I started by doing just one threaded insert to make sure it would provide enough benefit. After some testing I did the rest.

I drilled seven holes in the metal lip for some 10-32 screws to help pull the dash a little closer to that metal edge. After drilling the holes I put the dash in place and gently pushed it tight against the metal edge. Then I marked the bottom of the dash with a sharpie pen for the location of the threaded inserts.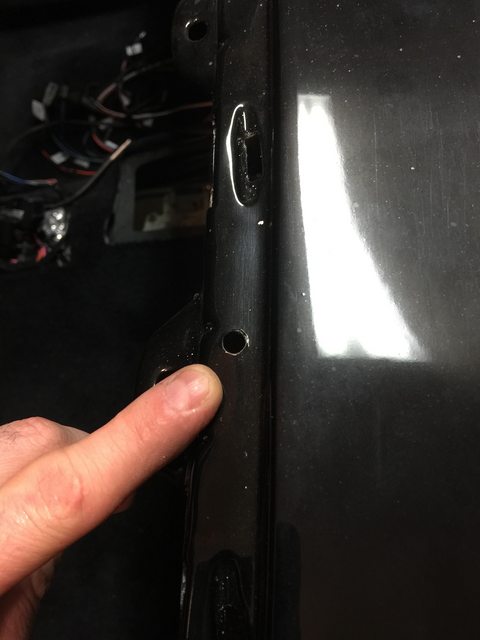 There are different hardware you can use but I went with these boogers. I cut the flat base off and then epoxied the threaded part into some holes I created in the dash. But you could use well nuts, coupling/connecting nuts or other similar hardware to achieve the same result. The pieces I used were the best parts I could find at the time but they worked well.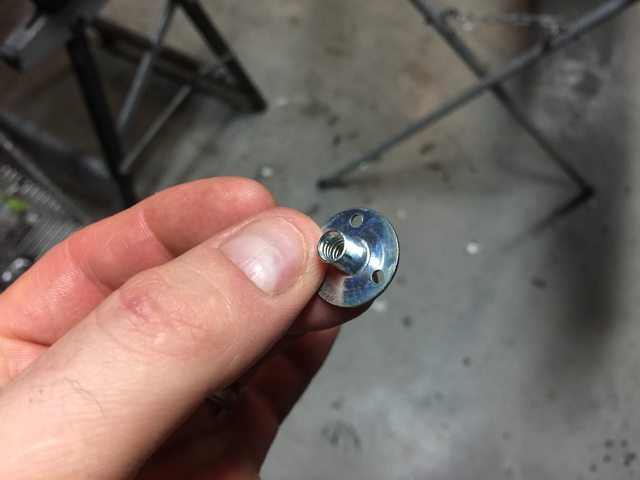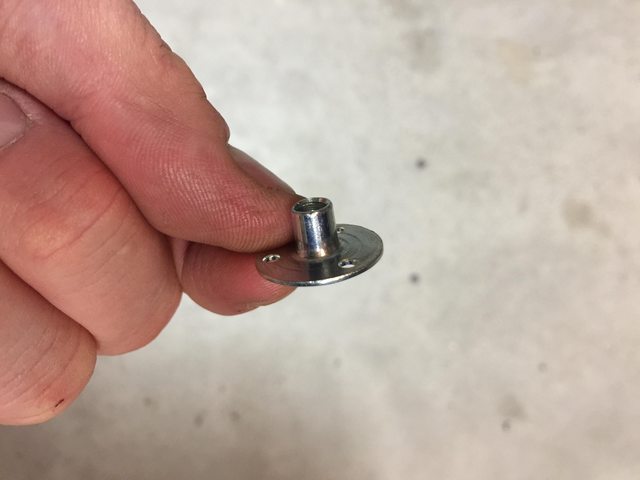 I drilled a pilot hole in the dash (don't drill through it!) and then used my Dremel to enlarge the hole. I made the hole about 2x as big as the threaded insert. I taped the bottom of the threaded insert with masking tape so the epoxy would not ooze back up into the threads. I then filled the hole with epoxy and set the threaded insert in the epoxy.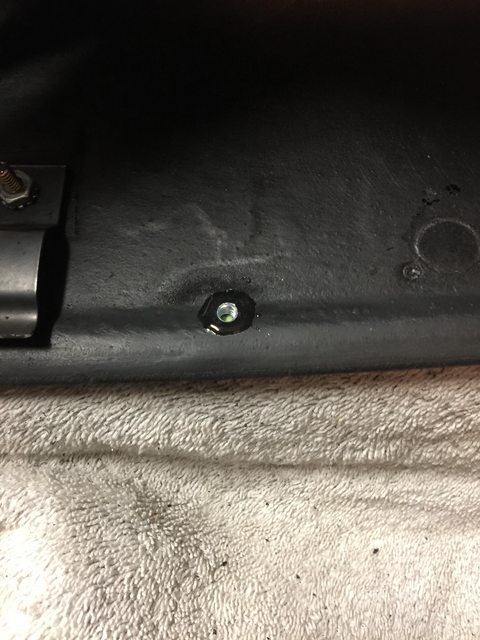 2-3-2017
BTW, I wanted to add some more info about my dash improvement. When I cut the flat part off the piece I used, I left the little burrs on there so it would add some "tooth" when I set it in epoxy. I had to re-do one of the threaded inserts because it was too smooth and didn't grip the epoxy well enough.

I'll post some pics without and with the extra screws installed and see if it made enough of a difference. It will also depend on how out of whack your dash is. Mine was fairly good to start with.
2-5-2017
I got the new headliner installed, minus the perimeter trim pieces which is just a formality. This is the 2nd headliner I've tried and I am very happy with how it looks and fits. This is an ABS headliner like the 1st one but the key difference is this new headliner is contoured to fit the profile of the roof. The 1st headliner was just a flat ABS board w/ perforated material so when I bent the headliner along the sides the material developed significant wrinkles. The new headliner is also a slightly thinner ABS so it flexes much better.

There is enough material provided and the dome light & sun visor mount holes are close enough to get the job done. I had to enlarge the sun visor mount holes but just by ~1/8" which the mount covered up.

This is the 2nd headliner: http://www.ebay.com/itm/131618265255?_trksid=p2057872.m2749.l2649&ssPageName=STRK:MEBIDX:IT The headliner comes w/o any holes (unlike in the photo in the auction) but it's easy to cut the material and glue it to the back. I went with black foam material.

I used the OER sun visor mounts and they are a very good reproduction. They are practically identical in every aspect which was a very nice surprise. The only bad thing was the mounting screws are too big but I had some correct screws from F-body Warehouse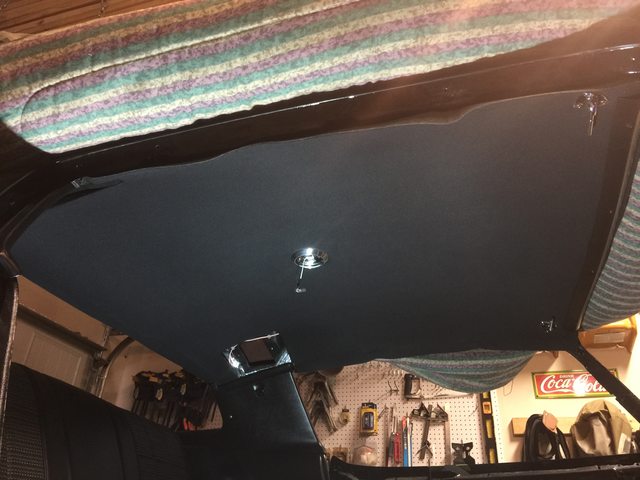 2-5-2017
I worked on the dash as well. I installed some screws to the threaded inserts I added and it helped pull the dash in a little tighter. I am happy with the end result, enough so that I am not going to modify it any more. I will see if I can adjust it a little more. I am not sure an original dash would have fit any better so I concede to the Camaro gods.

The driver side still sits a little high but that is a function of the dash having more material along that part of the lip. I ended up not feeling comfortable removing material from the dash since it's not something I think can be removed evenly.

FYI, this is an NPD dash, their 2nd run (I think they are on their 3rd run so far).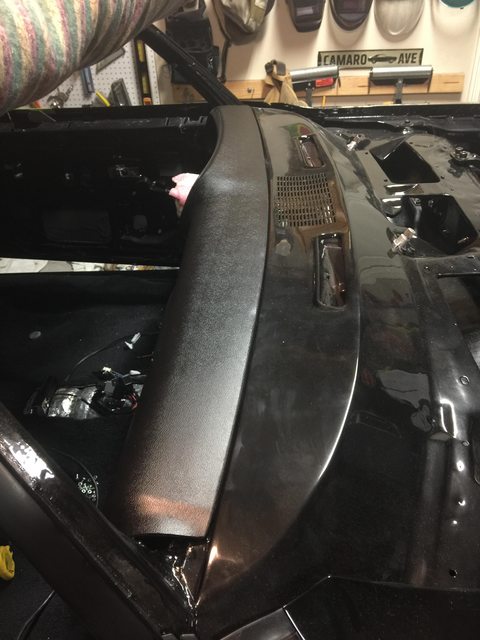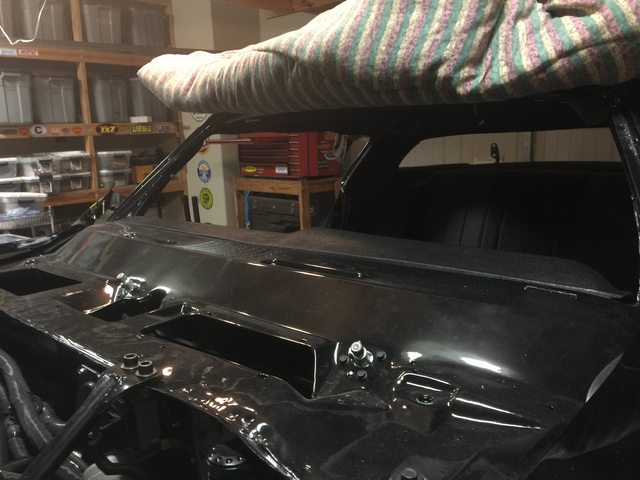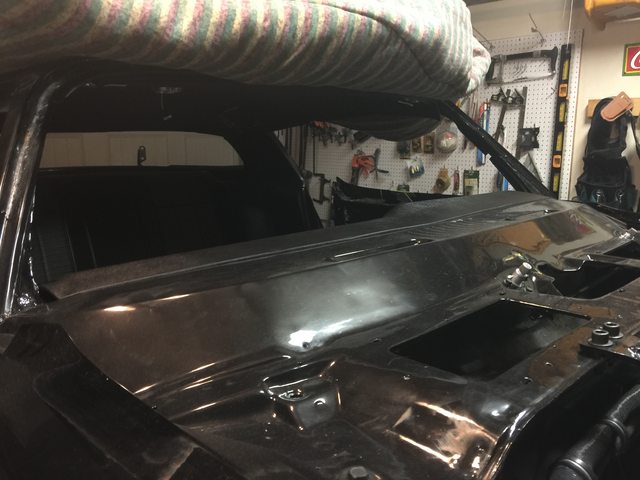 2-19-2017
The most notable thing I've done recently is getting the rest of the dash pieces installed. It wasn't as bad as I thought it would be. I can't install anything else like the glove box door, etc until I get the side vent pieces. Those should arrive tomorrow. Once the HVAC vents and hoses are installed then I can move forward with the other small pieces. But the "guts" are installed which is a good step forward.

I have some pieces getting powdercoated, such as door handles. So I will be able to assemble the door guts once I get those back. I have Mon and Tues off so I am going to turn my attention to sanding and buffing the rear filler panel below the back glass, the rear tail panel and the trunk lid. Those SHOULD be pretty easy. That way I can install them and get them out of the way.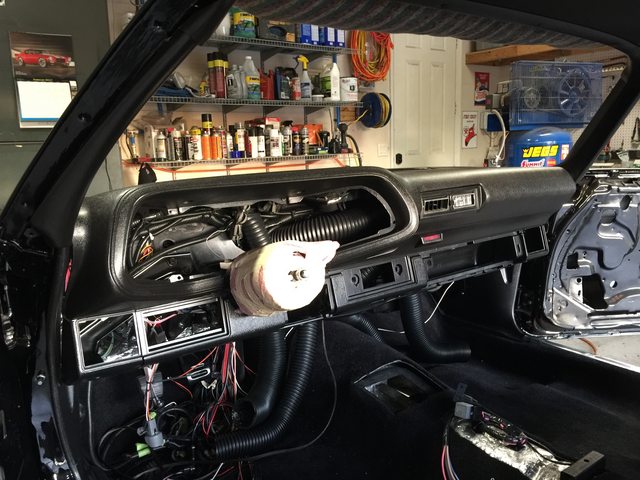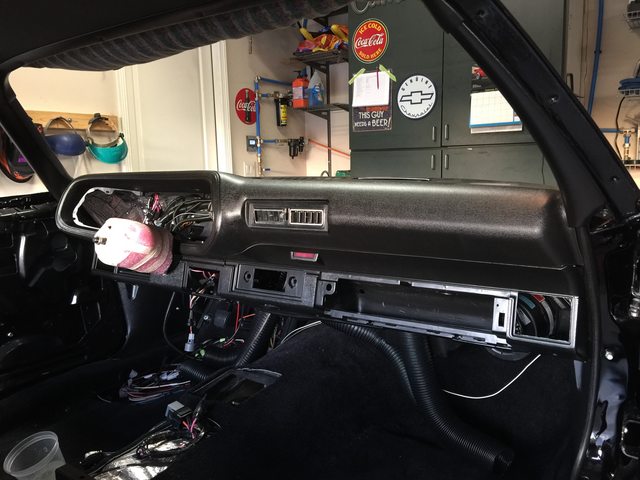 Here are the fender braces installed that I got from Custom Works. They go with the close out panel I got from Keith. These are nice pieces that I recommend to anyone.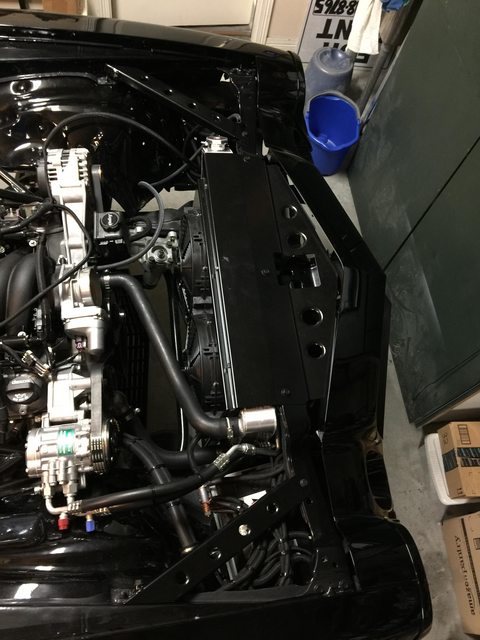 I got the tulip panel and the trunk lid taped off for sanding. I got the tulip panel sanded to 2500 and will sand it with 3000 tonight. I plan on doing a lot of buffing on Tuesday so I can set myself up for some more "late night" work.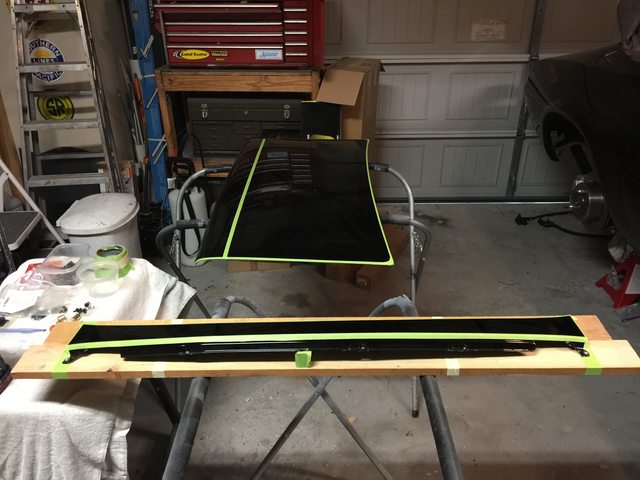 This might be obvious, but I created a little rig for the tulip panel. I screwed the panel to the wood using screws with rubber washers and added a piece of support wood in the middle (wrapped in tape). I then zip tied the wood to the work stand.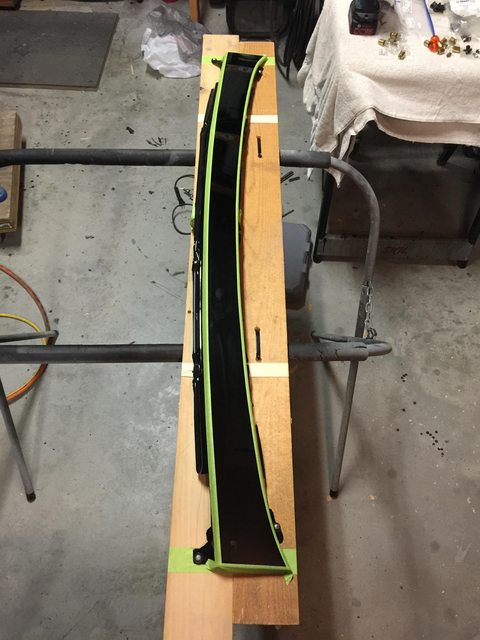 2-21-2017
Today I am buffing the panels as I mentioned earlier. I want to at least get the rear tail panel and the tulip panel done so I can keep installing parts. The trunk lid is not as critical but I want to get it done soon. I can always buff that in the garage at night.

The tail panel turned out pretty good. There are some flaws that you can see up close but I can't change that now. I guess my car is a "5 footer"??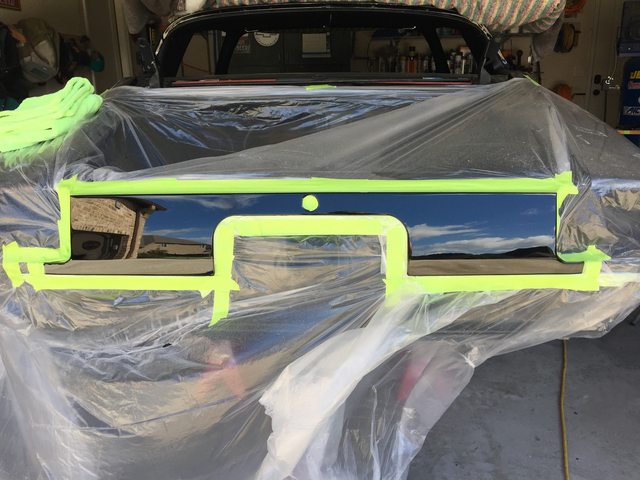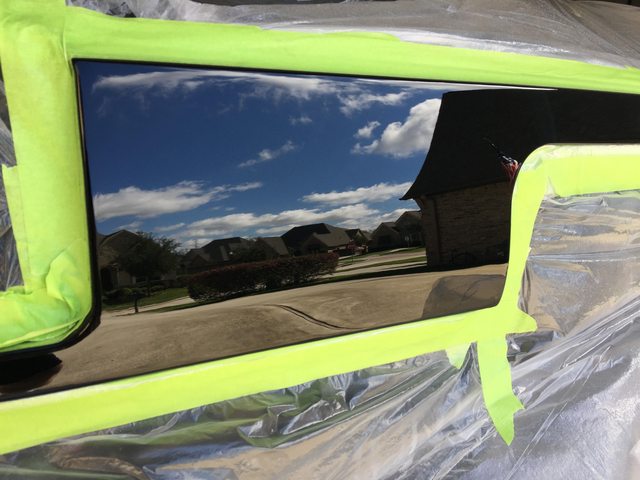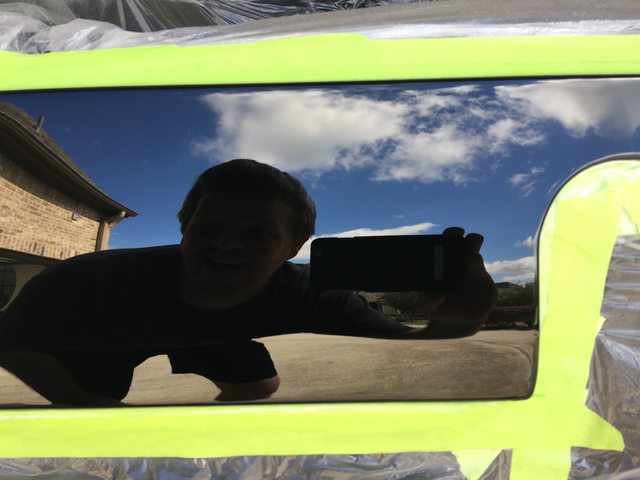 Tulip panel is buffed...now on to the trunk lid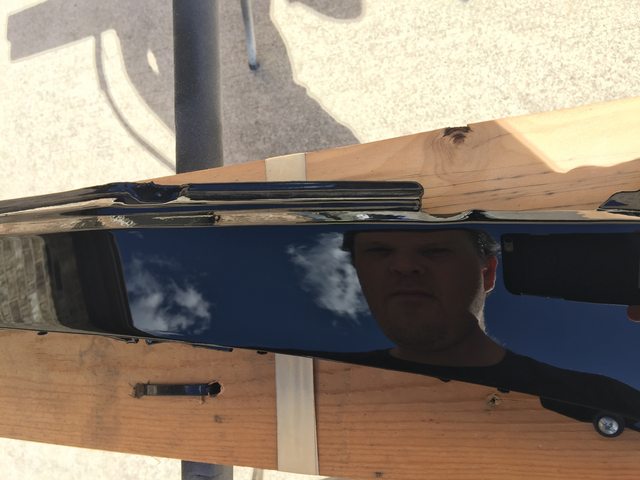 2-22-2017
BTW, here is the process I am using for the "cut & buff" for anyone curious. This is just one of MANY ways to cut & buff, but it's one I adopted based on my own findings. I also buy these products from Amazon or other places, not necessarily directly from the links I provided. Hopefully this gives someone some inspiration.

For sanding, I use Soft Sanders "Super Flex" wet/dry sandpaper for 1500/2000/2500 grits and Meguiars for 3000 grit. I also have 1000 and 1200 grit for any isolated runs/trash, but hopefully I can start with 1500 grit for the first cut. I tend to sand with 1500 until there is just a little orange peel left, then I move to 2000. Some people go from 2000 to 3000 but I have found adding 2500 helps the polishing process, but that is strictly personal preference. The Super Flex sandpaper has an adhesive backing which keeps it secure on the sanding block. It also lasts a long time. I buy the rolls and cut as needed.

For blocks I use Dura Block products. I took some and cut them down to smaller sizes as needed. I never dunk the blocks and paper into a bucket. I always have a spray bottle with mild soapy water (blue Dawn) and a squeegie to clean the panel. I have a hose nearby and will frequently spray off the panel and re-apply soapy water - it's cheap. If I hear that little "scritchy scratchy" sound I stop and wash off the panel. One little grain of sand under your paper can put a real damper on all your hard work.

I like to tape 1/8" - 1/4" of the edges with 3M "403" green tape when sanding. When I polish I use thinner blue painters tape to protect any sensitive areas, but I haven't had issues with needing to protect all edges when polishing. I did protect the upper corners on the trunk lid, for instance, since those we sensitive areas when I was block sanding. But I remove all tape for the final polishing step.

After sanding I buff with Chemical Guys pads and polish on a Torq polisher. I start with their "32" polish on an orange pad, then "34" polish on the same orange pad, then "36" polish on a white pad and finish with "38" polish on a black pad.

Super Flex paper: http://www.shop.softsanders.com/Super-Flex-Wet-Dry-Sandpaper_c8.htm

Meguiars paper: https://www.amazon.com/Meguiars-S3025-Mirror-Unigrit-Finishing/dp/B000IE7Z6K

Chemical Guys polish kit: http://www.chemicalguys.com/V_Line_Polish_Compound_Kit_16_oz_p/gap_vkit_16.htm

Medium/Heavy cutting pad: http://www.chemicalguys.com/Hex_Logic_Medium_Heavy_Cutting_Pad_6_5_Inch_p/bufx_102hex6.htm

Light/medium polishing pad: http://www.chemicalguys.com/Hex_Logic_Light_Medium_Polishing_Pad_6_5_Inch_p/bufx_104hex6.htm

Finishing pad: http://www.chemicalguys.com/Hex_Logic_Finishing_Pad_6_5_Inch_p/bufx_106hex6.htm

Torq random orbital polisher: http://www.chemicalguys.com/TORQ_10FX_Random_Orbital_Polisher_p/buf_501.htm
3-3-2017
I spent a few nights getting the trunk lid buffed. I got it to the point that it can go on and then can be detailed the rest of the way later.

I'm still waiting on some parts to get powdercoated so I can do some more assembly. I think the next few weeks will be a lot of fun once I have more parts in my hands.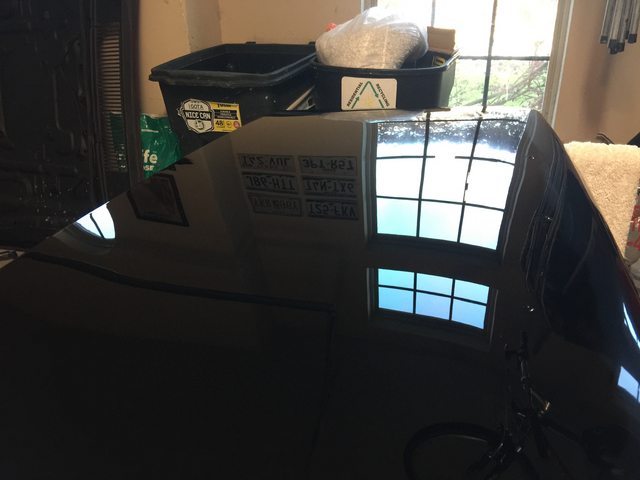 3-4-2017
I turned my attention to installing the door hardware while my son was napping. I got the handles and lock bezels (and all other exterior trim) powdercoated in gloss black and they turned out nicely. They need to re-do the driver side lock bezel so I cant get that installed this weekend but it won't be a problem. I thought it would be more difficult remembering how the handle and lock installed but it wasn't too bad.

I will work on getting the window tracks installed and the outer window felt so I can get the glass installed.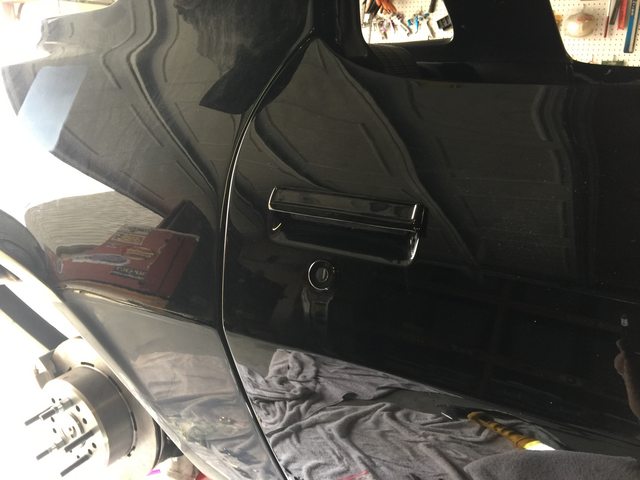 3-15-2017
I've been chugging along on various items, such as installing the tulip panel, trunk lid and middle spoiler piece. I mocked up the outer spoiler pieces but want to buff the quarter panels before installing them permamently. So the list keep getting shorter.

I mocked up the air intake and need to get some parts powdercoated. I am not sure if I can powdercoat just the exterior of the intake tube but I'd like to just to keep with the black theme. We'll see what the powdercoated has to say. The polished chrome looks good but I'd rather it be black

I cut the tube at the intake so it's not as close to the fans as it is in the below photos, fyi.

I am off three days next week so I hope to knock out a large # of items.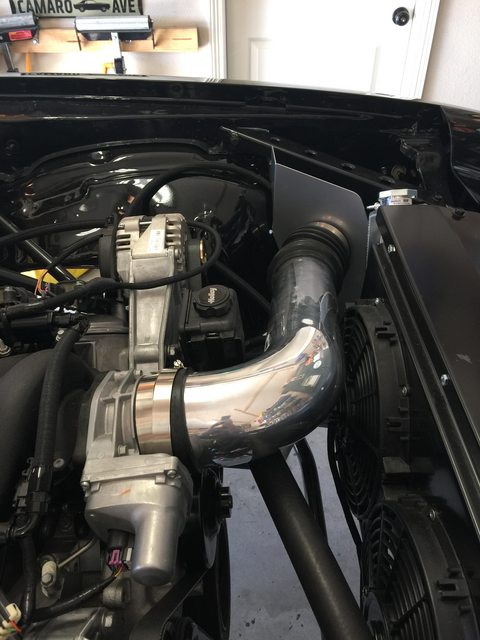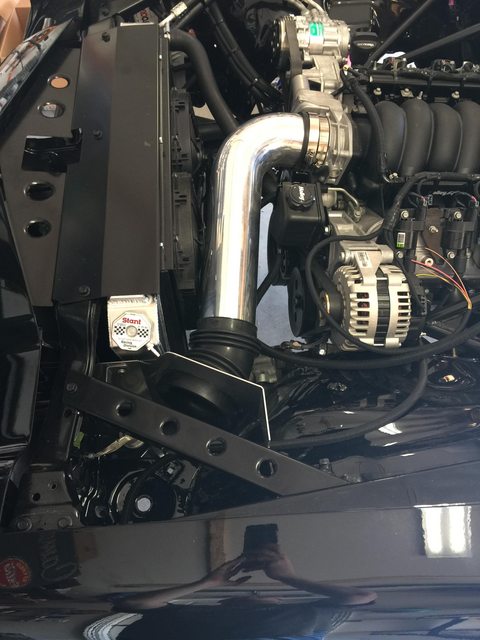 3-22-2017
I knocked some more items off the list and opened the door to do some more "fun" tasks. Monday I spent time getting the front bumper mounts modified for the tucked bumper mod and then I sent it all to the powdercoater. Tuesday I buffed the rear/lower quarter panels so I could begin installing pieces that were in the area. Today I worked on installing the rear spoiler (which was a result of Tuesday's work) and getting the gauges loosely installed. I won't install the gauges all the way until I test them thoroughly but they are all hooked up, minus the turn signal lights, high beam and check-engine light.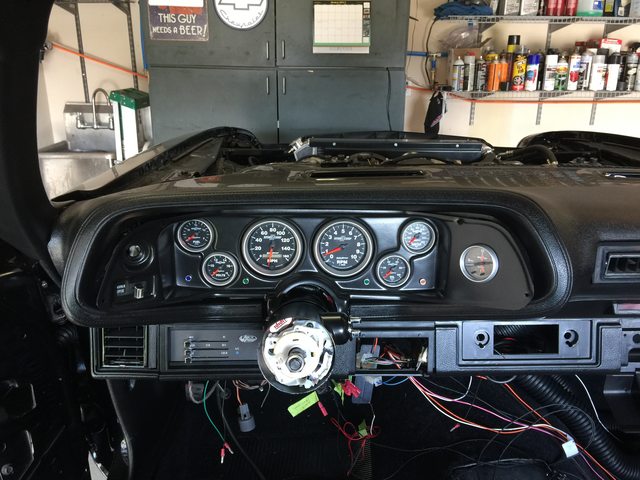 Please ignore the finger prints all over the spoiler pieces.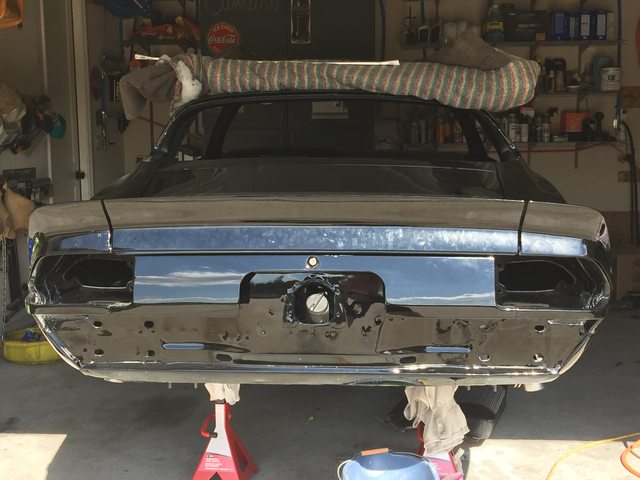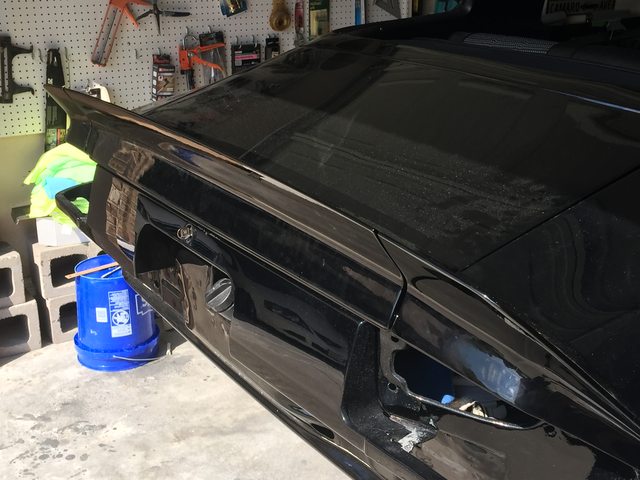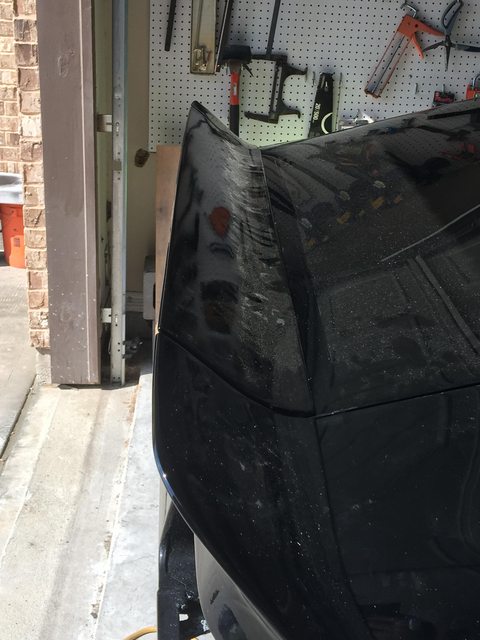 3-28-2017
Here's a sneak preview at the gauges. At least the lights work so that's a start!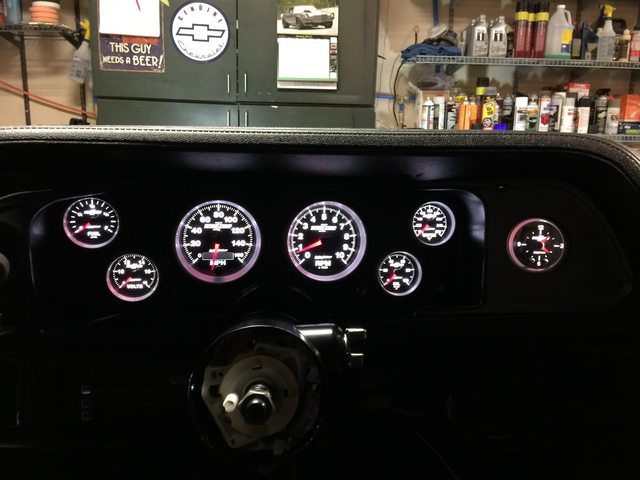 4-1-2017
I got my parts back from the powdercoater so I installed the air intake. It turned out pretty good. I need to buff the A-pillars so I can install the window trim and then the weatherseals....and then the window glass.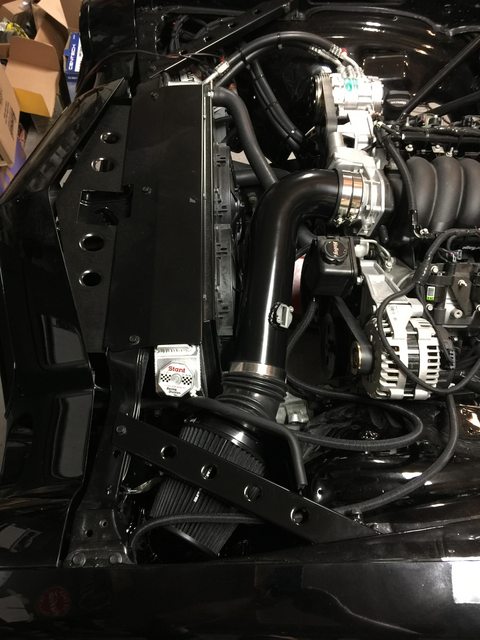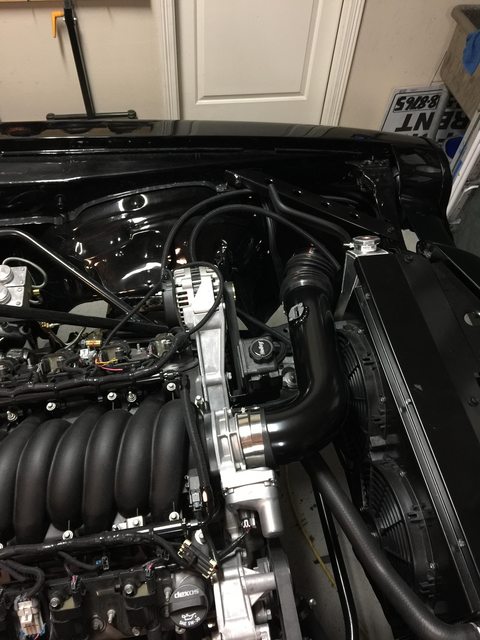 4-3-2017
I got the driver side window trim installed, which I had powdercoated in black (of course). I can now install the upper weatherseal. I'll buff the passenger side A-pillar and get the trim installed this week.

I am also going to tackle the outstanding engine related items, particularly getting the MAF sensor wired up and installed. After that I need to do a final check of all the bolts, hoses, etc and then try and turn the engine over.

A few photos of the trim, which is doesn't really stand out but that's OK.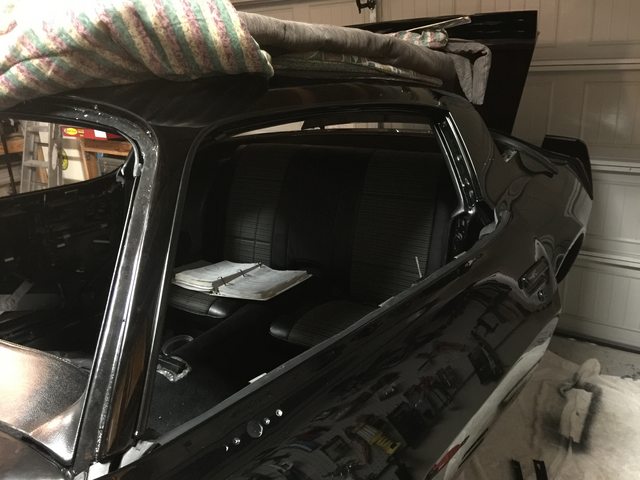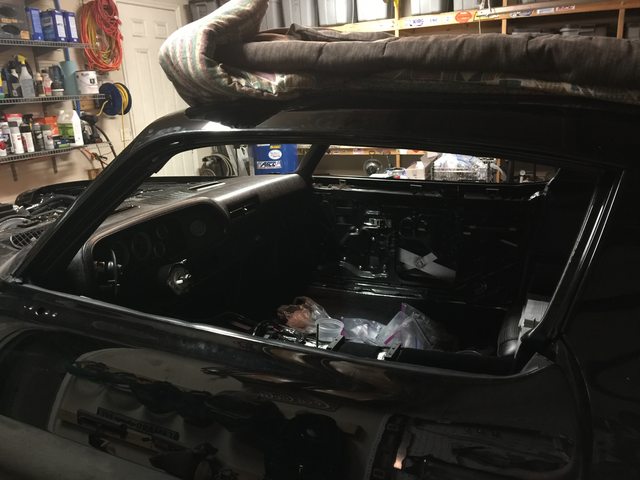 4-21-2017
I got the tires mounted and loosely stuck them on just to get a peek. The wheels are Vintage Wheel Works V45 and the tires are Falken Azenis RT615K

Tonight I am going to get the bumper hardware loosely installed so I can get those on soon. Tomorrow I need to swap out the cooling fans and then get my plan together for starting the motor. The glass will get installed May 19. Those items are the major things on the list now.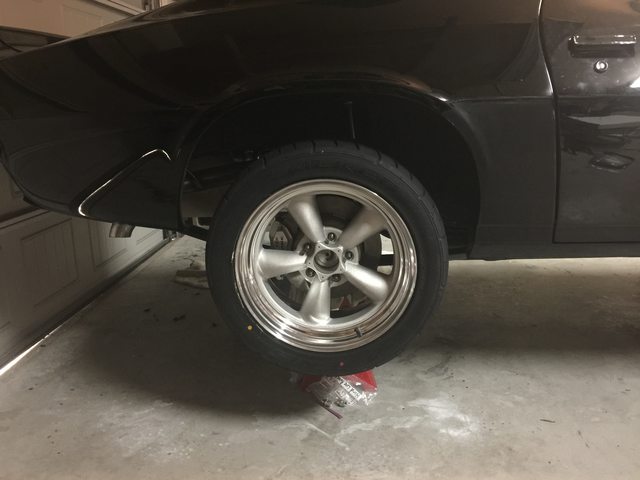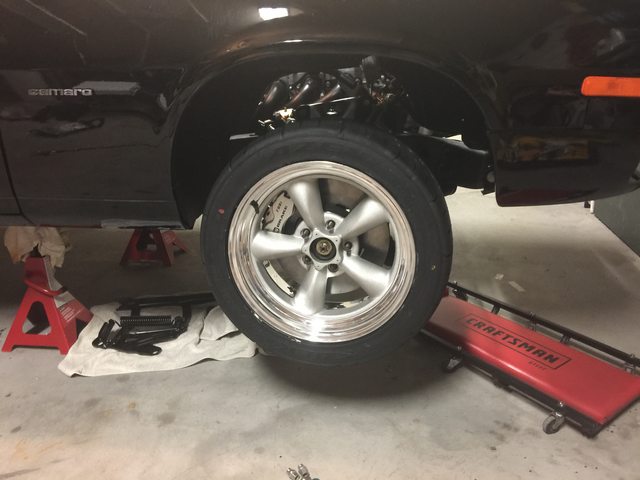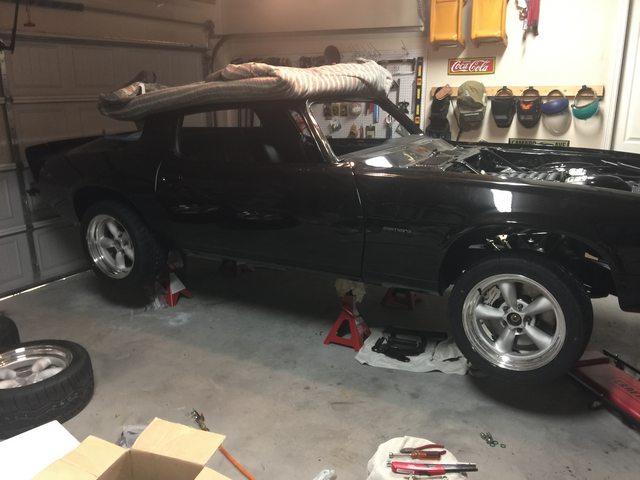 5-1-2017
I got my battery tested and it was fine so I guess my charger was malfunctioning. So I re-installed it in the 76 and decided to test the turn signals and discovered they didn't work.....super. The hazards worked and the side markers/parking lights/tail lights turned on with the headlights so that was good at least. That told me it wasn't likely a ground issue.

After trying various troubleshooting ideas I discovered the turn signal switch was not getting power from the turn signal flasher on the fuse block. I am not sure how that would happen unless I accidentally snipped the wire somehow or it got pinched during installation, but I will try and trace the wire from the connector back to the flasher to find the break in the circuit. I suppose I can remove the fuse block and tie into the wire coming from the flasher. It just means more work I wasn't expecting to do.

At the very worst I can steal the power from the hazard flasher to power the turn signal switch. I think having turn signals is a little more important than having working hazards. But that is more of a last resort.
5-7-2017
So I either miswired something or the Painless kit has some gremlins because the dedicated gauge switched 12V power wire is dead. This comes after the turn signal power wire is dead. I can deal with it but I can't believe I'd be that incompetent at plug & play wiring.

I borrowed switched power from an open accessory port and all gauges appear to work. I turned the motor over (not going to start it yet) to get oil pressure and it got to 30 psi during starting which is good. Hell, the motor just turning over is a great sign! I was nervous as hell before I tried to turn it over.

Maybe I'll try to start it tonight...stay tuned.
5-8-2017
So I did not attempt to start the motor last night. I wanted to REALLY BADLY but decided I need at least one more person on hand looking for leaks, etc during the initial startup. So I will attempt to start the motor this weekend. I know the fuel pump is getting power because I can her it prime when I turn the key, so I hope there are not any major fuel issues. It's a damn crate motor, it better work!!

In the meantime I am going to focus on getting the bumpers installed since that is one of the last large tasks remaining (at least the tasks I need to do before baby #2 arrives).
So I think I figured out the electrical gremlins thanks to some calls with Painless and IDIDIT. IDIDIT does not use a traditional column-mounted ignition switch, which is fine. They have a relay pack with one of the relays having an accessory feed wire that connects to the Painless brown accessory wire (#932) to the fuse block (for radio, HVAC, etc). I was supposed to group the Painless brown accessory wire (#932) AND the Painless orange ignition power wire (#933) connect both of those wires to the IDIDIT brown wire. I think I only connected the brown wires together, which makes me wonder what I did with the Painless orange ignition power wire (#933).

The consequence is that things that would normally only work with the key in the ON/RUN position will also work with the key in the ACCESSORY position. I don't anticipate that being a problem.

The "good" part in this is that when I spoke to the tech support guy at IDIDIT, he asked if I was running an LS. Apparently when I turn the key on their column there is a very slight "dead space" of like 1/10th second of no power coming from the pink ignition wire to the ECM. This causes the ECM to stop powering the fuel pump. It's just long enough of a loss of power to make the ECM think it's completely lost power. They are going to send me a replacement relay that addresses this issue. I would not have known about this had this other issue popped up.
5-9-2017
In today's installment of "as the wiring turns", I bundled the two wires on the Painless kit (accessory power and switched ignition power) and connected those to the brown accessory power wire coming from the IDIDIT relay pack. That seems to have "fixed" the issue. The consequence is that anything that would have worked only with the key in the ON/RUN position will now work with the key in the ACCESSORY position, which I can live with. So now I can zip tie the wires and put them back in place.

I went ahead and made all the radio connections while I was in electrical mode and everything worked, so that was refreshing.
5-13-2017
I got the replacement relay in so I can get that installed (15 min job) and target next weekend to try and start her up. I am getting the glass installed on Friday so that's also exciting. Aside from the front/rear glass and bumpers, there are not any major items left to install. I will be happy to have those items off the list so I can have just smaller detail items left. The car definitely won't be DONE before our daughter is born in 4-5 weeks, but I am honestly happy where the car is and where it should be in a few weeks.

Here is a sneak preview of the front bumper installed. I did more tucking inward than raising it, but I dig how it looks. The strip is an aftermarket piece I got from F Body Warehouse (site sponsor). It is more of a composite material. It fits well and looks good.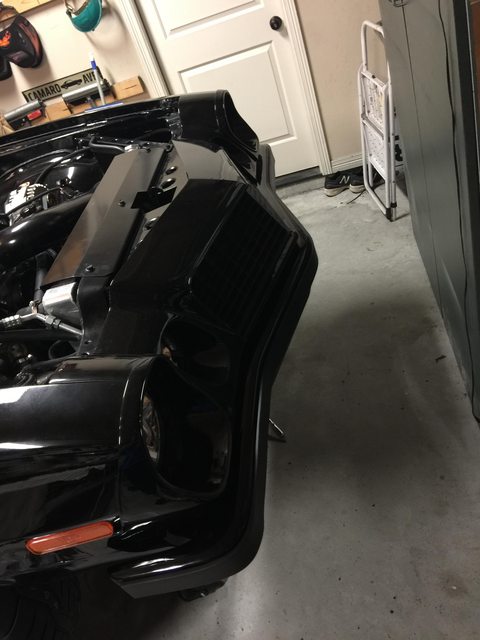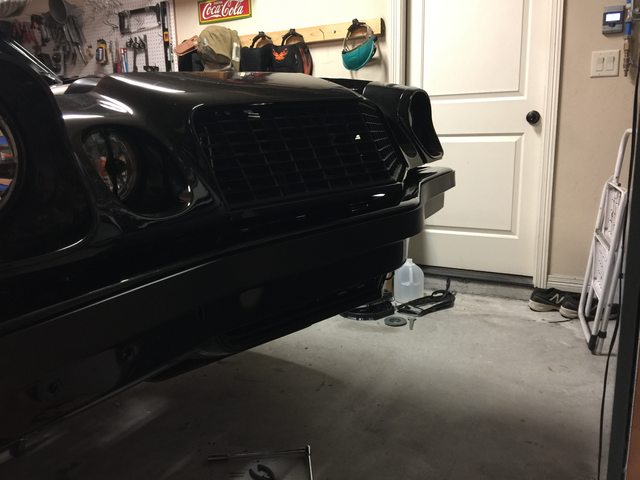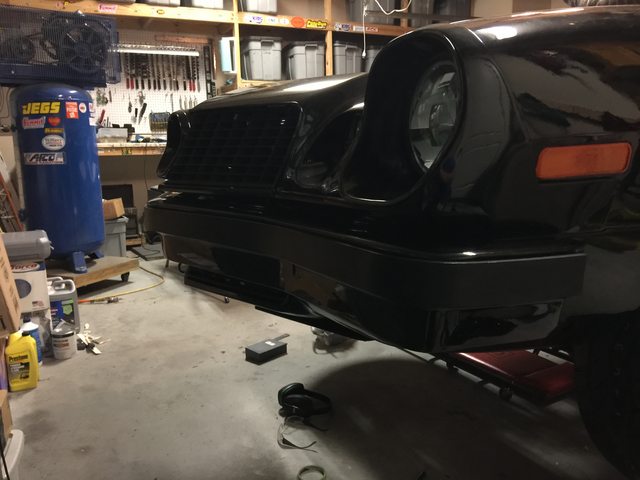 5-15-2017
I got home early and decided to get the rear bumper mocked up. The rear went much quicker than the front. I need to shim the big brackets but not by much.

I pushed the bumper in as far as it would go against the plastic filler pieces.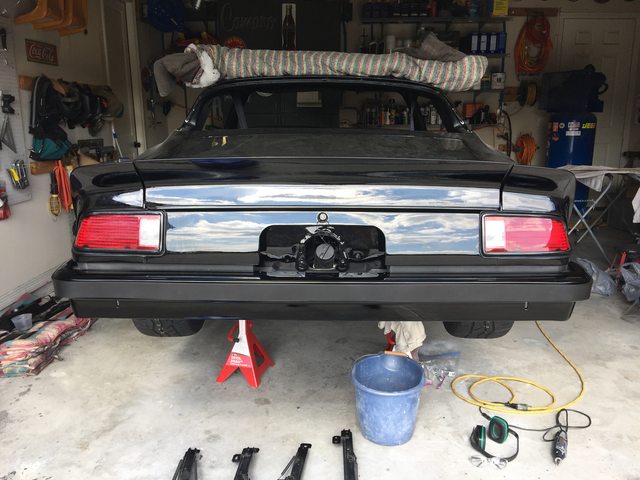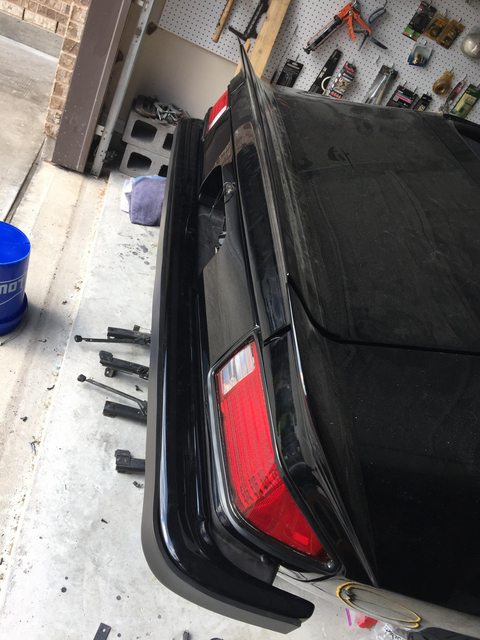 Here is what I will weld to secure the bumper. olstyle and someone else did this with success so I am going to try it out. I will spot weld it in place and then remove the bumper and weld the pieces together.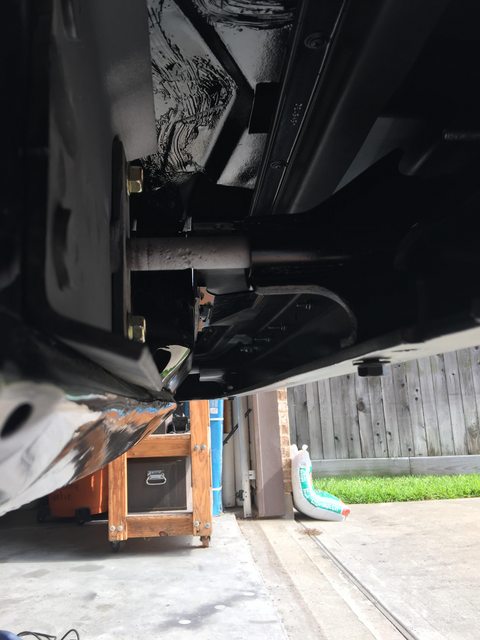 5-19-2017
I got the glass installed and it went well. The installer was an old pro so I felt good about my pick. He said the glass, which is aftermarket, was a little shorter than the original based on how much it sat on the metal lip, but he was not concerned. Just something to share with others as they shop for glass.

The rear of the car is basically done. The tail lights are installed and the bumper is installed. The pics of the front glass installed are useless due to poor lighting, so here's a few of the back.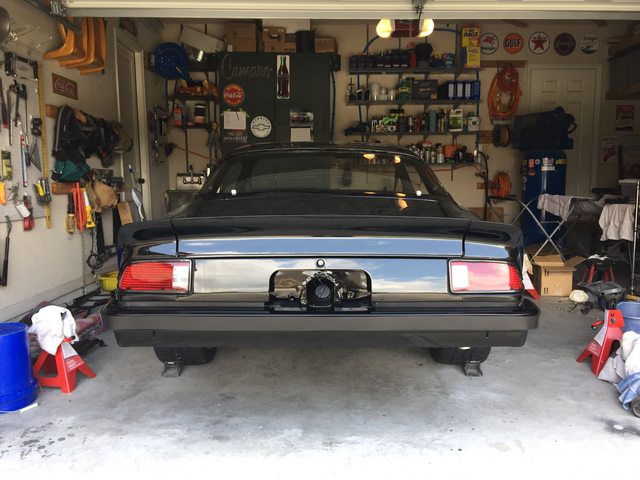 5-25-2017
I am not sure WHY or HOW the engine decided to start, but tonight it did. I hooked up my ODB reader and went through the scanning process, cleared all the codes and then disconnected the battery to let it sit for a while. Then I hooked the battery back up, pulled the fuel pump relay, made sure I got oil pressure, reinstalled the fuel pump relay and attempted to start the motor with the full intention of just trying to get a fresh set of codes. But I noticed it was acting a little differently this time, so I turned the key again, gave it some throttle and it started and STAYED on. Score one for THIS GUY!!

Oh yeah, here's a video of the (almost) first time this motor has ever run:
5-30-2017
thanks all, it was definitely nice to hear the motor run for the first time. I can look at the car and finally see an end in sight.

I am having issues with the engine starting AND running on a consistent basis, but after my research and double-checking everything I am going to chalk it up to tuning issues (it hasn't been tuned) because everything appears to be in order. Fuel pressure is good, no vacuum leaks, MAF is installed corrected, no fault codes being produced, etc. I'd be way more worried if the engine wouldn't run at all. But when it does run it sounds good.

Our daughter will be here no later than June 15 (doctor will induce on that date if she's not born yet), so I will be taking a break from the car after that. The good news is I don't have any MAJOR items left so I should be able to tinker with it when I have a few minutes here and there. I'm going to order the driveshaft today, finally. In theory I could bleed the brakes and the clutch MC and go on a maiden voyage.
6-2-2017
I was having issues with the oil pressure gauge and water temp gauge not working properly (Auto Meter Sport Comp II, electronic) and I got the water temp gauge to work but I am still messing with the oil pressure gauge. I kind of need that one to work.

You have to apply teflon thread sealant on the adapters that thread into the motor since they are NPT fittings, but if you put too much sealant on them then that affects the ground which affects the gauge's ability to work properly. The oil pressure gauge wasn't moving at all last night, although it HAS worked properly before and showed 40 psi. I removed all the thread sealant last night and will try again tonight. I know I have oil pressure but I still need that gauge to function.
Btw the key tumbler in my IDIDIT column wasn't quite right so I called them to discuss solutions. They offered to replace the tumbler or install a basic keyless push button start at no cost, no questions asked, which I appreciated.

They also offered to install push button start with a FOB like modern cars for ~25% the cost of the system, which I think I'm going to do. It's really too good a deal to pass up to get a cool upgrade. I'll have to ship the column to them but it's not like I'll be driving her soon.

My DD doesn't even have push button start, lol.
6-5-2017
This one: http://www.ididitinc.com/i-25049369...black-powder-coated.html?ref=category:1310143

It's an OEM style column. They advertise it as 70-75 but it can work for any 2nd gen. I think they officially market it as correct for 70-75 because some cars had the high beam on the column which they don't offer. But there were no fitment issues with my 76. If the tumbler wasn't having the "kickback" issue then I wouldn't even be upgrading to push button start. I am going to assume I just got a lemon key tumbler unit.

The one thing I didn't like, which is a minor, is they don't provide separate power wires for the brown accessory power wire and the orange switched power to fuse block. They only provide one wire, so I had to splice that to the brown and orange wires going to the fuse block. The consequence is that everything receives ignition power when the key is in the "accessory" position. But I can live with that.
6-24-2017
I was able to get the steering column with the touch button ignition installed. It turns out the keyed ignition tumbler was the cause of my motor woes a few weeks ago. The tumbler not having proper kickback was leading to ignition 12V problems. The motor fires right up with the touch button ignition, which is a huge relief.

I have to touch the button 3 times quickly to turn off the motor, which I was still getting used to
6-28-2017
I ended up getting this one: http://www.ididitinc.com/i-25049820-id-touch-keyless-start-ignition-system.html?ref=category:1341772

BTW, I asked the rep why they need 3 touches to turn the car OFF and he said since this is not a button like we see in modern cars (i.e. a button you actually depress), they did not want a single touch to turn the car off. So it's more of a safety feature than something they HAD to do.
7-26-2017
I've gotten a few things done on the Camaro, mainly during the weekends when everyone is napping. I was going to try and bleed the brakes but did a pressure test and discovered a small leak in the front line at the "T" junction off the MC. So I need to remake that small portion of brake line. The circuit for the back brakes appears to hold pressure good, so I can at least bleed those.

My wife is working hard to get our little girl fattened up. She is almost 9 lbs now after ~6 weeks. She left the hospital just above 6 lb. She slept as late at 6:30 am one morning, so we're slowly getting her into a sleep schedule like her brother.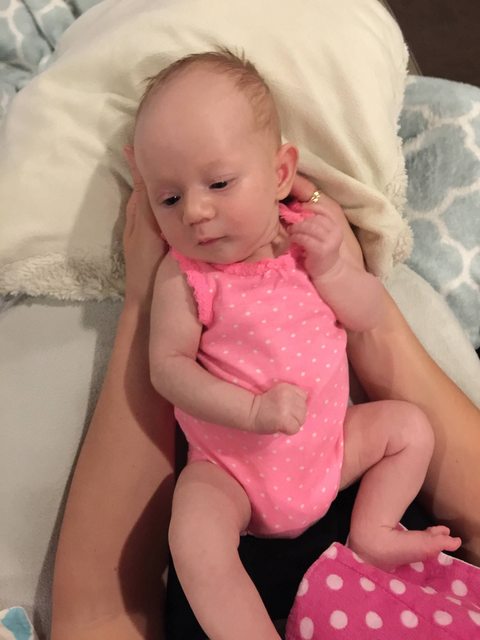 9-12-2017
FYI our house flooded from tropical storm Harvey back on Aug 27-28. We got ~16" inside the house and have since demo'd the house and had it professionally remediated. So now we are waiting to sign a contract with the GC we have chosen. Then we can start the rebuild. We're hoping drywall begins in 2-4 weeks.

The Camaro was not harmed. I jacked it up ~30", well above the water.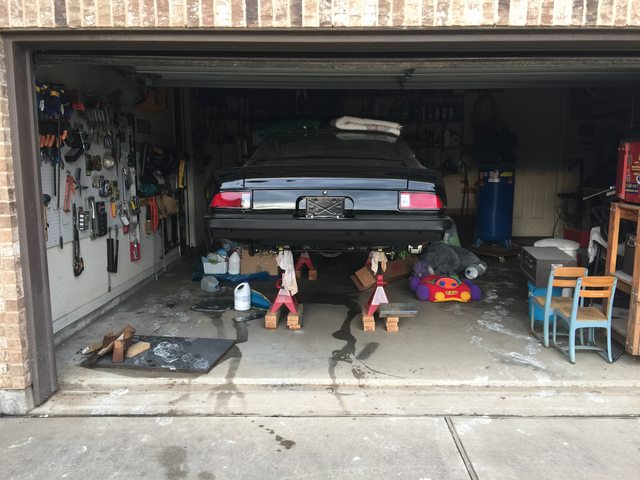 10-2-2017
We signed the contract with the GC last Thursday, so now we wait to get things started. We should see some activity in the next 1-2 weeks. There will be some framing work required so that will be the first phase of work. The Camaro garage will be jam packed with boxes so no work will happen until 2018
She isn't going anywhere.

We got our house remediated for NINE days total with fans and commercial dehumidifiers (3 days and another 6). But it gives us good peace of mind that our house is dry and ready for rebuilding. Some neighbors didn't get ANY remediation done, which is crazy. I walked around last night with my daughter and some homes already have drywall and texture up. I hope they don't regret that later.
10-23-2017
Here are some pics of our other project, the house rebuild. Drywall should begin soon. The GC is conservative about insulating and drywalling until the moisture levels are below a certain threshold (14%). They said some isolated spots are around that level, which they can address by replacing materials. Some people's homes are done, which is kind of wild since I am pretty sure very few people got remediation.

Pre-framing photos: https://imgur.com/a/JKlL6

Post-framing photos: https://imgur.com/a/UAPiP

Drywall work: https://imgur.com/a/mlAat ==> very early stages right now, they started in my workshop garage so I can move boxes in there for storage.
11-8-2017
Here's some recent pics of the house

New living room layout. We removed the corner fireplace to make more room.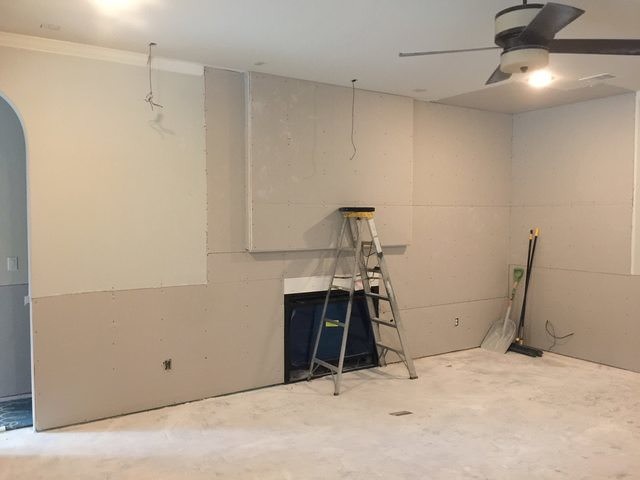 We added an AV cabinet in the adjacent utility room to place the AV receiver, cable box, etc. That will keep stuff nice and hidden.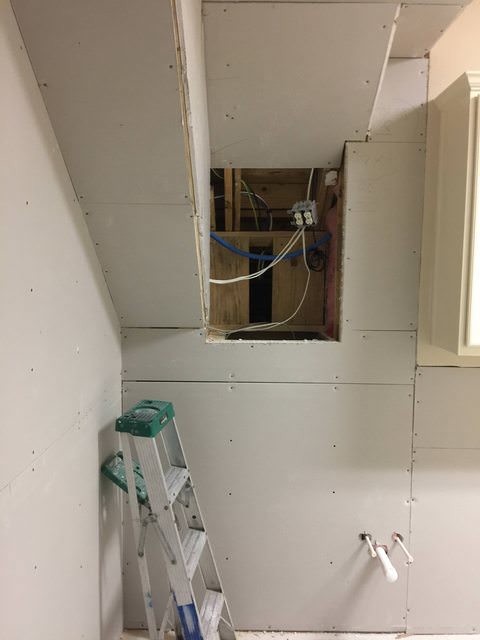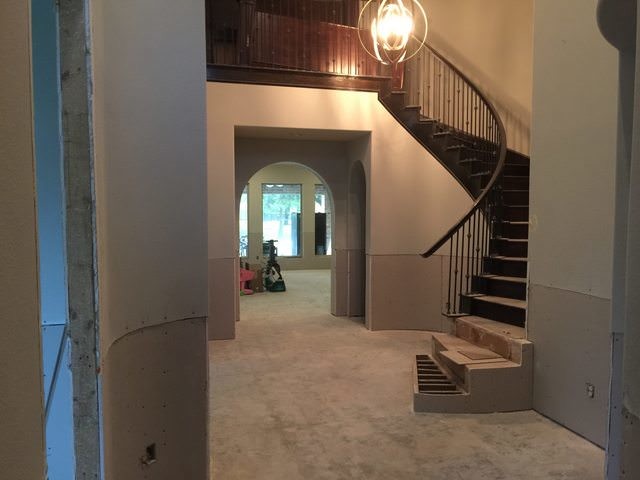 1-8-2018
Thanks, they are in the middle of doing painting and tile work is starting today. The house should be mostly done by the end of this month. Then we move to punch list items. So we're looking at moving back downstairs in 2H February. It's not as much about the actual work that needs to get done but more about getting subs to actual show up since there is so much work in the area. Labor is stretched thin due to them taking on so much work.

The process is frustrating because it's so inefficient, even more than you'd expect for a remodel project like this. There are lingering issues with drywall texture that they have to fix but they are painting over them anyway. The GC is fully aware of what issues need fixing so if they want to fix them later then so be it. It's not the best use of time.
1-10-2018
They started laying tile yesterday. We had wood flooring but decided to do tile, although I liked our wood flooring and would have re-installed it. It's a nice mental boost to see flooring going down. It's been concrete for 4+ months. It also smells cleaner after they sanded and cleaned the floors.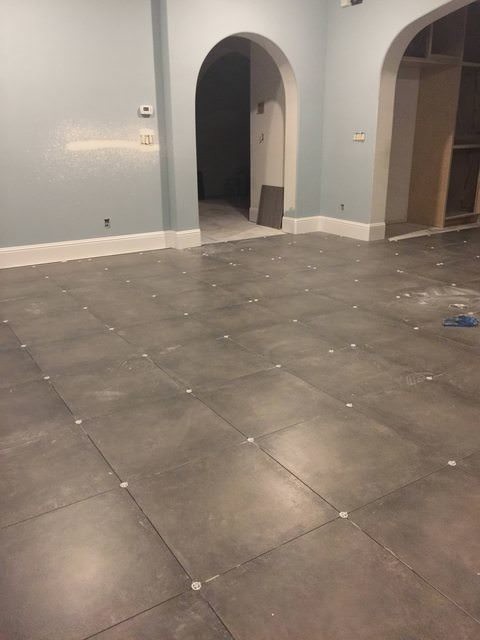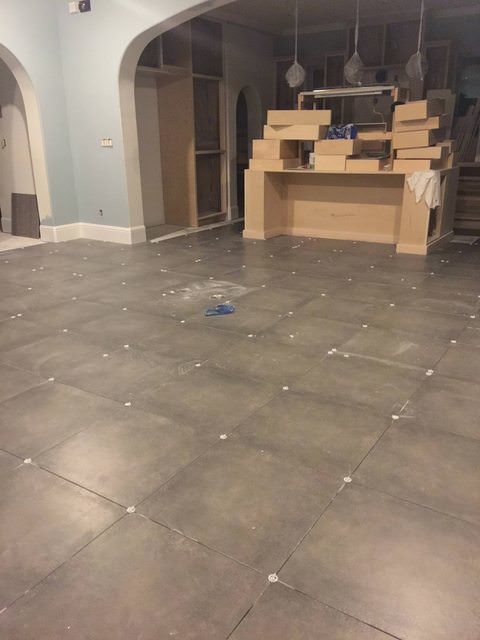 1-18-2018
Tile guys are installing the final pieces and grouting today. Flooring should be done by Saturday. Then the kitchen cabinets will get painted this weekend and the countertops will go in next week. So by the end of next week it will look like a house again.

Here's the tile with grout installed. Has kind of a stamped concrete look.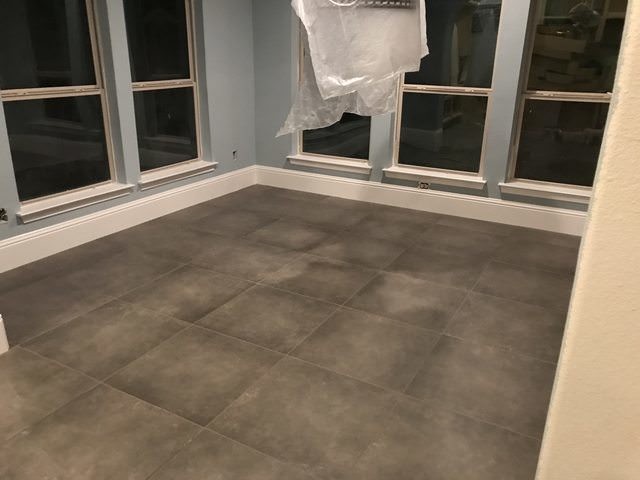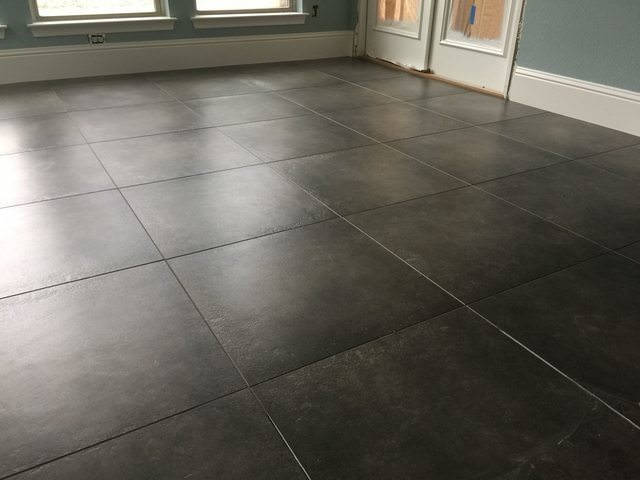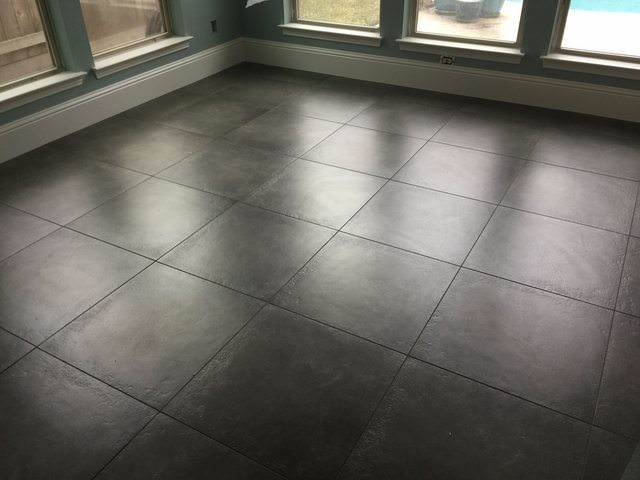 10-3-2018
Sorry for the lack of updates but unfortunately there isn't much to update, lol. Harvey turned our world upside-down and I feel like we only recently got our home back to normal after over a year since flooding (August 28, 2017). My garage still hasn't been totally redone, but that is no matter. I took the chance to improve the storage in my garage and am happy with the setup now. We are actually still dealing with odds and ends from the rebuild but nothing that is urgent.

I got all the crap we were storing under my Camaro moved into the house last month. Since I had it jacked way up it presented a good place to store items out of the way. I am taking a few days off here and there and will clean the dirt off and review where I left off and tackle things in 2019. I think she's 90% done so I was hitting my stride when the flood water hit the fan. To make it DRIVEABLE won't take all that much (fix small steering hose leak, bleed brakes and clutch MC, install steering wheel, etc), which I feel like I should focus on and then finish any aesthetics issues.

Hope everyone is doing well and making good progress on their projects!