Builds
JohnL71RS's Project restart…..
By diyauto
You must be logged in to rate content!
8 minute(s) of a 140 minute read
JohnL71RS's Project restart…..
Compliments of JohnL71RS @ http://nastyz28.com
11-11-2010
Hi, my name is John. I live south of New Orleans, LA. My story starts way back in 1985 when I saw this 1971 RS Camaro around the corner from my boss's house. The owner just put the for sale sign on her. I was only 17 at the time so I went home and asked my mother to buy the car for herself and I would purchase it from her overtime. She had just totaled her 1979 Trans Am so she needed a daily driver. The car was in mint condition. Originally had the lime green, but had since been repainted Emerald green. The owner purchased the car 7 years prior from the original owner. I was allowed to drive it part-time till mid 1986 when it was turned over to me. It had a 350 motor and 350 trans with the RS package. I changed the intake, carb and put headers on it.

In 1988, I decided to build a big block for her. I bought a couple of engines and finally stuck with a 454. I had it rebuilt by a friend with 11:1 free floating forged pistons, Isky Z33 cam, LS6 original intake, Mallory distr (tuned with advance curve to match my stall convertor), Holley 750 Dual feed double pumper carb and Turbo 400 trans with a 3500 TCI convertor. I bought a Ford 9" rearend and had the axles drilled out for Chevy bolt pattern and had the 3" studs pressed in. Had to take out the welded spider gears and replace with limited slip with 4:56 gears. I had a friend of mine who owned a speed shop and I got him to change out the rear-end and make the sub frame connectors. He welded in the custom sub frame connectors. I think he made them from 2x3 sq tubing and they slid into the existing frames. That made a BIG difference when I drove it. With the original rear-end, it would barely get out of its way.

I wanted this car to be a restified car. I wanted to restore it to a stock look, but could go to the track and eventually get into the 10's. I wanted it to be able to be a street drivable car as well. I started seeing rust bubbles under the vinyl top and decided to get a professional to fix the damage before it got any worse. I had the vinyl top removed and he was suppose to fix the rust issues.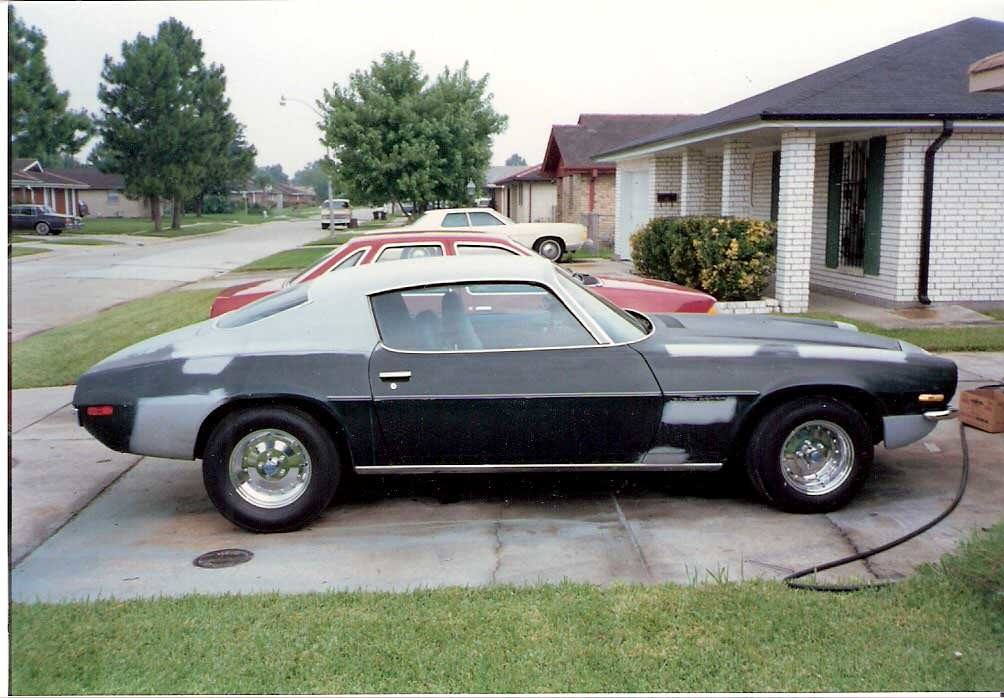 Later on I will discuss his workmanship. With a new job taking up all my time and a soon to be wife, the car just got driven a couple of hours here and there. I bought my house in 92' and in 93' I built a 22x26 garage in the backyard.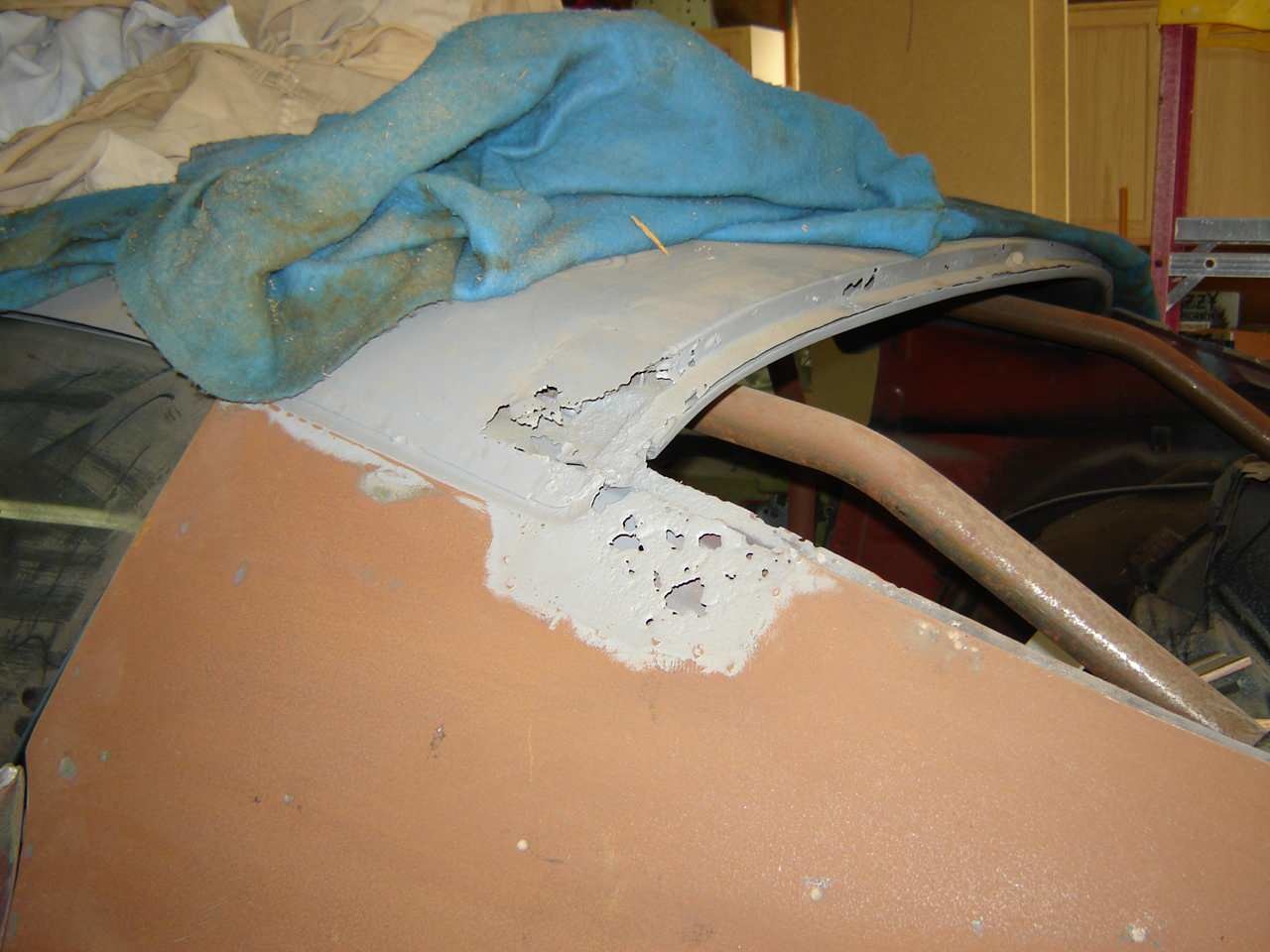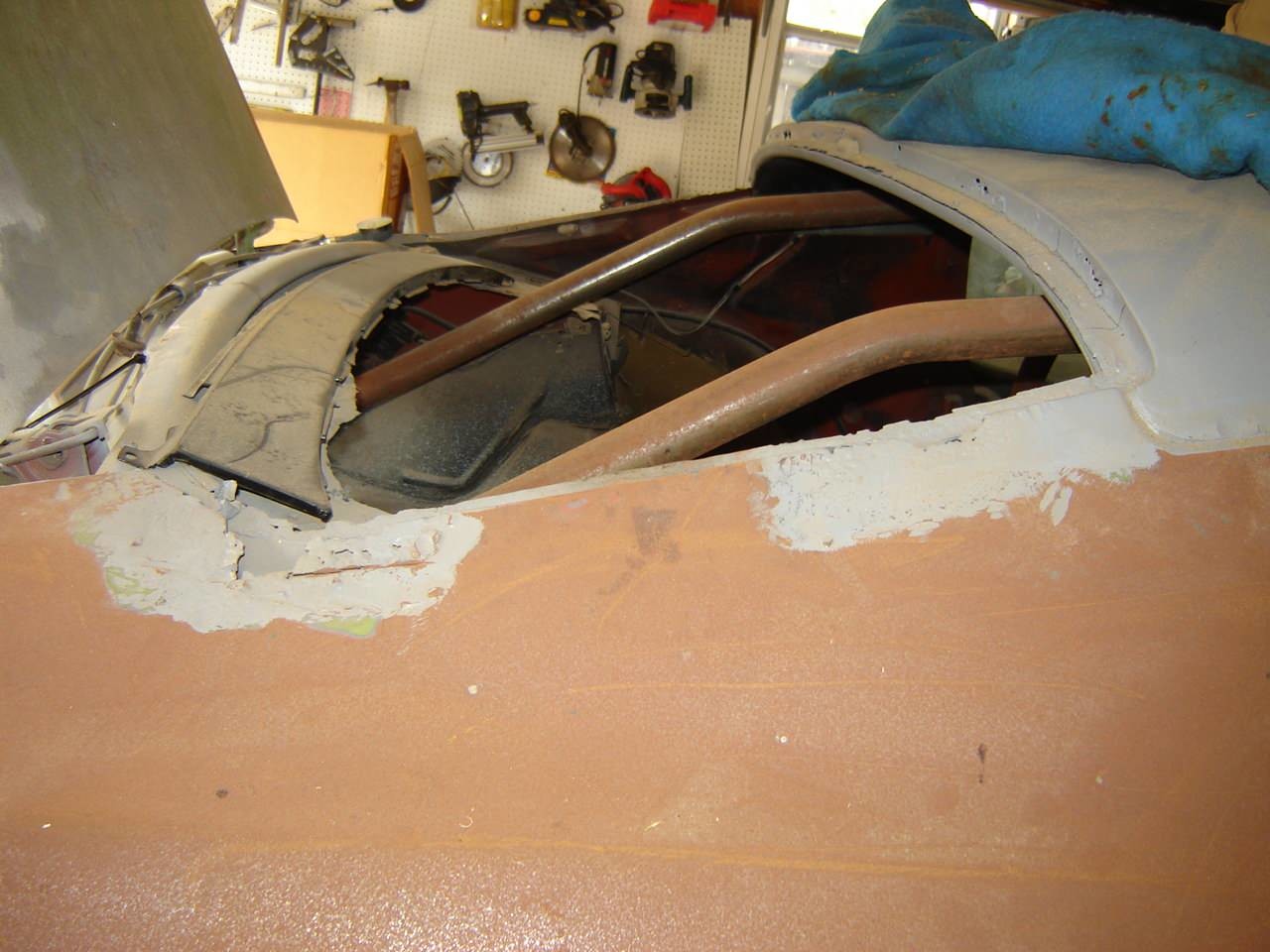 I knew I didn't have a lot of experience in bodywork, so I had a friend with a 1970 GMC that needed a lot of replacement sheet metal and work. I bought a welding machine and already had an air compressor. BTW, at the time I was a Fabricator in the oilfield. So I was experienced in fitting metal and welding, just not sheet metal. So over the next year, I learned on his truck. Replaced floor pans, rocker panels, side cab pieces, etc. I did it for free, but gained a lot of experience.

I decided to start on my Camaro project around 95'. I decided to sand down the body work I paid a professional to do a few years ago. He didn't fix the rust holes anywhere. He just tacked a piece of sheet metal over the holes on the roof and guess what happened. The small holes became a hole the size of his patch. He only used bondo over the holes elsewhere.


I also noticed rust bubbles around the wheel welds on both sides. I could feel the holes in the floor pans as well. My heater core leaked when I was driving it and it contributed to the rusting of the floor pans. I started the tear down of the car. The floor pans were very bad and after some sanding, noticed that the car was wrecking in the passenger side door and rear quarter. Ordered the floor pans, rear panel, both fenders, both quarter panel skins, upper/lower fr valence panels and trunk lid. The rear panel had extensive bondo on the lower section and the trunk lock area was heavily damaged when someone broke into my car to steal the stereo equipment. I replaced the floor pans and rear truck panel. Below are some pics. Unfortunately, I can't find all my pics of my floor pan replacement. When I find them I will put in thread.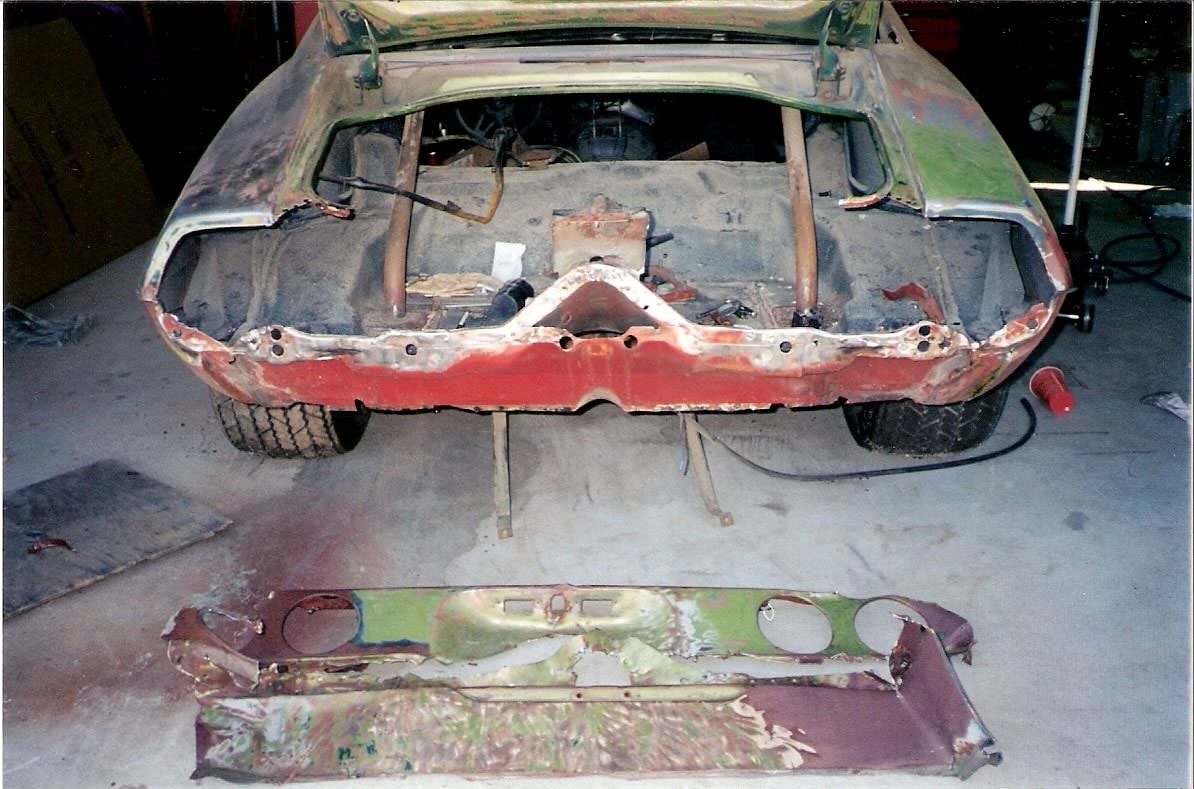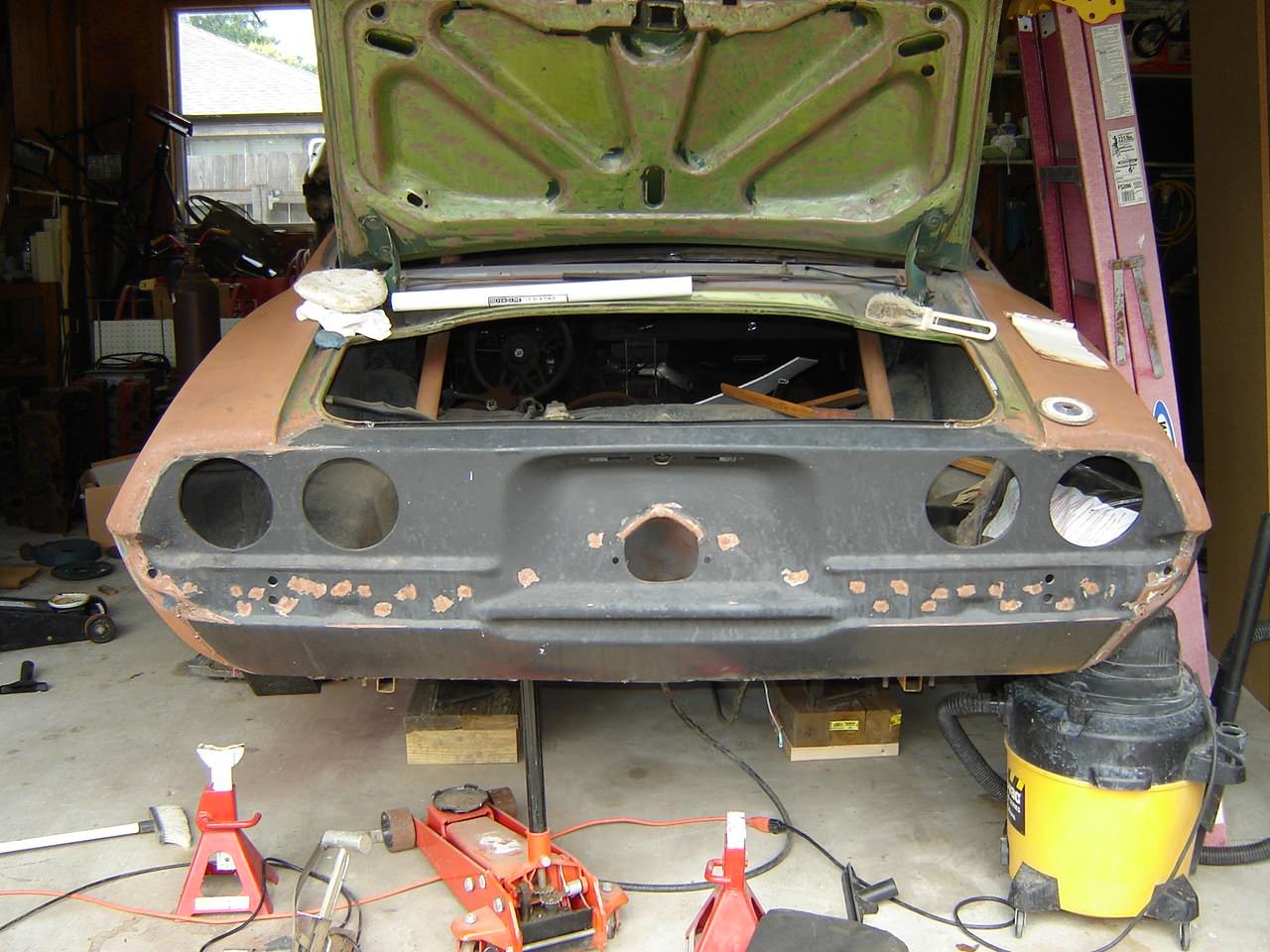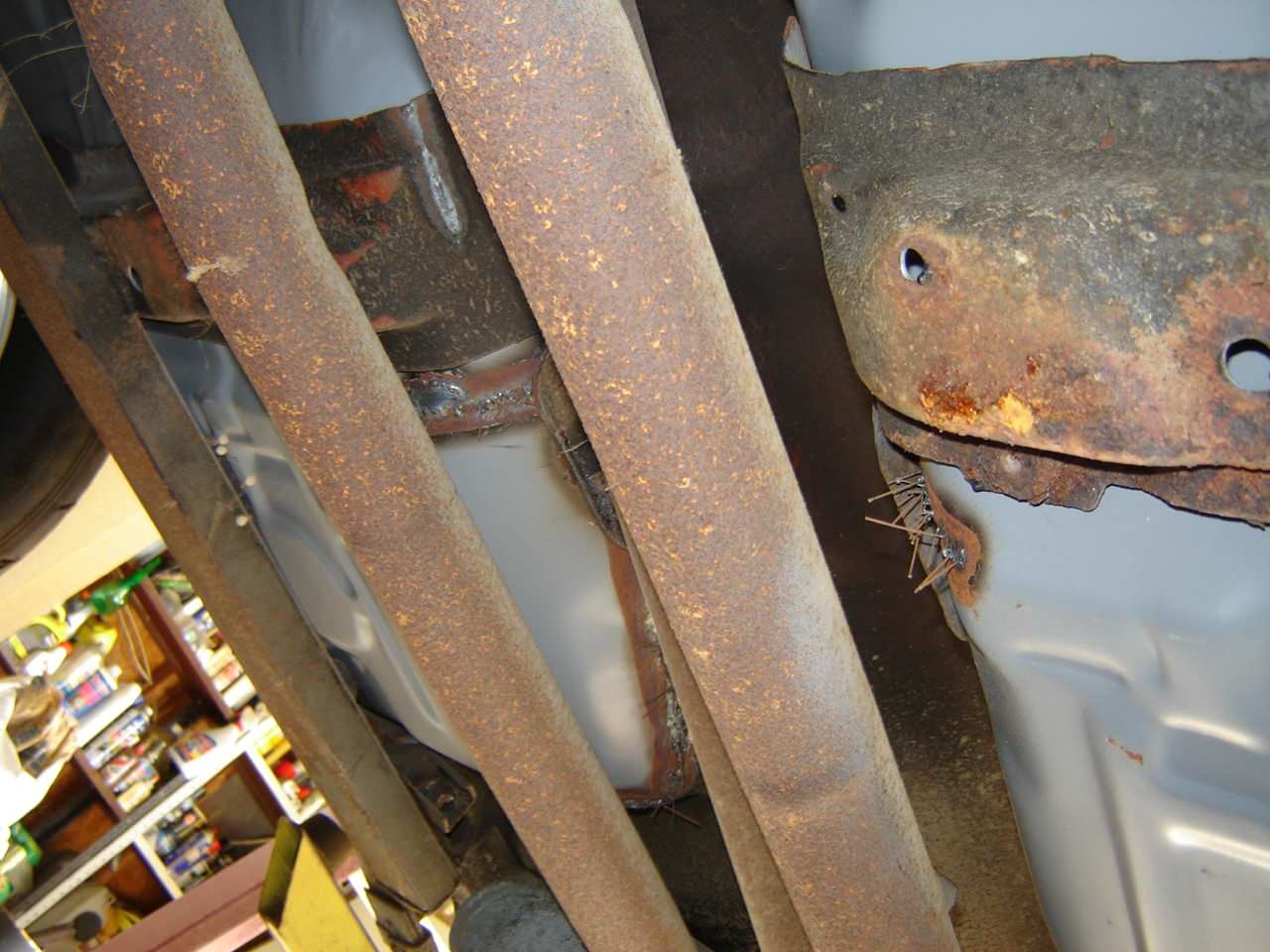 This task took awhile since I was still working many hours. I mostly worked 6-7 days a week 10-12 hrs a day. I worked in a fabrication shop and traveled offshore to install the structures. Winters were the only slow season for us and down here we don't get much of a winter. So I get the floor pans in and the rear panel changed. I also had my friend at his speed shop custom bend me a roll cage for my car. I put in the main loop and rear pipes in during the floor pan change. They stopped making the full quarters so I bought some quarter skins to fix the rear. I decided I didn't like the skins so I bought the patches for the fr and rear of the rear wheel. Changed out the passenger side and started the driver's side. I had to hand fabricate the trunk extension repairs because the extensions weren't available in repop.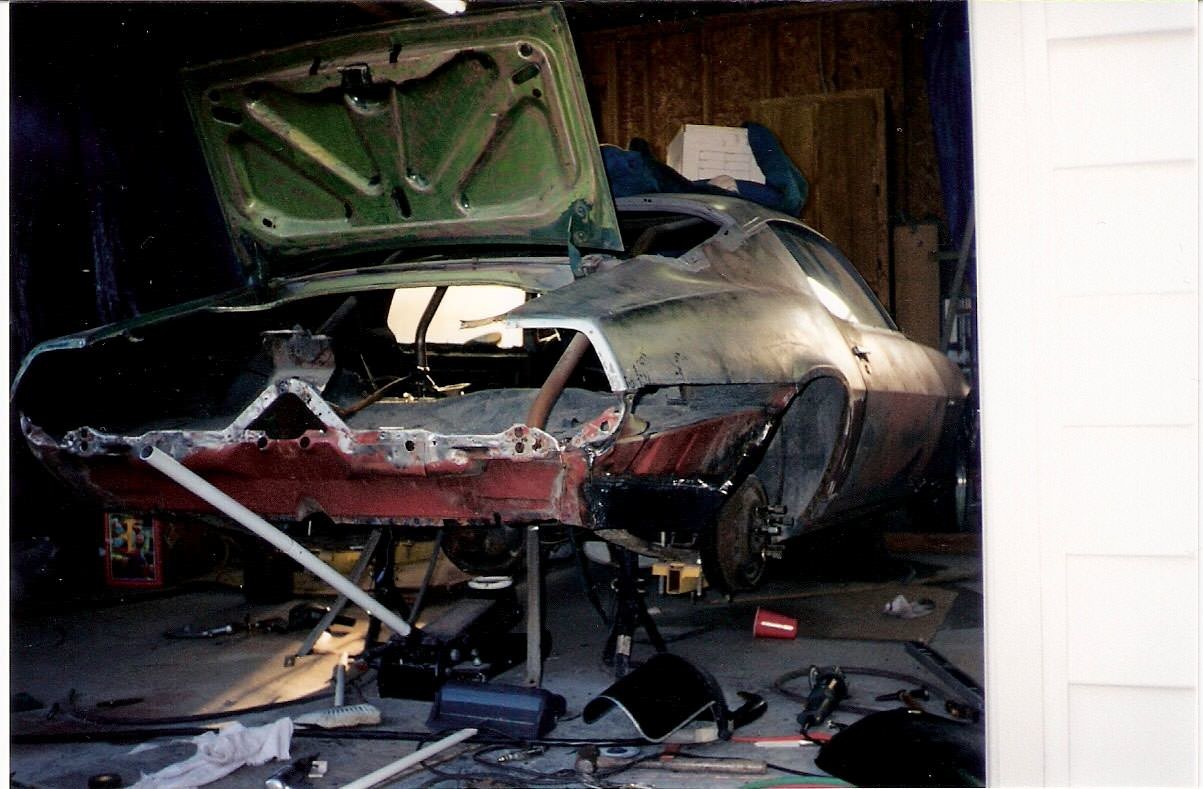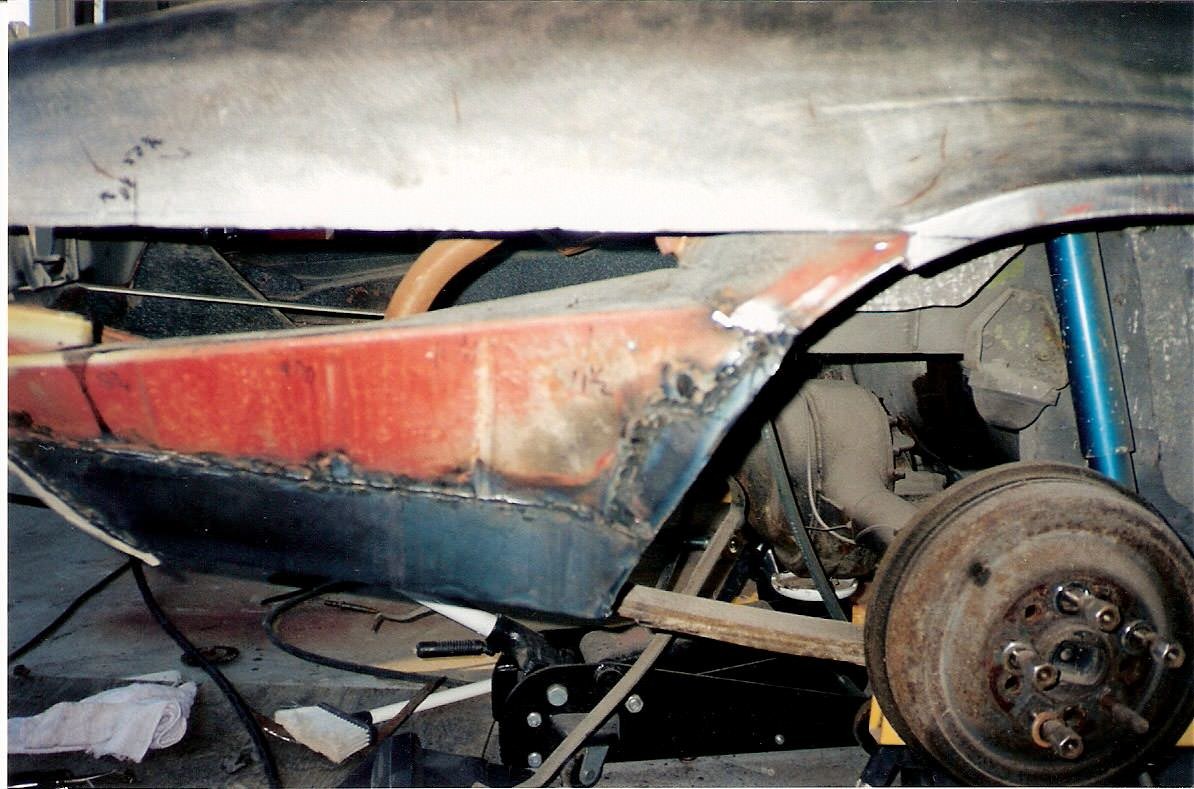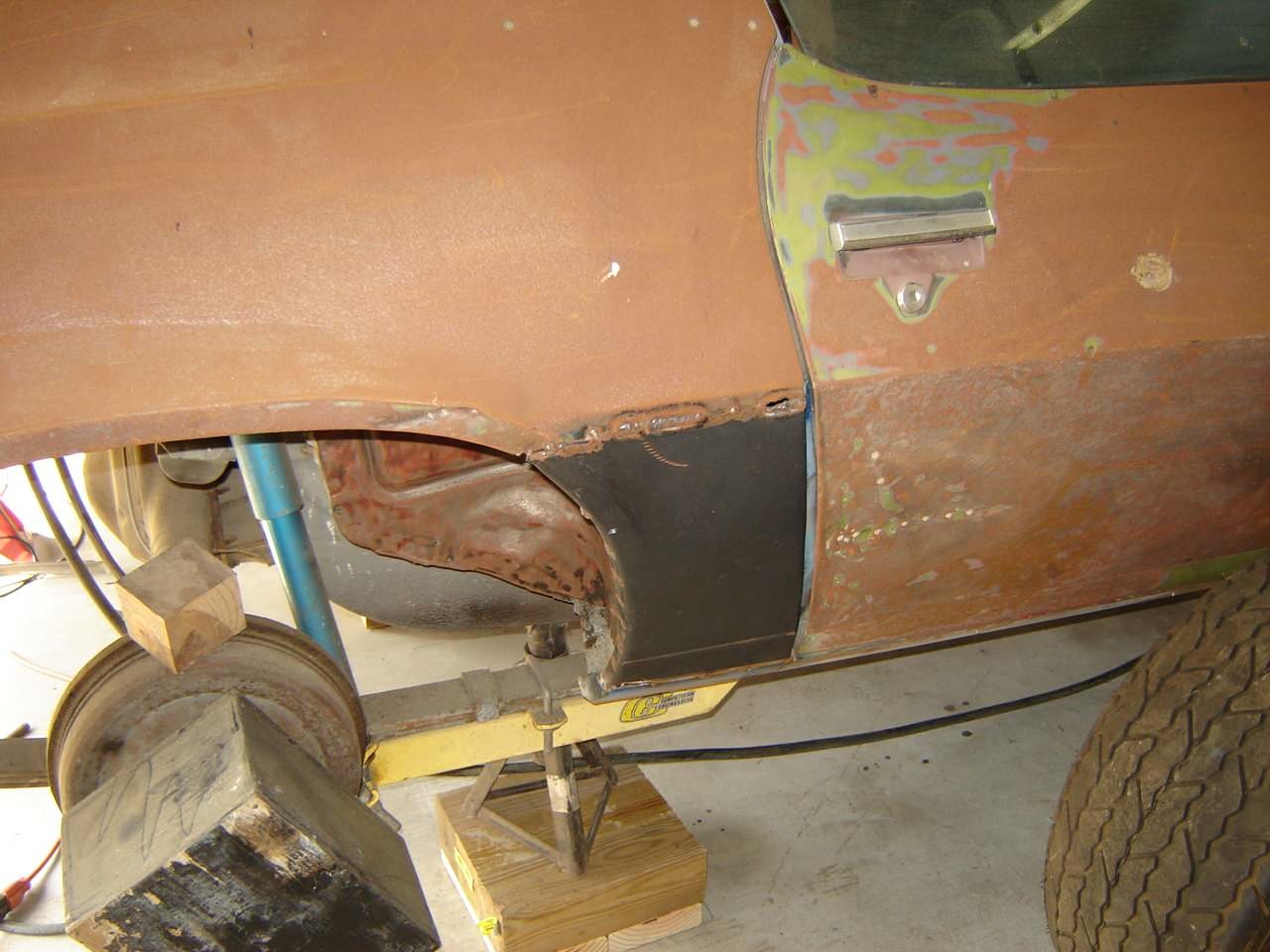 Here is my plan for the Camaro. I will be doing a complete frame off restoration. I want the car to be restored to look original, but I like to go fast as well. I am changing both quarters, trunk extensions and probably the rear panel again. If I can get the quarters off without destroying the new rear panel, then it will not change it. I will build my own rotisserie from some plans I found online. I will cut off the front sub frame, since it is welded to the sub frame connectors.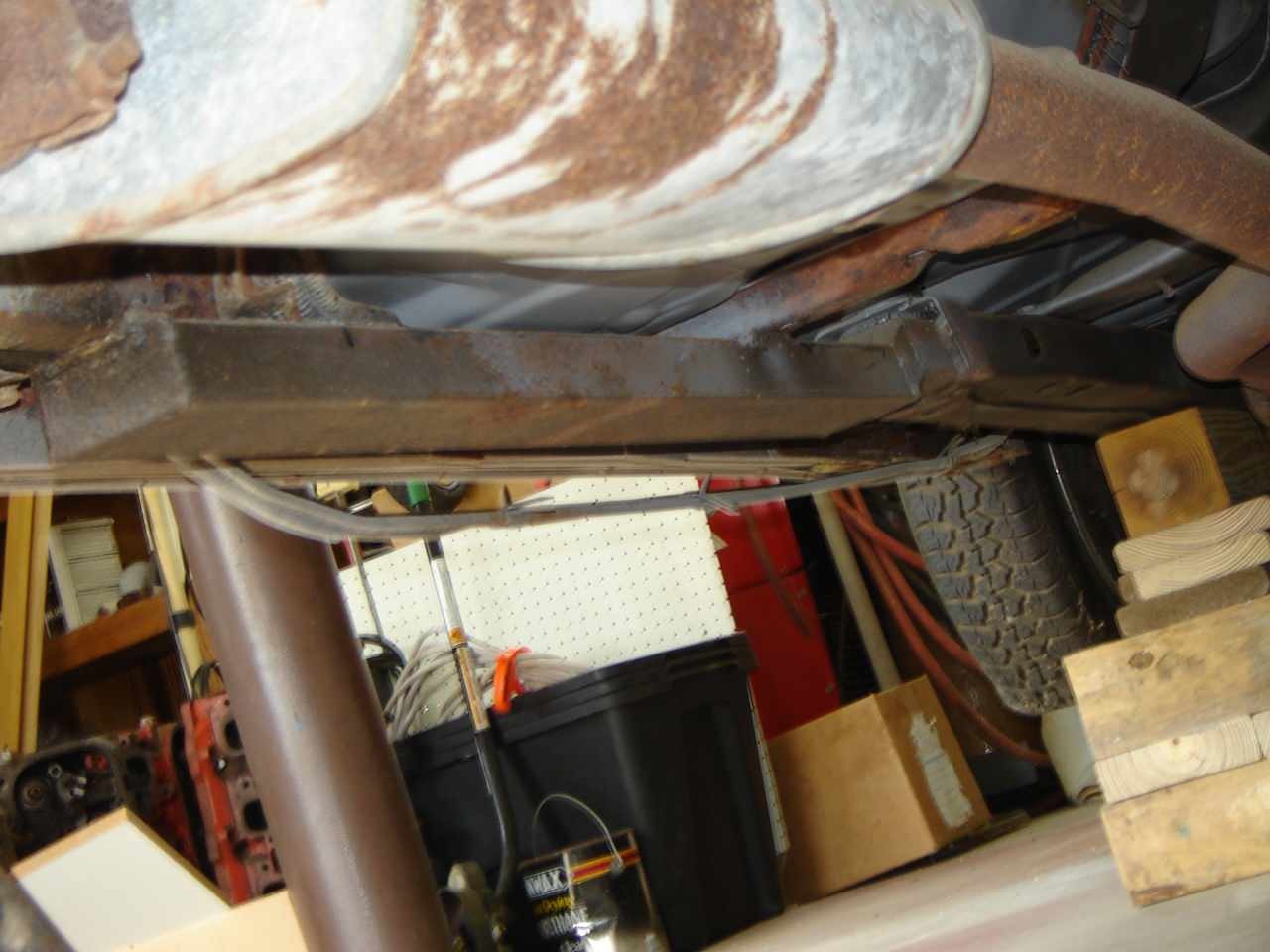 I will fabricate the sub frame connector to rebolt to the fr sub frame. I will take off the sub frame and have every part I can powder coated. Including the sub frame, radiator support, rear end, and all other components I can send. I got a good deal from a local powder coating business. I will go through the engine since it has sat up so long. Replace all the bushings on the sub frame. Replace the limited slip with a posi unit. Put a 4 link setup under the rear. Restore all lamps, wiring, and interior as needed. I know I forgot some stuff, but keep following my thread and it will be discussed.

This is my story and I will probably change things as I go. Thanks for taking the time to read all my history. Now the fun can start.
About a month ago, I drove up to San Antonio, TX to cut the trunk divider out of 73BadBob's donor car. It was a great road trip and I got to meet a great guy from NastyZ's site. The following pics are from Bobs thread. Thanks Bob.