68 Chevelle SS: Project Lost Hope by windycitychev
By diyauto
You must be logged in to rate content!
68 Chevelle SS: Project Lost Hope
Compliments of windycitychev @ http://www.lateral-g.net
Soon I will be starting the full build thread of my 68 Chevelle SS: Project Lost Hope by Rides by Design, give me your input of the rendering and your thoughts and suggestions, at the moment its about 1/4 complete

When I originally purchased teh the Chevelle I truly had no idea what direction to go because at the time I was working on my convertible, so it sat in my garage for about a year in a half and was using it as storage for my other project. I finally finished my other project last October and drove it for about the last few weeks before the winter started here in Chicago. I got rid of the Convertble and sat forth on the Chevelle on November and first thing was to get it blasted as I thought there was no major issues going on but sure enough. It needed full quarters, fenders, floors front and trunk, tail pane, upper cowl and side cowl panels, deck filler panel, and so oh and front header panel. I got all together but first thing was to get the floors done with my buddy and his father we started but with their busy schedule and the bad winter here in Chicago we sat the floor but truly never finished it. Then as the winter was going along and me planning things I found a guy whose price to start on the build was reasonable so I thought I gave it to the guy in March within days I saw how much full of **** he was and within days I took it right back. I was bumbed and stressed but with all the sheet metal I had purchased there was no turning back. I found within a a day or two Rides By Design in Richmond, Illinois. I called up Richard Trip owner and builder of Rides by Design and prity much the deal was struck for him to take it off my hands and within a few days he picked it up. I went by the shop and felt comfy and confident that he could get the job done. Everyone should check out his facebook page with great work http://www.facebook.com/ridesbydesignrichard. He has helped me a great deal and is on point with build. The goal is to get it done by next May and going all out not holding back. I will be posting pics to get everyone caught up and go from there, THIS IS NOT THE FINAL RENDERING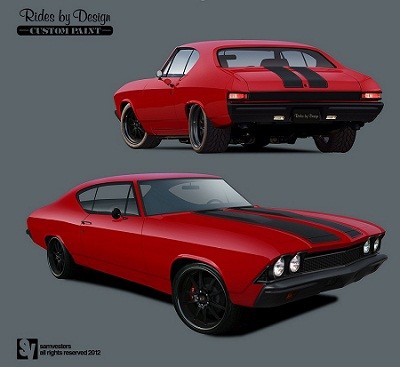 10-19-2012
Here are a few pictures of when i first received the car looked solid from far away but then i got to stripping it and had it soda blasted in the back yard of my house. I had never strippe down a car before but someone had to do it. Once the car was blasted I knew I had nothing but scrap metal but me being the type that thinks outside the box decided to take on such a project even though at the time I was doing a 74 Caprice Convertible that is now gone. Once it was done I focus on the Chevelle. Me and a buddy of mine installed the floor but never fully finished it as he was working to many hours and so was I. I decided to take it to a local guy that had posted his work on craigslist and there I thought I would be safe but thank god it took me only 2 days to figure this guy was full of you know what once he told me how he would bondo the rear tray and leave the screws on. A few days later and $500 down the drain but looking back well worth the experience and I have read horror stories so I figured $500 was nothing. I then contacted the guy I originally wanted to go with but since it was a long drive I passed (check his work out and my progress on my build http://www.facebook.com/ridesbydesign) but as soon as I called him we had practically agreed on the project over the phone. He came by a few days later was straight honest with me and a few hours later as you can see the last pick it was on a trailer to his shop Rides by Design Speed & Custom to start his magic. Since then the car has been totally transformed and I will be posting more pics later on today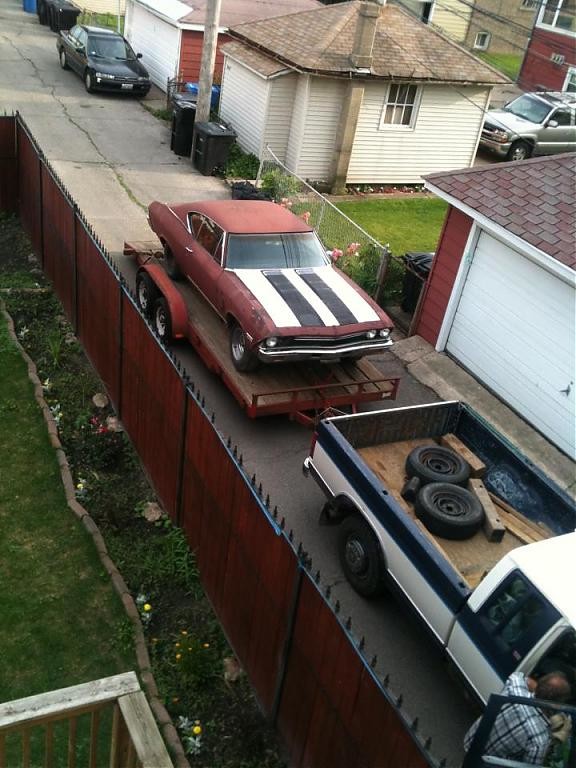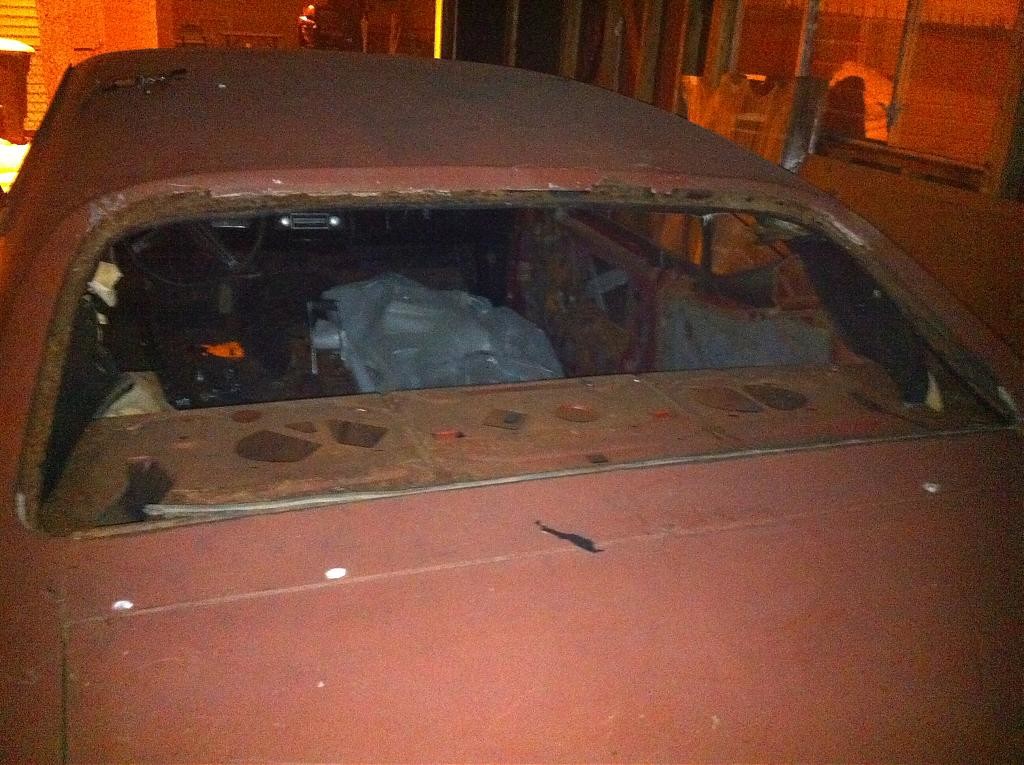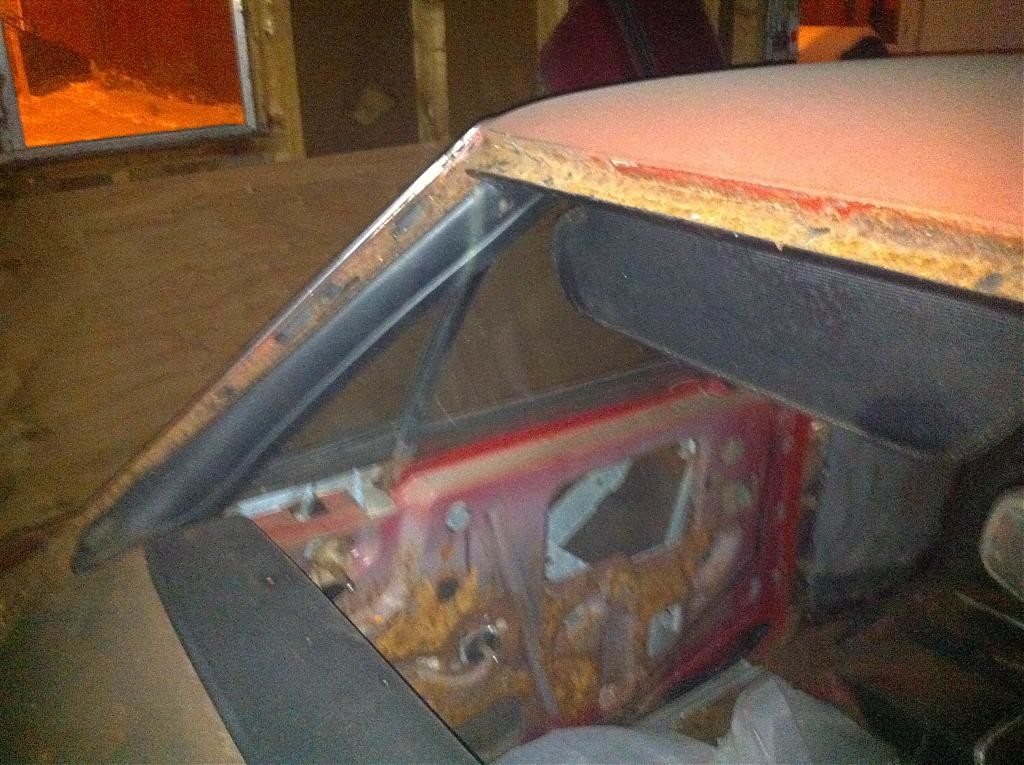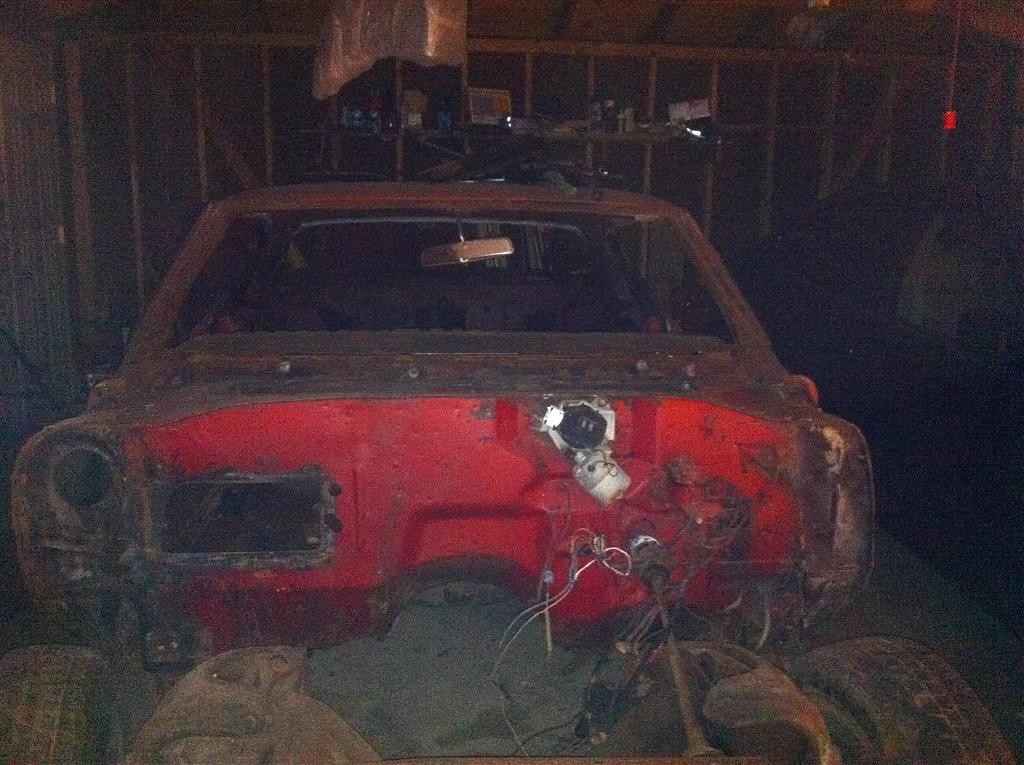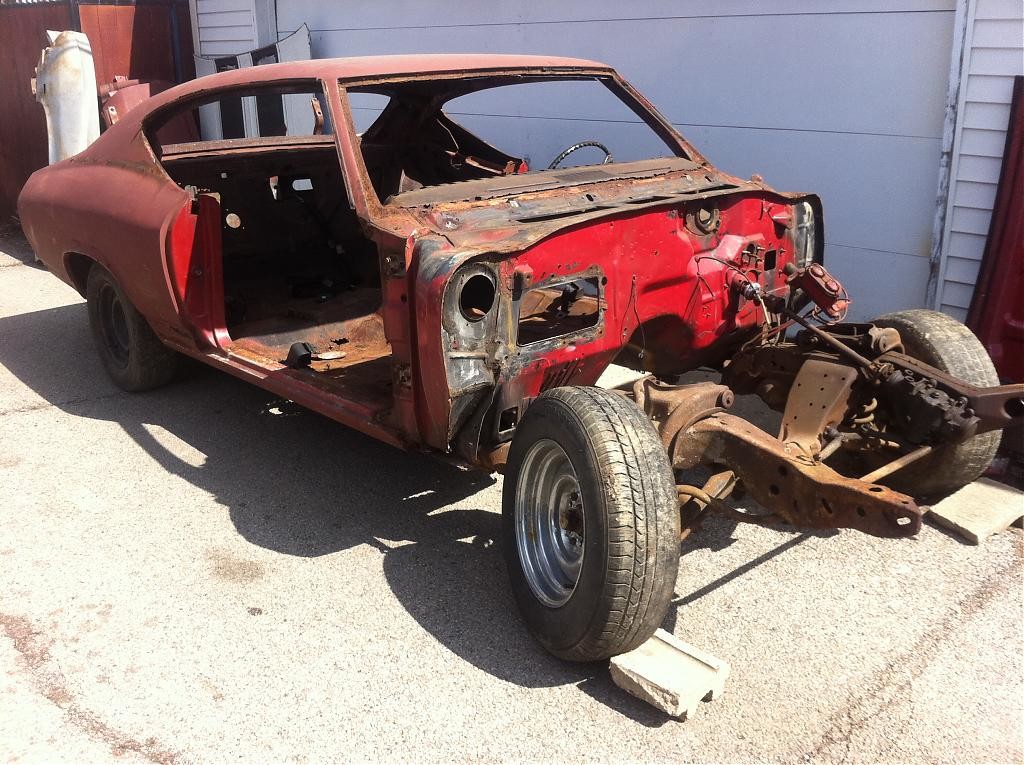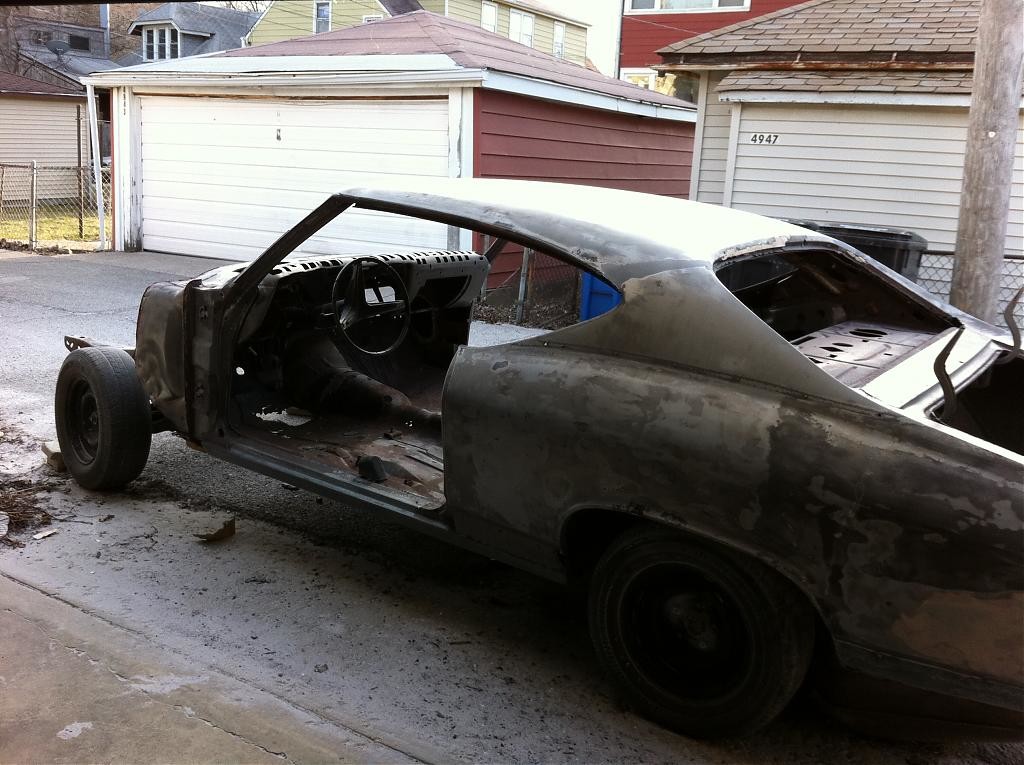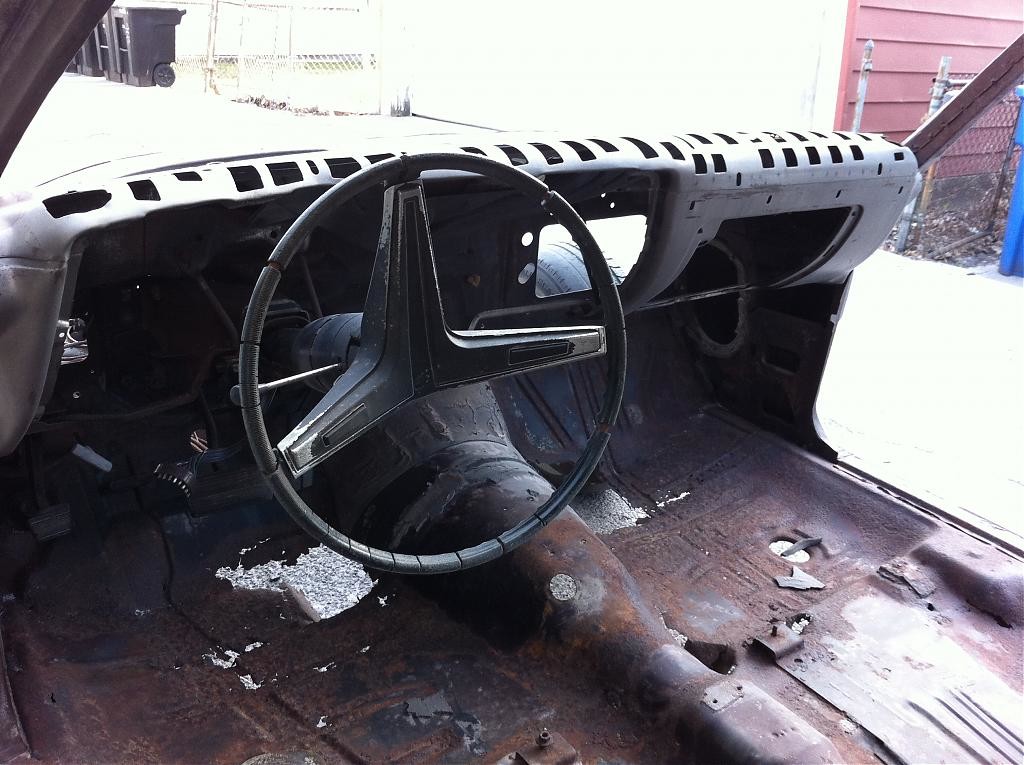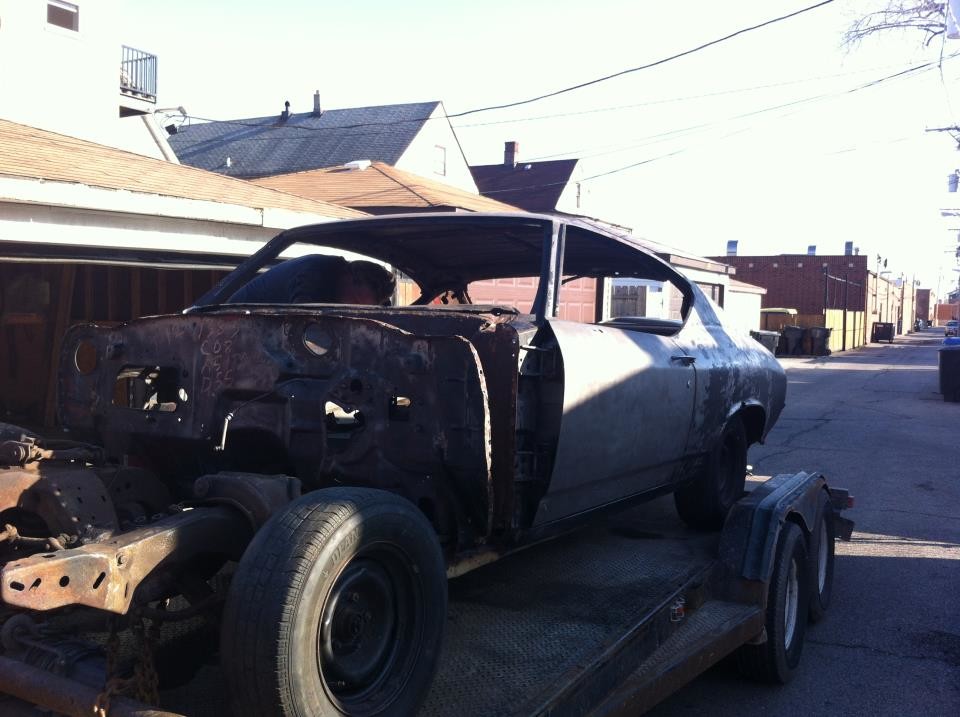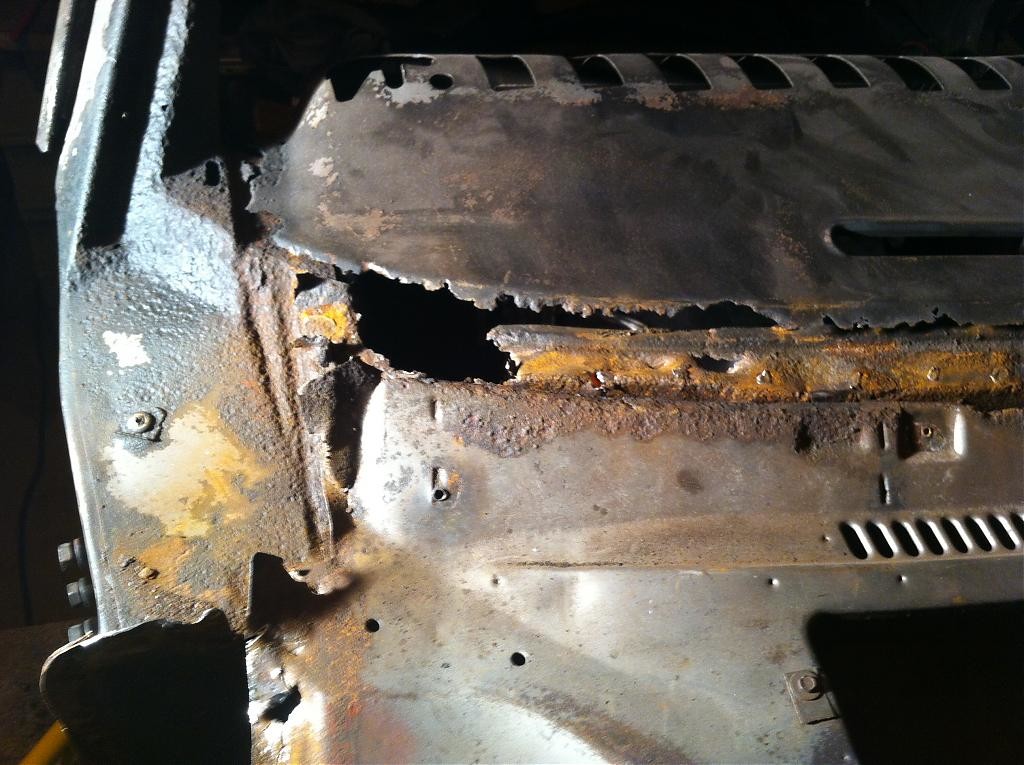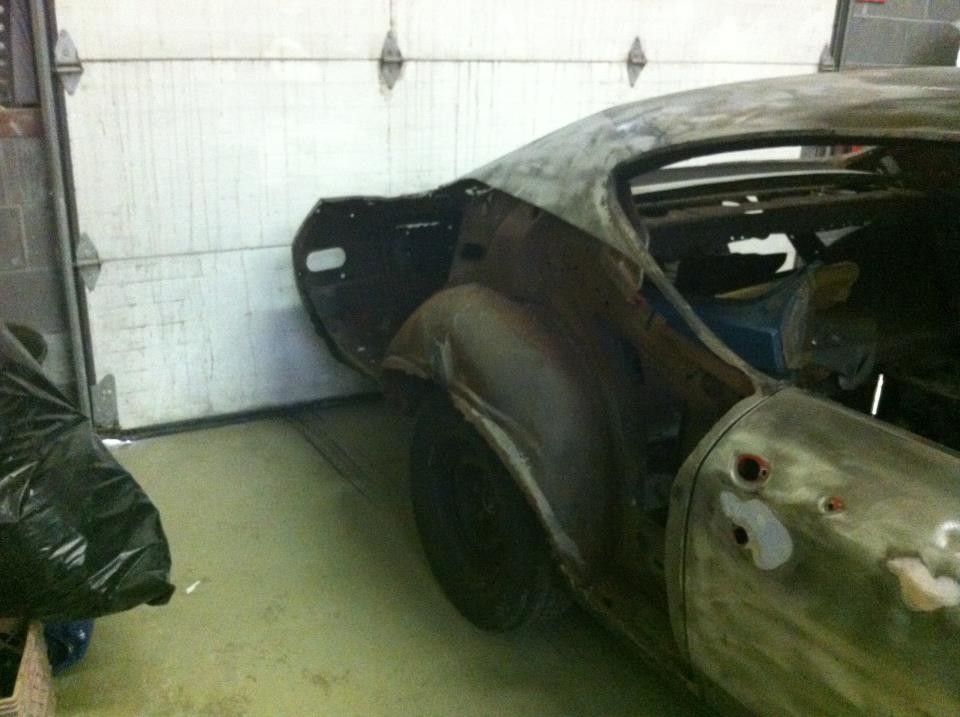 10-21-2012
at the moment I have suspention pretty much done, while I have currently going body which is almost done, interior and engine going on. But mean while I will keep you guys updated and continue to post until I get you all up to date with my build, please give me your input, I am sure why everyone will ask why not start with a clean body, my response to that is that not every shop would really take on such a huge project due to the intense sheet metal and cranfsmanship needed which I found in my builder. Also why not bring something from the dead back alive and I would not do it any other way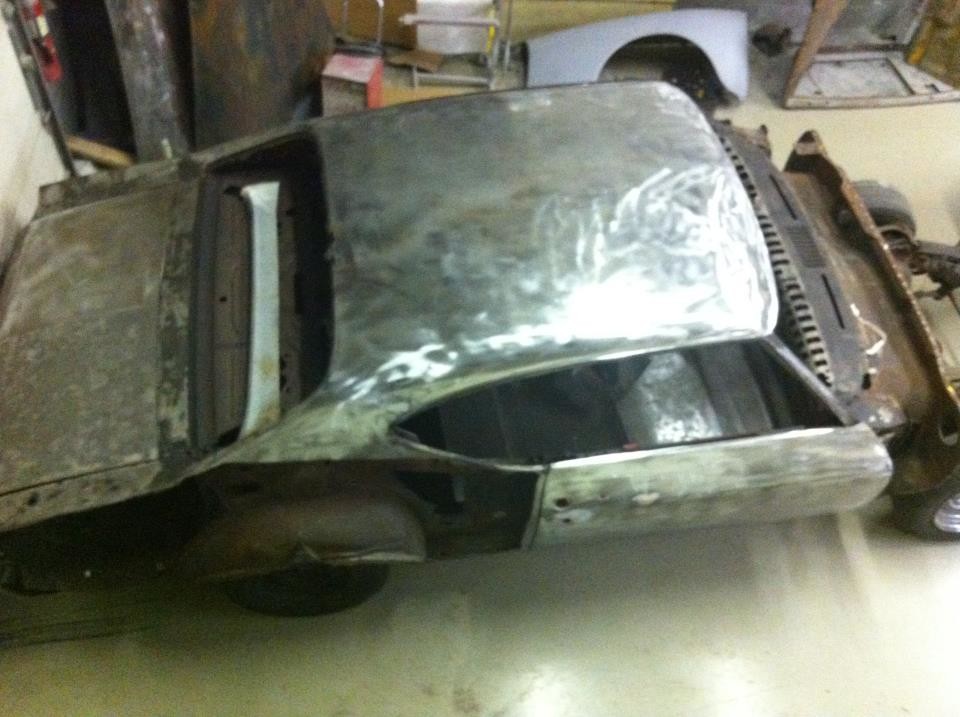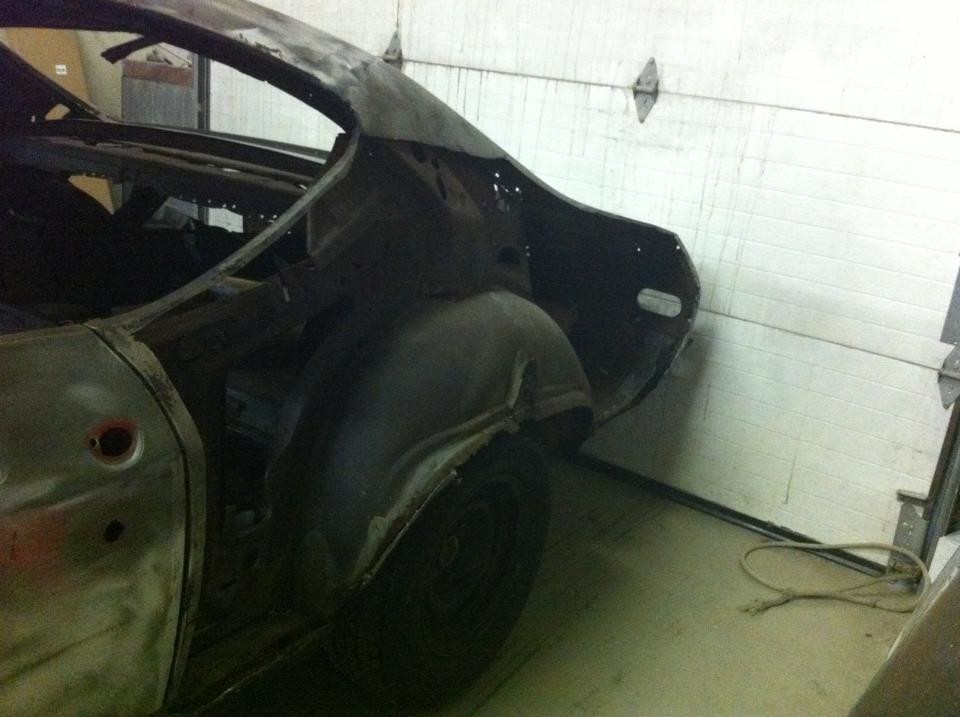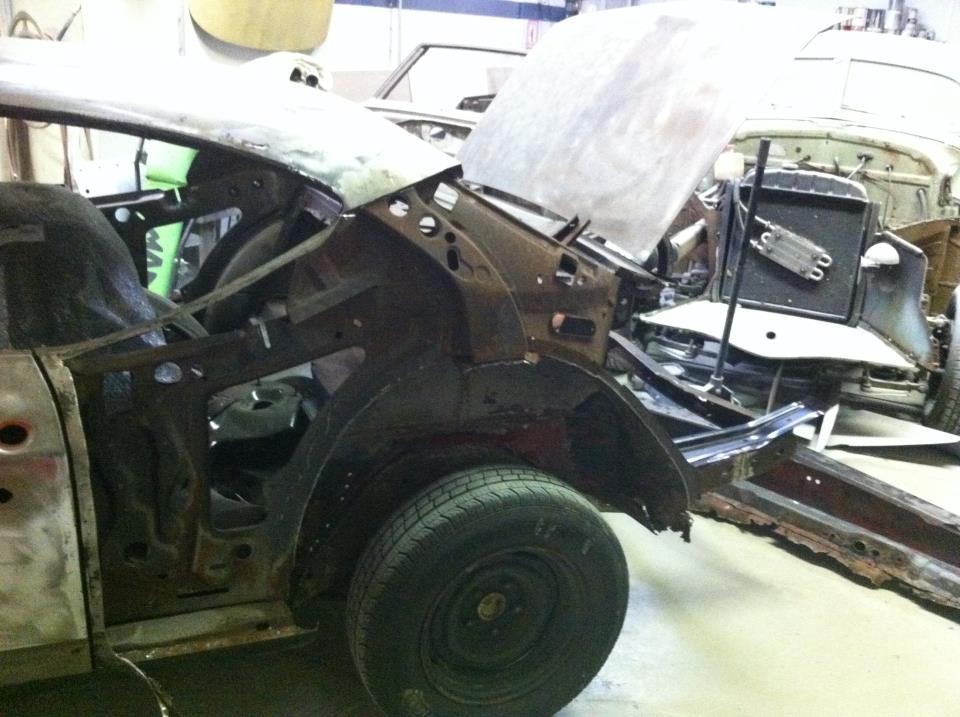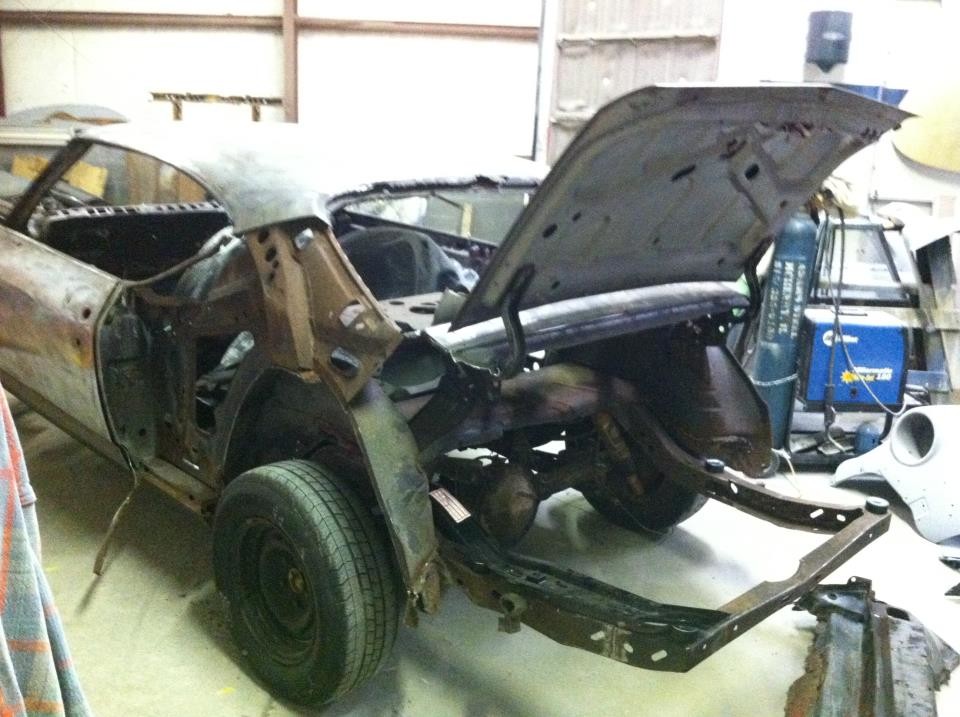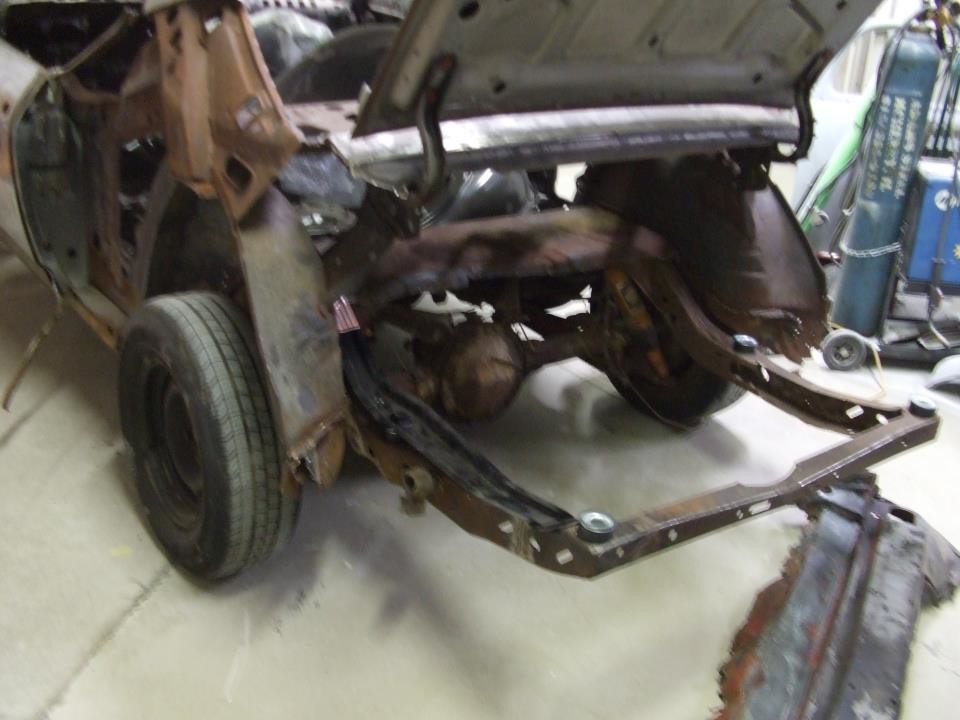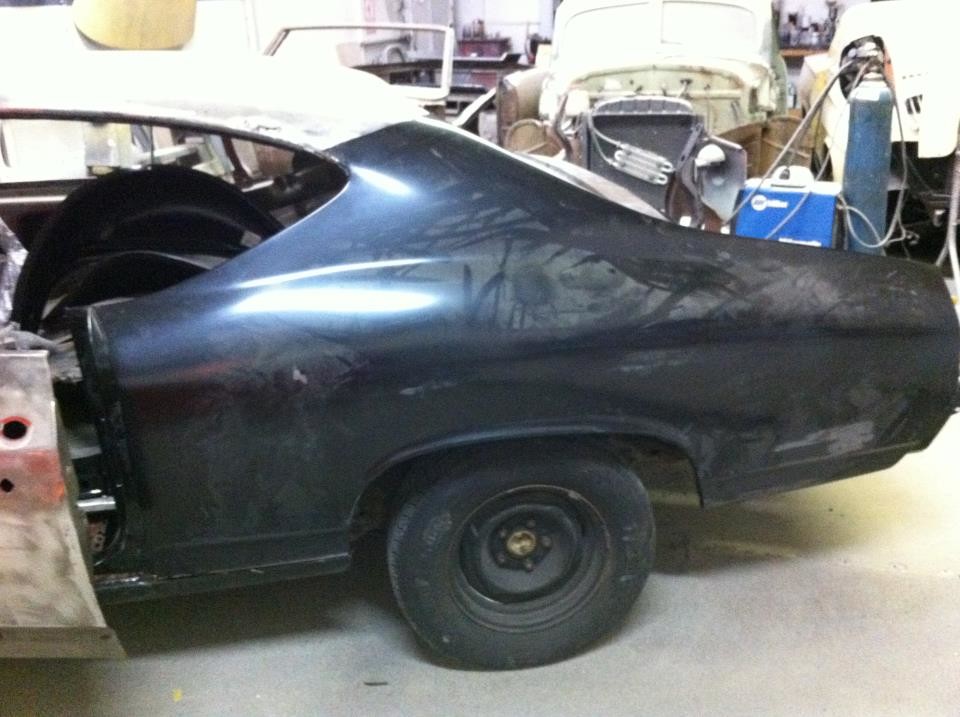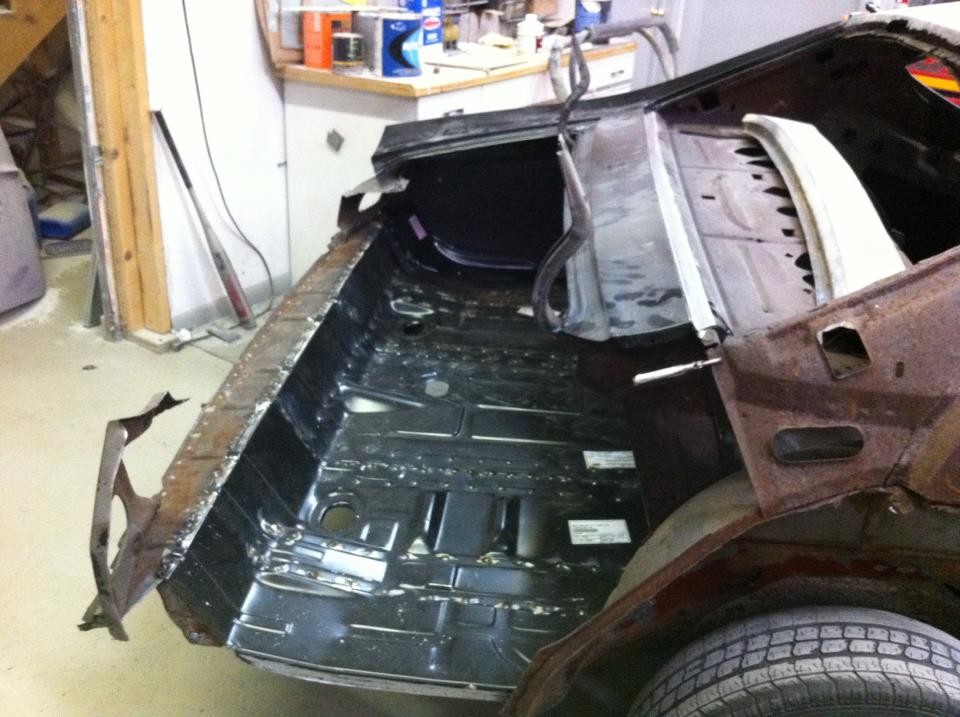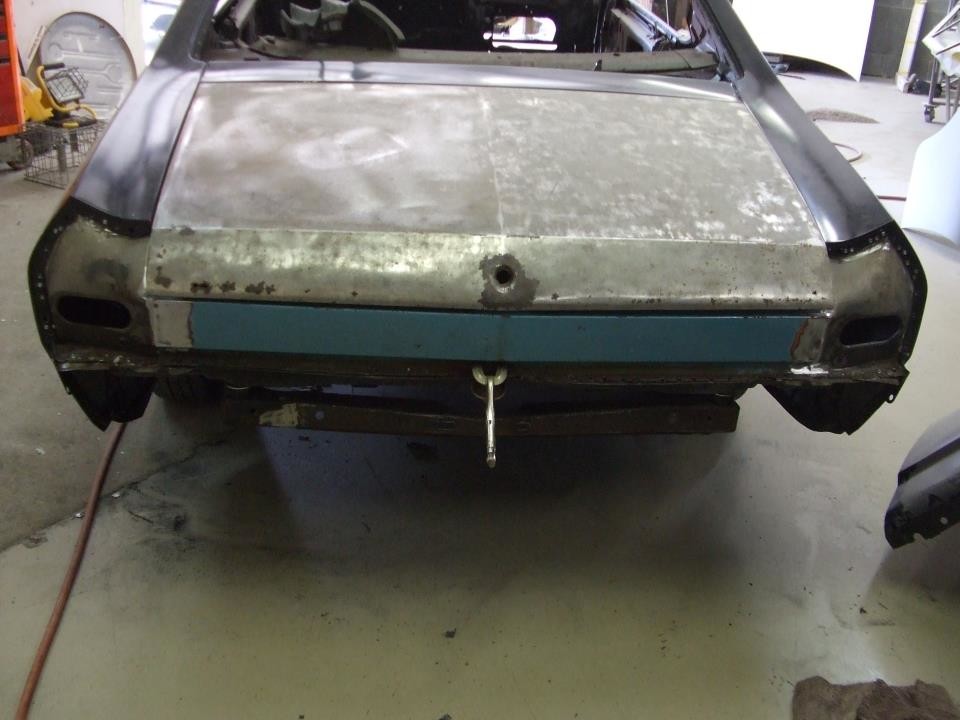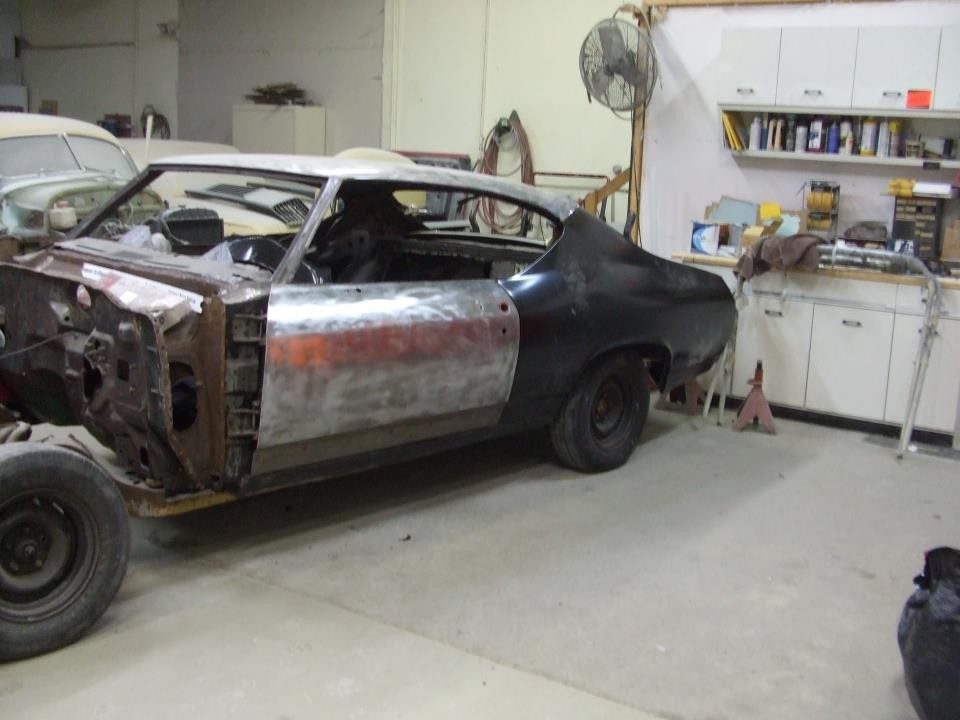 10-22-2012
well here are more pics of the build trying to get everyone up to date, new quarters, trunk floor, tail panel, deck filler and upper window channel. Here you will see pics of the entire rear end coming together as well as drip rails being done and some work to the side firewall panels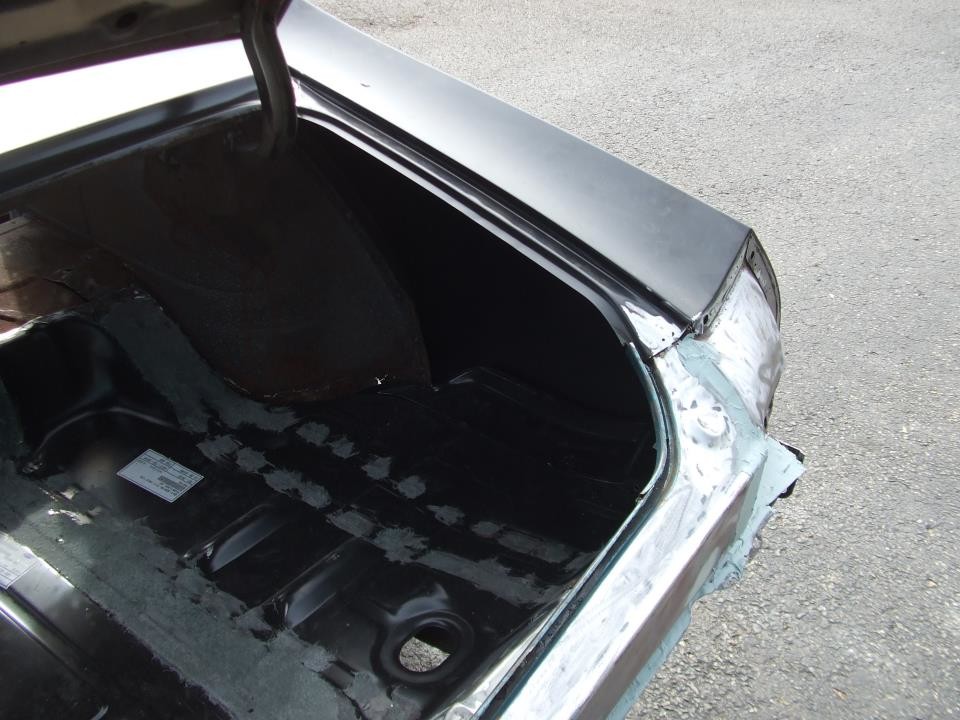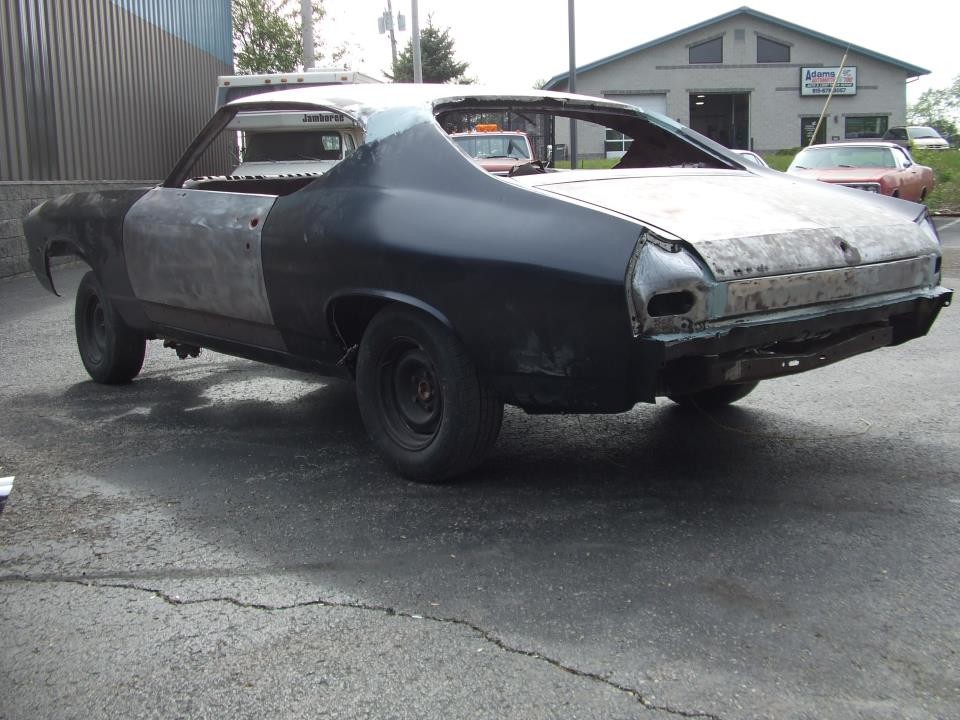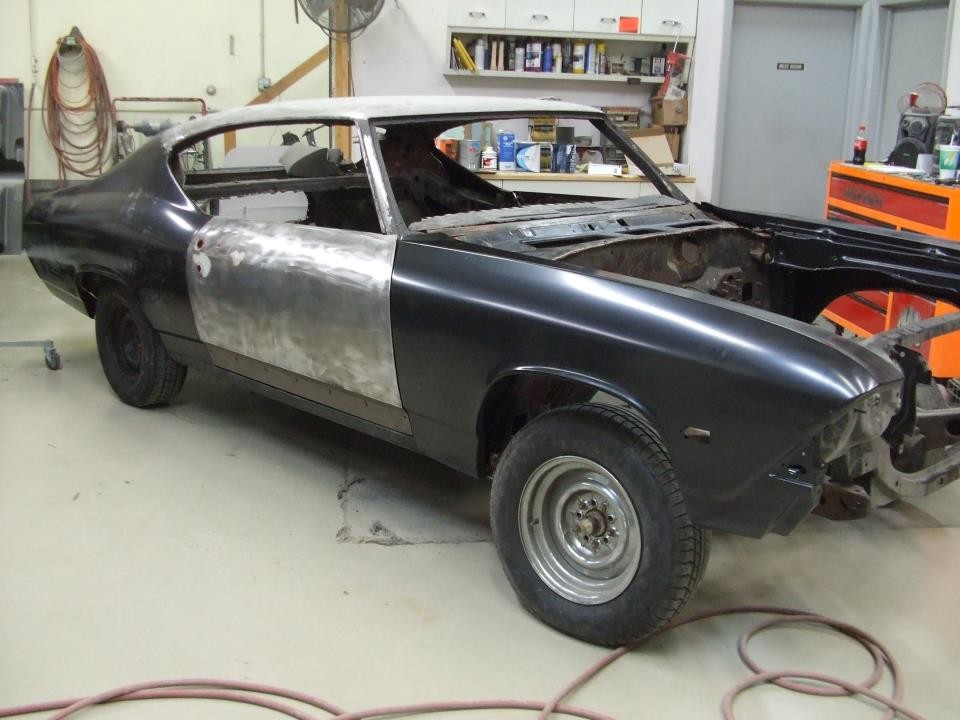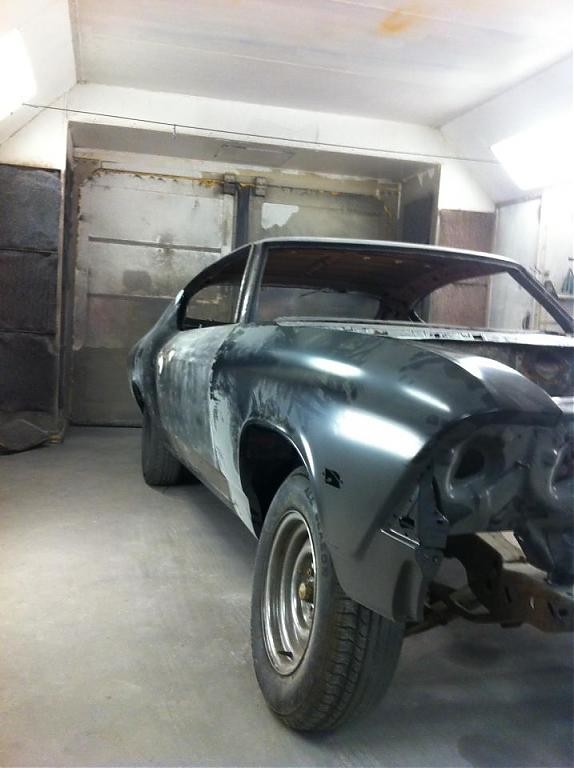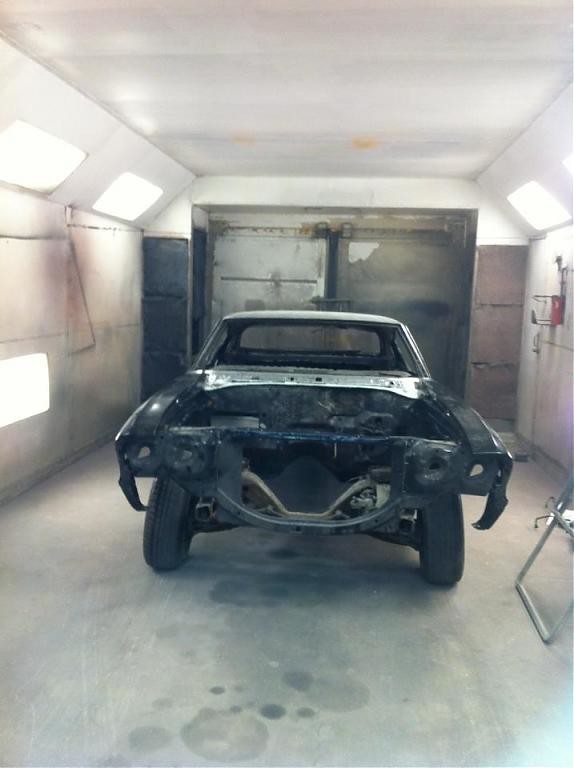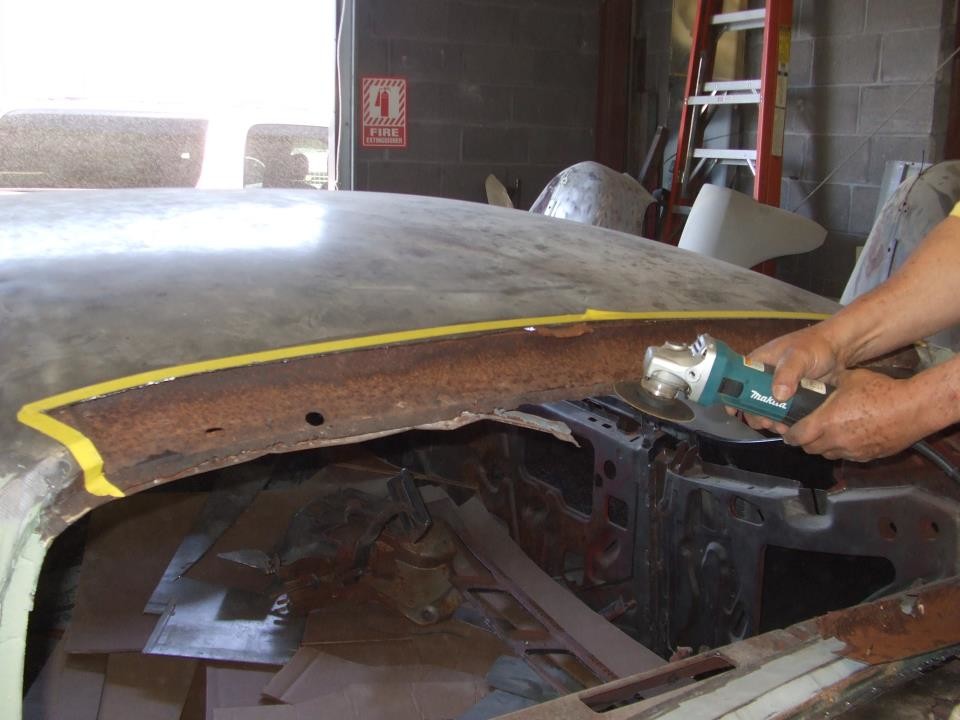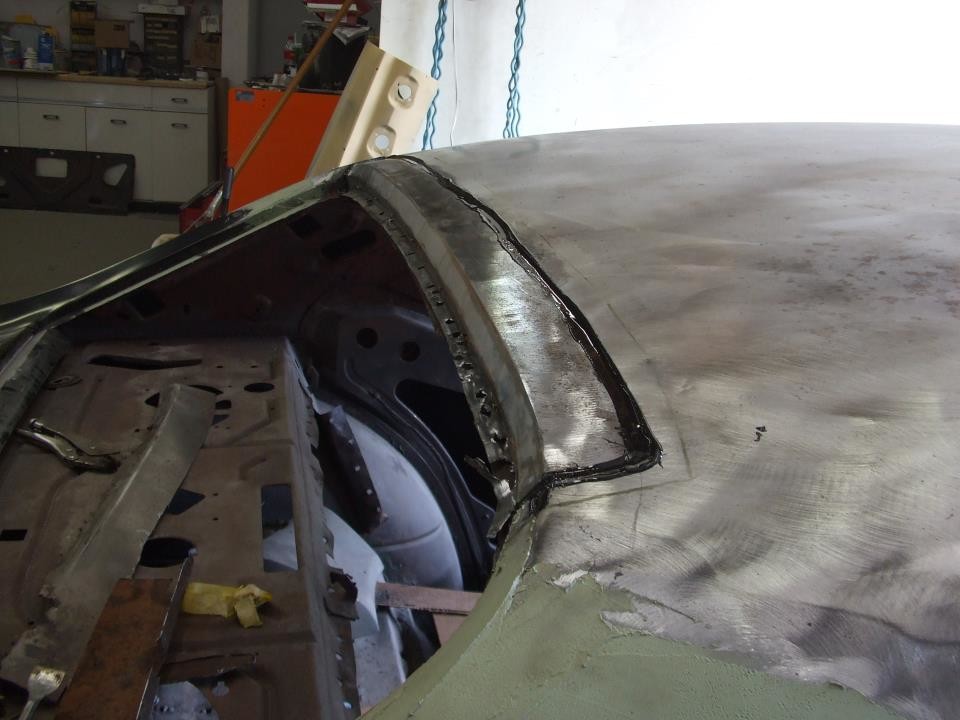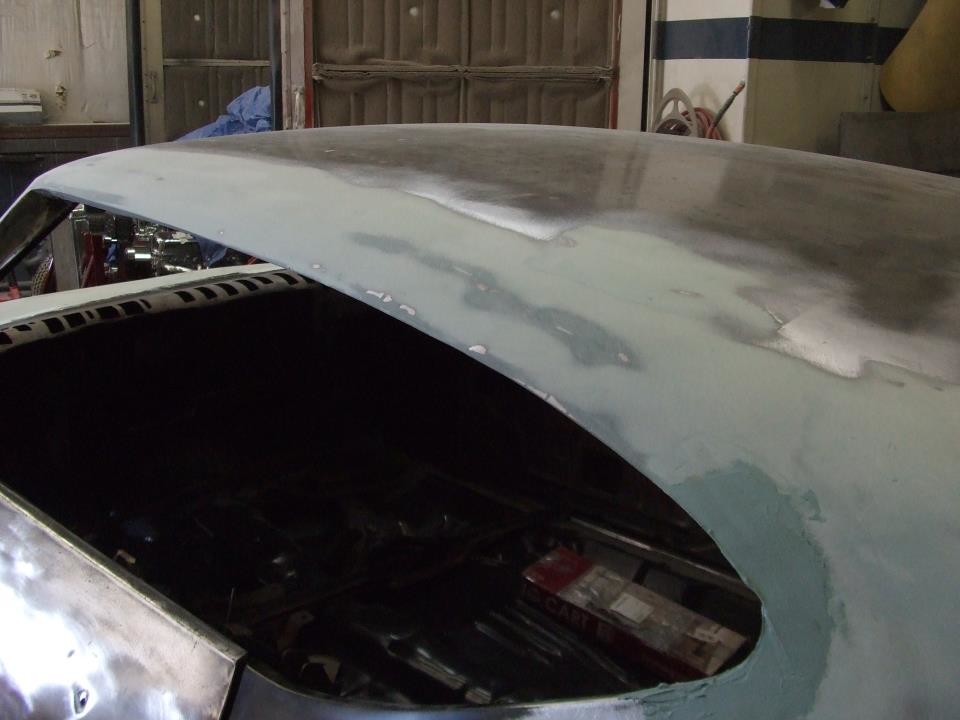 well here are some more updates on the rest of the drip rails, smoothed firewall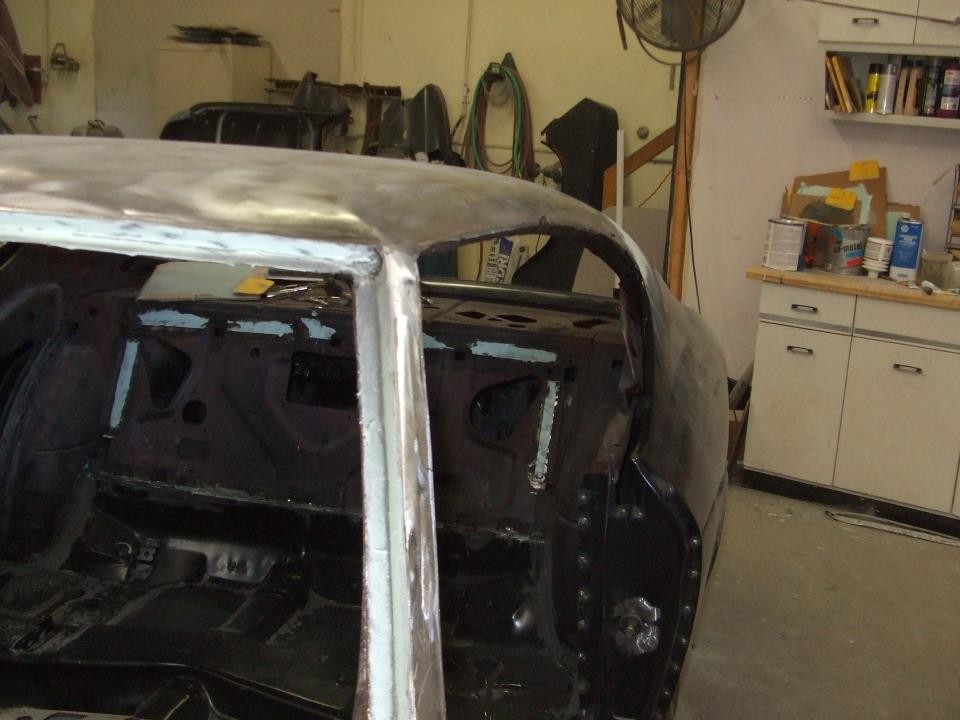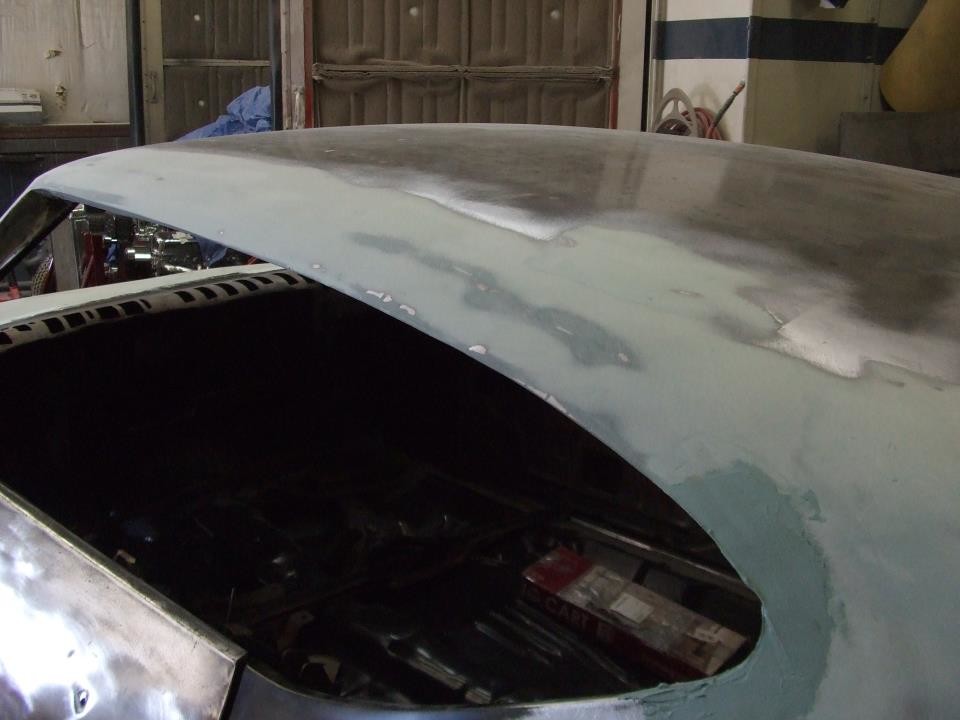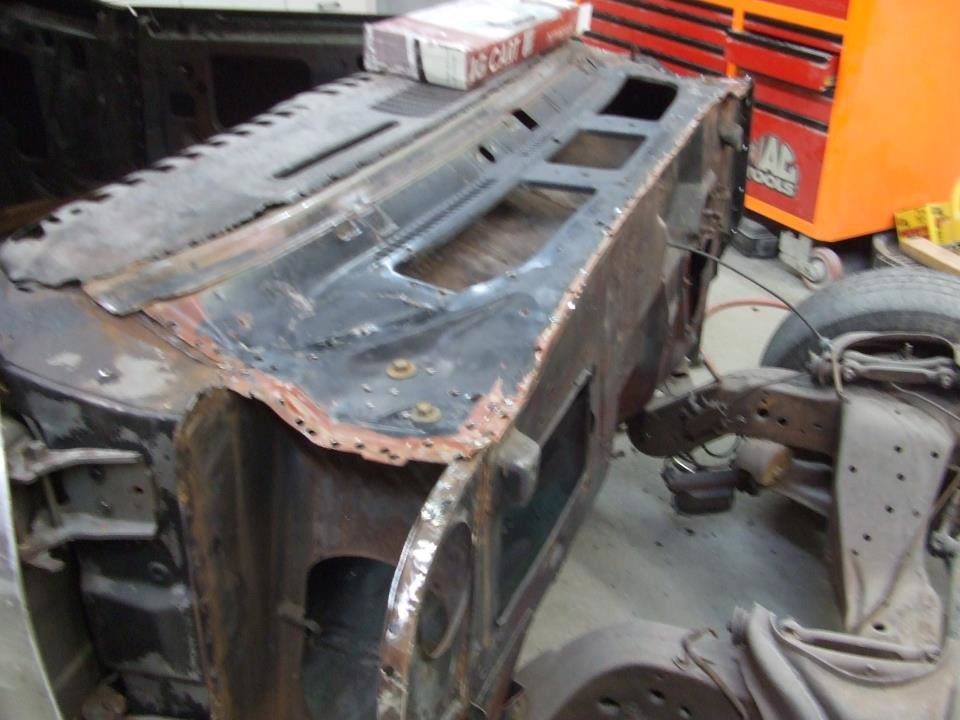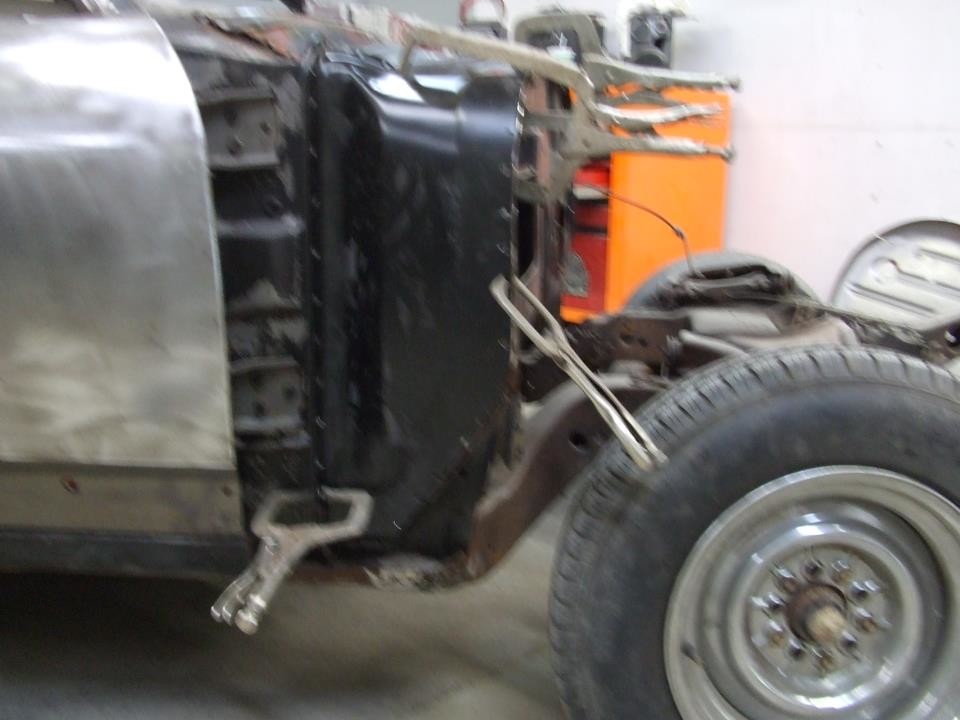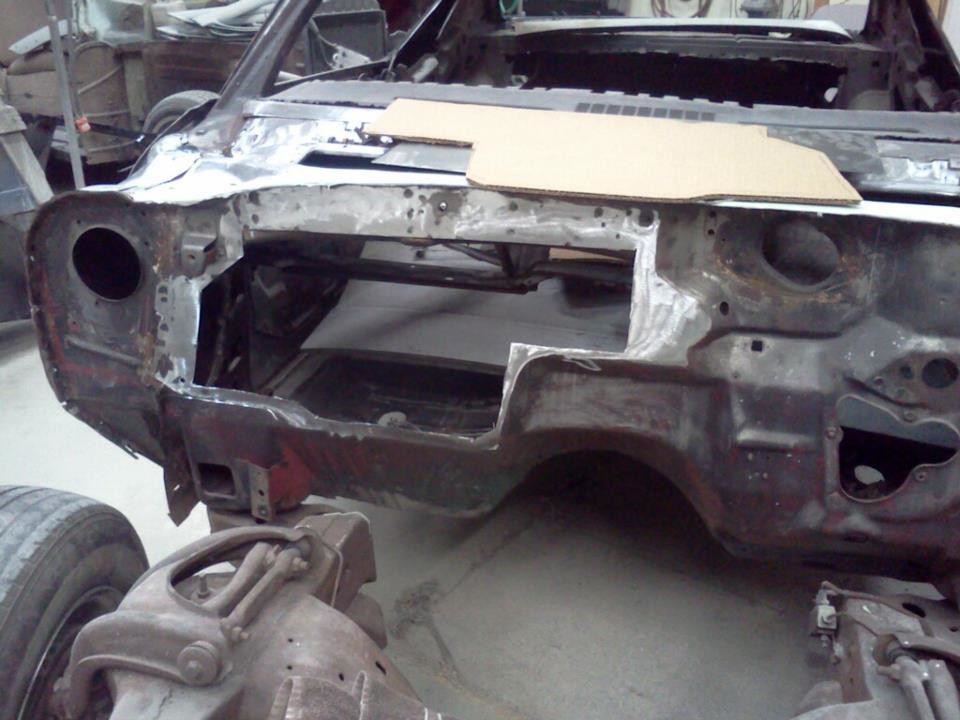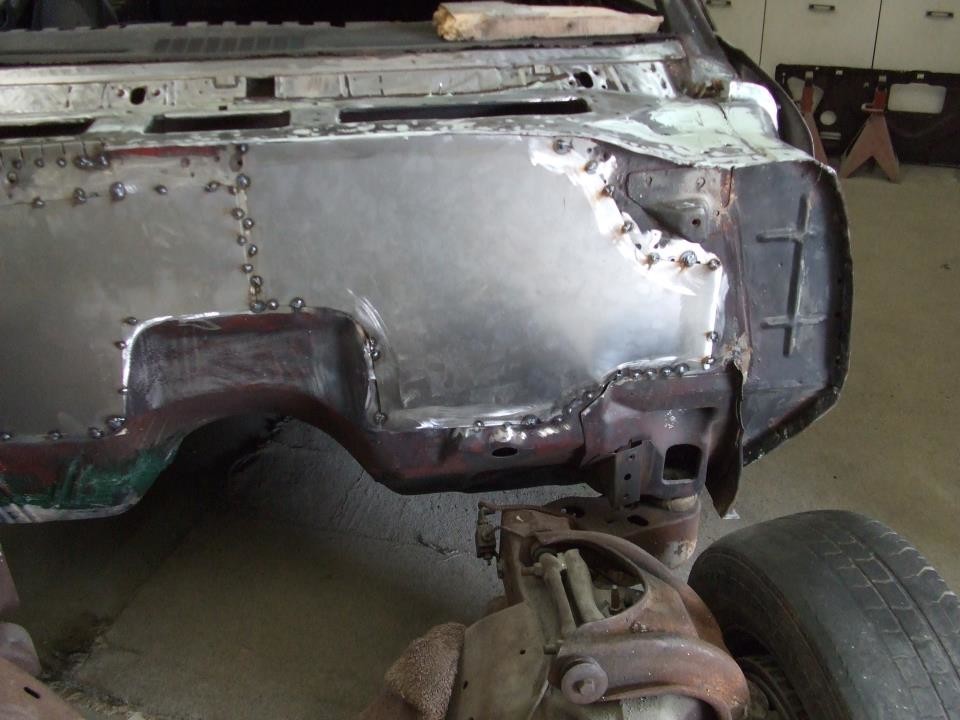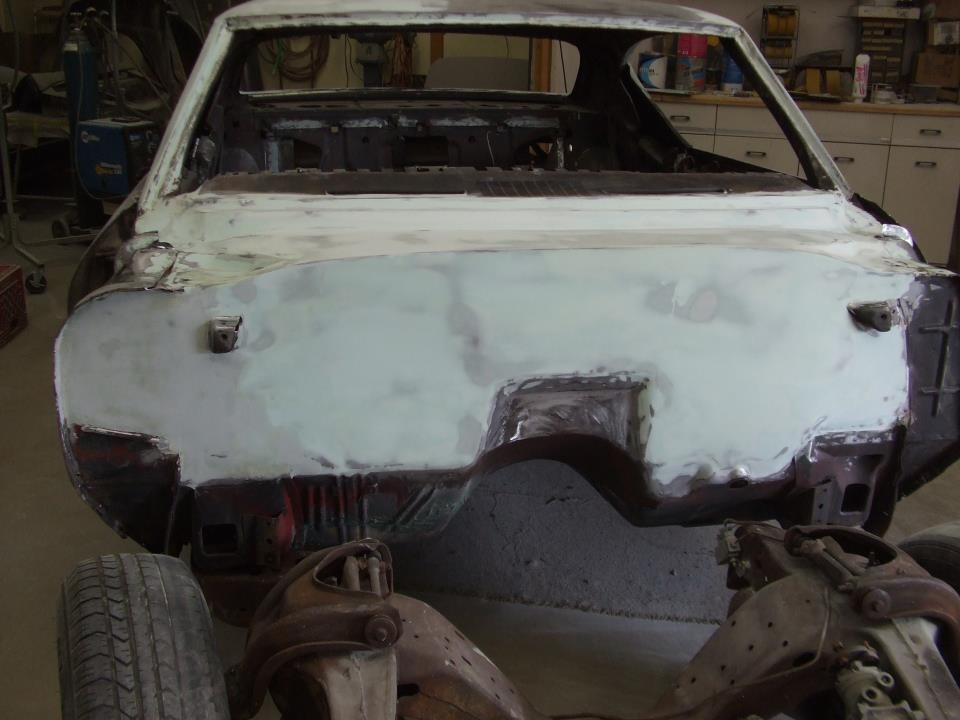 well here as you will all see please give me your inputs are pics of it getting its first coat of primer, while all this was going on interior, chassis was completed and engine is getting worked on as well, got a lot going on at the same time, please give me your input, thank you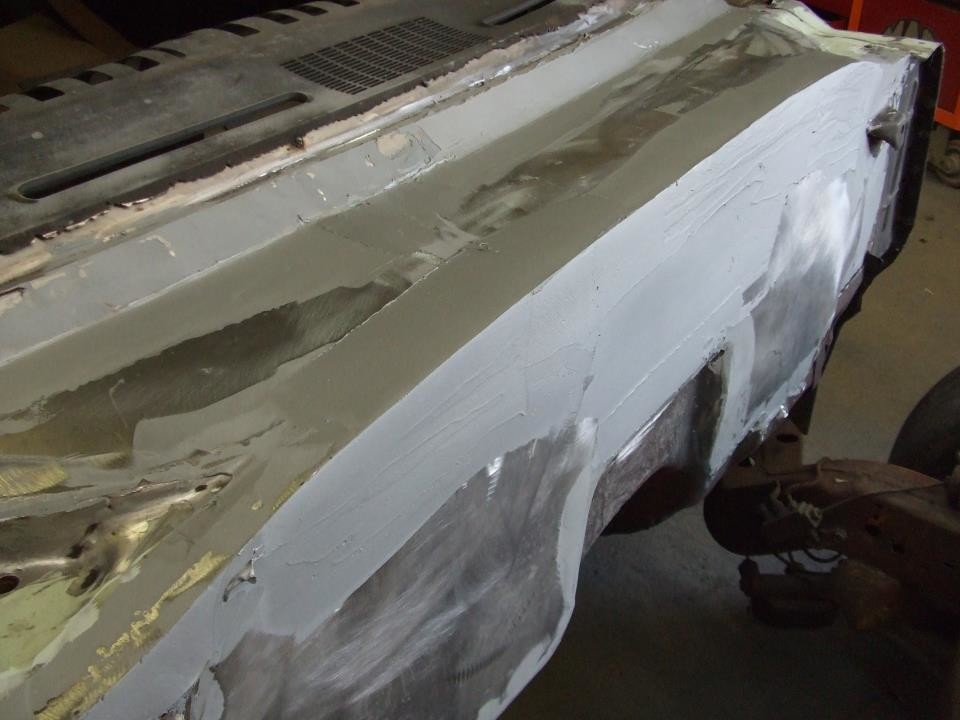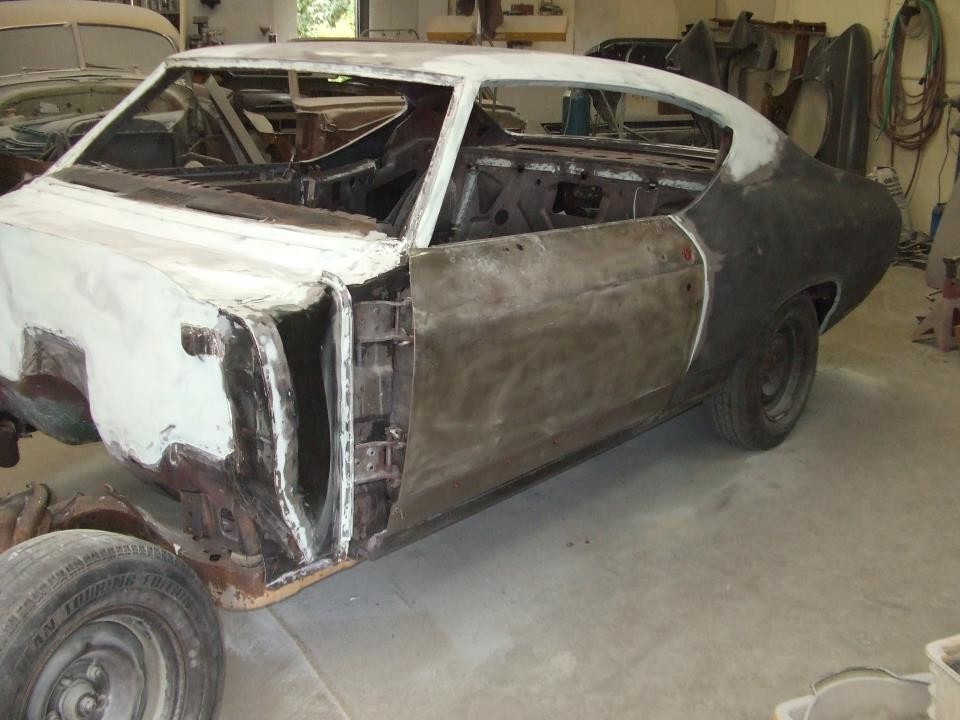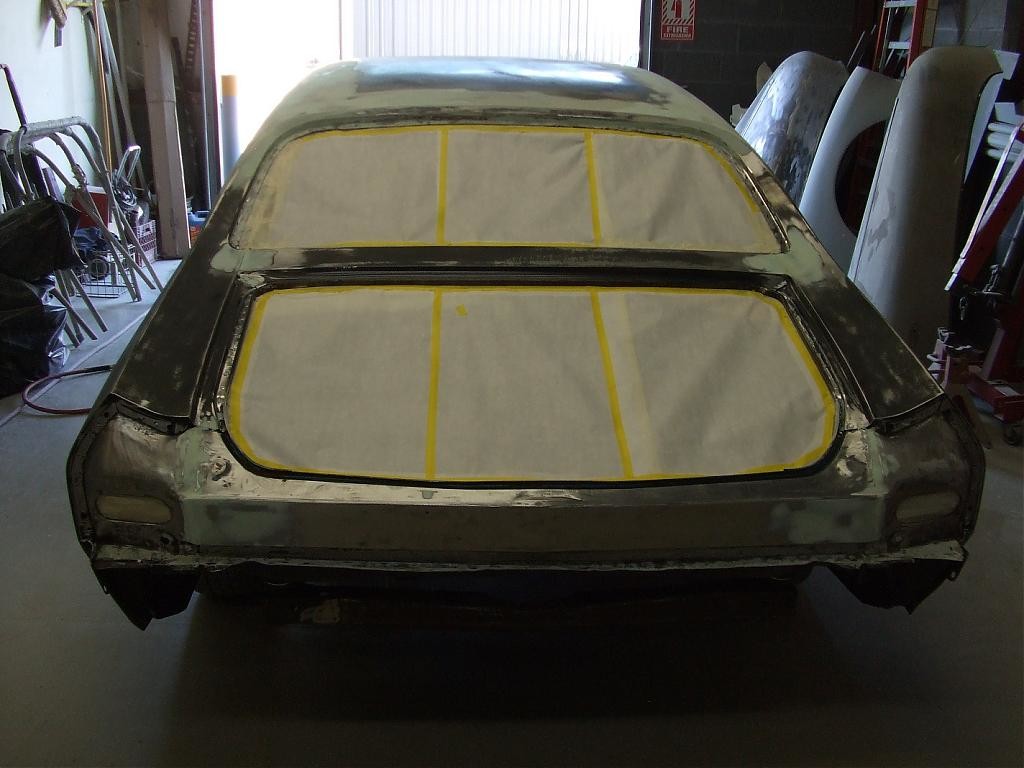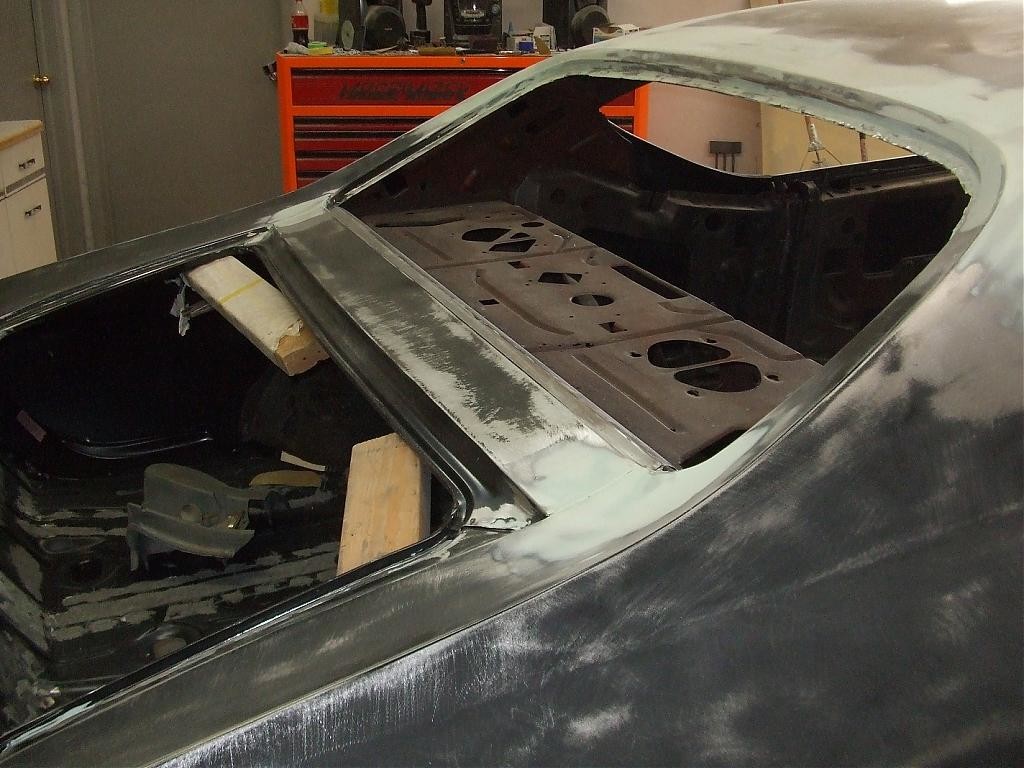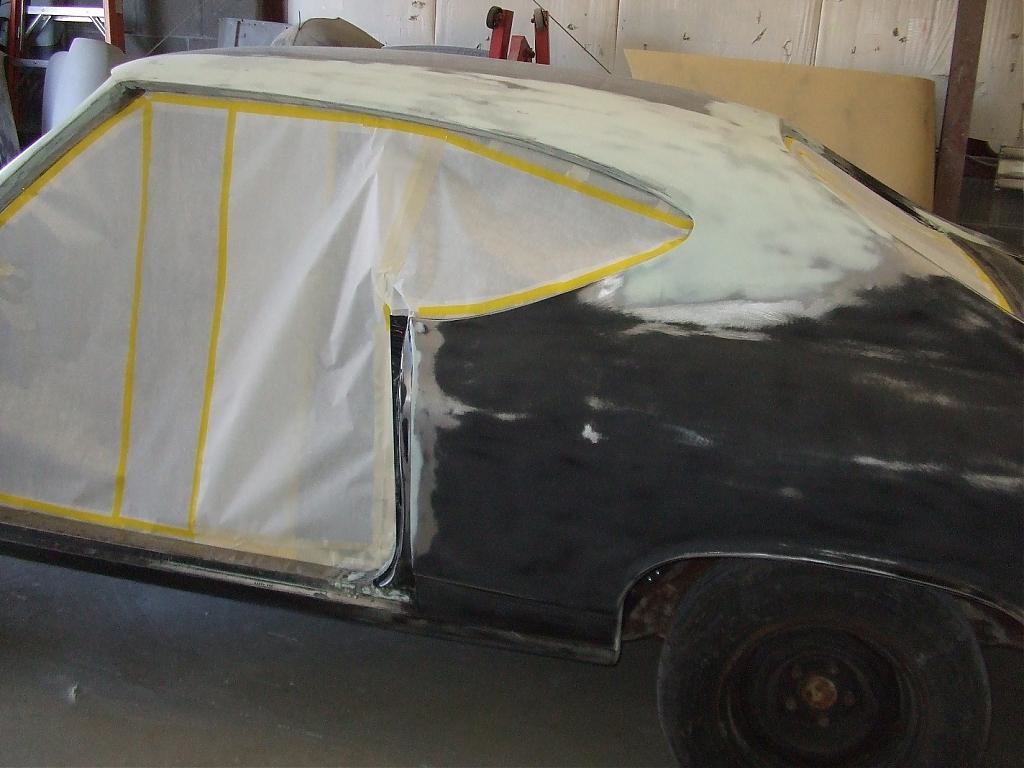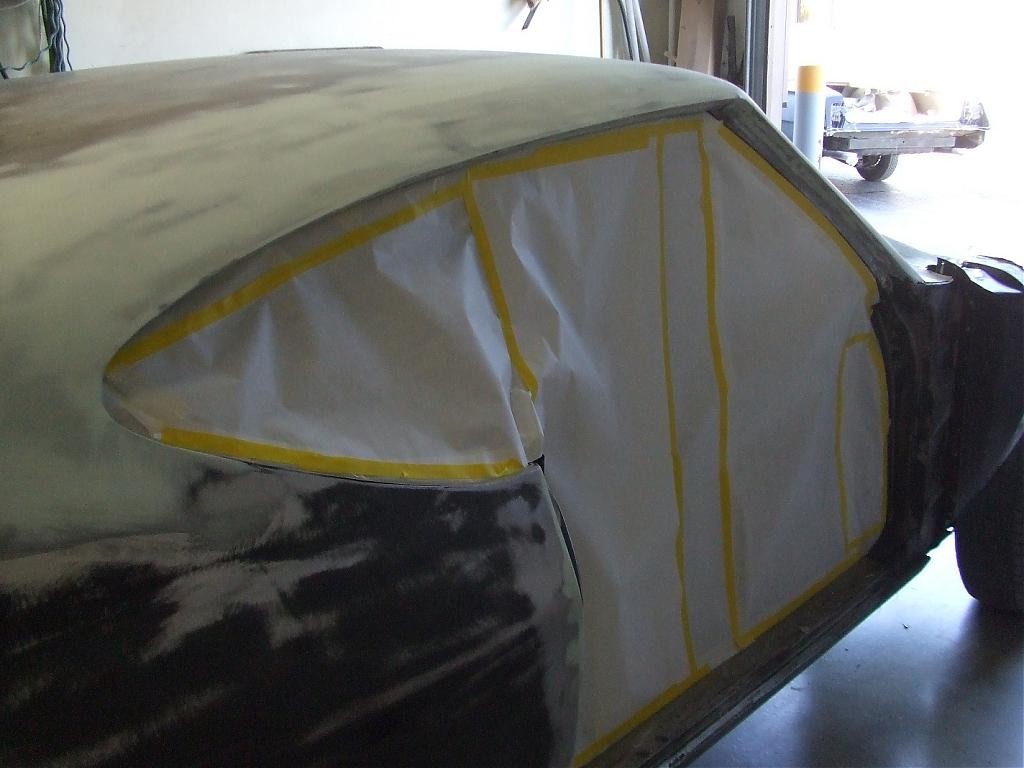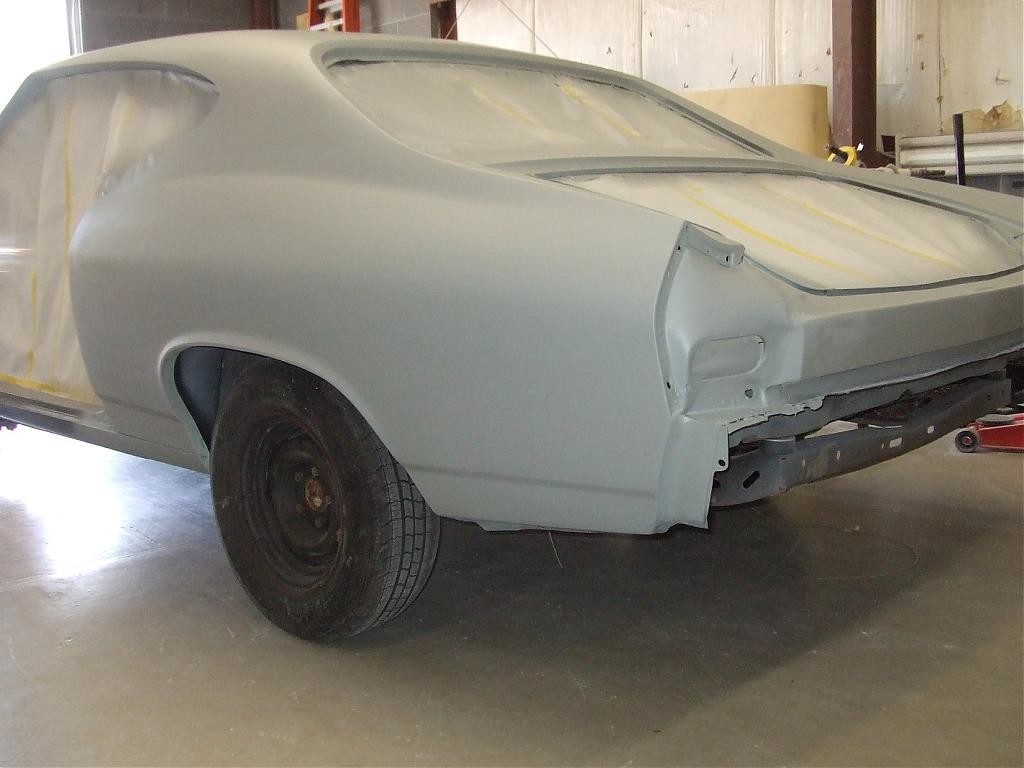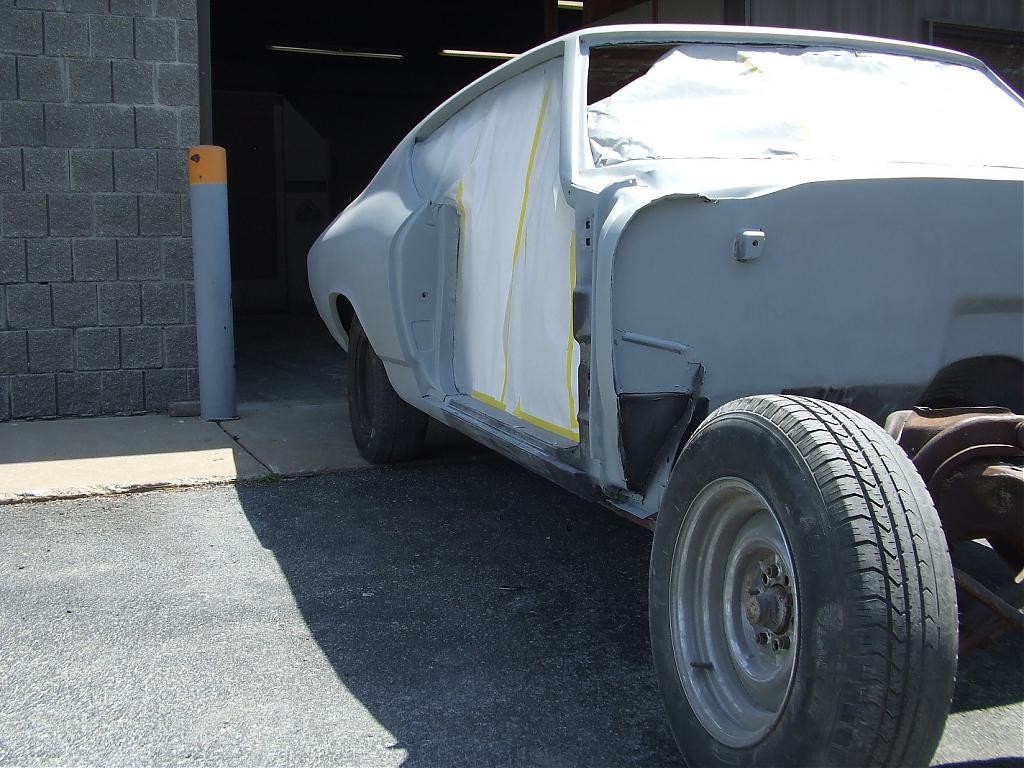 4-23-2013
It has been months but I have some cool updates of the Chevelle, at this point the frame was ready and had been sent out to be mated back with the Chevelle for the first time in months after some work was done to it, Wilwood rotors and calipers all around, UMI performance front/rear Tubular control arms, front/rear sway bar, rebuild rear end set up for the QA1 Coil over front/rear,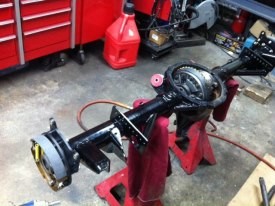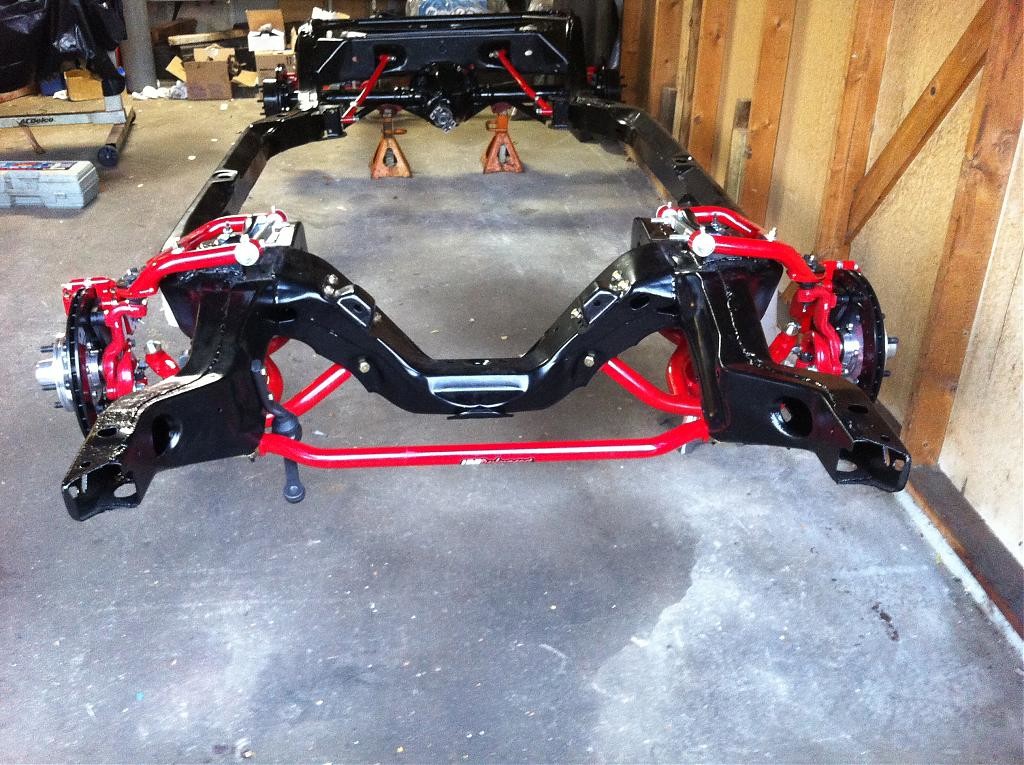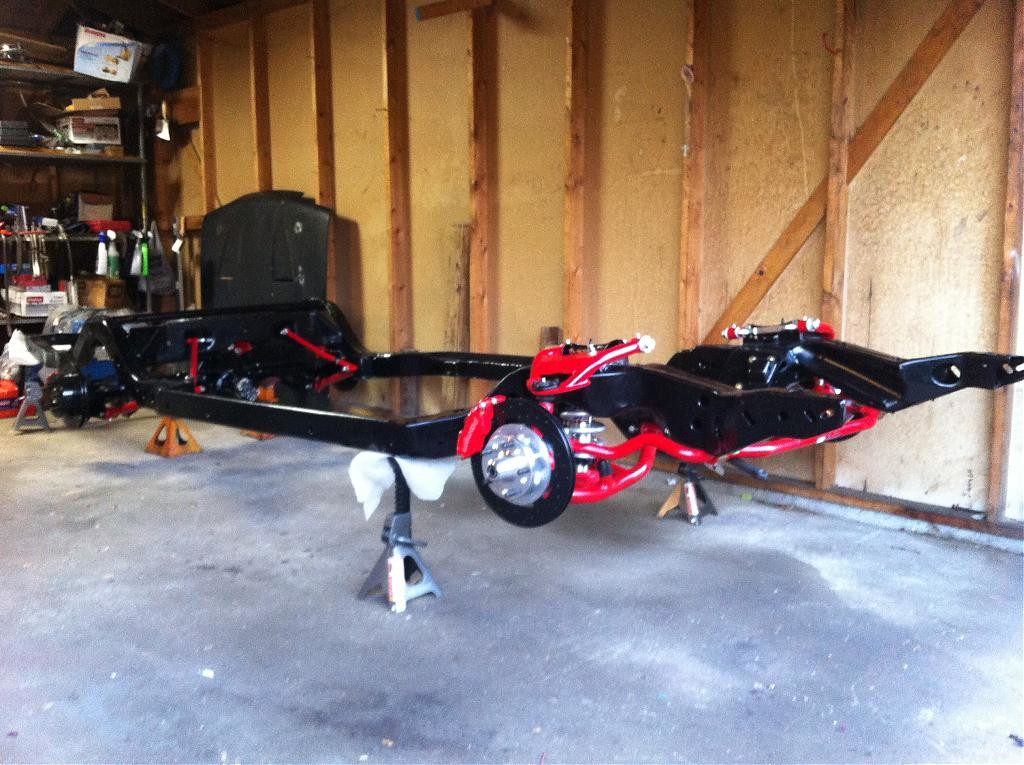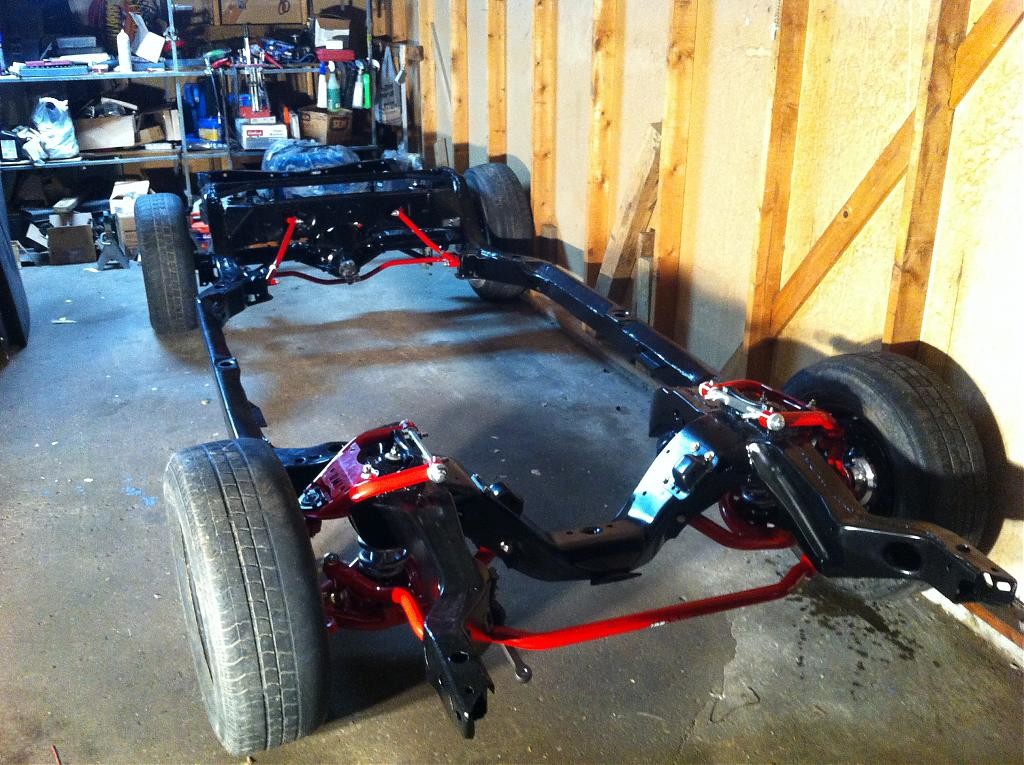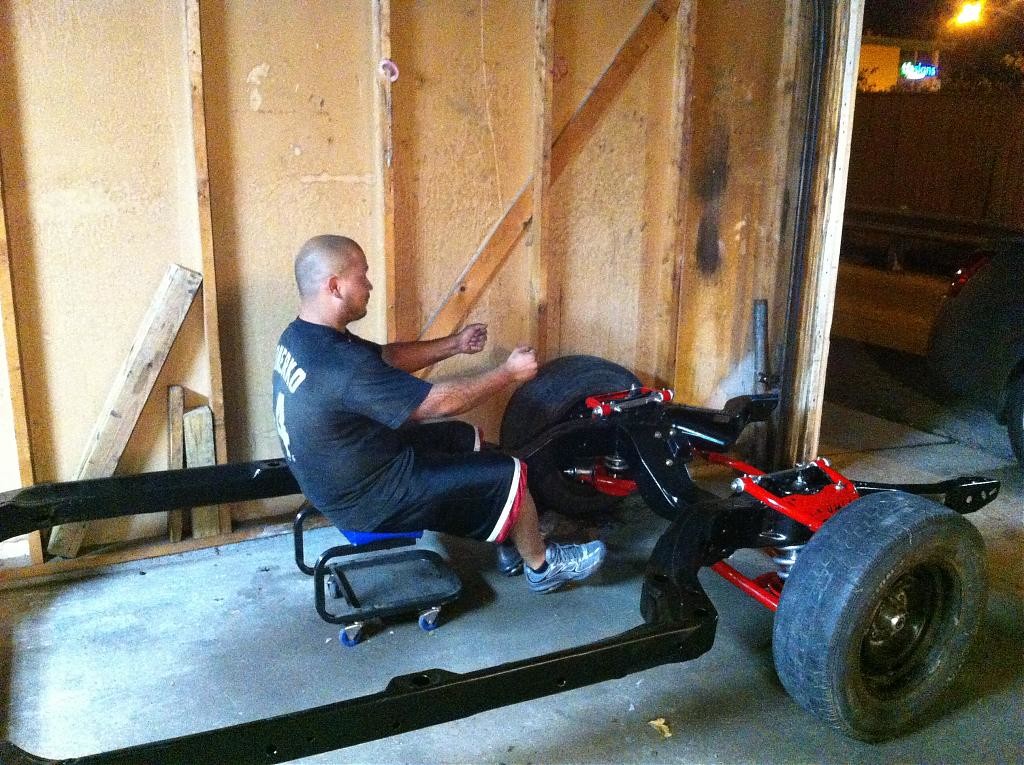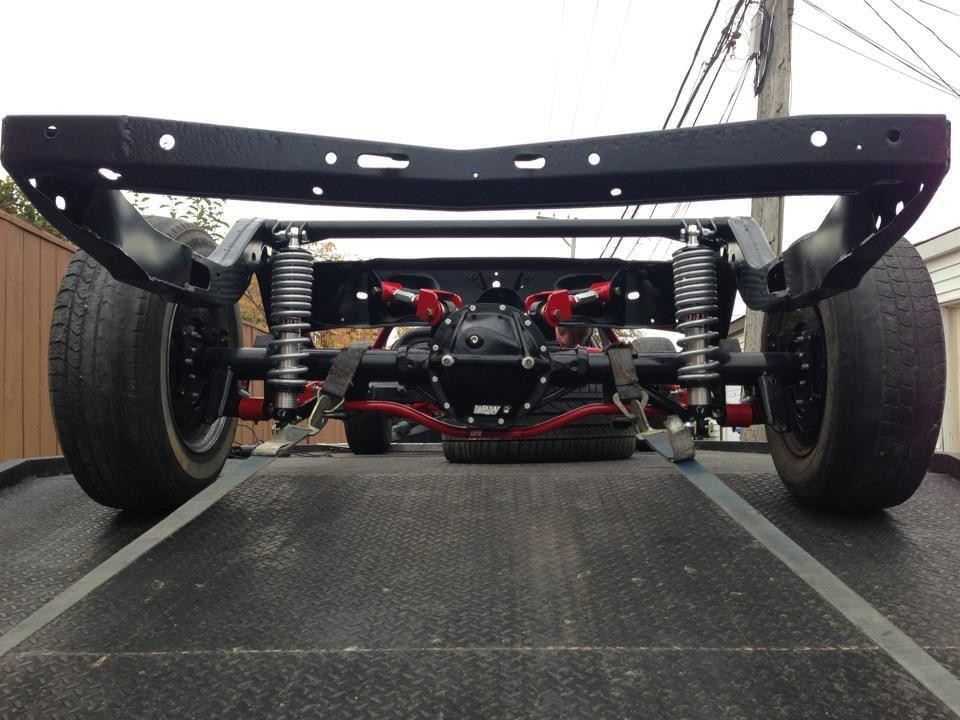 5-2-2013
Well here I had finally taken the Chassis back to the body shop and at the same time I was getting the chassis ready, the underside was getting a nice threatment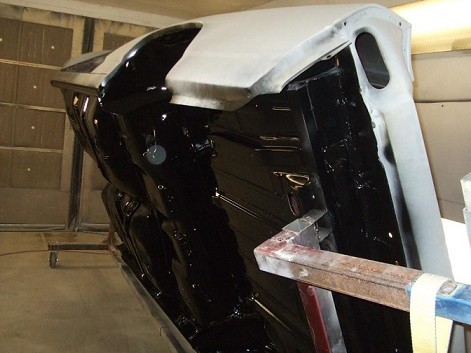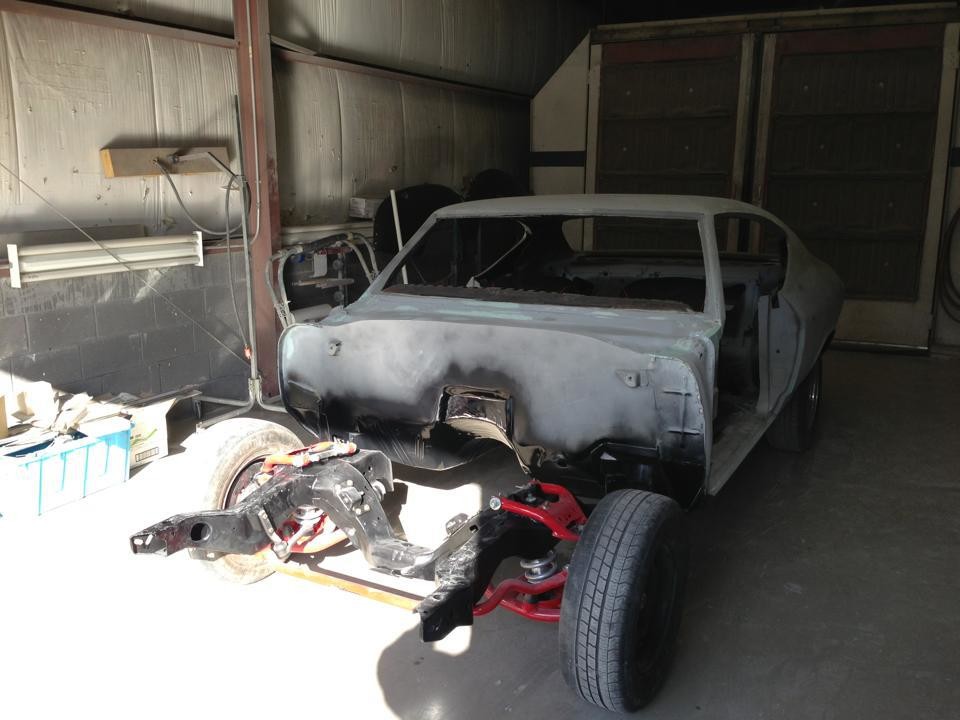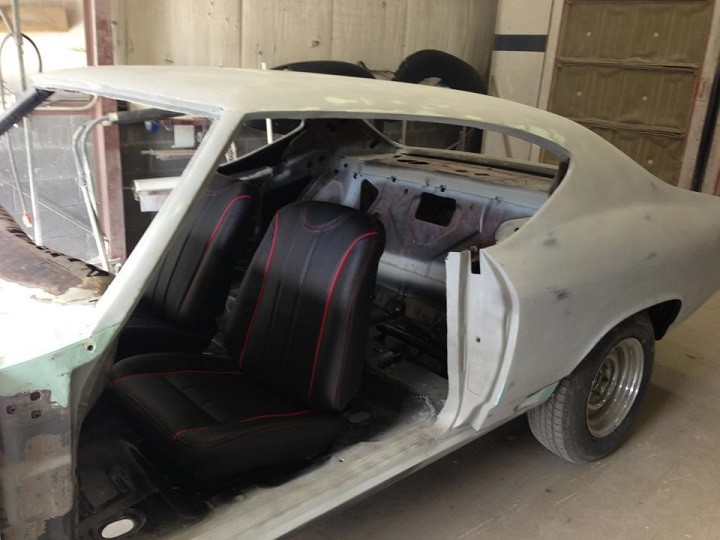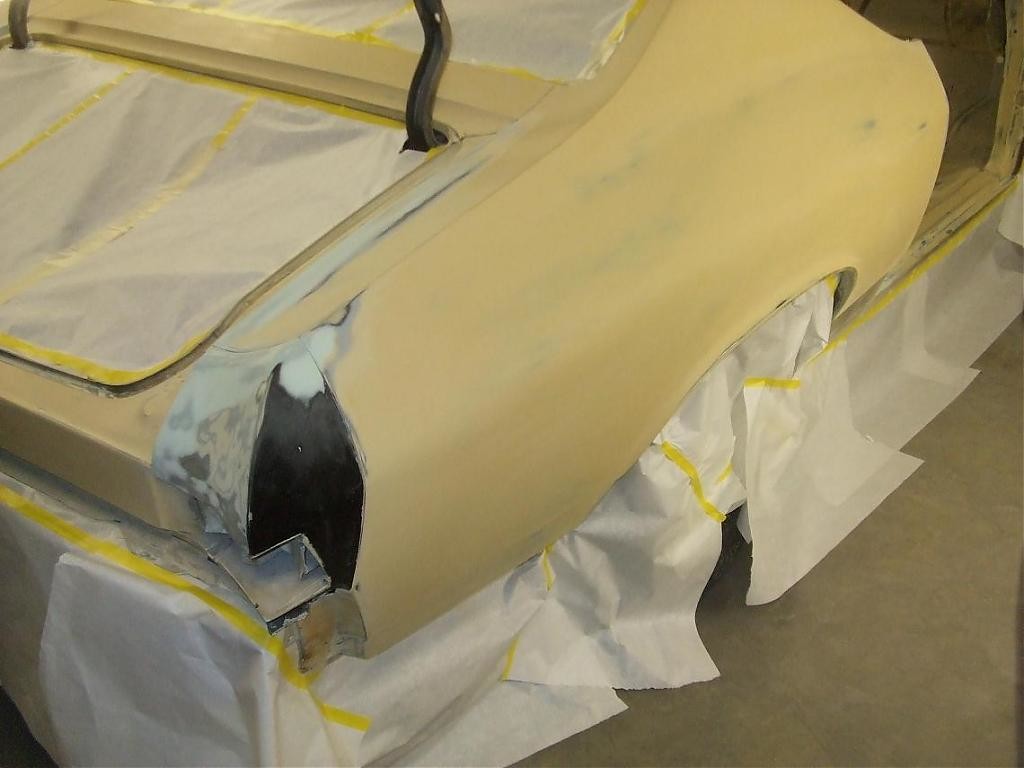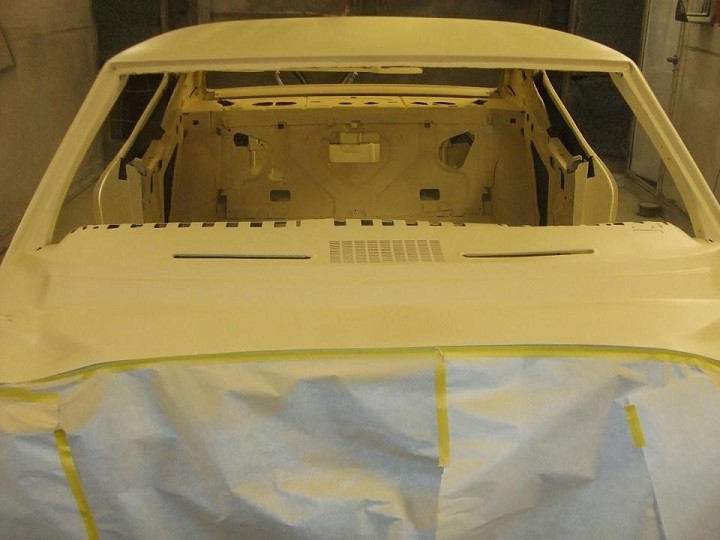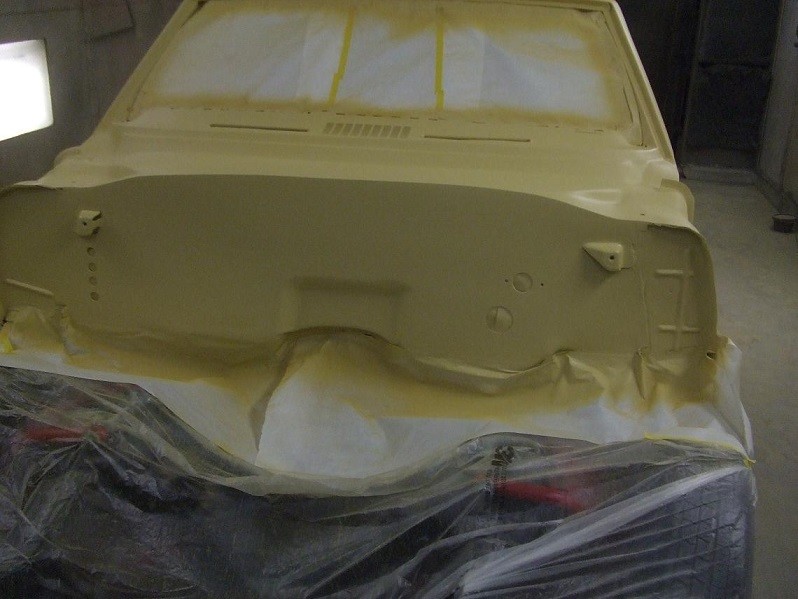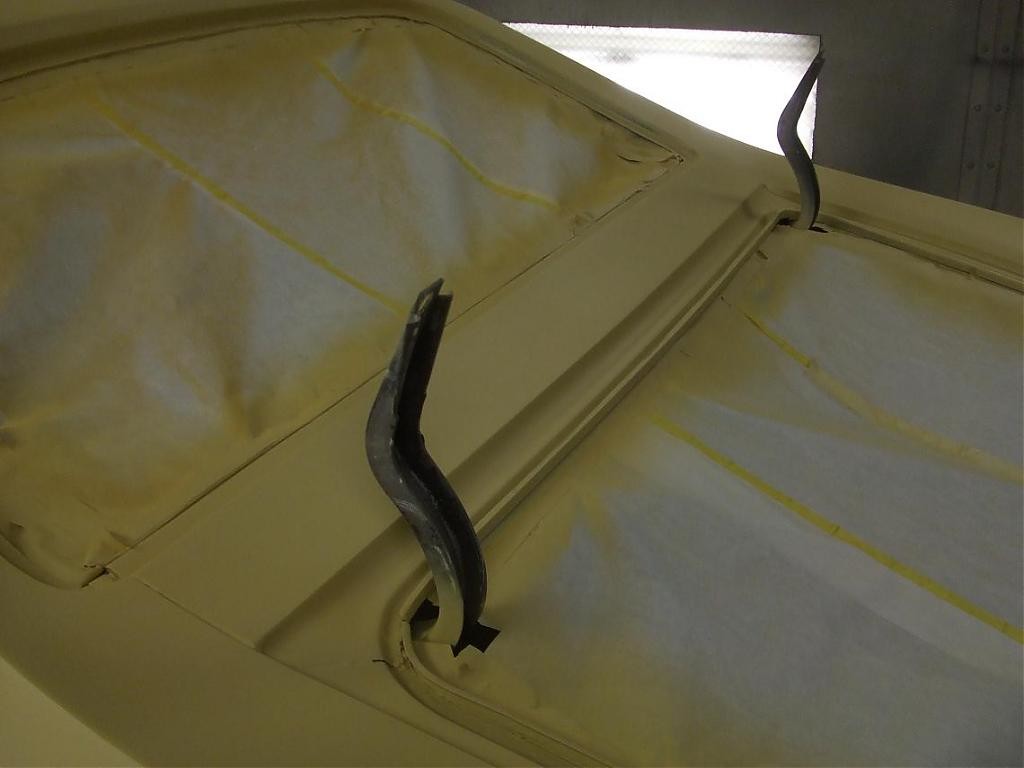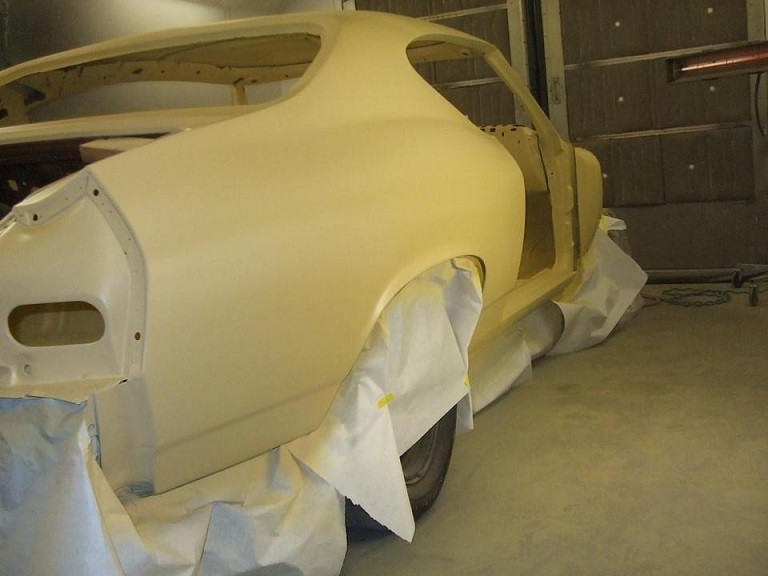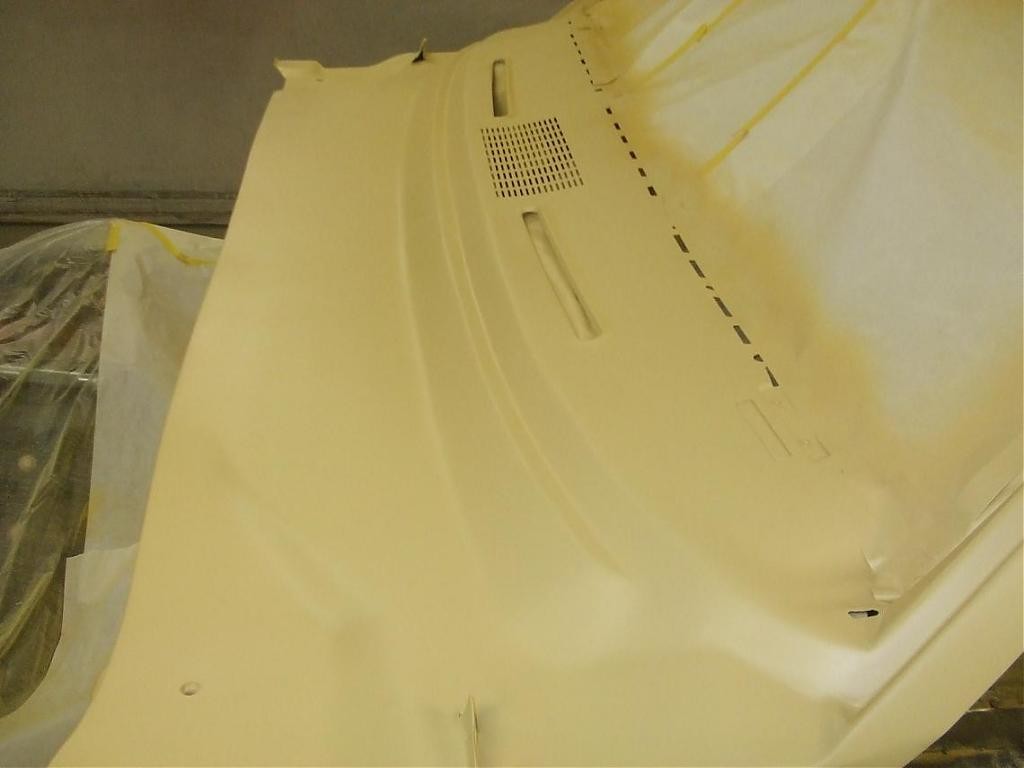 5-9-2013
While all the craziness of the car being worked on and chassis. I also was building a 468 BBC which was dyno tested at 586HP. I was hoping for a little over 600HP but do to the fact that I wanted to use pump gas and we were close to having to use race fuel which I did not want. We had to go with a smaller intake but at the end I was happy. I am not a fast driving guy so all this HP will probably never really be put to the test but it never hurts to have a little extra. Give me you imputs on it and my theme was to go all black since the entire engine bay will be red with a few satin black part such as master cylinder and so forth.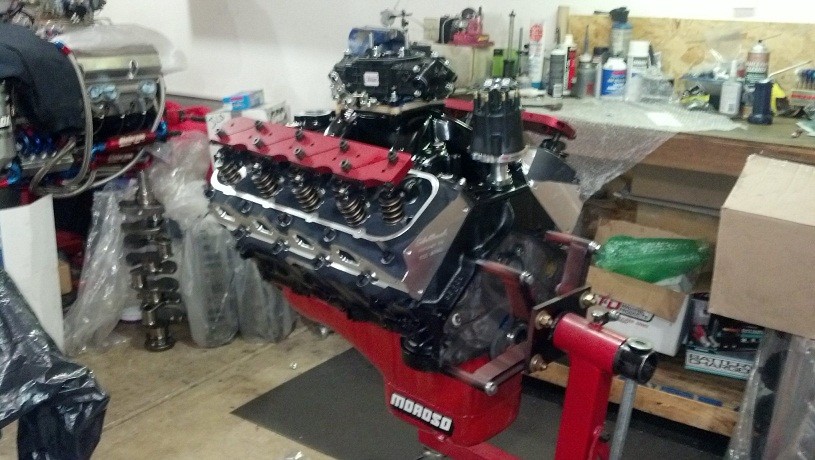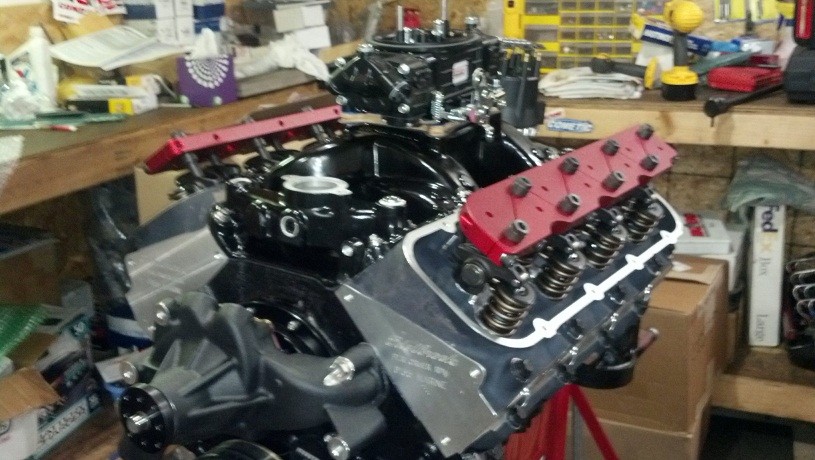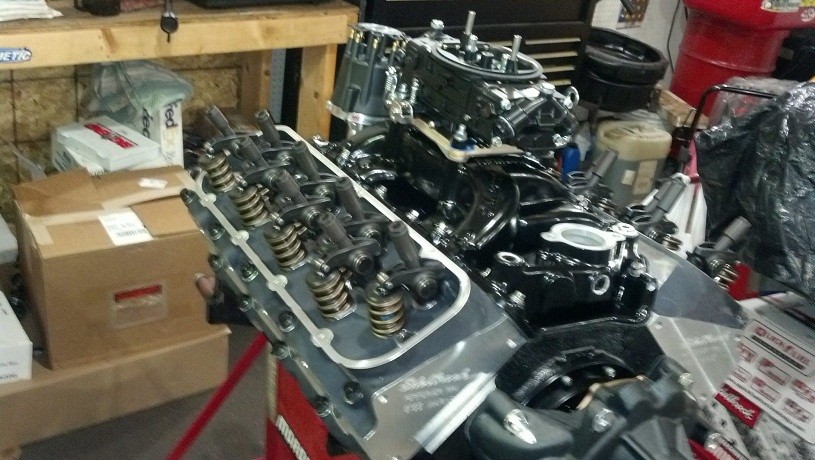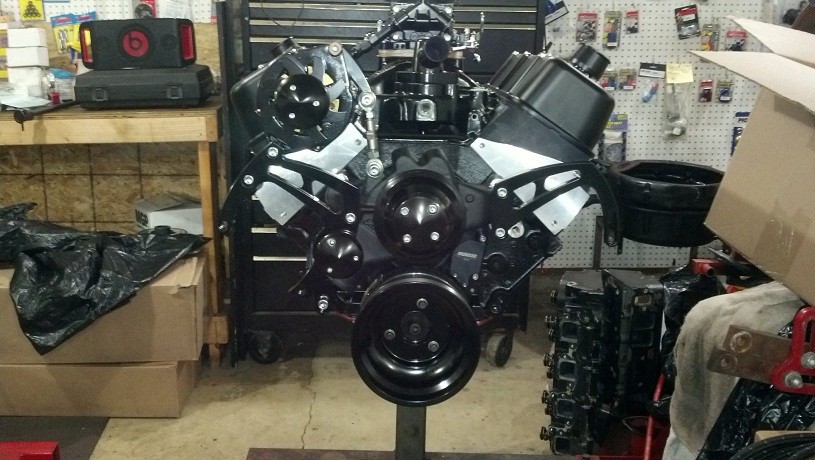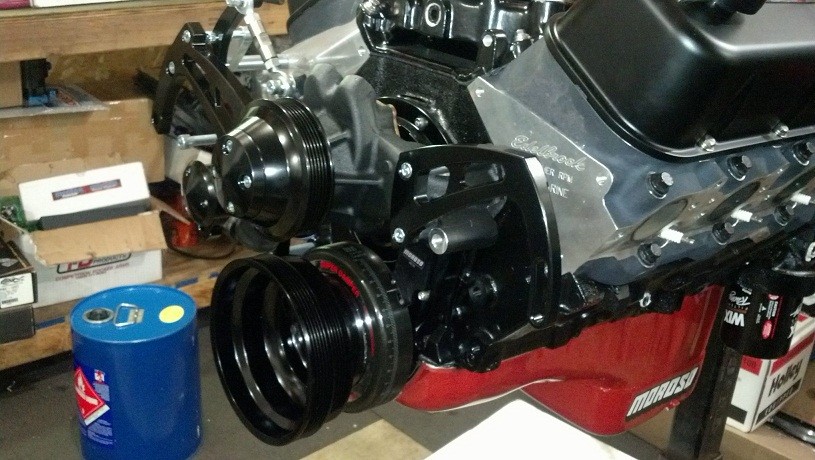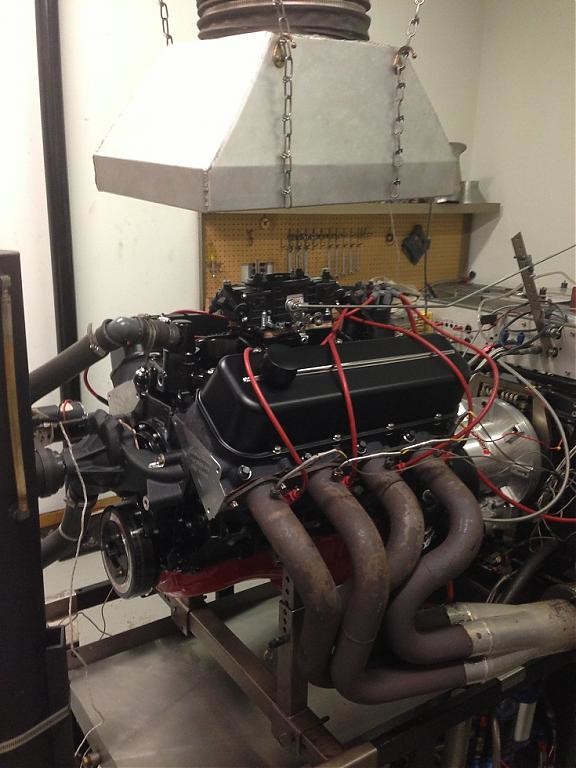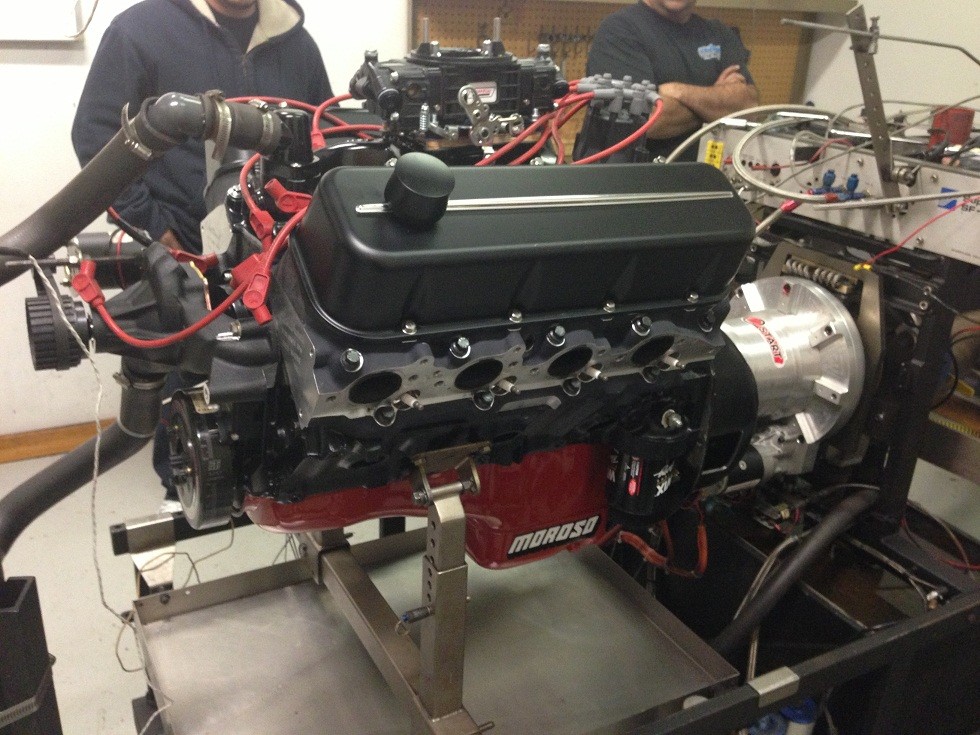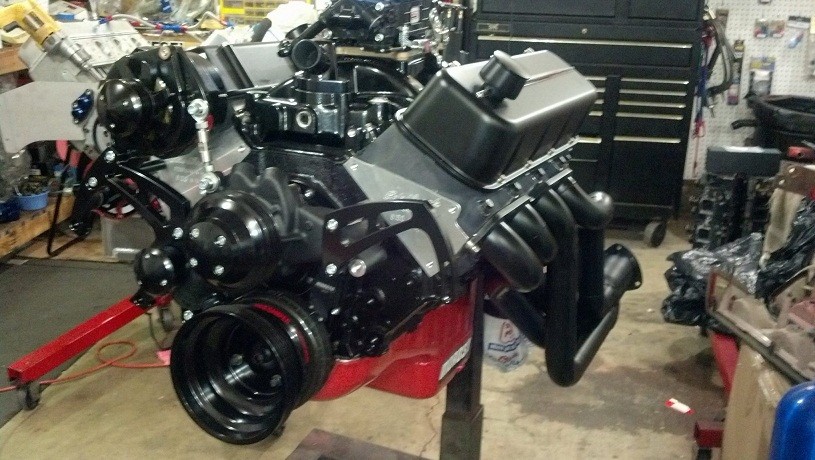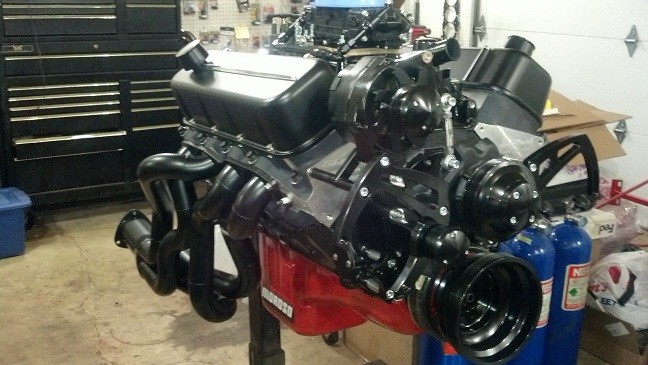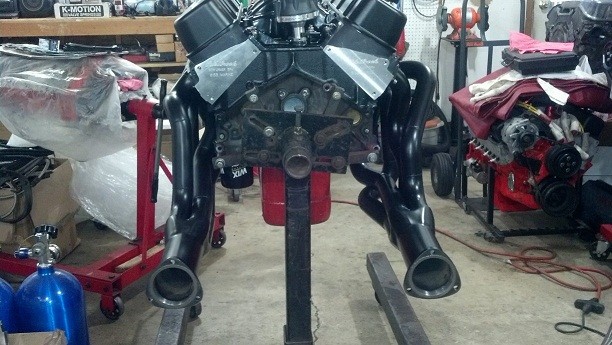 6-18-2013
Well my project is nearing its end but I really have not been updating my thread, here is my 468 BBC already dyno tested at 586 a few more tweaks and it would have jumped up to over 600 HP, but since I didnt want nothing wild kept it simple. Eagle forged crank, Com cams custom hydraulic roller camshaft, JE/Srp forged pistons/rings, quick fuel carb, Edolbrock performer heads, Billet Specialties goodies such as valve covers, breathers, thermostat, MSD, March Pulley Serpentine, to go with it some custom Lemons Headers and hi-performance street transmission powder coated in red. Let me know what you guys think. Let me know what you guys think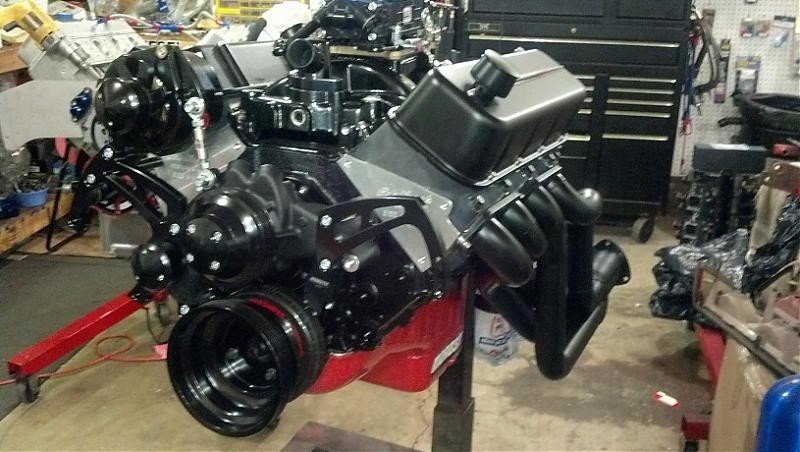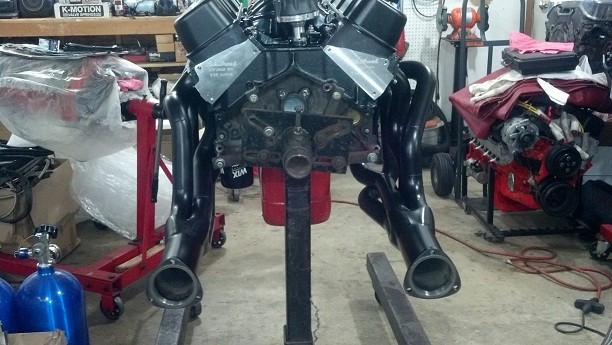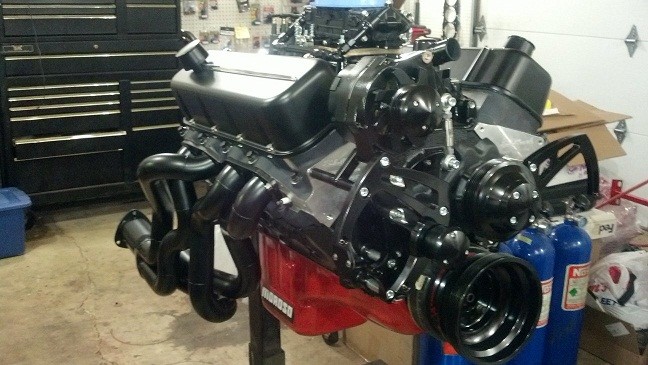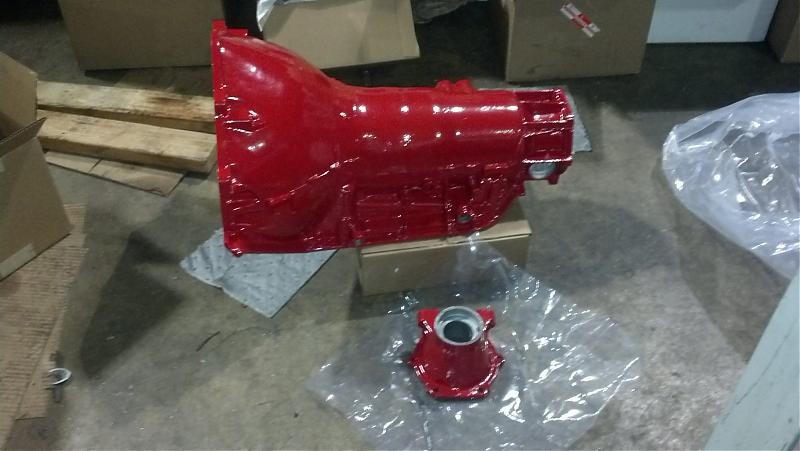 8-23-2013
well over the past 8 months a lot has happened with my project, here are a few updates as currently its being assembled but here are some work that was done some mods, front bumper was narrowed to give it that front end that clean look, a custom grill was made but as you guys will see later it was converted into a one piece grill, entire front bumper was smoothen, Oh did I mention my bad ass AutoRad core support which will be all red with the all red radiator now I know why high end shops use them craftmenship it just bitching, oh side lights were smoothen out as well delted pretty much, more to come please give me your feedback, any of the vendors I USED IF YOU WANT TO SPONSOR ME TO TAKE THIS BABY TO SEMA MESSAGE ME LOL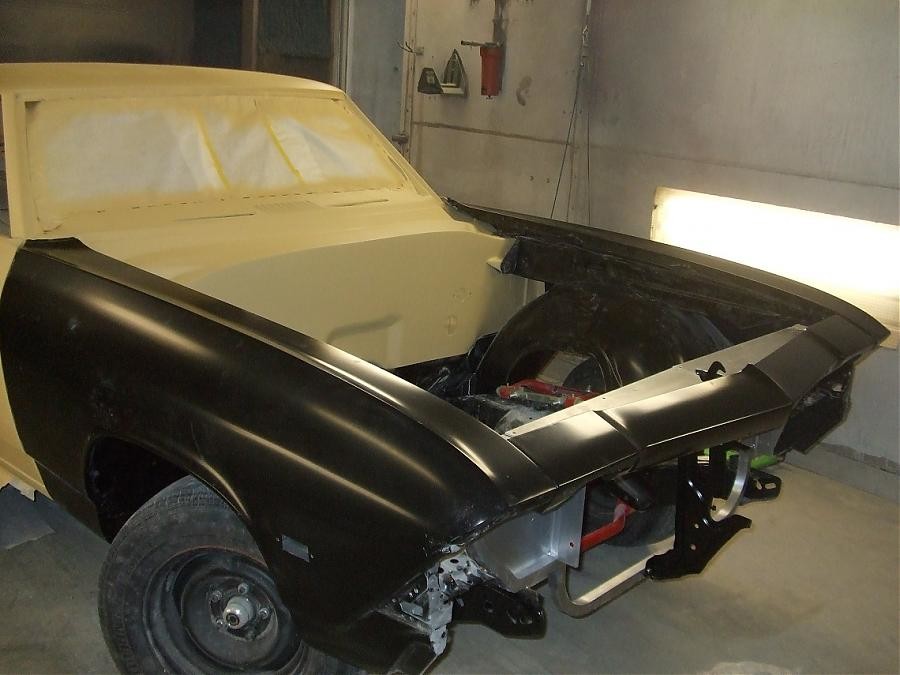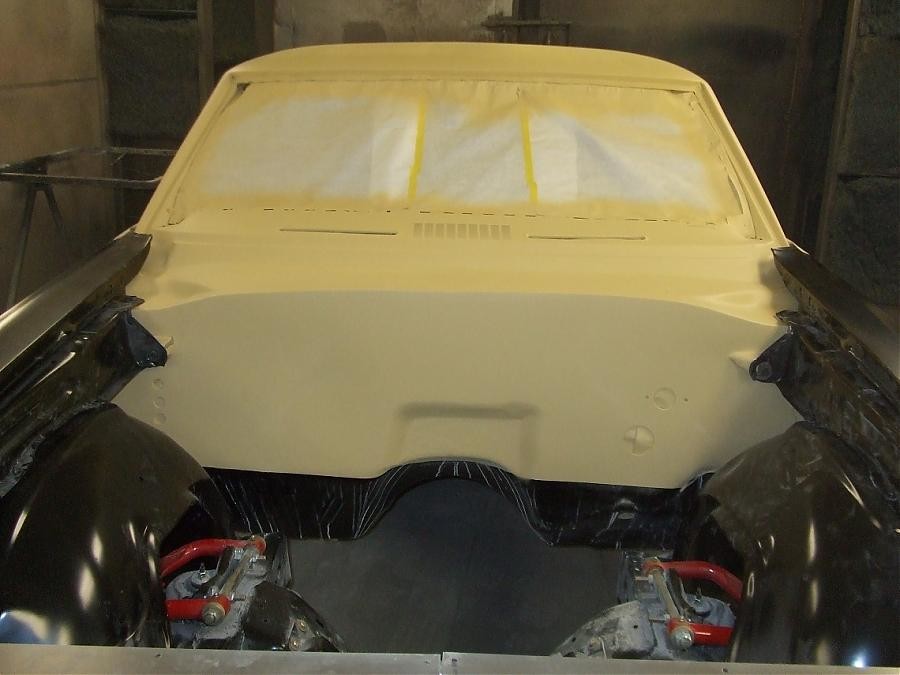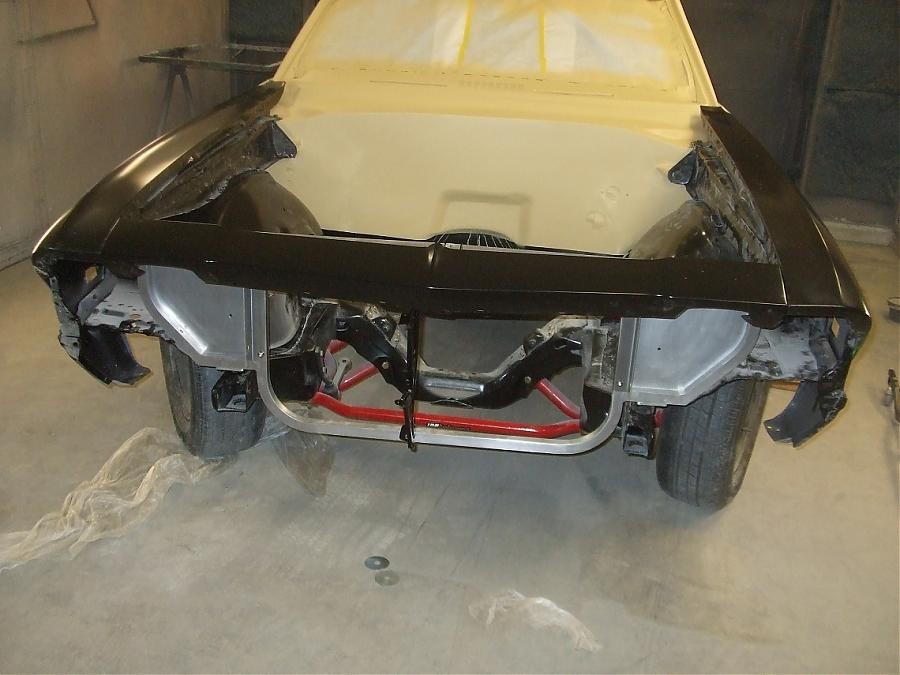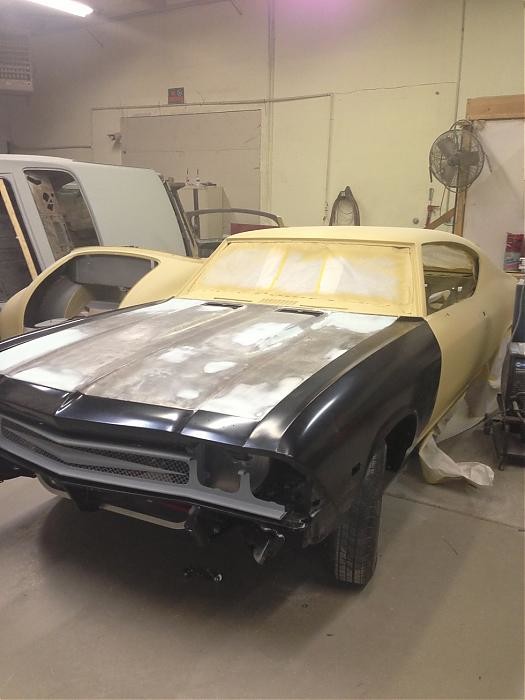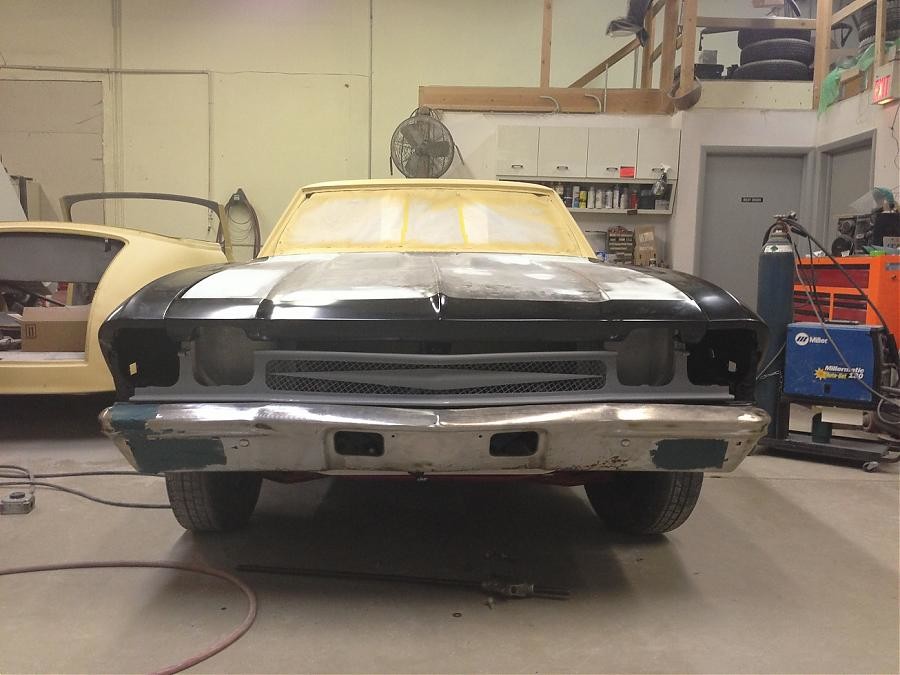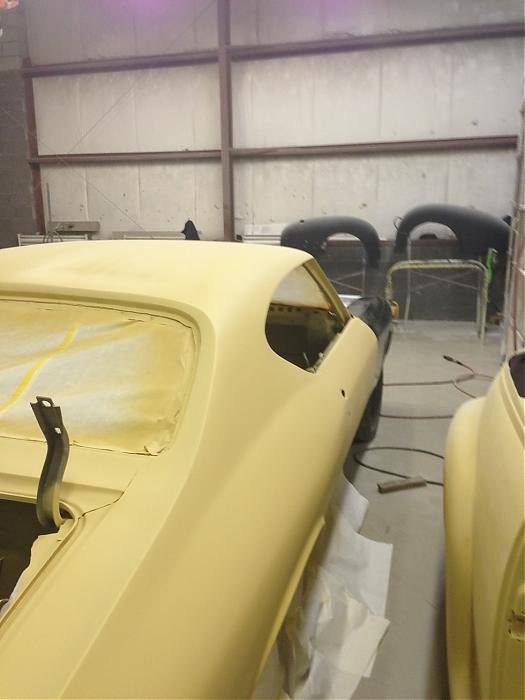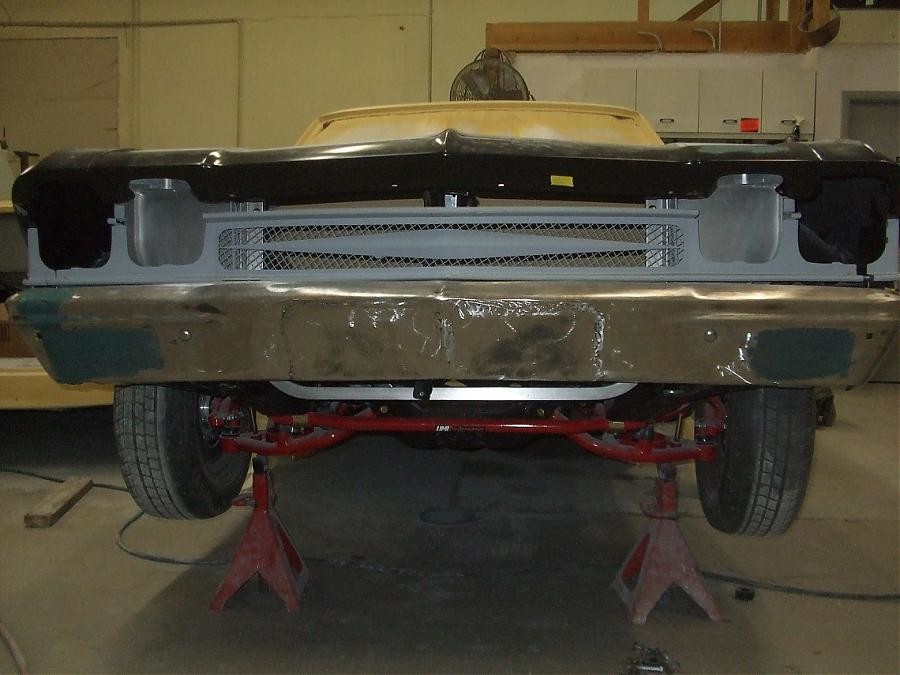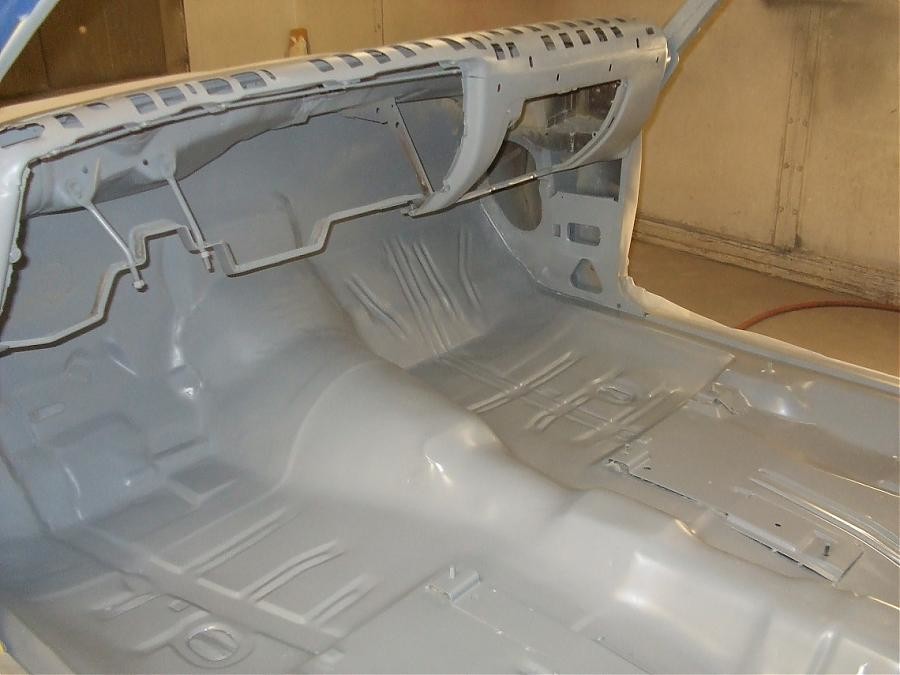 at this point the front end had come together as I planned now it ws time to get some paint inside the car which I choose black even though I Dynamated the entire inside later you guys will see, I also at this point had received my FORGELINE 18X8 (245X18) UP FRONT AND 18X10 (285X18) OUT BACK LOVE THEM, INTERIOR IS PRETTY MUCH SET
at this point the car was its in last stages of primer and ready for some Dupont Red Hot Meltdown and man was this an expensive color but loved the outcome best money spent, it took some headaches but boy was it worth it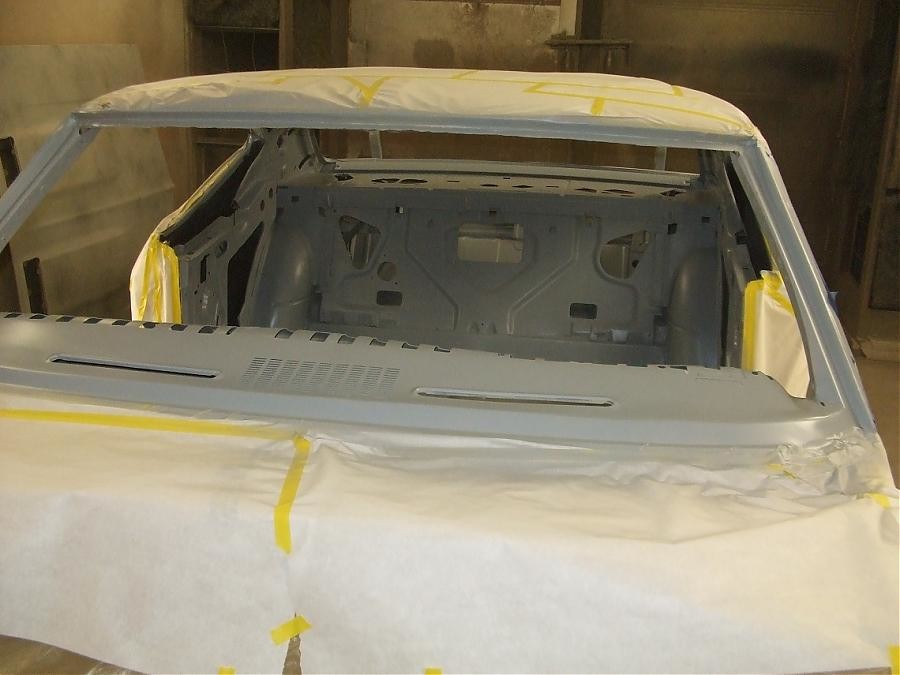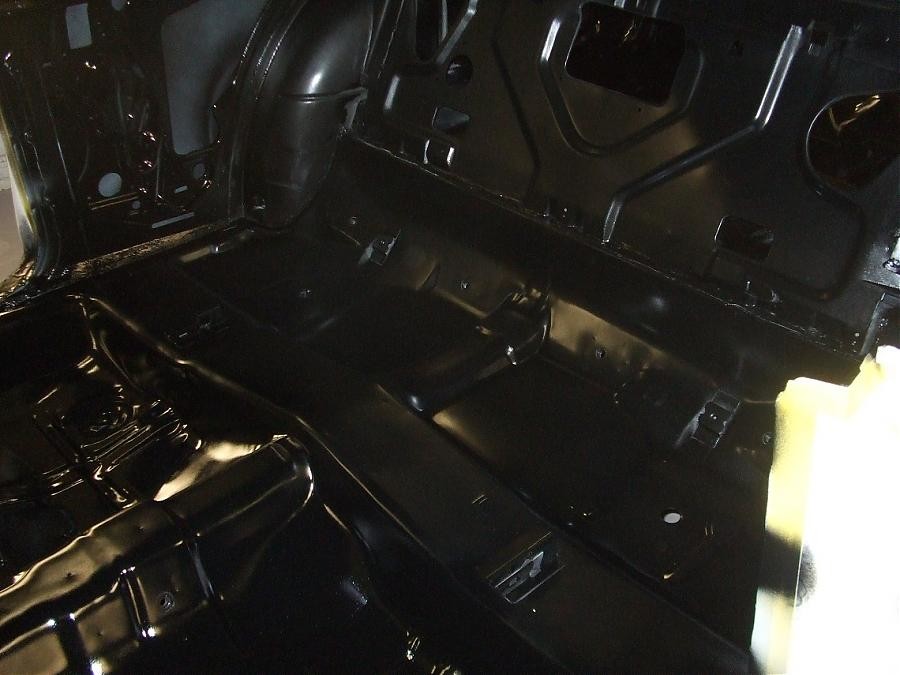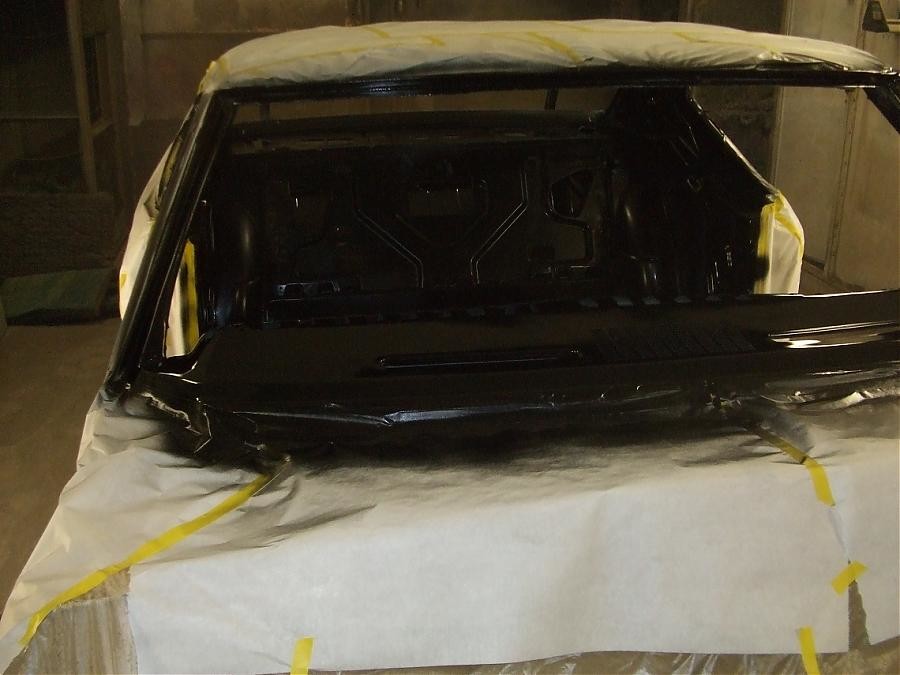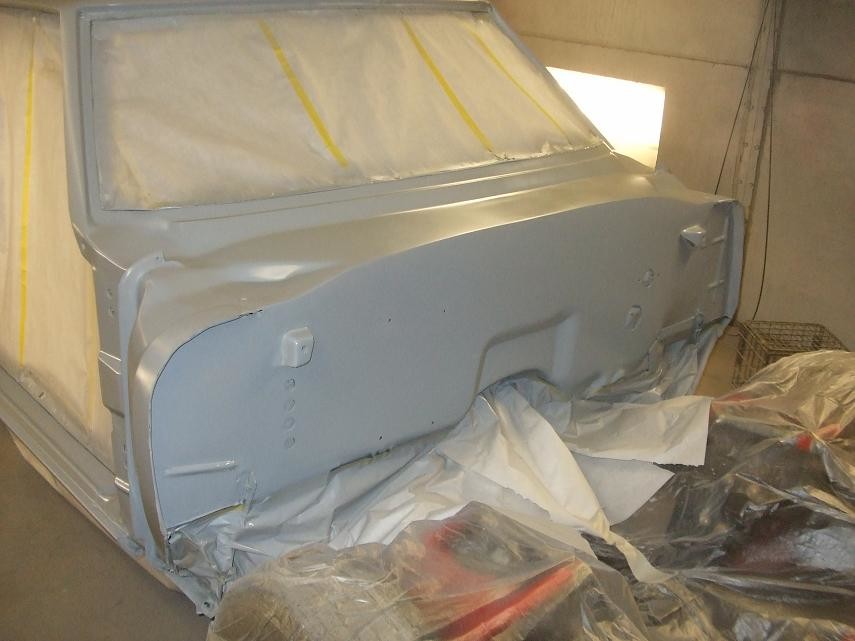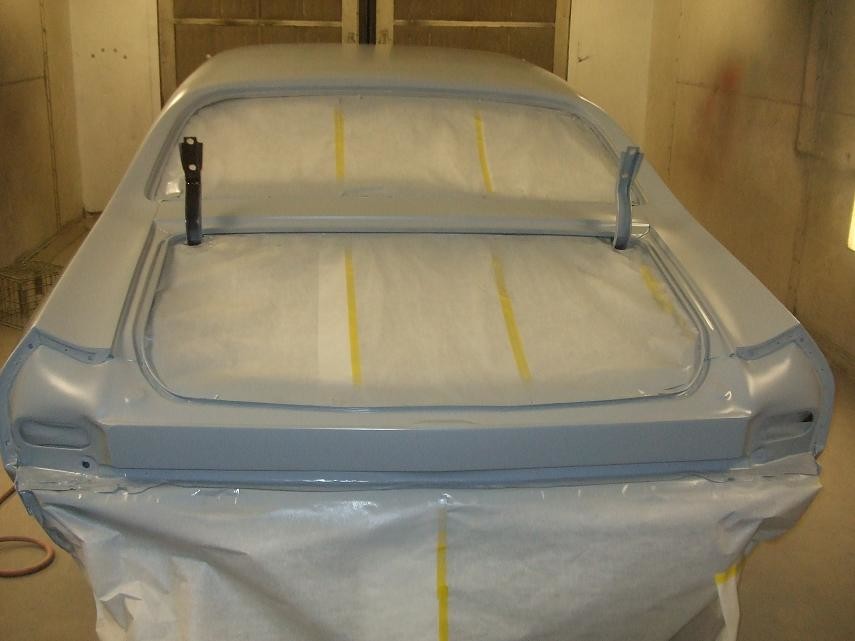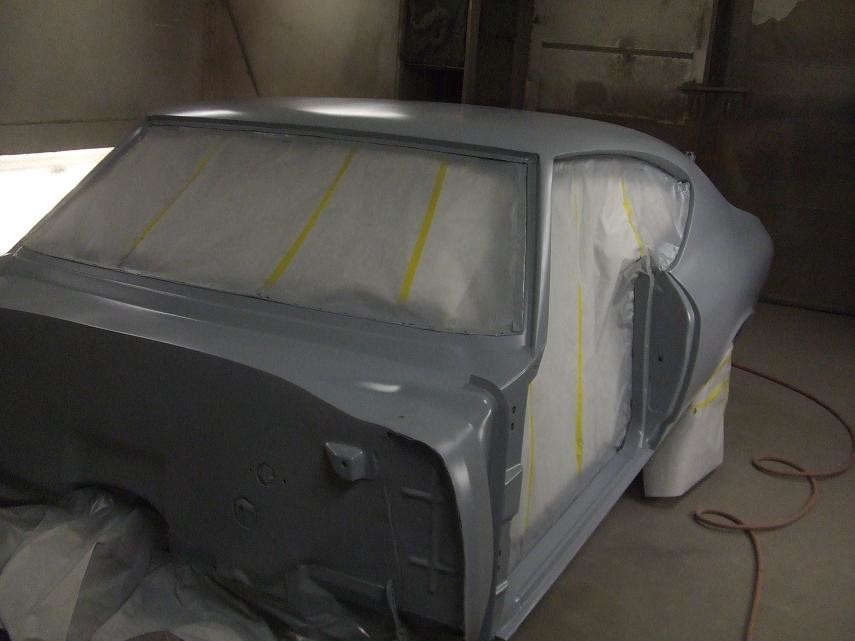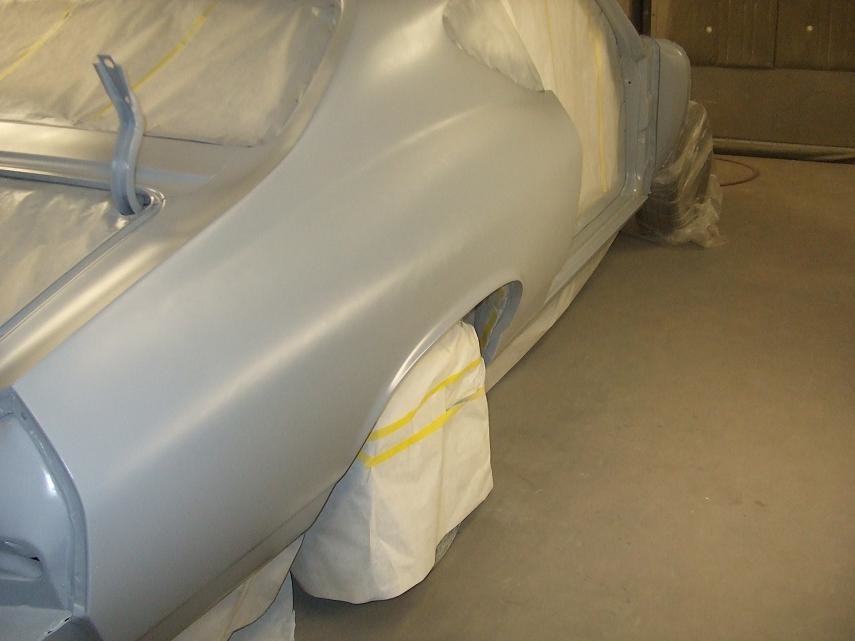 9-6-2013
well after finally getting around some things I am putting up pics of the car being painted with DuPont Red Hot Meltdown, car had been painted a few months but is getting currently assembled, give me your input guys, as you can see even the AutoRad radiator coar support got a coat of red hot meltdown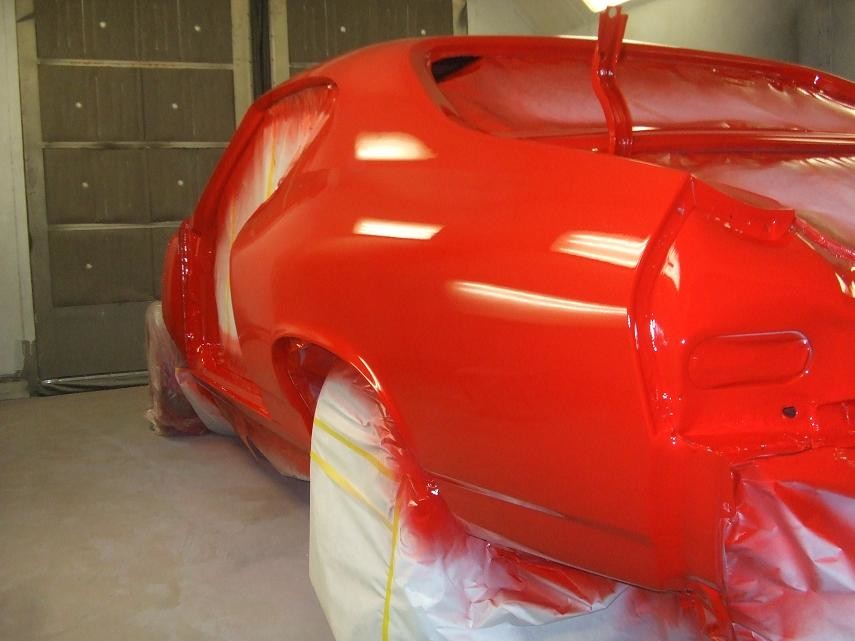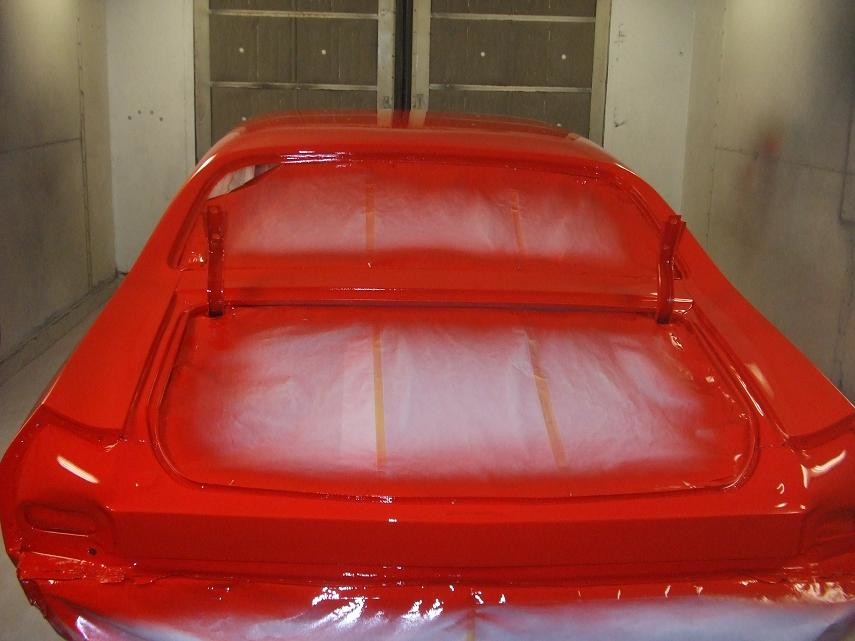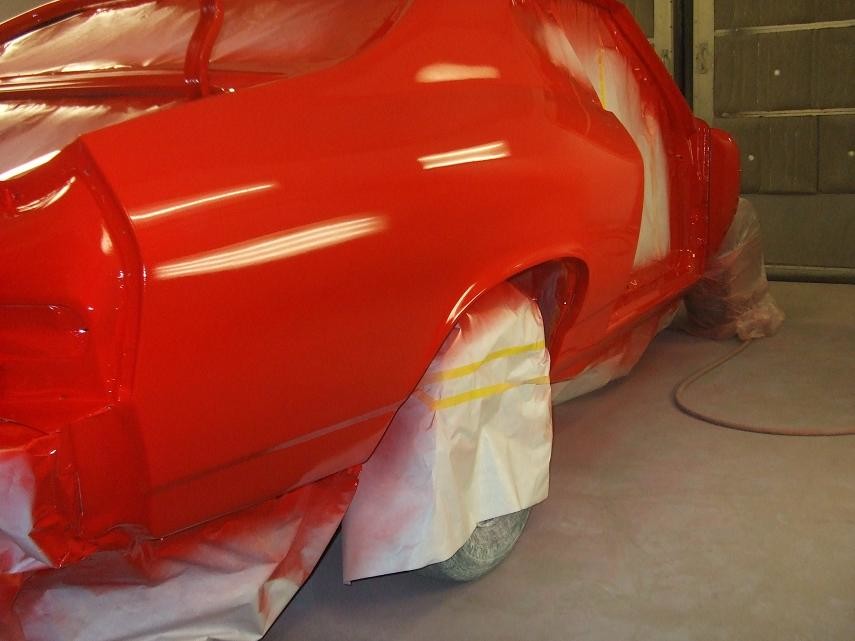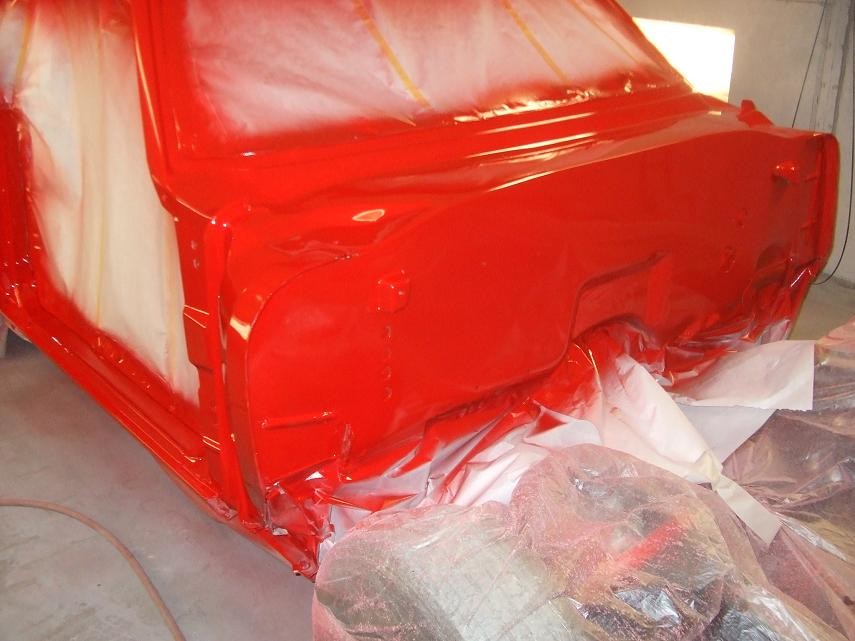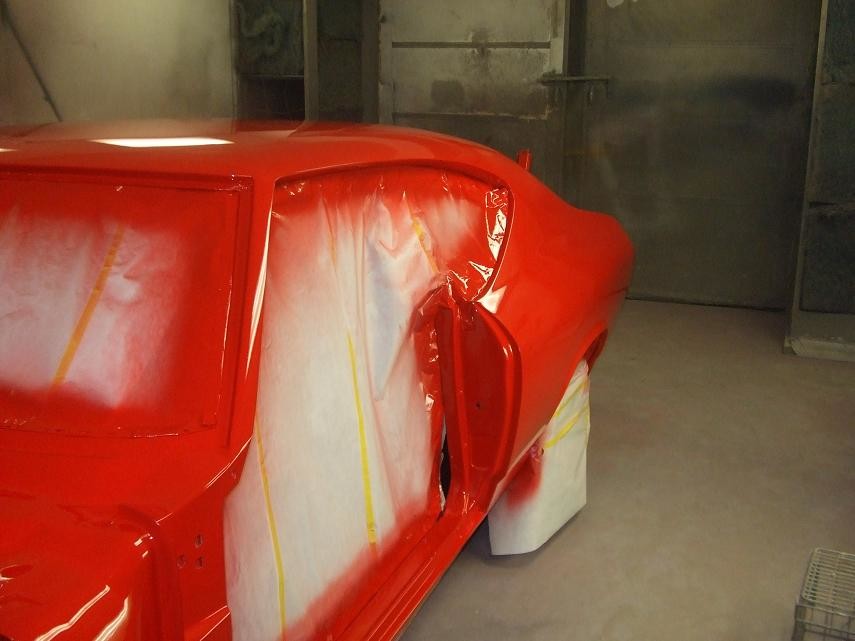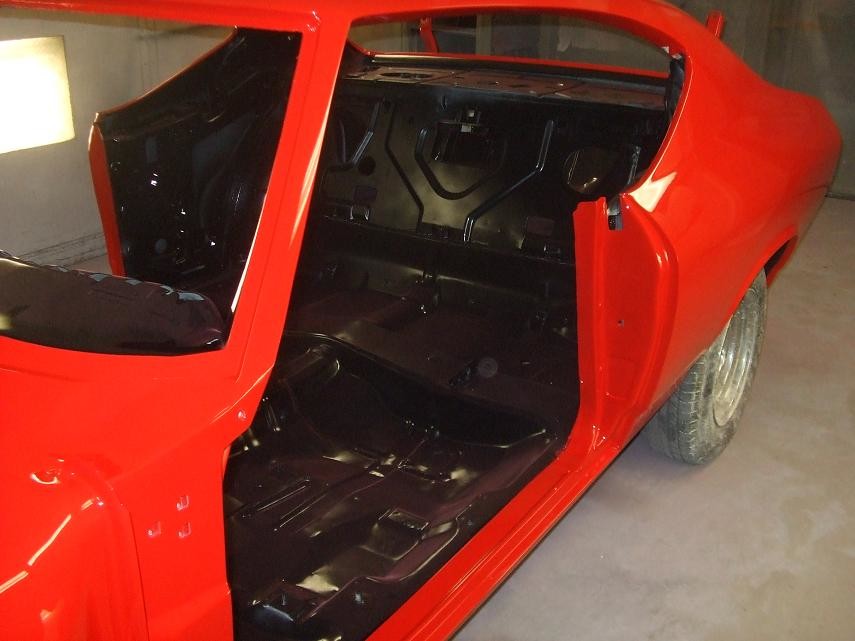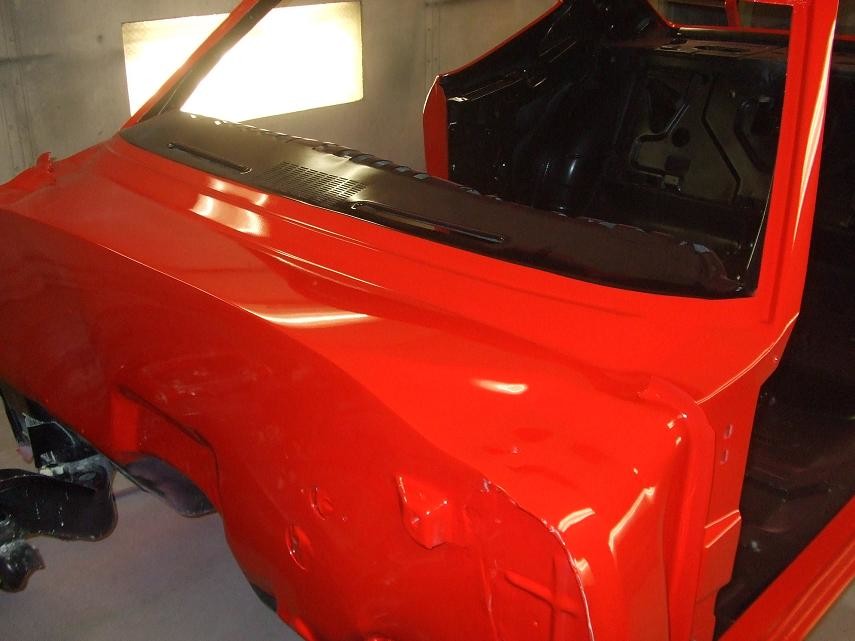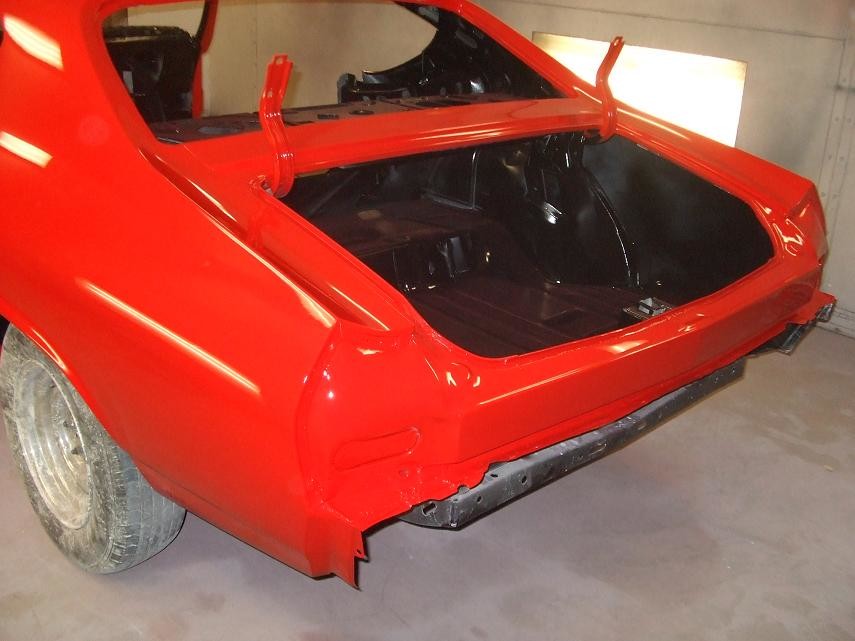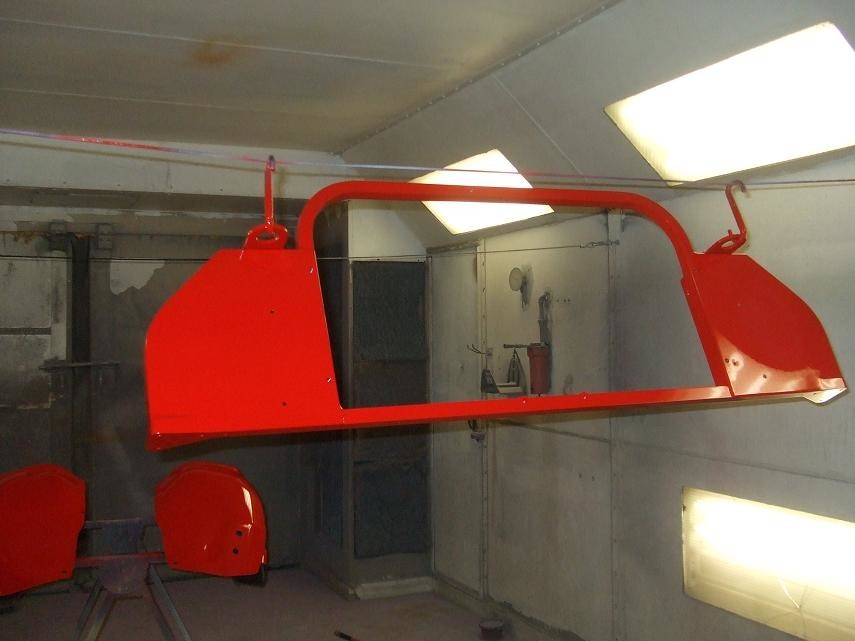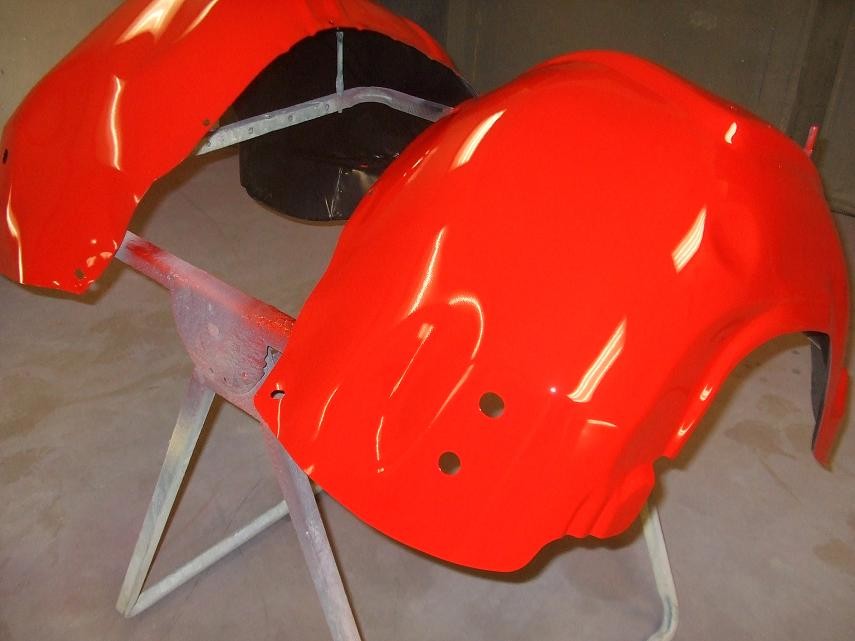 well here are some more pics of the Chevelle painted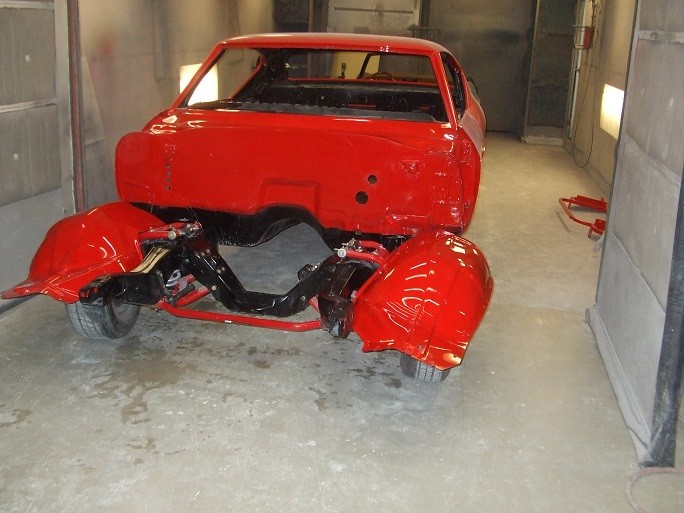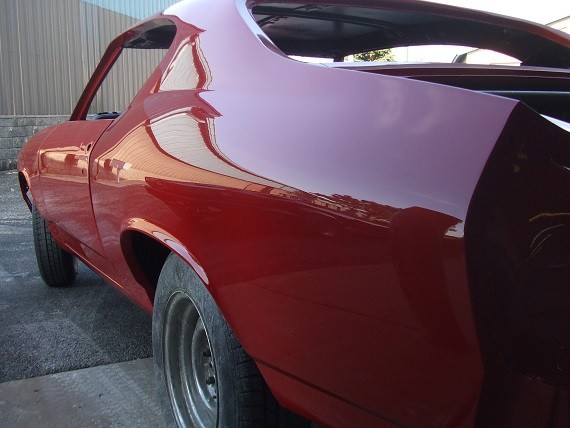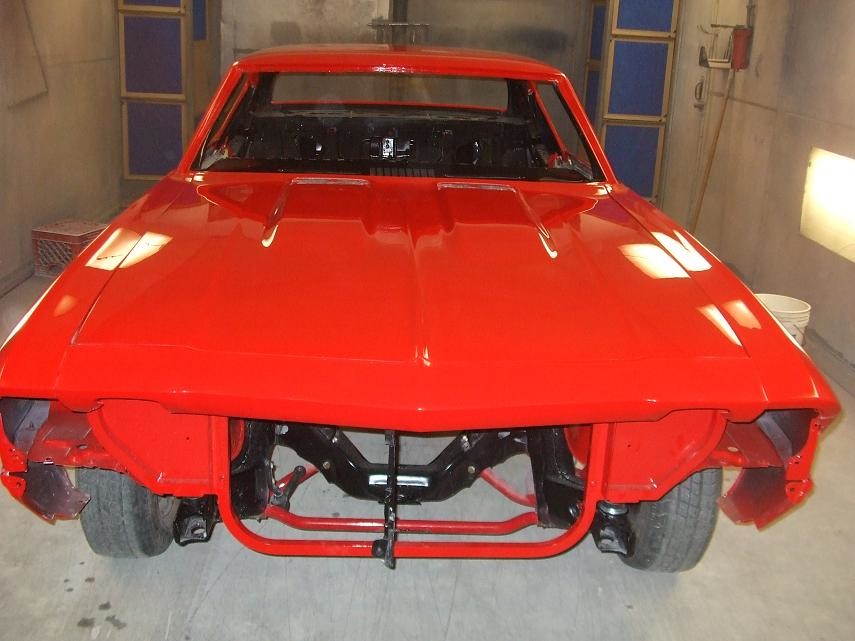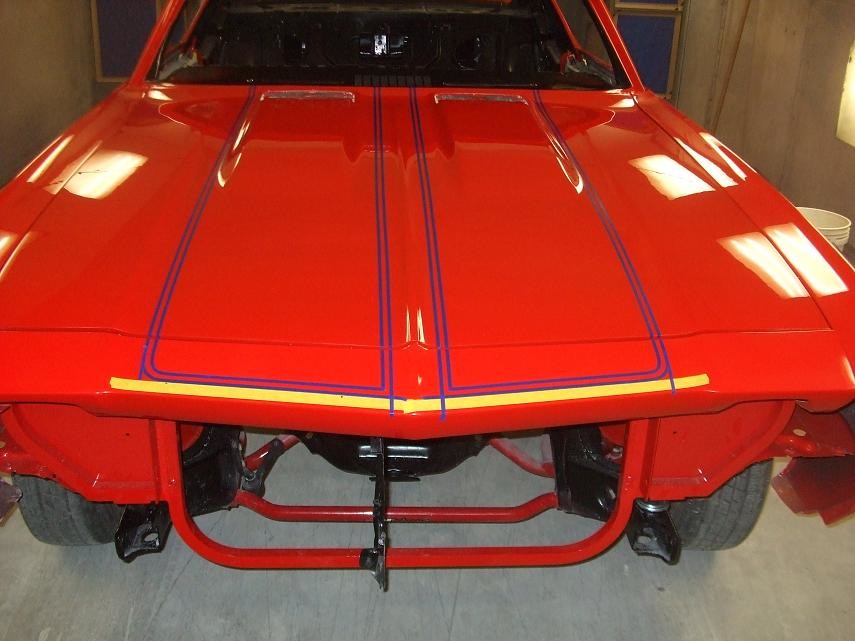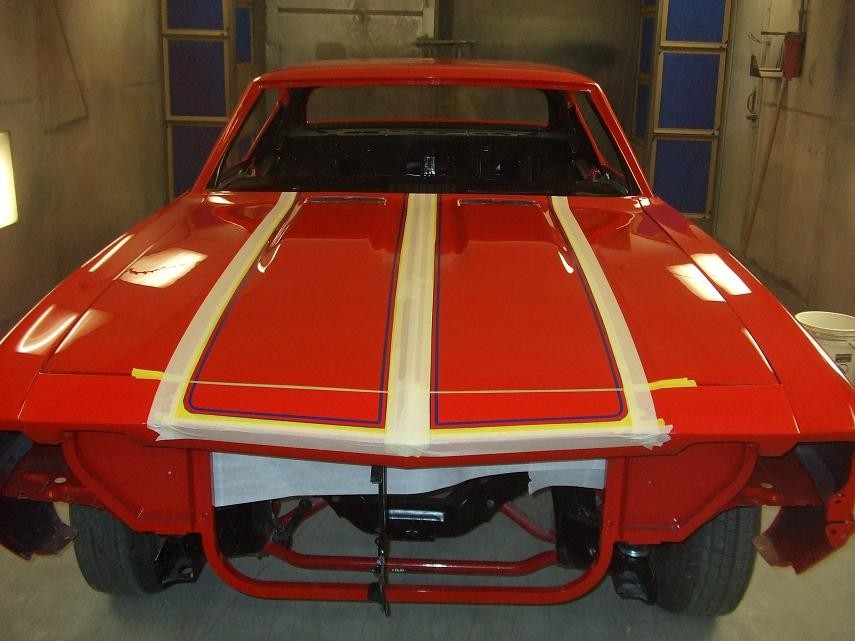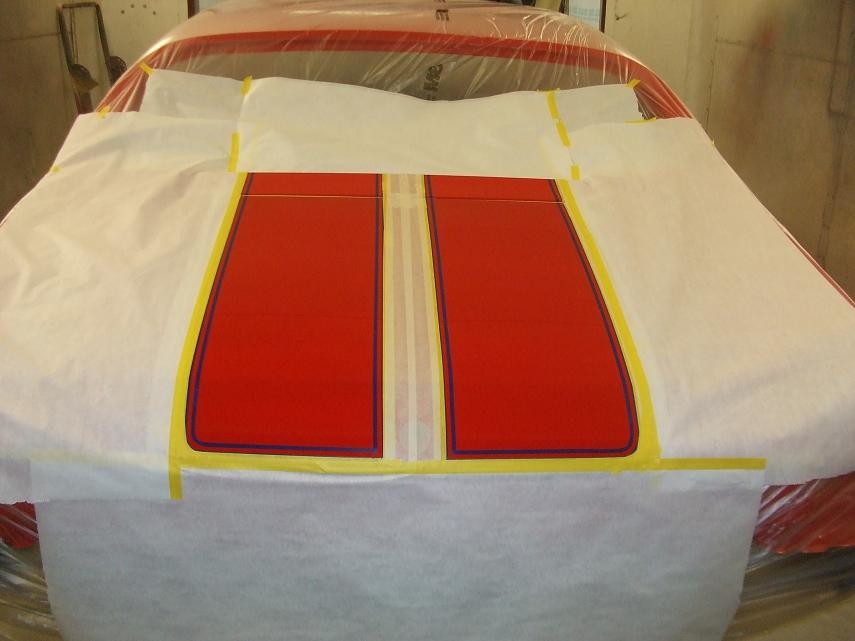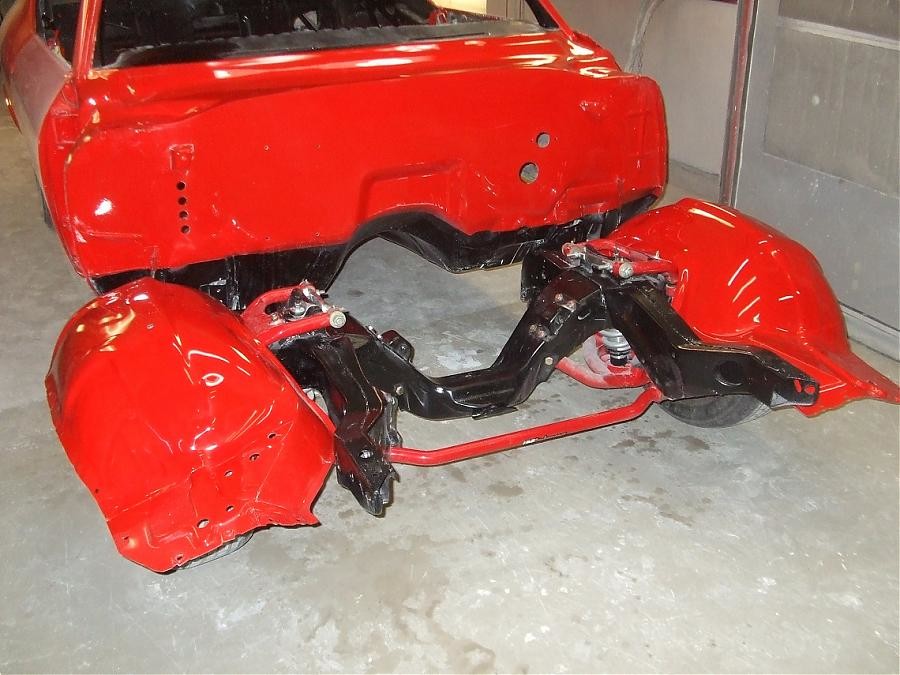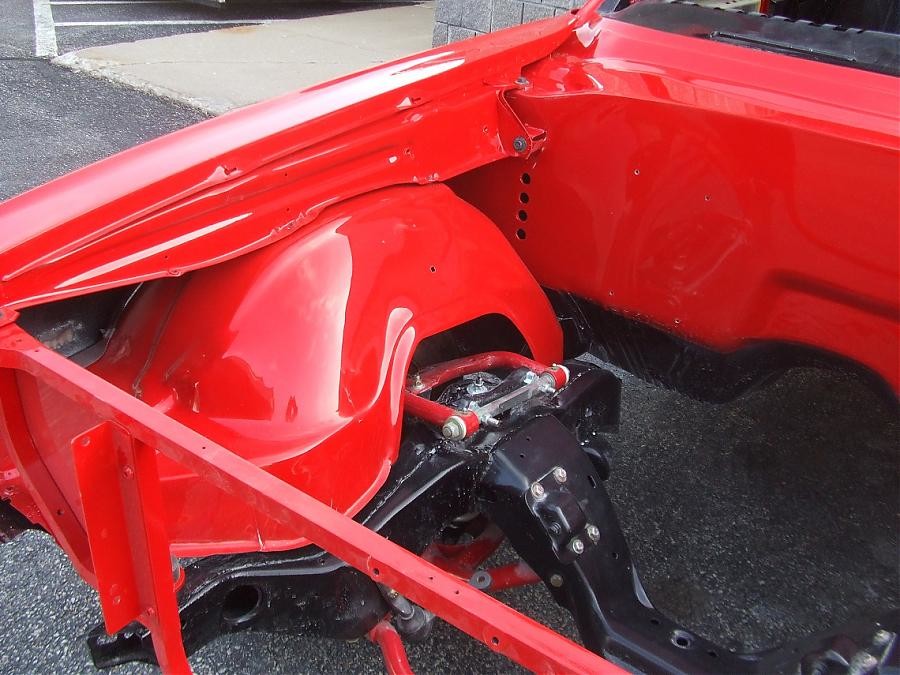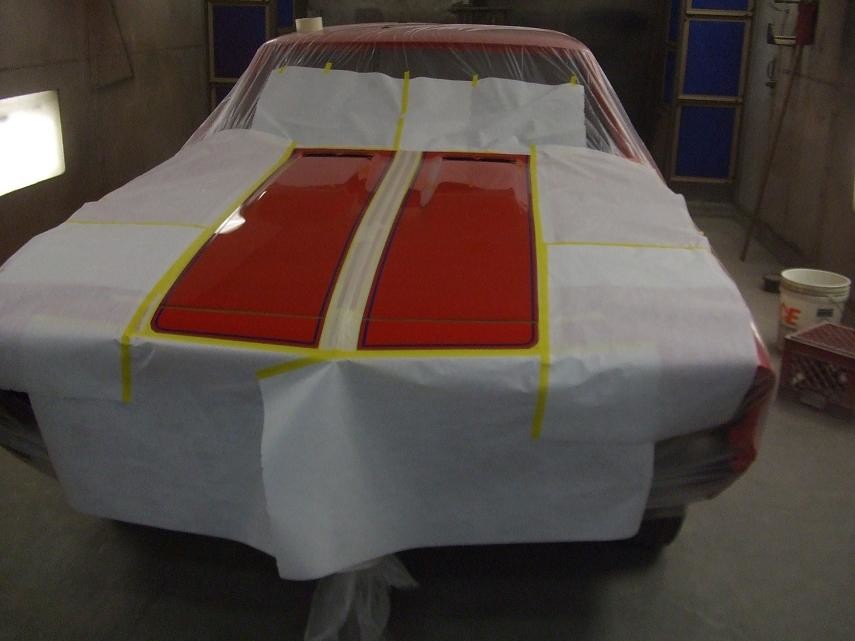 hey thanks a lot and actually its in its final stages of assembly should be completed in a few weeks, i have complete interior done, just waiting on my assembly guy but here are some other shots,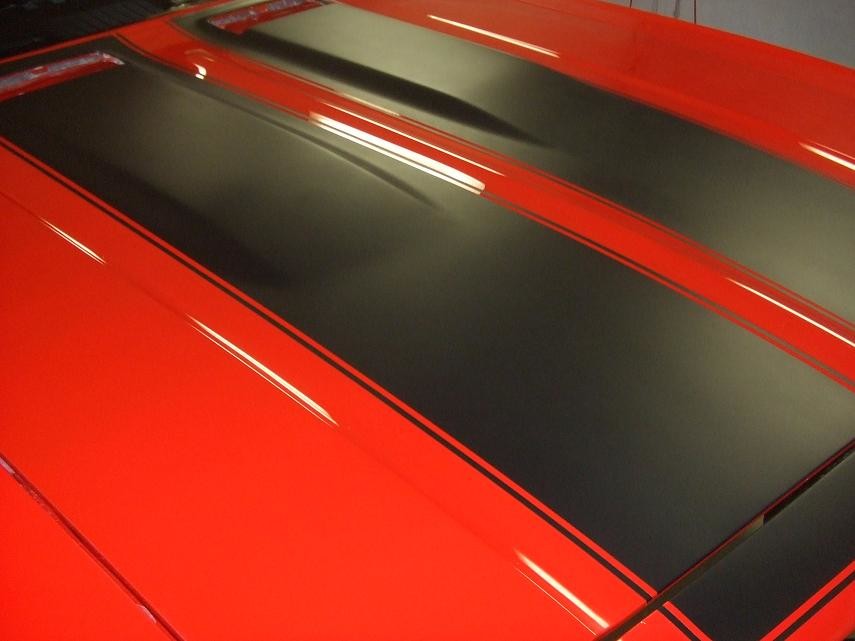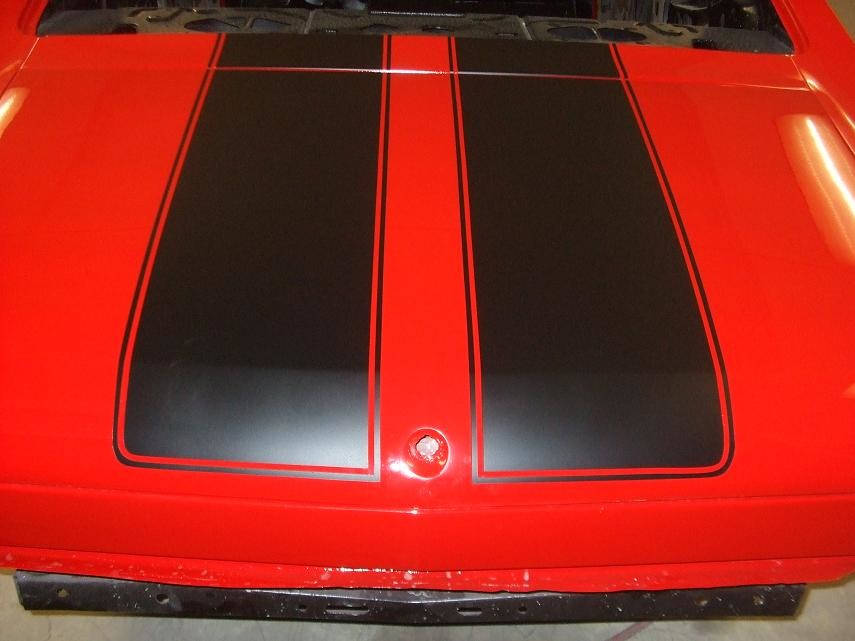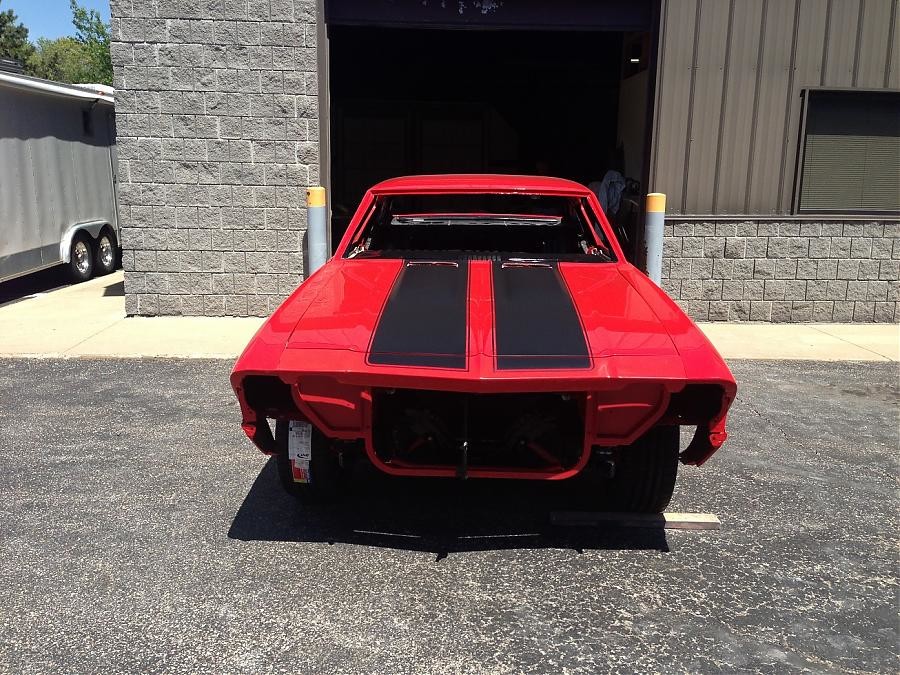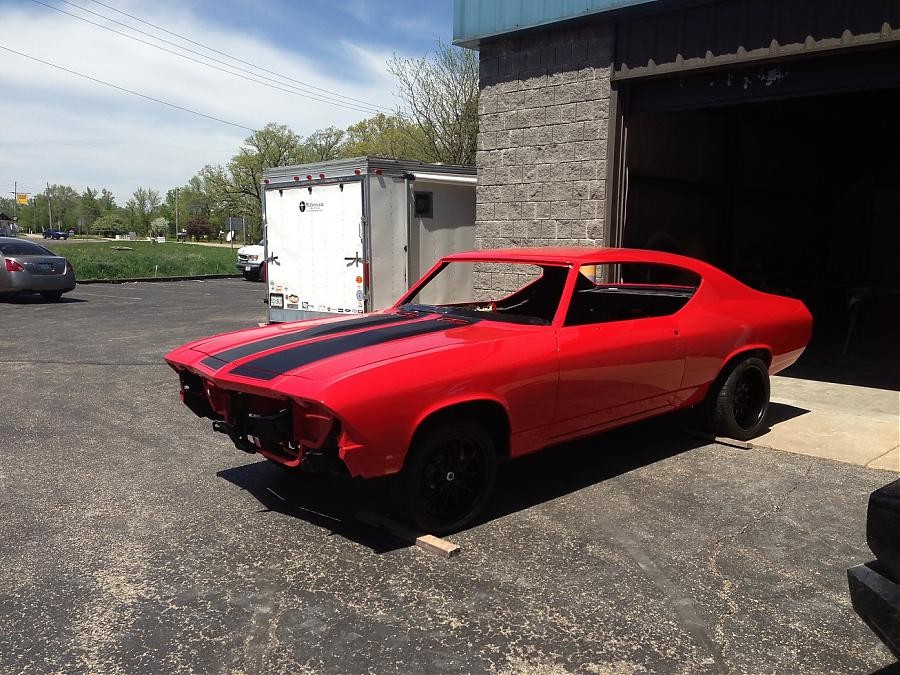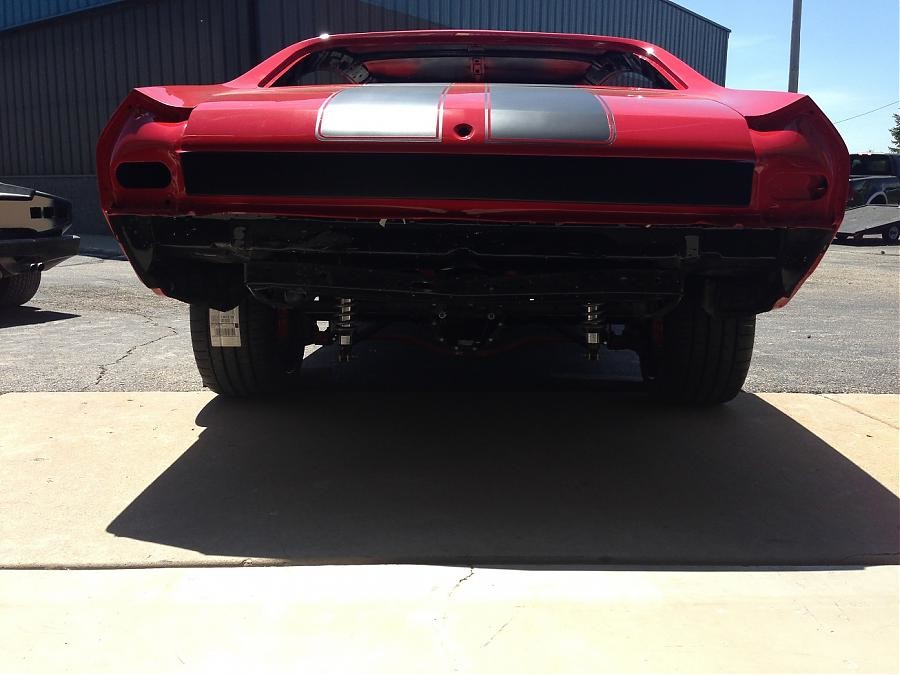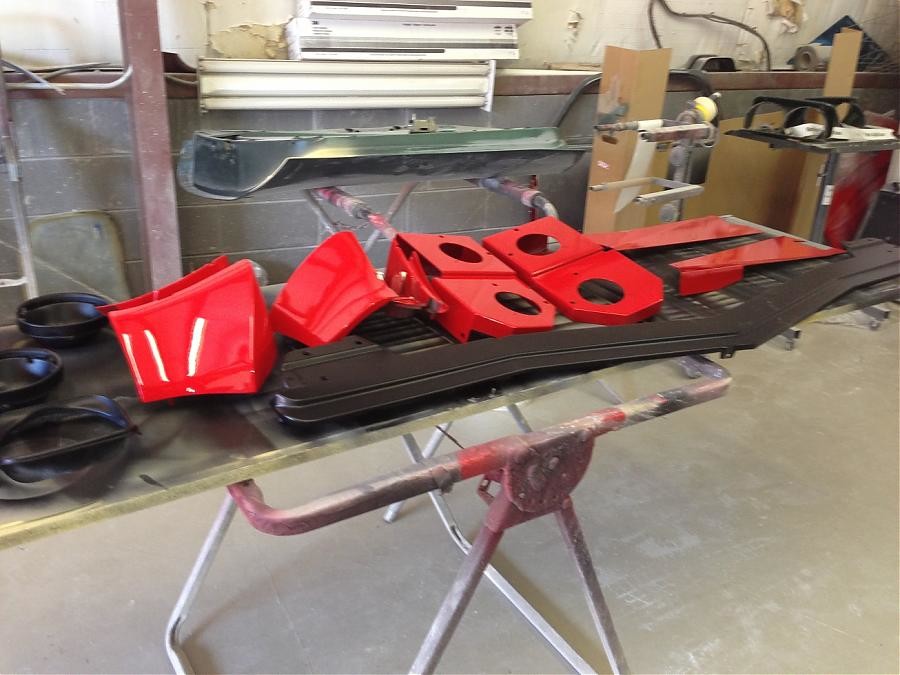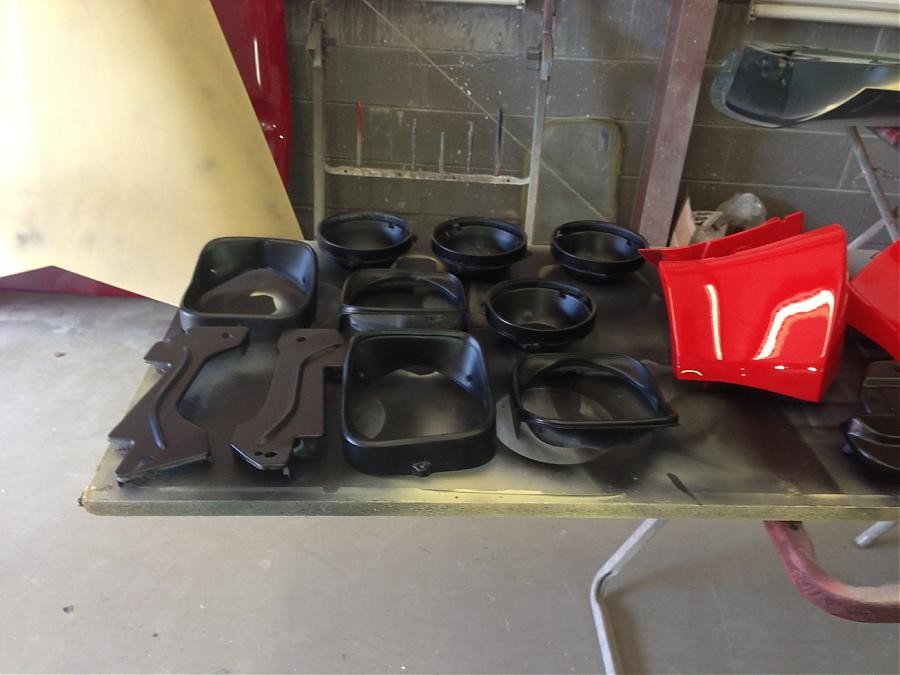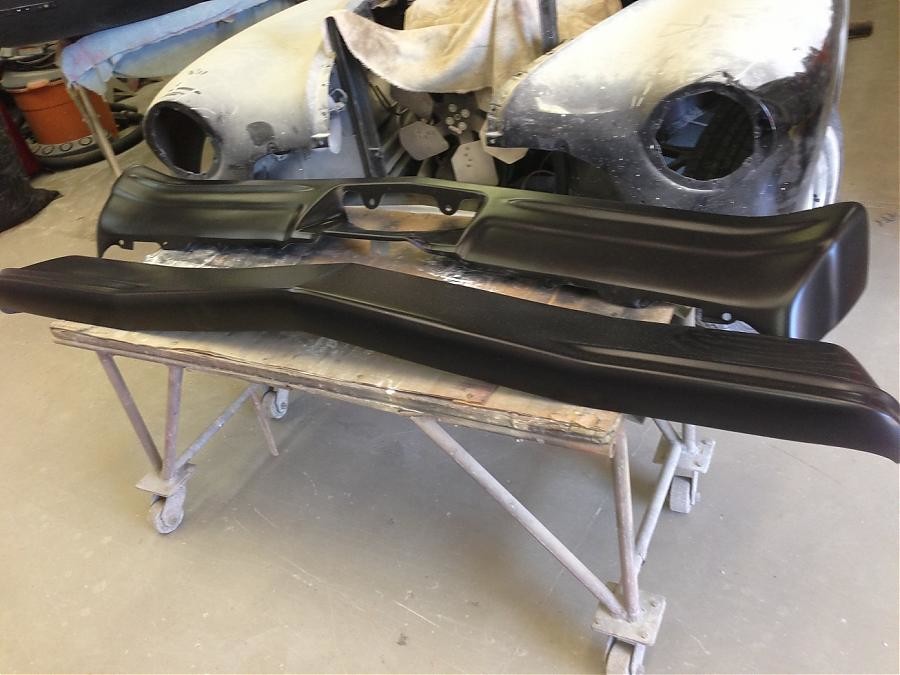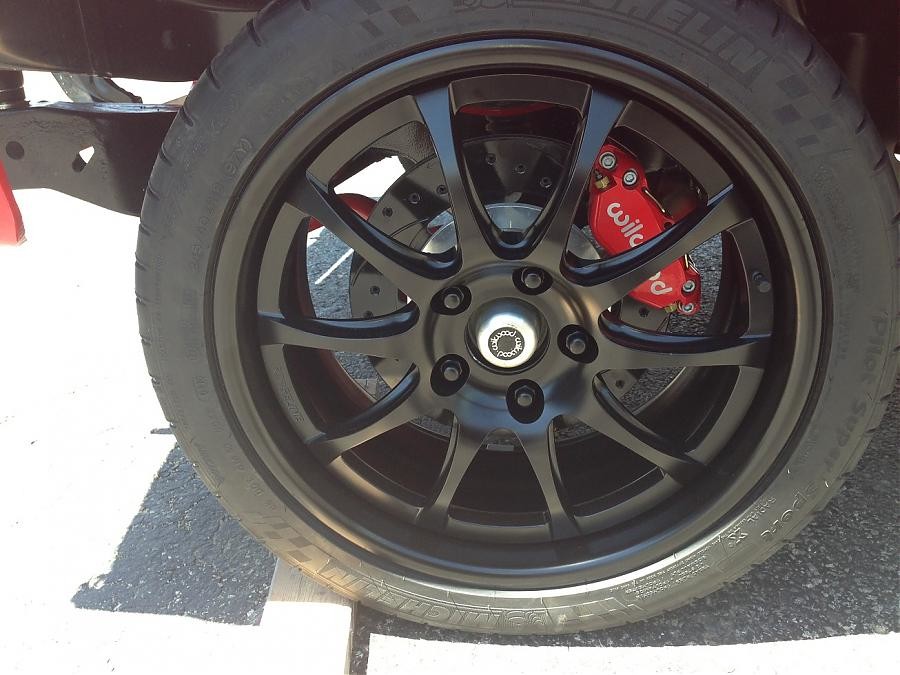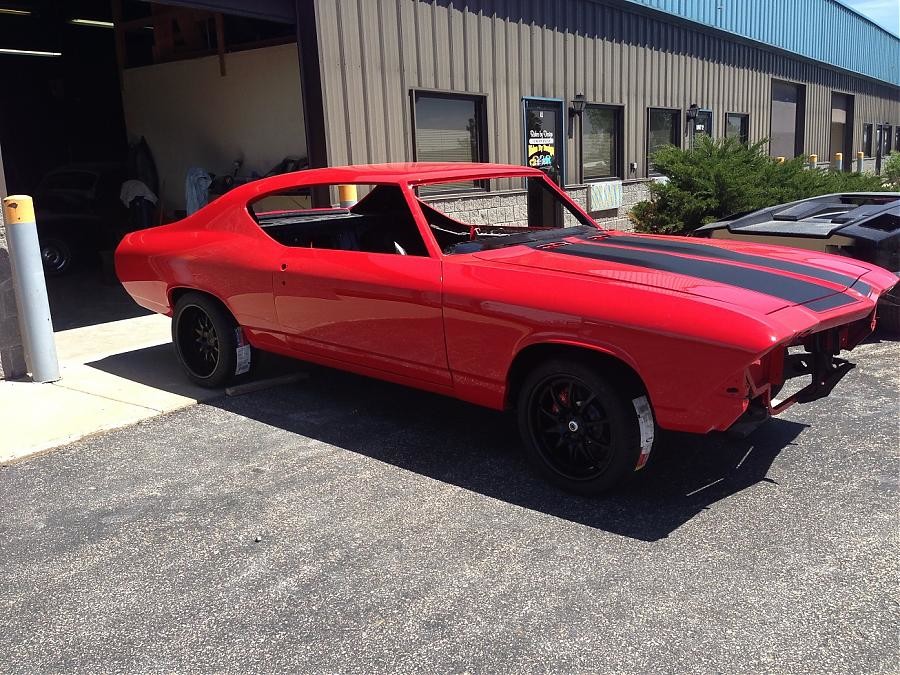 9-9-2013
Well guys these are pics of the Chevelle prior to heading to wired up, satin black bumper have been installed, AutoRad radiator core support painted same color as car, look at the Ringbrothers black anodized door handles took almost 2 months but well worth pics don't do them justice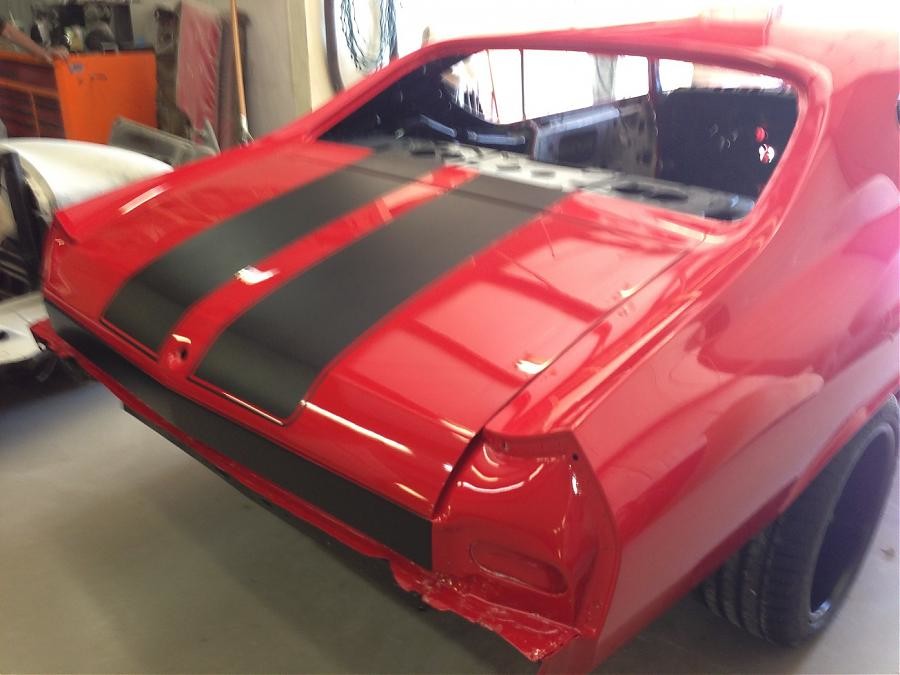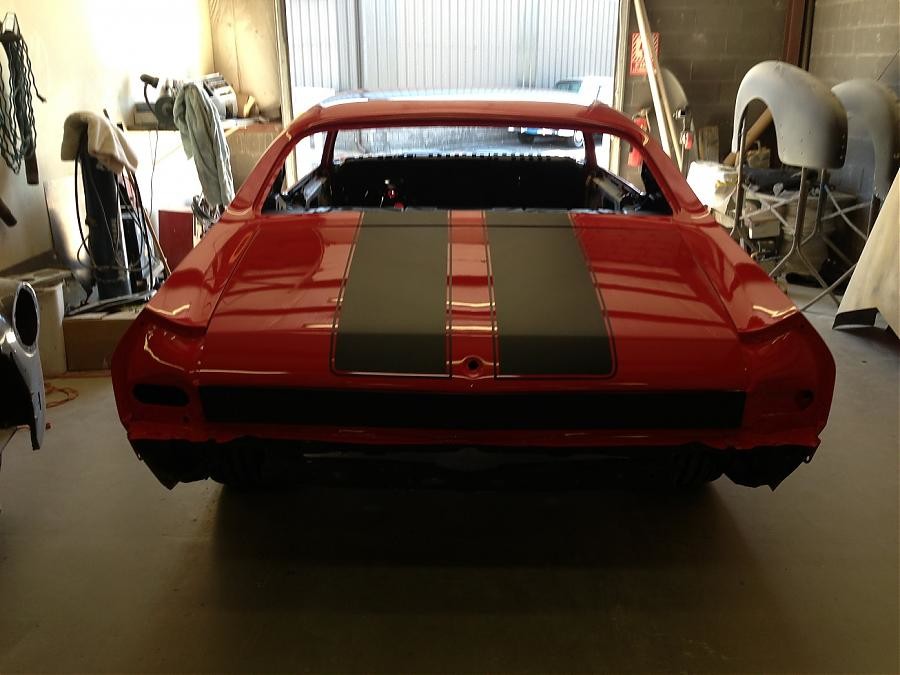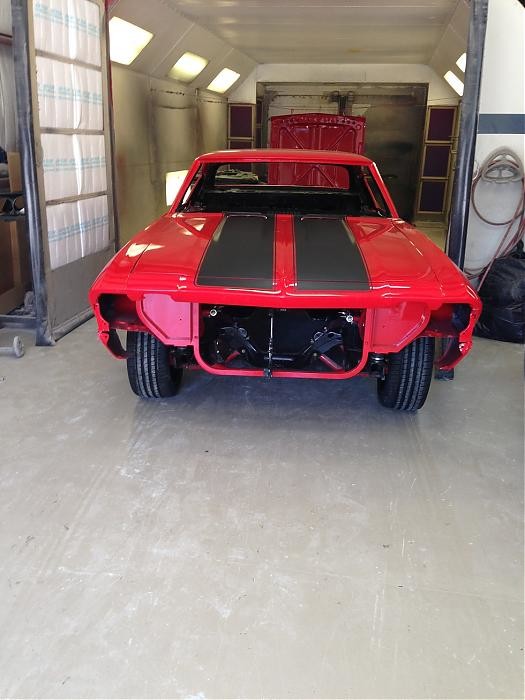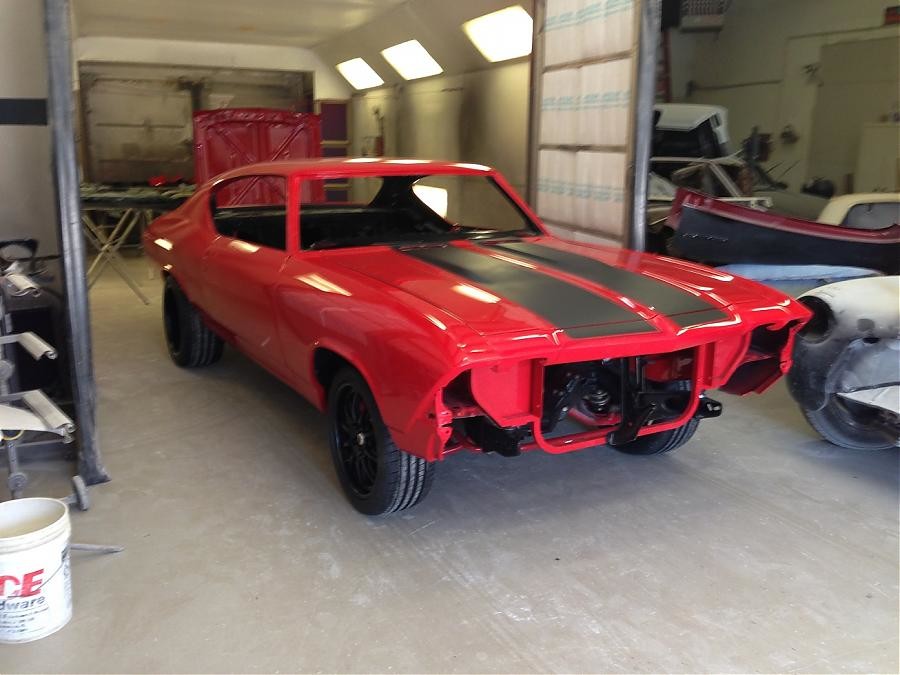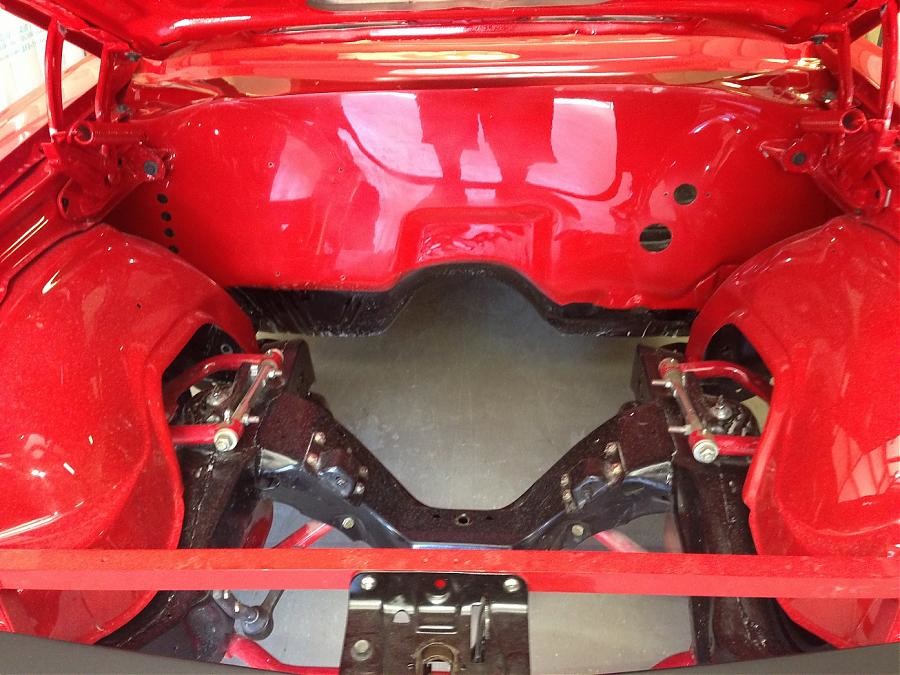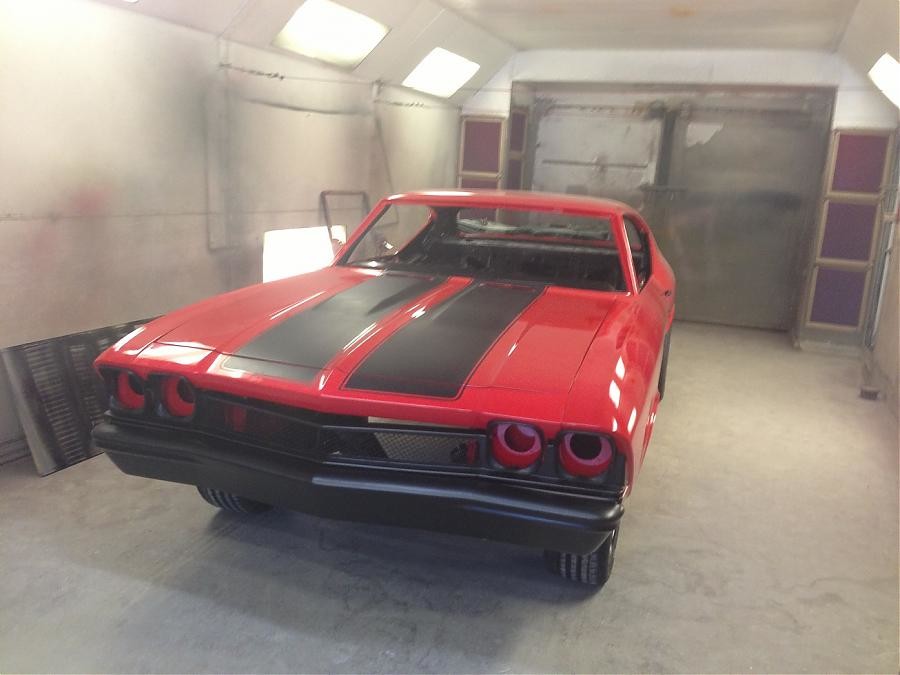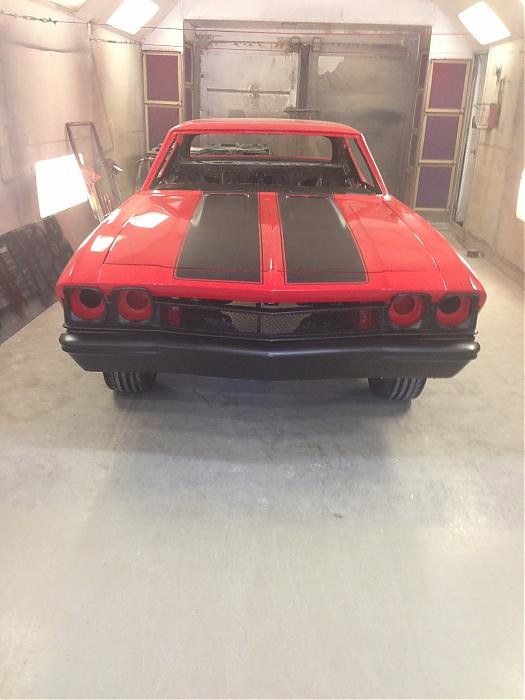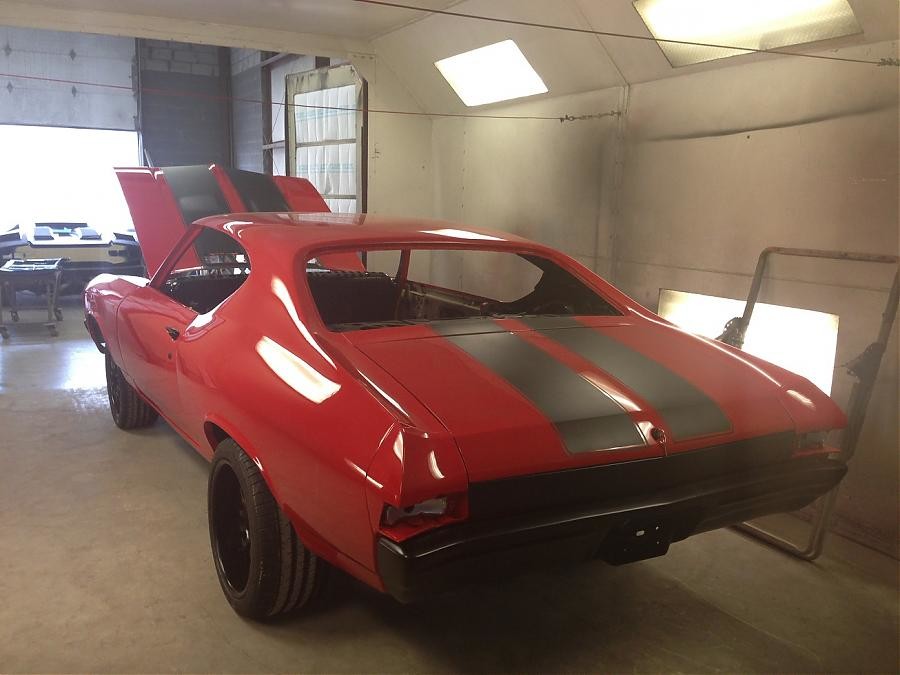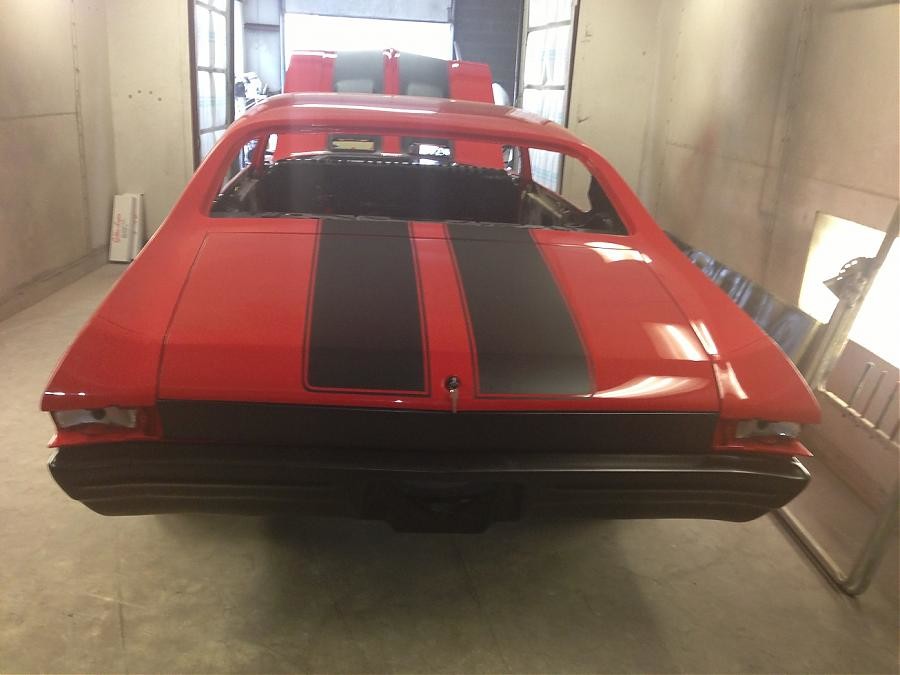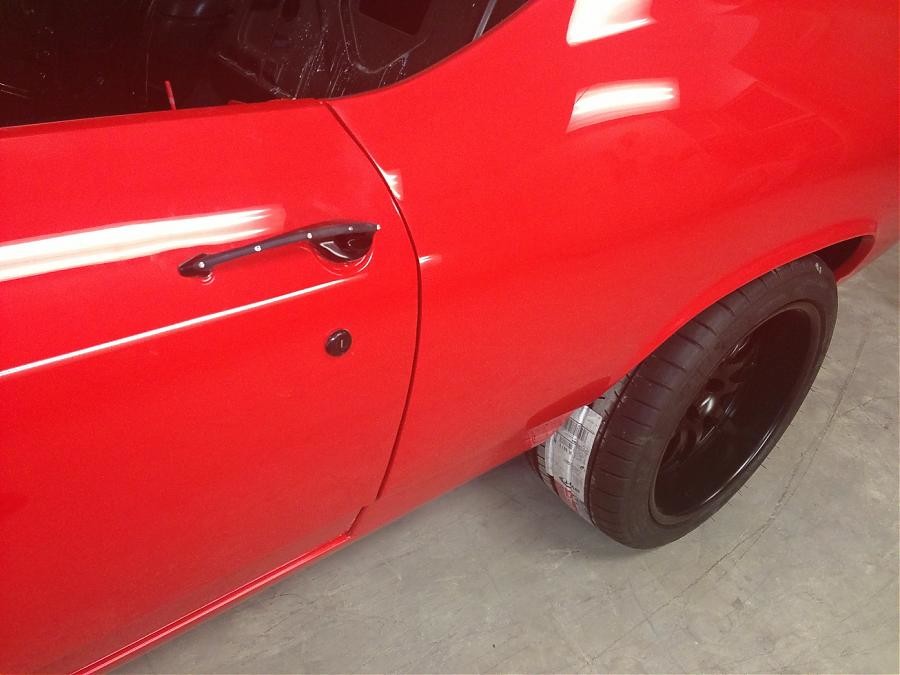 9-19-2013
well the build has had it delays over its course and number one lesson learned is make sure everthing is mocked up more then once to assure once the car is painted the assembly goes smoothly but in my case nothing was mocked up lessson learned. So assembly guy has been doing mock up/install/making sure he dong scratch the paint. I have learned the sheet metal work and paint is part of the entire build I say 25% the rest is on engine, drive train adn assembly because they are the ones that will either make the car look smooth or just start putting things together like nothing. But overall it has been a good experience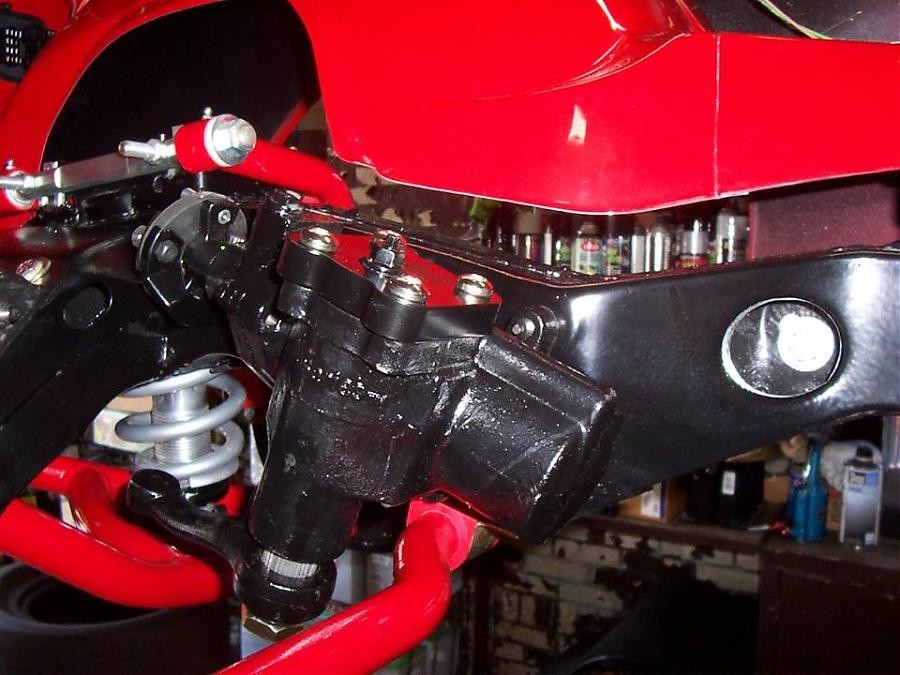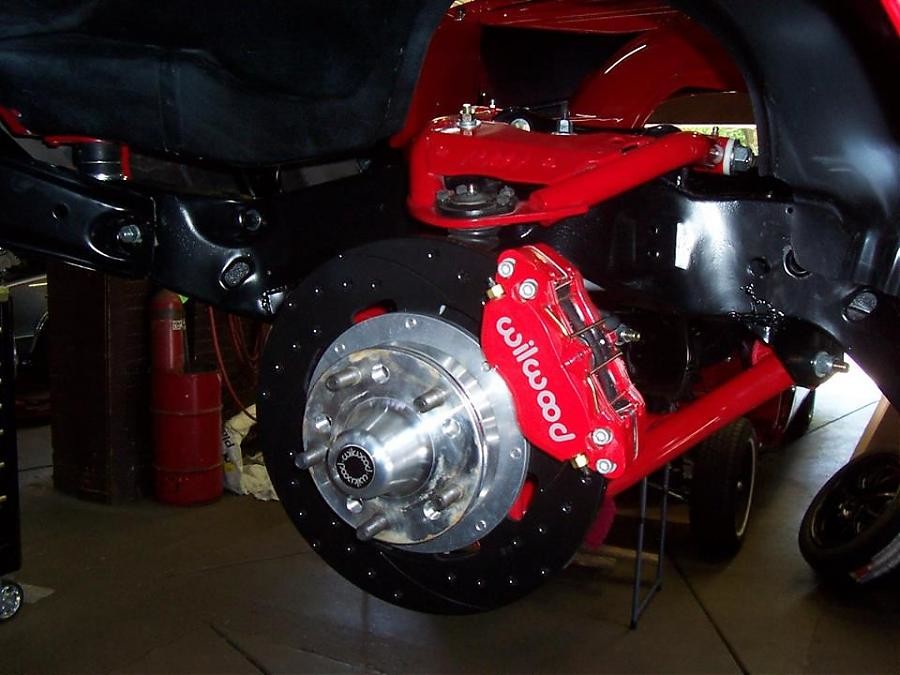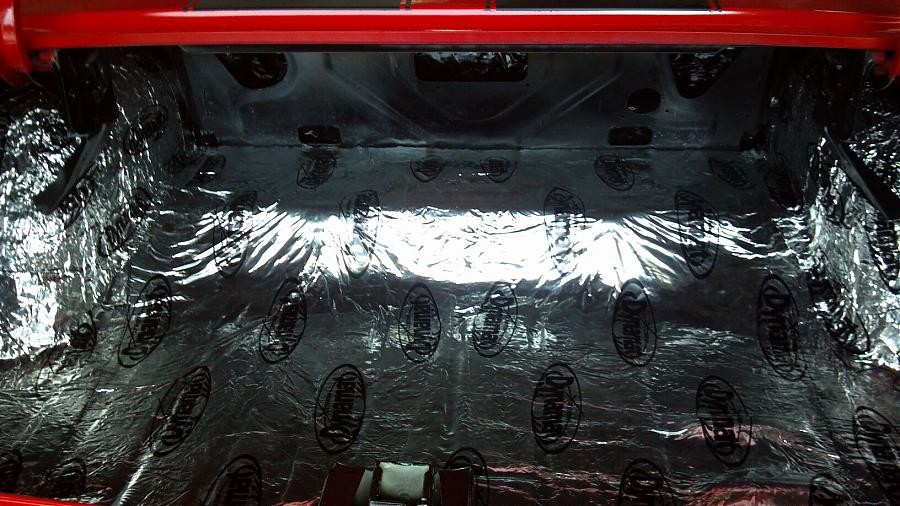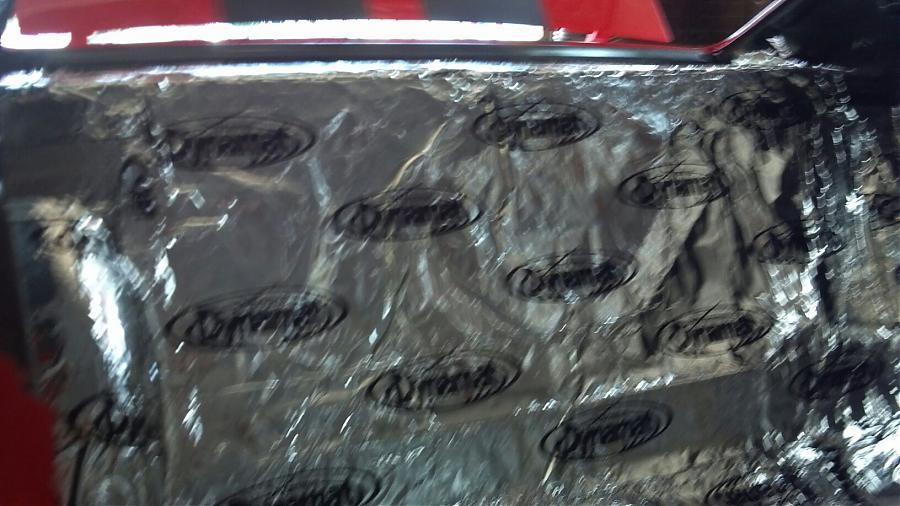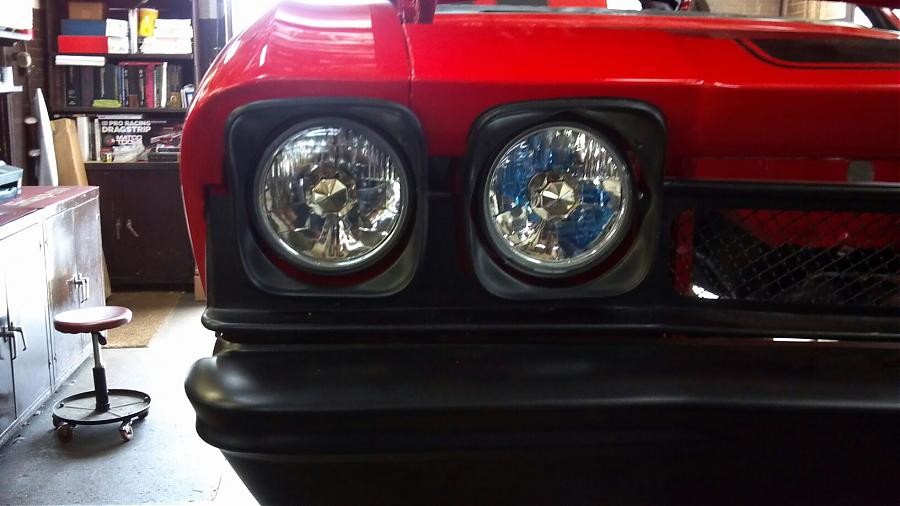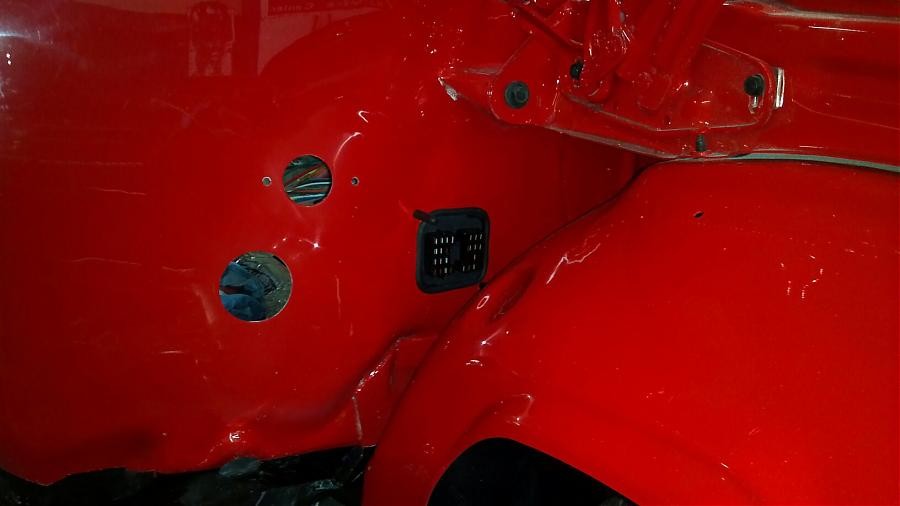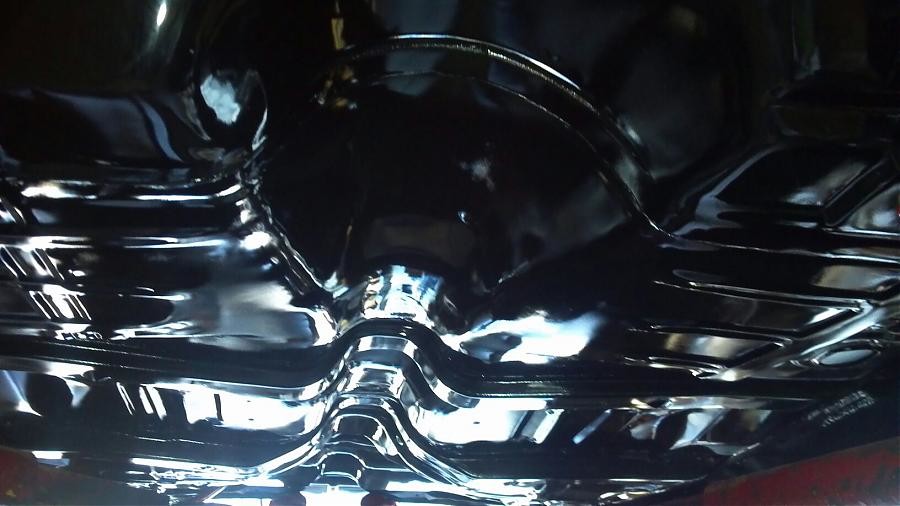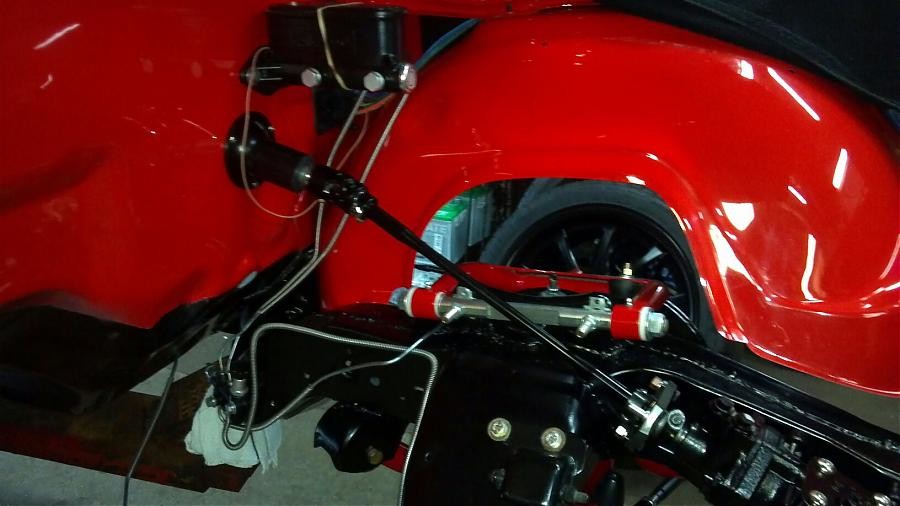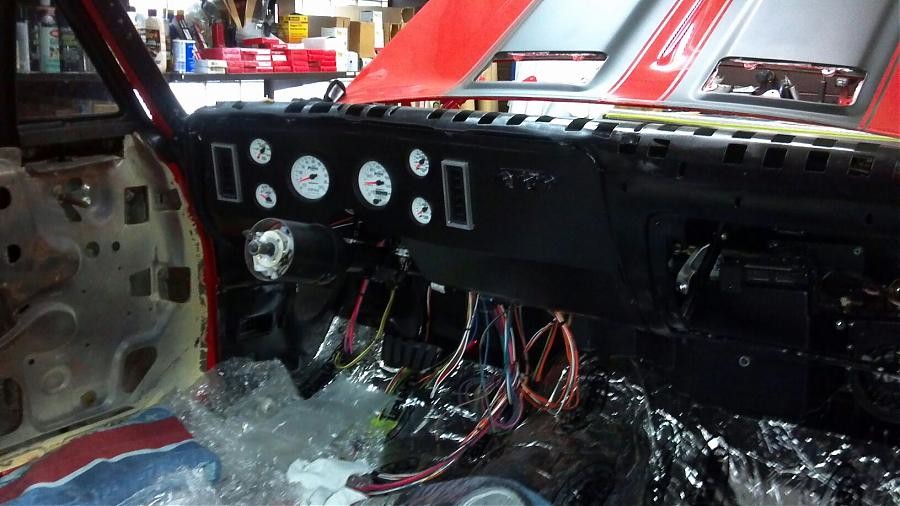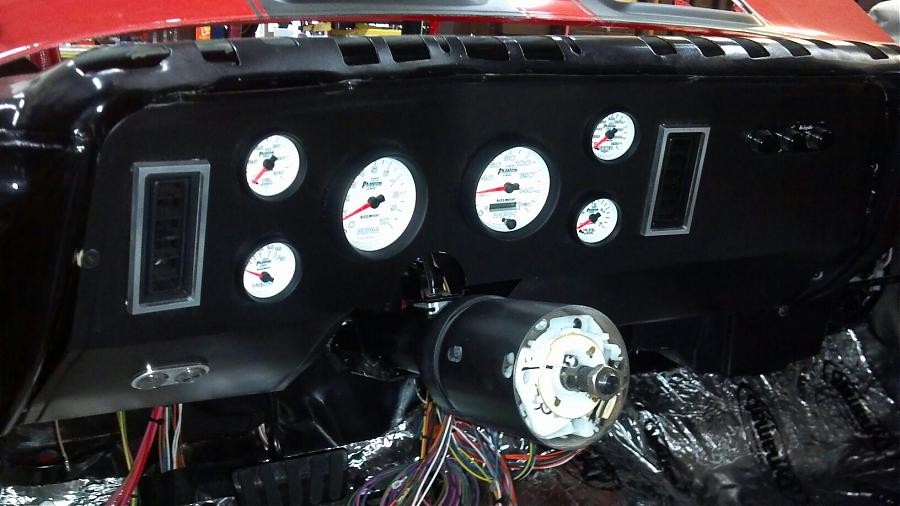 here are some more engine is actually ready to go in, A/C lines are pretty much complete, brake lines, having issues with gas tank which wouldnt fit but that should be going any day, 3" Magnaflow exhaust should be going in once the engine is in but loving the AutoRad radiator and core support set up 1st to none in craftsmanship and quality, I figure I throw in a pic of some of the vendors ive used awesome products wish oe of them would sponsor me ill take 30-40% off on my next build lol, a couple of shots of the interior and loving the center console, give me your feedback guys and ill add on some other vendors i used cant forget about the ringbrothers sick black anodized door handles and hood hinges just sweet not pictured yet the hood hinges at least but trunk hinges are EMS nobody else made them well except Fesler but the wait was way too long for me,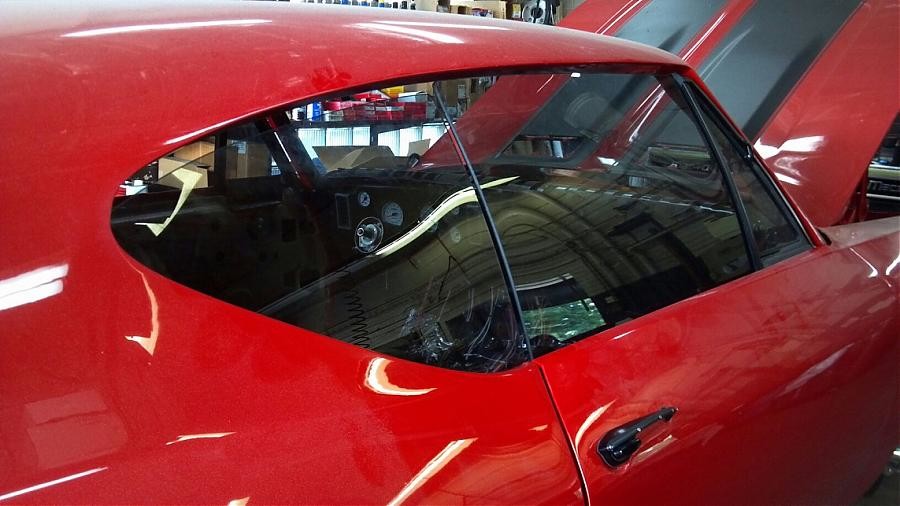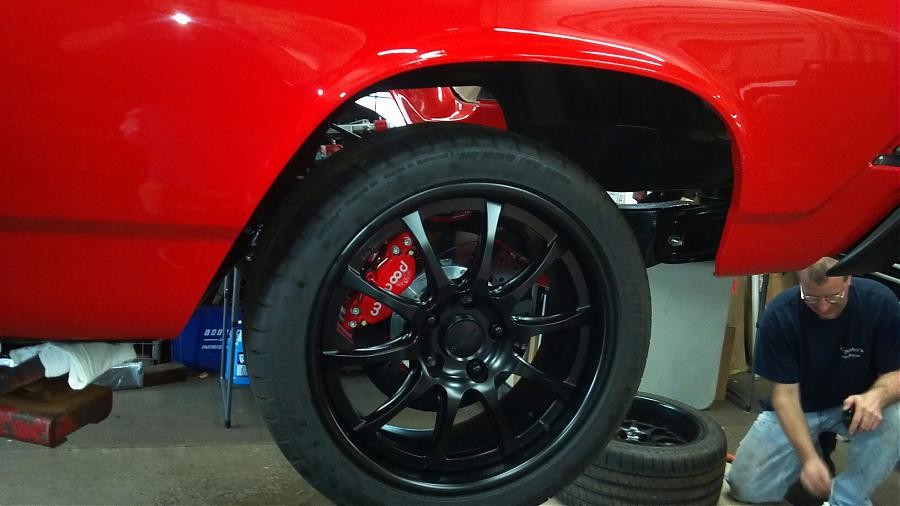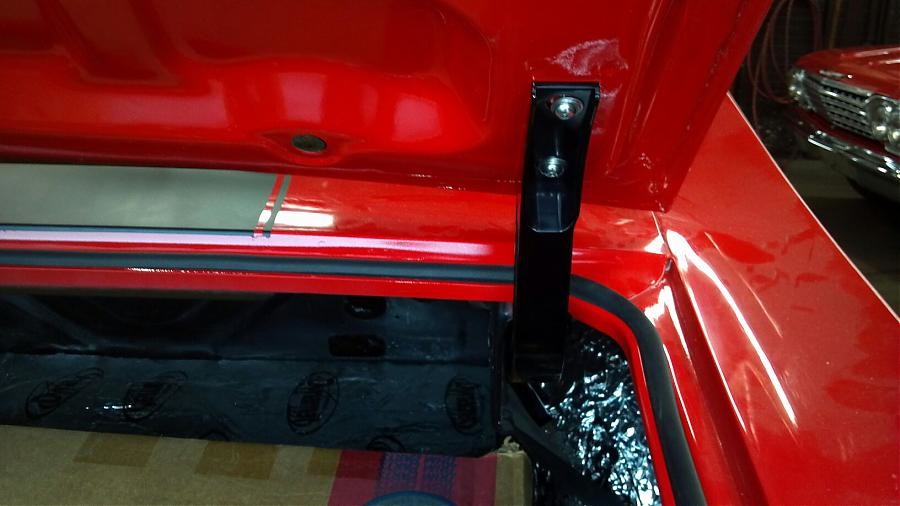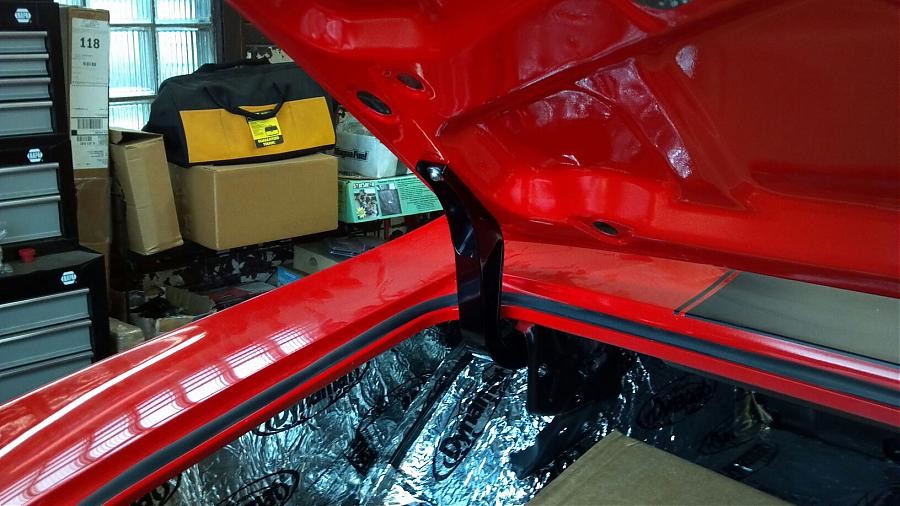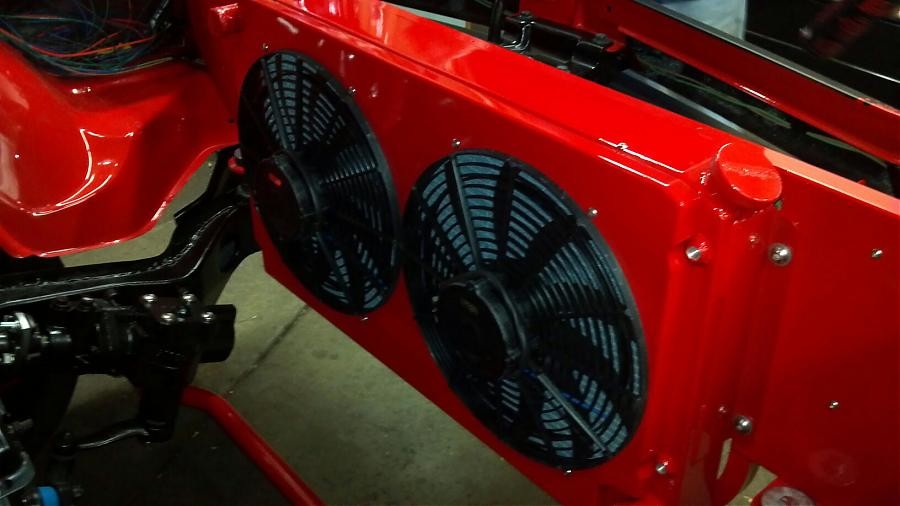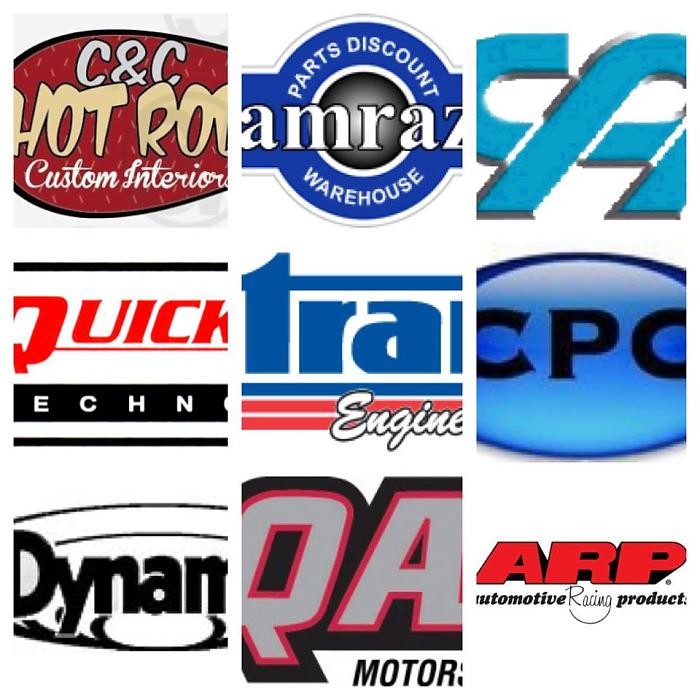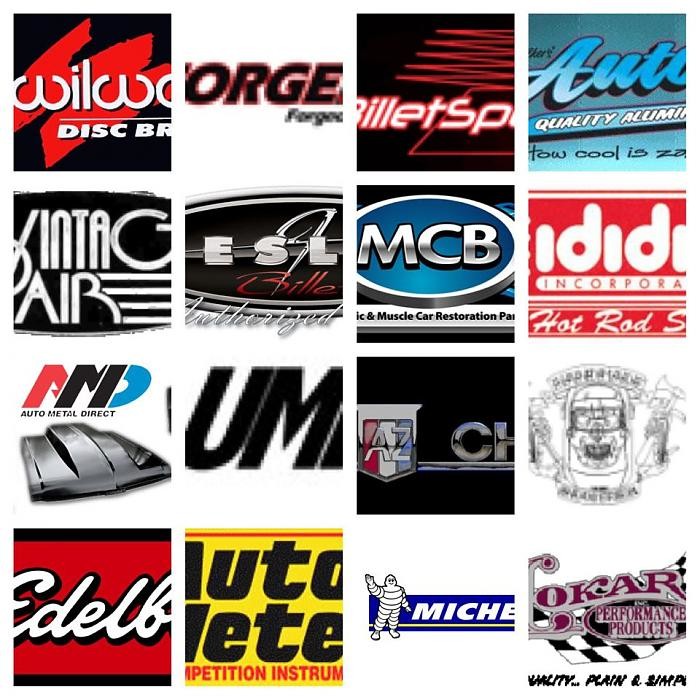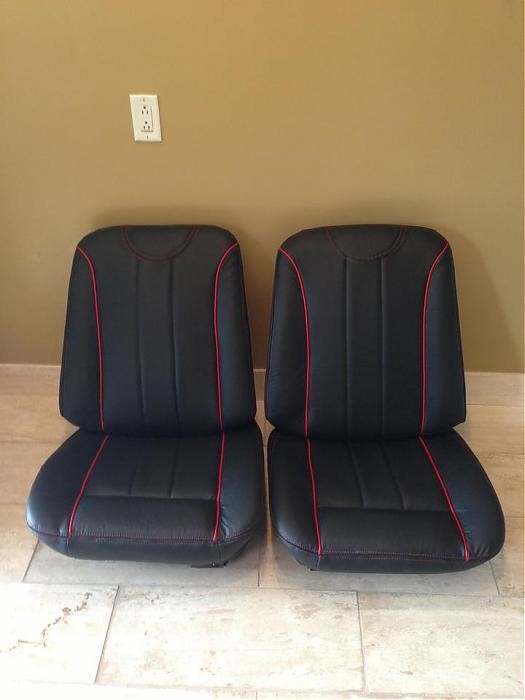 9-25-2013
Hey guys I am trying to push my FB built page of my Chevelle and was wondering if you guys can support me by going into my page and liking it. That is if you guys approve of the page that would be awesome, some more pics updated

https://www.facebook.com/pages/68-Ch...53831408114614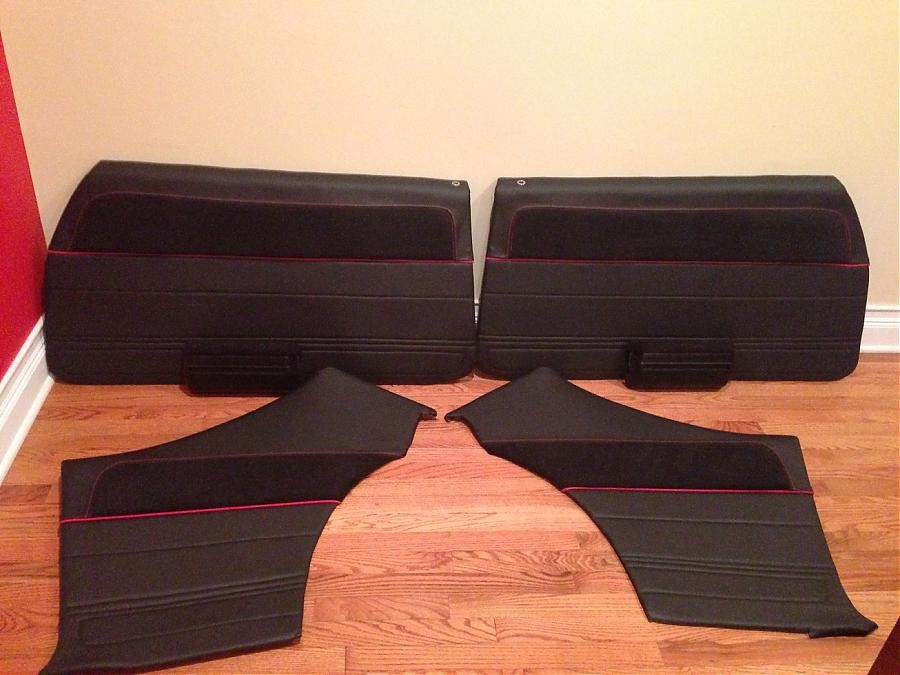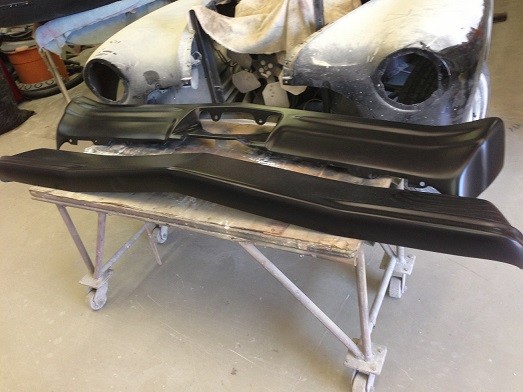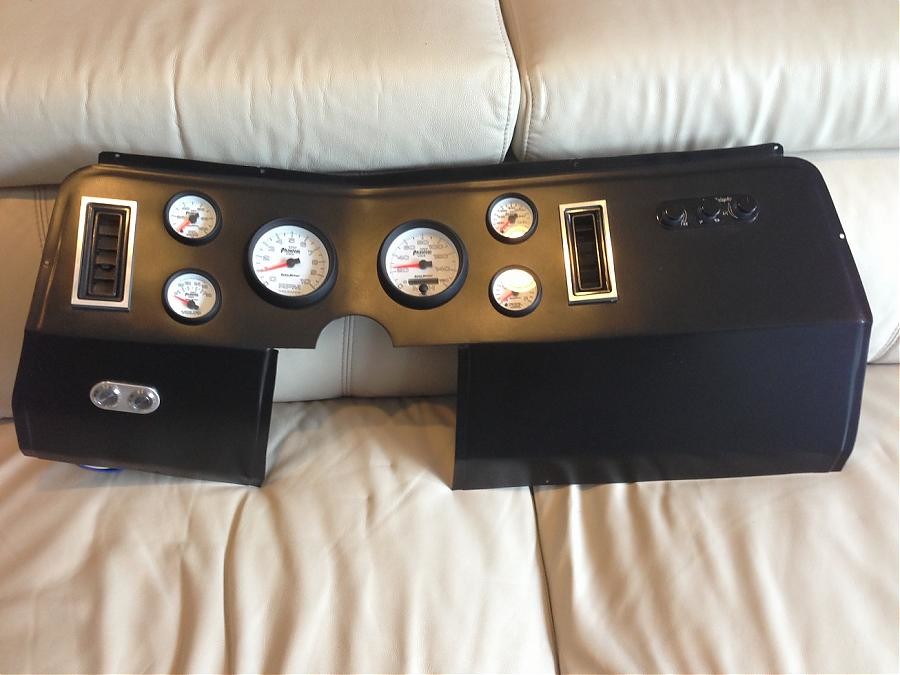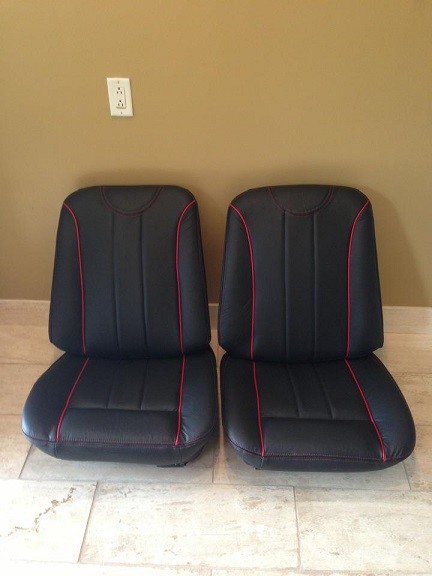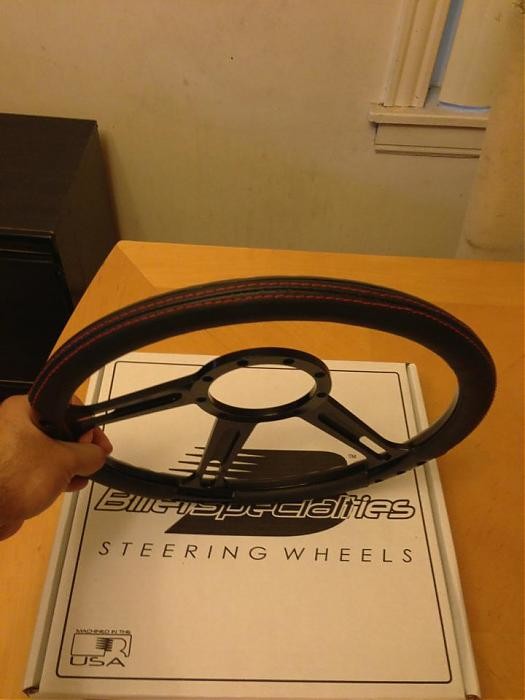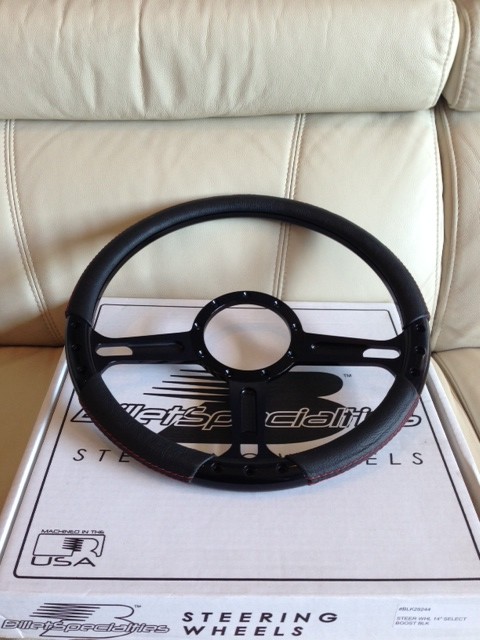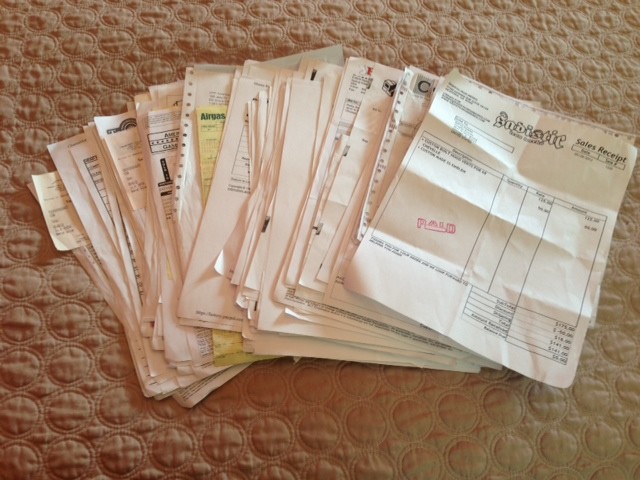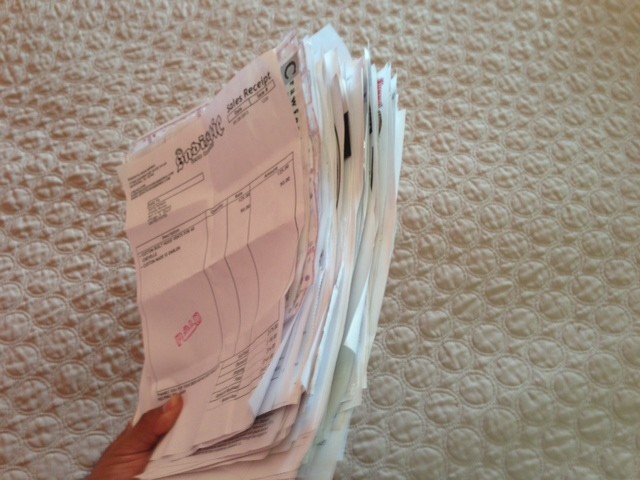 well the Chevelle is getting closer and closer to getting finished, had tank installed had a custom one made but some issues with it so had to go stock but loving the braided wholes used any SEMA sponsors jk maybe one day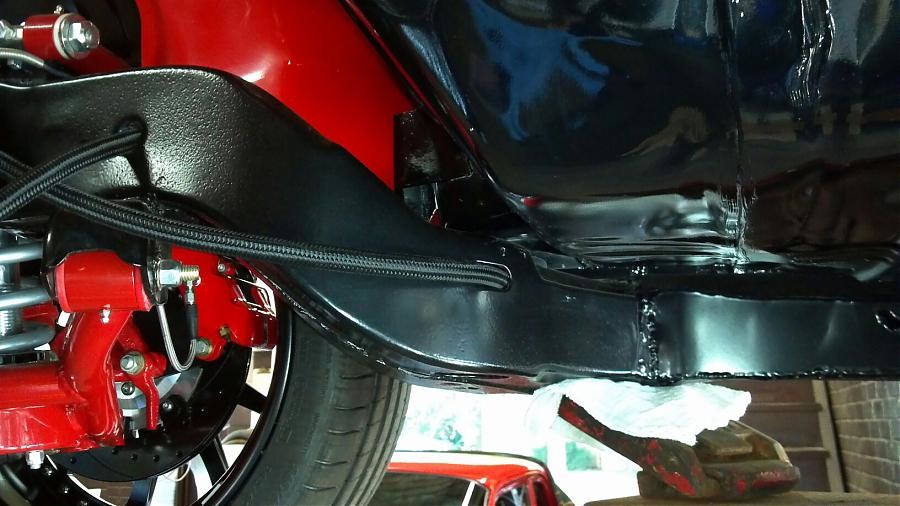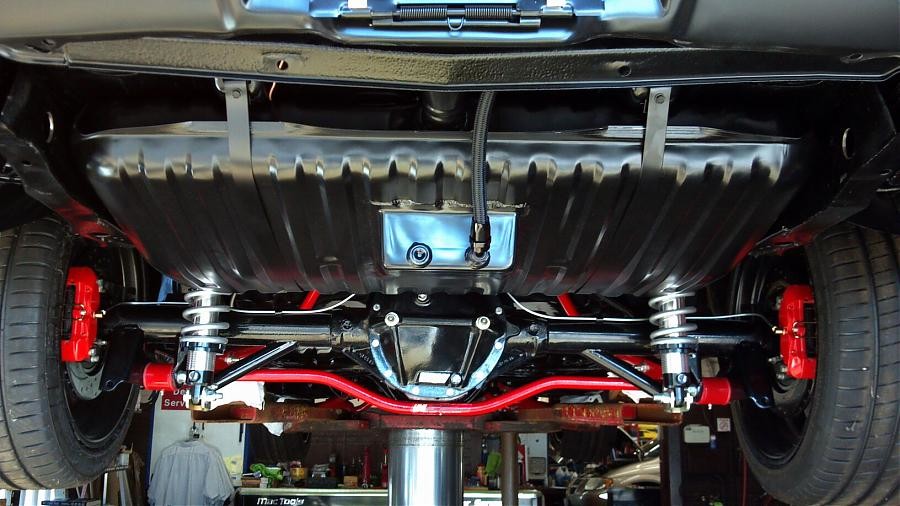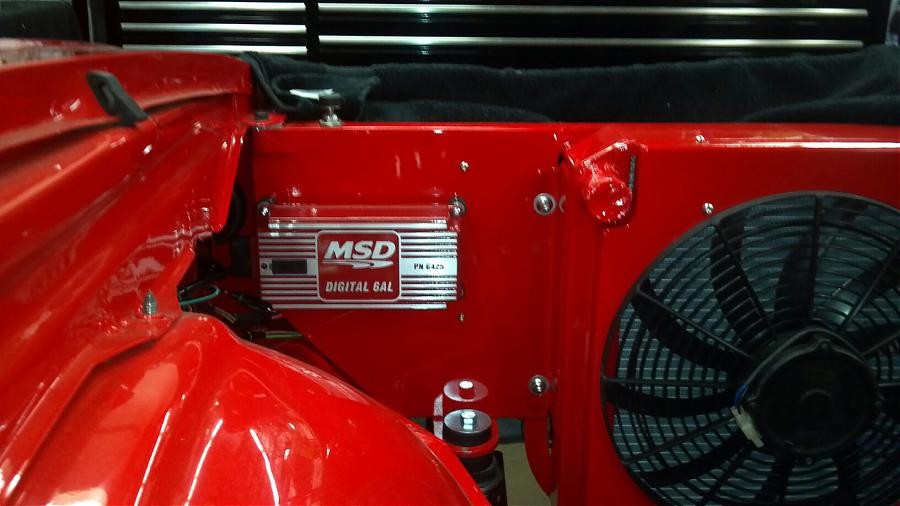 10-2-2013
Well I have some good updates and it seems getting closer and closer to getting finished. interior and engine should be going in this week but these are last week updates, let me know what you guys think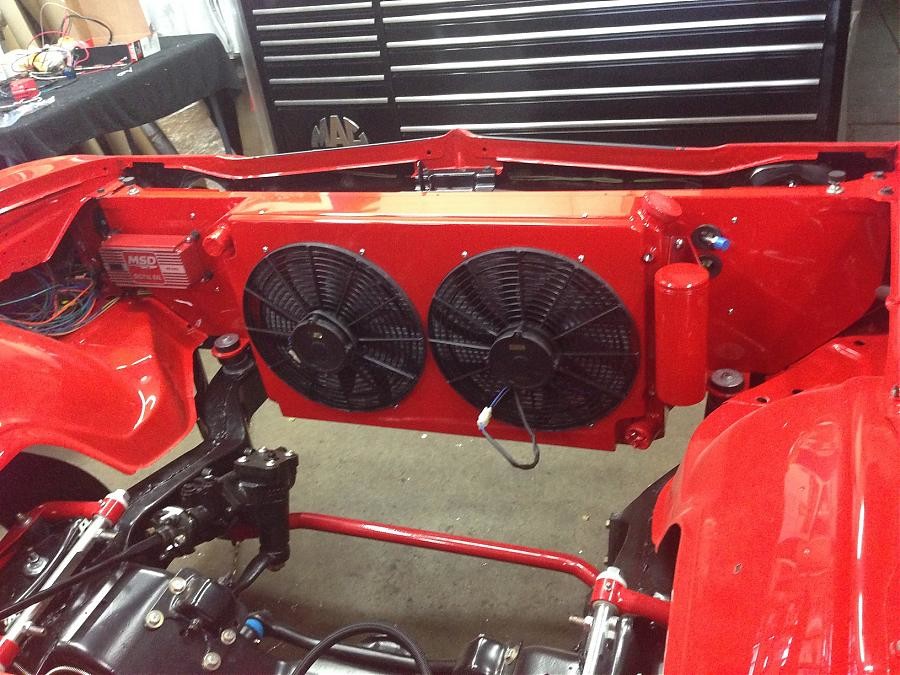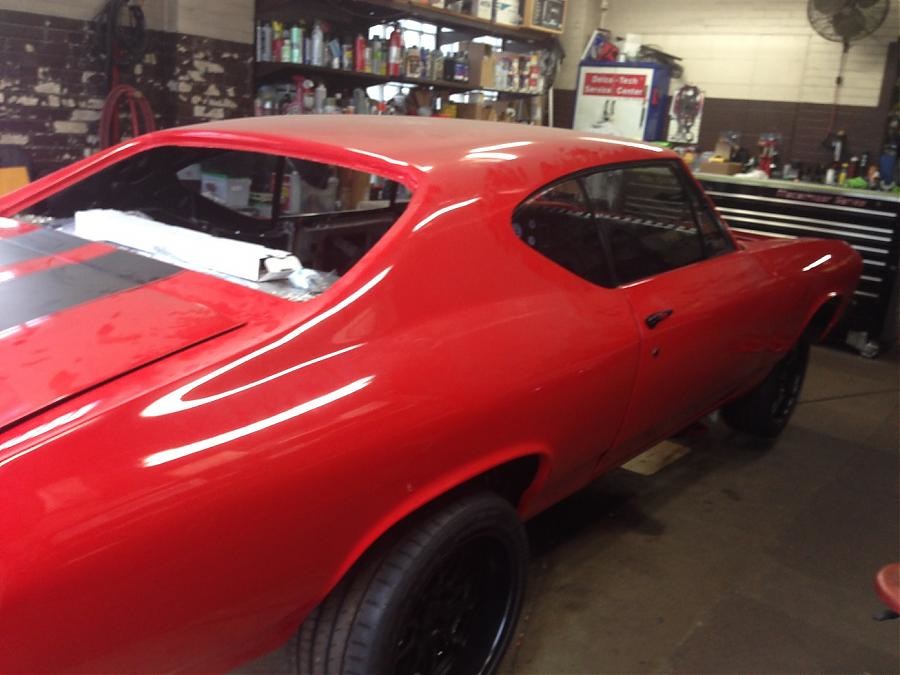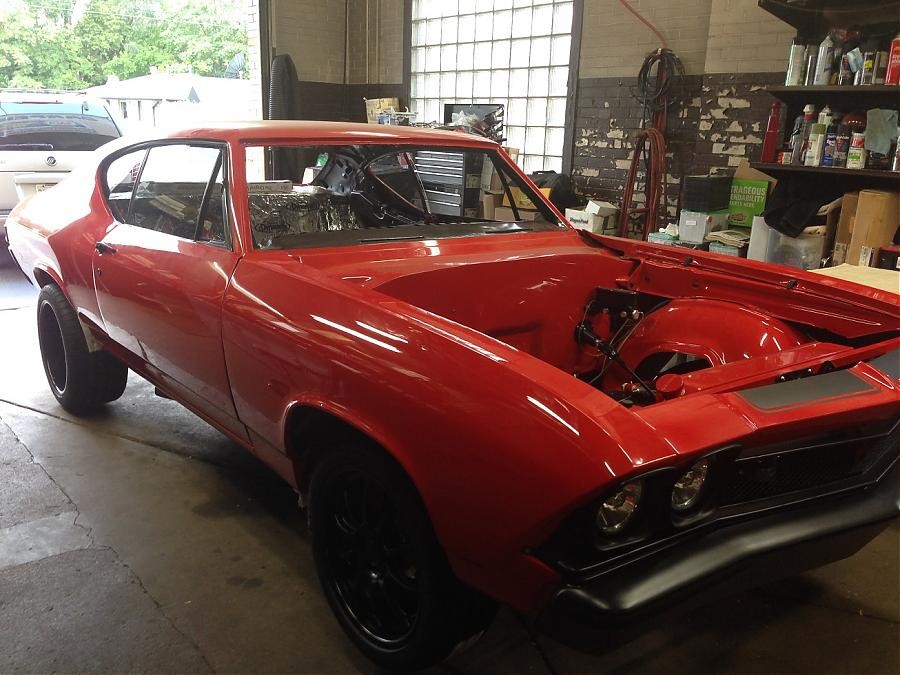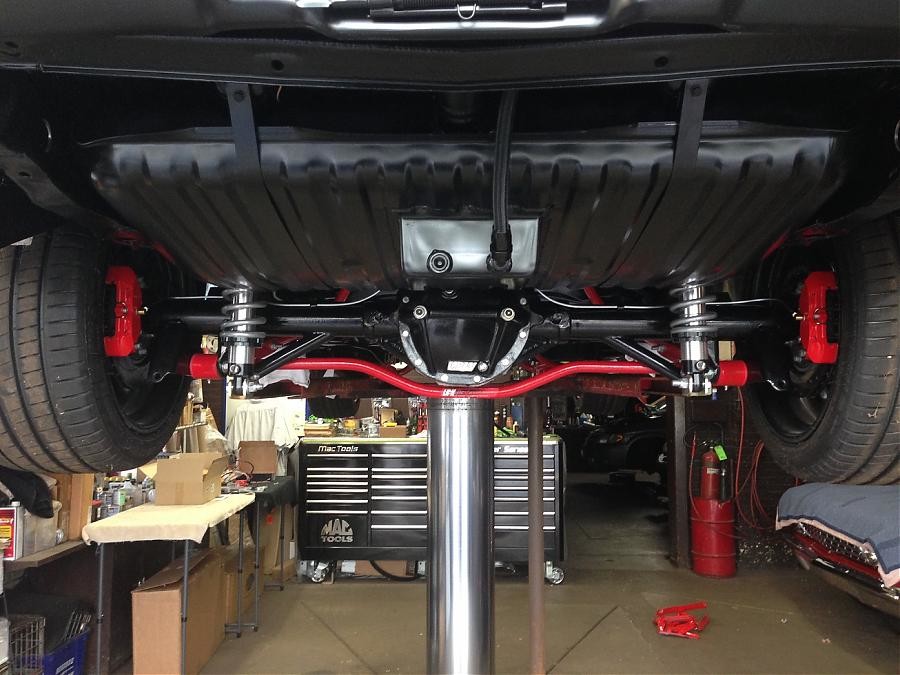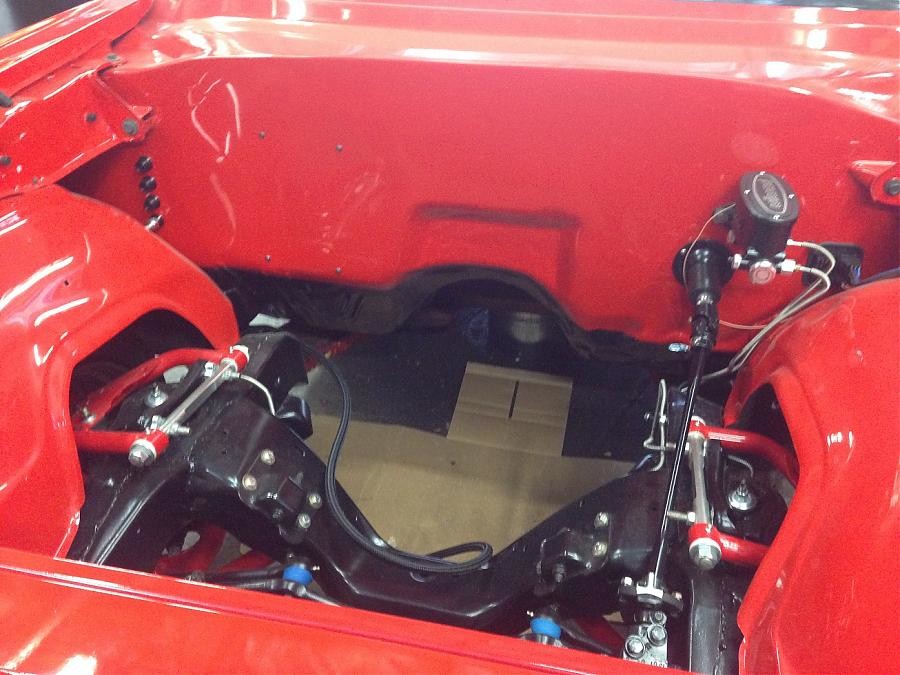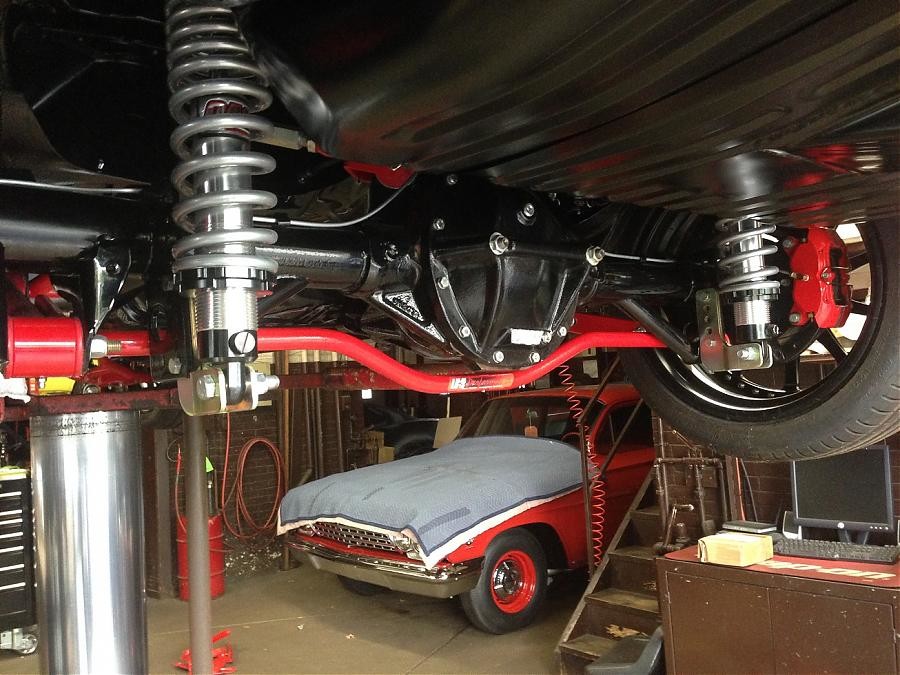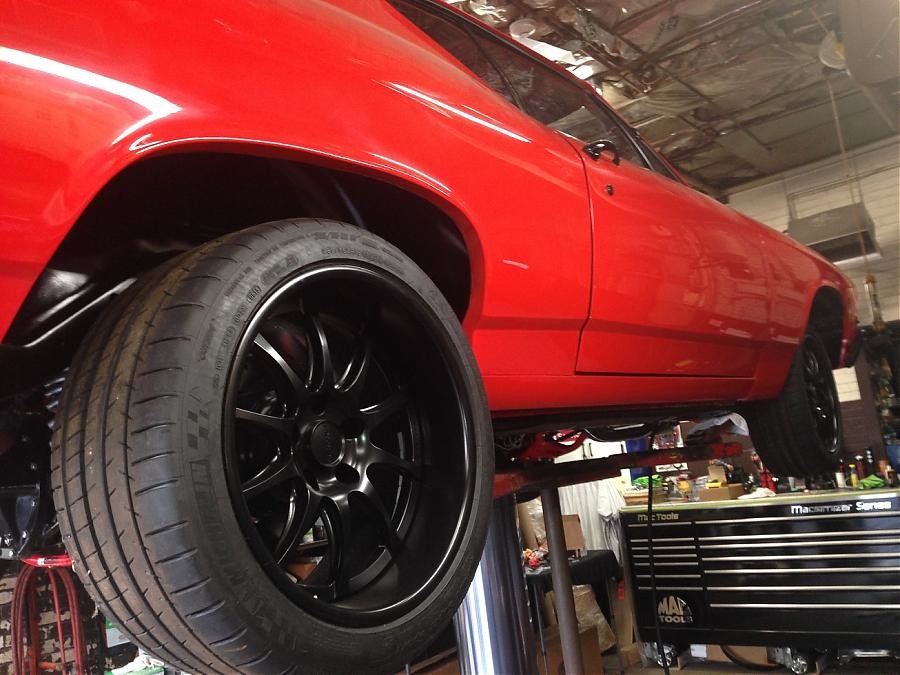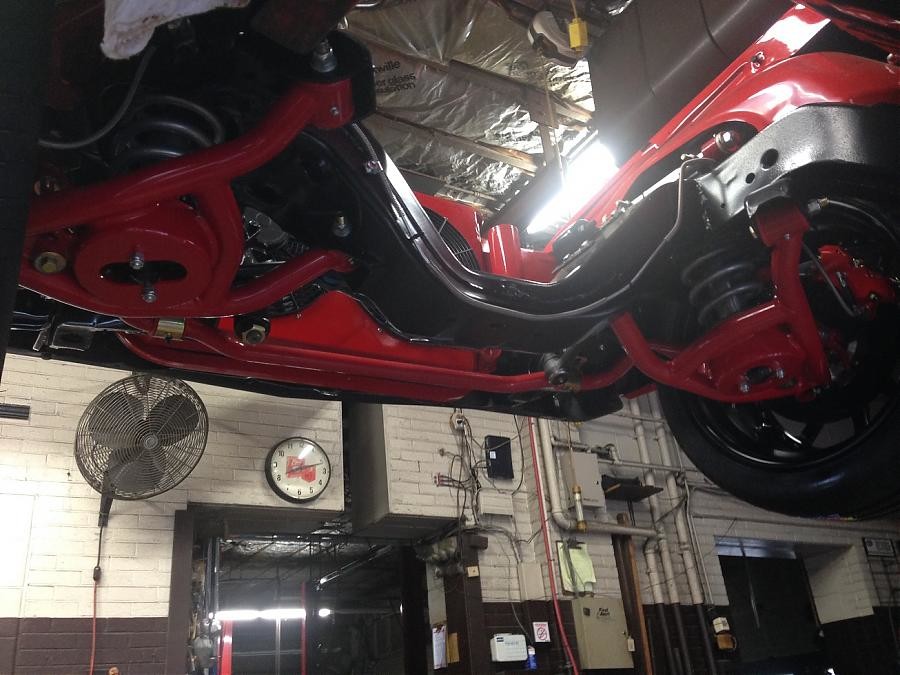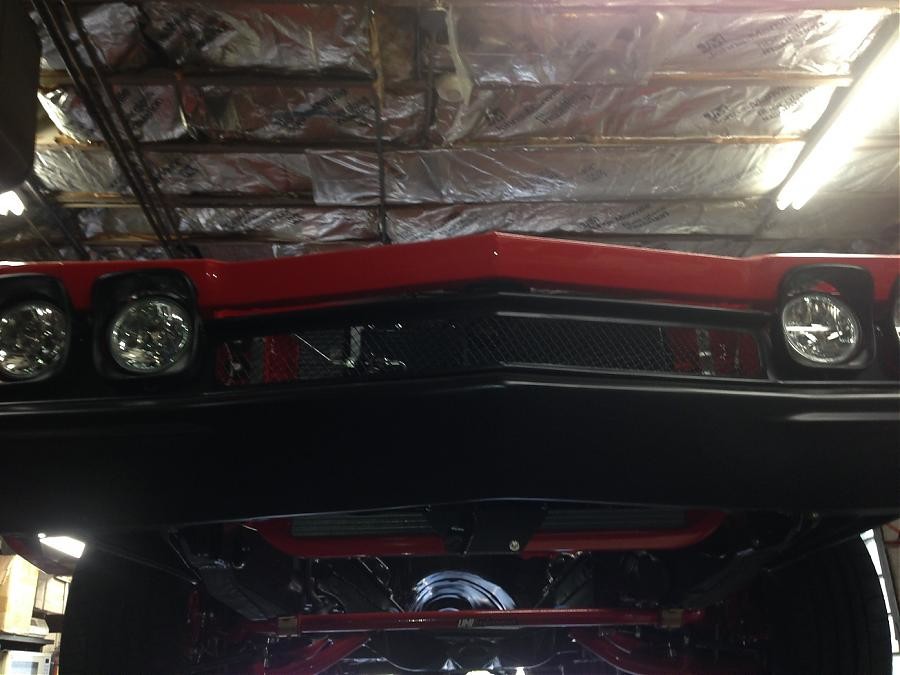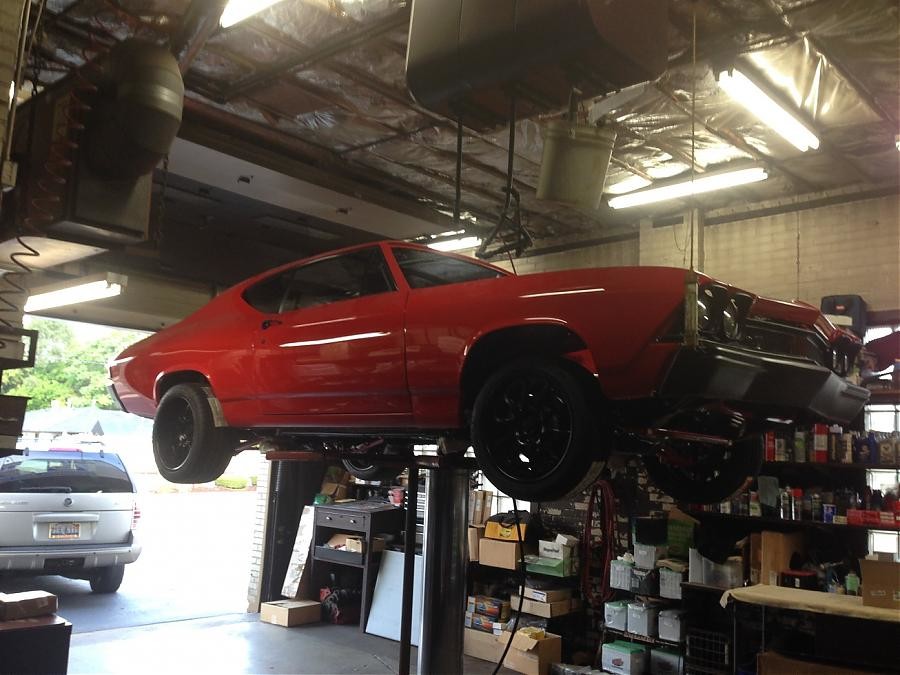 I had to finally put its SS custom badge on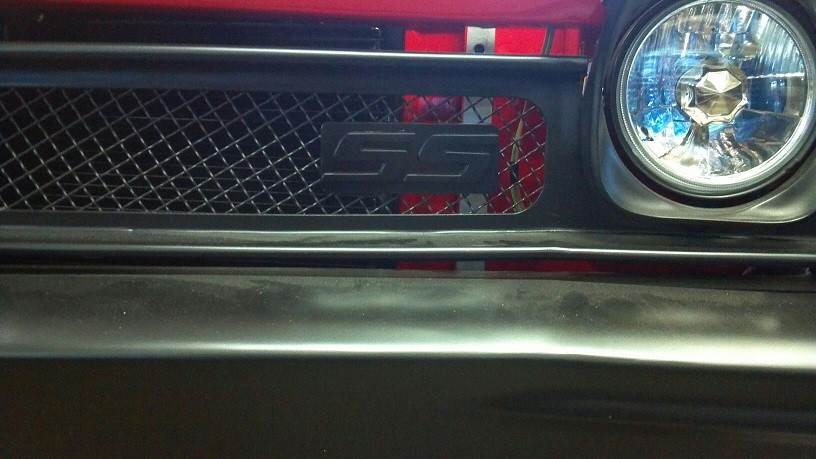 10-15-2013
well the engine is in finally not yet fired up but where are in the last 2-3 weels before we are finished. Also a glimpse of how the interior will look like and loving the black anodized Billet Specialties steering wheel wrapped in leather with a double red stitiching came out, give me your feedback please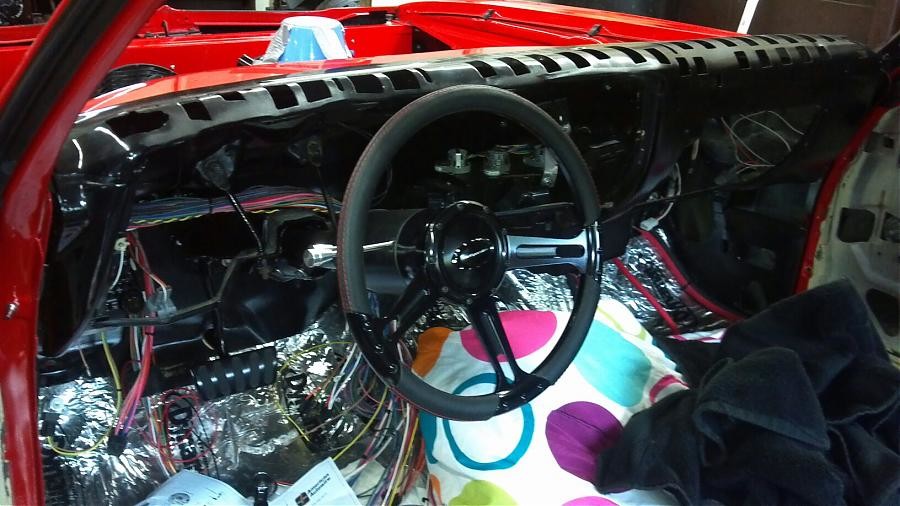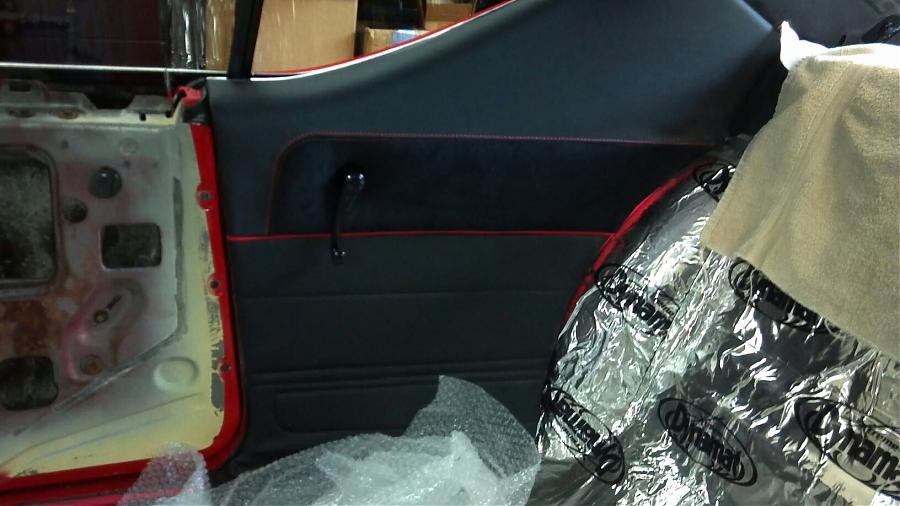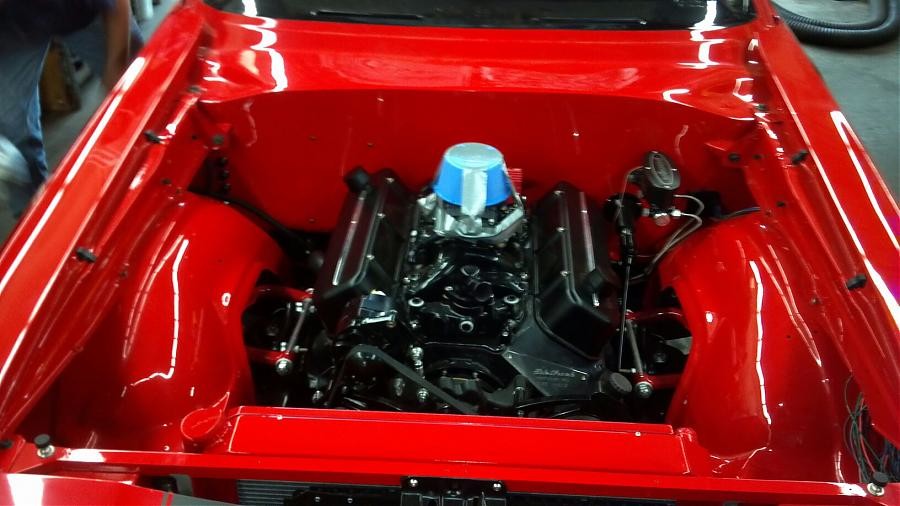 2-4-2014
Hey guys well its been a while since I have posted but here are some pics of my build finally seeing the end of the tunel, there have been awesome moments and there have been stresfull ones but well worth it. Here is pretty much how 68 Chevelle SS, 468 600HP sits. I will still be adjusting ride height and some minor sweaking but should be up and ready for this spring very excited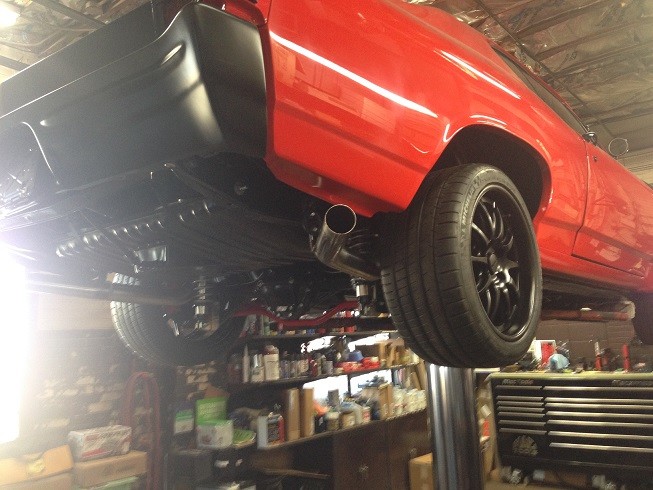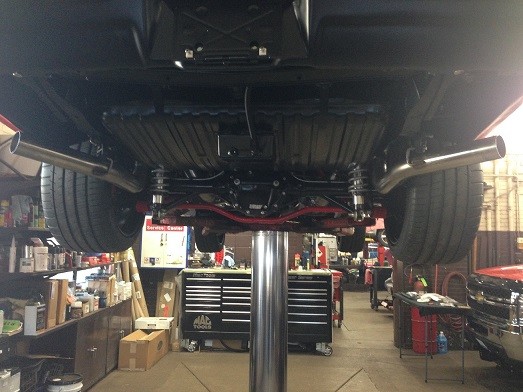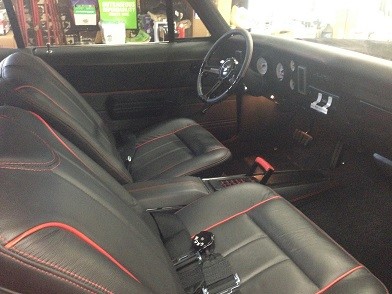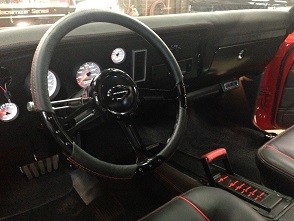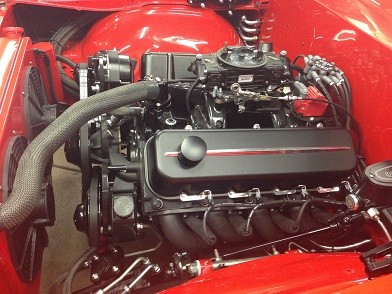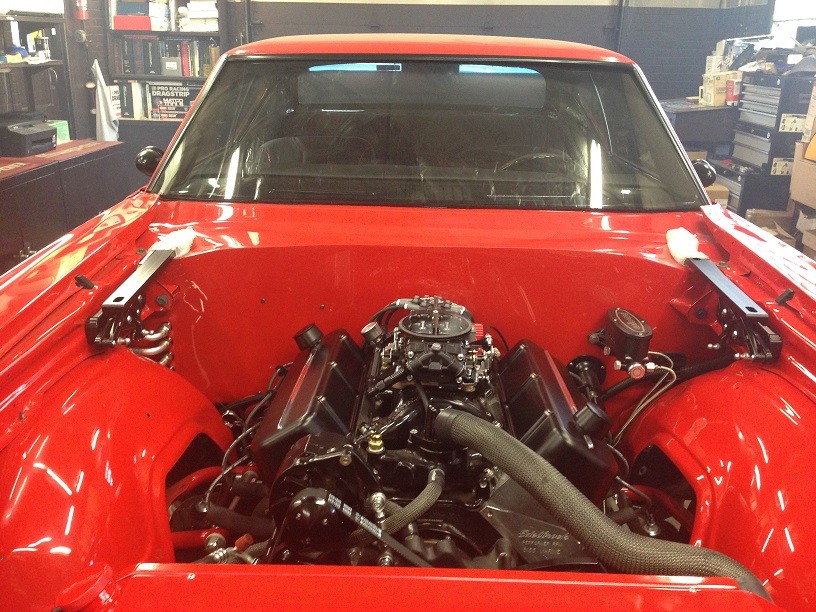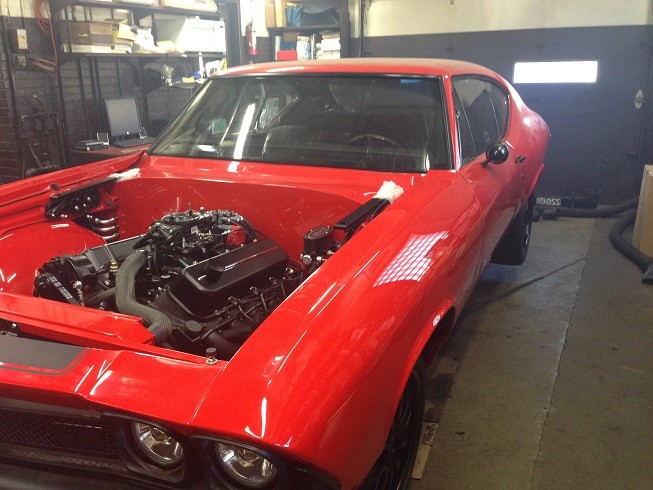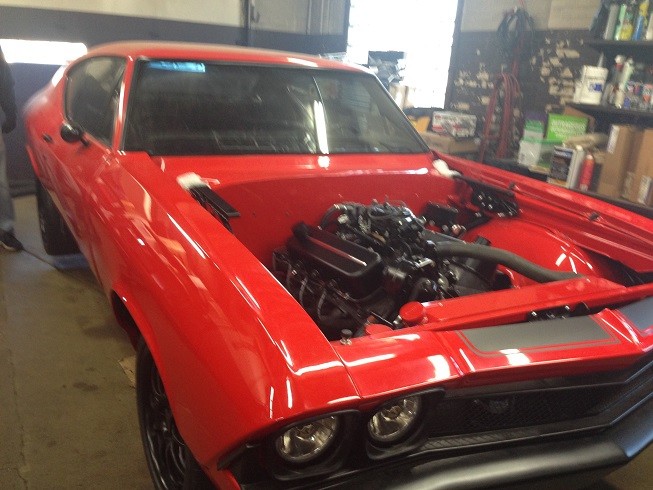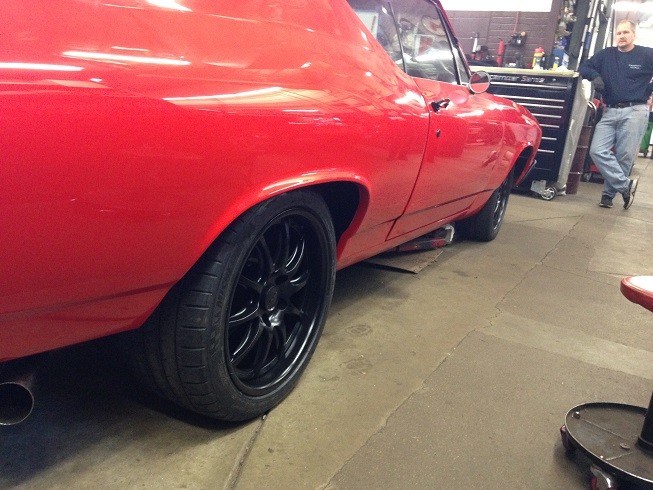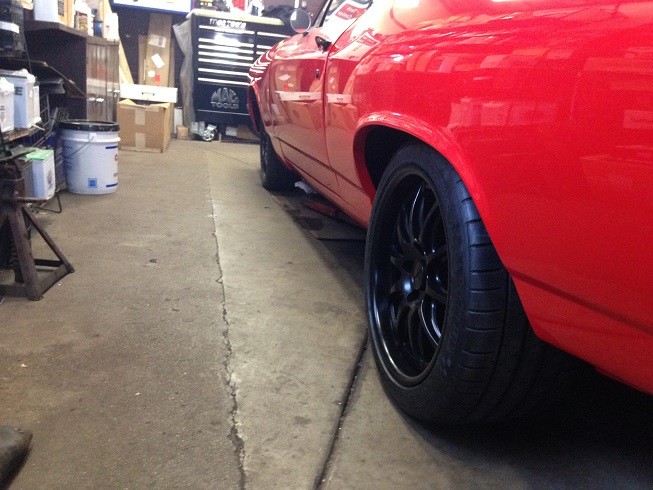 2-5-2014
thanks a lot its been a hell of an experience getting it done. I am looking forward to driving it myself but will have to split my time as I picked up a 67 Fastback (pic of it) this past October near the end of the build and I guess once you love cars one wont just cut it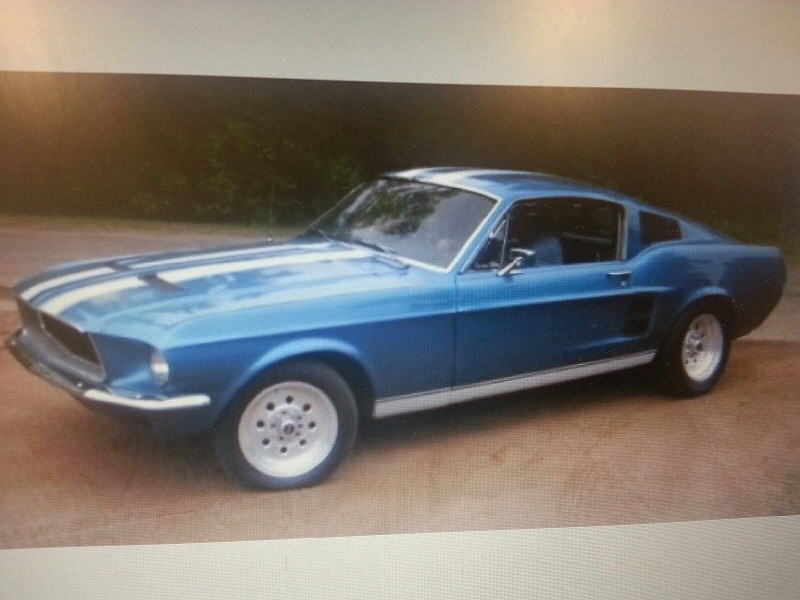 9-22-2014
Well I just realized I never updated the build thread and its been over a year since I have posted. I know a lot of builds start of strong but many never make it to the end of the tunnel. I know they happen because of financial situations that come up or just life in general. There were times I felt like quitting but kept at it and seeing sites such as LG and PT motivated me to finish. I am blessed to have finished my project month ago but it was tooth and nails finishing it. With some changes such as going from manual windows having all the panels and window cranks and door handles all set then last minute decided to go with Power windows which required new custom panels (had a bad experience with the cheap Fesler stuff which I will never buy ever again) made by Stitch by Stitch. Had to buy a new power window set up which was fun that alone with waiting for the panels to get done took a few weeks. Then went with push start well that didnt work out so well fuse in it burned out sometime while in my garage and it destroyed my battery ended up going back to regular key. Oh as I was driving it back from my assembly guy once I got home rear rotor went out and lost my brake and hit a pole in front of my garage. I had to get the bumper redone, brand new bumper filler and money of course. While I was added I decided to go with a brand new hood because my old one I thought was good was in reality starting to pit. So decided not to go with the traditional Chevelle stripes again more money and time. At the end i was happy with the results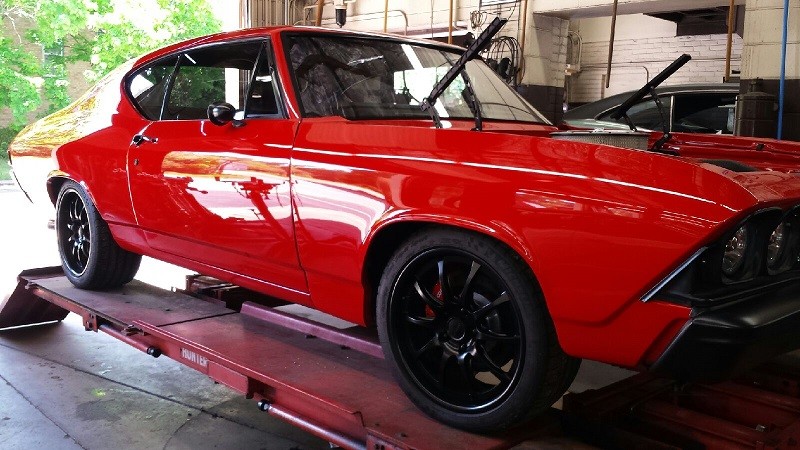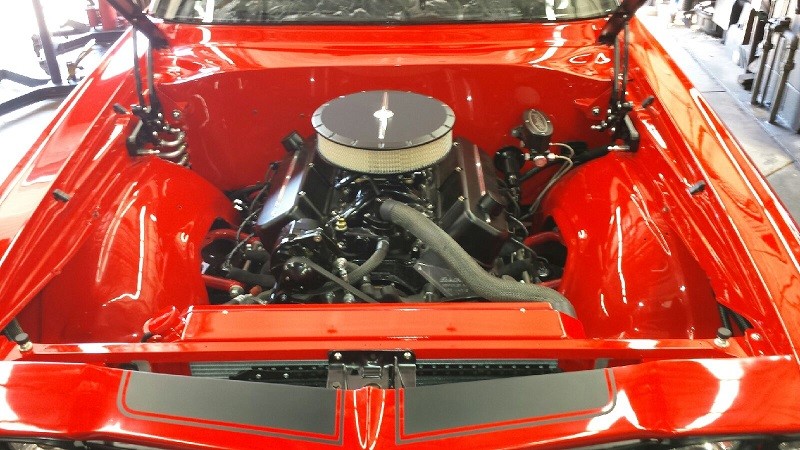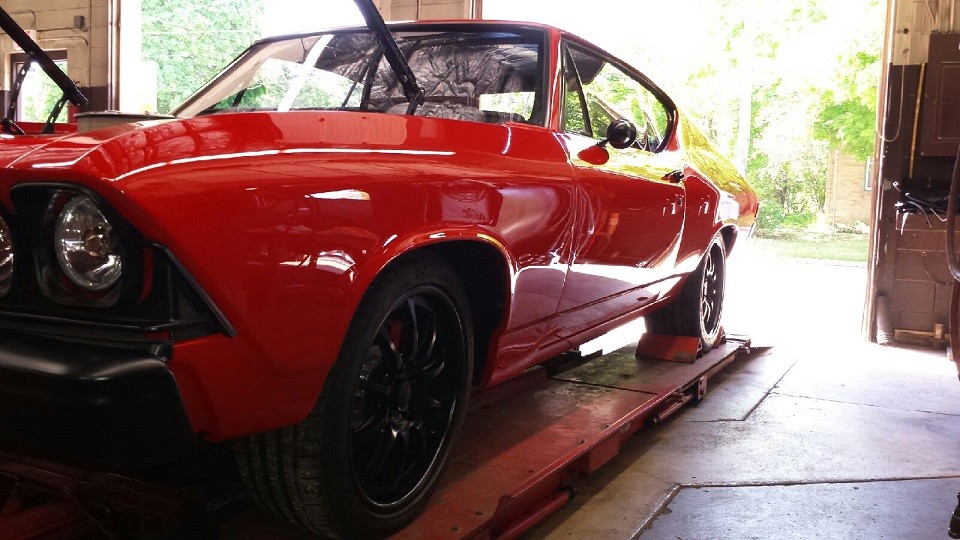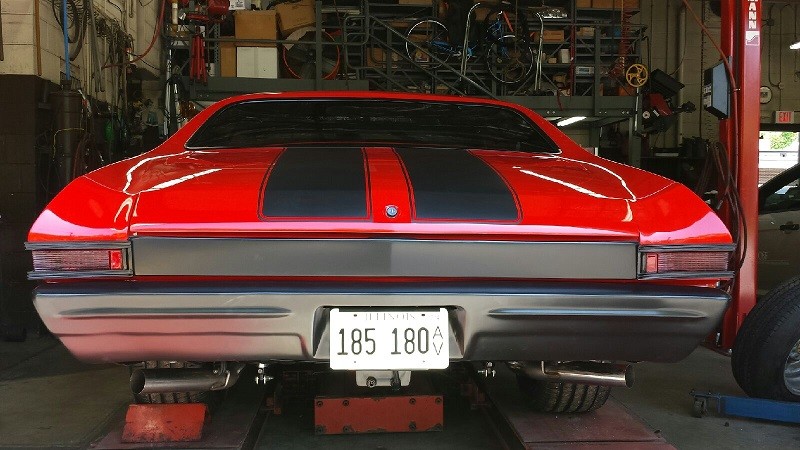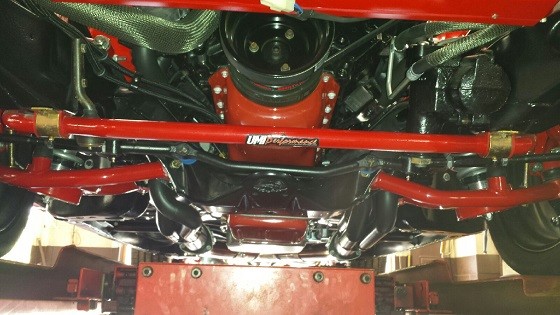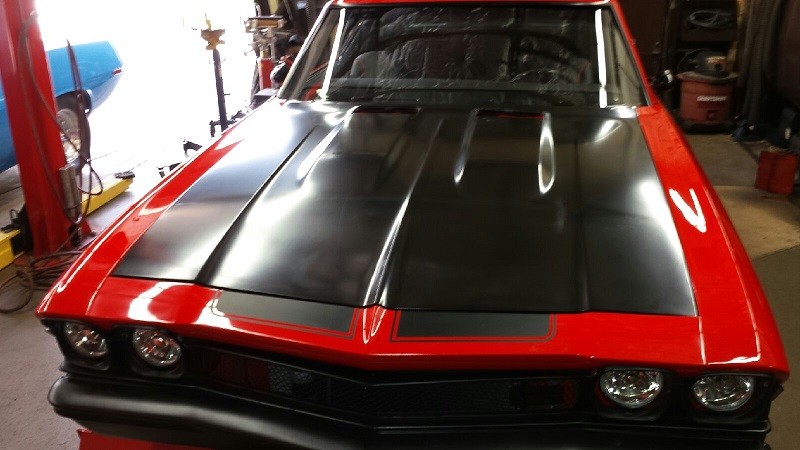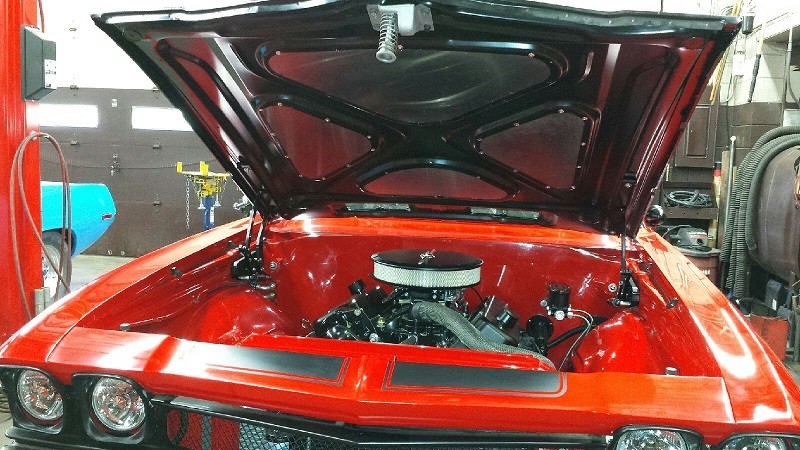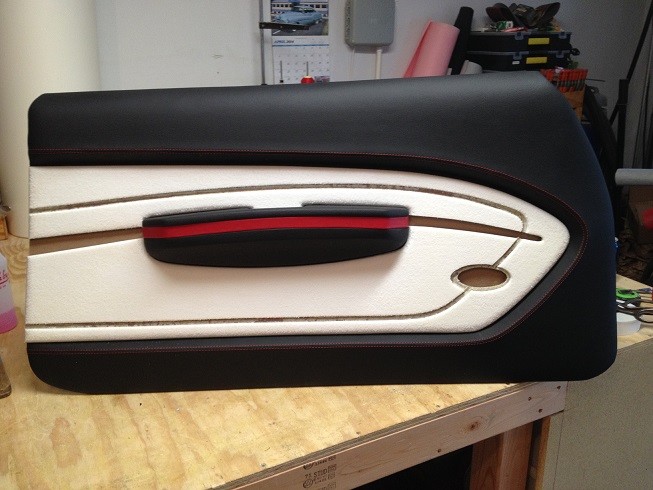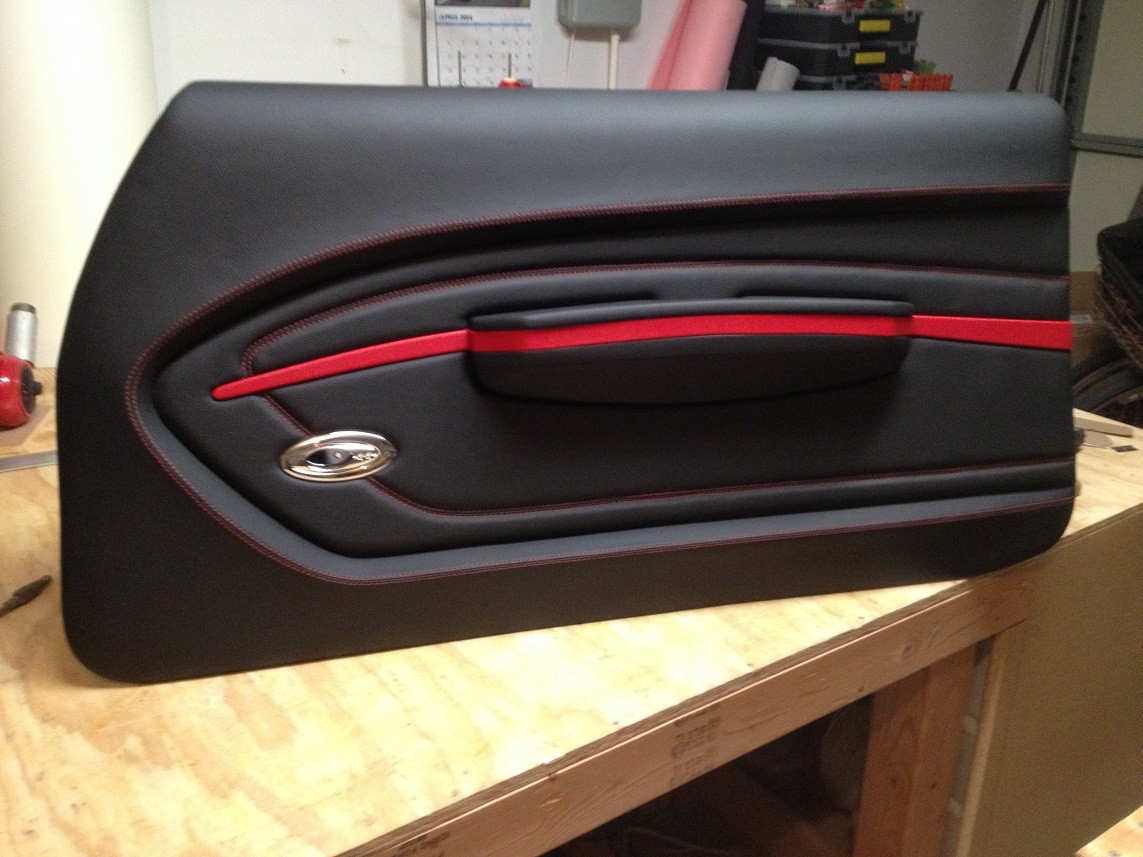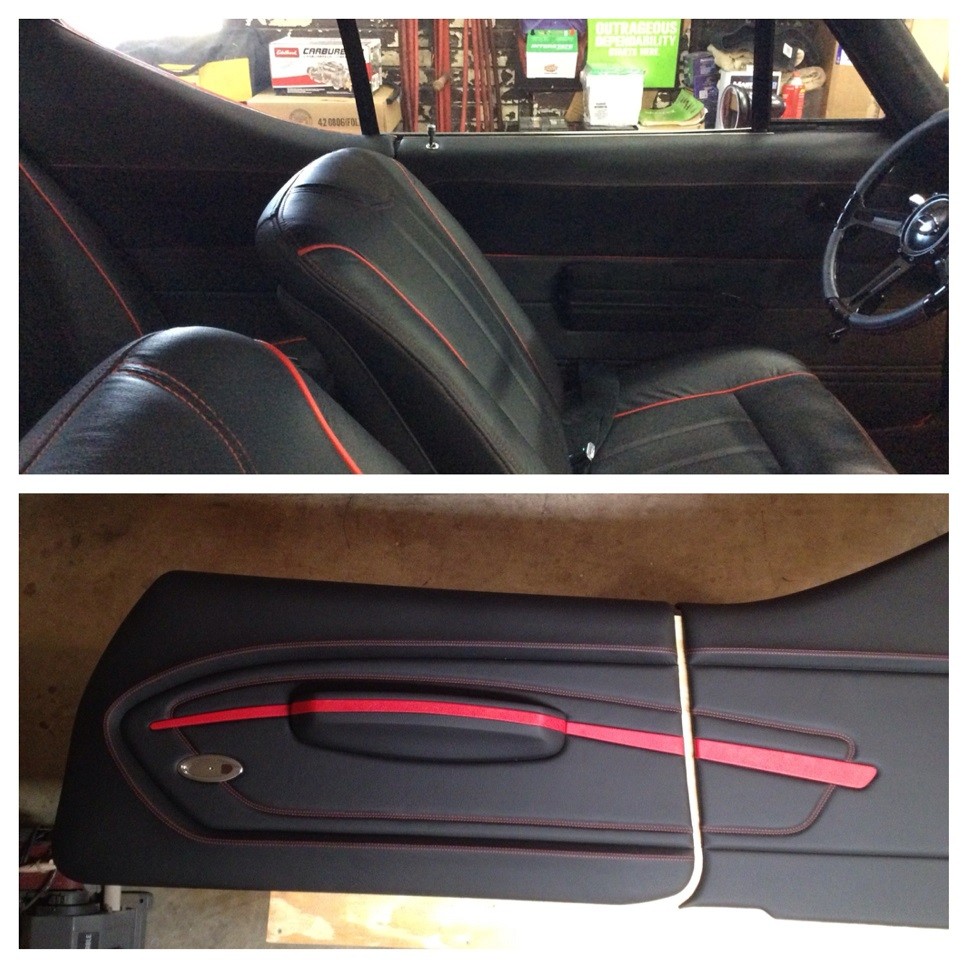 9-25-2014
Well guys I know on the previous post I stated about my miss haves and so on with what happen when I got the 68 back. But This was the offical arrival of the 68 Chevelle SS. I have been reading a lot of post lately and realized how blessed I am to have only taken 1 yr and half on my build never giving up hope of one day finishing. Well these are pics of the Chevelle getting ready to come home and its arrival home. It felt good having it at home for once. There are some changes I made from the pictures I posted a few days ago, let me know if you noice. I actually have only taken it to two shows and no cruise nights. I have just been diling it in and next summer I will be hitting those cruise nights but for now ill just enjoy it for the next couple of weeks before we get hit with the beautiful Chicago weather.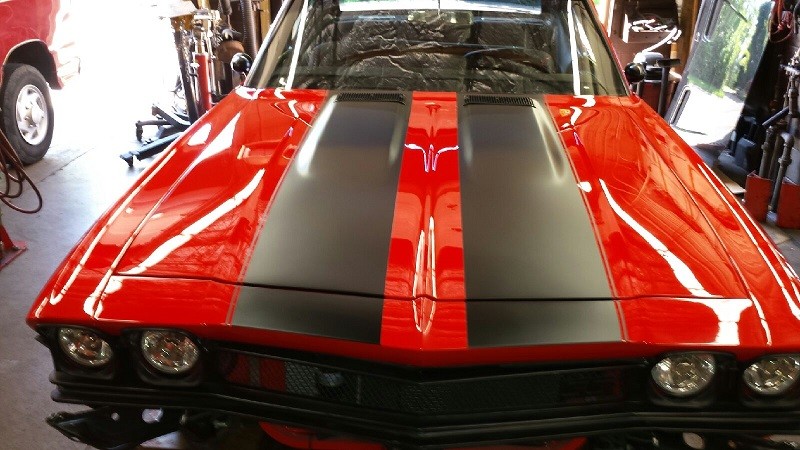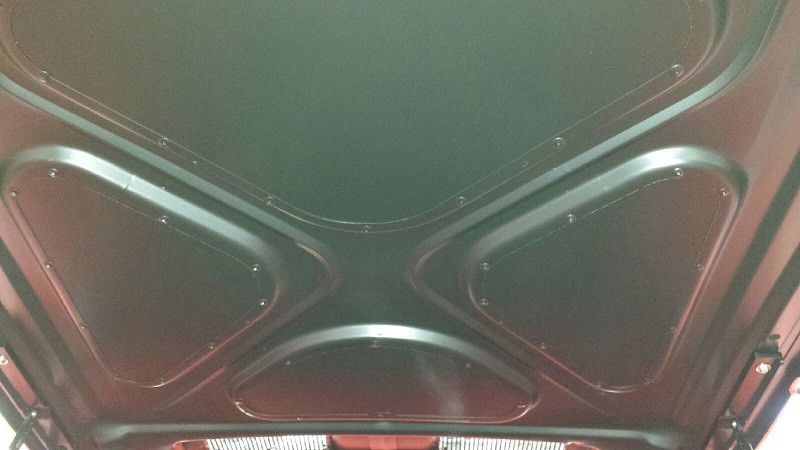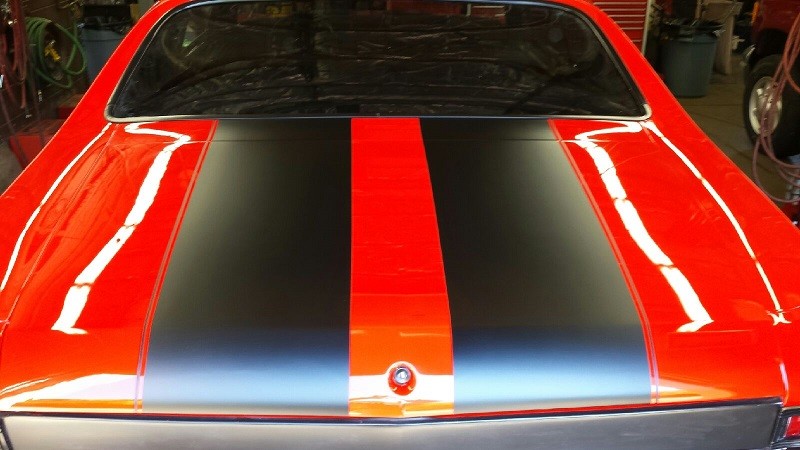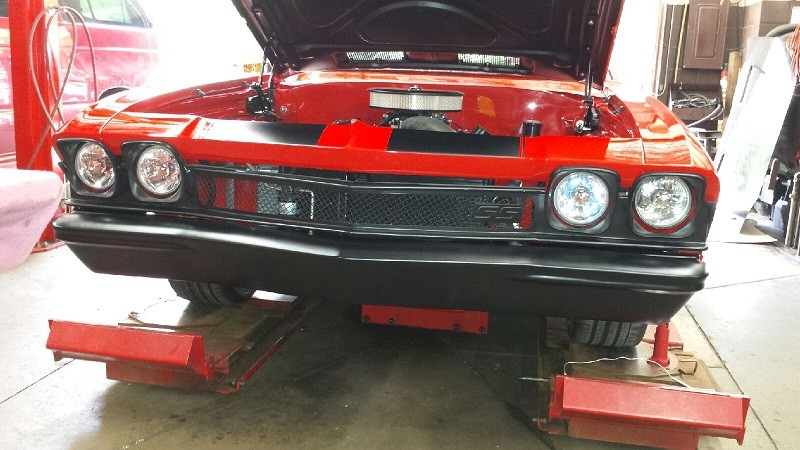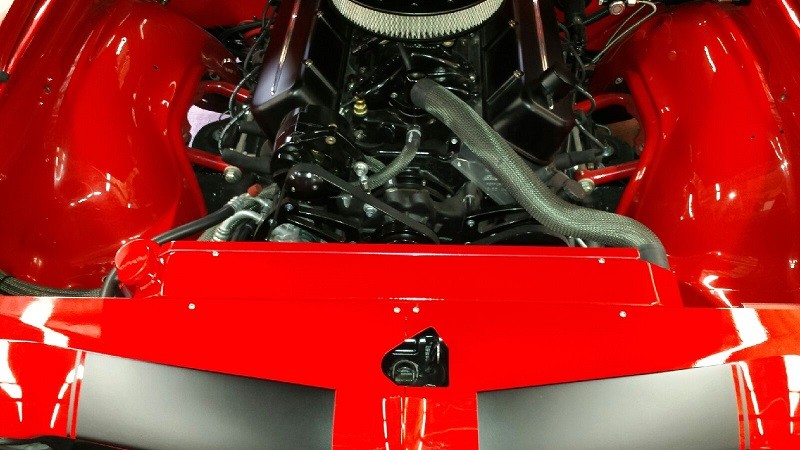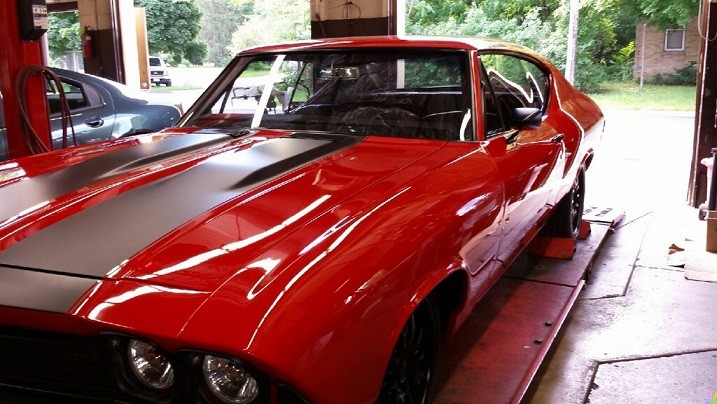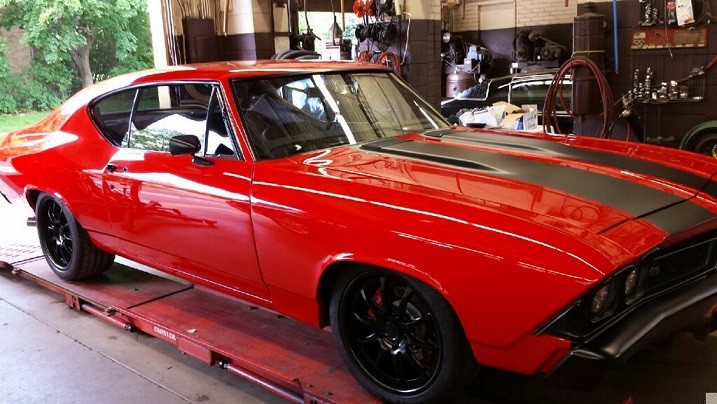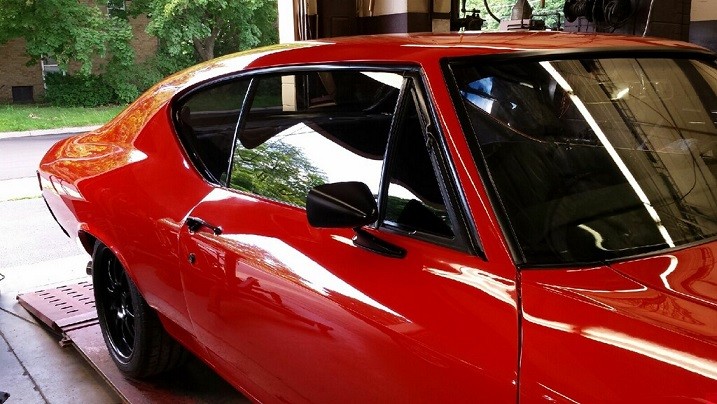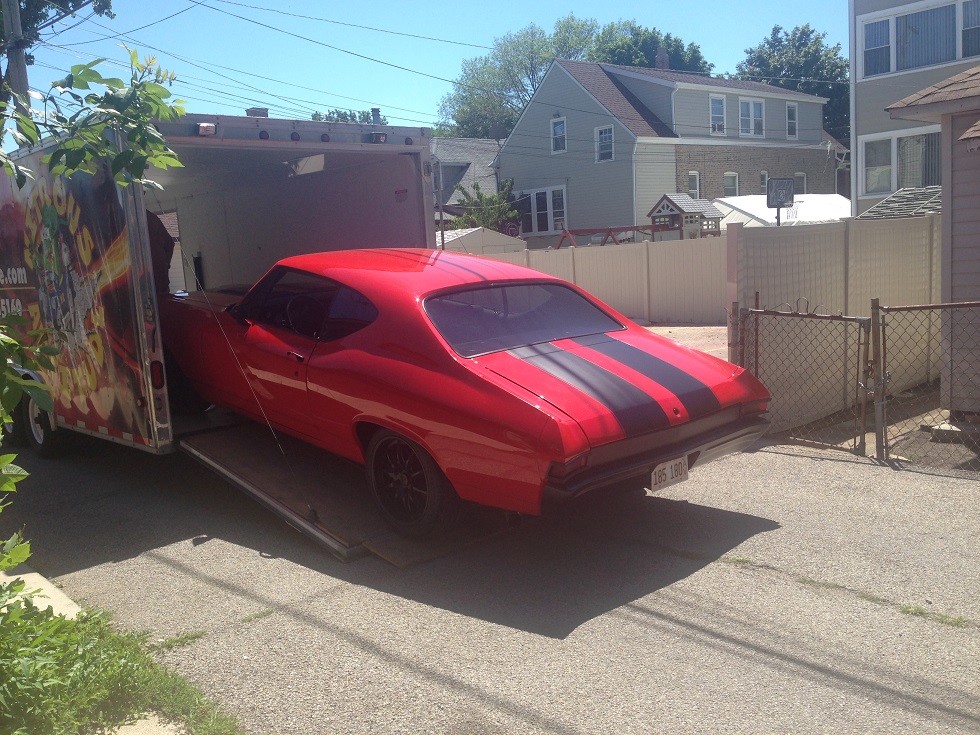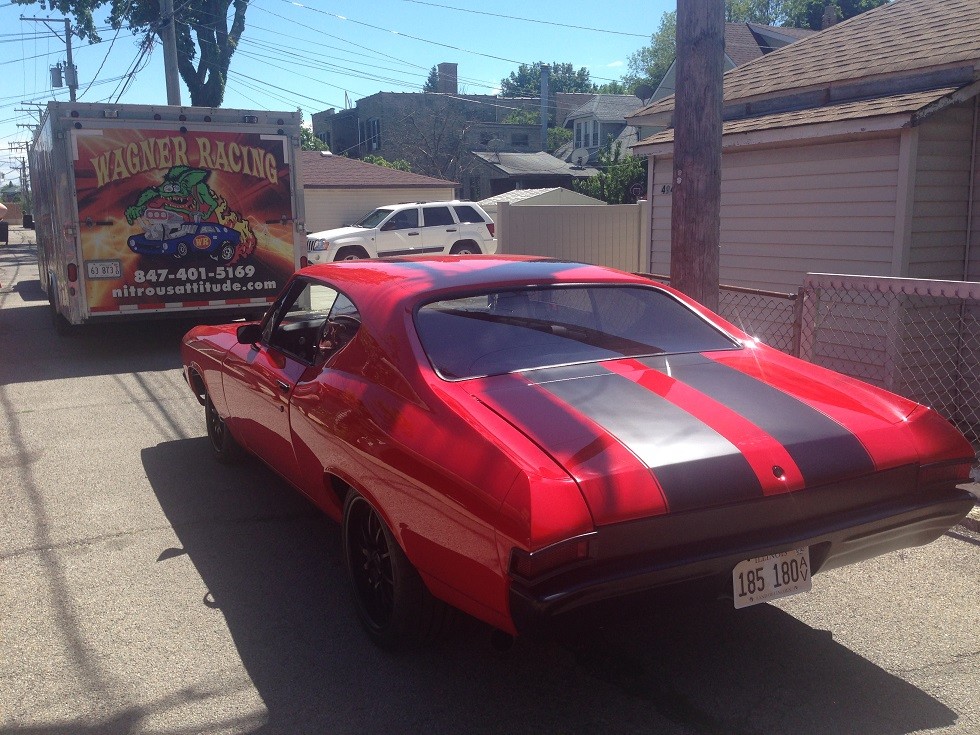 9-29-2014
Well I posted a few shots of it coming home and very excited to say I am one lucky guy to have completed my project in under 2 yrs. I am 32 and with only 4 yrs under my belt in the Muscle car/ Pro-Touring scene. I would have to say I am not old nor young just in between to have completed a full blown bolt to nut restoration and still managed to purchased a 67 Fastback which is awesome running with a 302, AC, complete and mint interior and might need eventually an updated paint, ok it may seem cool to others but just to plane for my taste lol. As crazy as it may seem I just picked up a 69 Camaro RS, this one will be a complete project with no engine, trans. Well back to the 68 Chevelle and the awesome pics. I guess there's is no way I went wrong with this build ok maybe a complete chassis would have been cool lol. I can't complain all brand new AMD sheet metal, UMI Performance front/rear upper/lower tubular control arms, sway bars, QA1 single adjustable coilovers, 4 Piston Wilwood with slotted rotors all around, AutoRad Radiator, brand new American Wire, Phantom II automemter, Vintage air, Hose candy, Ringbrothers billet hood hinges and door handles, EMS trunk billet hinges, Forgeline wheels, Billet Specielties steering wheel, valve covers, air cleaner and many more of their awesome stuff, Clay Machine interior door handles, Lokar Midnight series pedals, Power windows, IDIDIT steering column, custom dash, ARP all aroud, Magnaflow 3' exhaust, Lemons headers, March Serpentine, Digitails. I know there is more but you guys get the picture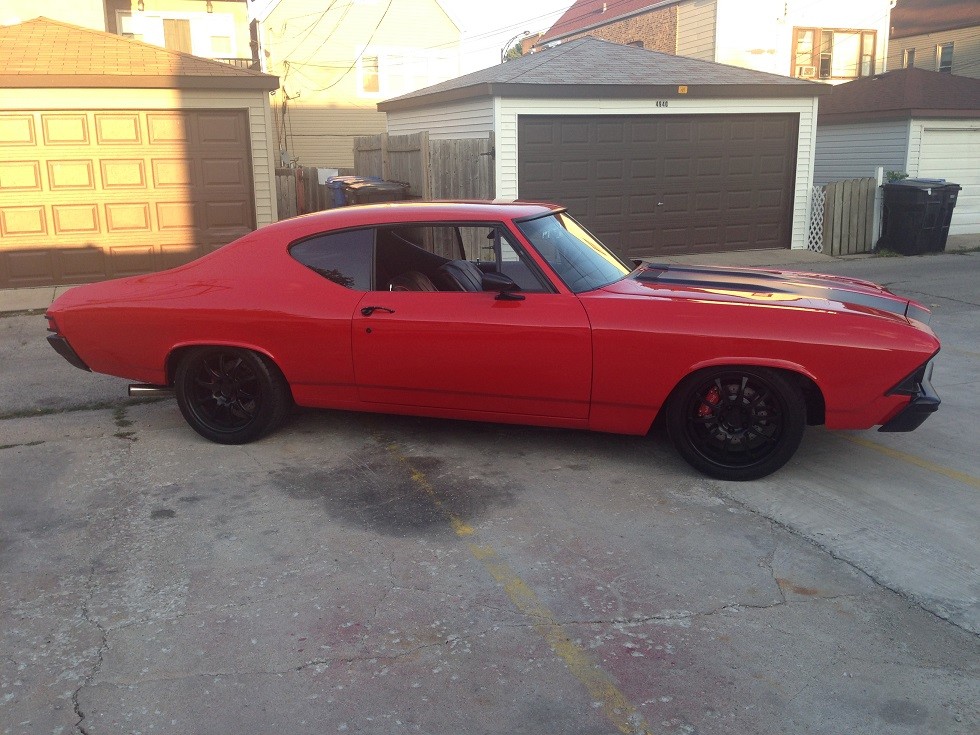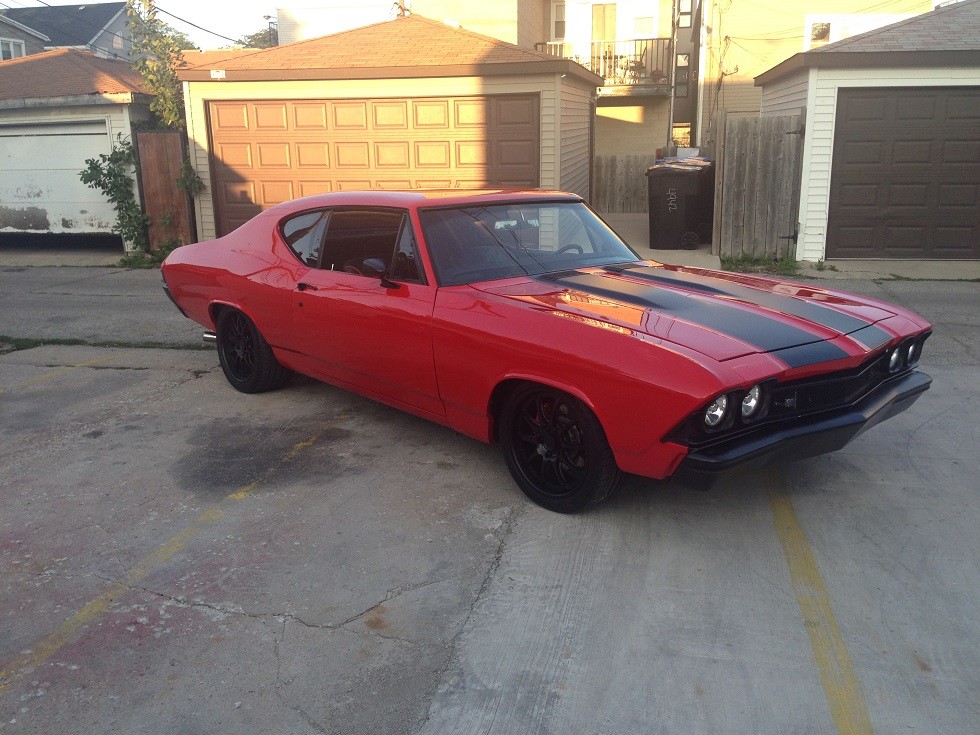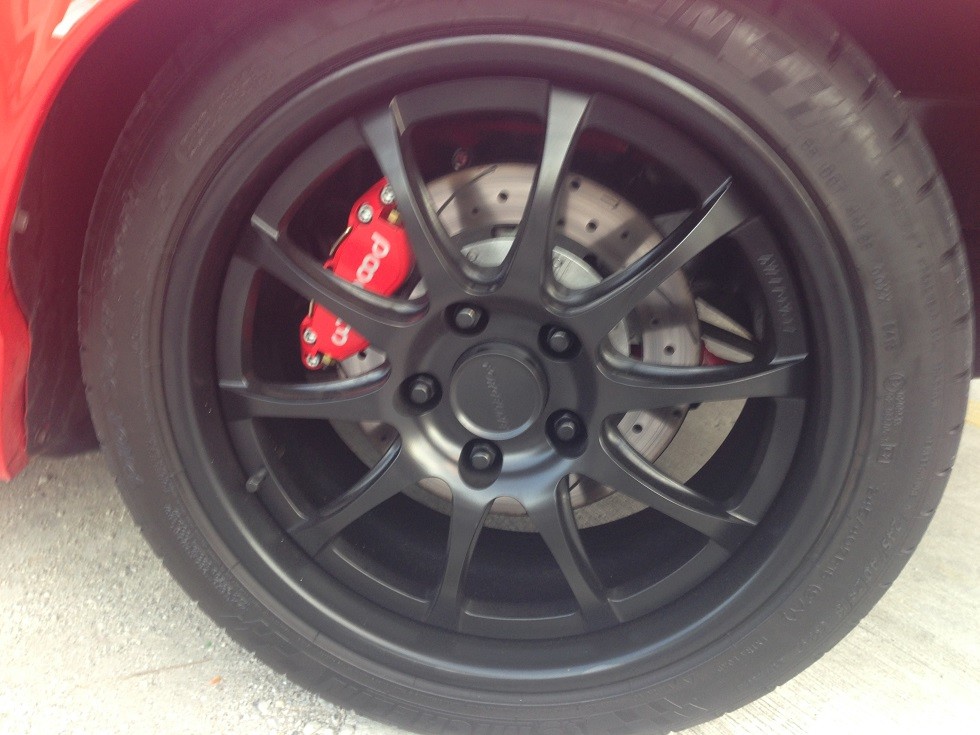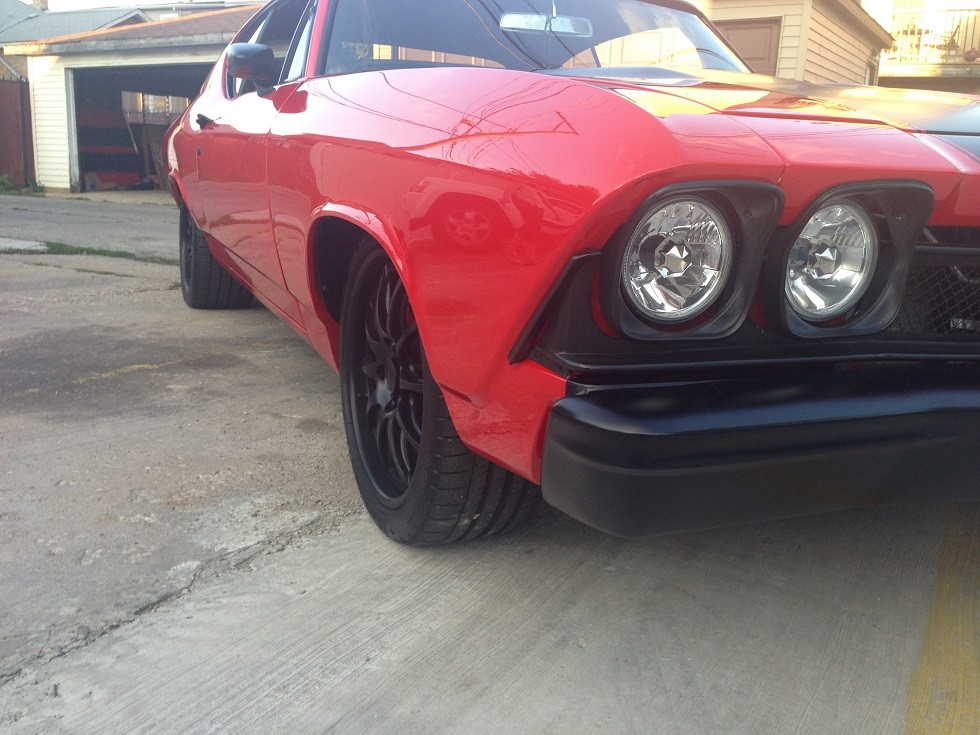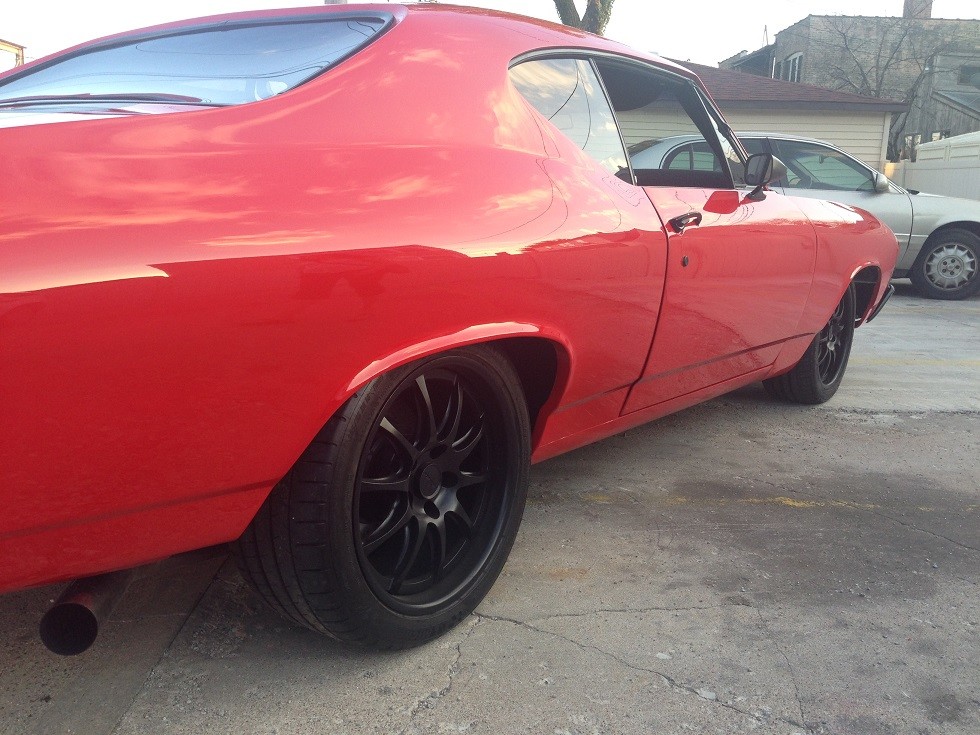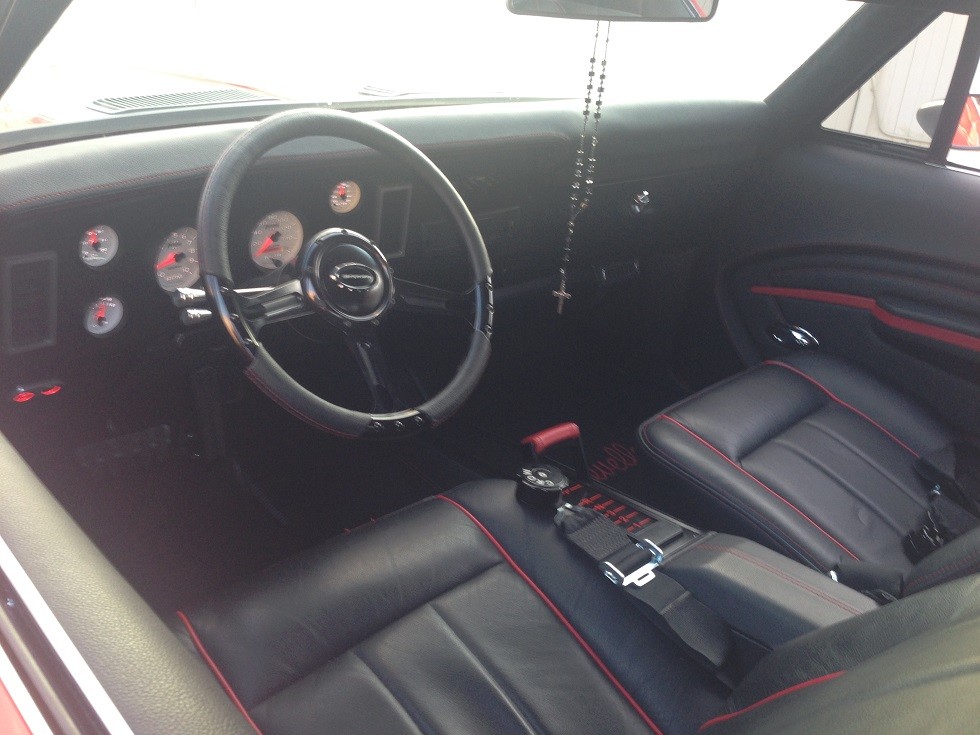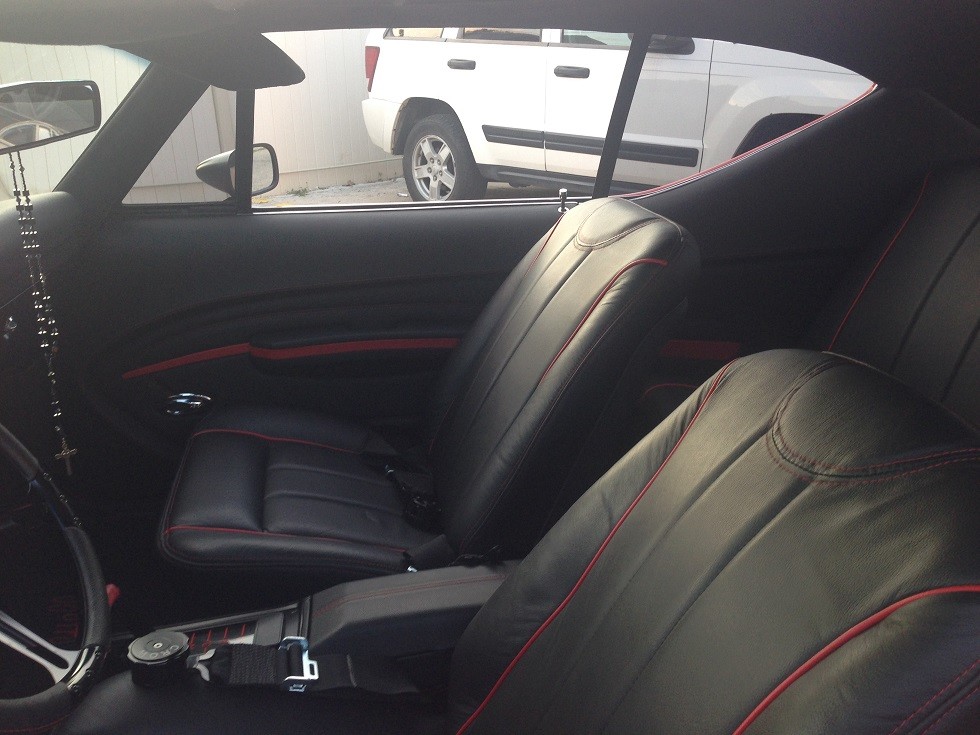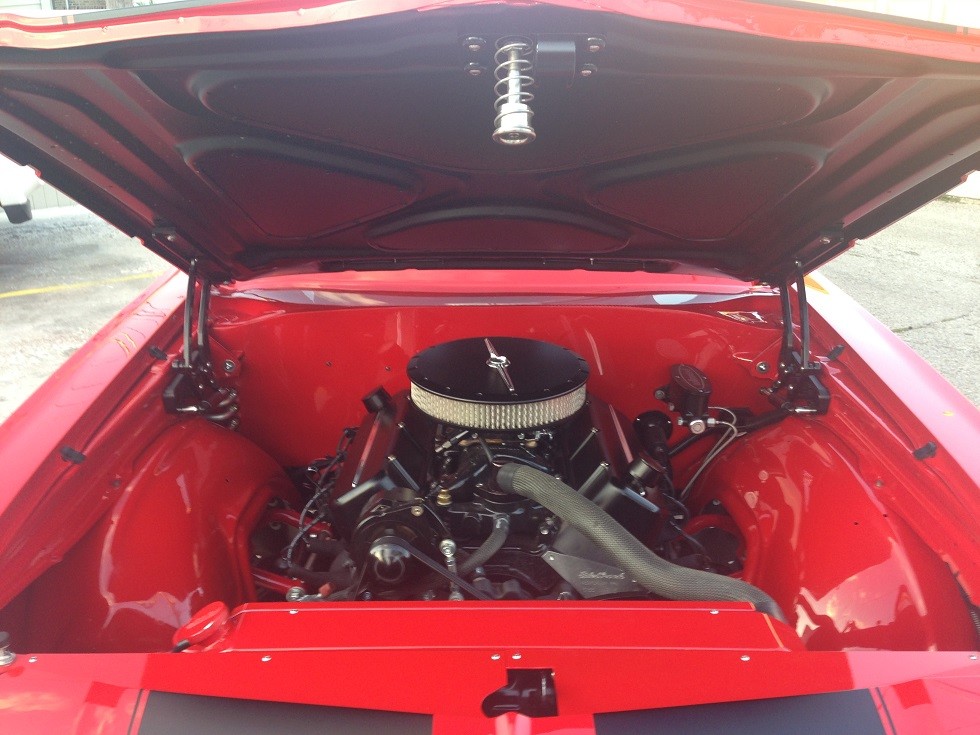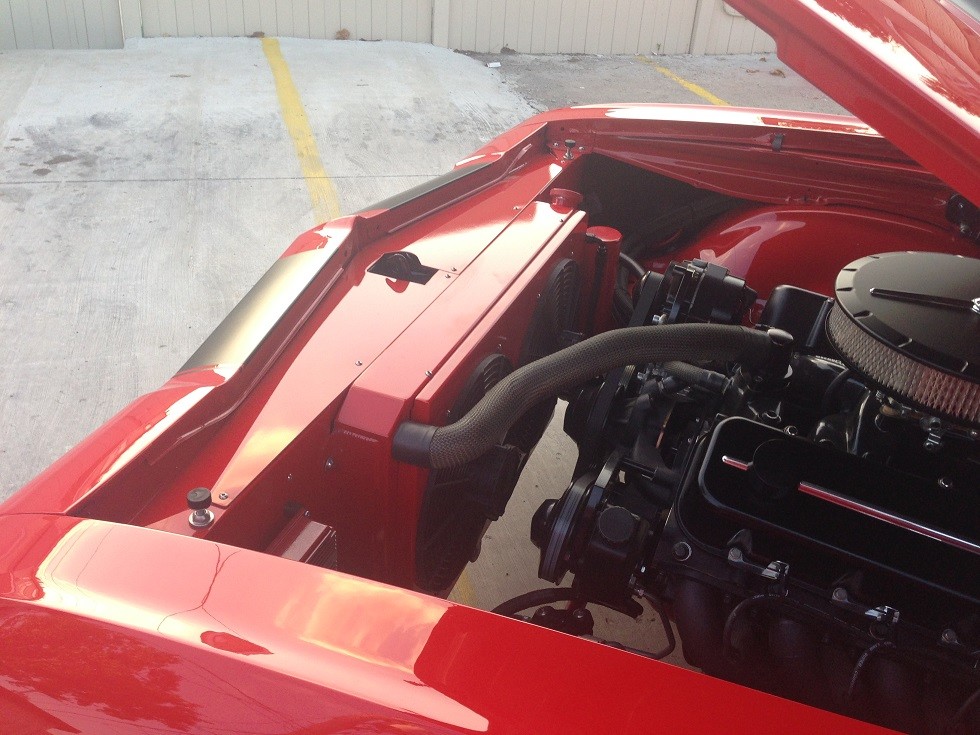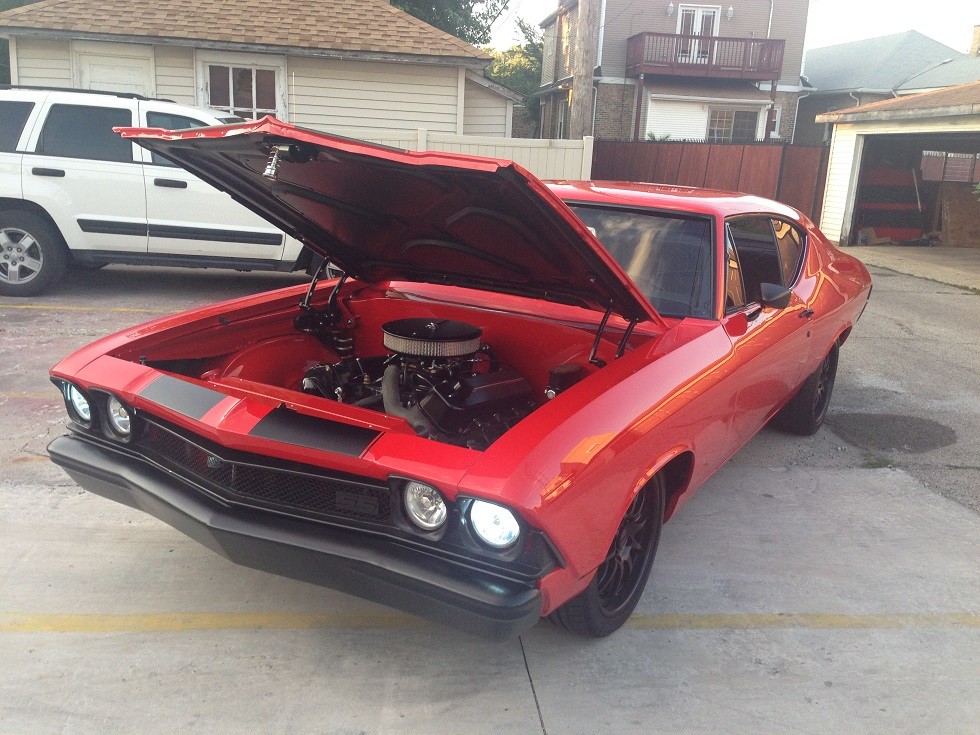 3-25-2015
My build was complete back in July and like they say you are never done because there was a lot of bugs that needed to be fixed. Just because a car is freshly complete doesnt mean its done. Everyone sees the fun end resutl but never truly see the headaches of the before and even the after. With the Chicago weahter looking somewhat promising this spring and summer, here are the last pics I took in late October. Im sure I mentioned this but I picked up a 67 Fastback that got put back together and completed this past October so with our lovely weather didnt get to drive it but once. Its all stock with a 302 and A/C. I am not a Ford guy at all but just always wanted one, so decided to pick one up. Oh, I also will soon be starting a 69 Camaro RS that will have way more goodies than the 68 Chevelle but that I am keeping under wraps for a while until things are moving along. But there is a complete rendering done by Ben Hermance and you guys know his work. I have some nice custom touches going on and have been planning the build these past few months. Lets just say I will be having some nice AME stuff on there to start the foundation. Oh did I mention I am getting married in August lol