Resurrecting Grandpa's Dinosaur - a rebuild story. (1963 Chrysler Imperial) by topdawag_mc4
By diyauto
43 minute read
You must be logged in to rate content!
Resurrecting Grandpa's Dinosaur - a rebuild story. (1963 Chrysler Imperial)
Compliments of topdawg_mc4 @ vwvortex.com
12-23-2011
-If you'd like to donate to keep the project going steadily, here is the link: http://*******/cEZyf We are relying almost completely on donations and free parts.
I'm diving into a project in the upcoming few months with a friend. You may remember our Fox body Mustang rebuild thread a while back.. Or maybe you don't, because we ran out of money and had to sell our progress. We're trying to get creative in funding this project. A preface from my friend, who will probably be inputting some in the thread as well: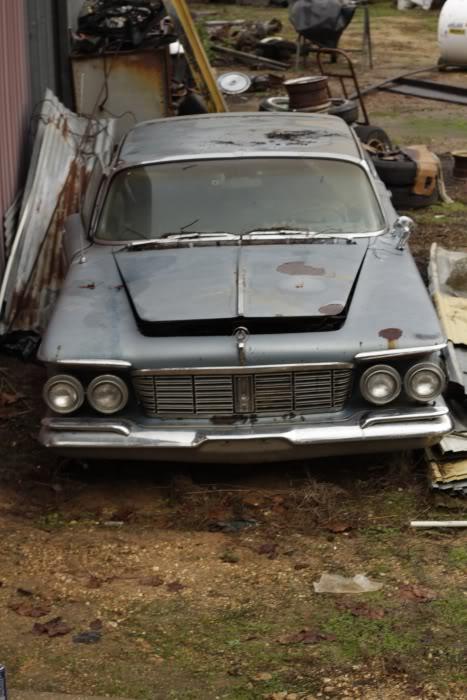 "This particular dinosaur is no reptile at all. It's a creature created in 1963 right here in the USA out of steel and manpower. A true work of art with gleaming chrome and voluptuous body lines, only 14,121 of these vehicles were built that year. Although this particular brand of "Dinosaur" is nearly extinct, there are a few chances to keep them from dying out completely.
I am a car nut at heart. I believe vehicles are true works of art, and can be one of the most beautiful forms of artistic expression. It saddens me that many of these pieces are lost over the years, just left to rot. This 1963 Chrysler Imperial is a great example of that. This particular vehicle has an even deeper meaning to me, though. This car was purchased new in 1963 in New Orleans, Louisiana by a man who kept it through 1974 when he decided to give it to my grandfather in exchange for some work he was doing for the man. The car had a mere 15,000 miles on it at that time. My grandfather then put many miles on that car throughout the rest of the 1970's driving back and forth to work, until it was finally parked due to some mechanical issues in 1984.
Once I had gotten to the age where I was thinking about driving, or at least thinking about wanting to build a cool car to drive, my grandpa thought it would be a good idea to give the car to me. I was around 13 or so at the time in 1997-8. We took the car from its place of rest, and brought it to my father's mechanic shop, where I began to dig in to it, and find out what it needed to be a sound car to drive. Once we got into it some, we realized that the car was already quite rusty, and that it was nearly impossible to find replacement parts due to its rarity. We then made the decision to park it behind the shop, and find me another more suitable car to fix up.
Nearly 15 years later, I have noticed myself looking at that car sitting there, rotting away, and feeling bad for leaving it that way. My grandpa passed away in October, and it makes me think of him even more. He was always so supportive of all of my endeavors, whether it be cars or music, and since he had a particular connection with this vehicle, I feel like he would be happy to see me resurrect this dinosaur from it's resting place. He always enjoyed the fact that I was in to cars and liked hot rods. Even though he wasn't a gear head so much when he was younger in the Air Force, he began to get in to that sort of thing in his older age through being around my dad and going to races after he and my mom were married, and of course when I got a little older and began taking interest in building cars.
I think my grandpa would be stoked that I could take this car, even though it had been written off as not repairable, and make a cool, custom, low budget hot rod out of it. Even though it may not live up to it's former glory, with my creative mind, and some collective ingenuity of my friends and family, I believe we can take this monster, and make a true work of art out of something most would see as junk. Renewing what was a beautiful work of art in the 60's into an abstract yet mesmerizing piece of art in 2012."
On to some more assorted snapshots we took today. This is how the car has been sitting for about 20 years.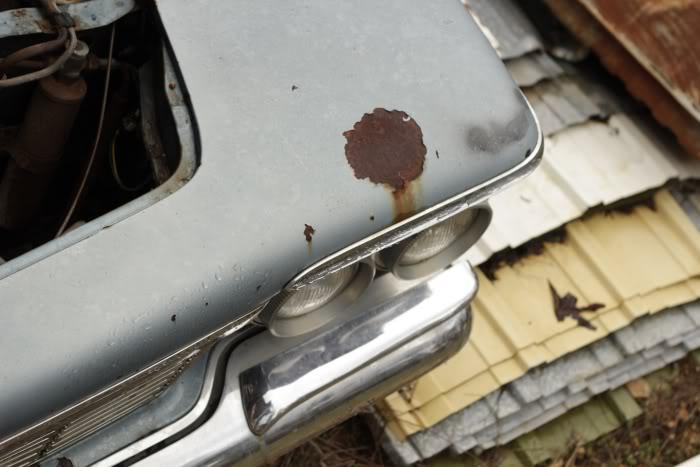 The 413 was rated at a hefty 340hp on premium leaded gas. Good power, but it's moving 4,800 lbs.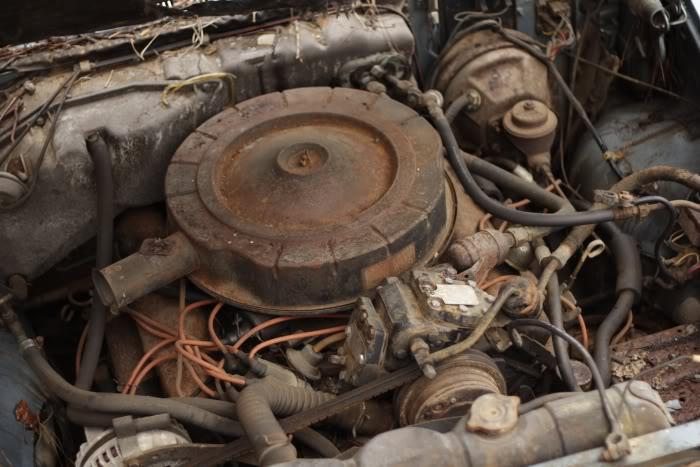 Car for daaays. This thing is seriously long. So long that I would have had to hop the fence behing me to get the whole thing in frame.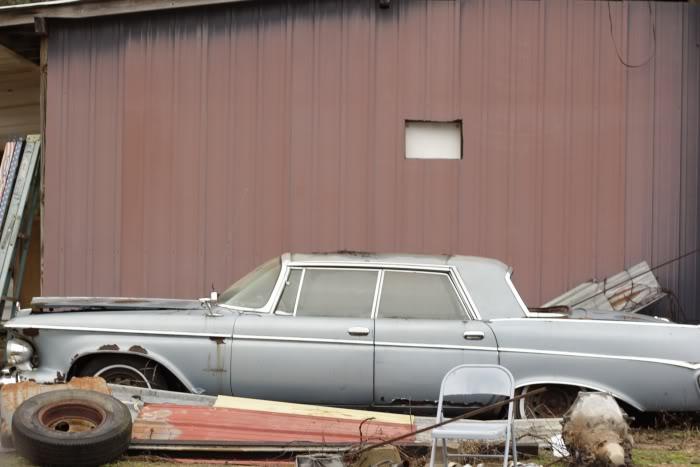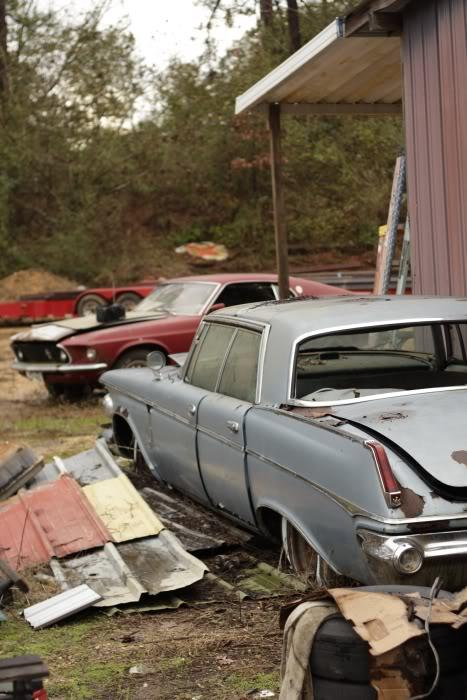 I'll take some more pictures of rust as we get farther into it - but as you can see, it has taken quite a toll in some spots. This is a big reason we're not even going to attempt to do a proper restoration of the car. It is way too far gone for that.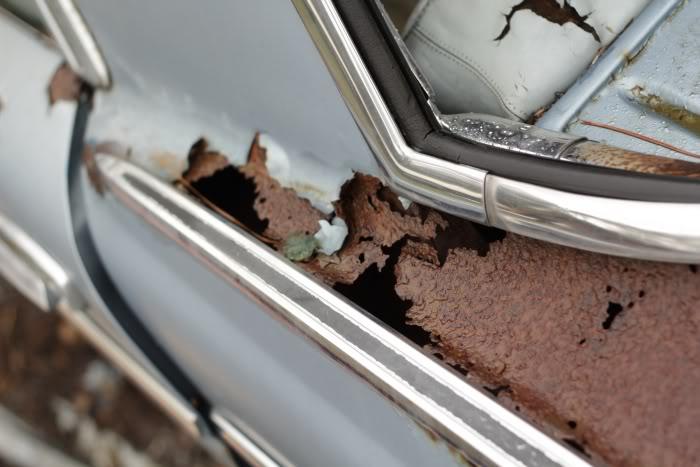 This is a quick rendering we did of what we're aiming for. We'll probably end up adding some more personal and quirky touches to it before it's done, but this will give you an idea.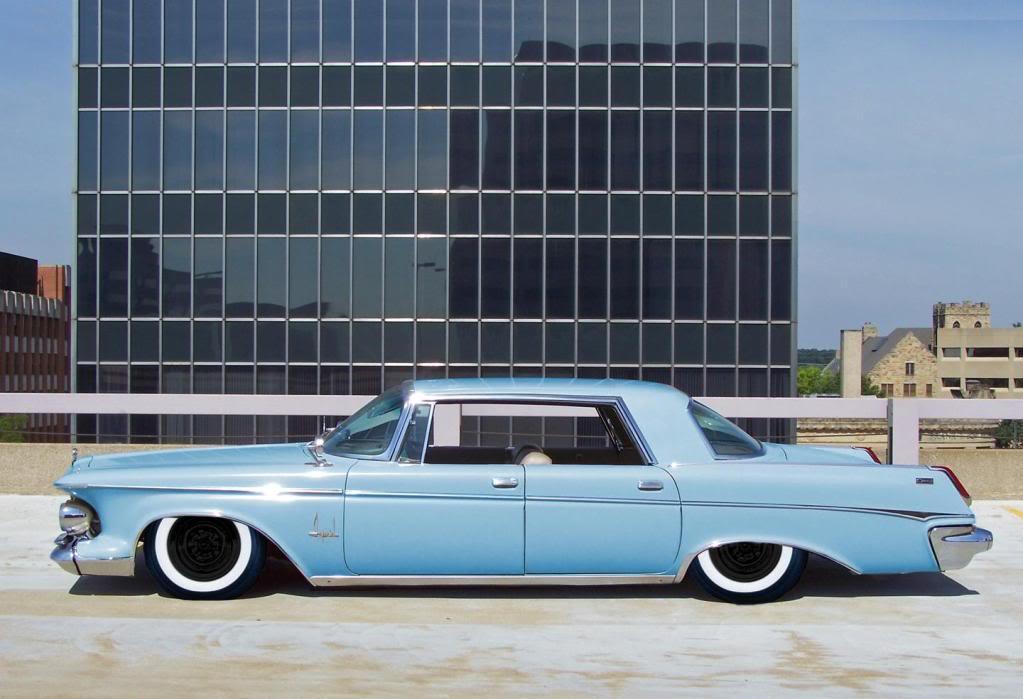 We'll probably start up an actual blog before long to keep up with things more easily, but we do plan on videoing much of the work, for a little more interaction with anyone wanting to keep up with the build.
Our first step is getting this thing somewhat cleaned up. The seats are going to have to come out, as well as shovels full of rust from the floors (that you can see through in most spots).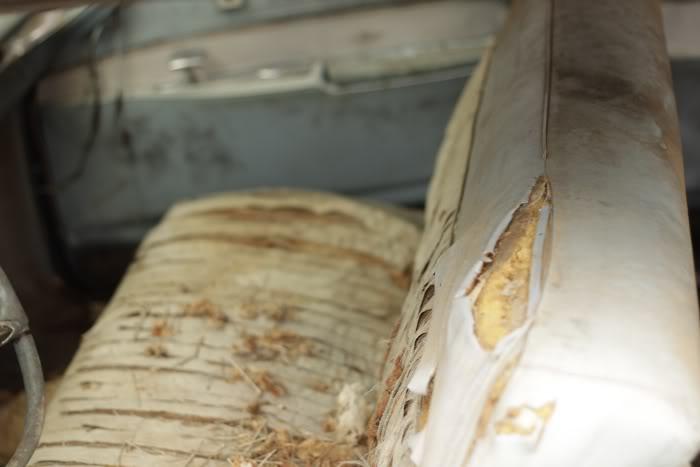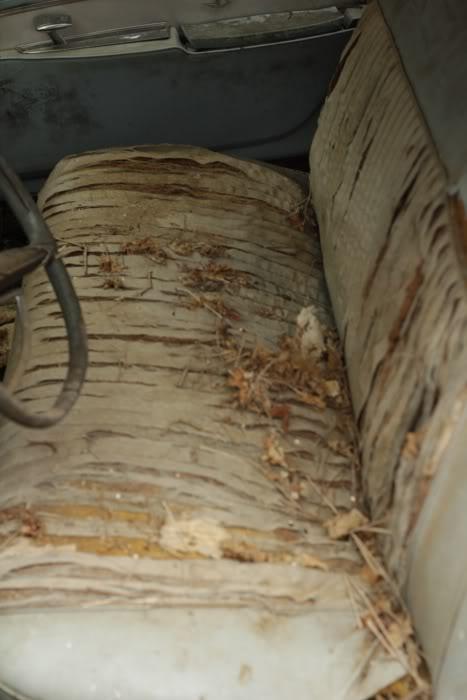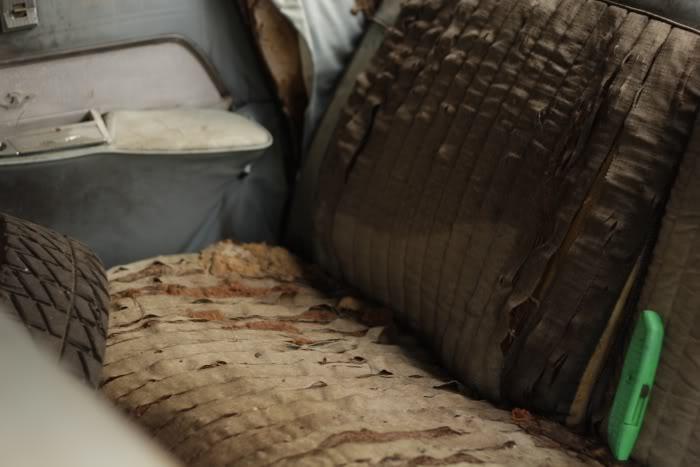 The dash and luxury features on these things are so cool. Oval steering wheel, push button automatic transmission, power windows and front seat.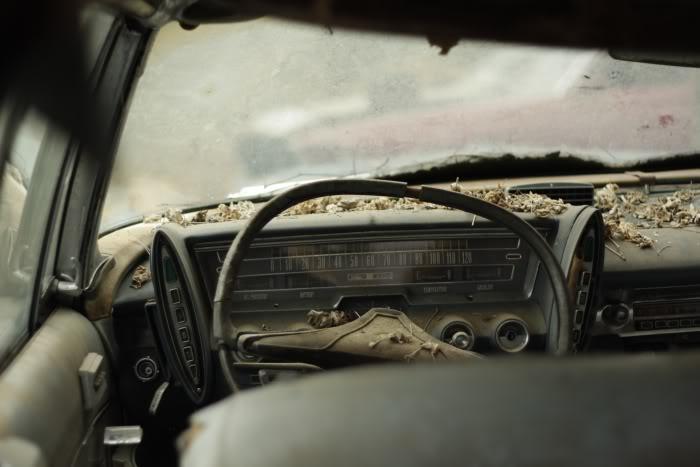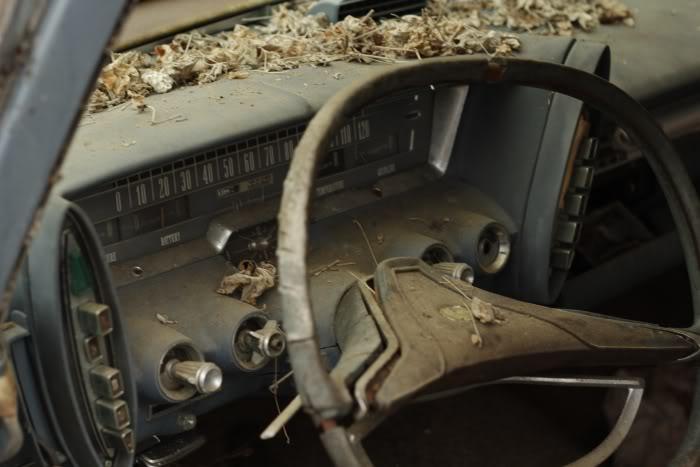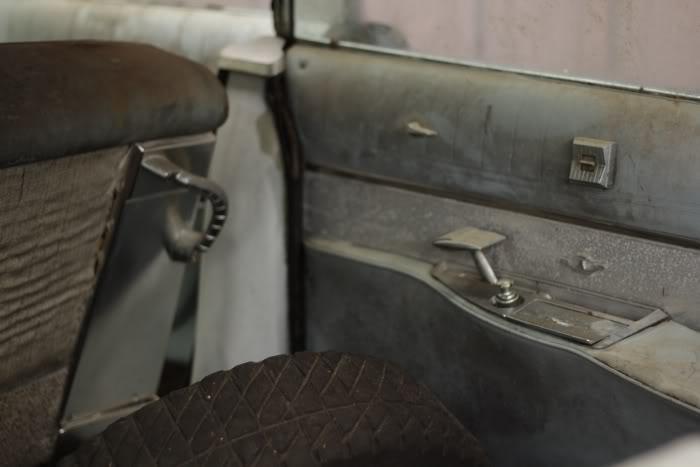 It started raining not long after we got some pictures and assessed our surroundings, so we didn't get to ripping stuff out just yet.
Here are some more snapshots of projects/junk around the shop. My friend's dad is working on a Fairlane gasser at the moment: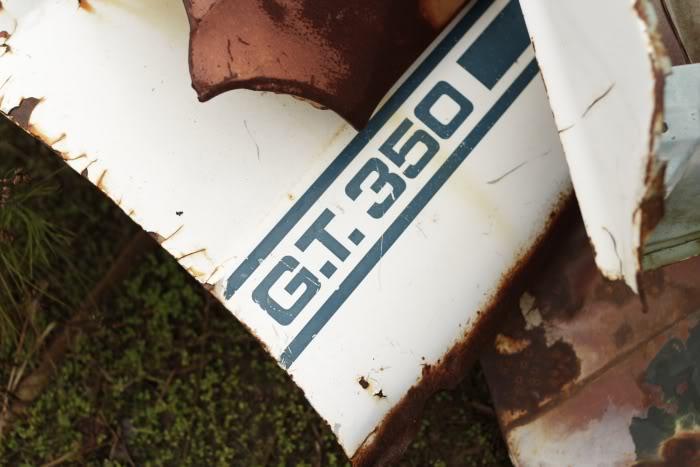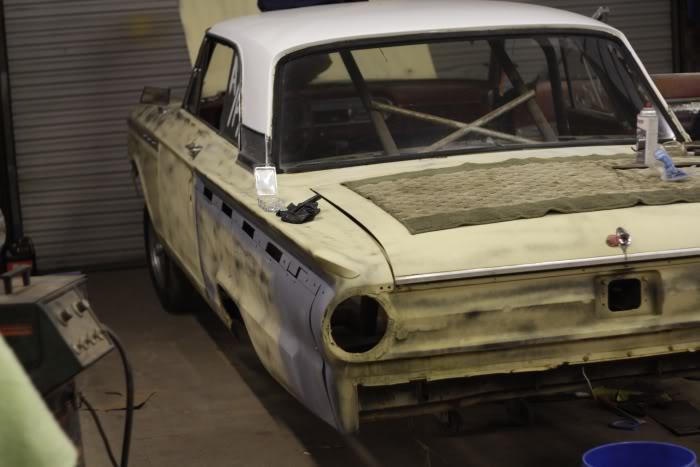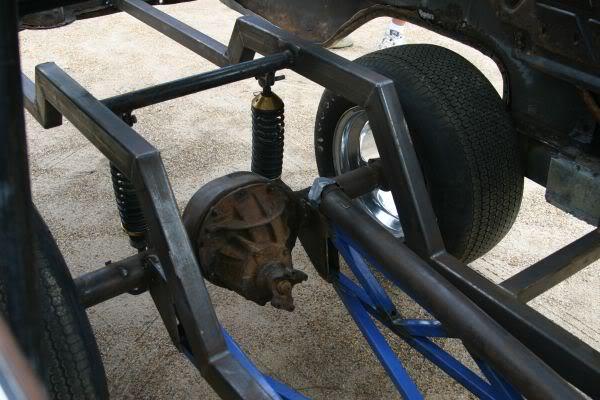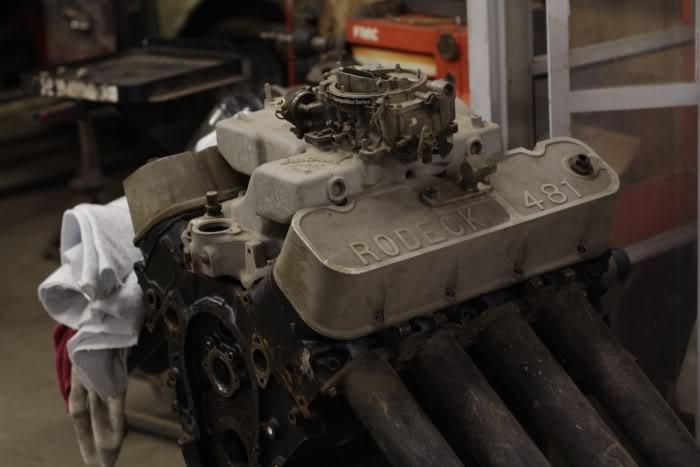 This was one of the reasons a full on restoration many years ago was aborted. They're out there, but few and far between. We're brainstorming a way around it.
Maybe someone will stumble upon this thread with one. Stranger things have happened.

Thankfully the dash doesn't look too bad. The steering wheel isn't very good, though.
The rear floors are completely rusted through. We have some ideas on a creative replacement for them.
The main things we're looking at right now are getting it somewhat cleaned up, getting the motor running, and doing brakes all the way around.
Unfortunately, we are doing this on an extreme budget.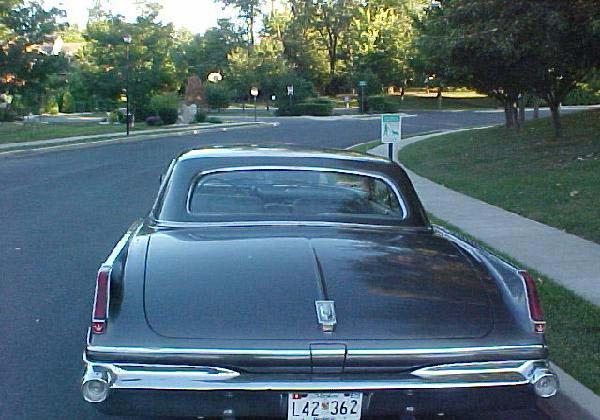 http://www.imperialclub.com/Yr/1963/index.htm
Chrysler made a habit of this sort of backlight differentiation right through the '80's (culminating with the big fiberglass "landau roof" caps on '80's M- and E/K- body New Yorkers). AND YOU CAN TOO. There's a whole variety of luxury cars from the '60's through the '80's that had small, "formal" rear window treatments. Find one that sort of fits in the hole and you could fab something up to fit the roofline.
Thanks for the suggestion. We have considered something along those lines.
We also considered chopping the top.
12-24-2011
Thanks for the input, emmettlodge.
We took a hard look at what we wanted to get into before really putting this project on the table. We would both love to see this thing properly restored to factory specifications, as I'm sure it would be just as much if not more of a head turner than what we will have in a finished product.
My buddy who is really heading the project just finished a proper restoration on his 1970 Mach 1. The car is really beautiful, and the restoration was a quality one. We have the collective knowledge to do a proper restoration, but we're broke musicians. The fact is that his Mach 1 restoration was done "cheaply," but no corners were cut. That ended up taking 7 years to complete. But it was his dream car.
With this project we looked closely at our options. We could have sold the car to someone looking to do a restoration, but this thing is rough. I should have went ahead and uploaded a picture of the rear floorboards. They are completely gone. We haven't yet gotten this on a lift yet to see what the frame looks like as far as rust goes. So would anyone really even buy this car to do a full restoration? Eh.. I don't really think it's that sought after. And as far as sentimental value goes, sure my buddy would have (maybe) had the opportunity to see the car the way his grandpa did 30 years ago when the restoration completed in several years, but where's the fun in that. When it gets down to it, we're not going to sell the car, so it's either build it, or let it sit and die.
Like he stated in my preface, his grandpa was always super supportive of all of his endeavors, and had a quirky way of thinking of things. We both feel like bringing the car back like this is a honorable way to respect his grandfather, and that's what this is all about. He remembers his grandpa in a good light, having fun riding with him to school. So we're going to make a cool cruiser with what we can get our hands on.

The first episode of the video series:
I will continue to add the videos to the original post.
12-26-2011
Ok, so obviously we're going to do a full brake overhaul on the Imperial. 4,800 lbs of rusty metal isn't going to stop itself. Especially after some momentum behind it.
Hopefully we can get a different rear end that we already have under it that already has good brakes on it. After a new master cylinder and front brakes, we should be in the stopping business.



So, who's the sheet metal fabricator and who's the welder? If you guys can do most of that yourselves, the costs can certainly be controlled
We both have some experience in crude fabricating. But, as long as the frame is safe and the floors are safe and patched, we're going to let it ride for now. We like the patina. With our budget, we don't have much of a choice.
We have an interesting idea for the floors.
12-27-2011
That will be the first order of business as far as body work goes.
Our tentative to do list is:
1 - Get the thing cleaned enough to not make a huge mess in the shop on the lift
2 - Roll it in the shop onto the lift to inspect the frame for rust
3 - Get it running (the issue when parked was the distributor)
4 - Brakes
5 - Install new fuel tank or cell (old one is rusted through)
6 - Address floors
7 - Suspension
8 - Address any other major rust
9 - Interior
10 - Details
We've got work to do

Episode 3, showing some more interior detail with the seats out, and some holes in the floors
Cleaned the floors.. Got a few holes..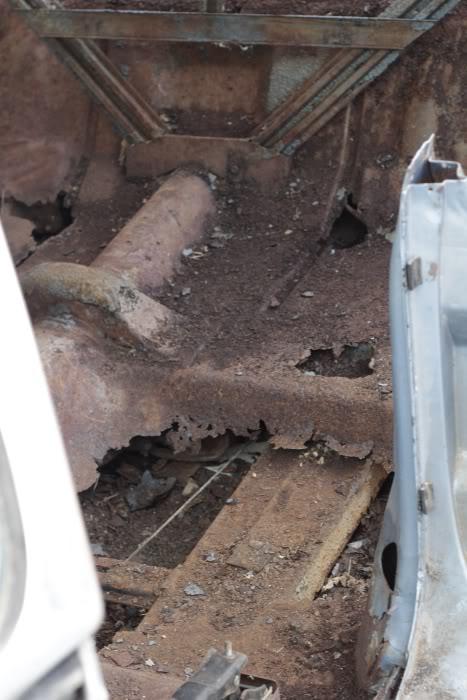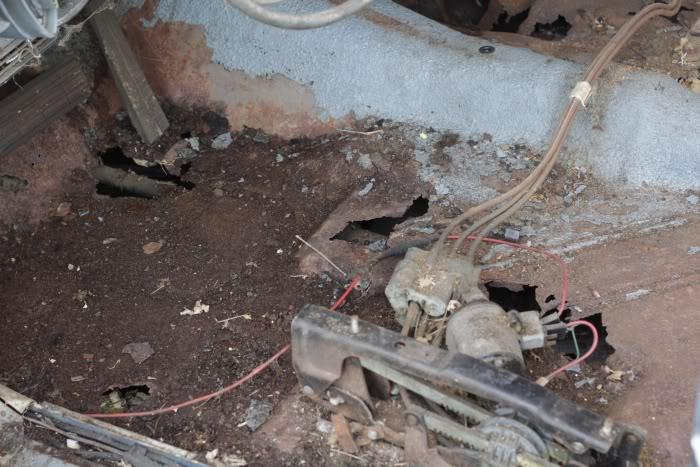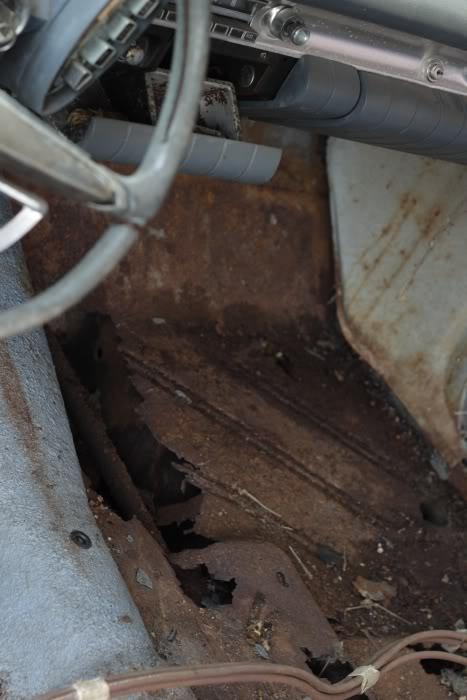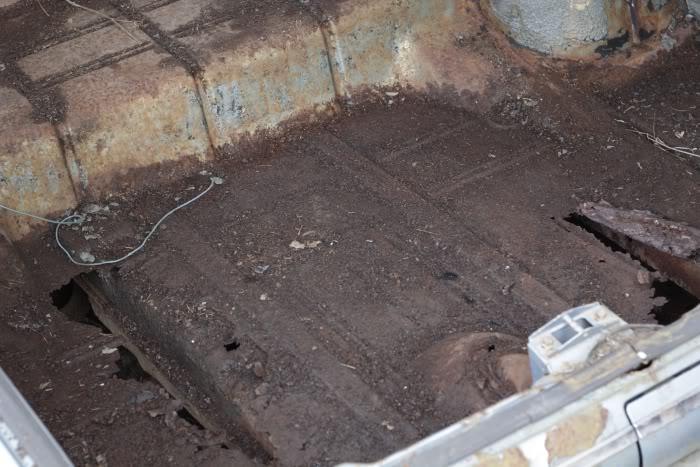 Luckily we have these: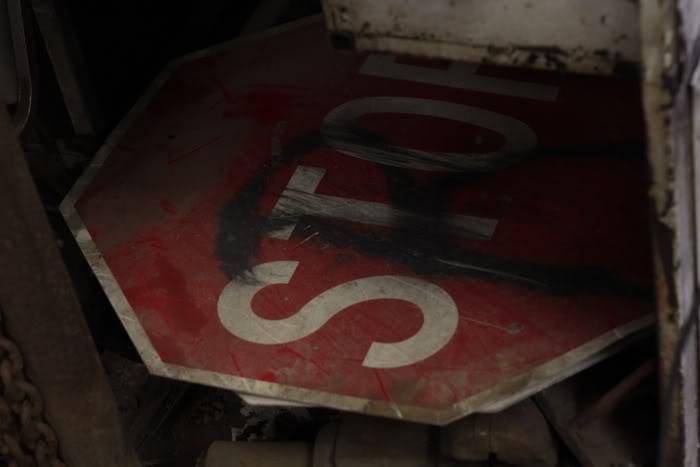 12-28-2011
The rust on the floors is pretty bad, but it honestly doesn't look as bad in person as it does in the pictures. I'd consider it an opportunity, though, as I'm anxious to see how the new flooring is going to look.
If anyone has any suggestions on what they want to see in the videos, let me know and we'll try to include it - I'm the one behind the camera.
12-30-2011
We'll be working on the car sunday, so be looking for an update then.
Until then, a picture of Tommy's '70 Mach 1 built at the shop we're working at, shot at the shop we're working at: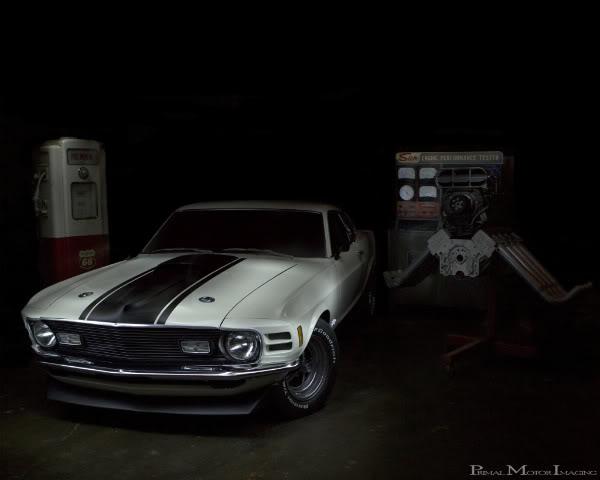 And the shop dog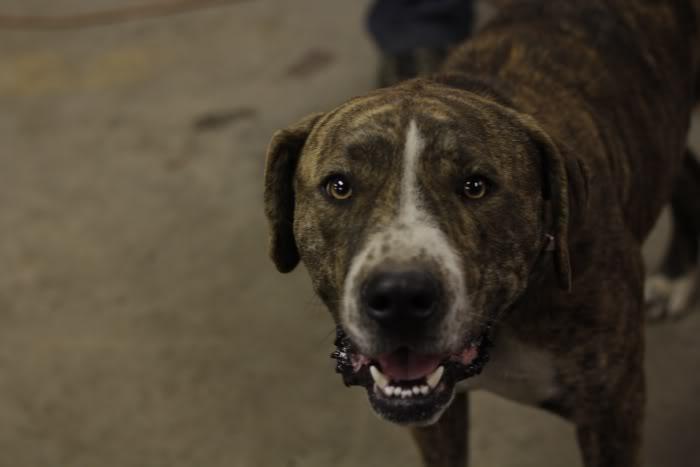 Hey guys, I told you we were looking for a creative way to raise funds for this project. We are both broke musicians (see my signature) who live off day to day income from odd jobs, such as a photography gig here, or a yard cleaning there. That's why we have little to no money to put towards this project.
We are only purchasing the bare essentials needed to make this car run, and to make it safe. This includes brakes, tires, distributor, and miscellaneous things such as fluids.
So we are asking for your help. If you would like to donate to help us get this car on the road, we would be incredibly grateful. If you donate, you'll have a spot on the trunklid of the car for your name, and town (if you would like). The bigger the donation, the bigger your name. We'll also send you a sticker with a graphic of the car and "I built the dinosaur," because truthfully, if you donate, you'll be just as much a part of this project as we are. Tommy explains more in the video below, but here is the link to follow to donate:
http://apps.facebook.com/fundrazr/ac...24c19e7b4d7593
Huh, how about that. I surely didn't know.

I had also read that about the demo derby. Hopefully the same is true of this one, considering how long it has been sitting.
1-1-2012
Ok, so we were supposed to be working on the car today, but we realized we're more broke than we thought.
SOOOO...
If you would like to donate to help see this thing back on the road, visit this link:
We're not trying to steal your money

But our collective income this last year was under $2,500
We'll eventually get it done, but your help would be very very appreciated. Be looking for an update for sure next week.
1-1-2012
PM me with your name, town, and state. We have a good spot for it on the trunk lid.
Yes you are, that car is hopeless without a very large budget.
Our goal is not total restoration. Simply to make it driveable. It'll have some personal flair, and we want to make it fun. If we weren't doing that, it'd rot.
Even if we did have the money for a total restoration, we probably wouldn't. It's not worth that in sentimental value, or monetary value. It would cost a lot more to restore than it is worth.
Check back from week to week, we'll show you some hope

Most people have more money than time, others have more time than money - we're "others," and if we did have money, we probably wouldn't have time to work on this project. Thanks everyone for keeping up.
1-2-2012
Do it, man! If you don't have the money to do a full resto, just do what you have to to get it on the road and safe to drive. You can always do more down the road.
It's looking like another updating will be coming on Thursday.
1-5-2012
Another video update, with more to come tonight..
Also, with the donation we received from a forum member, we bought some parts! More on that to come, too.
Checking out the tires to see if we can get it rolled into the shop, and donated goods!
1-6-2012
Parts!
Ok, to prove that we're not just asking for your money to spend on pizzas and gasoline, we documented the parts that were bought with donation money.
Huge thanks to Lwize, who funded these parts!
1-7-2012
Distributors in! Tomorrow we'll hopefully see if this dinosaur will run!
1-8-2012
Ok, I guess I'm going to call this part 1 of a 2 part update. 2 parts because the latest video is still uploading

So, thanks again to forum member Lwize, we made a lot of progress today. He donated to help us get the bare essentials needed to get this thing back on the road. Me and Tommy are what you would refer to as "poor," but we still like to enjoy automotive projects. You'll see what Lwize did for us in both parts of this update, and we'd love if you would like to do the same! You can go here to do so: http://*******/cEZyf Of course, if you still think we're just stealing your money, sit tight and you'll see what it is going to.

We'll start with pictures.
This morning, this is what we were working with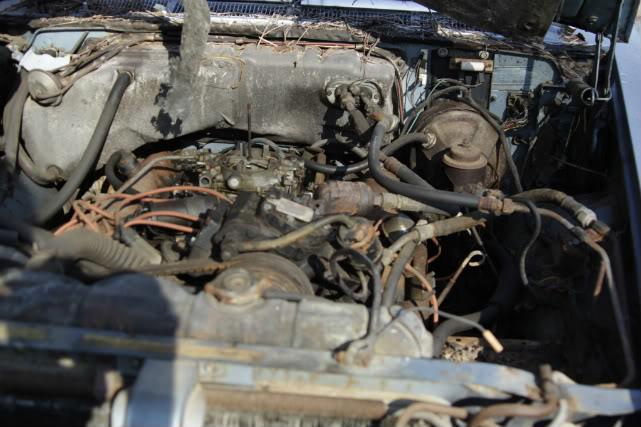 Thanks to the donation mentioned above, we were able to purchase a distributor, distributor cap, rotor, and more. The distributor is what we were working with today. Our goal was to get the motor running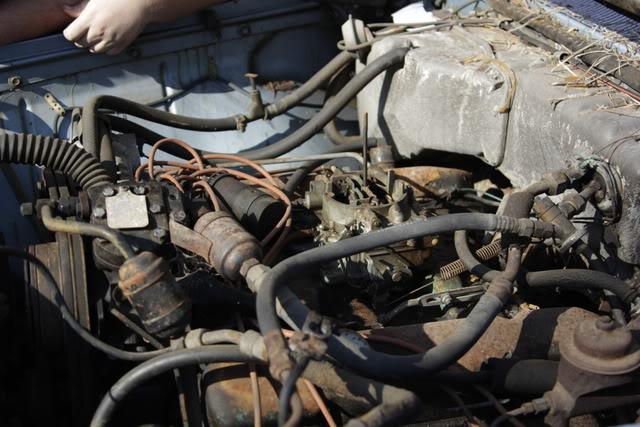 So off with the cap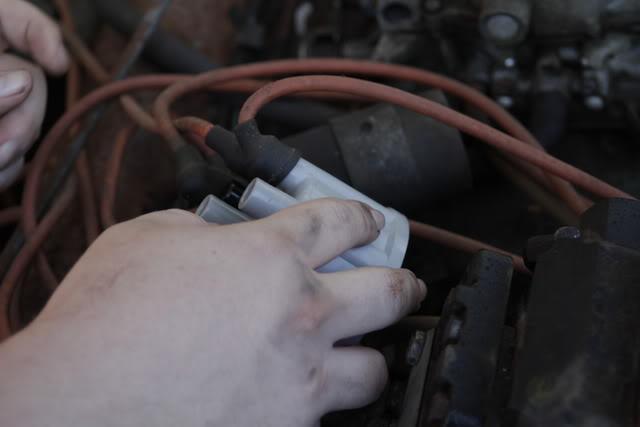 Old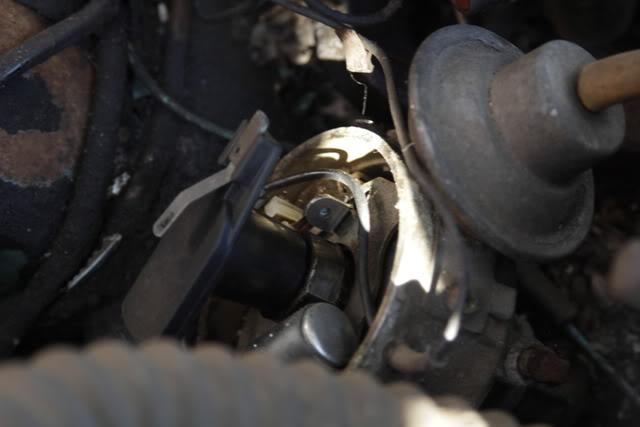 Marking the old for timing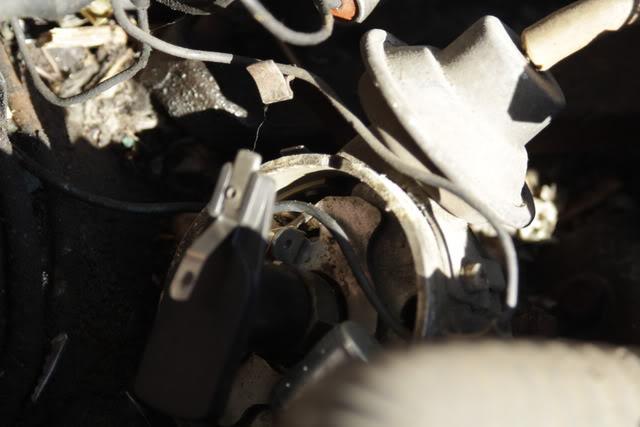 We got distracted for a few minutes throwing aluminum cans to T.J.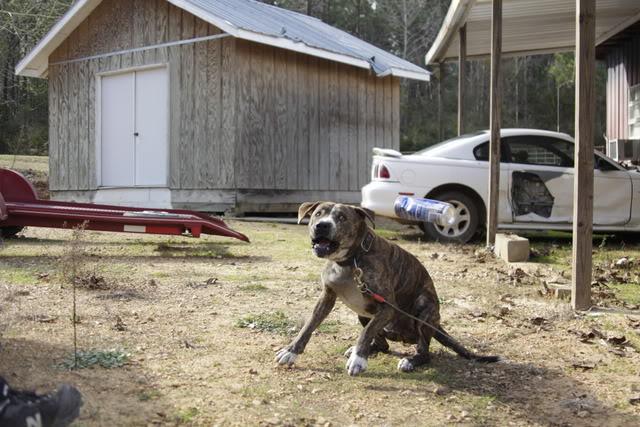 Right, so the new distributor ready to go in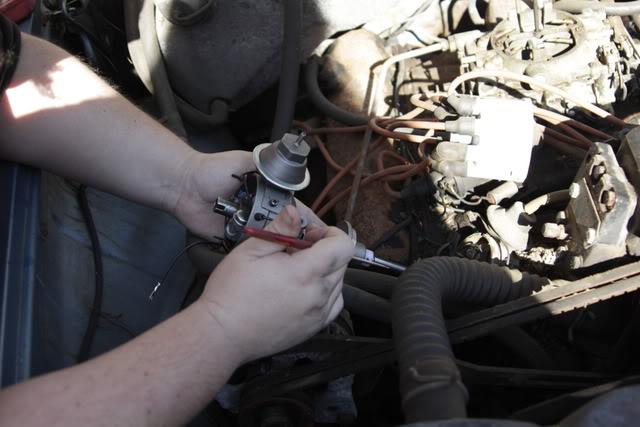 And... In with the new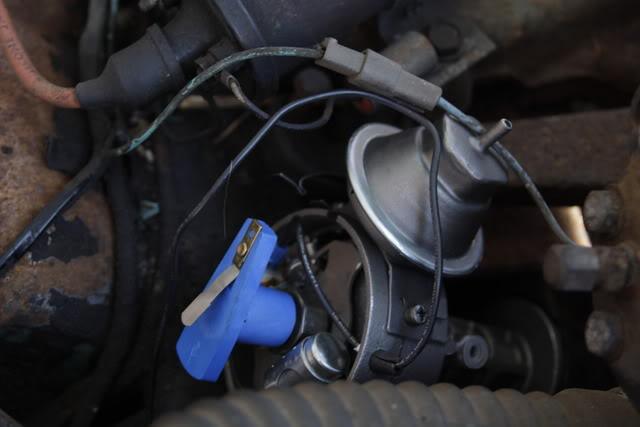 At this point it was time for lunch. We checked the tranny fluid before we left.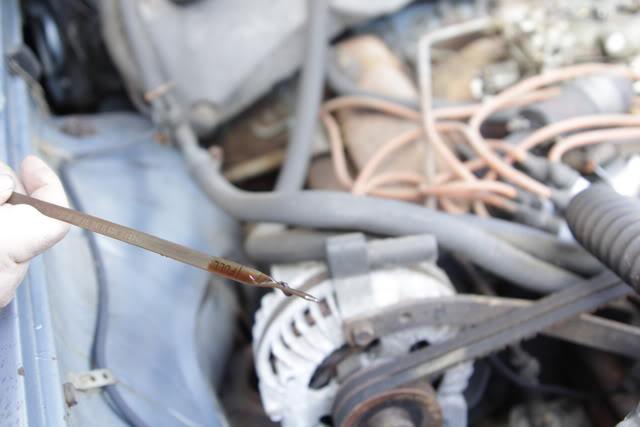 It looked ok, but we still decided to pick some up after lunch since it would need a flush before any real driving. Also pictured, one of the most amazing liquids produced by man.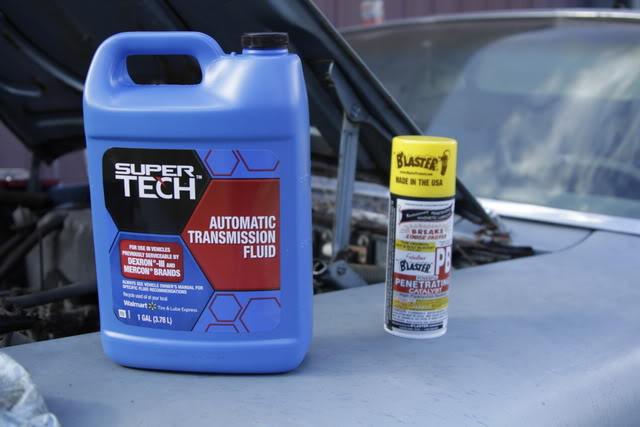 Now, the distributor was the reported cause of problems last time an attempt was made to get it running. So that was our first plan of action. We already made sure the motor would actually turn over, as seen in our first video. Next was to rig an alternate fuel source to the pump since the old tank has gaping holes in it.
Mini cell found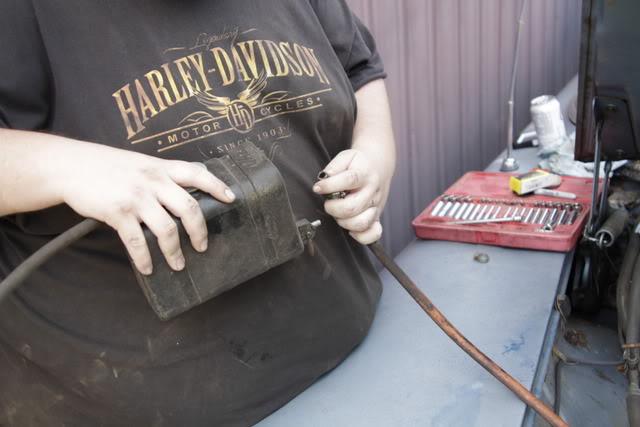 But we got distracted again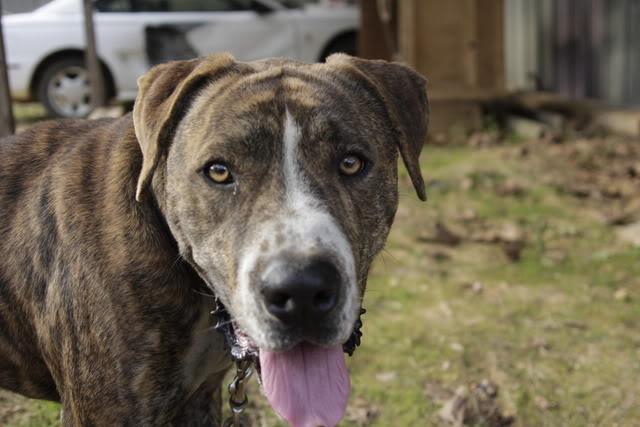 Anyway, Tommy fastened the hose to the fuel pump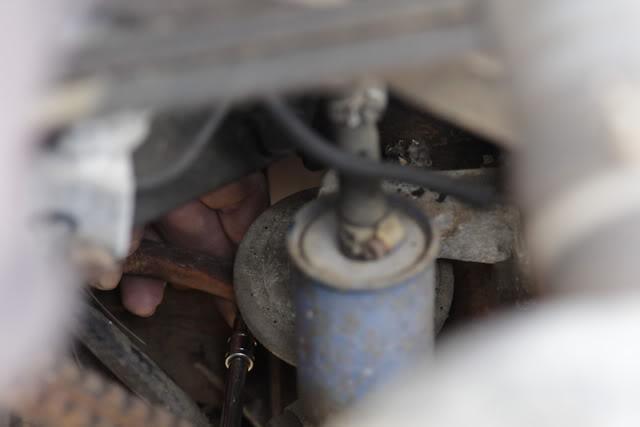 And the cell found a new home on top of the 2 foot gap between grill and radiator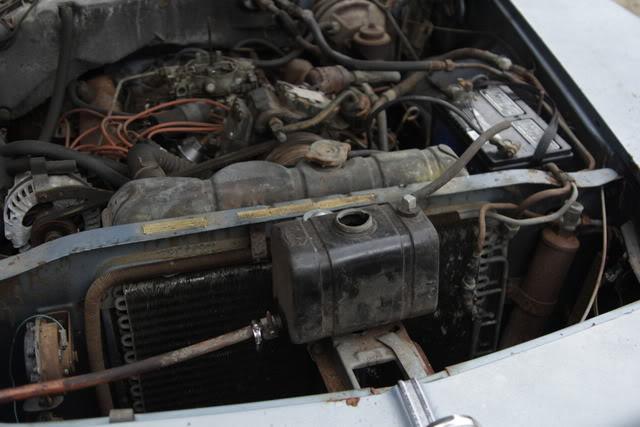 I should take this time to explain Mississippi weather. I know most forum members are not from the far southeast. Today it was in the 70s. 3 days ago it was in the 30s. Today it was not, so when clouds gathered overhead it rained, not snowed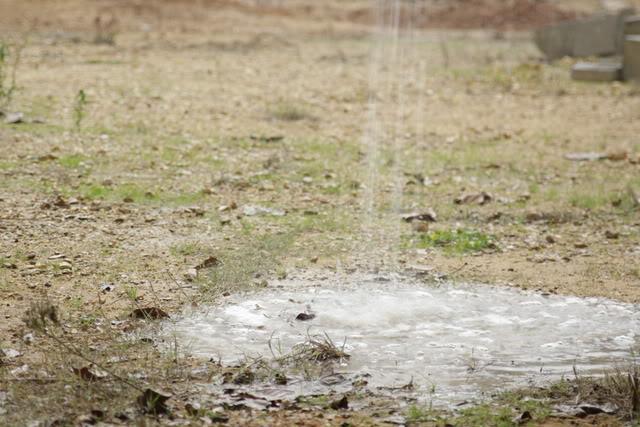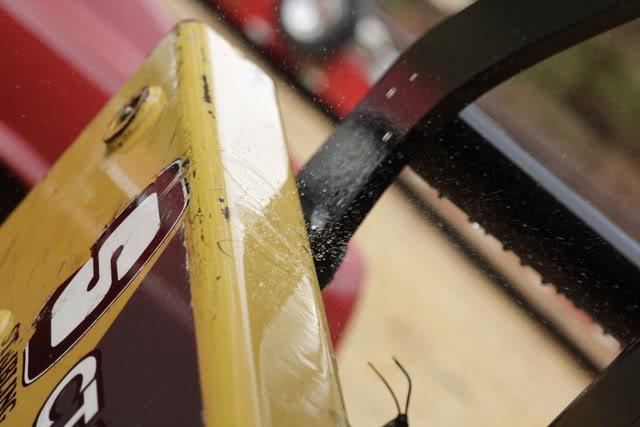 When we got back to it about a half hour later, it was time to try to get it started. THIS THING TURNS OVER UNBELIEVABLY SLOW.
We ended up taking out the plugs and cleaning them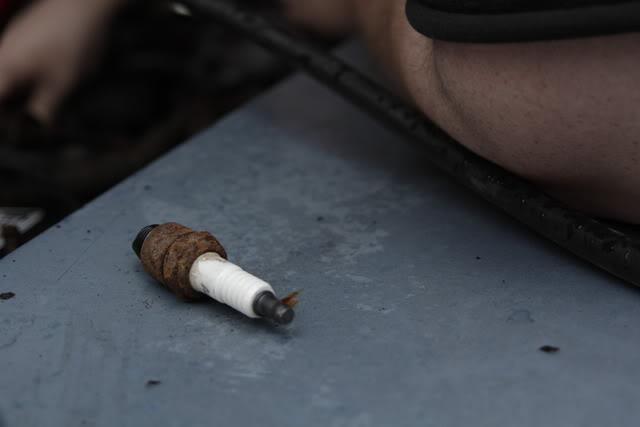 After that....
Well, you'll have to wait for the video. Blame my poor upload speed for the wait.
Broken down a little bit, but not sludge. Our worries were checking the dipstick and the oil level being way above full. That means either water or gas got in. Gas not as big of a deal, but obviously water would have been. Thankfully the oil level read right between the lines. All of the fluids will be flushed, of course, but for starting purposes we just went with what was in there.
I'm actually the guy behind the camera. We survive just fine, though.
Yep, two cycle oil. Just to get everything good and lubed up.
As you can probably tell in the video, we're missing on a cylinder or three, and that 413 is loud. We're really happy that all it took was a distributor, a spark plug cleaning, and 24V of power to get it going. We ran it again today for a while and played with the timing and it's running much smoother. Our next step as far as engine parts go are plugs and wires, though. Hopefully we'll be running on all 8 cylinders then.
There's also a pretty considerable vacuum leak, and of course we shredded a belt so there's that to add to expenses.
So, Lwize got the Dinosaur running! If anyone else cares to donate (here: http://*******/cEZyf), we can get some more needed parts and continue the project!
Next update should come mid next week. Thanks, guys.
1-9-2012



Thanks, hopefully so. We just need some funding to continue on that end of things.
In case anyone missed it in the last post, this is what 6.76 liters of '63 mopar iron sounds like after sitting for 20 years:
Made a quick timing adjustment after letting it run for a while yesterday, here is how it runs now:
To the other two who donated: thank you so very much. It means so much to have support from fellow auto enthusiasts. To clear things up, I'm the guy behind the camera, and Tommy (crunknastyvdubs) is who you're seeing in the videos.
For now, some miscellaneous photos.
This is what we were working on for a couple of hours at the shop Sunday after we found a stopping point on the Imperial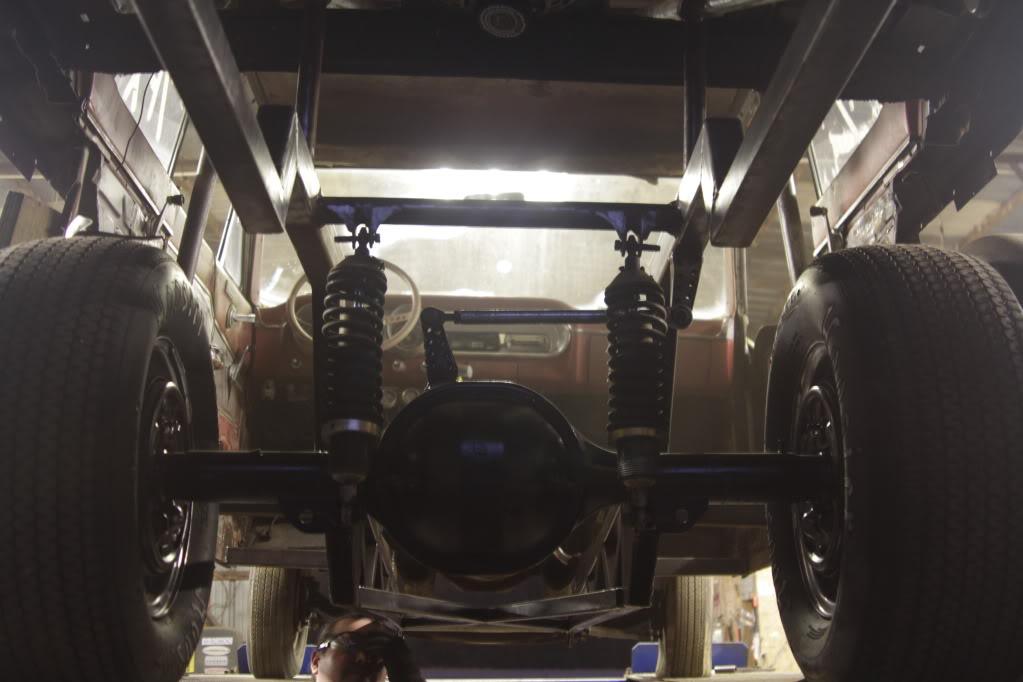 Action shot
Roller wheels that are going on the drivers side of the imperial (hopefully) since the drivers side tires wont really hold air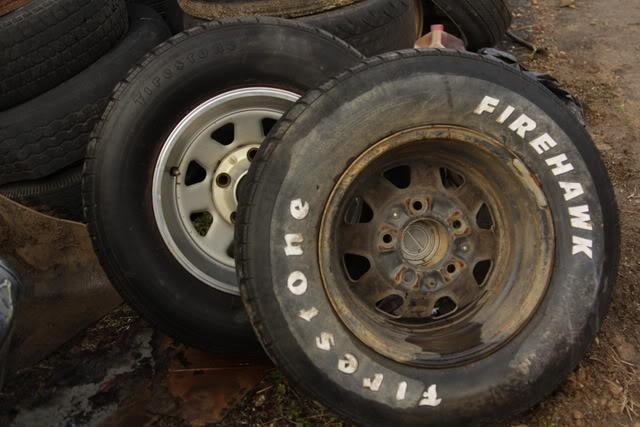 Close up of the carb on the Imperial. We'll be rebuilding it for reliability sake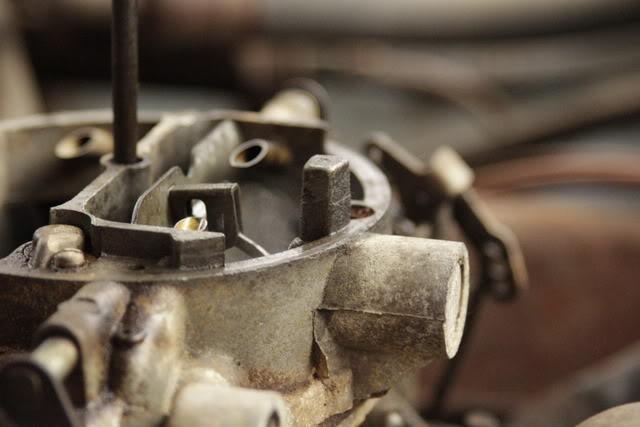 Lil smoke.. Nothing to see here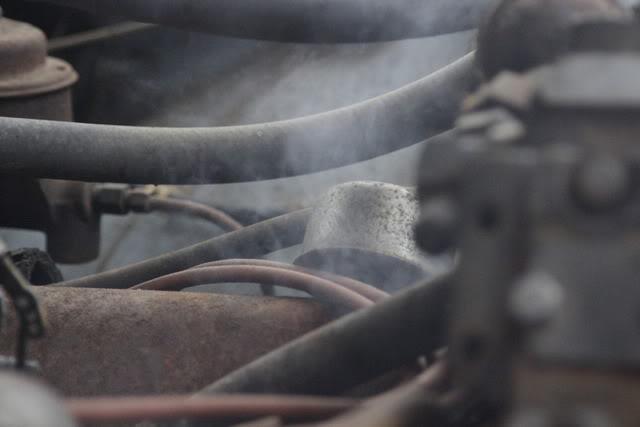 Almost nonexistent at this point haha. As you see in episode 5, it's rusted out at various lengths of the car.
We'll cut it all off first. I think there are some side pipes sitting around somewhere at the shop, so we're most likely going that route.

Possibly a propane flame thrower set up as one of the finishing touches to this project.
Haha, just exceed our donation needs and we'll pass it on.

That's Tommy's dad's gasser project mentioned earlier in the thread. Floors are going in it very soon.
1-10-2012
IM me your name and location if you want it displayed on the trunklid of the car for donating. It'll most likely say "I built this dinosaur" at the top of the trunklid, and the names and locations of those who donated under the title.
1-13-2012
Right, so like Tommy said, we got the wheels swapped on the drivers side so we can make this thing roll.
Sure enough, reverse threads on the driver's side.
They soaked in PB Blaster for a few days, and came right off with a little impact action.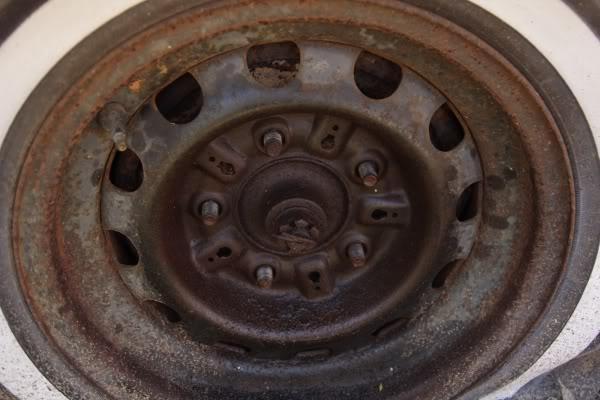 Back one on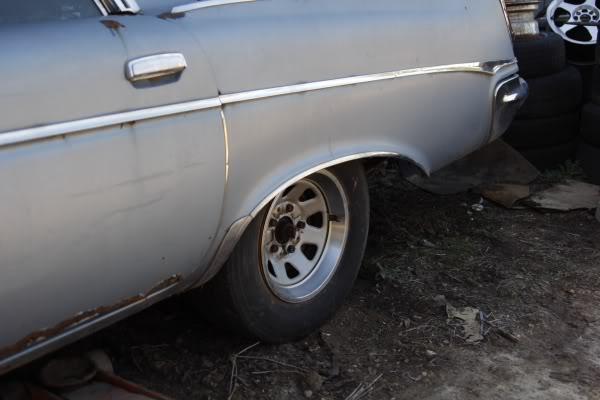 And front on. In true demo derby style.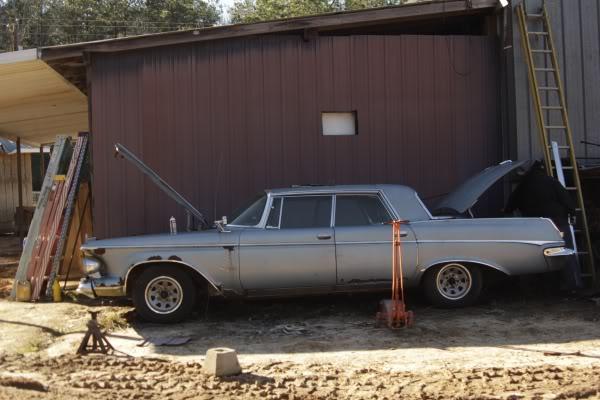 1-17-2012
Unfortunately we didn't find anything we could use at the swap meet, so donation money is most likely going into spark plugs and wires this week.
1-19-2012
Thanks everyone, we appreciate the support very much.
A short to do list for the next month:
-Floors
-Brakes
-Try to swap the rearend
-Exhaust
After that, we will be very close to having it moving.
1-20-2012
Well, what do we have here?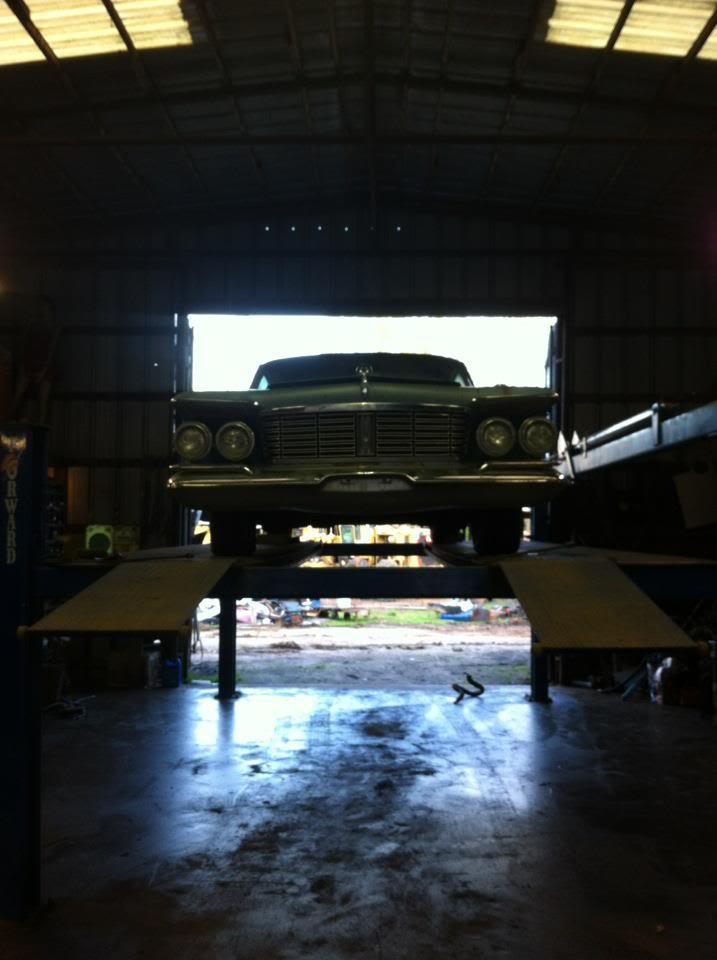 1-21-2012
You've seen our initial assessment, you've seen us rip the interior out, you've seen the beast start for the first time in 15 years, and you've seen it drive under its own power into our shop.
Now you get to see drum brakes the size of some VW wheels.

When we arrived this morning, this is how she sat: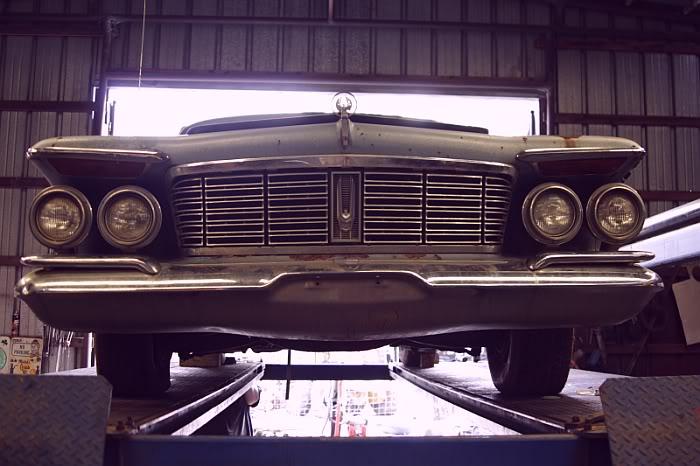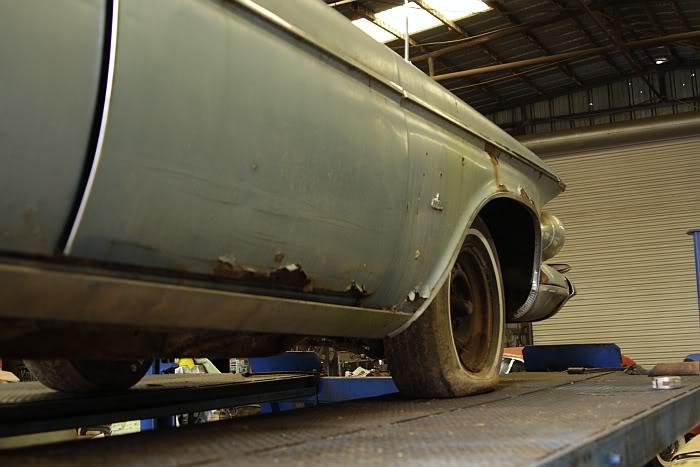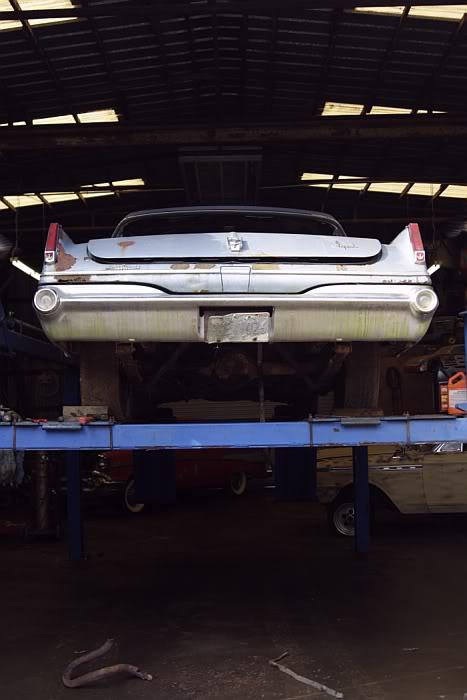 This was the first time I actually had the chance to take a look under it, so I was impressed with the condition of the [massive] frame. Yeah, yeah, the floors are kinda rusty. We'll get there eventually.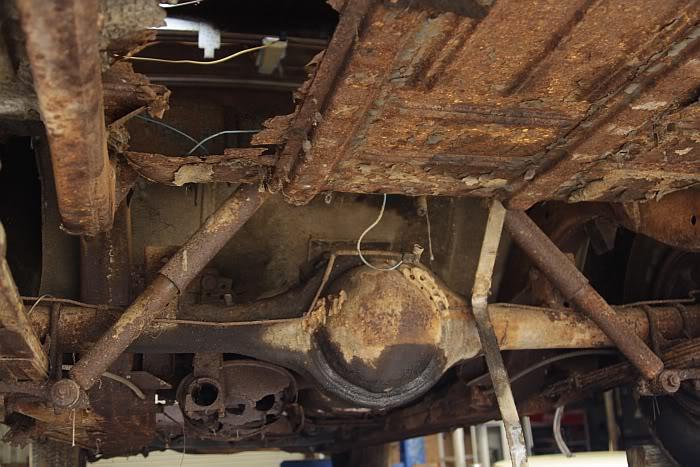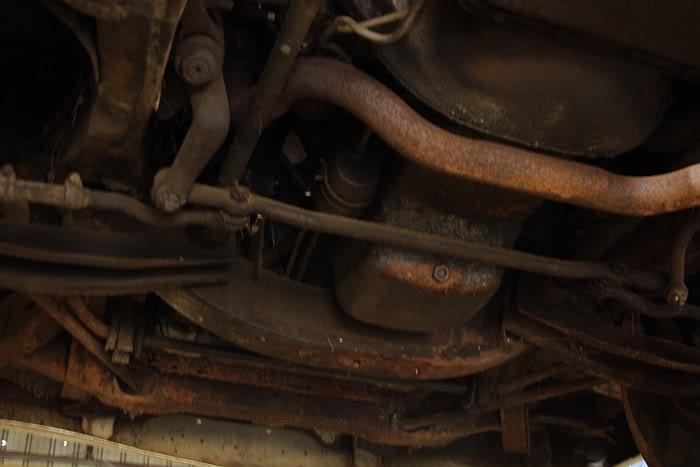 Now, as mentioned in the video that I'll be posting shortly, we're at a cross roads on what to do about wheels/tires and a rear end. The rear end that is in it seems to be ok, but we have word that the rear drums are a nightmare to get off, even with the special tool needed - that we don't have. We also don't have tires to put on the old steelies. That is one of the most major expenses.
We do have the option of using the steelies and whitewall tires off of Tommy's dad's '57 Chevy, though (given that we can find him 2 Cragars at a swap meet. The rear end we were hoping to use (to avoid the rear brake drum issue) was from an older Ford truck, with the same bolt pattern, but it's 59 inches wide. The stock one is 55 inches. So we'd have some poke from that rear end, and adding the needed adapters for the Chevy's bolt pattern would put us too far out. Another option we had was a 53 inch width rear end with the same bolt pattern as stock, but we'd have to use the adapters for the Chevy wheels again which would put the rear wheels close to the same, and the fronts farther out.

So we're back around to thinking we'll use the stock rear end, figure out how to get those drums off the rear so we can do brakes, and use the adapters to use the '57s wheels and tires. So after the wheel adapters, and finding Tommy's dad a couple of new wheels, we'll be out around $200.
Now I feel confused. I think I got all of that right.
'57 Chevy steelies - they'd be black before going on the Imperial.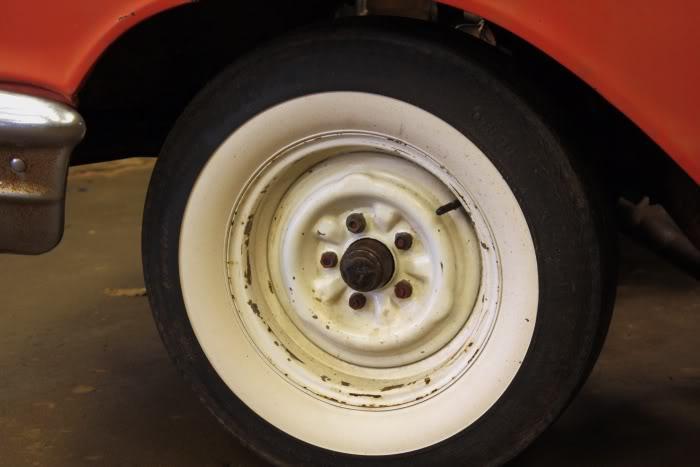 And the car in question. A 427 is going in pretty soon.
Now on to the work.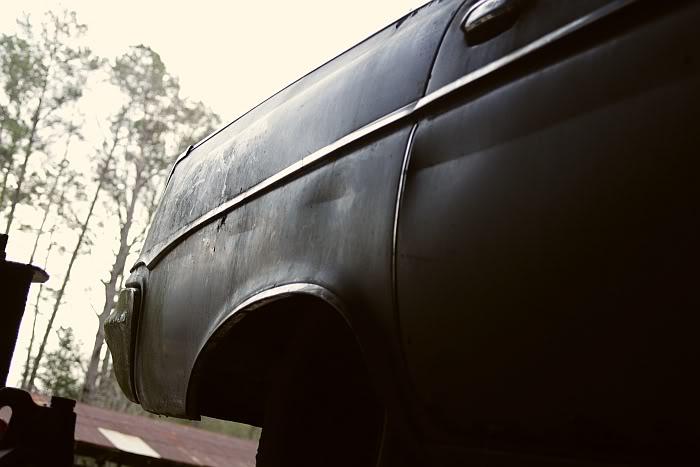 Cut the junk exhaust off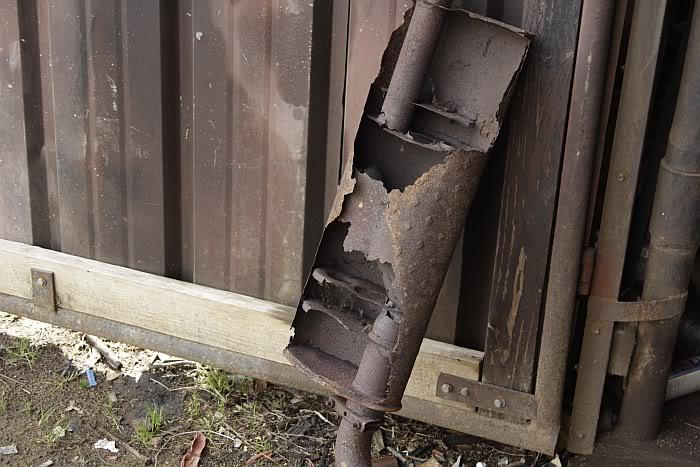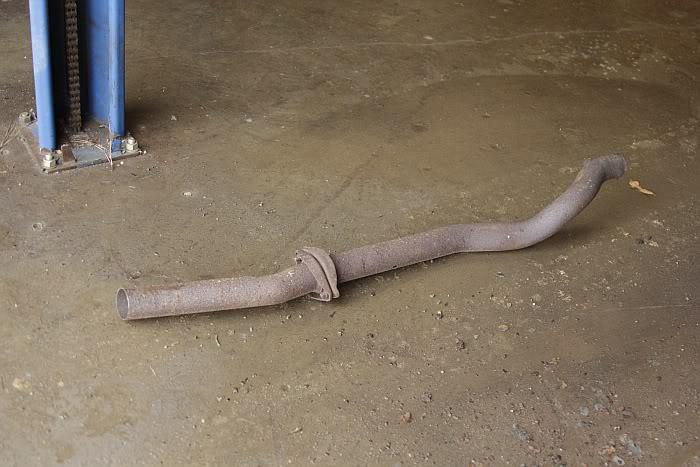 And brakes.. I told you they were huge. The driver's side was a pain to get off.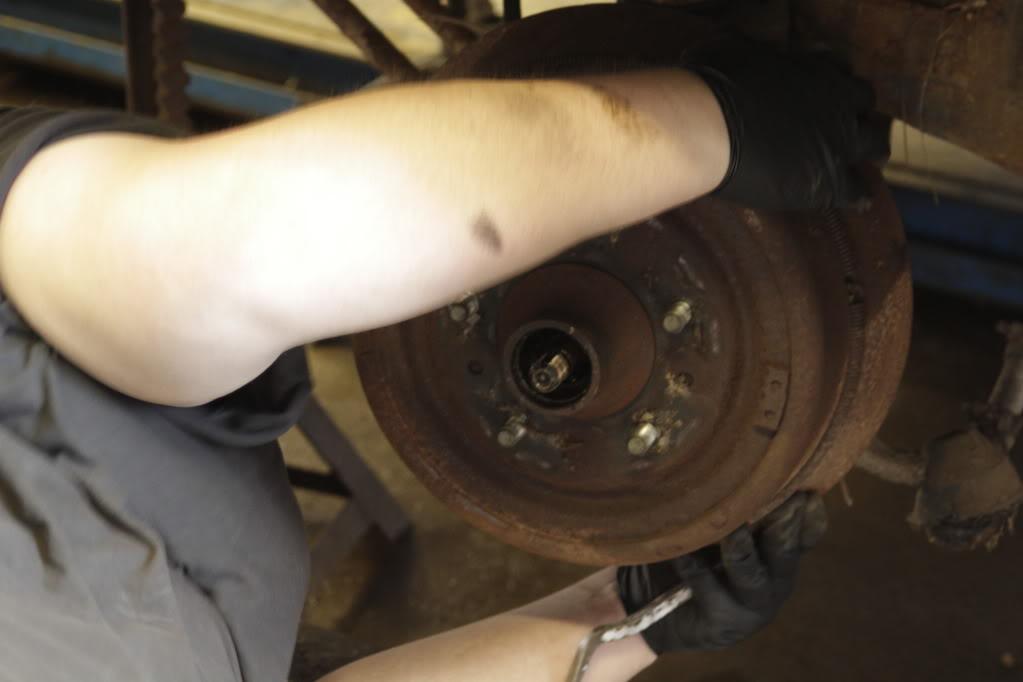 Accumulation of parts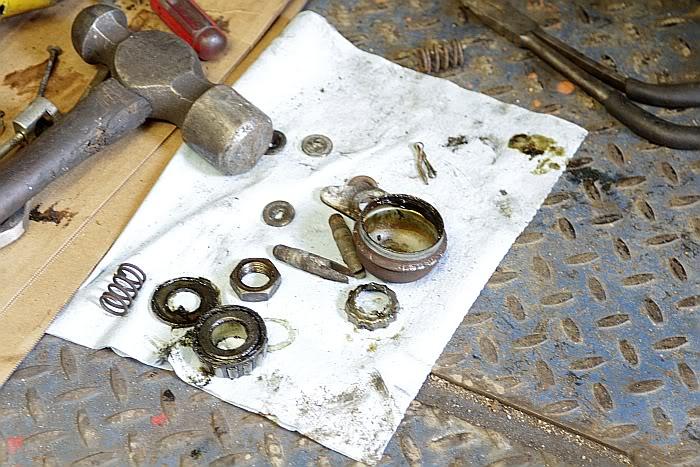 Since the bolts to the wheel cylinder were a pain to get to, we just decided to take the whole backing plate off.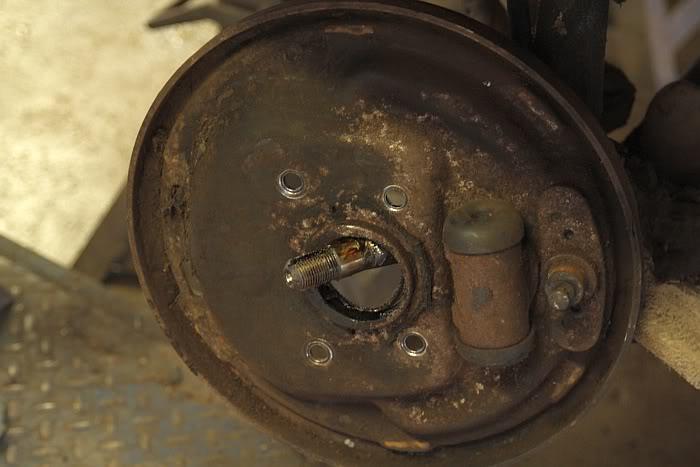 After which we determined that the brake lines that we ordered were boxed wrong. Oh, well, that's part of it.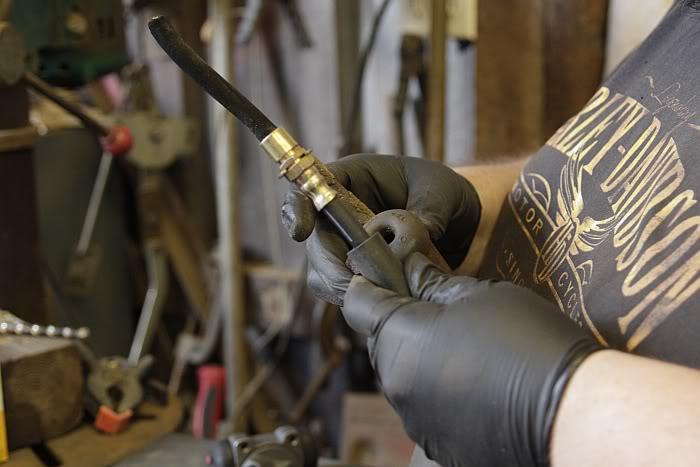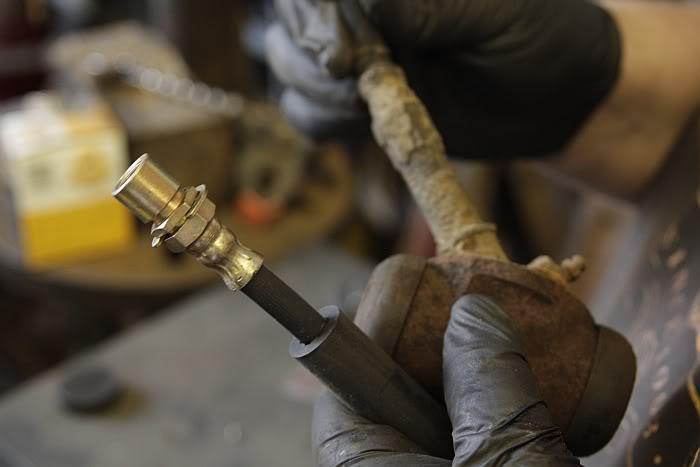 Paint for the backing plate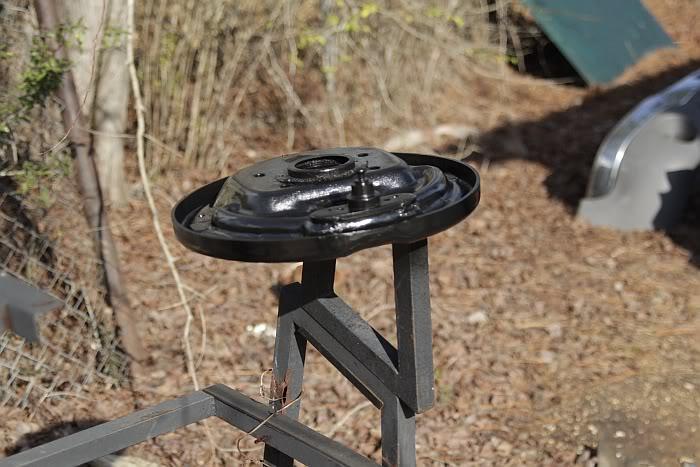 Wheel cylinder back on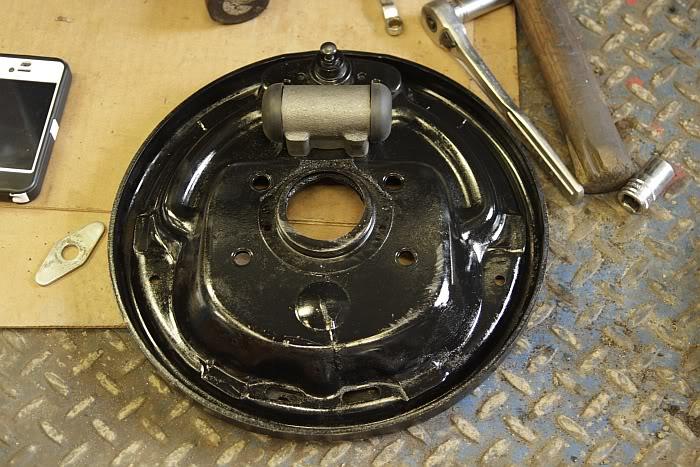 Some more assembly, and they were like new.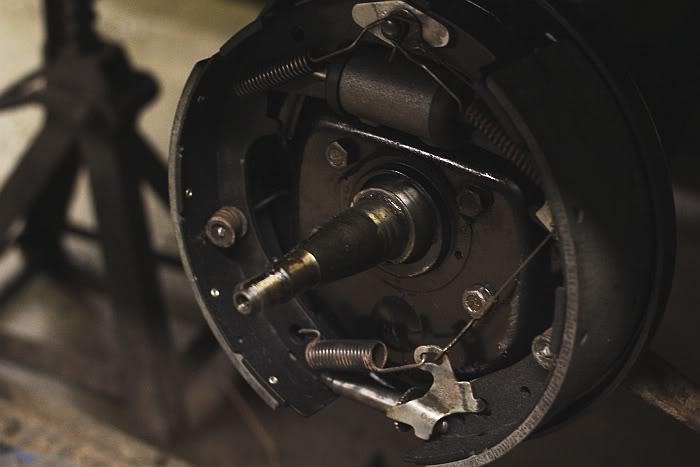 Now that you might see our financial dilemma for the project (hey, it's a real dilemma, people!), think about donating. Hopefully we've proved that we're not spending your money to smoke dope or buy lottery tickets. We're raising this thing back from the dead.
Here's the link to donate. We're about $130-150 away from wheels and tires. http://*******/cEZyf
Thanks everyone!
Sorry, video coming probably tomorrow. Has internet issues.

I should have been more clear in my post - the wheel cylinders and brake shoes were new. That's what some of the donation money went to. Everything else got some cleaning via the bench grinder, and the backing plate got cleaned up in about 15 minutes and sprayed on both sides with some high temp engine enamel.
1-23-2012
We thought about that, but the original steelies are 15s, and the whitewalls on the Chevy steelies are 14s. The old F150 steelies we have on there are just so darn ugly, and the tires are huge. The look we're going for is too subtle in the wheel and tire department to accommodate big honkin' trunk tires.
Another problem is that whitewall tires are so expensive. We could make our own, but we'd have to find the same brand raised white letter tires. 4 tires with those specifications are going to be hard to come by for anywhere close to $200. Unless you guys can prove us wrong (and we hope you can!). Like we've said before - this is extreme budget status. We're determined to keep this project total under $1,000. We're doing pretty good so far. It's running and has front brakes for $100.
That's just one of the style elements we're not wanting to budge on much - old school black steelies and whitewall tires. It's going to give the car just the right amount of "rat."

Floors are probably coming up next weekend. Stay tuned!

1-25-2012
Thankfully that was not the case

.
The floor (and a couple of other areas) of this car might be pretty rusty, be she's tough, and with our help, still has a lot of life left in her.
We're hoping to get the old floors cut out tomorrow.

2-2-2012
Progress has been pretty slow the last two weeks due to busy schedules, but we have started on the floors.
The pictures are kind of sparse, but the video will be much more detailed to show you how we did what we did and why we did it. Whew.
Before we could do anything else we had to get these monster power seat brackets off of the floors.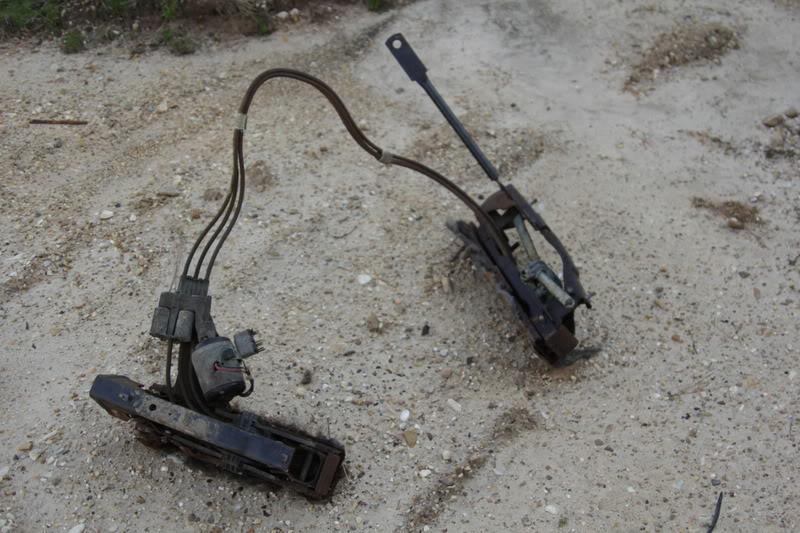 Out and ready for cardboard test fitting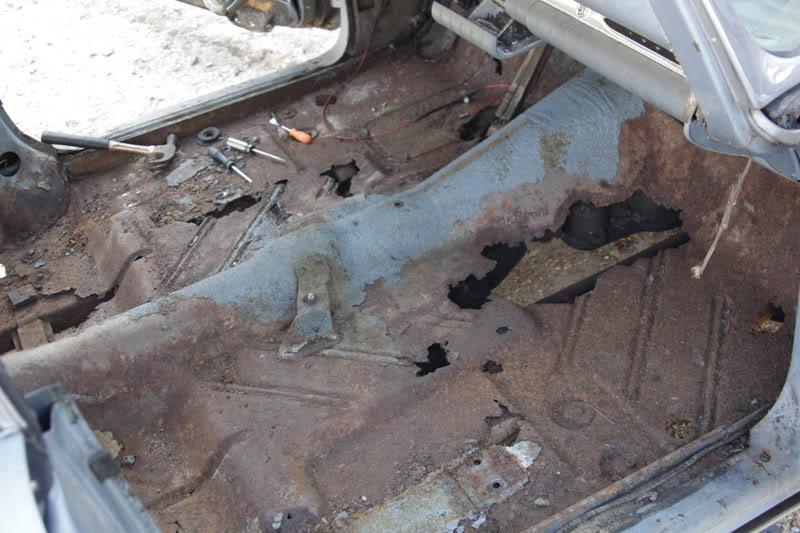 Measure twice, cut twice... Right??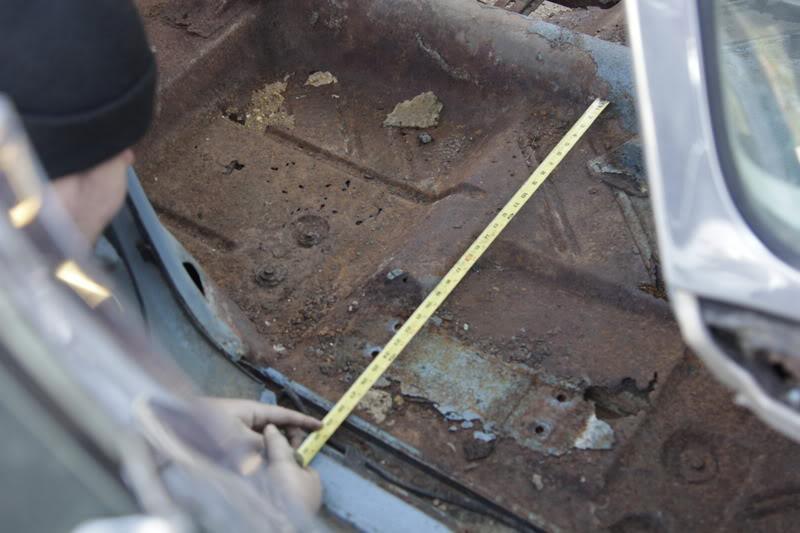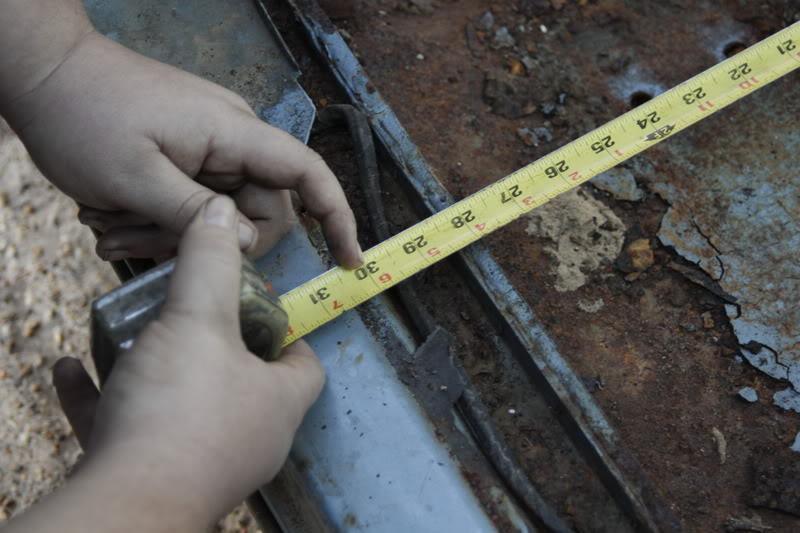 Cuttin' board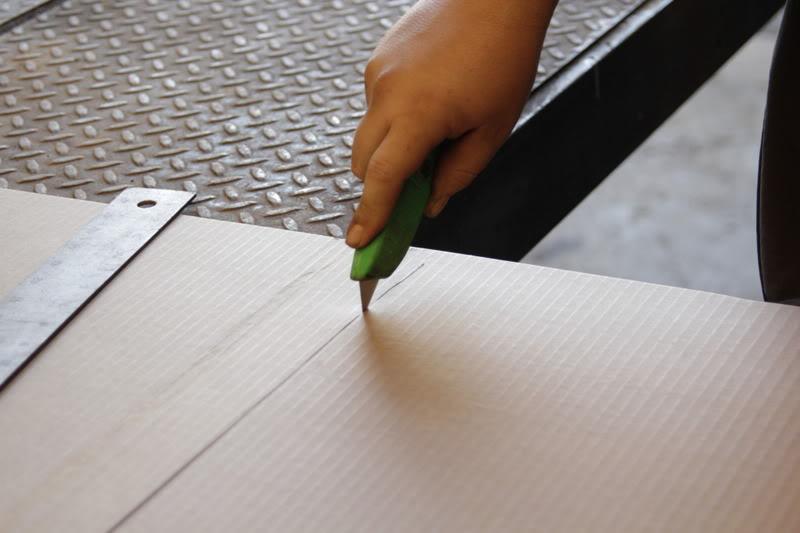 After the test fitting was done with the cardboard, we started cutting out some of the old floor. This is as far as we got, though, due to lack of availability of our plasma cutter. Hopefully they'll be completely out this weekend!
Oh, and pretty much unrelated, but here is the last shot of my VW before I sold it this week.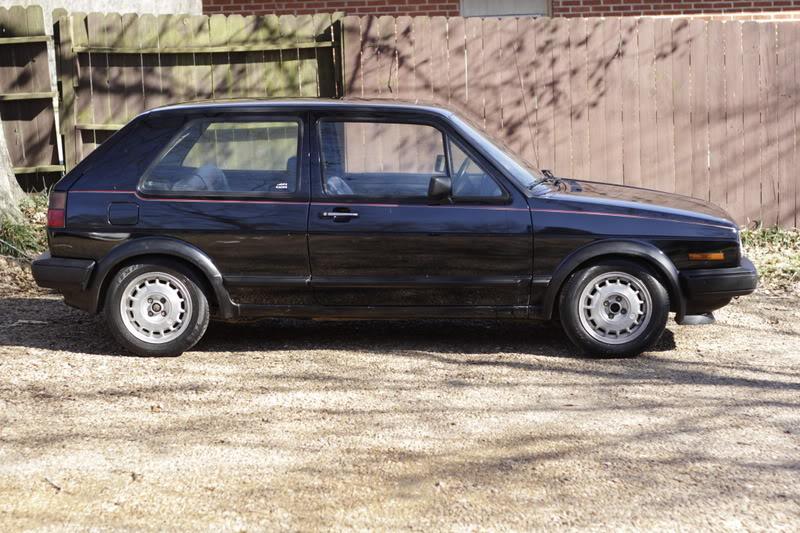 2-3-2012
Haha it's pretty rough, right? Hopefully by the end of this we can give people a good look at how if you have a few tools, you can do basic floor work, too. Ours won't be very pretty, but it'll be functional and that's first priority.
2-13-2012
Sorry everyone, work on it has been slow. We're pretty much halfway done with floors, but are stuck on it financially. We're waiting on more donations so that we can keep going.
Thanks for keeping up!

Woo, TCL coming through again! Another anonymous donation that will hopefully get us enough to have a wheel and tire setup.


We're pretty excited to be almost halfway to our $600 goal. If you have some income tax money you wanna let go of, you can donate here: http://apps.facebook.com/fundrazr/ac...24c19e7b4d7593
Thanks again, everyone!
3-25-2012
wow, it has been a while since a real update. I'm going back to school and Claude has been really busy with the band.
So, although I don't have any pictures to show for it, we made a tiny bit of progress today, in almost getting the rest of the flooring out of the Imperial. Hopefully about another hour's worth of cutting and we'll have it out. After that we have a transmission line to replace, and brake lines to bend and put in place before new floors go in.

6-28-2012
Just to let everyone know, we're not dead, and we haven't abandoned the project. Me and Claude have both had a lot going on lately. He just got back from a month tour, I'm getting things squared away to get married in a few months. Such is the life of projects!
Thanks again to everyone for the very kind donations, we'll continue onward as soon as we have a good couple of free days.
9-5-2012
Hey, guys.
As you have seen from crunknastyvdubs' posts, we've got a deadline to have this thing at it's first show, and it's soon. Sorry for my lack of involvement the last week or so. For some reason after we got our cable internet back after Isaac, I've lost access to vwvortex and it's sister sites. Anyone know of a fix?
9-6-2012
The lowering blocks for the rear have been ordered and should be in by the end of the day.
Hopefully everything will start coming together this weekend.
9-7-2012
Big weekend planned.
Wheels, tires, suspension, oh my!
9-10-2012
Plastic over the back "seat" is the current plan.
No, seriously. That glass is nearly impossible to find. The last one we found was several hundred dollars and a couple of states away, and we don't have that kind of cash... Unless someone wants to dump a huge donation on us.

I'm pretty confident we'll have it running, steering, and stopping by the 22nd. Our biggest concern right now is the leaky transmission, which we haven't tracked down the source to yet.
If we can seal that up, it should make its zombie maiden voyage before the end of the month.
9-11-2012
We finally managed to get the final stubborn tire mounted with the lighter fluid trick. It seems to be holding fine so far.
This upcoming weekend is the big one.
We have to:
-Run brake lines
-Bleed brakes
-Mount fuel cell
-Run fuel line
-Change out belts
-Put a new seal on the transmission
-Weld in floors
-Change oil
-Mount seats
-Suspension
Yikes. That looks like a lot more writing it down than in my mind.
9-12-2012
2ish. crunknastyvdubs is the main force driving it, I'm involved heavily on weekends, and his dad is in and out. He helped mount the stubborn tire. Sometimes experience>youthful strong back.
We'll try to get some more video soon. We've both been crazy busy between personal doings, and this, so video editing hasn't been possible lately. I work part time to pay for gas to attend school full time, intern at a hospital part time, and getting married in 8 weeks. He's always got a pile of things to do for his band (right now getting a 2007 Mustang prepped to sell for money towards a new tour vehicle).
Regardless, we're determined to finish before the 22nd. Hopefully we don't run out of money before then. I feel lame doing this again, but if anyone would like to donate a couple bucks to go towards belts, transmission seals, plugs, wires, fluids, filters, brake and fuel lines, and miscellaneous items, here's the link:
Remember, you'll get your name painted on the trunklid for all to see. So when someone asks us, "hey, who is Lwize?" We'll say, "he's from the internet."
But seriously, I'm excited to get reactions from people, especially when they find out "total" strangers from the internet helped pull the project together. It's going to be awesome.
9-13-2012
I sent you a PM.
If we can get a solid quote on shipping and get a few more donations to cover the shipping cost, we'll be all over that.
Although, even though that is a great find, it's still minor on our list of immediate needs, which is where our previous collected funds will be directed to first. We'll cross our fingers.
Valid points, but the big problem is shipping. I don't know any one in San Diego or even somewhat close that could go pick it up and prep it for shipping to us. We're across the country in Mississippi. The other big problem is cost. We have the fundraiser going because we can't afford this project on our own, and we have about another $300 dollars in expenses to go, so $250 for a back glass doesn't make the most sense right now considering we're not completely sure the transmission is going to hold up.
Now, if anyone feels so compelled to get us that back glass, let me know!
9-16-2012
Whew, what a weekend. When we started Saturday night, this is what we were looking at: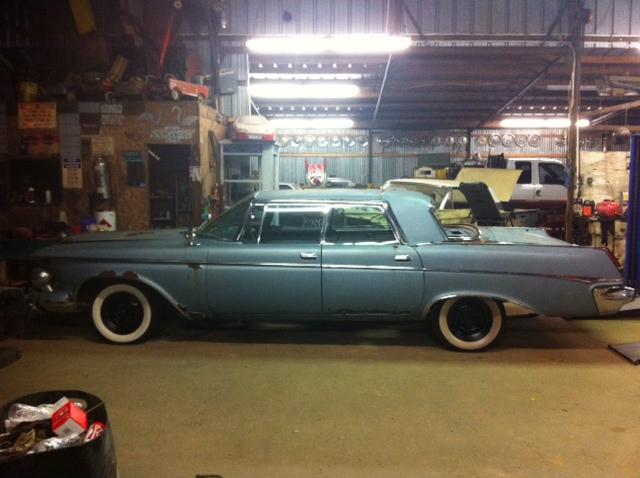 We're happy with the wheels and tires, but Saturday was lowering day. We bought a standard 4 inch block kit for the rear: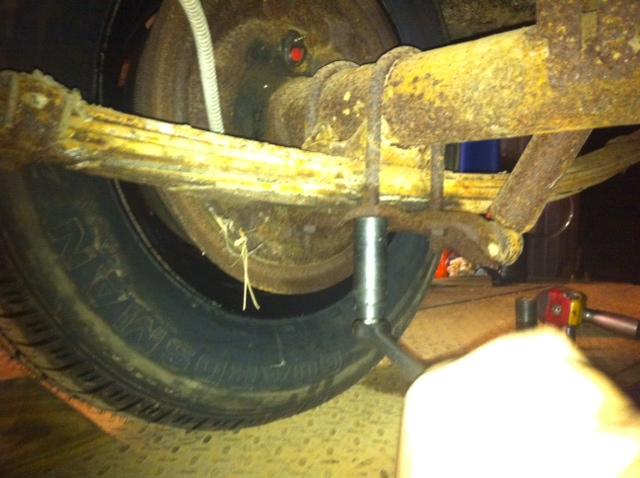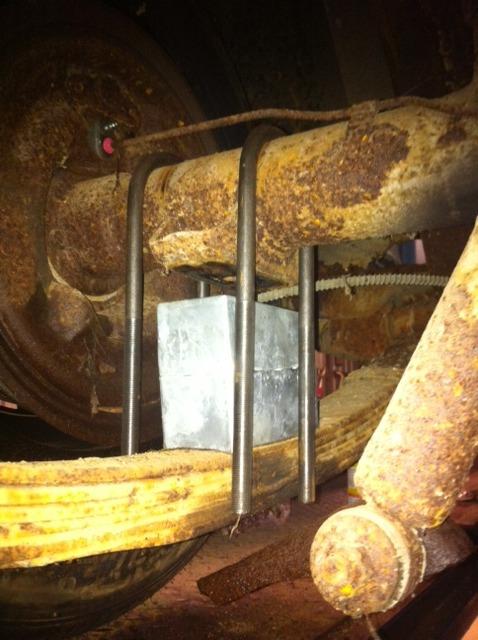 We ended up having to put a jack under the rear end to tilt everything enough to have it match up correctly. After some wrestling with it, it settled: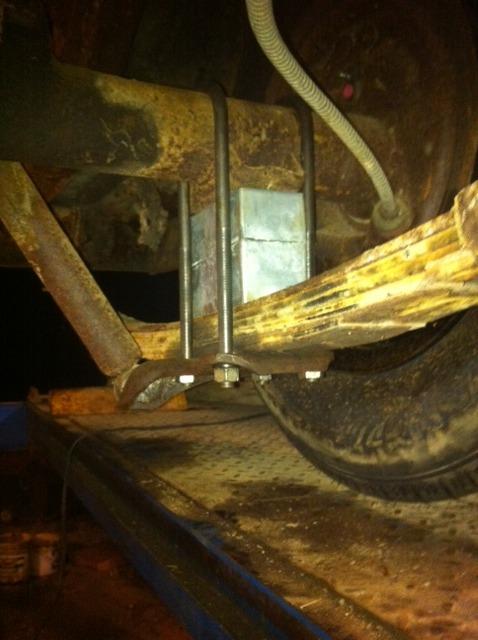 BTW, 80lbs takes a little muscle to torque to. So the rear was down. It took probably 1.5 hours total to get it all straight: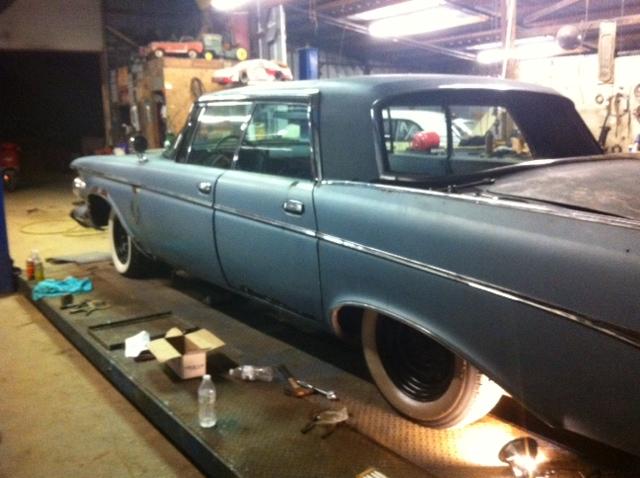 I hate that we didn't get any pictures of the clearance. We had probably 4 inches to the bottom of the U bolts.
The fronts are a torsion bar set up. And wow, it is incredibly easy to adjust ride height on this thing. With tall jack stands under the front to take the load off, it took probably all of 10 minutes to drop it 4 inches: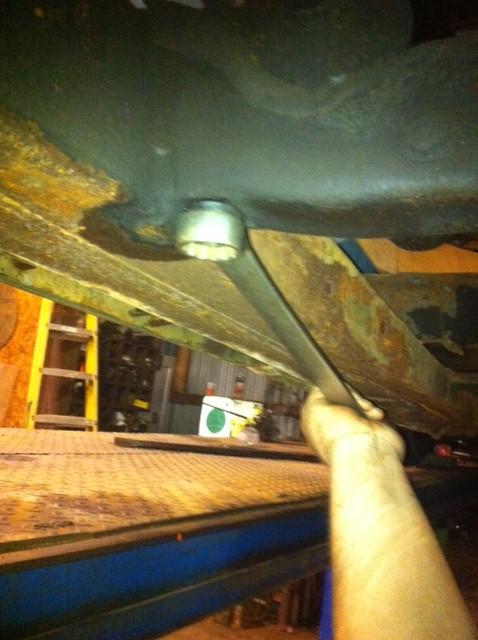 We were a little concerned we bar might just fly off and impale the adjuster (Tommy). But it didn't, we're alive. So here we are: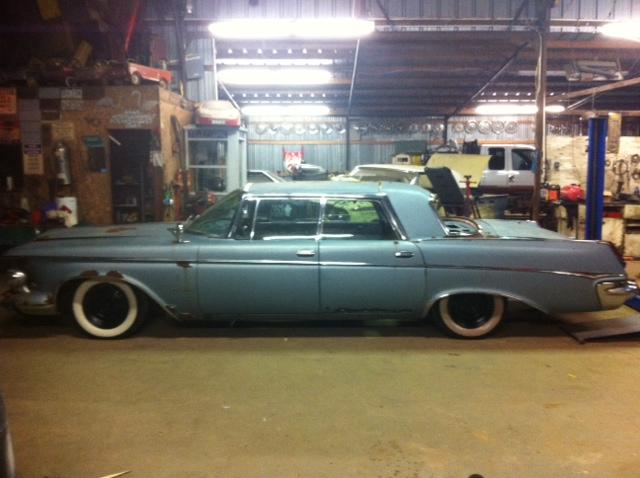 The "before" again: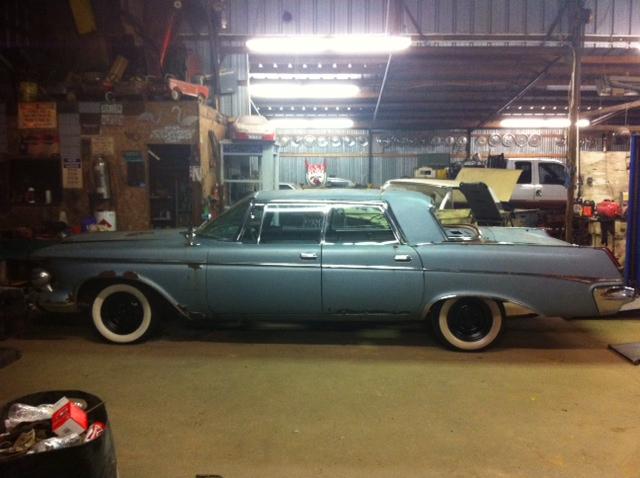 It's like a totally different car, now. Instead of "wow, that is one clapped out car.. but the white walls look new," it's "wow, that is one clapped out car... but maybe it's intentional."

On to today. We had hoped to have the car 90 percent ready to drive today. That didn't happen. It's always the little things that build up and slow us down. Oh, well, we made a lot of progress in 3 weekends.
Today we finished up the fuel cell mount and ran the hard fuel line.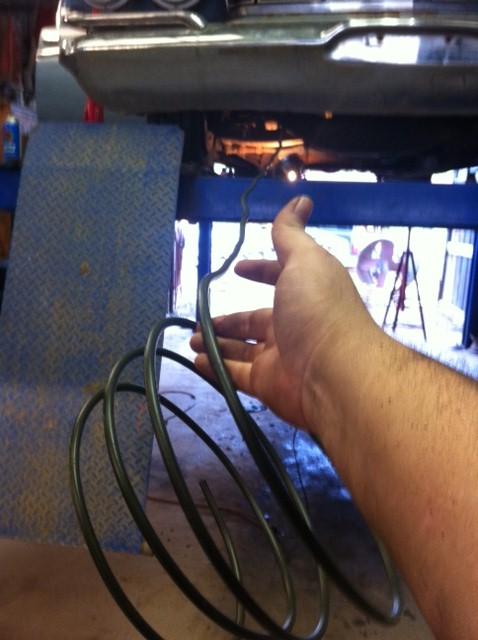 That sucked. It's one of those jobs where after you get cleaned up at the end of the day you look at your hands and wonder who drove over them with a lawn mower. Unless you wear gloves... Hmm... gloves..
Fuel cell chillin'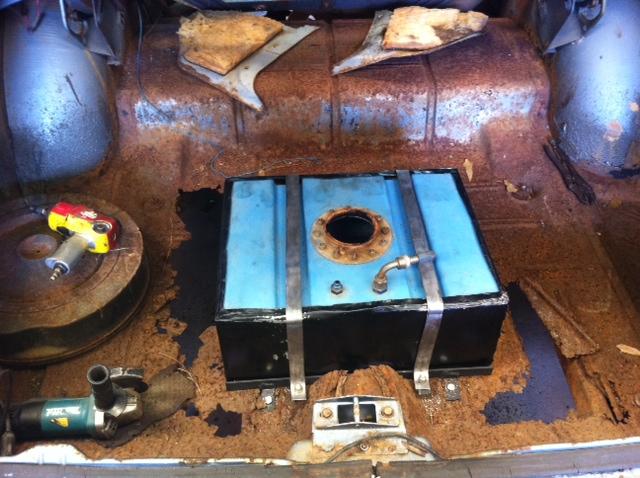 So now we have roughly a 75 mile range.

Crunknastyvdubs made a bracket for it to sit in out of some scrap metal. It's bolted in through the trunk floor supports. They're still solid. Just the floor that is not. Then straps are on different tabs holding the tank down.
The tank is plastic, and there was a metal case...thing... around it already, so we just kept it on and sprayed it black real quick.
9-17-2012
So the goal now is to have the car ready for Cruisin' The Coast, Mississippi's biggest car show/event: http://www.cruisinthecoast.com/About.html
It's about a 2 hour drive. Which is scary for the current state of the car. But it's a month away, so we're going to push for it.
Absolutely. It's scary to think that the fuel cost for just the trip down there will likely be close to $75.
9-19-2012
These cars had some pretty cool options for the day. Self dimming rear view mirror: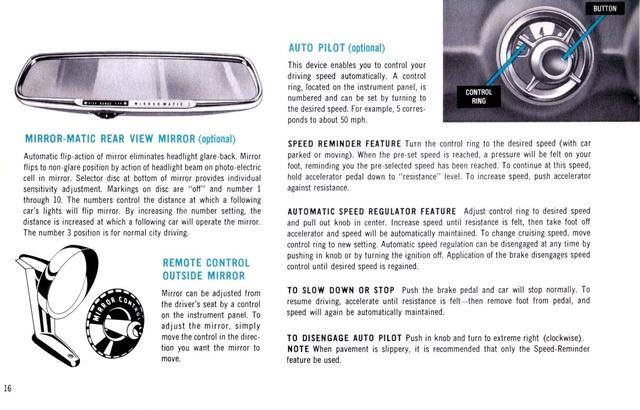 Self adjusting headlights: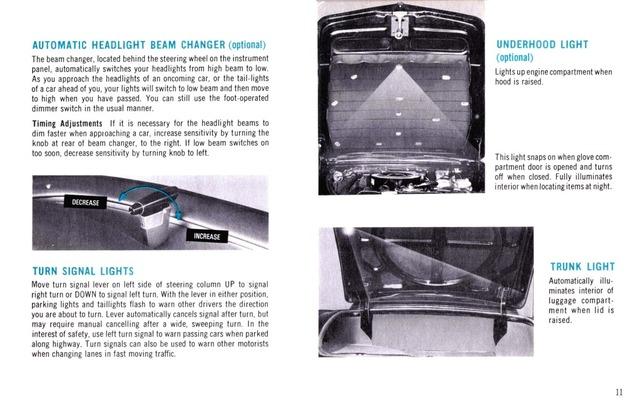 Unfortunately it does not appear we have either of those on this car.

But, the fact that we can potentially push start it may come in handy at some point: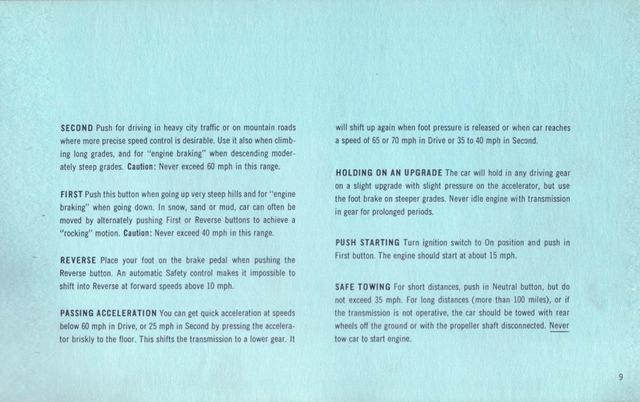 9-25-2012
Well, folks, the new goal is to have it ready to go by the 11th. Our main hang up right now is financial. If we can rally another $200 in donations, I think we'll be able to make it to the MS Gulf Coast by the 11th.
If you would like to donate: http://*******/cEZyf. Remember, you'll get your name and location on the trunk lid in thanks for the donations.

9-30-2012
Remind me to never take on another project that needs a full brake system replacement. In case anyone was wondering, carb cleaner does not get 50 year old grease off of skin, but will burn it pretty badly

.
Anyway, given their aren't any fluid leaks (not completely confident in this) the brakes are 90% done. All that's left is the front rubber lines and bleeding.

You know I almost put some on, but decided not to since I usually rip them quickly when doing this kind of job. The tough stuff was on my arm, anyway.
Hopefully this week we'll be able to get floors in and next weekend get a transmission seal replaced so we can see what's going to hold up and what's not.
Thanks a ton! PM me your name and location so we can add it to the trunklid when the time comes.
11-25-2012
Now that I'm back from my honeymoon, and things are slowing down for both me and Claude, we're back at it again. We're coming up on a year since we started, and we're hoping to have it driving before Christmas this year.
Today we got the rubber fuel line run from the hard line to the fuel pump, and all of the brake lines hooked up. We were planning on bleeding the system, but couldn't find a wrench ungodly small enough to fit on the bleeder screws on the wheels cylinders. Hopefully tomorrow on that. We're both crossing our fingers that there are no leaks. We've pretty much completely replaced the braking system.
To do before Christmas:
-Trans seal
-Plug wires
-Spark plugs
-fuel filters
-bleed brakes
-floors
-seating
-belts
12-2-2012
We'll have more videos/pictures soon, just busy doing work.
As of tonight we have changed spark plugs, plug wires, all belts, oil and filter, fuel pump and filters..
And it's running easily! The fuel pump is really what it needed.
12-3-2012
A little thing or two done.. Finally got all of the windows down.
Checked voltage to the window switches. All read 12ish volts, but no luck getting the motors to move. Even with leads straight from the battery to the motor leads. So they got ripped out. We'll probably just fit some manual cranks to the mech.
We're planning on doing flamthrowers, this way:
http://www.tnga.org/Tech/flame_throwers.htm
I also worked on getting the headlights going, with no luck. Everything is so hard to get to under that mammoth dash. There is continuity to the light harnesses, just no real voltage. If nothing else, we'll just relay the lights on new switches with new wiring.
So, wish list:
-relays
-voltage regulator
-carb rebuild kit
-shift kit
To donate and get your name on the car, here is the link. We can definitely still use the help, and definitely still have space for your name on the trunk lid.
12-13-2012
Yeah, I could see my hands coming out like this after a day working on exhaust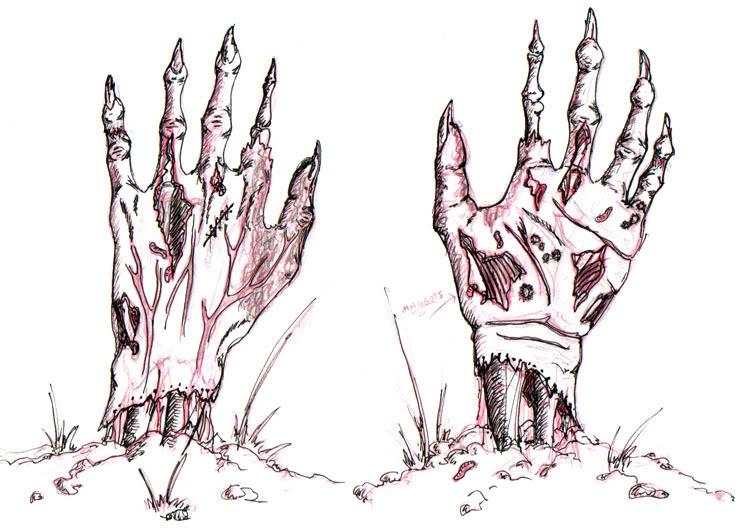 12-18-2012
unfortunately that particular model is older than ours. I'll have to look into whether it would work or not. I don't think it will.
Good news, though. We're nearing completion on the transmission service. We ordered the wrong seal that was causing our major fluid leak, so after we get that sorted out, and do another check on all of the systems, it'll be ready for its maiden voyage.
12-31-2012
As stated in the video, the transmission is still giving us some problems. Apparently there is a lot of junk circulating in there, so we've had to pull the pan and clean the filter and refill the fluid a couple times. That gets pricey with 6 qts of ATF.
Now we're just waiting on exhaust, some minor artwork details, title, tag, and insurance.
1-3-2013
Thanks! We can't wait to have it tagged and insured so we can really put it through the paces.
1-5-2013
Hey folks, if you have contributed financially to the project please pm me with your info that you want on the car so I can recheck my previous list
1-6-2013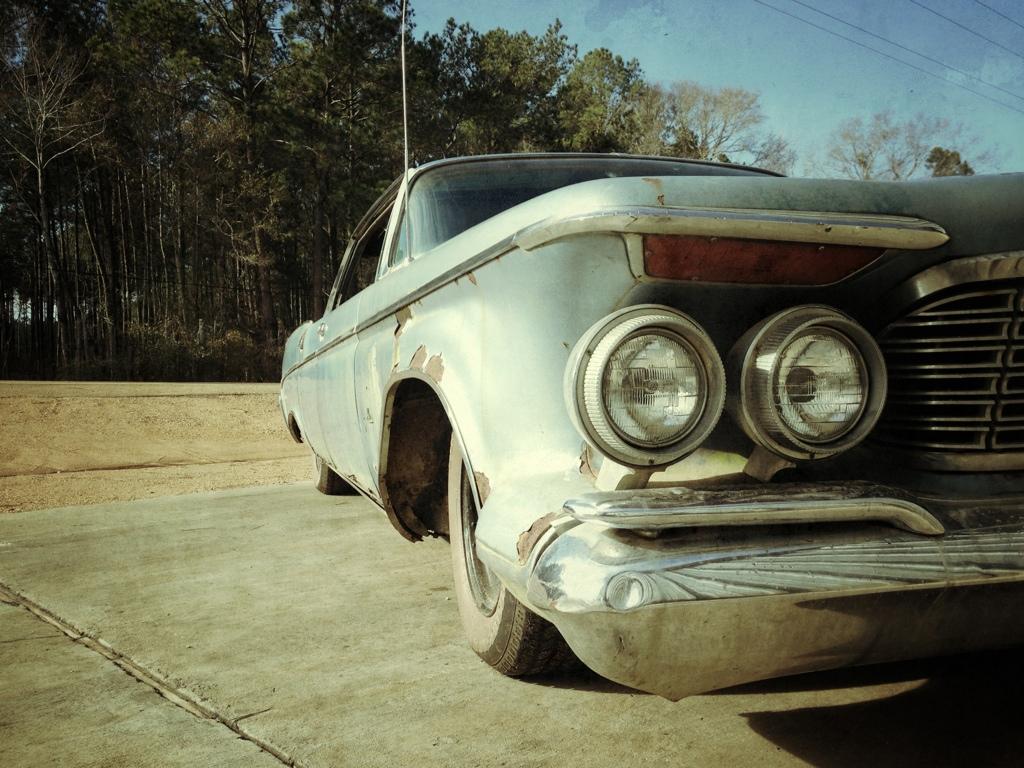 Hopefully just one week until cruise time
1-7-2013
Well, after the third transmission fluid refresh, hopefully we'll be ok for a little while. The filter was stopped up again, but not as bad as the last two times. It still feels like it is slipping some during shifts. Anyway, we got the back seat in: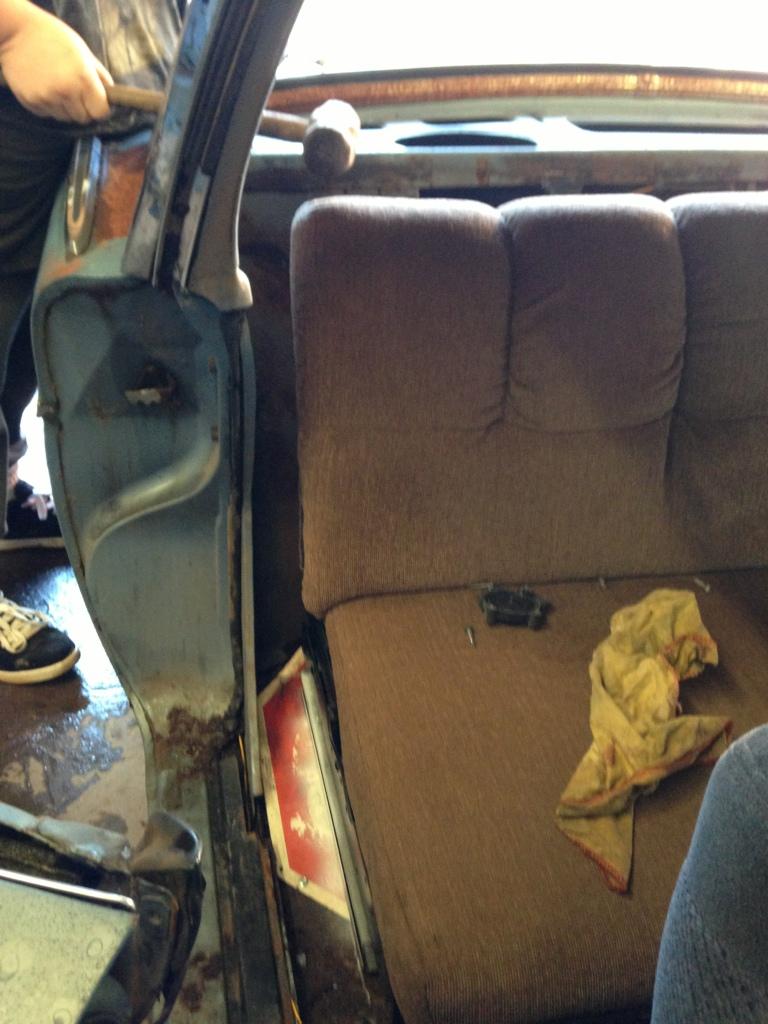 Some strict negotiations for fitment: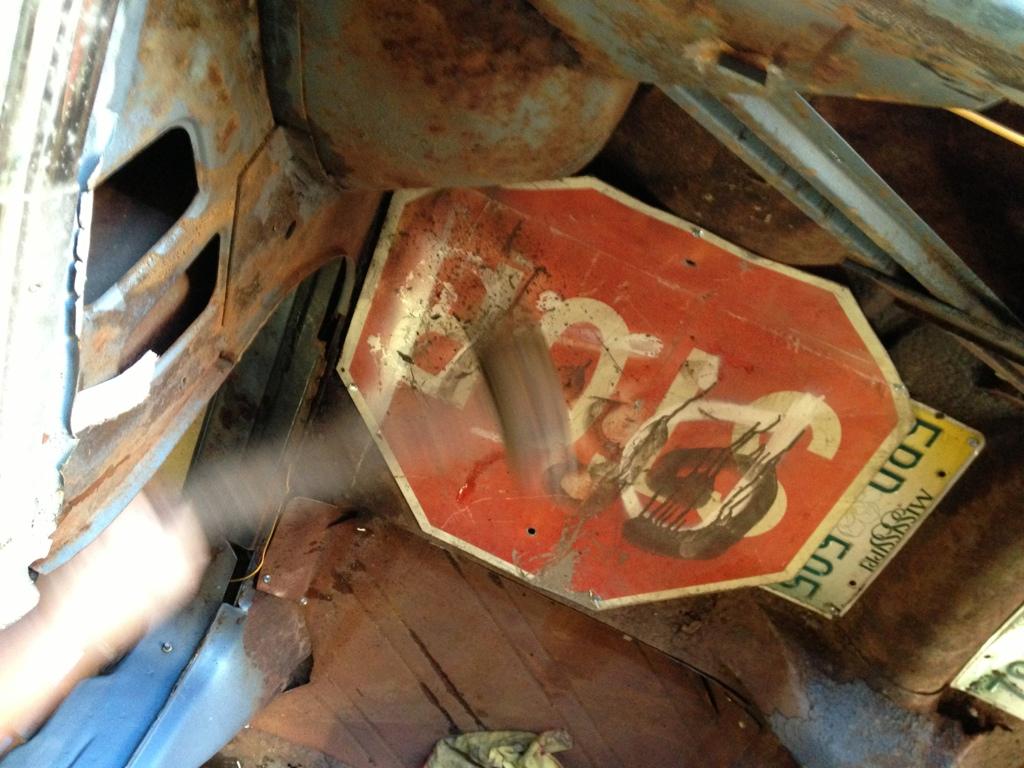 I just got a phone upgrade so I'm going through a photo editing app phase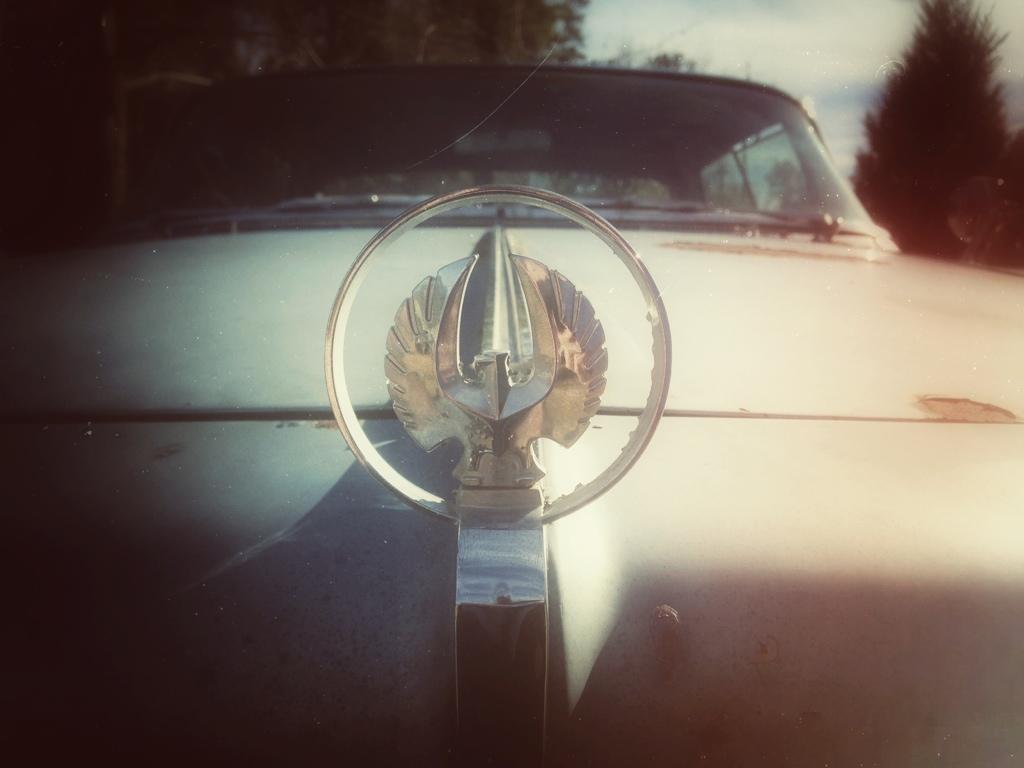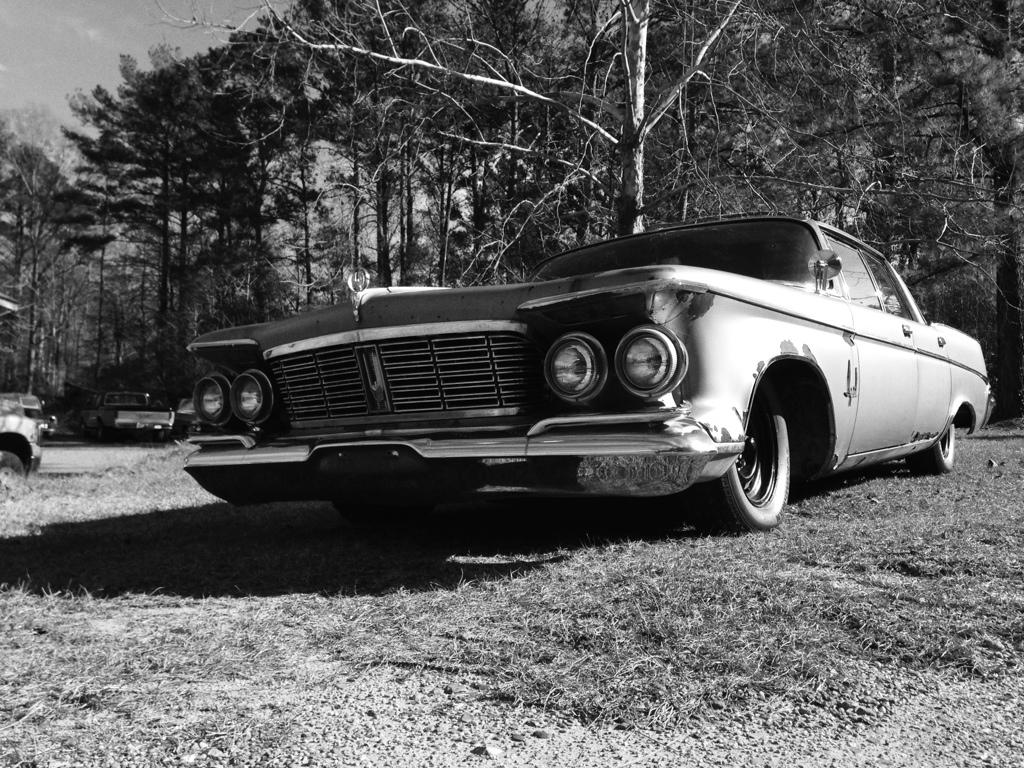 Oh, and it's getting cumbersome getting it on the rack: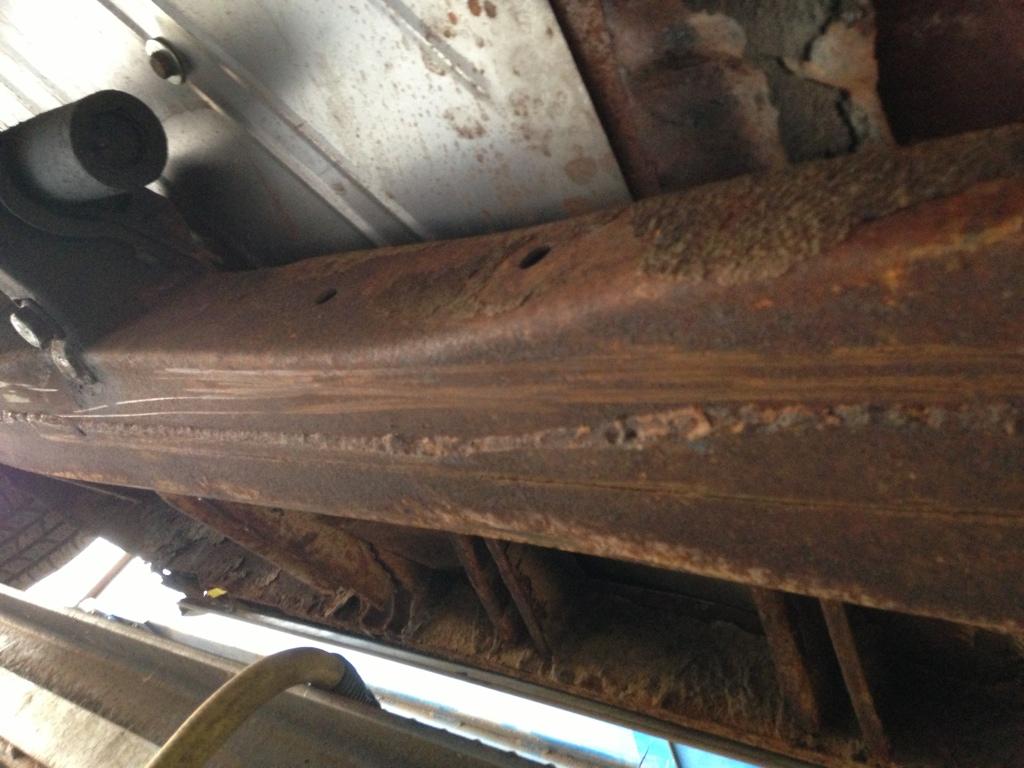 1-21-2013
Well, Claude is out of town for a few weeks, and the title was all messed up. So it'll probably be another couple of weeks before we go back to town on it.
4-7-2013
planning on putting the donators on the trunk lid later today.
So far we have:
Lwize
Bill Dennis
DIYautoFTW.com
James Bachtell
The Car Lounge
Also many other locals. But if you have donated and your name isn't on that list, shoot me a pm. If we get the names up today and miss yours we can add it later. I go through A LOT of pms so I may have accidently deleted a pm or two with donation info. I just don't want to leave anyone out.
Also, it's not too late to donate! We're tired of waiting for the title to come back so next week we're bonding the title, and getting it tagged, inspected (LOLOLOLOL), and insured. So we'd love the help on that expense, and would love to have your name on the car.
WE'RE REGISTERED FOR A LOCAL CAR SHOW FOR NEXT SATURDAY, APRIL 13. so I want to have all the names on the car to show off. Thanks so much for all who have supported!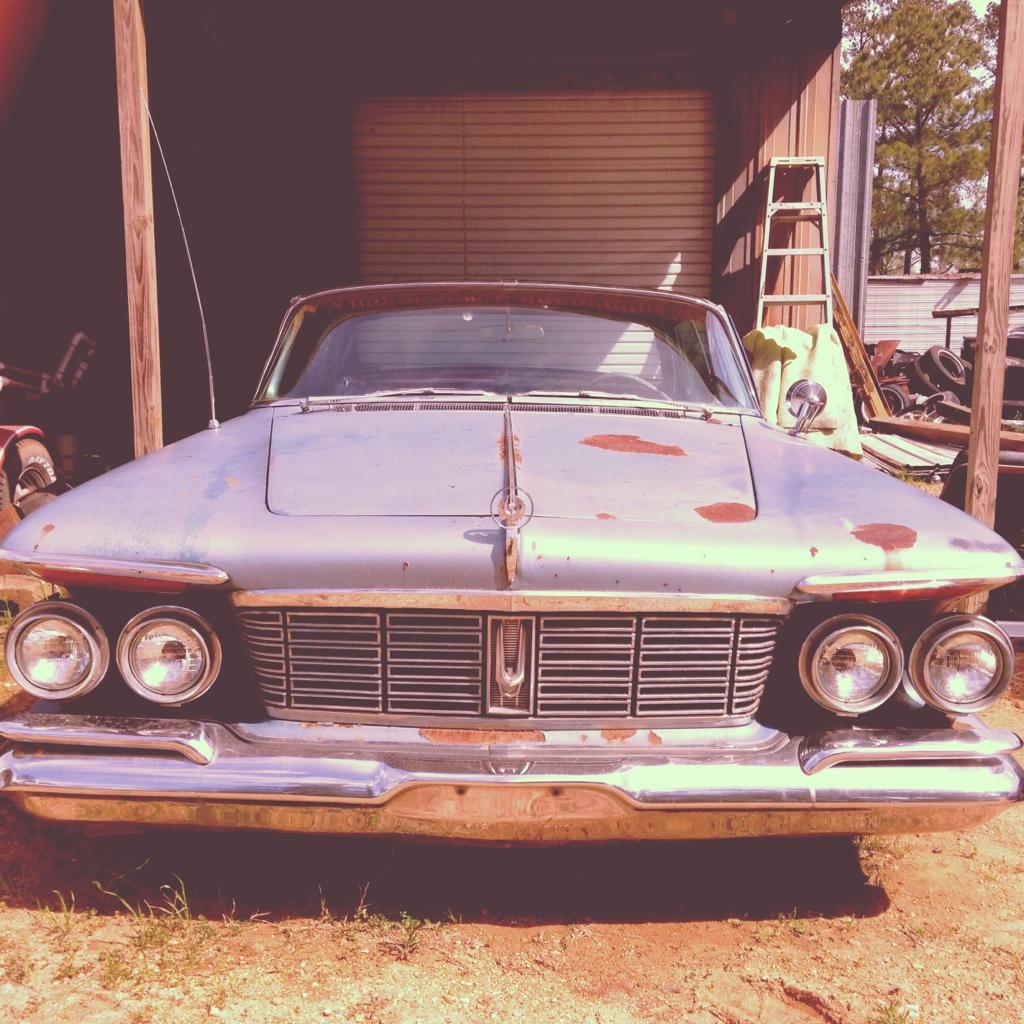 These two are next in line: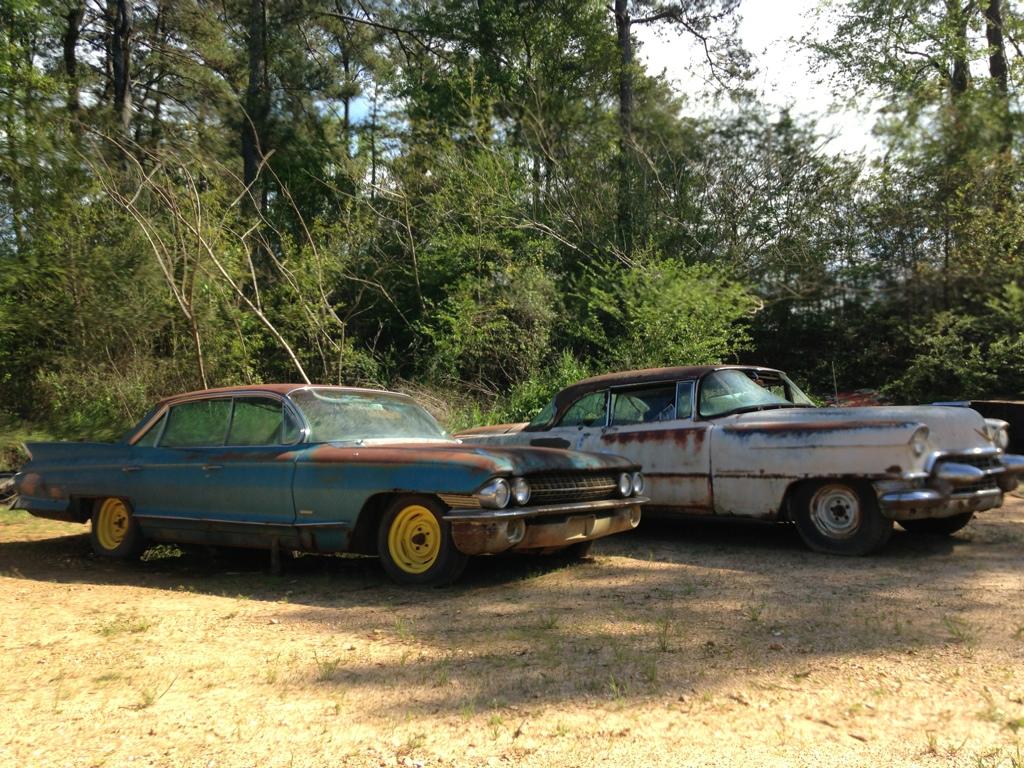 Pan off again. Maybe the last time. Probably not.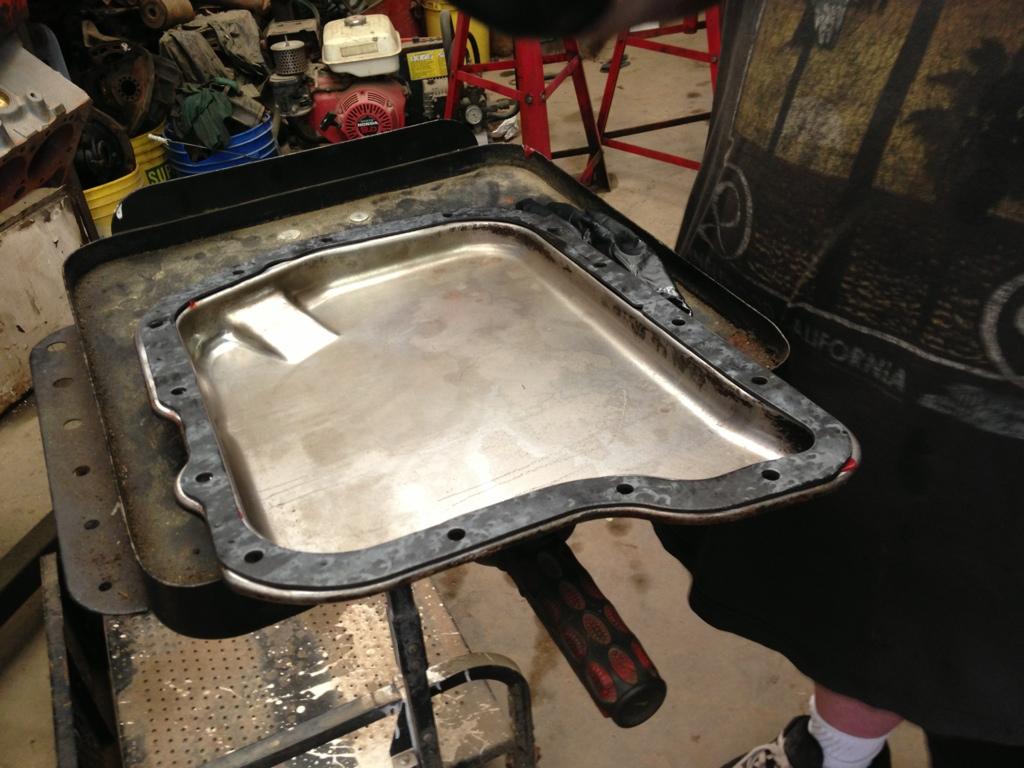 So this was a bit of a problem.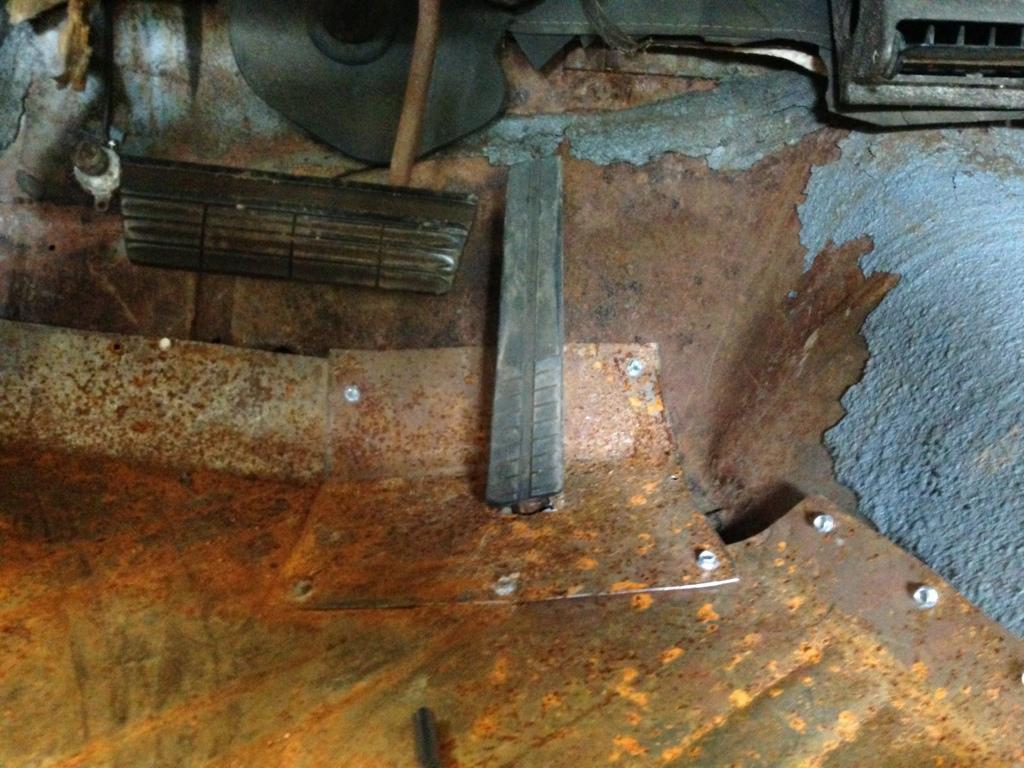 But with some eyeballing and cutting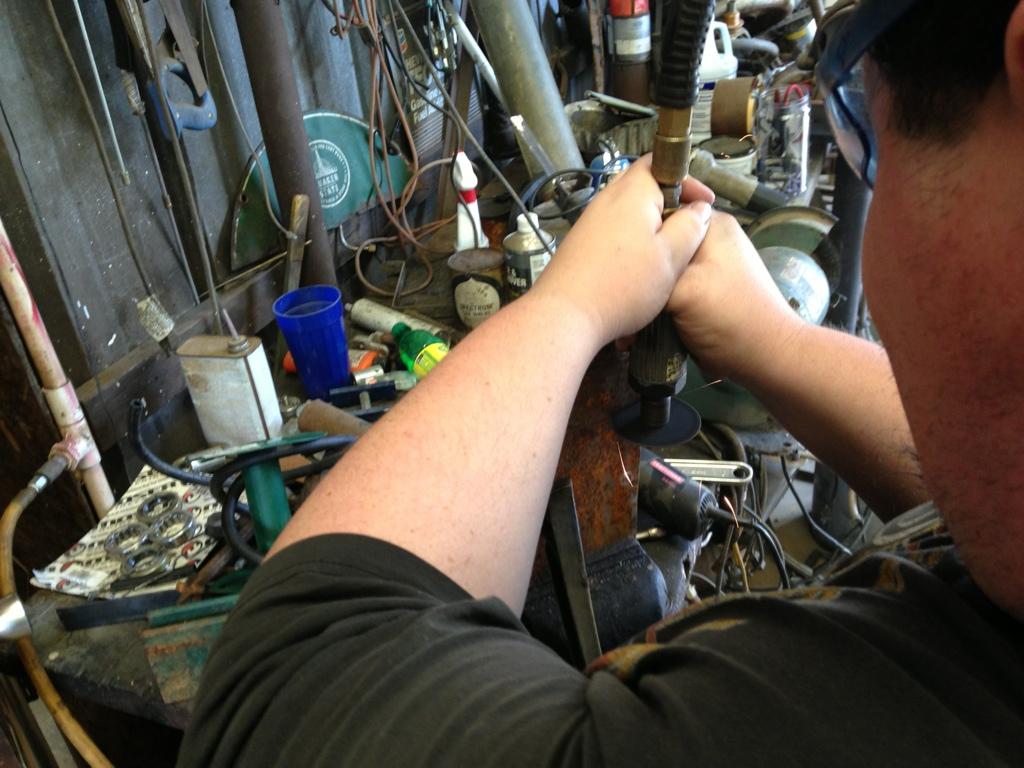 It's like it just rolled off the showroom floor!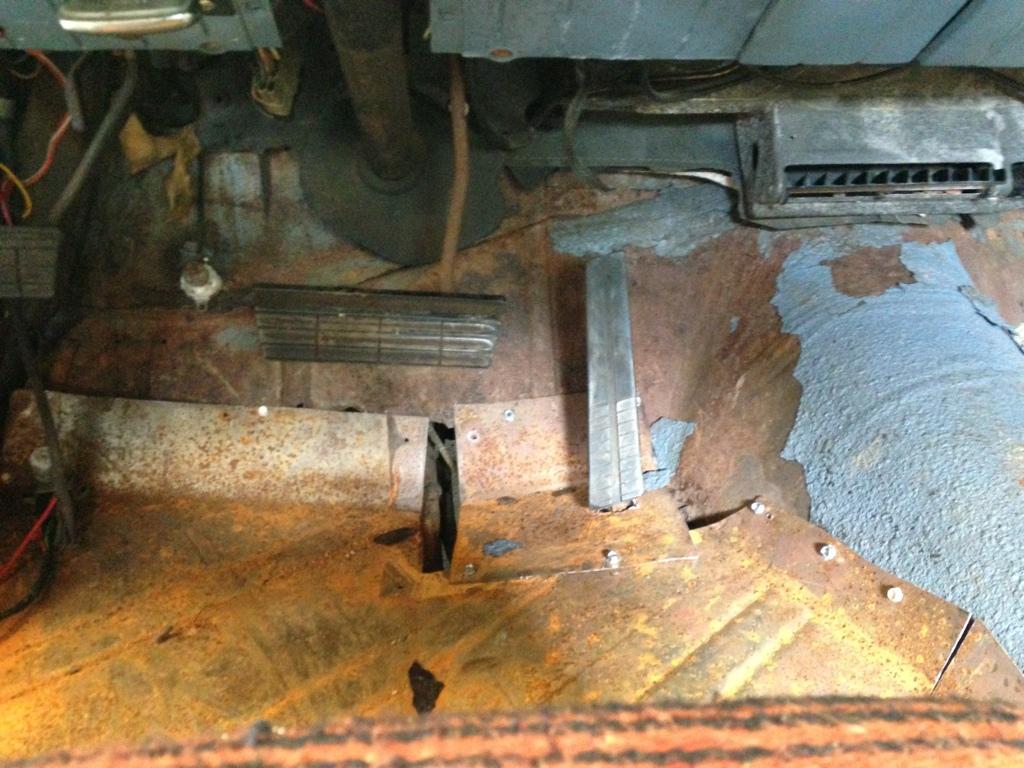 4-8-2013
Das boot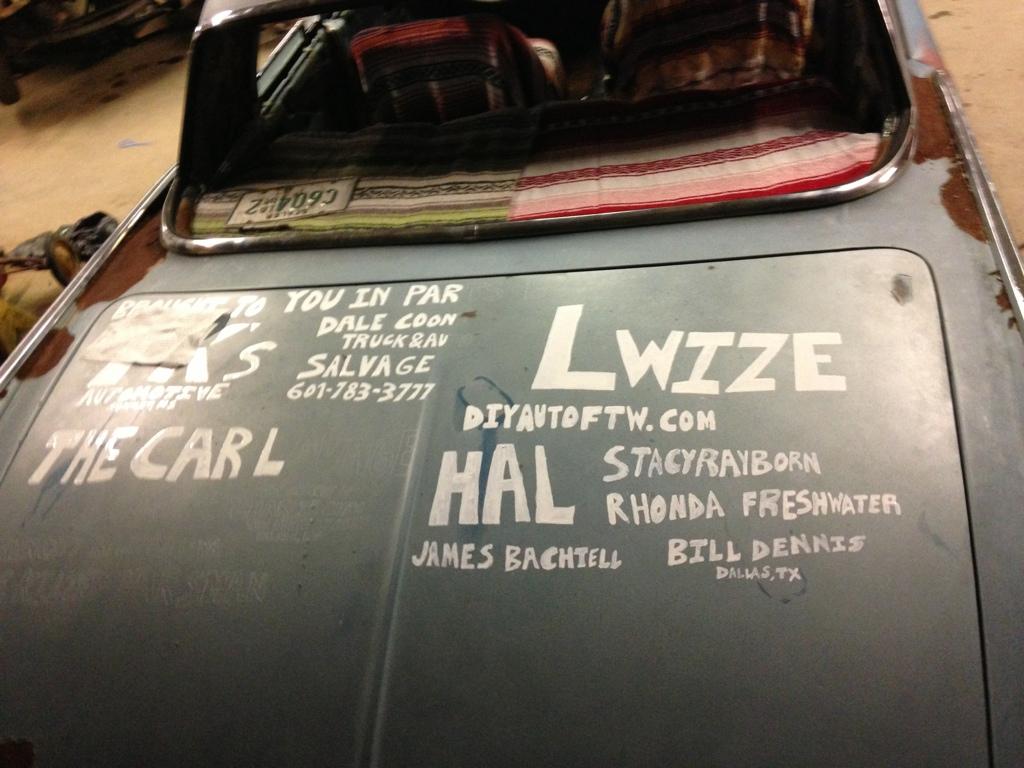 Or a start on it, at least. Doing all that by hand is a nightmare. So rest assured, we have/will spent quite some time putting your name/business/organization crookedly hand painted on there.
Still gotta finish the names, collect any we missed, and age it appropriately.
Well, most names are on it unless we have forgotten someone.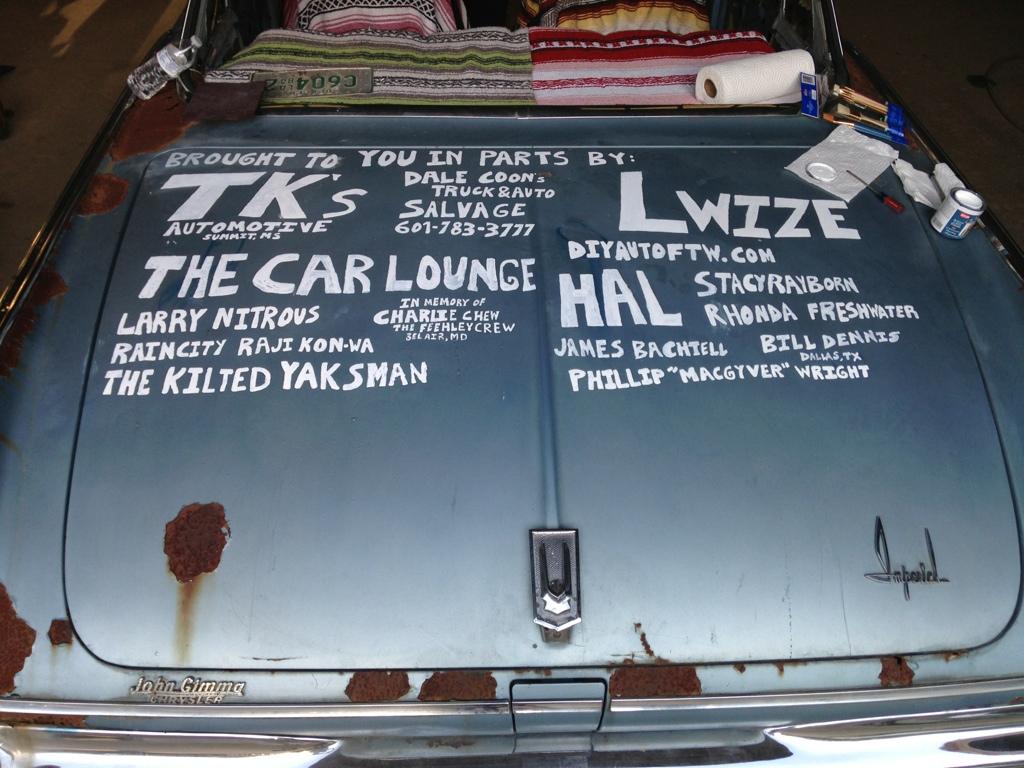 Still gotta age it, though
Ohhhh I must have mistook that 1x1 inch for "1x1 foot."
I always get those mixed up.
4-12-2013
Planning on legally driving it today. We are interested to see the public reaction to the car. And how much we scrape the frame on. We'd really like to go lower, but with the frame already hanging an inch or two lower than the body, it would be pushing it.
Thanks! That means a lot. We are having a lot of fun with it and want others to enjoy it too. Hopefully soon we will be able to do a legit photoshoot. Just have to finish the flamethrowers first.
4-13-2013
Shiny classics in every corner?
Zero ****s given.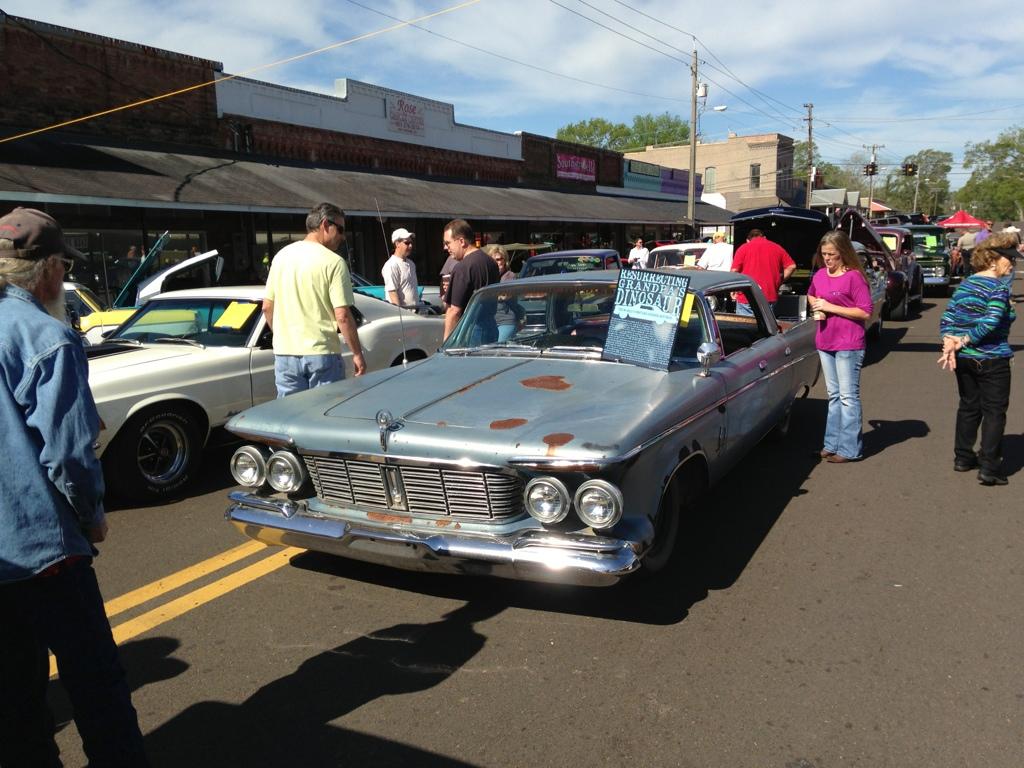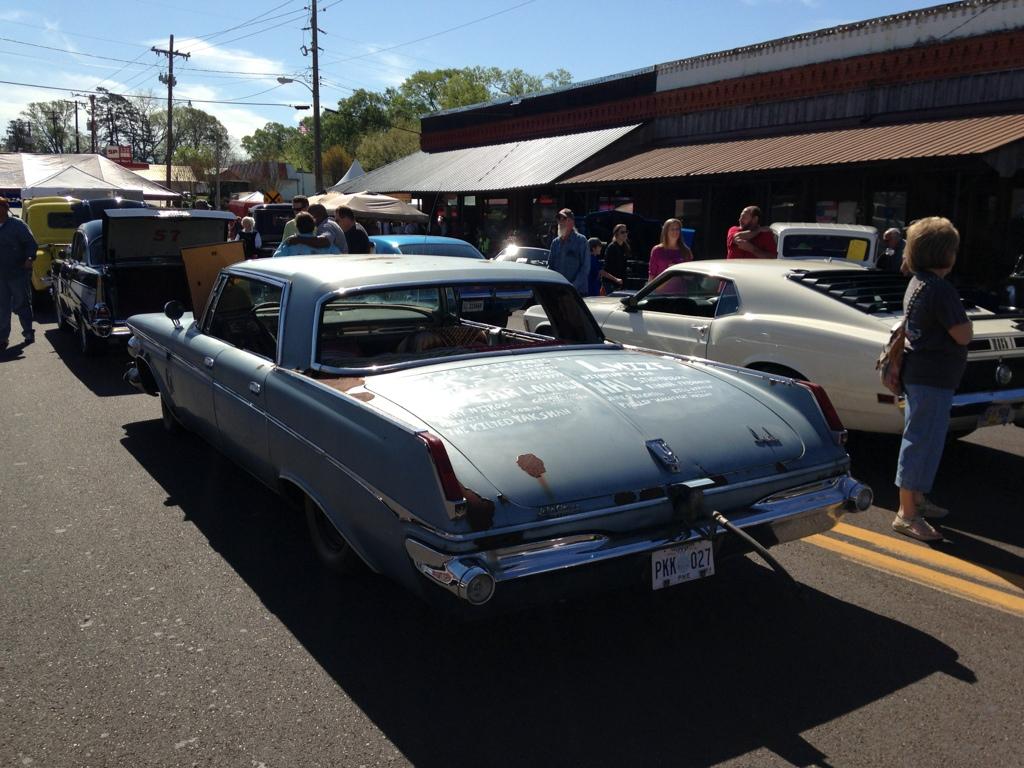 Thanks! It's been a lot of work to get it to its first show. It's an attention grabber, for sure.
From sitting here for 20 years: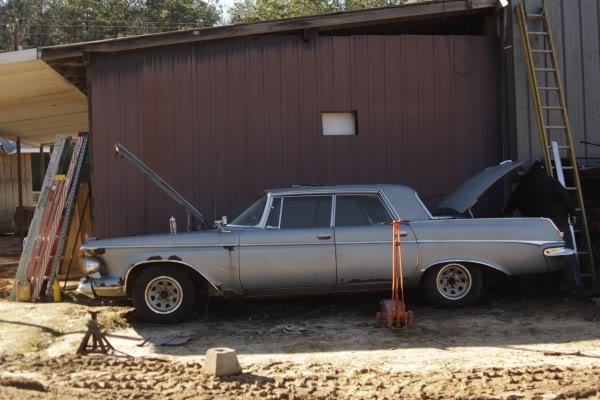 To here a year and a few months later: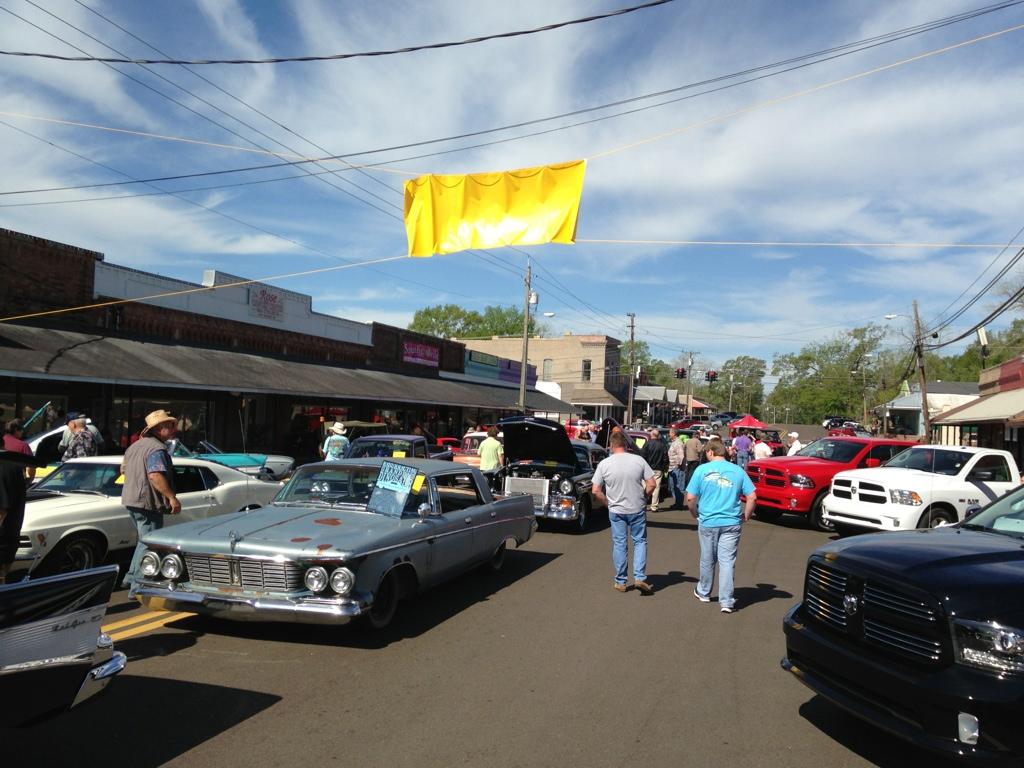 I'm pretty proud to have it sitting here today.
It hasn't been inspected yet, but that's no big deal. So far we've put 25 miles on it today.
So... We won the two biggest prizes at the show haha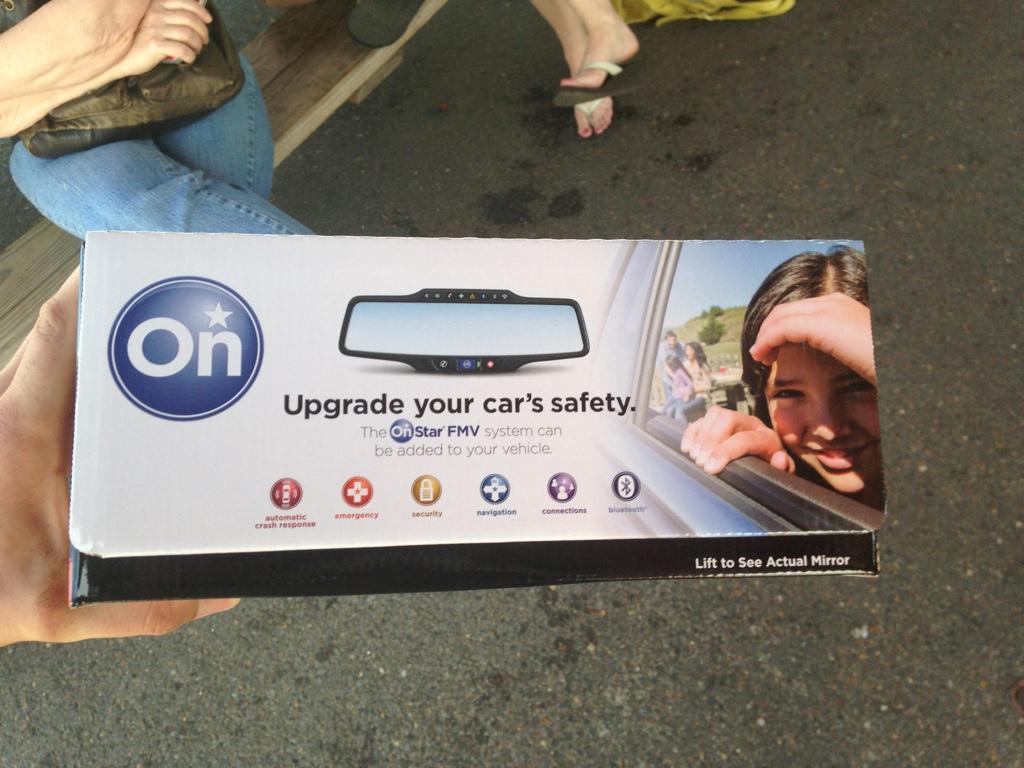 OnStar mirror. Useful for when we break down.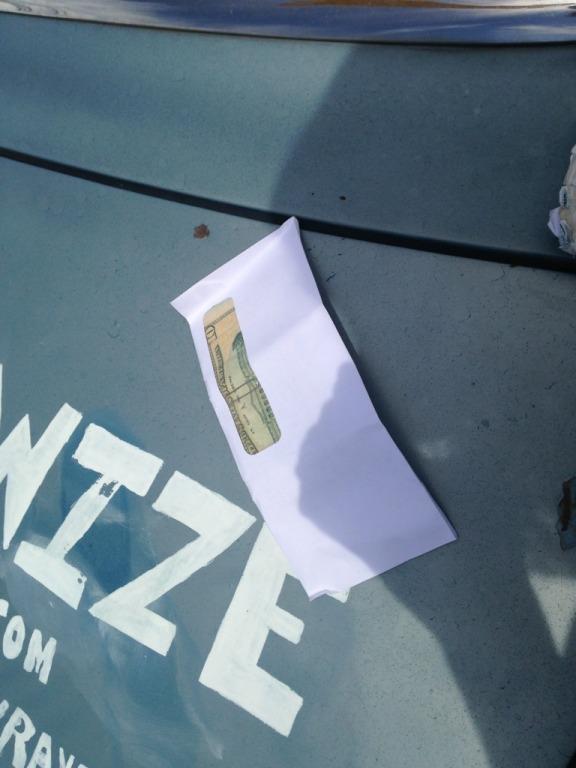 Useful for hookers and blow. And exhaust that we haven't done.
Claude's Mach 1 was a top ten pick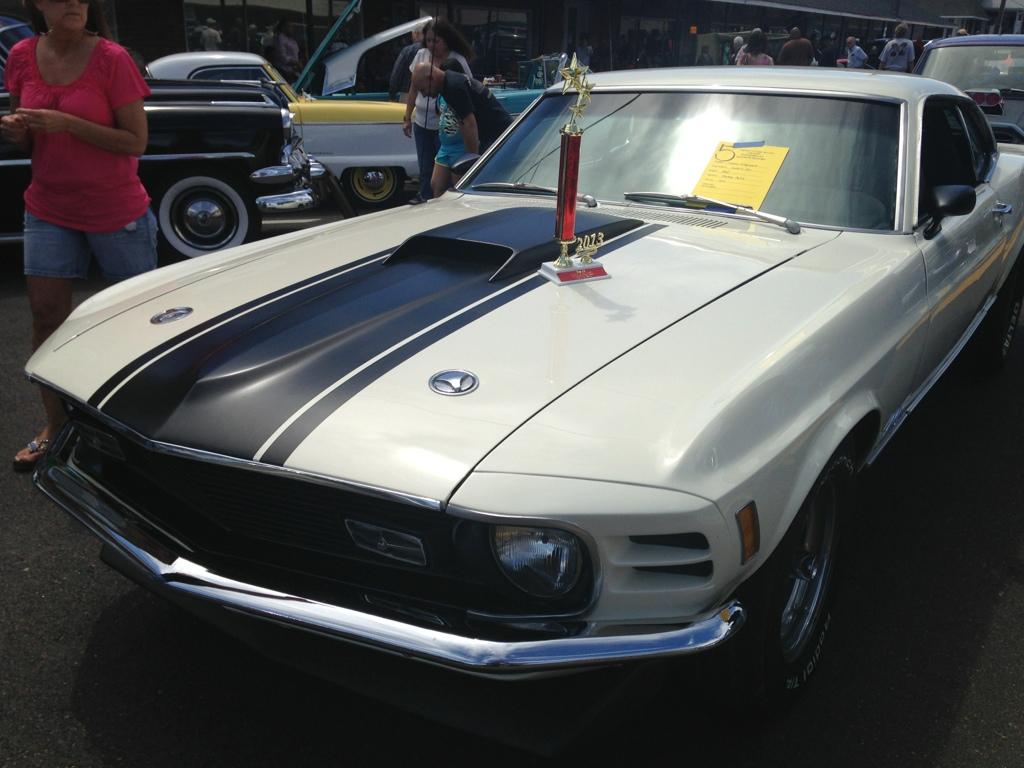 4-14-2013
Horrible picture of a printed picture, but I thought it was funny when I picked up the local newspaper and saw this on the front page.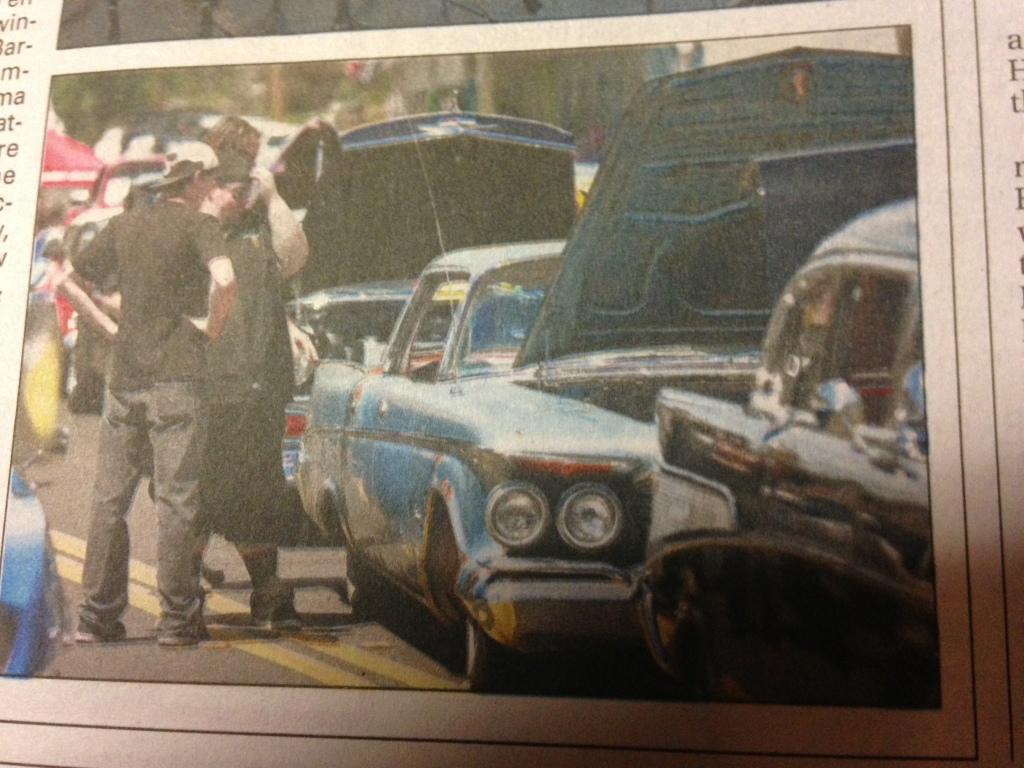 4-16-2013
It's the least we could do for your donation! Thanks again.
We ended up putting about 60 miles on it this weekend. On the last 3 miles or so the transmission started to slip a little worse.. So it looks like we'll be rebuilding it after all. We're hoping to get it to a couple more shows before then, though.
From what we've seen, people say the hardest part is the valve body, but we've already done that already and it wasn't that bad

People LOVE this car. We get 3 or 4 people asking us about it every time we stop somewhere.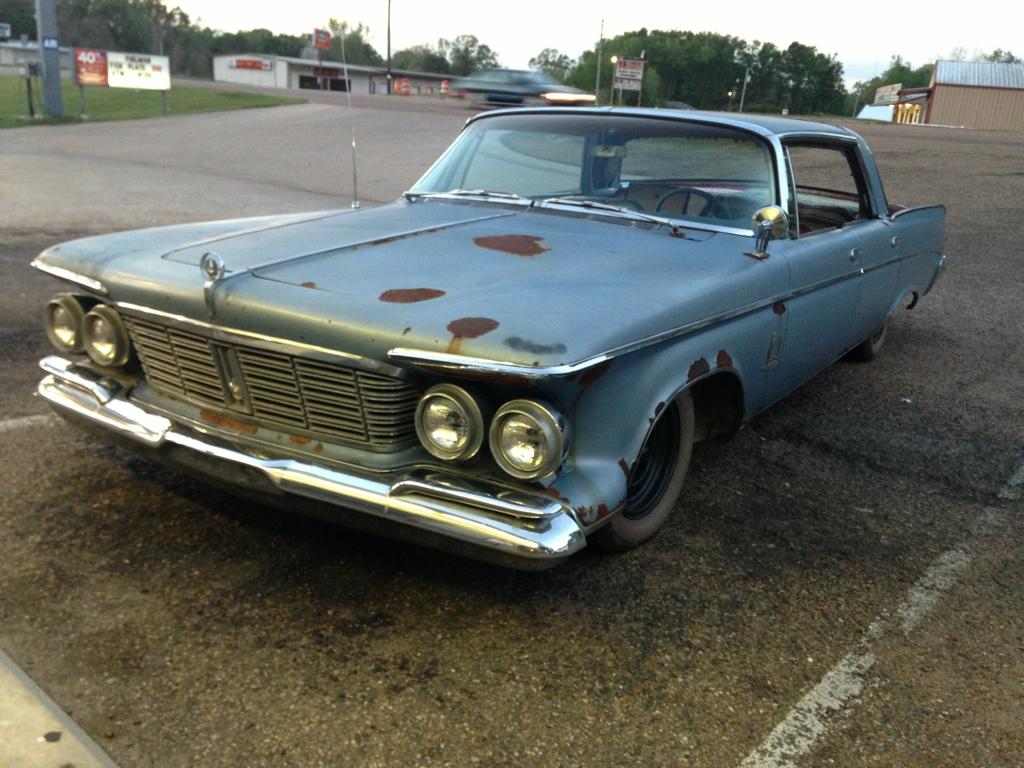 The weirdest thing to me is the steering. A whoooole lot of input for not much output. But, when the power steering is working, it doesn't require any force to steer.
It's not fast. Not even a little bit. I'm chalking that up partly to the slipping trans. It is extremely loud with the exhaust exiting pretty much right below the front passenger's feet. It's also strange driving a 3 speed automatic. Feels way to high string at (estimated) 45mph.
The ride isn't harsh, though. About what we expected. A little bouncy, but still seemingly stable. I was worried about the brakes, since neither of us has ever done a complete brake system before, but the brakes are surprisingly good, and we haven't noticed any fluid loss.
4-28-2013
From today's cruise. Transmission is now starting to stink after driving.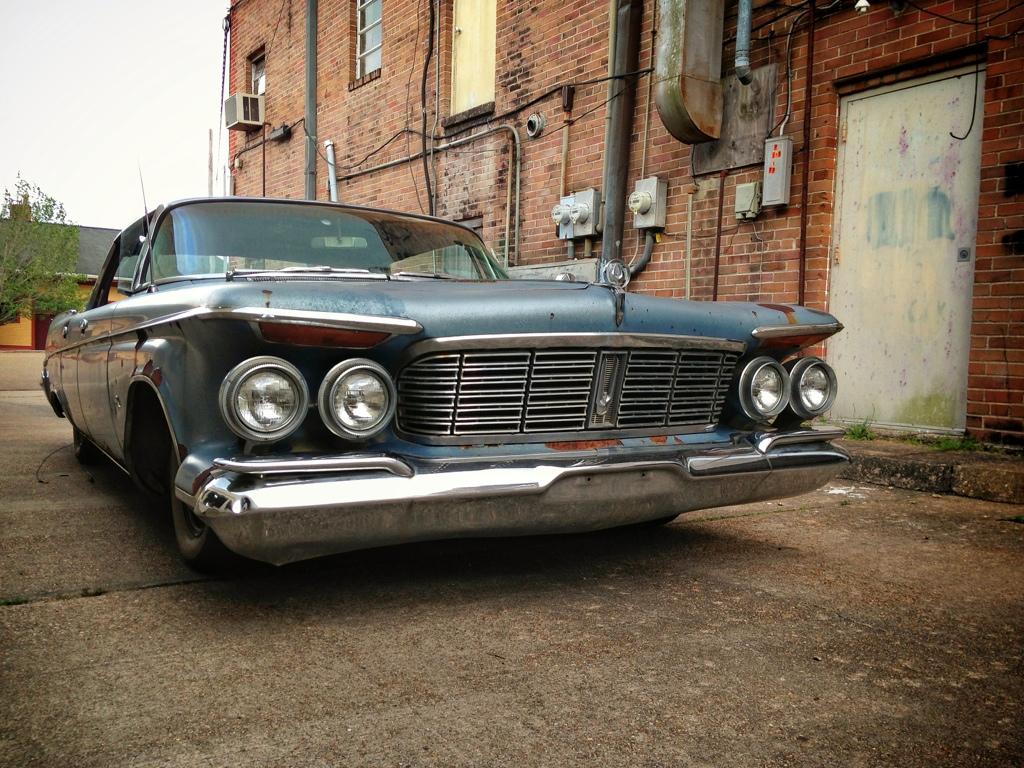 Every time we have drained it (5 times so far, I think) it hasn't smelled too burnt or anything, but the pan and filter have both been filled with old nasty clutch material.
5-1-2013
Thanks everybody. Still have some touches to do, such as wiring up and installing the flamethrowers. I just started a new job so work on the imperial will be kind of slow for a little while probably.