DIYs
SST-MAX OBDII Shift Light--Easy install and it works by jhs914
By diyauto
You must be logged in to rate content!
8 minute read
SST-MAX OBDII Shift Light--Easy install and it works
Compliments of jhs914 @ challengertalk.com
9-4-2013
I have had my 2012 SRT 8 Challenger 6 speed manual for over a year and realized pretty soon after I bought it that I needed a shift light. I read write ups on different forums showing installations requiring splicing into the wiring or wiring harness and routing of wires inside the dash and engine compartment. I didn't want anything that complicated. I did some searching on the internet and found a shift light manufactured by Speedhut that simply plugs into the OBDII port. I had never heard of Speedhut but decided to order the SST-MAX light directly from their web site. I ordered mine with a yellow light, but other colors are available.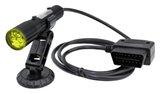 It arrived promptly, was simple to install by just plugging it into the OBDII port, deciding where to mount it and how to route the cable. This is where I mounted it.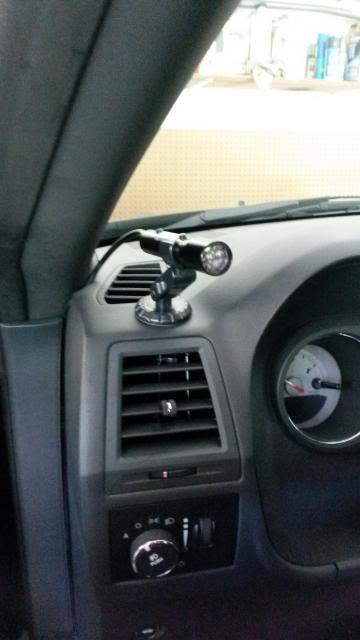 The cable just slid in behind the small trim panel in the door jamb and I didn't even have to remove the trim panel. The rest of the cable I bundled up and wire tied so it wouldn't hang down. Simple and easy.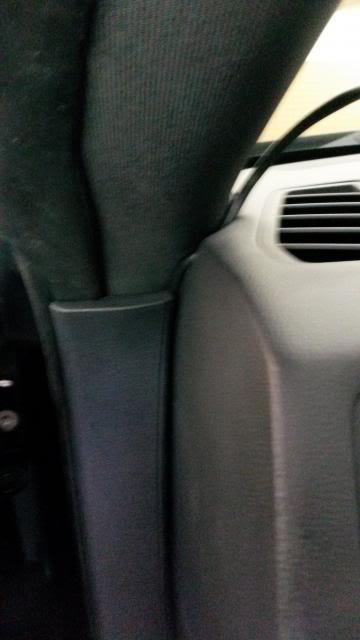 There is an LED display on the side of the light that is used to program it. You program in the number of gears you have, set the shift point in each gear, then drive the car in each gear at a steady speed, press a button to store your gear ratio and go through each gear until you are done. You can set the brightness of light and you can also program a launch RPM setting if you wish. I did not.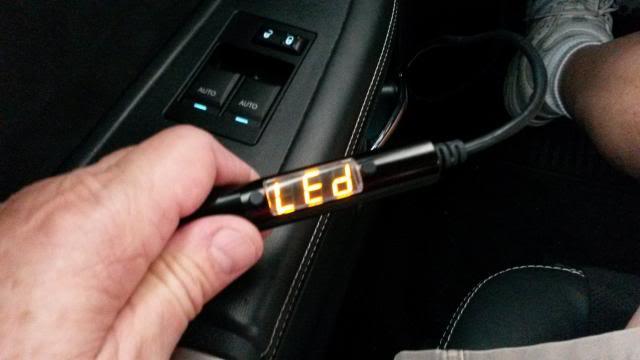 After programming it I tested it out and it was perfect. Just what I wanted. However I found that after turning the car off for more than 5 minutes it would lose the stored gear ratio settings. I emailed Speedhut and made sure it wasn't something I was doing wrong (it wasn't me). I was put in touch with Wade, one of their engineers, who told me they would send me a new unit and to return the first one so they could test it. After I installed the second unit I still had the same problem and Wade reported that the returned unit was working properly for him.
I told Wade that the only thing I could think of was that my BG custom tuned ECM might not be compatible with the light. I returned the second light, Speedhut agreed to refund my purchase price. I chalked it up to an anomaly with with my car because of the BG tune and I was ready to move on.
Wade didn't think the BG tune was the problem so he found another 2012 SRT8 Challenger at a nearby dealer and tried the light again. He found it behaved the same as in my car, losing the gear settings after five minutes. It seems the Dodge ECM or CAN BUS powers down after five minutes of shut down causing the light to lose the programming. Wade told me to give him a day to find a solution. Wade stayed in touch with me throughout each step of this process. Within a day he found a way to work around the problem and sent me a third light with the new programming. I installed the new light and SUCCESS! I am a happy camper now.
Based on some of my past experiences dealing with internet vendors I was pleasantly surprised and happy with the excellent customer service shown by Speedhut. Even if Wade was unable to resolve the problem I would have been satisfied with their customer service. He went the extra mile and not only resolved my problem, but prevented any future Challenger customers from having the same problem.
Not having used a shift light before and because my reflexes have slowed over the years (I'm 65), I find I have to set the light for about 300 RPM before redline in 1st gear, and 200 RPM before redline in the other gears so I don't hit the rev limiter before I shift. Redline in 1st gear comes quick in this car.
The only time the light will need reprogramming for gears now is if I unplug it. If you plan on using the OBDII port frequently, say for changing your Diablo Sport tune, you can get an OBDII splitter that will allow two devices to be plugged in at the same time. The other good thing about this shift light is that is easy to transfer to any car than uses OBDII.
Now that the bugs are worked out, I am very pleased with my Speedhut OBDII shift light. Installation was as simple as possible and programming is simple enough that even I can do it. Now if I could just find a way to have the same reflexes I had when I was 18!
Correction on unplugging the light and losing the gear ratios. It retains the gear ratios in flash memory so they are retained but you do lose the shift point settings for each gear if it is unplugged. Those can be easily reset without driving the car though.
Heminator: If you order one from Speedhut I'd just contact them and let them know that it is for a Challenger and ask. This fix was just made last week and I'm not sure if they've reprogrammed their inventory yet.
Based on my experience with them I would not worry about them following through on their promises. All of my return shipments during the process were paid for by Speedhut.
Your welcome.
I'll also give a belated atta boy to Red Baron for customer service on the BG tune. After installing the BG ECM my car wouldn't start. Red Baron called some contacts and figured out the problem could be fixed by popping out the start button and inserting the key fob to start it. After that it worked with the key in my pocket. I've been pleased with the BG tune. I had a Diablo tuner in my Magnum RT, but it wasn't available when I bought my BG tune for my SRT8. If it had been available at the time I'd probably have gone with Diablo, but I have no regrets.
9-6-2013
OK guys, I'm sorry to report a problem. I left the shift plugged in yesterday and last night only to find the battery was dead this morning. I contacted Wade at Speedhut and he had the same thing happen on his BMW. I don't know if this is related to the change in programming he made recently to keep the light from losing memory,but I suspect it may be. He is working on a solution, so if you were considering buying one I'd hold off until a solution is found.
9-29-2013
I received the revised version of the shift light yesterday morning and I am happy to report that all is well. It works just as it should. I installed it yesterday morning and left it plugged in, but before shutting it off I set 1st gear for the light to go off at 1,500 rpm so I could test it the next time I start it without revving to redline.
I let the car sit overnight and all day today. It started just fine with no evidence of battery drain. After starting it I ran the car up to the lowered shift light setting in first gear to test that it worked after an extended shutdown period and it worked perfectly. I reset the shift to just before redline so I am now good to go.
I can now recommend the Speedhut SSTMax OBDII shift light without reservation. It couldn't be easier to install, can be easily switched between cars, and now works perfectly. In addition, even though there were some teething problems with getting a new product to work with the Challenger, Speedhut's customer service was outstanding. They kept in constant communication with me, using my feedback to sort through the problems until they got it right. It is hard to find customer service like that with an internet company. Call me impressed.