DIYs
DIY Fuel pump or Fuel Gauge trouble shooting (no dial-up friendly) by oxygen454
By diyauto
You must be logged in to rate content!
5 minute read
DIY Fuel pump or Fuel Gauge trouble shooting (no dial-up friendly)
Compliments of oxygen454 @ dodgeforum.com
11-20-2010
DIY Fuel pump or Fuel Gauge trouble shooting (not dial-up friendly)
I have seen a lot of fuel pump problems with our year(s) of trucks so I thought I would throw together a info page. All these pictures were taken from my 1993 Dakota Magnum V8.
Common Problems
-Fuel gauge not reading properly
a) sending unit damaged
b) floater stuck against tank (common cause is pump installed incorrectly facing wrong direction)
c) floater fell off pump unit in tank
d) check voltage on harness for voltage reading (varies depending on how full the tank is)
e) damage may have occurred to electronic board, tracing may have been rubbed off or have broken traces. Here is a link from the FAQ on how to replace the sender on the pump http://dodgeforum.com/forum/2216246-post9.html
**Some years/tanks (not mine) have an arrow on the top of the tank which has to match the arrow on top of the fuel pump. I cannot stress this part enough, the arrows MUST line up or you will have problems with readings. Mine was rubbing against the tank wall and eventually fell off giving me a constant reading of a quarter full tank.
-Pump not pumping
a) Check wiring and grounds
b) Check voltage on harness at pump
c) Check ASD relay in the fuse boxes in the engine bay. See 1995 Service Manual 95AN_8W.pdf Page. 64 (more info see bottom of this post)
d) Clogged fuel filter on pump or/and clogged external filter (some years did not have a external filter) check on your frame rail near the fuel tank or mid part of frame.
Note: one way of checking to see if the sending unit/pump is toast is to put power to the pump harness directly from the battery.
Old Pump showing wiring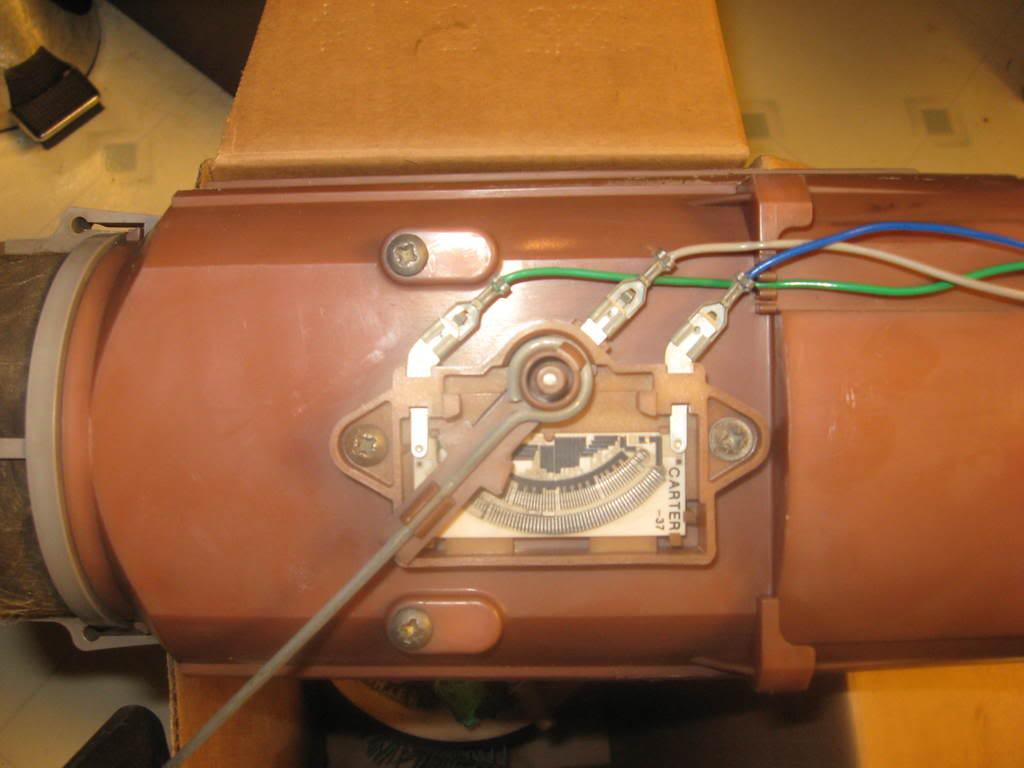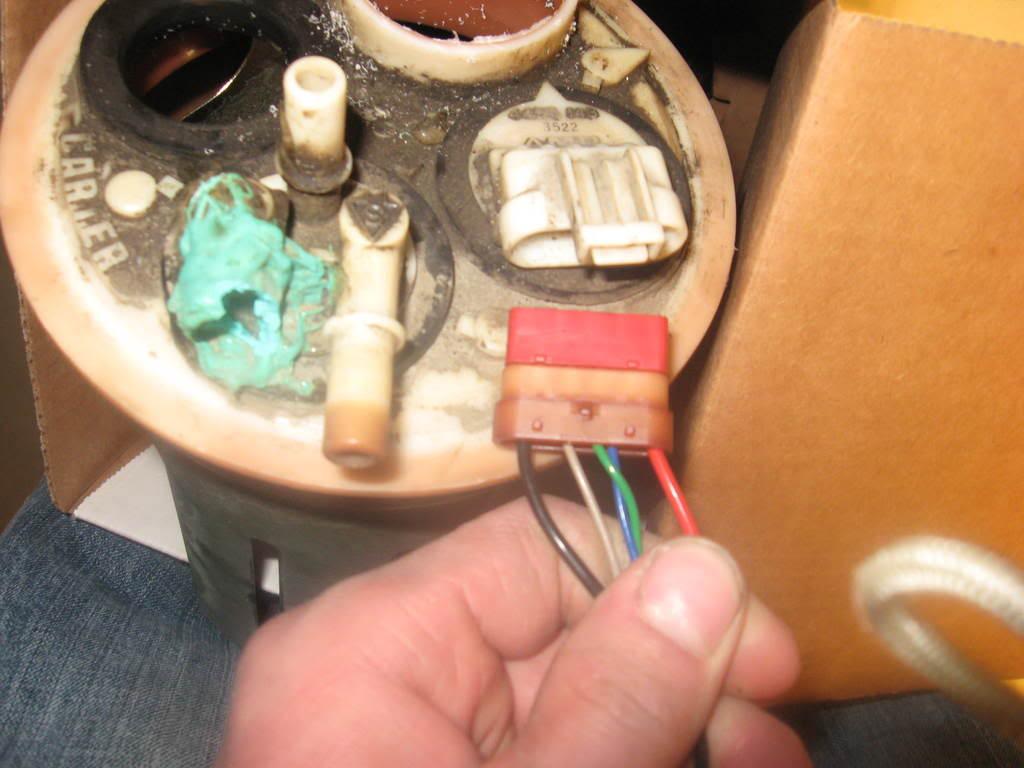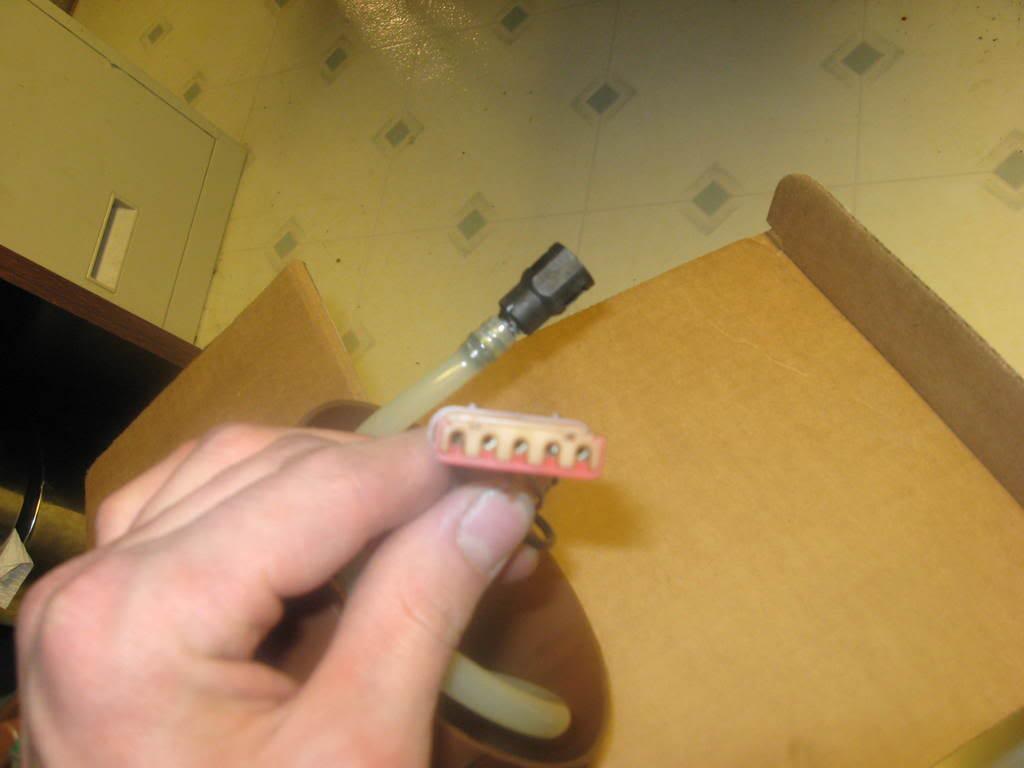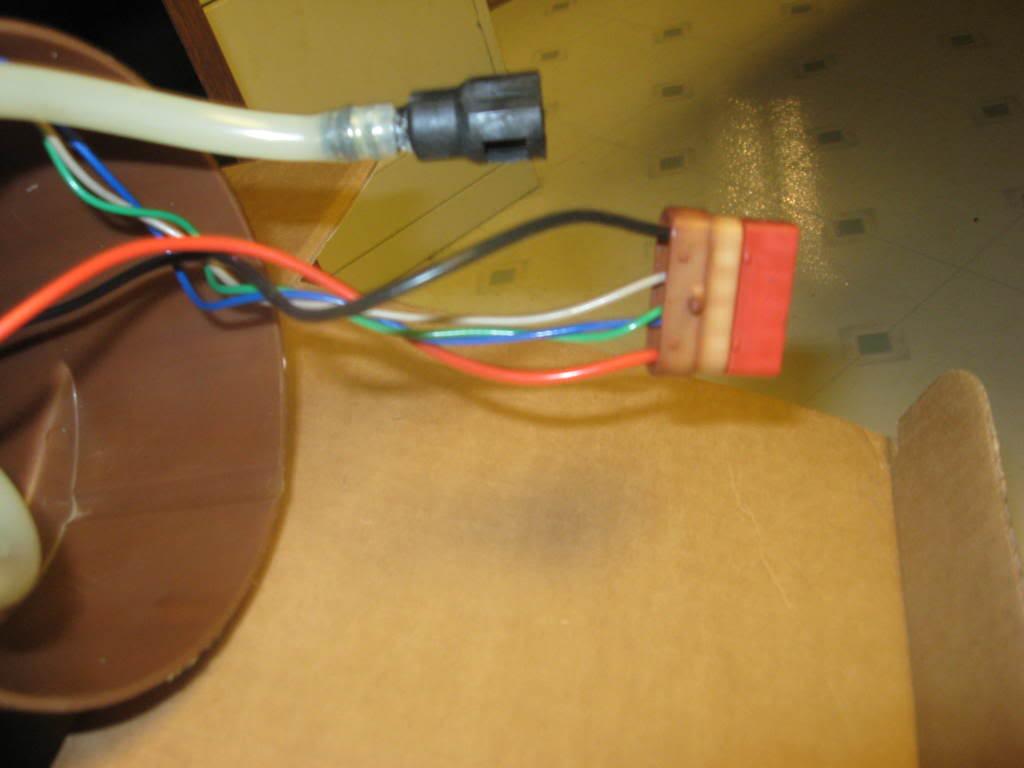 TRUCK WIRING
Harness to Pump (This may vary depending on year of your 1st Gen)
Black
Black
Light Blue Yellow Stripe
Dark Blue Yellow Stripe
Green Black Stripe
PUMP WIRING
On Pump... Harness
Black
Grey
Green
Blue
Red
What they do: (wiring harness on truck side, not pump)
Color of wire/ Stripe Color
Dark Green/Black = Pump Motor Power (constant voltage)
Dark Blue/Yellow = Fuel Gauge Sending Wire
Light Blue / Black Low Fuel Lamp
Black Ground
The wires run down the inside of the frame, then outside, through the front drivers side fender well, into the engine bay, through the firewall, then tack or fuse box then tack
NEW PUMP
Wiring Diagram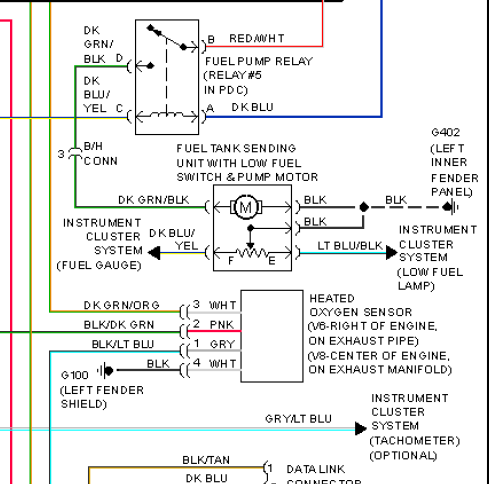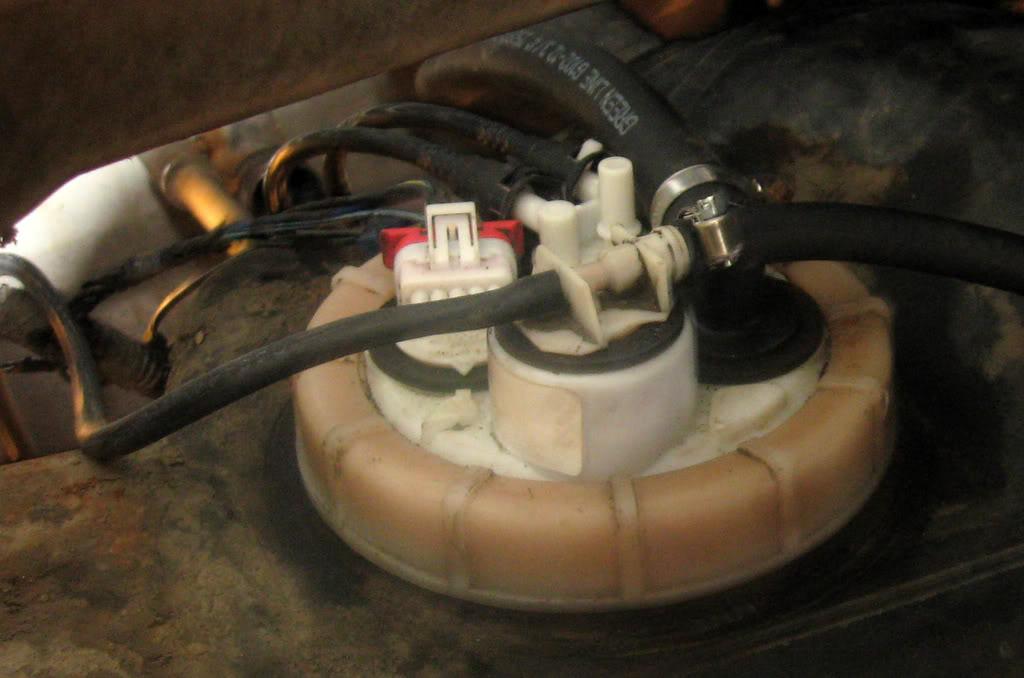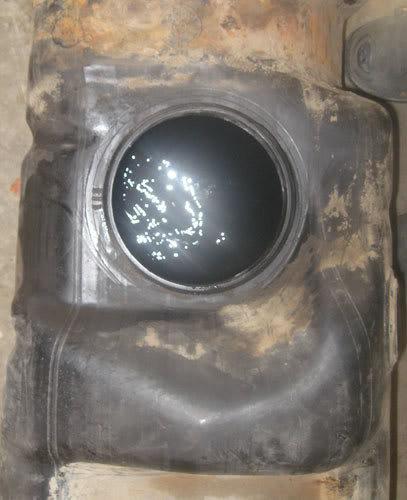 Proper Fuel Pump Line-up in and out of tank (Important!)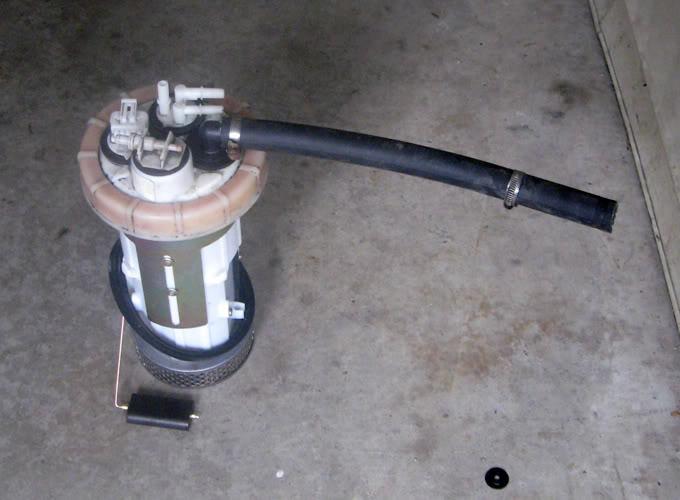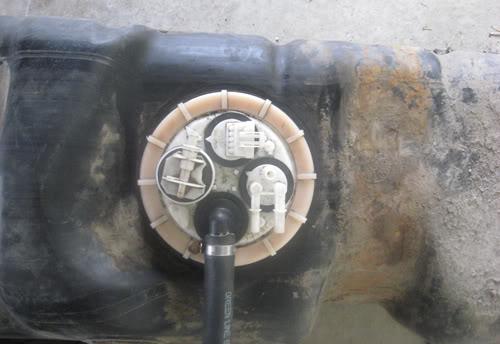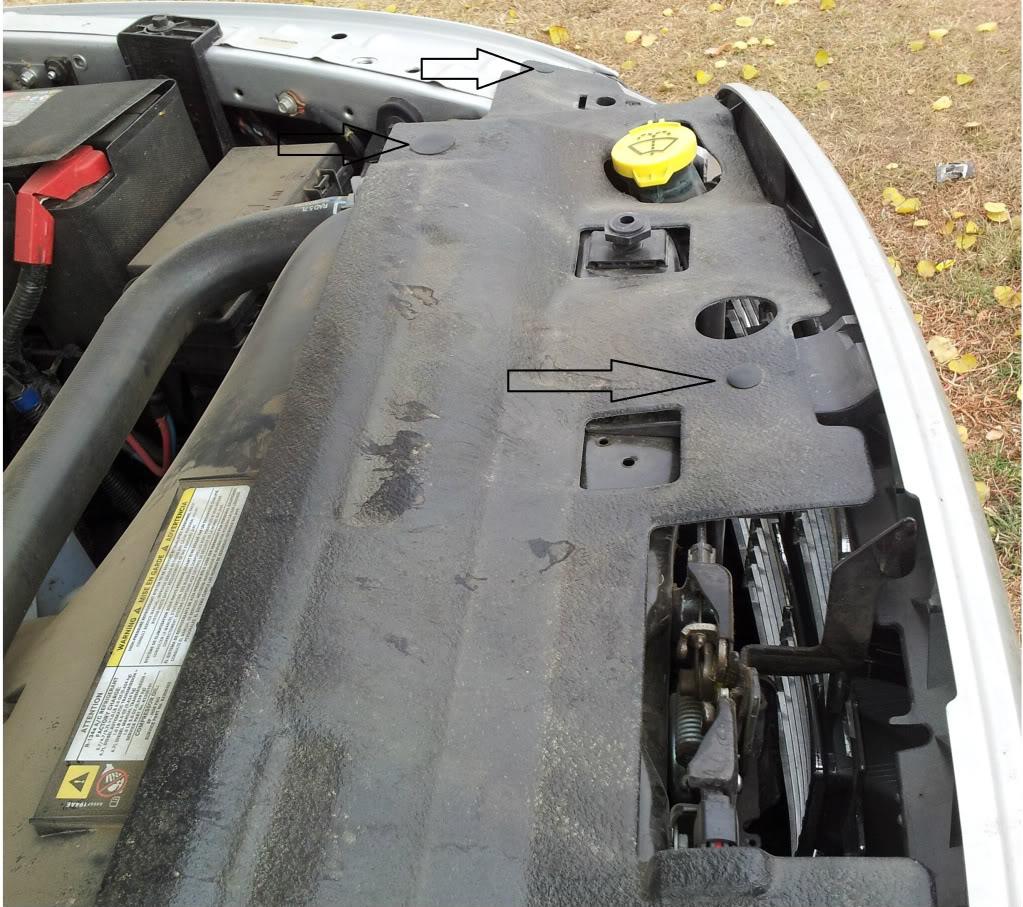 To access the tank, there is two ways of doing this.
1. Remove the box and access tank and wiring
2. Drain and lower tank
Caution!! When you take the fuel line clips off the tank, they are plastic and are usually brittle. I would advise to get new clips before attempting hose removal. Get the proper clips as well. (a store sold me the wrong set and they came off while driving down the road causing loss of fuel)
Checking ASD Relay:
ASD relay is in the fuse boxes in the engine bay. See 1995 Service Manual 95AN_8W.pdf Page. 64
If power and ground is applied to the magnetic coil side of the relay, the other two terminals should go closed. Use a ohms meter to test open and closed. (large number means open, 0 means closed)
More info to come...
I hope this helps you guys as it has helped me... I will add to this as more info comes along.