DIYs
Modification: Lightweight Crankshaft Damper Pulley/Underdrive Pulley (UDP) by 03neonRT
By diyauto
You must be logged in to rate content!
3 minute read

Modification: Lightweight Crankshaft Damper Pulley/Underdrive Pulley (UDP)
Compliments of 03neonRT @ dodgeforum.com
Manufacturers: MPx, Unorthodox Racing, Megan, Ebay
Price Range: $60.00-$220.00
Where to Buy: ModernPerformance.com, HowellAutomotive.Com, Ebay.com.
Difficulty of Installation (1 as easiest 10 as most difficult): 4
Time For Installation: 1 hour-2 hours
Expected Gains (in WHP): 3-5whp
Explanation of Mod: The lightweight UDP is designed to reduce the amount of energy taken from the accessories and alternator. With a smaller diameter and lighter weight, the UDP reduces the loss of power accompanied with the much heavier and larger stock pulley.
Removal/Installation of Harmonic Balancer (AKA UnderdrivePulley)
REMOVAL
1. Raise vehicle on a hoist and remove right inner splash shield.
2. Remove accessory drive belts.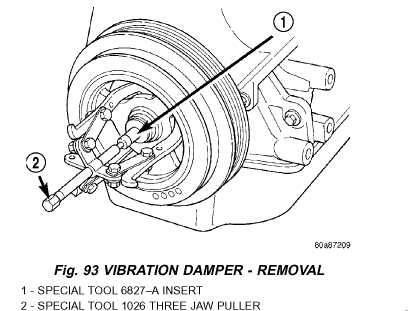 3. Remove crankshaft vibration damper bolt. Remove damper using the large side of Special Tool 1026 and insert 6827-A (Fig. 93).
INSTALLATION

1. Place pulley in 400 degree oven for 15-25 minutes. Remove with oven safe gloves to avoid burning, BE VERY CAREFUL! The hot pulley will slide most of the way onto the crankshaft...if the pulley does not slide on all the way, use crank bolt to tighten pulley down completely.
2. Install vibration damper bolt and tighten to136 Nm (100 ft. lbs.)
3. Install accessory drive belts.
4. Install the right inner splash shield and lower vehicle.