212 Export Vignale Coupe by 275gtb6c
By diyauto
212 Export Vignale Coupe
Compliments of 275gtb6c @ ferrarichat.com
1-13-2008
Hello,

Last year (well, 6 weeks ago....) I bought 0128E. A very nice car, but with one flaw....it is made for midgets. As I am pretty tall (1.80 m) I hardly fit in the (very nice) restored chairs. The position of the pedals is too close. So I want to install other chairs, preferably with higher backs (you dont want to think what can happen as responsible parents of 2 youngsters if somebody hit you from the back). I also want to install 2 pair of 4-point belts in it. Ofcourse all with utmost care and in a way it always can changed back to the original chair configuration.

Anyone did this before? Suggestions more than welcome.
Ciao
Oscar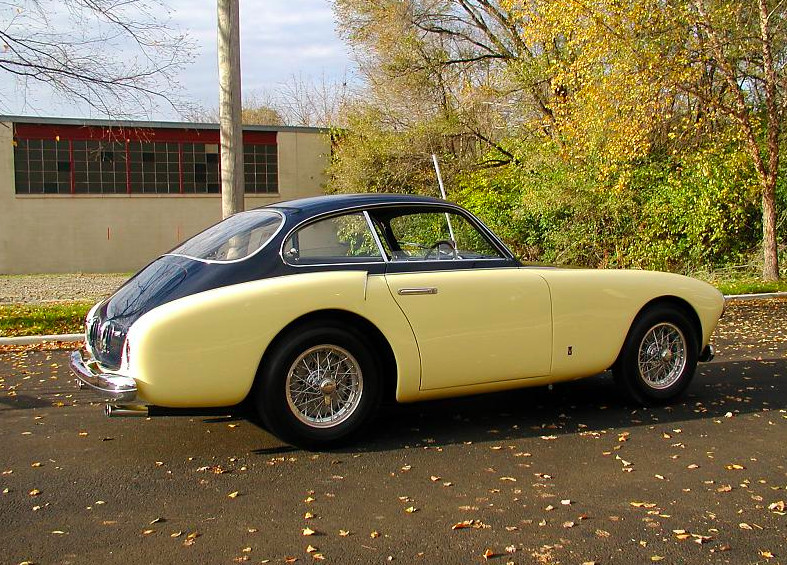 1-14-2008
With the chairs I am going to put in that thing, I will have all the comfort I want....Heated, massage, electric adjustments and so on.
And they dont allow those modern monsters to the MM (yet). Buy the way, it drives much better than you might think. Five (non sync) gears, a lot of torgue and oh yes, no breaks.
Ciao
Oscar

ps my living room is full of girly things, only women here.....
As the car is currently on transport, I have them only on file from my visit.....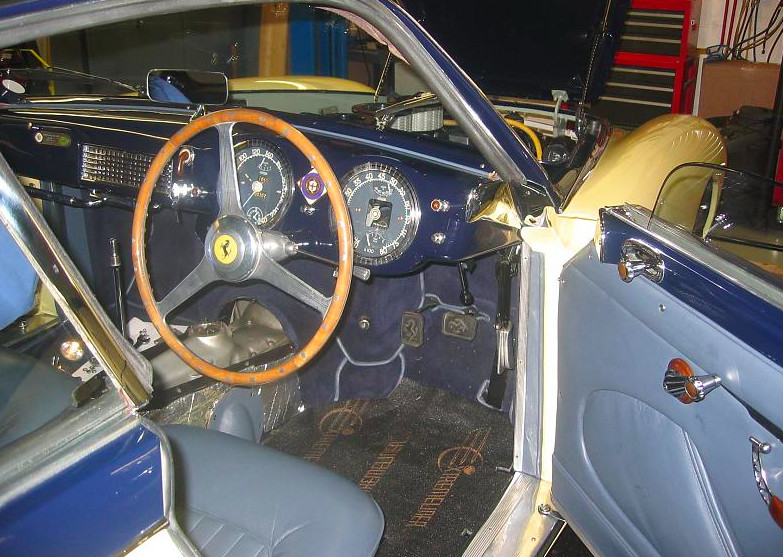 This is it...My knees are in my neck....
Ciao
Oscar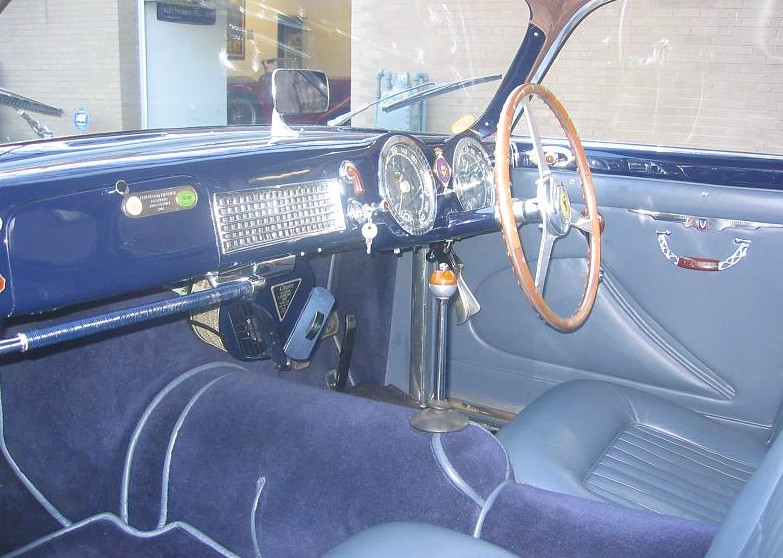 This year I might do the TA (France) with it, although I subscribed with another car. First I need to fit in the car and surgery might be a cheaper solution than PF....
But you never know, I certainly will contact them.
The car looks very nice, but only with a person next to it you see how small she is.
Ciao
Oscar
1-15-2008
Jim is very right, you (well I) really need mirrors to drive on the street and tracks (these days). It is a RHD (they all are) and that's not easy in a RS drive country.
For the chairs I will start with the material Jim suggested, in combination with adjusting the back a little.
I liked the mirrors (removable!) from Benardi's 212 Export. Just need to find out how they fit (and where to buy). But I am not drilling holes in the car! Thanx to all.
Ciao
Oscar
Yes that's the one. The mirrors are looking great on that car and obviously removable, as I saw the car last week (in MECC) without the mirrors. The Bernardi car is in real life different than on the pics. Hard to explain, but the back looks too short in a way. The nose is beautiful and a very nice and interesting car indeed. Vignale did a great job in these days!
Oscar
You have a long wheel base! That is quite a difference in length, and that shows especially in the seating comfort!. Change cars?

My 212 has also the rubber part (see pic) and the picture is from 1962! So it is in my opinion original.
Oscar

I will ask for the removable mirrors! Thanx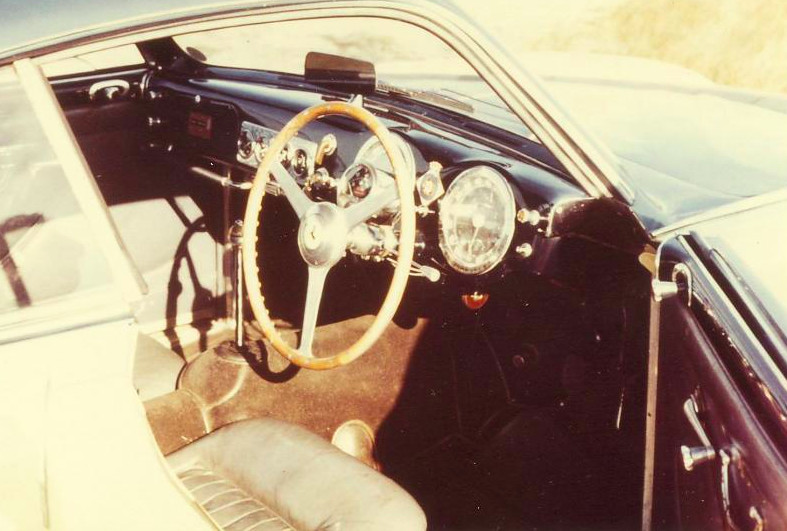 1-17-2008
Here's the engine. Quite accurate for an 56 year old car.....
Oscar
ps mirrors an chairs solved, only safety belts are open........

(c) Jerry...........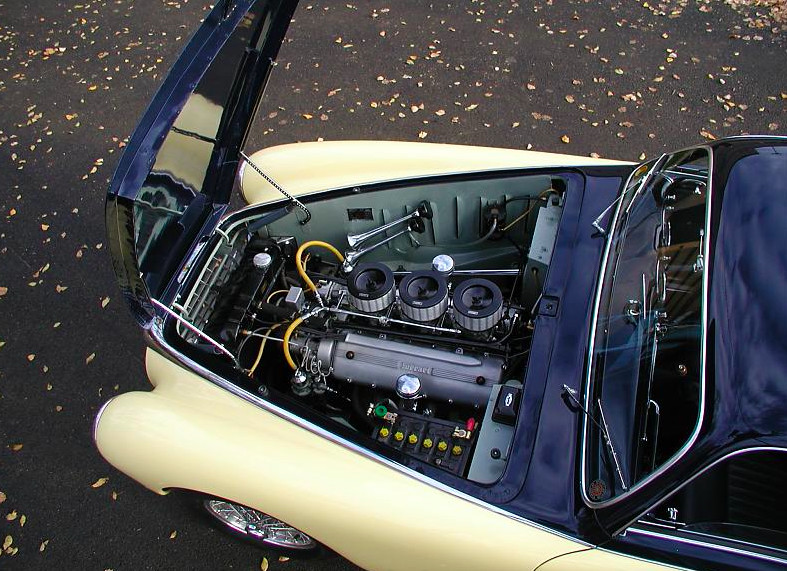 1-18-2008
In the 50's it was in Milwaukee, WI, USA (Robert C. Wilke) and Palos Park, IL, USA (Dean Bangert) and the most important race was the Road America 500, Elkhart Lake (As I am European, I am not familiar with this race but seems important) after that it was sold to a owner Ken Hutchinson an he kept it for 30 years or so.
It would be great if you (or someone else) can provide me with some more details in this period.
Some more pics: (Jerry (C)).....
Ciao
Oscar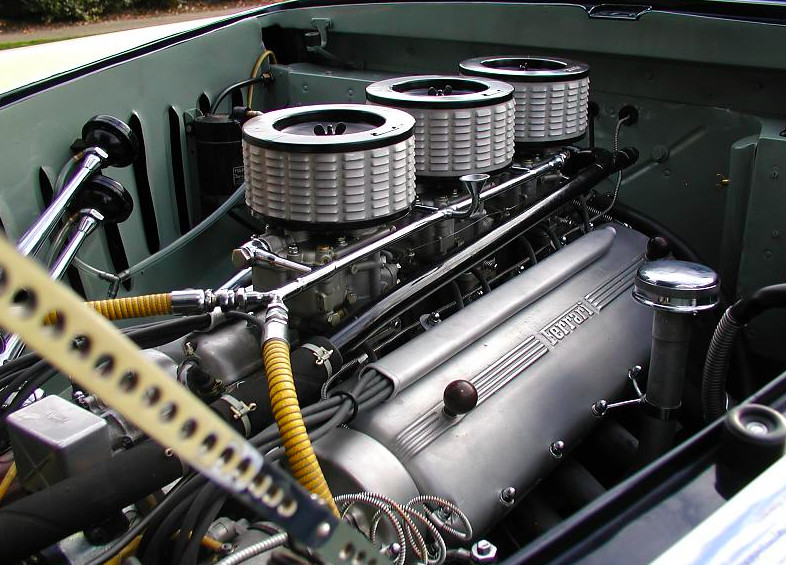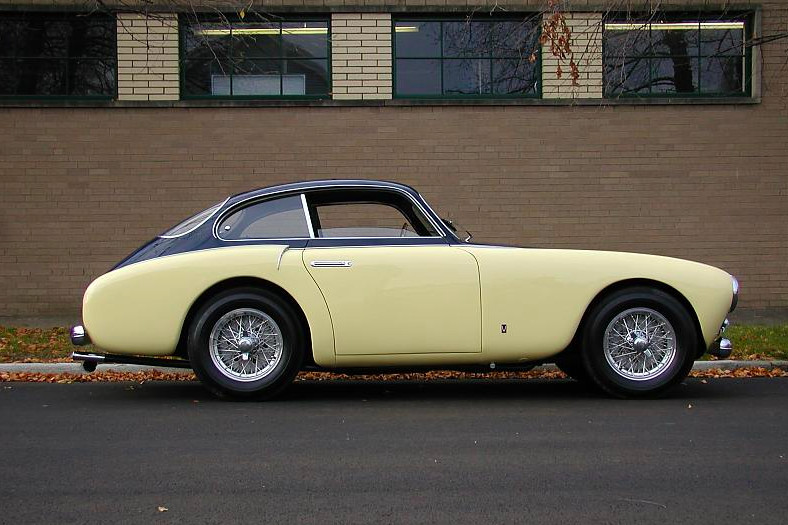 4-30-2008
They don't need them.

ps photo edditing is not easy....

ciao
Oscar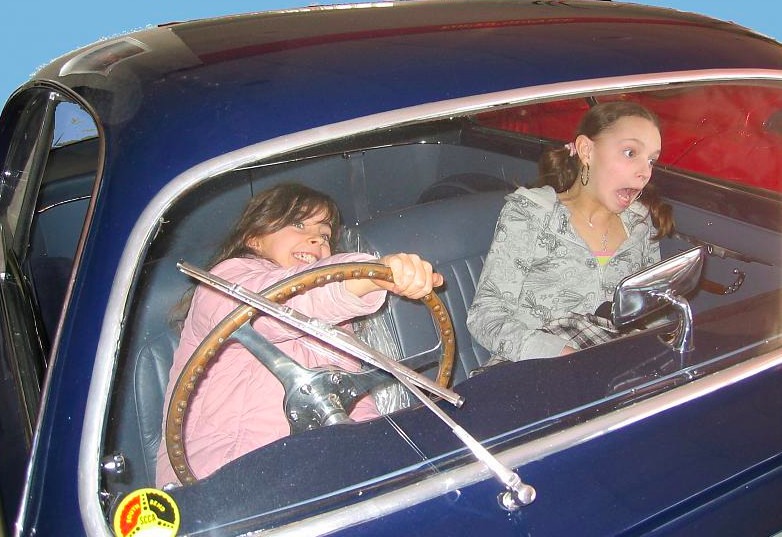 5-25-2008
Hi,

Your timing is perfect as I got the message that at the end of the week my car is kind of ready. We renovated the breaks (obviously the car had no km's for a long time) and checked the mechanics. But for now still original so no mirrors, safety belts and so.....I will share my impressions next week as this is the first time I will be able to drive for a little longer than 20 minutes....(I hope).

Keep you posted,
6-15-2008
Lat week I was able to drive my first km's (miles) in the 0128E. As we had to wait quite some time for some parts the car was ready for its first drive. The brakes were completely done and some parts hard to get.
I drove from my mechanic's garage to the south of the Netherlands (about 150 km in total), and the car is really fun. The crashbox takes some time but is quite forgiven and the handling is fantastic. Considering a 57 year old car, I was keeping pace with traffic without problems and the family in the car following me had a hard time to keep pace.

In a (smaller) traffic jam the temp got in the 100-105 C range, God I hate tight traffic and temp problems. So a huge fan will be added.

Unfortunately the box was stuck (the same problem as mentioned before, the box is able to activate 2 gearshafts and thus is stuck, easy to repair (open the box and get one out) but not handy. Also the drivetrain shaft was broken!! (obviously some fatigue as this never happens).

So back to my mechanic on a trailer (see pic). But I dont need seat adjustment (I really fit after some gym) and the handling is real great.

I might visit one of the Dutch events in September, but my goal is to get some km's and prepare for the MM 2009 (any others planned to go like Jim (Napolis) or Julio??)

Ciao
Oscar

ps Martin, I read the thread but need to be invited.........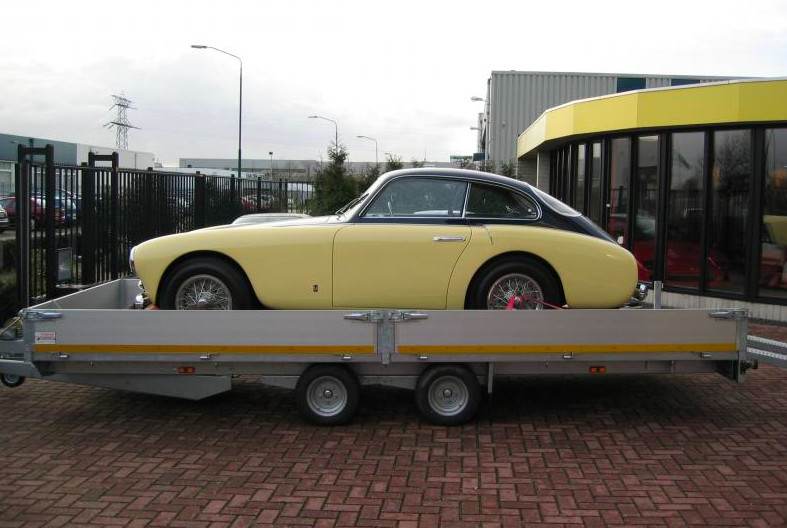 6-18-2008
Here is the broken shaft, obviously a fatigue breakage. Currently a new one is made. Anyone saw this before in a 35 mm driveshaft?

Looking forward meeting 002C and Julio's Inter.....In the MM or TF 2009.
But for now, still some work to do and no oil coole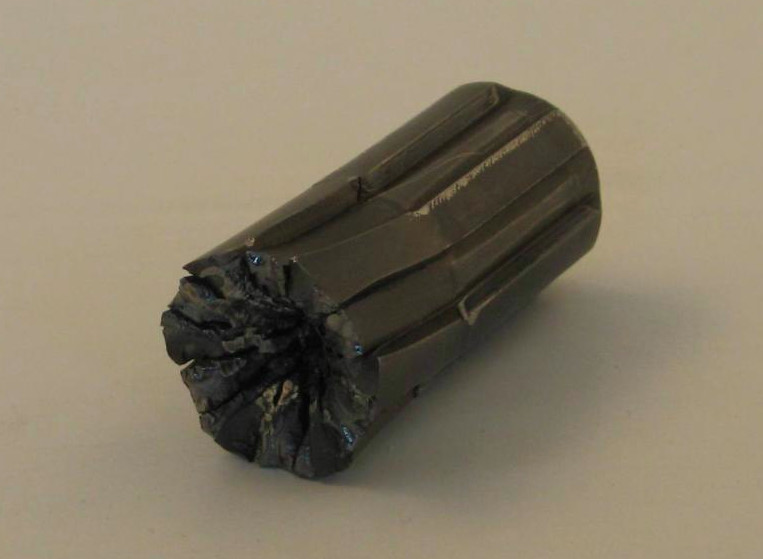 6-30-2008
hi,

good story! Do you remember if this was a drive shaft? (one of the two)? Mine was broken and as they are about 35 mm thick we really want to know how this can happen with a 180HP (or so) car? We never heard of any vintage Ferrari that had problems with them.
Also did your father have an export or in an inter....(easy to check as if he is 6 feet tall and had his knees in his chin, or you as a boy of 10 can hardly stretch your legs than this must be an export

7-25-2008
After some hick-ups this week the 212 export has been registered and is now ready for the FIVA pasport. I did drive the car (without any mods, even the clamp-on mirror dropped...) through tight traffic for about 300 km's. Real fun, very fast and a good predictable handling. The crash box is fun and much easier than expected. When hot double clutching and down shifting is easy. The car is vey small and if you park it you find way more room than from the inside expected.

I will install only the clamp on morrors and the seat belts. Chair is ok, I am into yoga for my legs...skipped the surgery.

Here a pic of today. A dutch car enthausiast made some more, he will probably post them somewhere on the internet.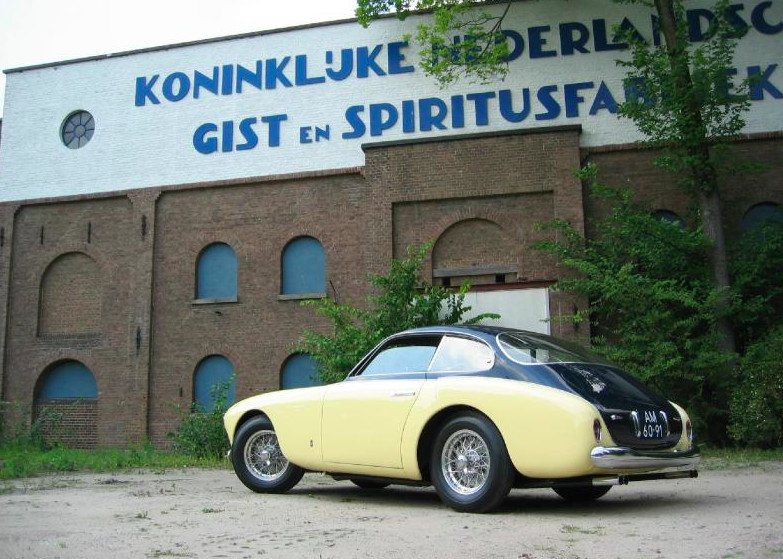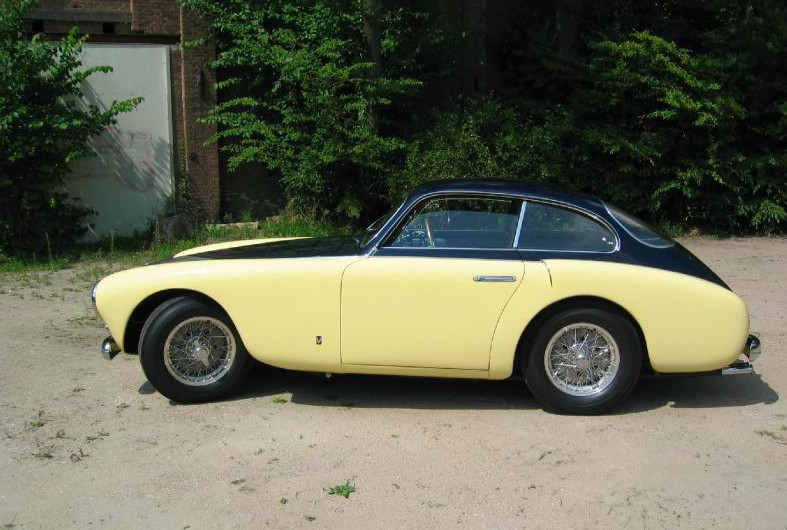 9-4-2008
we took her out for a long ride, just between the rain. hope because of climate changes we end up with a nice and long indian summer in europe.

almost ready for signing up for the MM 2009 (although the dates are not definitive yet...) did all the work for the fiva passport and have all the info they requested. got some very nice info from red barron and julio, and hope some real enthausiasts will join the MM with us. even my wife is looking forward to it........
ciao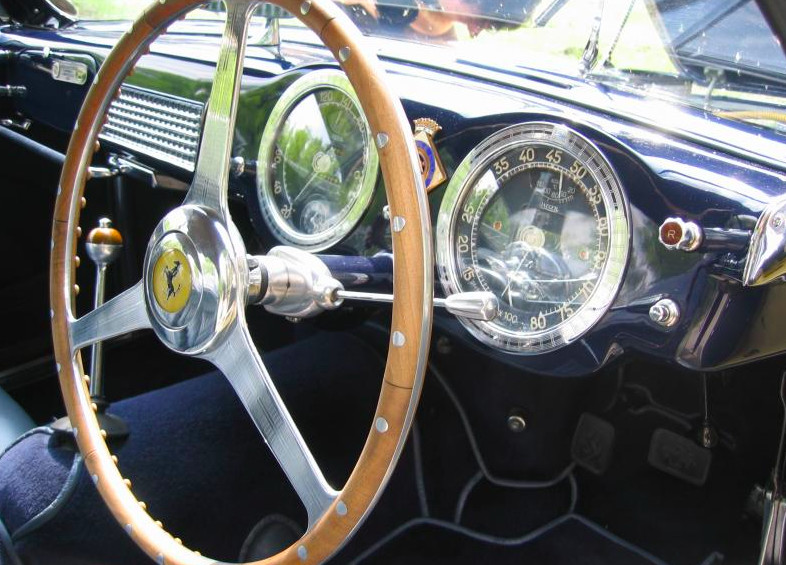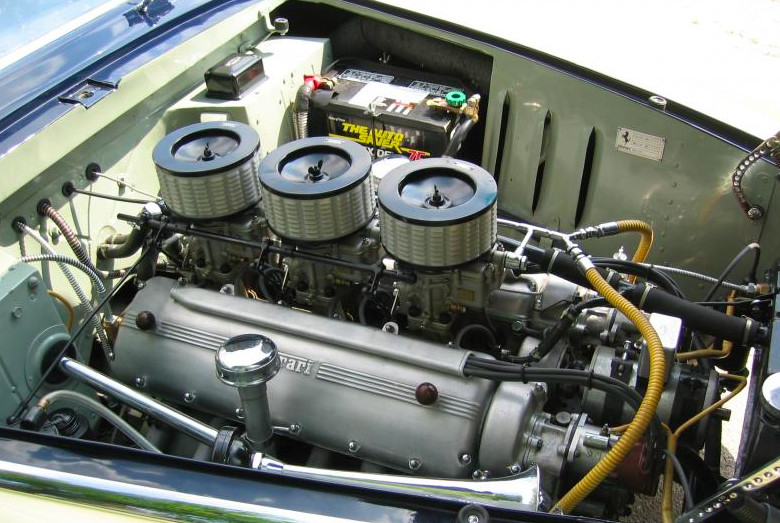 9-5-2008
Wax, the first thing I noticed when I saw the car's engine was this "car saver" battery, but it turns out a quality product in a not really vintage look, although it is kind of black. But at this moment I am not really concerned about judges and concourses. I need to drive a lot with it, just to get used to the little car. You should have seen my wife sitting next to me (at the regular driving position) when I entered the highway between two uge trucks...Missed one arm to make the picture, as I was all over the car to get it going.

And Harry, hope to see you before the MM....You never know, we live in a small coutry. I keep you all posted with the progress.......
ciao
Well noticed Peter! This plague has been with the car for as long there are pictures of it. It was on a picture from 1957. Strange as this is a US car and delivered from new and never left the country (well till 1990's). Any info is welcome.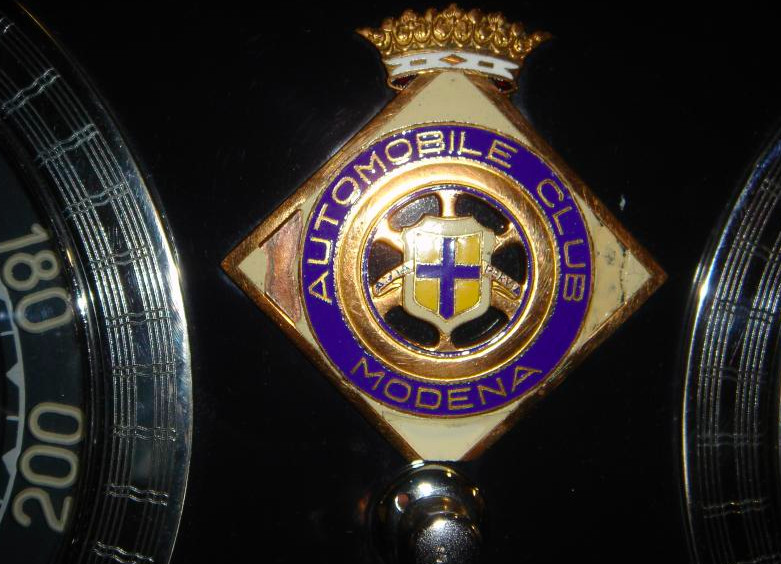 9-12-2008
After gathering all the relevant ino, including the Fiva card, we signed up (together with an Italian friend, so we understood the great english website....(italian all over) and went over 9 forms with details of the car, history, us and finance.....

And then they (organisation) called us that we were the first and we have to do it all over again in 2 weeks as the costs were based on last year.

Great! So we will do this again and bring 0128E to Italy, after 58 years. (it never went back according to the records).
It was funny, but took us 2 hours to complete these 9 forms and was fully prepaired (requested pictures and scans).
It is said that there were not many Ferrari's in the MM last year because the registration is only possible through the internet...and you must read Italian and provide a huge pile of info....but than again the Bugatti's/Fiat's/Mercedes etc had the same problem....Are Ferrari owners lazy, stubborn or not very smart ???



a picture from the 50's....Elckart Lake Road America 500 1957, I think the copyright is from me, as I own the picture..(but did not take it as I was not born yet)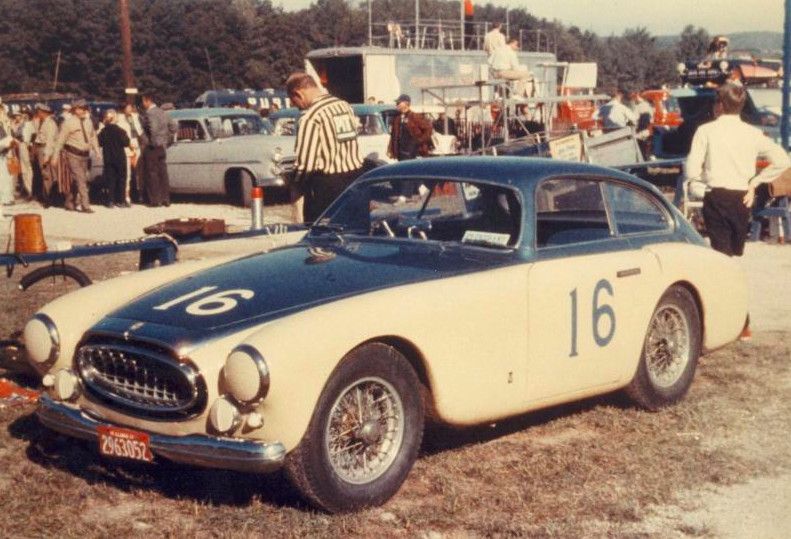 I got a lot historic pictures with the car but the above picture is published in "ferrari by vignale" and (thus?) copyrighted by marcel massini....
11-8-2008
ncredible found (thanks Jerry) of 212 Export Vignale Coupe 0128E at Elkhart Lake (Road America) 1957. Without sound but in 16 mm film and real driving fast....



Today (-4 C!) I took the 212 export to my mechanic in order to prepare it for the MM (well I am still positive about being accepted..) but the police got me, for speeding, papers and lack of belts and mirrors.
But they liked the car, did know about the MM and let me go.......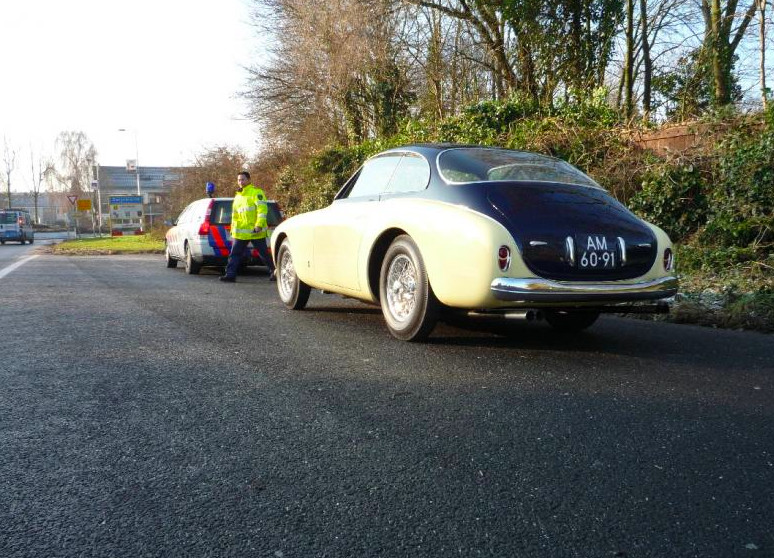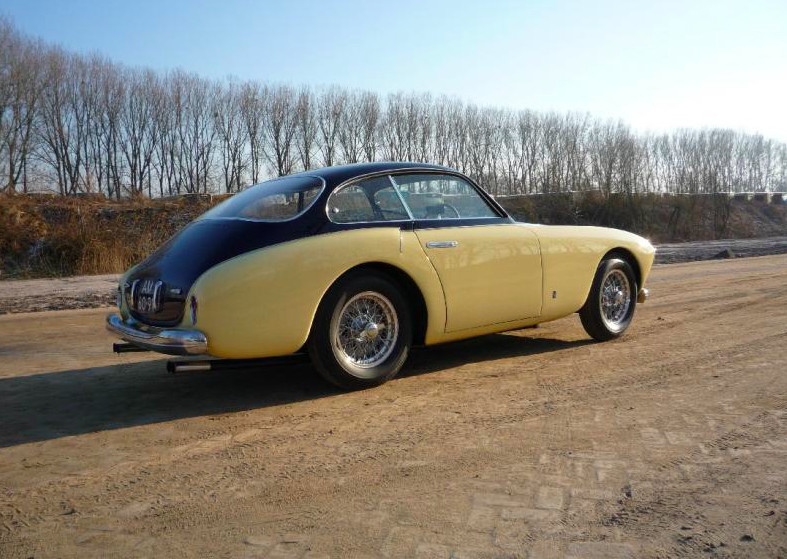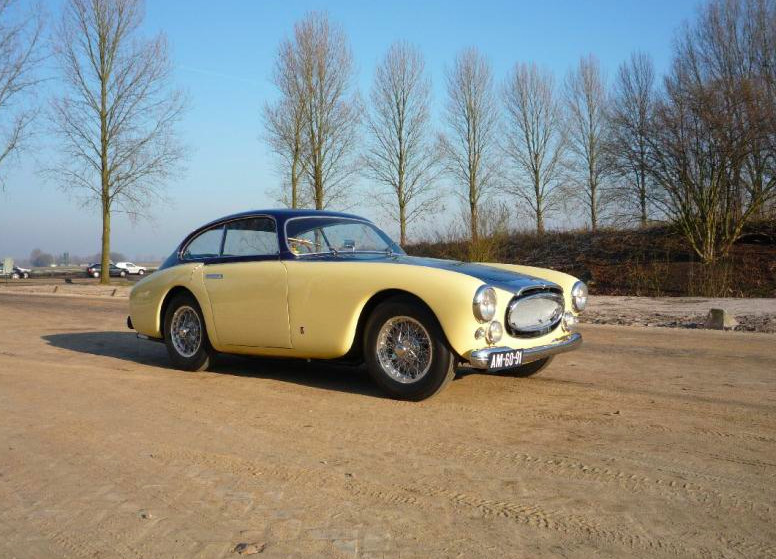 1-22-2009
As mentioned earlier I scanned the 212 Export so if any body part is damaged we have the unique 3D CAD data. Currently it is only a 3D cloud of points and we are constructing this to 3D surfaces. I have a very nice movie showing the full 3D scanned car.
The data has been gathered by a nice company, also specialised in scanning buildings or other big objects. If anybody need info, PM me.

Next week we will know if the MM2009 will be on for us.......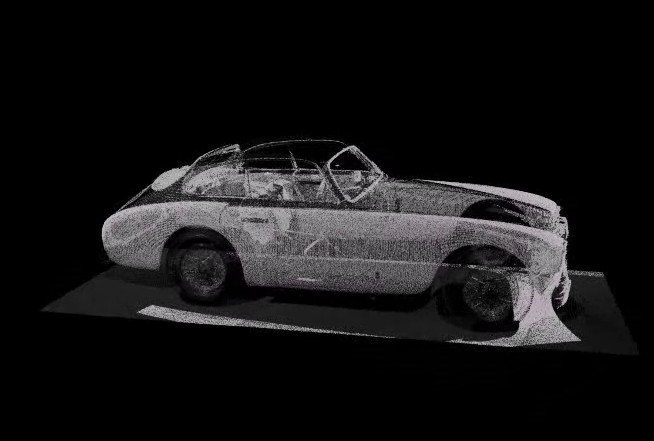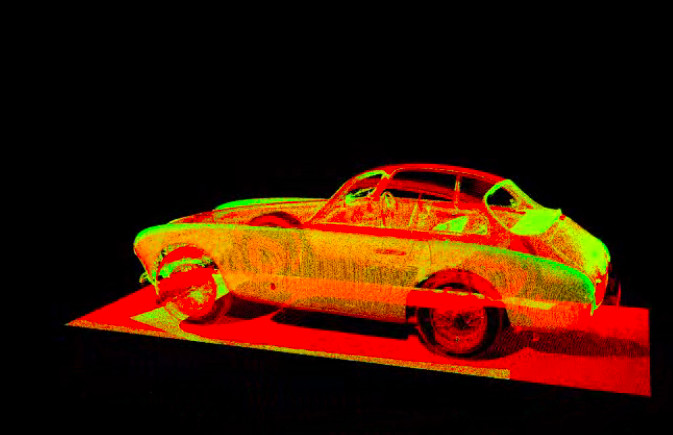 2-10-2009
The car is at my Mechanic's place for:
installing 4 point (invisible and detachable) safetybelts, new clutch, bigger electric fan, tow points front and rear, some engine adjustments and an overall check-up with oil changes. After this month we will put some more km's on her and I will try to convince Marianne that 1600 km's in 2,5 days in a 58 year old car with no legroom, noise, smell is a piece of cake.....and a lot of people -amongst mine- dream.
ciao
Oscar

ps I skipped the modifications of the chairs and adding of the mirrors. I found a rather comfy position of driving the car and I didn't need the mirrors so far. Getting in and out is terrible though.
4-19-2009
Today we went for a drive and to answer some questions about the temp/pressure:

oil pressure when driving stays in 3.5 to 4 on the scale to 5.
oil temperature (Julio asked for that): I measured this after a long drive, outside temp was about 15dg C, oil was 84C, water 76C. I did not put the car very hard though. It was measured with a infrared meter at the sump(oil) and radioator/heads (water).
Carbs need to adjust still as giving full throttle engine stalls a bit.

Sad to say but I had to install a modern tripmaster....But easy to remove without trace. To install was quite a job though, while the sensor is placed in the km cable.

Julio, any progress at your site?
5-8-2009
She is ready for Brescia and we are almost ready to rock.....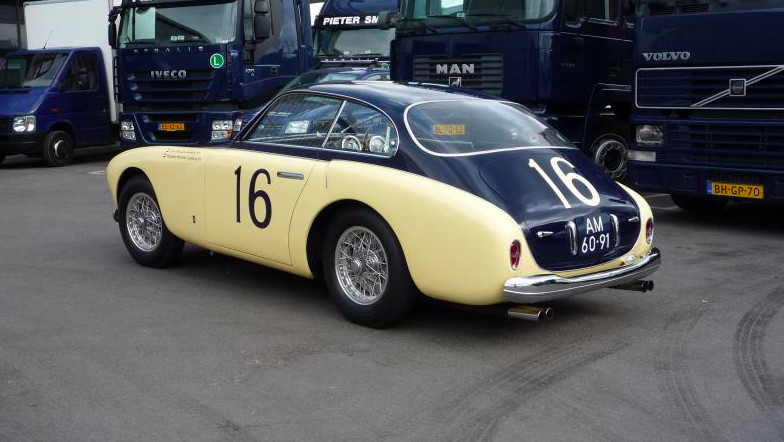 5-19-2009
Christian , same to us. We hardly made pics during the rally as we did not have time for it.

Thanx for the pics Cris, during these pics I was rather frantic as my papers from the organisation were gone....and they almost rejected my tires as there was no E sign on them (but also no race tires) so they allowed me to use them.

It was a fantastic event and met quite a few nice people, also from ferrarichat. The dutch gang is unbelievable but the Italians beats everything. Every child, grandmother or schoolboy has genes with cars. Rome was historic on every point of view. Driving through the empty streets is unique.
5-20-2009
My (brief) story......

3 years ago I started to really want to join the MM before turning 50...I was already sourcing some cars and found 0128E after visiting quite a few. The queeste is a big part of the fun. After getting the car to my stamping grounds we prepared it by adding a fan, even in my country the cooling was highly inadequate. We installed a new clutch with race padding and renovated the brakes. I also wanted to do something about the chairs and mirrors but during the time driving it I found my way without modifying or adding them. We had some problems with ignition (4 points) but solved this. Tow points (highly recommended!) front/rear, 4 point period (as far as you can say this) safety belts installed and we had shift over backrest headrest (easy detachable) for my wife, but I found them comfy too. Of course prepartion was done by checking the valve clearance and other logical things. We brought an extra battery as Julio recommended. And this was more than usefull!

We transported the car to Brescia on Friday (a big relieve while from there the car was out of my control and save on transport. I added besides the battery a full toolset, spares and fluids. I think I was the only Ferrari without a support team!

We flew to Brescia (Bergamo) with Ryanair! After arrival, we went to Lago di Garda with friends (with a Riva and champagne, what a start). That day was also used to do the scutineering and I was pretty frantic as I lost some very important papers and the tyres did not have the E sign on them......Normally this means race tyres and thus not allowed (anyone joining a future MM, check this beforehand as this is a no go!). We met Julio and his brother (great guys!!) and some dutch friends also from fchat. The fair hall was not romantic, but very comfortable and accessable. Organisation very friendly and well organised.

Ok, next day we slep long, and went at 10.30 with the car (race number 151) under police escorte to Brescia centre. From there every single person went crazy for the next 2,5 days. The people just love any old car and the MM is in the genes of every child, grandmother or any other person alive and grown up with pasta. After parking the car we picked up some presents (nice watch from chopard) and met some friends. After comfy waiting we went to the MM museum (early) because I was eager in getting there. We were not the first....Before leaving I started the car and instantly heard it was not running on 12....The mechanic from the car next to us (166 MM) had a temp gun and pointed that 6 and 9 were not firing....Good start. The trip the MM was good as I had some time to change the sparkplugs of these, and I wanted to kiss the mechanic for preventing me getting all 12 out......
In the MM museum a young guy came out (he worked there) to inform me that he actually dont liked Ferraris but fell in love with this little car. Very nice guy with all the info of the MM at hand. He new every winner or incident since the start.
After changing the plugs we had some food and at around 20.00 h we went for the start.....Car was running fine and we were on our way. After 500 meters we saw the red/black Ferrari 195S in fire.....They had bad luck...The trip to ferrara was great fun, not too long and My thoughts as the MM being a parade went stronger. But the screaming crowds were fantastic.

Next day (friday) went up at 6, prepared the car (that was next to Julio's) and we went for Rome .....through the mountains.....and rain......and no brakes (well period ones)....ad a 30kg battery in the back and a tank with 120 l gas...Every single corner oversteer. That day we saw 4-6 accidents, people crying next to there just ruined cars. A guy with hands in the air who just crashed his Mondial...(would have been a great picture but I did not found this appropriate..) The drizzle rain went stronger and the passes higher. This was really working but the car went fantastic! A 1951 Ferrari is a great car, lot of power and torgue, no brakes and suspension. But if you get used to this, a great car to drive. And you wont get used to your car at a highway or local event. In the mountains you will know (mayby too late) what is possible with it and what is not....) The cars that crashed in front of us was a big warning to us.

Then at around 22.00 or so we arrove in Rome. Quite a chaos as a lot of cars outside somewhere at a bus station. At that time my battery was runnning low and people got irritated by too many cars, too little room, too much crowd. We went with an escorte to the centre of Rome, but my car wouldnt start. Marianne organised with a smile some guys and we went with a large police escorte to the very centre of Rome. And there my battry gave up.....But I had a spare one in the back. Not the most common thing to carry with you but I quickly installed the fresh one (quite a job in the very centre of Rome with a lot of people wanted to see a Ferrari engine....but no one asking stupid jokes! From there the tour through Rome started and this is unbelievable. Empty streets, all the tourist attractions and police everywhere just pushing you to drive harder.....(my top was 120....) I can spent hours in trying to describe this but I wont even try to do so.

We parked the car in a garage and went with the empty battery and a charger (yes I even brought one) to the hotel (how romantic...) and we slept like 2.00 need to get up at 6.00....but we slept a little longer....(so we lost a lot of points.)

From Rome to Brescia is a nightmare....about 700km's and a lot of (beautiful) cities...Screaming people but also dubbel declutching evey single gear! My feet were tired, concentration get worse and dangerous situations occured. I saw pretty late a railcrossing was closed.....Thanx to all the people outside (and a very good and friendly navigattress) we went through Sienna to Florence. We know Florence very well and it was fantastic driving through those streets. All non MM cars driving with us (big fun as they respect old cars). All the way to Maranello, bringing the old banger back to her stamping ground. But what a farce this was. Only some uninterested chitchatting people with an obligatoire drive through the factory. We got some Ferrari pins thrown into our cars and hop we where out......No fun, no respect, no screaming crowd, no atmosphere...Outside the factory, the yelling and enthousiast people were present again..

From Maranello we still had about 4 hours to go.....And this part was the hardest. Still some cities to visit, it got darker and we got tyred. But still we managed and the kisses at Brescia were real. My God what was this fantastic. Marianne asked me: will you do this again, somewhere between Maranello and Brescia and at time I was hesitating, but in Brescia this was clear! We will do this again!

Thanx to every nice fchatter and espacially Julio and his brother!

Some pics without comment,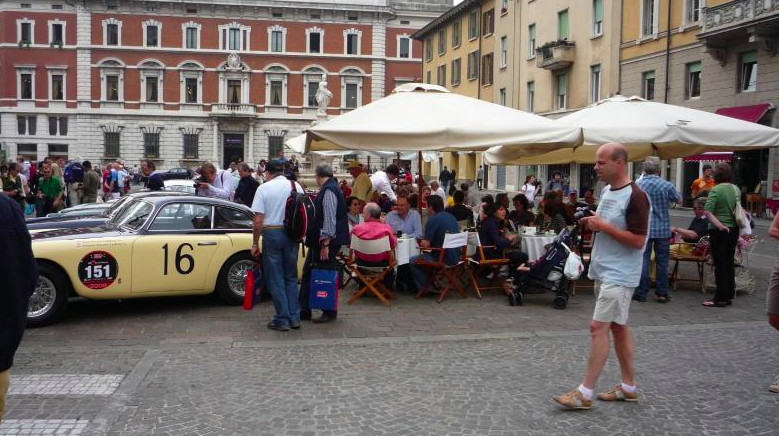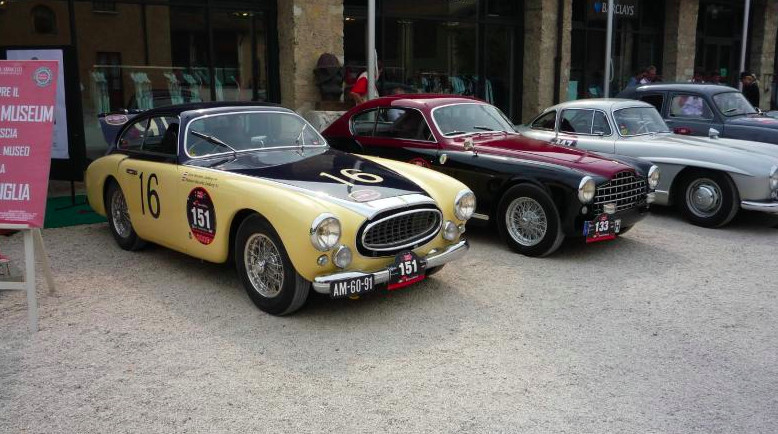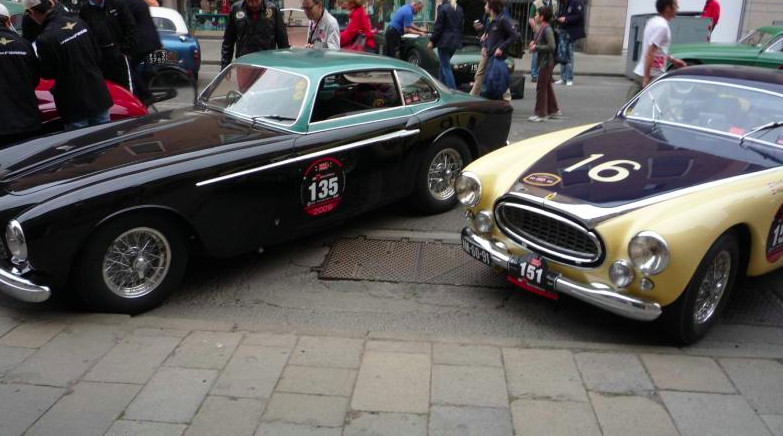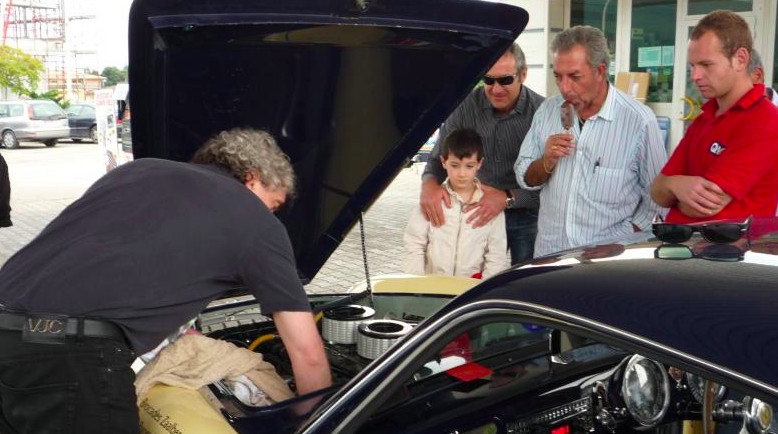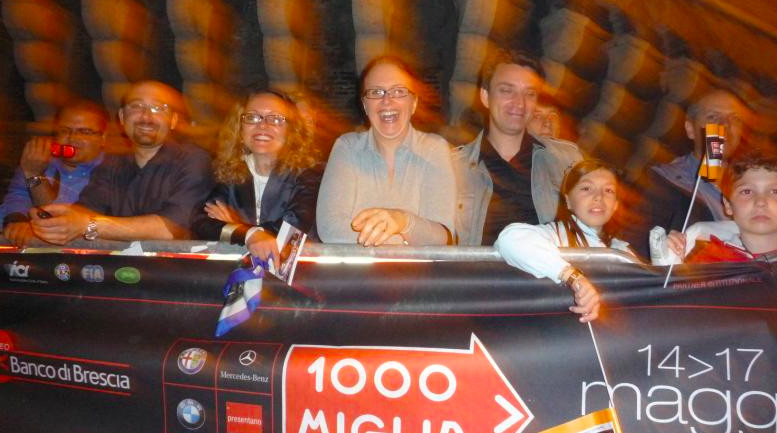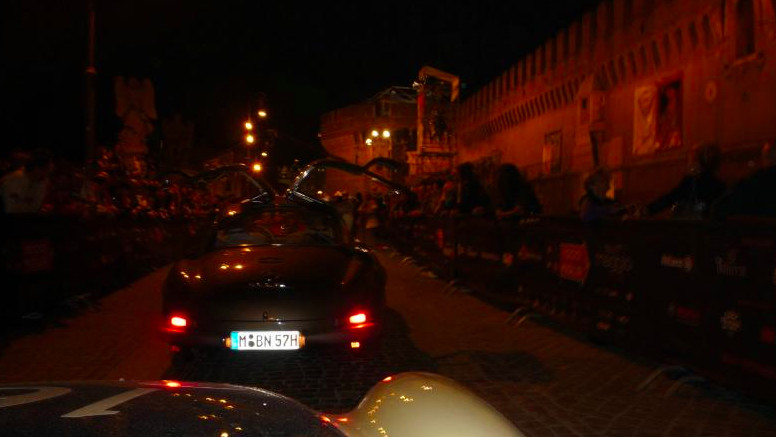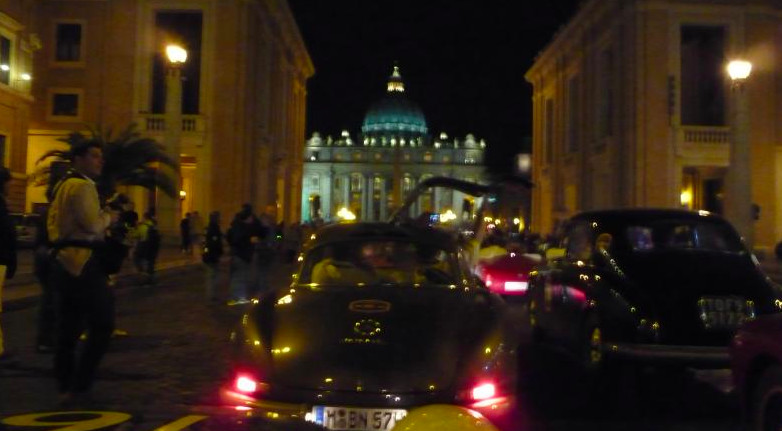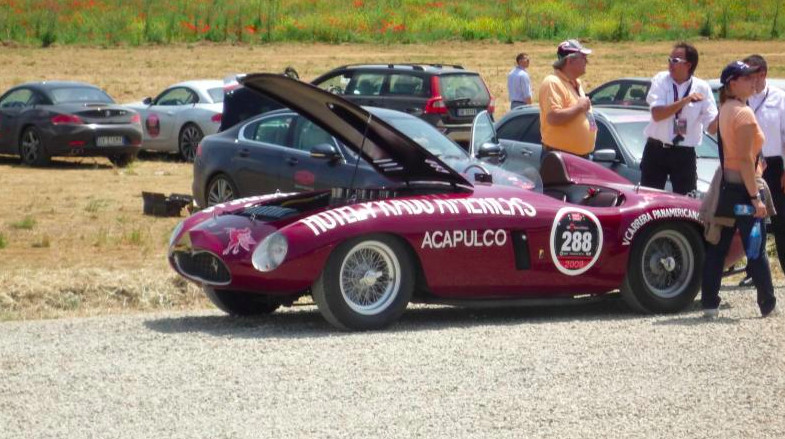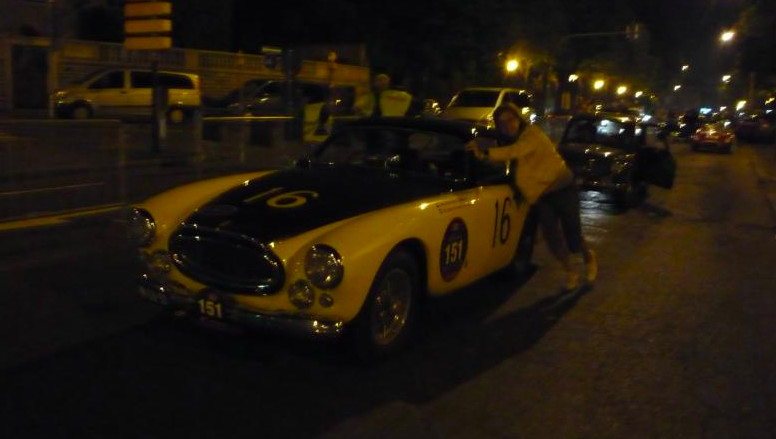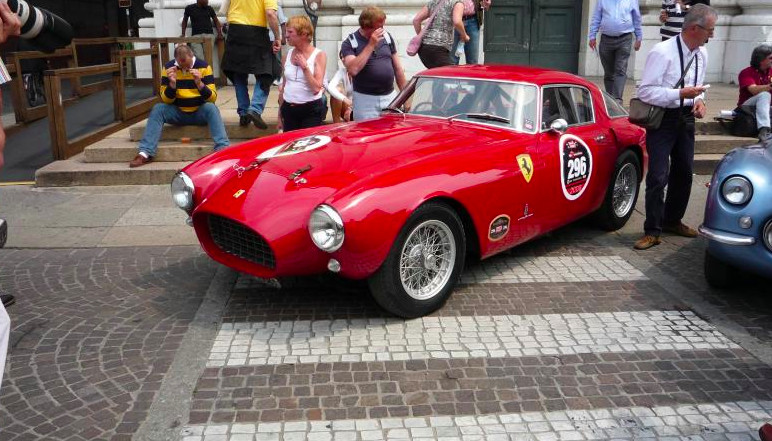 5-30-2009
Finally I got the 1:24 models......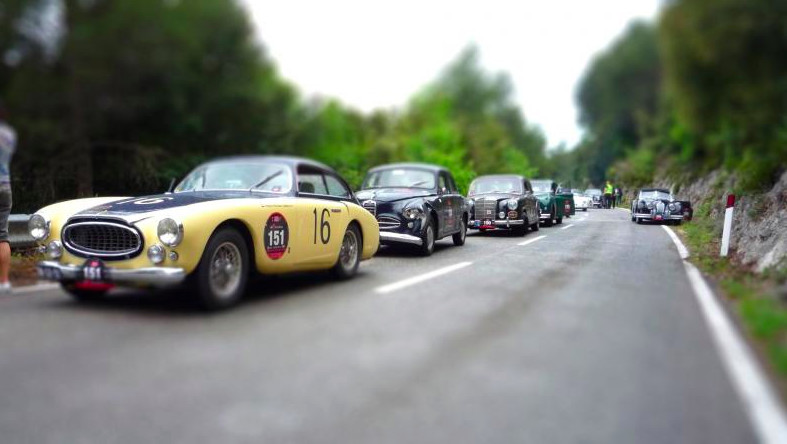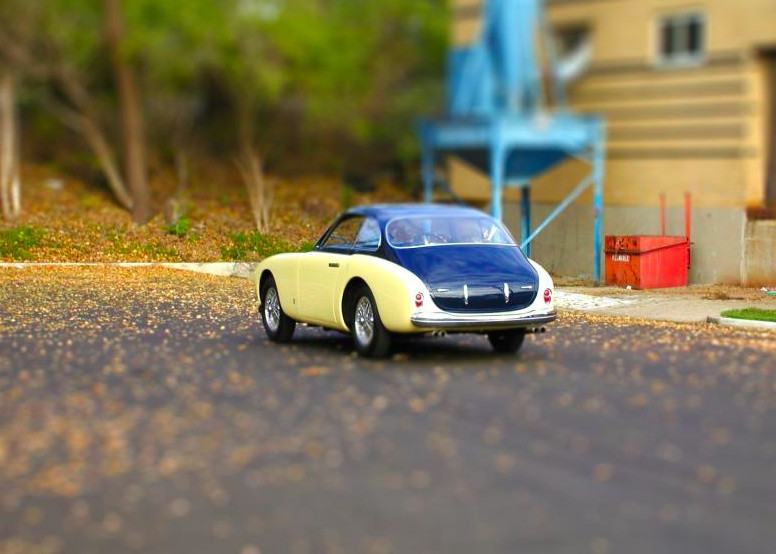 12-11-2009
Got the real thing next to the model....Gee what a work to puzzle this together. The alternator in disguise is ready and will post some pics soon.