Custom 348 headers by Hytech by ernie
By diyauto
You must be logged in to rate content!
Custom 348 headers by Hytech
Compliments of ernie @ ferrarichat.com
1-5-2011
Okay guys I just can't stand it anymore. I'm so excited about this that I have to share it with the Brotherhood.

Okay.

Last year I was having a problem with a code related to lambda regulation. Had my injectors sent out to get tested and clean. While the injector cleaning was totally worth it, and did help tremendously, it still didn't full get rid of the code. I have been suspecting that I may have a problem with a leaking header. So rather than spend the ridiculous amount of money for stock ferrari headers, I decide to get a nice custom set made for about the same price. That and, stock sucks!

After thinking, and looking, long and hard, I took my car to Hytech Exhaust to have them make me a set of their tri-y anti-reversion headers. Hytech has an excellent reputation in the import tuner, and racing scene. And after reading about their headers for quite some time I decided to pull the trigger. Instead of taking off my old headers, and then having them make me a new set, I took the whole car down. that way they could see how much room I did, and didn't have, so that they could make me the best headers that could fit in my car.

So without further ado, here are some if the in progress pics.
Here are some work in progress shots.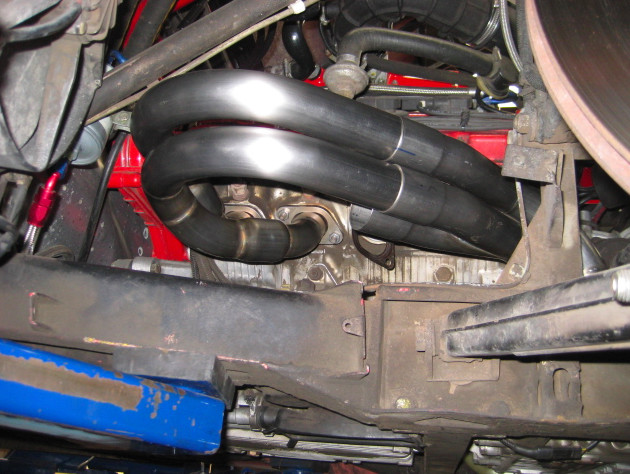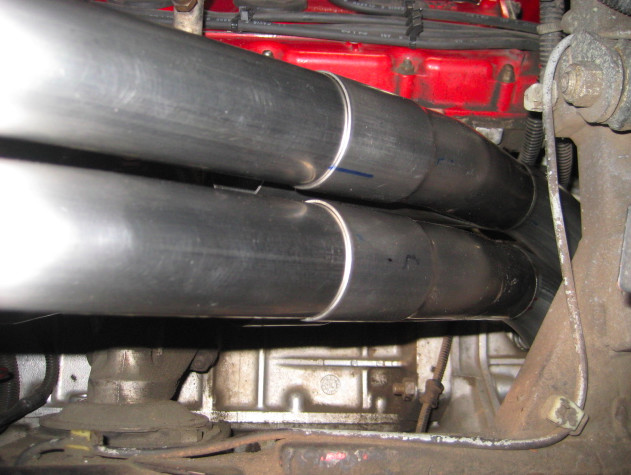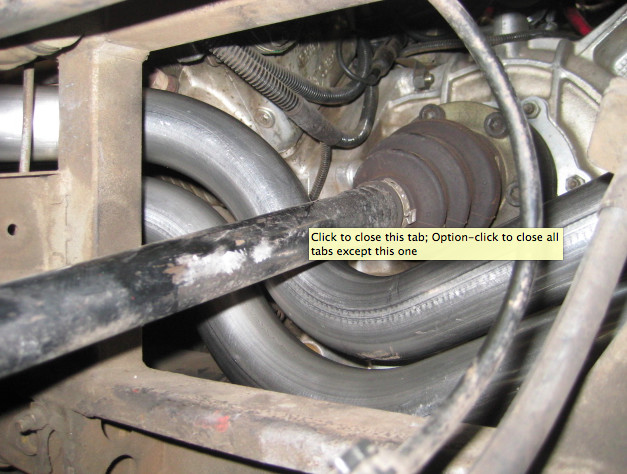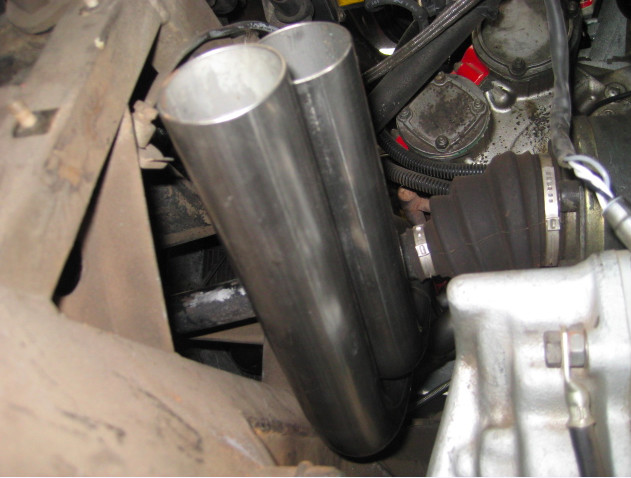 One side almost finished.

Check out the anti-reversion chambers on the stepped primaries. Hytech also paired my cylinders sequentially. They are made out of 321 stainless. Most headers are made out of 304, but I went with 321 because I don't wanna deal with the meltdown issues that have plagued so many 355's. 321 is commonly used when making turbo headers. So if 321 can hang with the heat of a turbo, it can surely hold up to the naturally aspirated heat of a 348 engine.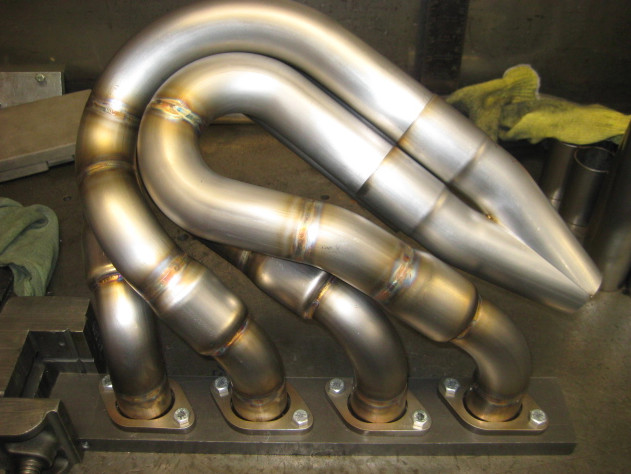 The collector, and how it sits in the engine bay.

Is that a Voovoozela in there?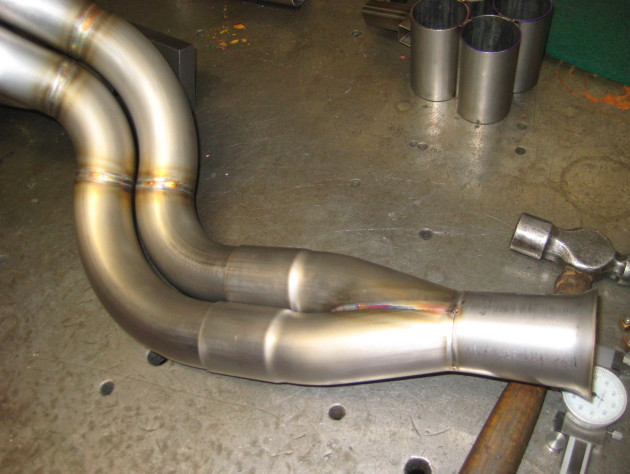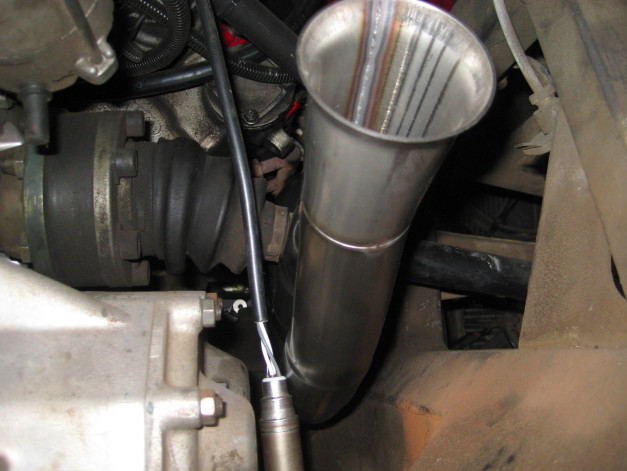 Here is one side all together.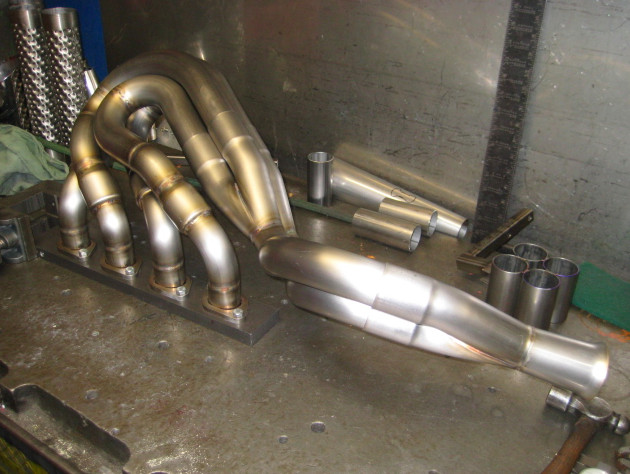 1-7-2011
When I'm driving like a good boy

things are pretty much the same, quiet as a stock settup. But when I stand on it..........the thing sounds WICKED! The exhaust has a total Jeckle and Hyde personality. Especially now with the combo of the Gothspeed muffler and the Hytech headers, it really comes alive. It doesn't have an F1 sound to it, it sounds more raw, more raspy.

I met up with Oz-meister this afternoon, and he took some video clips of it. So we'll just have to wait until he posts them up. I also went and tried to take some pics but they just didn't come out right, it's too dark. I'll take some in the day light. That and I have to change the wheels around anyway. They put them on backwards, and Ozzy noticed it. Plus it'll give me more room to snap pics.
As for driving impressions,

According to my butt dyno it feels like it pulls harder, and it for sure revs quicker. The throttle response is improved. But I need to find some time to do a before and after dyno. I'm really curious to see what the improvements are over the stock system. Because I can say it feels stronger all I like, but the proof in the pudding with be what the dyno says.
Took some pics with the headers on the car. They have turned a nice gold color after some use.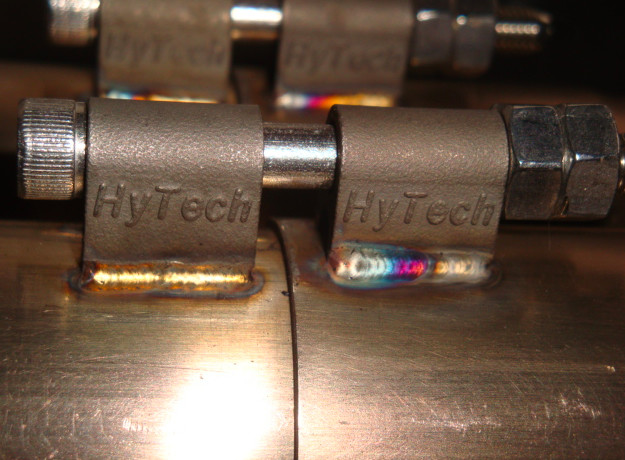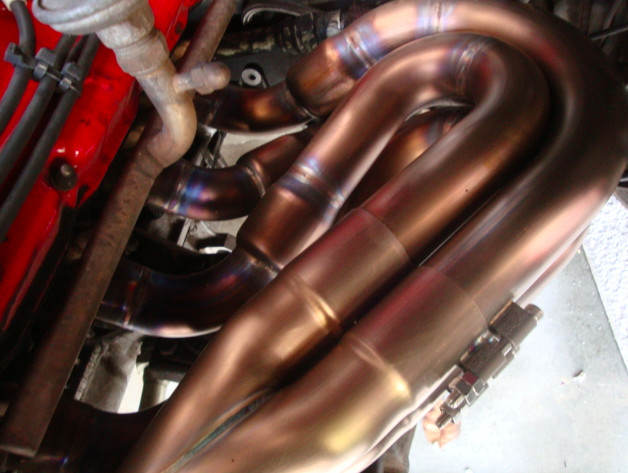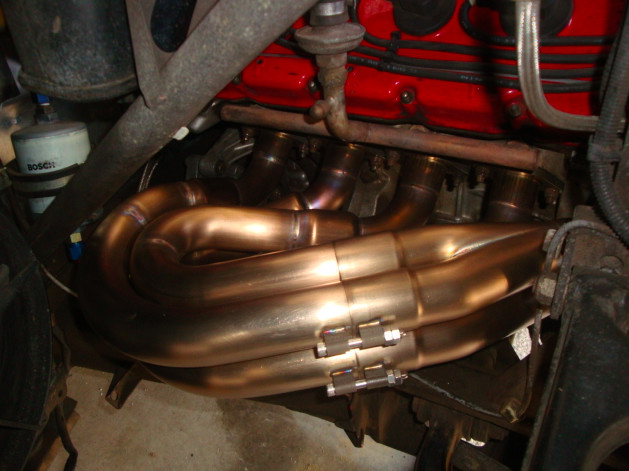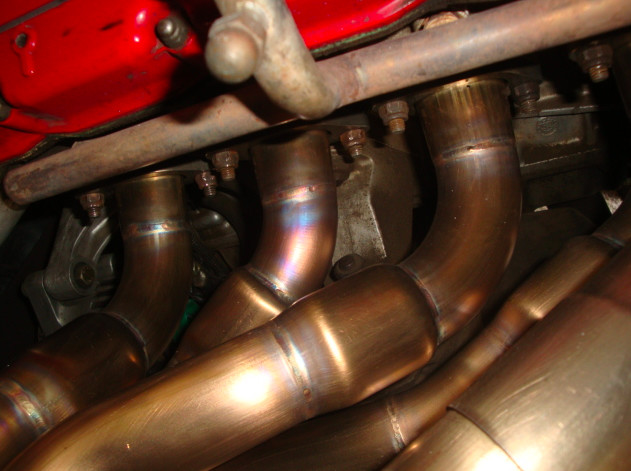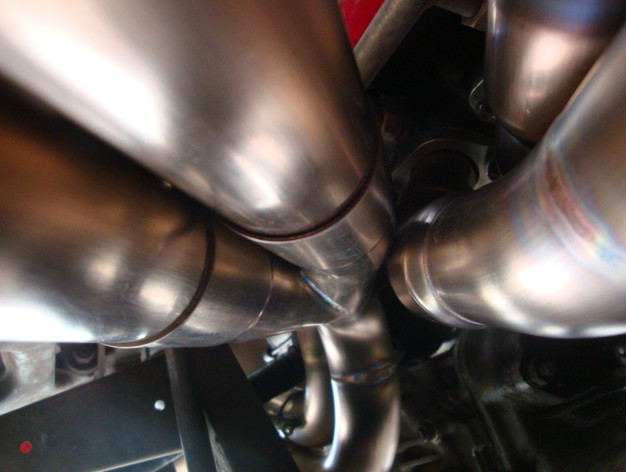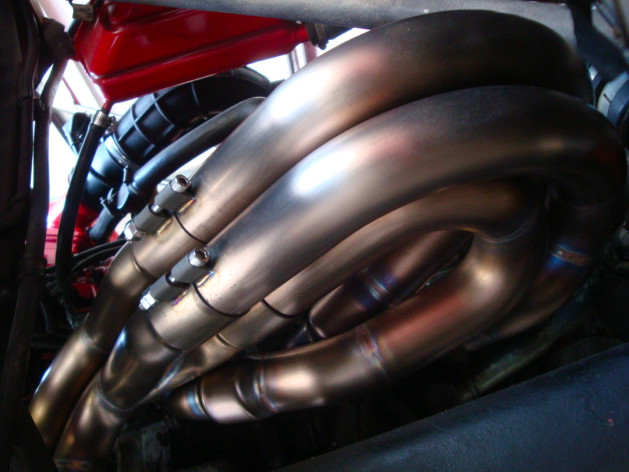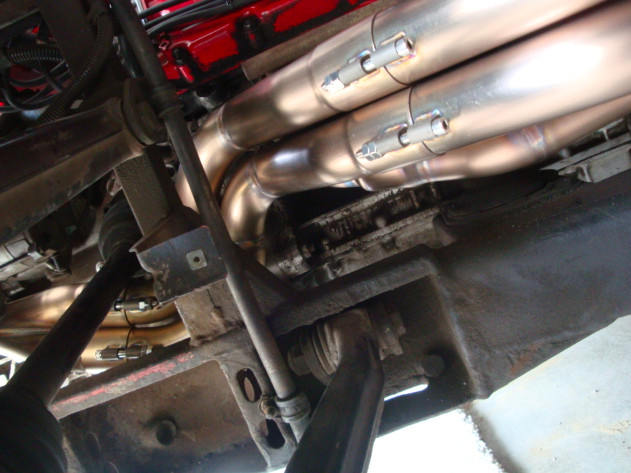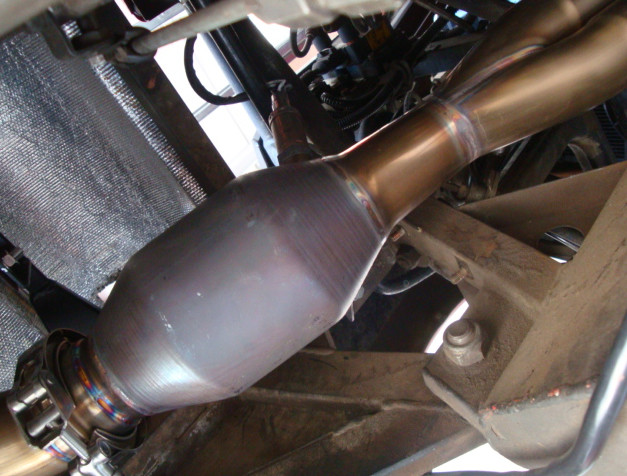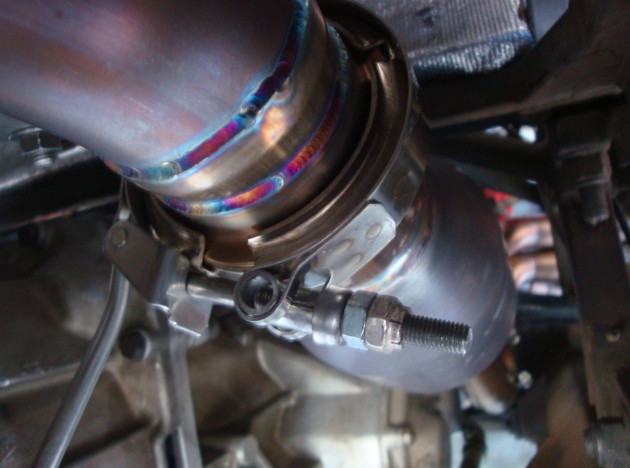 1-13-2011
So far the heat doesn't seem to be a problem. Actually it seems that these headers cool off faster than the stock headers. Maybe because the packing and clam shell help to keep the heat from the headers trapped inside = longer to cool off. I never did a before temperature test, nor an after. I'm just going based on how the engine bay temp feels after a drive. They may be radiating more heat, but then again I'm guessing that helps them cool off faster? If I do do anything, it'll probably be ceramic coating.
2-7-2011
My exhaust system really surprised me today.

When out for another test run in my car, after having replacing the ignition modules last week. I was on the freeway behind a Ford Lightning, and there was a car in front of him driving like a turtle. So I go over two lanes and pick up a little bit of speed to get around them. Well the Lightning gets into the lane next to me and starts accelerating, as not to let me get around. So I down shift and stand on it. The guy in the Lightning stands on it. At this point I'm thinking that I will be left for dust. Those Lightnings are some fast fricking trucks, especially with a pulley change. Bone stock they put down 380 hp and 450 lb/ft of torque. But instead of getting left I was actually reeling him IN!!! I could not believe it. I was inching up on the guy, little by little. Up shift and figure now I'll get left for sure. But no I was still right with him, and STILL just barely inching up more. But then we had to slam on the breaks as a we were quickly on the rear of some cars that used to be way ahead of us. I was totally shocked that I was able to hang with a Lighting. I'm still in disbelief about it. I know this dude was standing on it hard, because not only could I hear it when he floored it, I could see all the black smoke pouring out his exhaust.
4-9-2014
Hey guys this is a really late update.

I was going through some old stuff and found before and after dyno sheets from about a year and half ago.

Thin blue line: Hytech headers, hi-flow cats, and gothspeed muffler, ported tb's & intake runners.

Thick blue/pink lines: Stock headers, stock cats, stock single can spider muffler, ported tb's & intake runners.

Peak Hp vs stock was up +12hp, 305hp vs 293hp to the hubs. The stock exhaust system made peak power at 7000 rpm. The my custom setup was already making 293hp at around 6800rpm. At 6950rpm it was putting down 300hp to the hubs, and never looked back all the way to the rev limiter at 7750rpm. Over the curve it was as much as +14hp over stock at 7400+rpm.

Peak torque was up 4.7 lb/ft over stock.
But under the curve, in the midrange, is were the Hytech headers really shine. 227 lb/ft for the Hytech tri-y's vs 214 lb/ft for the stock exhaust system in the 4780-4790 rpm range. I can definitely feel that in the seat of the pants.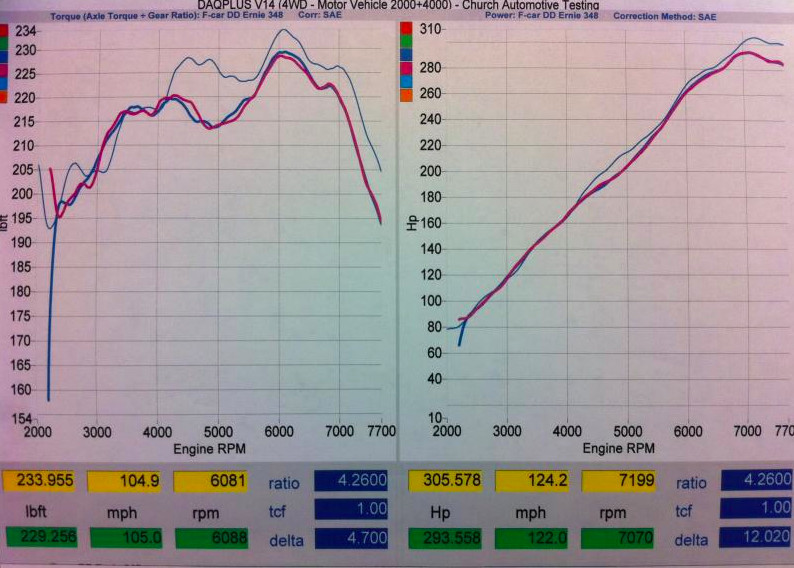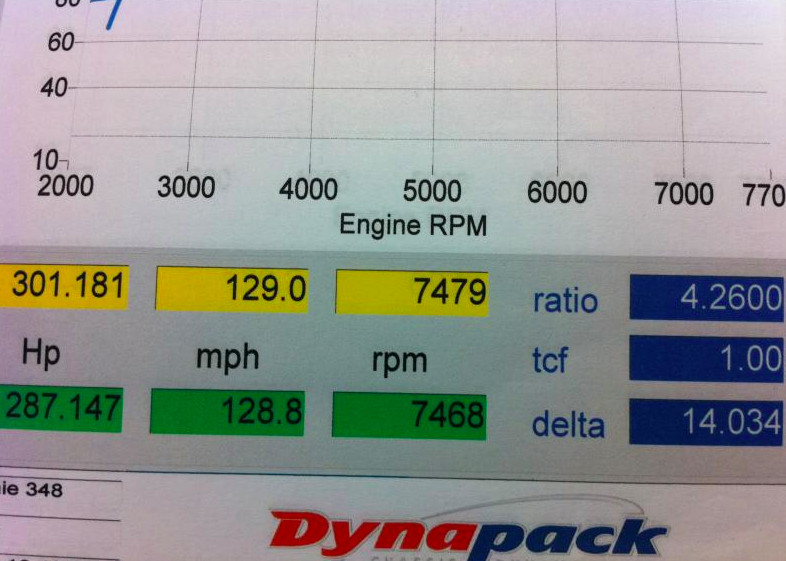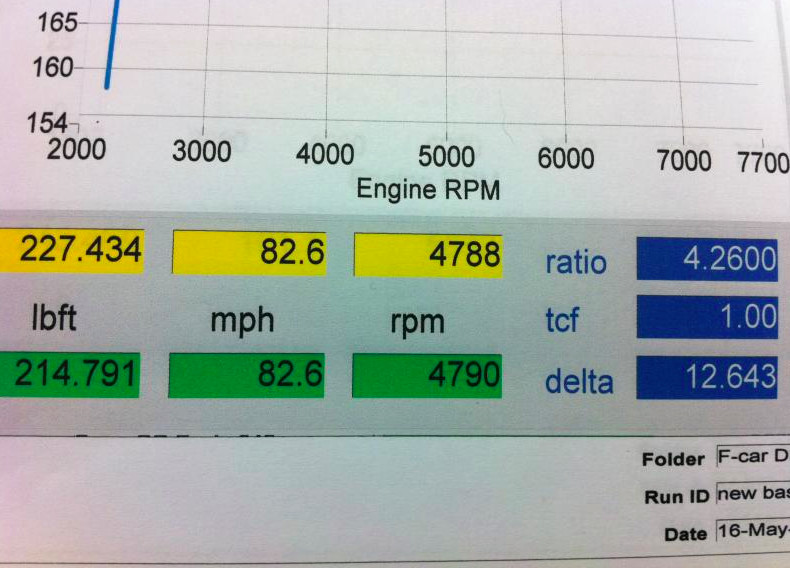 10-6-2014
Last year I took my car back to Hytech to have them make me a race exhaust. After talking with them and explaining what I would like, a design was settled on. It would be a siamesed exhaust with unequal length pipes at the exit.

These pics are of the siamesed portion test fit.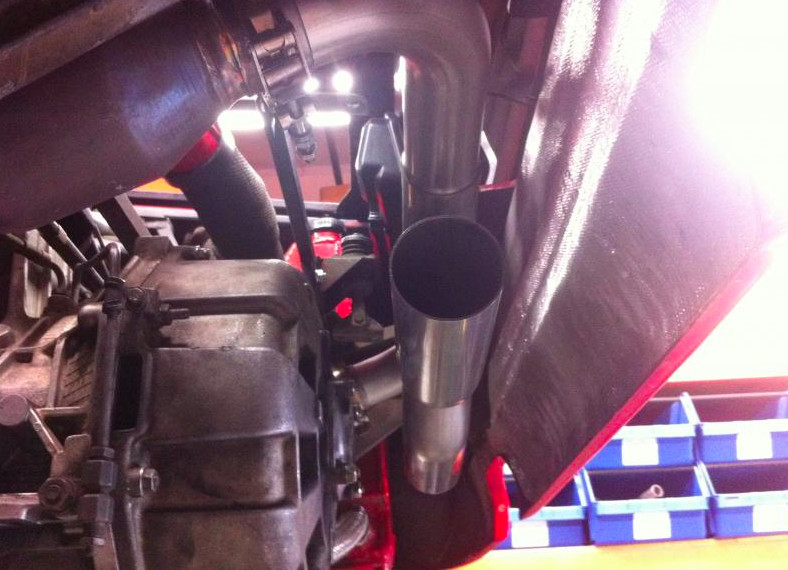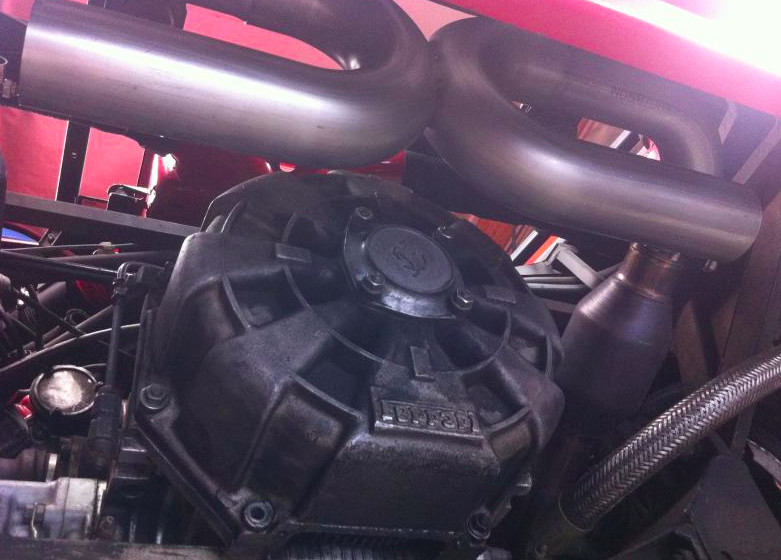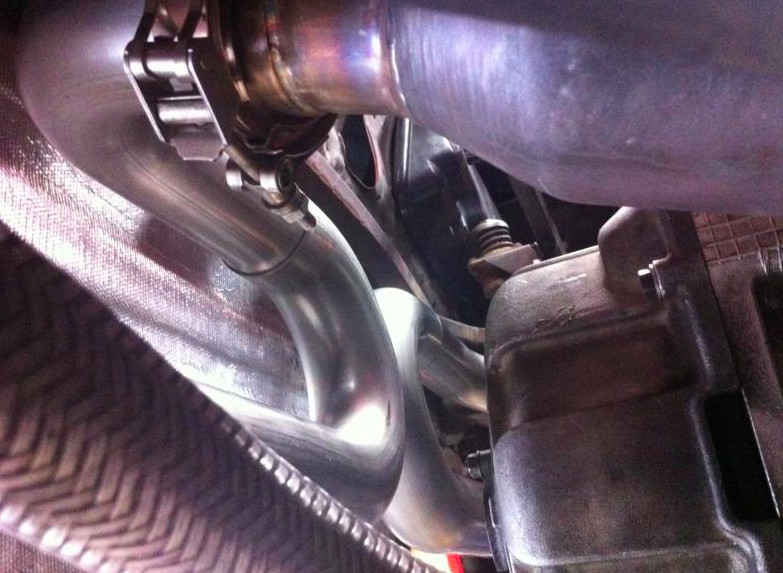 To help keep the cost down a bit I went with 304 stainless. Made in the USA!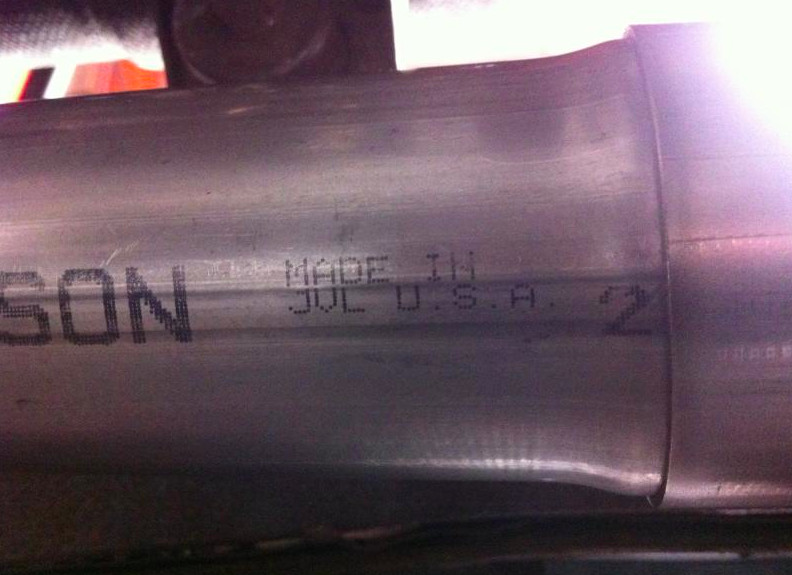 Here the piping is being prepped and then cut for the sizes needed to make it all fit just right.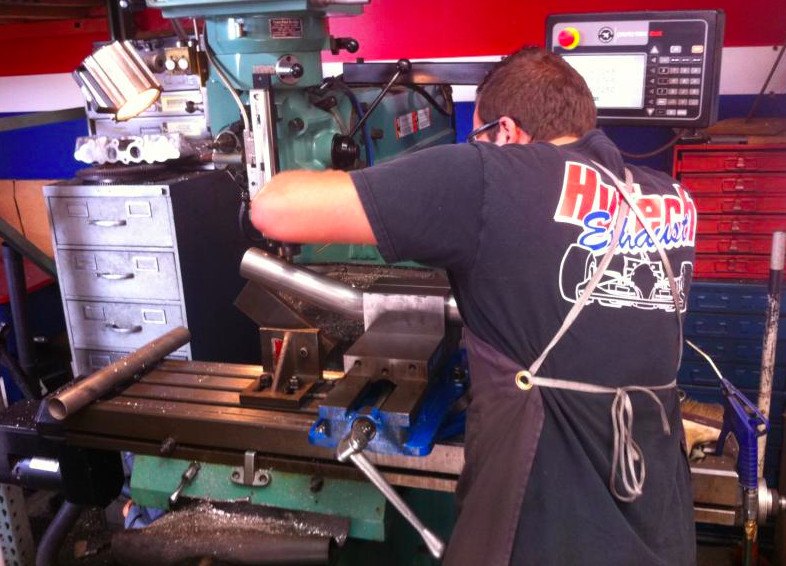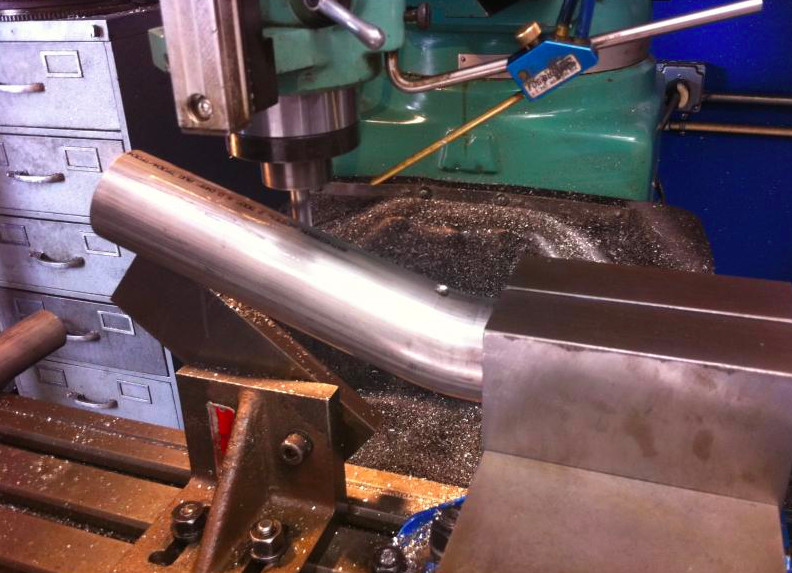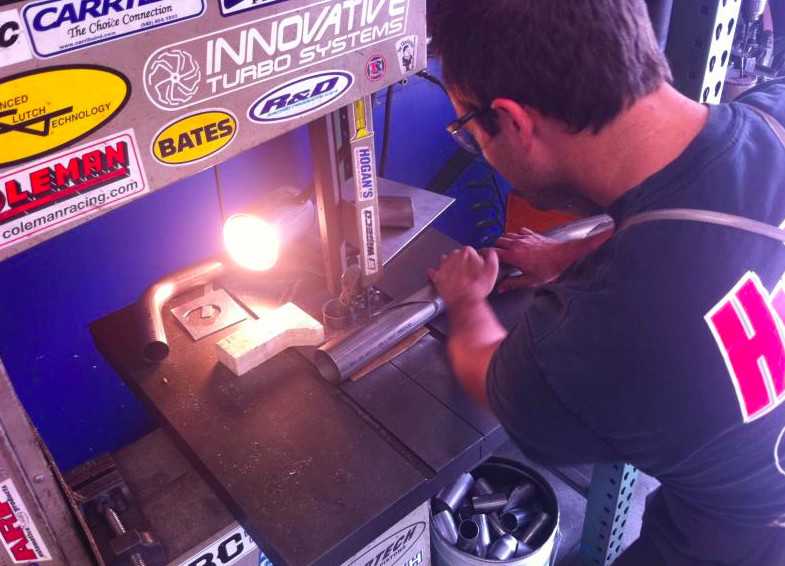 The burrs on the cut piping got removed before the final welds where put in place. Beautiful craftsmanship I must say.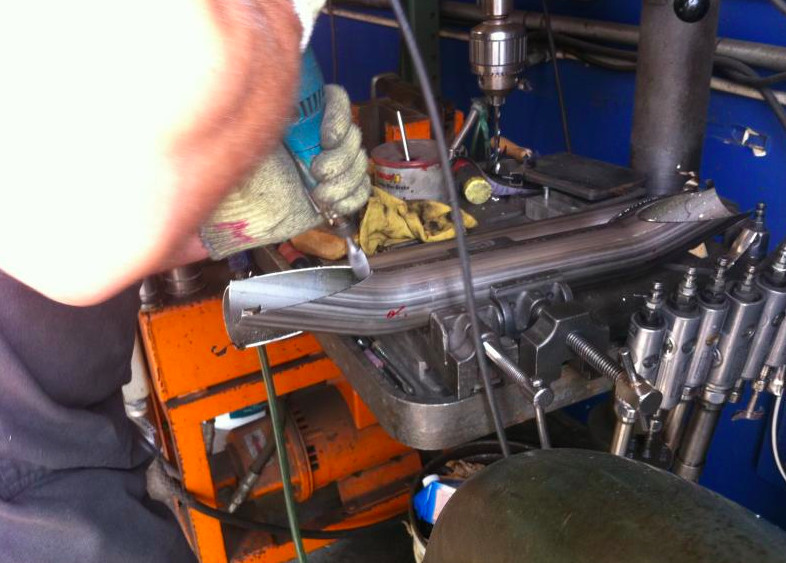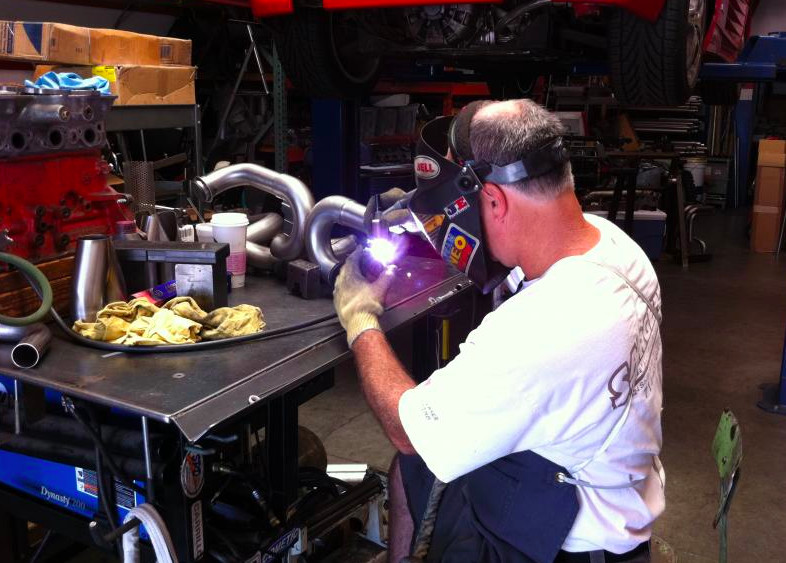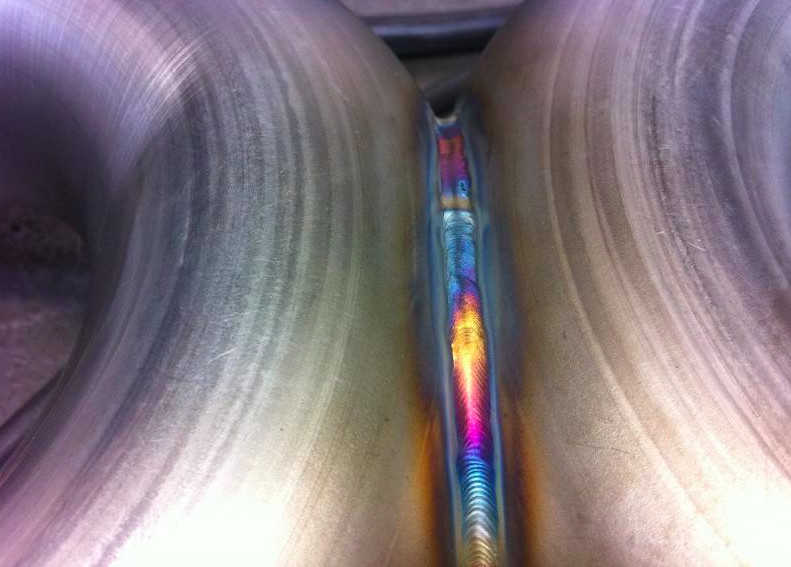 Hear is the final product installed on my car, just after I finished the major this year.

It sounds as badass as it looks. I asked for loud and BOY did I get it! Be careful of what you wish for. Ask any of the guys that where at Stoogeappallooosa last month how loud it was. It does sound soooooooo awesome when Im standing on the throttle, but it will have to be my track day exhaust.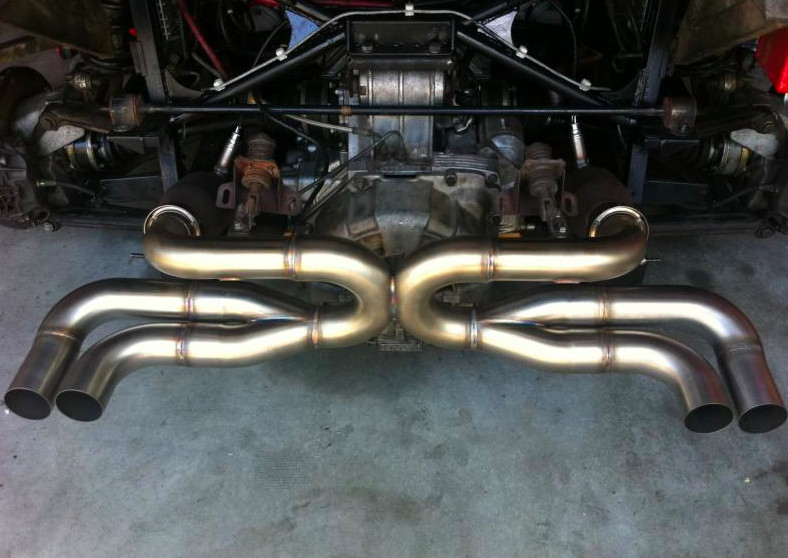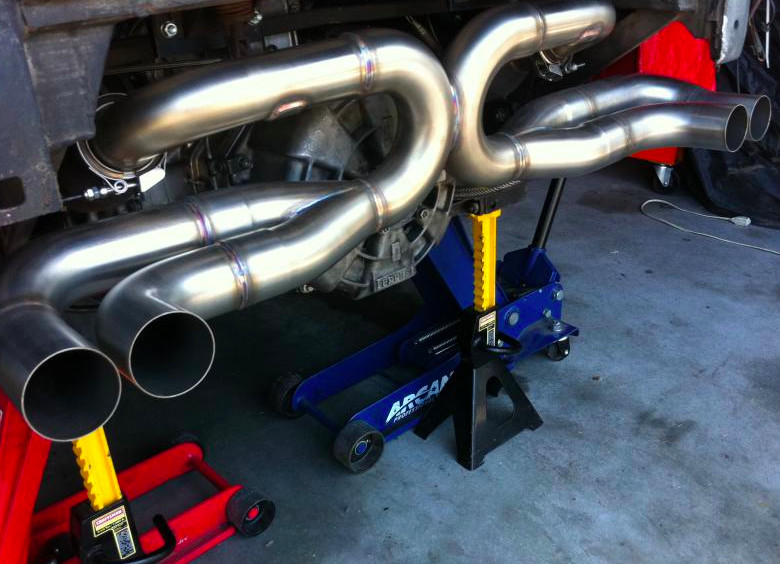 3-28-2015
Sound clip of the siamesed x-pipe, courtesy of Sy.