1979 Fairmont Drag radial/x275 project - "The Cream Dream V2.0" by tirefryin_s10 & bmxarmy
By diyauto
86 minute read
You must be logged in to rate content!
1979 Fairmont Drag radial/x275 project - "The Cream Dream V2.0"
Compliments of tirefryin_s10 & bmxarmy @ yellowbullet.com
12-5-2011
Some of you guys may know my sleeper car some may not but here is a few pics of version 1 of the "Cream Dream" as it so affectionatley became known.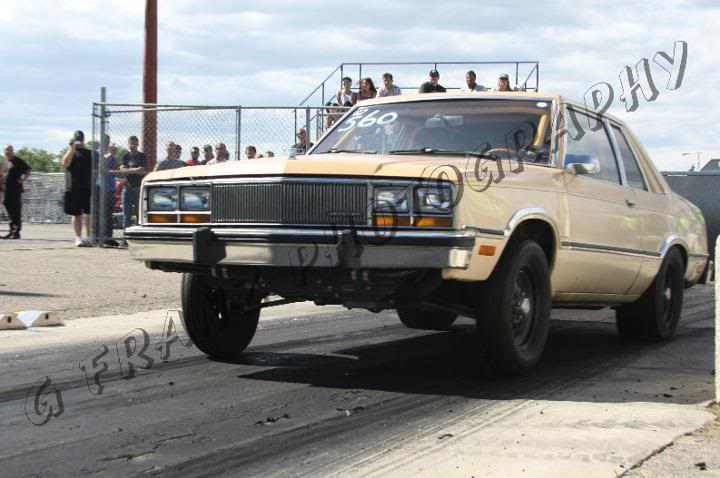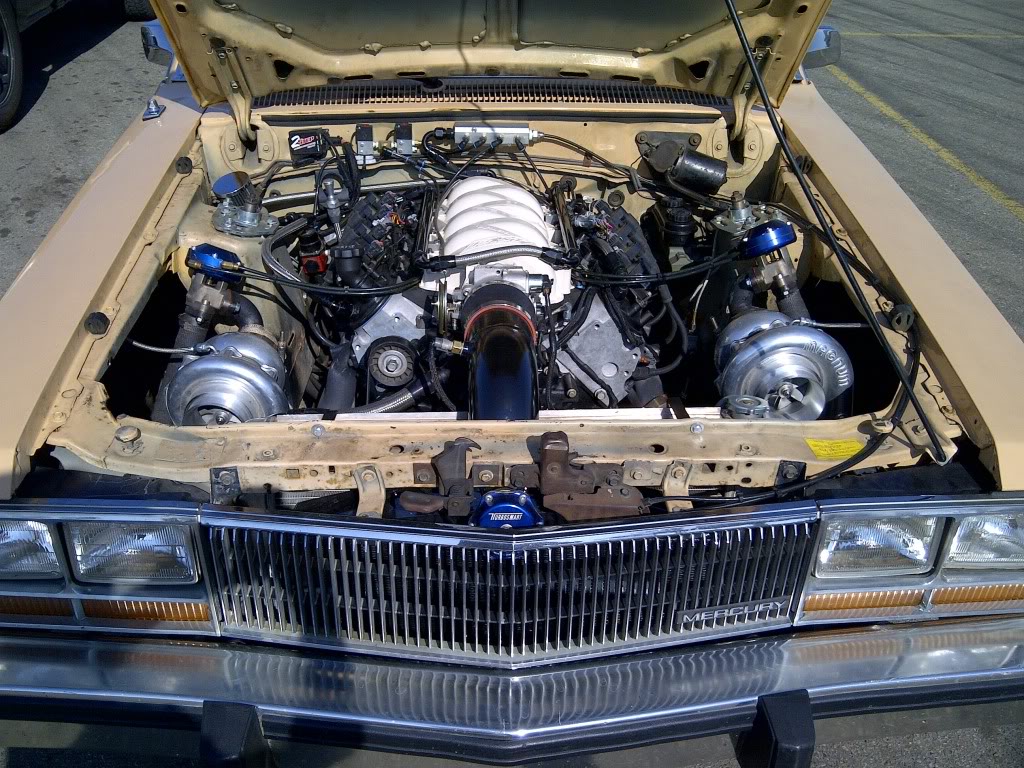 This car has served me well in the last two years running a best 1/4 ET of 8.47 a best 1/4 mph of 164.5 and a best 60 foot of 1.340 on the 275 radials. I drove the car a LOT putting roughly 3500-4000 kms on it this summer alone.It made over 1100 rwhp thanks to an FPS built 370" LS and twin Magnum 76mm turbos.

After this season ended and I had got the boot for only being legal to 8.50 I took a step back and realized I would not be happy slowing down so I decided I needed to either cut this car up to make it 7.50 legal or build another car...... I chose the latter




The basic plan for the car is as follows:

Car and Chassis

25.5 cert cage (done)
Mini tubs (done)
Full tube front frame rails forward of strut towers( done)
Complete custom tin work inside (done)
Custom dash insert with Holley 5.7" LCD touchscreen
Custom seat mounts for Kirkey race seats(done)
Strip entire body to bare metal,repair any rust etc (90%done)
Shave wiper cowl/gas door/antenna hole (70% done)



Powertrain

FPS Built 438" LSX
Twin turbos (havent decided which ones yet)
PT2400 Intercooler / water to air trans cooler
Reid 1.80 straight cut powerglide
PTC custom converter
Holley HP ecu/coils
Racepak sportsman logger
Aeromotive Belt drive fuel pump
35 spline 9" 3.50 gears narrowed housing
Dynatech alluminum driveshaft


Suspension/brakes

Aerospace drag brakes front and rear
Lightweight manual master cylinder
Manual steering rack
Lightweight solid steering shaft
Team Z offset double adjustable lower control arms
Team Z Double adjustable upper control arms
Team Z spherical housing bushings
Team Z tubular K member/ A Arms
Strange 10 way adjustable front struts w/coil overs
Strange Double adjustable rear coil overs


NONE OF THIS WOULD BE POSSIBLE WITHOUT THE FOLLOWING PEOPLE IN NO PARTICULAR ORDER:

Leanne with all the support in the world for me to make my dreams a reality
My family - For always supporting my habit and making sure I am as happy as I can be while chasing them!
"Flyin Ryan Bell" - He lets me make all the power I can dream of and keep the oily bits on the inside!
James Hatfield and Jordan Brandon - For years of support/help with all my builds, help at the track... idea bouncing and general awesomeness!
Nolan Tews - The MASTER metal worker who has not only helped but completley taken on this project as one of his own and pain stakingly completed 90% of the fab work on the car.
The Horsepower Solutions crew- providing me a place to keep all my junk, financial and moral support on all my builds and help both on and off the track.
[email protected] Team Z - Always willign to give me great advice and point me in the right direction for parts and set up on chassis stuff.
[email protected] Hyperaktive - Answering my millions of questions then getting me set up with the electronics I need to get the job done.


OK, OK enough with the long winded post already.... Onto the build !!!
This is what we started with for version 2.0>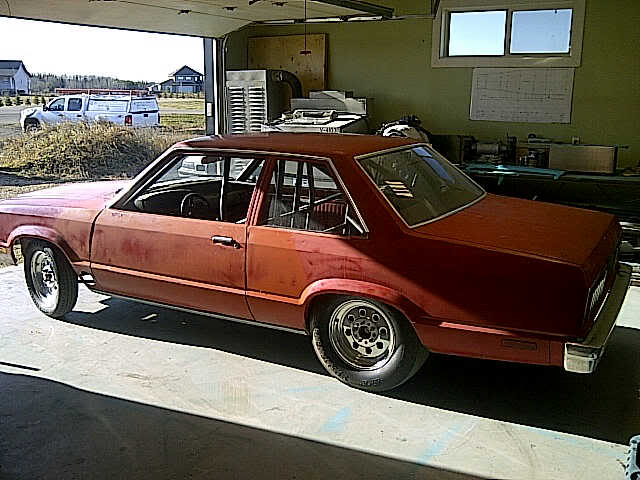 I actually owned this car when it was stock, sold it to a friend of mine who did the 25.5 cage and mini tubs and then bought it back from him this fall when my plan to do version 2.0 was coming together.


The first thing we did with the car was strip the car down: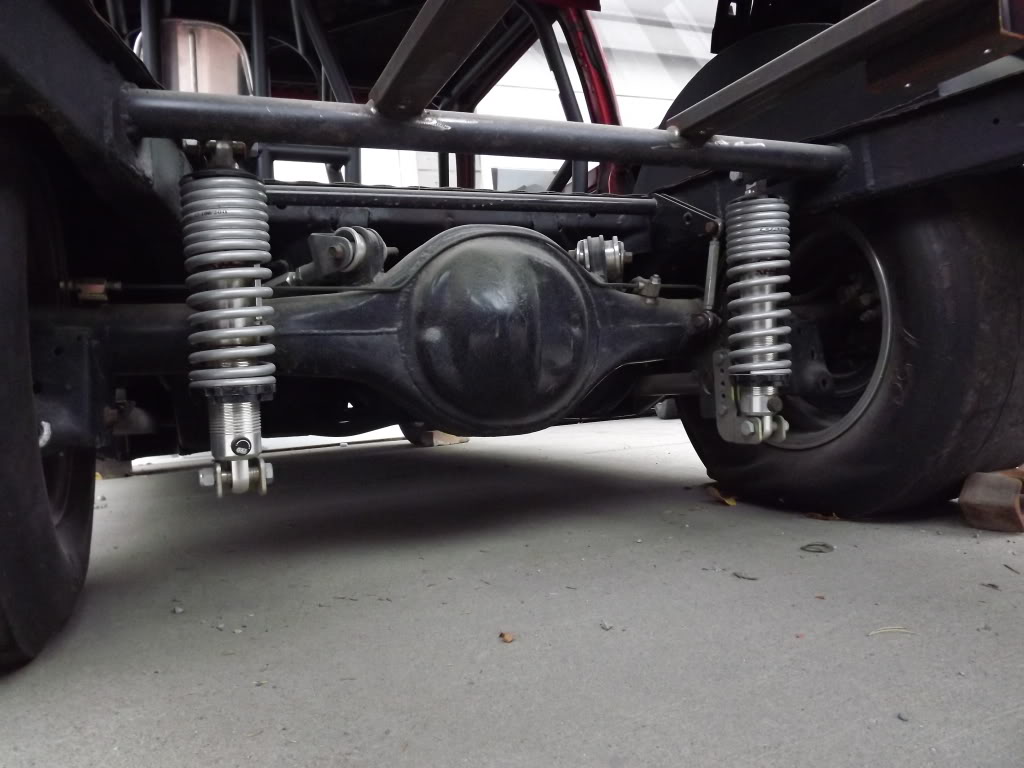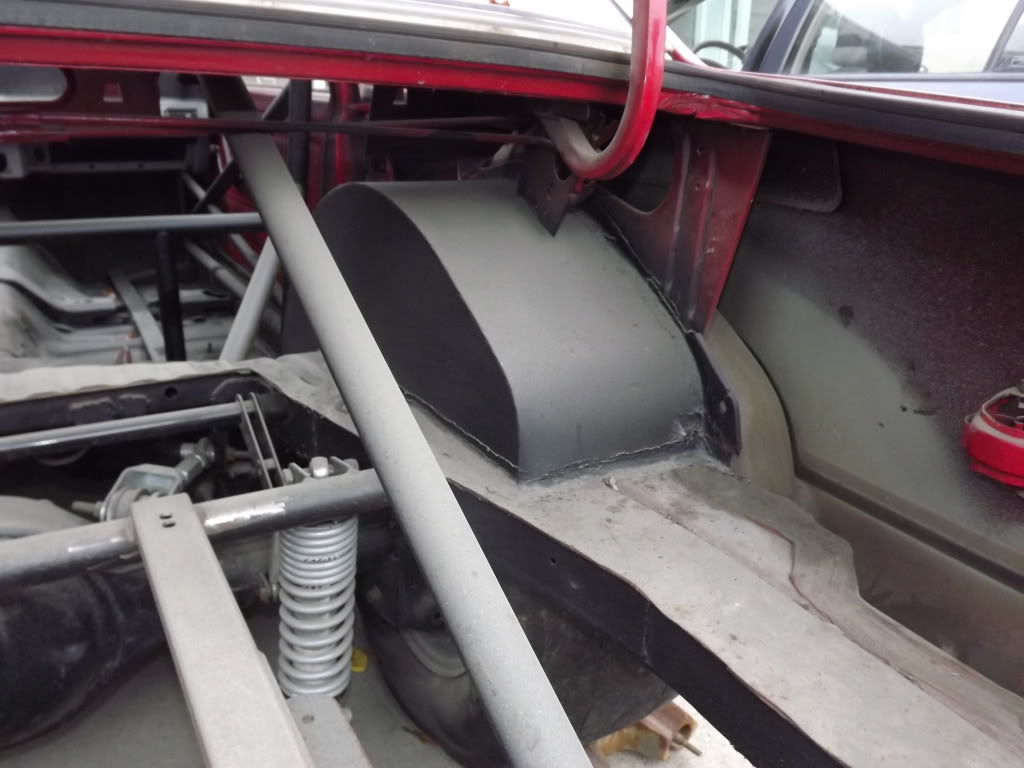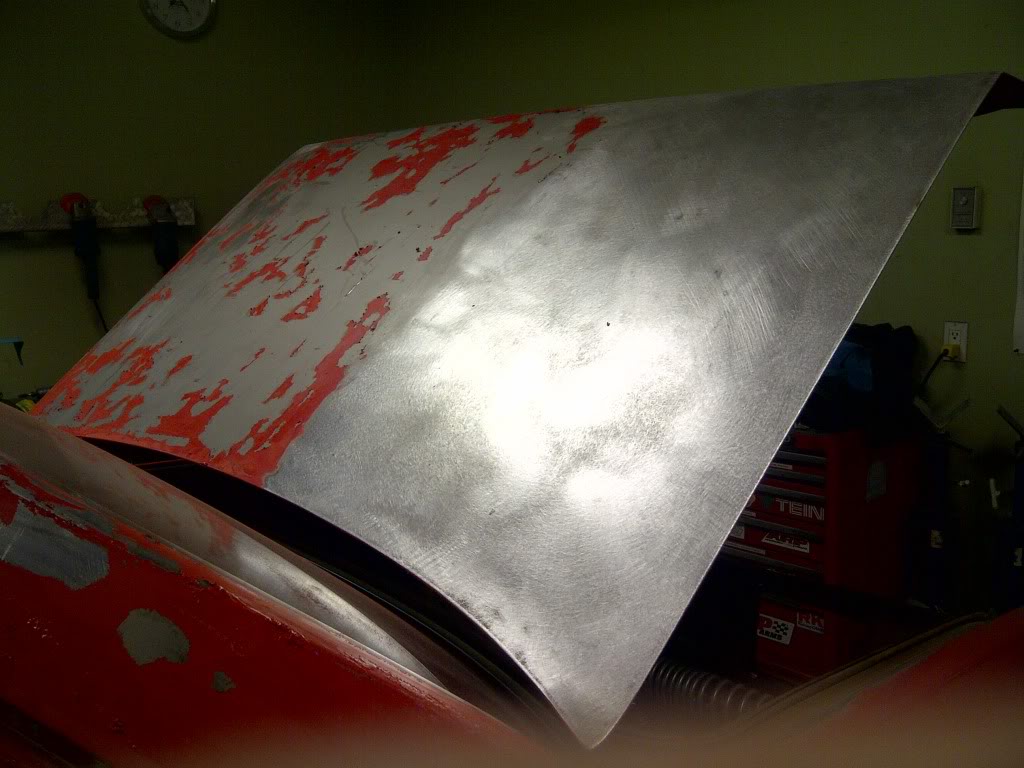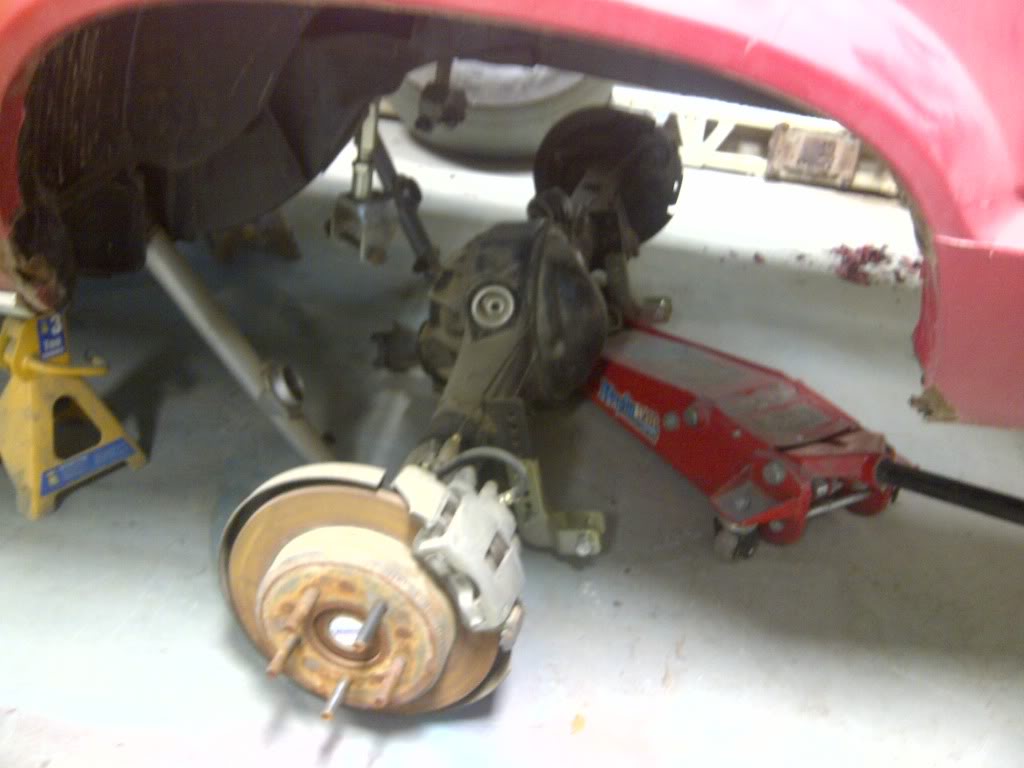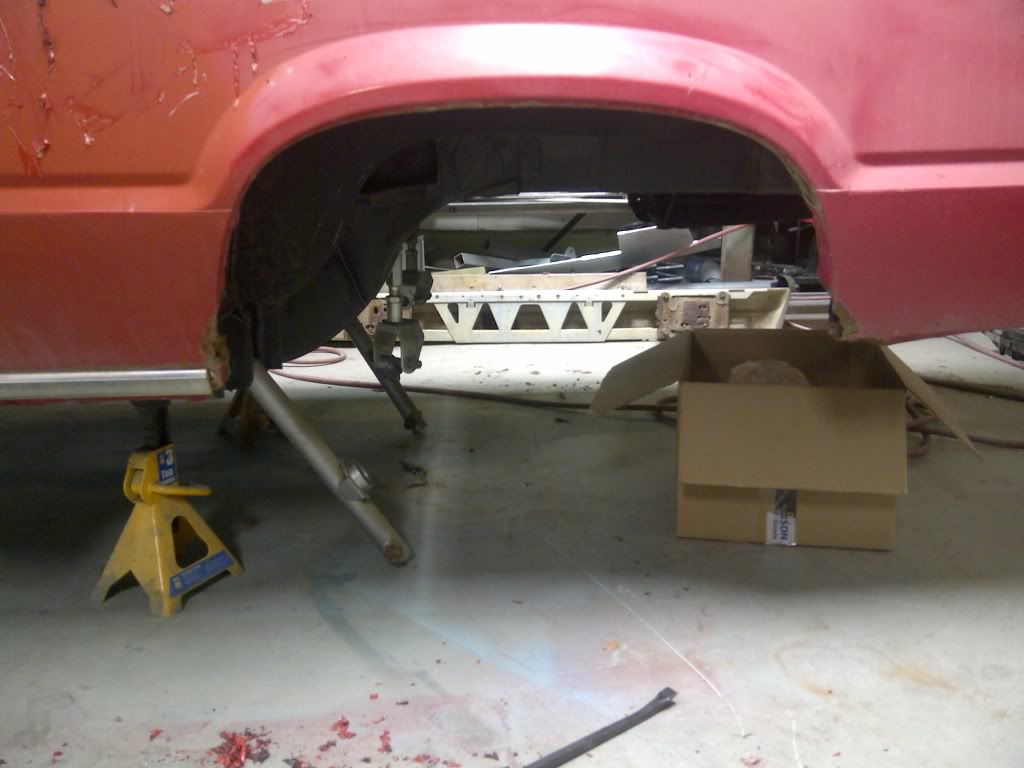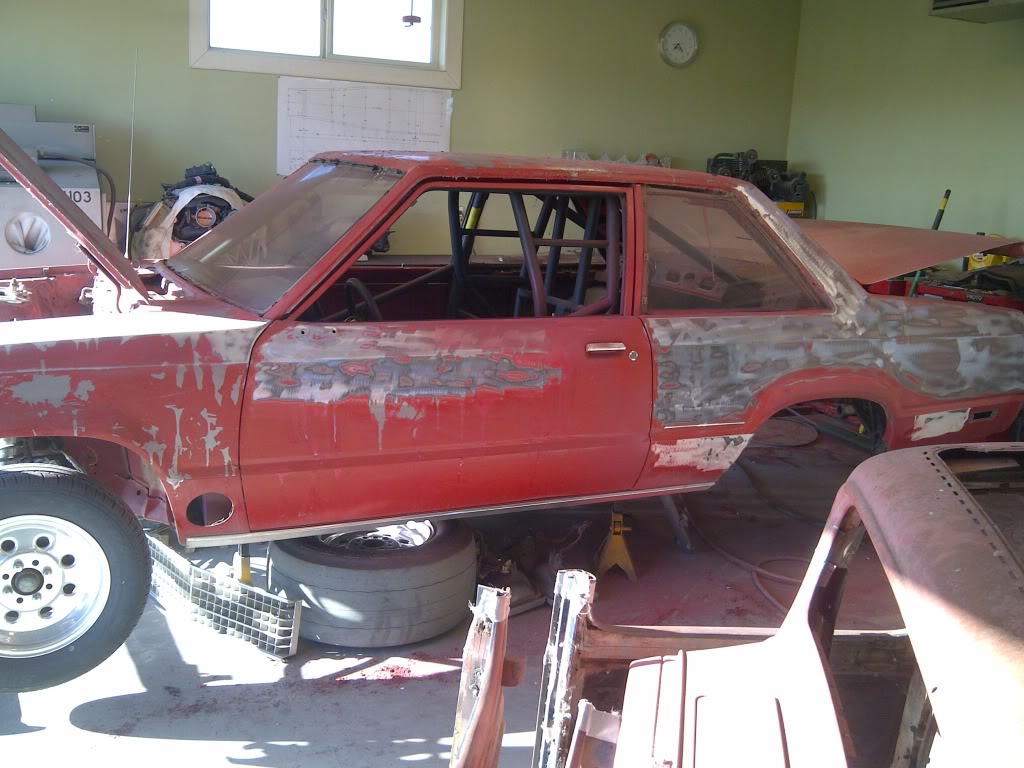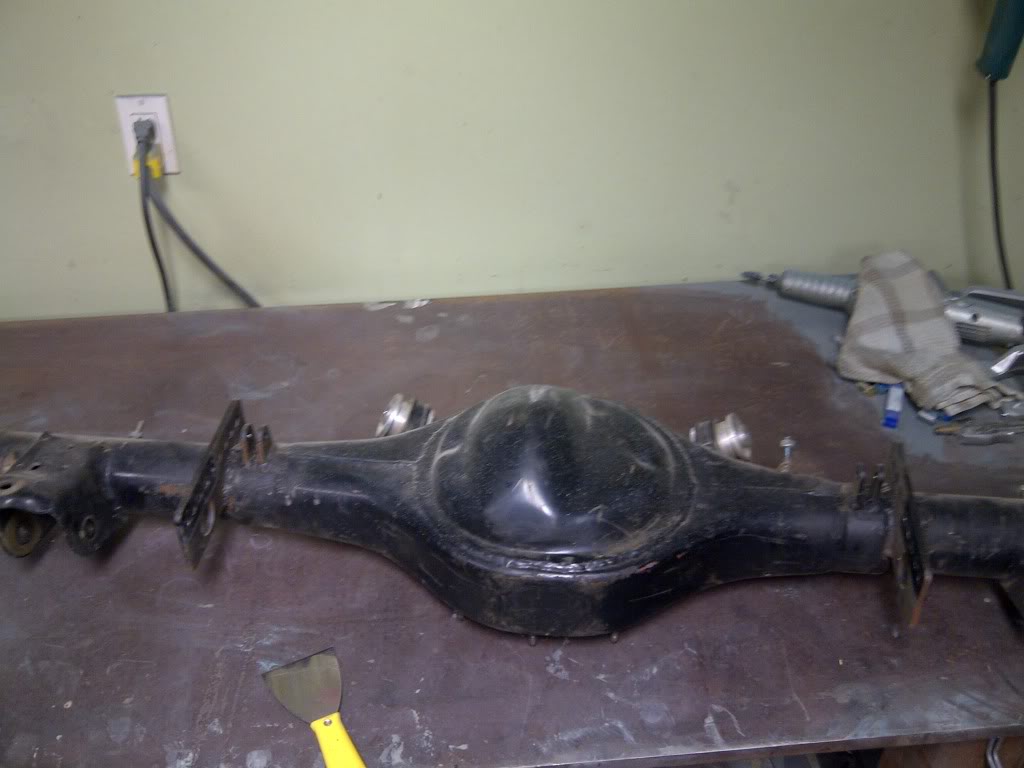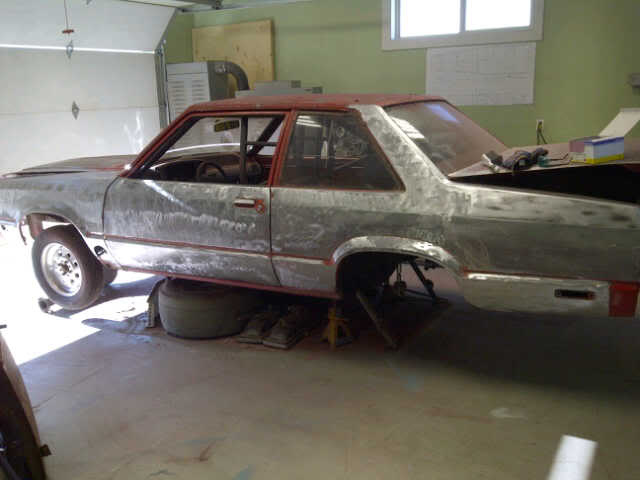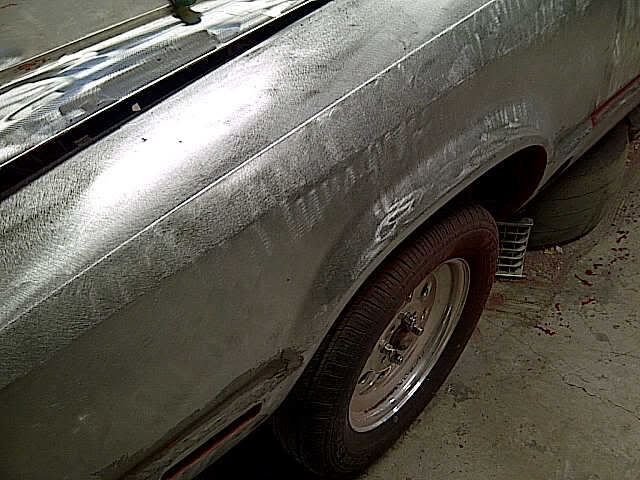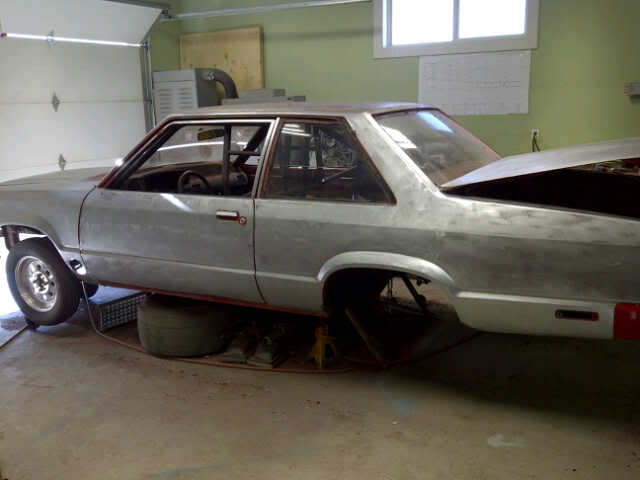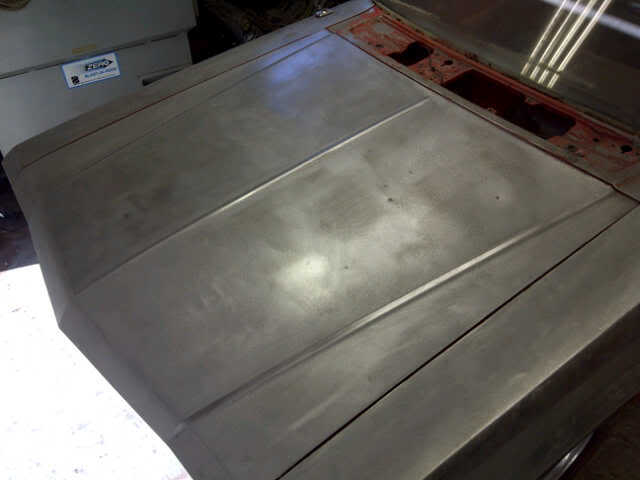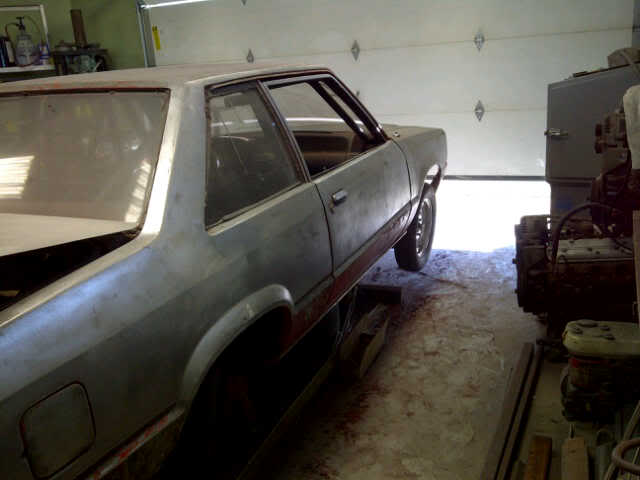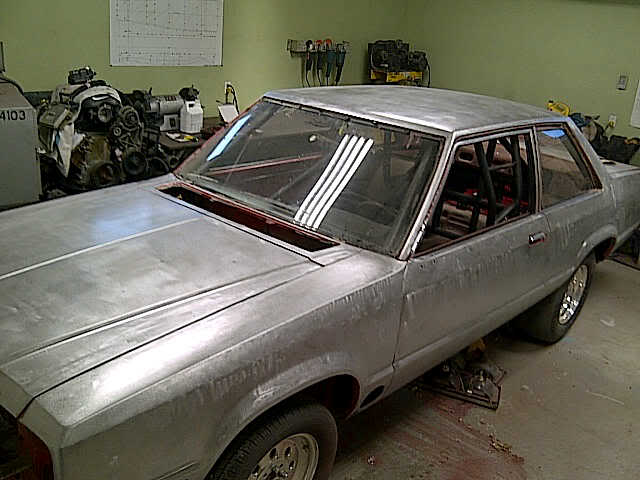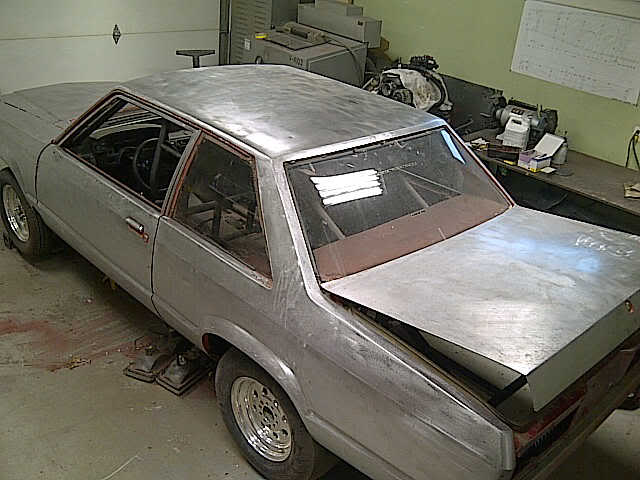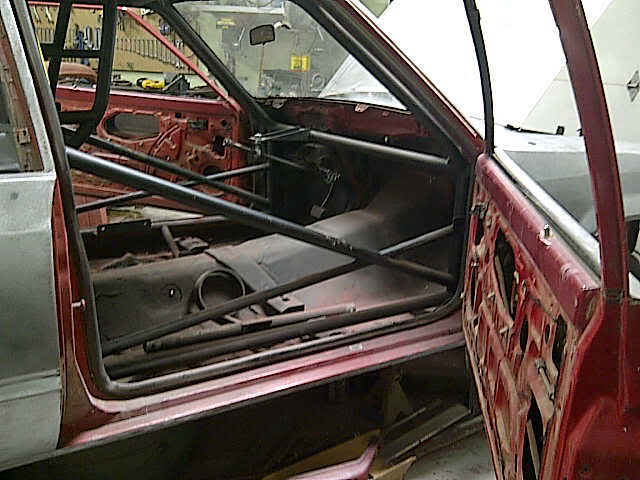 Next up came back bracing the diff housing, adding filler and drain plugs and some adjustable lower control arm mounts, we also had to move the anti roll bar tabs, shorten up the links as well as re-drill the arms to fit better and give a better angle :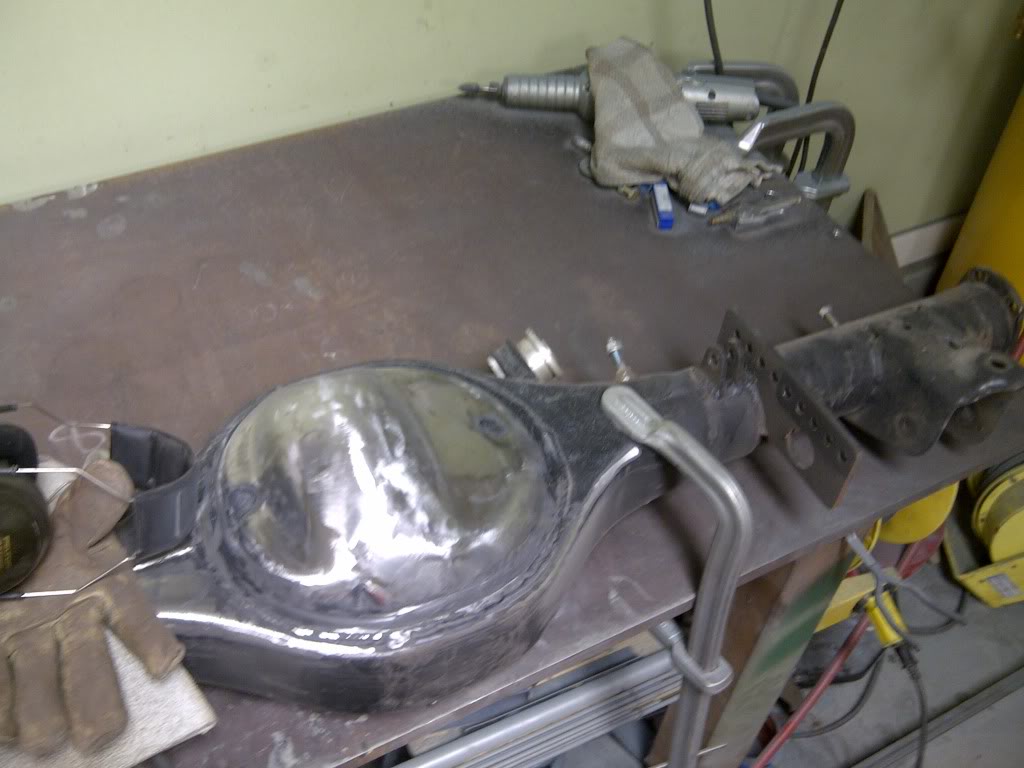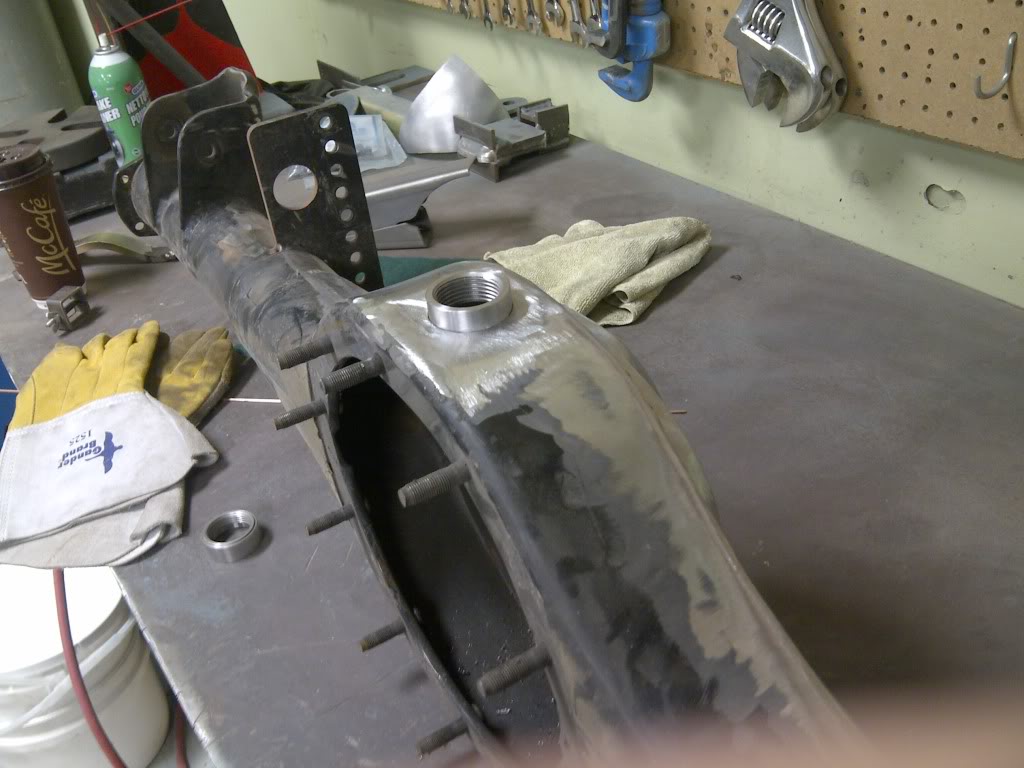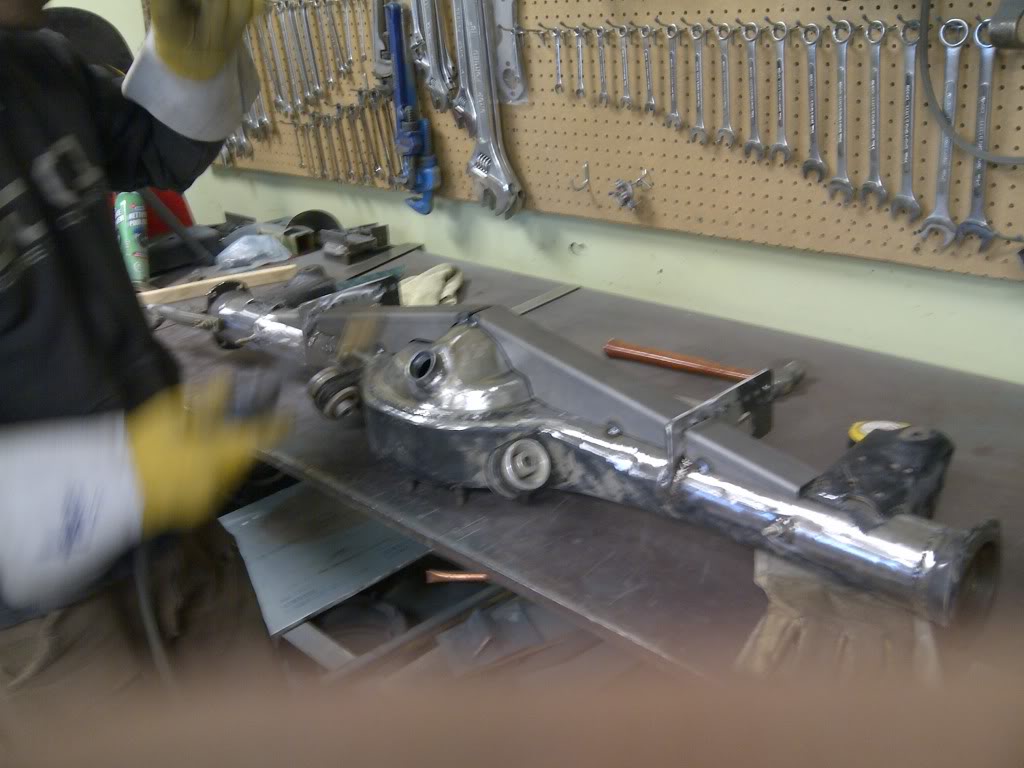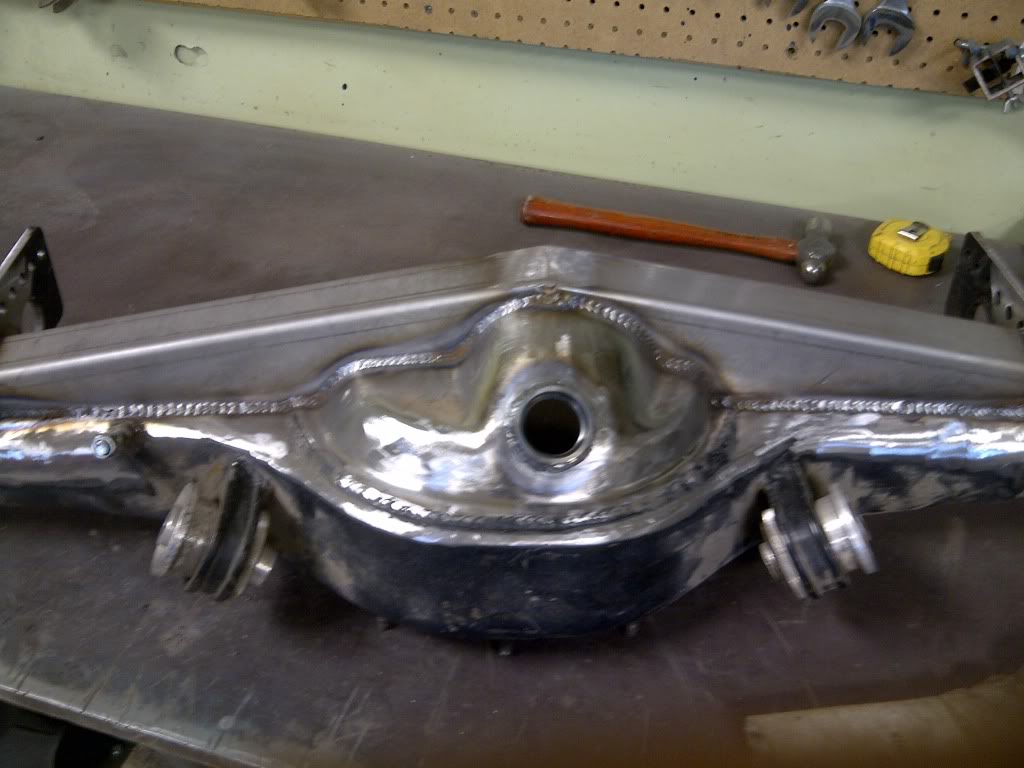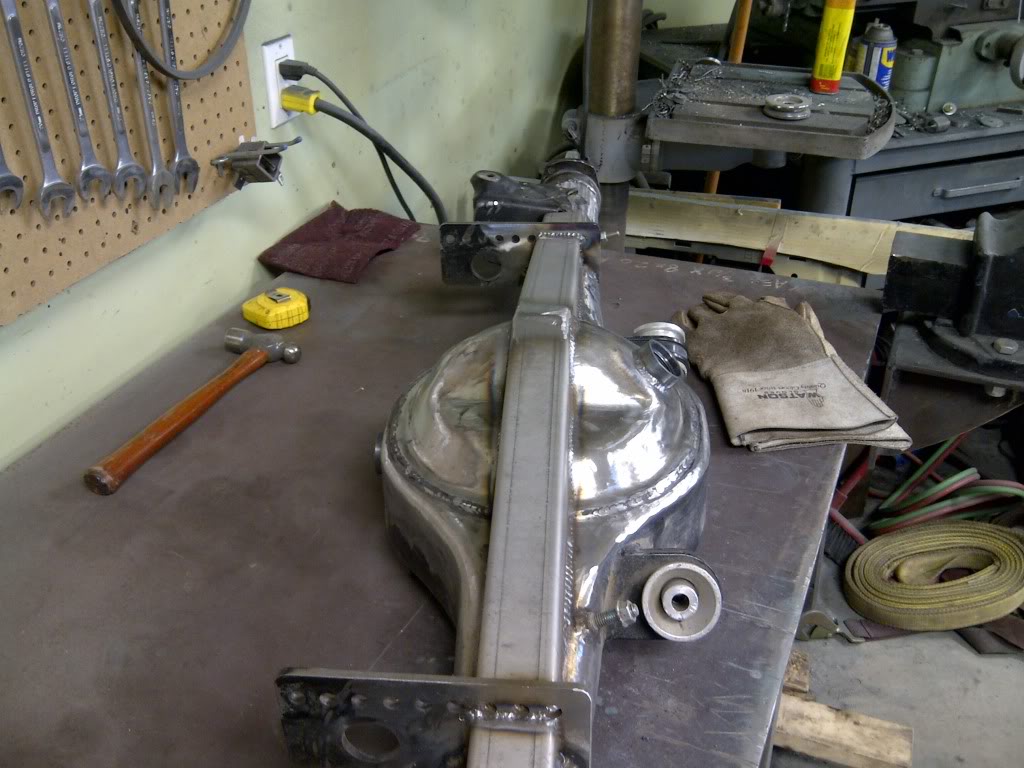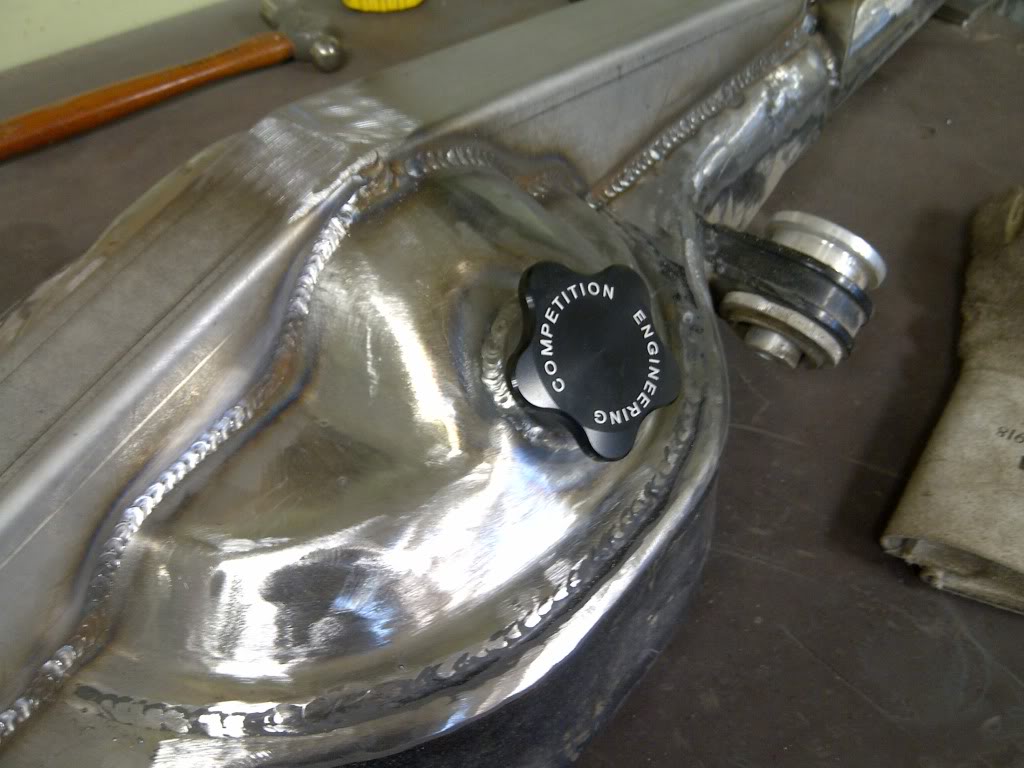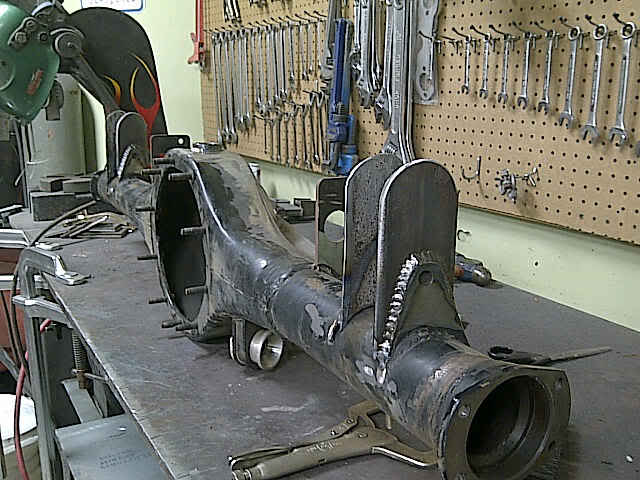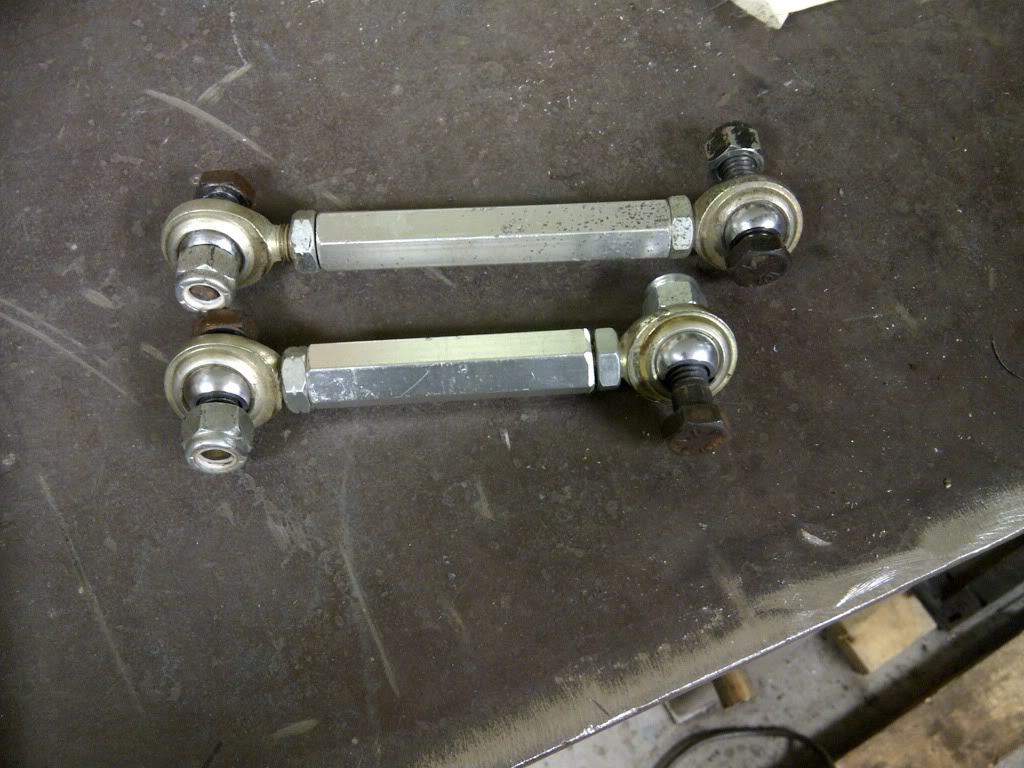 Then we test fit it and rolled the car outside to clean up the shop a bit from our giant mess! Note- pic was before anti-rollbar was modified.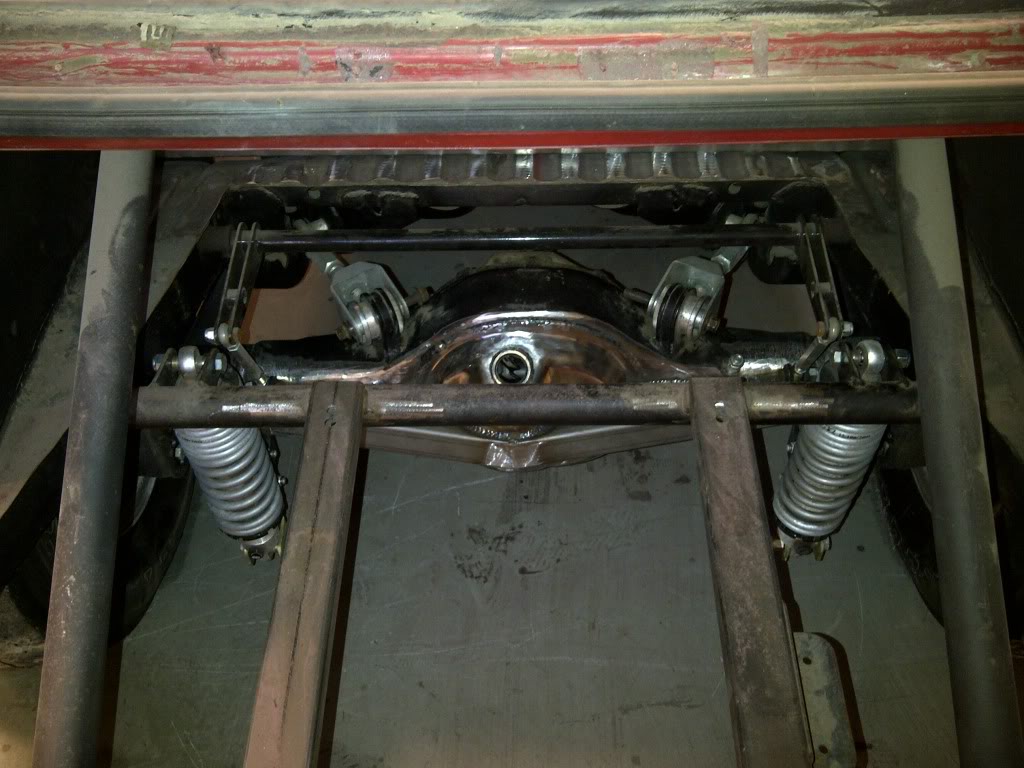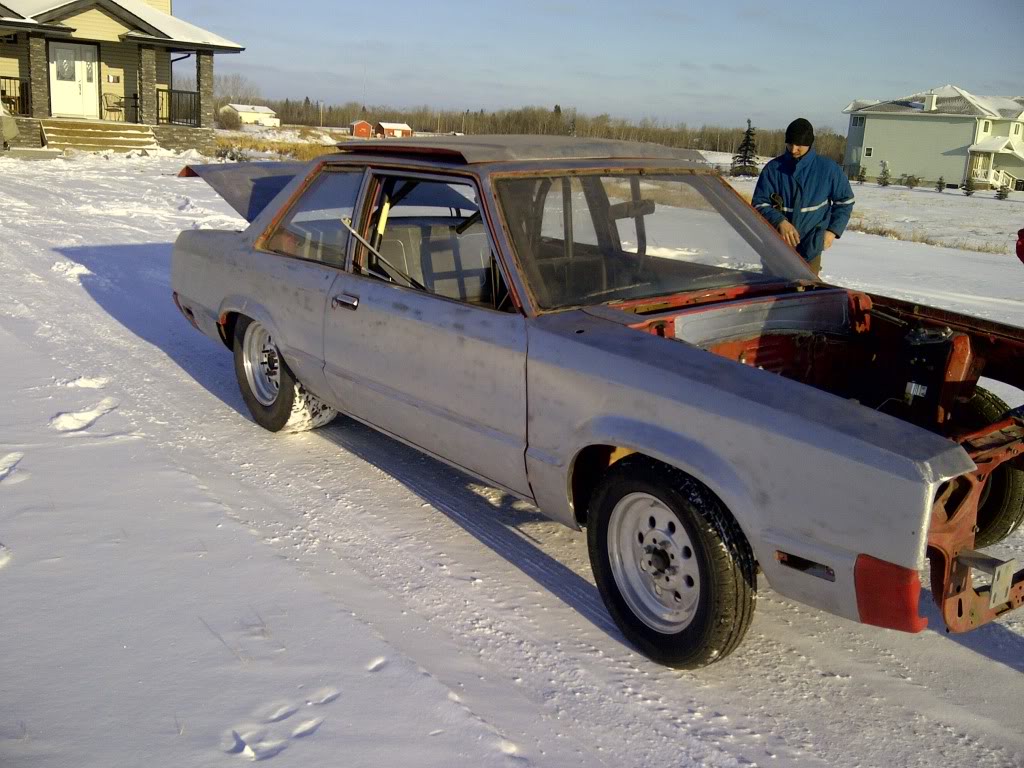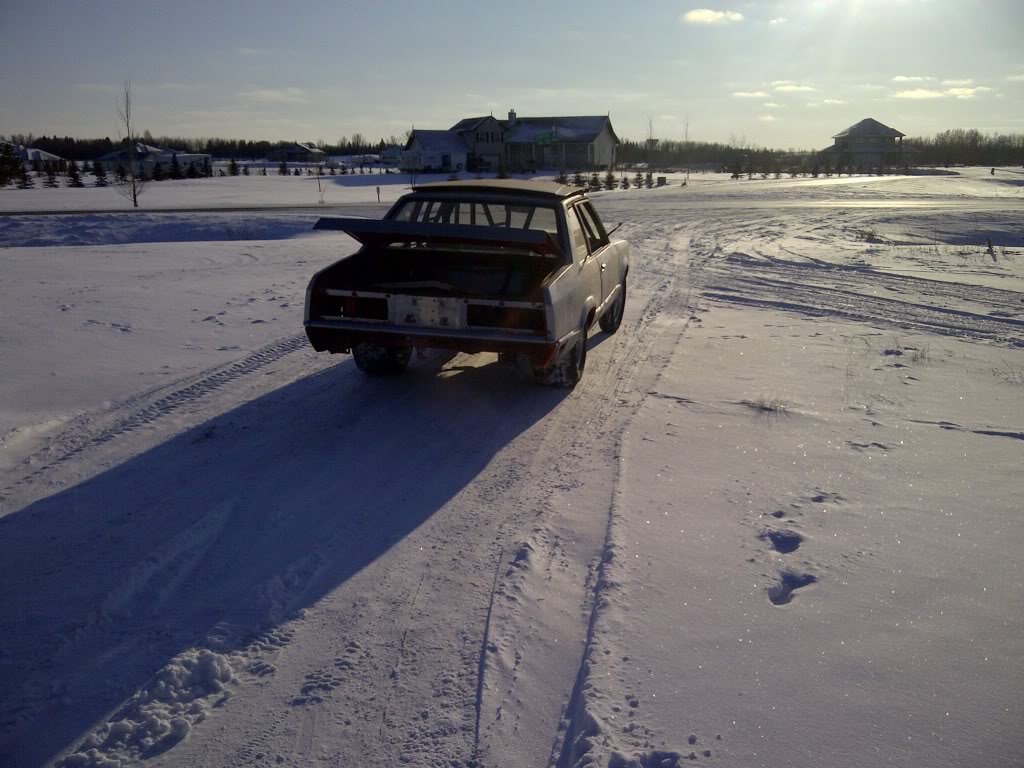 The next project was mostly a suprise to me, while I was off in california helping Flyin Ryan at the PSCA race Nolan was back at home busting his ass on my junk

. The last pic shows how we mounted them all using small 10/32 pan head allen screws.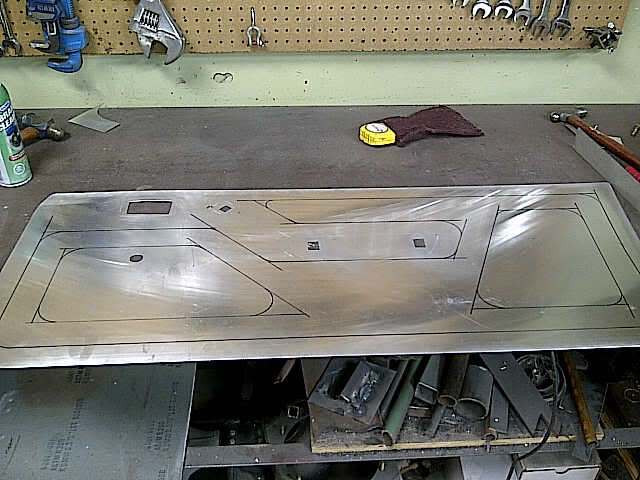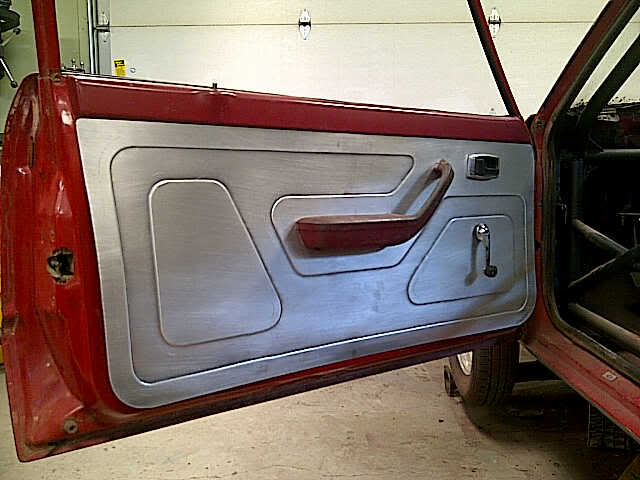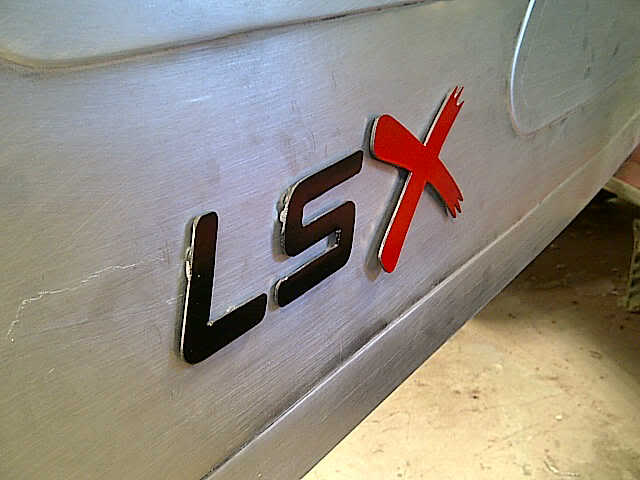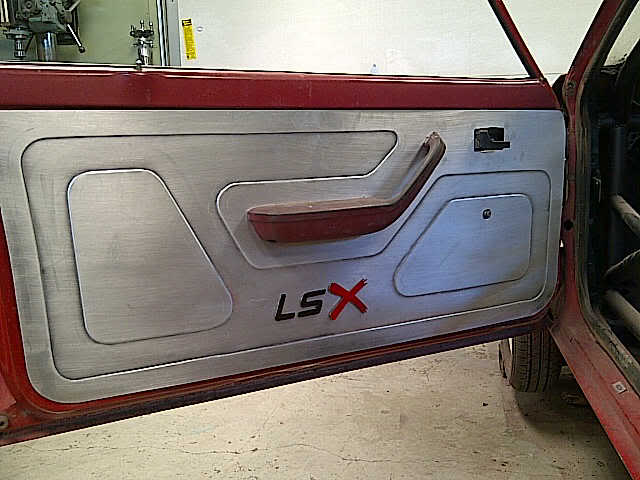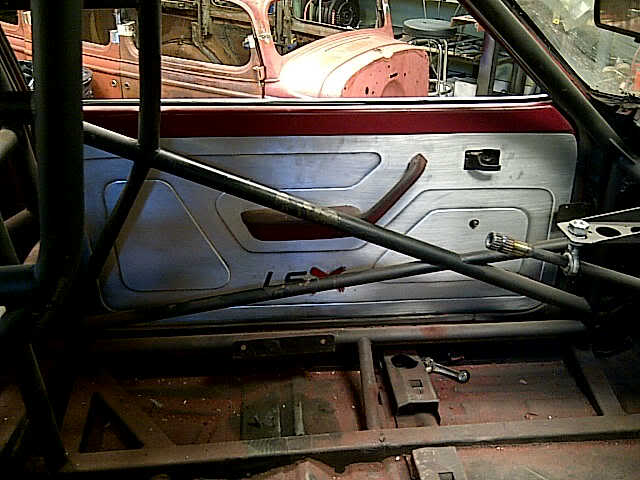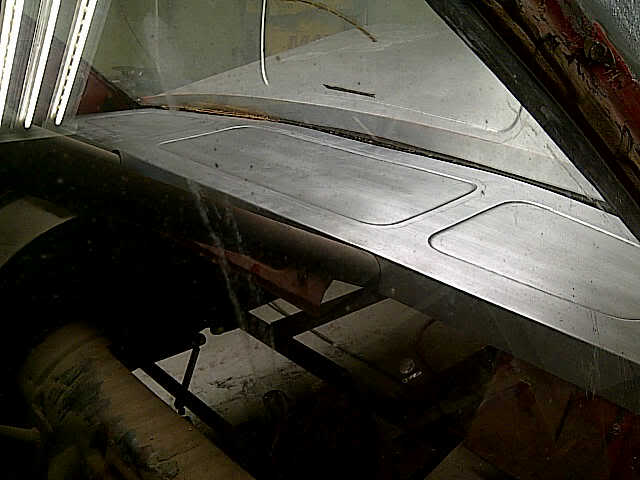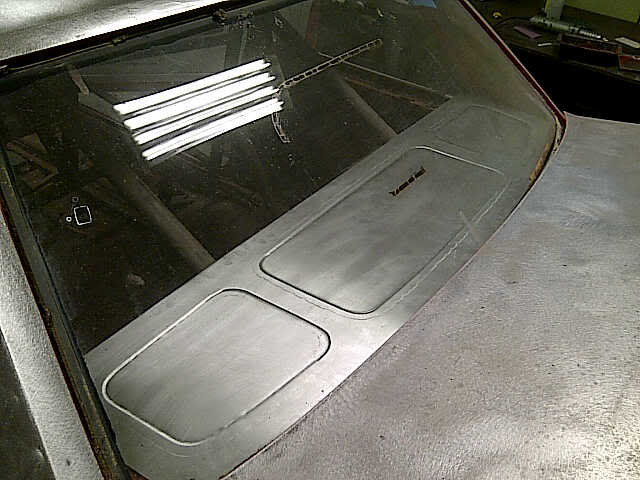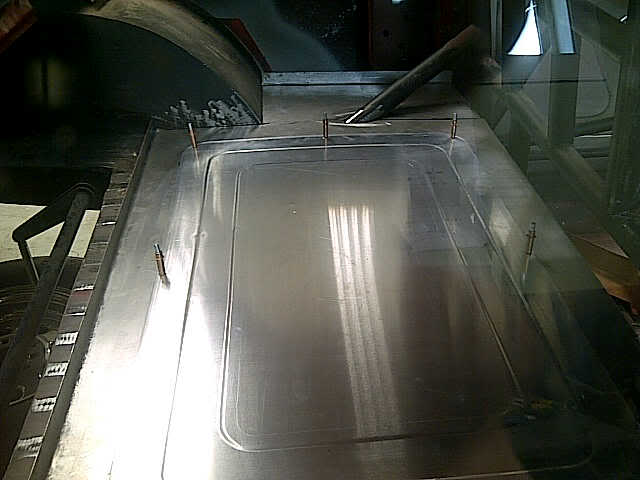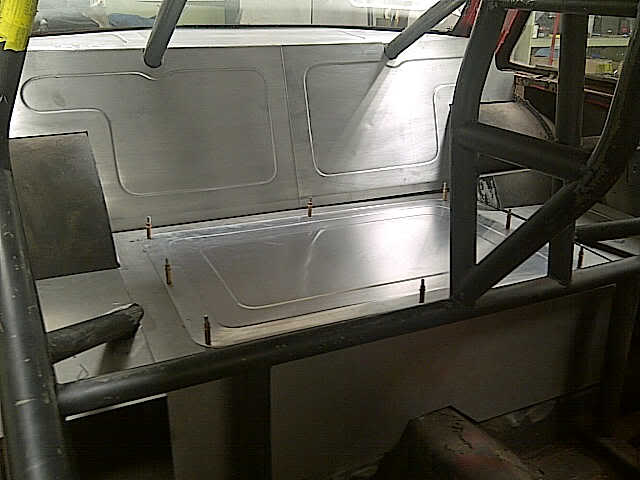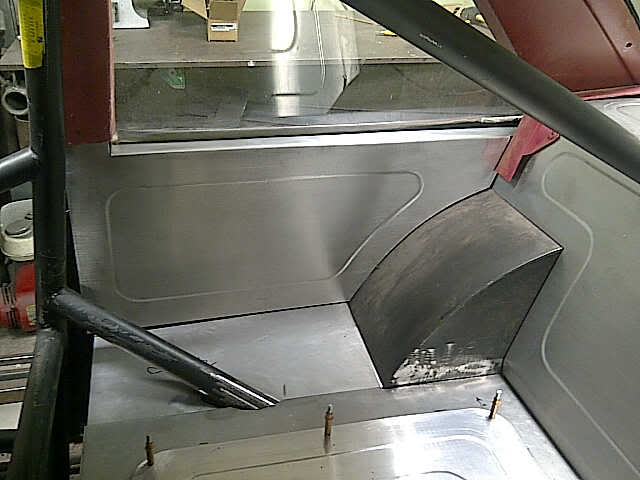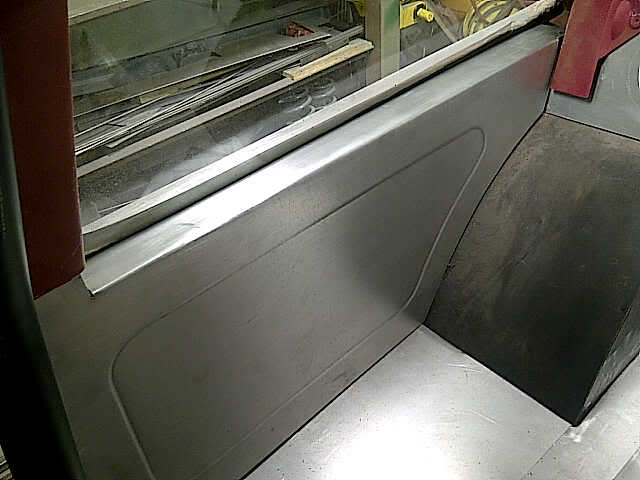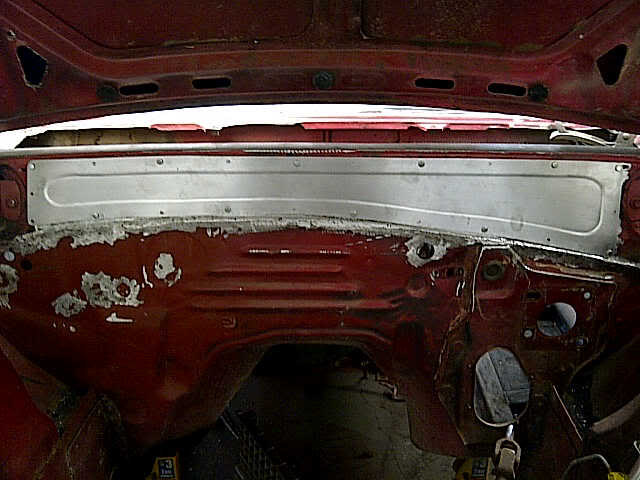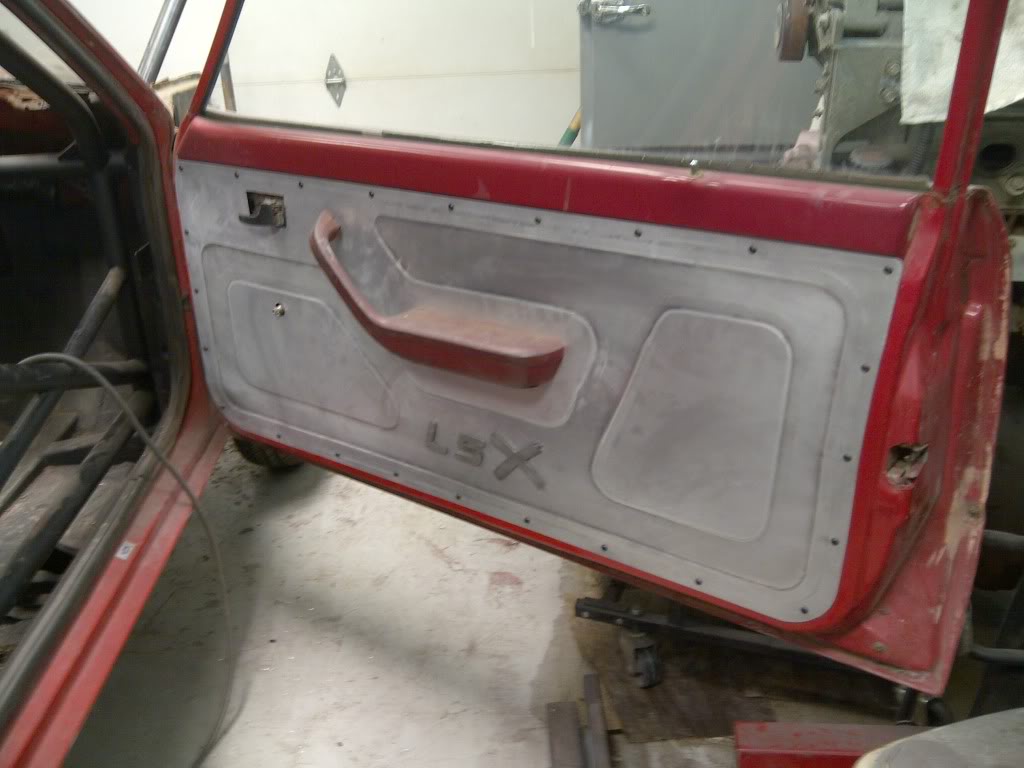 Then came some more shiny bits using a tool me and Nolan both LOVE the dimple dies lol. Filler for where the subframe connectors go through the floor, and custom raised seat mount boxes: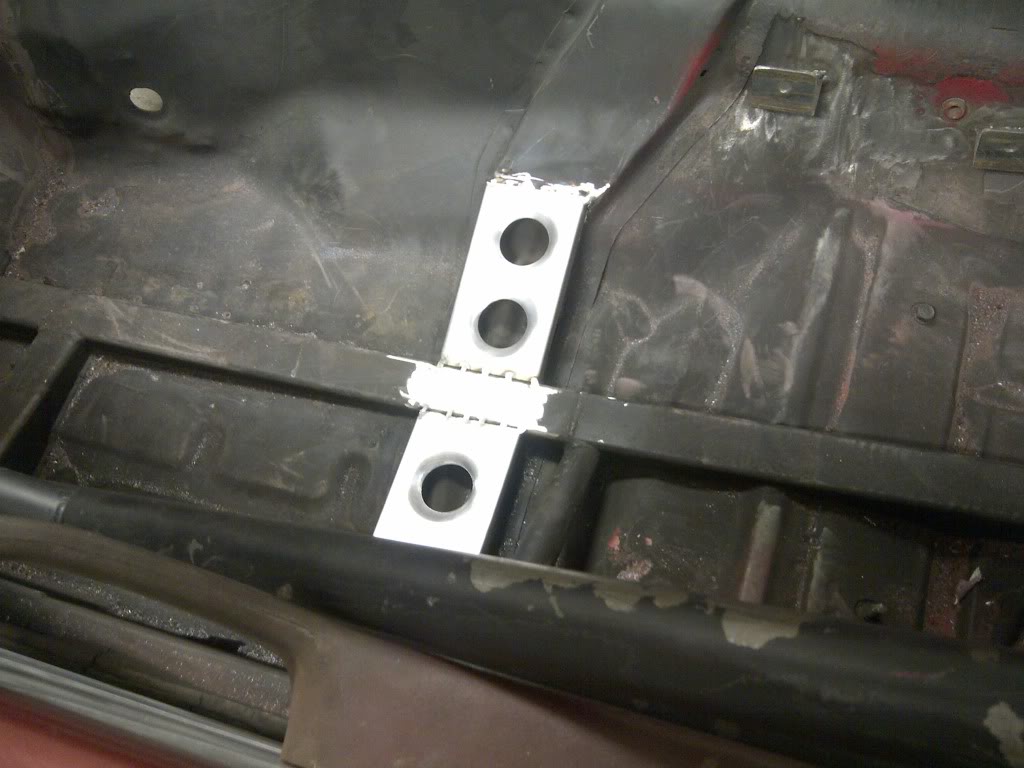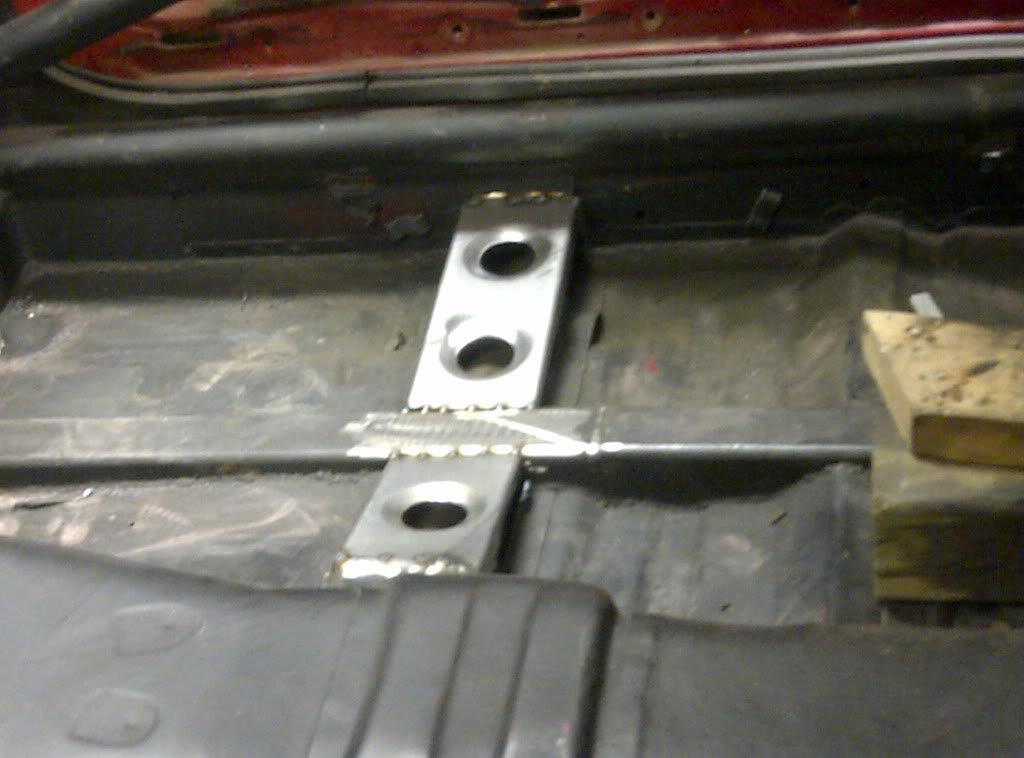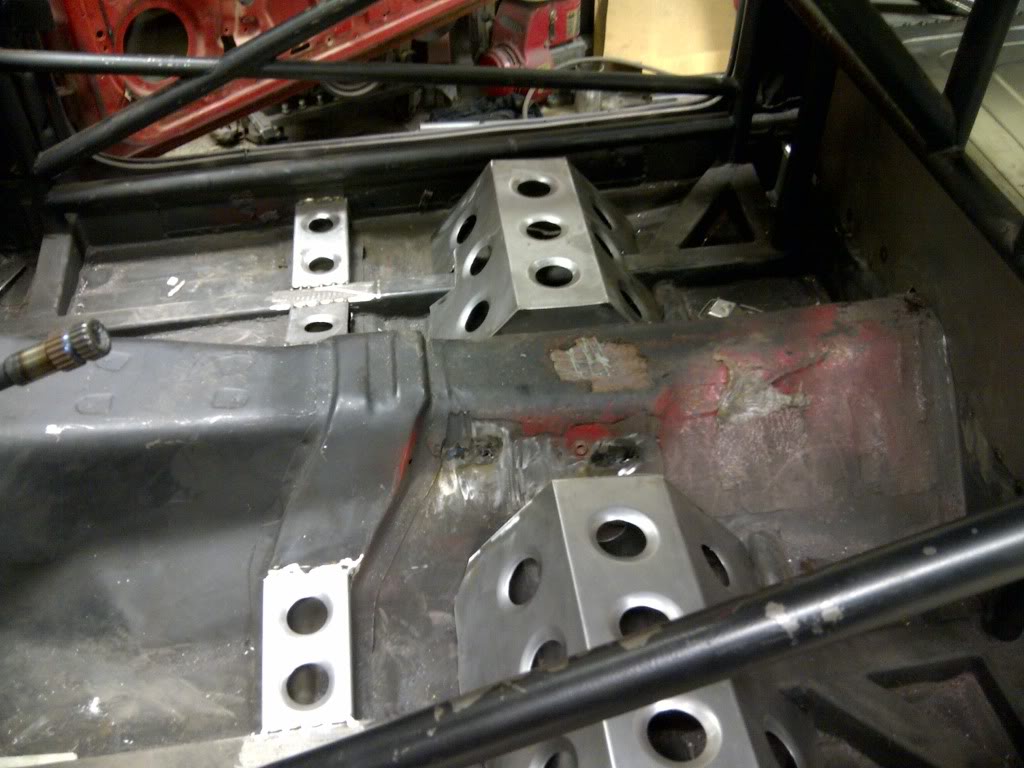 Next, after a little hesitation on my part and a lot of commiting on Nolan and the plasma's part the front end came off

, Then came the fun part of adding in some tube to tie it all into the cage and make it cleaner/lighter and stronger!: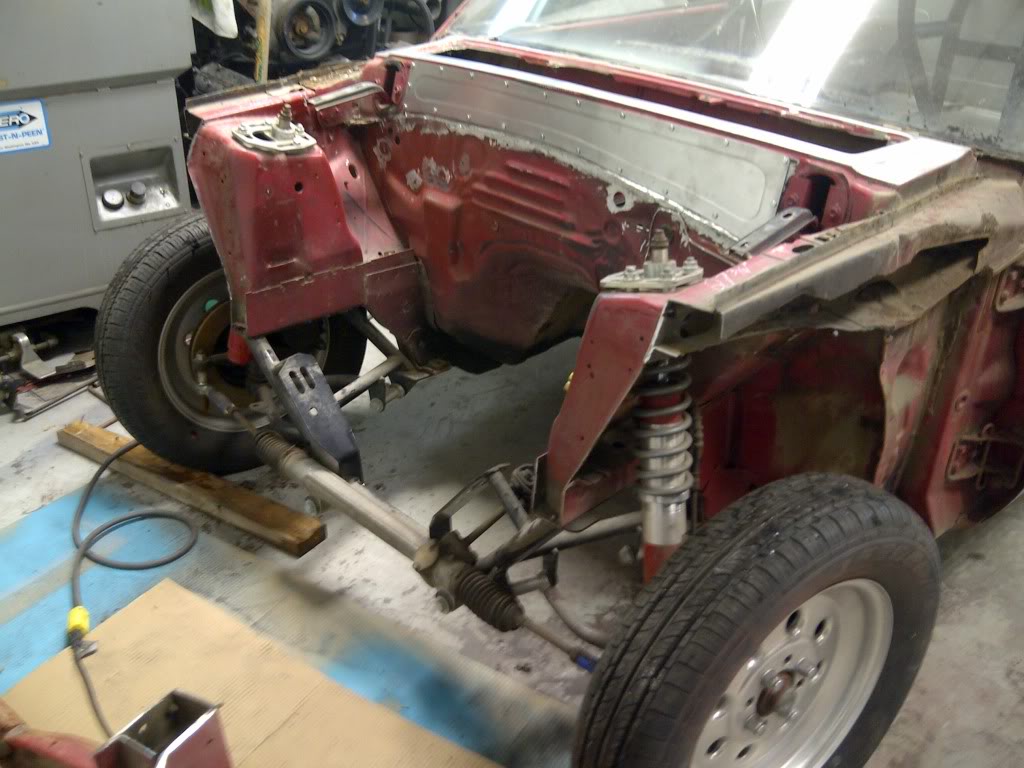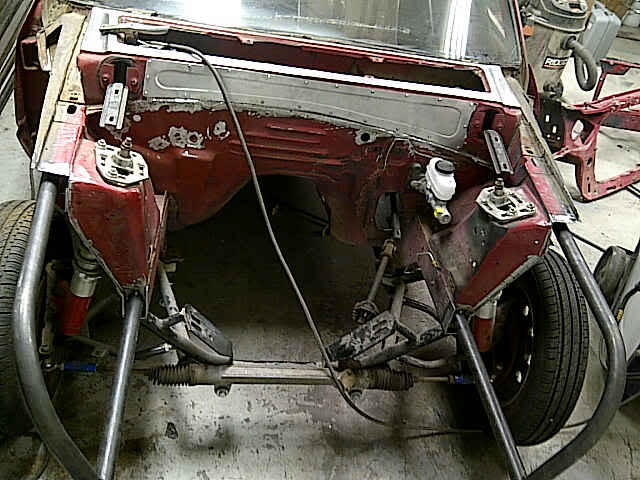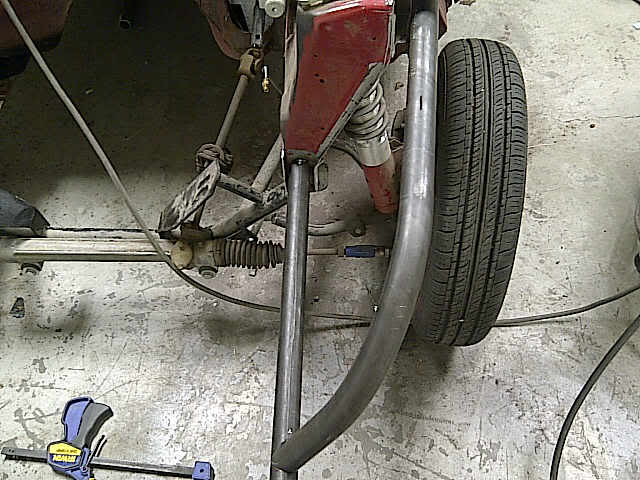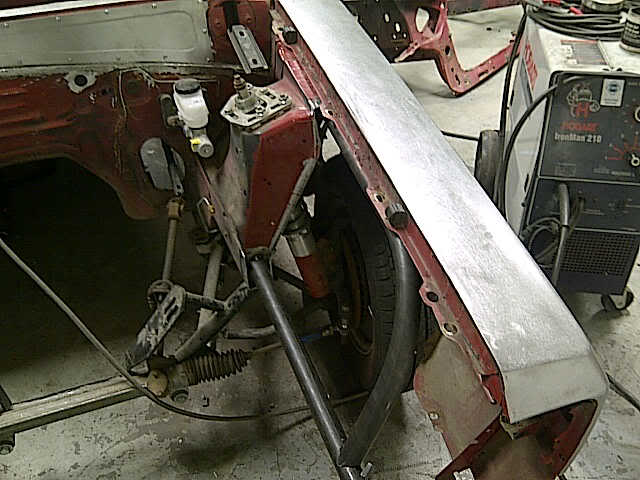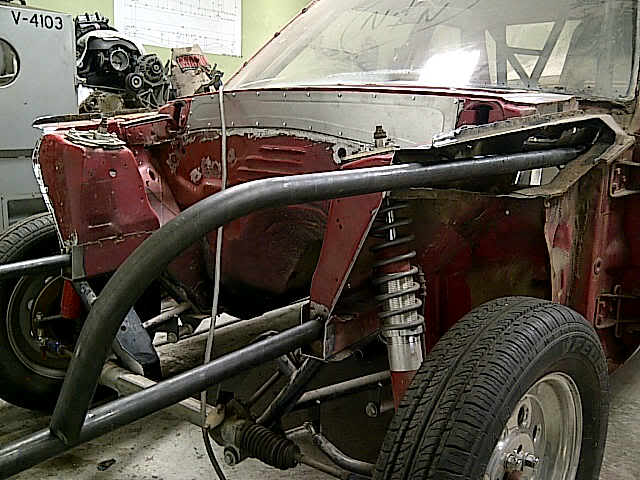 We had to come up with a way to make the top bar removable for easy engine R/R and I was having lots of fun playing with the new JD2 notcher so we came up with this, the sleeves slide over and the center comes out, these will not be the bolts that stay in it but you get the idea: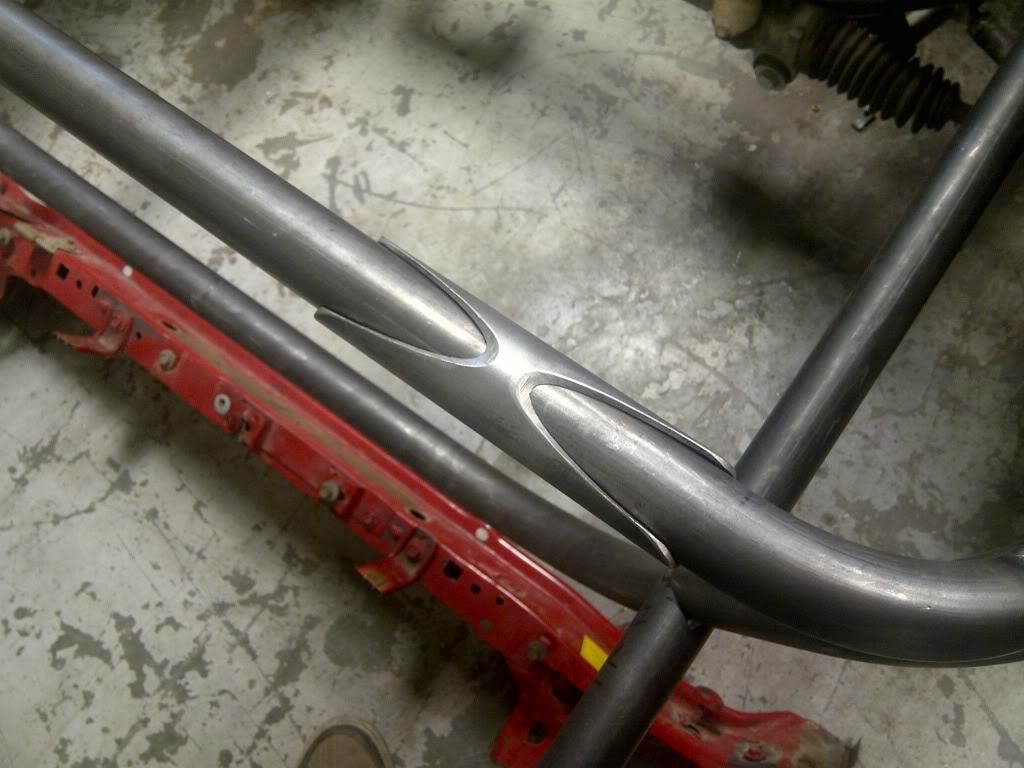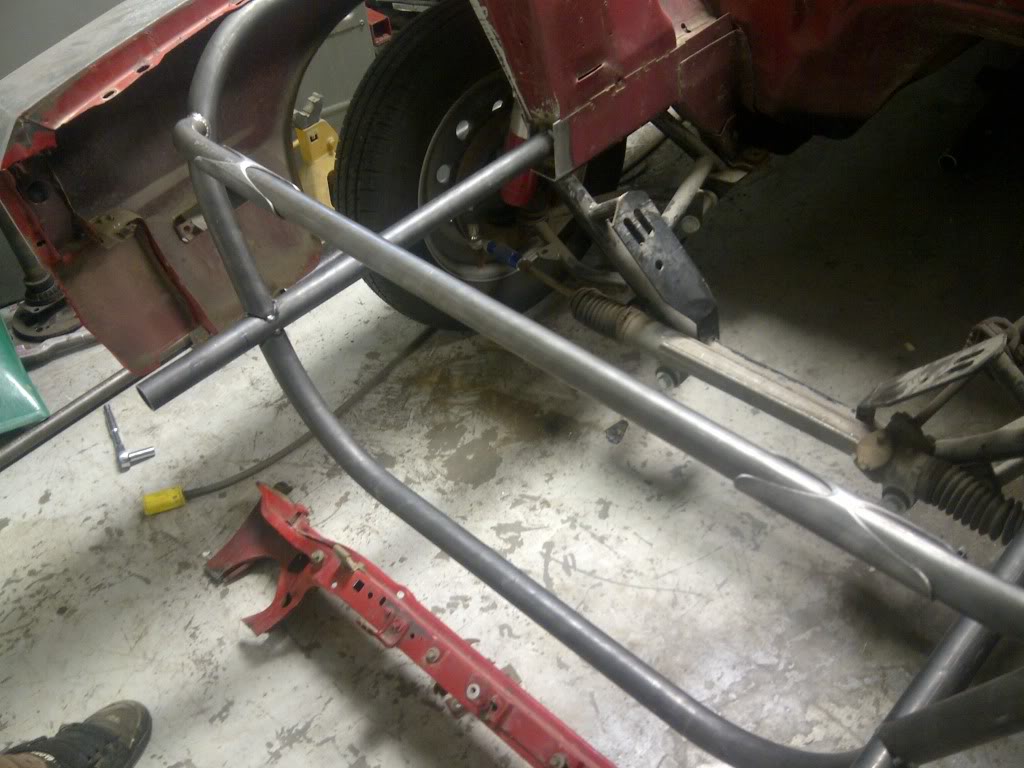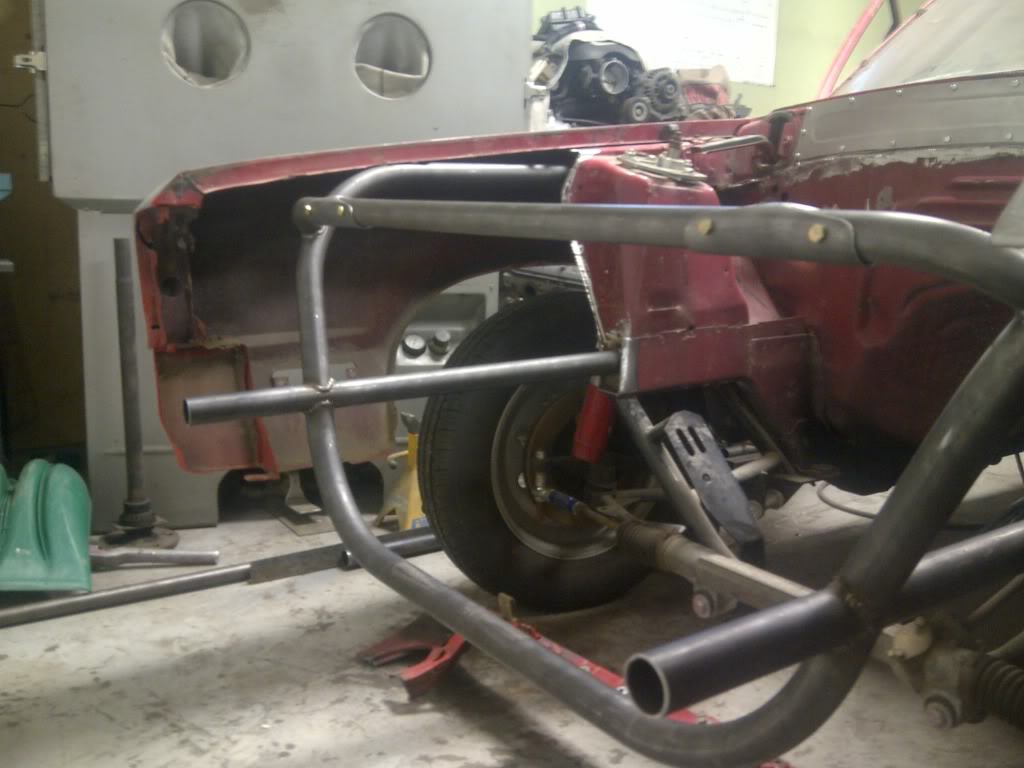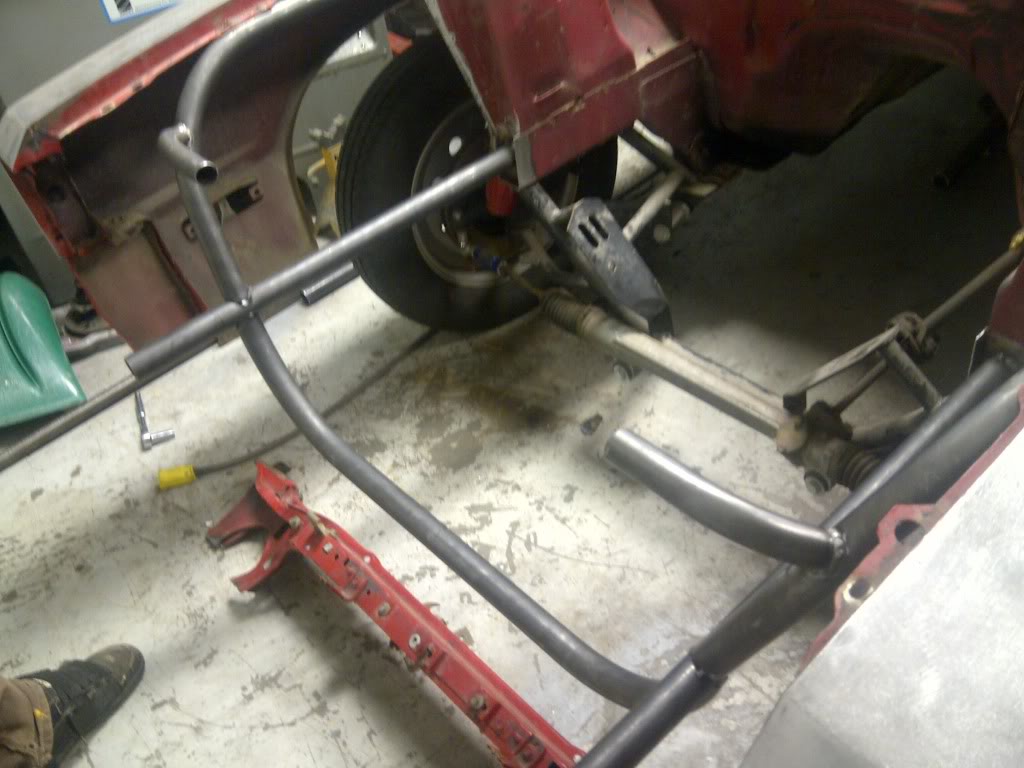 Next up was adding some stock bits back in... This stuff isnt 100% done yet but here is some in progress pics: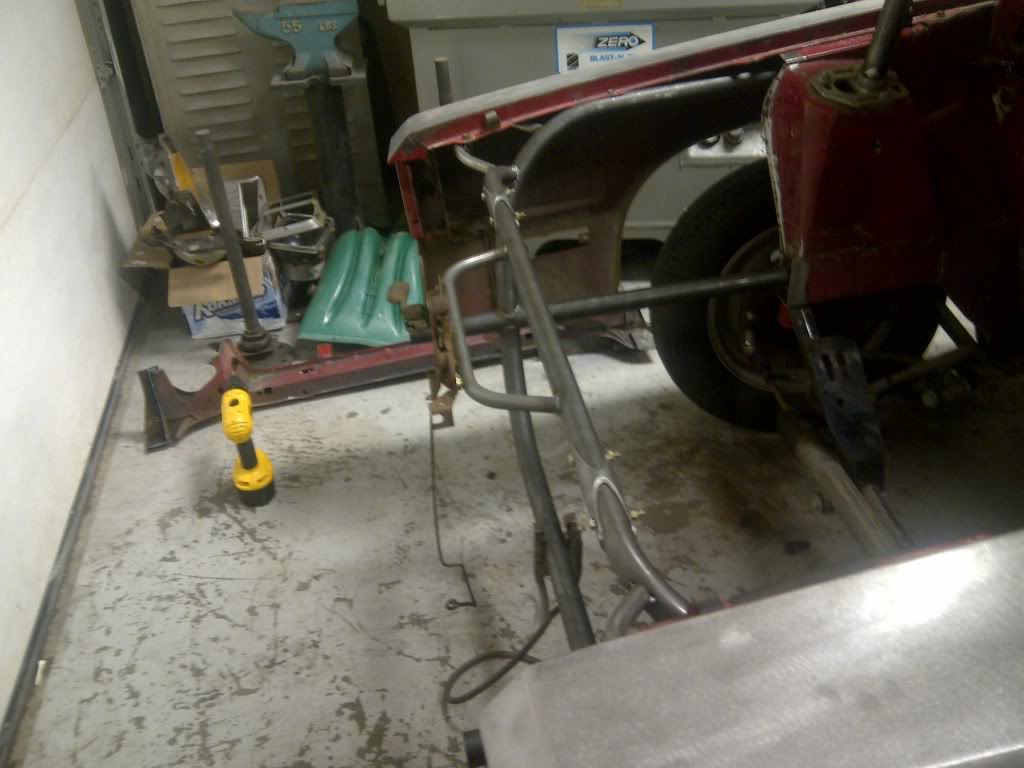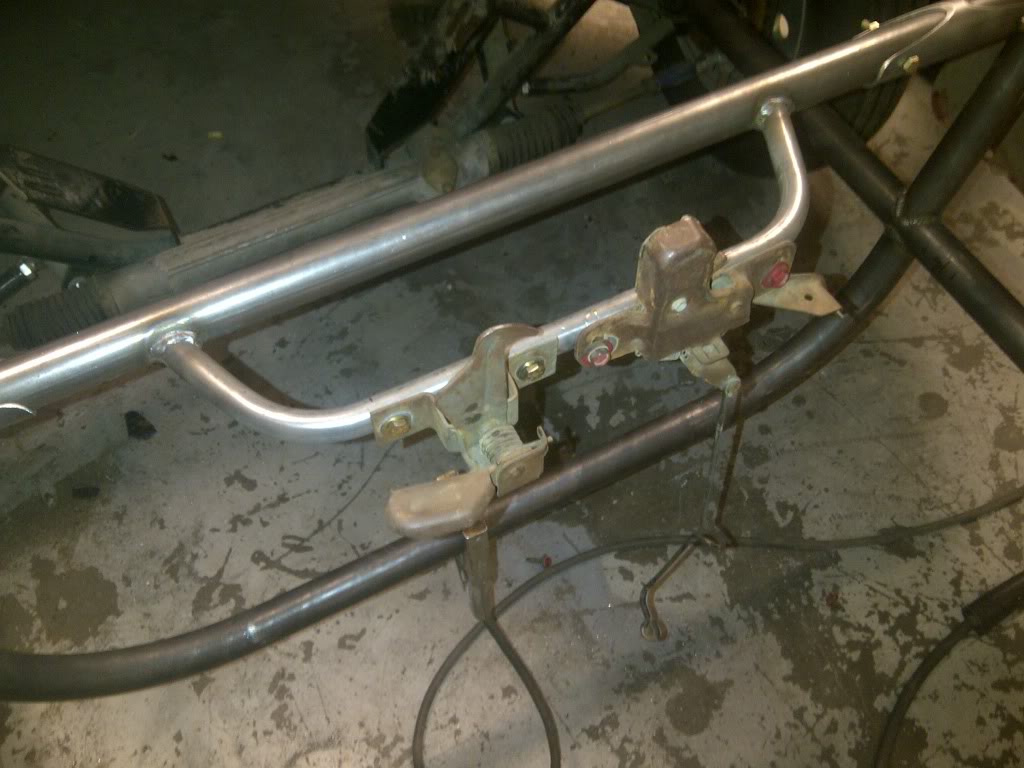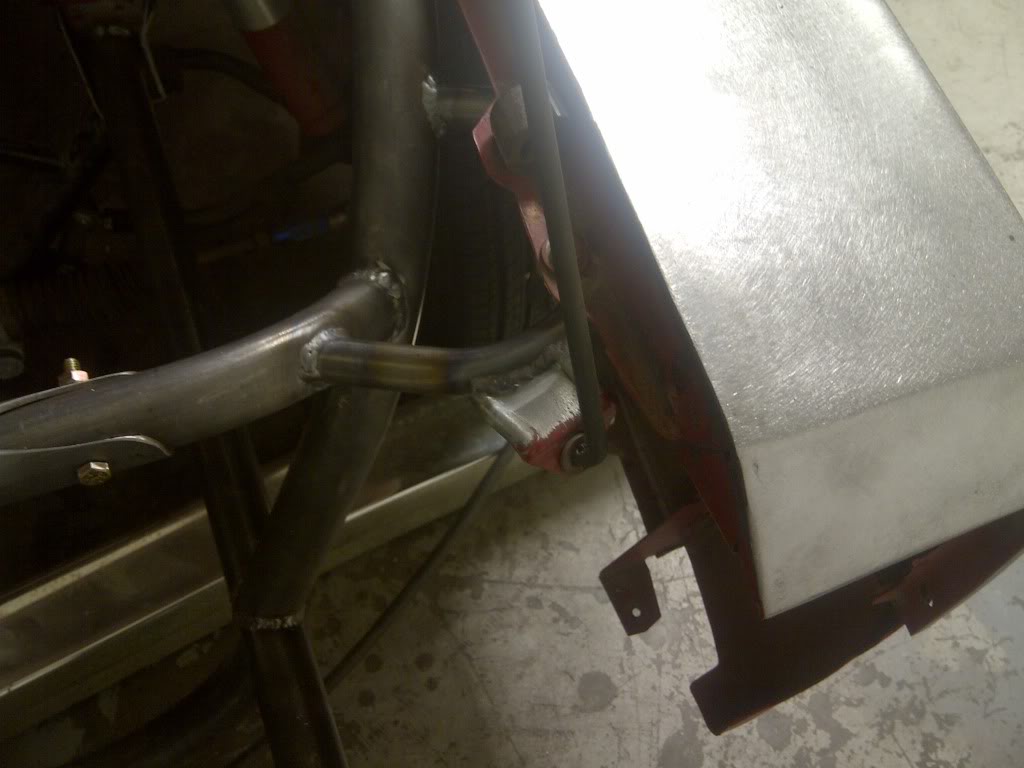 Also got the chute mount done this weekend: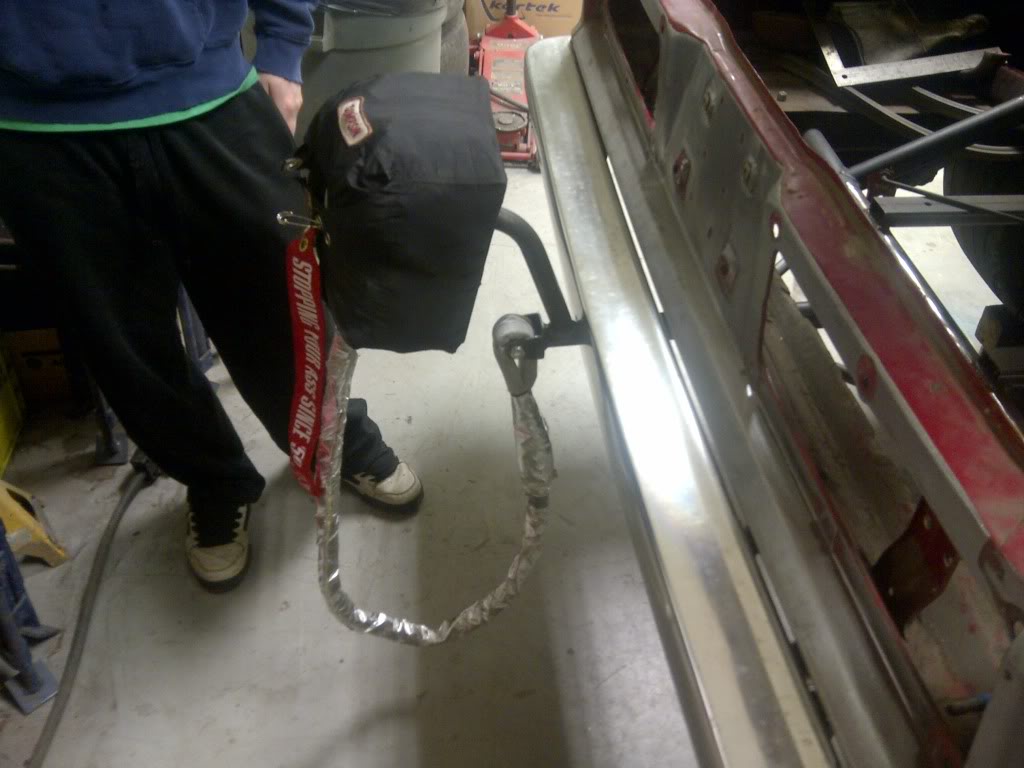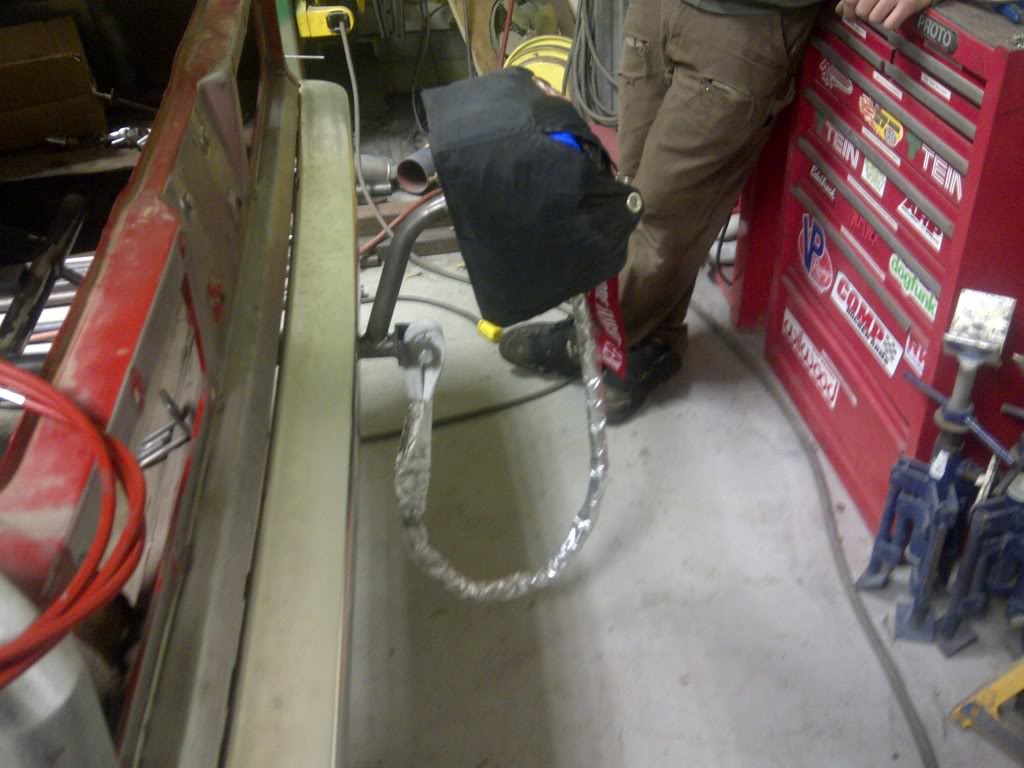 Seats all mounted up in thier final position, the little dimple die box deal got welded into the floor with weld nuts welded in and now the seats just easily bolt in and out with 4 grade 8 3/8 bolts and 2 in the back of the drivers seat going to the cage: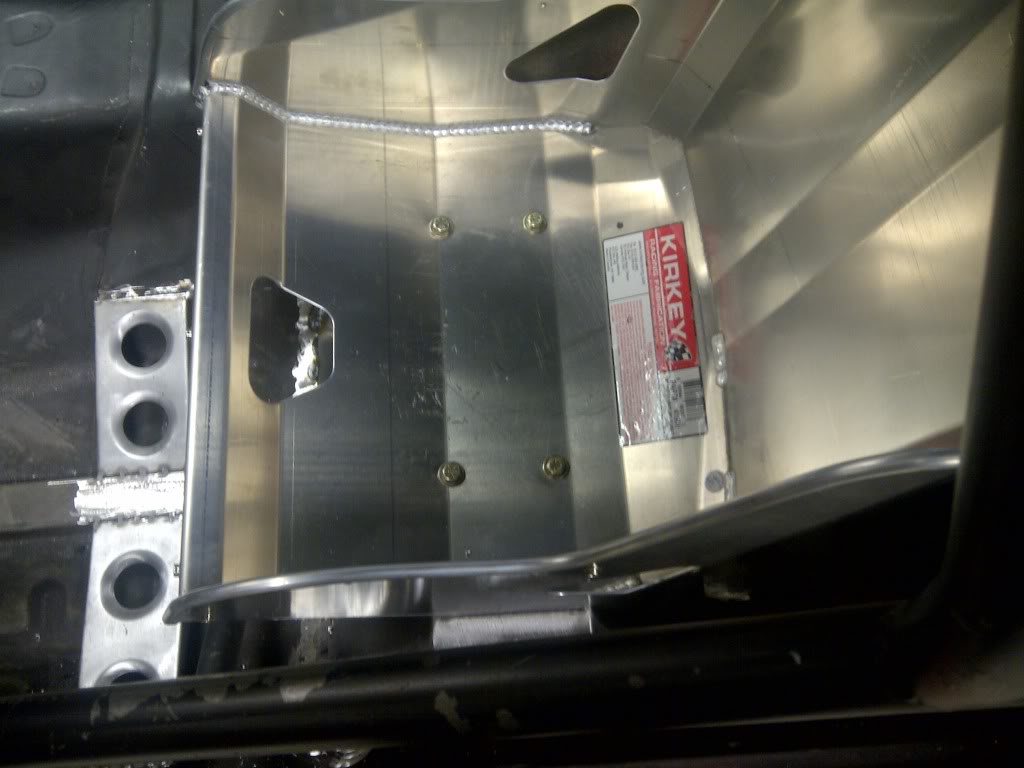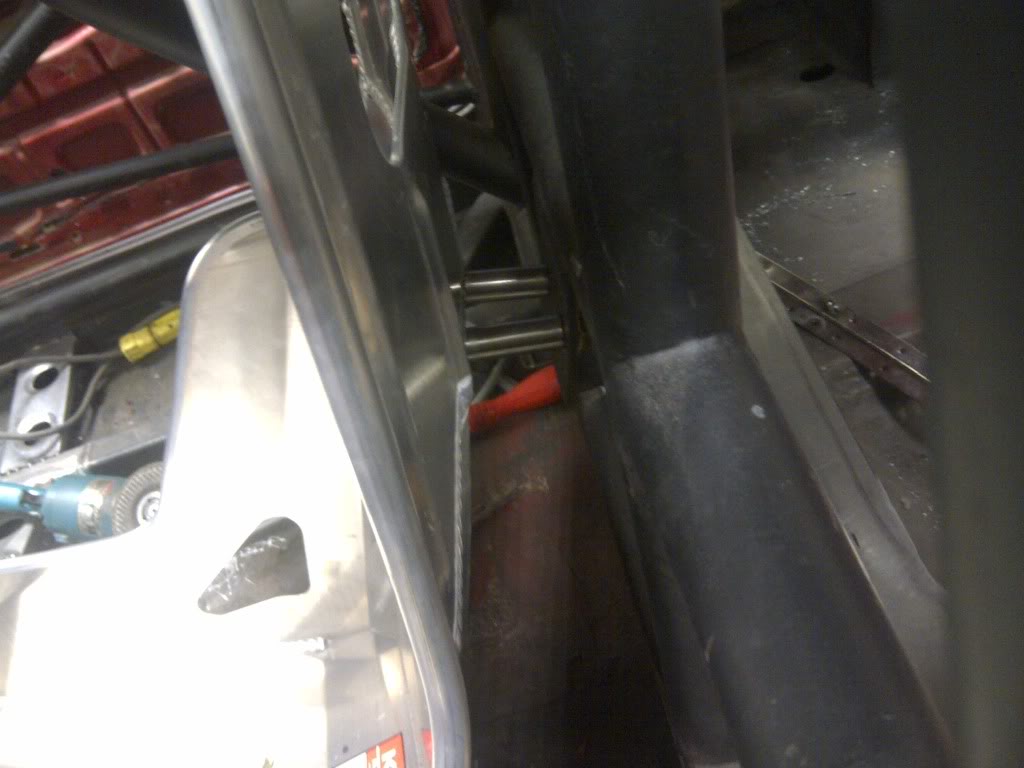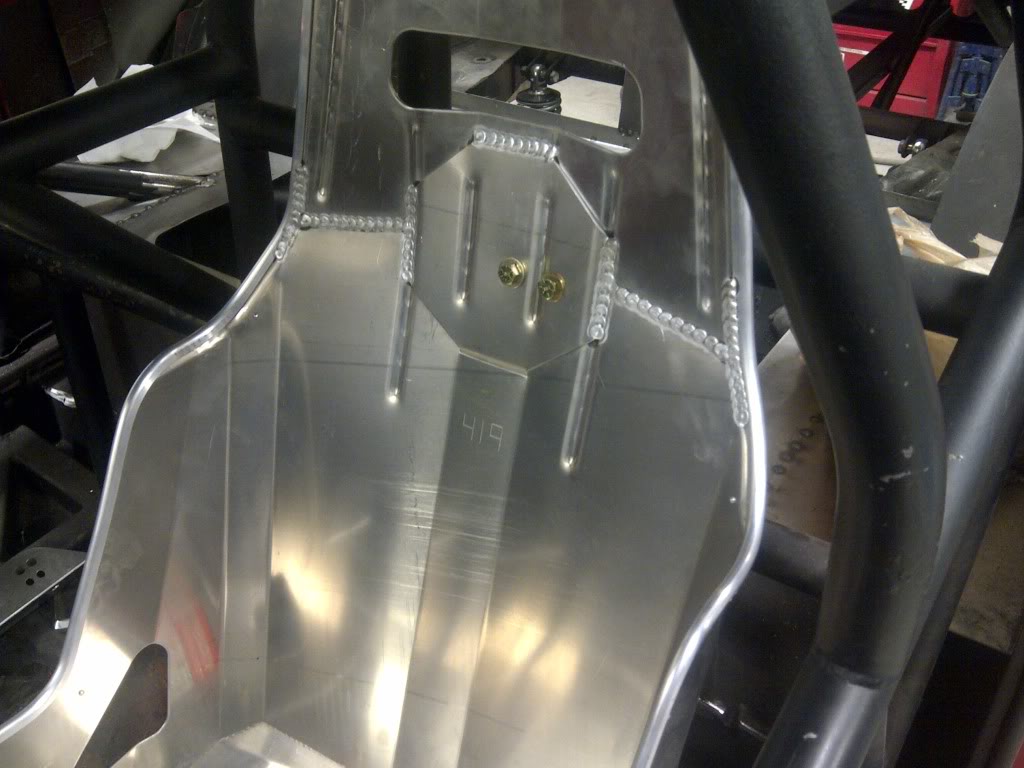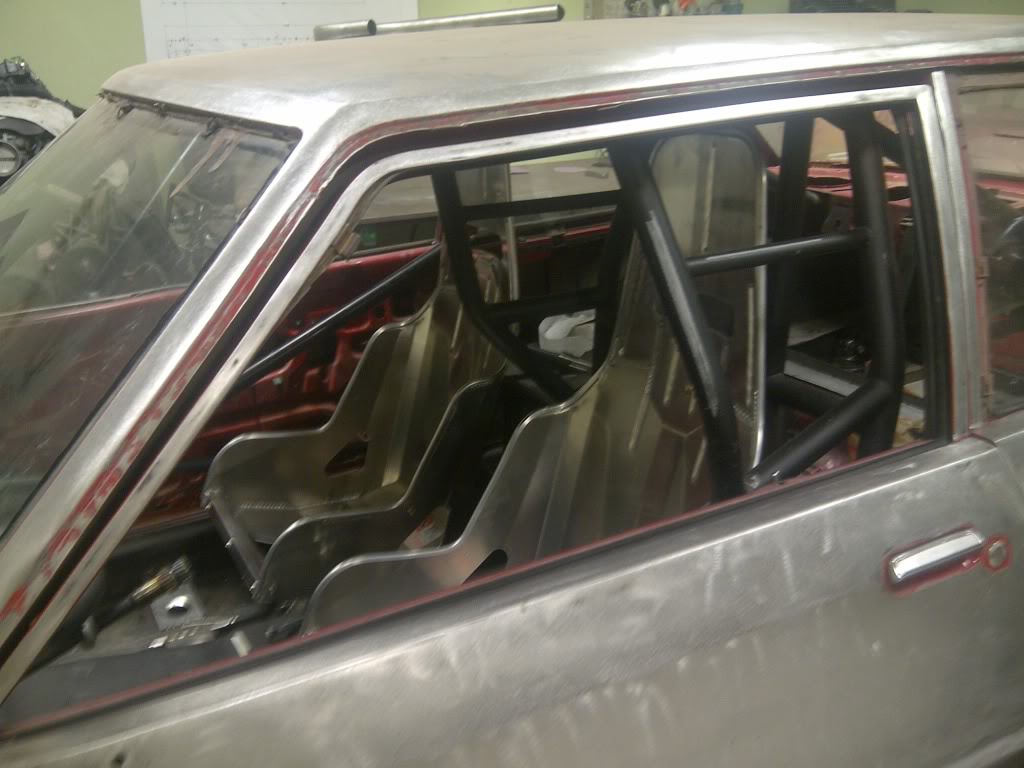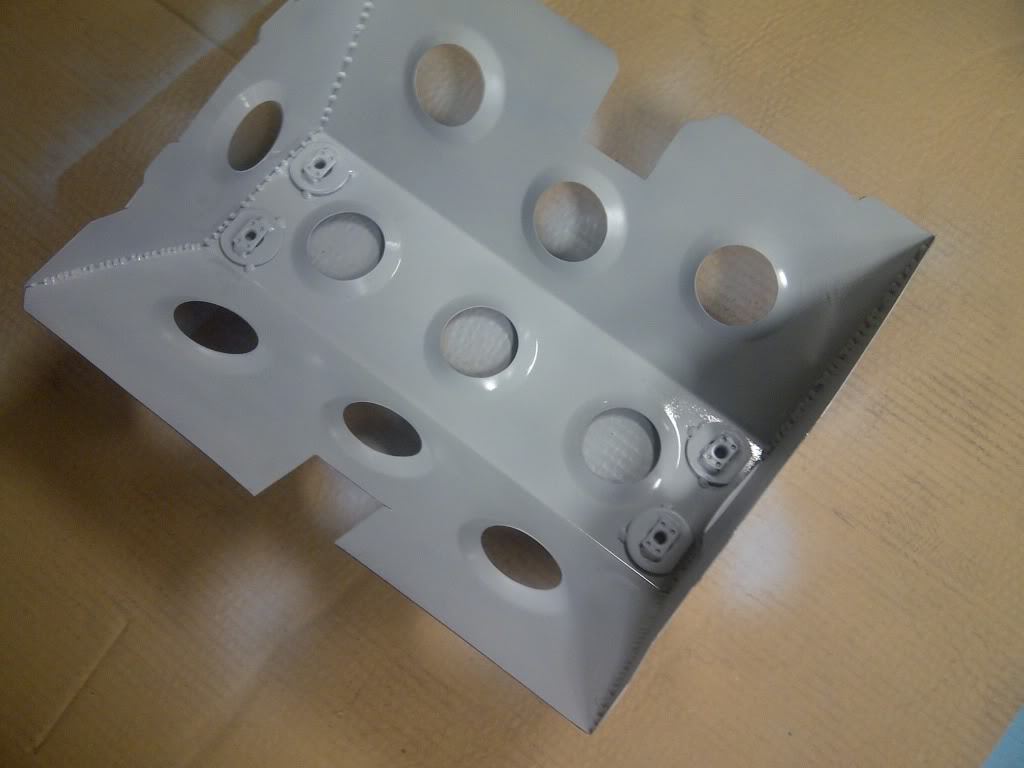 Test fitting the 315 drag radials: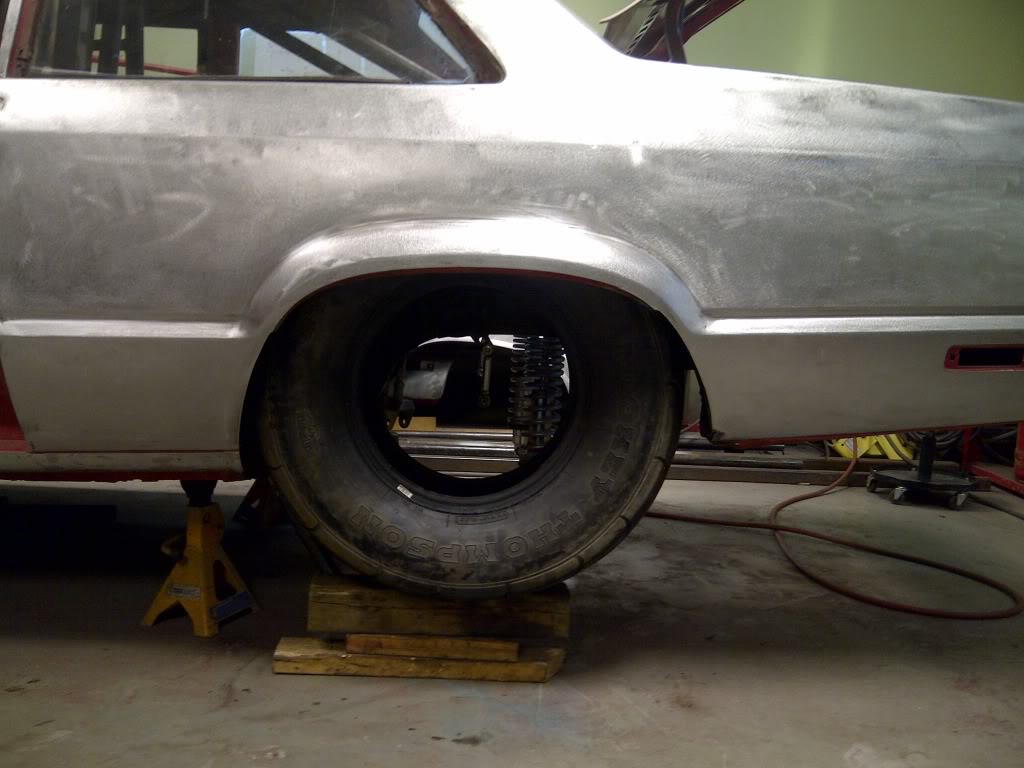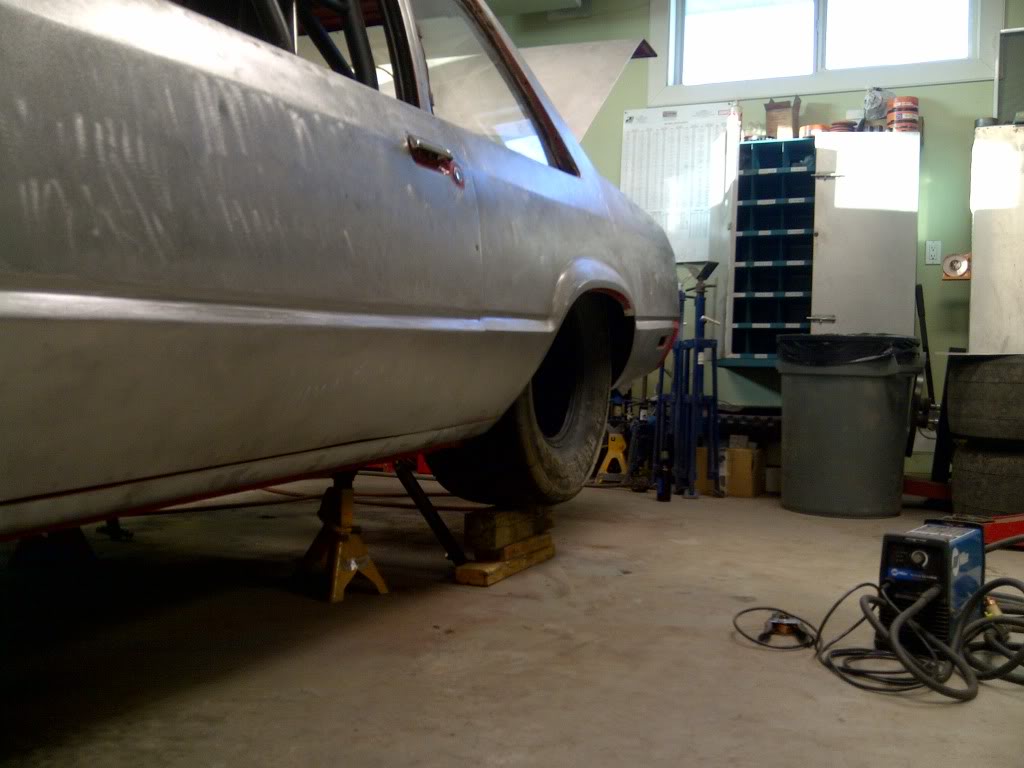 Parachute handle all mounted up: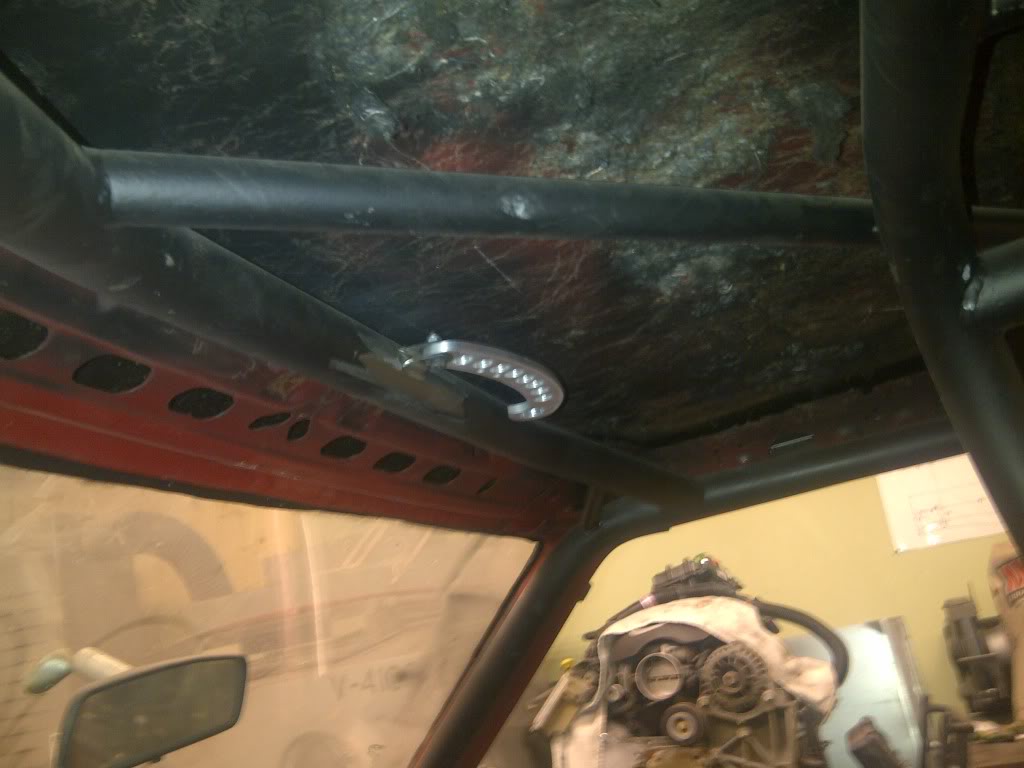 Front end fit back on after the tube work: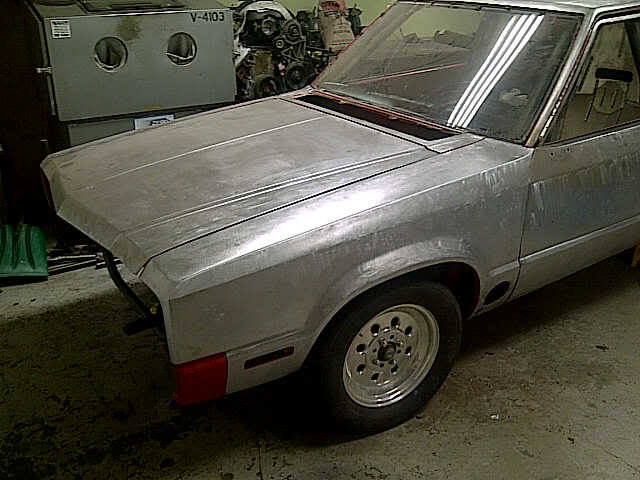 Diff Housing back from powdercoating

the coating is called "Silver vein" and I am VERY happy how it came out: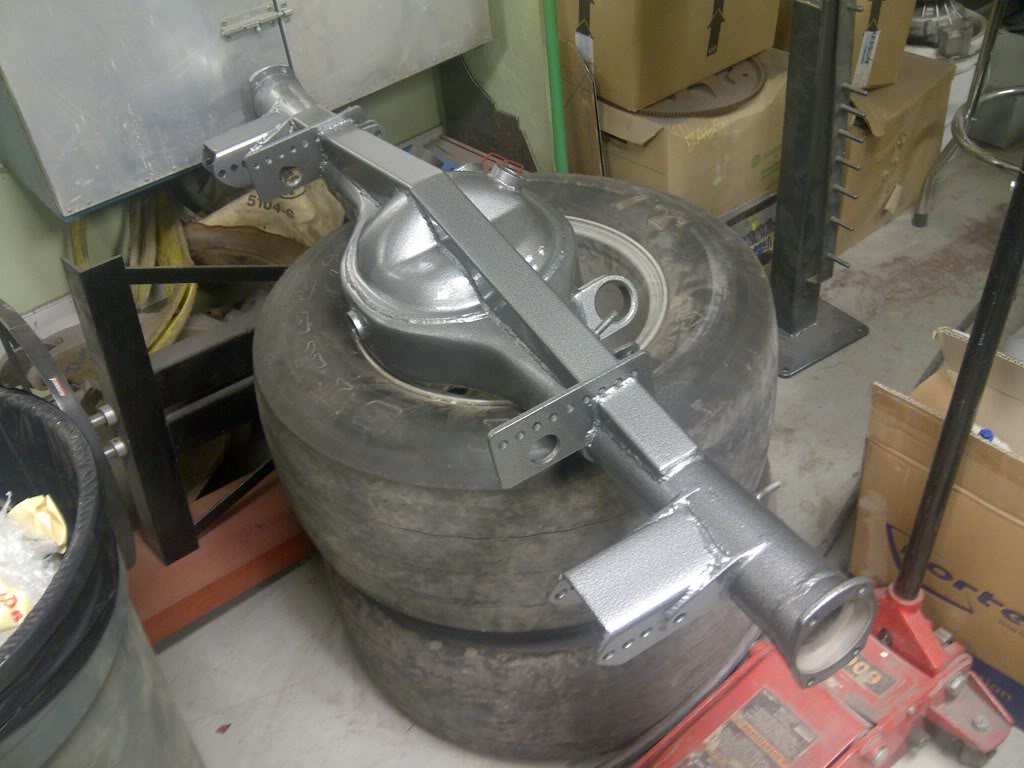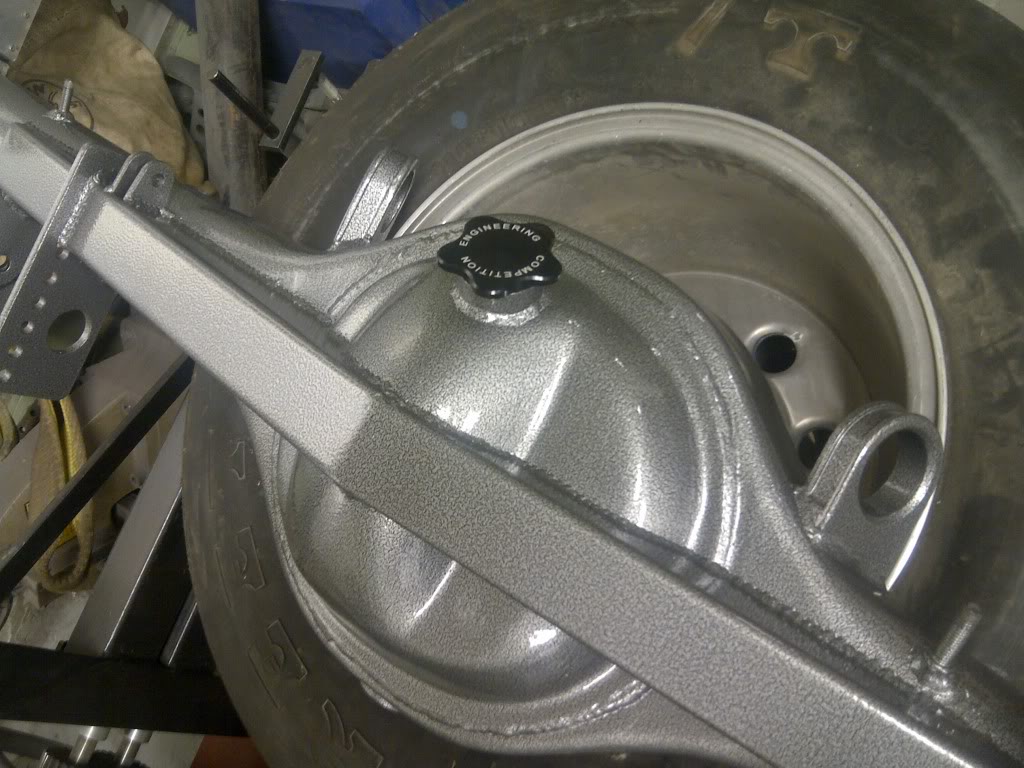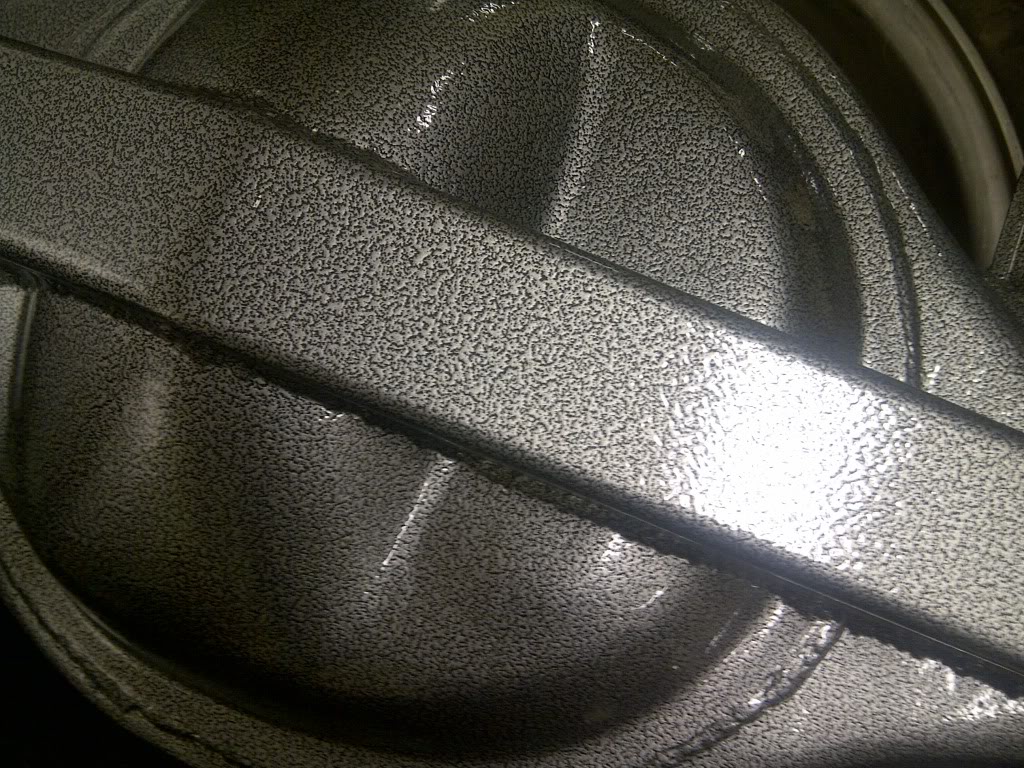 438" shortblock.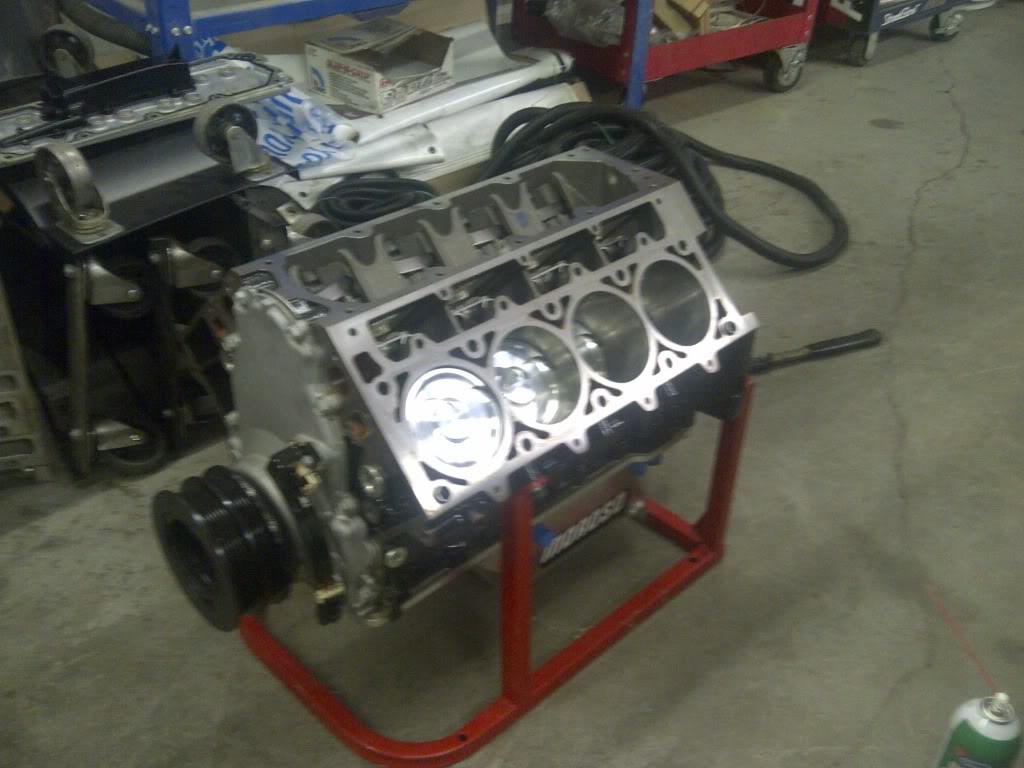 Gas door all welded up: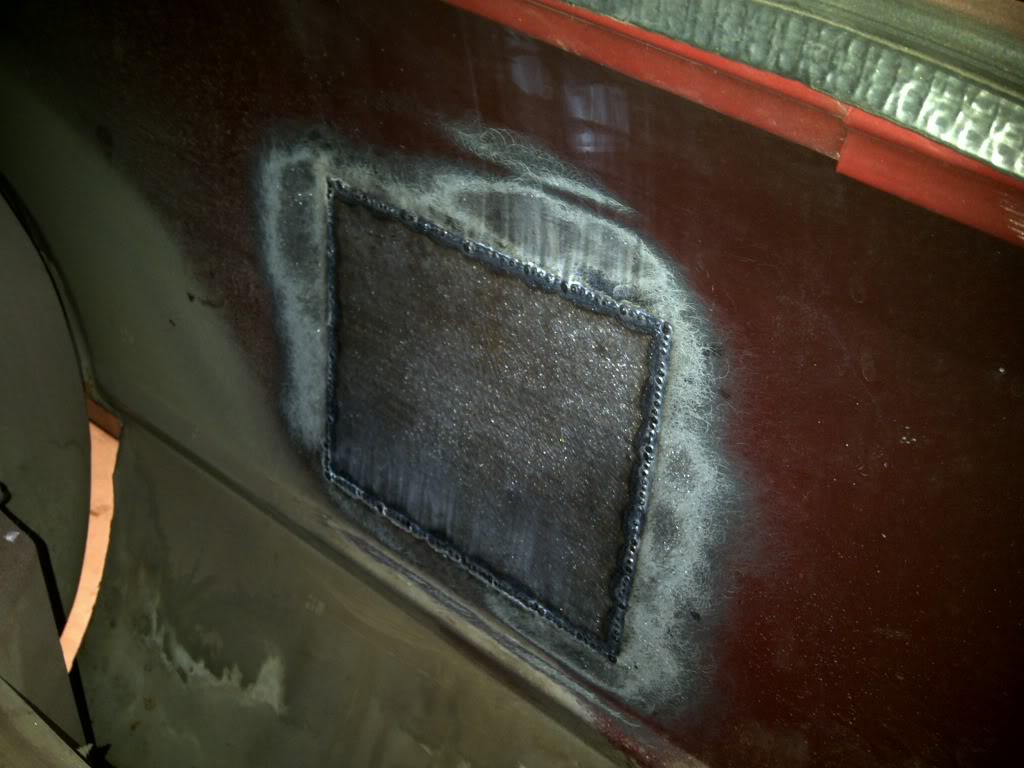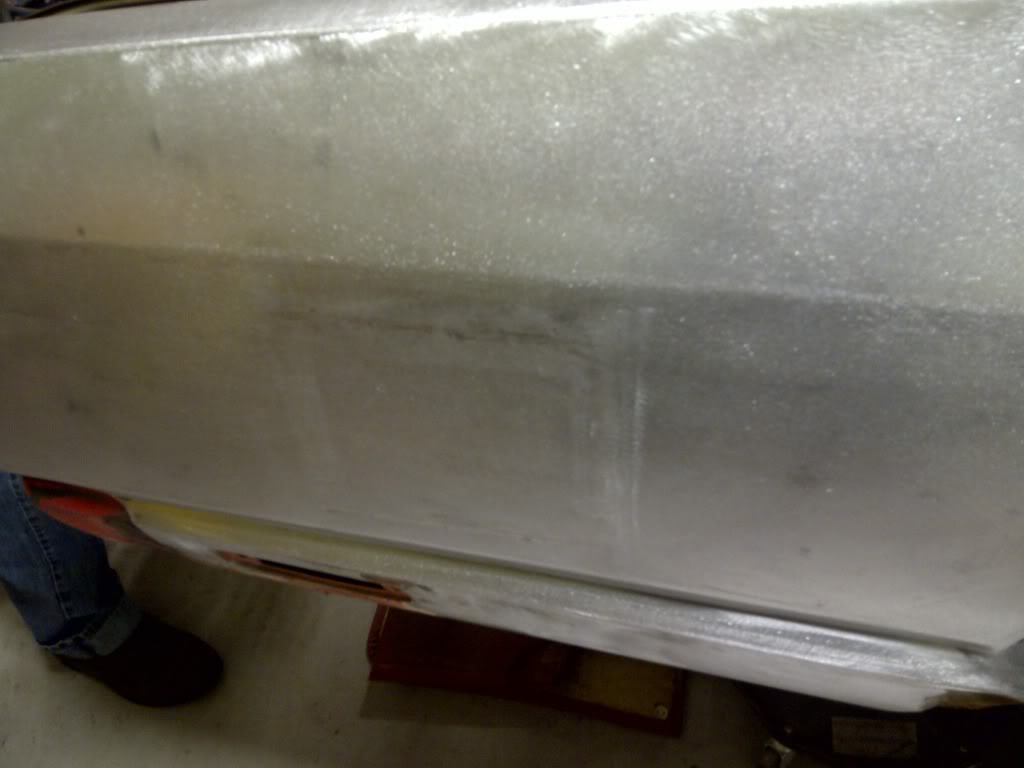 Holley 5.7" LCD touchscreen dash: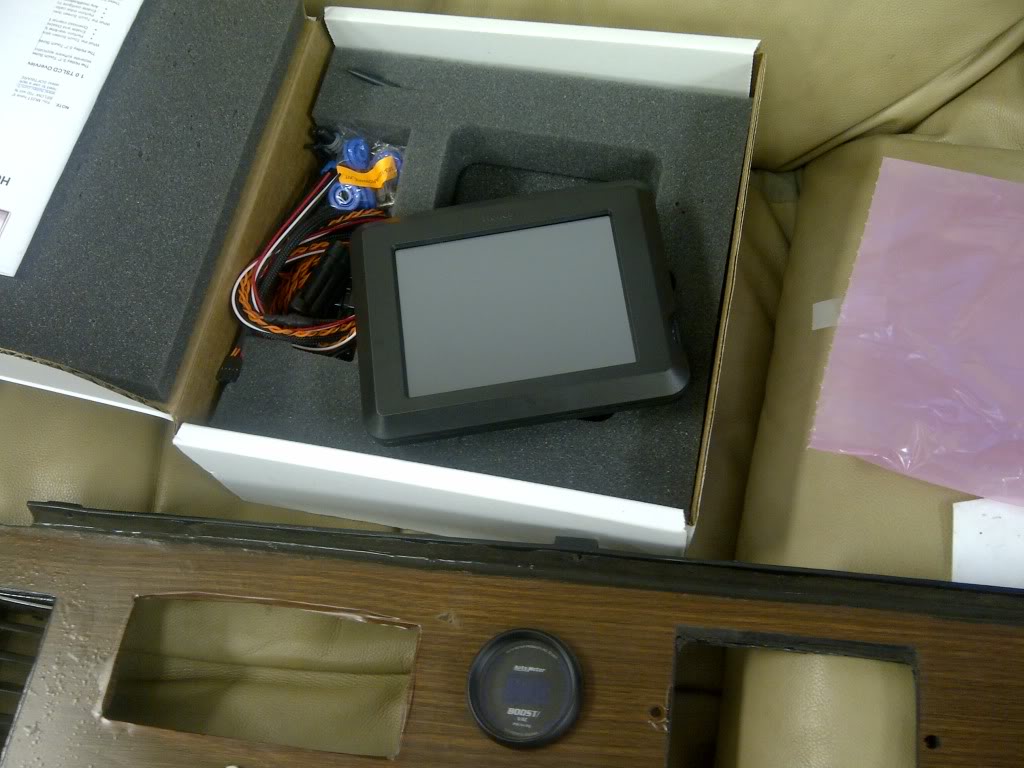 Also got all my interior alluminum panels back from coating... Pictures dont do them justice at all they look BAD ASS, almost look like ABS plastic which is good and should give the interior a more stock type feel: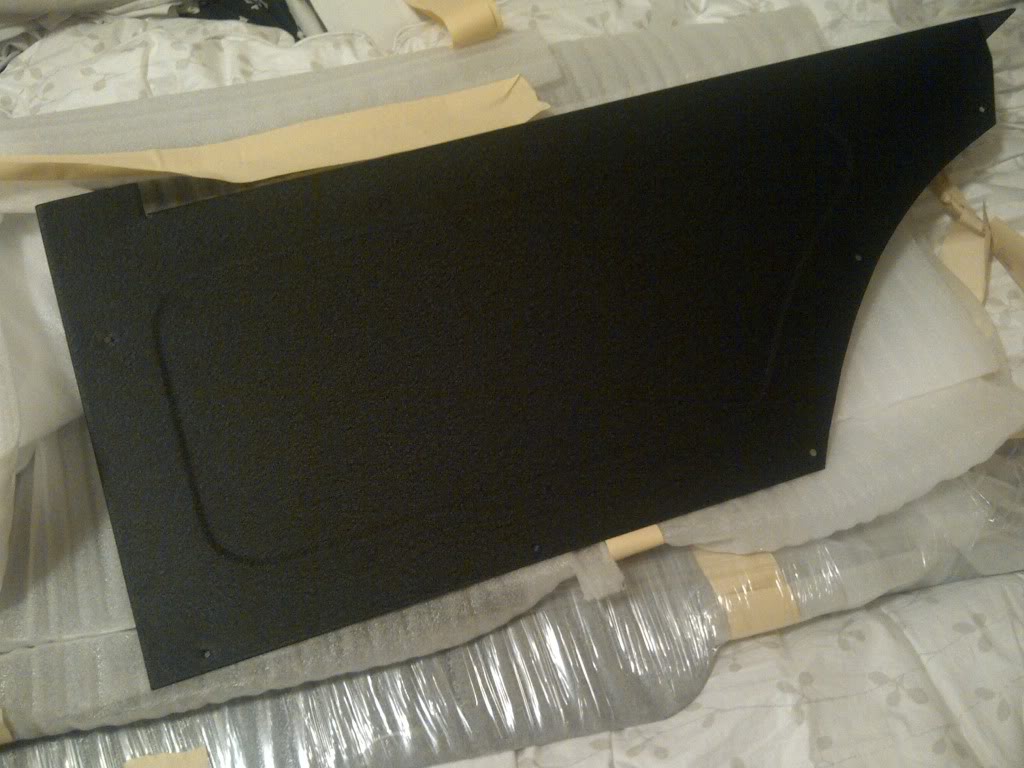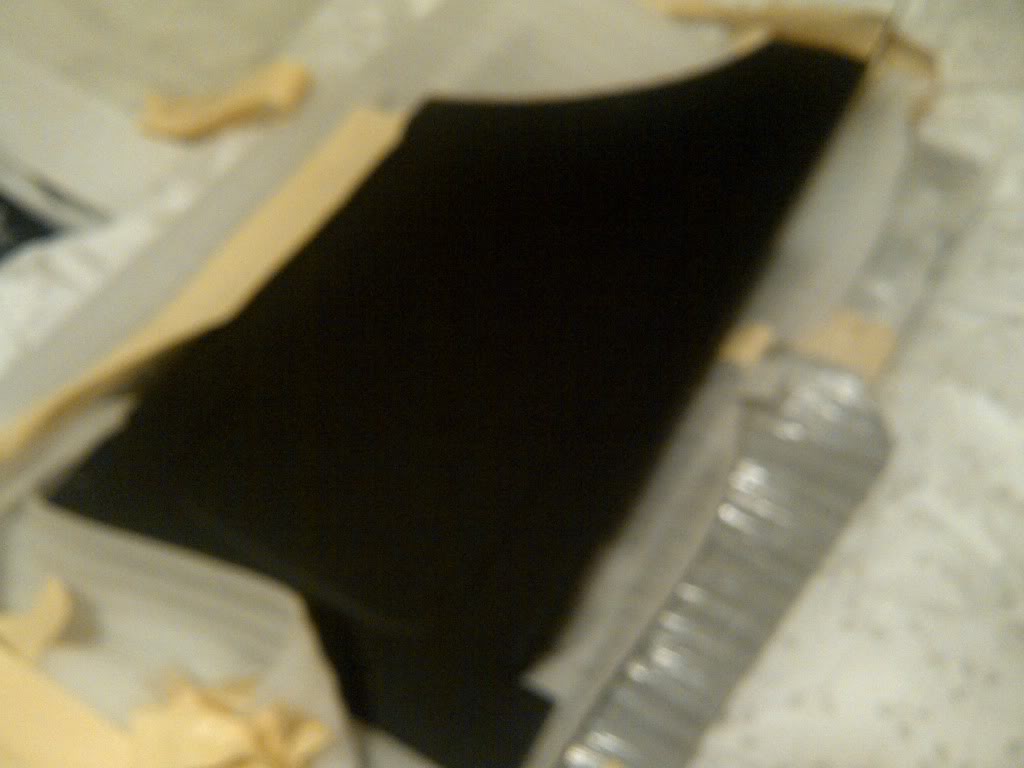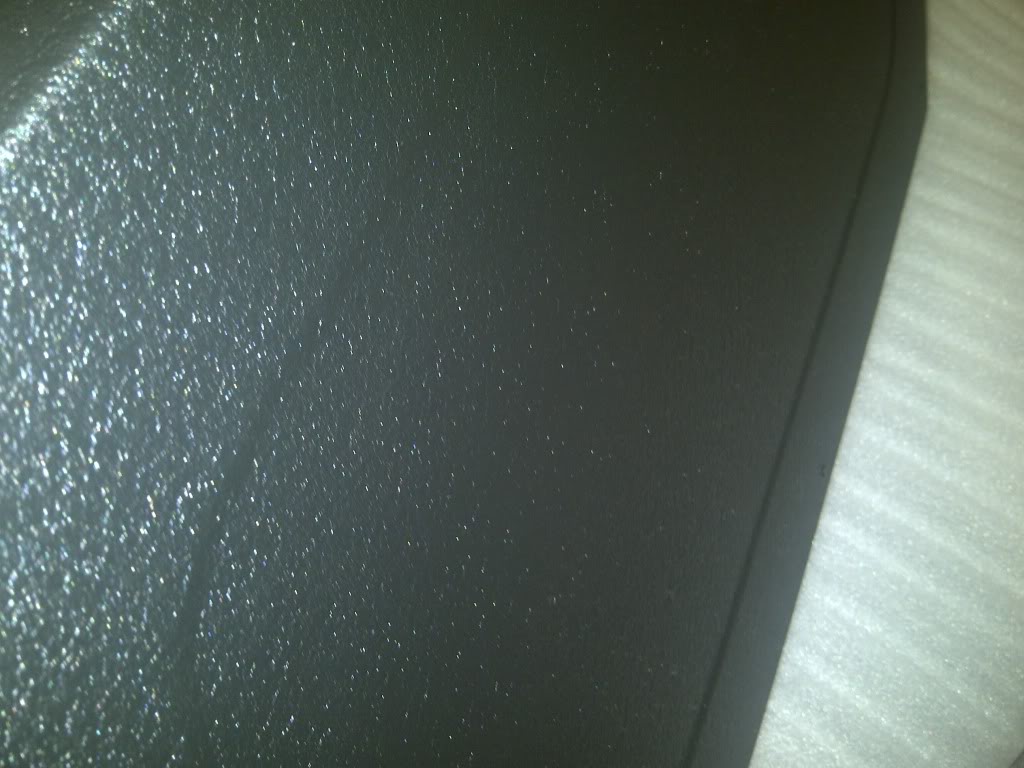 Glad everyone is enjoying the build as much as I am!!!! This build could not be possible without killer friends like nolan for sure!!! I will post pics of the new HUGE intercooler asap.
Nolan chimming in here. Neils car is in my garage right now for the majority of the fab work and some paint prep. I thought I would save us all from some of the shit phone pics Neil posted. I also did a little work on the front fender tonight. I will try to update the build as it goes along.....Neil works late every night and usually doesn't get over to work on it till the weekends, so i will post the weekday updates. With all that enjoy the progress and the build!

Off with the old on with the new.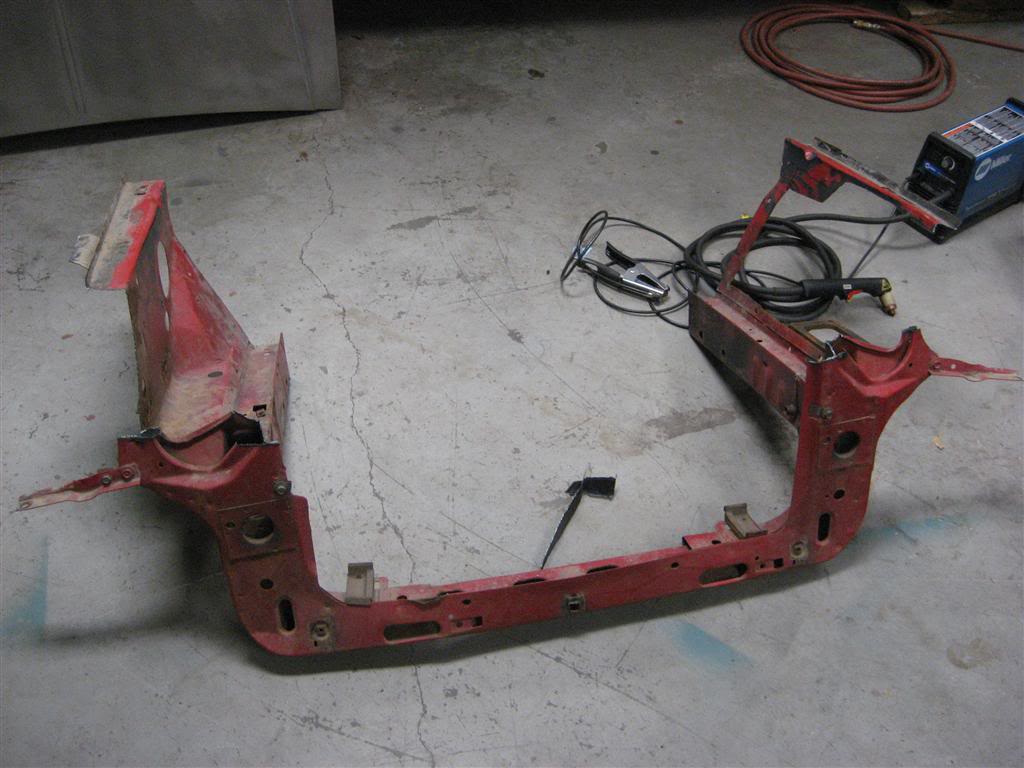 Tonight's progress, knocked the dents out of the passenger fender and filled the old antenna hole.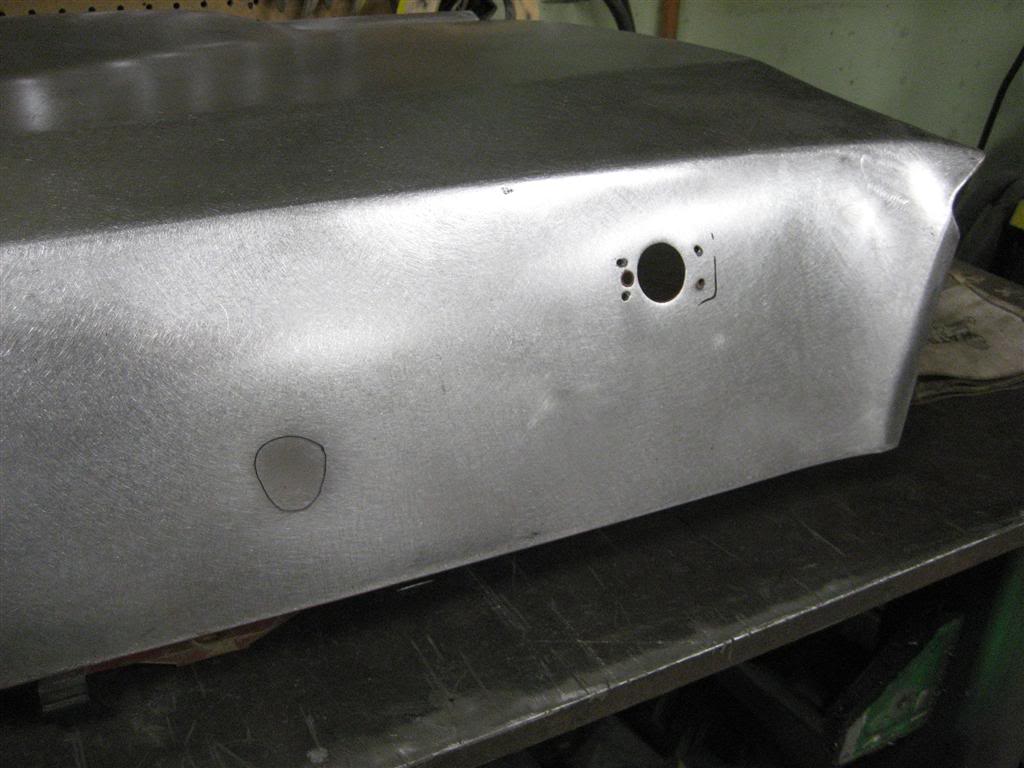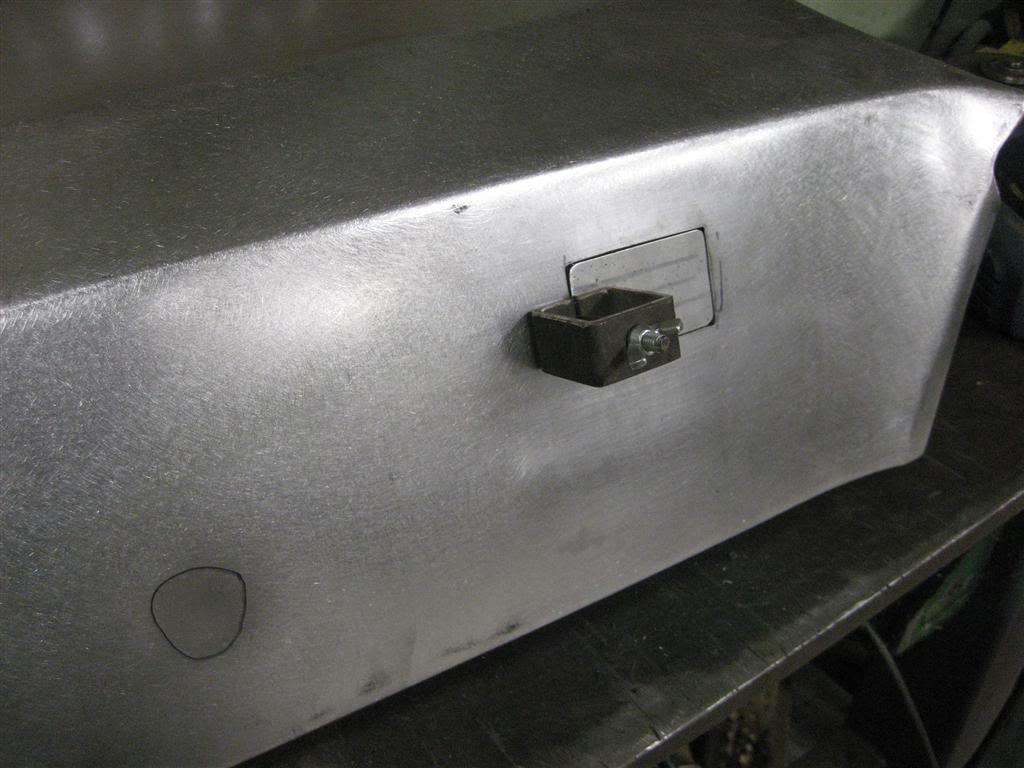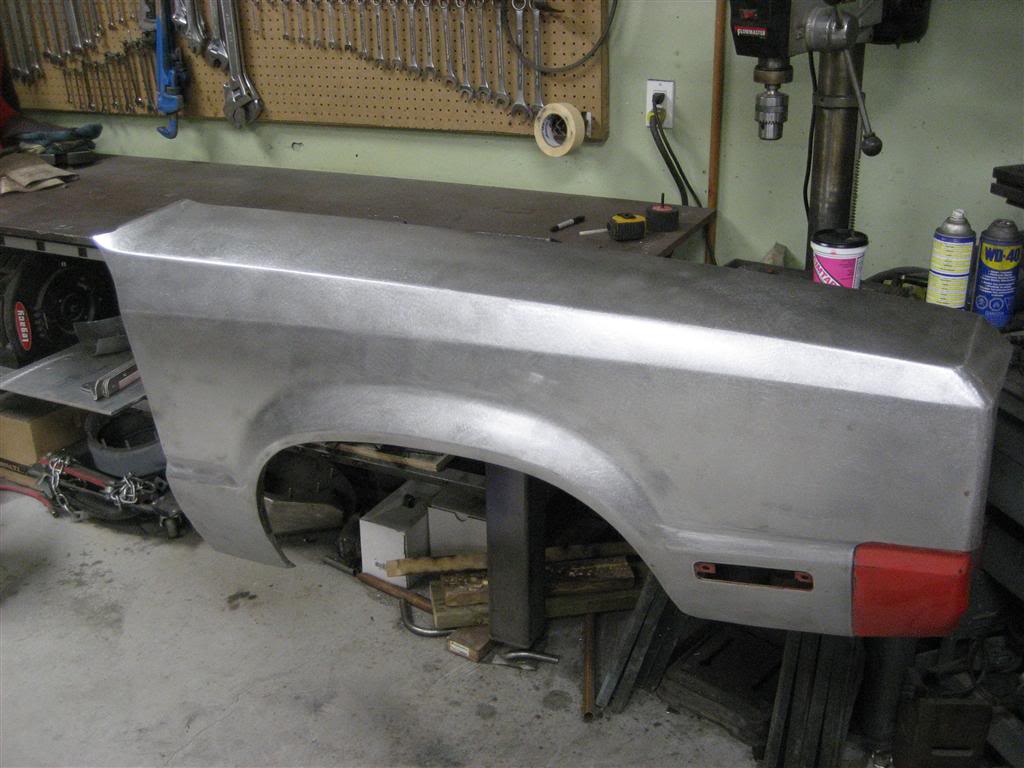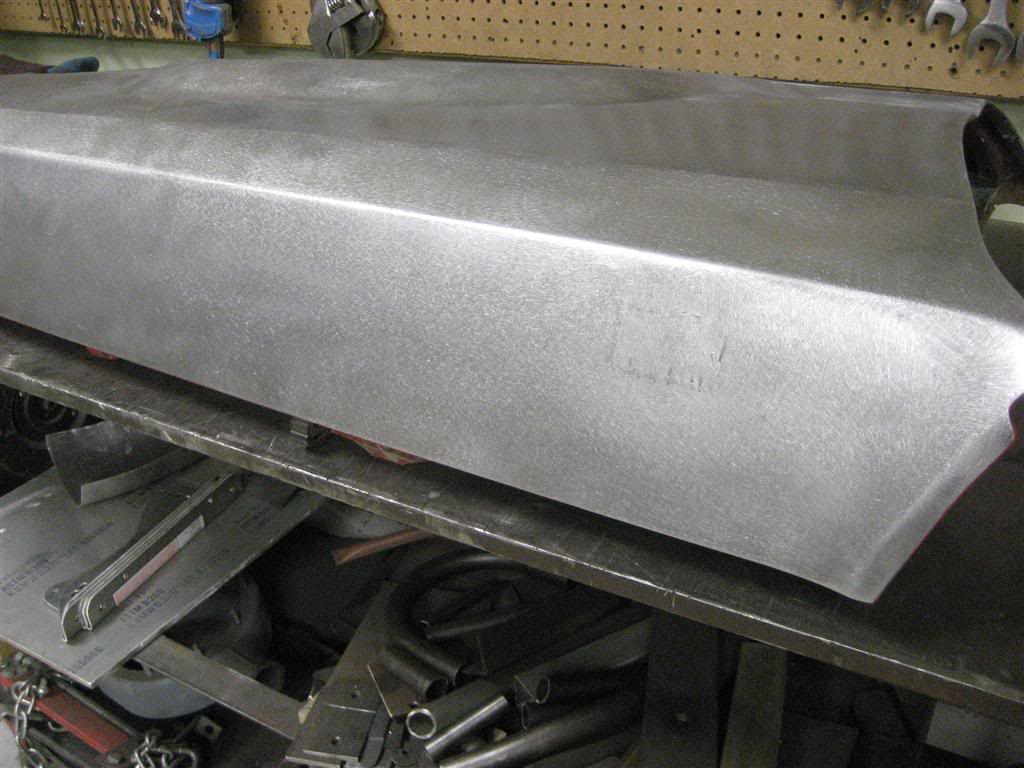 And a parting shot of Neil thrashing away.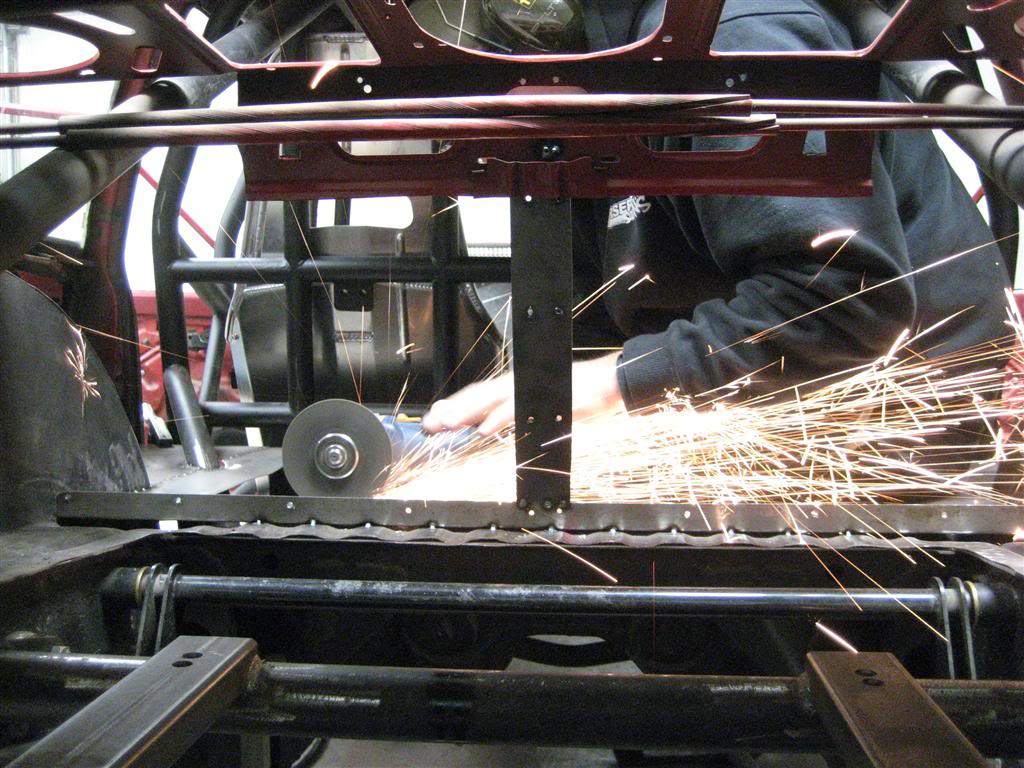 the rest of the week may be slow im out of town a couple days and i know neil is busy at work......later. nolan
12-6-2011
Slow night tonight, Me and my room mate pulled out all of the glass in the car.....Something we should have done first but hindsight is how it goes. We left the door glass in because I know how much Neil loves working on the doors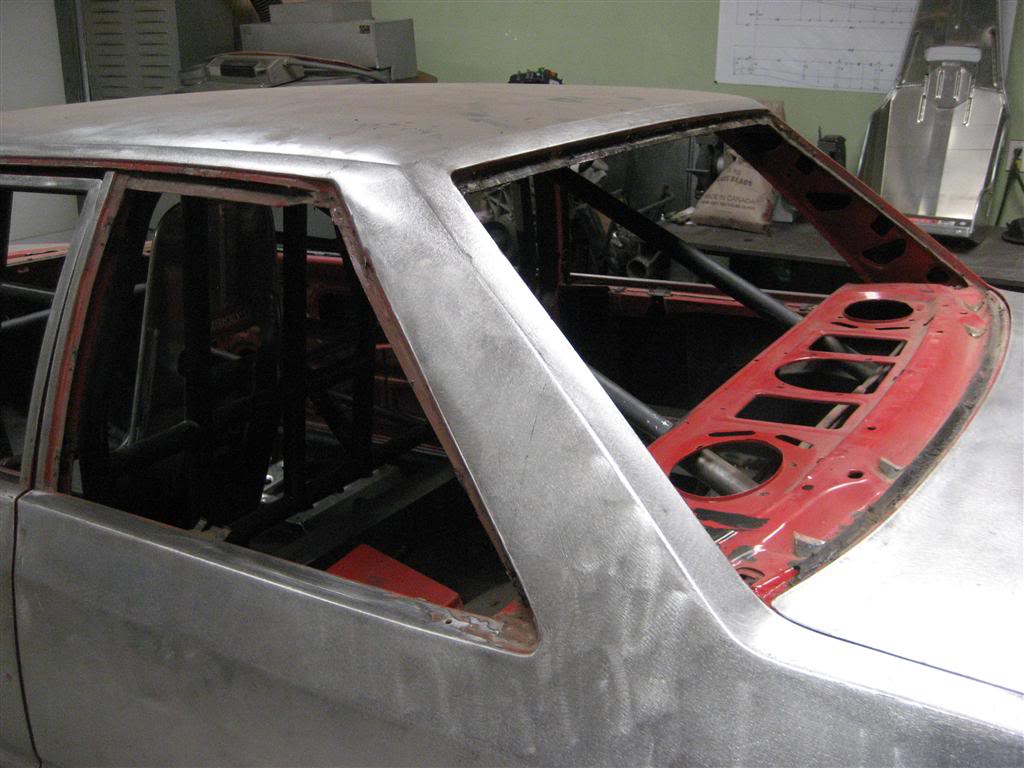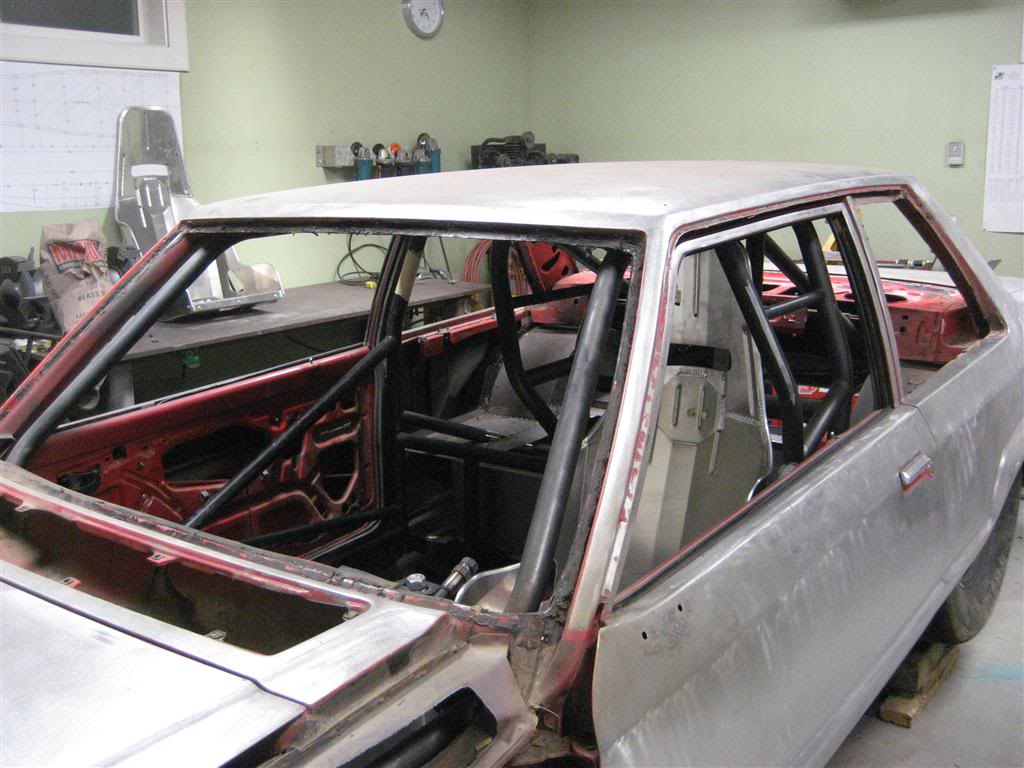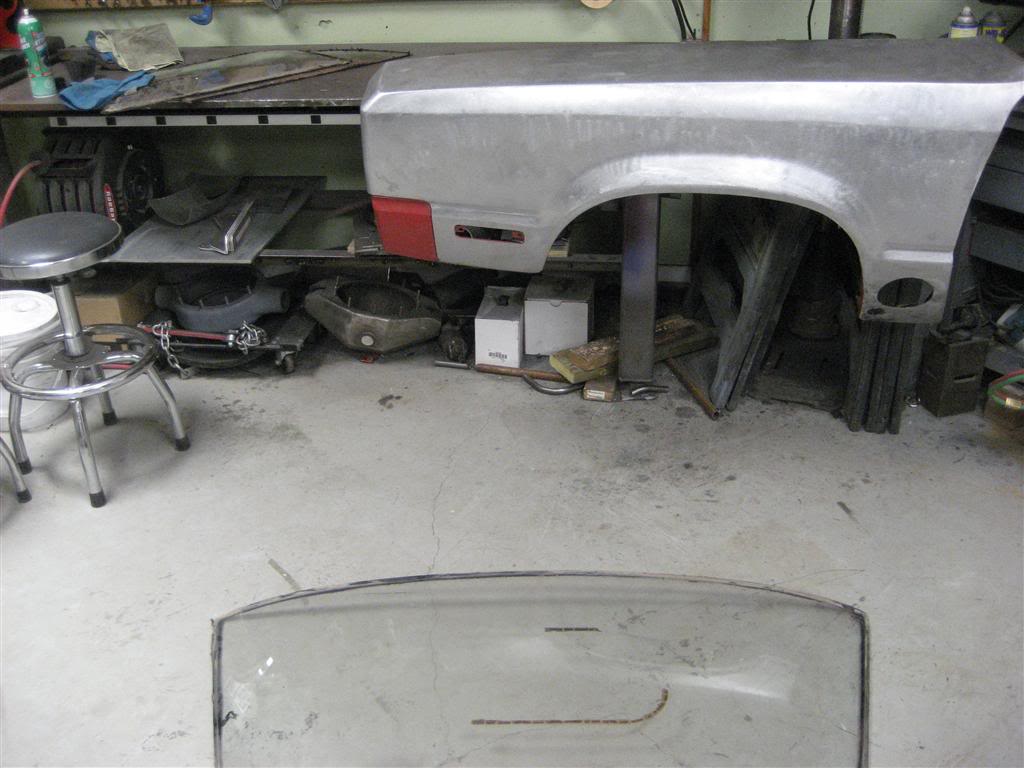 Also got the drivers side front fender in the que for rust repair and hole filling.

robot.....I mean nolan
The 9" is as follows:

Strange 9" housing - modified
Strange 35 spline axles -5/8 studs
Currie Nodular center
Moser alluminum daytona pinion support
Strange 35 spline spool
3.50 gears
Aerospace drag brakes
Team Z spherical upper bushings

That sums up the diff, You guys are right for nolans first time delving into a more race oriented project he has blown me away with his work so far.... Ive said it before and I will say it till im blue in the face without GOOD help from GREAT friends this build would not at all be possible!

I have a bunch of shiny bits on the way in shipping limbo so hopefully all that stuff shows up soon so I can have some really fun stuff to play with, It does make me feel good to know people enjoyed following along with the other car so hopefully this one can be as entertaining for everyone.
12-7-2011
Well its like an early christmas for me this week, all kinds of shiney bits coming in from all over the place. Even if most of the parts are used they are still super exciting for me.


HUGE ass air/water cooler , older PT2400 purchased from a local racer/forum member: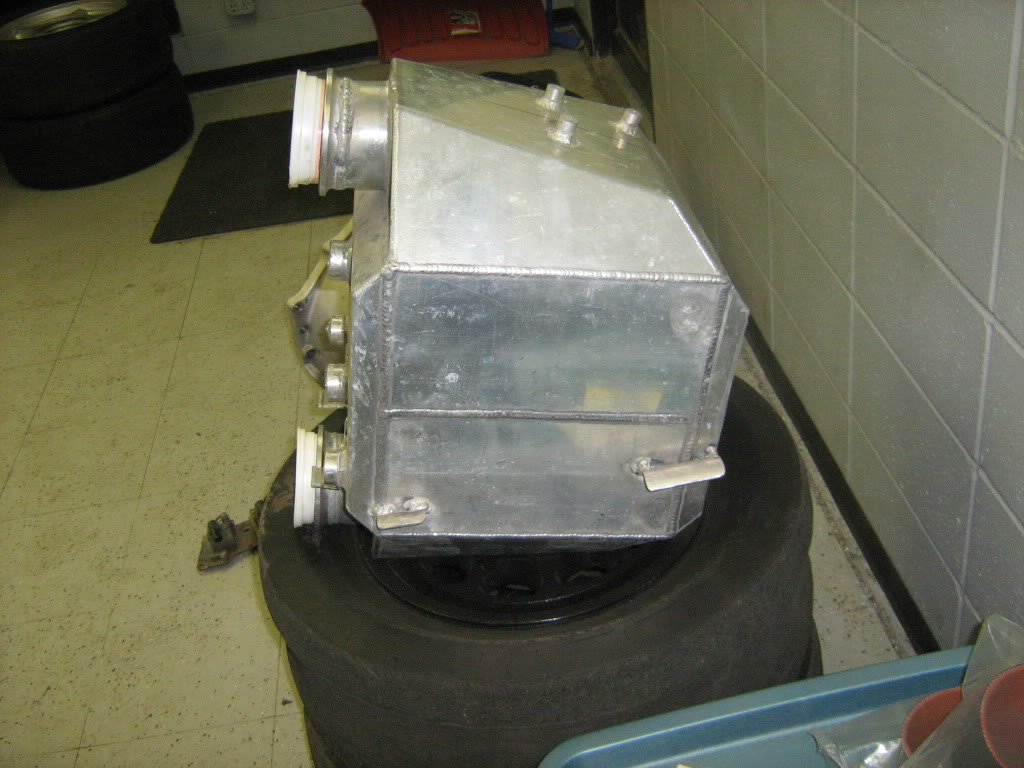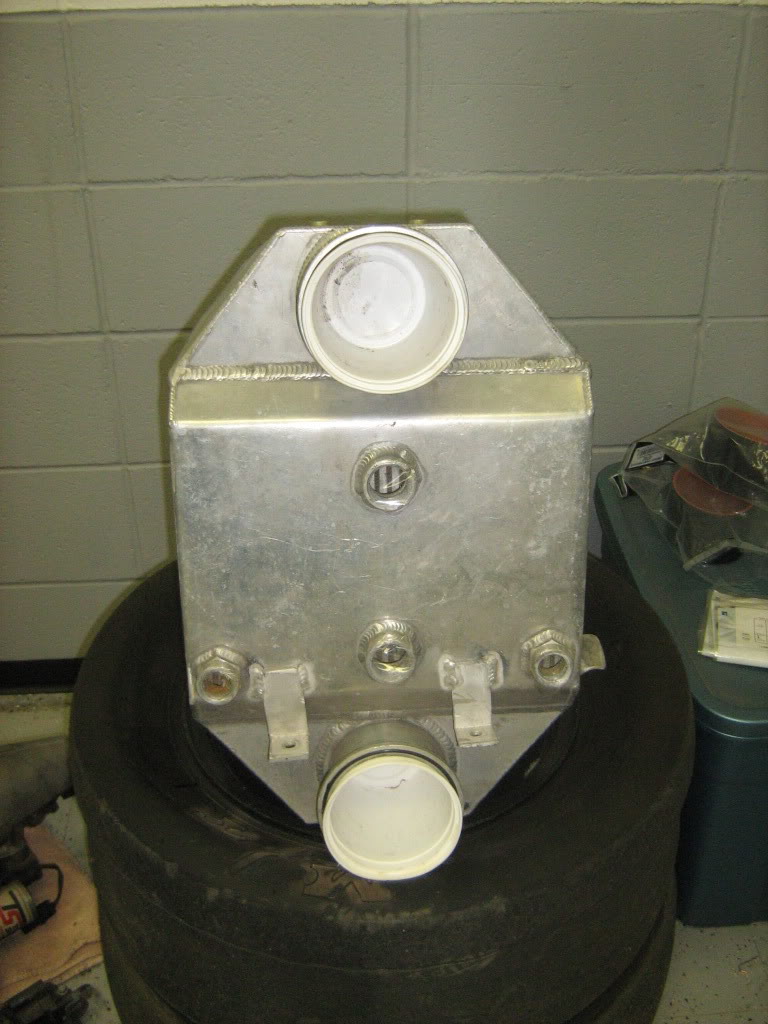 Aerospace front drag brakes purchased from a forum member, need to be cleaned up and put in the new pads he included but otherwise ready to rock!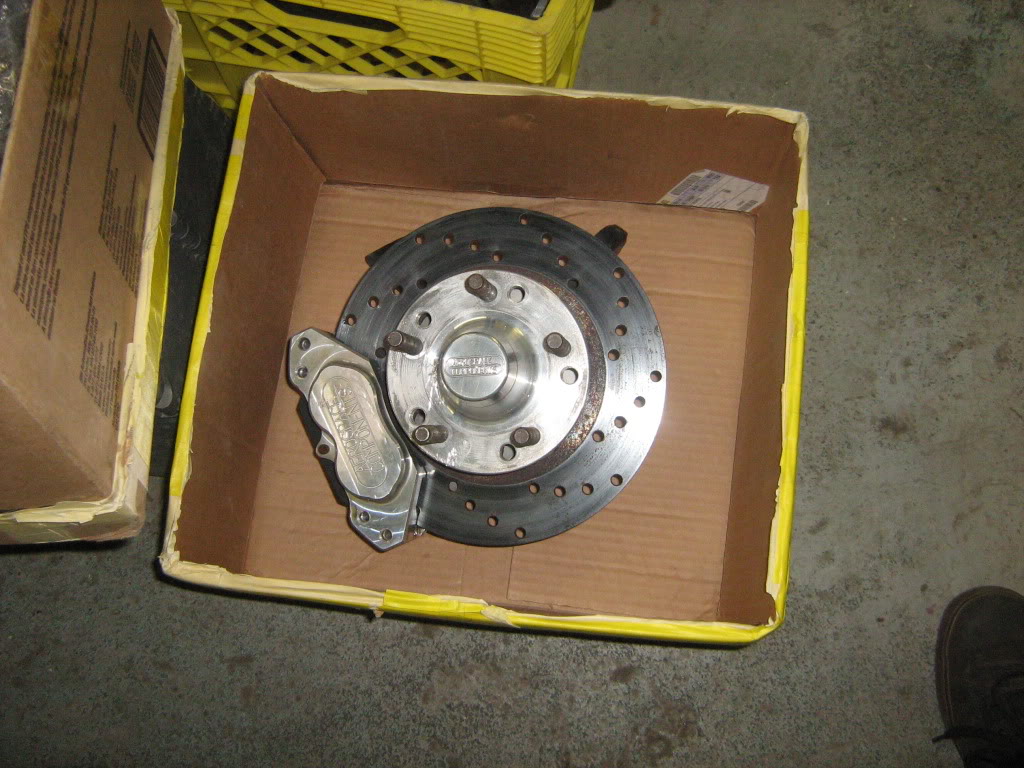 The real shiney bits came thanks to [email protected] Hyperaktive and they include the following:

Holley HP Efi system w/ Ls harness
Holley DIS coil system
Racepak sportsman Data logger

This stuff will let me run/tune the engine as well as keep tabs on everything including G force,driveshaft speed etc.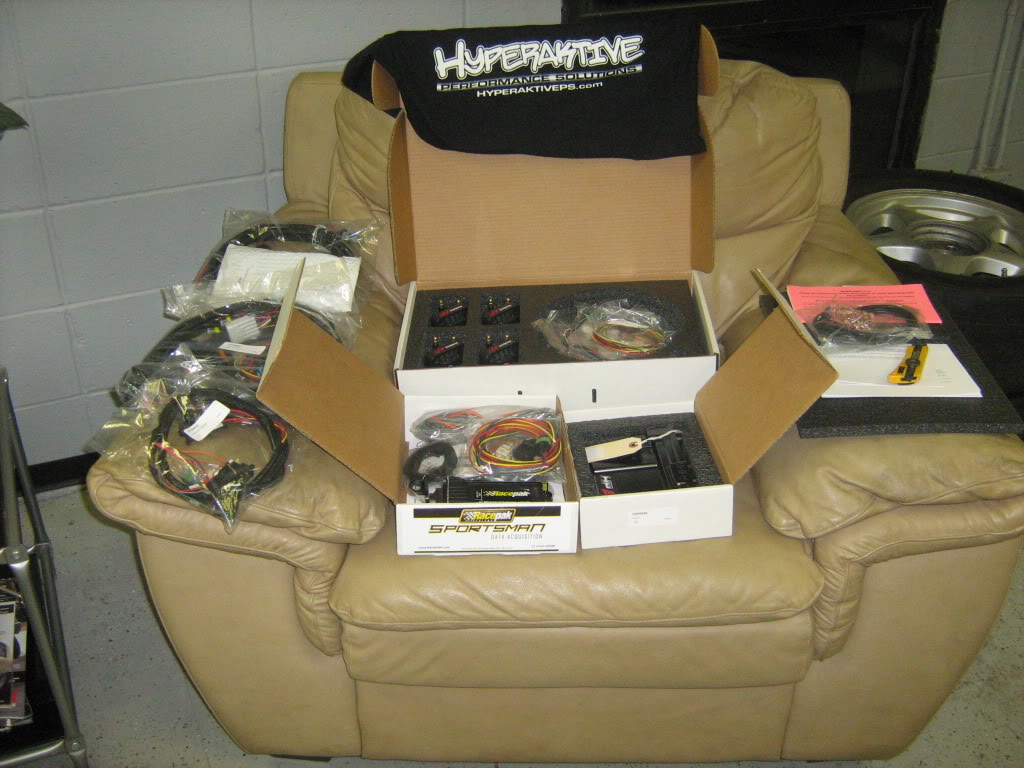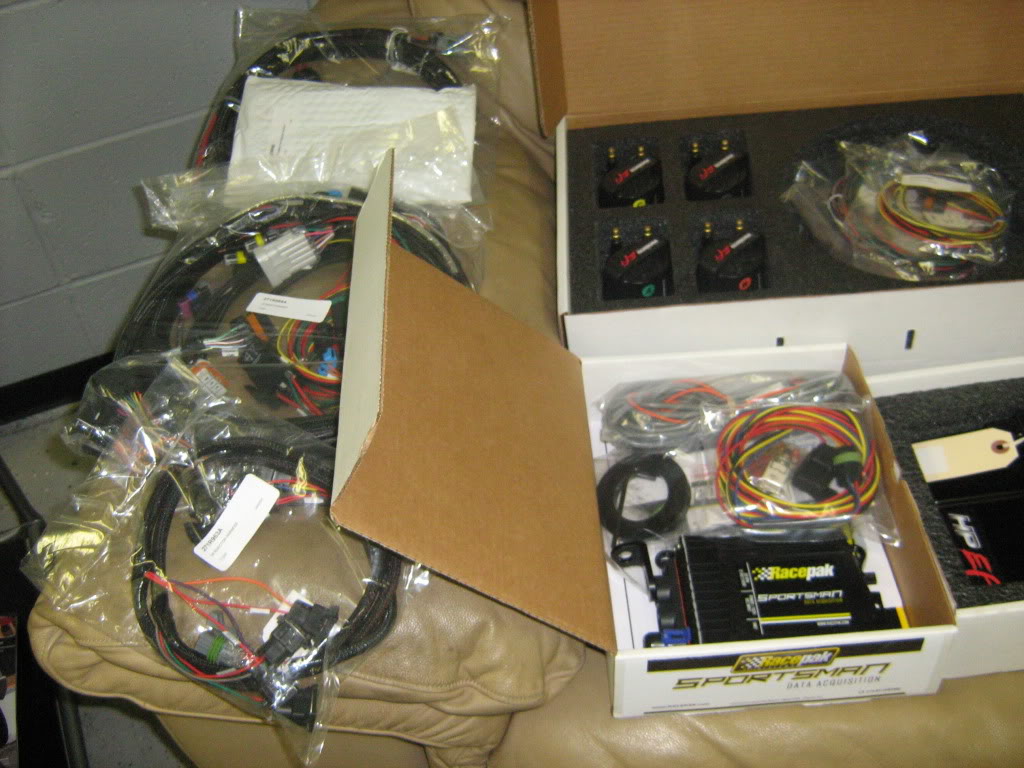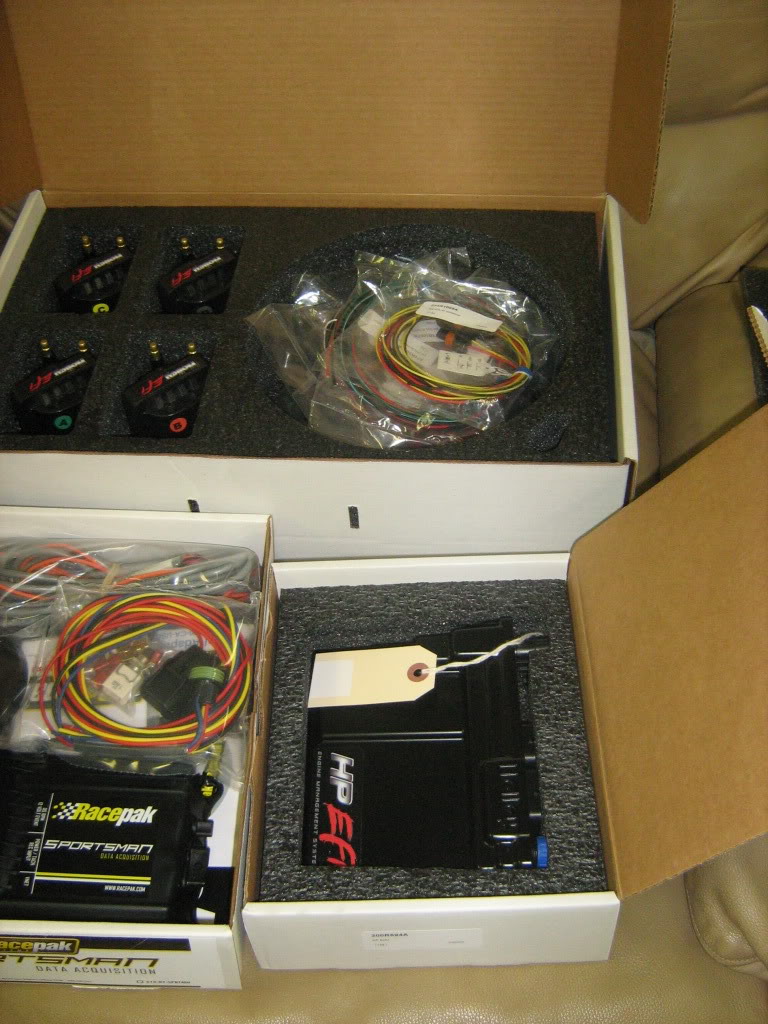 Used aeromotive belt drive fuel pump and magnafuel fuel pressure reg, came from the same guy as the intercooler, need a clean up before use but here they are anyway: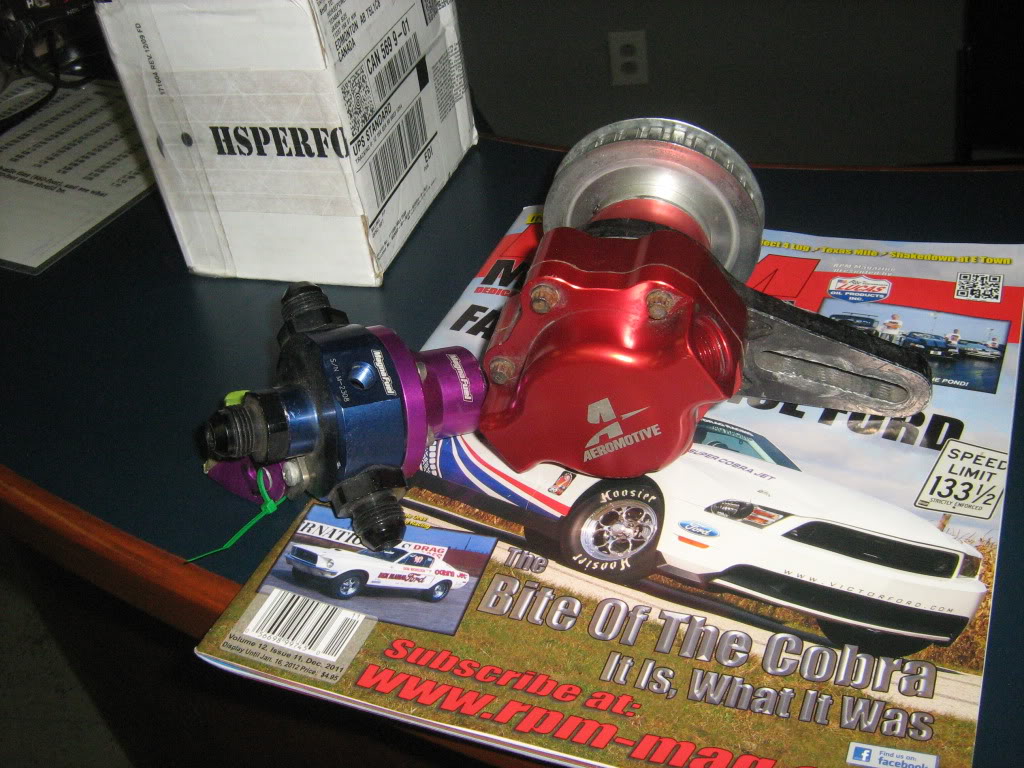 12-9-2011
After some dinner at my parents place tonight I felt the need to cut some metal! So at 9:30 i went out in that garage and made some progress. There had been a large hole in the fender since Neil got the car back as the old plans where for a single 4" exhaust routed out the fender. Not sure how it is all going to come to together in the end but for now I decided to cut out the whole bottom part of the fender and fill it in. The very bottom of the fender was pretty thin and rusty so at least if we run the exhaust out there we will be working with some fresh steel.....

Here is the old rusty part still in and the new patch cut to size.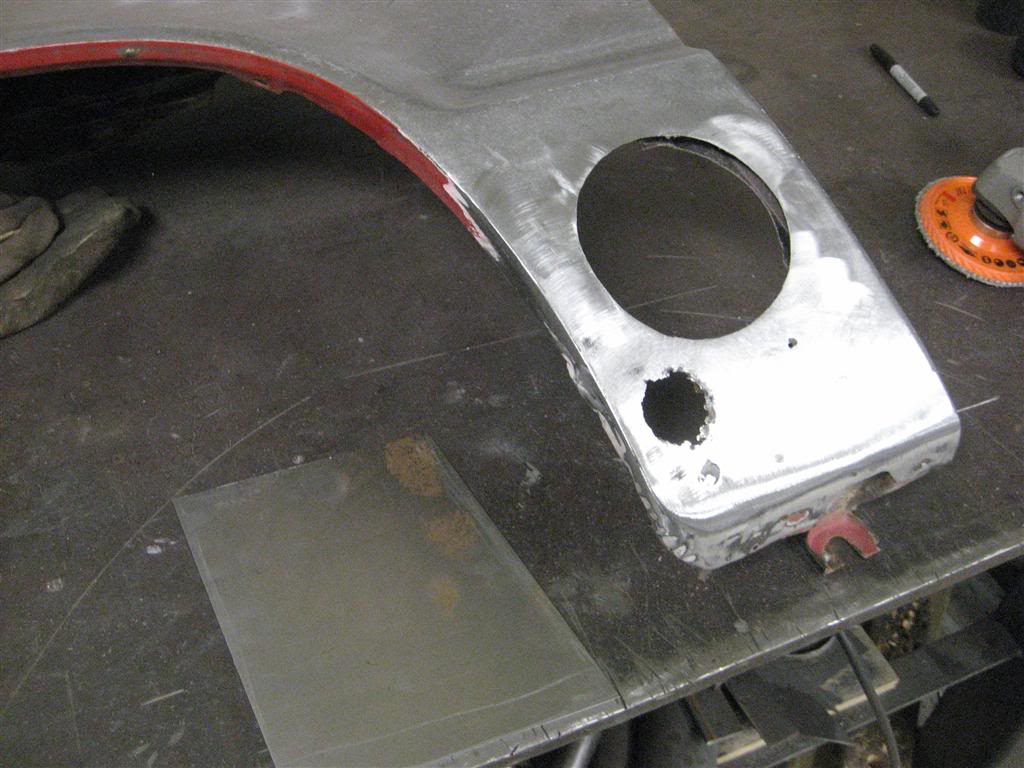 After some work in the wheel I got it to fit pretty good.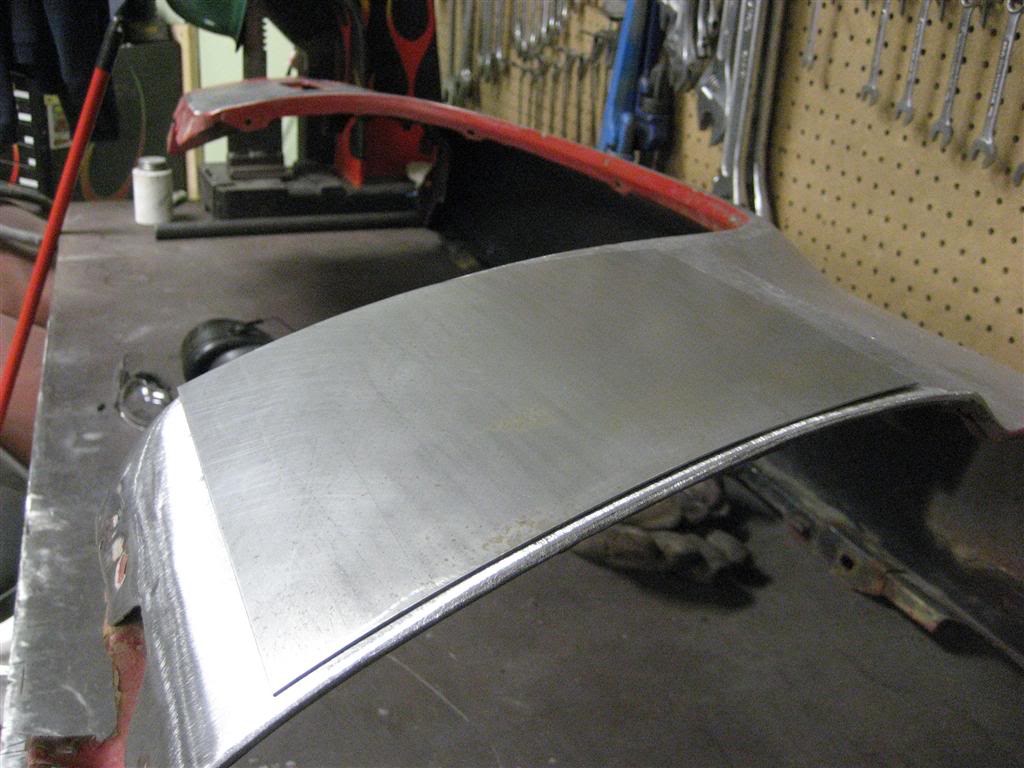 Old out and the new tacked in.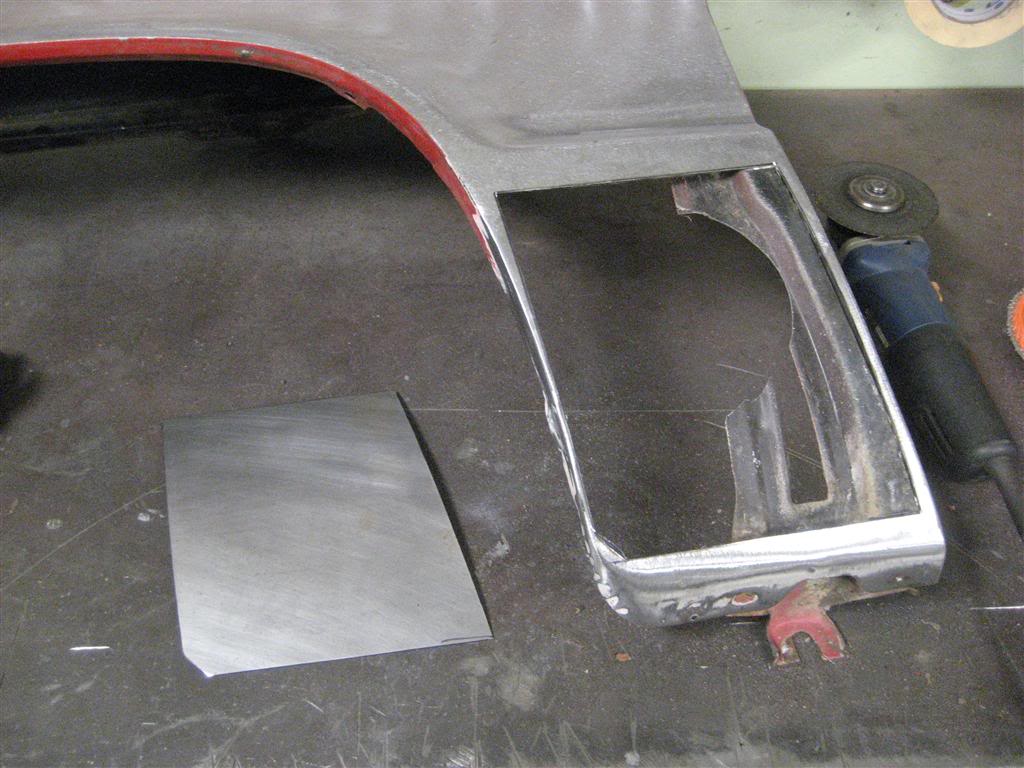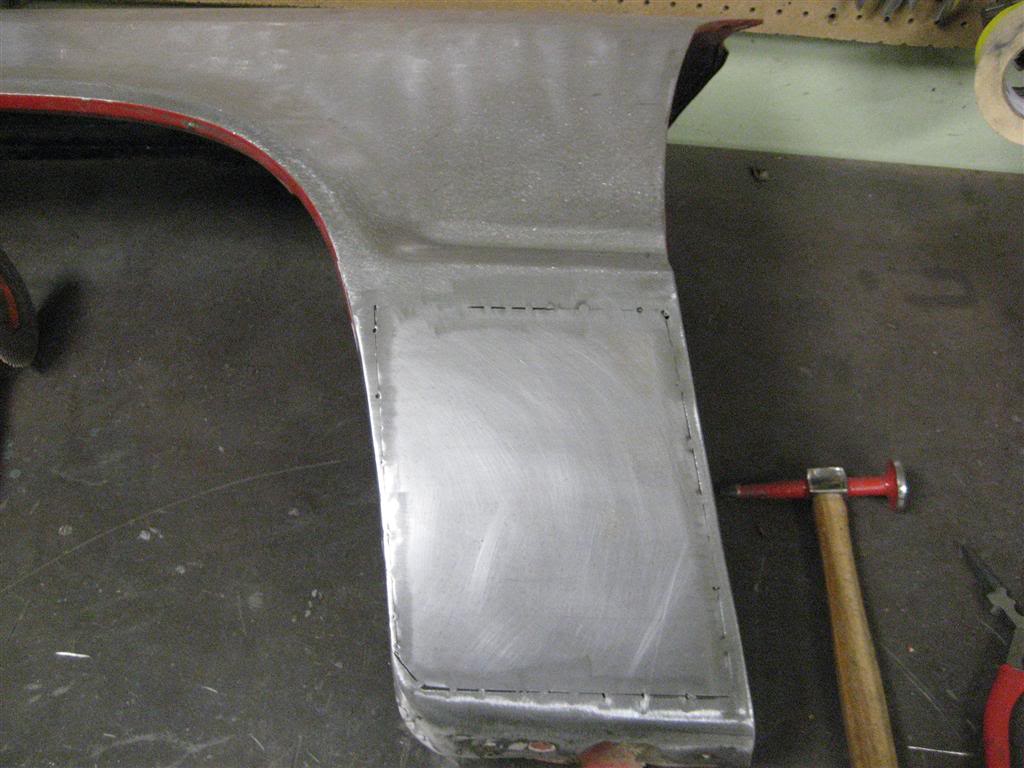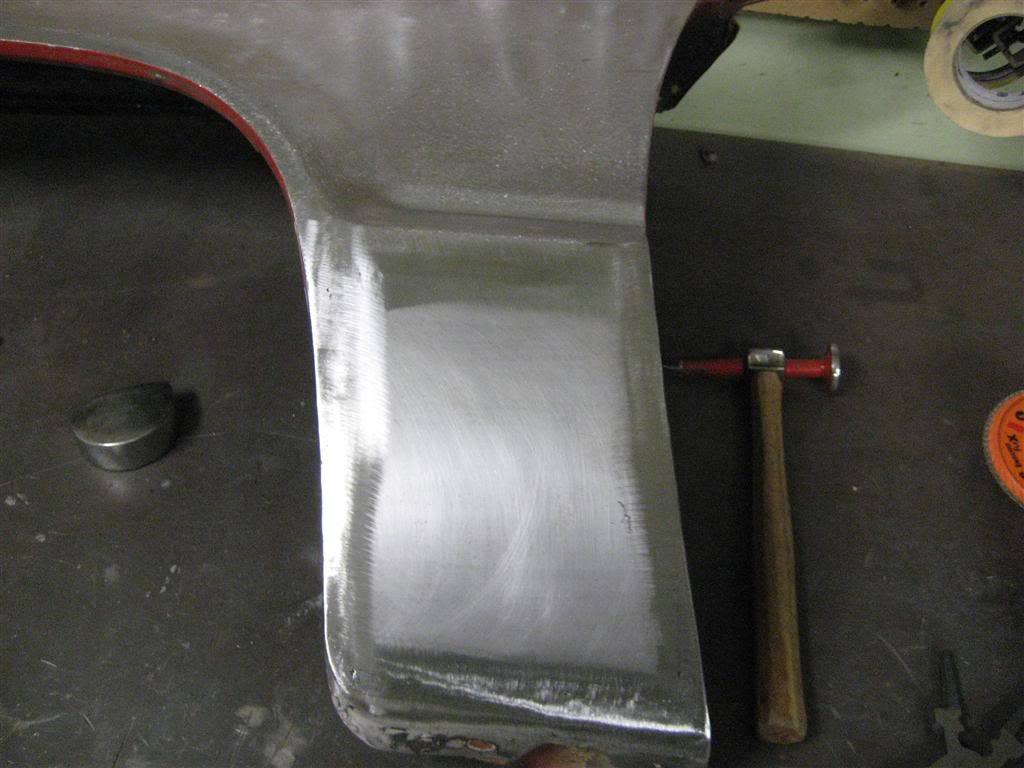 Finish welded and hammered back to straight....Welding it out usually causes quite a bit of warping for some reason it didnt move much on this piece.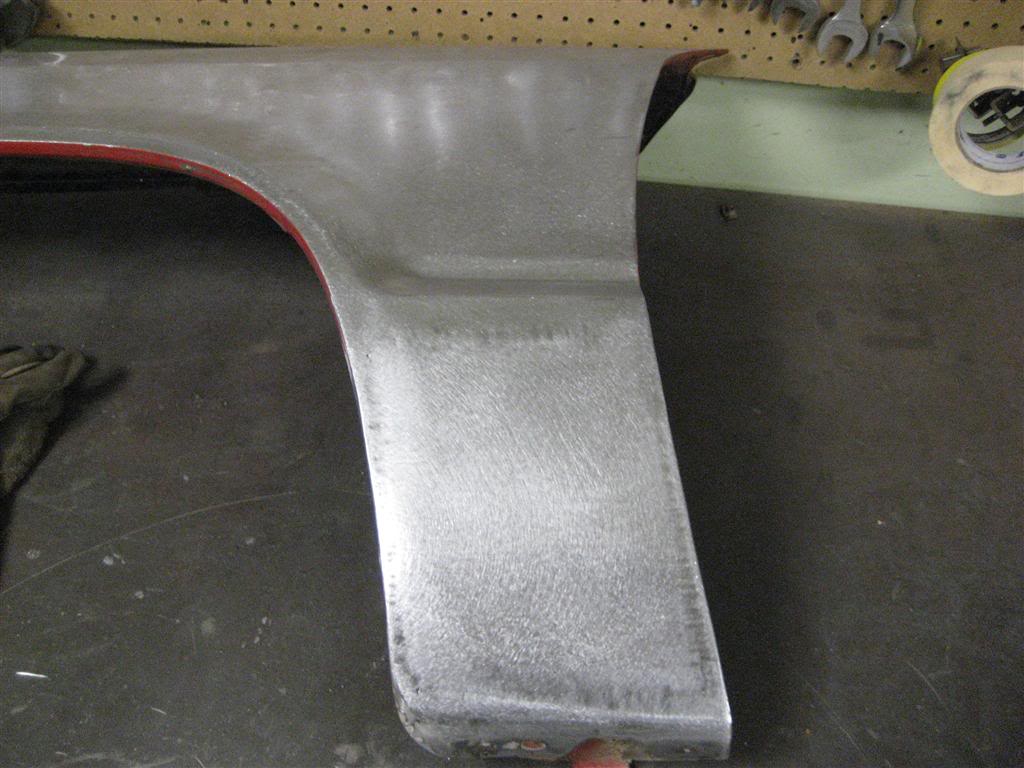 Done and back on the car ready for primer!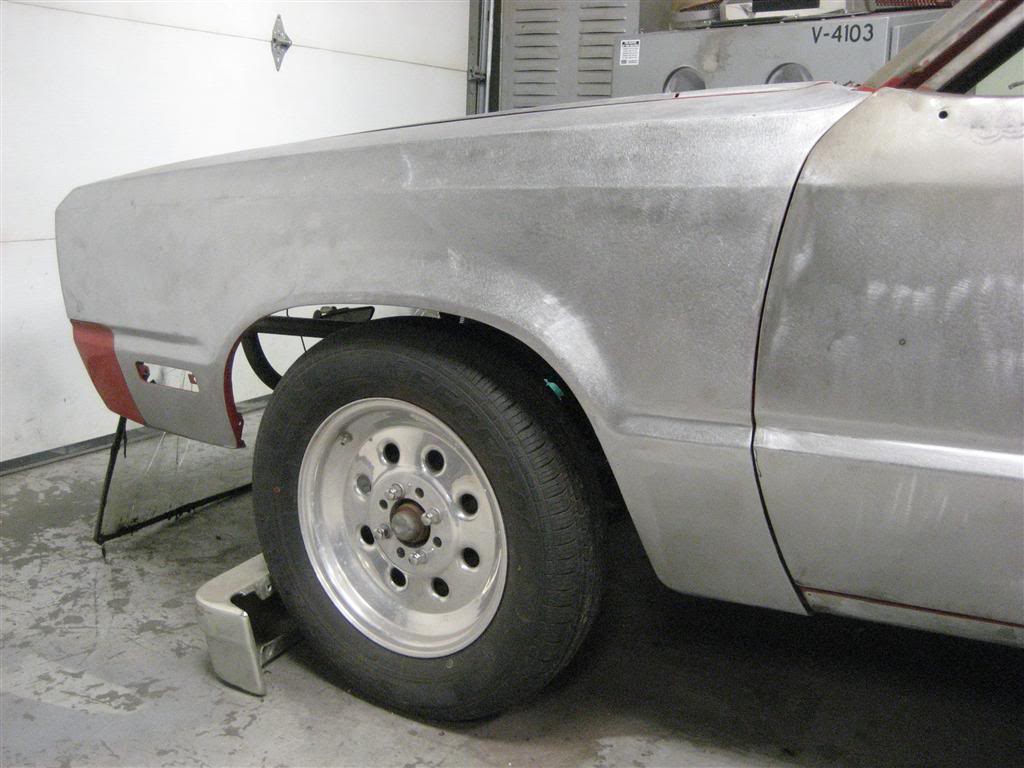 Until Saturday,

nolan
I started on the cowl fill panel today, I started off thinking smooth would be best but decided to try and make it flow with the body lines a bit better. I figured I could always make another smooth panel easy enough.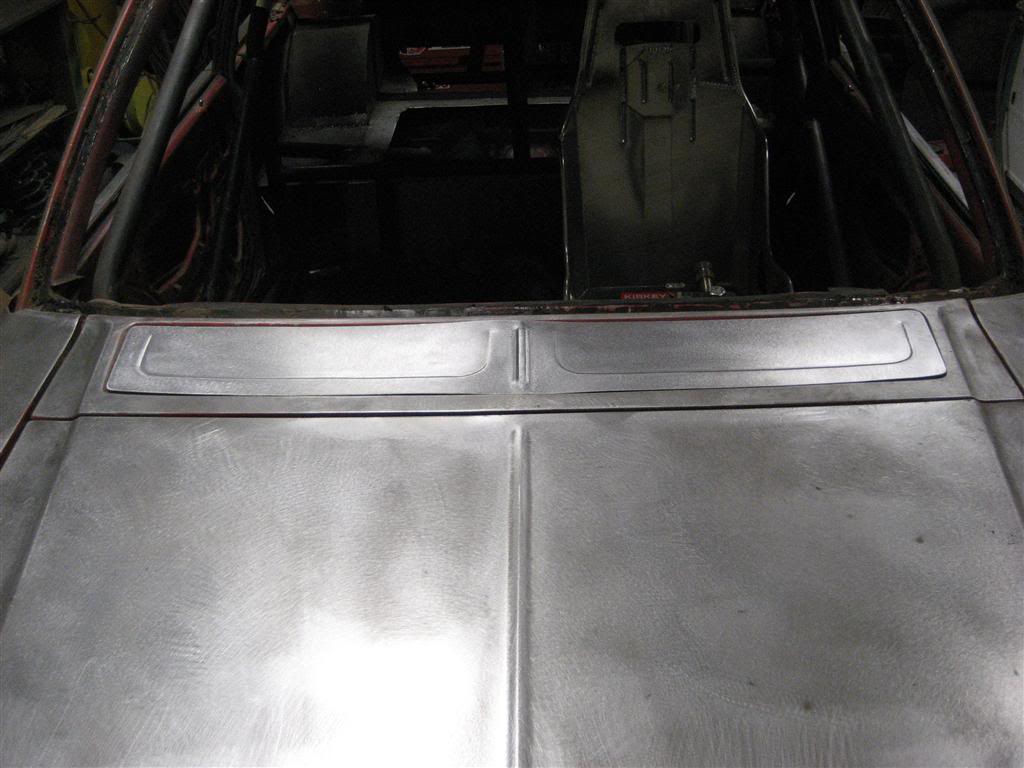 12-12-2011
Hahaha no updates, Neil and myself both got a little "festive" on friday night which caused for a right off on Saturday! Sunday Neil and my neighbor helped me gut the bavarian nightmare....They both decided I have done too much for them and none of my stuff, so thanks to both of you for the help Sunday!!!! I am out of town till Friday now but plan to get after it on the weekend. Tonight I pulled the door locks and handles of the car so I could finish stripping the old red paint and get ready for primer.......

Anyone else want to pressure Neil into grafting in a nicer set of door handles than the ugly old fairmont ones?

Neil did get the 5/8 studs put in the strange axles and painted the 9" housing.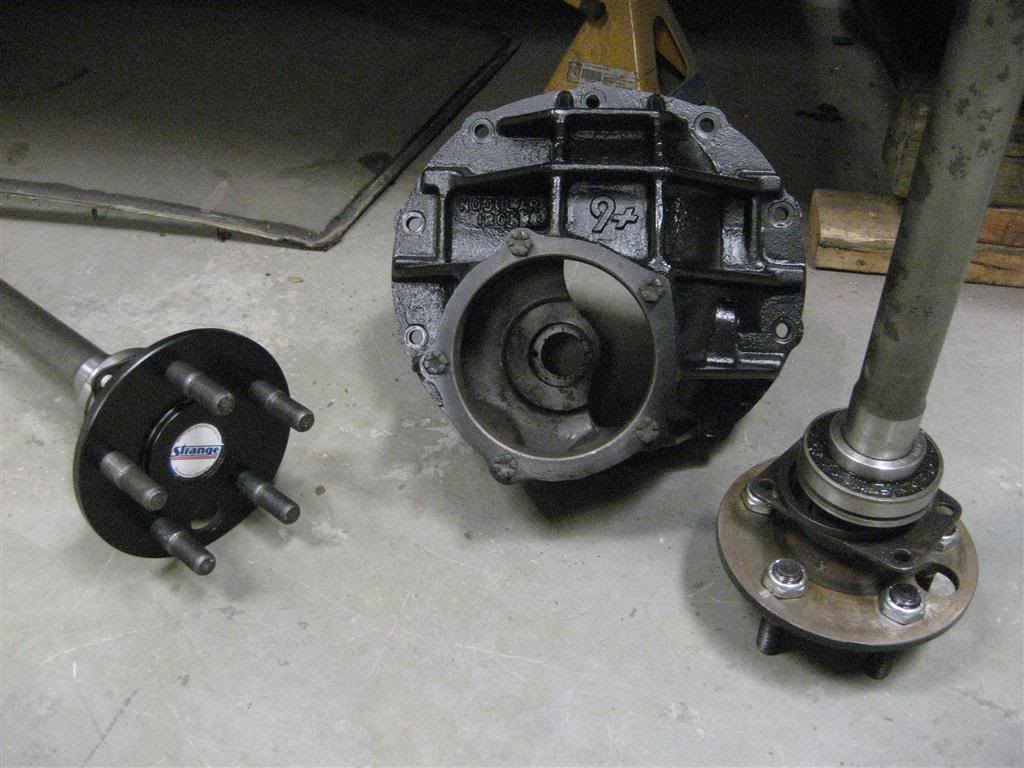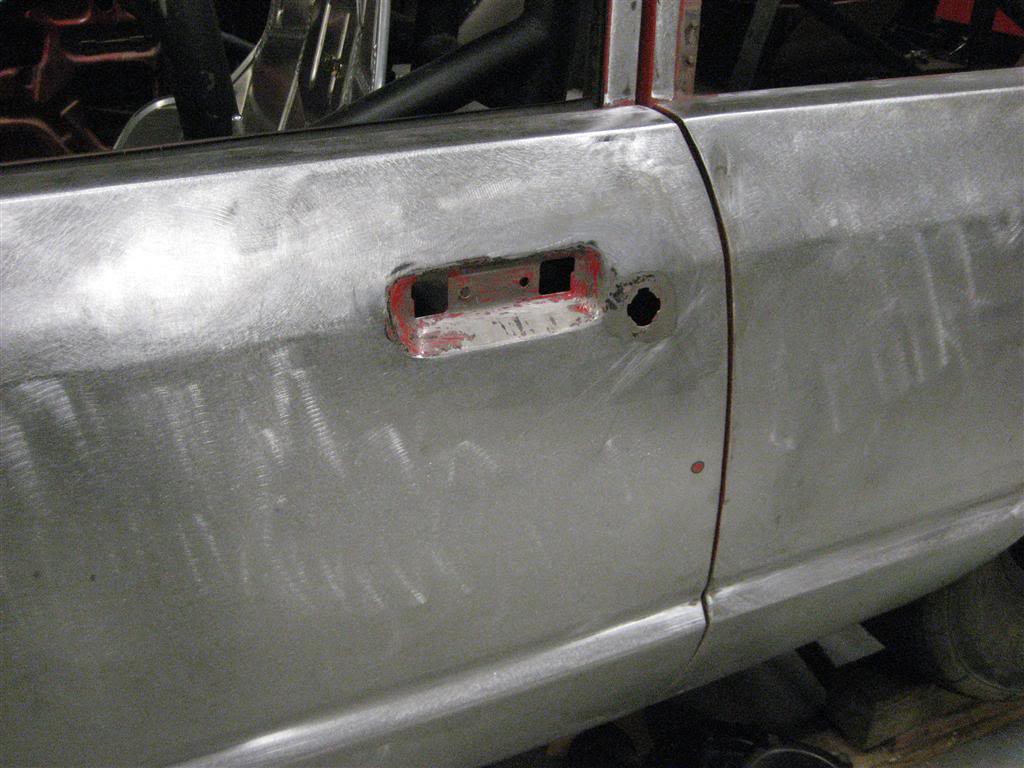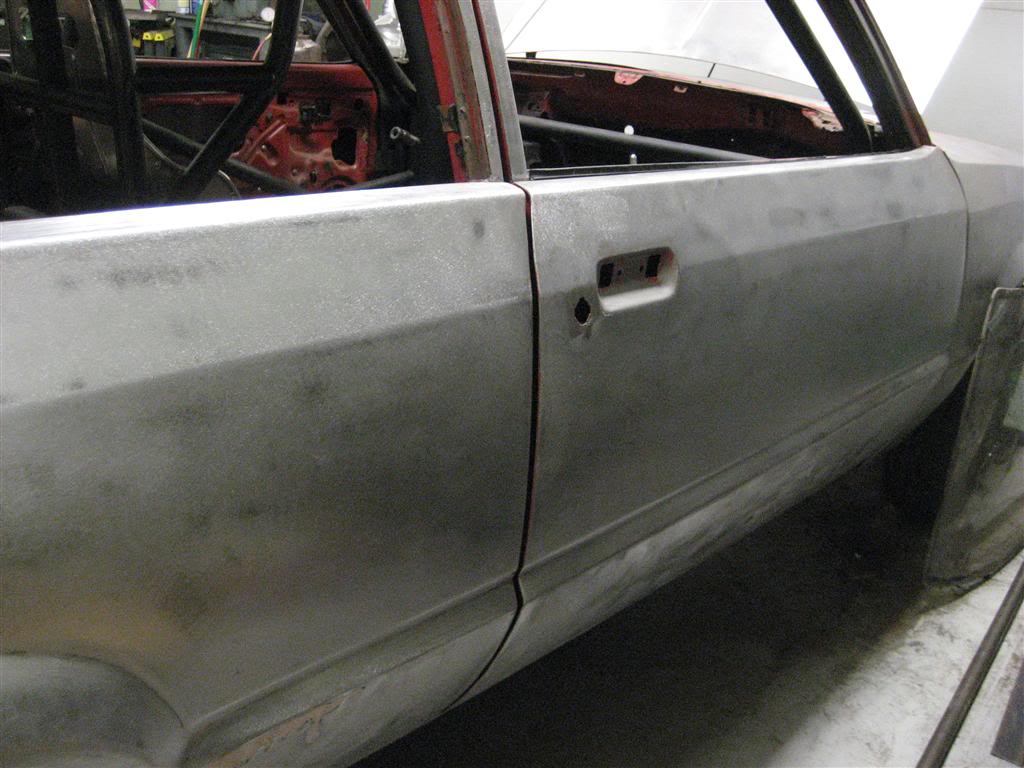 12-18-2011
No huge updates from this weekend but I did manage to get the 3rd member assembled, first time ive done a 9" and using the solid pinion spacers was a bit of a PITA but overall I am quite happy with the pattern/backlash etc. Just need to get a differect driveshaft collar for the racepak now!

It will be going back in the housing asap!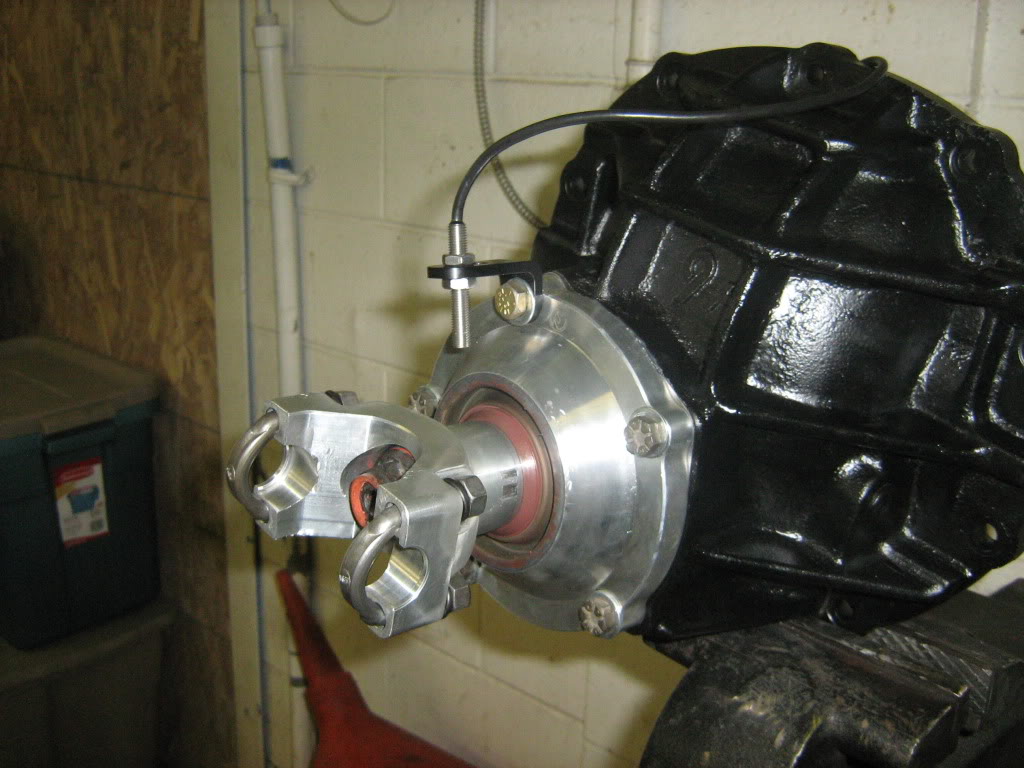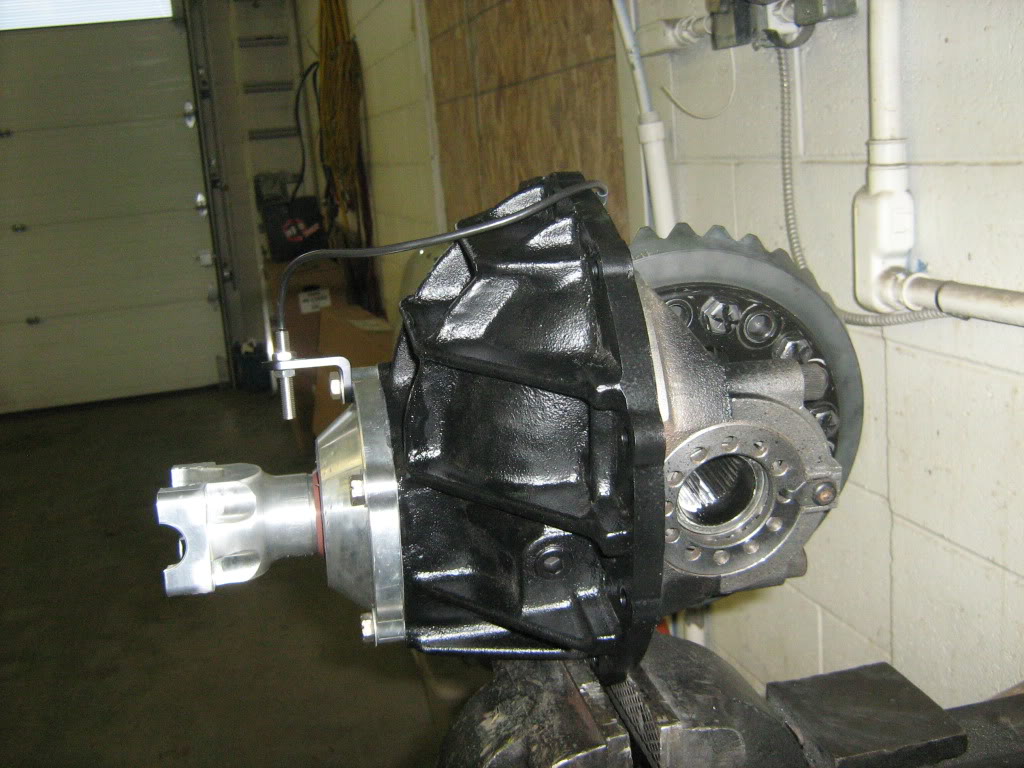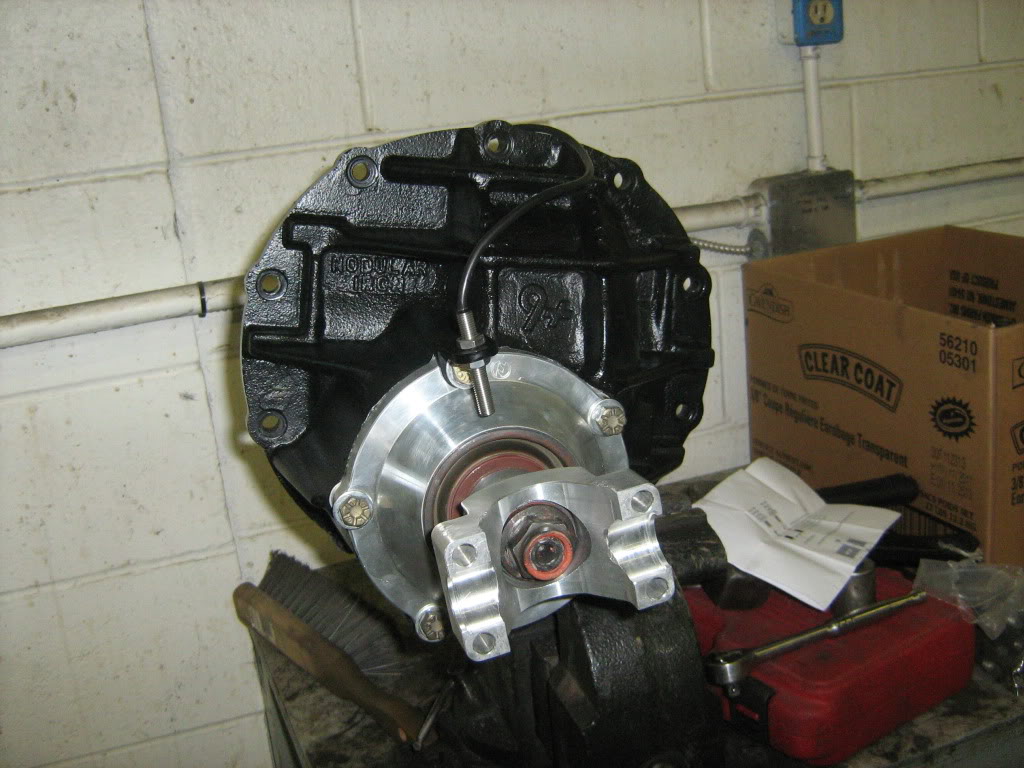 12-22-2011
Me and Nolan got the diff assembled last night and test fit the brakes:

Pulled in the new ARP studs: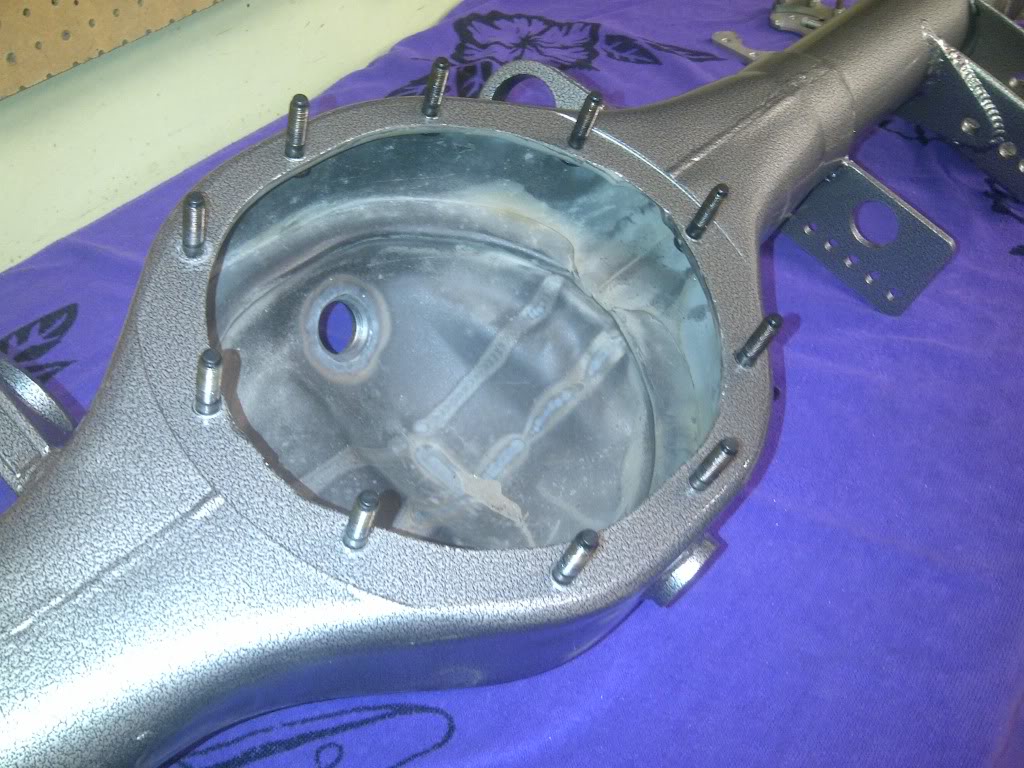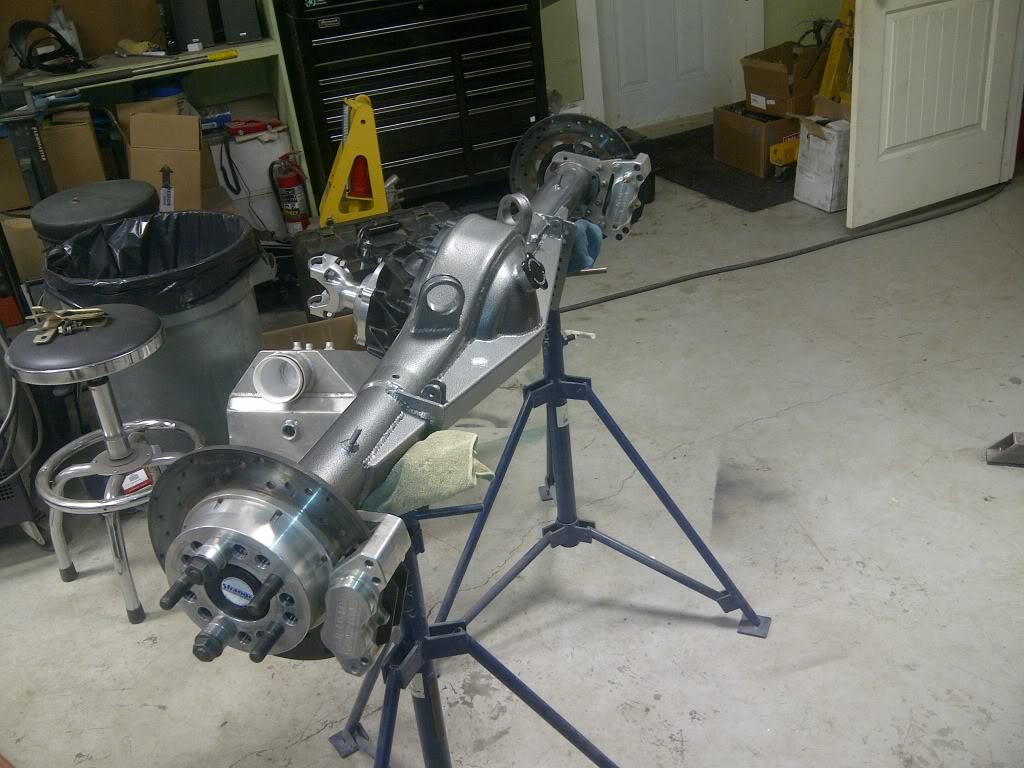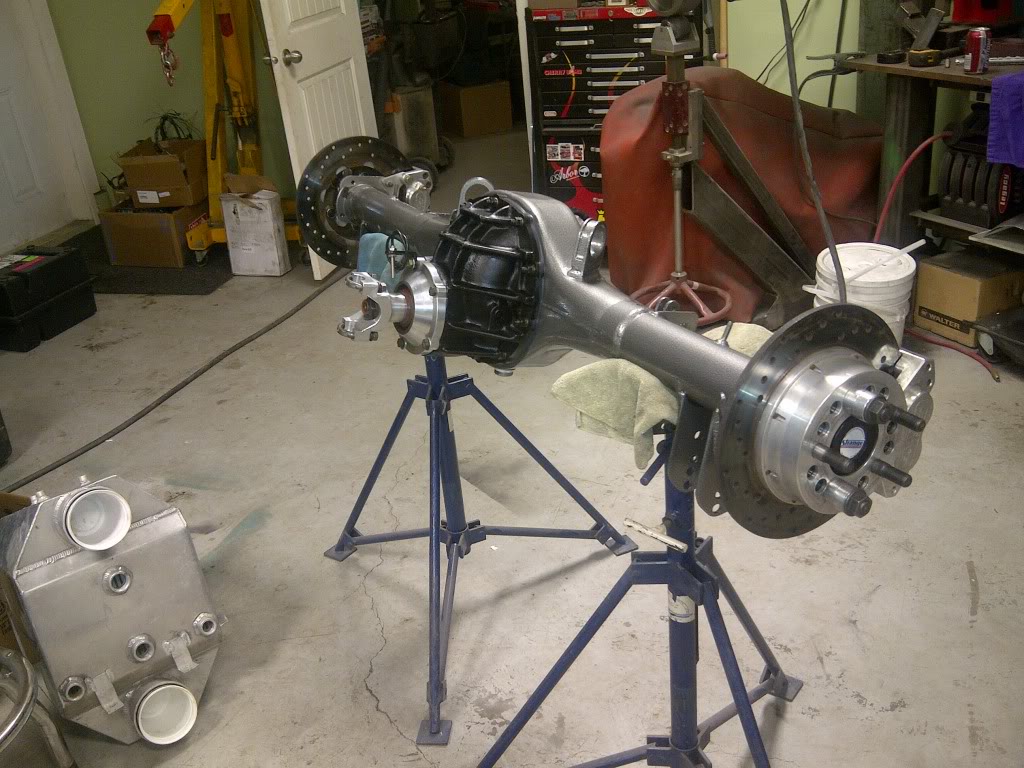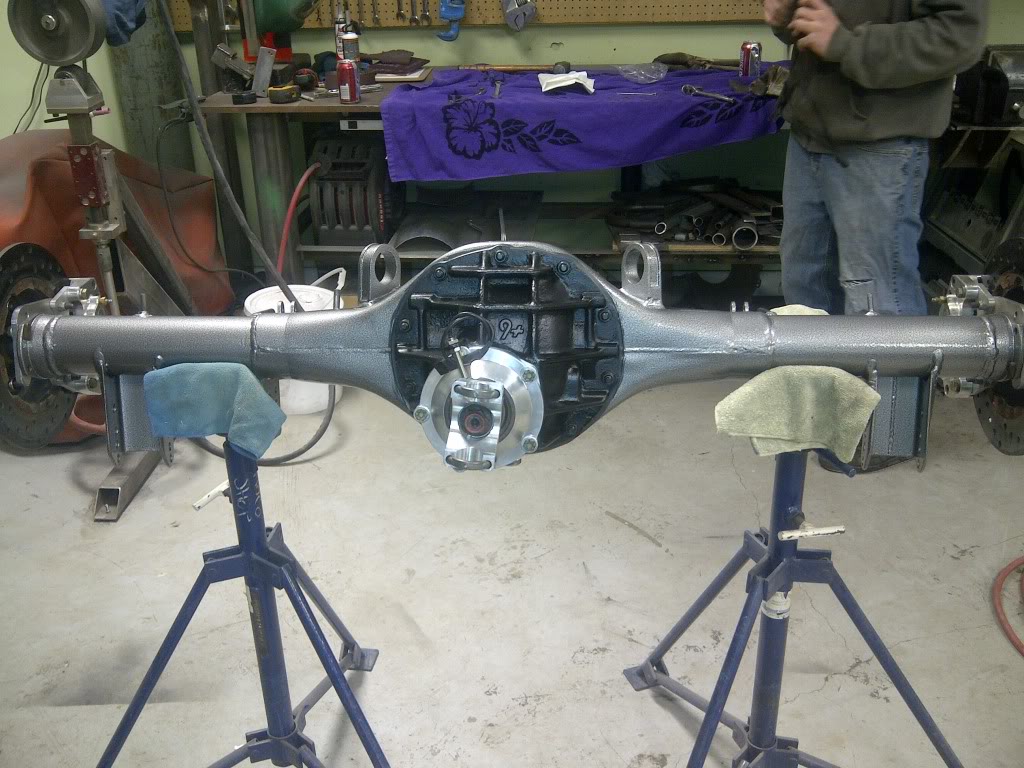 12-25-2011
Ittie bittie update.

I have been meaning to get some argon and filler rod for aluminum to use with the tig. Having some spare time this week I picked up some rod.

I quickly found out 1/8 is a little big for the thin wall tube Neil bought for the I/C piping. Picked up some 1/16" and 3/32" rod yesterday so i should be on track.....havent tried yet though. Here is a shot of my first ever attempt at tig'n aluminum.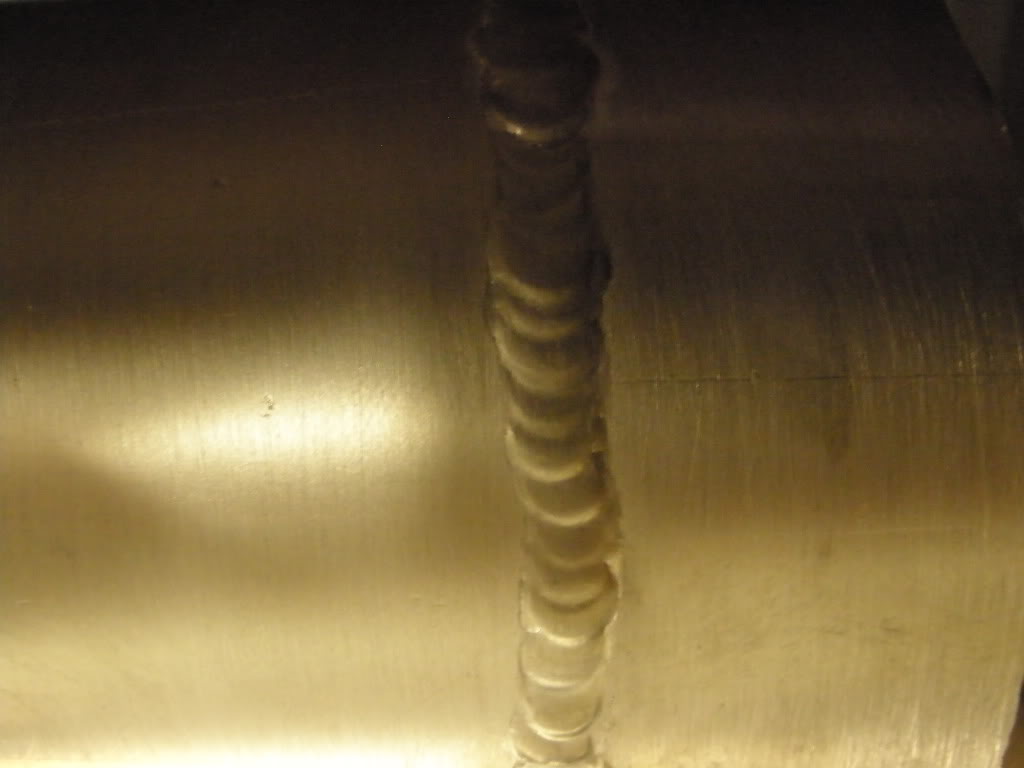 I/C piping and water/air I/C install to follow this week!
12-29-2011
Unfortunately things have been a little busier over the holidays than planned so progress has slowed down some....However I got out in the garage for a bit this morning and managed to get the driver side rear wheel opening finished up. Here is some pics

I cut about 1/2" off the inner lip to make a bit more clearance.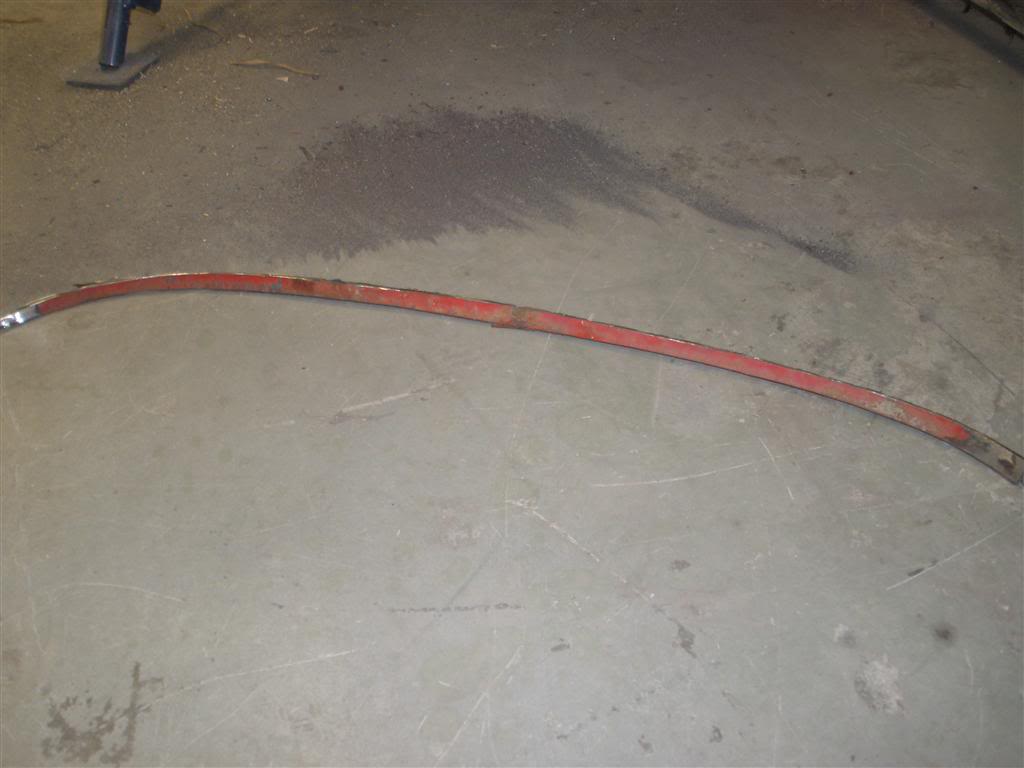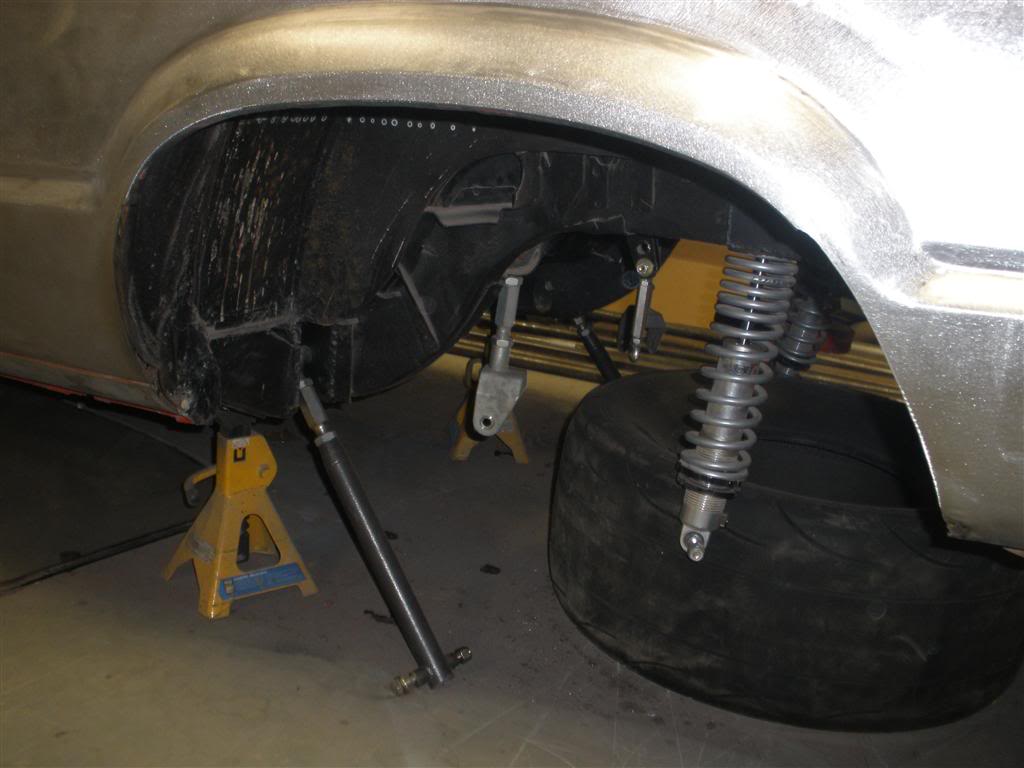 Front edge fit up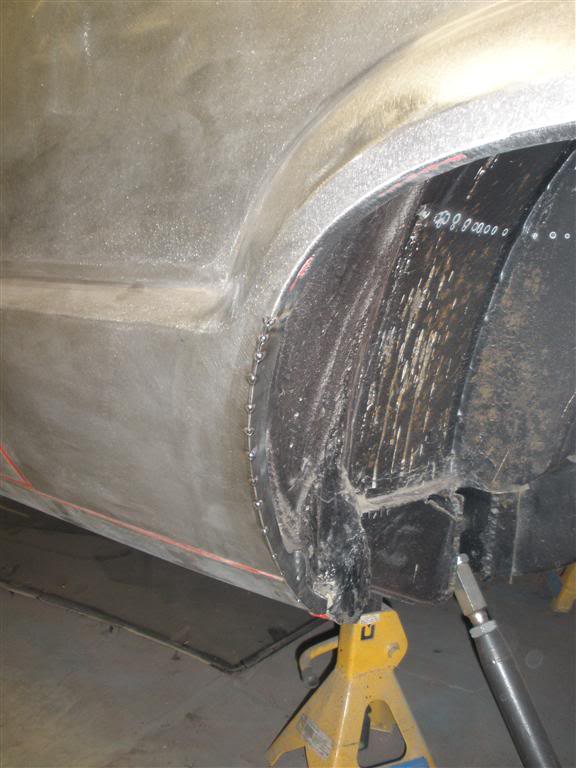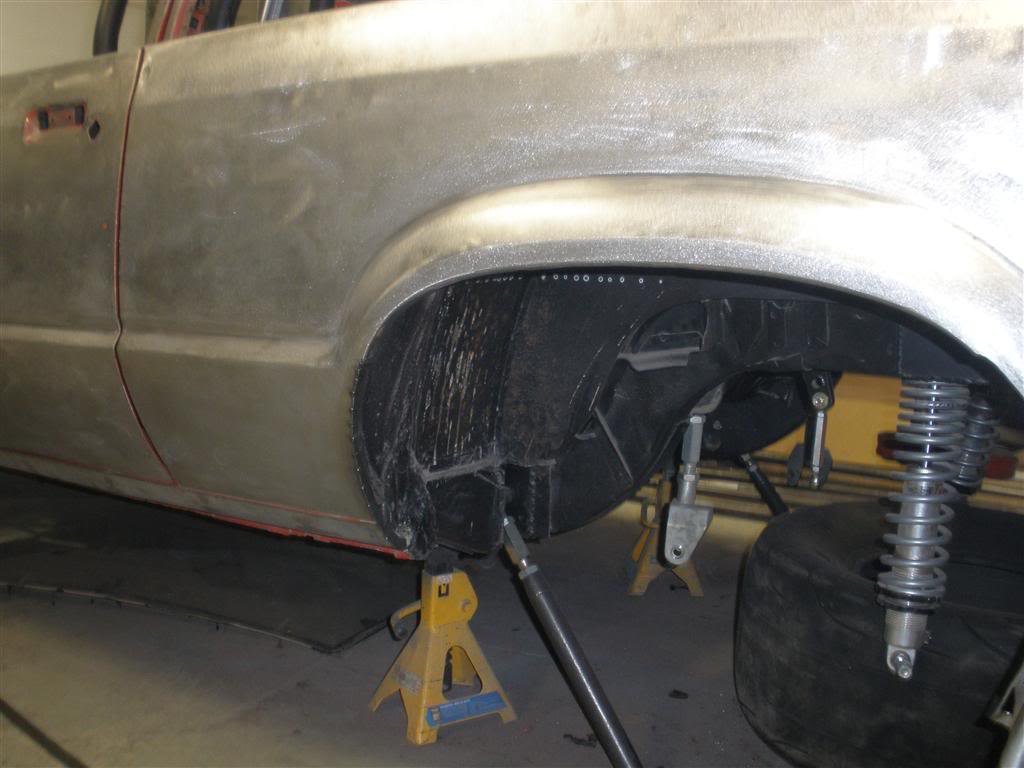 Back side fit up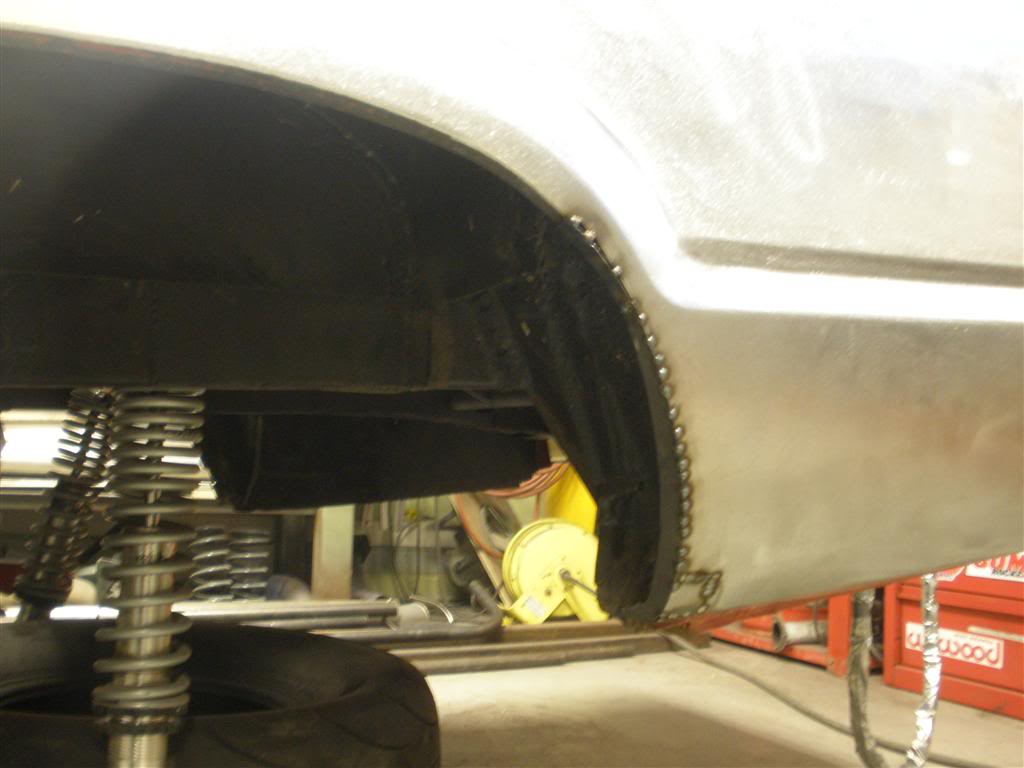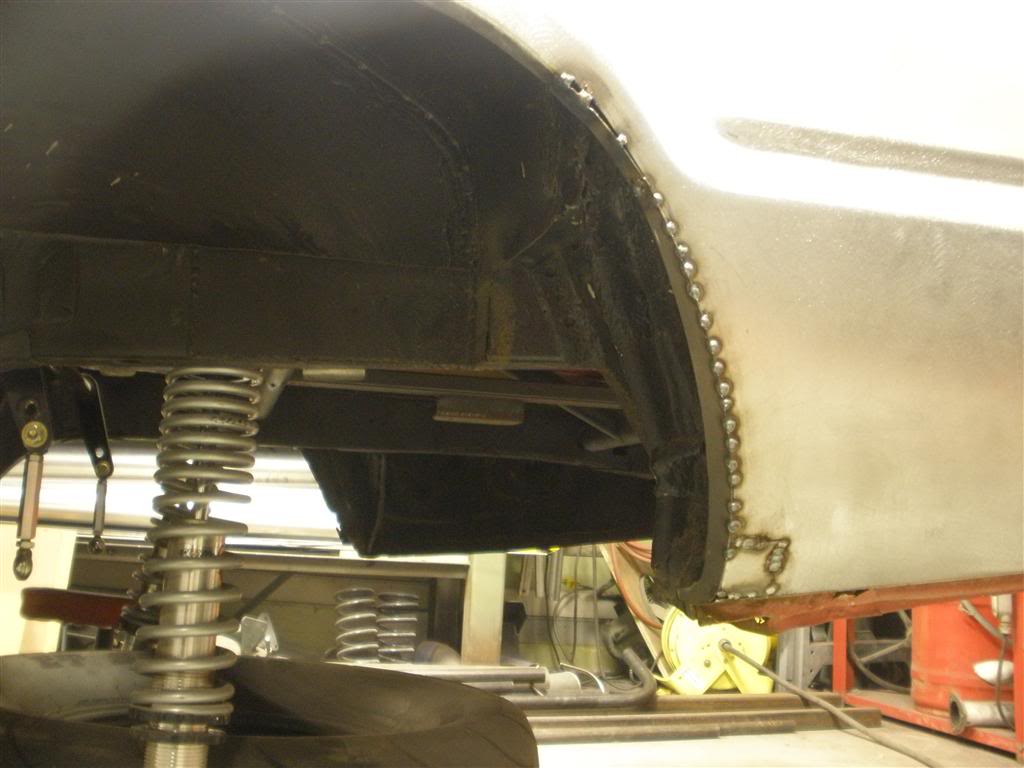 some more welding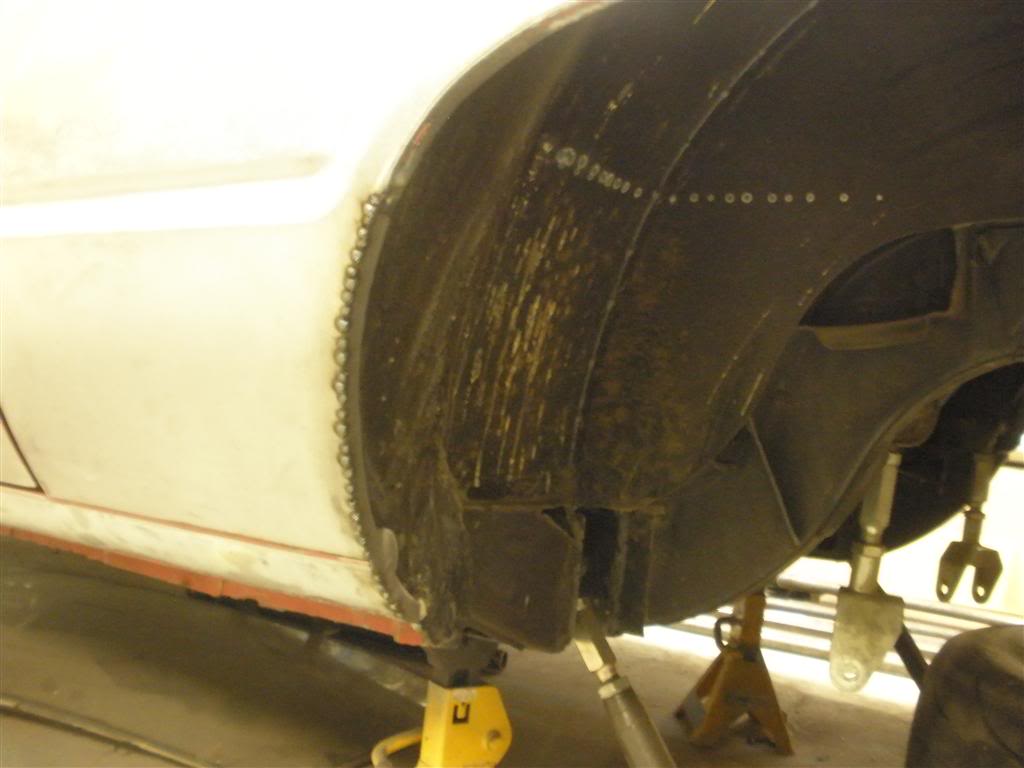 And finished!!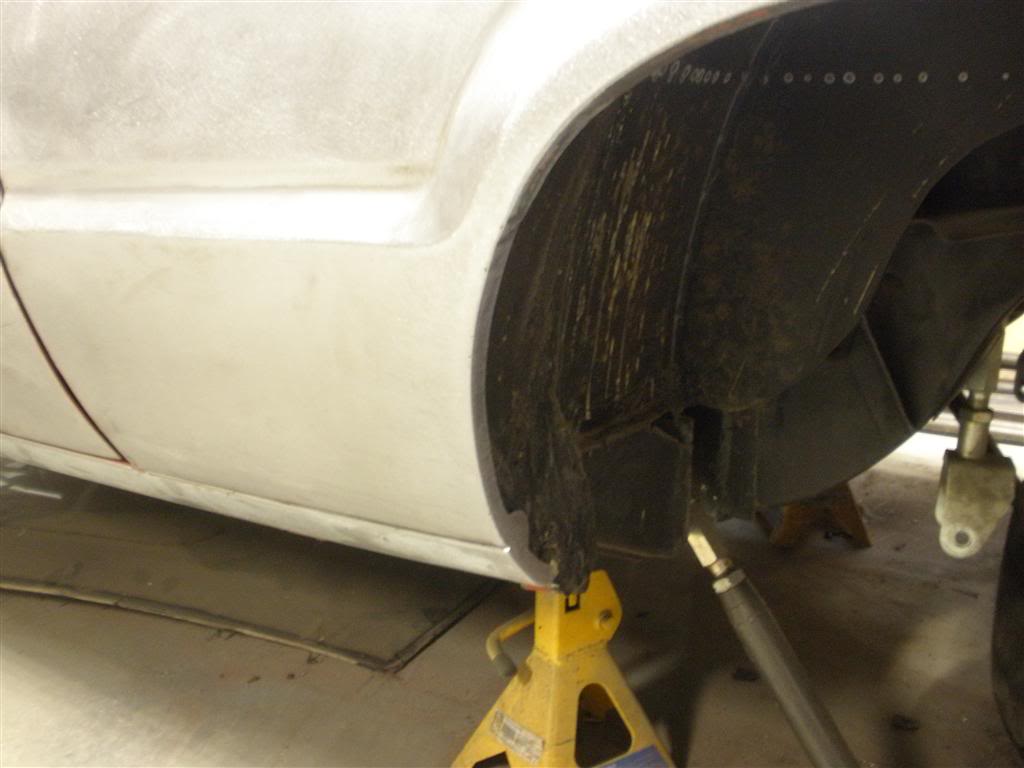 And here is a couple of shots with the tire in there to give an idea of clearance.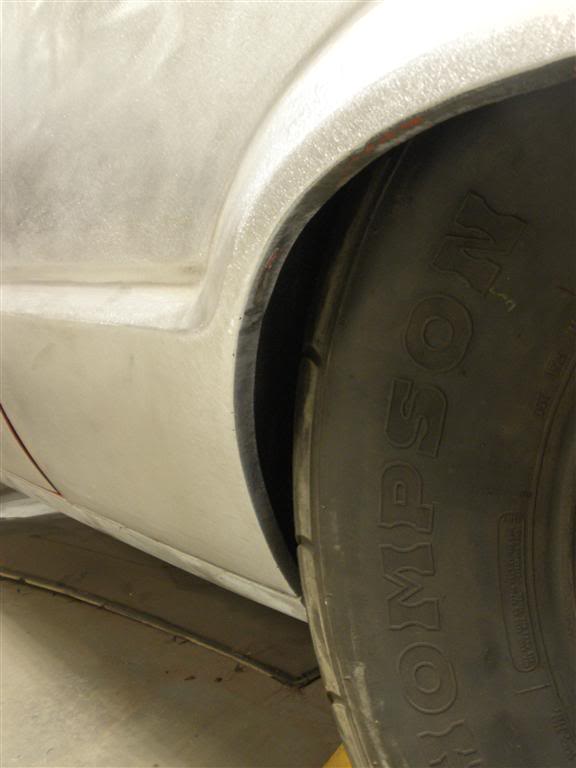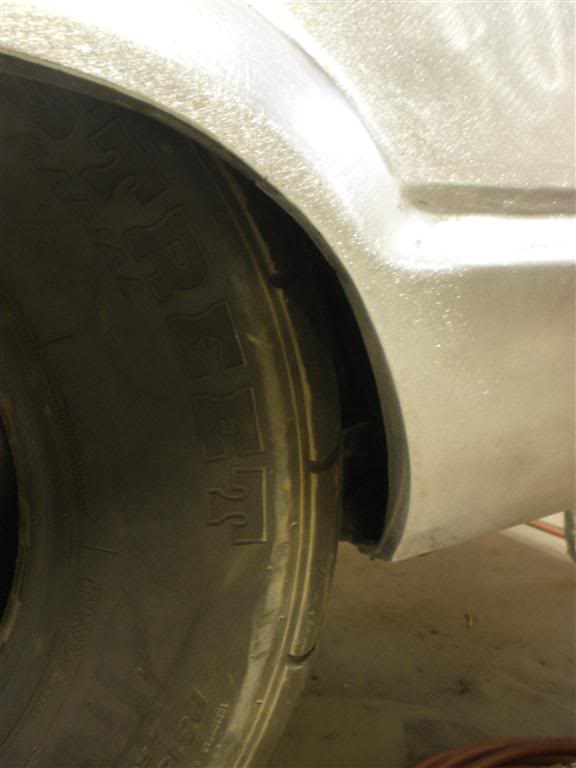 The passenger side has a bit more "cancer" to be repaired at the same time as the opening but I hope to get after that soon.

nolan
1-3-2012
Yesterday I got a chance to do some tinkering and got a few things done:

New O rings on Axle bearings
Axles installed for final time
Rear brakes all installed
Diff filled with oil
Rear control arms installed onto diff

Just waiting on my suspension stuff to show up from team z still it appears as though fed ex is taking thier sweet time. once that happens the diff can go back in the car and we can get the wheels all measured up.
sneak weekday update as well, the passenger side rear quarter has a but more "experience" than the driver side..... I got the the back part of the quarter fit up and welded in tonight, tomorrow I hope to finish welding it and grind her all up and make it smooth. I love feeling of making something old new again! haha, I took some pics tonight but will update with pics when I get it all done. Hopefully if all goes well all the steel work will be done this week and we will be ready for primer soon!

nolan
1-5-2012
Got some more done tonight.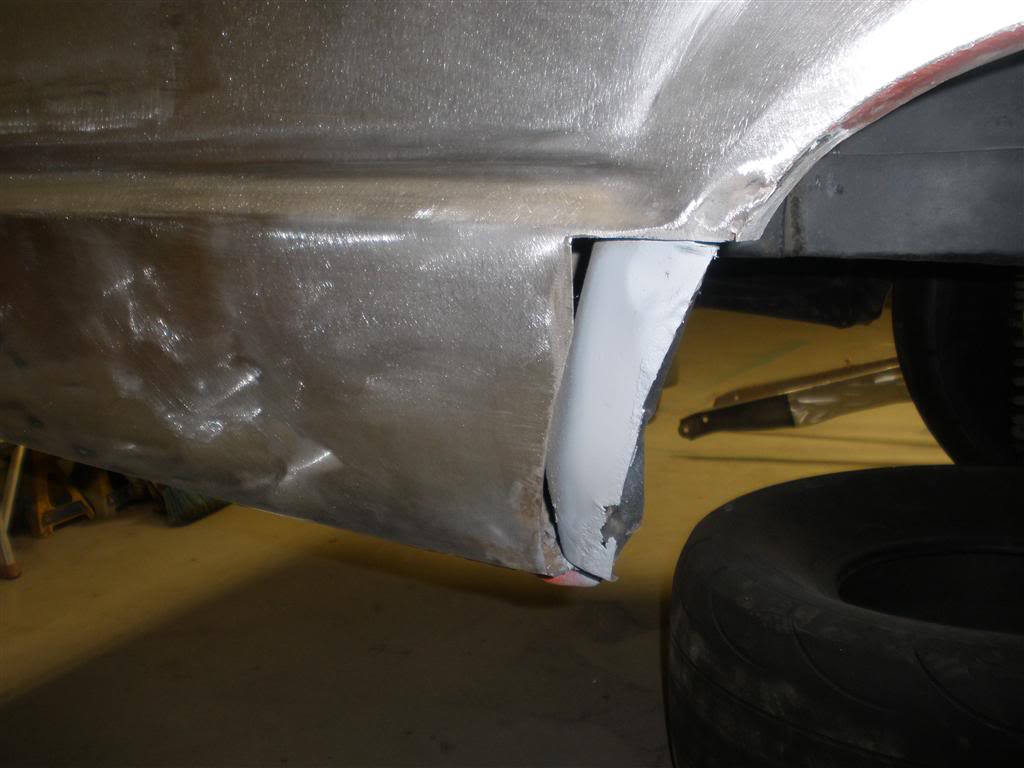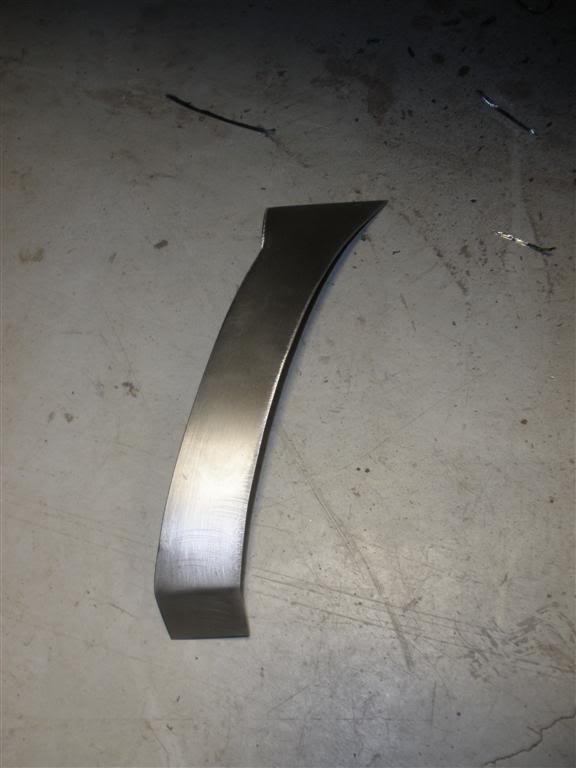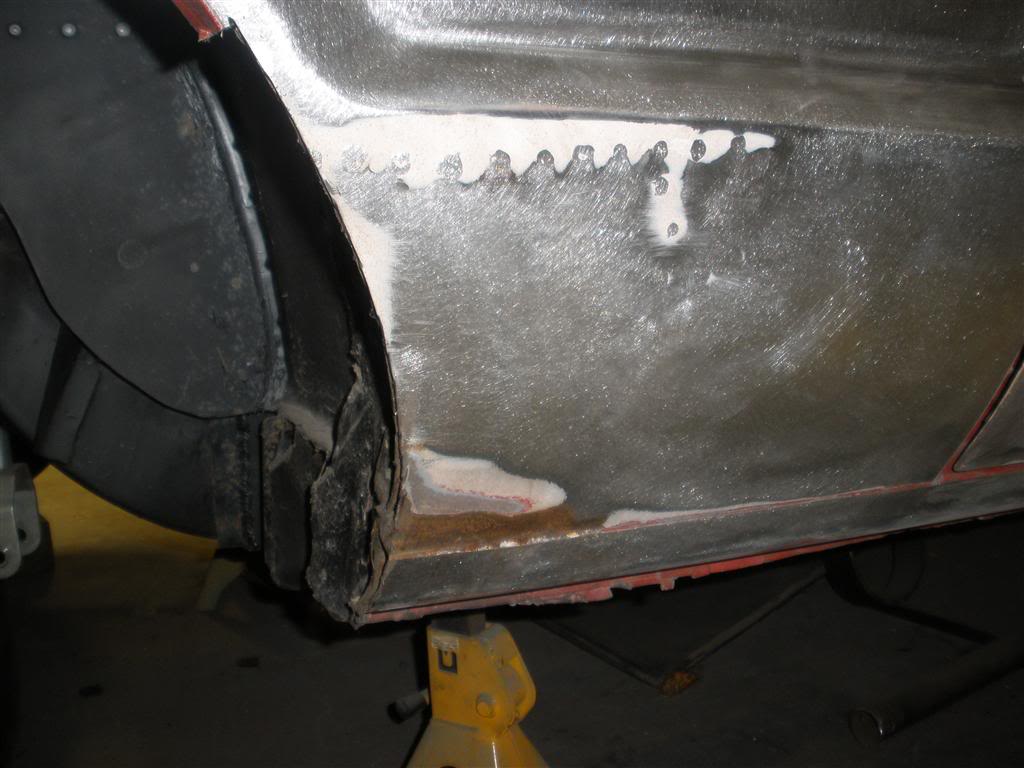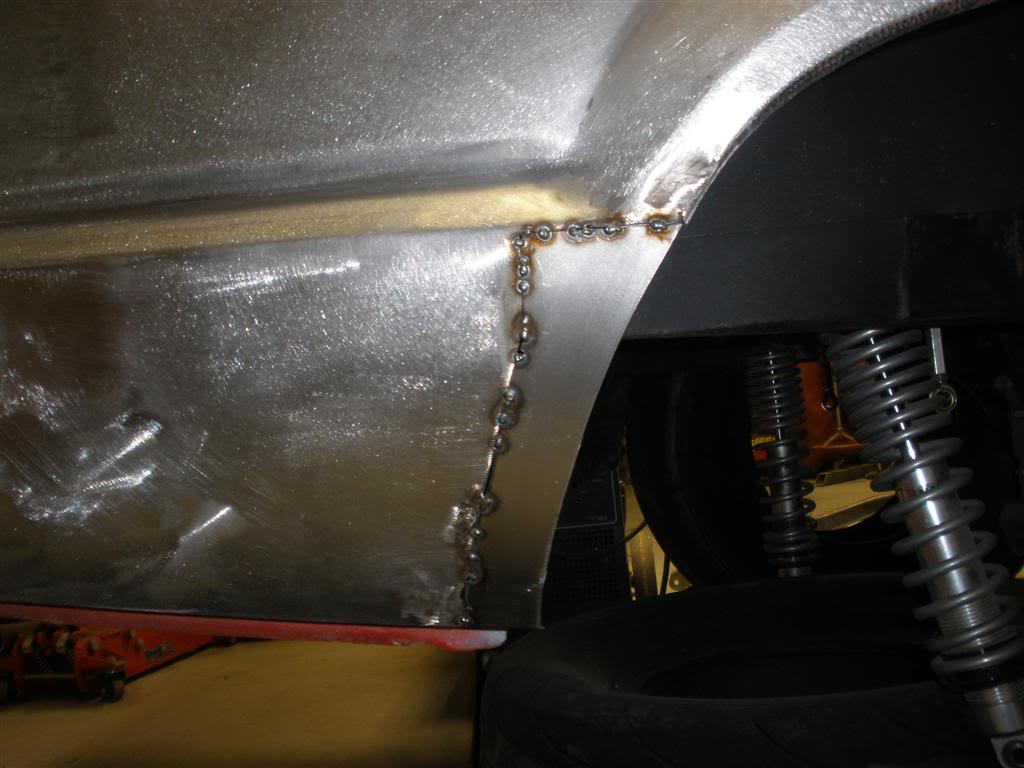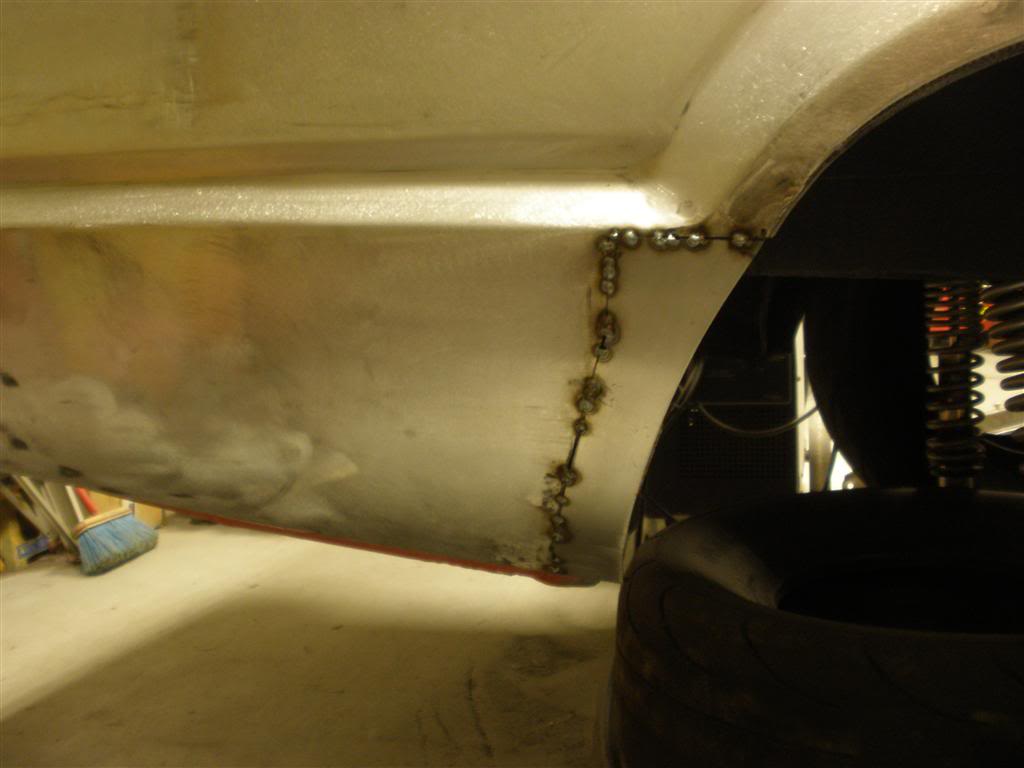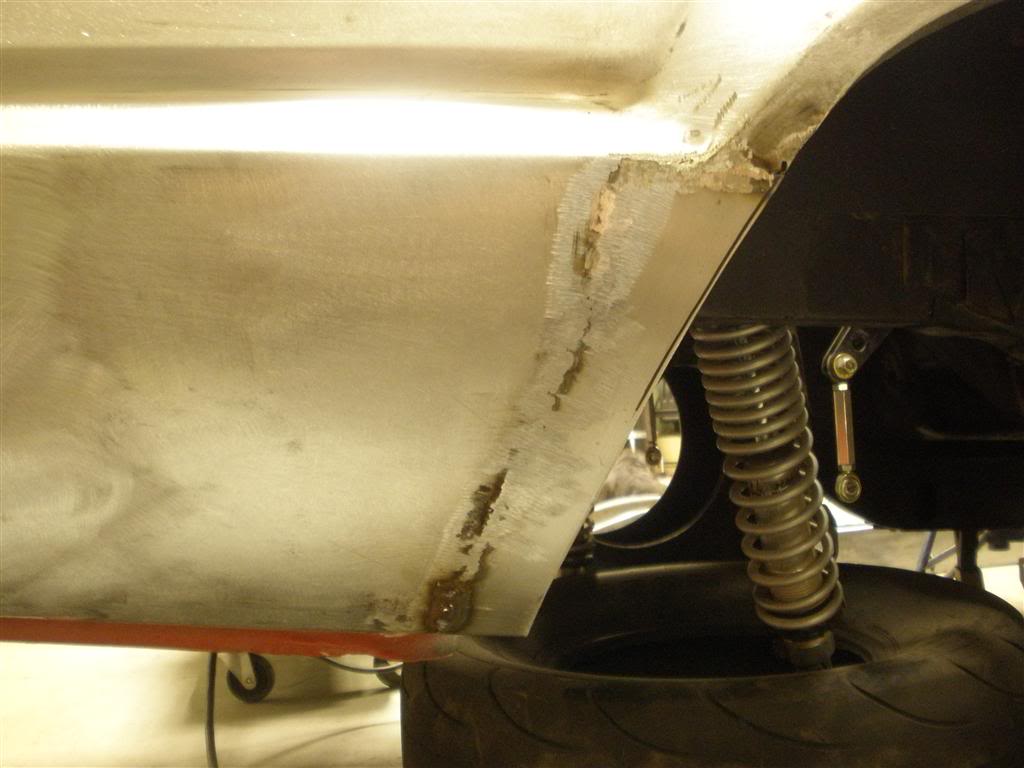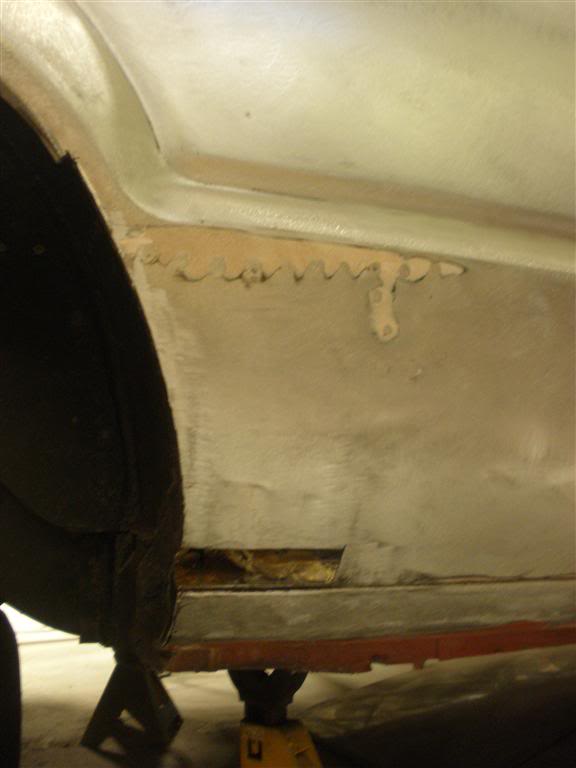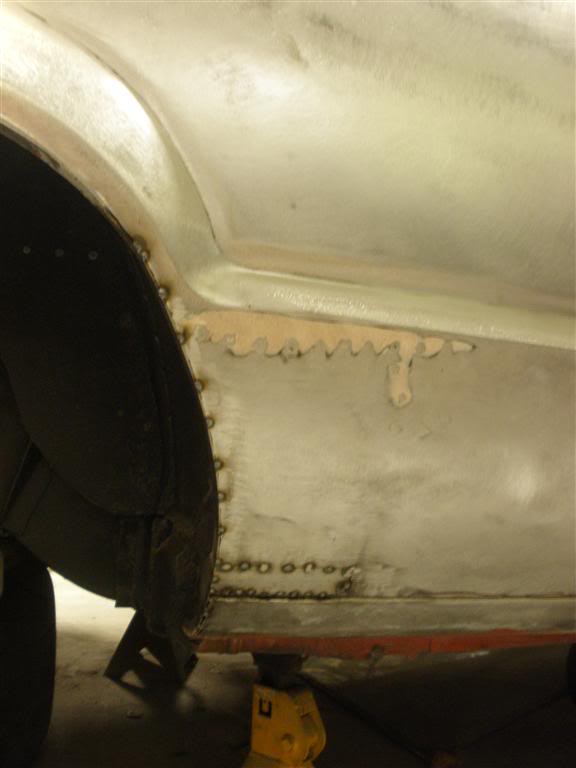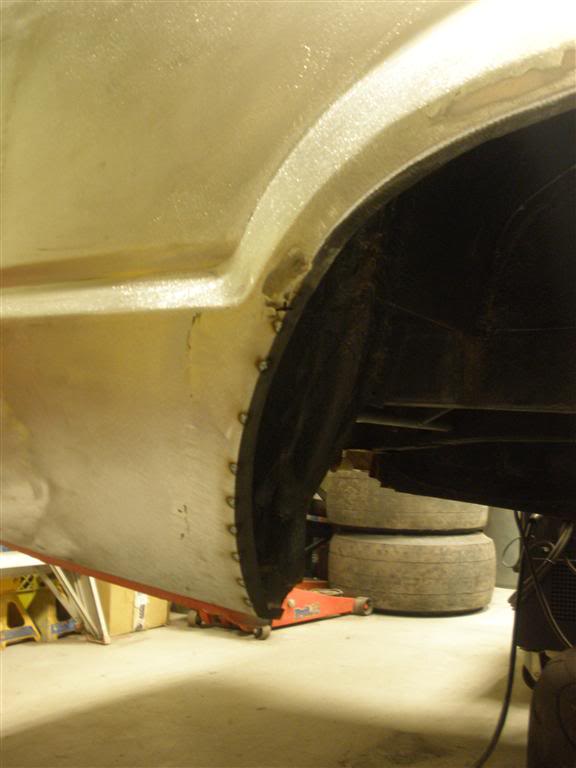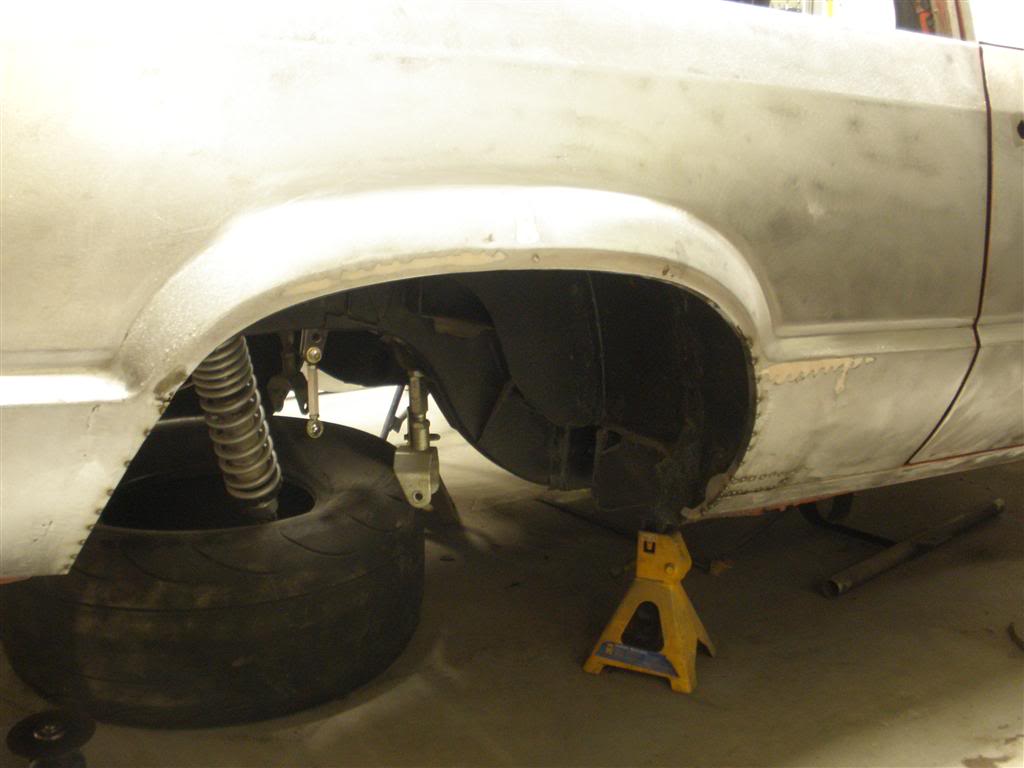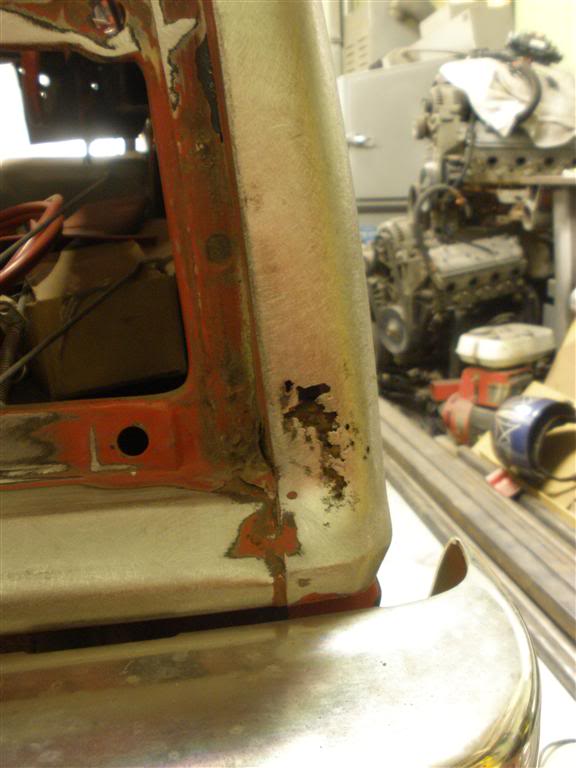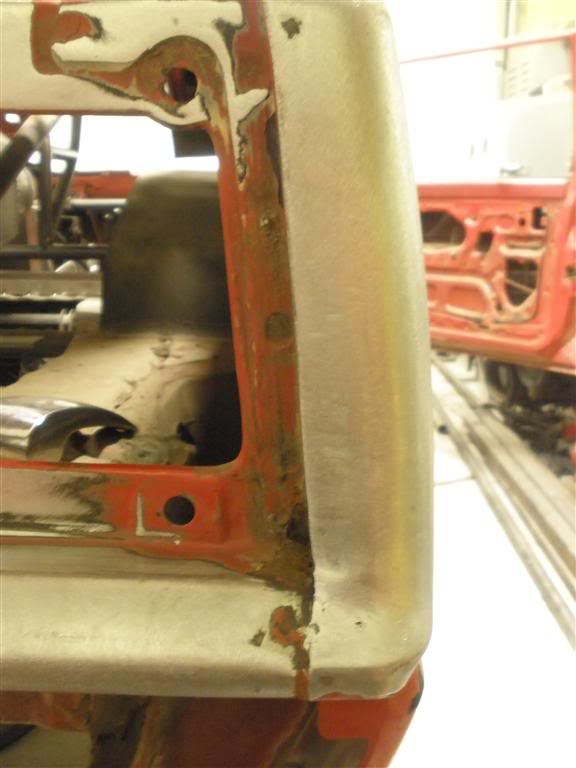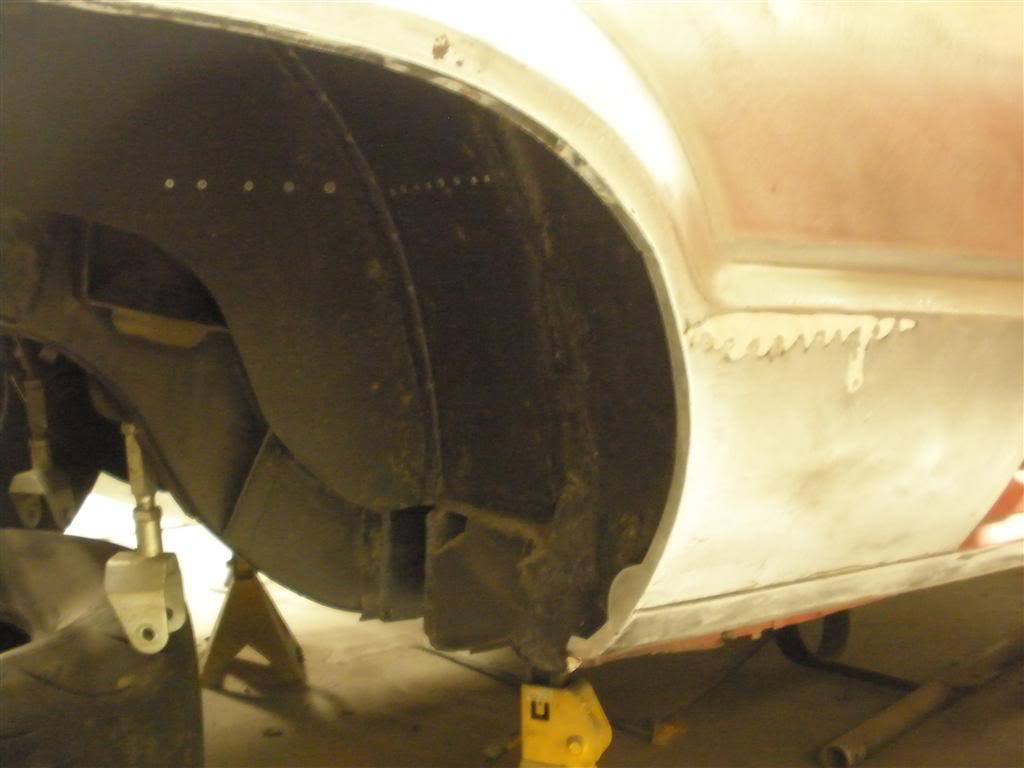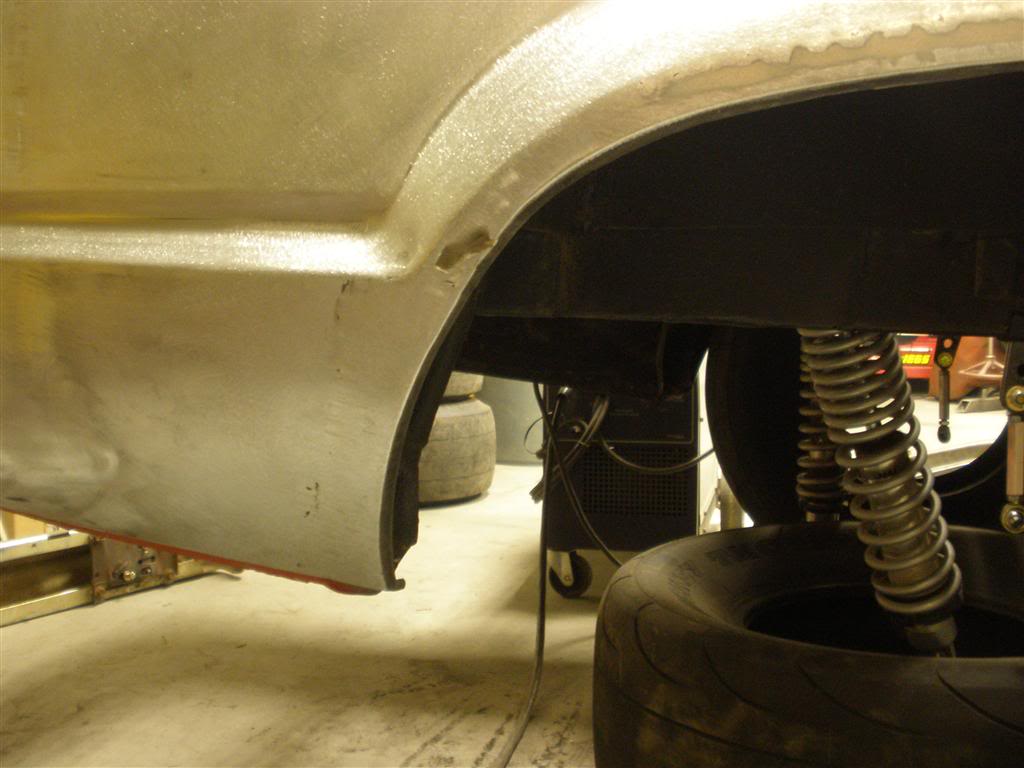 thats all for now, next up is mounting the inter-cooler. Neil came by tonight and we have a plan now so hopefully we can get after the fuel cell and ice box soon!

nolan
1-8-2012
Weekend update,

Neil has been anxious to put the rear end back in the car. After we got the floor all buttoned up Neil painted the floor bottom and we FINALLY put it back in. After a quick shock bracket adjustment we rolled er out for some pics and floor clean up! Here is some pics! I am sure neil will add some pics also.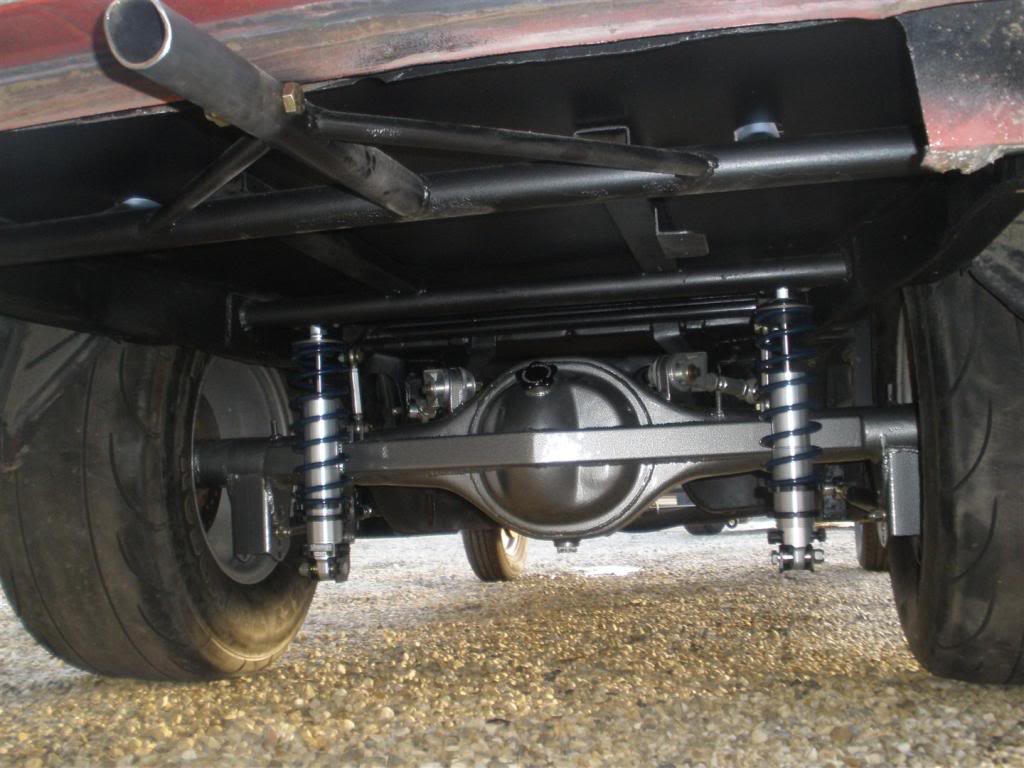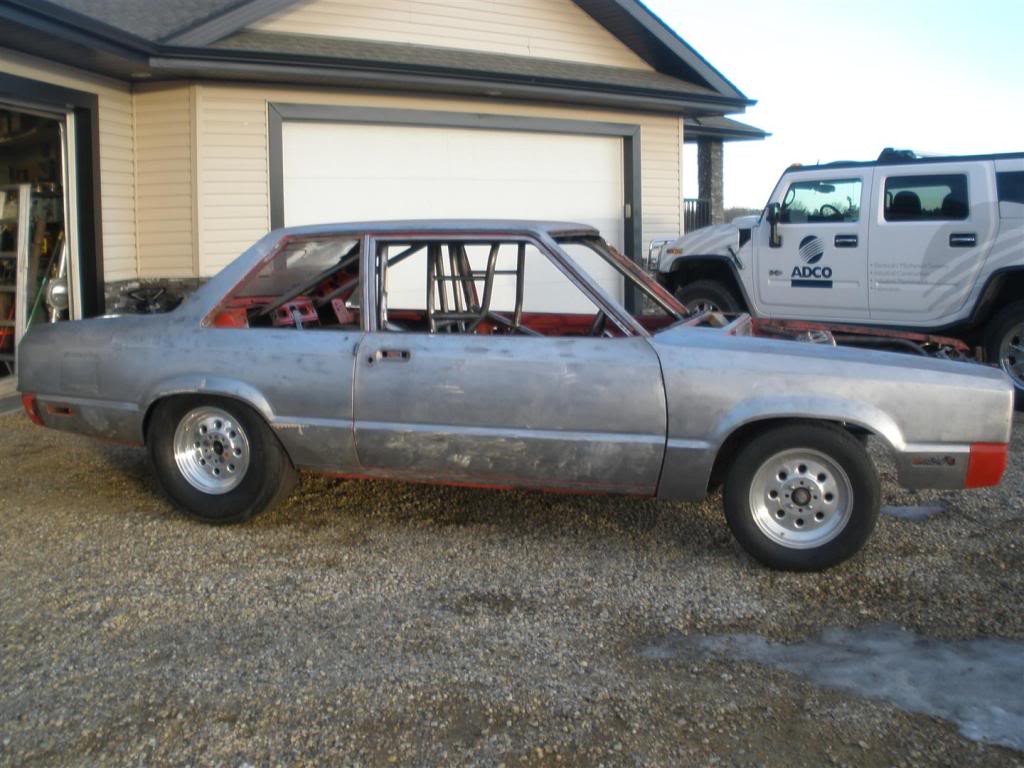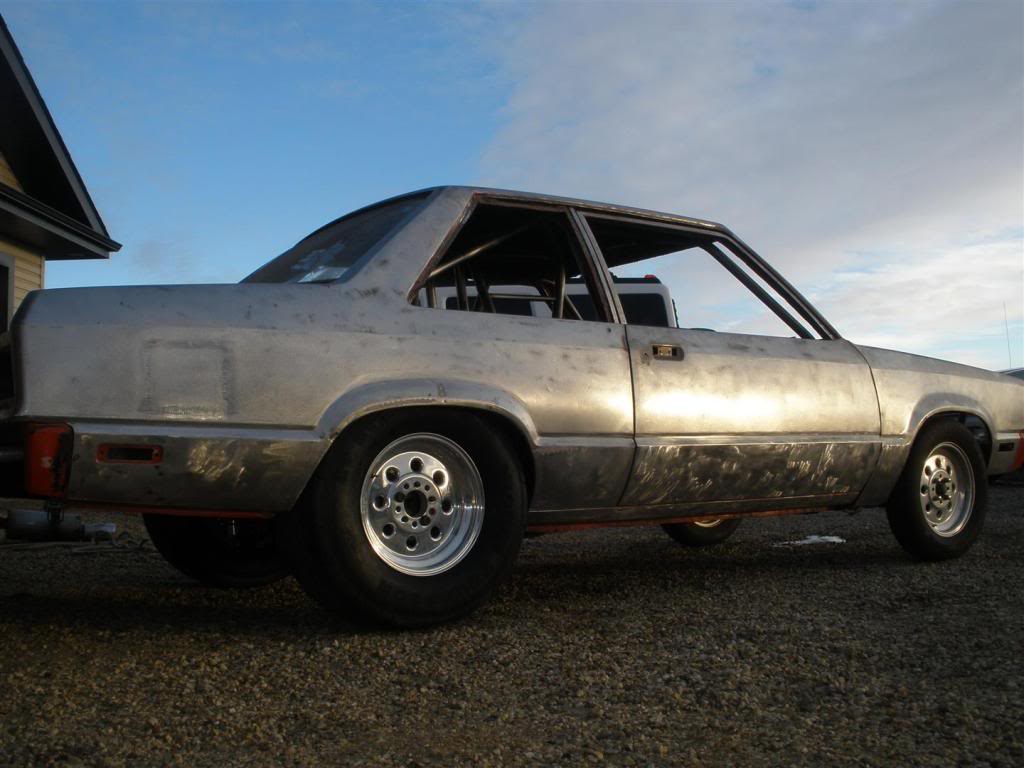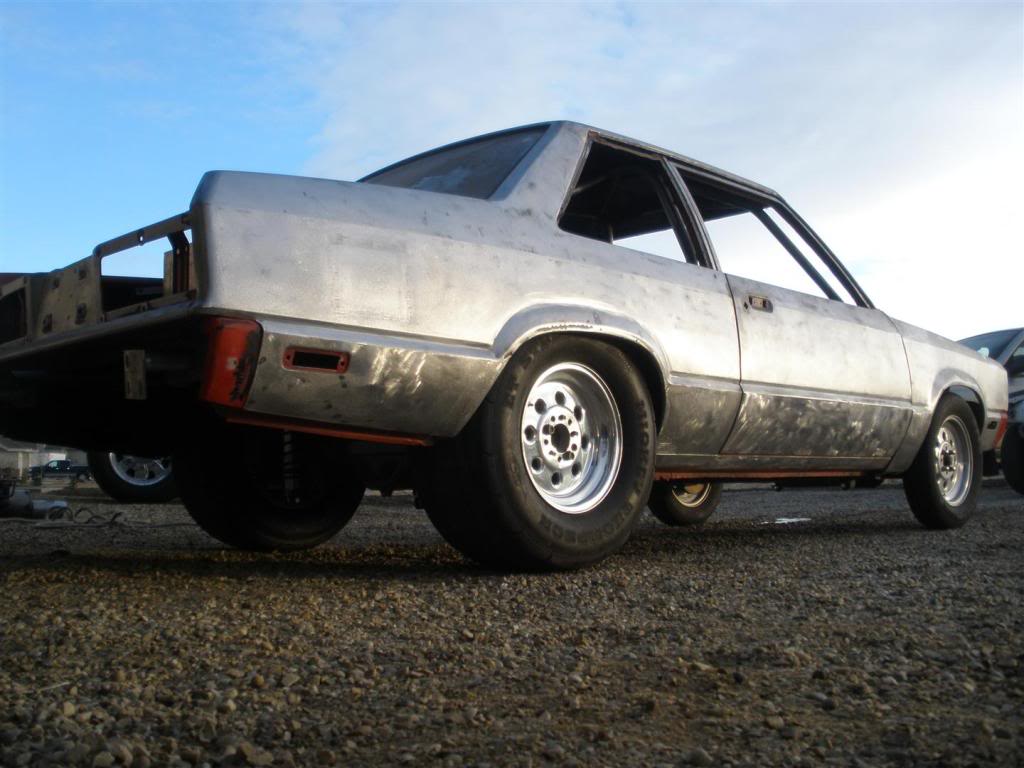 This thing is going to be awesome! after seeing it down on all 4 again, Neil and I are; to say the least........excited!

nolan
Nolan basically nailed it but we got more done then just that we also got the intercooler all mounted, rear suspension holes opened up for 1/2" bolts mounted the big radials on these rims just to see if the offset would work, got the cage to bare metal and also cut out some more brackets that did not need to be in the car.

Overall I could not be more happy with how things are going together, hopefully we will have it in primer before too long!

Now on to the fun stuff PICTURES!!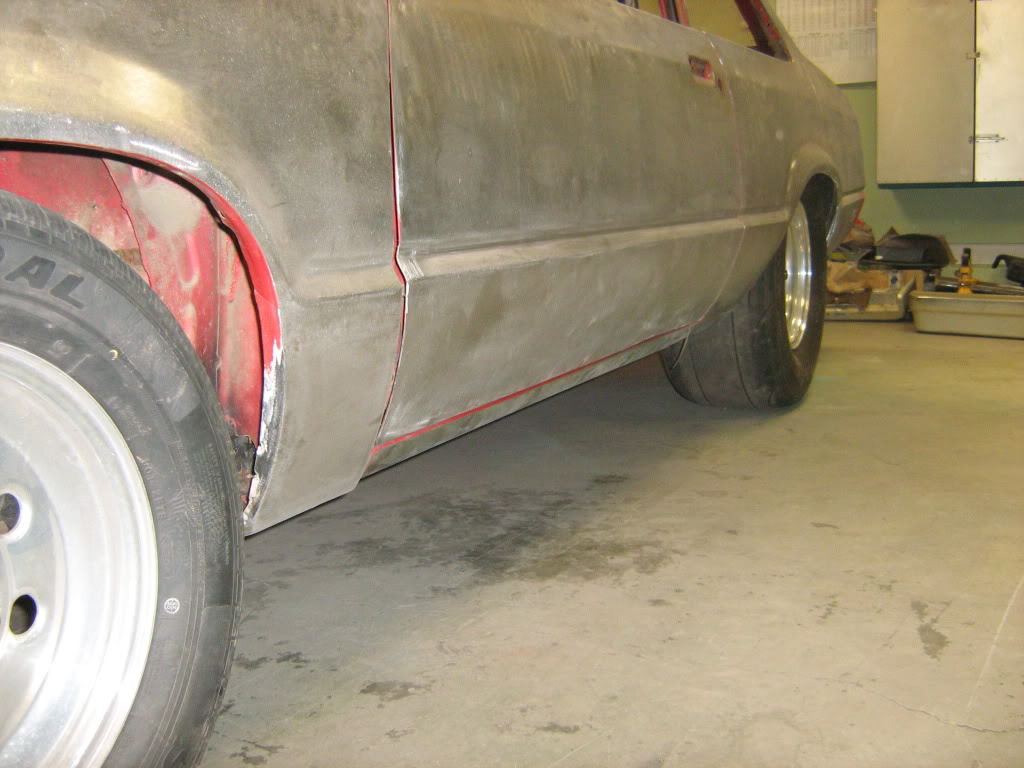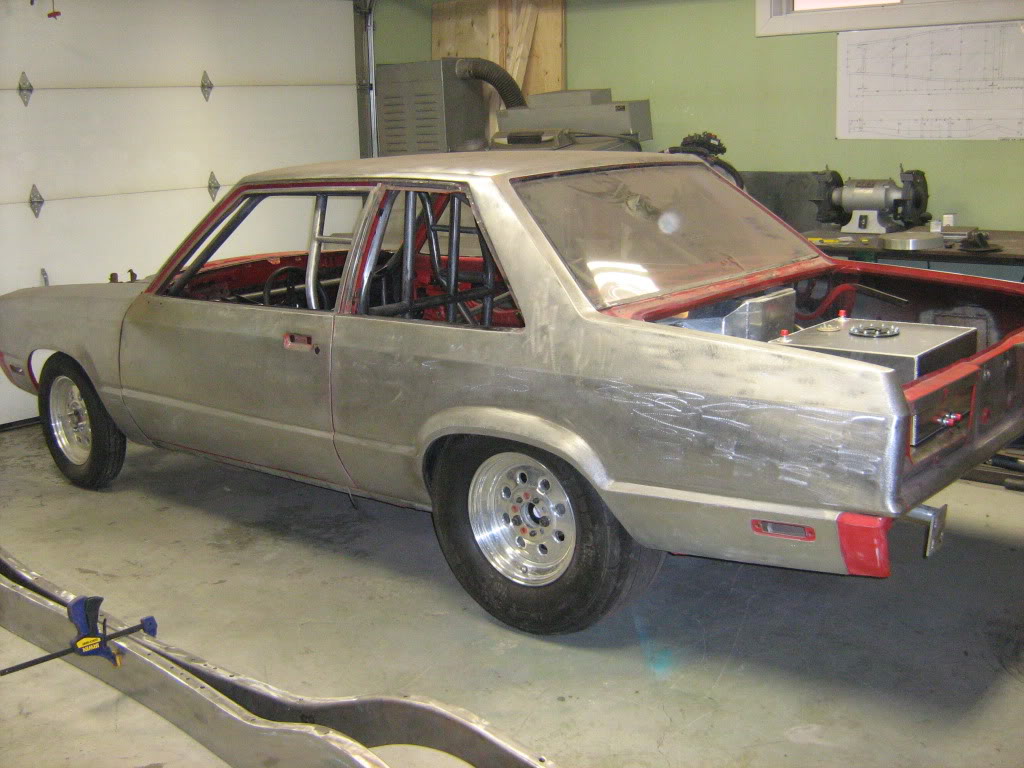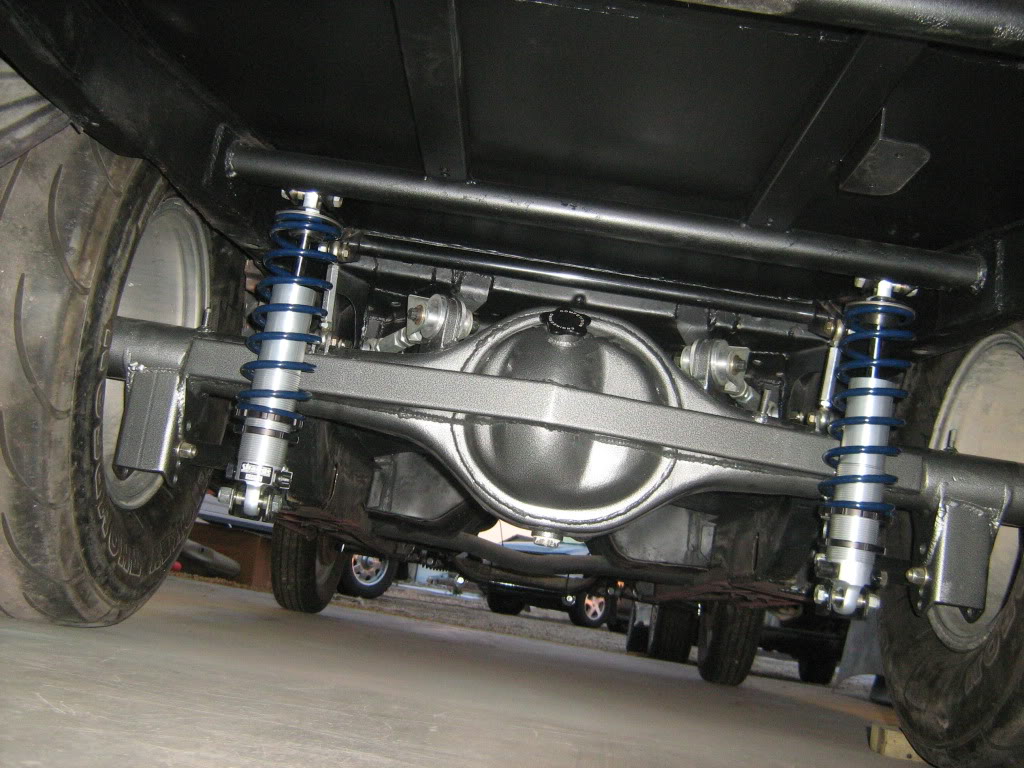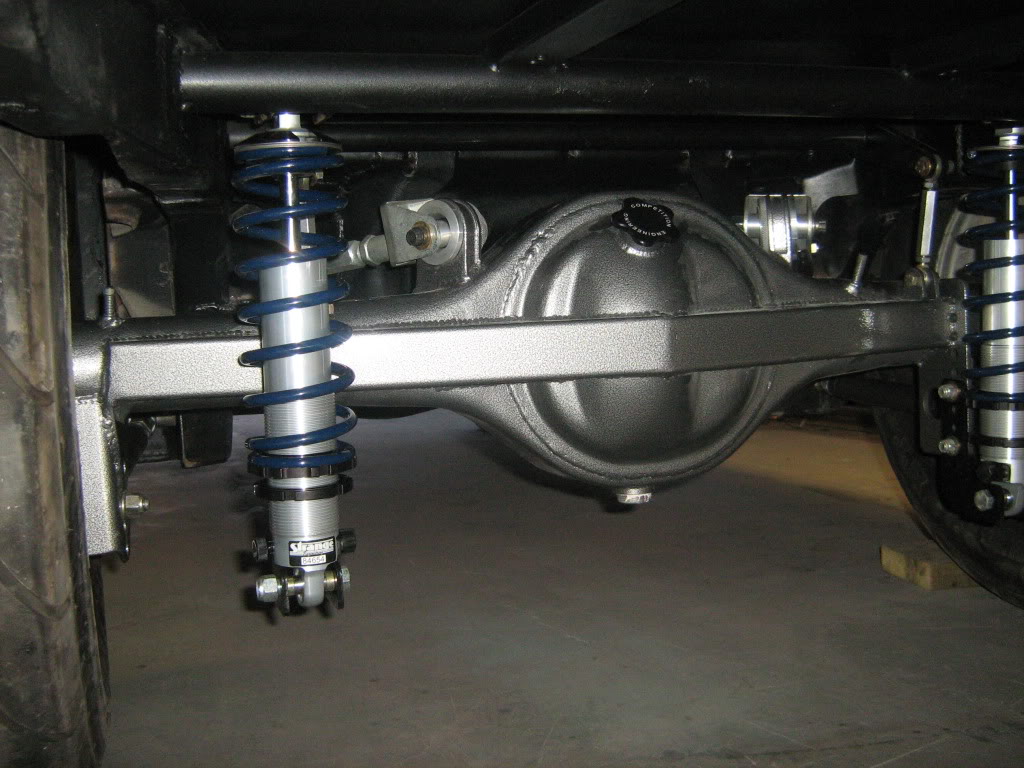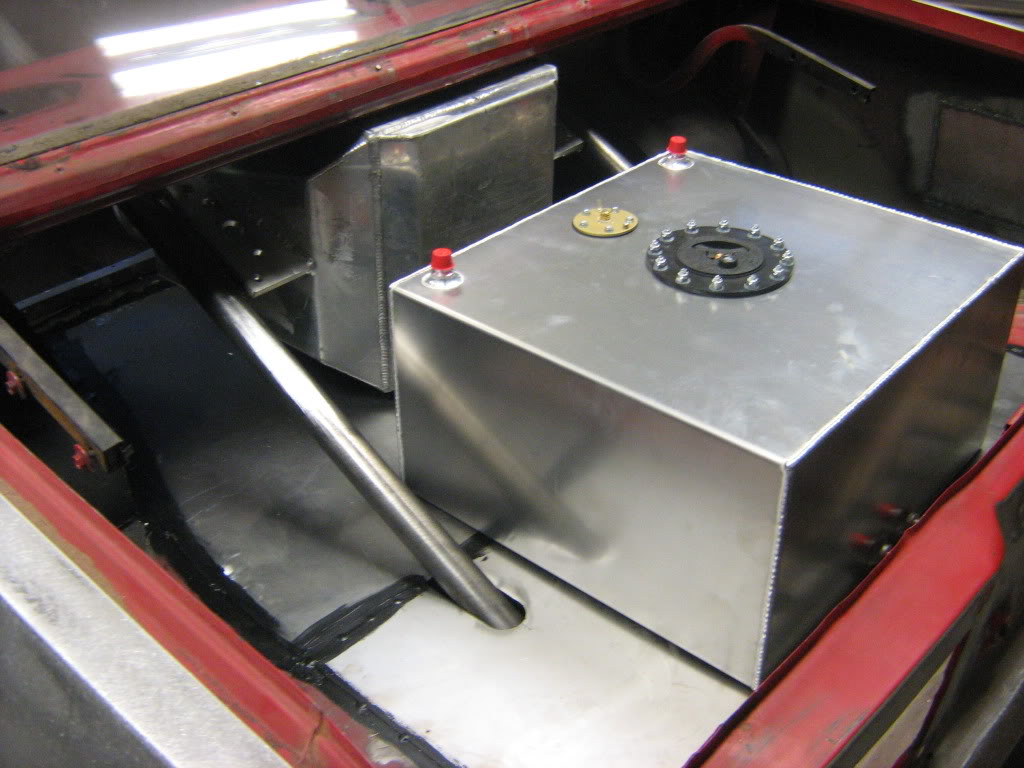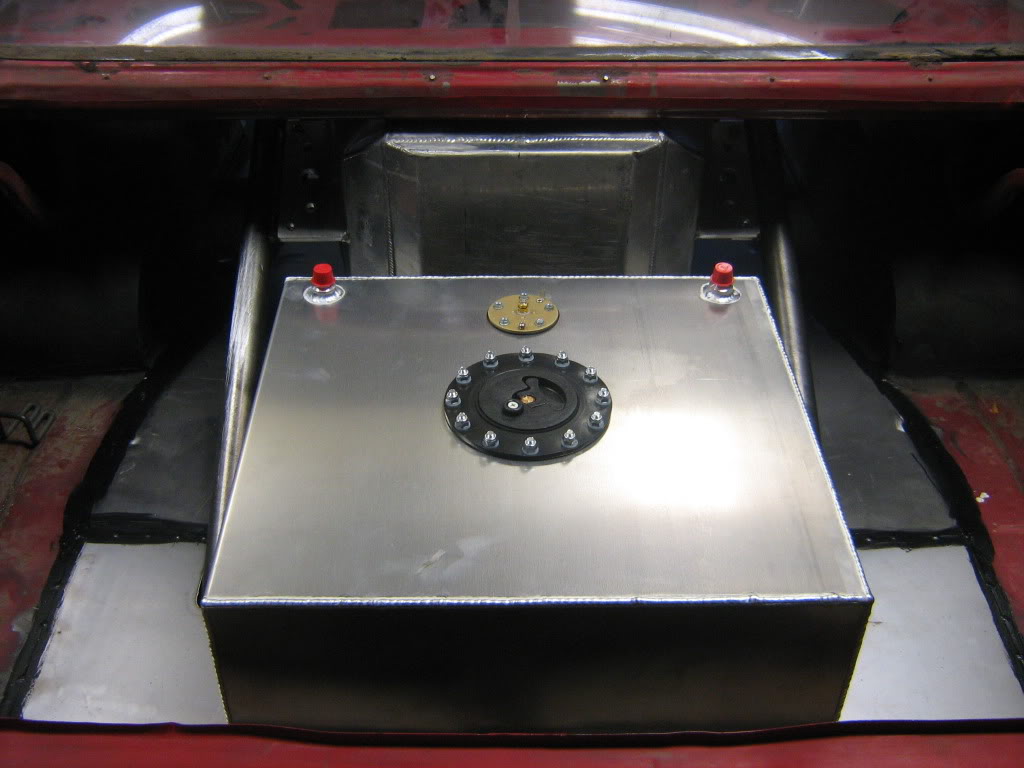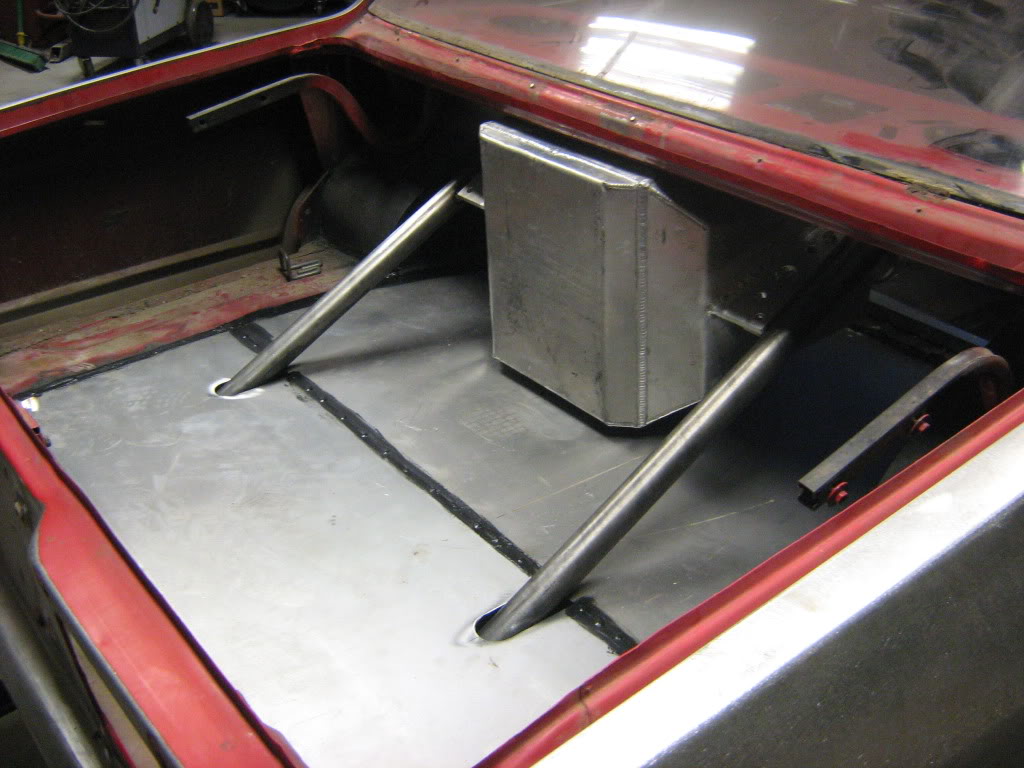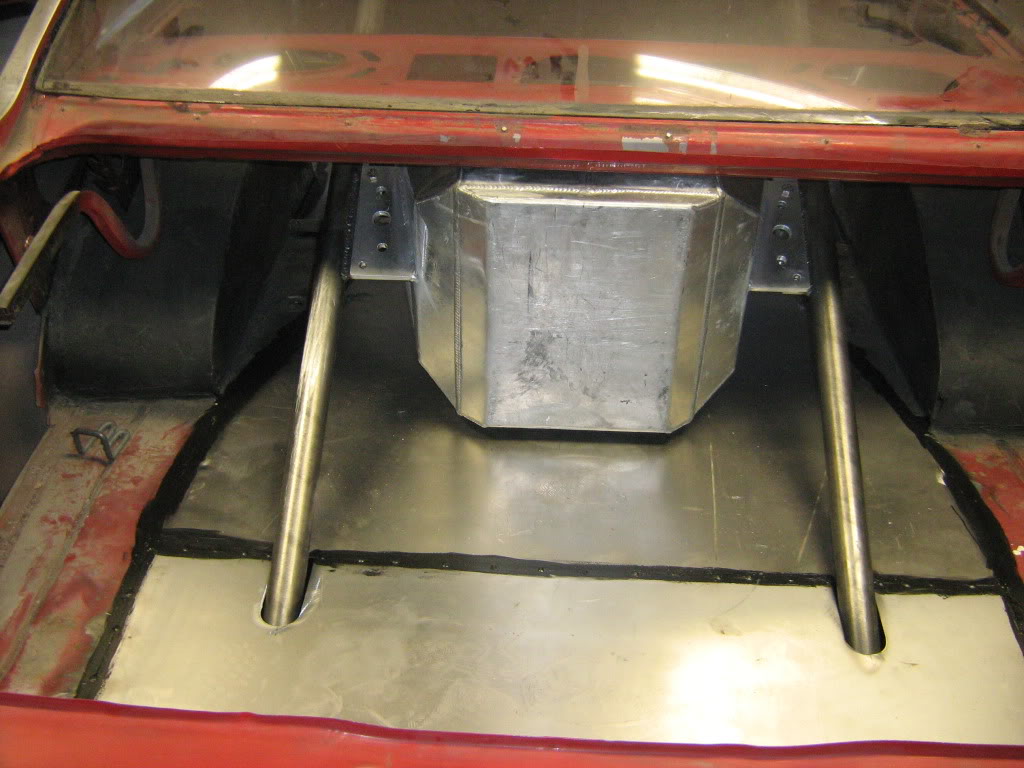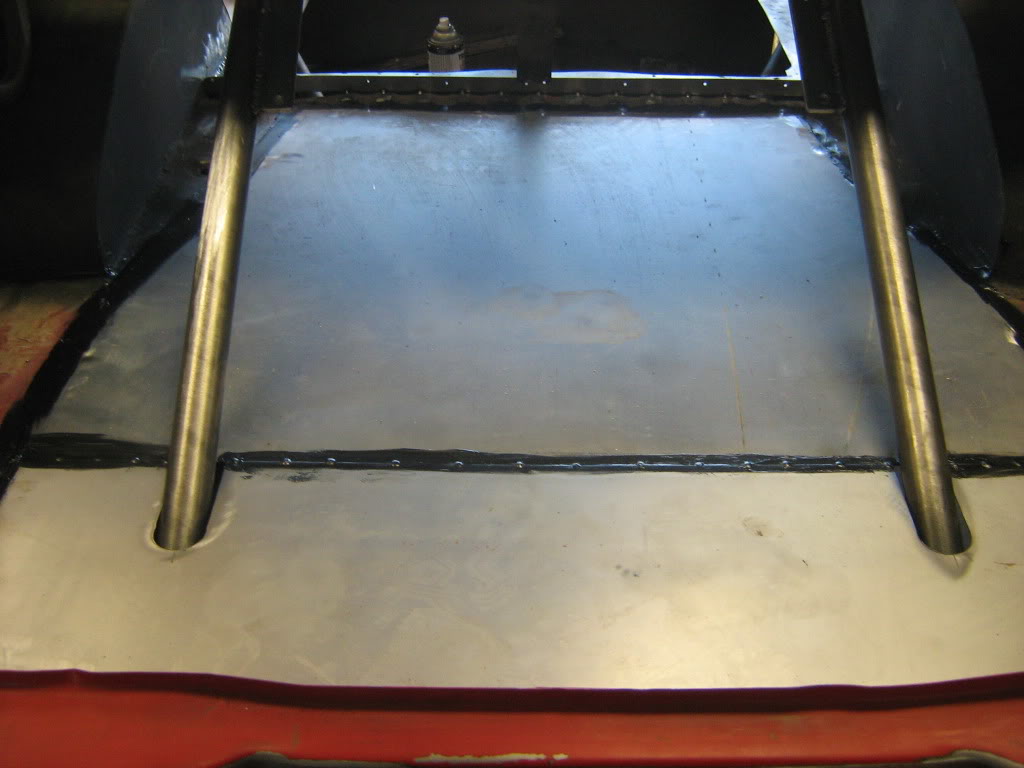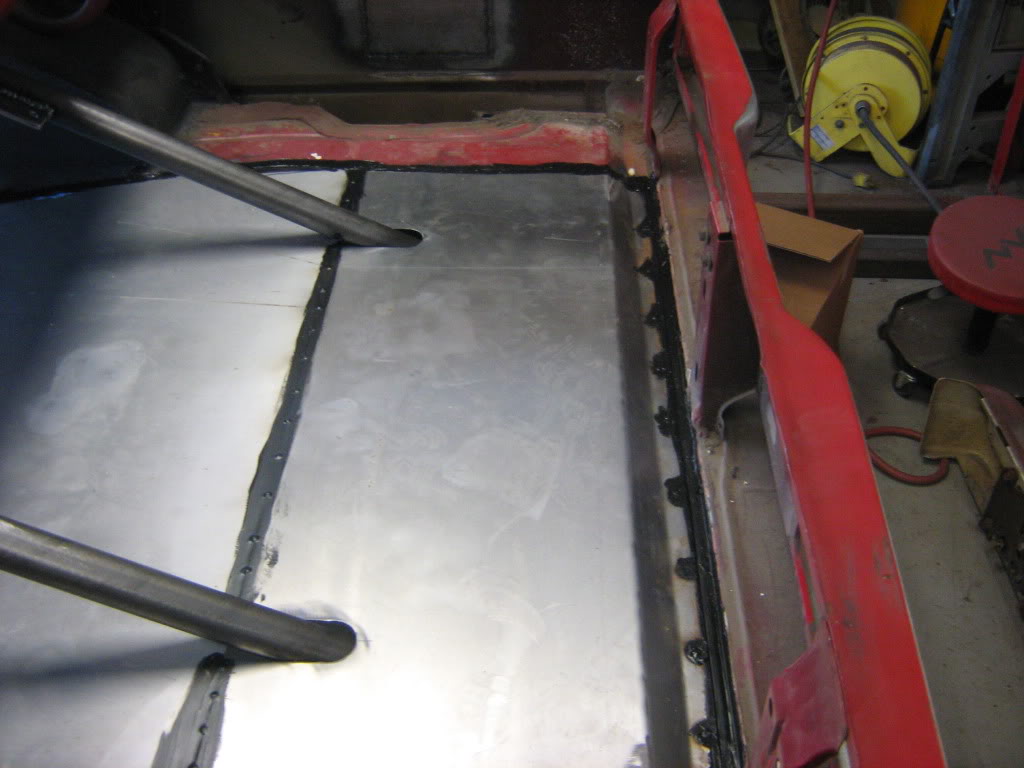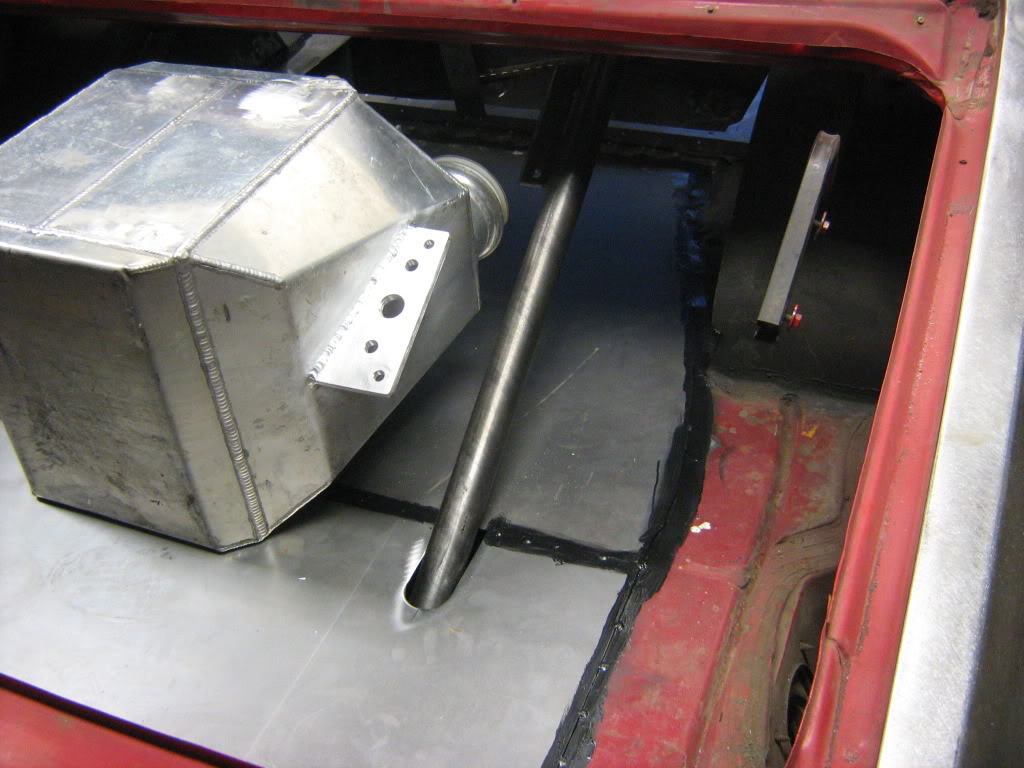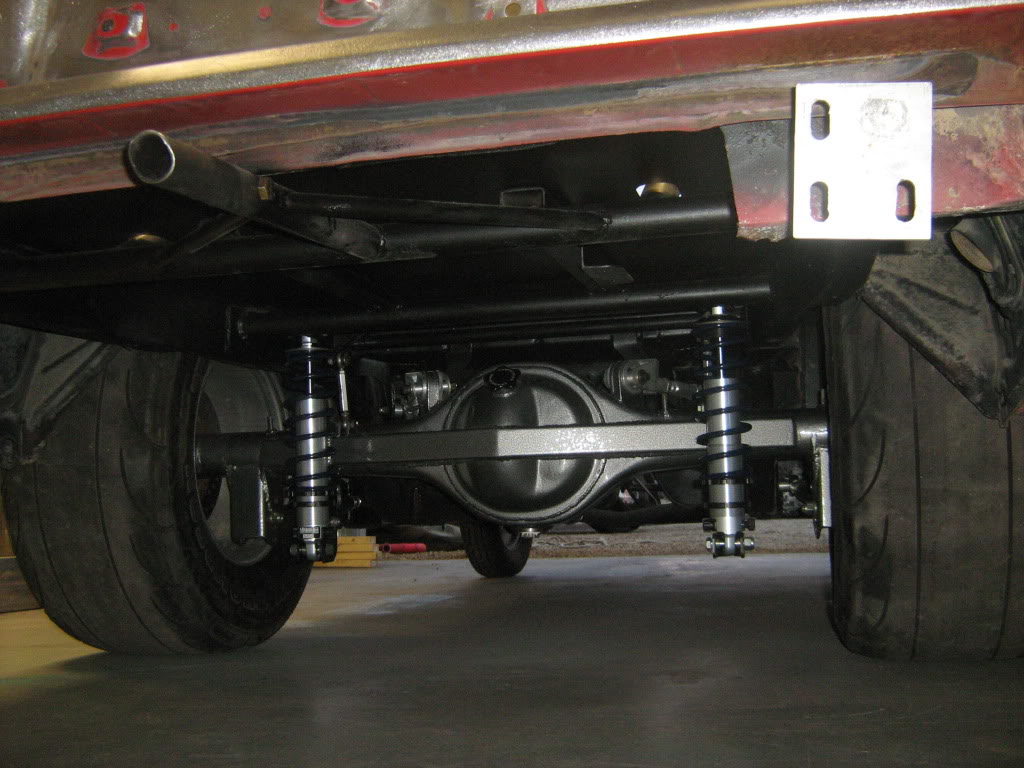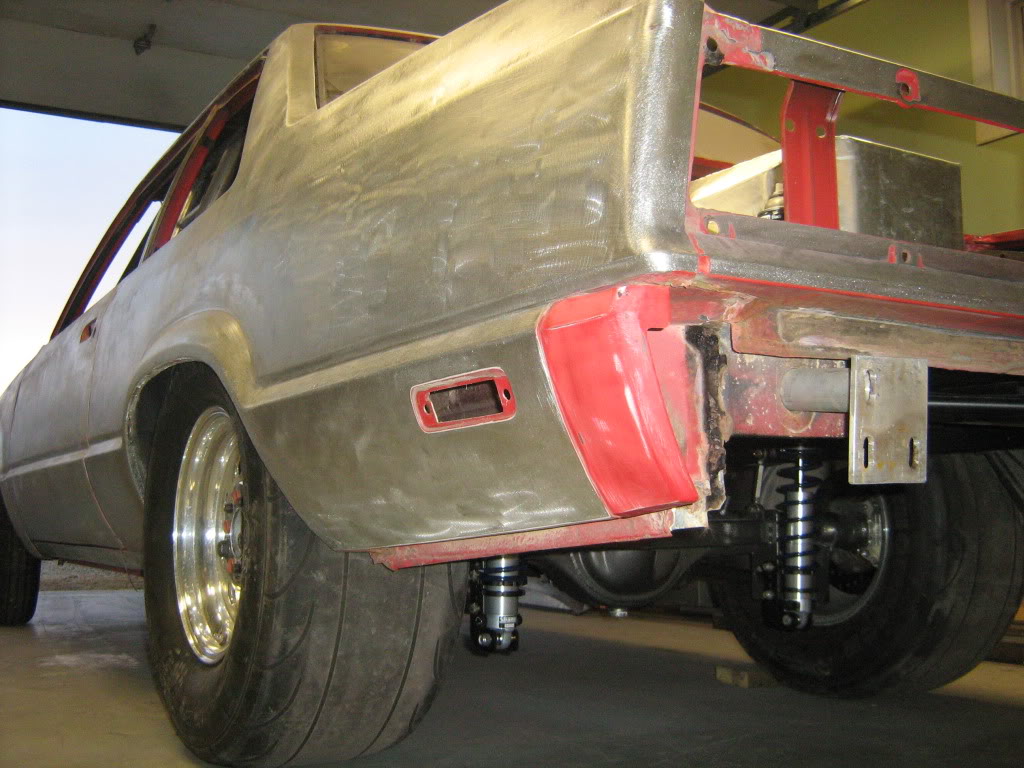 New front strange struts and coil overs: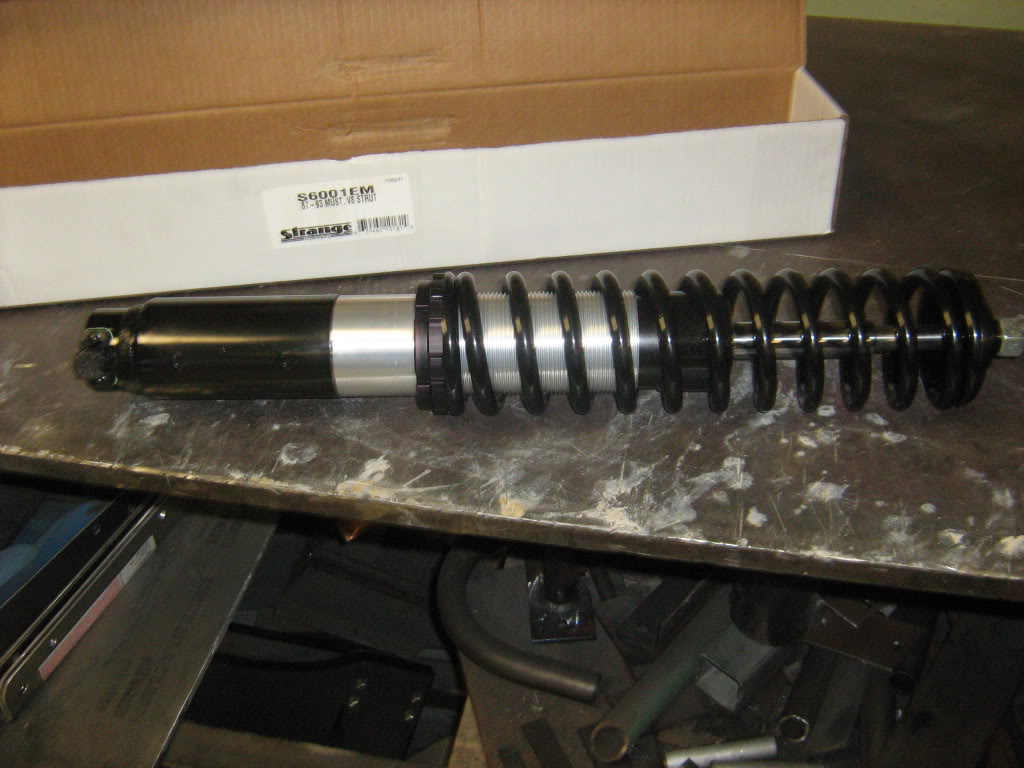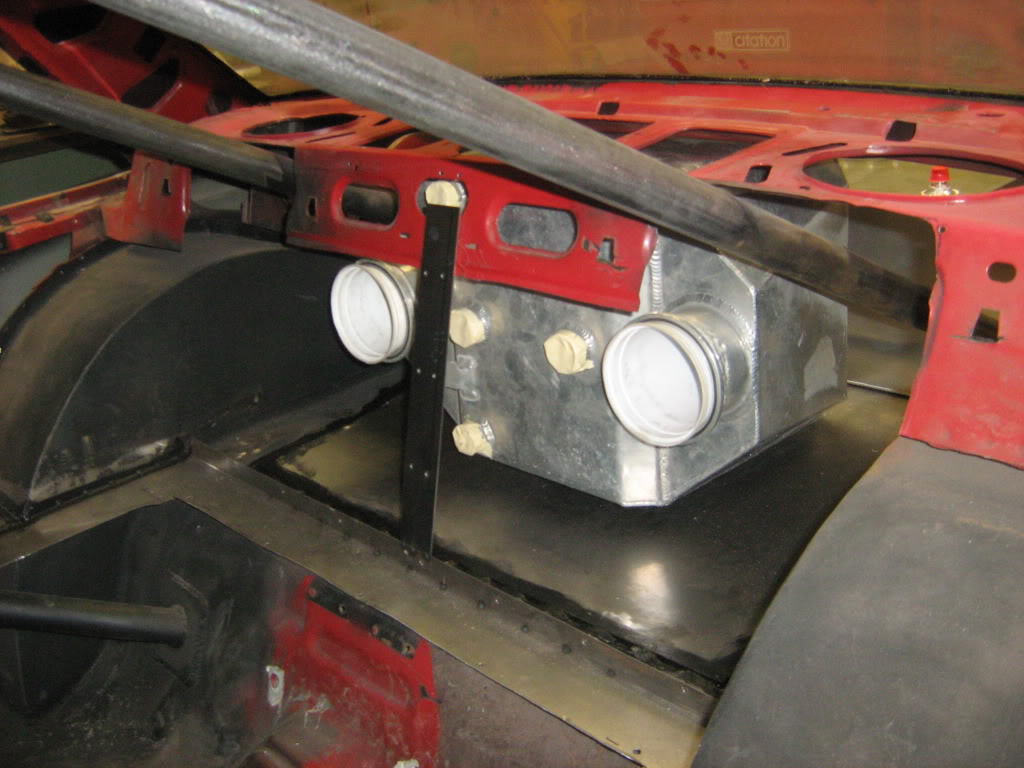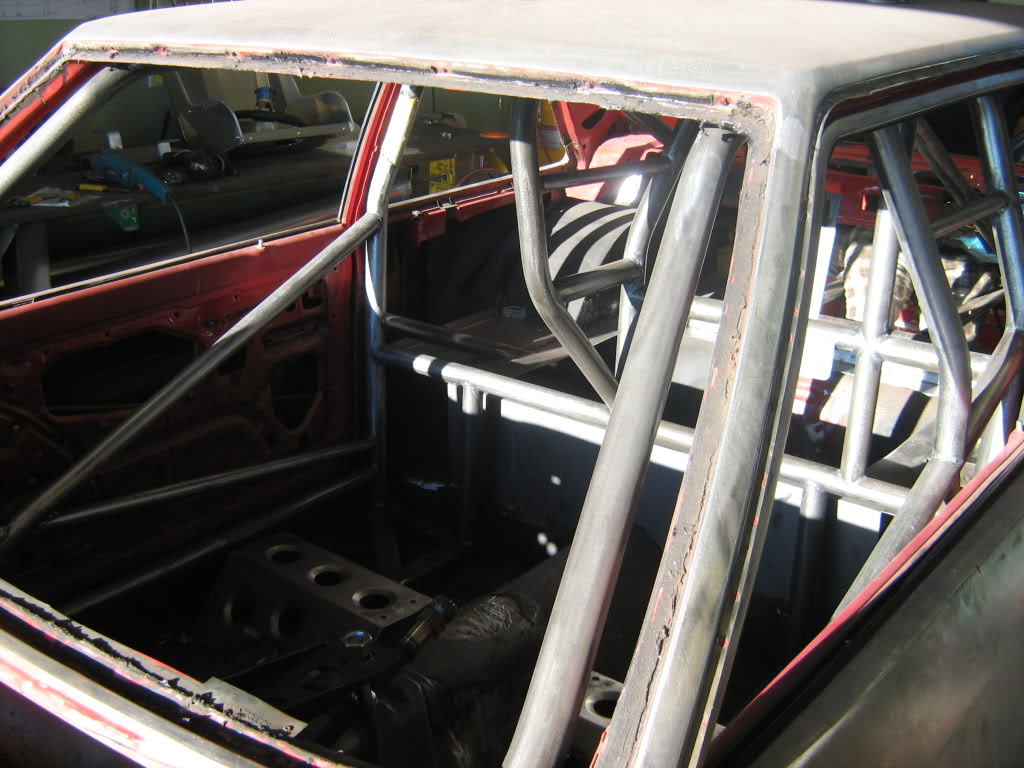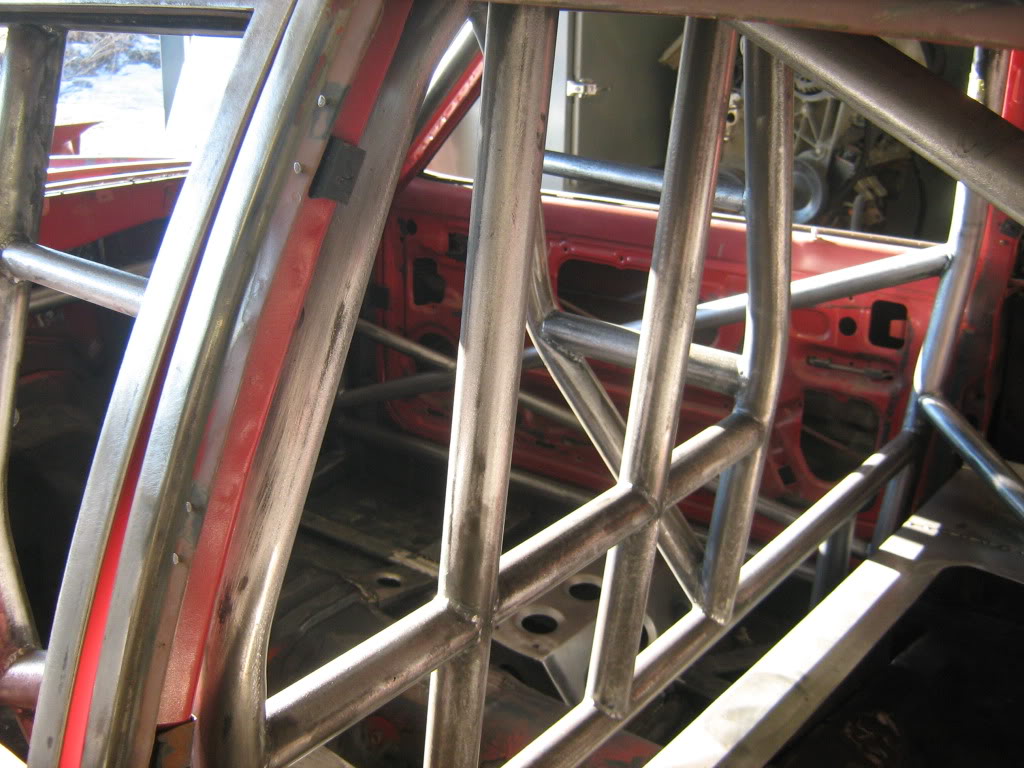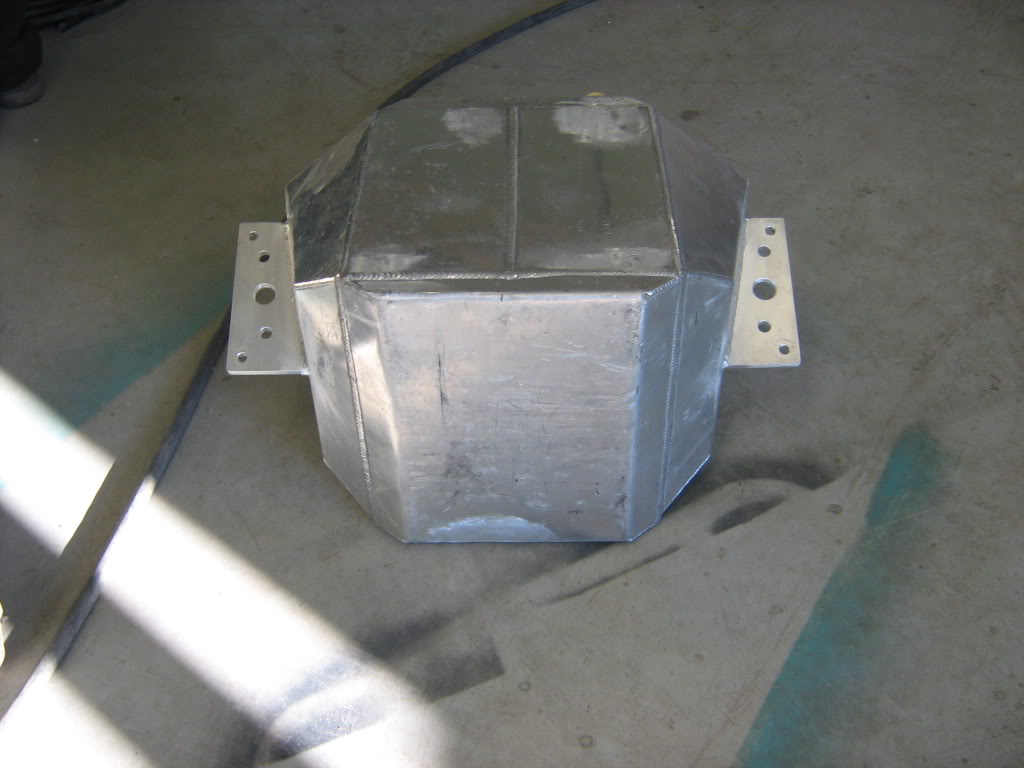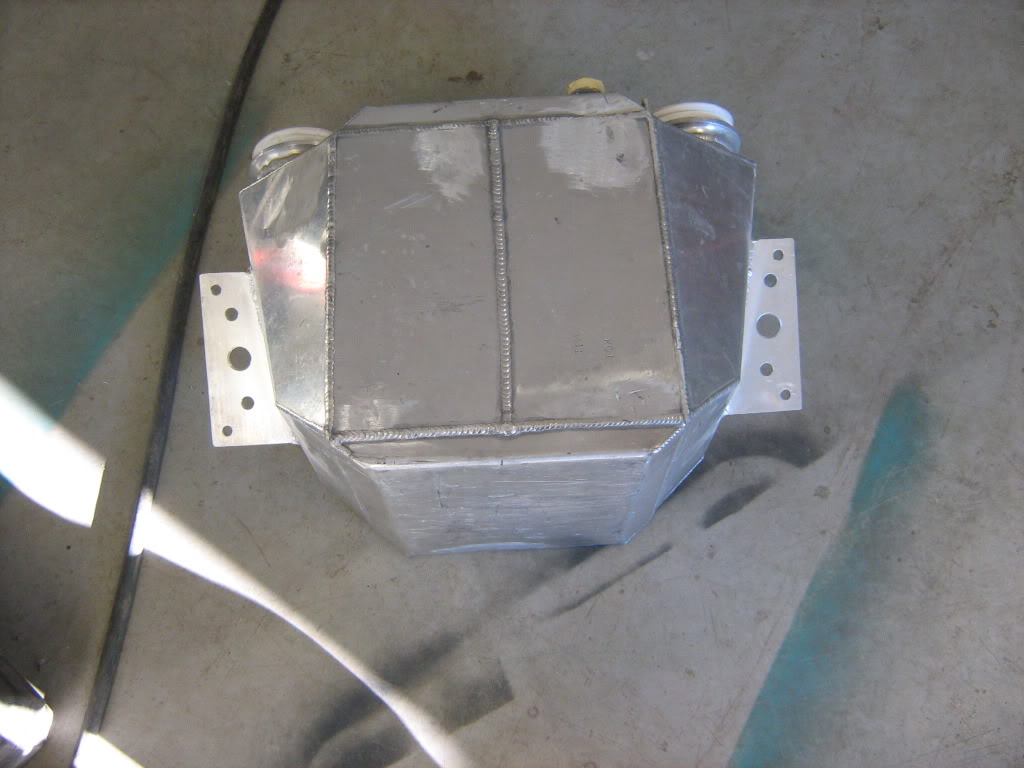 LOL yep these guys are surely gonna cash in thier IOUs when it comes time for the 58 apache build and the TT LSX BMW.

I also got a smokin deal on my boost controller which is a Deeds MSBC same as what I used to run but with an updated program and face plate: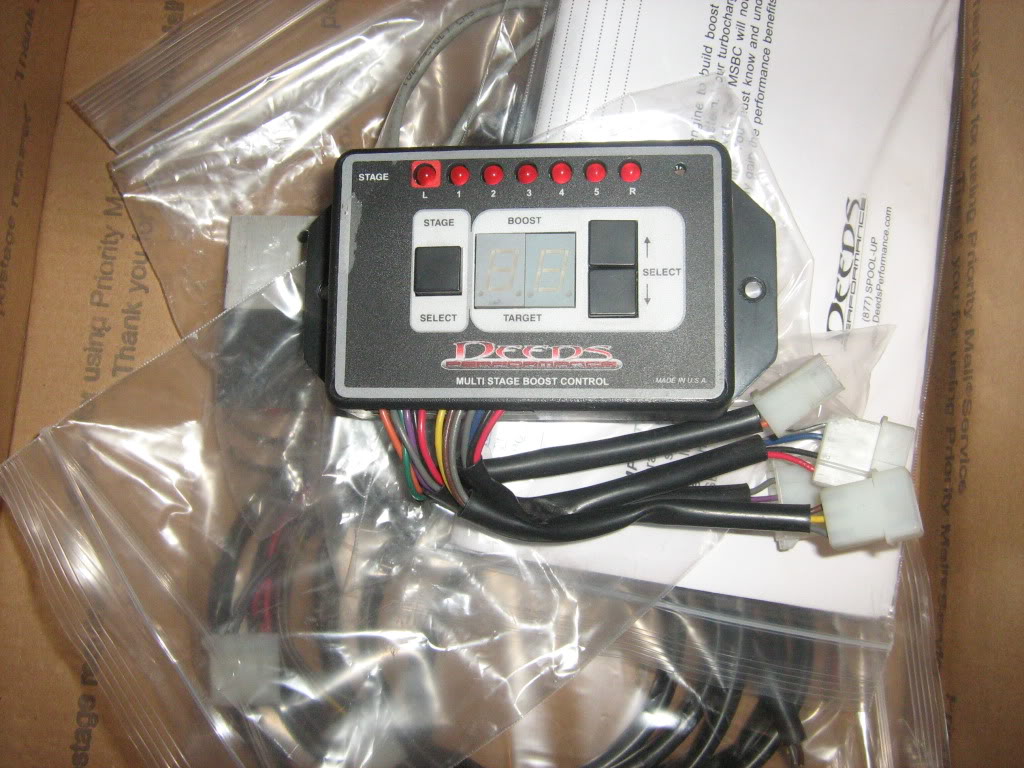 1-16-2012
We have made some progress on the car, Another beauty friend and I got after some body work on saturday. The hood, front fenders and trunk are ready for primer. Pics up as soon as they are primed. I believe Neil has some good shots of the rear, When we worked on the rear I added some more room for some adjust-ability of the lower arms.

nolan
1-20-2012
Thanks to some sponsor help and selling some old parts got all kinds of awesome bits on order now:

Precision performance Shifter
Custom SFI Window net
Mast LS7 305cc 6 bolt heads set up with PAC dual springs - Hollow stainless Intake valve and Inconnel Exhaust valves
Beck LS7 Sheet metal intake manifold
T&D Shaft Mount rocker set up
TCI SFI Approved Flex plate

Working on wheels and a few other things , Pics to come shortly as more progress gets made!
1-21-2012
ULTRA sneak peak......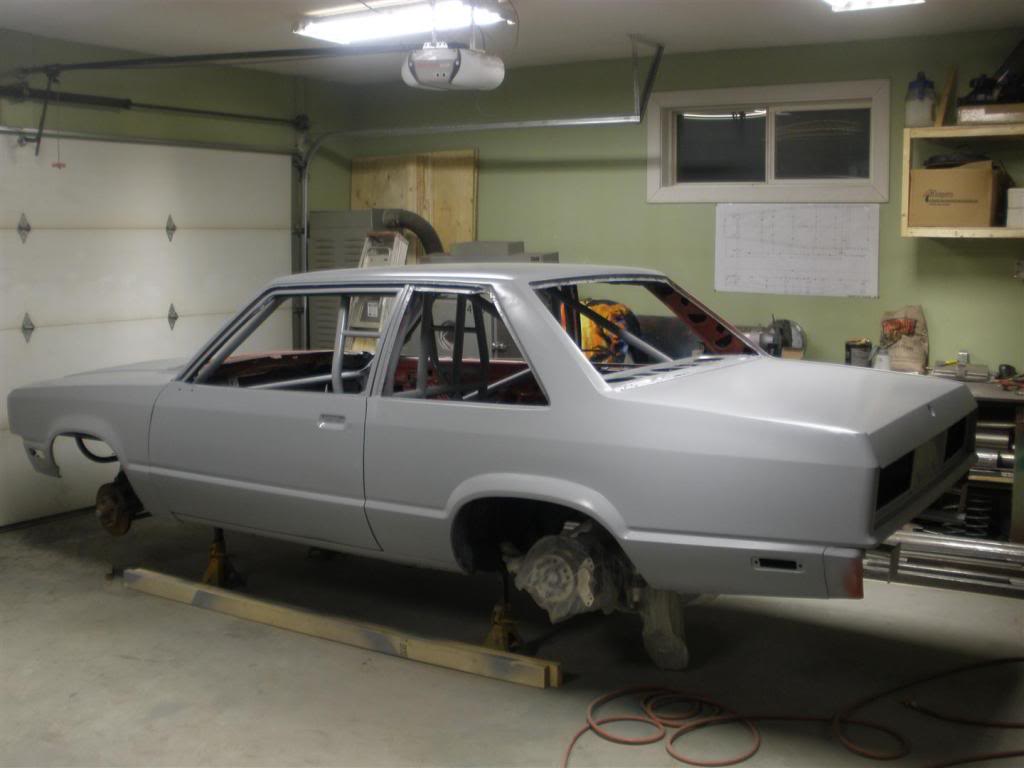 We got carried away today.....Neil will have more soon!
1-23-2012
Ok, Nolan was exactly right we busted some ass and made some good progress!

Nolan finished welding up the front end and made some killer little plates to tie it all together and seal up the firewall to the interior where the front bars ran through meanwhile I fit the dash/Fire Bottle and a few other bits then together we tackled the steering column, the original owner had the car set up with a race style column he built with an allstar quick release steering wheel hub.

I knew it would be a battle to make the race style column work with signal switches/ignition etc etc so we went back to the stock column cleaned up and then we modified the quick release coupler to go onto the stock column.... I am MUCH happier with this as not it bolts right in the dash fits better and it has all the switches we need for a STREET car



Then we moved onto prime time, with some "Direct to metal" primer we covered any of the bare steel and now we can scuff it and spray it in high build primer then start blocking it out to get it nice and straight before it gets its final stage which is base then clear coat.


We just set the panels back on to get them out of the way hence the poor alignment etc.


PICS!!!!!!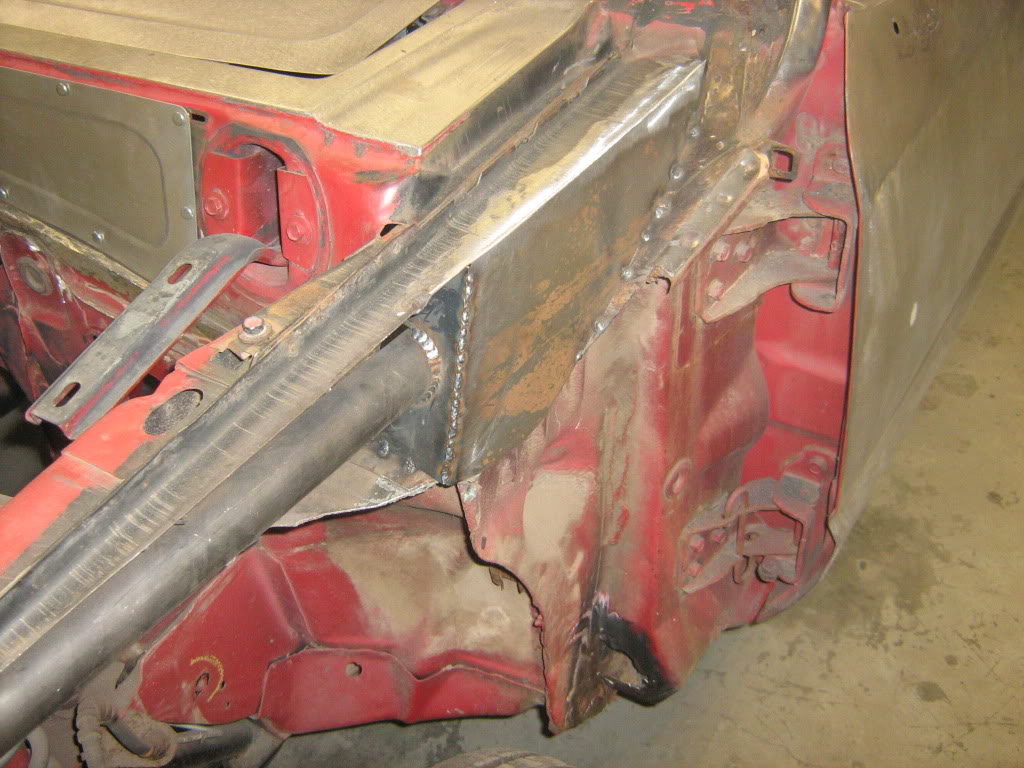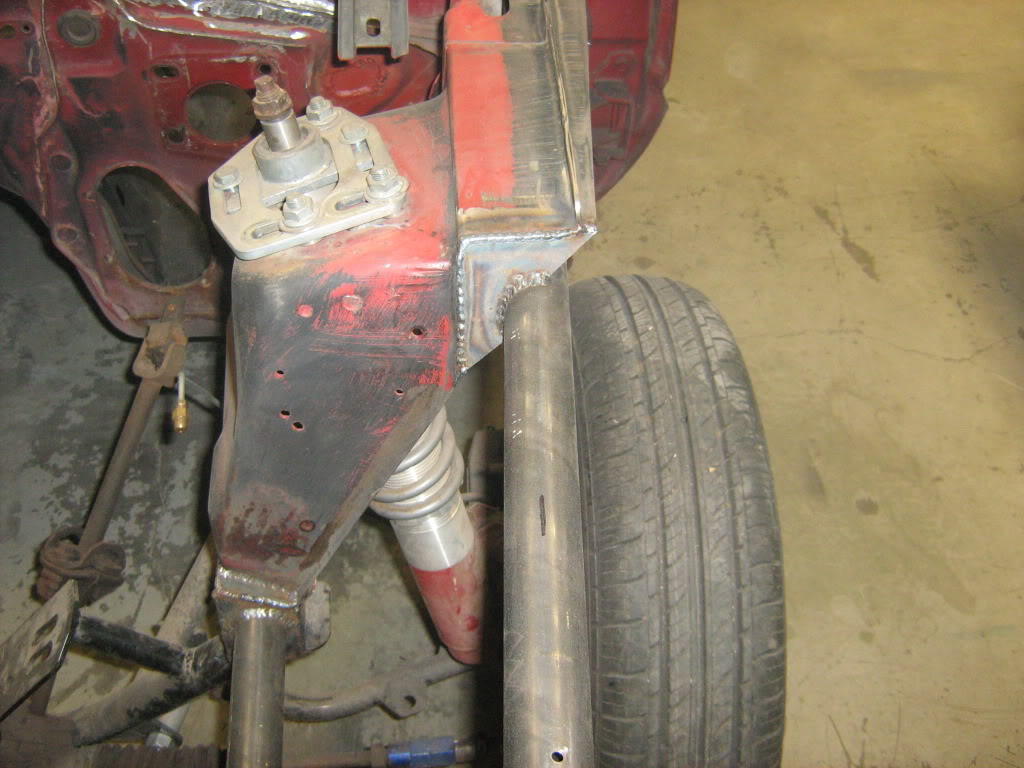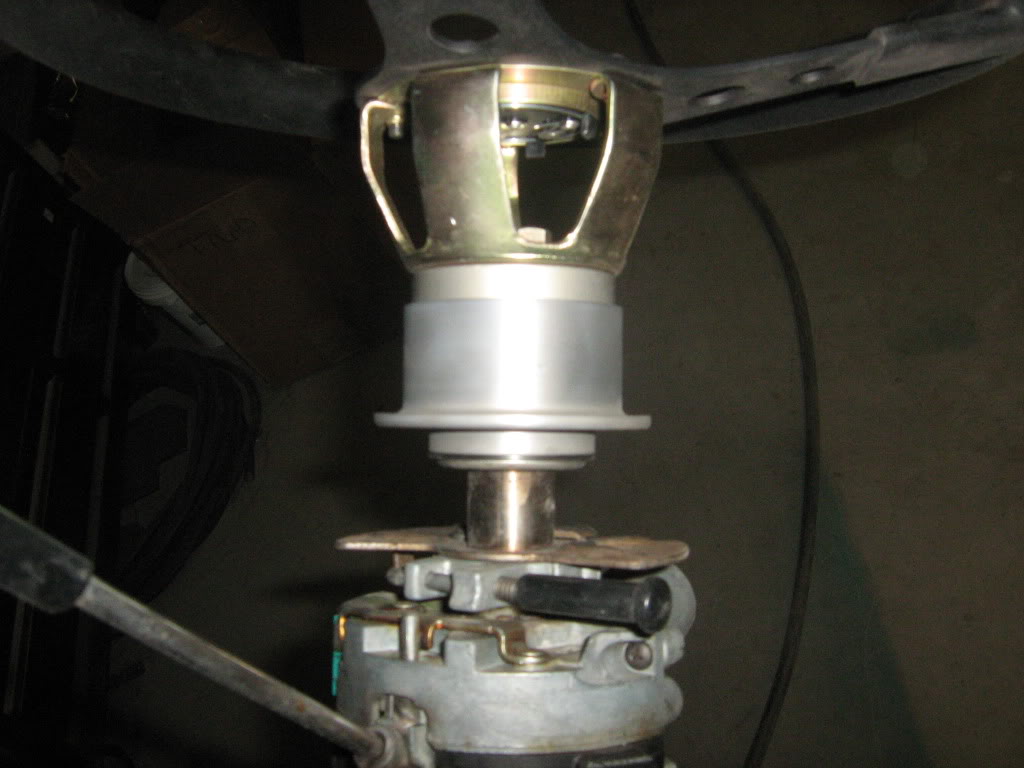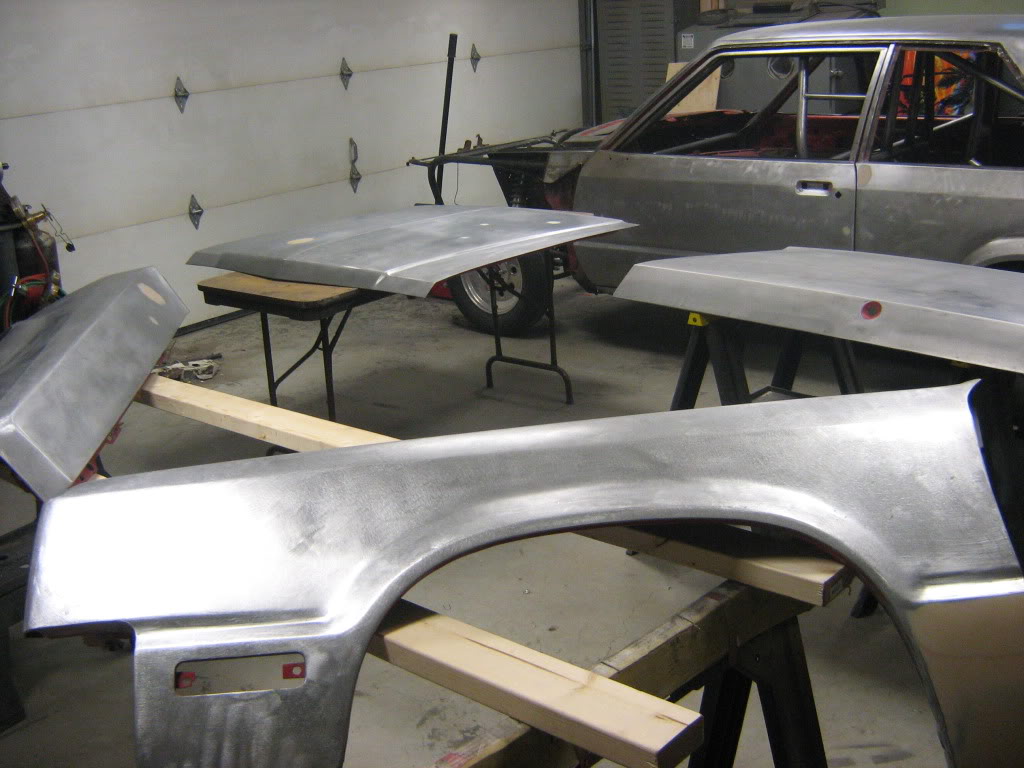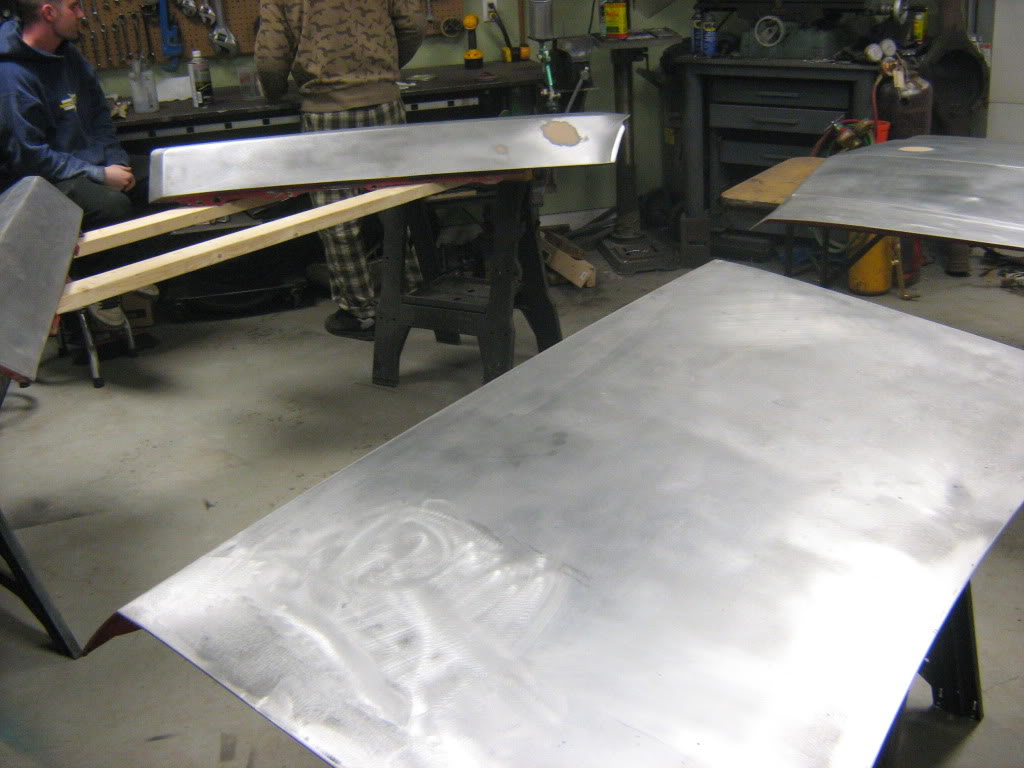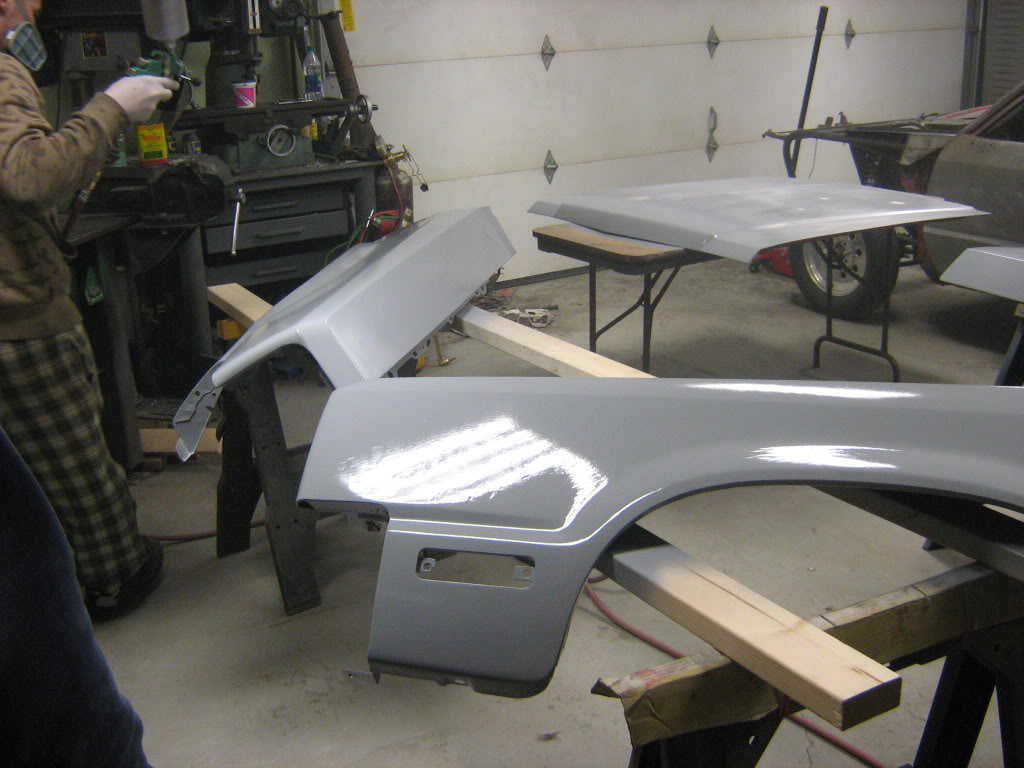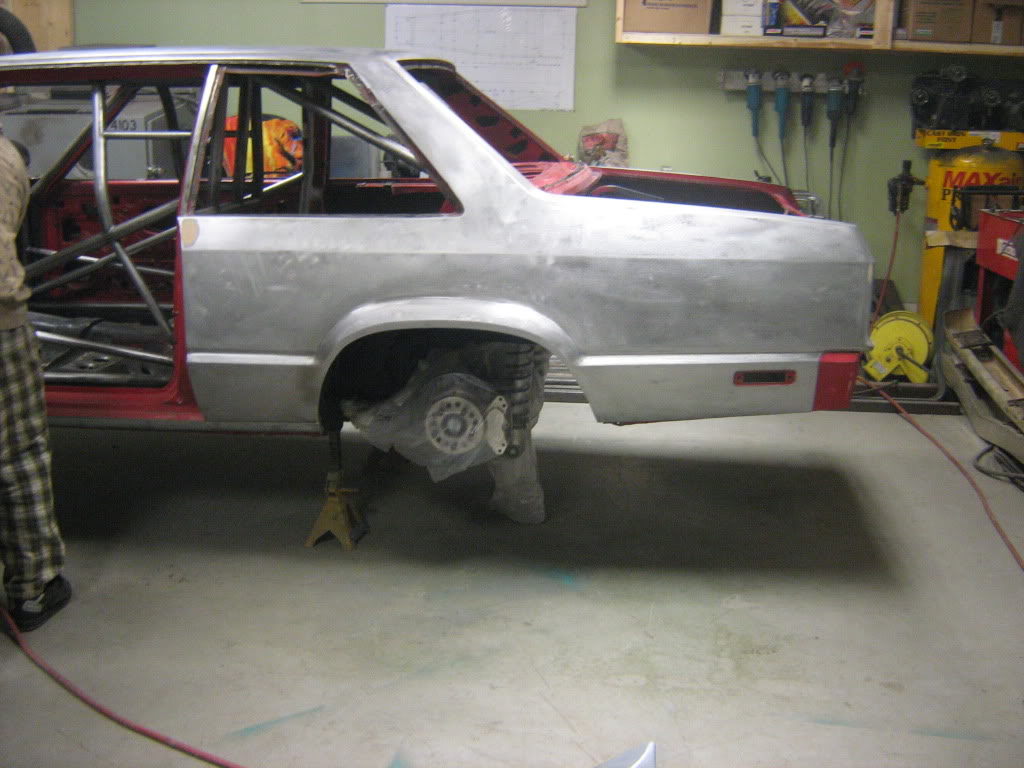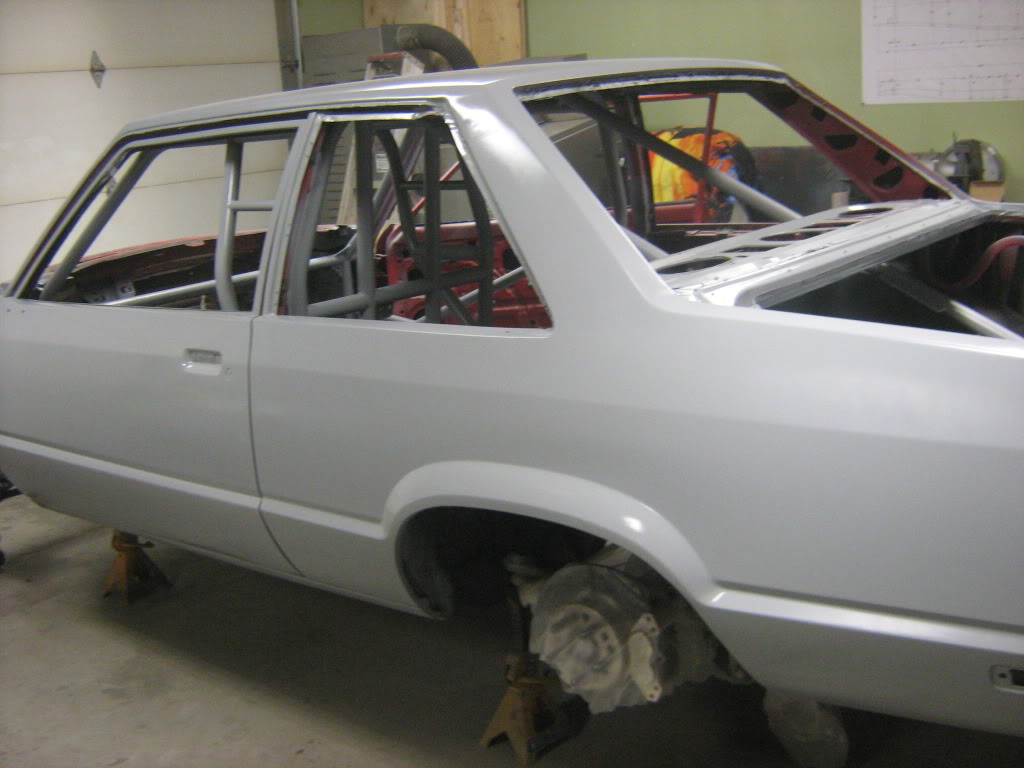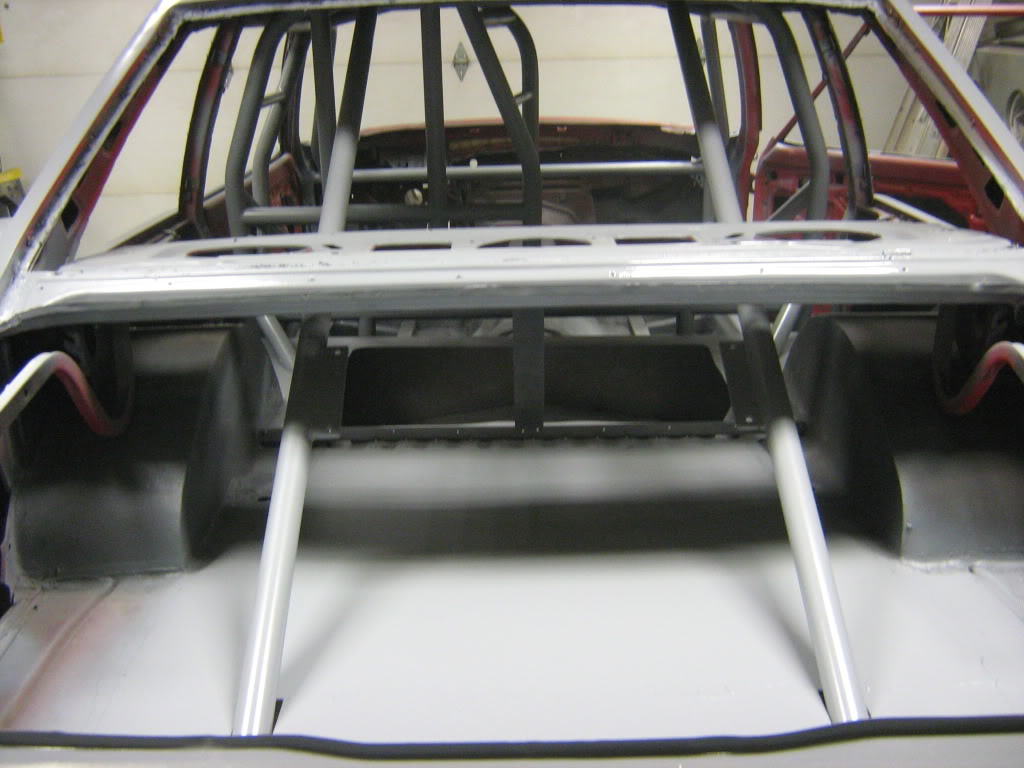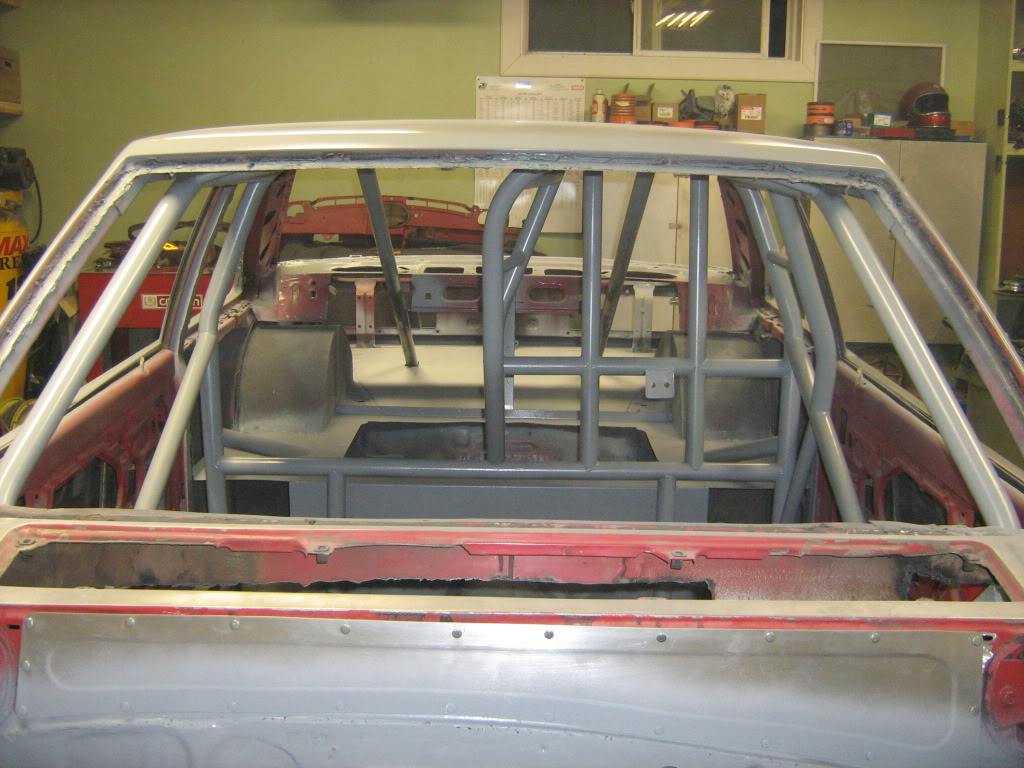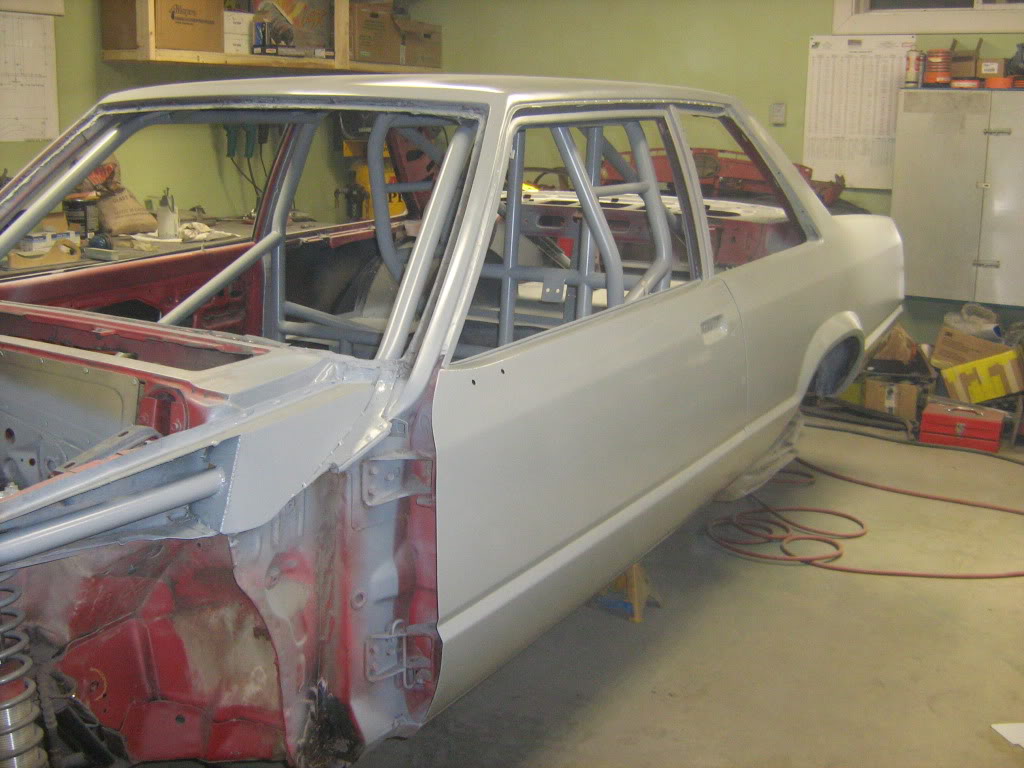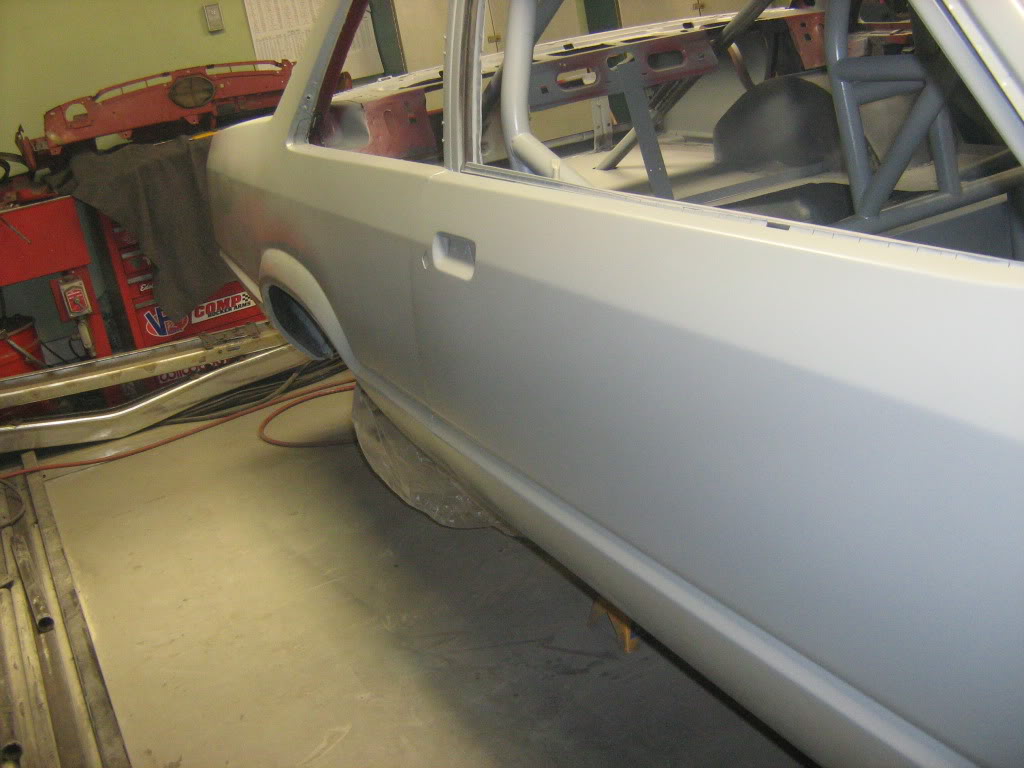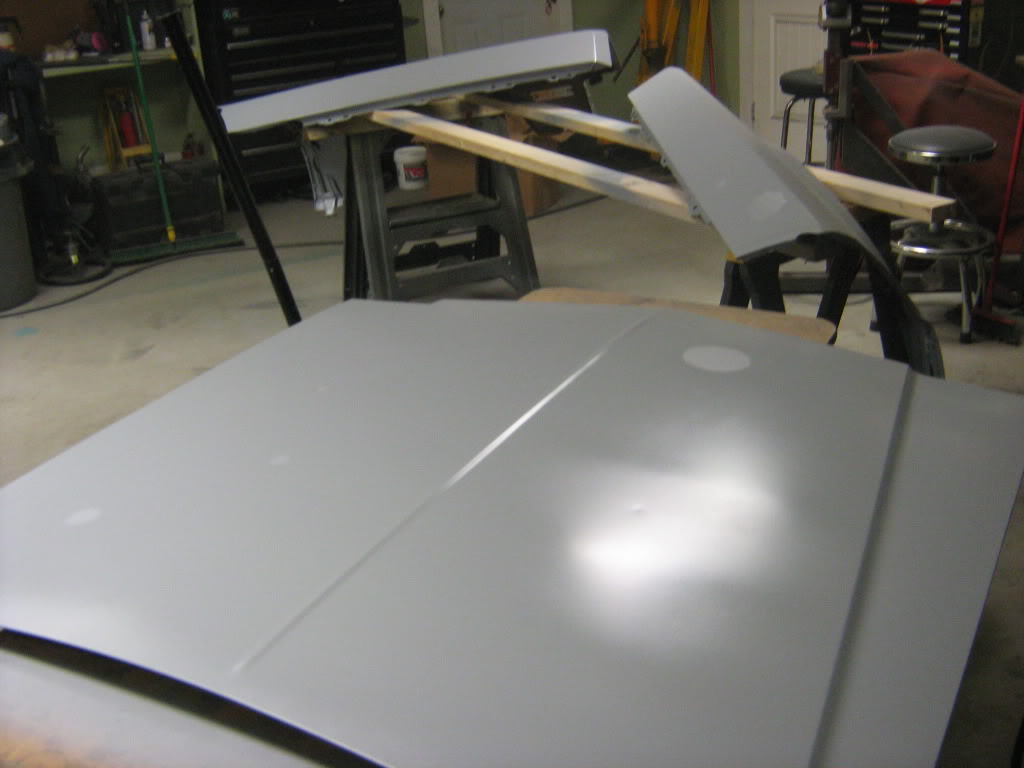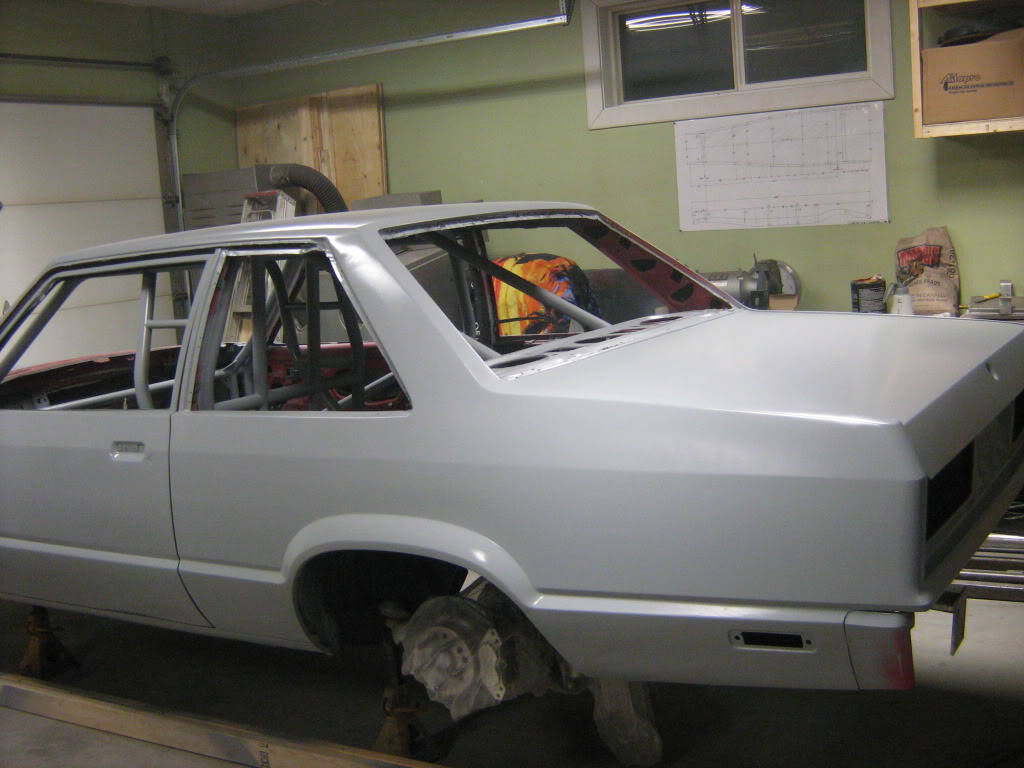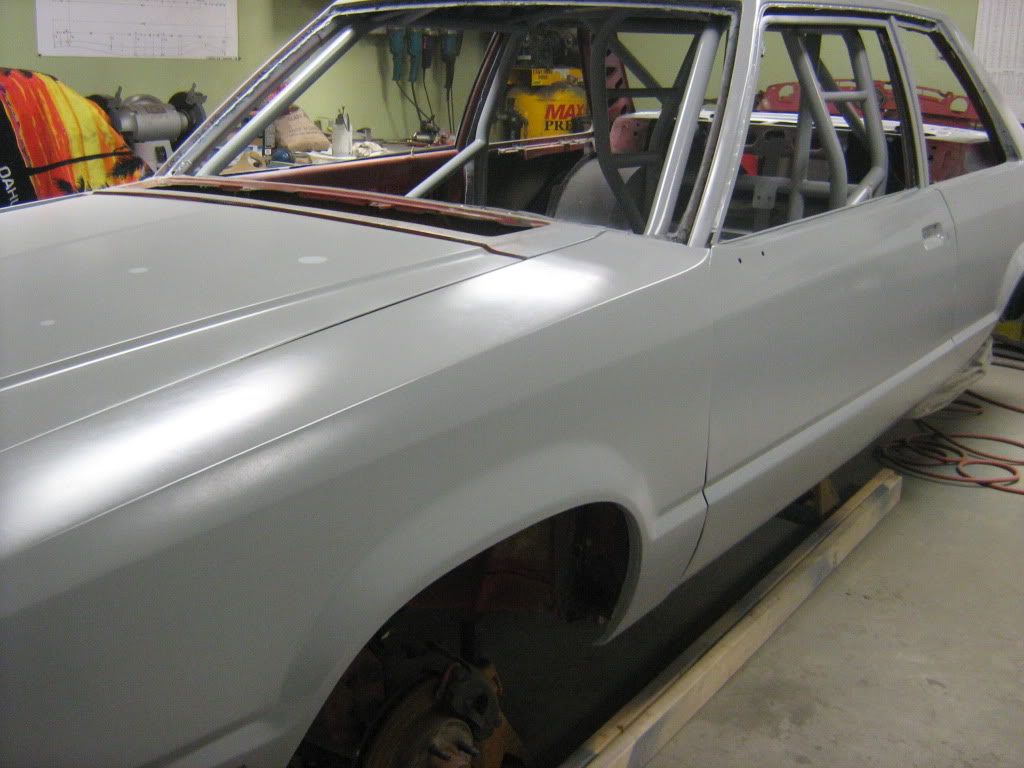 1-26-2012
Got a little work done on the car, not as much as I wanted but a little bit anyway:

Got the fill pieces smoothed out :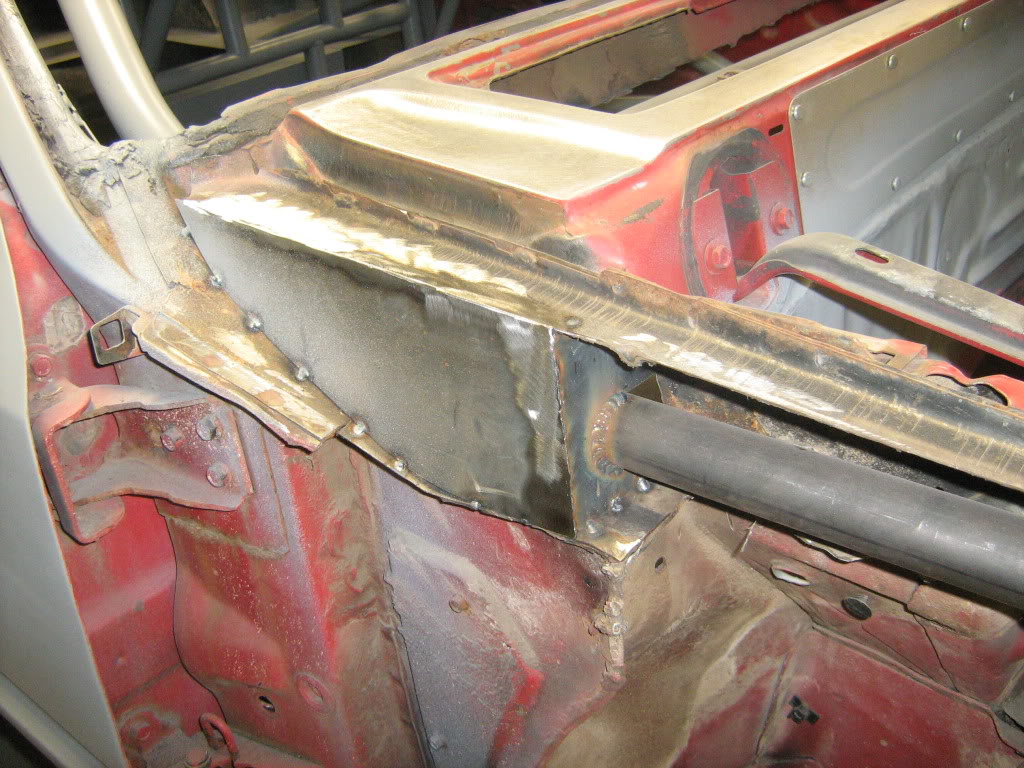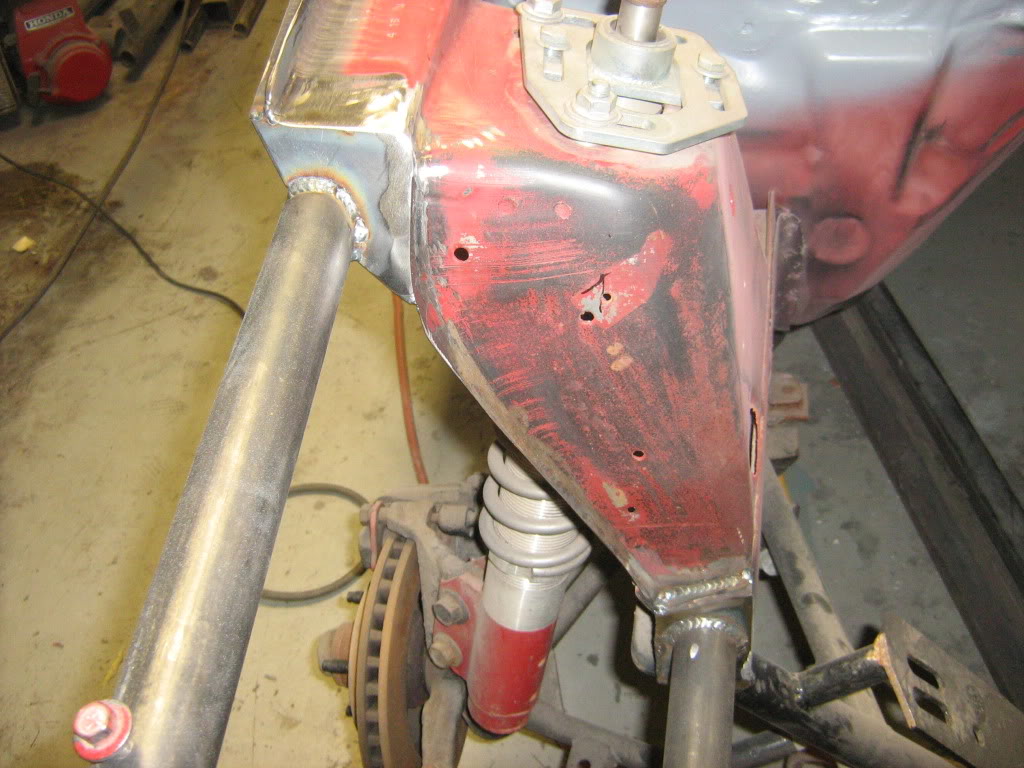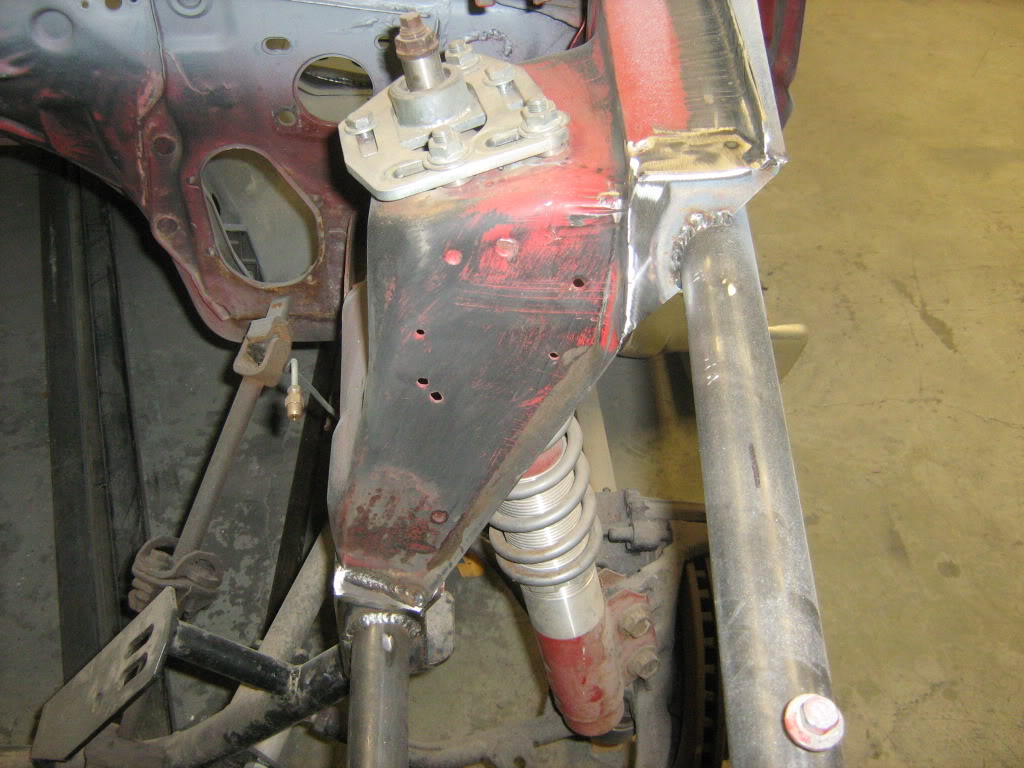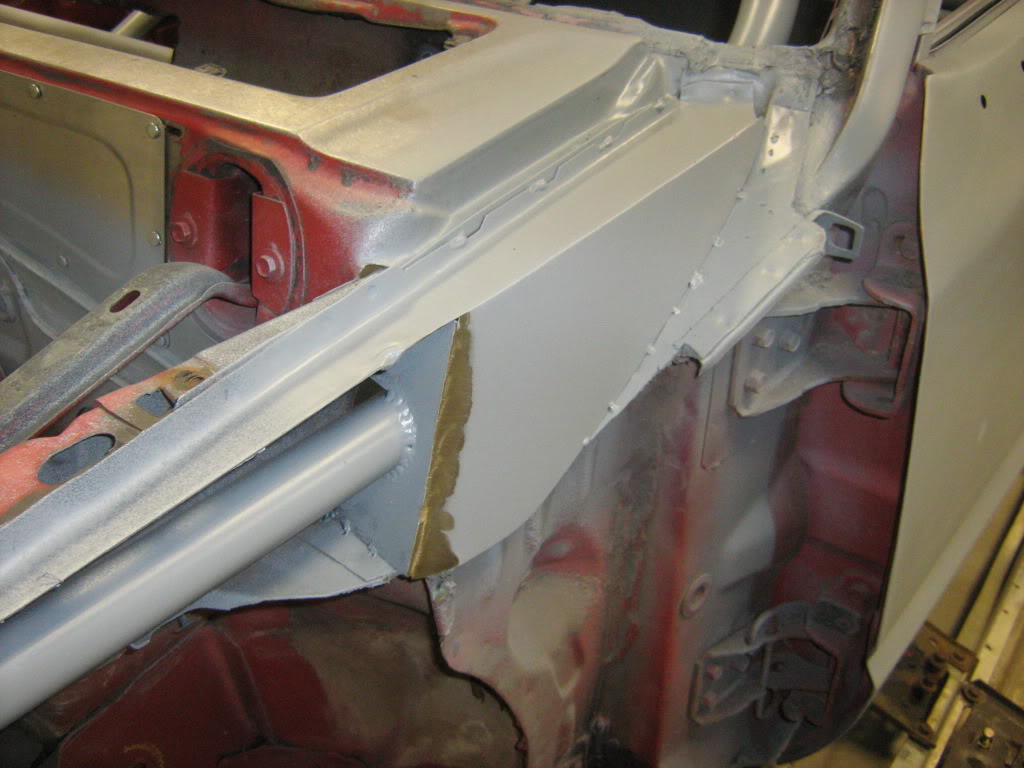 Also got my custom net in and mounted with an allstar mount kit that I really like and I used in my other car: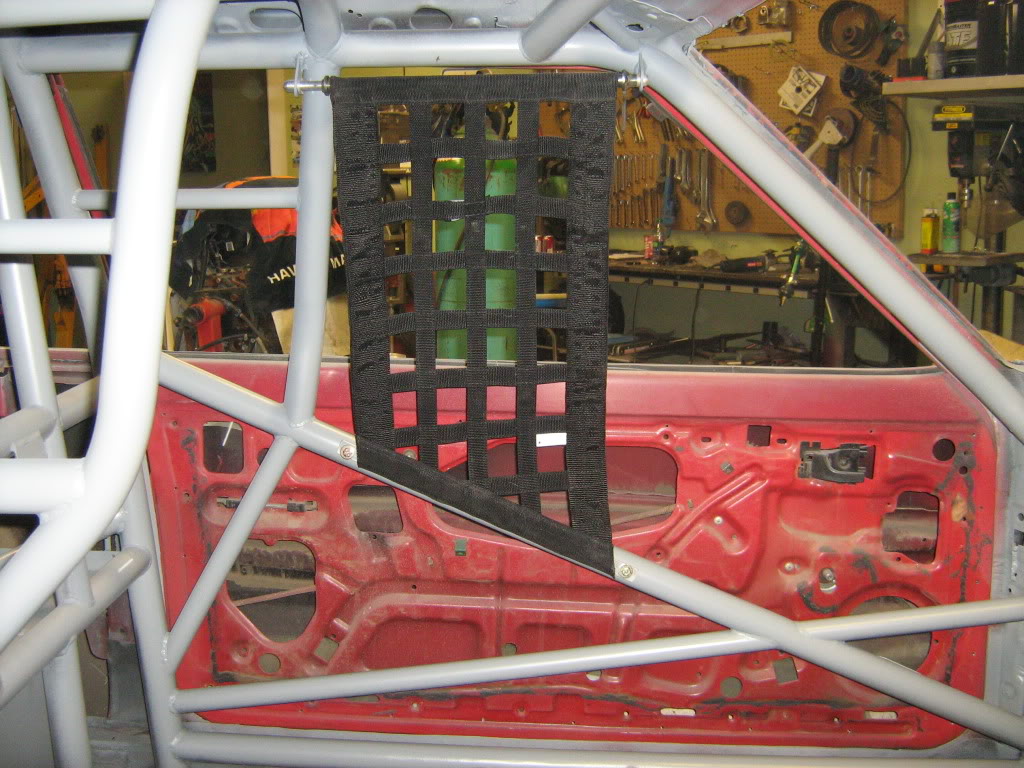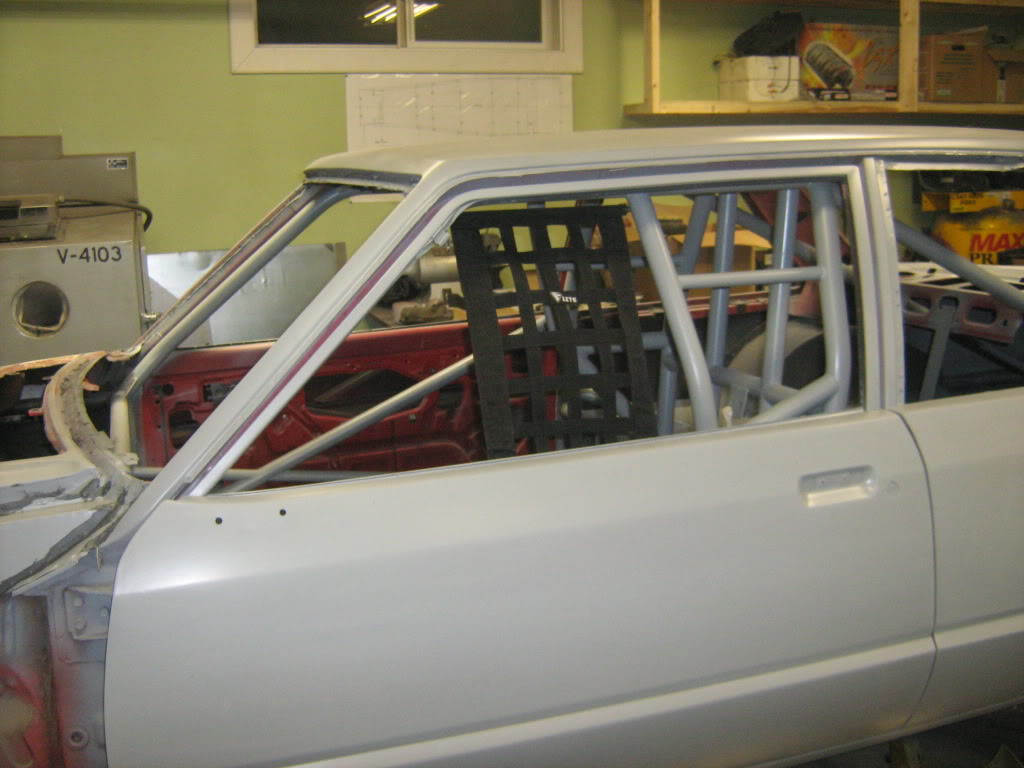 Also got my used Beck intake in, needs to be cleaned up and of course powdercoated black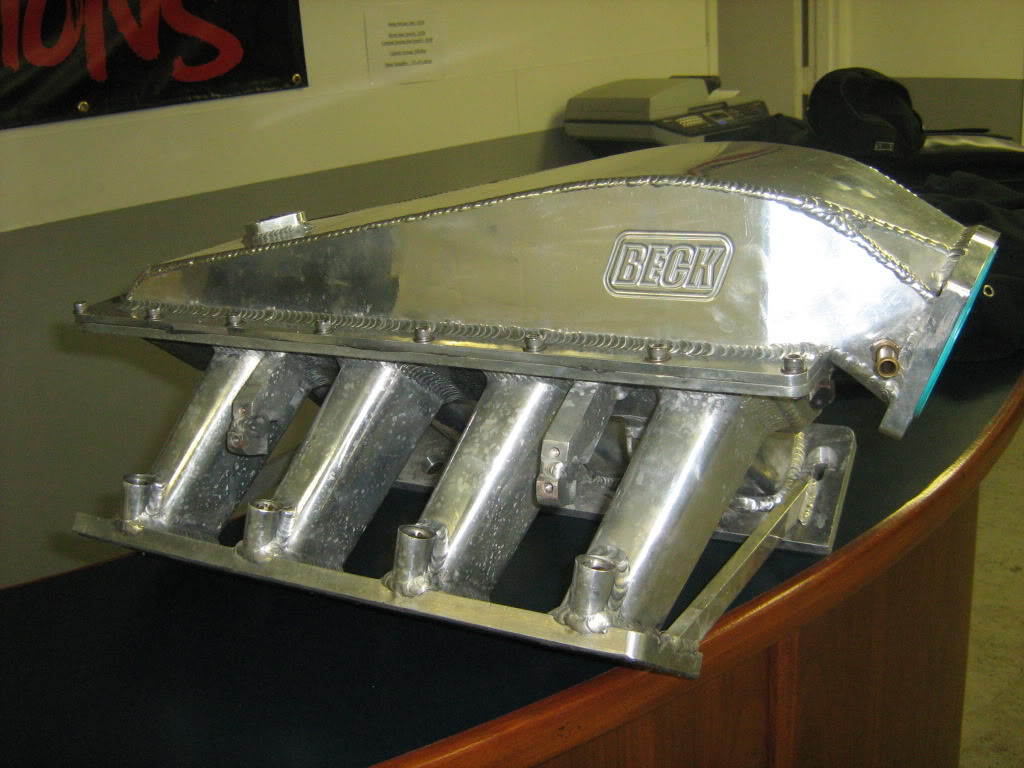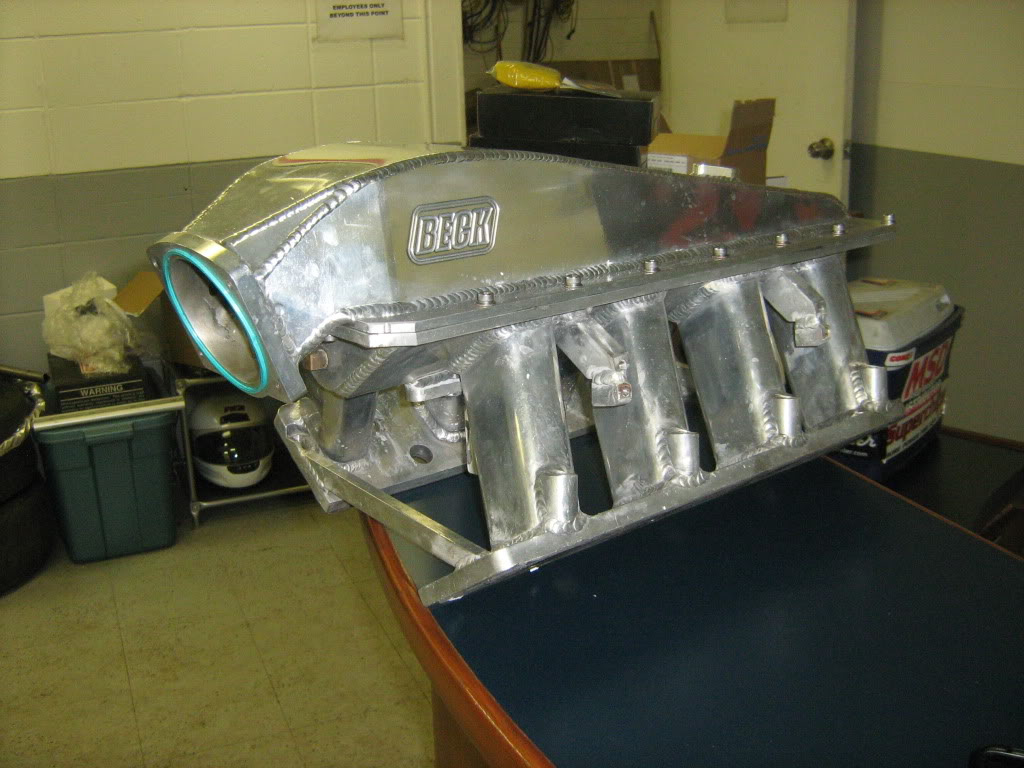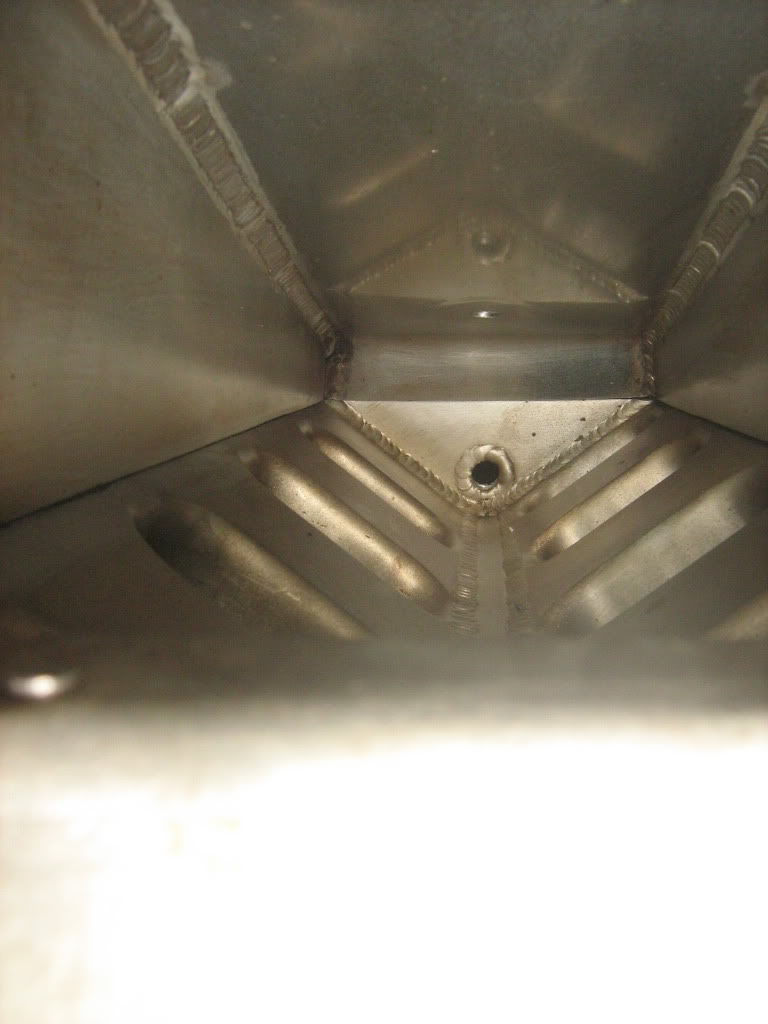 1-29-2012
Its an Allstar kit that I modified. Intake will likely get powdercoated black.

Made some progress this weekend, got a mock up engine installed with my trans.... to my excitement the trans crossmember is going to fit, the driveshaftalso fits! I may cut it down a small bit just for some extra clearance but overall I am quite happy



The BEST part is that I made it fit under a flat stock hood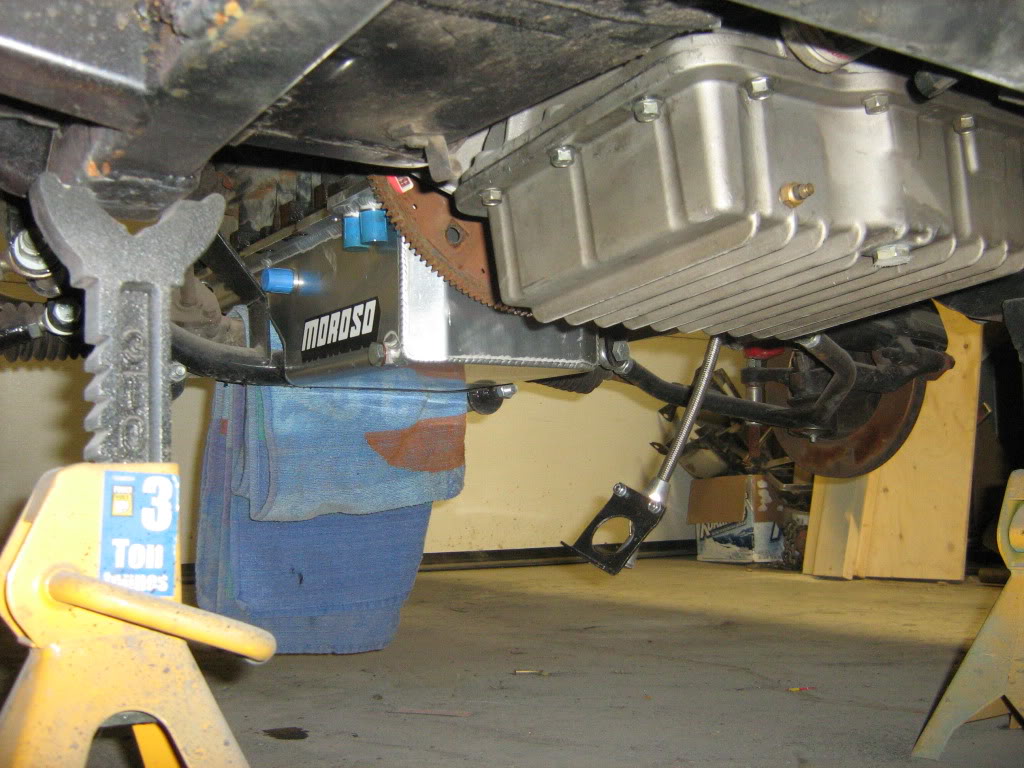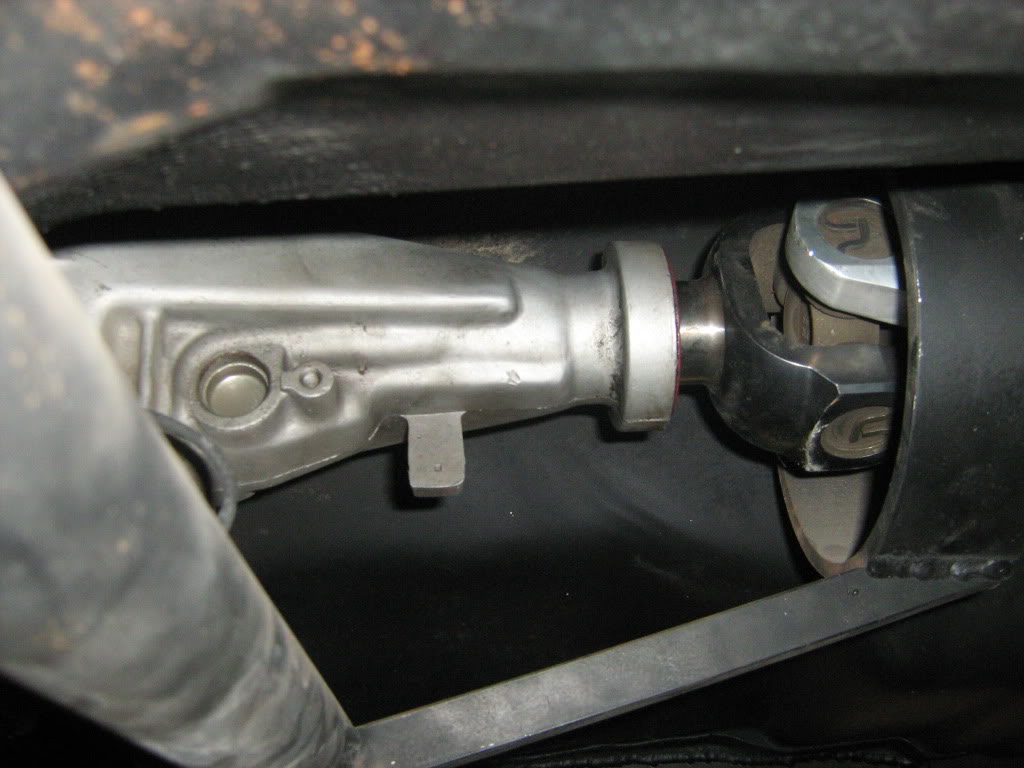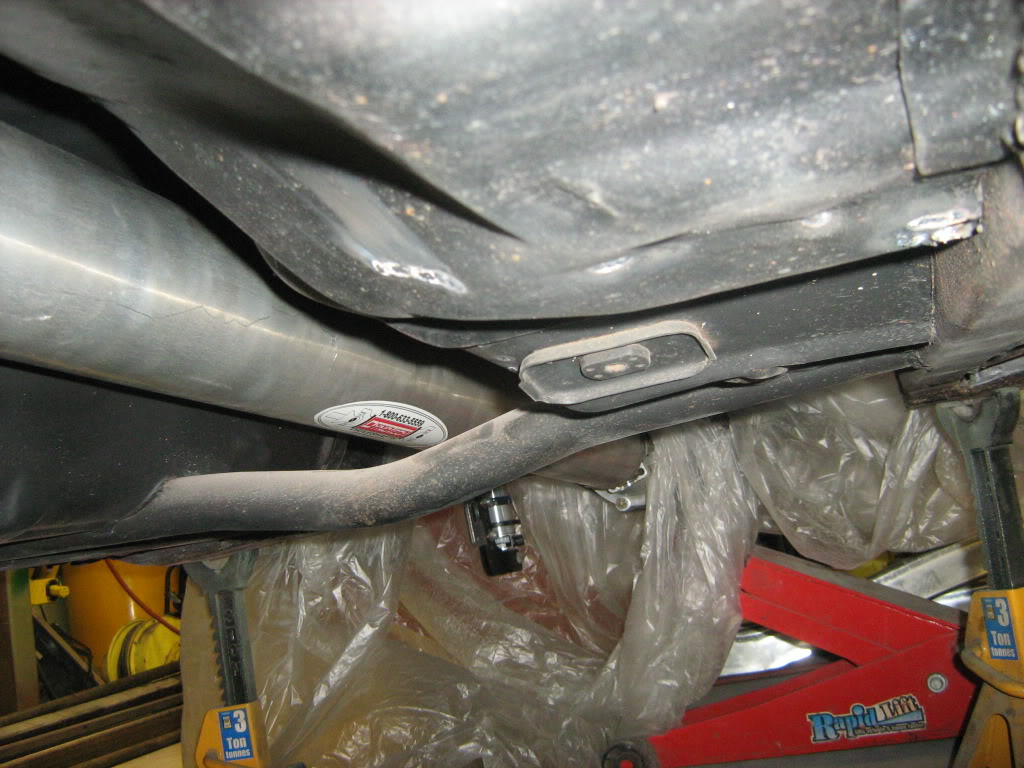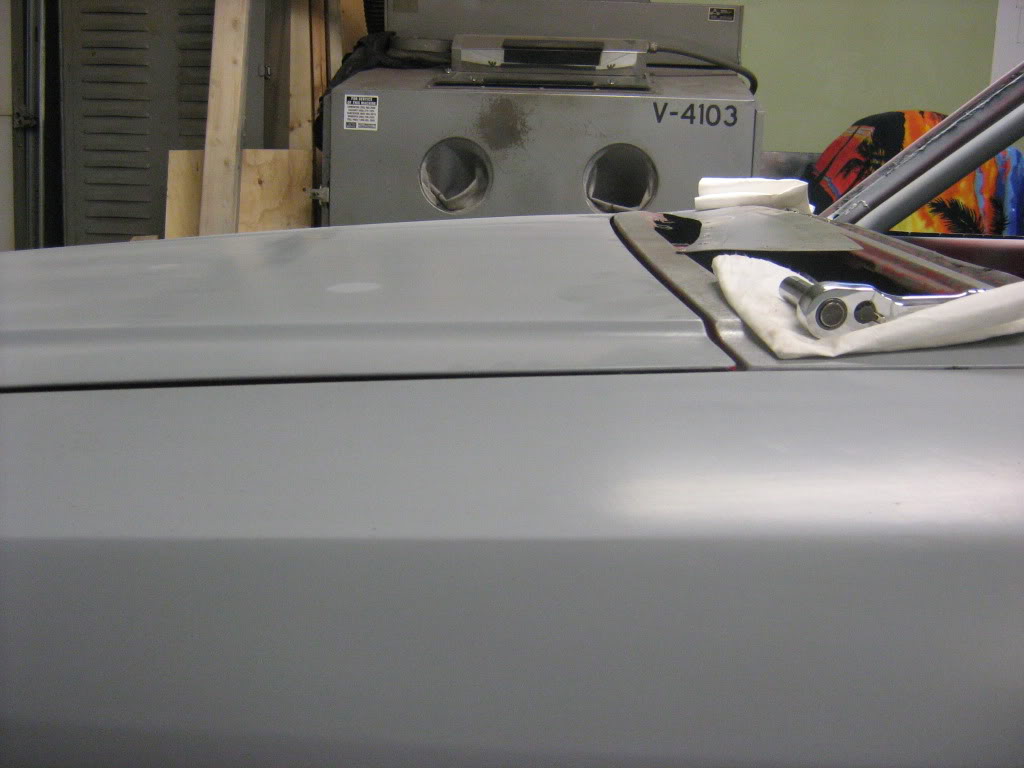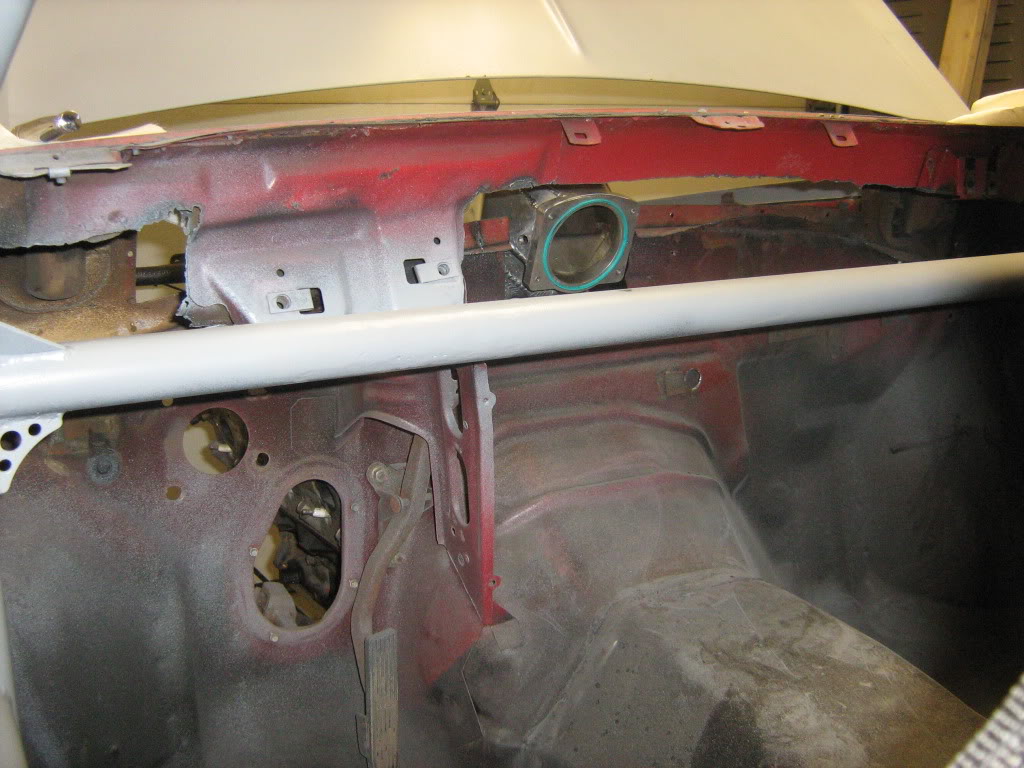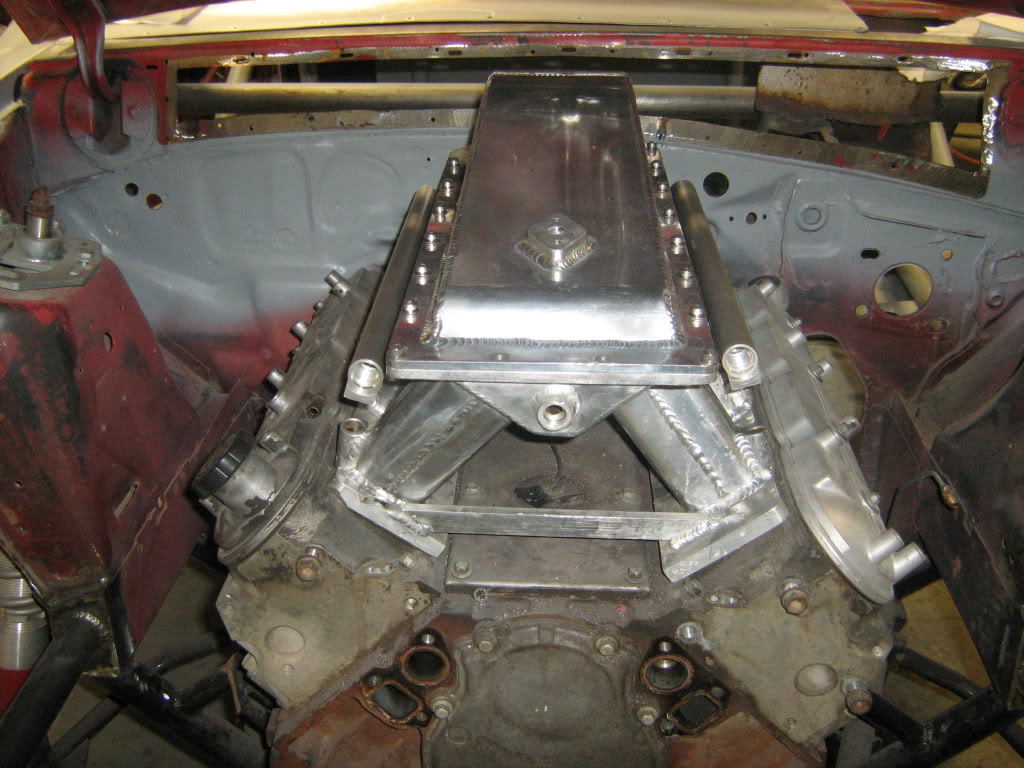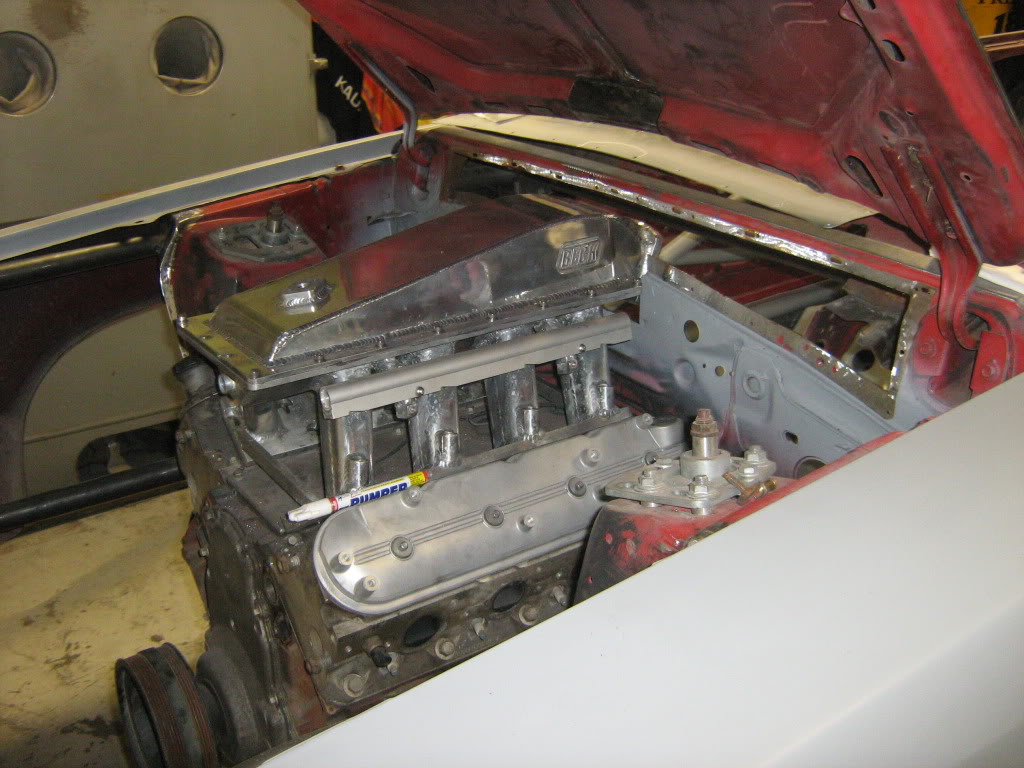 Still have to build whatever to seal up the firewall and also clean up the underside of hood but overall I am quite happy.
2-6-2012
Got a little work done this weekend nothing too big but a few little things anyway, Nolan is out of town working so some of the stuff I just tacked and some I welded out with the mig and the other stuff he can tig it when he gets home.

I appologize for shitty cell phone pics but I forgot my camera at work.


The old hole in the firewall for the column is huge and with a fear of fire coming into the car in the event that happens I dont want it coming up onto my legs so I made a plate to close up the whole some.

Before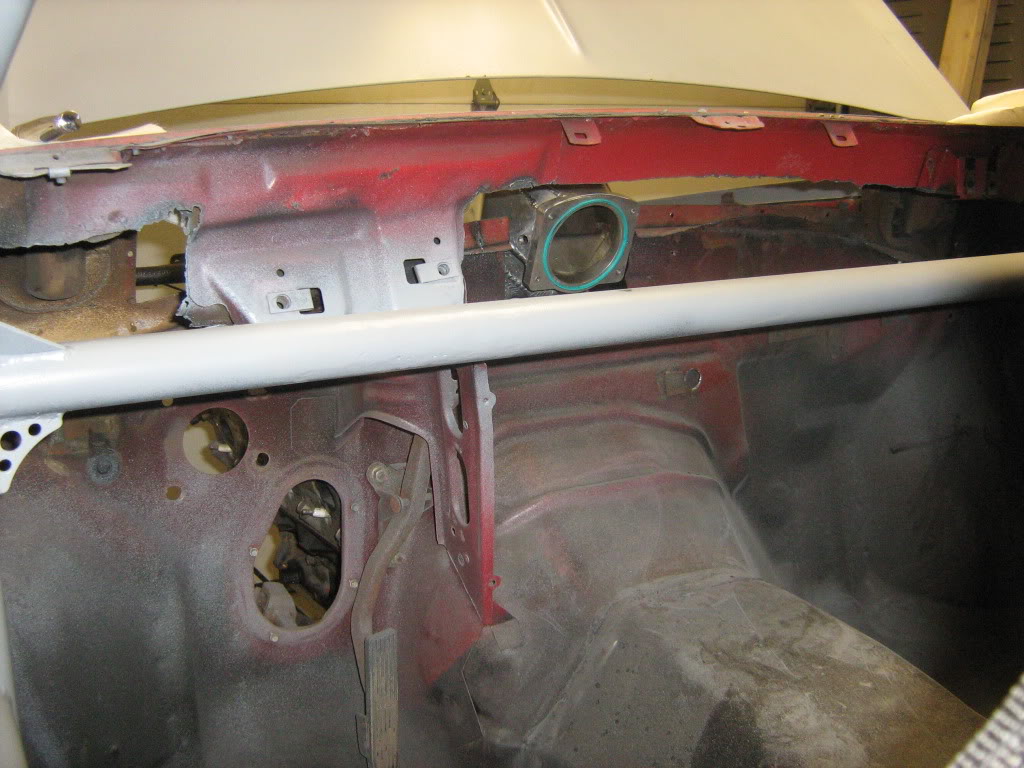 After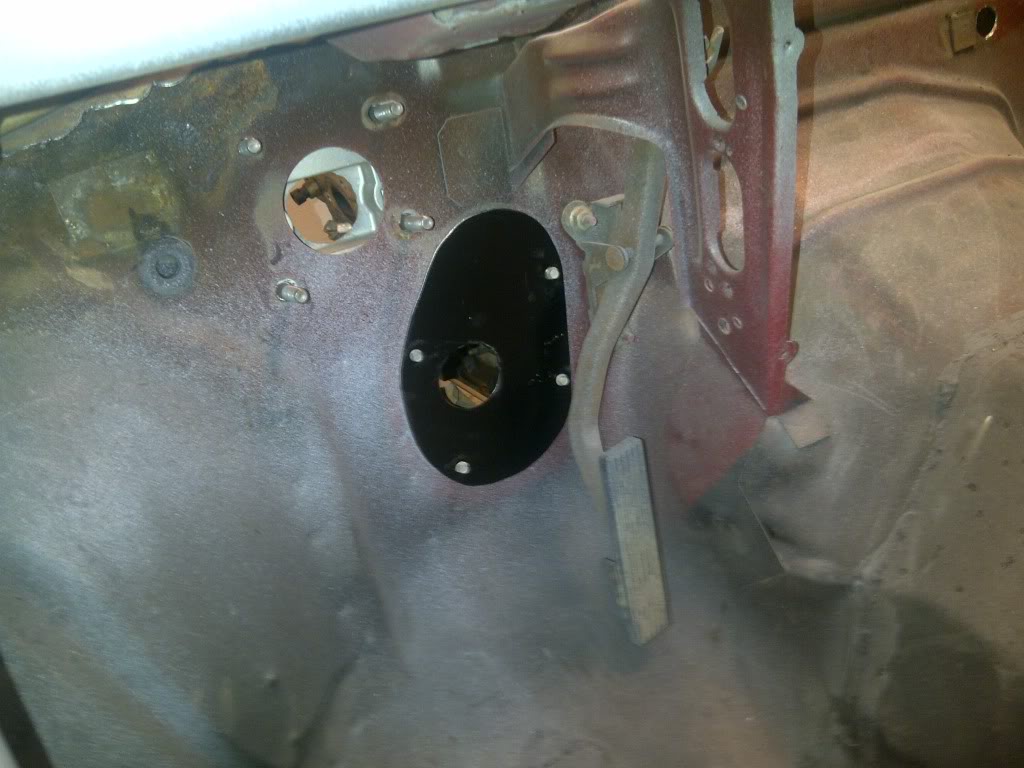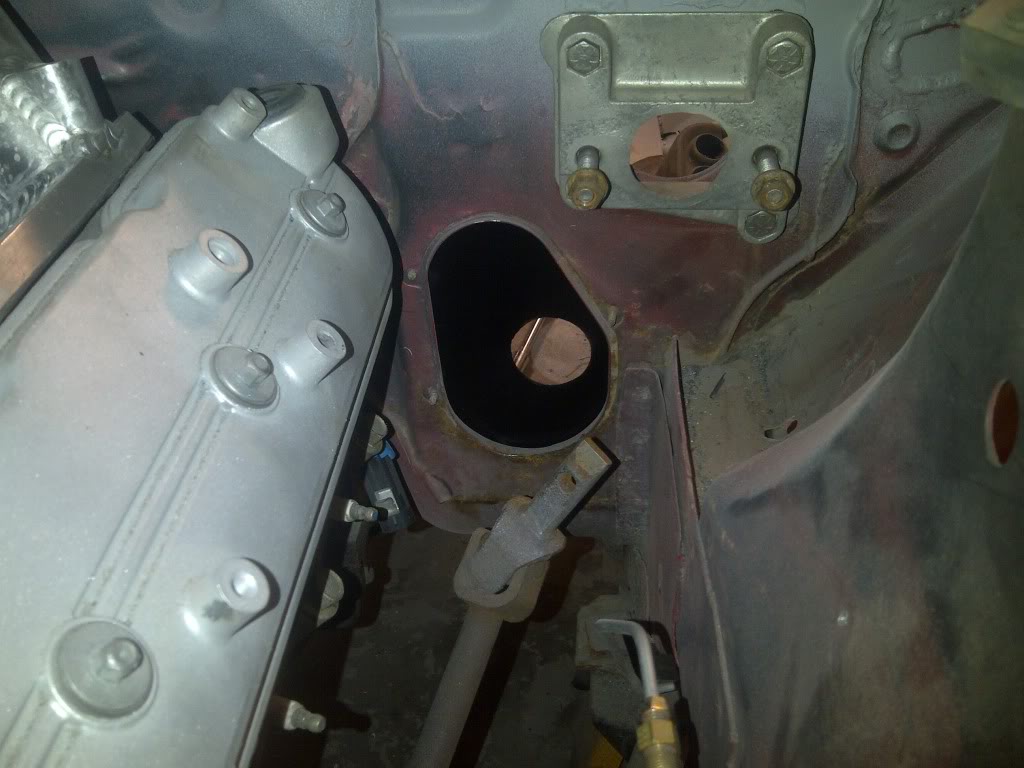 Then I put the factory rubber boot on over my plate just to seal it up totally from wind etc. Next up was modifying the brake pedal for the correct pedal ratio for manual brakes, I made a new pin from a grade 8 bolt and welded it into the pedal: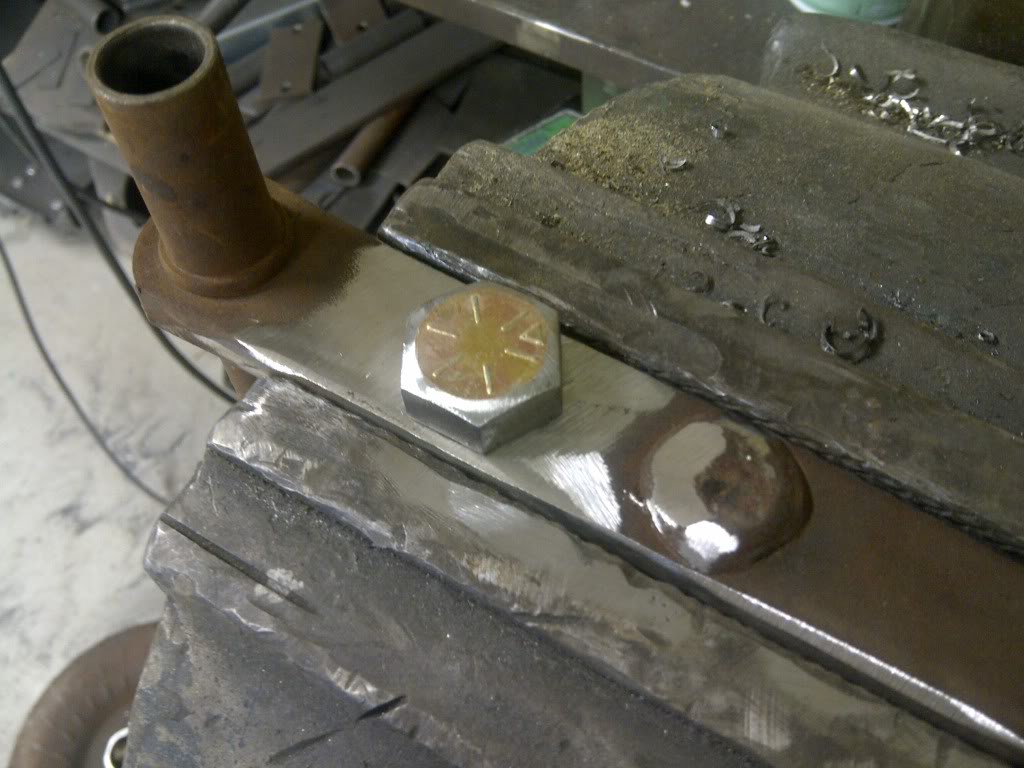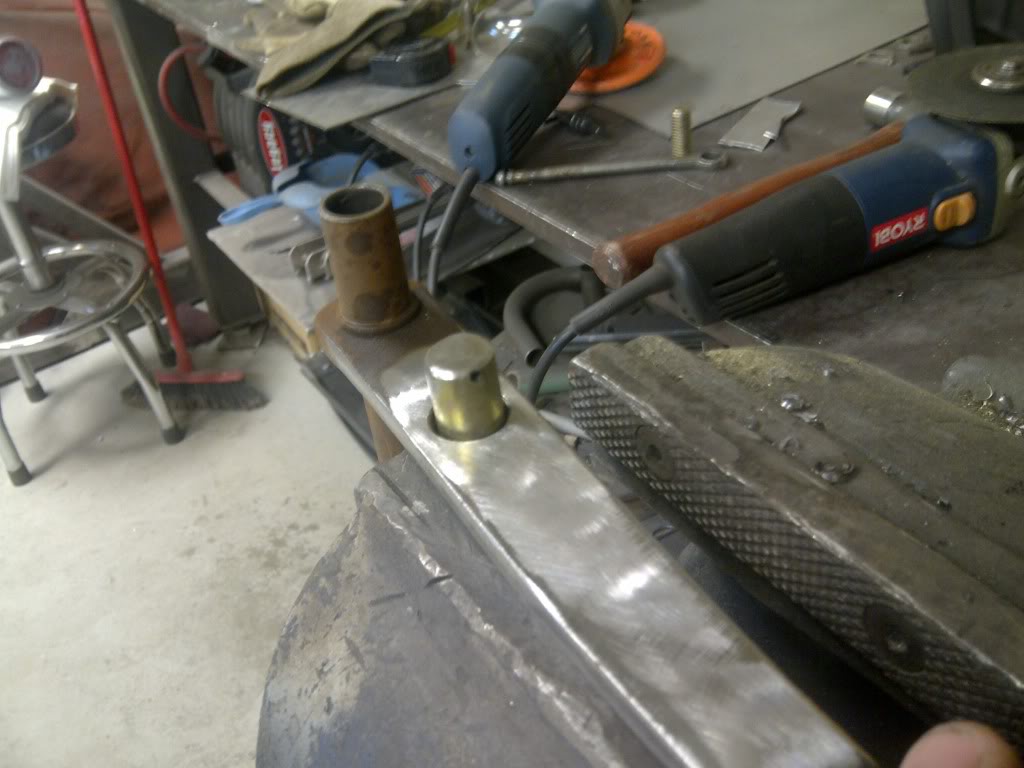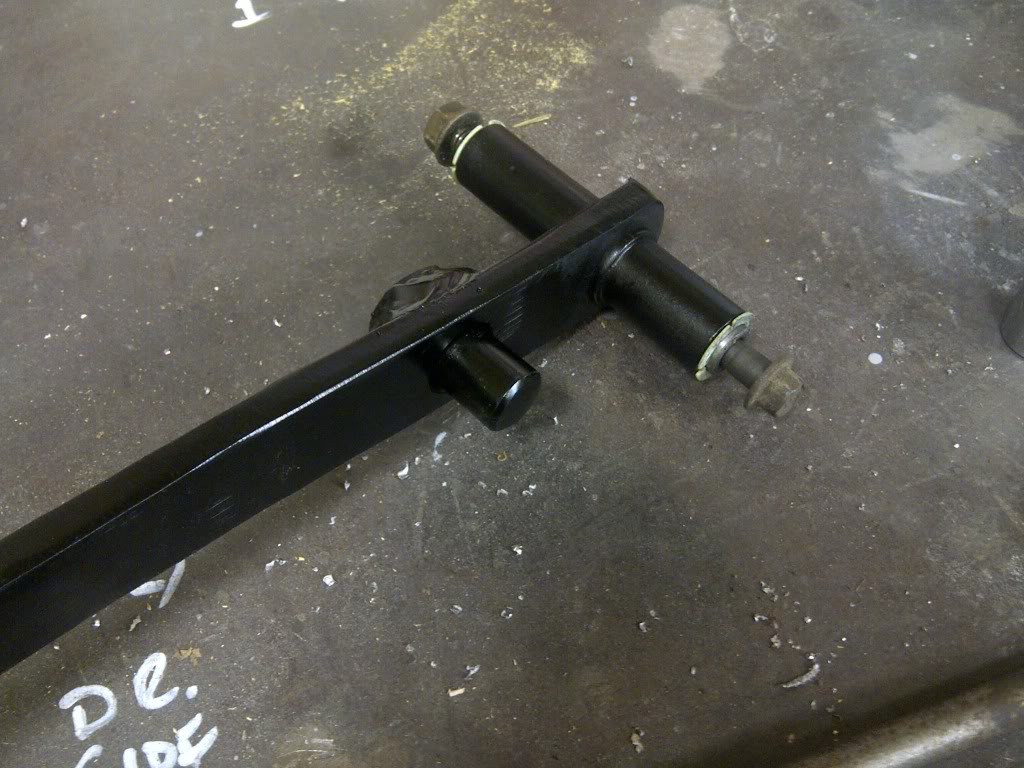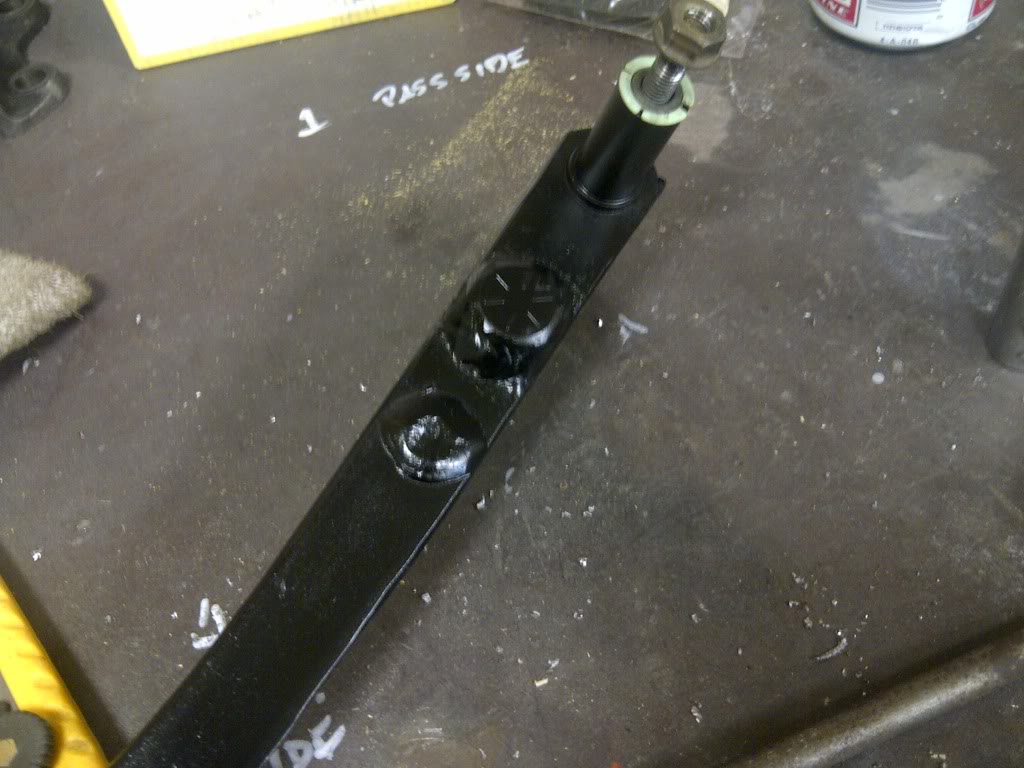 Next I welded some bolts into the pedal box so that putting the column in and out is an easy one man job: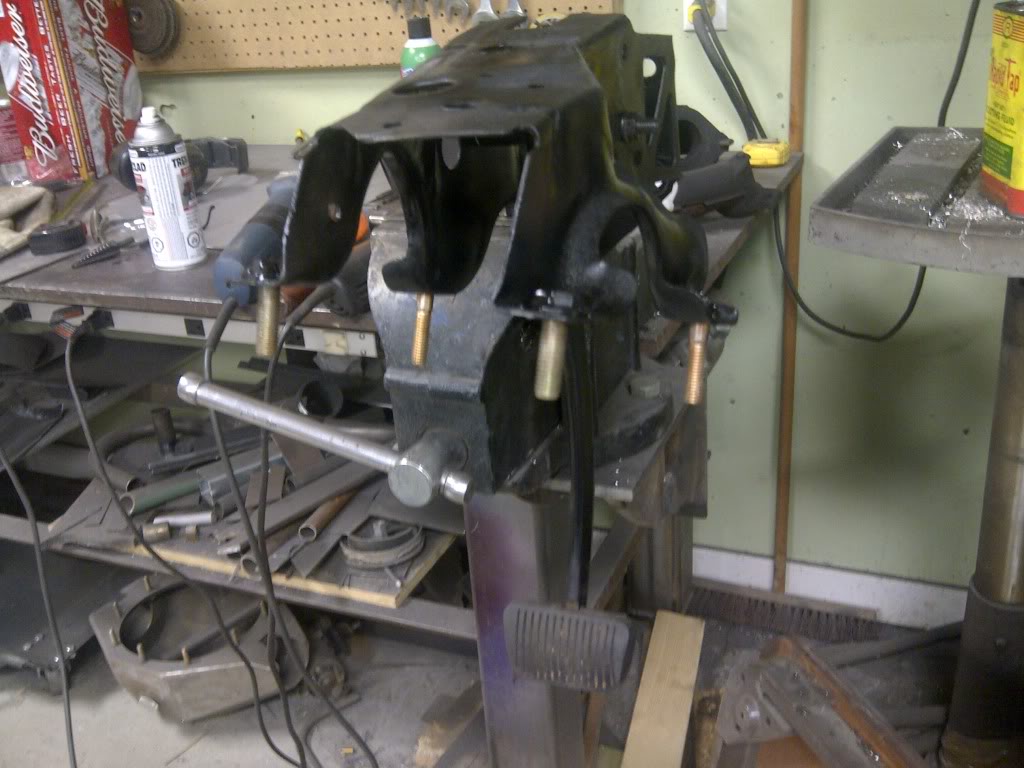 Got my nice new billet mount for my racepak from Joe @ Hyperaktive test fit it where its going to sit: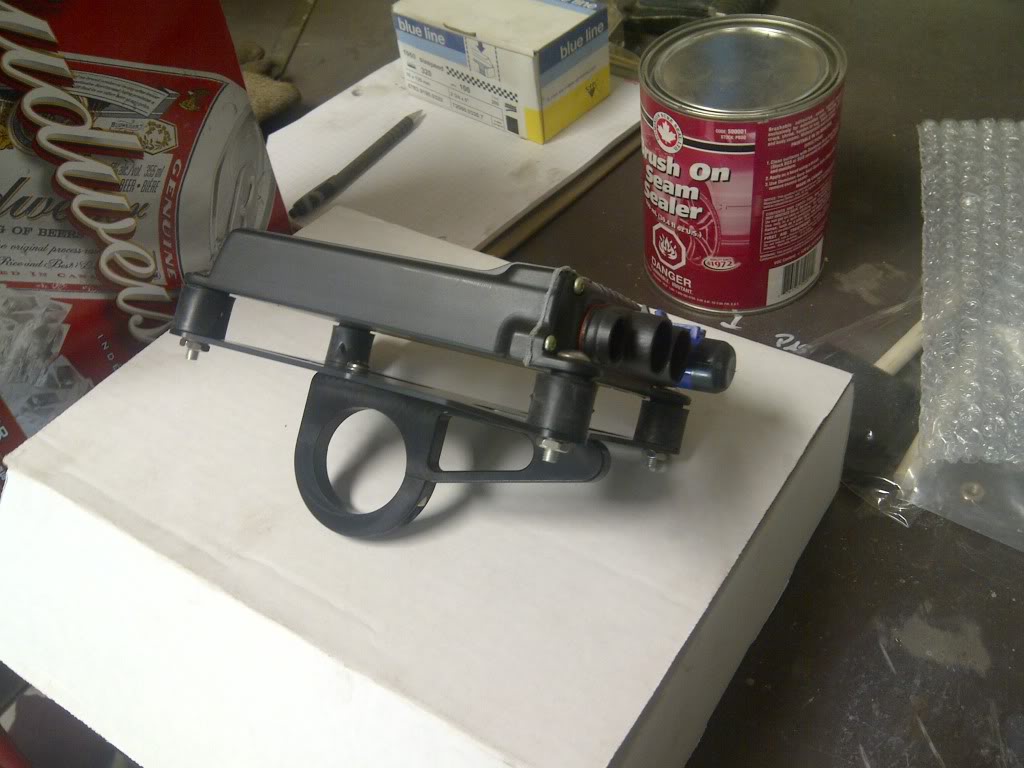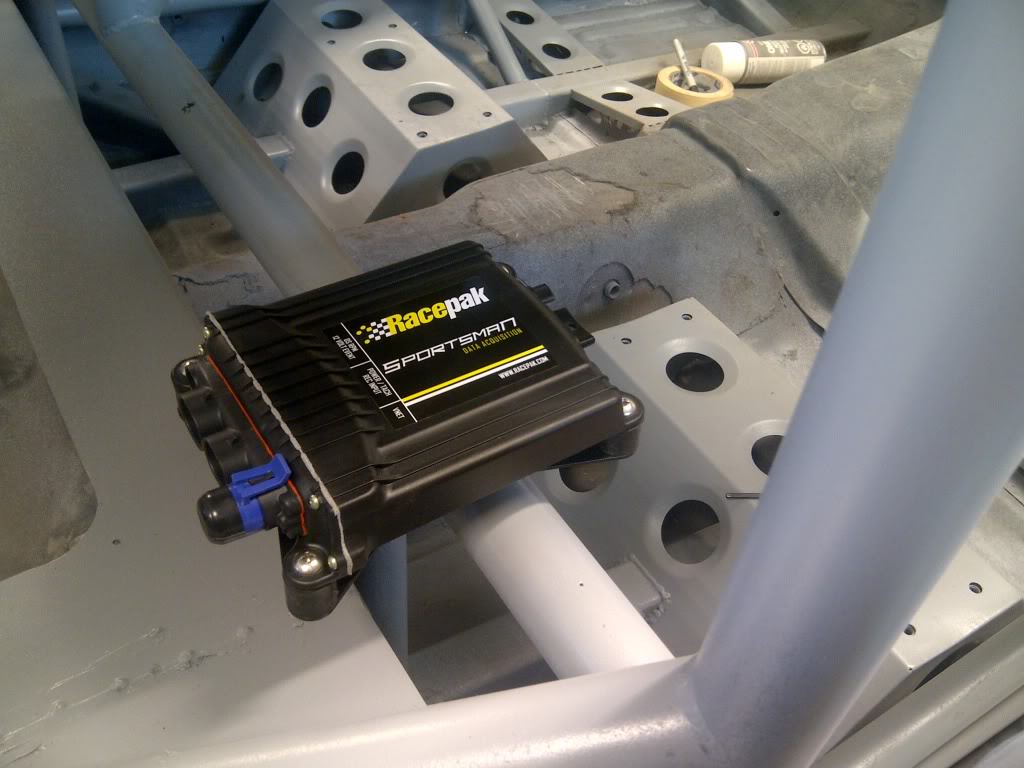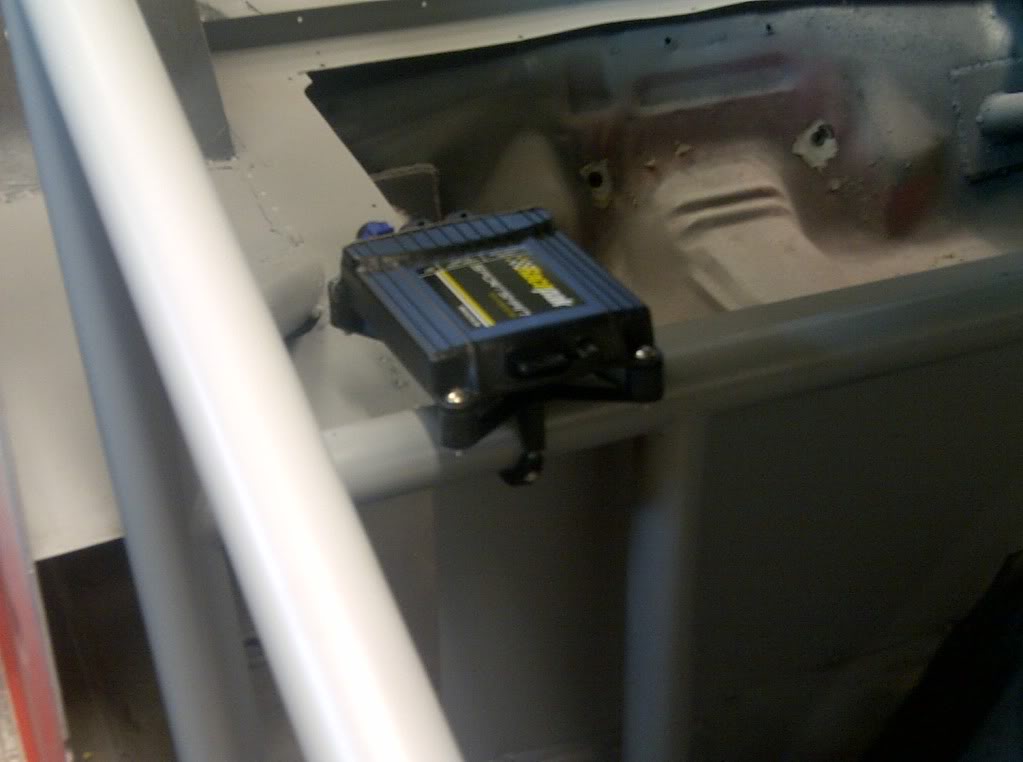 Next on the to do list was engine mounts, so with the engine where I wanted it I started building some removable solid mounts to make the R/R process easy. I cut the old 5.0 mounts off but will need to get the engine/K member out to clean it all up and finish that then I tacked in the tube and once Nolan returns I will get him to tig the tube to the K member and we will add some bracing as well, I also built sleeves to go into the tubes so they cant collapse when they get tightened up.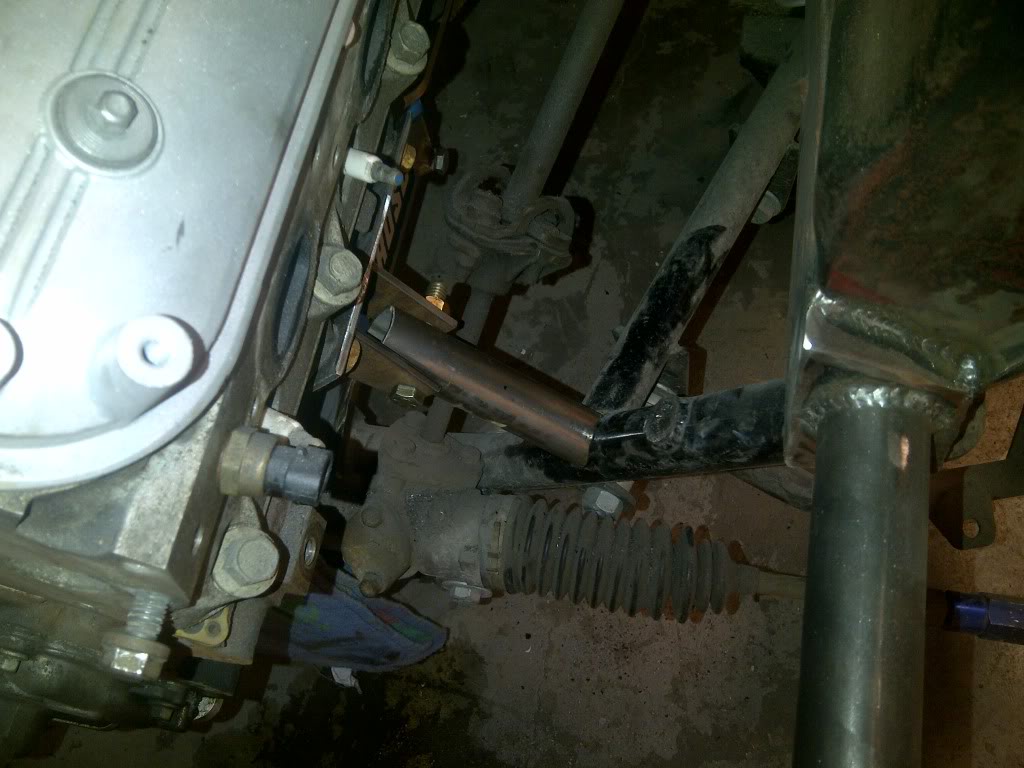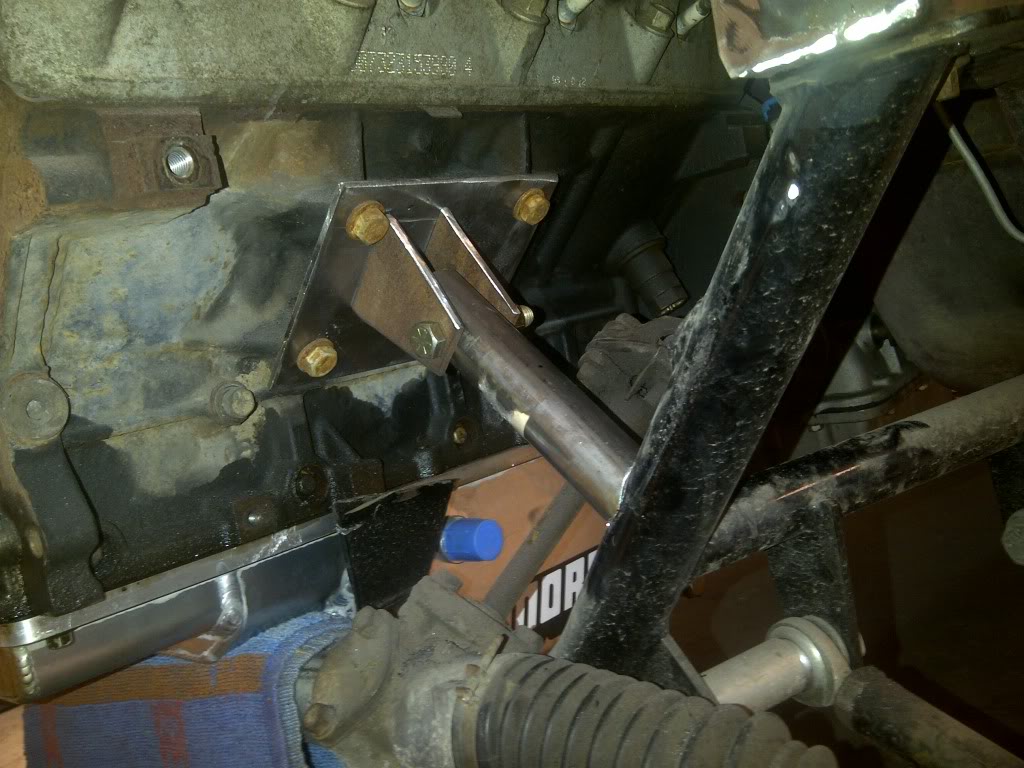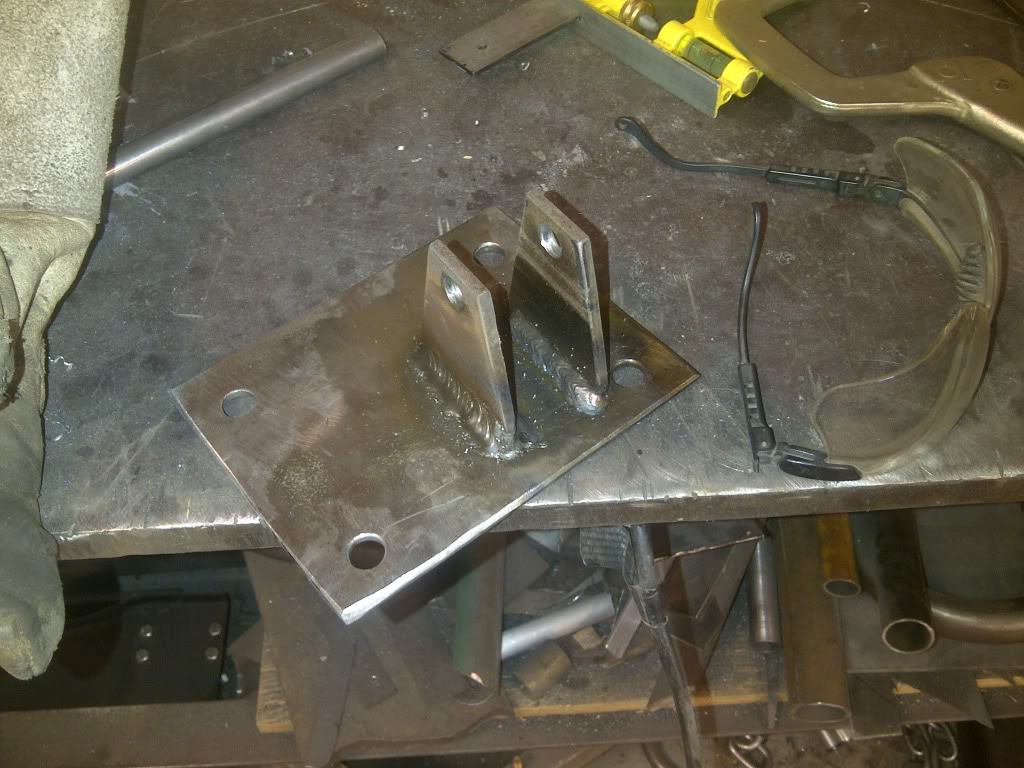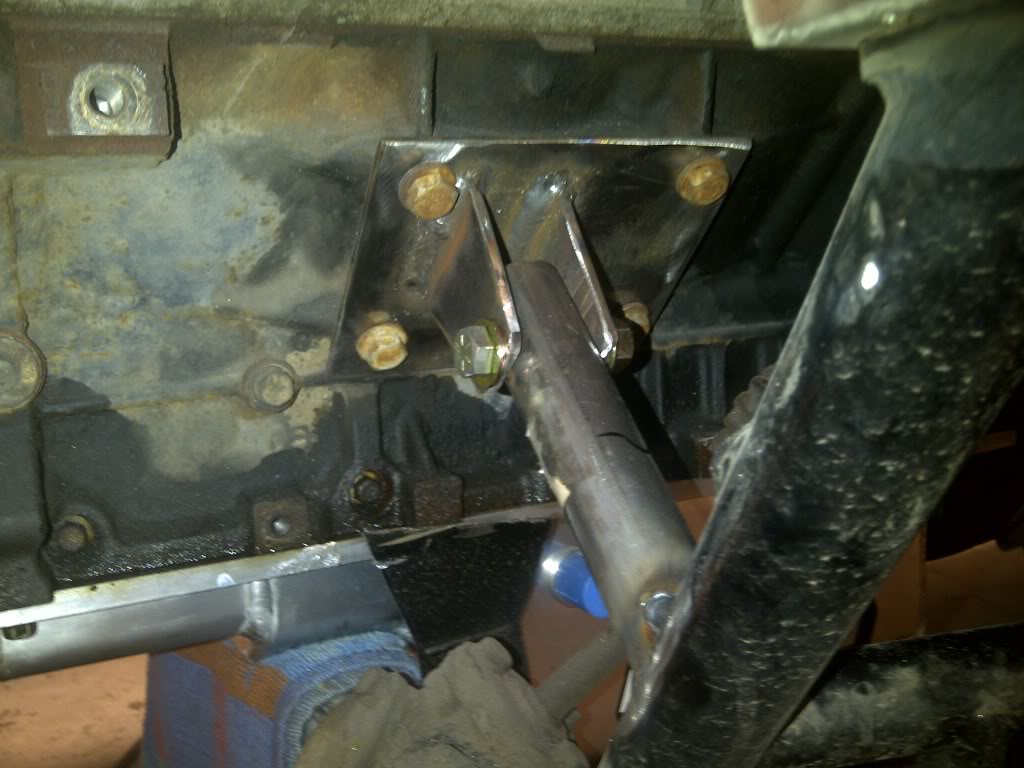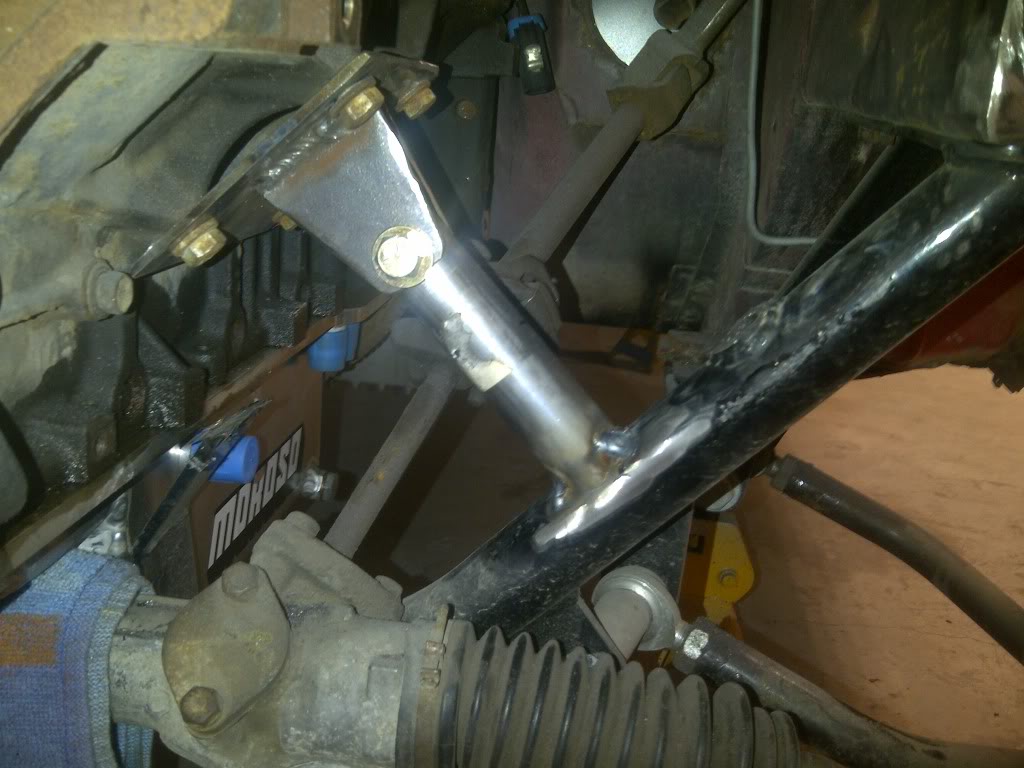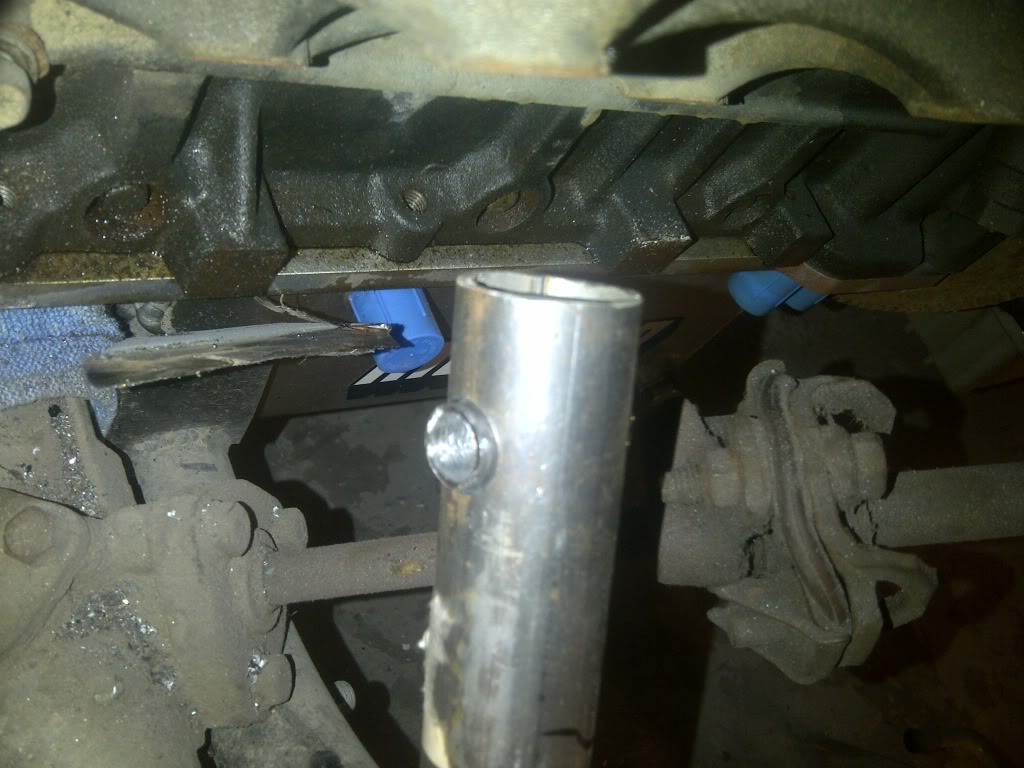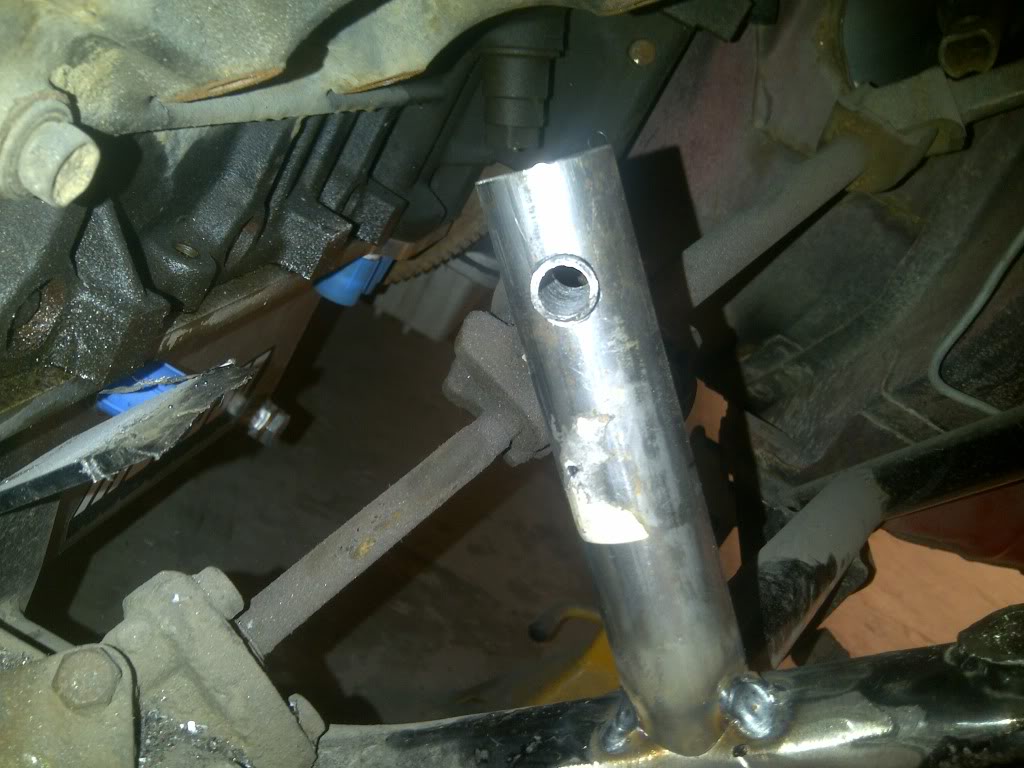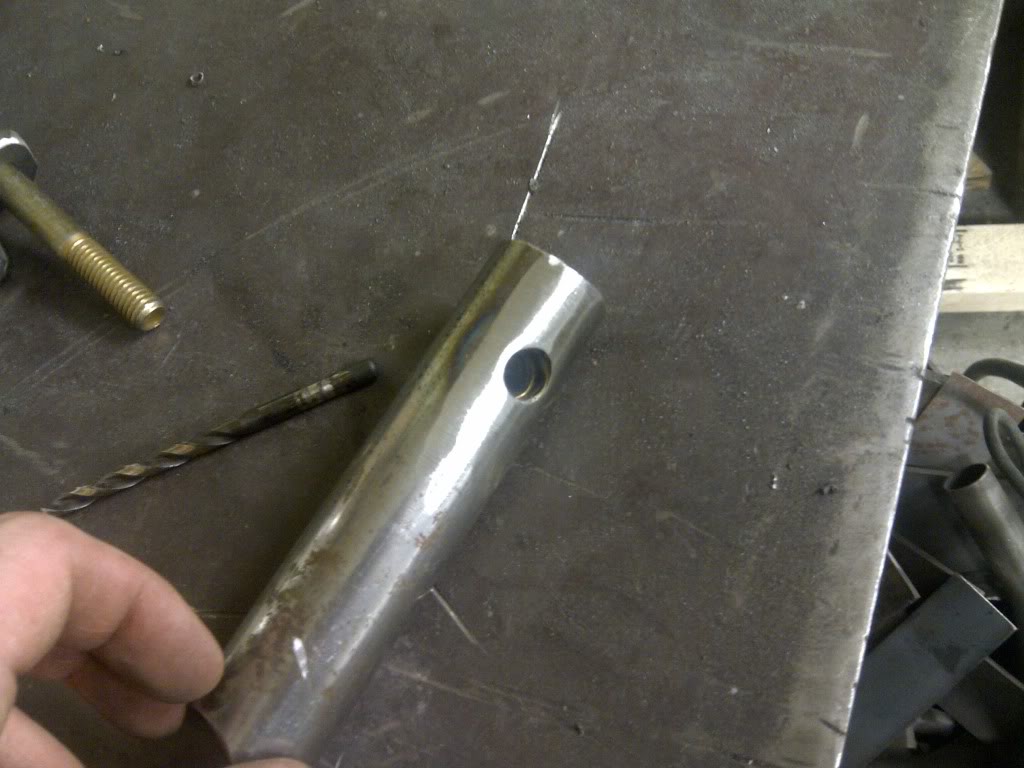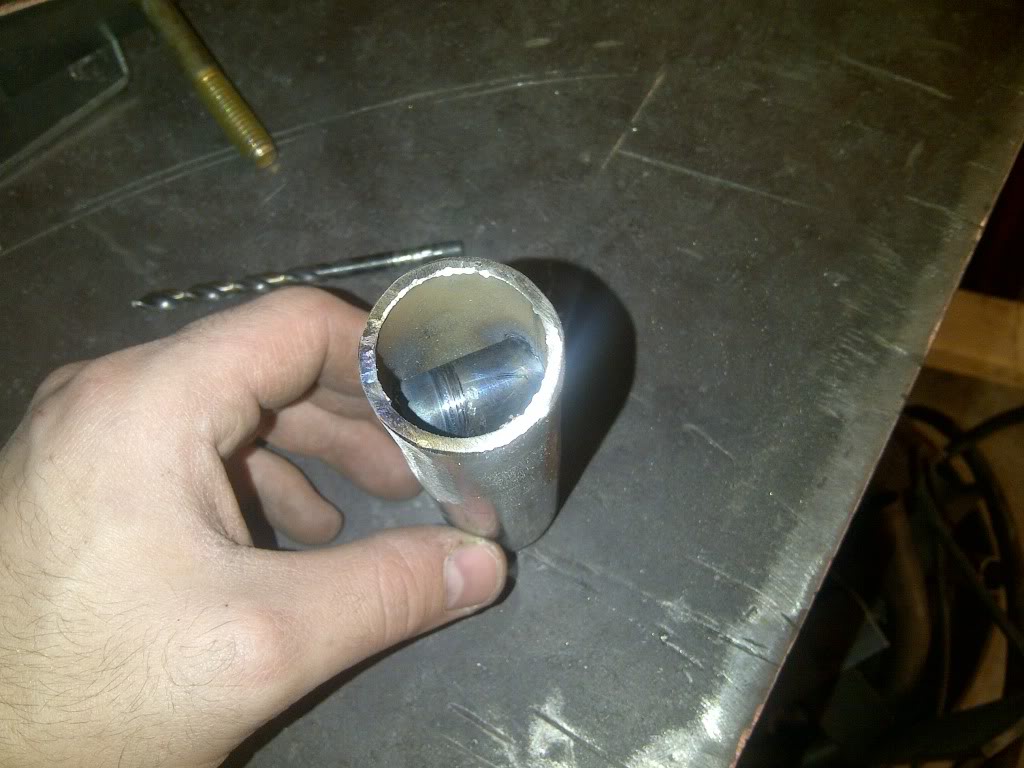 2-7-2012
Huge thanks to Stefan @ Performance Fuel Injection for hooking me up with these Ford 160lb injectors , cleaned,flow matched and tested for performance and various fuel pressures.

These things should cover me just fine until I make north of 2000hp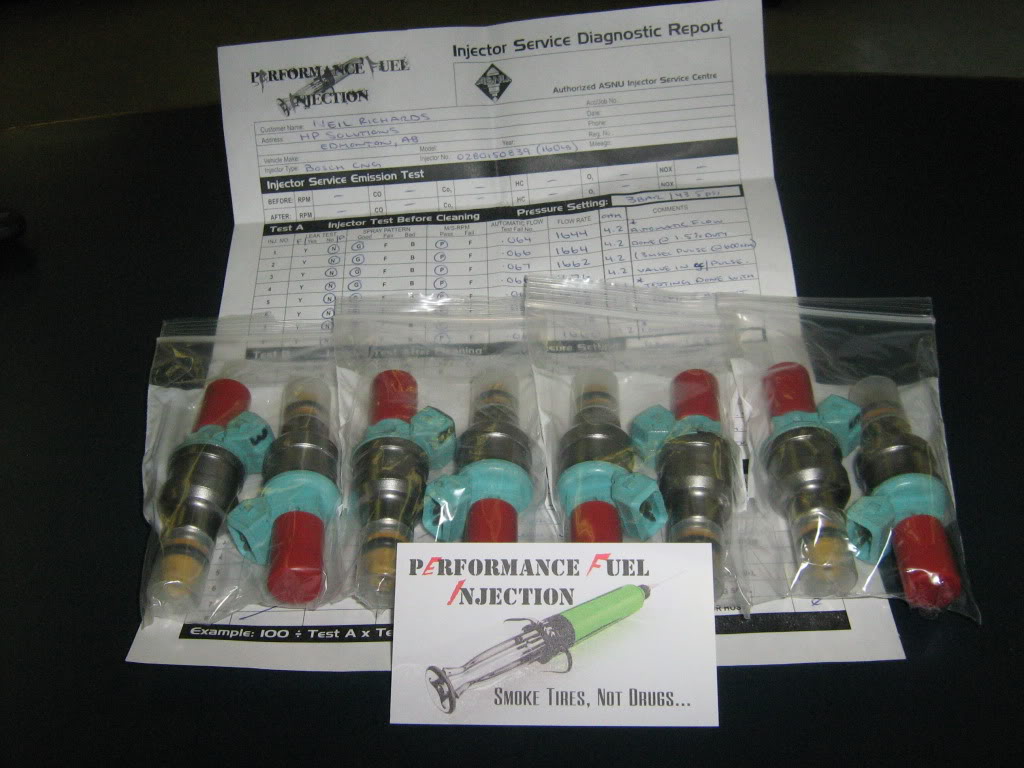 Should also have some more pics in the next little while of the finished engine mounts and some more shiney bits as they come in, in the next little while I expect:

My wheels
New black Dash pad
New Strange brake master cylinder

and even more to come, stay tuned!
2-8-2012
I will just say the fans of the old car will like this one




After a text message crash course from nolan I tried out the tig, I have been wanting to try it for a while just never really bothered.

First few attempts were brutal but once I figured out the idea I think it came along well this is the 1st full bead I laid: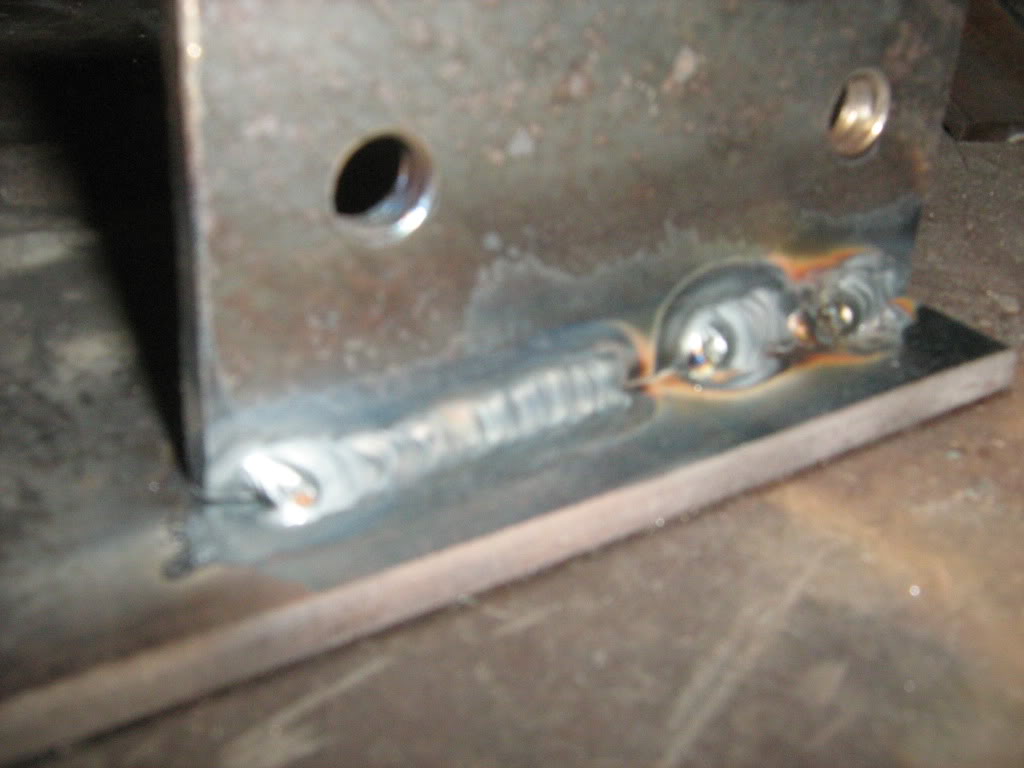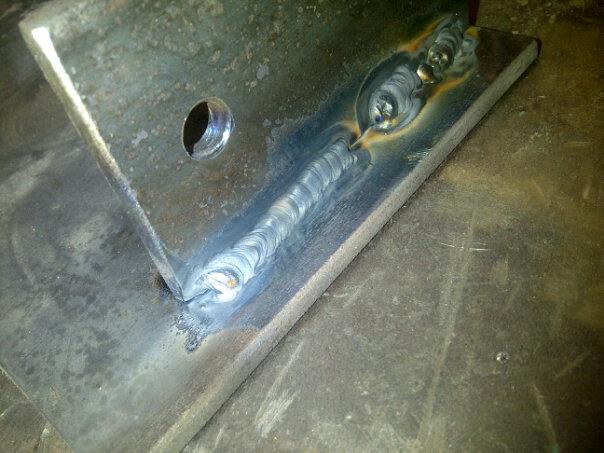 The Second full bead.... Looks decent to me? Keep in mind that it only starts half way back, the one further up was a first attempt.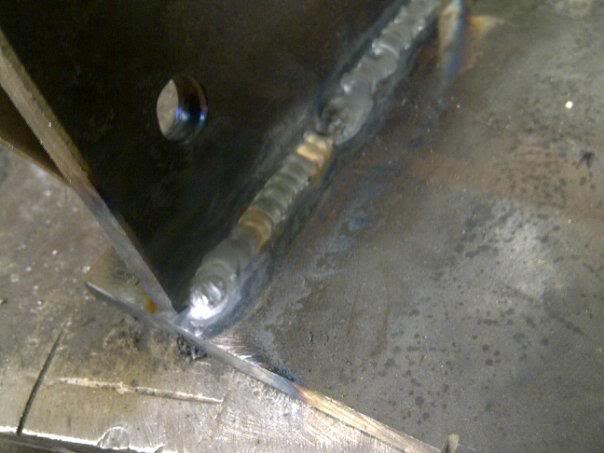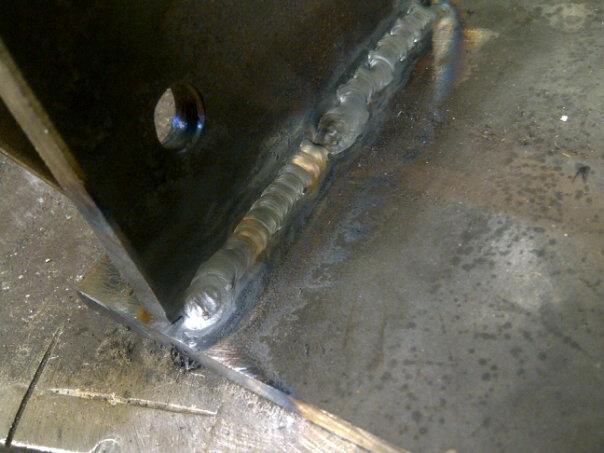 I also finished my other engine mount so now both mounts are done, Just gotta pull the K member out to finish welding the stands and clean it up to be re-coated. Outside was Tig welded and inside mig welded because I couldnt get the torch in there very well.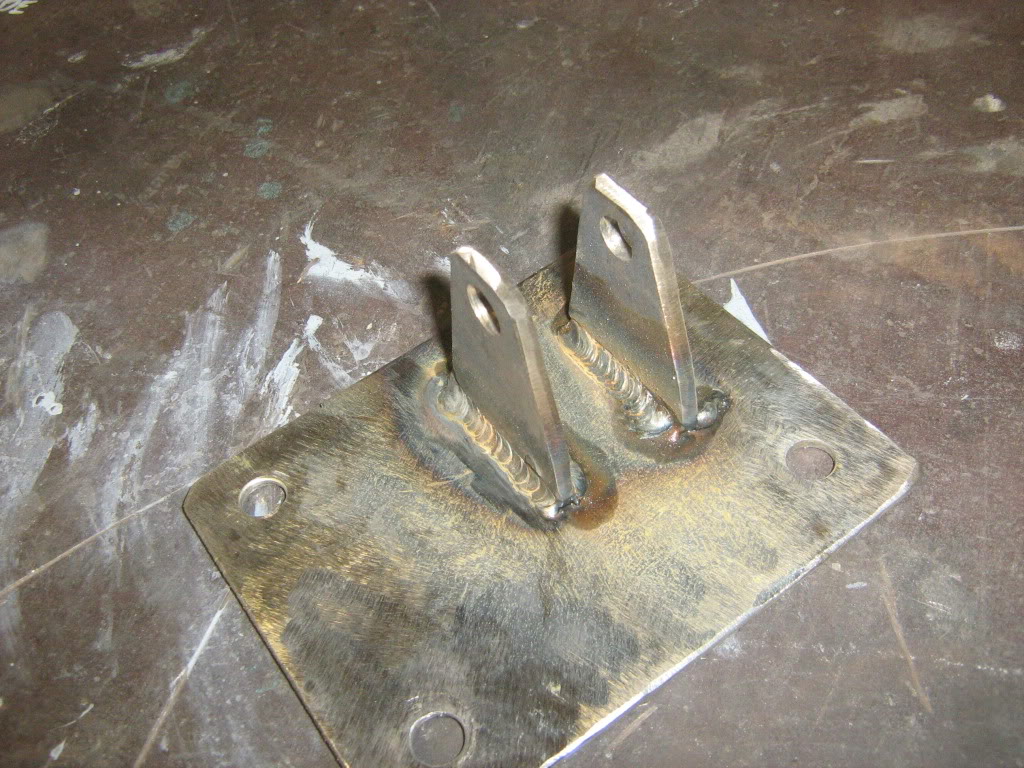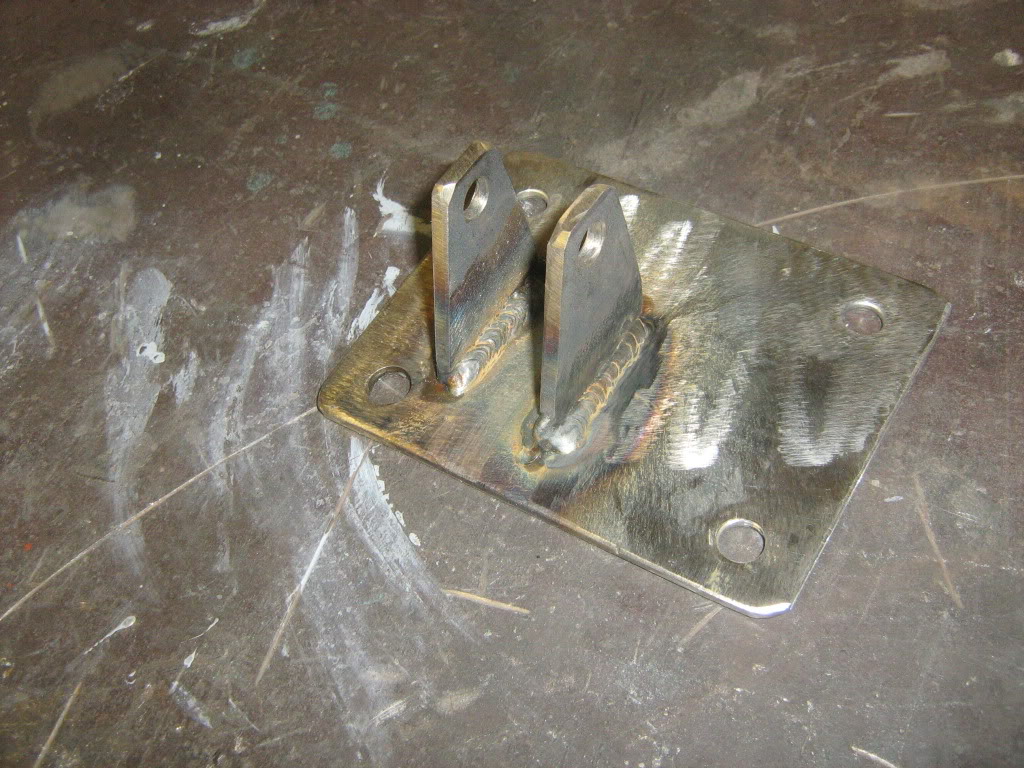 2-13-2012
Got a bunch of work done this weekend despite falling into a pile of scrap metal and getting some puncture wounds in my arm lol


Welded tubes onto the cage to run the parachute cable through: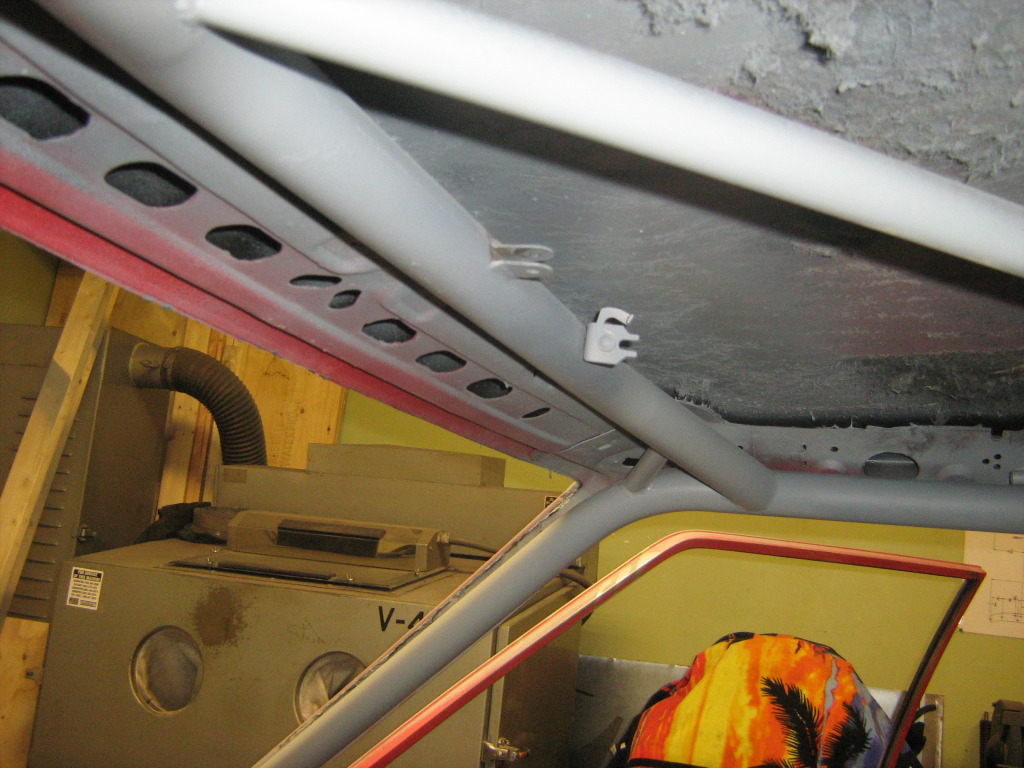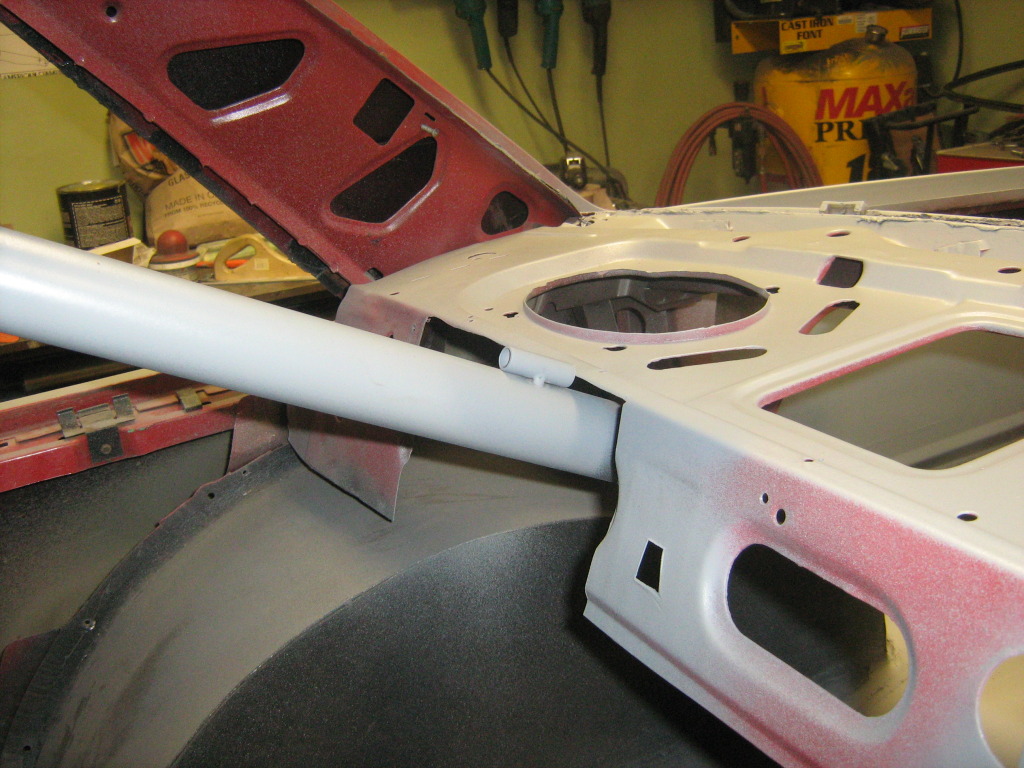 Then built a little brace for the pedal box: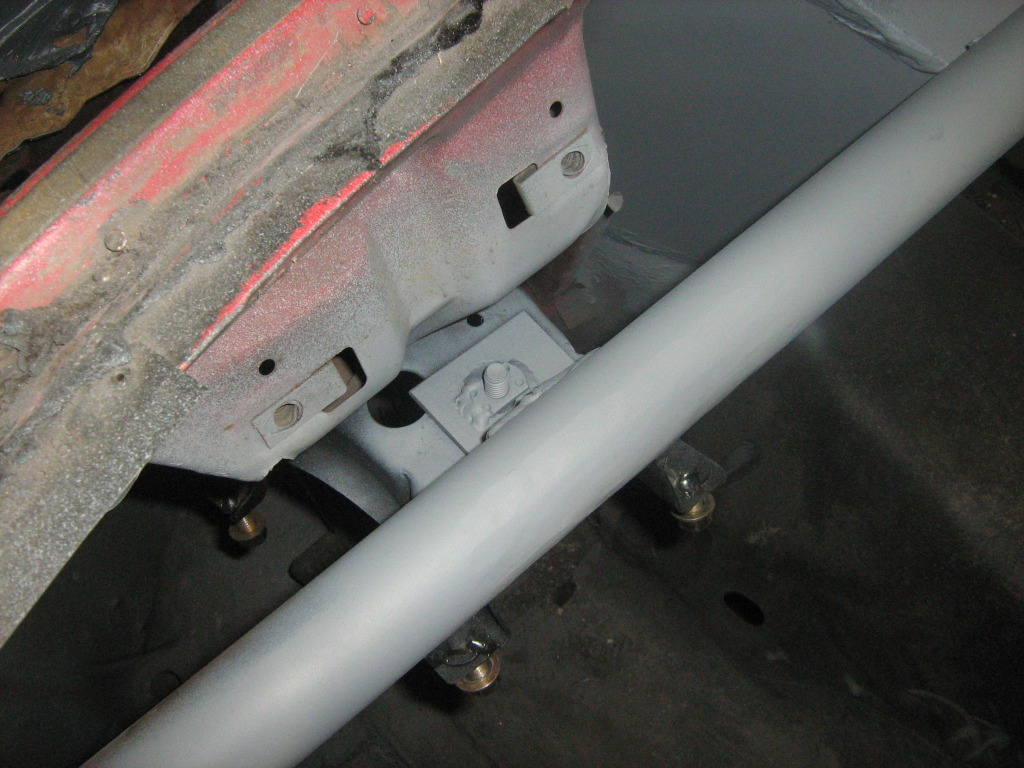 Then we made some room for the intake/throttle body/piping LOL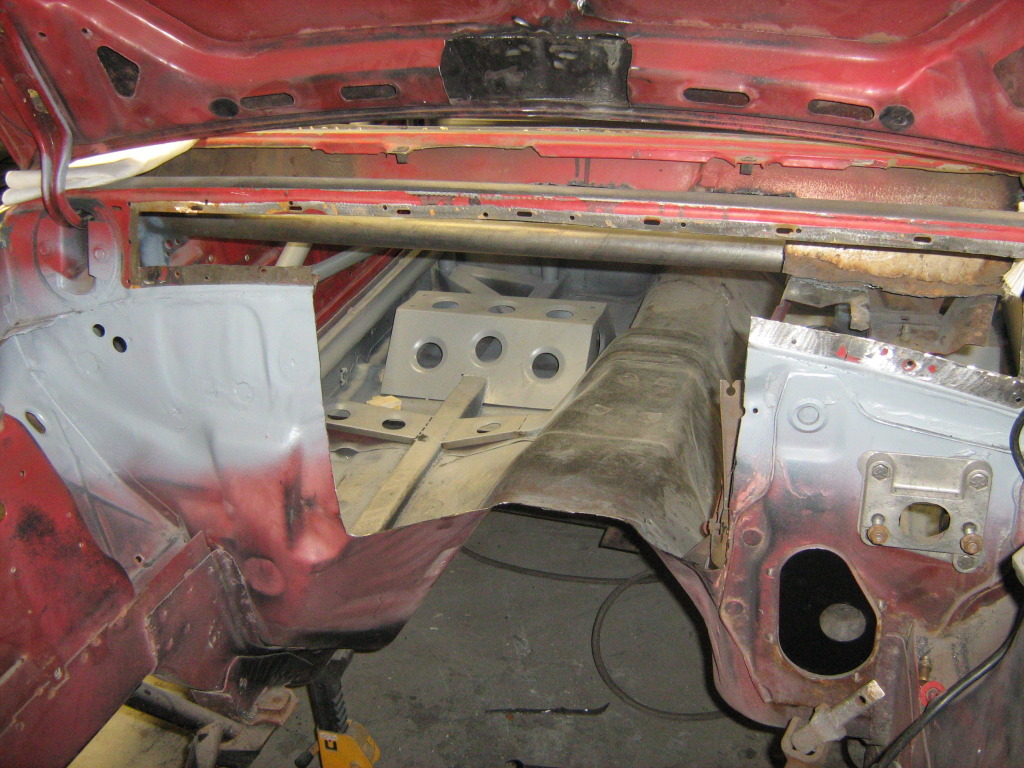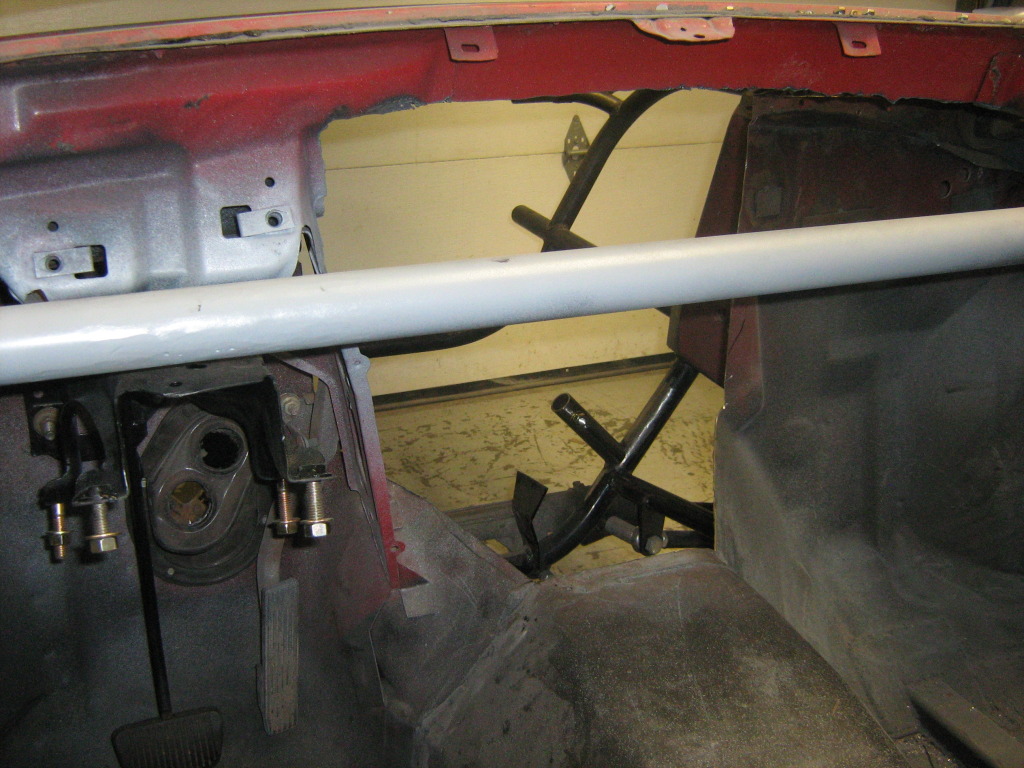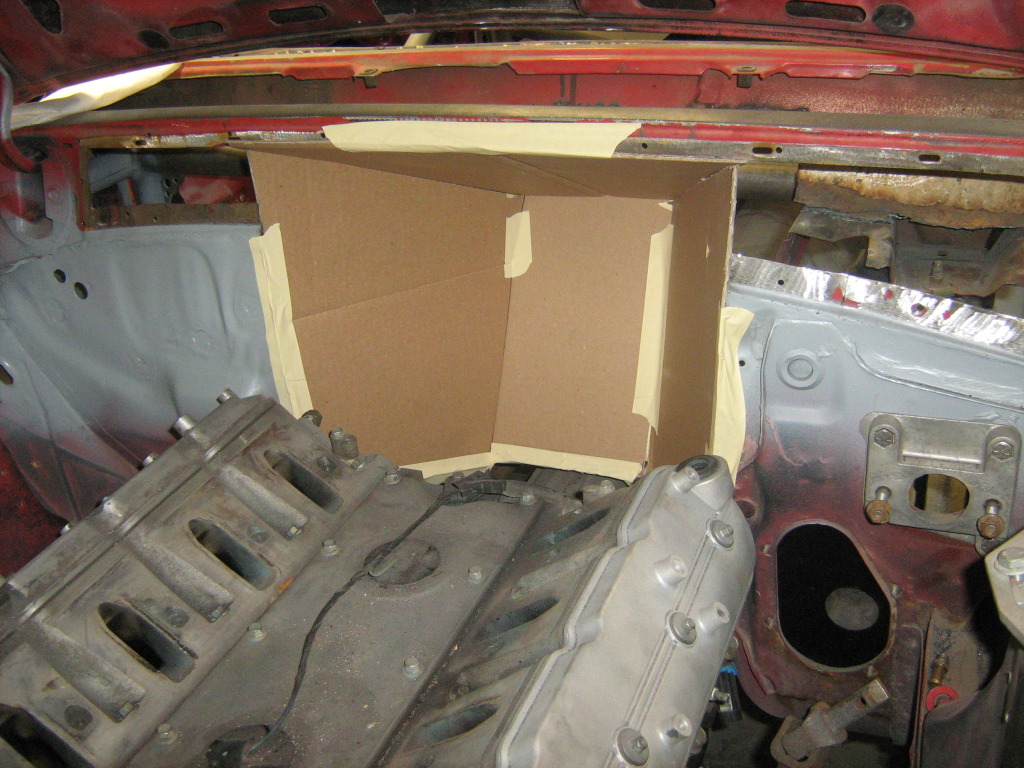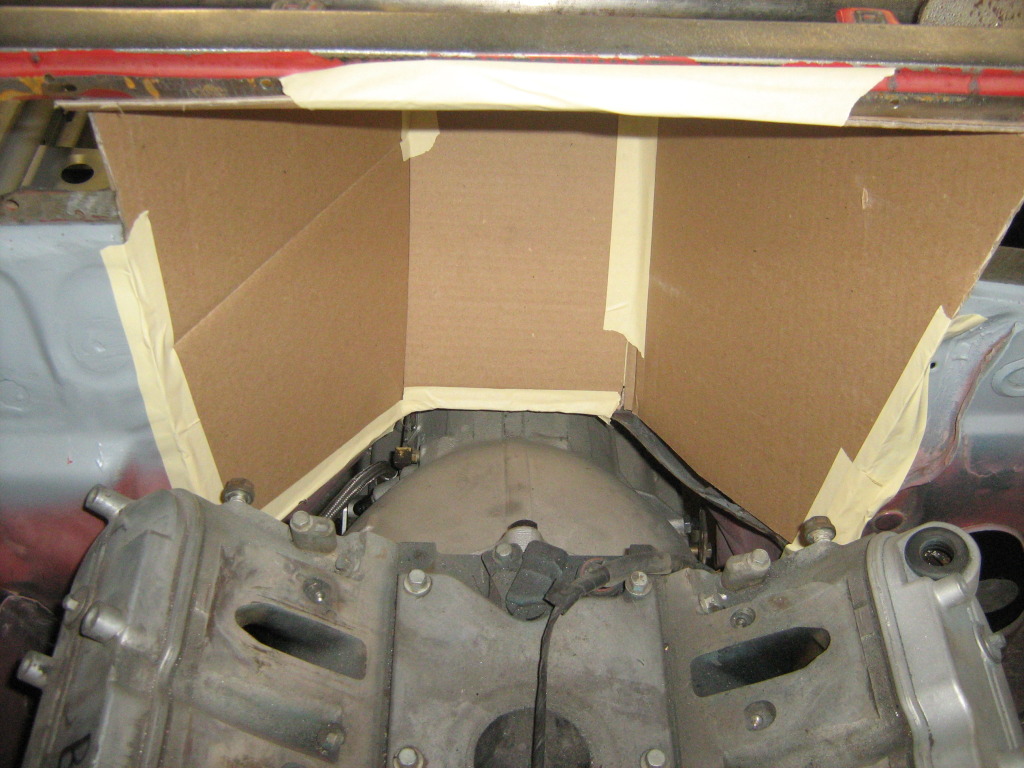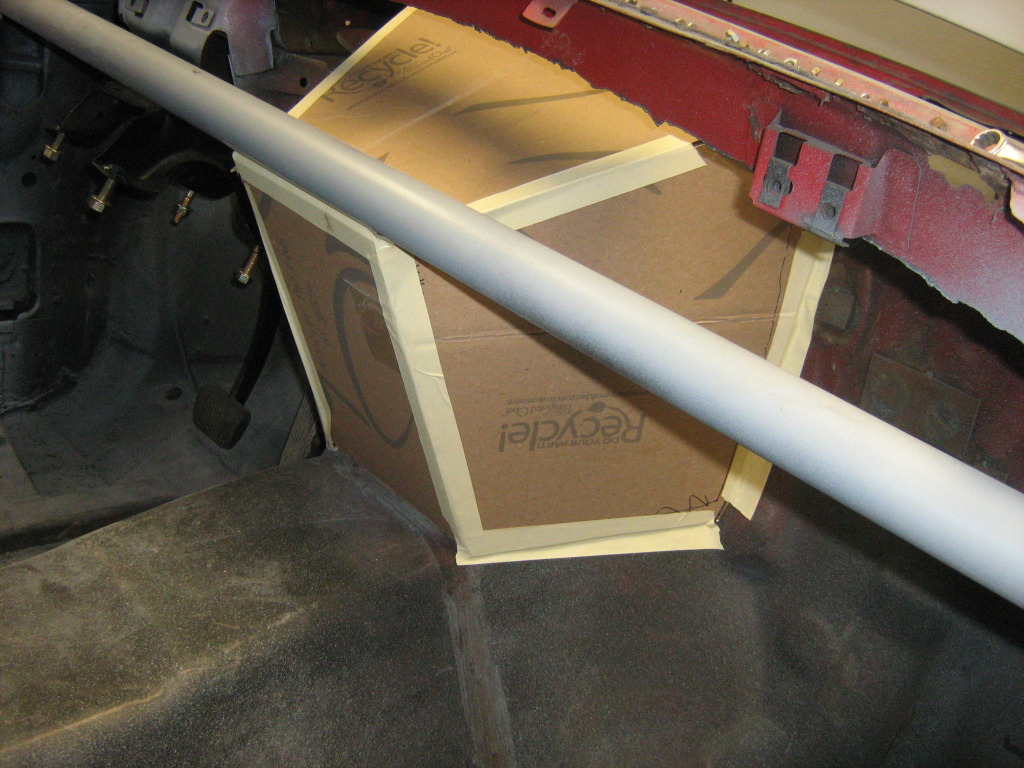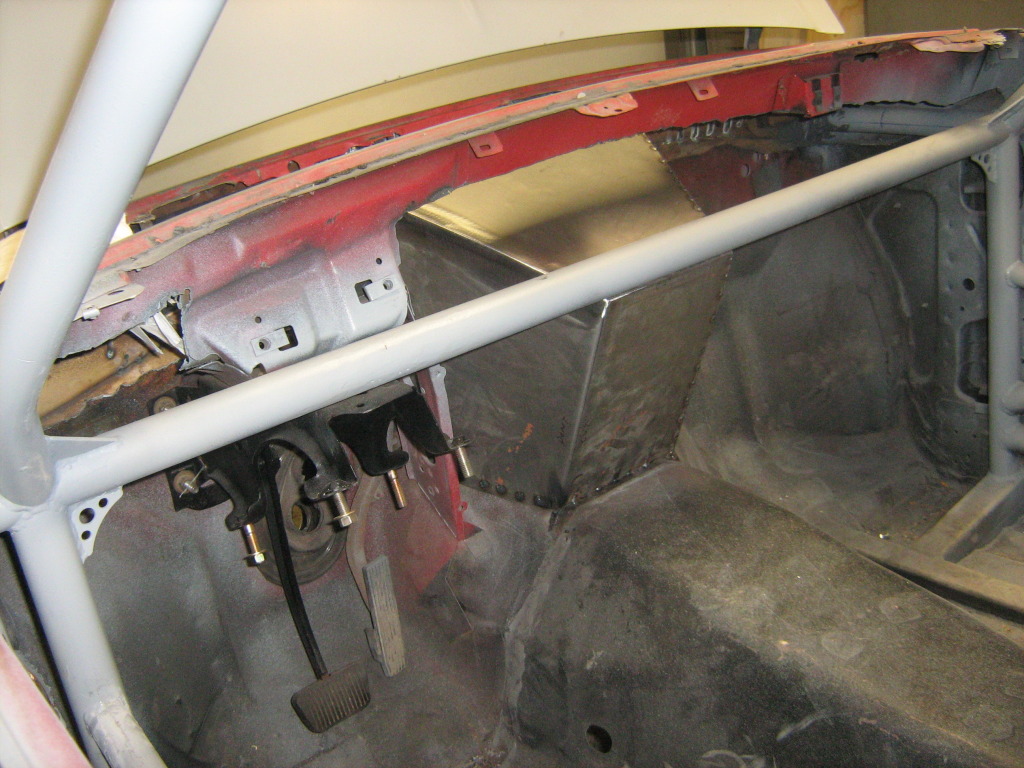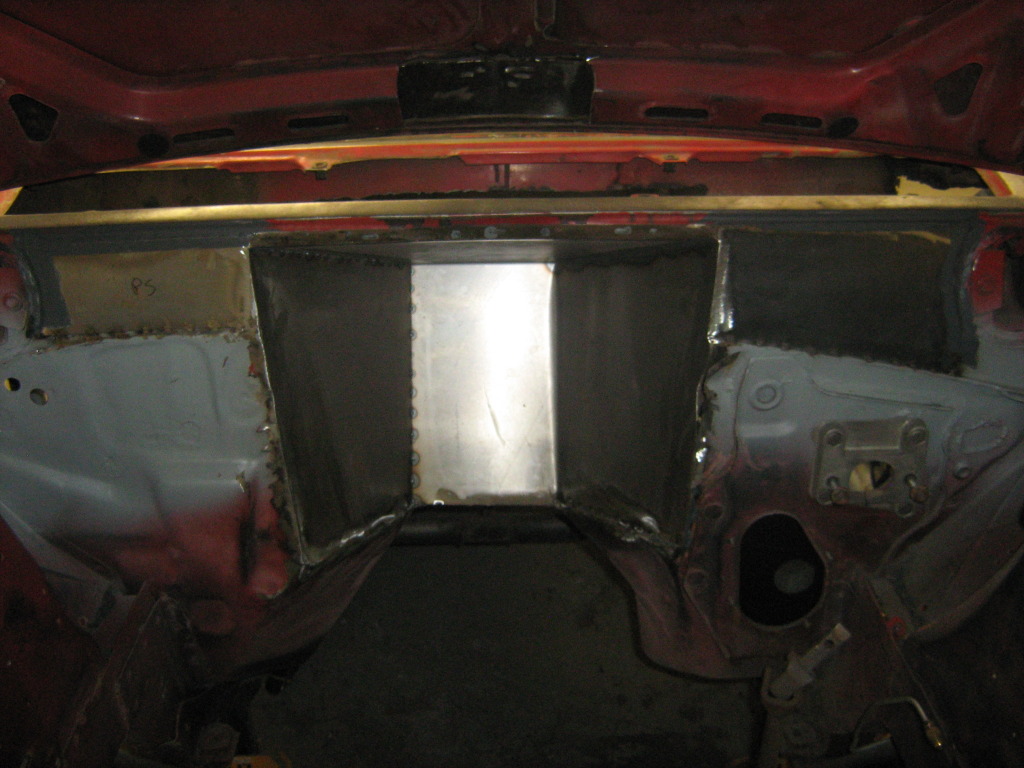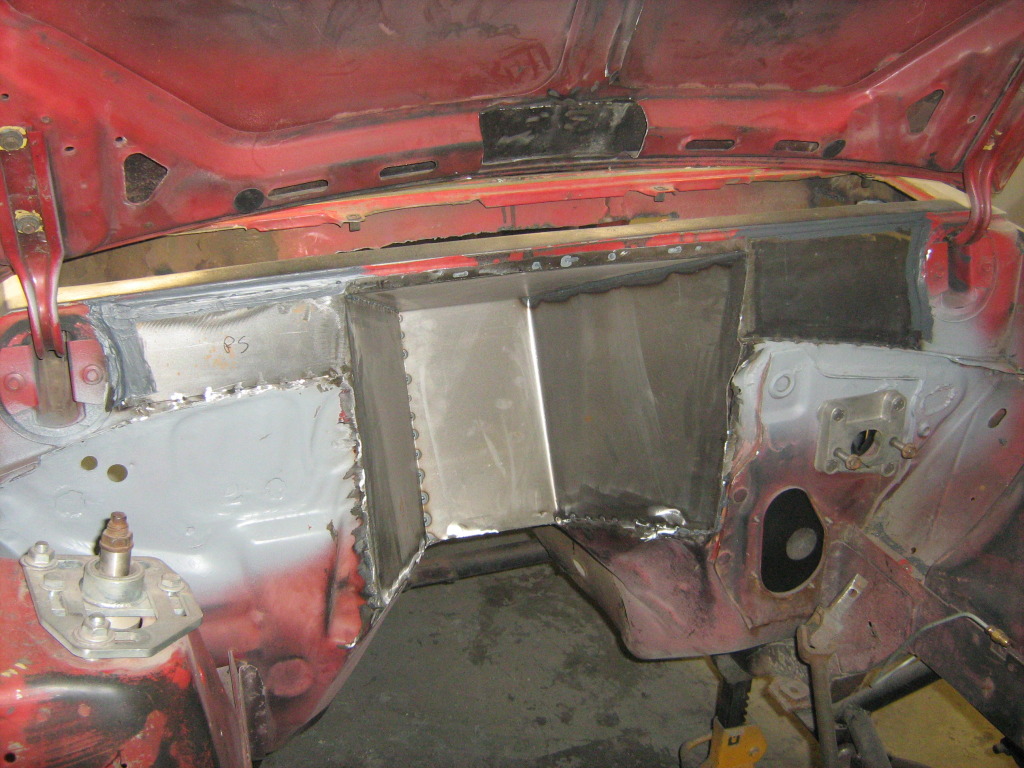 Got it all seam sealed up and primed: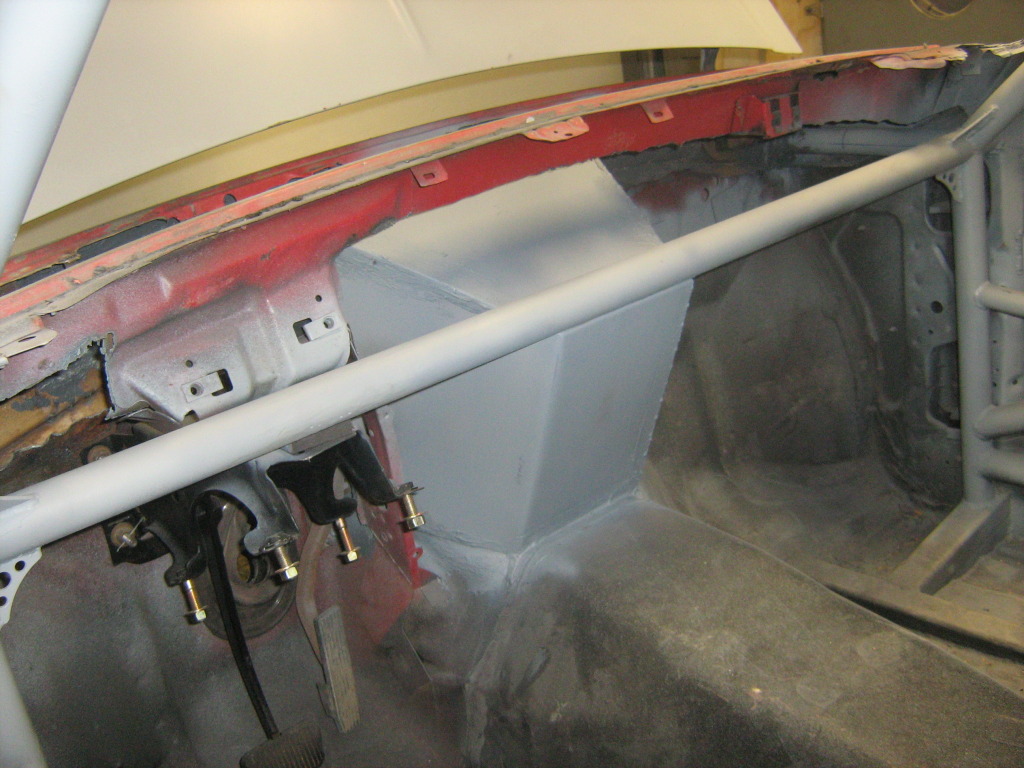 Then Nolan finished up this super bad ass Carbon Fiber tube protector, this is not one of the generic bickel ones this is a one piece custom built one and its BA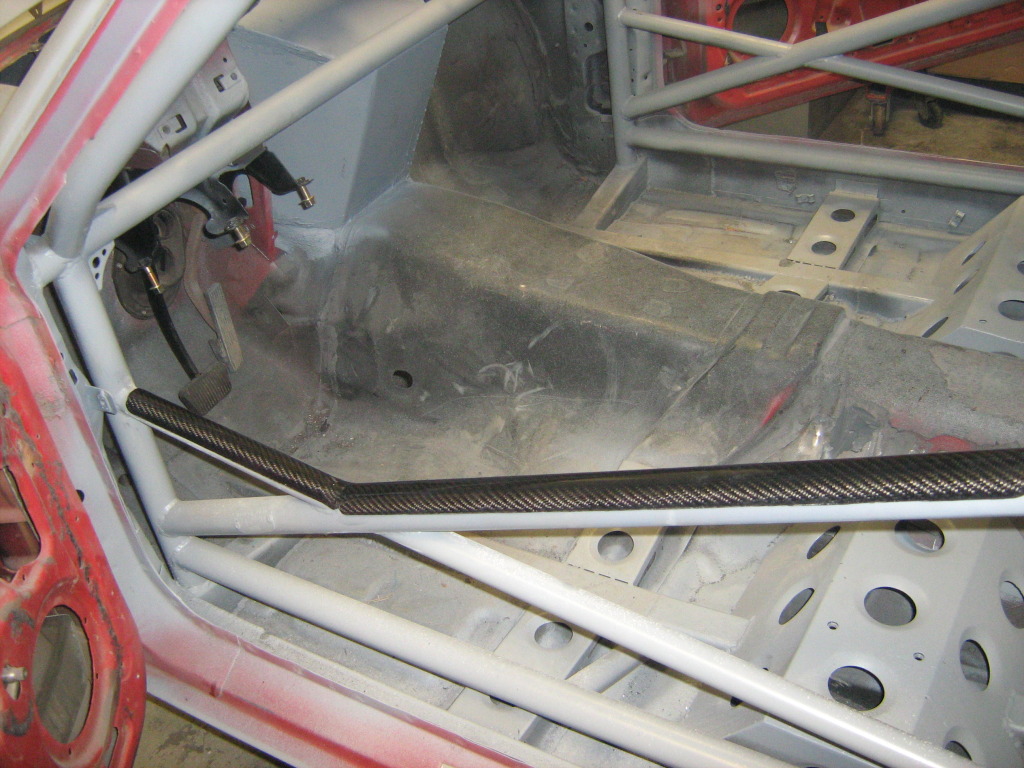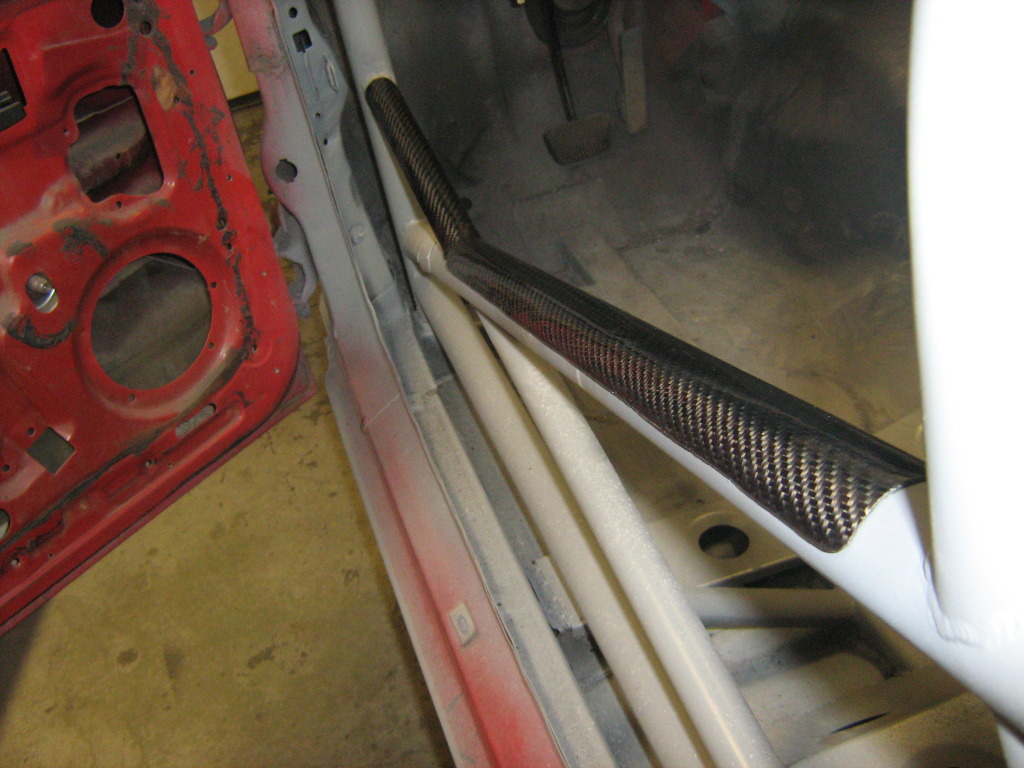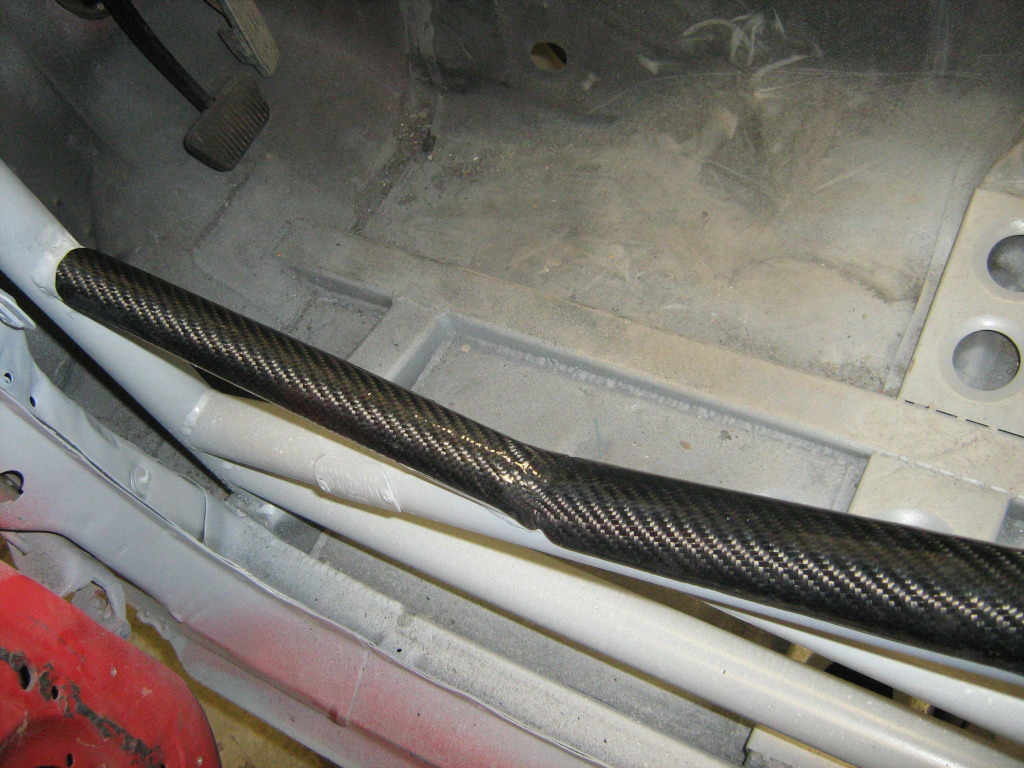 2-14-2012
WE HAVE PAINT!!!! cage is all black, even fitted the bad ass carbon door bar protector on for a sneak peek



I hope to start putting stuff on the inside of the car for good right away! Also got my wheels in planning to drop them off for coating today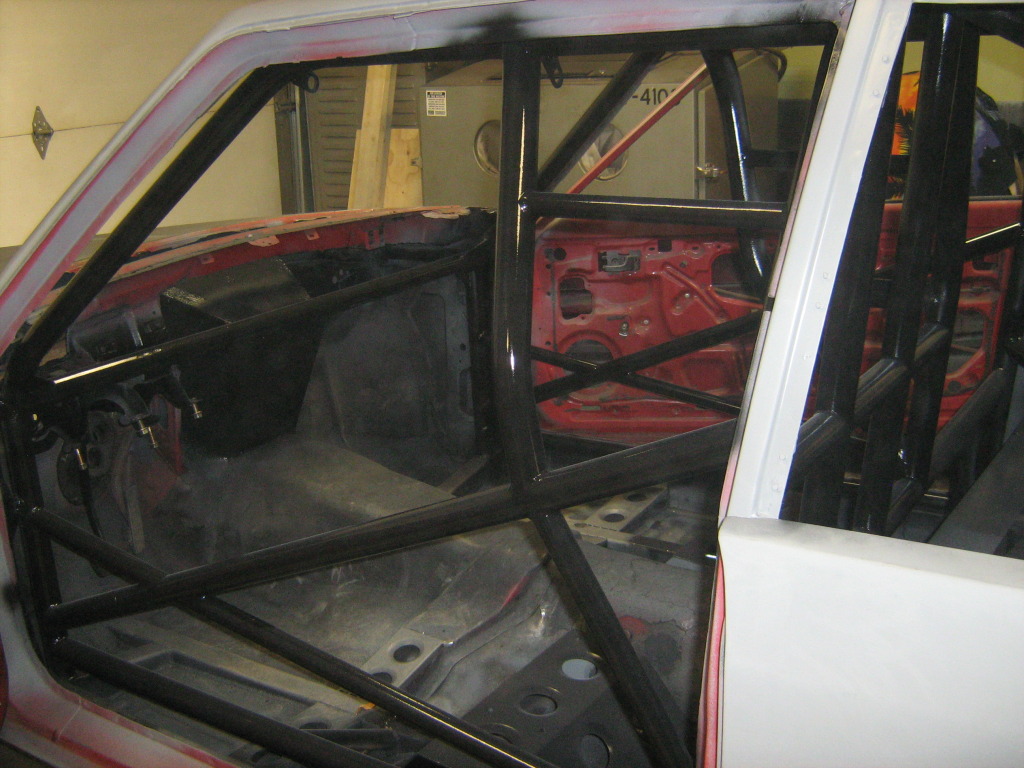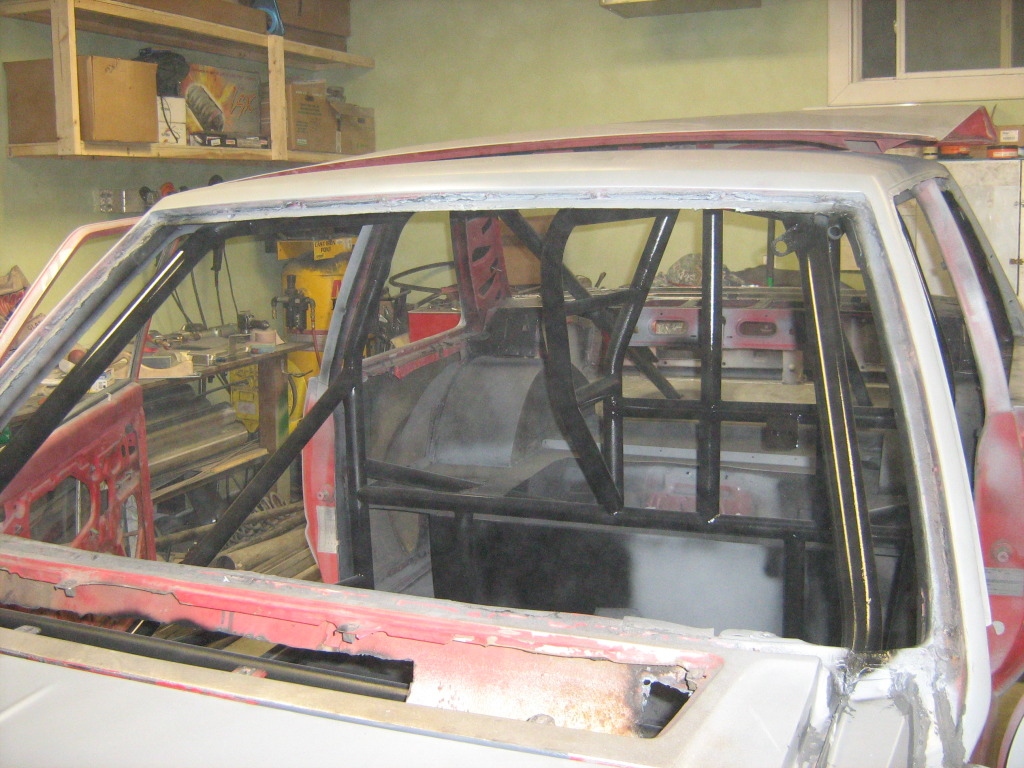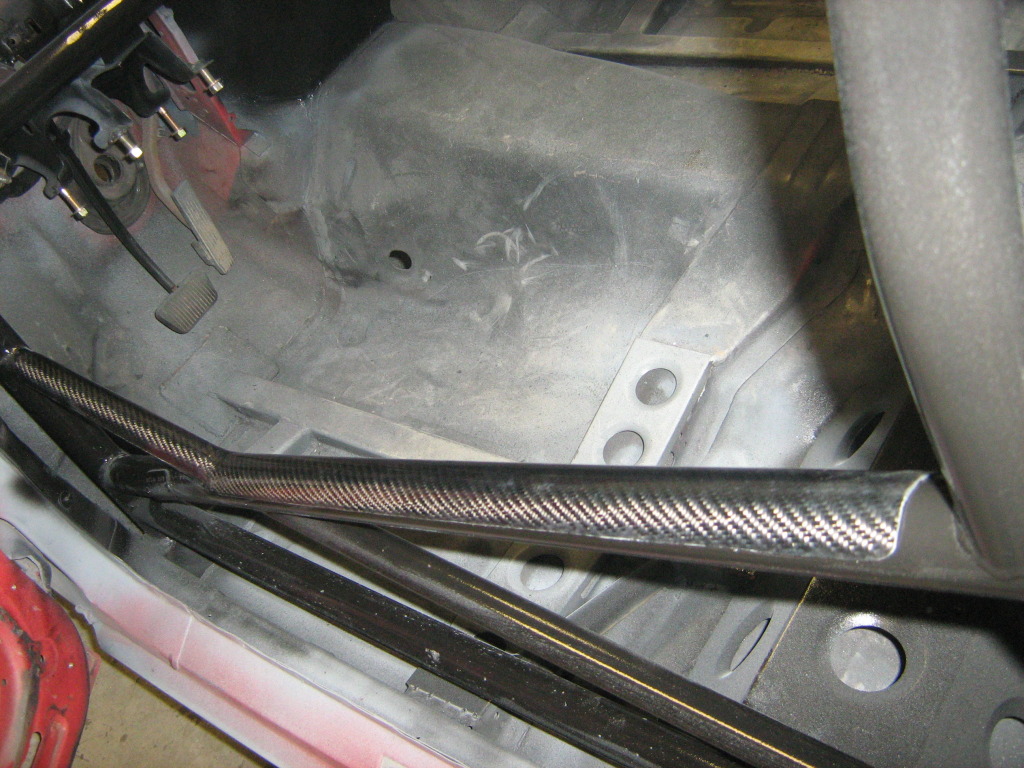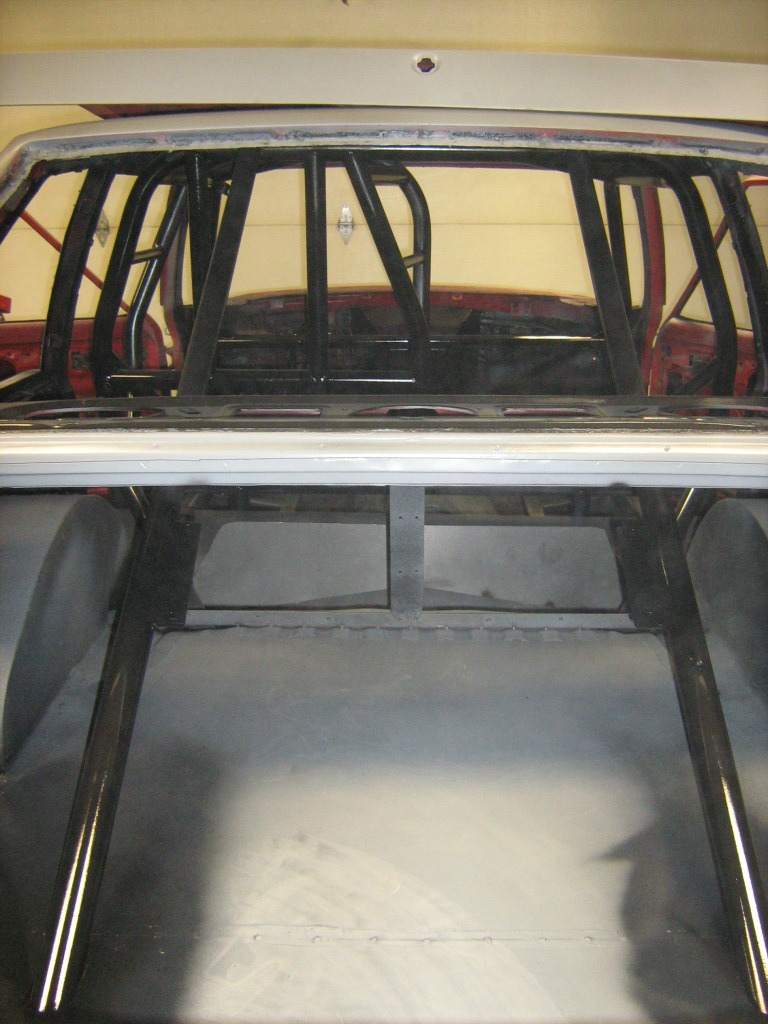 2-20-2012
Ya, ya ,ya while Nolan is getting a much diserved vacation I am stuck in a winter wonderland

. It snowed a LOT here overnight but that never stops us!

My wonderful girlfriend came and helped me so I would not have to do this alone .... she will be the lucky pilot of the original creamer come next season as well



We spent friday night working on the wiring harness that will power the turbo engine going back into Creamer #1 but that is a story for another day.

After Nolans dog roped me into playing frisbee for a while in the snow we got down to buisness :


I decided a while ago I was not happy with the clearance between the rack and the oil pan as well as the way the rack fit the team Z K member, I started by removing all of the front suspension/brakes and K member from the car then I got out the grinder and went to work, also had to finish cleaning off the remains of the old 5.0 engine mounts. I cut a piece out of the K member to provide more room for the rack and then I boxed it in with steel plate and next I will add re-enforcement tubes down from the engine mount stands to the K member to add strength to the mounts as well as to aid in the k member strength where I did my rack notch: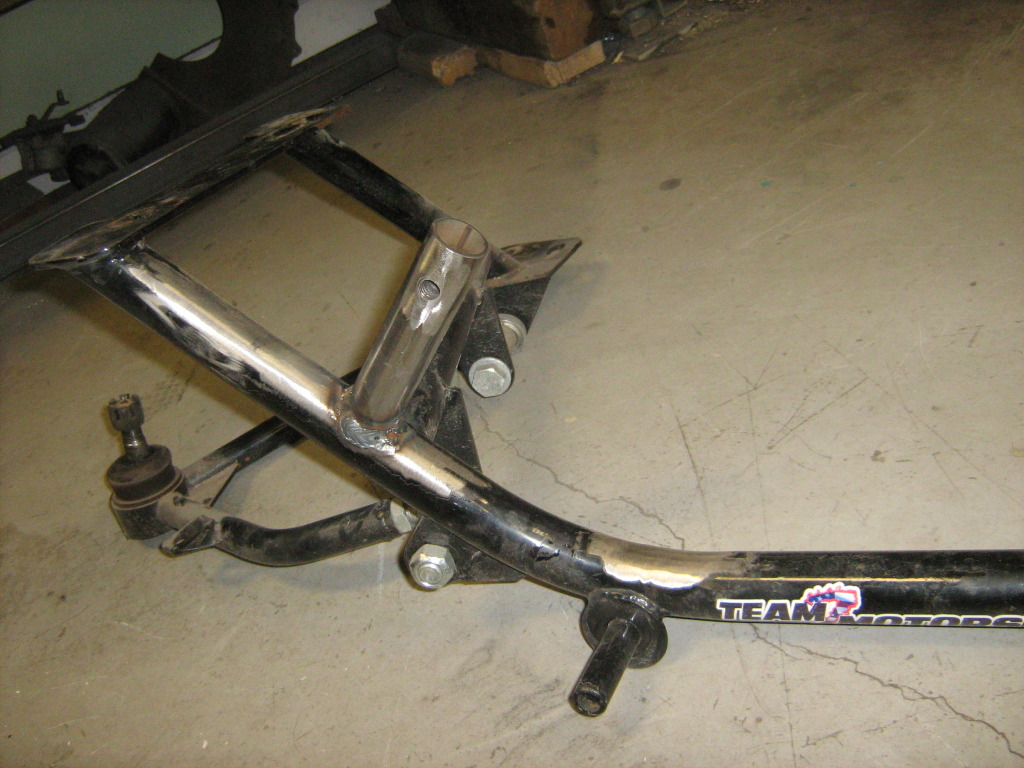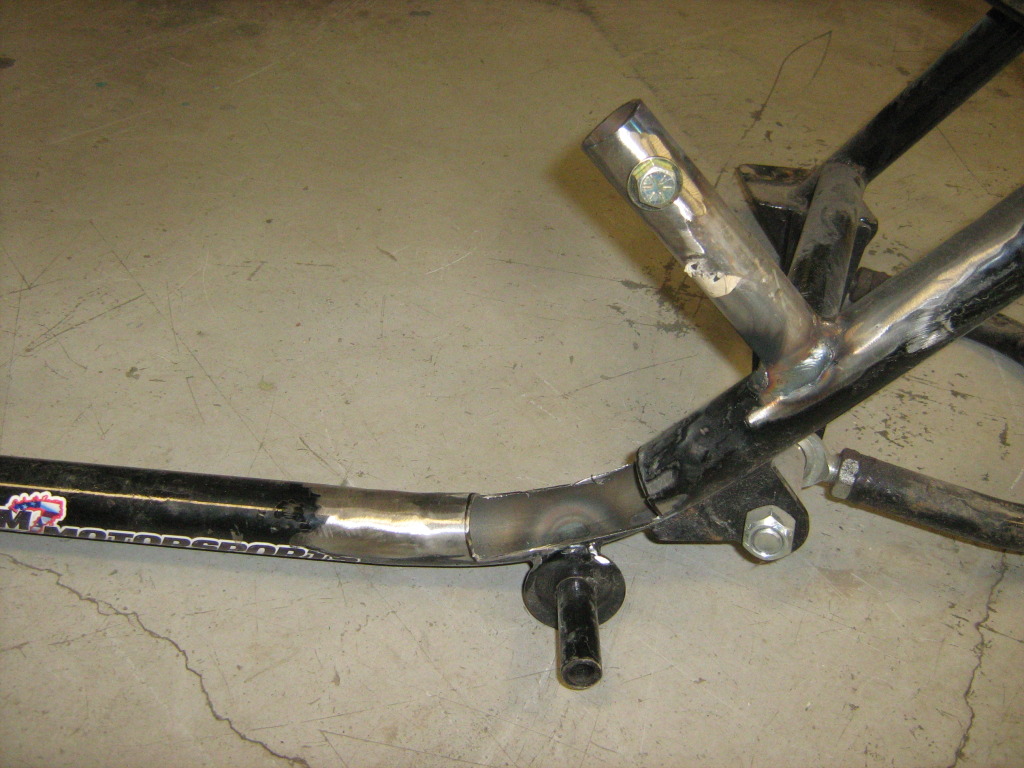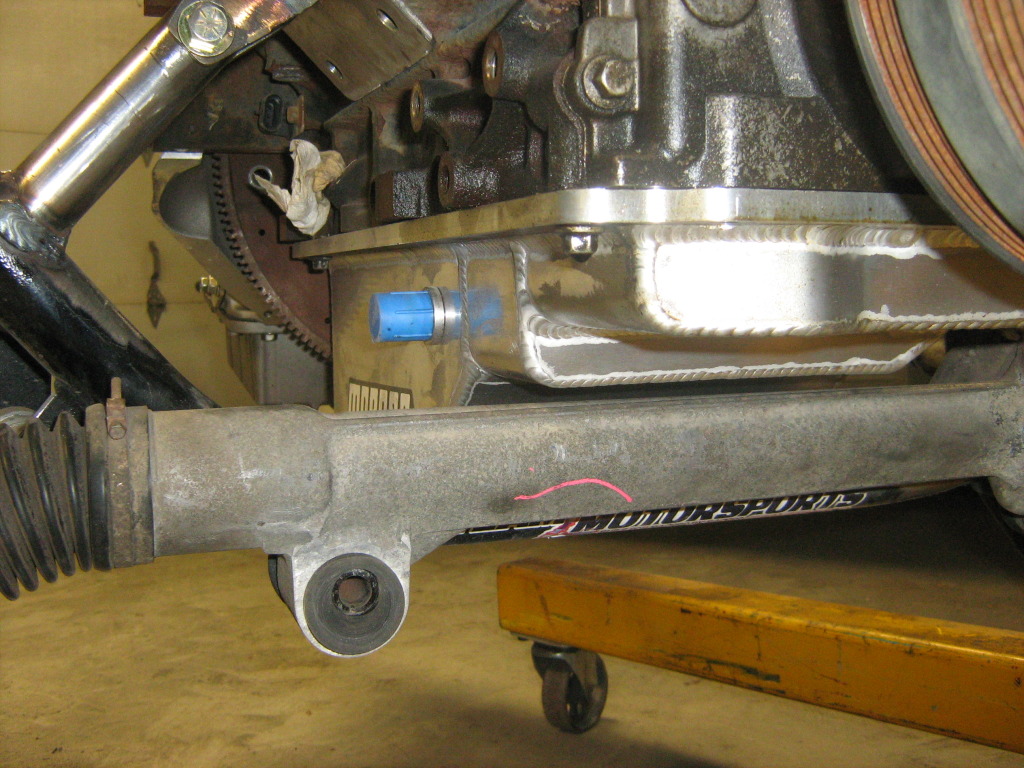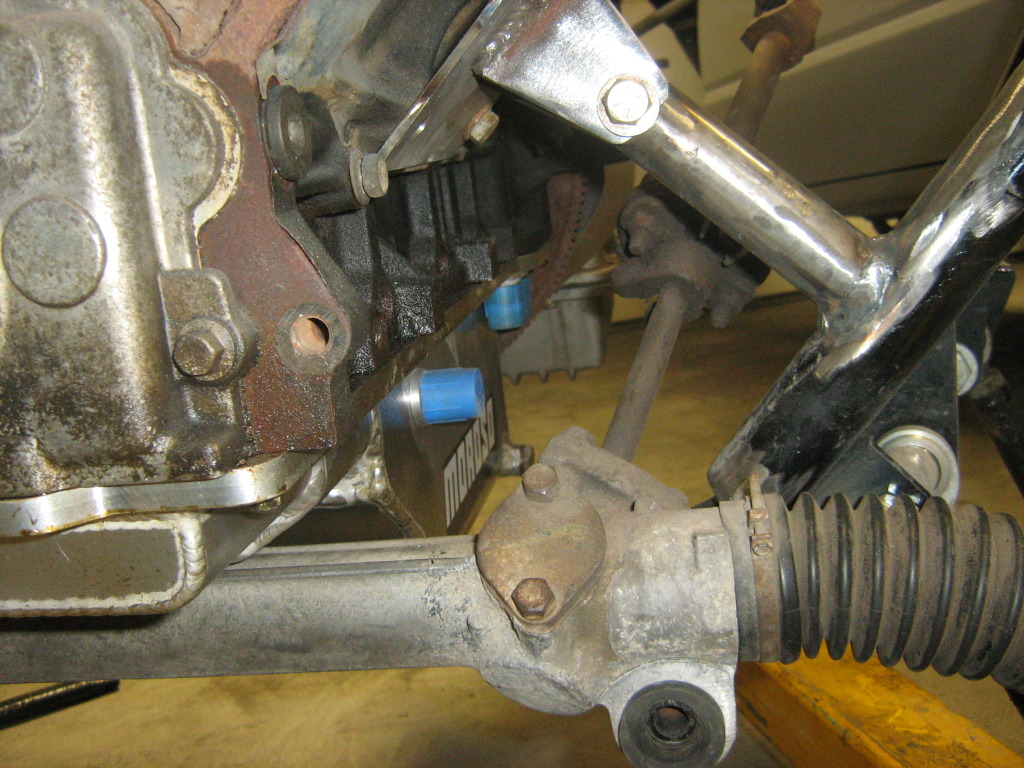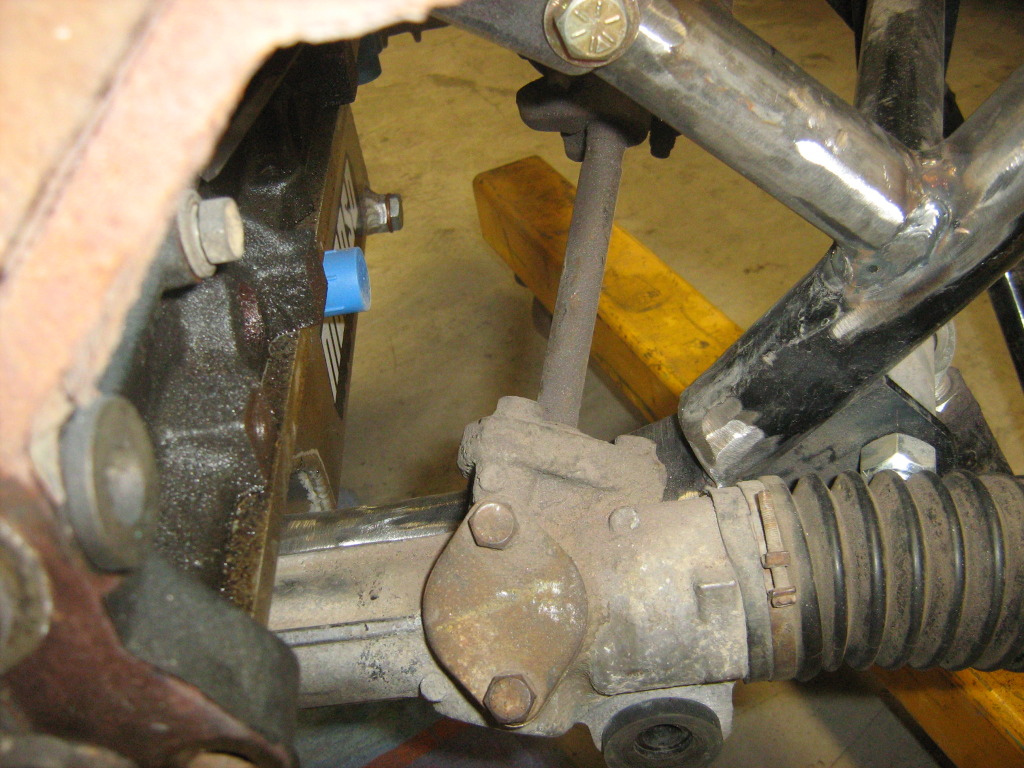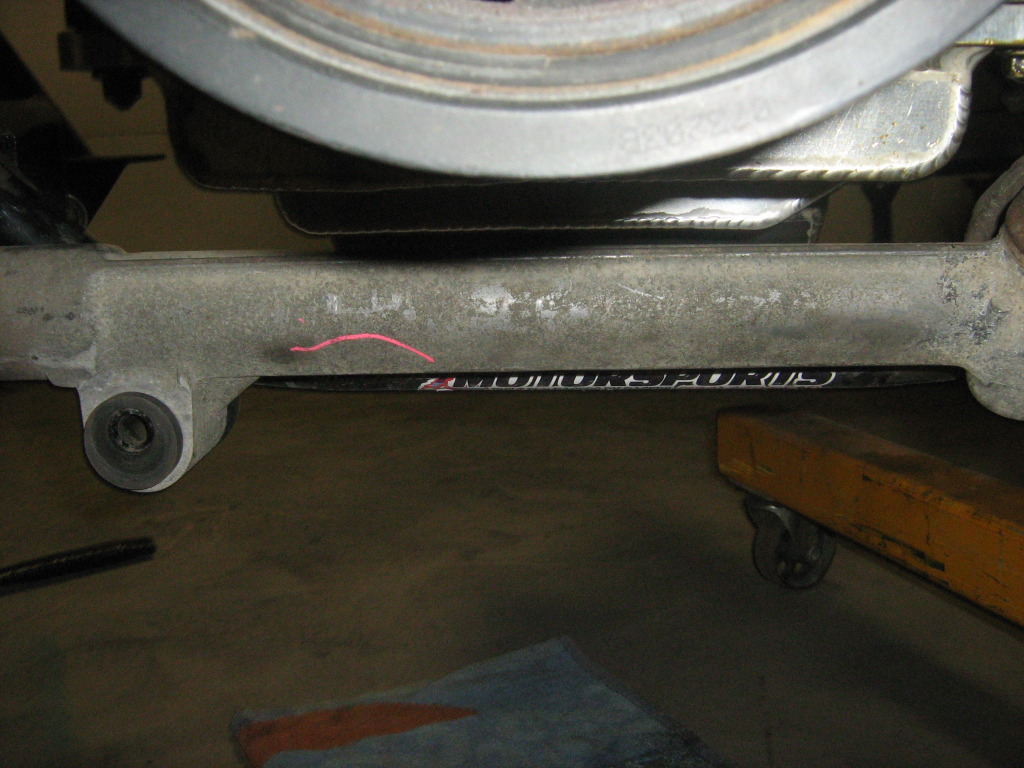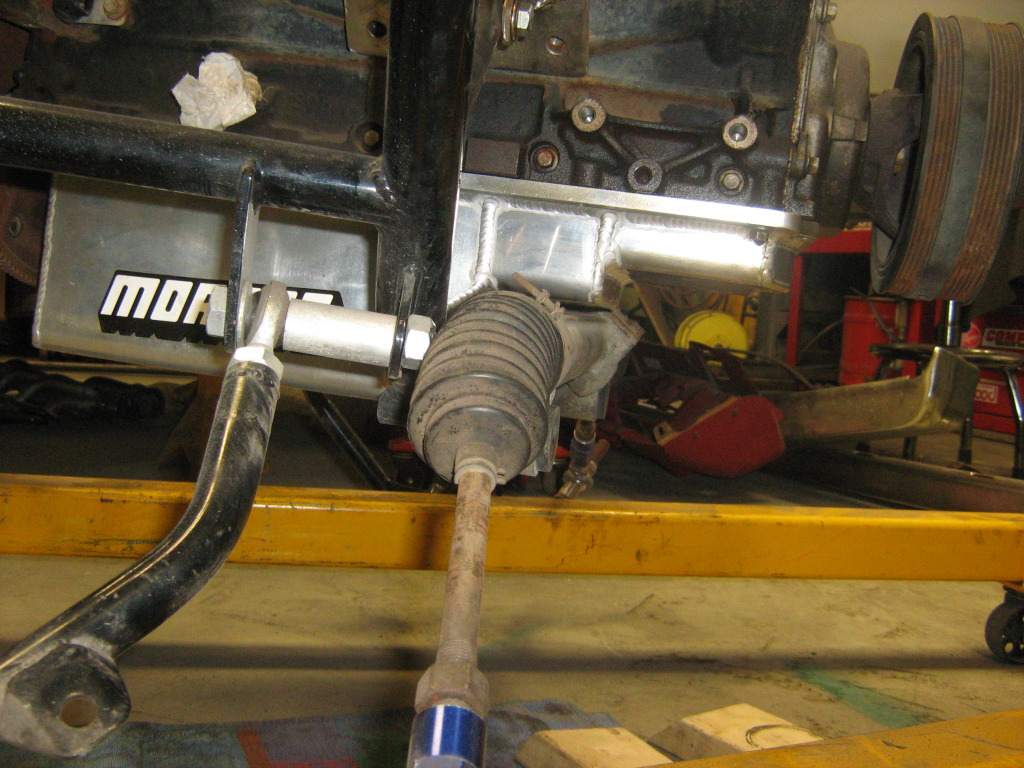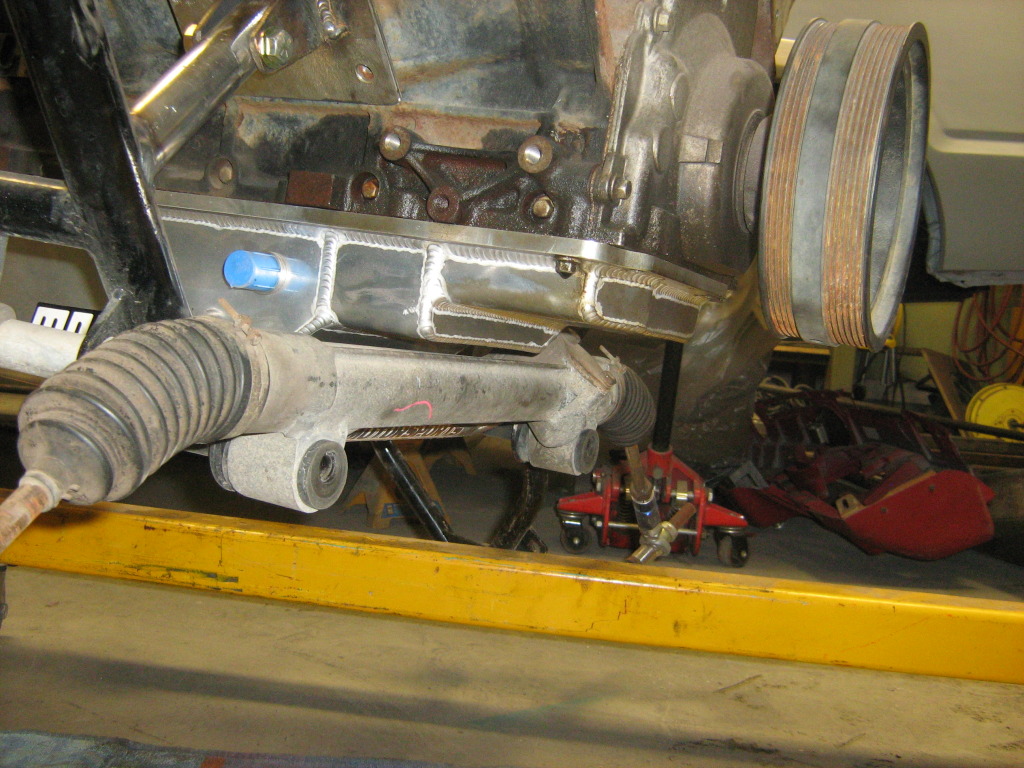 Next on the list was paint in the trunk as well as seam sealing around the cage down bars: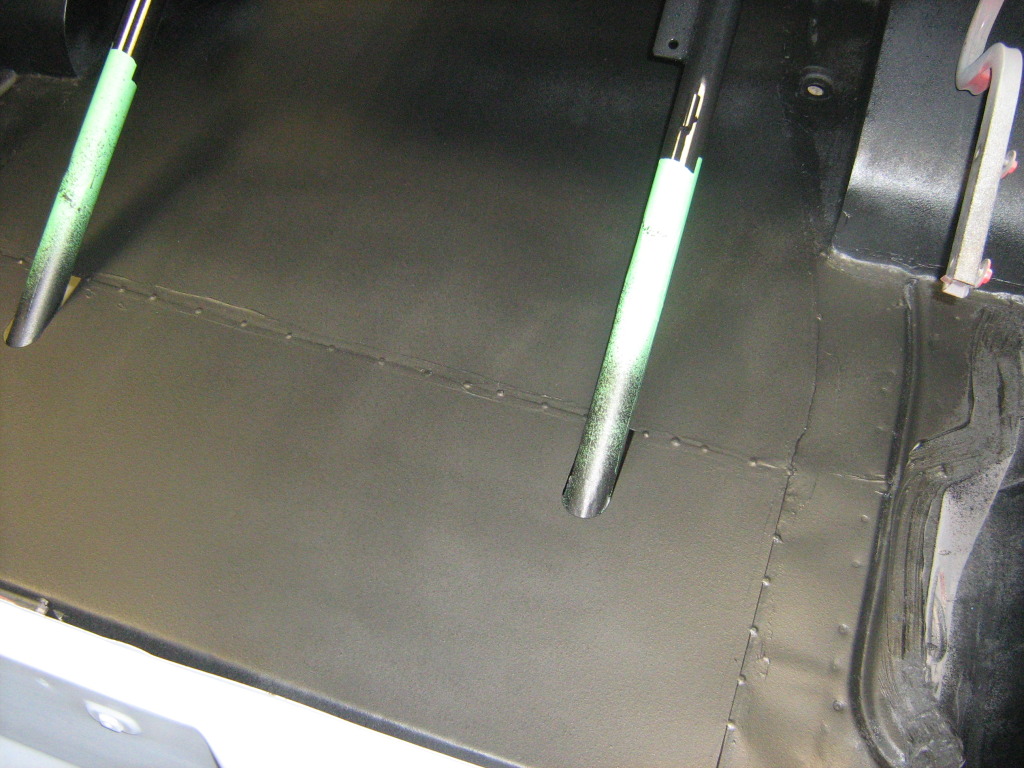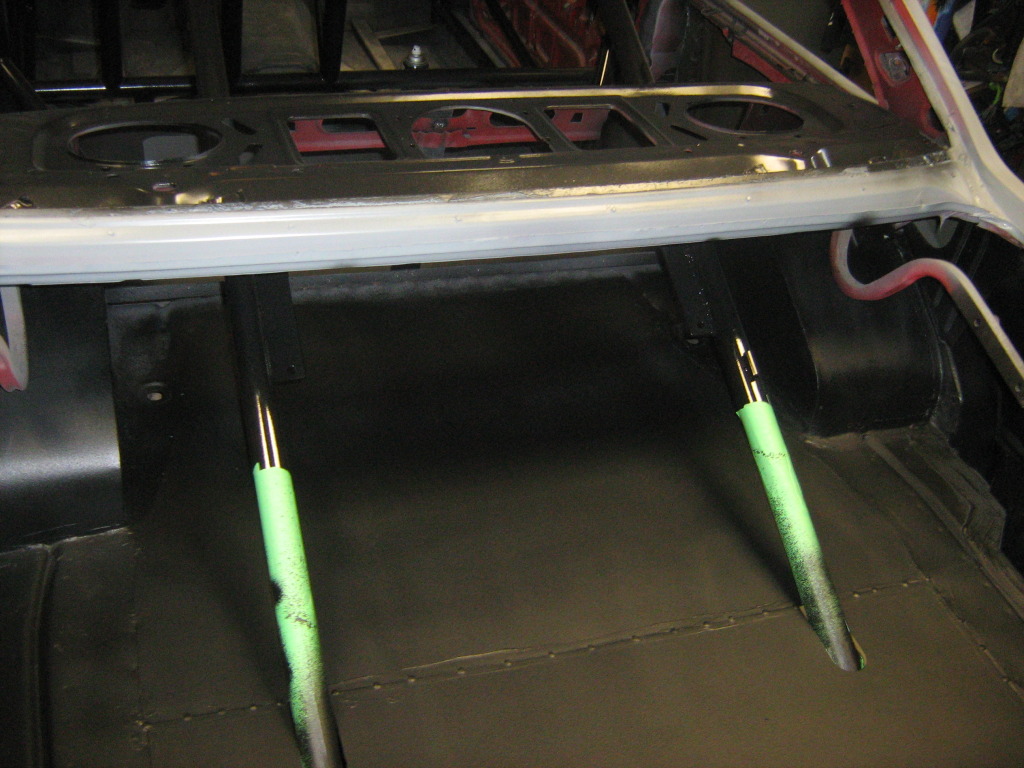 Got the chute cable installed along with the handle :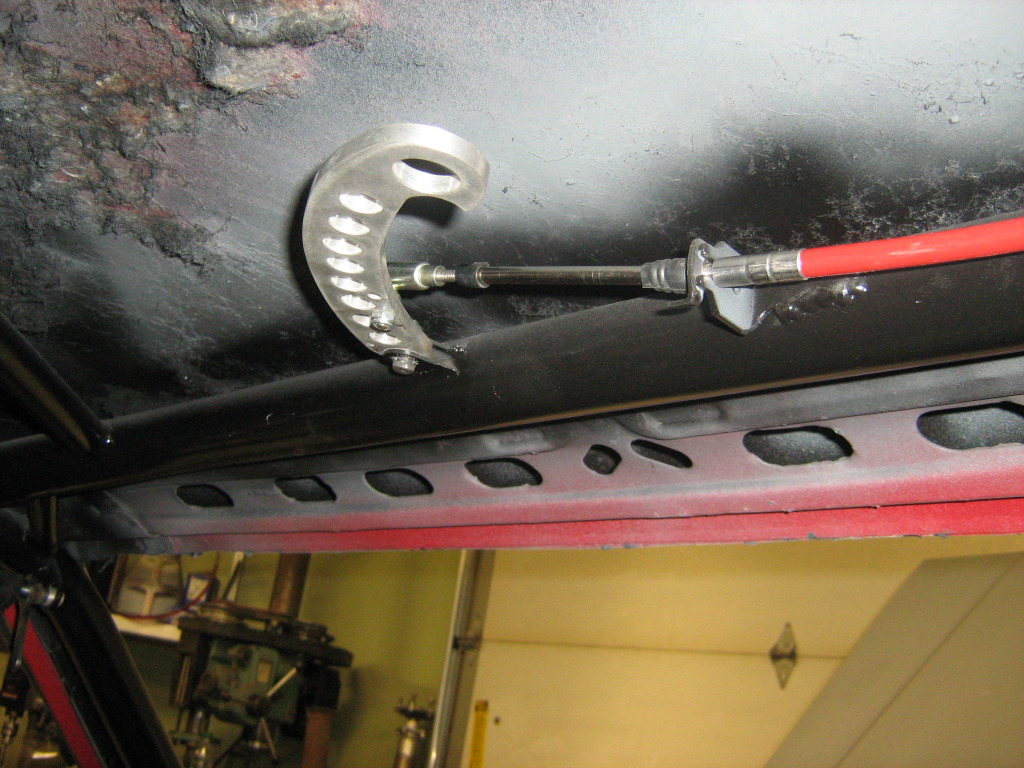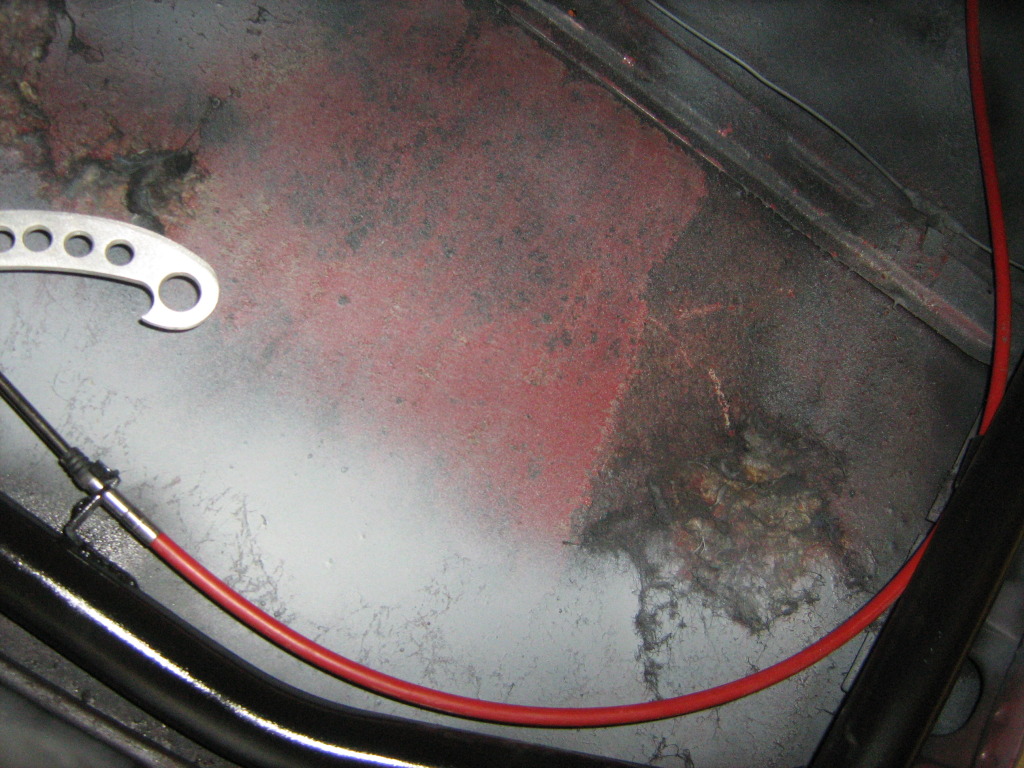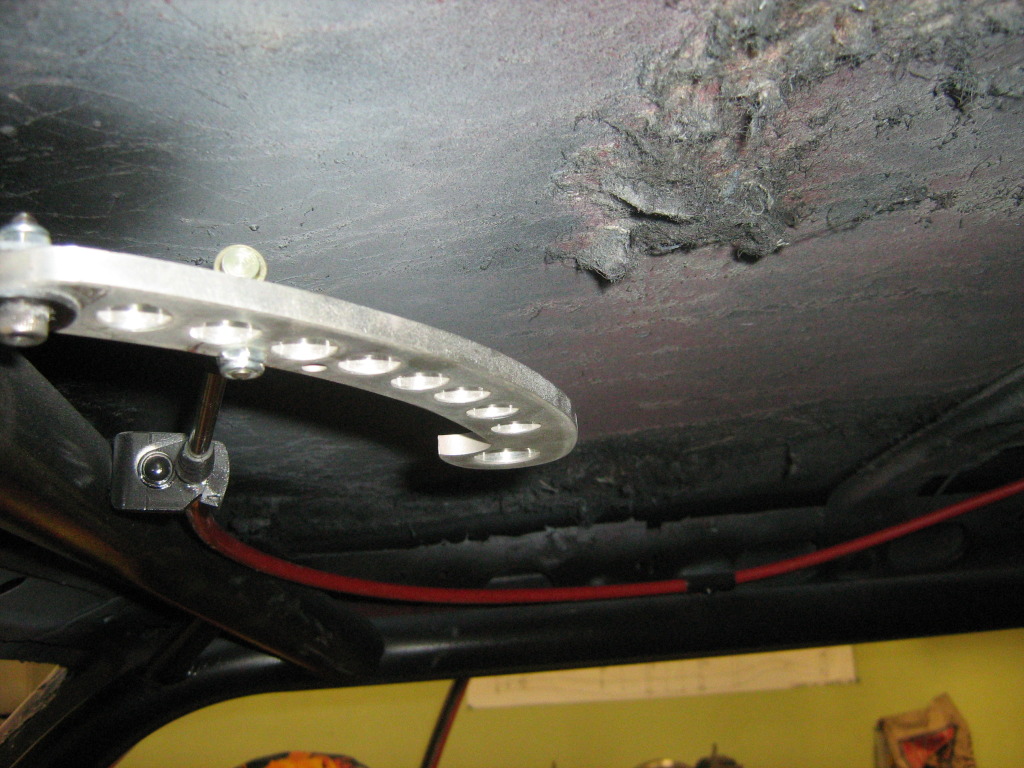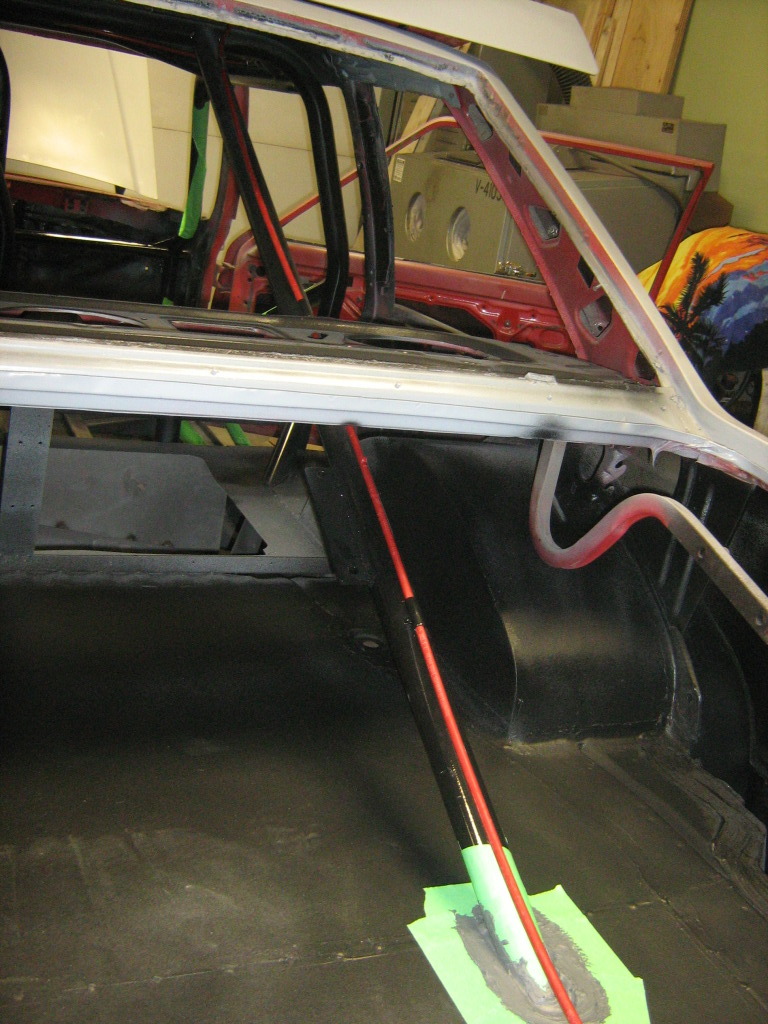 Then started mounting the fun stuff

anytime you can start actually installing things its a GOOD day, keep in mind the entire interior will be masked so the outside of the car/engine bay can be painted:


EZ wiring harness and fuse panel mounted,Holley HP ecu mounted,window net and carbon door bar protector all mounted as well: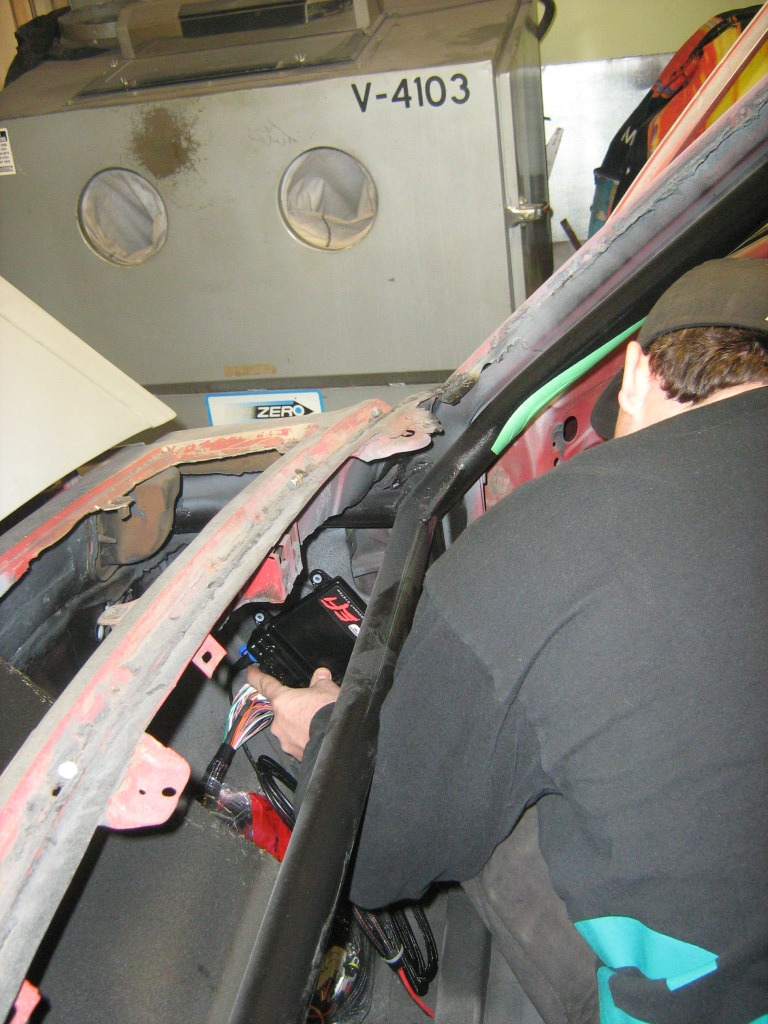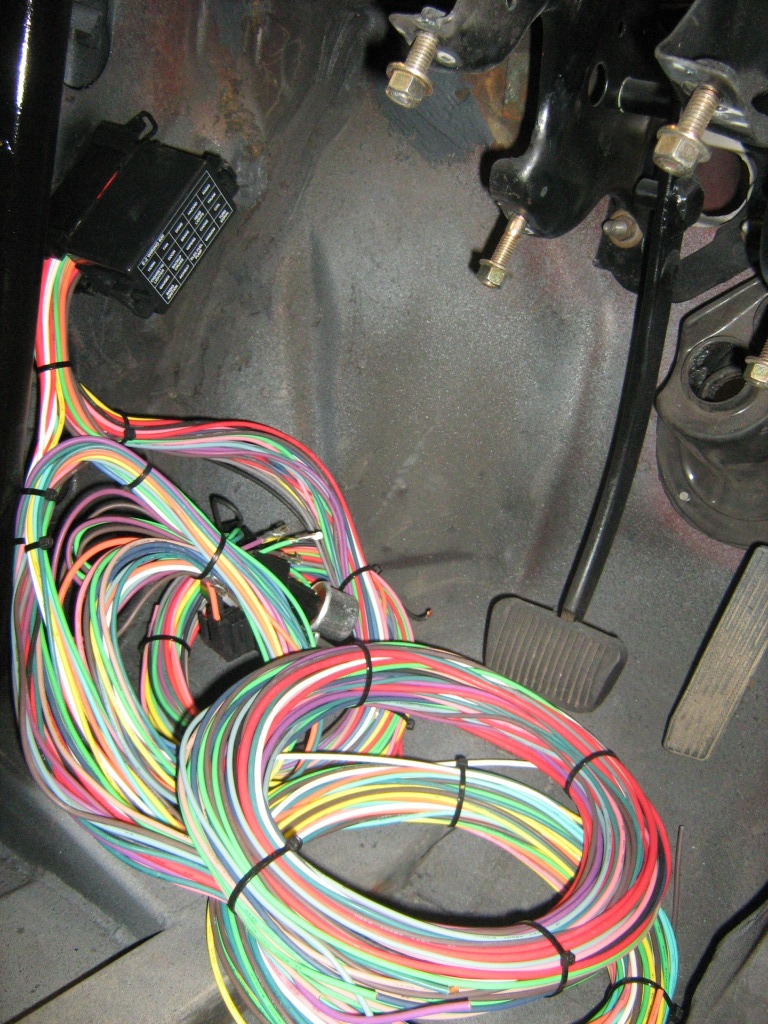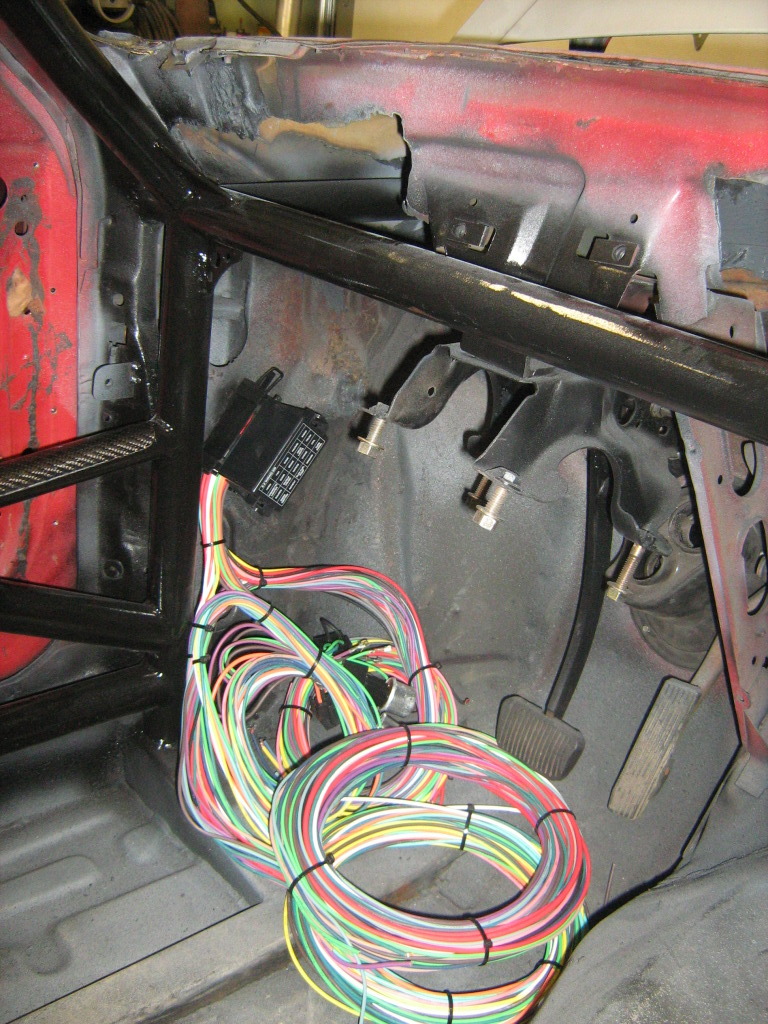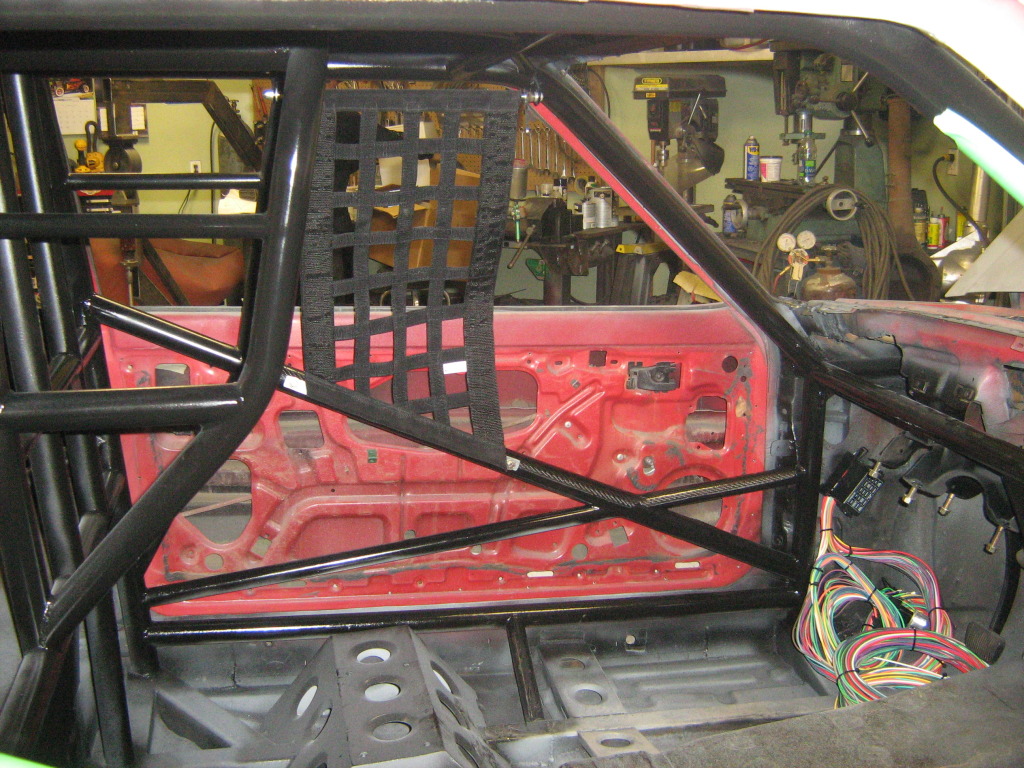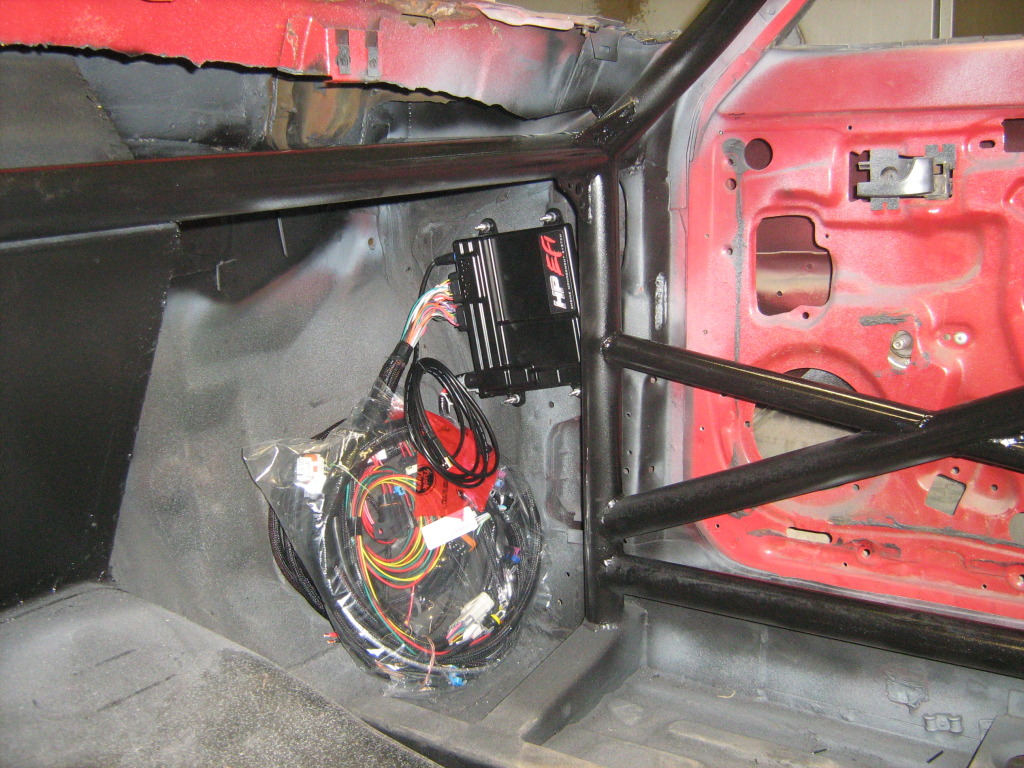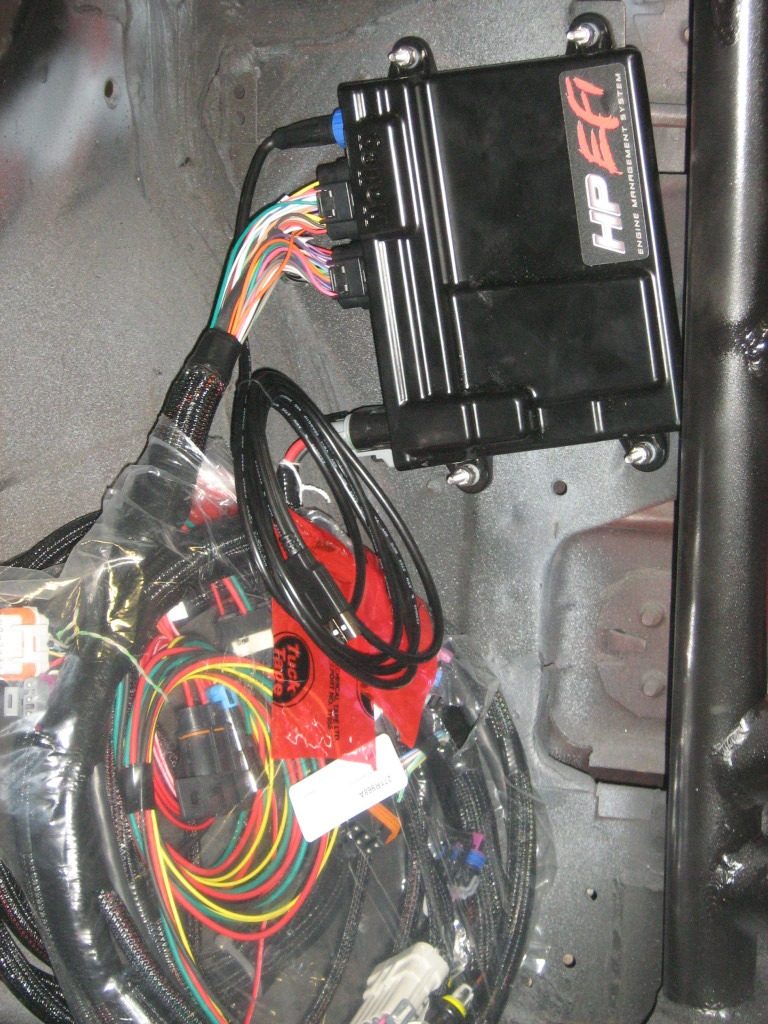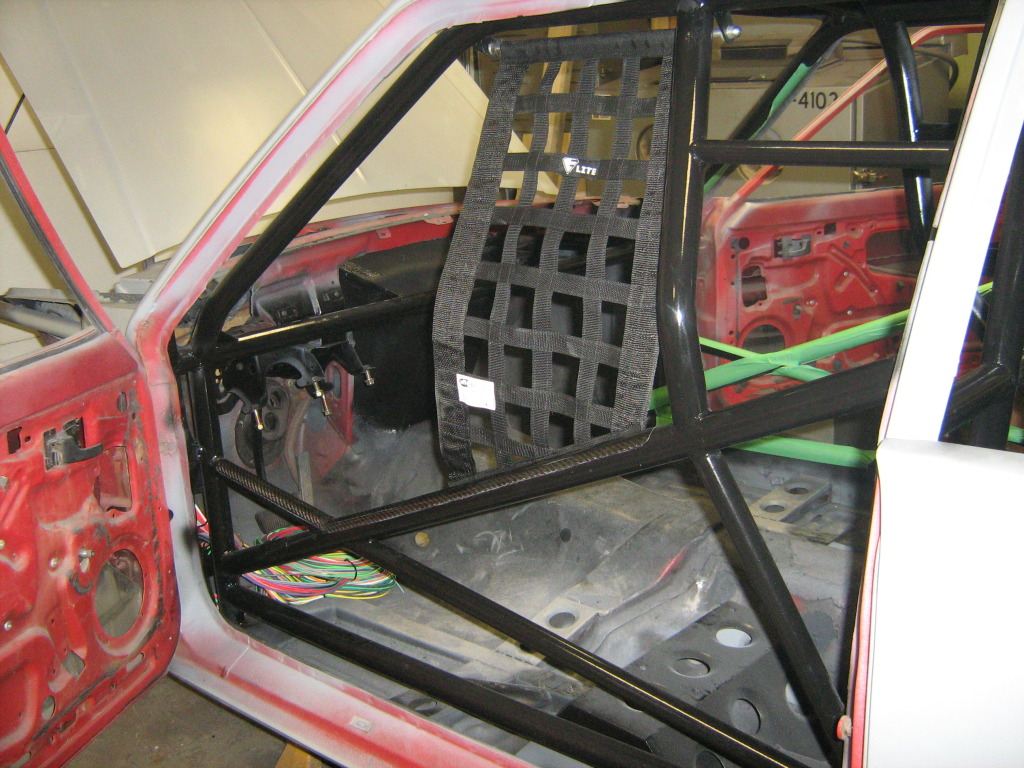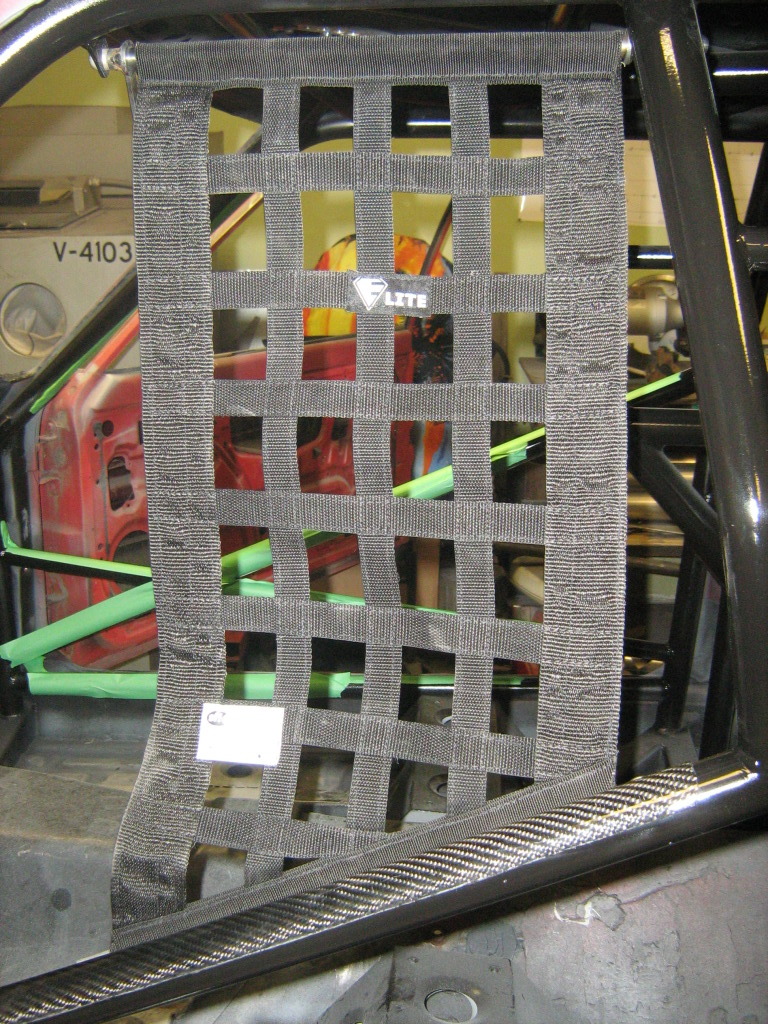 More pics coming this week, Wheels are getting coated as we speak, lightweight carpet is on the way and a few other odds and ends as well!

Nolan- Enjoy the cold drinks in the sun while we enjoy warm drinks in the cold lol
WOOOOOO!!!!

Nice work buddy! Not gonna lie vacation is badass. Did a 2 tank dive today and our dive boat was within 20' of 2 hump back whale's!! It was pretty much awesome. Also beer is ice cold weather is the opposite so enjoy E-ville sucker! Party night tonight as its our 5 year anniversary, not gonna be in any kind of shape tomorrow. (I will try to stay out of any scrap metal piles)

Cant wait to see my new wheels back from the coater, Are you gonna through in any of the interior panels? I was thinkin you should wait until we get some color on it to reduce any risk of over-spray.

Oh an Nikki says thanks for playing with bella! We all know she loves uncle Neil!

More updates soon!!!

nolan
2-24-2012
Thanks guys, Just trying to keep moving forward.

K member is now finished and getting powdercoated silver vein to match the diff, Wheels should be done coating today or monday and as usual more parts are always on the way! Should have some update pics soon!
2-27-2012
Like I said I had to help my uncle move this weekend so didn't get as much progress made as I would like but here is a few pics anyway:


Special thanks to IMPACT COATINGS for the killer job as always on ALL of my powder/ceramic coating.

New rims and tires, I glued the beads and hope they dont spin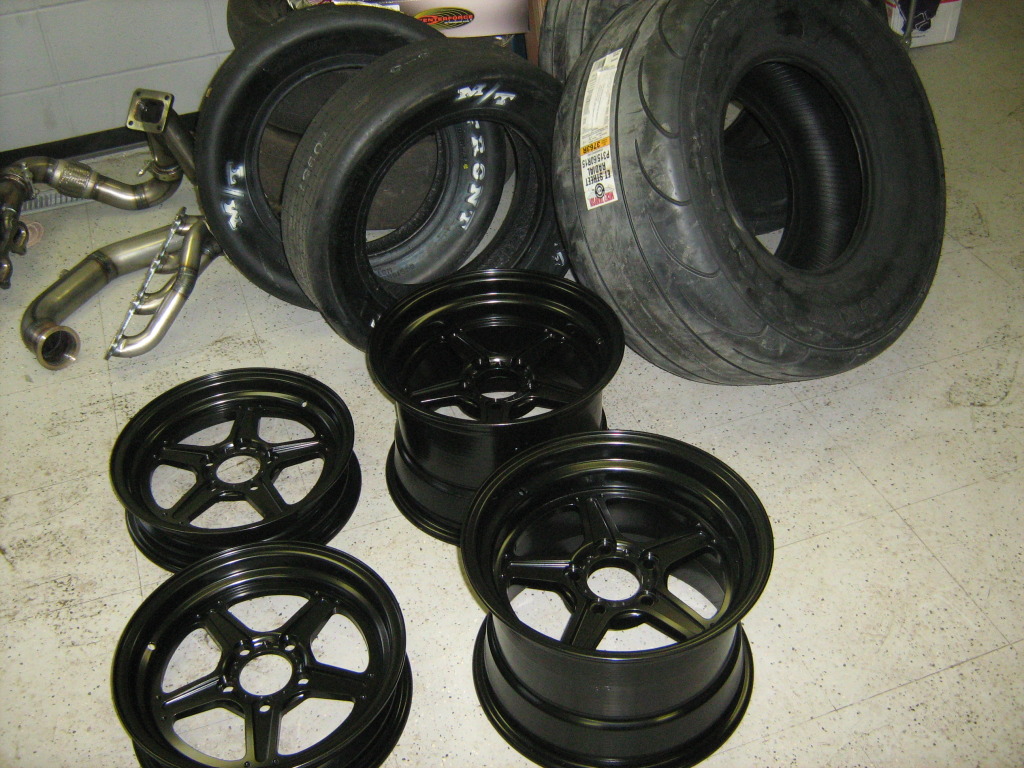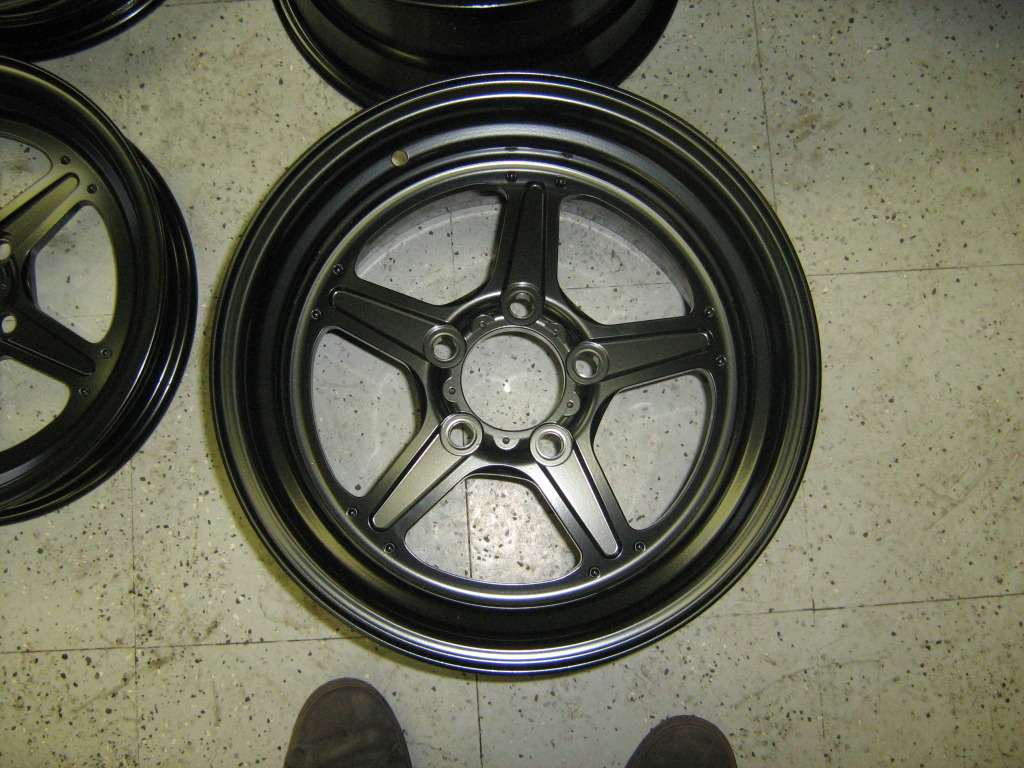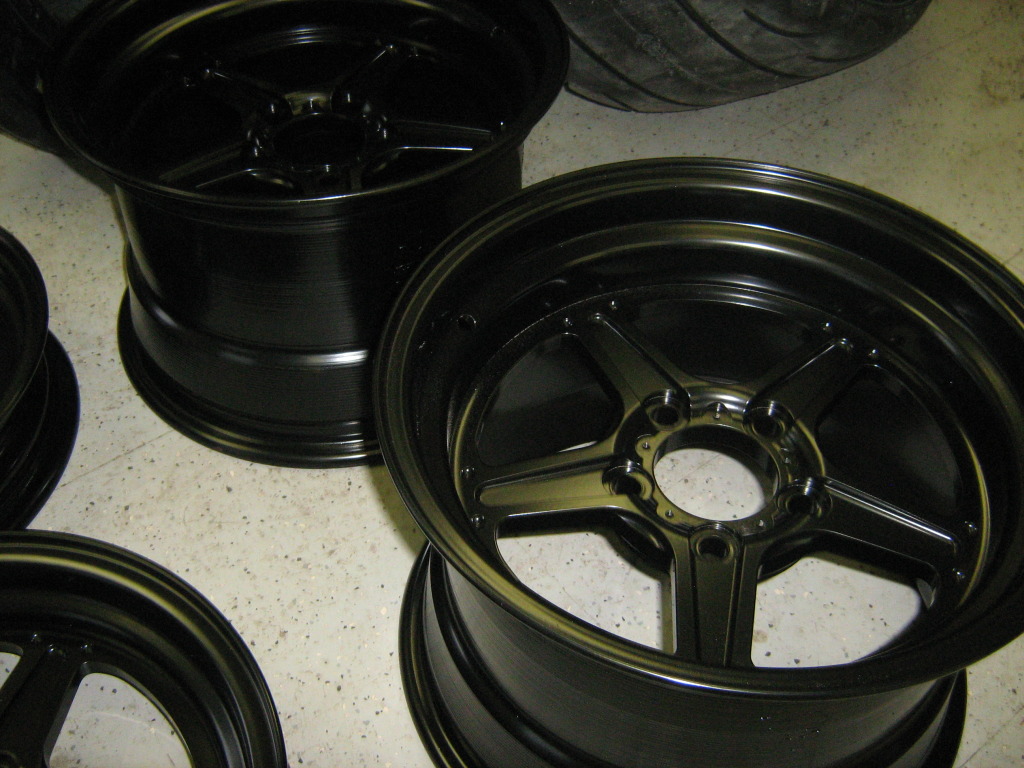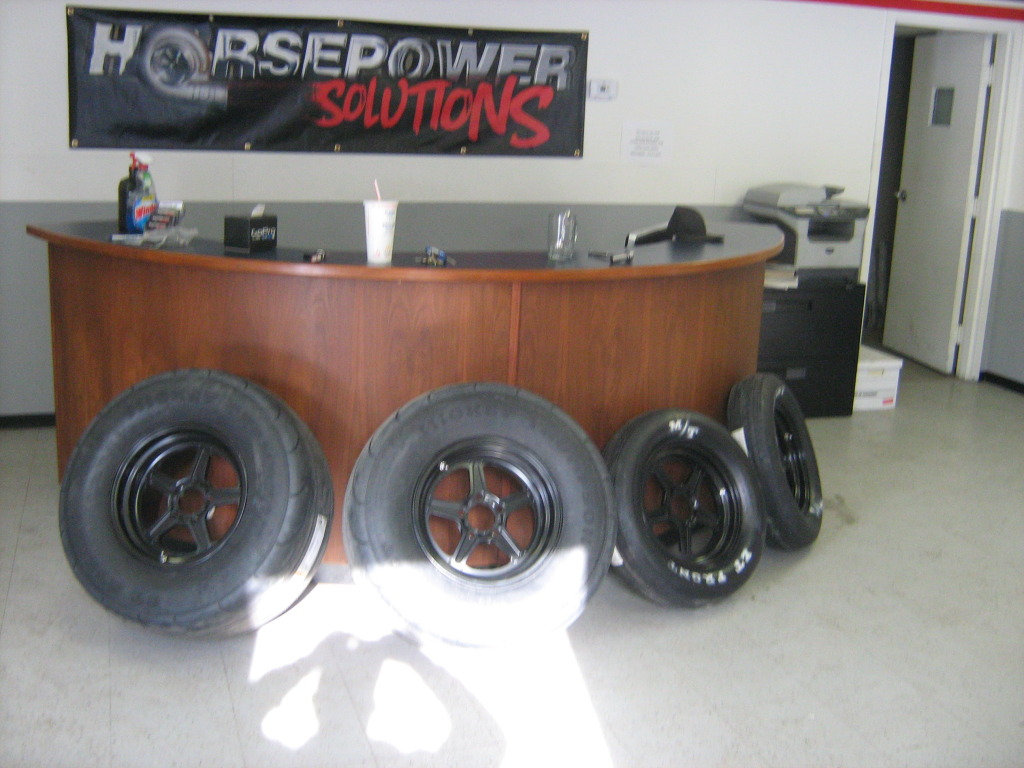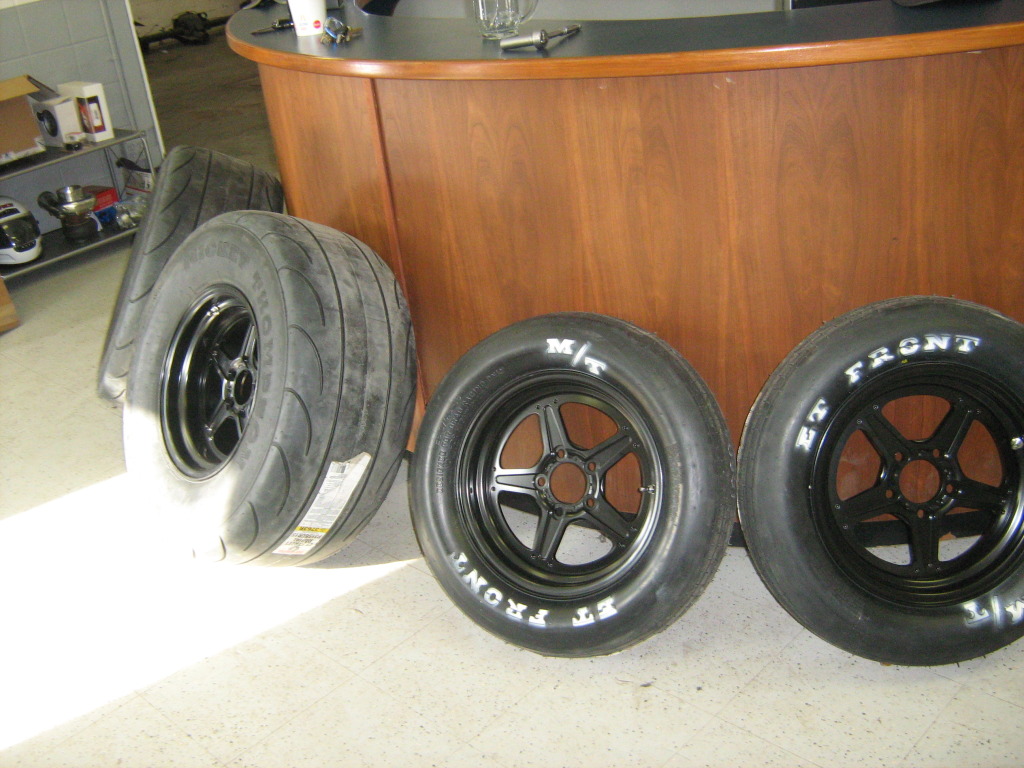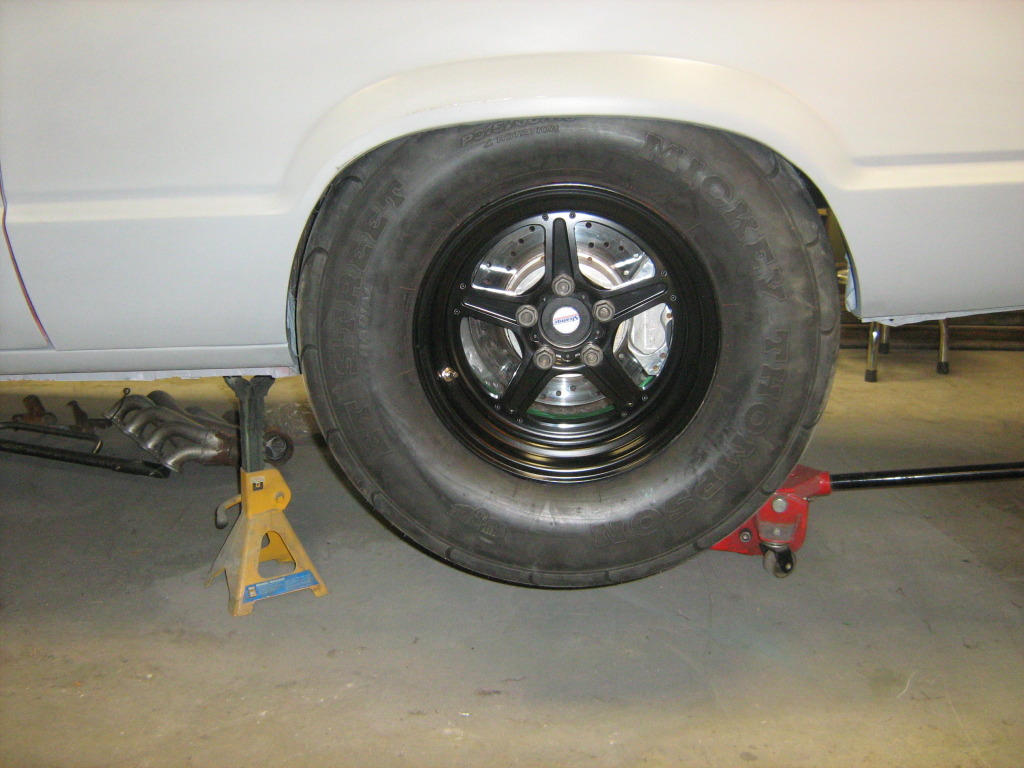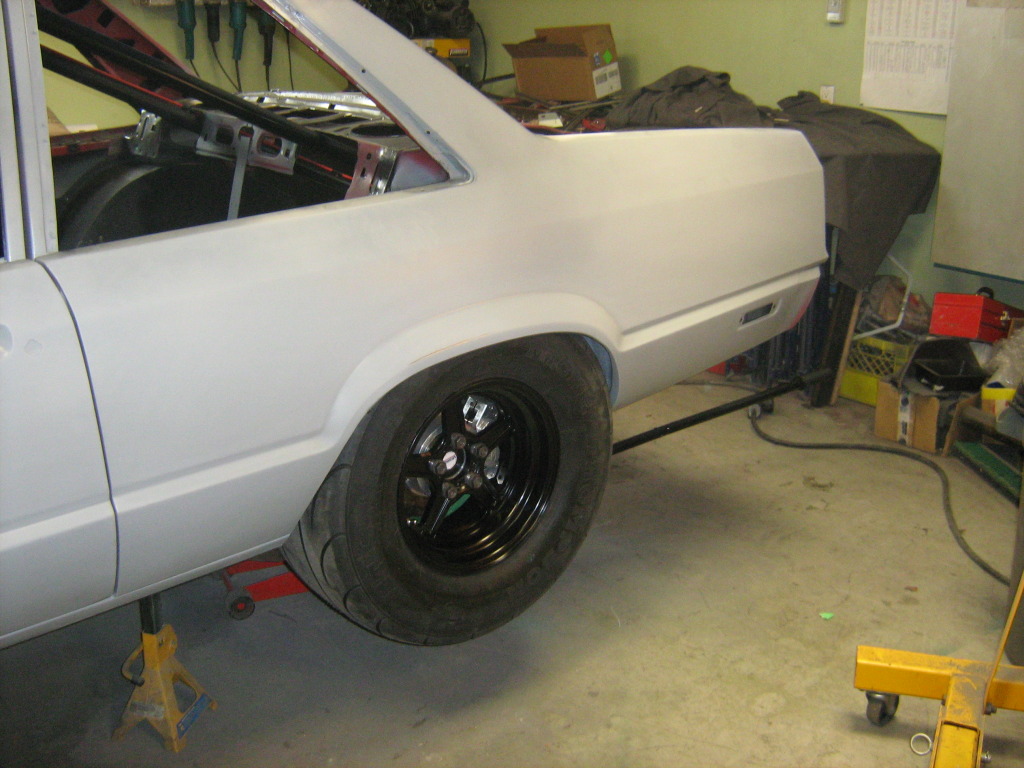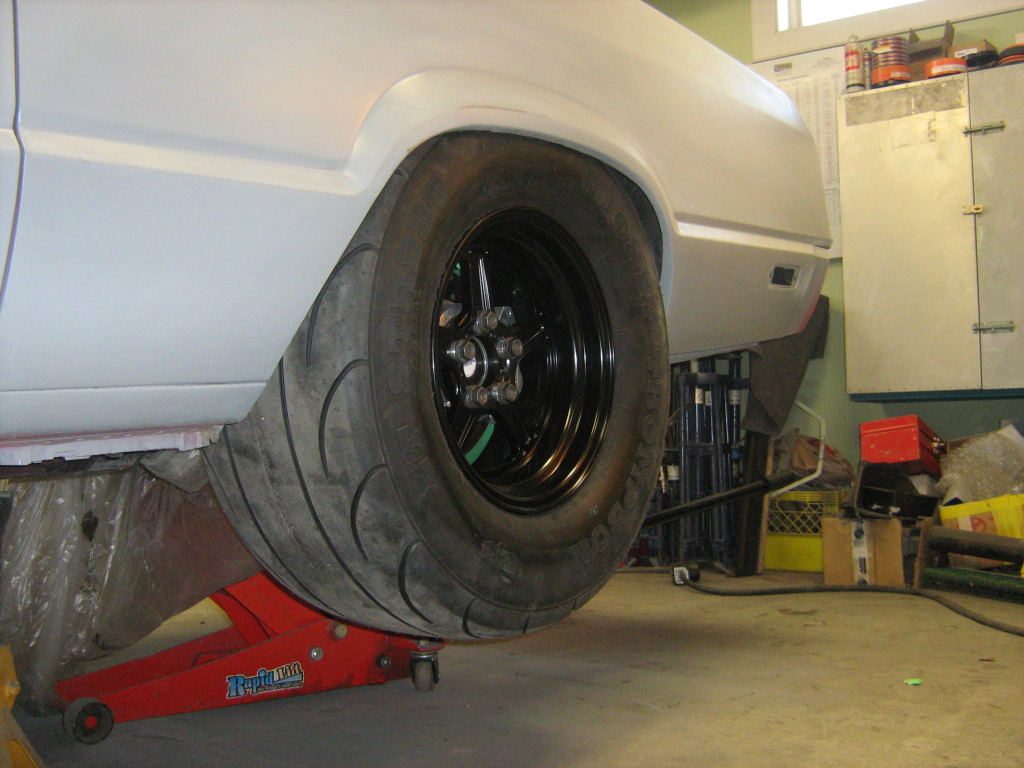 Also got in my ozite lightweight carpet, SUPER light and easy to work with, started doing the rear wheel tubs: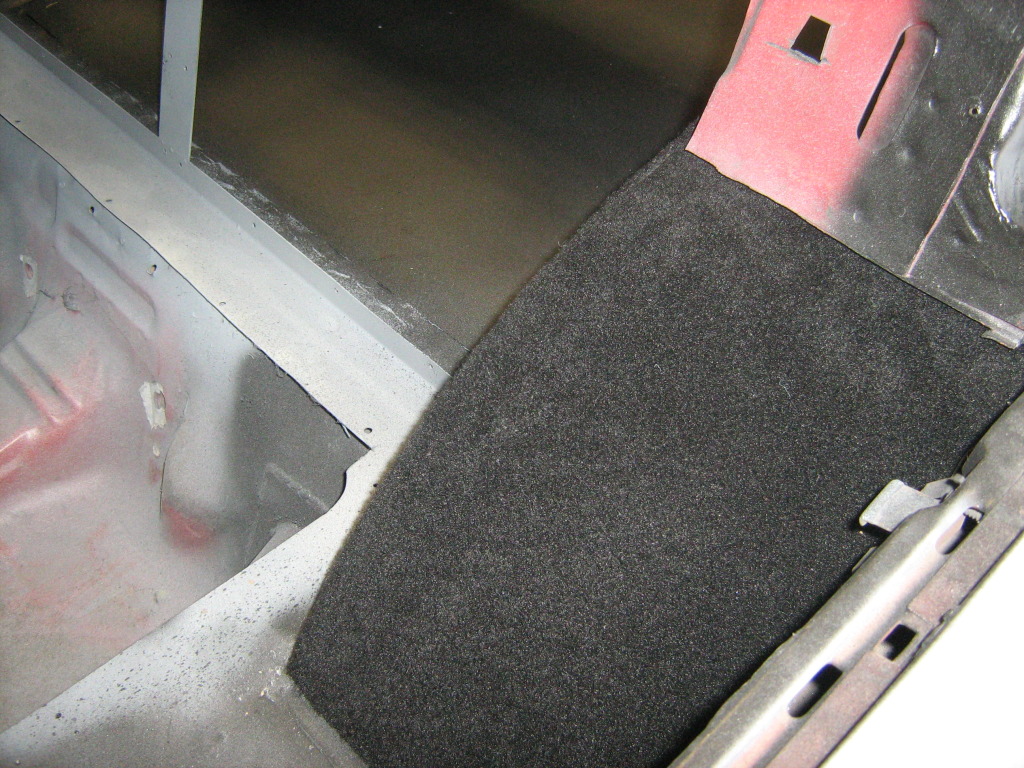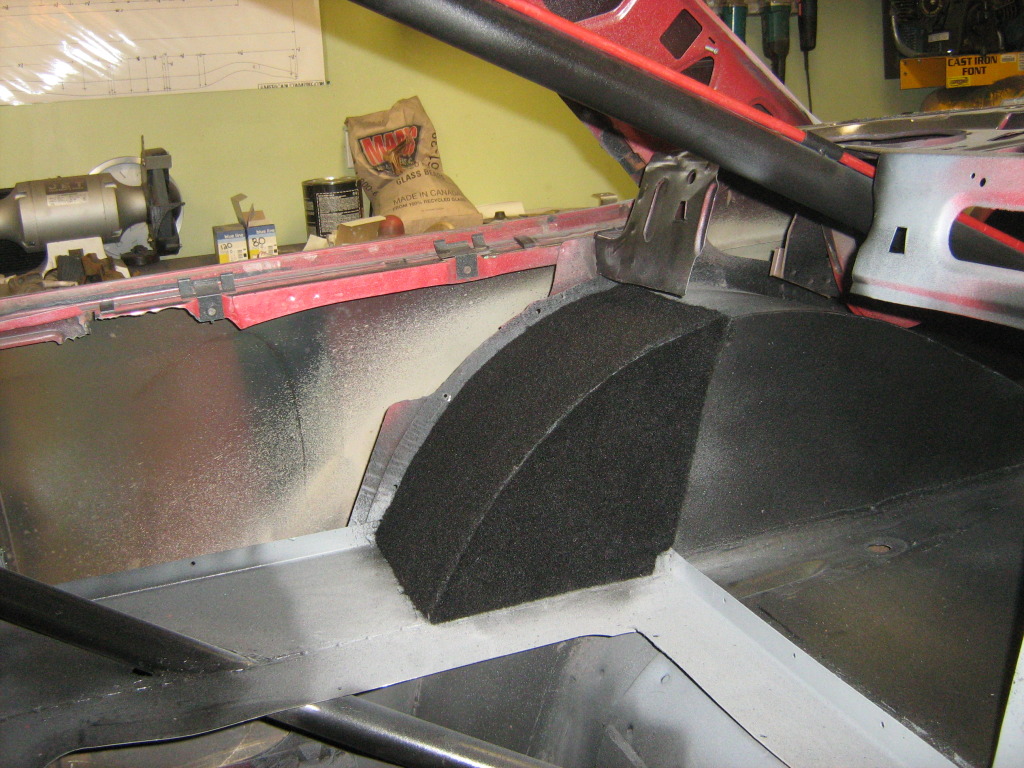 Also started running the wiring to the parts of the car it will goto, the rear tail light/trunk section is all layed out, obviously it will all get loomed and tied up nice :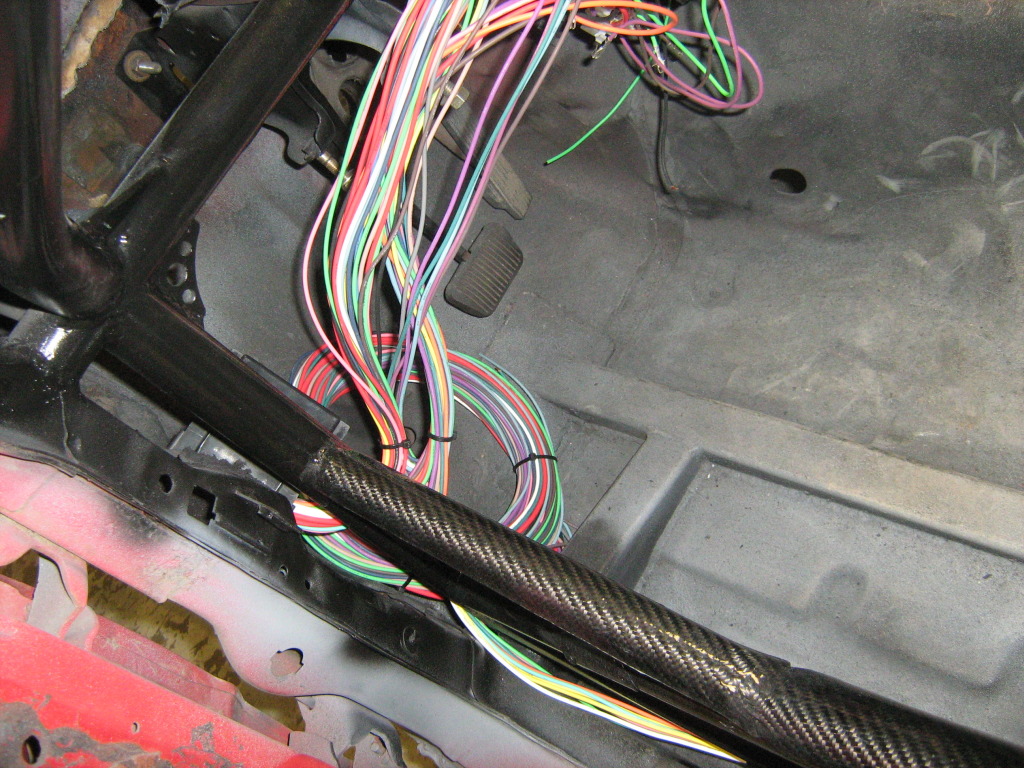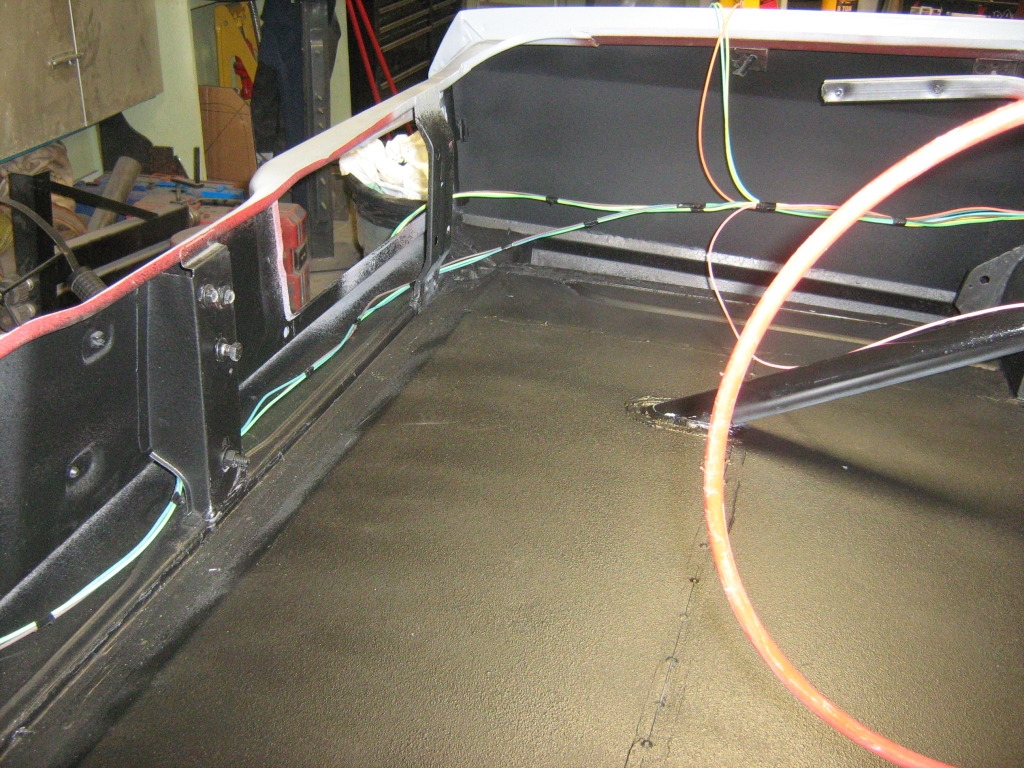 Stay tuned for more updates soon !!!!
3-4-2012
I could only wish it would fly now.........Home for 2 days, leaving tomorrow for 2-3 weeks for work

With any luck I will finish sooner and get to be home for a little while.... But we will see. Next time I am home I will be going hard on getting this thing in paint. Its kind of holding up the project at this point.

Anyways on to the updates and pictures!

Neil prepped the back of the kirkey seats to be painted matte black so they blend in to the interior a bit better.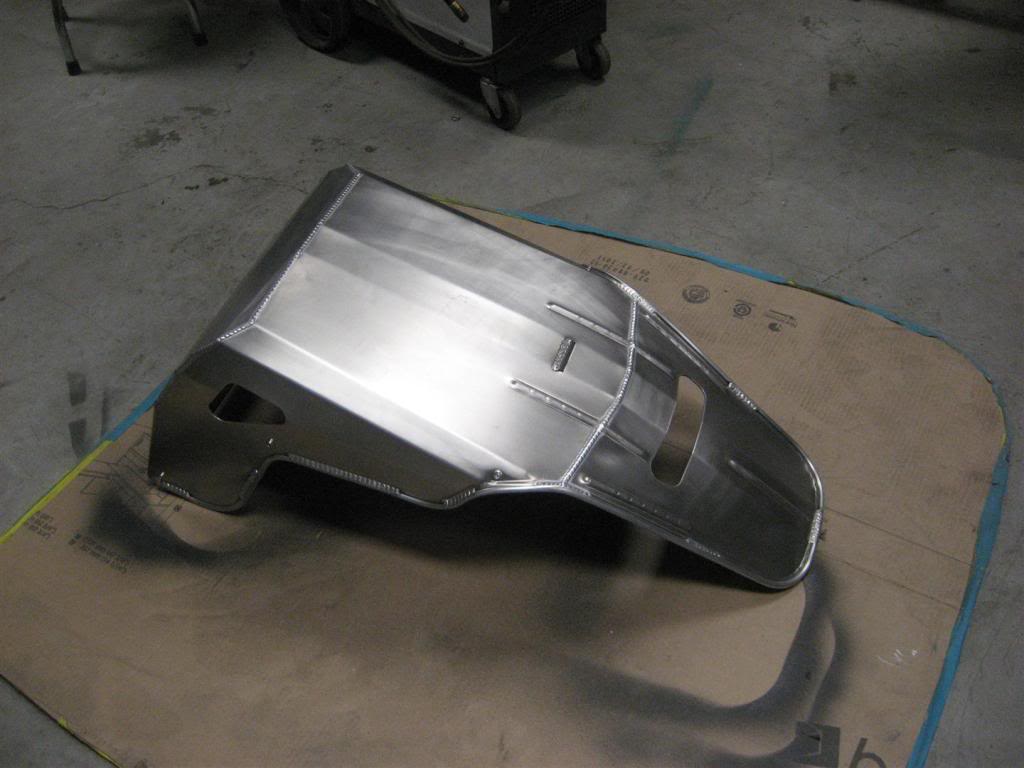 One done one to go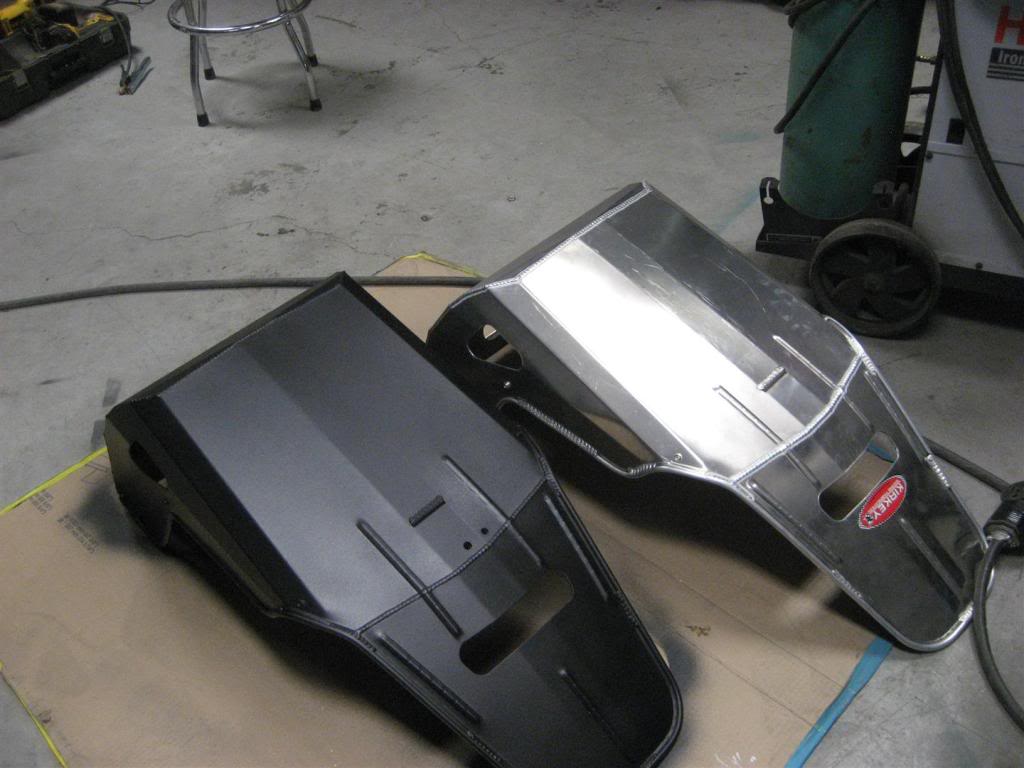 Test fit




The seat covers are black will hide the front side.

While he was fooling with that I made a mount for the C02 bottle behind the passenger seat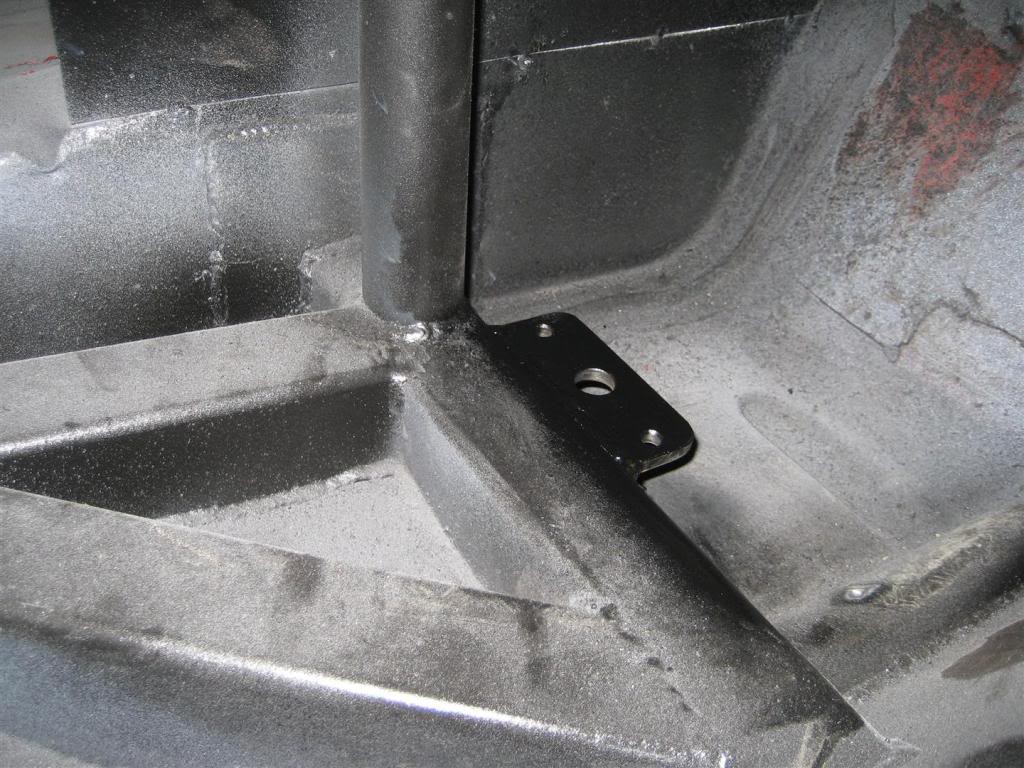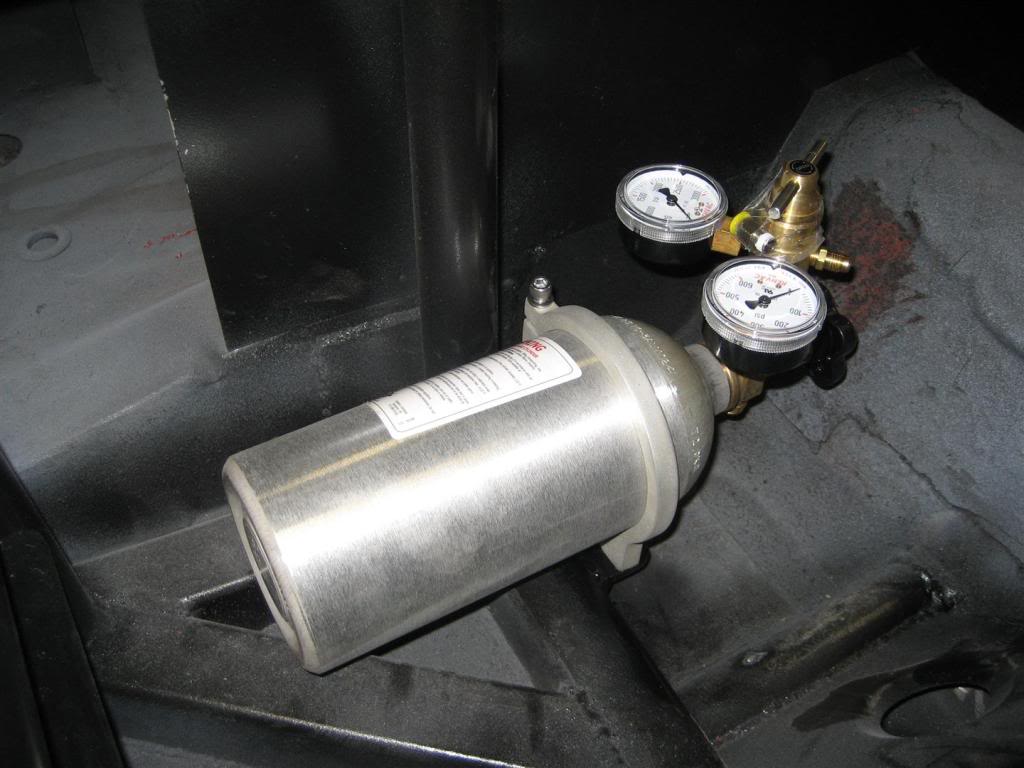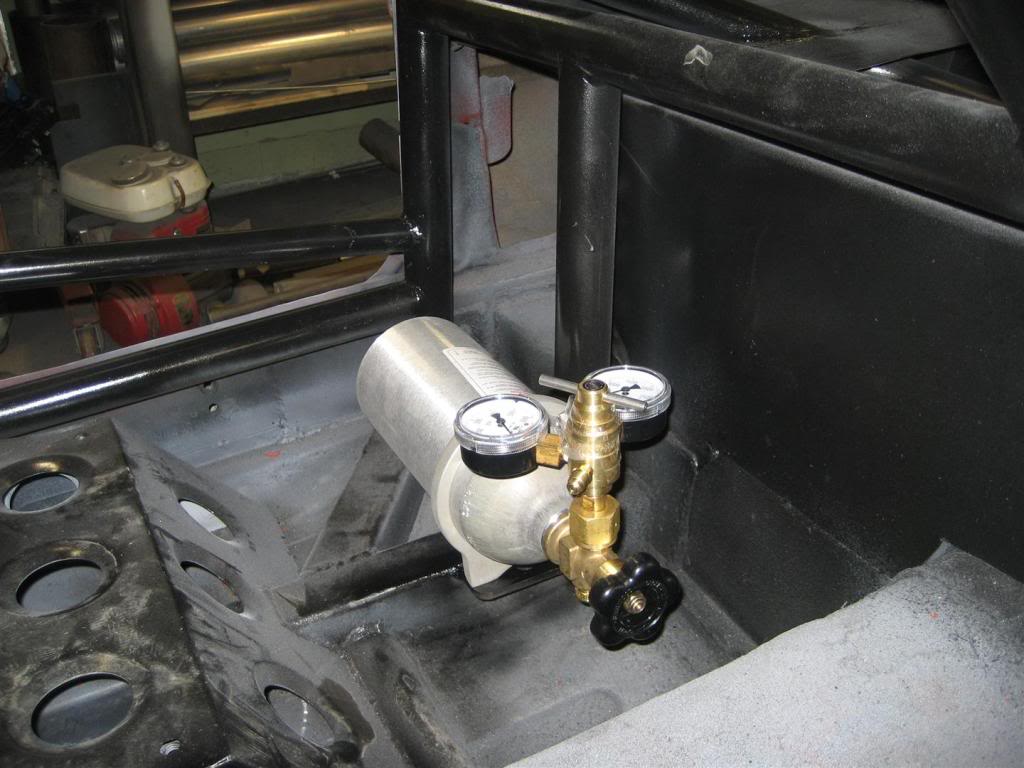 Next we moved to the trunk and pretty much got it all finished up other than yet to be ordered ice tank and Neil is getting the fire bottle filled so when he gets that back I am sure it will go in too.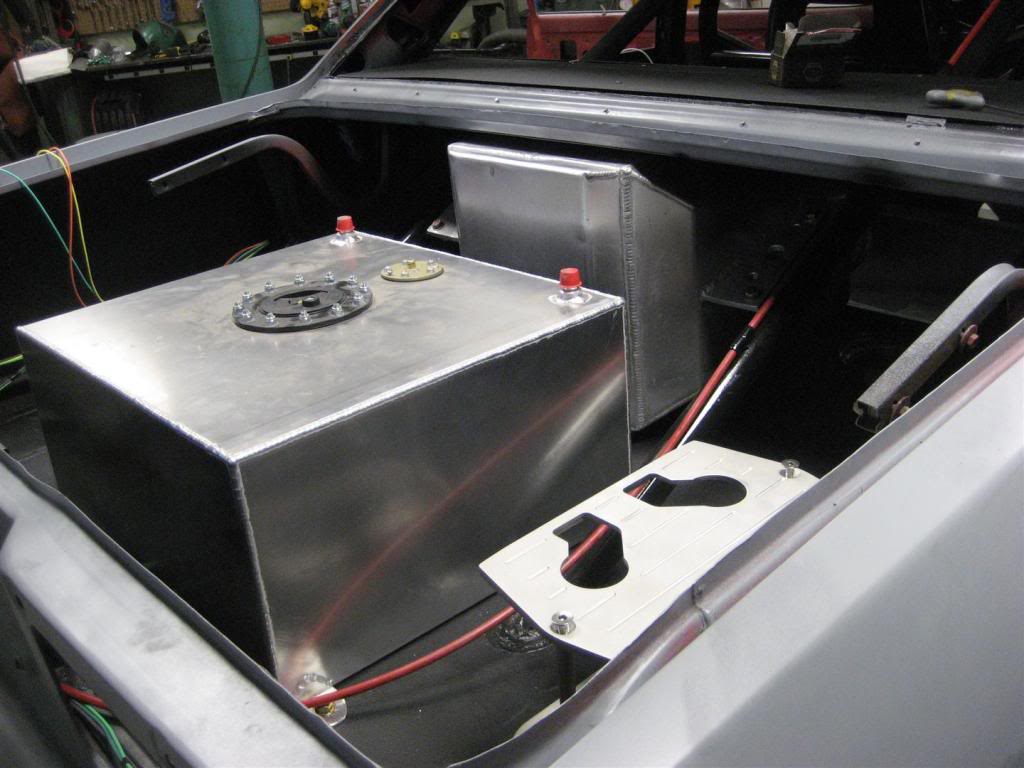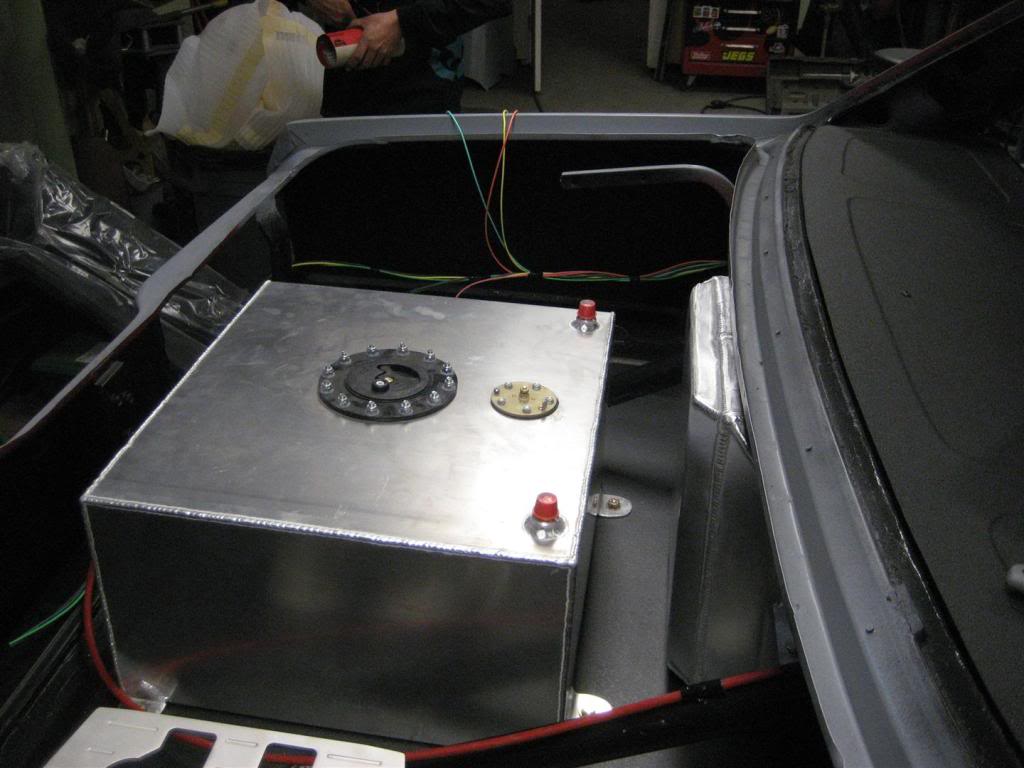 The inter cooler fits in there so good, I think it is gonna look pretty clean when its all plumbed in. I also had to weld in new bungs for the fuel feed and drain, not sure on the size but it looks like you could hook up a fire hose!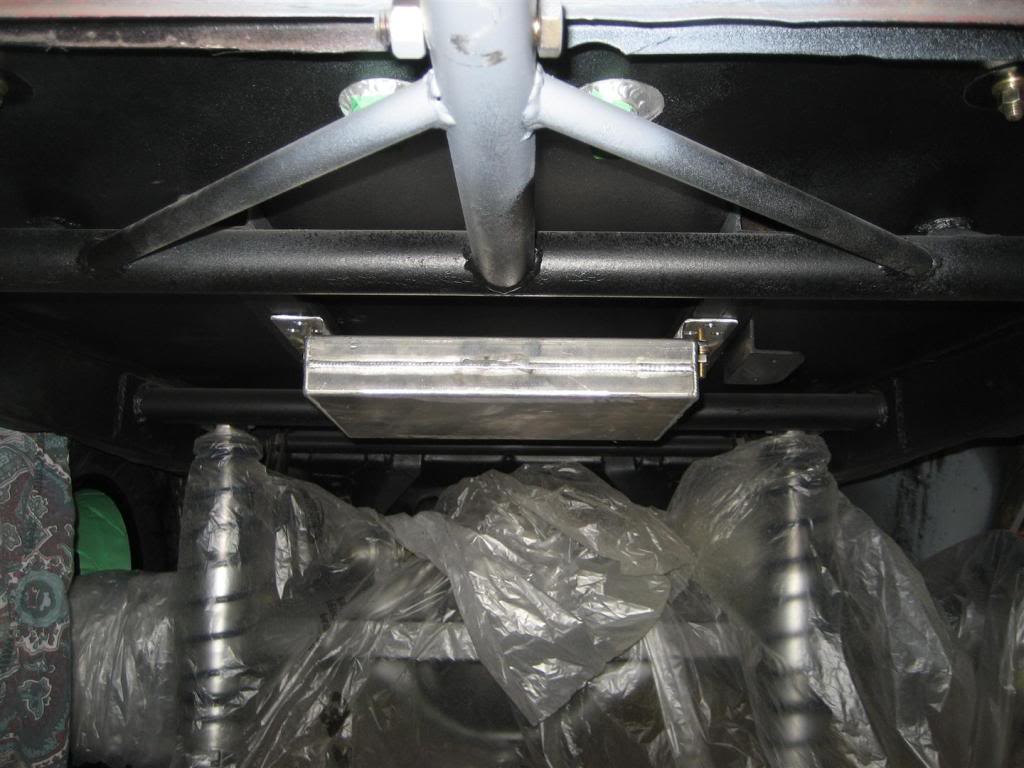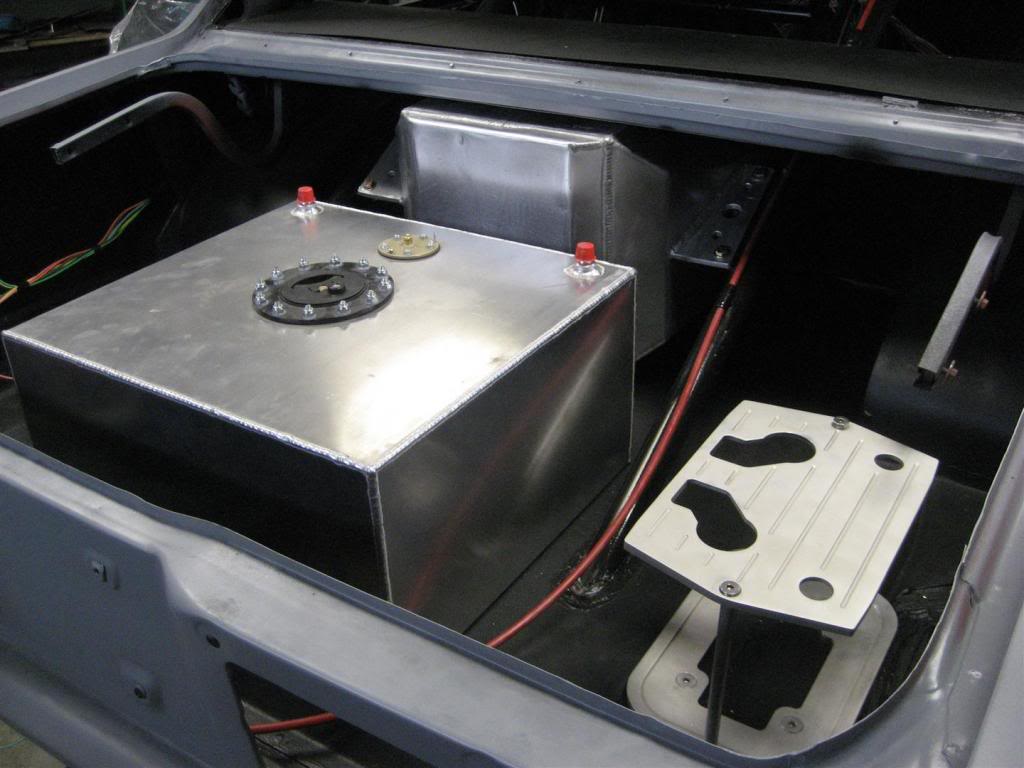 I then moved onto fitting up the first charge pipe, Did some careful planning and cutting on the beauty panels, in hindsight we should have waited for coating until fitting up all the piping but its also nice to be all done now.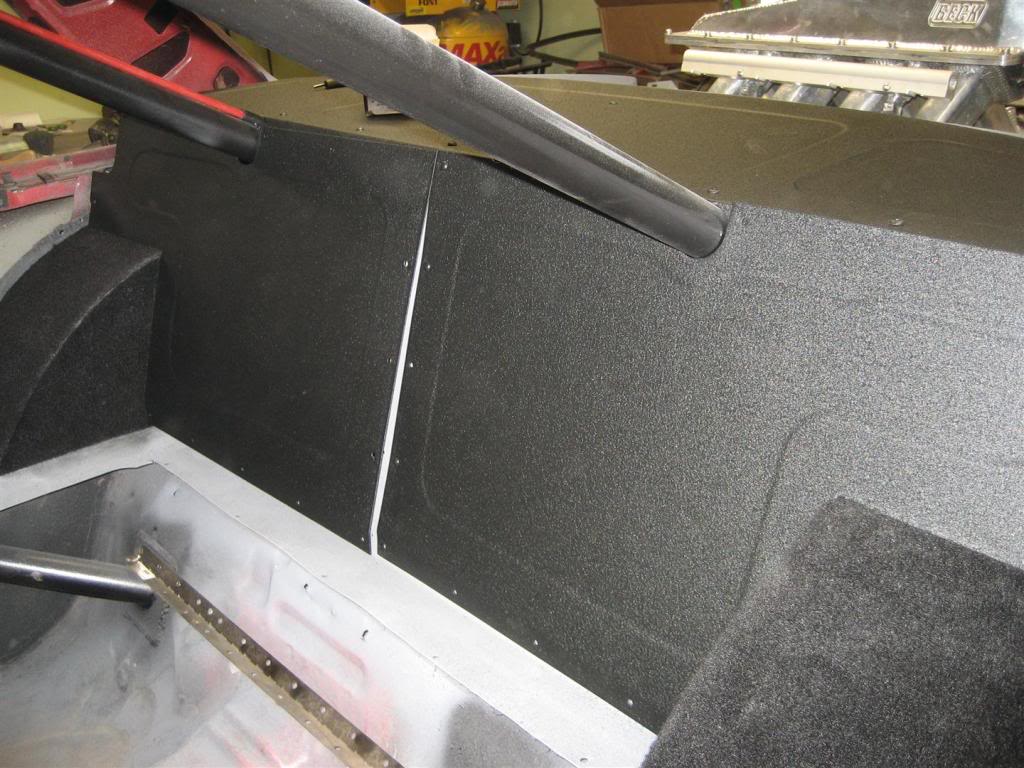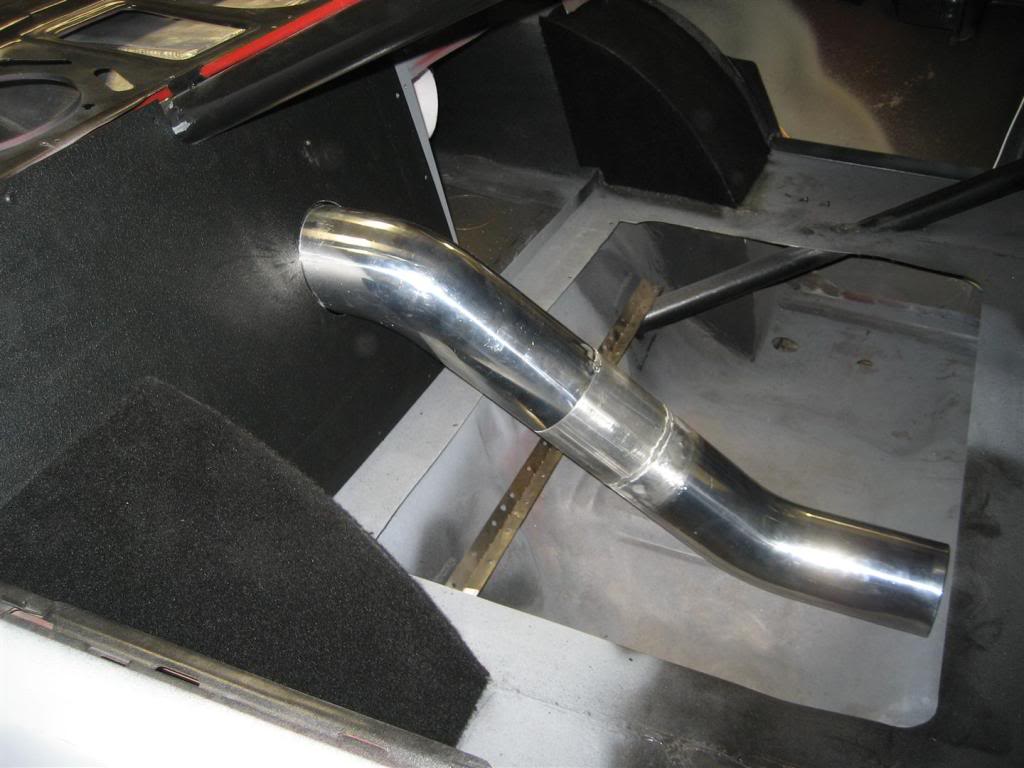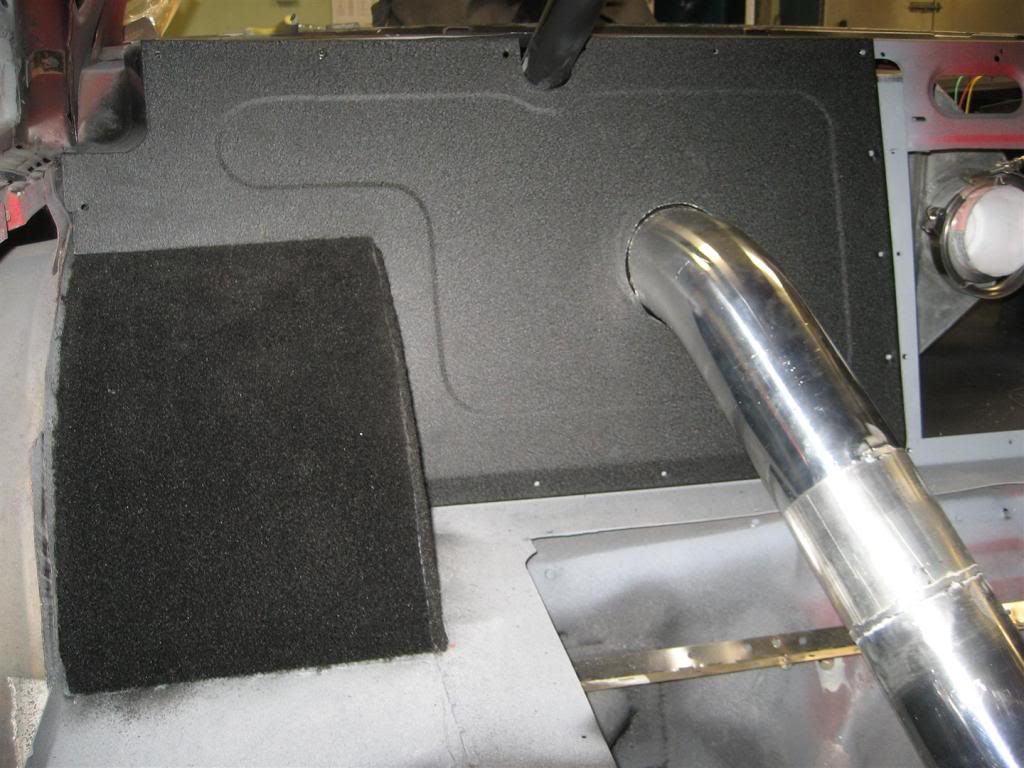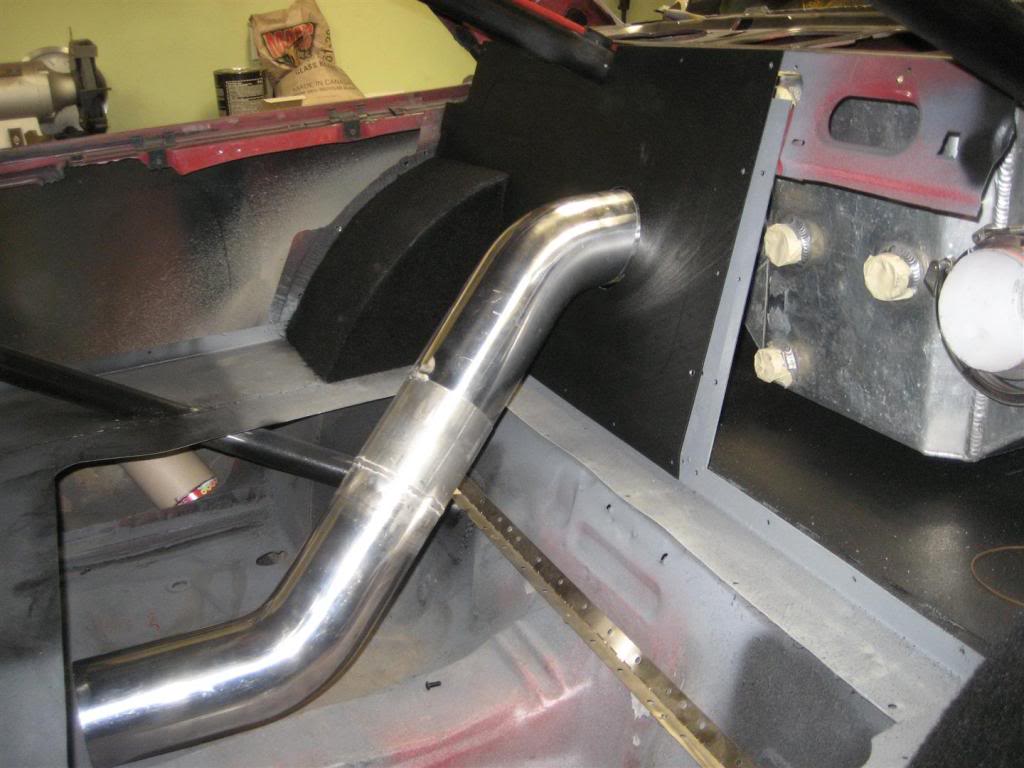 Neil snuck a shot in of me tig'in up the new v-band.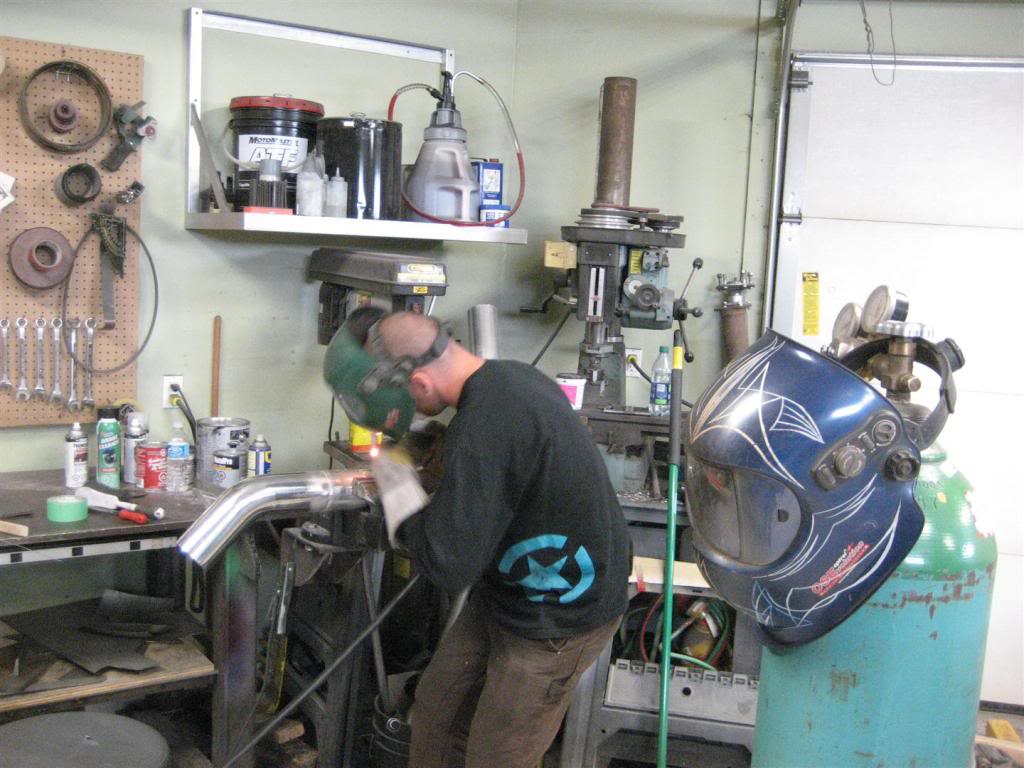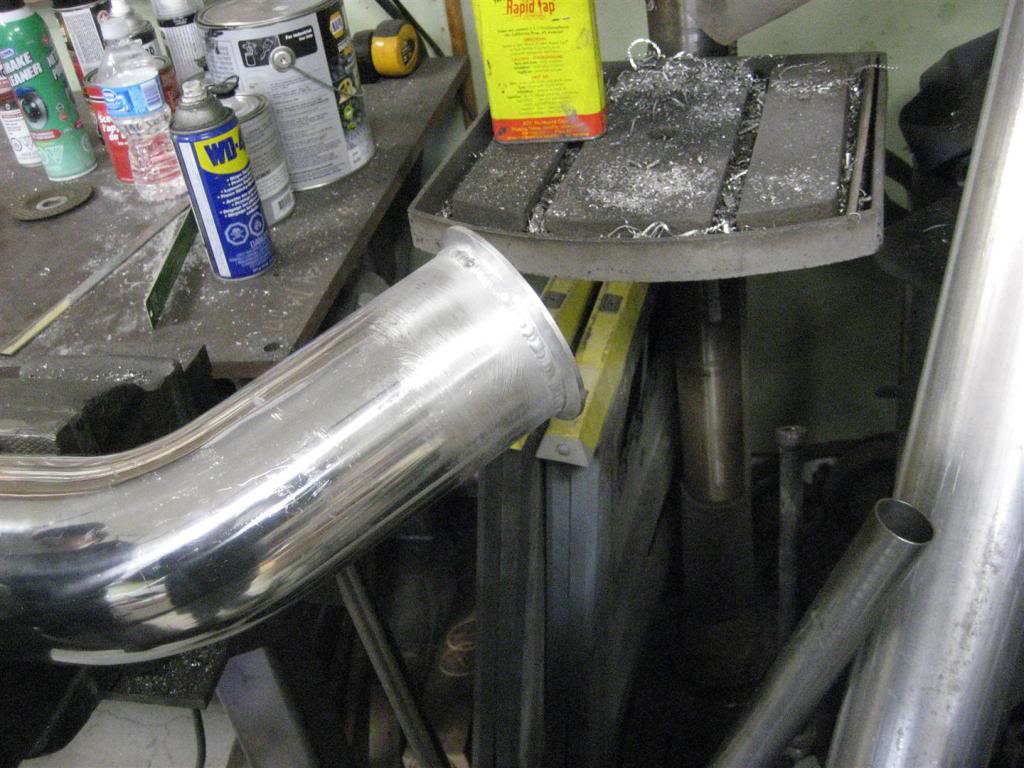 Lastly today we sorted out all the interior panels that are going to be re-used and test fit them quick. Neil is going to dye them all black and get em ready for install.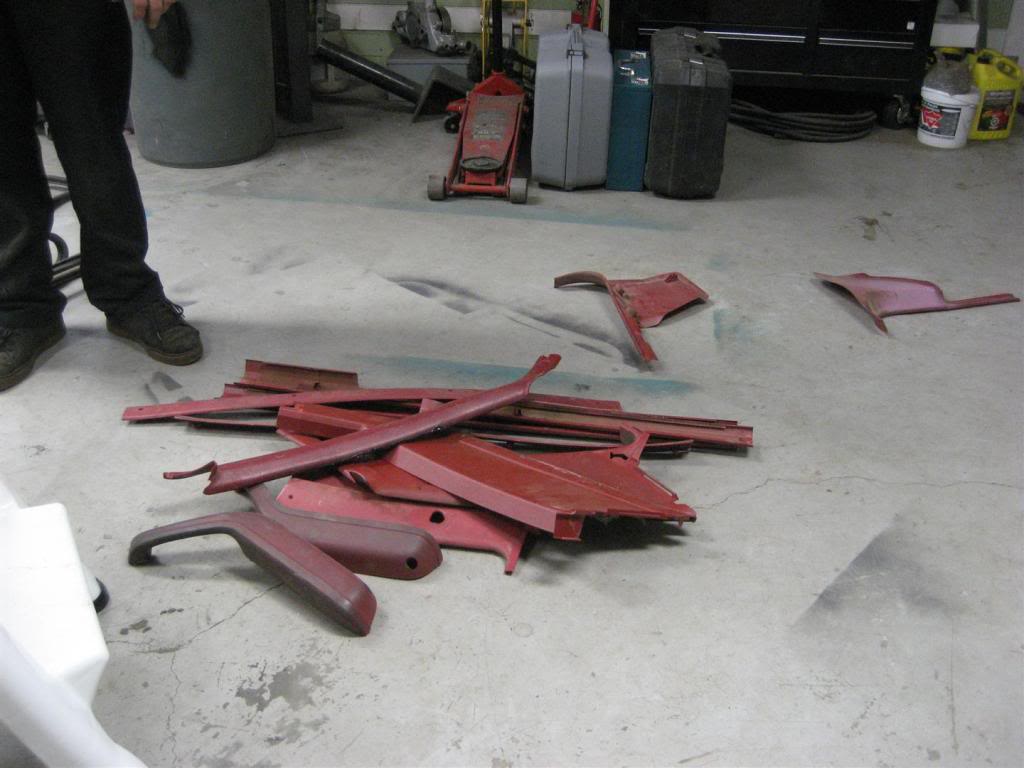 Thats all for now, see you all in a couple weeks....
3-7-2012
Got the K member and mounts back from being coated and once again Bruce @ IMPACT COATINGS did an unreal job for me.

Color is silver vein same as the diff housing: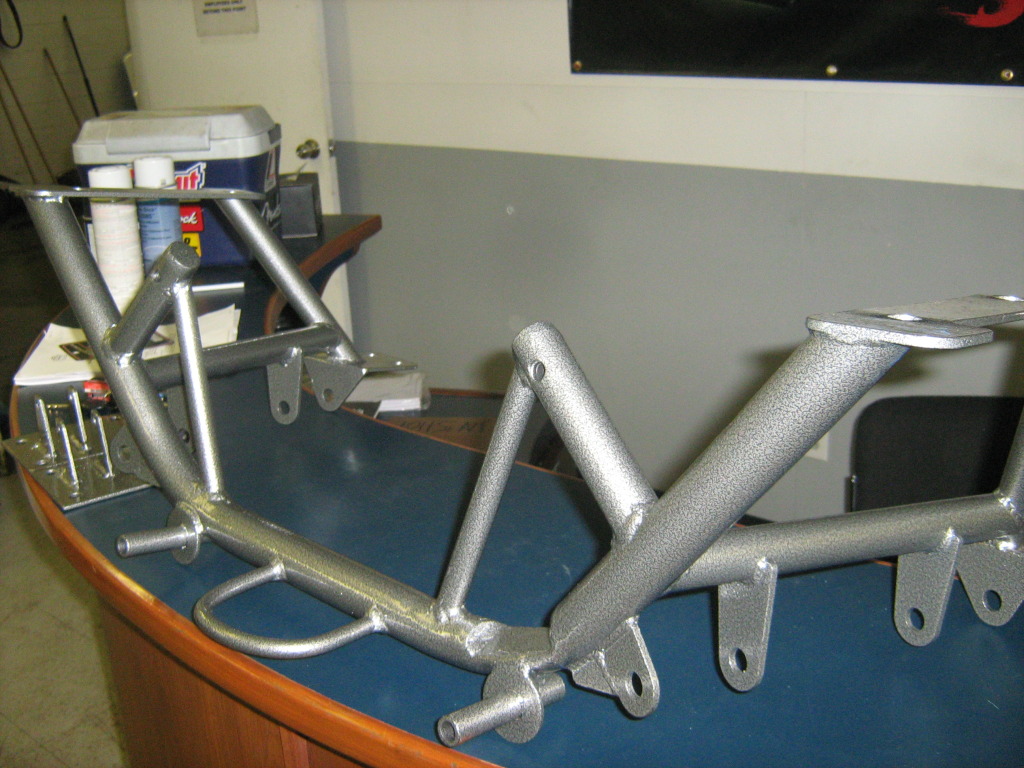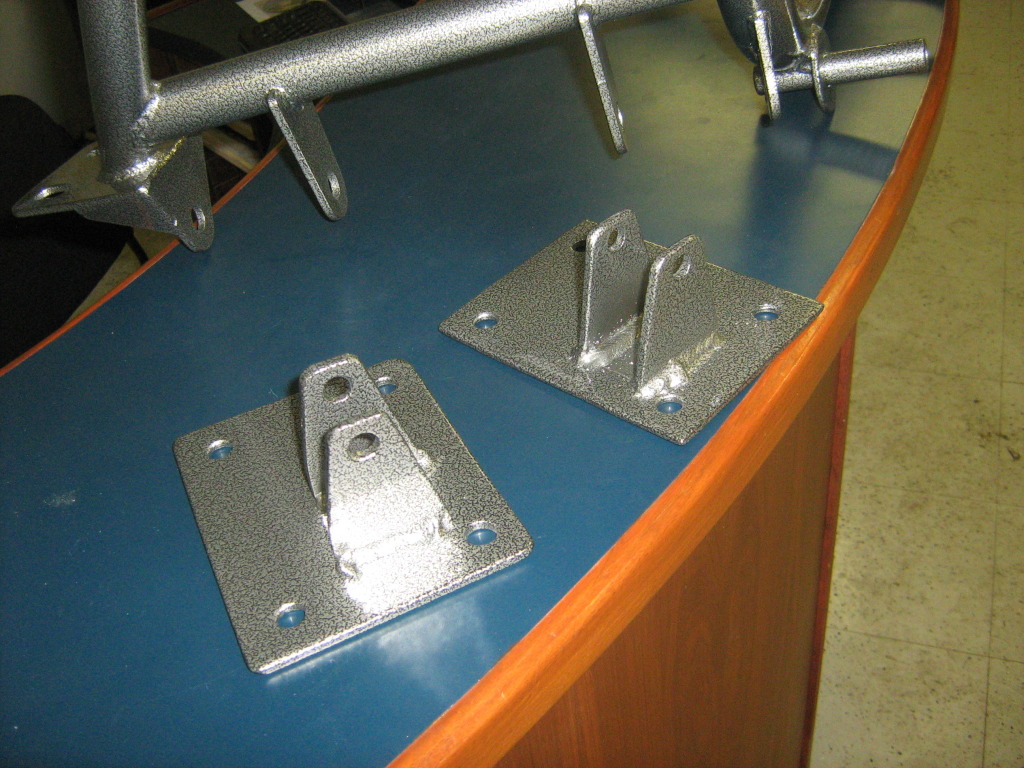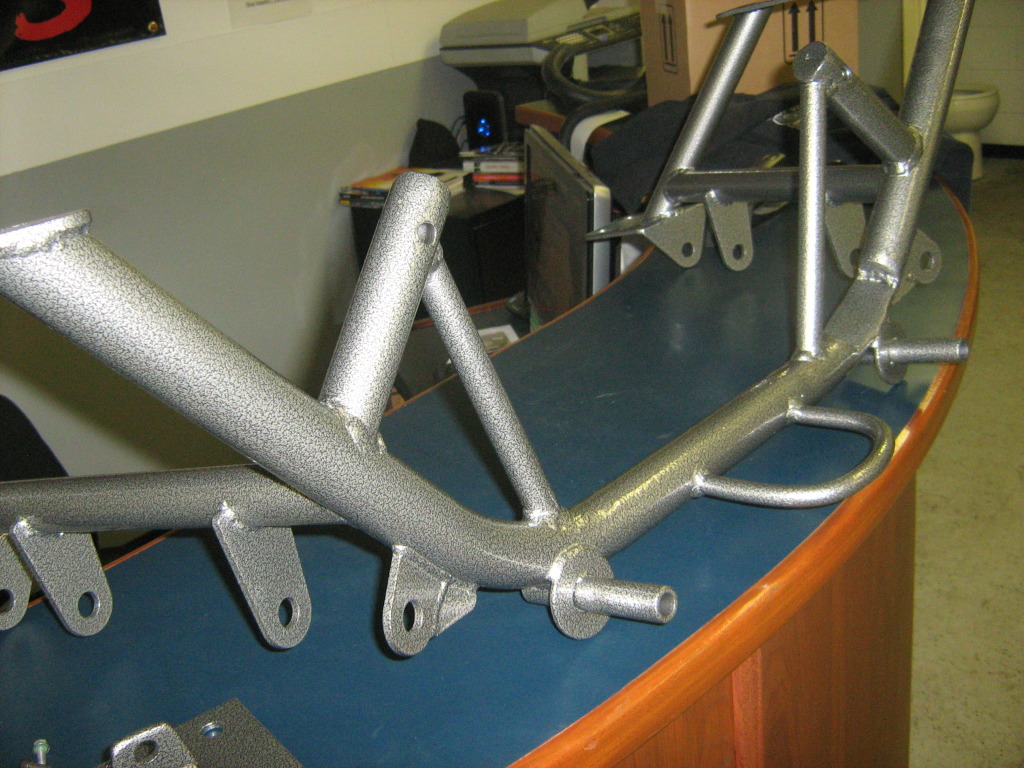 Also got all the supplies to re-color the interior panels, all of the products are made by SEM and I started with a plastic prep cleaner , then an adhesion promoter then onto the satin black color coat..... this stuff works AWESOME the parts literally look like brand new black plastic and you can not tell they have been dyed the color is perfect.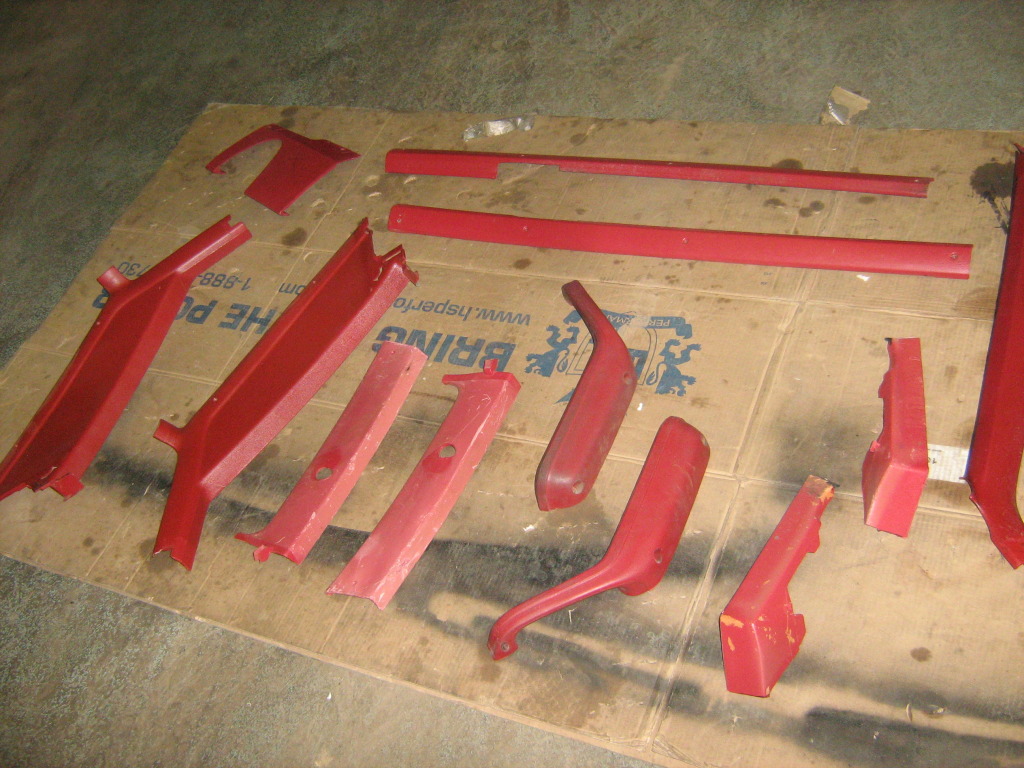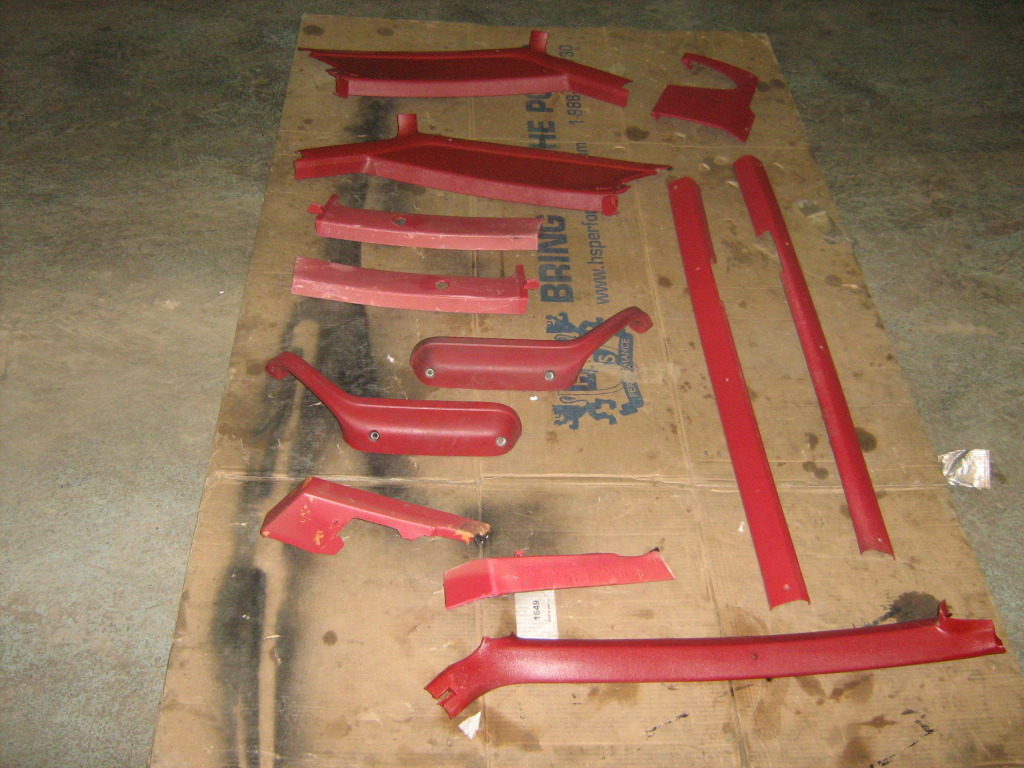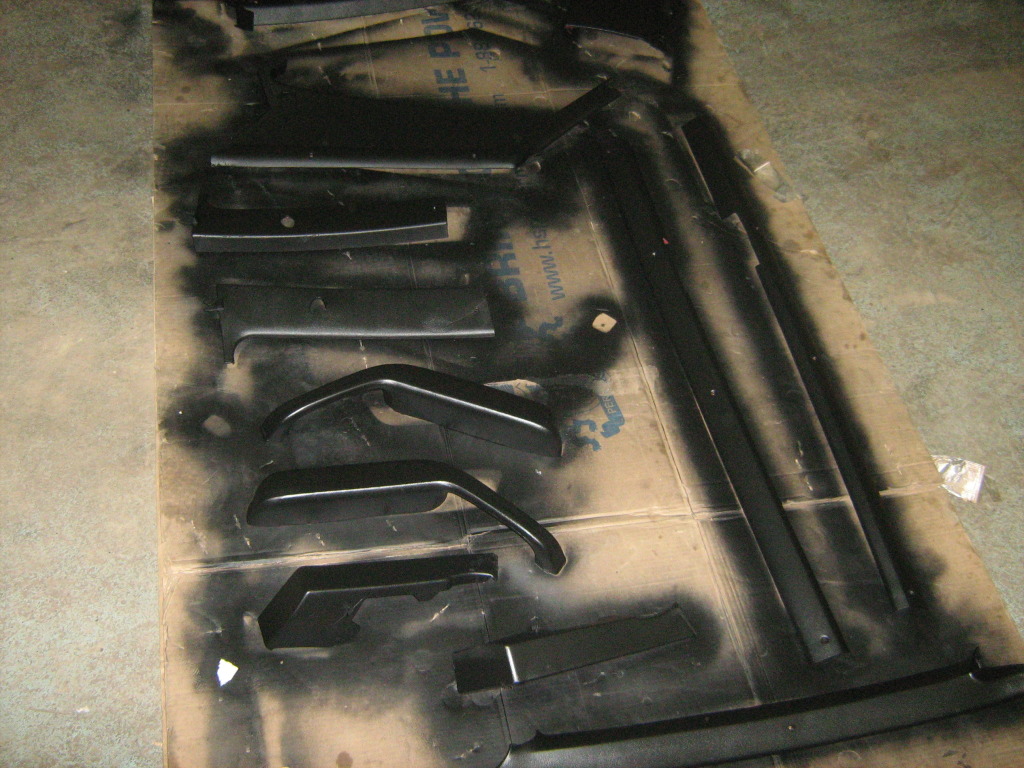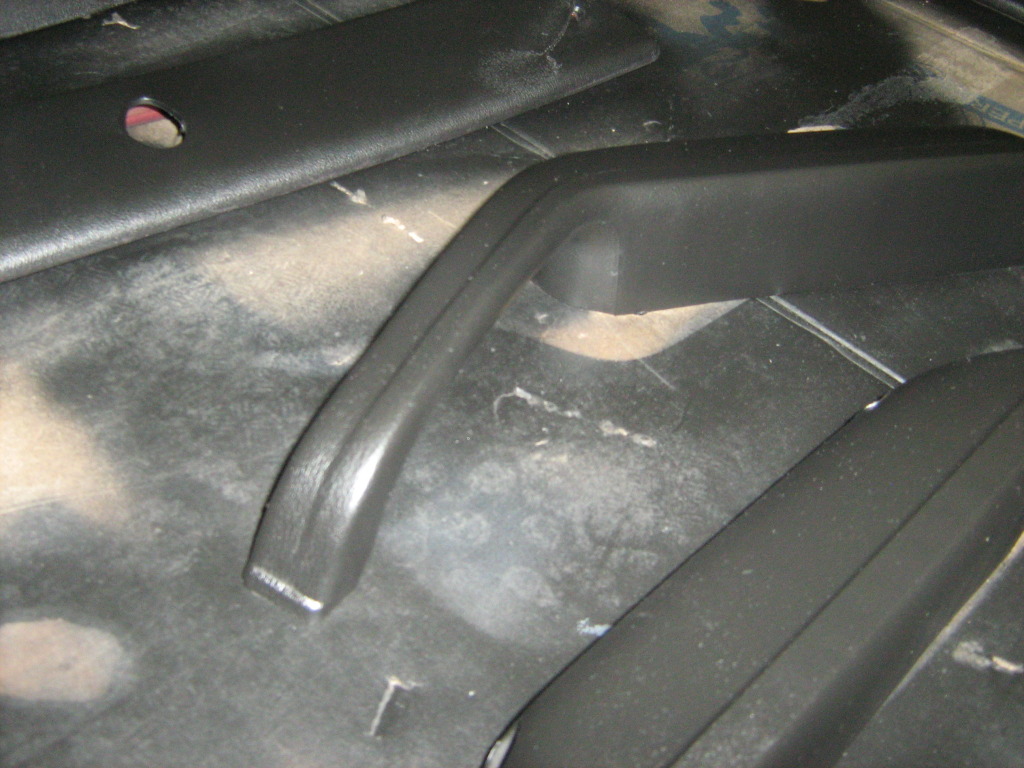 3-14-2012
Unfortunatley been pretty busy with some big projects in the shop as well as helping my parents do some work on thier acerage etc no worries though here is a little bit:



Got the rack all sandblasted and cleaned then just a skiff of clear coat to keep it looking good: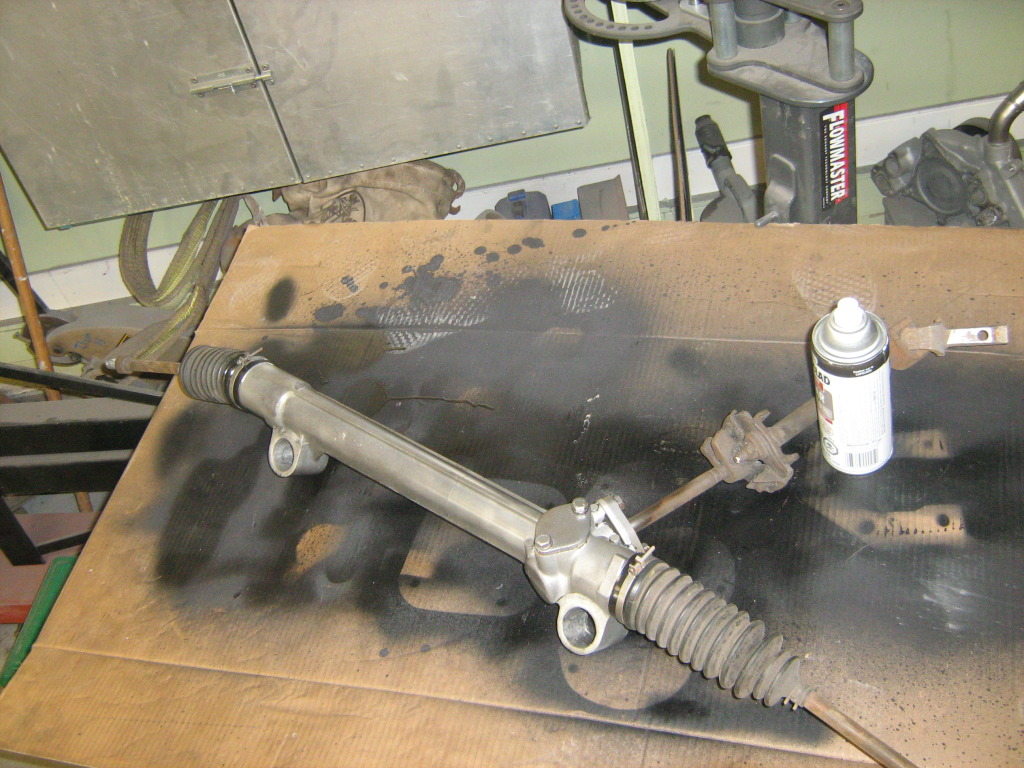 Then I got the front end all back together after some help from a buddy getting the ball joints changed (sorry about the finger Craig

) Just need to swap the front brakes to my other spindles as the guy who sold them to me lied and said they were v8 spindles when they are in fact 4 cylinder spindles and require a different strut: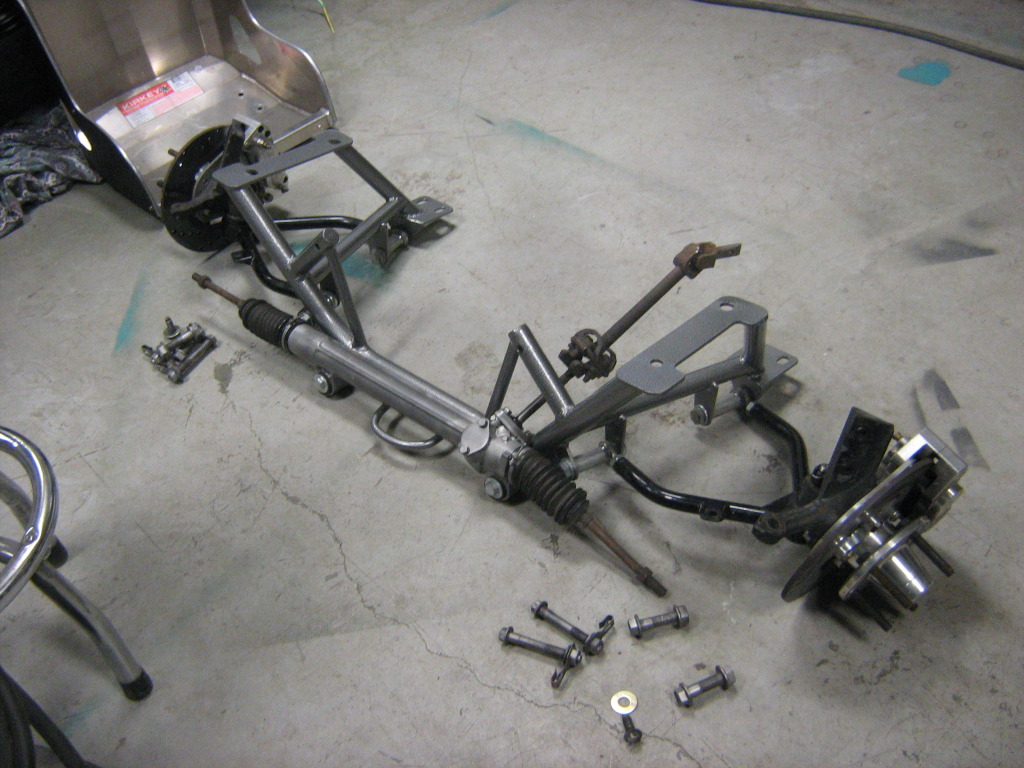 Next up is a gamble I chose to take and that was on some "OBX" up and forward turbo headers.They are a cheaper ebay type header and are a LOT less money then the comparable stainless works etc headers but I must say I am actually quite suprised how good these look for the cost, they are stainless (probably lower quality stainless) all tig welded smoothed inside at the flange and come with V bands and clamps which fit great and have a nice register in the V band for sealing, If they crack or break we can beef them up overall I think they will work great!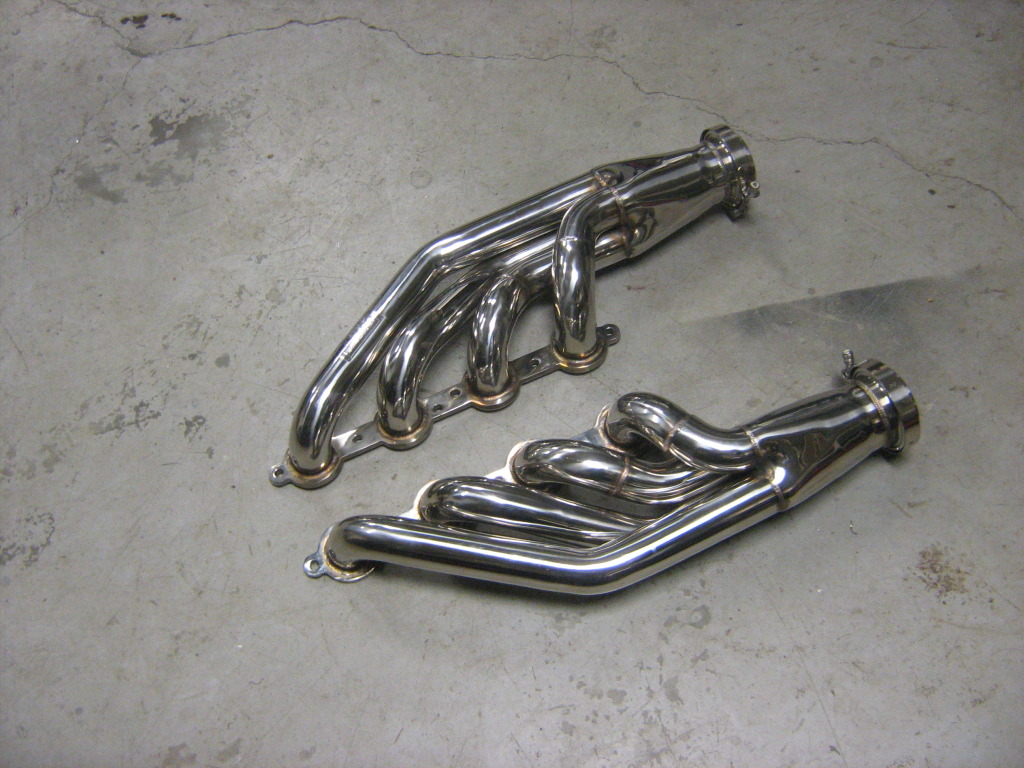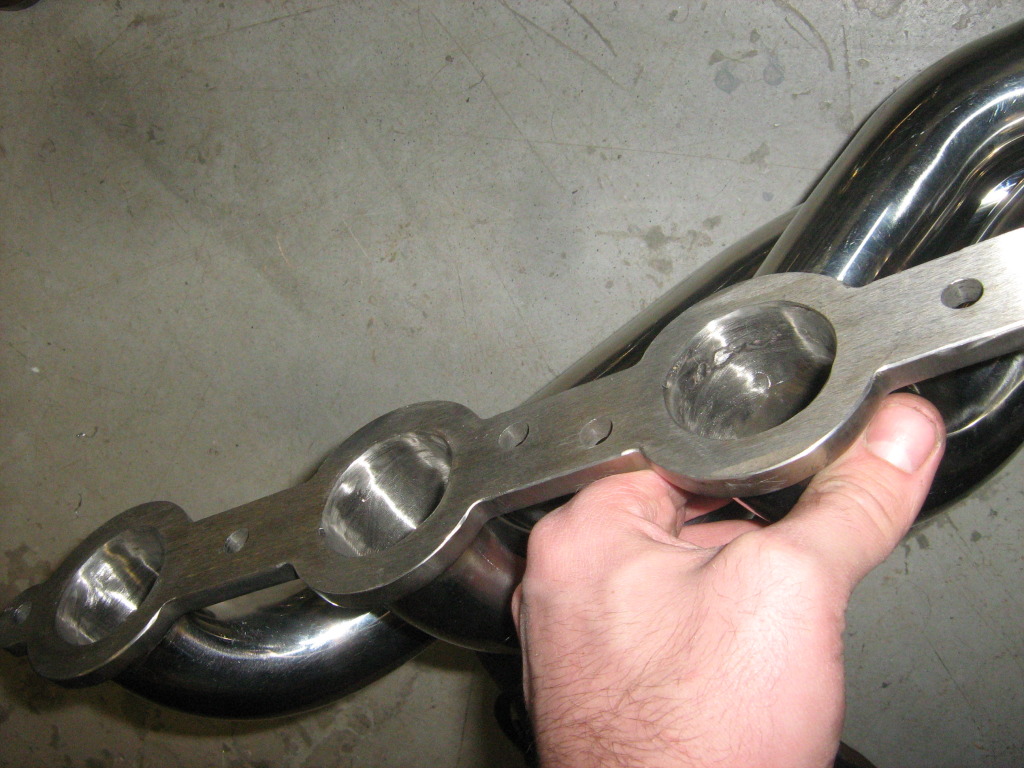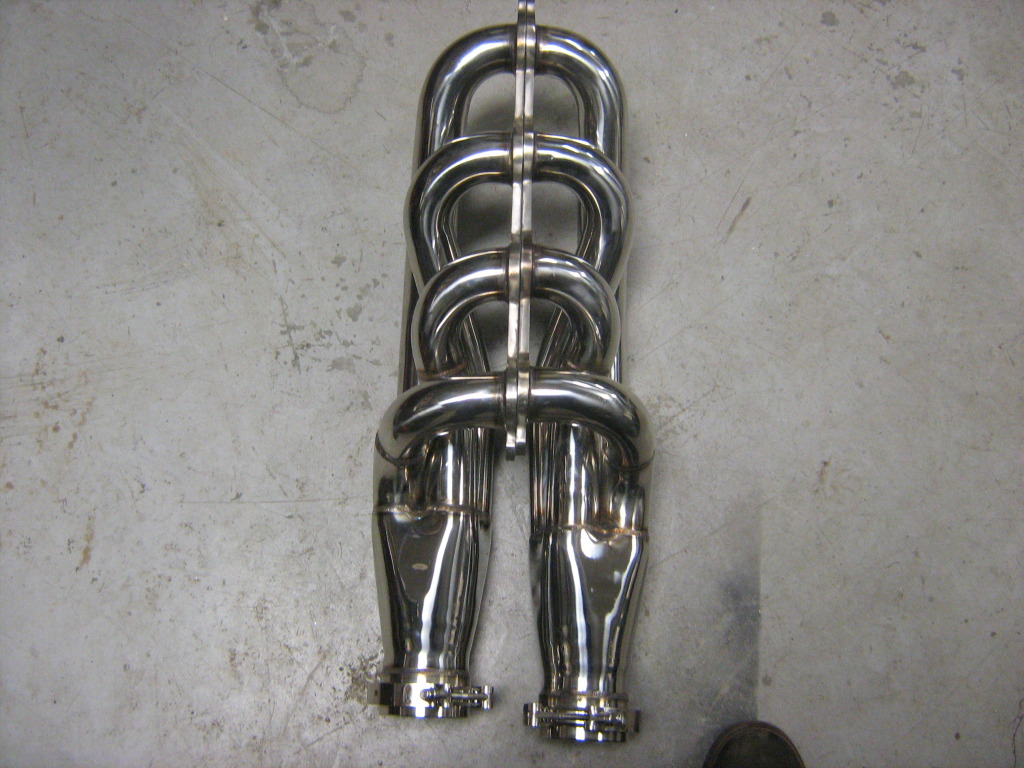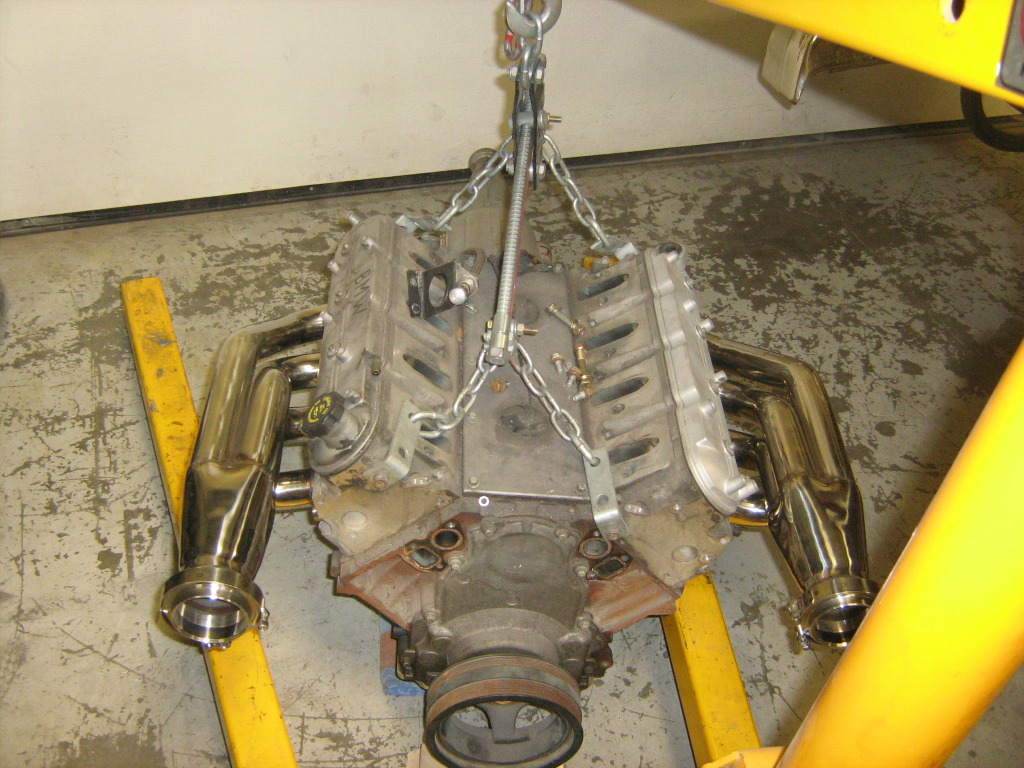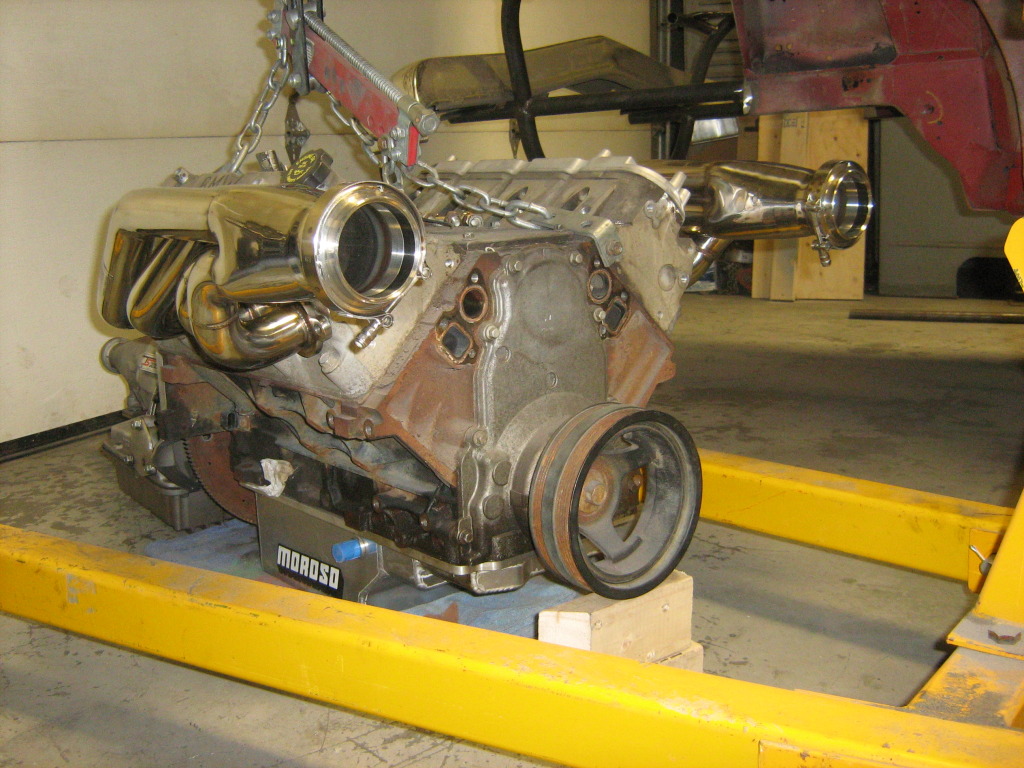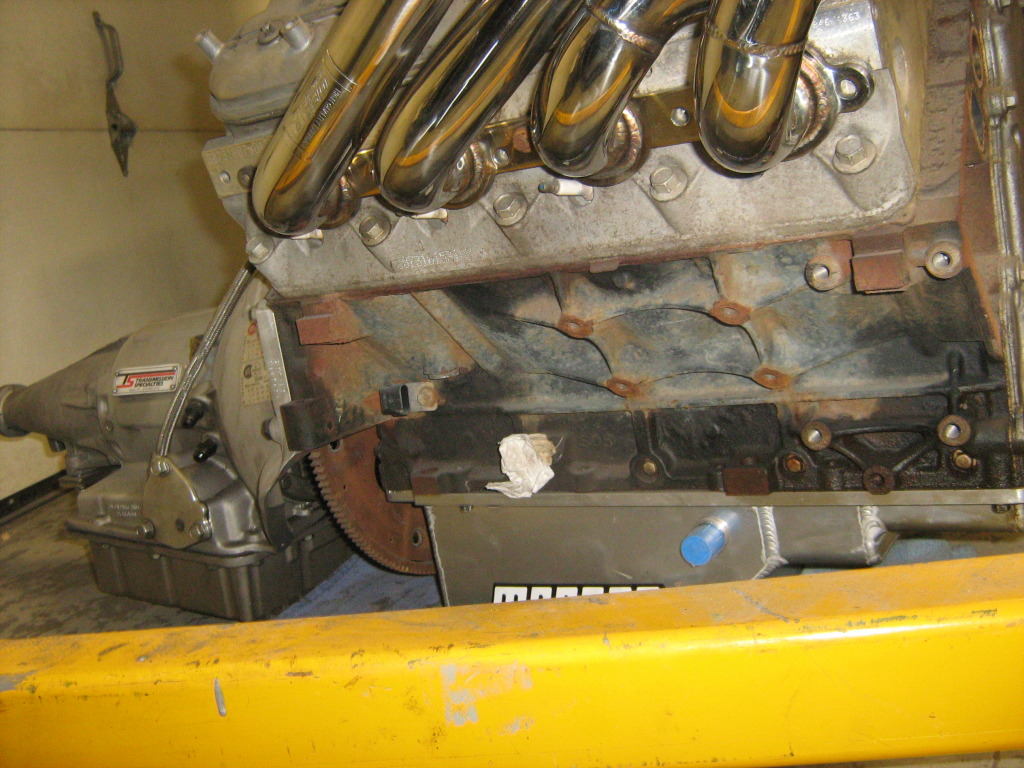 Then I got the side glass out and cleaned up , next I have to clean all the rest of the glass and see if I can get the welding splatter off somewhat from when the cage was done then take it all to be tinted before going back in.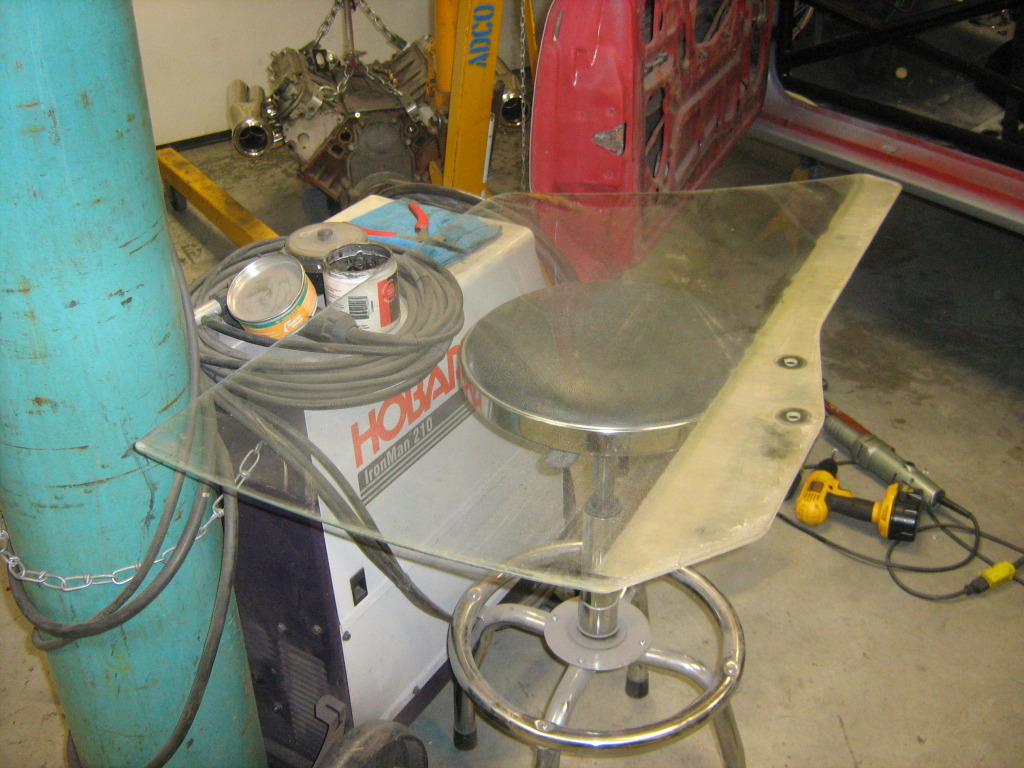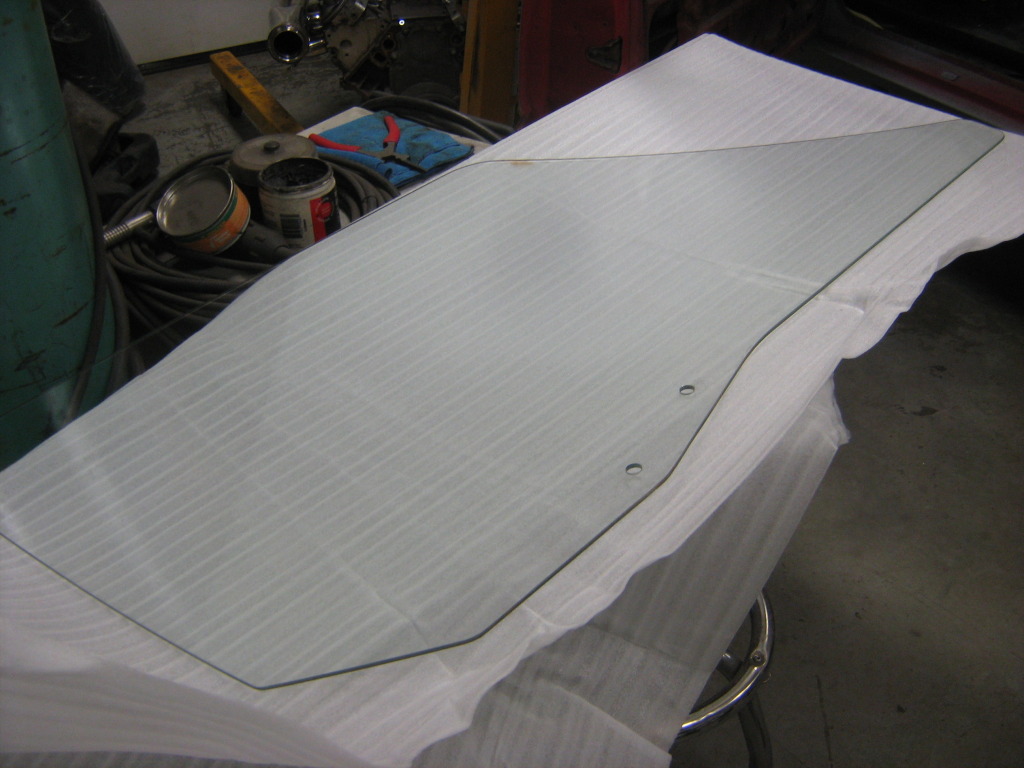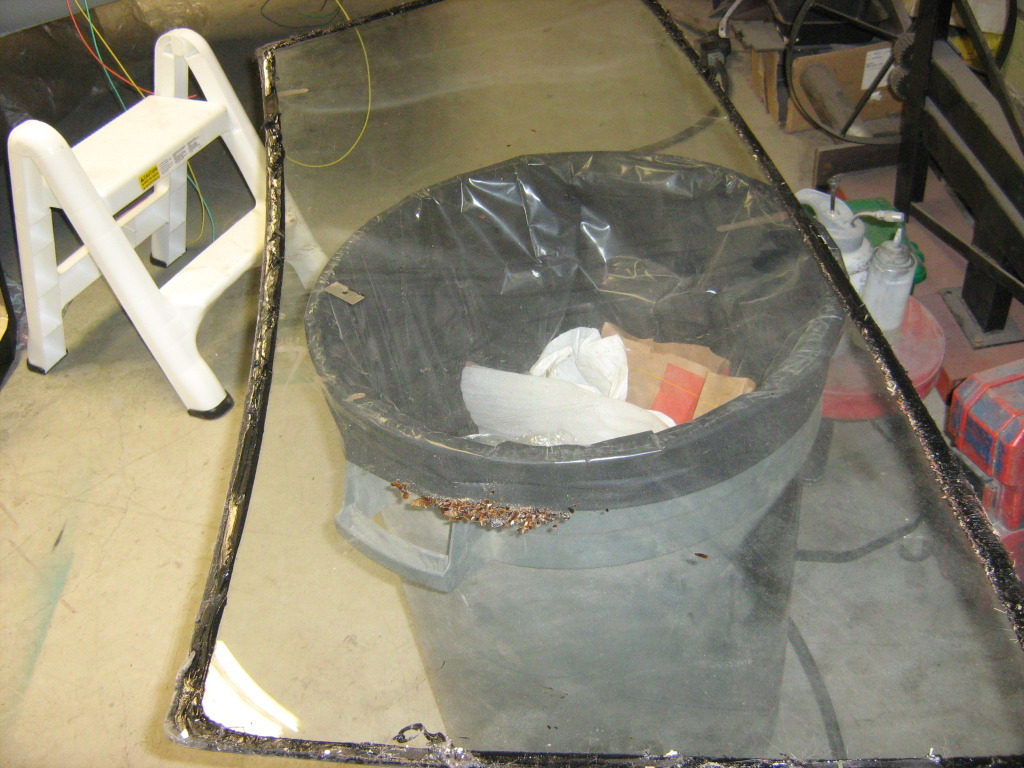 More updates coming soon!
3-15-2012
Getting new windows would be the simple answer but the budget is running thin on this thing and the only glass available is front/rear and sides

Front will be replaced obviously
Rear cleaned up well and new is $350
Sides cleaned up well and new are $200 each
1/4s are not available but cleaned up OK.


Before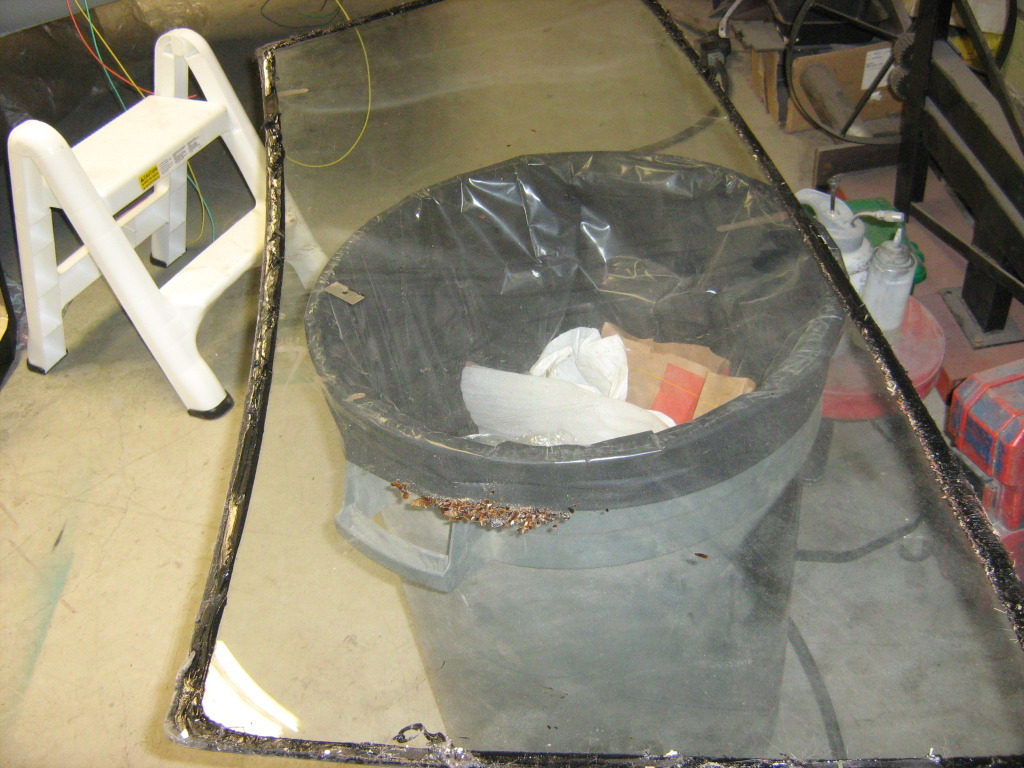 After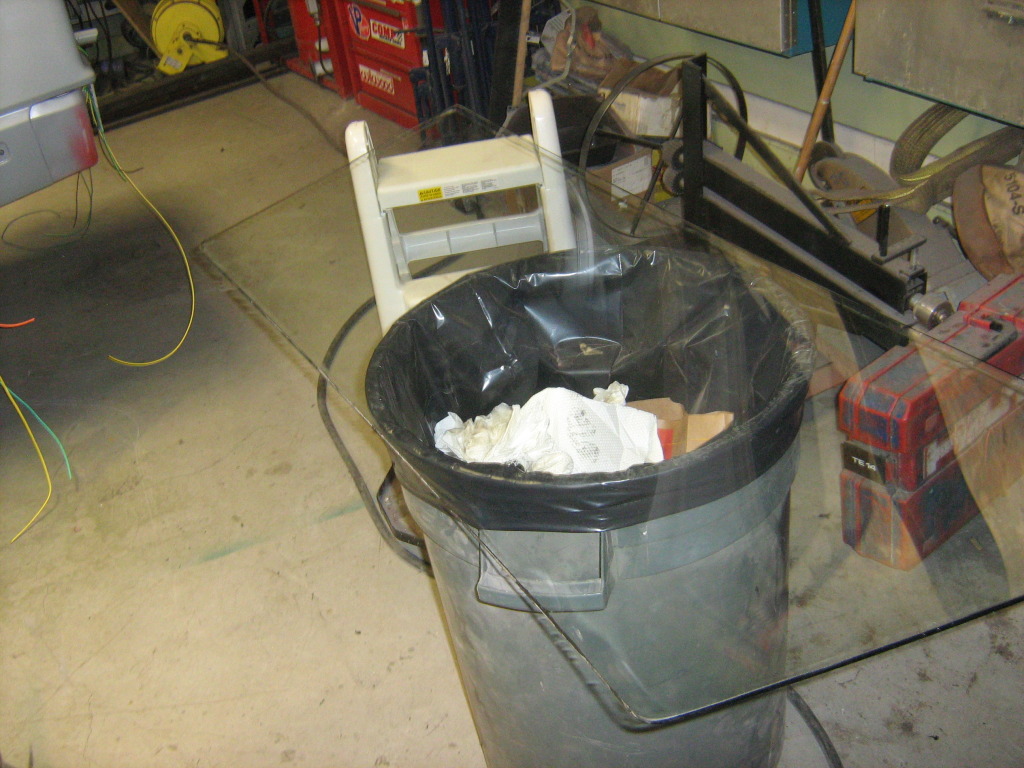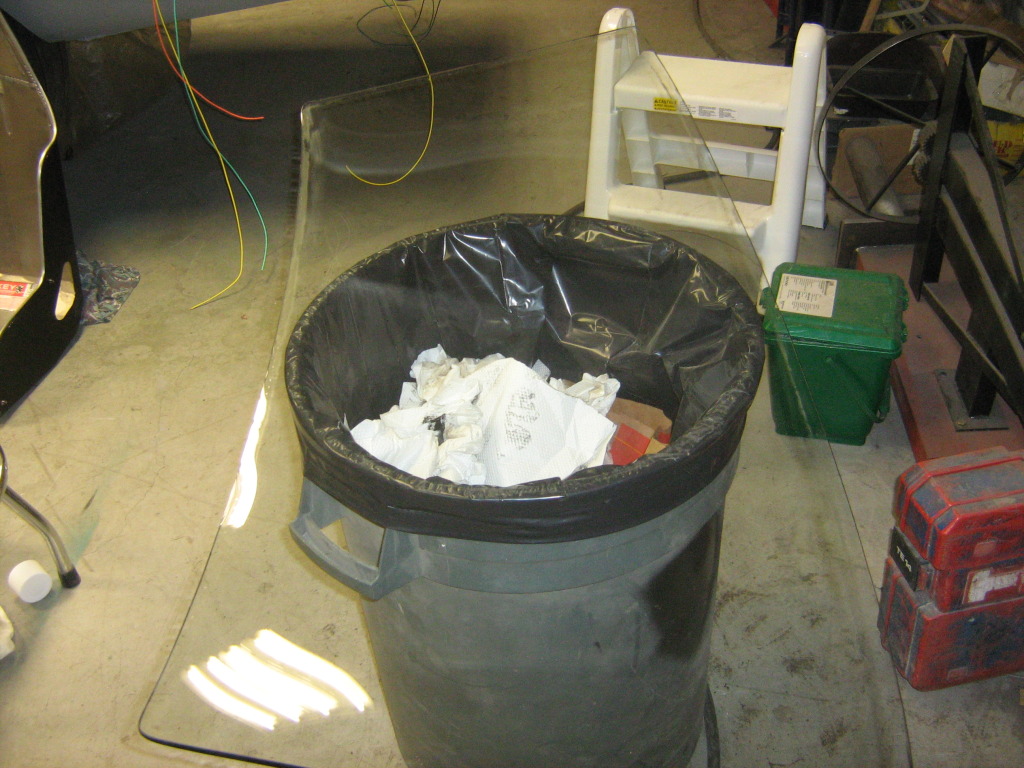 All the glass packed up and ready to go to be tinted: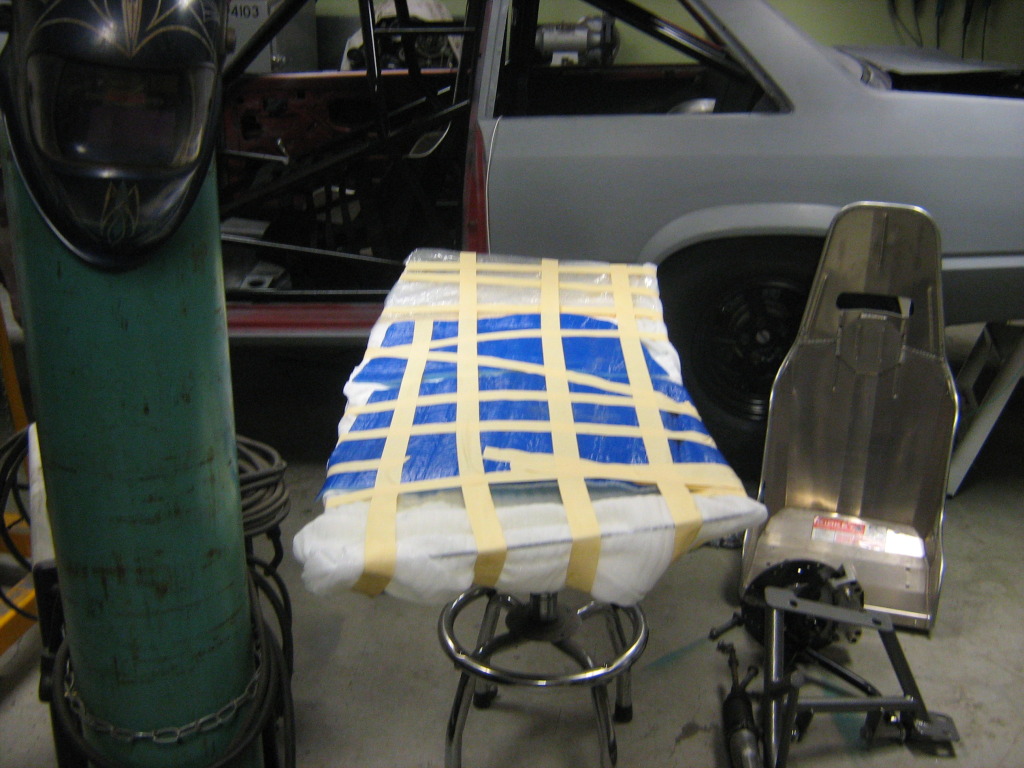 Ask and you shall recieve!!!! Down and forward turbo headers: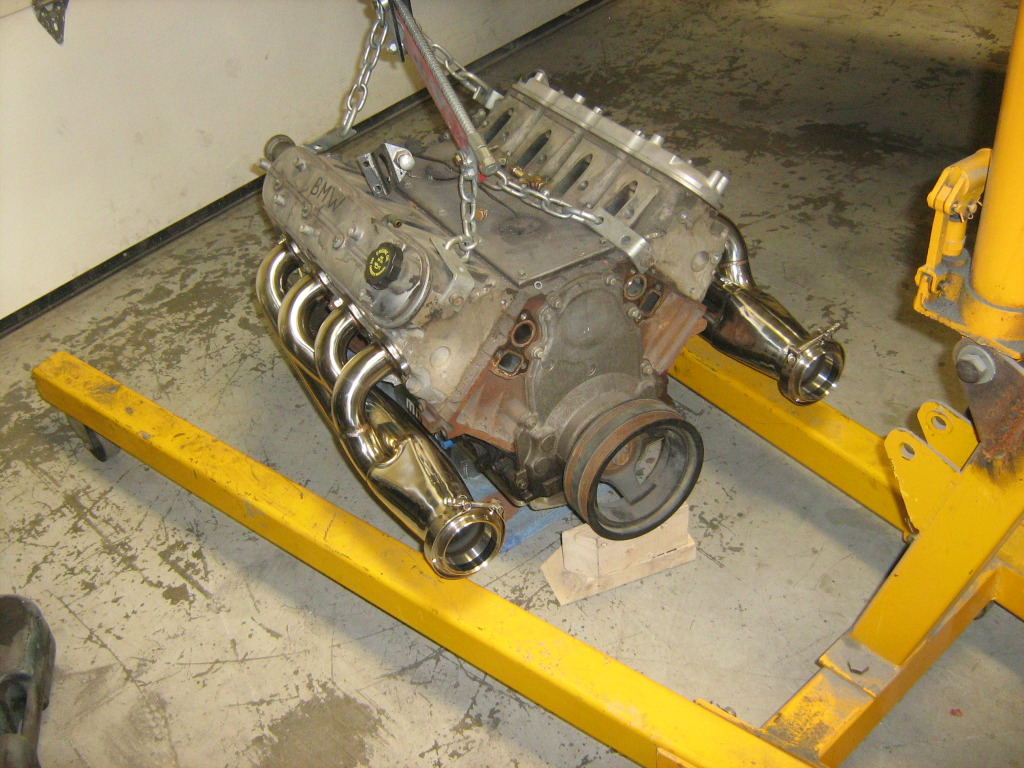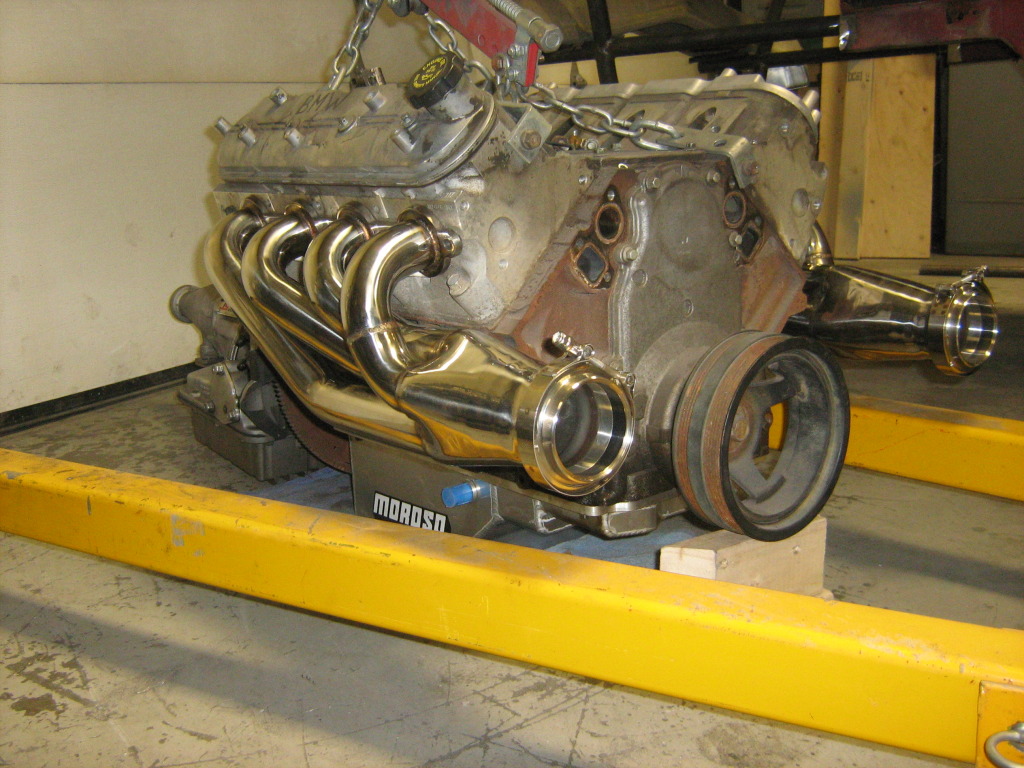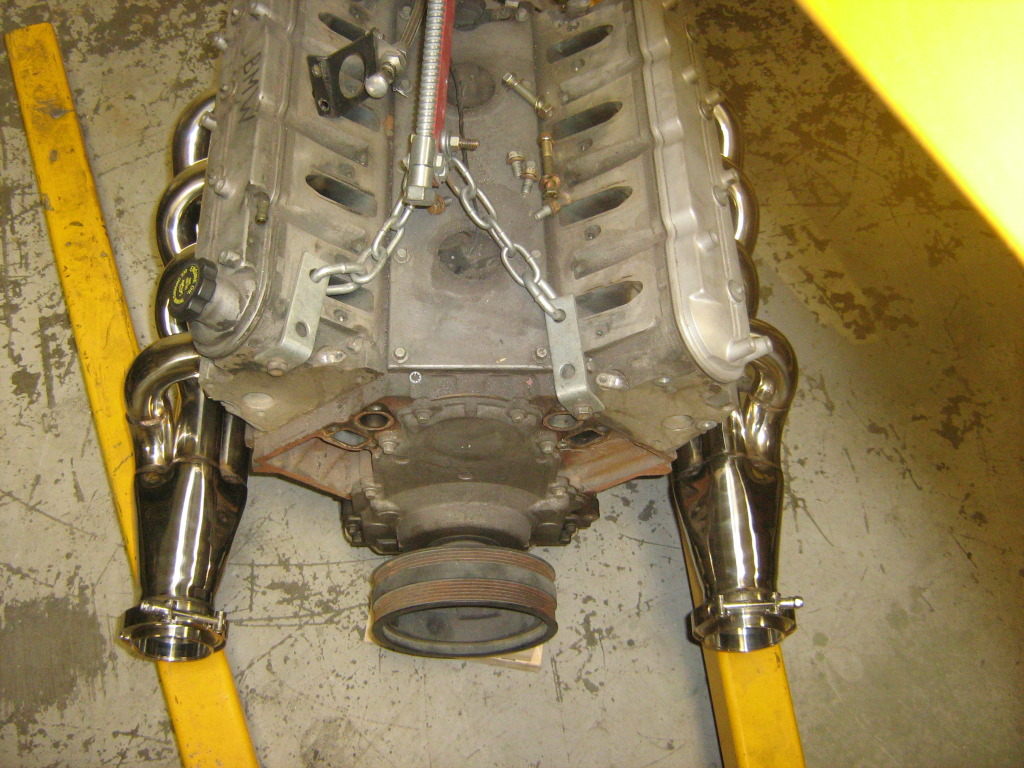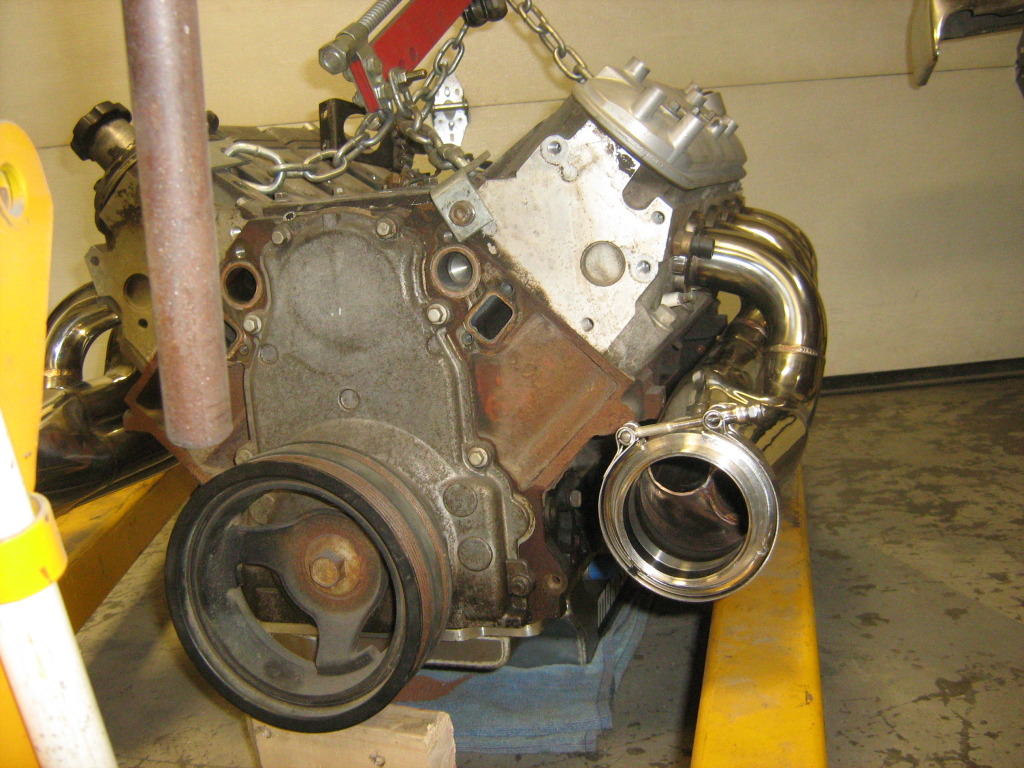 3-19-2012
Got a bit more done this weekend.... trying to cross a bunch of the small stuff off the list.



Dash and glovebox before: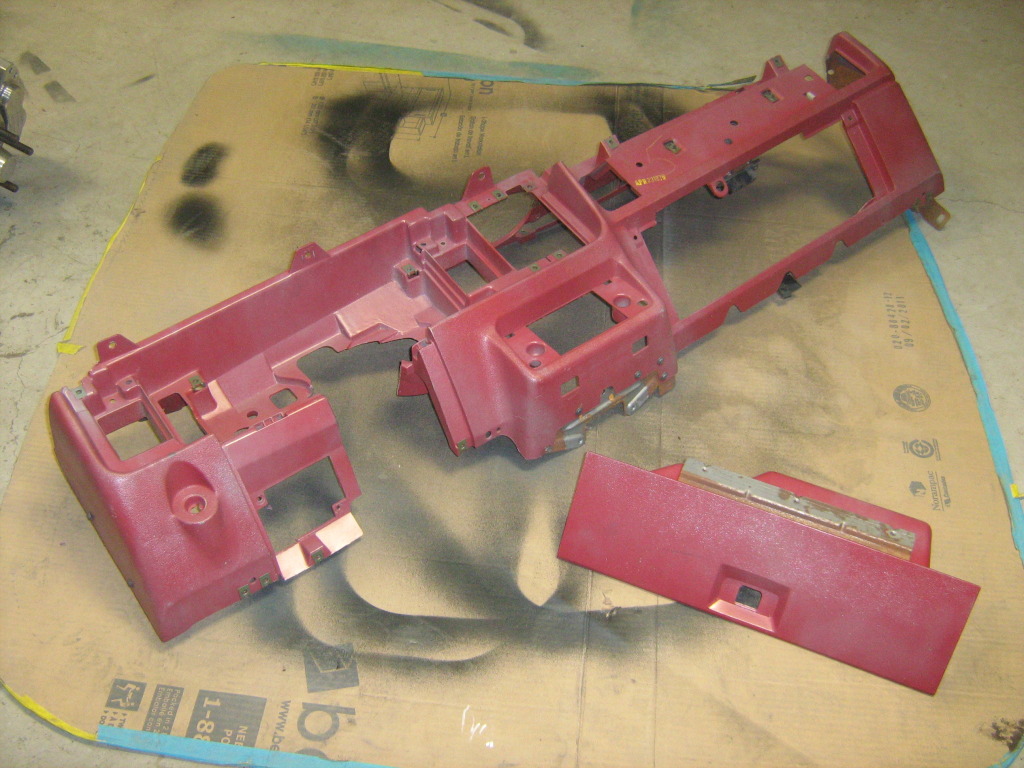 After: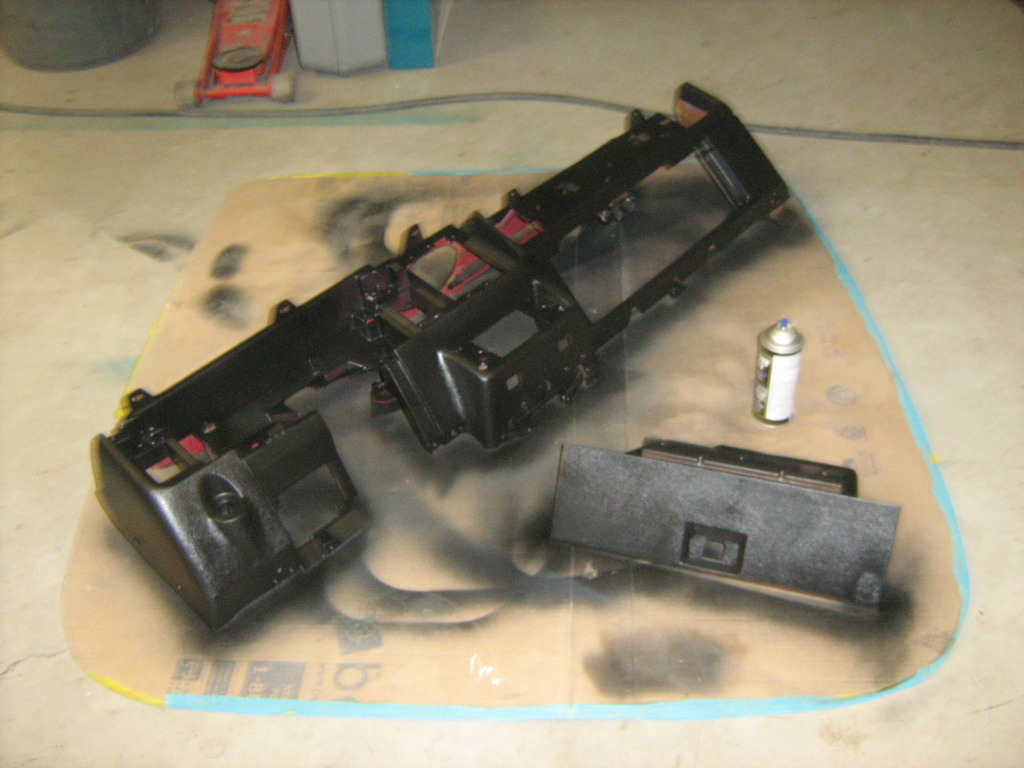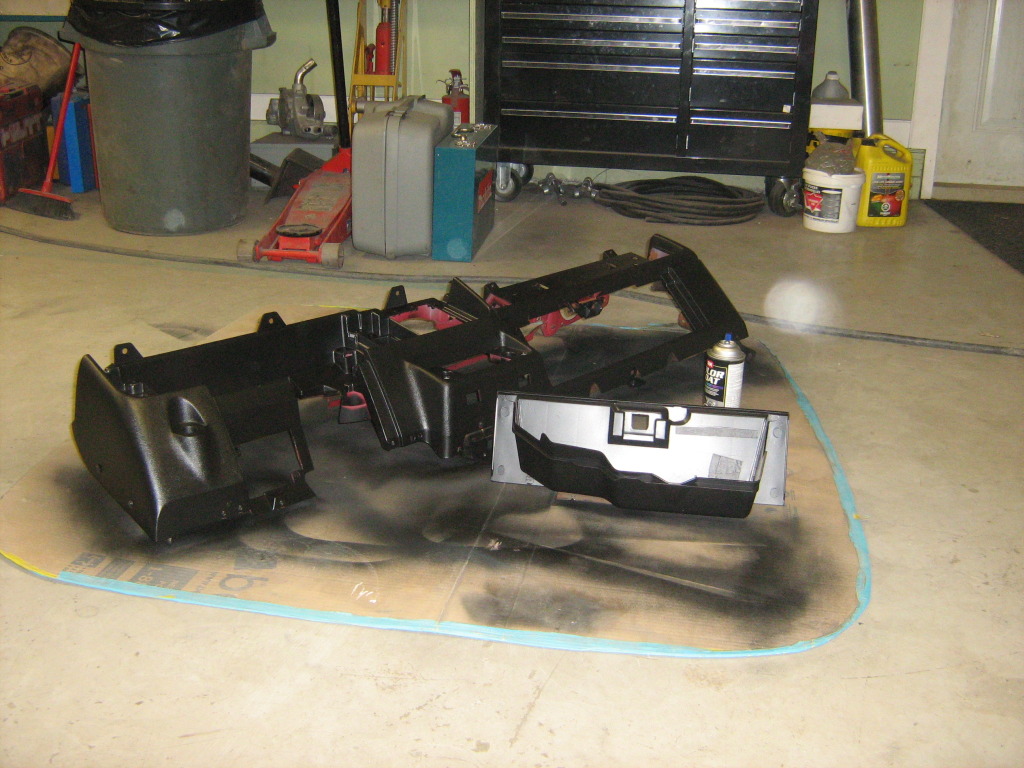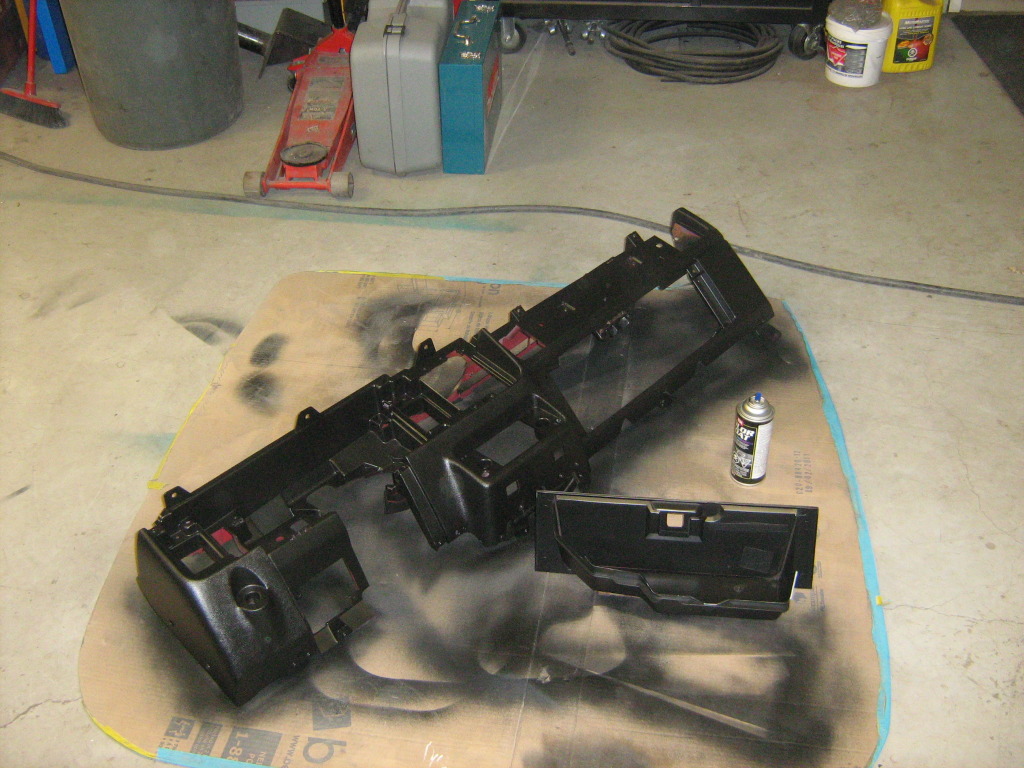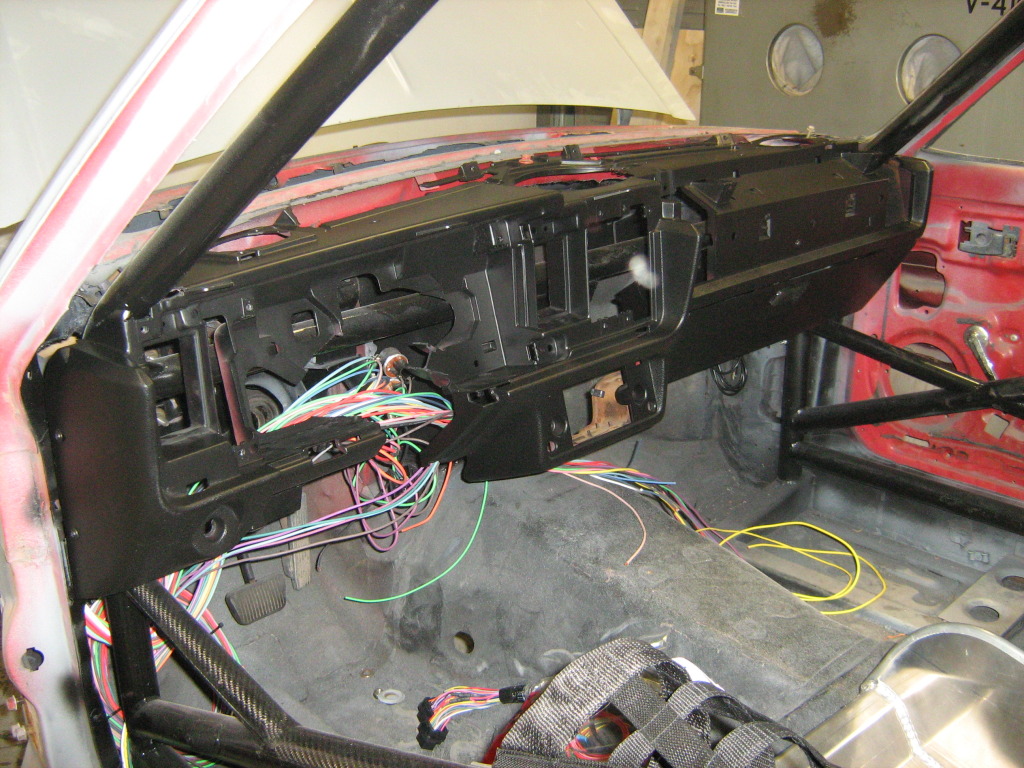 Then I cut the firewall to make a removable panel for attaching throttle linkage/IC piping etc. The cuts look crooked but its just the angle: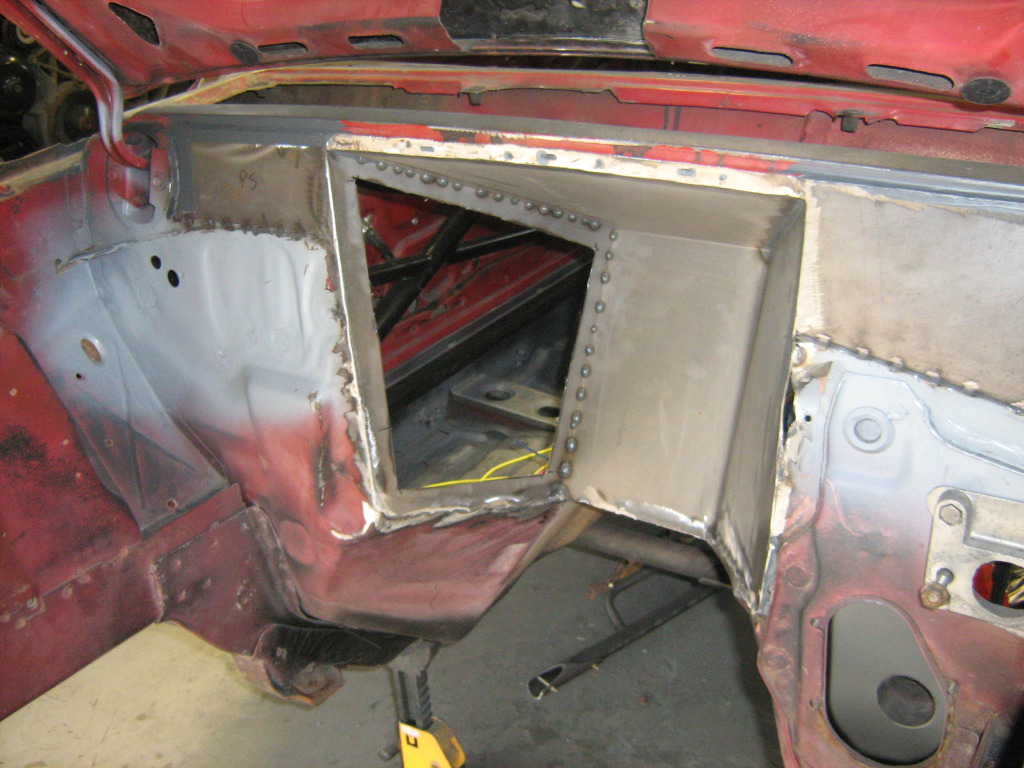 Then I made an alluminum panel to bolt on: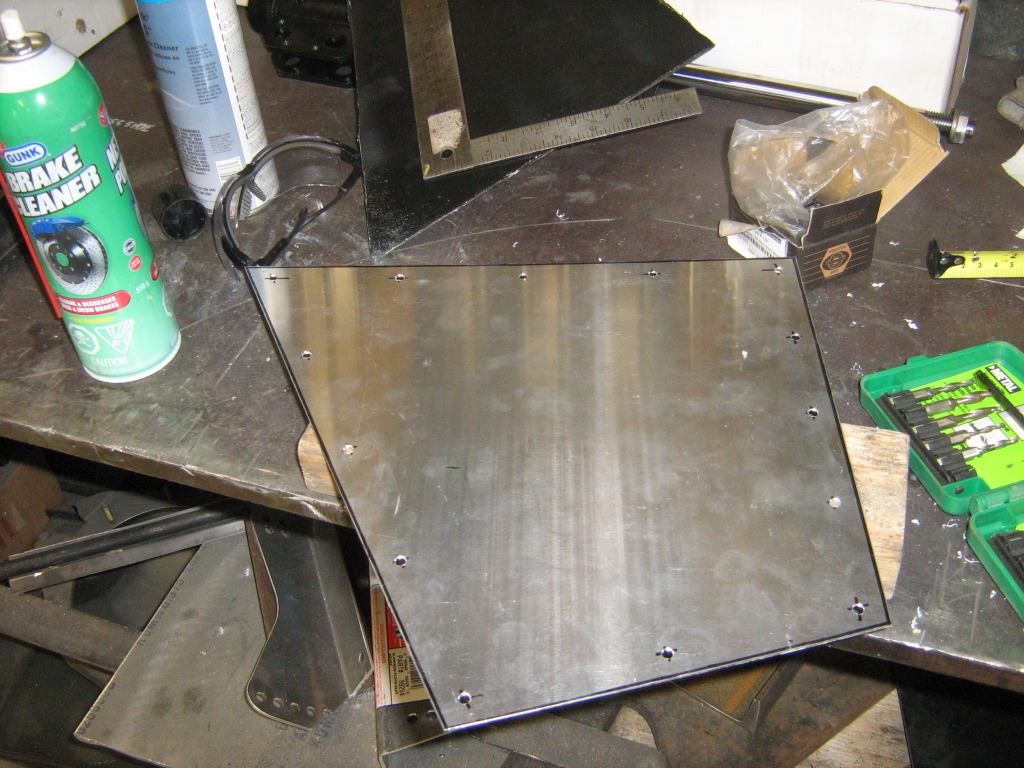 The Panel bolted on from inside and out: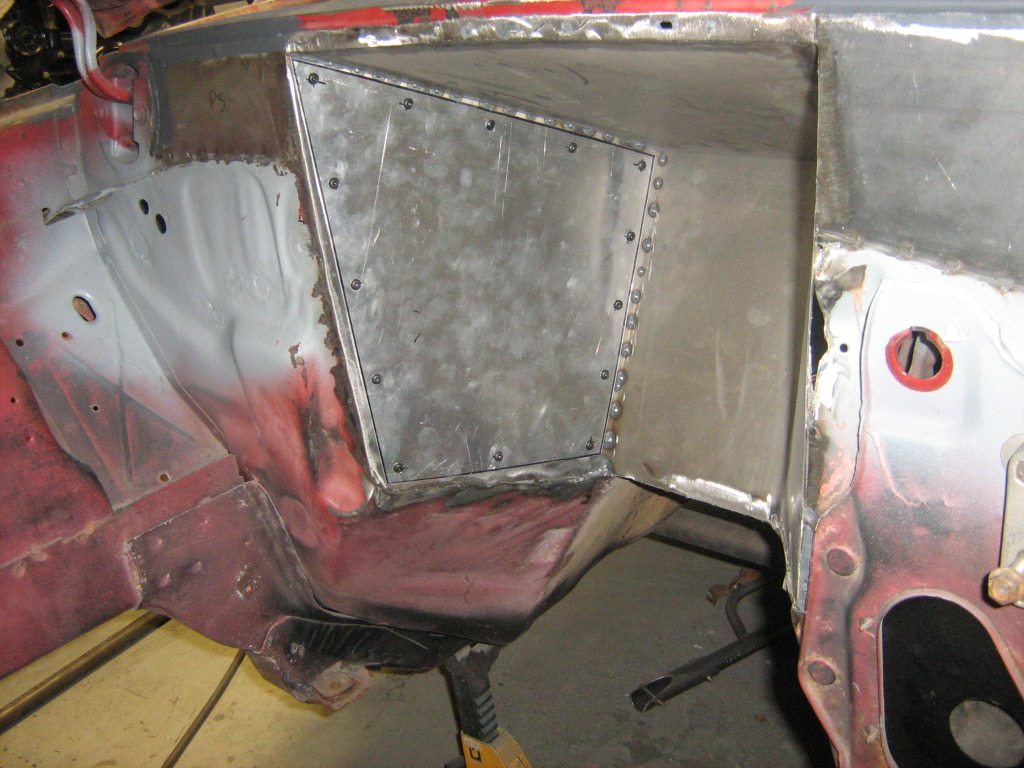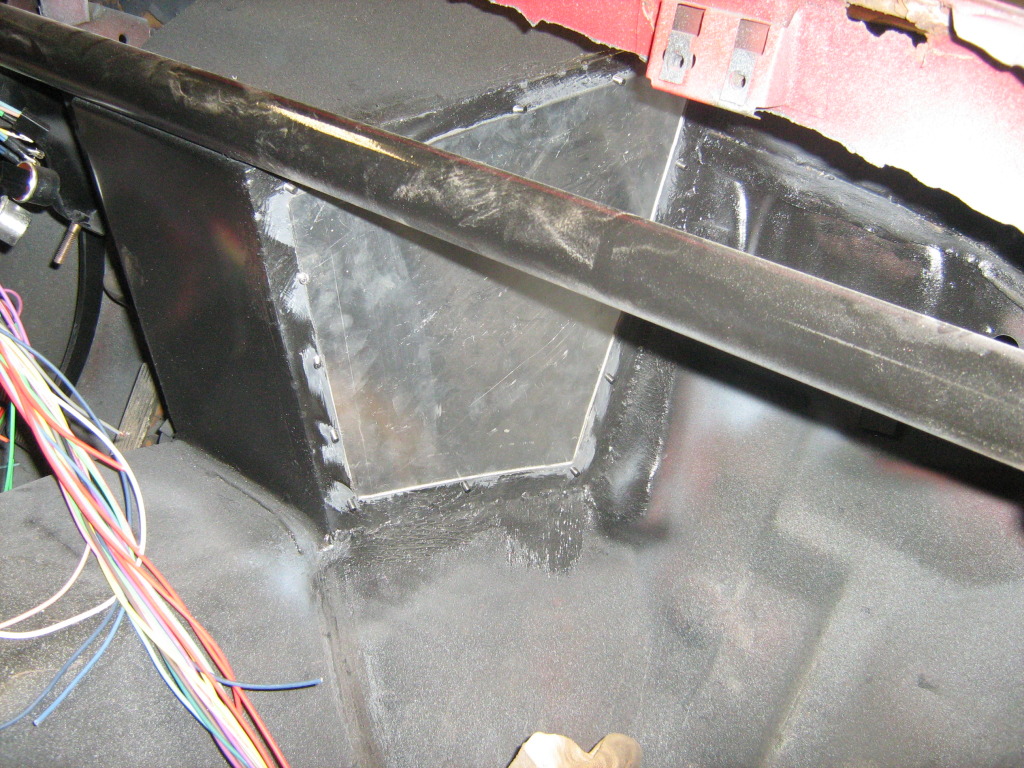 Next came smoothing out the strut towers and filling the millions of holes ford puts in them

They obviously still need body work but the holes are filled for now anyway.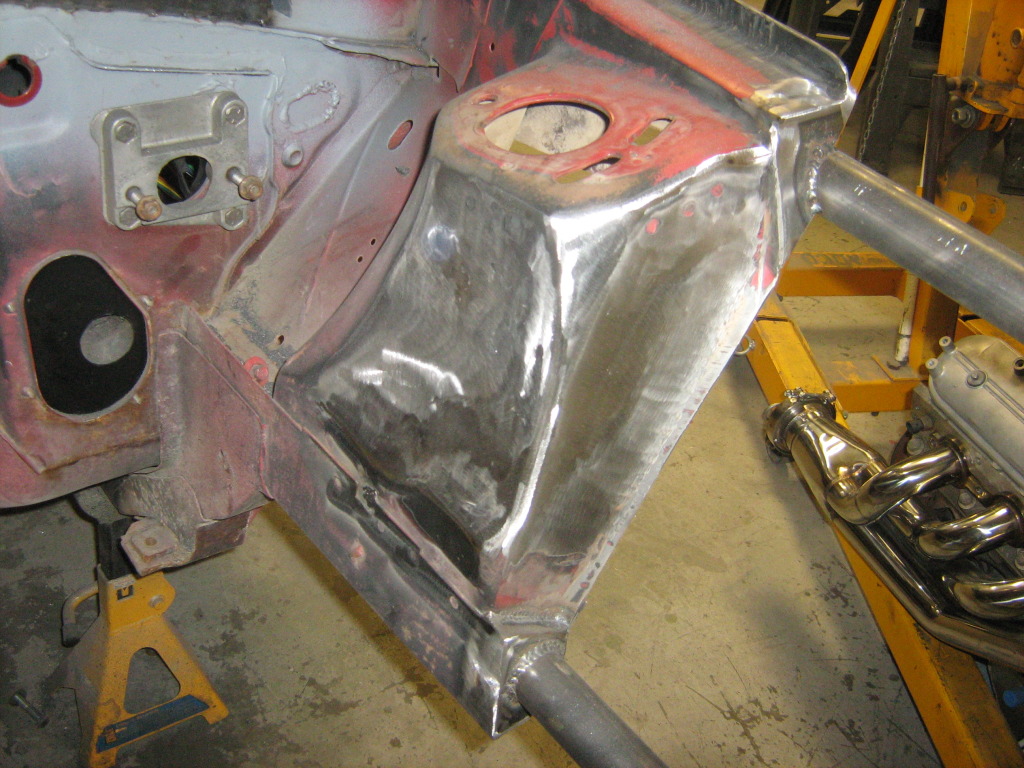 Pulled the doors off: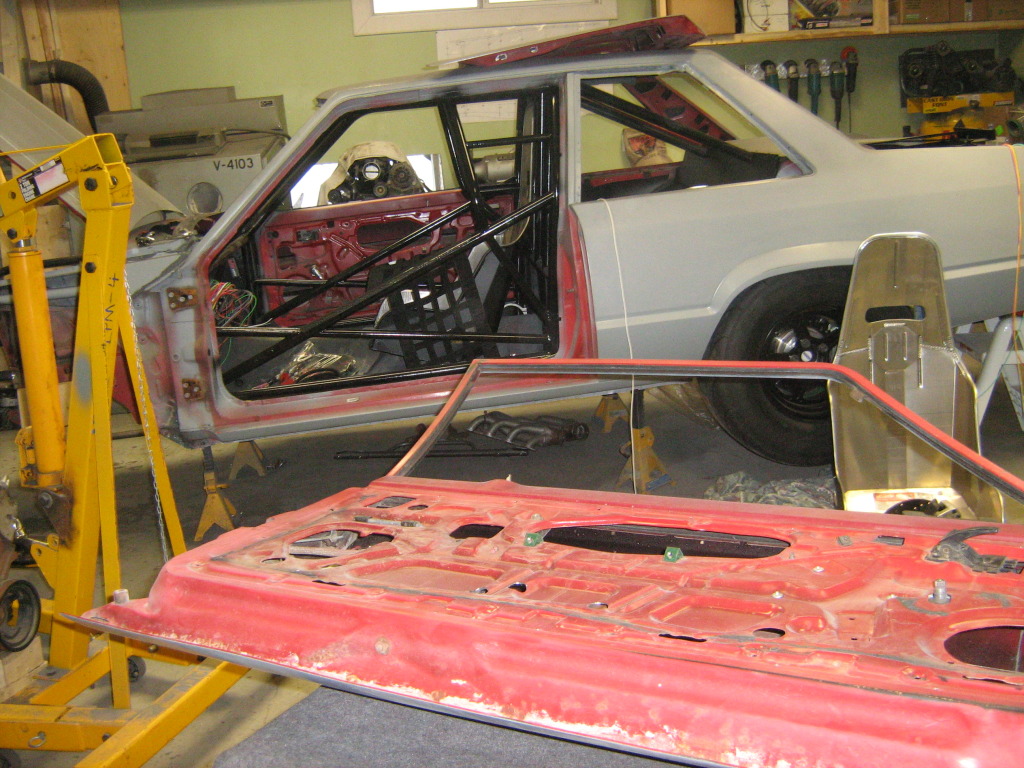 After doing this by myself I was glad I was doing the next step, Cutting some weight out

: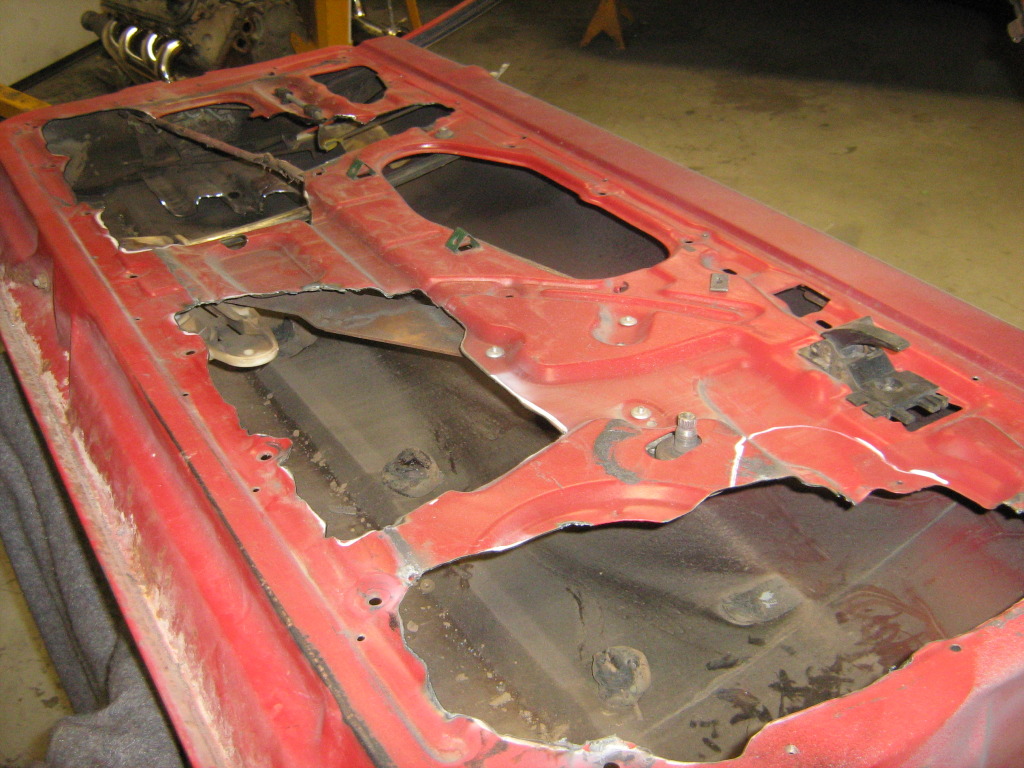 Then I started masking stuff for the next step which is High build primer/block sanding: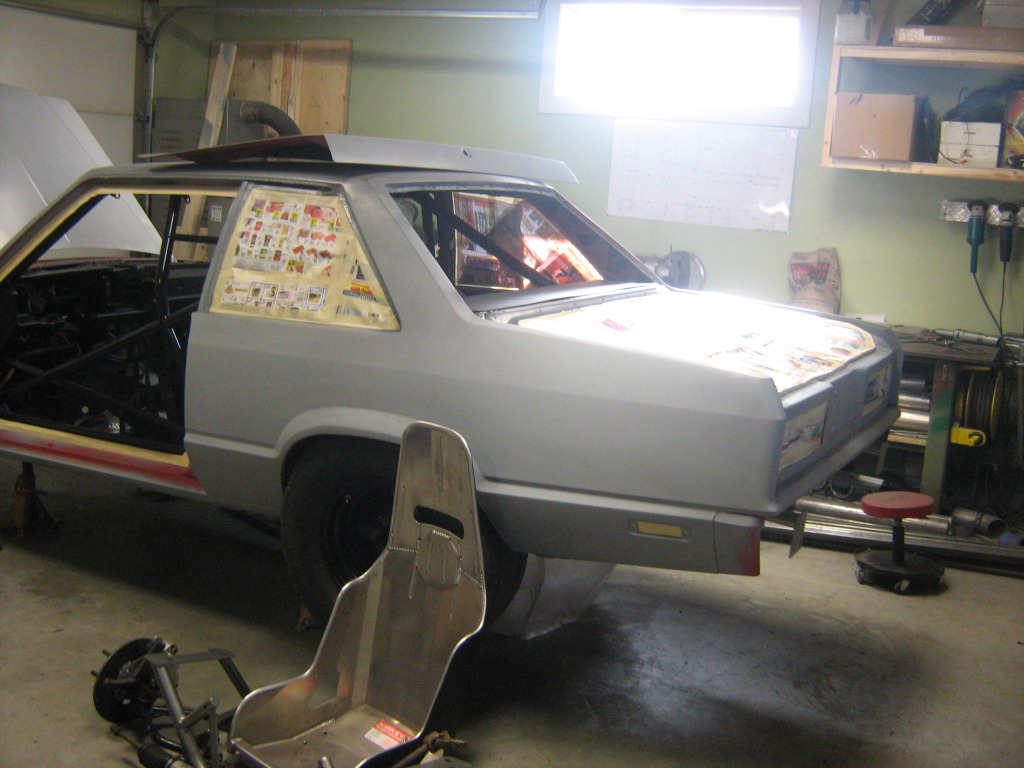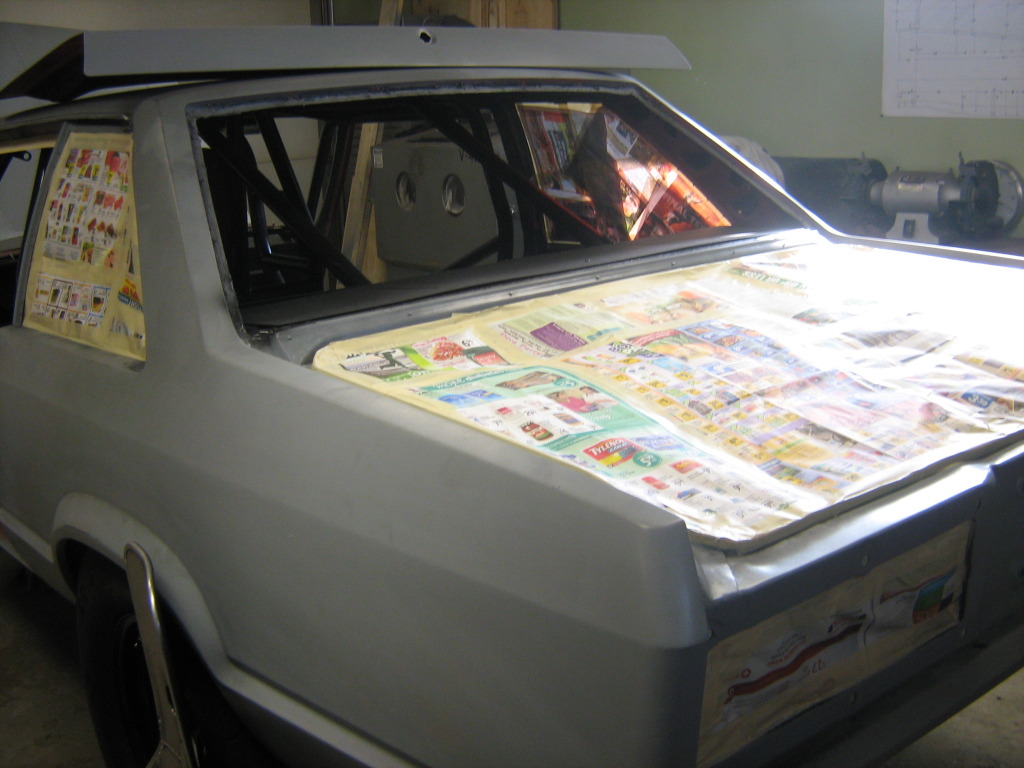 More updates soon!!!

Engine is at the engine builders now and heads/rockers should be here early this week

3-20-2012
Some pics of what I did at work today.

It was a good day at work today anyway.



The view from my office: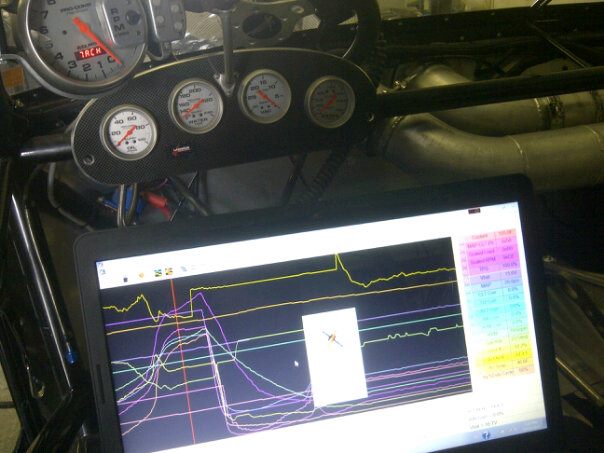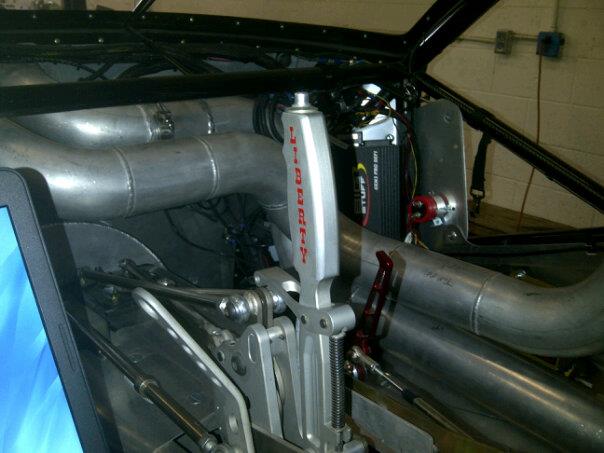 This: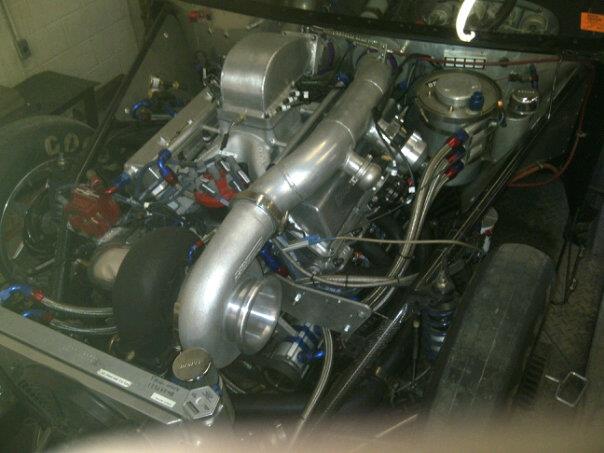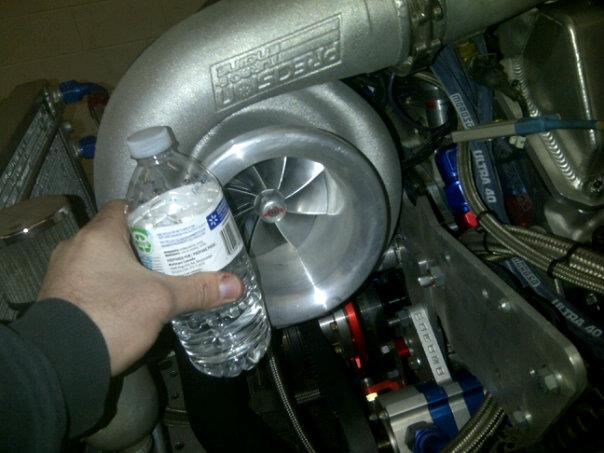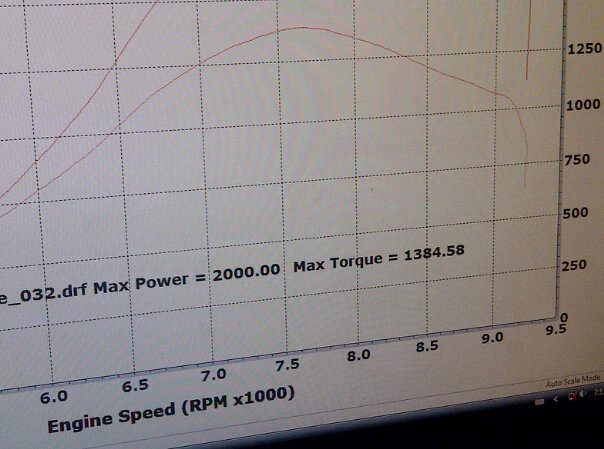 Maxed out our dynojet and the car was still climbing.... we had some wheel spin issues but once we got that handled it made some nice power..... I did the tune up, Steve Petty built the engine and one of my sponsors owns and will drive the car.

The rest of the tune up will be finished at the track we just wanted to verify some changes etc.

Combo is:

427W
Neal BF202 heads
Billet 118mm precision
Liberty 4 speed
BS3
AMS1000
Q16



3-22-2012
Got some goodies today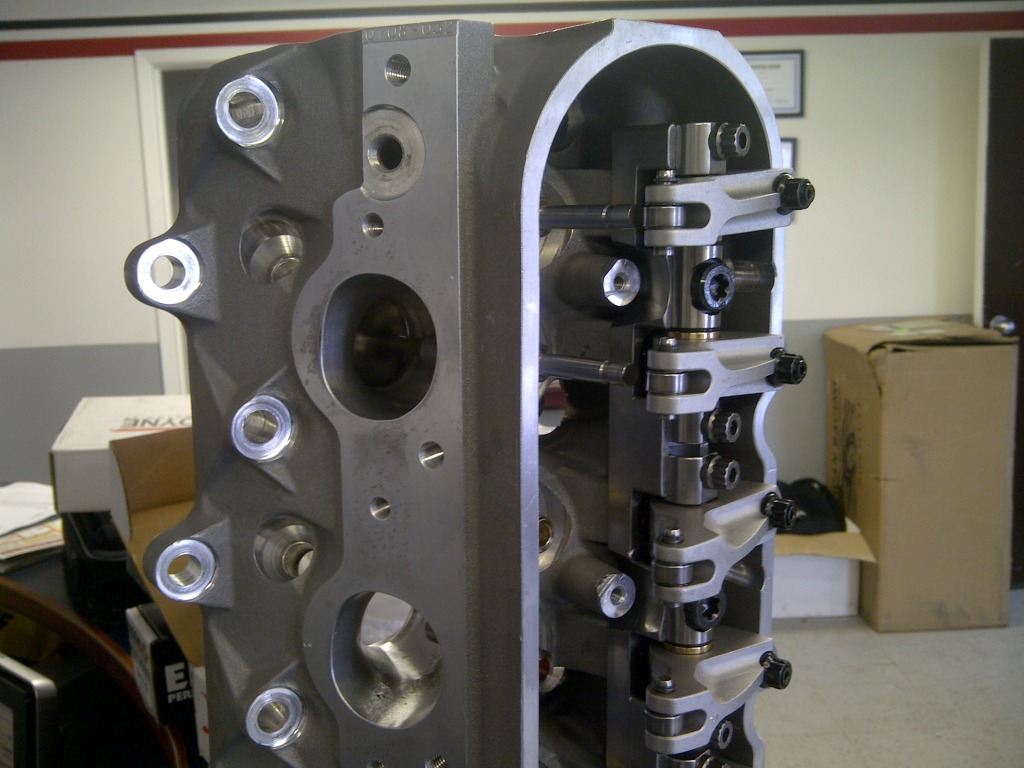 Better/more pics later on they are on the way to the engine builders asap!
3-30-2012
Pics are here!

I got after the carbon LSX logo's for the door panels all finished up just now.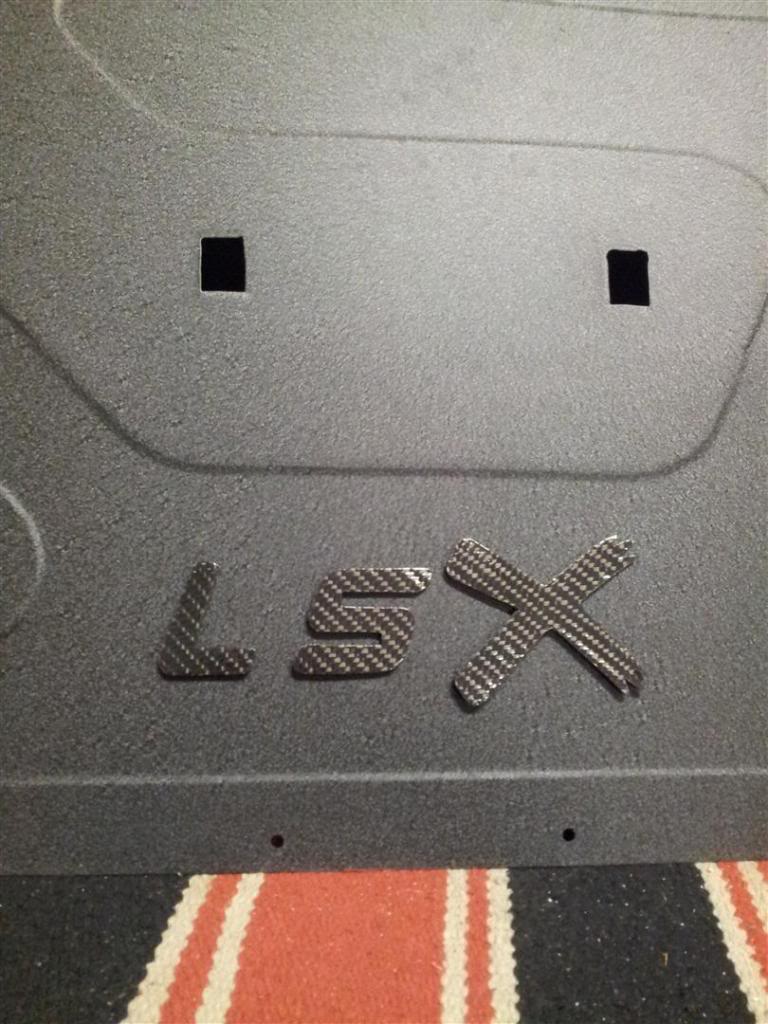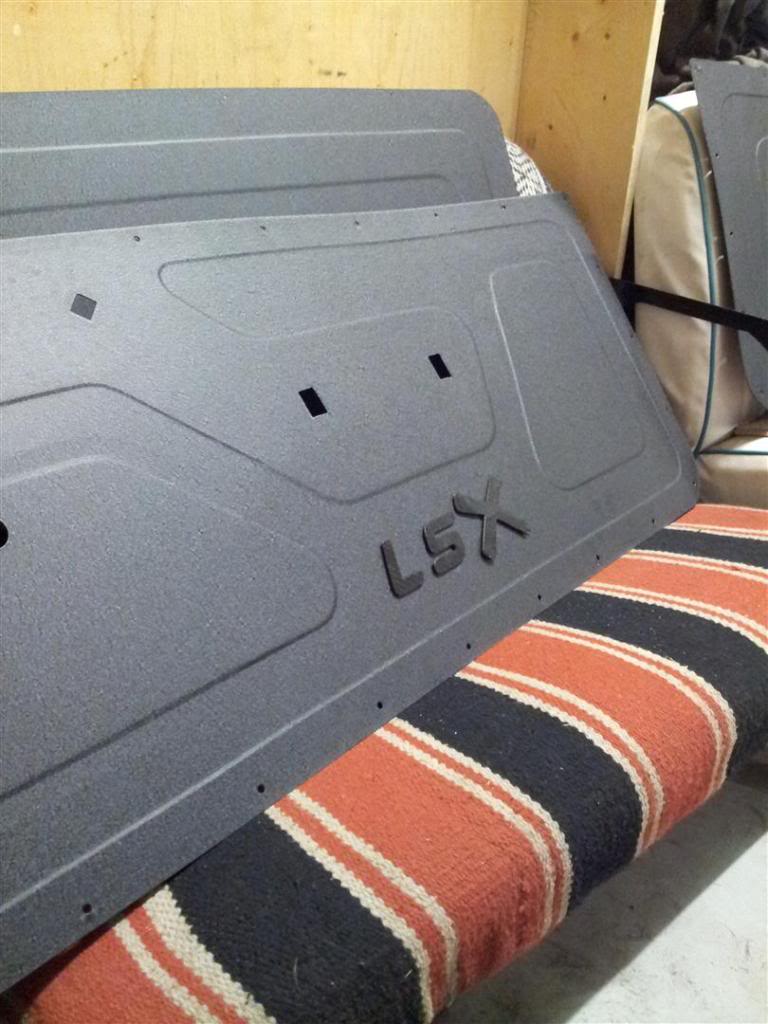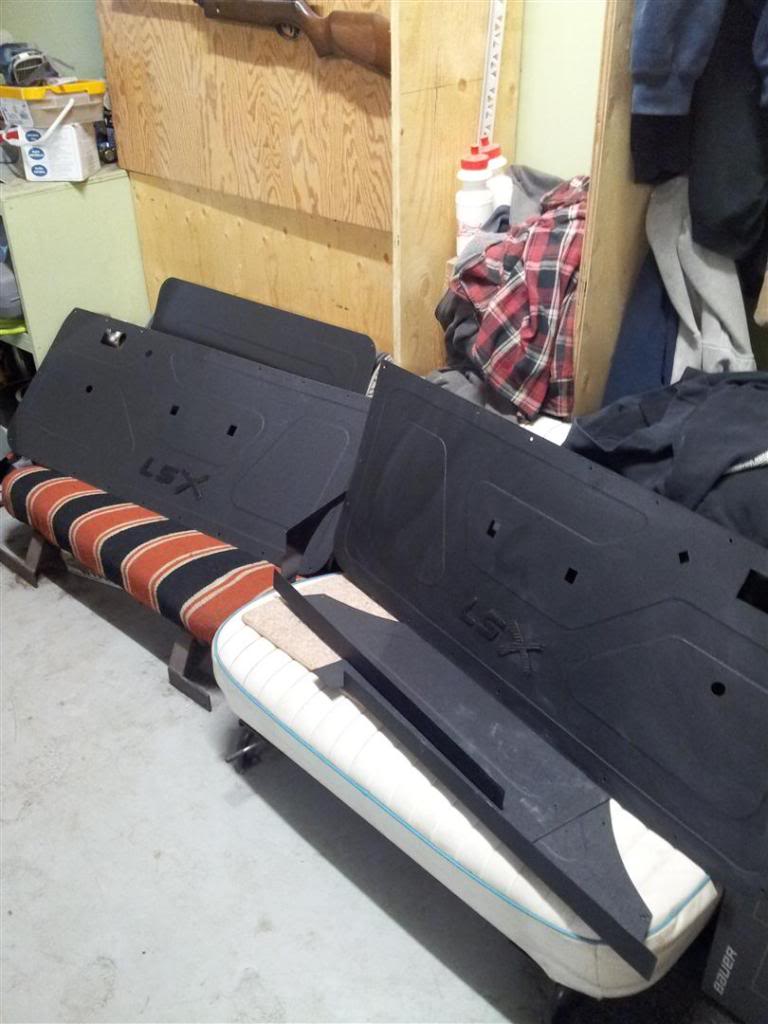 Also got the cowl panel all welded and started to do the body work on the car, I am truly amazed at how straight this car is!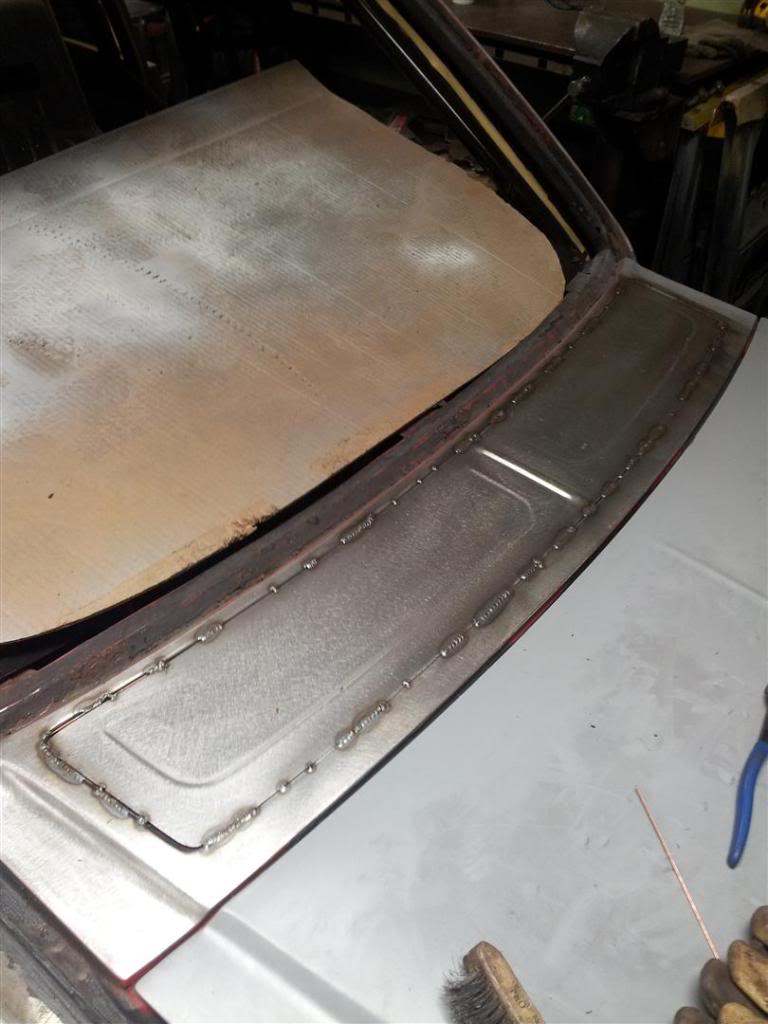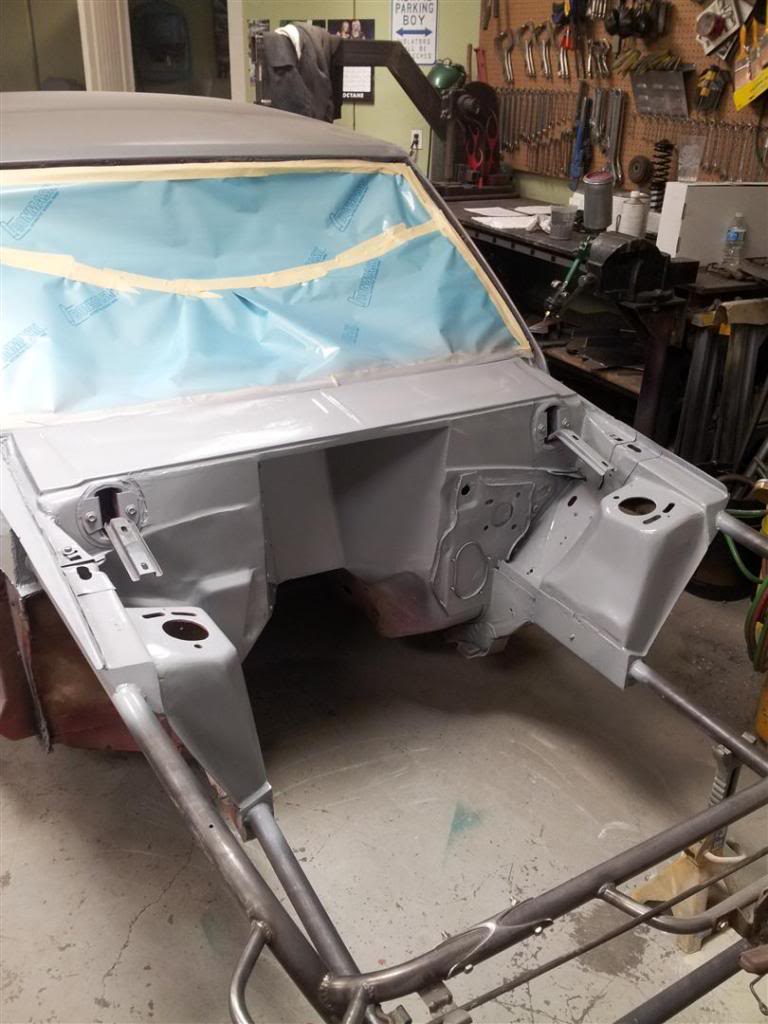 Good news is it looks like I will be in town for a while now with no big long trips in the future so progress should stay fairly steady to the end now

nolan
4-3-2012
Well its been a little while since an update but here it is.

Myself,Nolan,My step dad,my buddy jordan and Nolans room mate all busted SERIOUS ass this week/weekend on the body of the car and I know most of you dont give 2 shits about what I am writing lol so ON TO THE PICS!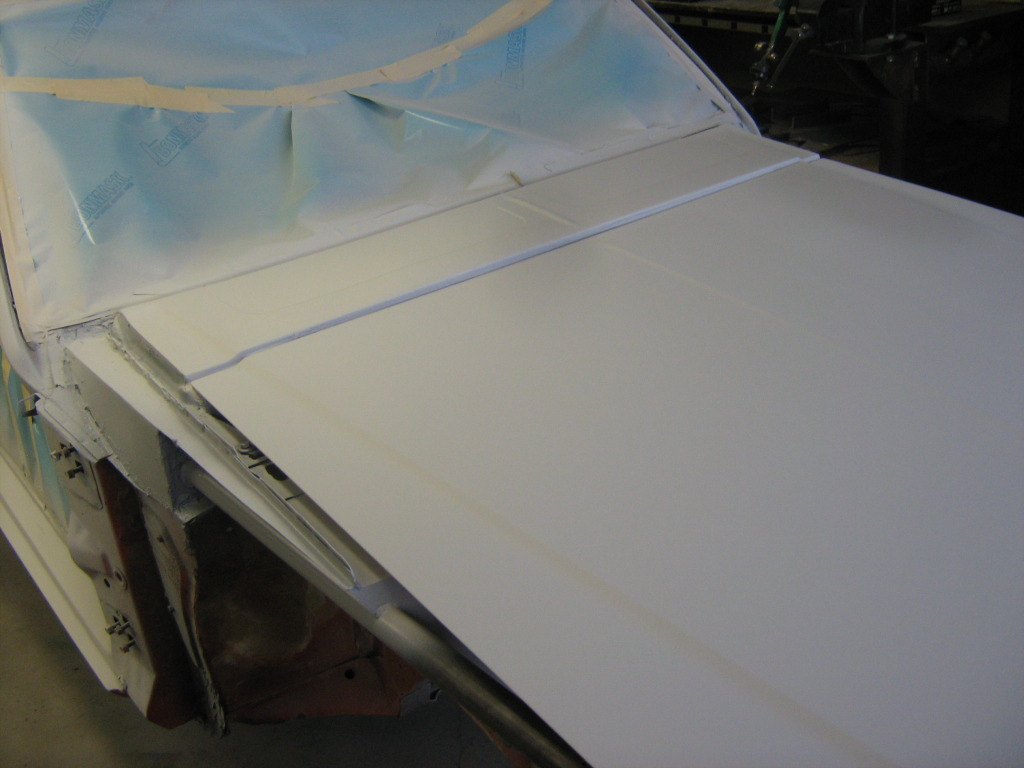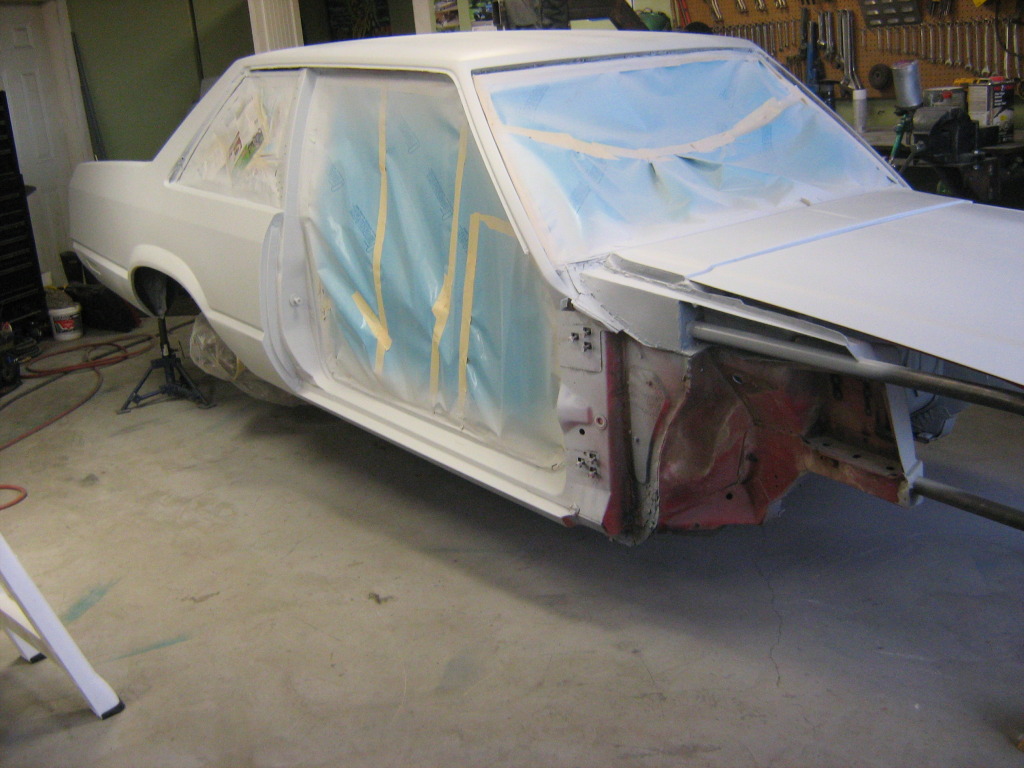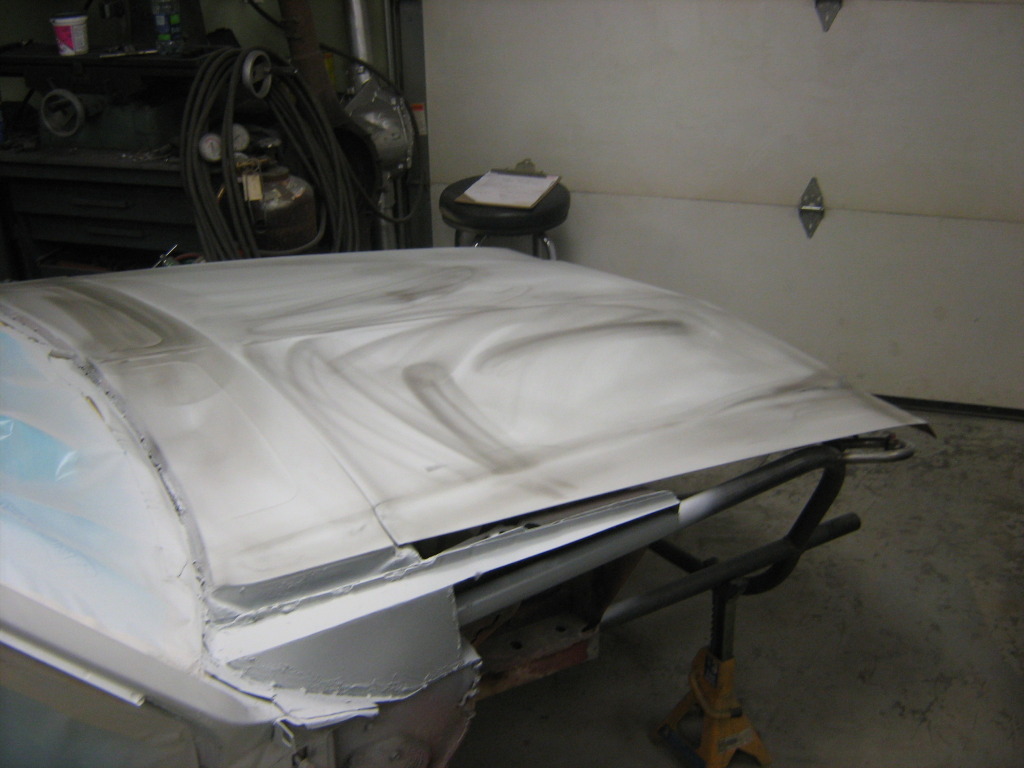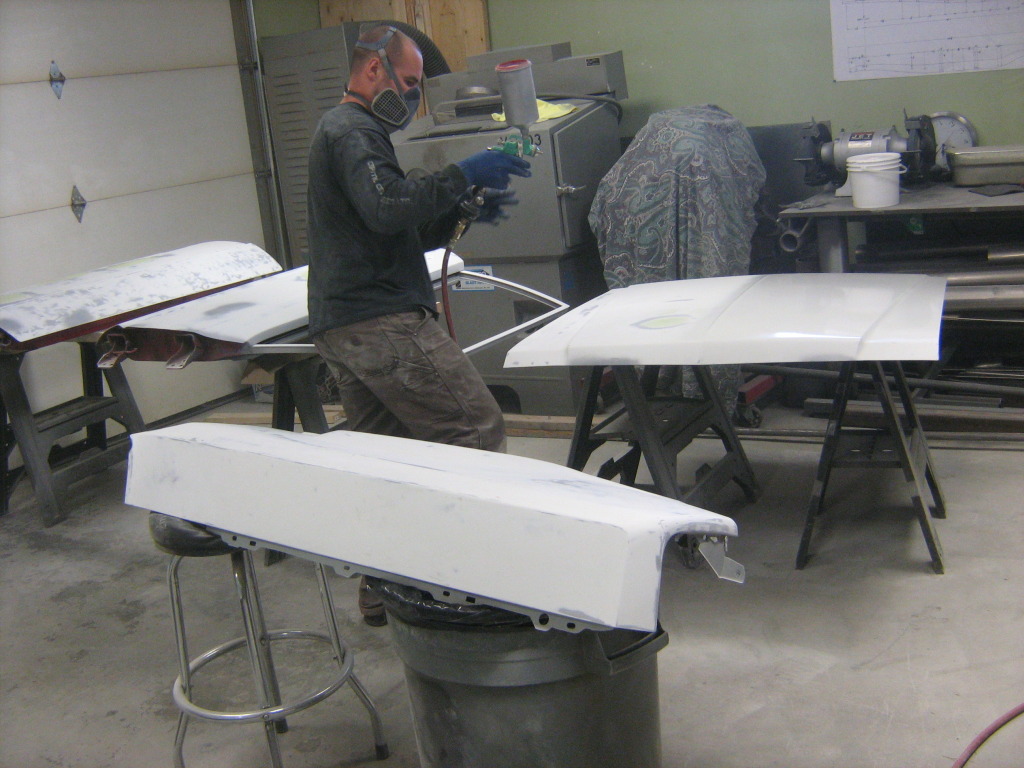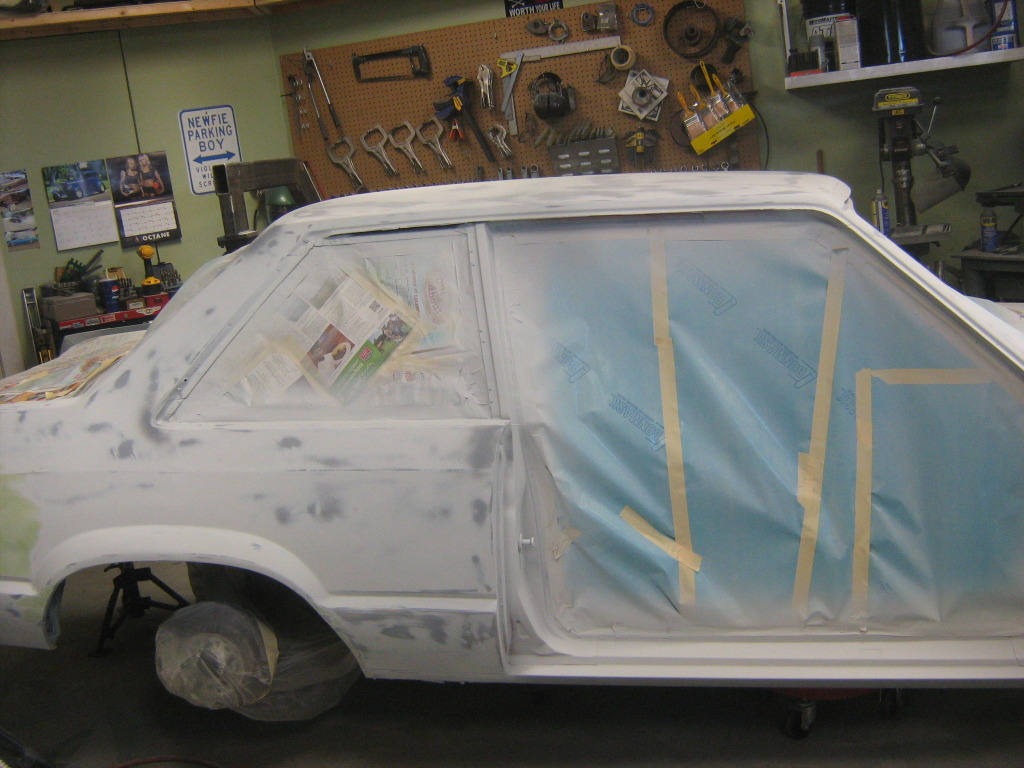 4-3-2012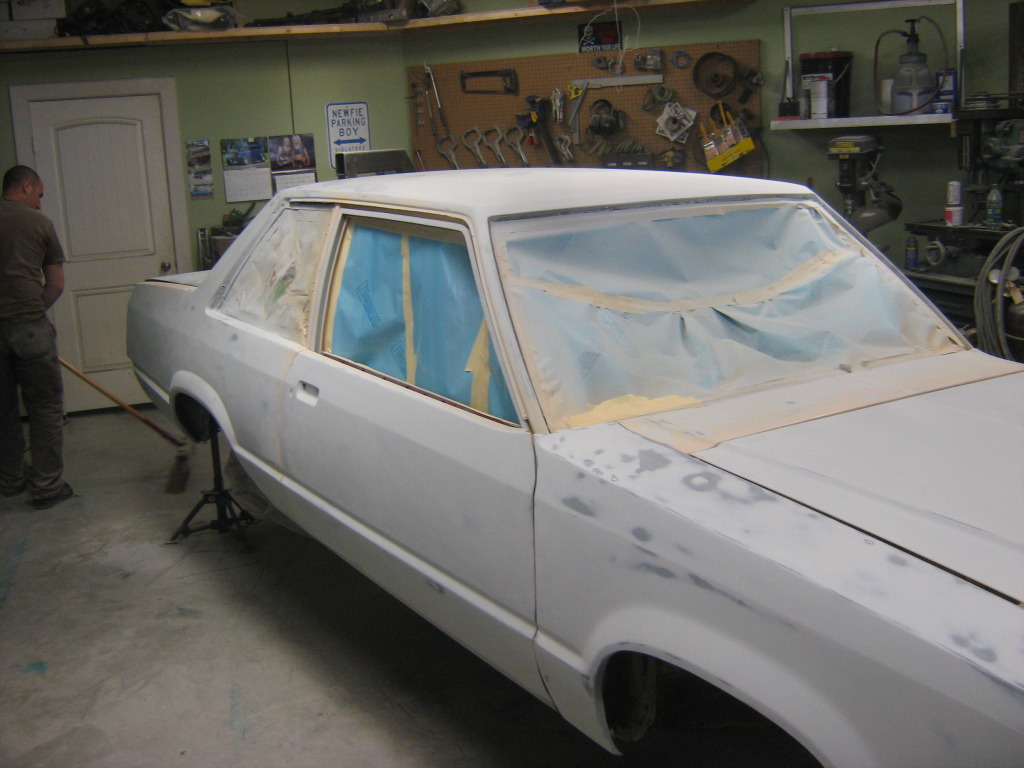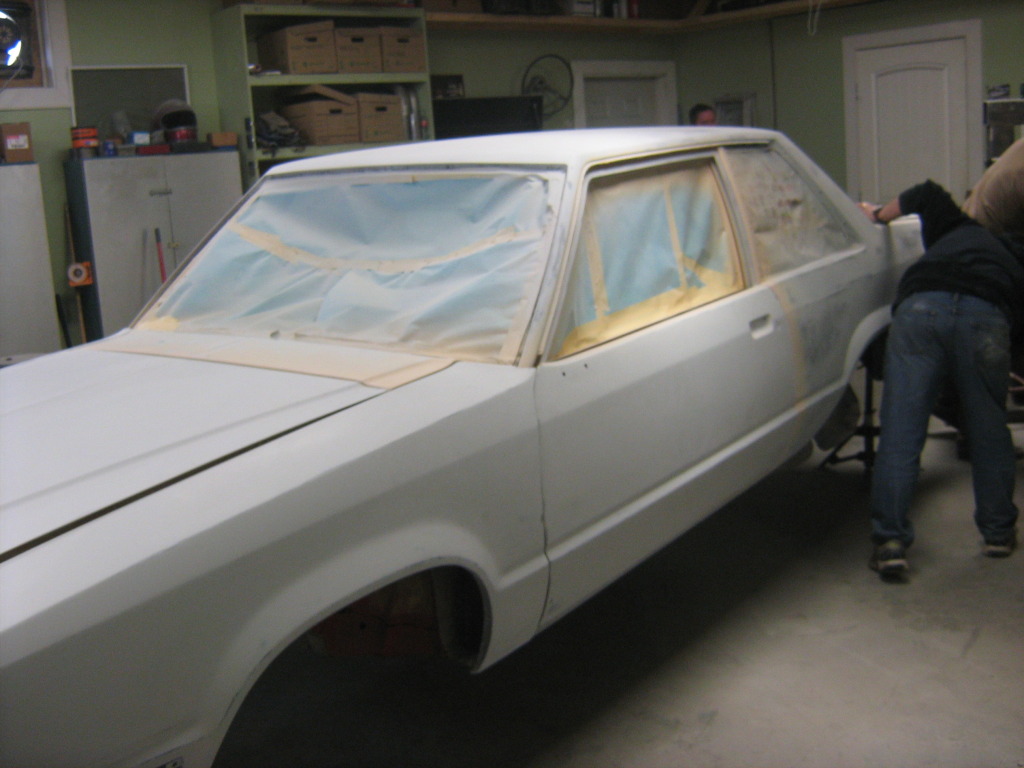 Next up Nolan showed off more of his bad ass skills and laid down some color, these pics are all just base coat no clear: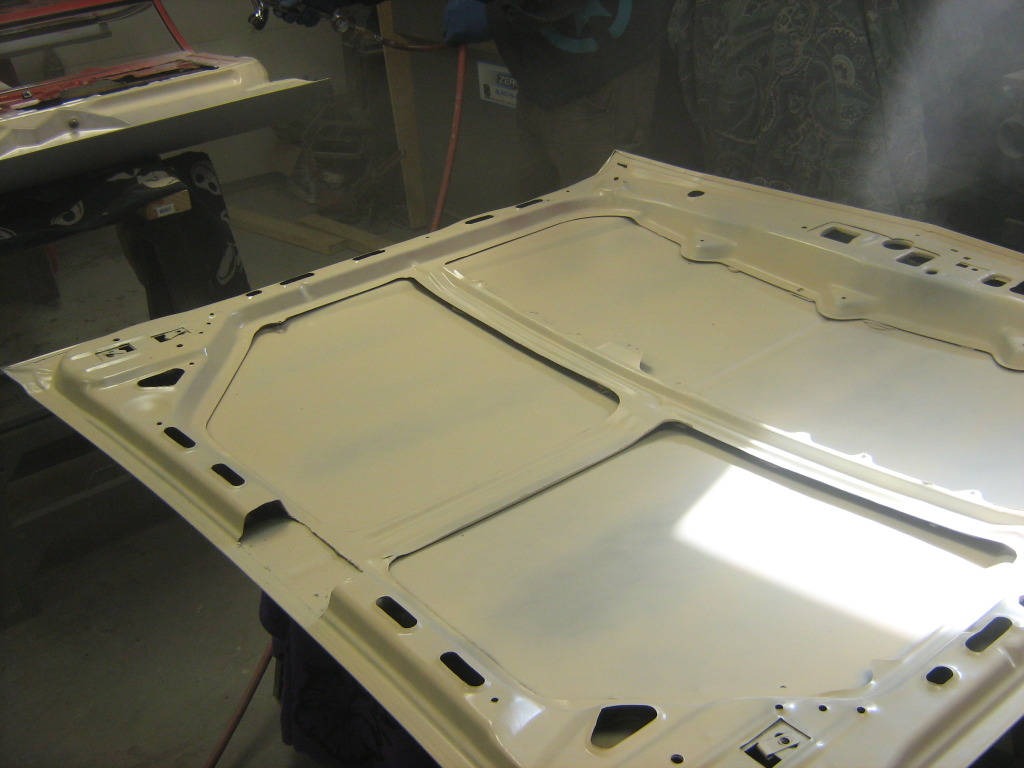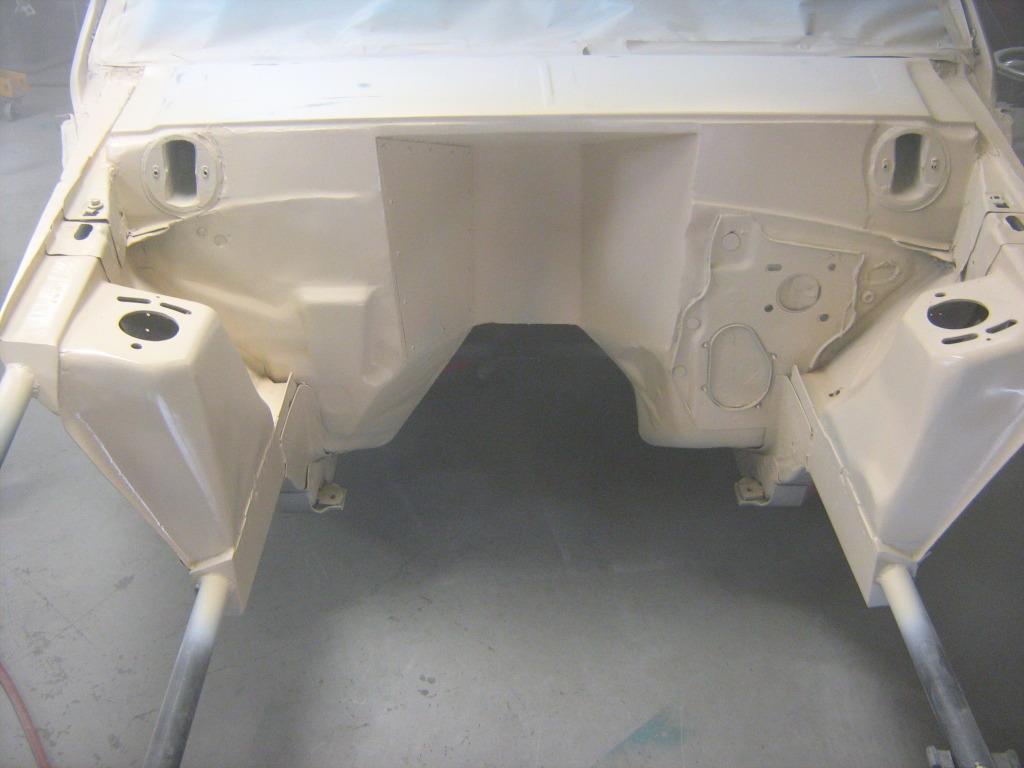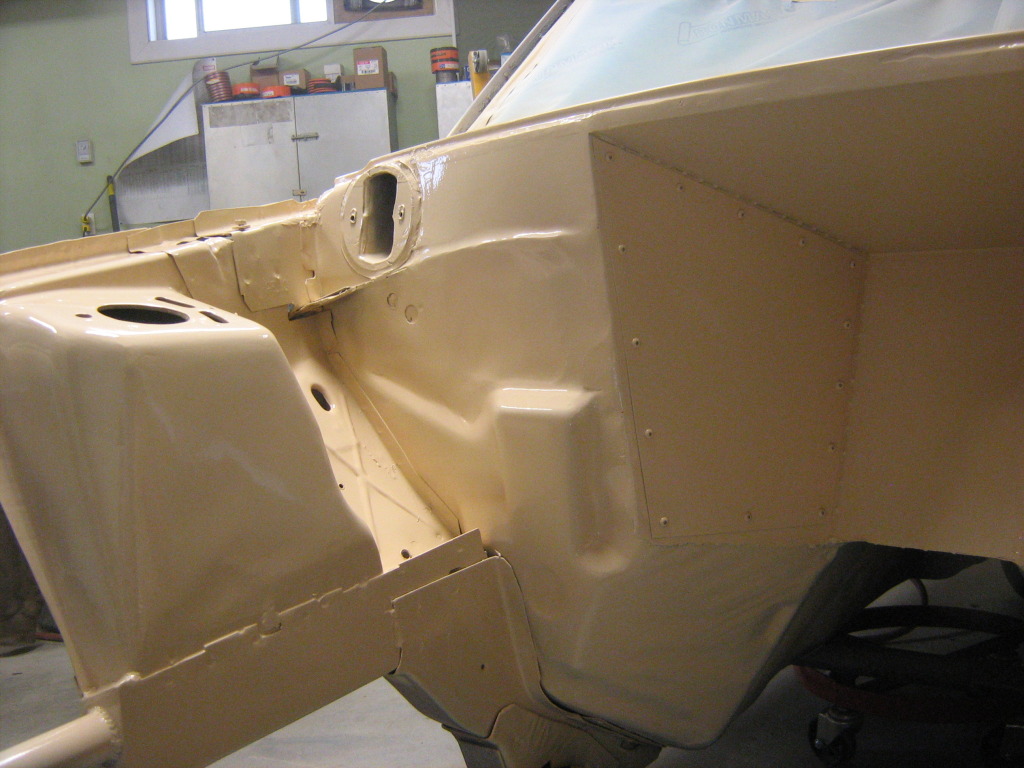 one color painted
in base coat: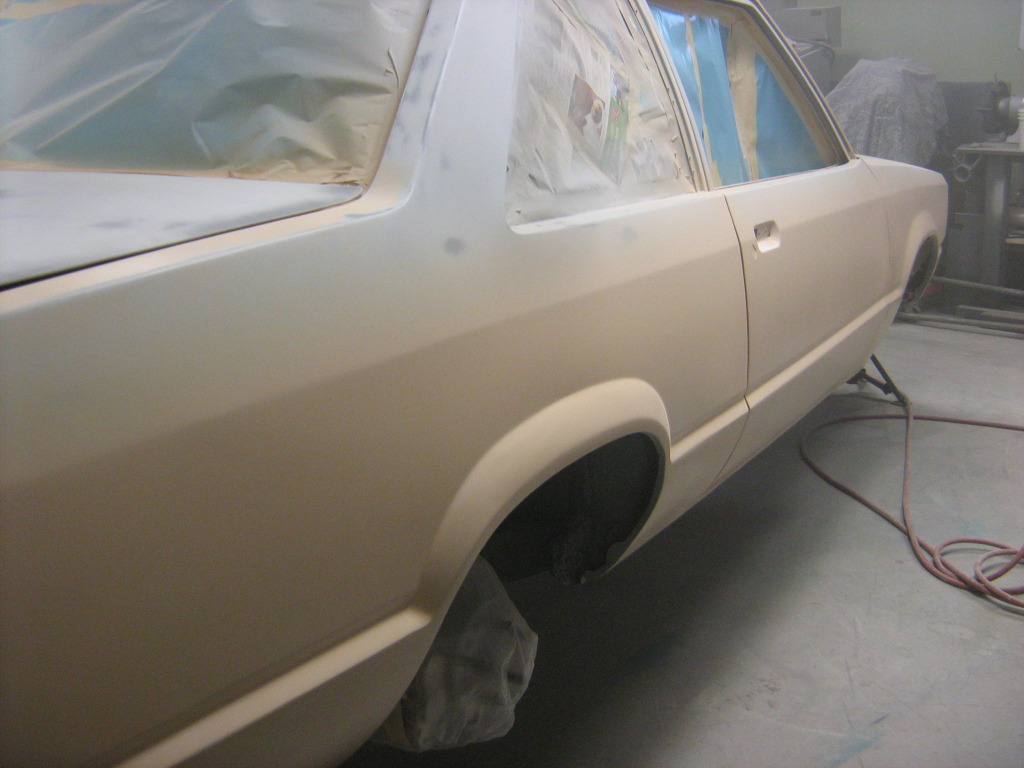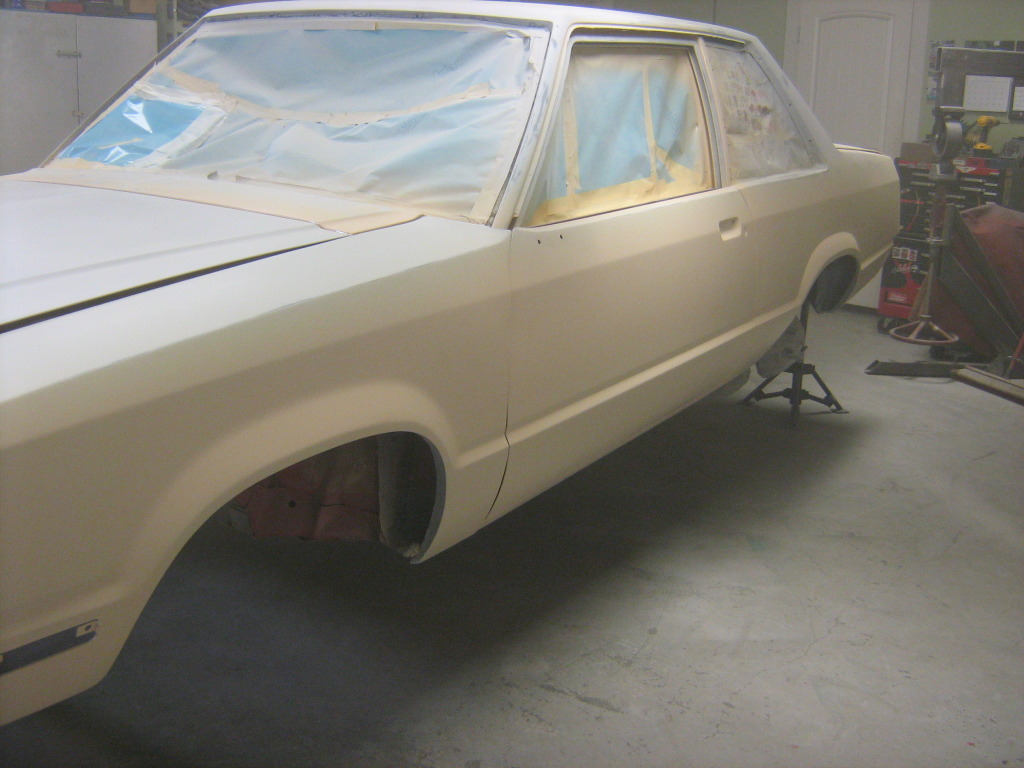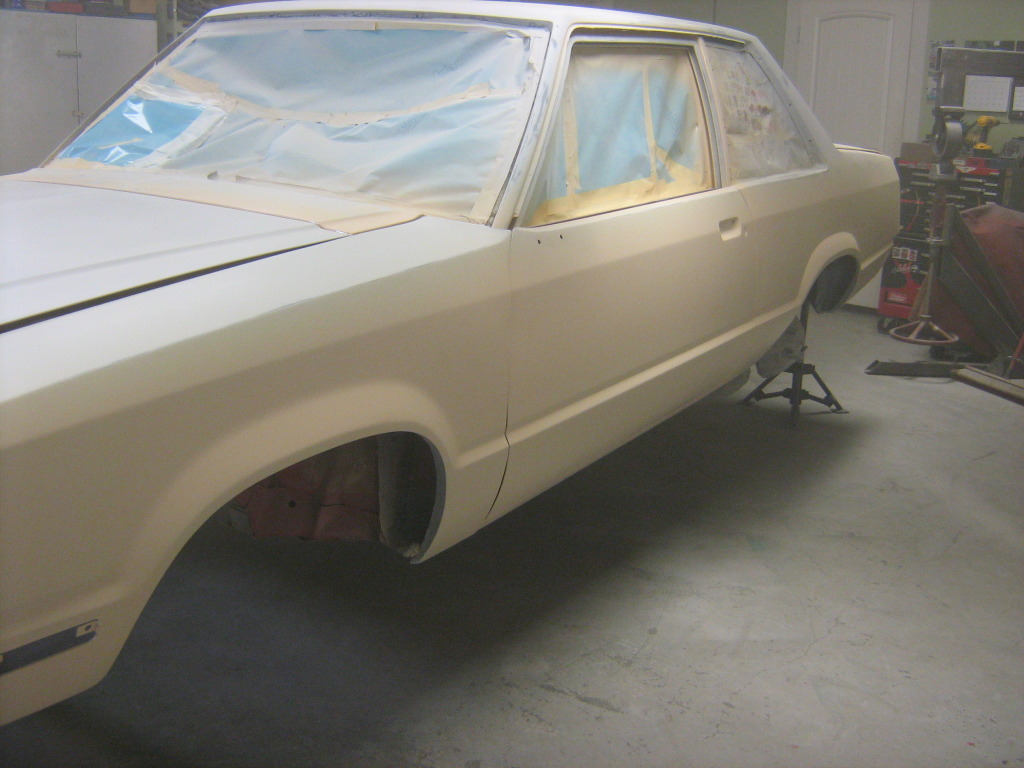 Time for color number 2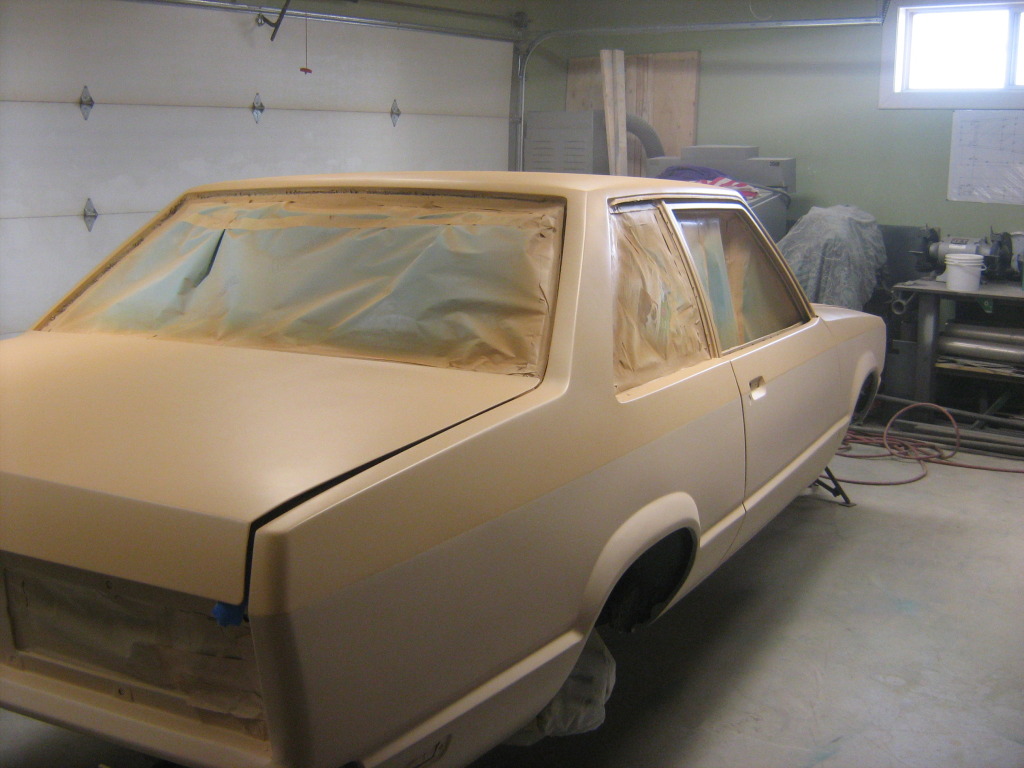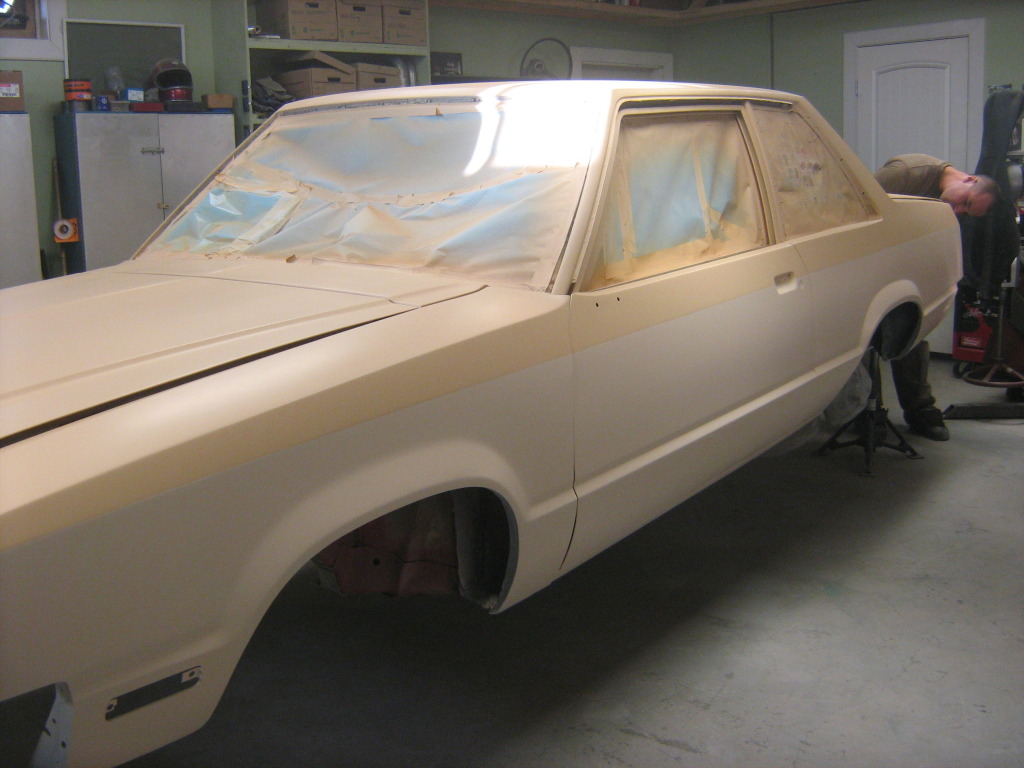 Time for clear coat!!!!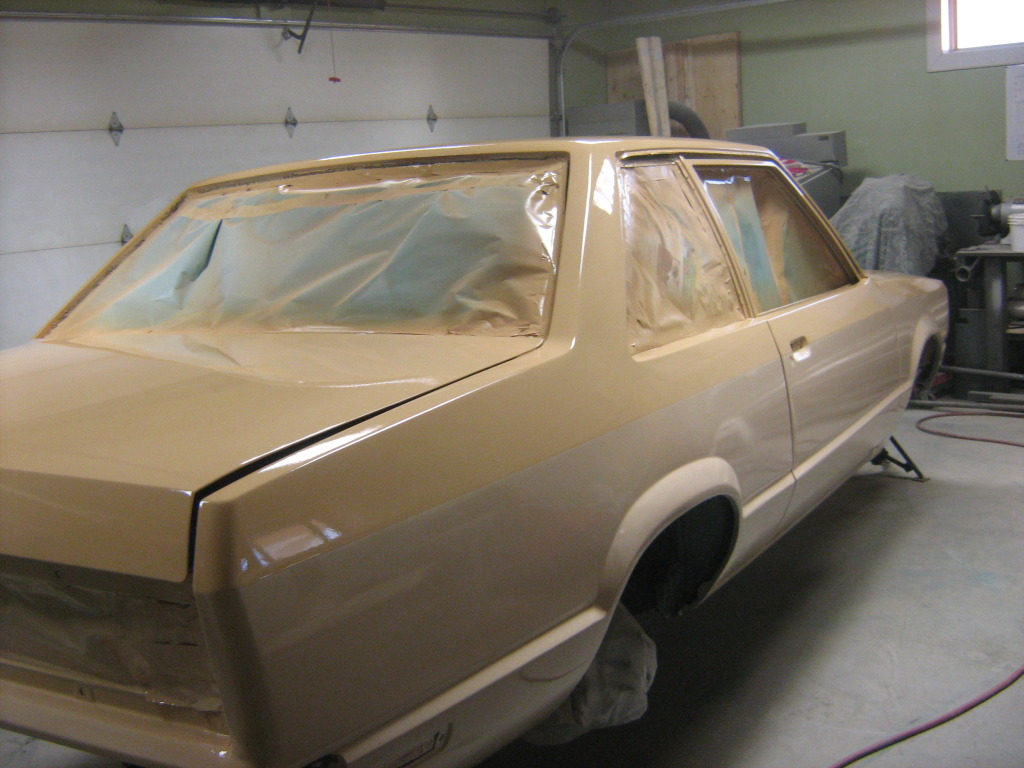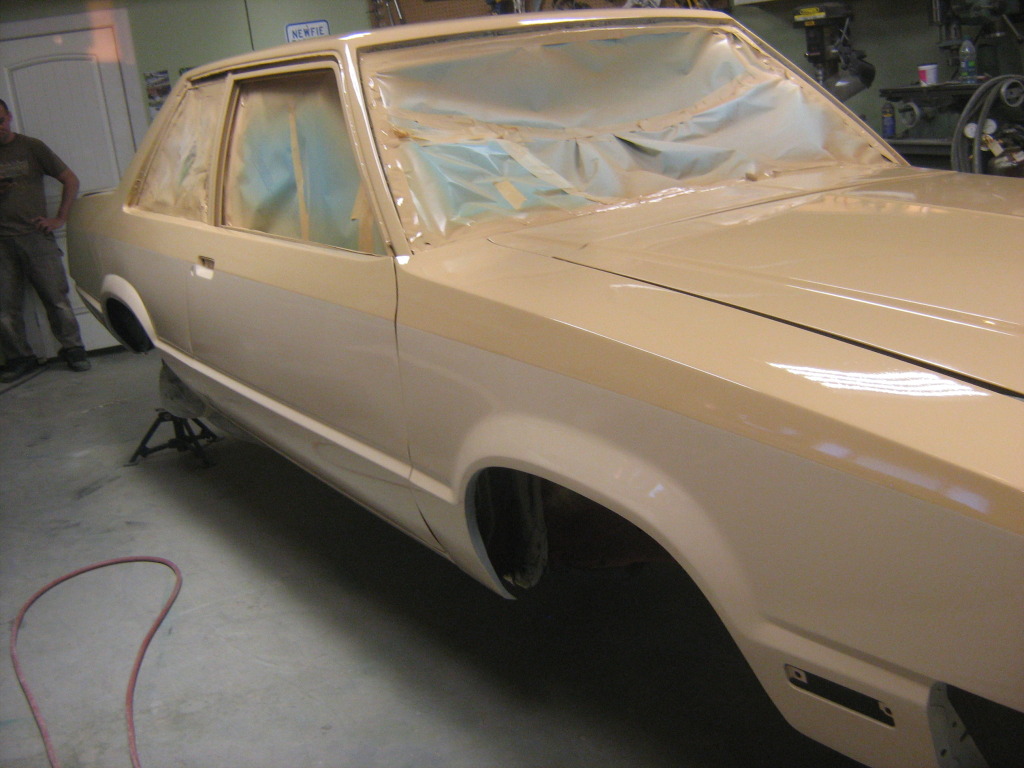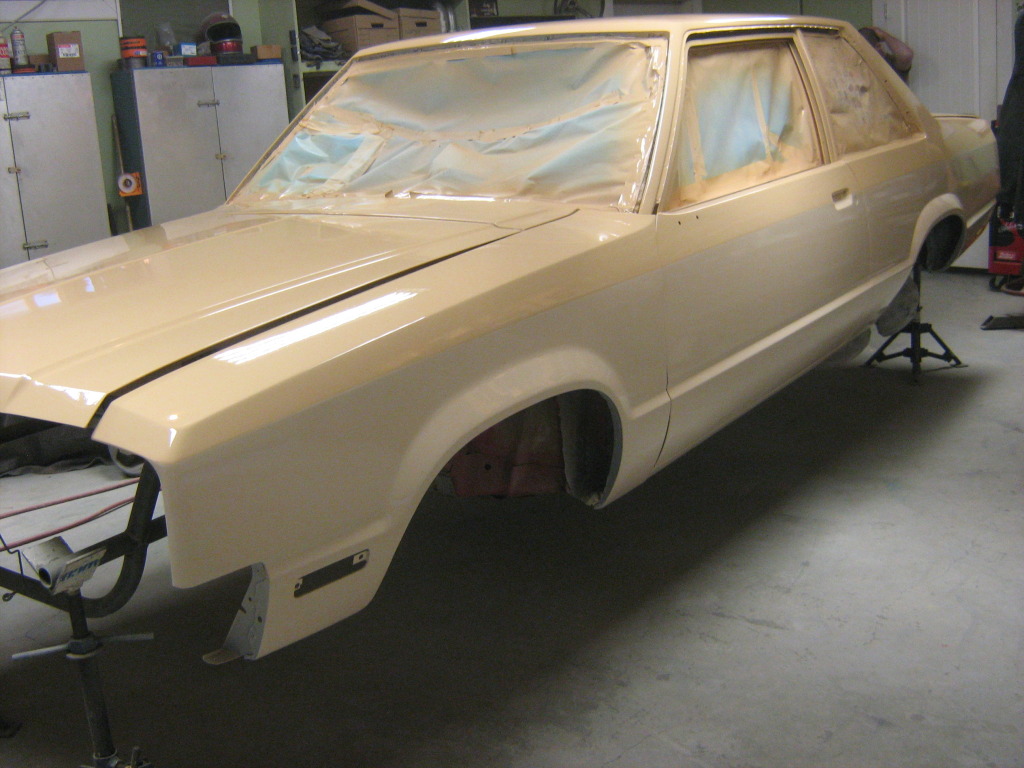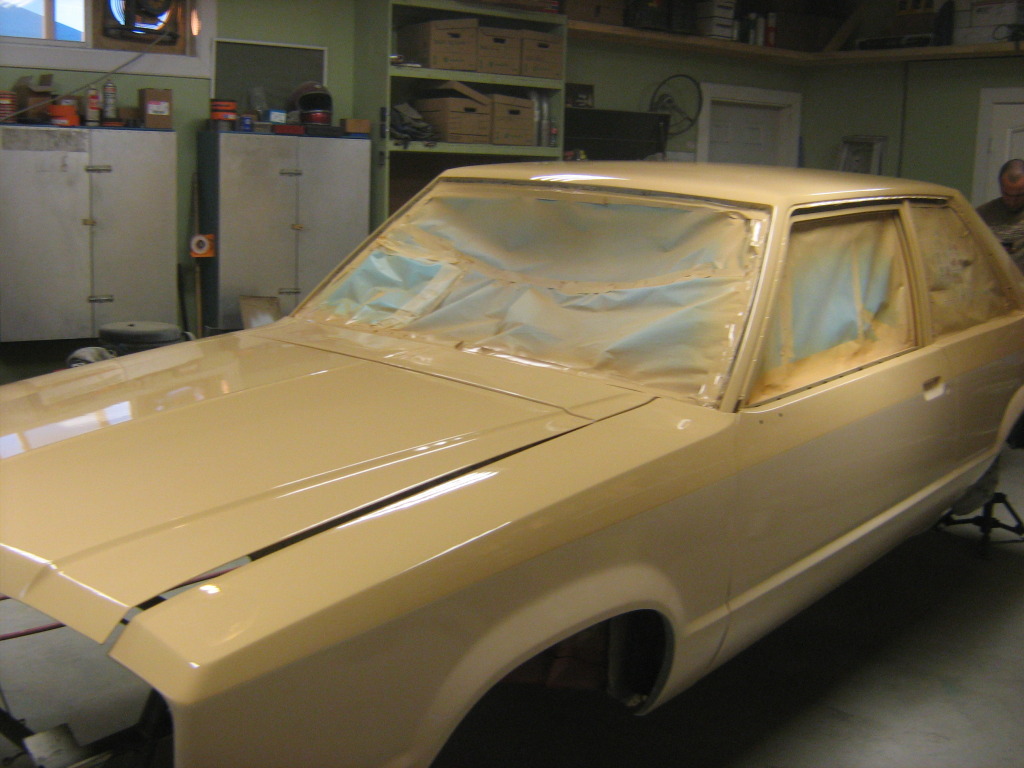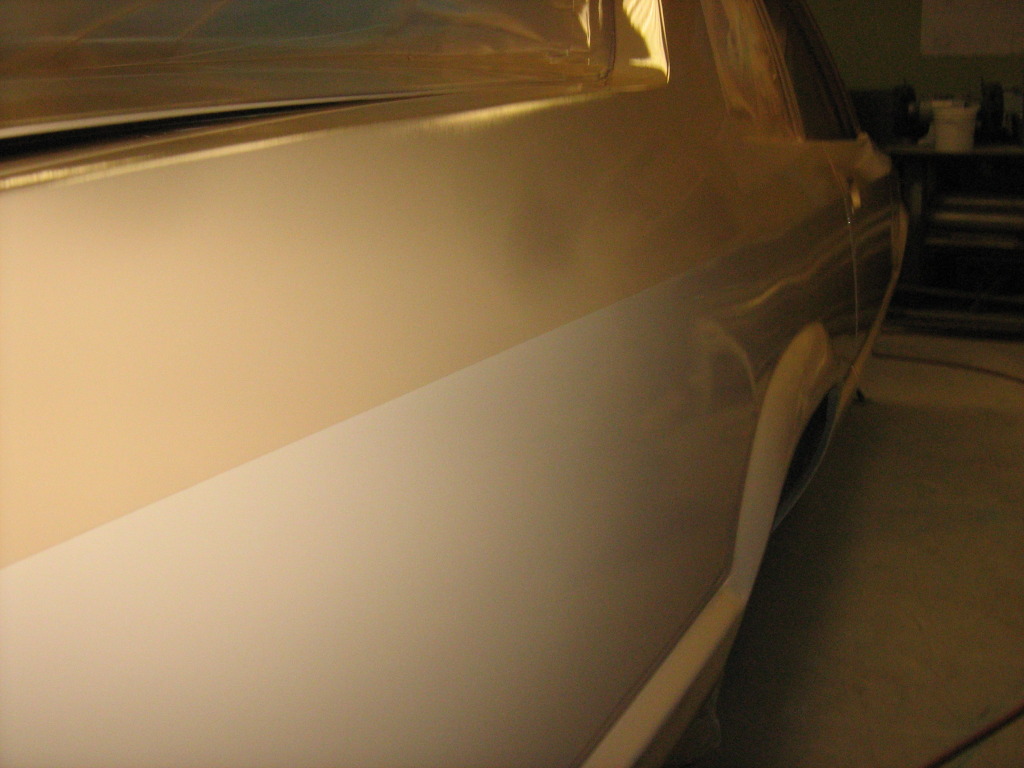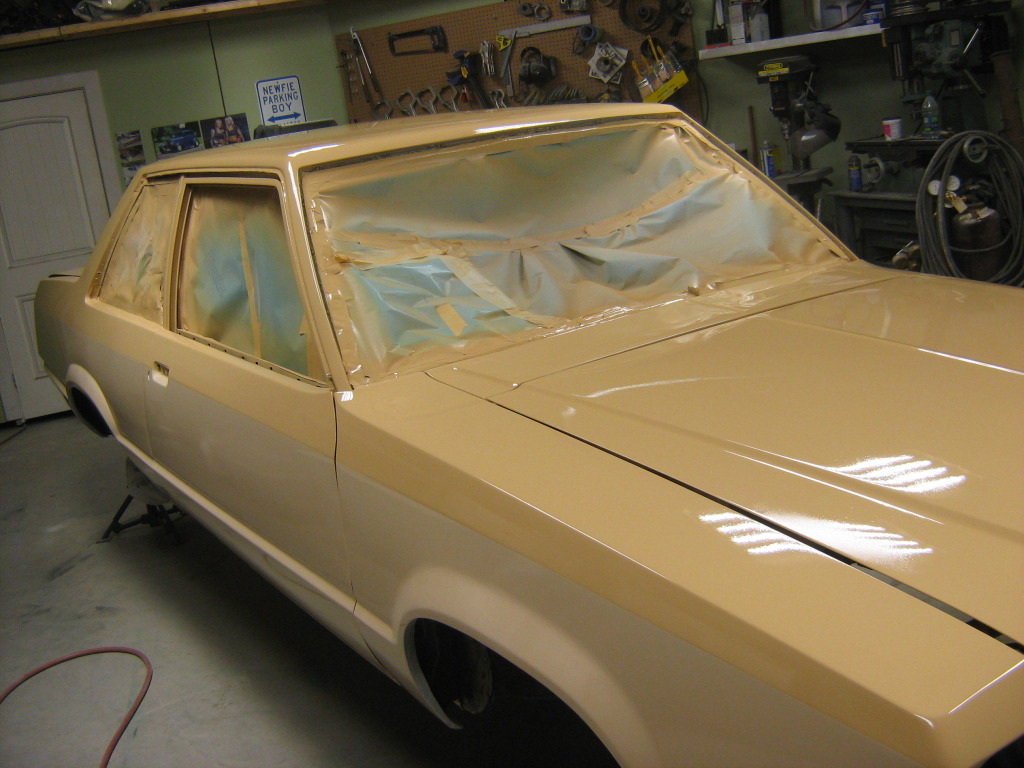 Today me and nolan put the K member back in along with the new front suspension and brakes, put the wheels and tires on and set it down..... SWEET MOTHER OF GOD I could not be happier! once the windows go back in (tinted) and all the rest of the trim I think it is going to be killer!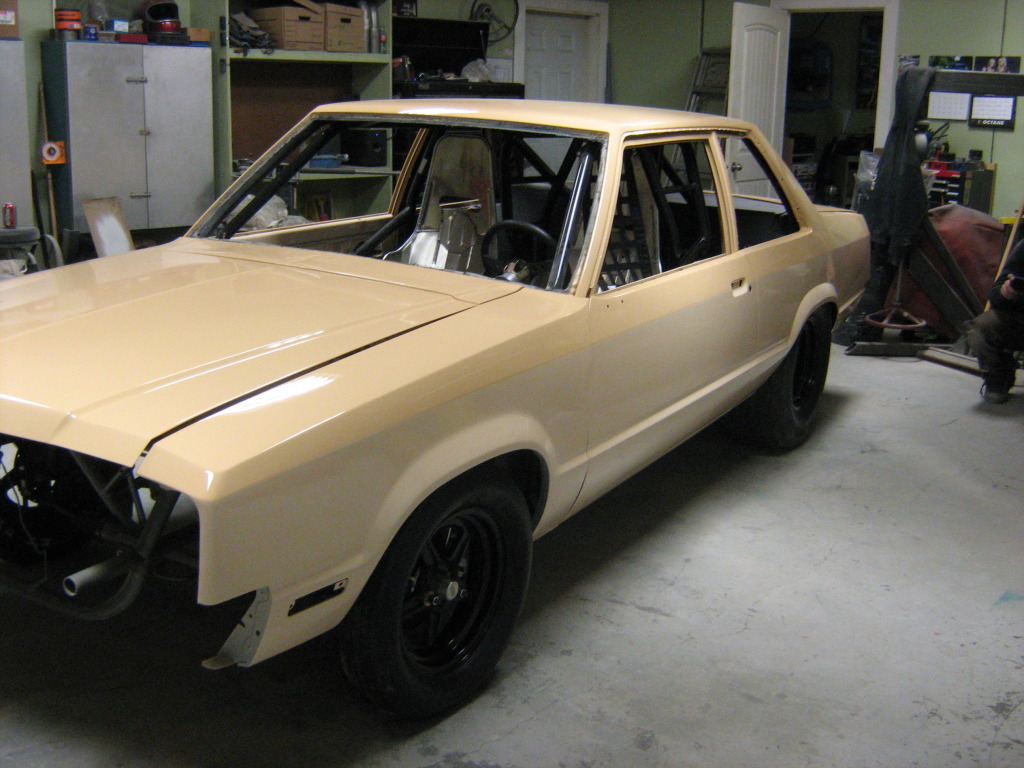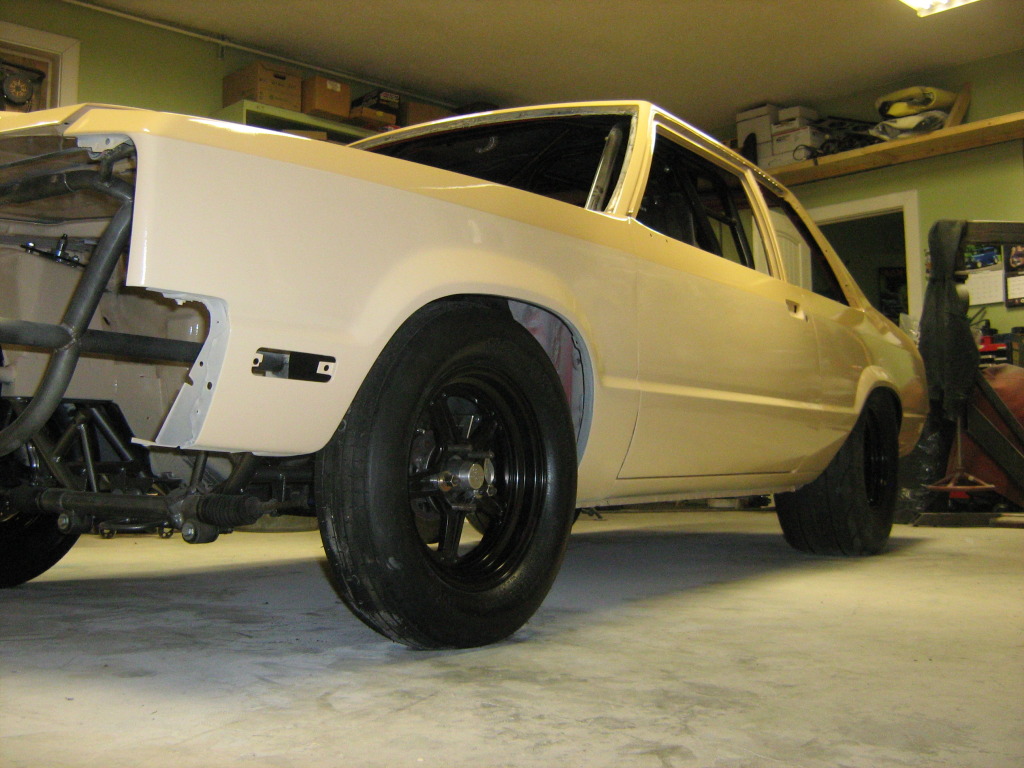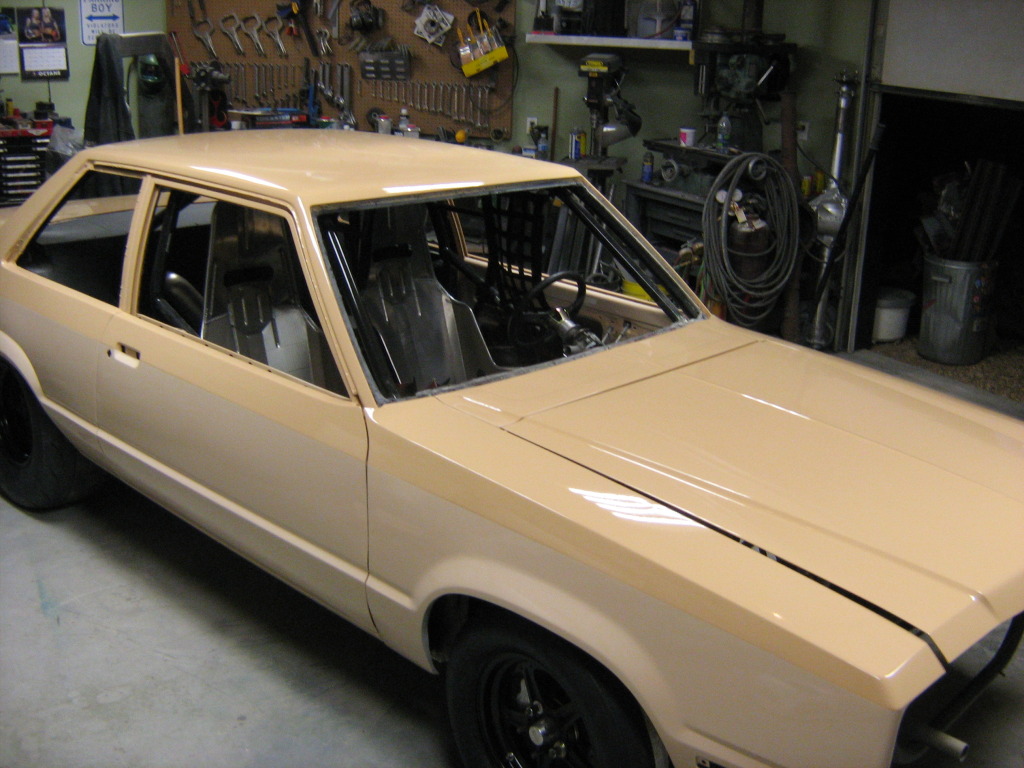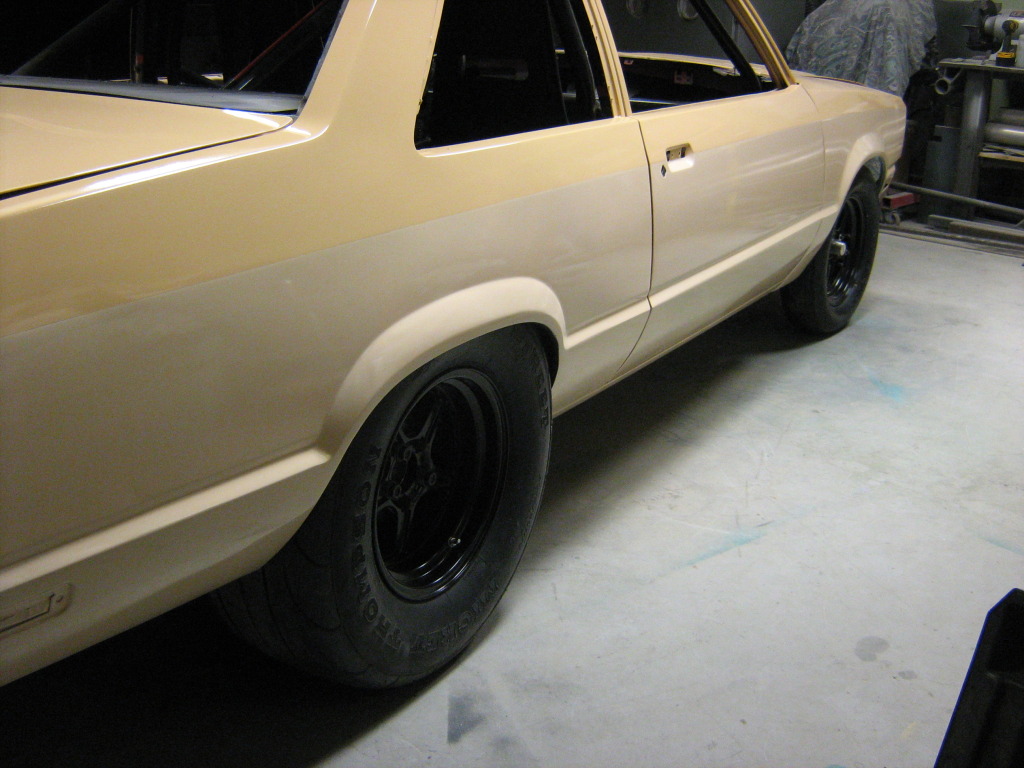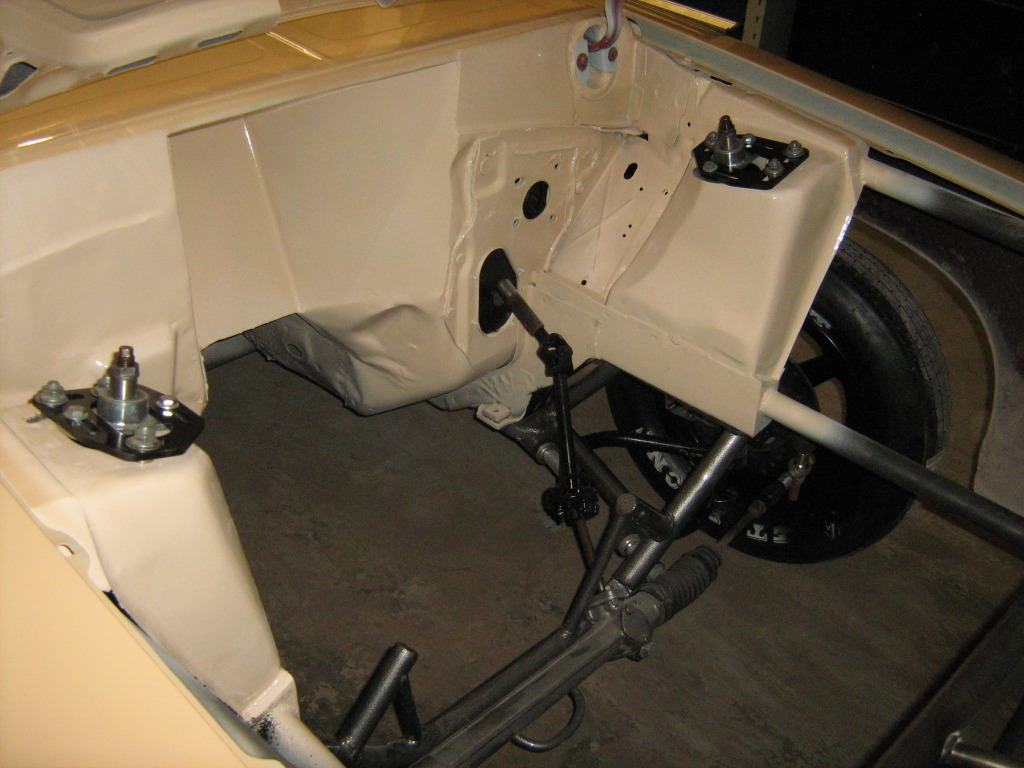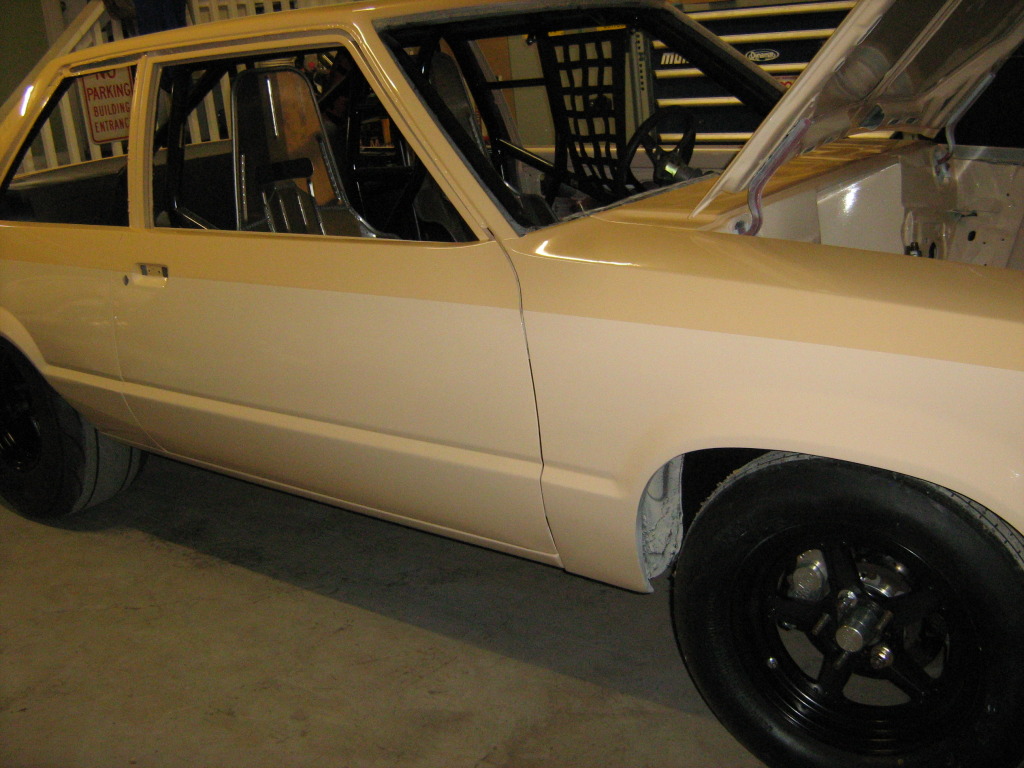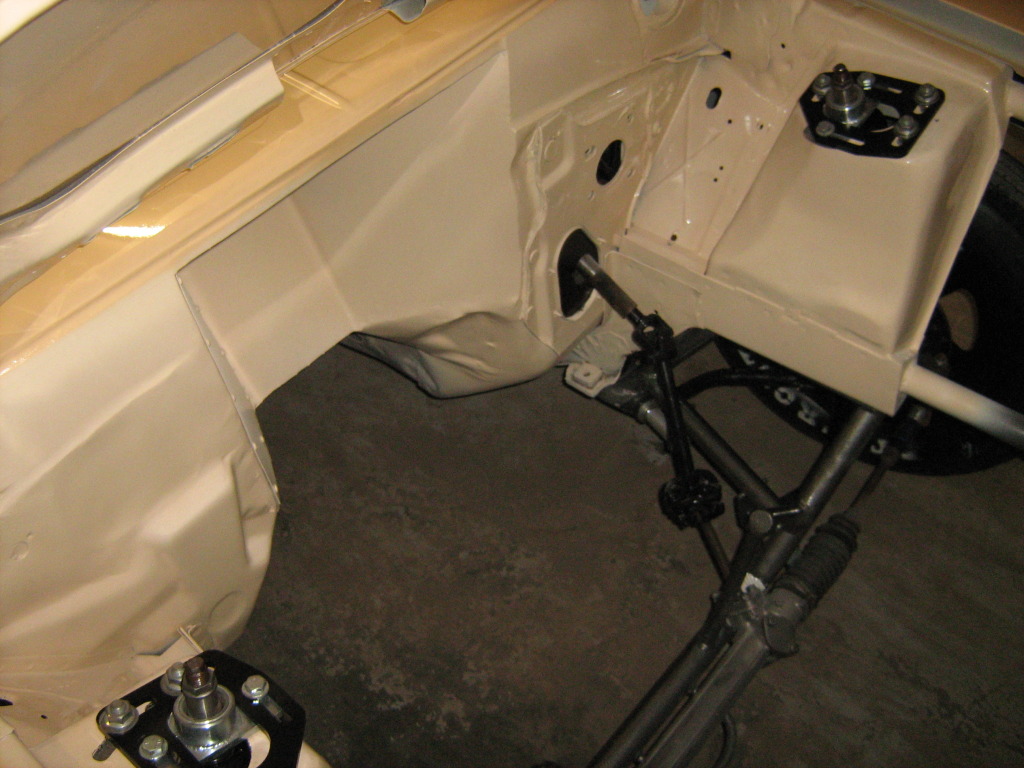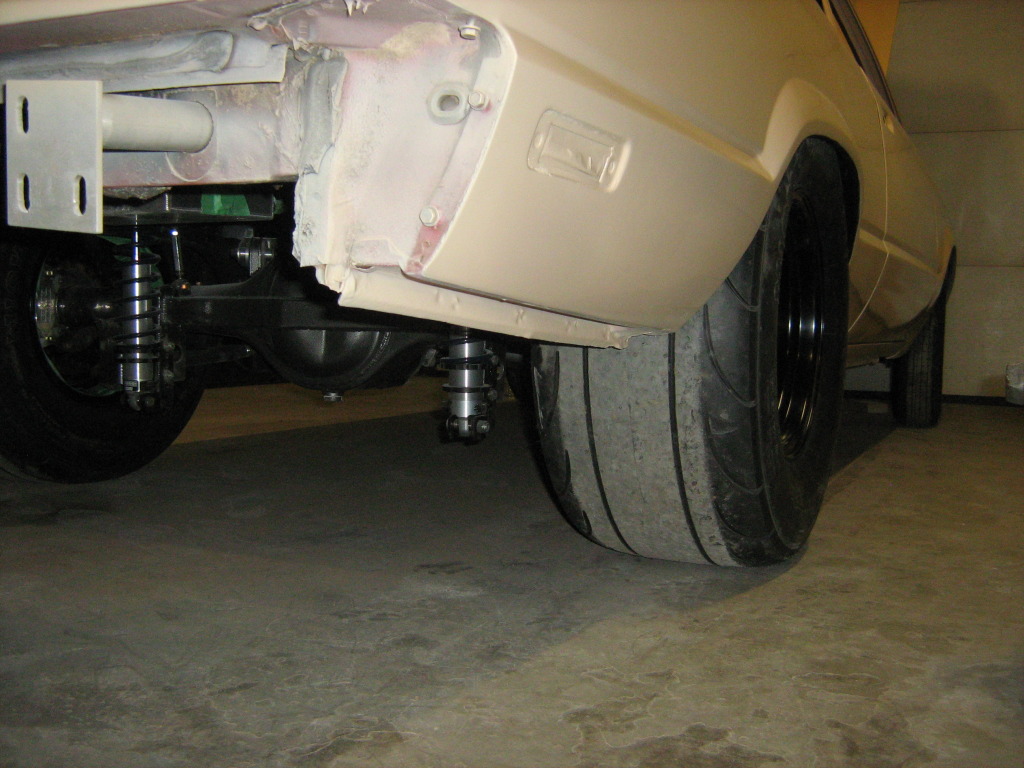 I just HAD to stick one of the door panels on to see how it looked, Nolan covered the LSX logos in carbon fiber to carry the theme over. Everything is still dusty but I think it will look killerwhen its all done!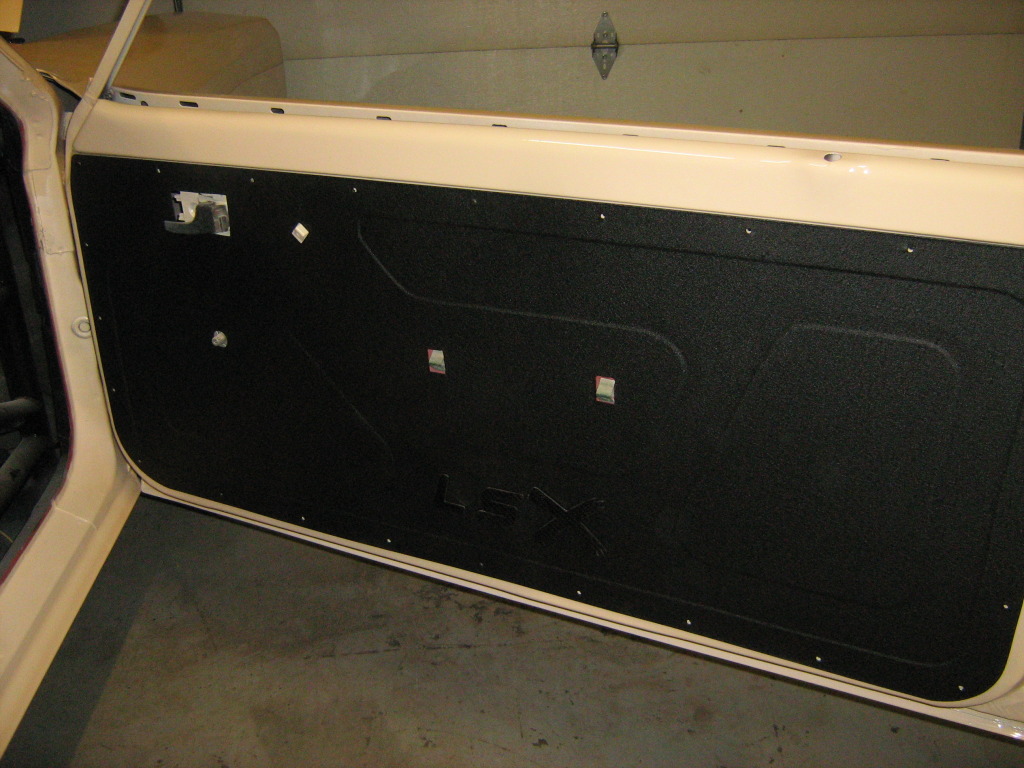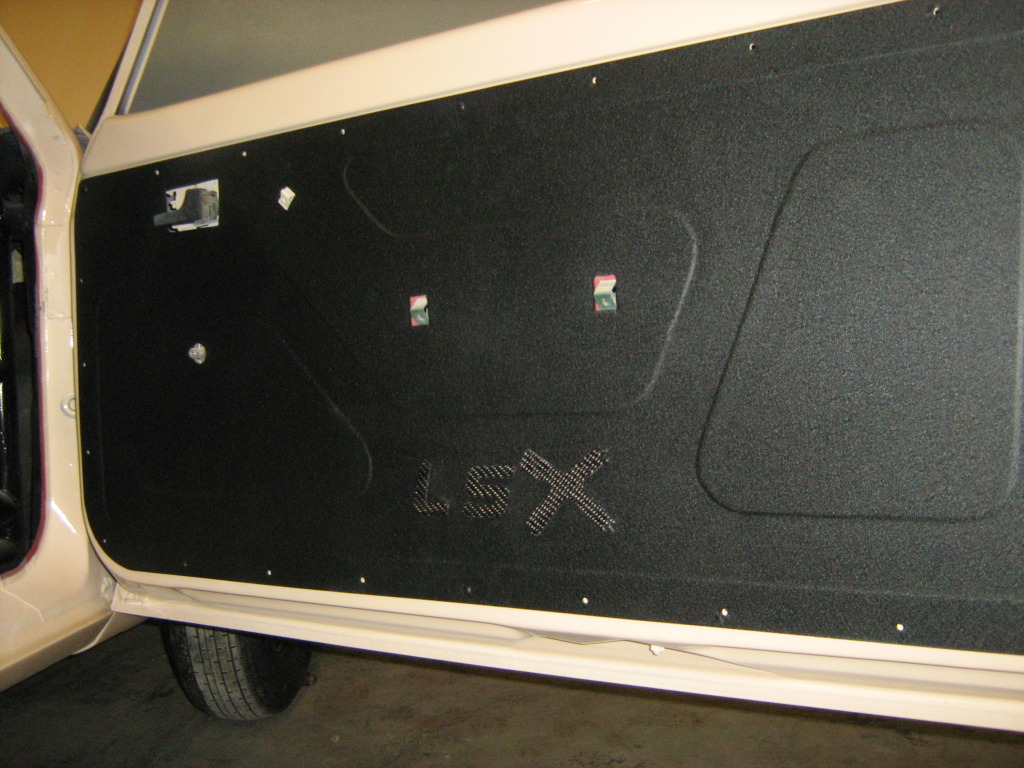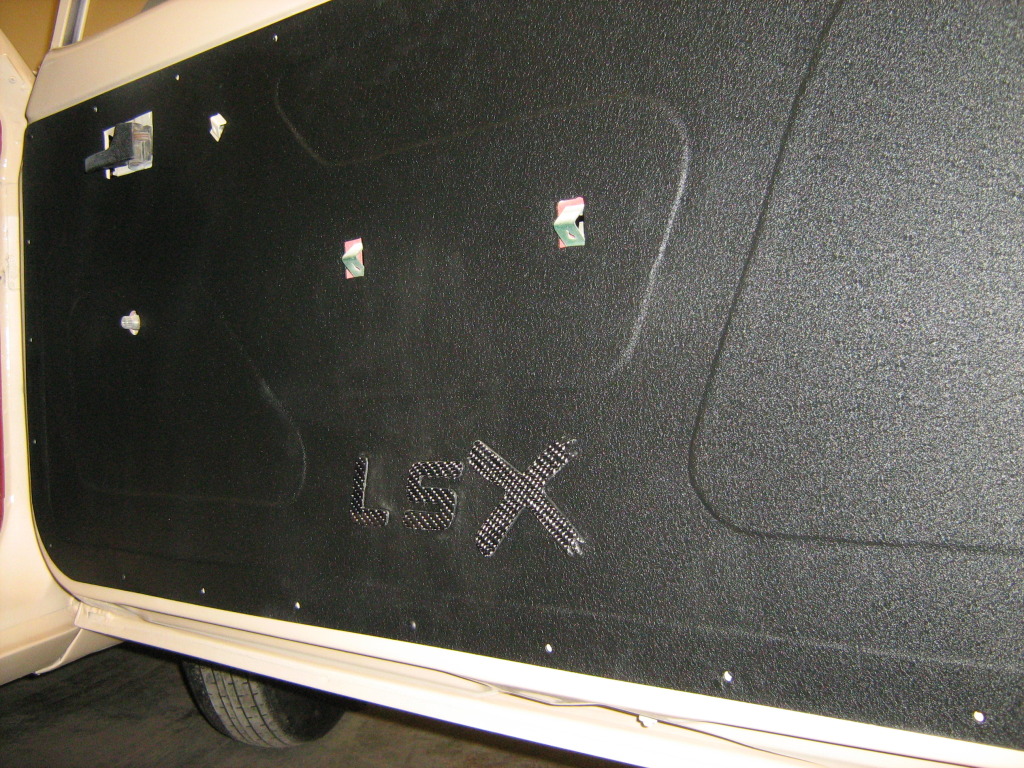 Now its time to THRASH on this thing!!!! body still needs a wet sand and pollish when its all done then the pin stripe to break up the two colors but overall I could not be happier with the way this thing is coming out and would just like to once again say a huge thanks to a few people:

My loving and supportive girlfriend Leanne
Nolan .... well its obvious no description is needed
My Family for having faith in me and wanting to help me see my goals not only met but blown away!
Flyin Ryan Bell for always taking care of my engines and making sure I can make enough power to meet our goals and be DEAD reliable while doing it!
Jordan/James/Max/Steve/Jason and all the rest of the HPS/Wrecking crew for always supporting me and helping out in anyway they can at all times!
Jim Bell for all his support and help on parts,deals and advice.
Stefan @Performance Fuel Injection for making sure it gets the fuel it needs!
Randy @ Pro stock for taking care of all the engine maching/balancing duties on all my mills.
Bruce @ Impact coatings for making sure I will look GOOD and all my stuff will last without any issues after all the hard work is done.

I am sure there is many many more and if I forgot anyone I appologize .

2012 is gonna be a FUN season..... Now if I can only find the time/$$$ to finish it.

4-4-2012
Here is a few of the pics I took of the car.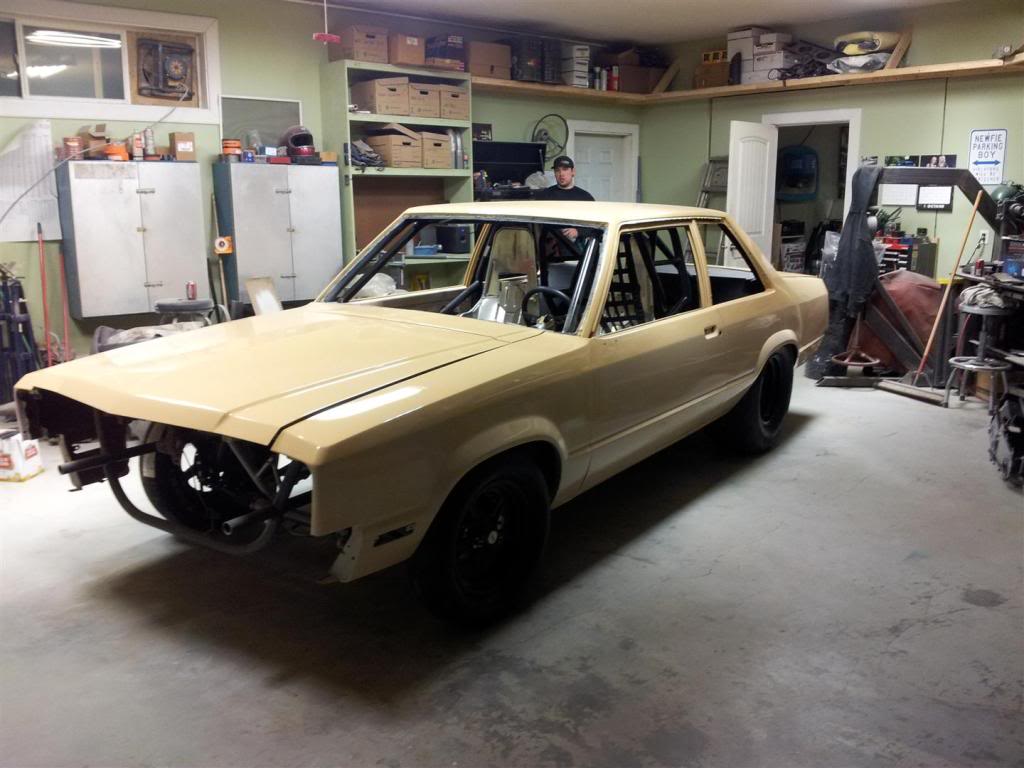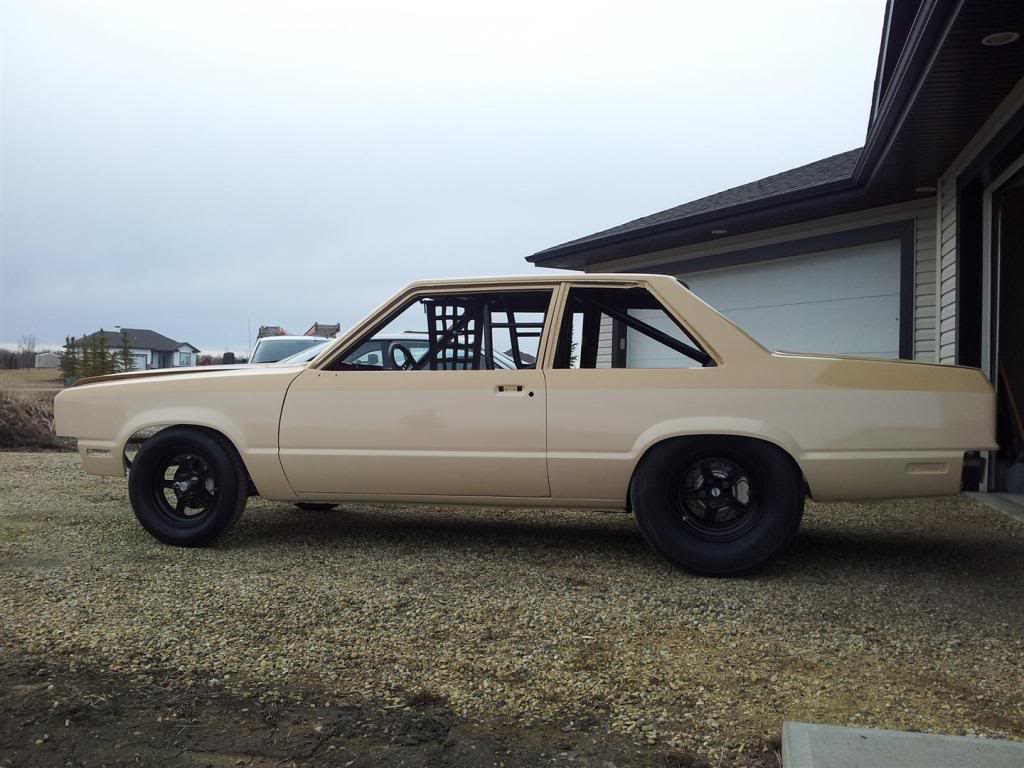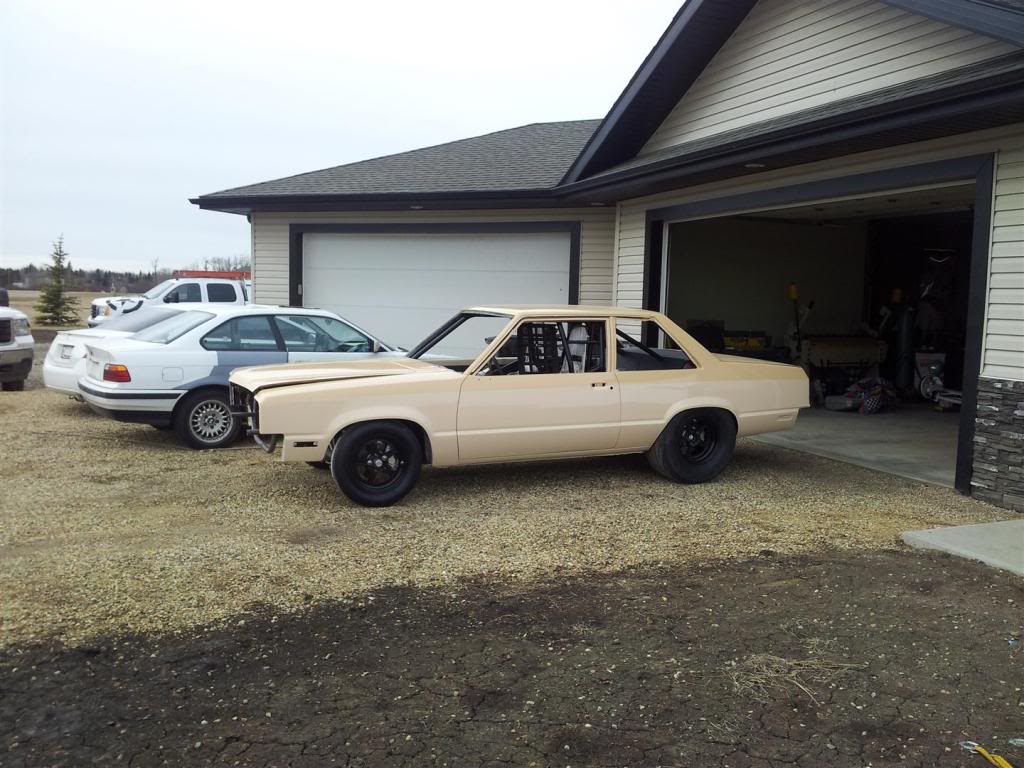 4-15-2012
Well updates have been in order for a little while now but honestly the stuff ive been working on hasnt been overly picture worthy.

What I have been rockin away on is wiring... So far I got basically the entire car wired for the following:

Flaming river push pull battery disconnect mounted under trunk.

Head Lights
Signals
brake lights
Reverse lights to shifter/trans brake
ignition switch
Starter wires
Racepak and 2 seperate trigger switches (one inside car and one in rear of car)
Boost leash boost controller
PP shifter with trans brake/neutral safety
Holley efi(power/grounds,tach output signal,can bus wires to digital dash)
Holley Digital dash
Line lock
Boost controller activate and IC pump


I don't like a bunch of toggles etc so I wired the old wiper switch to do the following:

turn it to LOW - line lock on
turn it to High - Boost controller and Intercooler pump on
Pull the "spray" - Momentary ground via a relay to trigger the record on the racepak

Gonna try and get it all finished up asap and ready to get the new engine in when its done.

Nolan also banged out some more of the intercooler piping and I bought some mls Head gaskets for the new mill and some nice clean Zephyr tail lights to replace the fairmont ones.

More updates coming soon!
4-17-2012
Quick update from last night.

I started to fit up the I/C piping that is going to act as a console for the car as well as a place to hold the shifter and cup holders.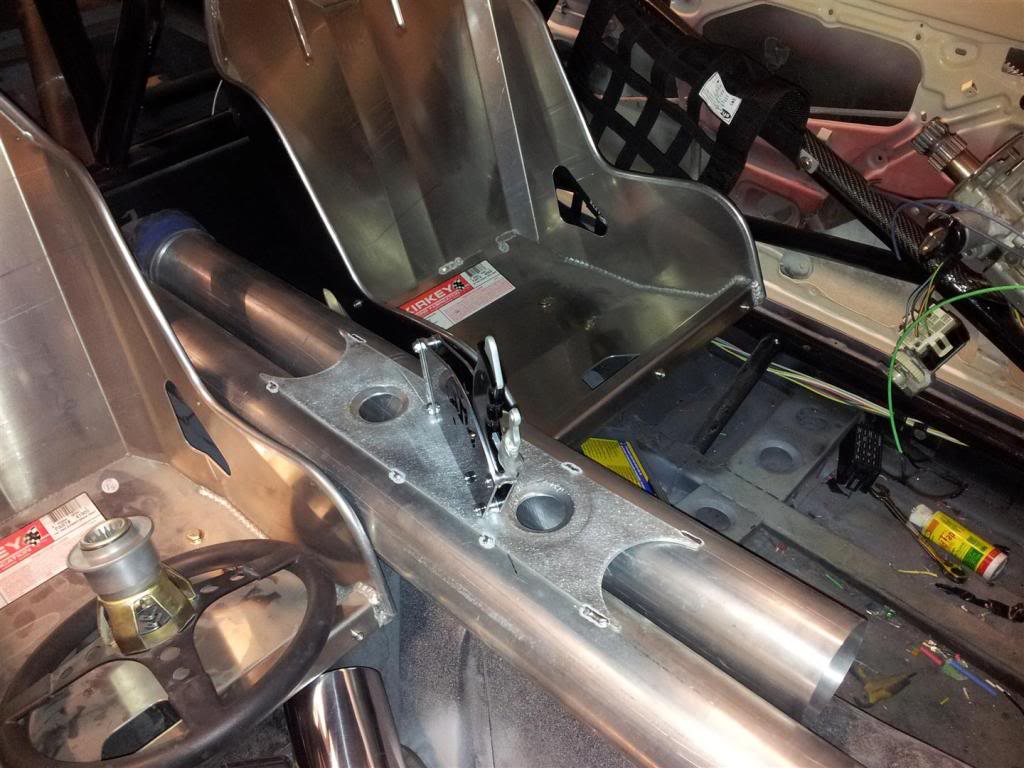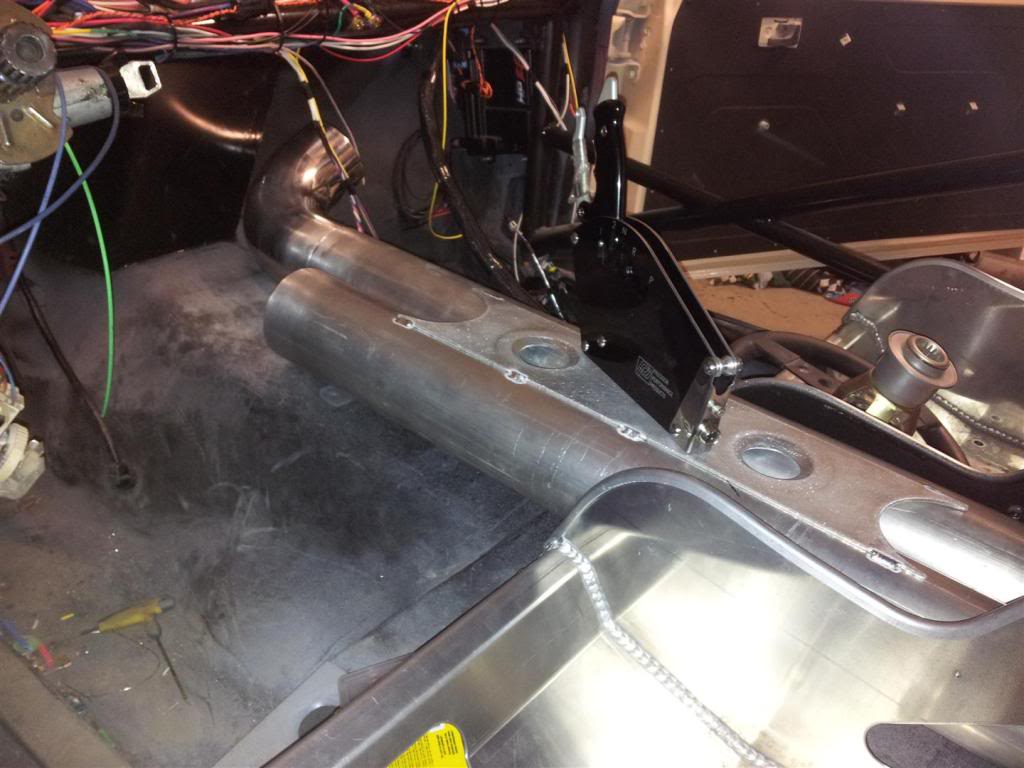 More to follow. Safe to say time is growing short for the goal of being done for the first weekend of June.
4-25-2012
Update :

Turbos,Blow off valves,Wastegates,Turbo flanges,Drain flanges all ordered BIG THANKS TO ROB @ MODULAR TURBO

Tonights task is rebuilding my powerglide and adding some better parts to make it capable of somewhere around 1800hp.

Head gaskets are also here now and new cam and lifters should be ordered today or tomorrow so hopefully the engine will go back together asap and we will get this bitch running!
4-26-2012
Update!

I have been busy working on a couple other side projects but decided the fab on the cream dream has been lacking.....43 holes later we have a light weight shifter bracket! haha, Next time neil is over he can sit in the car and I can weld it down for good, Hopefully we can get some more work done this weekend. I know Neil has the powerglide ready for action and rated for more than 2000whp!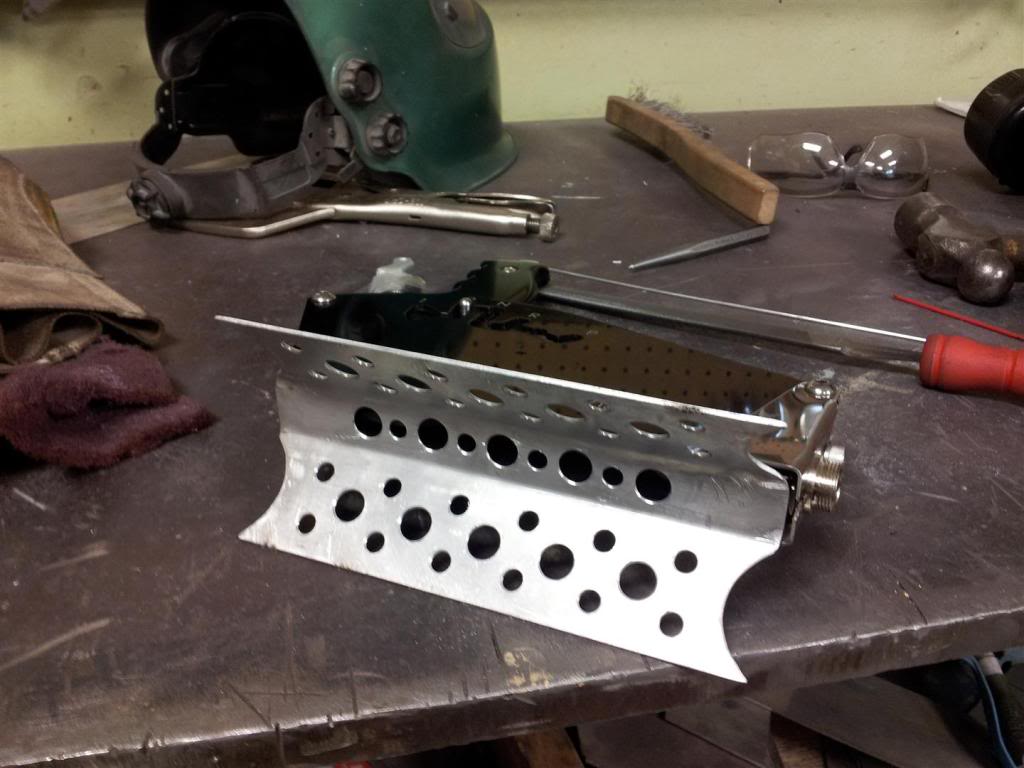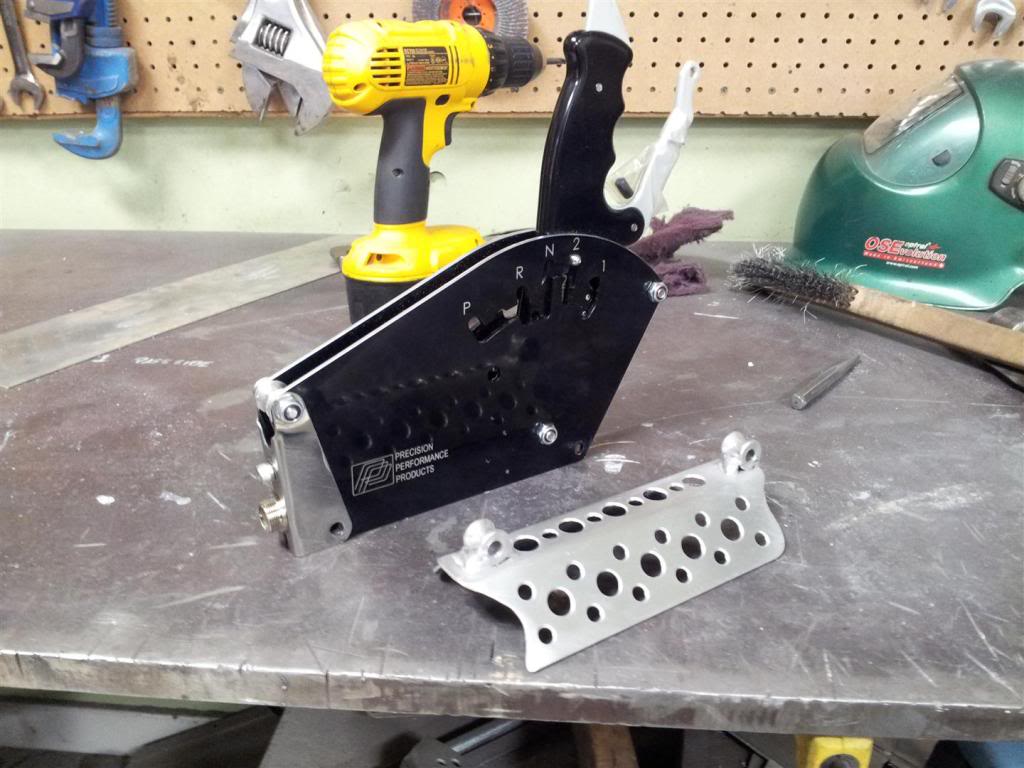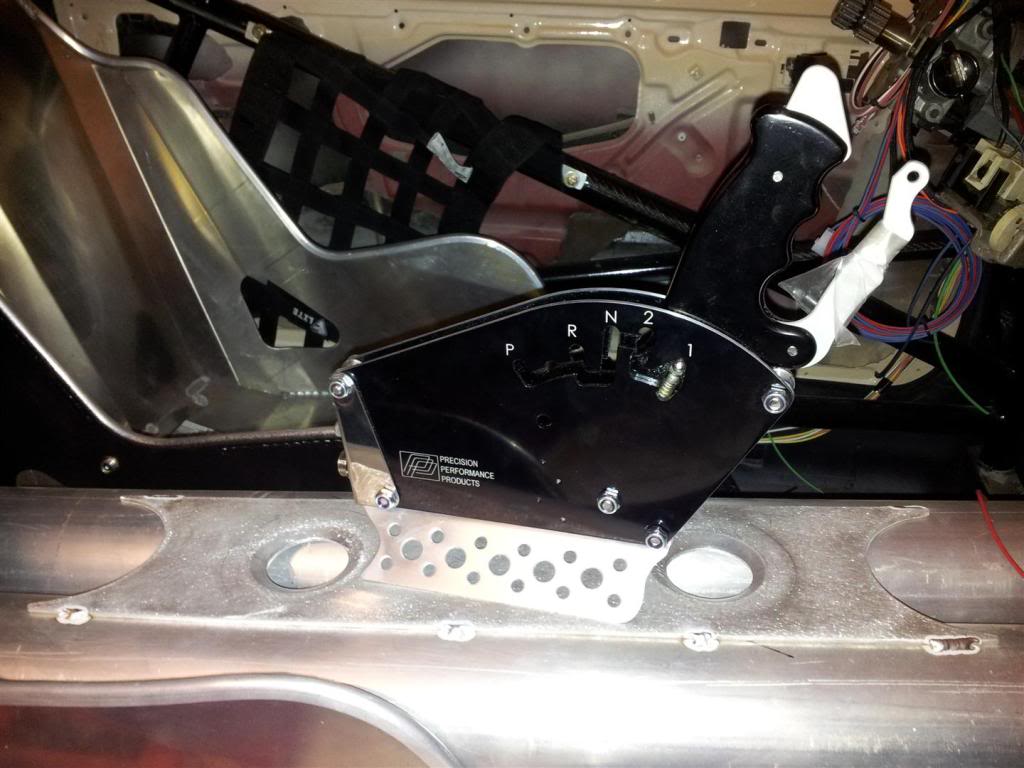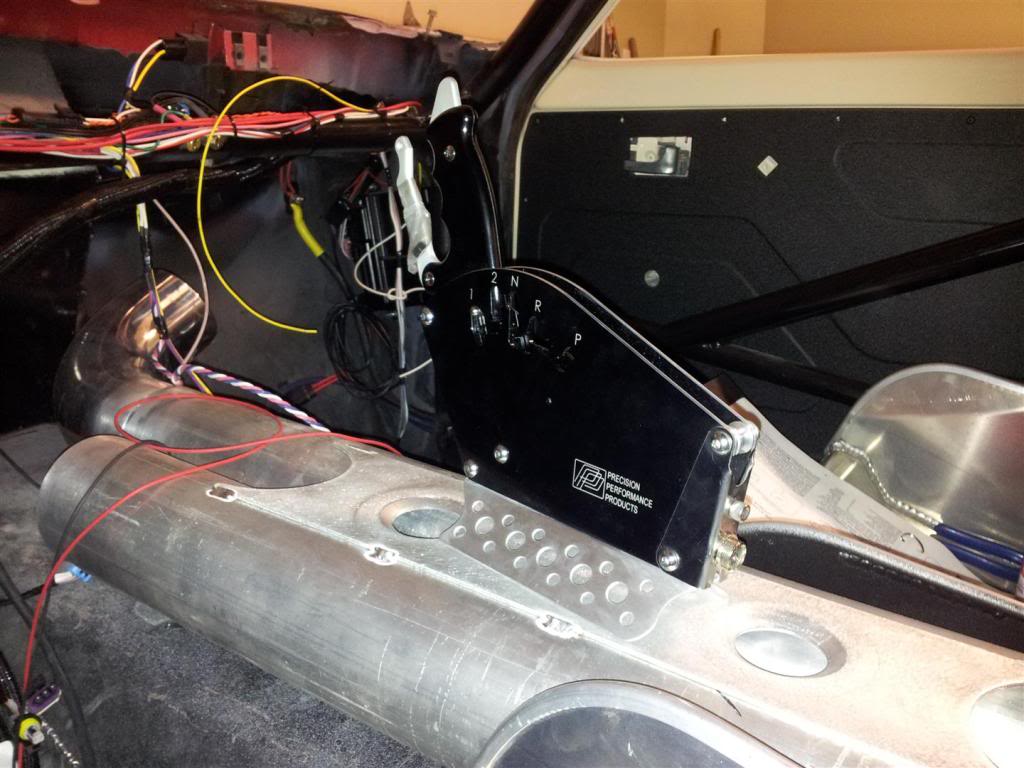 5-3-2012
Sorry guys not much in the way of updates right now, Been flat out busy at work tuning cars for customers etc. Also been busy trying to get my house ready to get sold and move into something closer to work etc.

Camshaft is on the way, Lifters are about a week or so out
Donny bailey @ Dads intercooler tanks is making me a bad ass custom tank as we speak
Turbos /gates etc are all on the way from Modular turbo.

Hope to have some more updates asap!
5-9-2012
Well we did not get a lot of pictures because really things like this are much better in person then on a computer screen but here is what we got done last night:

Finished out the entire rear area including:

Carpeting the rear panel,installing intercooler water lines,installing custom rear panels and putting it all together as one.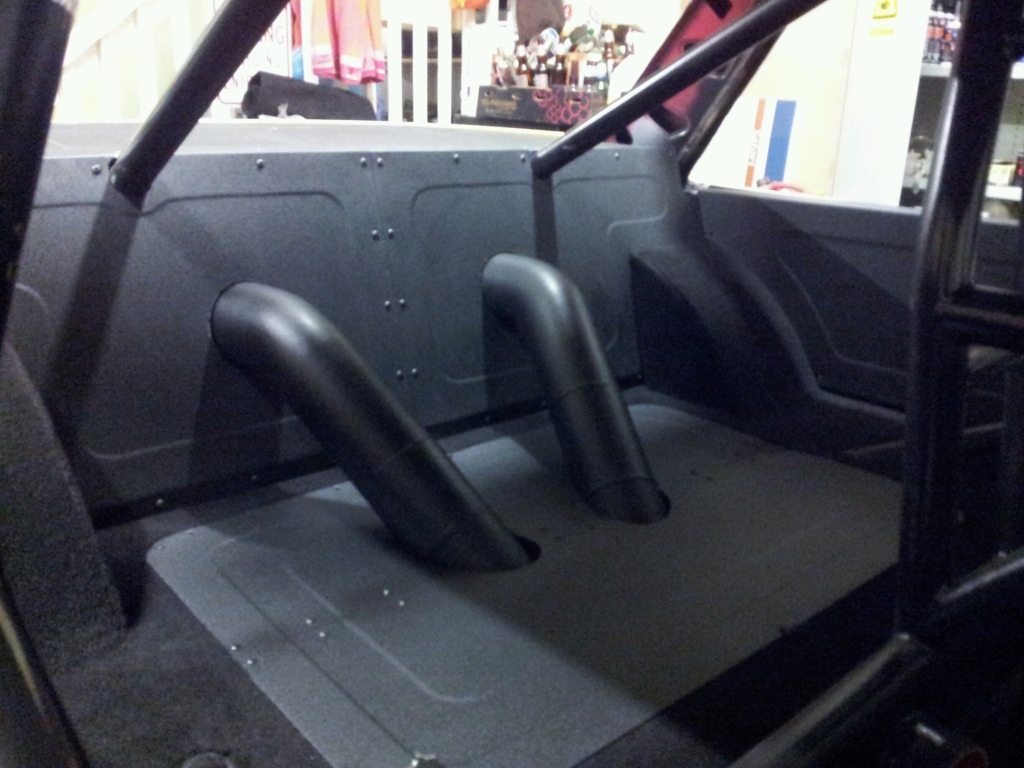 Next up we powered up the entire car and tested everything including the following:

Headlights(still need pig tails put on)
Taillights
Signals
Marker lights
Brake lights
Horn
Racepak
Racepak trigger(off wiper switch and/or button on rear of car)
Intercooler pump relay
Neutral safety switch
line lock
Holley touch screen dash
Boost leash boost controller
Overhead gauges

So far everything works awesome with the exception of one wire that loses power during cranking so overall I am quite happy with that with the ammount of wiring in this thing to only need to change ONE wire around is pretty good to me!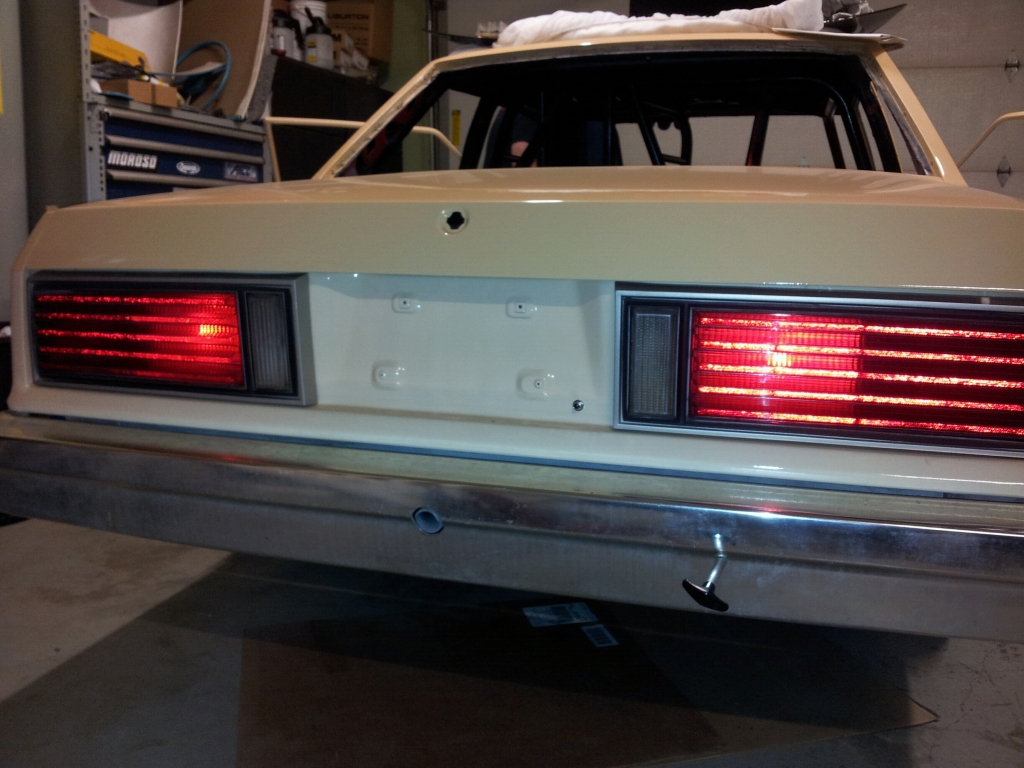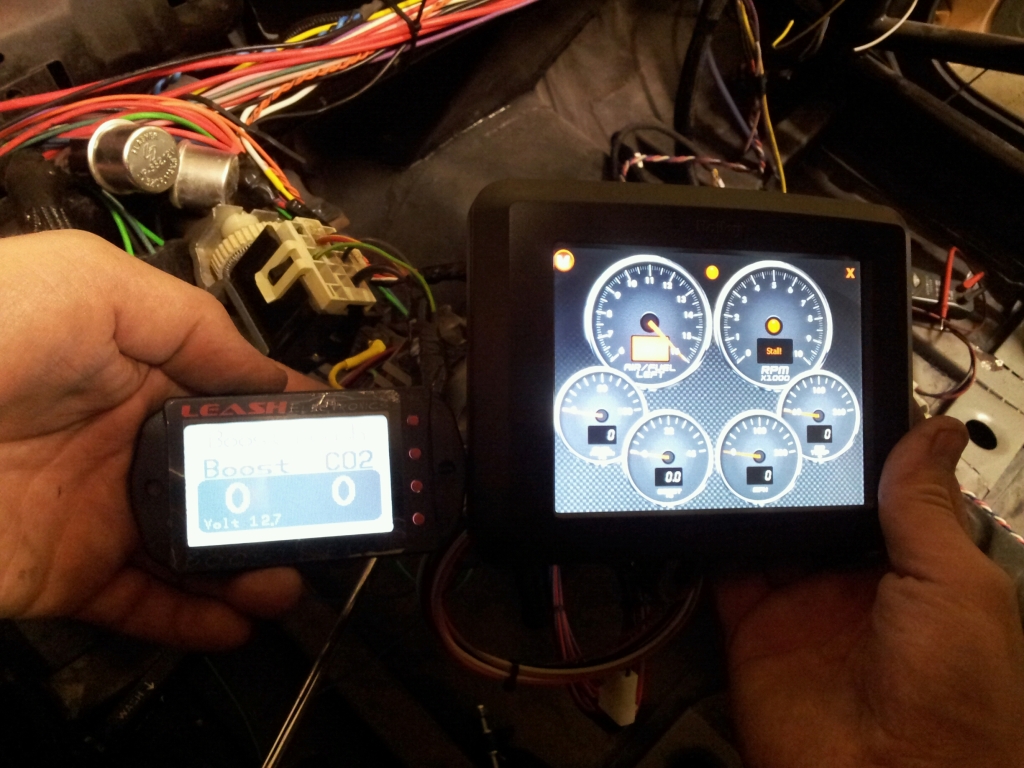 The push pull lever through the bumper will only be on at the track and will otherwise be off, Now that all of this is done we can start looming all of the wiring and tieing it up for good and move onto the engine side of things.

Also going to install the rear and 1/4 glass asap as well.
HUGE THANKS to Don Bailey from Dad's Intercooler tanks for building me a BAD ASS tank like always in a VERY short time frame: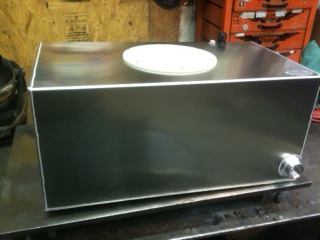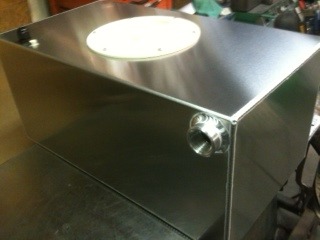 5-12-2012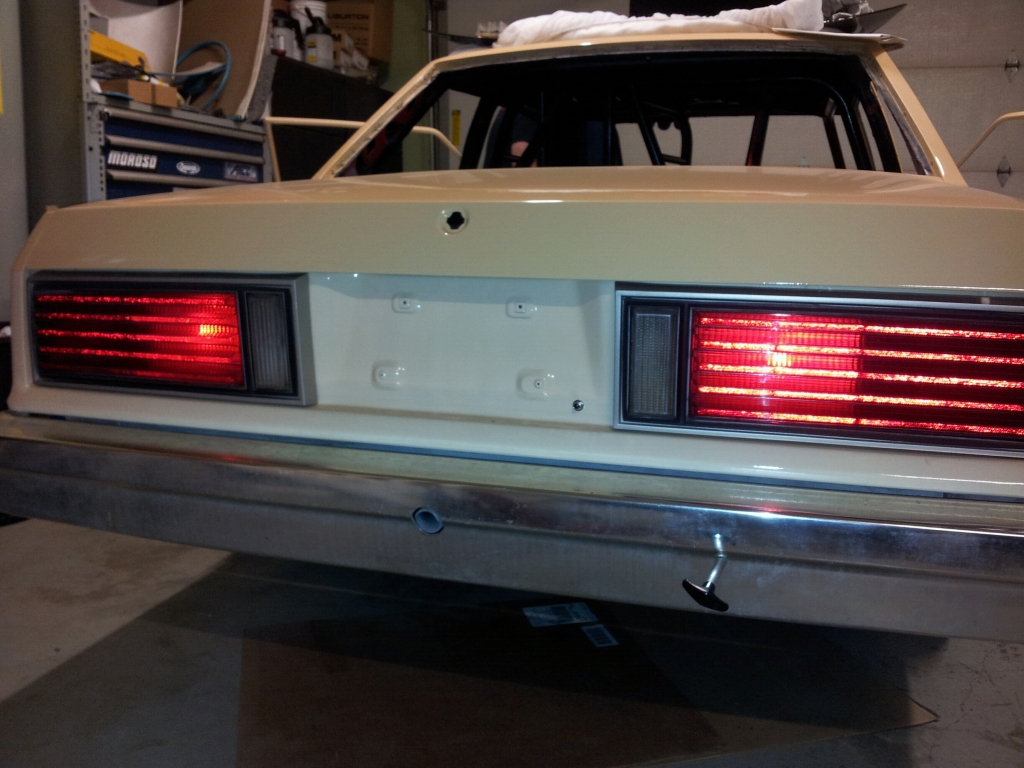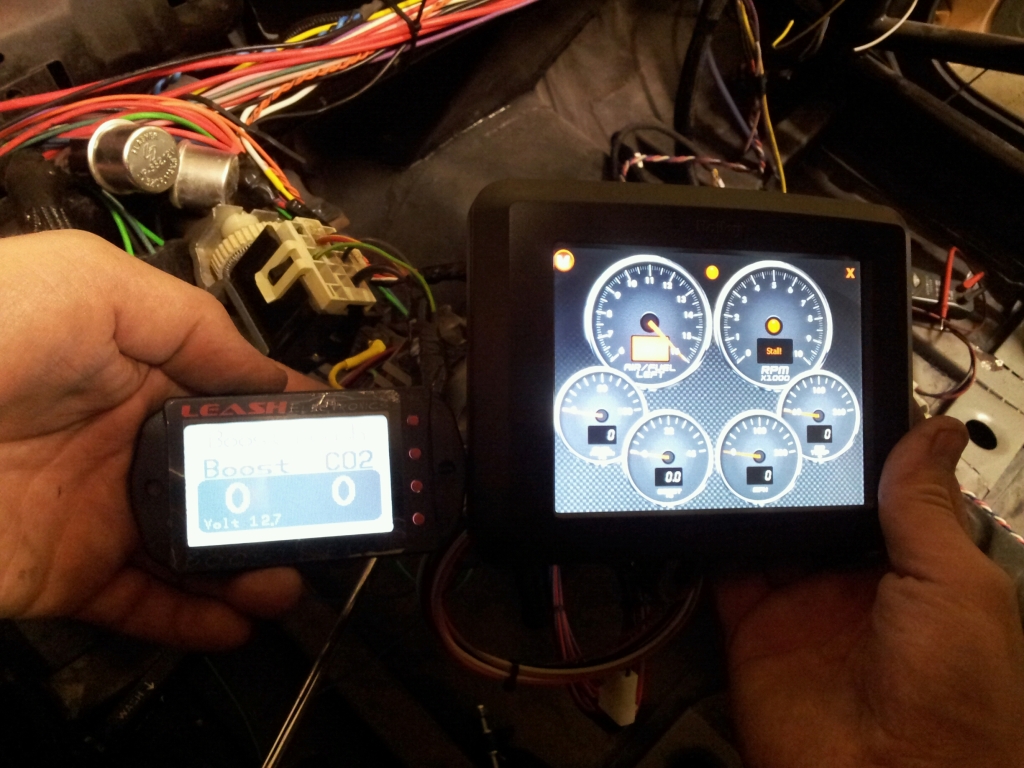 Neil is that your dash or a tuning tool??
5-22-2012
wooooo! We have got a lot done really.....Small but it is the little things that kill it in the end, we got the front grill, headlights, and bumper all mounted up today, also had a sloppy Friday night.....( random booze before cars night) but we did manage to get the rear glass and trim installed. Big help and work provided by Neils Mrs, Leanne. She labored on the the trim for a long time while keeping Neil and I's drinks full! I dont have any pics.....Maybe Neil can throw some up

5-23-2012
Nolan is right, we have been making some progress and there is also some progress being made out of my hands right now ..... HUGE thanks need to go to a LOT of people on this thing but here is a few of the big ones :

Leanne
Nolan
My Family
FPS Designed horsepower
Jb's Power Center/Dix performance
All my Horsepower Solutions crew
Alamo Turbochargers
Modular turbo
Performance Fuel Injection
Enviro Air tech
Rick SParks @ Comp Cams
The Tint Factory
Dads Intercooler Tanks
ETC ETC ETC

Anyway on to the updates:

Flyin Ryan is building the engine now
Alamo Should have my new turbos end of this week or early next week
Radiator/water pump/Fan is on the way from phil thomas
Converter shipped from PTC yesterday

Here is the progress from the weekend :



Bad ass tank/rule 2000 pump combo from Donny Bailey @ Dads intercooler tanks,Since this pic I finished the return hose up through the floor and into the top right of the tank: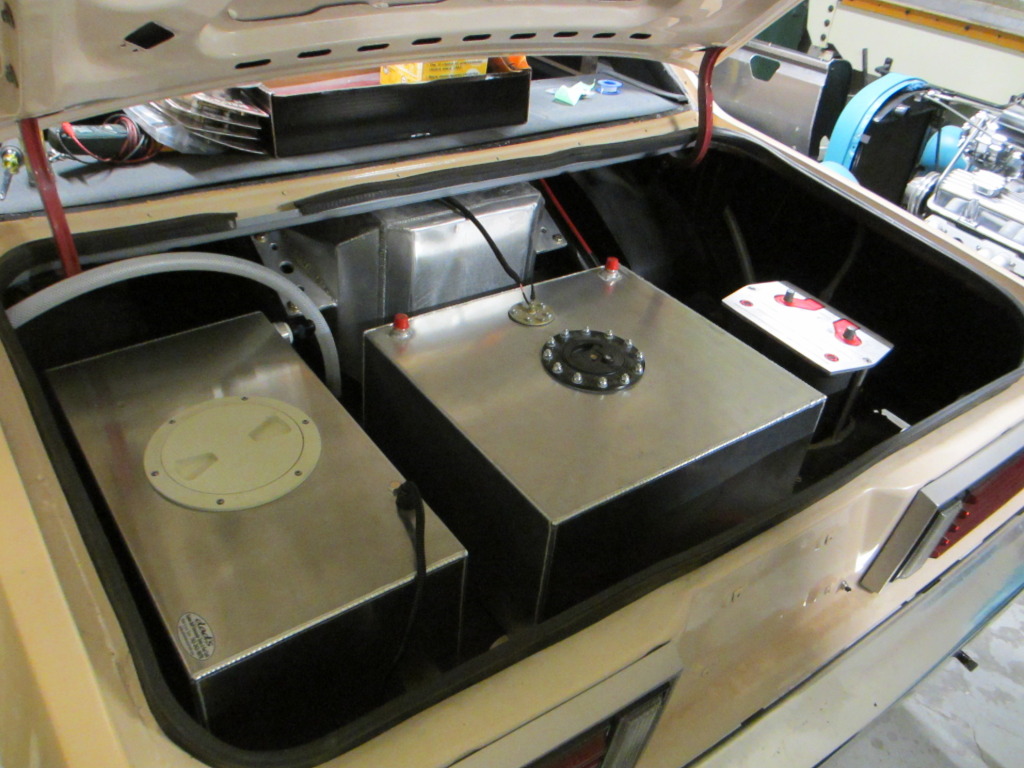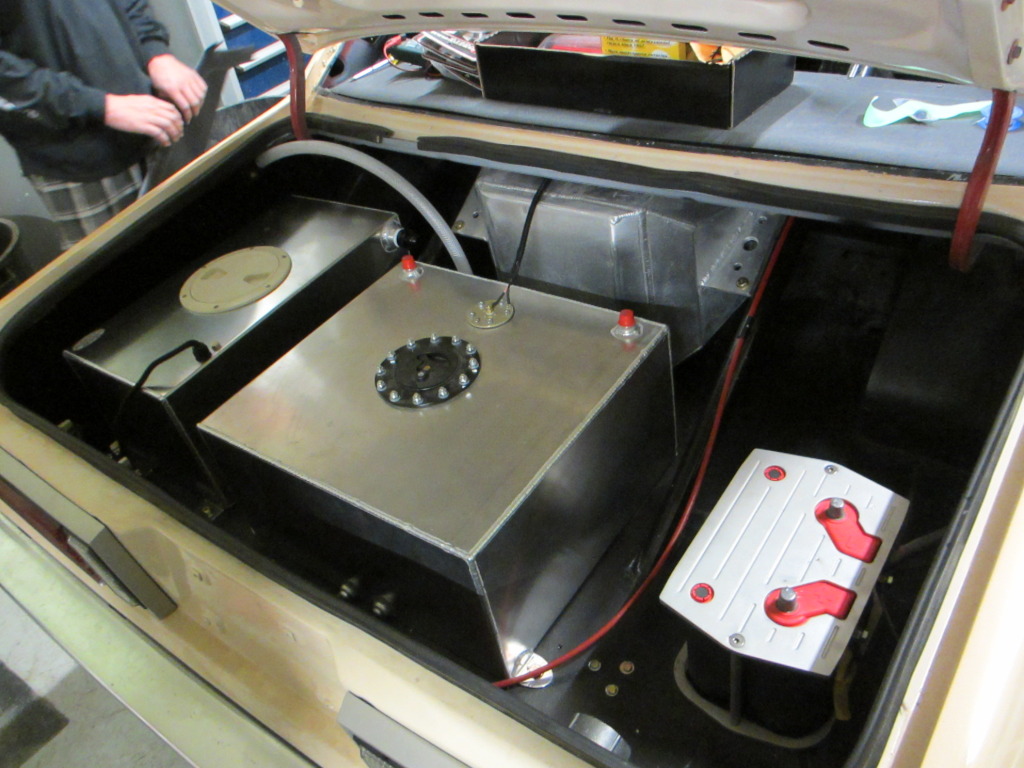 Leanne is always an awesome help, she has no problem jumping in with both hands and getting dirty! She did the carpet on her side of the car and also kept us hydrated with some type of vodka lemonade treat!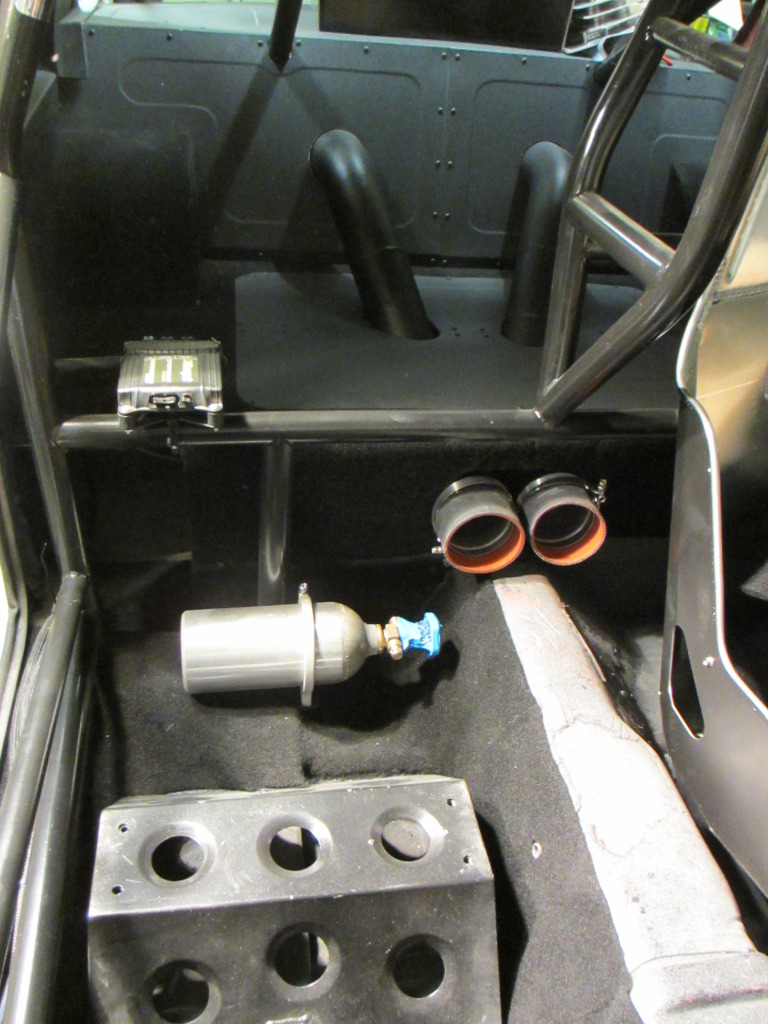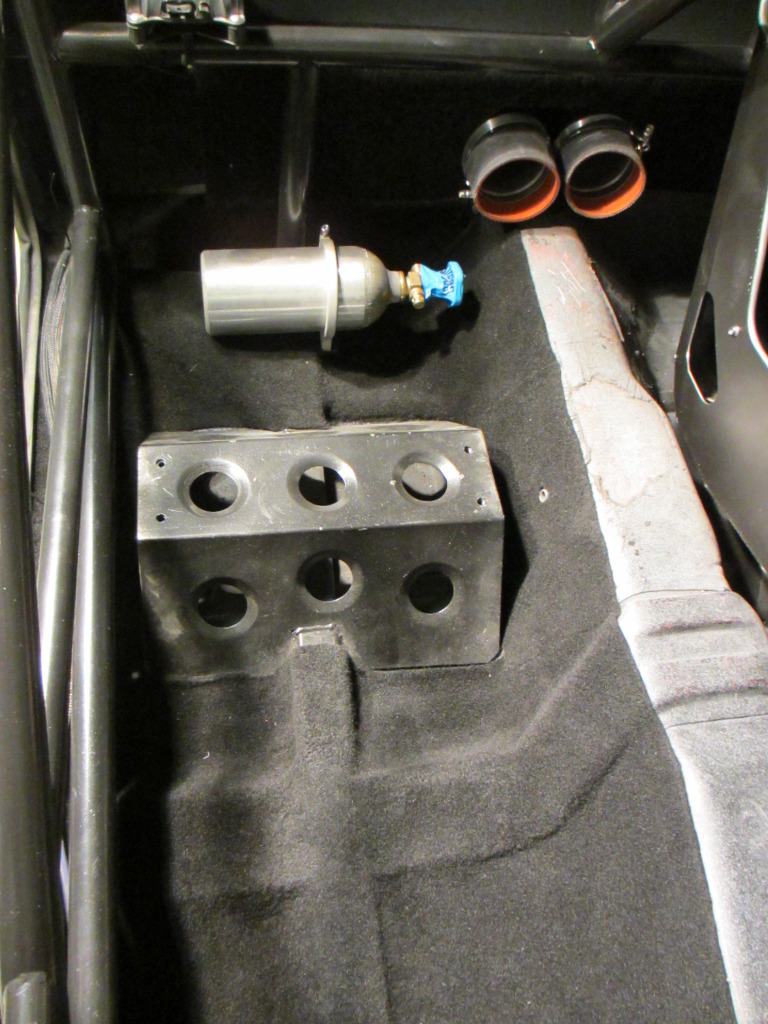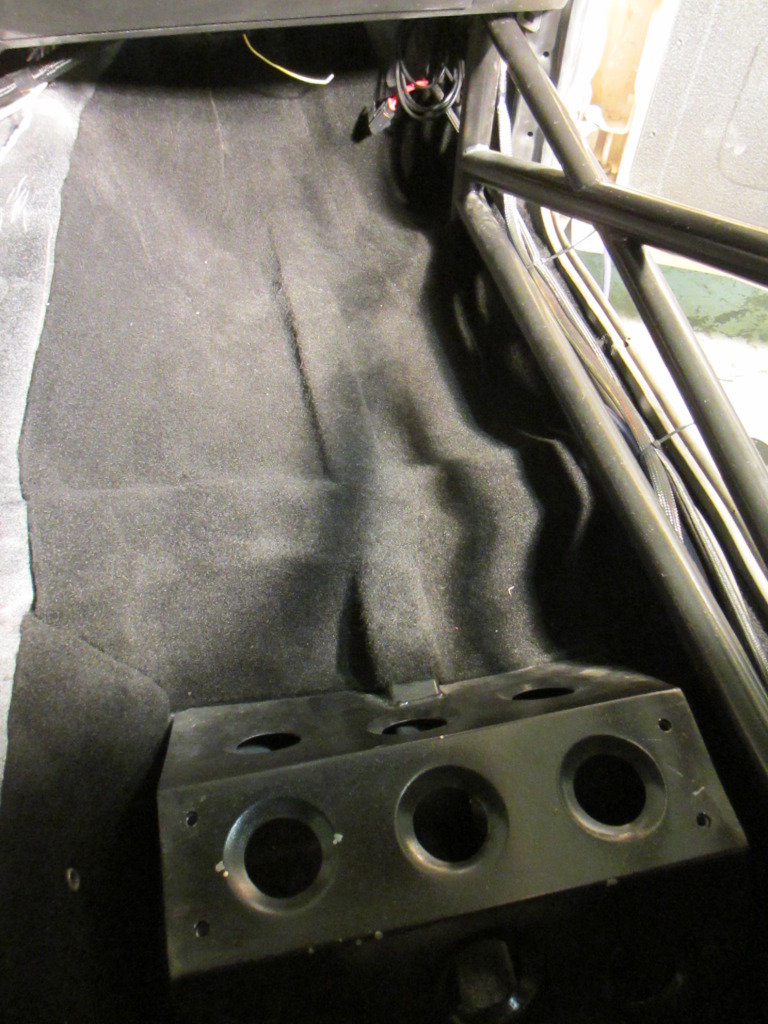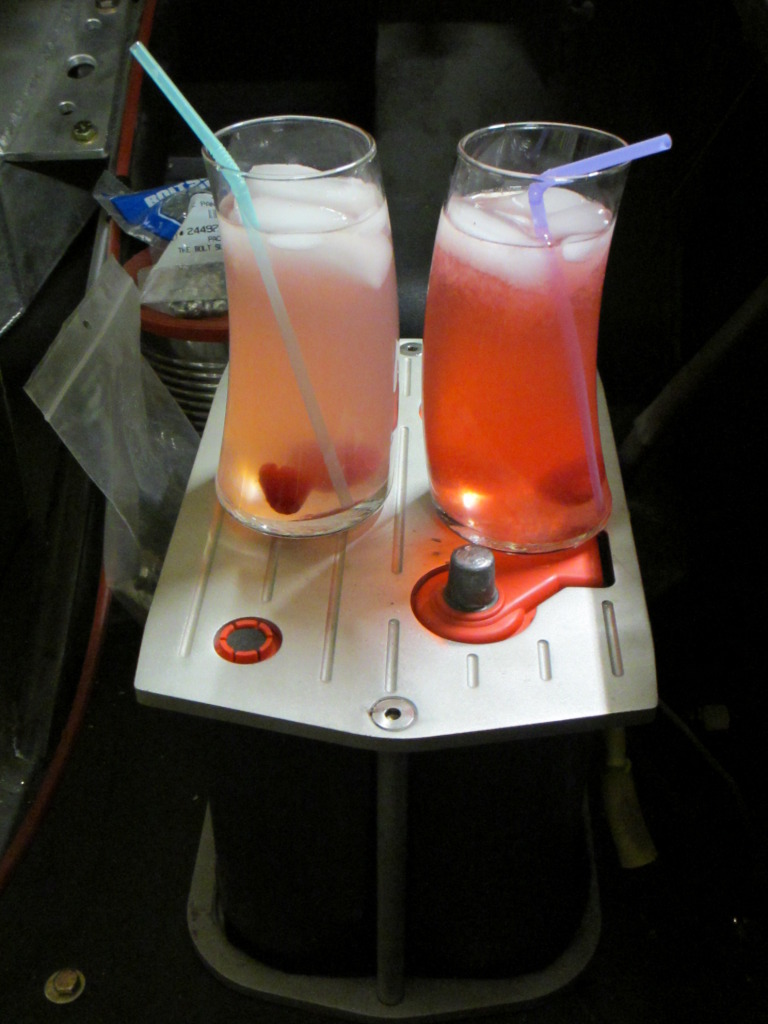 Next up me and Nolan stuffed the rear window in the car along with the trim that leanne prepped for us:


Couple pics of us goobers slipped in there thanks to leanne lol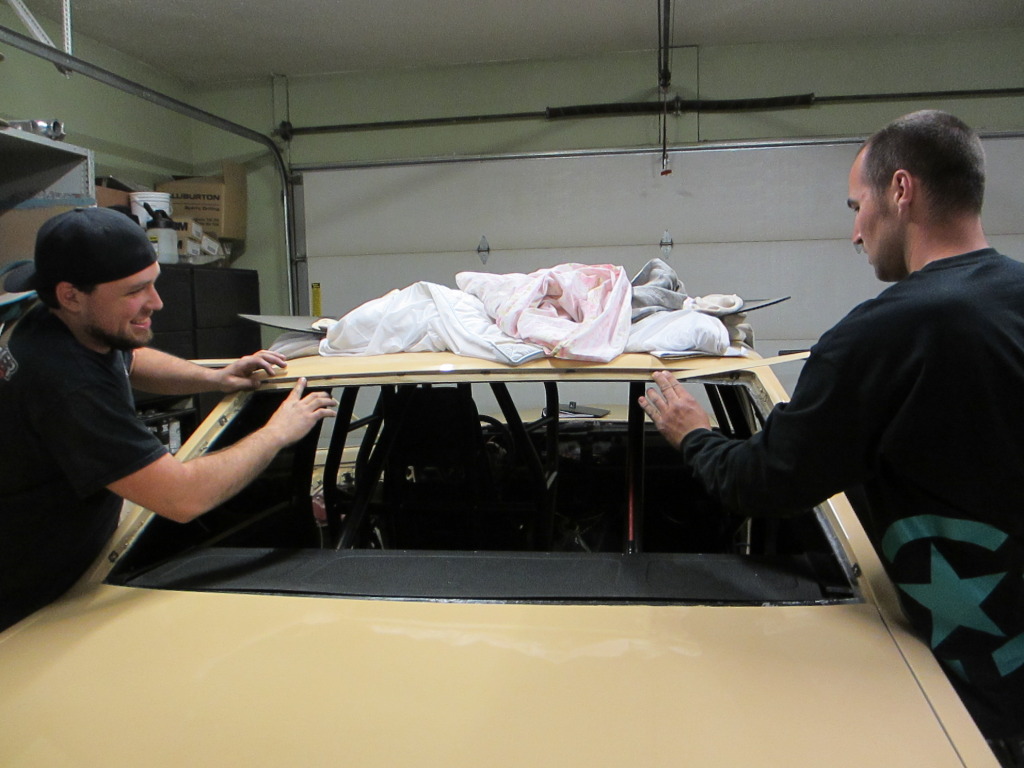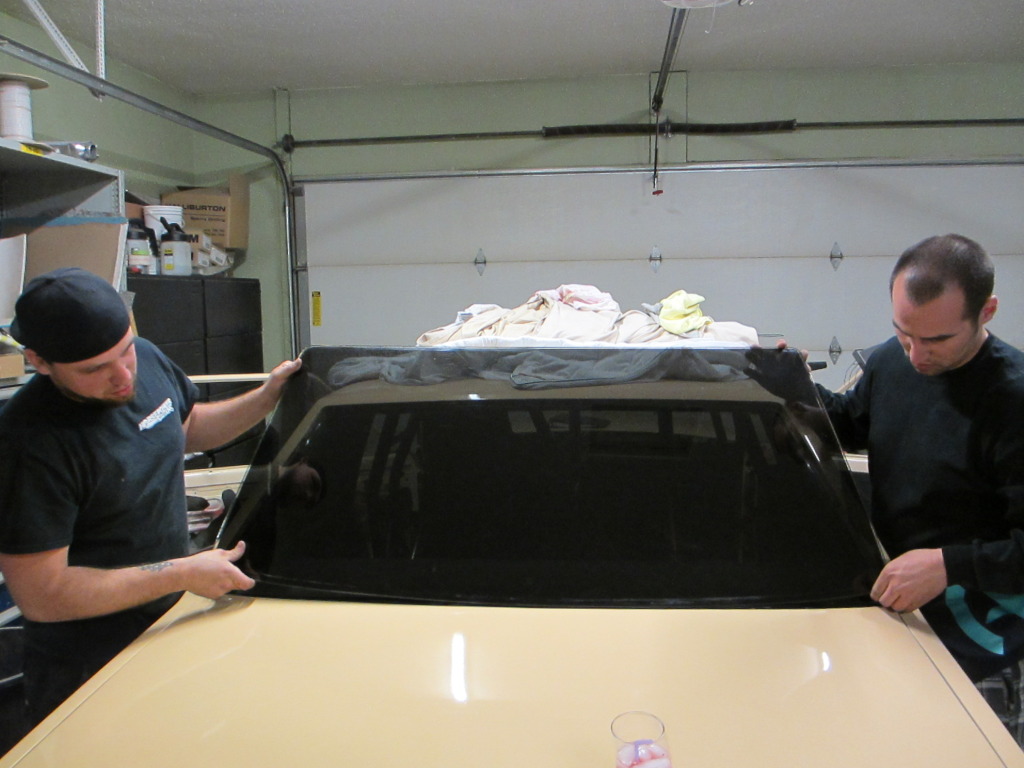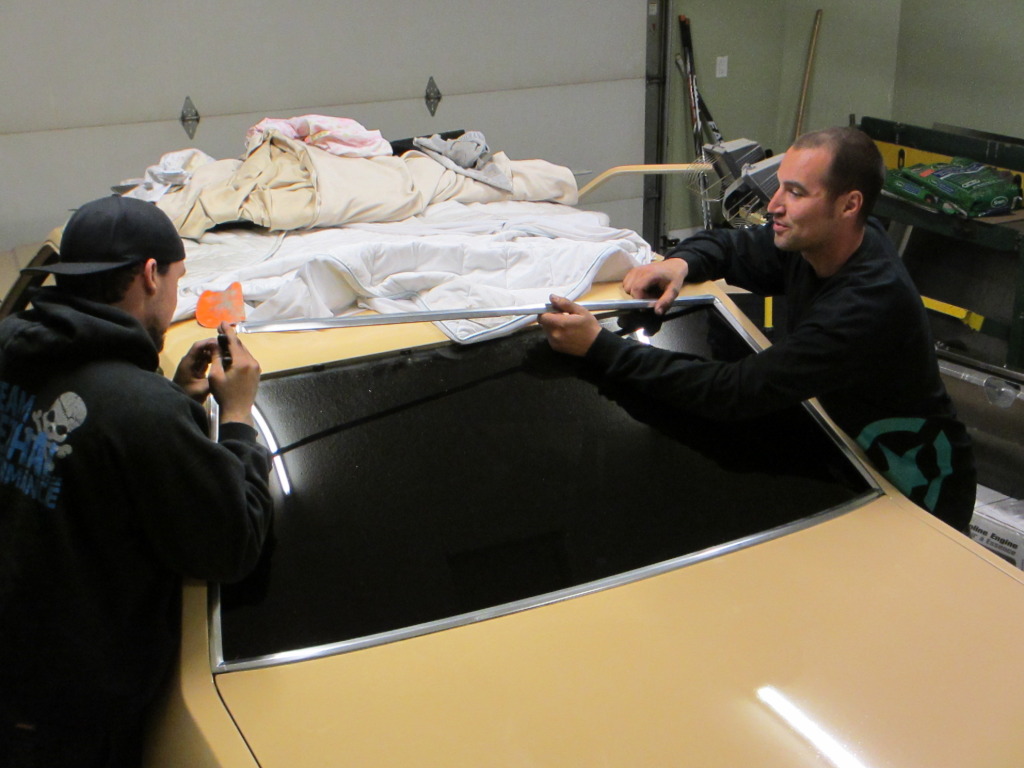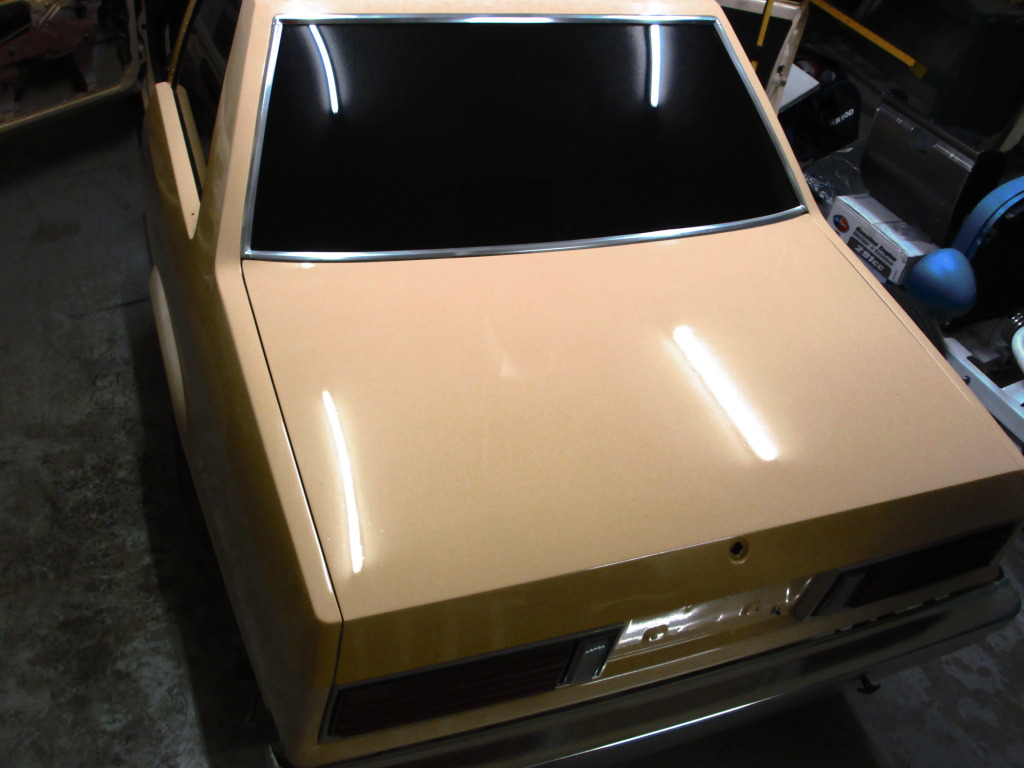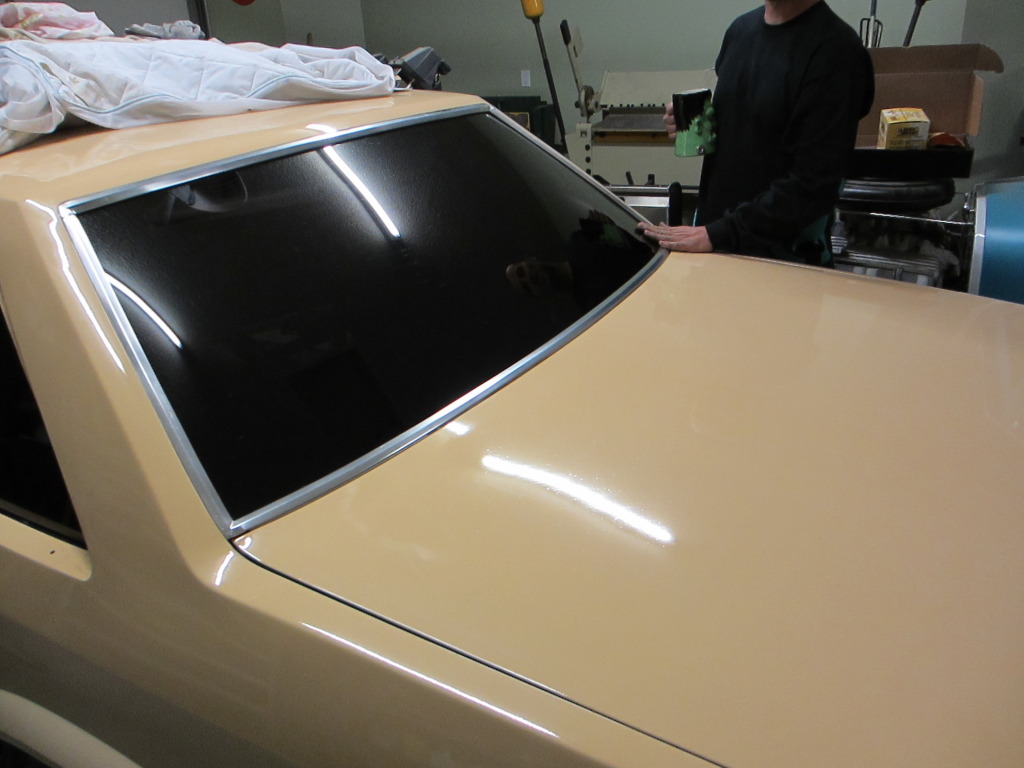 By this point it was about 2:30 am and we had all had plenty of wrenching and plenty of cocktails.... even bella was partying with us LOL: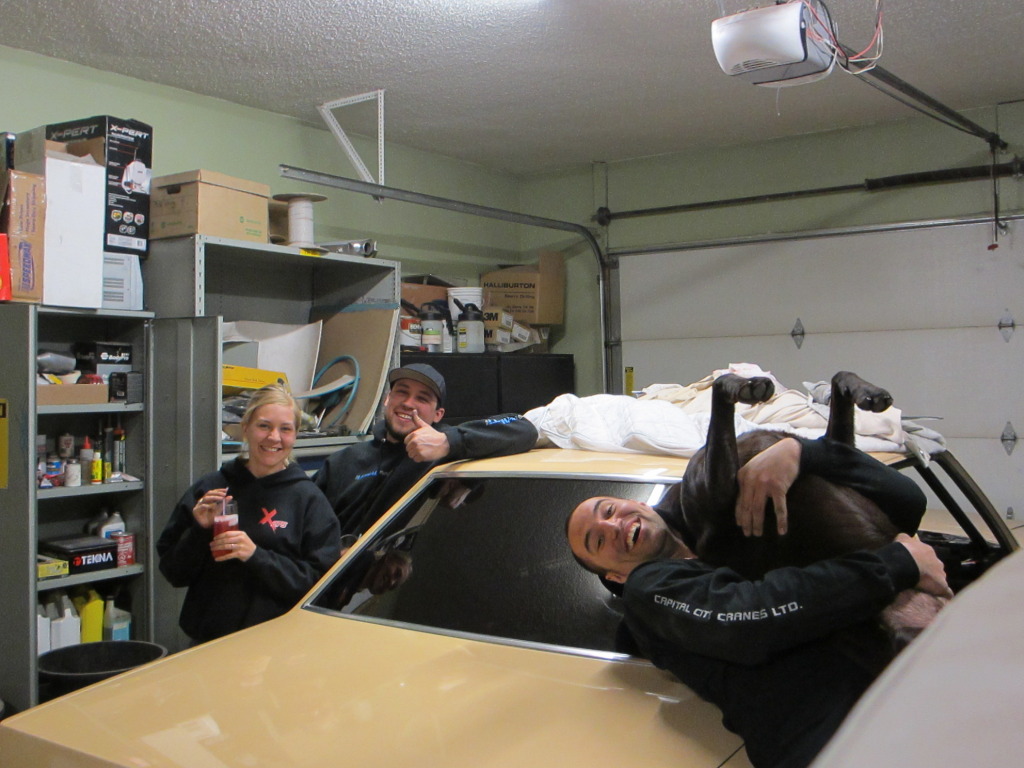 We also got the whole front end fit and mounted on the car (grill,headlight buckets,bumper) It all still needs to be cleaned up/modified for turbo inlets and painted etc but we just wanted to get it all fit first adn foremost.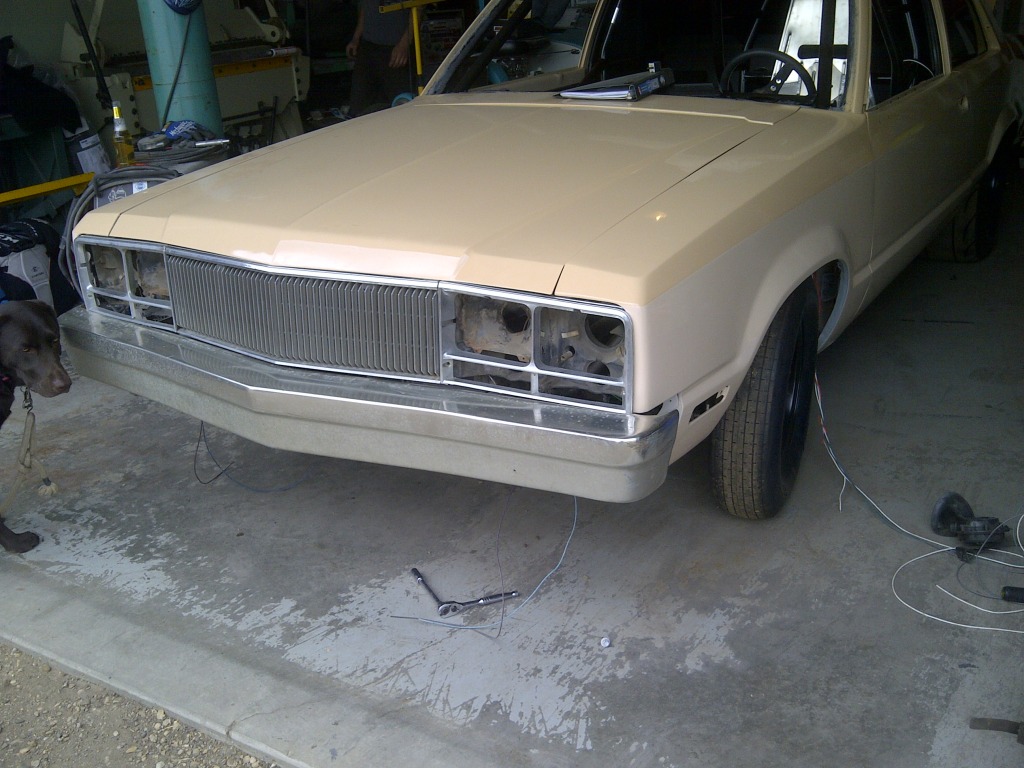 6-12-2012
It aint done yet.... I will have some more pics coming up soon but here is a few teasers of whats been going on:



Flyin Ryan has been hard at work on the engine, just a few more small touchs and it will be ready: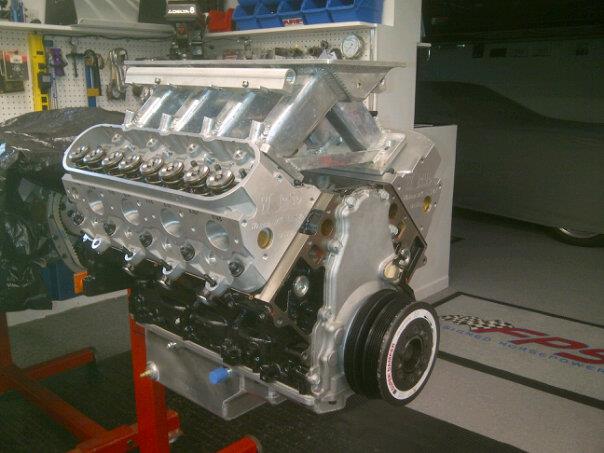 Alamo Industries hooked me up big time with these: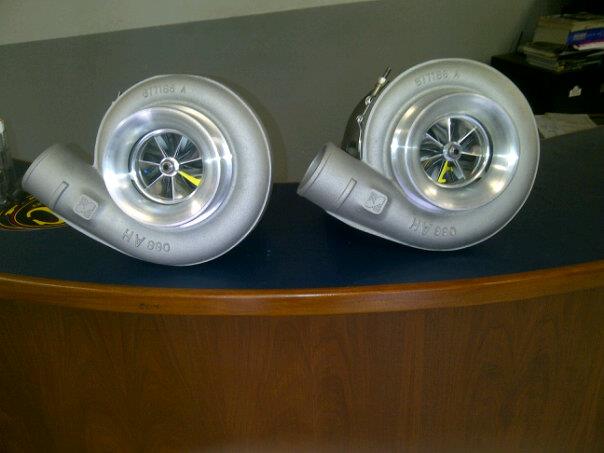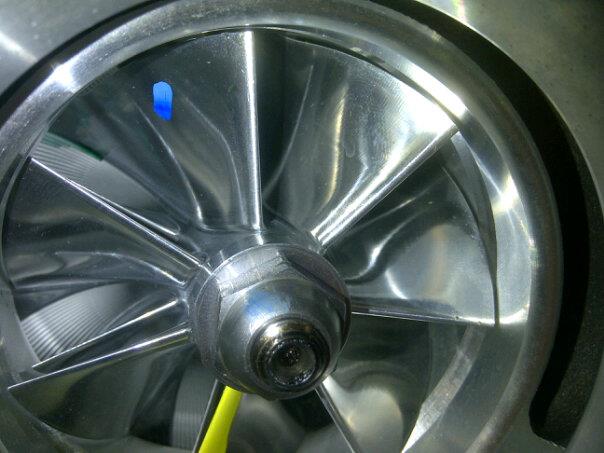 One on the front counter at our shop with a 91mm precision: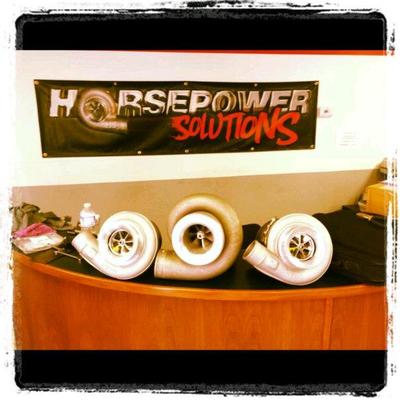 Have got lots more done on the car but been too busy to remember to take pics all the time, all of the glass but the windsheild is in with new rubbers/felts etc. Also got all of the trim on the car /door handles/locks etc.

New converter is here from PTC, Rad/fan combo is here I am sure there is more I am forgetting but stay tuned things are about to get intresting!
I also need to take the time and say a HUGE thank you to some people, without help/support from the following people there is no way I could be building what I consider my dream type car, in no particular order:

Leanne and my family
The Horsepower Solutions crew
Flyin Ryan Bell
Jim Bell of JB'S Power center and Dix Performance
Nolan Tews
Tom @ Alamo Turbo
Rick Sparks @ Comp Cams
Rob @Modular turbo
[email protected] Dads intercooler tanks
Stefan @ Performance Fuel Injection
Randy @ Pro Stock Performance
Bruce @ Impact powder coatings
Joe @ Hyperaktive
Cam @ ACT

I am sure I am missing some and if I am I appologize in advance!

- Neil
6-2-2012
Not totally on topic here but it was like christmas here in the garage for me! The turbos showed up for the bavarian nightmare, my rambler, a friends car and Neils. Along with our wastegates and bov's. We couldnt help but set them up for a pic!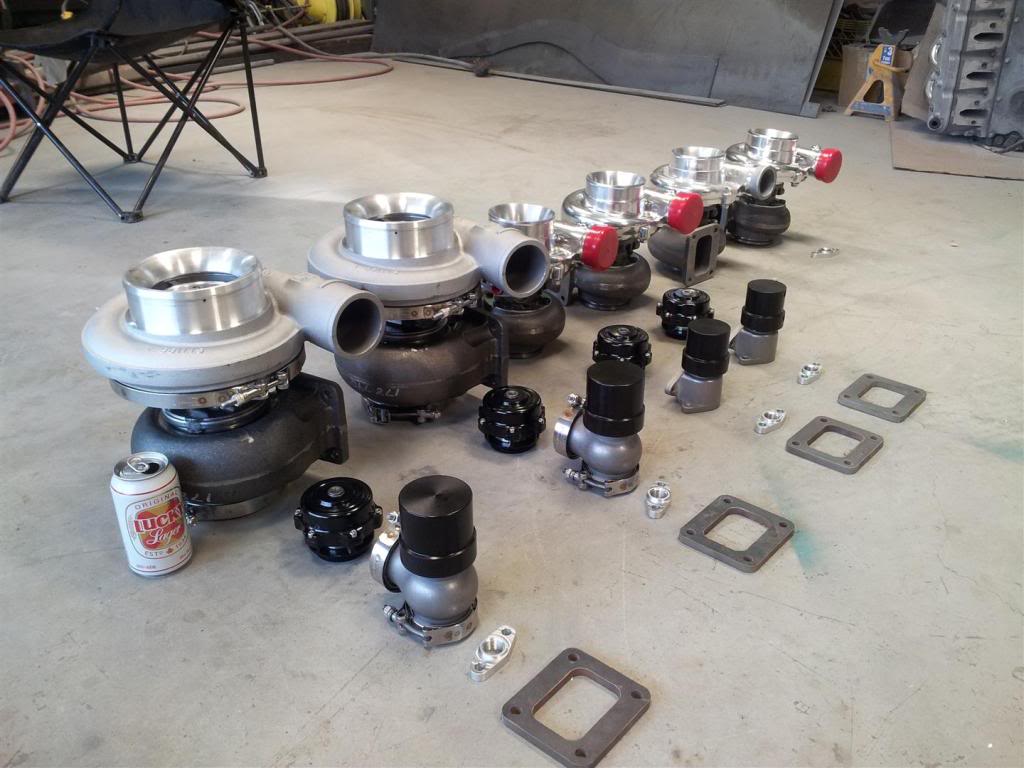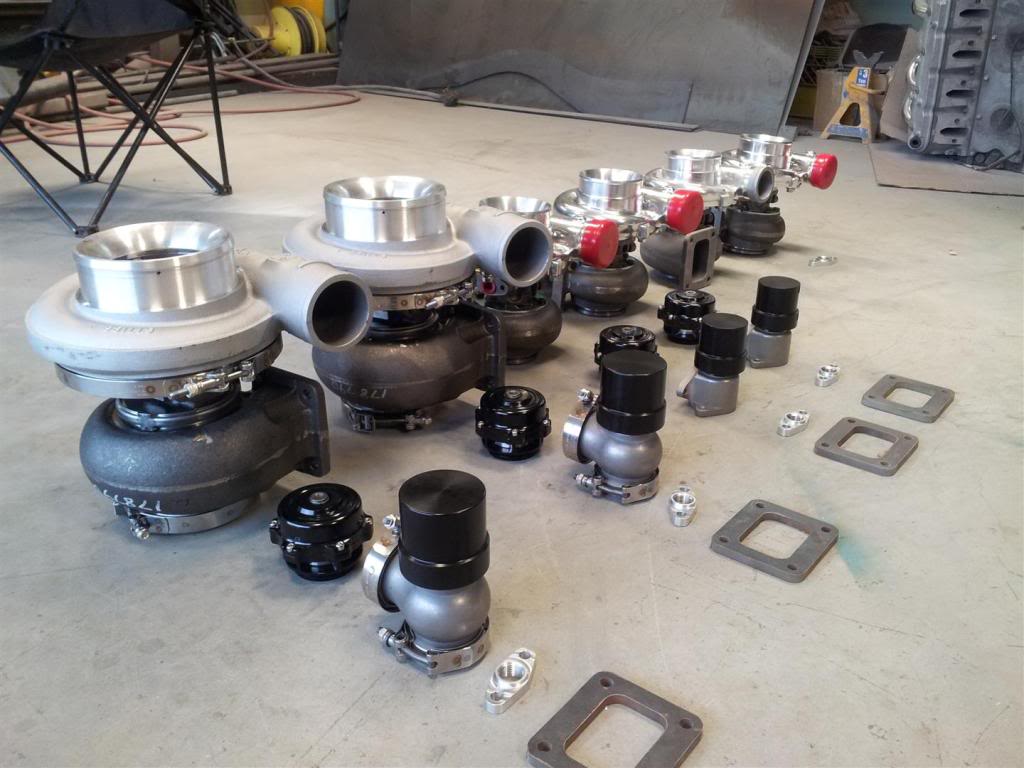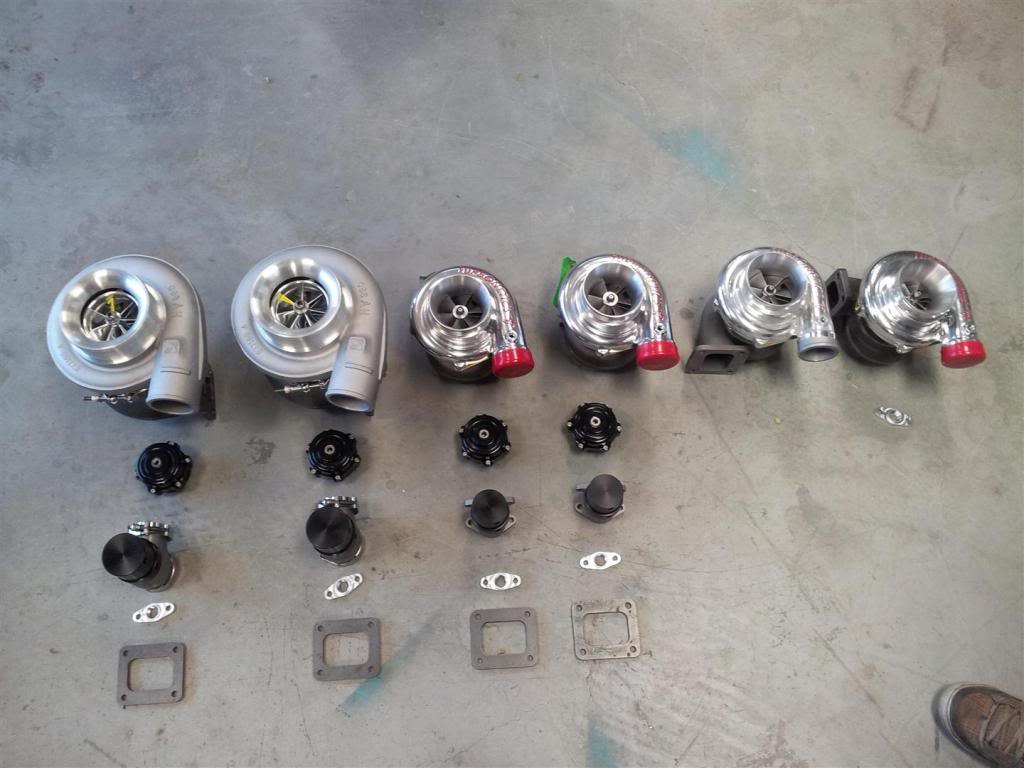 We will have more updates after today, I am heading out in the garage now and Neil is going to Ryan's to get the engine

7 days left for the hopeful goal of getting this thing down the road to P2P, We will see I guess!
more....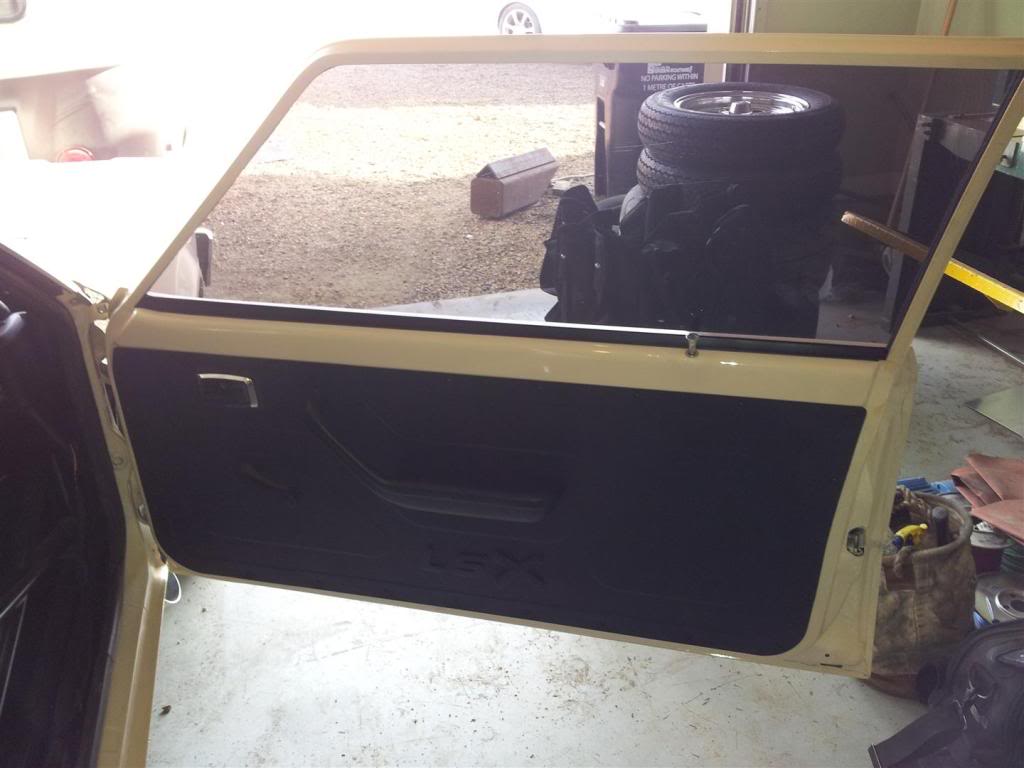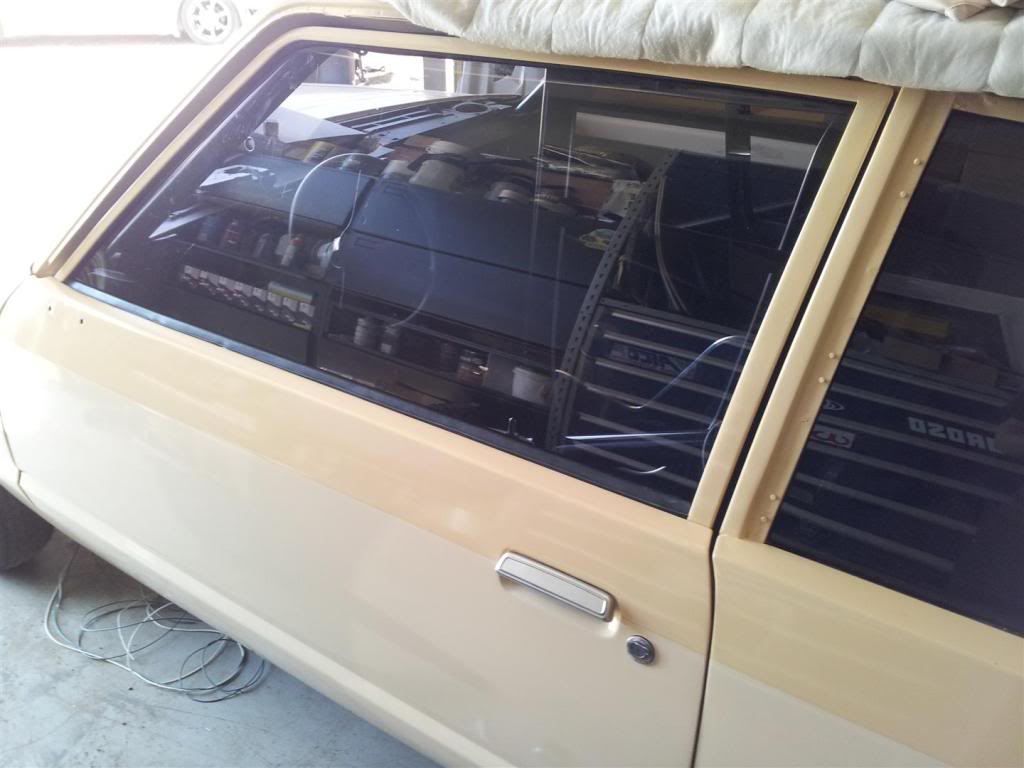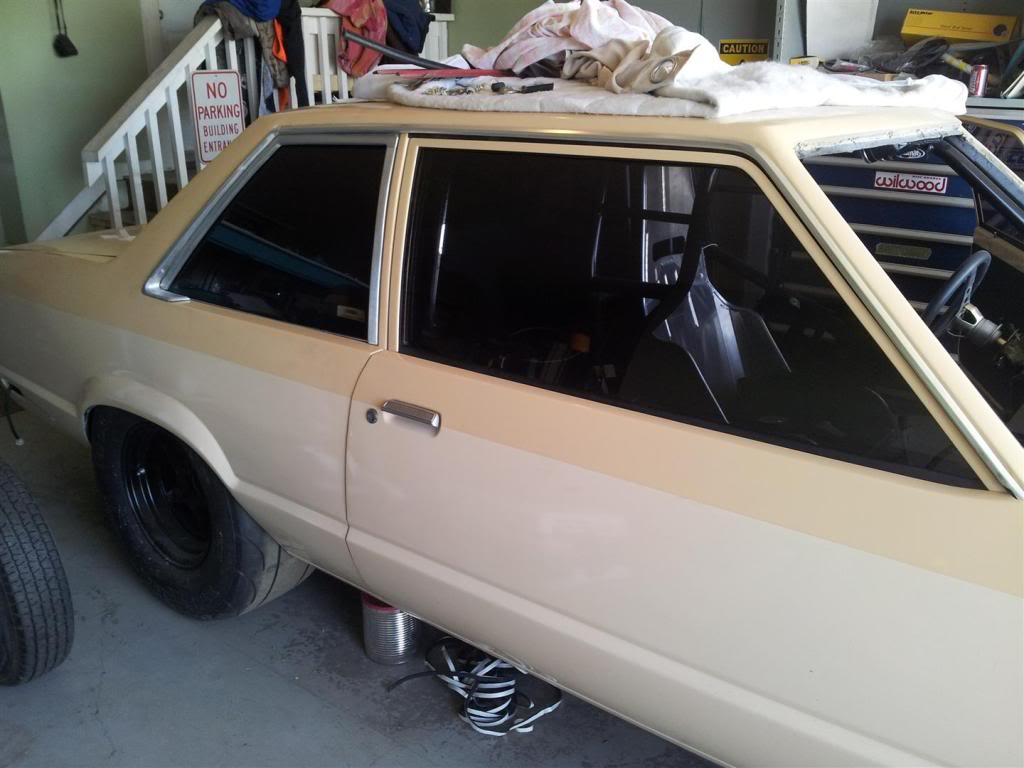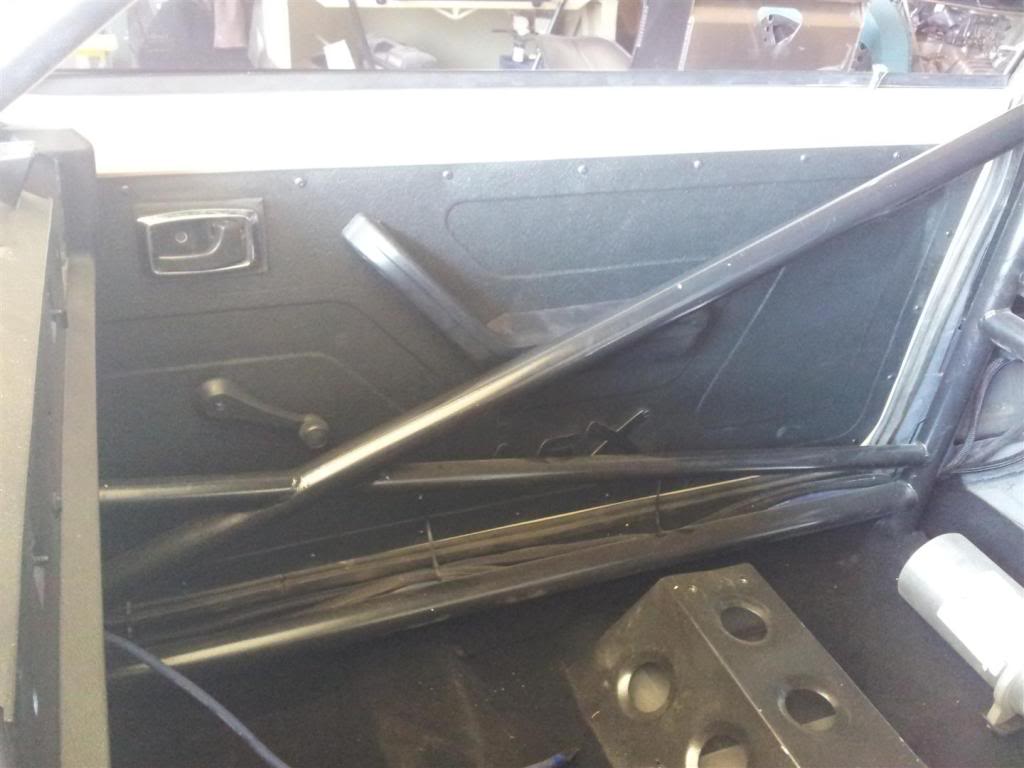 6-4-2012
Weekend update!

We all put in some long days on the old girl this weekend and made HUGE progress! Saturday Neil was able to get the engine back from Ryan and bring it over. Neil and Leanne stayed late and tied up a whole bunch of little wiring things and so on. I opened up the headers to fit the massive exhaust ports on the heads. Also installed the engine and trans, etc.... Sunday I got after the hotside piping and turbo installation. Rad is mounted, fender supports are made....I'm forgetting lots I'm sure but it is coming together!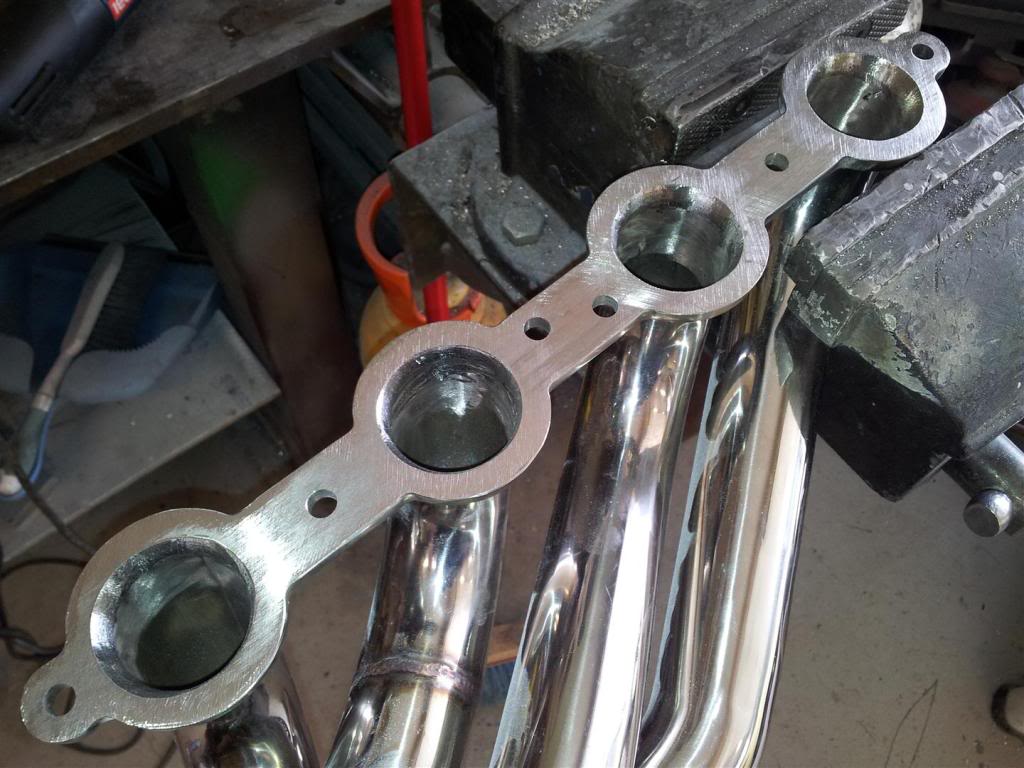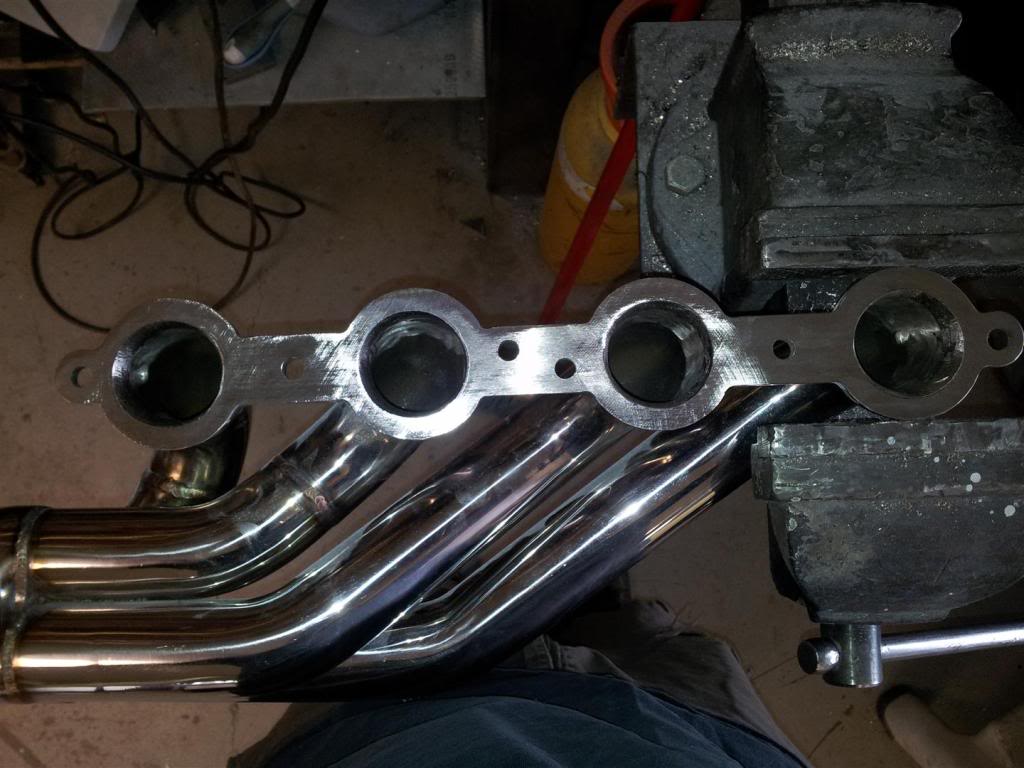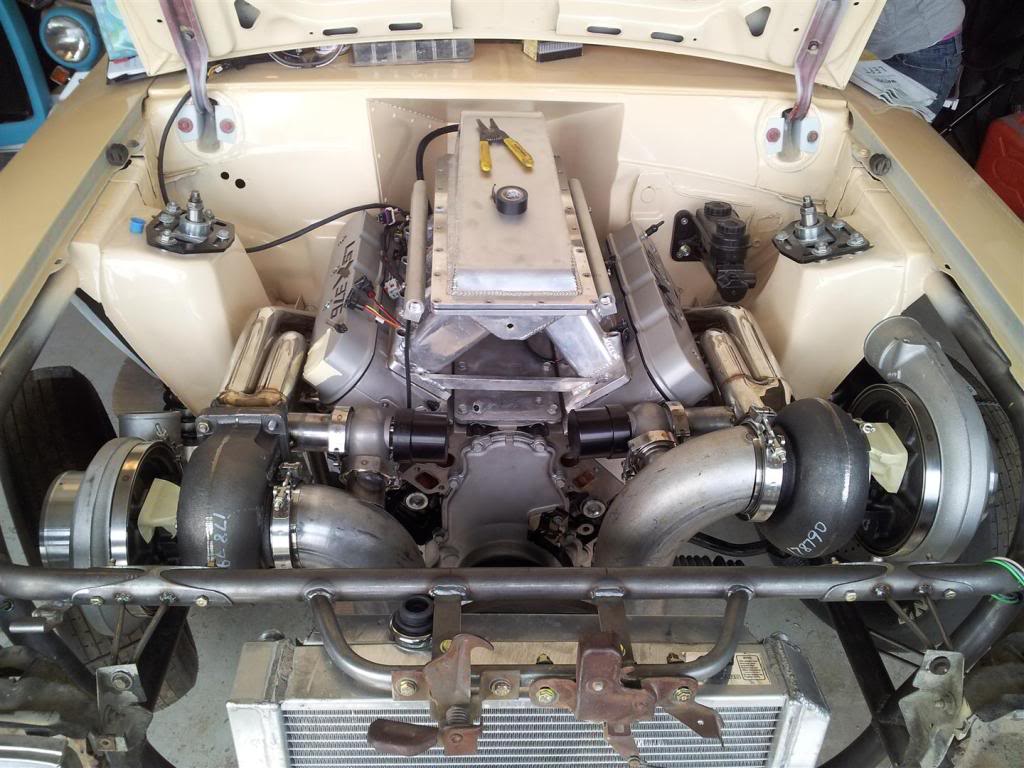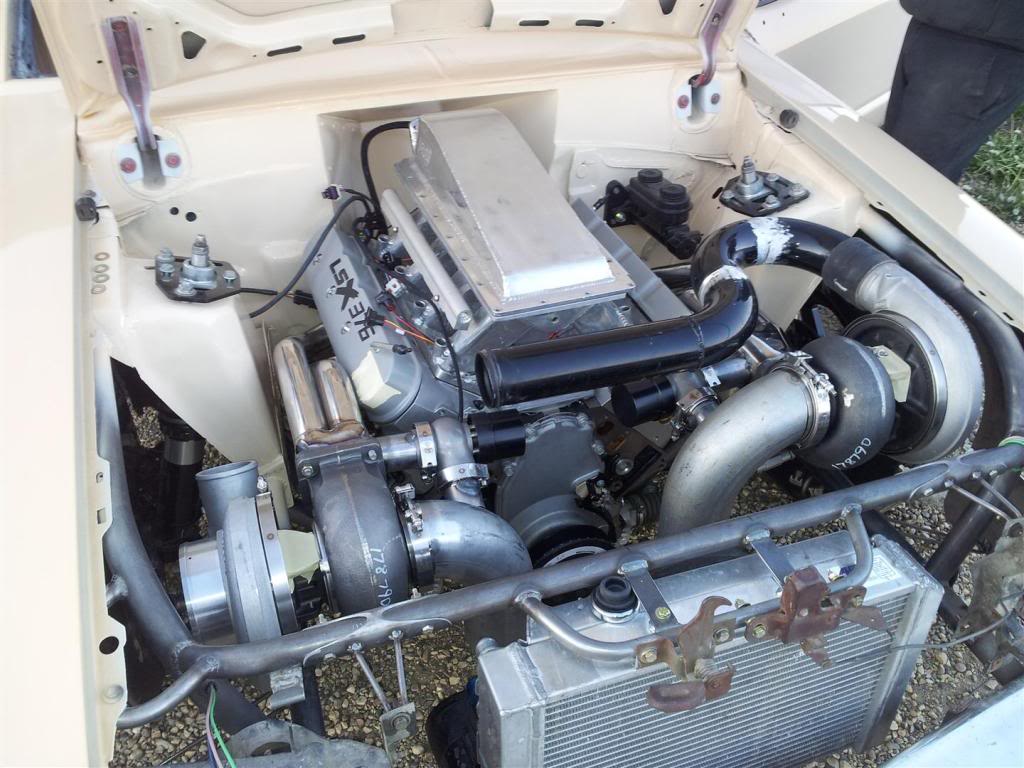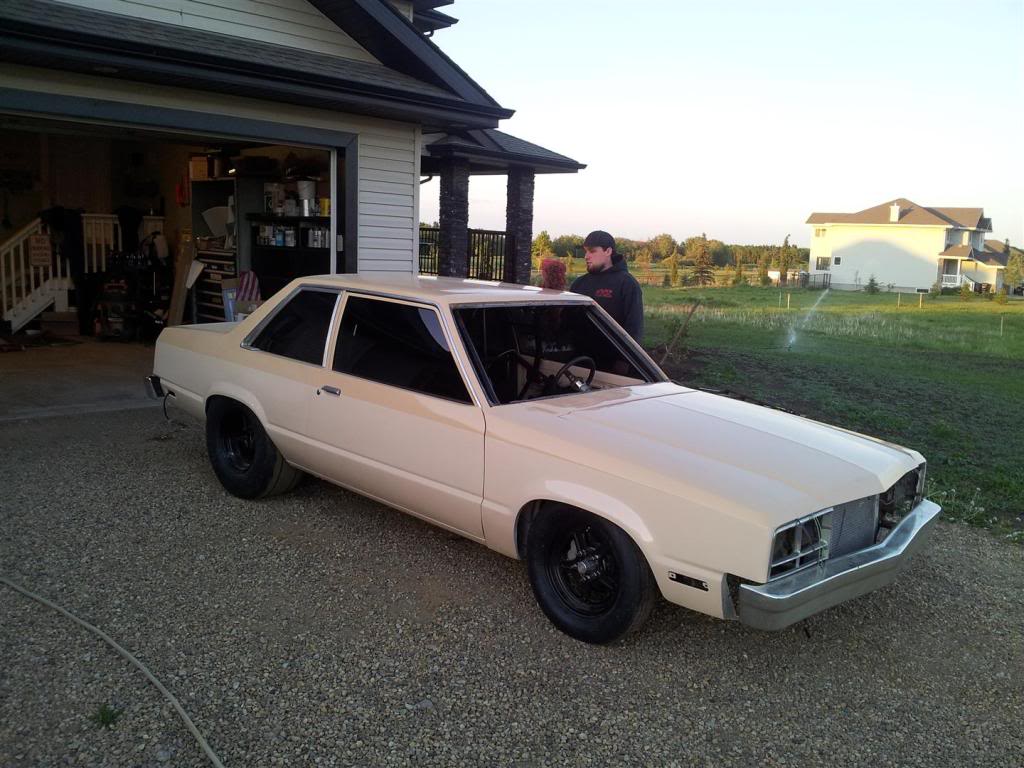 6-6-2012
Last few days update!

We have been going hard on the car for the last week and a half now till at least midnight or later....here is some pics as of late

I got the car wet sanded and polished in medium cut, It would be nice to go over the car again in a few more stages but that can wait till later. Most of the orange peel and debris from a garage paint job is out now at least.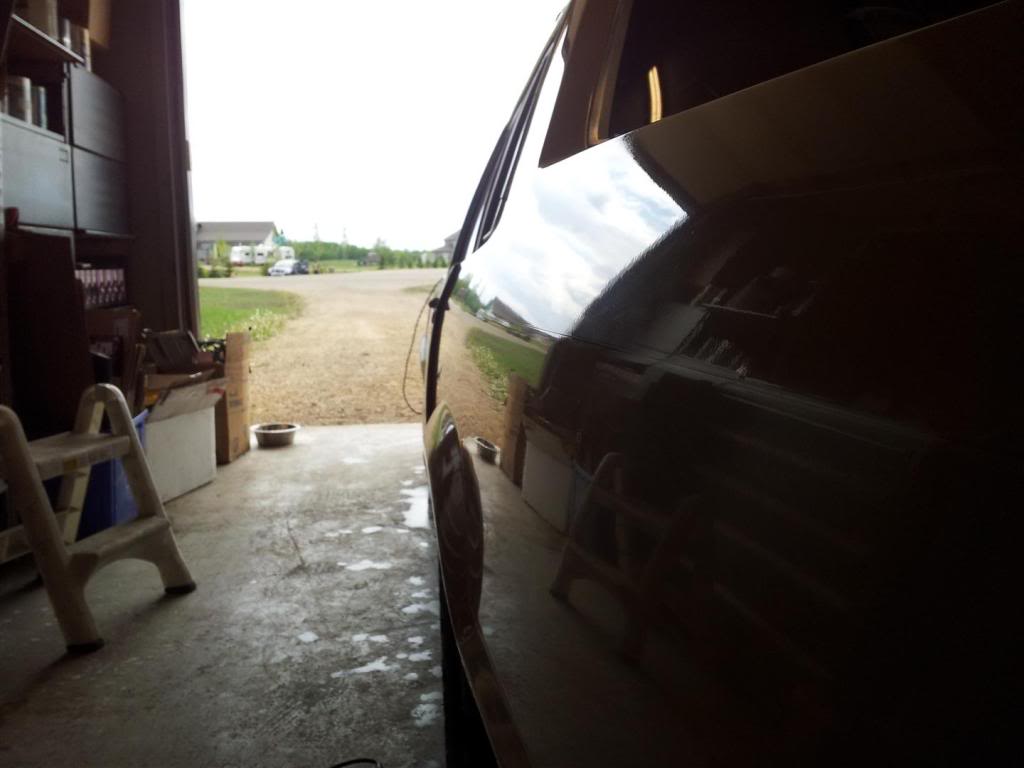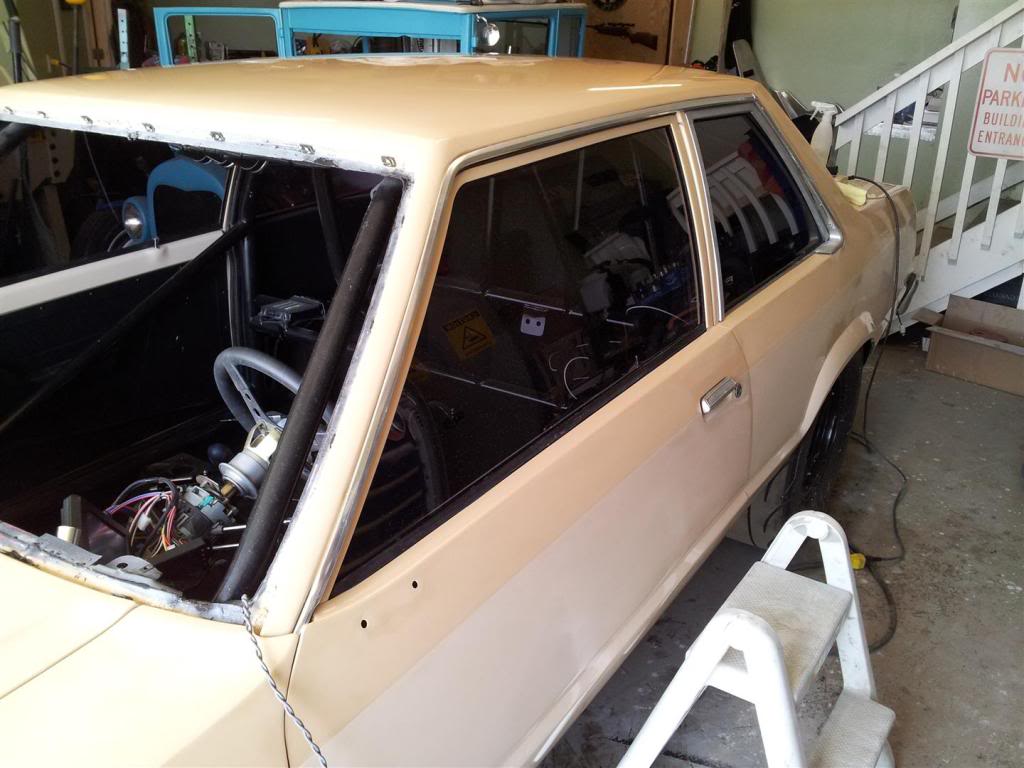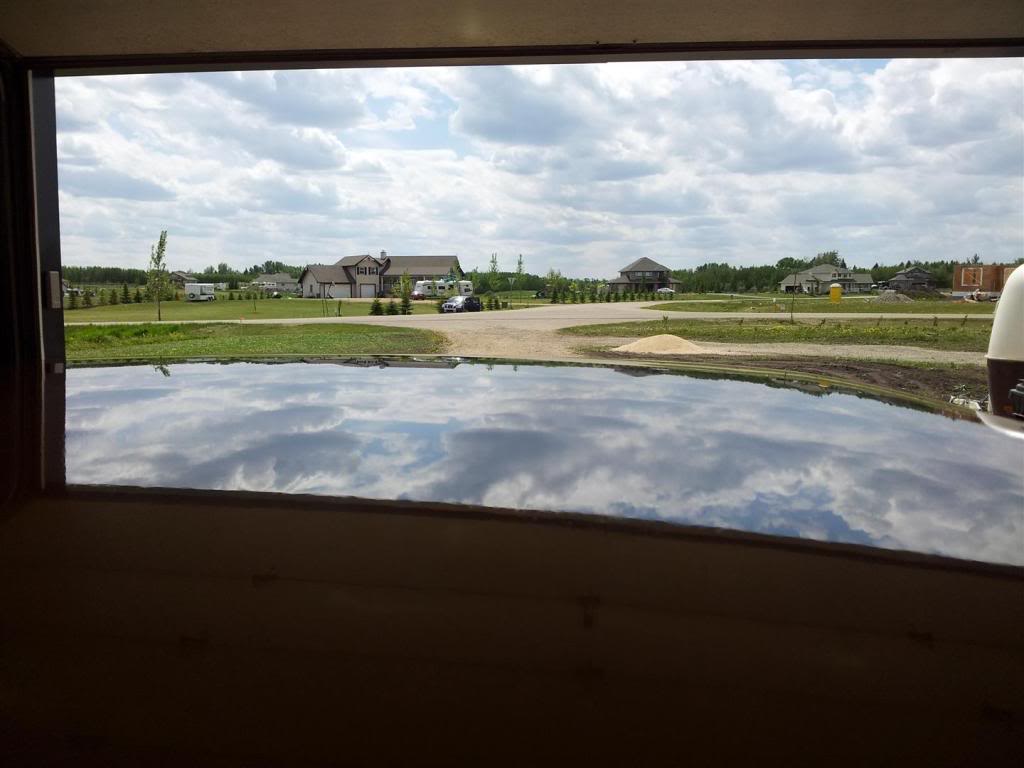 Neil and Leanne loaded the car in the pouring rain yesterday to take to Horsepower Solutions so we could plumb the whole car up on the hoist.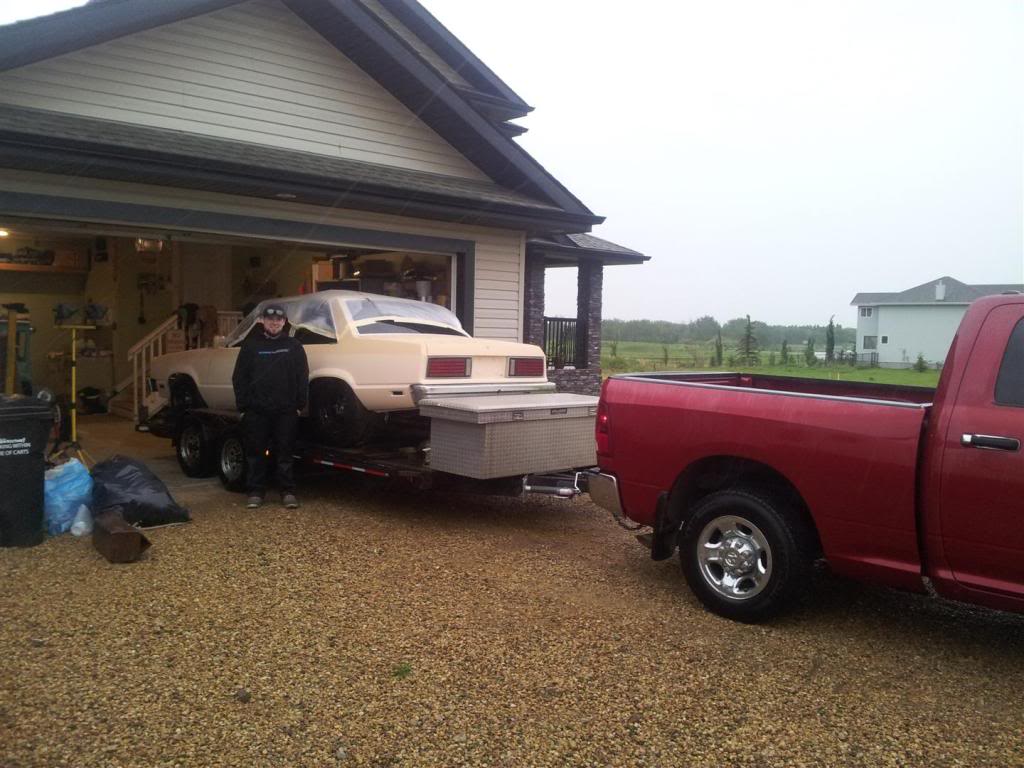 More IC piping progress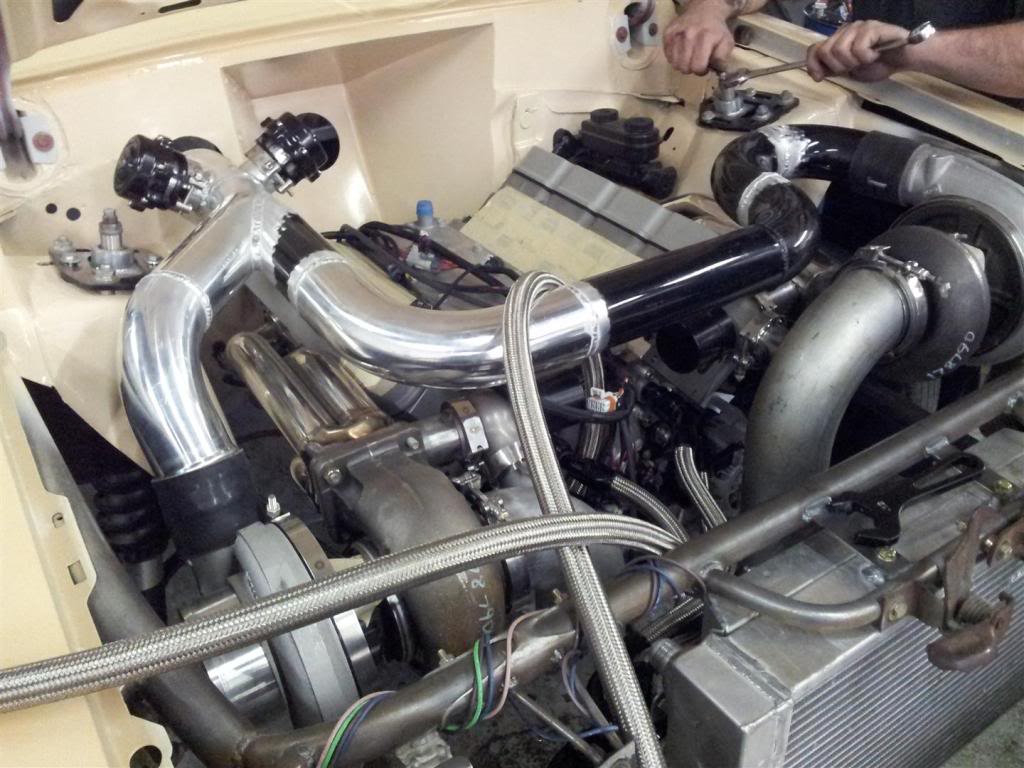 Fuel lines, intake bolted down for good, Rad lines done.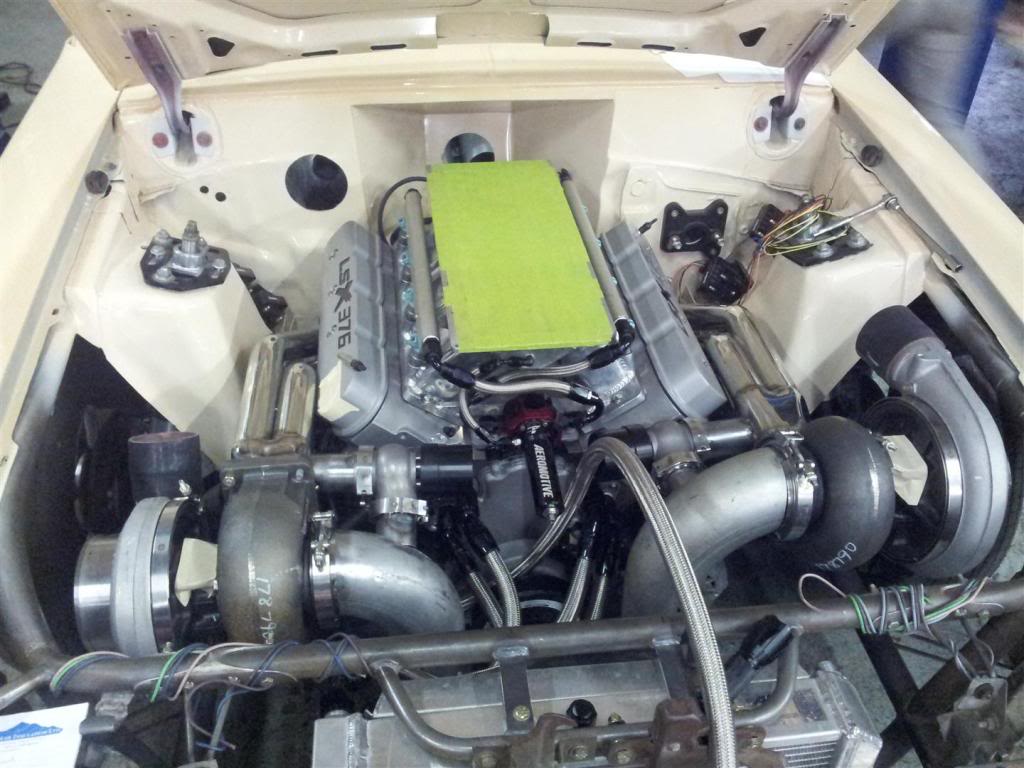 Lastly a little reservoir tank required to use the new rad.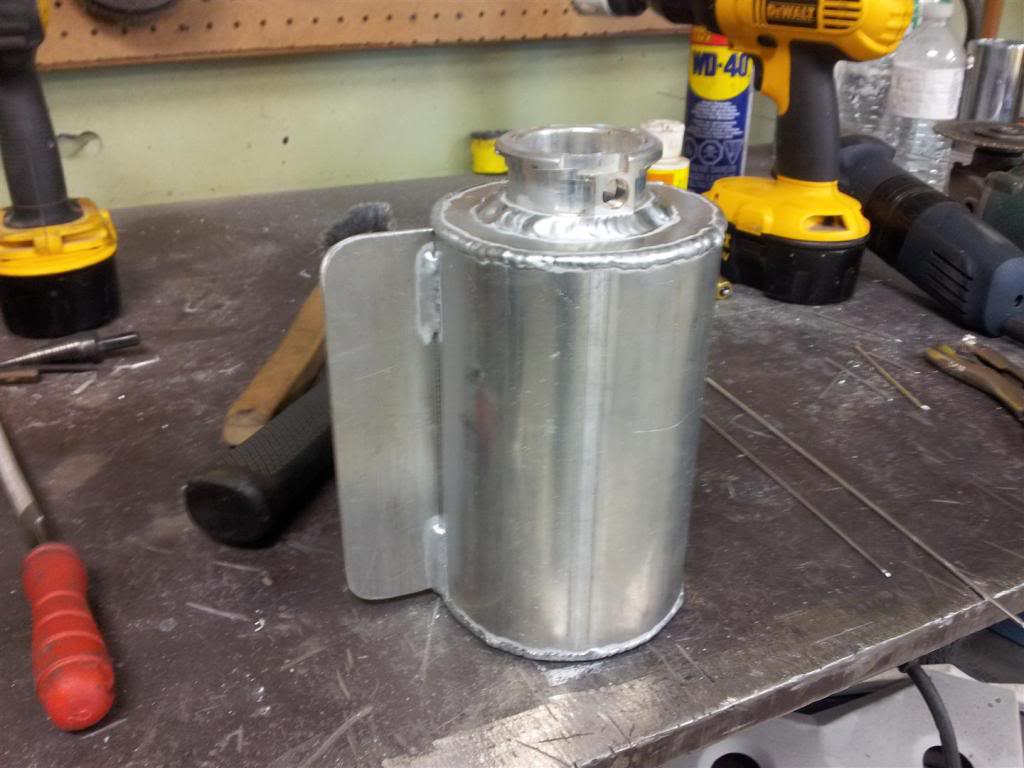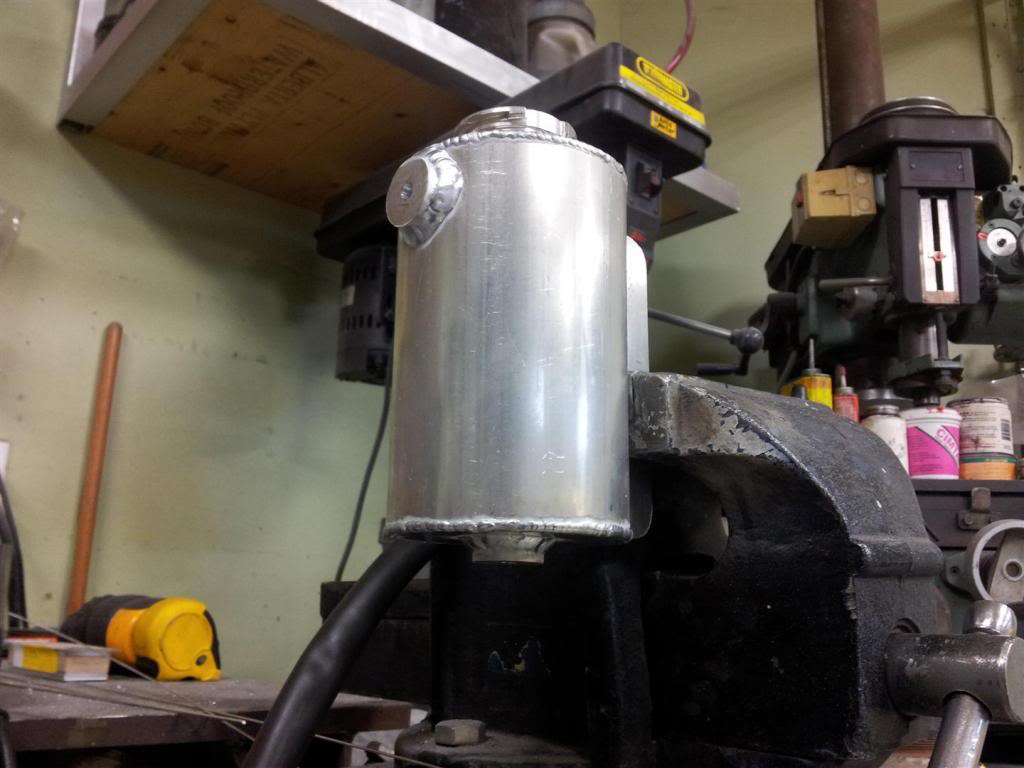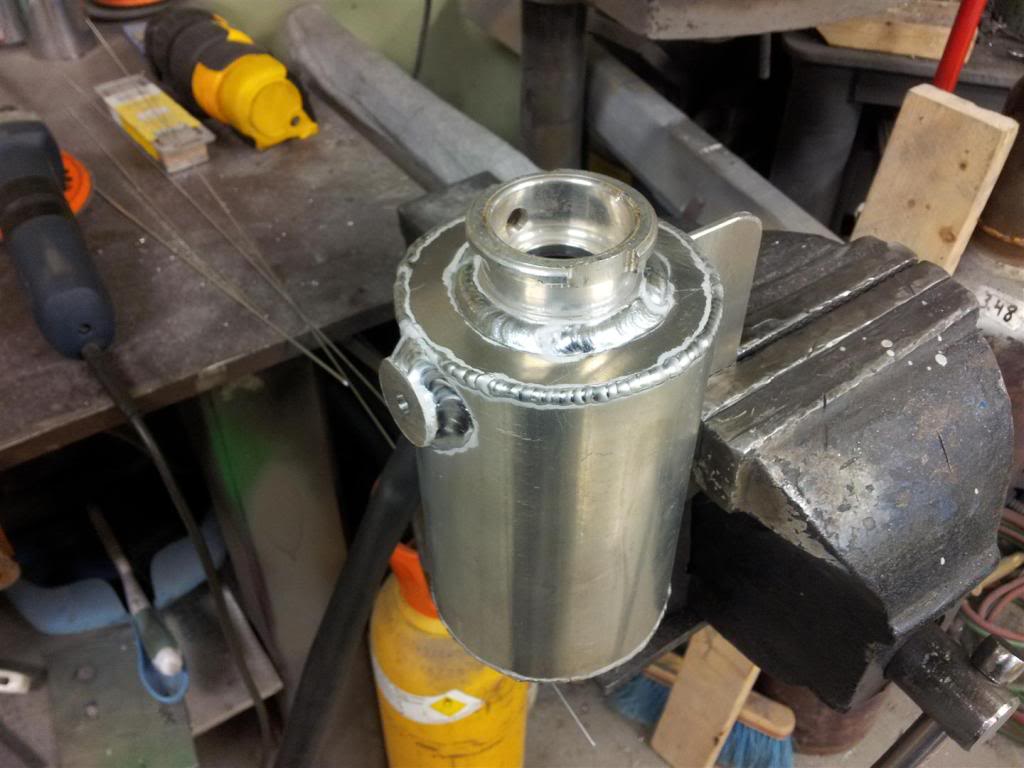 More to come!
6-11-2012
Well after a CRAZY thrash to get the car done to be at Power to the pavement the car gods kept me from going....

We (myself,Leanne,Nolan,Jordan) and a bit of help from a few others literally worked on the car for 48 hours STRAIGHT.... a few people napped for about an hour or two but I kept going with no sleep trying to make it happen.


Keep in mind the car had no engine in it the sunday before and we still had to :


Build a complete turbo kit
Finish cold side piping
wire and plumb boost controller
Install windsheild
Plumb entire fuel system
Plumb brake system
Plumb tranny lines
Plumb turbo feed and return lines
Plumb blow off valves and wastegates
Install driveshaft
Install shifter and cable
Install seats and seatbelts

I am sure there was a bunch more I forgot to list but those are the big things......Saturday at 3am we got the car pretty well done and put it on the dyno to try and get a half ass tune put in before trying to make it to the hat.
First half ass pull on the dyno and the tires grew enough to hit the wheel well and shred the sidewall on a brand new MT 315 radial.



Anyone that says that radials dont grow at all is full of shit at 165 mph they grow!

At that point I could barely keep my eyes open and decided it was just not meant to be and threw in the towel.

The good news is the car runs stops and drives... there is a fair bit of finishing that needs to be done before I would consider it good enough to show off but overall its looking BAD ASS!
6-14-2012
Thanks for the kind words guys.... as for the valve covers/heads,yes the heads are taller then stock and honestly have not tried to get them off with everything fully assembled yet... I did cut down the tubes the bolts run through so we should be able to slide them up towards the intake then off.

We were having an issue with the turbos pulling the dirty exhaust air back up into the inlets causing crazy air fuel ratios so no real power pulls got made.... soon though!
6-19-2012
Drilled the new wheels for nutserts and they are now at IMPACT coatings getting a nice black powdercoat job and then we will be back in buisness!!

Gonna work on getting a bunch of the little details taken care of this week and with any luck some testing this weekend!
6-24-2012
Just an update for some of the followers out there..... We have been thrashing on this car like mad to get it out to the track.... or even to drive it around the block LOL but basically I had a hell of a time tracking down a water issue that seemed like water was getting into the engine somehow (IE: Heads leaking,bad head gasket etc etc) what I eventually found was my intercooler was leaking internally.... this was all fine at an idle or light load but as soon as it got into boost it carried the water into the intake and that was that. Currently the intercooler is out of the car and we are going to see if we can weld it up or find the leak and fix it, if not I guess it will be a new intercooler.

Once again just wanted to say a few more BIG thank you's to a lot of people who have stuck by me to try and see my idea of my "Dream Street/strip terror" come to life:

Leanne with her never ending support and effort!
My family for always supporting/helping me.
All of my Horsepower Solutions/WCR crew for being there for thrash nights etc
Nolan - CCC - No explination needed HOURS upon HOURS of amazing fab work and wrench time!
"Flyin"Ryan Bell - They might out spend us but the WONT out work us!!
Jim Bell of Dix Performance/JB's Power Center
Rick Sparks @ Comp Cams for getting me the bumpstick/lifters I need.
Tom @ Alamo Turbo for getting the boost train rolling!
Rob @ Modular Turbo - Always hooks me up with all the turbo/boost related parts I need.
Ken @ Enviro Airtech
Stefan @ Performance Fuel injection
Bruce @ Impact Coatings - Keeps me lookin good!

I am sure like always there is more I am missing but I just need to keep saying thank you to these people because without them the car would be nothing at all!


Man I can NOT wait to put the hammer down on this thing!
7-3-2012
Here is another update for the followers




Intercooler I bought used was leaking water into the charge side,we tried to fix it but it continued to leak. The guy I bought it off did the right thing and stood behind the product and gave me back my money. I made a few phone calls and luckily Robert @ Chiseled performance was kind enough to come in on his day off and get me a cooler built so I expect that today or tomorrow!

Also had Bob @ AEI CNC build me this killer bracket/mini mandrel for the belt drive fuel pump: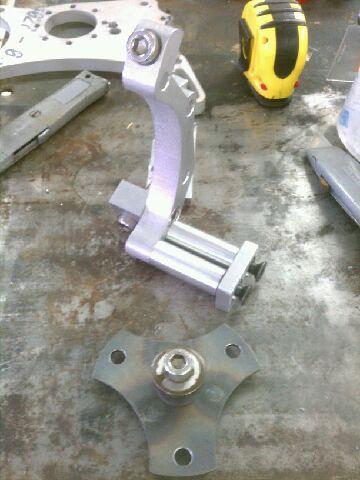 So I hope to have that today as well and get that on the car asap.

We have an annual big car show here for canada day and I didnt wanna miss it so I had nolan glue together a little "U" pipe to go where the intercoolerwas so I could cruise the car around a bit, first cruise..... POURED rain lol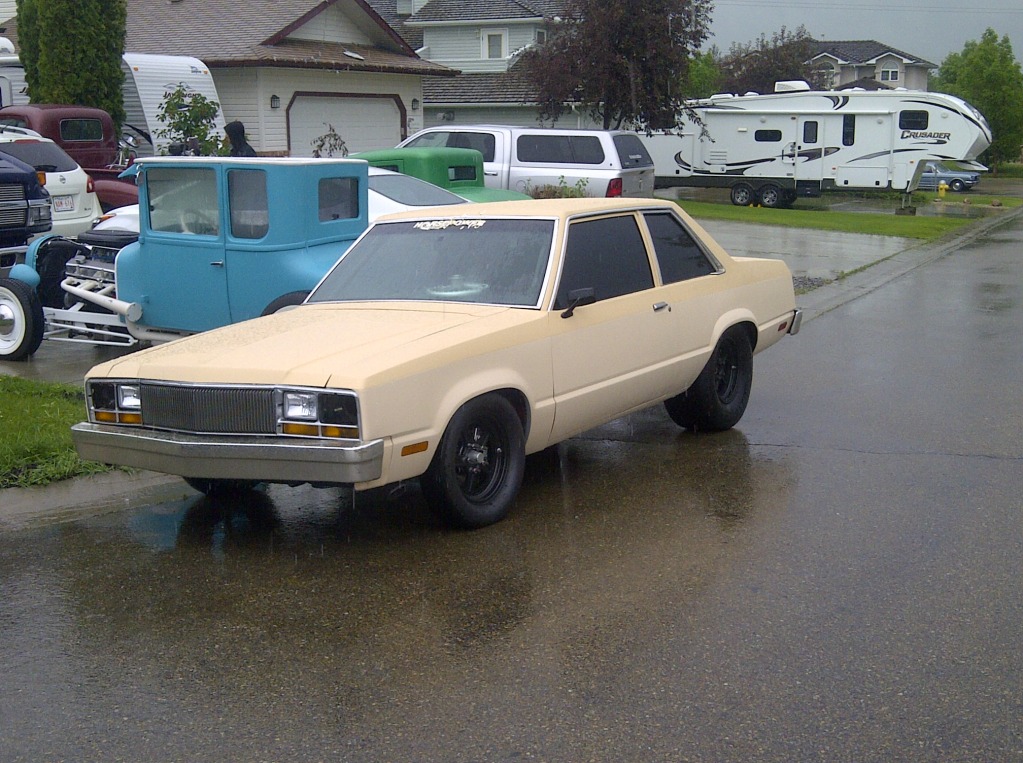 Luckily for us it dried up into a nice sunny day and we got a little more cruising in before parking the cars and really celebrating our homelands birthday!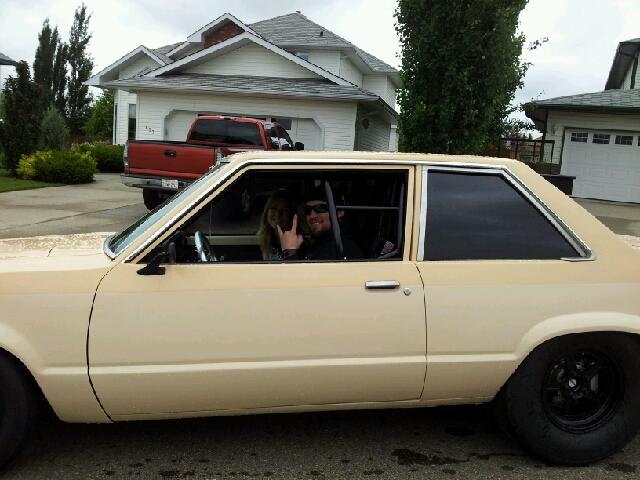 Me and my lady out for the first cruise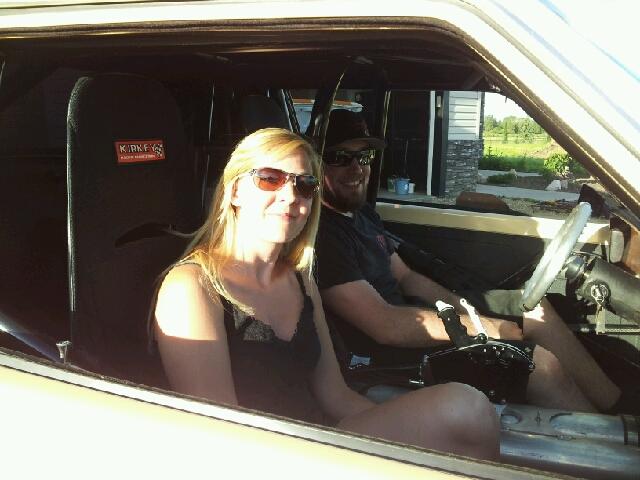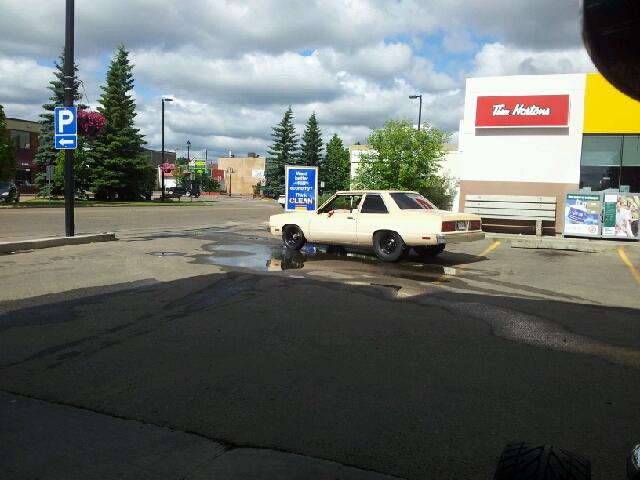 I will have some more pics and hopefully some dyno numbers etc soon!

Gonna need to put a bigger rad in the car for sure!!
7-11-2012
Long awaited update!

The car has continued to cause grief and not cooperate but we have pushed through it and things are looking up finally! This last week Neil brought the car back over to my house to install the new intercooler, and radiator.....Existing rad just wasnt going holding up to all the street driving Neil has planned! haha
While the car was at my house I went over the whole thing again with the power polisher, In certain light you could still see some wet sanding marks. After that was done I pin striped the color split. I didnt take any pics of the new rad we worked late and Neil took the car next morning....Im sure he will have some pics of that.

Half the hood done.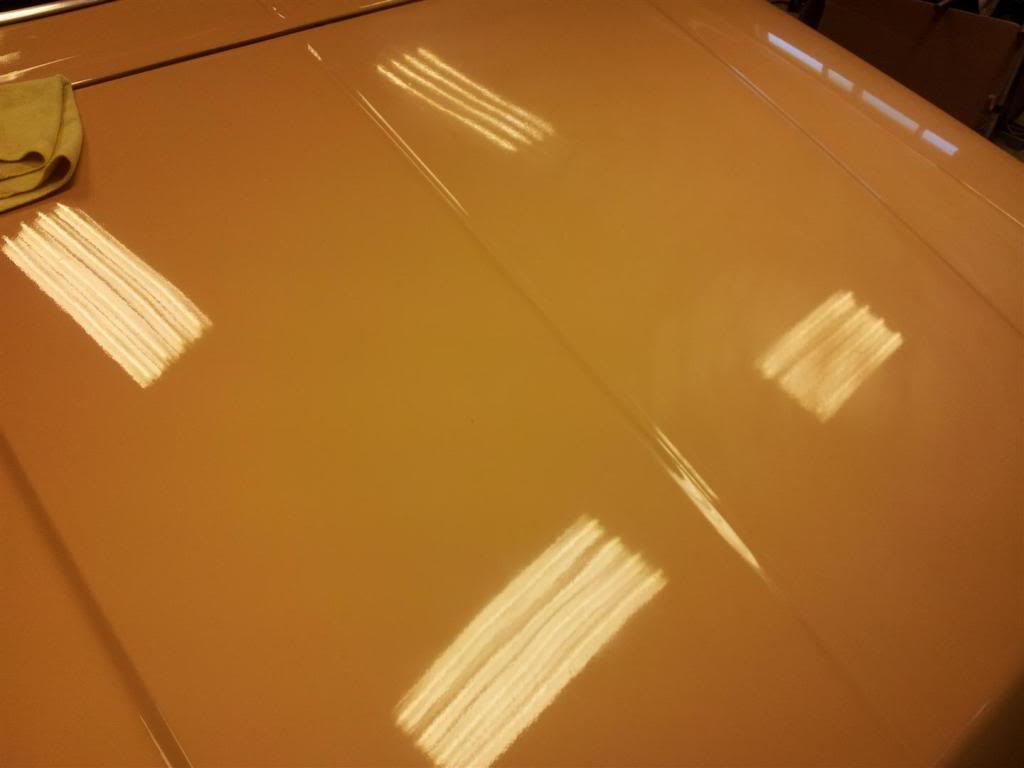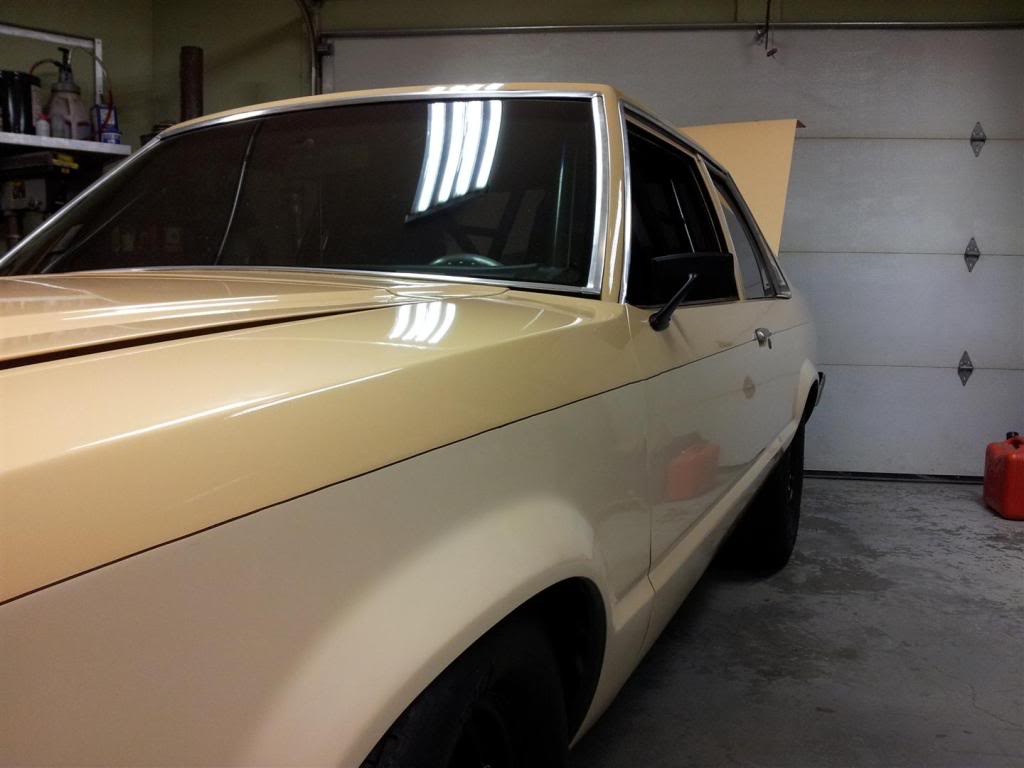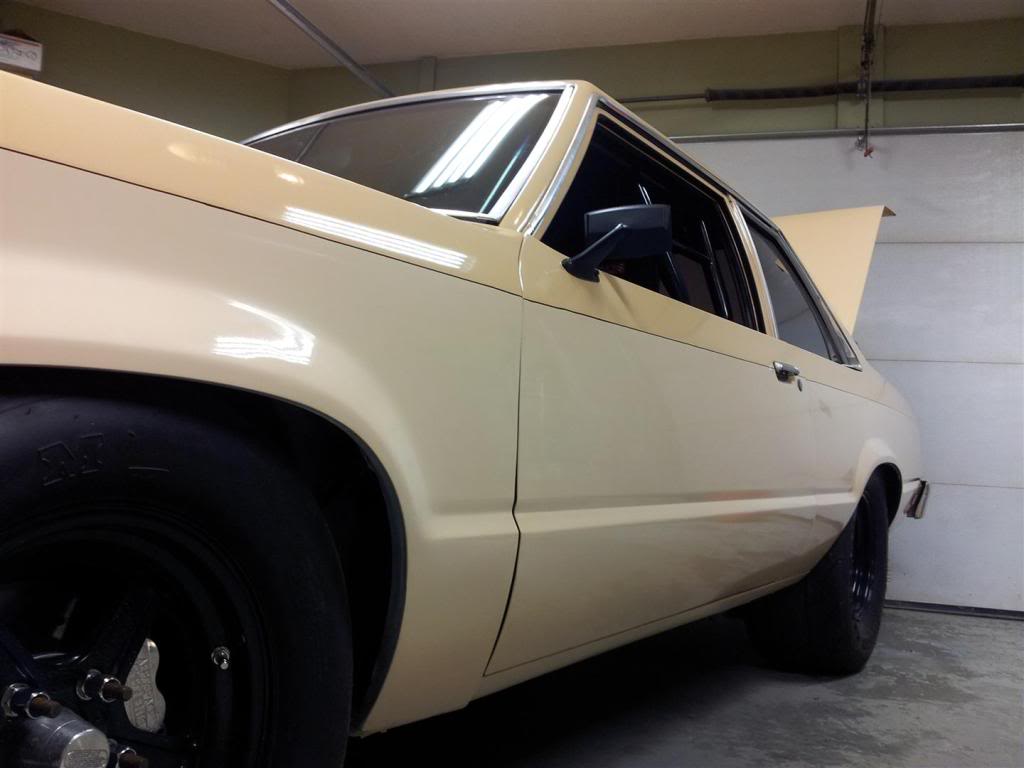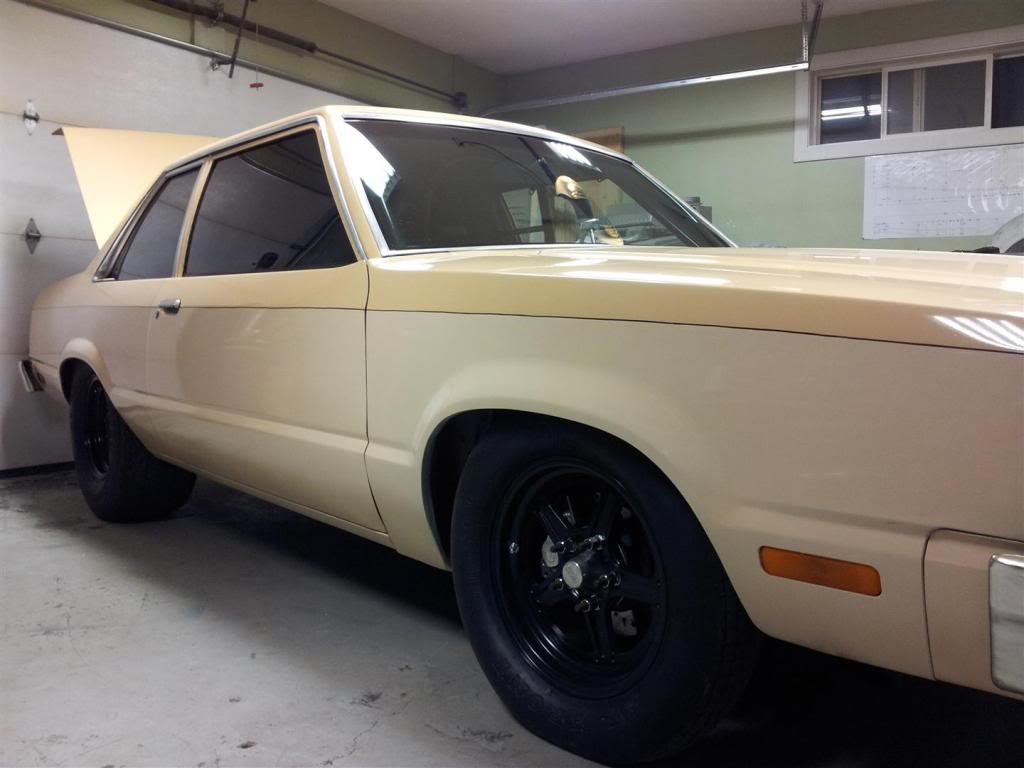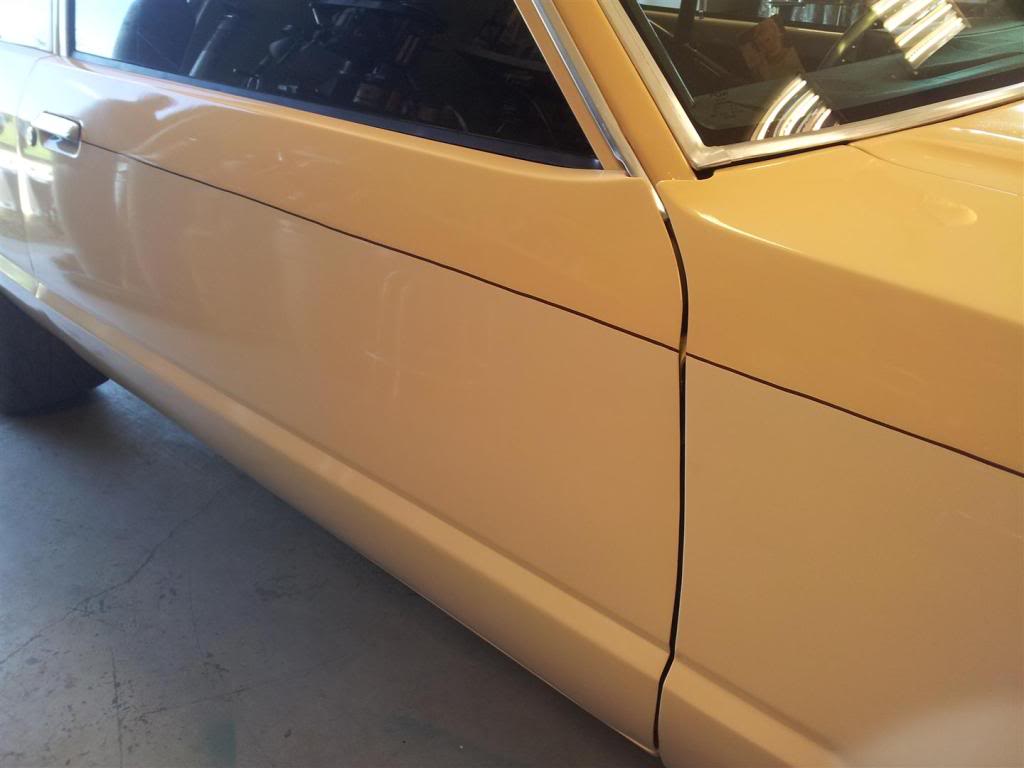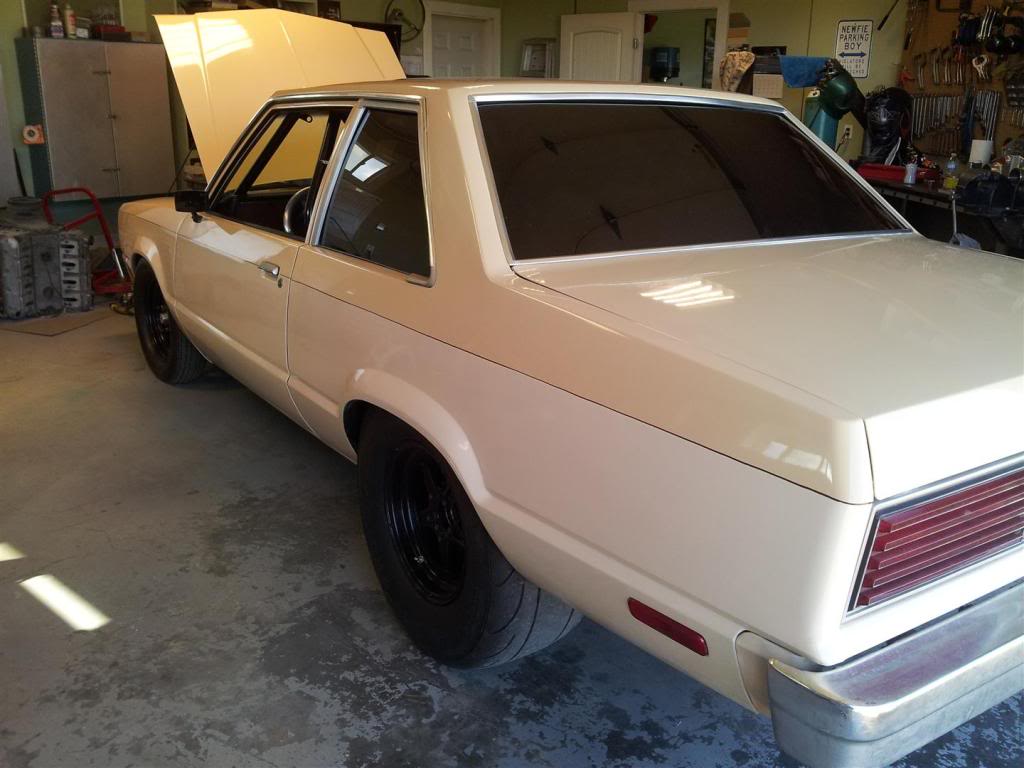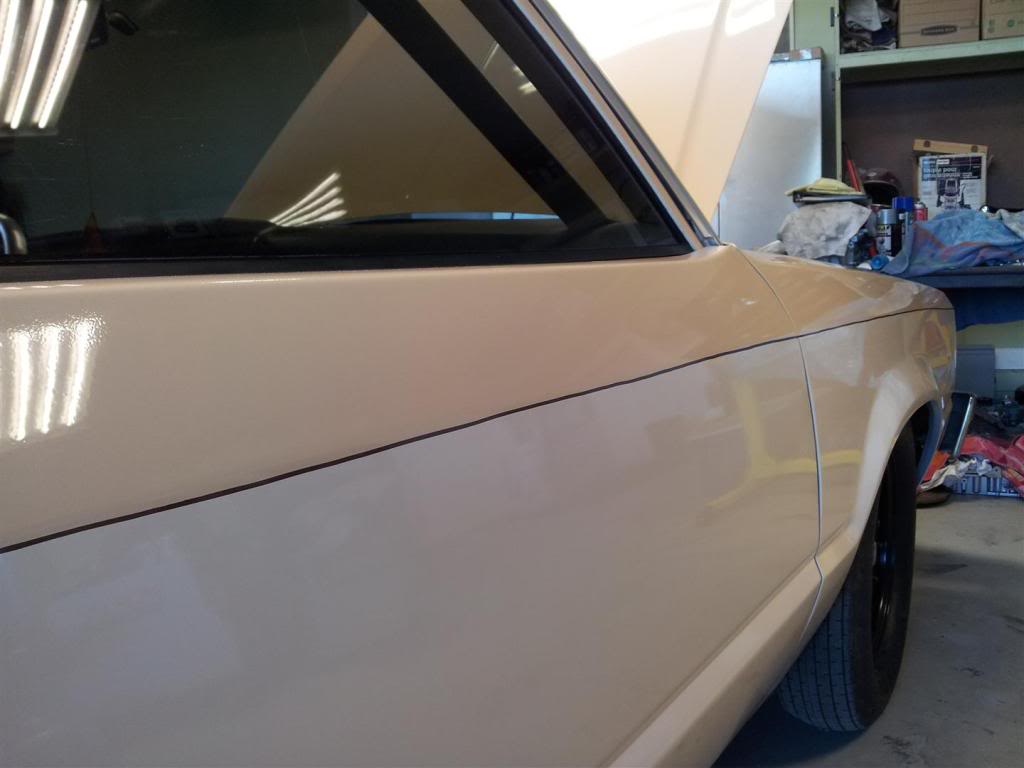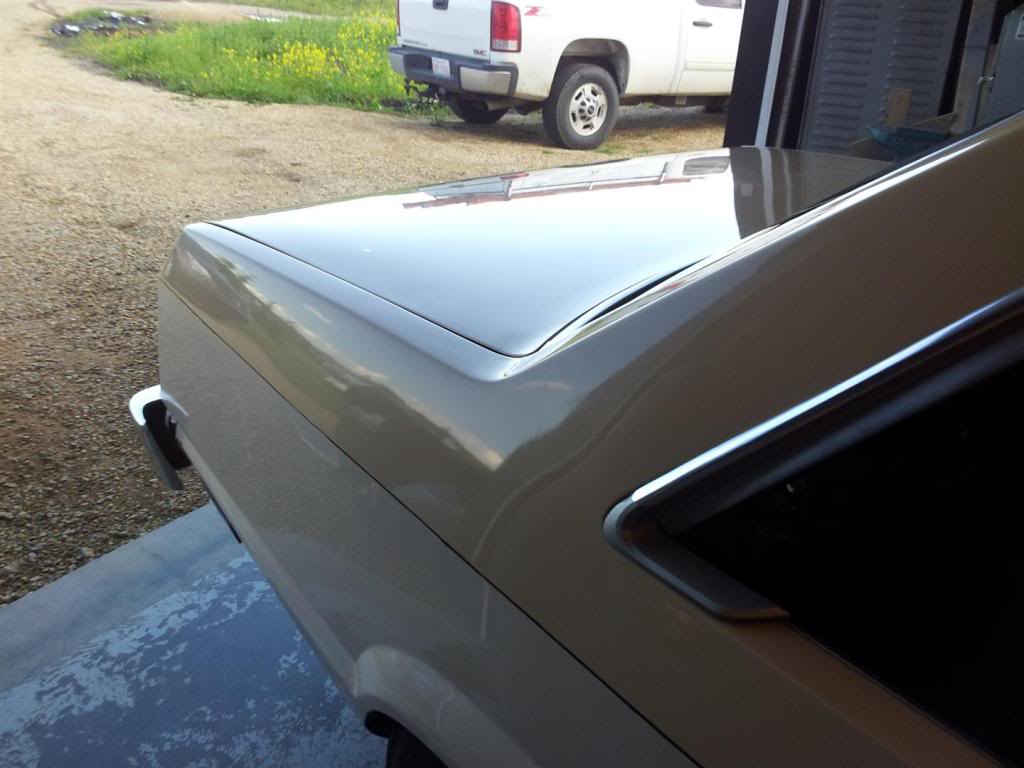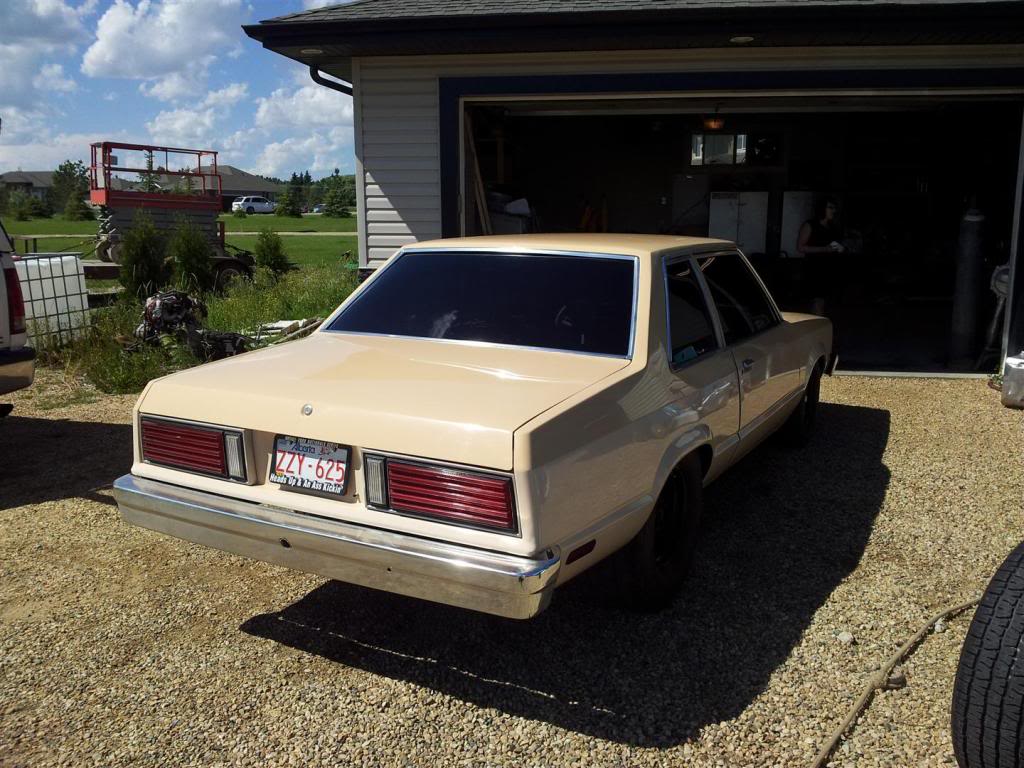 We are all heading down to a car event this weekend in Lethbridge, AB Neil is taking the creamer and I hope to take my ol Rambler, Should be a good time and Im sure there will be some good updates from that. The car is also going back on the dyno today to hopefully.....finally....(fingers crossed) make some good numbers.

Nolan
7-17-2012
We had a killer weekend as always at street machine weekend in lethbridge. My boost leash crapped the bed on me for some unknown reason but randy will get it fixed up for sure but that kept power down to around 680 rwhp for the weekend.

Here is a few pics from the weekend we will post some more when I get them loaded up:


The crew out for dinner

From left to right:

My creamer
Matt- Twin billet 67 6.0 chevelle
Nolan - Rb25 1961 Rambler
James- 91mm 408 LS S10
Zig - 69 Firebird convertible 400
Fury Dave -66 Fury wagon 413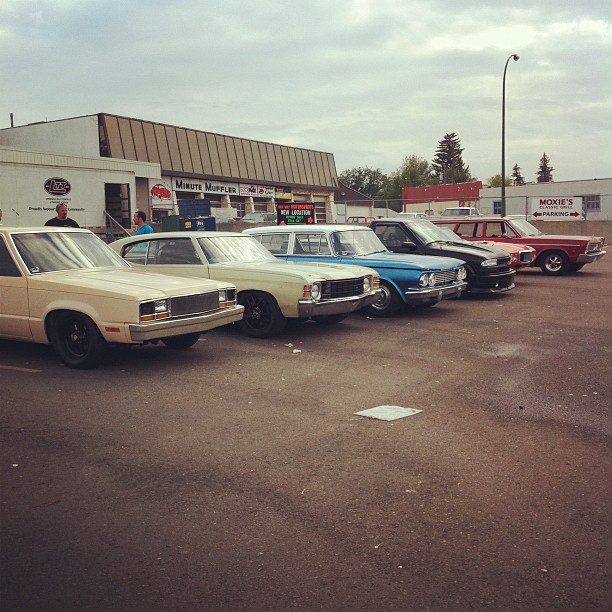 Rolling in for the 100 ft shootout: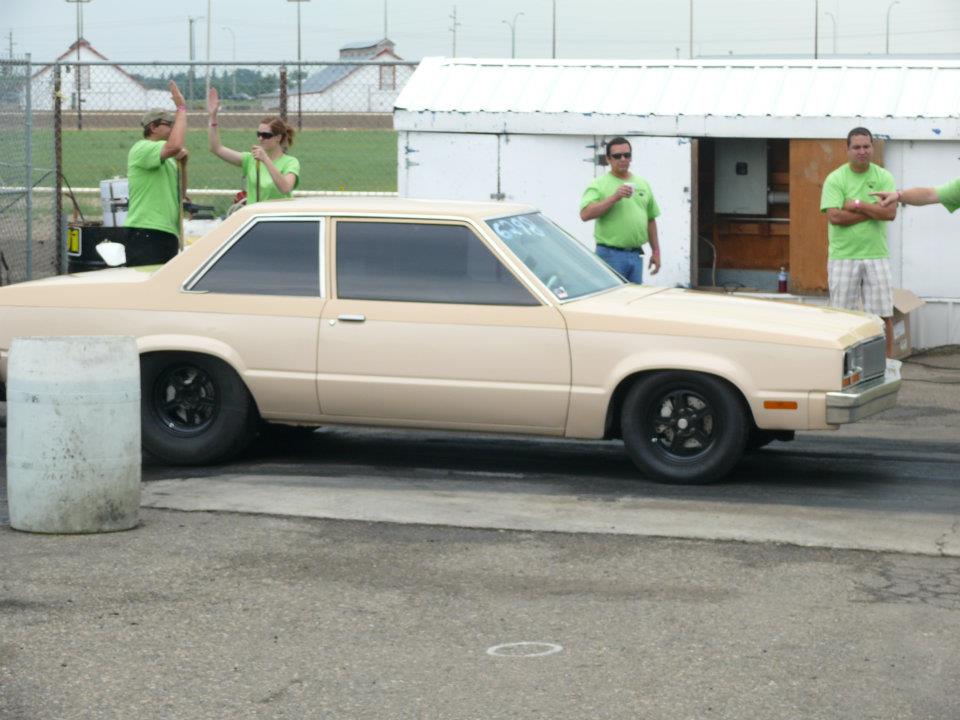 Cars first launch ever: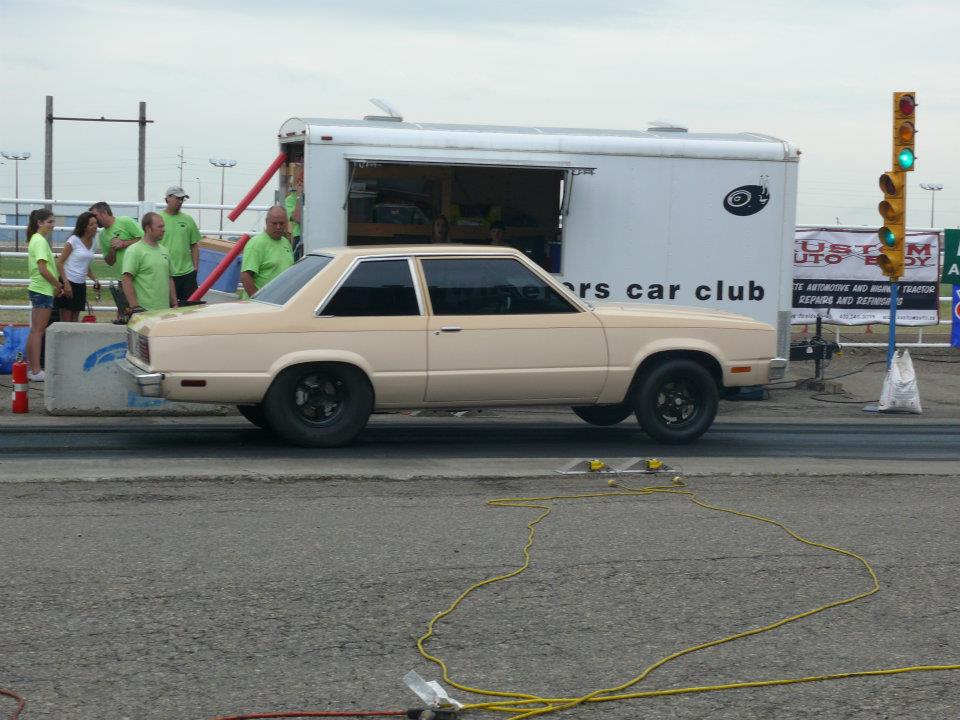 Underhood shot, still not finished but working none the less: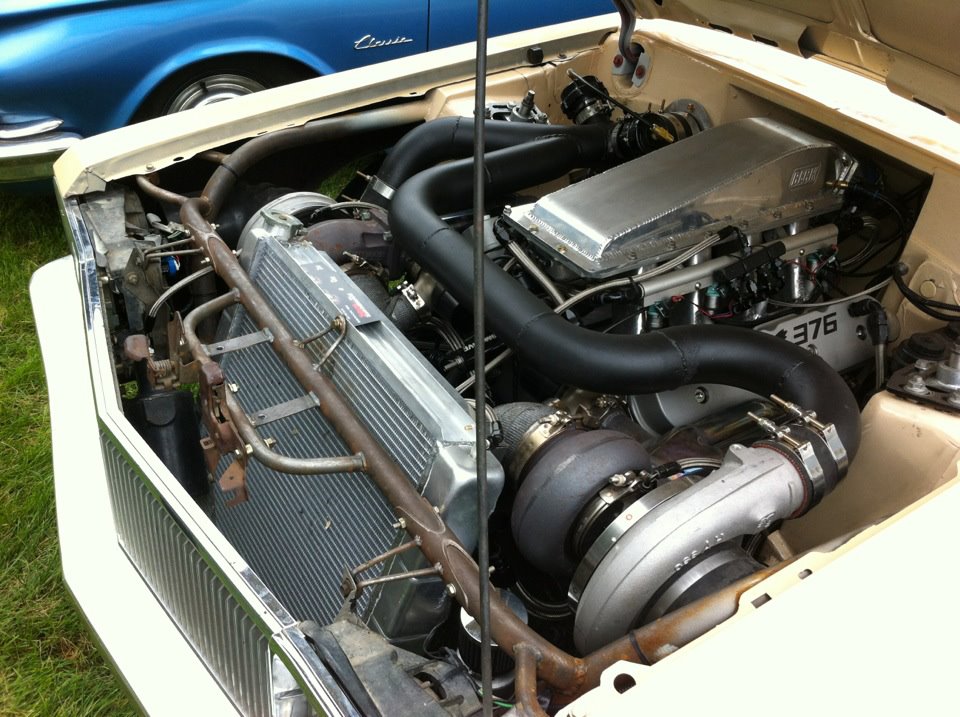 And the sweet surfboard we won for "Best Engineered"


8-21-2012
Sorry for not giving more updates to those following the build,I have been fighting all kinds of transmission problems with my input shaft/pump but have finally got the car out and started getting it sorted out.

So far its been [email protected] with a 1.38 60ft and [email protected] in the 1/8th
now its time to turn it up and get the thing to do some work in the front half of the track.

I am always seeing cherries in the mirror lol: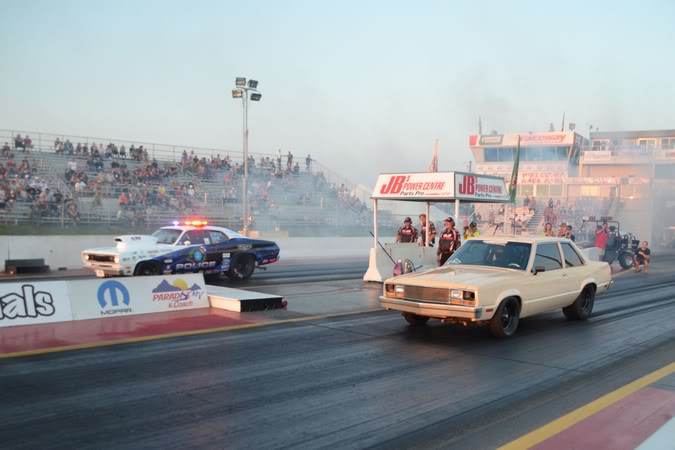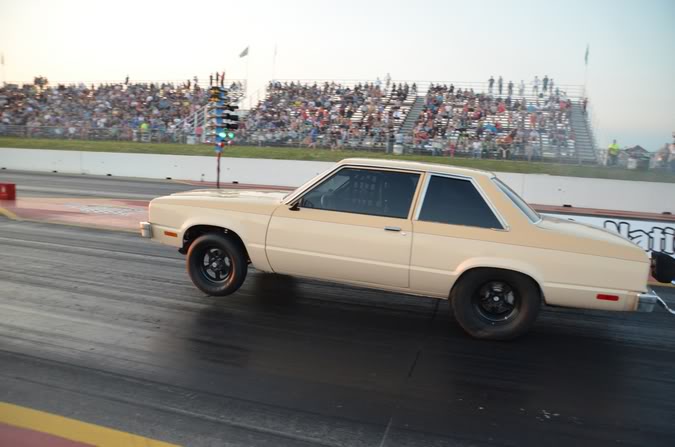 9-4-2012
As Ryan said, I do appreciate all of the intrest from everyone and appologze for not keeping everyone up to date but basicaly I have been chasing some tuning/running issues for a while now.

Here is some pics of the car and another video of the bumper dragging pass, I had to peddle it to get it to drop the nose then I stabbed it again and it came down nice and soft.







Rubber on the bumper :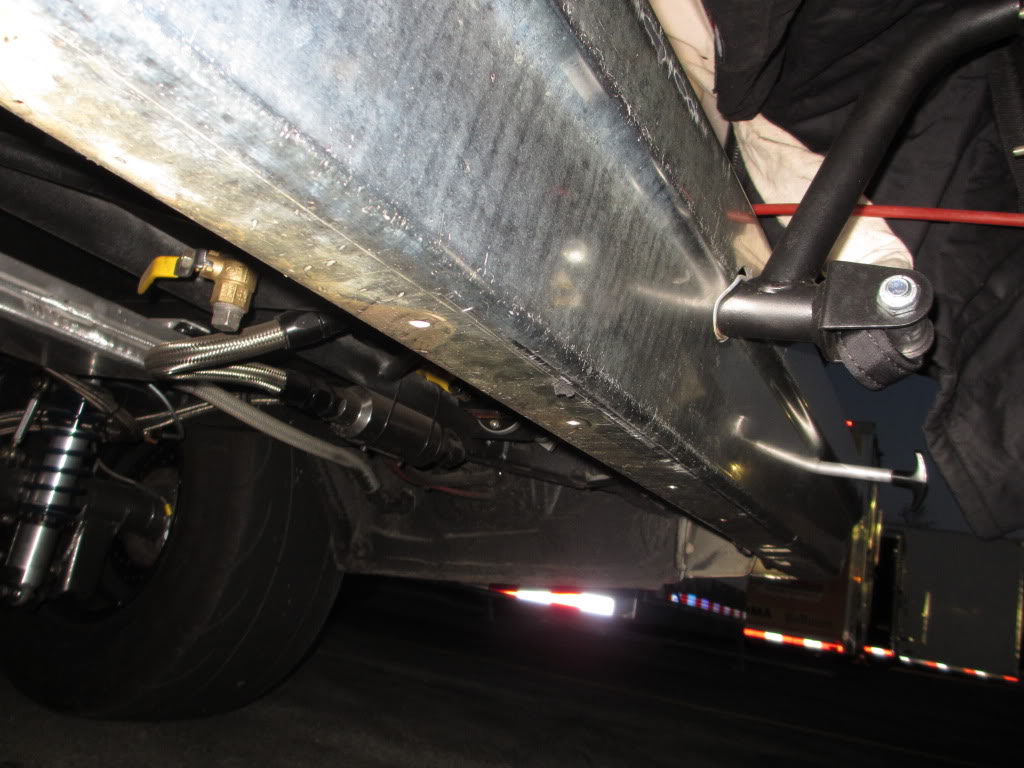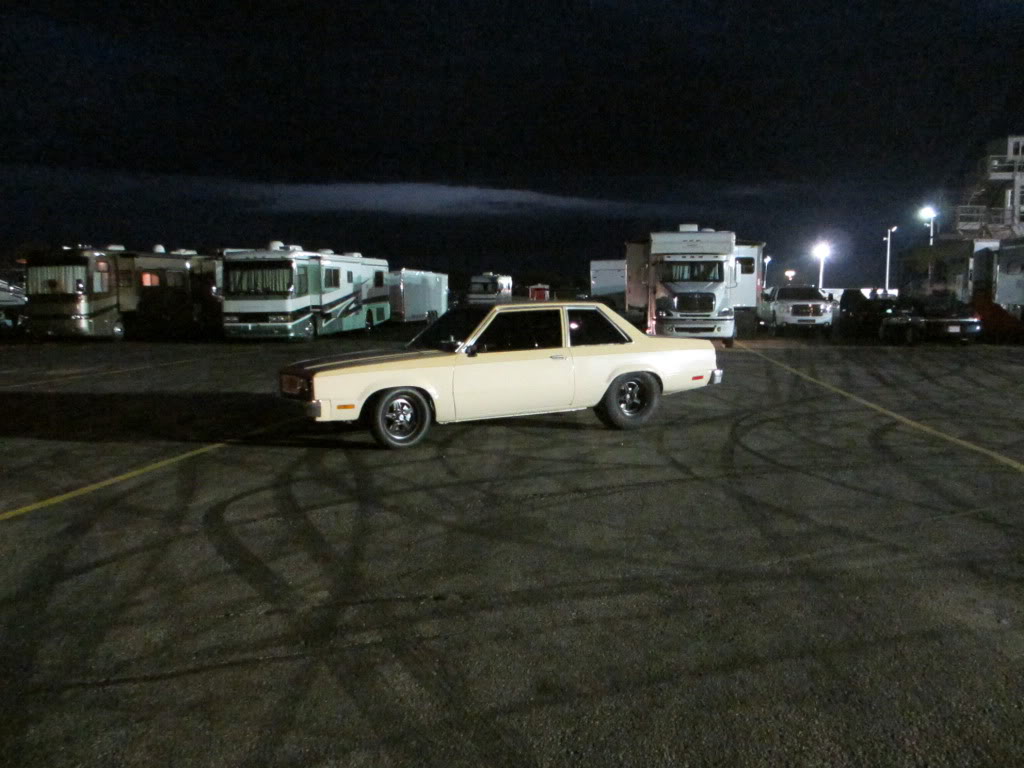 My response to the wheelie: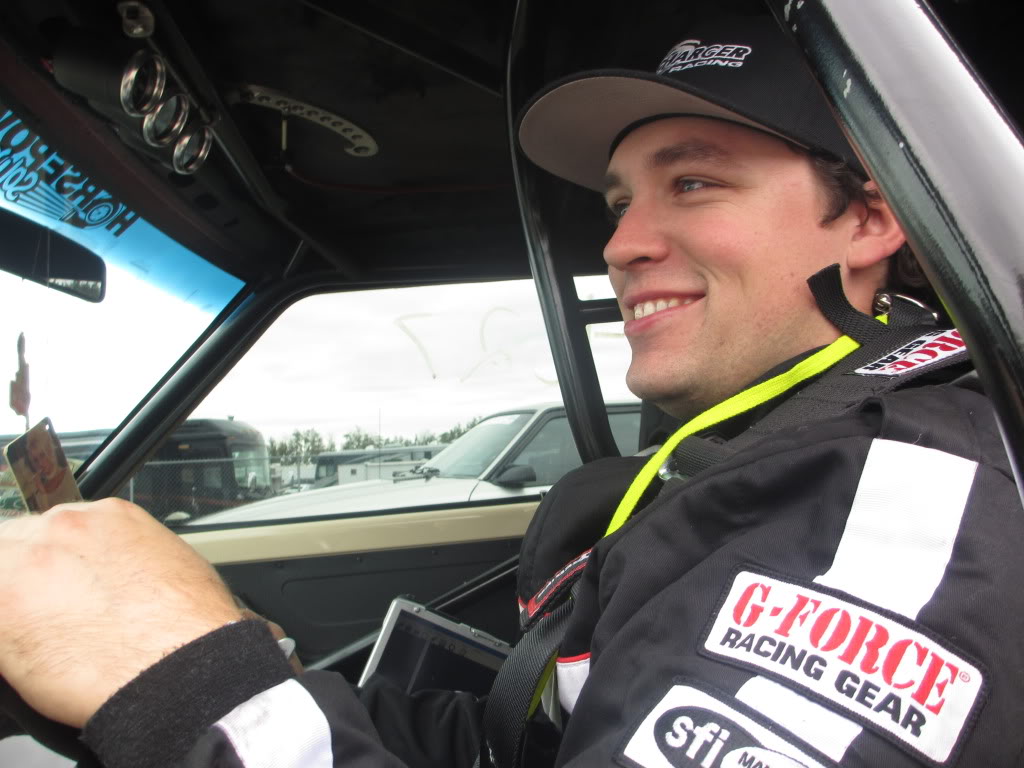 I am hoping to get these issues sorted out sooner then later here and actually make some decent passes as we are quickly running out of season here.
9-24-2012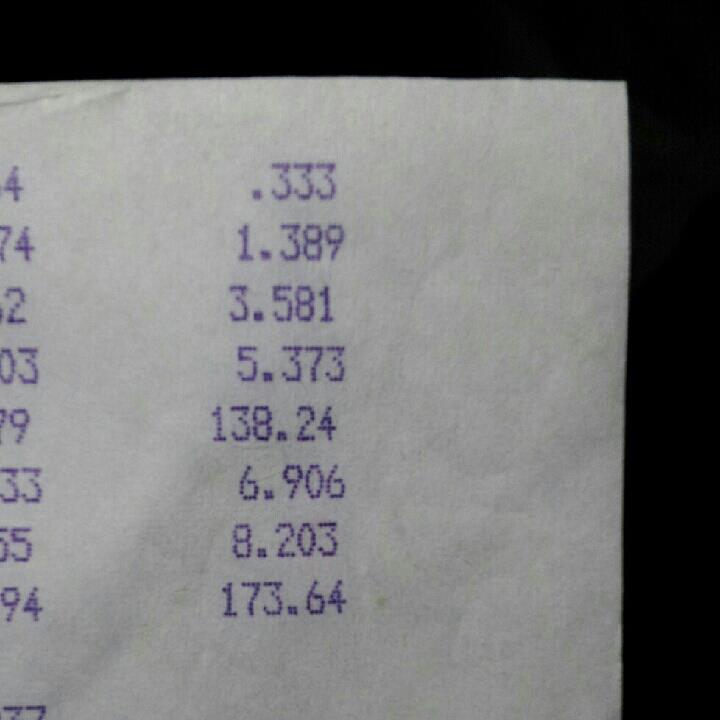 Just needs a solid 60 ft
9-29-2012
5.210 @ 142.36mph in the 1/8th
7.944 @ 179.89mph in the 1/4

Way to go buddy! Super pumped for you, Now just dont run out of cage today!!!!
10-2-2012
Thanks a bunch everyone, I know if I can get the car to front half harder and keep the front end down it will run some good numbers!

After all the bullshit I have went through on this thing this season it feels nice to put some numbers on the board that is for sure!!!

The car wanted to power wheelie at the 1/8 etc so I kept having to soften it up down low then pour it on hard up top. I am hoping moving some weight around and travel limiters will help that.

Here is a picture of the BIG wheelie thanks to [email protected] magazine for the awesome shots!:


I thought I should also mention there is NO WAY I could be where I am without the help and support of the following people in no particular order:

Both of my Family's - For Helping me get to the races I would not normally be able to make it to and always helping put me up or keep me fed or just plain support me in my dreams and goals!

Leanne who is always there for me day or night to help me get things done and see my dreams come true.

Nolan @ CCC for the never ending help on the car and all of the bad ass fab work some of which never gets seen or appreciated but I know its there and it means a lot to me!

Flyin Ryan Bell who is the only guy crazy enough to build an engine and let me run the go pedal and the boost controller and making me KILLER AND RELIABLE power since day 1!

Steve,Jason and the rest of the HPS crew for always helping me out on and off the track.

Randy @ Pro Stock for maching my junk when it needs it and making sure Ryan gets the stuff as he wants it when he needs it.

Jim Bell for all his support this season on the car/program and always helping me get what I need to make the races.

Jordan/James for being there to bounce ideas off , share parts or even drink beer with when things go south sometimes lol.

Alamo turbos for hooking me up with a couple of bad ass hair dryers.

[email protected] Performance Fuel Injection keeping me fueled and ready!

Ken [email protected] Air Tech - Me and Ken exchange help and it really goes a long way for my program!

Bruce @ Impact coatings - Keeping me lookin good while I am goin fast!

[email protected] ACT - Hooking me up with wheels and help to get to the races and always being my Cuzin in the other Zeph.

Dave @ Team Z motorsports - keeps me hooked up and rollin!

Randy @ Sherwood performance - The boost leash is kickin ass and taking names and proving we do not ALL need an ams 1000 to go fast!

I am sure I am forgetting some people and I appologize in advance if I forgot anyone.

Hope to see some guys in vegas for the street car supernationals!
10-3-2012


Rear shot of the biggest wheelie LOL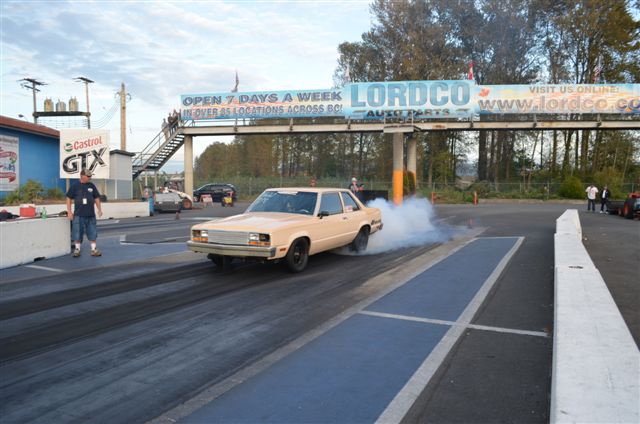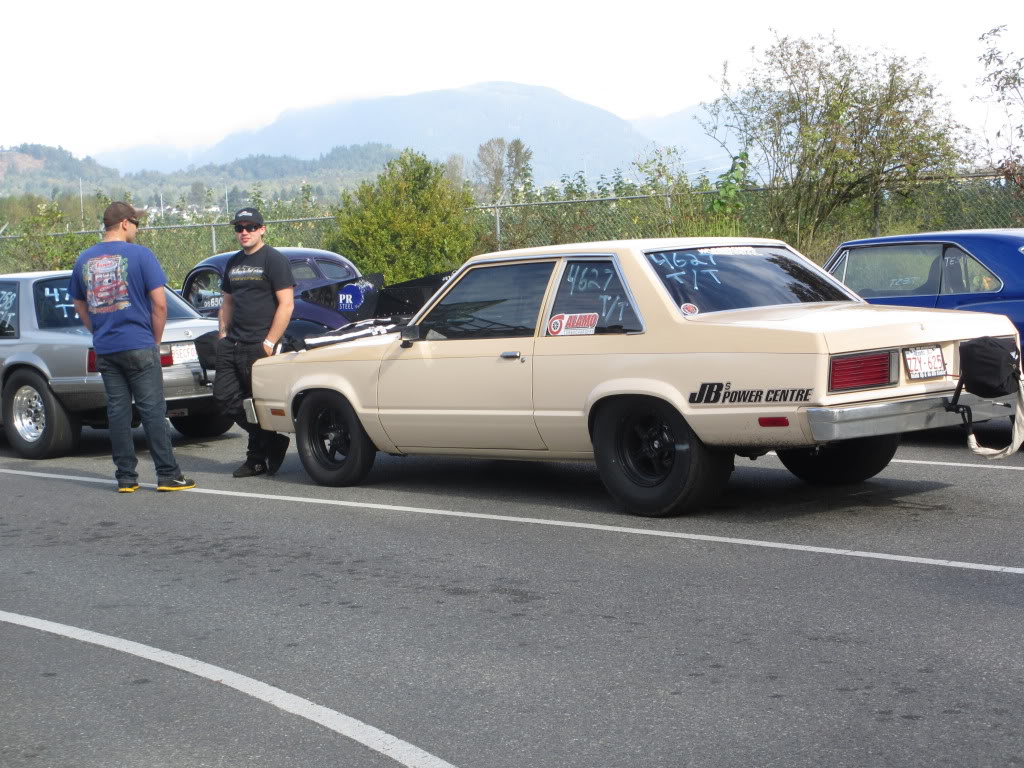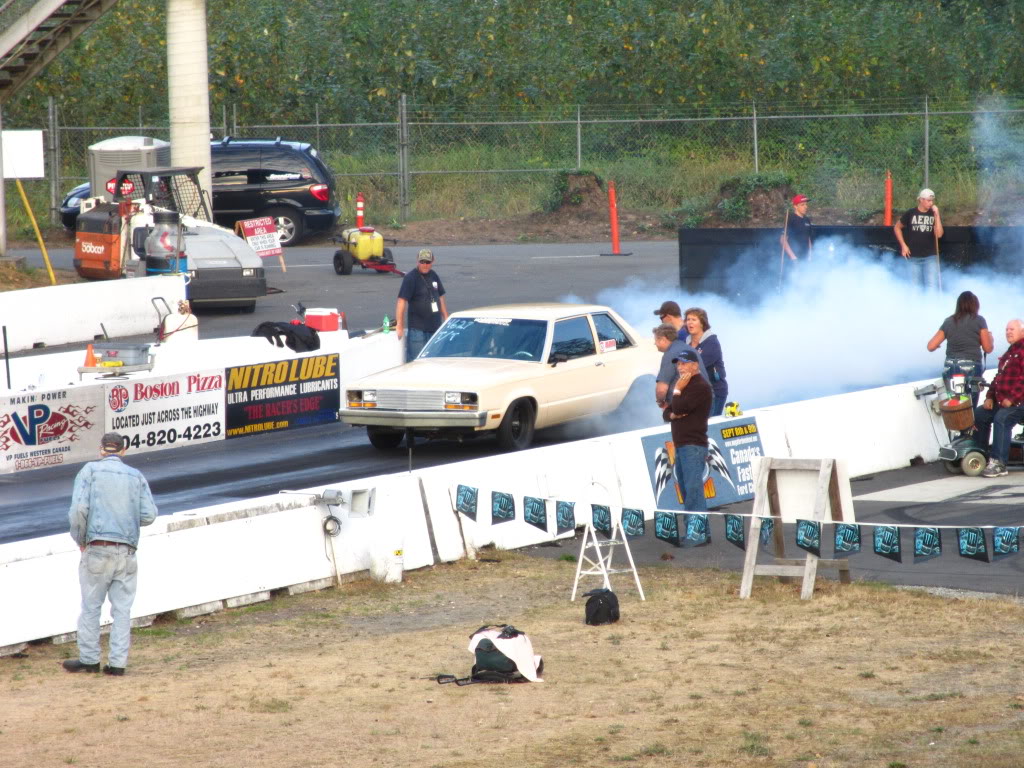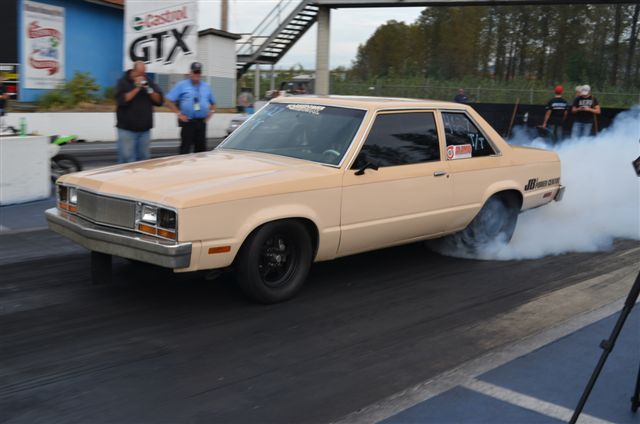 More pics and videos coming soon.




7.82 pass from the top end, you can see me doing some driving around 300 feet out.
10-5-2012
Well started tearing into the car last night to repair the damage from the sky shot and luckily its easy to work on...

Here is what I know I need for sure:

TRAVEL LIMITERS LOL
30-40lb weight bar
Fix K member
New Rack/steering shaft(in town locally)
Caster camber plates(on the way THANKS MIKE!)
Oil pan(hoping to just repair)
Custom header gaskets (old ones were leaking badly)

I pulled the whole front end apart so I could fix the damage, as well as do some stuff I have been putting off like painting the front clip and getting all the turbo parts ceramic coated. I am also gonna have my front struts dyno'd on a local shock dyno to make sure they are ok and see what the valving is actually like in them.

On to the pics!!!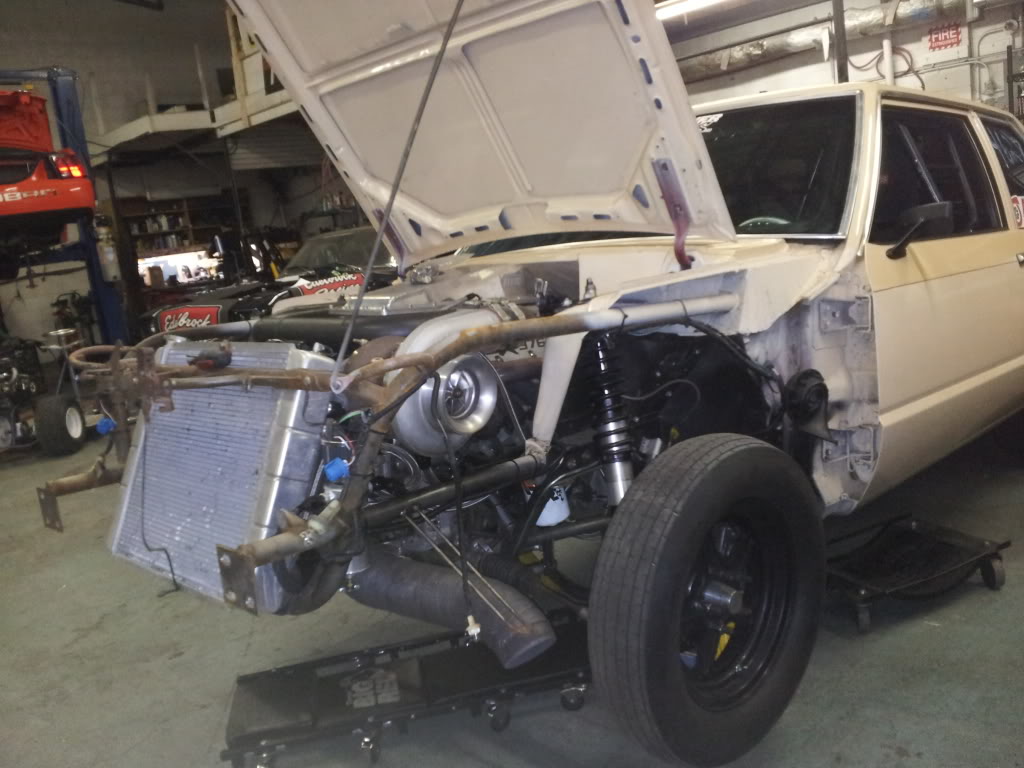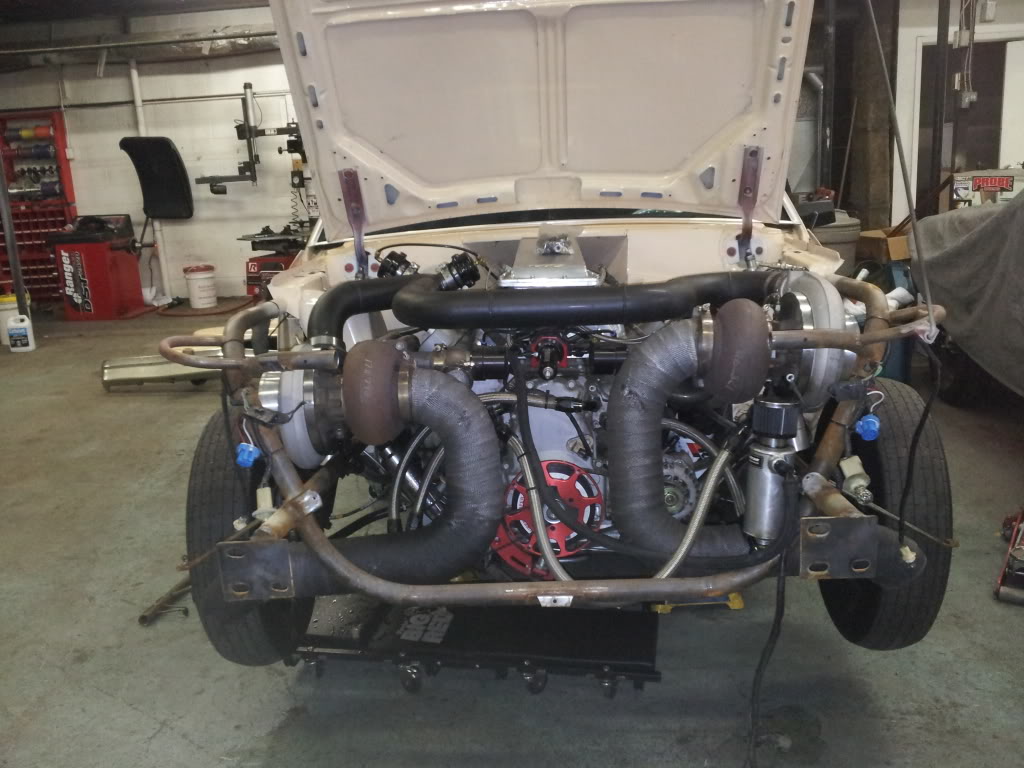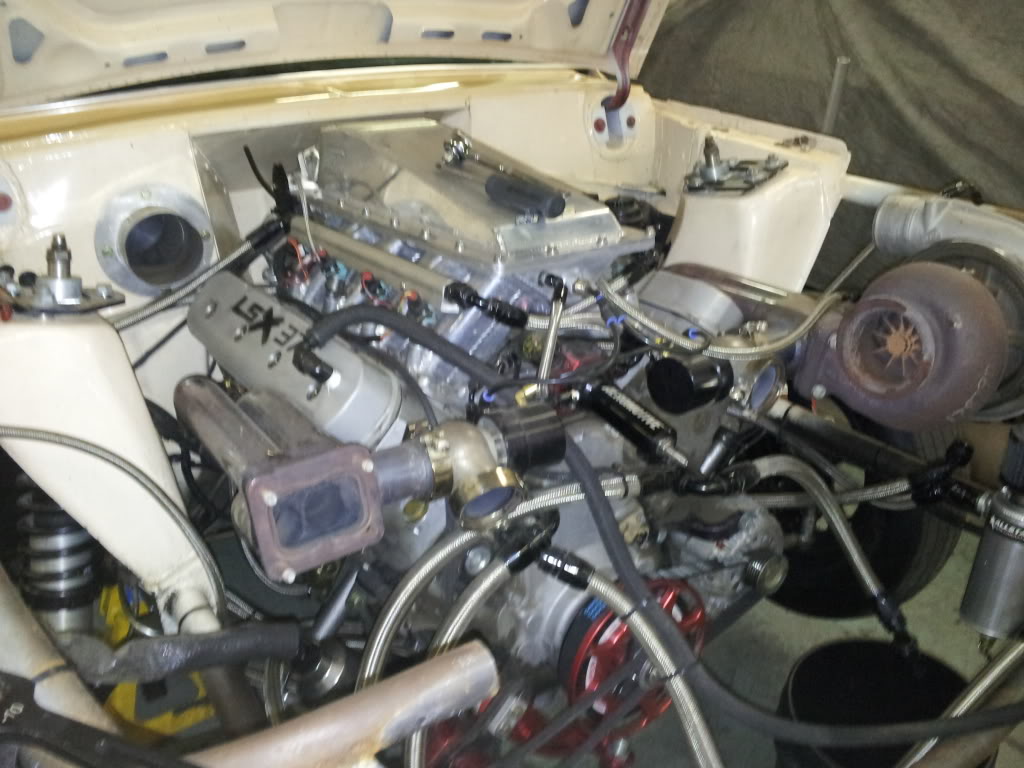 10-18-2012
Ok guys car is still in repair mode from the massive wheelie but we WILL be in vegas for the PSCA Street Car Supernationals 8 , I know I wont be the fastest but I shouldnt be the slowest neither and I will likely be one of few REAL street cars! Shootin for a 7.5x at 190ish if it all works out.
10-25-2012
Well thanks to some good help from some GREAT people the car is coming back together.

My boy Nolan took care of the messed up K member with some of his great fab skills.. replaced the entire center of the K member/enging mount supports and got the new flaming river rack and billet borgeson shaft mounted (Thanks Simon for the rack).

Then I took it over to Bruce @ Impact Coatings and he made it nice and pretty again with "silver vein" powder coating. Then he coated my headers/turbo hot sides in a super high heat black ceramic coating and of course did the turbo compressor housings in a nice creamy powder lol.

I also took the time to re-do some wiring as well as brake lines that I was not happy with from the start. Then Leanne did a killer job making the front end all pretty by painting the front clip so its not bare metal anymore lol.

Probably safe to say I will be the only guy at SCSN with cream turbos LOL




Just Re-doing some stuff on the valve covers, waiting for C/C plates and the front end can go all back together then its a mission to see if there is any weight I can cut out before vegas... as it sits I am 200 lbs over weight for my class /set up.



I will have some more pics soon.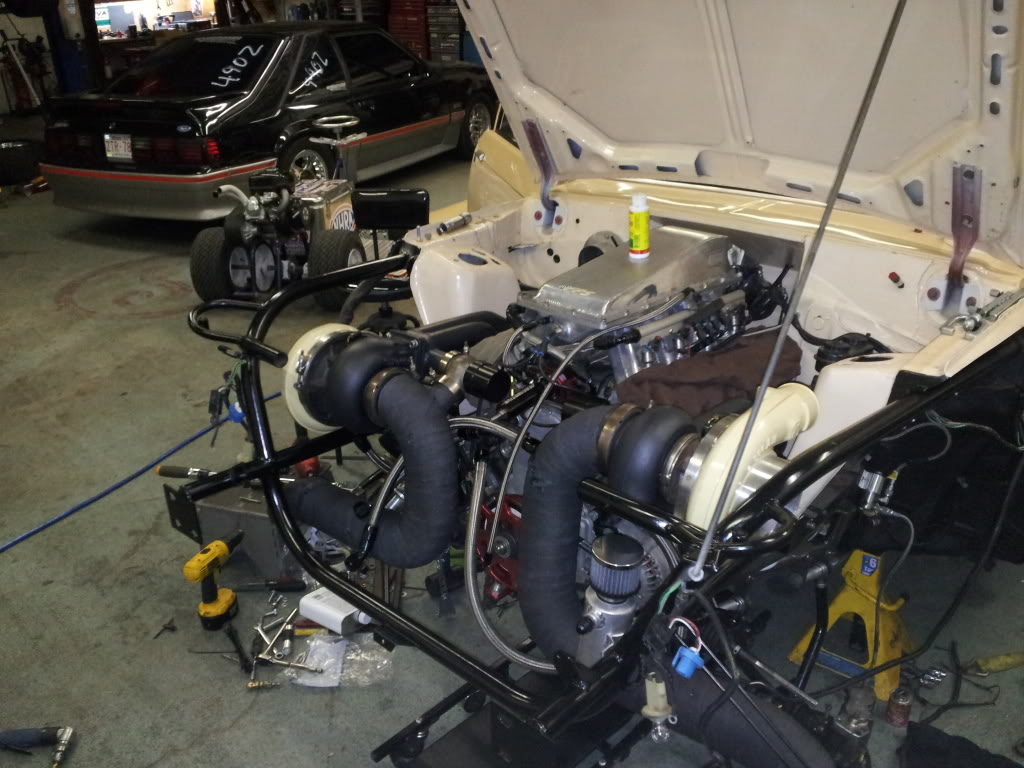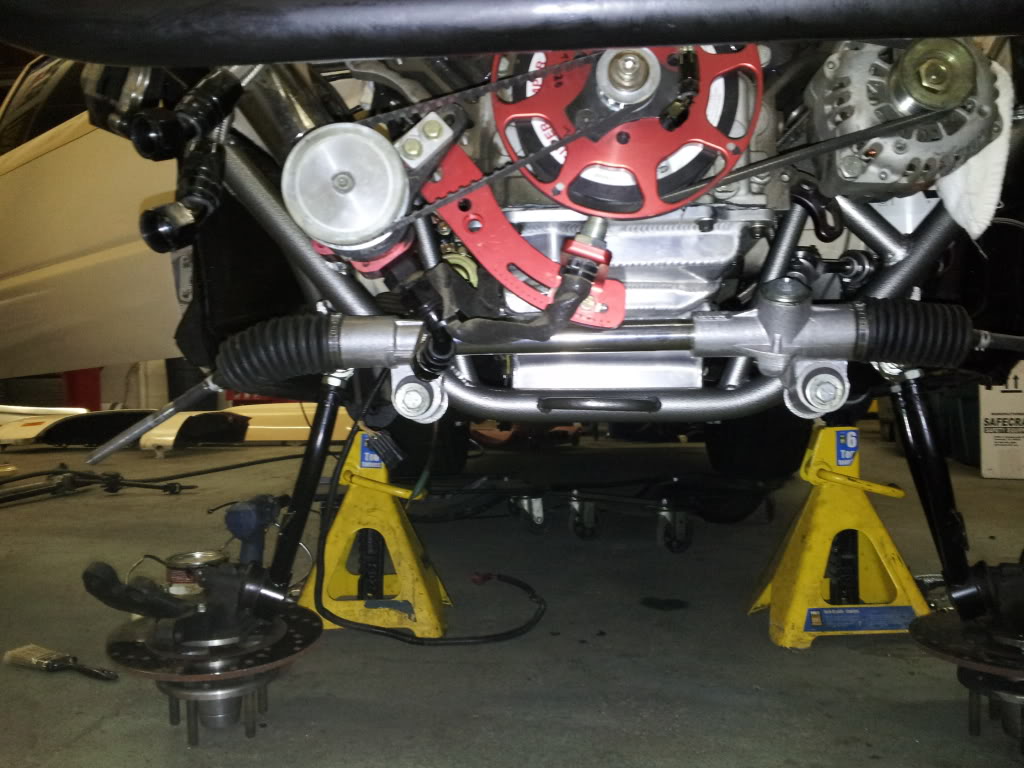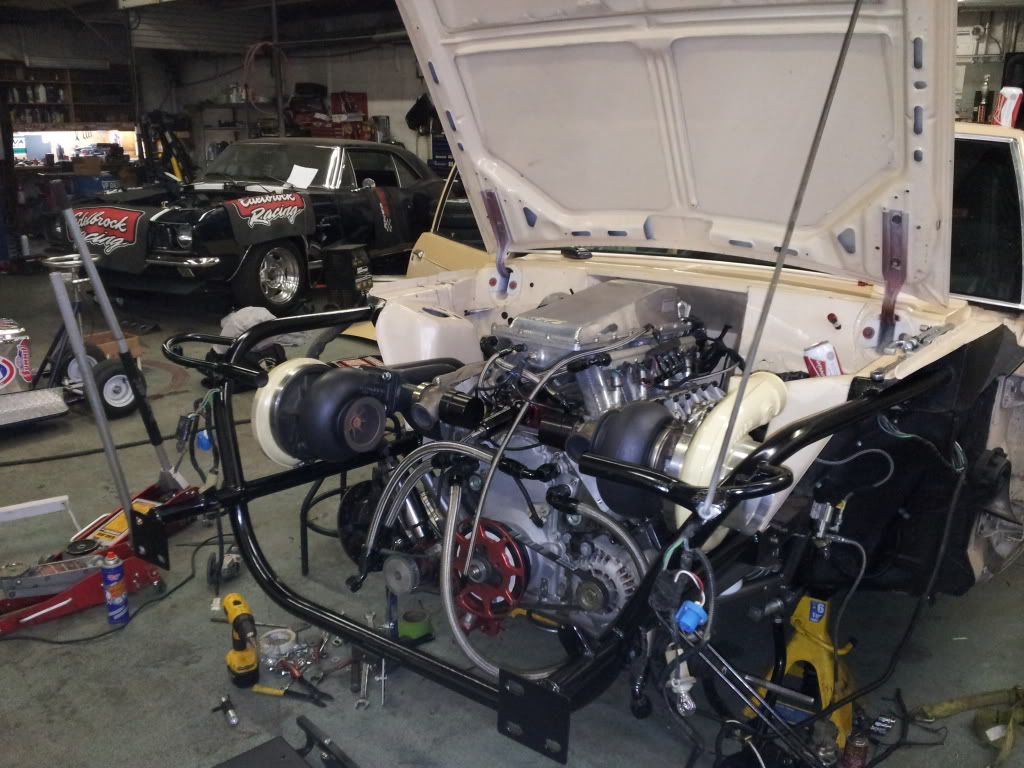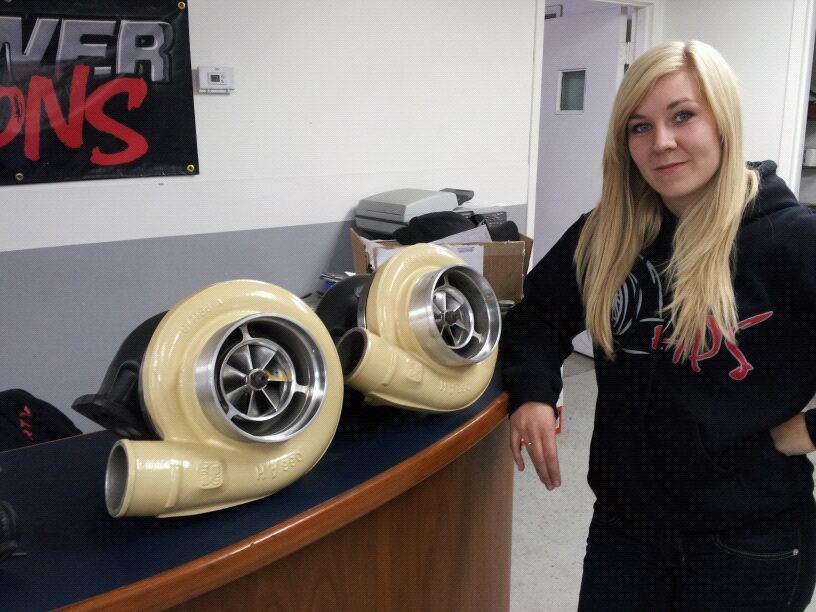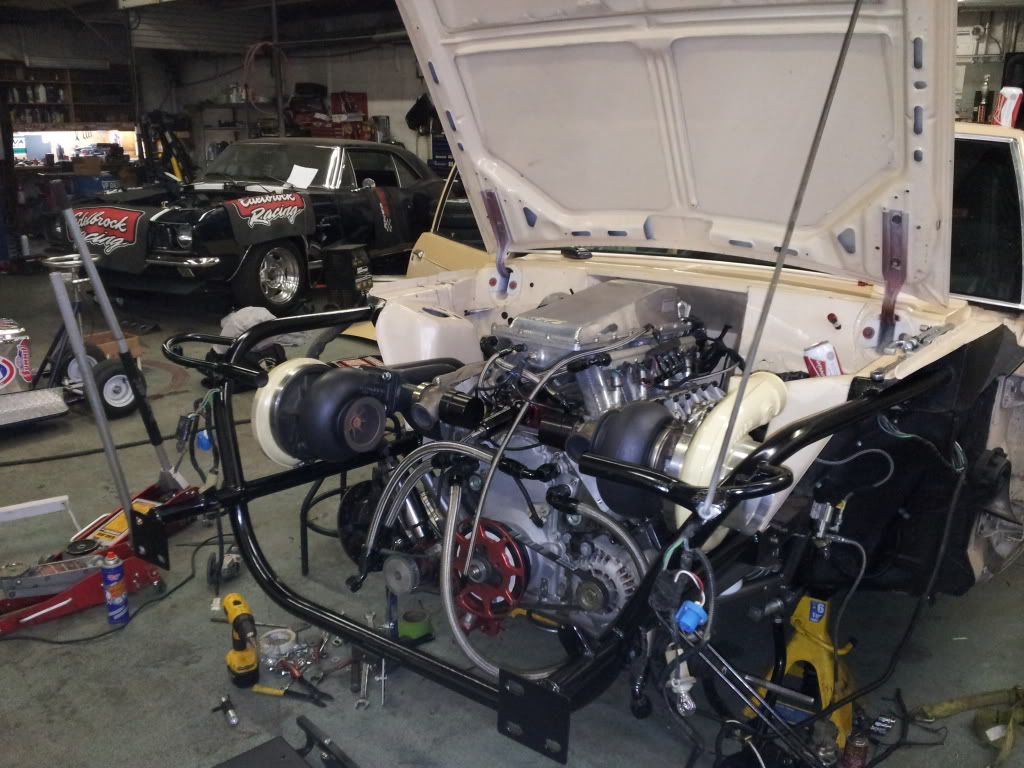 11-4-2012
Been busting ass hard on the car trying to get ready for Vegas.


Fire nozzles through firewall ,there is one inside by my feet as well.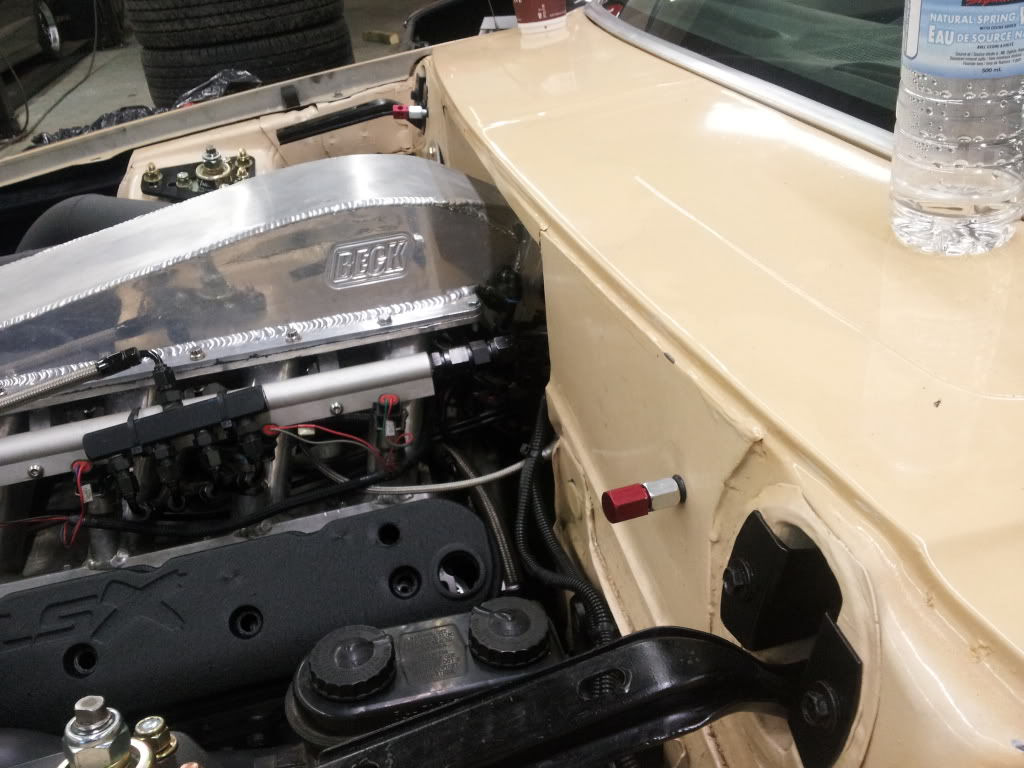 Also got one of the turbo inlets finished up, can't decide if i wanna paint it more shiny silver to match the headlights better.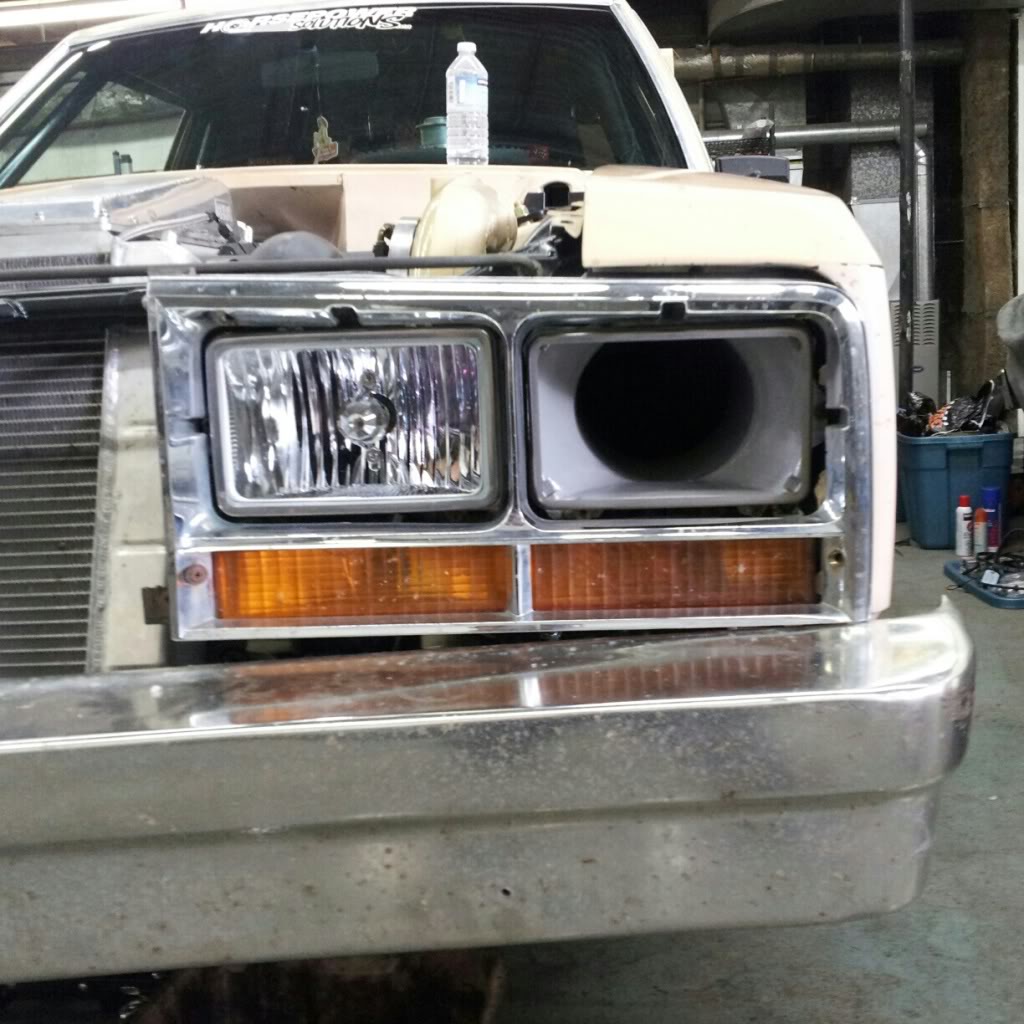 Next up I built an oil catch tray / belly pan. These pic soft show the final product but you get the idea.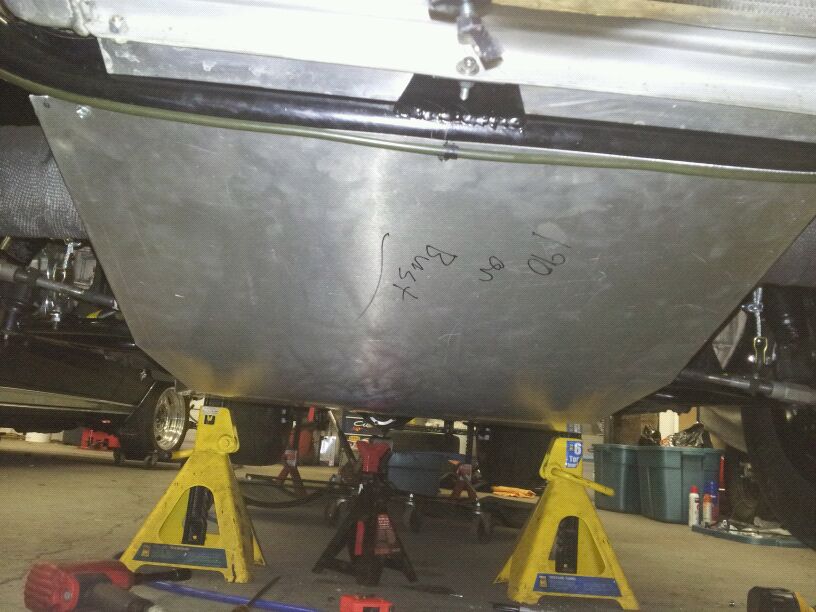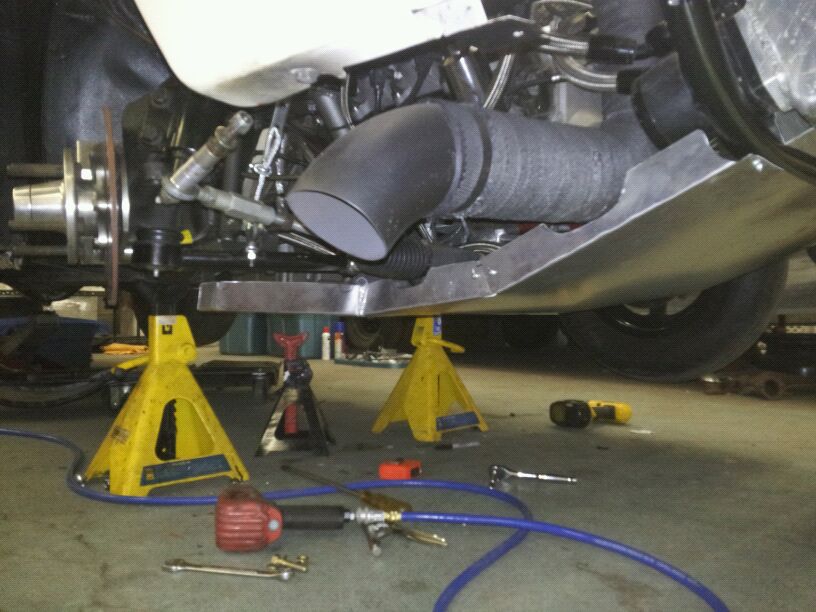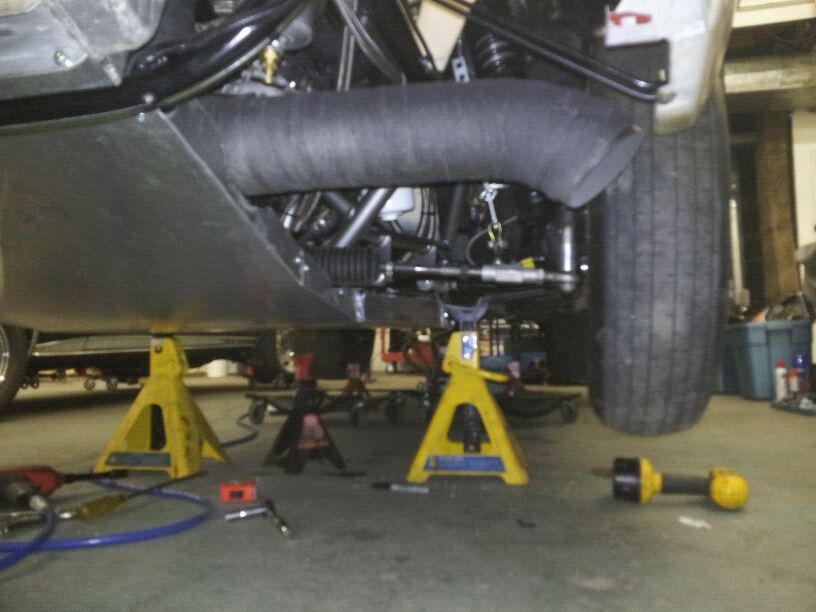 lots more has gotten done just forget to snap pics a lot.
11-6-2012
Thanks guys we will do our best!!! Still got some work to do so tonight and tomorrow we will be going hard getting ready.

Here is a sneak preview of our new shirts, we will have some of these with us in vegas if anyone wants one: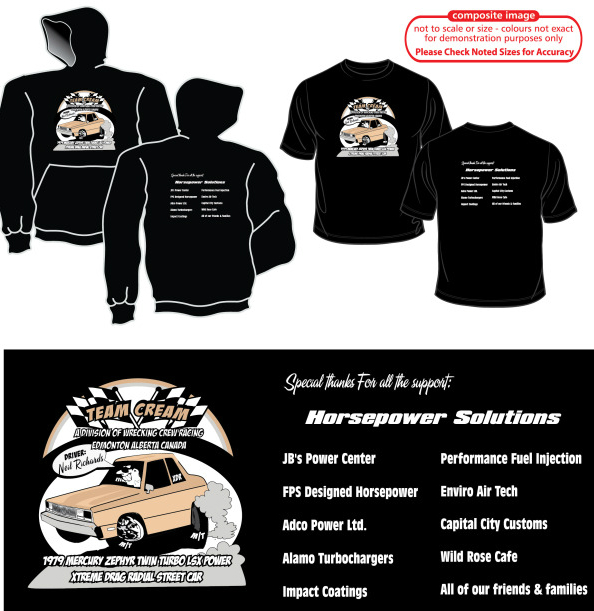 11-27-2012
Thanks a lot guys.... I have some other things in my life that I would like to do /spend money on currently so I dont think a new cage will happen this year anyway. Plus I wanna get CD1 back out on the streets hurting feelings with my GF behind the wheel.

I am thinking I might put smaller turbos and tires on it and go into wild street, I feel confident I could run similar times on a 275 and be competetive in that class.
11-29-2012
Here is some pics we either took ourselves or other people took of the car etc:


Couple shots of the old lump leaving the line and some burnouts on various passes: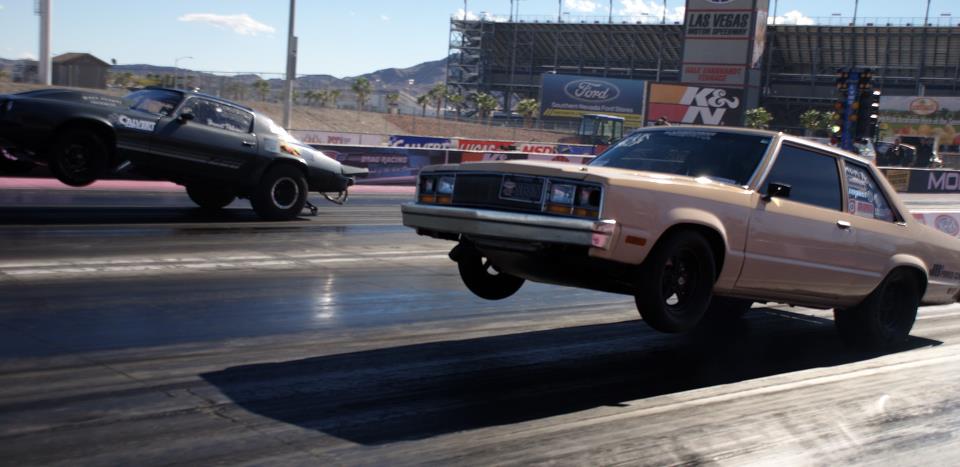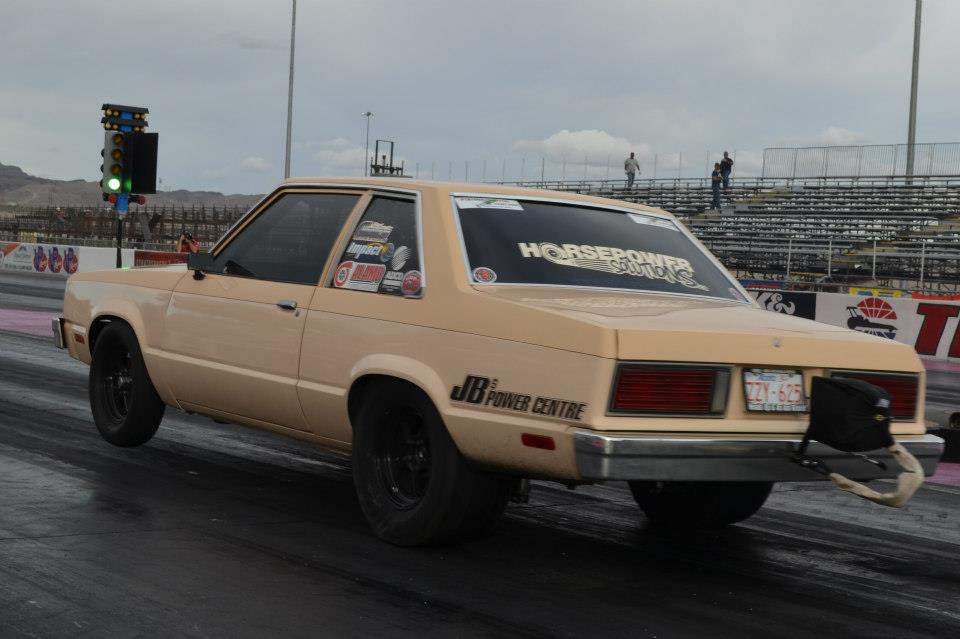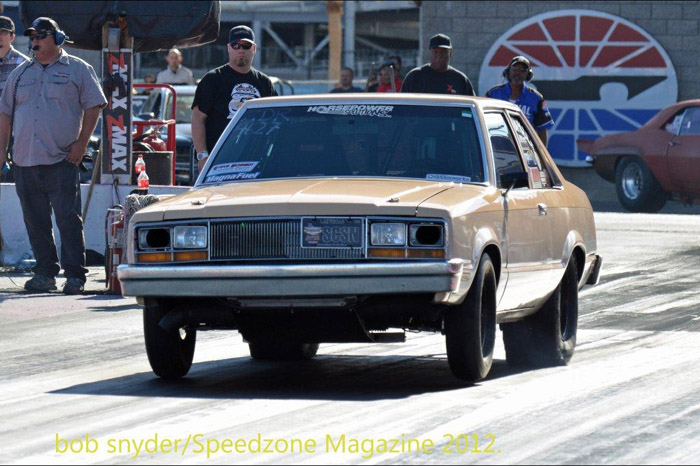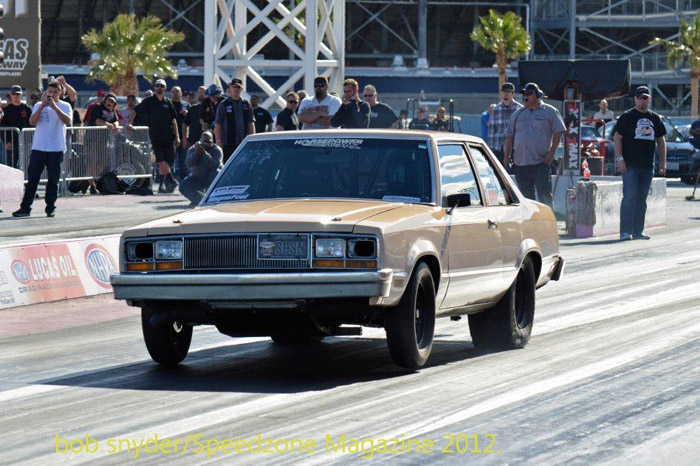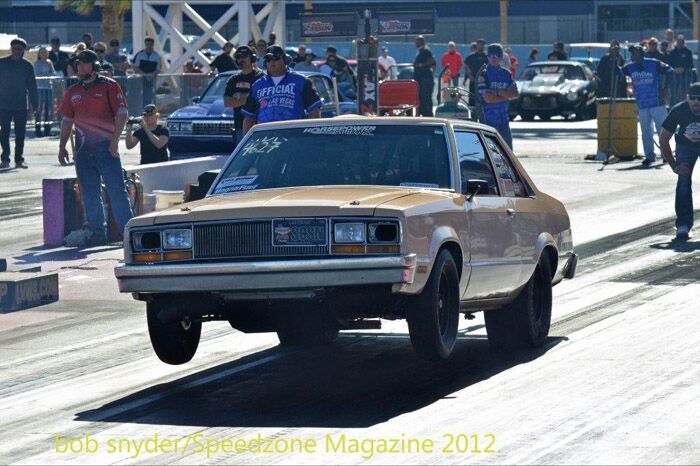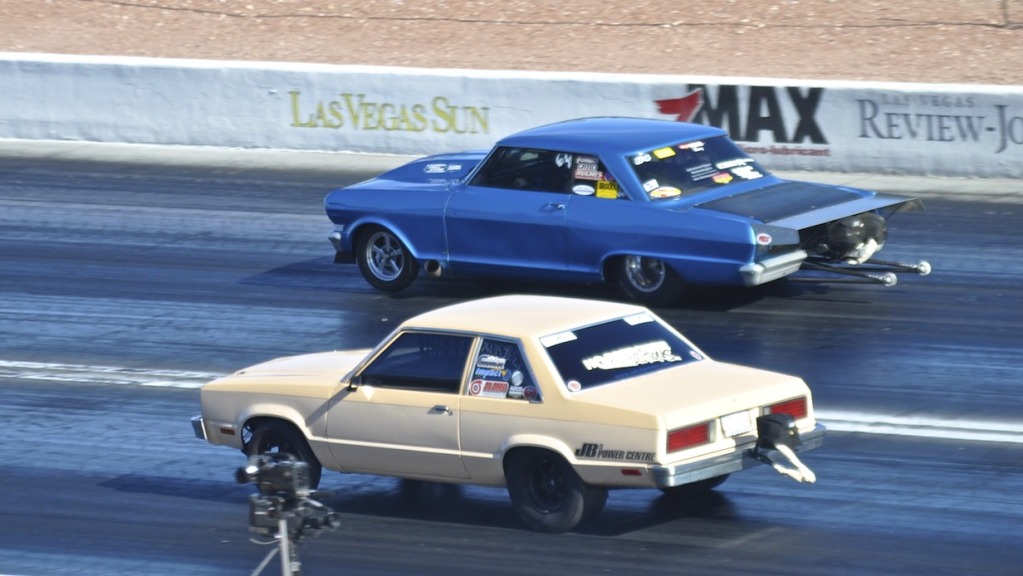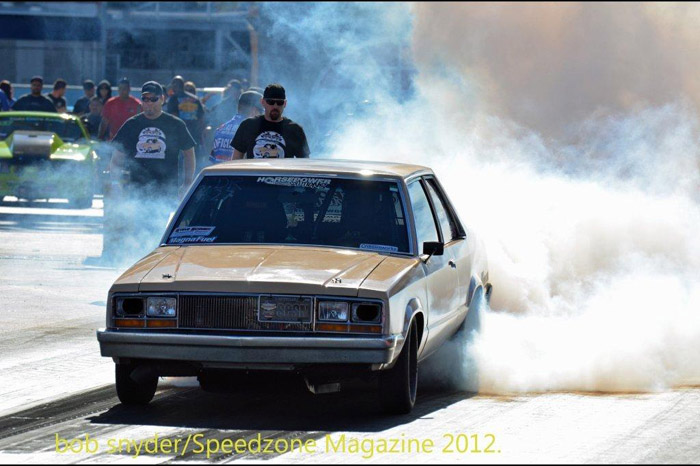 My best 1/4 mile and 1/8 mile ET: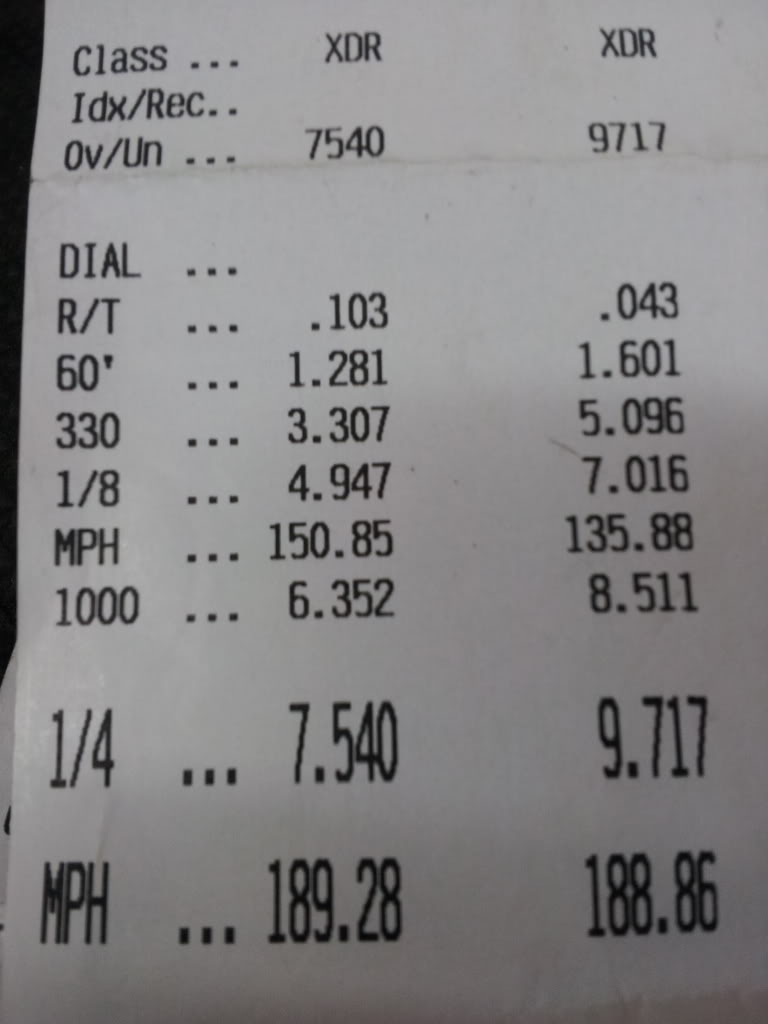 My best Mph out the back: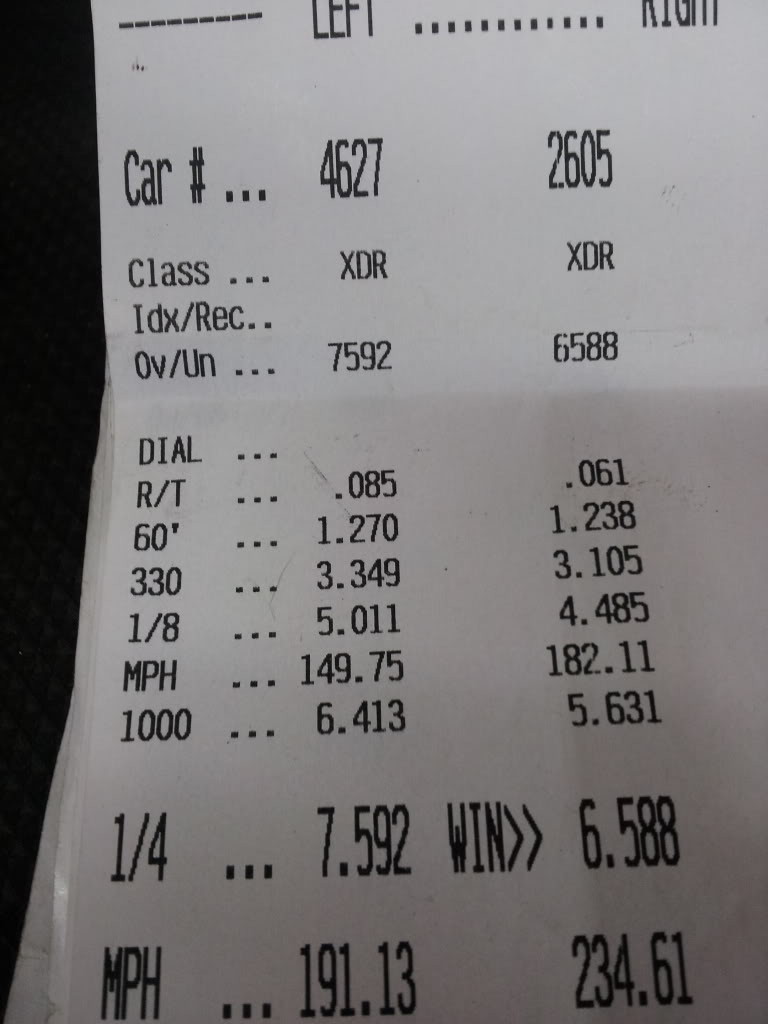 This slip was first round of eliminations I power wheelied past the 60 ft mark ,set it down then power wheelied again out past the 330' then it blew and intercooler pipe off but I stood on it anyway and managed the win on 10psi lol: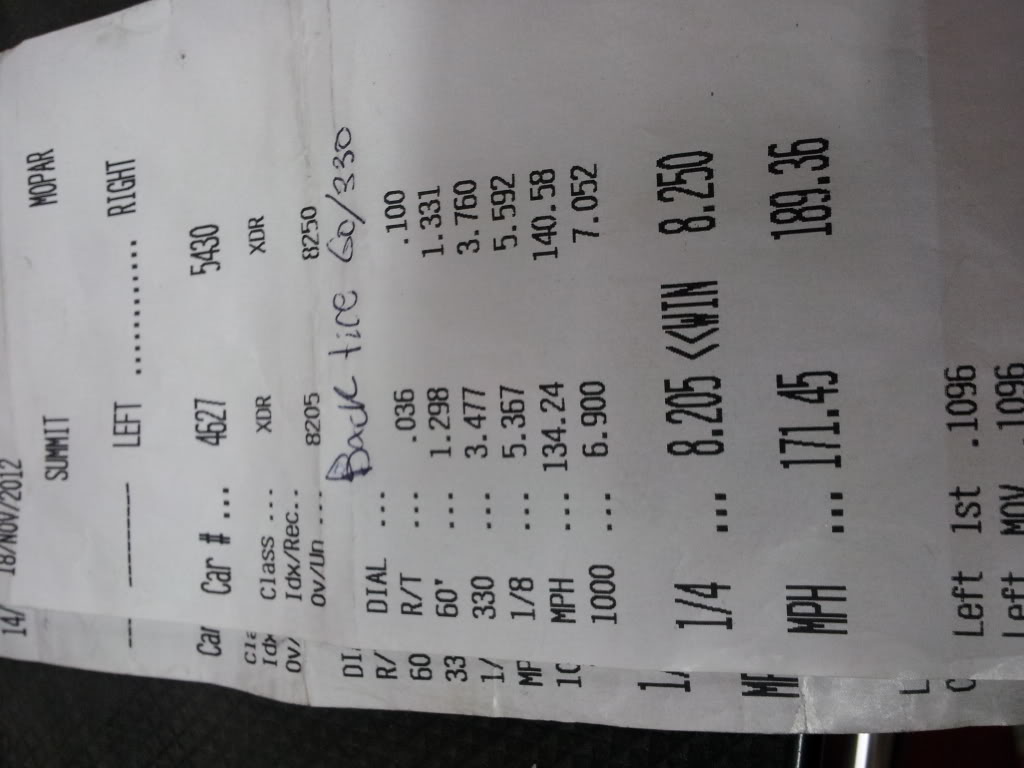 How it looks under the hood after the new valve covers and some more coating from Bruce @ Impact!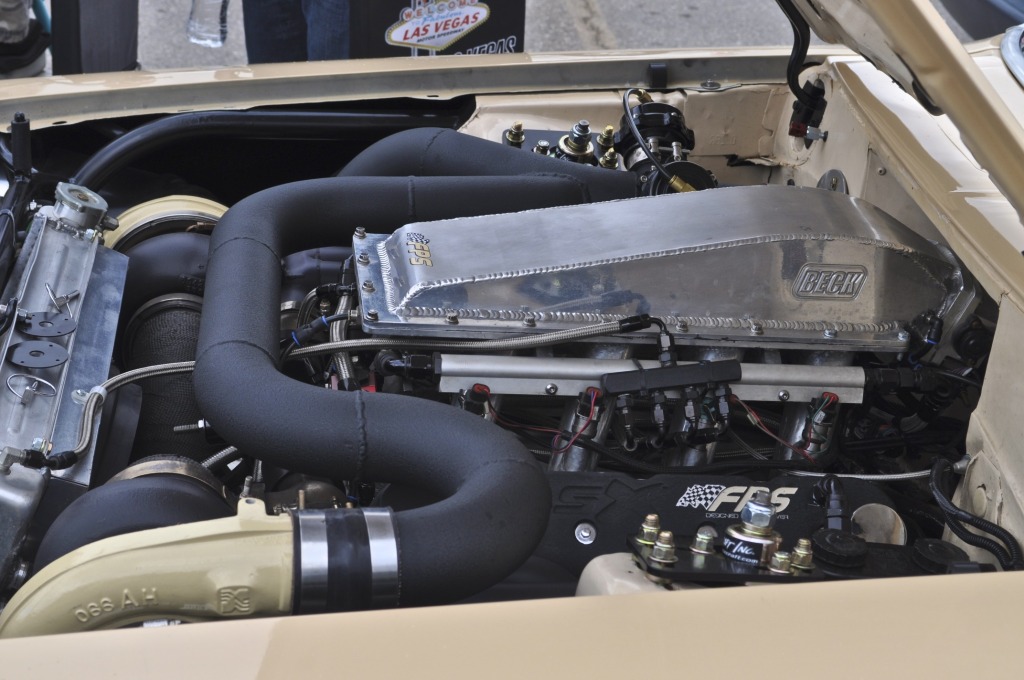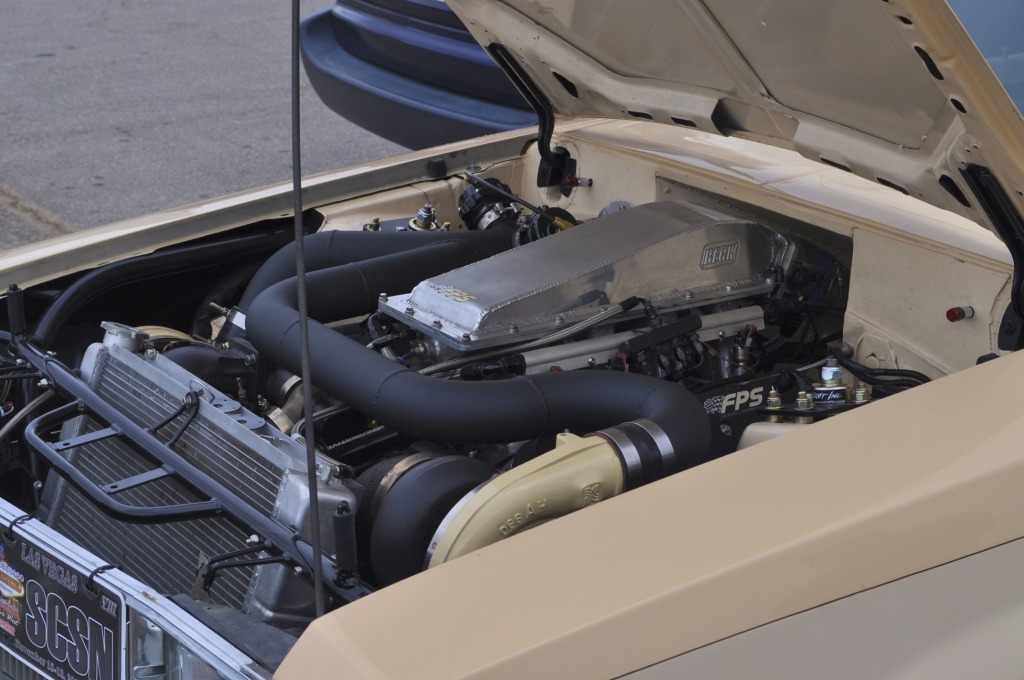 Our new shirts, If anyone wants one in a T or a hoodie send me a PM.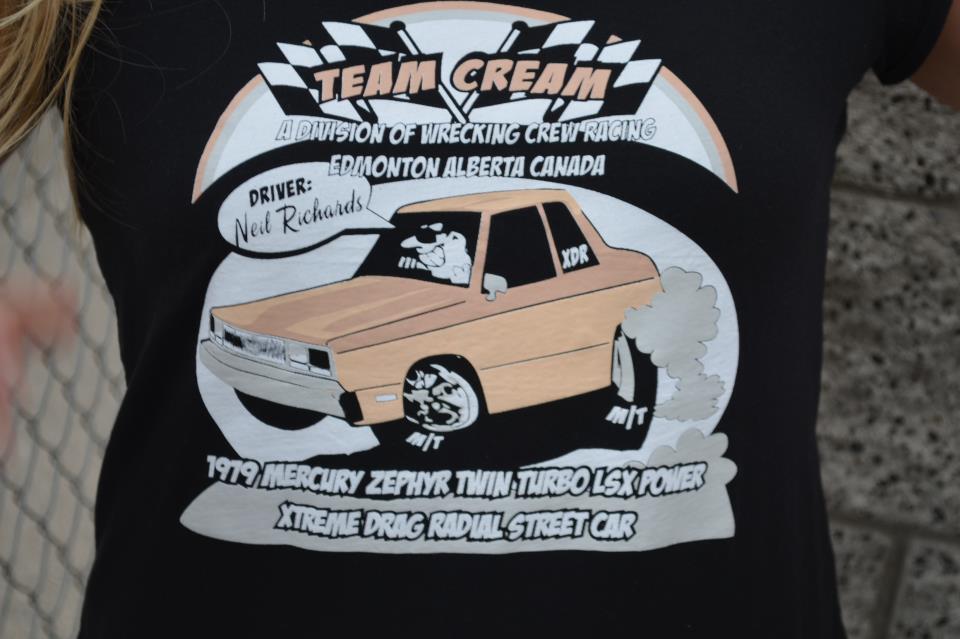 Cruised it into vegas and cruised the strip, did a few burnouts on freemont and a few nice 25 psi highway tugs resulting in rolling 150 mph burnouts lol Here is the lump parked in the planet hollywood parkade where it set off about 500 car alarms LOL: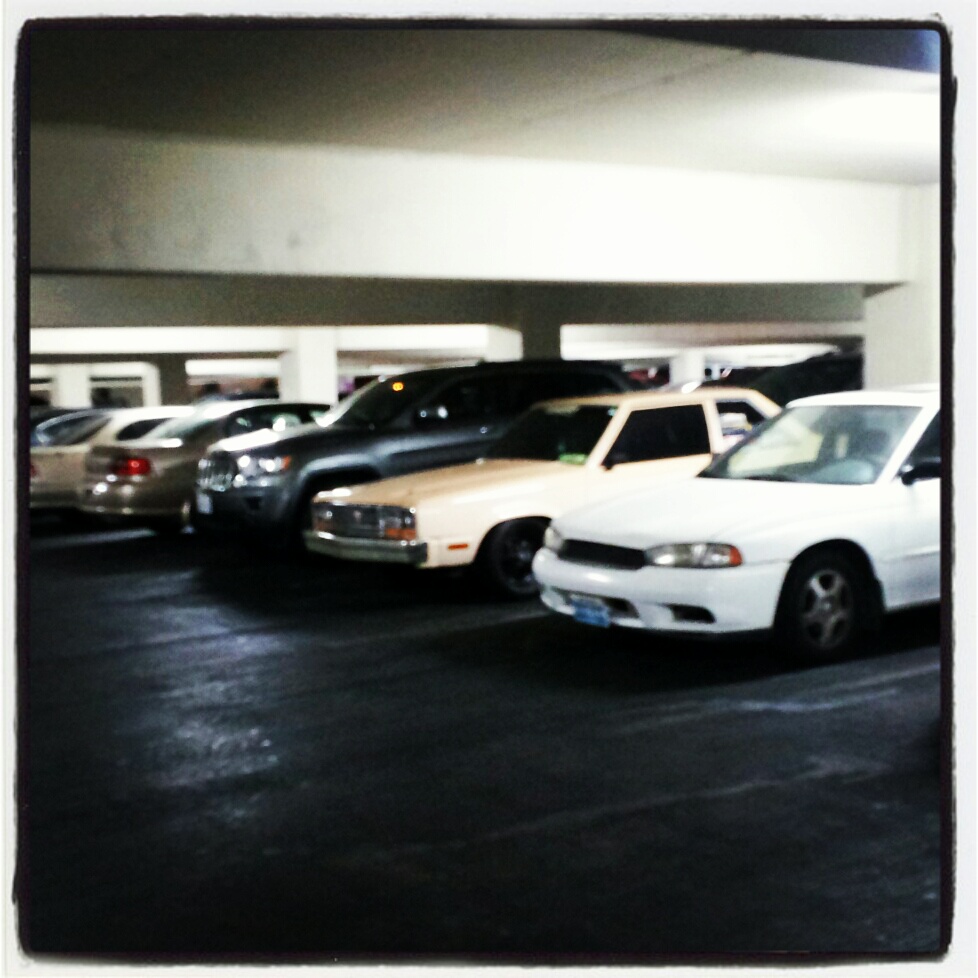 12-1-2012
Me and my awesome Girlfriend enjoying a cold one after a day of super fun racing!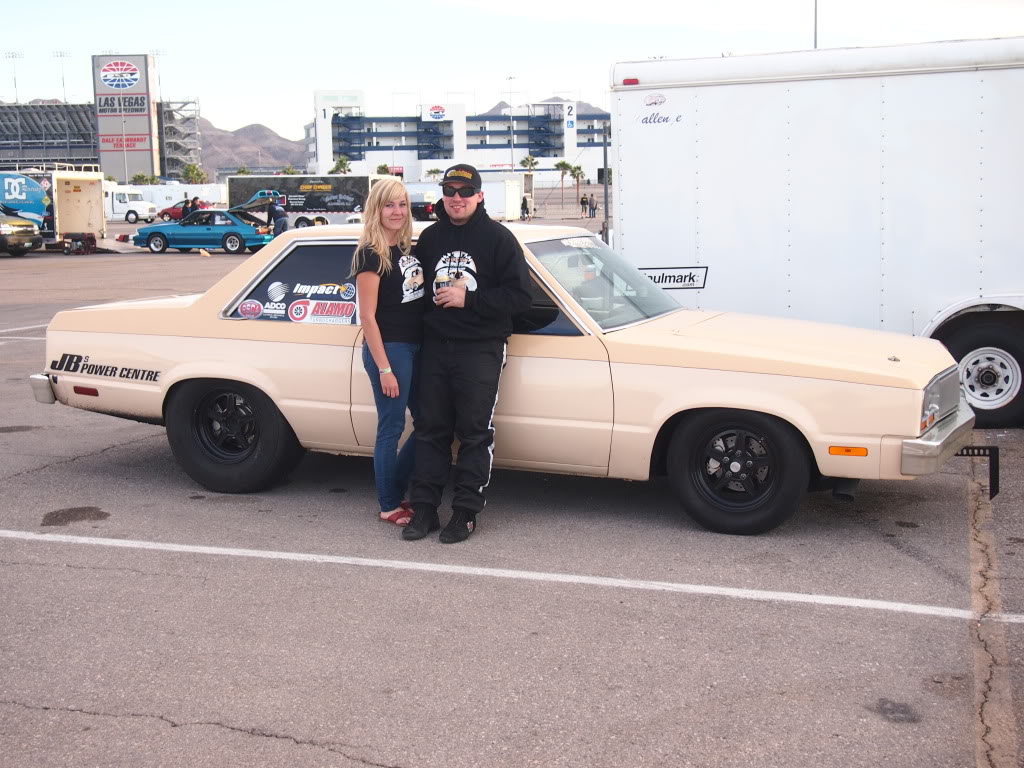 I am pretty happy with this for my street car that I didnt have to work on the whole weekend then took it cruising afterword: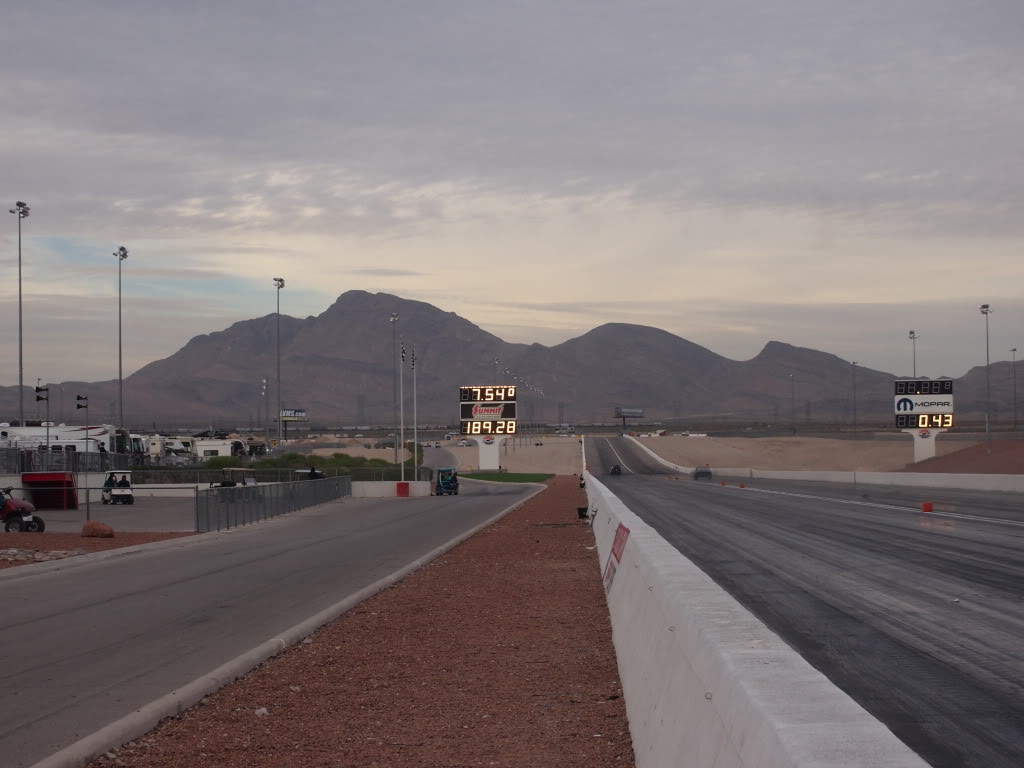 The whole crew together for a shot after the races :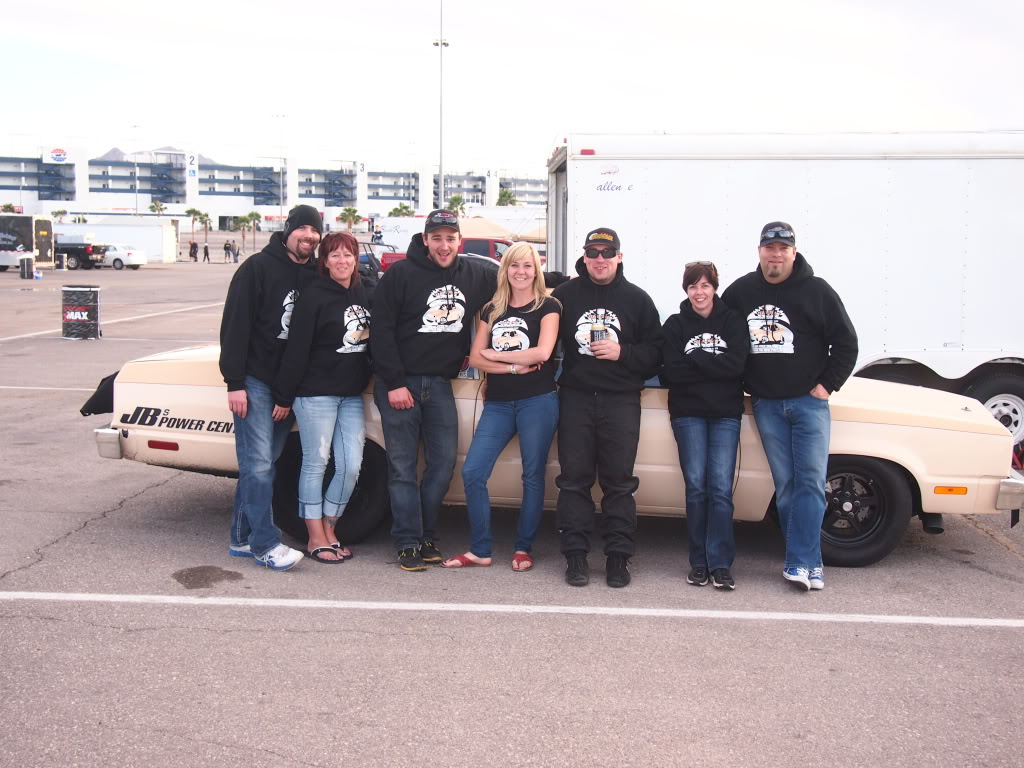 Parked out front at the four queens on freemont street, About to go let em howl off the chip lol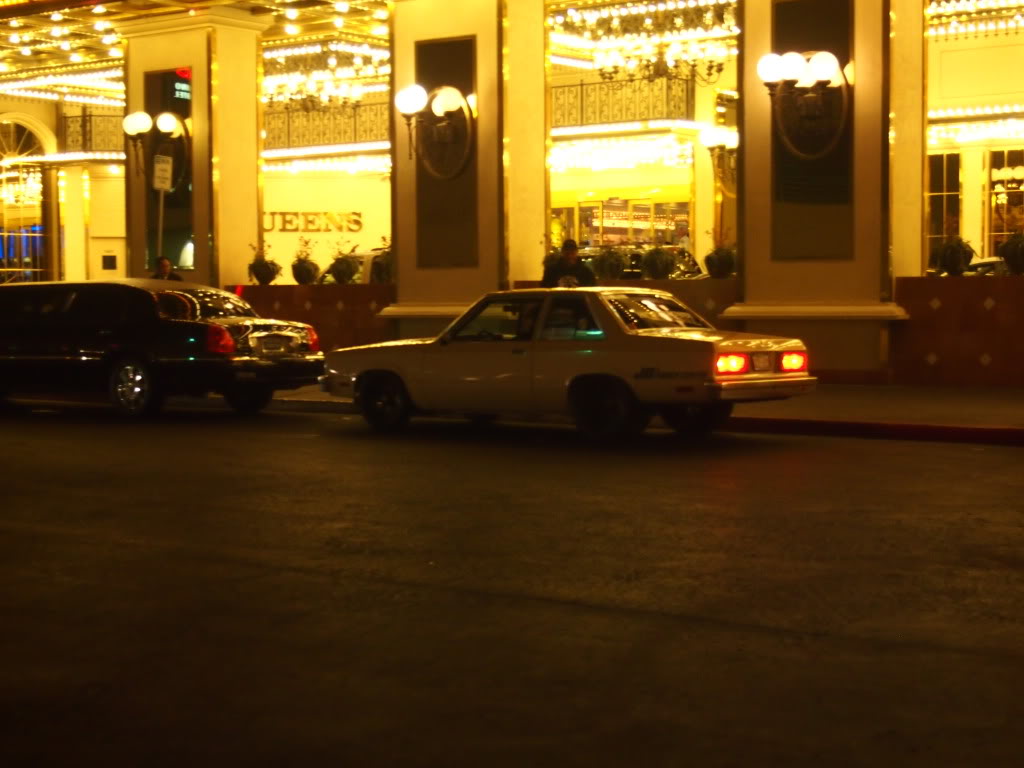 First round eliminations wheelie, I pedaled it so it would come down then rolled back into it and it went right back up... wheelied out past the 330' Cones: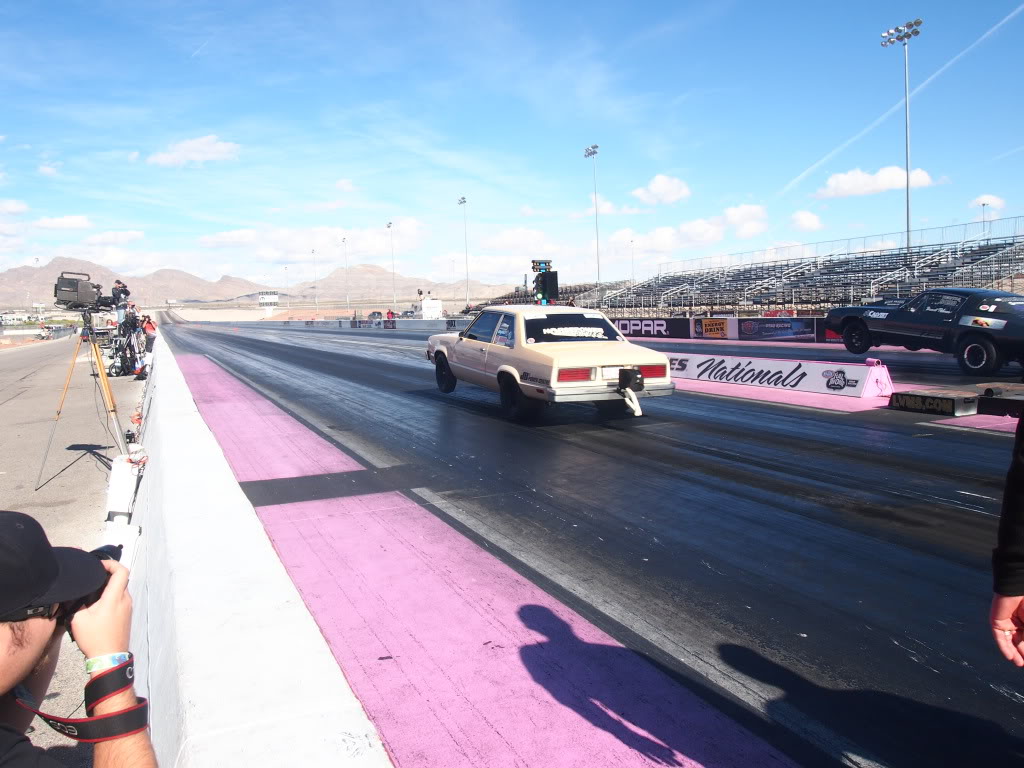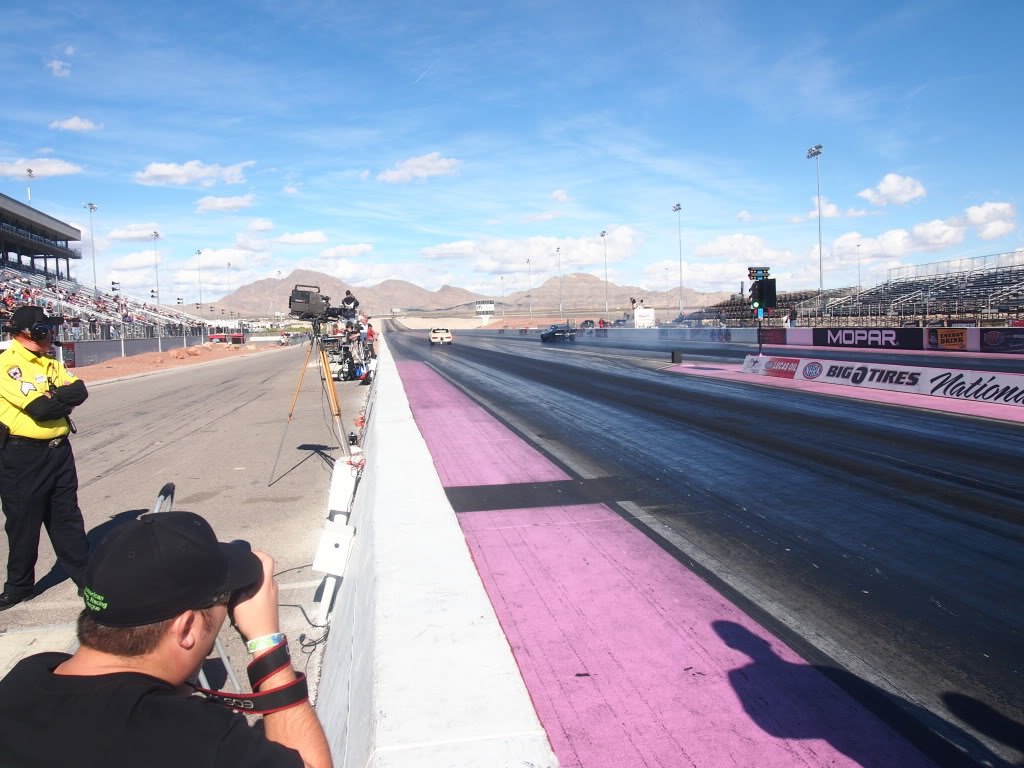 Here is a video of that same pass from the stands:





12-19-2012

Cool SHot from the pits in vegas.

2-7-2013
Here is a super bad ass video someone put together for me of my car at the SCSN 8 race in vegas.

http://www.youtube.com/watch?v=sMlxG...Pozaig&index=2


Car is apart for winter maintenece and upgrades:

Engine freshen up (some small changes)
New wheels
Trans Freshen and some different parts
maybe some weight reduction

some smaller tires and see how she does in the spring lol!
2-12-2013
Engine and trans freshen up / turbo inlet restrictors LITTLE tires and new wheels oh and some more cleaning up is whats in store for CD2 this winter. If I can get all that done then I might try to get some more weight out and maybe make it down towards minimum weight finally.
3-29-2013
Alright guys here Is a few pics of what's new with the car. New front wheels along with new rear double beadlocks both will go to be coated black. Also got the turbos back from their check up and freshen and last Is a picture of the old pistons.

Stay tuned for more updates!!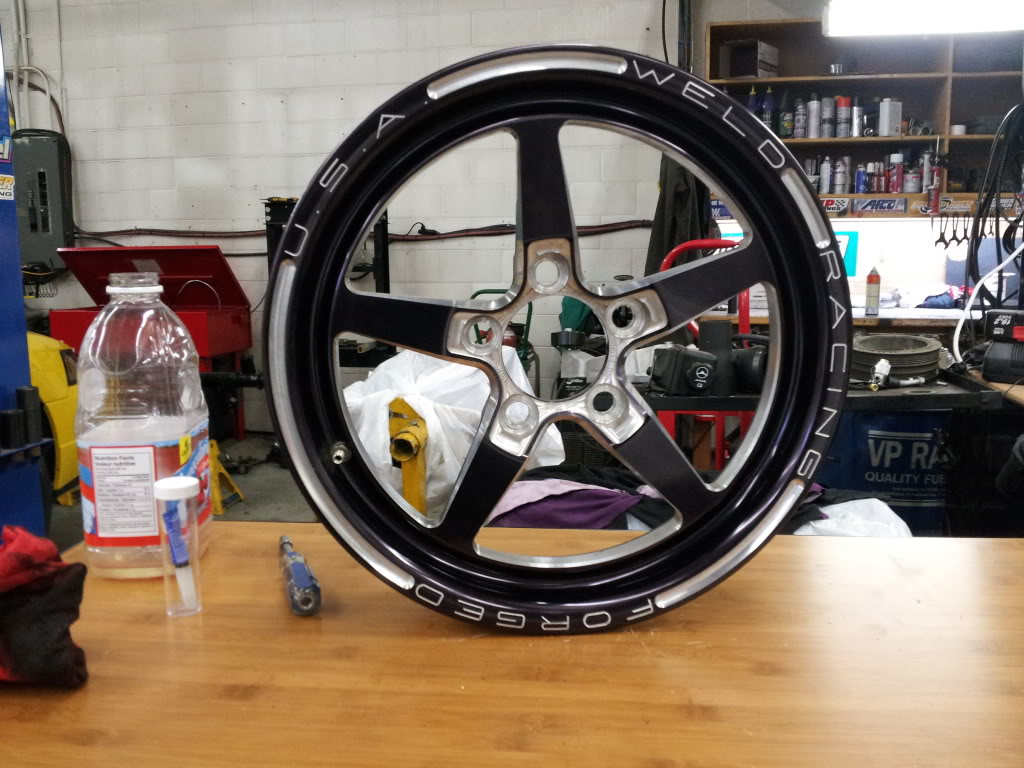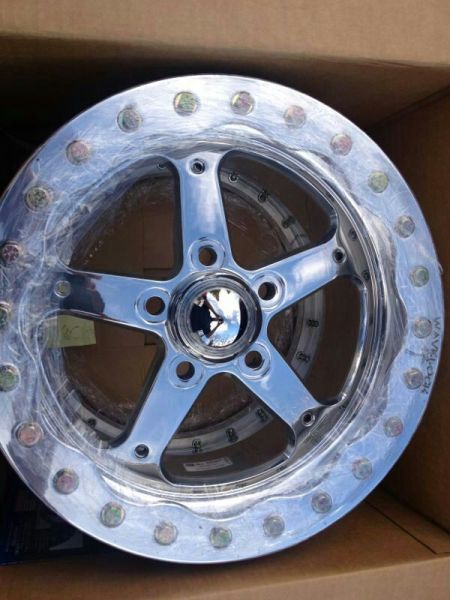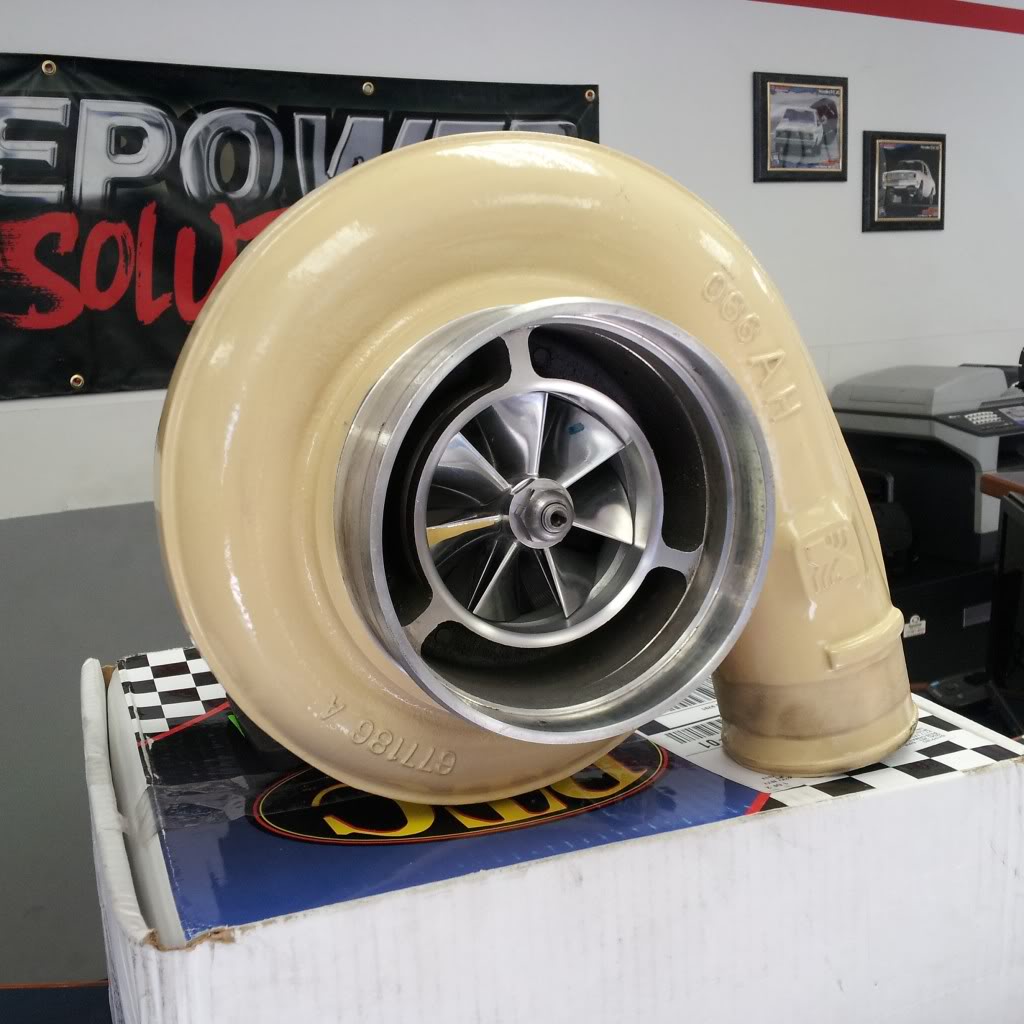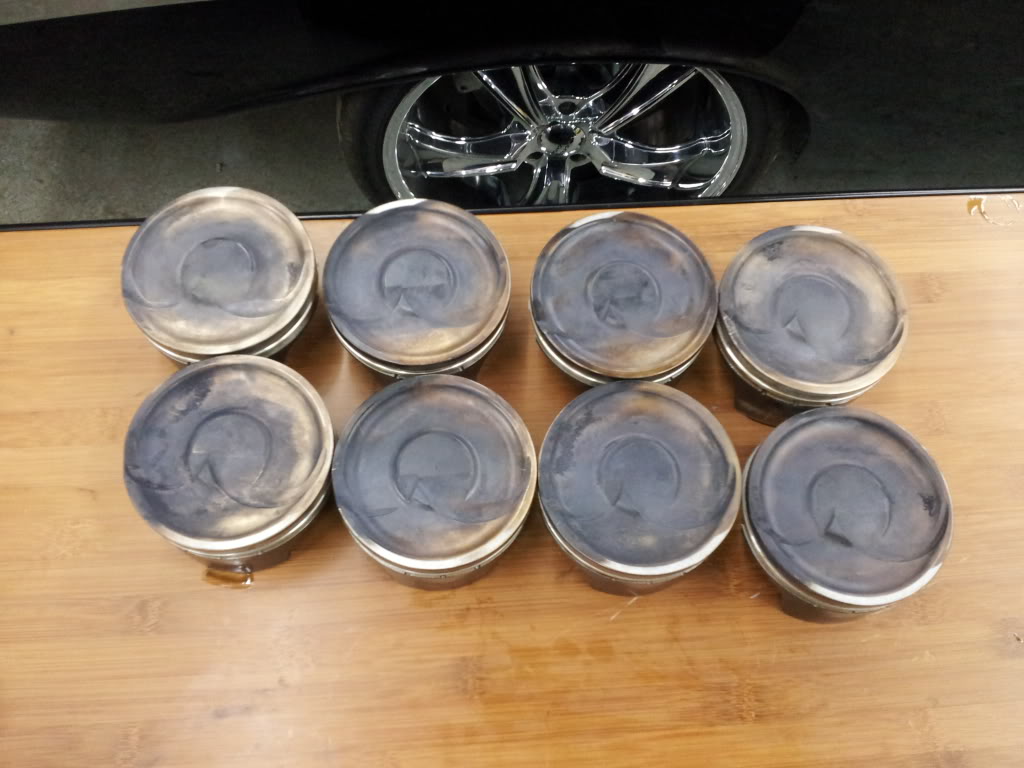 4-5-2013
Ordered a new aluminum driveshaft for this car so I can take the one that was in it and put it back in my other car "cream dream 1" Going to rebuild the trans this weekend with some upgrades as well. Waiting on some engine parts to get the mill back together, hoping to have it all together by early june for the first race.
4-7-2013
Spent the day building a couple of poweglides. One is my Reid case full roller deal for this car and my other one is for my other car "cream dream 1" that one is a bunch of goodies in a stock case.

I also see why they say an 8 clutch drum can only take around 1500 hp lol toasted the clutches bad....still went 191 like this LOL

Upgraded to a 10 clutch drum and will likely boost line pressure a bit more to help holding as well.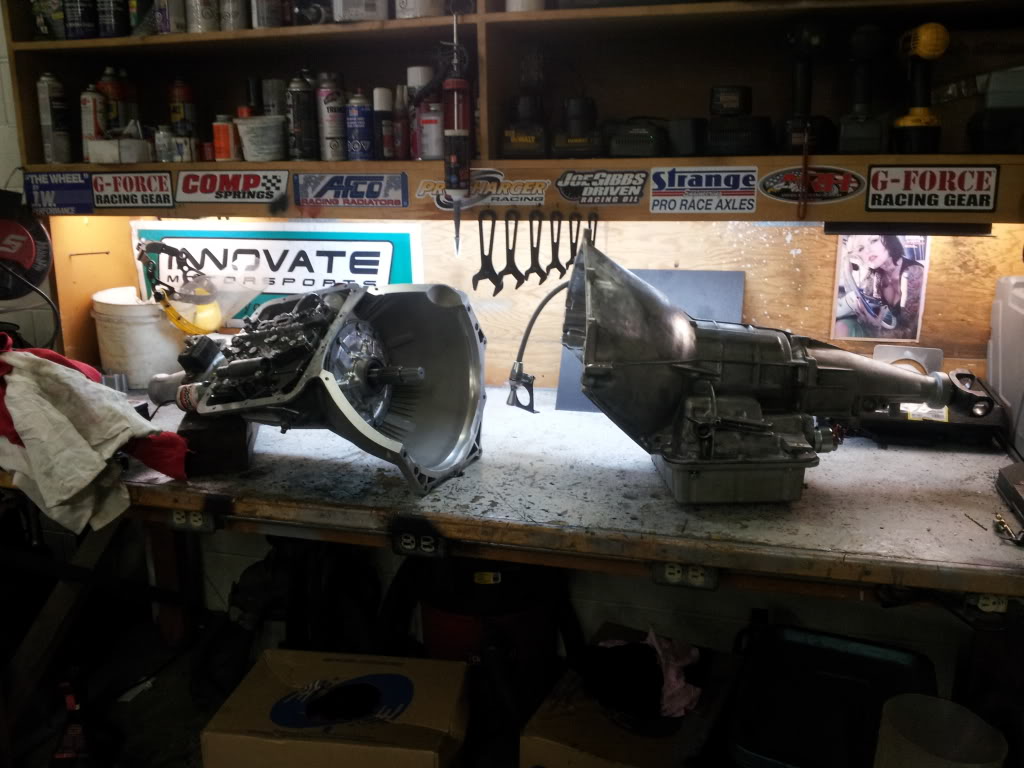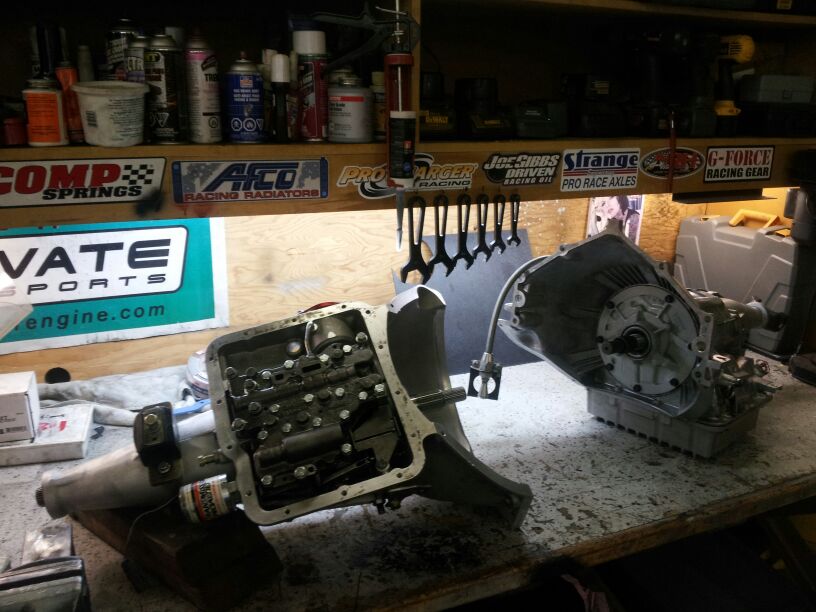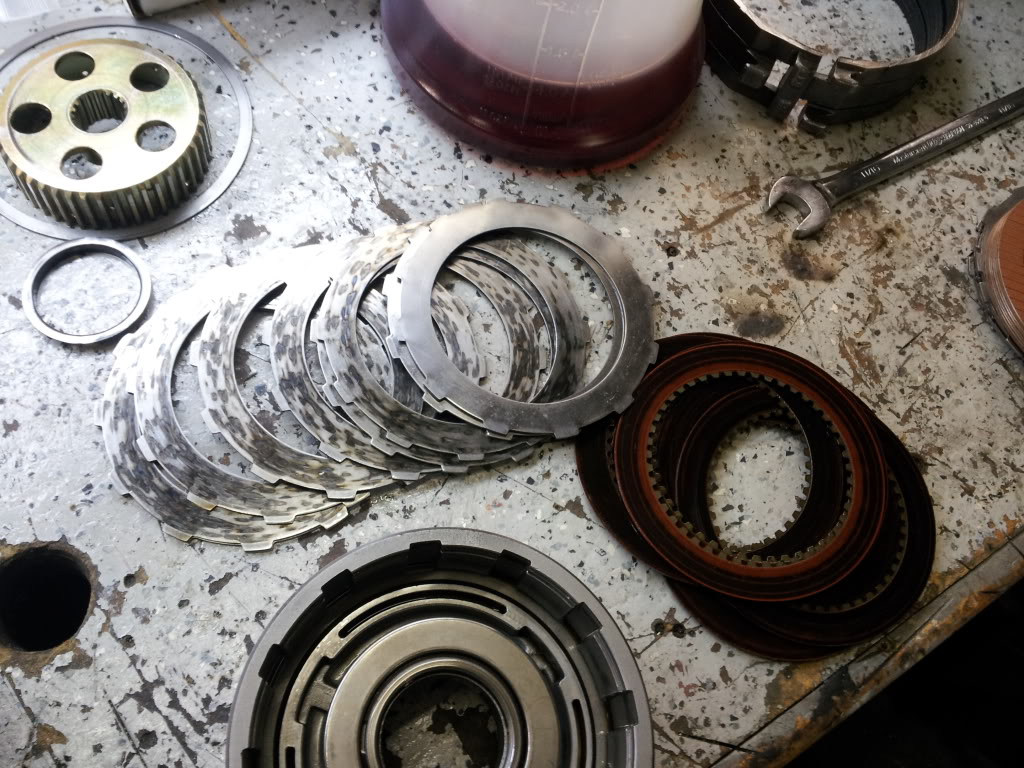 Should have some more updates soon. I am going to drop off the block for a hone and wash asap and then get the new pistons coming.
5-28-2013
not much new , got my new wheels all coated and ready to go on, engine is still apart waiting for some new goodies to show up. Not really a lot of news to report, hoping to get it back together as soon as I can. Also been working on my old car some as well trying to get it back together. That combined with taking over our business has got me pretty busy lately!!
6-14-2013
Ok guys, just a small updates for inquiring minds. Got my new wheels and tires all mounted up: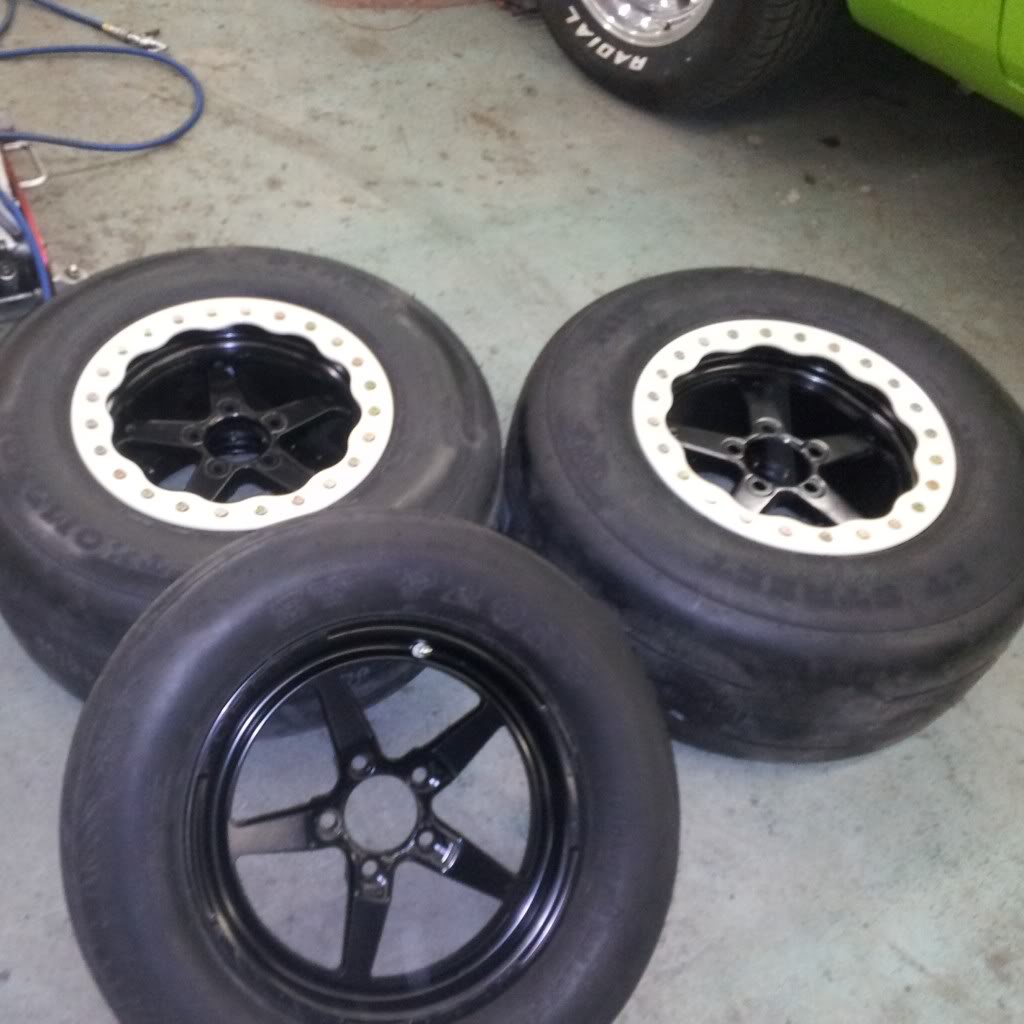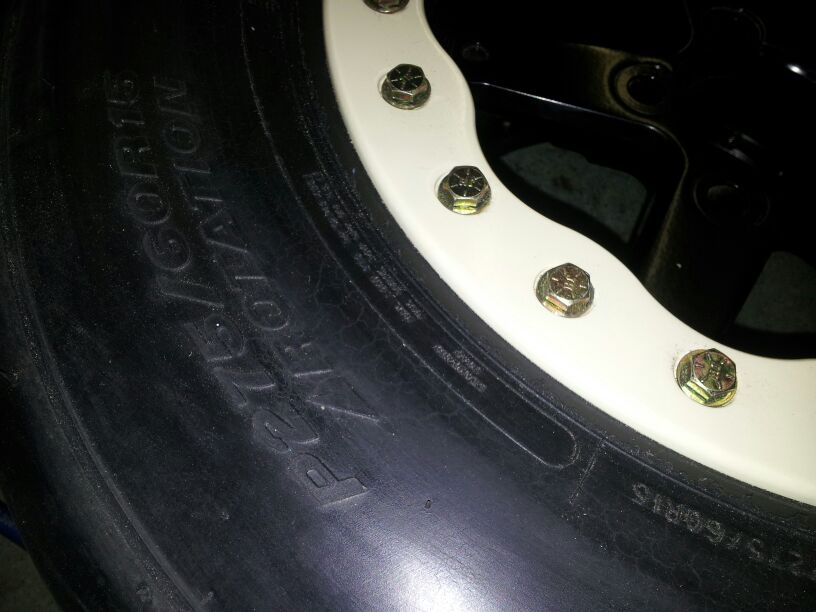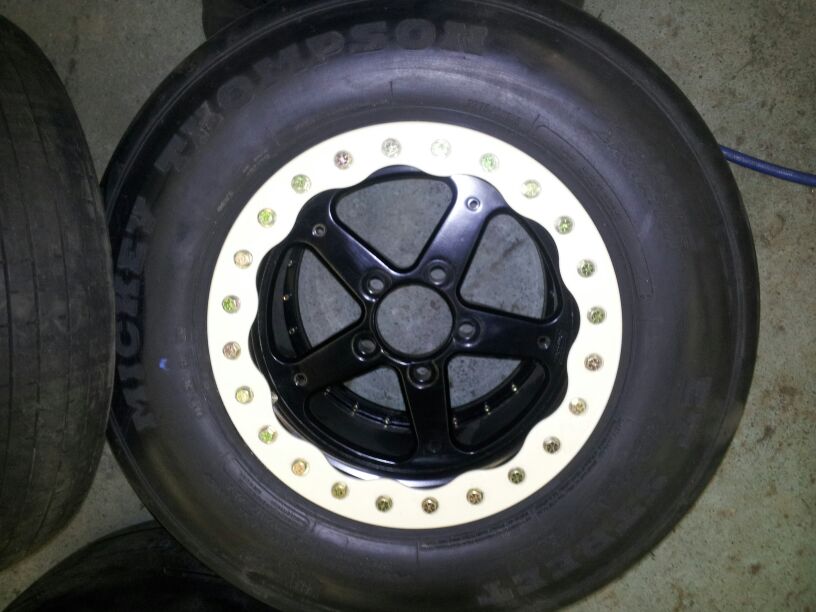 Also have Ron Shearer and wiseco pistons helping me out on some bad ass new billet slugs I should hopefully have soon so I can get Flyin Ryan and RWR engines to set up the balance etc and mail it all back to me.

Keep posted for more pics!
6-24-2013
Flyin Ryan and RWR Engines worked thier magic on the crank/rods and got them all balanced and shipped out, Ron Shearer/Adam Silverthorn @ Wiseco pistons have my new custom billet pistons done and on the way to us. SO with any luck we can assemble this thing this week and get it back in the car for some street driving/ testing before we head out to Door Warz @ Mission Raceway july 5-8.

Pics will come once the goodies start showing up!!
6-26-2013
Picked the car up from my awesome in laws who stored it for me for the winter!

Put on the new wheels and 275s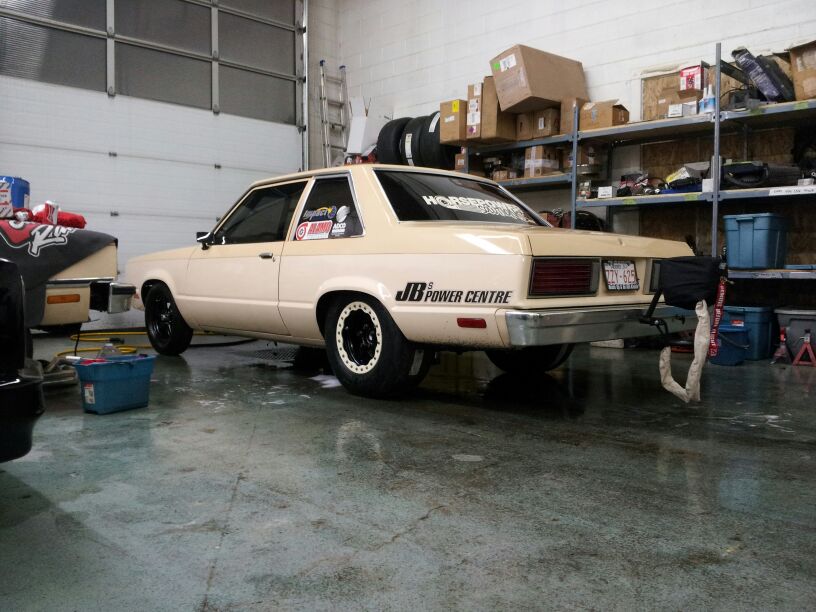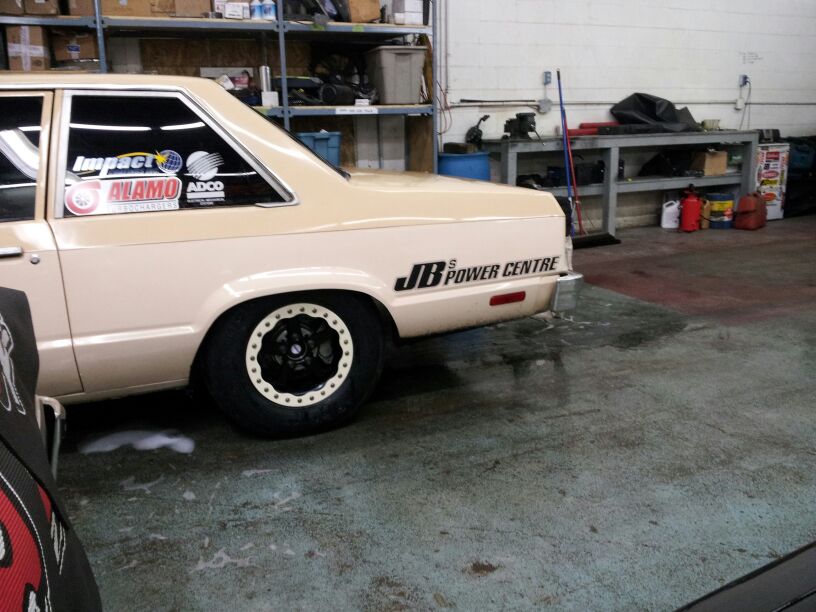 Engine assembly starts tomorrow!
6-29-2013
Here is a few pics of what's going on currently:

Engine assembly is under way
Diff is apart for a gear change and general inspection.
Got a few of the pro 275 radials lol


Hoping to be running Sunday or Monday :-)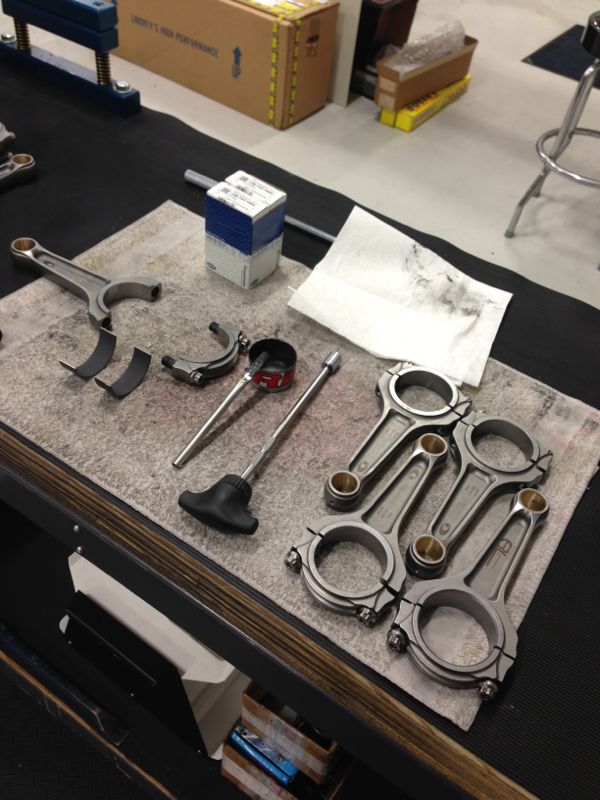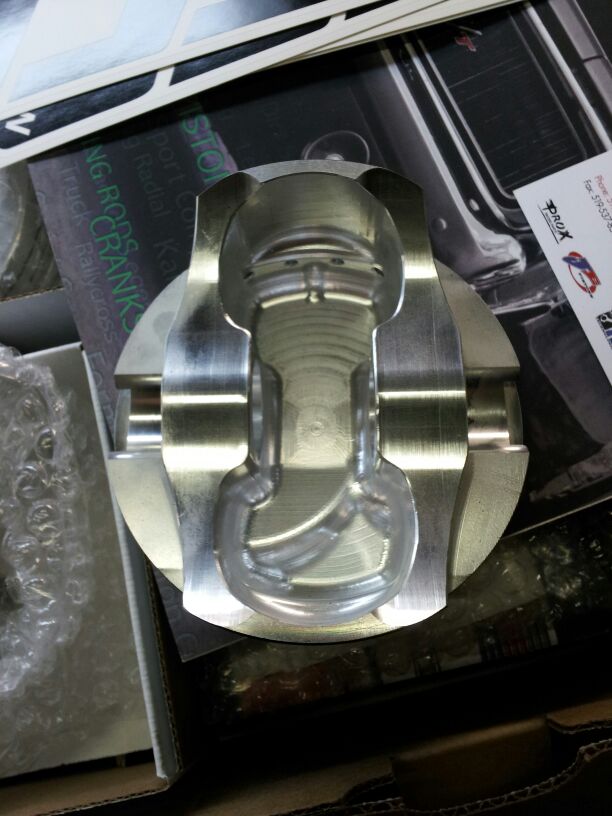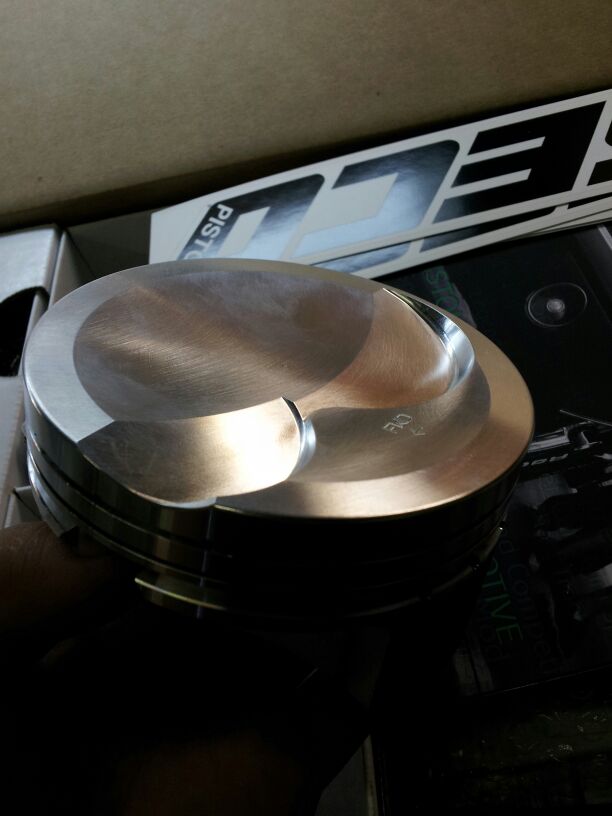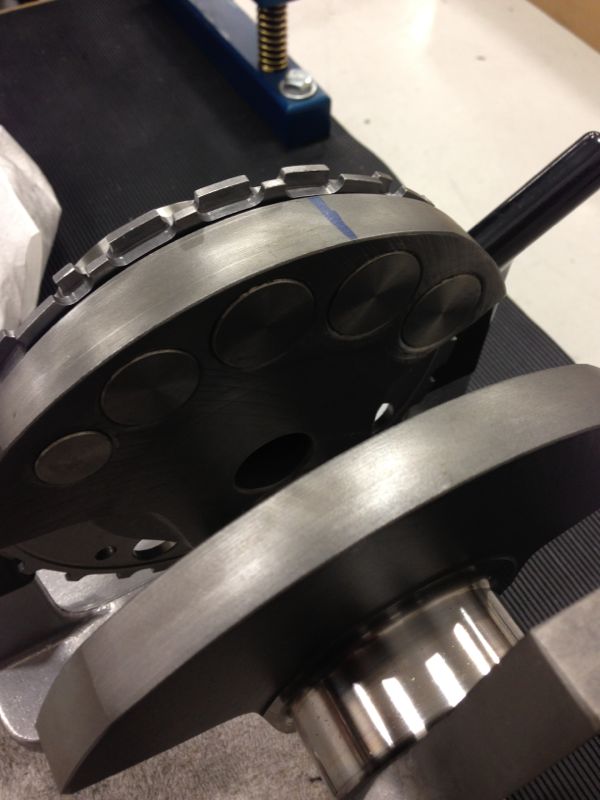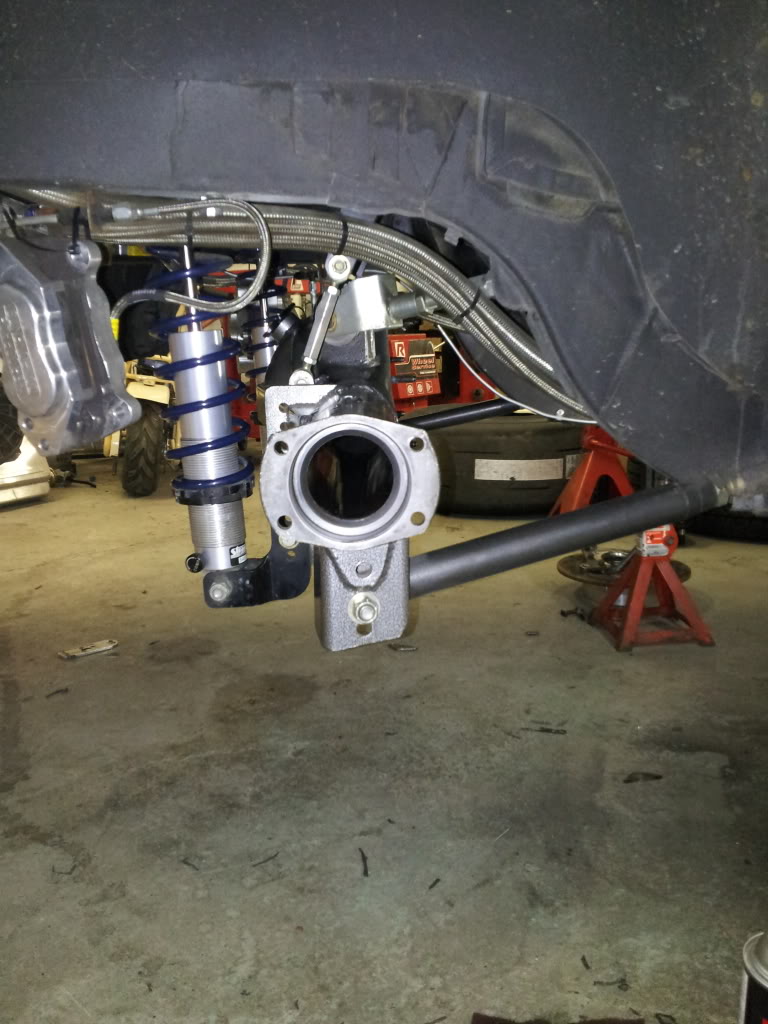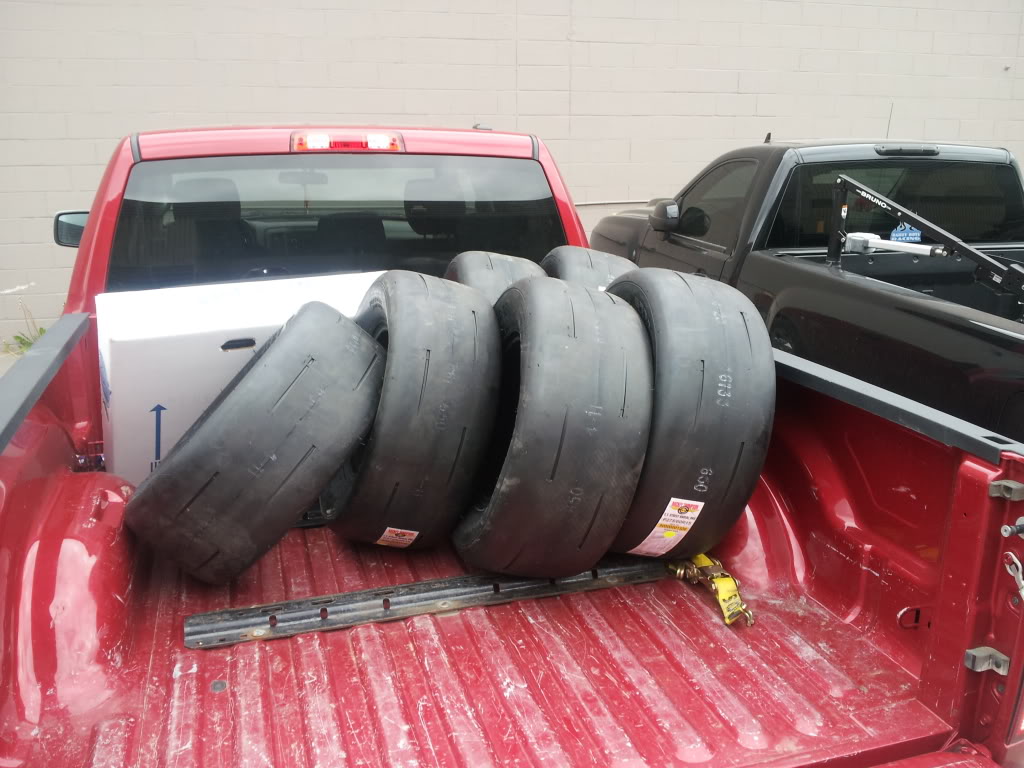 7-3-2013
Mike yes we are coming out this weekend. The link is on turbo forums ill have to find it.


We have been burning the midnight oil trying to get this thing together! Big thanks are needed for a pile of people but ill do a proper thank you after the weekend when we have a trophy to go with it lol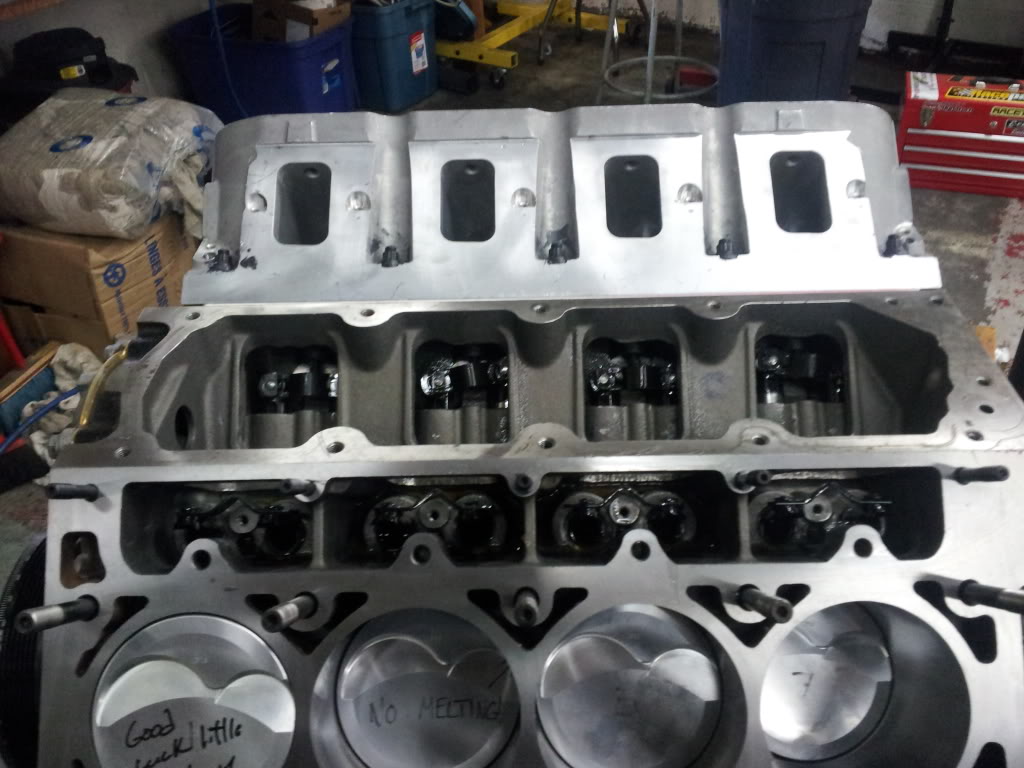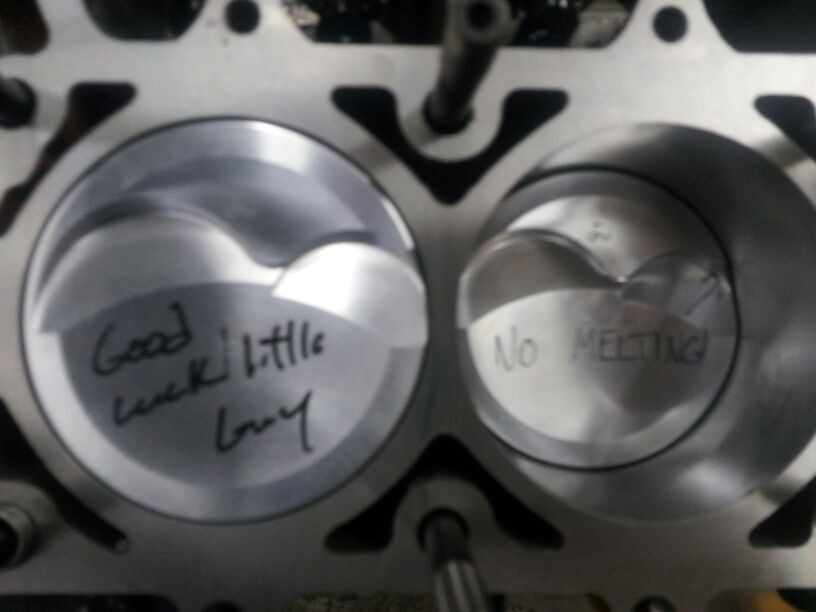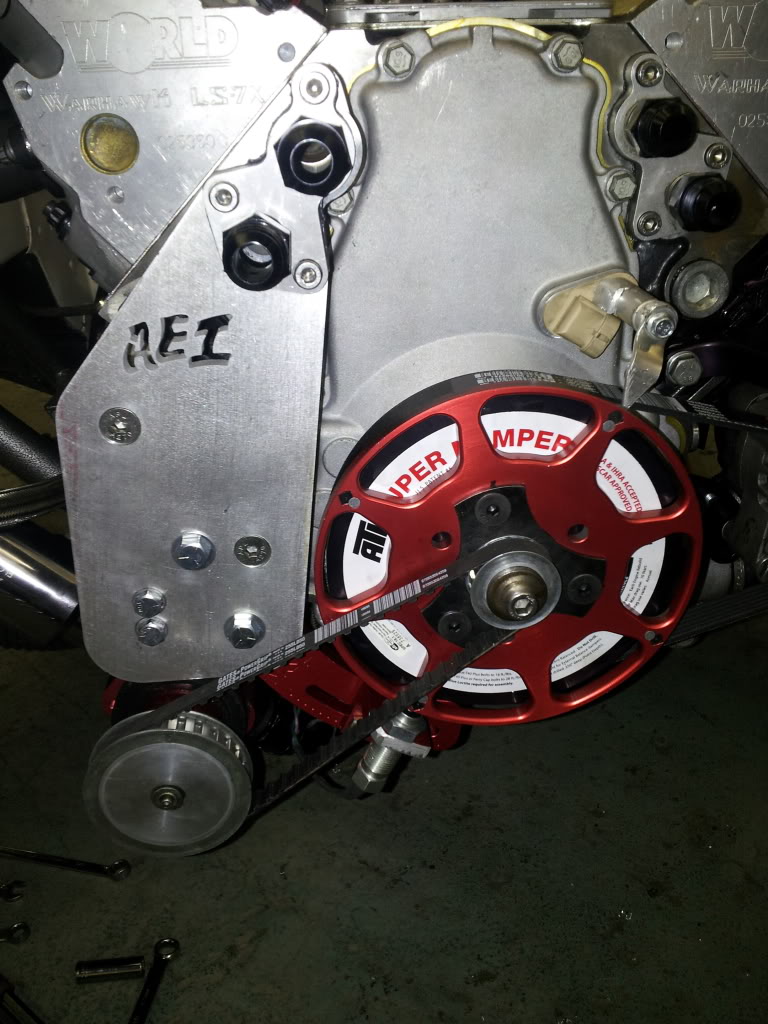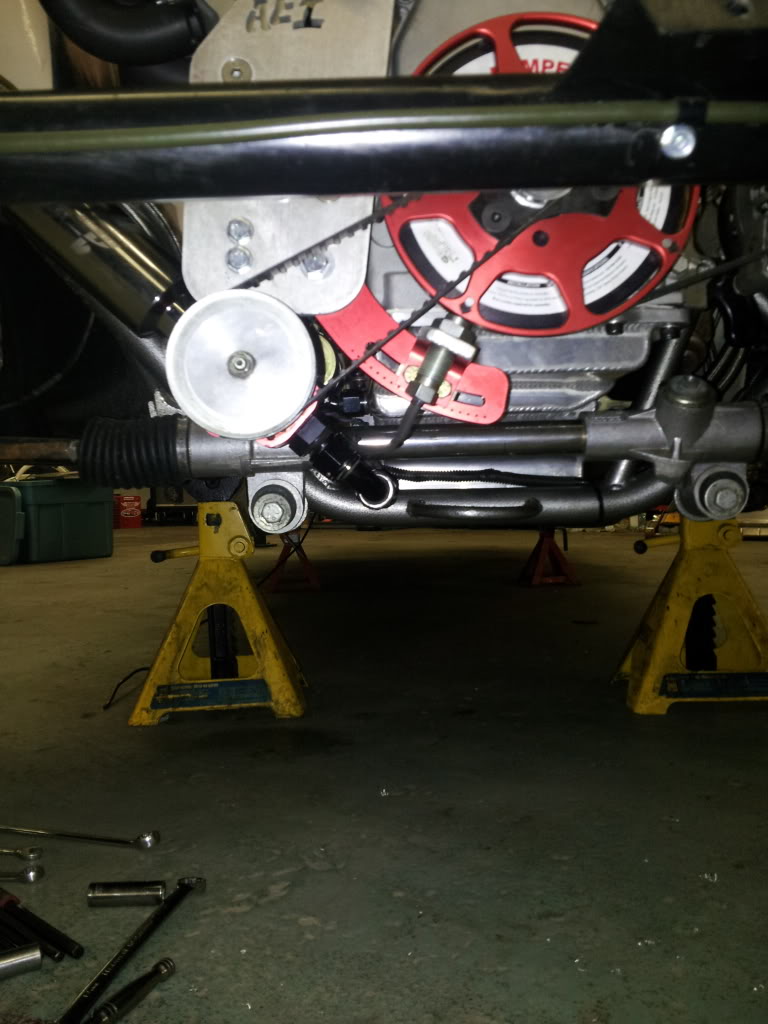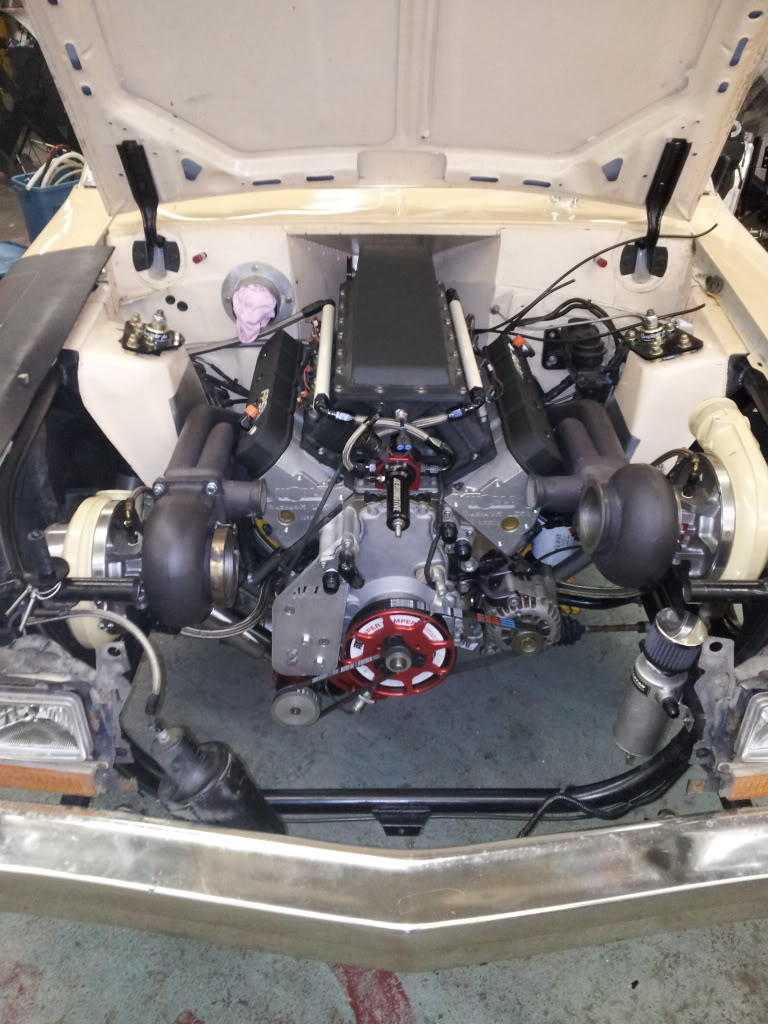 7-10-2013
Yep the gear change killed it so we are going to go back to the 3.50, we fought a few issues but overall for finishing the car 12 hours before the race and then driving 11.5 hours through the night to get to the race and we still qualified #2 and ran the second fastest Et and mph of the entire weekend on the 275 I think we did ok lol.
7-18-2013
Went down to lethbridge with the car this past weekend for
"Street machine weekend" entered the 100' shootout and won my class as well as crowd favorite: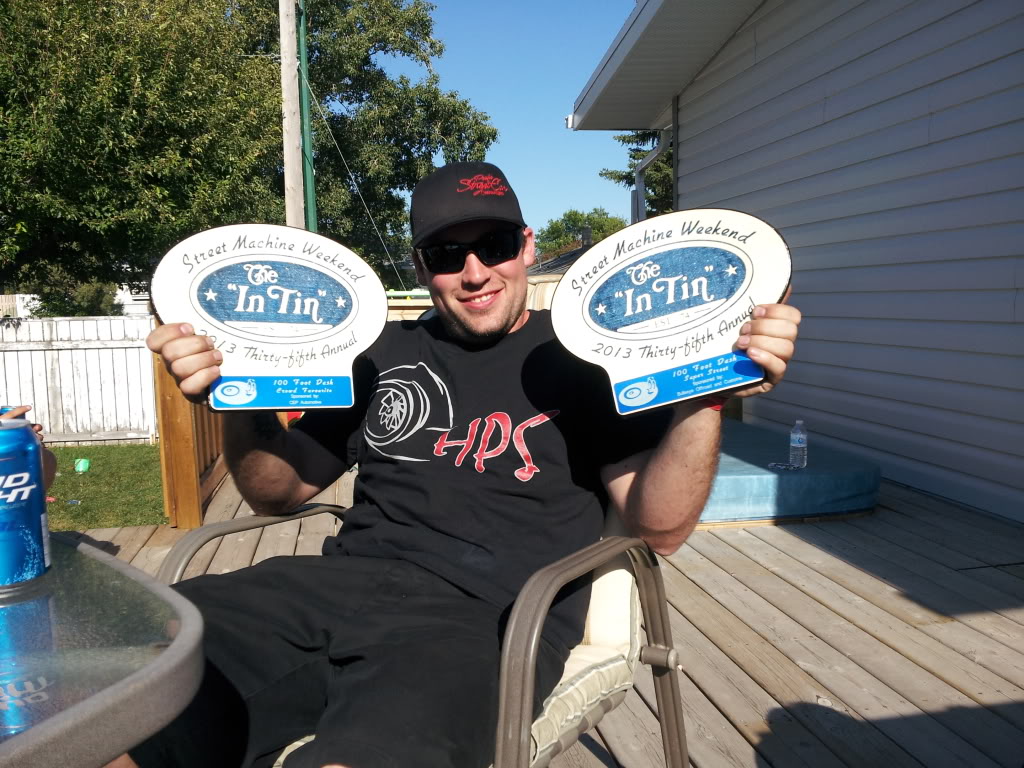 Then we went out and had some late night fun in "Mexico"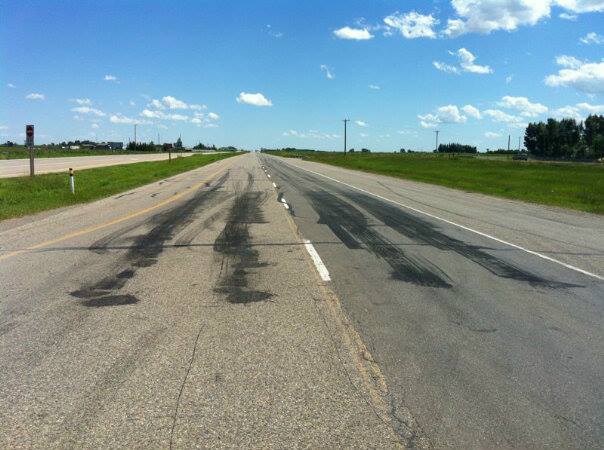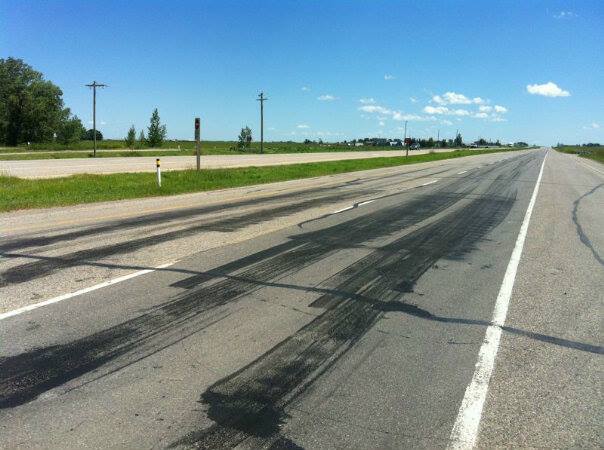 After our last outing on the 275's we wernt happy with the way the car responded to the 3.25 so now we are going back to a 3.50 and the plan is to take the car out tomorrow for my birthday and hopefully get the car back in the 7s on a 275.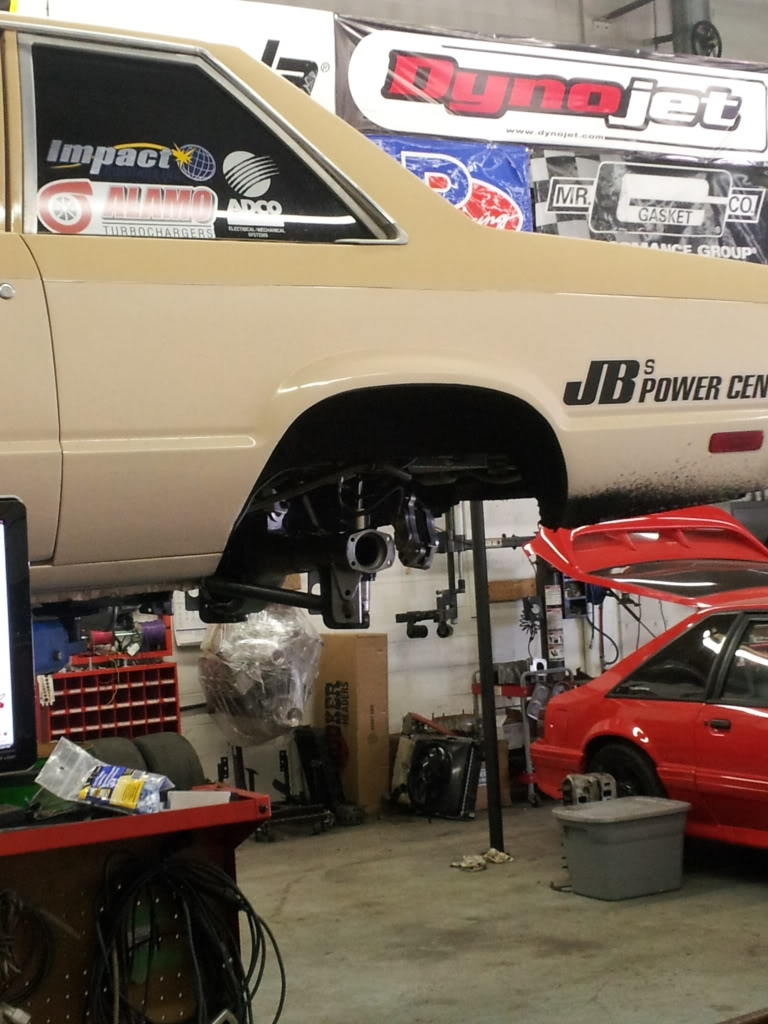 7-25-2013
Went out last Friday on the 275's again... first pass it went [email protected] next pass we changed some stuff and put some power in to it, launched hard carried the front end past the 60ft to a 1.30 on the rear tire and then the car went right and I had to lift. Went up for the next hit and it went right again so we have to lift the car up and see whats going on back there.
8-16-2013
87mm

We took the car to a very small backwoods track for an awesome streetcar shootout race on the 1/8 mile this past weekend and had a blast!! We ended up winning the friday night "instant green" deal and made the fastest pass of any car up there, then friday we slip n slided our way down the track to win the bonus prize for first 5 second 1/8 mile pass on a 275 or 10" slick that also qualified us towards the top of the ladder. Sunday we struggled to get down all day as did many others as the track was simply too rough and slippery to use any real power our best pass was a [email protected] way off for what the car is capable of. We ended up in the final against a good buddy and awesome racer and I went .001 red and he ran a picture perfect hit so we got the runner up honors and overall had a great time.

Tonight we are back on 275 drag radials and plan on making a few test hits at our local street legal event to see if we can get it down the track on a better prepped surface.

I will keep everyone posted!
8-22-2013
Thanks guys, we struggled a bit but still went [email protected] on the friday night street legals, I remember being the first REAL street car to break into the 8s on a friday night a couple nights ago now we are going way faster kinda funny how cars/times progress.

Gonna make a few changes and see what we can come up with.
9-5-2013
For those still intrested the car has not been responding the way we wanted this year since the change in cubic inch etc. The car is currently apart waiting for a new custom grind camshaft so we will try that and see what that does.

We have run a few [email protected] on the 275s but we know the car is not right and does not accelerate off the gear change like it should, hoping the new cam will help this. Also gonna start testing on the 8.5's pretty soon and hopefully get some kind of handle on them.

We have been cruising it lots on the street and seeing how far we can smoke the 275s without crashing LOL .... so far the verdict is REALLY F*CKING FAR ahah
10-14-2013
So... Sorry for the long delay between updates but between our shop and the car we have been BUSY.... this thing has been fighting us all year between rear gear changes, converter changes,camshaft changes etc but we have narrowed down our issues to leaky head gaskets that never sealed right from day 1. They never leaked water but did leak compression between cylinders.

We had been chasing some strange issues for a while and the car was doing everything "right" but just would not pull any decent mph/et....the poor leakage would explain all of that. SO the engine is apart again and we are making some changes we think will make some LARGE improvements in the way this thing has been running this year. We plan to head to the NMCA west race in Bakersfield California oct 25-27 and then leave it all down there and head over to vegas for the street car supernationals nov 14-17. Both races will be run on the 275 drag radial and with some new 72 mm turbos thanks to our awesome sponsors at Alamo Turbo.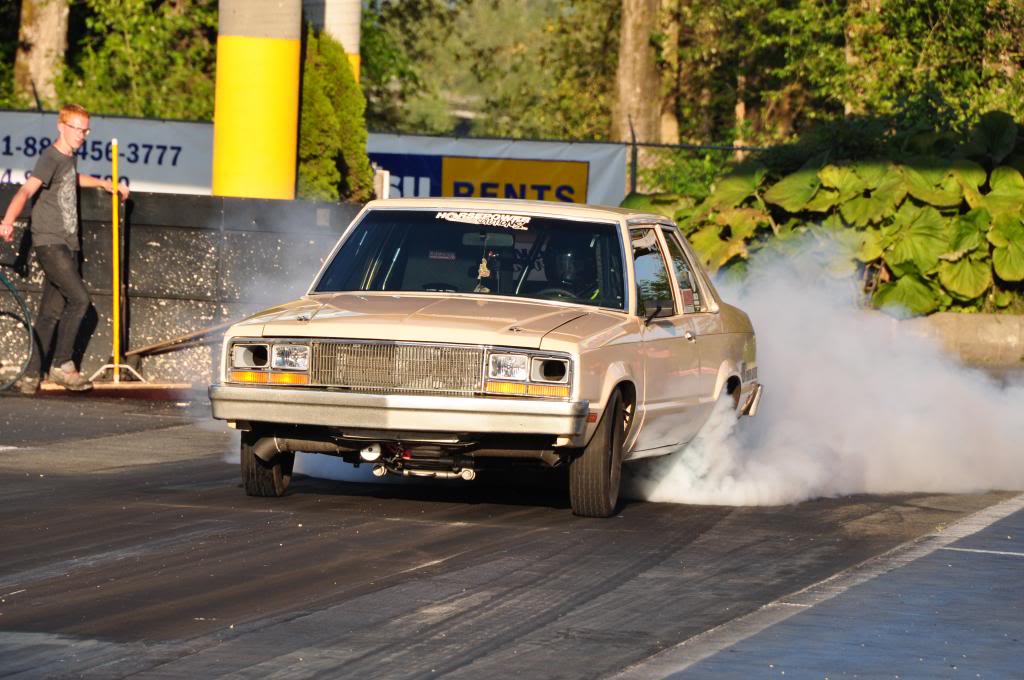 We will try to post some more updates in the next week as we thrash like crazy to get the junk back together in time to make the 28 hour tow to the race!






10-27-2013
Well today we fought some issues but did run some new best numbers on the 275s

1.242 - 60 foots
5.0 - 1/8 mile
7.7 - 1/4 mile

Tomorrow we are gonna try and put some boost in it and see if we cant improve on them.

Pics and vids to come!
11-1-2013
Hey guys/gals here is a afew pics from last weekend in bakersfeild at the NMCA world street finals:



Here is a few sequences of the car launching: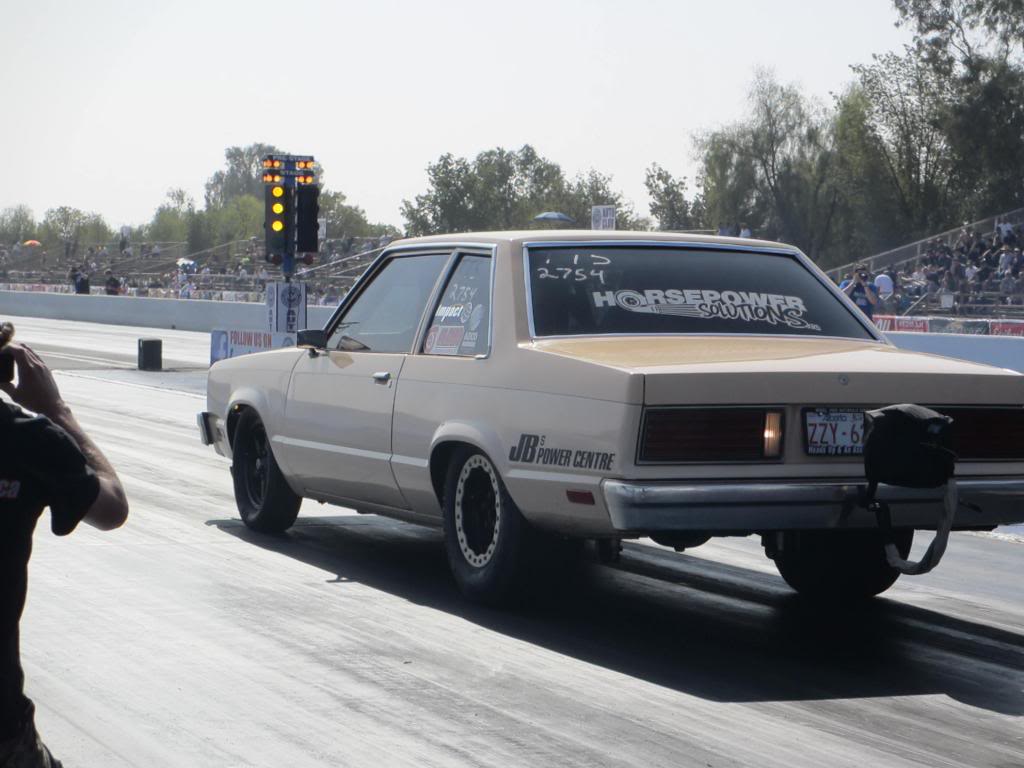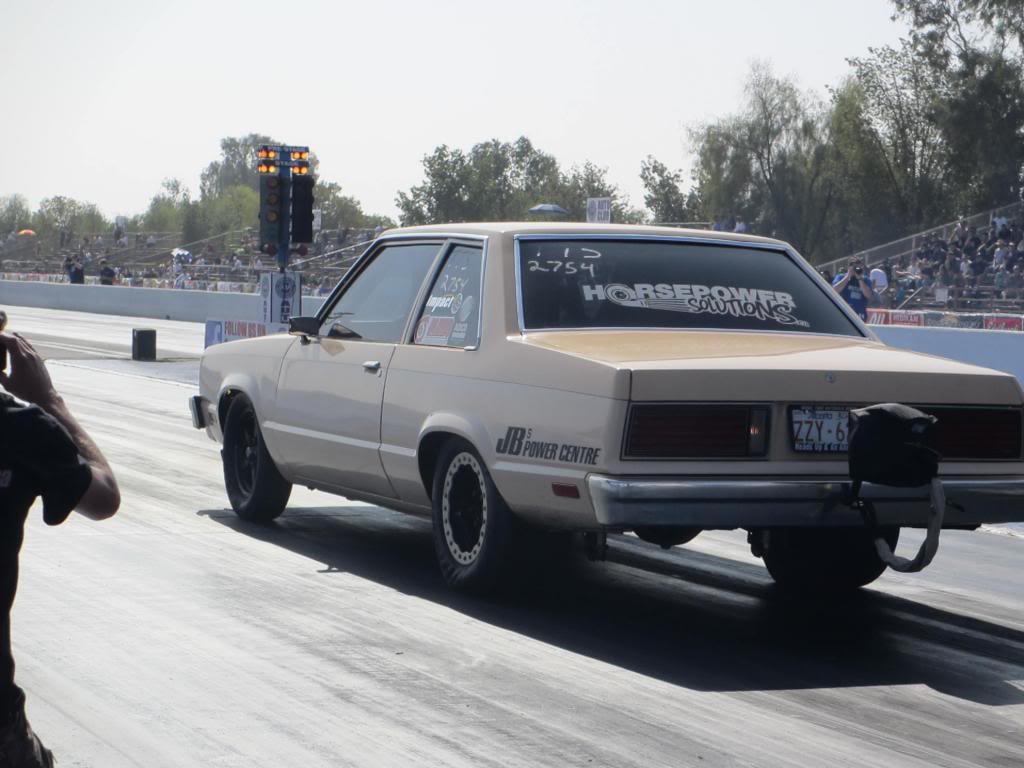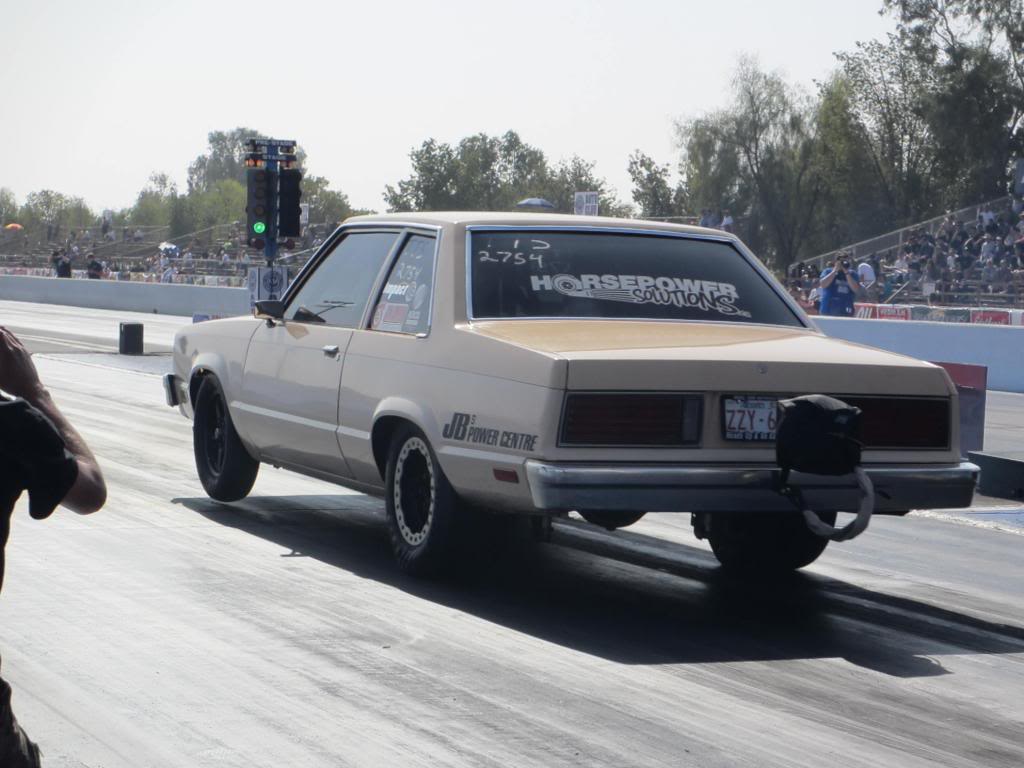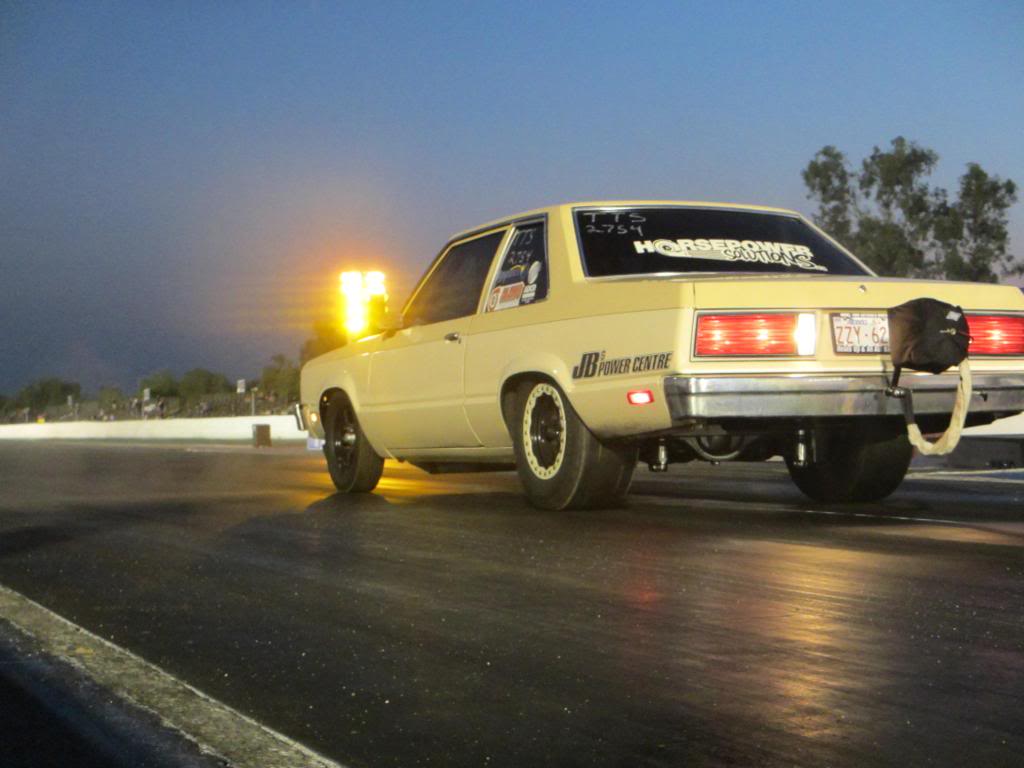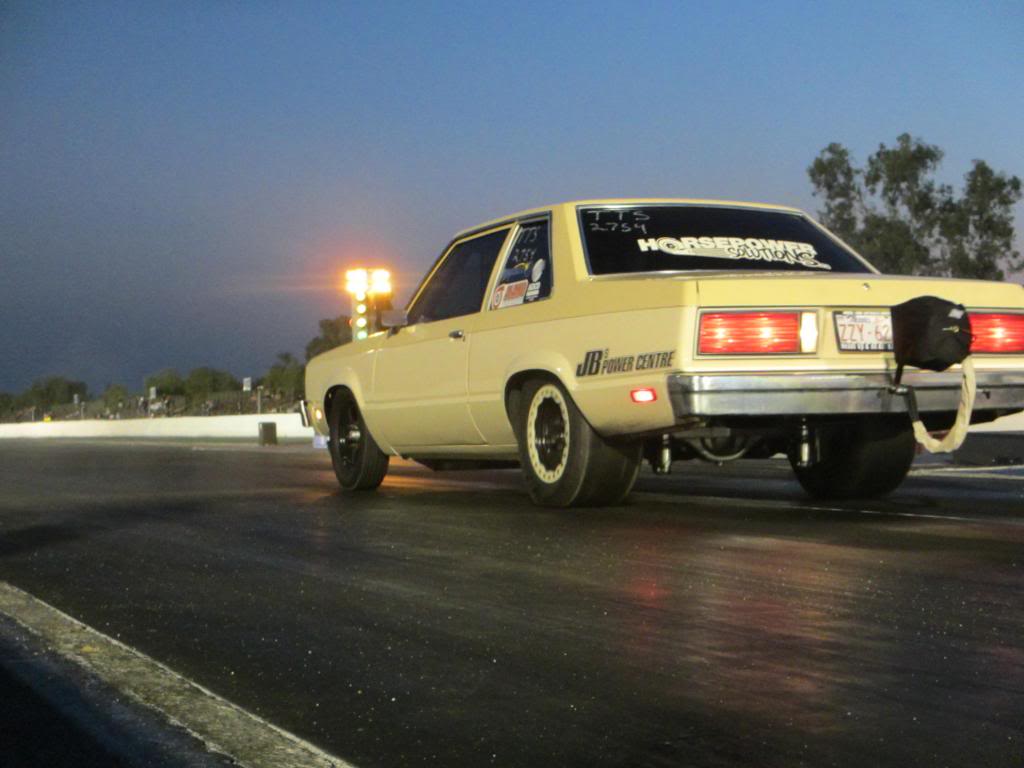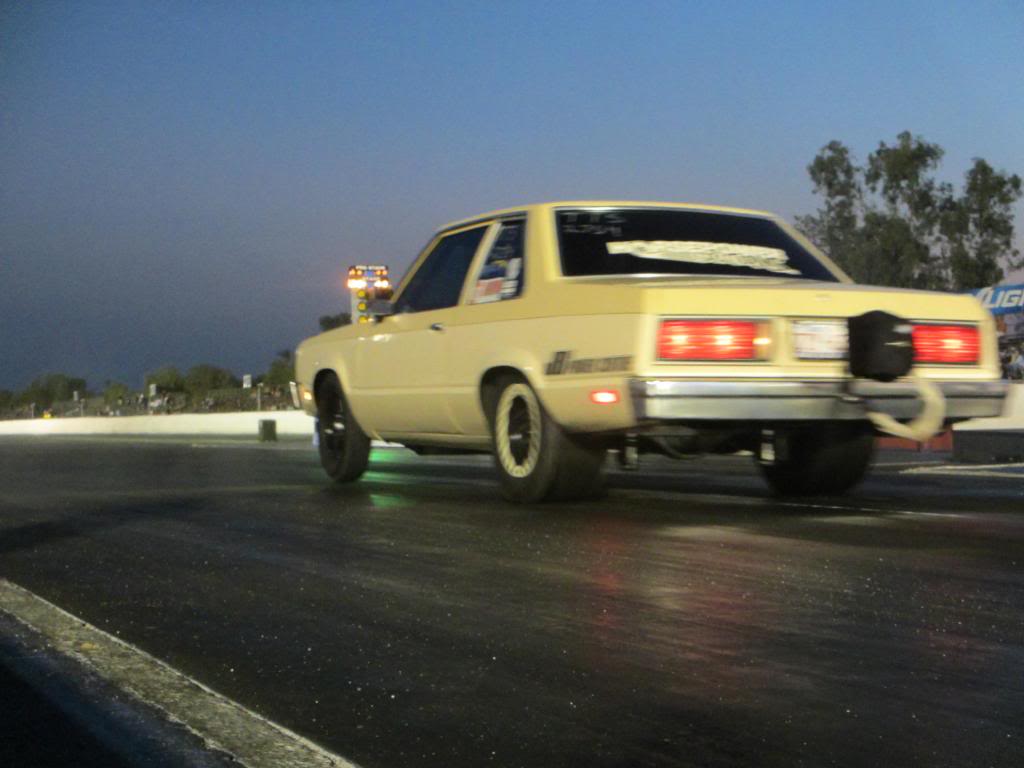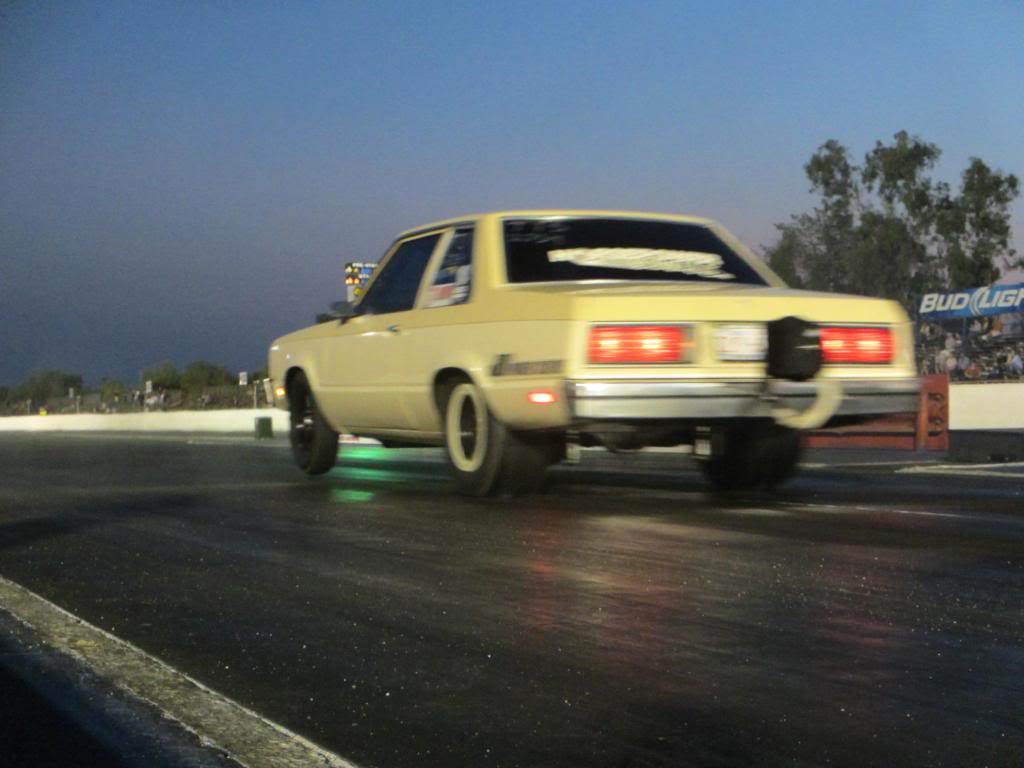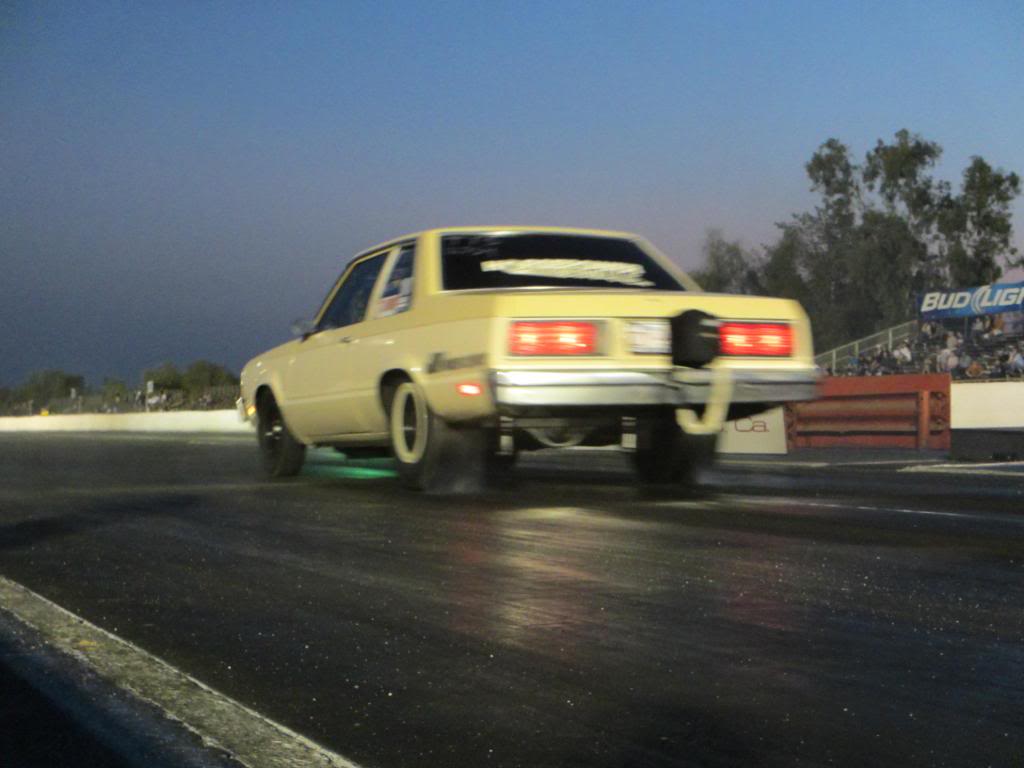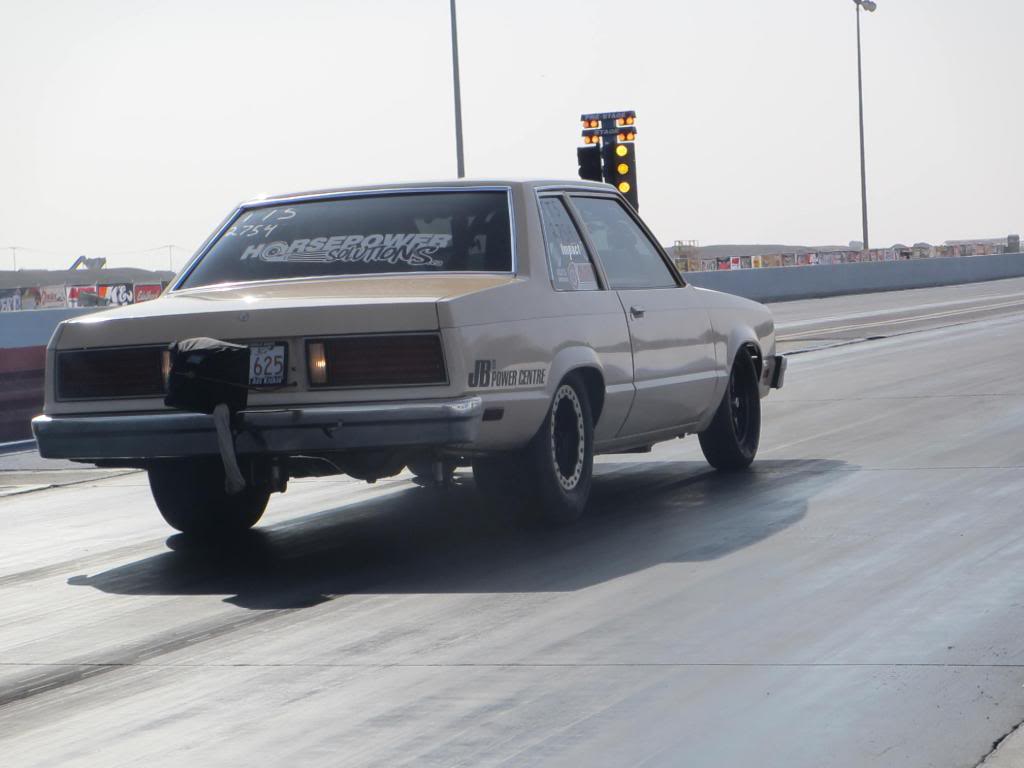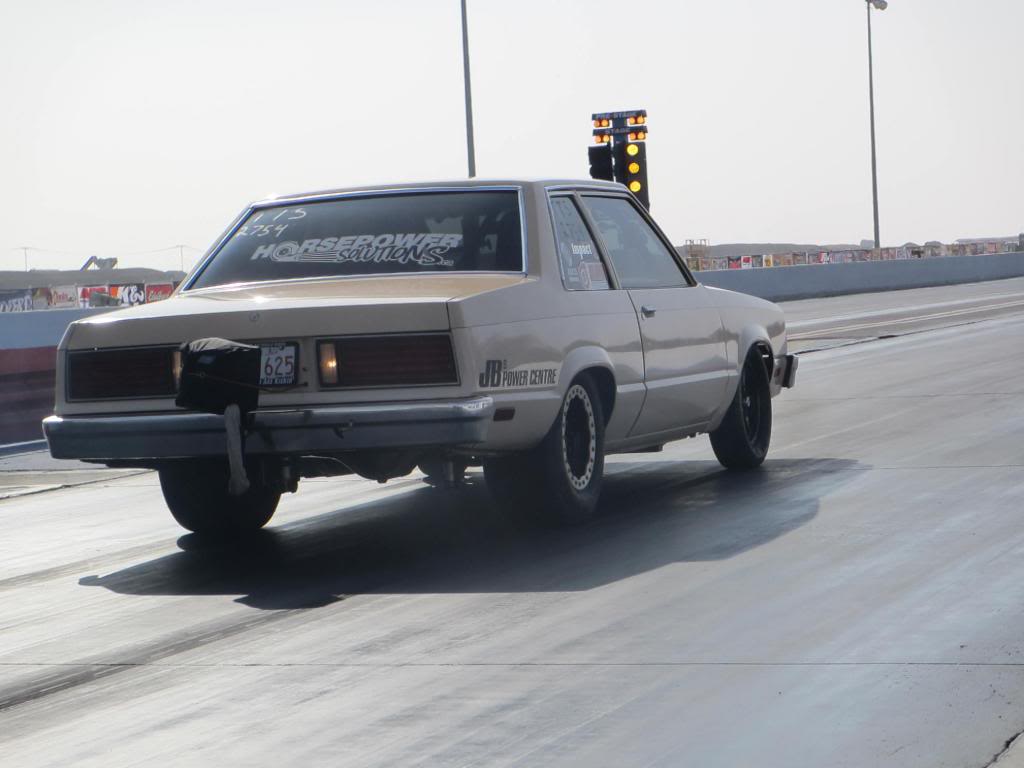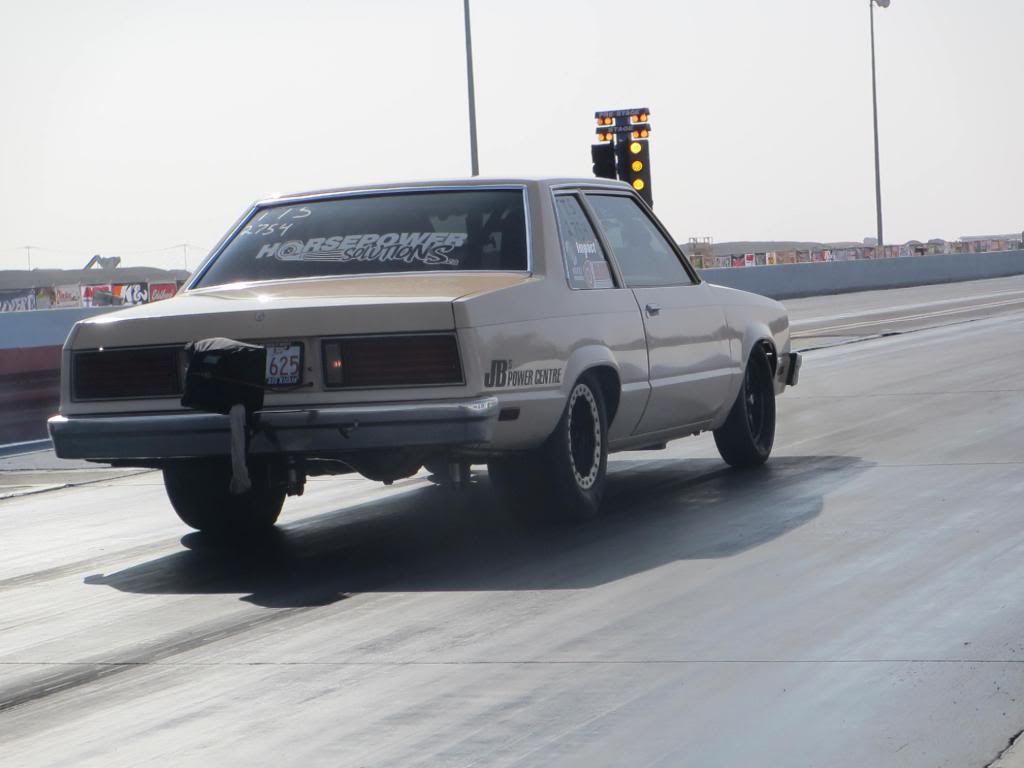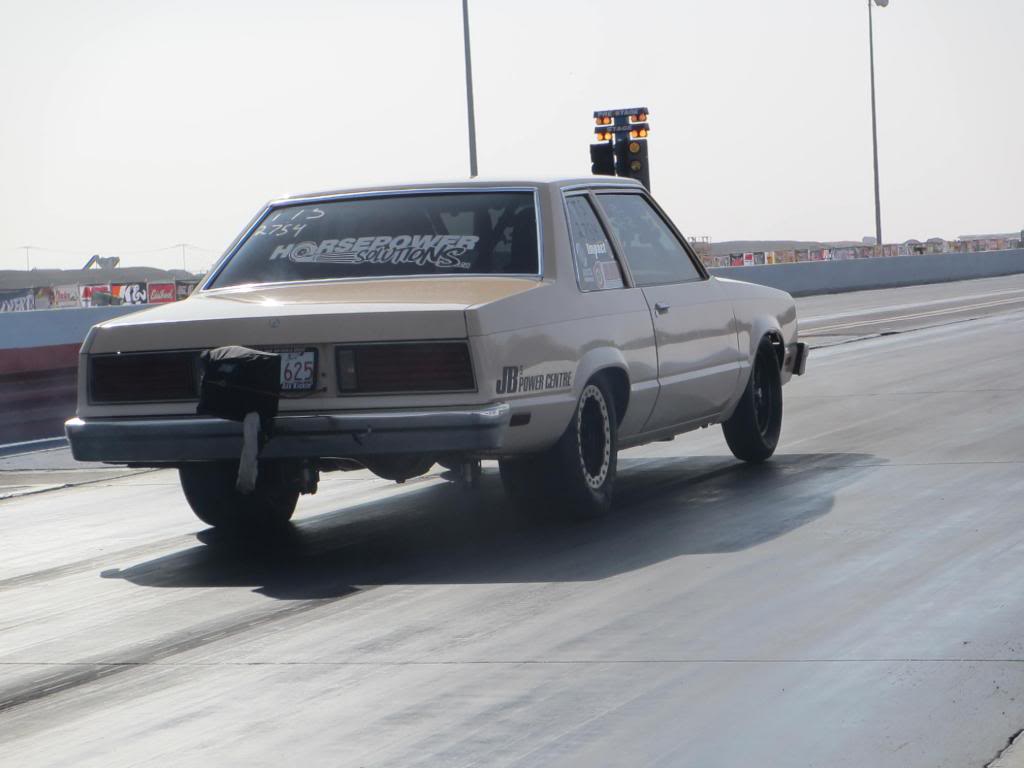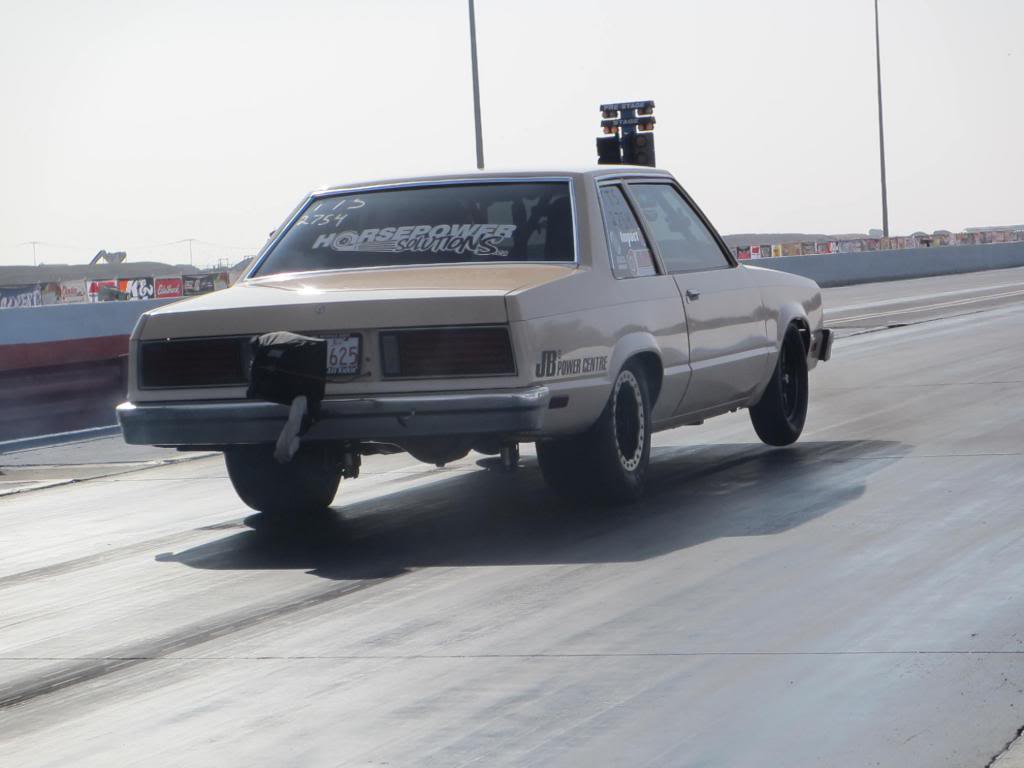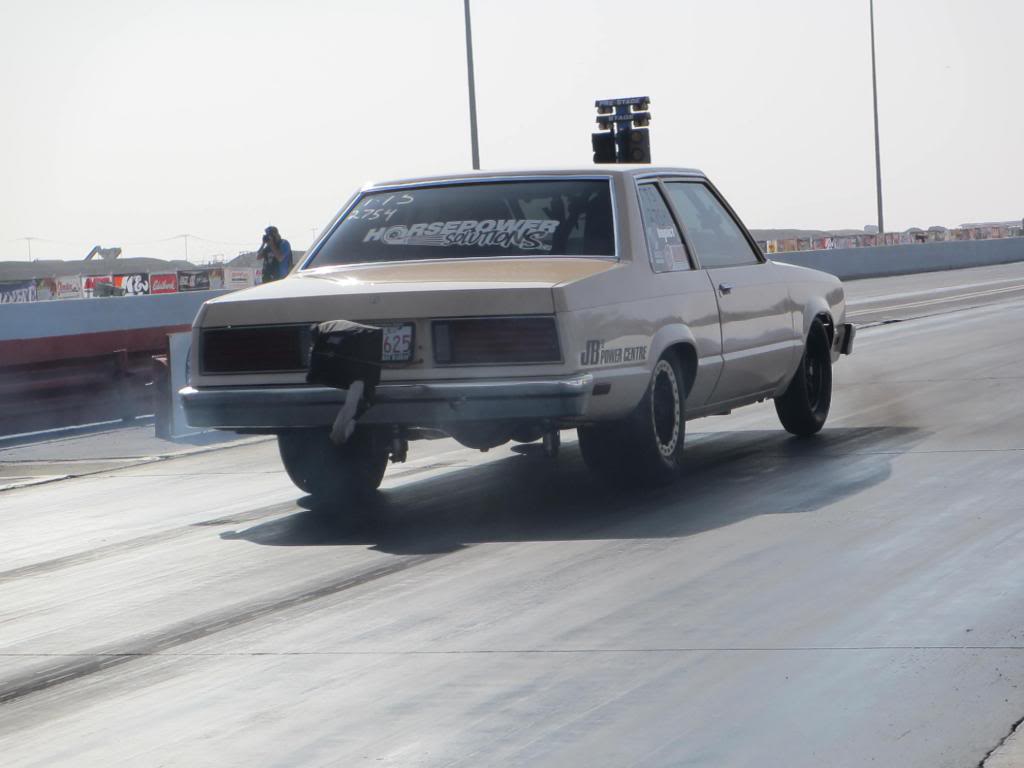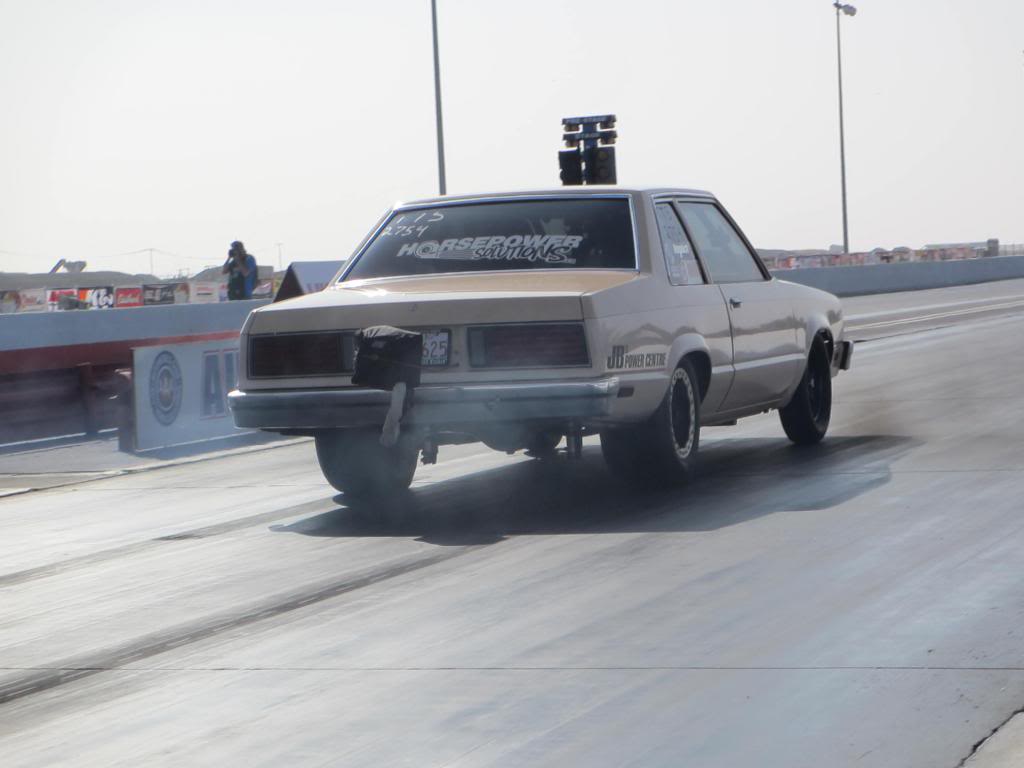 Couple more shots from the pits etc: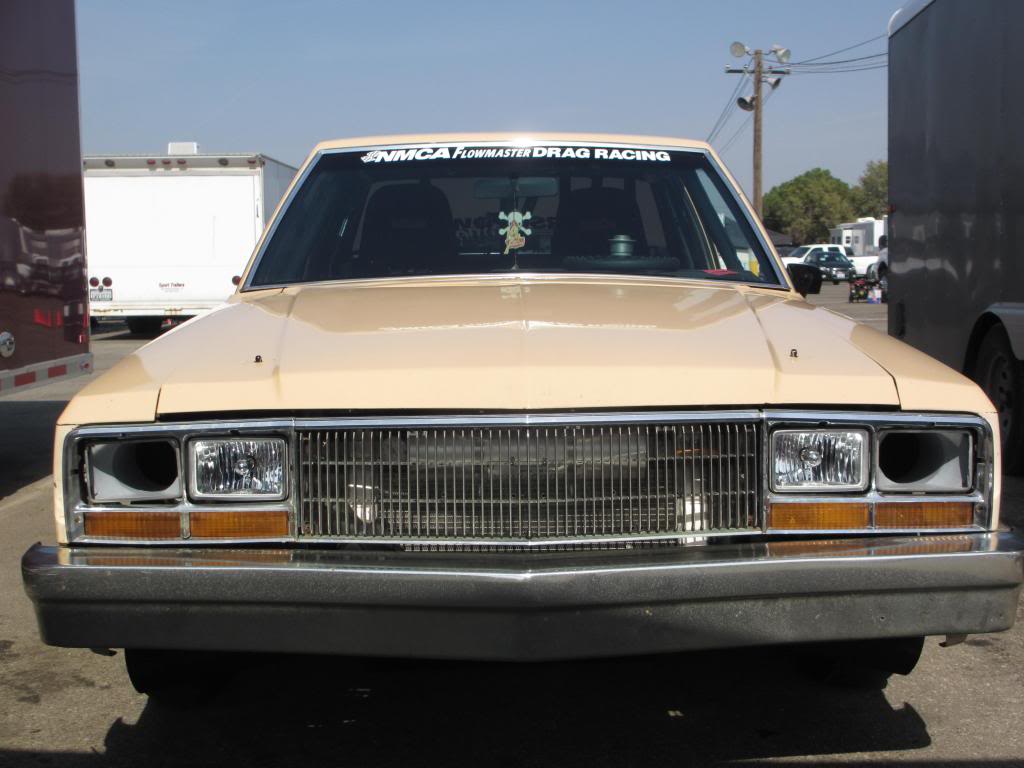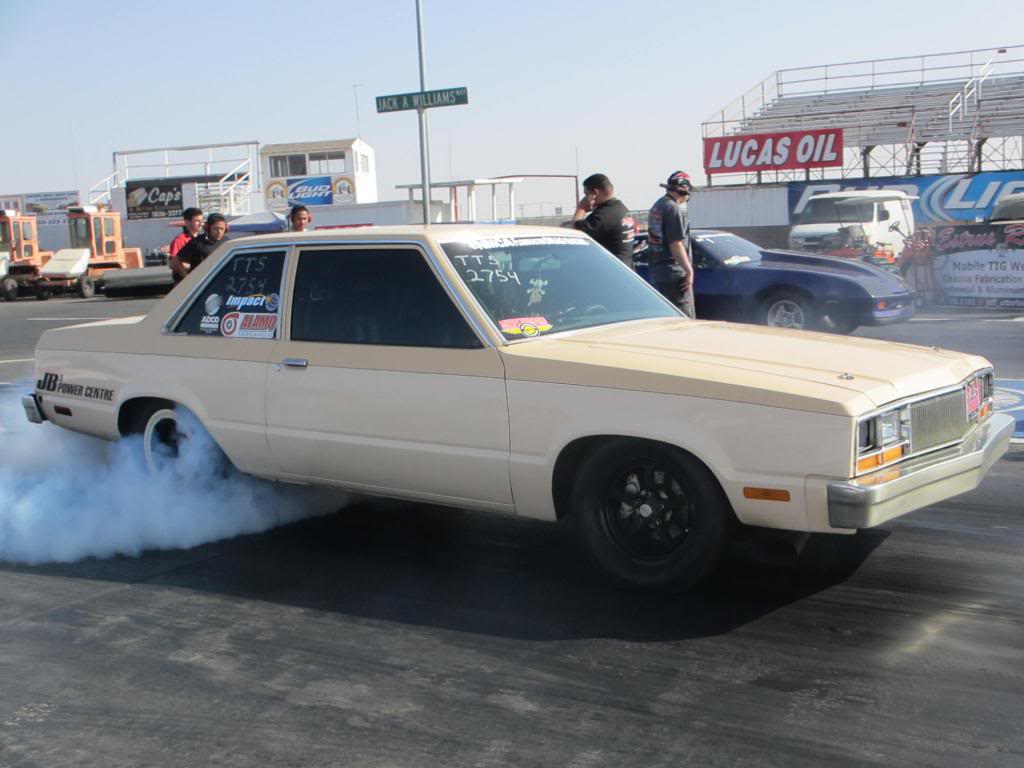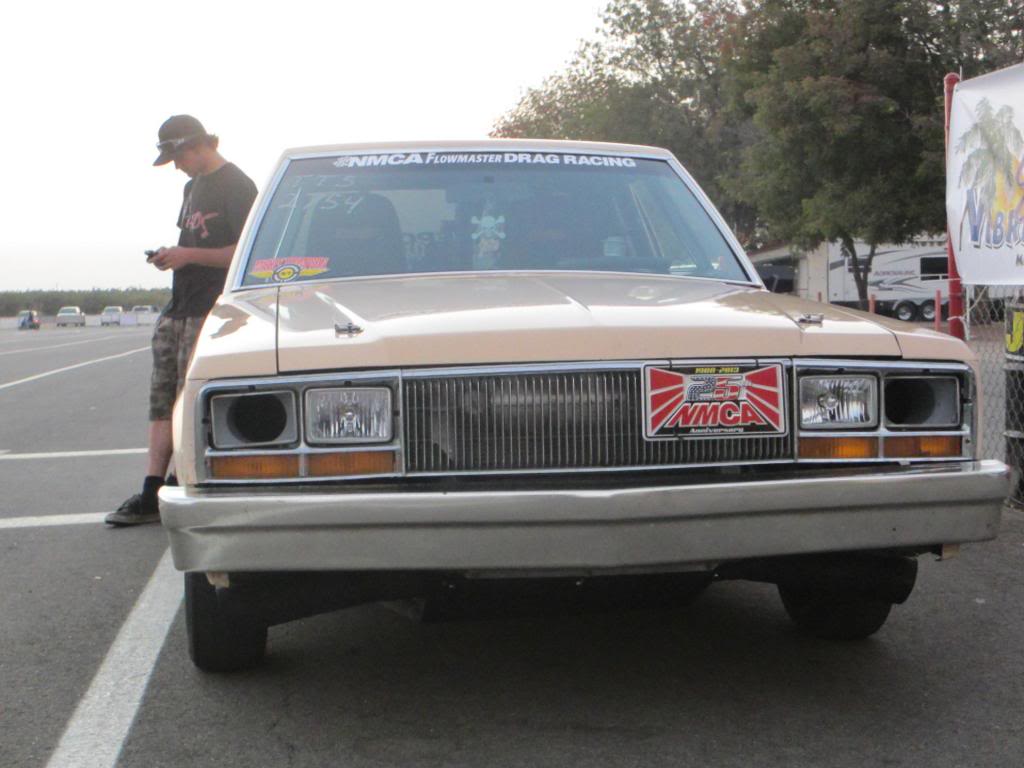 11-23-2013
Thanks a bunch guys, The car was finally starting to come around but the cylinder heads were hurt from before and we just band aided it to get through. The turbos were maxxed out and would not make any more jam and the Anti roll bar is bent lol.... It couldn't take the power. Once we got down into the low 1.2's for 60 it started bending.

I am working on posting some pics and vids when I can get a few minutes.
11-27-2013
Here is a few pics from our trip to vegas for the Scsn9 race.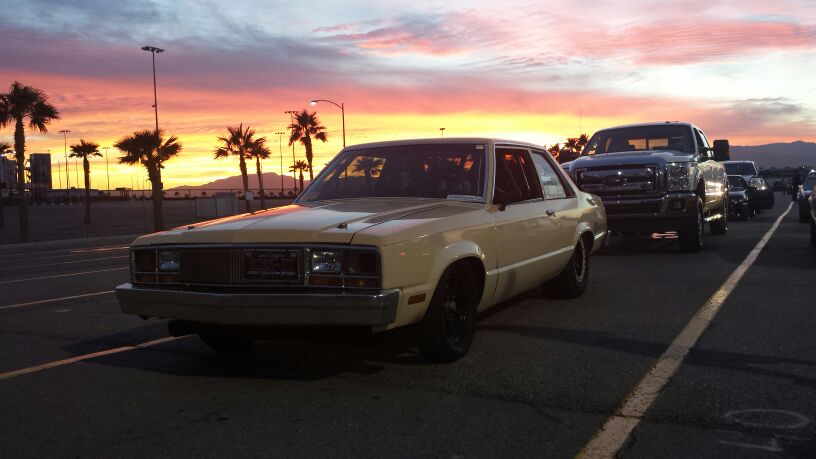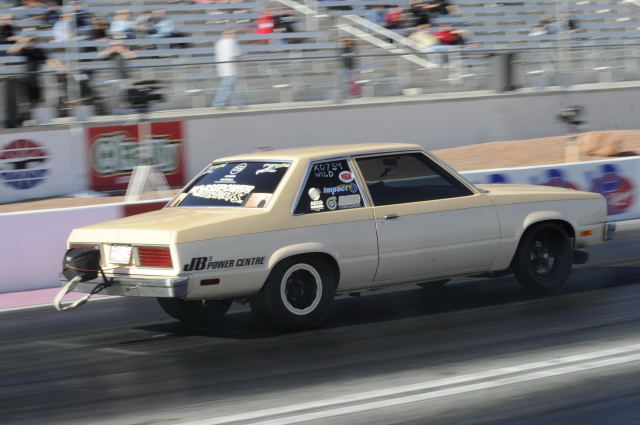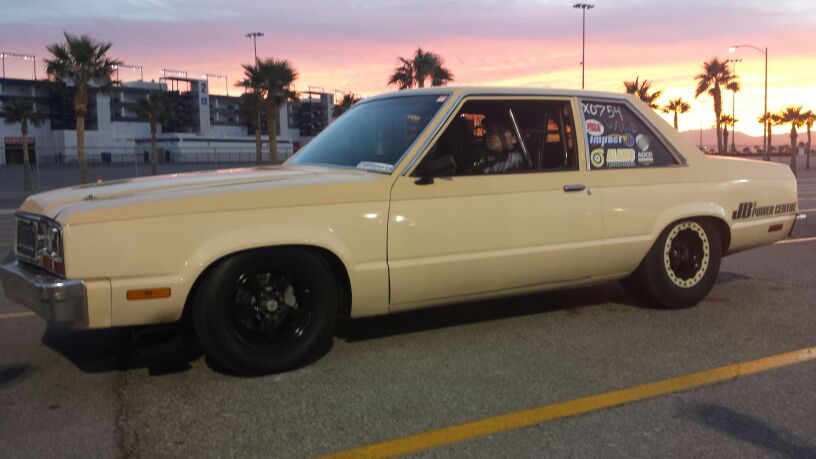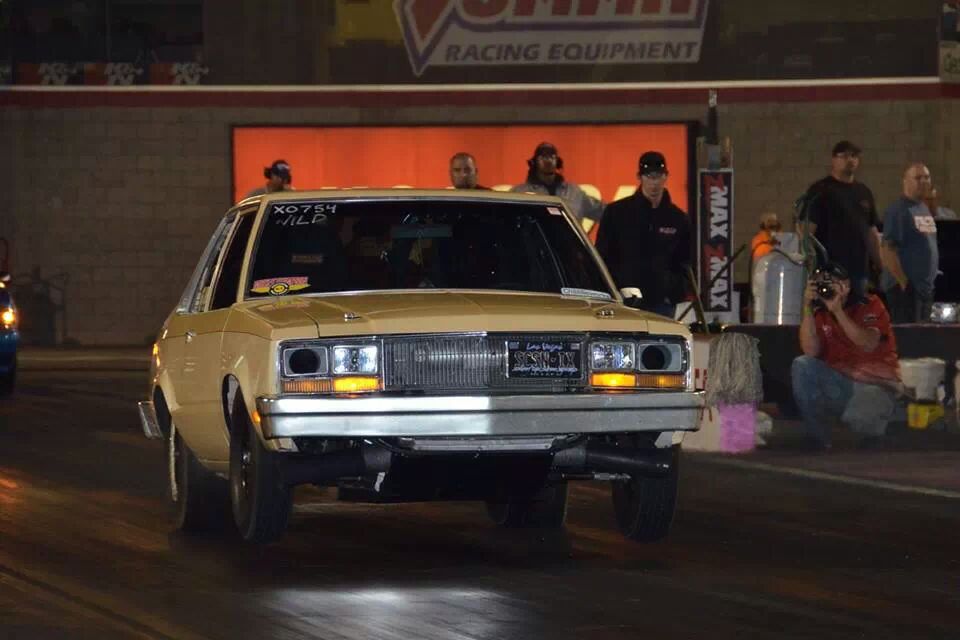 The entire 29 car wild street feild sitting in the lanes ready to go:







We had some issues and everyone chipped in to help get it back together: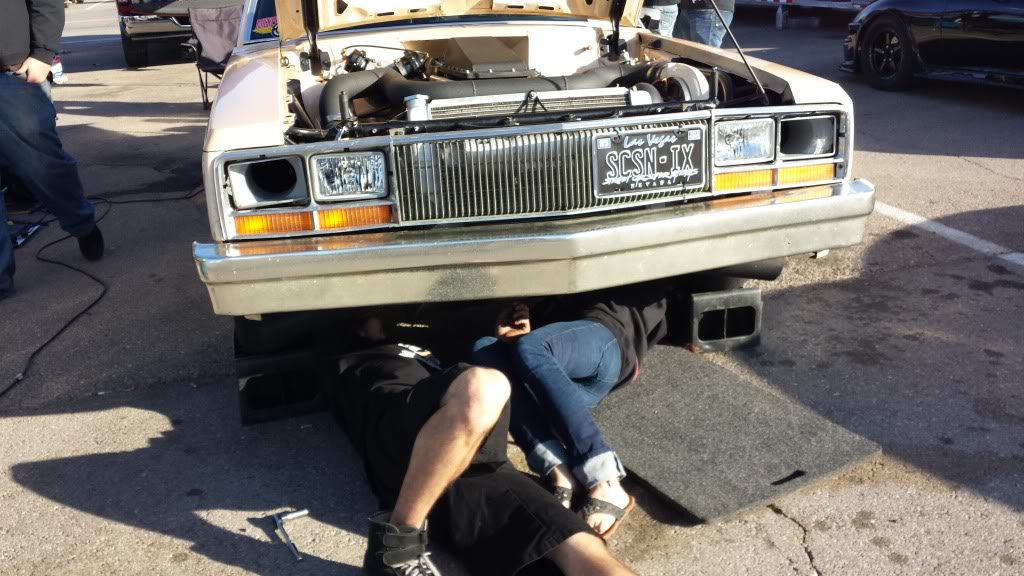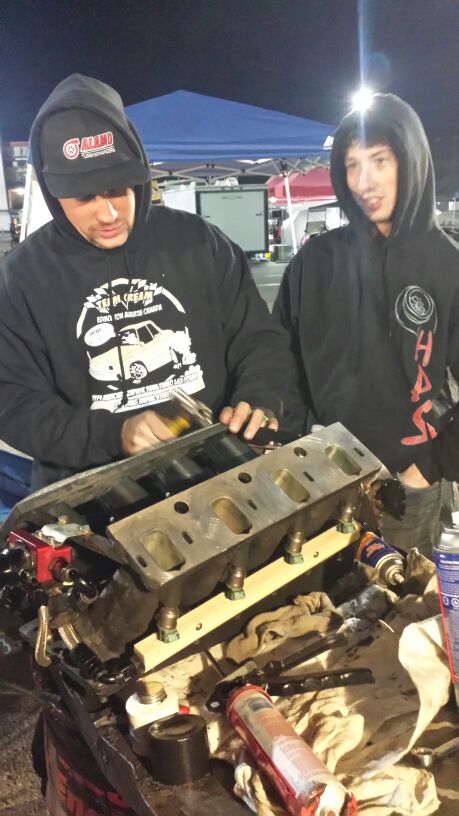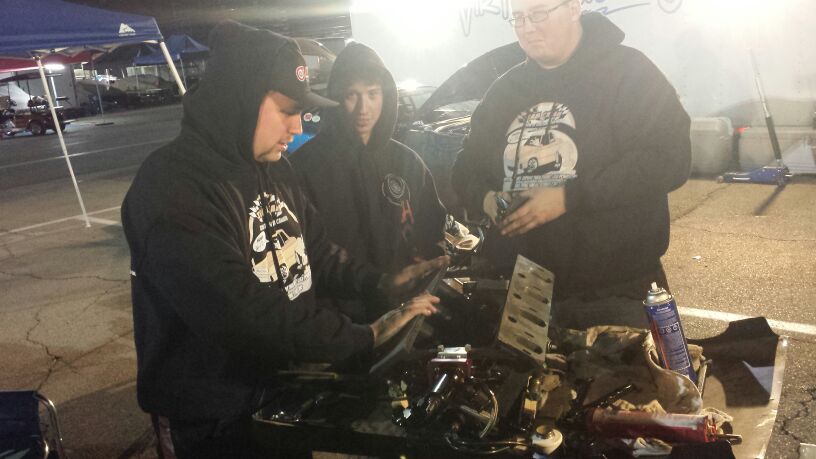 Me getting interviewed by the Xsan tv crew and me trying to find a little more in the tune up: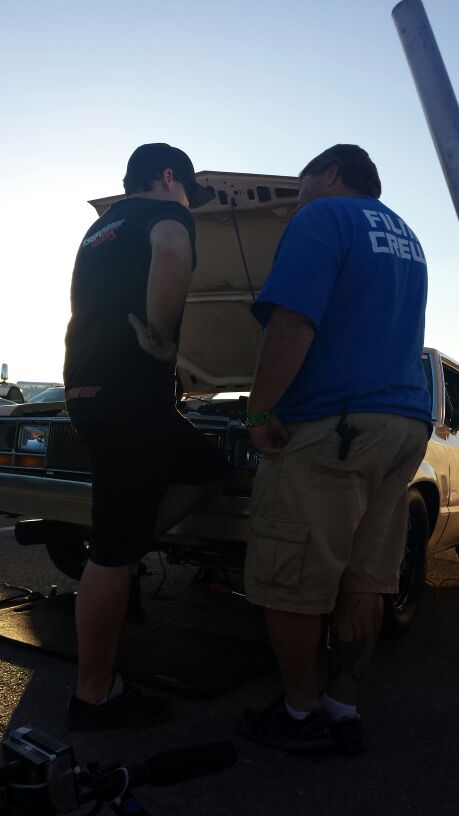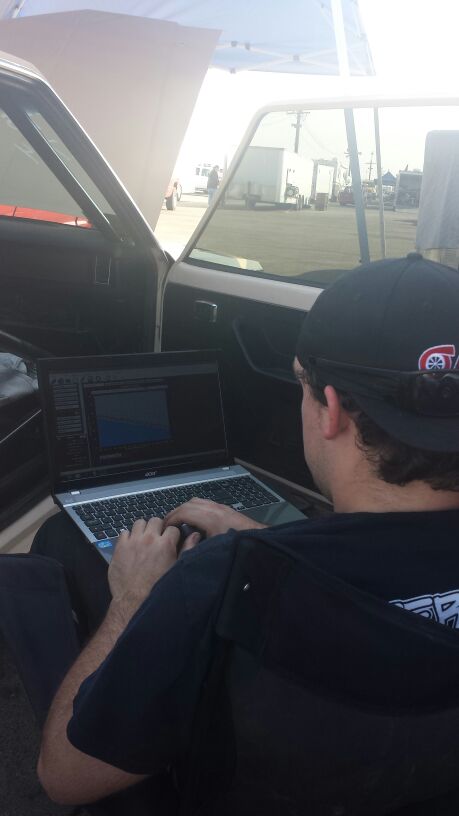 Me and my crew chief and buisness partner in the lanes having a great time as always: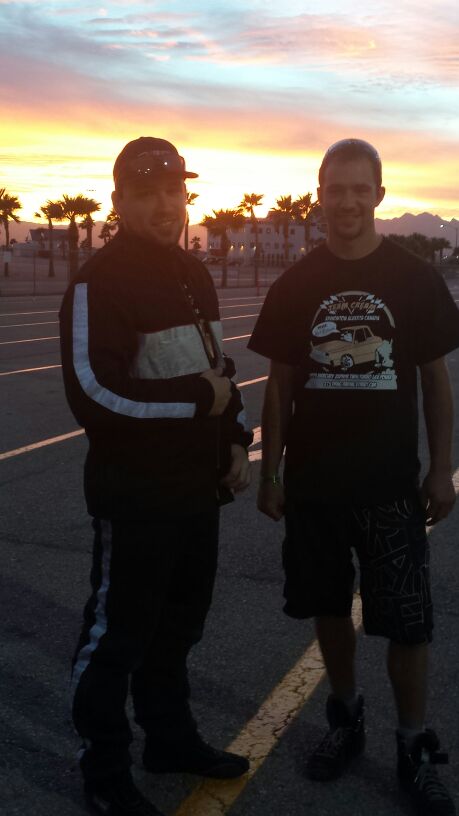 2-25-2014
Hey guys sorry its been so slow with updates...


Got some new hardware in for the junker: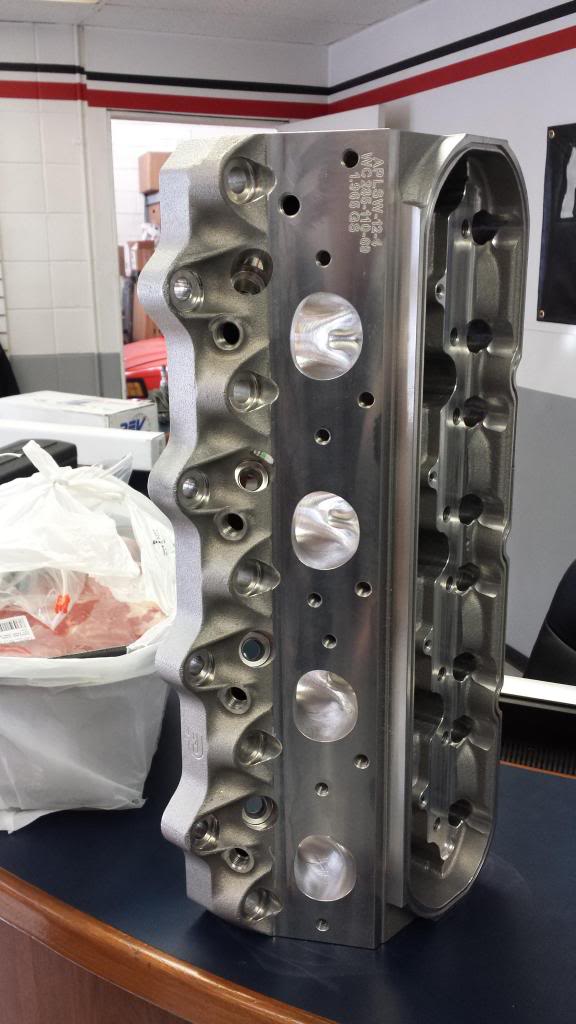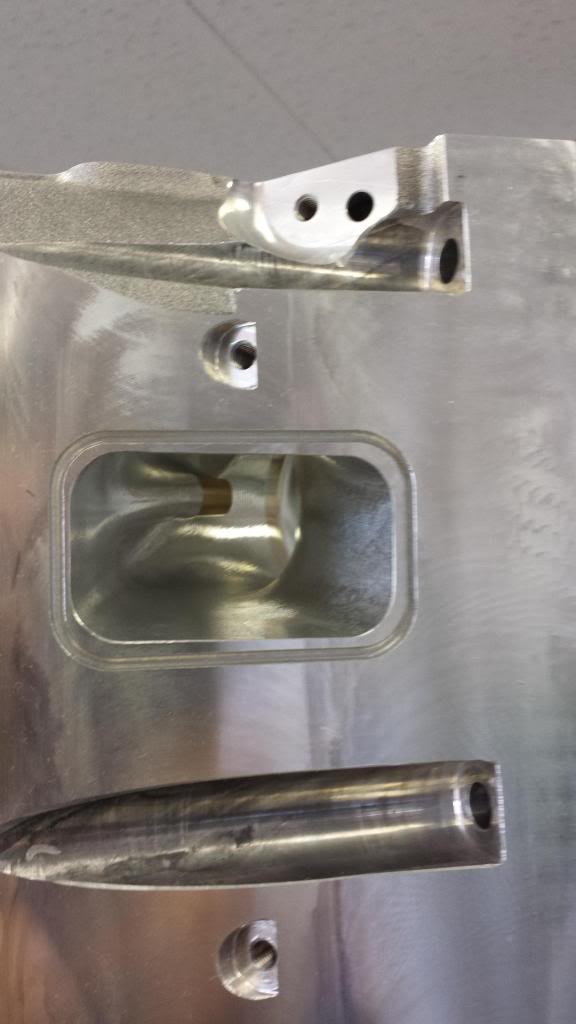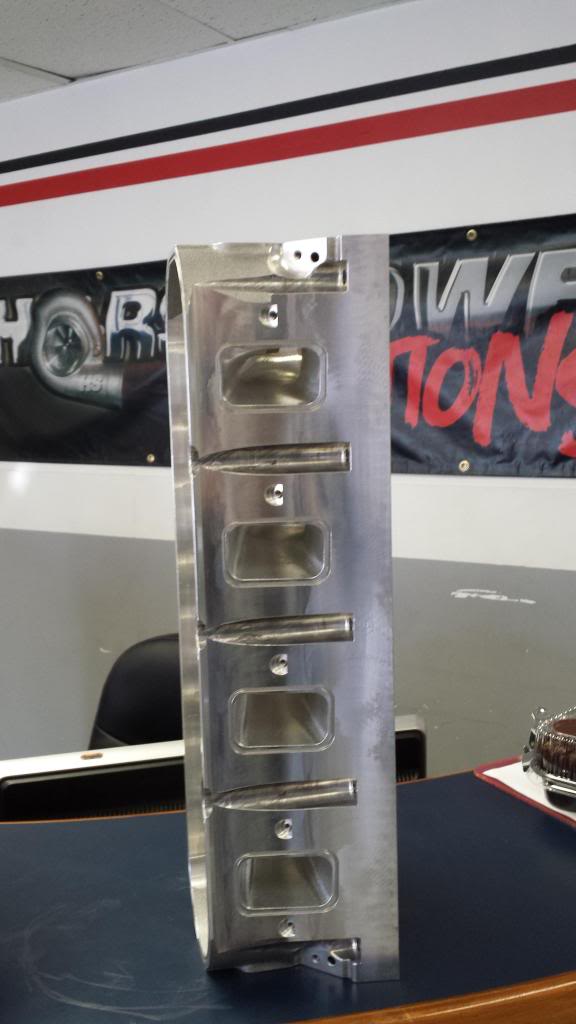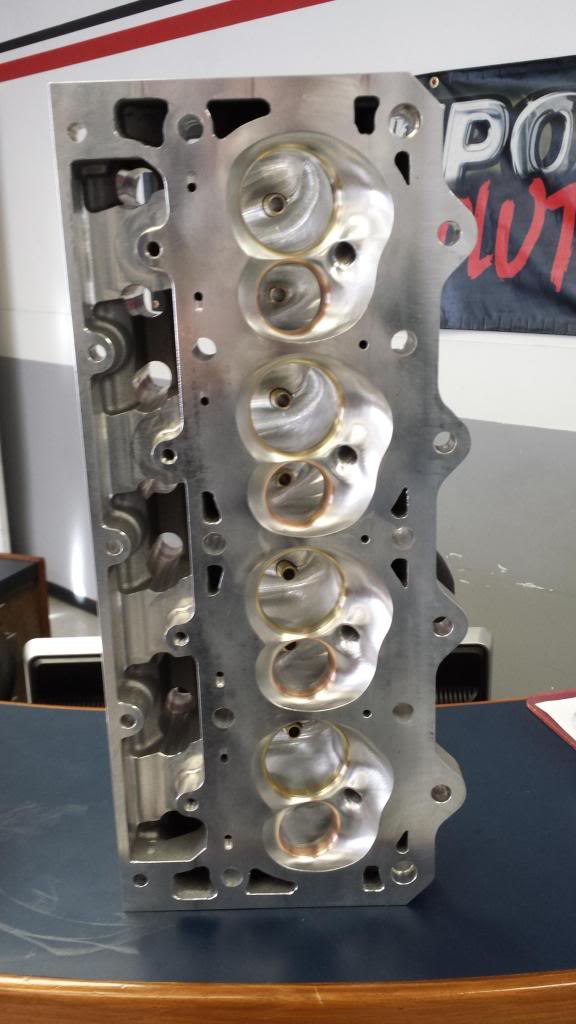 Also been working away on the "Old car" Cream dream # 1 and its getting close to its maiden voyage. Just have some cleaning up and the cold side to finish under the hood: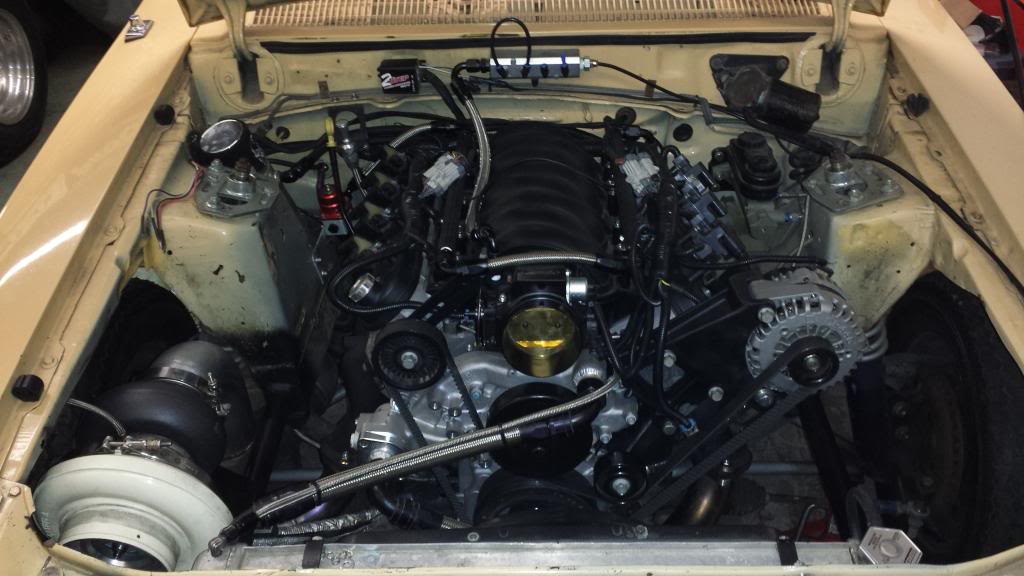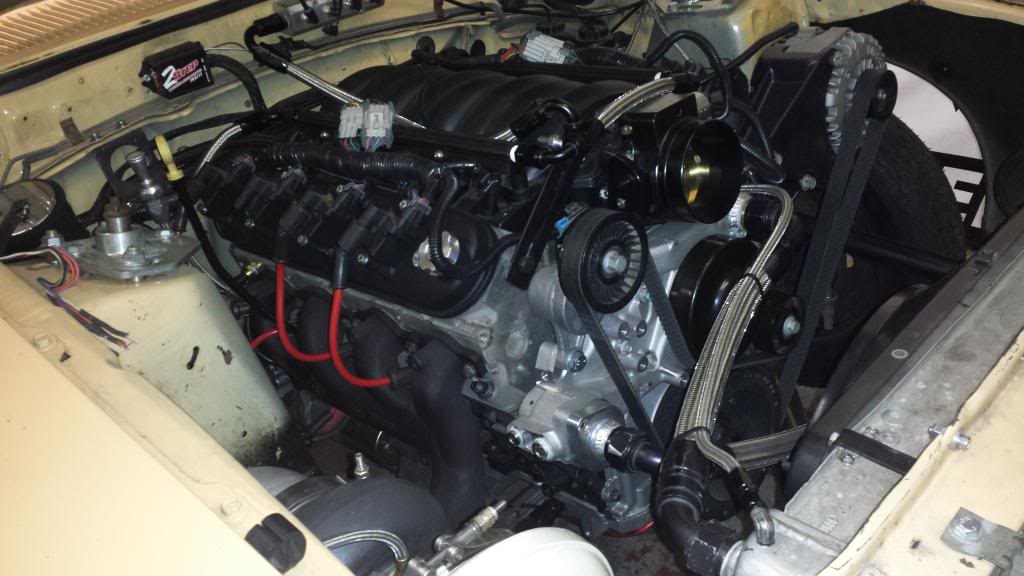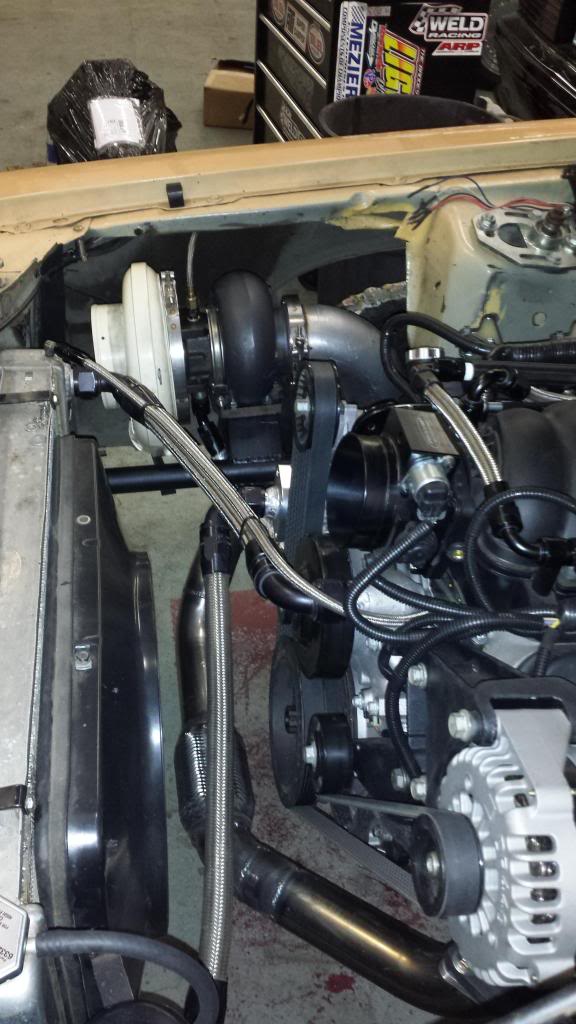 3-8-2014
Here is a little video I put together of some of this years highlights and some thank you's to the guys who help us out along the way!
6-17-2014
Back from the dead,

We rushed to get the car all together and strap on tiny 235 drag radials to run an outlaw 8.5 race this weekend but we were plagued by little problems.

Only got one half ok pass and it went [email protected] and [email protected] on the little tires and it literally did not go over 10 psi of boost until the 330 mark and left the starting line on 0.

I will try to post some pics and more info when I get a few minutes.
6-23-2014
went out and got one VERRRRYYYY soft test hit in before it started raining. Went [email protected] and it was on VERY soft boost until about 300 feet had a 1.75 60 foot LOL I know its got mid to low 5s in it if I can get a few more test hits in. Gonna try again this Friday.
7-29-2014
We have been out beating on the original cream dream since late may, My wife to be has been driving it nearly everyday and we have over 4000 kms on it already.


Drove it 45 mins each way to the track and ran this on OLD style 275 drag radials: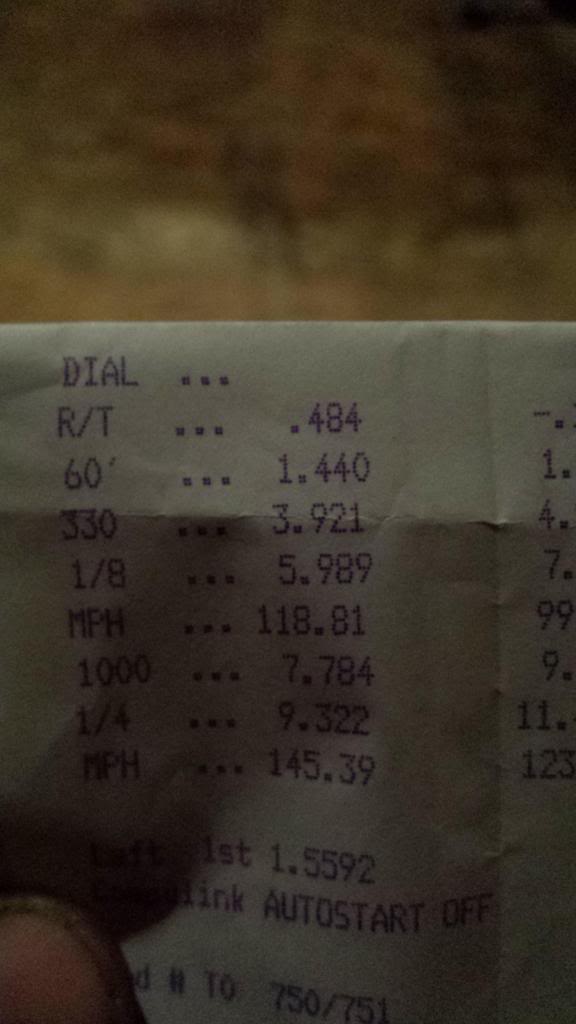 Here it is late one night in the early spring covered in frost lol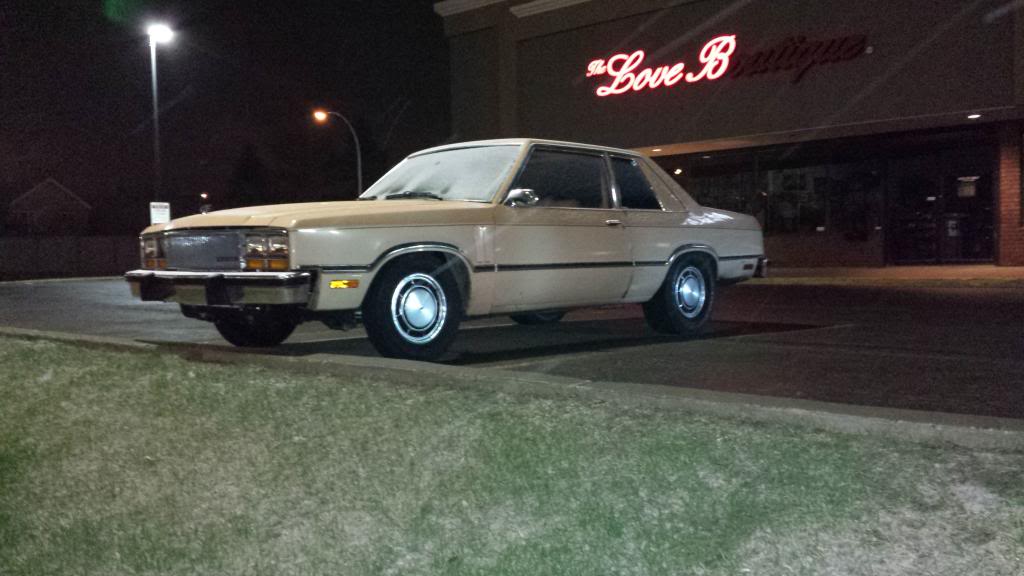 Last weekend was a large car cruise/race/show weekend up here called Street Machine Weekend and they do a 100 foot shootout which is always fun on a very tricky parking lot type surface.


We ended up winning our class with the CD2 and coming in 3rd with CD1 and then my business partner also won his class with his Nitrous lenco Malibu wagon: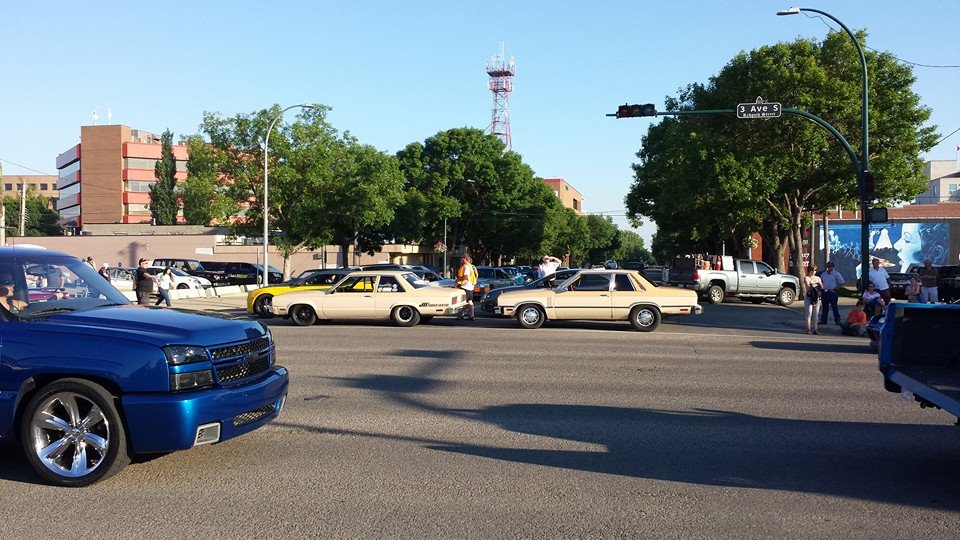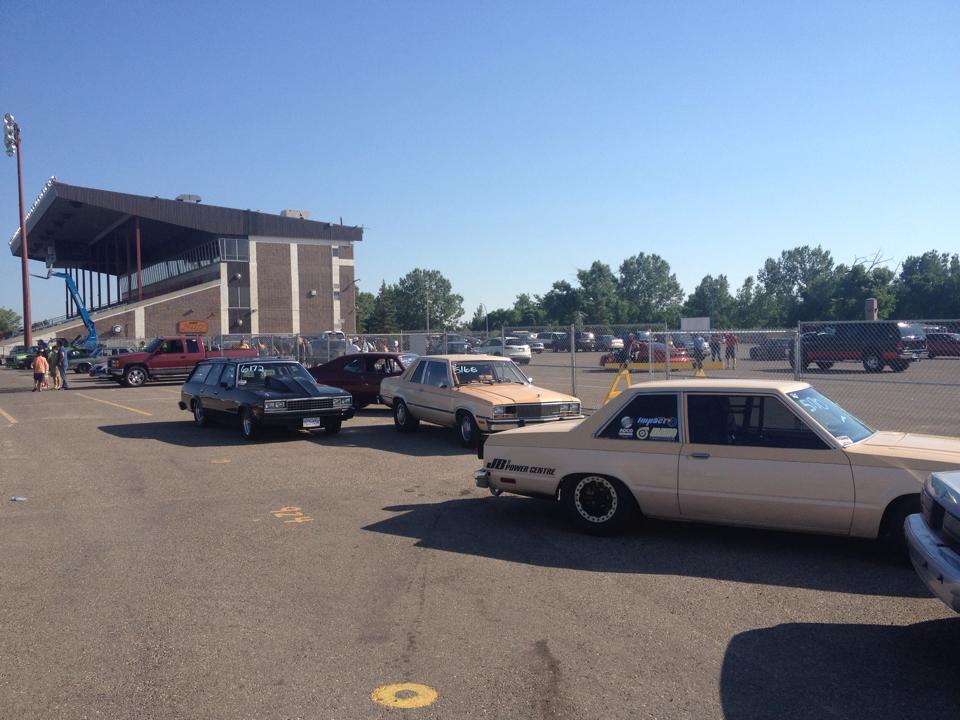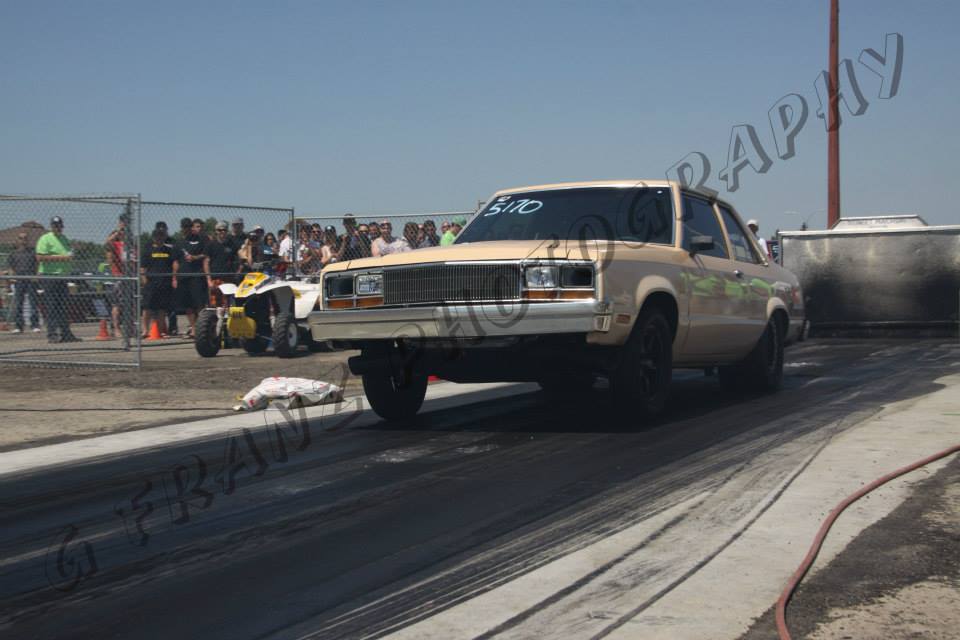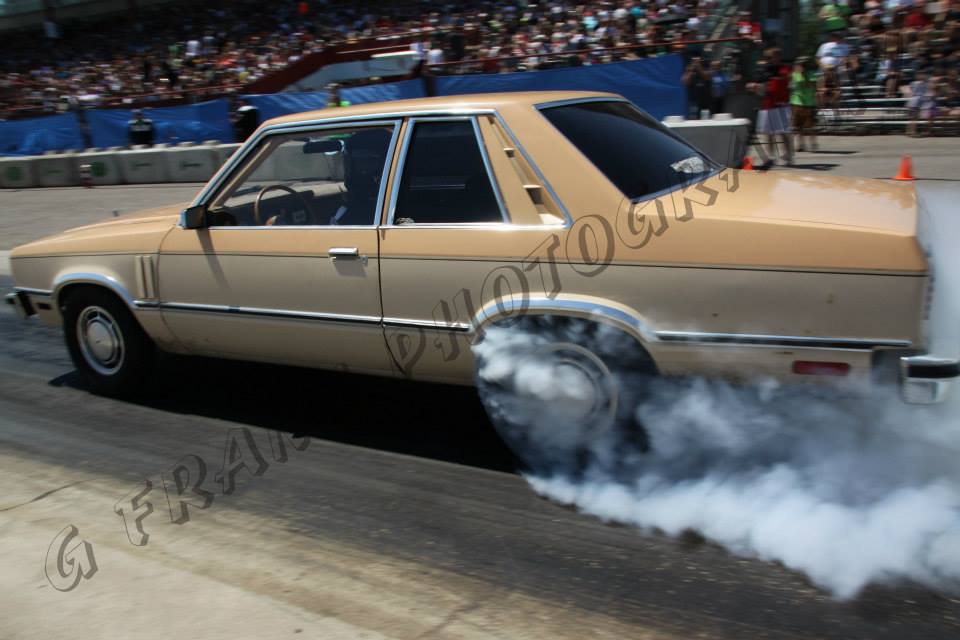 8-13-2014
Well we finally got back out and on a VERY soft tune up (16* of timing and 23 psi) with the controller bringing boost in VERY slow it went [email protected] on the 275's. We won our local 275 race then we strapped the slicks on and went and had some fun in mexico lol.

We are very excited to get this thing back out on a good track and see what it can do!
9-25-2014
Finally got the car out on a good track for the "Door Warz" race out in Mission BC this past weekend.

We struggled a bit to get the tune up sorted out and get the car down the track but we did eventually get things figured out.

Our best run of the weekend was a [email protected] and [email protected] with a VERY soft 1.29 60 foot which we are pretty happy with given out full "street" weight of 3470 lbs. We still had a bunch of boost to put in it but never got there. We ran through a few rounds and kept hammering guys on the light and running down track until we made it to the finals with a good friend of ours.

We turned up the power for the final but ended up hurting the transmission and slowing to a 7.85 @ only 180 mph. We also ran a 1.35 60 foot on the back tires lol

Anyway here is some pics from the weekend!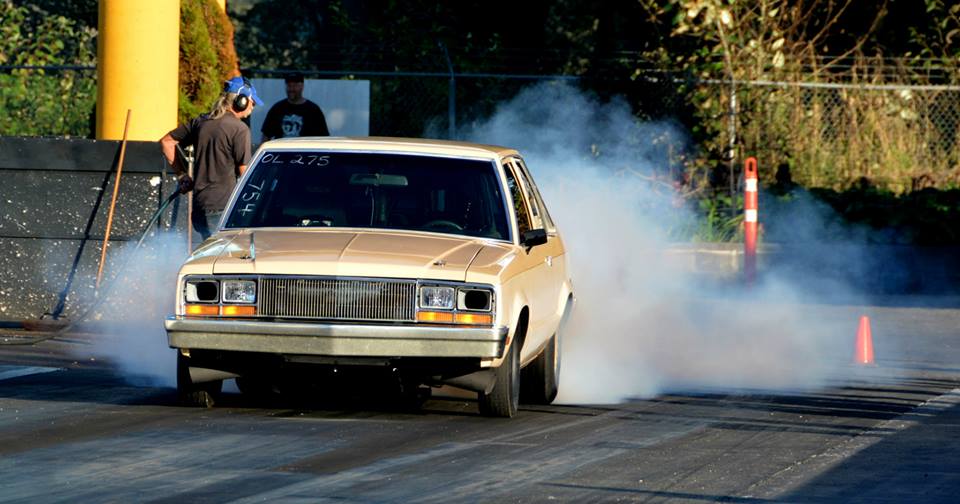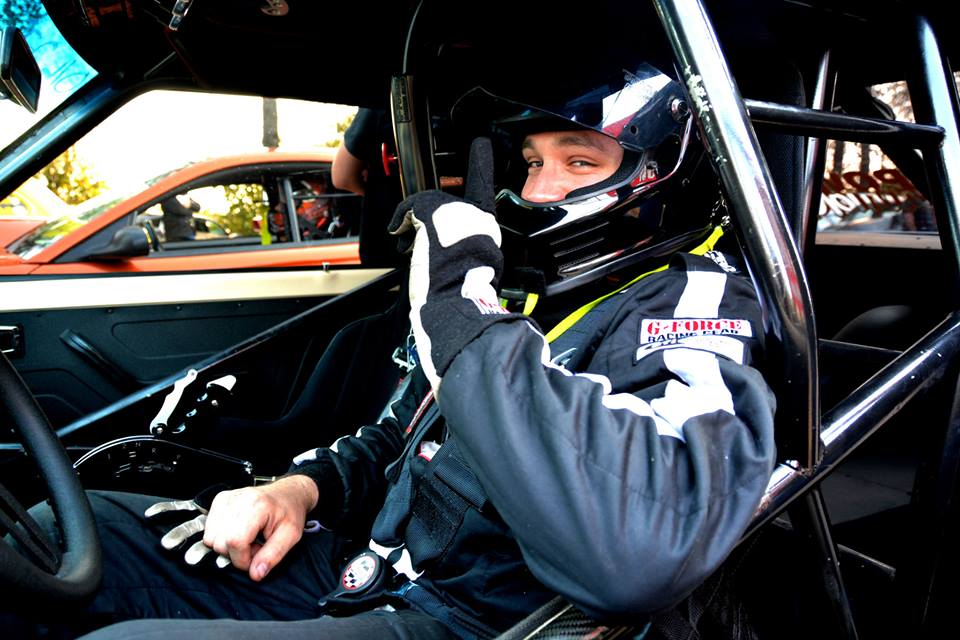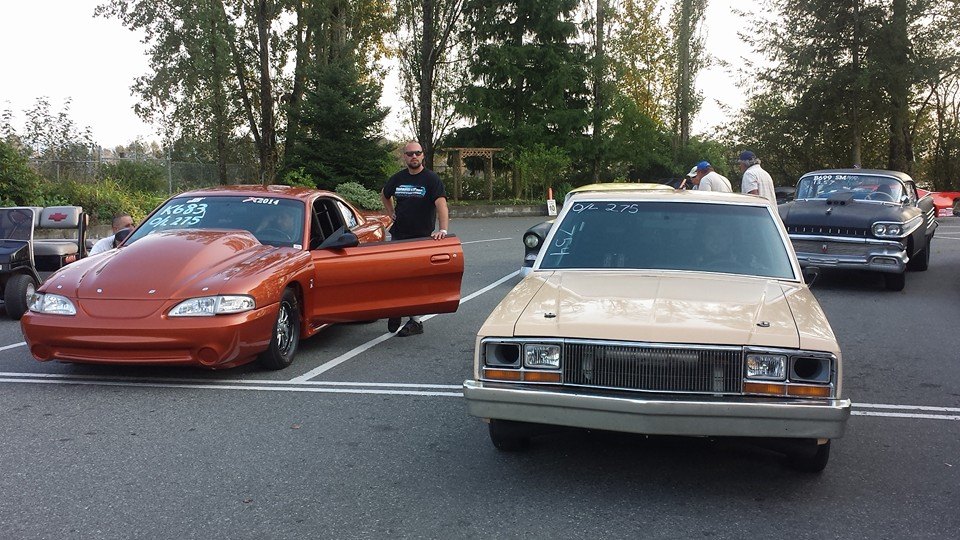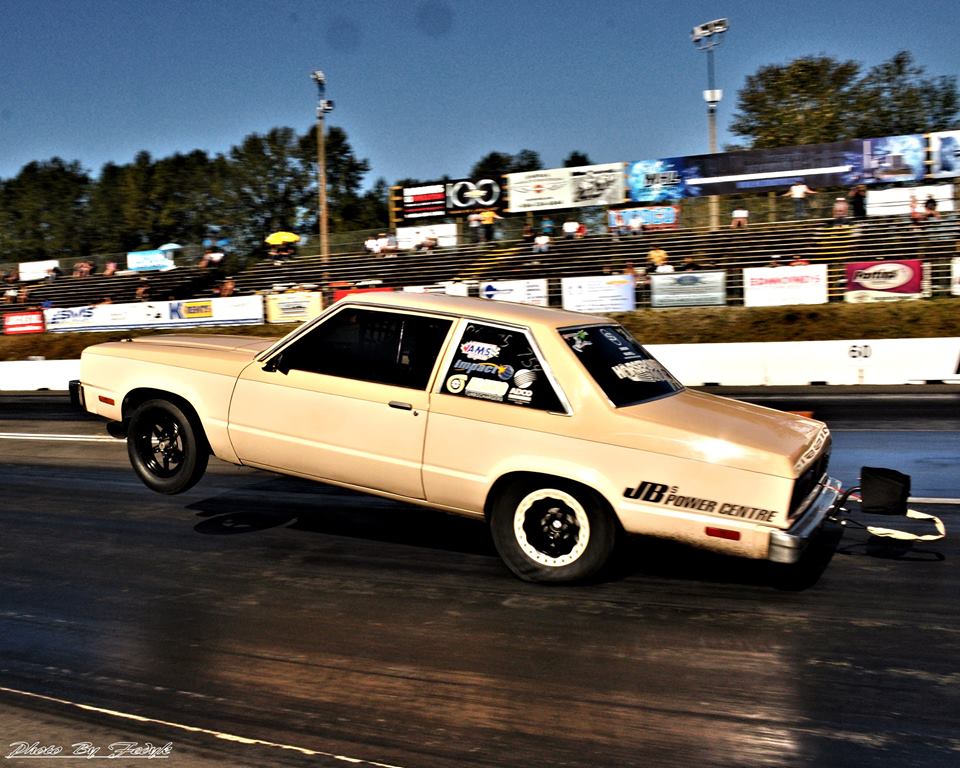 1-6-2015
Here is a video that's kinda fun lol. The car this was filmed from went a 7.80 to my 7.64.
We have some new parts on the way including the following:

lightweight carbon fiber seats
aluminum lug nuts
light weight bumper
Light weight Trunk lid
New Leash boost controller/pulse combo

Trying to get this lump of shit closer to legal race weight.

Also have a new engine underway which will be based off the new Dart LSNext block with many upgrades and custom tricks along the way, Bryant Billet crankshaft etc. Maybe possibly some bad ass turbo upgrades too



We also had Hutch go through the tranny and fix up some issues and change up a few things to make sure it will be ready for the ass kicking we will give it this year.

Stay tuned for pics as the new parts start rolling in!

I will try to update this thread more often for those of you still following.
1-20-2015
Well got a few more things done on the car:

New carbon seats from Unlimited Fiberglass: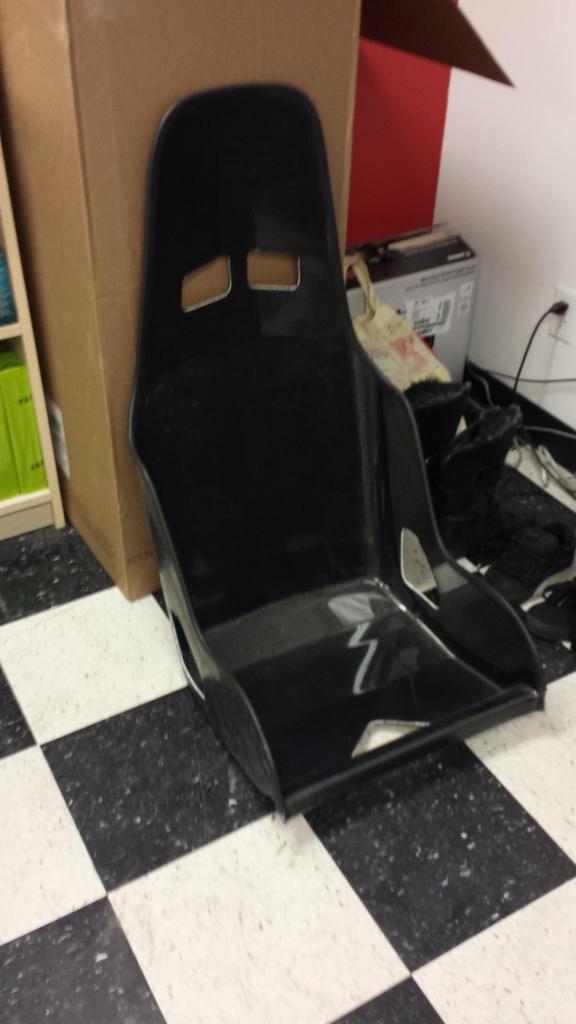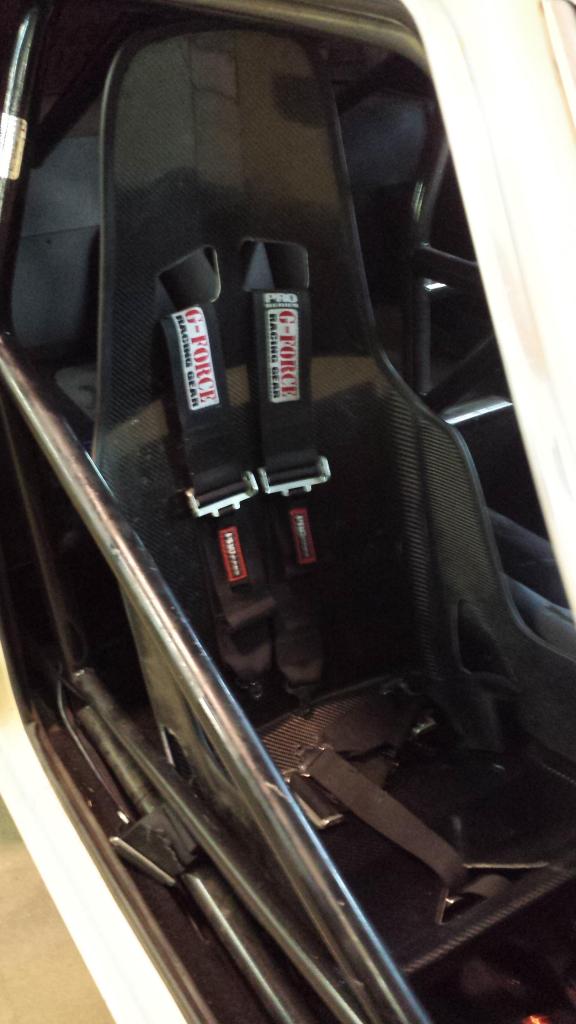 New fiberglass trunk and rear bumper from Glasstek, I also tucked the bumper in some this time when I mounted it.

The Trunk will be going for body work and paint this weekend and the bumper should be wrapped here soon as well.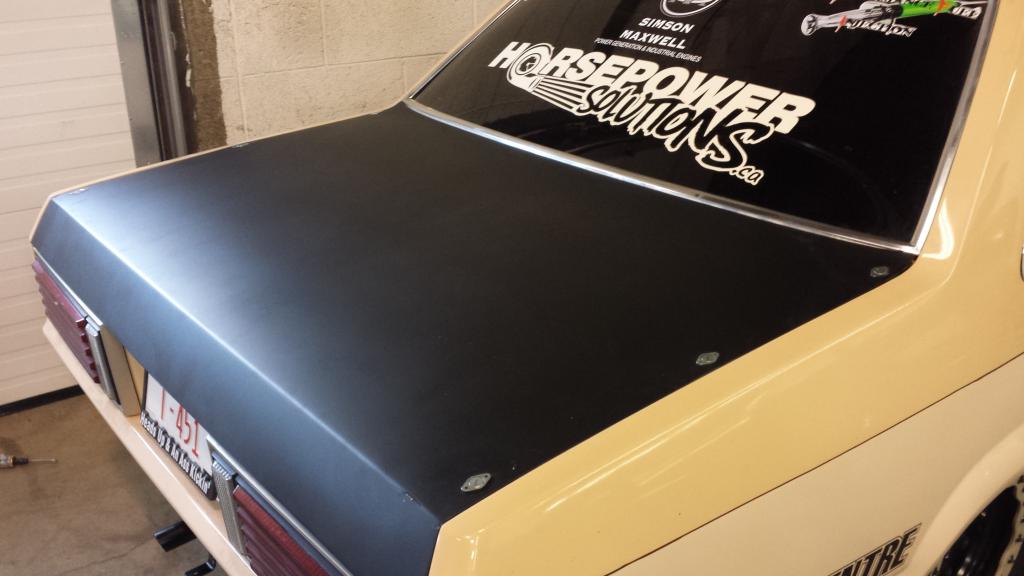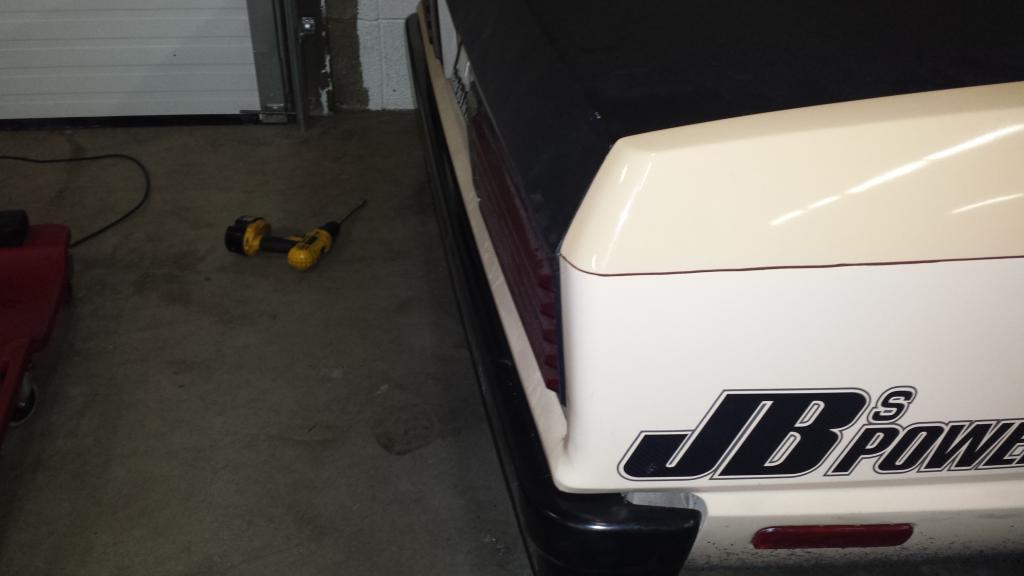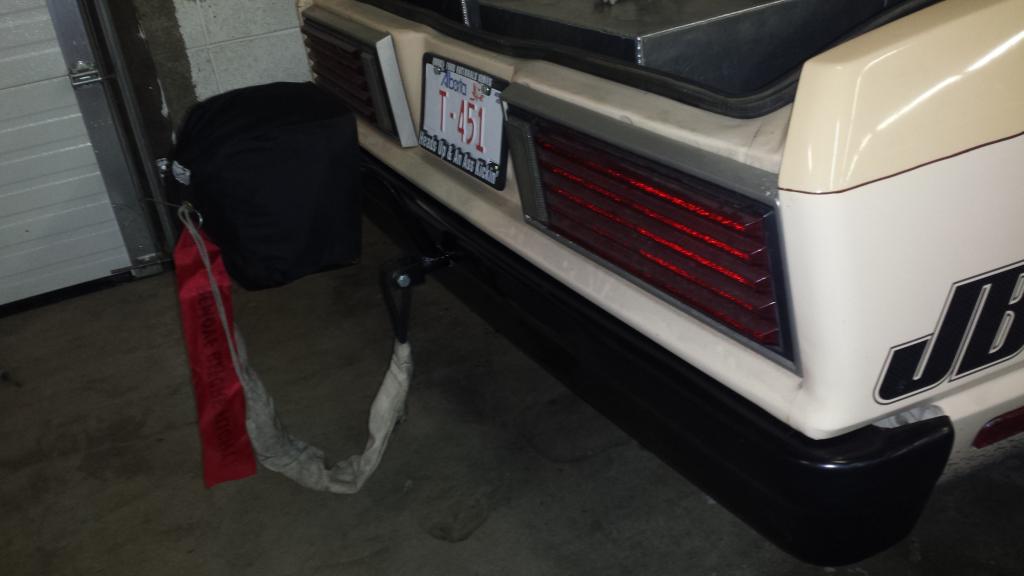 While I am waiting on some more parts I have been tinkering around with a little trans cooler pump set up for in the pits, thanks to some words of wisdom from Hutch it is coming along as well and should really help cool this thing down between rounds when turn around time is tight!

The black mount on the back is for a screw on filter and there will be a pump mounted on the side that will circulate the oil through the filter then the cooler then back to the car.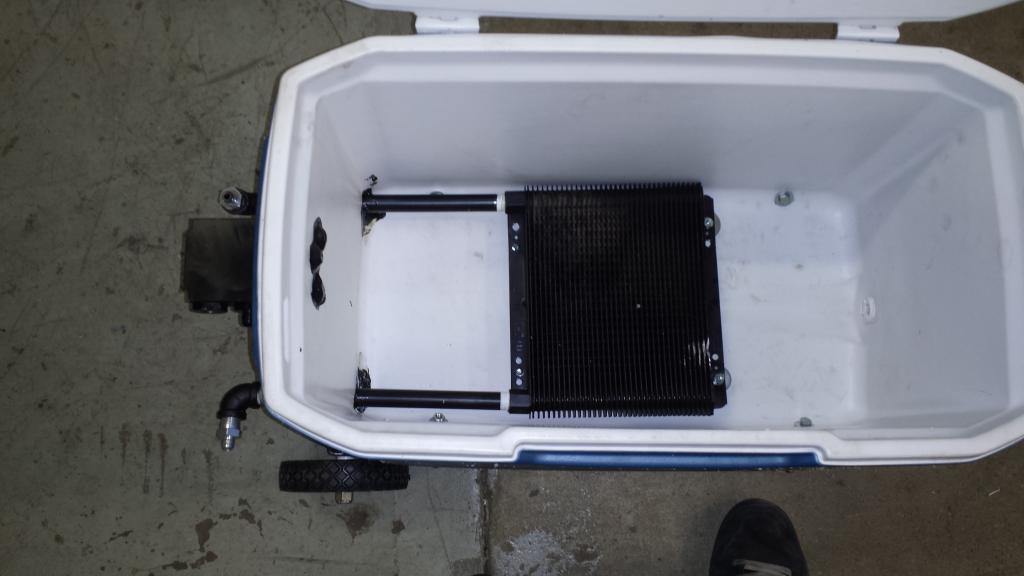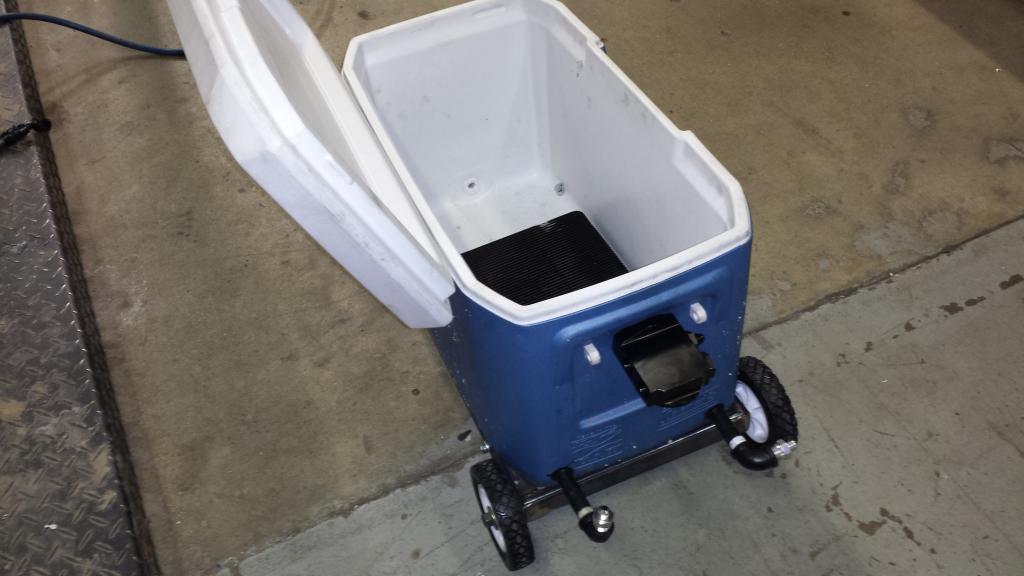 More pics to come as parts / progress rolls along!
Got some more done on my trans cooler deal , just need to build hoses to goto the car and screw a filter on and rock and roll!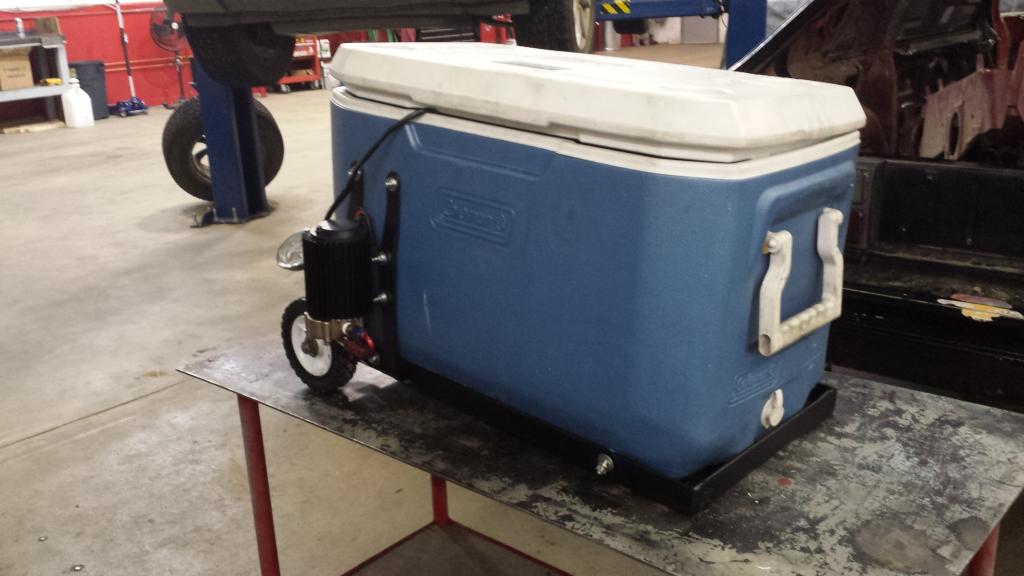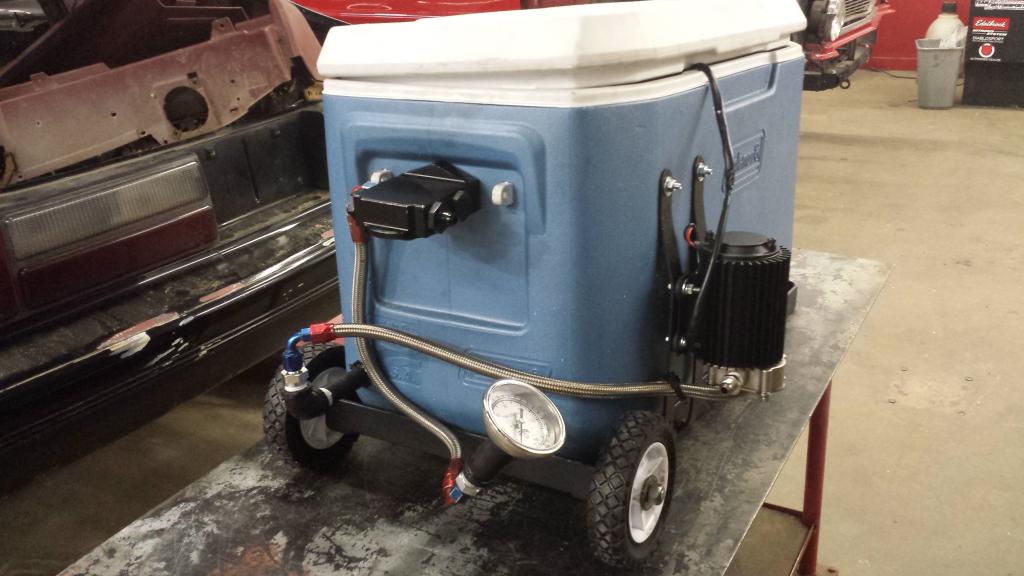 3-5-2015
Not too much to report as I'm waiting on my new block and other engine parts. New all pro 12-2 heads are getting dry decked at Pettis performance and then they will be on their way up to me.

I got my glass bumper all wrapped and installed, overall decently happy with how it looks. Working on getting a glass front bumper and valance combo as well :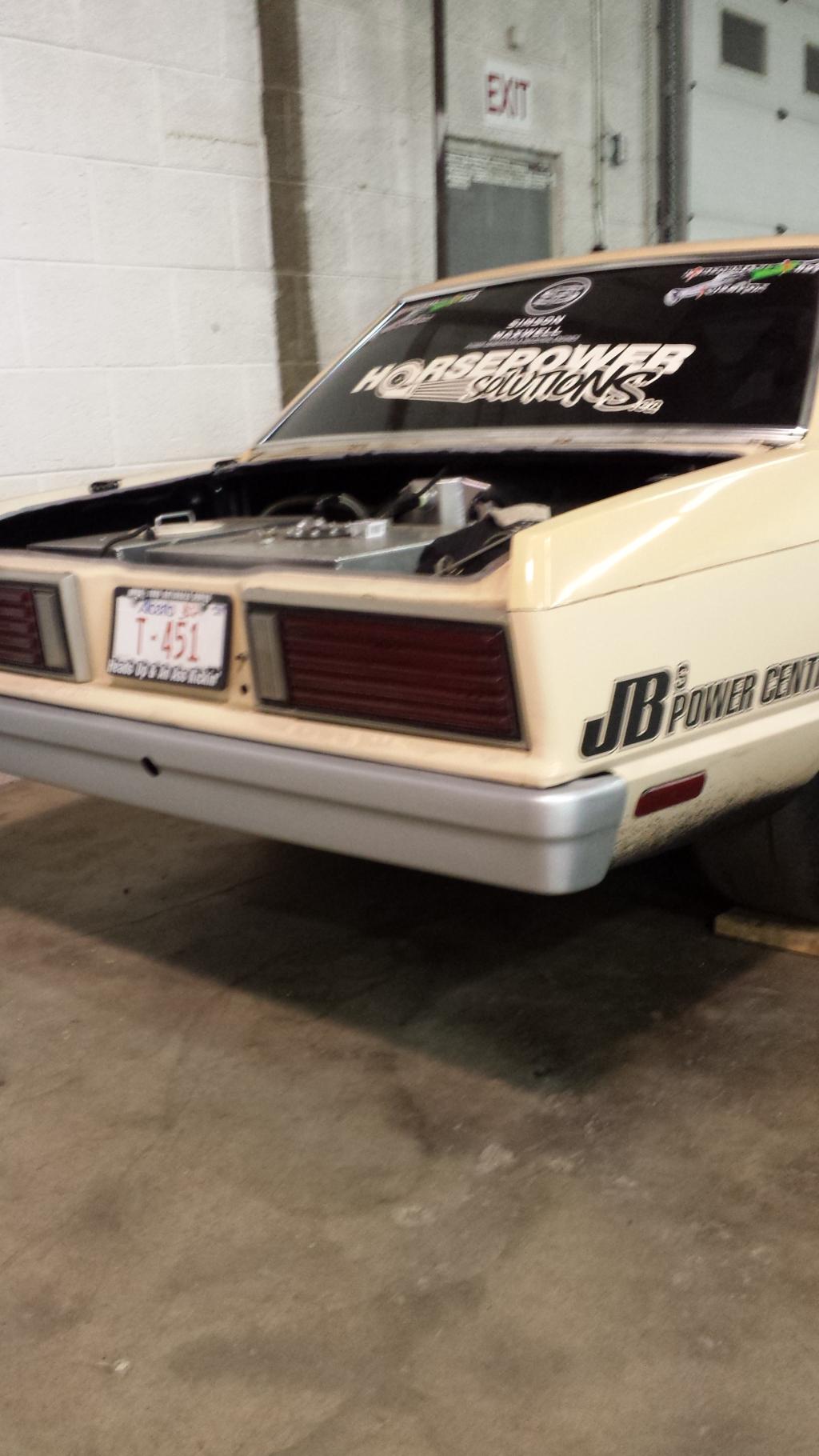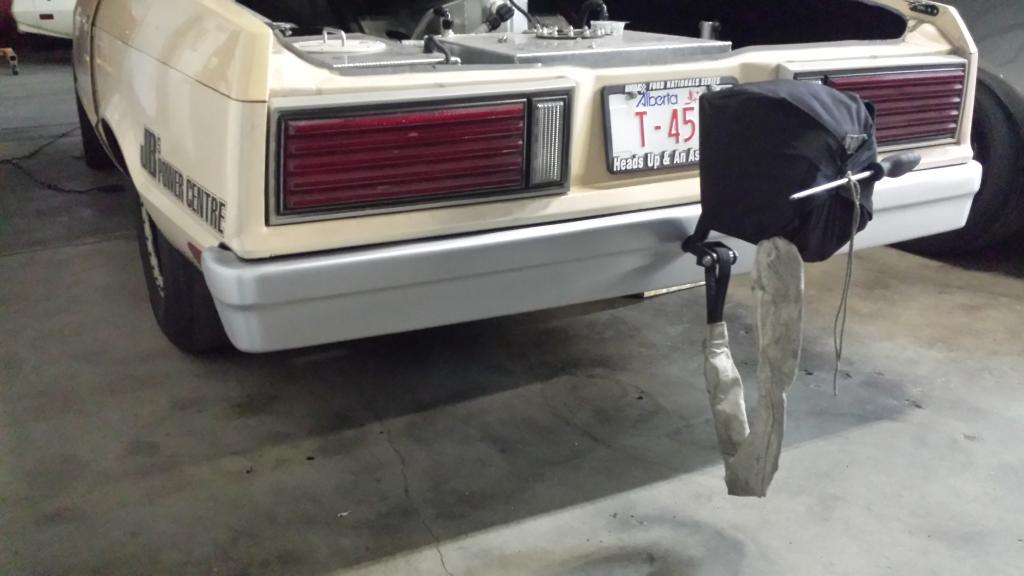 Also got my intake and new elbow from aaron at 6061.com as well as a new 105 mm Wilson throttle body. Waiting on rails from All pro and once I have the block I will mock it all up and then send it for powder coating.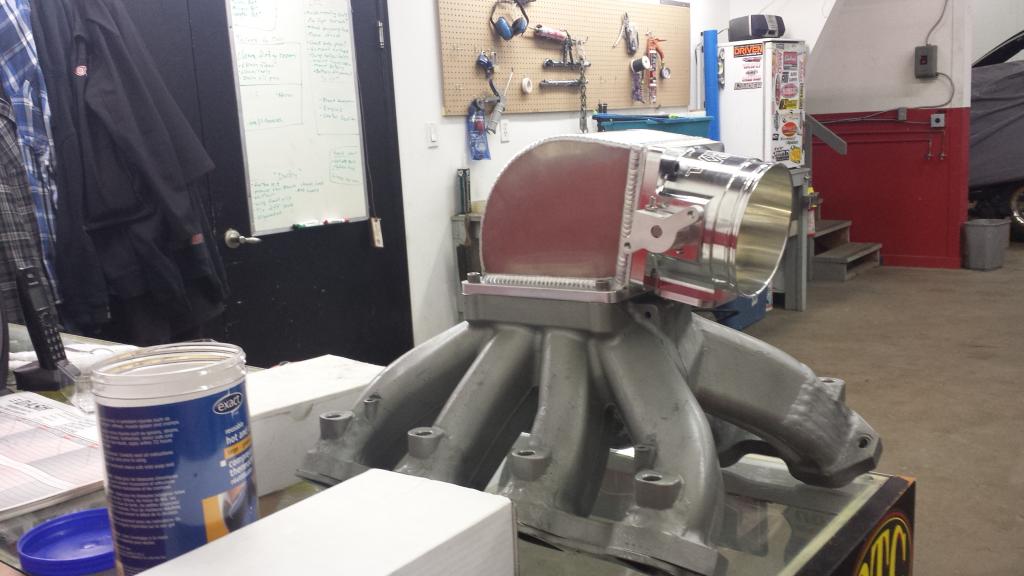 More pics as more parts come in.
4-7-2015
Well we finally are starting to get some more parts rolling in for this bad bitch.... As far as I was told this is the first Dart Ls next with the big main line and 1/2" main studs:

Cleveland main bearing size ( 2.750")
1/2" main studs
1/2" head studs
.904 lifter bores
4.125" bore
Dry deck
Jesel belt drive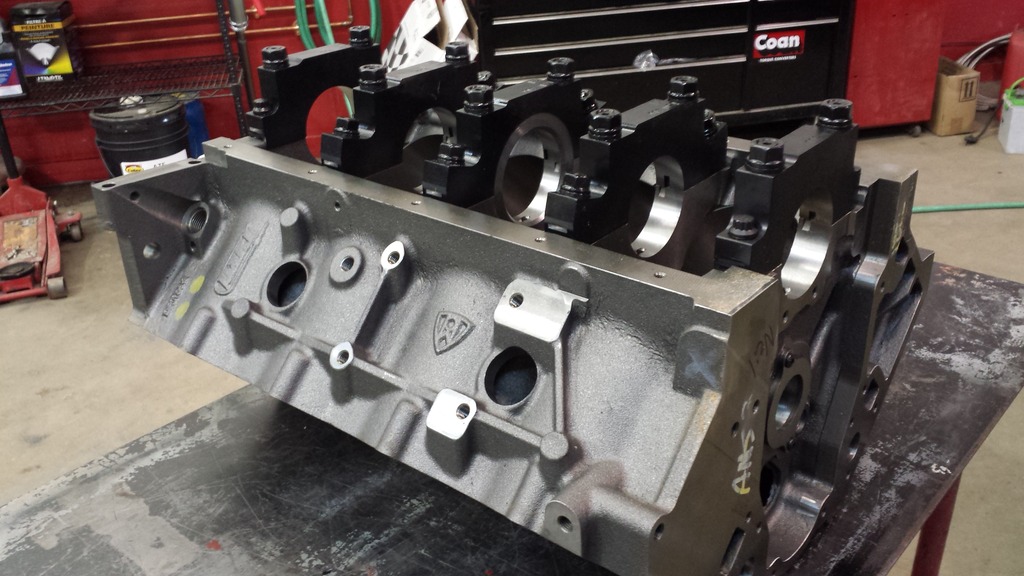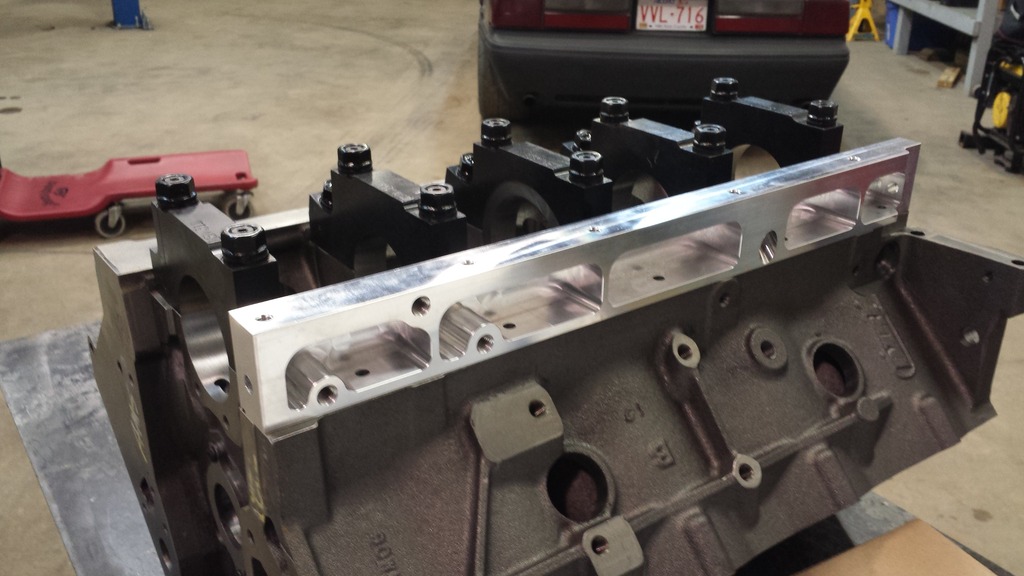 Still waiting on:

Custom wiseco pistons
Custom GRP rods
Bryant billet crank
Comp elite solid lifters
All pro heads.


I will update with pics as soon as more happens!
4-9-2015
Heads showed up... need to measure and order springs /retainers. I also have a set of lightweight steel T&d rockers on the way. Heads will get cleaned up and re - surfaced after the dry decking work is all done.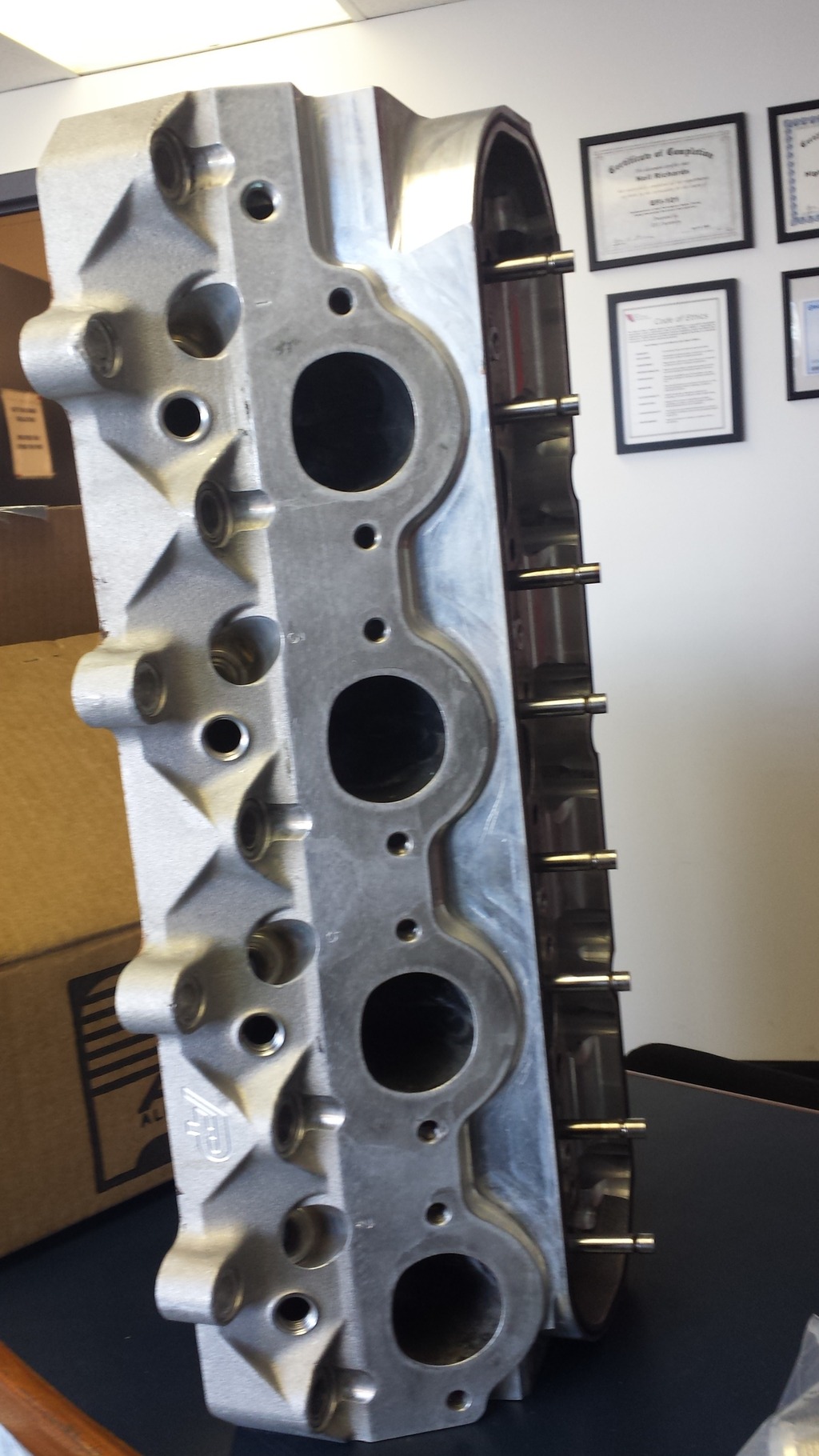 4-20-2015
Got my new Moser Through bolt aluminum center, 10 bolt pro support 35 spline pinion, 3.40 Pro Gear.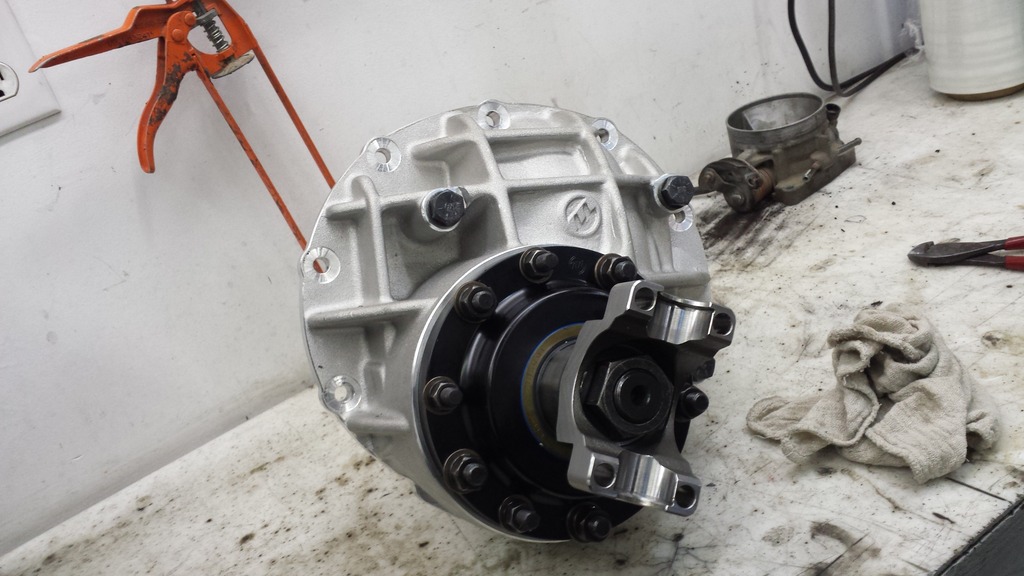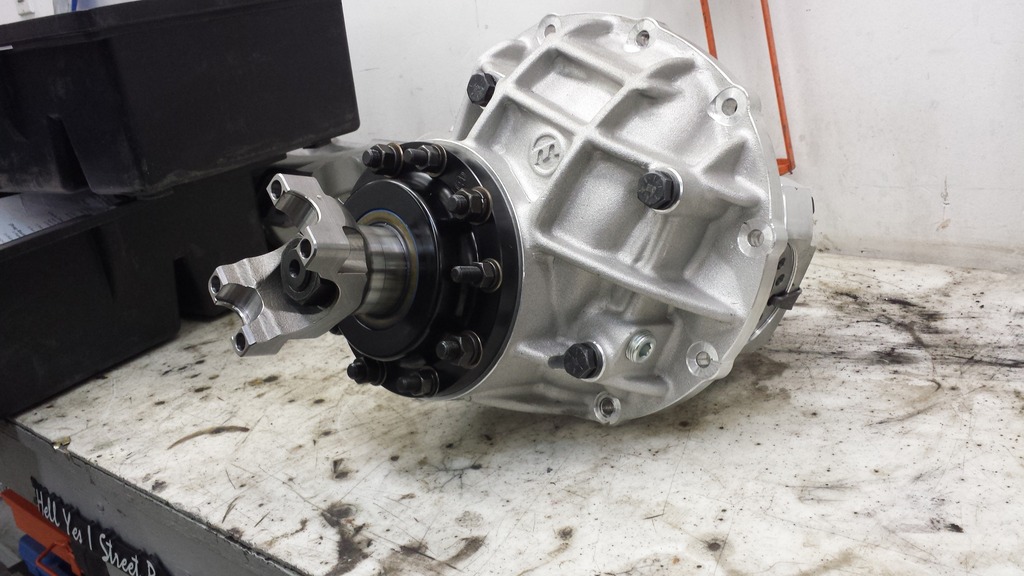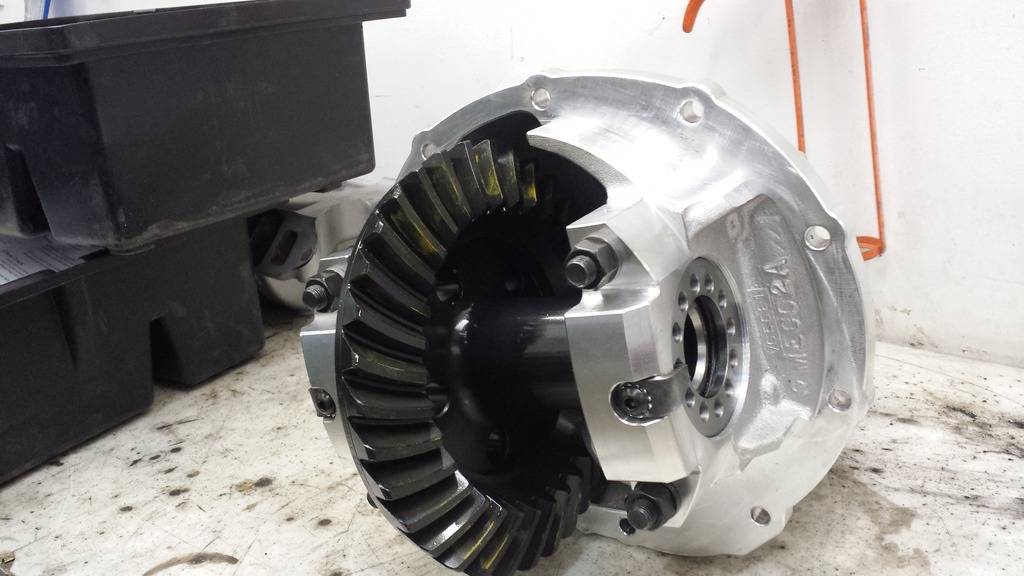 Got It all installed just waiting on a new driveshaft speed Collar, Also had to do some fixing in the upper torque boxes it bent the bolts and oblonged the holes.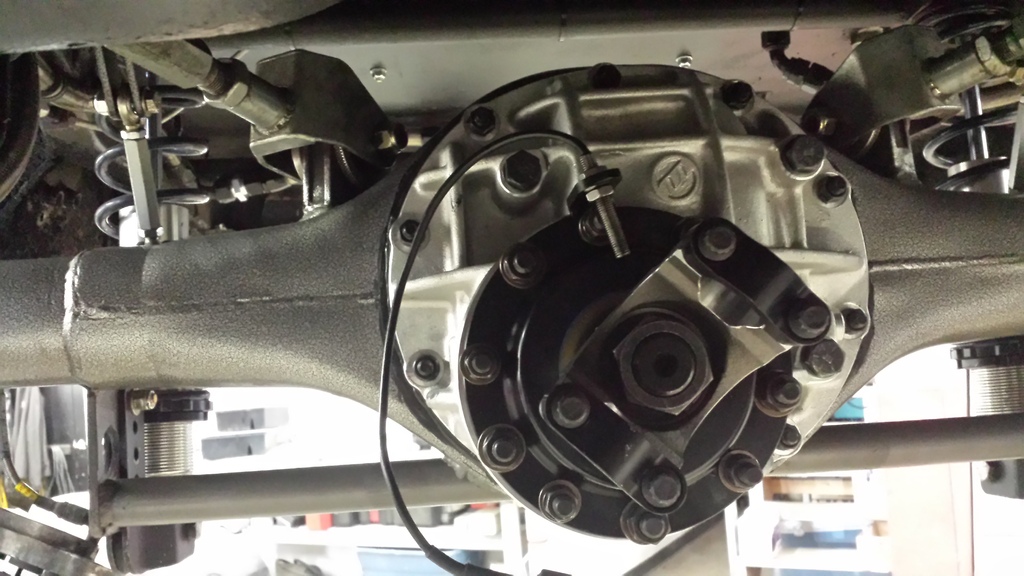 4-23-2015
More parts rolling in and working on mock up/ moving the engine in the car a bit.Still have to send the dry sump pump back and have one more stage and my fuel pump drive added but so far it all fits good! Also thanks to my awesome sponsor ALAMO TURBO we have some new turbos coming.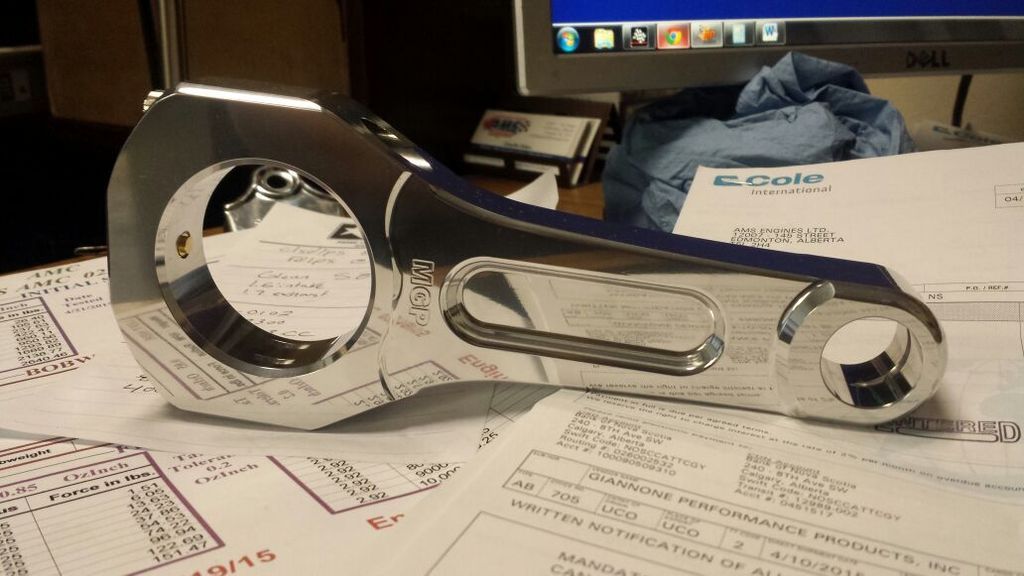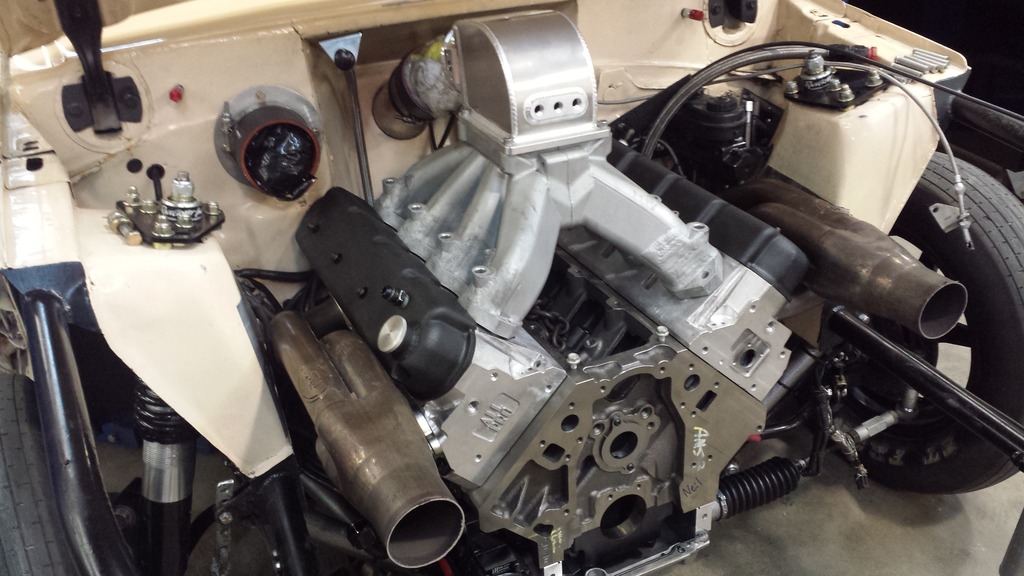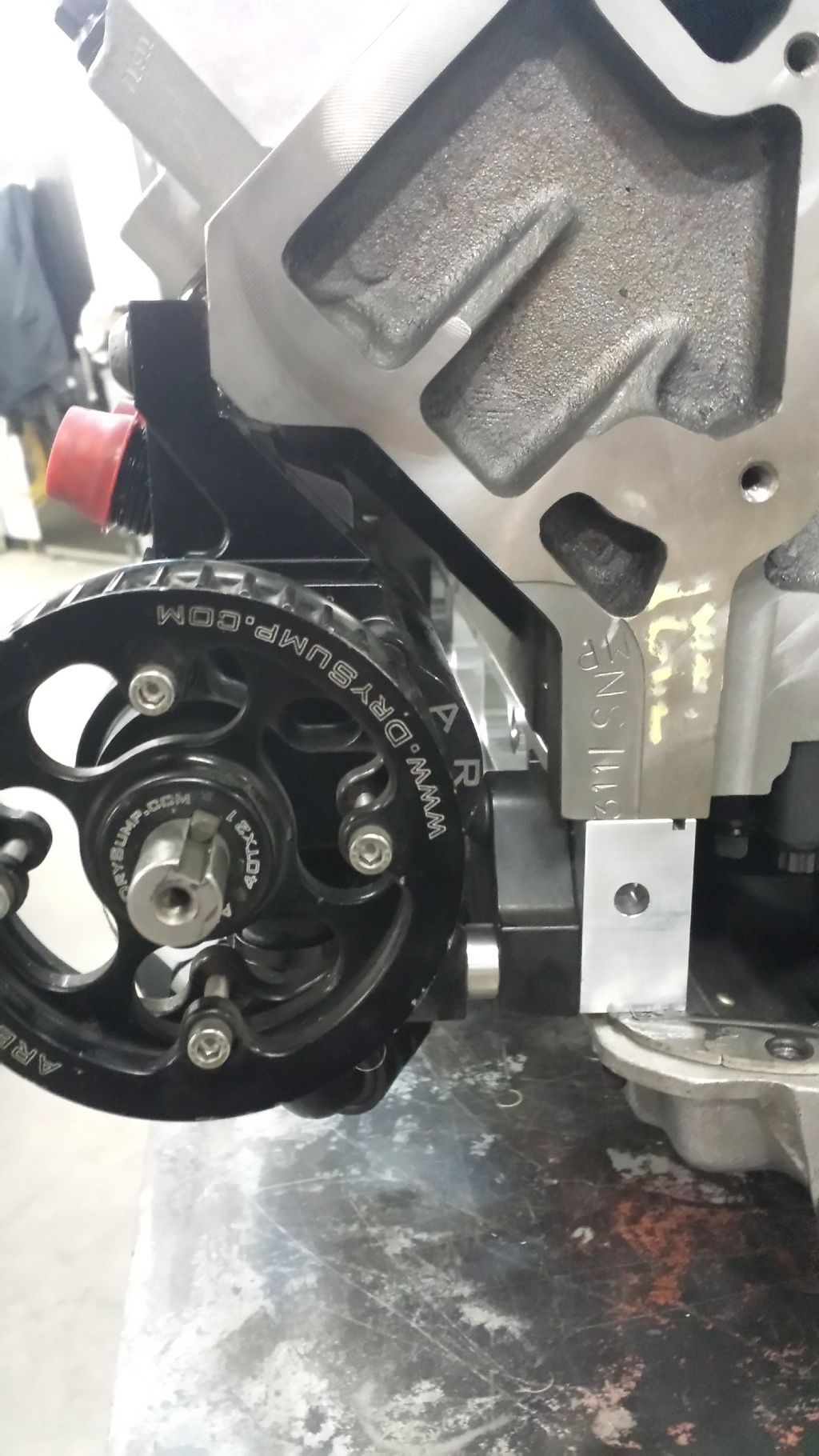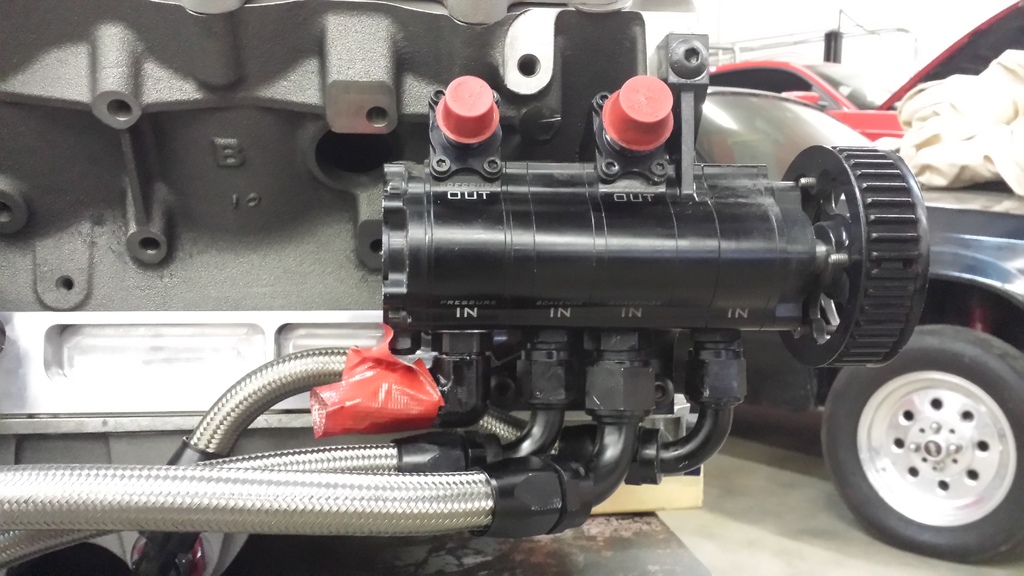 4-24-2015
More parts are showing up. These units should work for our purposes lightweight steel from T&D with spring oilers. Thanks to AMS Engines for helping us source what we need to make this thing happen.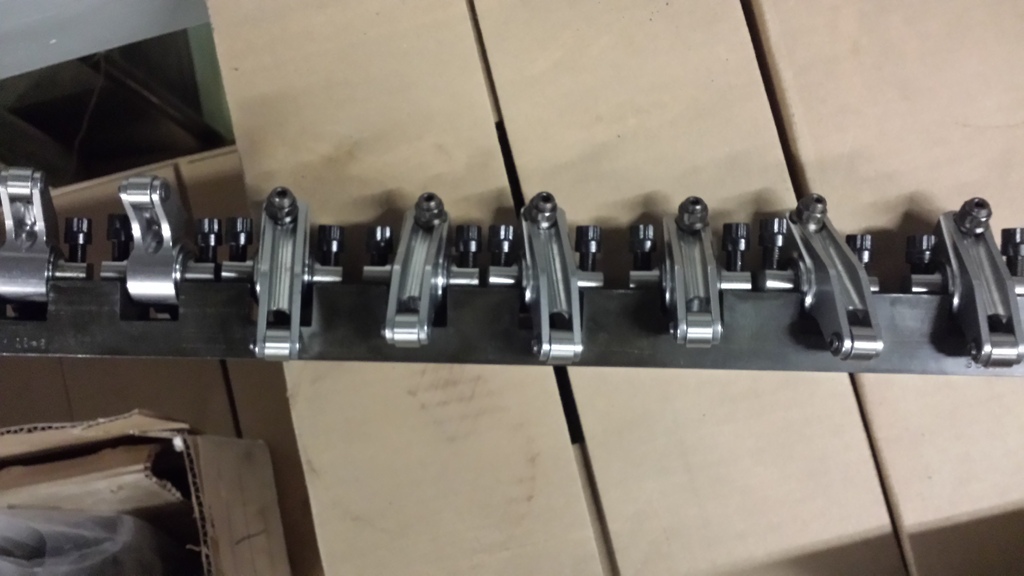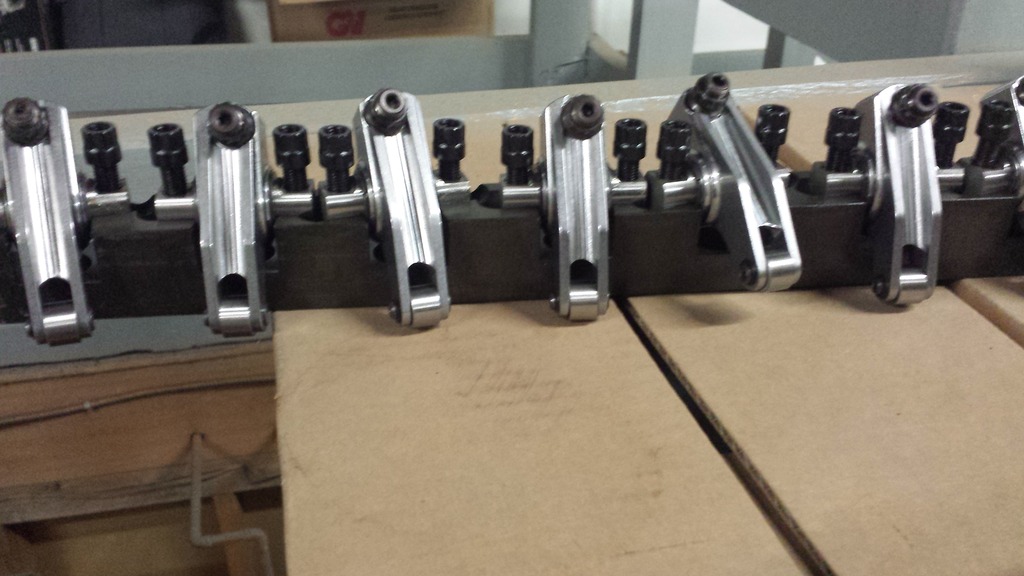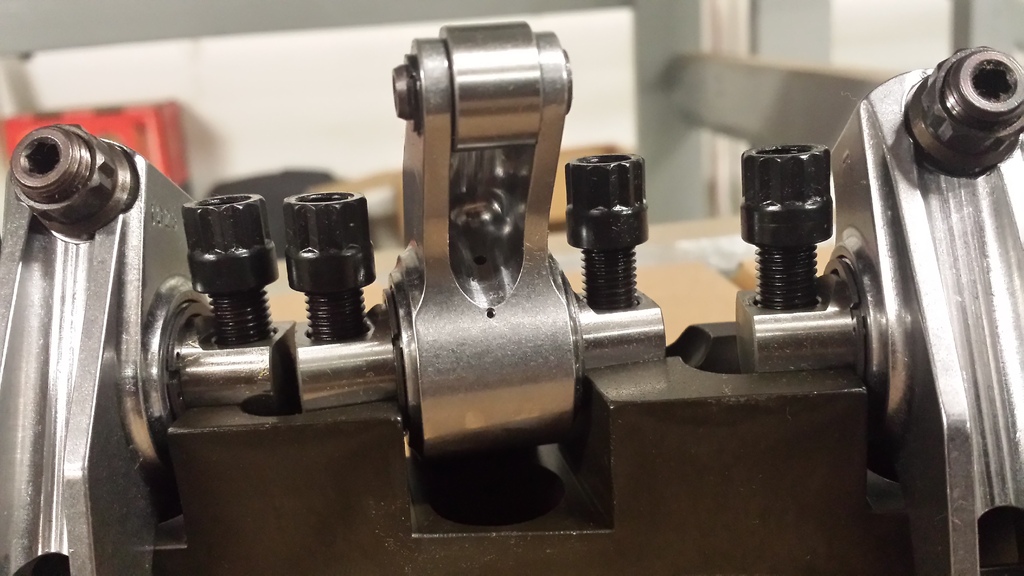 6-24-2015
New custom pistons from Wiseco, Complete one off design to try and combat some of the common failure points. Also feature Hard anodizing and gas porting.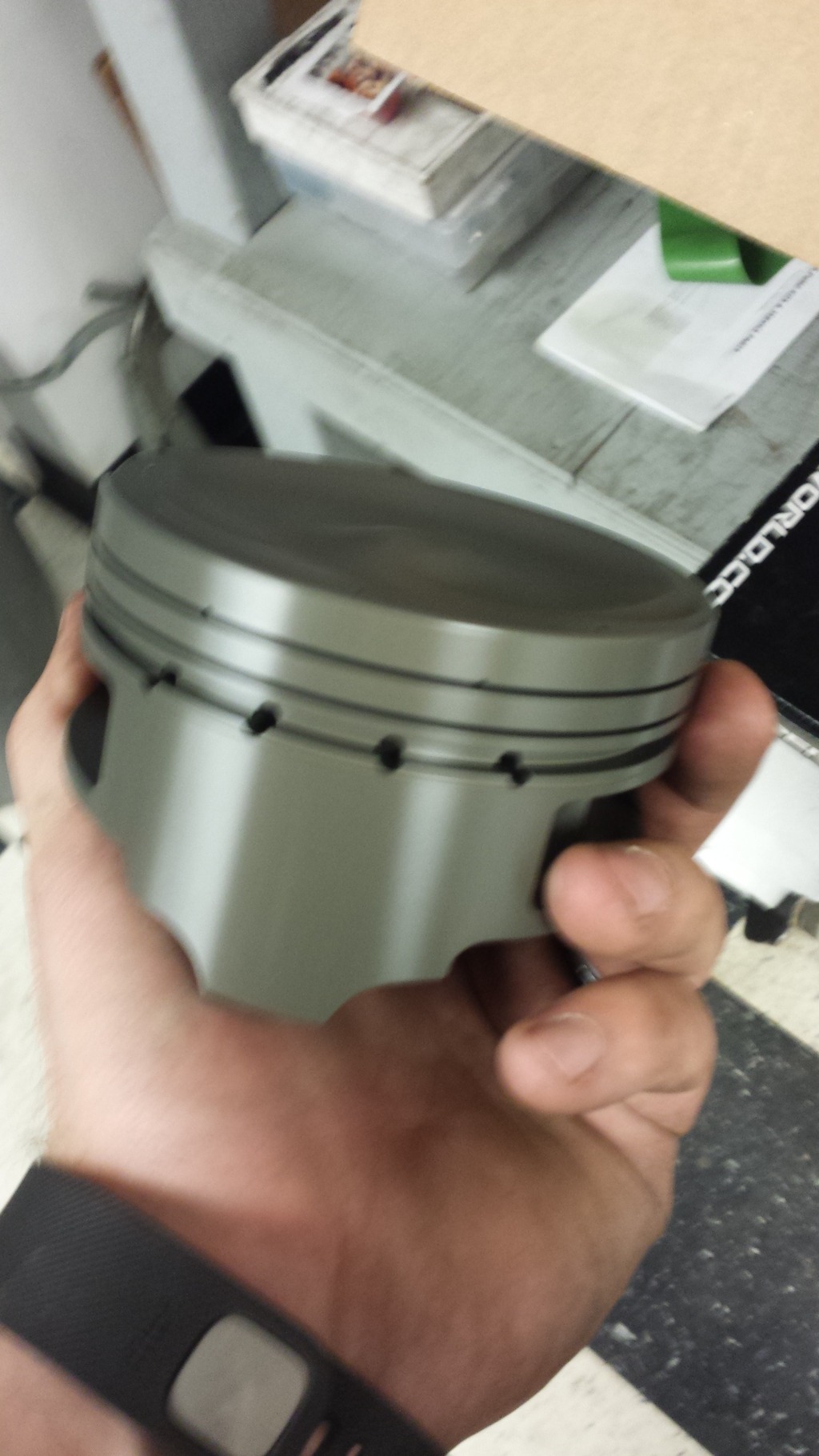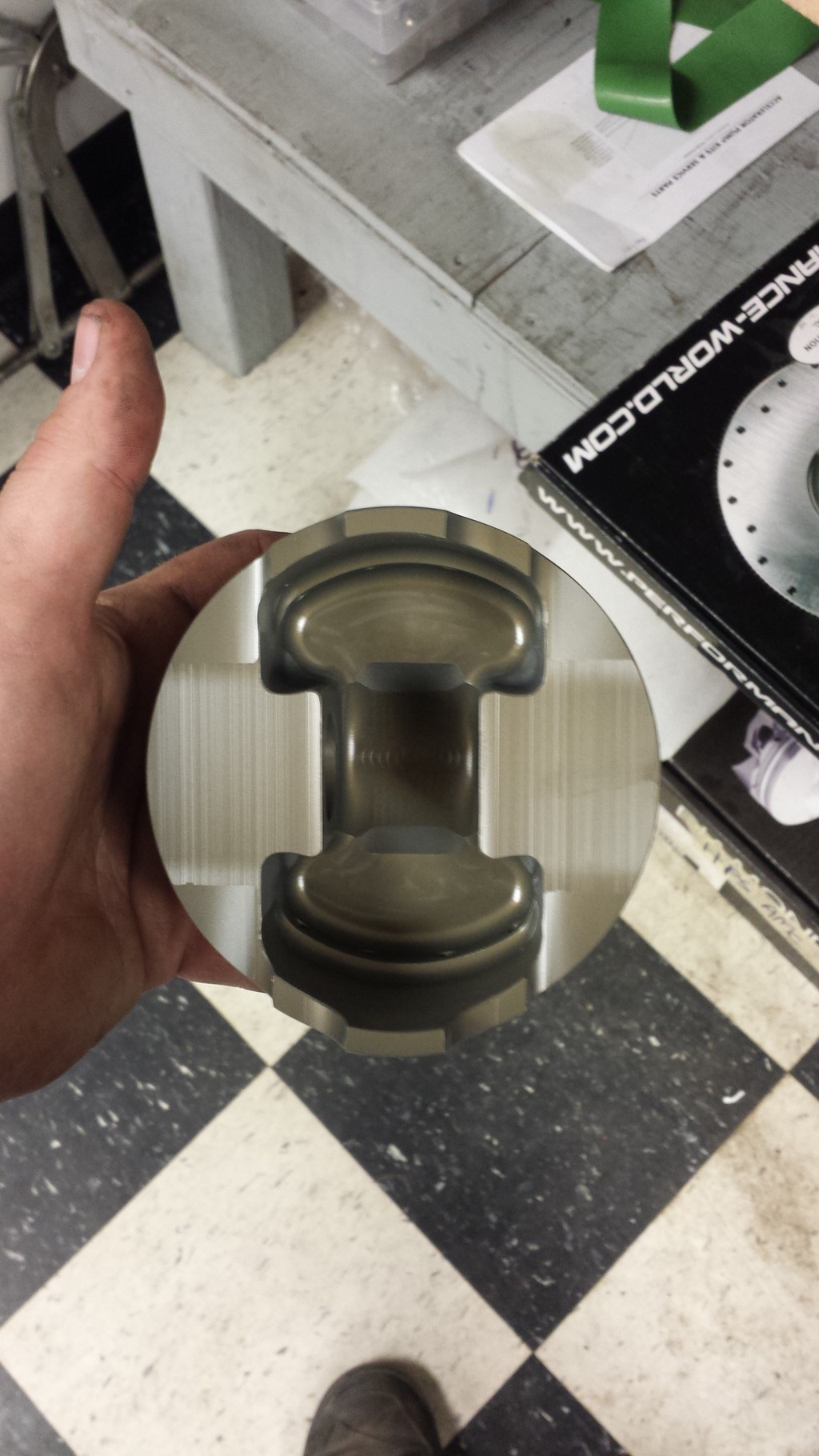 Crank is now balanced and 100% finished at Bryant and is on its way back north to us.


Been busy on customer projects this time of year and haven't had too much time for my own stuff.


Here is one we just finished for a customer, All aluminum warhawk 427 with twin Billet 76mm turbonetics on it. First shake down runs were [email protected] on only 13 psi.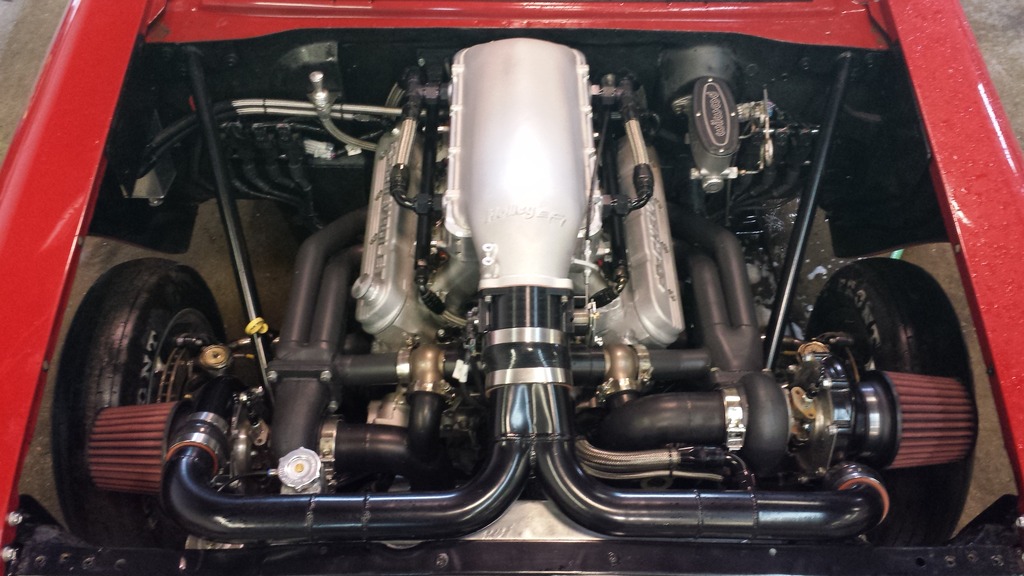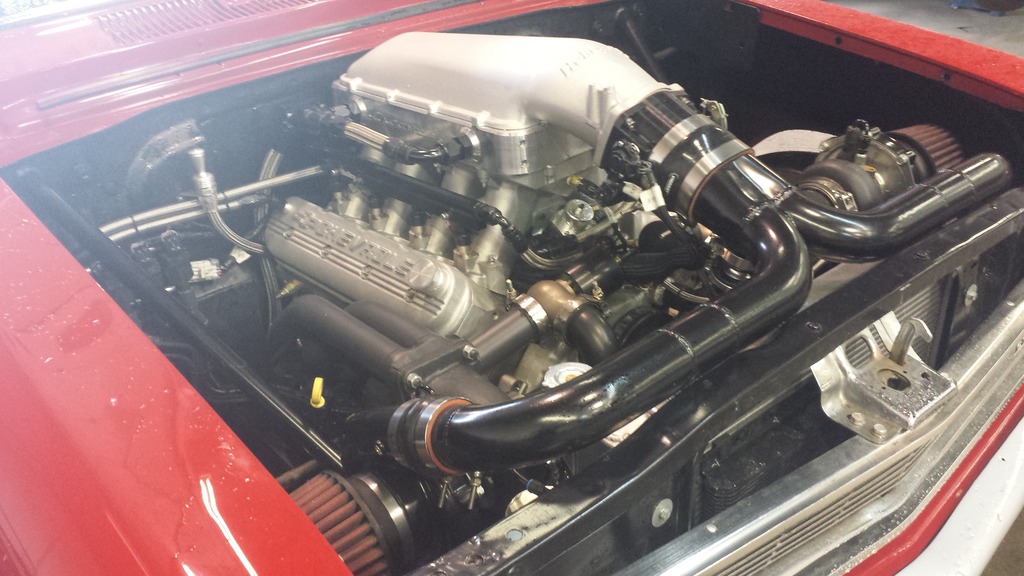 Also been doing a little street playing / testing with the old car whenever we get a chance.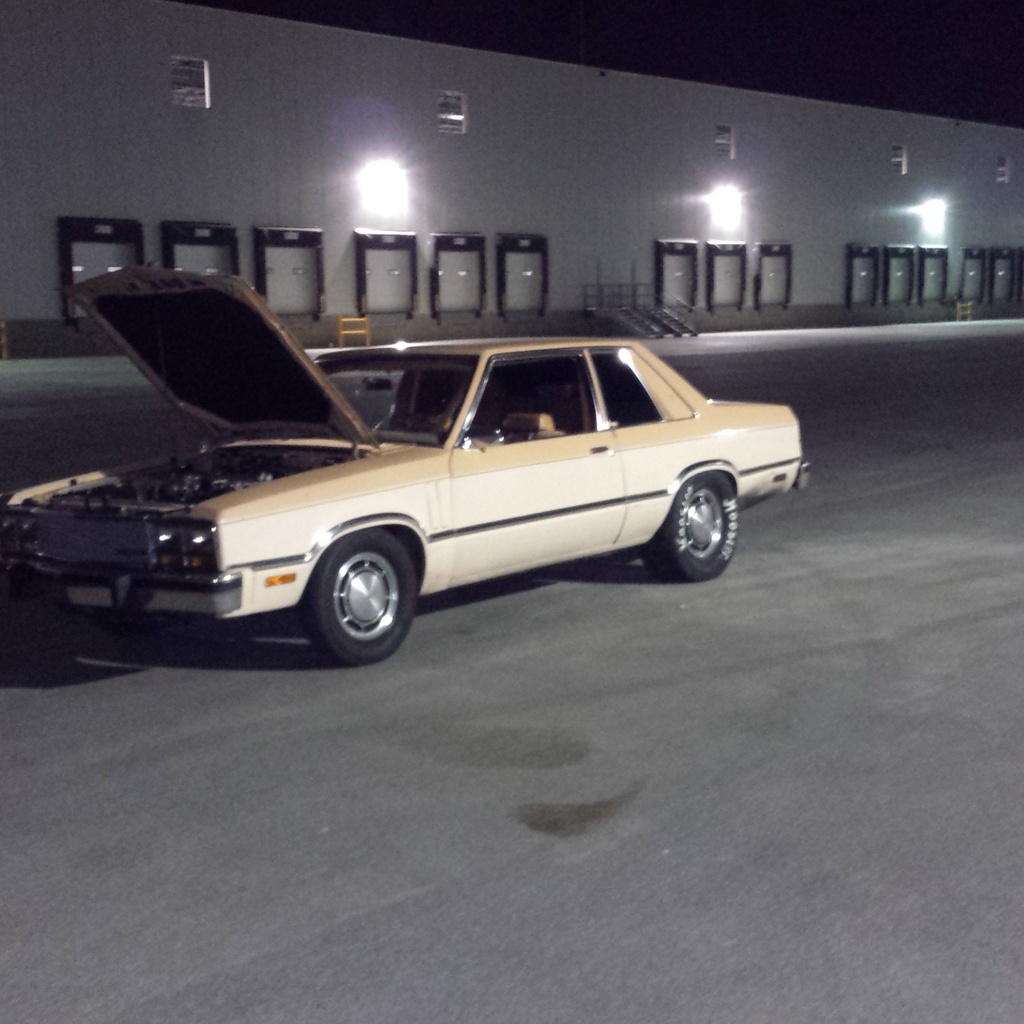 7-7-2015
Been tinkering a little bit, got the pinto rack mounted and my dry sump tank also moved the rad over and now I just need to build mounts for that and we can start on the turbo kit.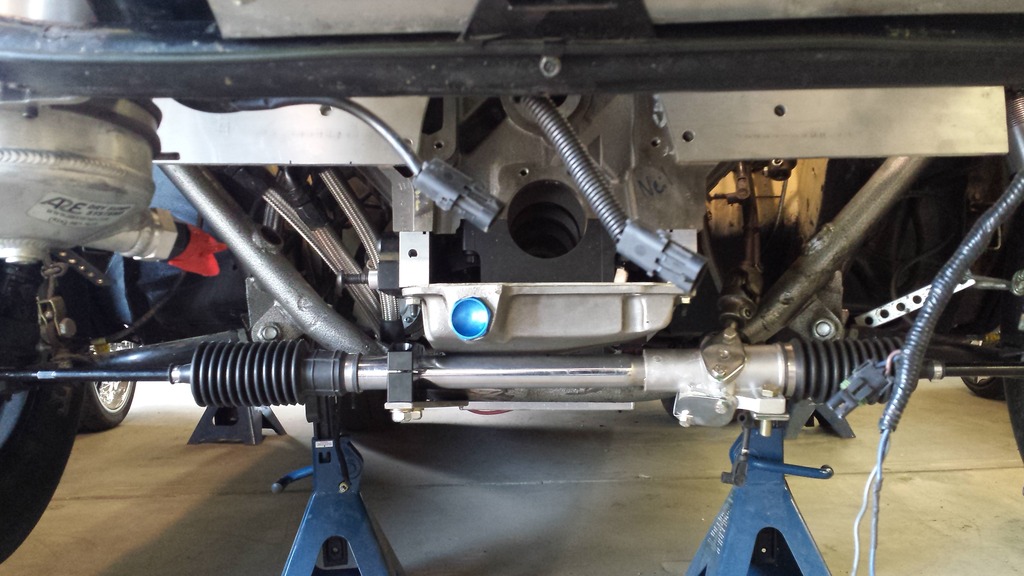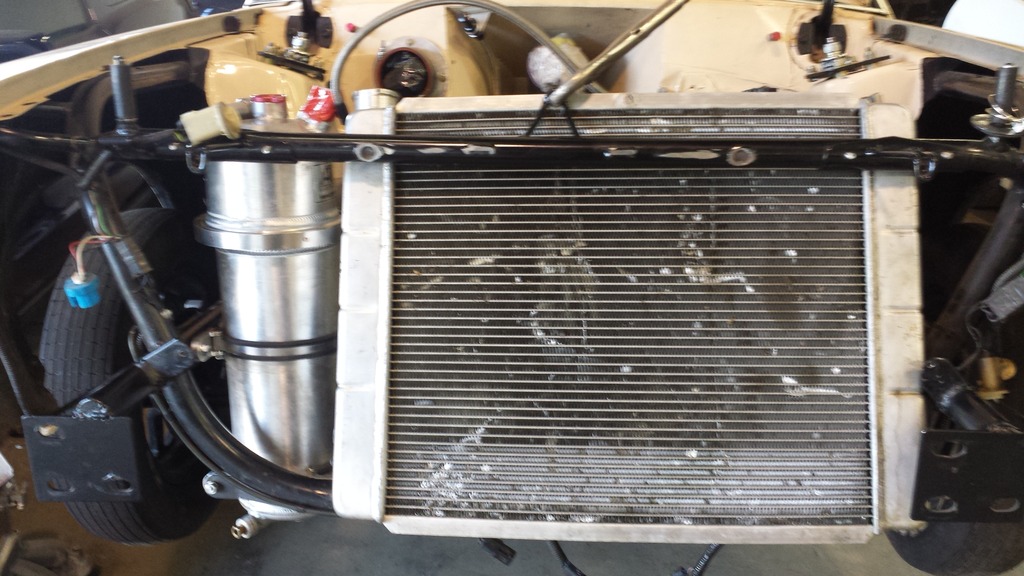 Also got my new valance/bumper combo and test fit it, we will have some nice big turbo inlets on the bottom side to help break it up.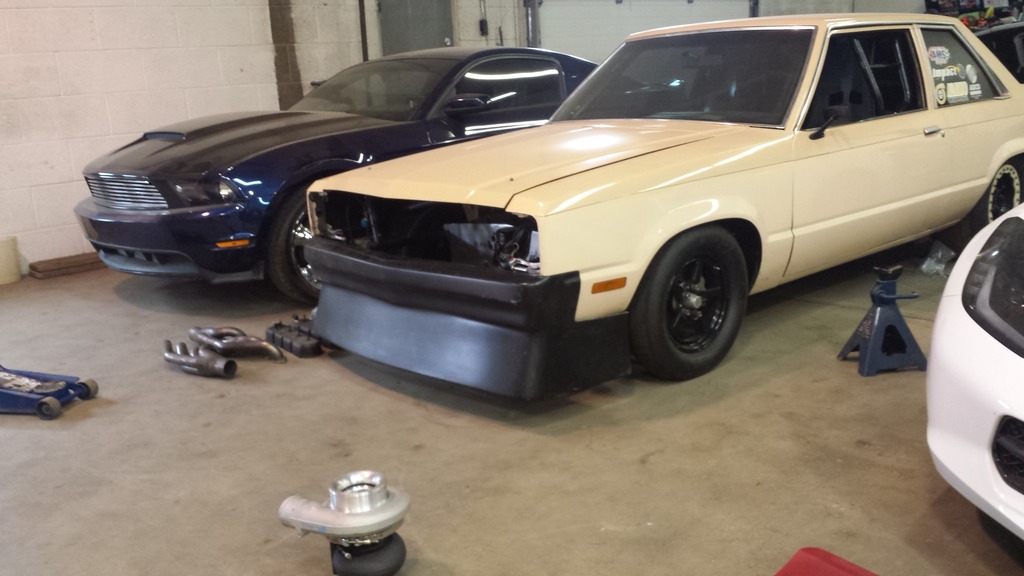 9-9-2015
Making a big push right now to get the car together and hopefully make a few test laps before the Las vegas Street car supernationals race we hope to attend in November.

Thanks once again to my main man Nolan for taking care of all the fab stuff.



New Stainless hot side is about 80% done just need to add the wastegate feed pipes. New cold side is coming along as well, It looks low in the pictures because it IS lol but also nothing sticks down below the K member or below the valance.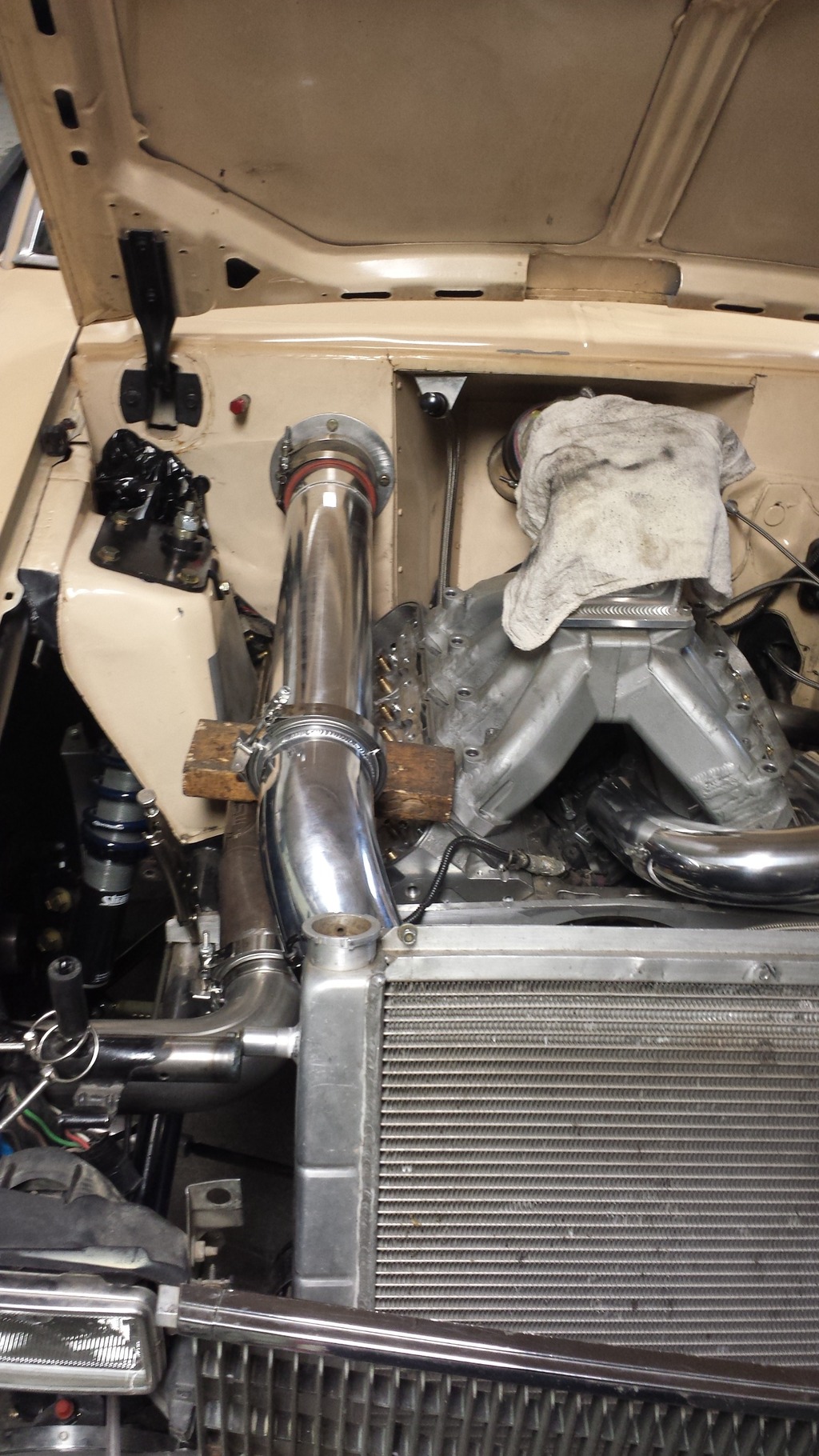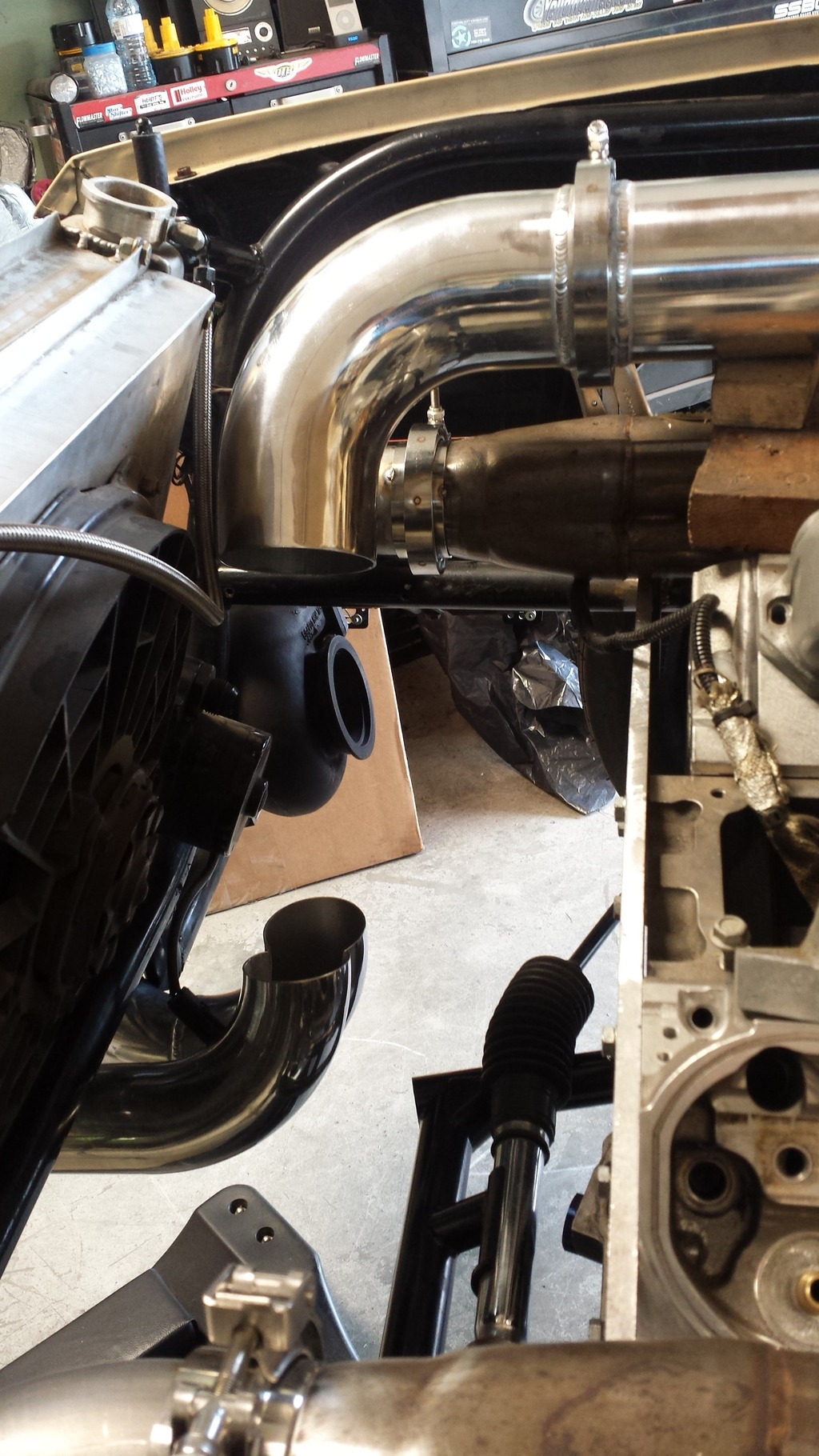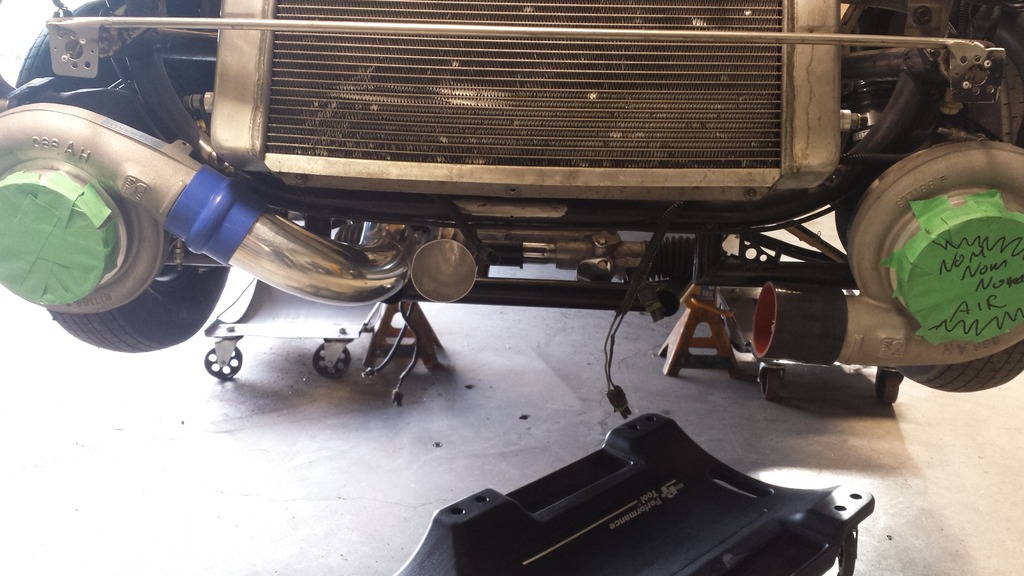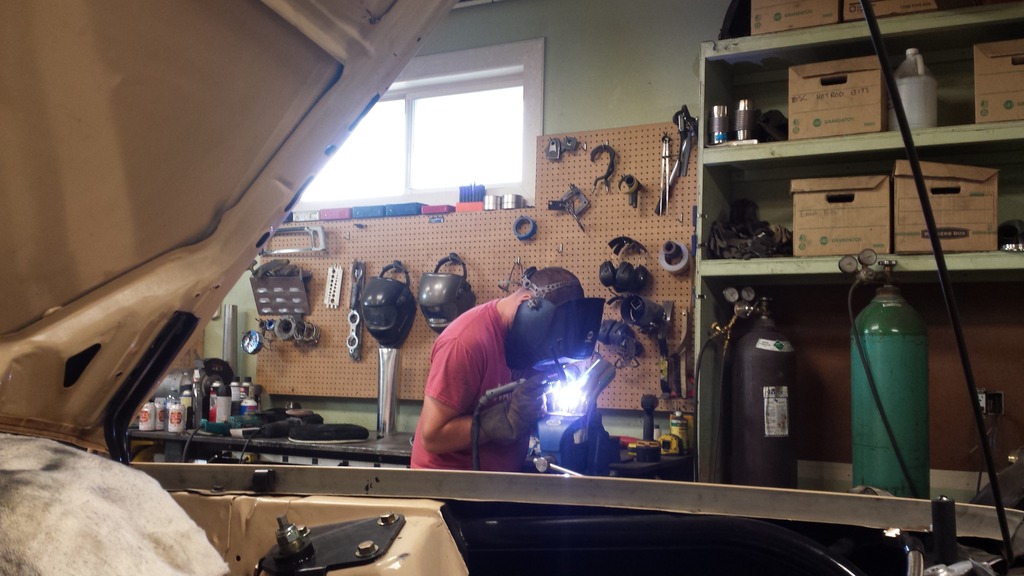 Also got a full new front end for the car:

Double A outlaw K member
Control Arms
Front end limiters
Fixed caster camber plates
Pinto steering rack
Strange Double adjustable Struts
Strange front Drag brakes
Aaron P Aluminum Lug nuts.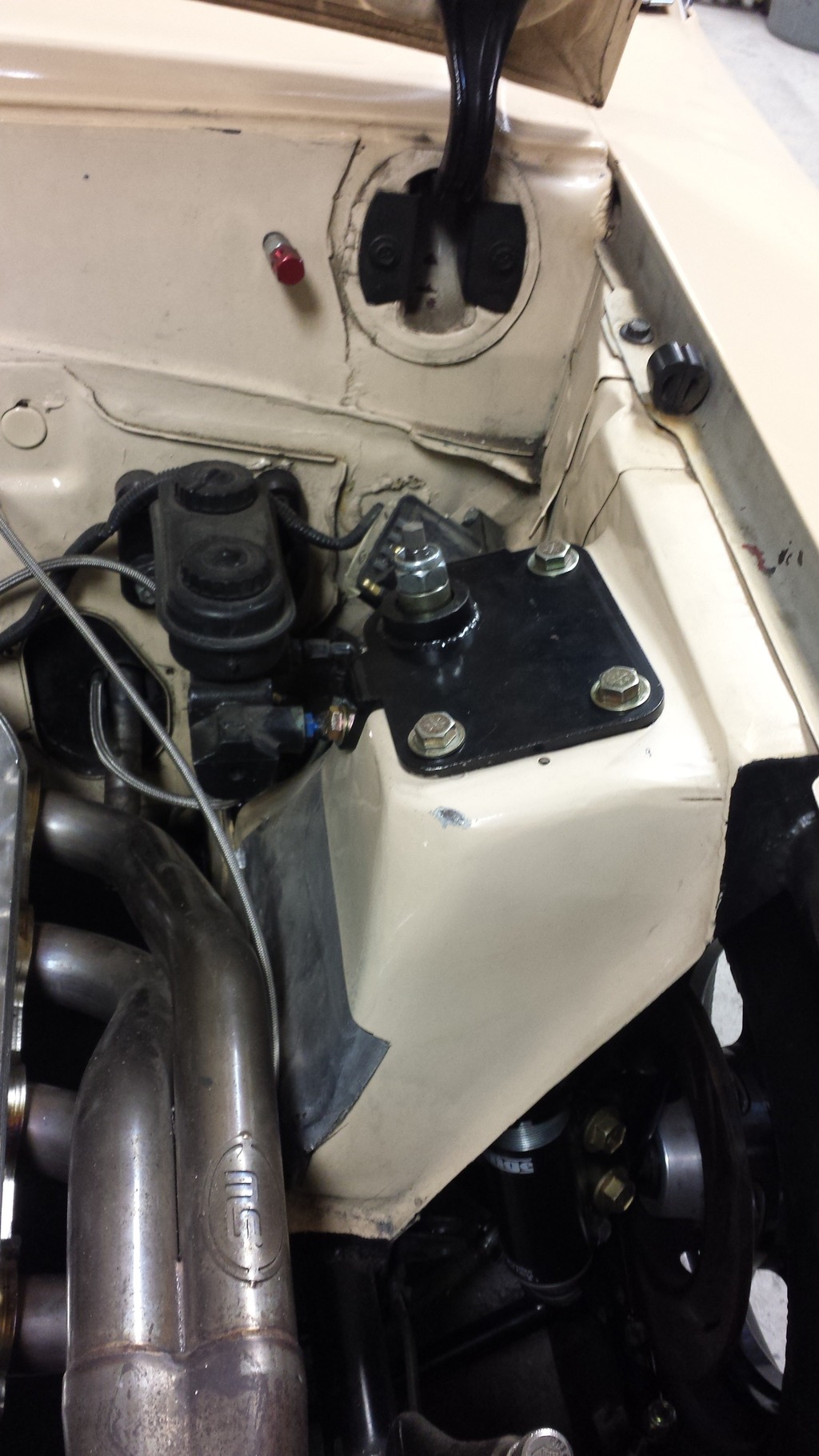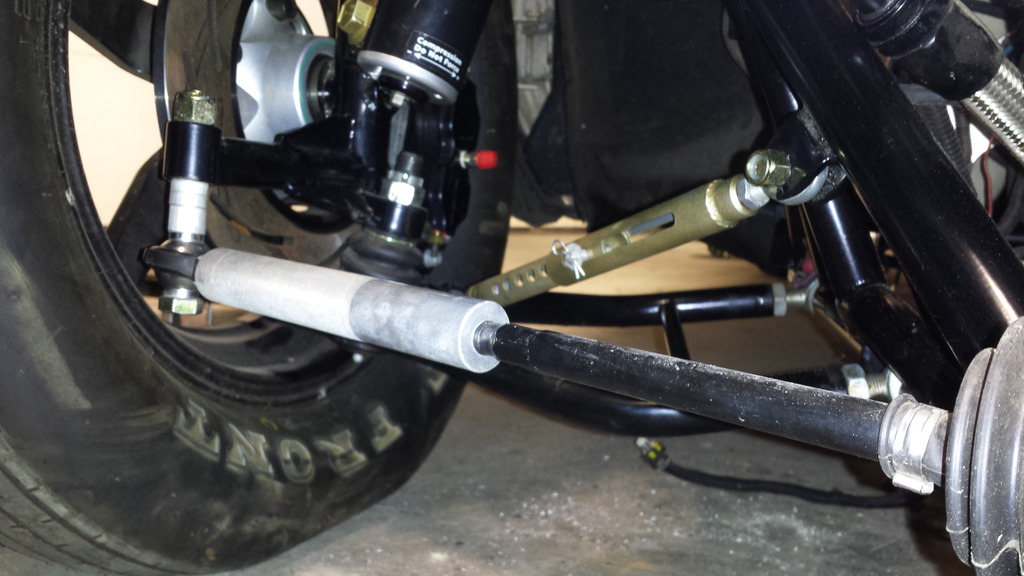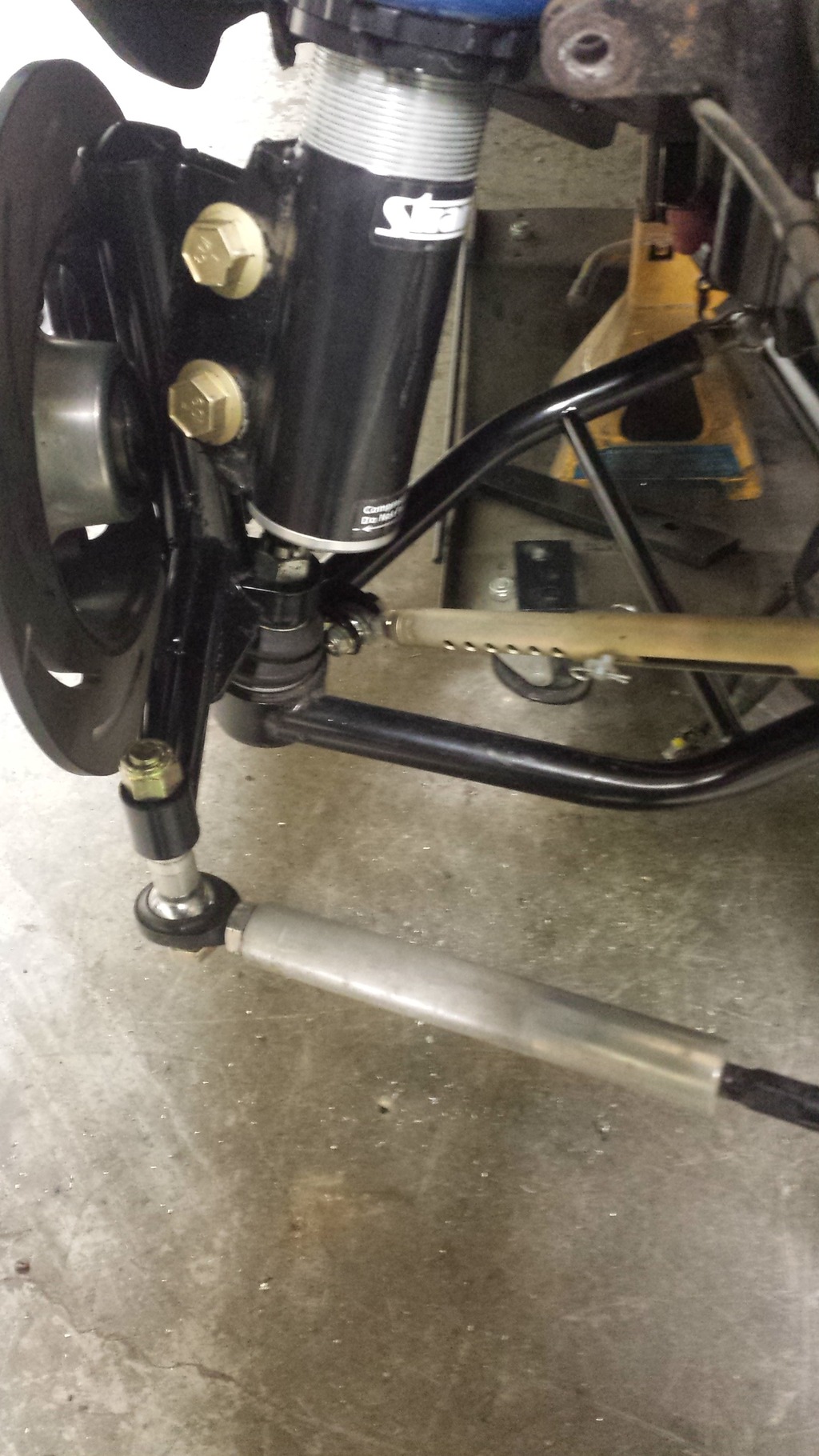 Got the new outlaw valance all mounted on the car, Just need to do the holes for the down pipes then its off to paint. The whole car needs a bunch of touch ups/ repairs body and paint wise but that will have to wait for now.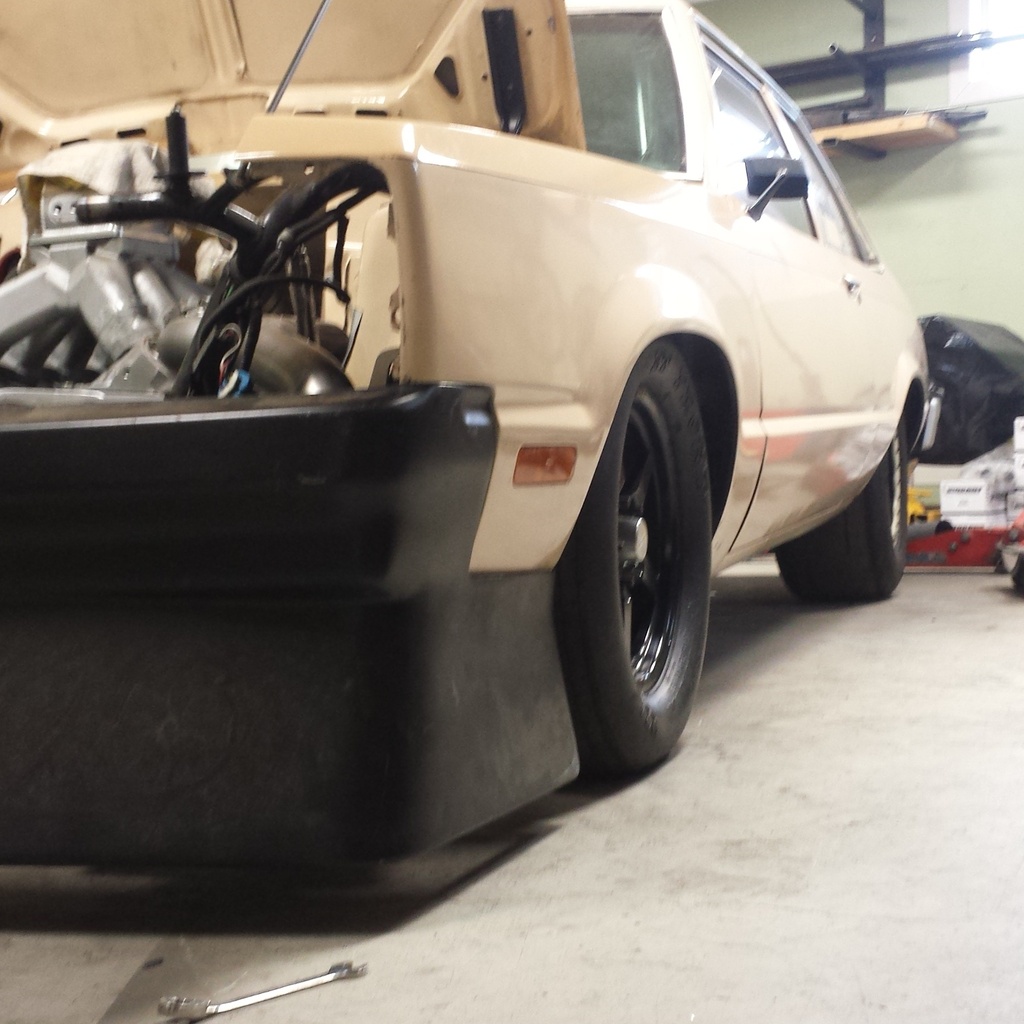 As soon as we can get this fab stuff wrapped up the block will come out to start on machining / assembly. Oh and this finally made it up to us as well so I guess I can post some pictures of the strongest crank you could put into an LSX period.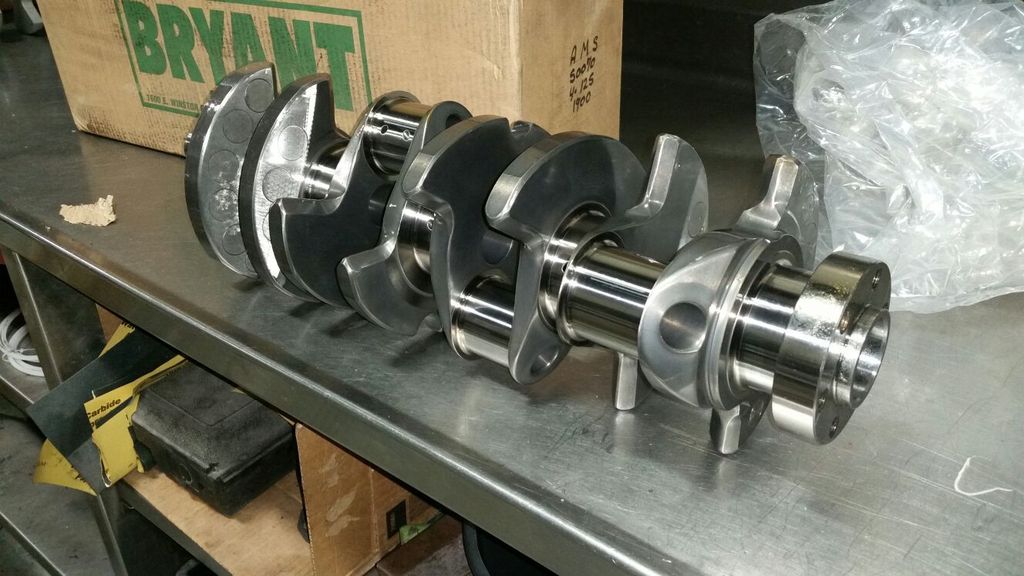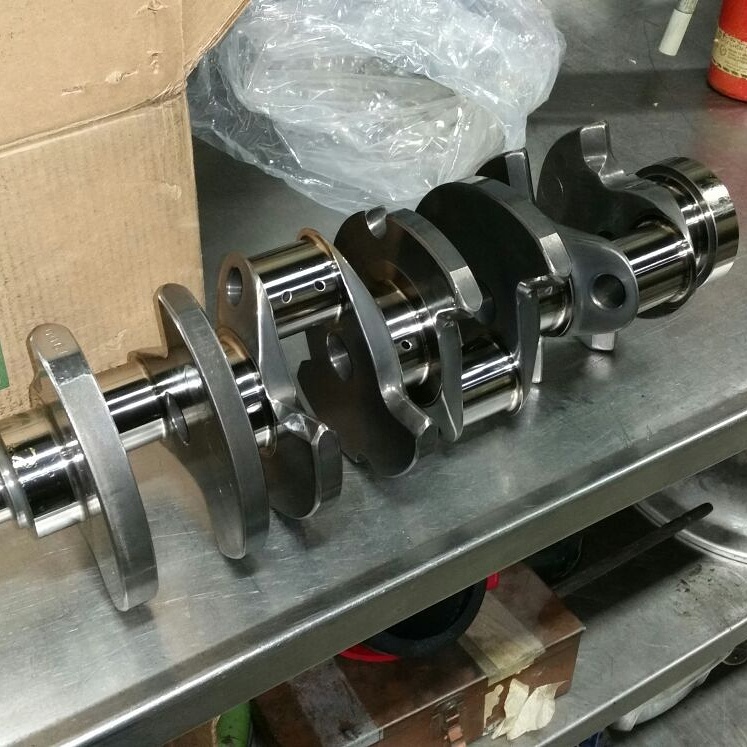 9-10-2015
Thanks to Alamo Turbochargers for once again taking care of our turbo needs with a brand new set of the newest Borg Warner technology with a set of their new billet "Z" wheel turbos.

I can't wait to pin the gates shut and see what these bad boys are made of!!

More pics coming soon.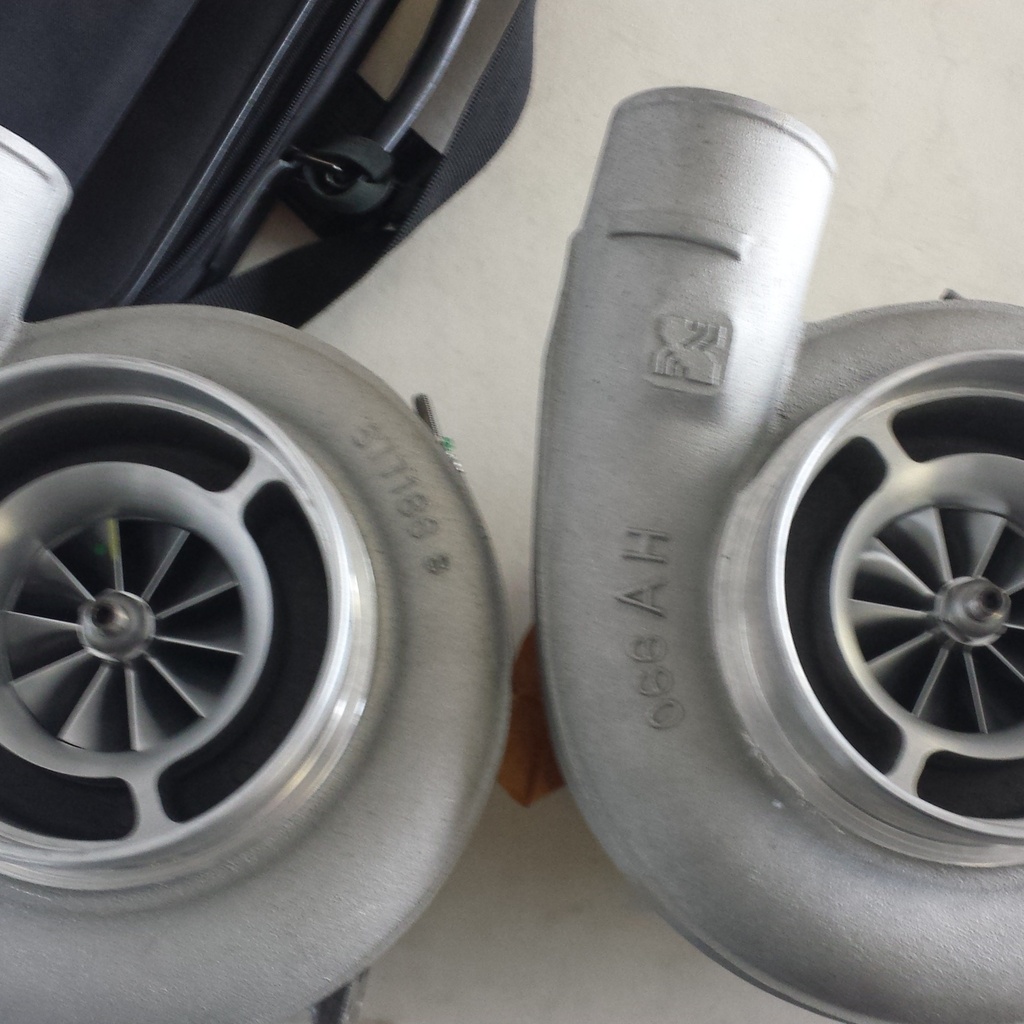 9-25-2015
Nolan got the turbo kit essentially all done now we just need to finish the downpipes as well as the screamer pipes for the wastegates.

I am torn trying to decide if I want to coat the hot side or leave it bare stainless. Engine is now in the machining process thanks to AMS ENGINES in Edmonton for taking care of that for us.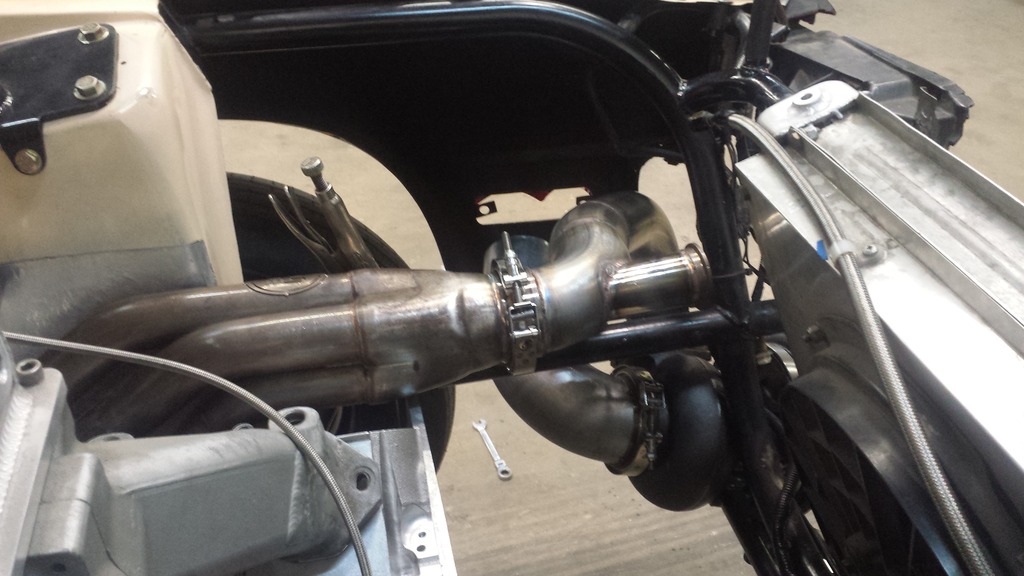 Also got the cold side all back from coating thanks to IMPACT COATINGS in Edmonton, Alberta for taking care of all of our powder coating needs and keeping this thing looking good.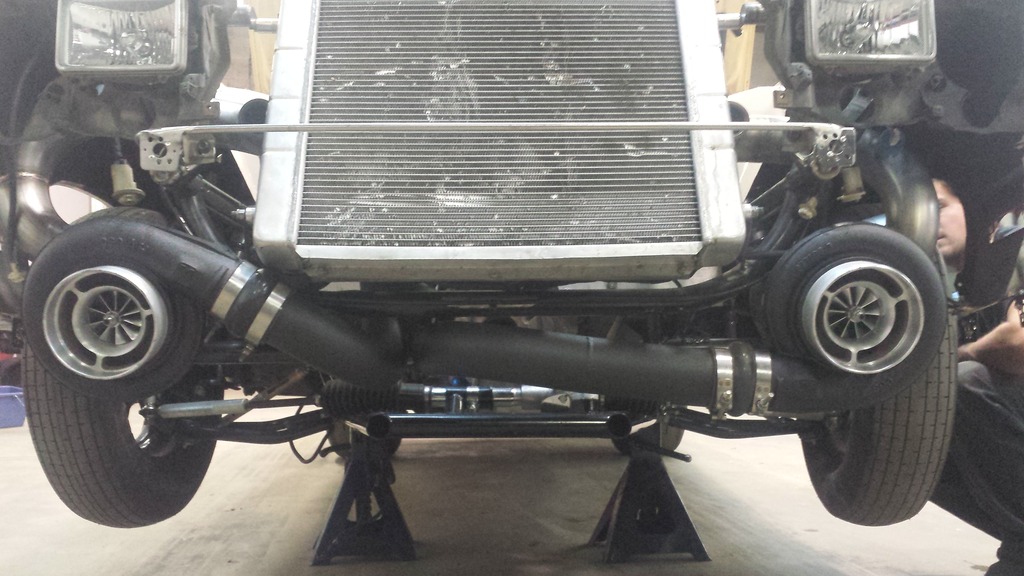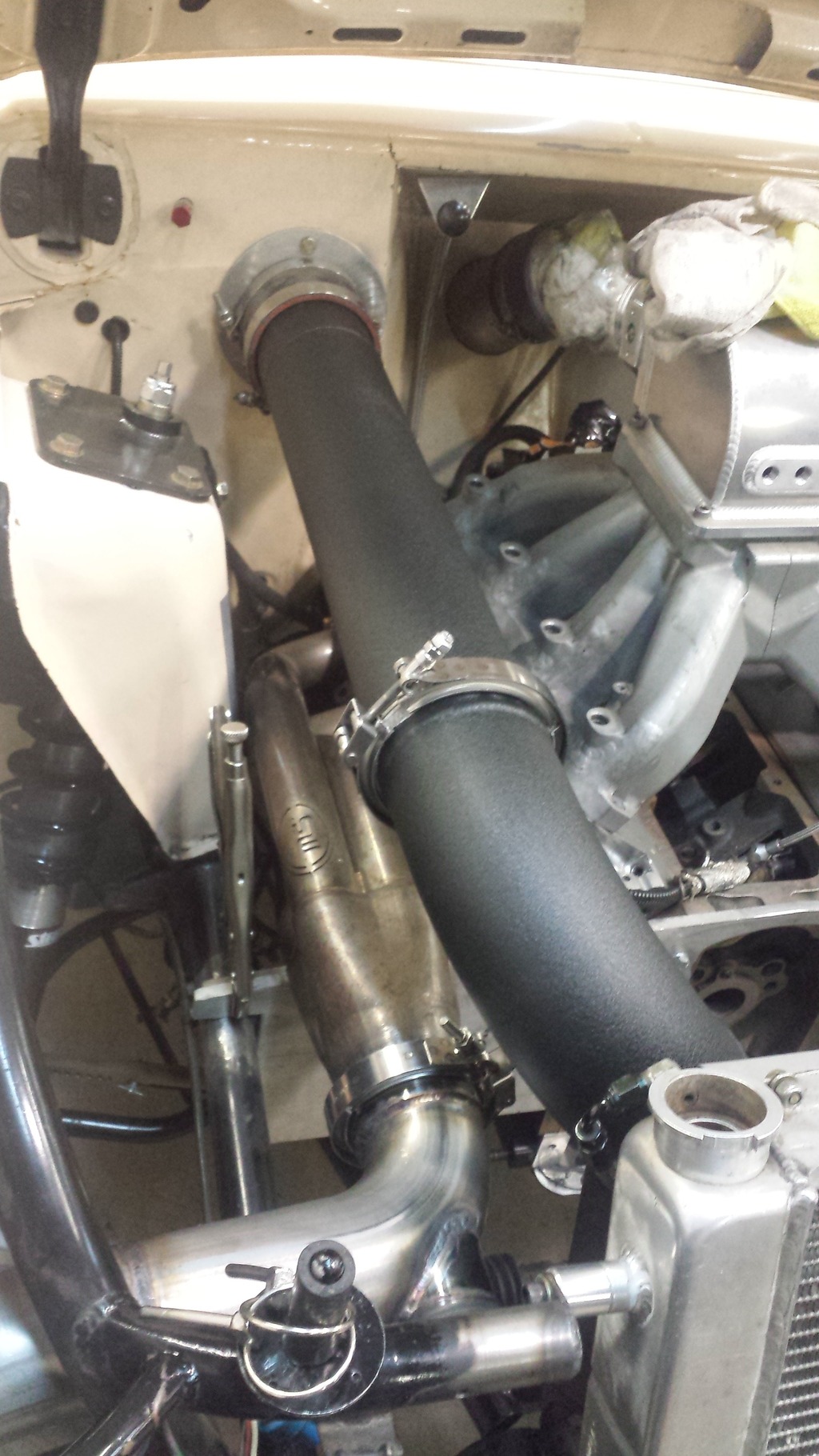 11-3-2015
Here's a quick update for Neil.

We have been busting ass to try and get this thing done for the Street car super nationals in vegas. Making pretty good headway.

The shop I work for (AMS Engines) finished up the machine work around a week and a half ago and we've been working on putting things together ever since.

Dry decked the block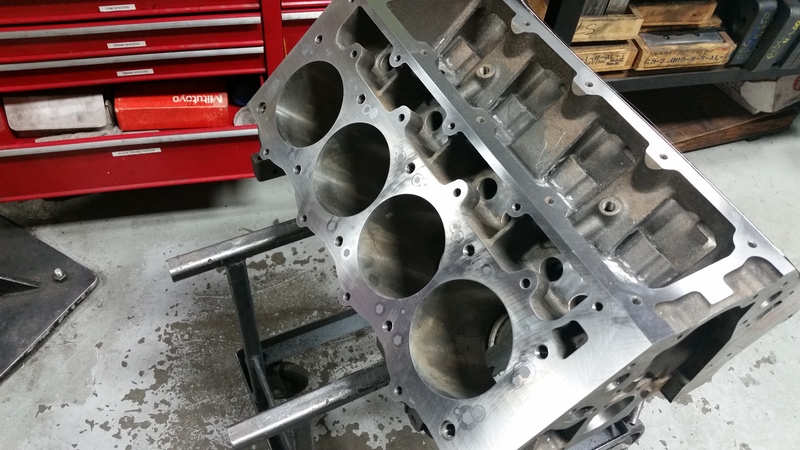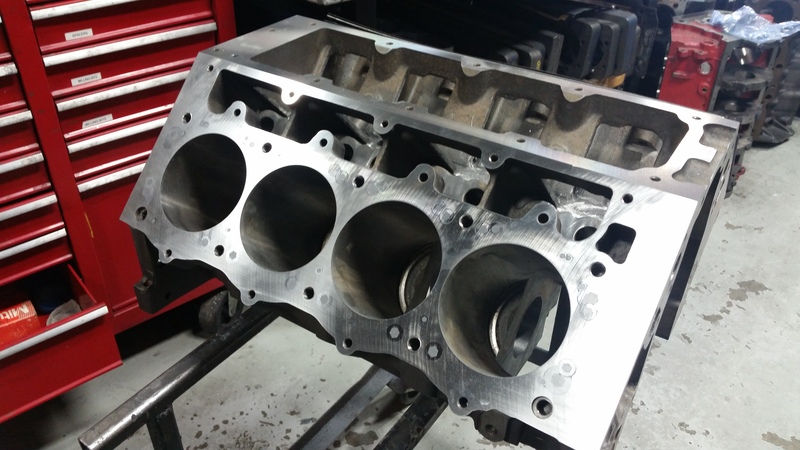 Clearancing for the MGP aluminum rods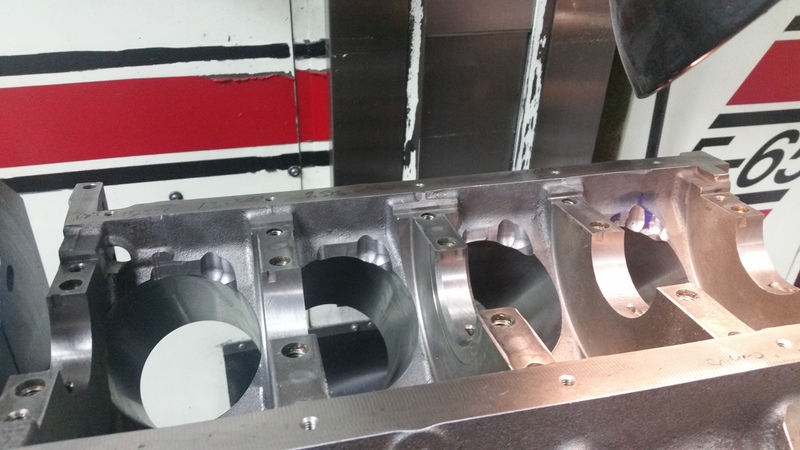 Installing new custom moldstar seats to replace the cast iron ones that had some pretty severe pitting in them.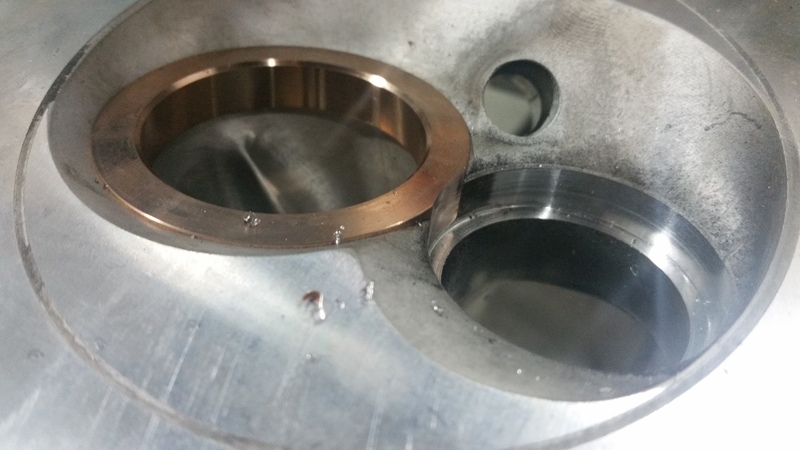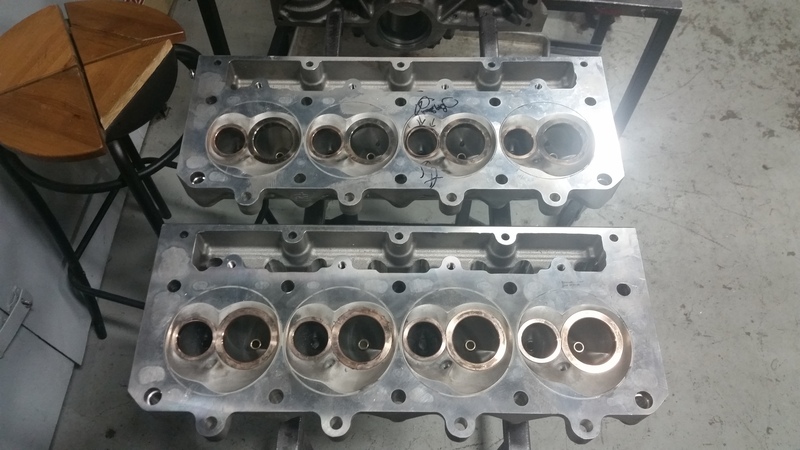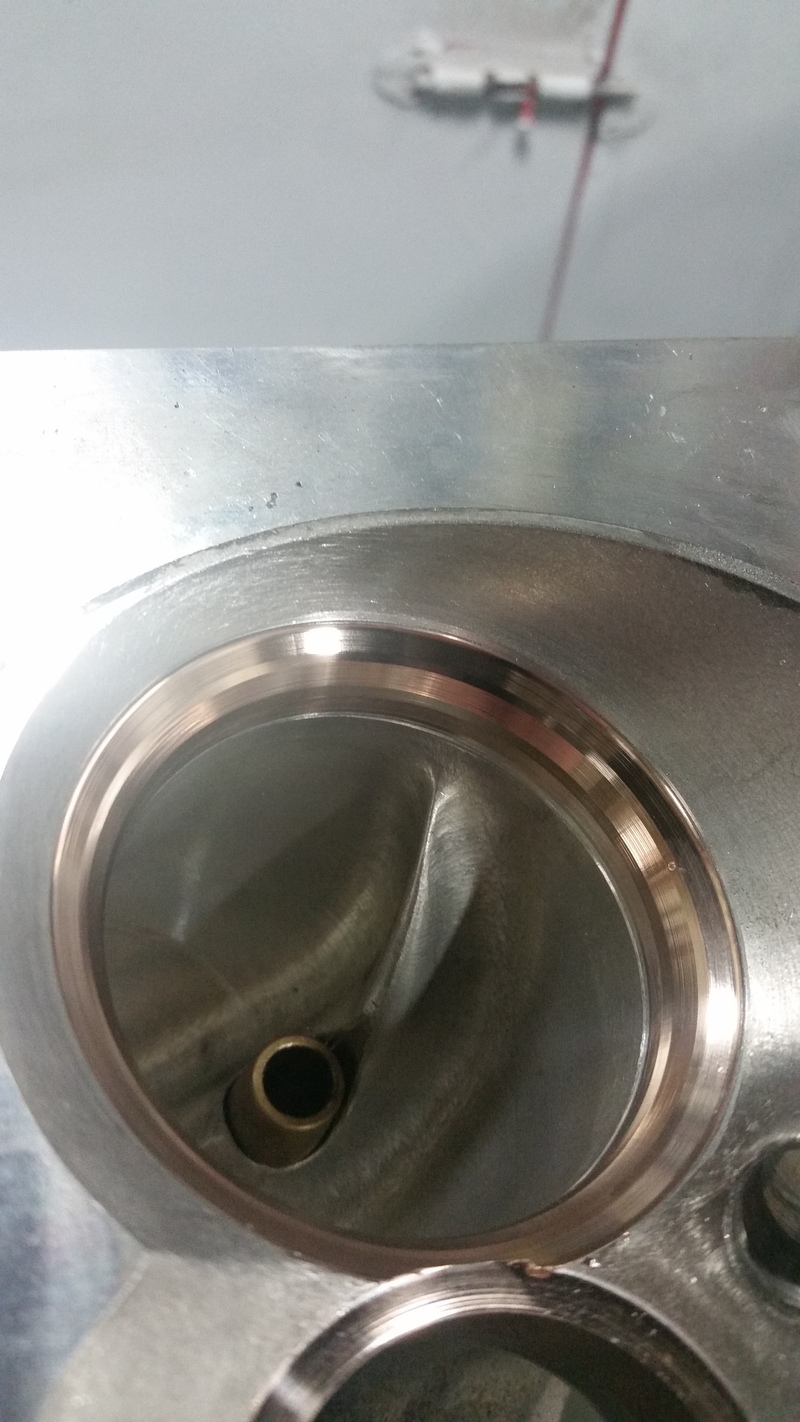 Heads surfaced and grooves cut for the 1 piece AJ rings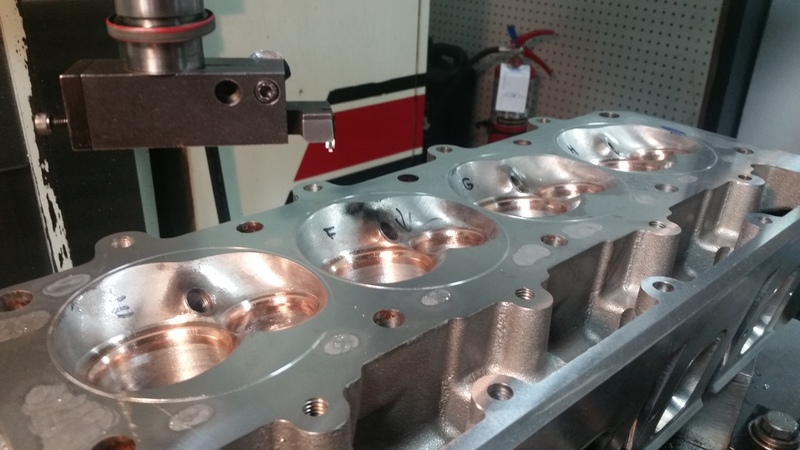 Heads assembled, Victory ti intake valve, REV inconel exhaust valve, PSI valve springs, Xceldynde Titanium retainers and keepers.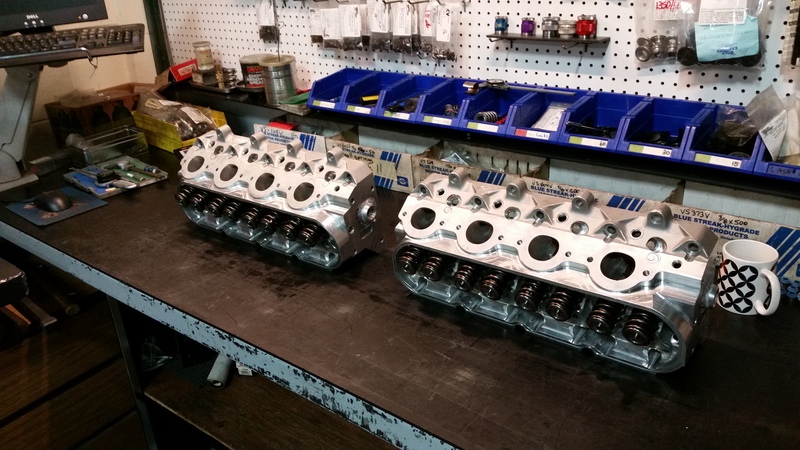 Neil and myself started assembling the engine last weekend aswell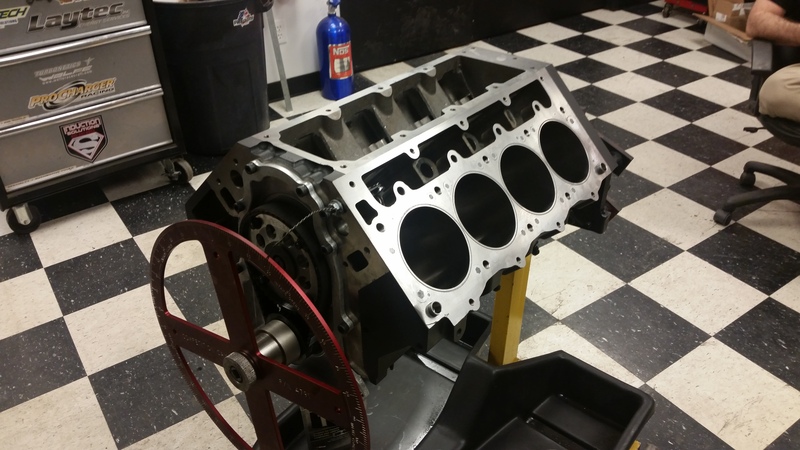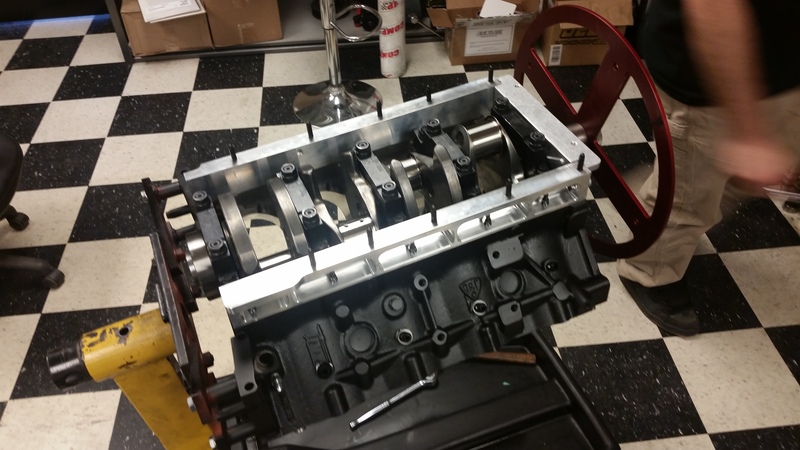 Not a lot of pictures during the assembly process as we were busy fighting multiple issues with machining errors caused by bryant and wiseco.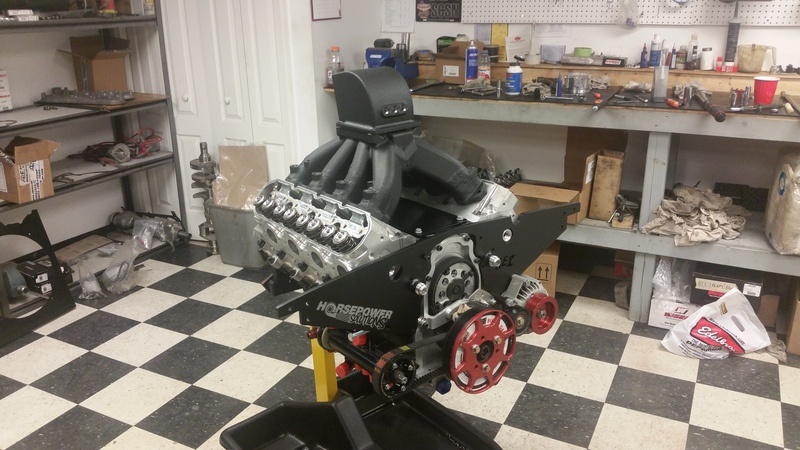 Finally got it in the car last friday night and worked through the weekend to get everything mounted, plumbed and wired.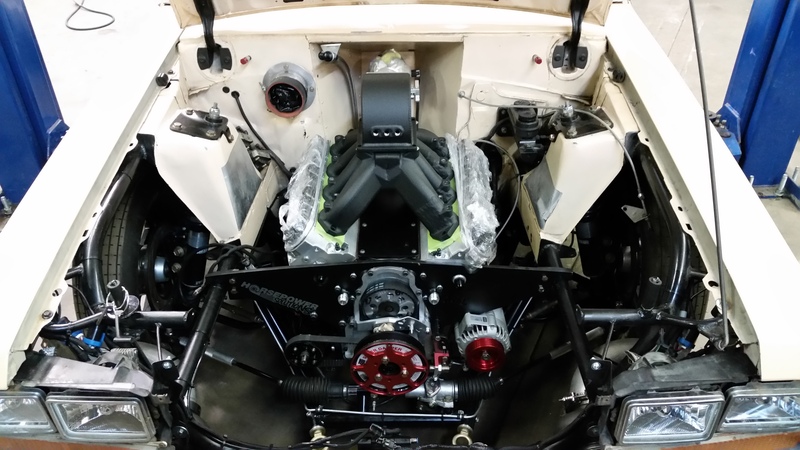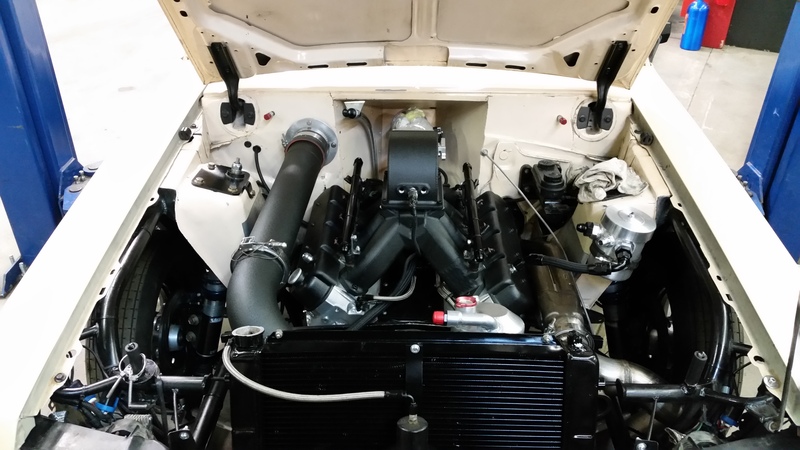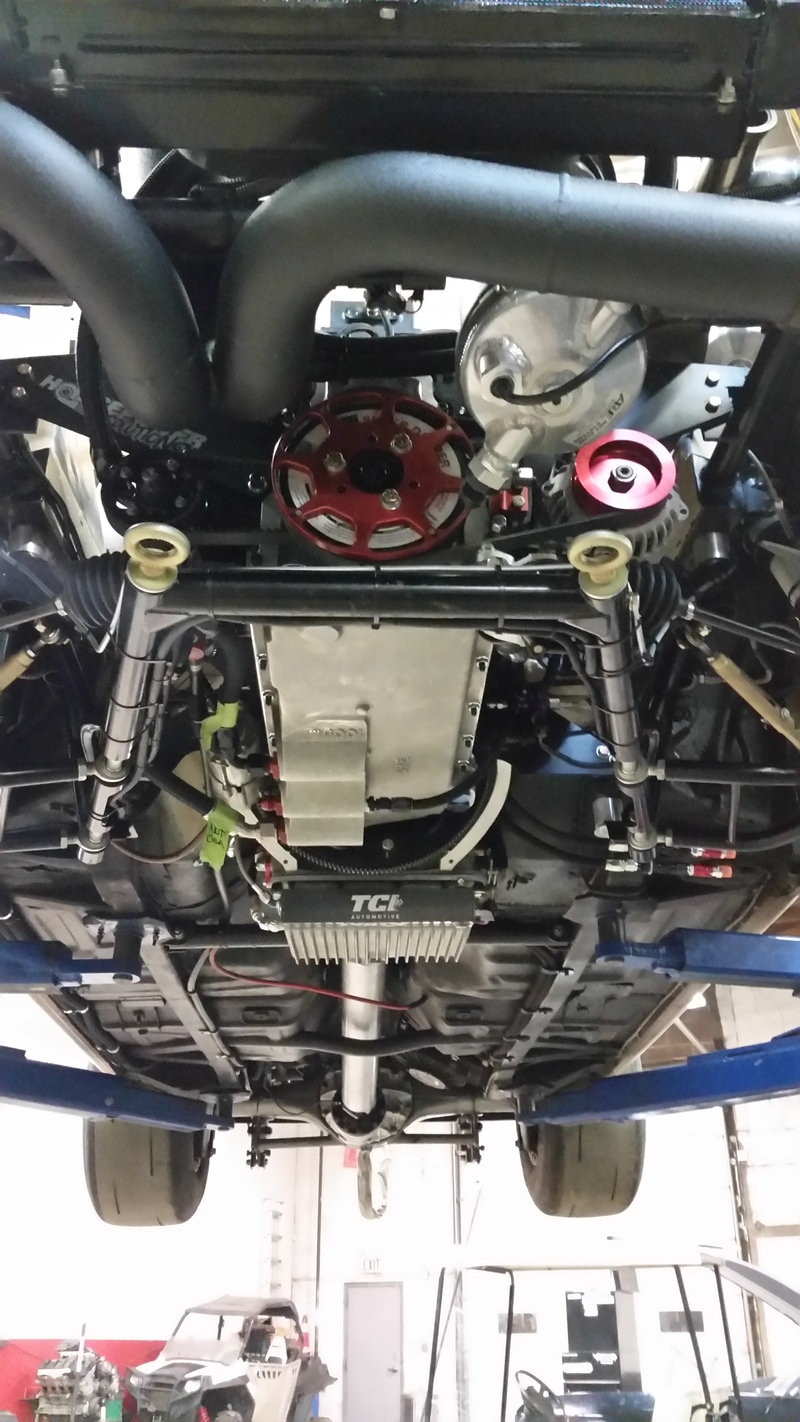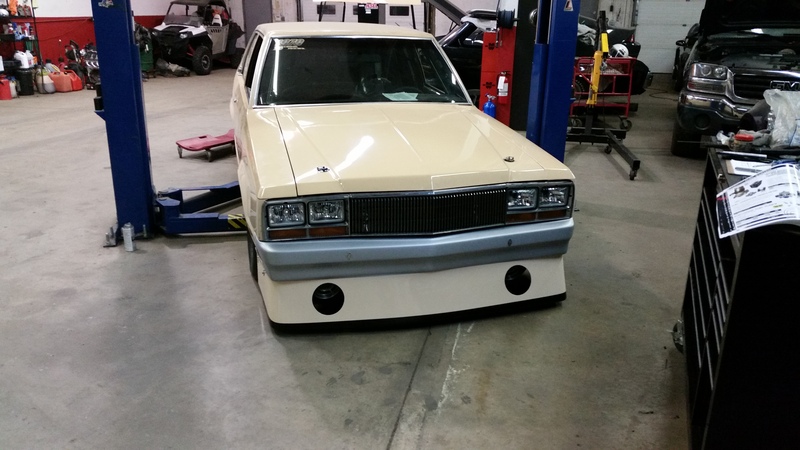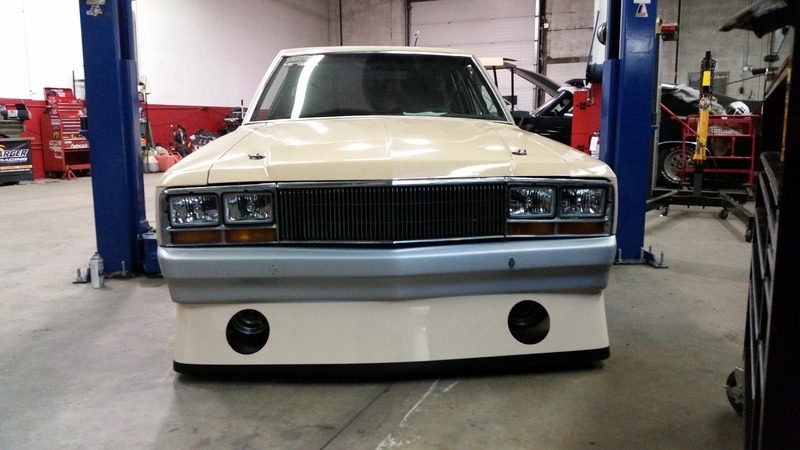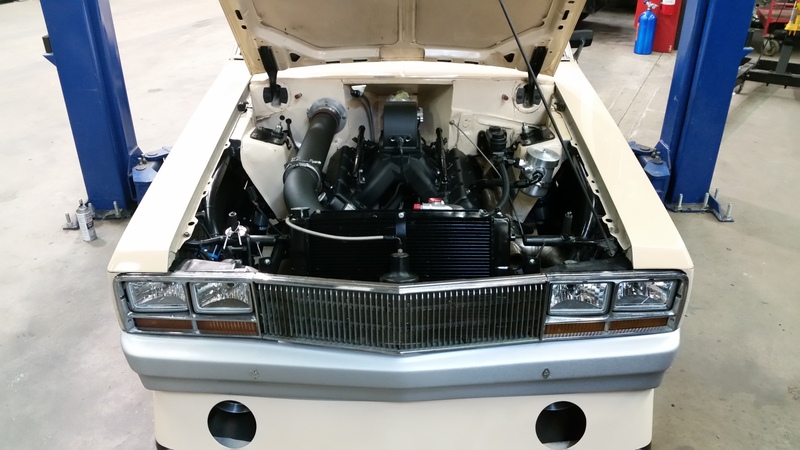 Then last night, we finally got it started for the first time.
11-4-2015
Thank you everyone,and thanks Charlie for the pictures/updated. I certainly could not have got it to where it is without the help of some great friends/sponsors:

Horsepower solutions
Ams engines
Jbs power center
Impact coatings
Performance fuel injection
Capital city customs
Iroc custom auto
Tint factory
Recovery labs
Nicks performance
Charlie eden/Jordan lazic/Nolan tews/Ren verbeem/Steve tuff/max Nielsen /James hatfield/mark campbell
My very understanding and loving wife and I'm sure there is more I'm forgetting.
11-9-2015
More updates for Neil while he is currently away drunk on tequila in mexico...

Last bit of charge piping done along with BOV's mounted.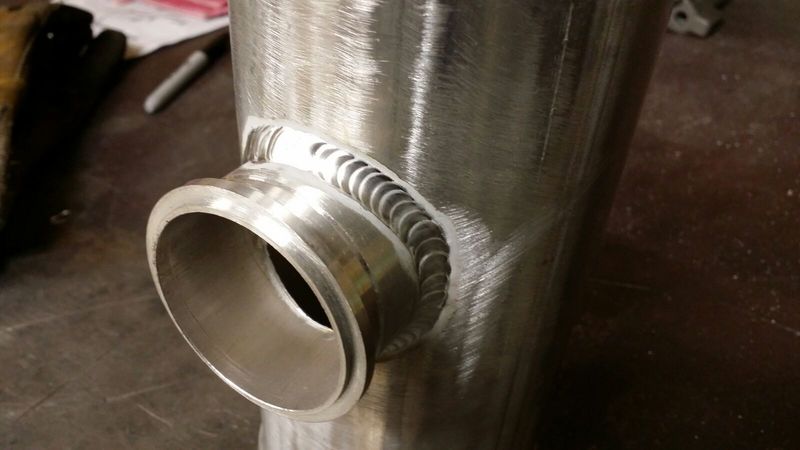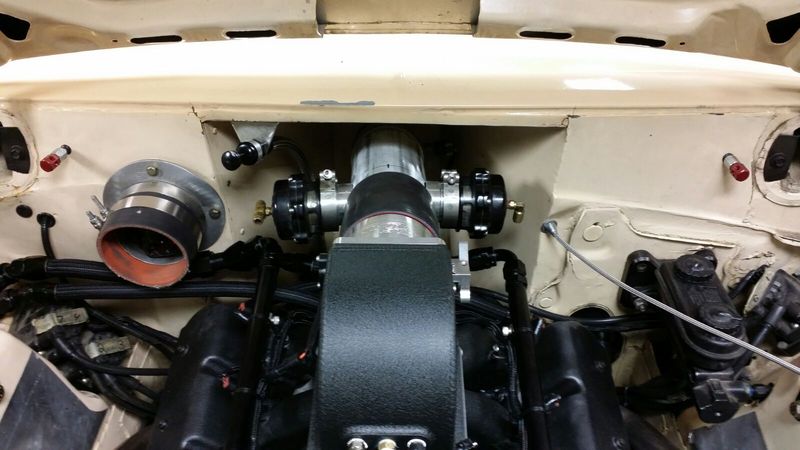 Fender exit exhaust trim rings installed and fenders trimmed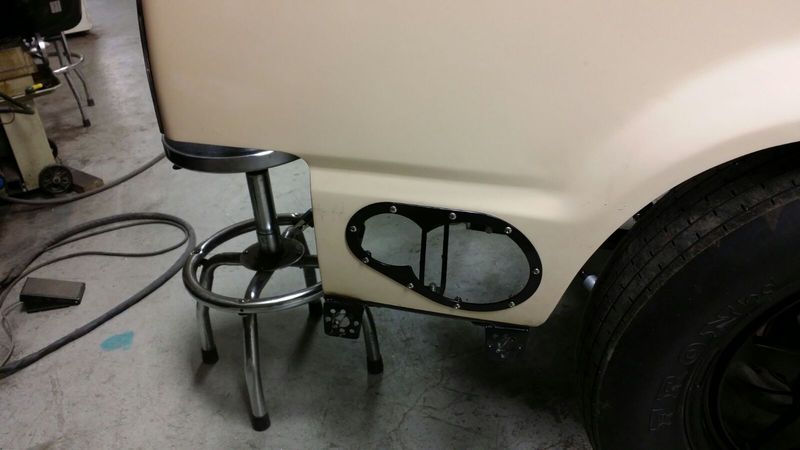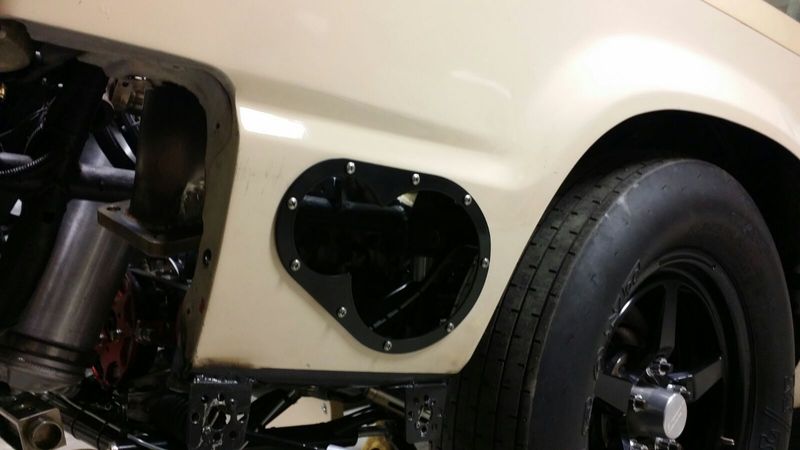 A little bit of bullhorn action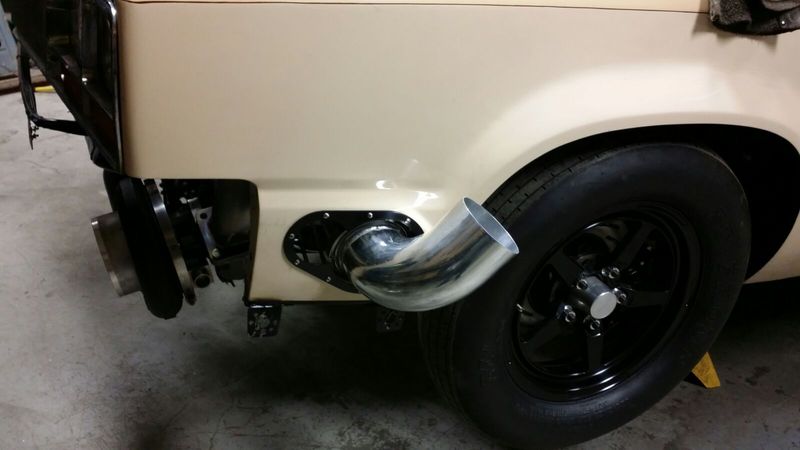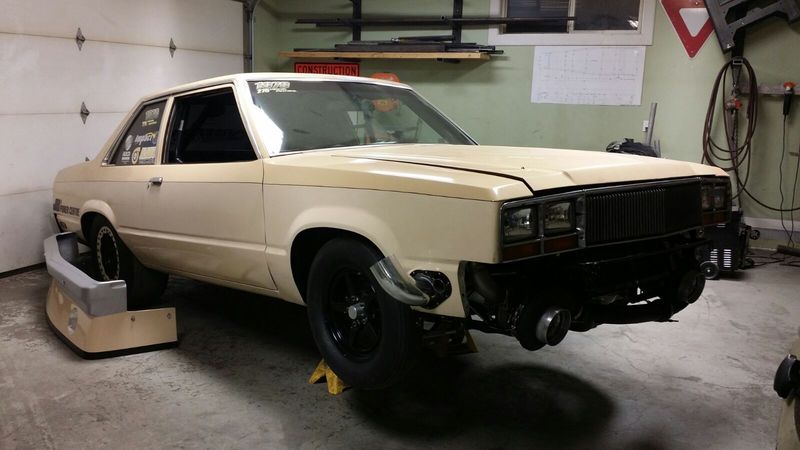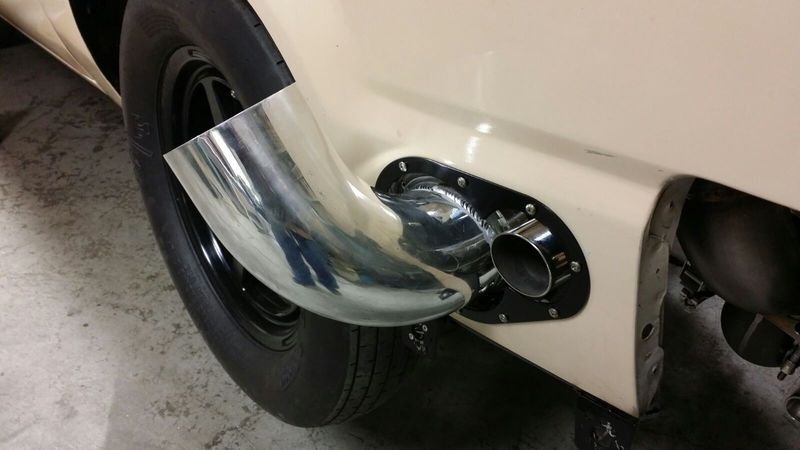 Grille supports done to pull the grille back in where its supposed to be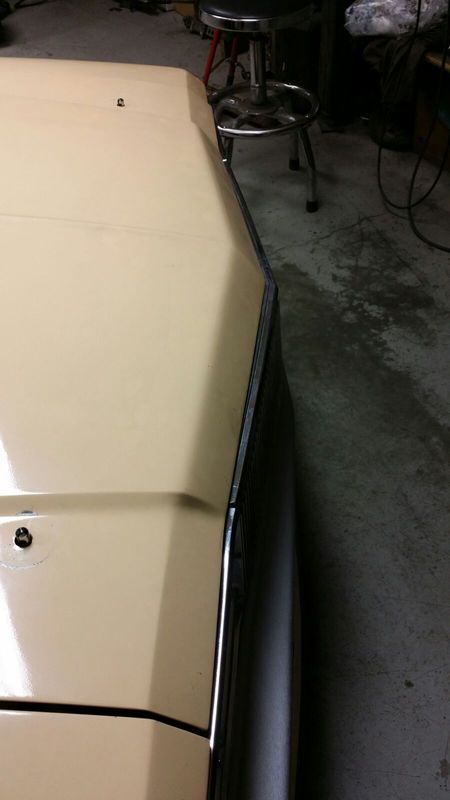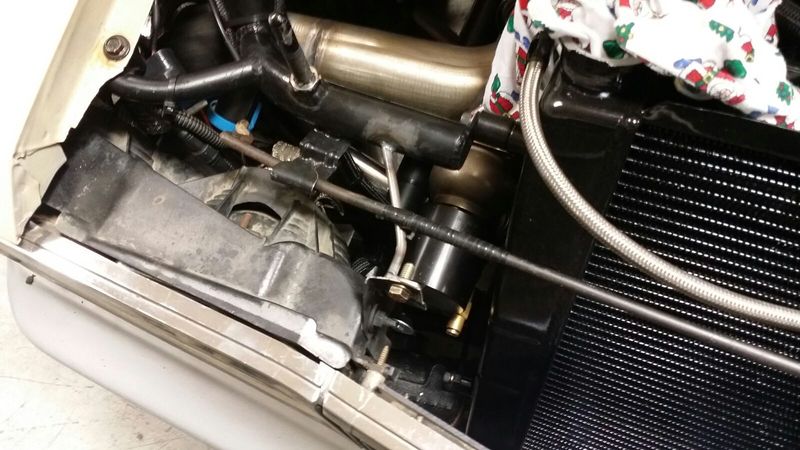 11-27-2015
Alright... Here is my late SCSN report.

Vegas is a 24 hour drive each direction for us so after WEEKS of very little sleep and tonnes of work, we got after it and arrived in vegas late Monday night, found some dinner and a comfortable bed. Tuesday we got in to the track parked and began the process of UN-winterizing the car and getting it ready for Wednesday testing.

Wednesday rolled around and we got the car all ready to roll..... well the ignition miss was still there so we did some looking and traced it to RF interference . after we got that sorted we struggled to get the car to hook up and get down, On the first full pass under power it went 5.0 but right before the stripe it broke the cable for the fuel pump drive.

So all day Thursday the hunt was on we asked all over the pits, posted online, tried all the local speed shops etc etc Our saviour came in the way of Steve Matukas as he happened to have a cable and offered to overnight air shipped it to me ... HUGE THANKS to Steve for the help.

We scrambled like hell and thanks to my awesome crew, help from a few racers like Darce Laws and a few others we got it all together and rocking and went up to make some qualifying passes.... first full pass under power was messy but it went [email protected]

We continued to work away on the car and try to get the short numbers to be better.... one of the next passes we went 1.17 to the 60' and I had to lift 1.05 seconds into the run as the car was heading into a big power wheelie. So we worked on the car , added some weight up front etc then we were rewarded with some front suspension parts failures which I will not comment on until I have a chance to talk to the manufacturer but lets just say I am VERY lucky the car spun the tires on the hit on the pass when it broke. So we got it all fixed up thanks to Jim Bell and Mark Campbell went out and ran a series of new bests including a 1.16 60 foot and 3.12 to the 330' Then we needed a few hard to find bolts and Doug Paddock Let me steal them out of one of his bad ass spare engines after lending me Justin Kill to drive around and try to fix other items lol

The converter needs to come out and be tightened as we saw as much as 18% slip but this was out best pass overall, and as you can see it was HEAVY at 3460 lbs: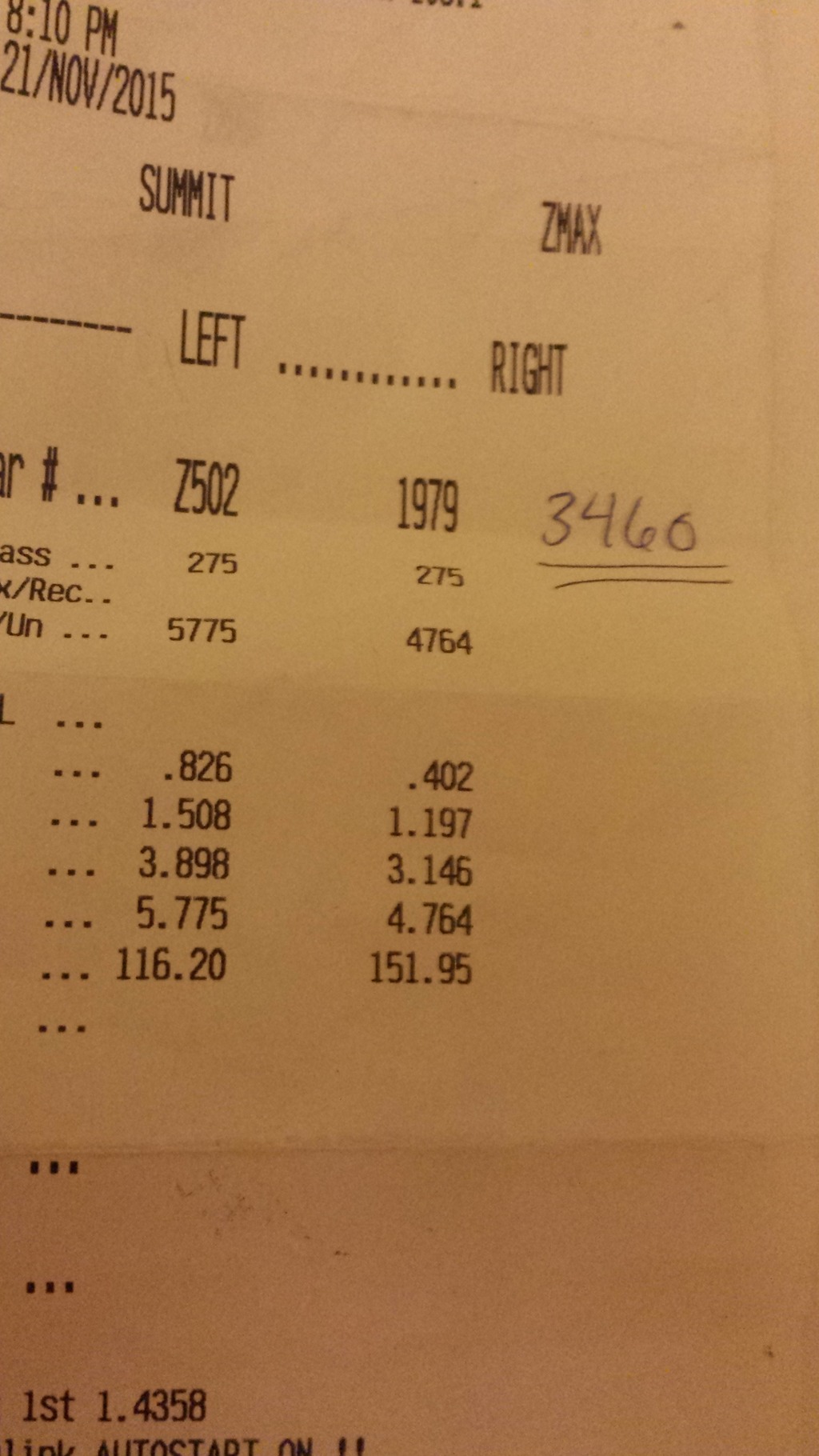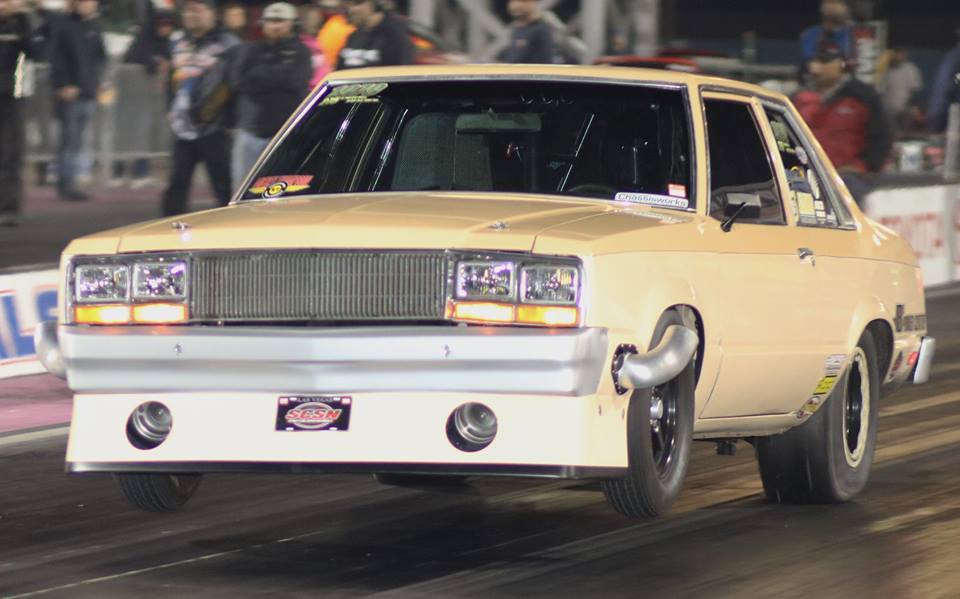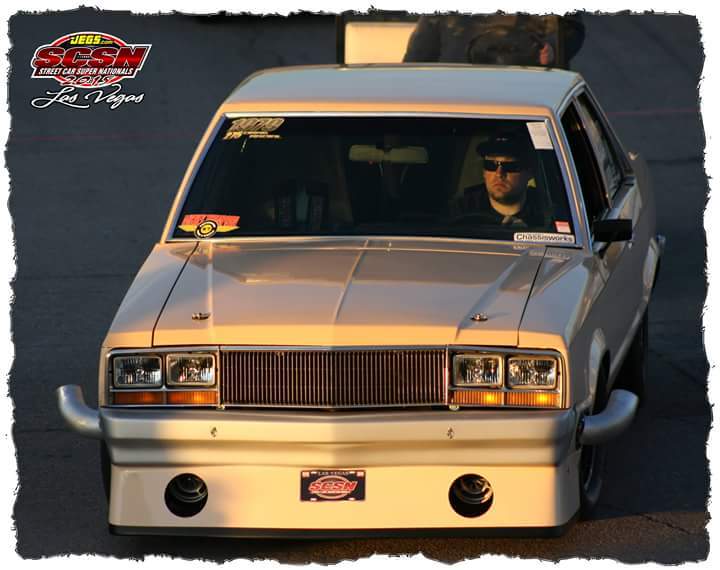 Overall for about 5-6 passes on a brand new set up I think we are very happy with how it is going so far. I have a few very important people I need to thank for helping me make my dreams come true:

My Beautiful understanding and loving wife
My family
My Hps Crew ( Jordy Lazic,Mullet Mike davis,Max and Hailey, Steve tuff,Ren Verbeem, Matt Kuehn etc etc)
Nolan Tews
Charlie Eden and AMS Engines
Alamo Turbo
Performance Fuel Injection
Impact Coatings
Jb's Power Center
Recovery Labs
Enviro Air Tech

My Crew: Jordan Lazic , James Hatfield, Colin Richter, Steve Cotrell, Vanessa Richards, Charlie Eden, Steve tuff

I really appreciate all the kind words, love and encouragement everyone gave us this past weekend as well.

I am sure I am forgetting some people and I am truly sorry if I missed you.


With a few updates and more testing this bad bitch WILL go 4.50s!!
5-19-2016
Well its been a while since I updated this thread but figured I would keep those interested up to date. Ever since vegas we have been chasing a misfire issue and even the first time out this year it was there so we ended up changing a bunch of stuff and finally got it dealt with. One of the other things we did in the process is tighten the converter up some and swap to the Holley Smart Coils.

Anyway here is a few pics of our first weekend out with the car this year, we were chasing issues but still went #1 qualifier and won the event in Outlaw 10.5 on little 275s lol: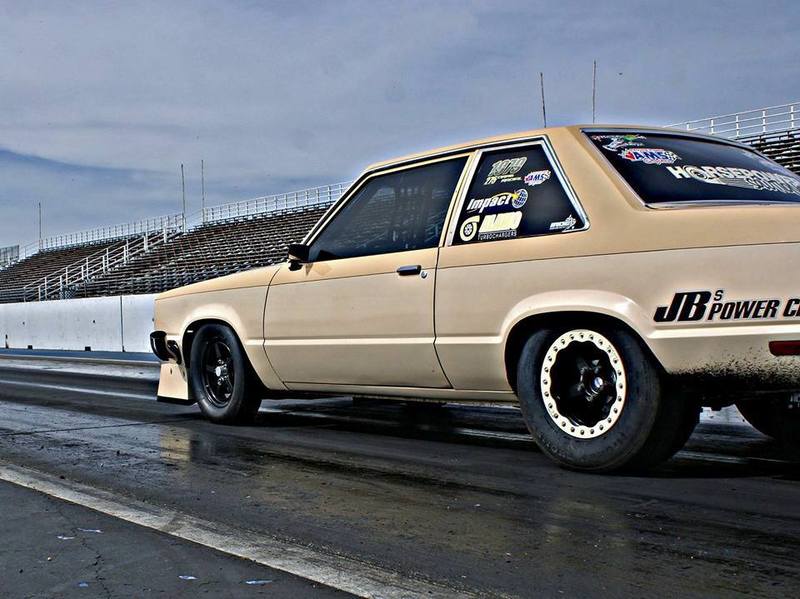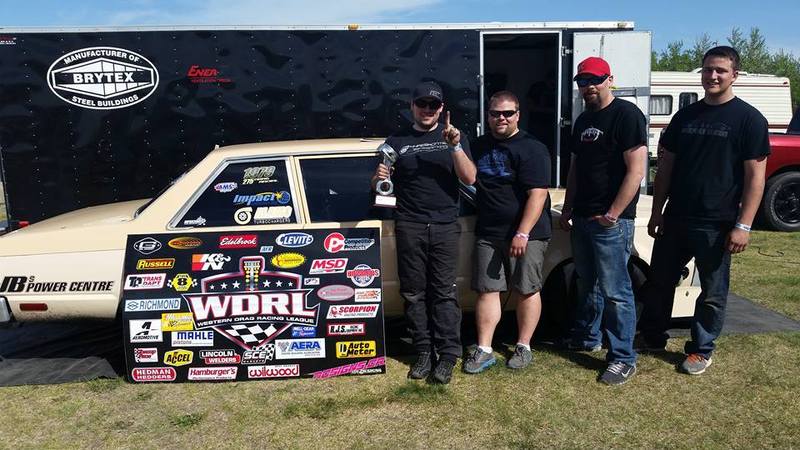 We then took the car back to the shop and did a bunch of re-wiring and diagnostic to try and sort out the misfire.... Well we got it sorted. This was a super soft front half tune up as you can see by the 60 foot/330 foot times but then it COMES ON!! I pulled the chute about 1000 foot and this is what I was rewarded with on only 27 psi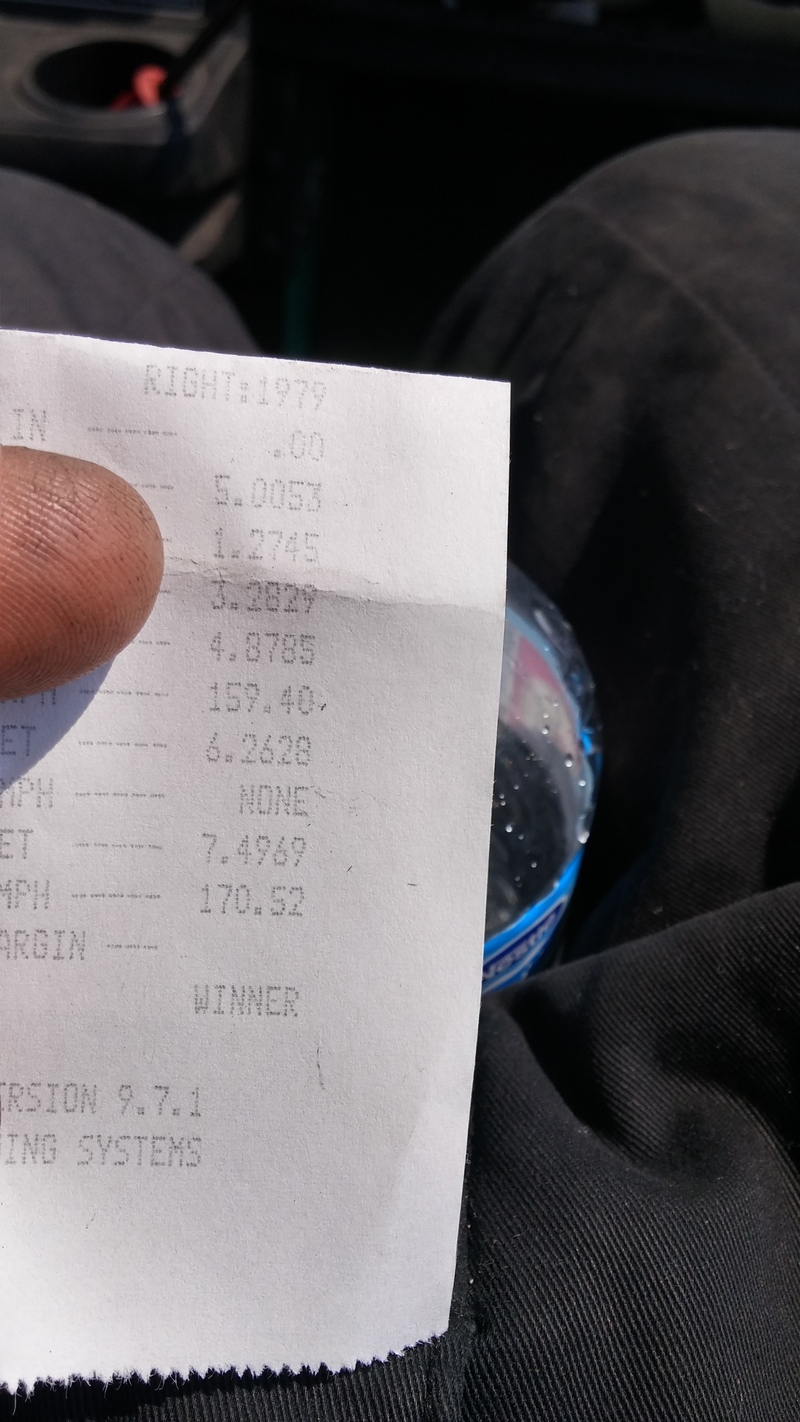 6-21-2016
Went to a 275 shootout a couple weekends ago in Seattle and although we were #2 qualifier with a [email protected] @ 3440 lbs unfortunately though we struggled in eliminations and ended up blowing the tires off and going down to a friend of ours.

Anyway heres a few pics I thought were kinda cool.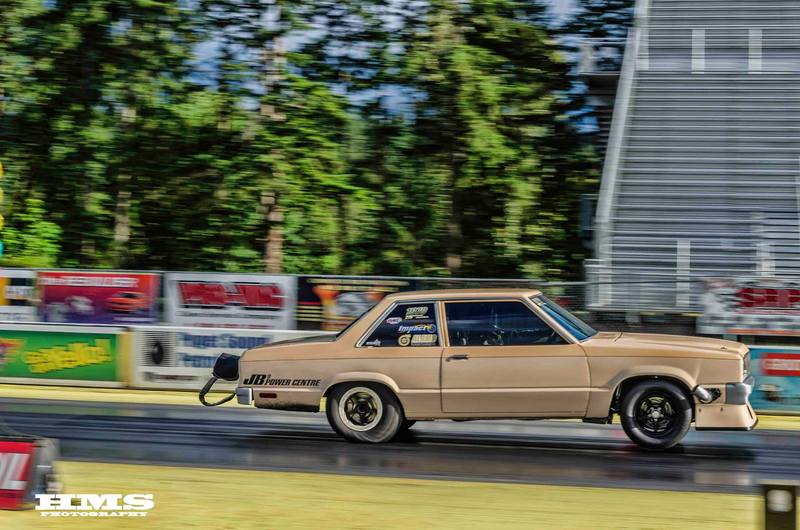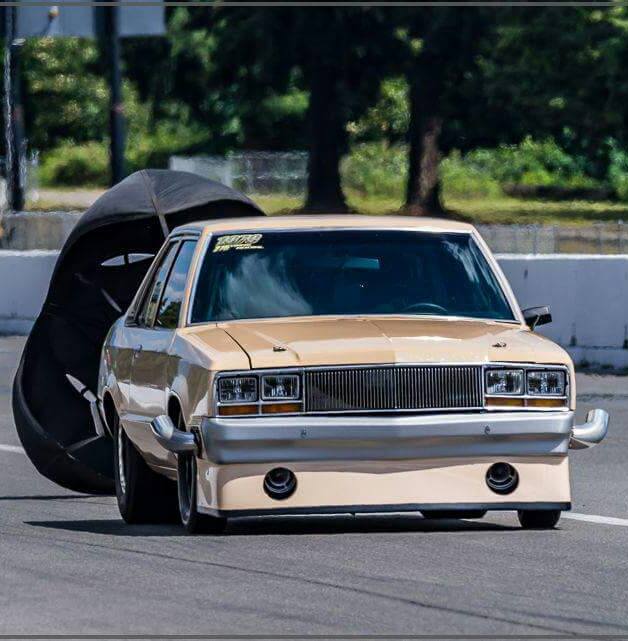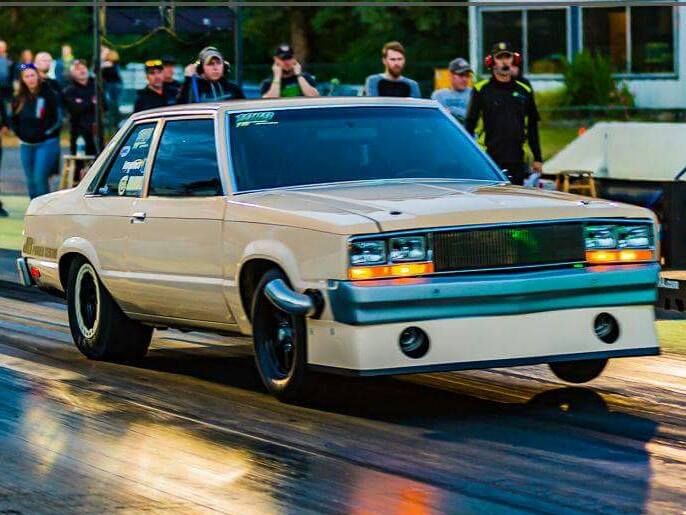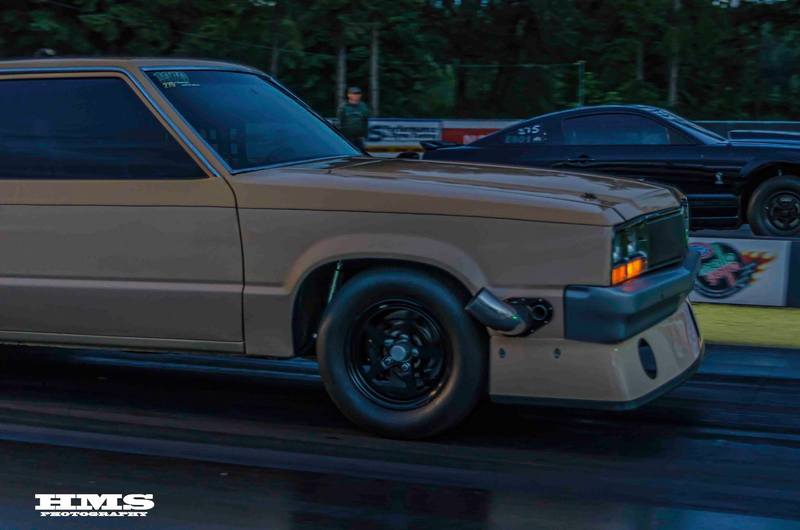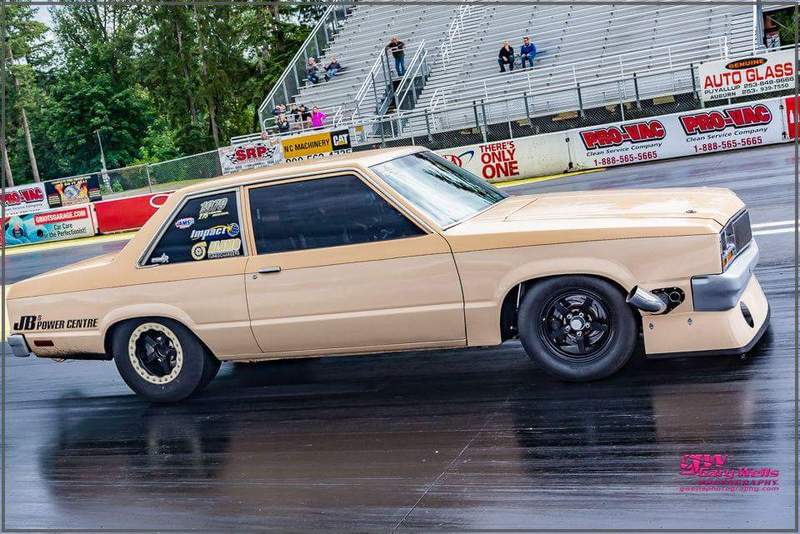 7-14-2016
Took the slow street car out to a local 100' shootout and for some street action this past weekend. Even left the cargo rack and beer cooler on the back lol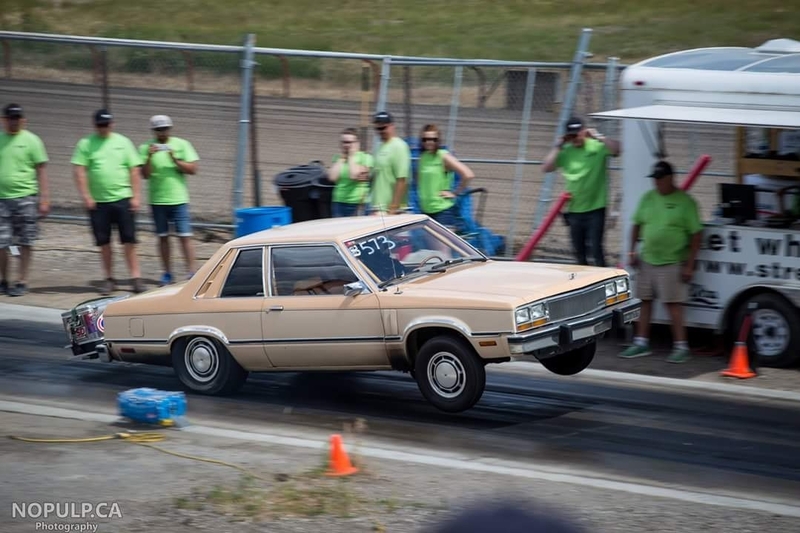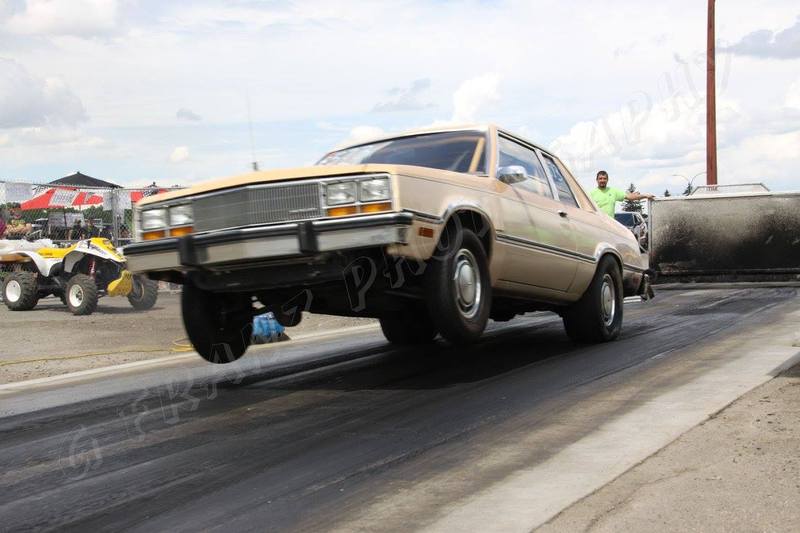 11-29-2016
It has been a long time since I have updated this thread but here is the latest from our last outing:

Another Street Car Supernationals Las Vegas is in the books and I am very proud of how WE did from our best ET ever to going some rounds and fighting through issues that unfortunately we ultimately caused us a loss due to a turbo failure. I say WE because not one tiny bit of this would be possible without a lot of very good people. I also have no doubt in my mind that if the turbo would have hung in there the next 1-2 passes we would have been in the deep .60s to possibly even a high .50.

My beautiful wife Leanne who was missed very much and unfortunately wasn't able to be with us in Vegas but certainly sent me plenty of love and support from work.

All of my family and friends, whether it's moral support ,financial ...help ,taking care of things while we are gone giving us a place to stay etc it's all very important to me and makes a huge difference.

The entire Team Cream/HPS gang that was either with us helping this weekend or have in the past it is truly a team sport that wouldn't be possible without you and the more we do this the better we get as a team and the smoother things go.

All of my sponsors, this event is one that is VERY expensive for us to attend but they all support and help us go race with the best in the world and hopefully we do them proud, If you like the car or watching it etc I ask you to please support the people who support us or even just tell them thanks:

Horsepower Solutions
JB's power center
AMS Engines
Alamo Turbo
Performance Fuel Injection
Impact Coatings
Capital city customs
Dig Dug Excavating
Stealth graphics
Rm2 Racing
Enviro Air tech
The Tint Factory
Iroc custom auto
Holley EFI
Comp Cams

And last but not least the racing family we have met and got to hang out with over the years, sometimes the time off the track is where the best memories are made.


So far the best numbers the car have run are as follows:

60 - 1.16
330 -3.15
1/8 - 4.70
Mph - 162

All of this at a weight of 3425-3490 lbs with Twin 72mm T4 Turbos.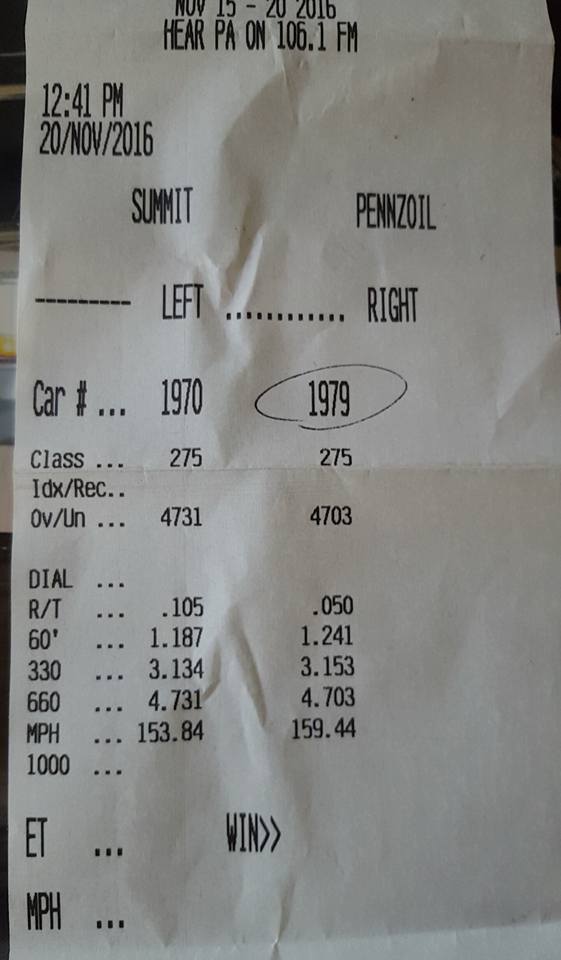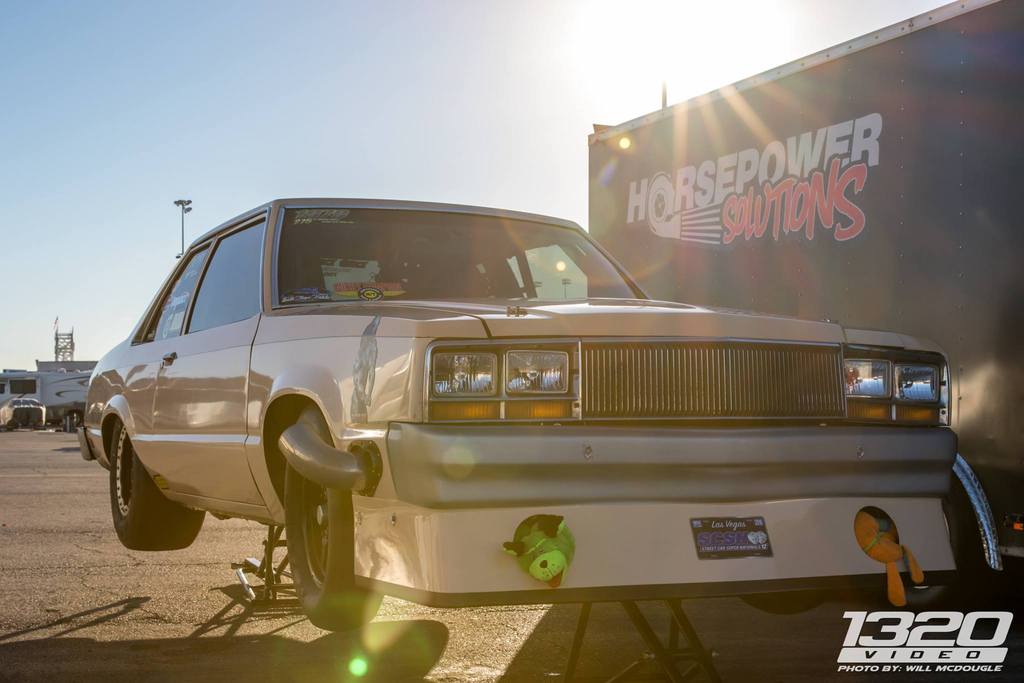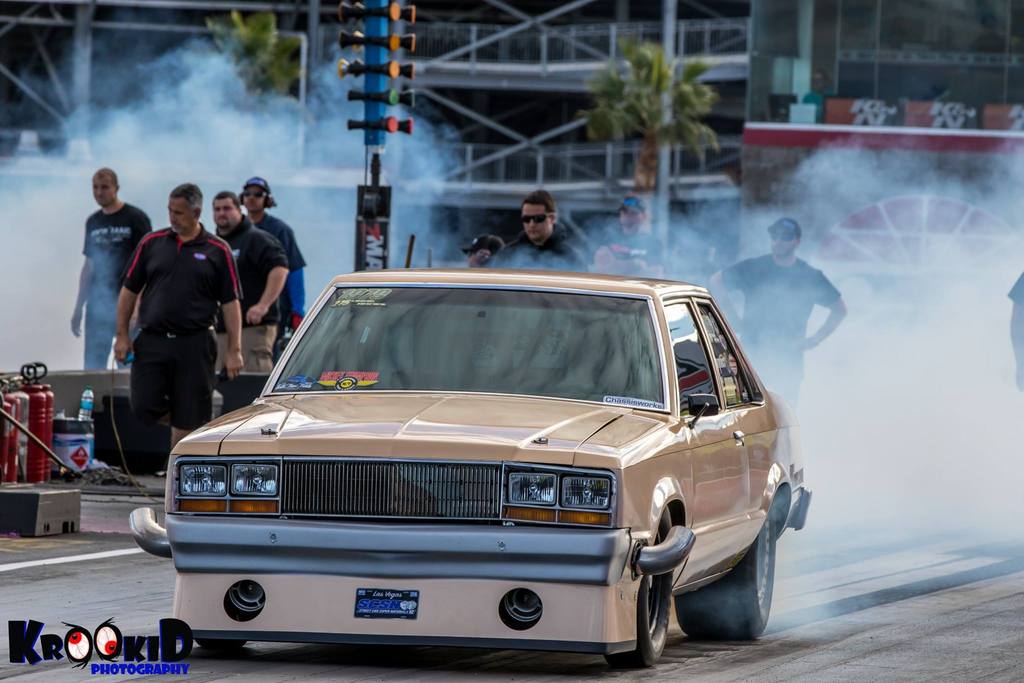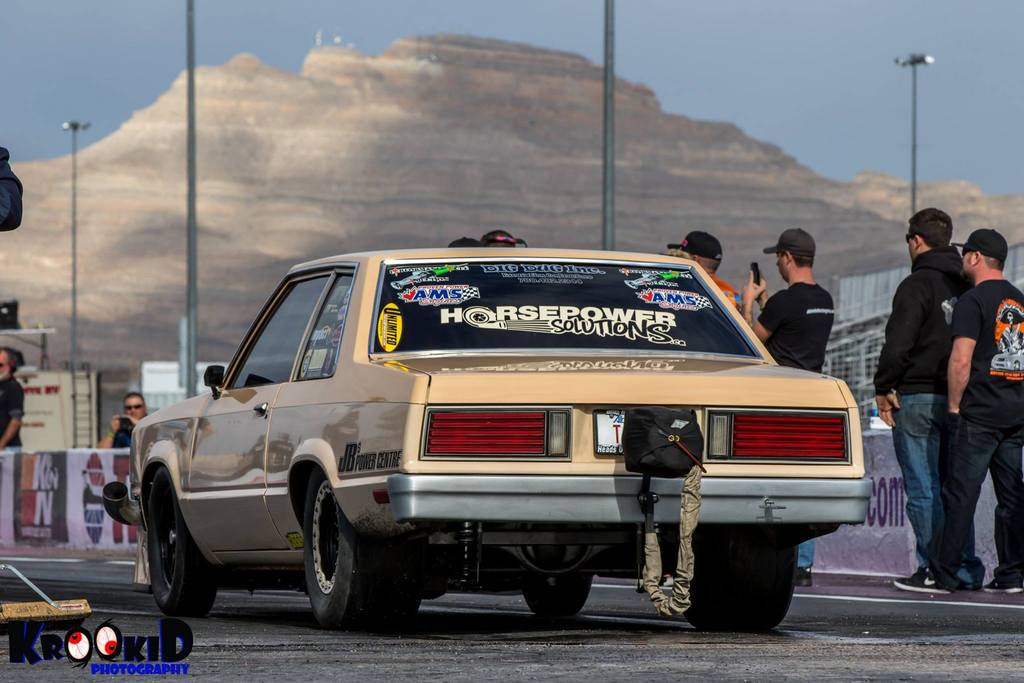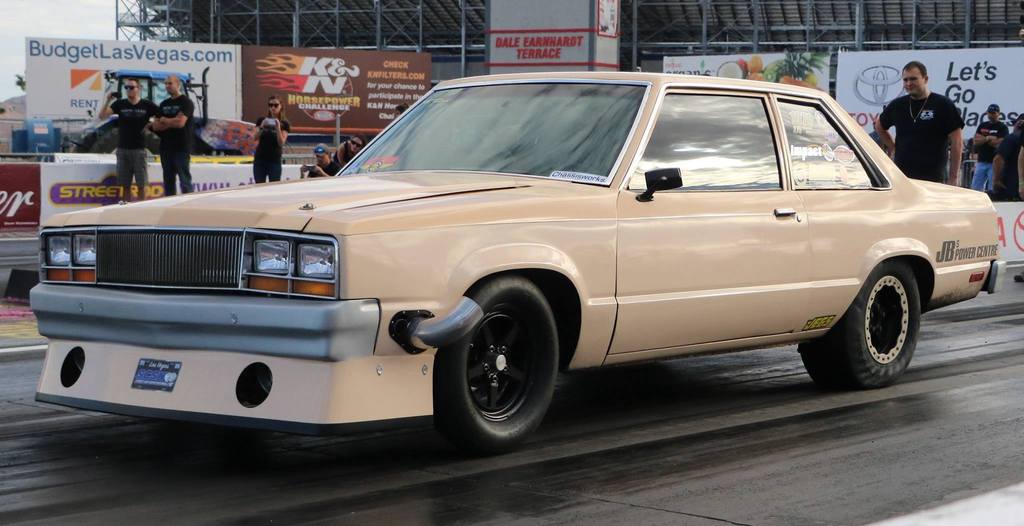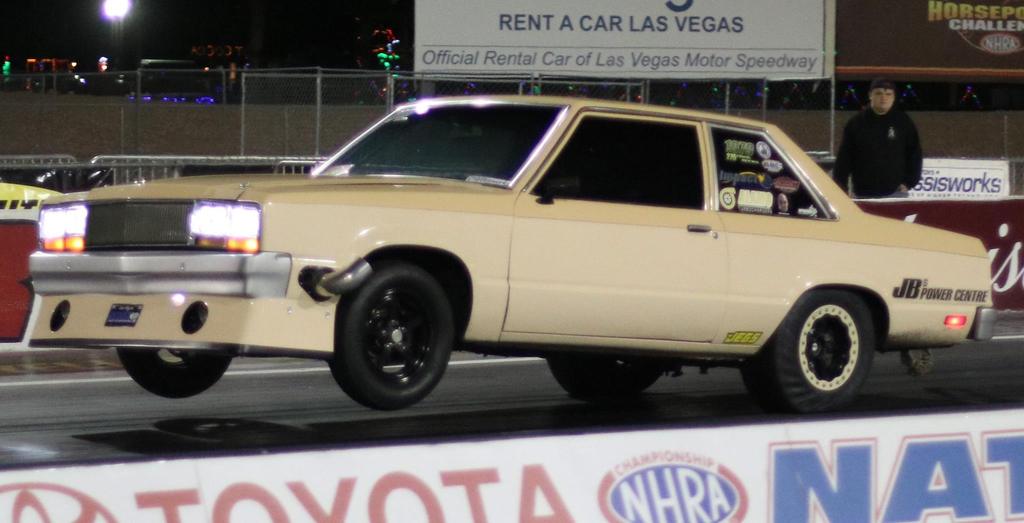 7-4-2017
Been a while since I have updated the build thread, We made a few changes over the winter and finally have the car all back together.

New diff Housing
All new rear suspension
40 Spline Gun drilled axles
Sanders 15x12 double beadlock wheels

Strange Spindle mount front brakes
Alumastar spindle mount wheels

New Hutch Built Powerglide
New Custom grind Comp Cam
New Pistons (little more compression)
New PSI Valve springs
Larger turbine wheels/housings in the Twin 72mm Borg Warner turbos.
New complete fuel and Cooling systems

Bunch more Holley EFI data logging stuff.

We thrashed like crazy to make one of the biggest 275 Races out this way and in 8 days we went from a bare block on the stand, no fuel system,cooling system etc to getting the car done and out to the race track.

We didn't have to make a single suspension adjustment all weekend and my crew did a killer job of helping us become #1 Qualifier. We made it to the semi finals before going out but round after round the car was going faster and becoming more consistent etc.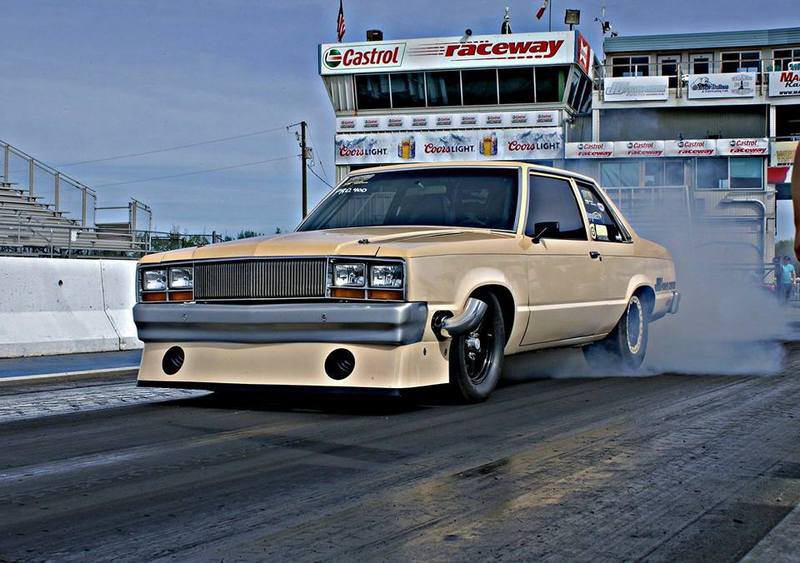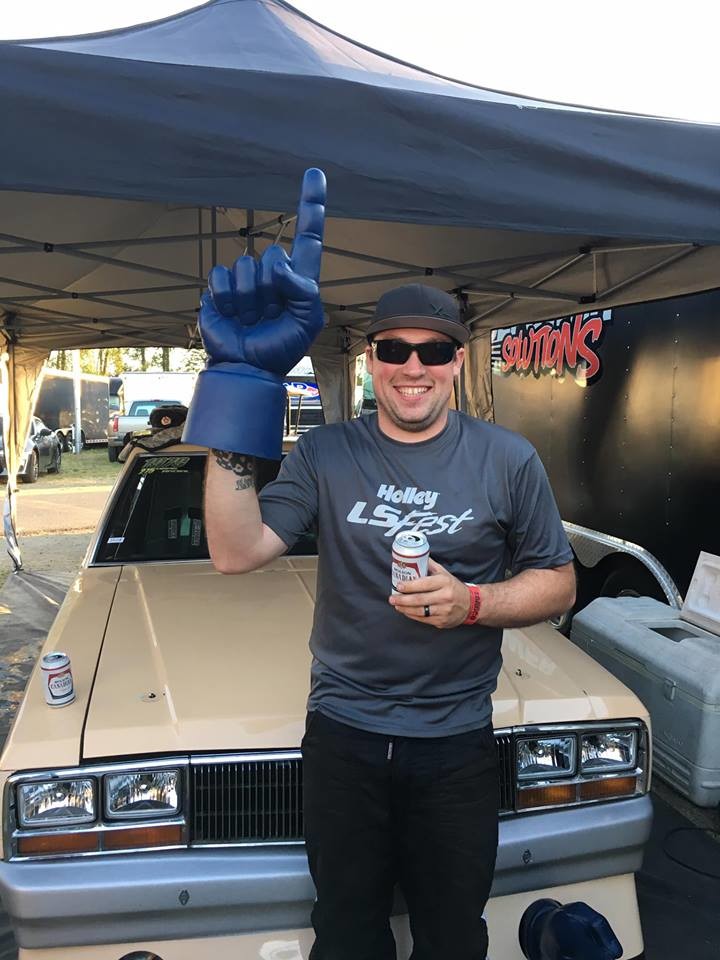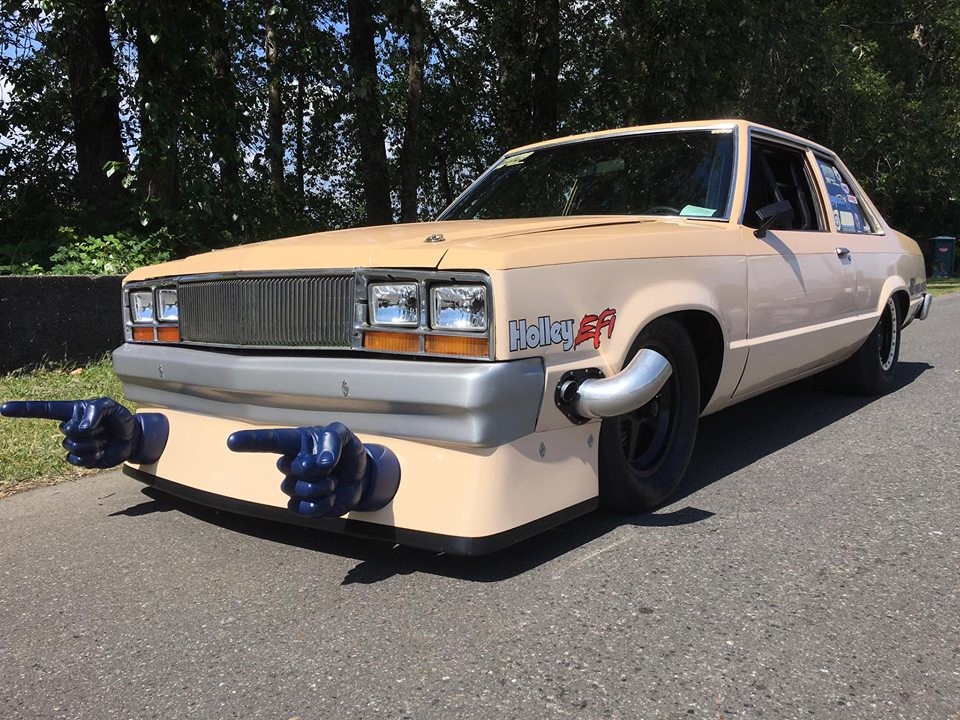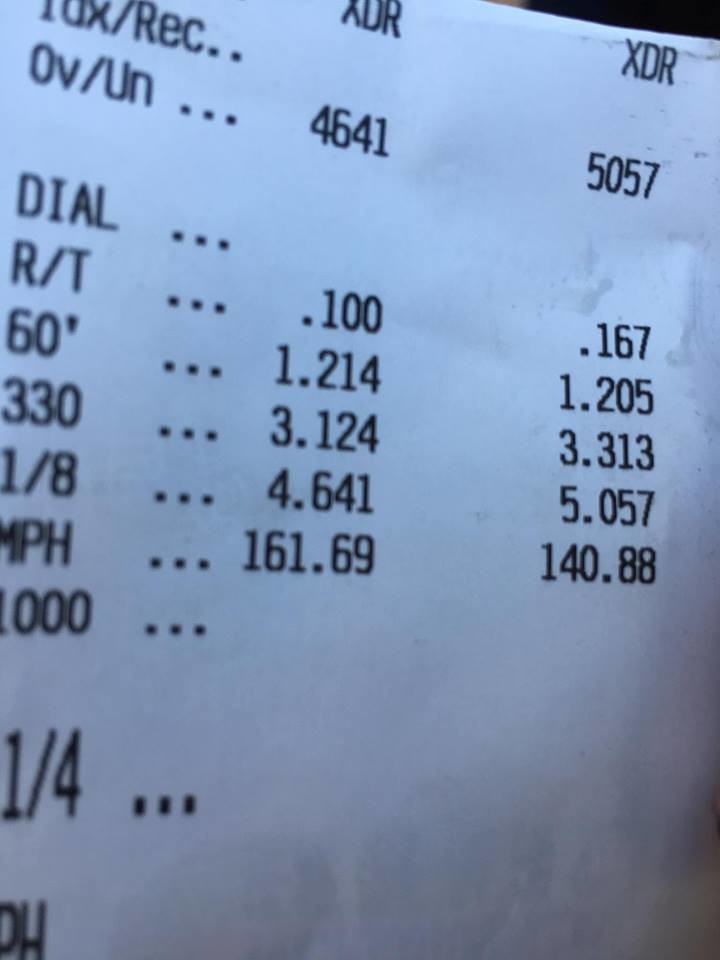 10-12-2018
Been a quick minute since I updated this thread lol..... Cars been doing well, We went to vegas last year for the Street car Supernationals and managed to wheelie our way to a new best of 4.48.

This summer we have been on quite the journey from Mission BC to Seattle to Montana and everywhere in between, We got a bunch of #1 qualifiers a bunch of wins a runner up and a few that had to be split in the finals due to rain. Here is some photos and videos for those of you still following!
https://www.facebook.com/thecreamdre...5579145610845/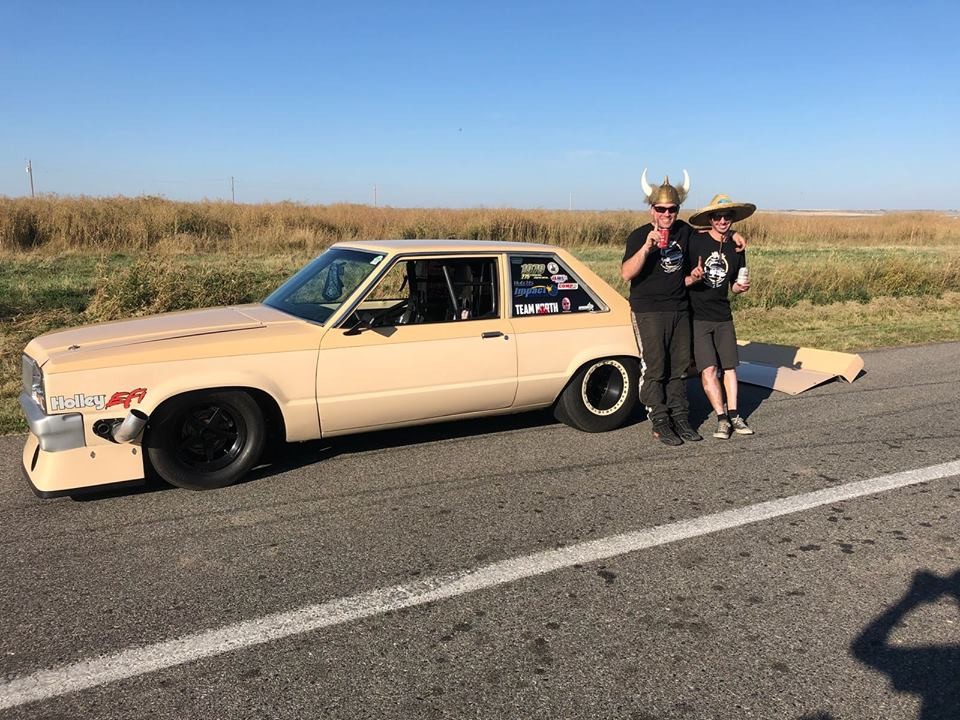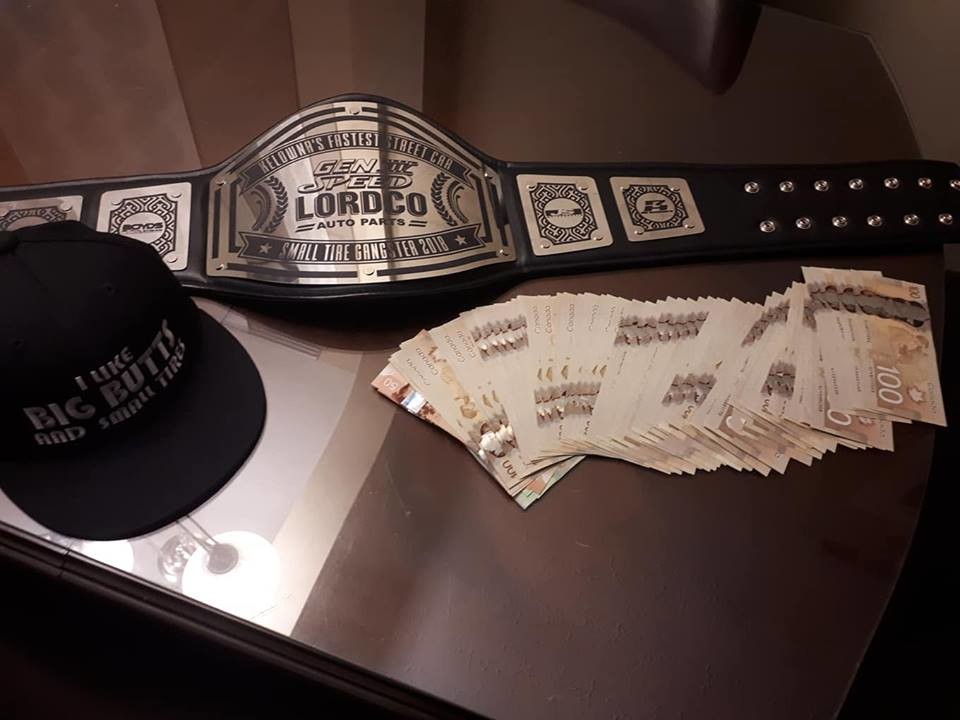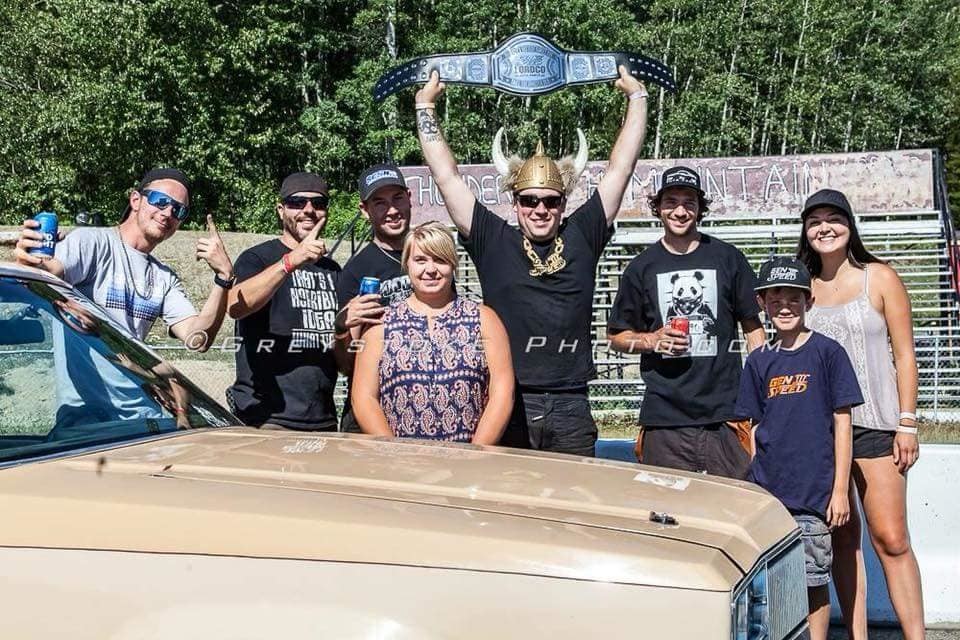 Oh ya we also CRUSHED the stock bottom end LS record while we were in vegas last november as well...... Im sure everyone has their opions on it but the fact is the truck was over 2600 lbs and we made these passes and the engine is still PERFECT and actually has went into another buddies car now.
We are just in the process of trying to get everything ready to head back to vegas in november and hopefully put this old pig in the money!
11-27-2018
Well we went to Las Vegas for SCSN 14 a few weeks back and although the car was on a string all weekend and although we won round 1 of small tire no time and made forward progress every lap we unfortunately could not make the call for round 1 of X275. This was a pretty heart breaking blow after qualifying #2 and being the only other car running over 160+ in a very tight field just a tiny bit behind John Urist. We were unable to continue due to cracking the cylinder heads.

We were able to do the following though:

Best 60 foot - 1.110
Best et 4.45
Best mph 166

All of this was at a weight of 3380-3390 lbs and with our loose stator in the converter (between 14-17% slip) so the rest of these guys better be on notice that once we have this head issue sorted out we will be back and when we are we are coming for blood!

We like to make sure everyone has a great time and enjoys some laughs while we are racing so this year we were "Horsing around" a bit as well as had a special appearance by the MACHO MAN himself to back me into the groove. James also got me a fun addition for my helmet that certainly got some laughs.


Now for the pics: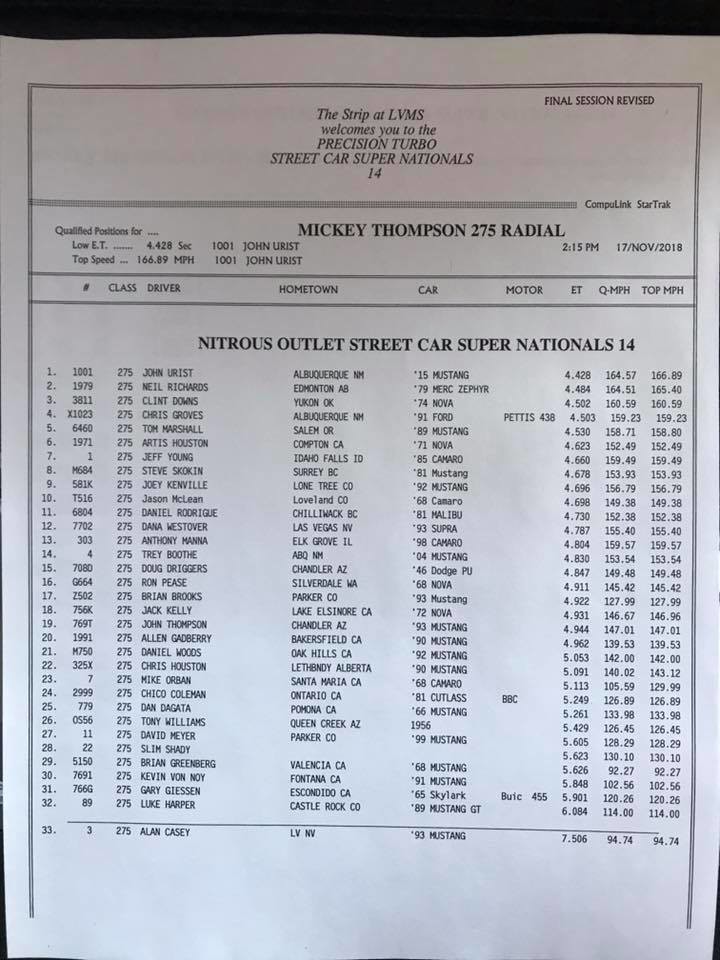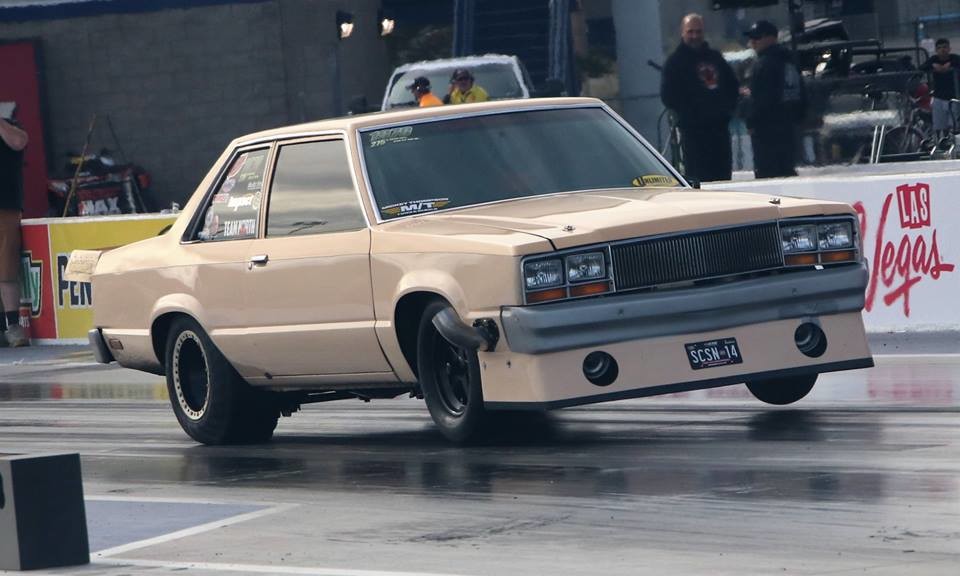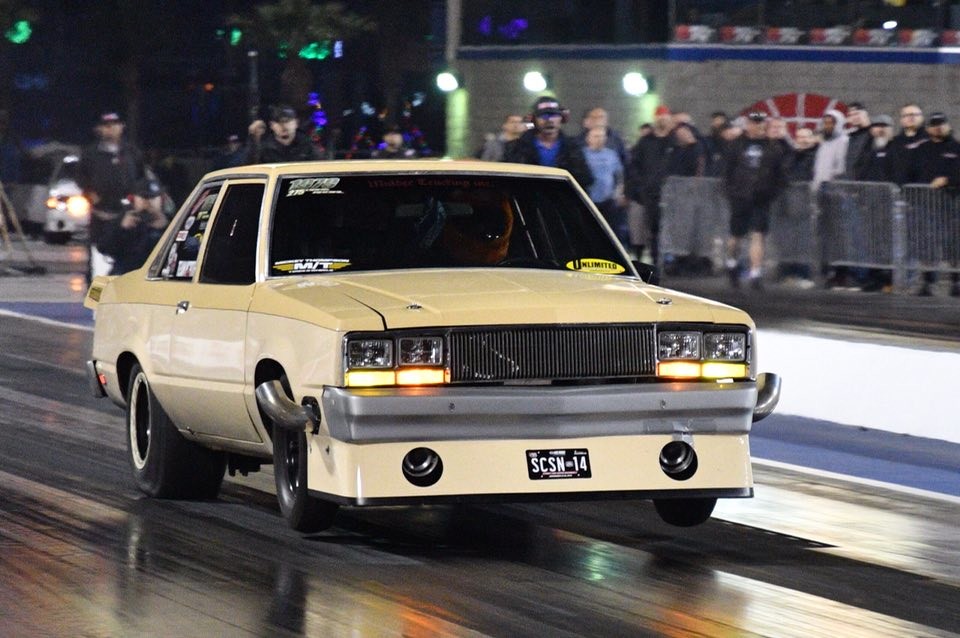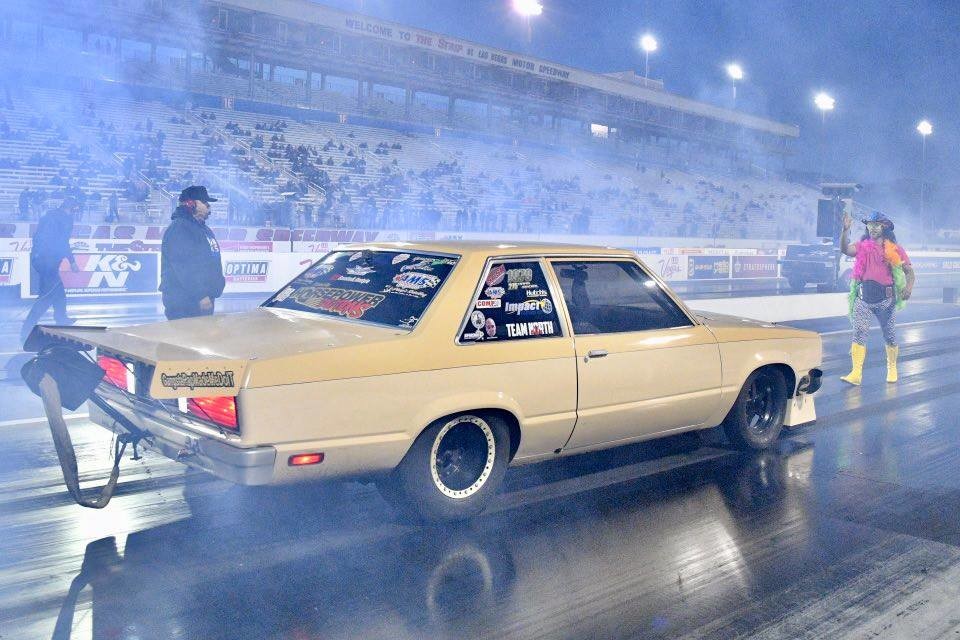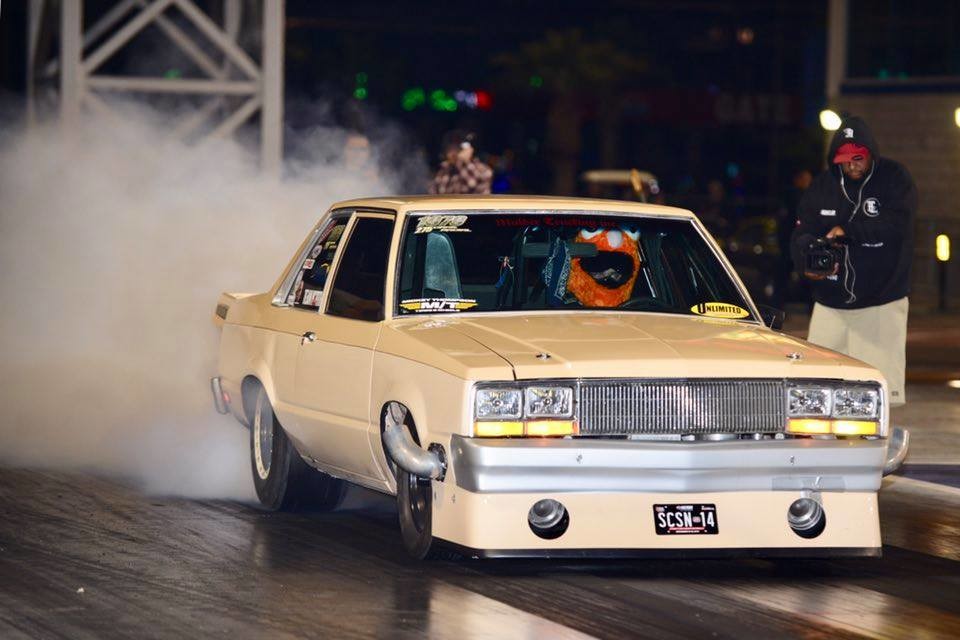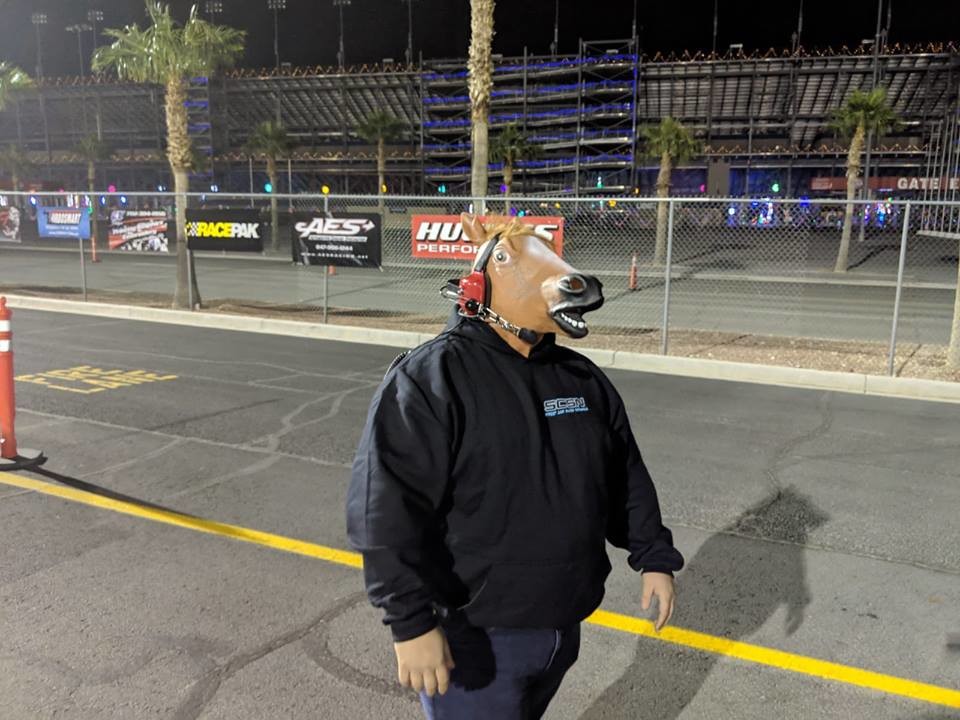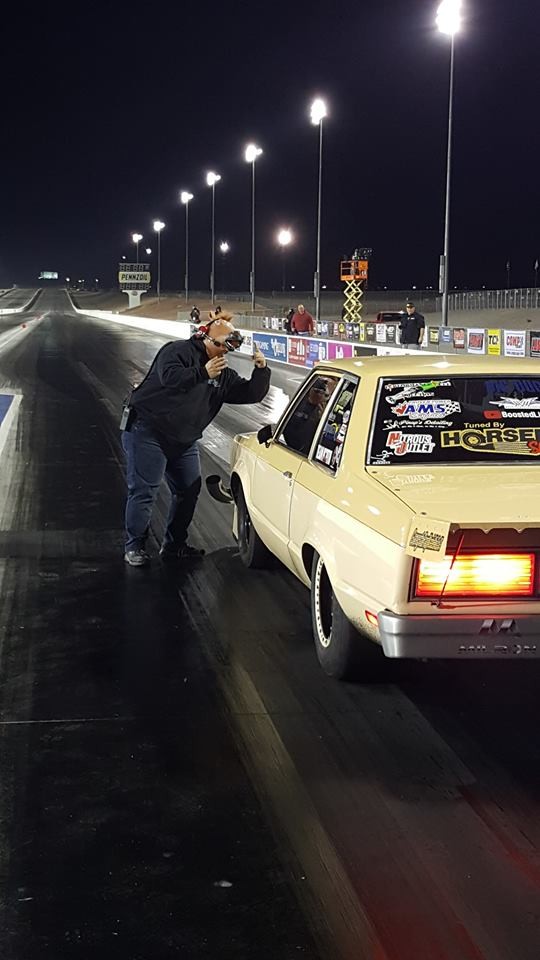 1-1-2020
Well another season has come and gone for Team Cream, We ran the entire season undefeated.... meaning we did not lose a single round in competition. We set 3 new track records and started to get a handle on running the car on M1 non intercooled. Unfortunately for us we once again had cylinder head issues at SCSN in vegas this year and did not allow us to continue after a strong qualifying run put us in the #4 spot behind the "Big Boys of X275" This garage built brick is still putting in work wherever it goes and you can be sure we will be back!!

Here is some photos for those of you still following along!