DIYs
SUN VISOR COVERS Focus 11-18
By diyauto
You must be logged in to rate content!
3 minute read

SUN VISOR COVERS Focus 11-18
1. Remove screw caps by inserting a small flathead screwdriver into the provided gap.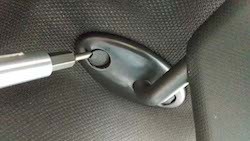 2. Remove the two exposed screws holding the visor in place and extract visor from car.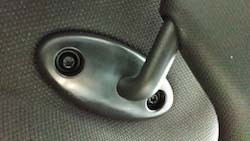 3. Slip the trim removal tool/putty knife under the lip of the vanity mirror and slowly pry it out while working along the edge. You should hear 4 distinct pops as the hidden brackets release.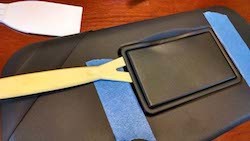 4. Now slide the visor into the leather cover as seen in the photo. It is going to be very tight so slowly work the leather over the edge of the visor until it goes on. Please note that this picture shows a visor with a pre-cut hole, but they do not come this way, the trimming needs to be performed during installation.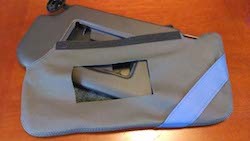 5. Once you have the cover on, trim out (with an x-acto knife) the hole for the mirror. Make sure it's approx 1/8 inch smaller than the mirror trim so that the mirror, when reinstalled, covers the edges of trimmed leather.

Because of the additional thickness from the leather we will need to glue the vanity mirror back into position. First apply glue *ONLY* along the plastic edge of the cavity opening. Press the leather down onto the glue and make sure it is relatively taught. Next, place a bead of glue along the back side of the mirror where it will make contact on the visor. Press into place. (I used painters tape to protect the leather slip cover as a precaution. If using epoxy, super glue or any other harsh glues that will be difficult to remove from the leather this precaution should be taken.)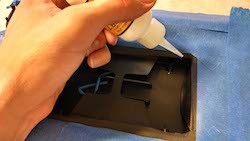 6. Velcro close the top edge while working out any remaining wrinkles.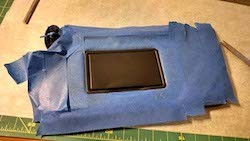 7. Remount the visor in the car in the reverse order of steps 1 and 2.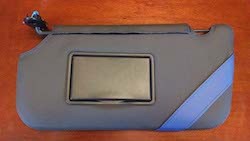 CONGRATULATIONS - YOU HAVE SUCCESSFULLY INSTALLED YOUR NEW LEATHER BOOTS!
Useful tip
You have installed a product made out of genuine leather. As you know, to maintain a leather product in good condition, you should take care of it. We suggest occasionally (every 4-6 week for example) applying some leather conditioner/UV protector to keep your leather from drying up in the sun and cracking.

Redline Automotive Accessories Corp. will not be held liable for any labor, incidental or consequential damages of any kind. Proceed at your own risk.