Builds
My slow build by 87GT Drop Top
By diyauto
You must be logged in to rate content!
8 minute(s) of a 70 minute read
My slow build
Compliments of 87GT Drop Top @ forums.corral.net
2-11-2010
I got it in April, 2009. At first I didn't take many pictures. Here we go.
I have a build thread on another site. I figured I would post it here also.
Here is what the car looked like when I bought it in April of 2009. I'm the second owner. I think I got a good deal. I paid $3700 for it. It had 91,xxx miles on it. It came with a folder of receipts an inch thick from everything that was done to it since new. It had a new top a new paint in 2005. The A/C compressor and accumulator was replaced in 2004. Also the radiator and water pump. Since 2004 the guy had only put 8,000 miles on it. I knew that from the mileage listed on the receipt from the Ford dealer from the A/C job. Here are a couple of pictures the day I brought it home.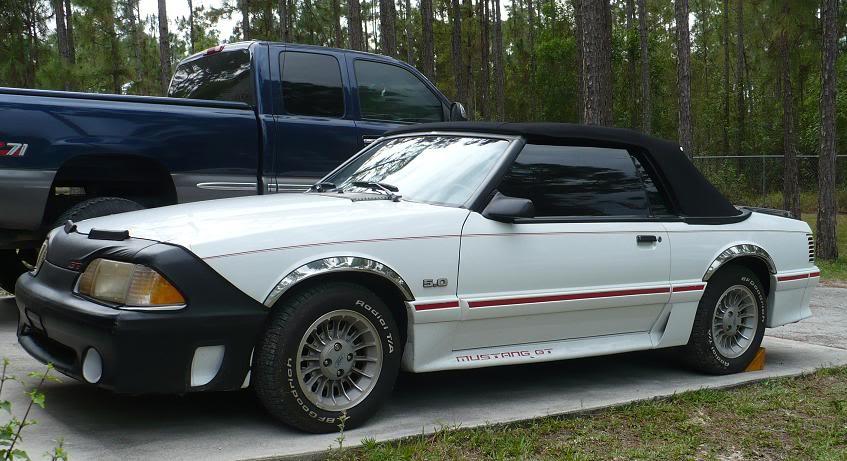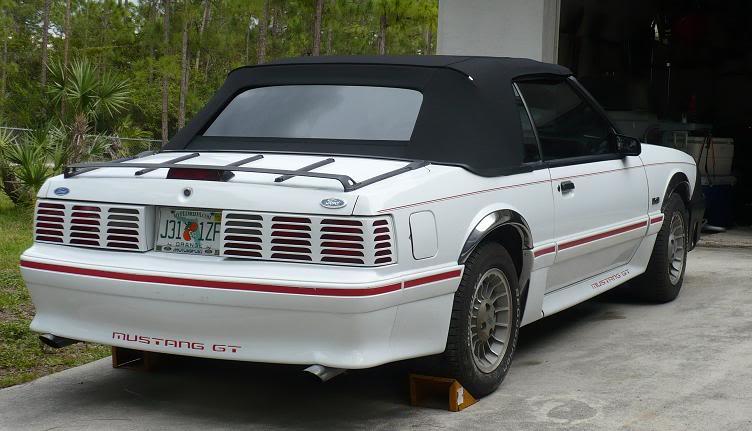 Here it is the next day after I removed the bra and chrome fender liners.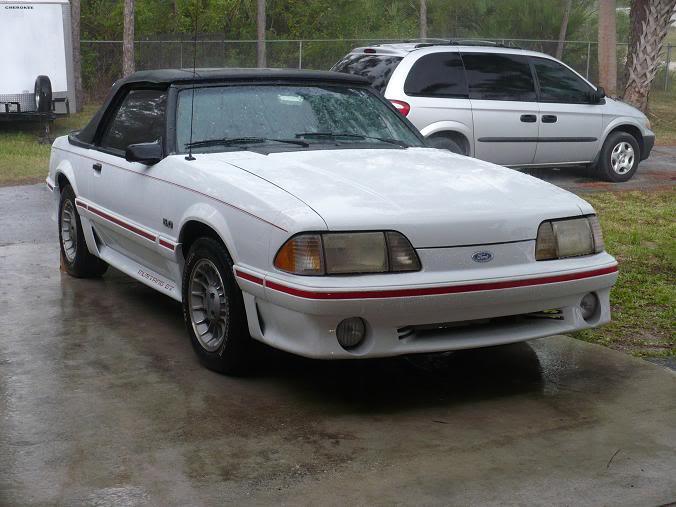 Since then I got rid of the porno red carpet and I installed charcoal gray carpet. I also replaced all the switch plate and seat belt sleeves.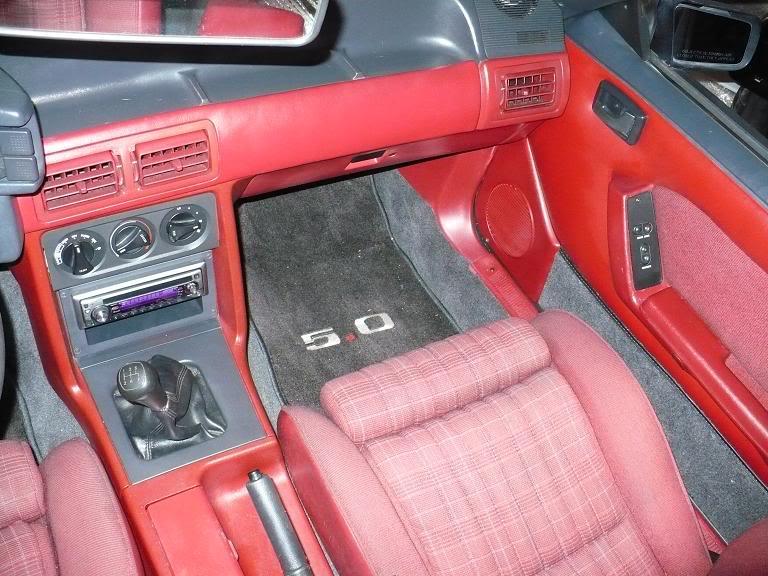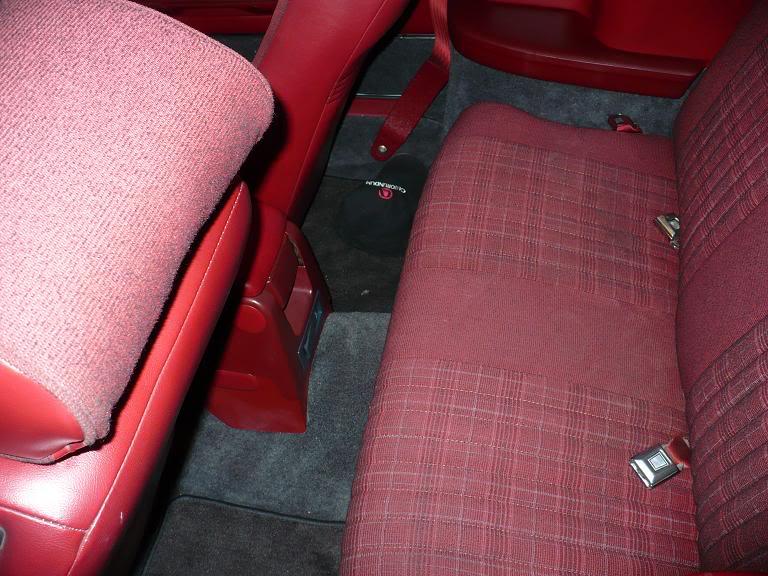 I removed the luggage rack and replaced it with a small wing. I also added wheels and tires. The stupid chrome tips are gone too.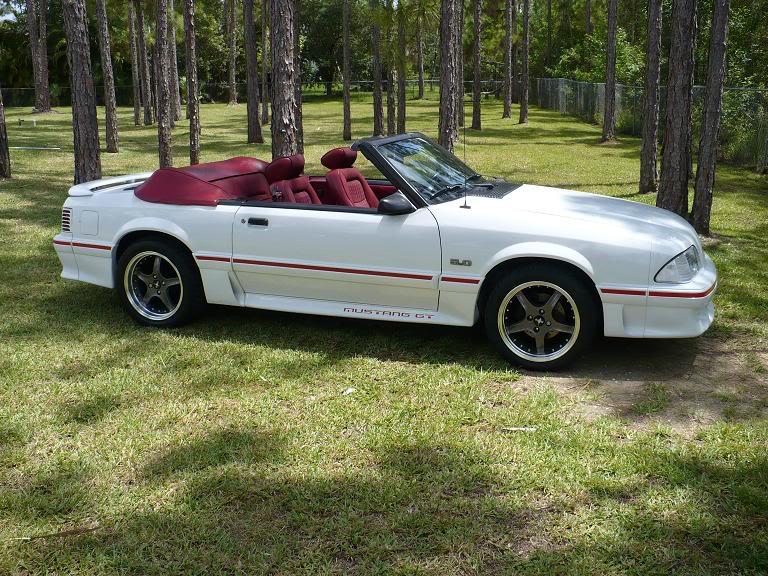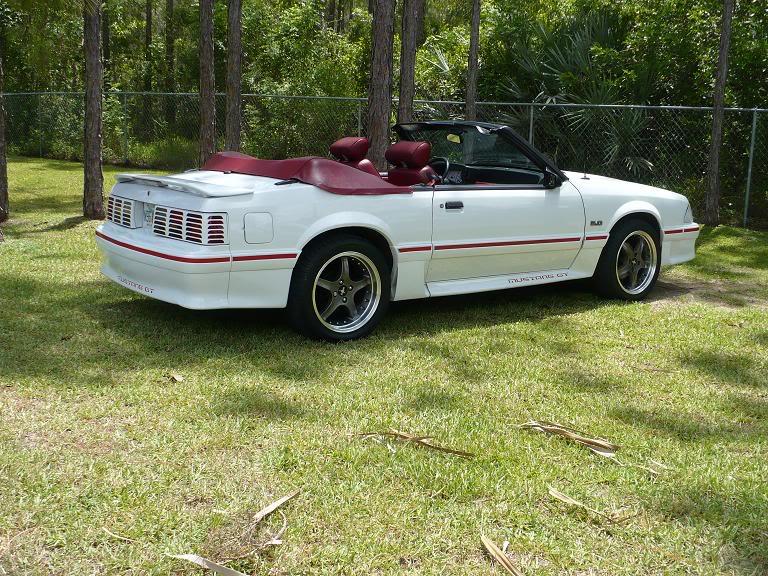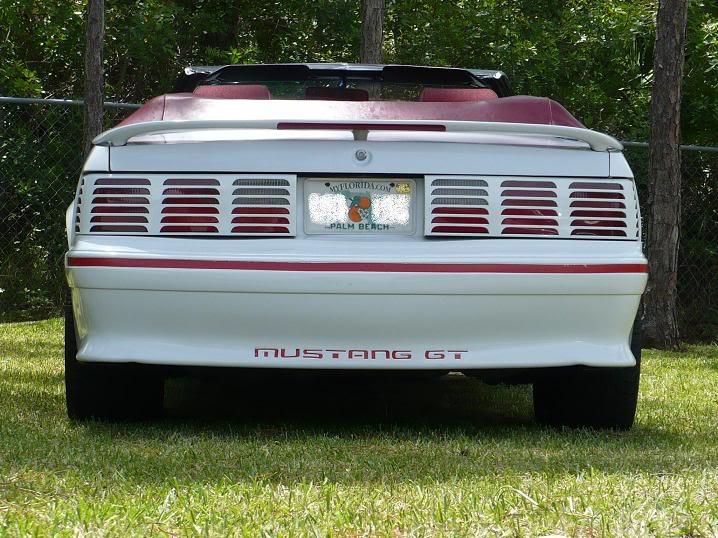 Then I whited out the stripe and letters and also new lights in the front.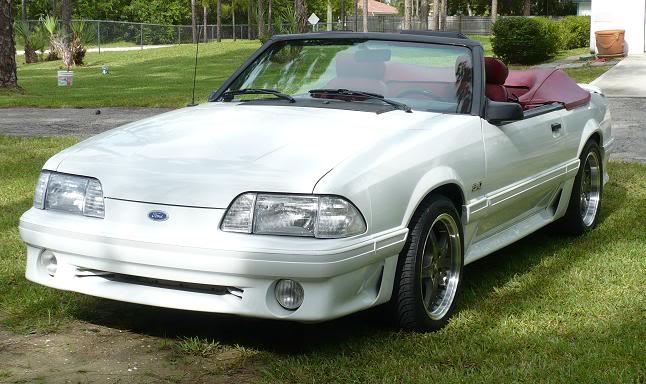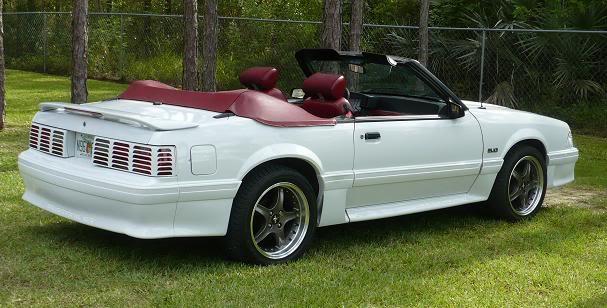 I have since added LX tail lights and changed the headlights.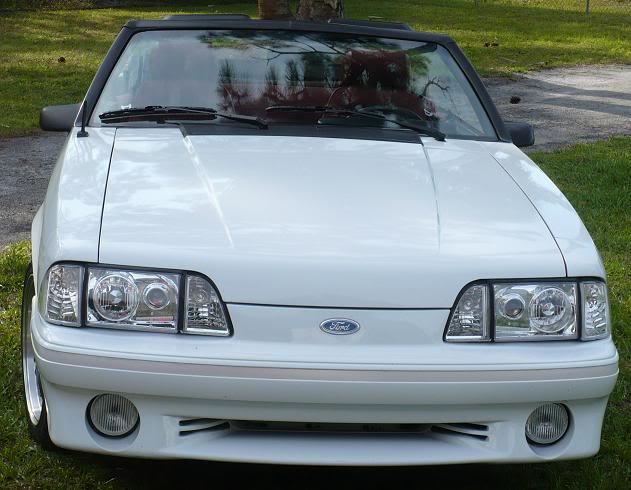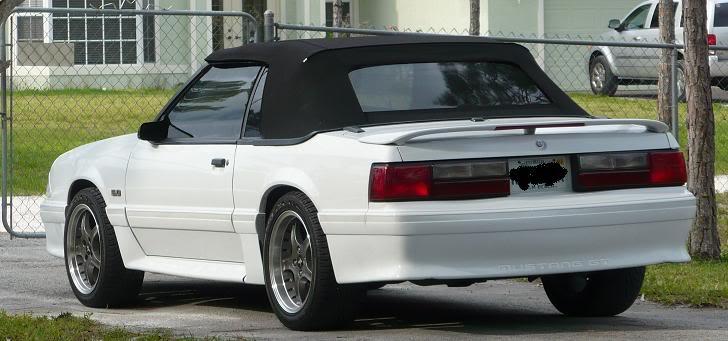 Installed white face reverse glow gauge faces. They can change from blue to green. I also did white faces for the climate control, but I couldn't find reverse glow ones. If anyone knows where I can get some let me know. Plus a Hurst billet shifter & shfiter ball.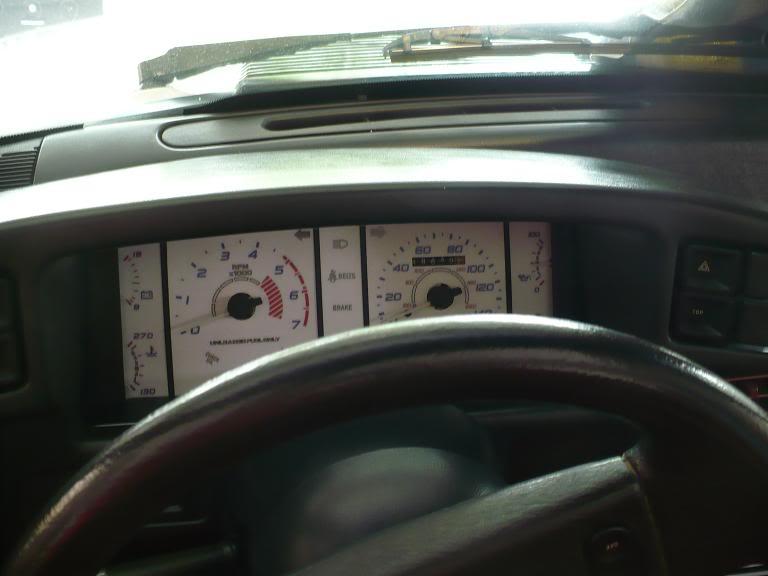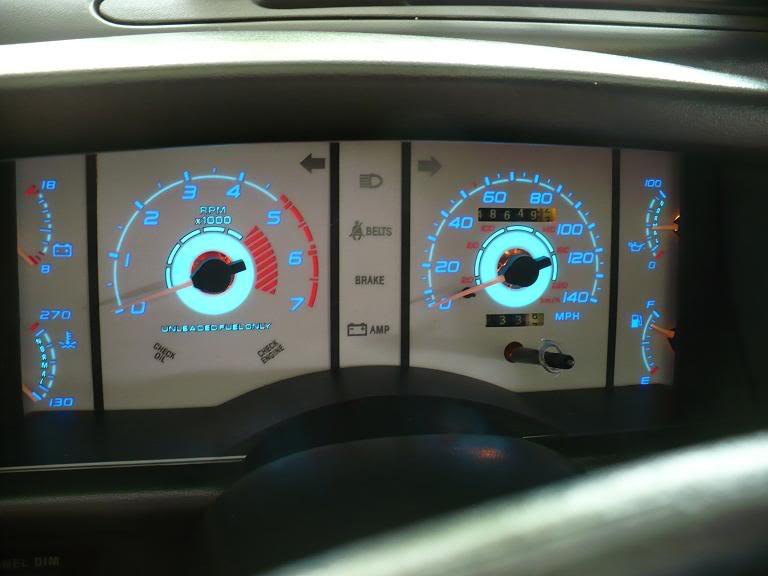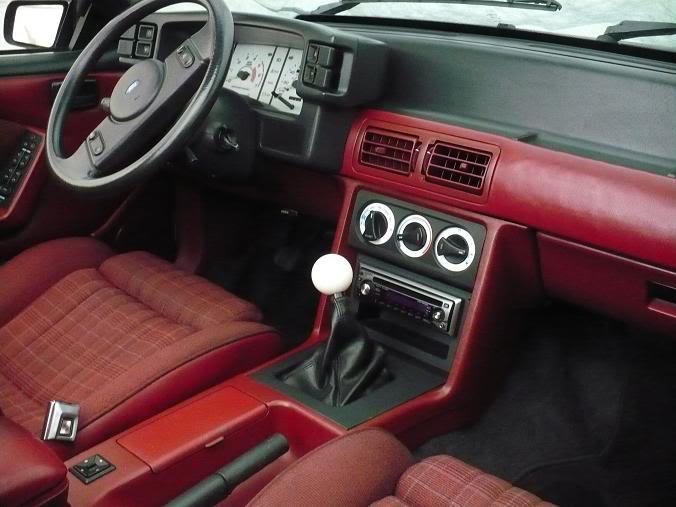 130 amp 6G alt, Contour fans and Hayden 2 speed fan controller.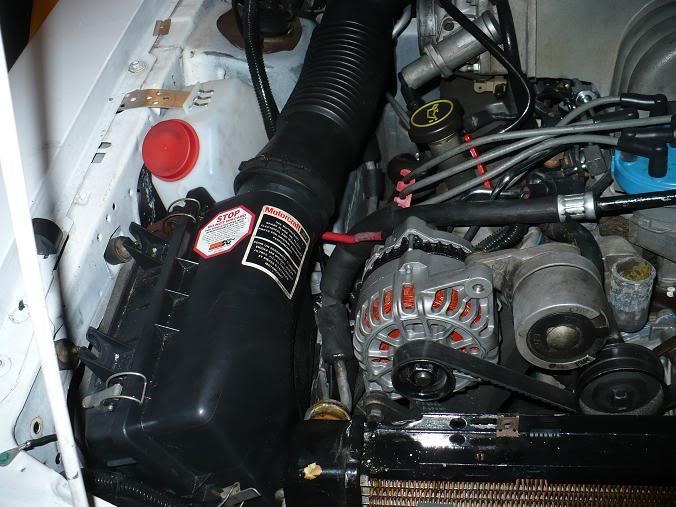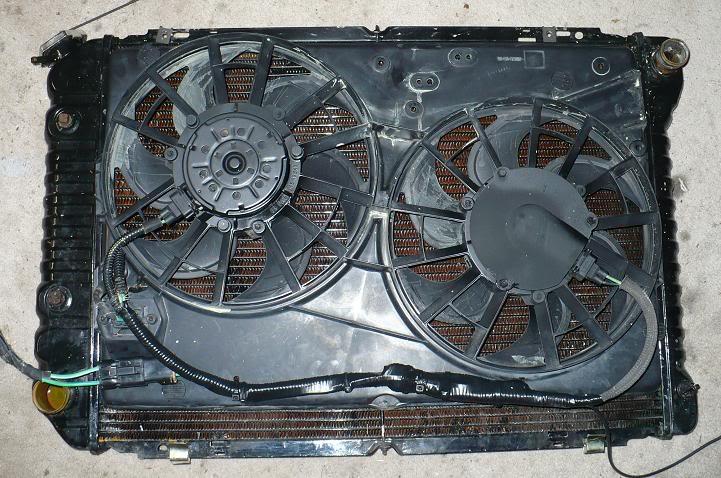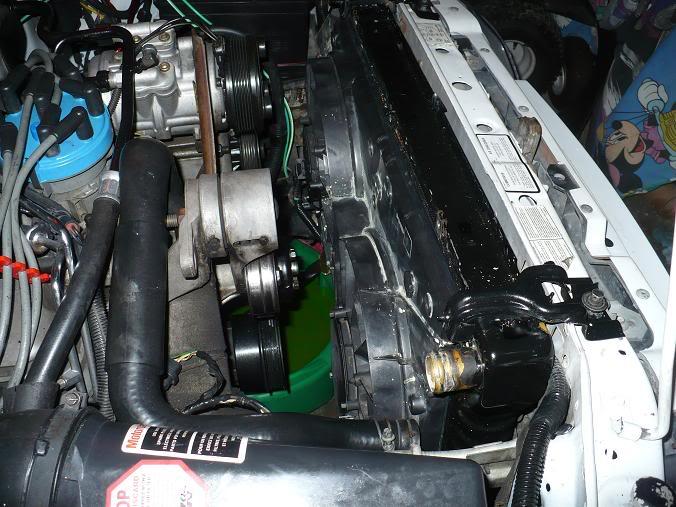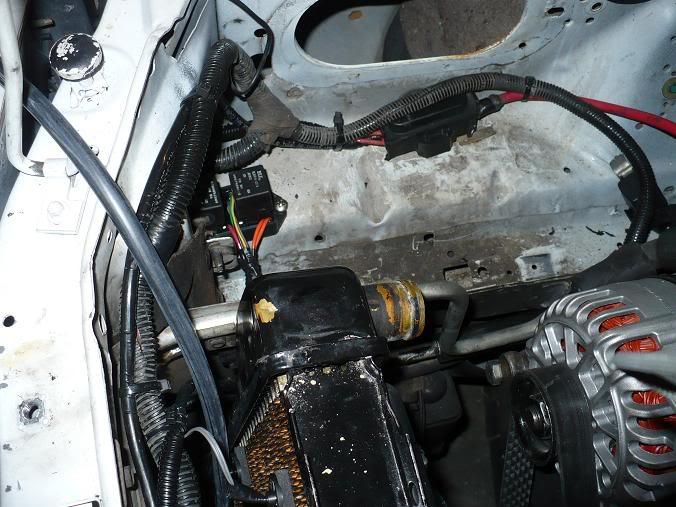 Here's my exhaust. Stainless shortys, BBK H-pipe with high flow cats welded in and Dynamax mufflers, all welded together.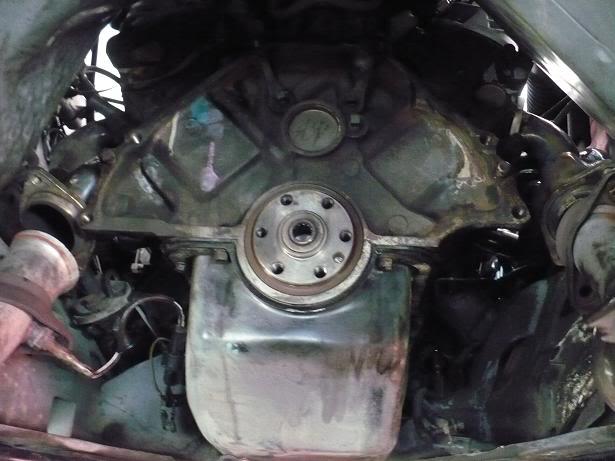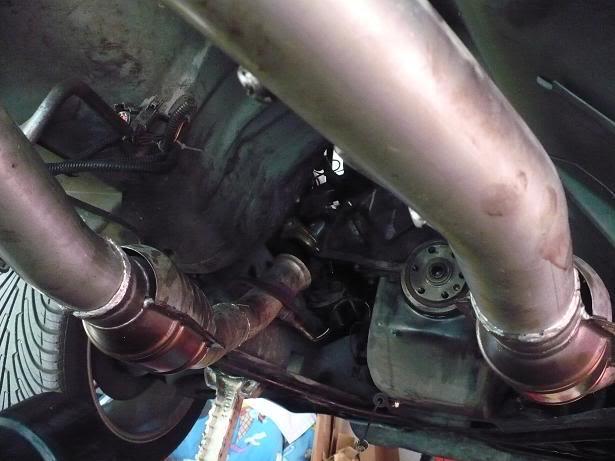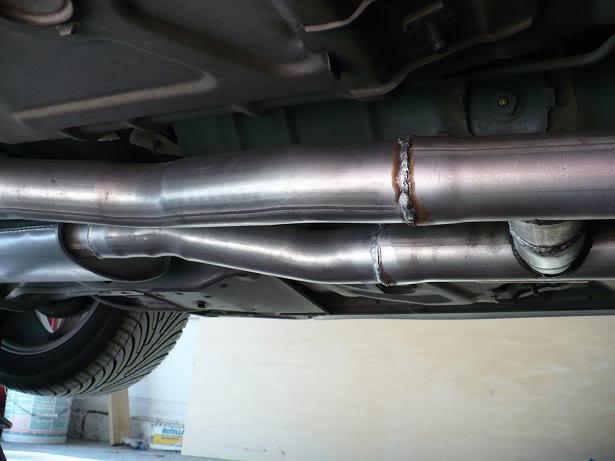 Other things I've done so far.
3.73 gears
4" crank pulley
Hurst Billet shifter
K&N air filter, but will get a CAI when I redo the engine
Kenwood head unit with Sirius satelite radio
6 new speakers
1200 watt amp & 2 10's in the trunk
new wheel bearings & seals ft & rr
new bearing & seals in the differential
Rack & pinion & outer tie rods
P/S pump
180 degree stat
delete all the smog stuff
This was on May 8, 2010.
Here is how the car looks at the moment. I'm installing a Pro Motion transmission that can handle 500HP, Ford Racing aluminum drive shaft and a Center Force duel friction clutch.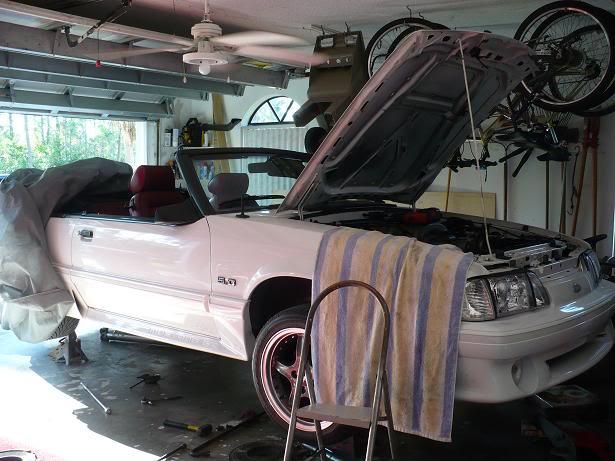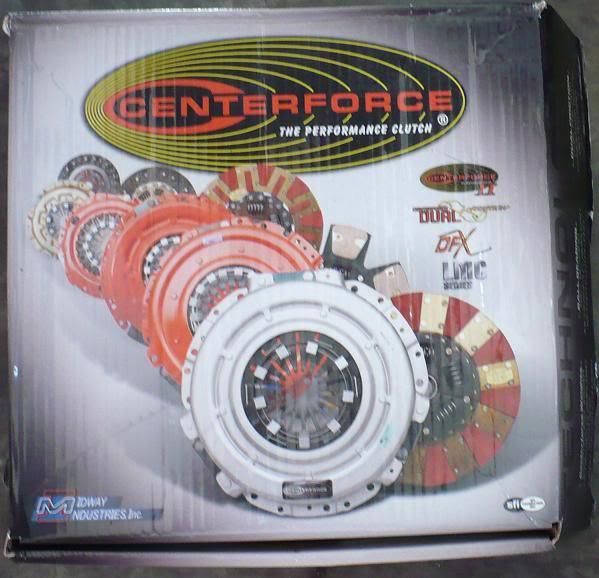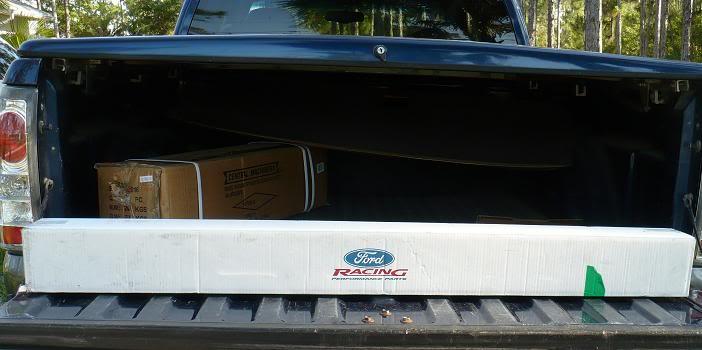 Some miscellaneous parts from underneath that I painted.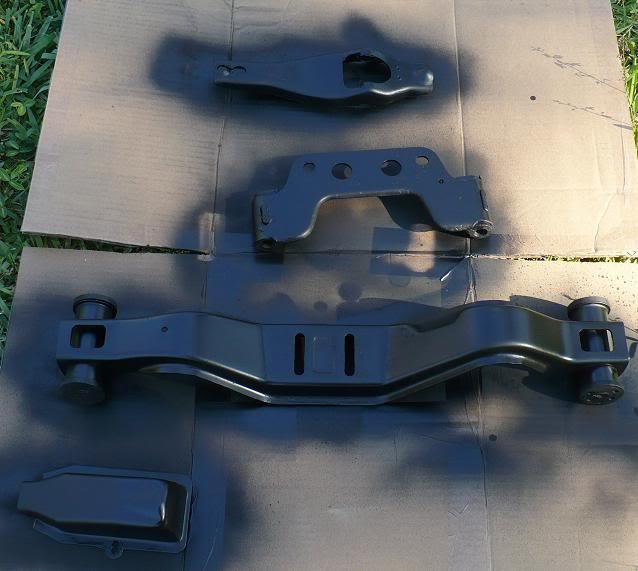 May 10, 2010
I got a little more done tonight. I also learned the the flywheel only goes on one way. Man is it agravating trying to put it on not knowing that 2 of the bolts are slightly further a part then the rest. The worst part was I got it on and then I realized I forgot the aluminum shield. Then back a part it came.
Center force clutch and shield installed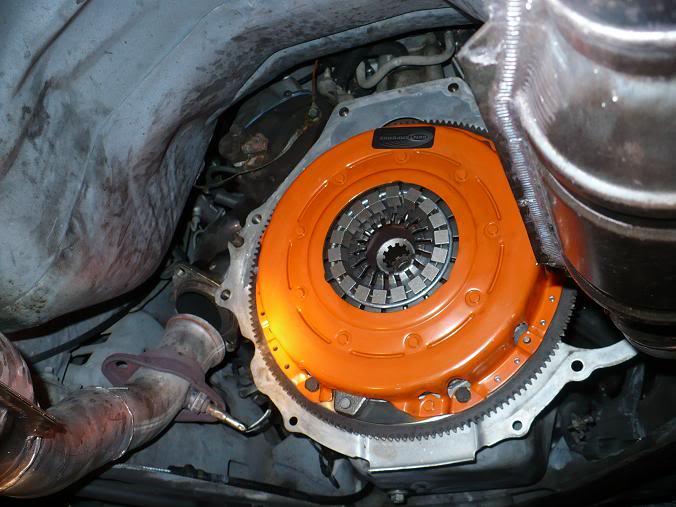 Bell housing back on. Clutch fork & cable hooked up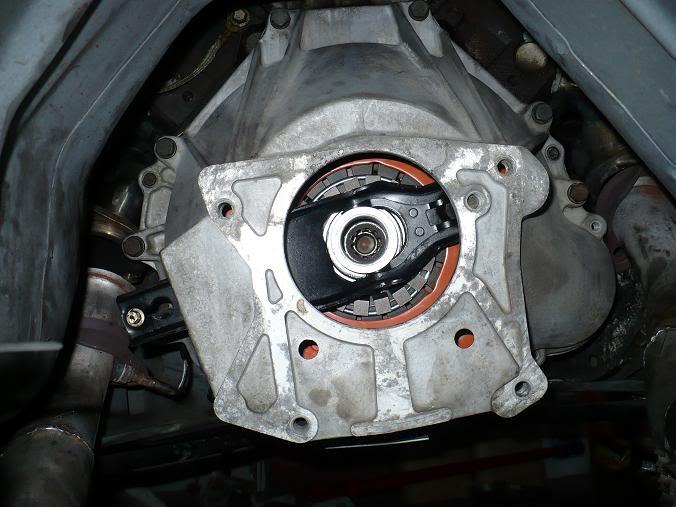 MM quadrant installed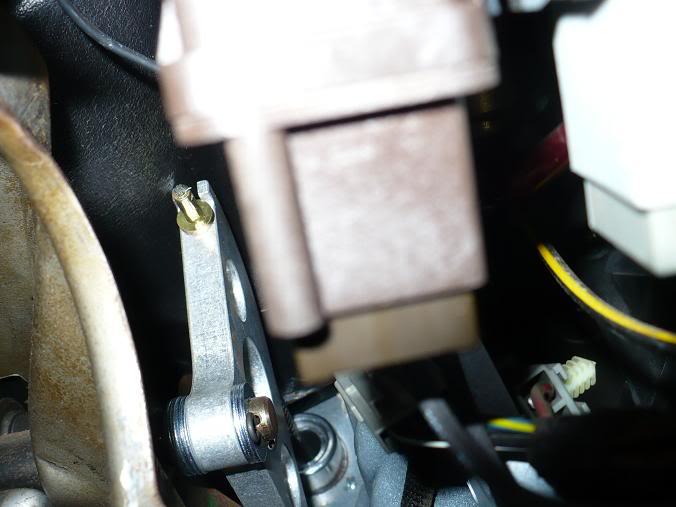 Firewall adj installed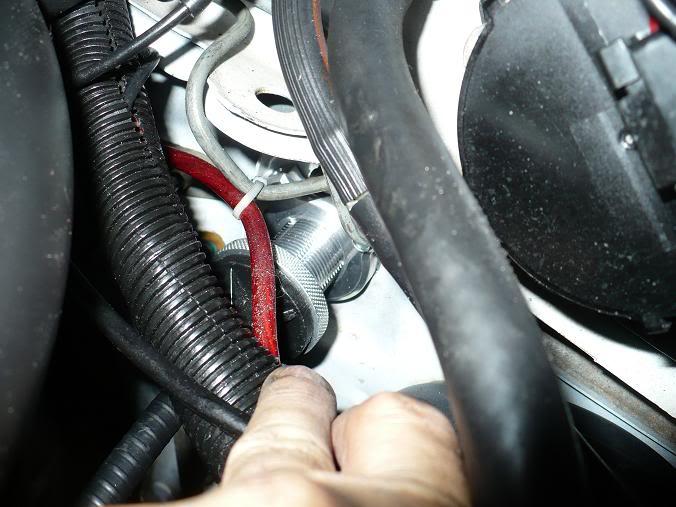 I will be throwing in the transmission as soon as my neighbor can come over and help me.
When I took the starter out I noticed on of the ears were cracked so I figured I might as well upgrade to a mini hi-torque one. I found this new one on ebay for $49.95 + $8.95 shipping. That includes the extra wire to rewire it. Then I notice the location says Lake Worth, FL. I'm like cool, because I work in Lake Worth. I figured I would go pick it up today.....wrong. I call them up and the say our home office is in Lake Worth, but our warehouse of parts is in NC. I had to just buy it on ebay and wait for it to arrive. I won't be able to try out my next stuff until the weekend.
May 12, 2010
OK I got sick of waiting on my neighbor to help me out so I decided to try and tackle installing the transmission by myself. All in all it wasn't too bad. I put it on my floor jack and rolled it under the car. Once I jacked it up high enough it was a little struggle but it went in pretty easily. All of the major work is done for now. All I have to do is fill the trans, put on the shifter, put the interior back together and install the starter. Hopefully the starter will be here tomorrow. The clutch feel lighter then it did before. I can't wait to try it out to see how much better 1st & 5th gear are with the different gearing. I will report back once I drive it.
Transmission installed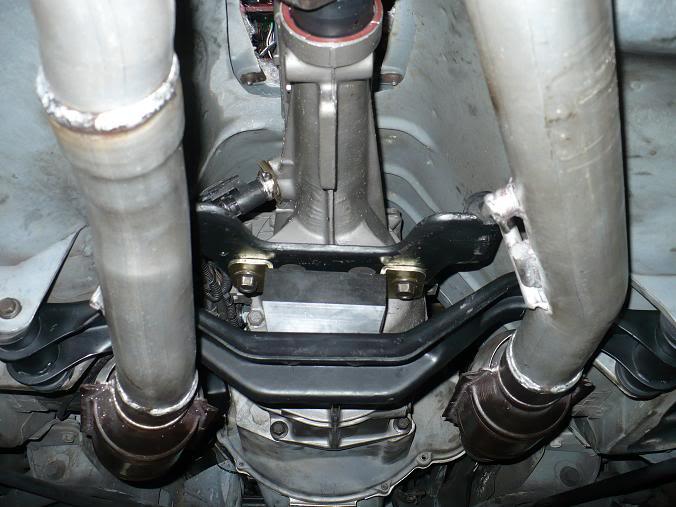 Ford Racing drive shaft installed