DIYs
2005-09 MUSTANG Arm Rest INSTALLATION INSTRUCTIONS
By diyauto
You must be logged in to rate content!
2 minute read

2005-09 MUSTANG Arm Rest INSTALLATION INSTRUCTIONS
1. Installing the armrest cover requires removing the armrest lid from the car (there are screws visible by the hinges after you open the lid).
2. You then need to separate the top and bottom part of the armrest by removing the screws hidden under the little rubber caps. Once the two halves are separate, wrap the armrest cover around the top section of the armrest lid.
3. Then re-assemble the lid, making sure the leather stays nice and tight in the process. It does help to use drops of glue in sensitive spots, to make sure the leather cover remains tight, flush and straight during the re-assembly. If you don't care about the leather cover being removable later, you might even consider glueing it (with Contact Cement or similar glue) on the entire perimeter of the sides of the armrest lid.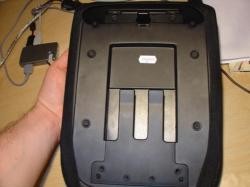 4. Once this has been completed, reinstall the armrest back into the car.
ENJOY YOUR UPGRADED LEATHER INTERIOR!
Useful tip
You have installed a product made out of genuine leather. As you know, to maintain a leather product in good condition, you should take care of it. We suggest occasionally (every 4-6 week for example) applying some leather conditioner/UV protector to keep your leather from drying up in the sun and cracking.

Redline Automotive Accessories Corp. will not be held liable for any labor, incidental or consequential damages of any kind. Proceed at your own risk.