Builds
Project DEMONIZER! by Demonizer67
By stevegolf
You must be logged in to rate content!
6 minute(s) of a 23 minute read
Project DEMONIZER!
Compliments of Demonizer67 @ www.pro-touring.com
9/3/12
I thought I would post the final build of my 67 Mustang - I call it the "DEMONIZER"
Newbie Note - I am new to posting, so if anyone has any suggestions on how to better post the pics & text, that would be great - Im gonna dive in & see if I can figure this out - starting with some random pics of what I've been doing the last few years.
I have been working on it for about 3 years now years & wanted to get some feedback & share ideas with other people building modified classic Mustangs.
I started this project after my last 67 got T-Boned in 2006.
First I built the whole car on paper - figuring out what I wanted to do, what parts & style I liked, etc... I established a whole library of stuff.
Then I starting purchasing all the parts while starting all the fab & pre-assembly work.
Over the past 3 years I have had every aspect of the car mocked up & apart a dozen times or more to the point where if I added a battery, oil & gas it would run - all in the name of getting everything just right.
Then I put on the rotisserie & had at it for about 10 months stripping, scrapping, cleaning & fabricating that last of it.
Now it is at the paint shop being cut & buffed out. I should have the body back in a few weeks. I have painted all my other parts, brackets & stuff & pre- assembled all the sub components - the car should go together quick & easy like a model kit!
Some details about the Demonizer
BODY MODS:
- 67 Coupe
- Removed Cowl Vents & Side Scoops
- Lots of fabrication to get repo & original parts to fit right!
ENGINE:
- Ford Performance 5.0 Crate Engine, Estimated 350 HP & Torque
- Aluminum Ford Racing GT-40 style "X" cylinder heads, 1.94 x 154" valves
- Holley Street Avenger 4150, 570 cfm
- MSD Pro Billet Dist, Coil & 6AL
- Edelbrock Performer RPM intake
- Powermaster 140 amp alt
- GM Power Steering Pump
- Sanden AC Compressor
- March Performance Serpentine system with AC
- Custom built PRC 26" Radiator
- Dynomax Super Turbo Mufflers
- Dual Exhaust with Electric Cut Outs
- Everything is polished.
TRANSMISSION:
- Ford AOD built by Silverfox Performance Transmissions
- Lentech style full auto & manual shifting
- OD lock out switch
- B&M Mega Shifter
REAR END:
- Ford 9" rebuilt & powdercoated
- Moser 28 spline axles
- 3.89 Trac-Lock
STEERING, SUSPENSION
- TCI Custom Independent Front Suspension
- Leafs on the back with Firestone 900 airbags attached to the frame to adjust ride height
BRAKES:
- Wilwood disk all the way around
- 12.19" Dynalite Big Brake kit with 4 piston calipers
- Drilled, Slotted, Zinc plated rotors
- Wilwood Tandem MC
- Hurst Line Lock & Prop valve
- Hydraulic Self Sealing Quick Disconnects to MC
WHEELS & TIRES:
- Rocket Fuel 15" Chrome Wheels
- BFG Radial TA - 205/60/15 up front, 255/60/15 in the back
GAUGES:
- Full set of Autometer Street Comp II LED black face gauges
- Installed into a reproduction 67 Mustang standard Bezel
OTHER ACCESSORIES:
- Power Steering, Power Windows, Power Locks, Power Trunk,
- Vintage Air Gen II Super
- Kenwood DNX DVD with GPS, Corbeau Sport Seats.
- Corbeau 3 point harness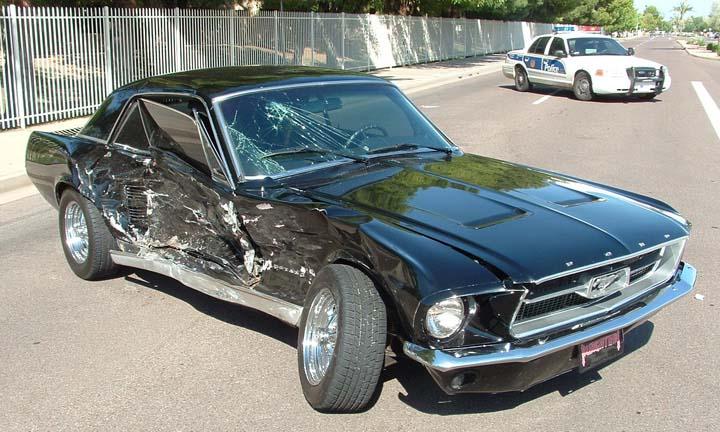 Some more test pics of the Demonizer.
I am basically figuring out how to post the progress of the build, including captions for the pics & the best way to upload the text & pics - any help would be great. Im just stumbling along here as I test uploading some pics & stuff.
I purchased a 67 coupe body from a friend in the Mustang Club. It was just the body, no engine, no trans no interior, no seats, no hood - just a rolling body. My plan was to strip it down and use all new parts or grab parts from the smashed mustang if they fit the build.
The idea for the Demonizer was to completely re-engineer & re-design the car to my liking - maintaining the classic muscle car style & lines of the 60's era, but updating everything else like a high end street rod - a Mustang Street Rod!
The pics show the car as it first arrived at my house, then a few pics at various stages of the fabrication & pre-assembly of everything up top the full rolling mock up - in no particular order.
- Underside all mocked up
- Engine compartment
- Interior mock up - sort of
- Gauge panels with the Sport Comp II LED series