Builds
Accord325 Dyno Progress and Build
By diyauto
You must be logged in to rate content!
4 minute(s) of a 88 minute read
Accord325 Dyno Progress and Build
Compliments of Accord325 @ www.v6performance.net
8-17-2013
Hi Everyone,

I decided to get a base Dyno being I have incoming parts (Pauls DTB IM, Ported Runner, 5" SRI) and truly wanted to show the gains attributed to them.

Well I went and got one today and was shocked by the numbers.... and not in a good way. I'll let the chart speak for itself.

DYNO COMPARISON POST #120

Engine Mods when Dyoned
- Stock Dia. Light weight Pulley
- Cheap Autozone 3" Sri w/Spectre Cone
- Full size (1.6") IM spacer w/thermal gasket
- TB spacer w/dual thermal gaskets
- TB coolant bypass
- xlr8 J-Pipe
- New Clutch and Fly just put in (4 days ago, doesn't really count but is critical to performance).


Current Mods - Updated 9/9/14 (First Mod on 5/1/12, Autozone SRI, lol, after that I was Hooked!!)
Engine
- DTB IM
- Dual 3" intake to single 5" w/8" K&N Cone
- 3.7 Heads (decked for compression, ported, valve job)
- 3.7 Ported Runners
- 08' RL Cams
- TL-S valve springs
- Hondata Flash Pro (TL ECU, Adapter Harness)
- Zex 100 shot Wet Kit, Remote Bottle opener, Bottle pressure gauage, bottle heater
- UD Lightweight Pulley
- 3" Velocity Stack
- RV6 V3 PCD's (ceramic coated)
- XLR8 V2 J-Pipe
- 2.5" Tsudo Cat back Exhaust (Tsudo and Vibrant Resonators)
- TB Coolant bypass
- P2R IM Thermal Gasket
- Invovative 75a Motor mounts
- CVD
- Amsoil Sycormesh Transfluid
- Oil Catch Can, with inline filter

Other Mods
- 20 way adjustable coilovers
- Rota Torques - 17x9
- Federal Evo's 235-45 - Mickey Thompsons Street Comps 235-45
- Comptech Short Shifter
- TLS 20mm rear sway bar
- Corsport Aluminum Shifter Cable Bushings
- Ingalls Rear Camber Kit
- Cross Drilled Slotted Rotors, Zinc platted
- Glowshift Tach light
- TL Trans Mount, poly filled
- LCA, poly filled
- AEM UEGO WIDEBAND
- Coilovers
- Hydro dipped Carbon Fiber GPS in dash piece (custom)
- Hydro dipped cluster bezel

Pure Aesthetic mods
- Black Housing Headlights
- 8k HIDs
- Carbon Fiber Shifter
- Cheap Stick on front lip
- Honda Carbon Fiber Rear Emblem
- V6 Badge- Relocated to front Right corner of hood
- 03-05 Asain Grill (Modded to fit coupe)
- 03-05 Aftermarket front lip
- custom 7.5 Gen Trunk spoiler

*Dyno Note*
Hot as Hell (see chart), heat soaked from driving 50 miles and guy letting the engine run for 15+min while talking to other people , have ****ty Bosch Platinum Plugs in currently (dumb, I know, they will be gone soon). It's seem that there was a slight drop off when Vtec engaged, yes ? The Curve also looks to drop off early around 6,200 rpm

CURRENT NUMBERS N/A = 270.57whp/2xx.xxwtq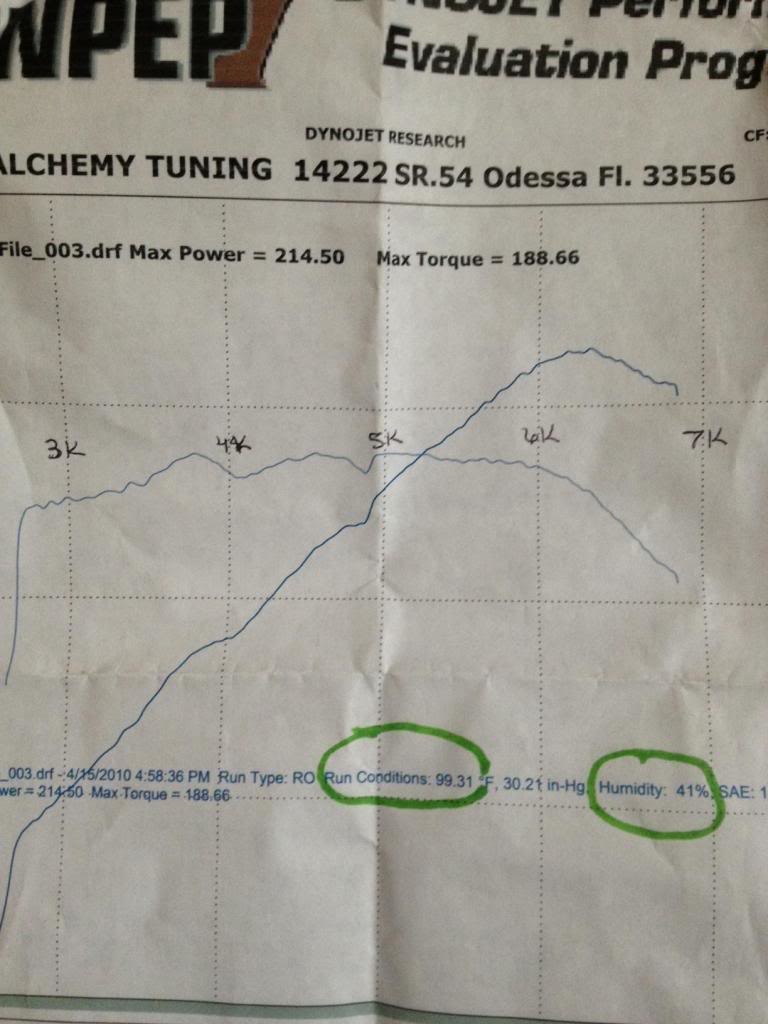 I agree that the clutch shouldn't be beat on this early. I have 350 miles since the Clutch change and did 3 pulls...that's it.

Everyone was reading low. It was almost 100 degrees out. My friends Acura CL-S dynoed at 268 hp a week earlier and only got 254 hp today. He also just added the 3.7 IM , he definitely should of seen some gain from that. They were reading low all across the board

I was still hoping for more. Shouldn't be a huge issue but I need an oil change also.

HEAVILY MODDED RSX pulled 445 hp and 420 tq !!!!!! Thing was screaming. I think he had a 72mm or 75 mm Turbo on it. I'll post vid. later.