Builds
J. Dub's Build Thread--World's only debadged G1 CVT w/ sunroof & black moons by J. Dub
By diyauto
You must be logged in to rate content!
10 minute(s) of a 13 minute read
J. Dub's Build Thread--World's only debadged G1 CVT w/ sunroof & black moons
Compliments of J. Dub @ insightcentral.net
2-4-2015
**6/16/15** Car is for sale. I'm sad that she'll be leaving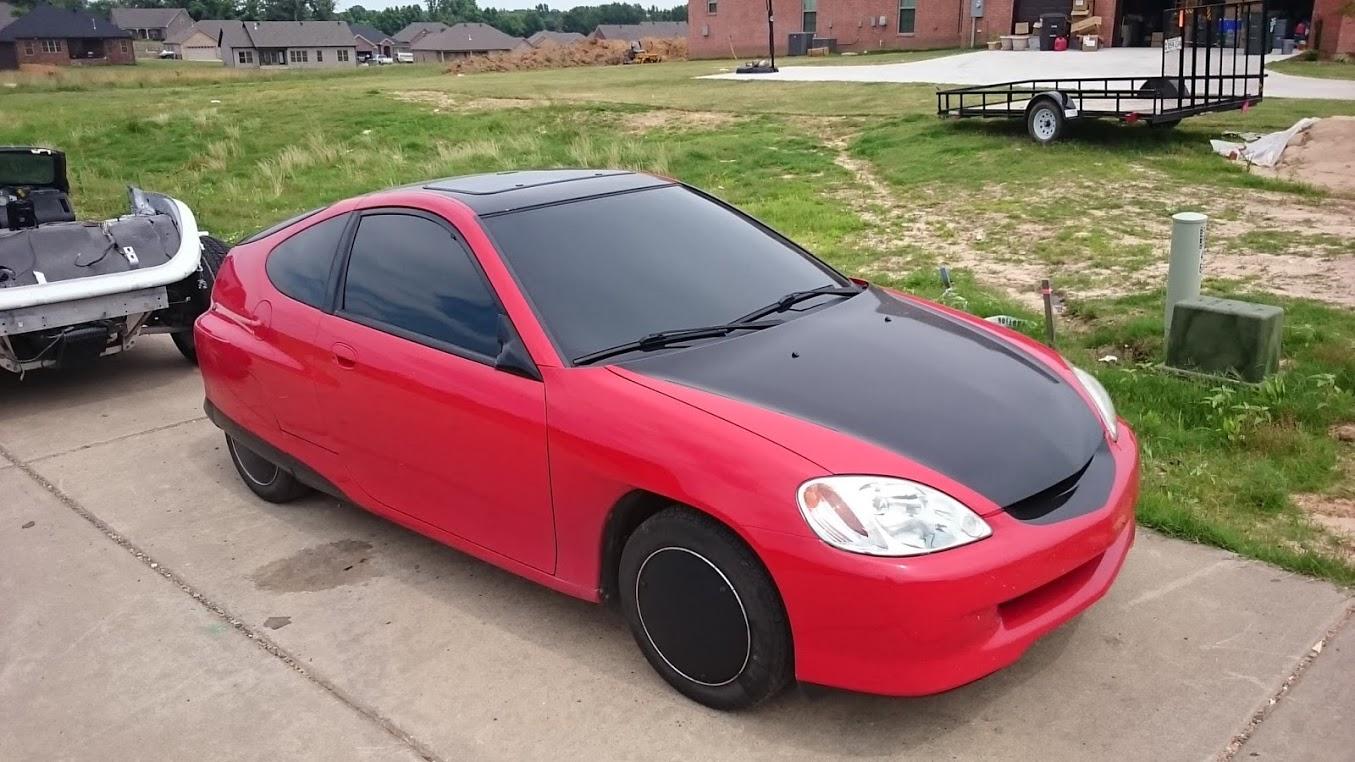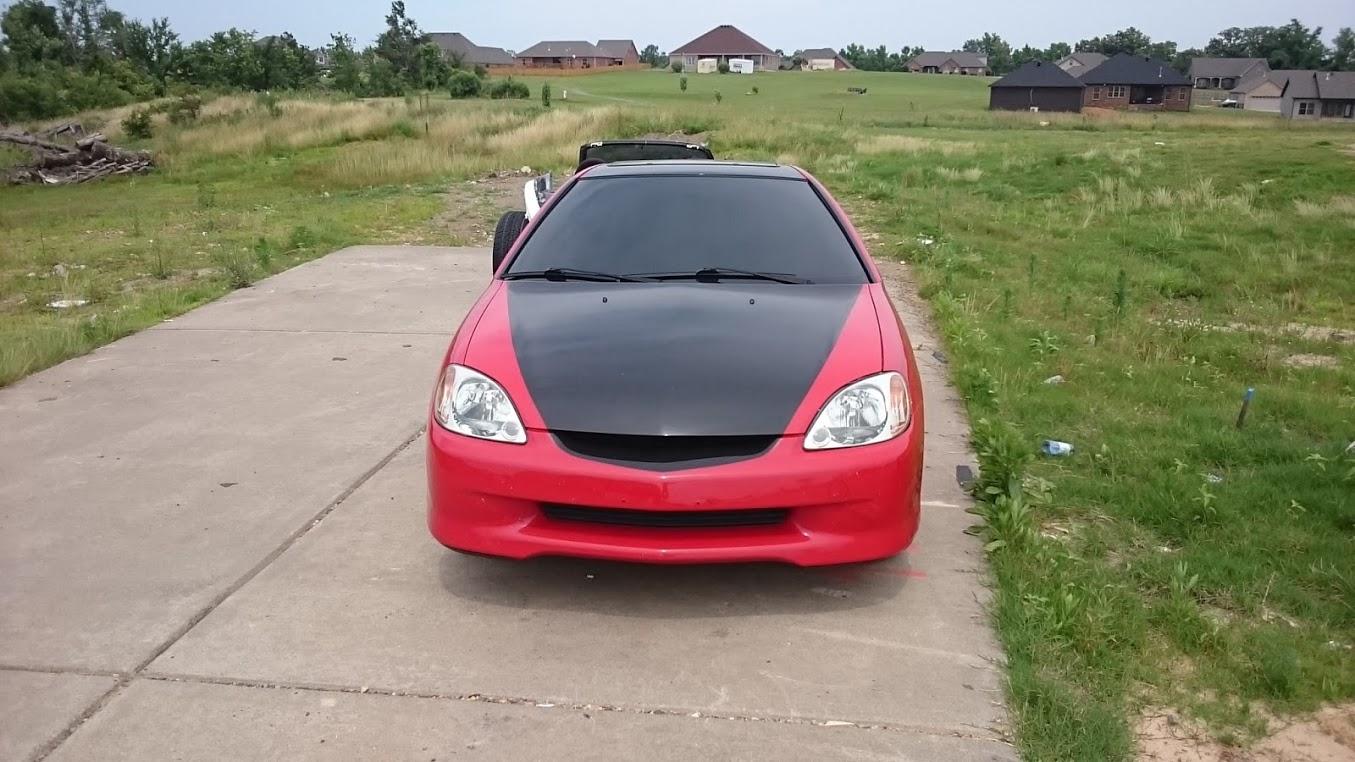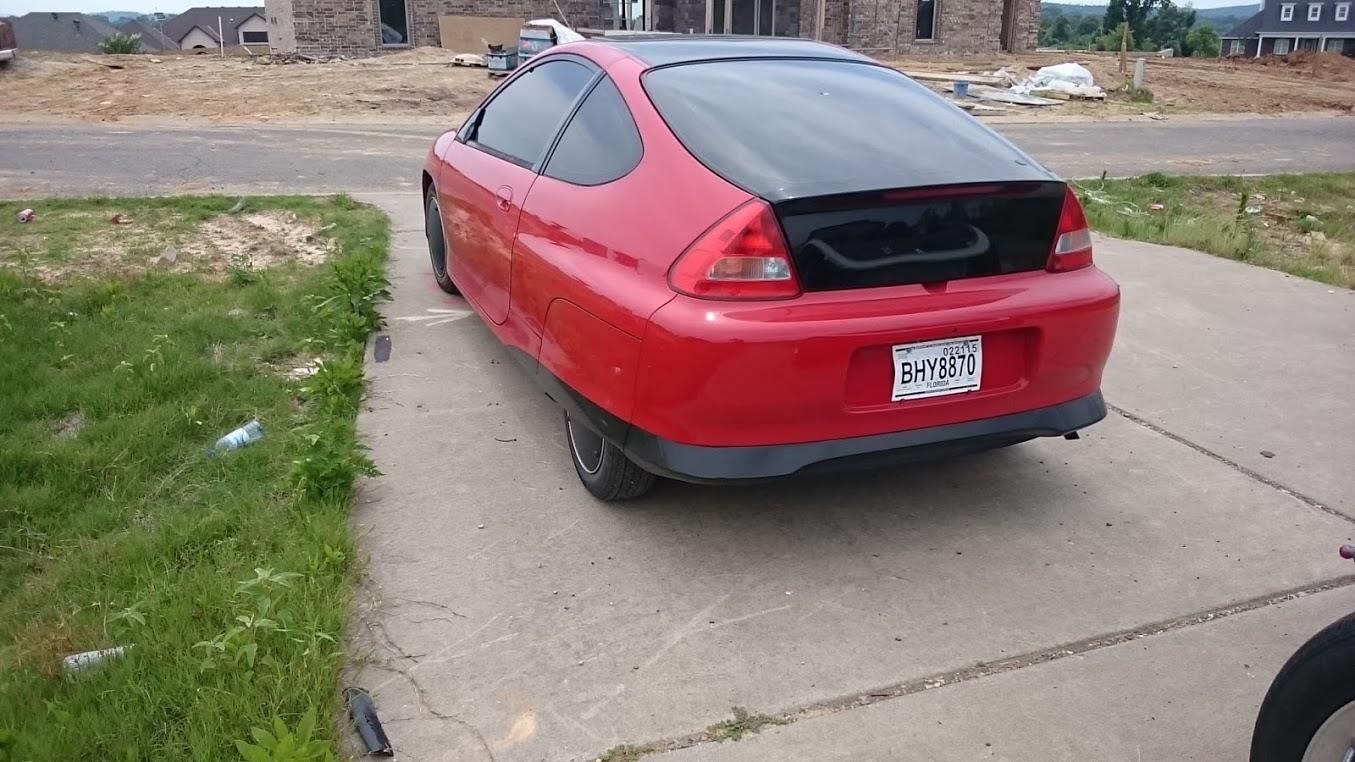 **4/17/15** Stripped the entire interior in prepping for sound insulation & sunroof (video in post #4 below)
**4/13/15** Purchased some Bosch Icons 26" driver side and 20" passenger. Didn't think they would fit, but they did.
**4/10/15** The gloss black wrap has commenced. World's first two tone Insight? Do I get the title?
**4/6/15** Sound deadened the driver door. Still need to do passenger door and hatch area. I also placed a $400 deposit on the sunroof which is schedule to be installed on the 20th.
**4/3/15** Purchased 26" Bosch Icon driver side wiper blade and 20" passenger blade. They sit rather high. Perhaps I'll try and exchange them for a lower profile blade? They do a GREAT job compared to my stock wipers however. I also installed the driver side floor mat holder part# 08P15-S3Y-100R1 it was rather a pain as the seat hardware was in my way. I ended up using a flat head and a hammer to get the piece in there. Floor mat doesn't move any longer.
**3/30/15** Ordered 08P15-S3Y-100R1 for $9.88 & also removed all the fading black rubber on the lower spats and rear bumper and replacing it with 3m gloss black vinyl. I am also installing gloss black vinyl on the whole roof, side mirrors, window trim, & "V" section of the hood for a more sportier appearance. Total cost w/ install from my vinyl guy is $369.33 Lastly, I installed LED reverse lights. MUCH brighter than stock.
Yesterday, I installed a hillman 1&1/8" metal plug for the rear wiper delete. I sanded it with 60 grit, then came back over it with 180grit, then finally with 0000 steel wool. Hit it with mineral liquid then placed two coats of self etching primer, then two coats of gloss black paint. There are a few specs in the paint but I can live with that since I did it in my garage and not a paint booth. I let it sit over night and this morning I put some silicone glue on the bottom of it and installed her. I'll monitor the next rain storm and see how she holds up.
**3/24/15** Lost all brake function and had to ebrake my way home. Found out I have two busted brake lines. They are getting replaced this week. I also was cleaning out my under floor hatch area prepping for the subwoofer install and noticed about 1/16 of a cup of water down there. I cleaned it all up but need to find where it's coming from before I install the subwoofer and amp.
**3/4/15** Yesterday I had the oil changed out, fumoto valve installed, no filter, tires rotated, wheels balanced with balancers placed on the inside outter lip so as to not interfere with the moons I will be installing later, 32mm spacers installed (the fenders naturally trimmed themselves, ha), & removed the front honda emblem thanks to elbow grease and goo gone
**2/25/15** 5% limo tint all around and 20% on entire window installed along with DR600W
NOW BACK TO WHAT I WROTE WHEN I STARTED THIS THREAD
*I see no build thread or member intro sections here on the forum... So I made this thread in the general section. If it needs to be moved, please advise.
BACK STORY
I admit, that the original thought of owning a hybrid meant that I had succumbed to being an old fart... Officially. This of course was an assumption. A bad one.
I knew, however, that I wanted something unique, less then $7k, and not boring. Furthermore, my current DD was a Hyundai Veloster. And my WW is a 2001 Plymouth Prowler. So, I suppose, it's safe to say unique vehicles is my forte. However, I began to notice more and more Hyundai Velosters on the road. So the time had come to get something "different".
I narrowed my results down to getting either a smart fortwo with the glass roof or a G1. I worried that a G1 wouldn't fit me as I'm 6ft 3. But, after my first test drive, I was hooked. It seemed so fun to drive this light weight vehicle around and no where near as slow as I anticipated. My initial desire was a G1 with two-tone grey/black interior, had to have CVT, & had to have under 60k miles on the odometer. Finding such a low mileage CVT G1 proved to be difficult. My initial finding was a 2002 Silver out in Richardson, TX at a VW dealership. But when I got there the battery was throwing codes, and there was no way to drive back home as the headlights were using to much energy to keep the car on. Furthermore, the gent wanted $3500 plus tttl and I walked away from it after offering $3400 and he denied it. So the search continued for 6 more days...
Then I found her. She was on autotrader and located at a mom and pop dealership in Jacksonville, FL. She is red and had 56k miles on her before I flew down to get her in January 2015. Aside from slight wear on the driver side seat bolster, worn rubber on the accelerator pedal, stagnant odor inside (presumably from sitting from so long), rock chips all over the front, & slightly peeling passenger side rear wheel skirt vinyl... She was a cherry. Clean carfax, two owner, and she spent most of her life in the east side of the USofA. And has a TON of maintenance records. The carfax can be viewed by clicking HERE.
When I drove her back home she averaged around 57mpg and is holding steady there. I noticed the windows go up slow and she has a off kilter driver side headlight. I made a video and a thread about it HERE.
Lastly, here is my last finished Custom Build:Custom Lexus
And here is my current Custom Build: Hi-Boy Prowler
Enough about the back story, let's get on with the main event.
THE BUILD
End goal = 60Lmpg CVT
Sea Green = Installed on Car/Completed
Dark Orange = Ordered
Exterior:
-(aero)Removal of rear glass wiper & motor
-Removal of all badging / branding
-32mm rear spacers
-Powdercoated gloss black rear wiper plug
-(aero)Removal of radio antenna & rear squirter
-(aero)Removal of side mirros
-5% limo tint all around except windshield
-20% tint on entire windshield
-Sunroof
-Rear camera
-50w T15 LED reverse lights
-Black moons (wheel covers) for better MPG
Gloss black vinyl:
-roof edge to edge including "channel on left & right (not on upper door)
-window bezel trim that is currently black
-bottom of rear bumper that is currently dull black
-"V" on the hood and beginning of "V" on upper bumper
-small section of wheel skirts leading to under passenger door area that is currently dull black
Interior:
-Hack shift knob lockout so I don't have to press the button to engage the shift stalk out of park
-Lloyd Northridge all weather floor mats
-Aftermarket shift knob black with red stitching
Stereo:
-Polk slim 5&1/4" in front doors
-10.3" single din soundstream HU
-Sound deadening & dampening material throughout cabin
Maintenance:
-Charge & discharge battery fully (takes 5 days I heard)
-Bosch Icon's 26" driver and 20" passenger
-Fumoto valve
-0w20 synthetic engine oil
-Clean/Lube window tracks w/ silicone
-New cabin air filter
-Redesigned Dzus fasteners
My glass installer has worked with ALUM roofs before. And this isn't the first Insight with an ALUM roof.
The gauges I'd like to be completely off so I can see out the car better at night and have no distractions.
__________________________________________________ __________________________________________________ ________________
The two tone gloss black wrap begins. 4/10/14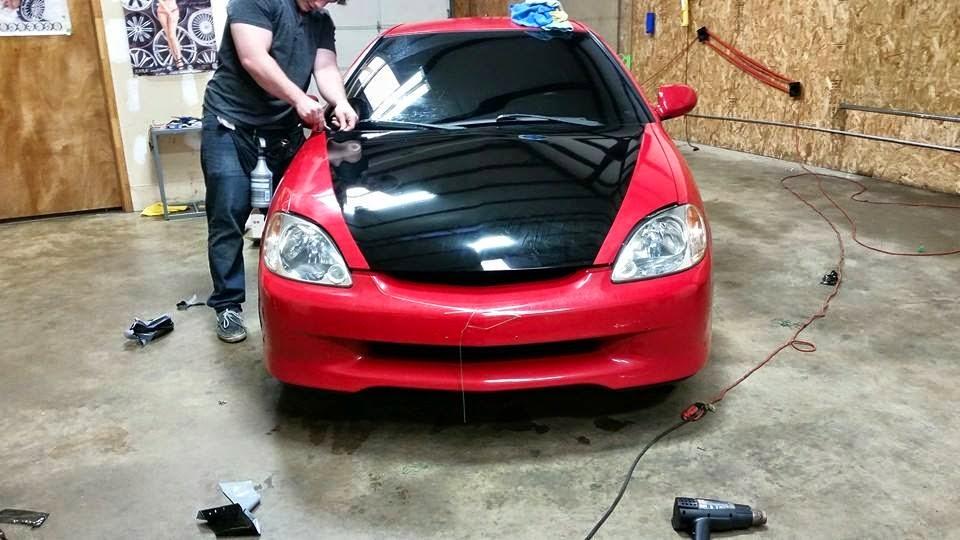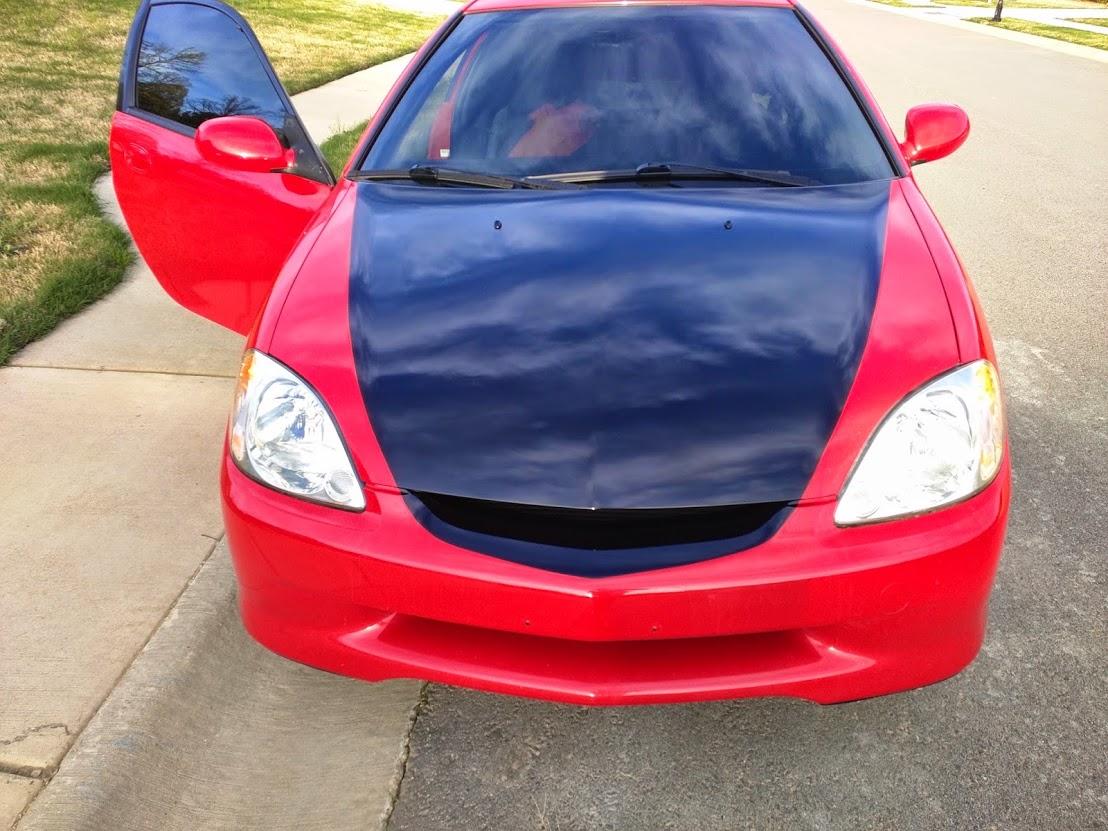 lloyd northridge mats came in
Headunit test:
Stripped the car prepping for Sound deadener / dampener
Prepping for sunroof install
32mm spacers + moons FIT!
(still need to paint wheels & moons gloss black)
Shift knob & rear cam hacked
I hear ya on the sound deadening subject.
I will not add rear speakers. I prefer my front stage in all my vehicles to be superb and not be hindered by the rear speakers.
Answers to:
1) Not far. But I will NOT mount my cameras on the sides of the vehicle. They will be installed on the upper most part of the body panel residing above and behind the rear wheel. The cameras I've opted for are a fish eye type and give a 170degree field of view. *note, I don't have to see FAR with my side mirrors (in this case cameras) I just need to not have a blind spot.
Many people don't know how to PROPERLY adjust their side mirrors for zero blindspot but here is a great diagram to aid those not in the know: http://img.gawkerassets.com/img/17p3...g/original.jpg
Fig 1 and 4 are the correct way in the above link.
But I will be filling in the holes left by my side mirror at the body shop then painting that area gloss black to match the window tint.
2) It is dark like that for security reasons. I am a Spanish guy (but look like a white guy) and I work in a bad part of town in the #1 city for crime in america (Little Rock, AR) I am the minority in the area of town my job is located in, thus, the locals do not take to kindly to us "crackas" in their neck of the woods. For more details see Crime in America 2015: Top 10 Most Dangerous Cities Under 200,000 | Law Street (TM) I'll get you a picture in the next hour.