OEM Fitment/Quality s2000 Carbon Fiber, Flat Bottom Steering Wheels by EuroBoutique
By diyauto
You must be logged in to rate content!
OEM Fitment/Quality s2000 Carbon Fiber, Flat Bottom Steering Wheels
Compliments of EuroBoutique @ s2ki.com
3-28-2014
Follow us on Instagram to see our latest work and see our latest projects

@EuroBoutique

www.euroboutique.us
In the past, if you wanted a steering wheel, there was always a trade-off or sacrifice to be made. Do you go with an aftermarket steering wheel and sacrifice thand have to mess with re-wiring your horn and cruise control electronics? Or do you sacrifice the safety of the OEM airbag and hope you never need it if an accident occurs?
Well nothing beats OEM steering wheels and this is our belief as well. So now we are offering you OEM steering wheels in custom finishes to meet your particular style or taste. No two wheels will be alike as each one will be custom made to your order.
As many of you know we have been creating custom LED headlight applications for many years and been helping a lot of friends modify their headlights to make the car a bit more unique. We hope our new venture into the steering wheel market will give the s2000 owner another option when it comes time to change out their steering wheel.
Blue s2000 owner wanted thicker grip, flat bottom but maintain the stock grip look (VGS style):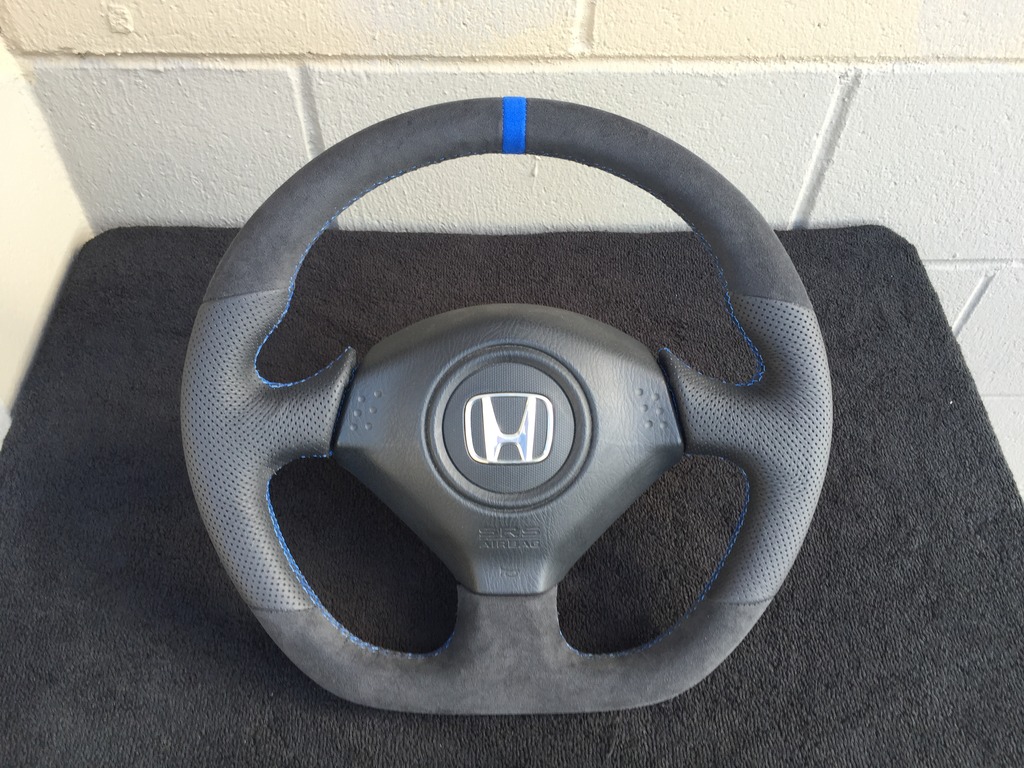 here's the same wheel but in stock round configuration with black suede, red stitching and red stripe: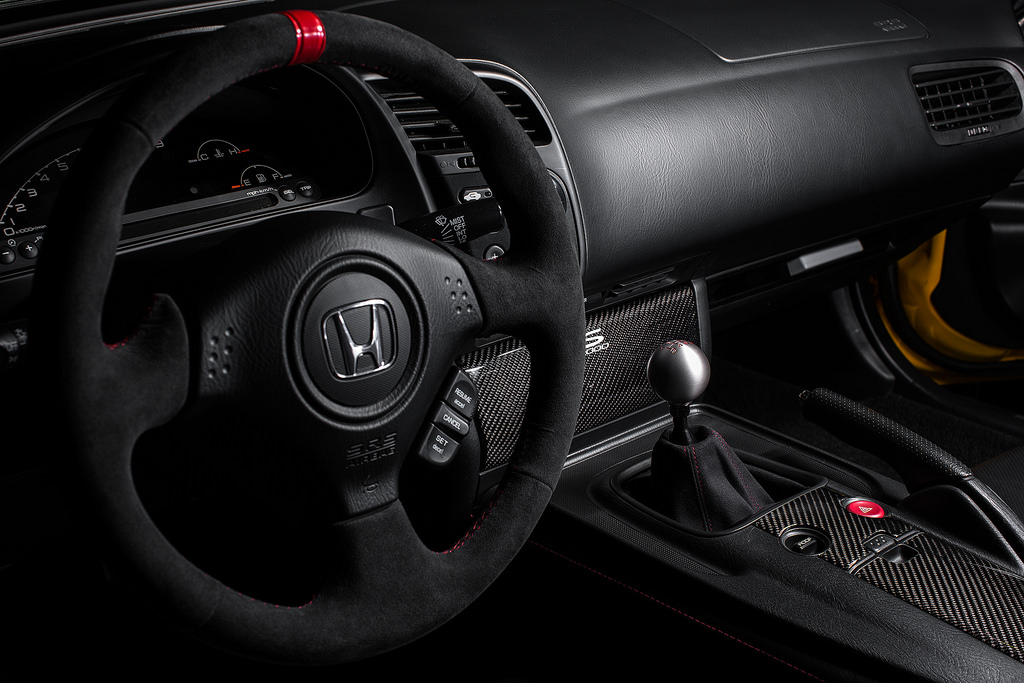 Silverstone owner wanted to keep the stock look but meaty grips so went with Sport Grip, Flat Bottom, Black stitching: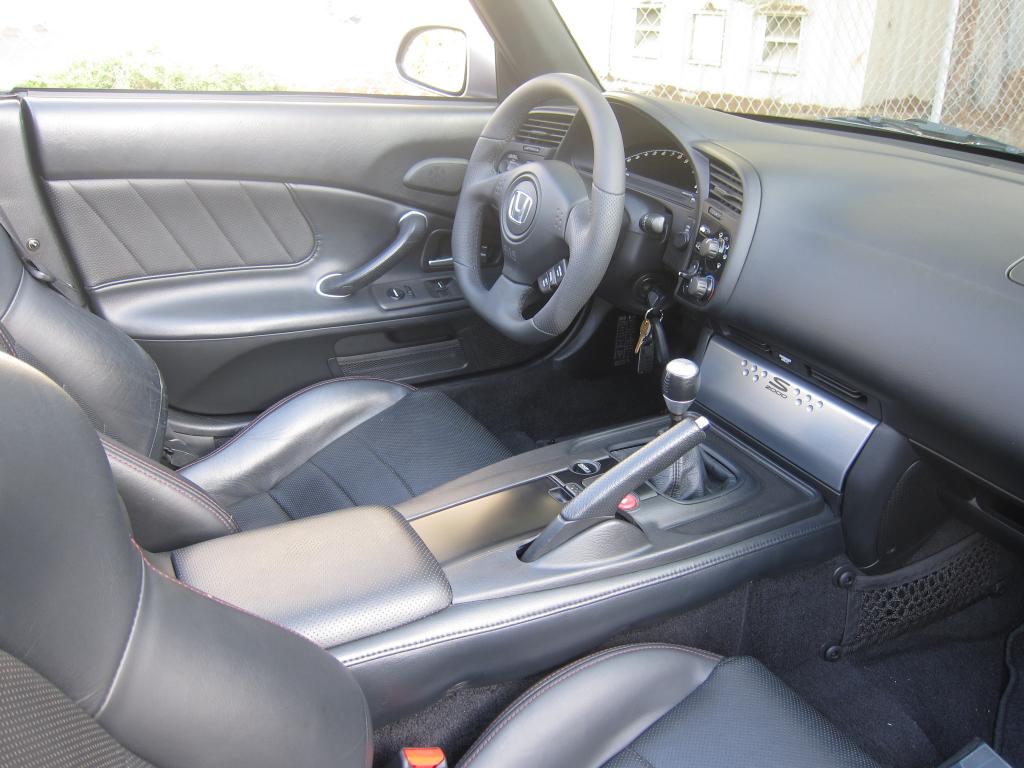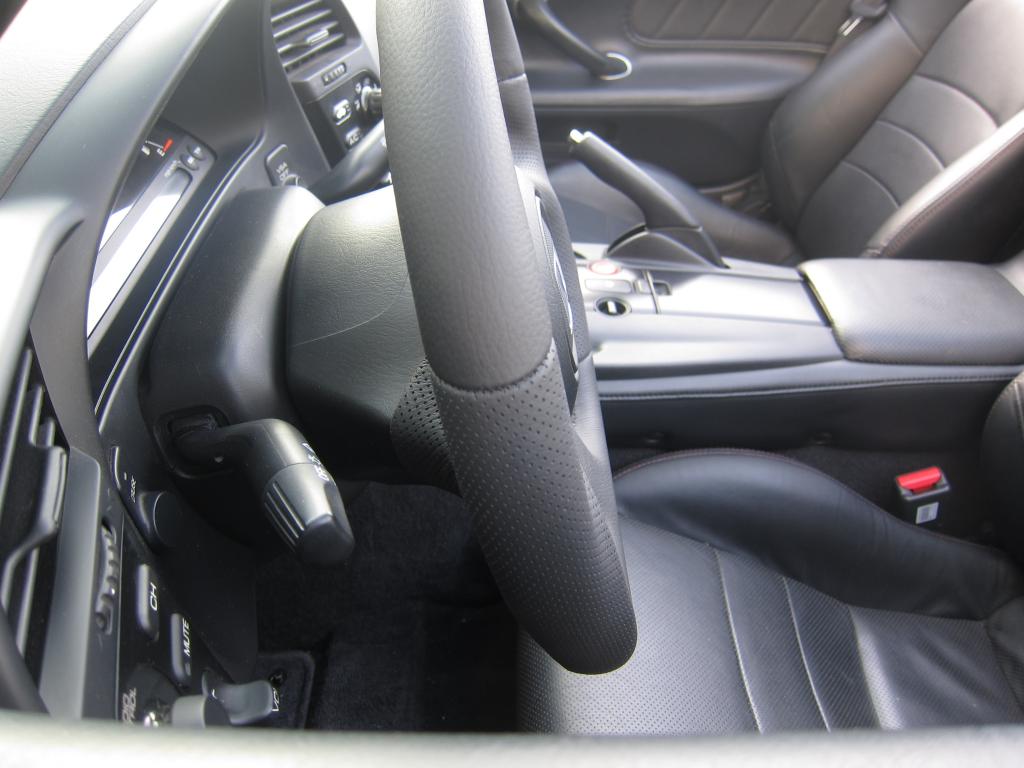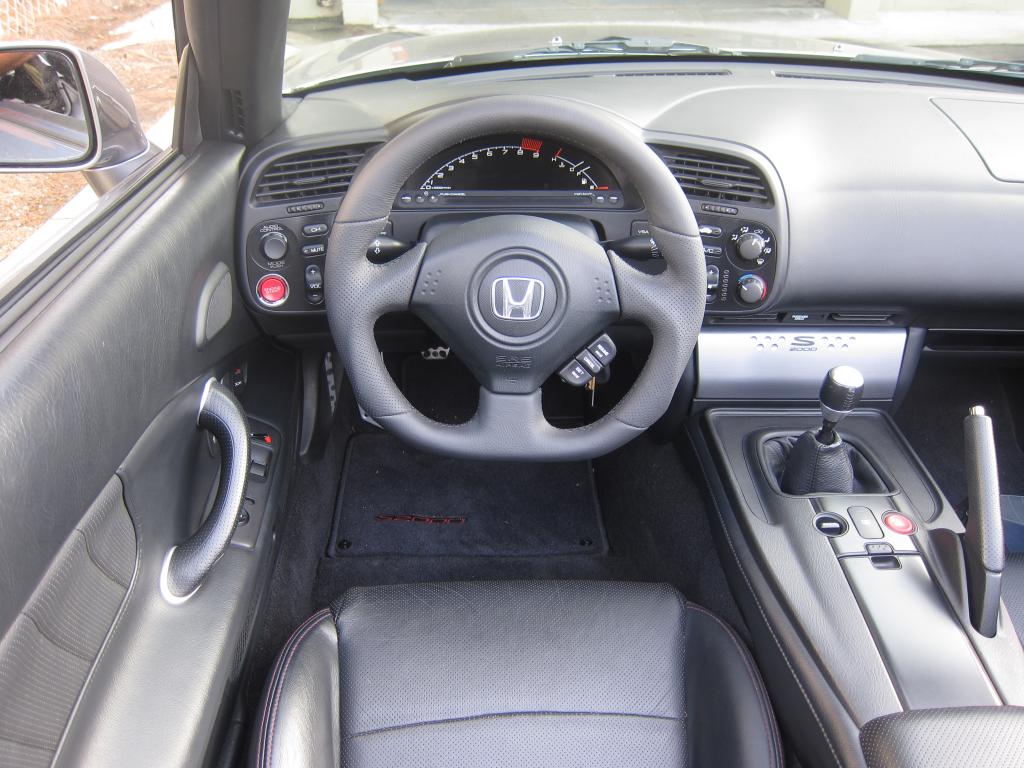 Beside OEM we also make custom interior parts and aftermarket wheels from Momo, OMP, etc: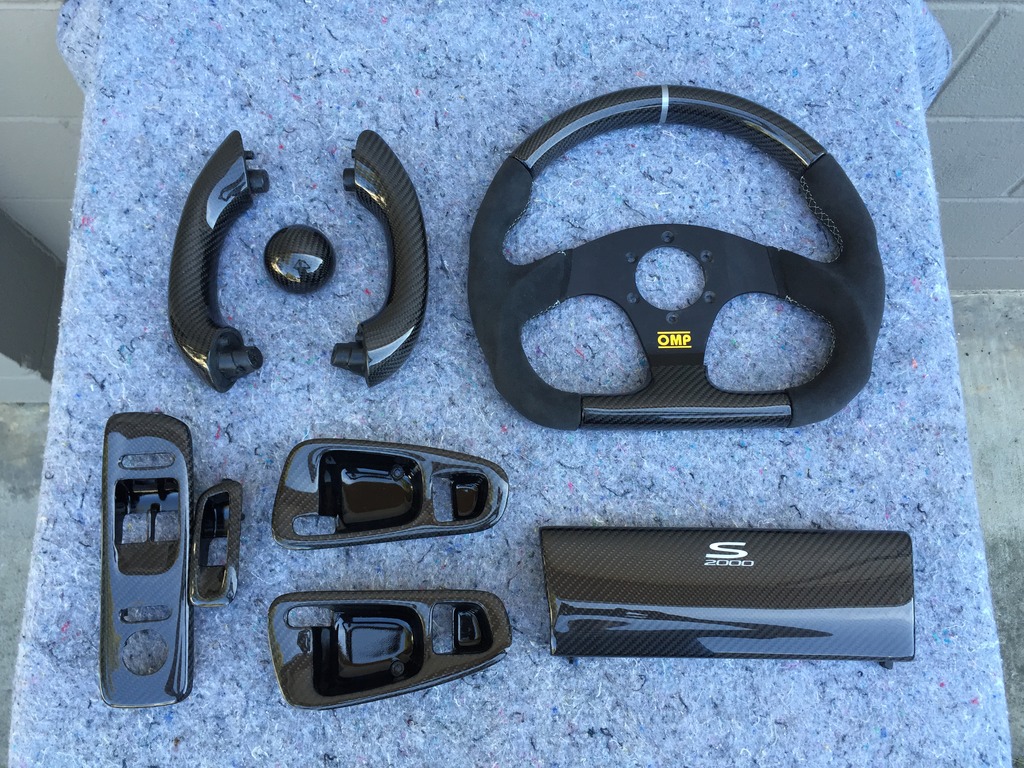 Steering wheel options available:
a)Increase thickness of steering wheel (think M3)
b)Leather and Perforated leather options
c)Ultra Suede material
d)Center stripe in your choice of available colors
e) Carbon Fiber
f) Flat Bottom or flat top + bottom is available
g) Cruise Control buttons can be done in CF too
*We also can do any custom work you require so just PM / email us direct to discuss as each project is unique! We would be happy to provide a quote. Locals we provide installation too!
Custom green accents on this wheel!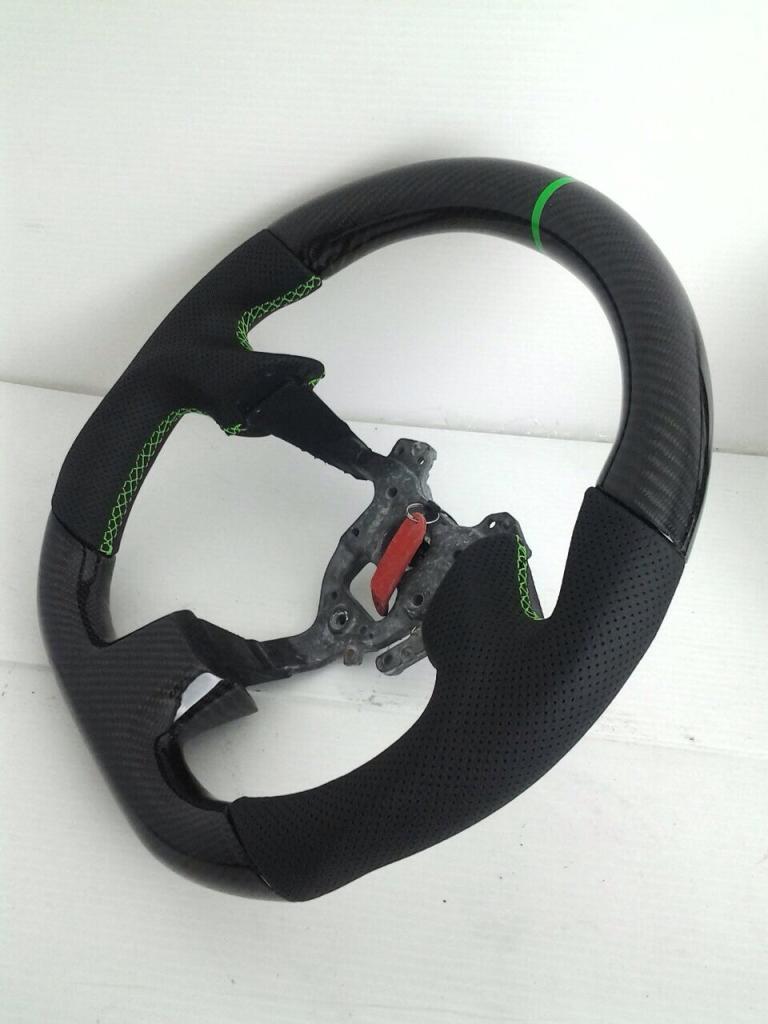 Best contact is via email: euroboutique.us@gmail.com

Core charge is $150.00
Tier 1: Starts at $549
-Retain OEM Shape of steering wheel (non-sport)
- Flat Bottom shape change (add $300)
-Perforated Leather available
- Alcantara available
-Contrast color stitching available
Tier 2: Starts at $995
- Adds Carbon Fiber upper and lower grips
- Side grip option: Perforated leather or Alcantara Material (add $100)
- Flat Bottom shape change (add $300)
- Sport Grip or Non-Sport grip your choice
- Contrast color stitching available
- Contrast color stripe on top available
We can add OEM cruise control in OEM or carbon fiber for an additional cost. You will re-use your existing OEM airbag as we do not sell the airbags.
Payment: Paypal accepted at: euroboutique.us@gmail.com

Look for more exciting products on here soon or visit our website: www.euroboutique.us
Below are samples of our "Sport Grip" which has the contoured finger grips and flat bottom, nice added leg room in this configuration: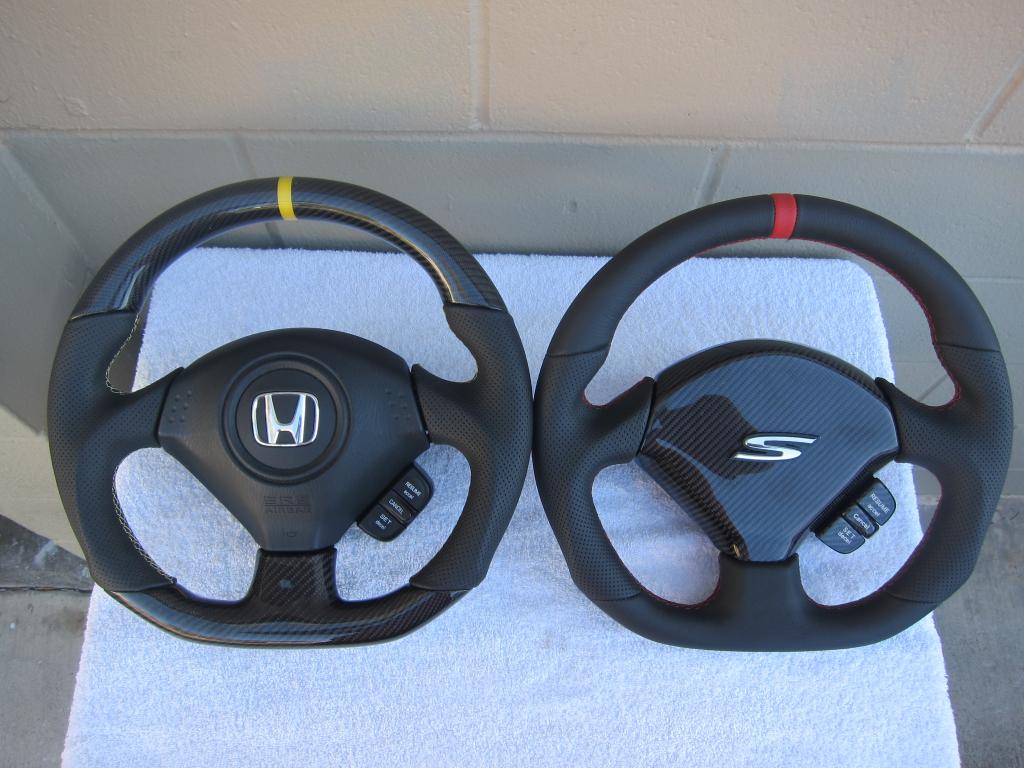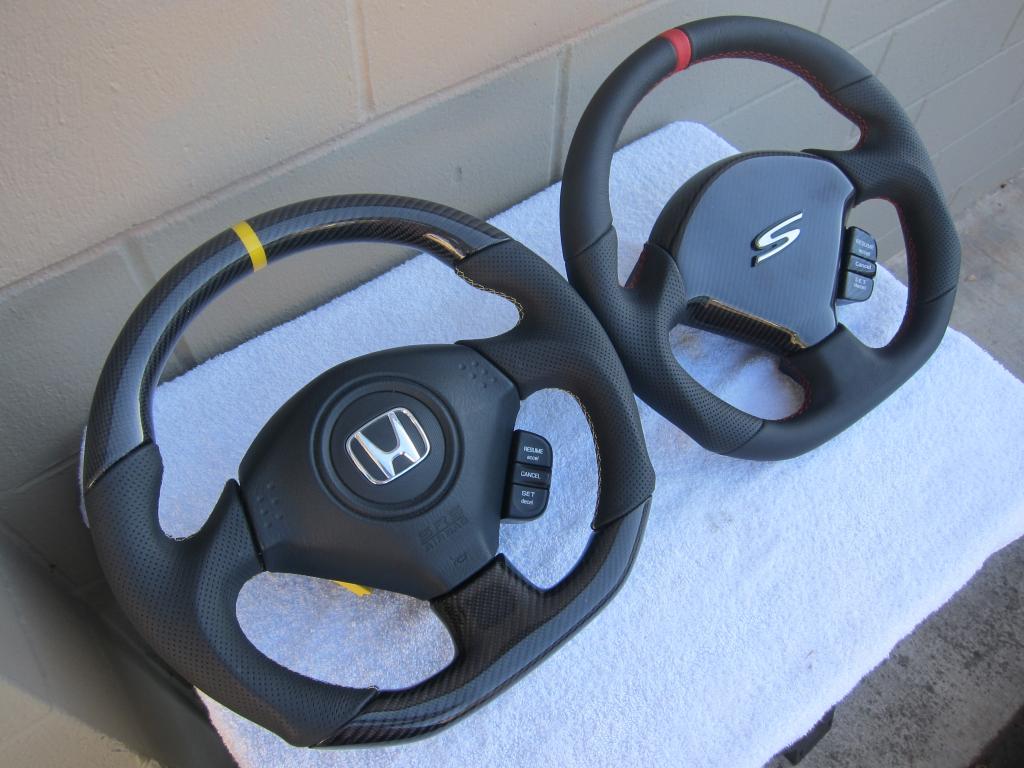 Flat top and bottom shape change sample on right: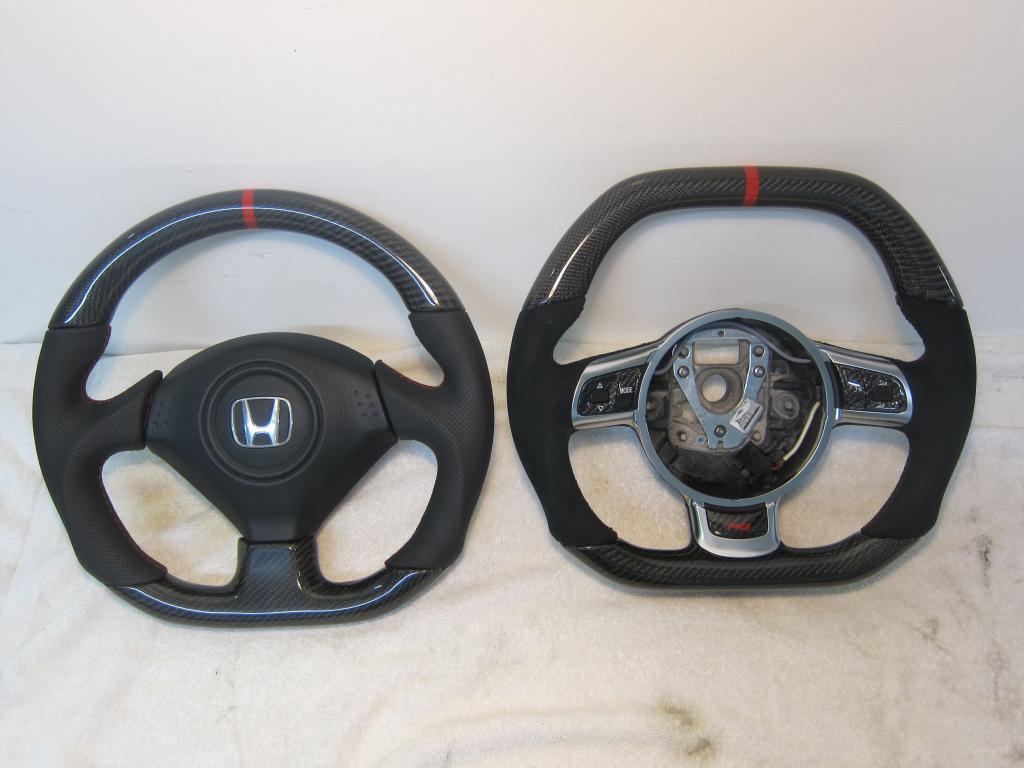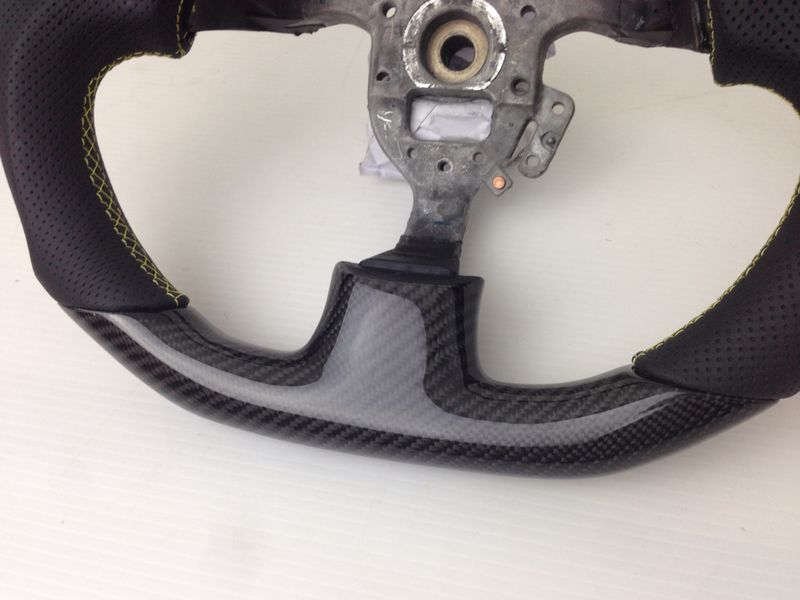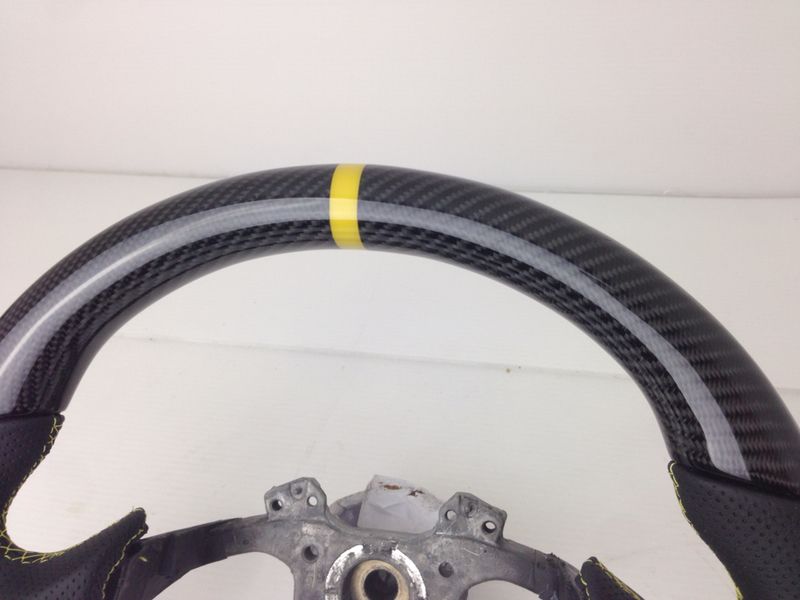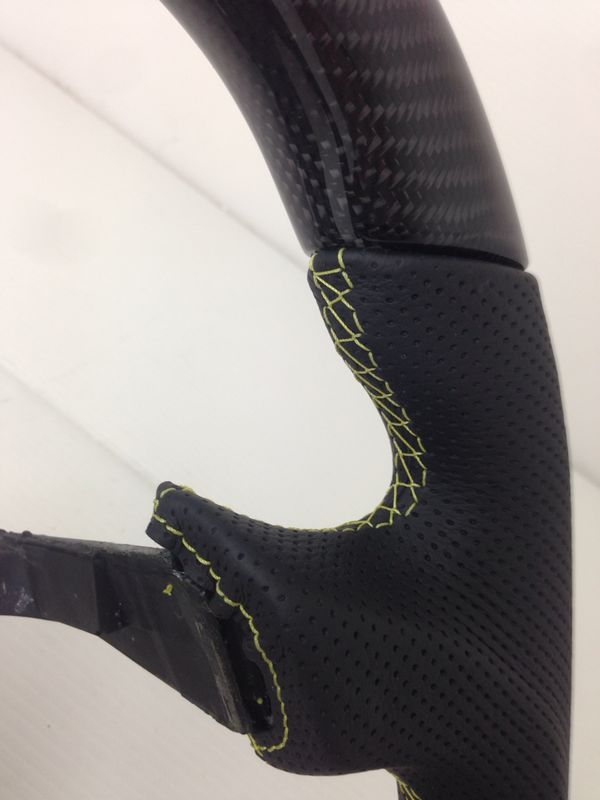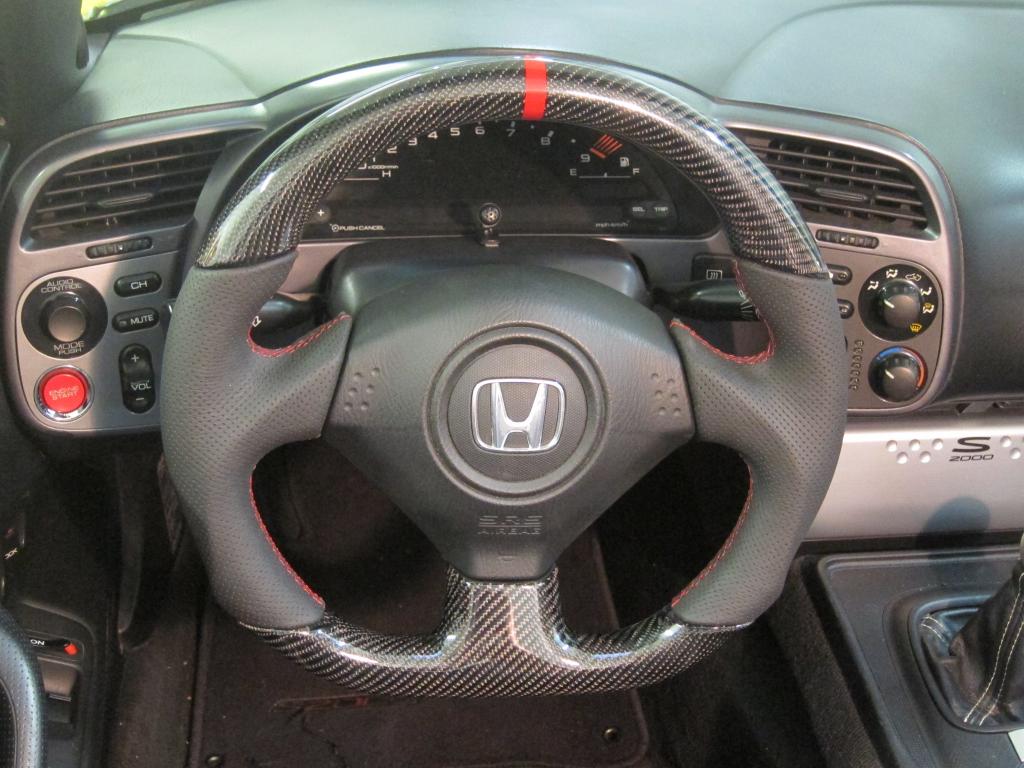 Completed wheel wrapped: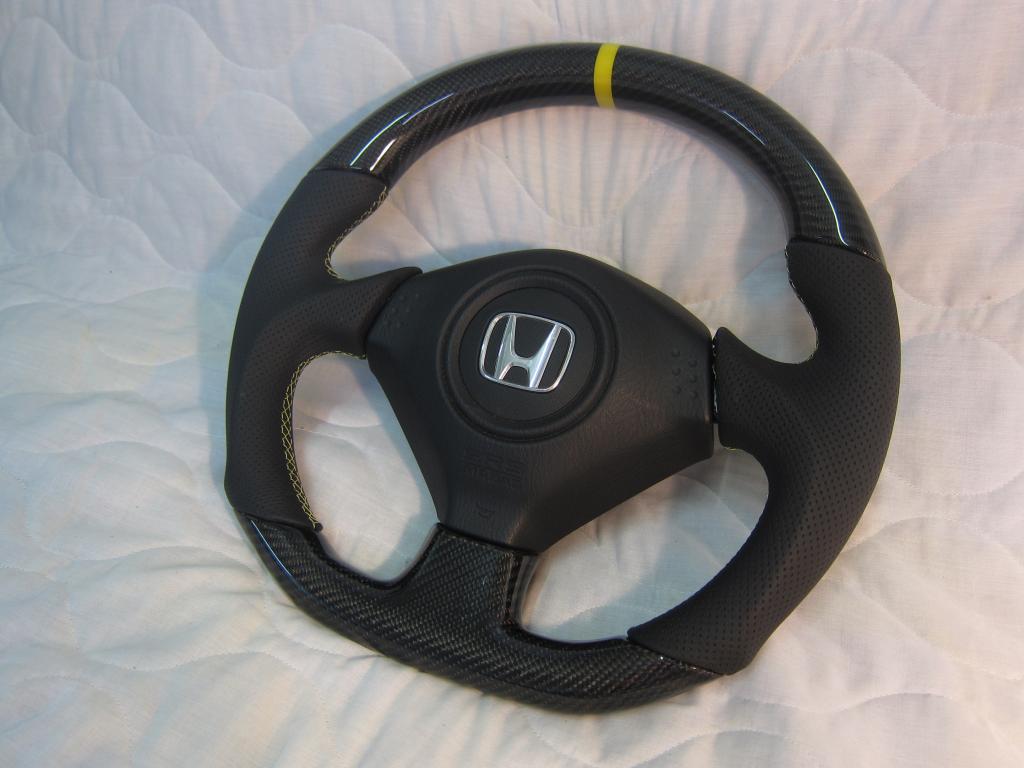 Black suede with perforated leather sides, your choice of yellow or red stitching and matching 10mm stripe: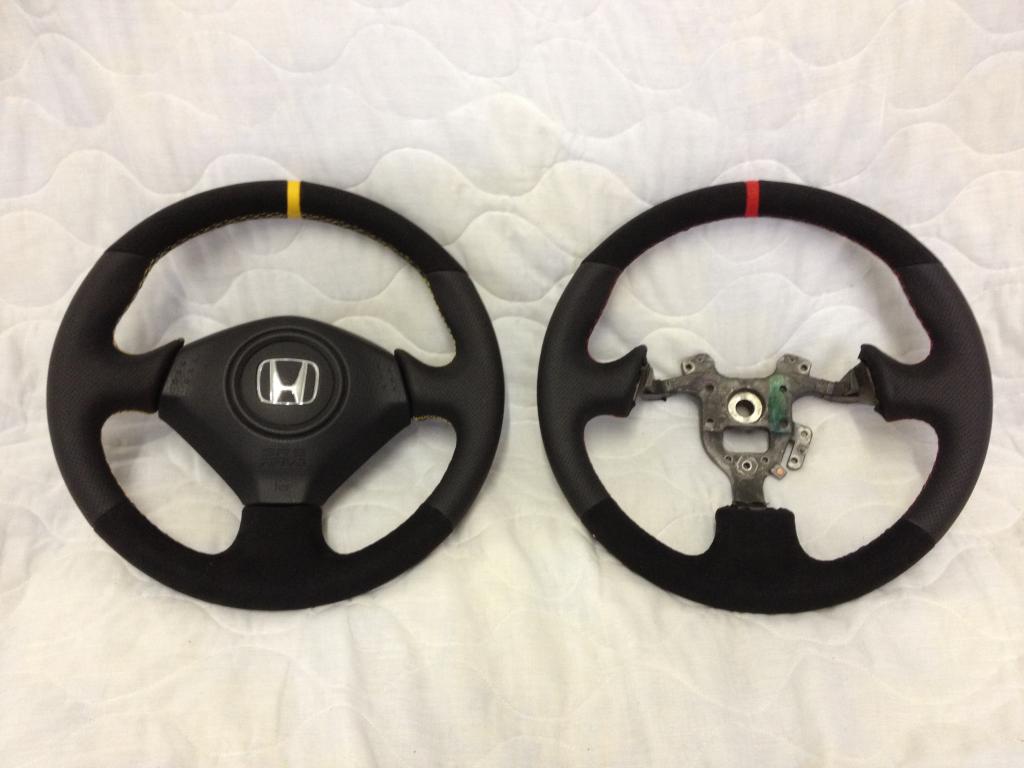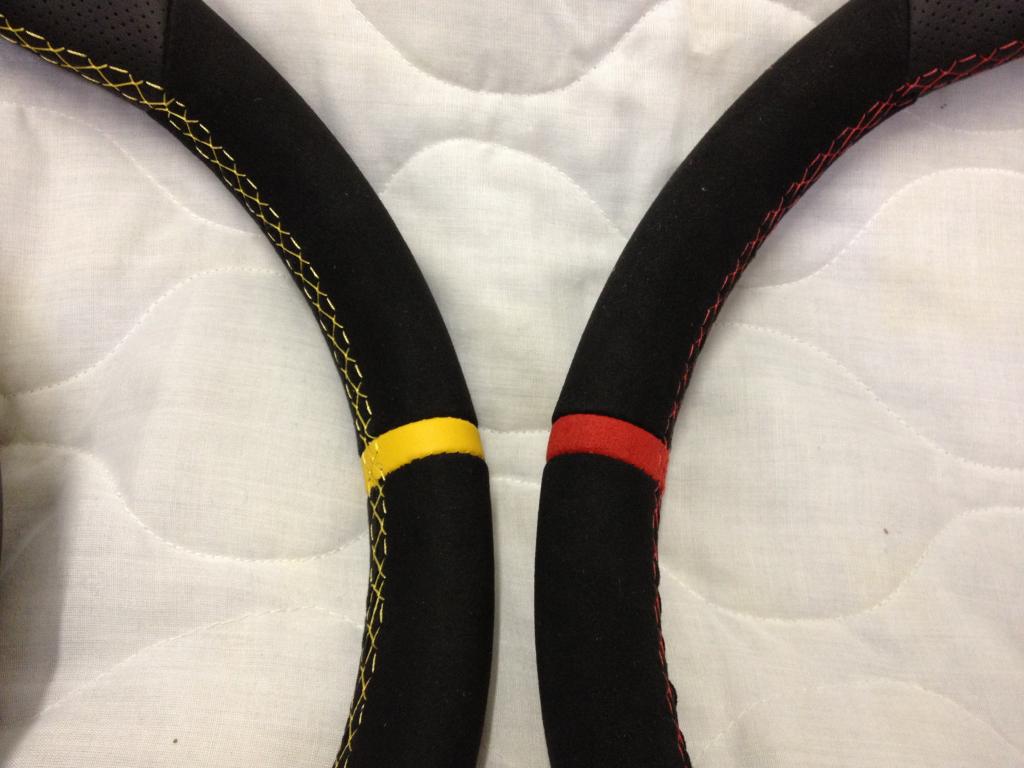 Custom black suede side grips with lower yellow leather, yellow stitching, upper black leather with yellow 10mm stripe: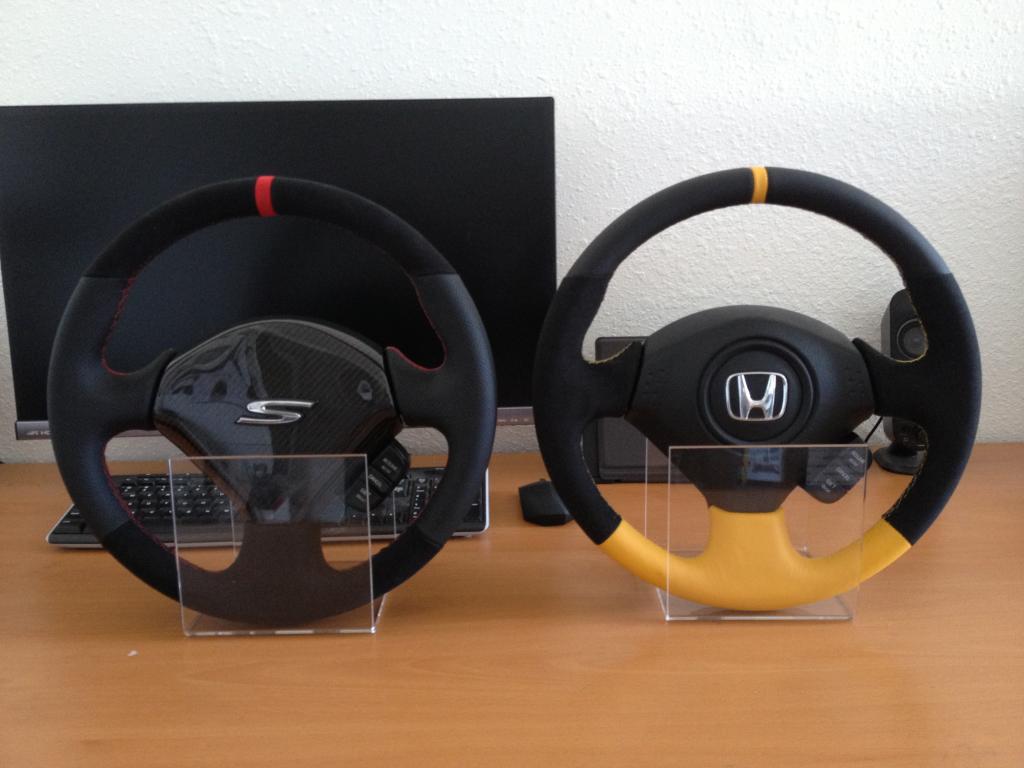 All black suede wheel with thicker padding and red 10mm stripe and red stitching: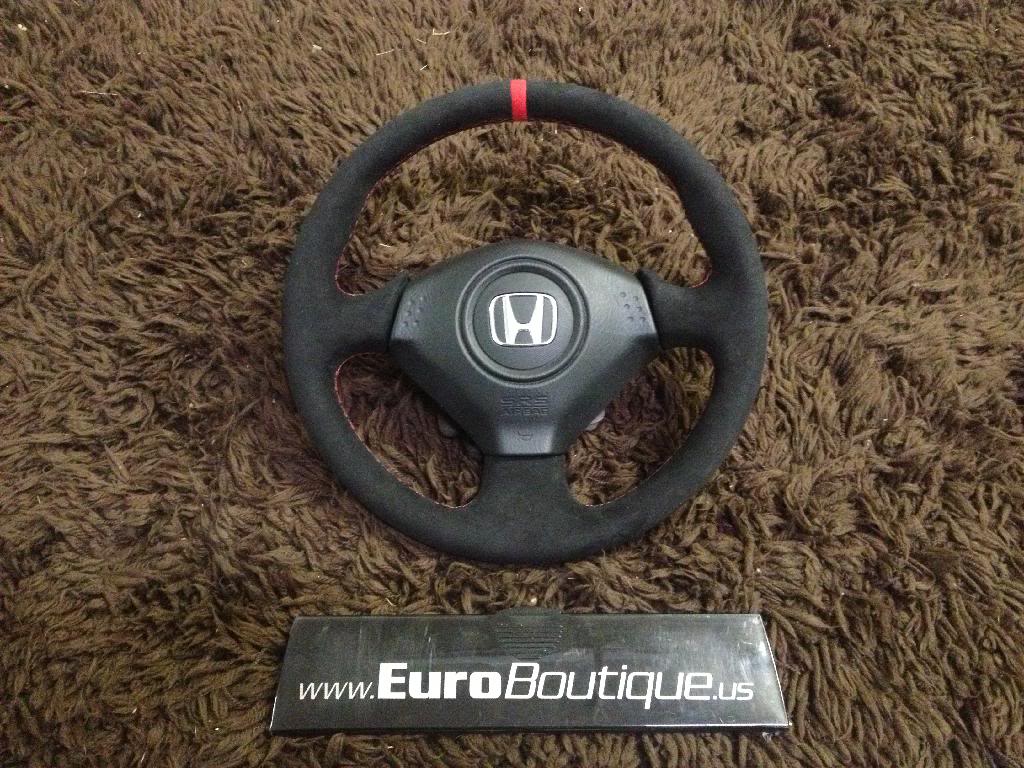 Besides s2000, we also do NSX, GTR, Supra, R8, Ferrari, Lambo, and AMG + M3, Porsche: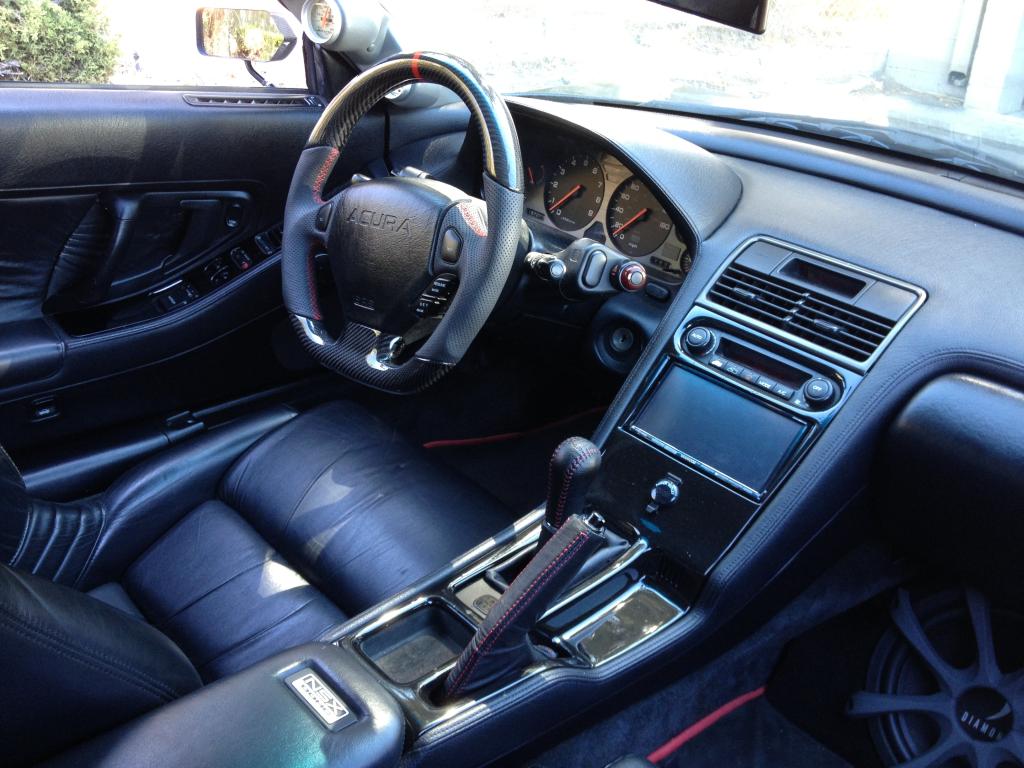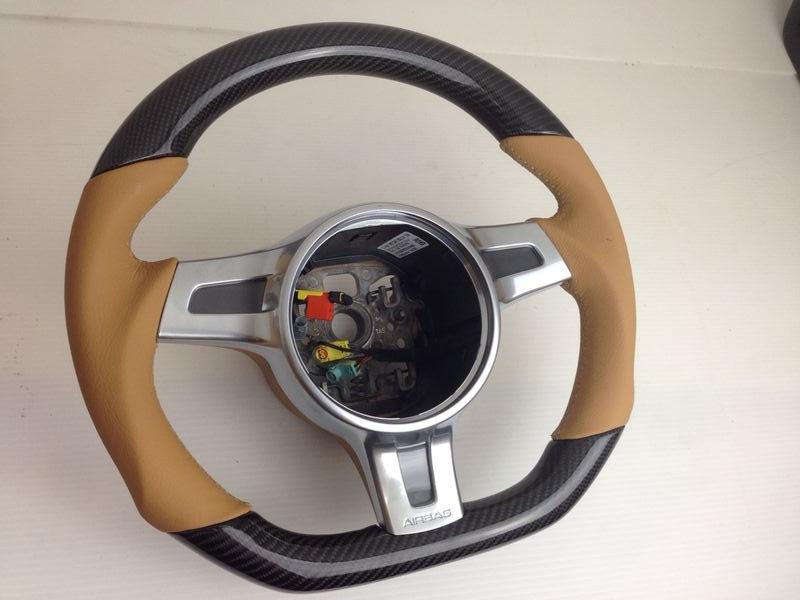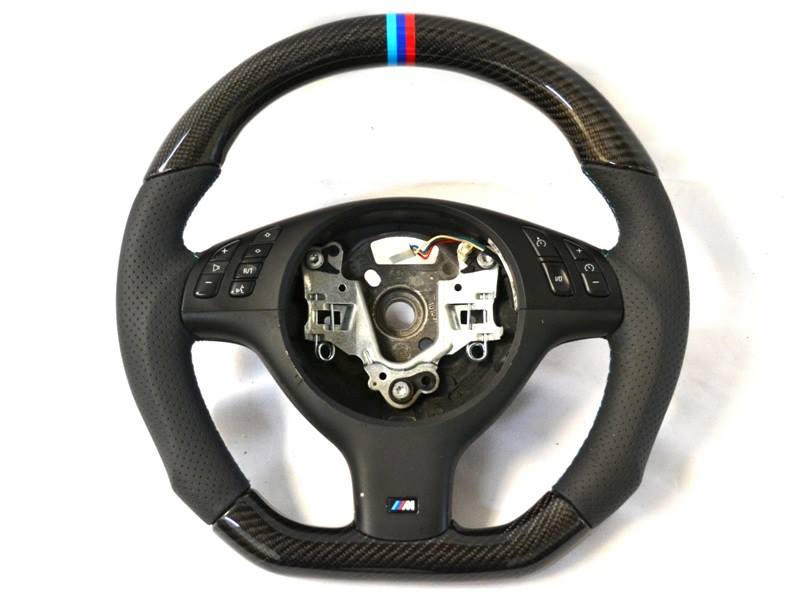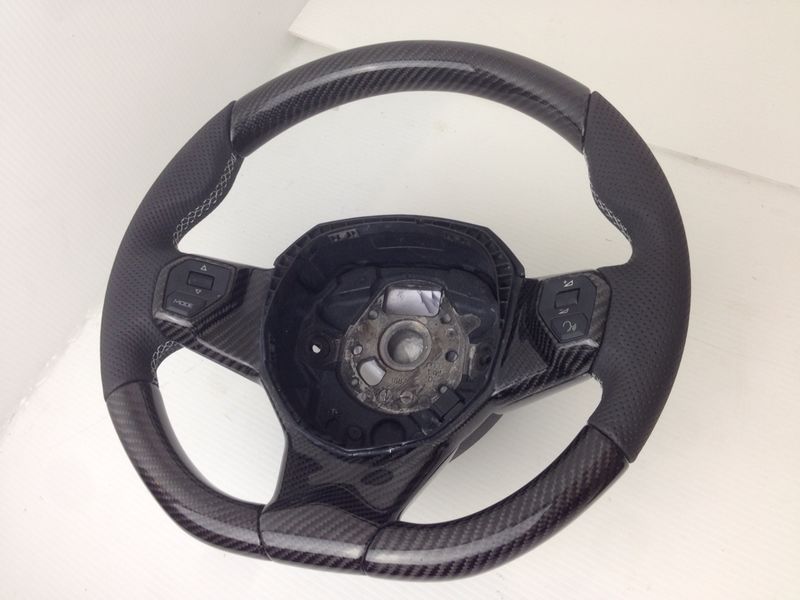 4-14-2014
We just installed a wheel for a local s2000 owner this past weekend. His car is a 2008 black with the 2-tone interior. His initial response was that the car feels much nicer and turning feels sharper with the thicker wheel! We just love how it looks in the car, so meaty and the red stripe is clearly visible from outside!

We had a GTR RS owner in the shop and he said it looked / felt like his wheel in the Porsche



P.S. This wheel is our full suede wheel option with the red stitching, 10mm stripe on top, and thicker grip all around. You can imagine how this meaty wheel will fit around your hands. A nice upgrade for something you have to touch every day!


BEFORE, side by side on the bench: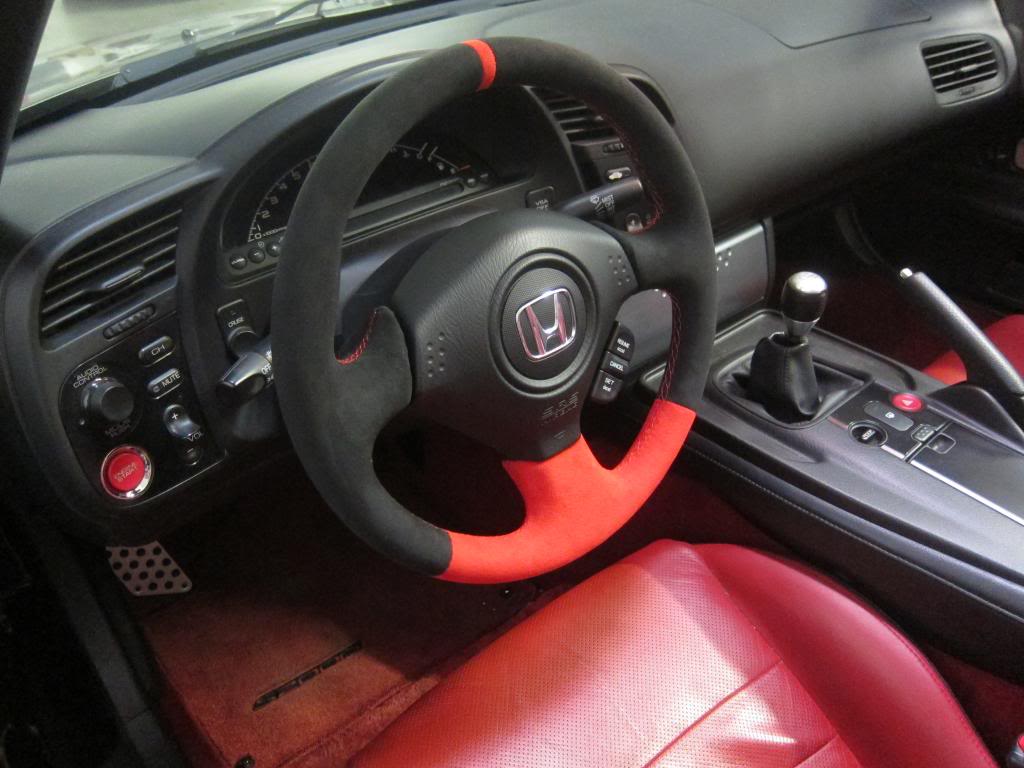 5-13-2014
PM's replied!

We are currently taking custom orders AND have this wheel in stock for immediate shipment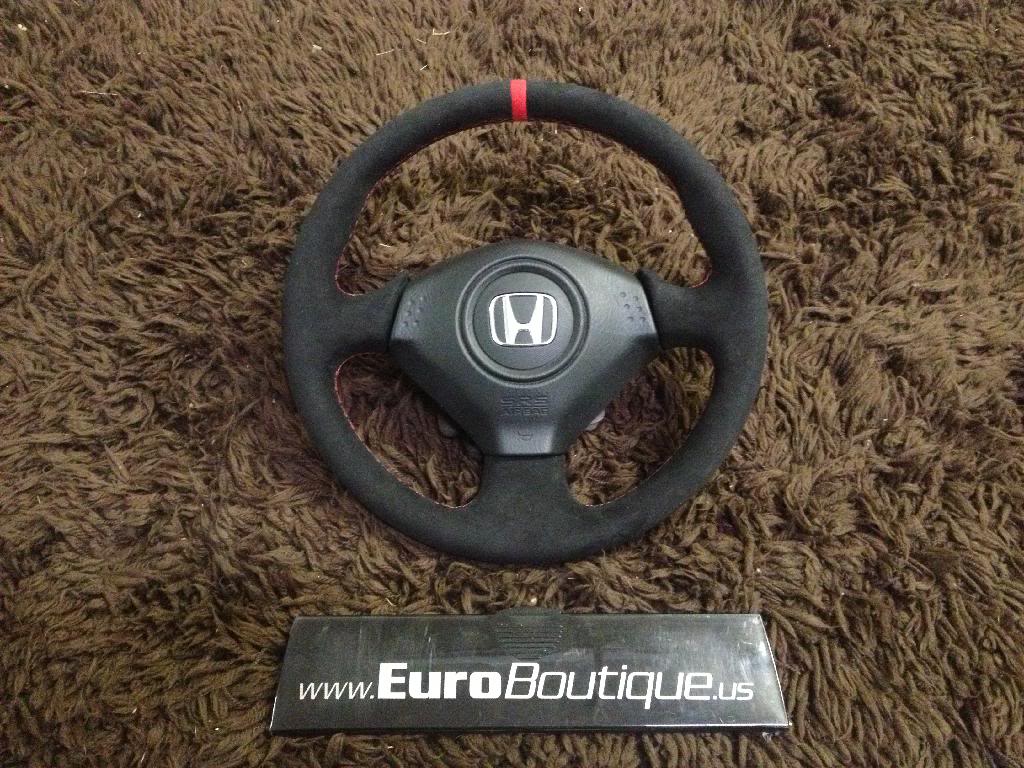 5-19-2014
Another wheel spec'd for a customer (this one in stock!)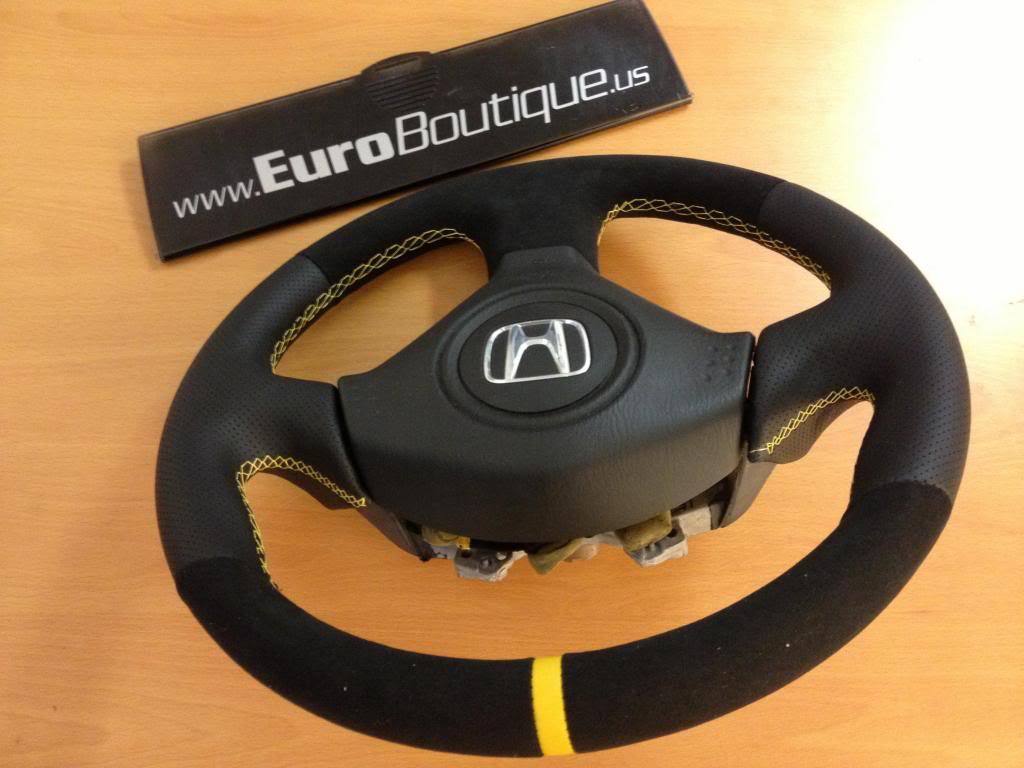 7-16-2014
Check out our new beautiful flat bottom carbon fiber wheels! For locals we will have one installed on our demo car so feel free to PM us to schedule an appt. to come by and check it out in person!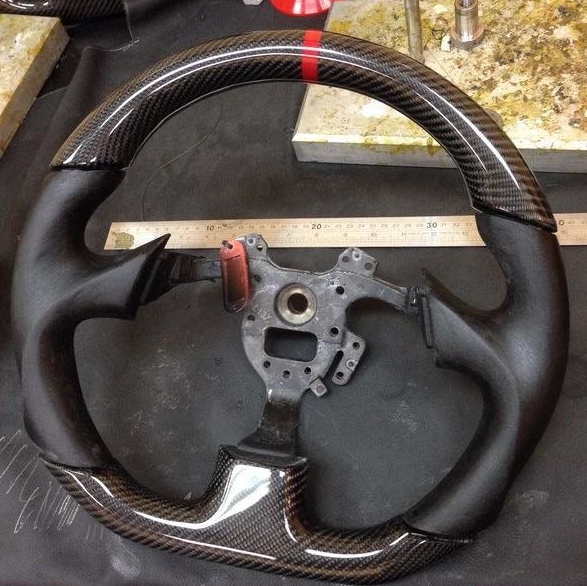 7-25-2014
here's a few installed pics of the wheel
Options: Flat bottom, CF top and bottom, red stitching, red stripe on top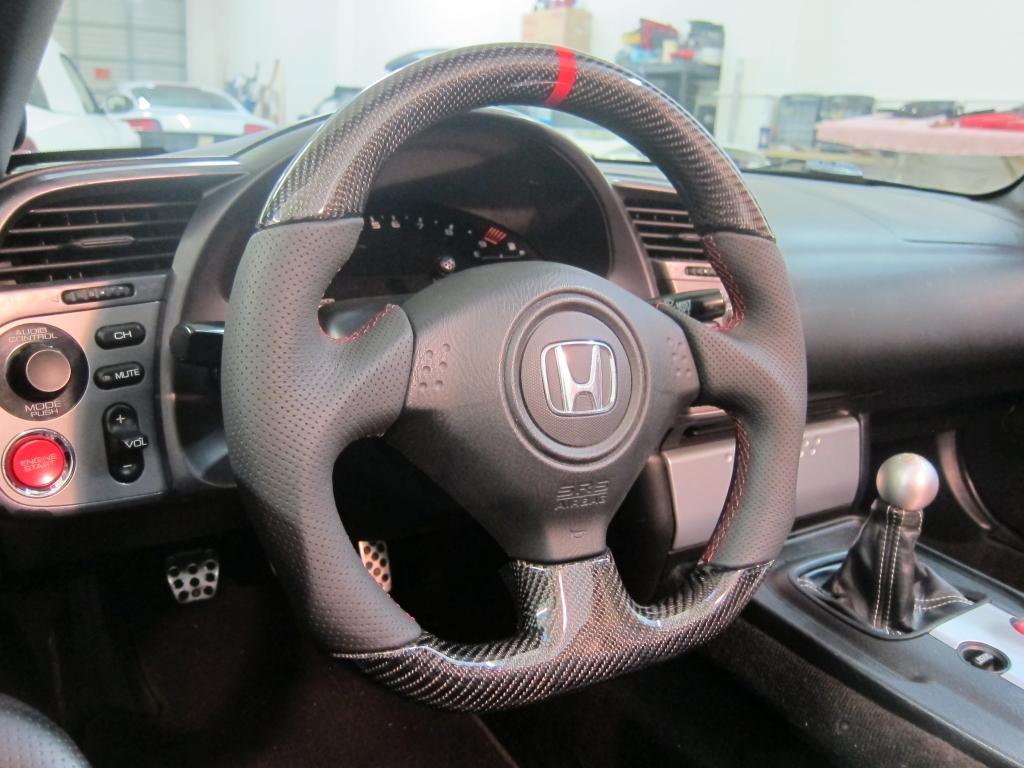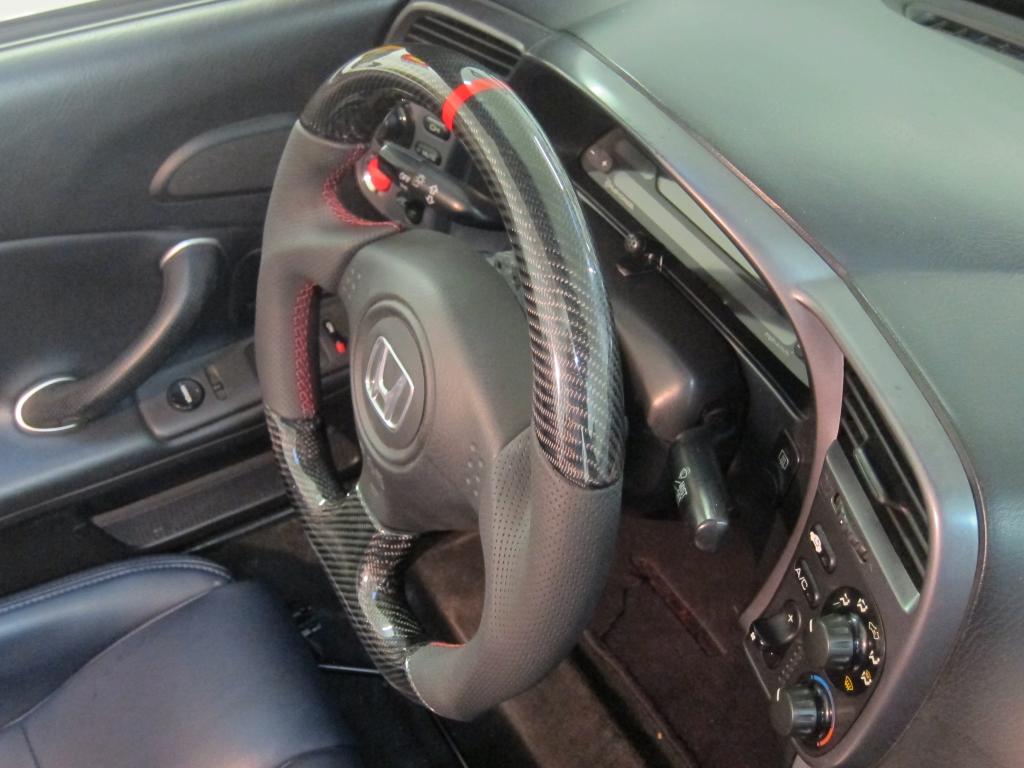 It's hard to see in the photos but on the back of the upper CF piece, the CF is actually "knurled" slightly to fit your fingers better for grip!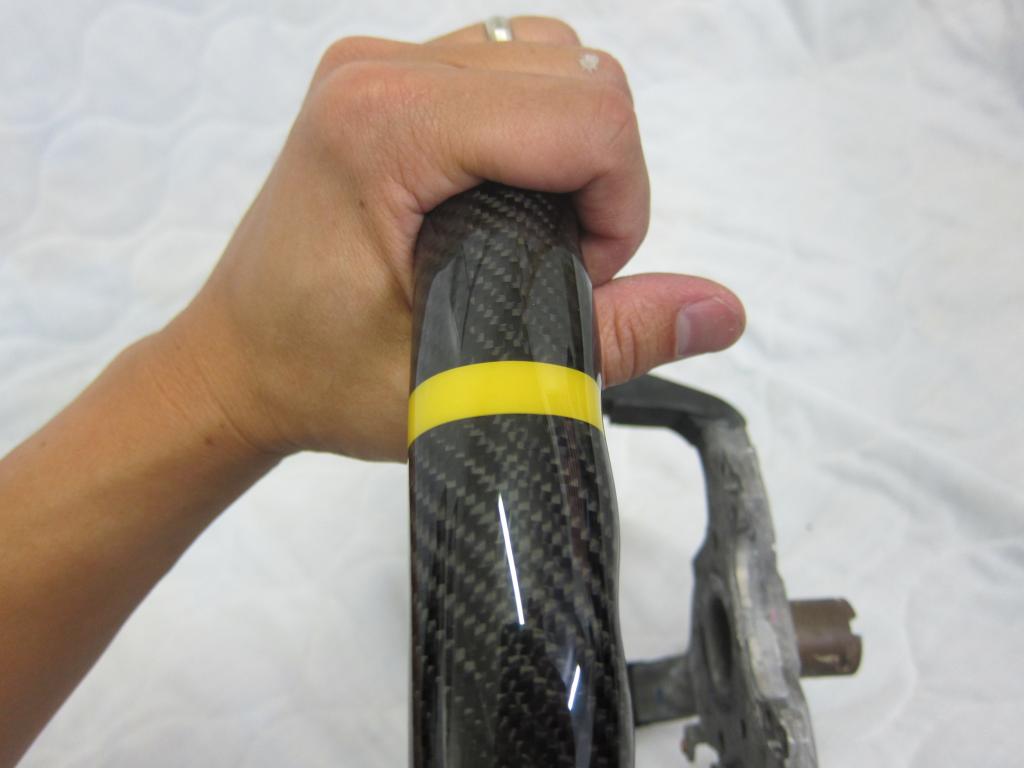 8-7-2014
Disregard the wheels as those are for our NSX customers but check out the s2000 specific airbag cover in CF for race cars who want to save weight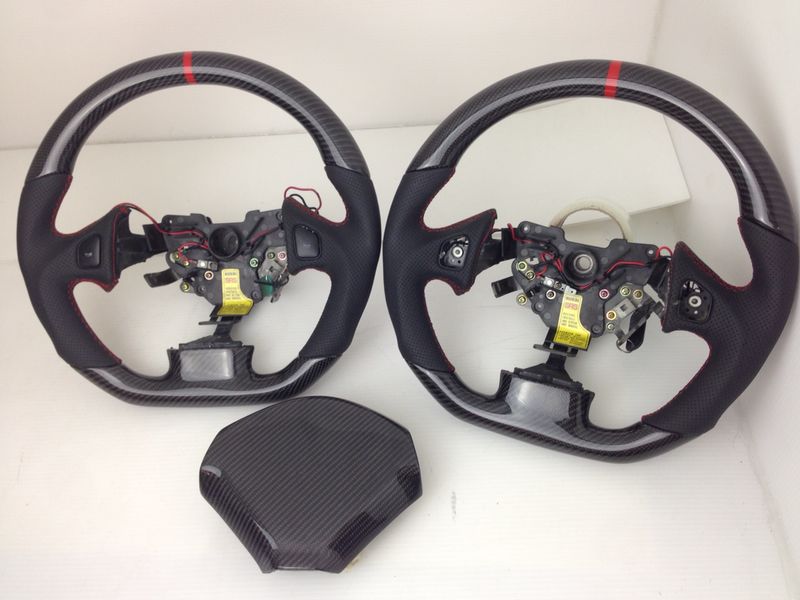 8-15-2014
All PM's replied!

TGIF fellas, we have this thicker black steering wheel with blue stitching available right now (perfect for any Suzuka or LBP owners!)

(*CF airbag cover is NOT included - we do offer this as a special service for track cars only!)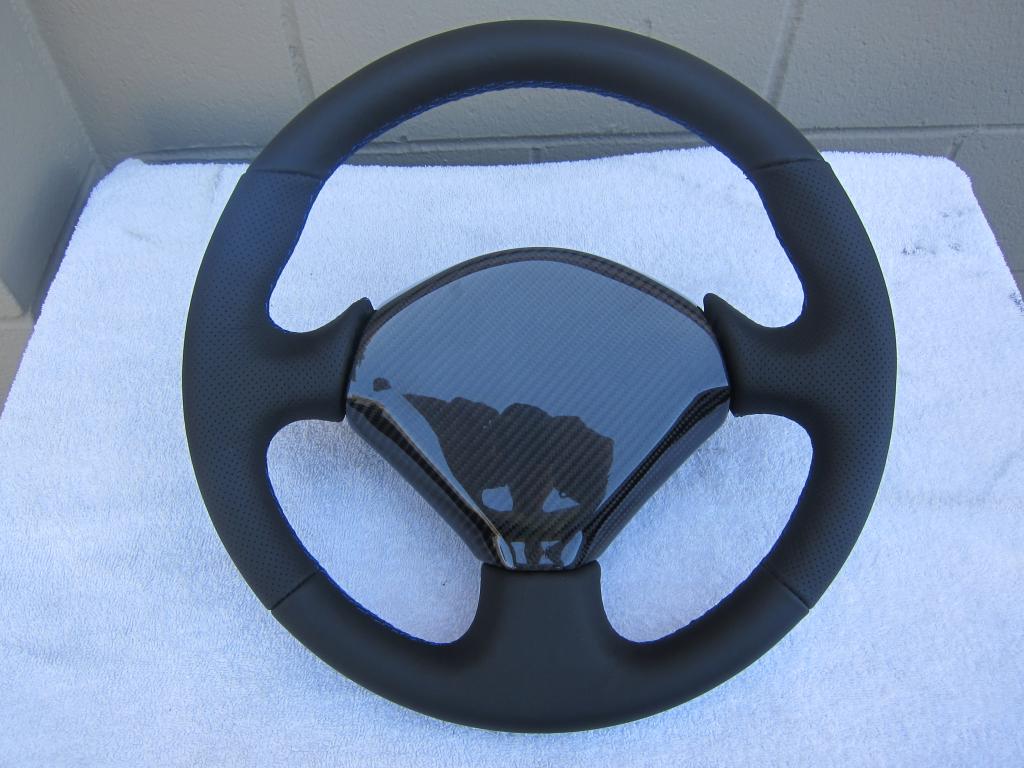 Yes you do save quite a few pounds with this CF cover since we removed the entire airbag inside with the detonation unit per request of race car owners who want a clean finished look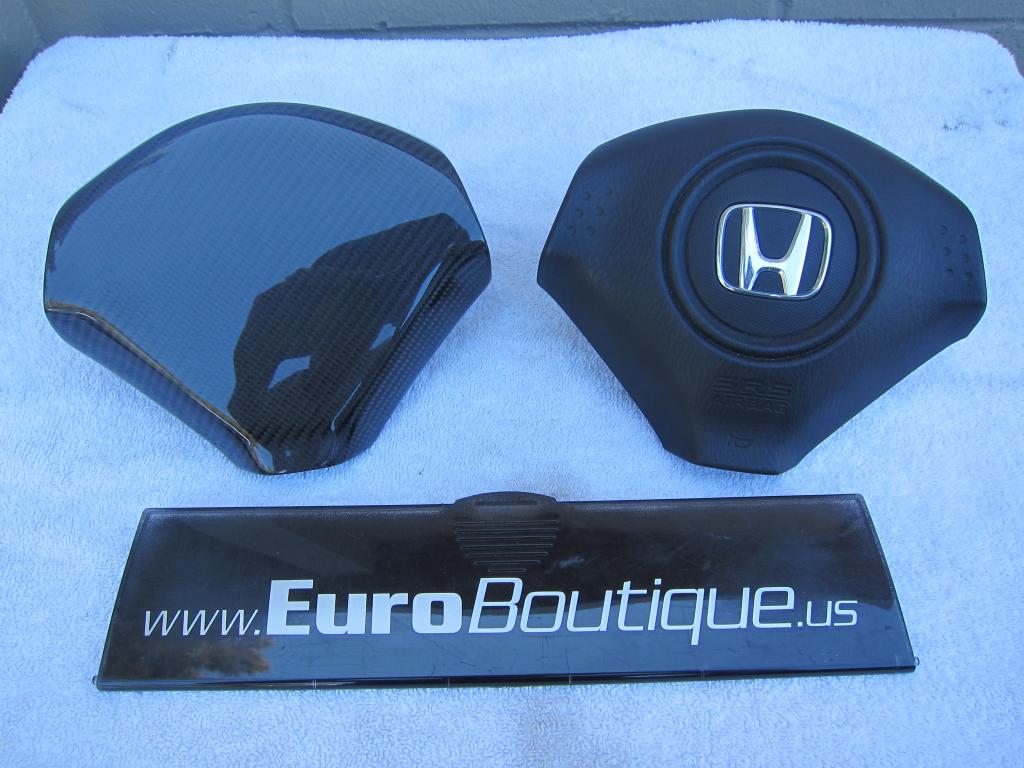 8-19-2014
Unique opportunity, we have this wheel IN STOCK FOR IMMEDIATE SHIPMENT!

It would look perfect with any s2000:

Options on this one include:

Thicker grip
Suede upper and lower sections
Red Stitching
Red Stripe
Perforated Leather side grips

OEM fitment means your stock airbag and cruise control will bolt right up to this wheel!

PM us if you want this wheel, it won't last and normal lead times are 4-6 weeks...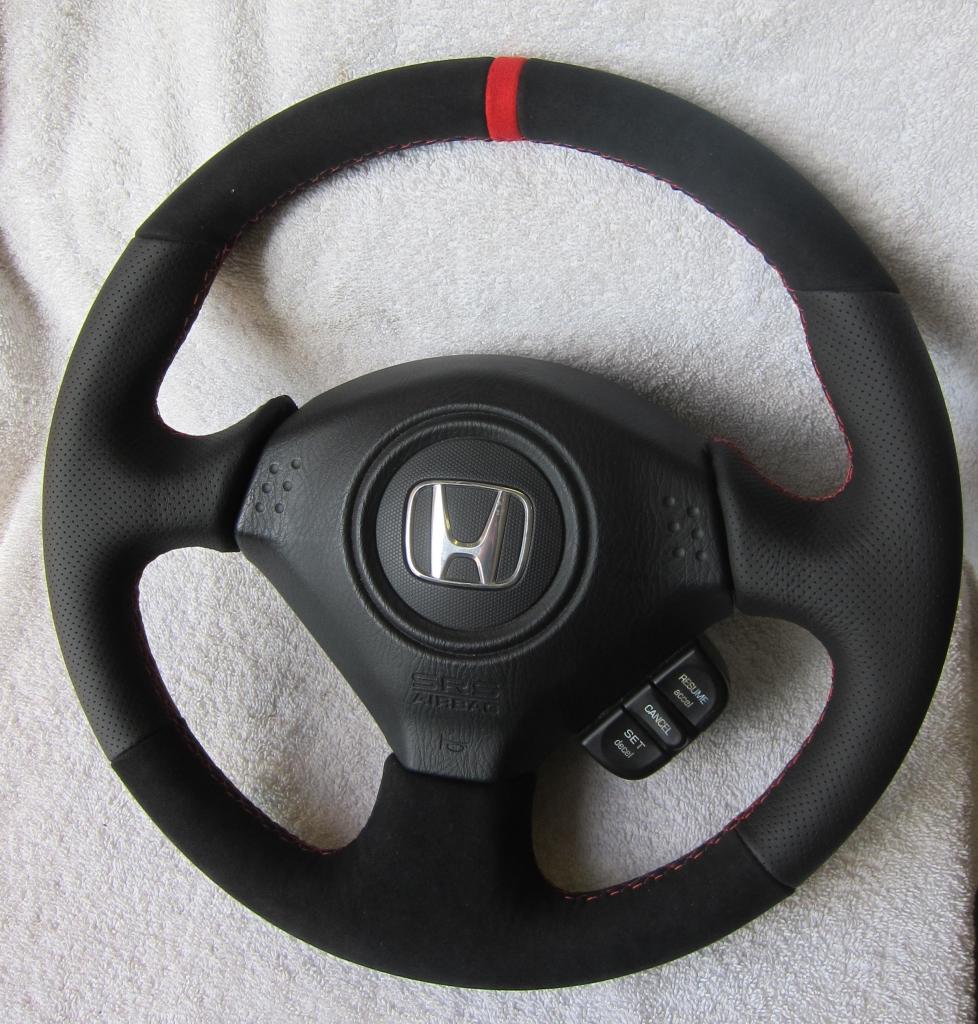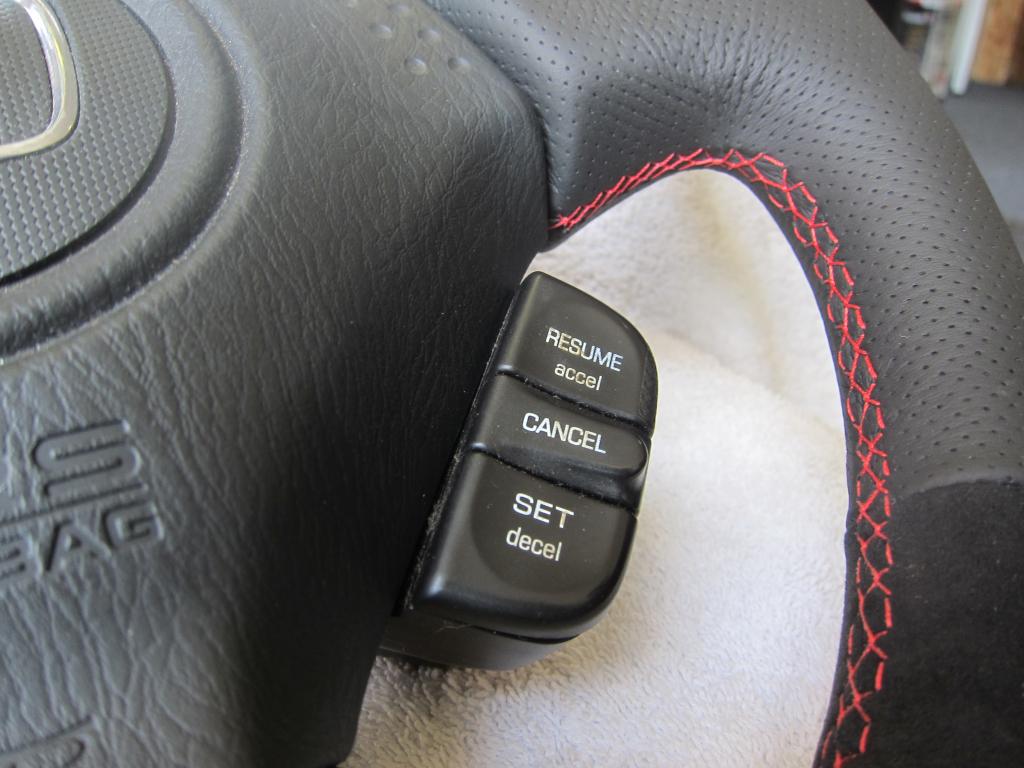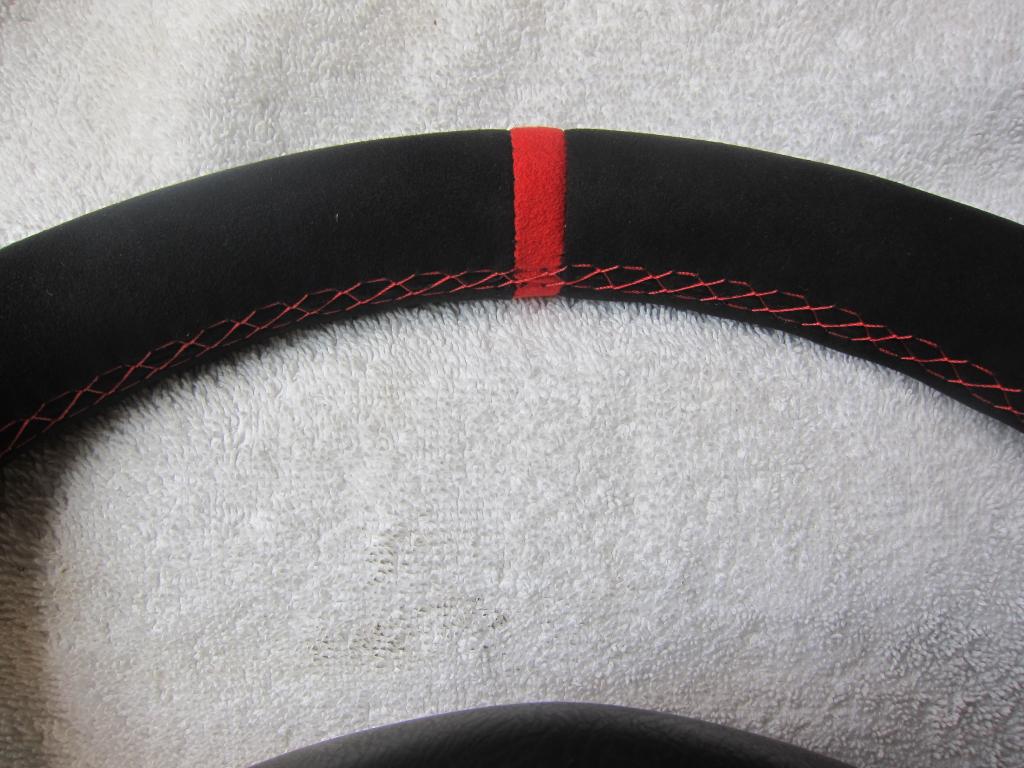 8-24-2014
Tommy, the above wheel is actually not even a finished wheel, the side grips have not been wrapped in either leather or suede. Each wheel is made to order so the customer (you) can specify what you want in terms of materials, color stitching, stripe, etc.
this is what the finished wheel looks like by itself and installed on the car.
All PM's replied!
We actually may have a few wheels in stock so that would cut leads times down quite a bit. For custom colors obviously we would have to build it for you but the most popular colors we will try to keep in stock if possible:
Red stitching, red stripe
Yellow stitching, yellow stripe ~ perfect for CR owners or Spa/Rio owners
thanks guy!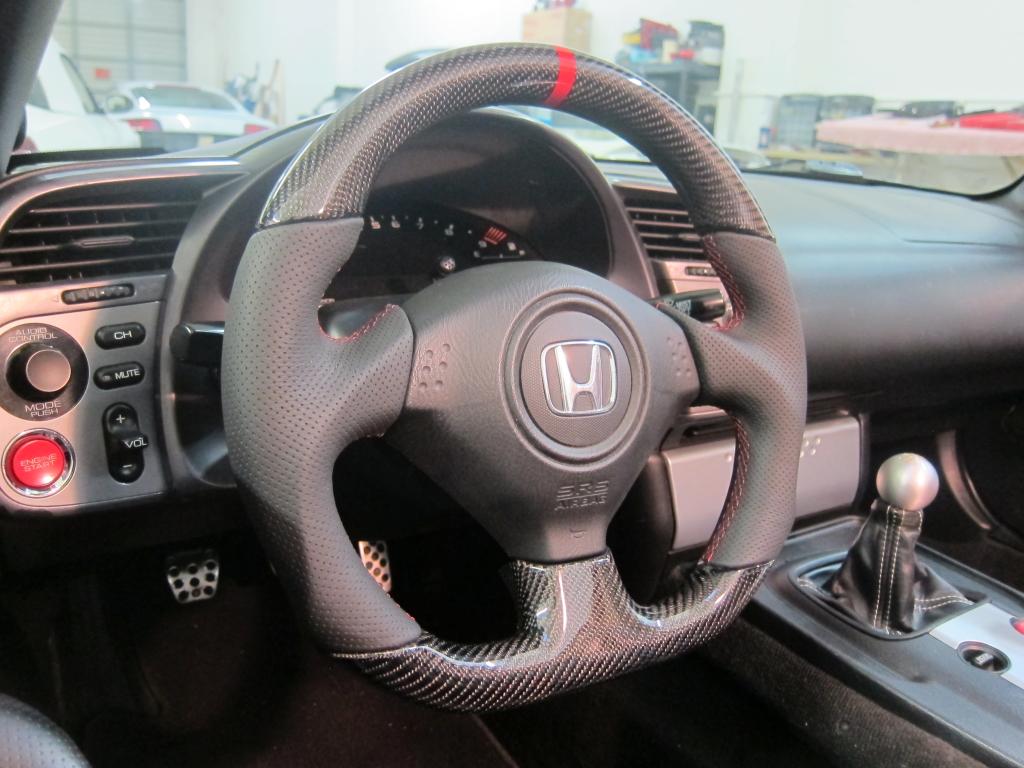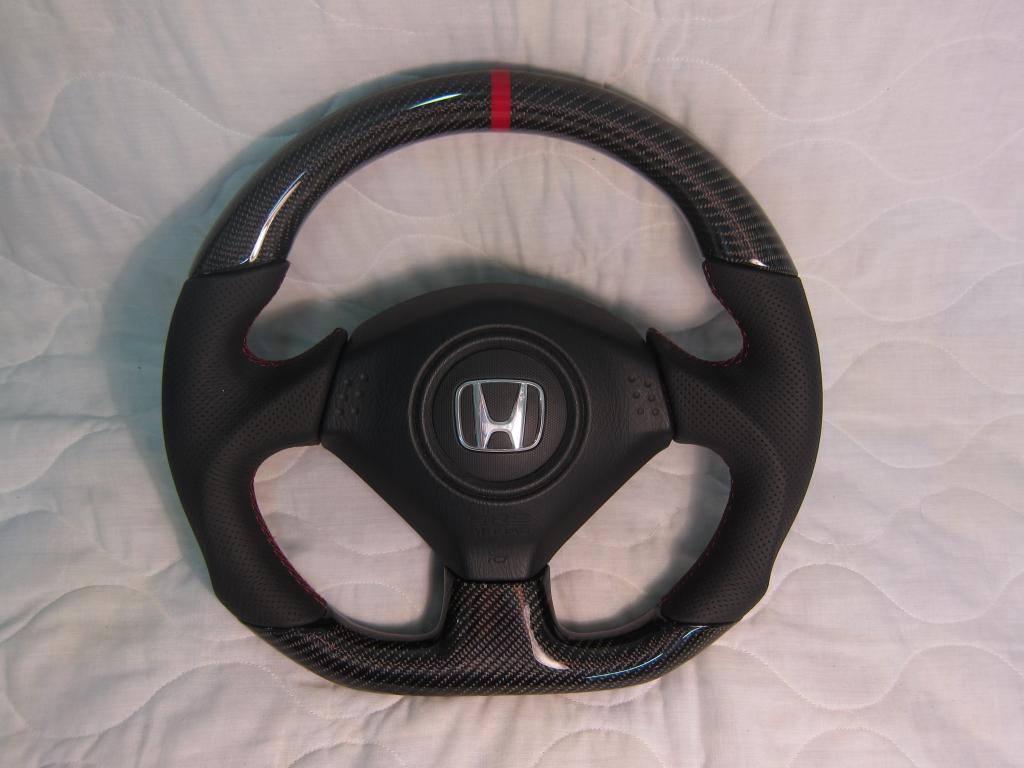 8-26-2014
Due to buyer changing his order, we have one of these wheels for IMMEDIATE SHIPMENT, no wait, get it while it lasts!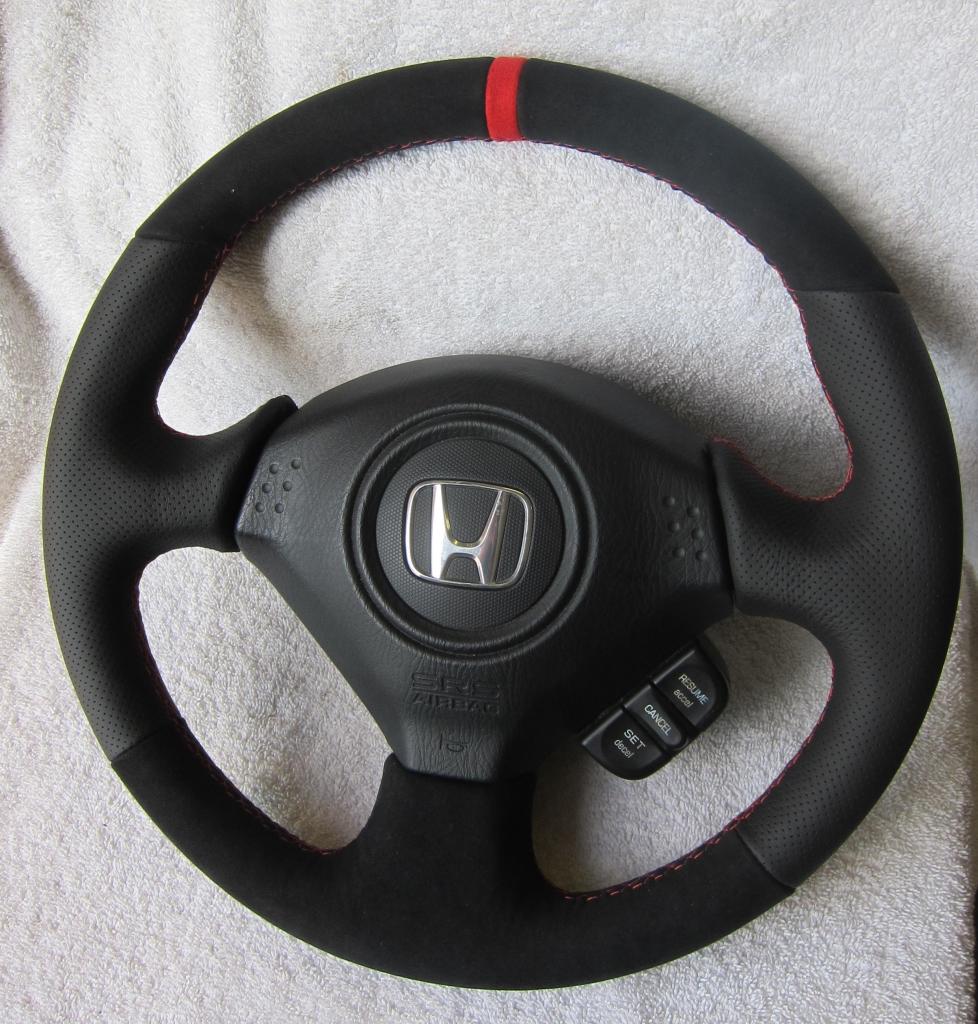 9-5-2014
Happy Friday, all PM's replied!
Orders have shipped for all customers who have received payment with tracking info, thank you!
This is what we have in stock right now for the Flat bottom CF wheels, only a few left and back to standard 4-6 week lead time....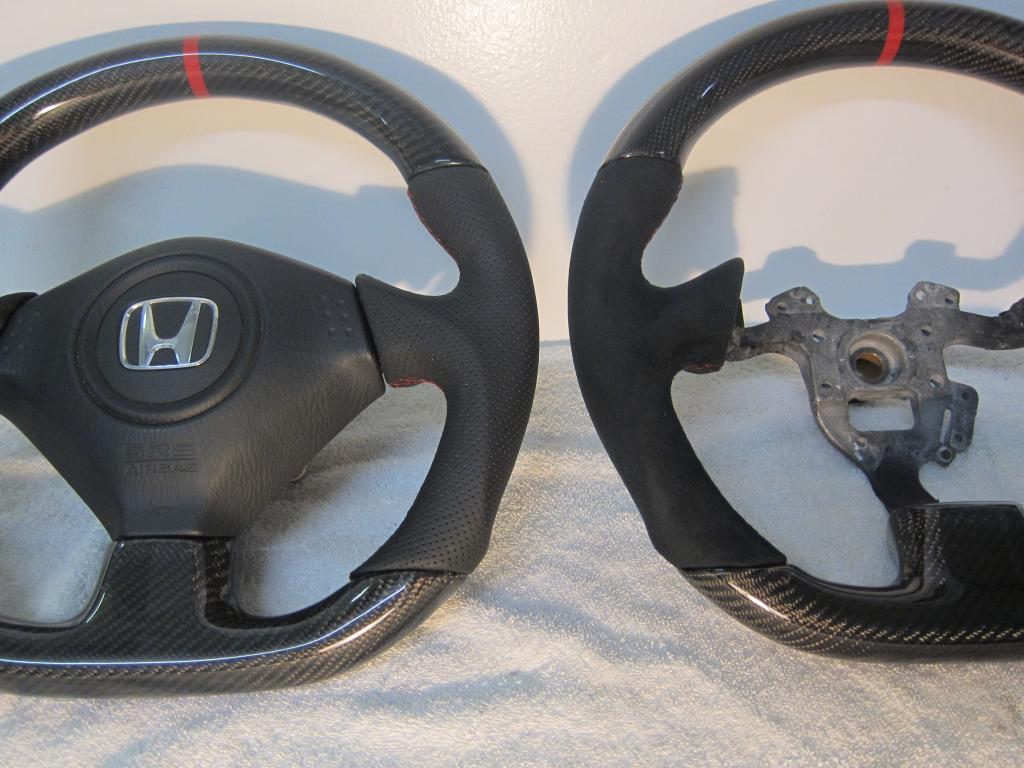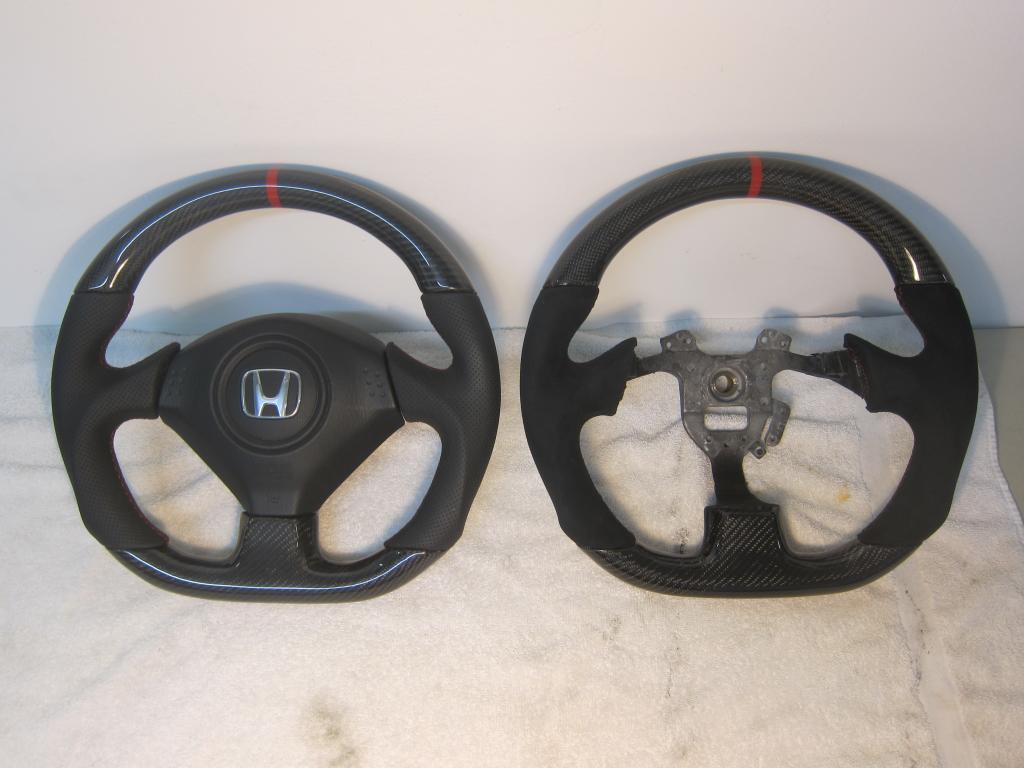 9-9-2014
All PM's replied!

thank you for all the orders guys, we will keep you updated via PM on status.

Keep in mind we also do steering wheels for other makes of cars such as EVO, Sti, M3, C63, Supra, GTR, R8, etc.

If you want a quote or sample photo let us know. here's one we just completed for a R8 owner!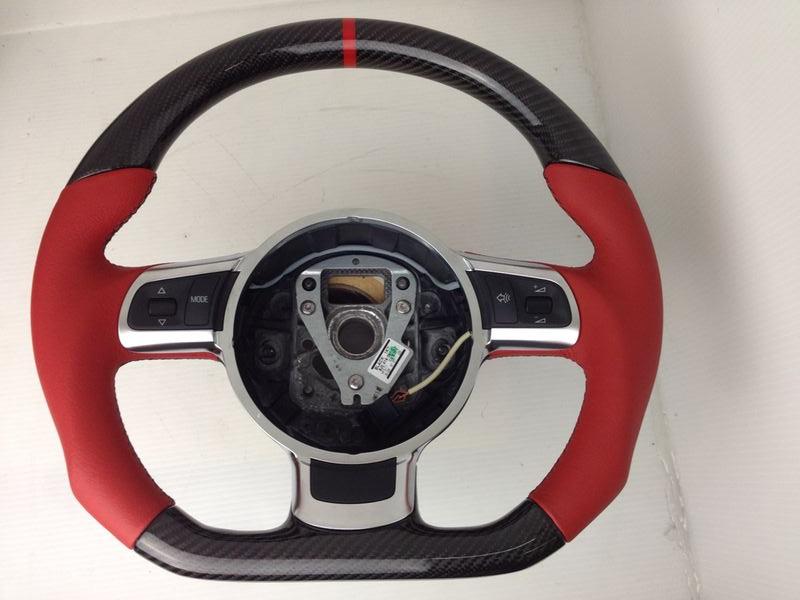 9-16-2014
All PM's replied! We currently have a few in stock for IMMEDIATE SHIPMENT!


If carbon fiber is not your thing, we do have a few thicker grip black suede round wheels in stock and on sale right now:


9-30-2014
For those who prefer not to have Carbon, we just finished a flat bottom wheel with thicker leather grip, red accents that is available immediately!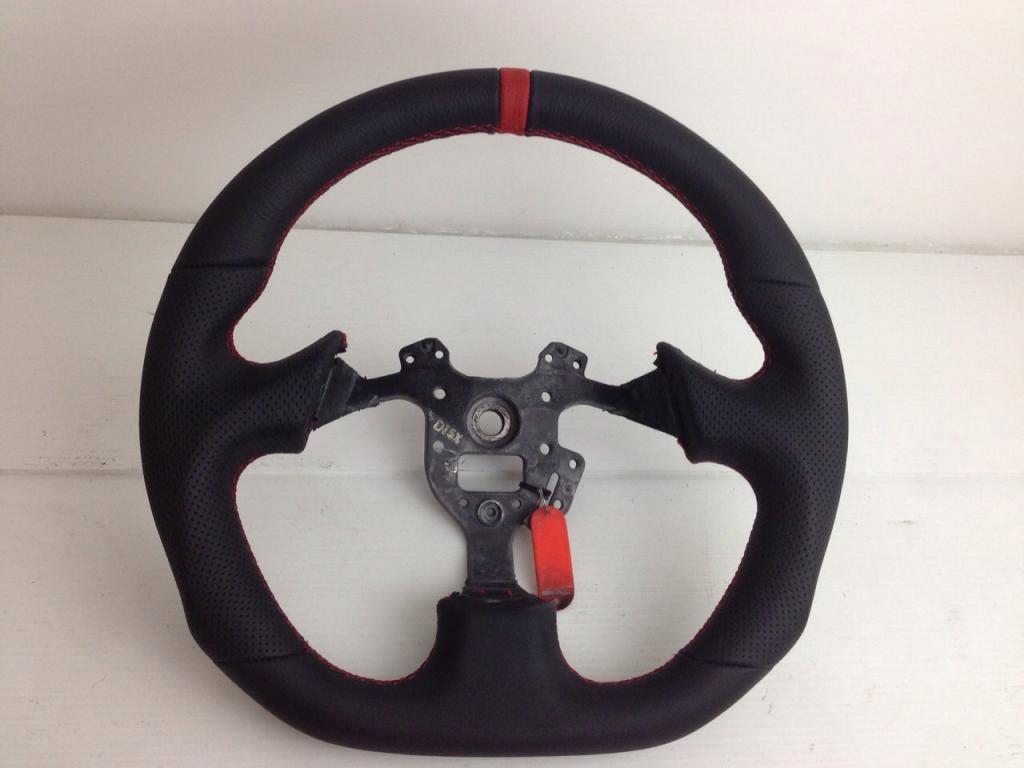 10-7-2014
For the perfectionist s2000 owner who already has our flagship CF steering wheel, this is the perfect finishing touch.

We will now offer the CF cruise control button as an add-on option for those who demand perfection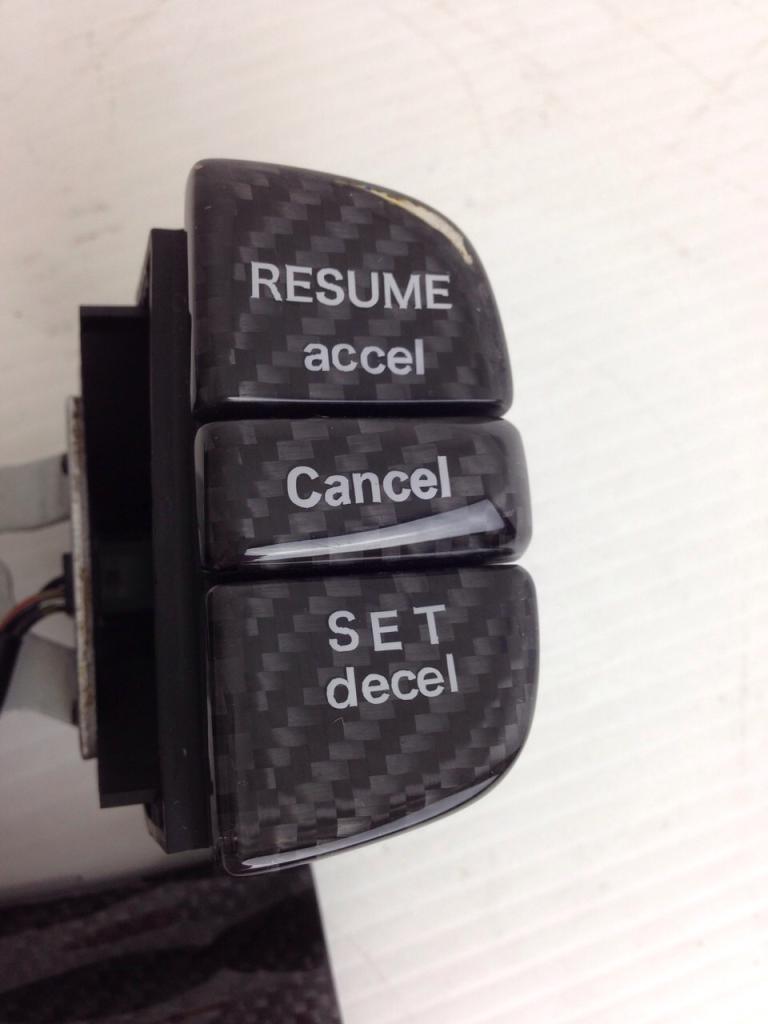 10-10-2014
PM's replied, TGIF!


Available right now in stock: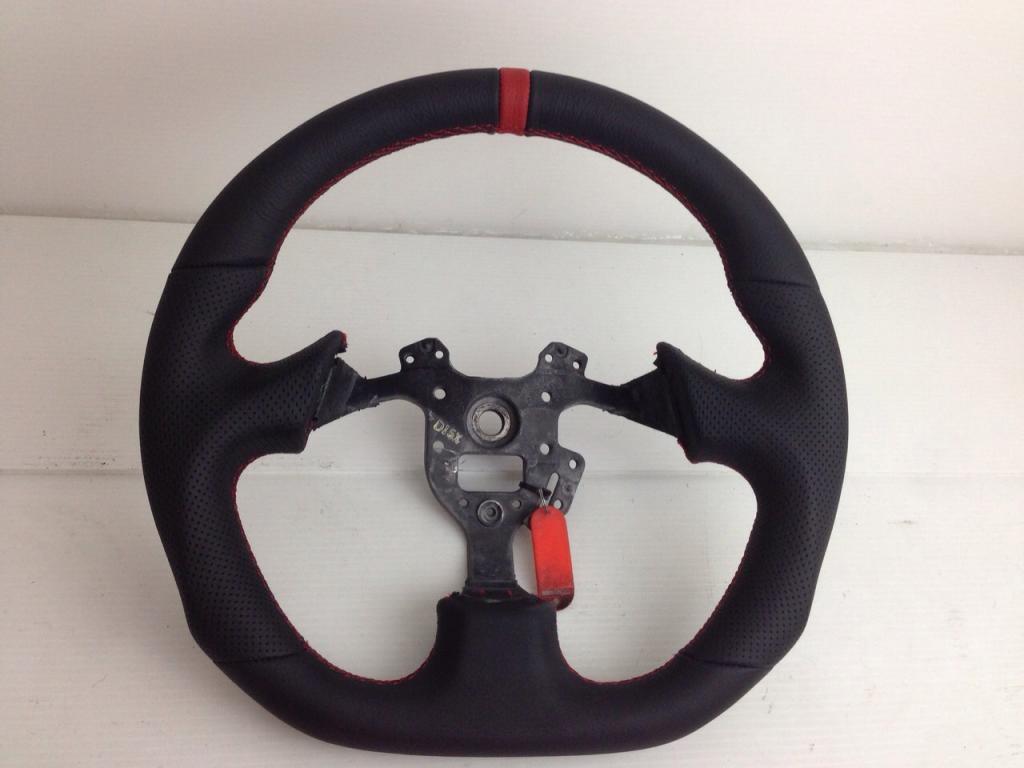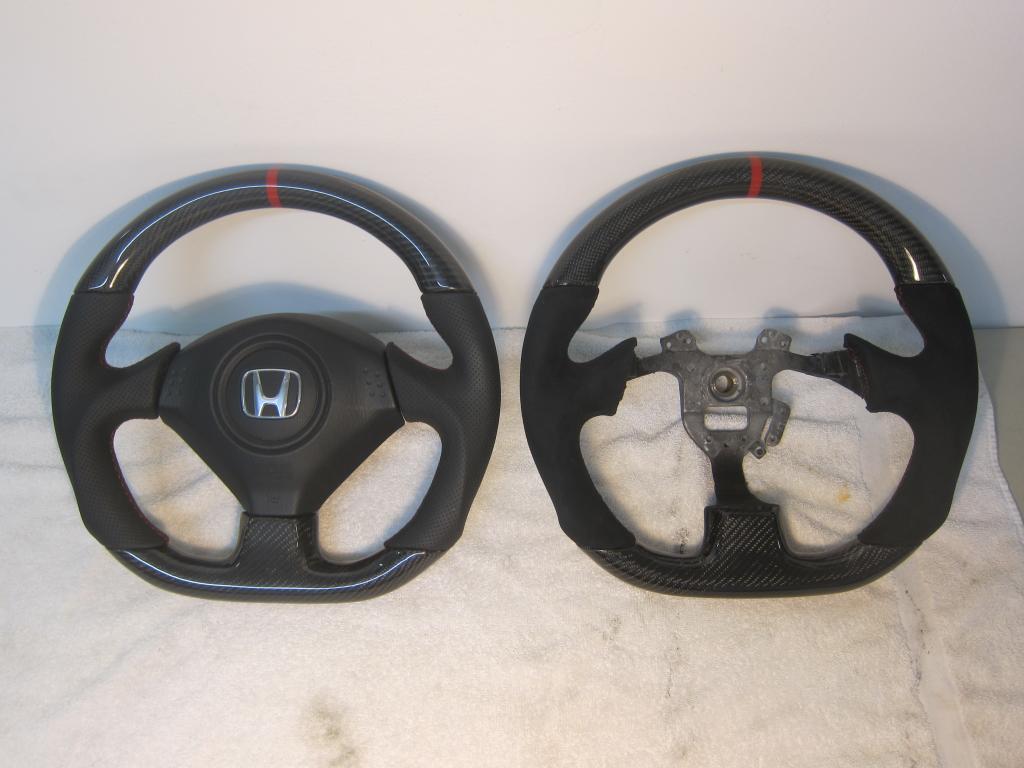 10-16-2014
PM's replied!


We currently have many wheels in stock with NO WAIT so if you want a flat bottom CF wheel or even a round suede wheel we should have it in stock. PM us!

Also with any carbon fiber wheel, we now offer the option of CF cruise control buttons for $299 + core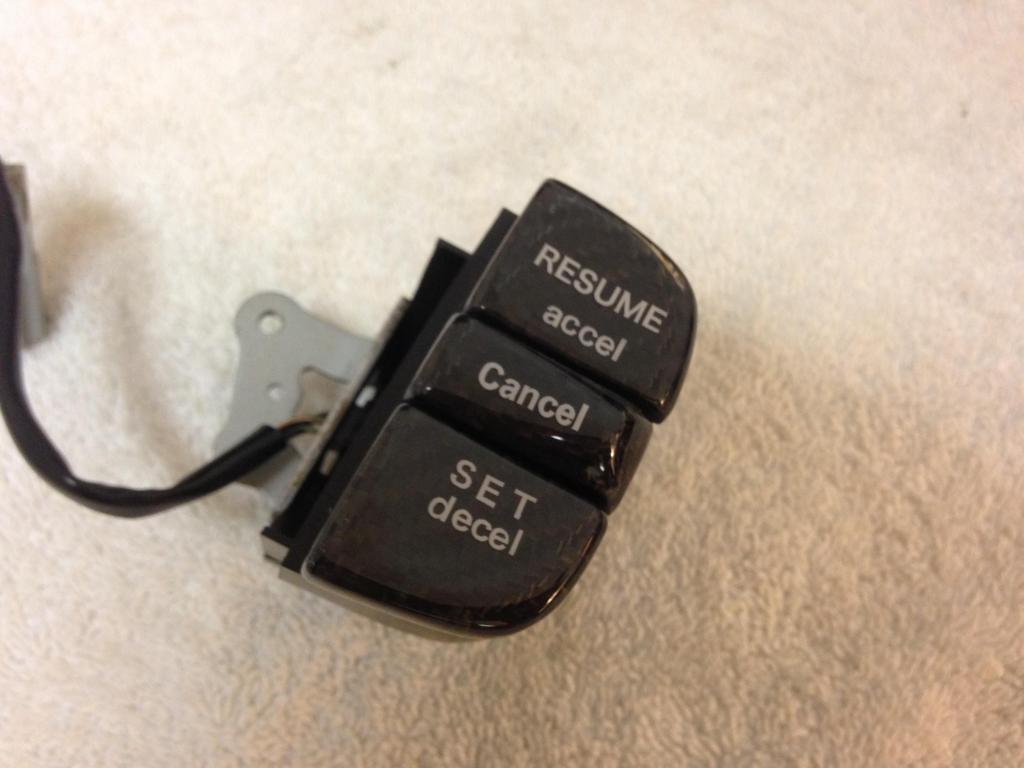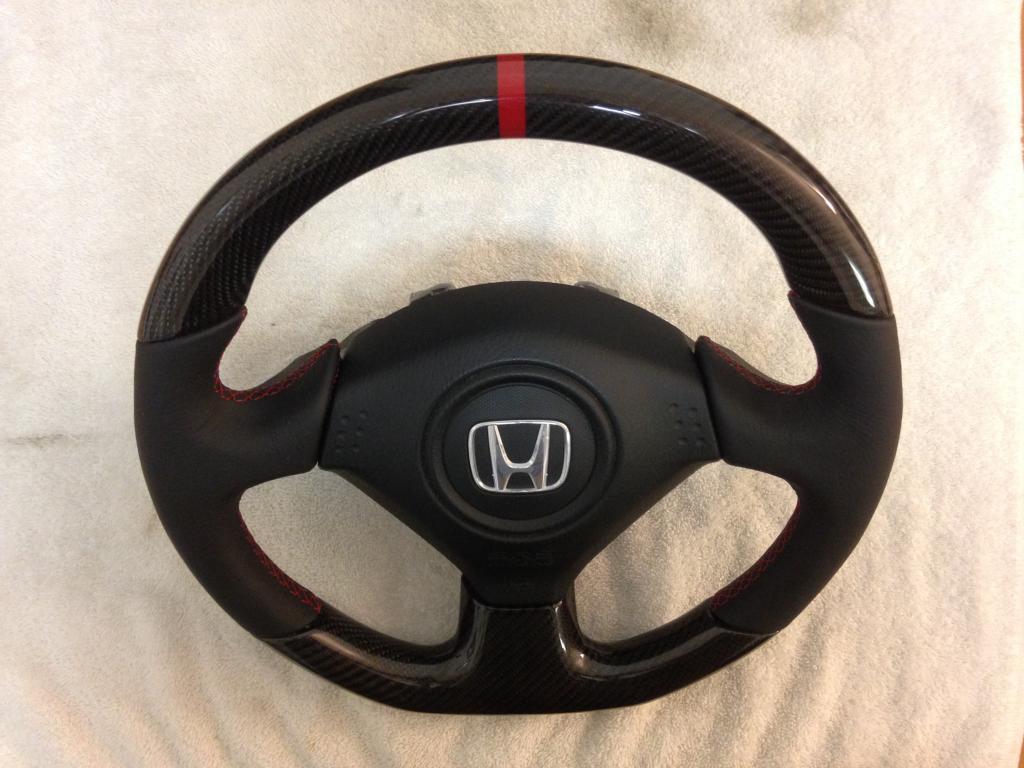 10-25-2014
Side by Side comparo showing the thickness of these wheels and top notch quality!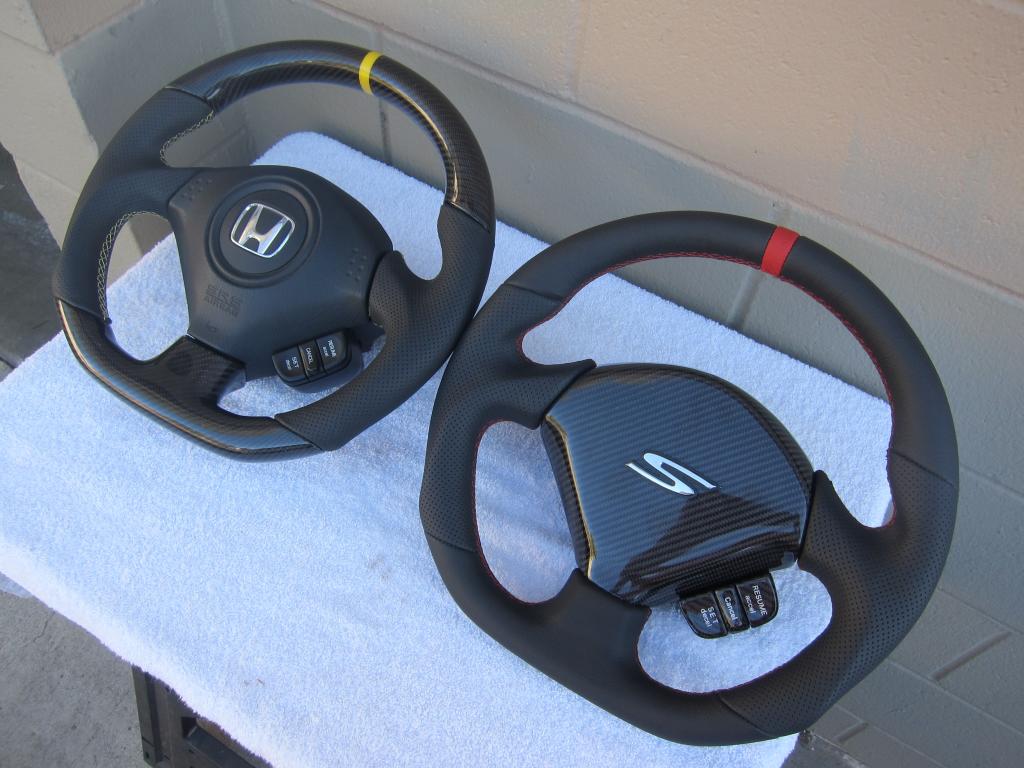 11-5-2014
PM's replied to each of you, thank you!

We only have a few of the CF flat bottom wheels in stock, once these are gone ~ it will go back to a custom order with 4-week lead time for each individual order. We just took an order for a Lambo green accent steering wheel!

Currently have a sale on the ROUND, suede steering wheels in stock, see below, perfect for any s2000 to give it a new car feel: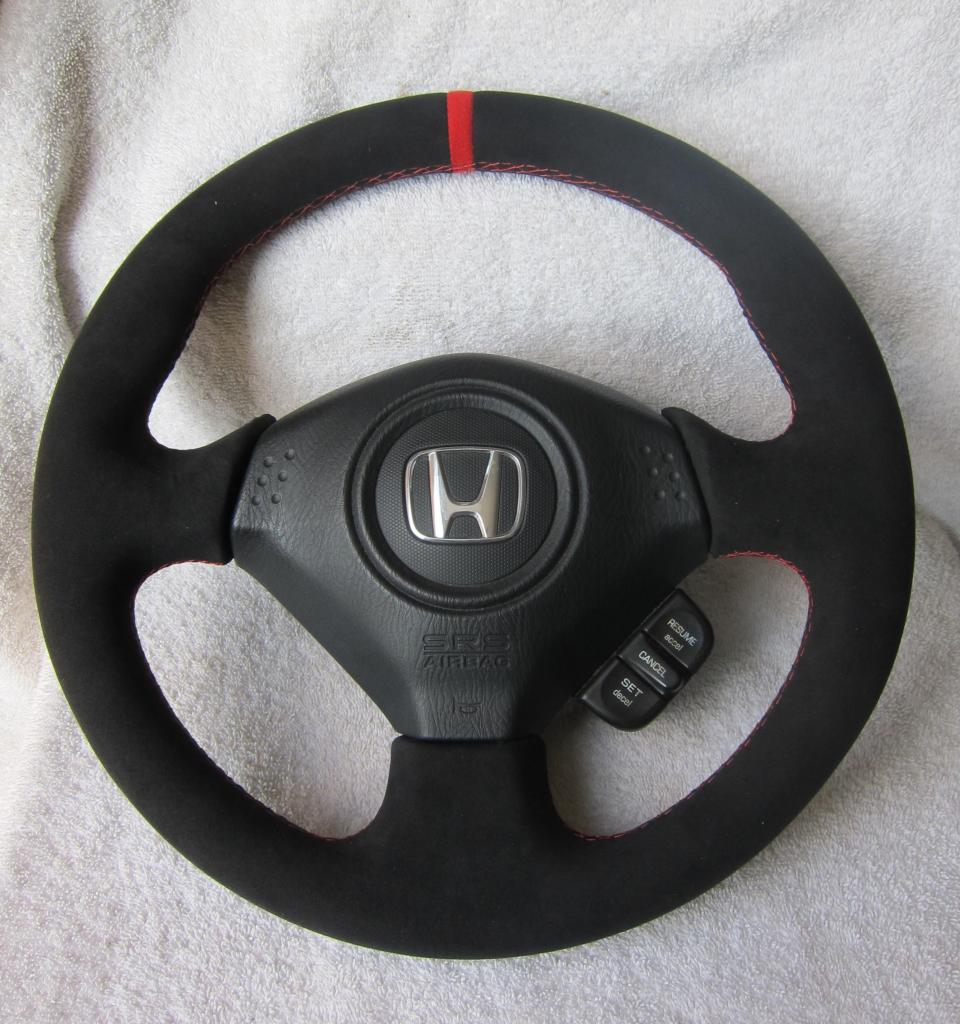 11-17-2014
here's a good photo of the thickness comparison of what 2mm thicker looks like!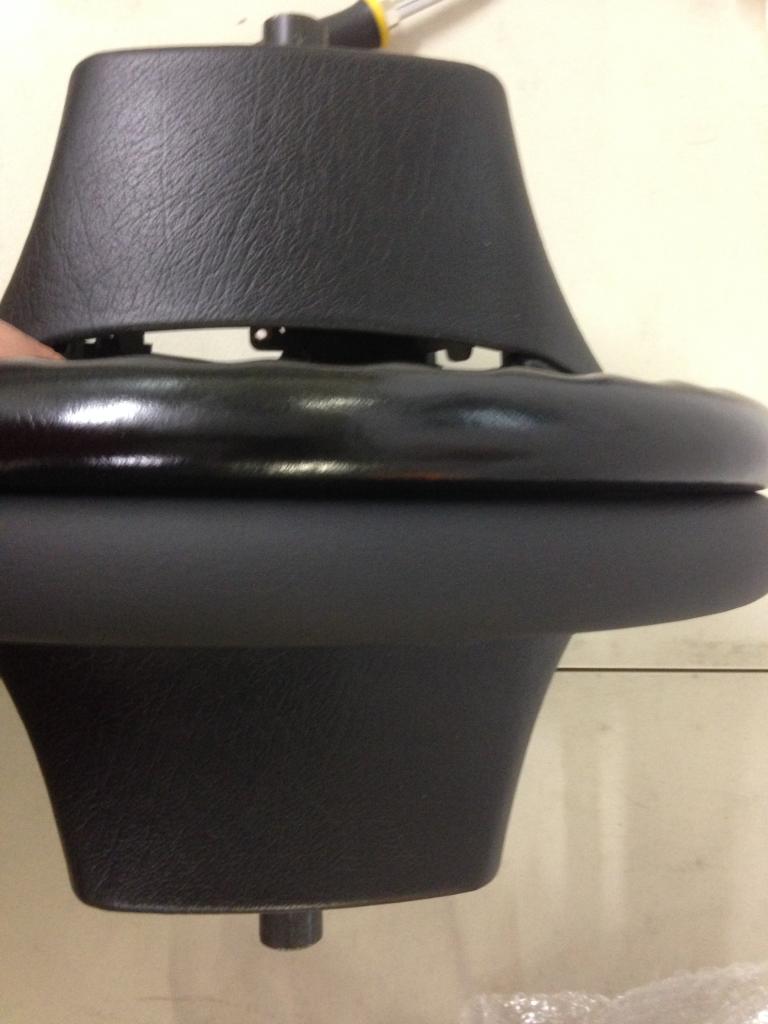 11-23-2014
Recent install we did for a 2008 owner!
Side by side comparo: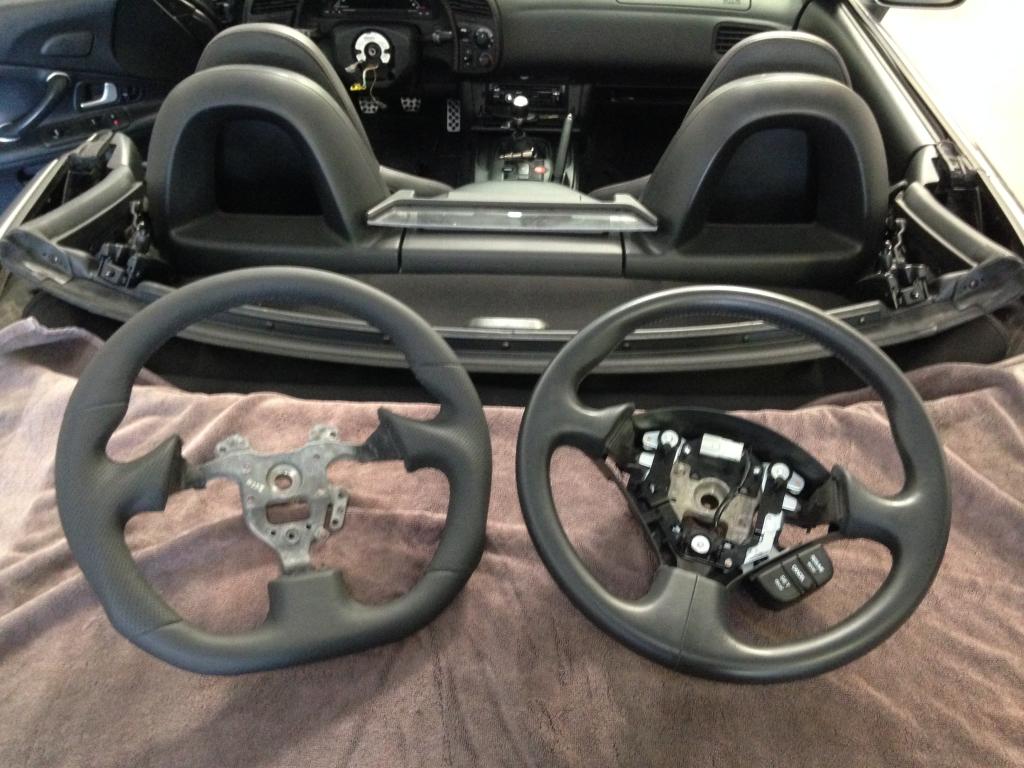 OEM cruise and airbag swap right over to the new wheel: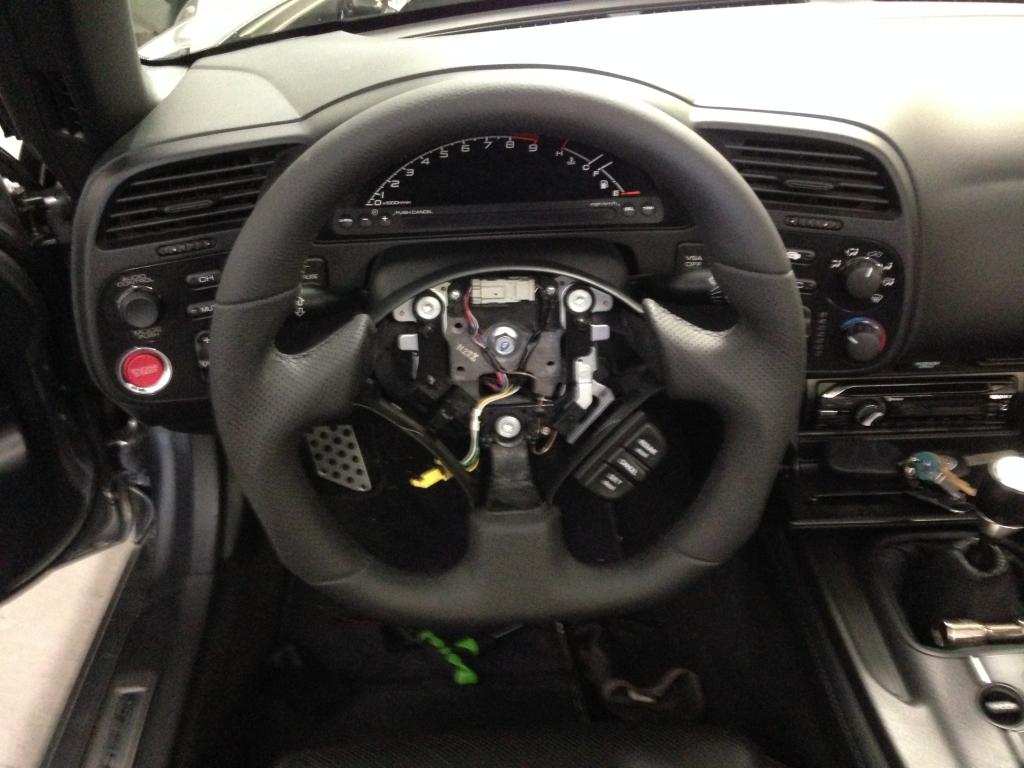 Custom re-shaped finger grips and thick grip: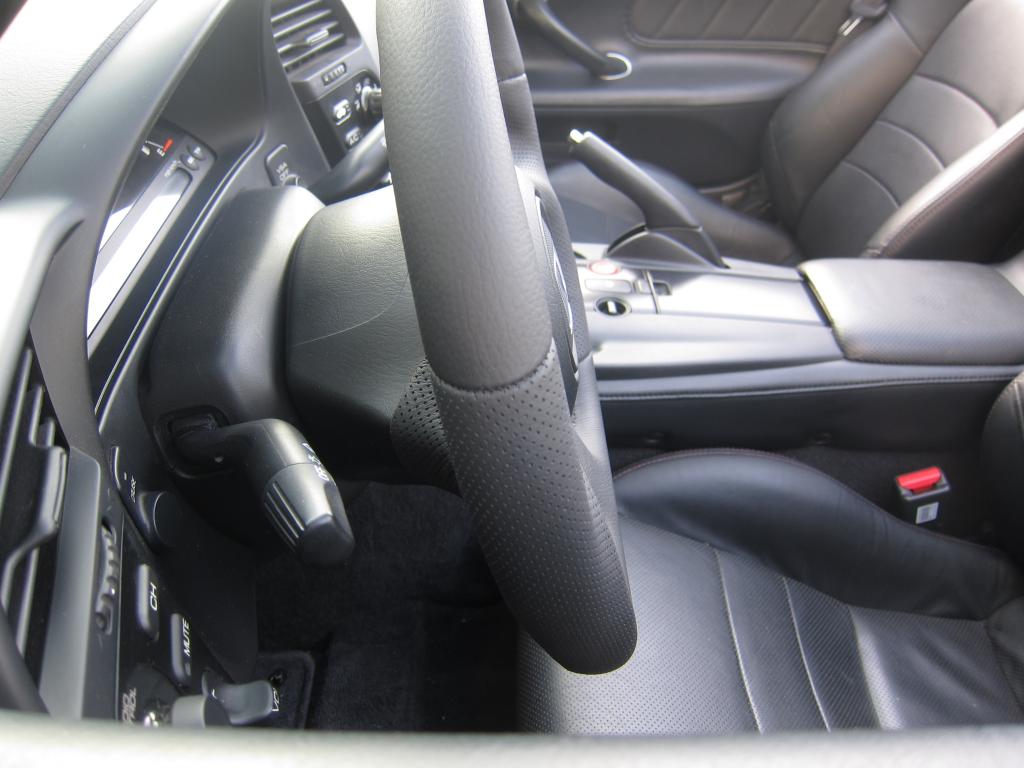 Completed install: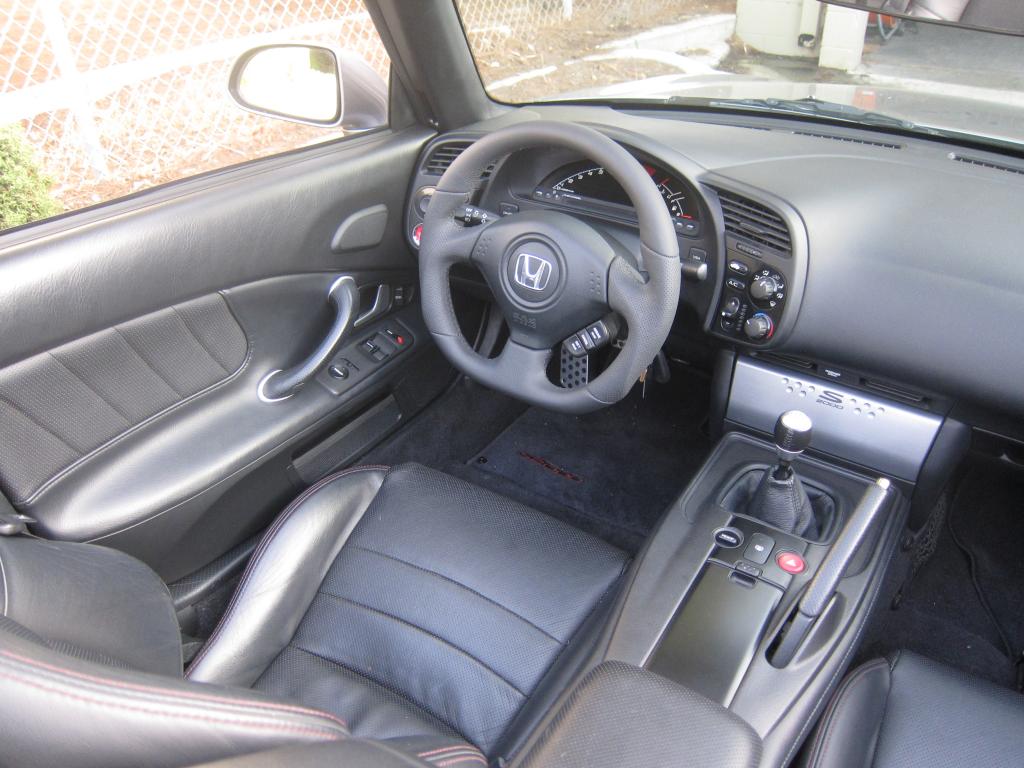 12-2-2014
Tis the season to be jolly and green! We build this custom lambo green steering wheel for a very special s2000




Happy Holidays s2ki!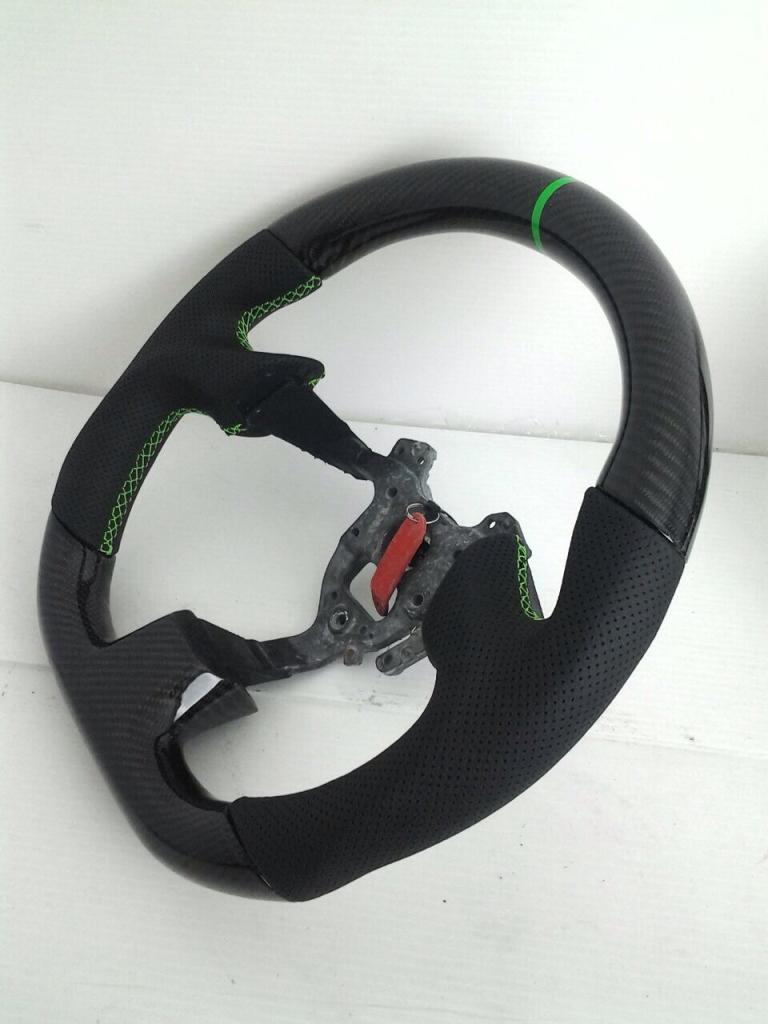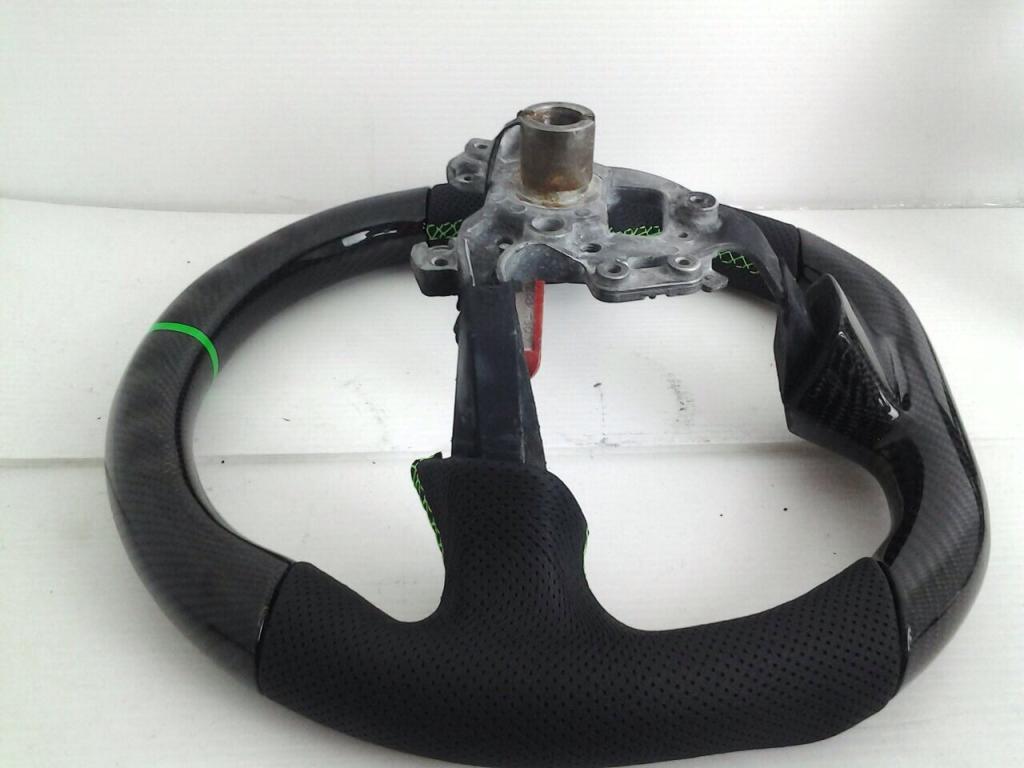 12-9-2014
Ready for installation with OEM airbag and cruise control back on the wheel: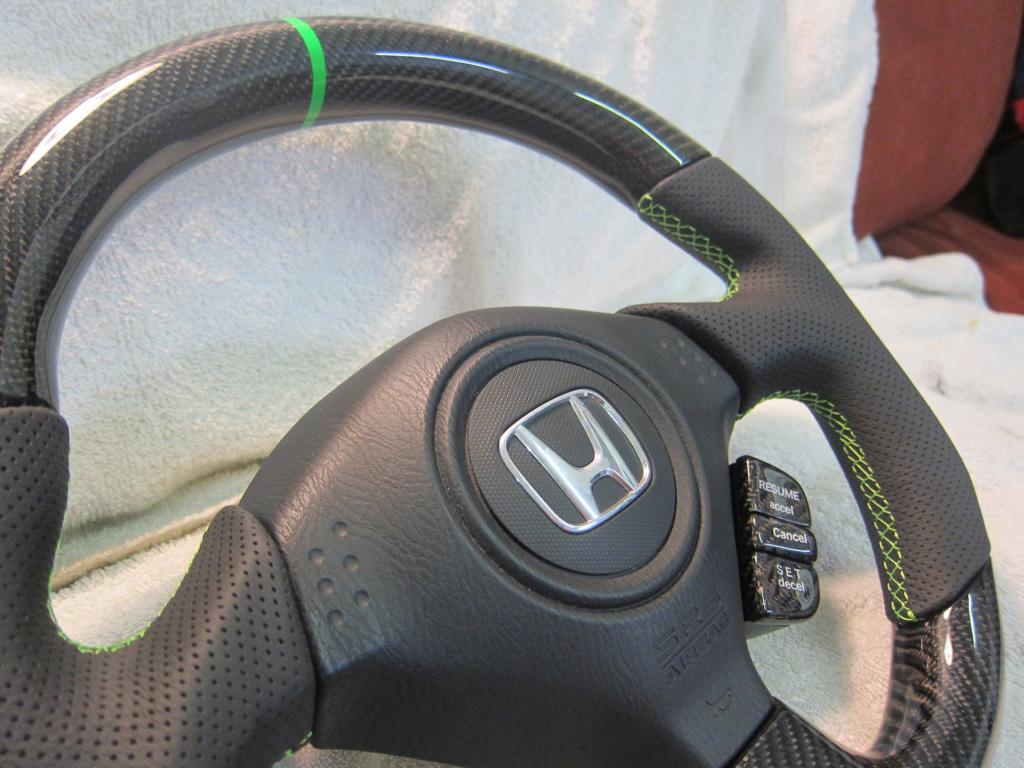 1-9-2015
Recent install in customer's ride (NRF):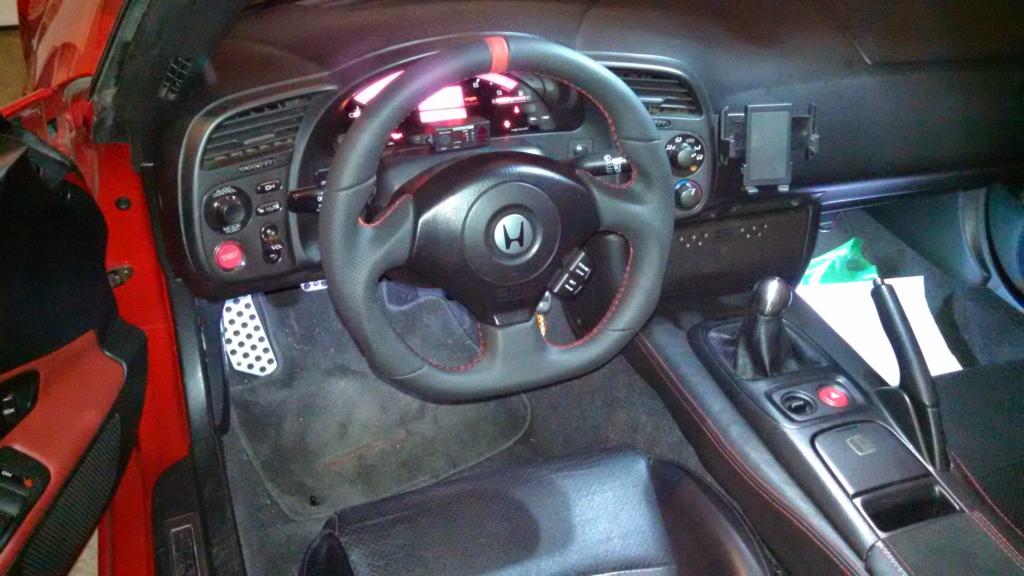 1-19-2015
Wanted to share a smaller diameter version of the OEM wheel - we have the ability to do slightly smaller diameter versions of the OEM wheel!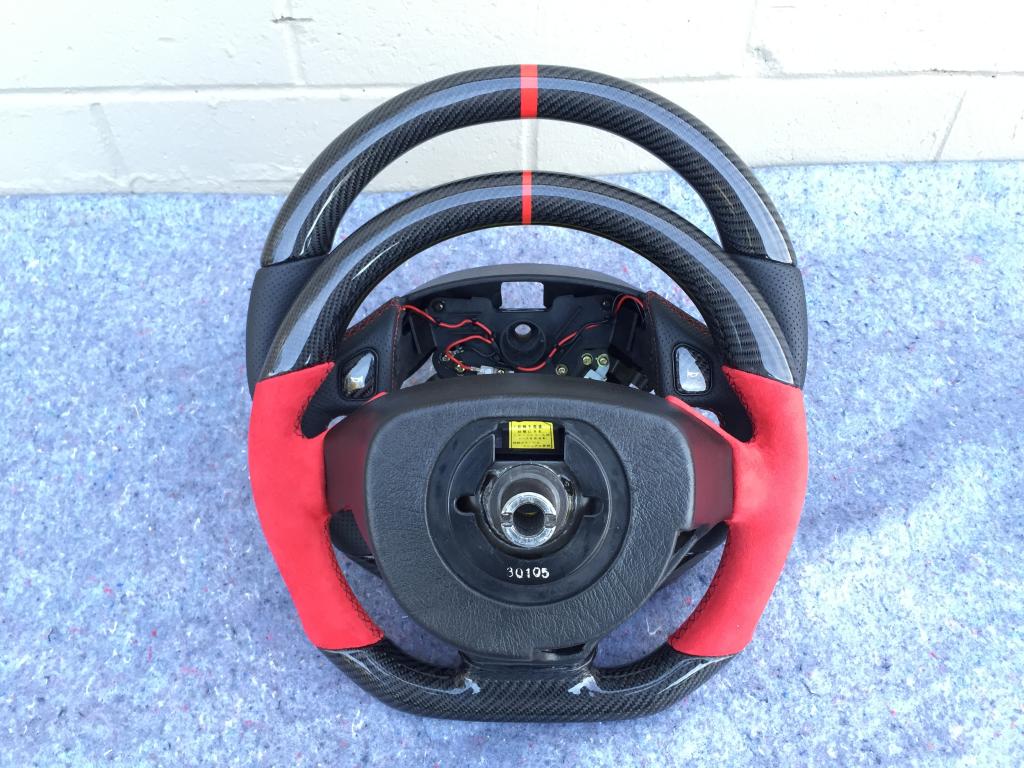 2-13-2015
Happy Friday the 13th!

We now offer the OEM flat bottom full leather wheels as in stock items. You have the option of a core exchange or buying outright with no down time or wait!

The most popular combo would be:

Flat Bottom
Perforated leather side grips
Leather upper and lower
Thicker Sport Grip
No stripe
Your choice of RED or Black Contrast stitching!

Feels amazing and looks 100% OEM just more meaty for daily driving or track use.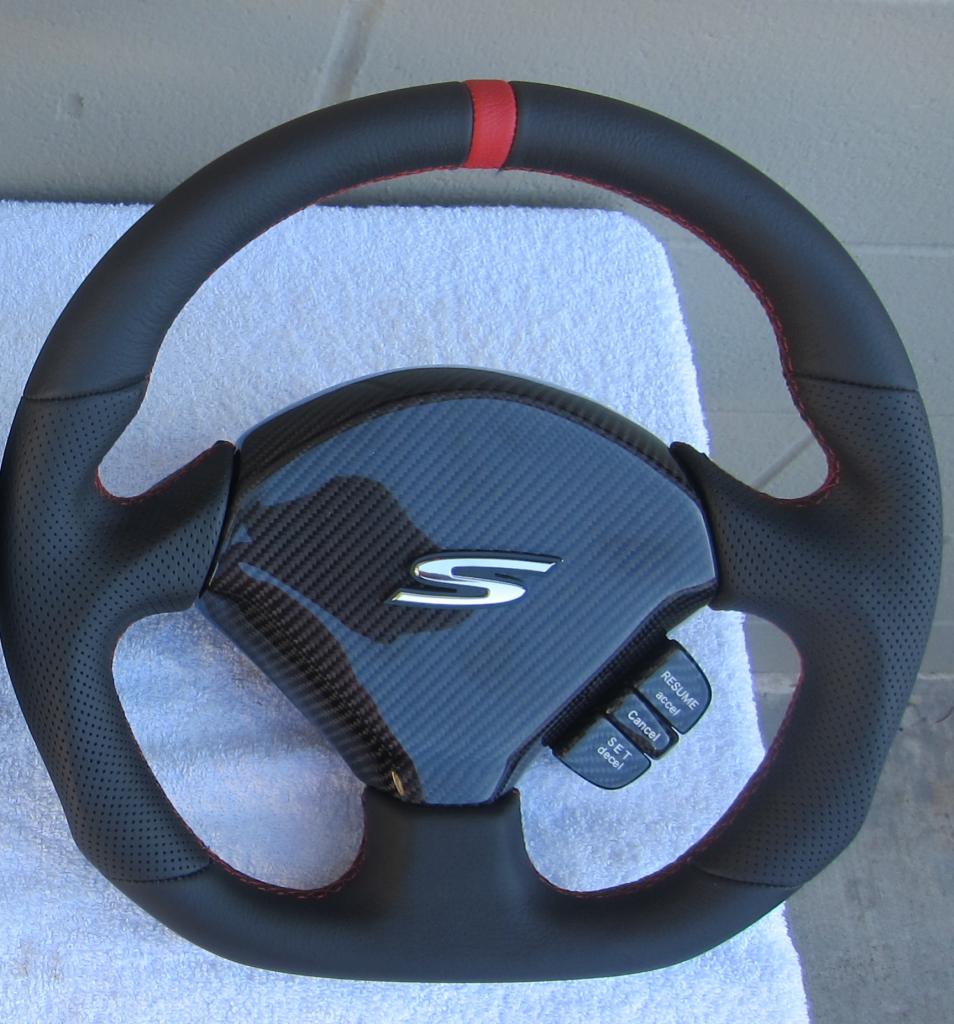 3-6-2015
PM's replied!

All suede wheels are special order. We do have ONE single round wheel in all black suede, red contrast stitching and red stripe in stock, one yellow contrast wheel:

These 2 are in stock: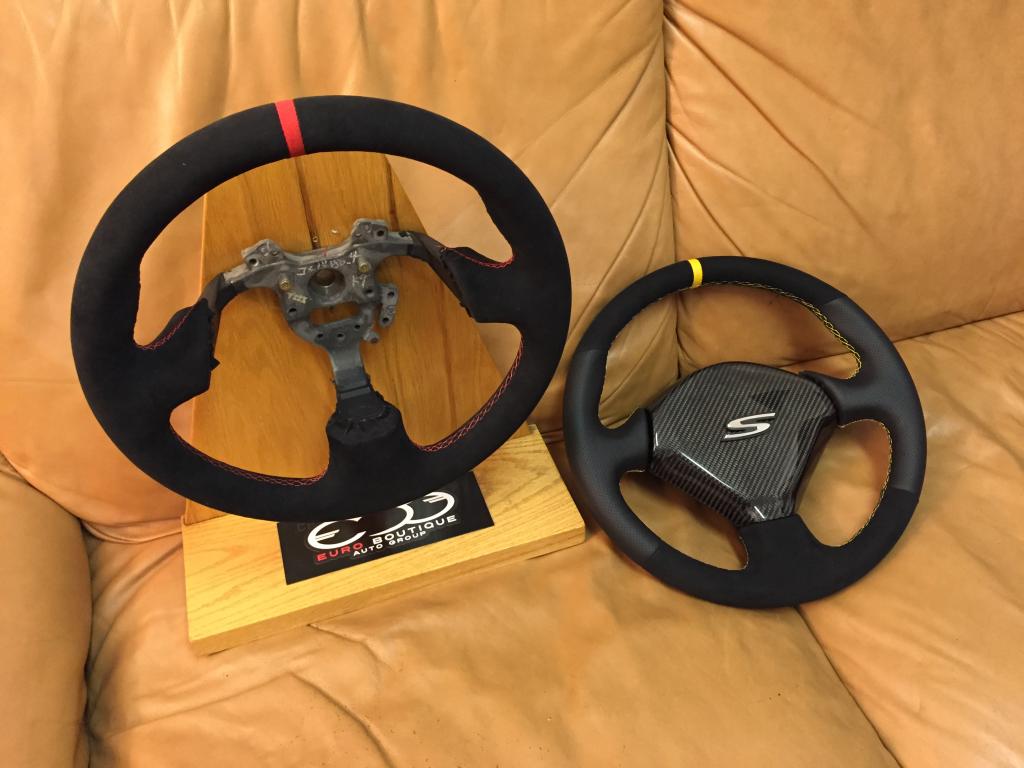 3-13-2015
Happy Friday! We have both of these wheels in stock ready to ship: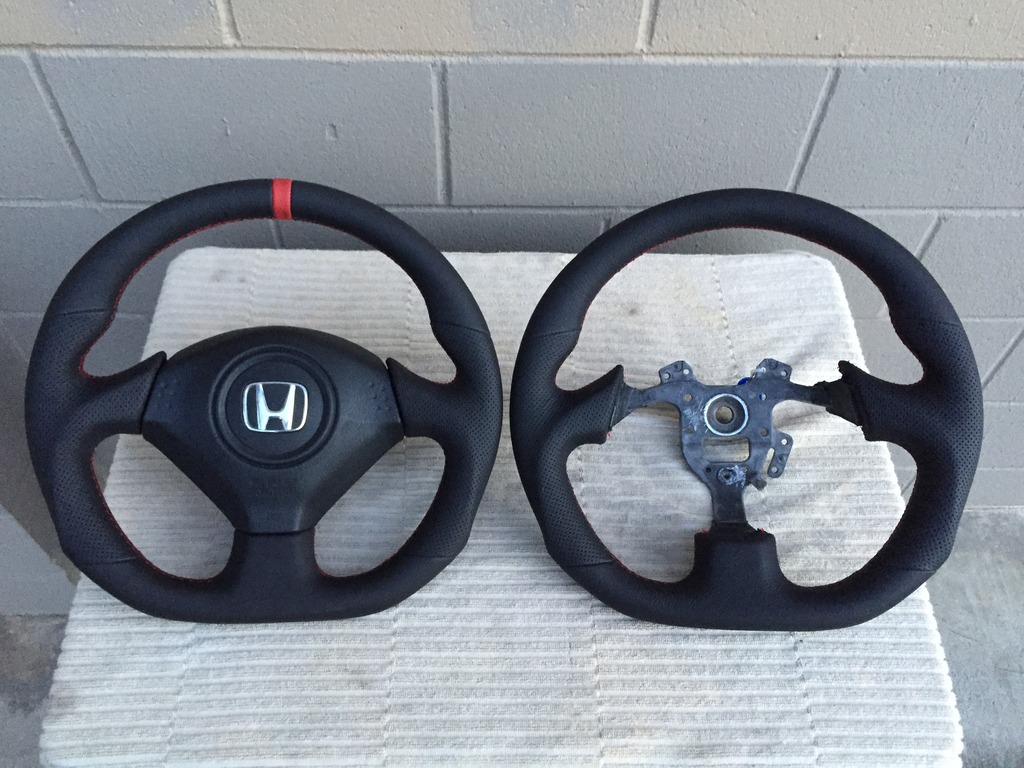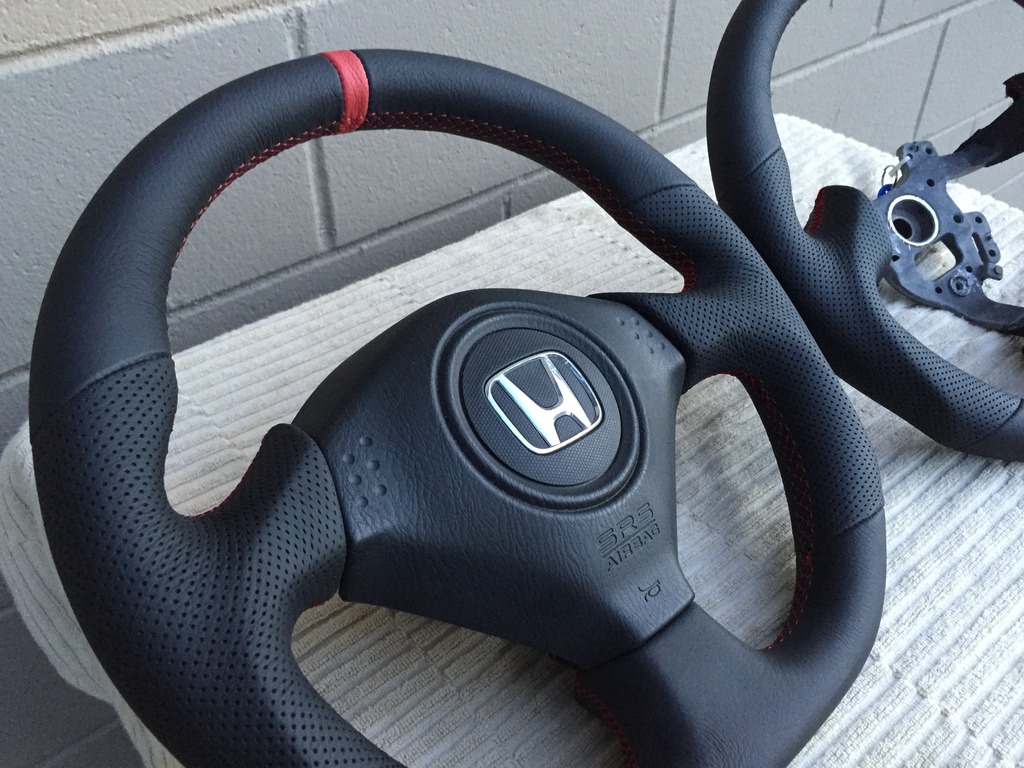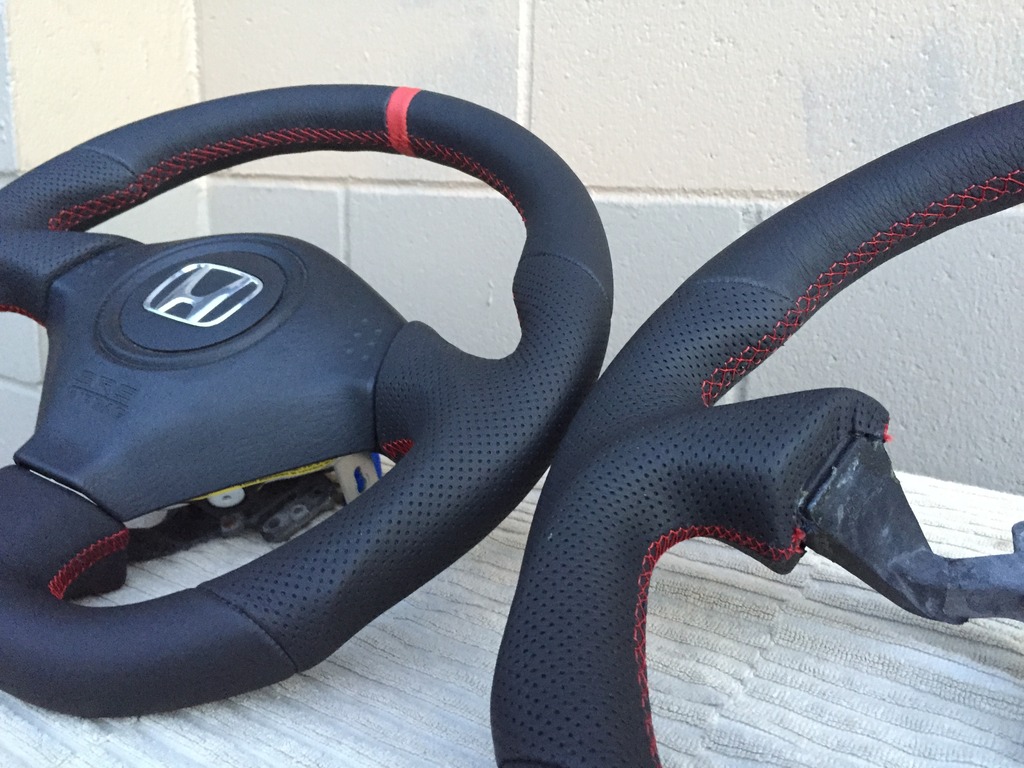 3-23-2015
This one is in stock and ready to ship! We can also do the same wheel but with full leather as well for those who prefer a more stock leather look. We use only the highest grade leather materials so the feel is WAY better than the cheap stock leather.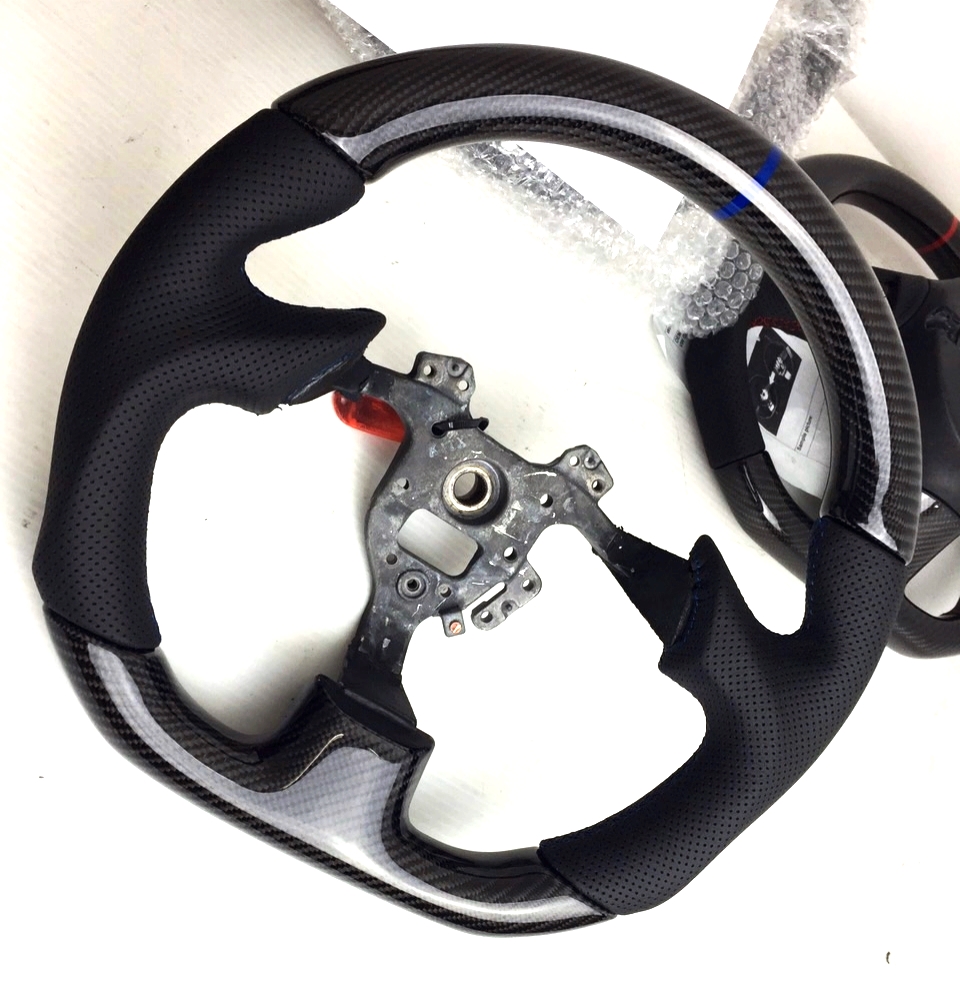 4-3-2015
We have our most popular steering wheel options in stock!
We offer a steering wheel exchange program so we give you the option of either trading your wheel as part of our core exchange program or you can buy one outright and retain your stock wheel!
***We will soon be offering a VGS style s2000 wheel matching the original VGS wheel which includes these options:
- Flat bottom
- Standard OEM side grips
- Perforated black leather sides
- Red Contrast Stitching
- VGS logo on flat bottom
- Carbon Fiber Upper and Lower grips
here's the look of the wheel next to the VGS wheel: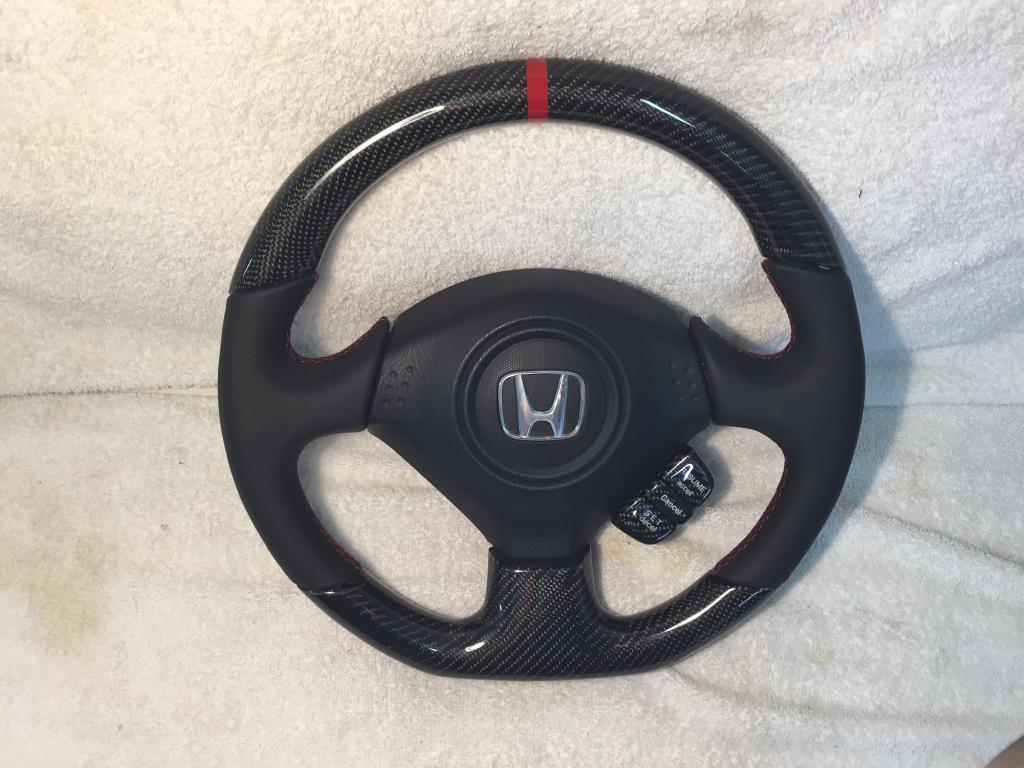 4-5-2015
Happy Easter!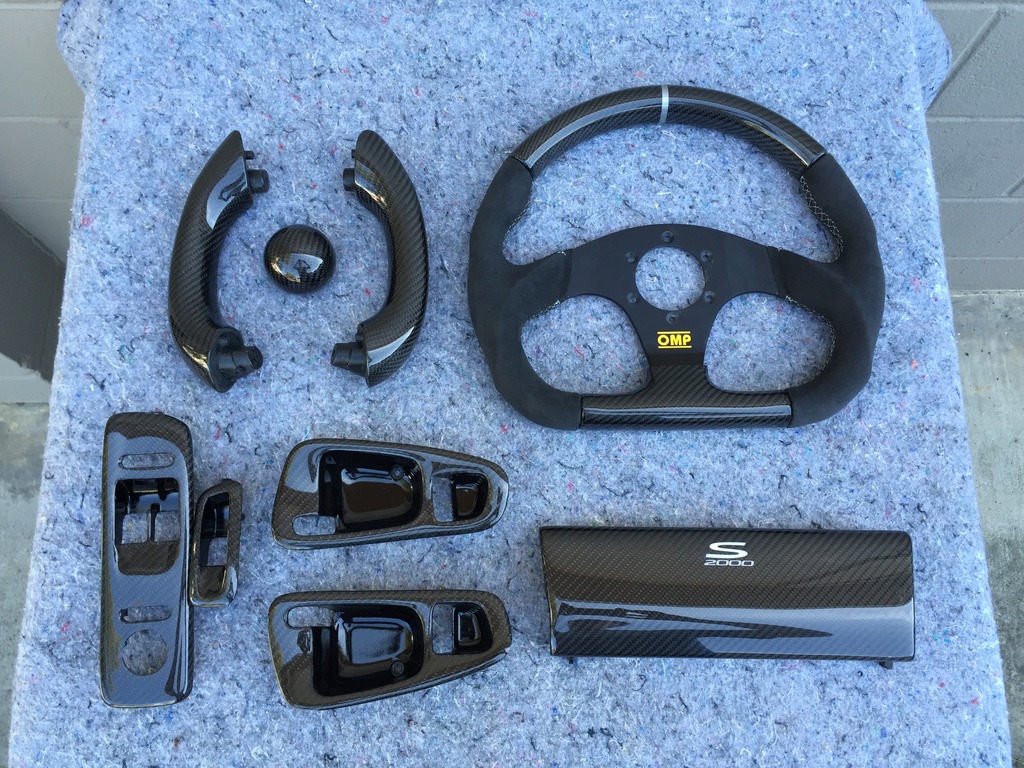 5-27-2015
Our two most popular styles are in stock now with no lead time - we can ship to you first for installation and you send us your stock wheel back when you are done!

Full black suede, thicker grip with red contrast stitching/stripe on left, Black perforated leather side grips + suede with red contrast stitching/stripe on right

*Airbags and cruise control are only shown for demo purpose, you will RE-USE your stock airbag and cruise. We do sell carbon fiber cruise controls if needed as an option!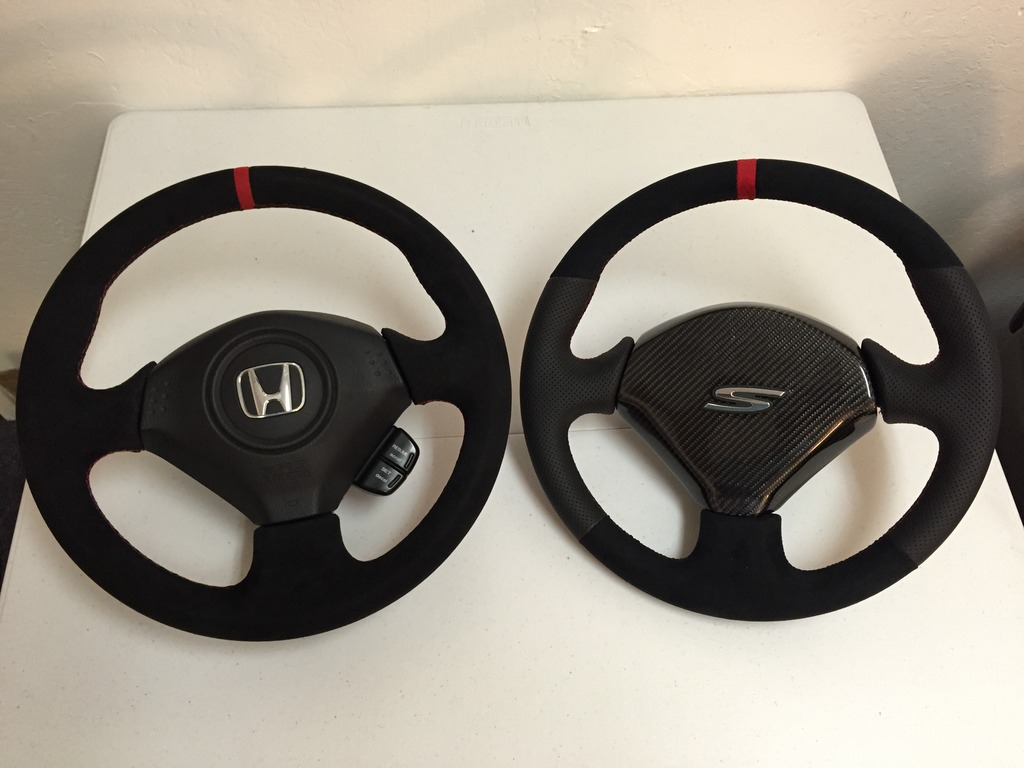 5-31-2015
One of our customers sent us a photo of our CF / yellow highlights wheel installed in his s2000:P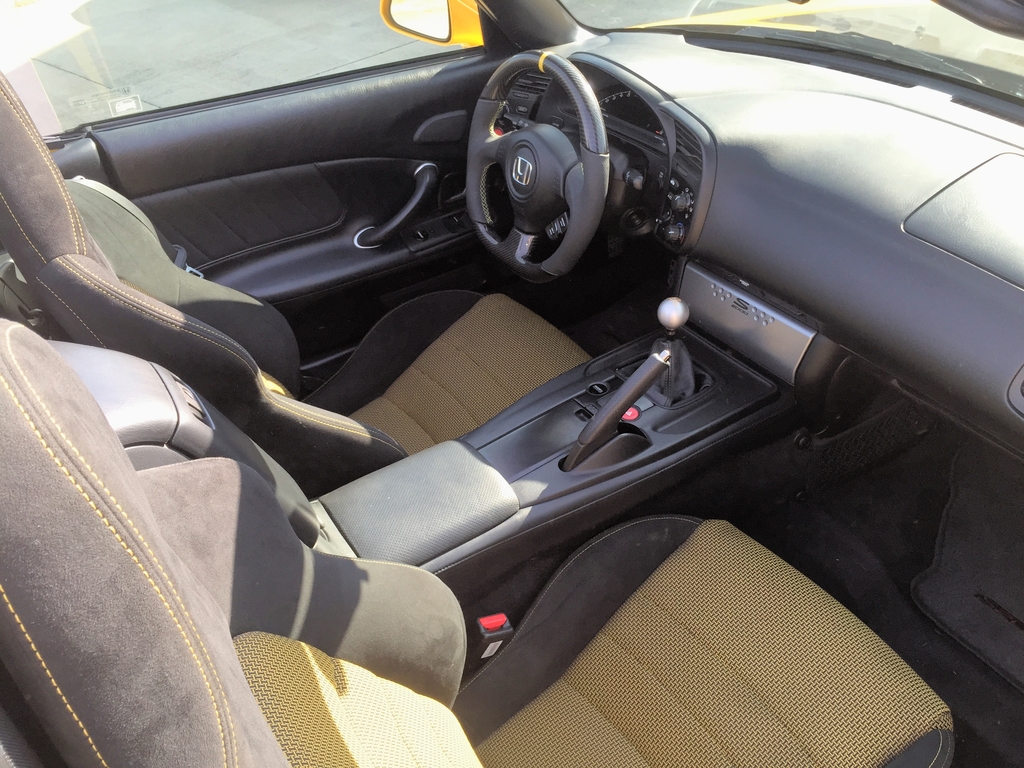 6-10-2015
Besides our beloved s2000 we also cater to the EVO, R8, NSX, GTR, AMG, BMW, any countless other communities too!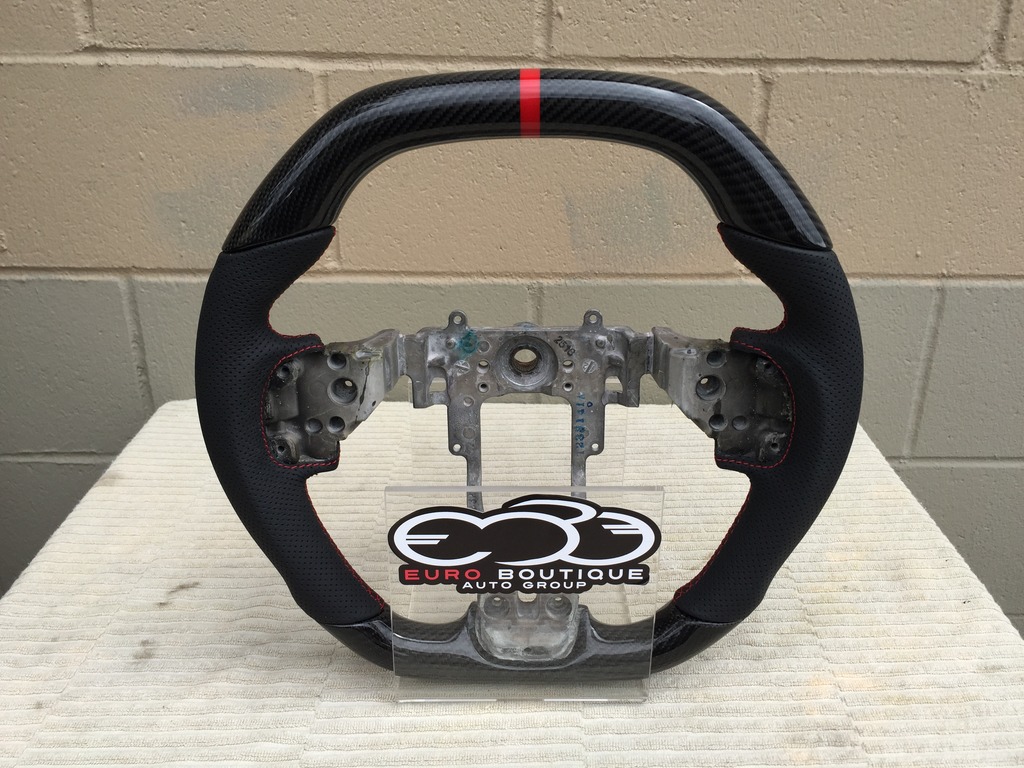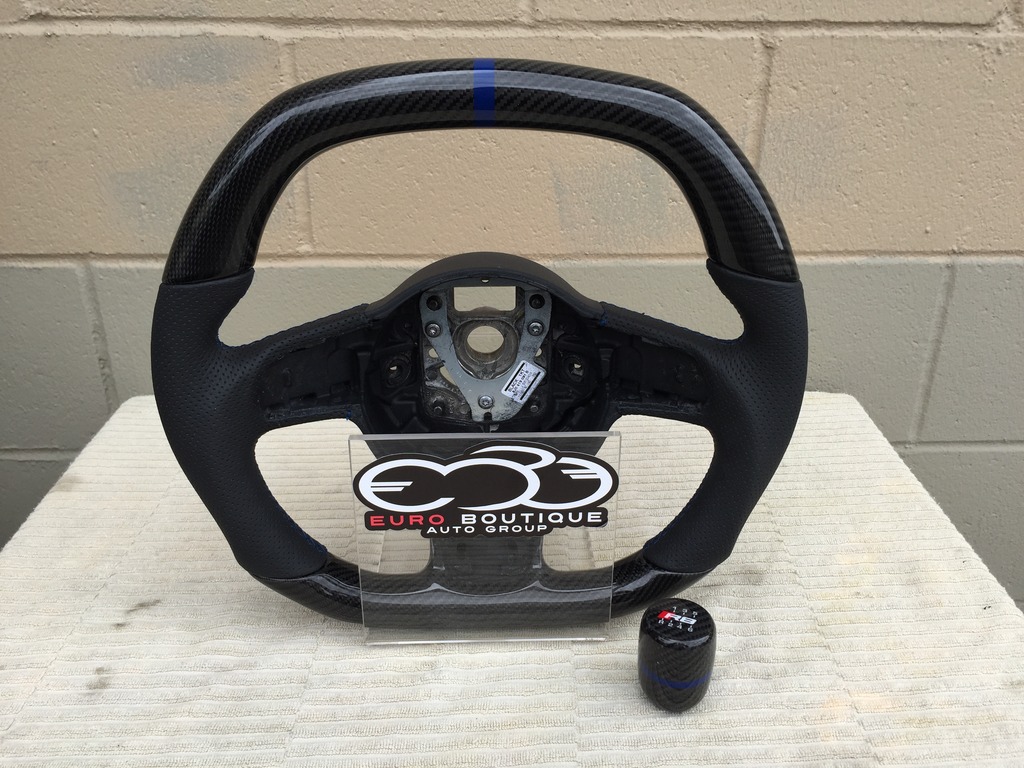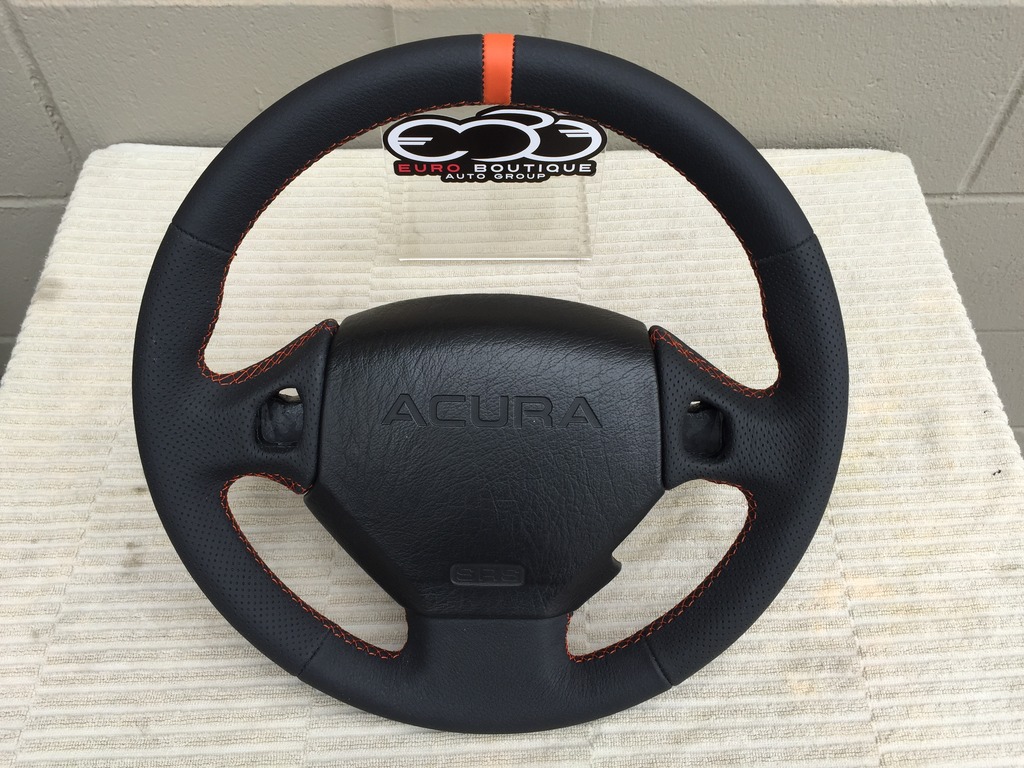 8-5-2015
All flat bottom, sport grip wheels that are in stock are on SALE!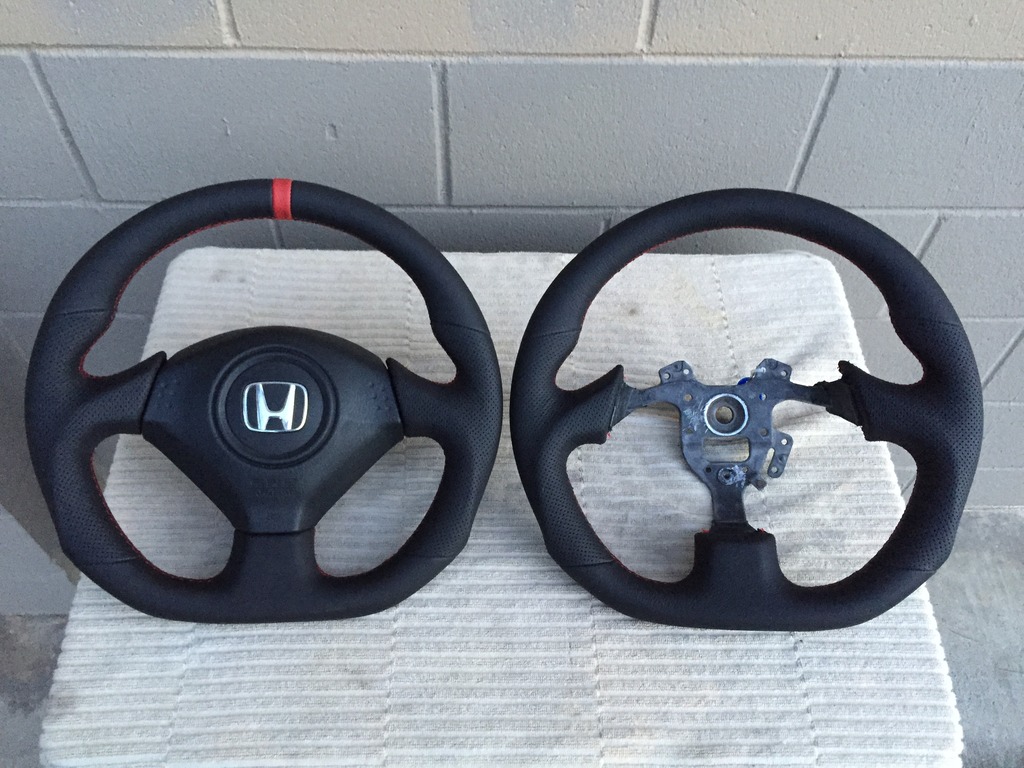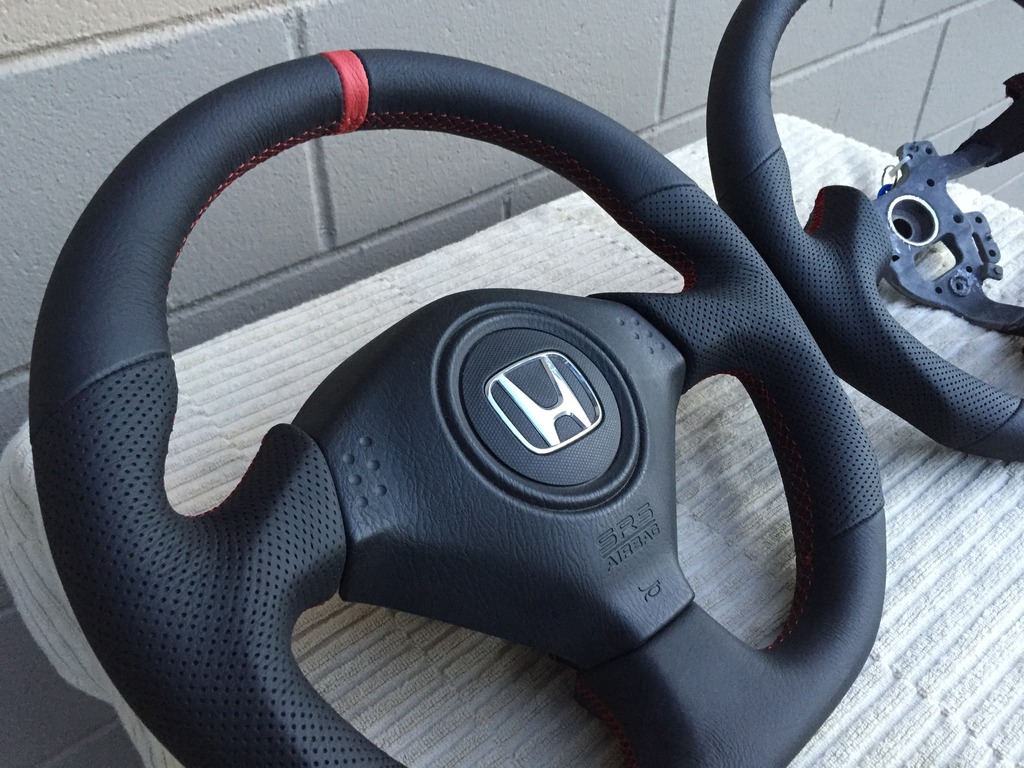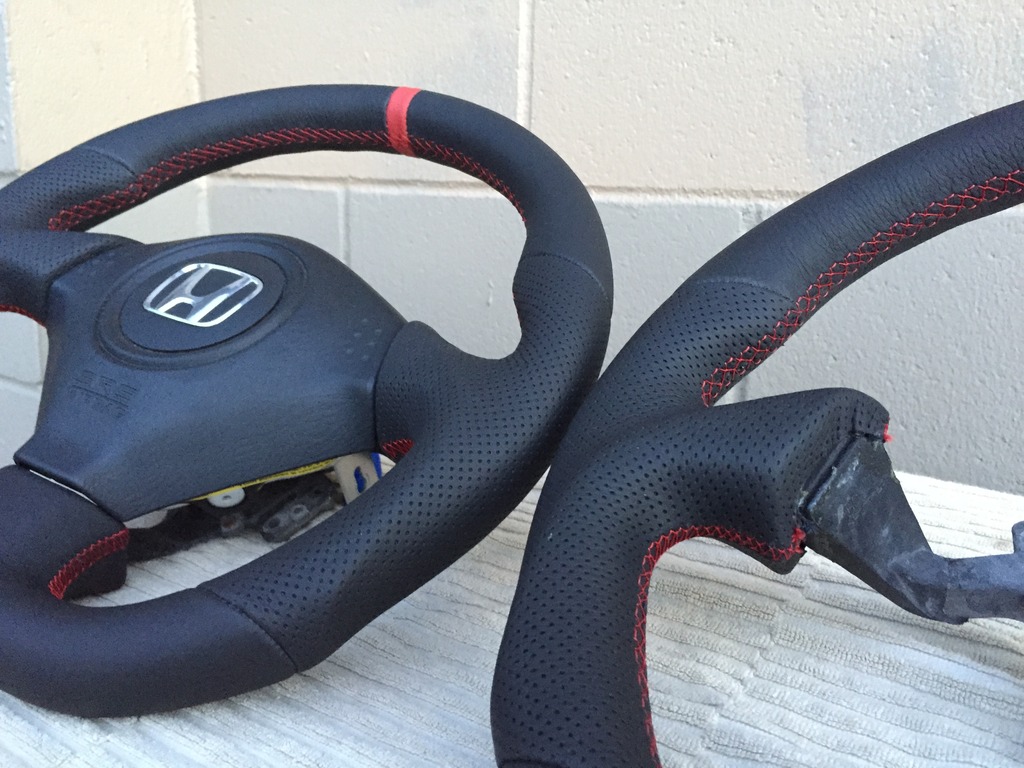 8-10-2015
For month of August - we have a special sale for all of our FLAT BOTTOM versions of our OEM steering wheels!

please PM us for any details!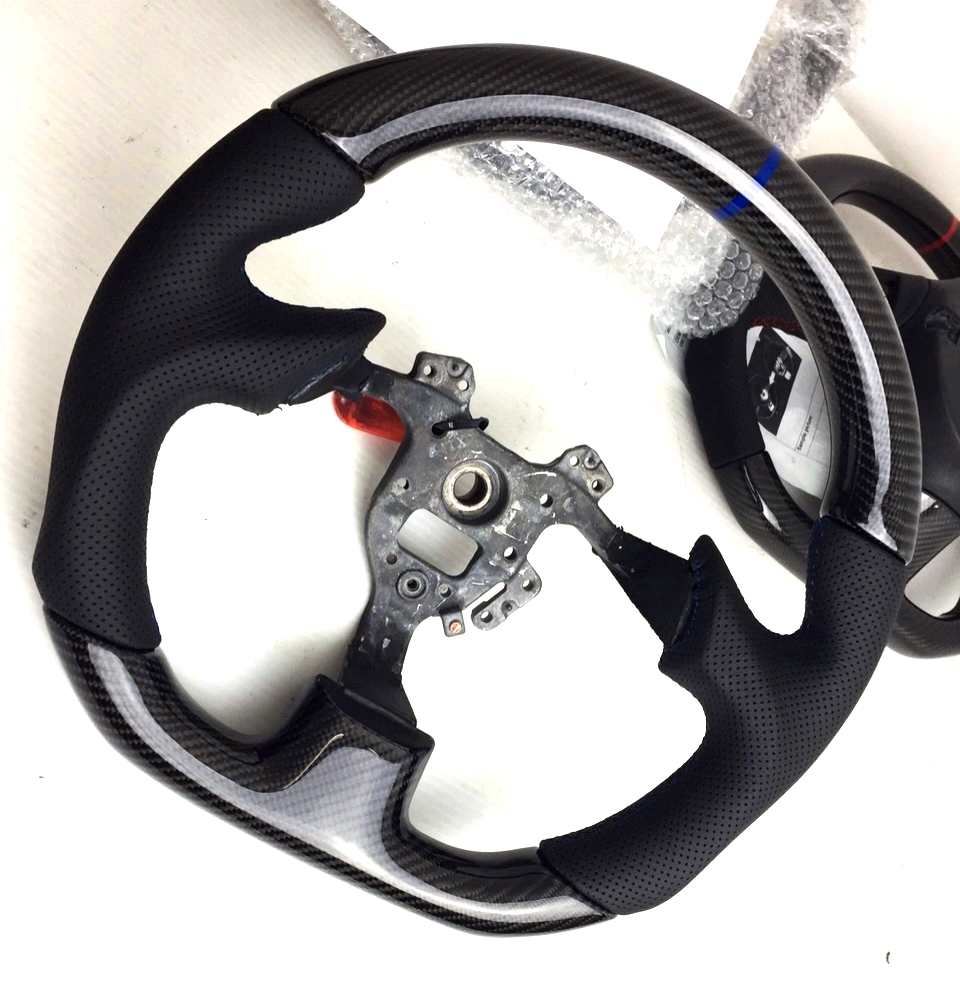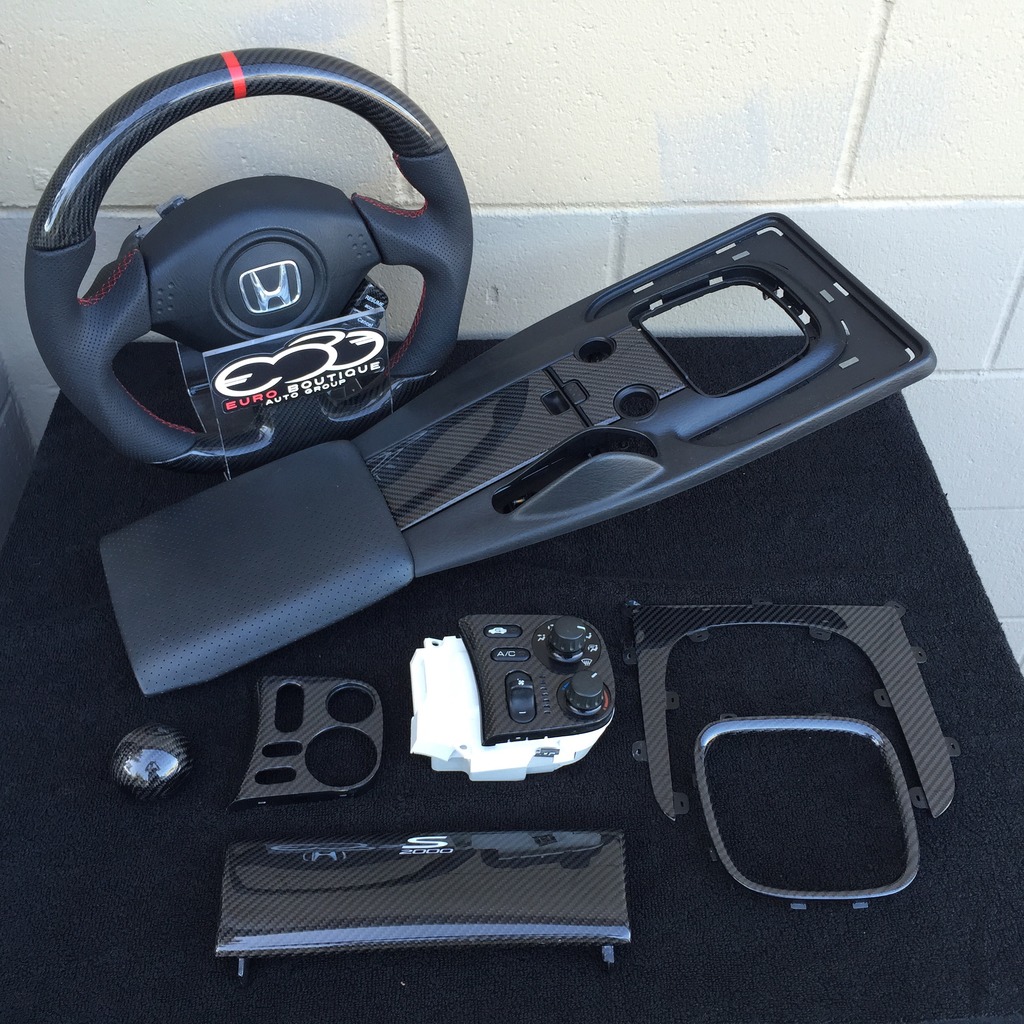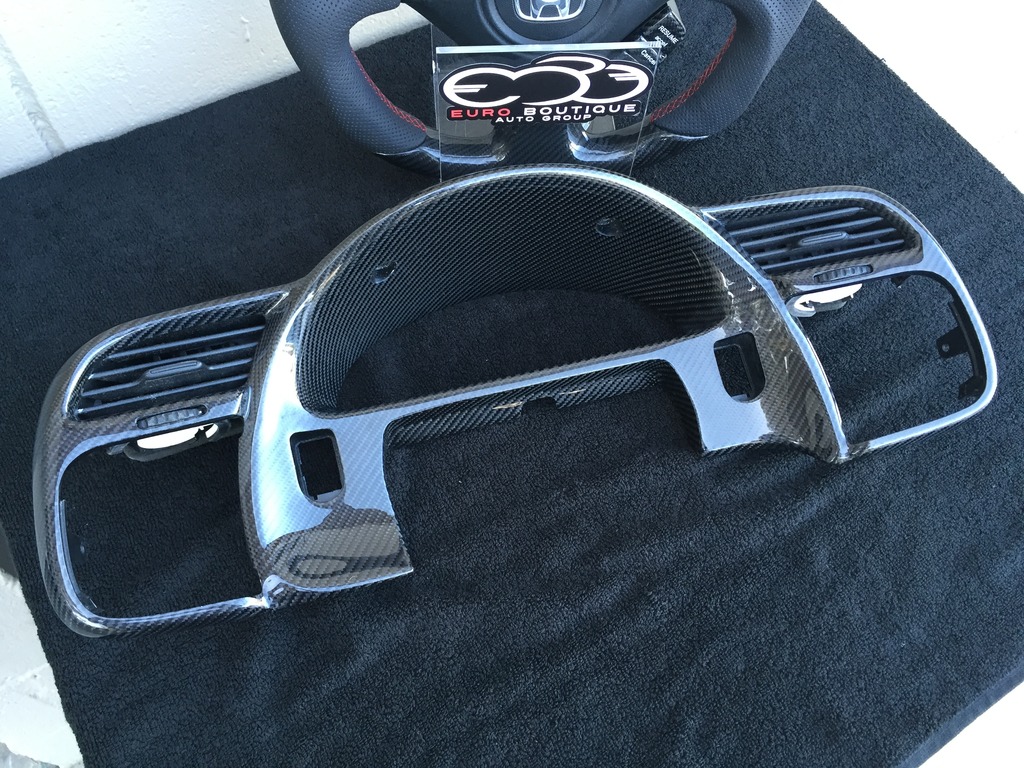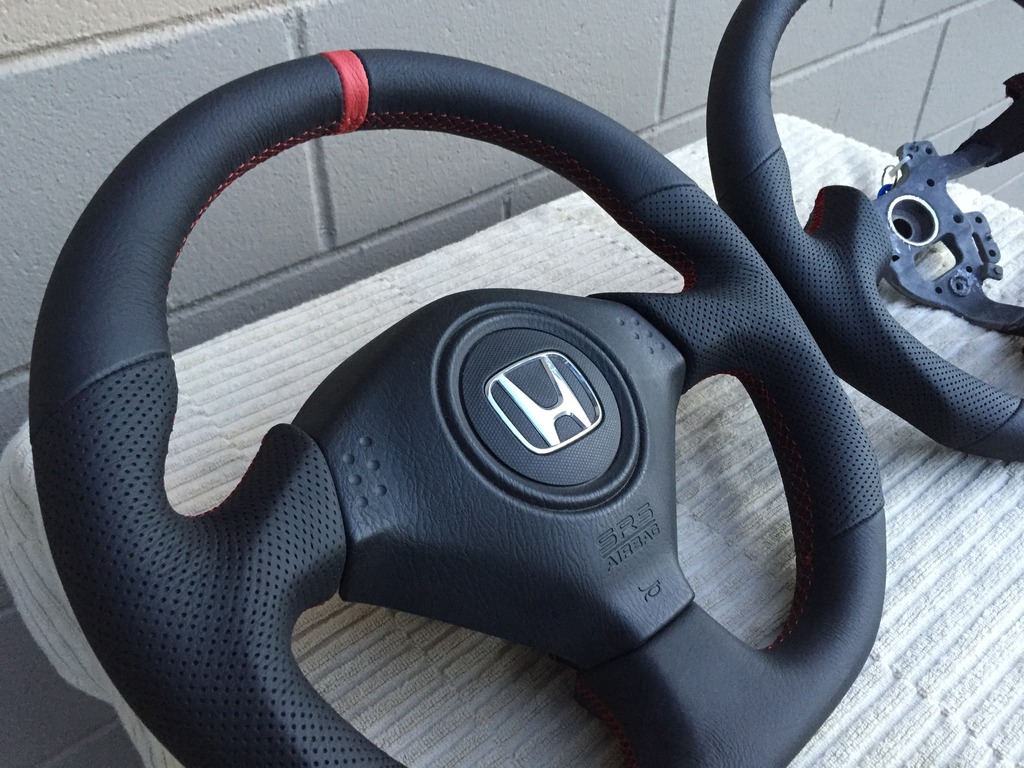 9-18-2015
TGIF!

check out our latest installation with CF parts here:

http://www.s2ki.com/...6#entry23750716


(photo credit goes to radiantm3)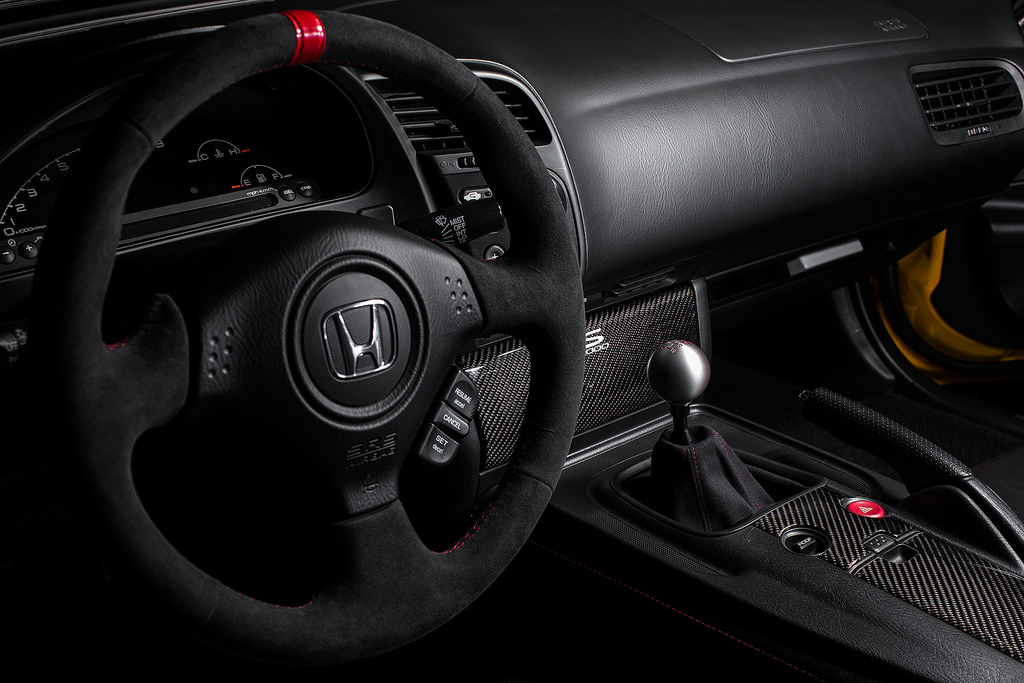 9-29-2015
Laguna Blue s2000 owners rejoice, check out our latest work:

Features: Flat Bottom, Thicker Grip, Non-sport maintains OEM shape, Blue Stitching and Blue stripe: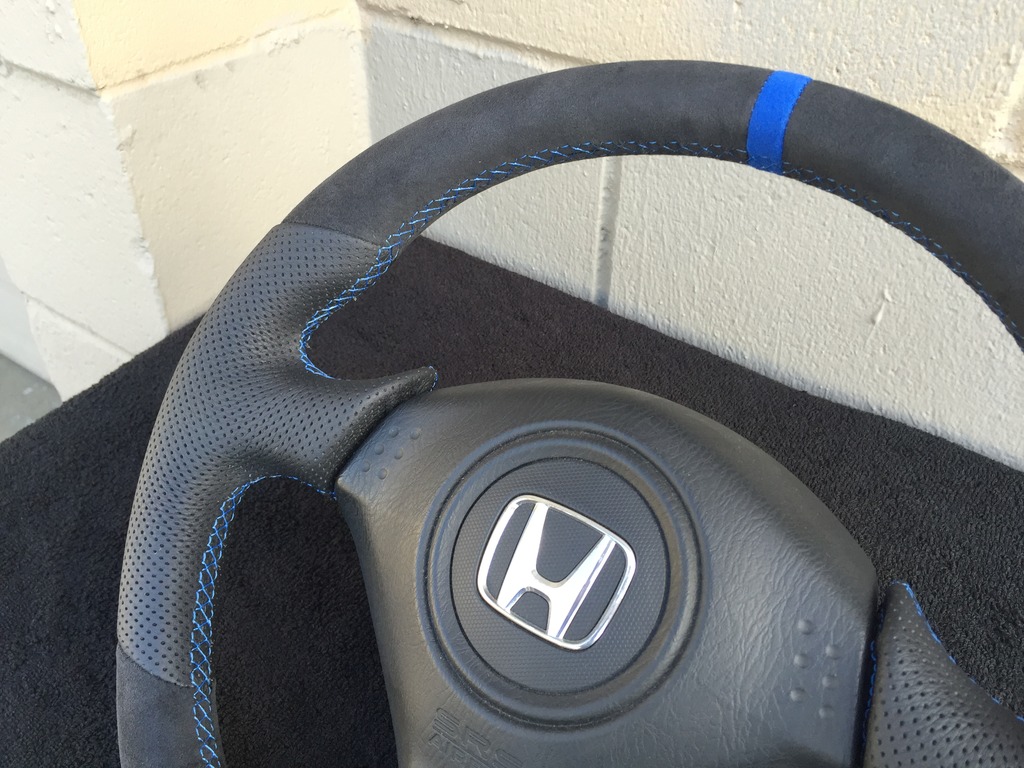 10-3-2015
We have one Carbon Fiber s2000 wheel spec'd to this as shown below available for IMMEDIATE shipment!


thanks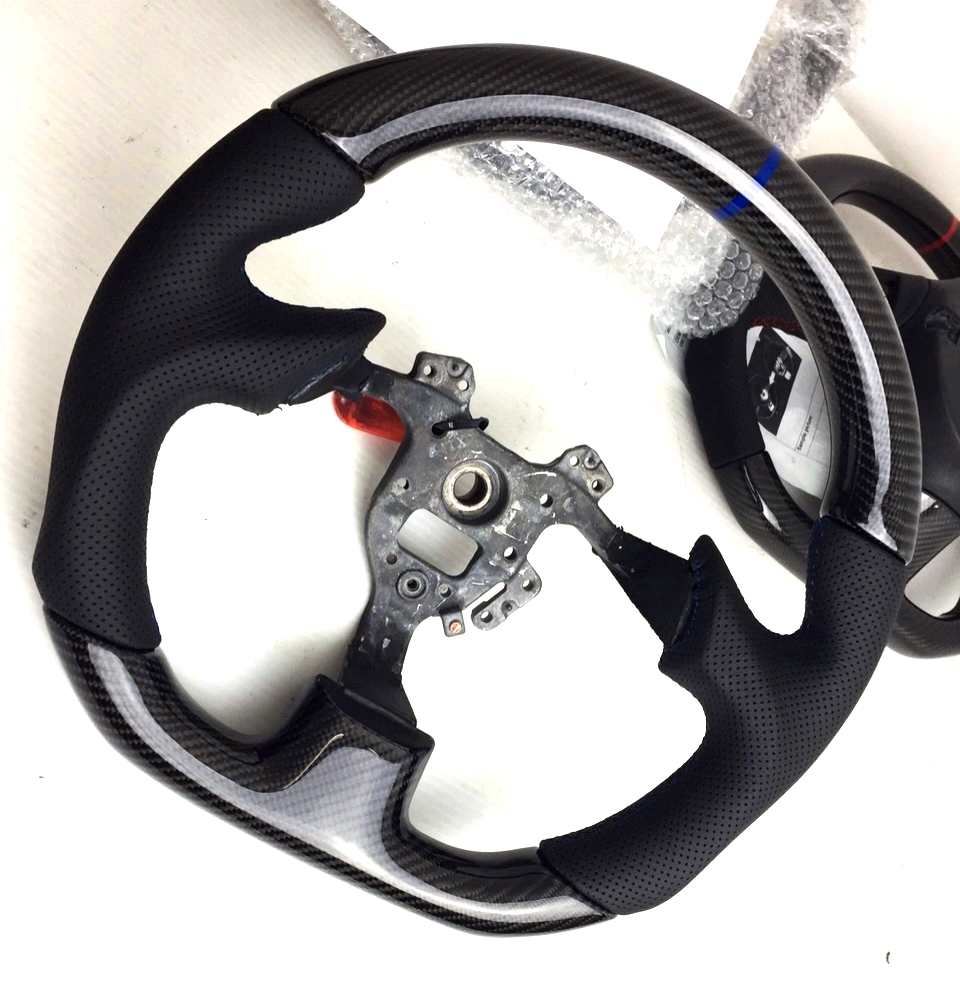 Also if you have an OEM s2000 steering wheel just sitting around collecting dust, PM us as we are always interested in buying extra stock steeringwheels. Price will vary based on condition of your wheel.
10-15-2015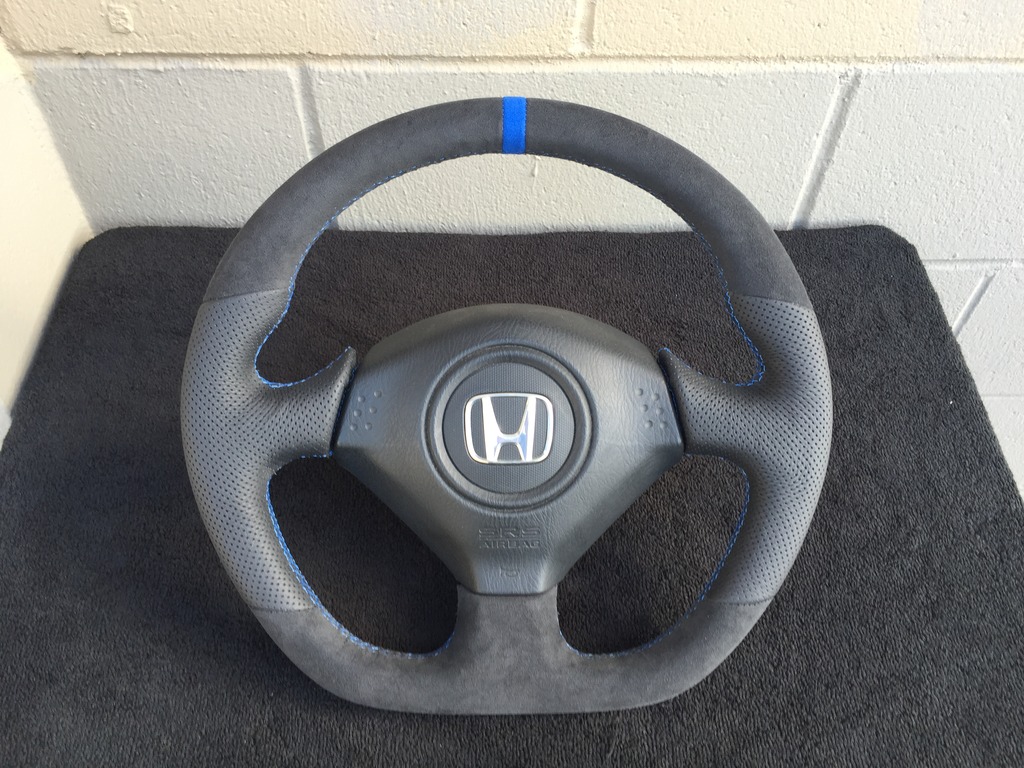 here's another variation with red contrast stitching in a Rio s2000: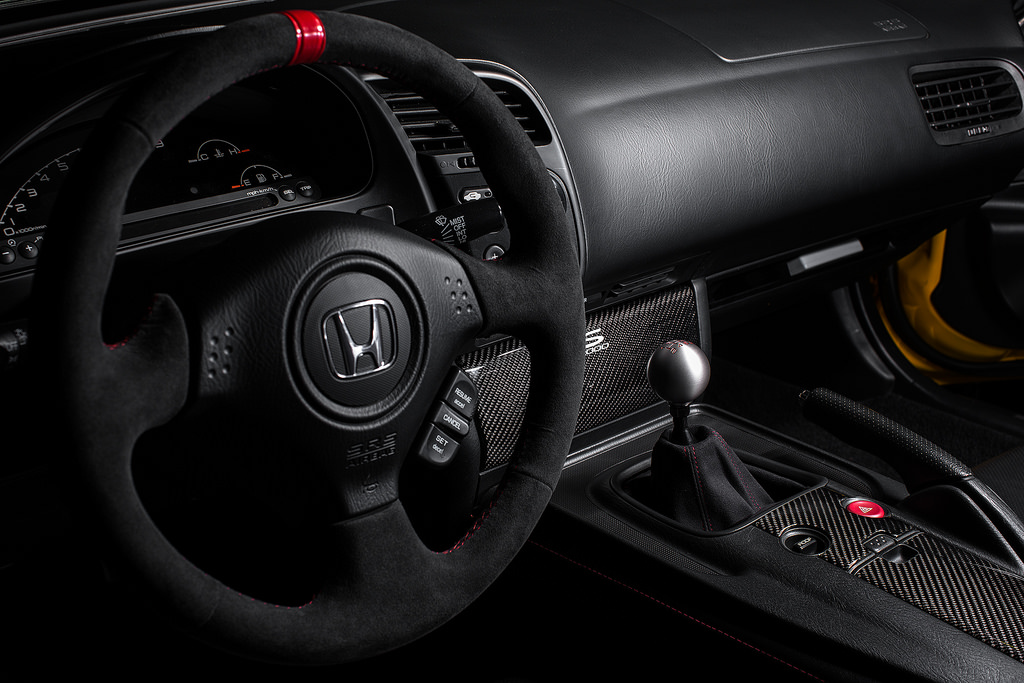 10-20-2015
A lot of you have asked what the differences are in our Non-Sport vs Sport grips, here's a nice side by side comparison.

Both offer thicker grips but as you can see the side grip contours are different:


10-22-2015
Attention all customers who have bought a steering wheel from us, please POST PICTURES of your installed wheel here or email us a few photos for our Instagram site!

If we use your photos we'll send you a small token gift




thanks!

this one came from one of our customers: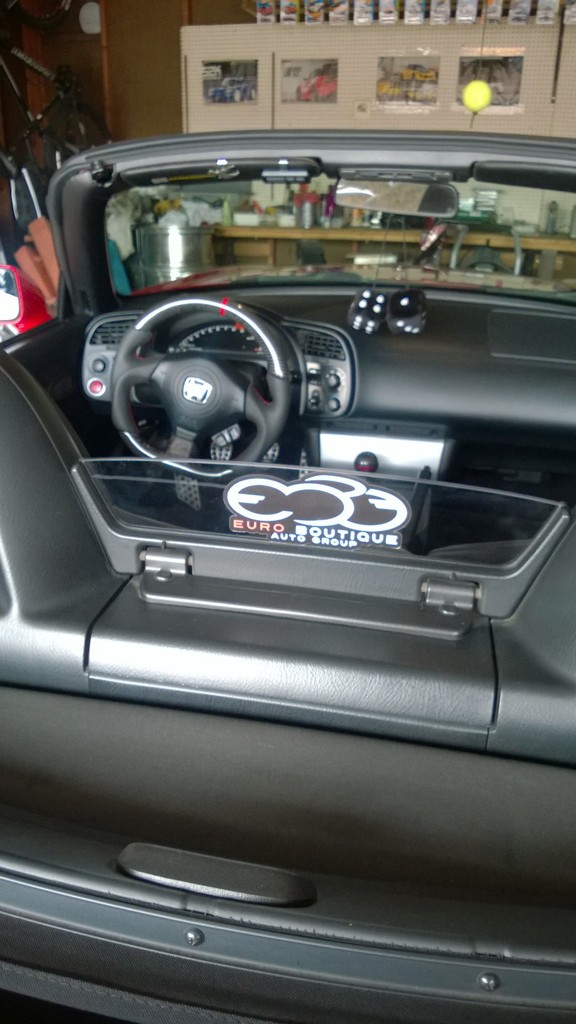 11-2-2015
Customer came to us asking for a thicker grip version of the OEM non-sport grip. We custom built this flat bottom wheel to match his 2-tone interior / silverstone exterior. Keeping the stock airbag, cruise and all OEM functionality was important to this customer. All of our steering wheels employ the stock airbag so you lose nothing, gain a better thicker grip wheel with some added leg room

Before: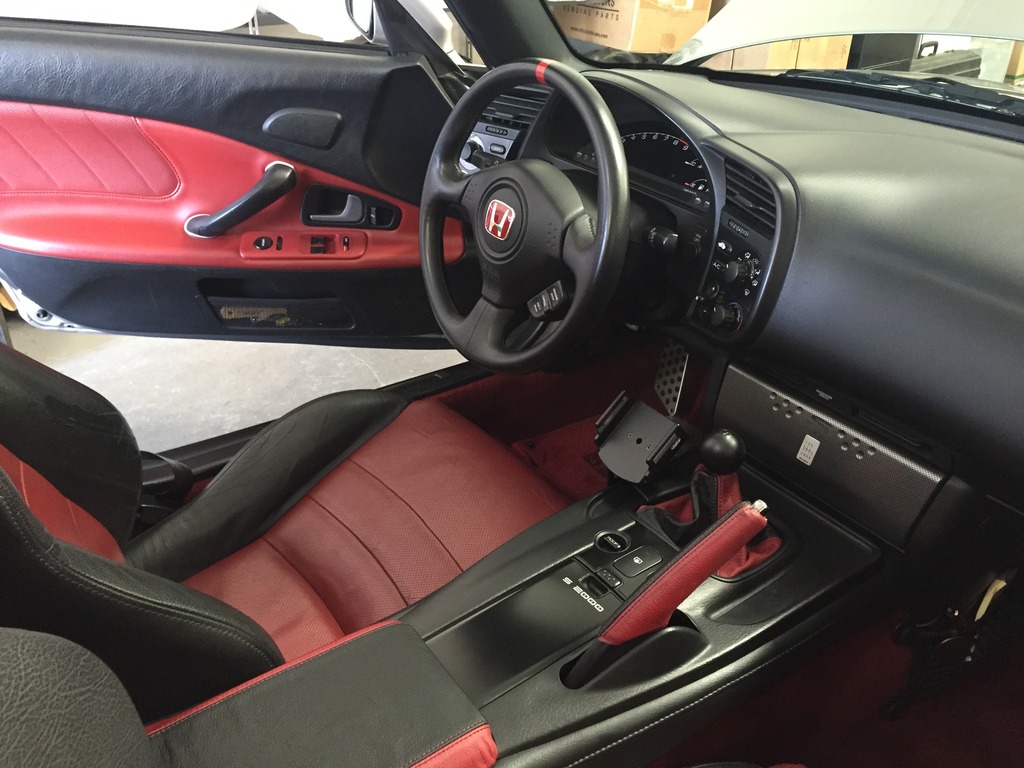 After: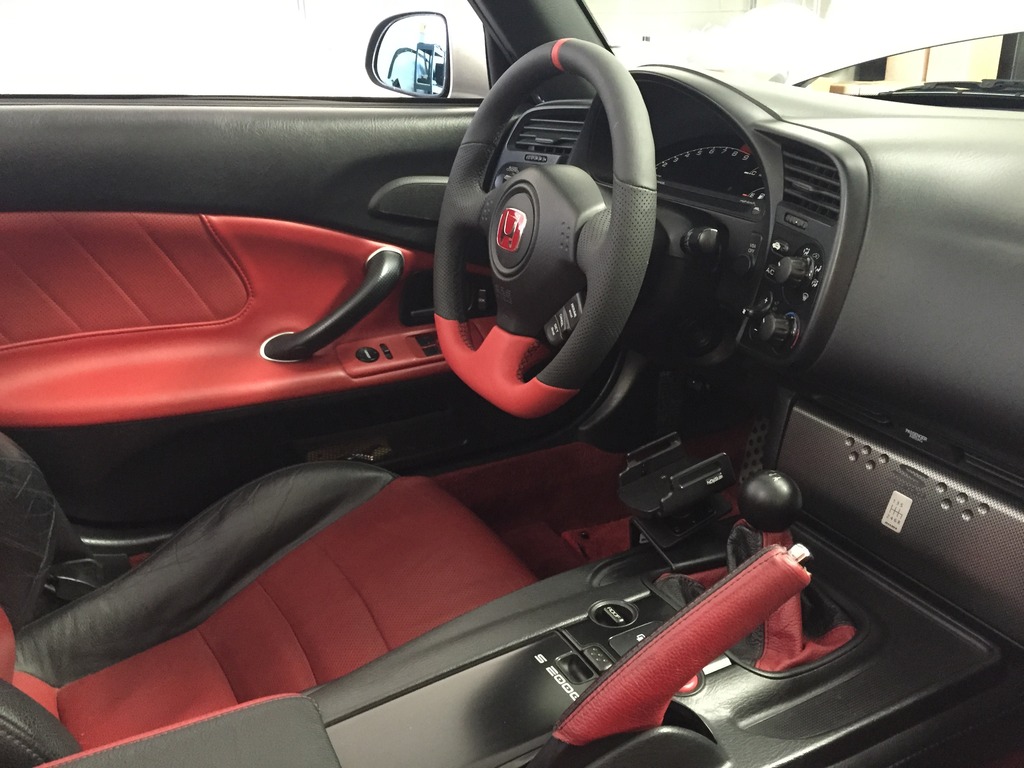 11-23-2015
Black Friday SALE ENDS in 7 days! PM us for any details!

Still time for us to build any custom steering wheel for delivery in time by X'mas if we get the order in by this week.


thanks again s2ki


Quick comparison, both wheels are our custom flat bottom OEM steering wheels that retain your OEM airbag and cruise control:

LEFT is Non-sport version, thicker grip, full black suede with red contrast stitching and stripe

RIGHT is Sport version, thicker grip, full leather with red contrast stitching and stripe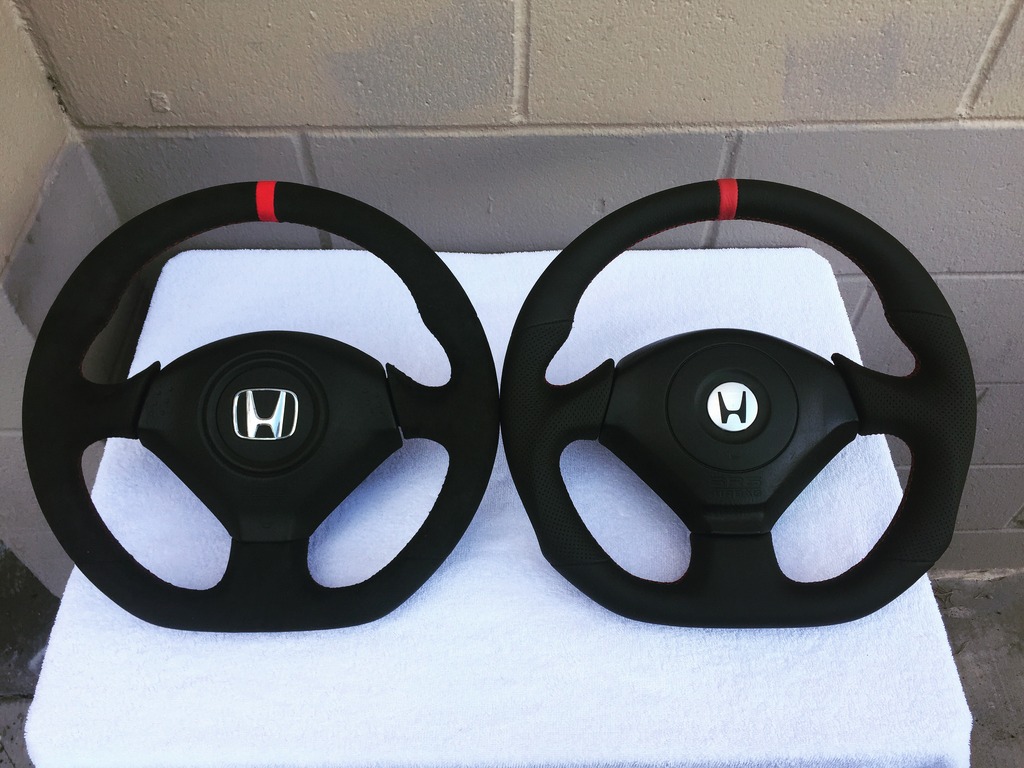 12-15-2015
thanks our email and contact is listed on our website too!

www.euroboutique.us

euroboutique.us@gmail.com


We have a few s2000 wheels in stock for immediate shipment, please let us know how we can make your car stand out. A steering wheel upgrade is pretty dramatic since you touch and see it on a daily basis. Some customers even tell us their car turns faster



Rio Yellow s2000 getting one of our suede/leather wheels: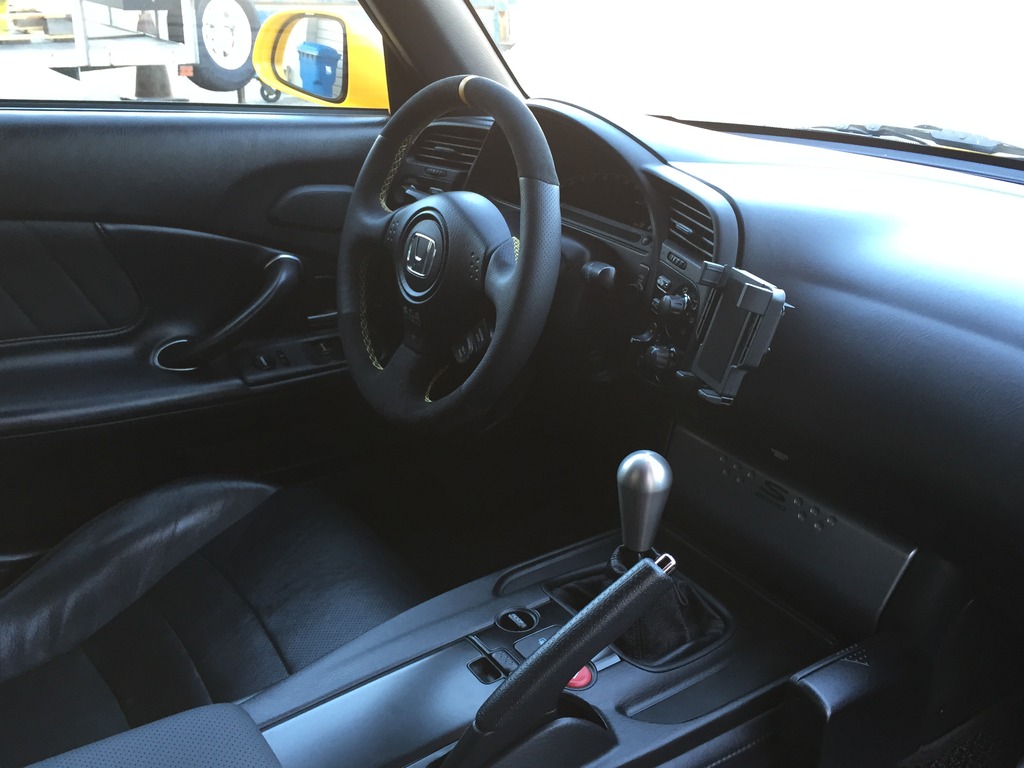 12-29-2015
Full Ultra-Suede Flat bottom thicker grip steering wheels for s2000 owners:

Blue and Red accents, which do you guys prefer?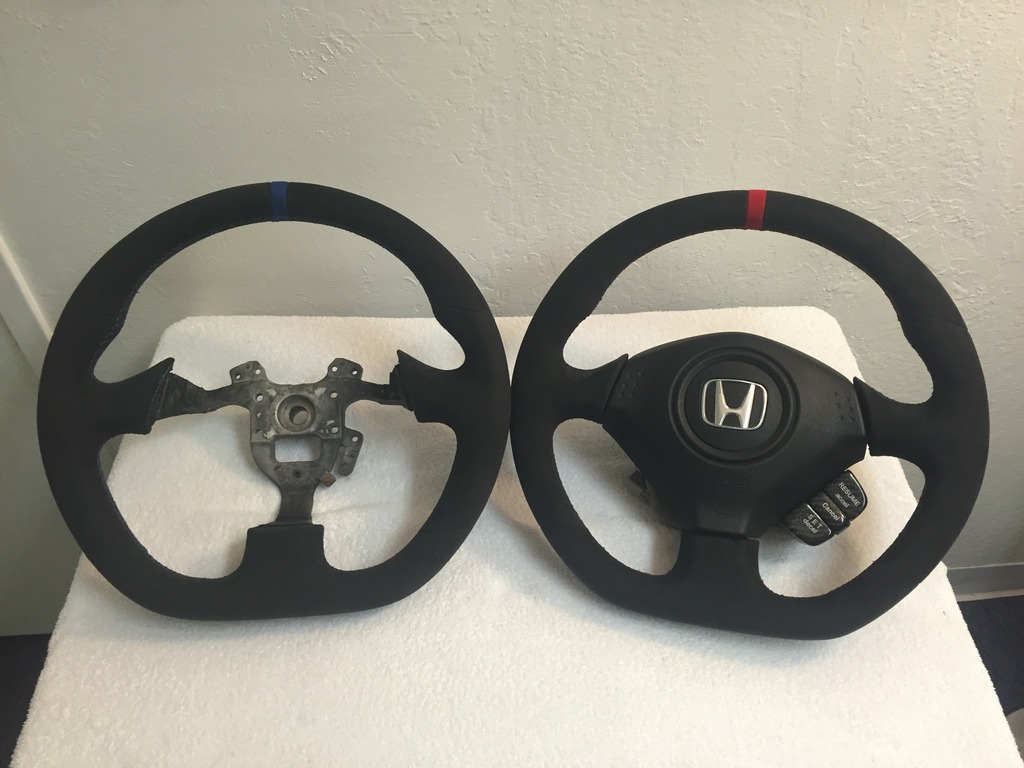 2-4-2016
PM's replied!

We have both round and flat bottom wheels in stock ready to ship!






2-5-2016
We can't PM you so please email us: euroboutique.us@gmail.com
Happy Friday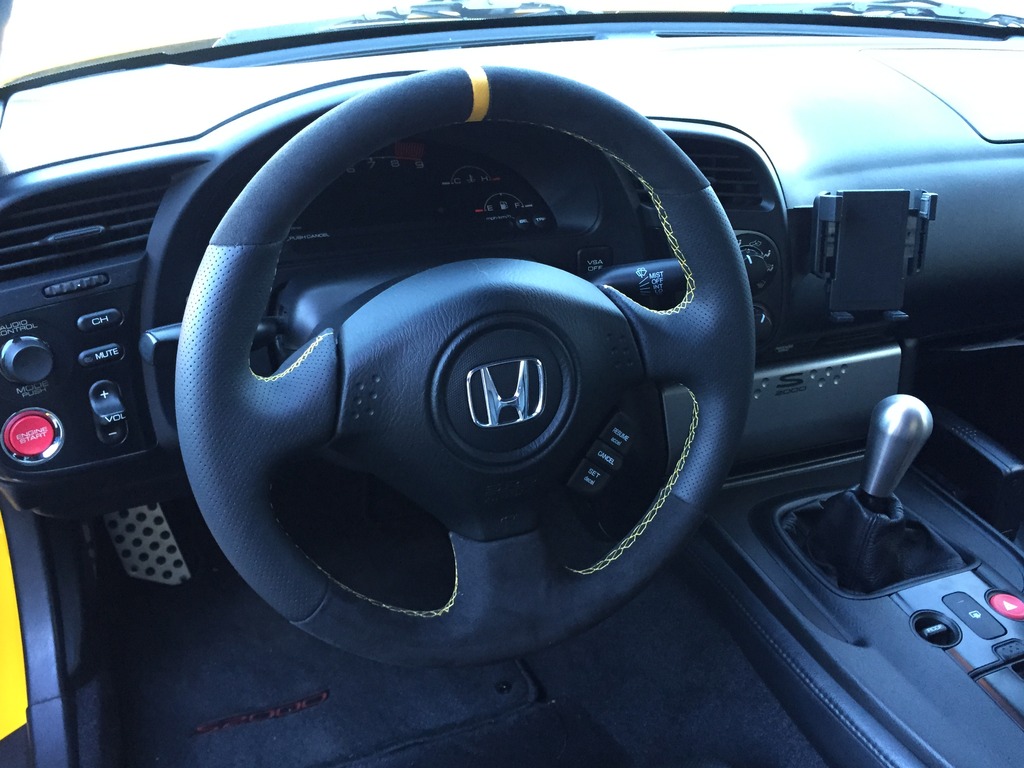 Colors can easily be changed but both are nice wheels, here's a side by side comparison:
Non-Sport (left) vs Sport (right):
2-12-2016
2-18-2016
this wheel is in stock ready to ship brand new:

PM us to build your ultimate steering wheel!! We stock s2000 wheels here and offer a core exchange program so we can ship you a competed wheel FIRST - then you ship us your stock wheel back after you have made the swap. PM us for details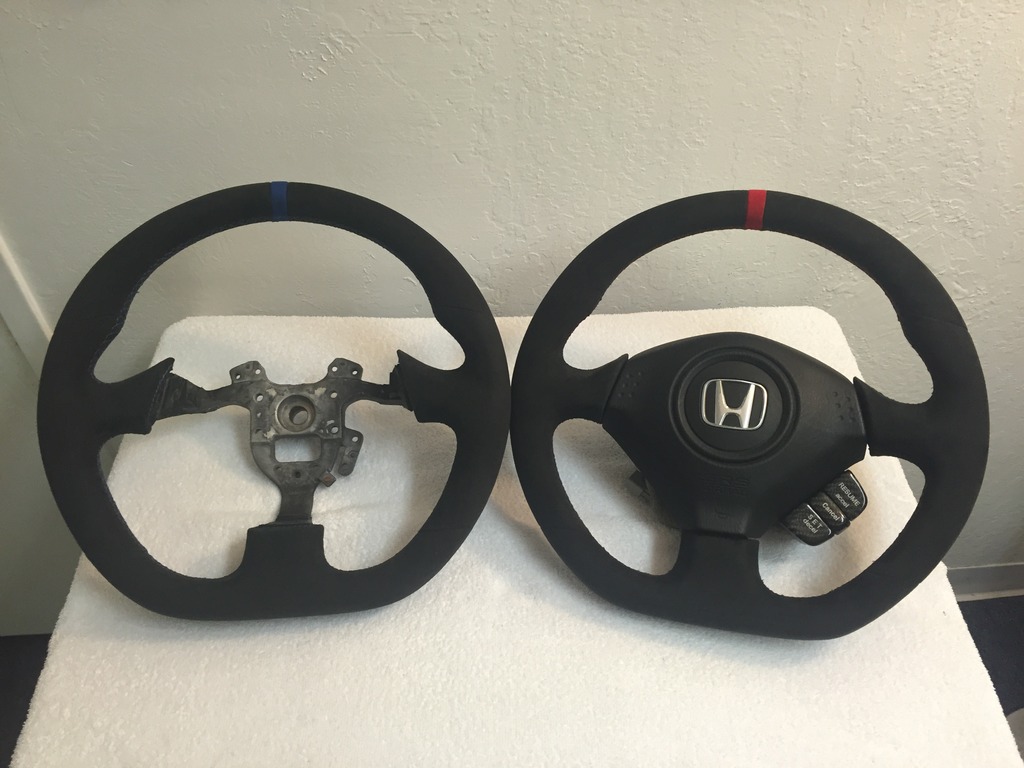 3-10-2016
Had a local s2000 client drop by to get his hardtop installed - when he saw our carbon OEM steering wheels on display, he loved it so much and we ended up installing one for him



here's a side-by-side shot of his old OEM wheel (left) vs new flat bottom carbon fiber wheel (right).

As you can see, we are transferring all his electronics and hardware from the stock wheel over to the new carbon wheel.

Wheel specs shown are:

Carbon Fiber
Sport thicker grip
Flat bottom
Knurled top edges
Perforated leather side grips
Blue contrast stitching
Blue stripe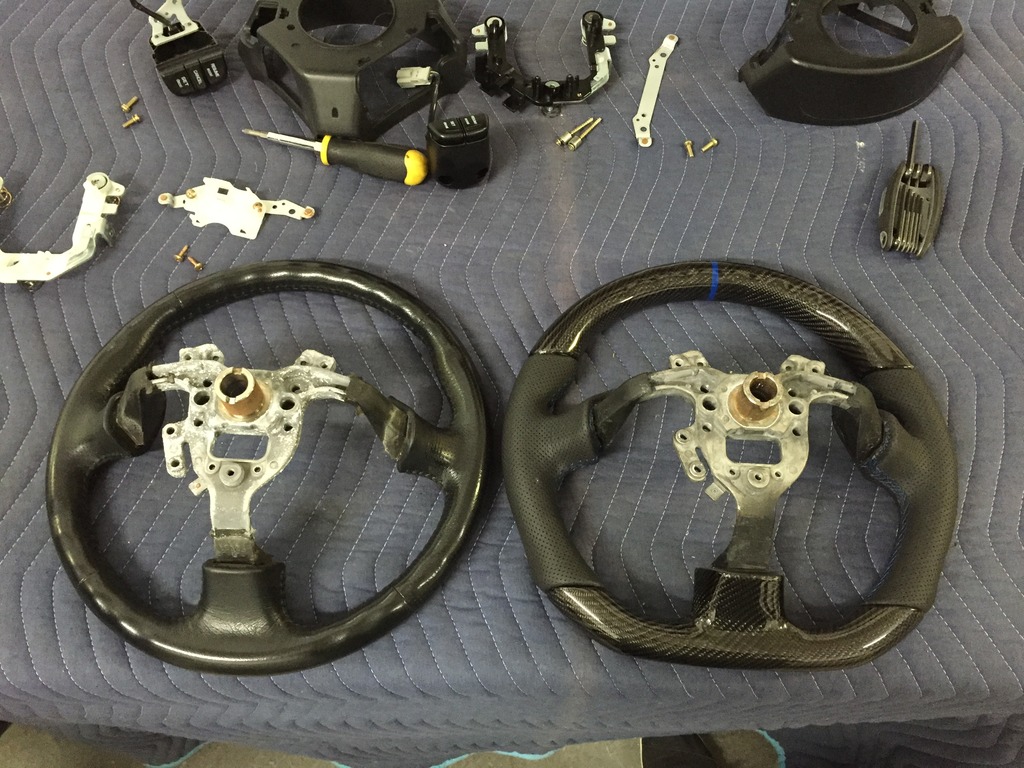 3-16-2016
Customer sent us this photo of our wheel installed: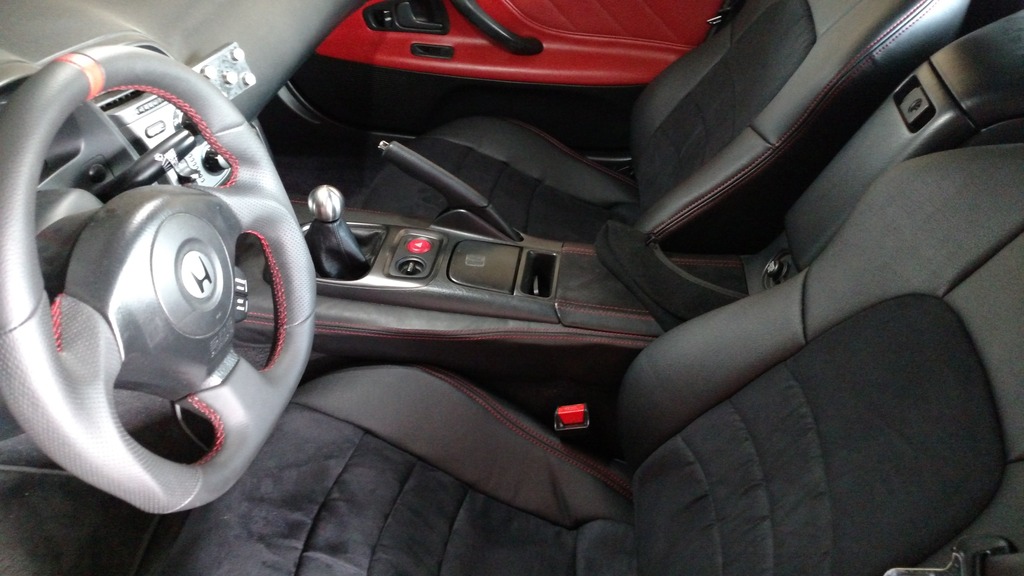 3-29-2016
Cockpit of our demo car showing what yellow accents can look like:
4-1-2016
Actually our wheels use a very high grade Alcantara material that is quite dense and holds up well to track use. We have a lot of guys use our steering wheels specifically for the track with no issues years later.

A good mix would be to do Alcantara only on the side grips where you need more grip and do leather or carbon on top / bottom where it would be more durable for day-to-day driving.

This is a popular build spec to use separate materials to match your type of driving usage.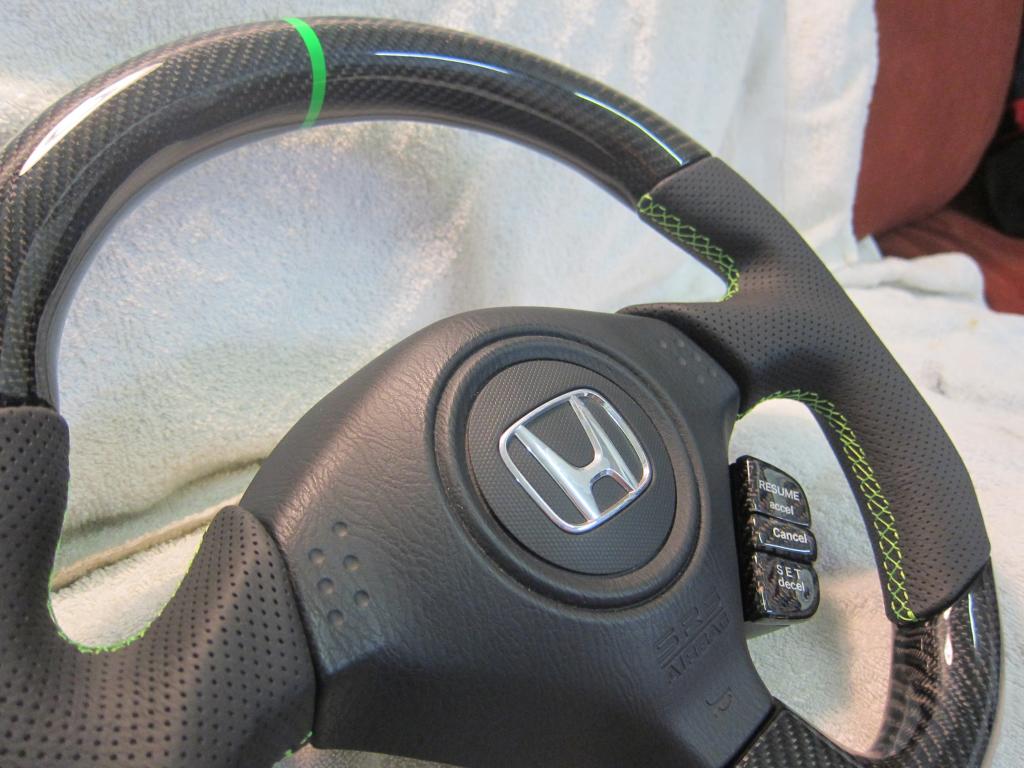 4-8-2016
Our latest build is a VERY SPECIAL wheel, we changed the shape and gave it both a flat top and flat bottom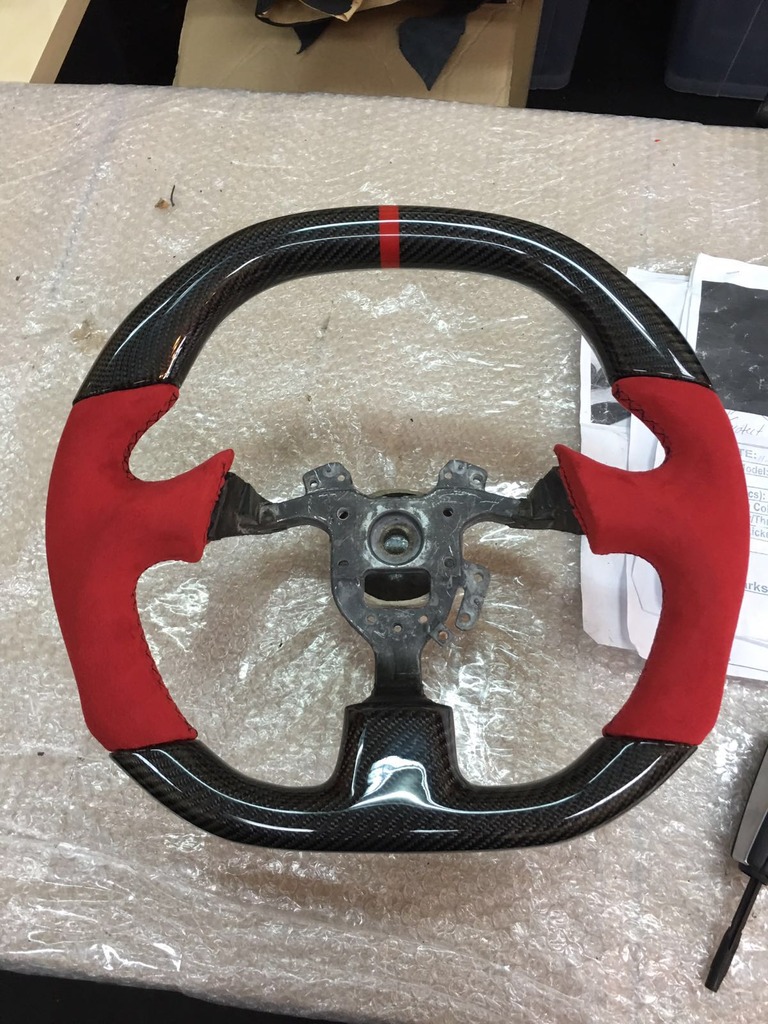 PM us with your special request and we will build you any custom steering wheel you want, guaranteed you will love the wheel!
4-19-2016
Finished product ready for install - not shown is the matching AP1 carbon fiber cruise control we built for this order.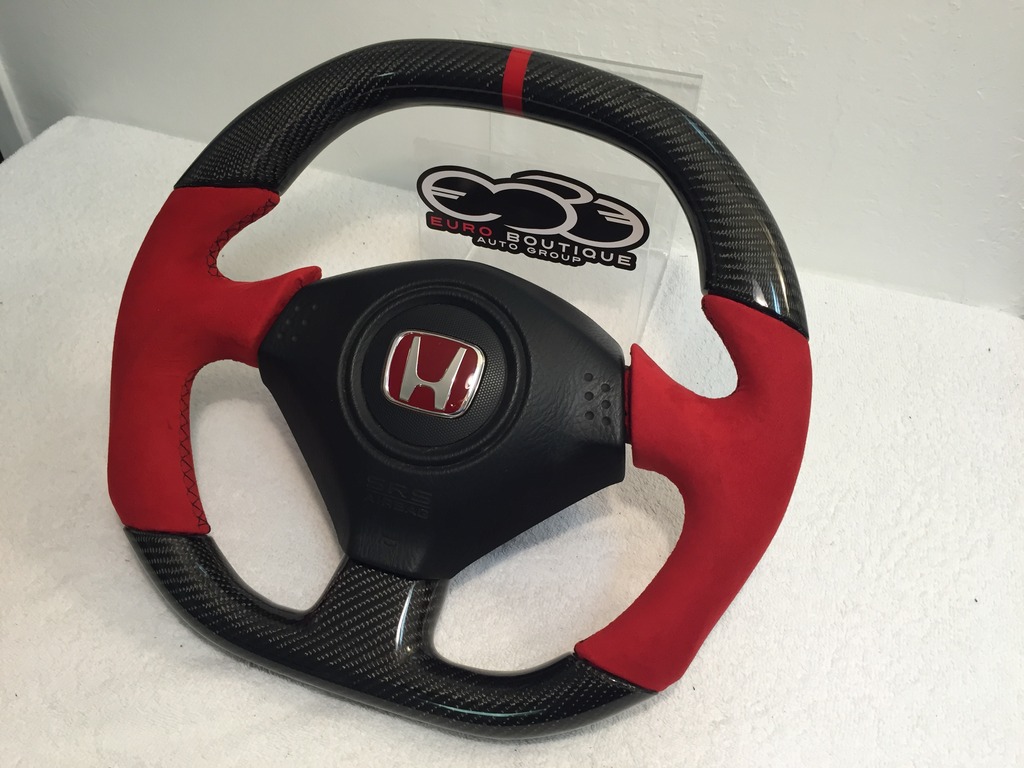 We have a few flat bottom CF s2000 steering wheels in stock ready to ship with no wait time. Normal lead time is 6-8 weeks to order.
4-25-2016
In stock and ready to ship in the most popular color combos!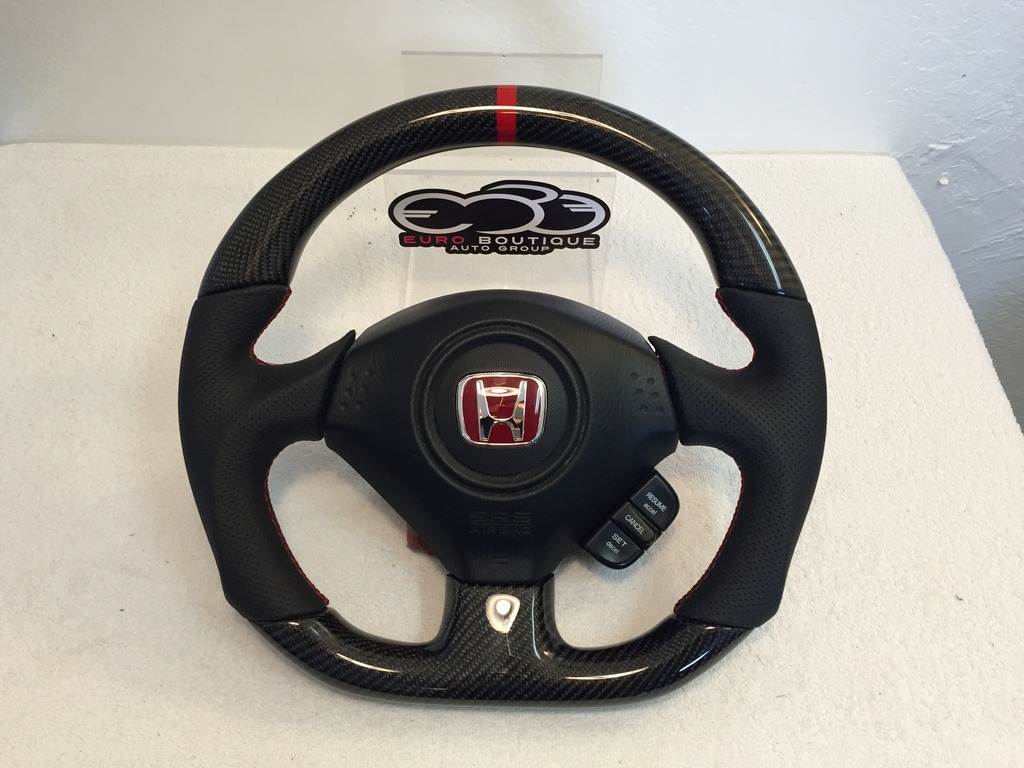 Many have asked or wondered about our carbon quality so we wanted to share a photo as we also build a lot of custom steering wheels for the R8, Ferrari, McLaren and Lambo communities.

here's a custom wheel, can you guess for what car?


6-9-2016
PM us for custom leather shift boot, shifter surround garnish and other pieces to complement your steering wheel!

This entire setup is for a customer on the other side of the pond -

a) OEM Flat bottom sport grip Alcantara/Perforated leather wheel with red stitching
b) Custom Leather/Perf leather shift boot with red stitching
c) AP1 Carbon fiber shift surround garnish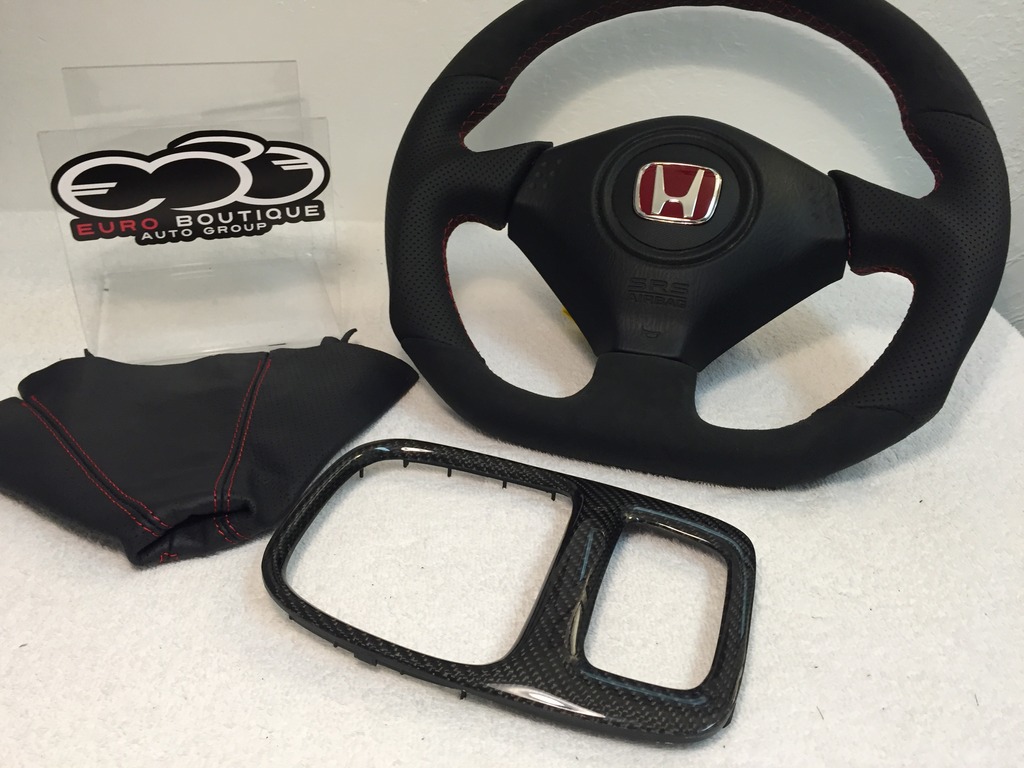 6-14-2016
Besides steering wheels we can also do other interior trim custom made per request! We also do custom leather, alcantara and other materials for shift boots, e-brake handle, etc.

thanks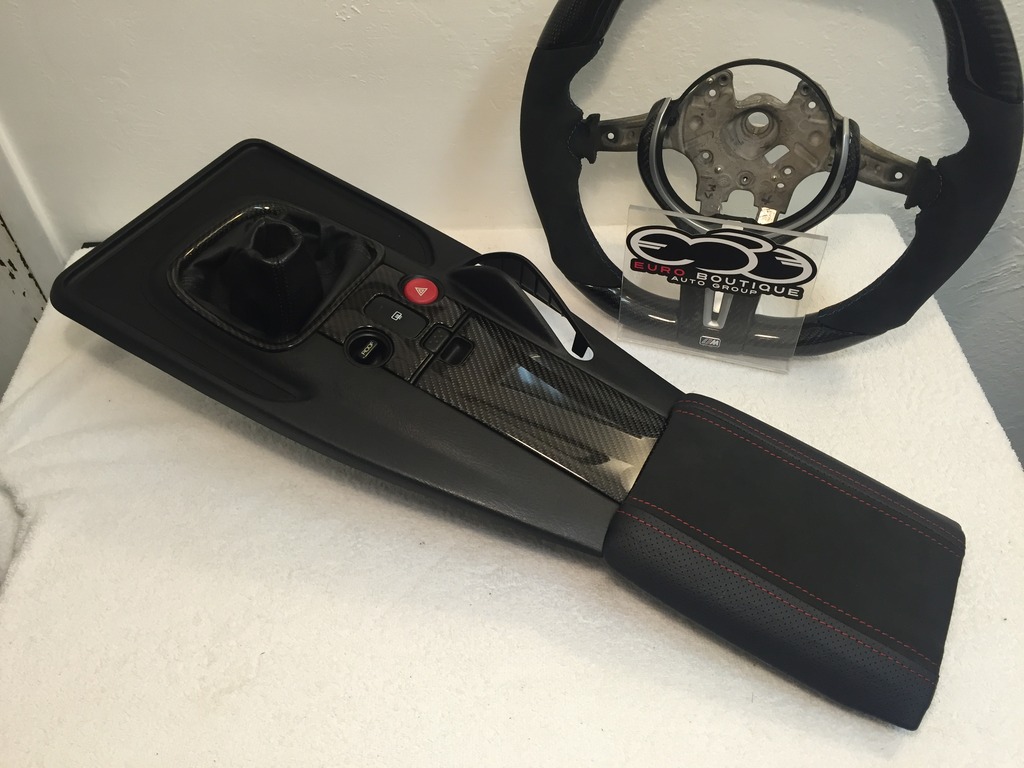 6-20-2016
PM's replied! We have certain most popular wheels in stock.


thanks


Besides steering wheels we also make really trick hand made carbon fiber interior trim piece such as this one for a CR owner: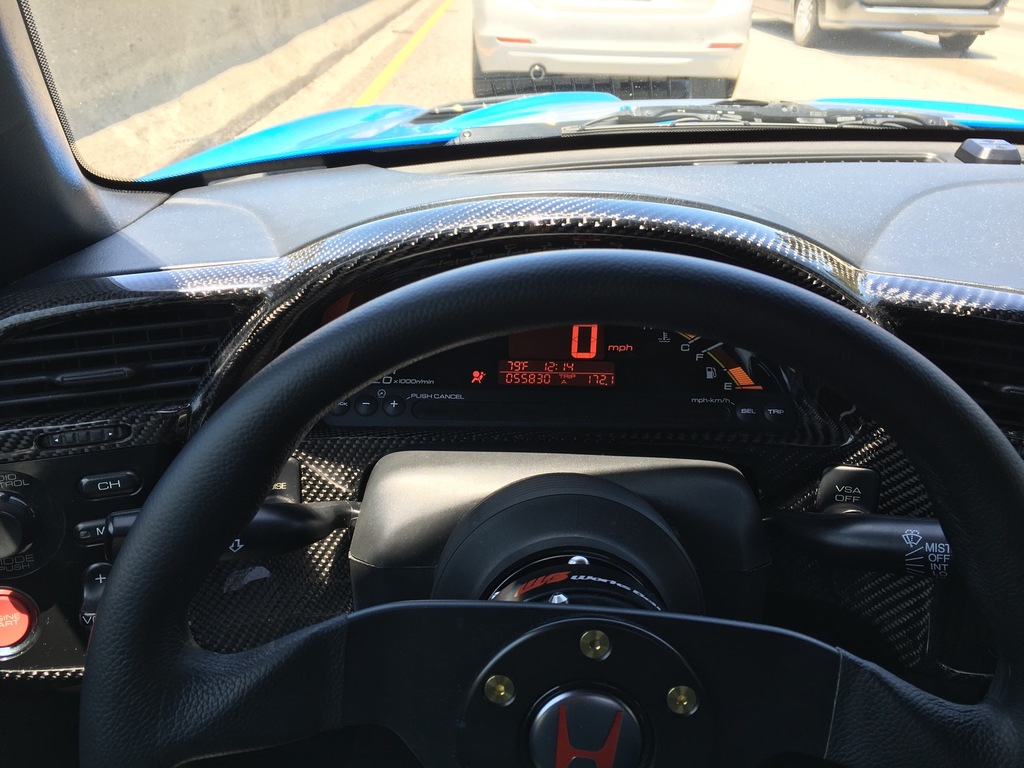 6-23-2016
We also build wheels for EVOX, STi, GTR, R8, NSX, M3, M5, pretty much any car on the market!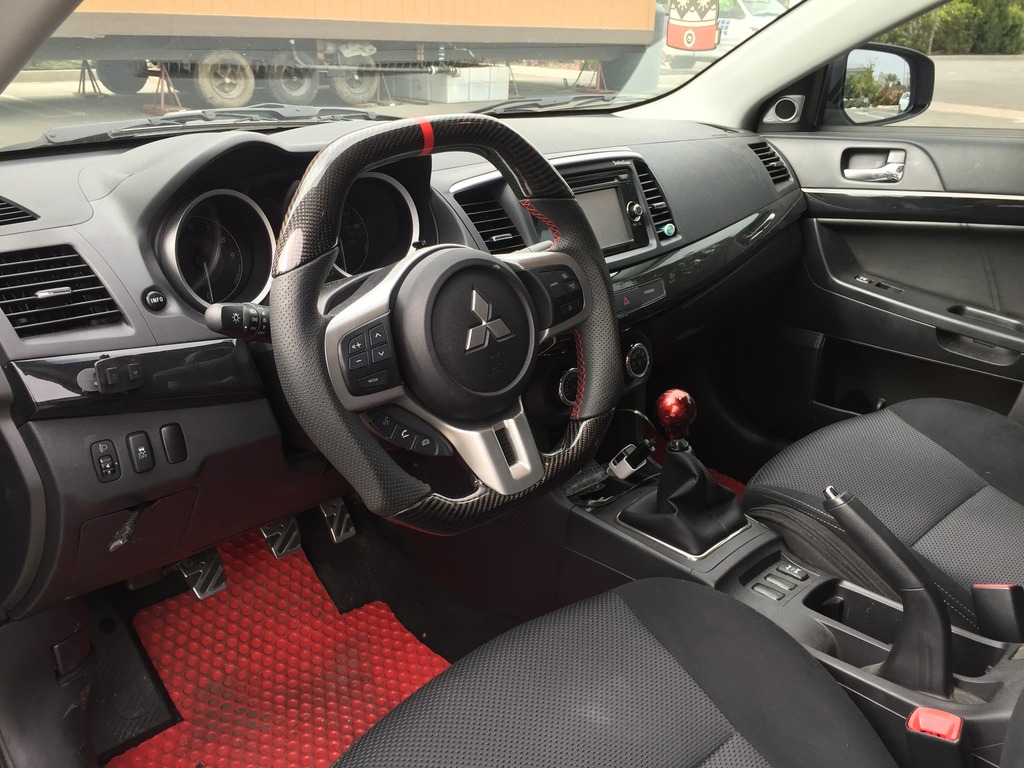 PM us for all custom work, we stock some s2000 wheels ready to ship.
All custom builds welcome - let us know what WE NEED TO DO to make your s2000 stand out!
7-7-2016
Hope everyone had a good 4th!

Wanted to share one of our most popular combos: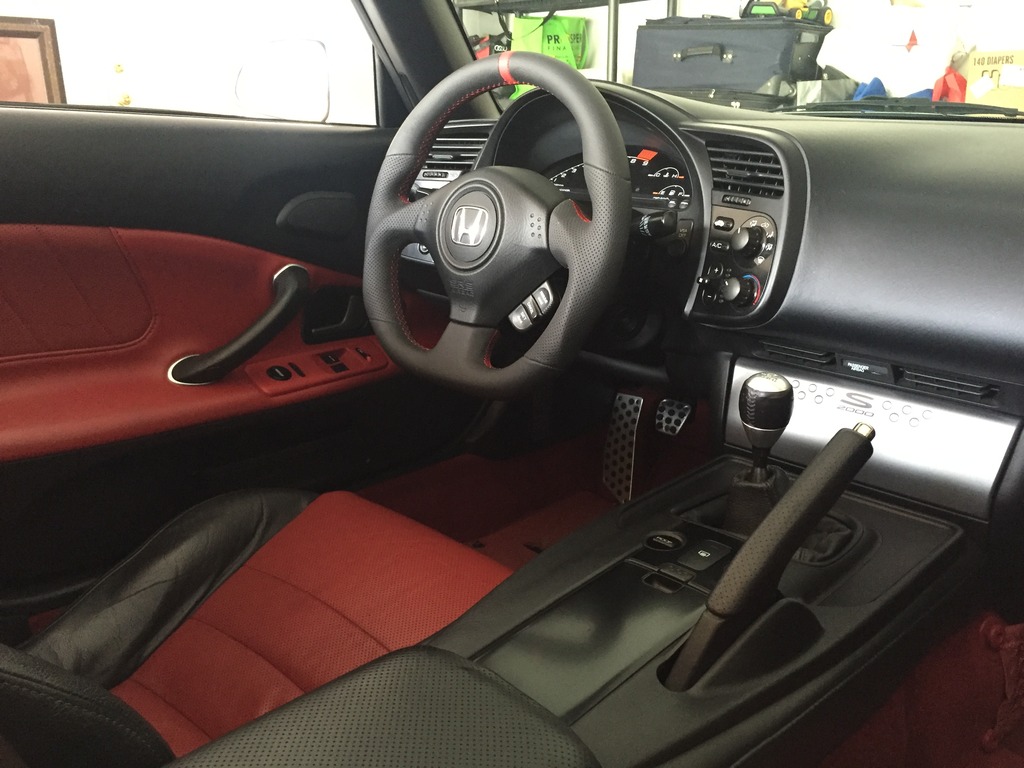 7-20-2016
Wanted to share a recent build we did for a GTR (please keep in mind we build wheels for all popular JDM sports cars, Euro, exotics too)

Check out Instagram @EuroBoutique

www.euroboutique.us


thanks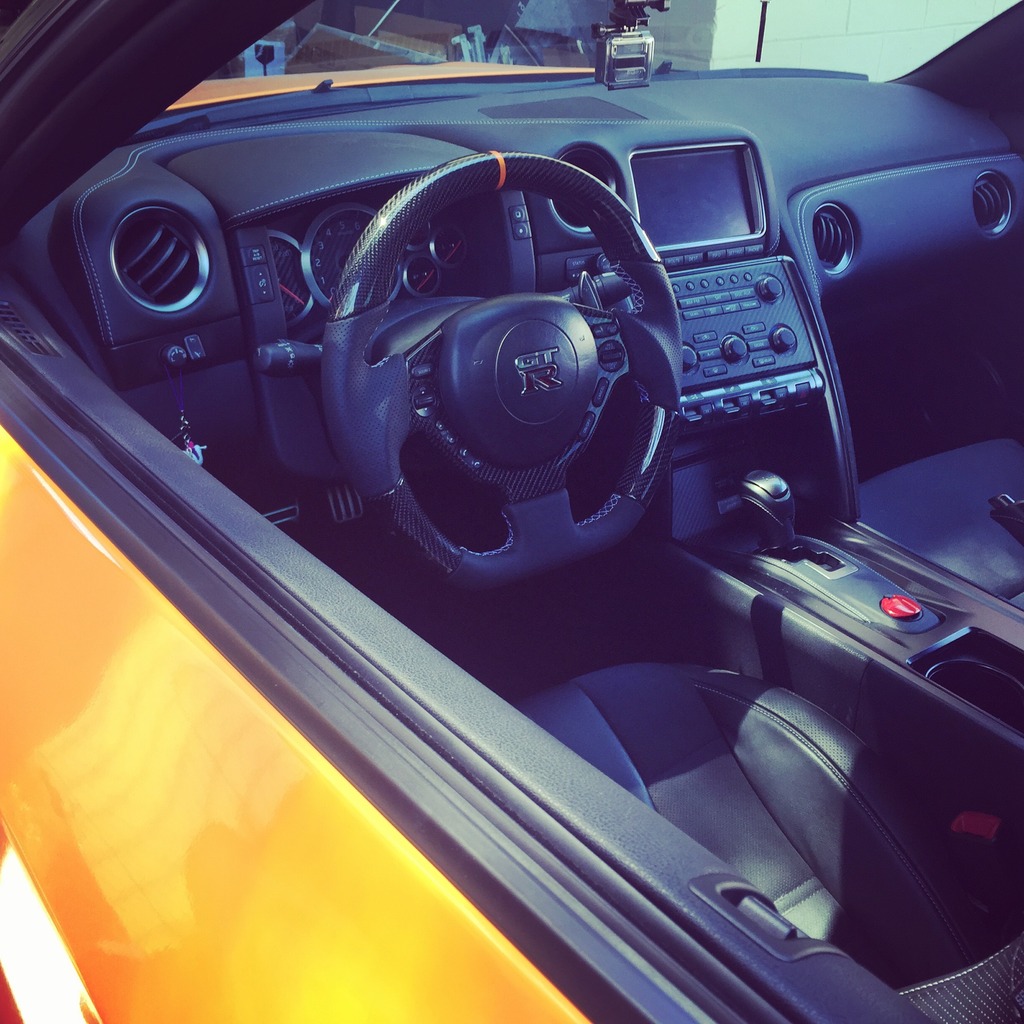 7-27-2016
s2000 full alcantara, thicker grip steering wheel perfect for track duty or show car!

The flat bottom gives added leg room too!


www.euroboutique.us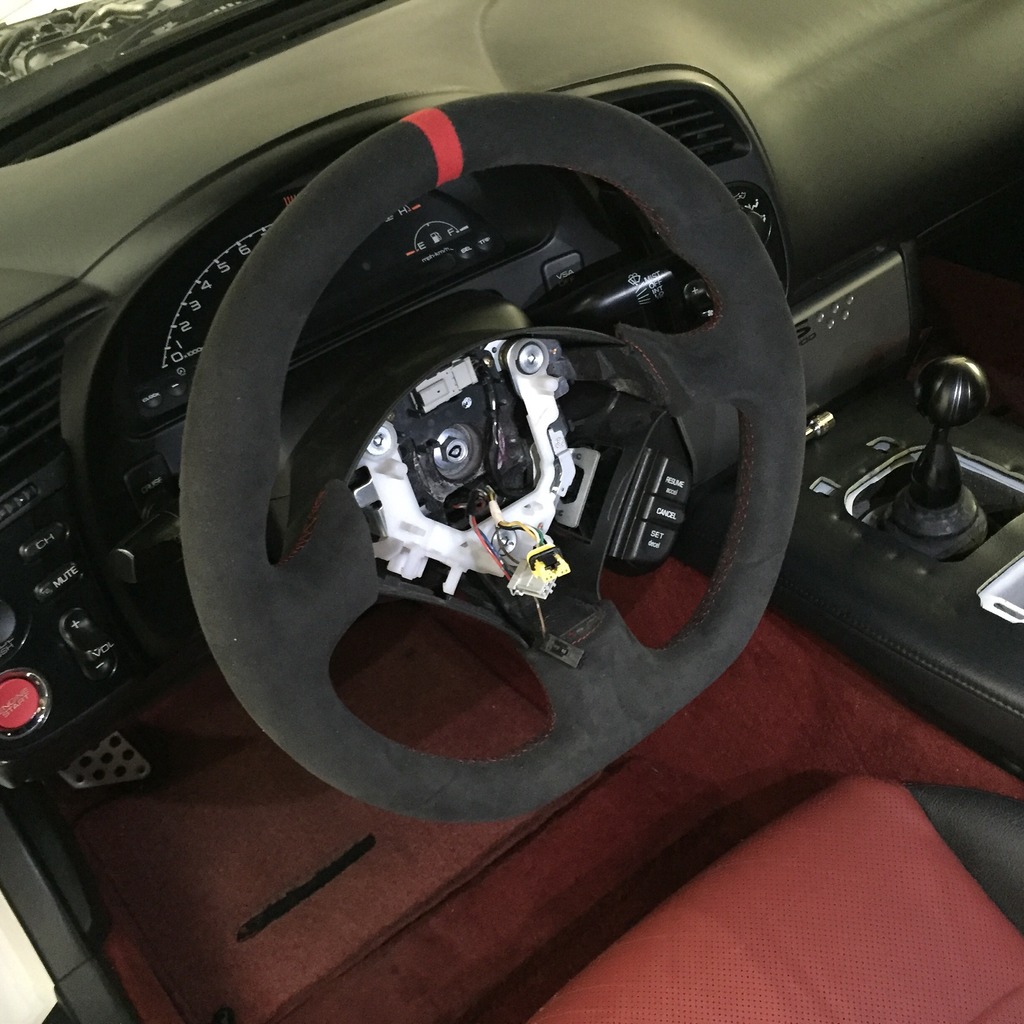 8-2-2016
Wanted to share a pretty trick custom build for an s2ki member's build:

This one features:

Thicker Sport Grip
Flat top + flat bottom
CF top/bottom
Red Alcantara side grips
Black contrast stitching
Red Stripe

Matching CF cruise control buttons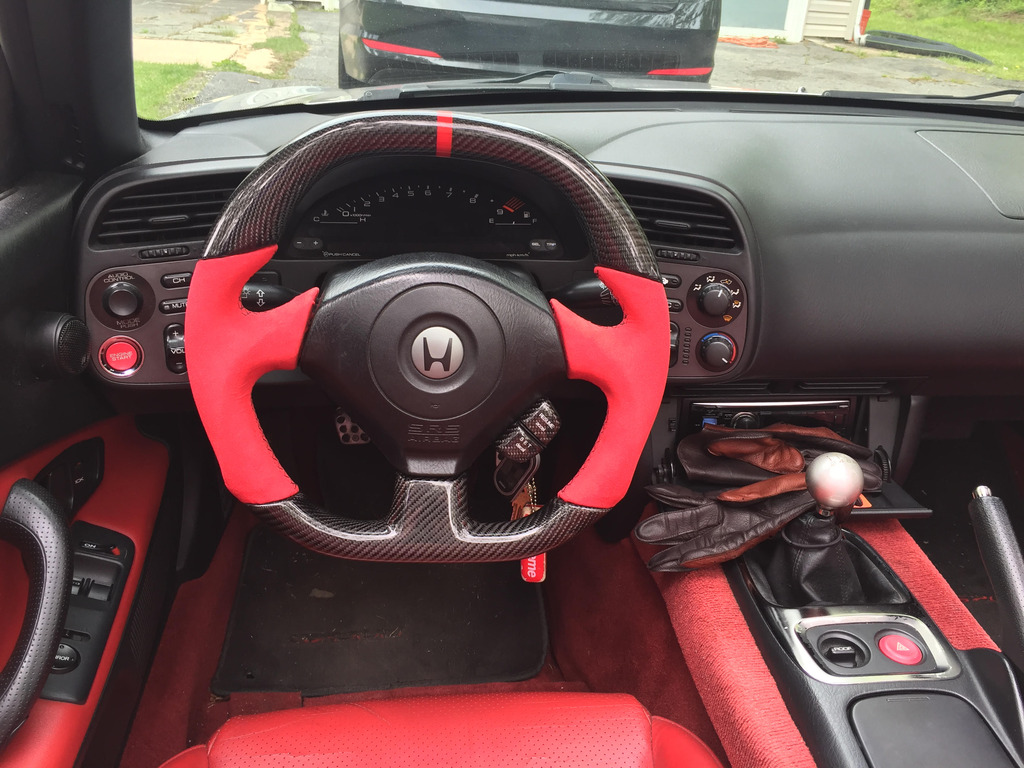 8-5-2016
Happy friday!

PM's replied, wanted to share a unique steering wheel we just finished for our shop demo F80 M3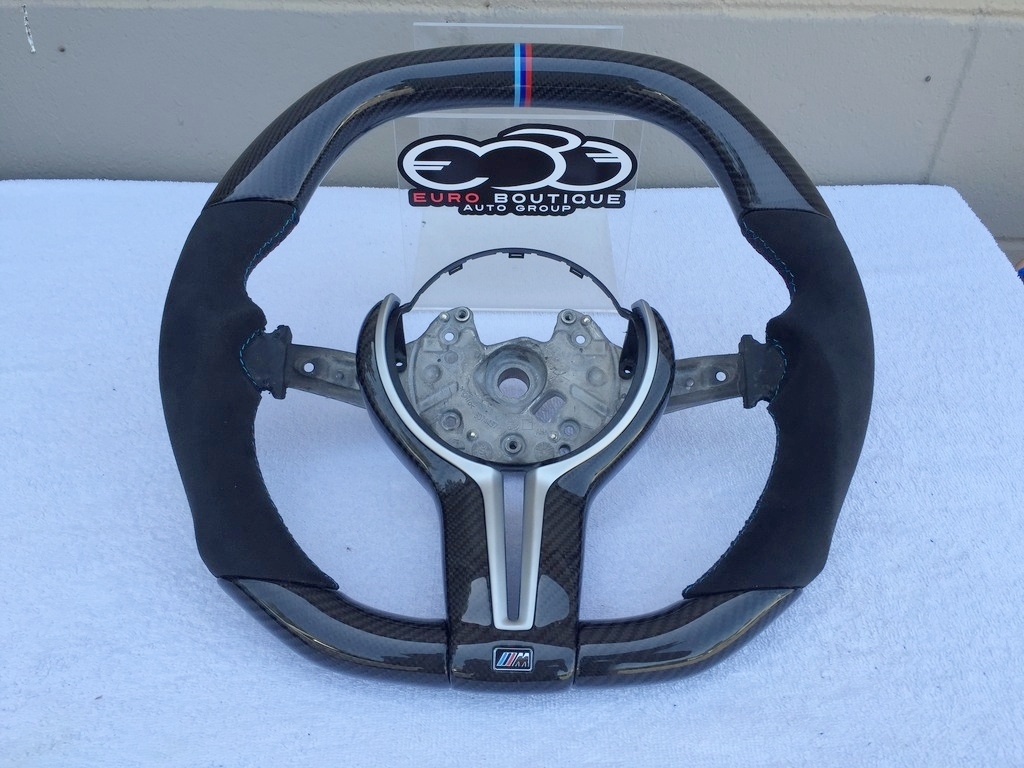 8-8-2016
We now offer a counter sunk round shift knob made of carbon fiber, direct replacement for your OEM knob!

We also offer OEM AP1 or AP2 shift surrounds that go around our custom alcantara shift boots!


www.euroboutique.us

Follow us on Instagram to see our projects, @Euroboutique

check it out, our new round countersunk shift knobs in carbon!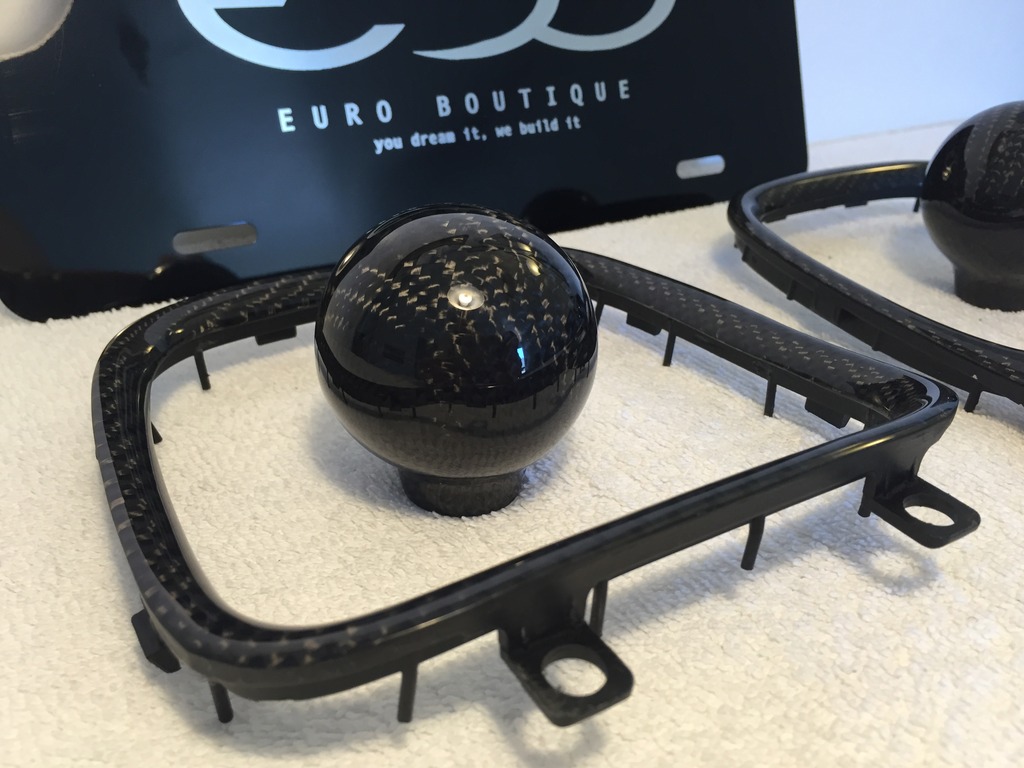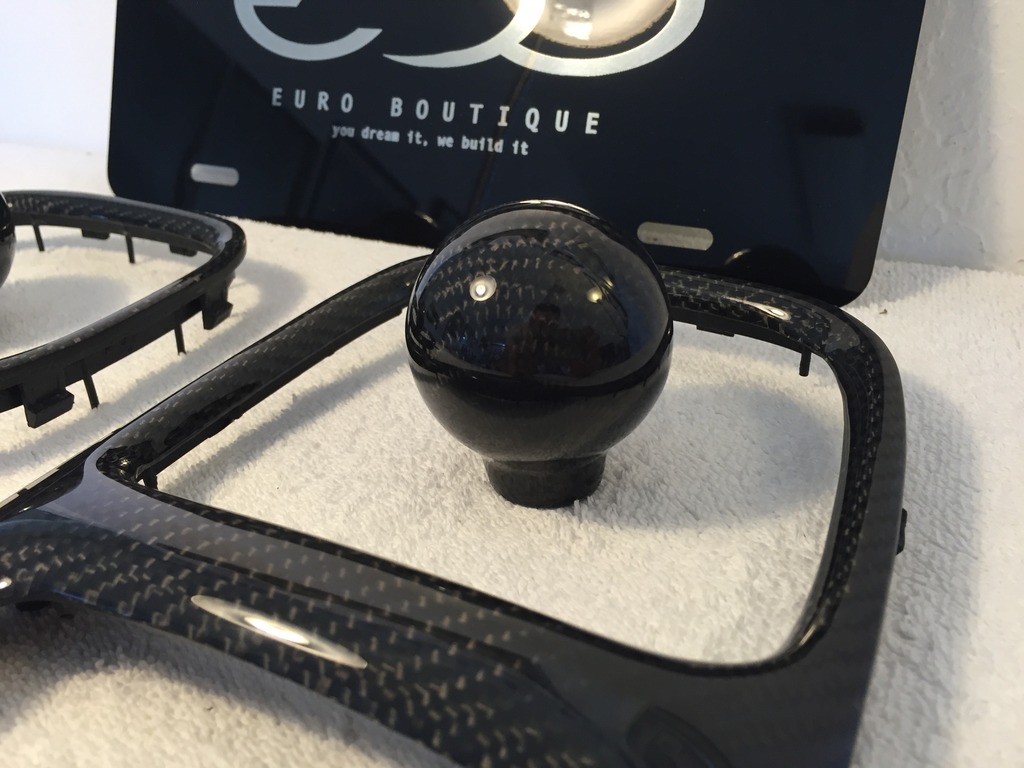 8-24-2016
Just installed this in a customer's car, our CR edition colors!

Perfect fitment, retains ALL OEM airbag / cruise: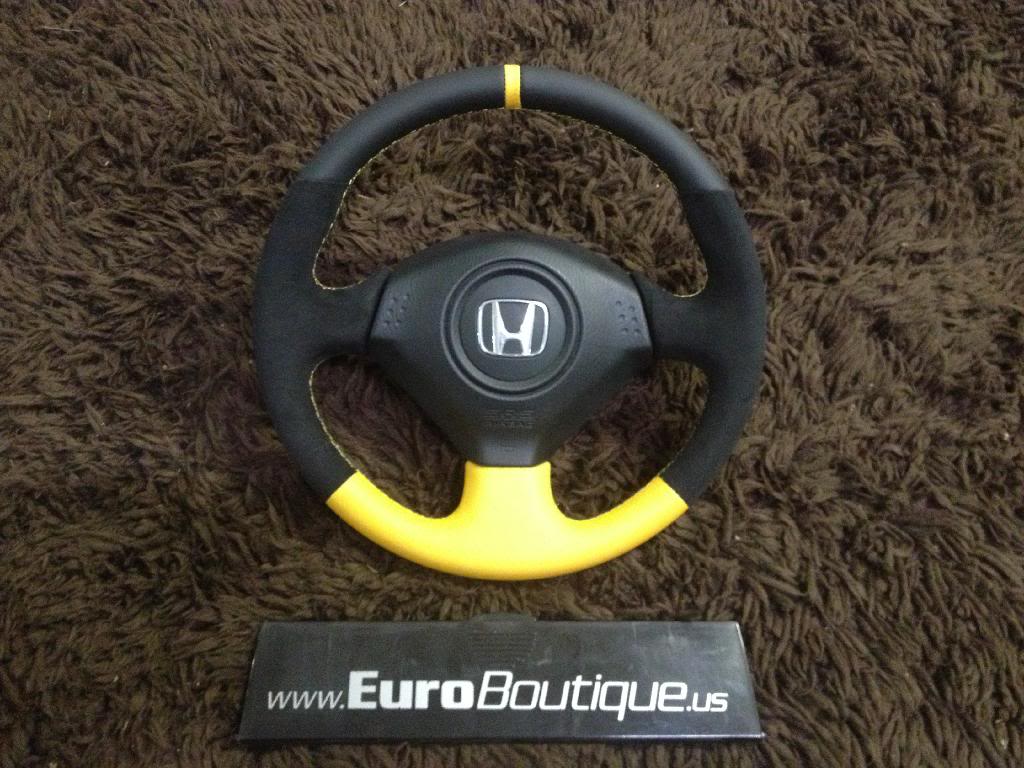 Full suede with flat bottom gives added leg room and feels amazing on the track: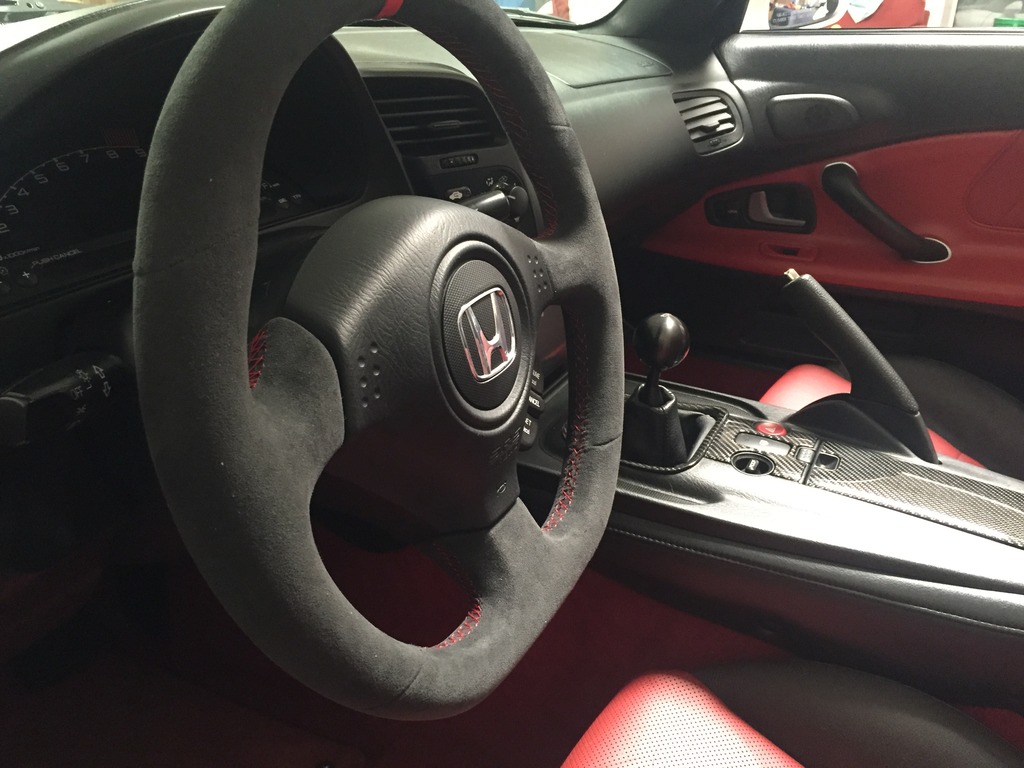 9-7-2016
thanks for all the support!

Please follow our IG page for the latest projects and updates: @EuroBoutique


here's a few more wheels recently completed!

thanks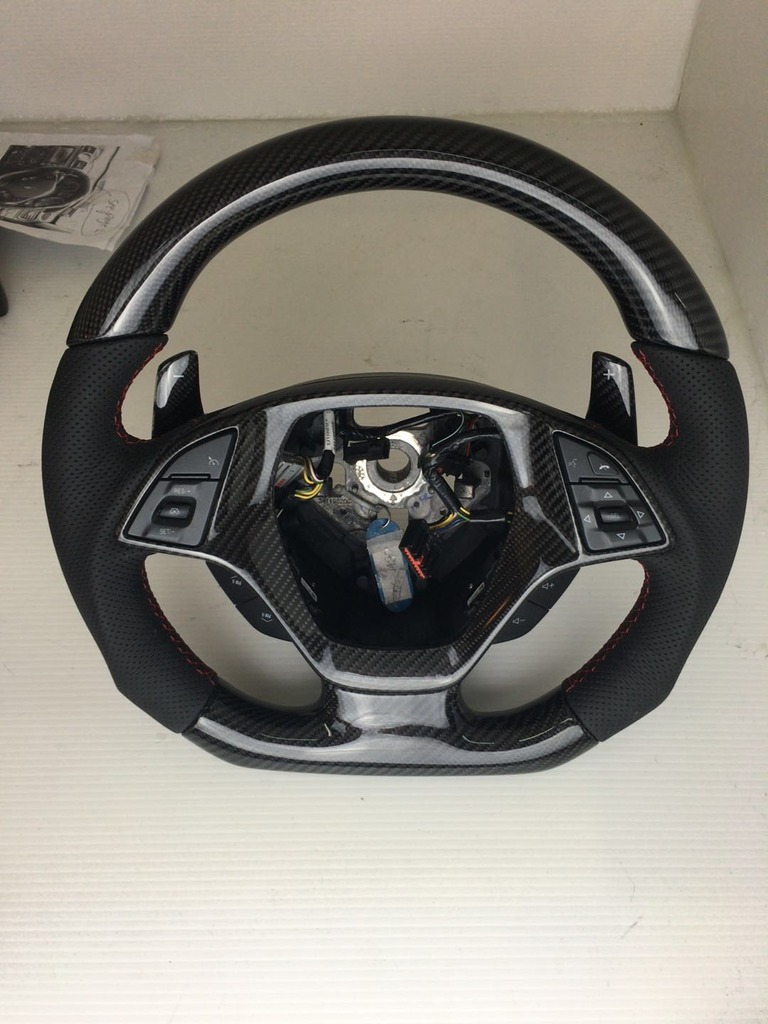 9-12-2016
Customer across the pond sent us photos of his beautiful s2000!

He spec'd one of our custom steering wheels along with a matching shift boot and E-brake handle: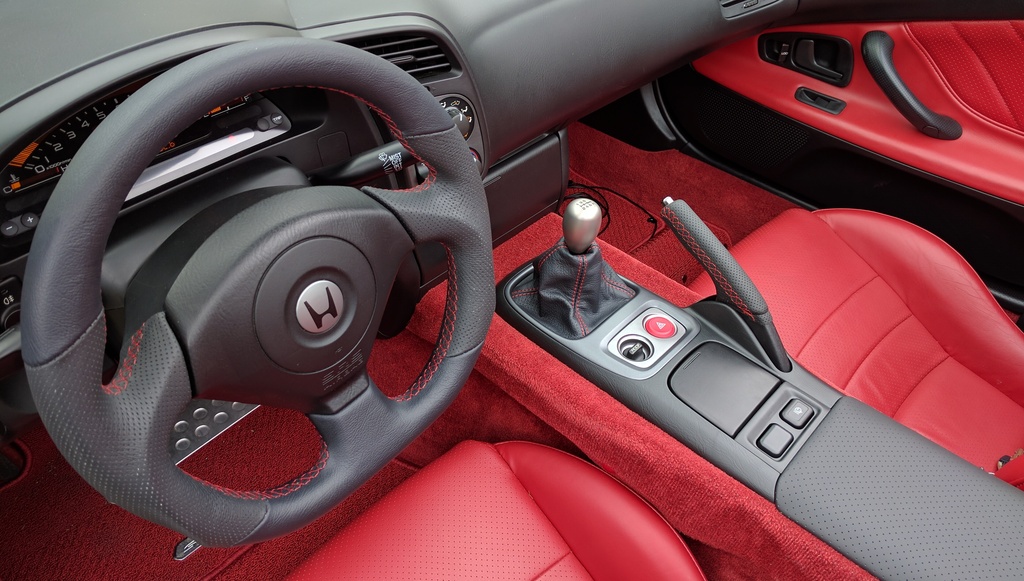 Questions feel free to shoot us a PM! WE stock E-brake handles and elbow pads in the most popular color combos ready to ship.
9-26-2016
Happy Monday!

We have some of the most popular color / CF steering wheels in stock ready to ship! Keep in mind our normal lead time is 4-6 weeks so please plan accordingly.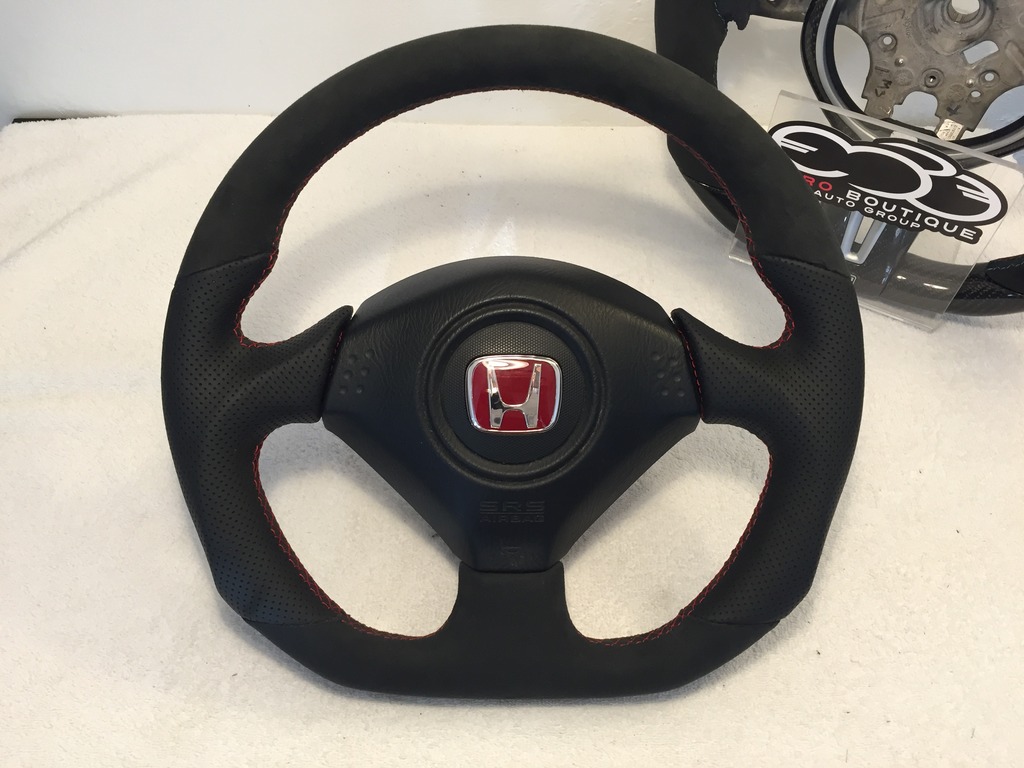 Follow us on Instagram to see our latest projects as do a lot more than just steering wheels!
10-7-2016
TGIF!

Sport Grip, CF flat bottom, custom matched to your car's exact build spec requirements plus get to RETAIN YOUR AIRBAG!


PM' us to build the special wheel for your special car: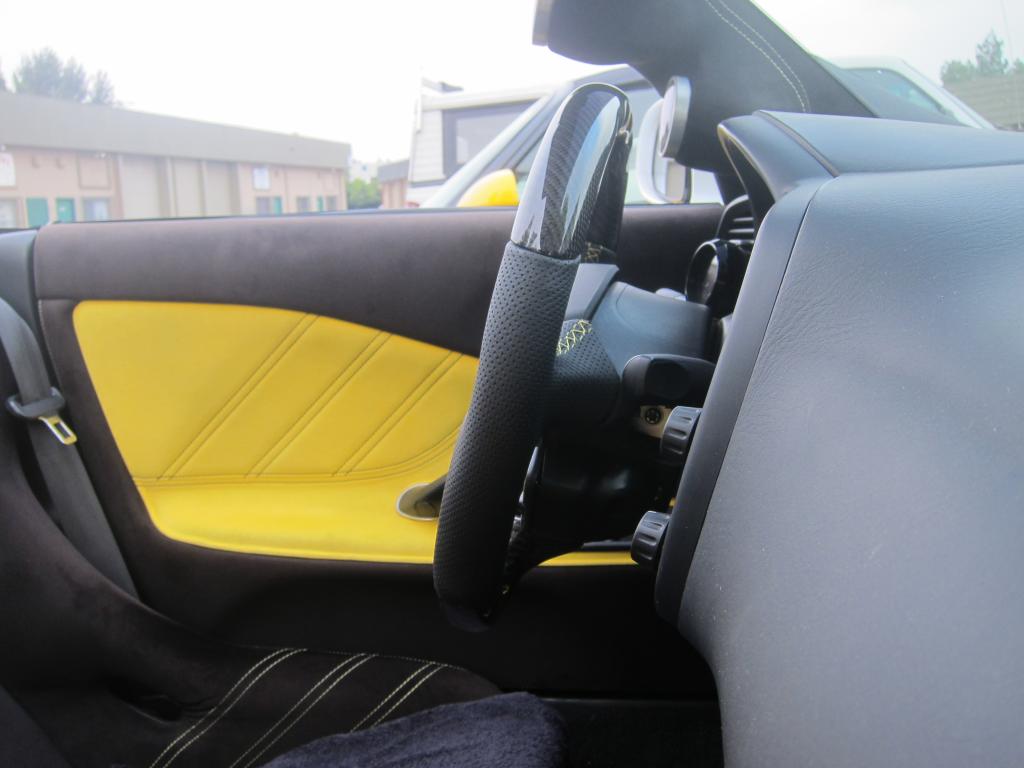 10-14-2016
10-18-2016
We also make wheels for the NSX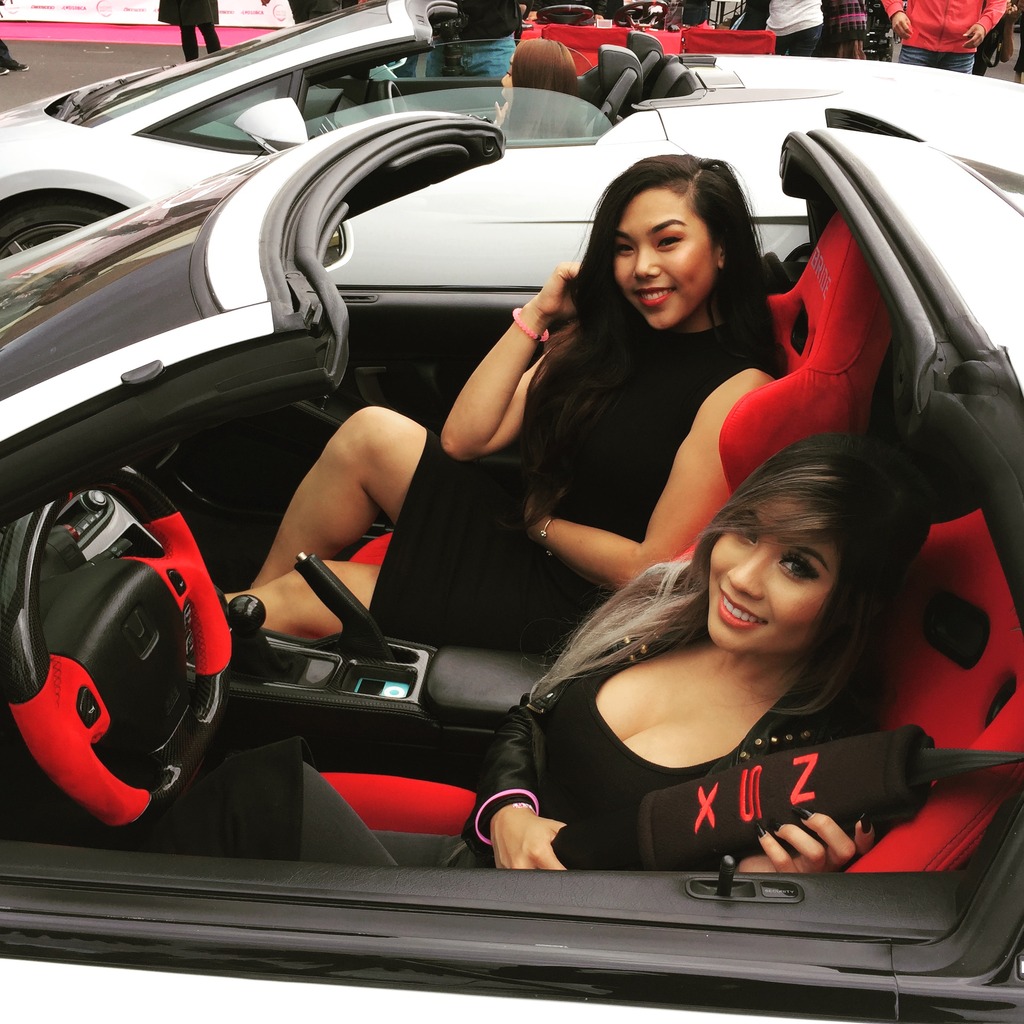 11-2-2016
Our classic s2000 flat bottom cF wheel is still by far the most popular!

You get added leg room, lose nothing in terms of functionality as you retain your Airbag, cruise and horn!

We have one in stock ready to ship - all custom colors available for on a build to order basis.


thanks!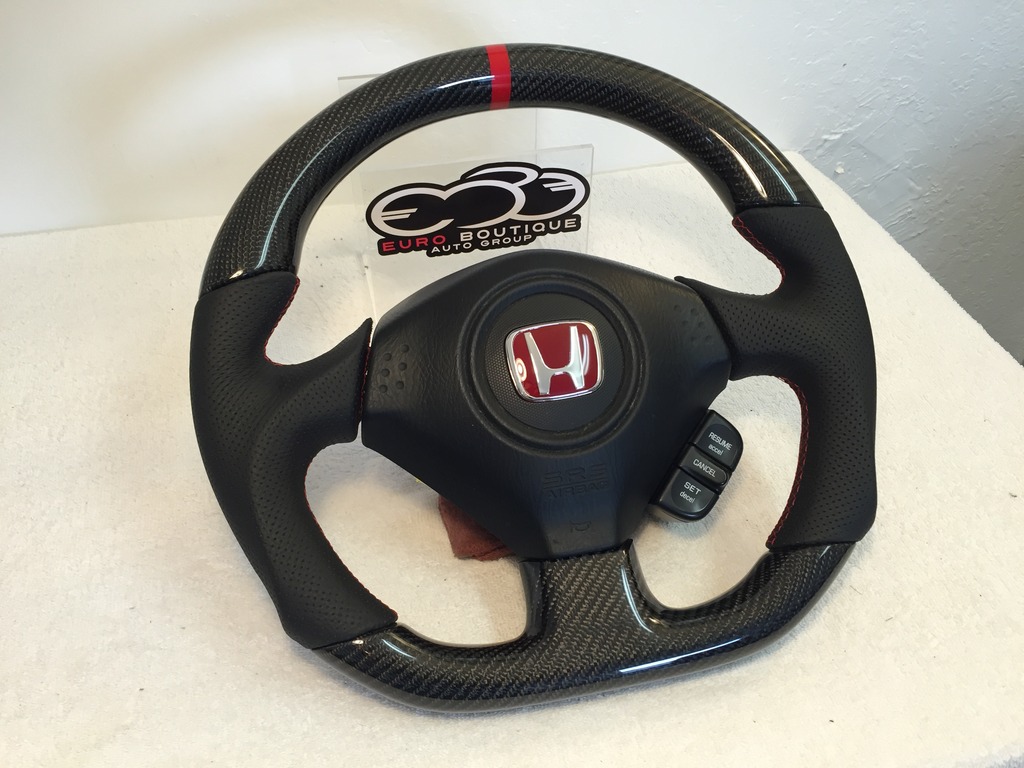 11-8-2016
A unique custom s2000 wheel build we did with red kevlar bottom for a customer!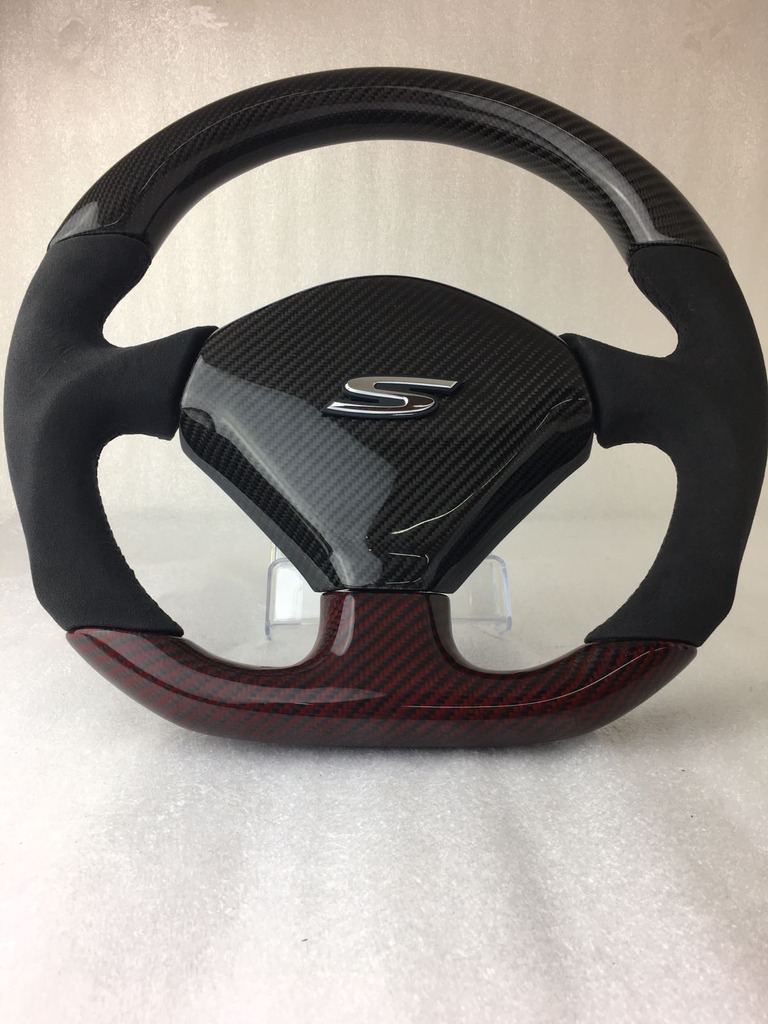 11-16-2016
We have many popular steering wheels in stock with no lead time!

Plus we can build any custom color combo you want, please PM us for details



EuroBoutique.us


thanks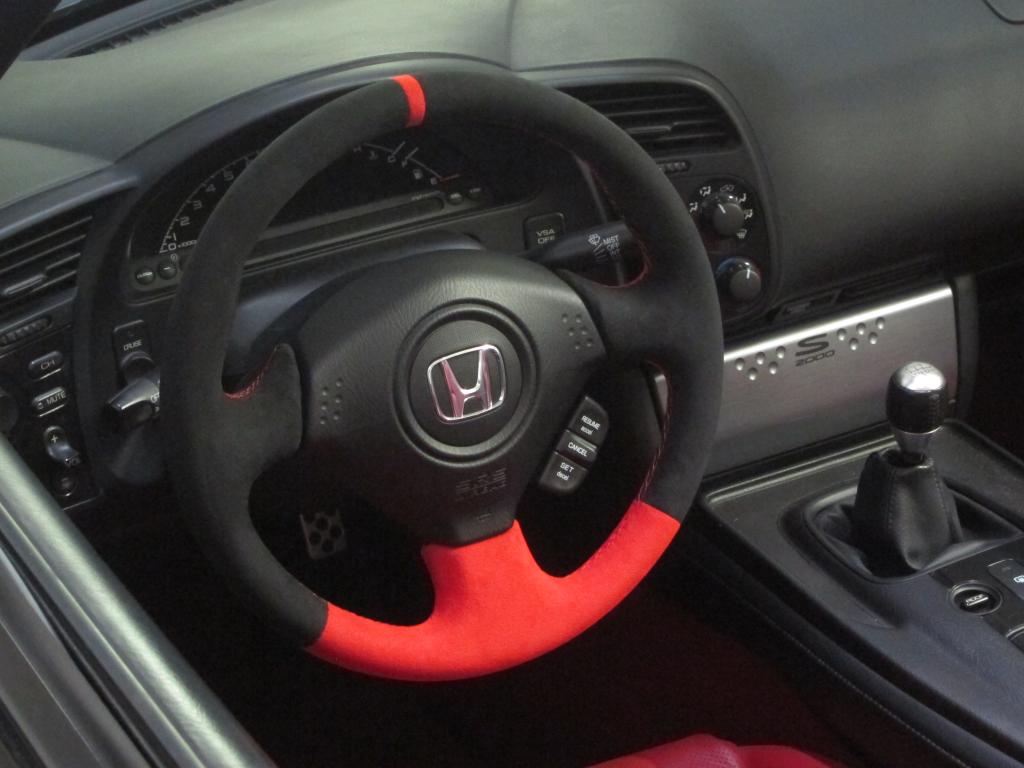 11-22-2016
Members, be sure to take advantage of our special Black Friday sale from now through the 29th! Visit our website and

use coupon code: BFIG_Sale2016

www.euroboutique.us


Questions please give us a call - we have many carbon products in stock. To qualify for the sale the order must be placed prior to the sale end date with payment received!


thanks

In stock ready to ship - only one left!


12-5-2016
PM's replied~ let us know how we can make your s2000 cabin look and feel the part!

We welcome all custom builds and have access to pretty much any type of materials you want from perforated Alcantara to custom napa leathers!


We have many s2000 wheels IN STOCK so you can have these BEFORE X'mas!


thanks

www.euroboutique.us


Seems many s2000 owners also share the love for the MKIV Supra's - wanted to share a unique build we did for a Supra owner, this one features on our "Split Carbon" bottom instead of just using one material. Also note the custom 2-tone strip with logo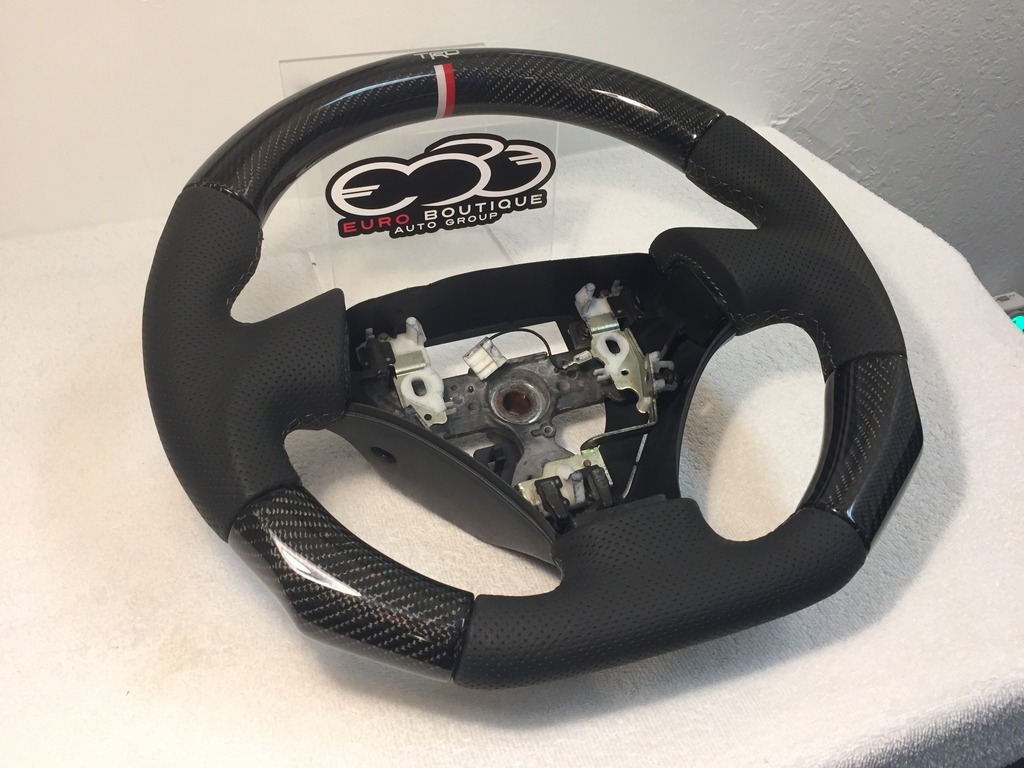 12-8-2016
Just in time for X'mas - this one is finished in Lambo Verde Mantis green color accents and stitching!

Happy Holidays s2ki!

www.euroboutique.us


We have many wheels in stock ready to ship so still time to get delivery before X'mas. PM us for the best deals!

thanks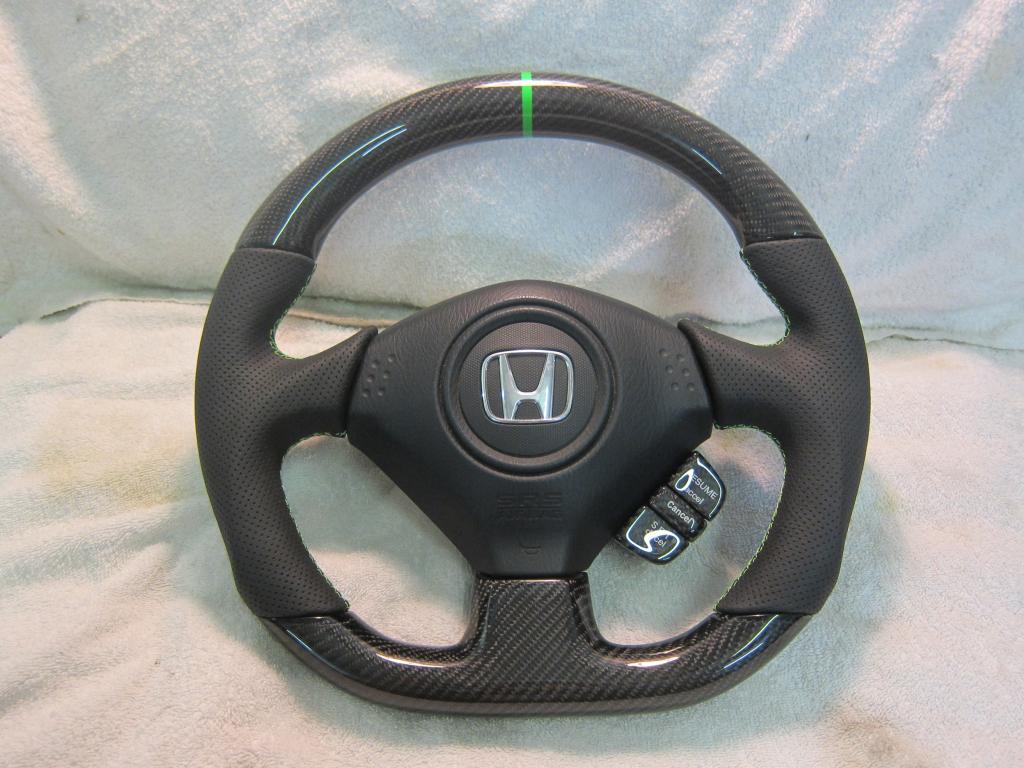 12-28-2016
Here's a very special build we wanted to share that shows the extreme colors we can do depending on your build. Each one is hand crafted so we can do pretty much anything you want!

PM us to get a special wheel build going for your s2000: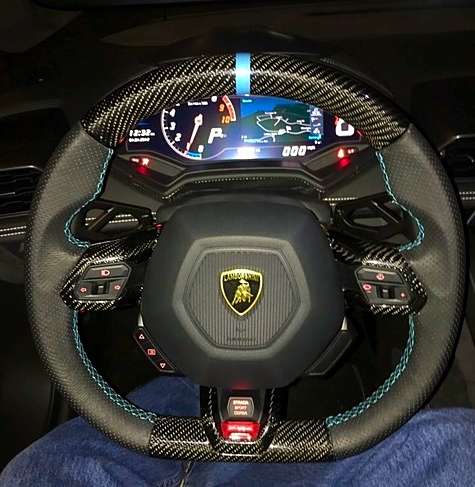 Happy Holidays!

www.euroboutique.us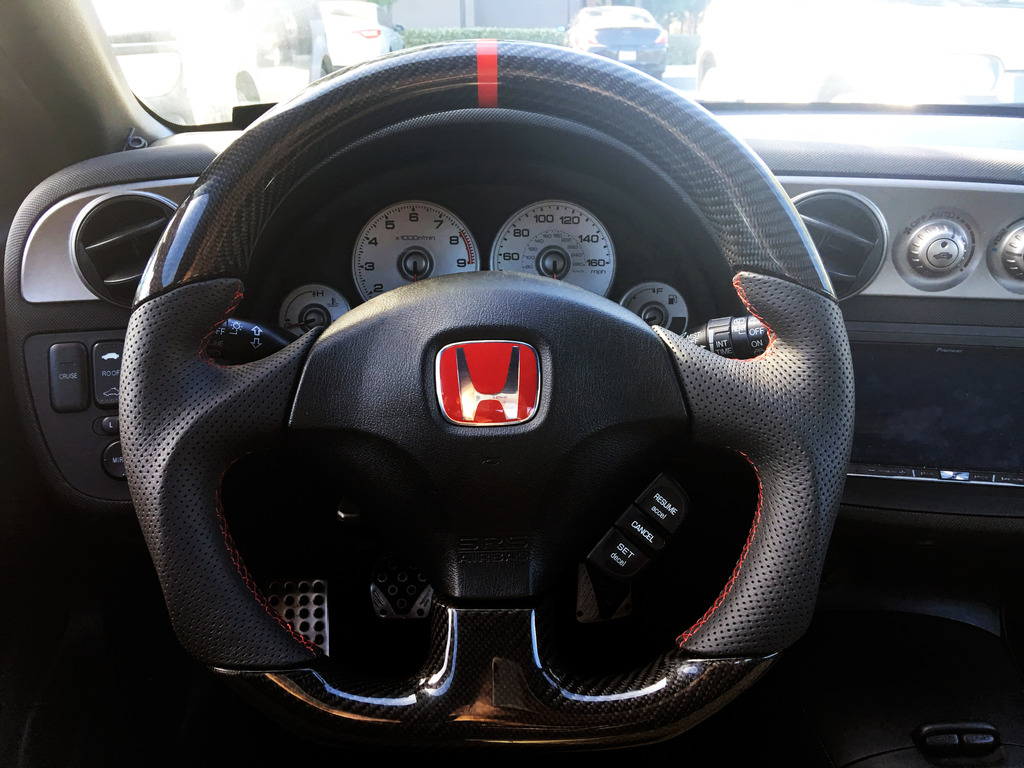 1-10-2017
We currently have 2 build allocation spots open for any s2000 owners who want to customize your steering wheel!

PM us to get one started for your custom build!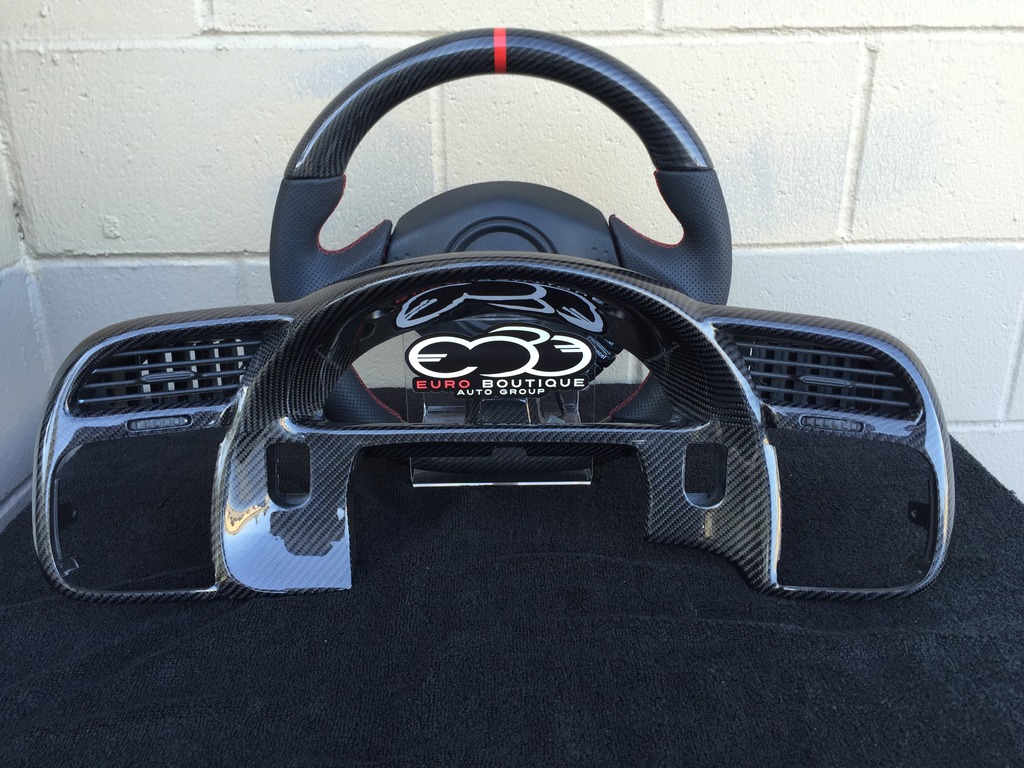 1-24-2017
Just finish this extremely trick s2000 wheel for a customer. This one features:

Sport Thicker Grip
Flat bottom
Red Alcantara top and sides
Red Stitching
NO stripe
Black Carbon Fiber bottom section


*all your existing OEM electronics and airbag will transfer directly to this new wheel!

Let us know your thoughts and shoot us a PM so we can help you build your custom wheel to make your car stand out and #beseen!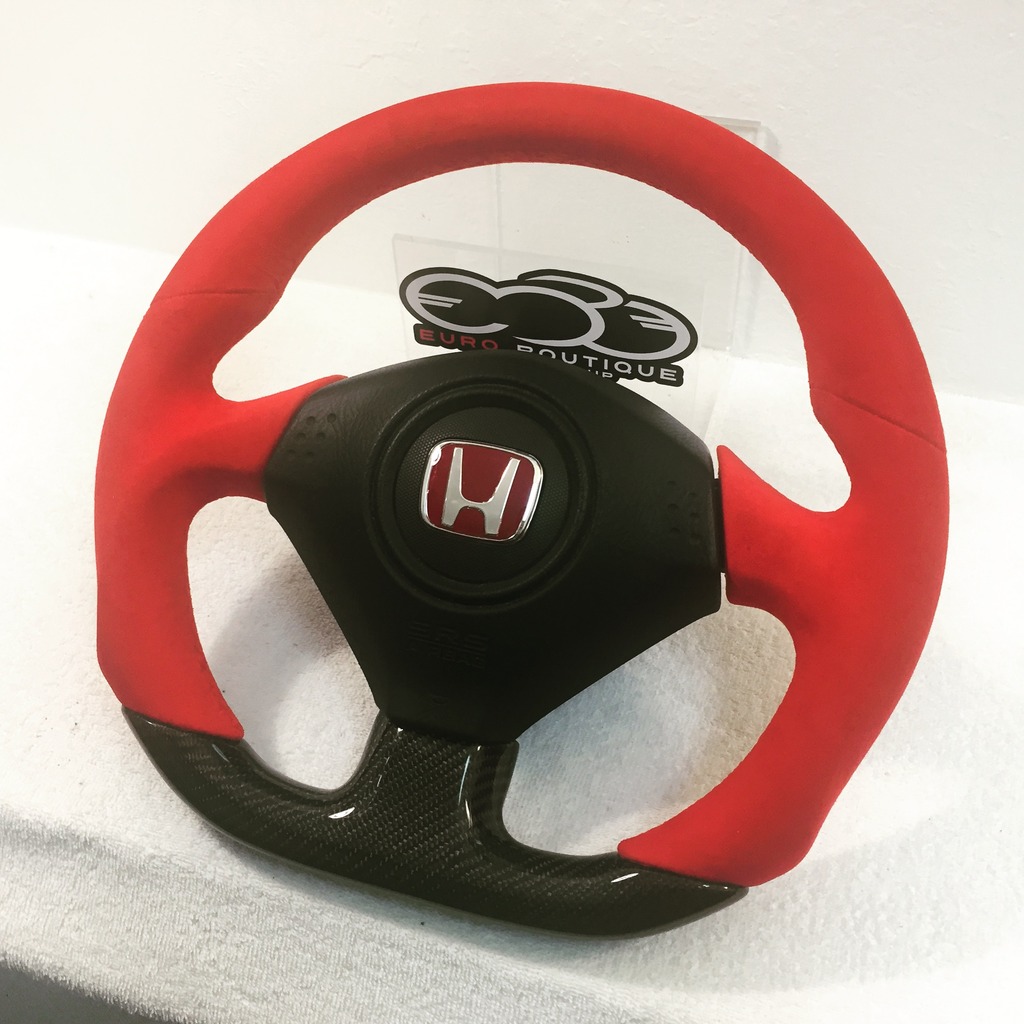 1-31-2017
M's replied!

We have a few open build allocations slots available. PM us to have your custom wheel built in time for the summer car show season!


thanks

In stock ready to ship: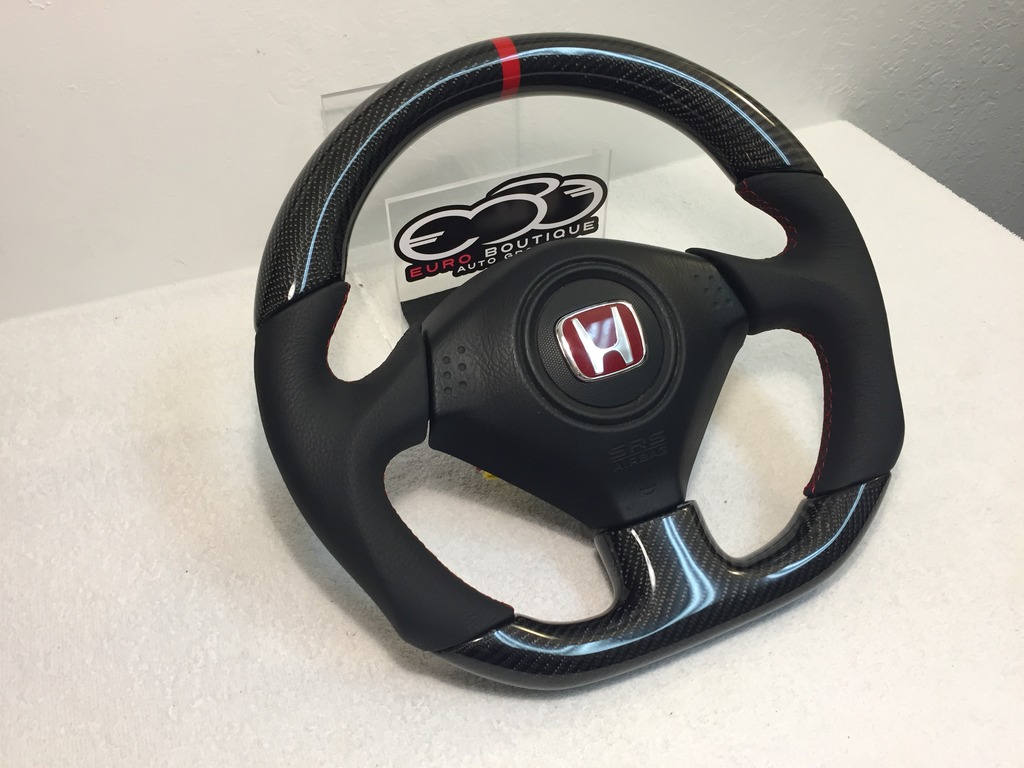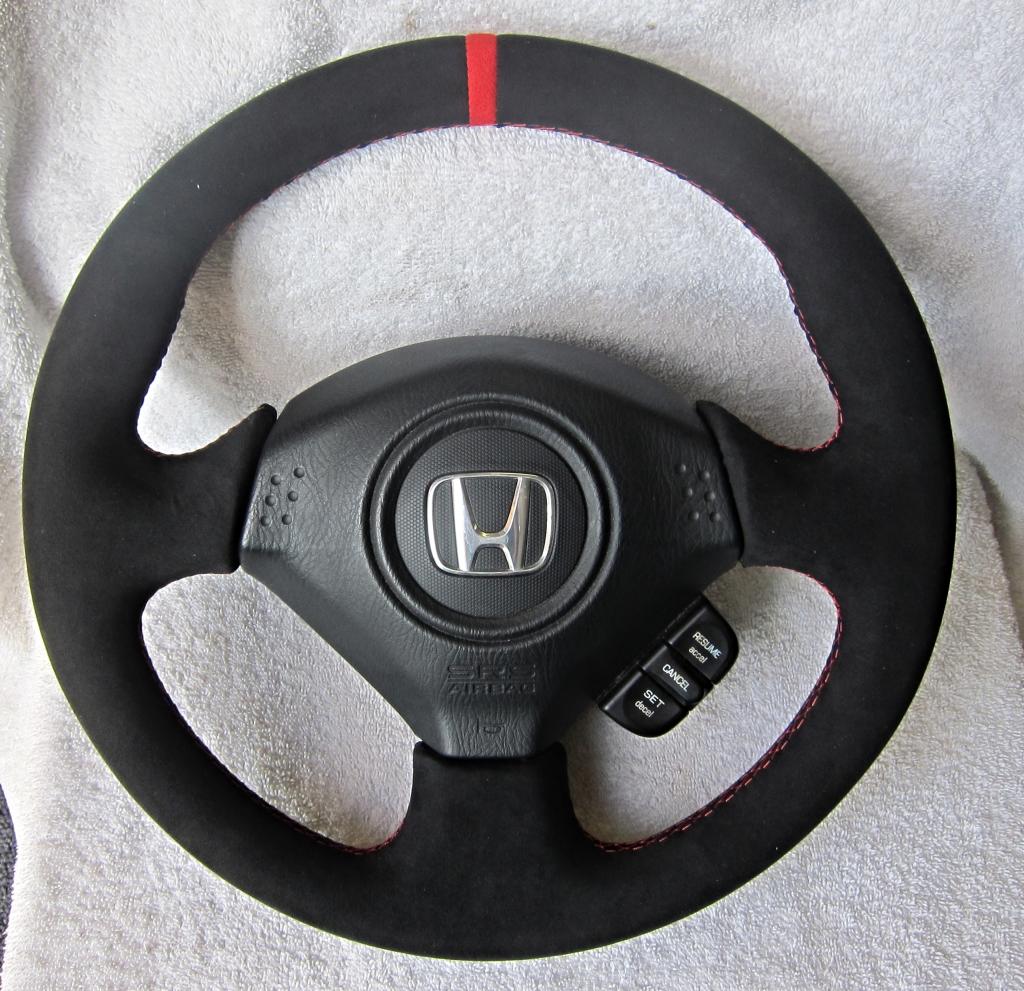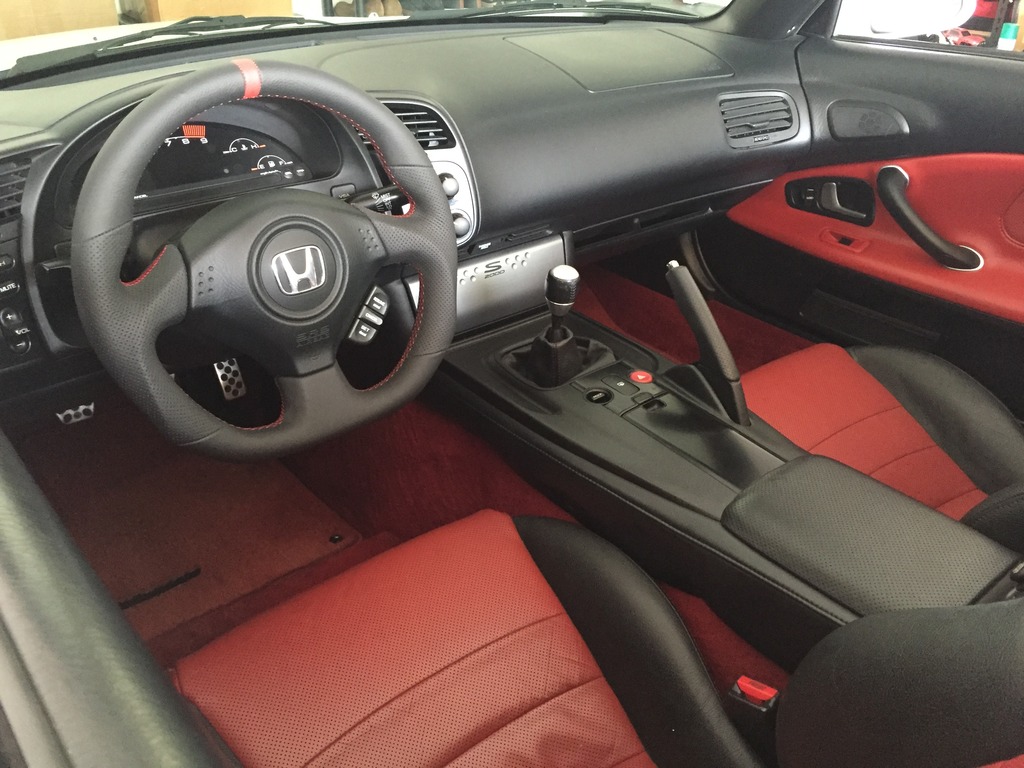 2-16-2017
Also in stock in both full black Alcantara or Black Alcantara with black perforated leather side grips!

PM us for fastest shipping and delivery to your door.

thank you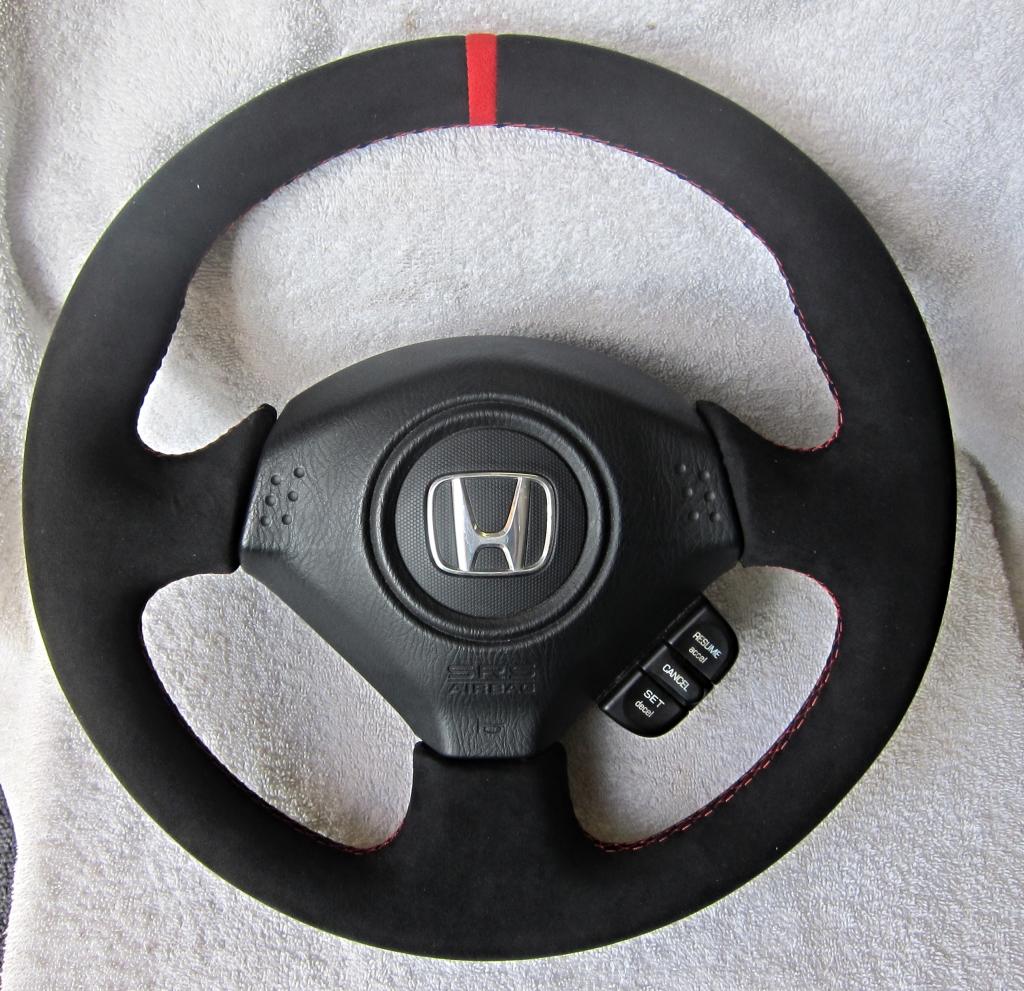 3-2-2017
All PM's replied!

Please ask about our convenient Core Exchange program so you can get one of our new wheels delivered to your door first. Then when you get the new upgraded wheel installed - just ship us back your old wheel in the provided box for the deposit to be refunded.


No down time - summer is just around the corner!


thanks!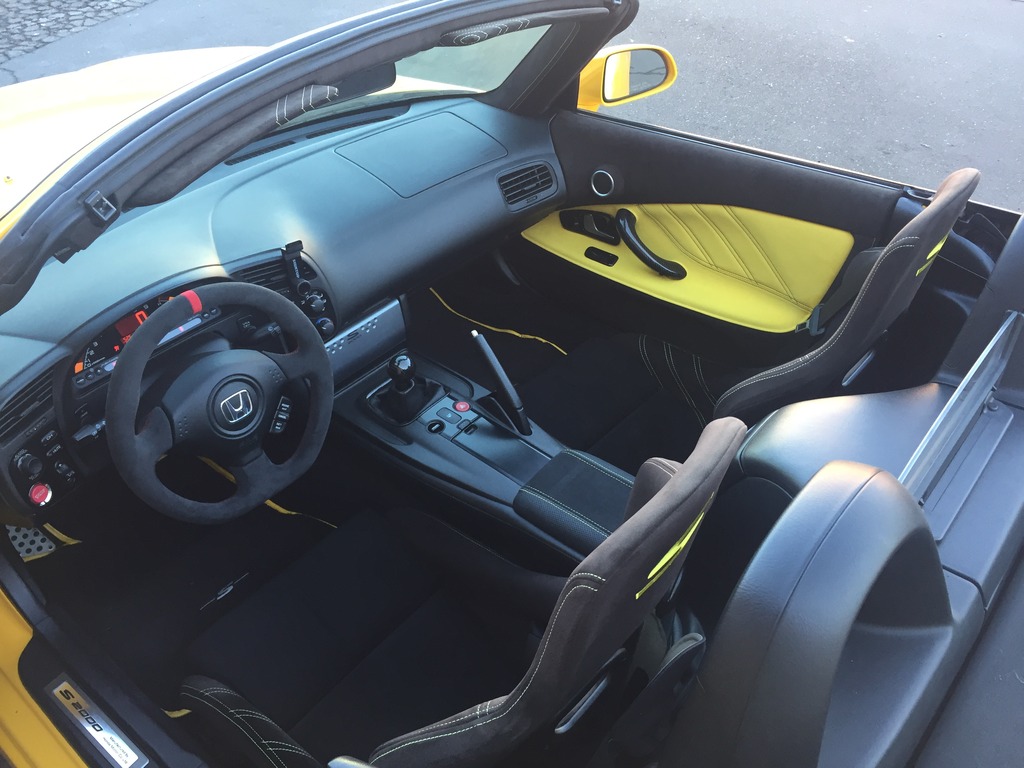 3-9-2017
Freshly installed in customer's local 2007 sexy Berlina Black: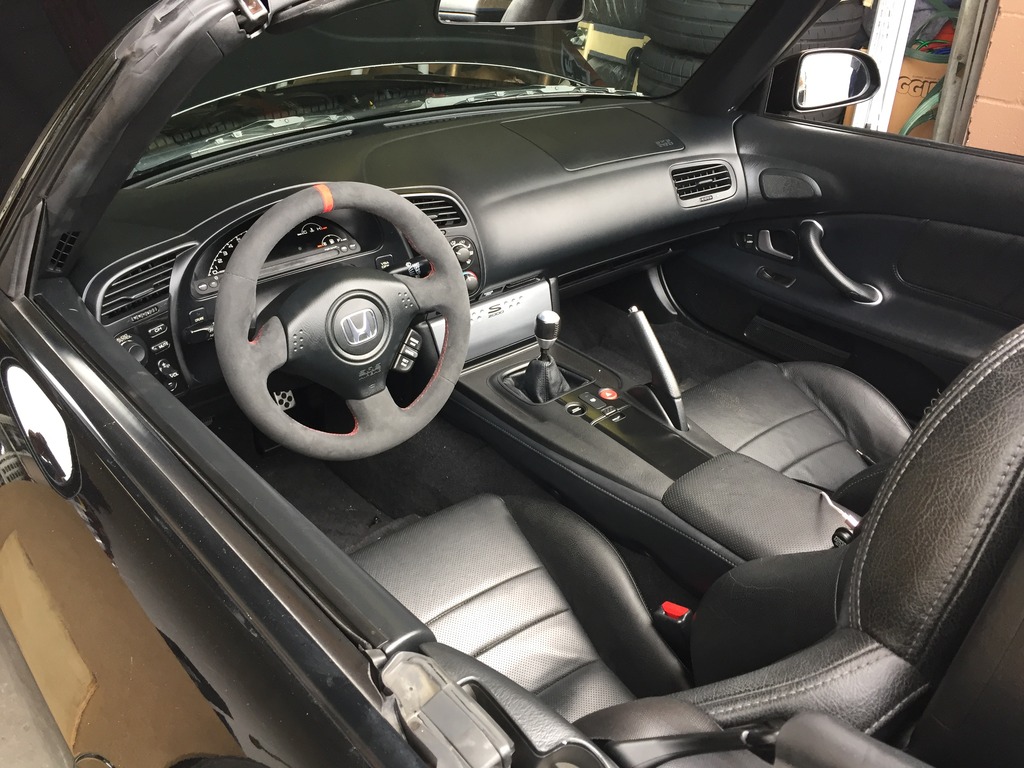 3-13-2017
Happy Monday!

Please visit our Instagram page and give us a follow if you like what you see!

https://www.instagram.com/euroboutique/

Our "CR" edition steering wheel is made of full black Alcantara, thicker grip with YELLOW stitching and stripe. This is the perfect track wheel for the CR or any s2000 owner who wants some yellow "pop" in their car!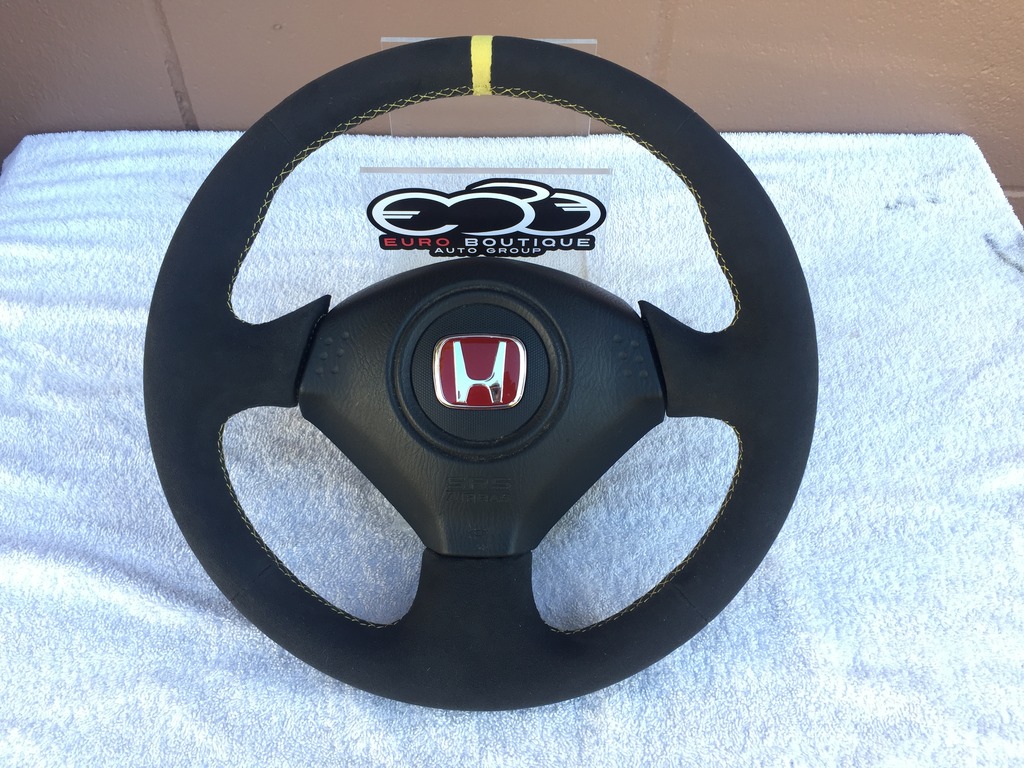 3-23-2017
PM us for any of your interior needs, we make many unique s2000 parts for your car!

We have full leather round, flat bottom and carbon wheels in stock in the most popular combinations if you don't like to wait or we'd be happy to build a wheel to any color or specification you want!

here's a custom wheel we recently finished for a R8 owner with custom McLaren Napier green accents: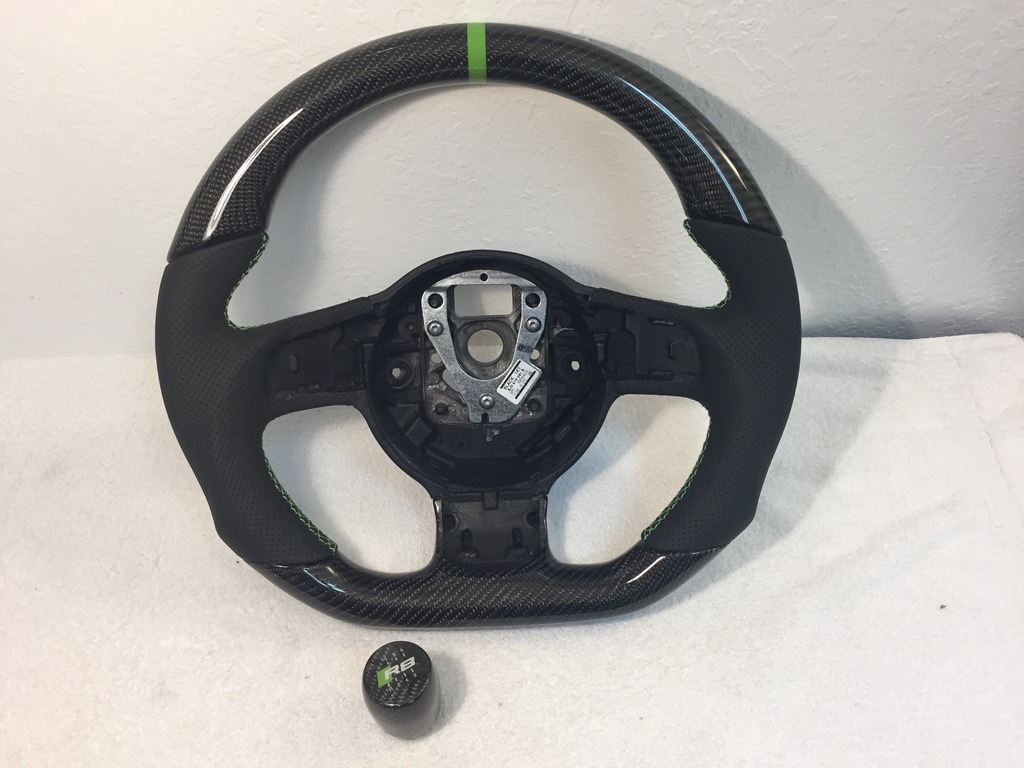 s2000 owner's interior is very on point here~!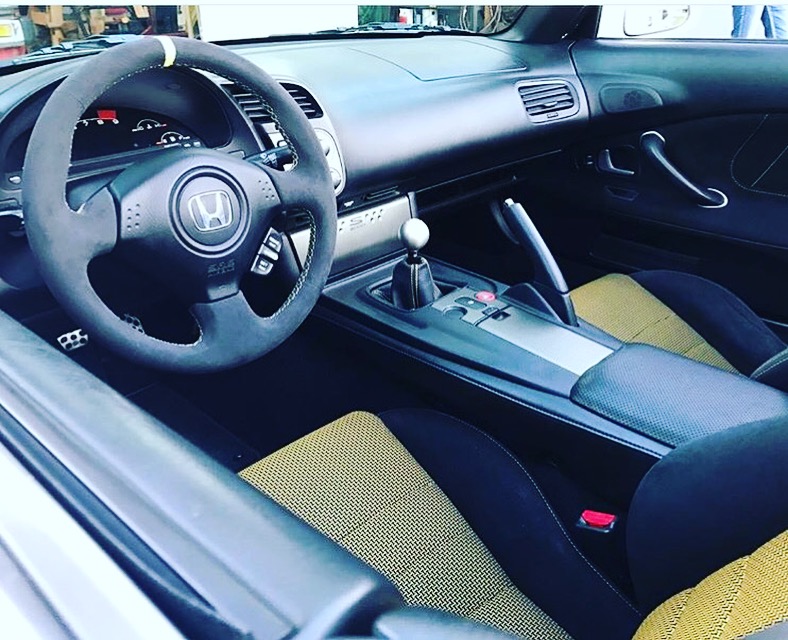 3-30-2017
2008 Rio s2000 with our ROUND, full black Alcantara wheel with Red contrast stitching and red stripe at 12'oclock position: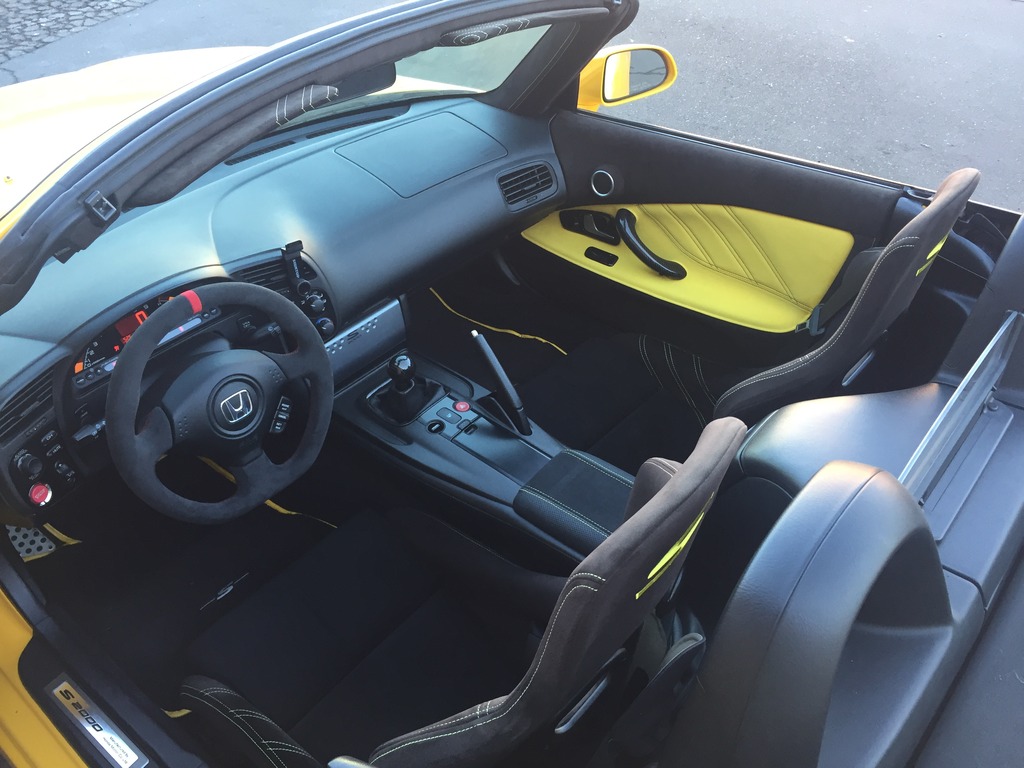 We have this wheel and many others ins stock for IMMEDIATE shipment. If you want a custom color or other build, we'd be happy to build it specifically for you as well.

PM us or shoot us an email from our website:
4-4-2017
s2000 wheels are in high demand, this entire setup is for a NSX owner!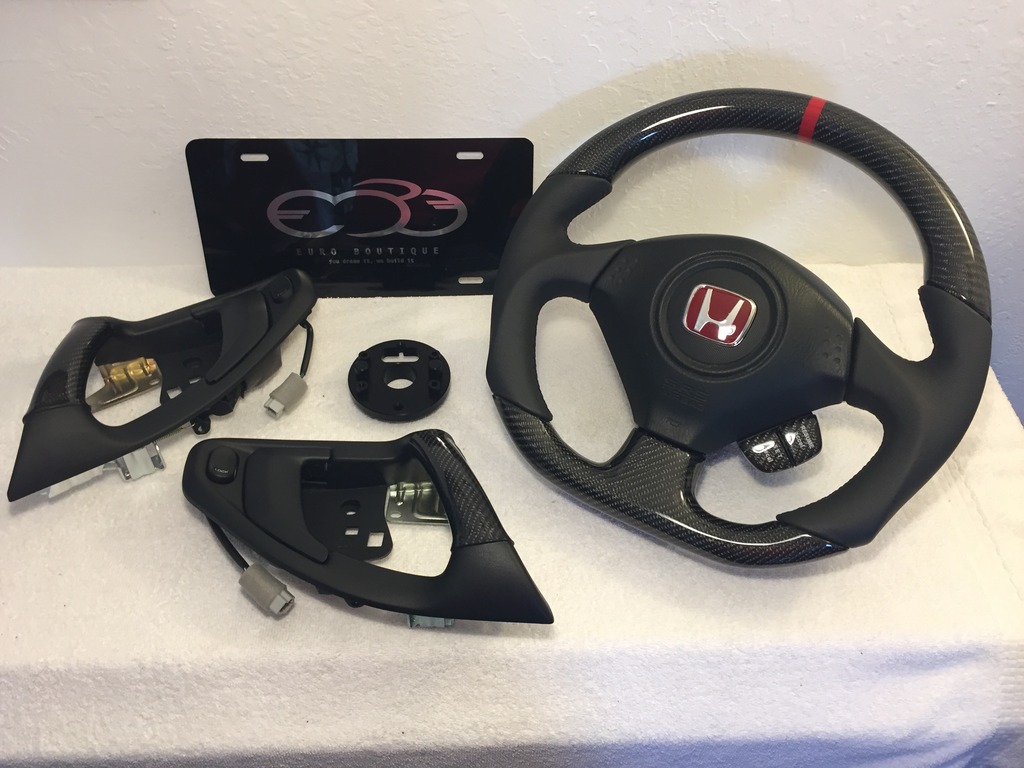 4-7-2017
TGIF!

Sent in by one of our customers: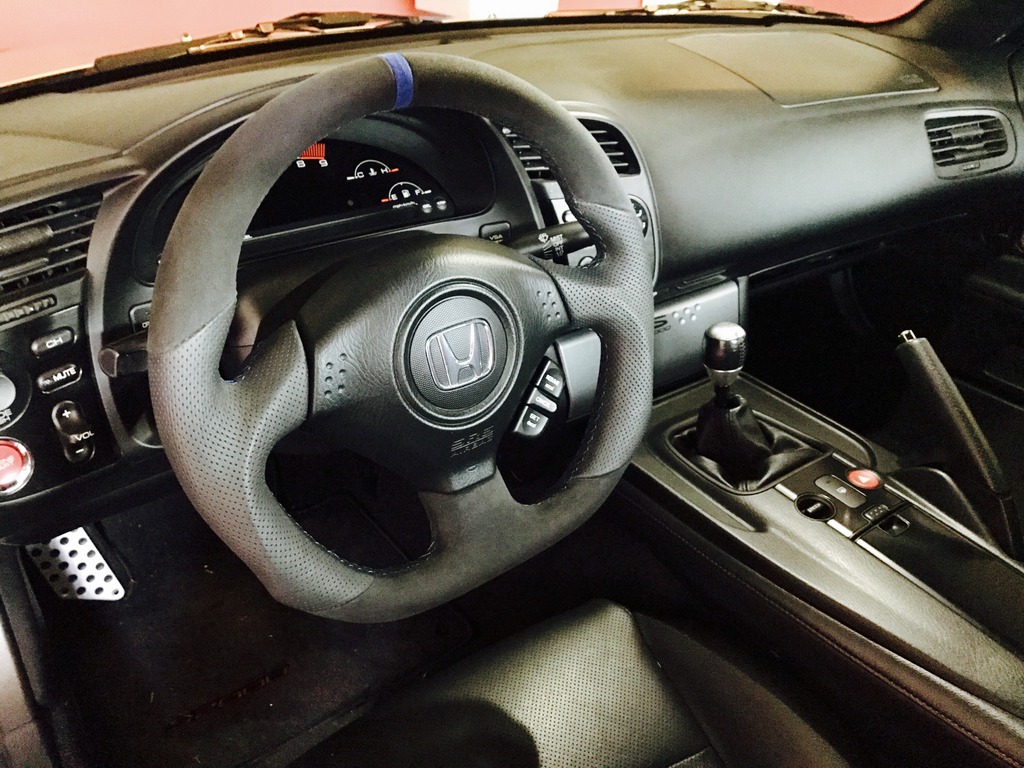 5-4-2017
CR owners - we now have Full Black Alcantara OEM steering wheels with Yellow Contrast stitching to match your interior!

PM us for details!



thanks

www.euroboutique.us

Matching CR edition E-brake with CF + Alcantara + yellow stitching: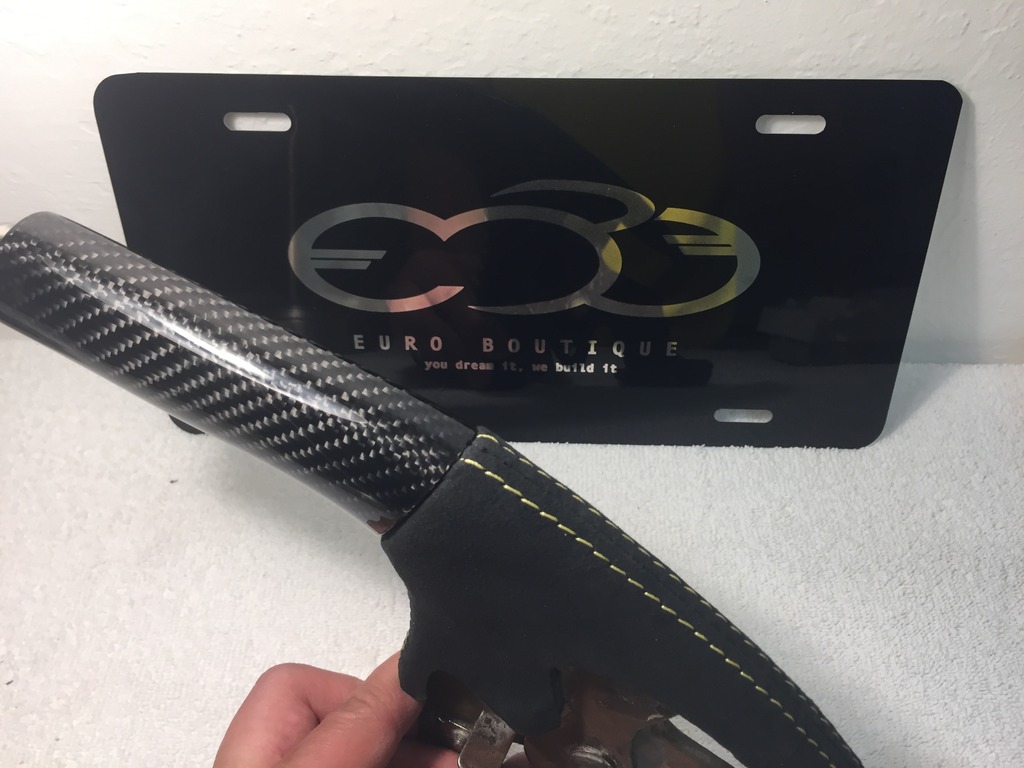 5-21-2017
Whether you have a s2000, NSX, Ford F250 truck or other rare car - keep in mind we can build a custom steering wheel for you!


here's another completed wheel ready to be installed, options are endless and we will build each wheel to YOUR SPECIFICATIONS!

thanks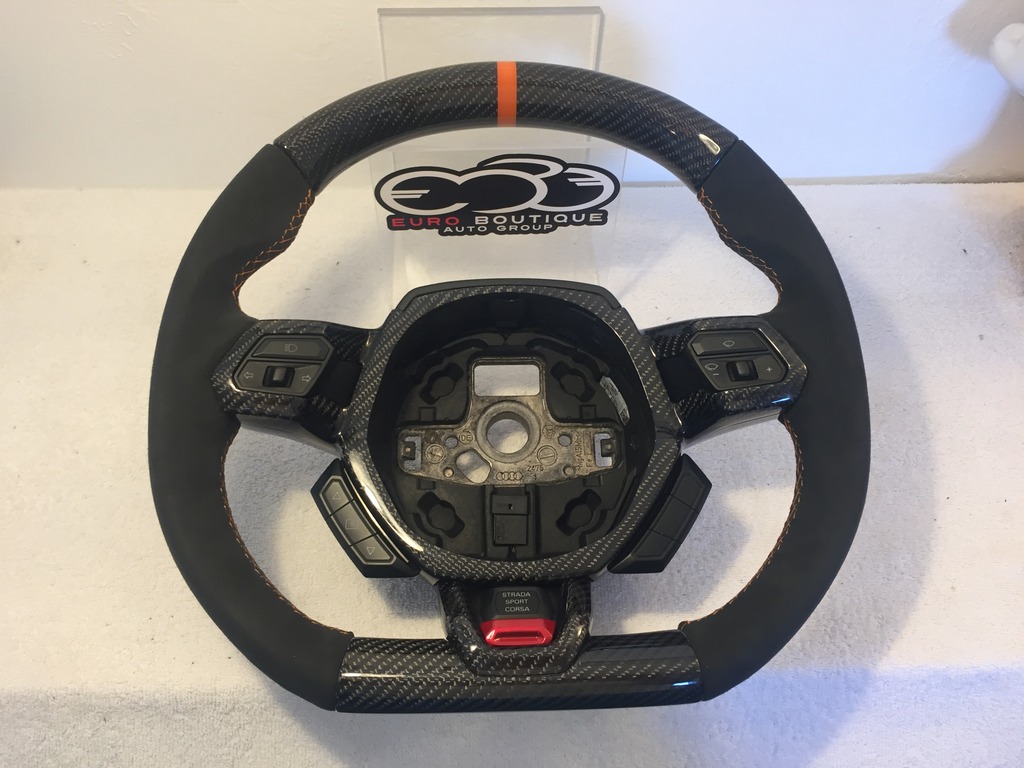 5-25-2017
All of our pricing is listed on our website, keep in mind these are not mass produced and HAND MADE to order parts. We use the highest quality materials for each build since we also build for the exotic client market too. In other words the parts you put in your s2000 are the same quality pieces we make for Lamborghini and McLaren owners




thanks!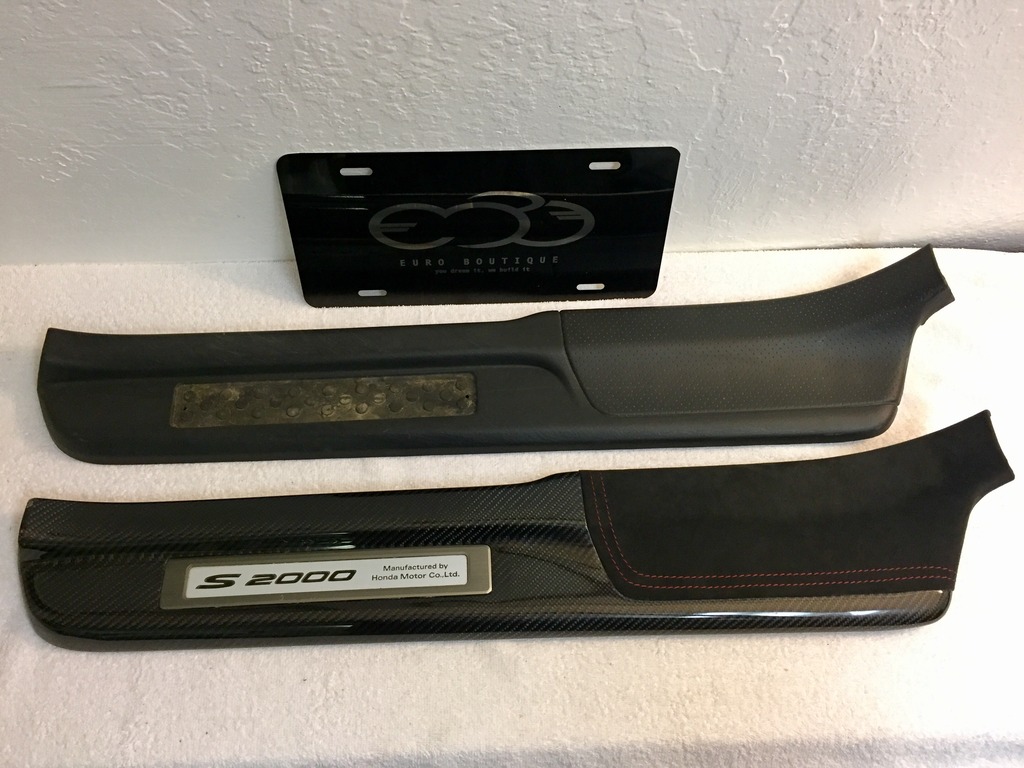 here's an example of a CF wheel we just completed for the Huracan, same UV clear coat, same Alcantara, same carbon fiber: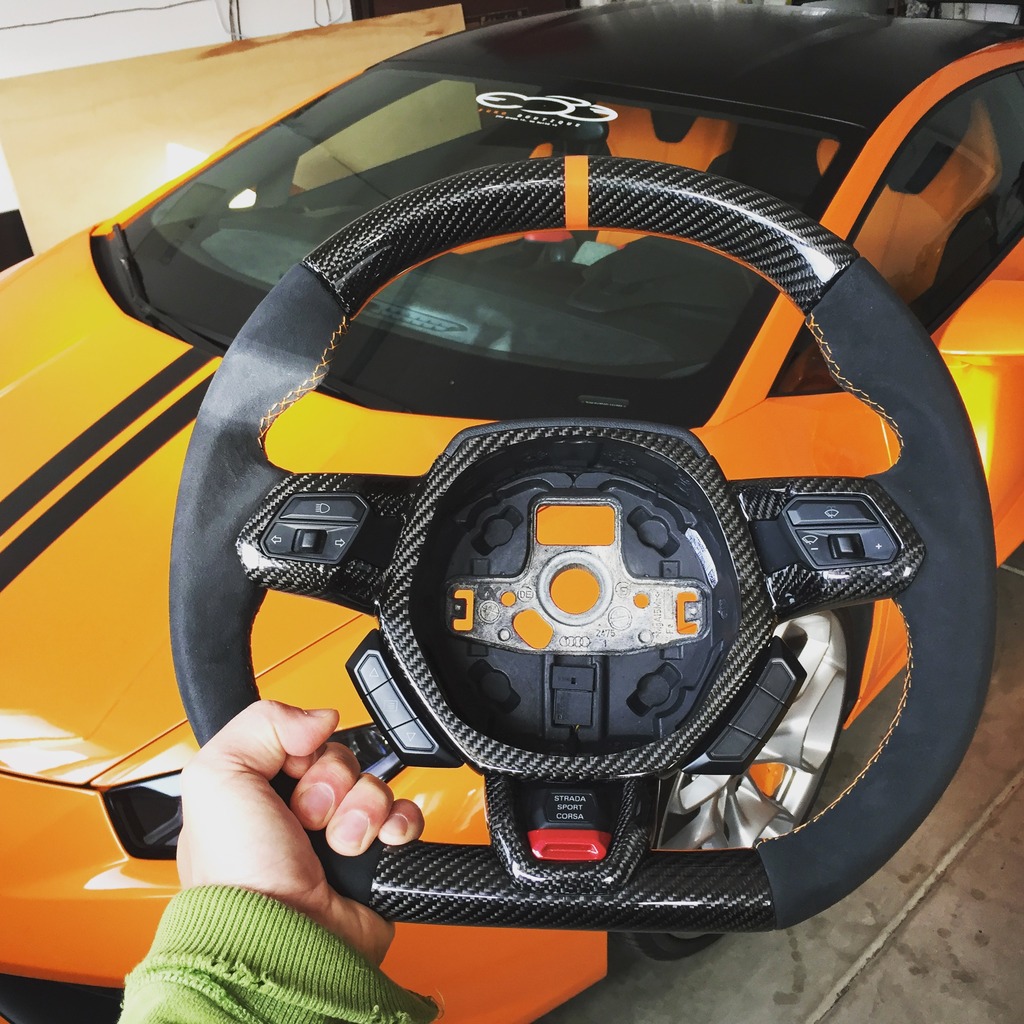 6-5-2017
Both wheels are in stock and ready to ship!

(one has red stitching, one has black stitching)

Brand new and ready to ship featuring our popular specs:

Sport Thicker Grip
Flat bottom
Carbon Fiber top and bottom
Smooth leather side grips
Red or Black contrast stitching


thanks!

www.euroboutique.us