The '90 by 1990JEEPXJ
By diyauto
You must be logged in to rate content!
The '90
Compliments of 1990JEEPXJ @ jeepforum.com
4-17-2008
when i got it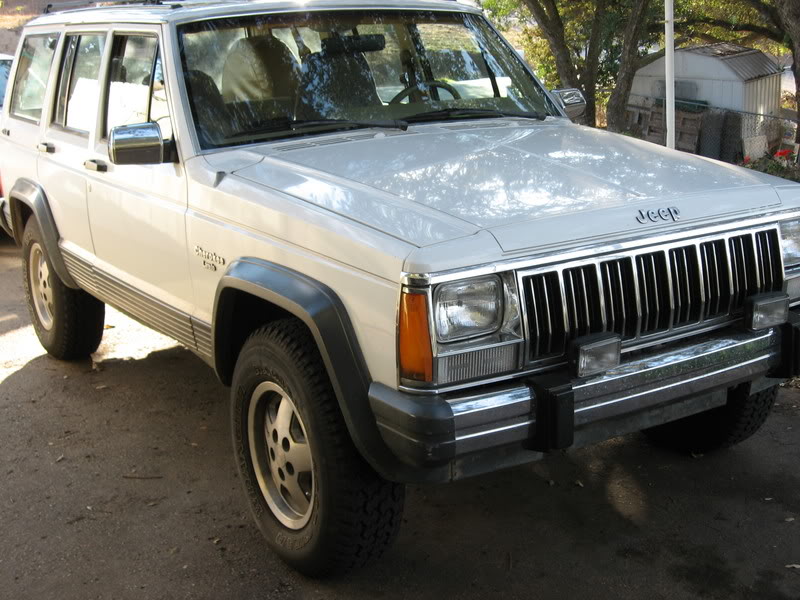 new rims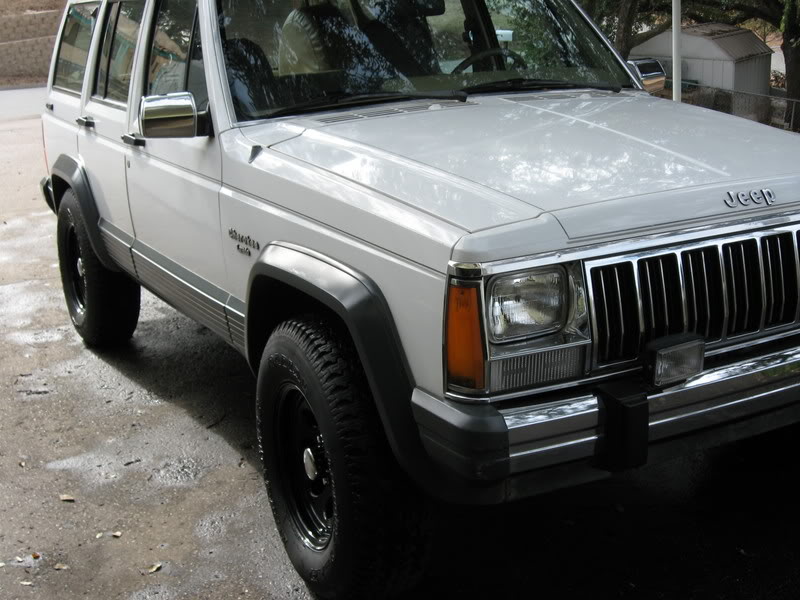 molding gone and flares painted
windows tinted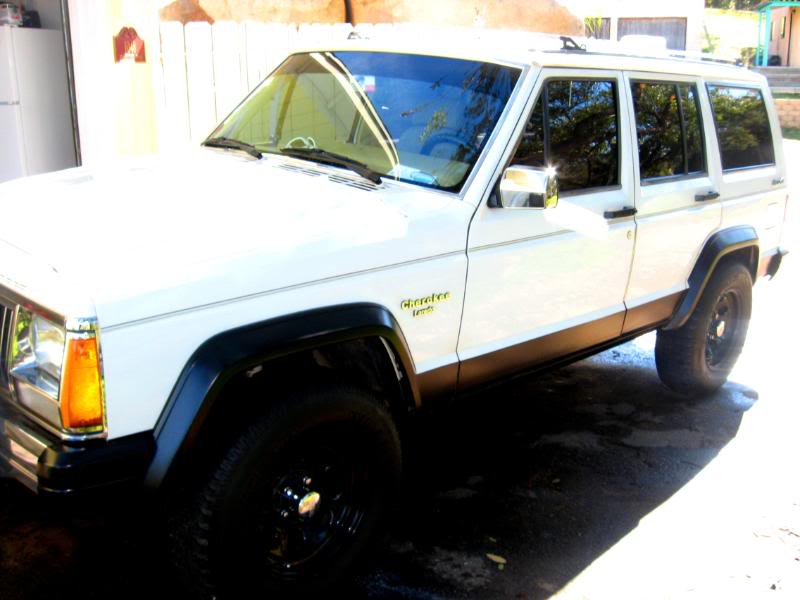 front tint removed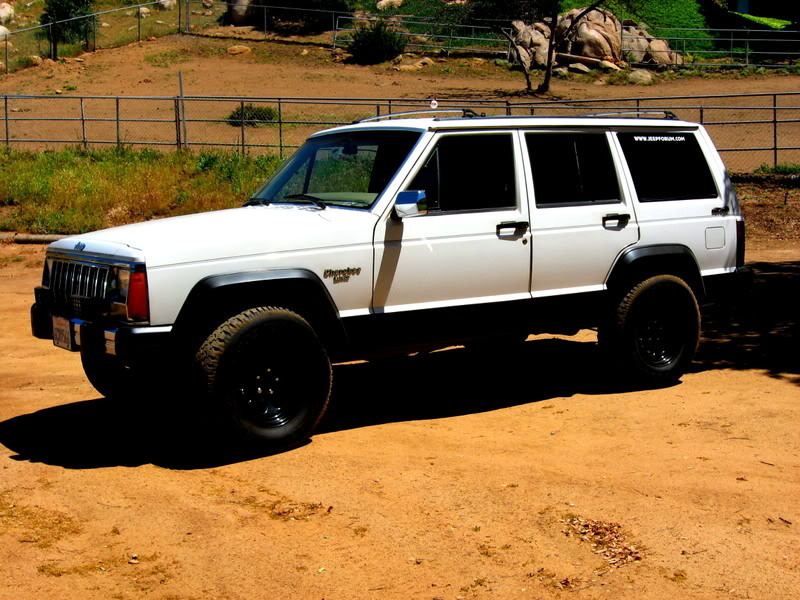 tail lights all red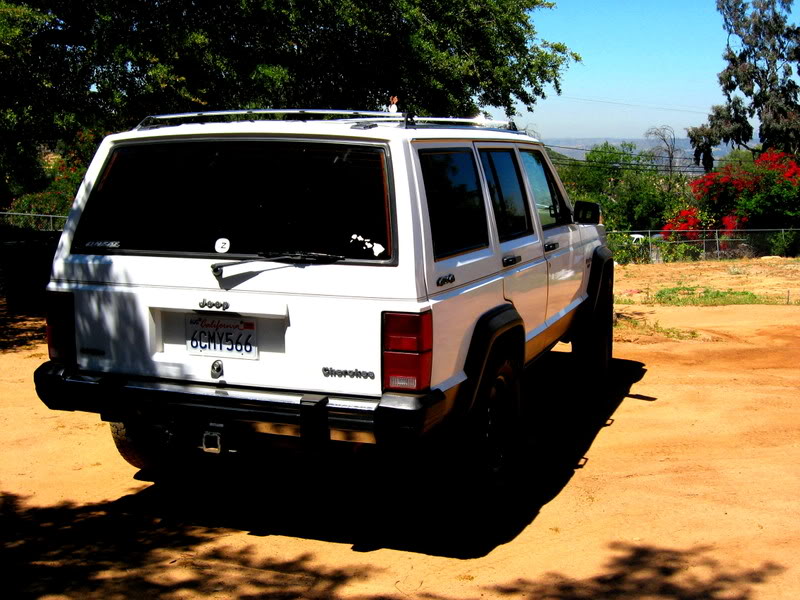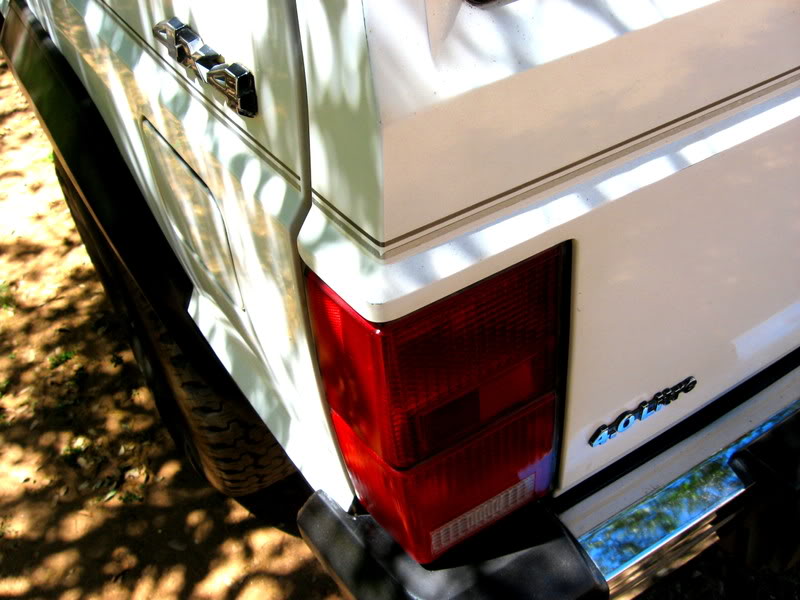 4-19-2008
when i got it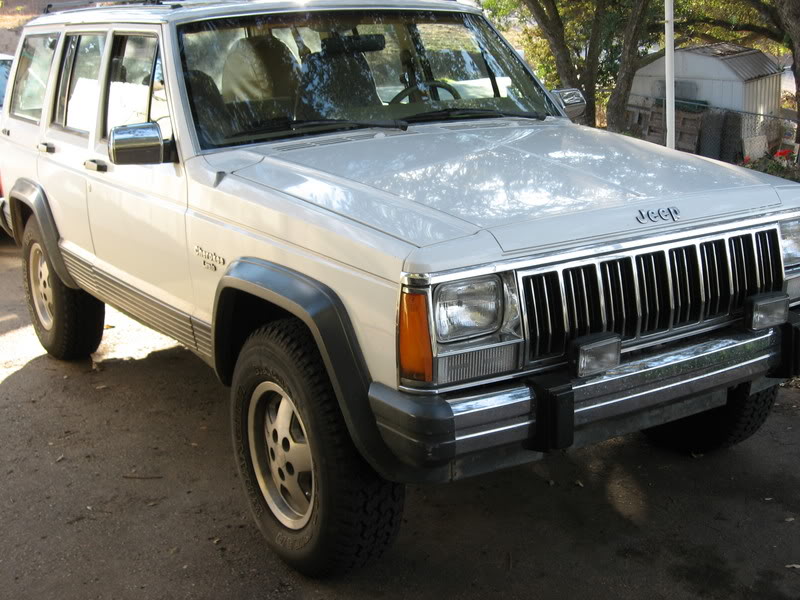 new rims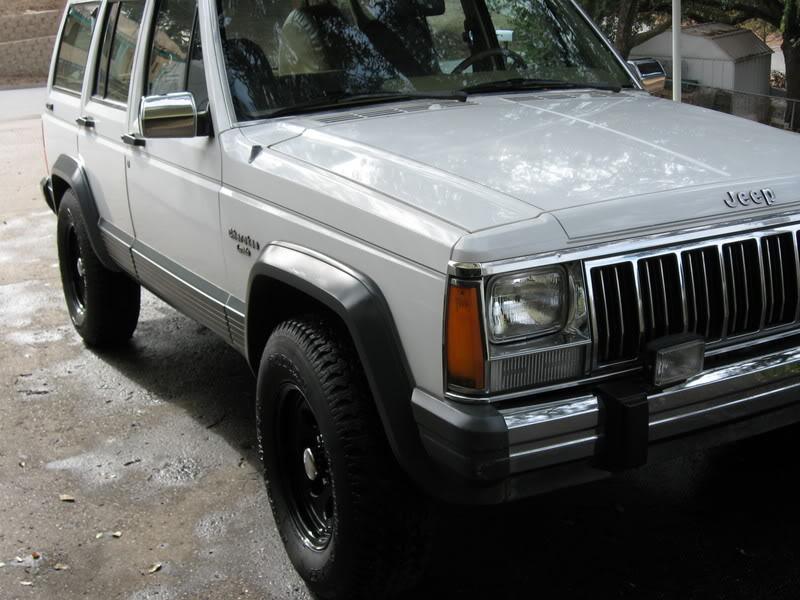 molding gone and flares painted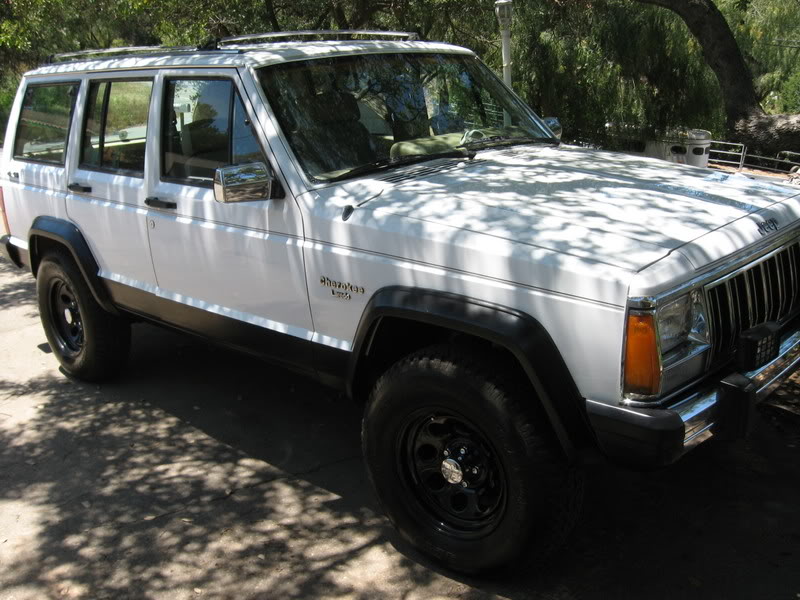 windows tinted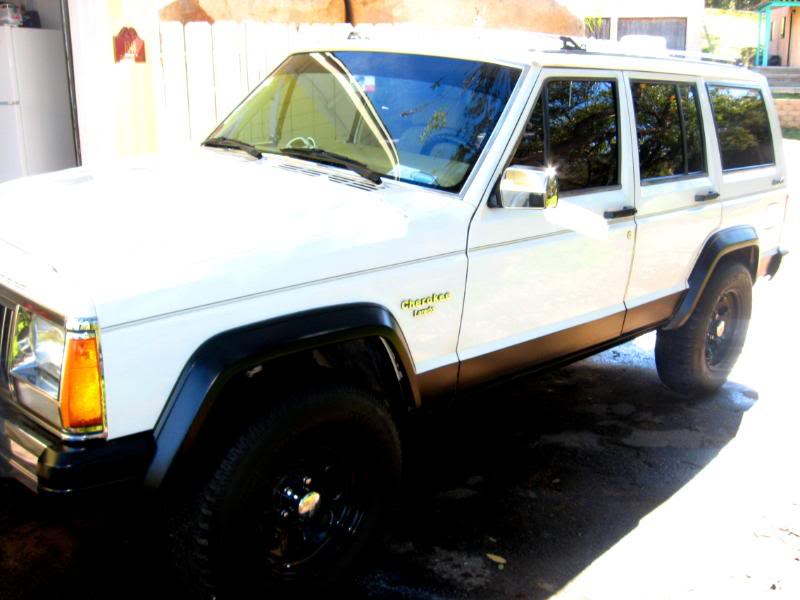 front tint removed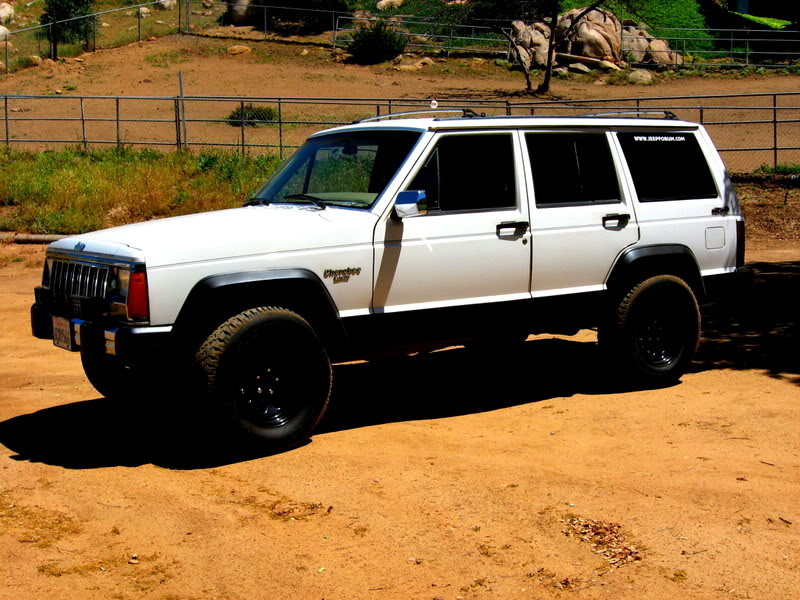 tail lights all red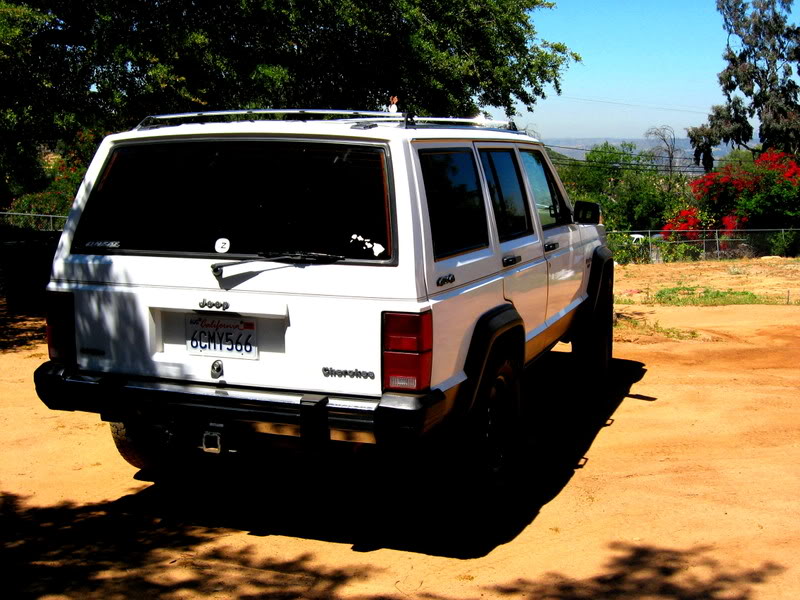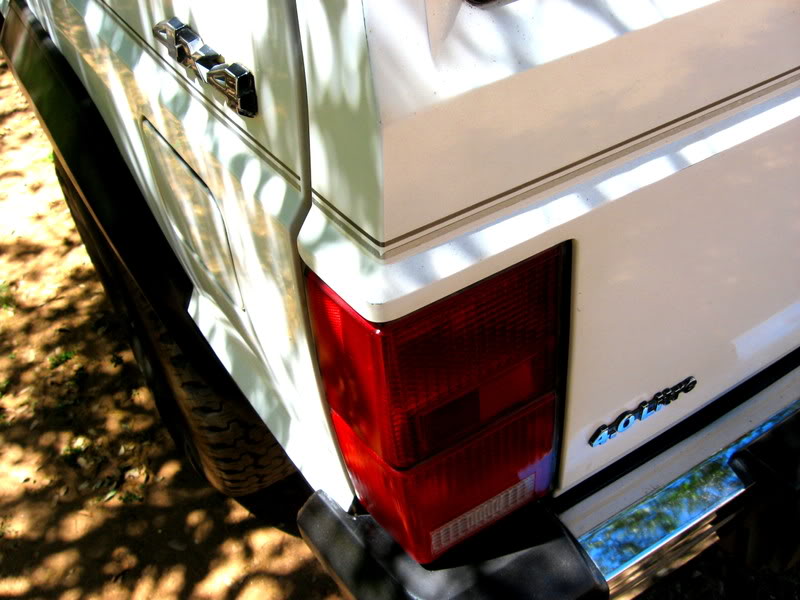 7-11-2008
got some new shoes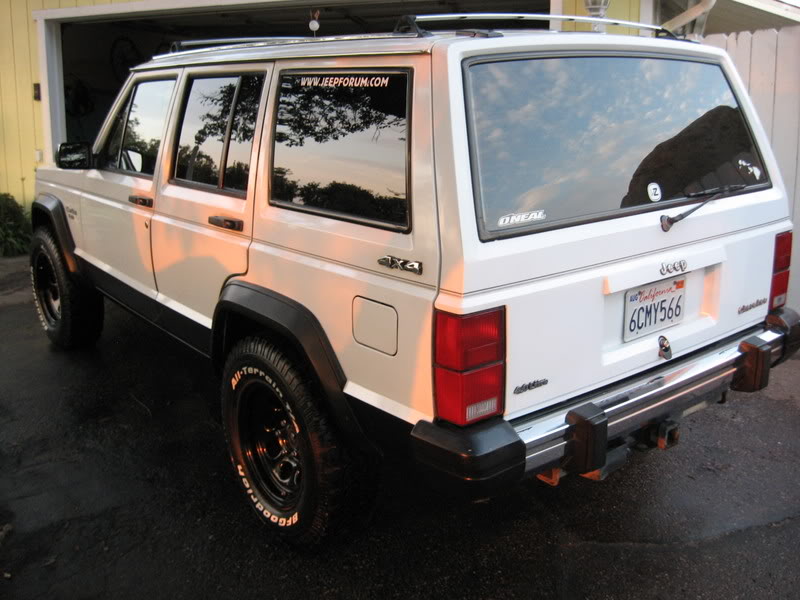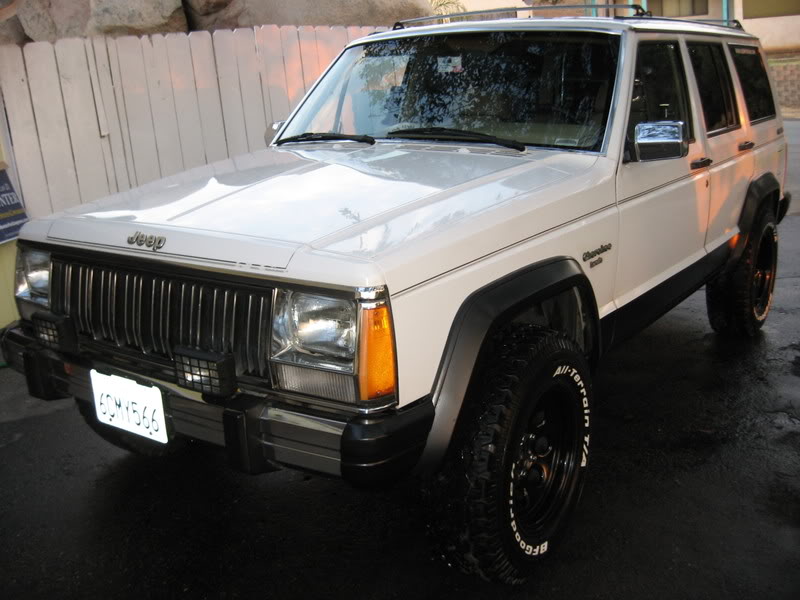 7-17-2008
hey thanks. but i wouldnt want your TJ anyway

. i actually bought it from an old guy with only 96k on it. it was some kind of service vehicle before he owned it.
here are some pics for your liking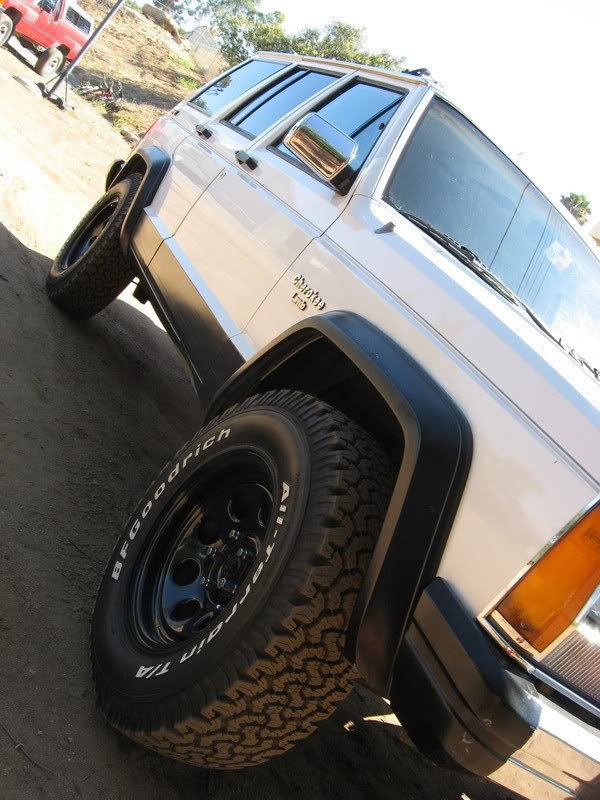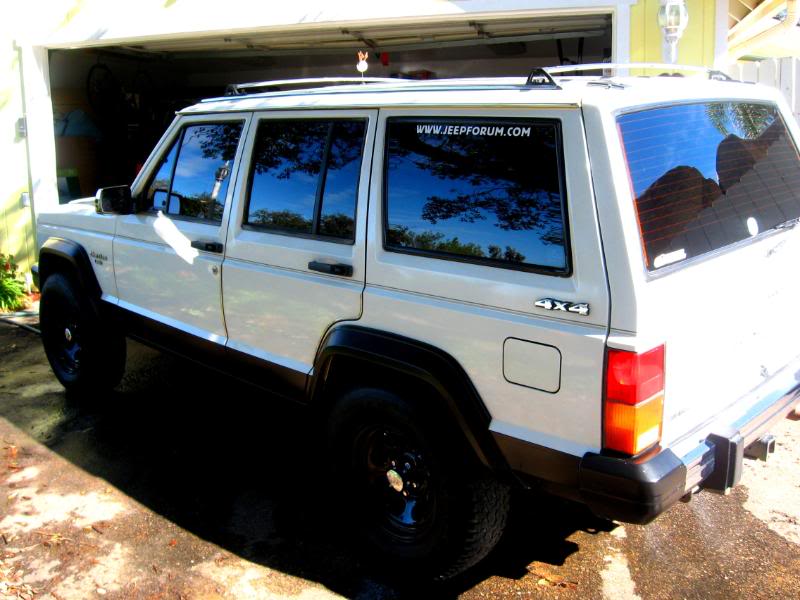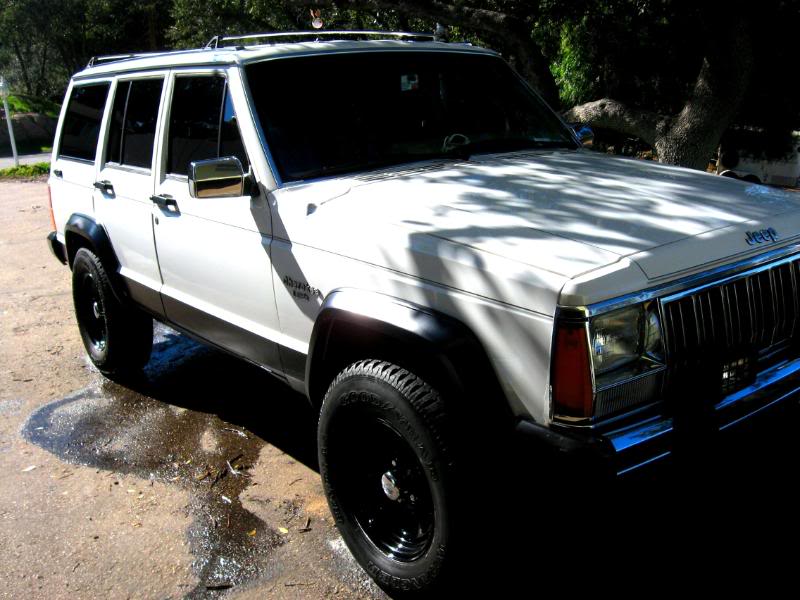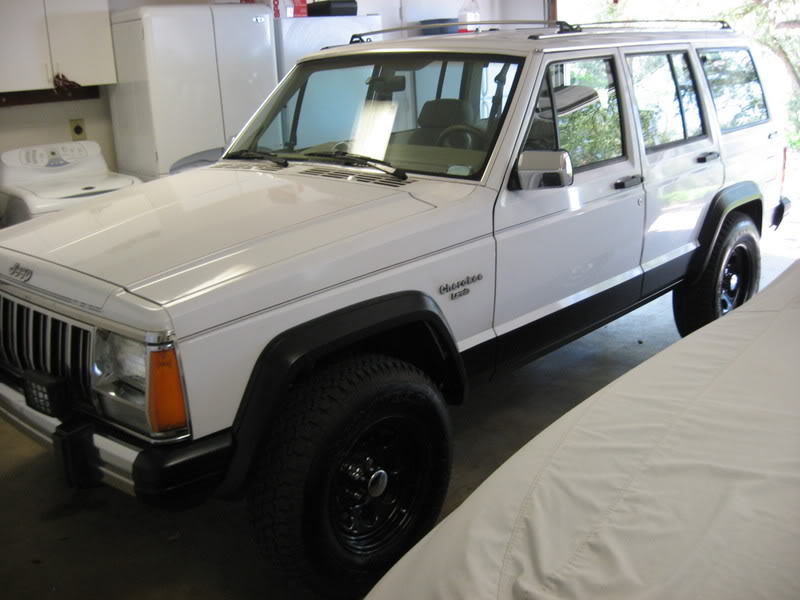 yeah and it gets wheeled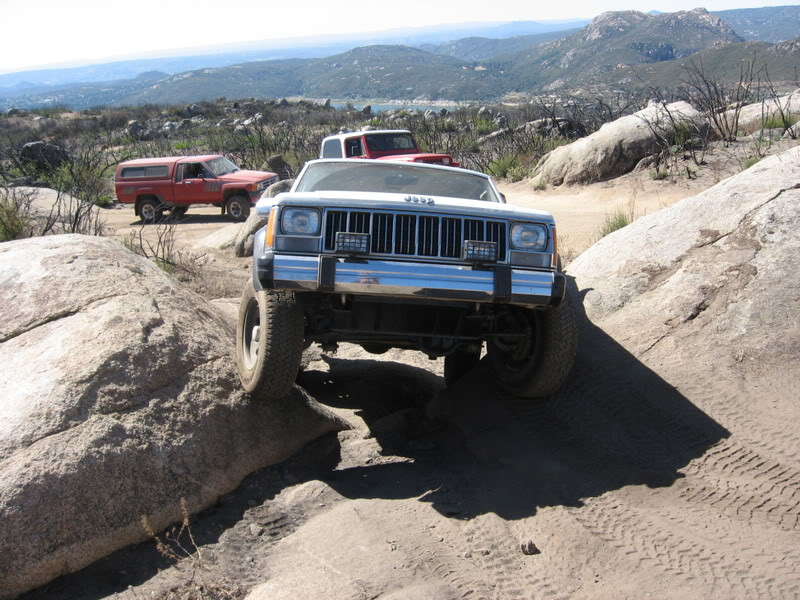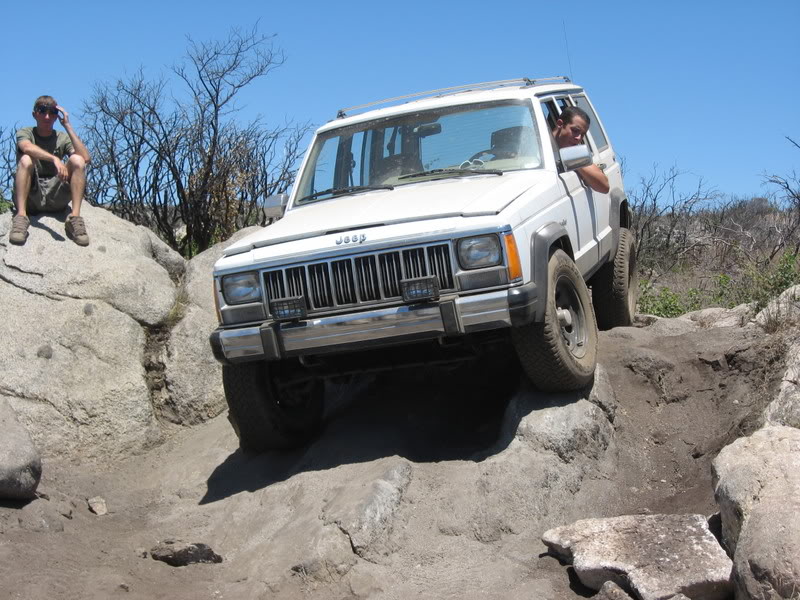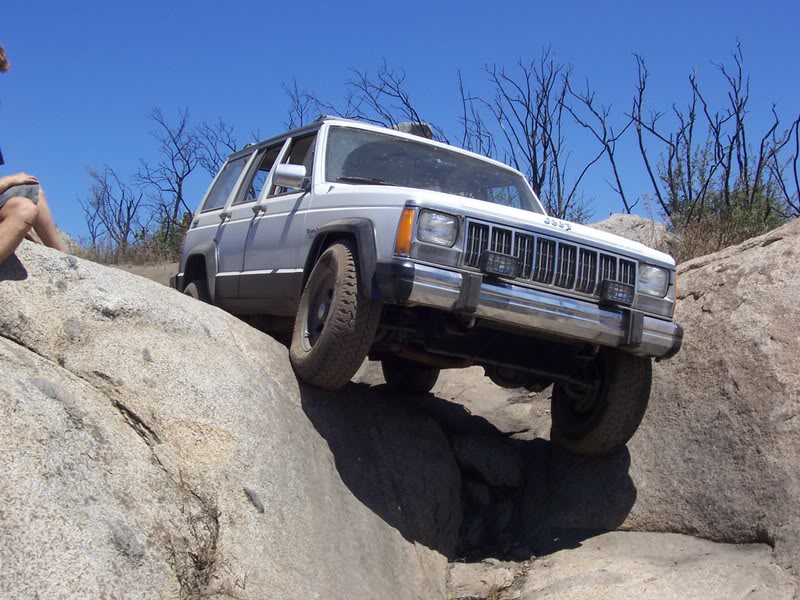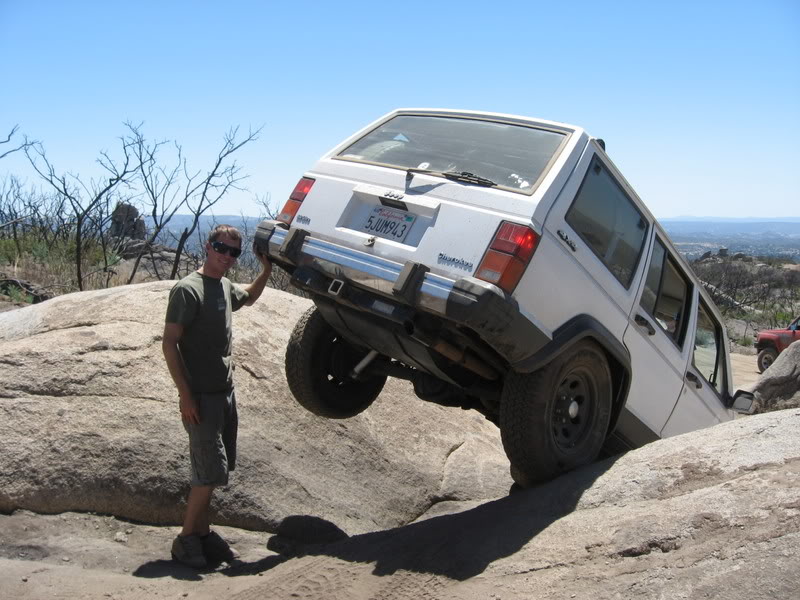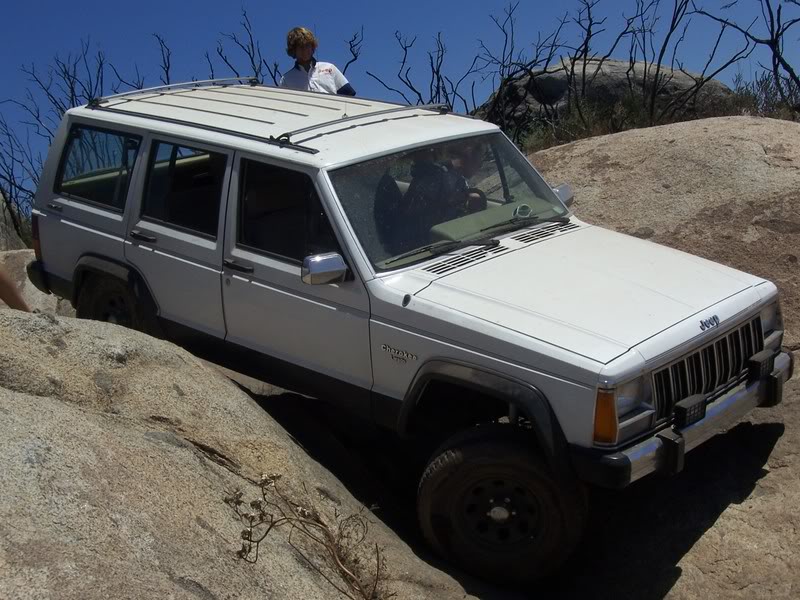 7-18-2008
after first valve cover gasket replacement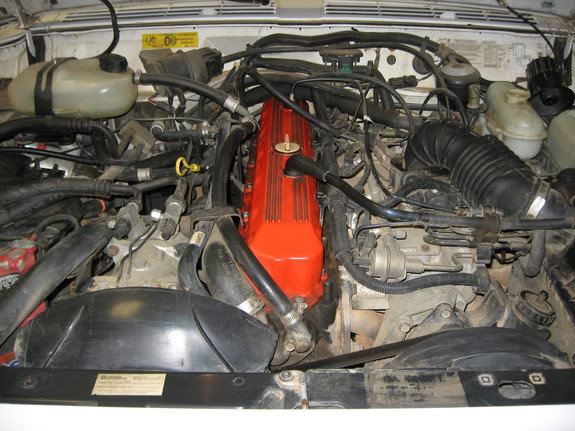 and the second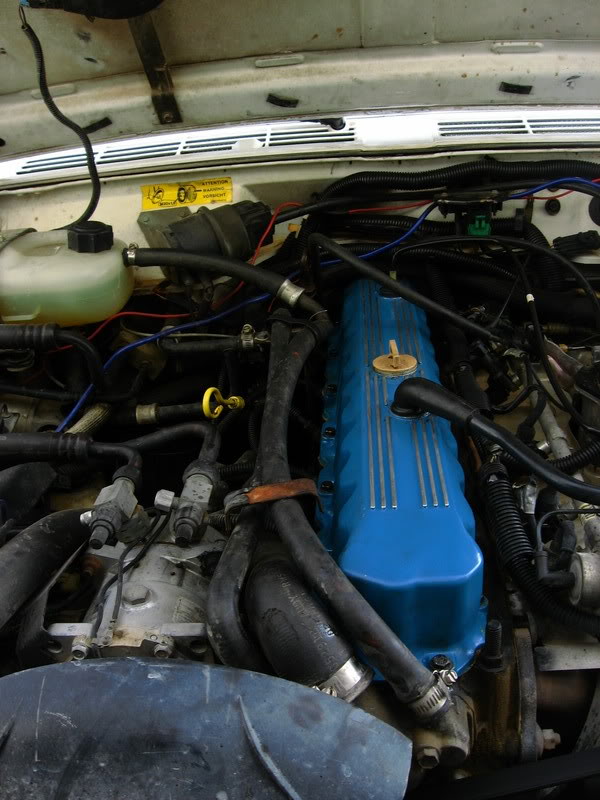 CB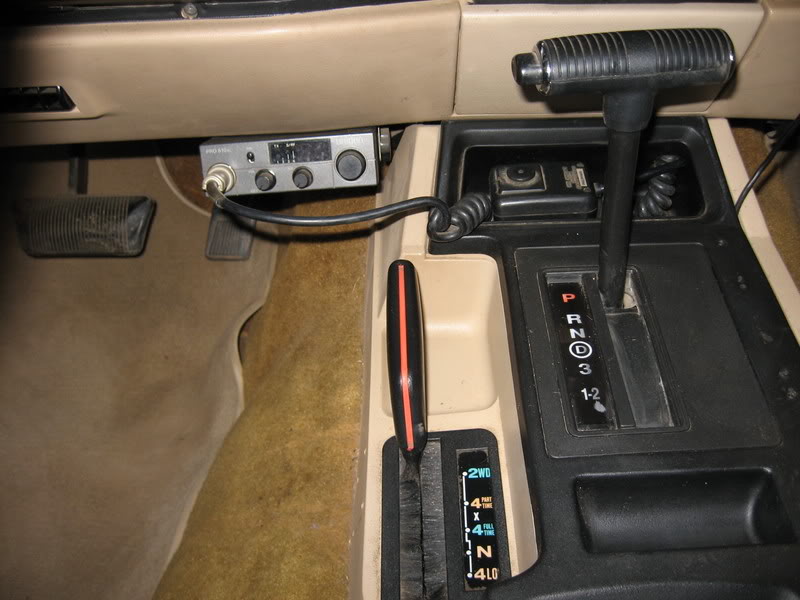 cup holders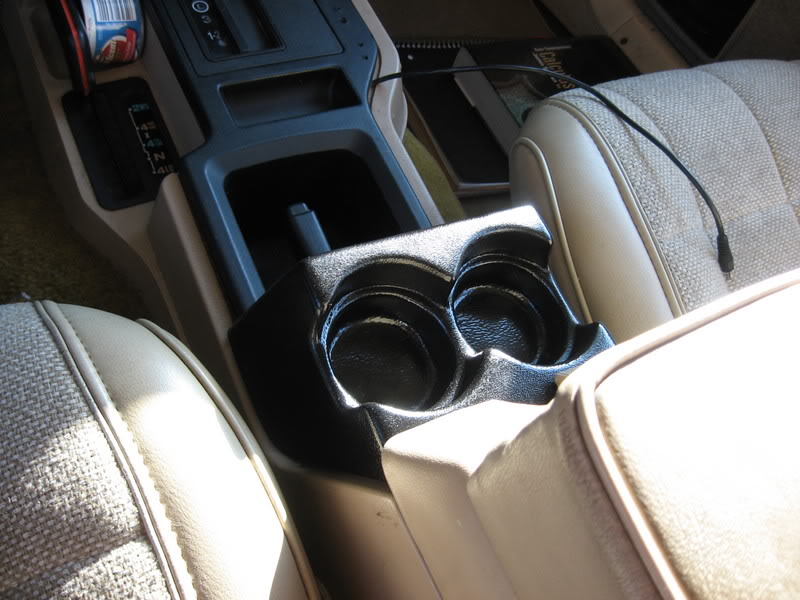 old headrests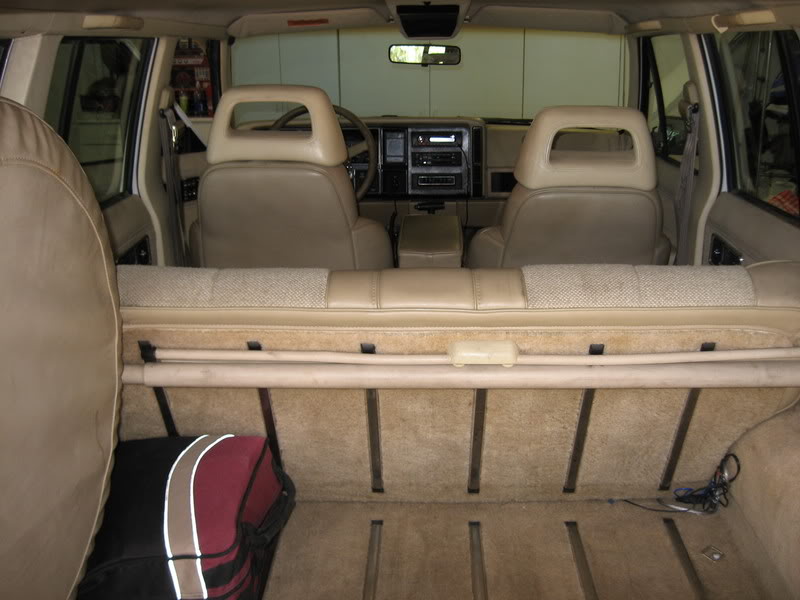 new ones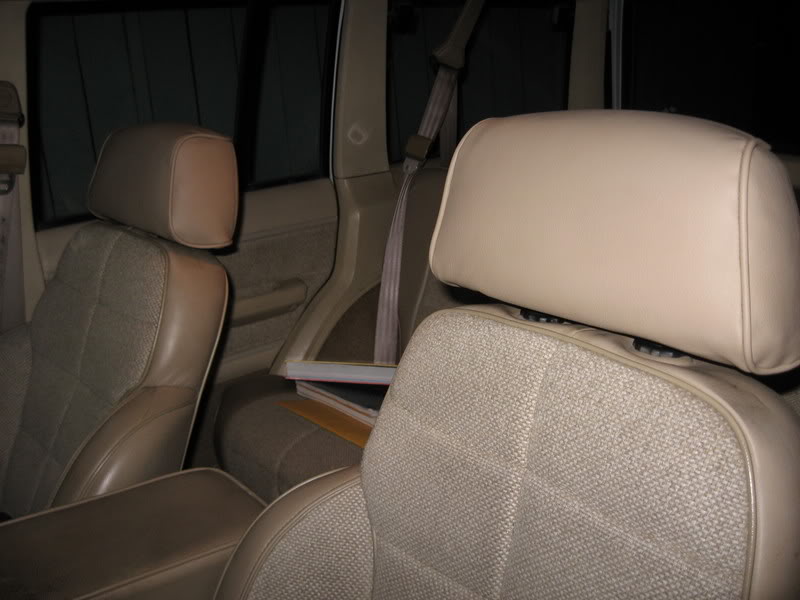 dunes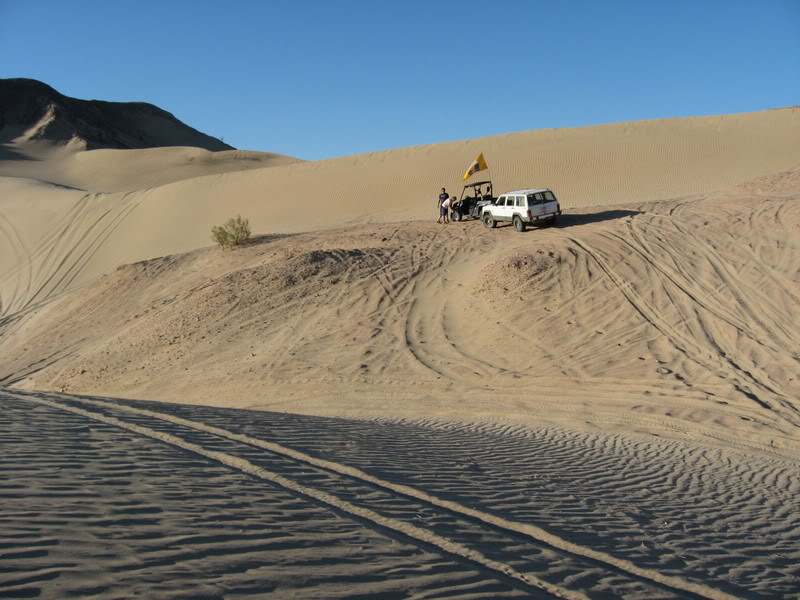 8-4-2008
went wheeling the other day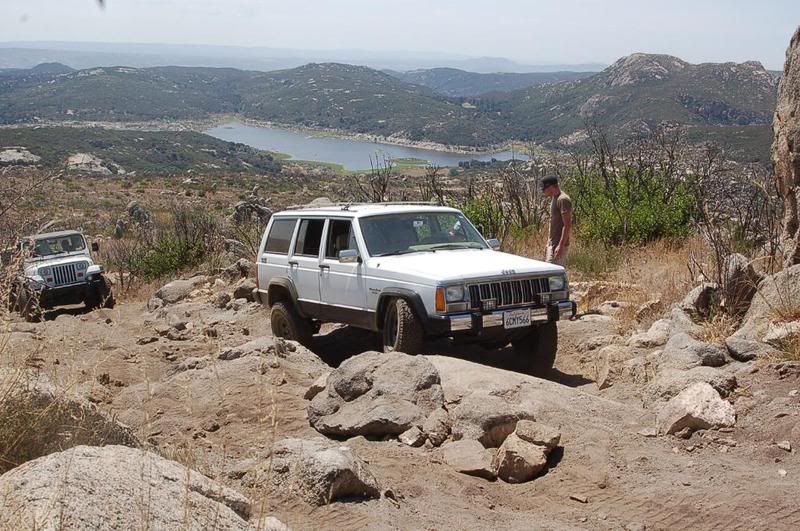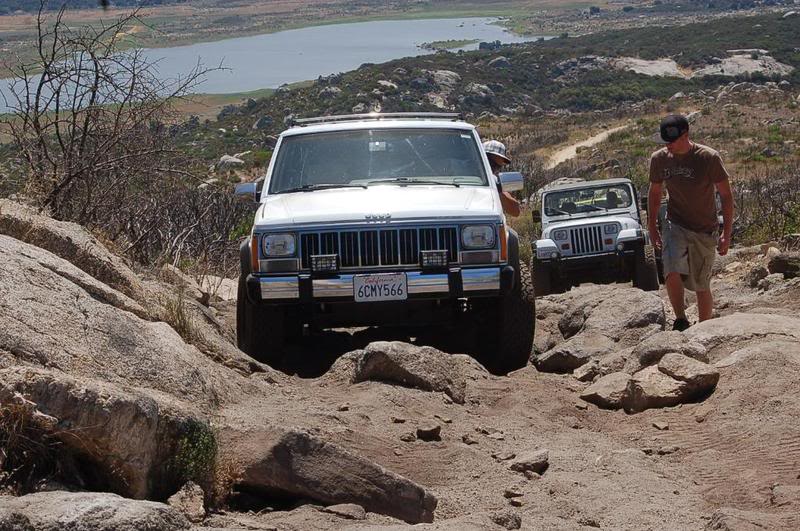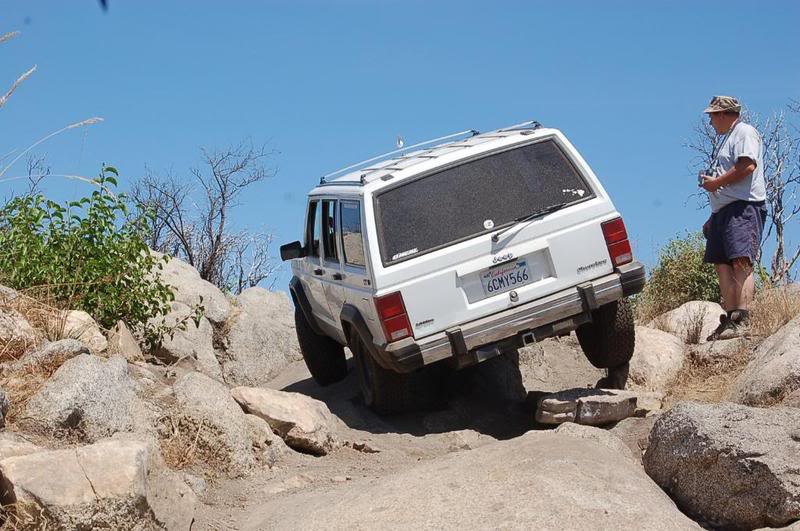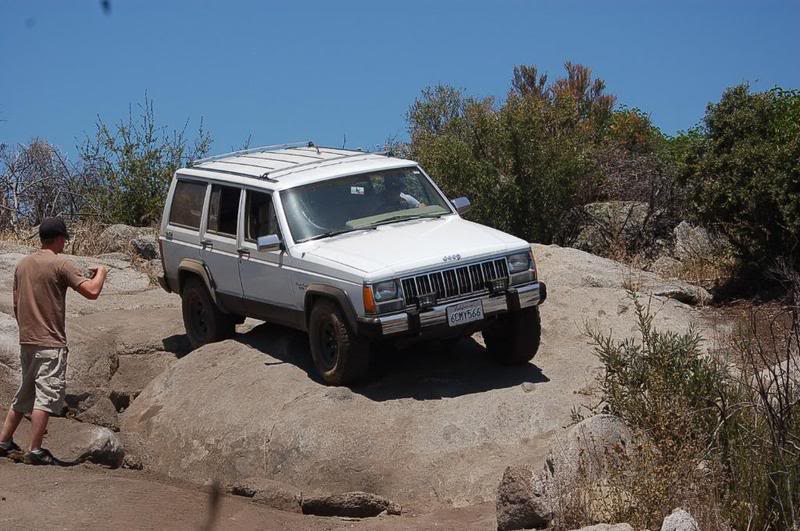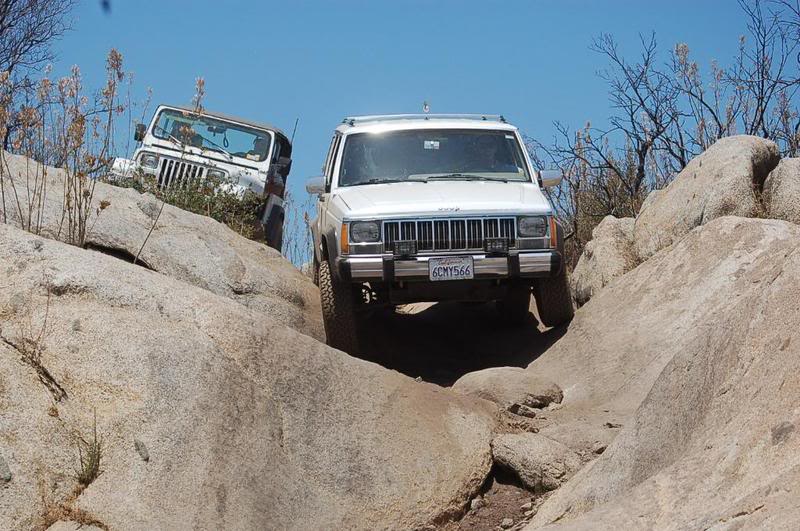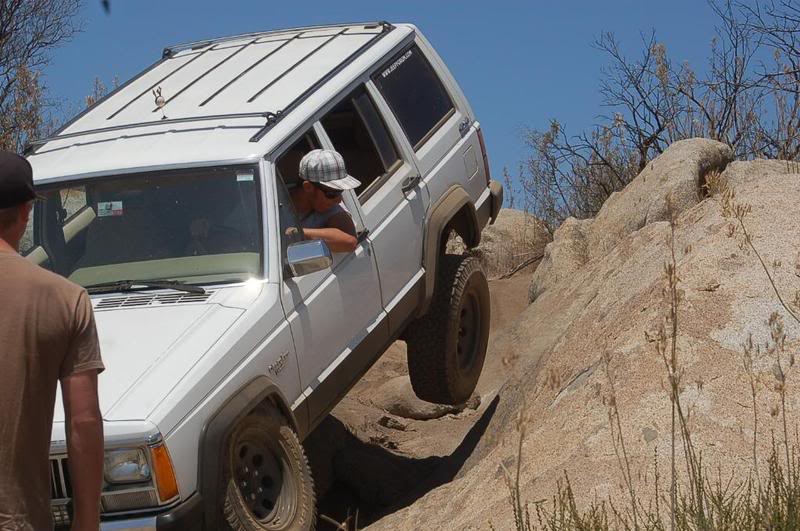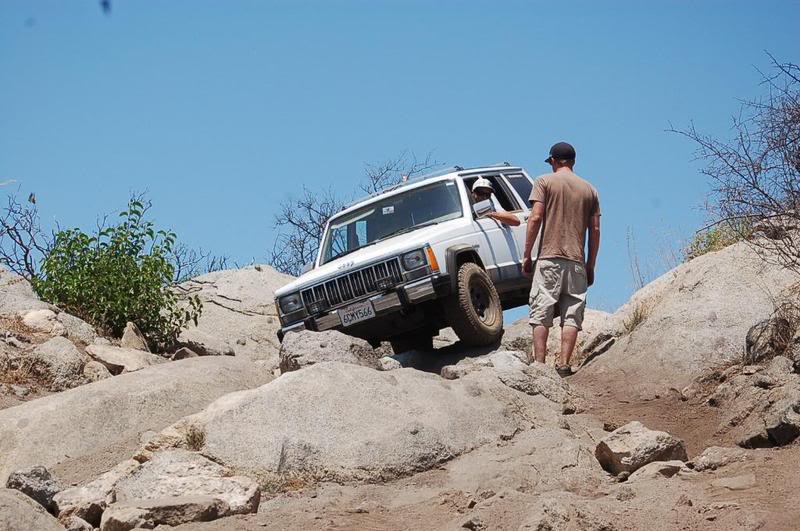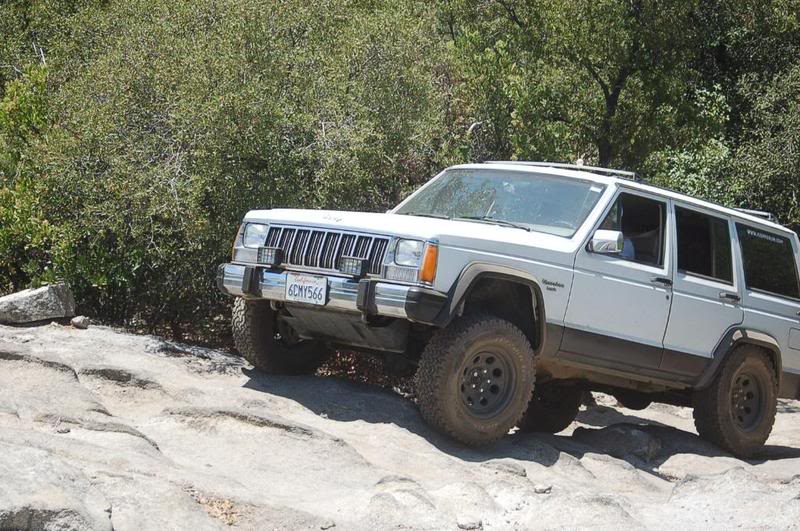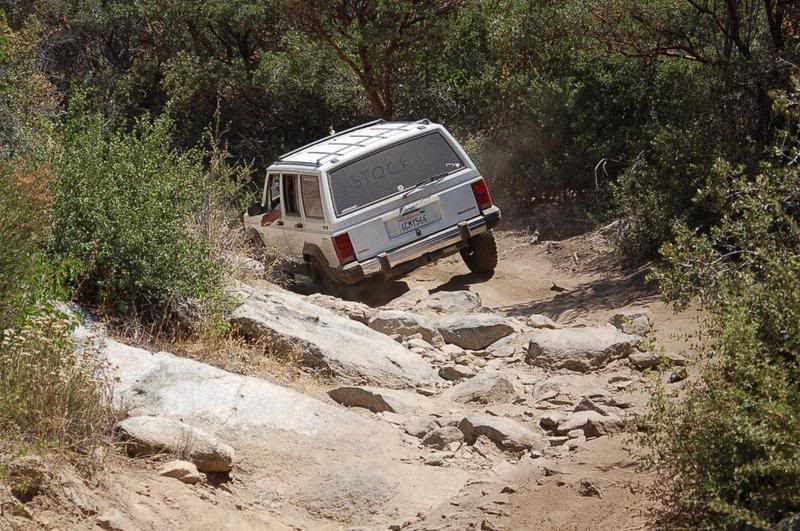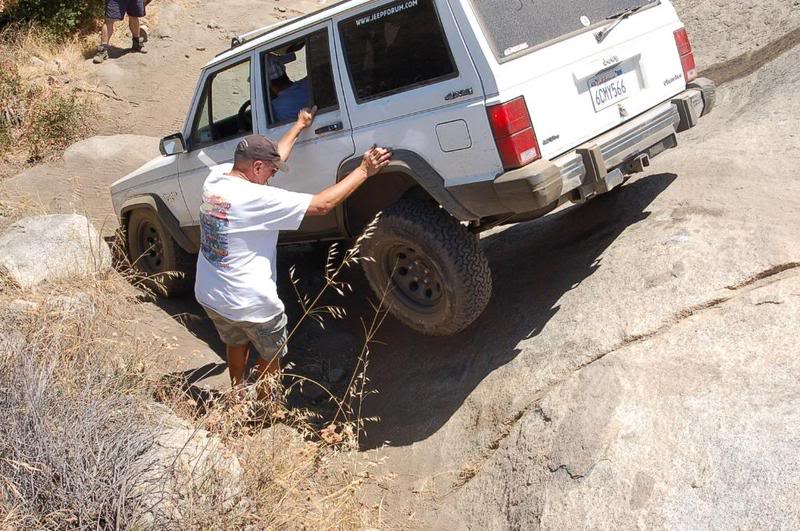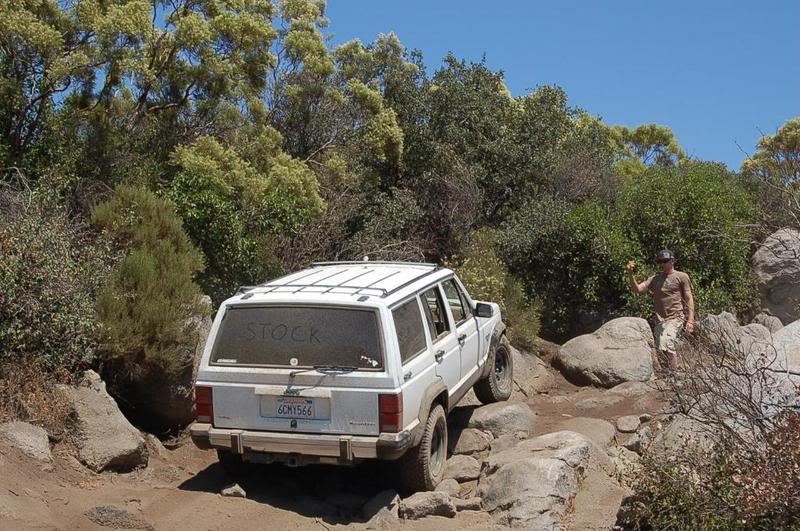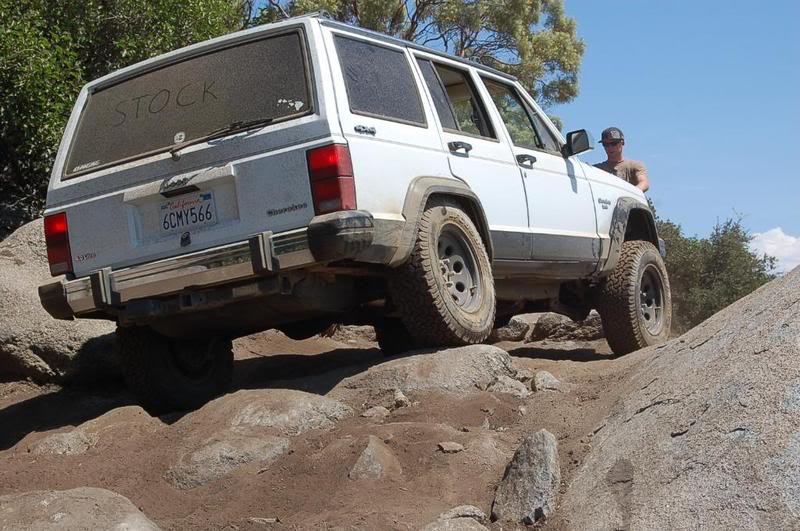 only a little body damage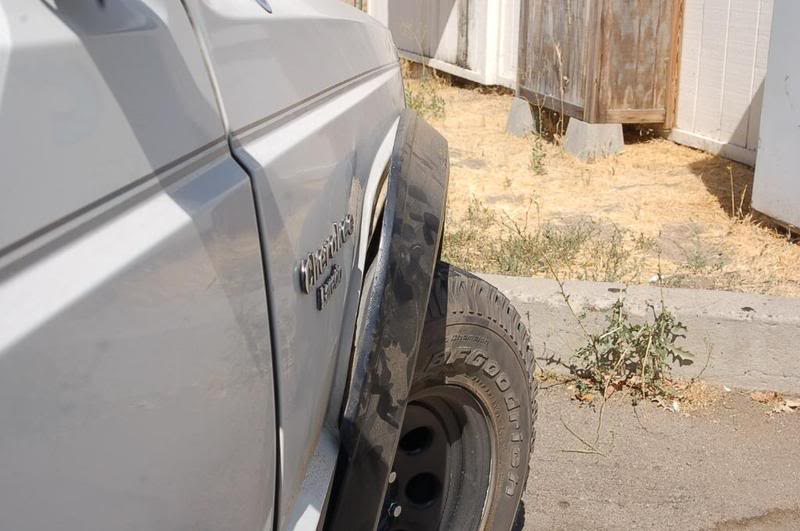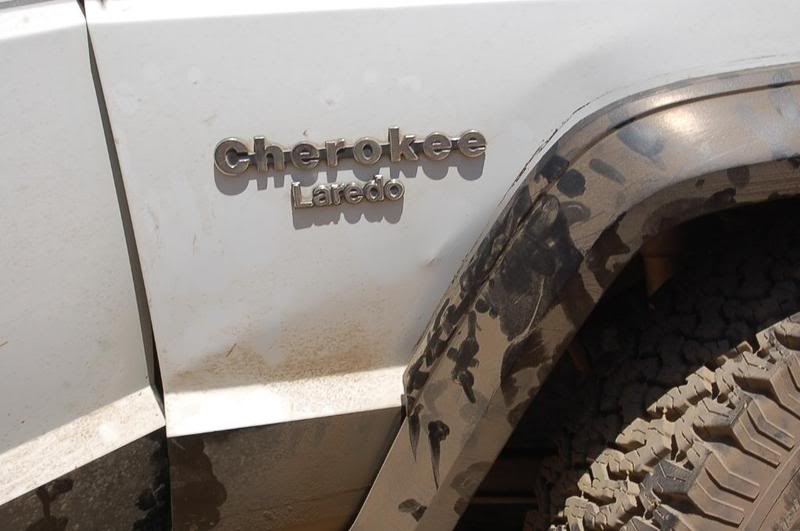 its just from the tires rubbing, which is surprising because they are only 235's.
8-15-2008
got a magnaflow put on today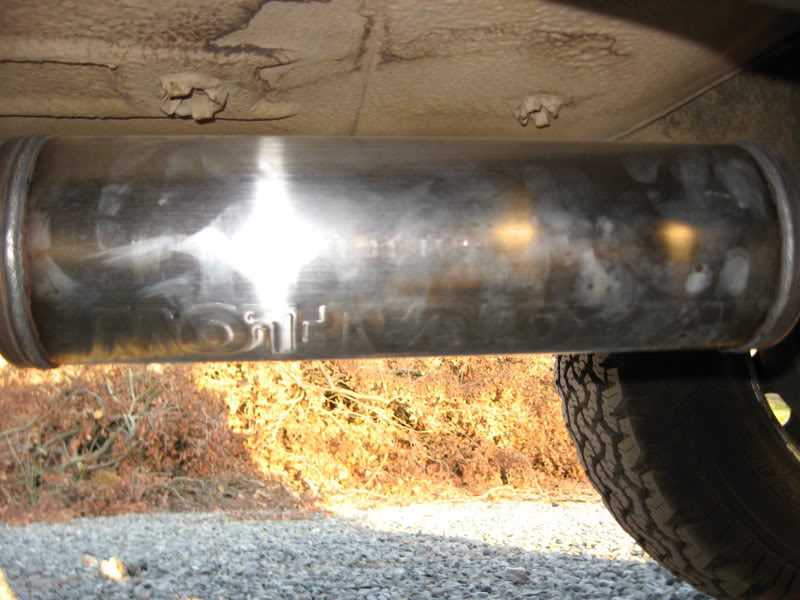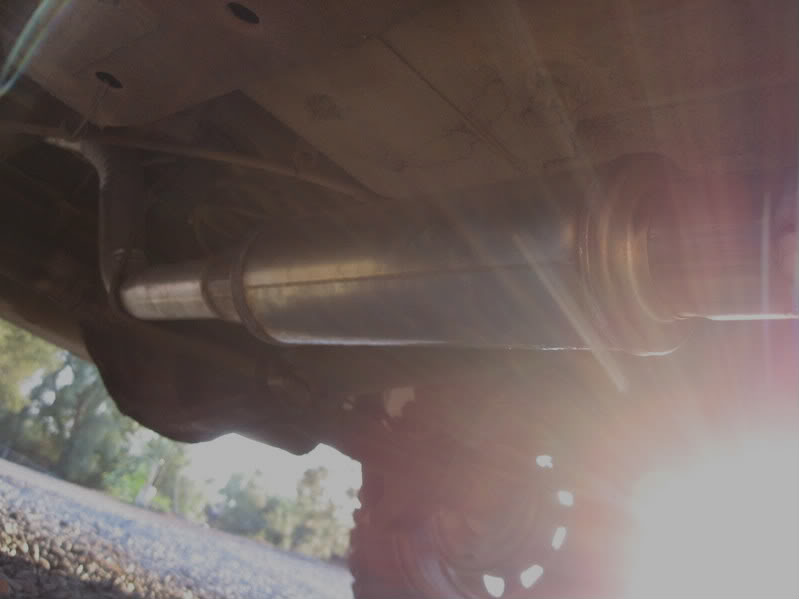 oh and i found this while getting the exhaust on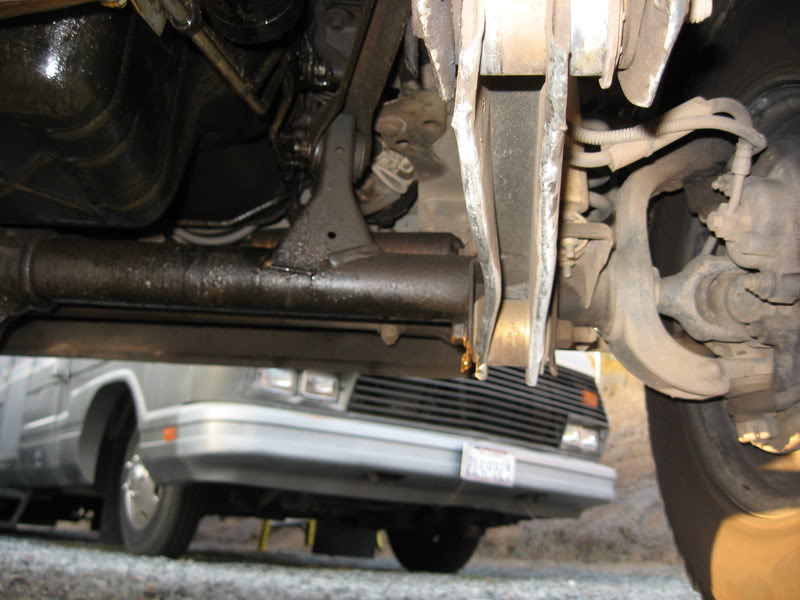 8-19-2008
8-27-2008
got the LCA replaced. i scored stock TJ ones for free. i had to loosen the bolts on the back of the frame mount to get them to line up easily. i know thats for the alignment, but since i didnt add or subtract shims, i should be fine. i just used a screwdriver to line them up to get the bolt in.
old vs. new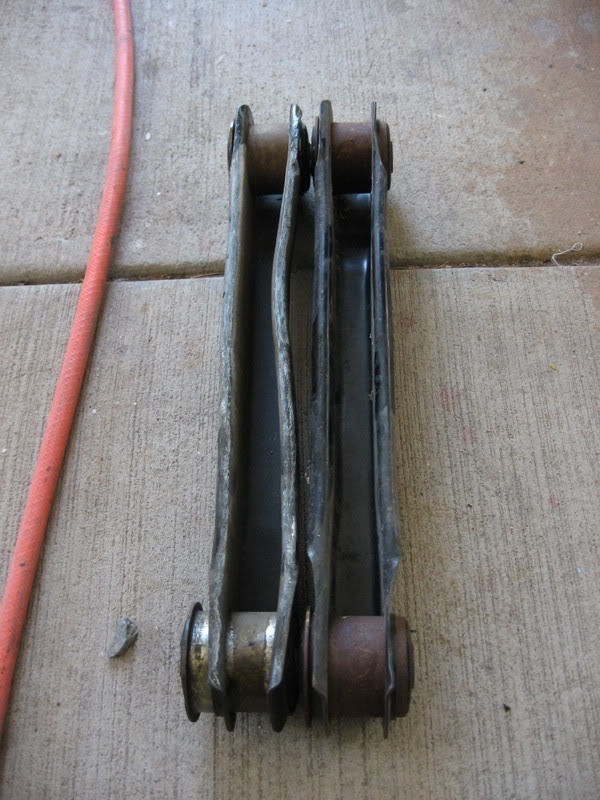 all done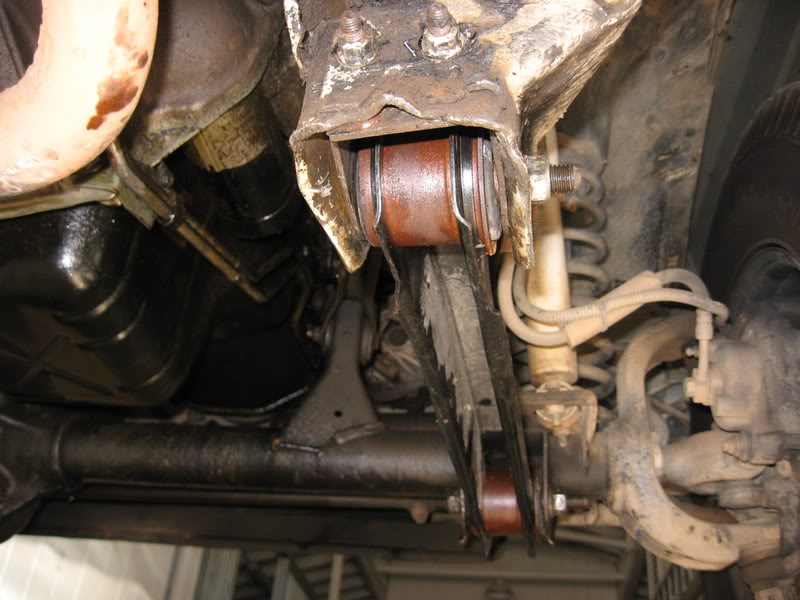 (i know i have an oil leak)
9-9-2008
threw in some hockey puck bumstops yesterday.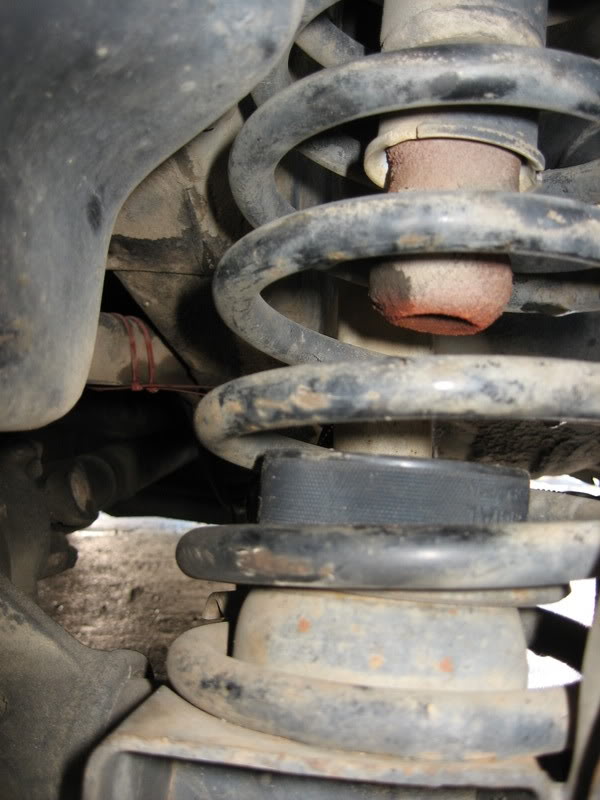 and this is why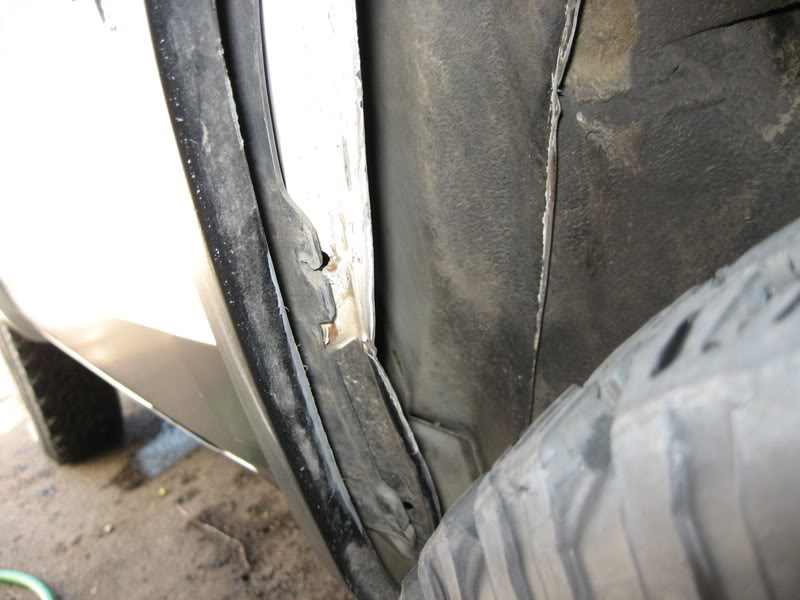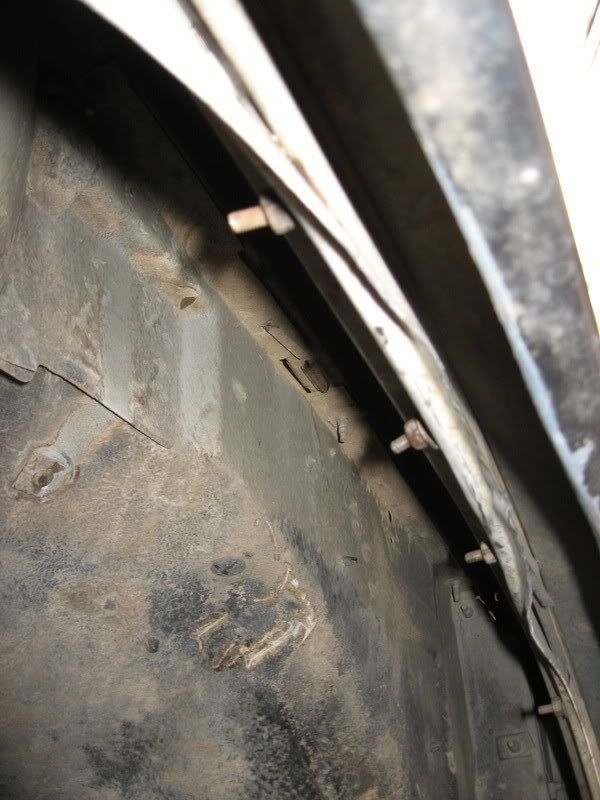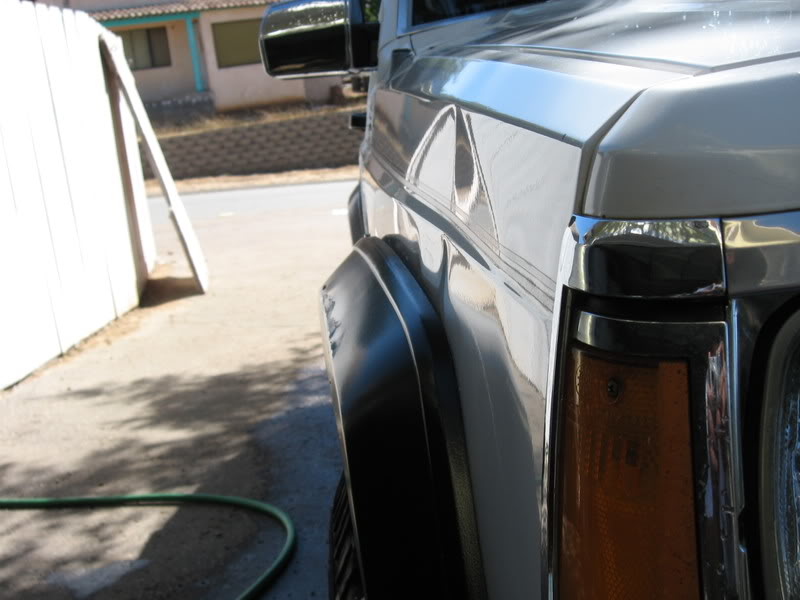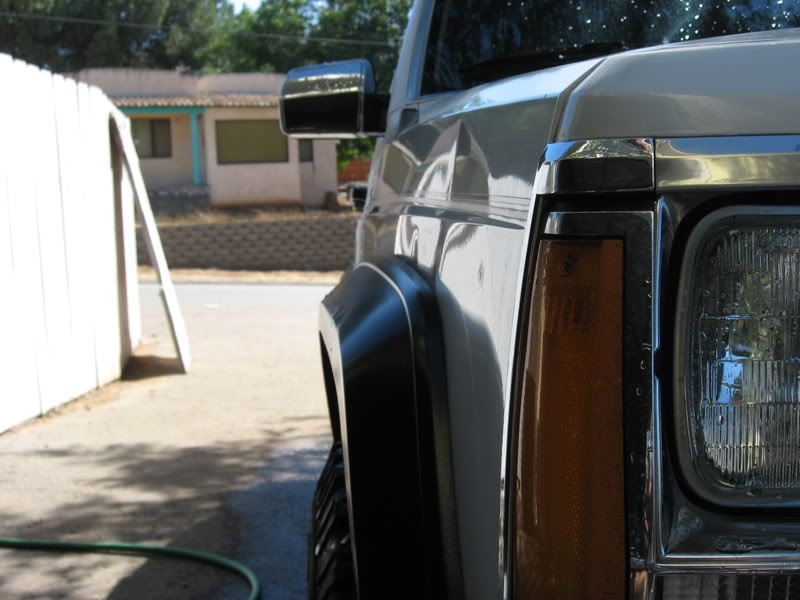 so whoever says 235's dont rub on XJ's, they lie! but its because i have only 4" of BS.
they rub in the rear pretty bad too, even with just my subs and 2 golf bags, they rub over bumps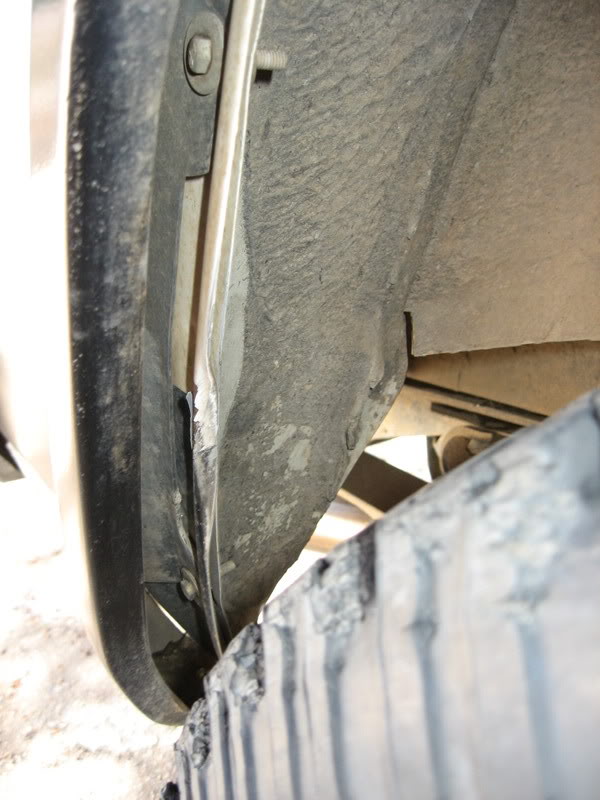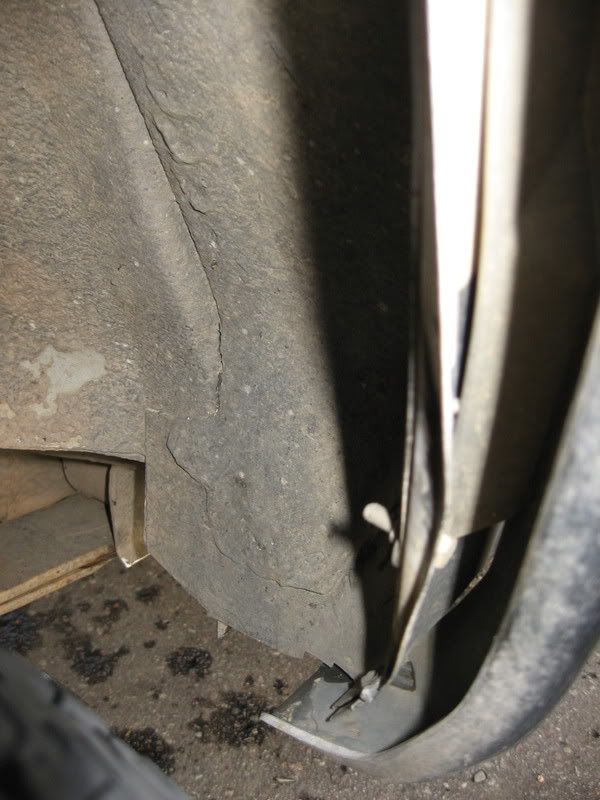 and heres what the tire looks like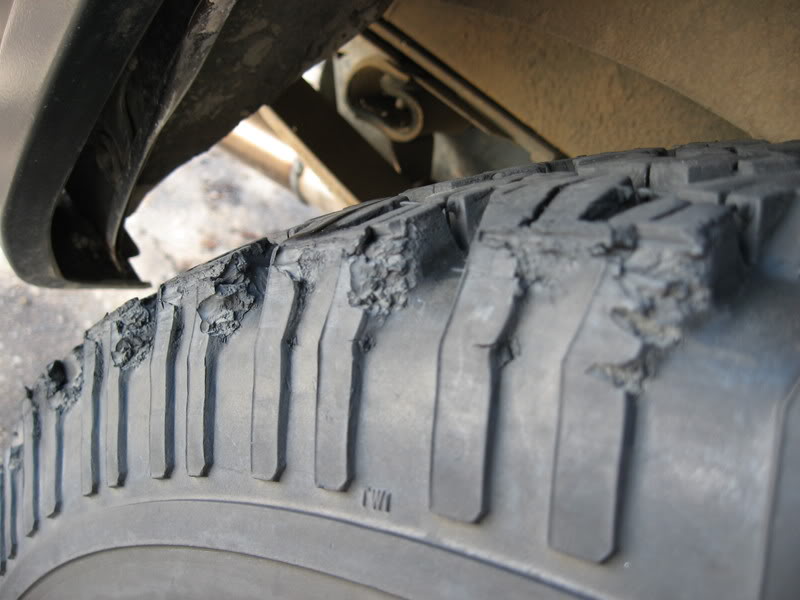 10-20-2008
so i picked it up today!!!!!
pics: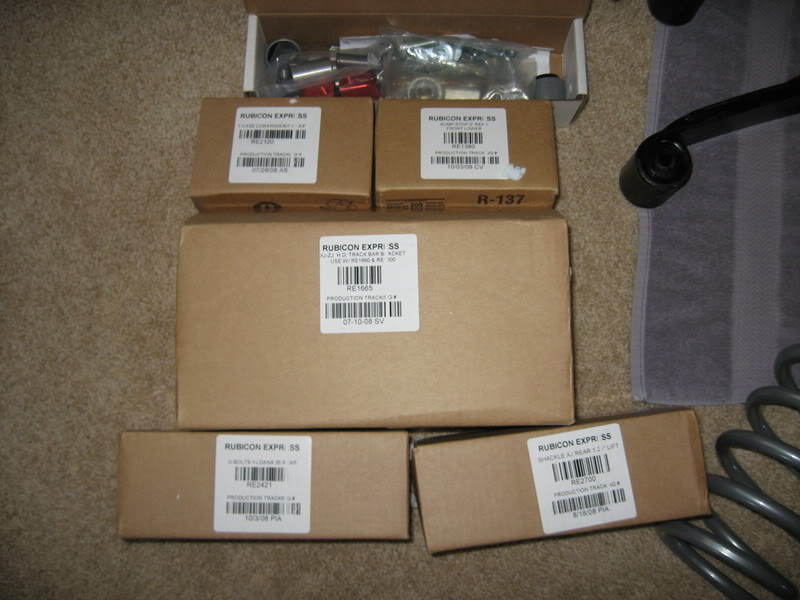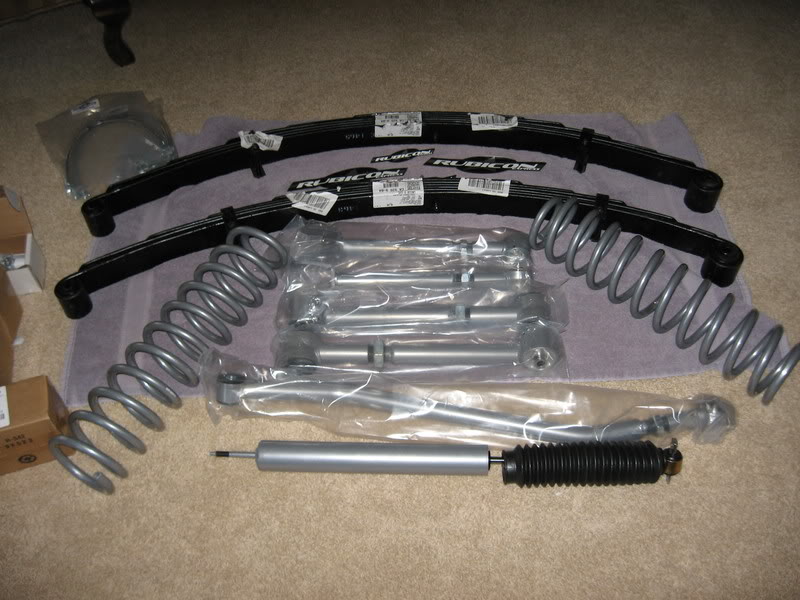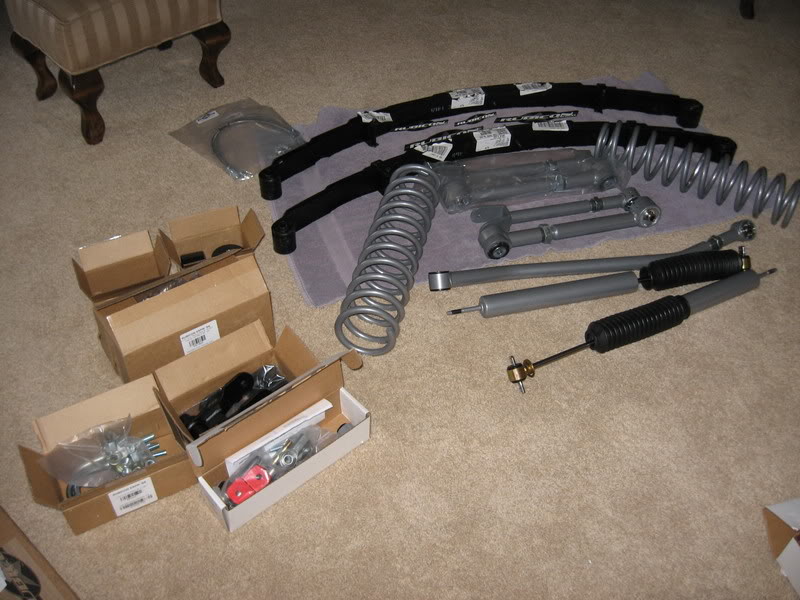 10-22-2008
alright so i got the front on today. took longer than expected but wasnt too difficult, considering i did it by myself. rear goes on tomorrow.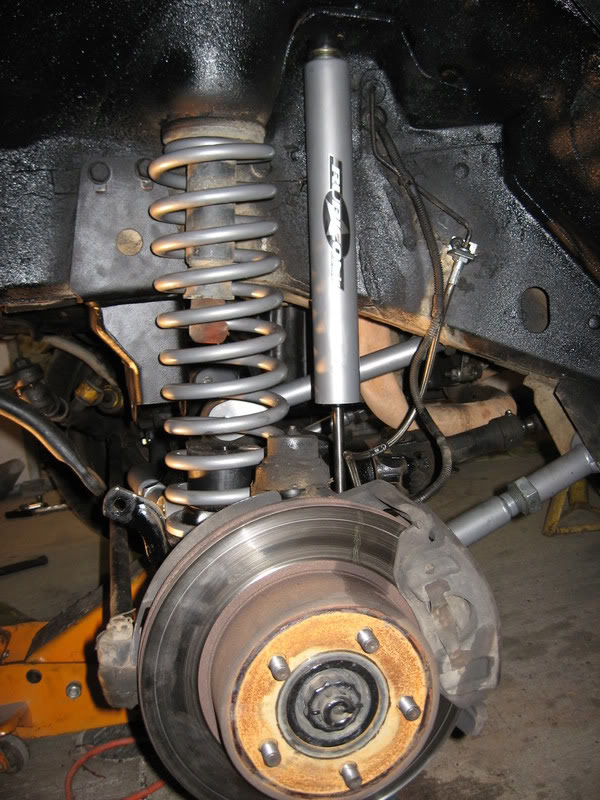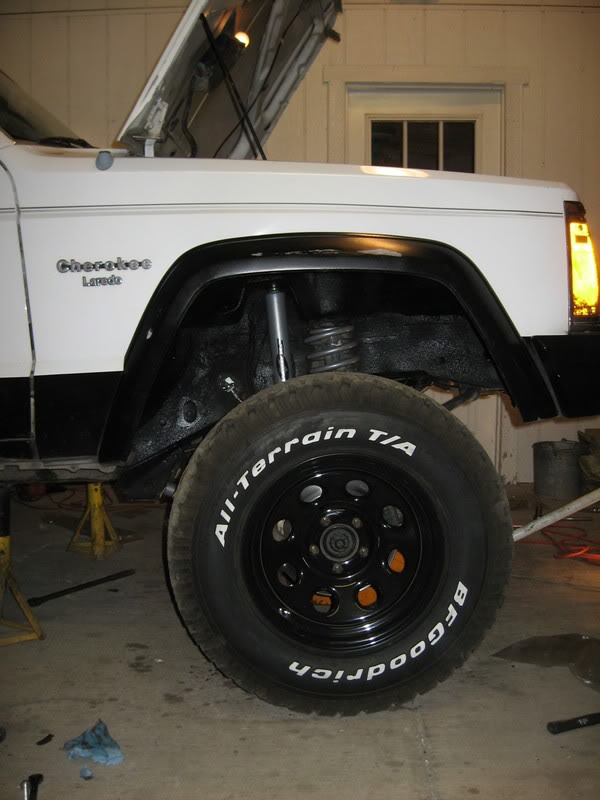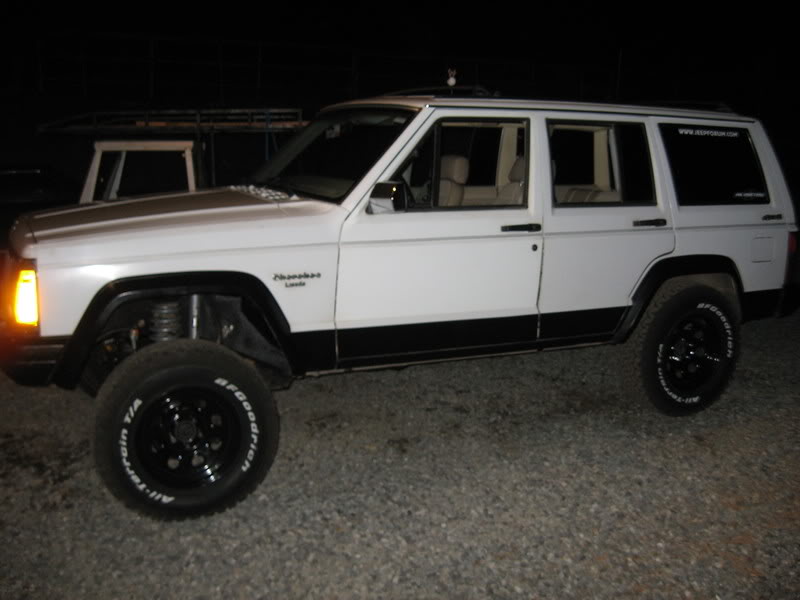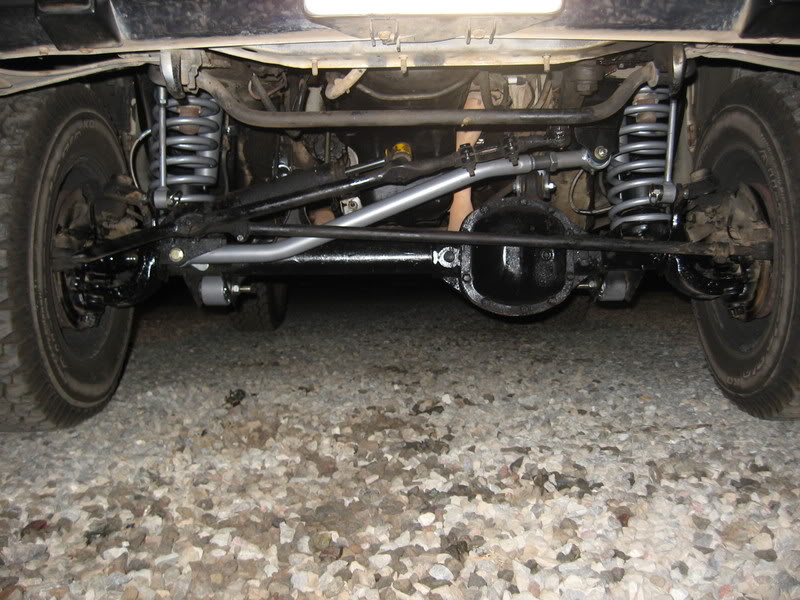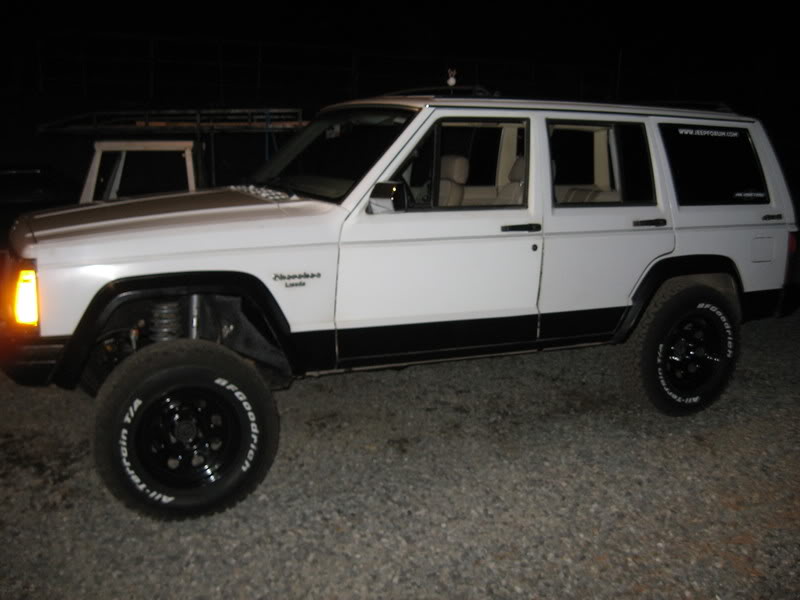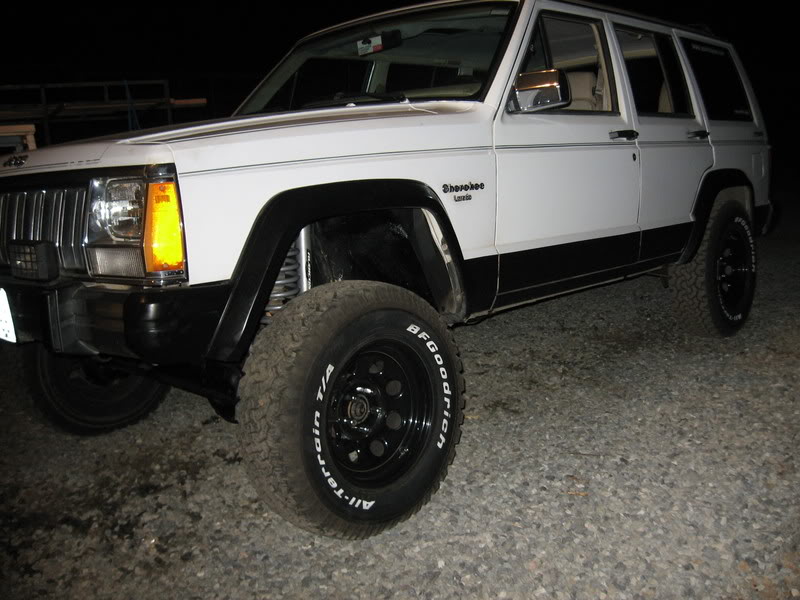 now its completely done!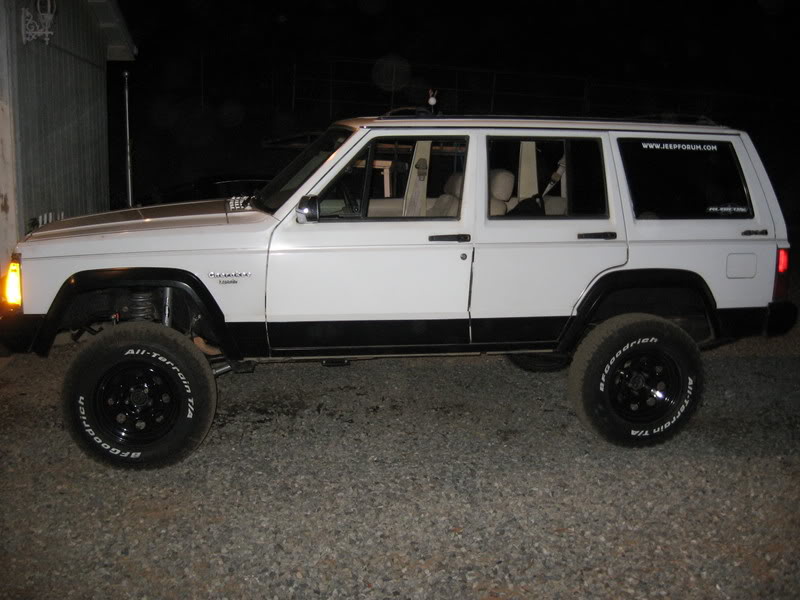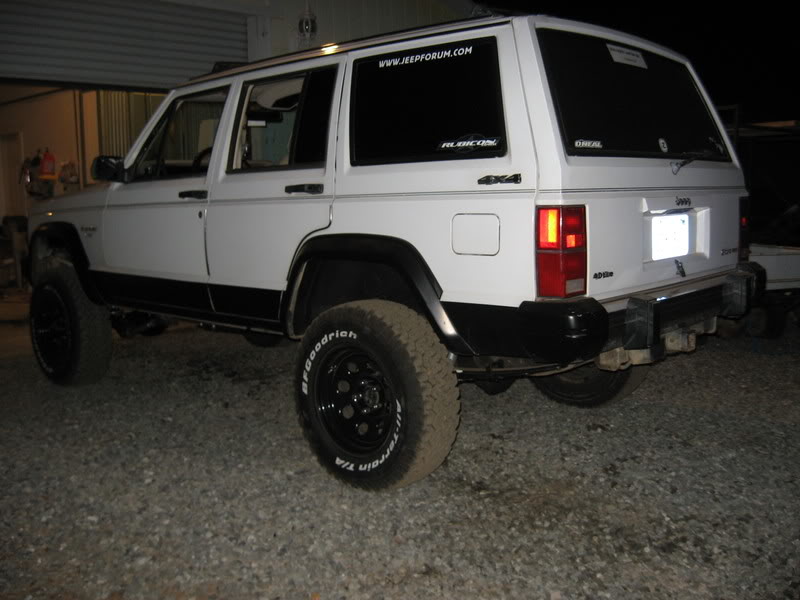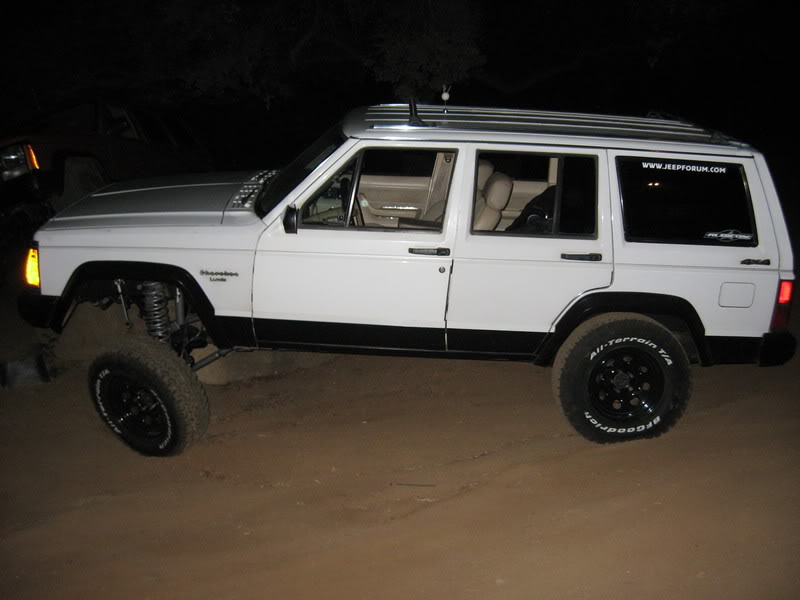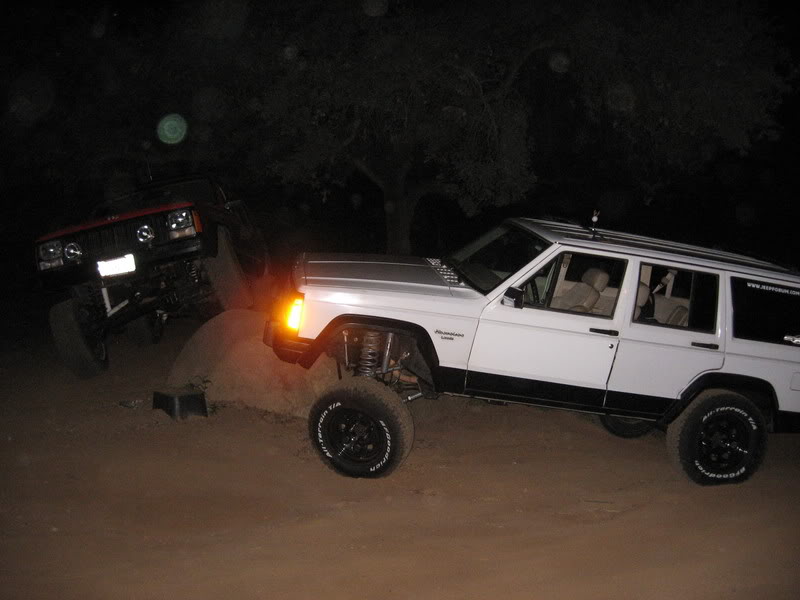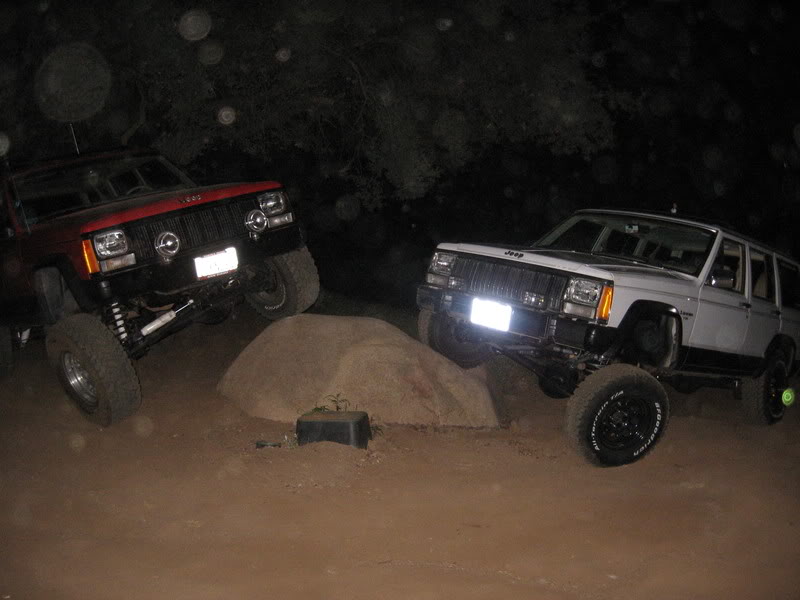 i do have very slight vibes around 30mph so im thinking my 4* shim may be a little too much. it doesnt really sit higher in the rear either which is a surprise. all around its around 5.5" right now.
1-23-2008
and daytime pics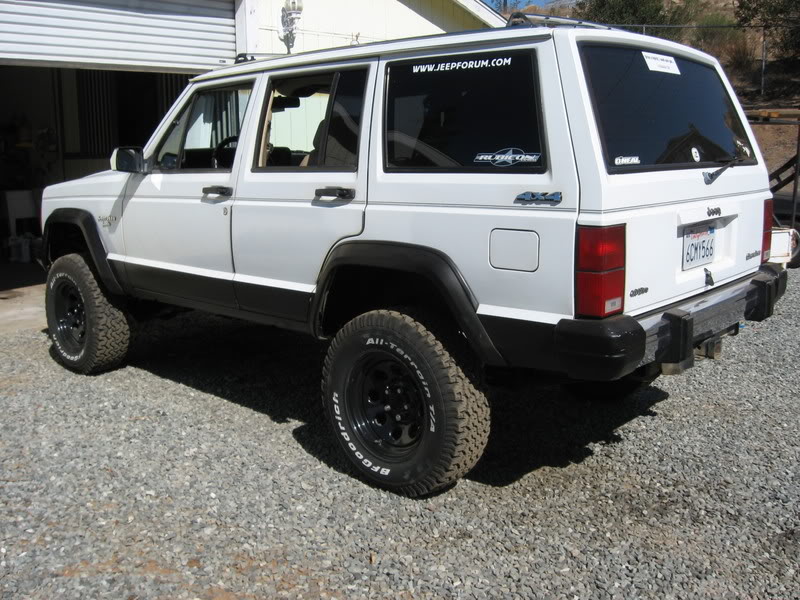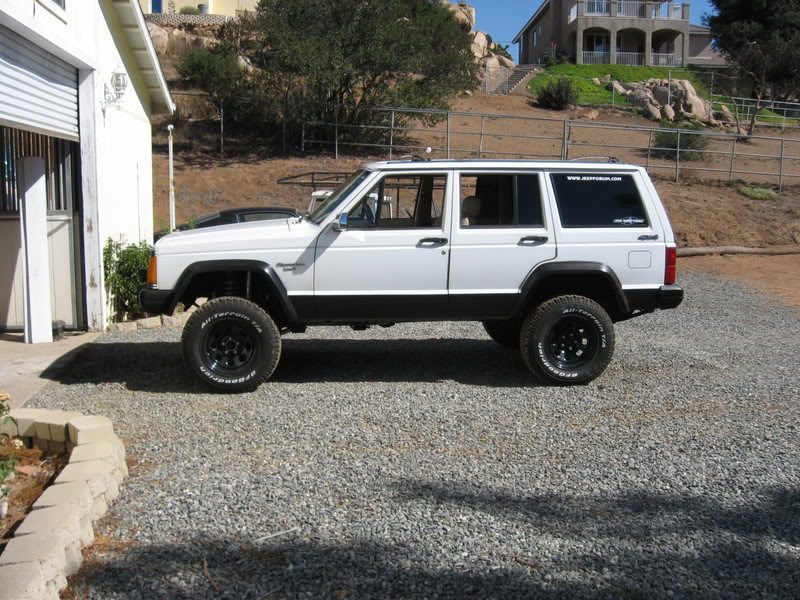 10-27-2008
so i got to flex it out completely for the first time today and the front over compresses. so i need to add more bumpstops. my coils rub the frame and the axle on the inner C's. and my LCA's are a little long so when i flex, my tires rub the front of the flares.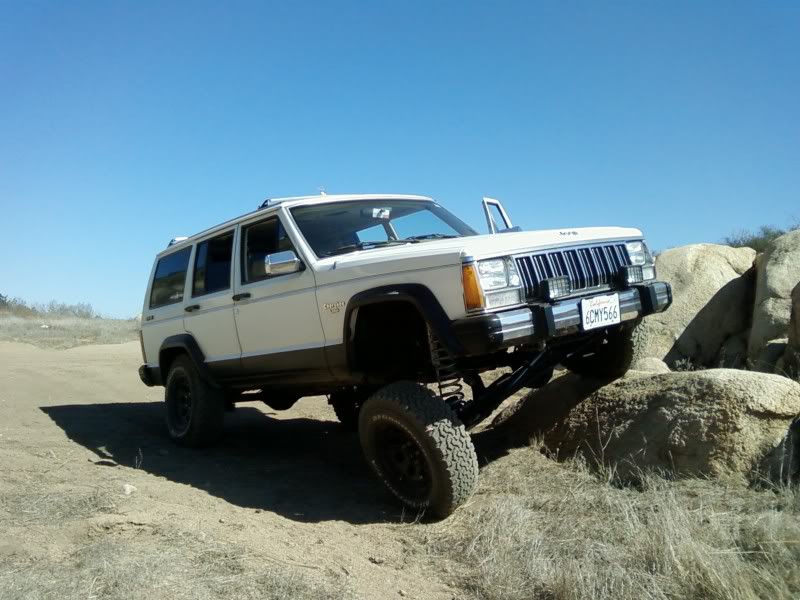 10-31-2008
made myself a CB antenna mount today. i still need to run the antenna wire to it. i think its plenty strong on the bumper with those bolts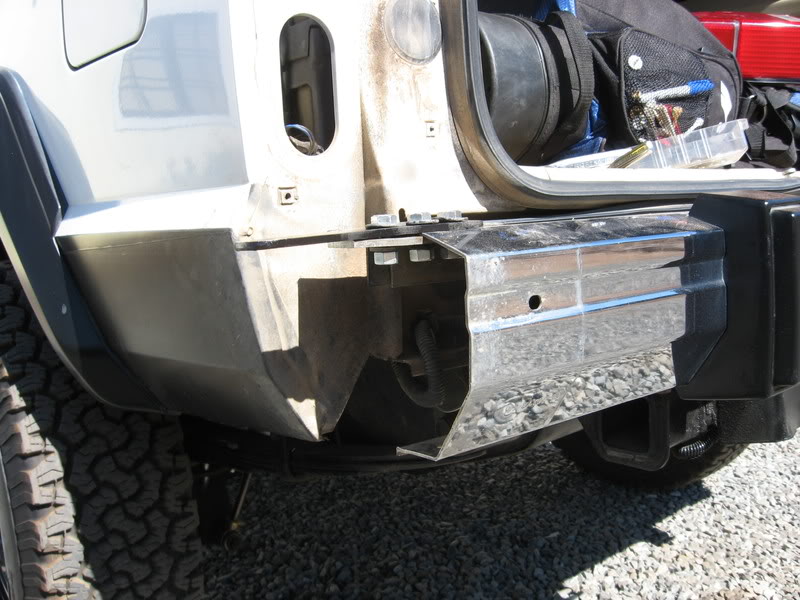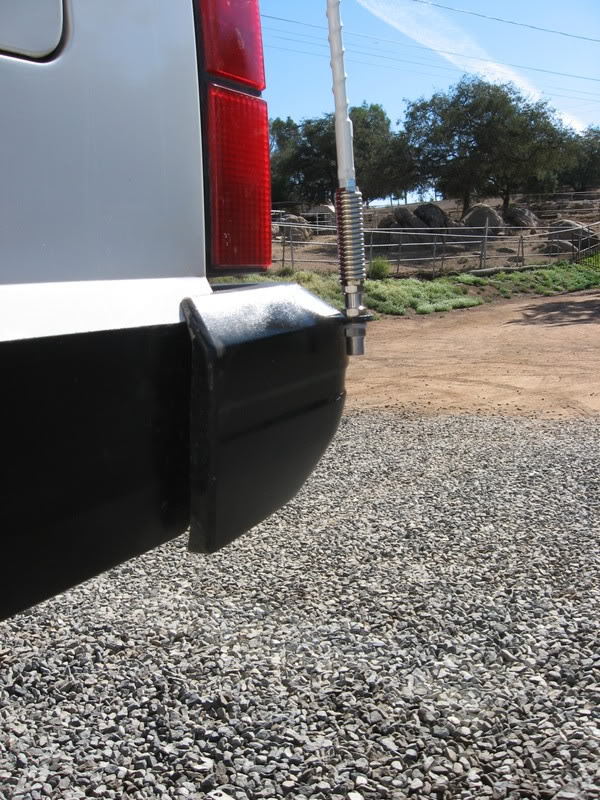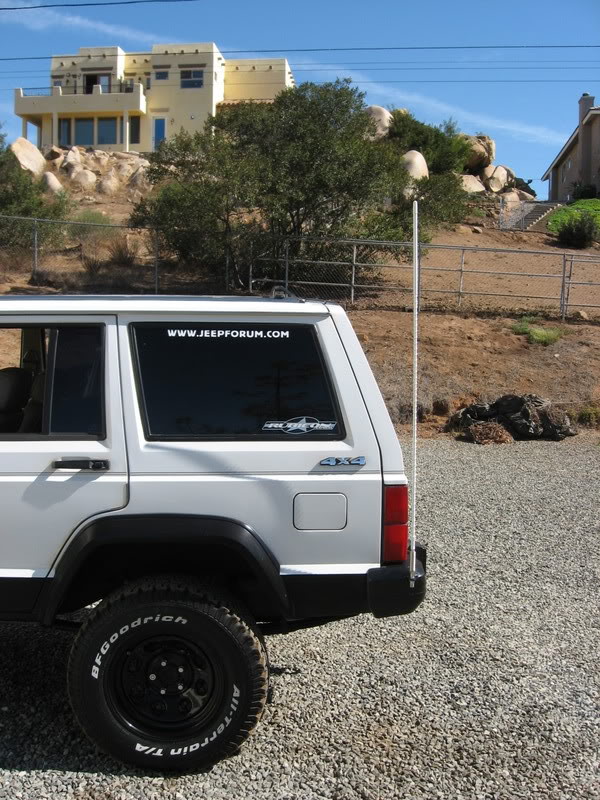 11-2-2008
replaced the passenger side ball joints. talk about a PITA. the autozone press sucked to i had to grind the top of the lower ball joint off, this after hitting it with an oxy-acetylene torch multiple times, and pound it out with a BFH. the rest wasnt too bad. i will be looking for a good press tomorrow that is more complete. broke my 1/2" drive socket wrench as well while trying to get the 36mm hub nut off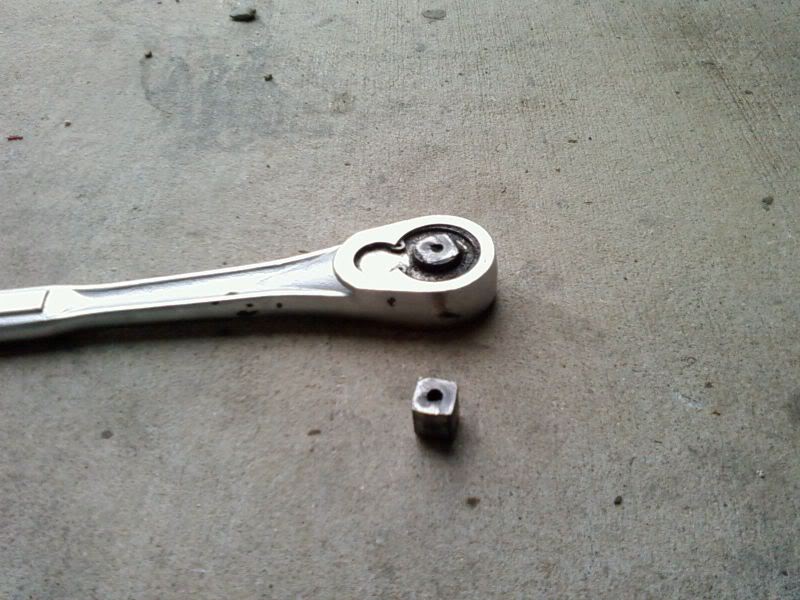 so i had to go buy a 3/4 drive breaker bar and use some 2' long pipe on the end of that to break that nut loose
1-20-2009
well a few weeks ago i picked up a 29 spline 8.25 for $100 from a 98 XJ since my rear end looks like this: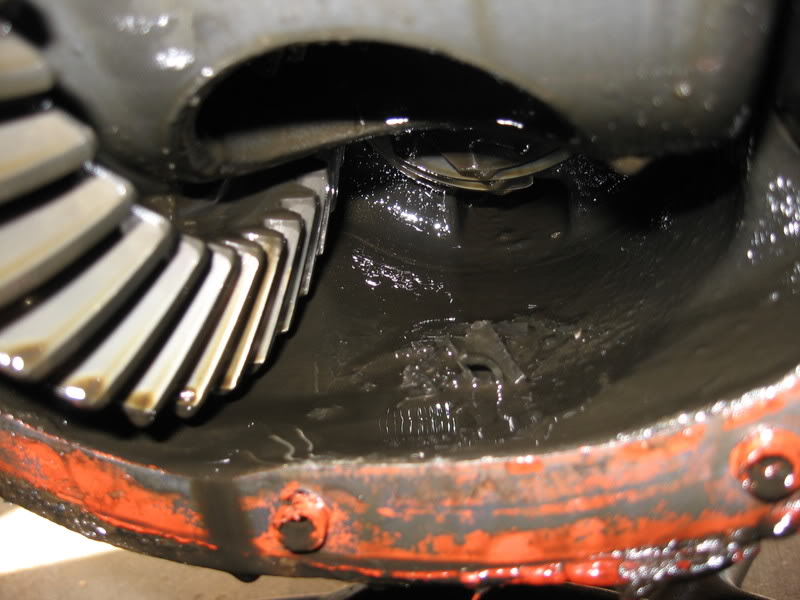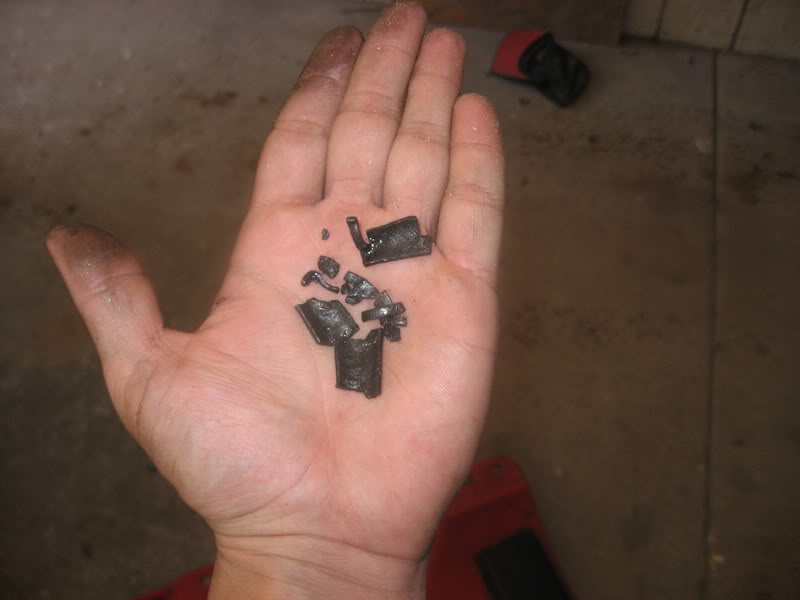 so i cleaned up the 8.25 and got some new u-bolts.
all i need is the hard brake line that goes across the top of the axle from drum to drum. i think the D35 one will work fine though
i also got some hella 500's waiting to be put on too. i still need to put on the SYE as well. im way behind. haha
2-9-2009
got my daystar extended bumpstops in today and threw them on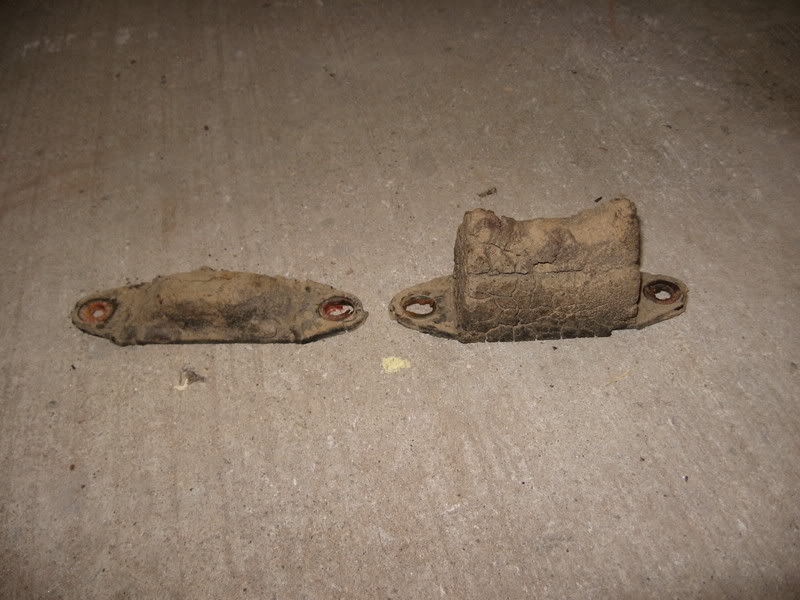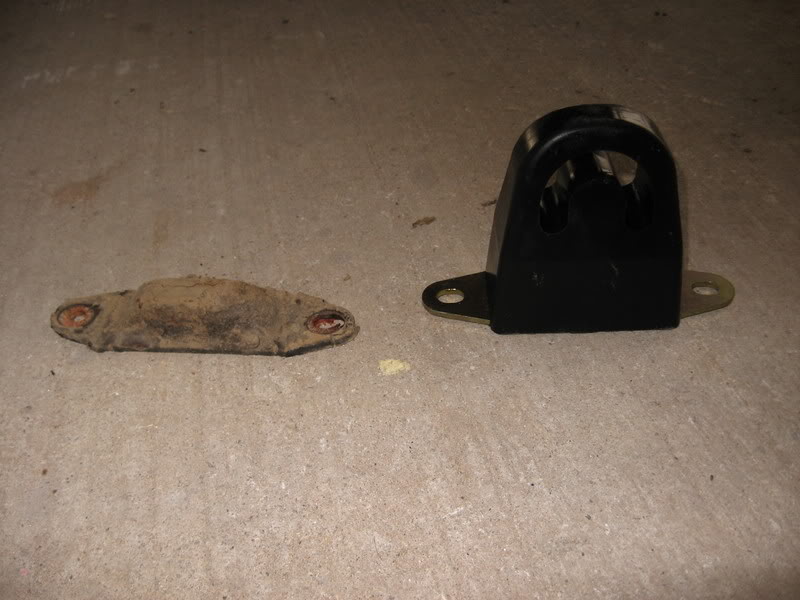 and i noticed MAJOR gangsta lean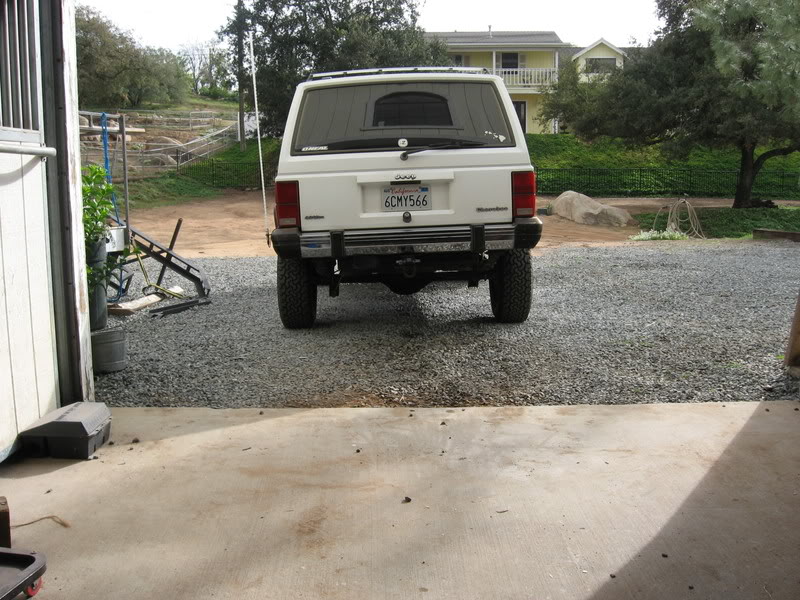 1-24-2009
also got my DPG adjustable bumptop plates in today. these things are BEEFY. the box they were shipped in weighed 17lbs! so hopefully next week i can knock out the SYE, axle swap, try switching the leafs to figure out this lean i got, and install some hellas.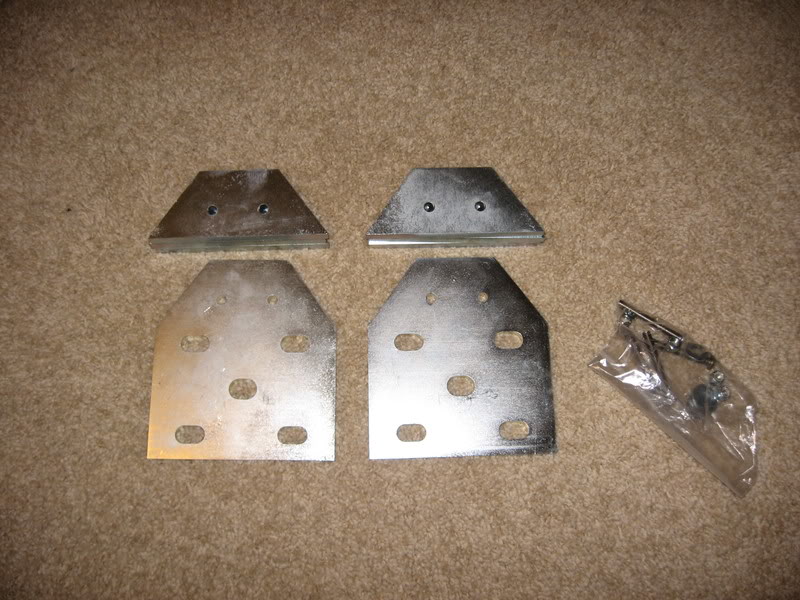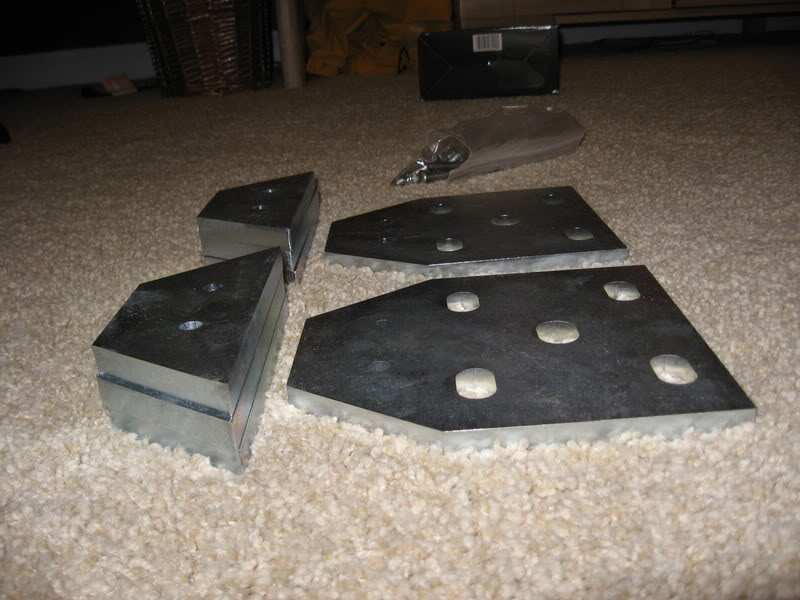 2-5-2009
yeah i know. im thinking i will get 33's next. i had a friend come over and help with my swap and we put his 33's on my jeep. it looked so BAD A$$.
anyway i got the SYE all done. it went really smooth. i really took my time and fiddled around. i was in no rush. the only thing i have left to do is take out the t-case drop, and get new e-brake cables. right now im not running them at all.
well here is my output shaft ready to cut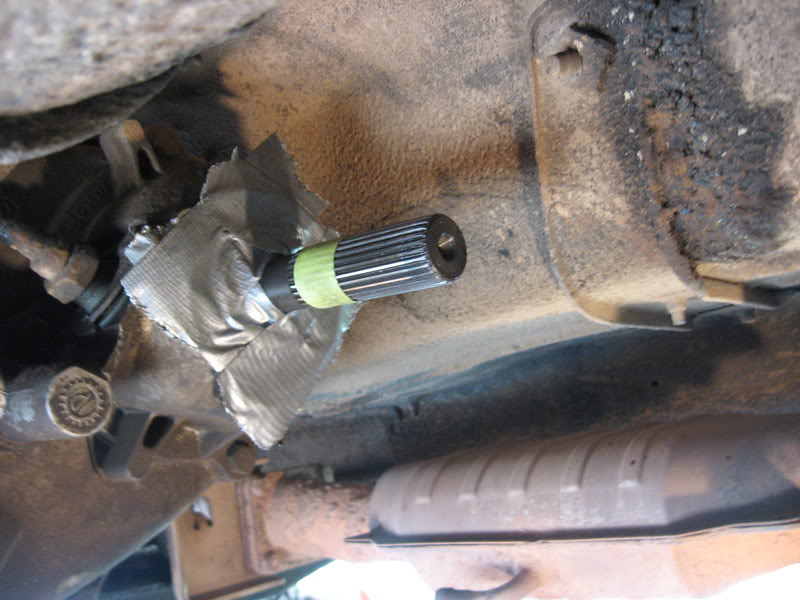 and after i cut it. initially i tried cutting it with a small pnuematic cutting wheel, but i quickly went to the 4.5" grinder. didnt get it totally straight at first but after some time with the shaft spinning with the grinder i had it nice and square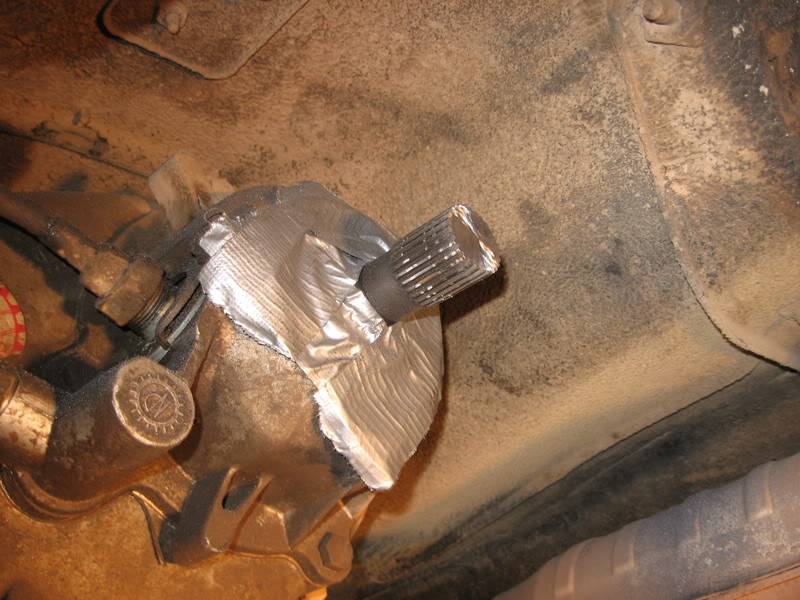 now this was the scariest part, drilling the hole. i wanted to get an centered as possible so i looked at the swirl marks on the shaft and marked it with a sharpie and spun the shaft to make sure it was centered. then i got a decent sized punch and went to town. luckily i got it almost perfectly in the center.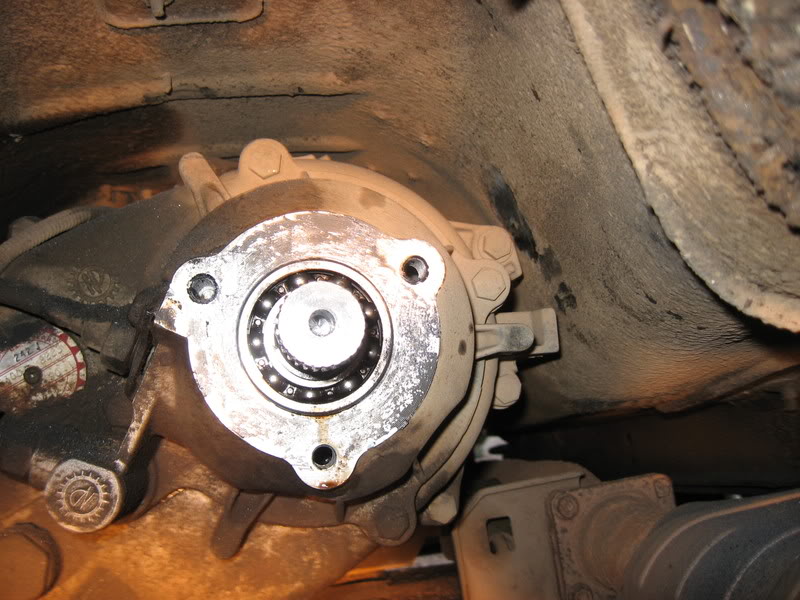 and i learned good drill bits make all the difference. i used bits i had at my house, probably old and dull. after 15 minutes of drilling i got maybe 1/10th" into the shaft. so i made a trip to home depot and got some new dewalt bits with a pilot piont. WORLD OF DIFFERENCE! i was done drilling in about 20 minutes. i took my time and started smaller than suggested and went up two sizes at a time until i got to the 21/64" bit with the kit. that method worked well.
and then came the tapping. the hardest part is getting it started and keeping it clean while you go. i probably completely took the tap out to clean the tap and threads four or five times. i also ended up using my own tap, the supplied one is junk and got dull about halfway through and i didnt want it to snap. mine made it a breeze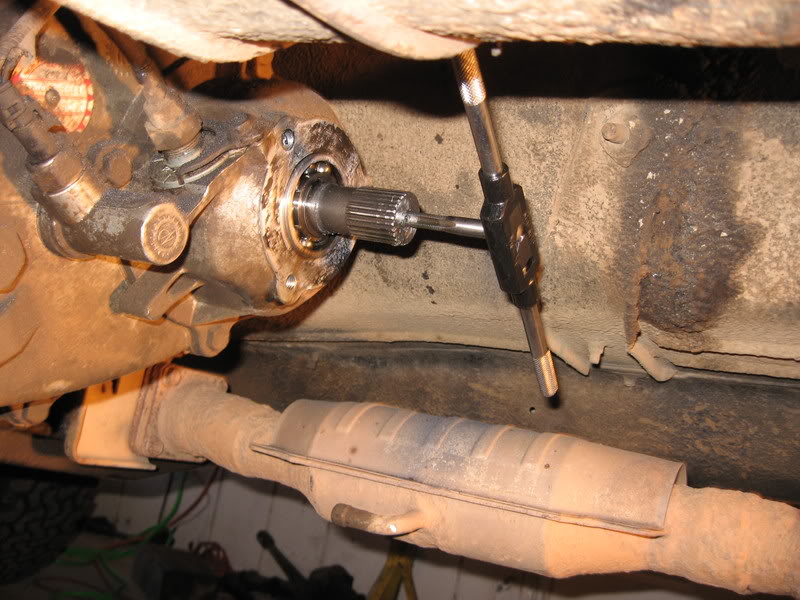 then the seal and flange. this part is self explanatory. but the flange is a very tight fit on the shaft. i had to tap it on with a hammer but i went on no problem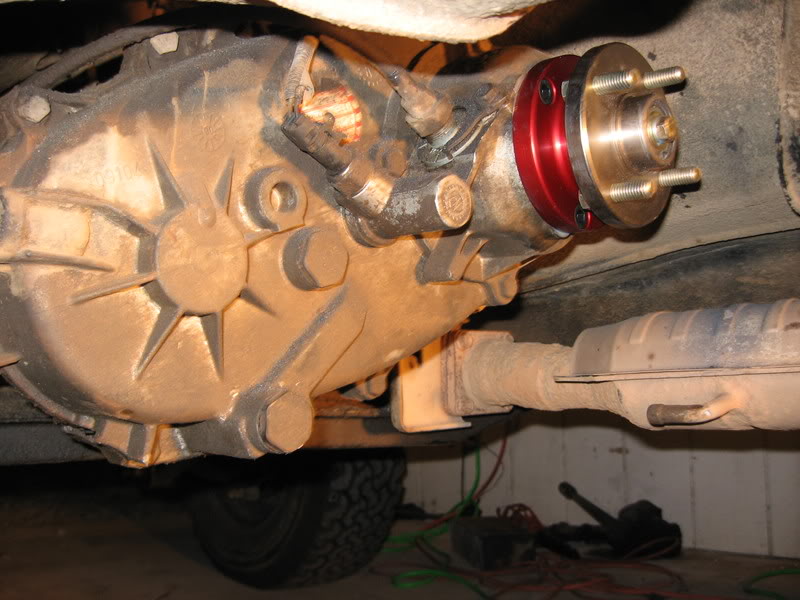 all bolted up. i have about another inch of extension left in the shaft. plus i think the suspension will settle some since i swapped the leafs left to right and it now sits higher in the rear whereas it was level before front to back.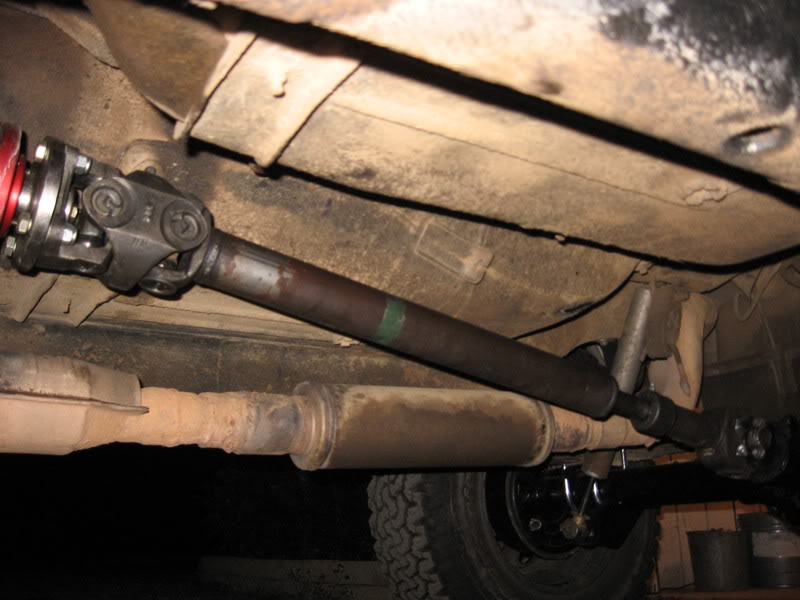 i also changed the t-case fluid, it was really brown and smelly for some reason.
heres what is looked like with 33's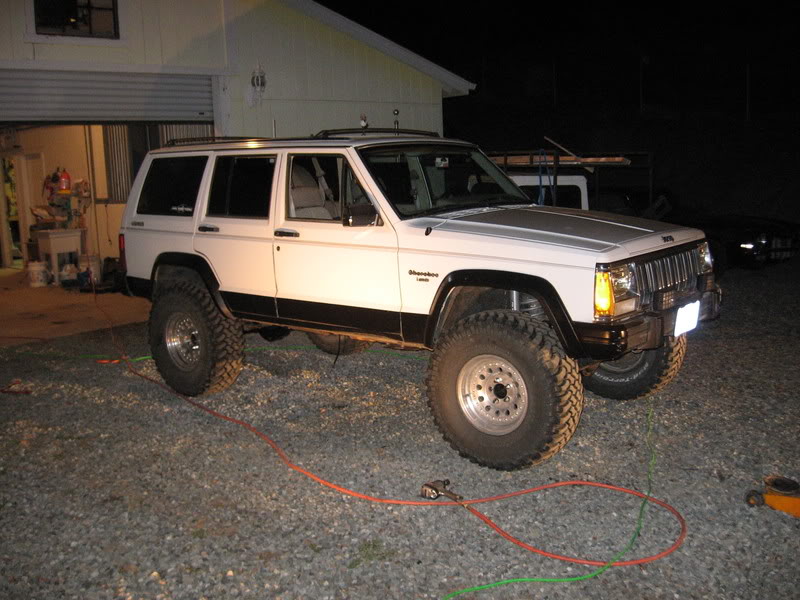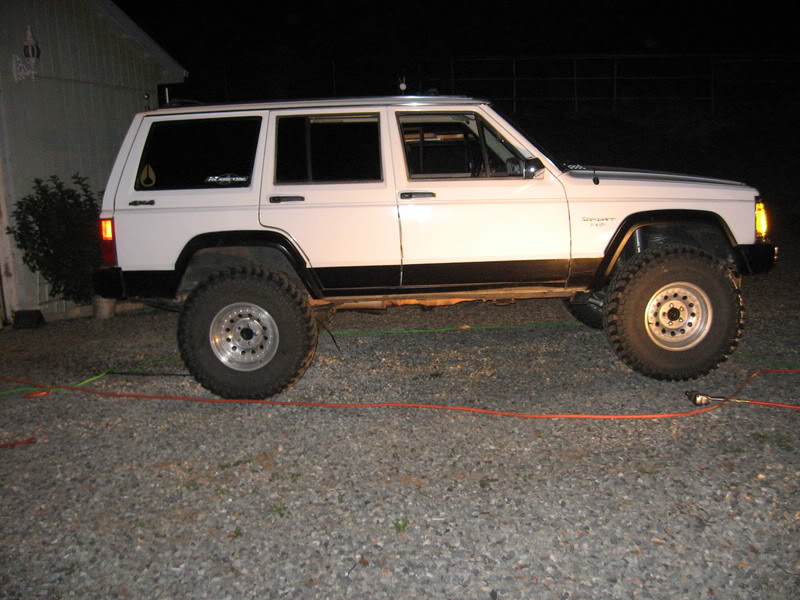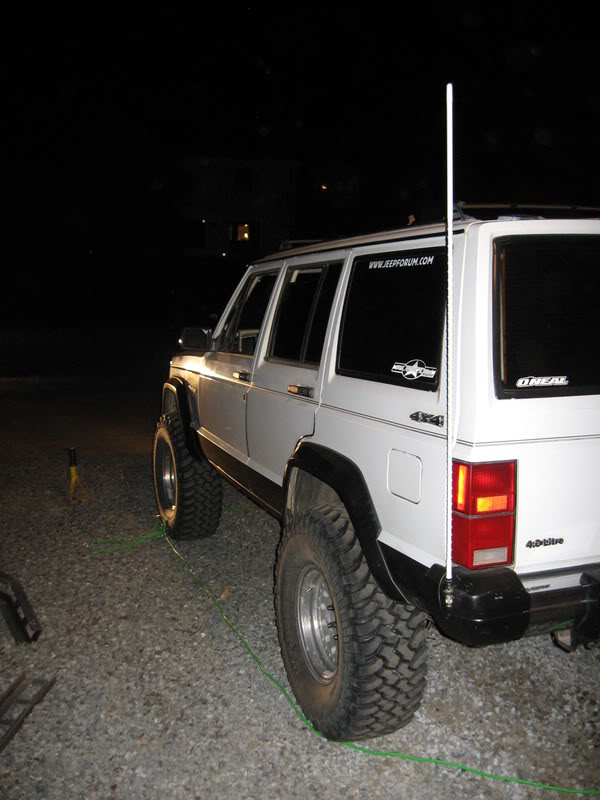 3-11-2009
got my hellas mounted finally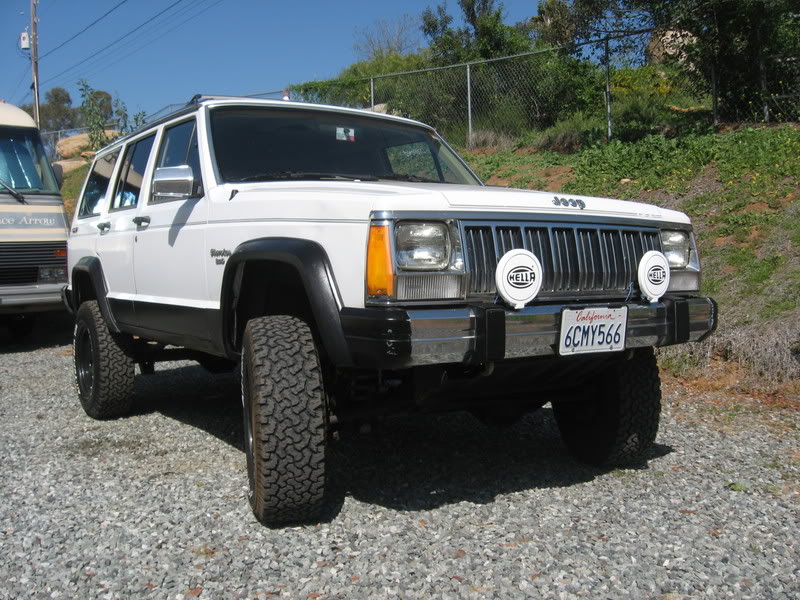 6-9-2009
so i noticed my tires wearing funny and noticed my TRE's were shot. so instead of going with stock XJ steering, i sprung for the V8 ZJ steering, and while i was at it i ordered the goferit tie rod flip insert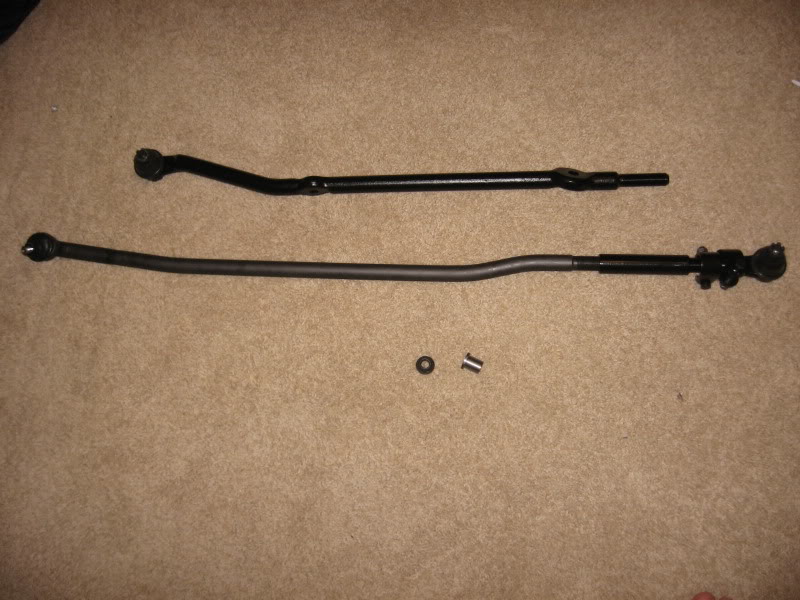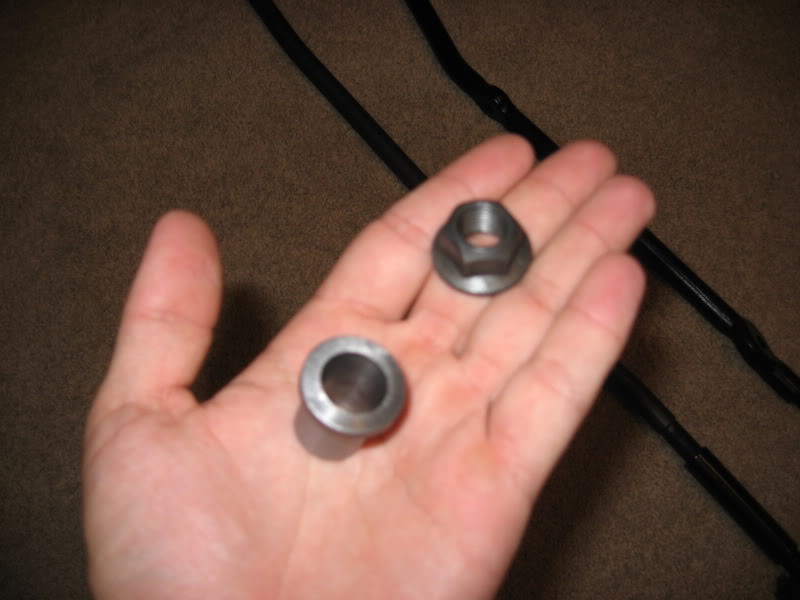 and here it is all installed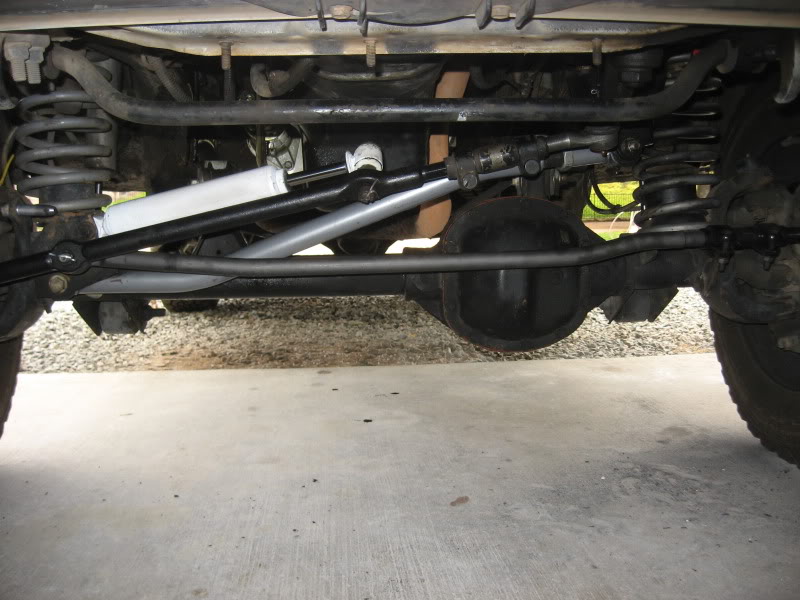 and the tie rod filp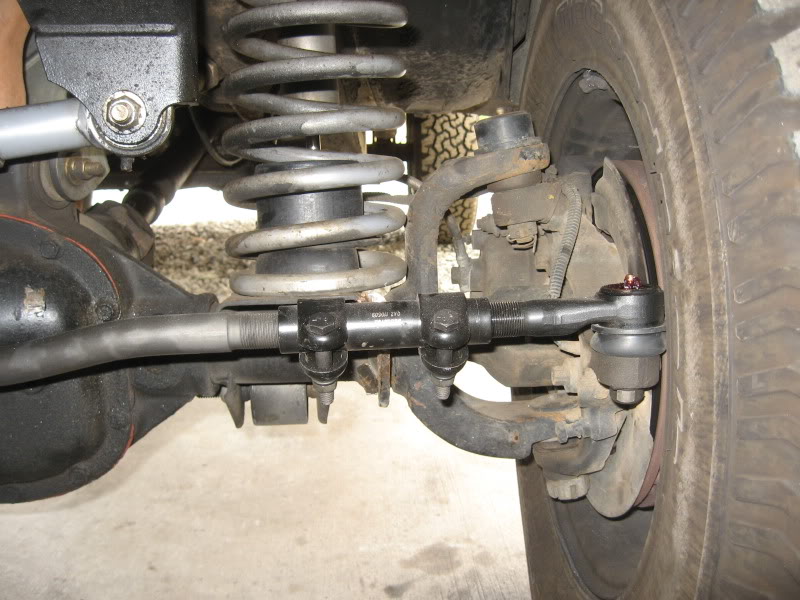 (notice the sway bar bracket is gone. the tie rod flip makes the tie rod interfere with the sway bar bracket so it needs to be removed and new brackets need to be made or ordered from JKS)
its amazing how much better it drives with tight steering. next thing is probably the steering box, it leaks and has a lot of slop in it. a have a few small plans for summer but its looking like i wont be able to do the big upgrades i was hoping for. UCSD wont be cheap. so most of my next mods for a while will be little things.
6-15-2009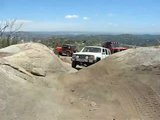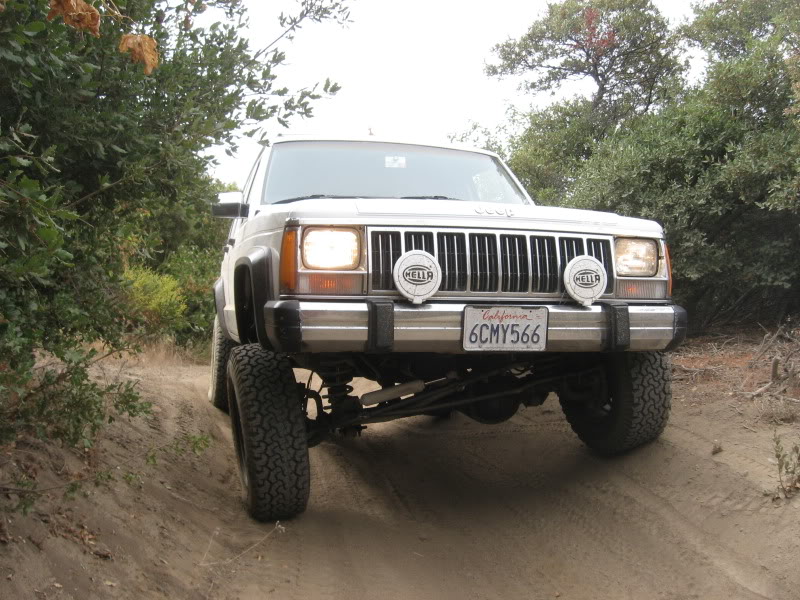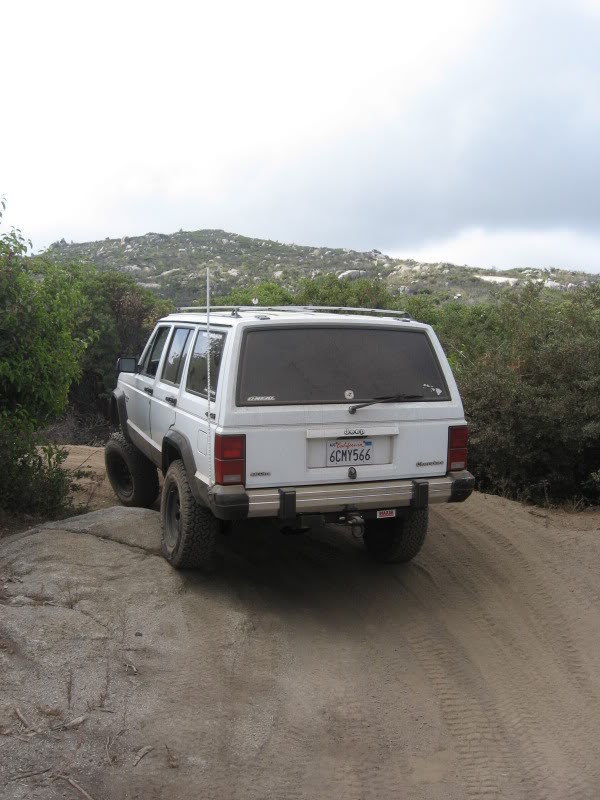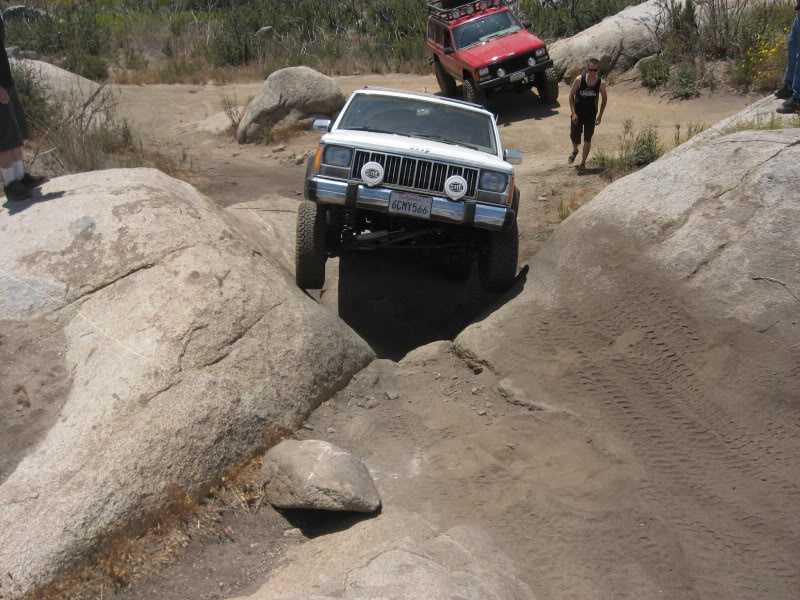 and i had to get a new TRE because the nut provided with my tie rod flip backed off the the tie rod popped out of the knuckle while i was driving about 25-30, very scary stuff. needless to stay i went back to using good 'ol castle nuts.
9-2-2009
i went wheeling a few weeks ago. same place as the pics in the post above.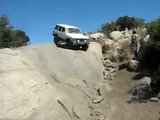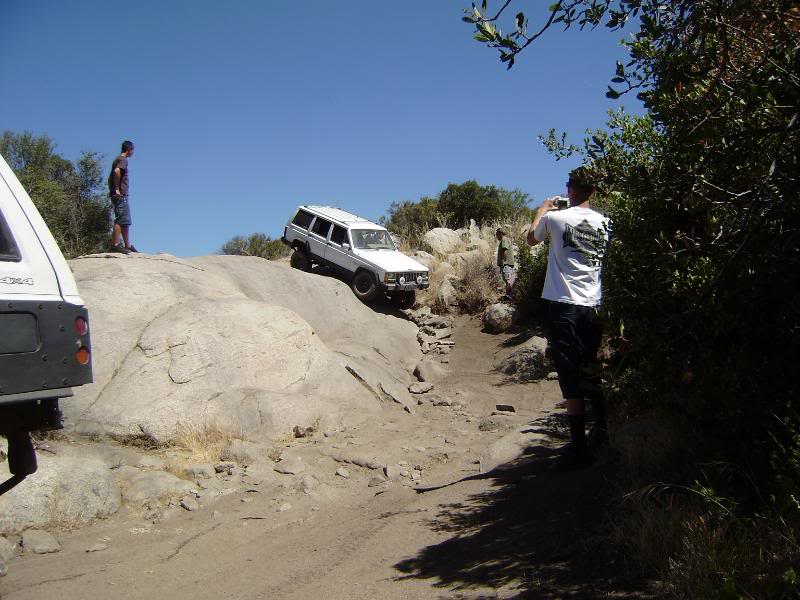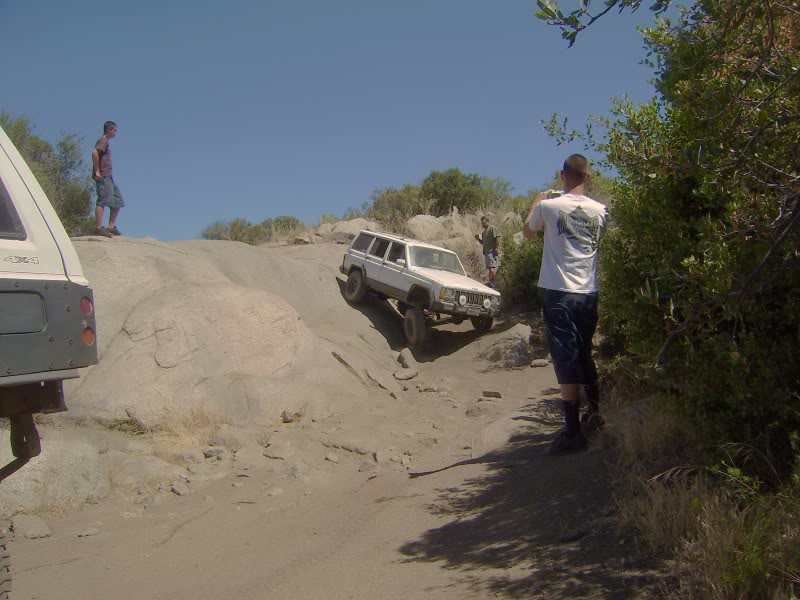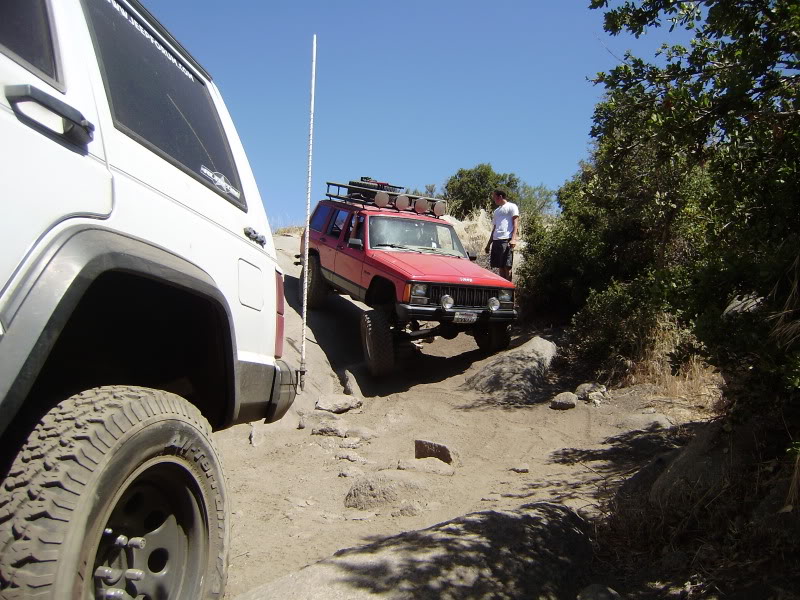 and high centered on the diff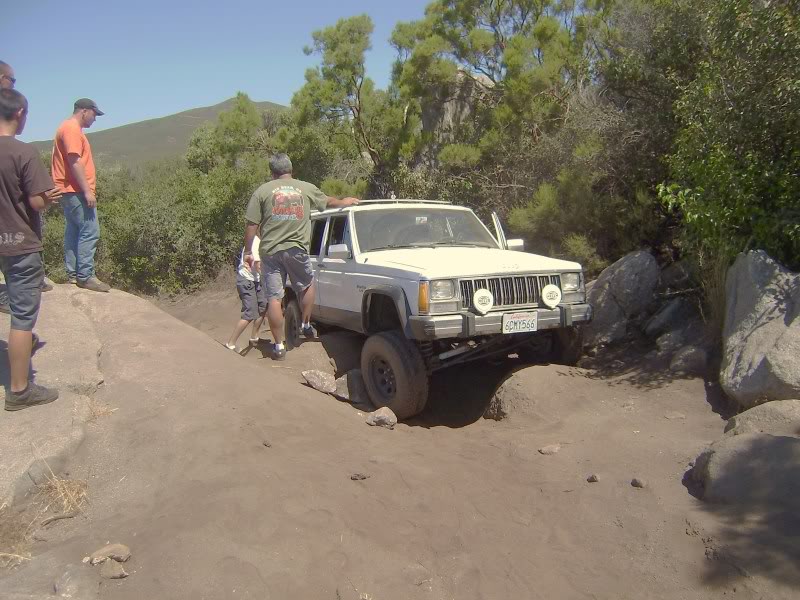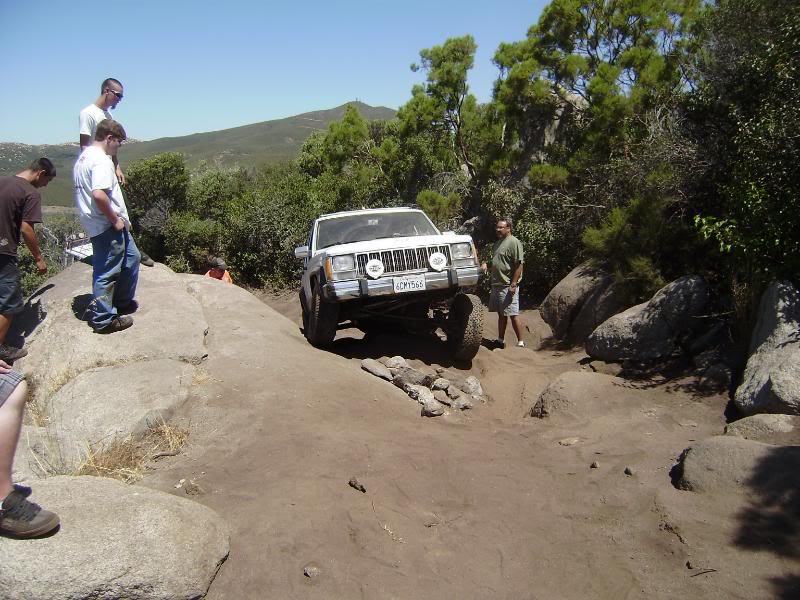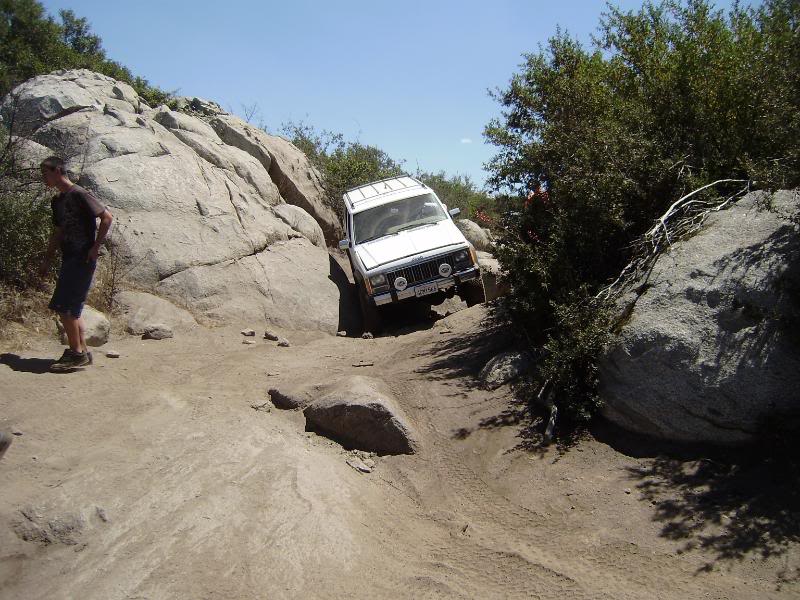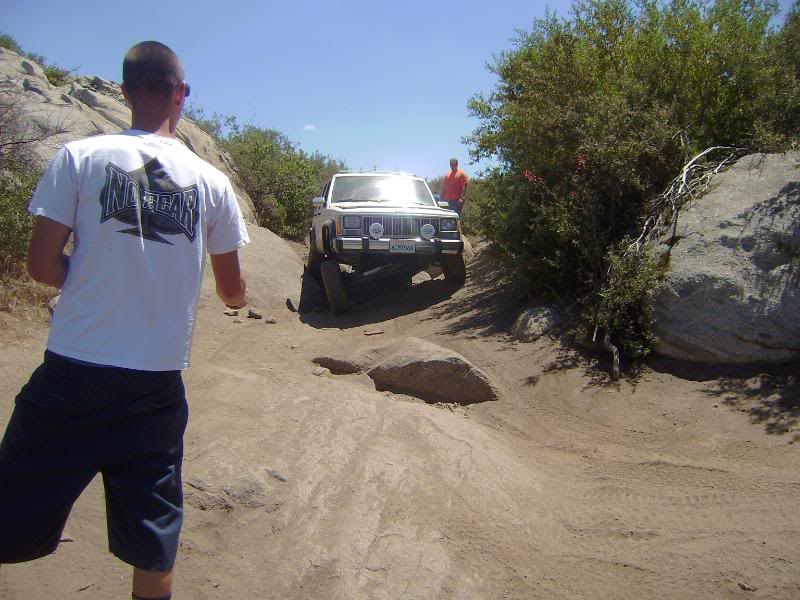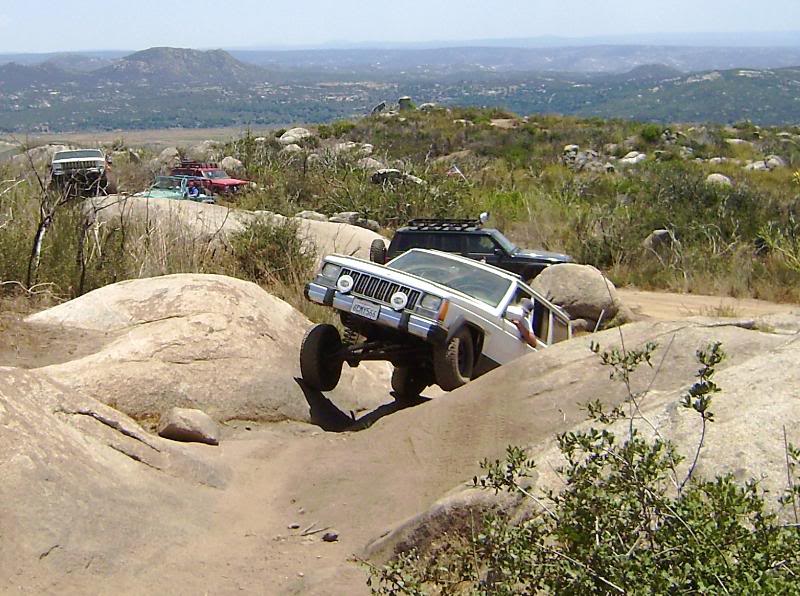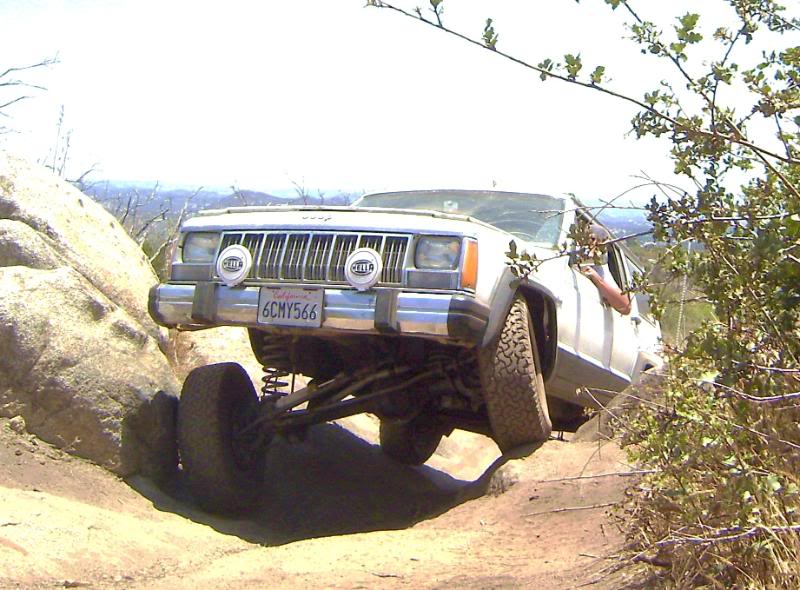 ok so ive had a vibration/humming coming from the front end. went away when i turned left so i thought u-joints. did a quick inspection and didnt see anything obvious but i figured it couldnt hurt to replace them. went to press them out and i bent an the ears on one of my inner shafts. so a trip to the JY and i got a new shaft. i had a shop put the u-joints in. but in the meantime i discovered it was my passenger hub bearing went bad and turned out to be the root of my initial problem. so i ordered new timken units from amazon. im replacing both for piece of mind. they were on $75 each as well. so in a few days the XJ will have new axle u-joints and new hubs. on a side note, i made a list of everything i have replaced/upgraded on my jeep. the numbers arent exact, but very close as i rounded for simplicity sake.

Water pump 2x auto zone $60
Harmonic balancer auto zone $45
Radiator auto zone $130
Hoses auto zone $50
Coolant bottle 5x auto zone/ebay $125
Alternator 3x auto zone (lifetime warranty) $115
Tires 2x craigslist & walmart $800
Rims jegs $150
Lug nuts jegs $20
Rear axle naxja $100
Complete suspension 4 wheel parts $1300
Shocks n/a $120
Shackle bushings rubicon express $25
Transfer case output seal napa $12
Rear main seal 3x auto zone $51
Oil pan dealership $120
Pan gasket 3x auto zone $75
Valve cover gasket 2x auto zone $20
Oil filter adapter o-rings 2x dealership $40
Coil auto zone $30
Cap 2x auto zone $30
Rotor 2x auto zone $15
Plugs 2x napa $30
Wires napa $45
Headlights auto zone $60
Ball joints auto zone $120
Steering auto zone $175
Tie rod flip goferit off road $24
U-joints auto zone $150
Driveshaft junkyard $11
SYE rubicon express $180
Fog lights 4 wheel parts $60
CB free $0
Antenna radio shack $25
Recovery d-ring 4 wheel parts $25
Recovery strap 4 wheel parts $50
Stereo circuit city $100
Speakers circuit city $150
Sub circuit city $40
Amp best buy $80
Idler pulley auto zone $16
Belt auto zone $25
TPS dealership $130
MAP sensor auto zone $35
O2 sensor 2x auto zone $110
Exhaust 2x summit $500
Crank position sensor auto zone $35
Oil fill plug dealership $11
Headrests junkyard $20
Oil pressure sender auto zone $16
Temperature sender (head) 3x auto zone $20
Coolant temperature sensor world wide auto $25
Fan clutch auto zone $30
Thermostat 3x auto zone $40
Adjustable bumpstops jeepin outfitters $160
Motor mounts auto zone $20
Transmission filter auto zone $25
Brakes (pads, shoes, rotors) auto zone (lifetime warranty) $140
Misc. light bulbs (brakes, dash, blinkers) auto zone $15
All fluids auto zone $xxxx
Air filter auto zone $30
Vacuum lines auto zone $30
U-bolts rubicon express $30
Battery auto zone $90
Front drivers side Axle shaft junkyard $50
Hub bearings amazon $170
Centering yoke EC driveshaft $110
Rear wiper motor junkyard $10
rear bumstops jeepin outfitters $40

TOTAL $6995











all i can say is....i must really love my XJ
9-9-2009
replaced the other hub today and the coolant pressure bottle. i also washed it.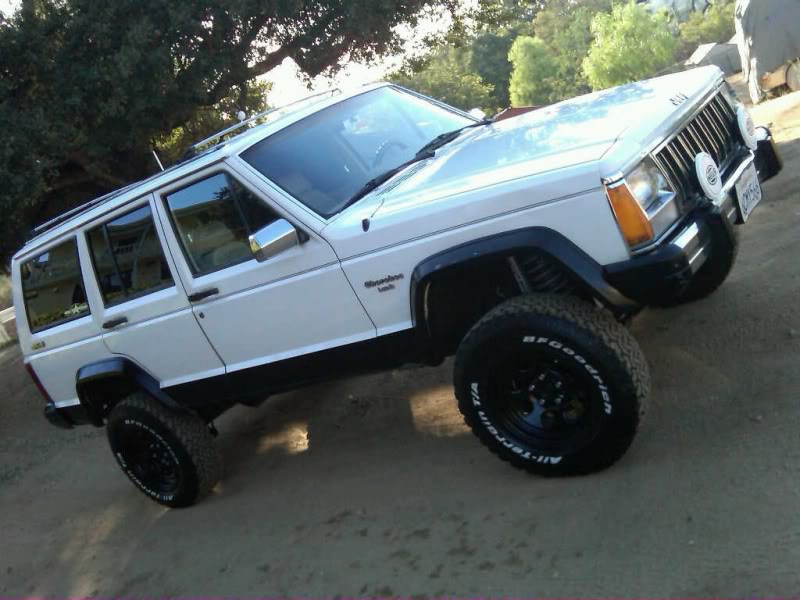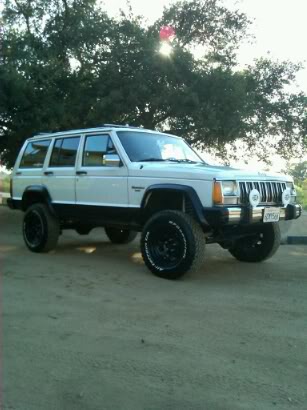 10-2-2009
this was probably long overdue but i replaced my crossmember mount. i have a feeling thats what killed my motor mounts but i just never replaced it. it was in two pieces, just like both of my motor mounts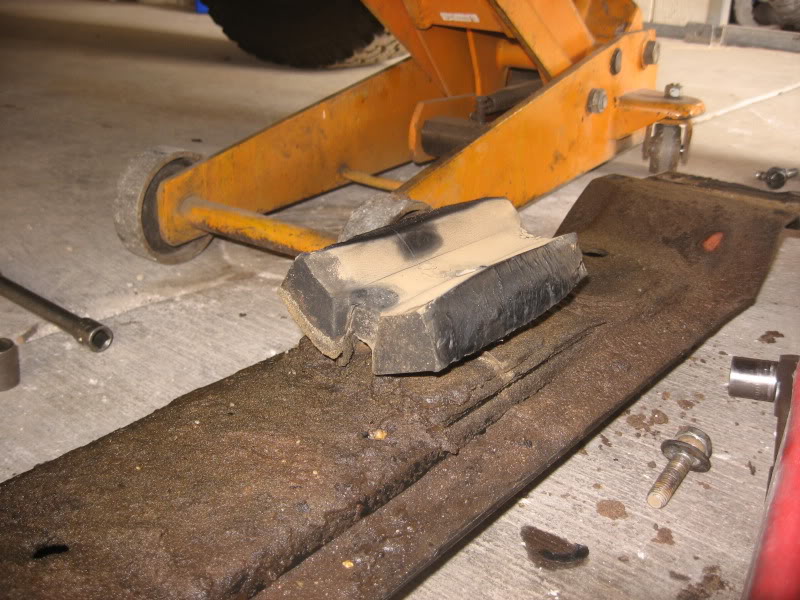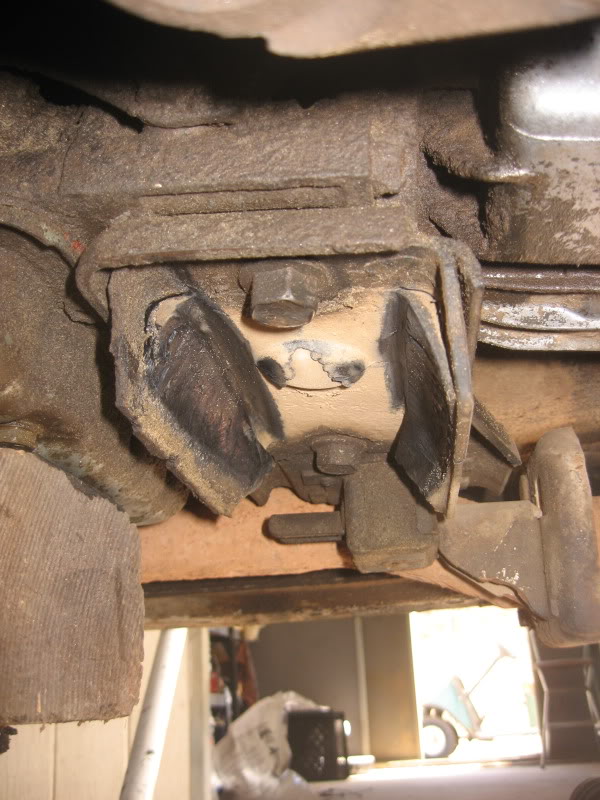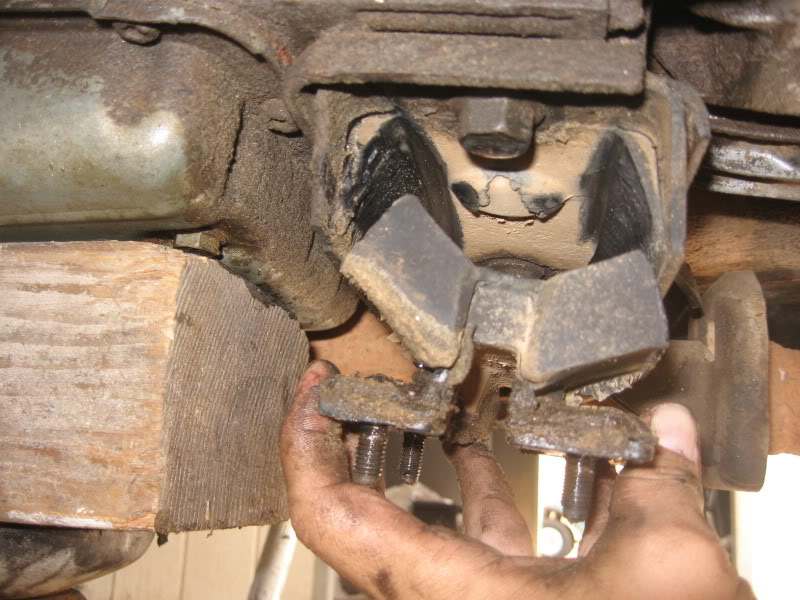 new vs. old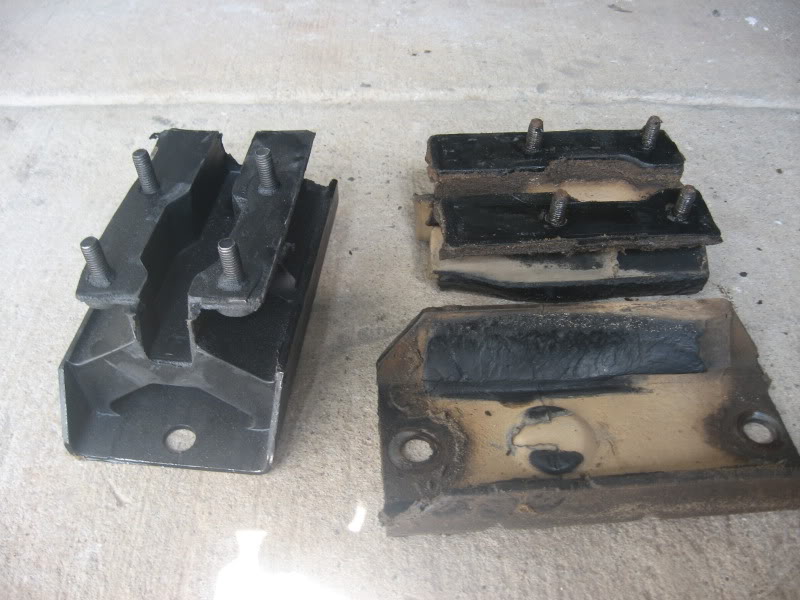 heres what bed crossmember and motor mounts cause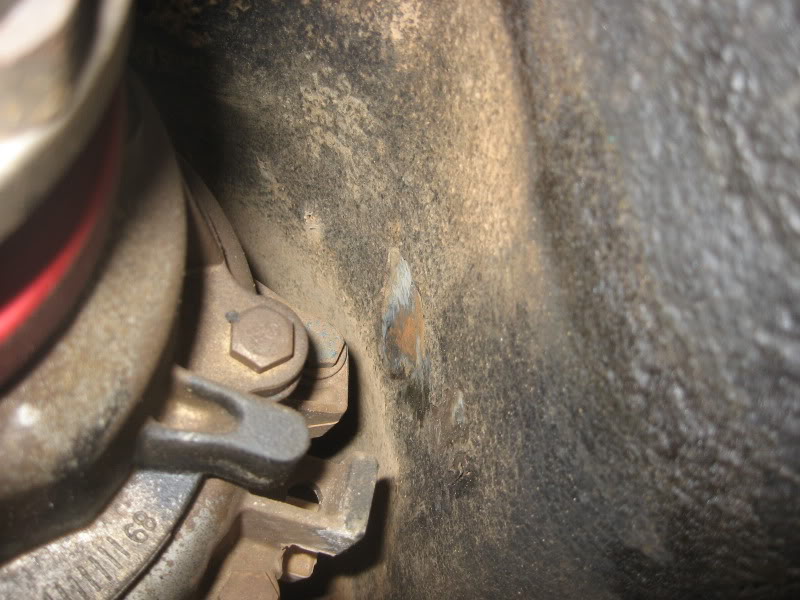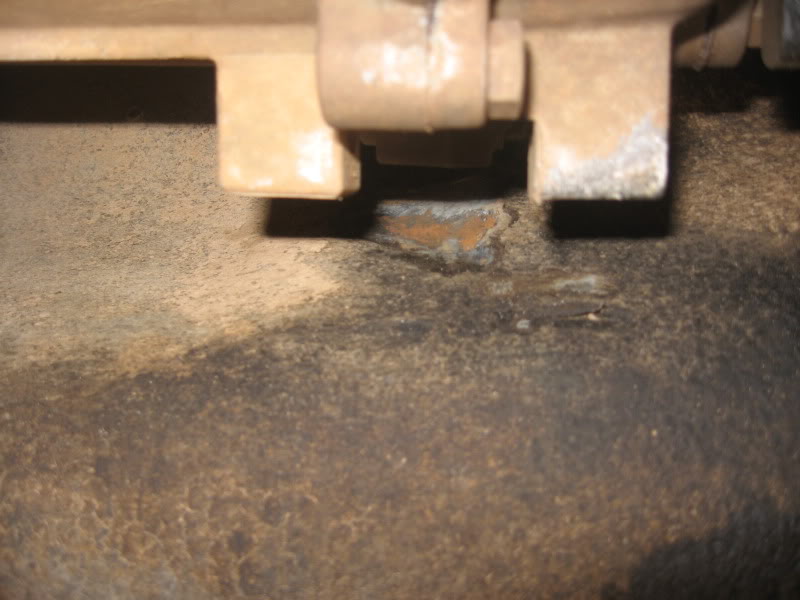 my crossmember doesnt look so hot either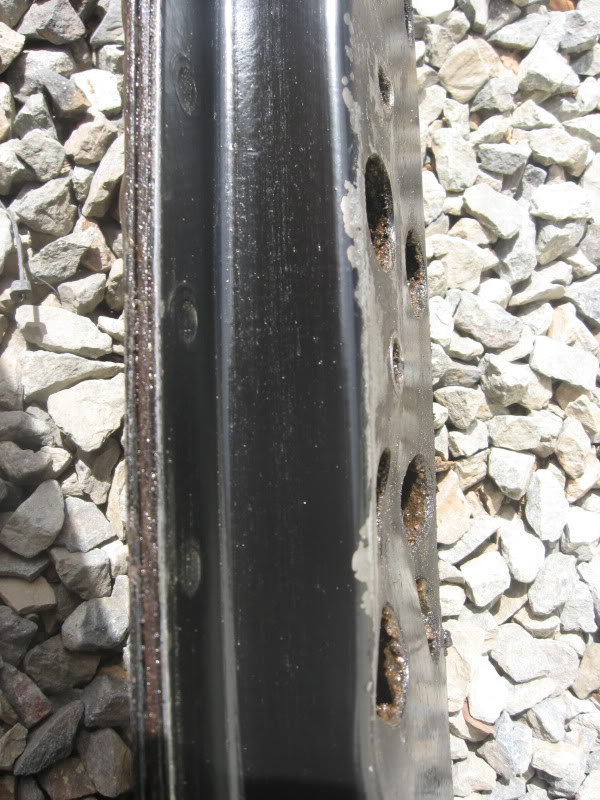 10-16-2009
went to the junkyard and got me a 95 dual diaphragm brake booster and MC, and some nice aftermarket tow hooks. they mount the same as C4x4 brackets but with one more point of attachment.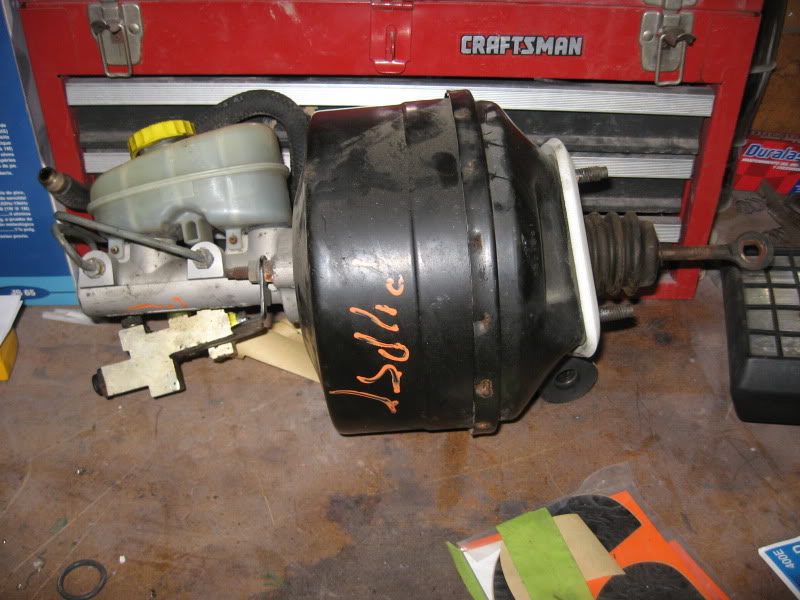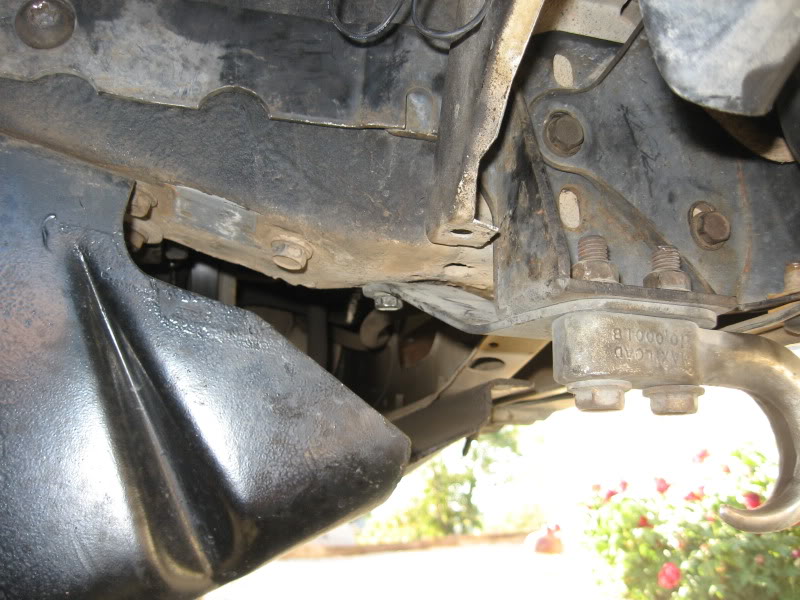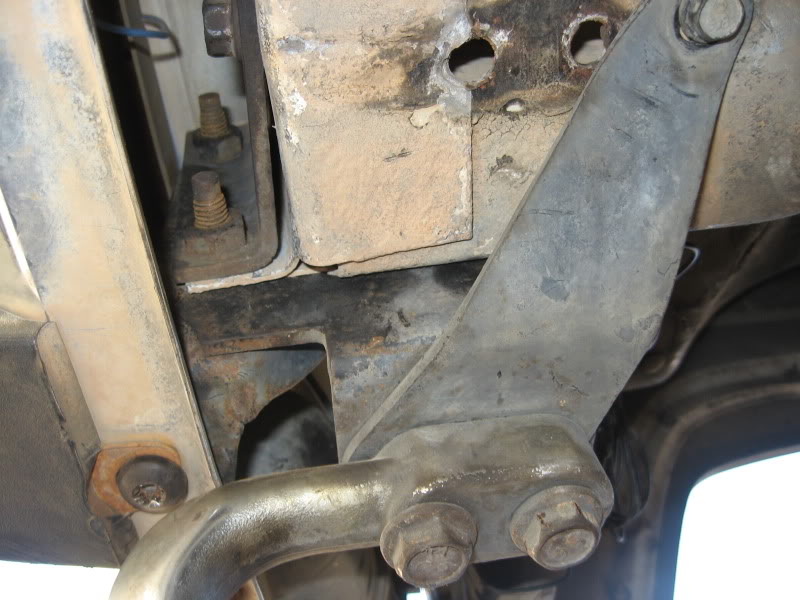 10-29-2009
fixed my door lock today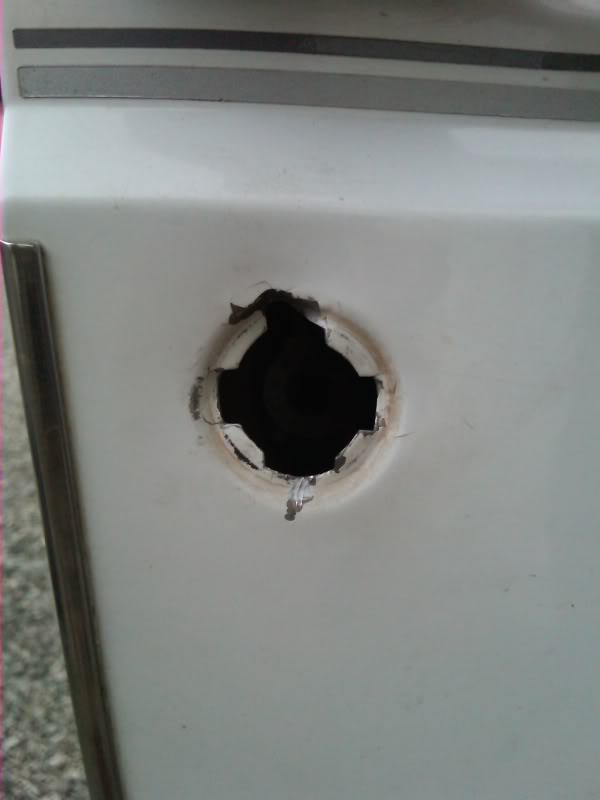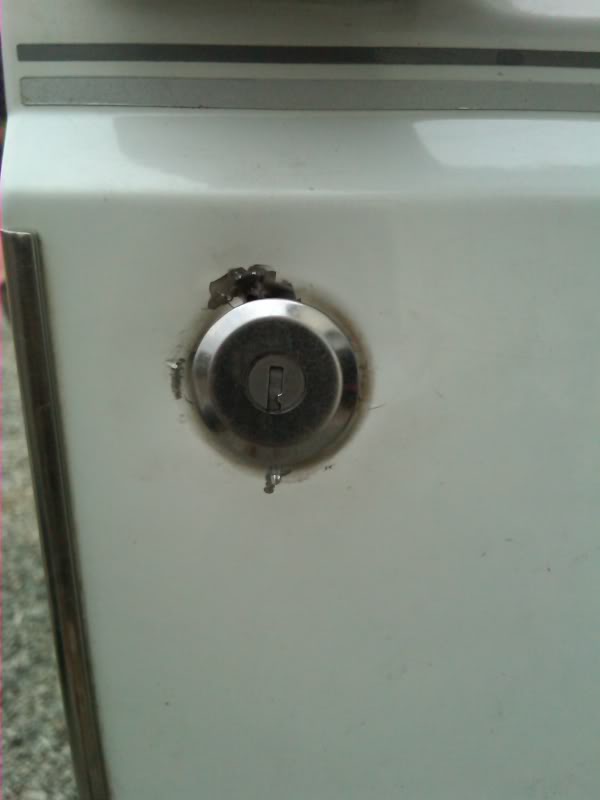 and i also fixed my door stopper. for like 2 weeks it sounded like my front passenger door was about to fall off when you closed it it cracked so loud. found out why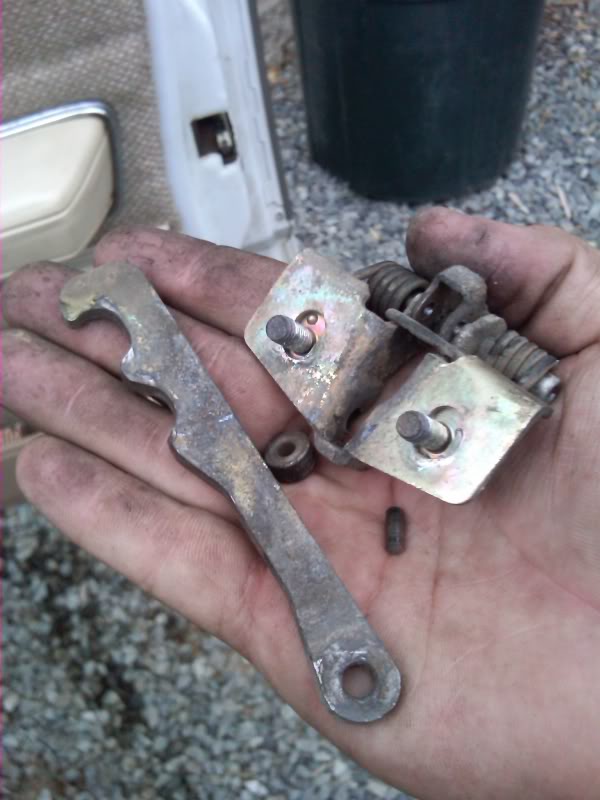 yeah it was destroyed
12-11-2009
replaced my worn out torn up RE LCA bushings after barely more than a year of use.

the bushing was easy. just did one arm at a time so i didnt have to jack it up or anything. just removed the arm, used the press to get the bushing out, greased the lip of the new one and it went easy with a few whacks with a rubber mallet.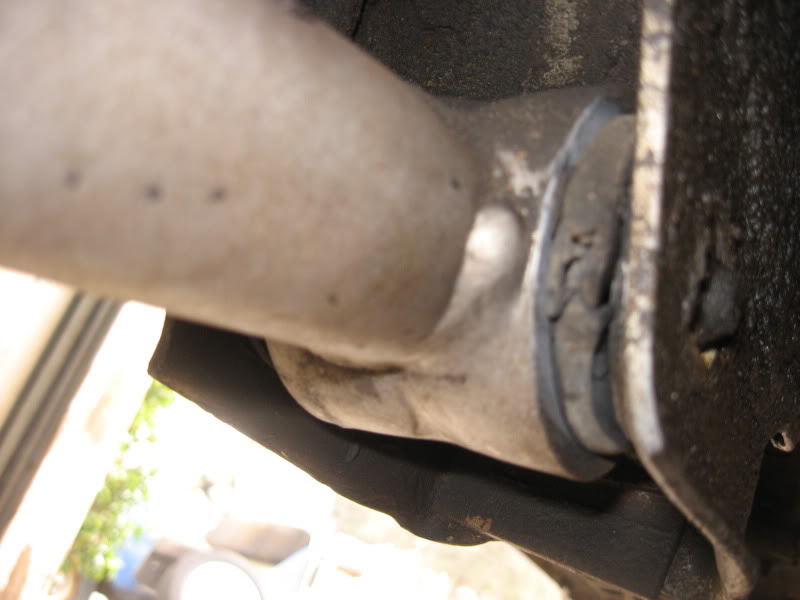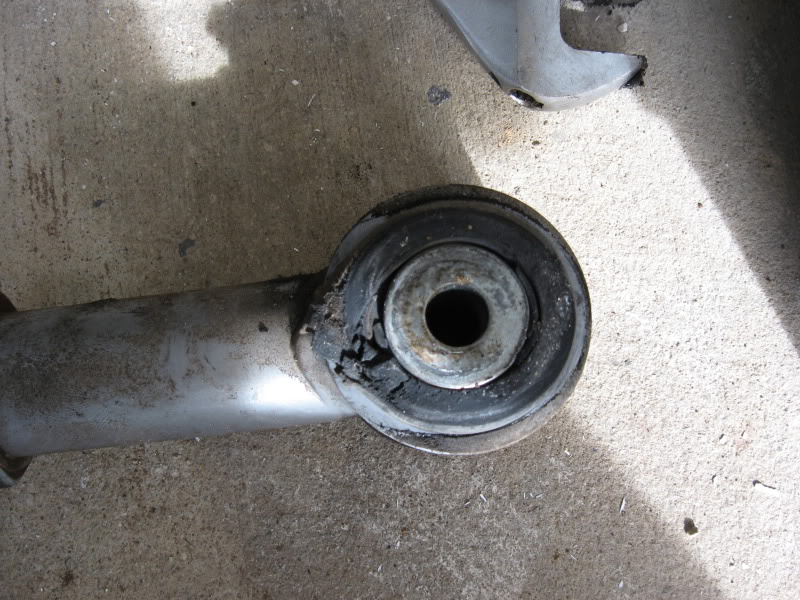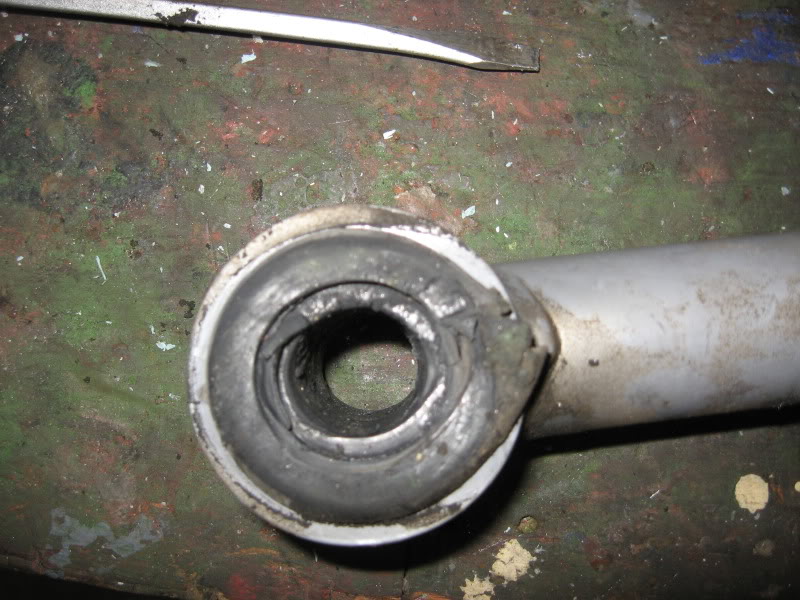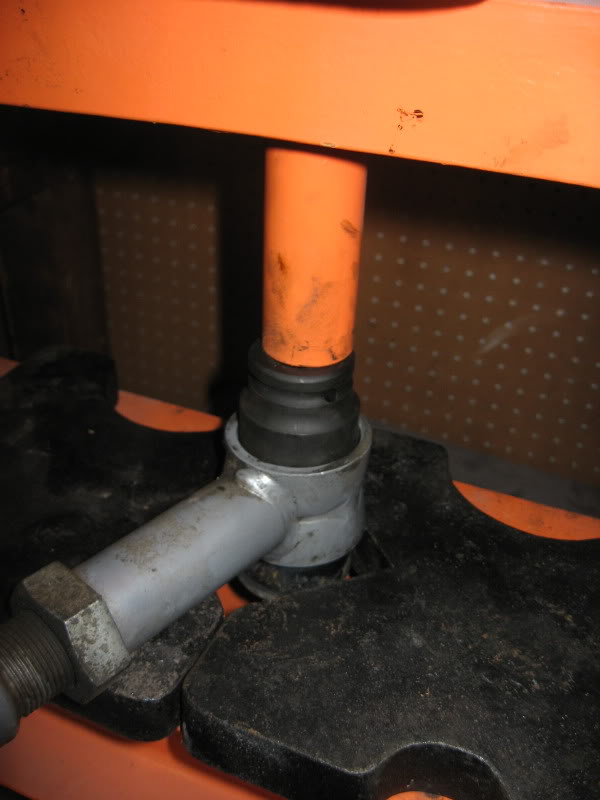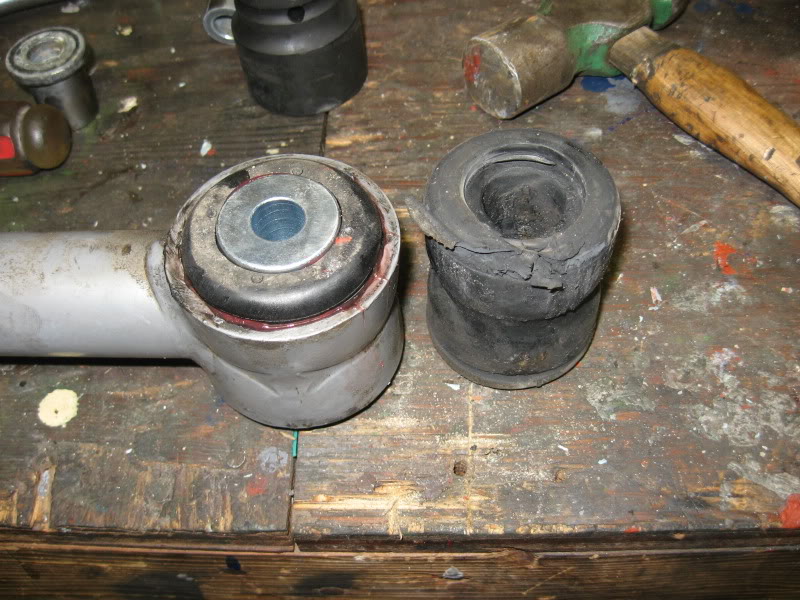 i know the bushing didnt look too bad but i was getting near death wobble sometimes. it was on the verge numerous times and i dont want to experience that. now the front suspension is much tighter again
12-16-2009
bought a used set of wheels today. one step closer to looking like this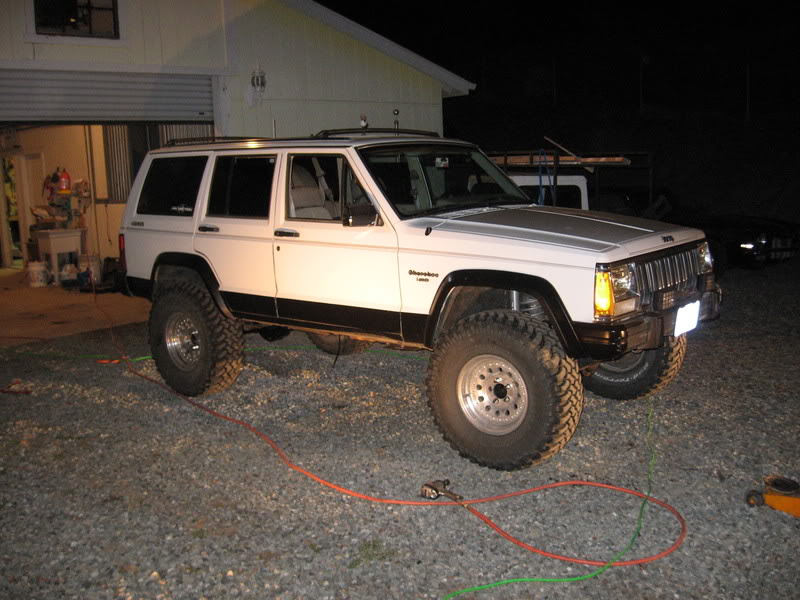 12-27-2009
for Christmas i got the HD offroad engineering shackle relocation boxes so i went ahead and installed them today
heres the box. notice the bolt at the end isnt designated a hole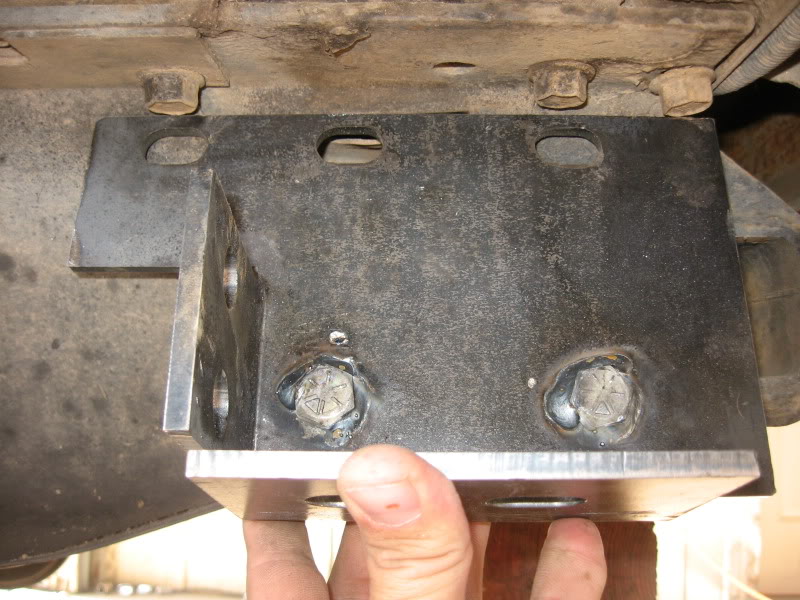 went ahead and cut that corner off
you have to cut some slits in the shackle box so you can fold in the factory lip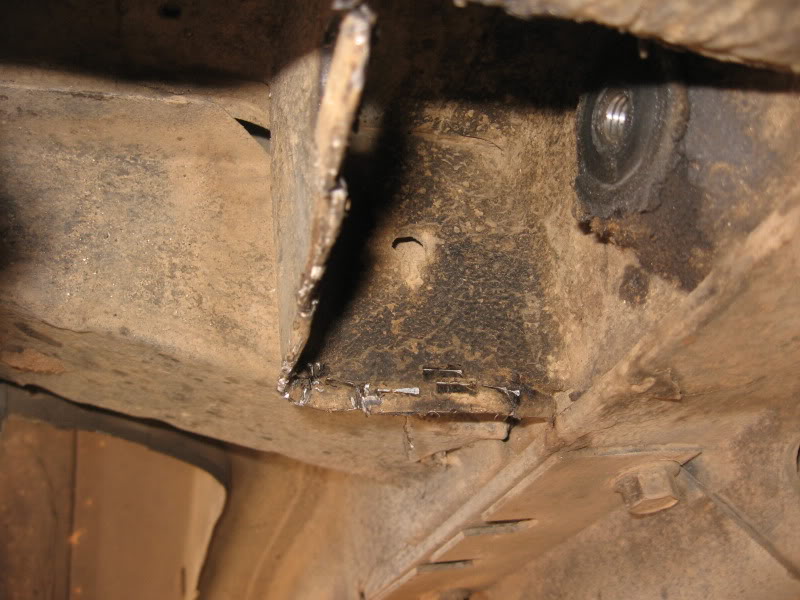 after some pounding and grinding and cursing the drivers side went in. i had to elongate the hole closest to the back to get it to all line up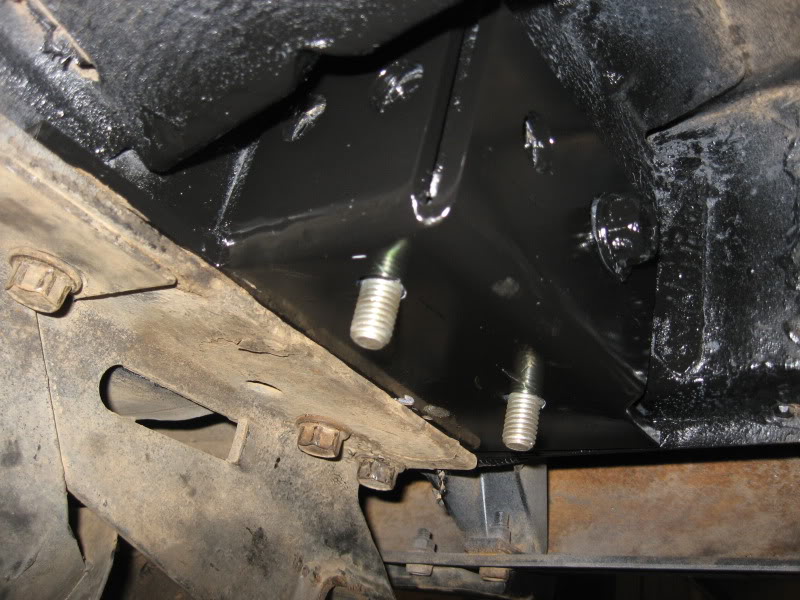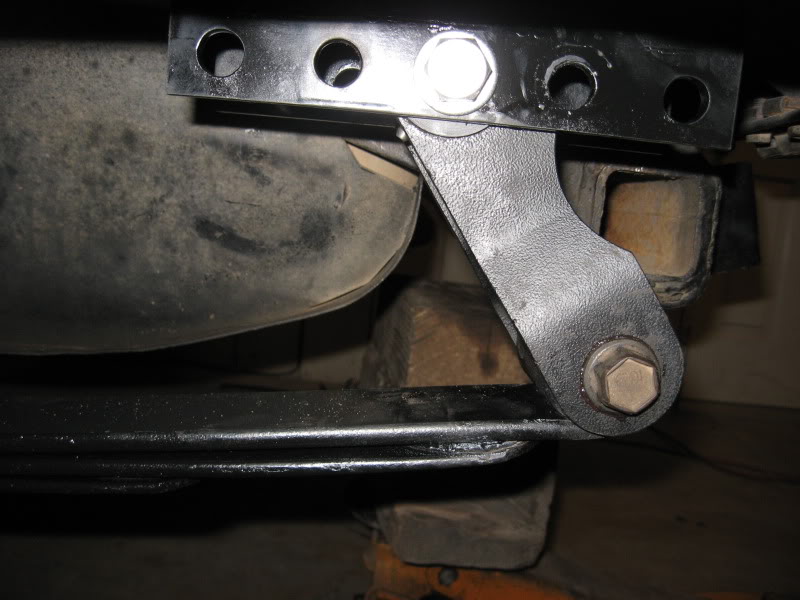 and the passenger side went on very smoothly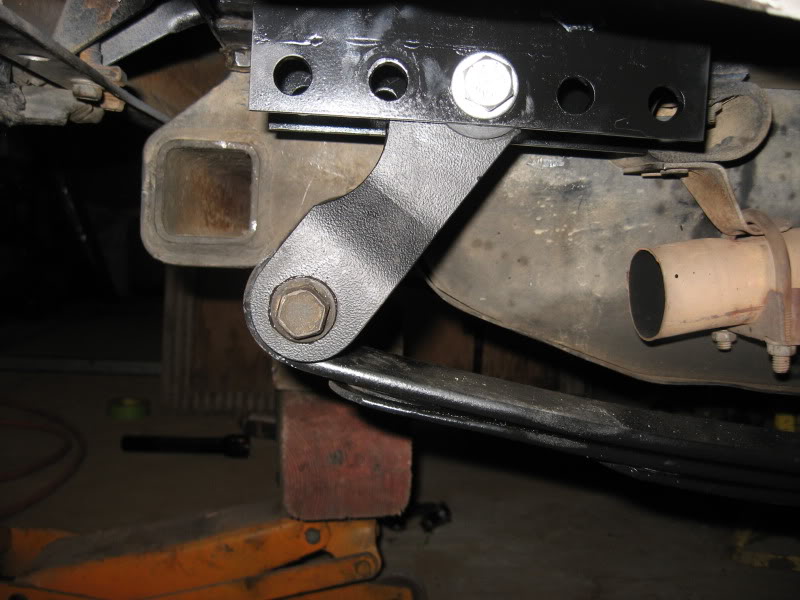 i also completely took apart my leafs and used every other leaf from each pack on the other, sanded the rust off, repainted them, and put new friction pads between every leaf.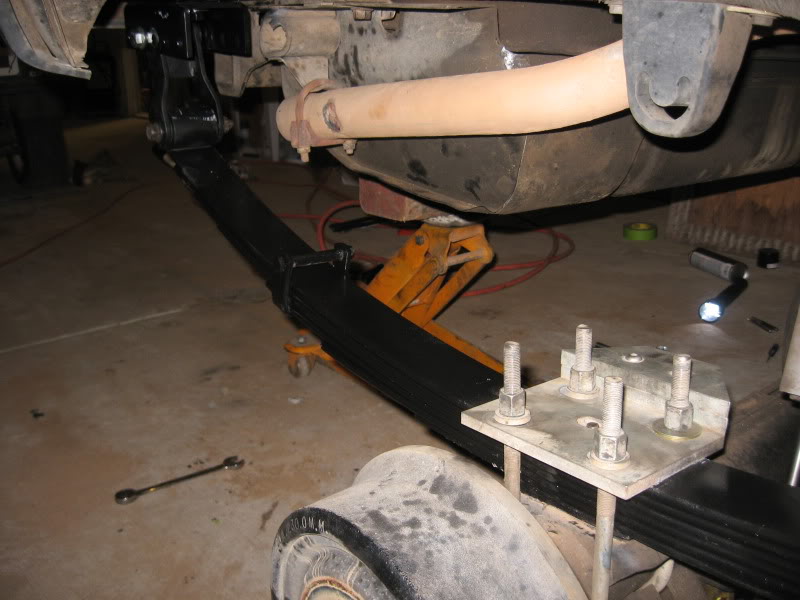 and heres how it sits now, a little higher in the rear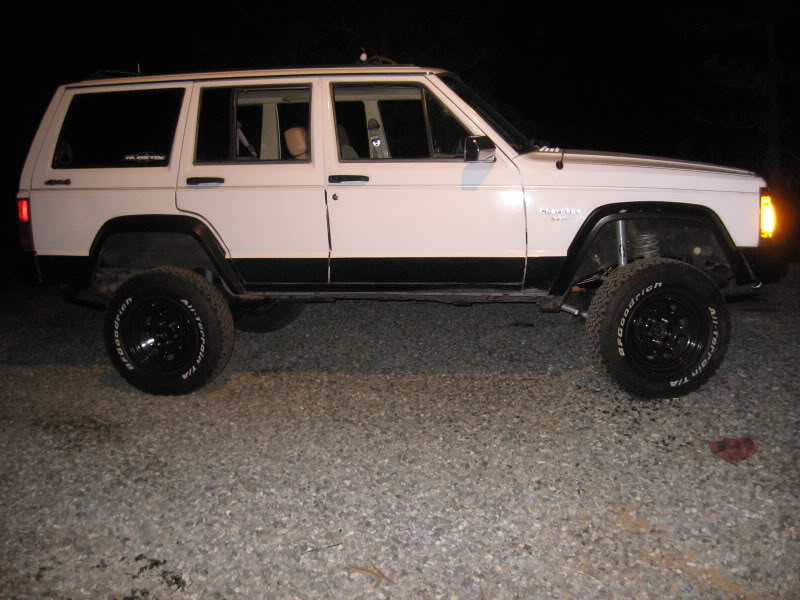 and on the initial test drive i immediately noticed a significantly smoother ride. i highly recommend these for XJ owners. but be prepared to do some extra grinding and trial and error fitting the new shackle box to get it all to fit right. but thats to be expected with anything like this.
next on the list is installing the ACOS i have sitting in my room
12-28-2009
also noticed now my drivers door has been opening and closing weird. checked it out and found this
those little door stops hate me

12-29-2009
well i got my ACOS installed today. it was much easier than i had thought
first step, remove coil
then twist off the little bumpstop holder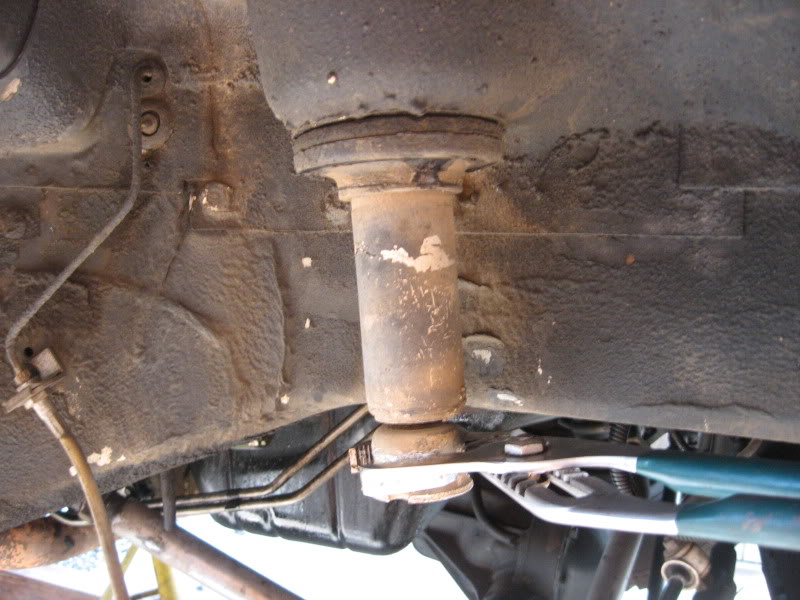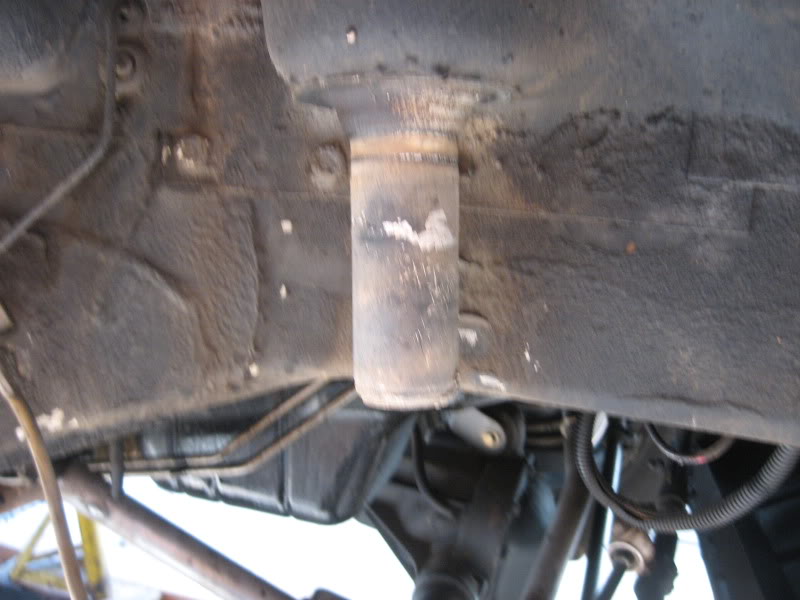 next you slide on the ACOS. you will snug the bold holding it on, then back it off a turn, maybe 1.5, then you twist the top aluminum piece until it hits the top. then you will tighten the bolt on the bottom to finish it off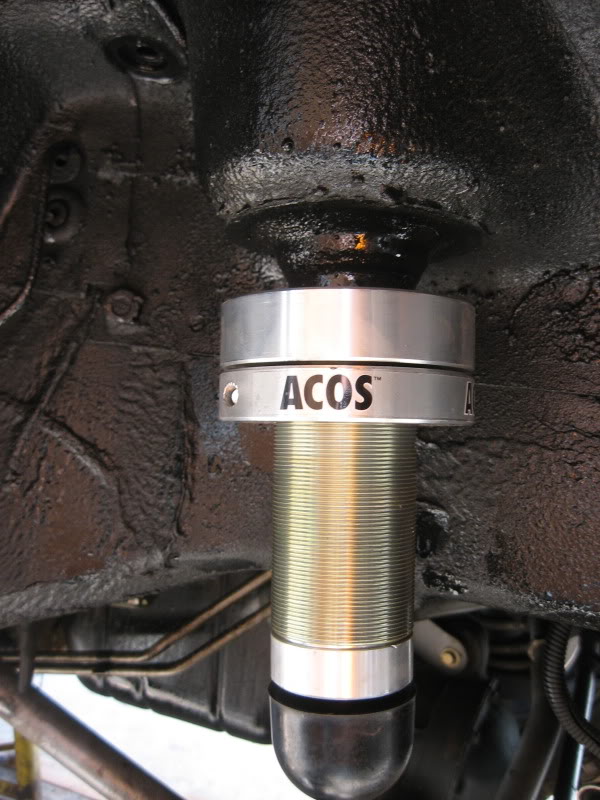 but mine decided not to line up exactly right so i enlarged the hole in the aluminum spacer and got it to work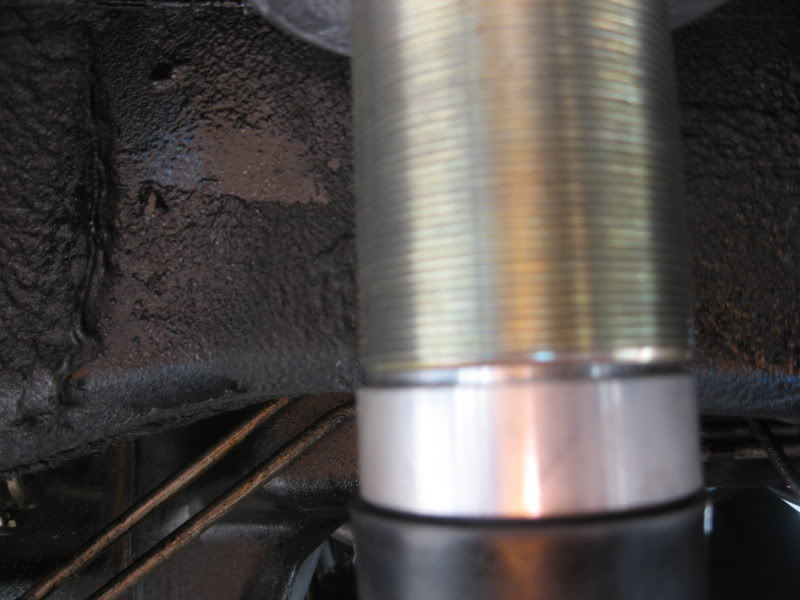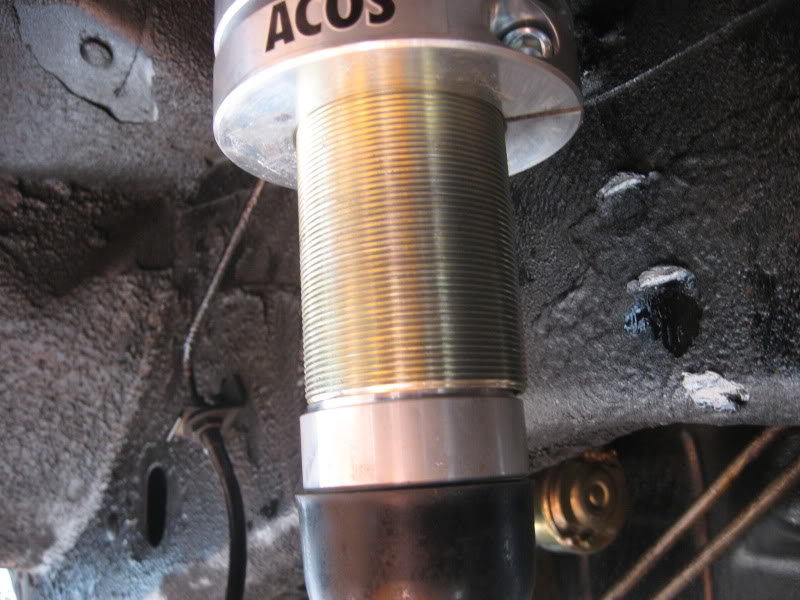 after thats done you tighten it down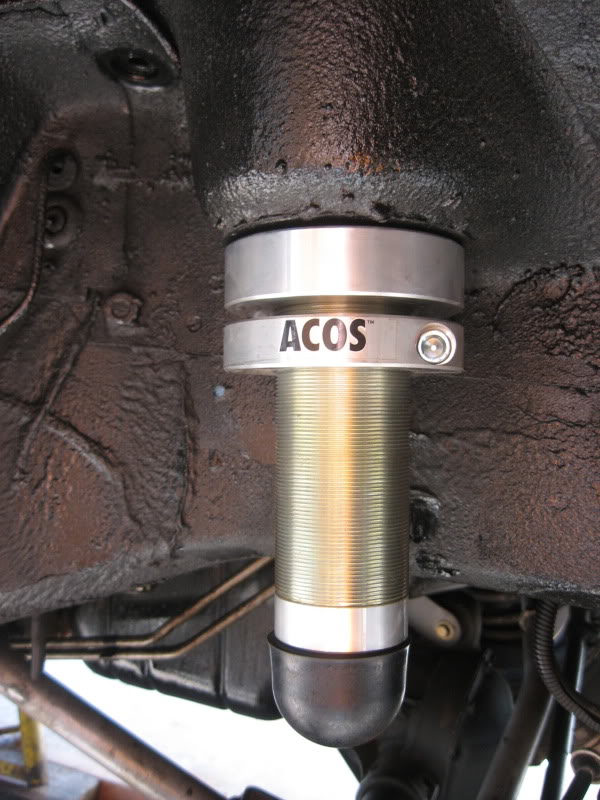 and reinstall the coil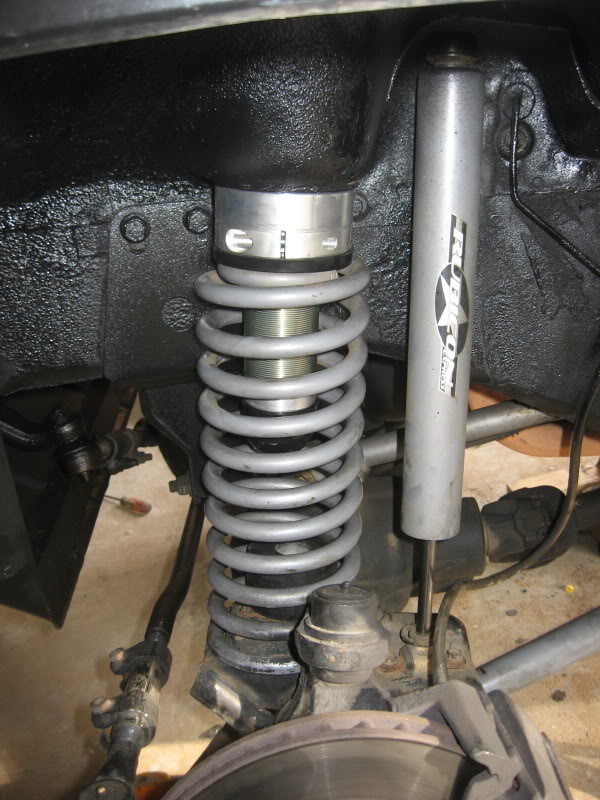 and heres how it sits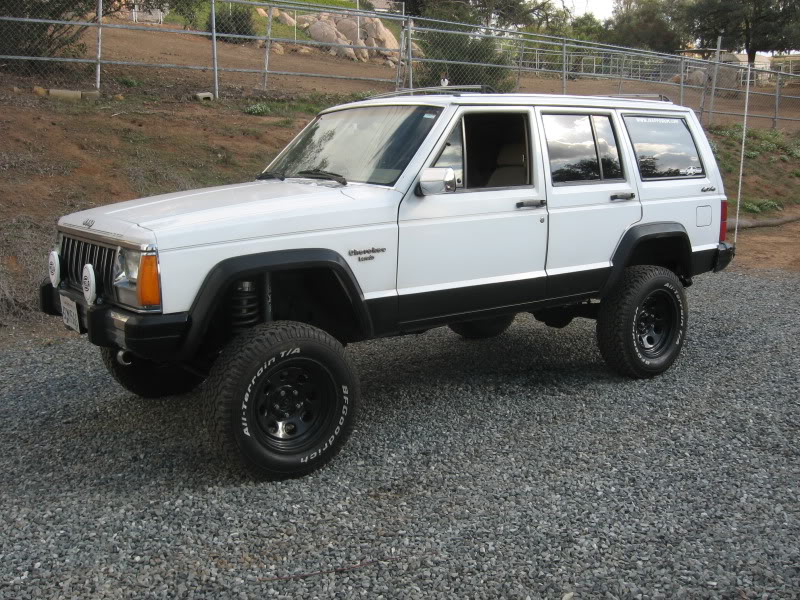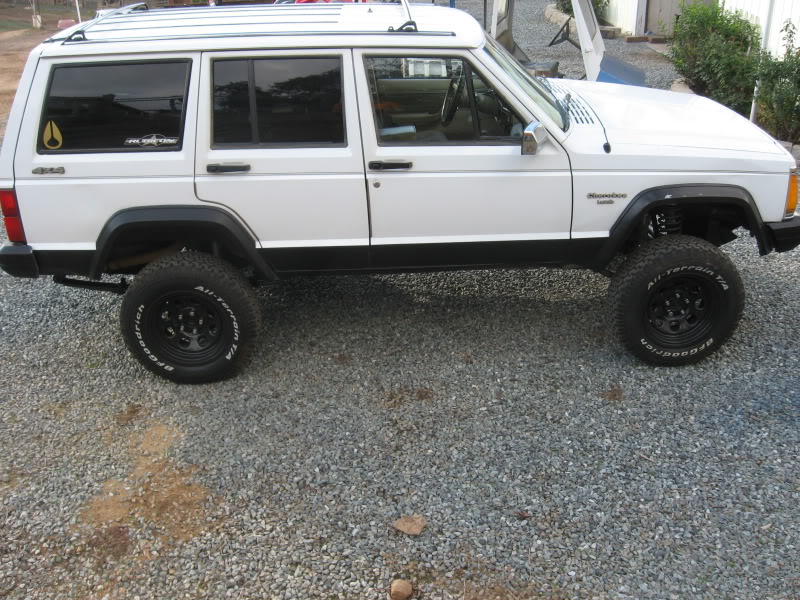 i got some vibes from the front not so i need to tilt up my pinion some. i did extend my LCA's but not my uppers yet.
1-14-2010
well lately i have done a few little things. i replaced my passenger side UCA bushing at the sae time i adjusted my UCA's. and today i decided to try and track down my mini death wobble thing i had going on. i didnt want it to get any worse. so i took the trackbar off the axle side and found a slightly wallowed out hole. so i had some steel lying around, a welder, and some time so i went to work
first i made a cardboard template for the metal
after i cut it out i welded in the new piece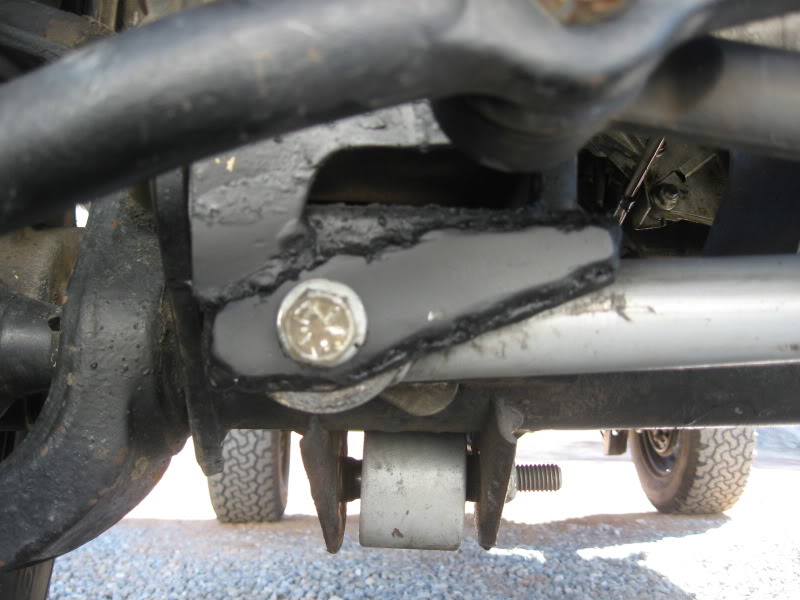 and i used this dinosaur of a welder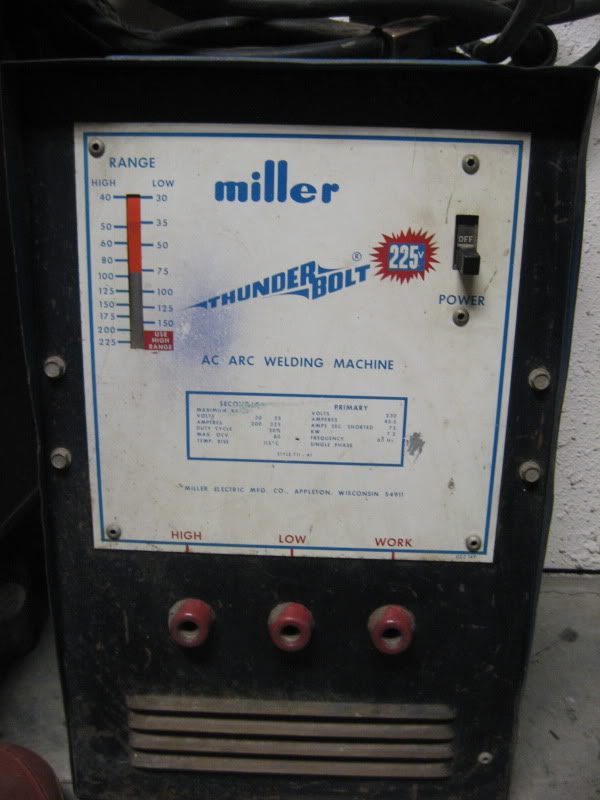 it definitely helped out a ton with the wobble i was getting
4-6-2010
well over the weekend i played in the dunes some, whoops etc. i drove home and got SERIOUS death wobble. it always shook a little over certain bumps but now its bad. i took it in to an alignment shop and found out my TRE's are bad already after less than a year. im tired of TRE's and ordered the ballistic fab steering kit. its extreme overkill but my drivers side knuckle is already drilled out to 3/4". so no more sloppy steering. and my caster angle is also off, each side being significantly different, which probably means my tube is bent/twisted. so i need new off set upper ball joints as well.
4-8-2010
finally got annoyed enough to try and figure out my lean to the drivers side, its the coil spring. so i adjusted the ACOS accordingly and here is how it looks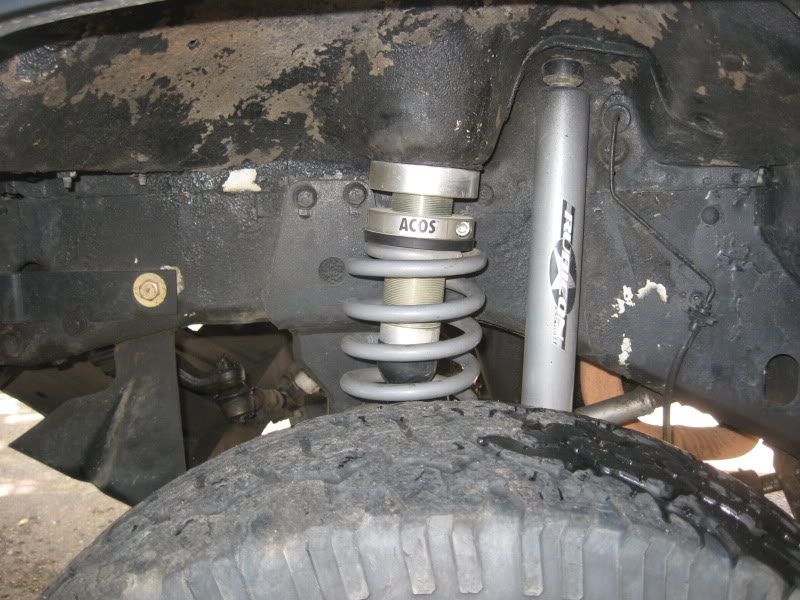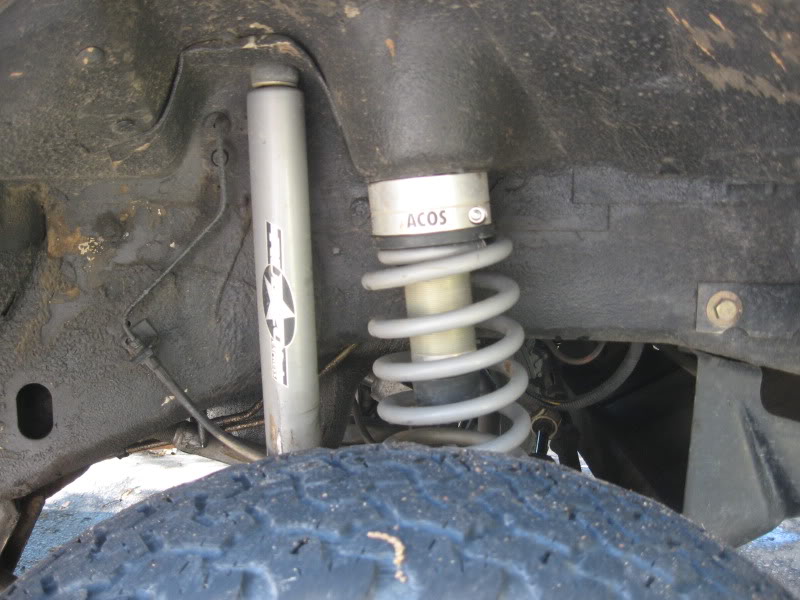 and now it sits just about level. i have to raise up the drivers side just over 3/4" of an inch. needless to say i have little faith in RE suspension products anymore.
also, a few weeks ago i noticed a nice clunk in 4WD. so i looked underneath and found this: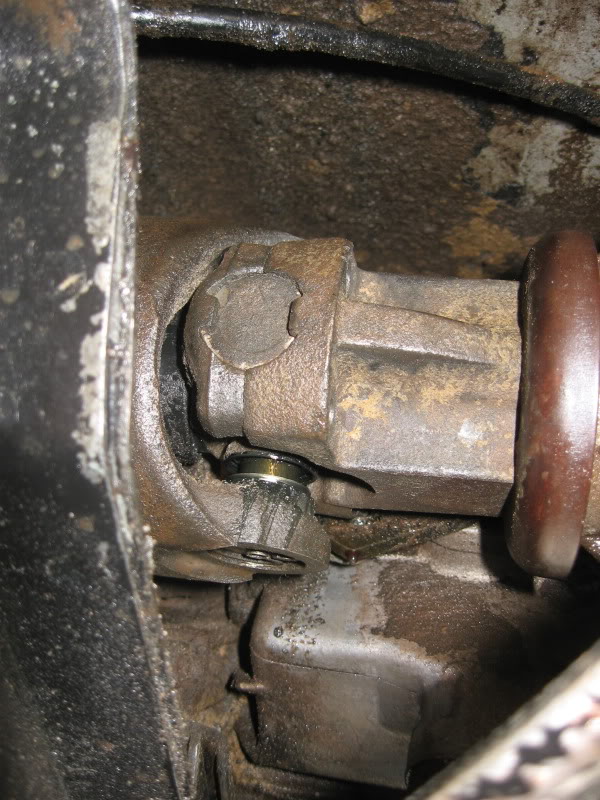 the u-joint retaining clip had come off and the cap had started to work its way out. luckily i had another clip lying around and i didnt lose any needle bearings from the cap. all is well now. that couldve been seriously disastrous
4-19-2010
got my steering kit from ballistic delivered today
ballistic vs stock XJ tie rod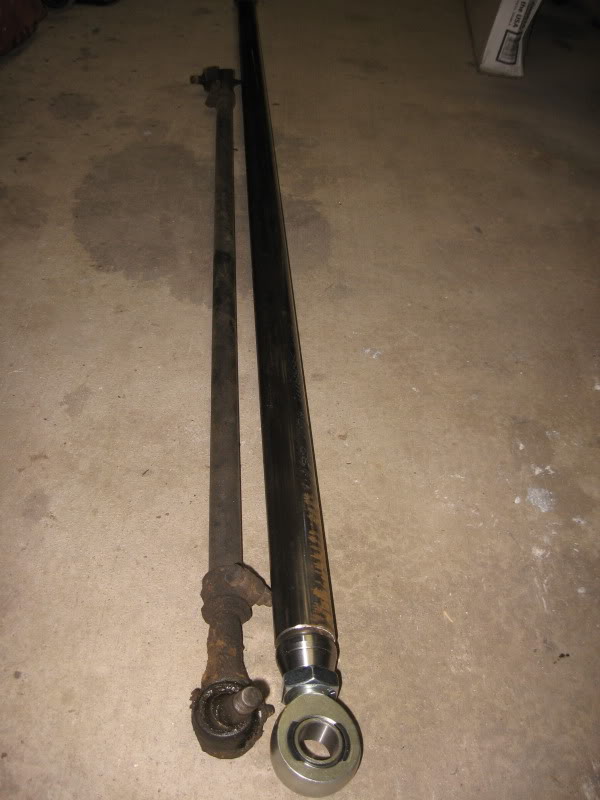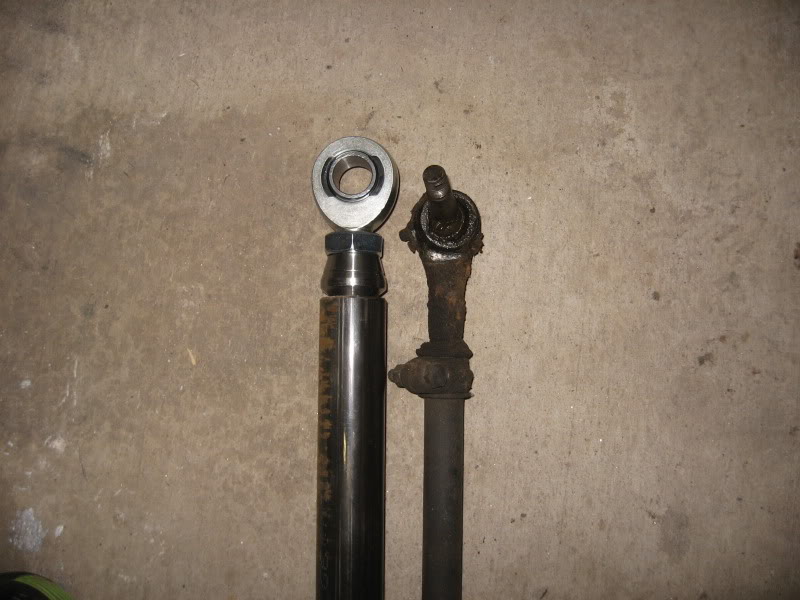 overkill? absolutely
4-25-2010
hopefully in the next few weeks i can get it all cut to proper length and welded up and bolted on
installed my drop brackets and trackbar brace today. the brace required a little bit of work to fit, meaning i had to elongate a couple holes. but all in all im happy with it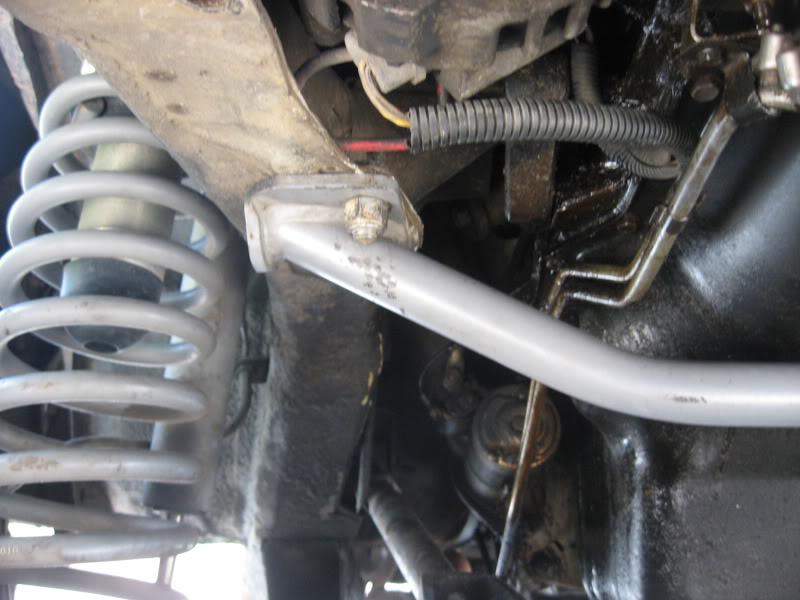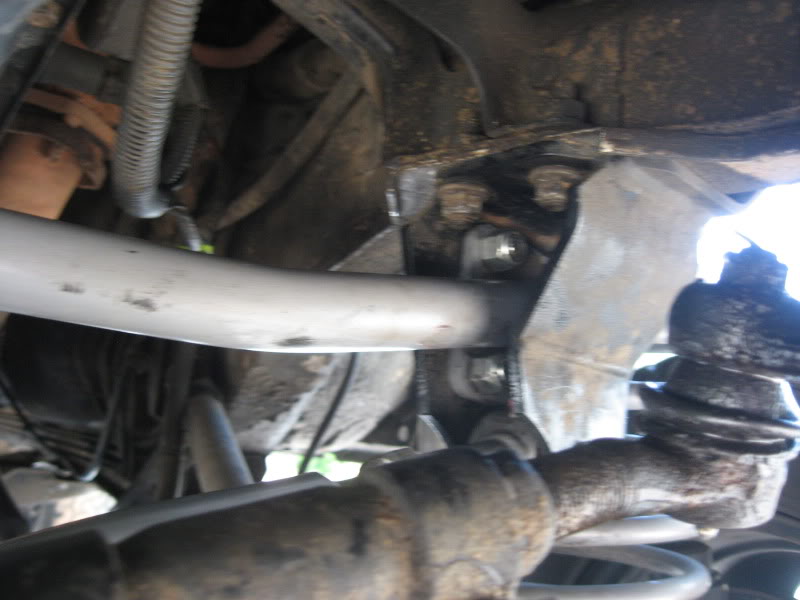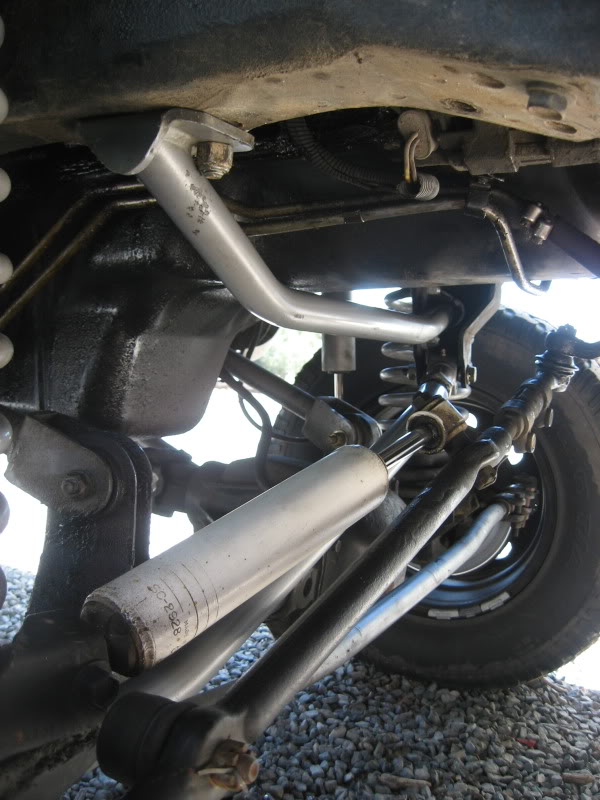 and the braces, with a frest coat of paint.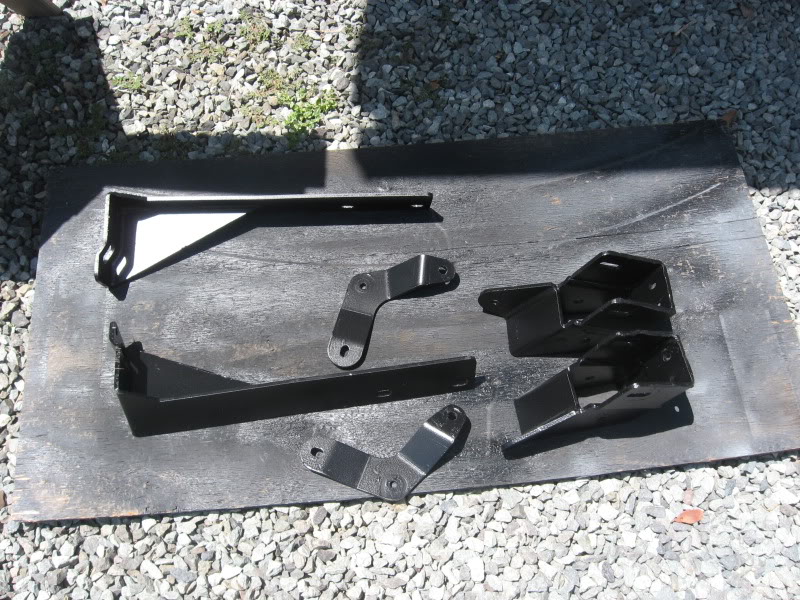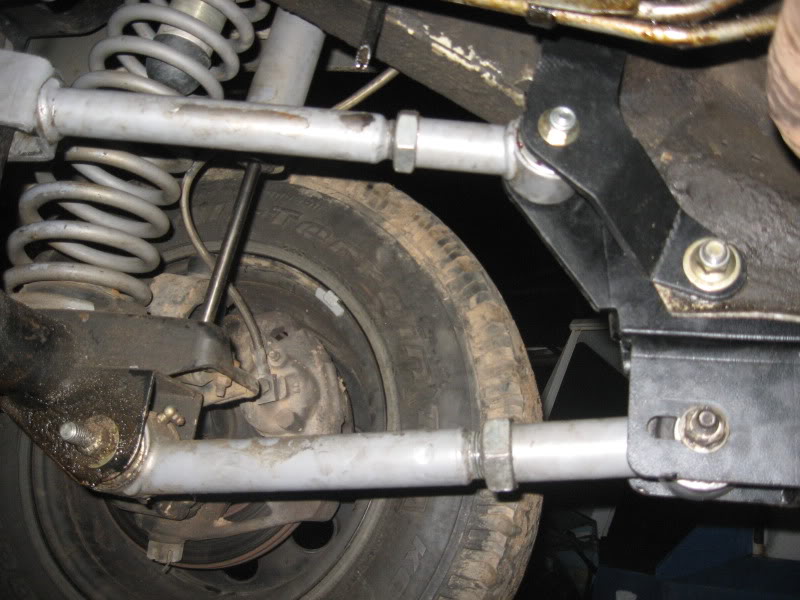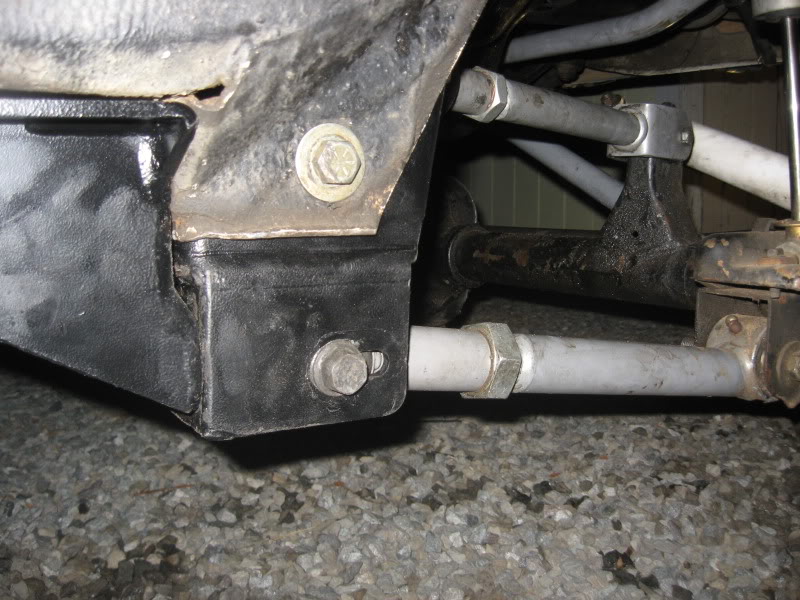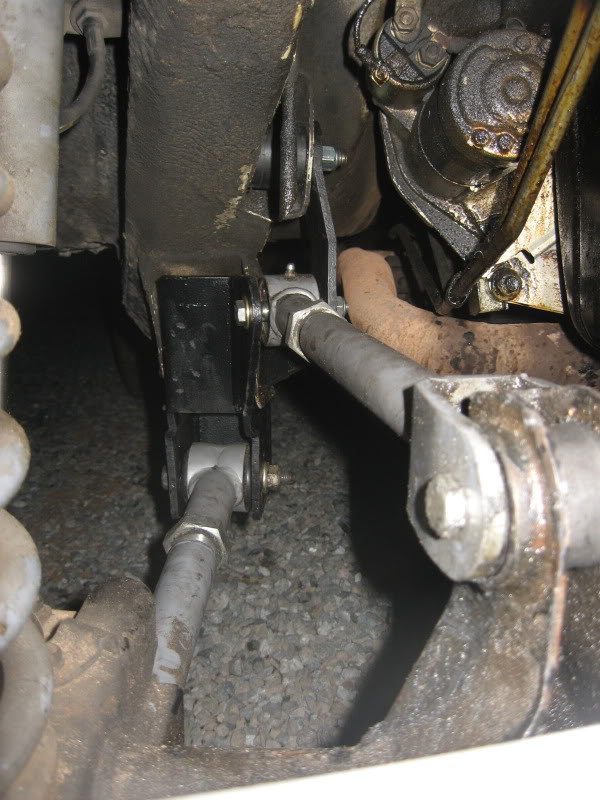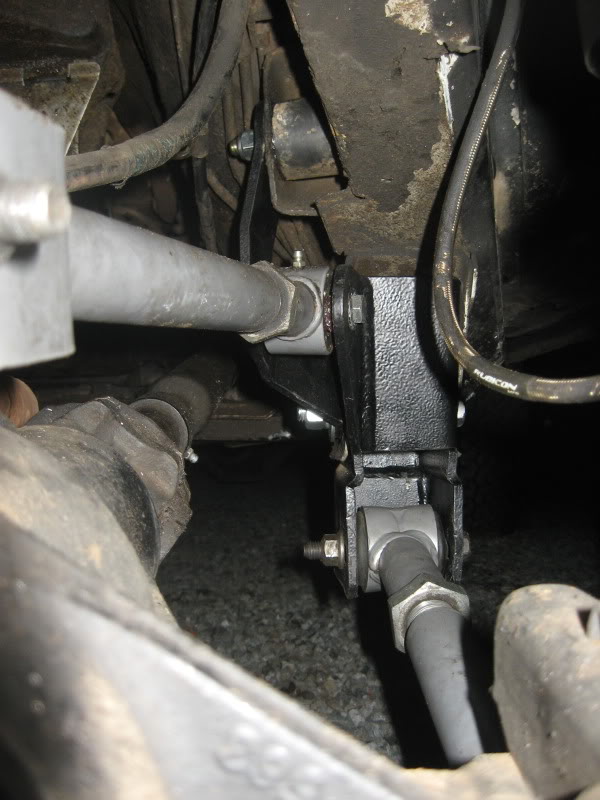 i have yet to drive it since i finished so late tonight.
the brackets were a major pain to install. on the drivers side, it calls for a 9/16 bolt for the stock control arm mount. well no hardware store carries 9/16 hard so i figured i grab 5/8. i completely regret that decision. so much grinding and pounding and cursing. the PO supplied a few bolts so on the other side i used the recommended 9/16. much better.
now either my jeep is tweaked or the drop brackets were, or both. there were some fitment issues that required me to elongate numerous holes with a die grinder, not really a big deal, just a hassle. i also made a stupid move and took off both upper control arms at the same time. getting the pinion angle right again was a HUGE pain. i dont even want to explain how i did it.
imsure if my XJ was newer and i bought these new the experience wouldve been much nicer. but i gotta work with what i got so i cant complain.

5-18-2010
got my ballistic steering all bolted up today. drives eally nice, even without the stabilizer. only problem is that the trackbar bolt interferes with tight right turns. so i cant turn as sharp, no biggie. overall im very pleased. alignments are as easy as loosening the jam nuts, and twisting the tie rod or draglink.
old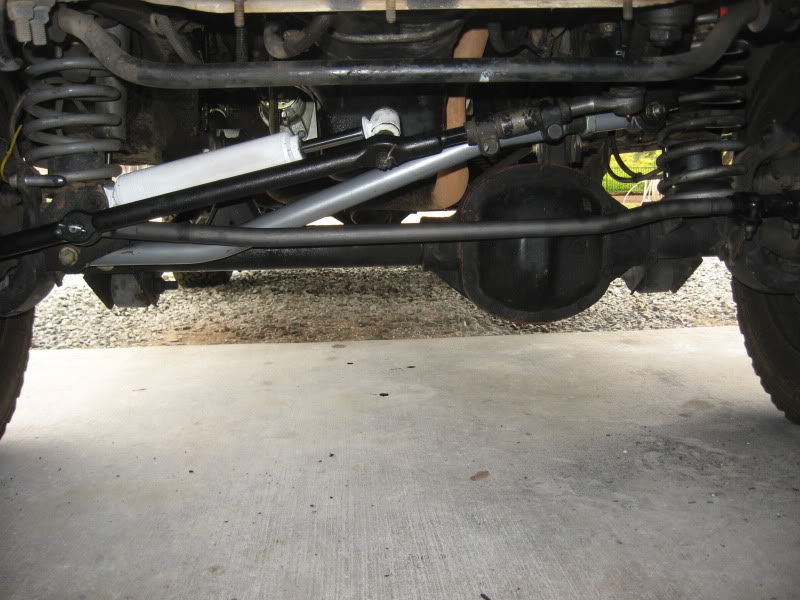 and new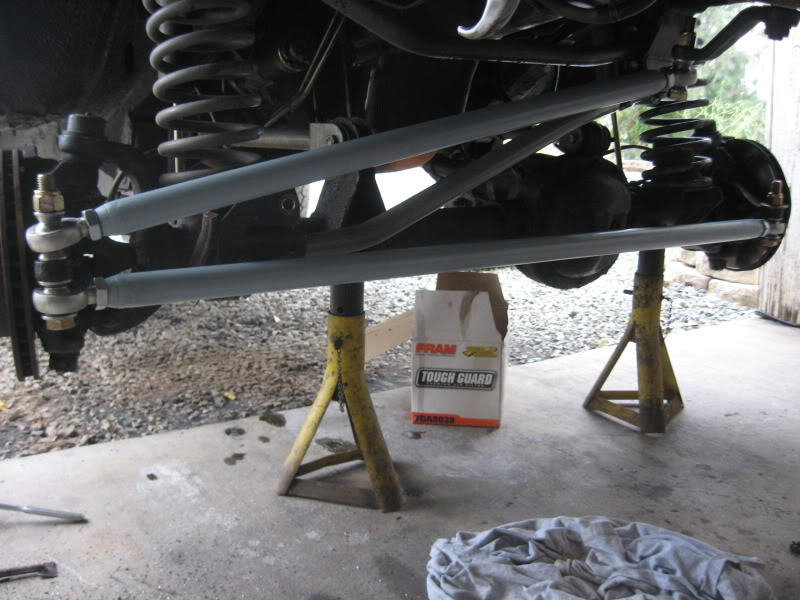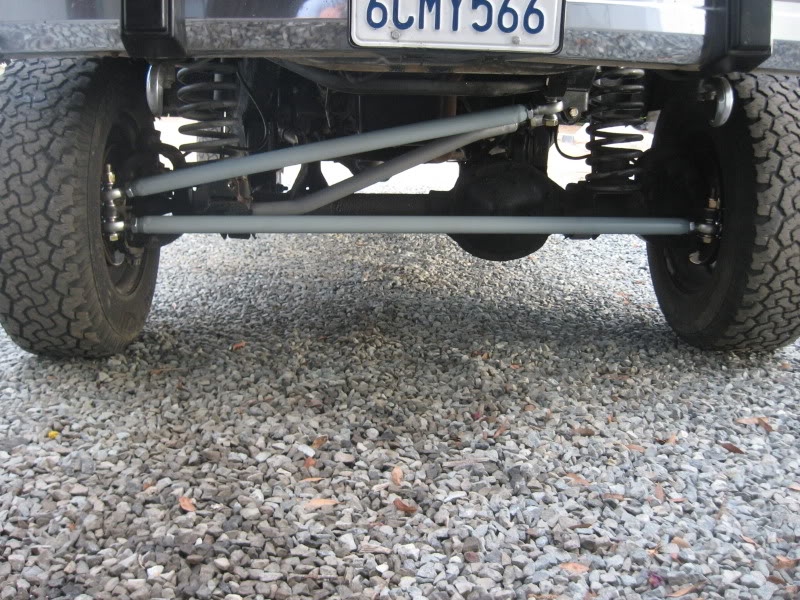 and i found out my goferit tie rod flip insert had broken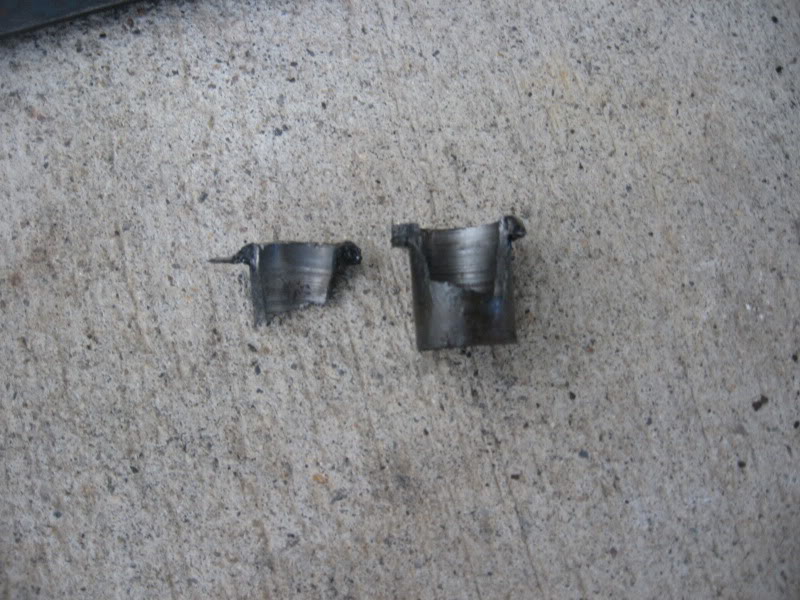 and heres my JCR sliders all painted and ready to bolt up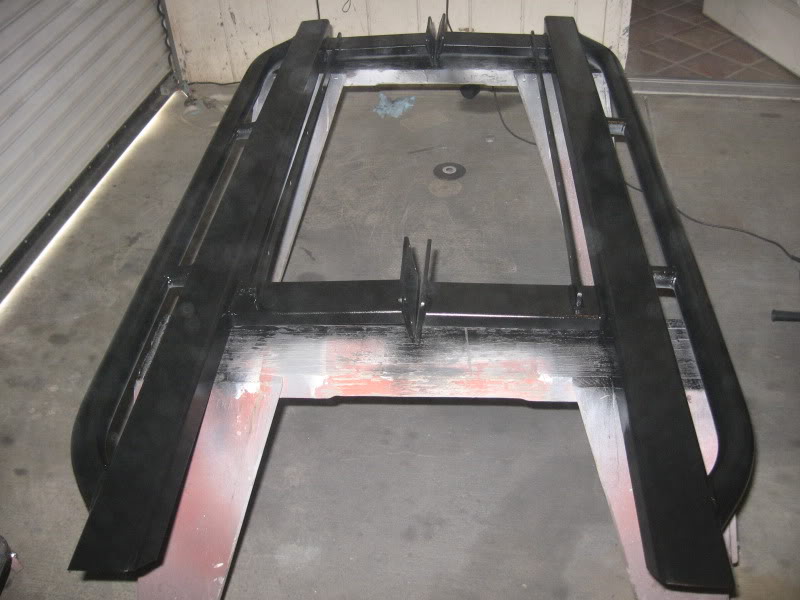 its coming along. next up are 33's
5-19-2010
got my JCR stage II sliders mounted up. very easy install. could only get 4 out of 5 pinch seam bolts on each side but i dont thiink that will matter much. and one mounting hole is partially stripped. but 7 out of 8 will also be fine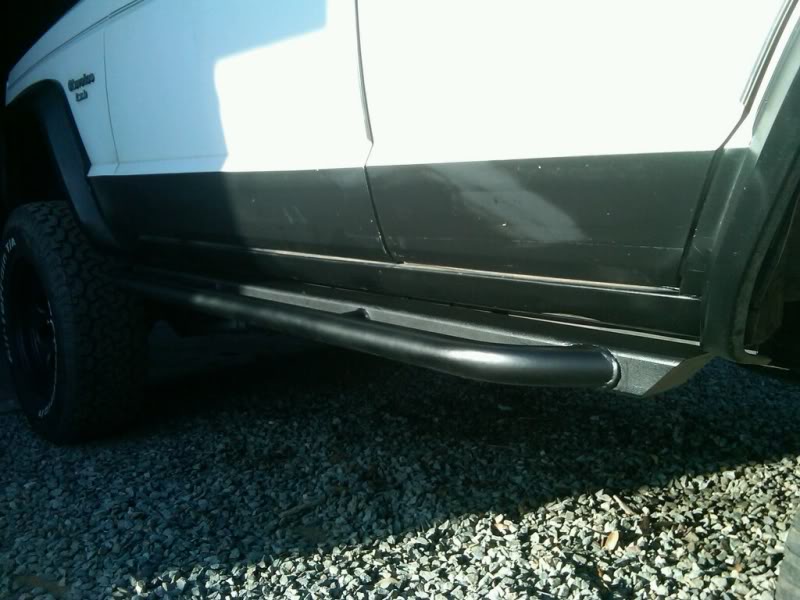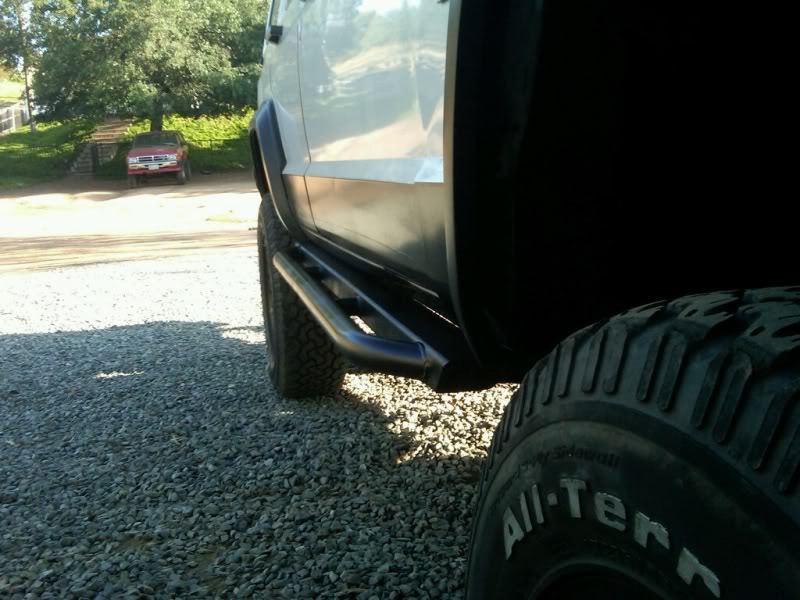 6-3-2010
had to finally break down and get a new cat put in today. mine was rattling and my jeep barely passed smog last year so it was due. got a universal magnaflow 39005 for $159, which is cheap for a CARB approved cat.
6-29-2010
went wheeling today. overall it was good. definitely put the rock sliders to use. almost messed up both quarter panels, scratched up my rear flares really bad, and bent the crap out of my CB antenna mount, but that was a matter of time. it was at this spot when i dropped down off the rock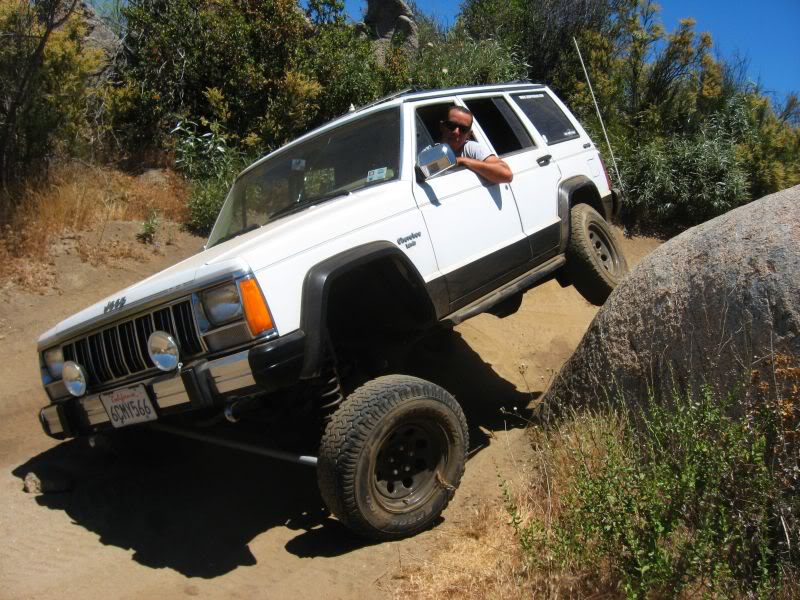 7-13-2010
well on my last wheeling trip i got stuck and was pulled out by the front hook at about a 45* angle. theyre the stock hooks, which are pretty sturdy for most applications IMO. well i bent it somewhat. so i used a BFH to straighten it back. so today i made a brace that goes from hook to hook and has 3 bolts where the stock front skid used to mount. the steel is about 2" wide and 3/16"-1/4" think, im not sure.
all i have is a crappy cell pic because my camera wont upload the pictures for some reason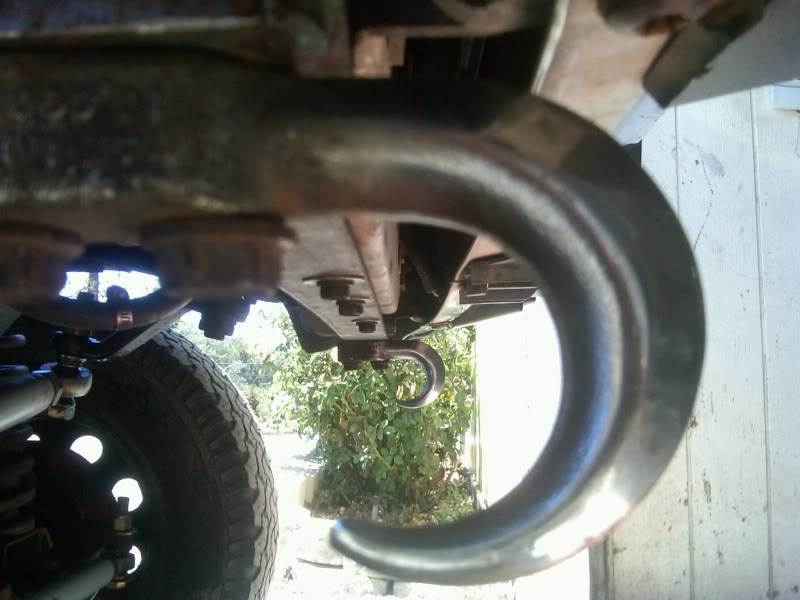 11-4-2010
well as many renix owners know, there arent much in the way of oil filters out there. at least not the the extent that there are for the HO 4.0's. but there is a way to be able to use tons more oil filters, including the same ones HO 4.0's use. the reasons for doing this are more options for oil filters, and larger oil filters which is always a good thing. so i will go over how this is done, its very simple
here are the parts:
new filter- Purolator premium L30001, old filter, new adapter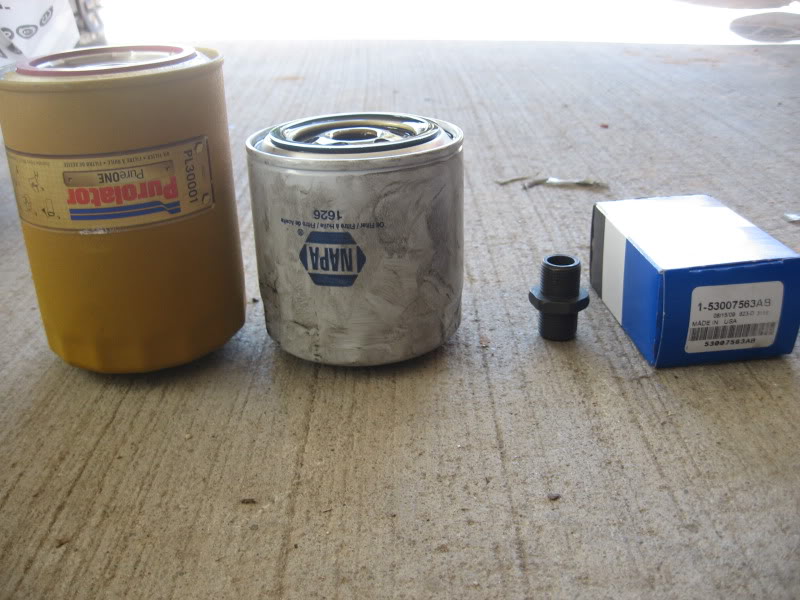 first you obviously remove the old oil filter. you will also need to remove the housing as well with a 16mm wrench
after you remove the housing, you will need to remove the threaded adapter inside th old housing and replace it with the new one. any dealer stocks this part and it's around $7.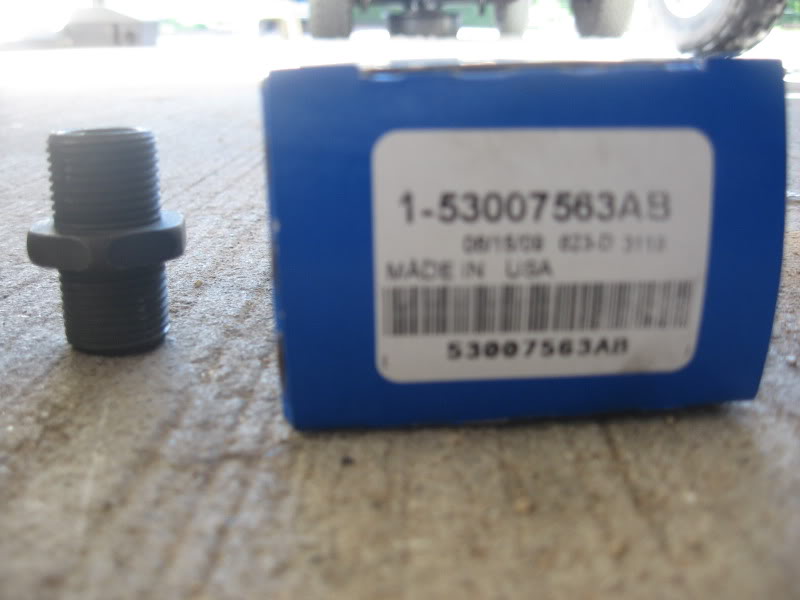 but in order to remove the old adapter, which is a few inches long, you will need to cut off the unthreaded portion of it in order to get a 22mm socket on the adapter. i recommend wiping down the housing before you cut it.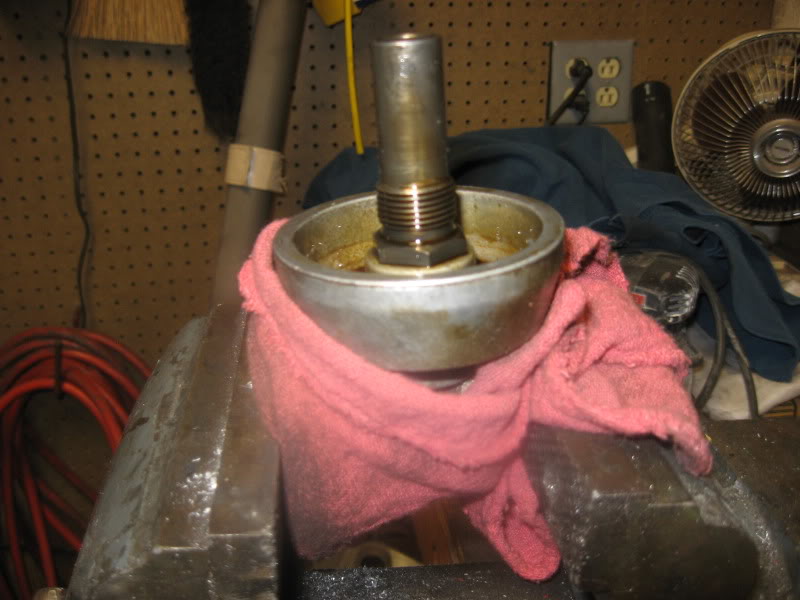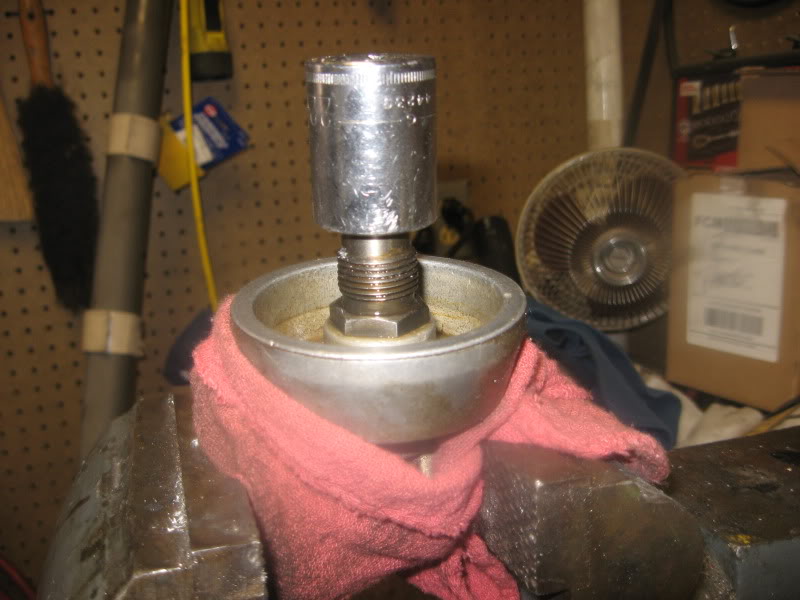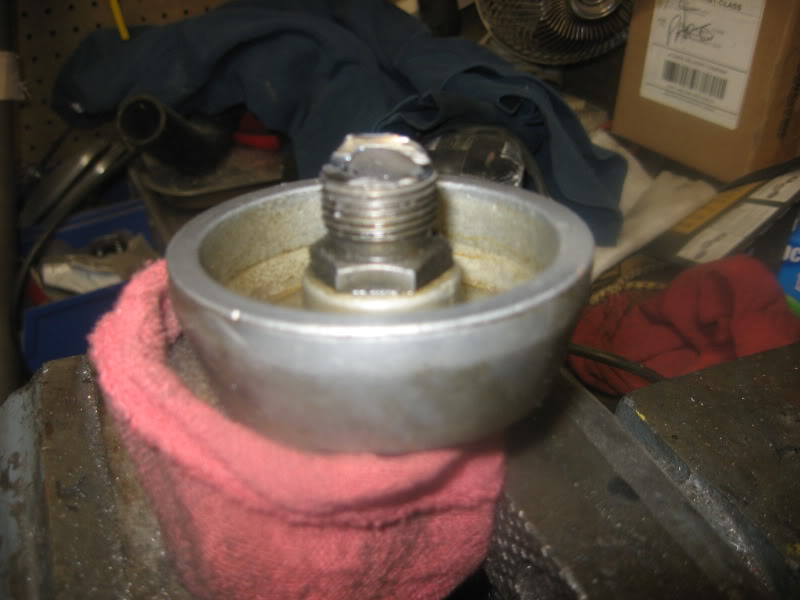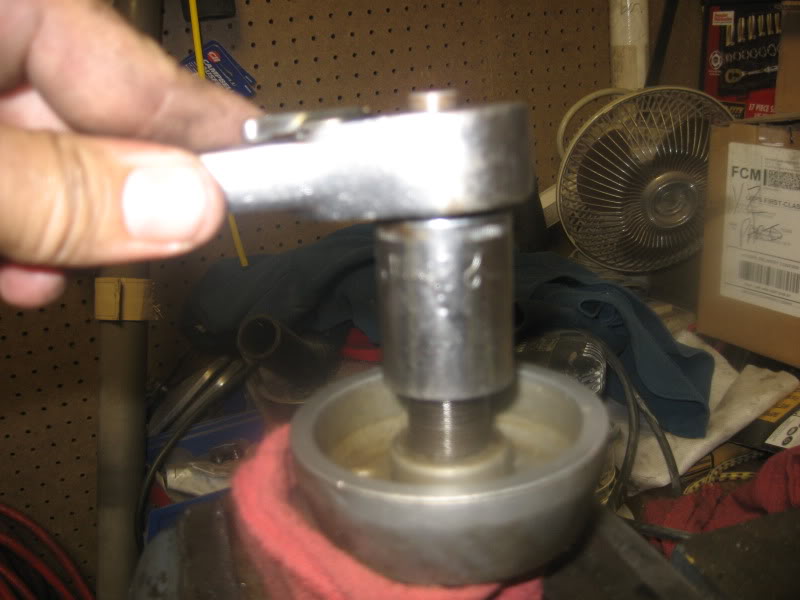 once you cut that off you can remove the adapter with the wrench. you will need to use compressed air, brake cleaner or something to blow out the metal shavings in the housing. and after that you can install the new threaded adapter, either side works as they are both the same. i had to use a crescent wrench to tighten this one as i didnt have the right size socket. but be careful not to nick the sealing surface that the filter will be against.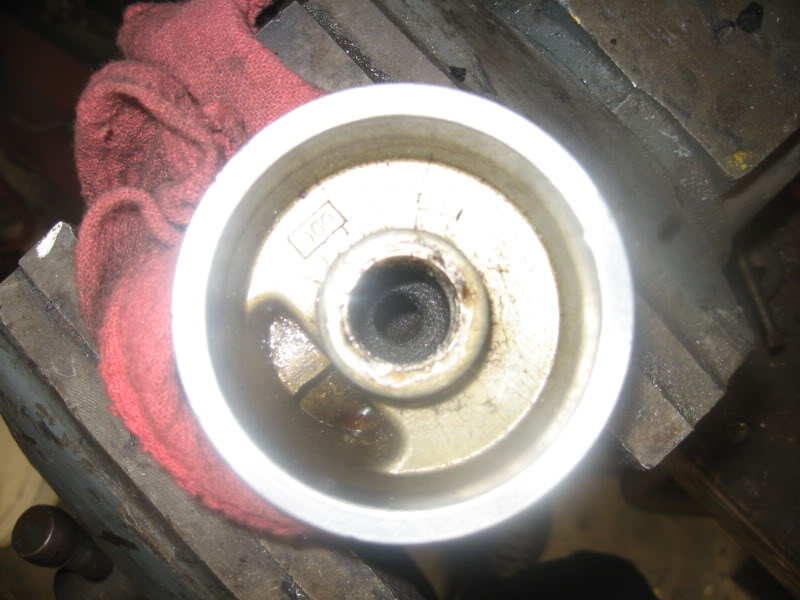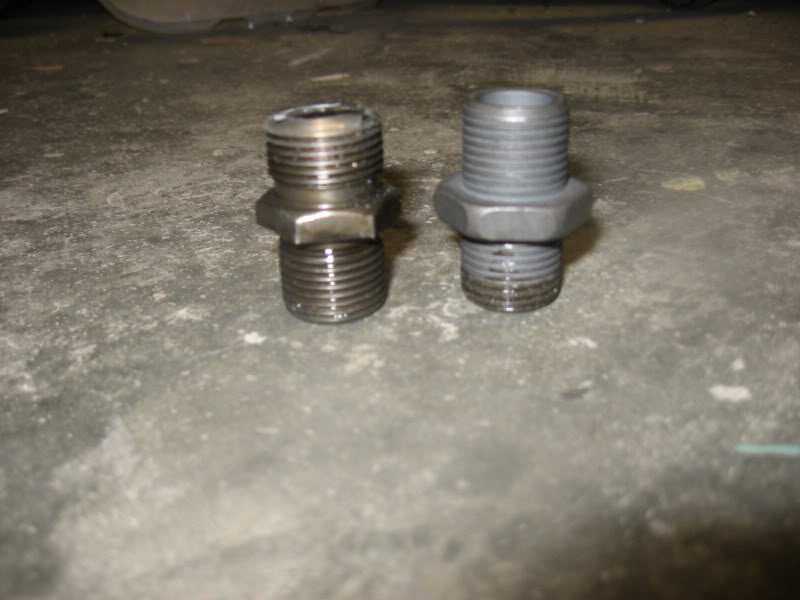 this is also the perfect time to replace the housing o-rings, also a common dealer item.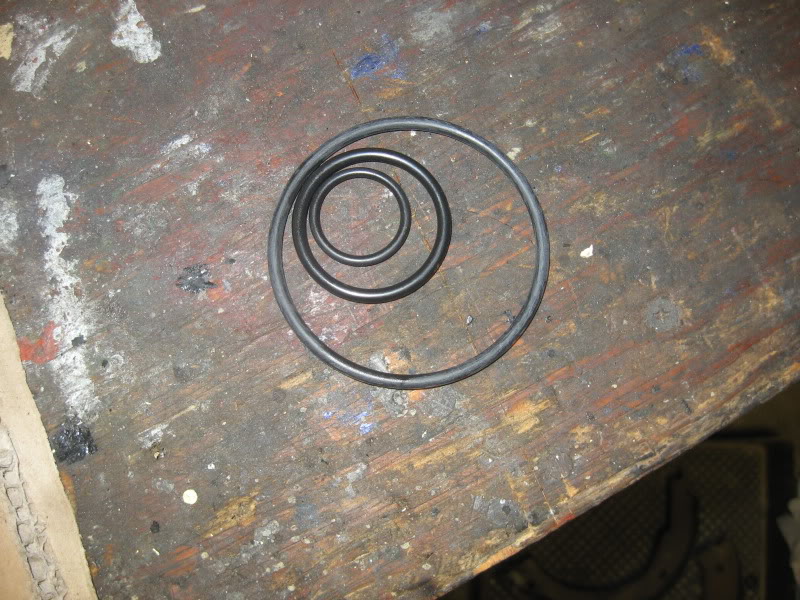 after you replace the old o-rings you can install the housing and new larger filter.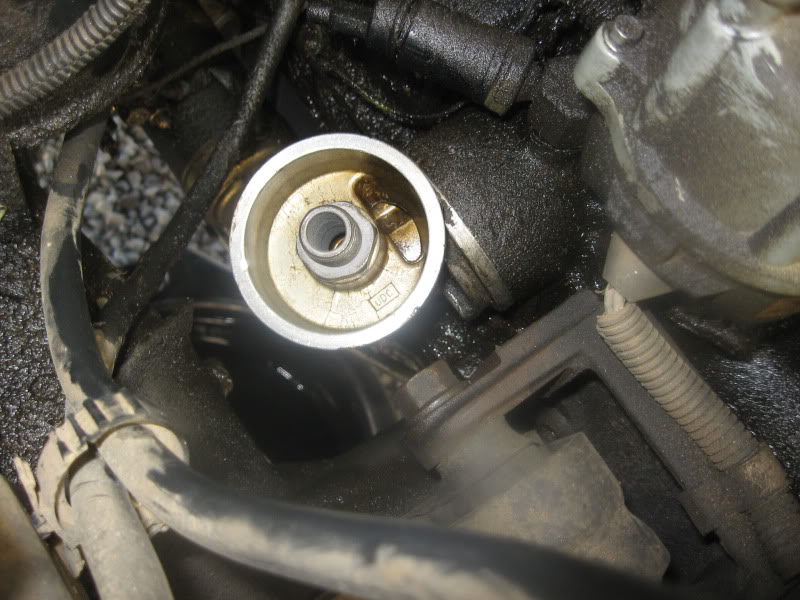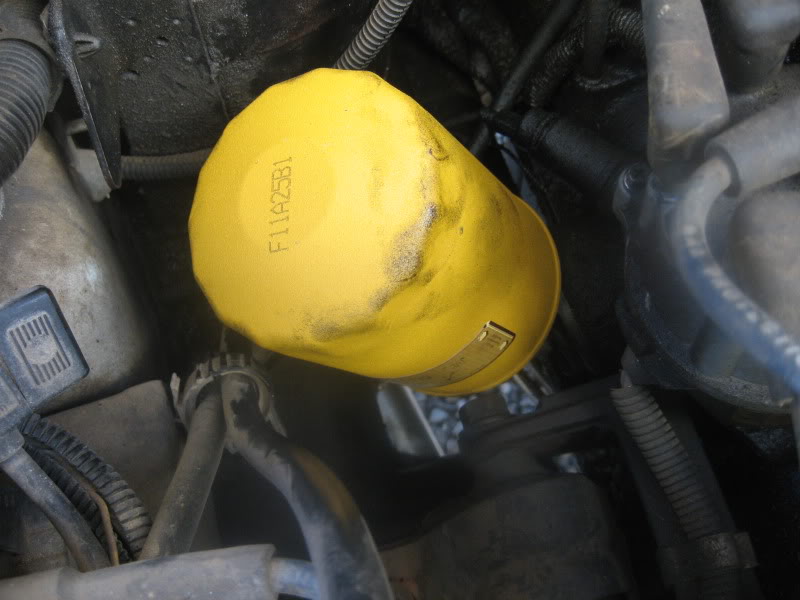 and here is a list of what oil filters you can now use on your renix:
LARGER THAN STOCK (note: most of these can be used on a stock 91+ XJ with the horizontal housing. they are also readily available at most parts stores)
Ford FL-1A
Wix #51515
Napa #1515
Amsoil EaO15 "Nanofilter"
Baldwin B2
Baldwin B2-HPG
Bosch 3500
Denso 150-1004
Donaldson P169071
Donaldson P550008
Fleetguard LF3313
Fleetguard LF3487
Fram HP1
Fram PH8A
Fram TG8A
Fram XG8A
K&N HP-3001
Mobil 1 M1-301
Mobil 1 M1-301EP
Motorcraft FL-1A
Professional's Choice Q1A
Purolator PremiumPlus L30001(the one i used in this write up)
STP S8A
Supertech ST8A
MUCH LARGER THAN STOCK (note: these can ONLY be used on renix XJ's with with vertical housing. and these arent as easy to find in stock at most parts stores, though they can order them)
A/C Delco 2142 (forgot the leading letters)
Fram PH977A
Napa #1773
Wix #51773
Motorcraft FL-299
FL-299 Equivalents
Baldwin BT237
Baldwin BT251
Donaldson P550299
Donaldson P554407
Fleetguard LF697
Purolator PremiumPlus L40017
"GIGANTO" Filter
Napa 1714/Wix 51714
and where i got the list from:
More than you want to know about 3/4x16 oil filters(and some for 20x1.5 too)
11-20-2010
the day has finally come!
finally got my 33's and mounted on the new rims

before: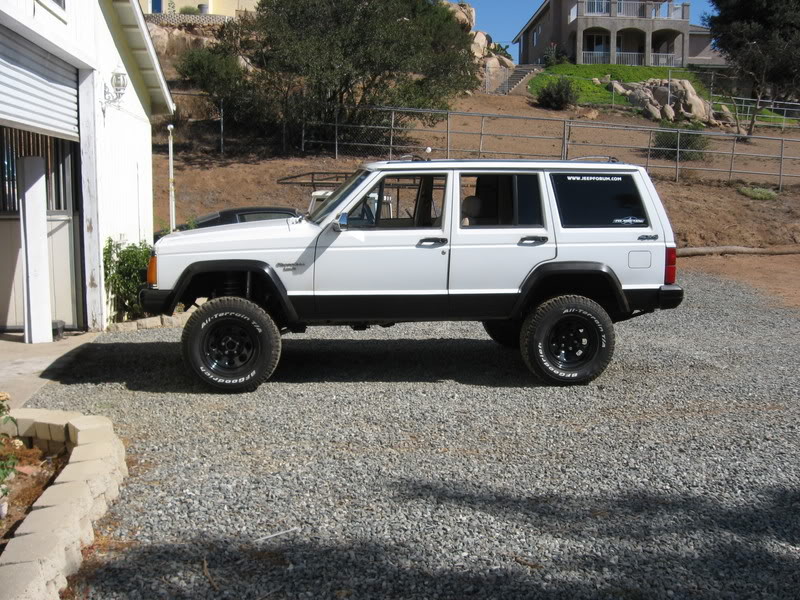 after: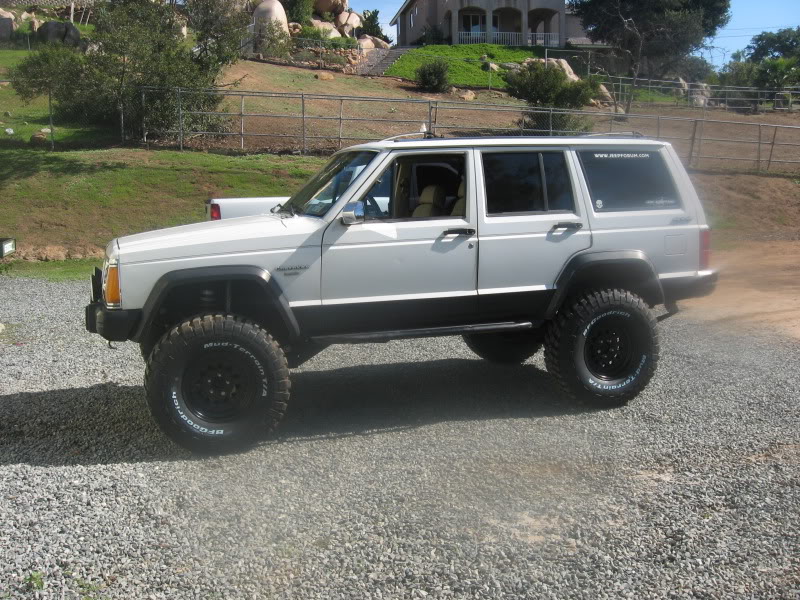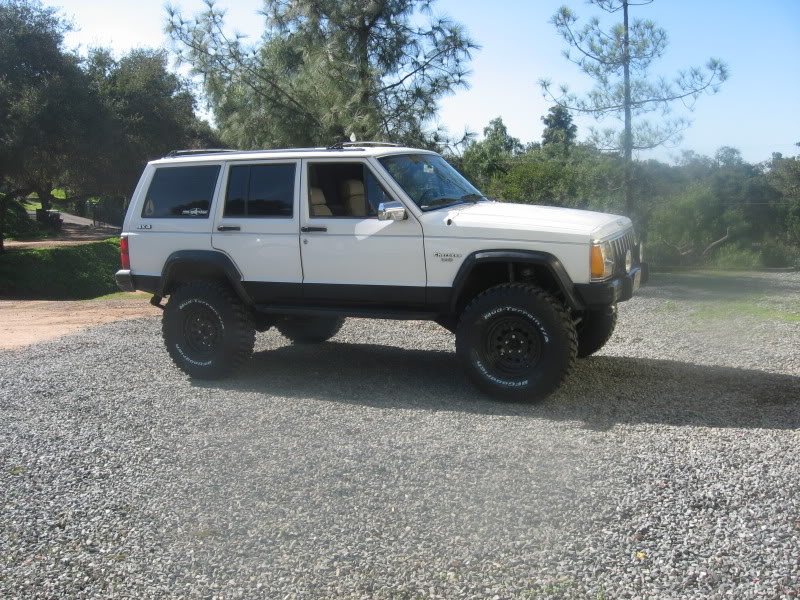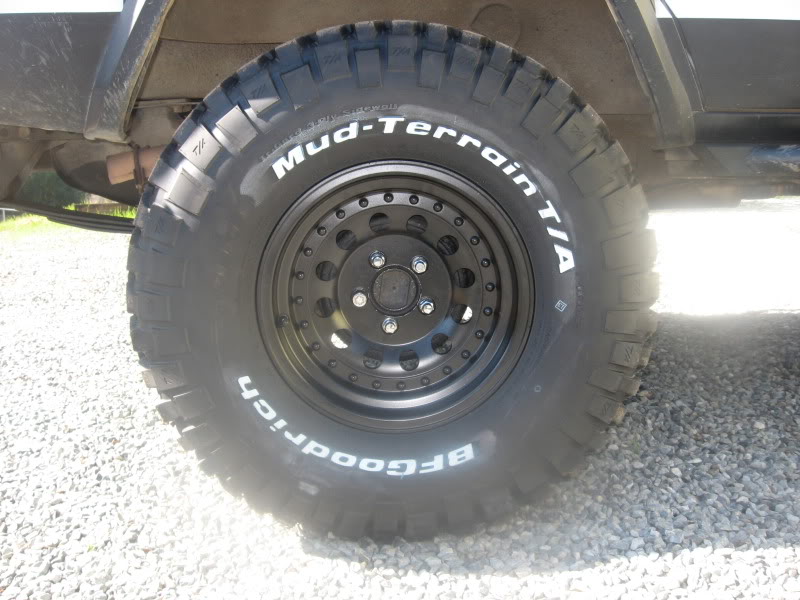 11-14-2010
got the fenders trimmed before wheeling this weekend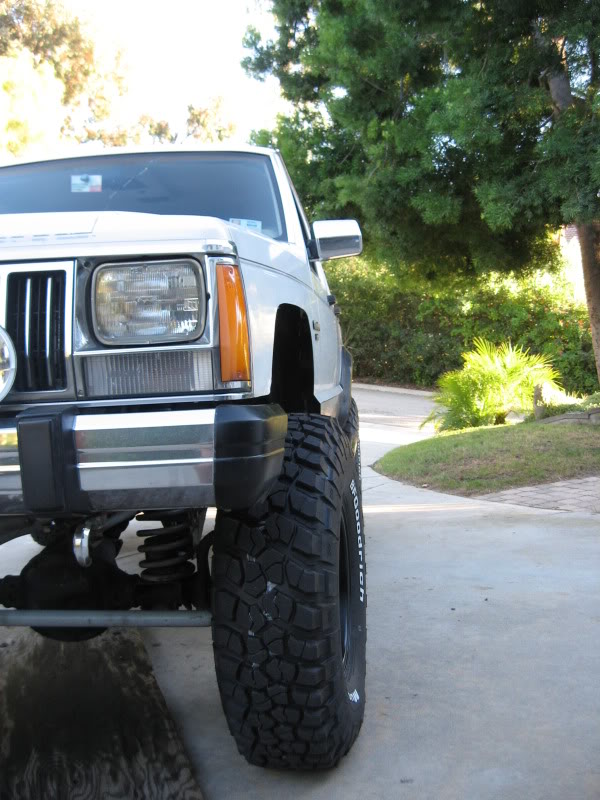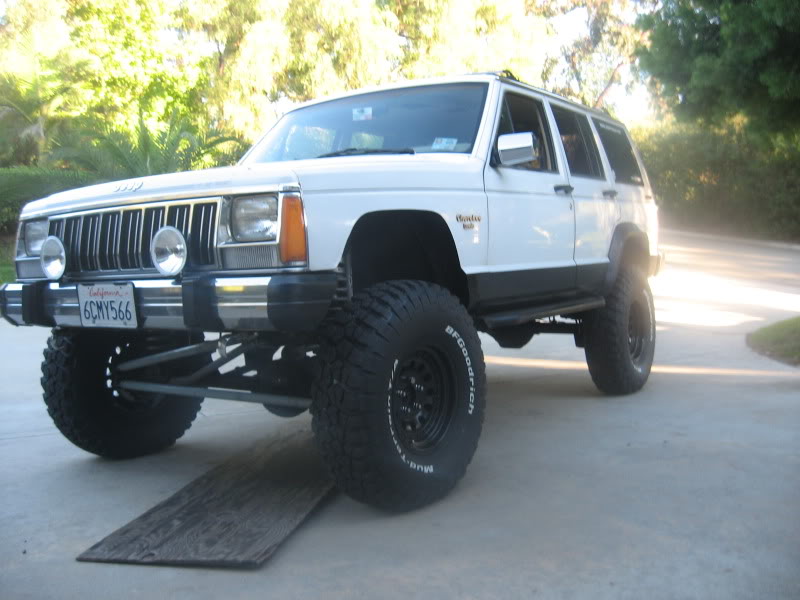 and some wheeling pics. i didnt have someone to take many good ones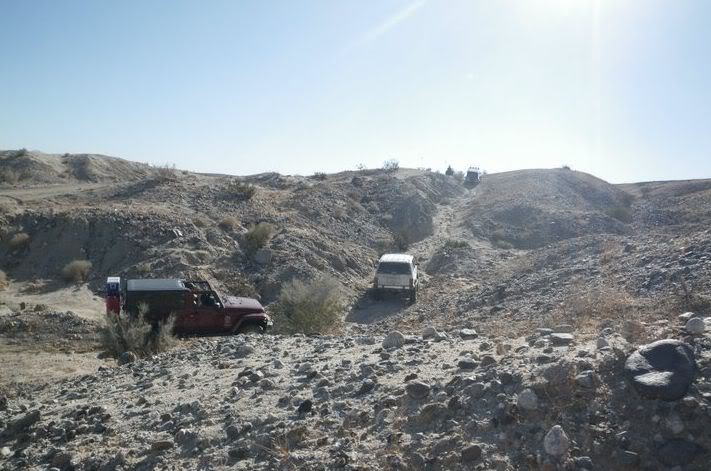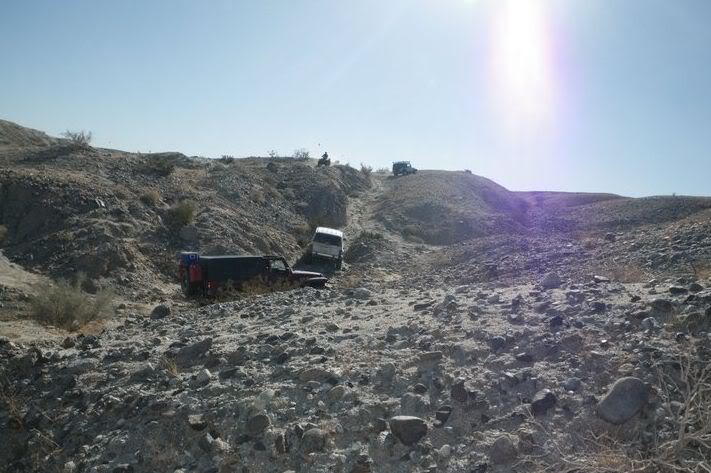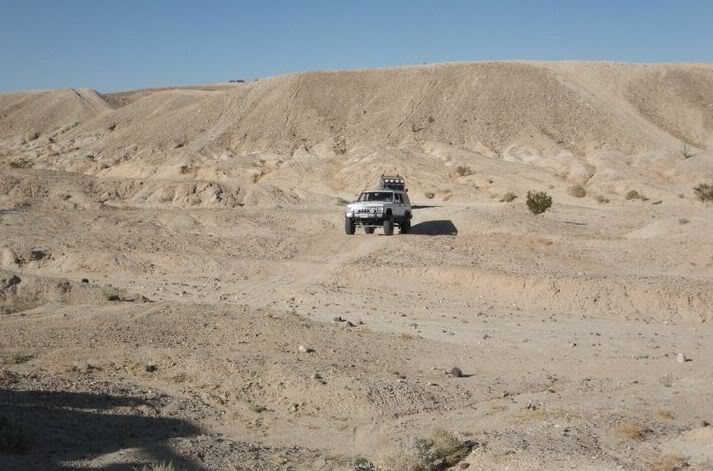 edit: just realized photobucket is lame. whats the best way to go about fixing this? deleting pictures and reloading the ones that arent appearing?
1-14-2011
well i finally got around to mounting mt trackbar OTA. i used a JKS bracket that i have had for a few months now. but being christmas break and all, I found the time to get it on. had my buddy steve weld it up for me, as i dont trust my welds for this type of stuff.
well here are the old steering angles: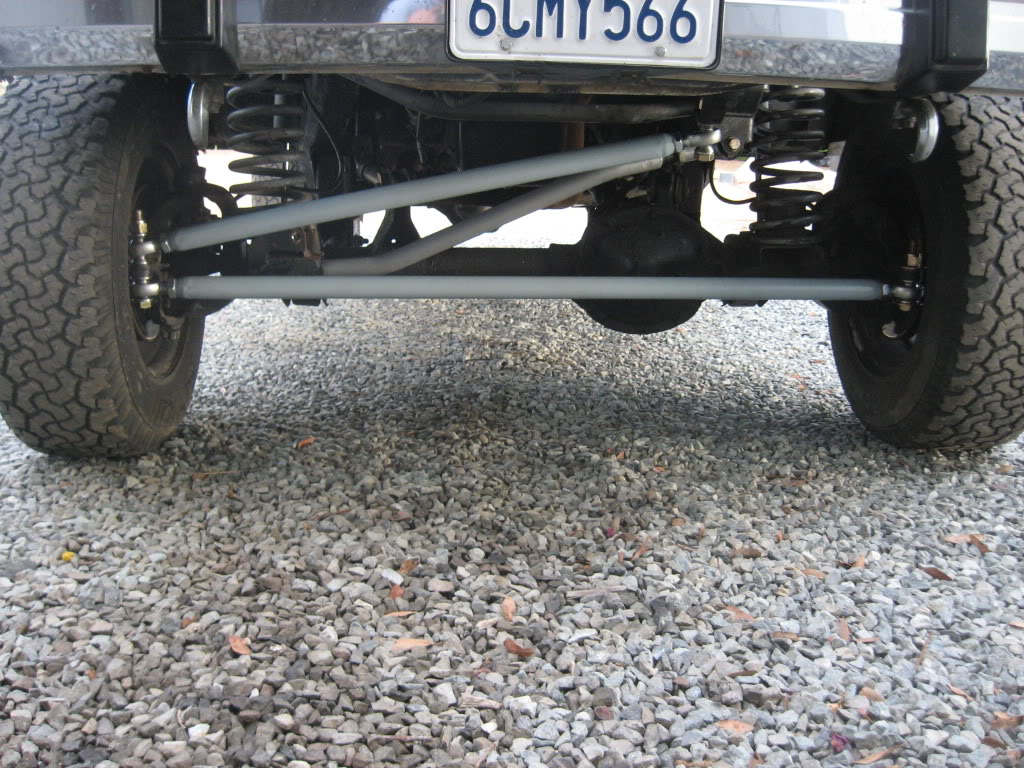 and the new: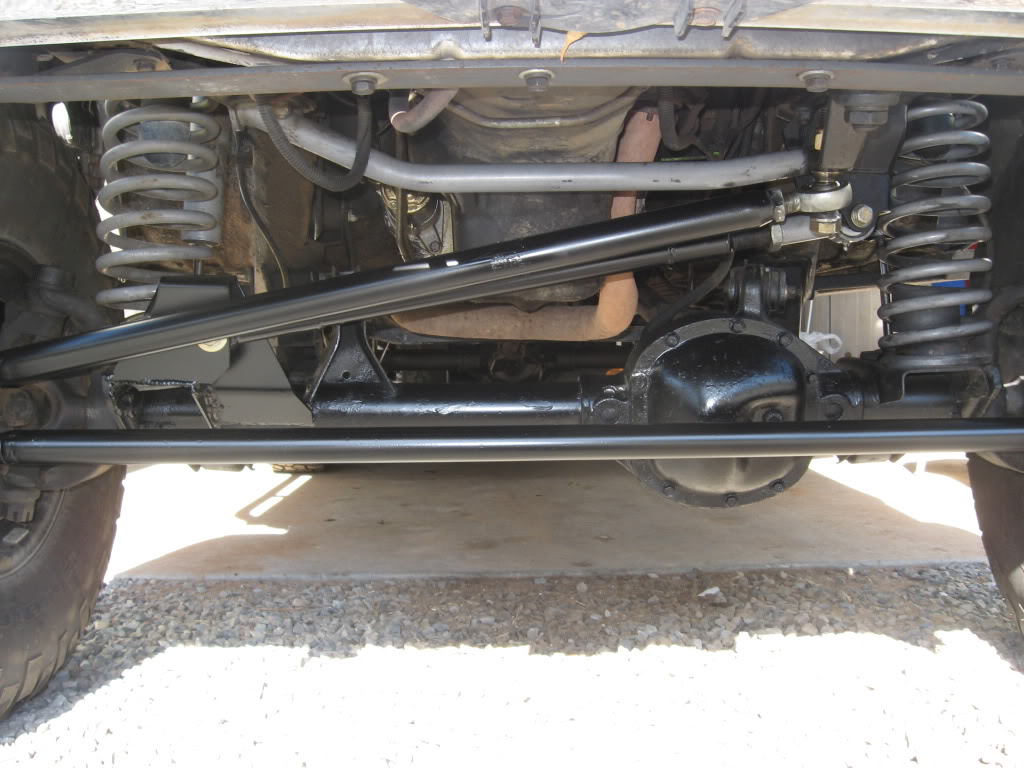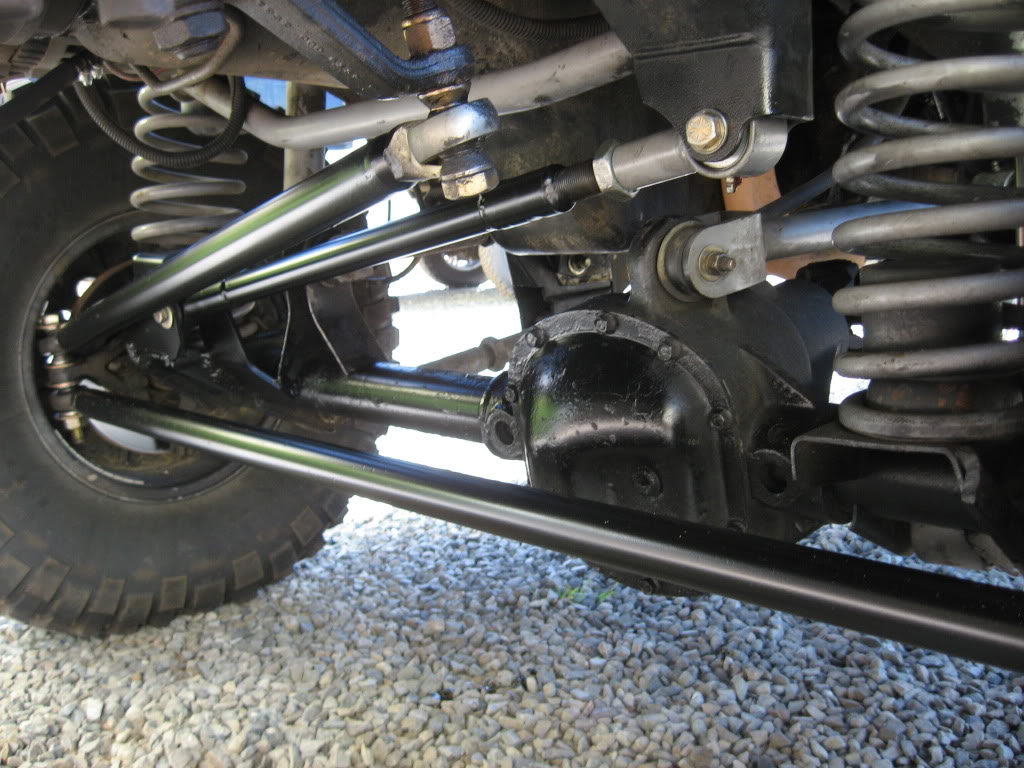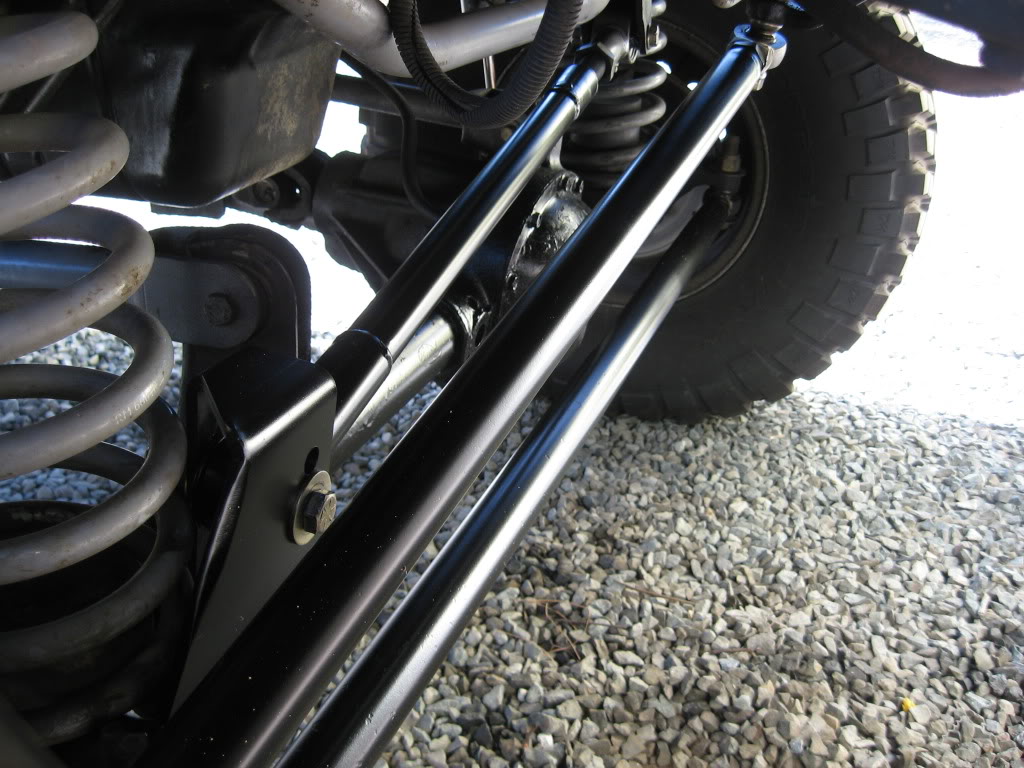 all we did was cut the ends off my RE HD trackbar and find some short tubing that fit inside that, which was hard because the RE HD bar is 1 3/8" x .188" wall chromoly. so we had a friend machine out the RE ends to 1". we slid in some 1" OD tubing, rosette welded them and sleeved them over with 1.25" DOM. so thats my new trackbar. well see how it does out in the desert soon. i also gained full lock to lock steering. my tie rod would hit the trackbar bolt in the stock location when i would turn right.
1-15-2011
and last night i started my transfer case rebuild project. the chain was stretched and rubbing the case sometimes. 4WD still worked fine, but sometimes when backing up in 4lo, it would skip a tooth if there was enough load. so i figured while i was in there i would do a total rebuild.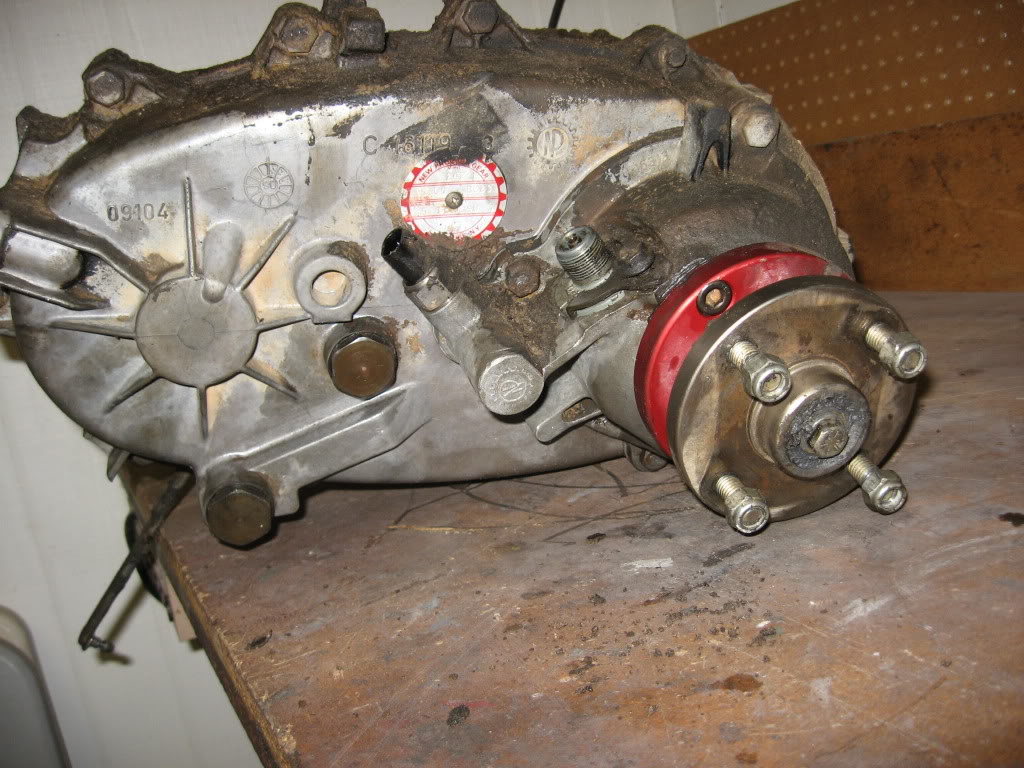 opened up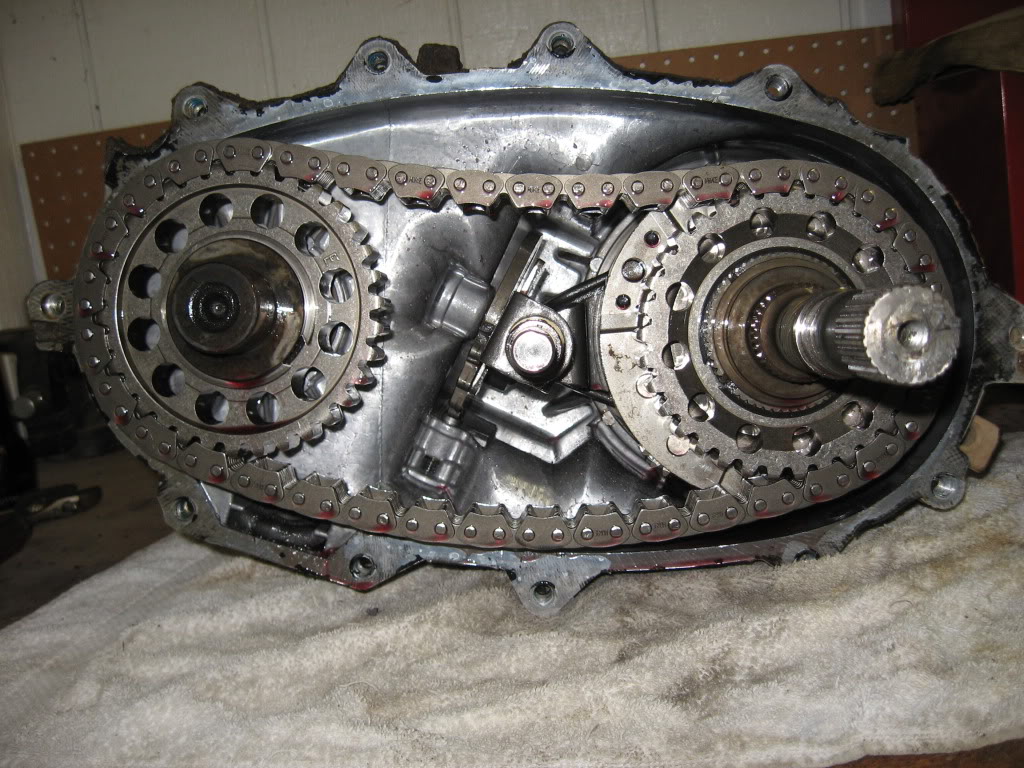 chain slopness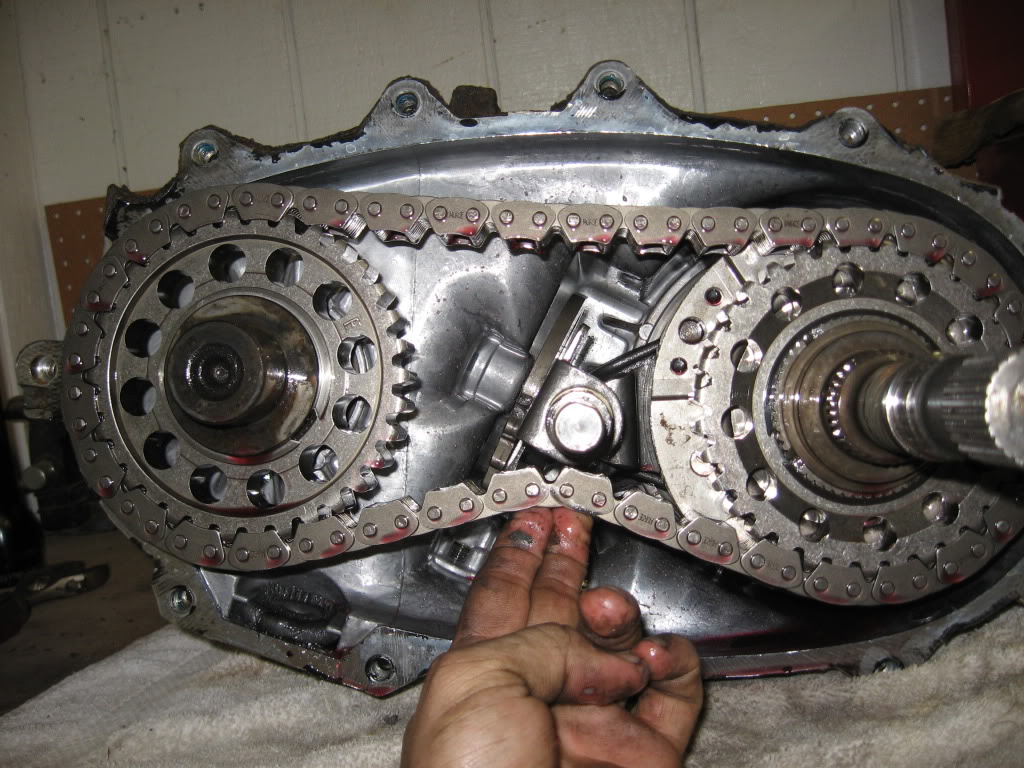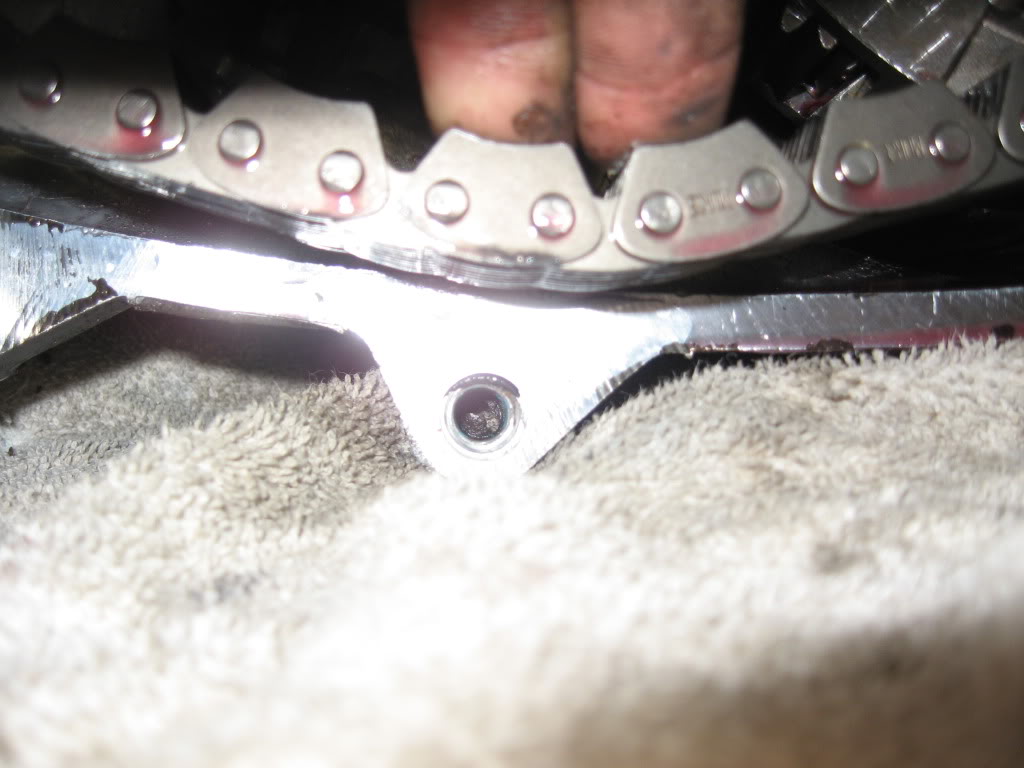 the chain was actually rubbing the side of the case by the front output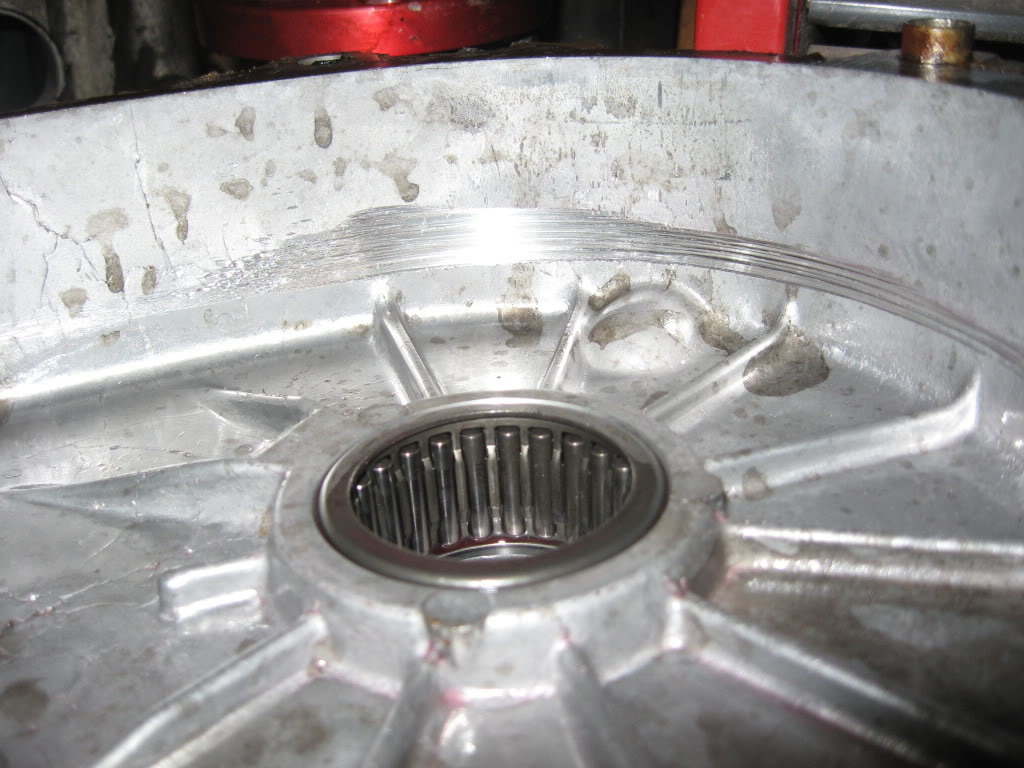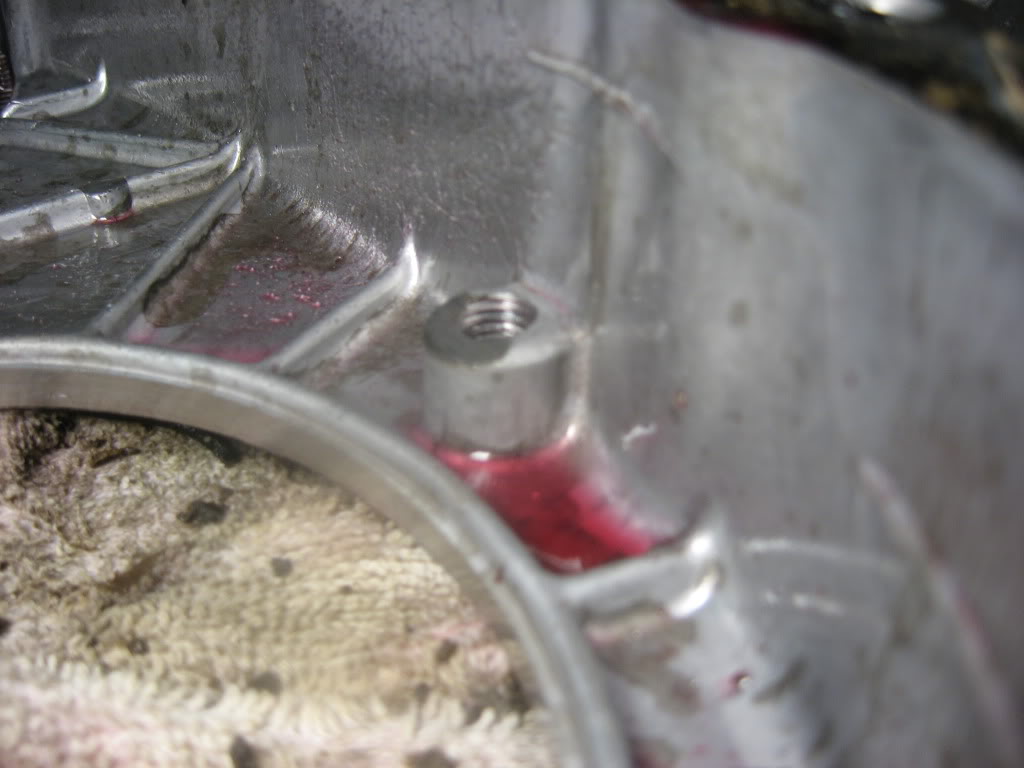 and why the front output seal was a pain to get out. it was loctited in there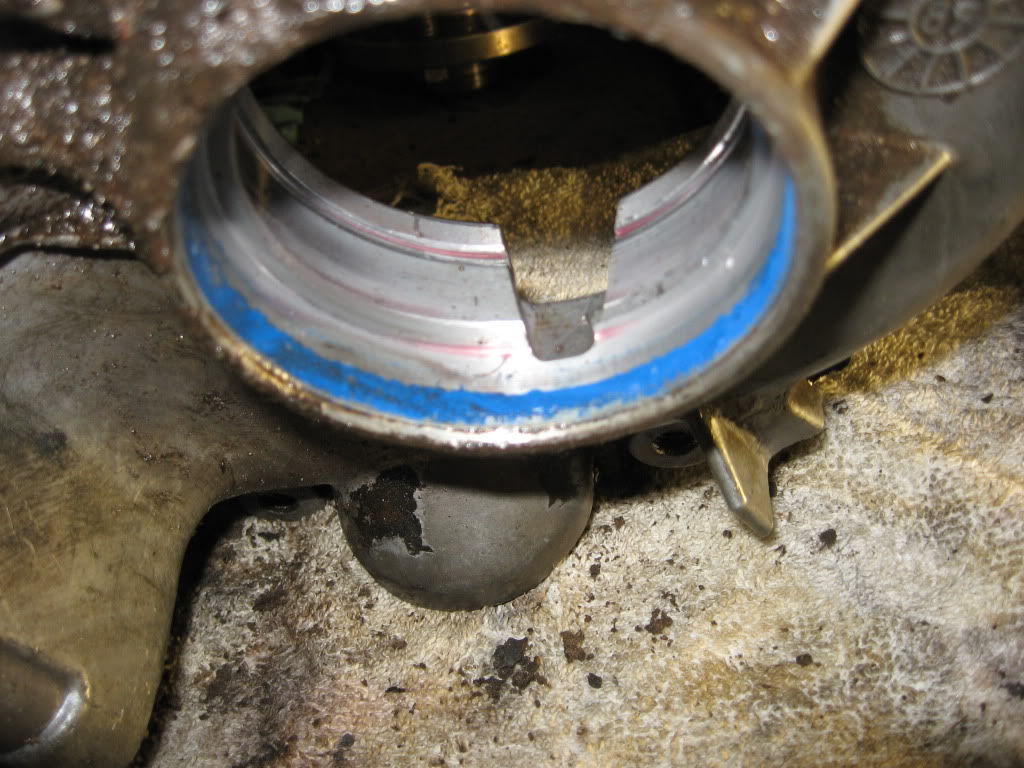 and complete disassembly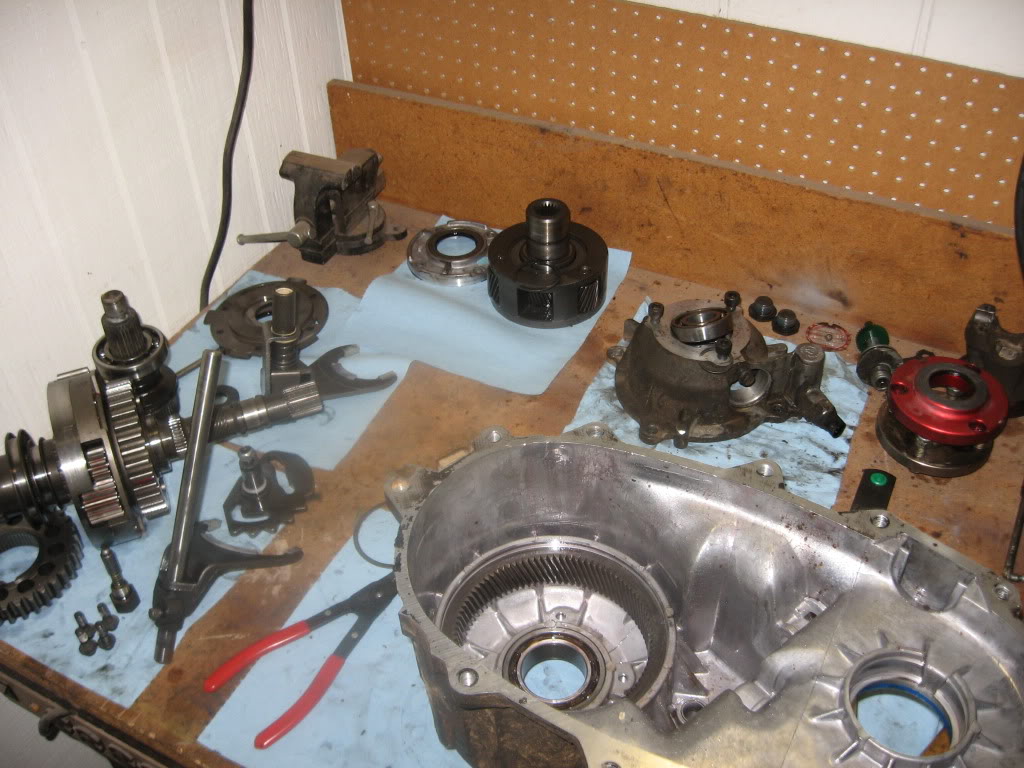 thats where it stands as of tonight. now im waiting for the bearings to come in. i have everything else i need. the transfer case was surprisingly easy to take arprt. most things come out in large chunks. so hopefully monday night i will be done with the rebuild
2-7-2011
well i gave the transfercase and the 33's their first real test. jeep did great. no issues, transfercase worked flawlessly, which was my main concern. just the usual new suspension clunks and clicks that come with jeeps.
i think i need to rebuild the superflex joint on my trackbar now, i have tightened it a few times and it gets loose pretty quickly making an annoying clunk.
couple pics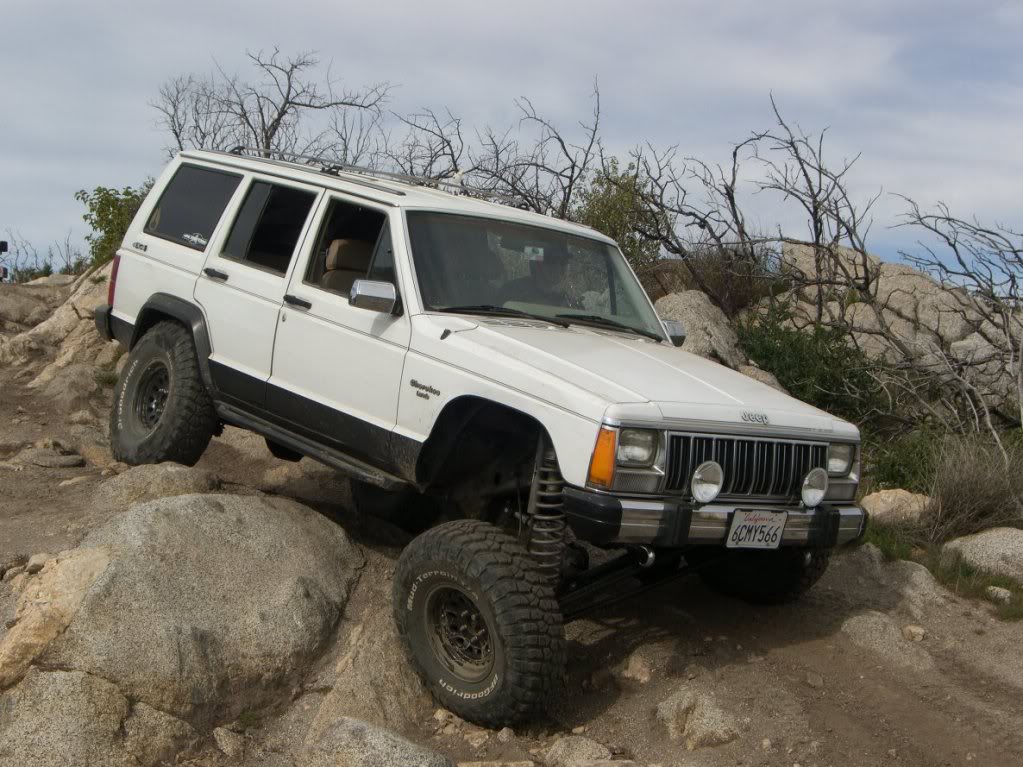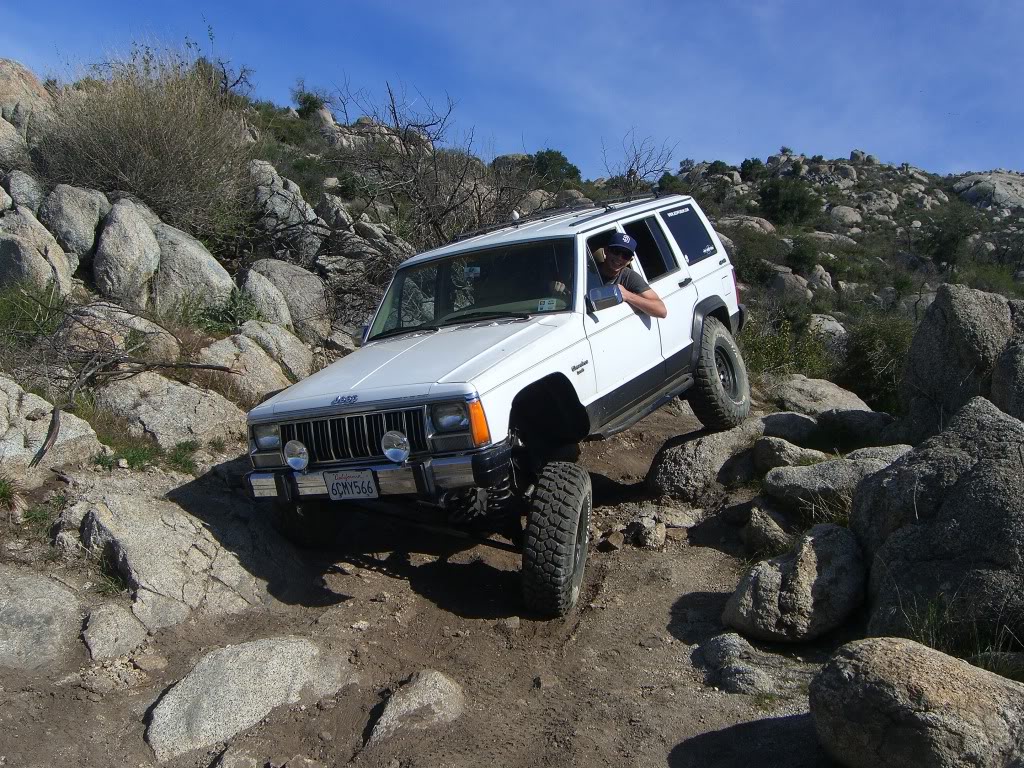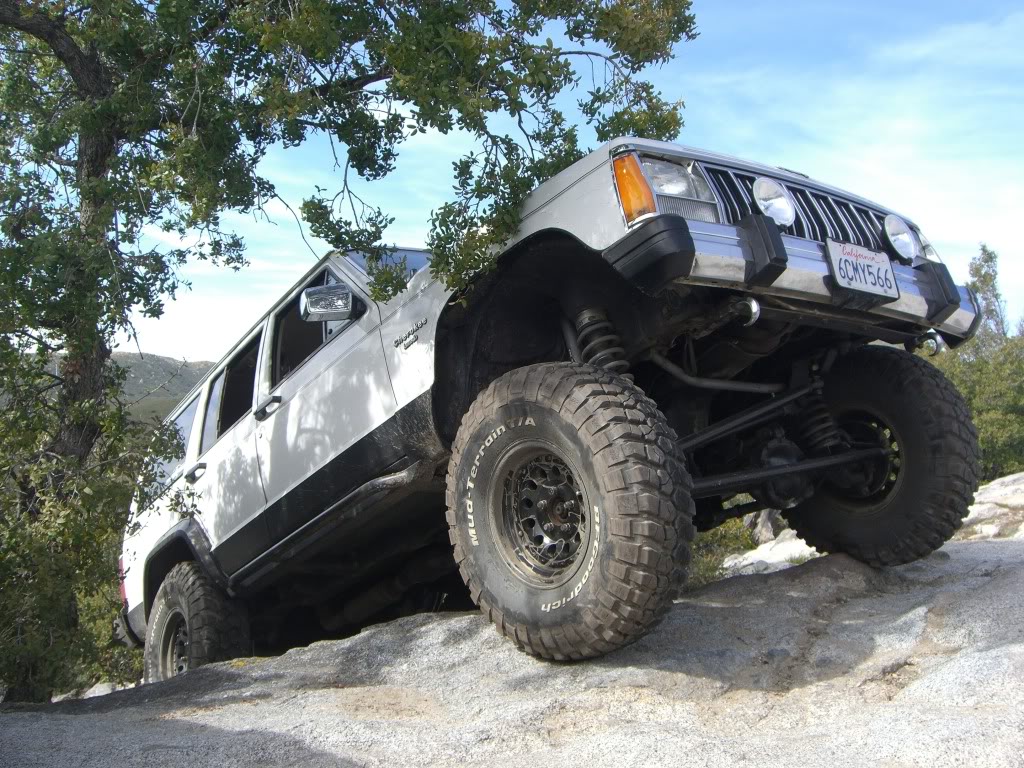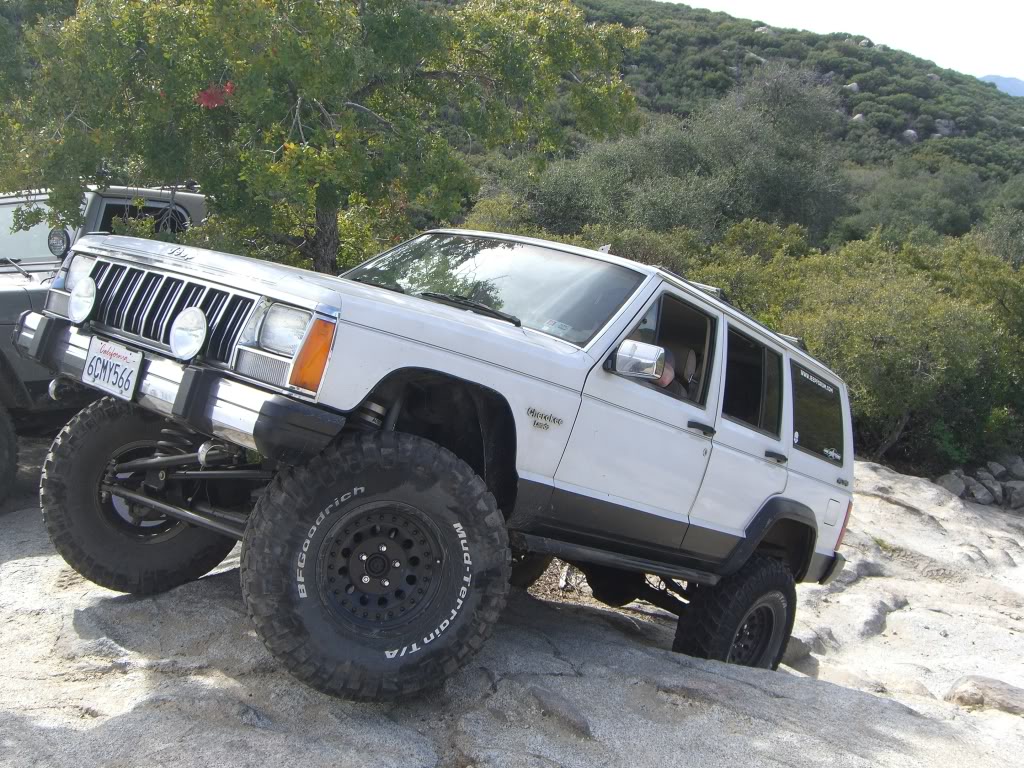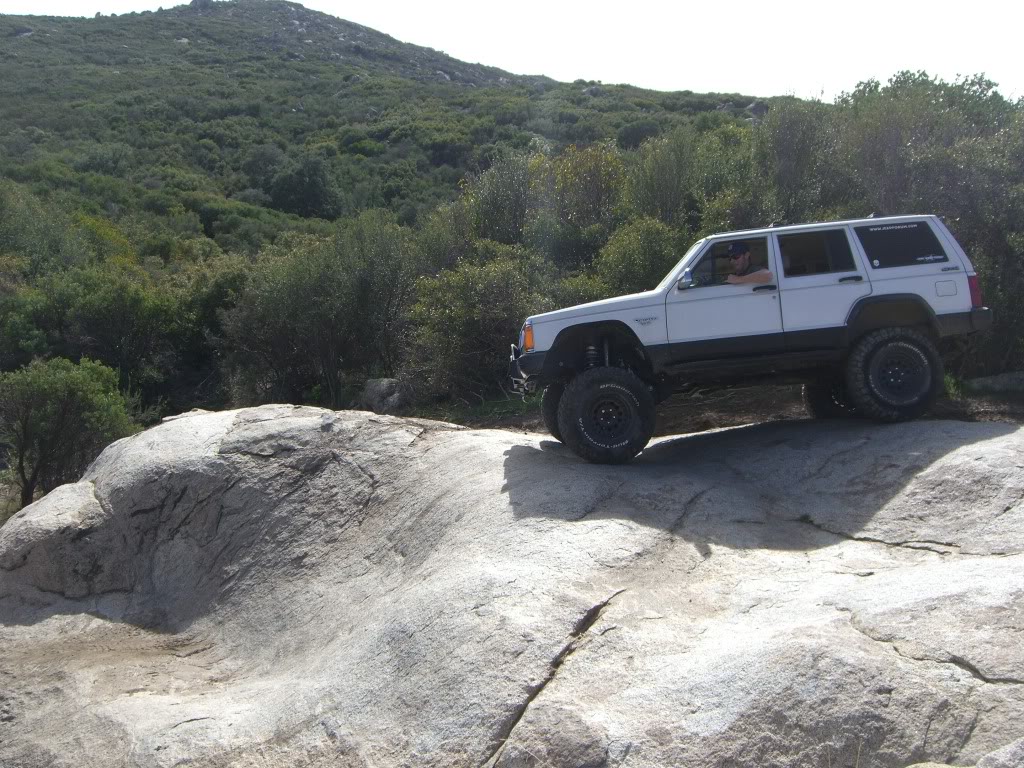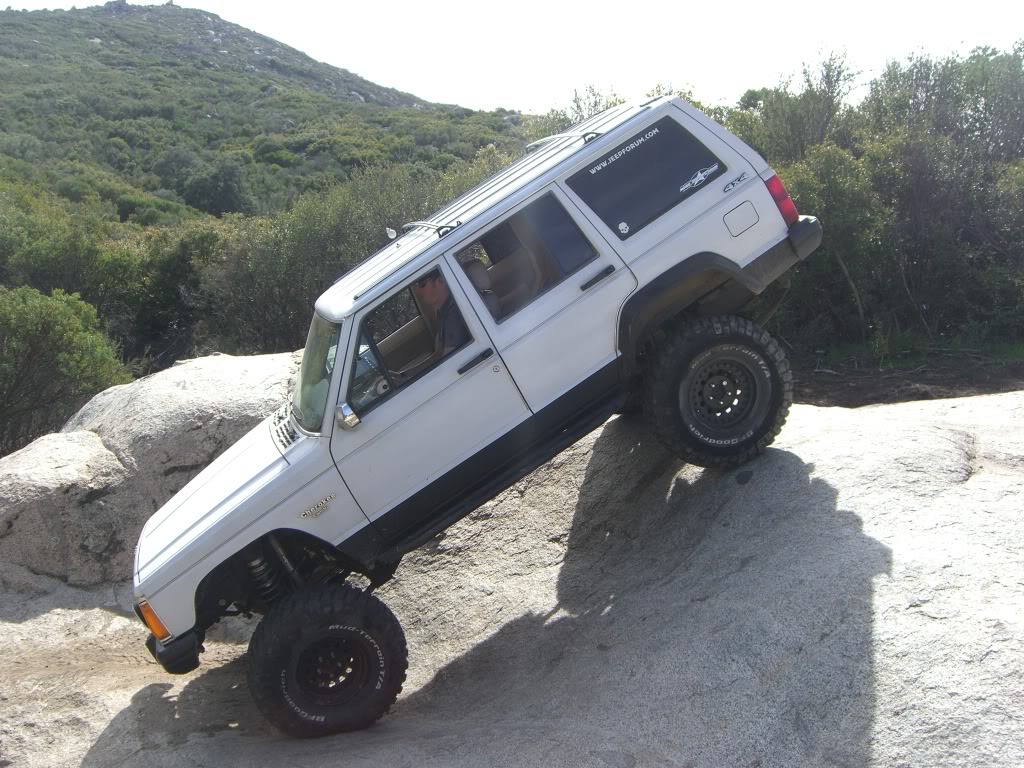 and i found i need to trim a little bit more, not the fender but the pinch seam in the fender. it looks like i need to add a little more bumpstop to the front as the tire rubs the drivers side footwell pretty good. didnt know that was an issue on 33's. oh well. i BARELY rub the rear fenders so im just not going to worry about that right now, if ever.
2-8-2011
so on my way to school today i get about 5 miles down the freeway and start hearing the groaning, grinding sound in the front end. so i pull over and inspect, nothing obvious. i just get back on the freeway, driving maybe 50-55 just to be a little cautious. the noise gets worse and now im maybe 2 miles from school so i inspect the front end again, nothing. i continue down the road at 50mph max and then the noise comes back, the jeep start to wander almost uncontrolably and all of a sudden, my REAR tire falls off! the lug nuts had somehow worked loose and came off. luckily was going slow in the right lane. no one was hurt no major damage was done. but what really has me pissed beyond belief is that as my tire rolled away, to the other side of the freeway, someone stopped and snatched it up! thats $250 right there. gone. called the PD and CHP to let them know and to keep their eyes open for the tire, in the off chance this doosh turns it in.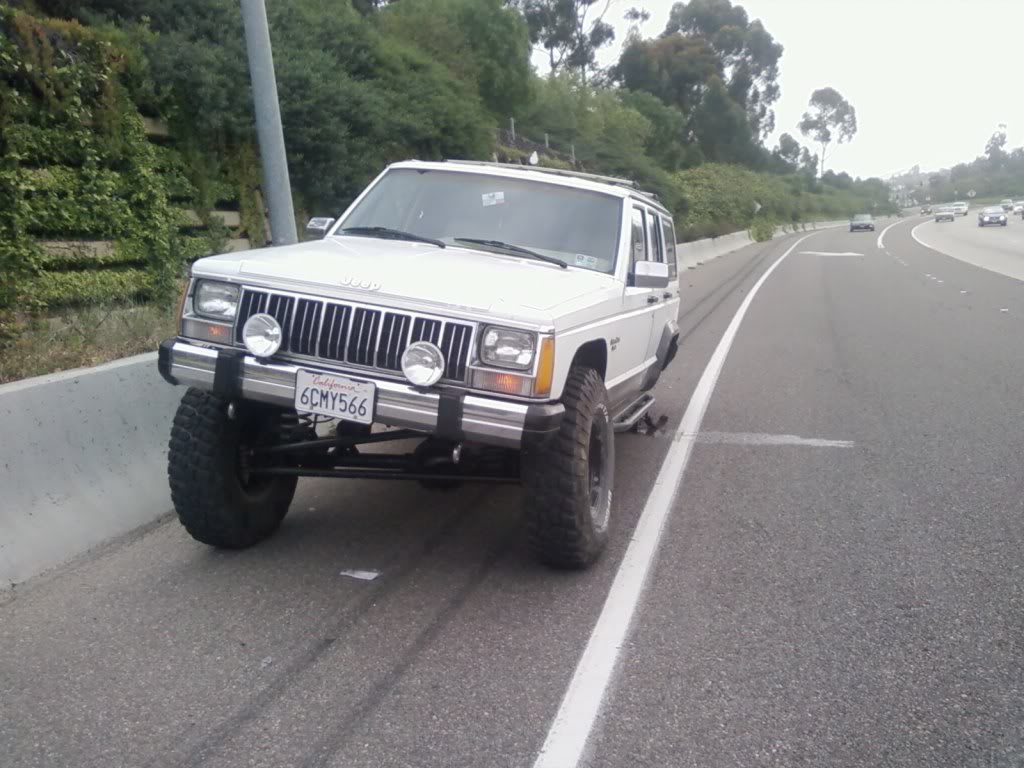 the only damage was to the brakes, the backing plate, and the shock mount. more pics later
more pics
first is the rubbing thats happening under full stuff while turning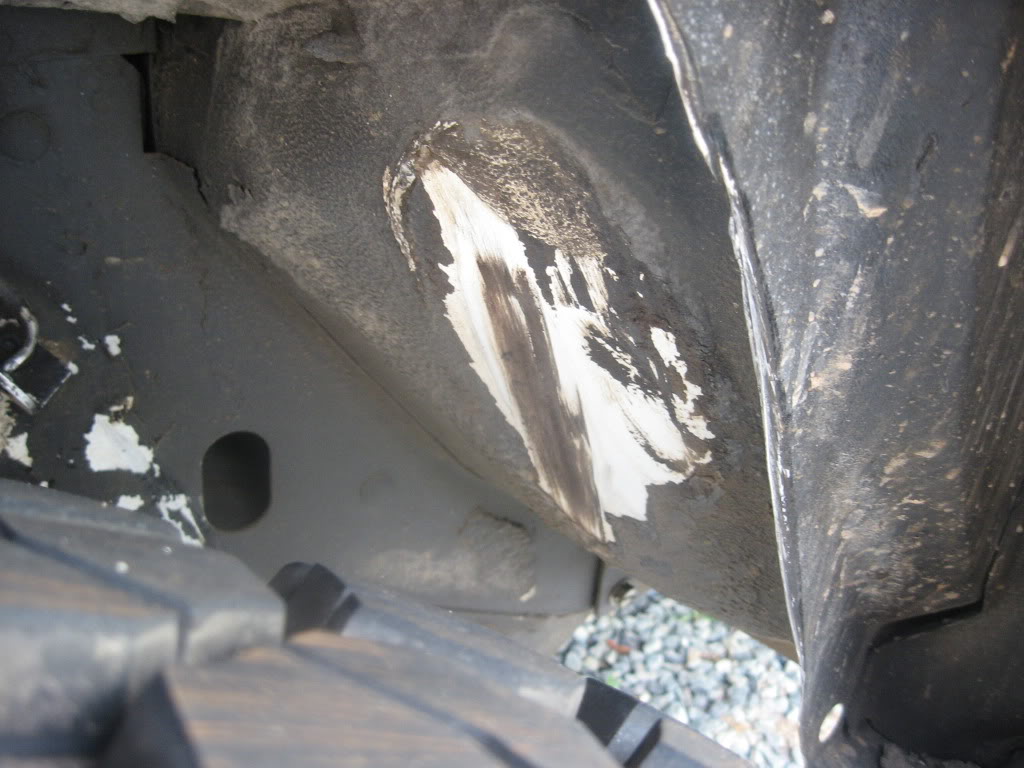 apparently i hit my brakeline as well.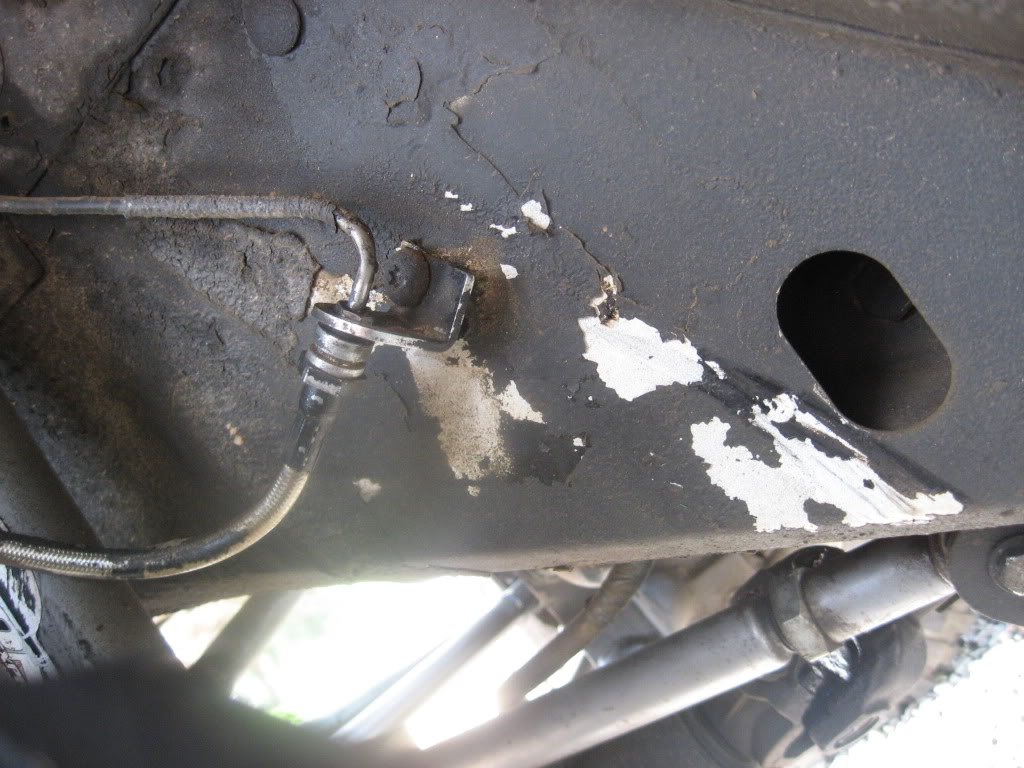 here are the ones from this morning
sad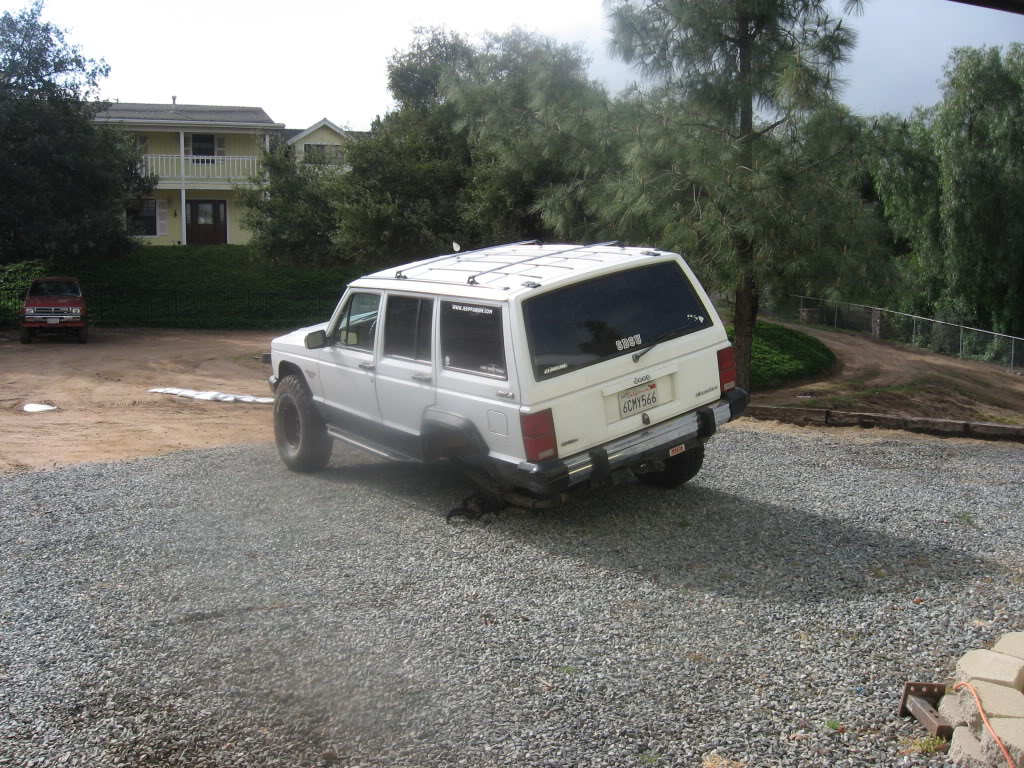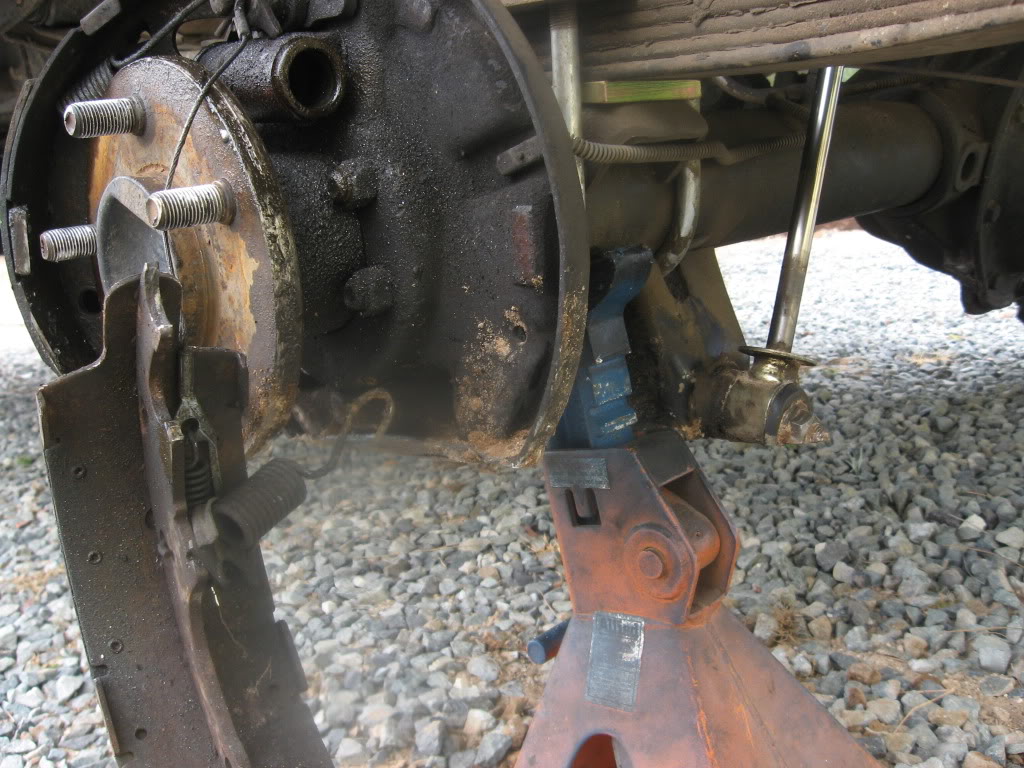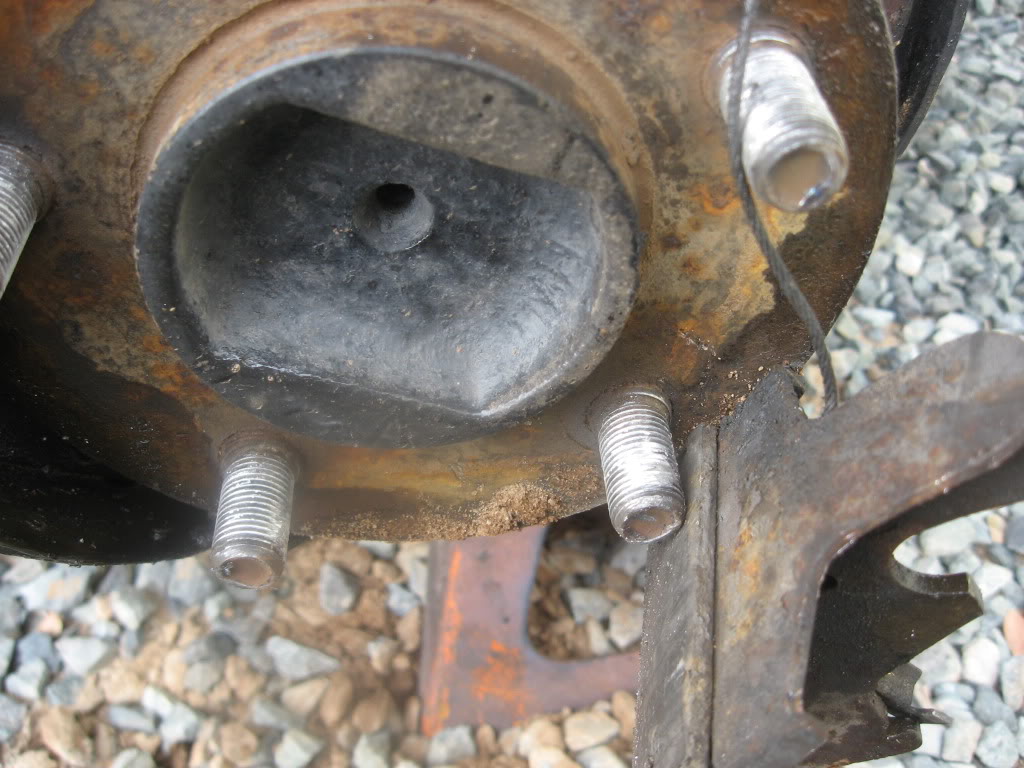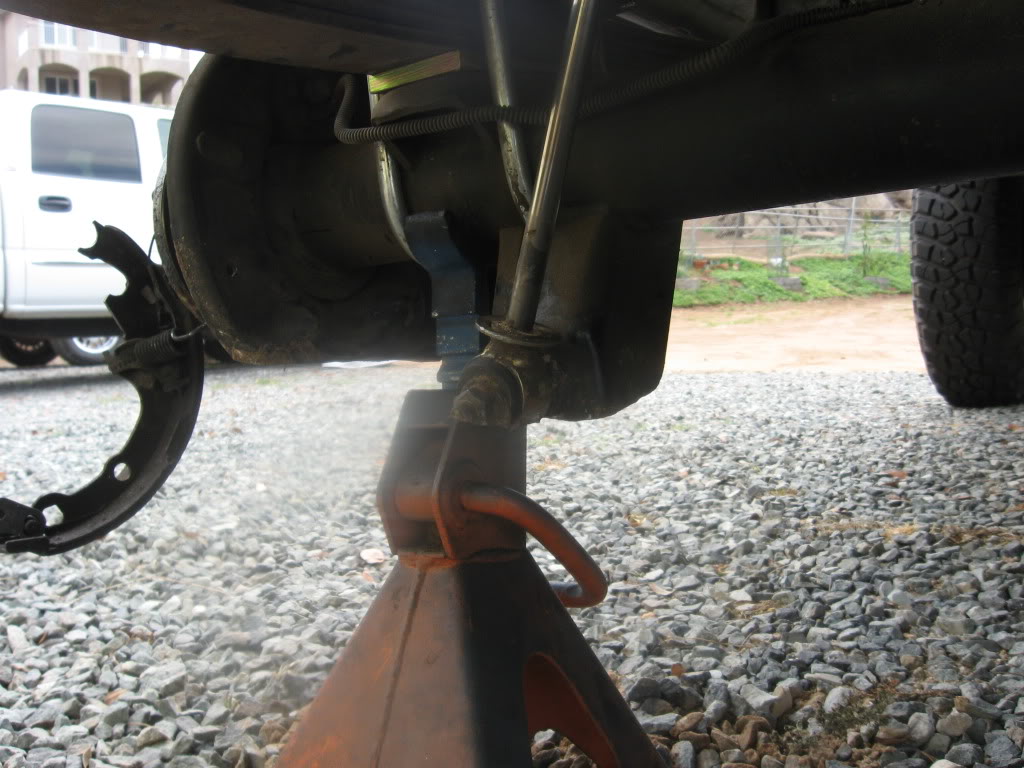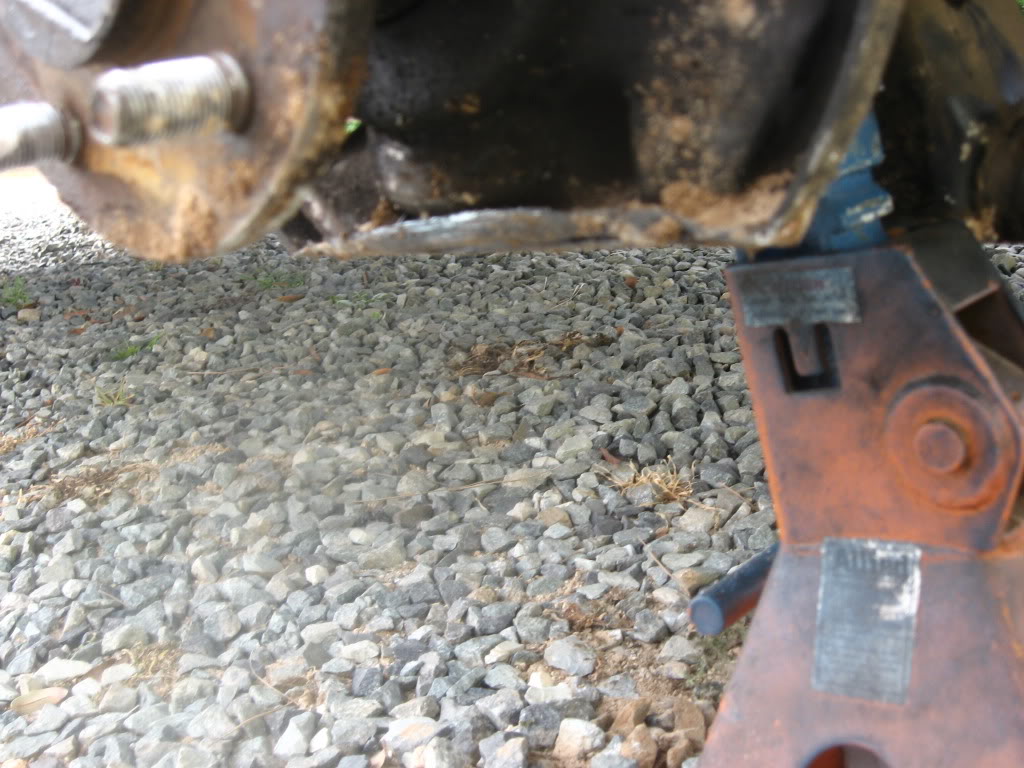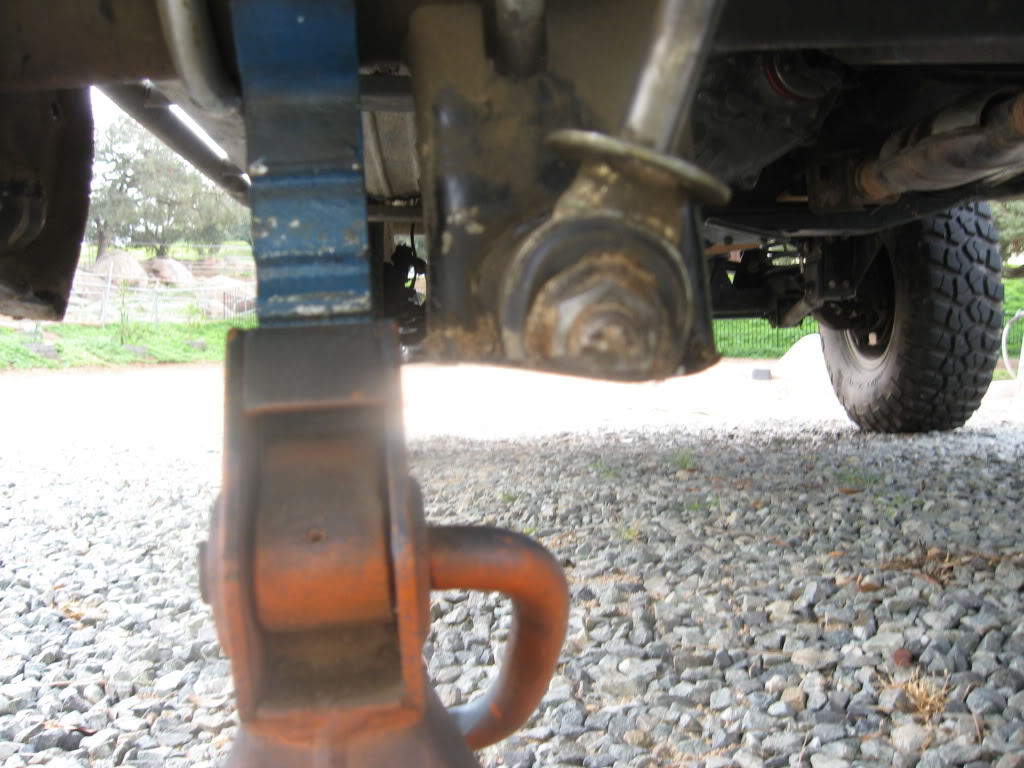 looks like i will need a new shock mount, maybe shock as well, backing plate, brake hardware, drum, wheel cylinder etc., new studs, lug nuts, brake fluid, and maybe a wheel and tire. fun
2-11-2011
well i got the jeep back on the road. the shock mount is still questionable since a lot of the threads were still good on it. and i welded some scrap metal to the bottom of the shock. but i will need a new bushing here soon.

as for the brakes i got all new shoes, wheel cylinders and drum rebuild kits for both sides. as for the backing plate and drum, the ones off my old D35 i still have lying around worked perfectly. that was sweet. i had the drum turned first of course. the backing plate bolted right up. also replaced the axle seal on the drivers side as well.

only thing left is to replace my tire and wheel. for now im using a friends spare 33x12.50 general grabber M/T on an ugly plain aluminum rim. so needless to say the passenger side of the jeep is now ugly, i wasnt about to put it on the drivers side, i wanted to look at it as little as possible. haha
2-16-2011
got a set of wheels today. same ones i had. they are almost new so i am not sure i want to paint them
black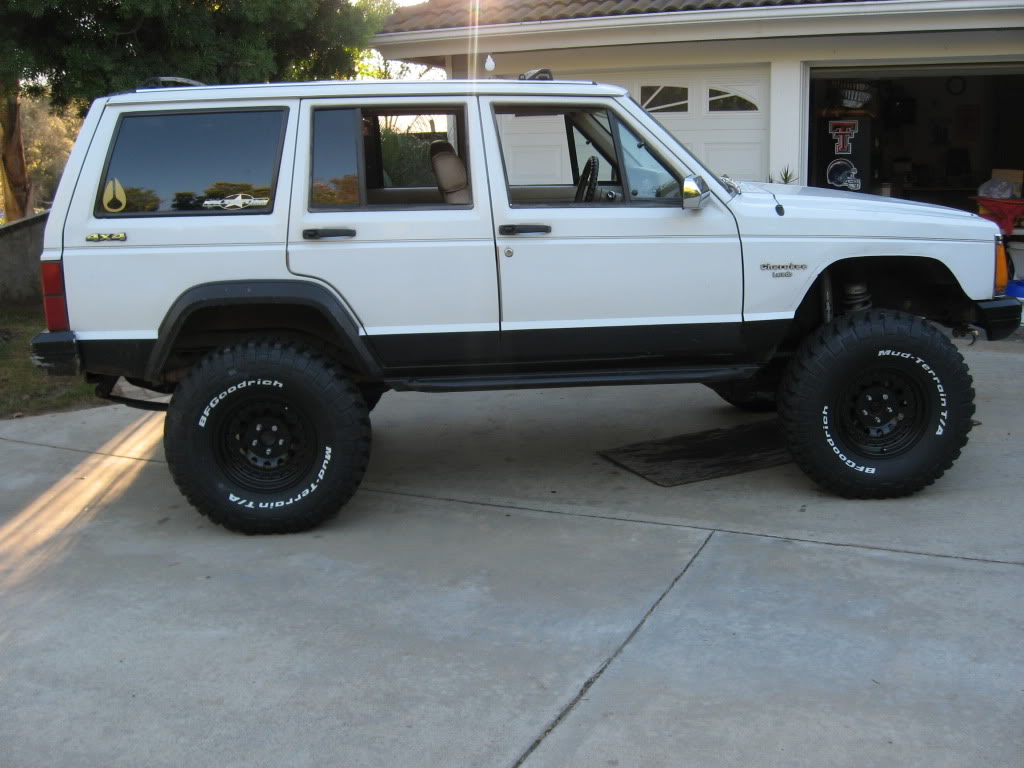 or aluminum.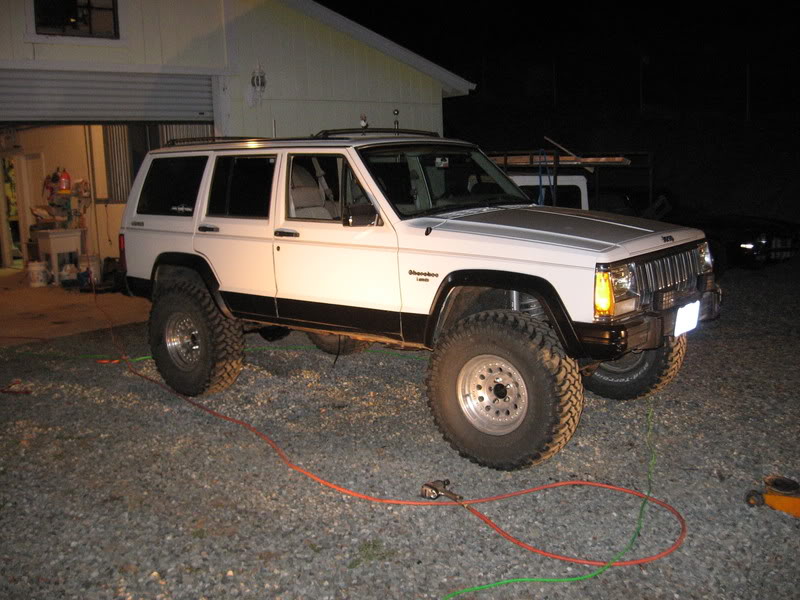 im not sure which i want to do yet. opinions?
3-7-2011
alright so i have a small little update. had a huge wheeling event this weekend, 5,000+ rigs. had an awesome time. BUT i also got my first breakage. snapped the H-yoke on my rear driveshaft trying to make it up some man made obstacle that had denied me all day. it was a small hill that was a mixtire of tractor tires and 2' diameter concrete pipe, made it up to the last section all day but just couldnt quite get the grip on the pipes to make it up the last hump.
long story short, i gave it a good bump, and snap. h-yoke snapped, driveshaft slightly twisted and stuck collapsed, busted u-joint caps, and broke a small piece off the axle yoke. had to pull the shaft and drive the 130 miles home in front wheel drive doing about 50mph at most.
yes i know its blurry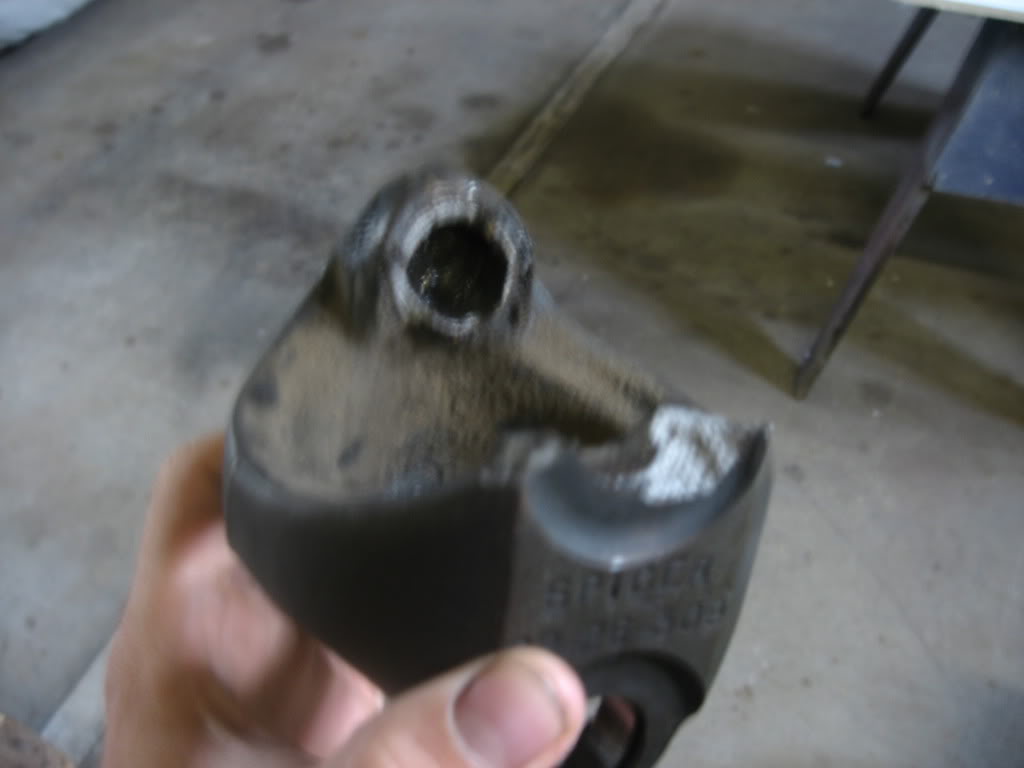 you can see the cap on the right is chipped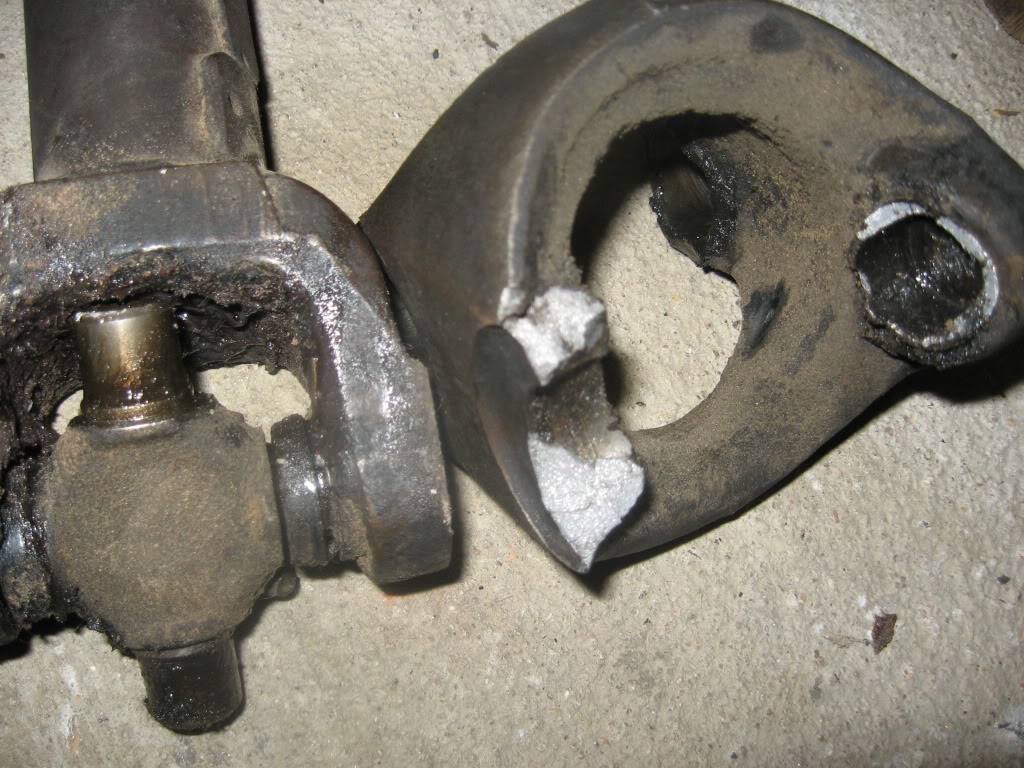 you can see needle bearings were exploded and stuck into the grease caked on the underbody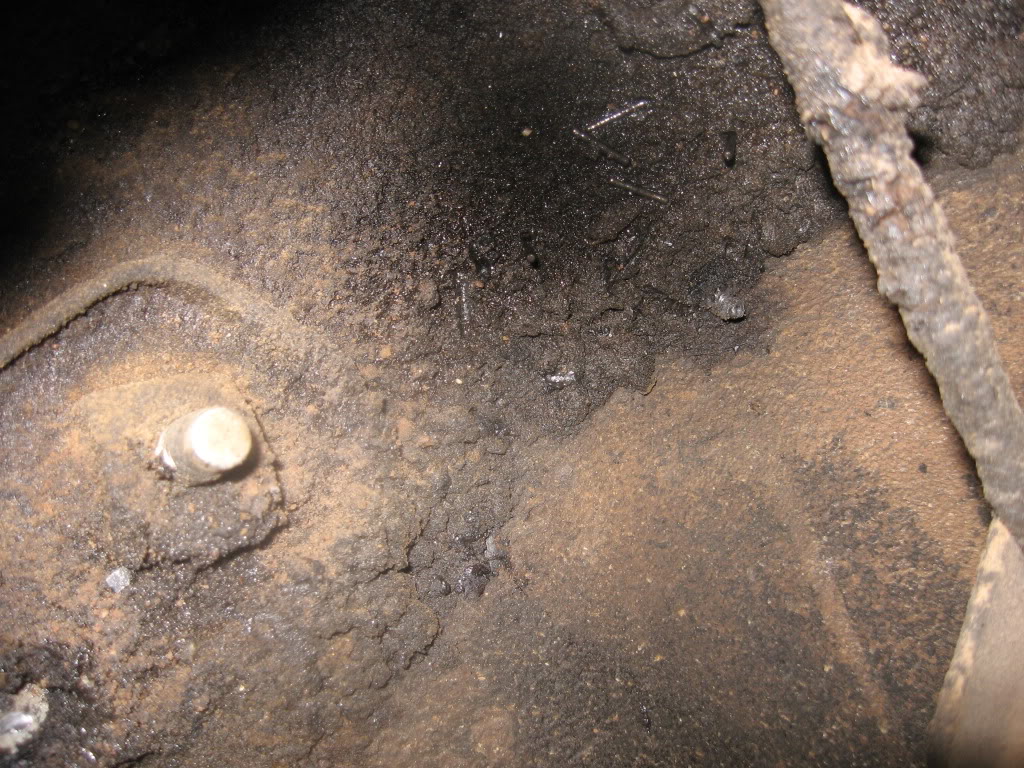 and the tab broken off the yoke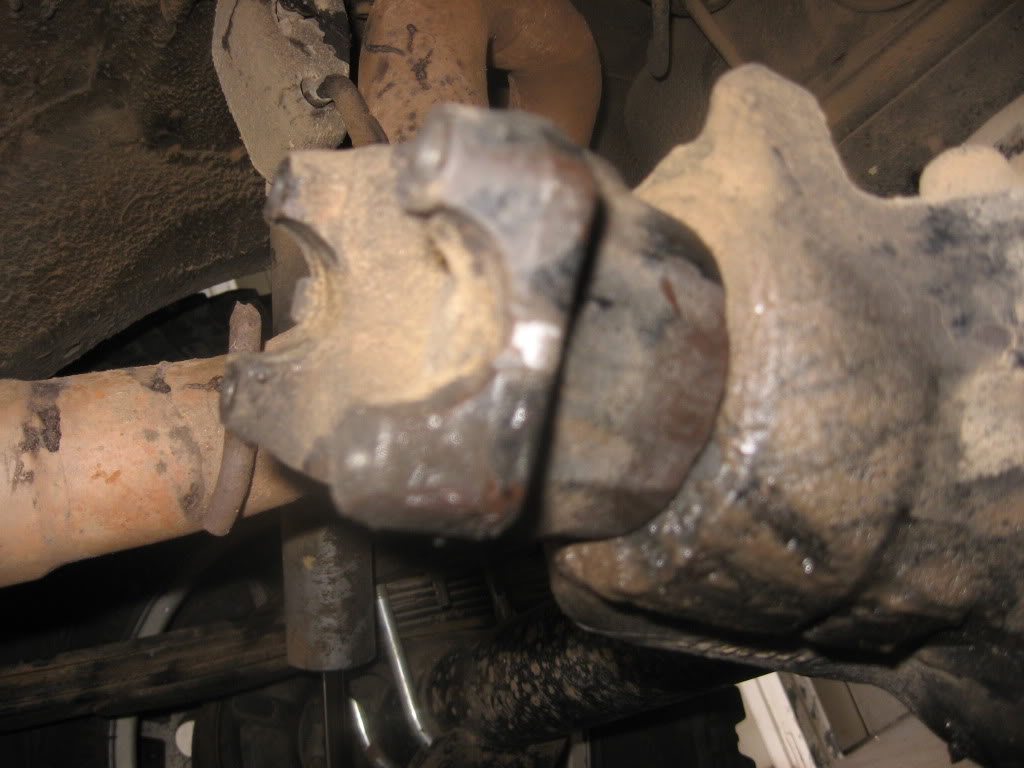 pretty sure i ruined my leafs too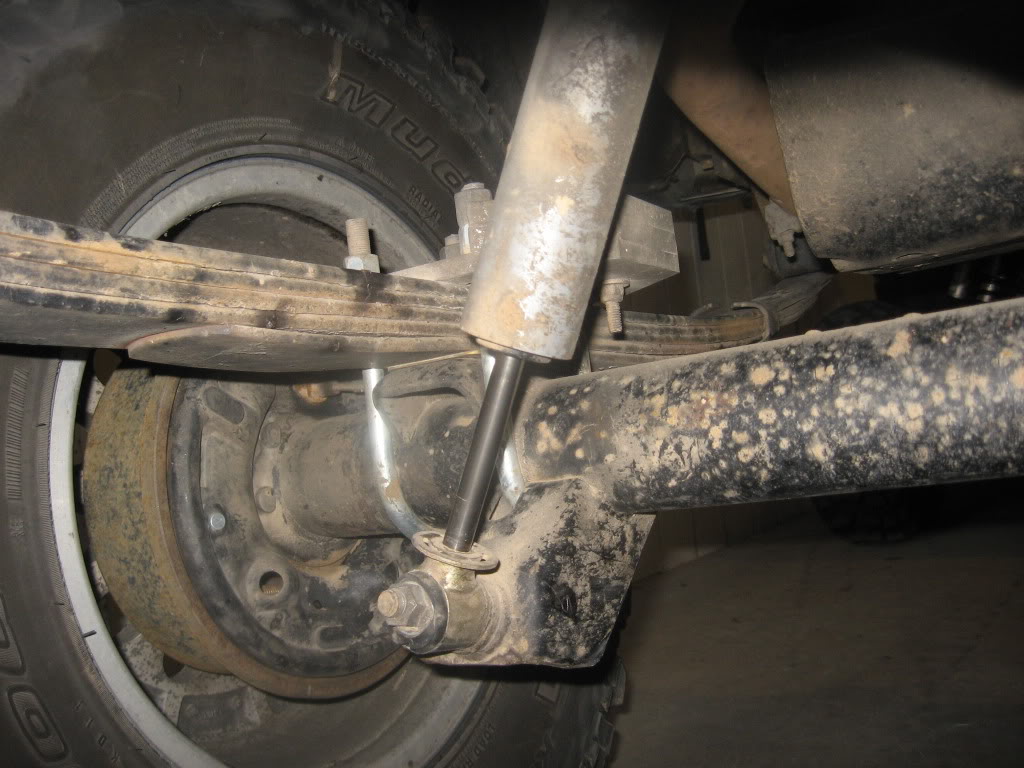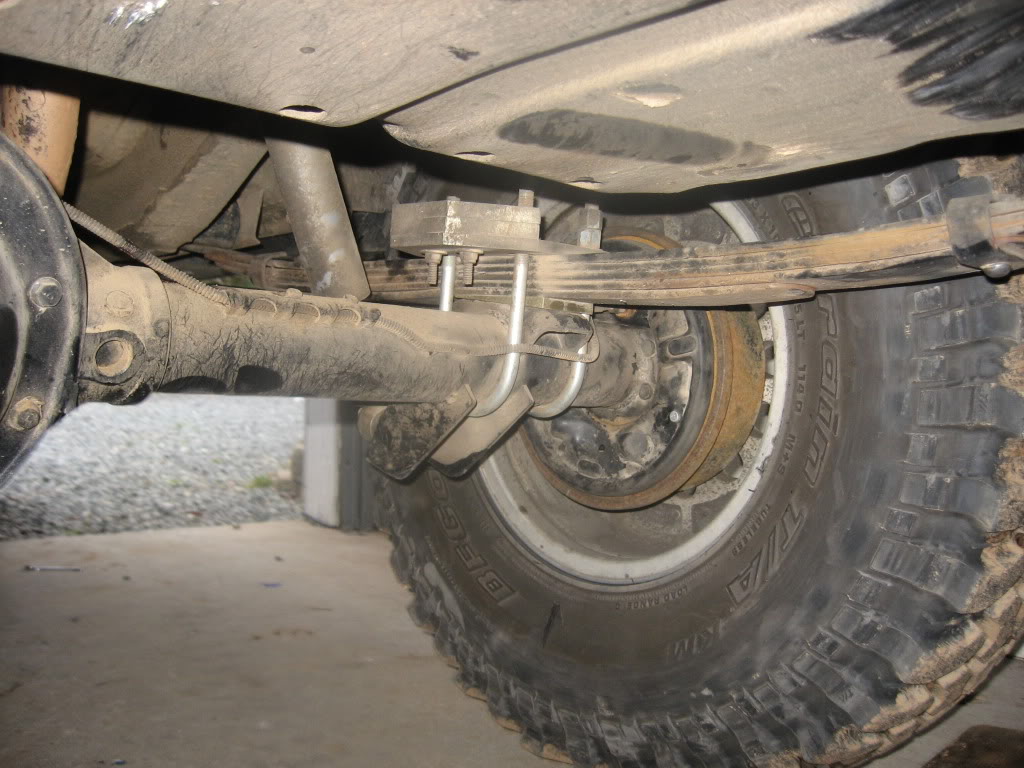 and i was getting a nasty clunk up front by the time i got home. think the UCA bushing is toast?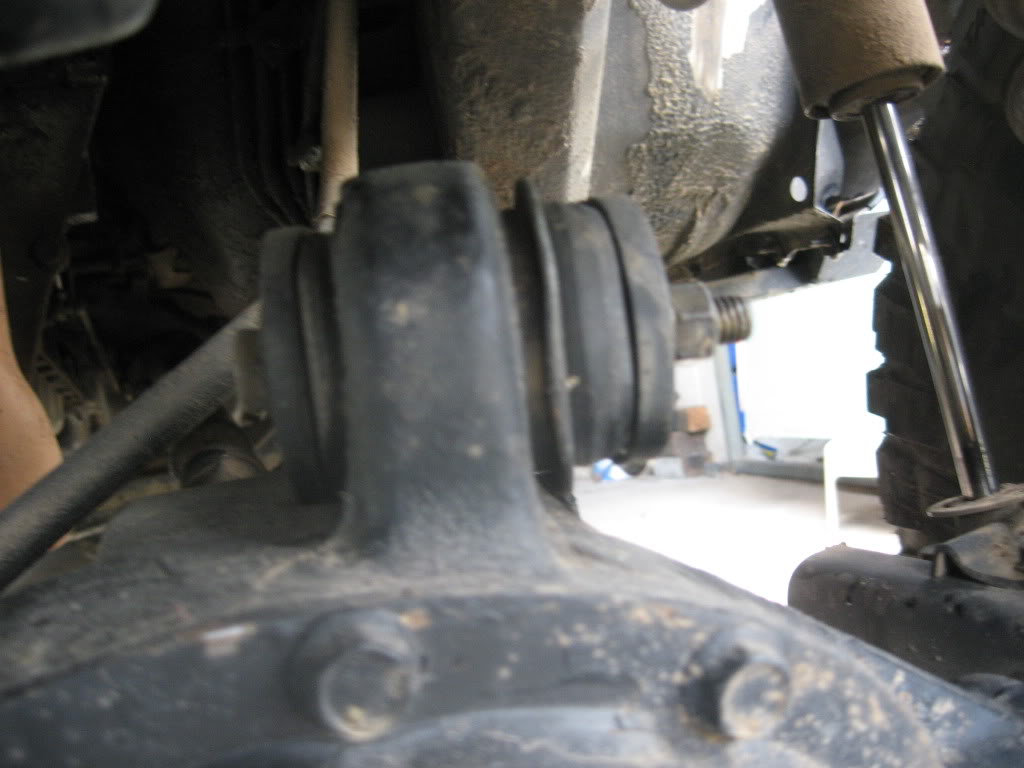 new yoke, its shorter, but it fit fine and looks beefier actually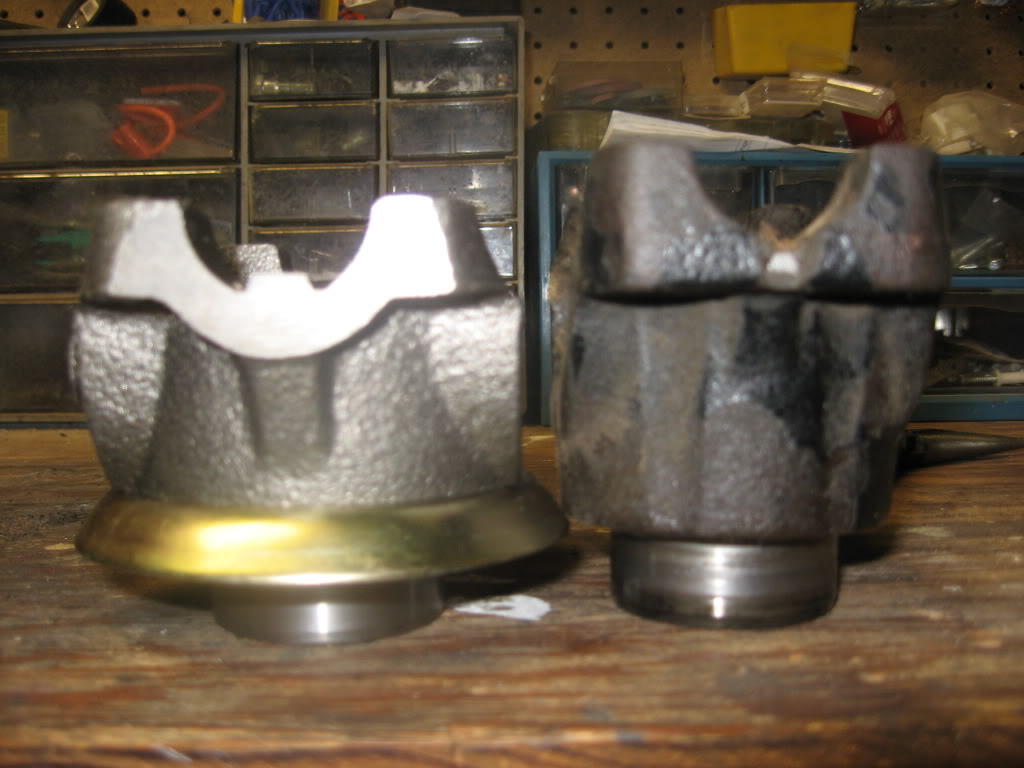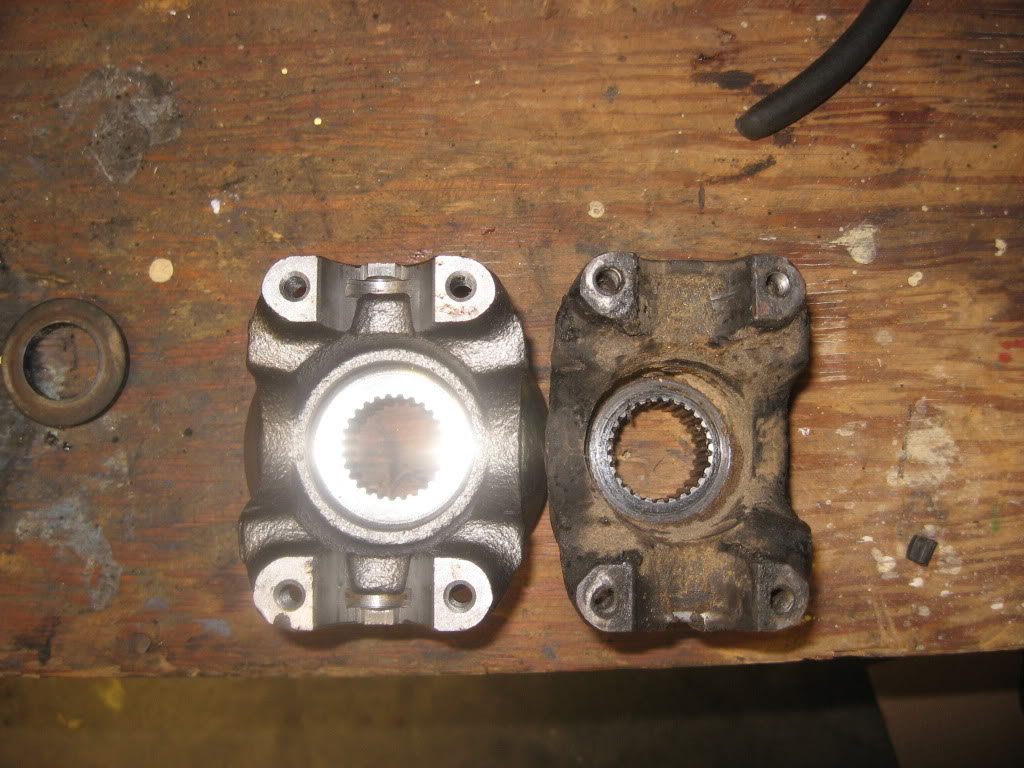 all put back together. new pinion seal too. i took my front shaft off and threw the flange adapter on it so i could use 2WD again. but look at my new pinion angle.it was perfect before i left... i think i need to start shopping for some better leafs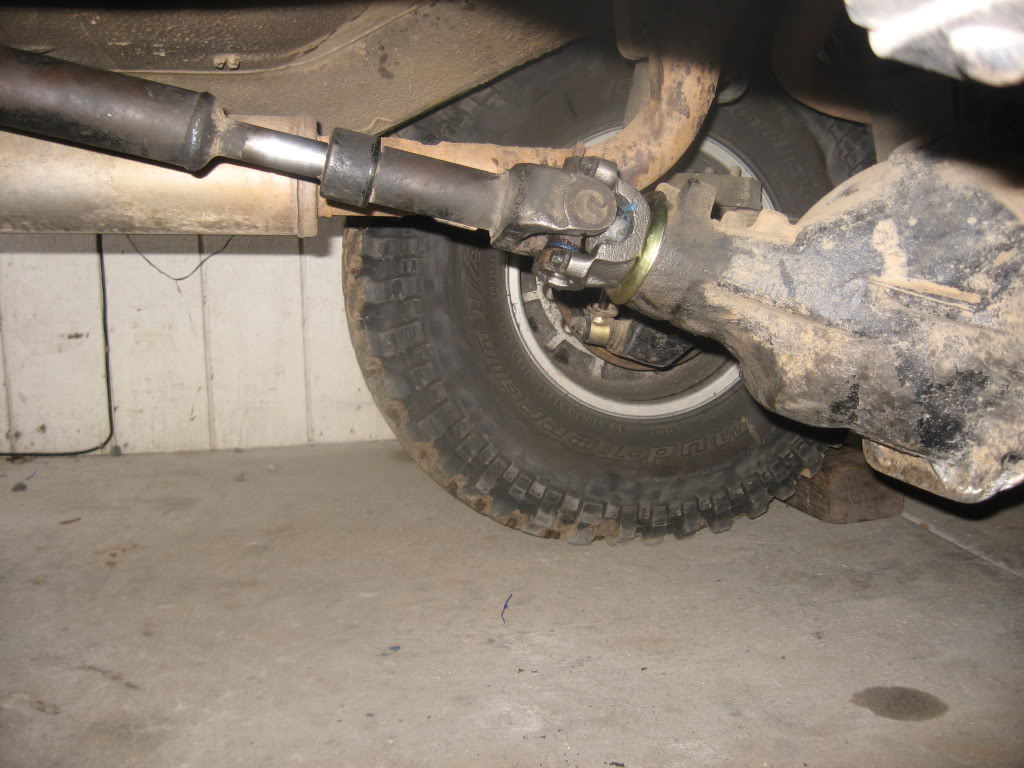 3-14-2011
went wheeling the other day and acquired some rock rash on the body. it isnt much but i was close to hitting that same spot on numerous occassions. i think some quarter panel armor is in order...i also need to get some new rear flares. they are all messed up too from rocks. i dont see how people go with bushwackers...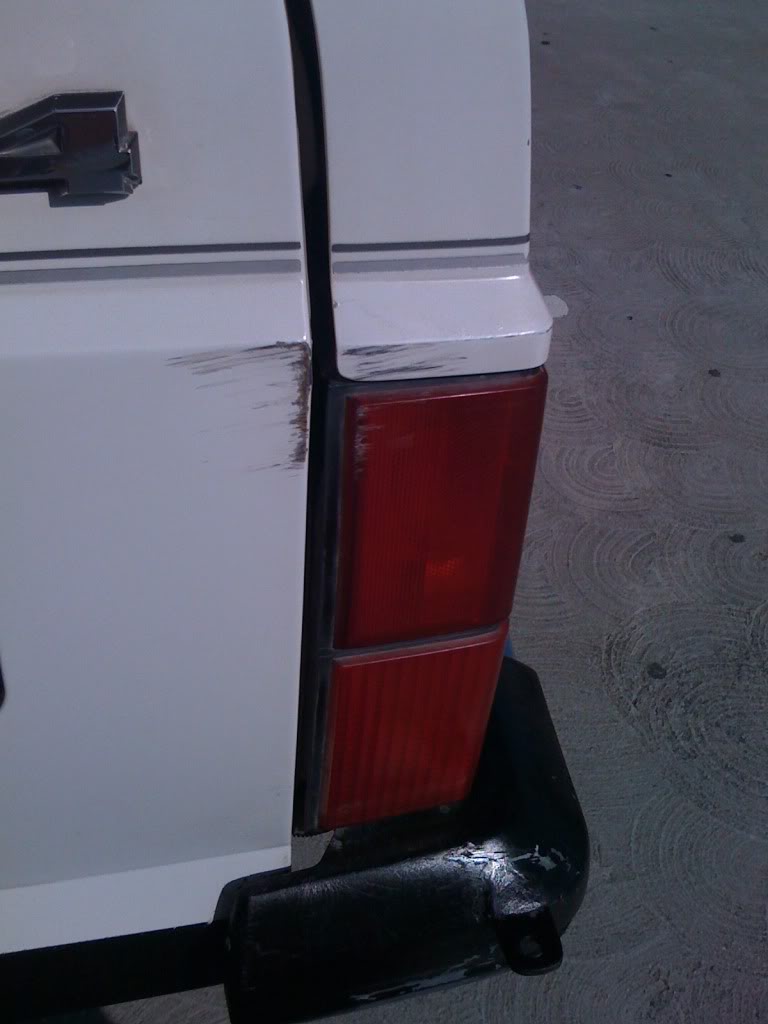 not the rear. the tires dont rub too bad in the back, nothing a sledge cant take care of in a few minutes.
but they do stick out enough to get some rock rash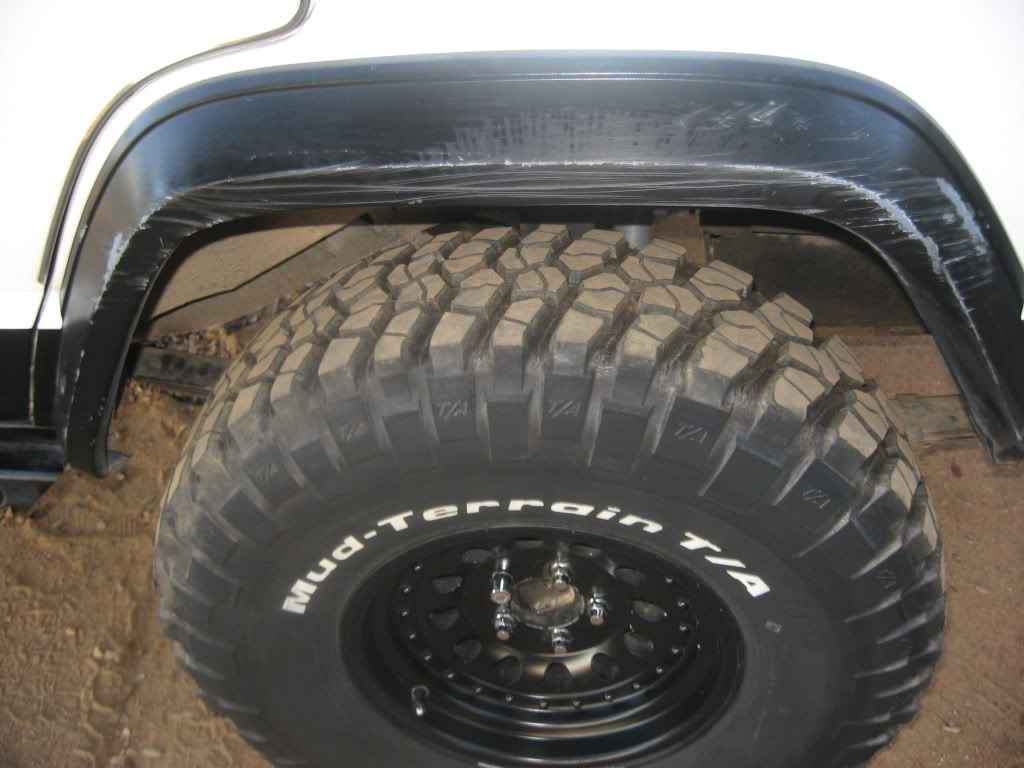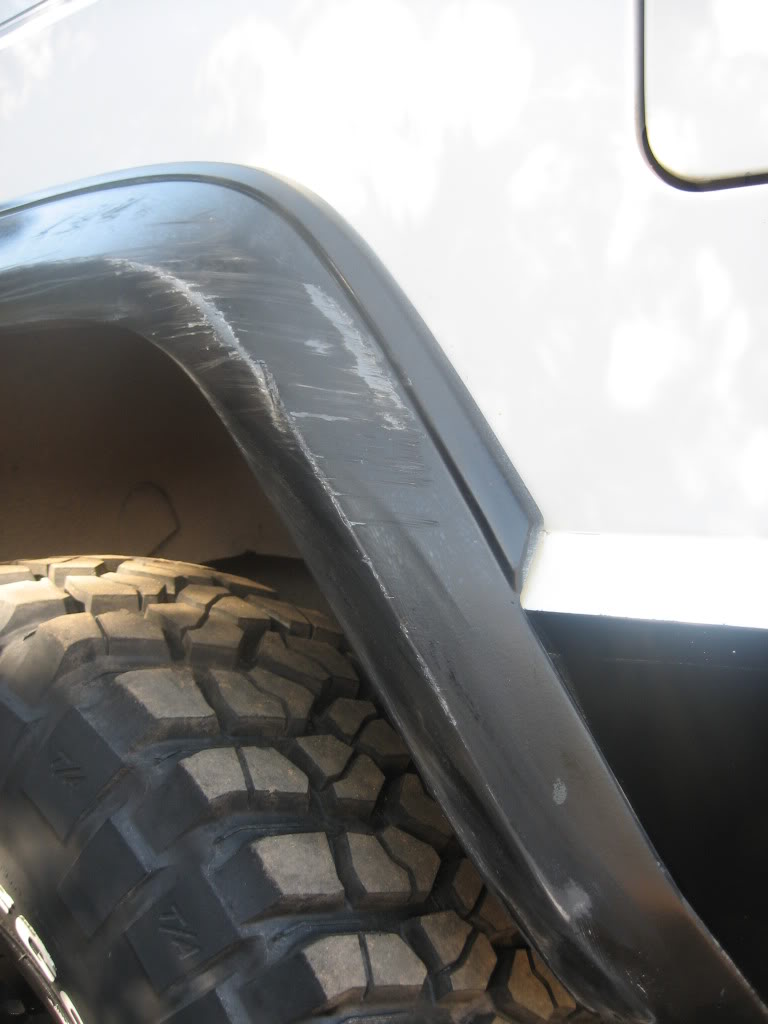 gave my sliders a very good work out too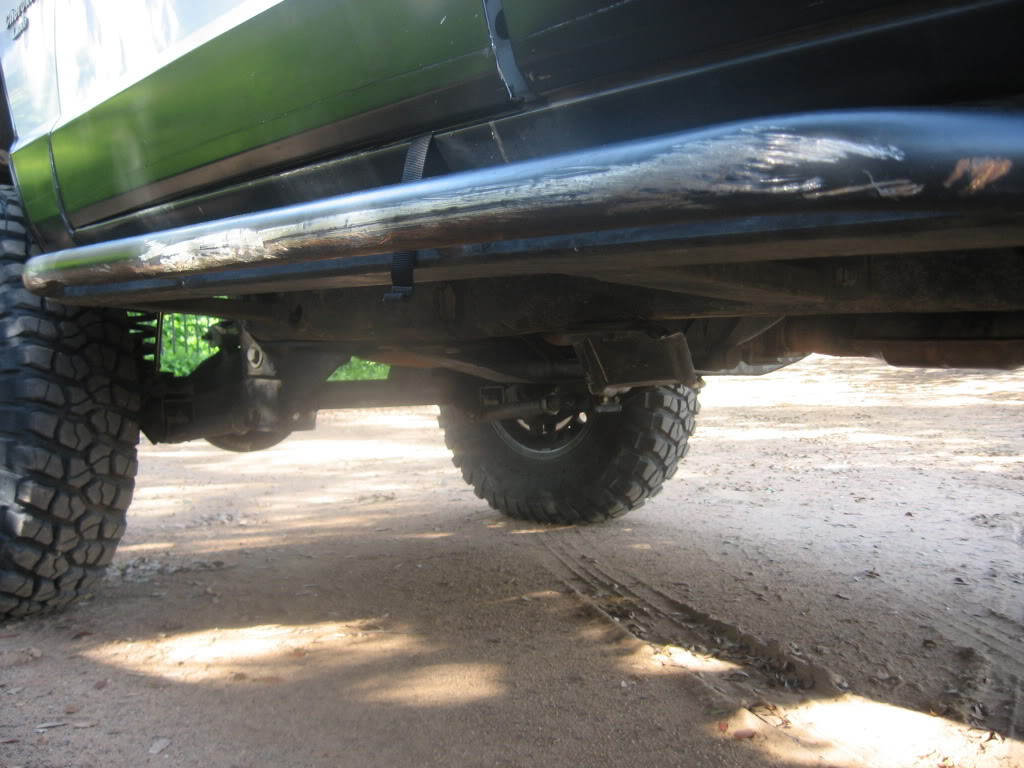 and i also need new front shaft u-joints in the JY unit i picked up.
i will be ordering new leafs in the next week or so
and i ordered another KM2 so that i can have a matching set again. should be here friday.
3-15-2011
the one picture we got from the weekend. i was just about stuck in this picture. the driver front and passenger wheel were teetering. stupid open diffs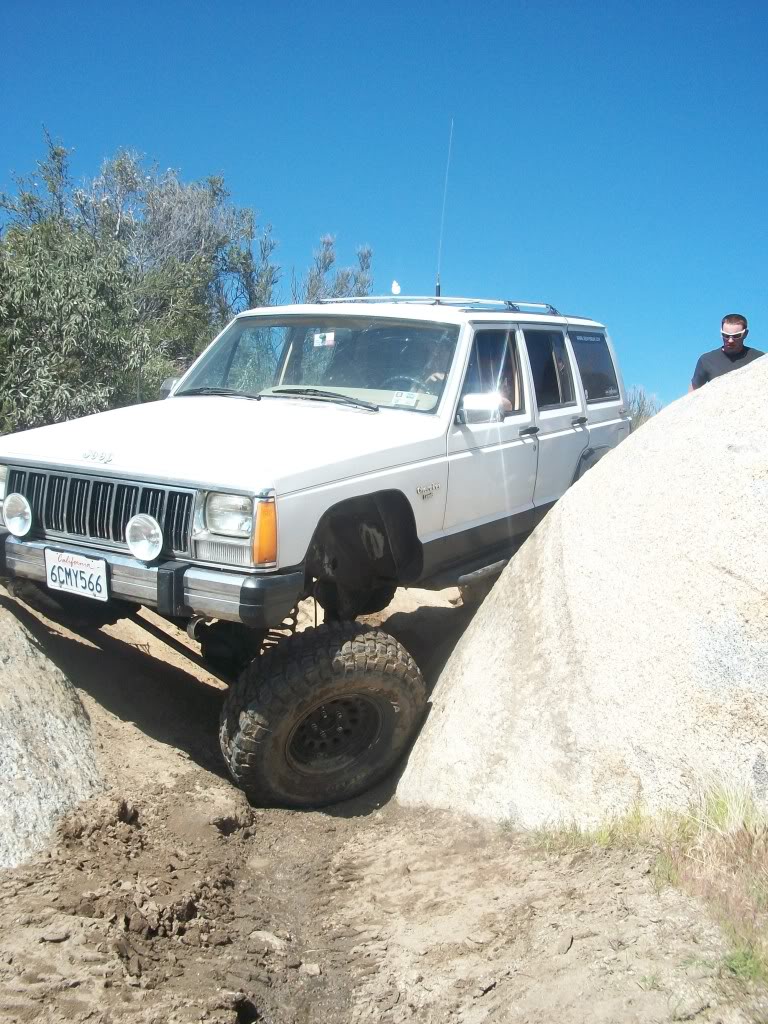 3-16-2011
small little updates
got matching headrests and a new drivers side seat bottom from the JY that wasnt torn and stained as bad as mine was. snagged them from a 93. looks much more complete than before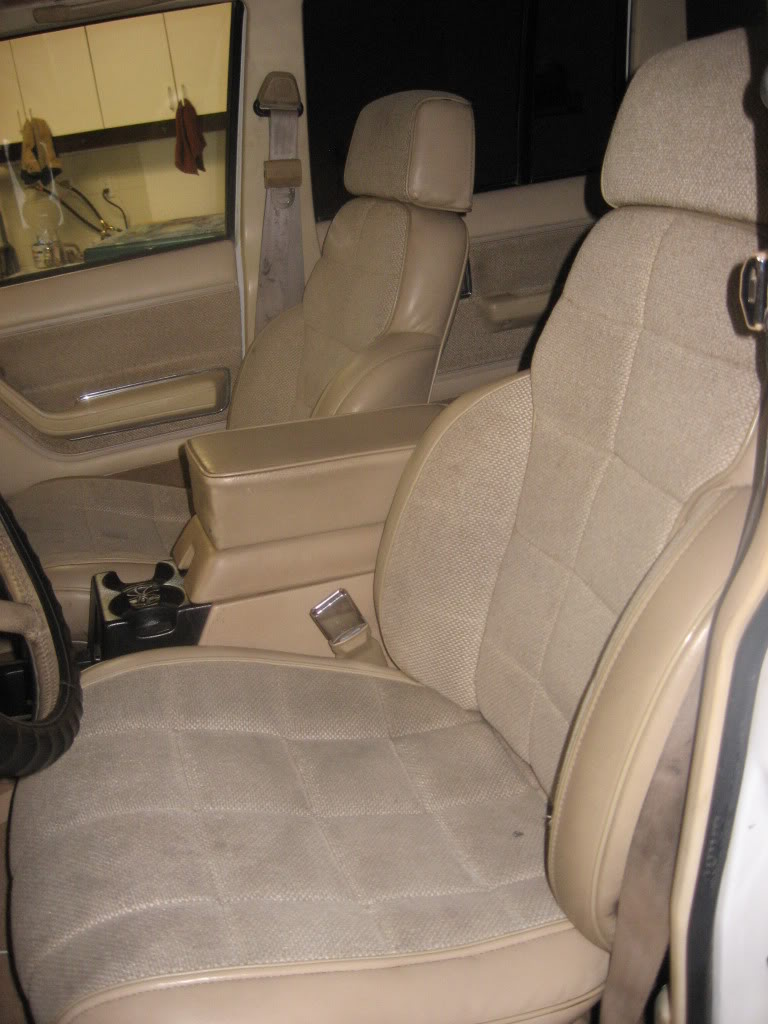 also picked up a dash switch to use for my fan switch on my console. no more little blue switch (yes i know its not straight. it bugs me but there is barely enough room under the console for the big switch)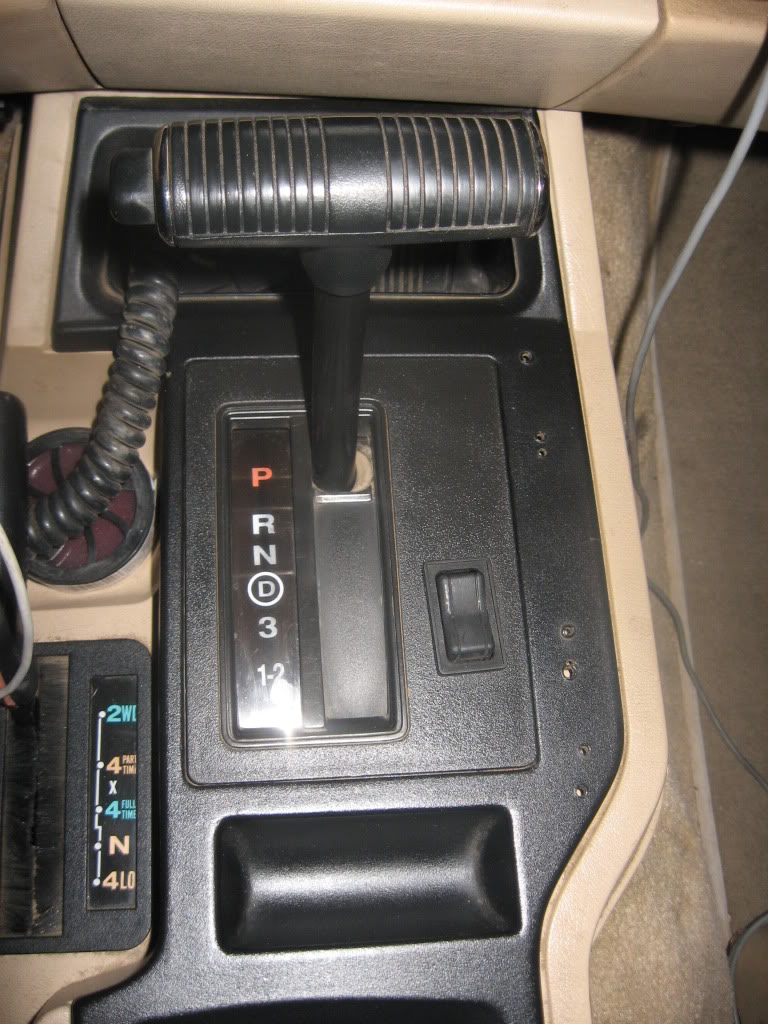 also pounded back the pinch seam in both front fenders. they were slicing my tires pretty badly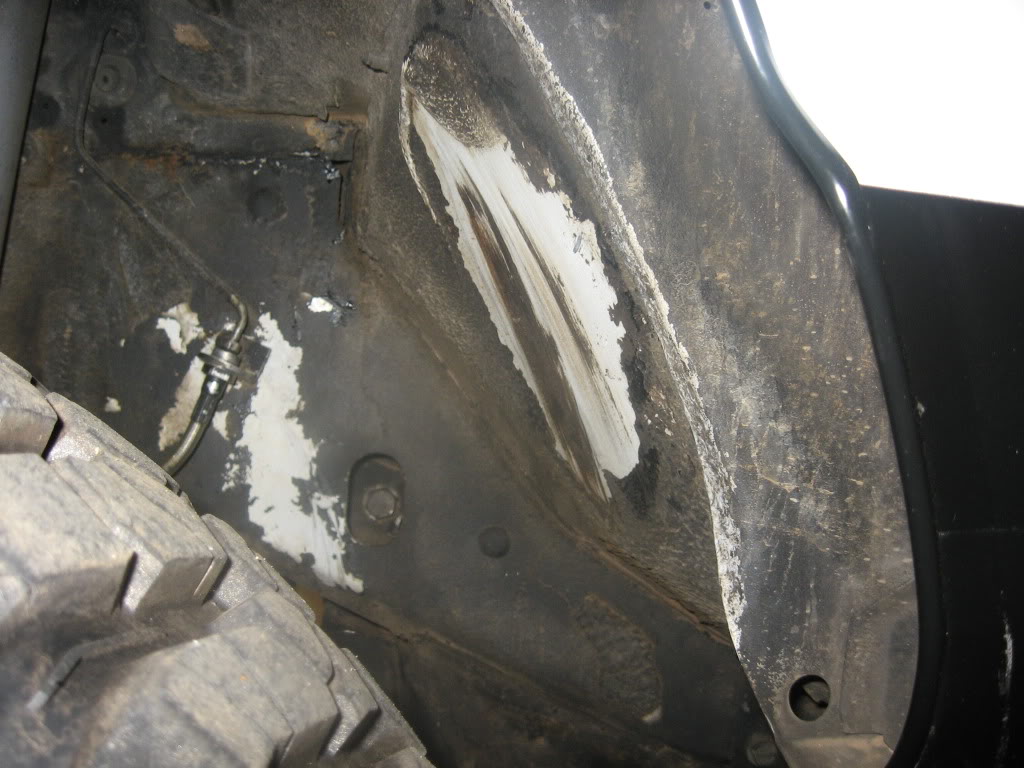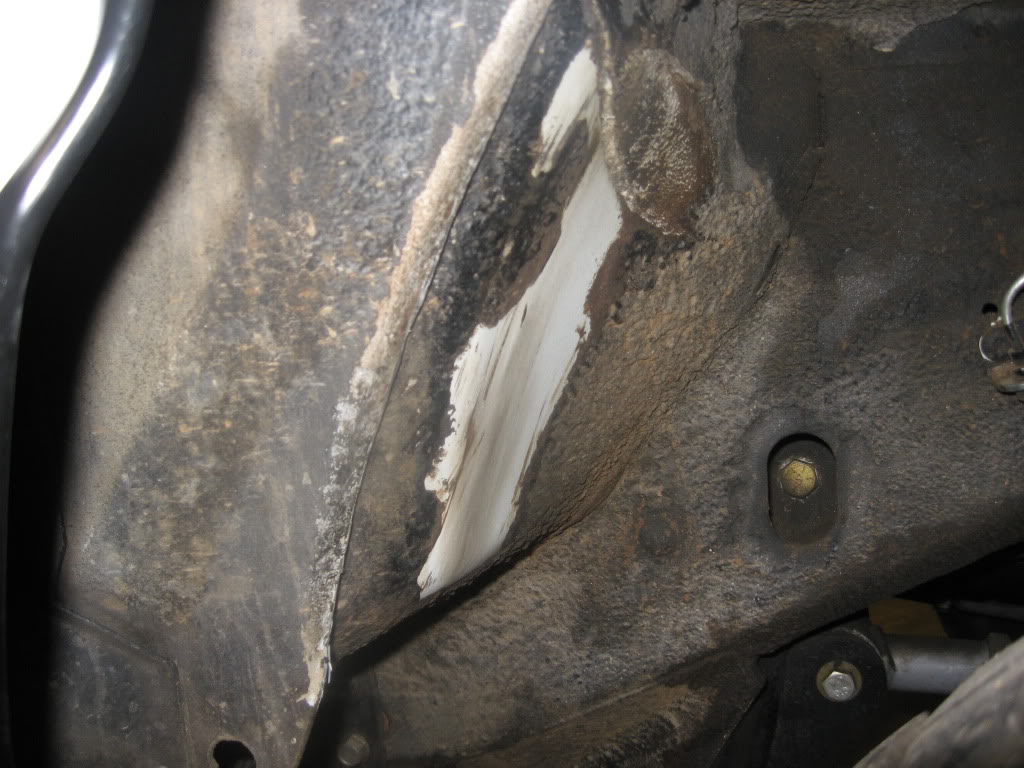 also got a little fixed mast antenna since my power one bit the dust and would constantly run after the ignition was off, killing my battery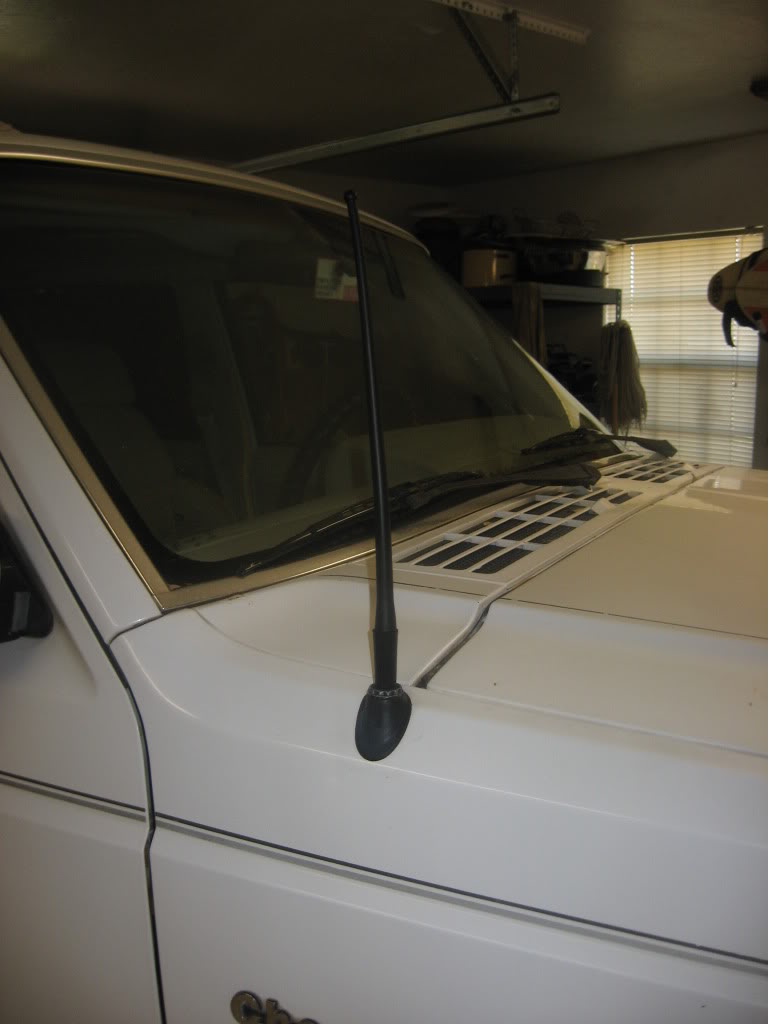 3-21-2011
well the other day i flipped my rear leaf shims around to correct my pinion angle, which it did, only to find out that it put my pinion just far enough away to make my rear driveshaft not reach. awesome. so now im hunting for one that is 2-3" longer than a stock front shaft. i dont really like driving around in front wheel drive. i am guessing it has to do with my POS leafs being all messed up.

.

i also changed my UCA bushings and found out that if you grind down the little gnurls inside the sleeve, you can run a 1/2" bolt instead of the piddly little 10mm stock ones. but this only works for the clevite brand, factory replacement. my napa bushing sleeves werent big enough for the 1/2" bolt
3-23-2011
thank you sir

there isnt much left to do aside from gears and lockers. $$$$$$
well i finally got rid of my mismatched tire and made it my spare. managed to fit a full 33, 12" sub and my tool bag, tow strap, and jumper cables in the cargo area. also mounted a fire extinguisher in there as well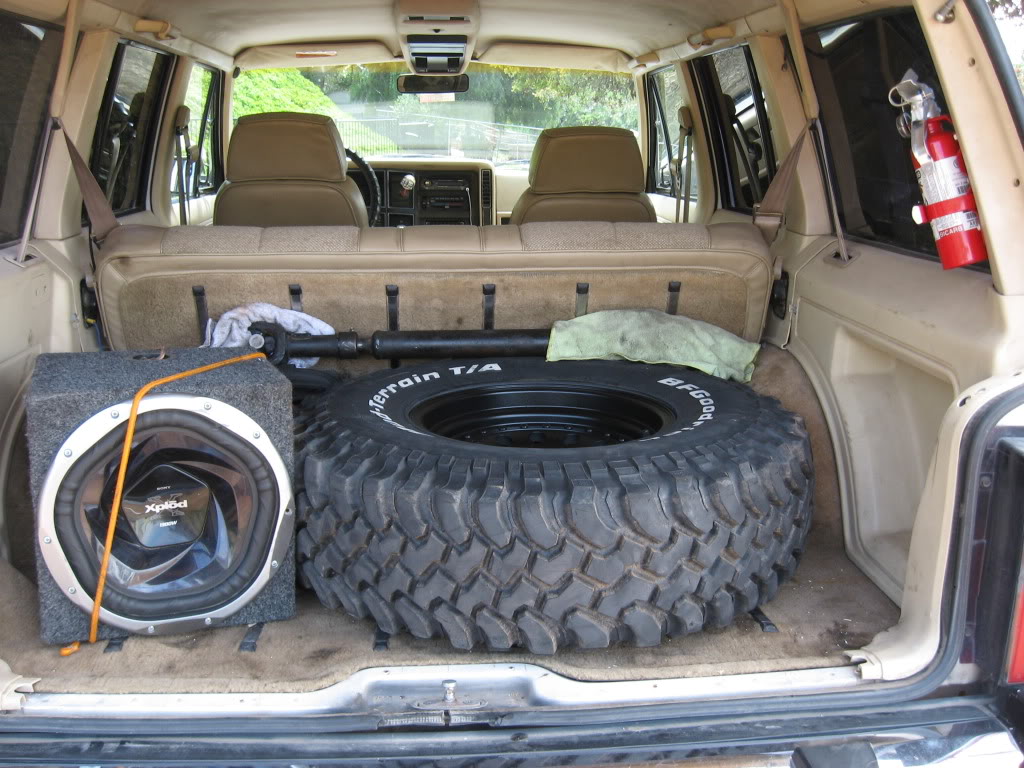 and im probably going to be taking my driveshaft to a shop to have it lengthened. just one more thing i need to do before i can get new leafs.
3-29-2011
got my driveshaft back from the shop where it got lengthened a few inches. nice to be driving around in 2WD again. also actually finished doing my UCA bushings. did the drivers side today.
heres the new bolts im using vs. the old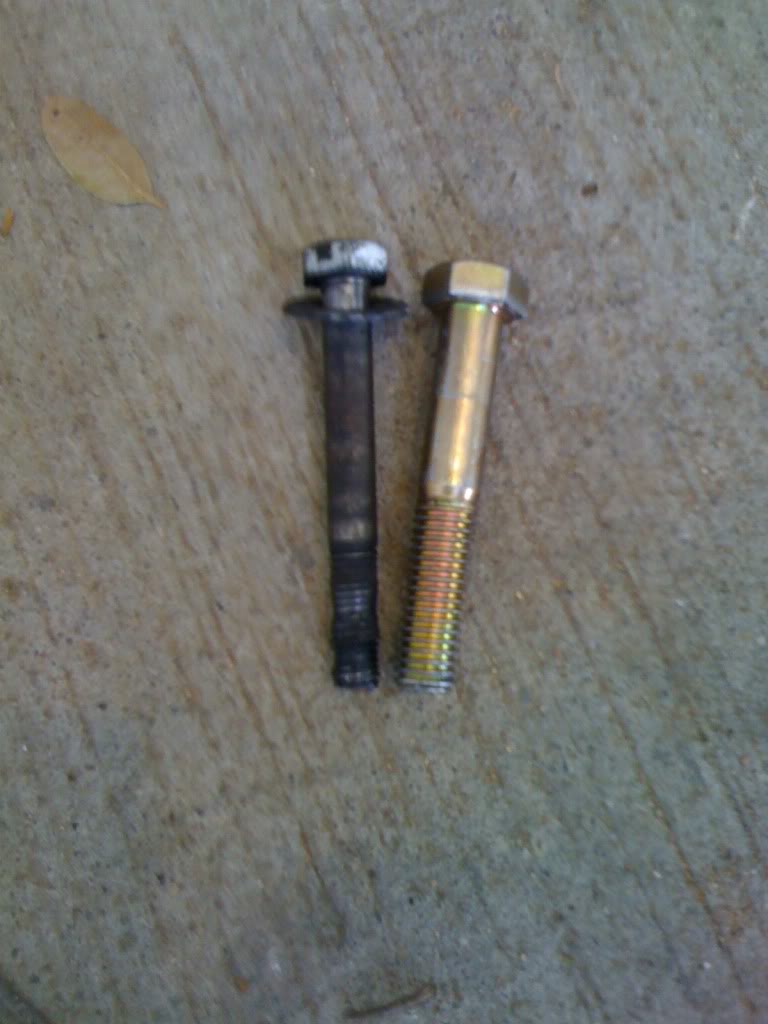 it was quite a PITA to get that old bushing out. the rubber was in good shape but it somehow was working its way out of the bushing sleeve.
5-24-2011
well my ABS pump finally took a dump. supposedly the ABS on these older XJ's is a death trap. i now realize why. without the electric pump, there is almost ZERO brake pressure. i can barely stop the thing with the pedal to the floor. looks like ill be swapping in a WJ booster and MC here soon. ugh. maybe a complete WJ knuckle swap too.........hmmmmmmm
5-26-2011
out with the old: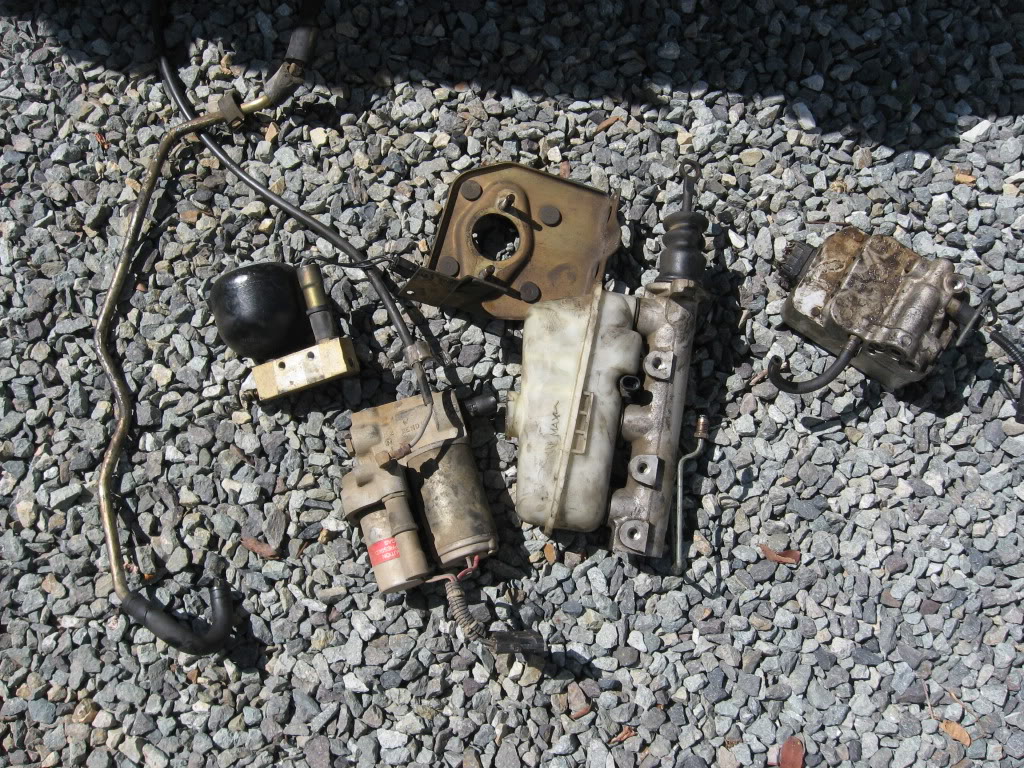 5-27-2011
today i went to the JY to grab a few things for my brake swap and came across waggy tail lights and a couple different grilles i want to try and see if i like. stoked on the lights. those are hard to come by anymore.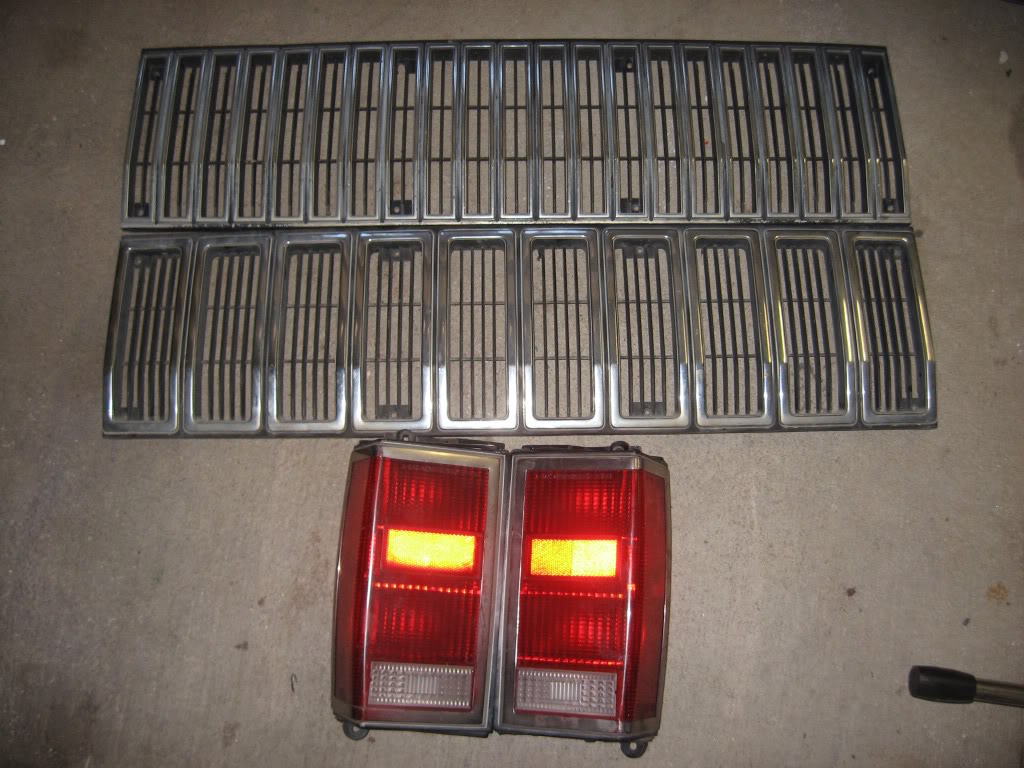 5-30-2011
ok well i finally finished up my WJ booster/ MC swap list night. i must say, although it is a great upgrade, i am not totally satisfied yet. i can stop plenty quick, but i think i may need to re-bleed everything or something. it should be a little better i think. but overall i am very pleased.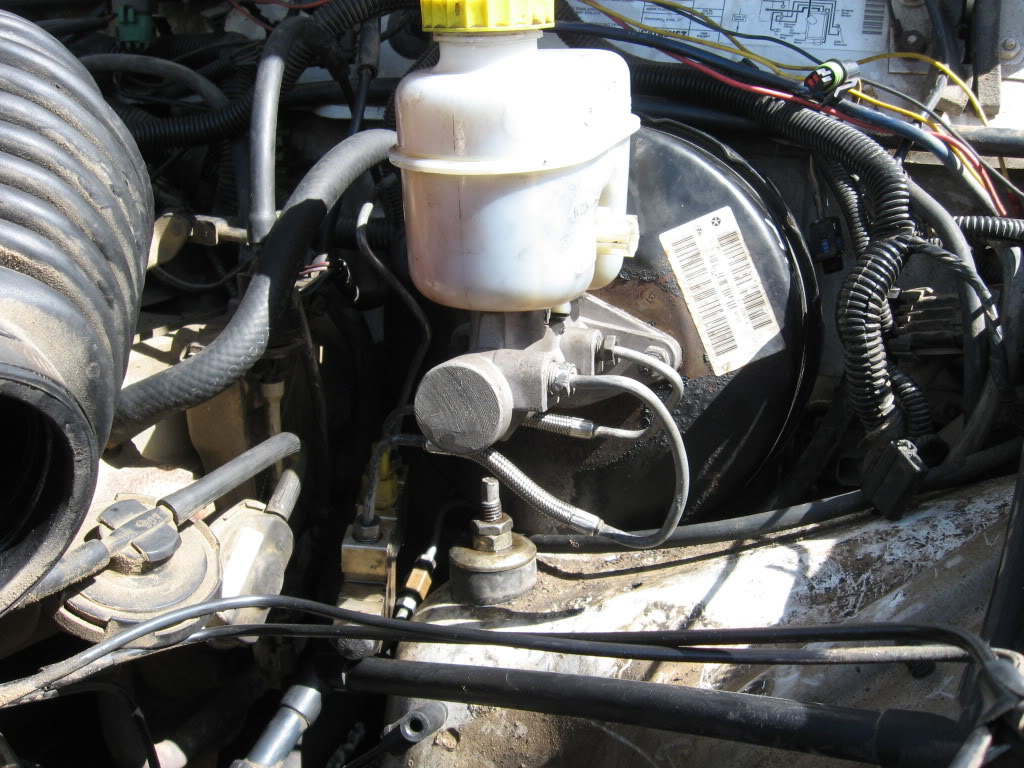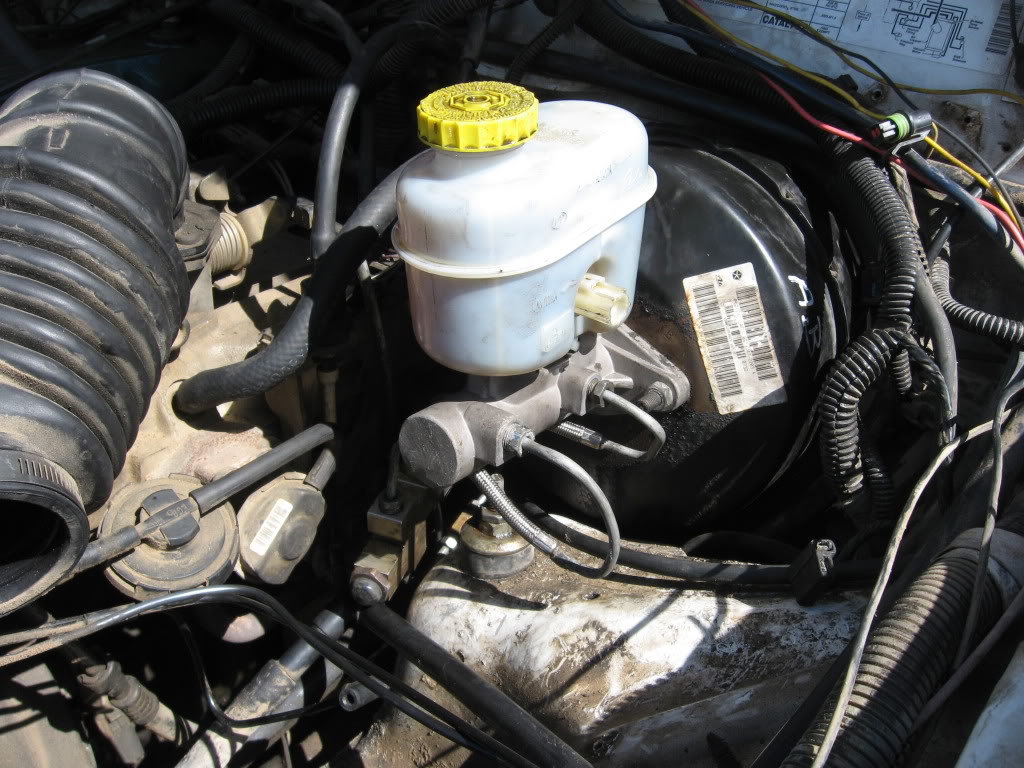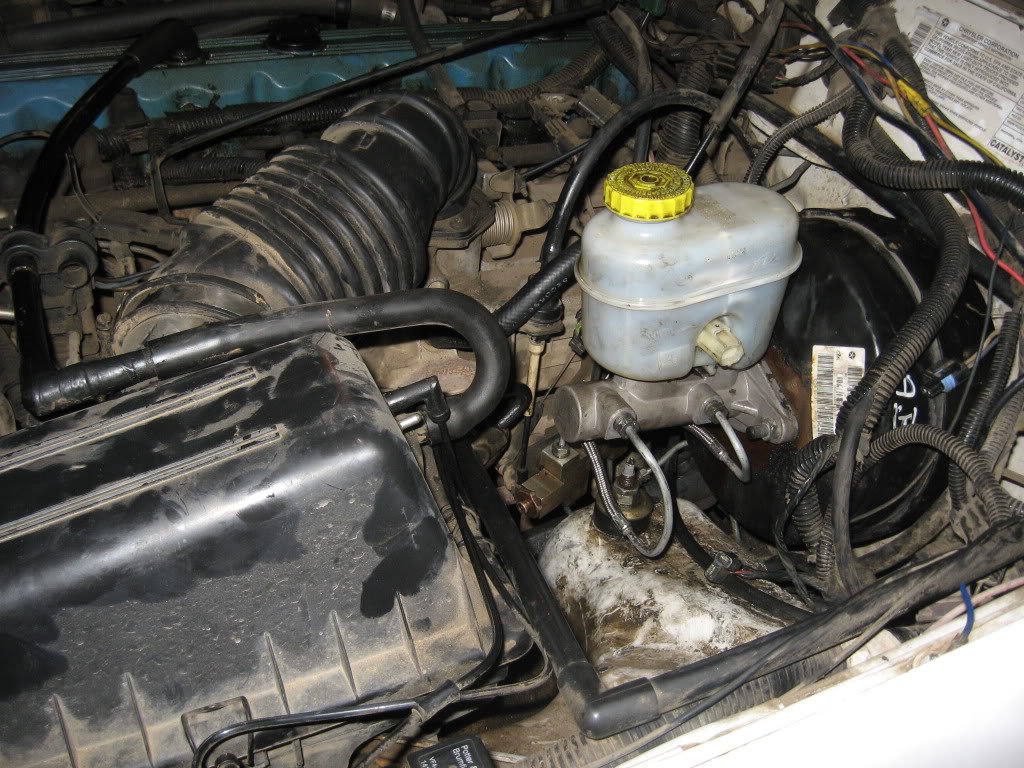 now when i first got everything put back together, the pedal would go to the floor but stopping power was there, just late in the pedal throw. so i decided that i would drill a new hole a little lower on the pedal to shorten the throw. worked great and made the pedal feel much better. i probabaly could have made it a little lower as it is still a pretty far pedal throw, but it is much better.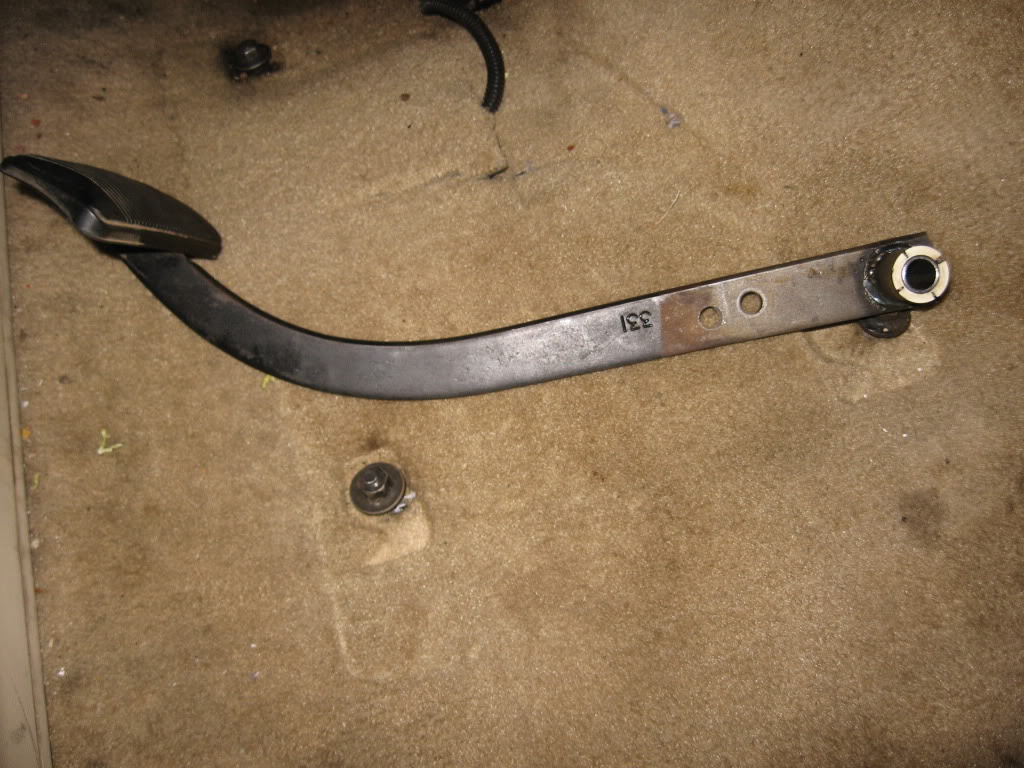 ill probabaly bleed everything again today and make sure no fittings are leaking.
also today, i swapped on each grille to see how they look. thoughts? for now i have the one from an '87 on there.
current grille, '87 grille, '84 wagoneer grille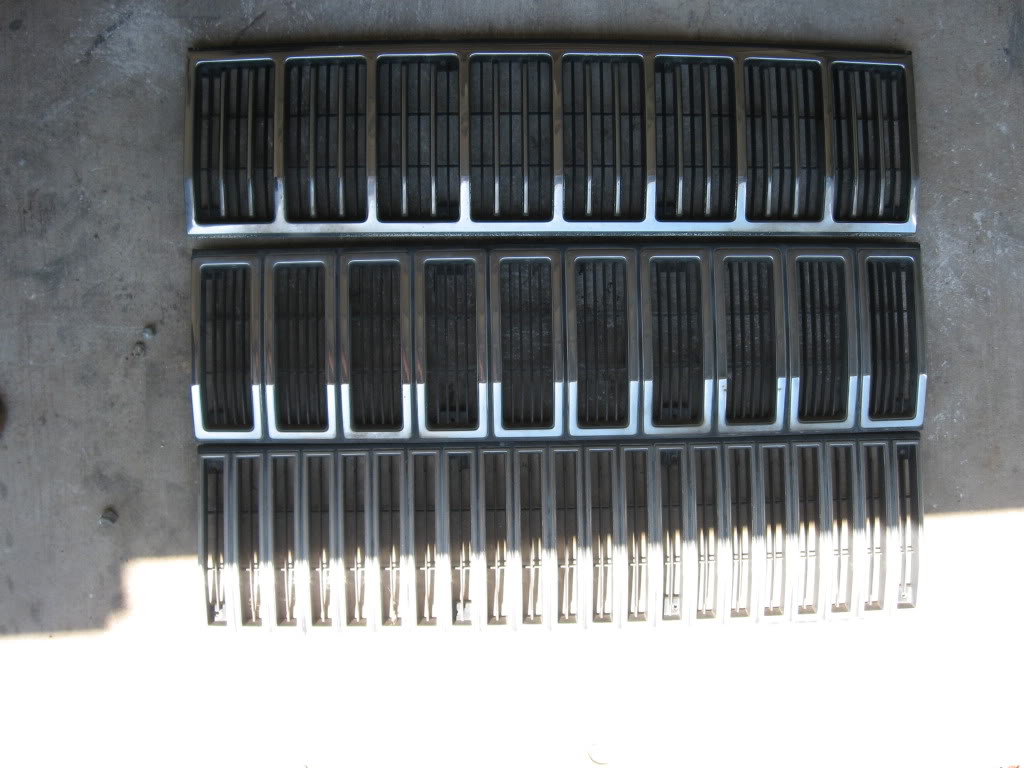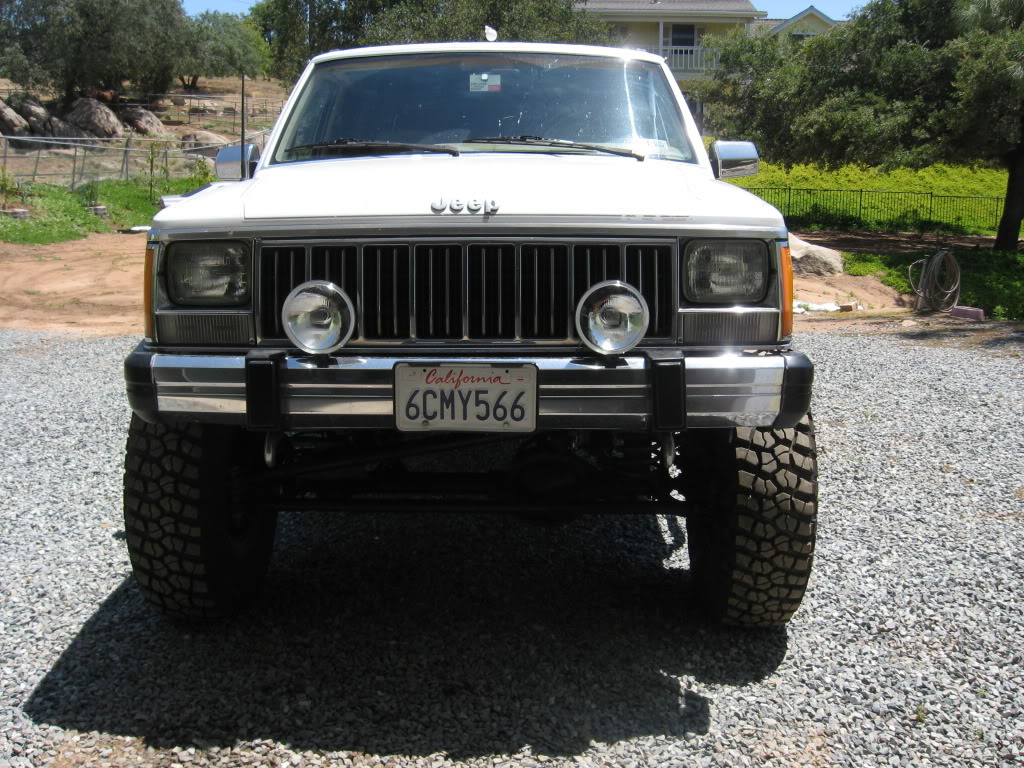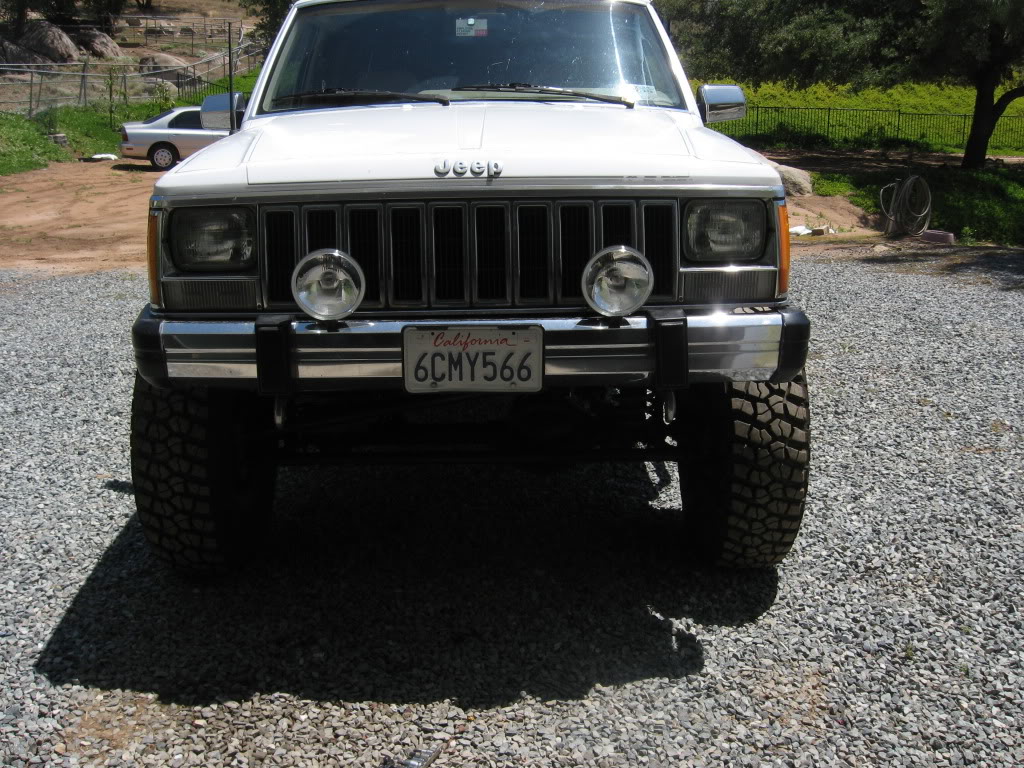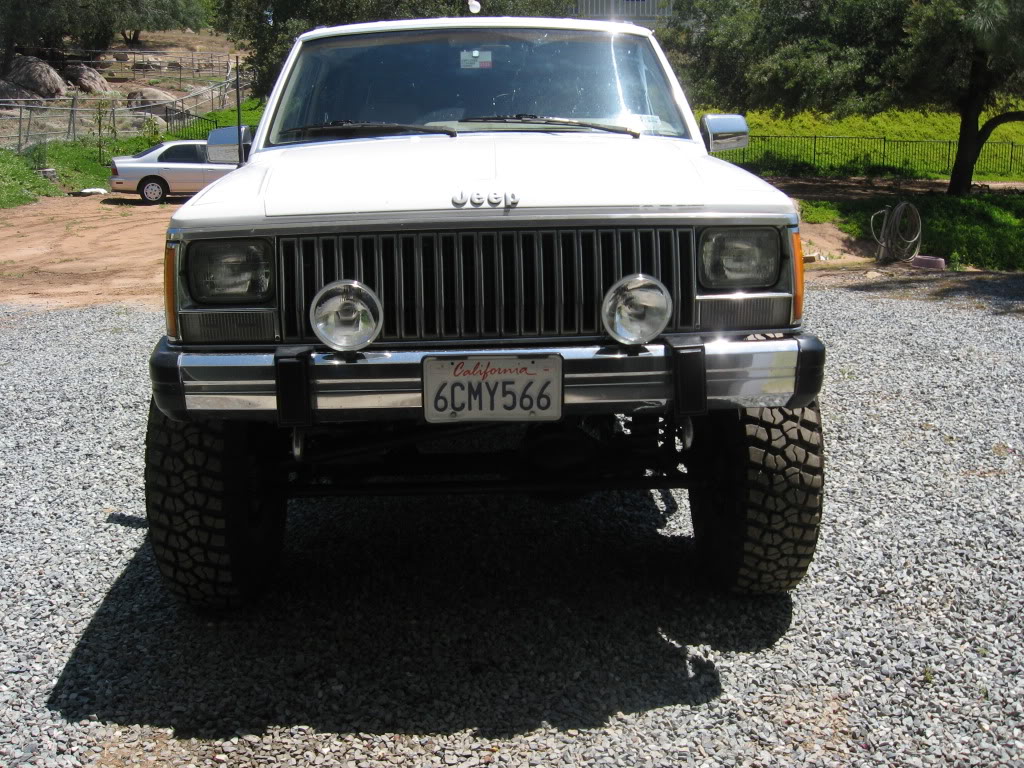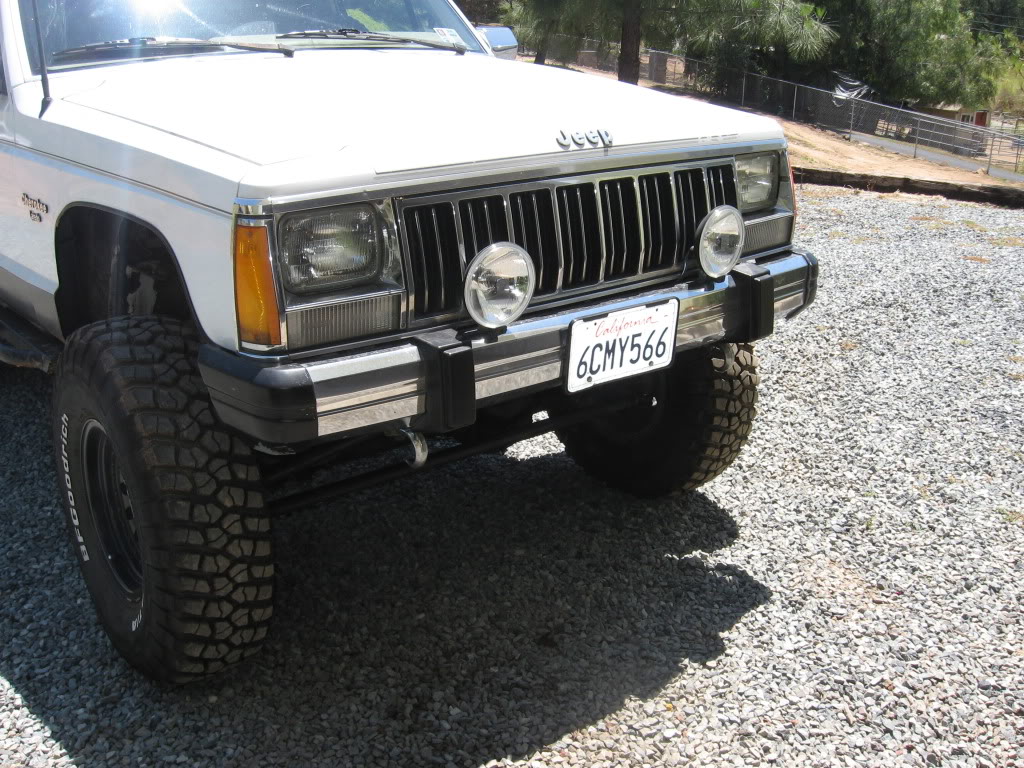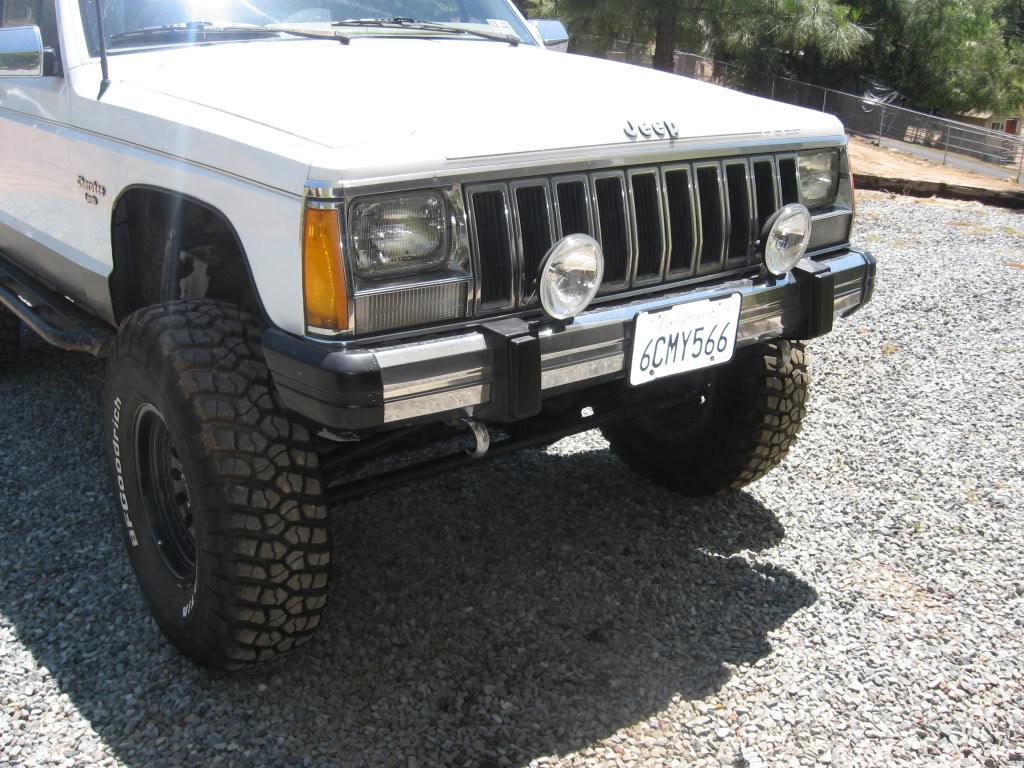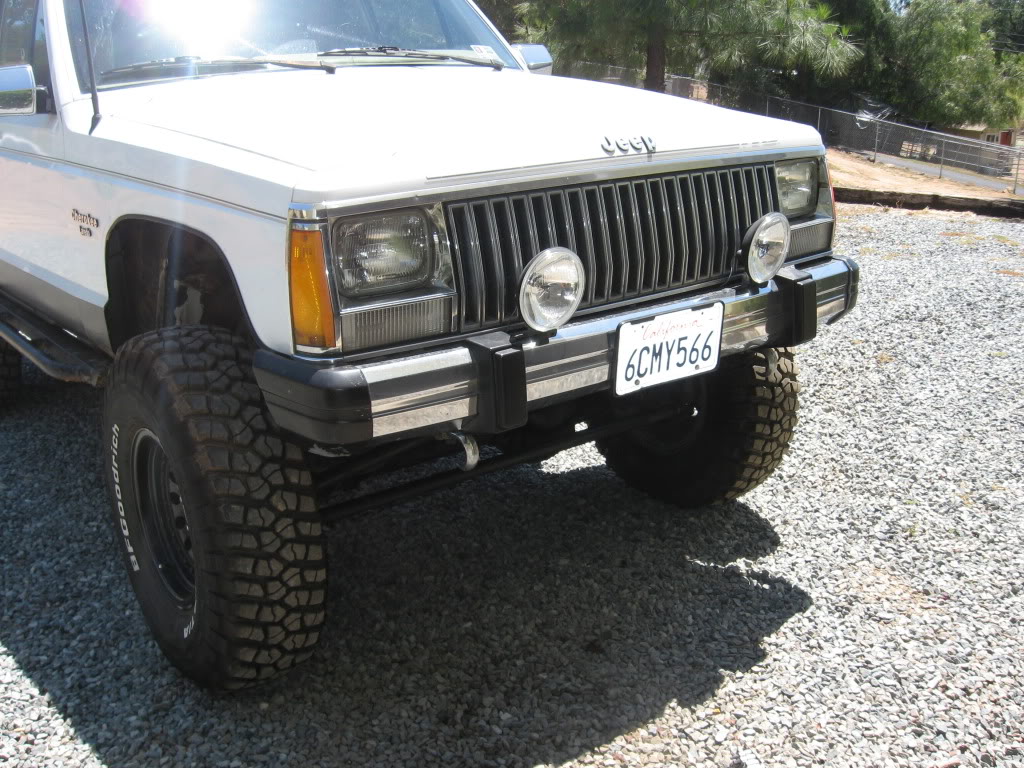 so which grille looks best?
i also threw on the waggy tail lights.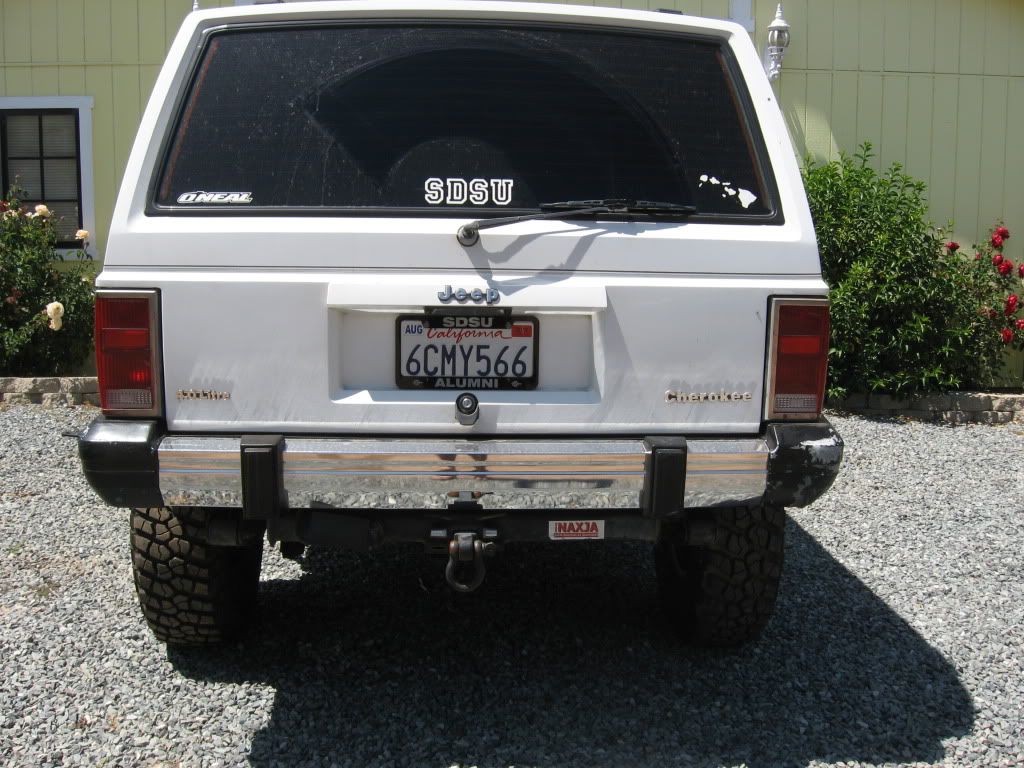 6-6-2011
yeah i think im going to use the '87 grille for a while.
on another note, i ordered a B&M tranny cooler and a stant superstat thermostat the other day. just need to throw them on soon. also need a new temp sender. my temp gauge rarely reads over 160*. not sure if its the sender or a bad thermostat.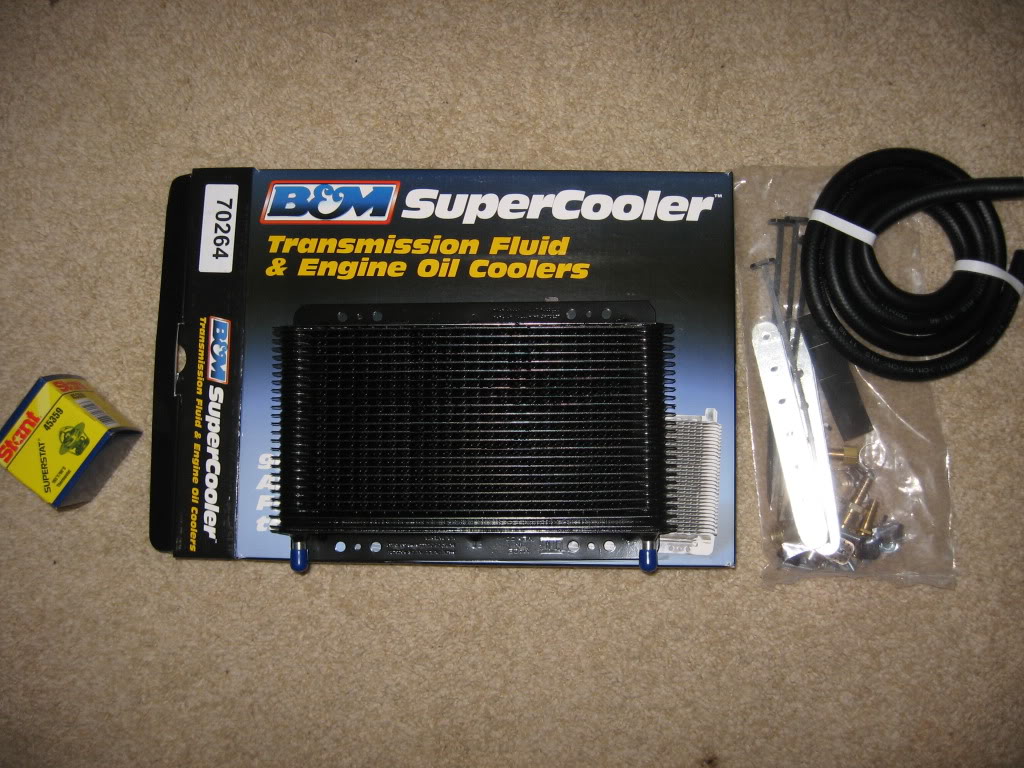 6-15-2011
threw the tranny cooler on today. talk about a PITA
i first tried mounting it like this.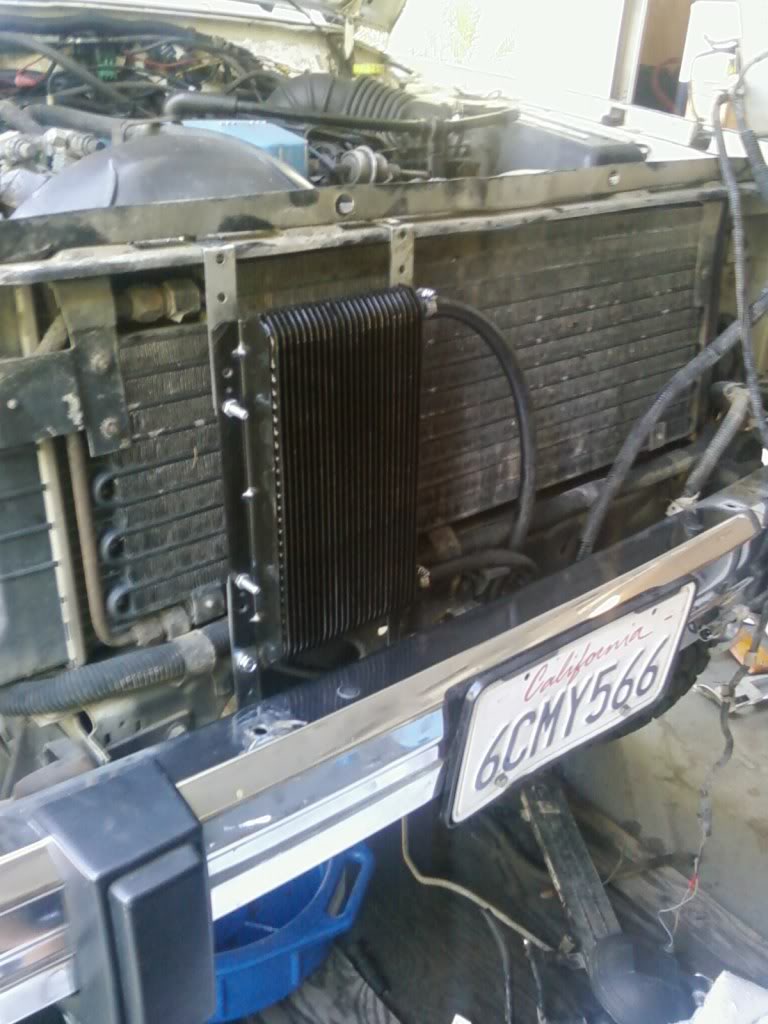 but it stuck out too far and i couldnt get the header panel on.
so i had to turn it 90* and mount facing the other way. it is very close to the A/C condenser this way, but it'll be fine. i had to fiddle with the placement and just do trial and error until i finally mounted it here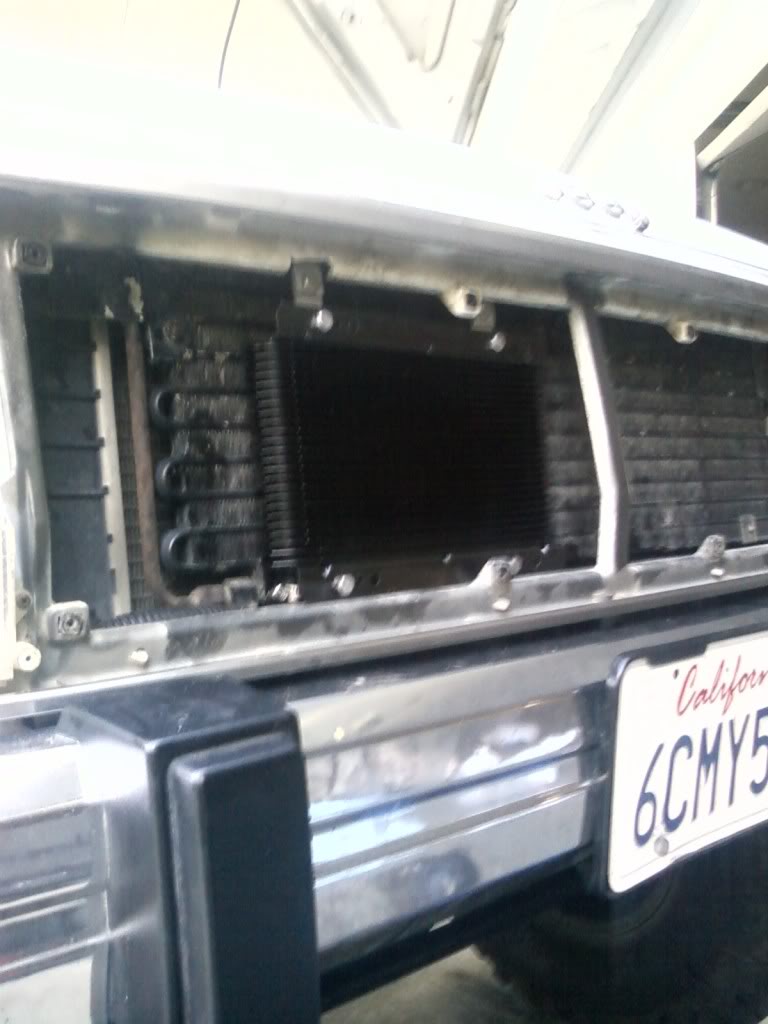 and you can see where i had to trim a little of the header panel to fit over the bracket
6-30-2011
thanks man. i appreciate it.

im going to eventually completely redo the suspension minus the arms and drop brackets. my coills and shocks are too soft for my liking and my leafs are poop. so im going to be getting deavers all around when money permits. and all new shocks of course.

but for now i am going to mostly be doing maintenance on it. ill be doing the cooling system soon, and try to fix my oil leaks again. i think its seeping a little from the oil pan, valve cover, and distributor gasket. and when i hit 200k, which is very soon, ill be doing the timing chain for piece of mind. there is always something i can be doing on it.
7-7-2011
replaced my busted coolant bottle yesterday.
and for today, i got my new steering box in the mail. its a rebuilt unit from a member on NAXJA that is ported for hydro assist. can finally replace my leaking sloppy one.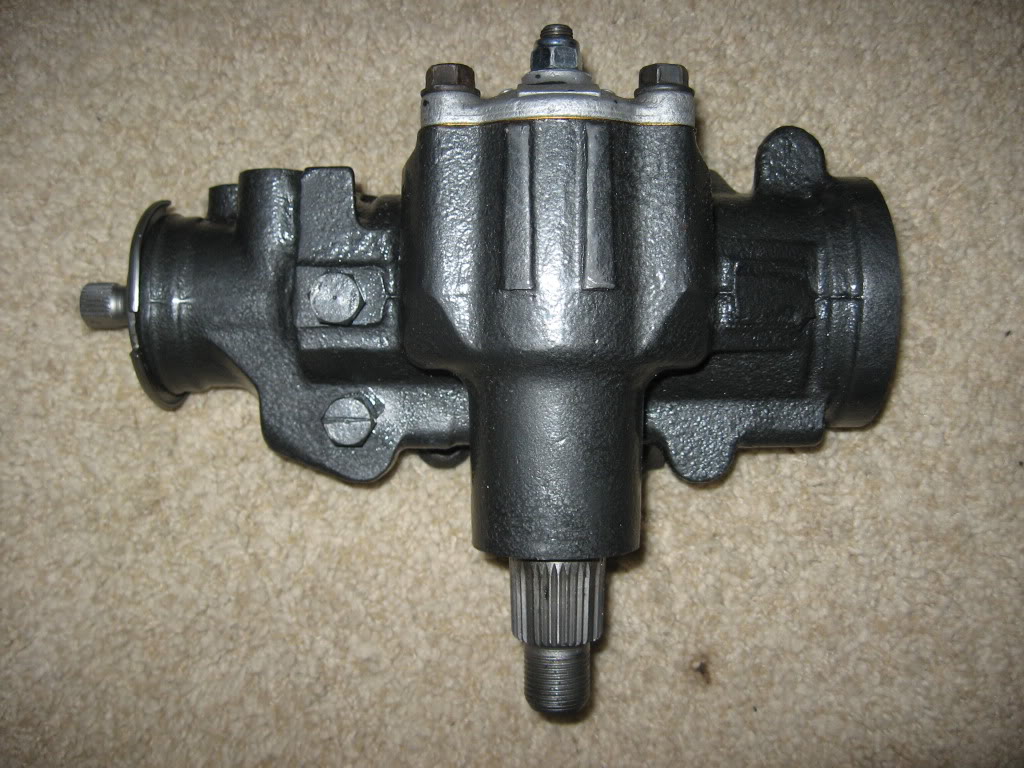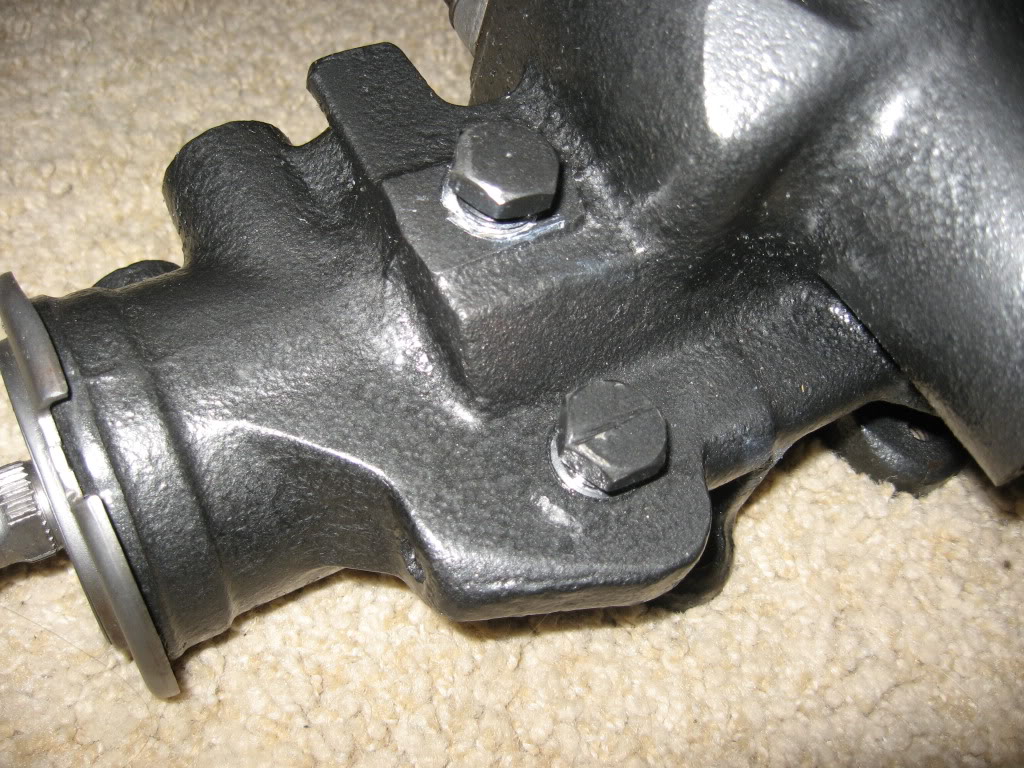 7-28-2011
replaced my busted coolant bottle yesterday.
and for today, i got my new steering box in the mail. its a rebuilt unit from a member on NAXJA that is ported for hydro assist. can finally replace my leaking sloppy one.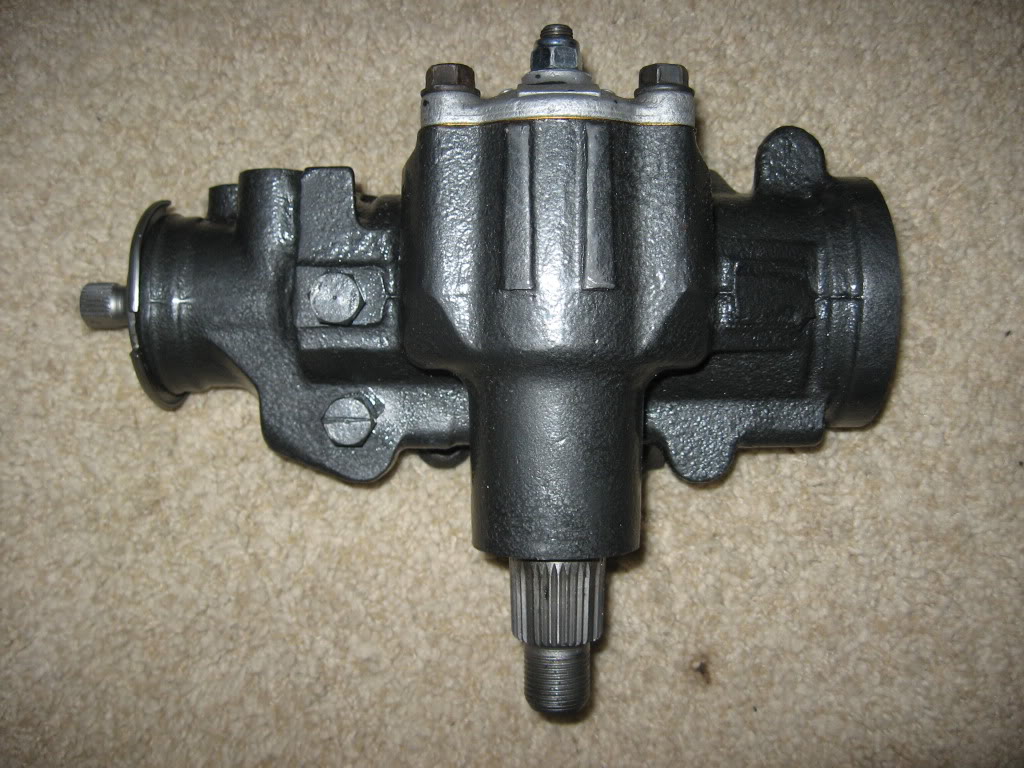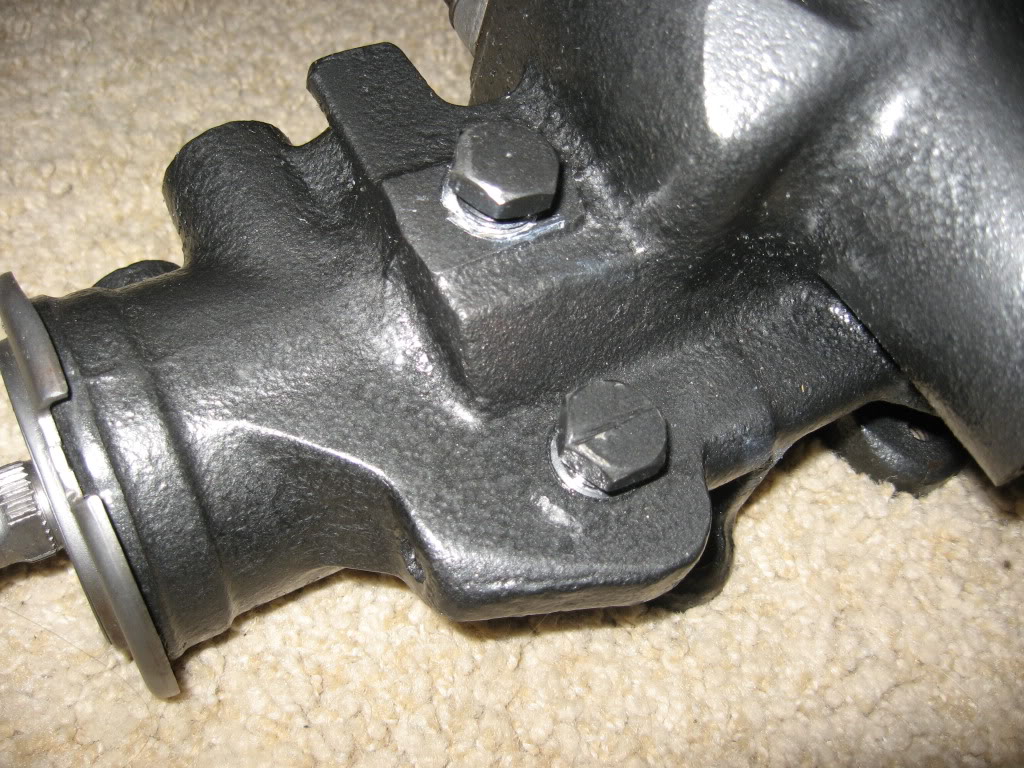 8-26-2011
heres what ive been up to the past 2 days
new c-rok inner and outer steering brace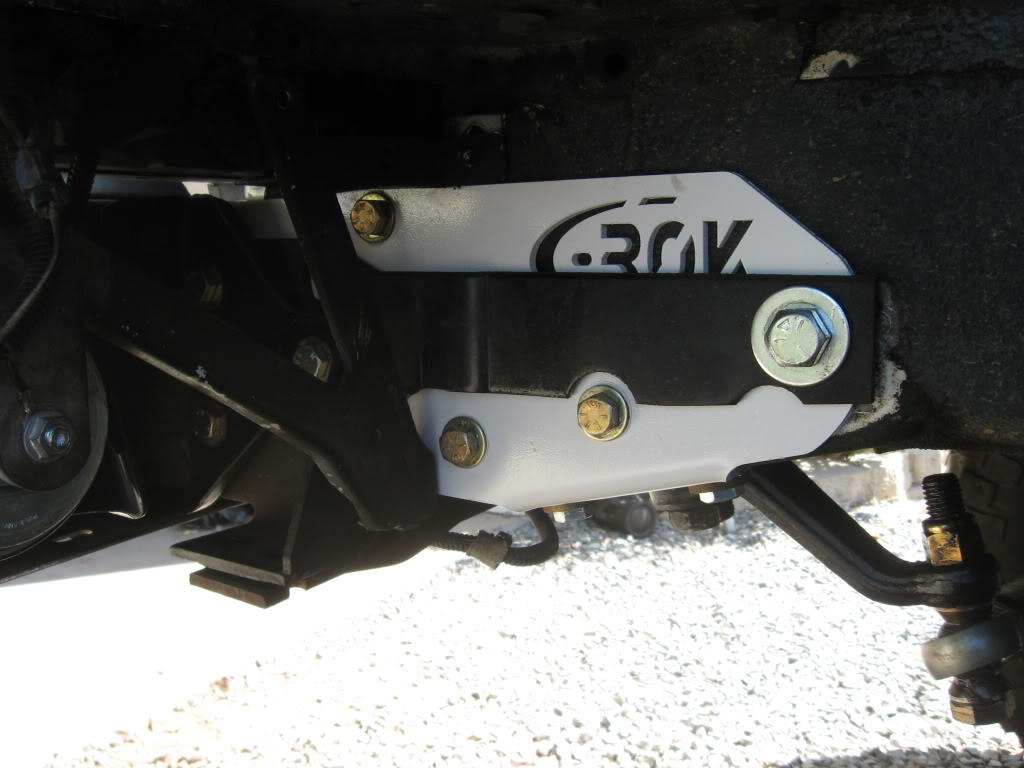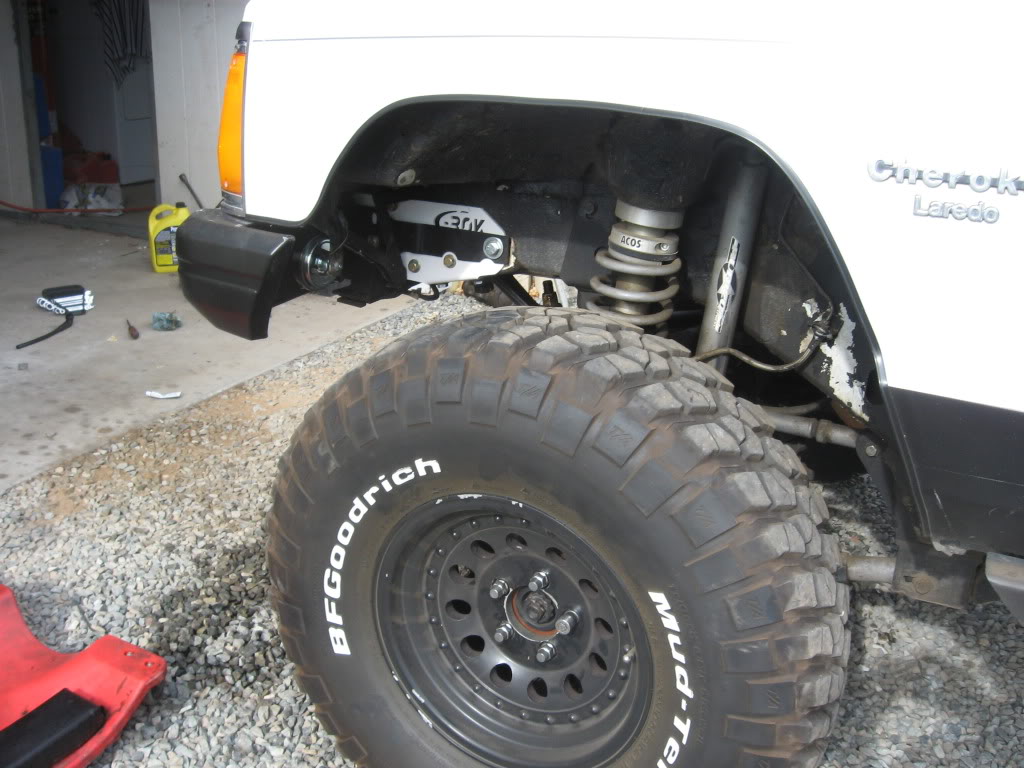 decided white would be cool. matches the jeep and has some contrast. the tow hooks kind of hide it a bit more than id like. oh well.
rebuilt steering box ported for hydro assist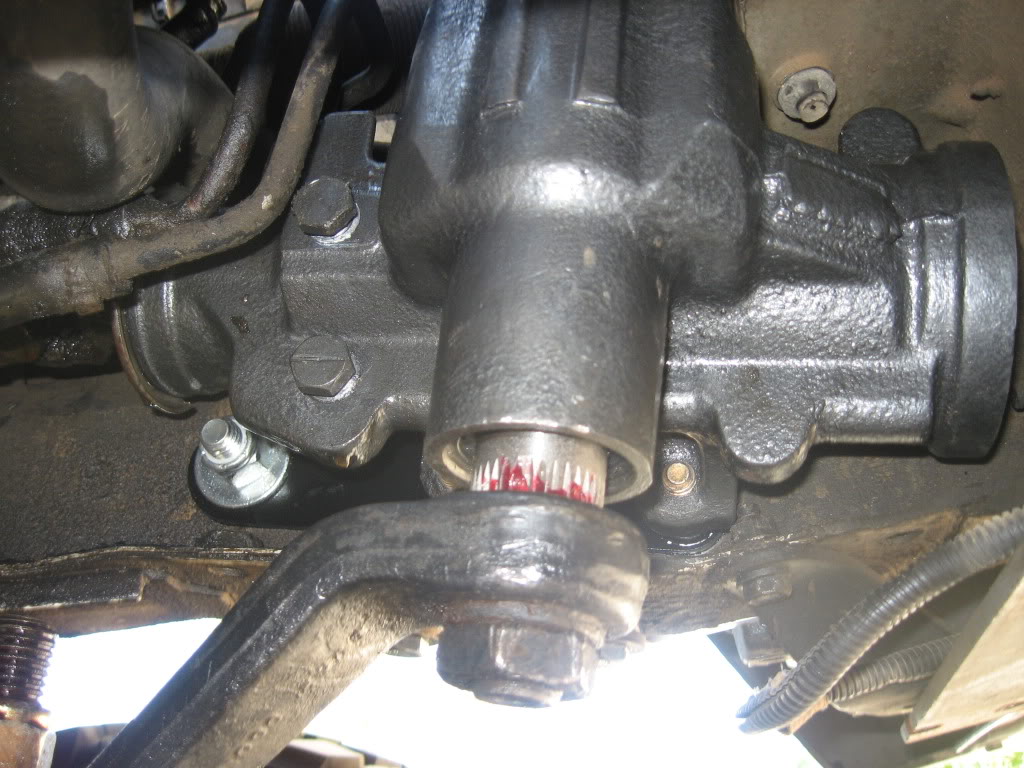 new valve cover gasket. shouldve used this felpro one last time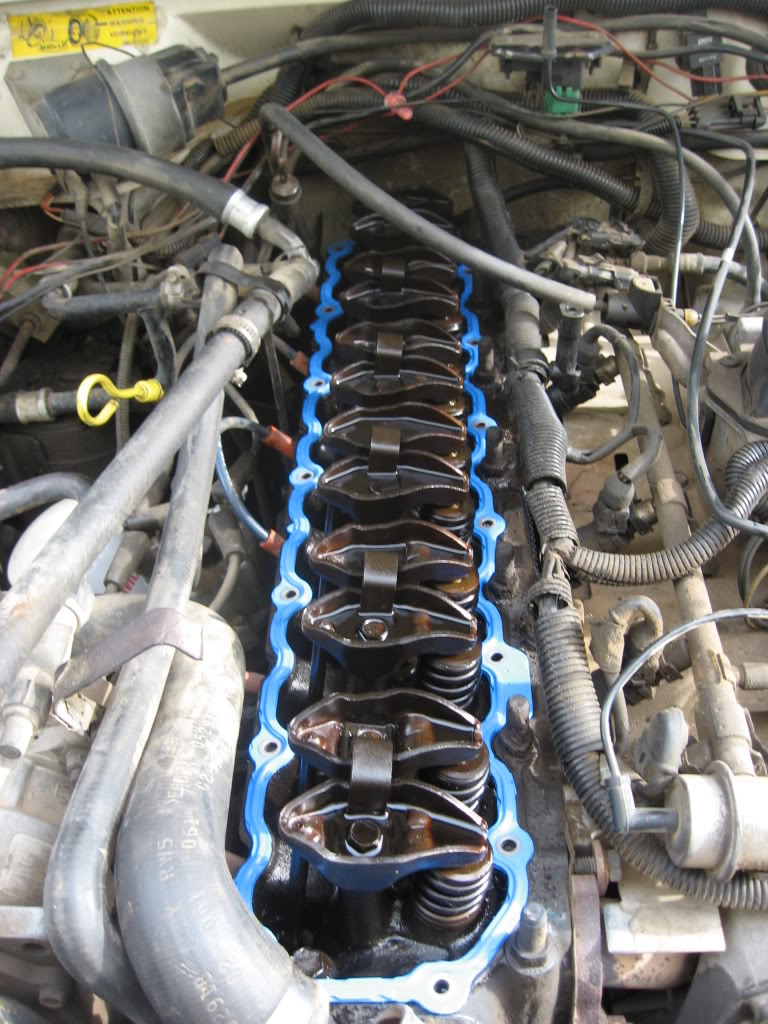 also re-painted the cover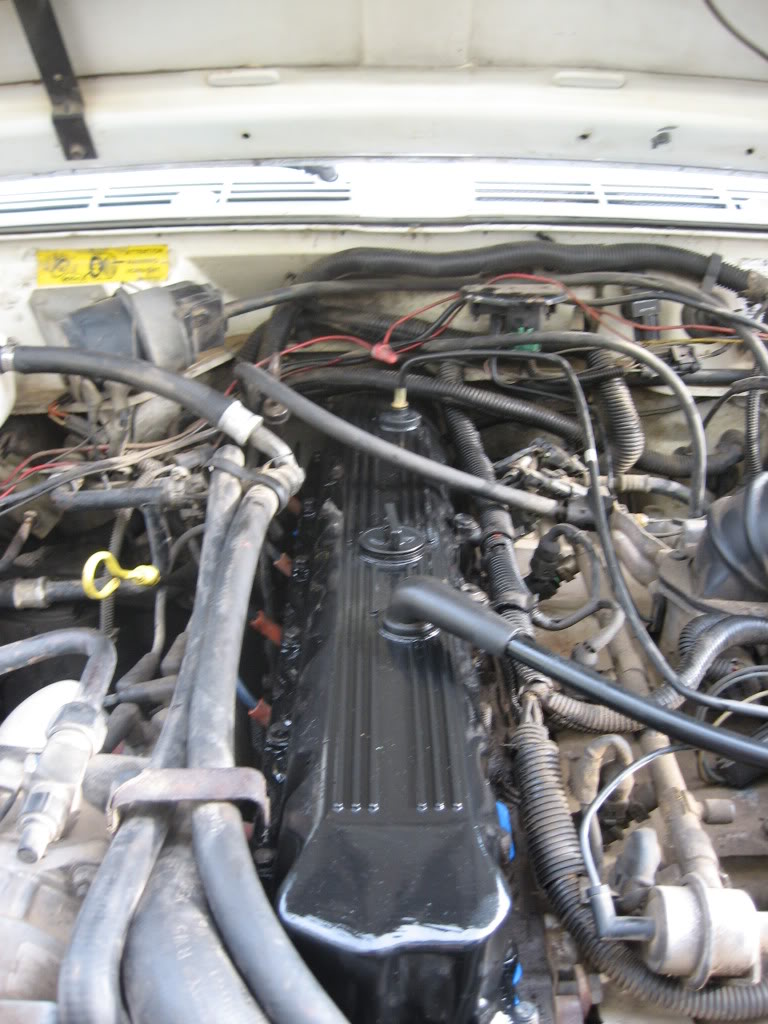 also flushed the coolant and threw in a new stant superstat 195* t-stat
next im going to take it somewhere to have the brakes power flushed. i have a soft pedal and i can bleed them until im blue in the face and keep getting bubbles at the passenger rear. no leaks anywhere. also going to check the alignment and do a tire rotation
doing all this for a trip to mammoth here in a few weeks. want it to be as reliable as possible
10-10-2011
picked up a few things lately. havent touched the 44 yet but i did pick up crown vic rear disc brake hardware from the JY the other day for $35.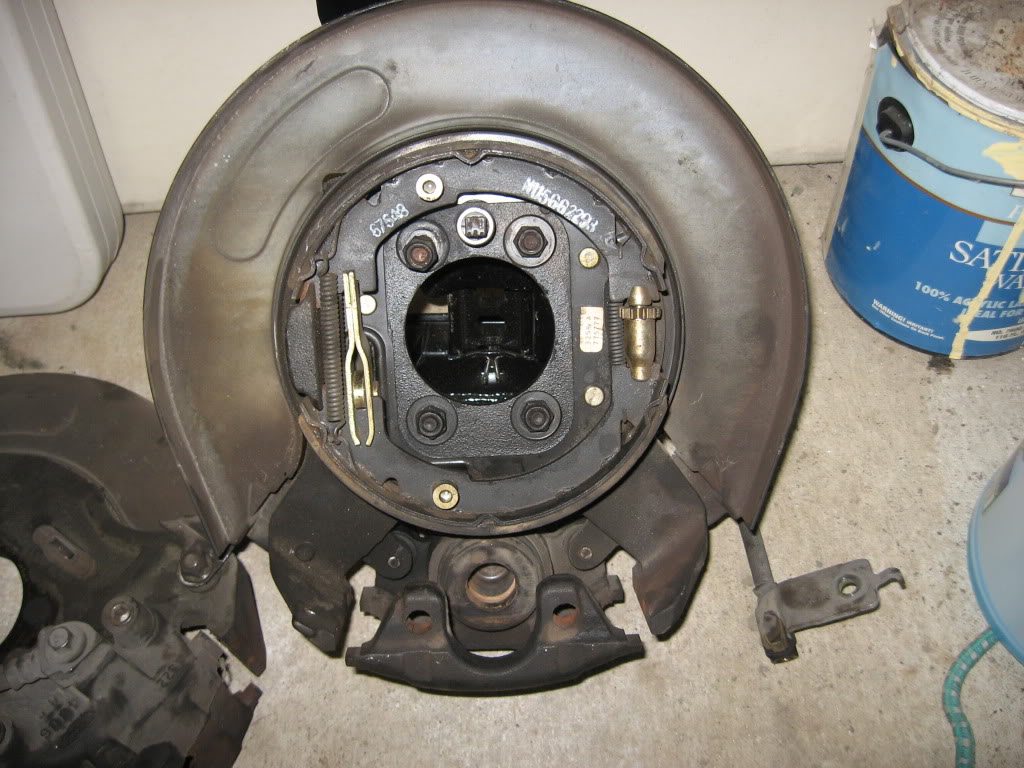 also picked up a con-fer roof rack today with gutter mounts for $85. still needs a bottom and cross bars to be able to use. it will be very nice to have my tire up top along with my hi-lift. they take up nearly all of my cargo space.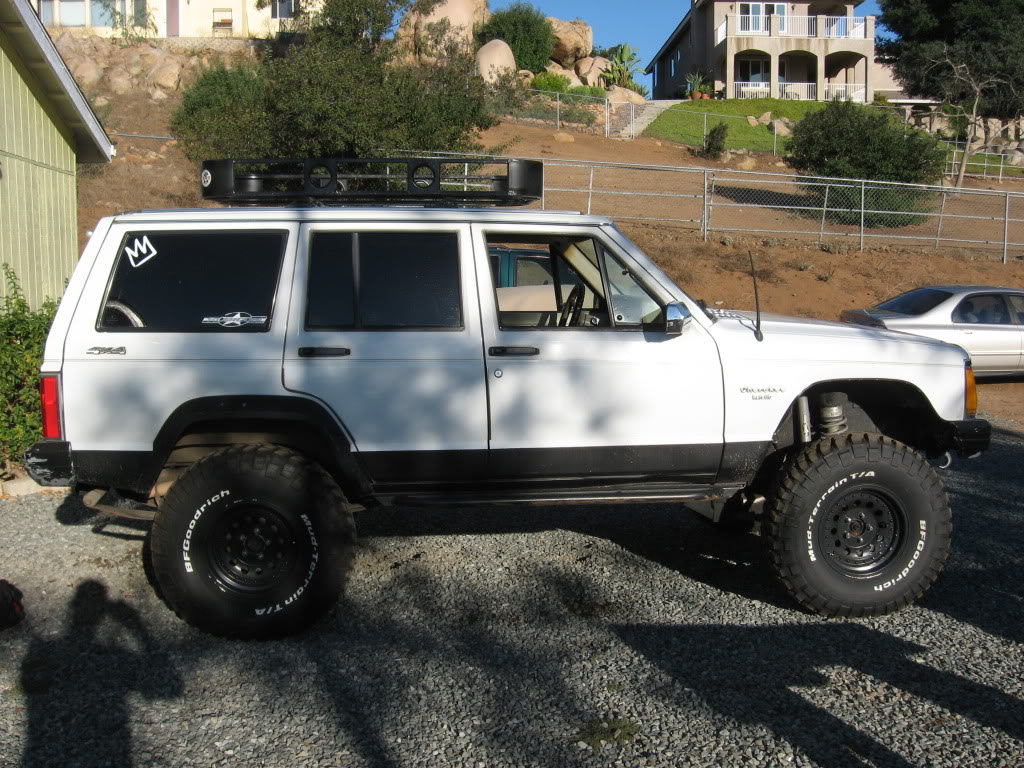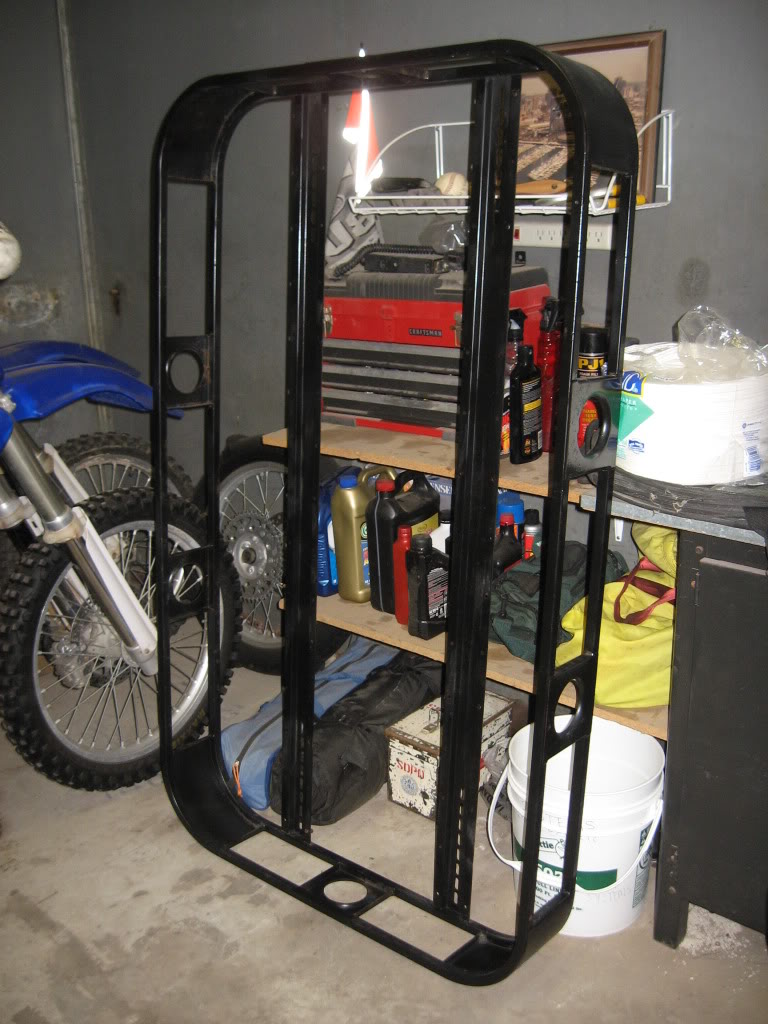 and the 44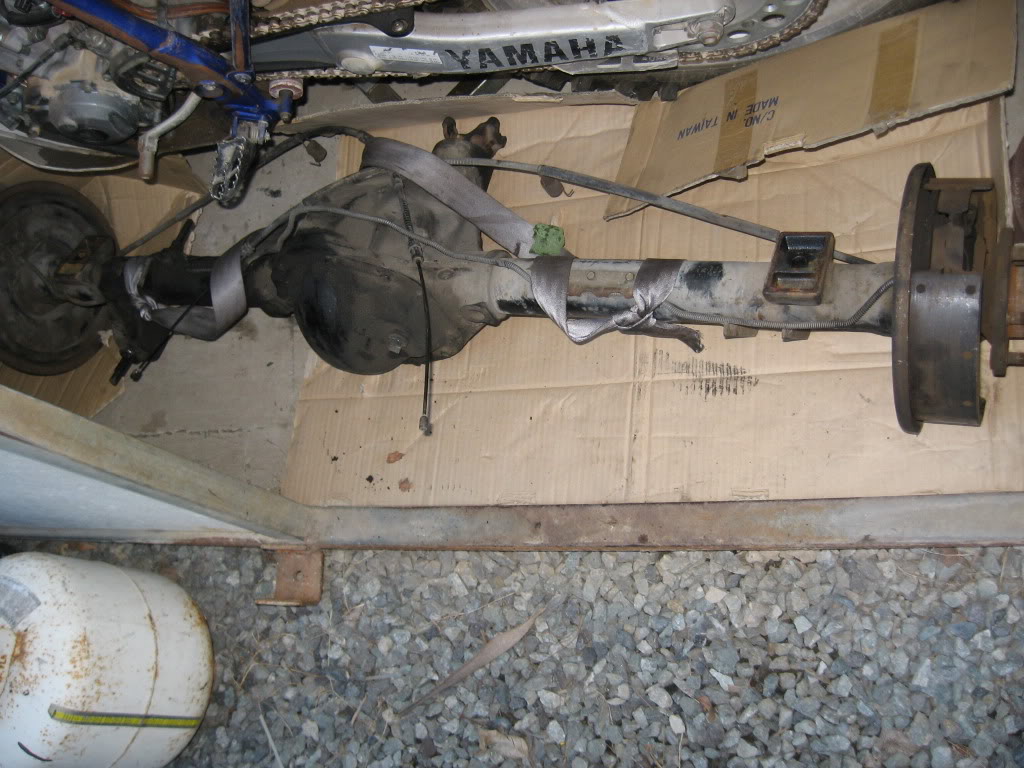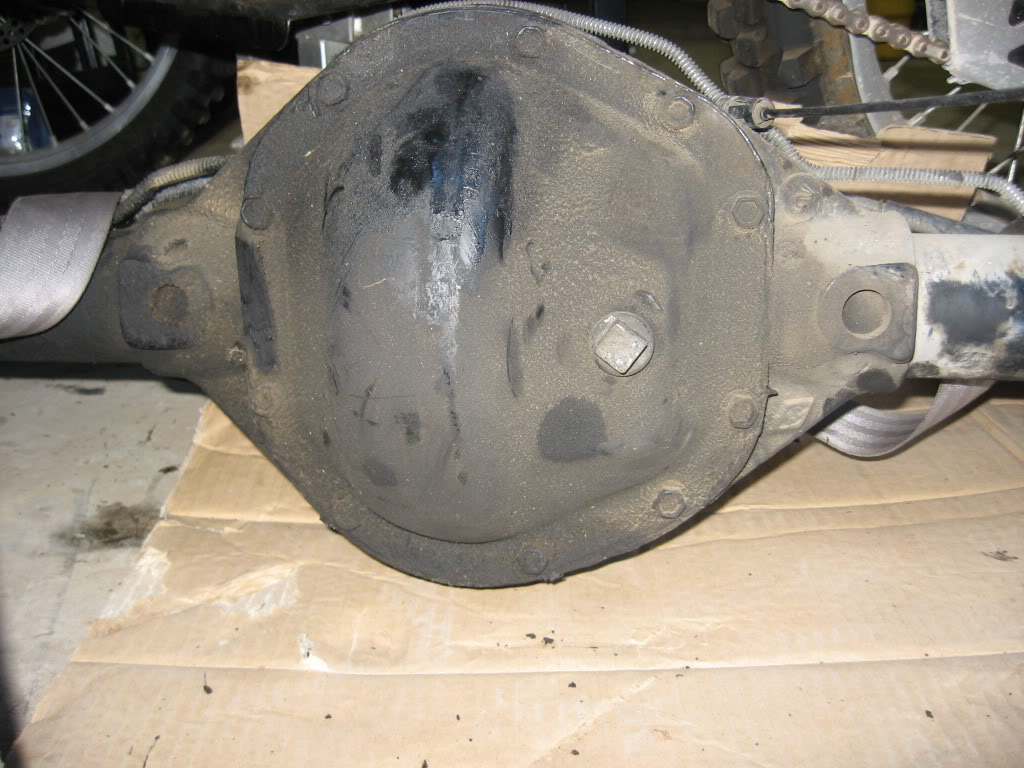 10-19-2011
made my roof rack wider and mounted it. still needs paint. i widened it 11" total using 1x1x.090 square sleeved over the existing 3/4" square. and since it didnt have a strong way to mount to the gutter mounts, i added 4 2"x3/16 flat stock cross bars and one more as a spine. all it needs is an expanded metal floor now and some hooks to bb able to tie things down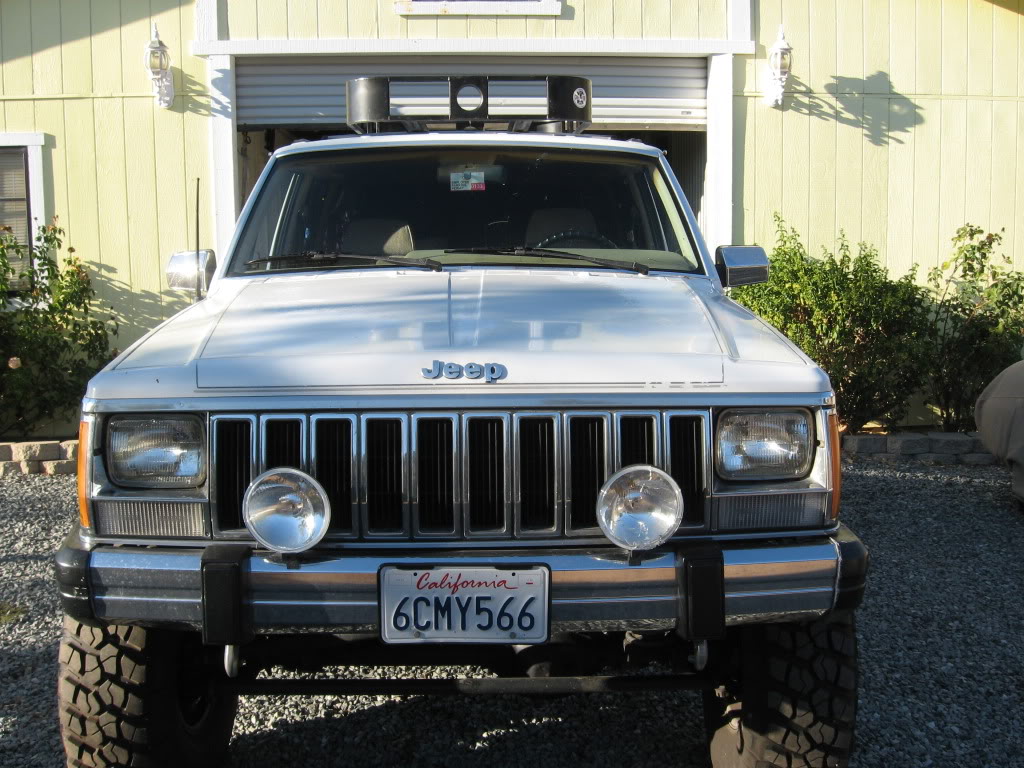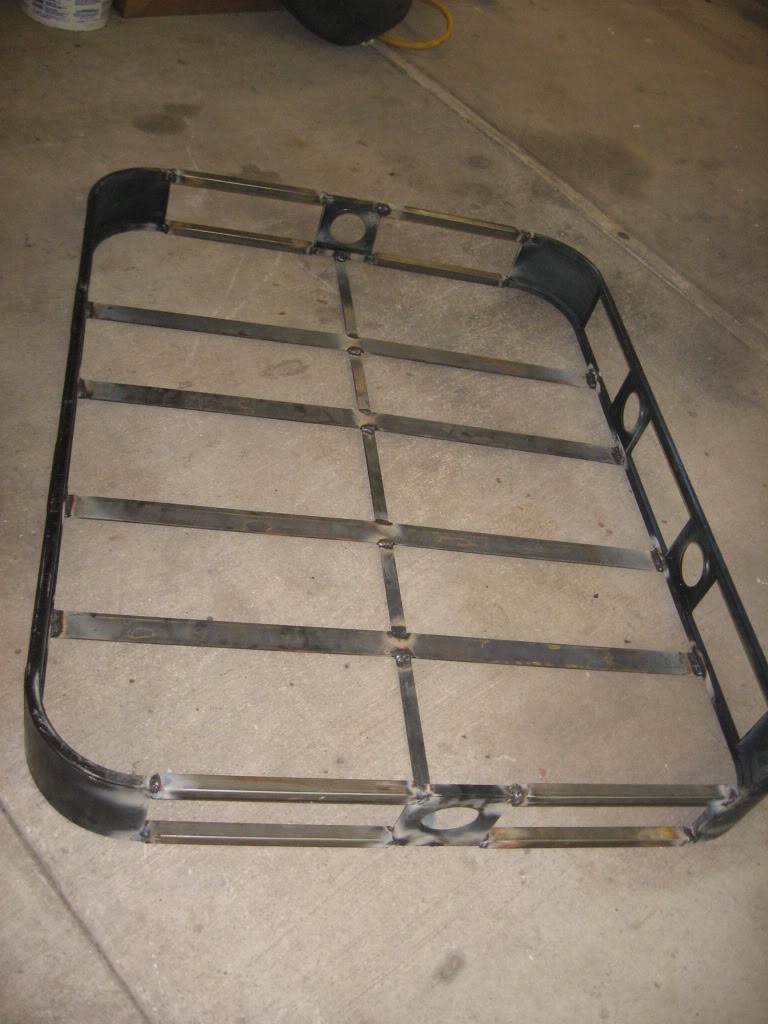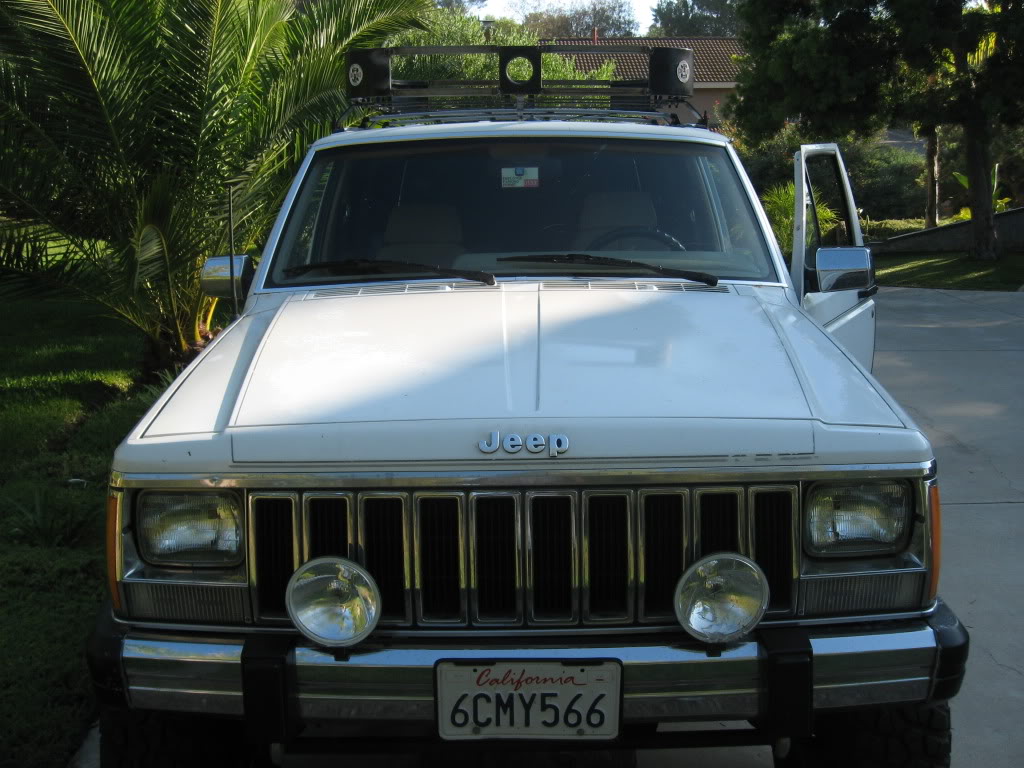 12-22-2011
my roof rack has been done for a while now along with the spare tire mount for it. so now the spare is up top. i still want to make a simple hi-lift mount here soon.
in other news that steering box i got is totally sloppy already so i really splurged and got a PSC box.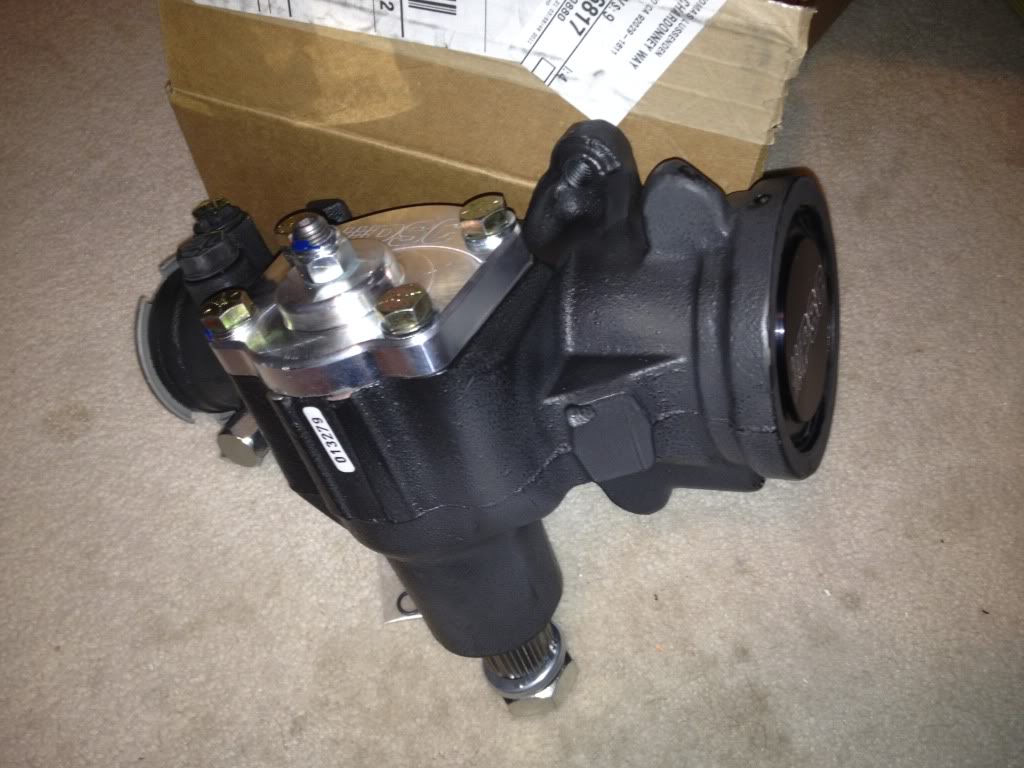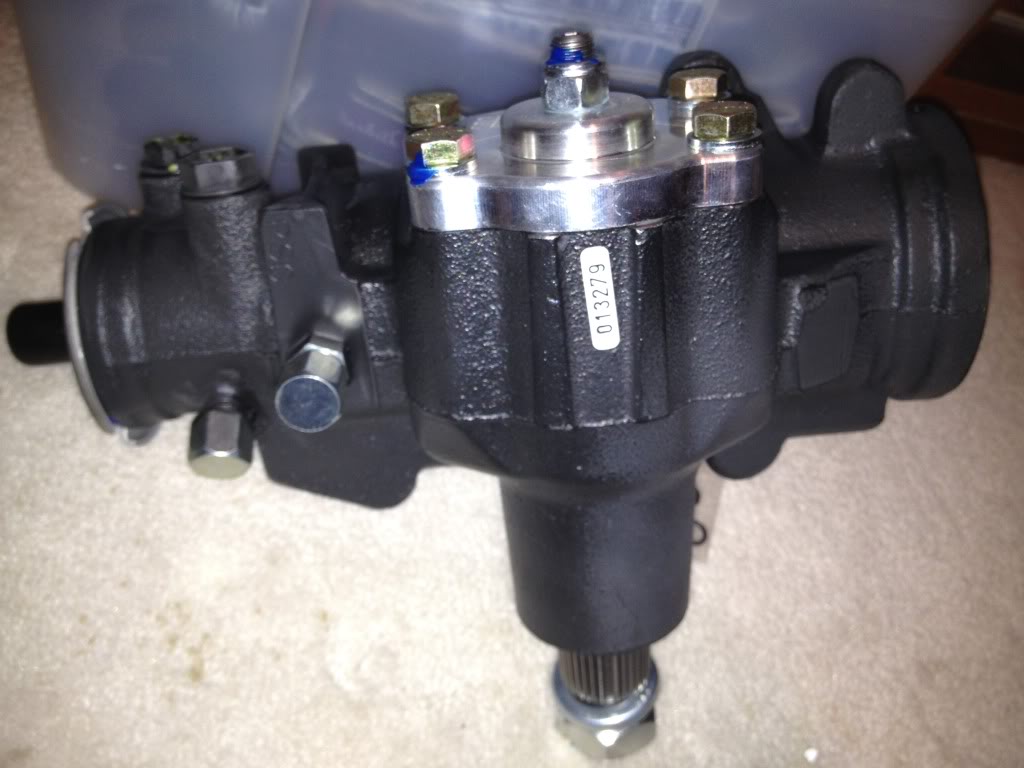 i also had to change my heater hose today. it developed a hole so i decided it would be a good time to get rid of the heater control valve. i just used a bunch or barbed fittings, hose clamps, 3/4" and 5/8" heater hose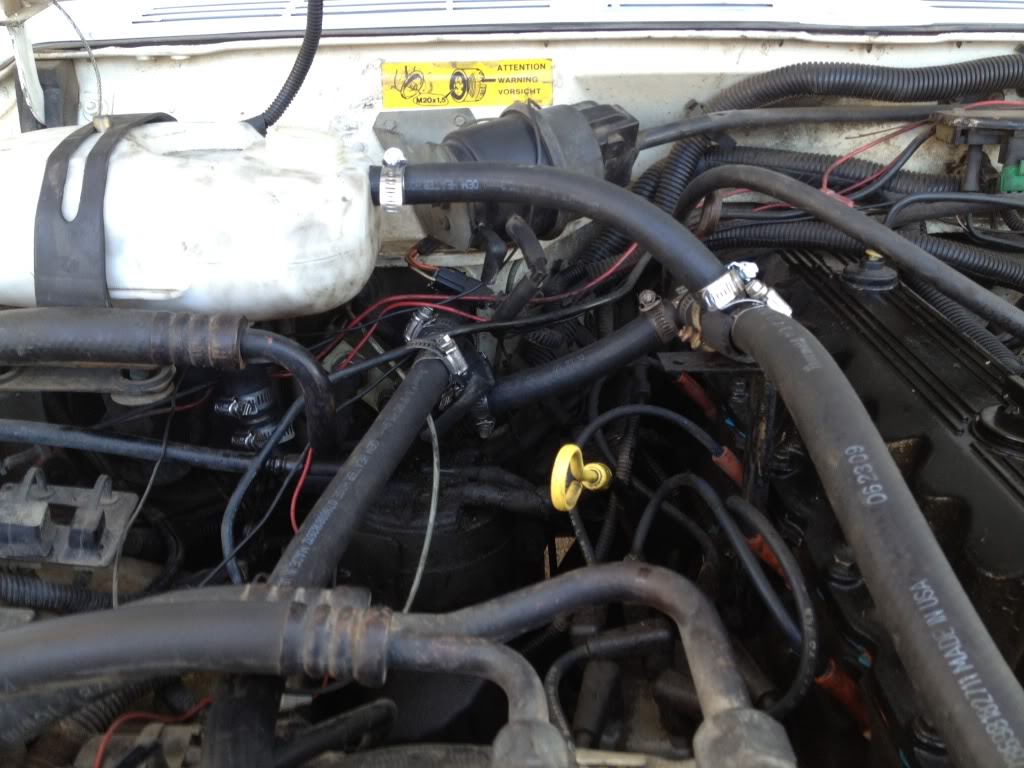 so far so good
and i also got a slightly used set of RE 4.5" leafs to replace my RC's. im lucky if im at 3" in the back with 4.5" leafs, extended shackle and relocation brackets. yeah, the leafs are shot.
1-11-2012
went wheeling the other day. had a good time. no issues. but i have worn out a heim in my steering so i ordered all new ones from ruff stuff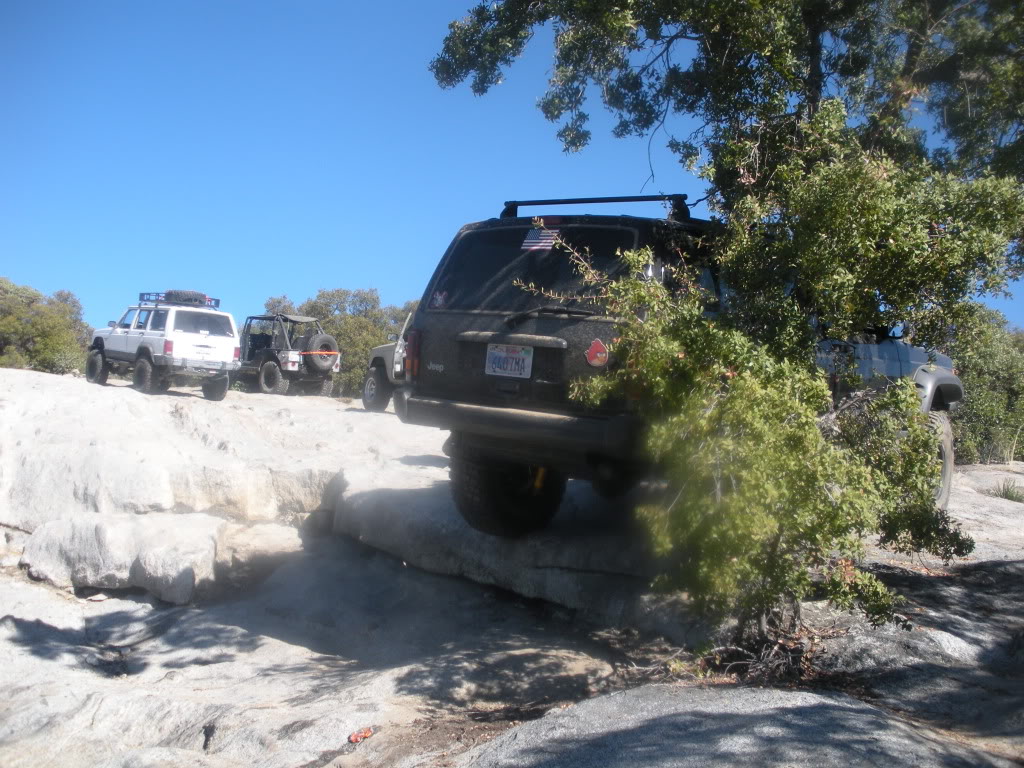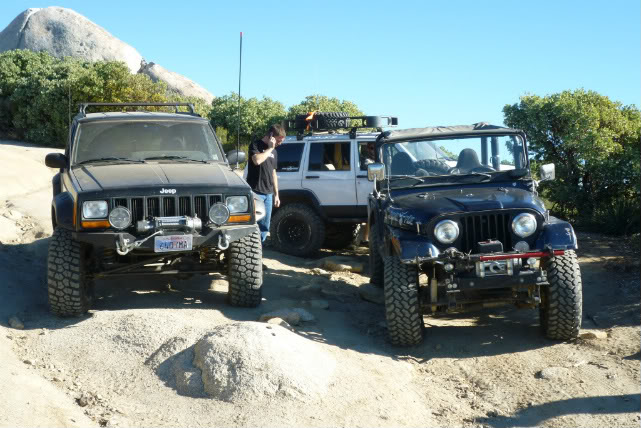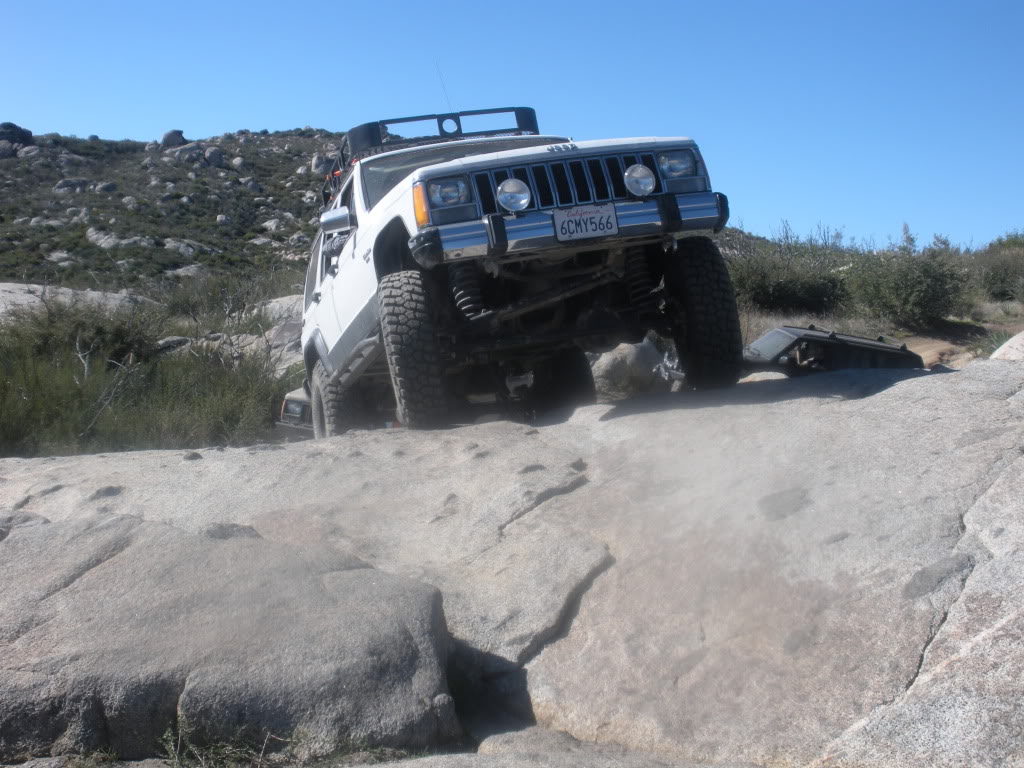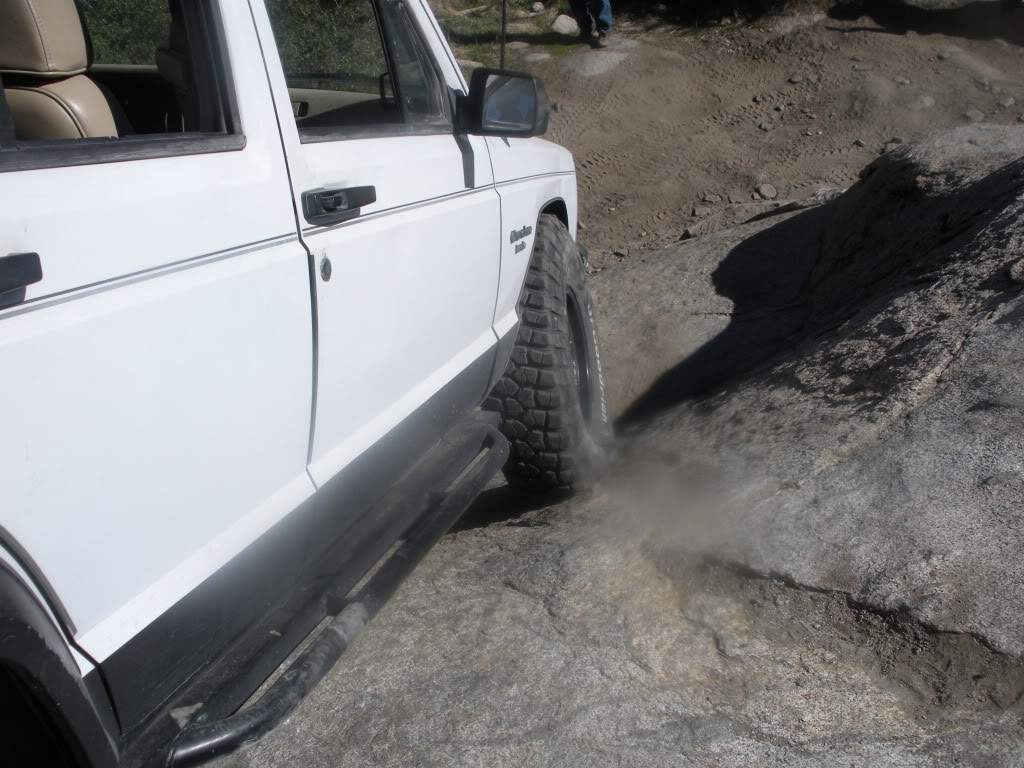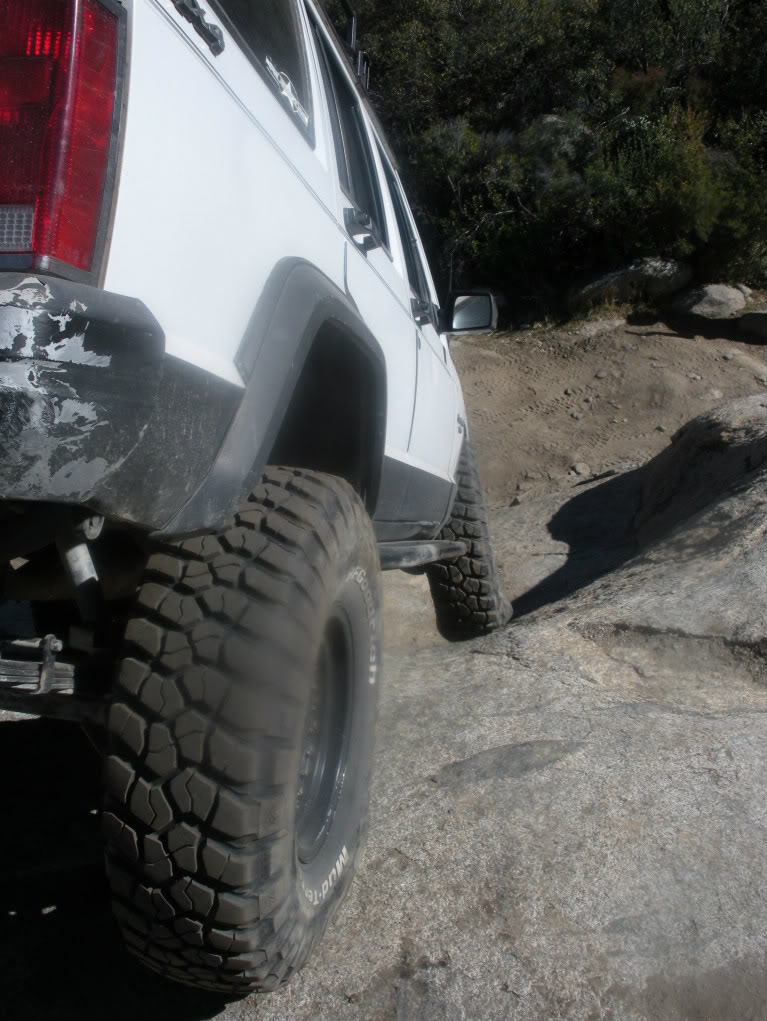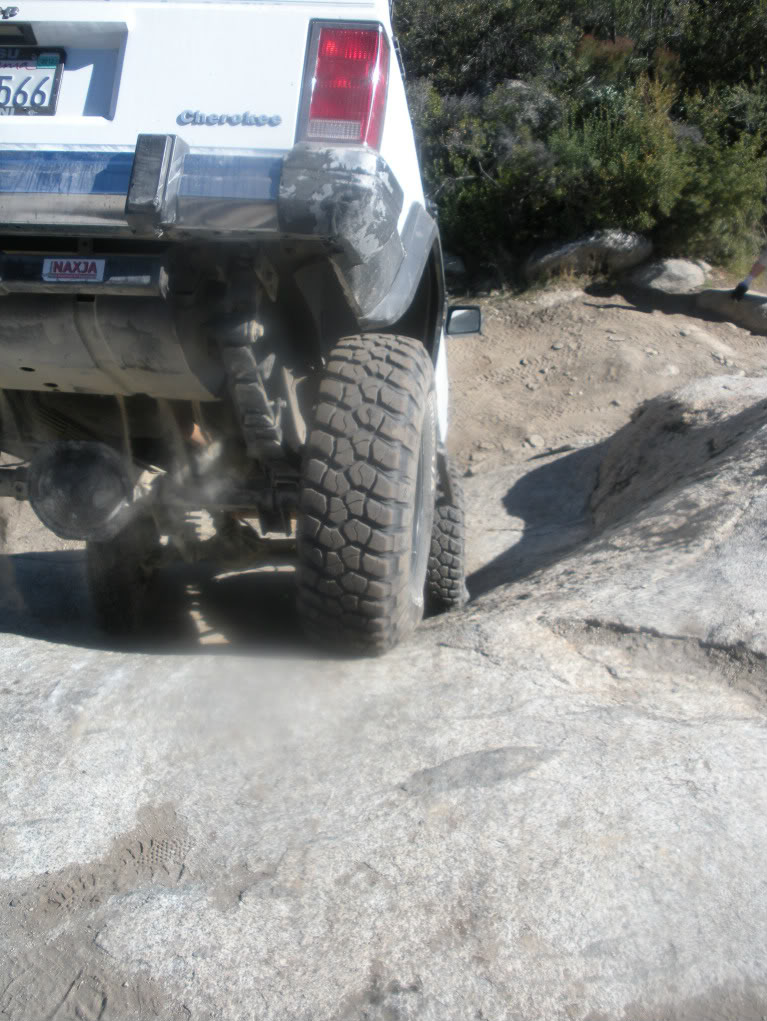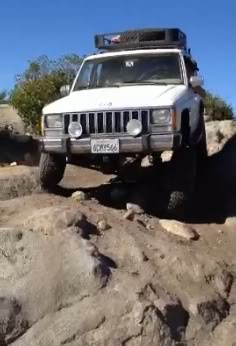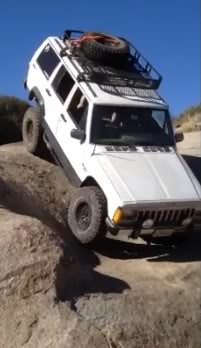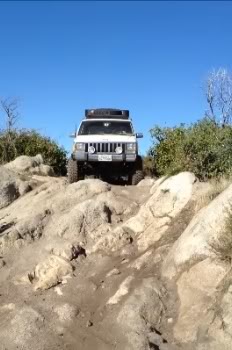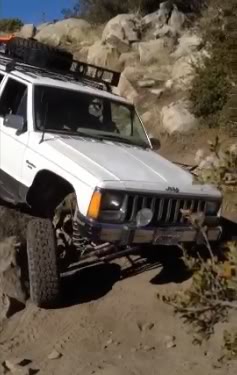 2-6-2012
well im ordering parts to start building my axles. got some 4.88's for my D44. going to be getting some for the D30 this week. also going to order a grizzly locker for the rear. not sure how/if i want to lock the front. a detroit truetrac looks awfully tempting. hmmmm.

i want this all to be done before the first weekend in march. big wheeling trip.

oh and my PSC box already has play in it. WTF?!?!



2-12-2012
well everything to gear my axles is either in my posession or on order. got the 4.88s, truetrac front, grizzly rear, install kits. and some other misc stuff. need to sort out my D44 discs i have and prep the axle. also going to be replacing my steering heims and making a new trackbar out of heims and some DOM i have left over from my steering. in other news i went wheeling today at a local spot. got a little hairy for a sec: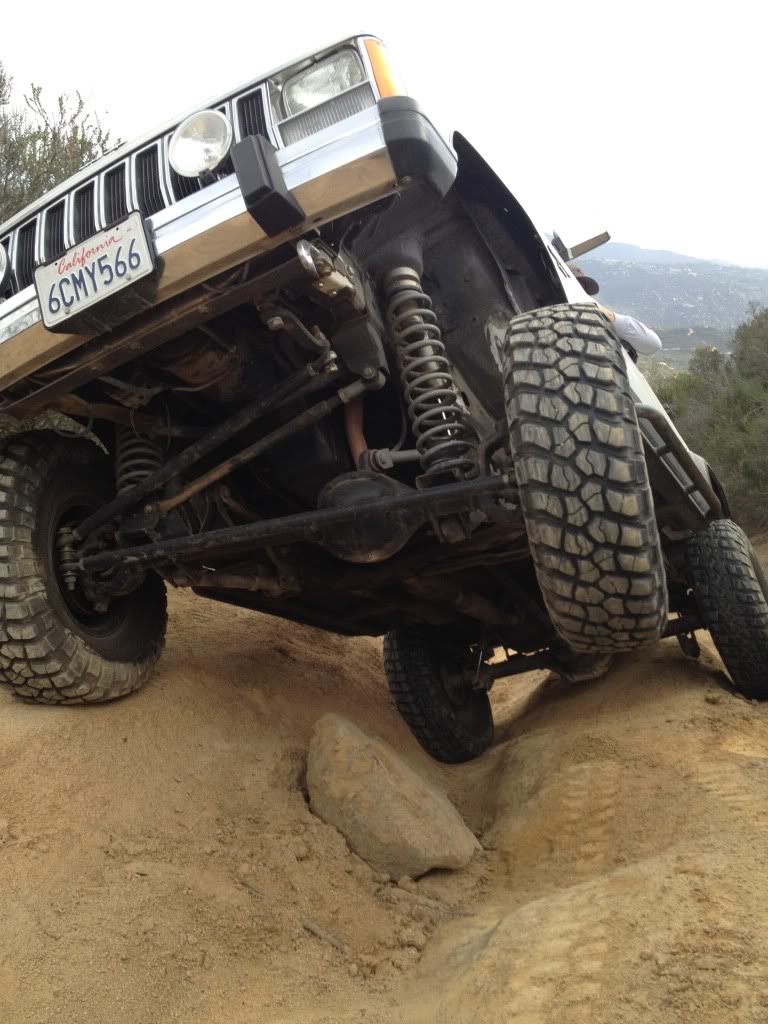 2-13-2012
well today i picked up my detroit truetrac and D30 install kit. tomorrow the yukon grizzly and D44 install kit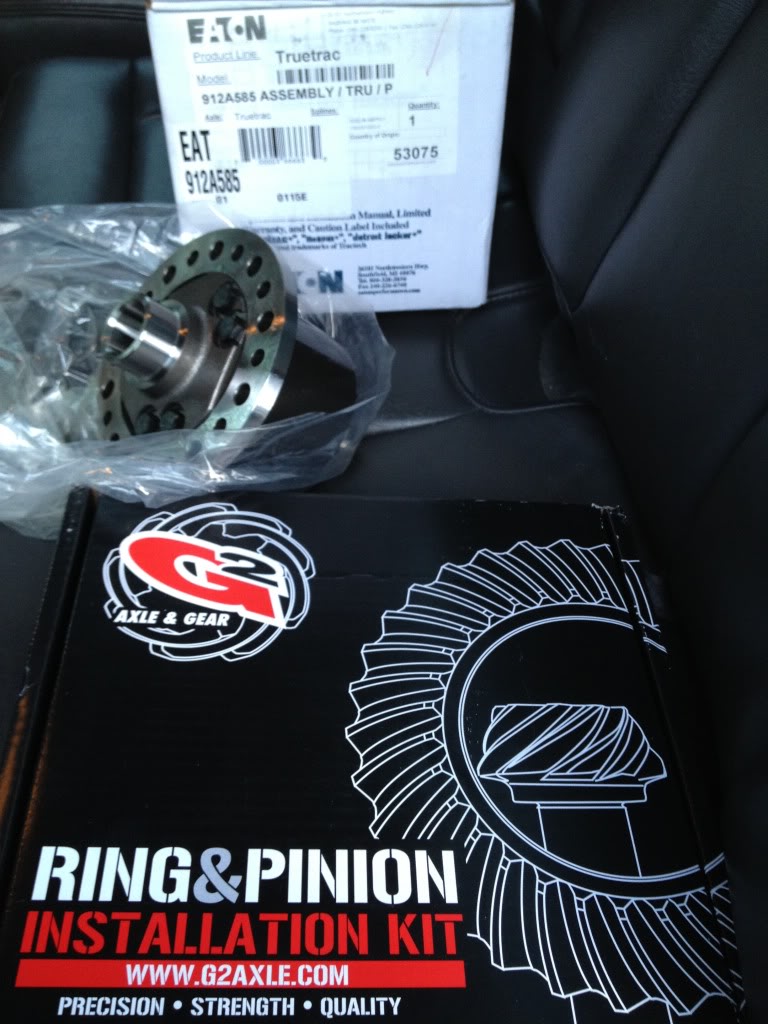 2-18-2012
well today i picked up my detroit truetrac and D30 install kit. tomorrow the yukon grizzly and D44 install kit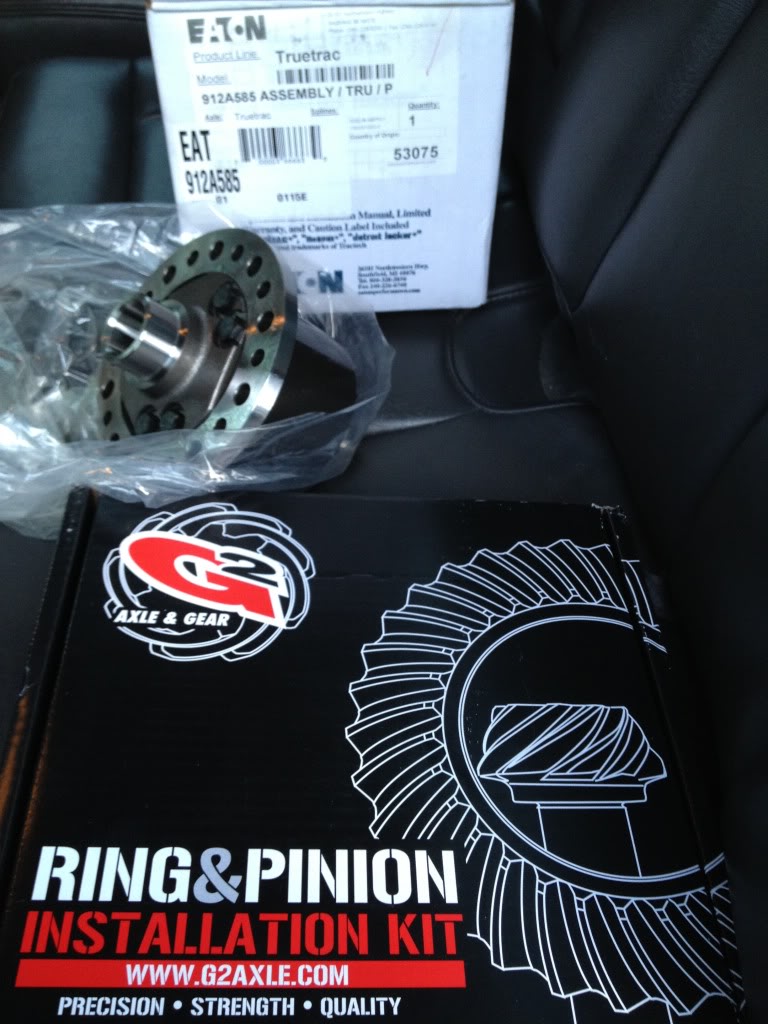 2-27-2012
well i got both axles swapped in. the locker in the back is barely noticeable on the street. in made one loud pop when i backed up for the first time. but i know lockers make noise from time to time. they will be put to the test this weekend. still have to chase down a driveline vibe and change out my speedo gear.

and i ended up using the stock drums for the 44. getting the discs in on time proved to be too much of a hassle given the timeframe i needed. so ill keep all of the disc stuff for later on down the road. but i did change the wheel cylinders in the drums for ones from an '87 dodge 3/4 ton truck. they directly bolt in and are a larger bore. the brakes are much better, especially after a proper bleeding.
3-5-2012
got back from wheeling yesterday. it was such an awesome trip. the locker and limited slip along with the gearing were simply amazing. i never had any trouble except on some of the bigger man made obstacles. but i did find out the i need bumpstops real bad up front. i nearly ripped off my front brake line.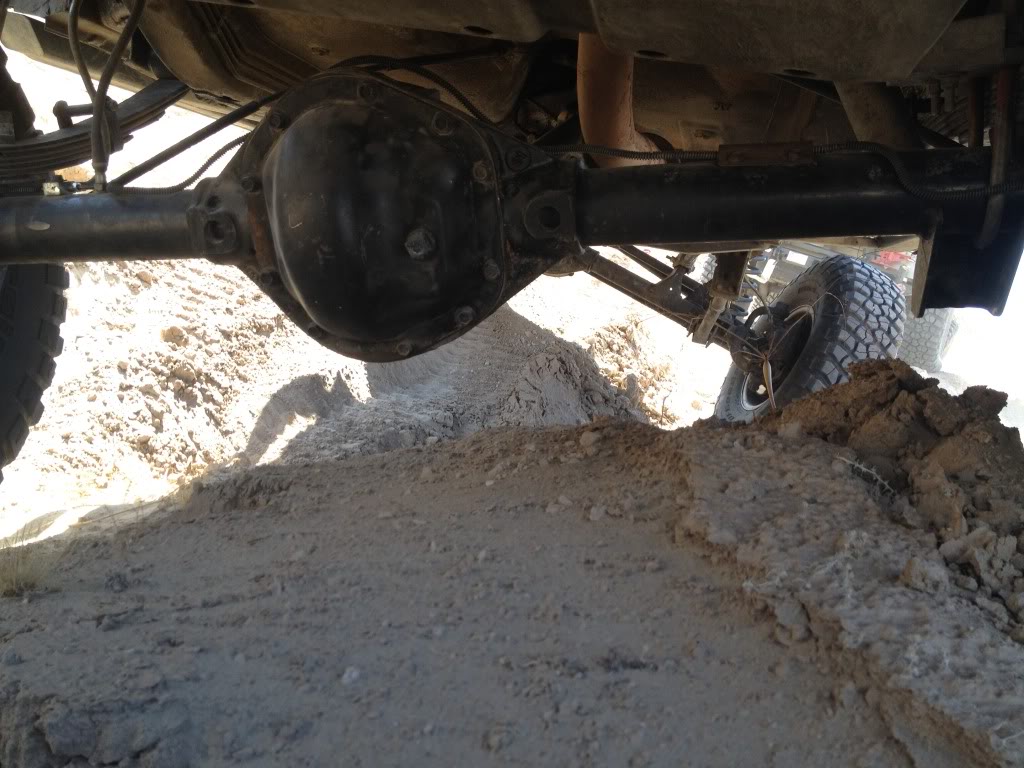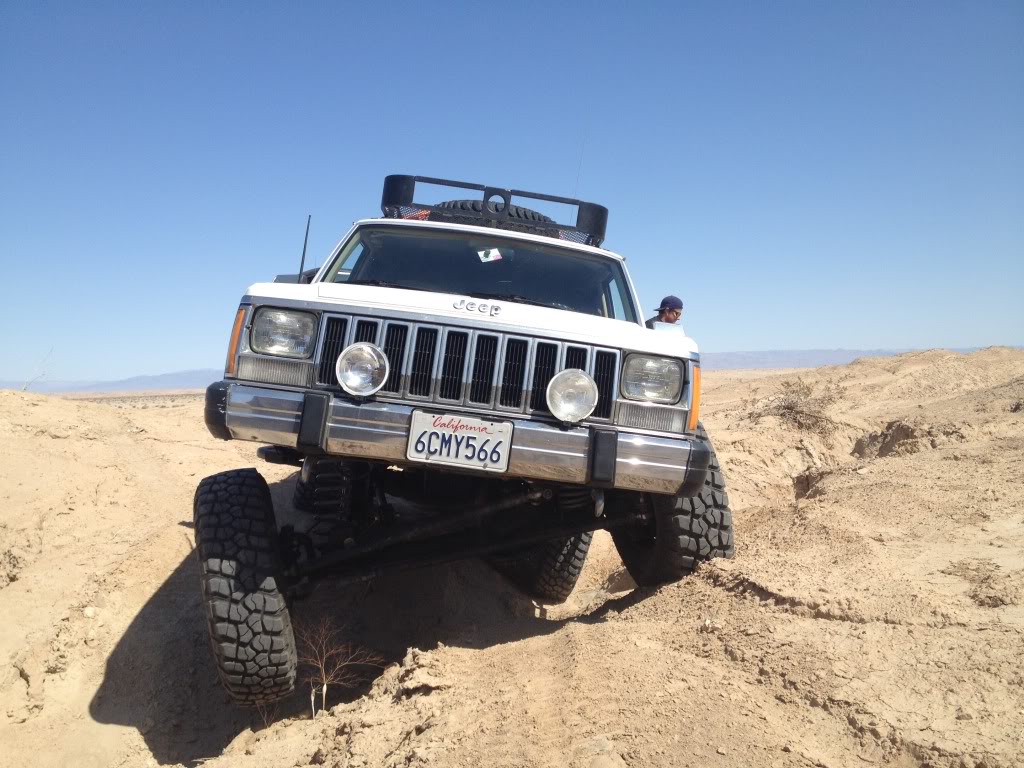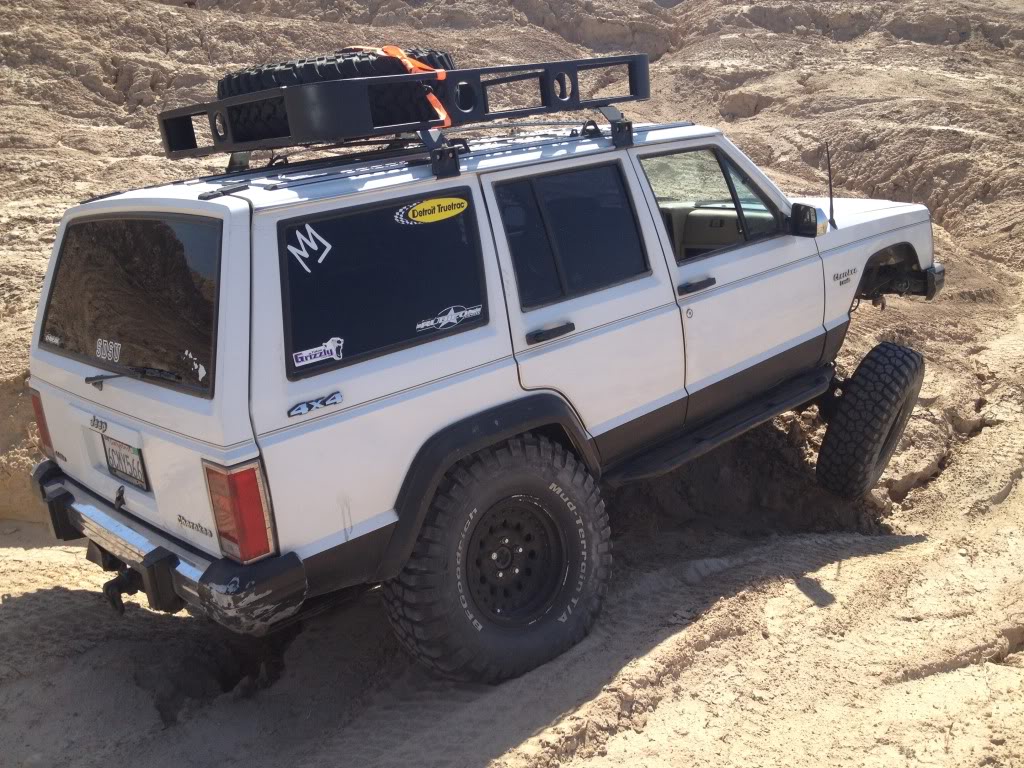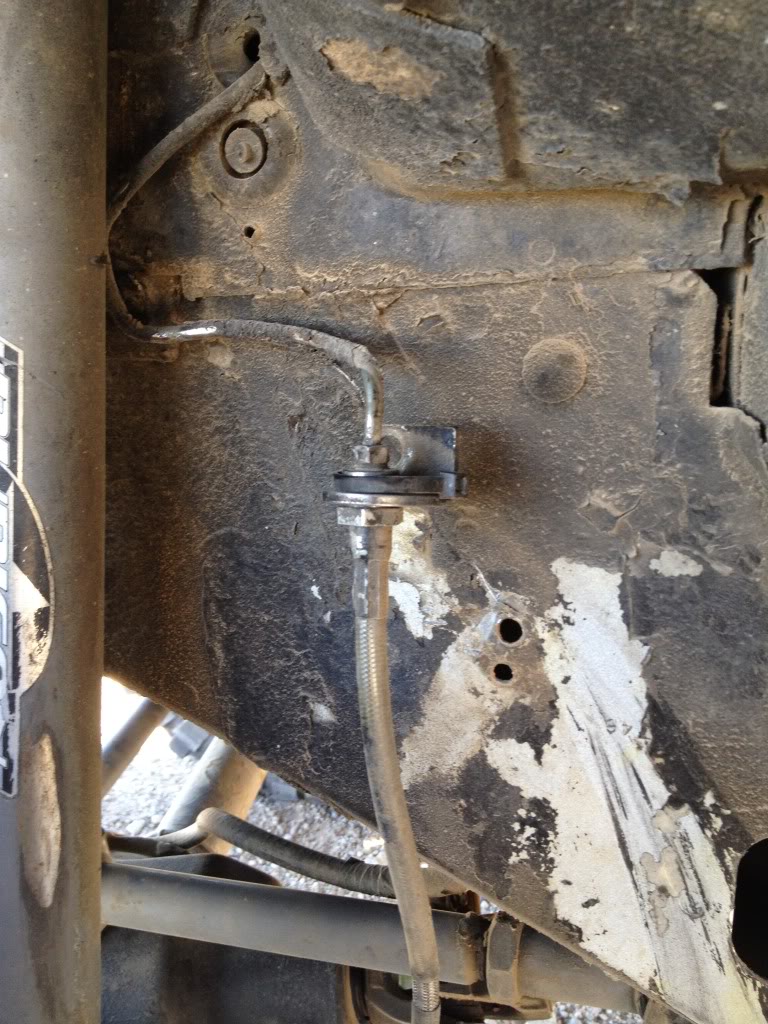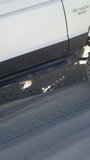 4-20-2012
havent done much to the jeep lately. just been enjoying it. wheeled it some more. im loving the axles. the rear locker is very well mannered on the street. never makes a peep and rarely squeals a tire. even had the chance to use full time 4WD on some snowy roads. the front truetrac is awesome. glad i chose the LSD vs a full locker.

but i am having some weird rear brake drum issues i need to investigate
5-10-2012
some recent wheeling pics. only thing sort of new is the riddler cover.
me and the dog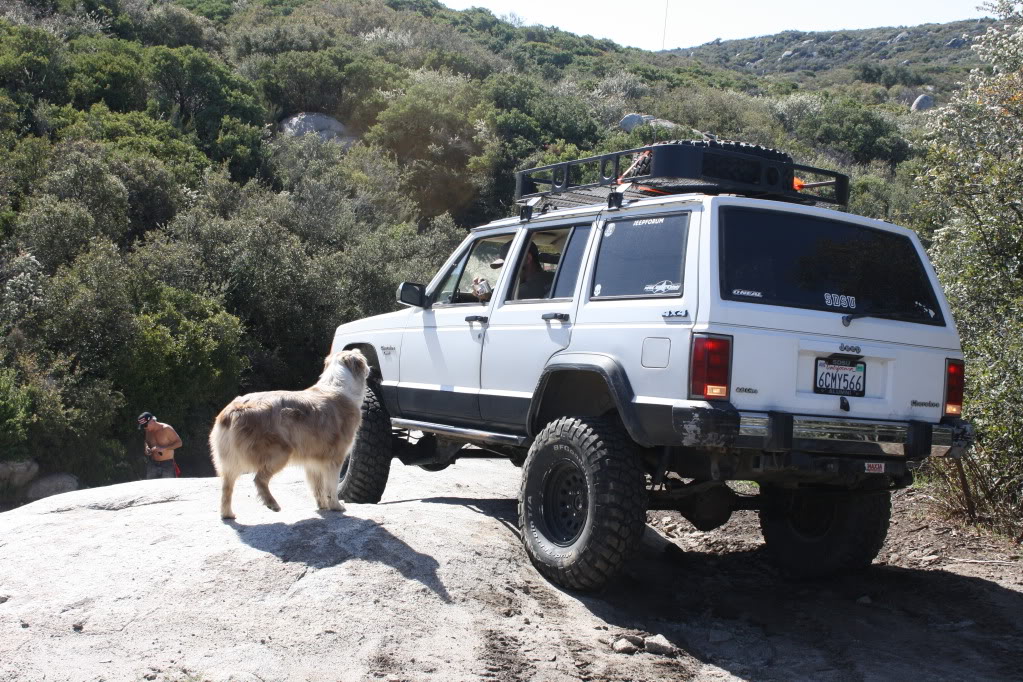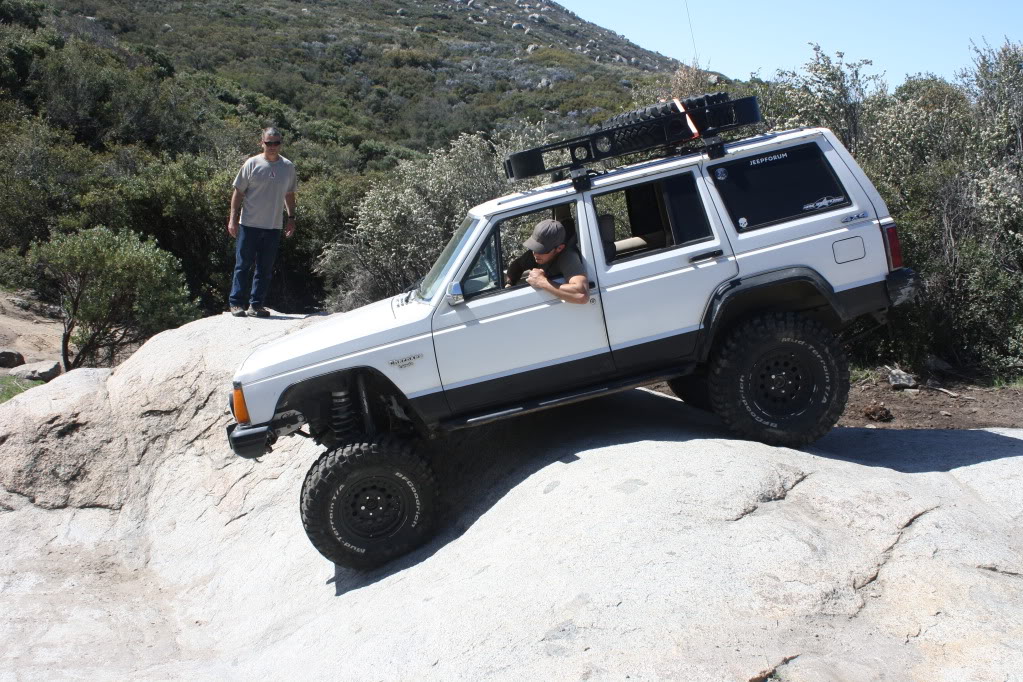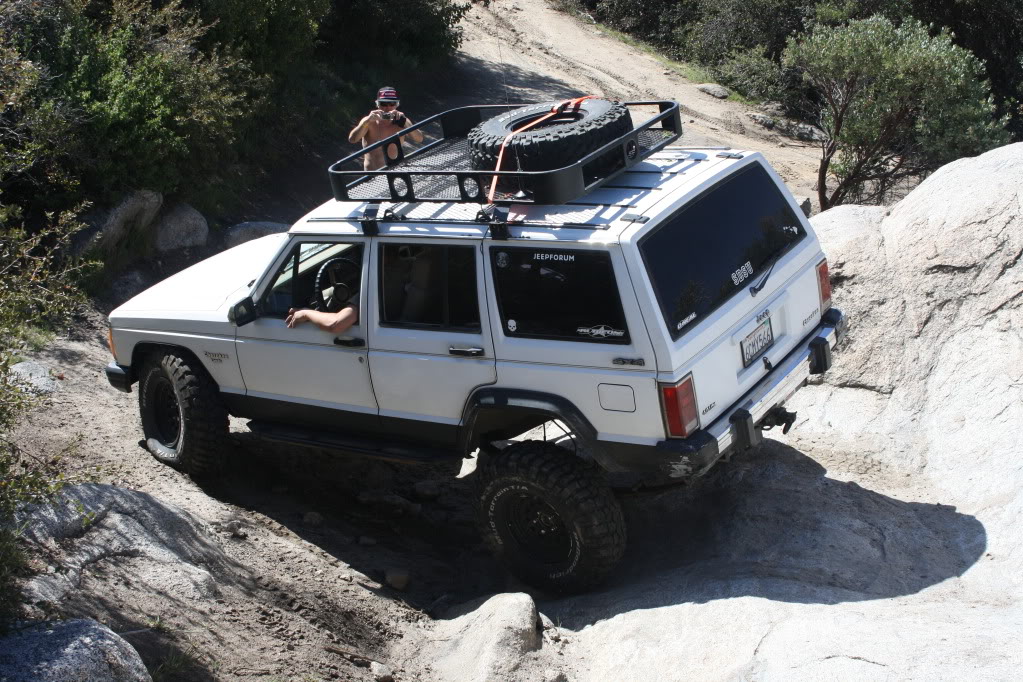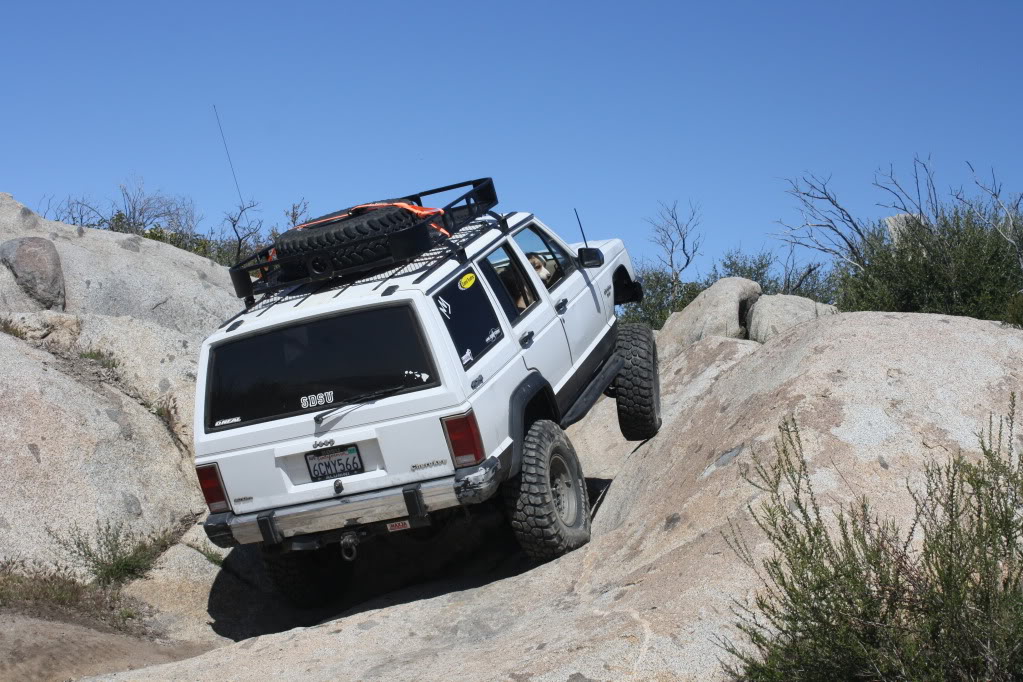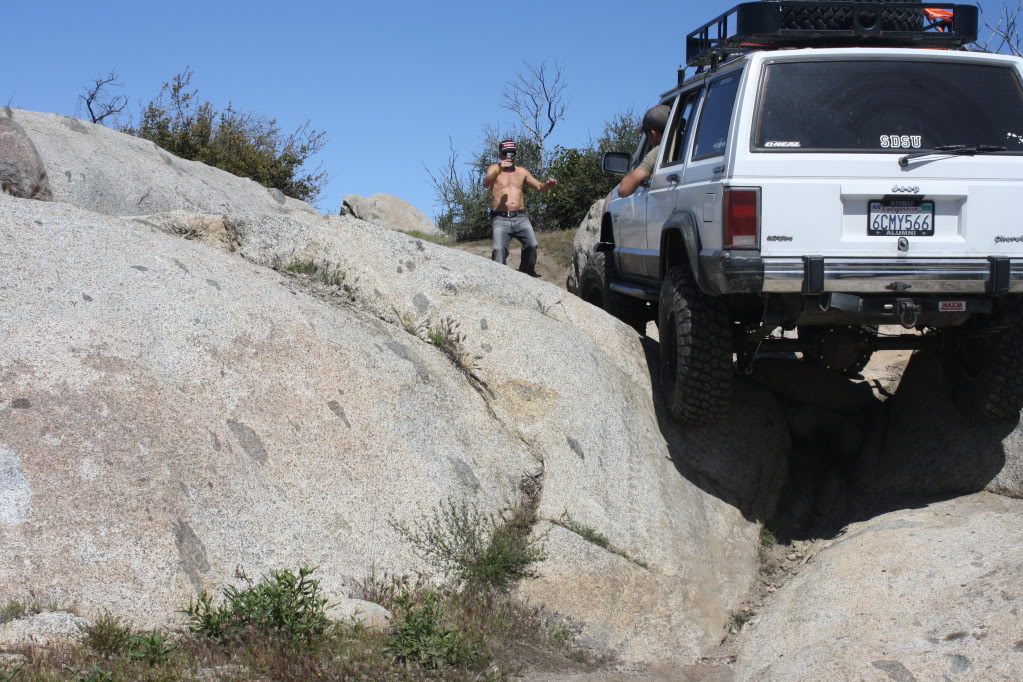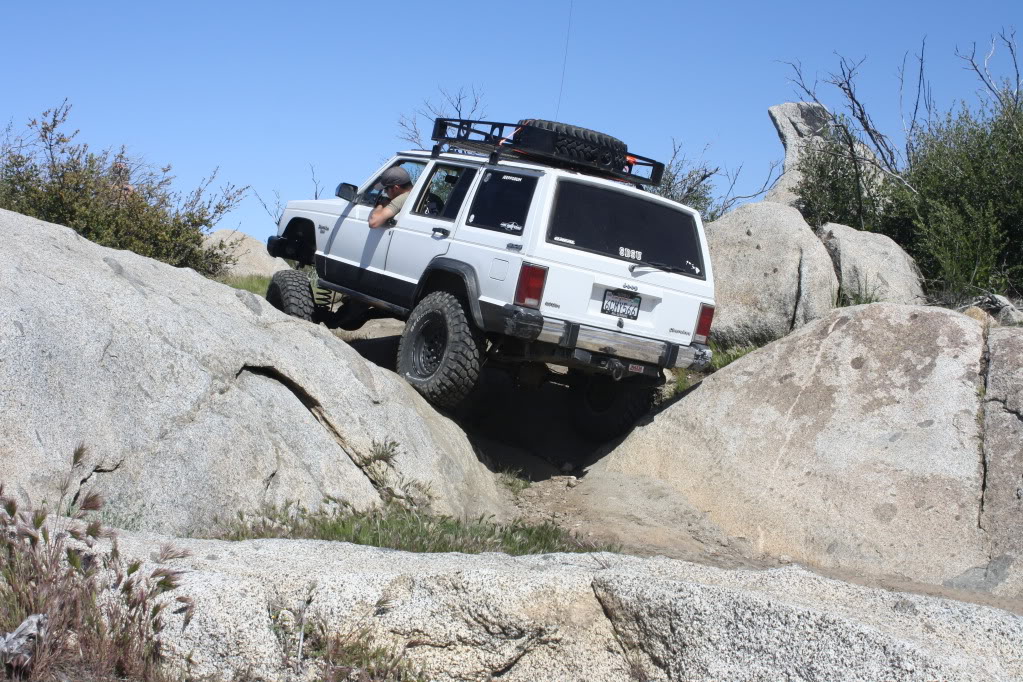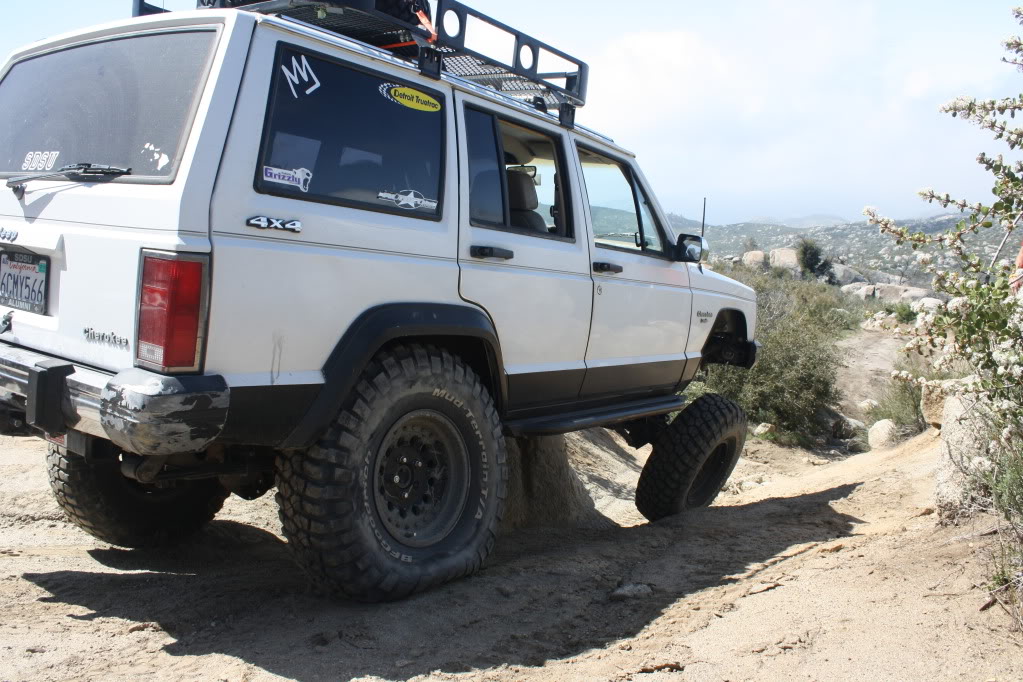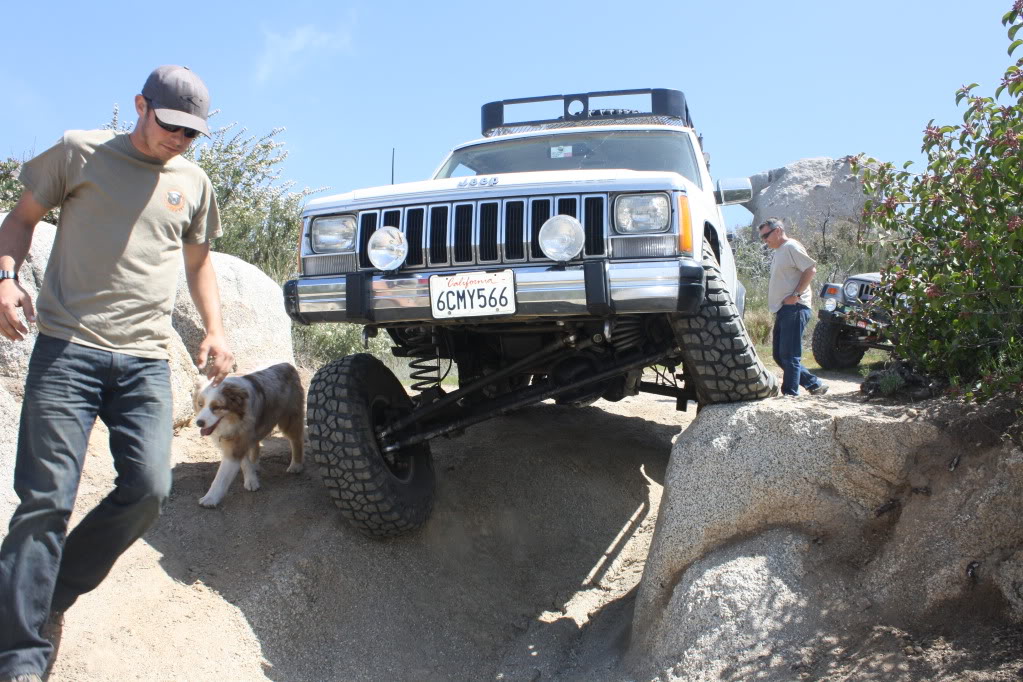 5-27-2012
thanks man. i absolutely loved your green one. i dont think ill ever part ways with my XJ, except maybe to get a newer 97+ to swap the parts over
went wheeling yesterday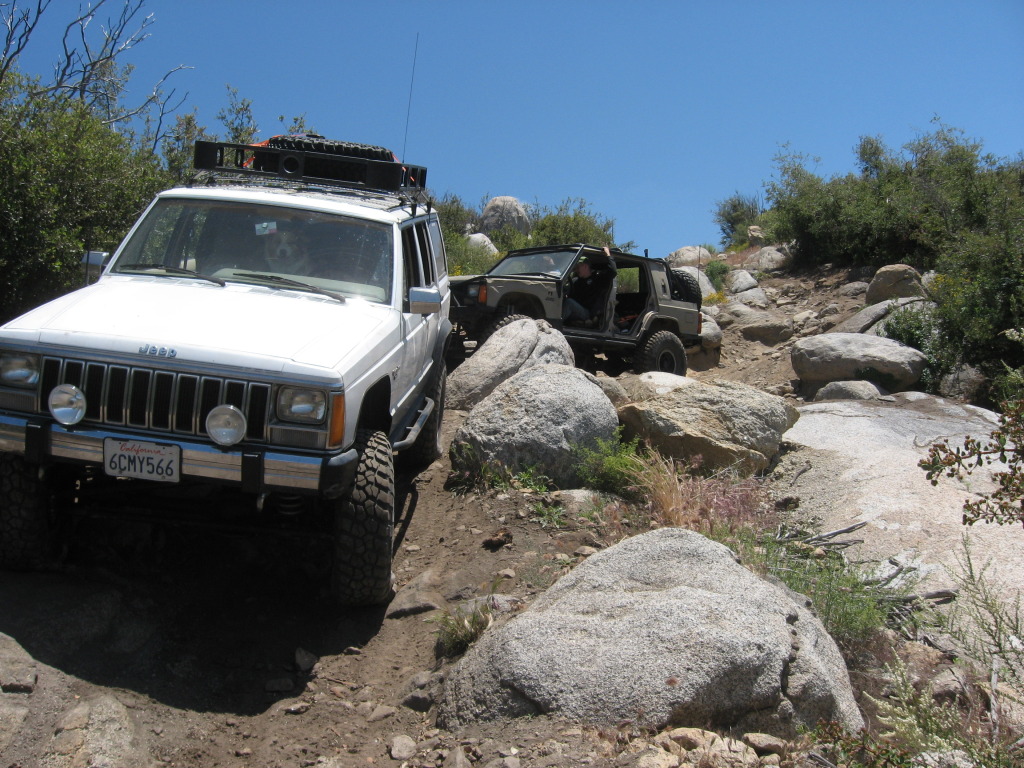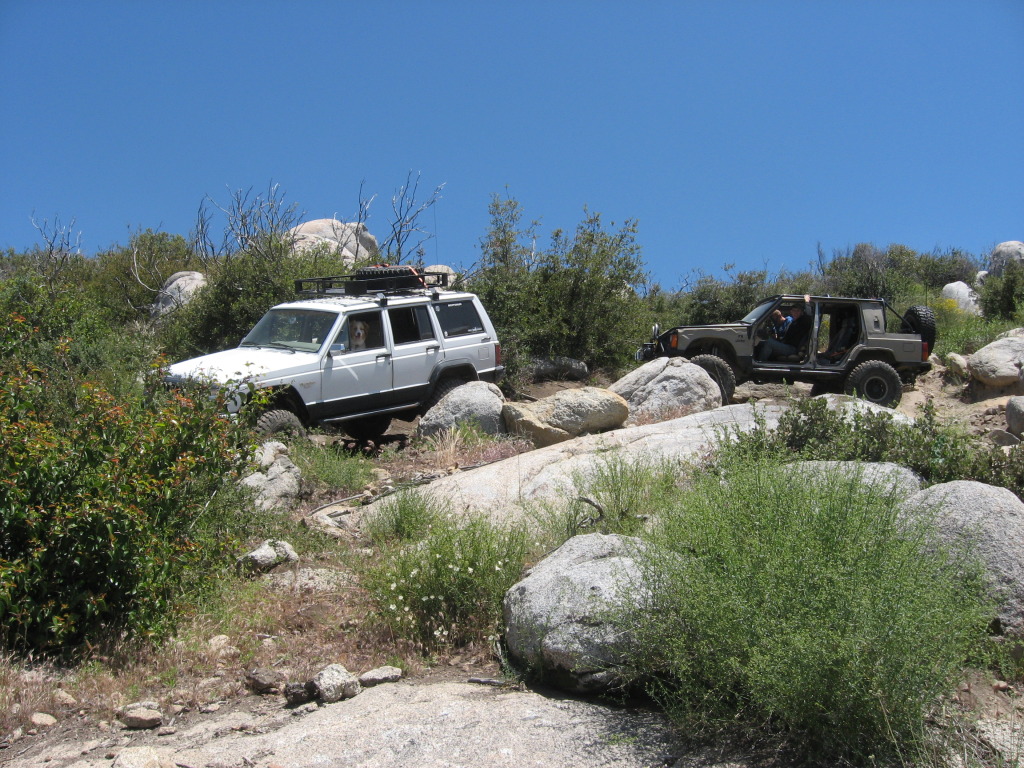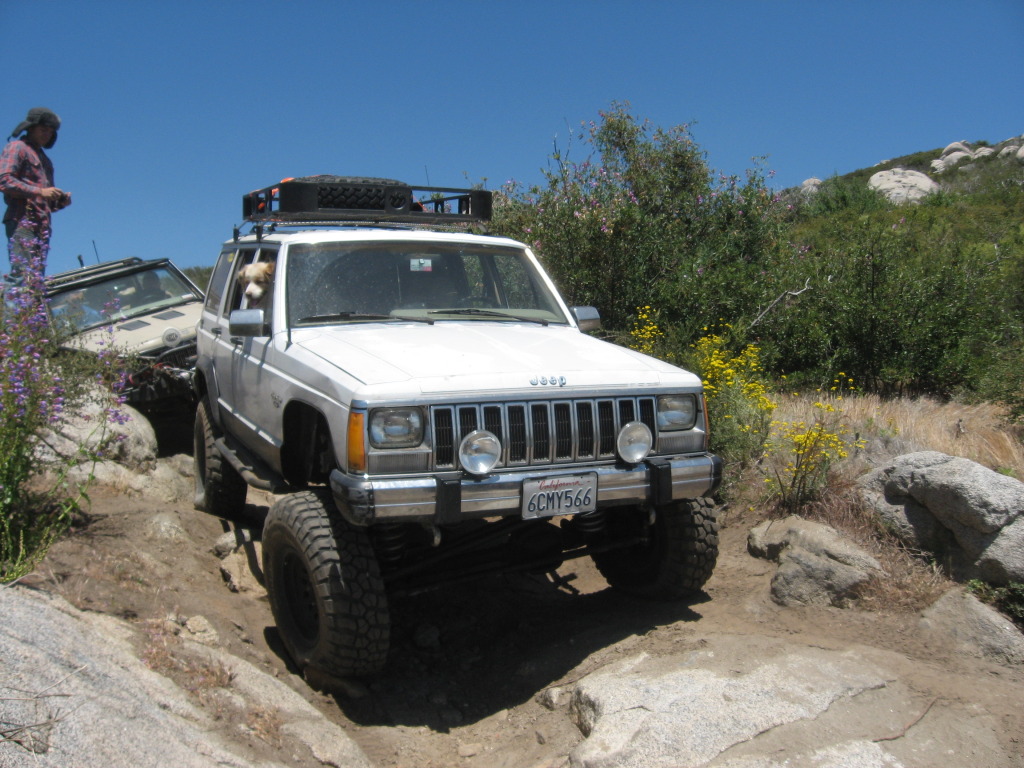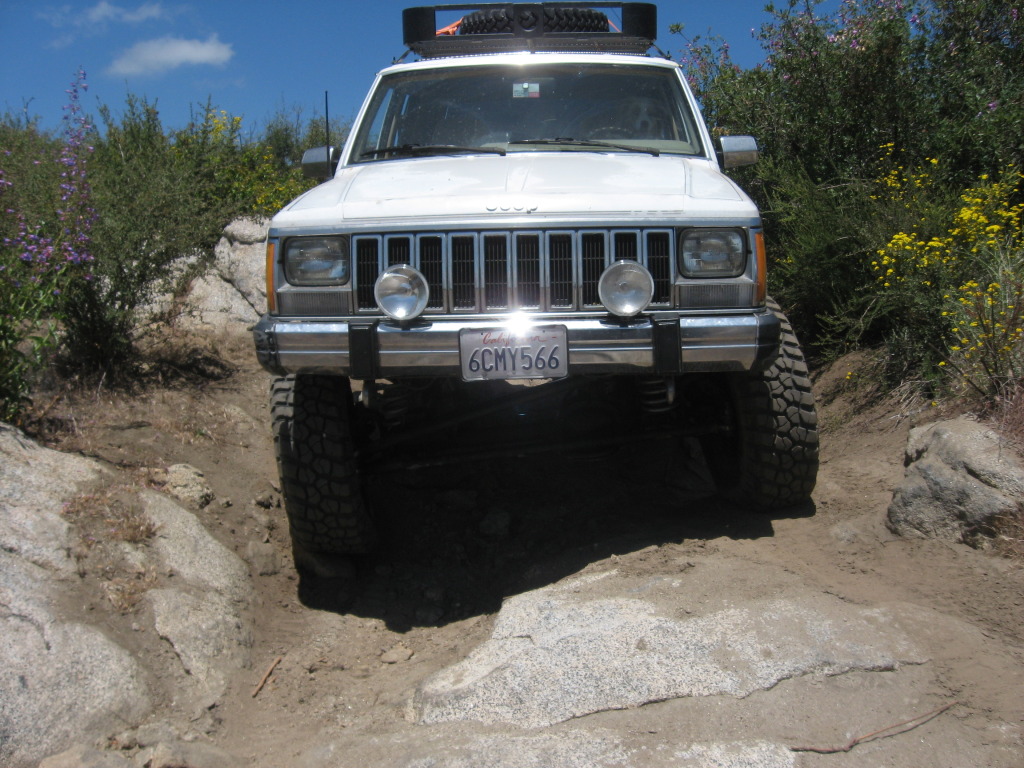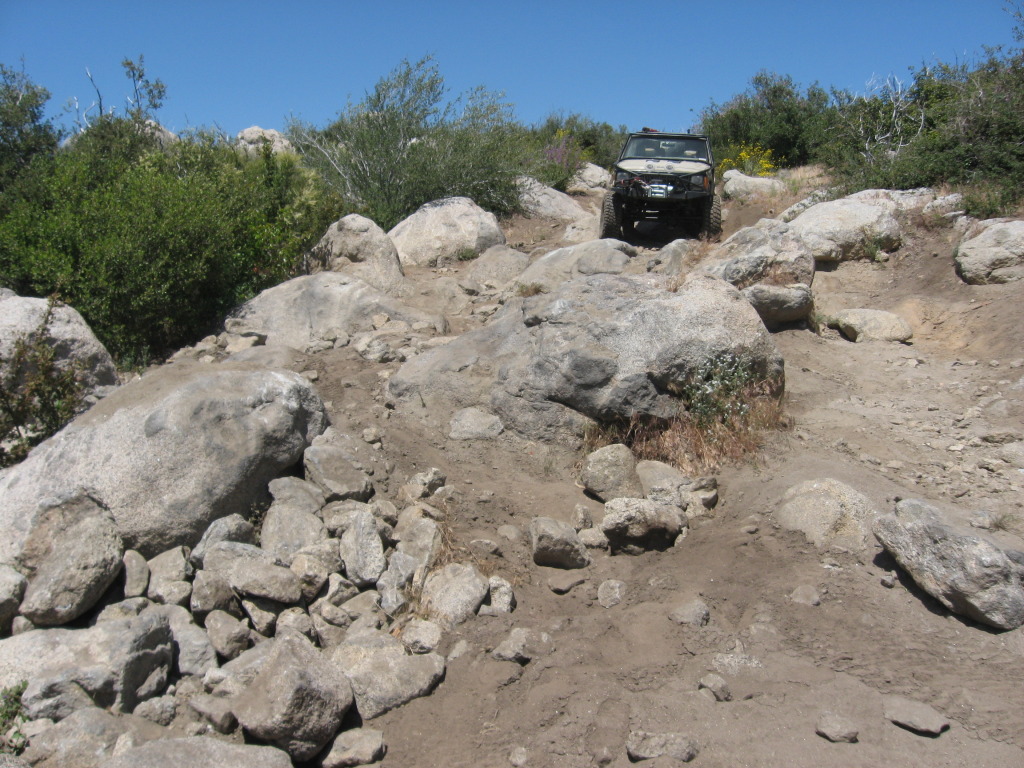 and in doing so, i caught my slider sort of underneath a large rock which proceeded to rip off the slider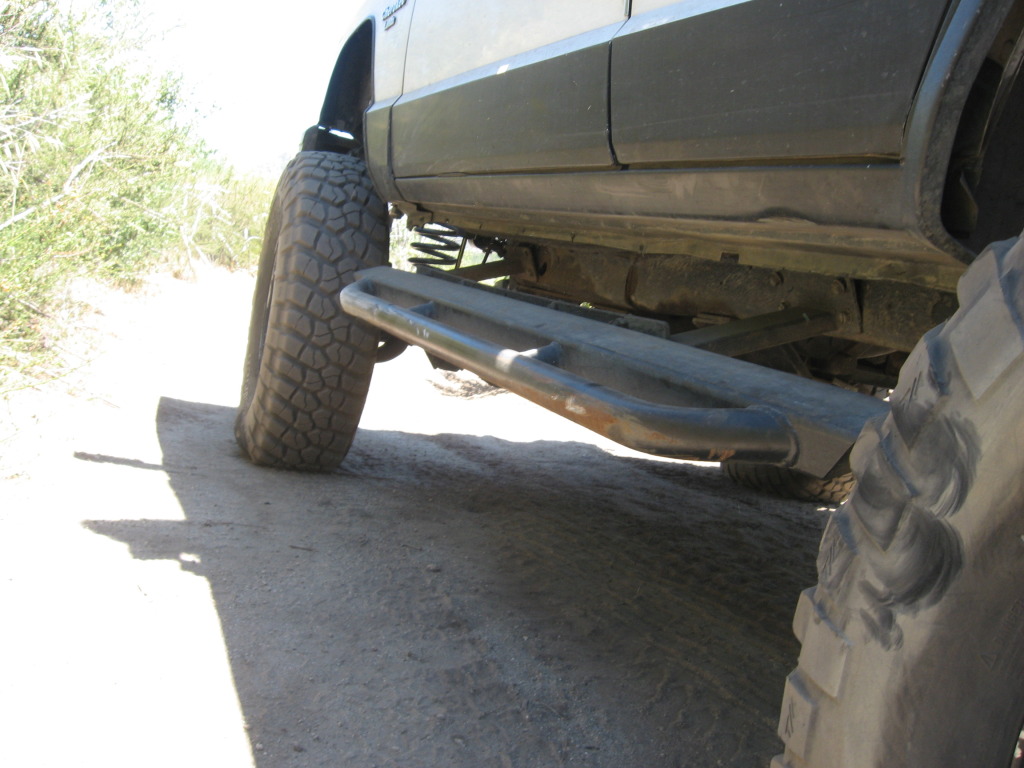 so the plan now is to replace the rockers with 2x6 box, take the side tube off the JCR sliders and use those and resell the sliders to recoup some of the money. the slider is fine, it just ripped out the 8 self tappers and the 5 bolt holes in the pinch seam were just ripped. i mean i COULD just get bigger self tappers and drill new holes for the pinch seam, but its a good excuse to do the rockers
i also managed to scrape my exhaust and break some welds at my muffler. have a nice exhaust leak now too.
also, forgot to mention, i replaced my front RE 4.5" coils with the RE 5.5" coils. MUCH better. they are a better height and a stiffer ride. the 4.5" coils were too soft for me. now i just need to remove my ACOS. its sitting a little too high for me right now.
and a couple videos.

this was a bad *** XJ. chopped top with the back of a comanche cab, exo, HP44 ARB, 9" Detroit, 35's blah blah blah.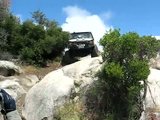 and me going up the same spot. took me about 15 minutes and some careful spotting. i kept getting hung up on my drop brackets, first time i ever have been hindered by them. got some good airtime though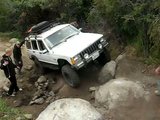 6-15-2012
well i decided that i wanted to have a swaybar again. after adding the rack and having weight up there i feel its time. i dont NEED to but id feel more comfortable having one. especially if someone else needs to drive. have RE gen II discos and JCR axle side brackets waiting to go on. just need to actually get a swaybar now.

very soon ill be replacing my radiator as well as taking out my A/C condensor and related stuff. it barely works and i never use it. why not increase airflow to the radiator?

i also have leaf bushings to replace. just need time!!
7-2-2012
went on a weekend trip to the local mountains. camped, fished and even wheeled a tiny bit. i had some trouble at the first obstacle. i kept sliding over and getting my rear diff caught between two rocks. i know i couldve made it but i was alone so i didnt want to try too hard.
camping: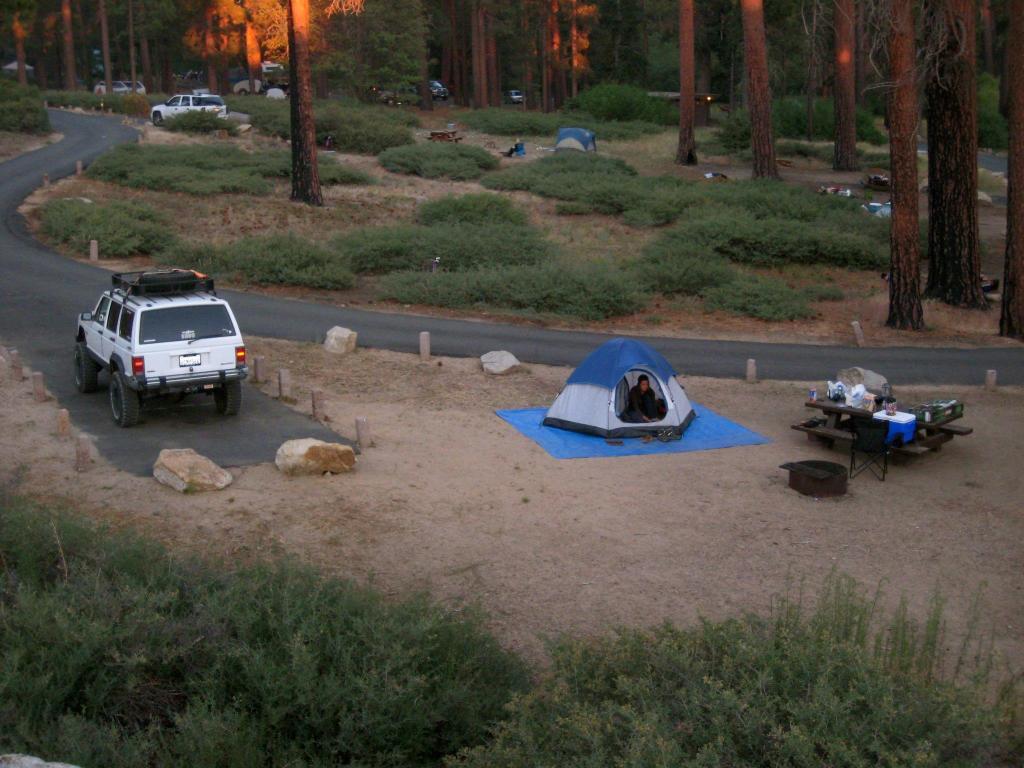 fishing: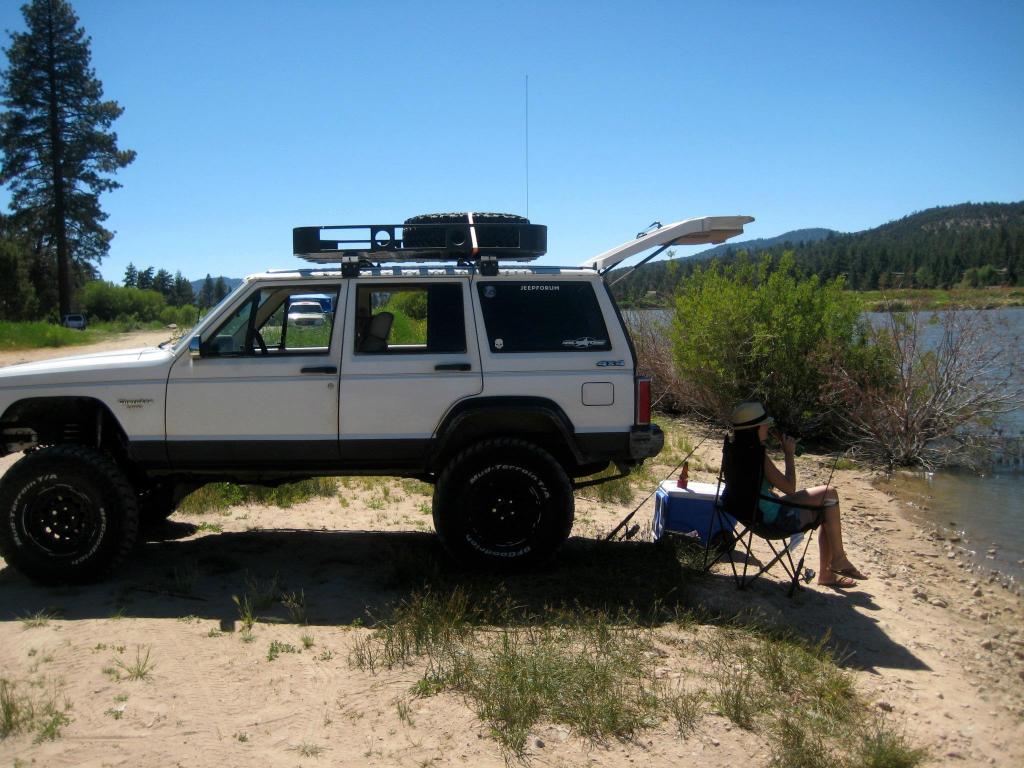 wheeling: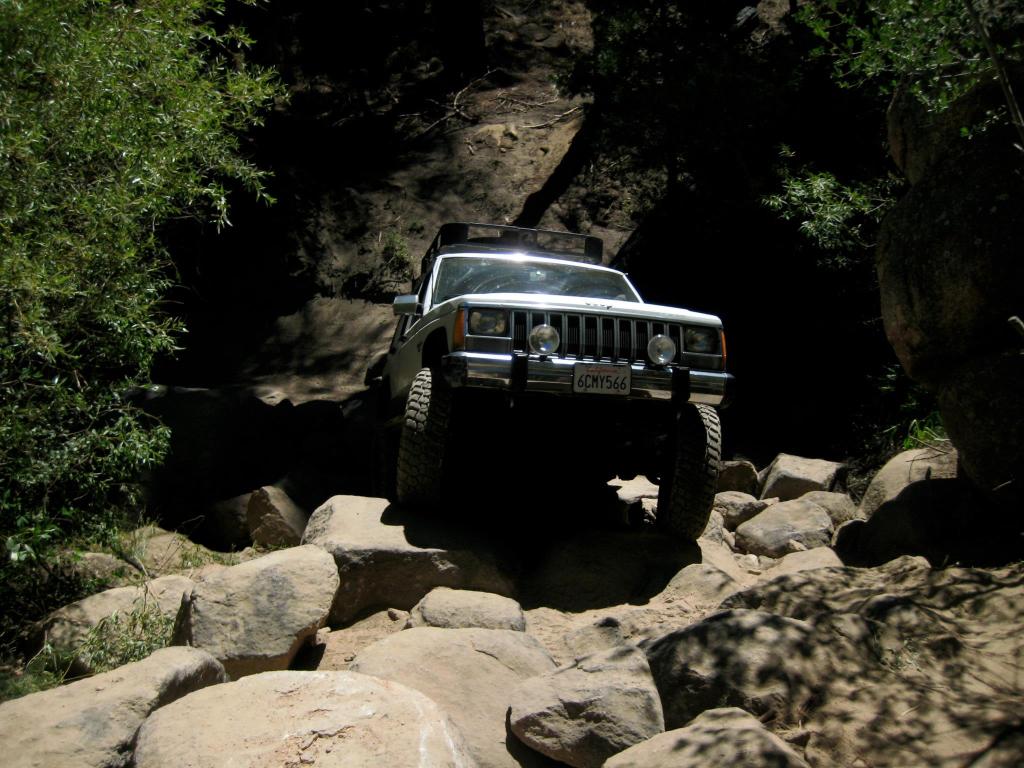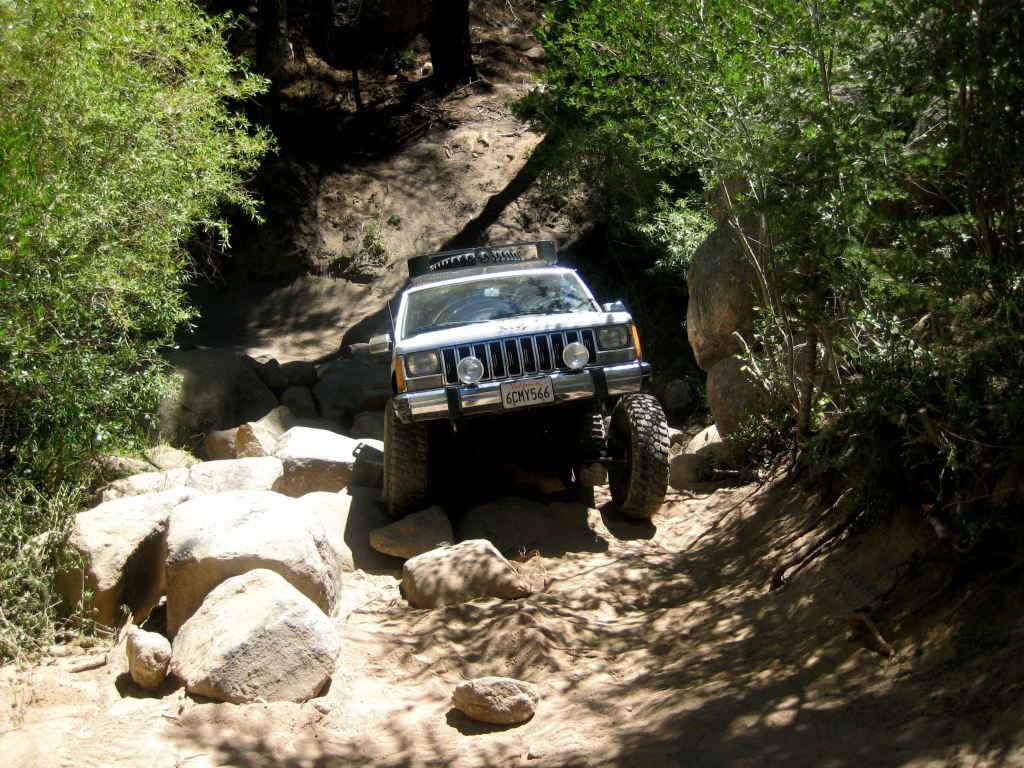 12-7-2012
haha thanks taylor. so kind of you to post me nearly getting stuck because of my drop brackets. but you forgot this one: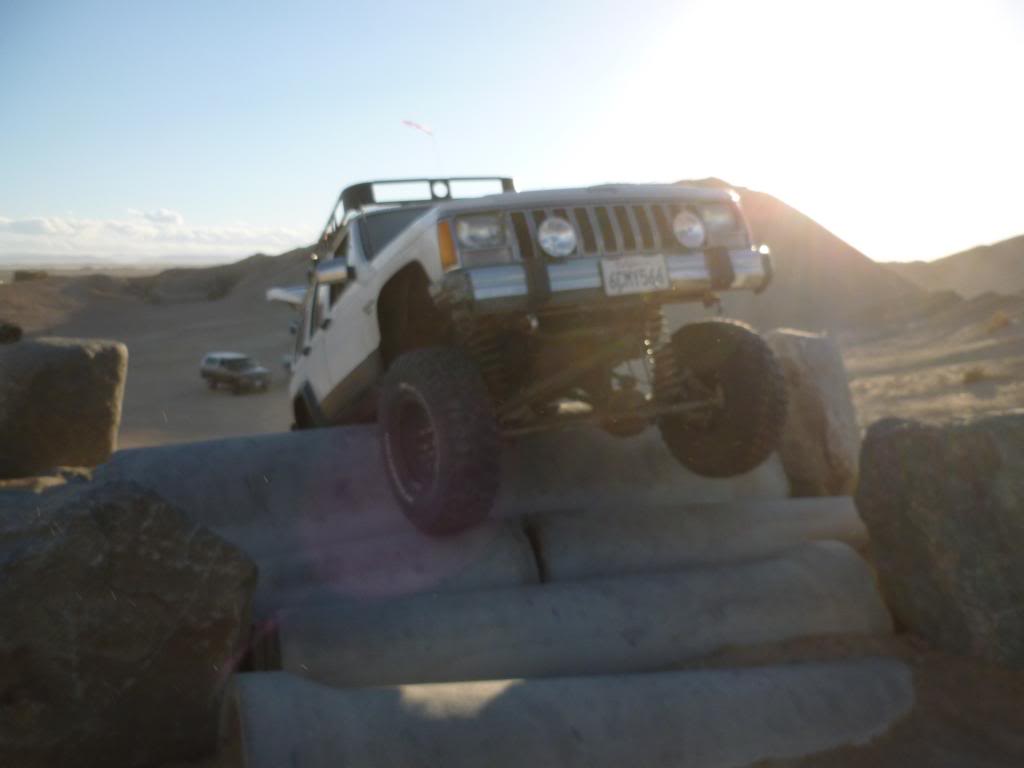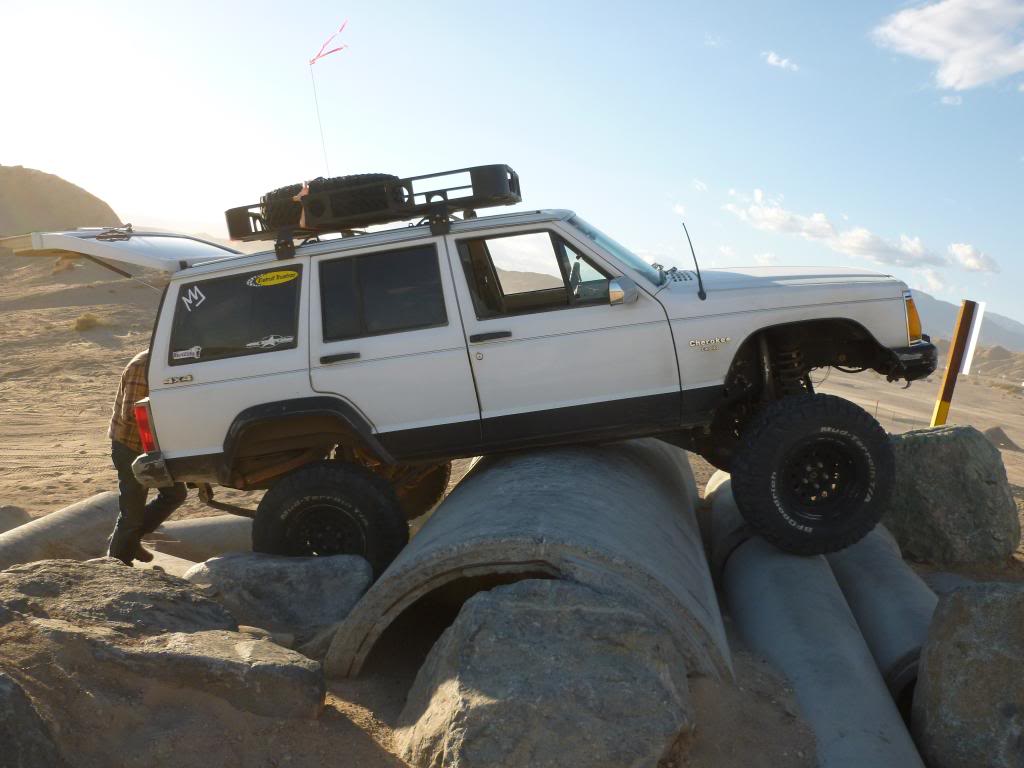 yes this is what ive been doing to the jeep. i did the 2x6 rockers even with the door sills. so i had to cut about 2" off the doors. then i didnt like how the rockers didnt stick out much for door protection. so i cut the old outer tubes off of my old JCR sliders and welded them to the new rockers. worked out perfectly.
while i was at it i did the cut n fold in the rear.
replacing the rear leaf bushings was obviously something that was LONG overdue. it clunked just a tad. but much better now.
just for kicks i also took off the roof rack.
soon i will be making myself a new t-case skidplate as i bent my stock one and dont want to deal with trying to bend it back. just have to think about what style to make it, if i want to raise the t-case a bit first etc...
12-17-2012
some other random wheeling ones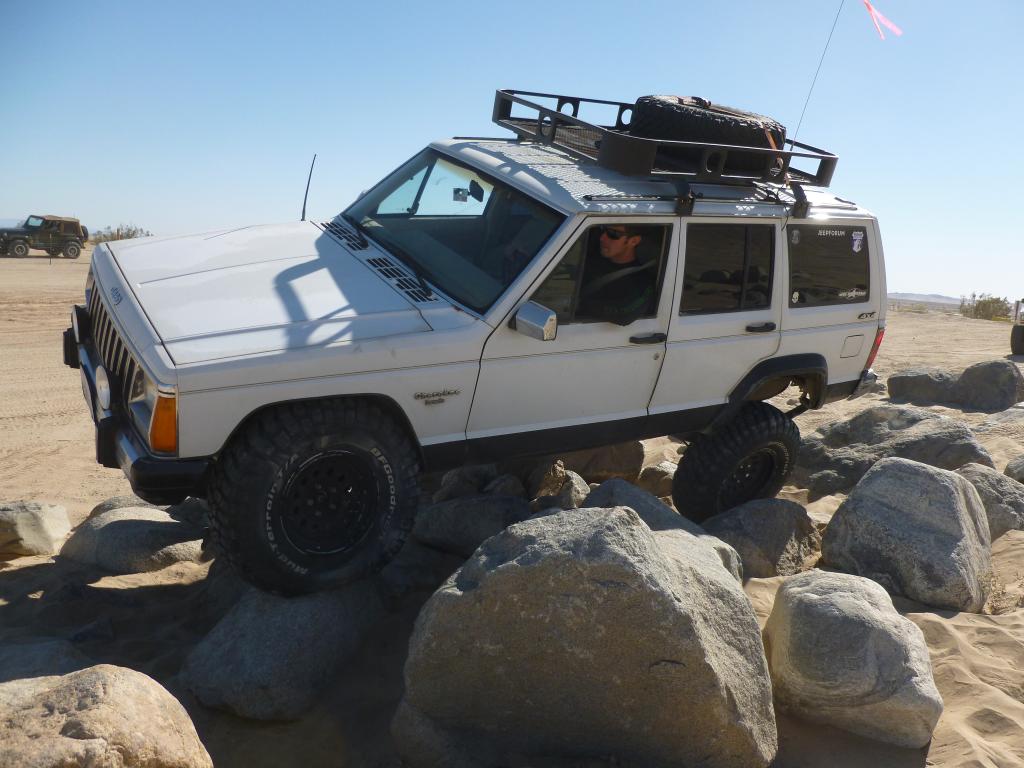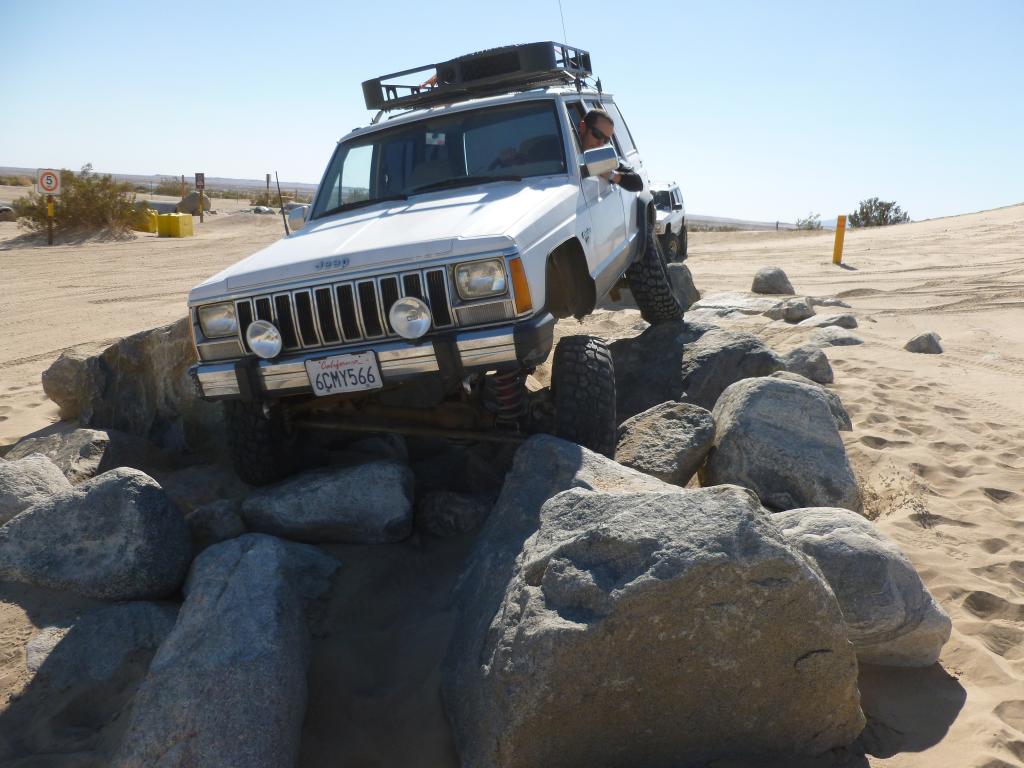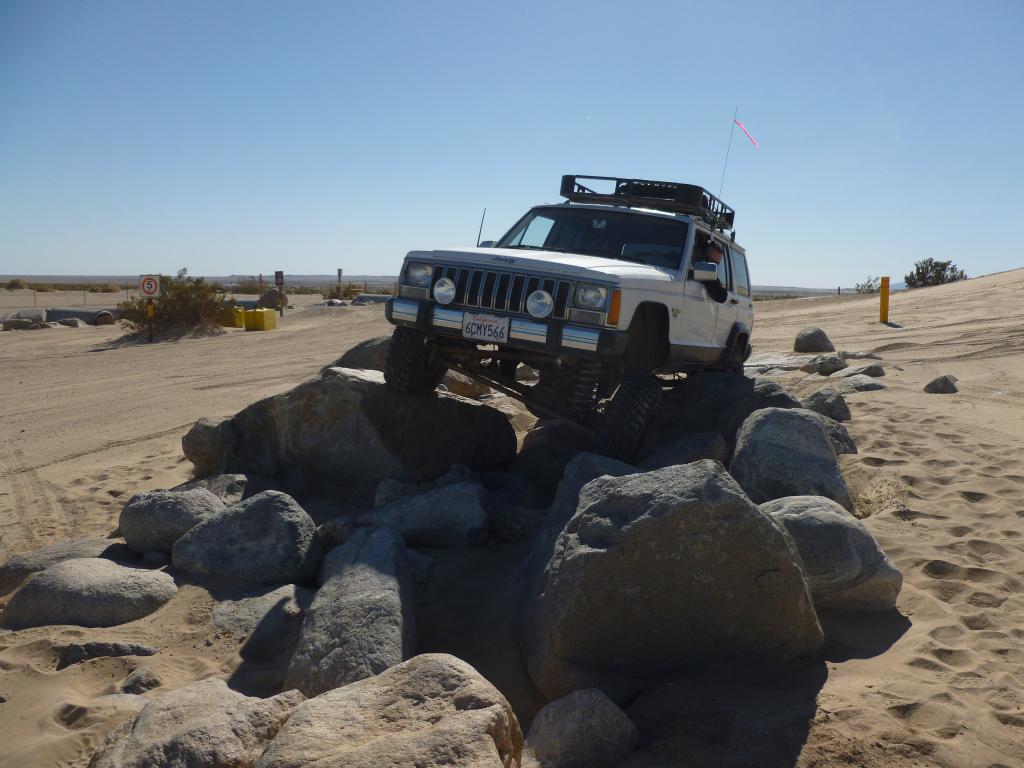 1-5-2013
some other random wheeling ones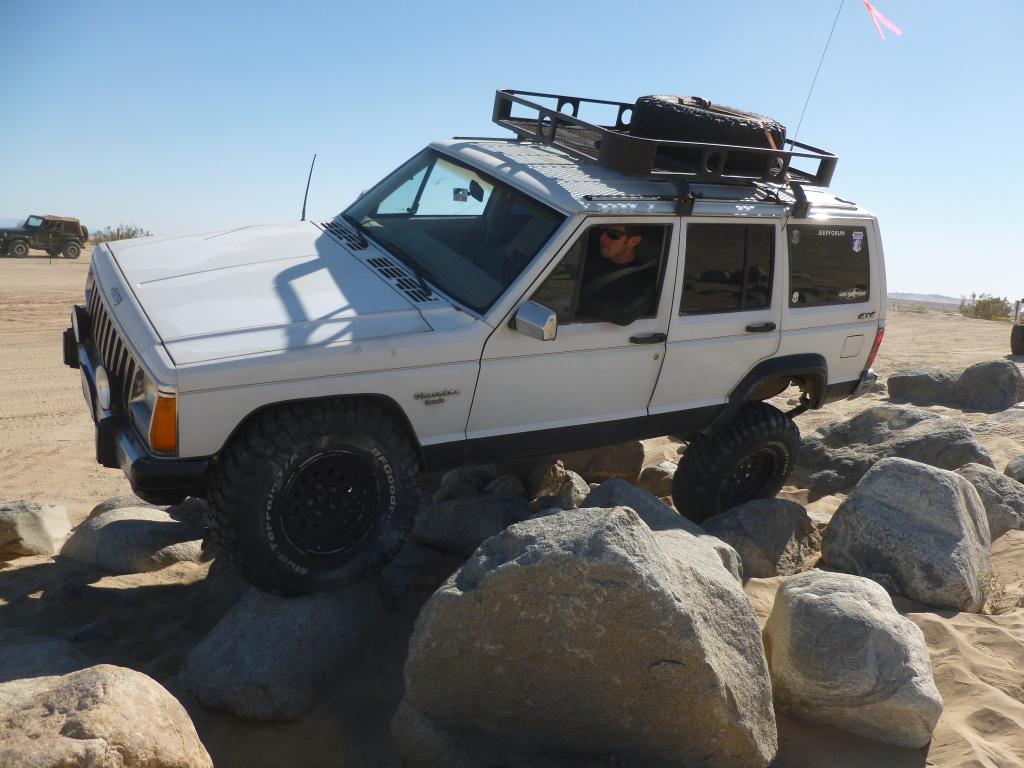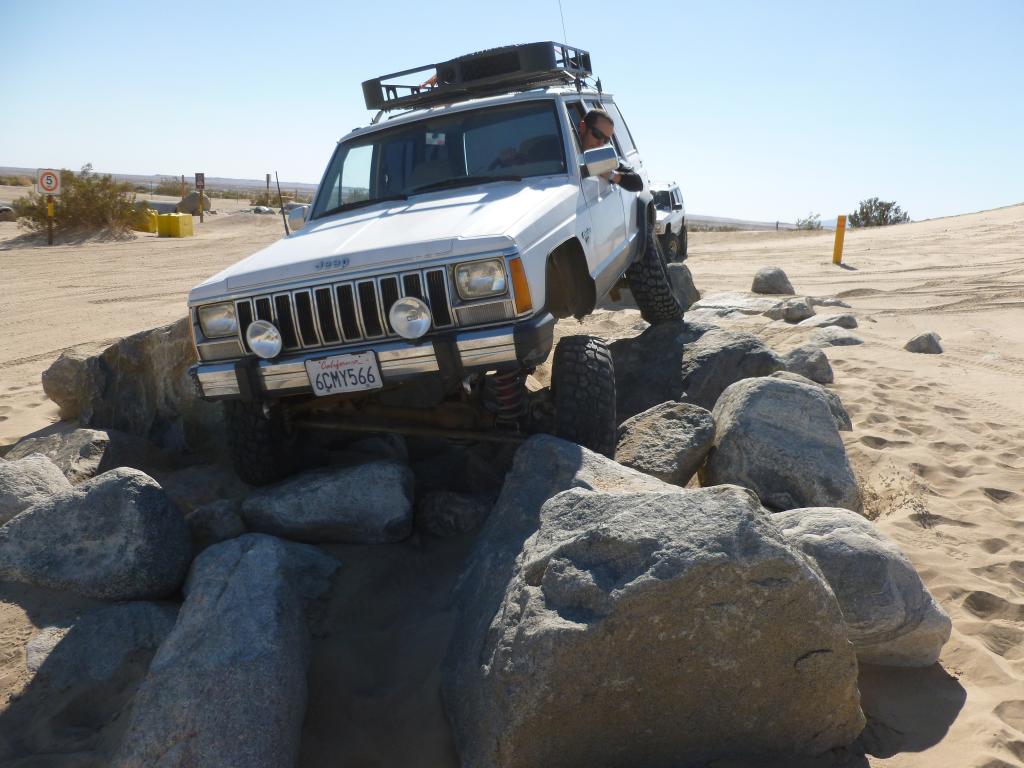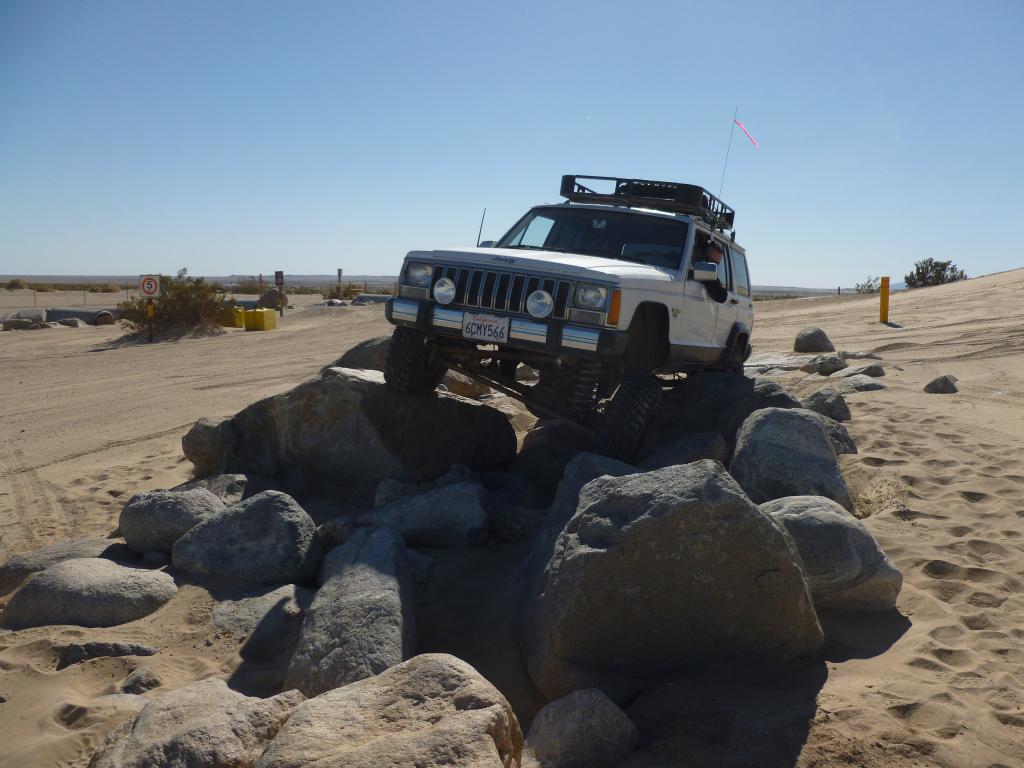 i recently bought some parts for a WJ knuckle swap. the knuckles, calipers, and brackets. i also began collecting the other necessary parts. i bought JKS hub spacers and new Timken hub bearings for an 01 XJ. next up is ball joints. i am on the fence about getting the spicer ones or going for the synergy ones. the cost difference is pretty significant there

now i could probably get away with re-using my existing steering and just adjusting it out a bit but new bungs and tube isnt too much more. ill probably get a beefier tie rod as my 1.5"x0.25" wall DOM is bent. i was thinking 1.75"X 3/8" wall DOM.

im even toying with the idea of throwing a real locker in the dana 30 soon. having the truetrac up front has begun to show its weakness in some areas.

BUT ultimately this is a lot of money for a D30...
2-3-2012
making more progress on the 30. dropped it off to have the locker installed on thursday. should pick it up monday. today i bought some used ten factory alloys off of a fellow NAXJA member as well as a ruffstuff cover with lube locker gasket.

i decided to finally mount the calipers tonight. the WJ calipers are HUGE compared to factory XJ stuff. i also made my new tie rod out of 1.75"x.375" DOM. shouldnt bend that one. ill be using one ton tie rod ends on the new setup because of the bigger cover, and the clearance issue with the draglink and the JKS trackbar mount. i also drilled the WJ rotors to the XJ bolt pattern tonight.

next up is to get the housing back and begin reassembly. i am just waiting on one tube adapter and the reamer for the tie rod ends.

then off to KOH on thursday. just crossing my fingers that my rims will clear the calipers, or that i will be able to simply grind a little off the wheel and/or the calipers
2-5-2012
in other news, i got the axle back underneath and the jeep back on its own weight. only three things left, ream knuckles, weld tube adapter, bleed brakes.
so whan i picked up the axle the guy that did my locker install said that guy that did it last did a terrible job. i guess backlash was about .025" while spec is .007-.012. ans the pinion was way too deep i guess too. now the axle never made noise or acted up in any way. the gear oil was even flake free. so it couldnt have been too bad. so this guy got the best pattern he could without pulling the pinion and completely redoing everything. ill run it and see what happens
heres the good pattern ill be running.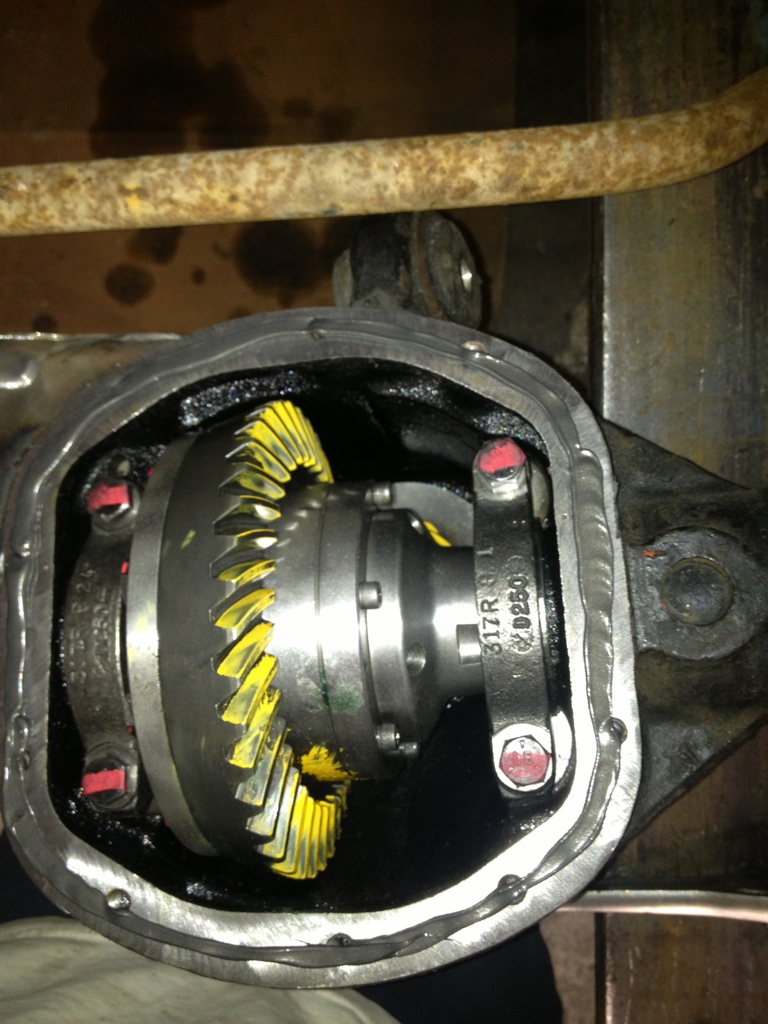 i figured that while i had the axle out id make some control arm skids out of some 3/16" i had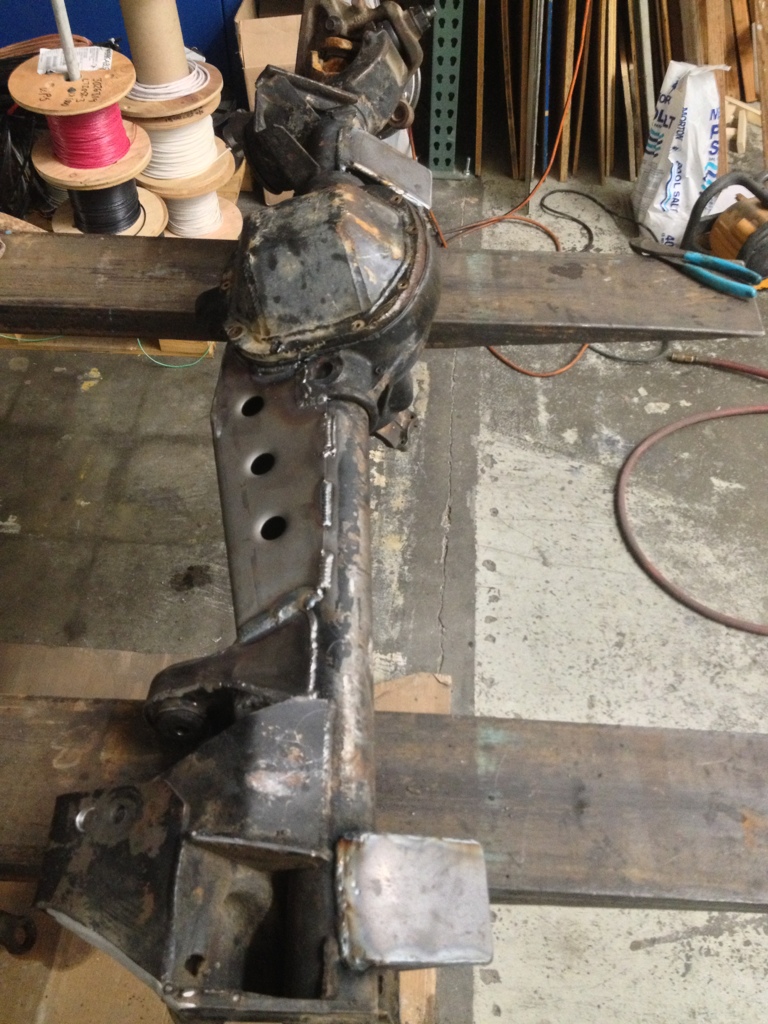 getting the control arms mounted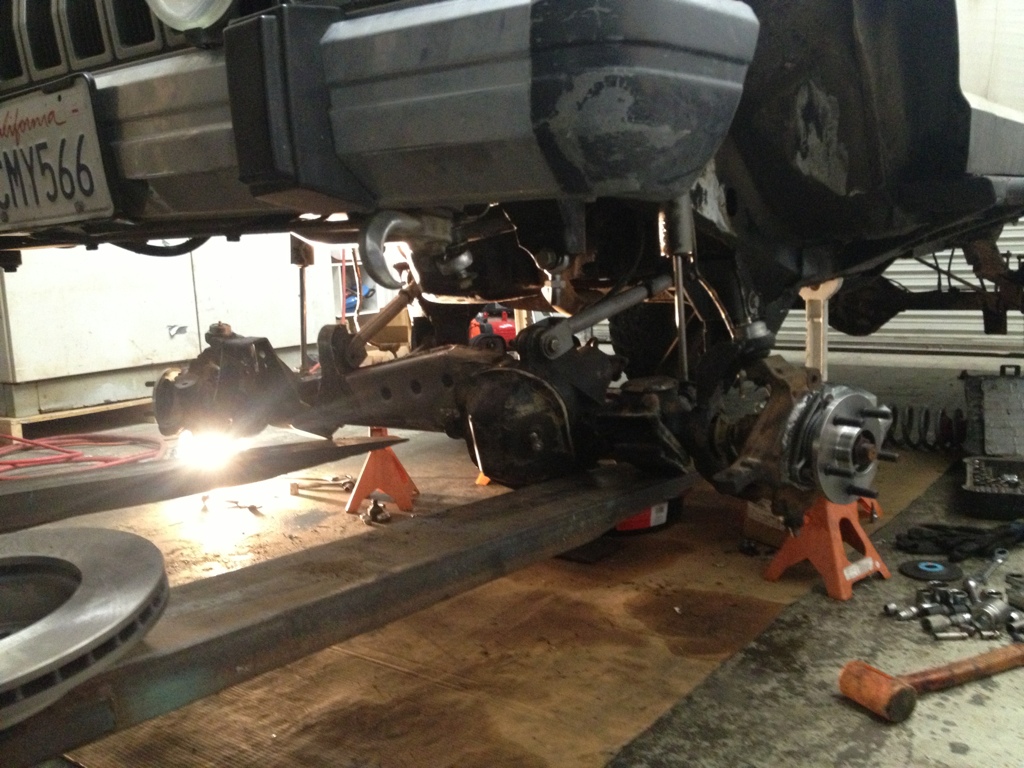 and all done....mostly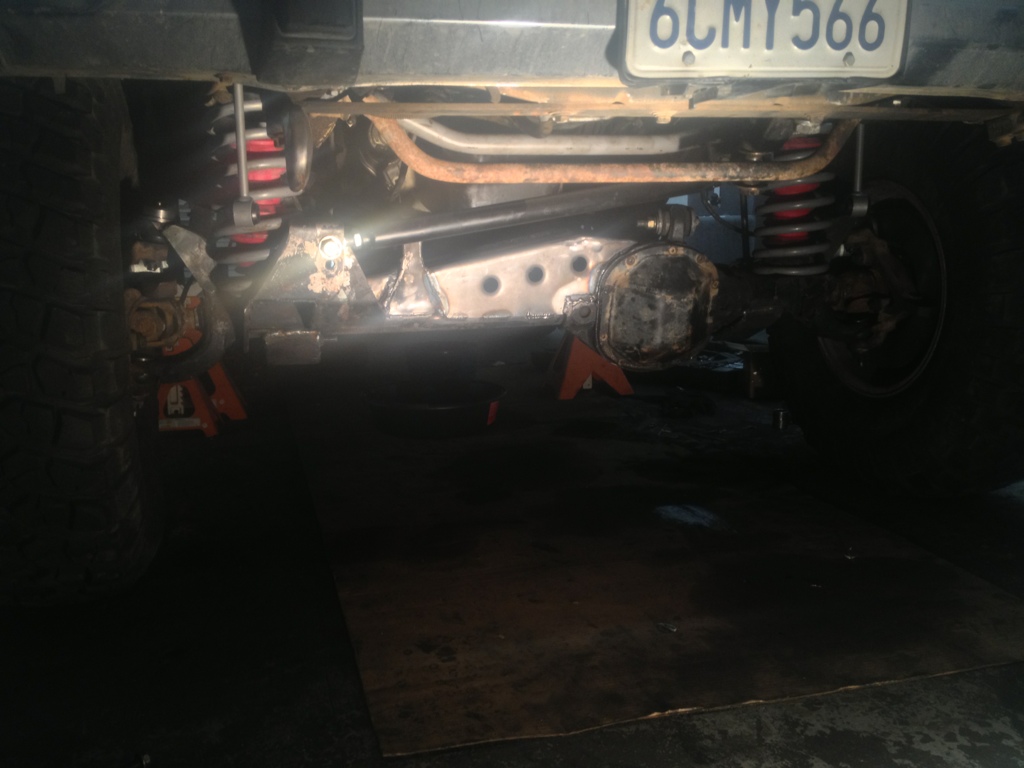 and just for size reference, heres my old DOM tie rod material (1.5"x.25" wall) next to my new tie rod material (1.75"x.375" wall)
and what i was worried about with this swap was how much the calipers would hit the rims. it turned out to not be very bad. i simply gound down the elevated areas of the calipers until they cleared with a little room to spare. it didnt take much.
3-4-2013
Thank you sir.
I just got bak from a wheeling trip this weekend. Was a successful weekend. Only lost a front blinker lens and a jeep logo off the hatch.
I also decided that turning while all four tires are locked stinks. But having the lockers was amazing. Got denied in two obstacles. One I think I could've made had I tried a couple more times but a loose brake line at the caliper forced me to concede.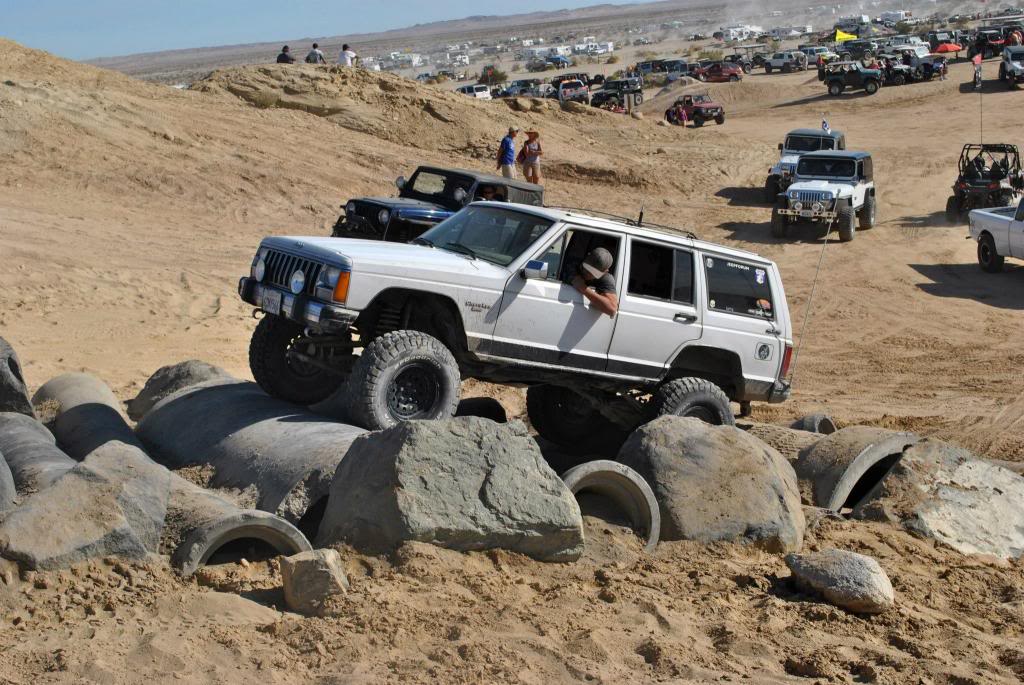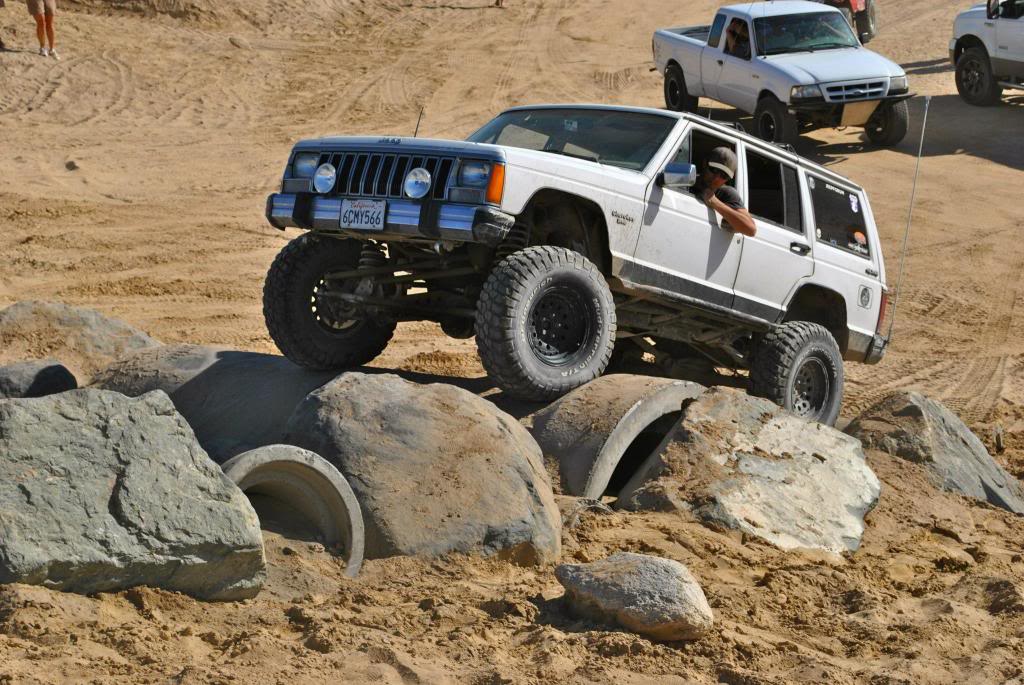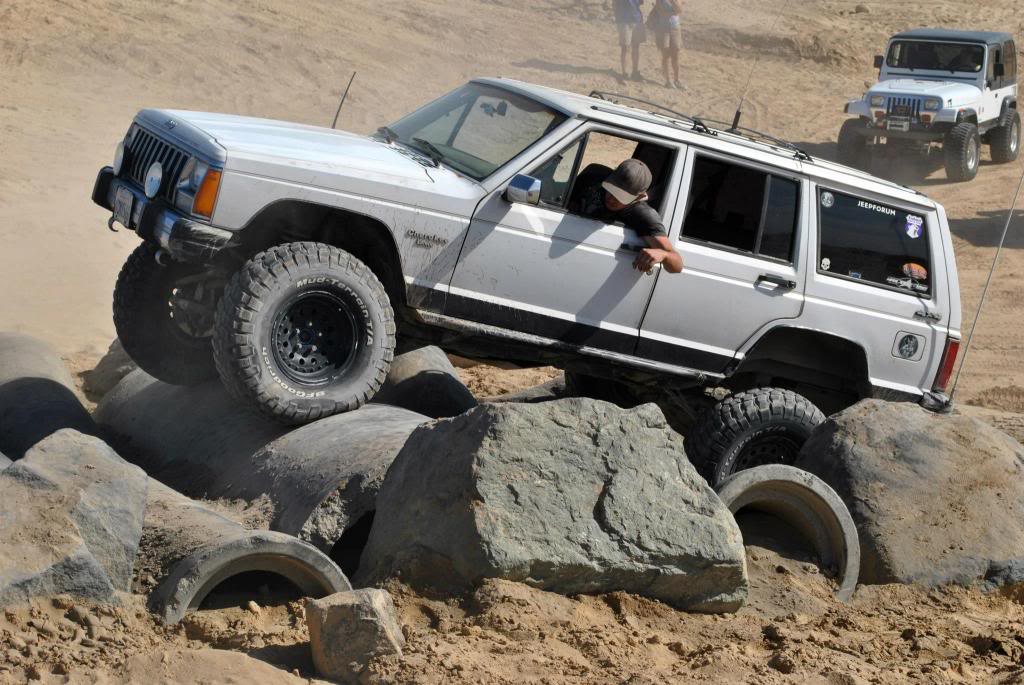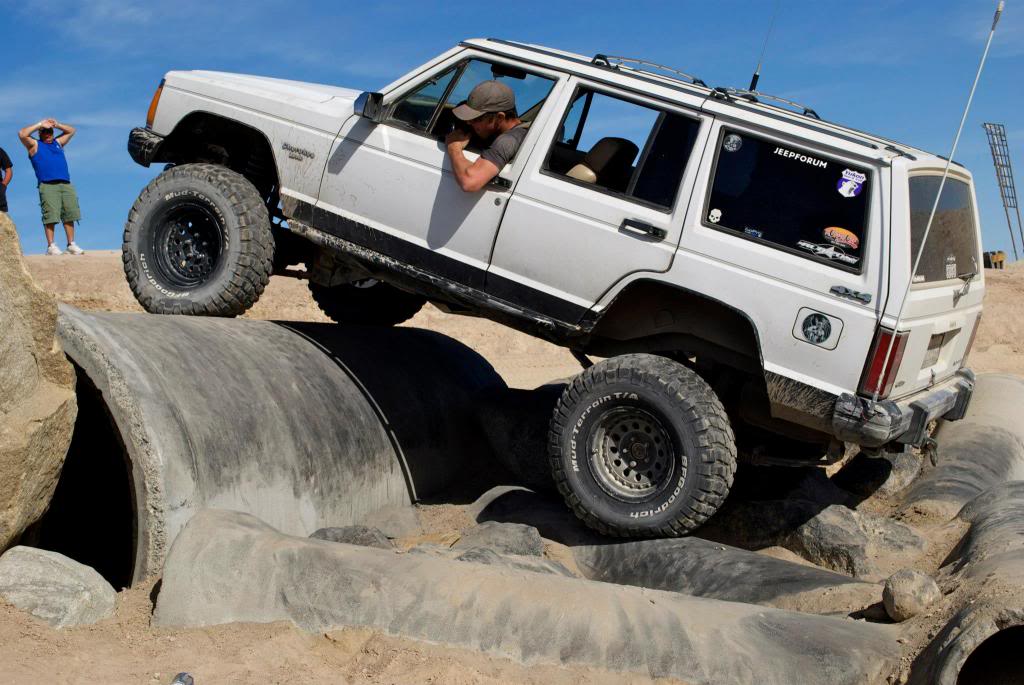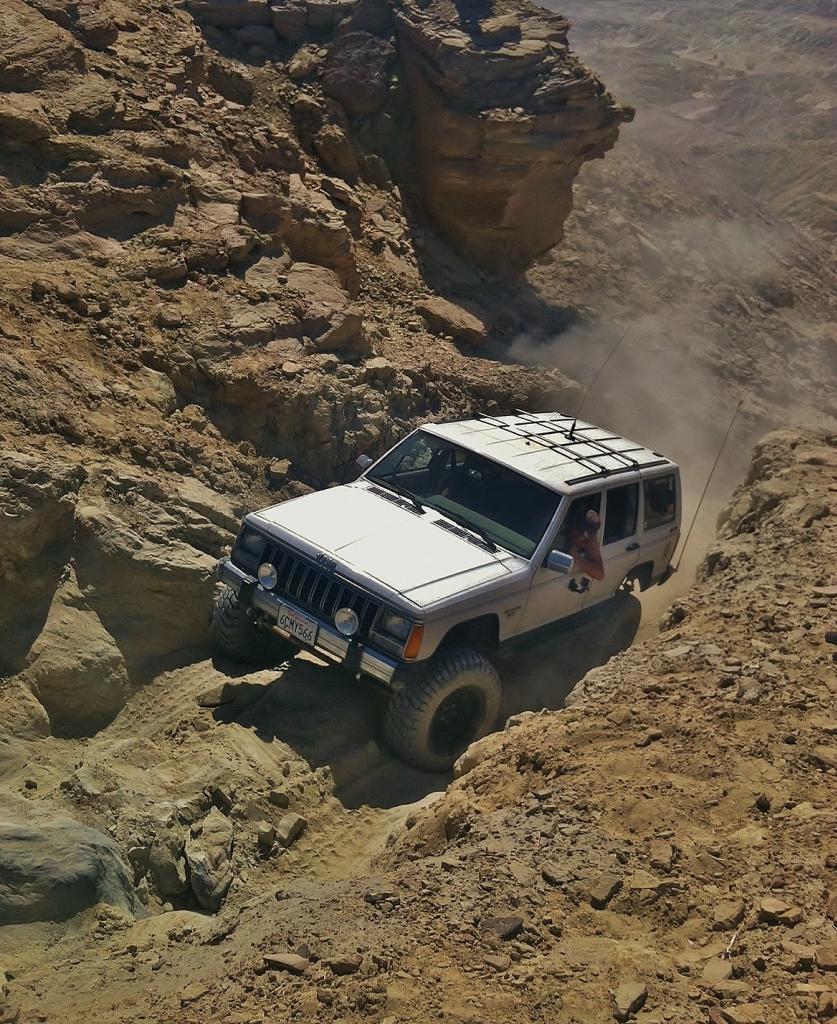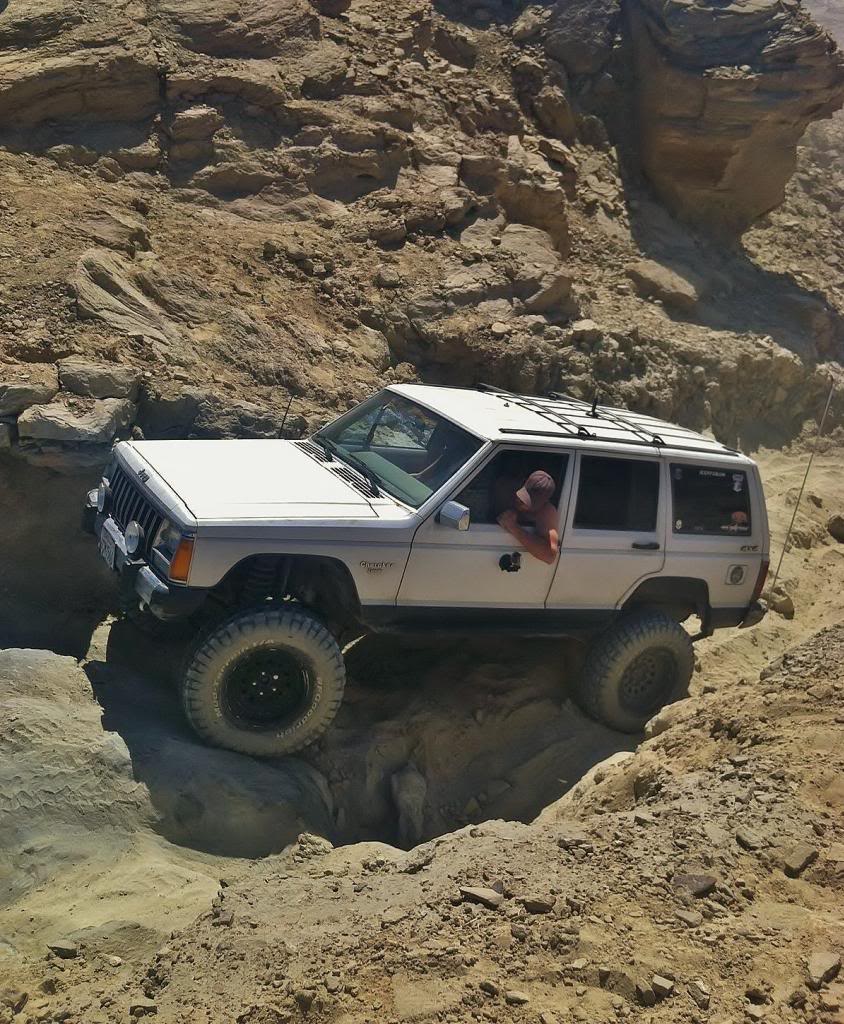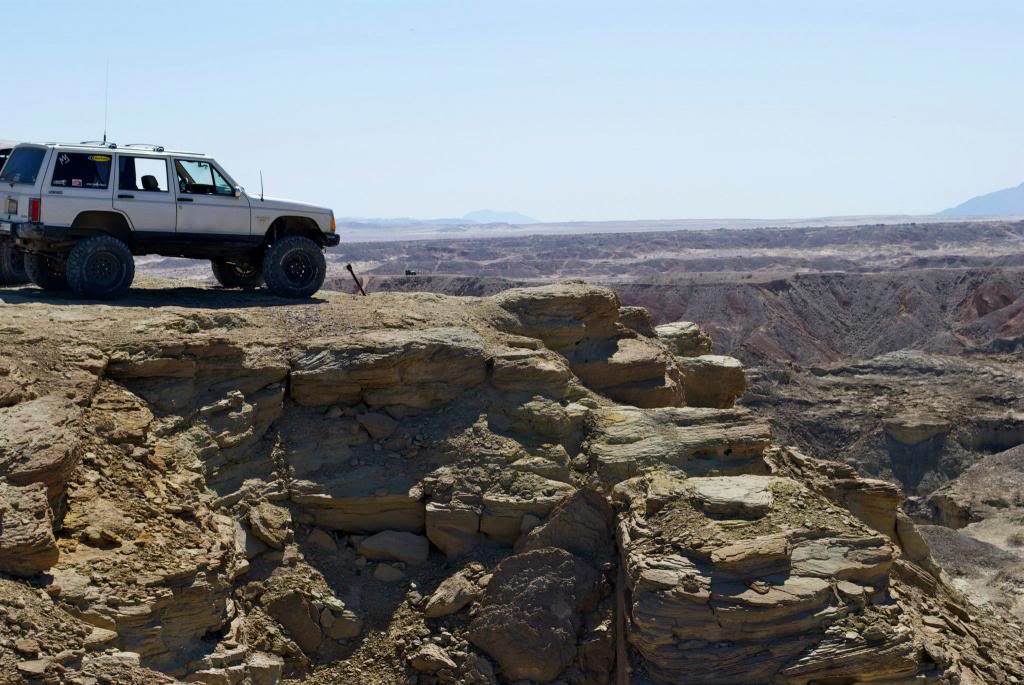 Thank you.


I still have a significant oil leak. This time I know what it is. The front two oil pan bolts won't tighten. The threads into the timing cover are stripped. It's making my whole front axle a mess.

That and I want to replace my valve cover with a later model one that has a better CCV system. Mine just sucks and leaks and hoses come undone. I also plan on getting the spectre cowl intake as it is CARB approved so I can smog it
3-10-2013
Well I went on a spur of the moment camping trip to the nearby desert for some shooting and exploring mud caves. Had a little too much fun in one of the washes and laid it over. Damage isn't bad. Need a new door and windshield. Needed a new windshield for years anyway. No major damage. Flipped it back over and started it up and kept driving.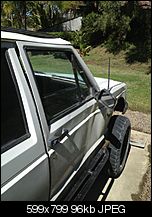 3-29-2013
Began my half door project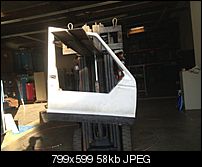 4-4-2013
finished them up last night and threw them on today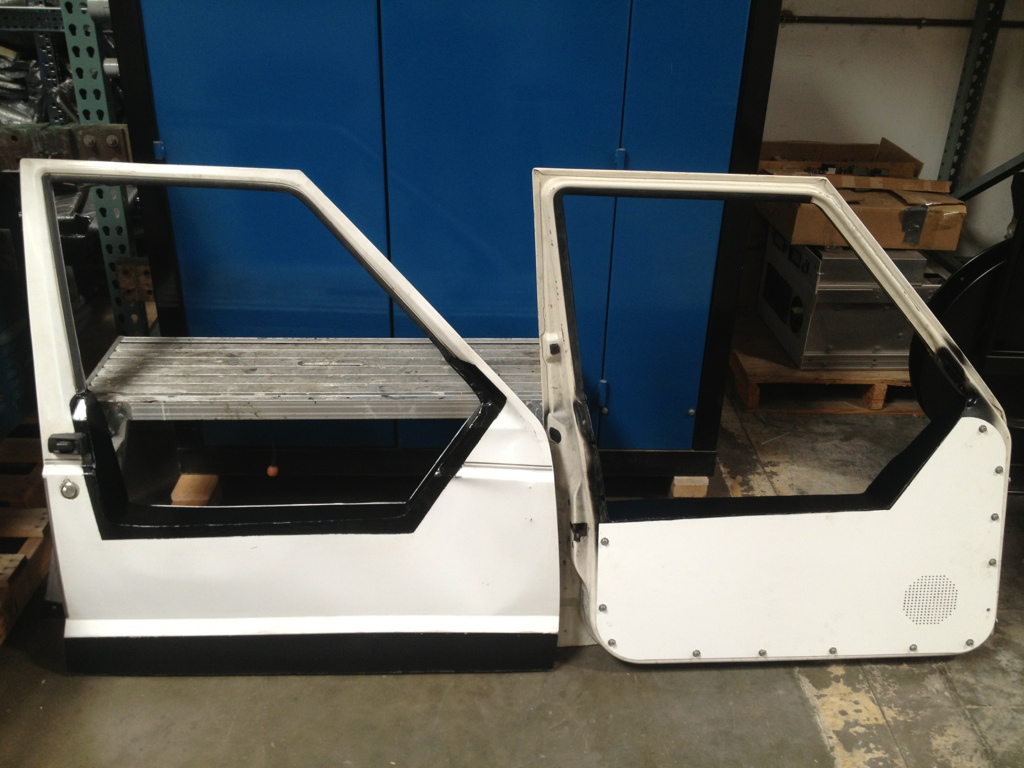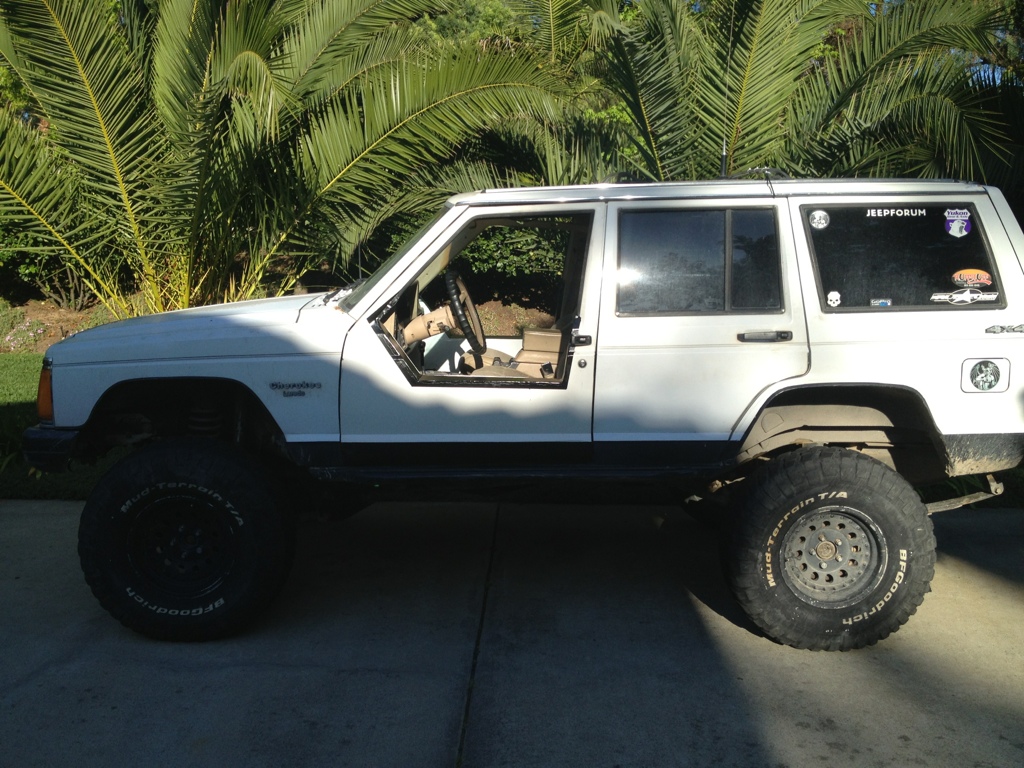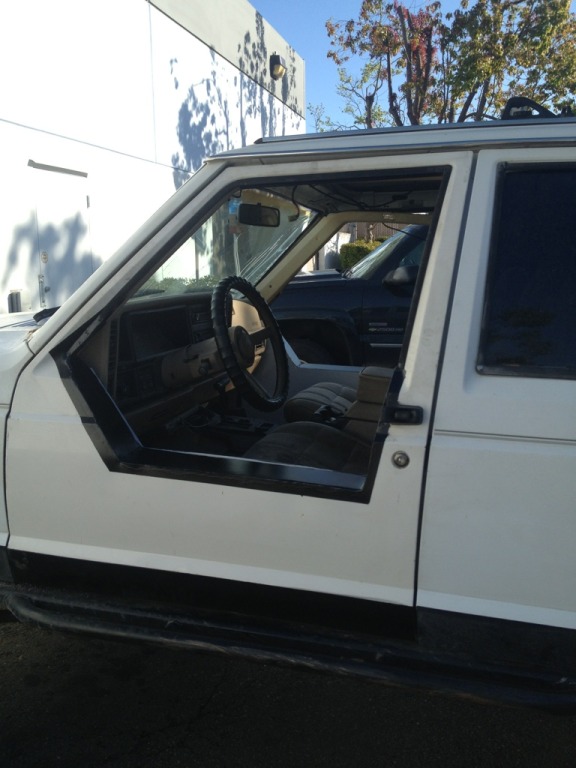 4-7-2013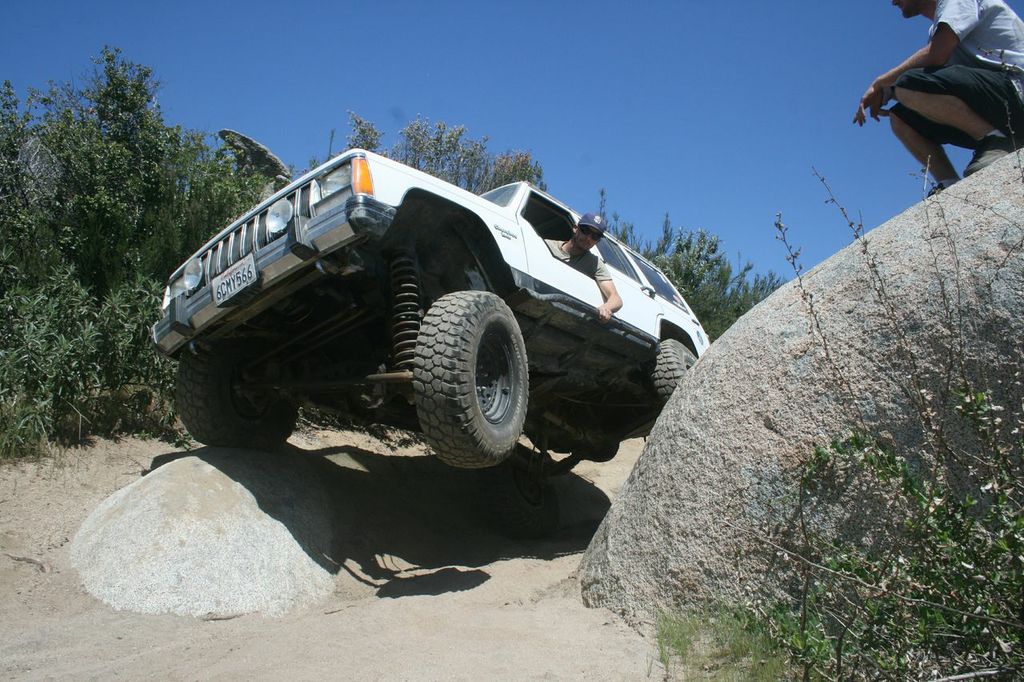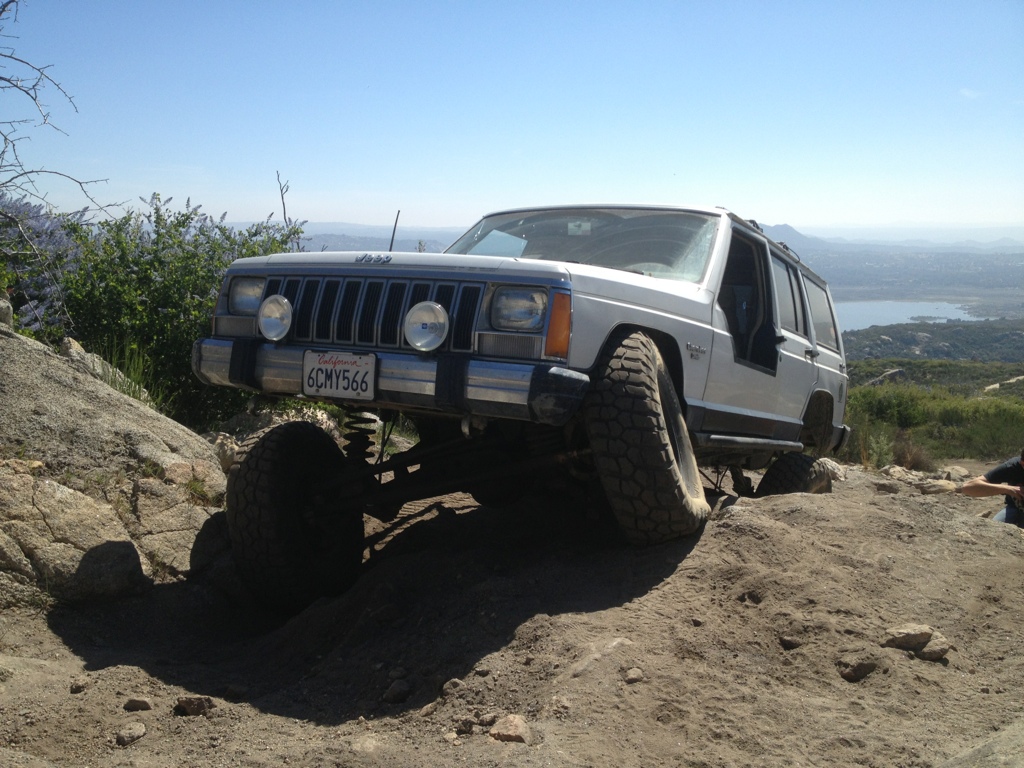 6-30-2014
Thanks. I'm sure I'll be more than satisfied with them. In other news, I added some big hooks in the cargo area for tie down points. I also removed the carpet in the back and bed lined it. Very happy so far.

I can fit all of my tools and fluids, compressor, spare front shafts and full size spare all tied down with the hatch closed and the seats still folded up.
8-17-2014
picked up some 2x6 to use for the crossmember instead of the 2x4. the 2x4 wasnt quite wide enough. also got some 2.5" square to use for the upper link mounts. hopefully can get started on the 3-link soon.

just debating on clocking the case at the same time so i can go flat belly.

i also trimmed the front fenders some more as well as used the bfh on the front part of the inner fenders where I was rubbing before. also had to trim the ends off of the JCR bumper.
8-25-2014
Converted to an open style cooling system. I was never able to burp the closed system. More annoying than anything. Wasn't overheating. Would just have huge temp spikes on my gauge everytime I hit the brakes or was facing down hill. Went with a cheap radiator since the general consensus nowadays is that they are no worse than these CSF and other big brands, short of ******* out a ton for a griffin.
11-26-2014
Parked the jeep to do some much needed work and some significant mods. Going to do a timing chain replacement, all the main seals that are prone to leaking, t-stat and housing replacement, 3-link, flat belly, clock t-case, 231 swap, traction bar out back. Hopefully 3 straight days of work can get it done.
12-1-2014
Started the project today. Got a lot done. New timing chain in. Transfer case is clocked. Drop brackets and arms removed. Front axle out.

Tomorrow starting to prep inner frame and floor for plating and crossmember. Pan gasket replacement and put all stuff back on motor
12-5-2014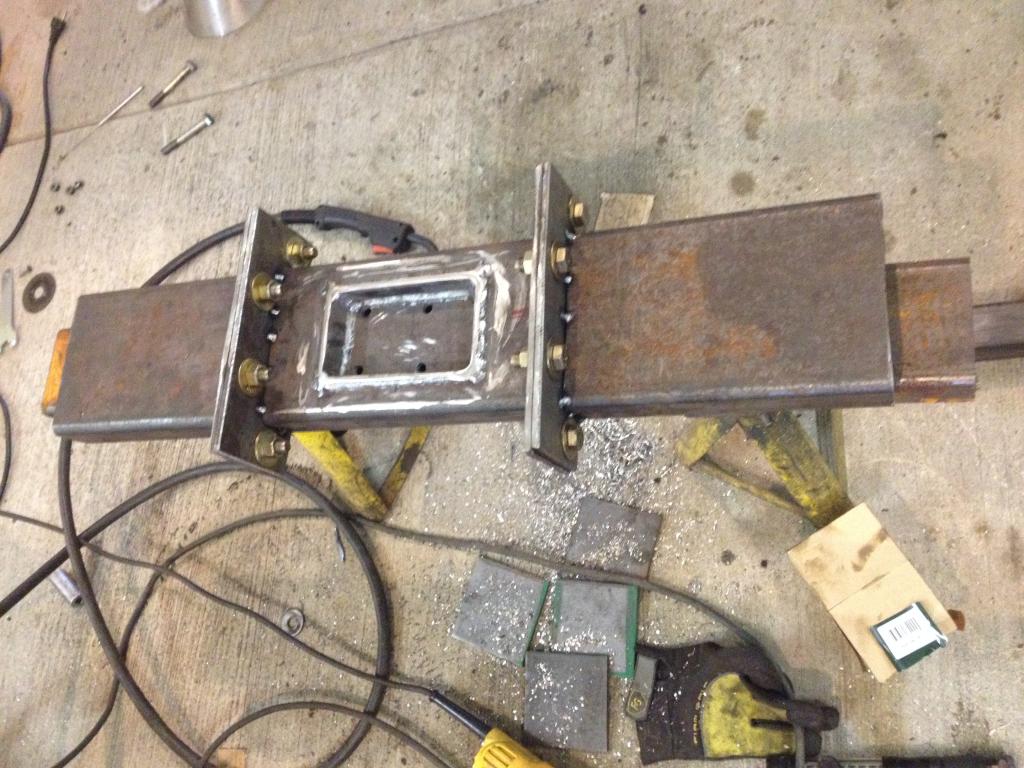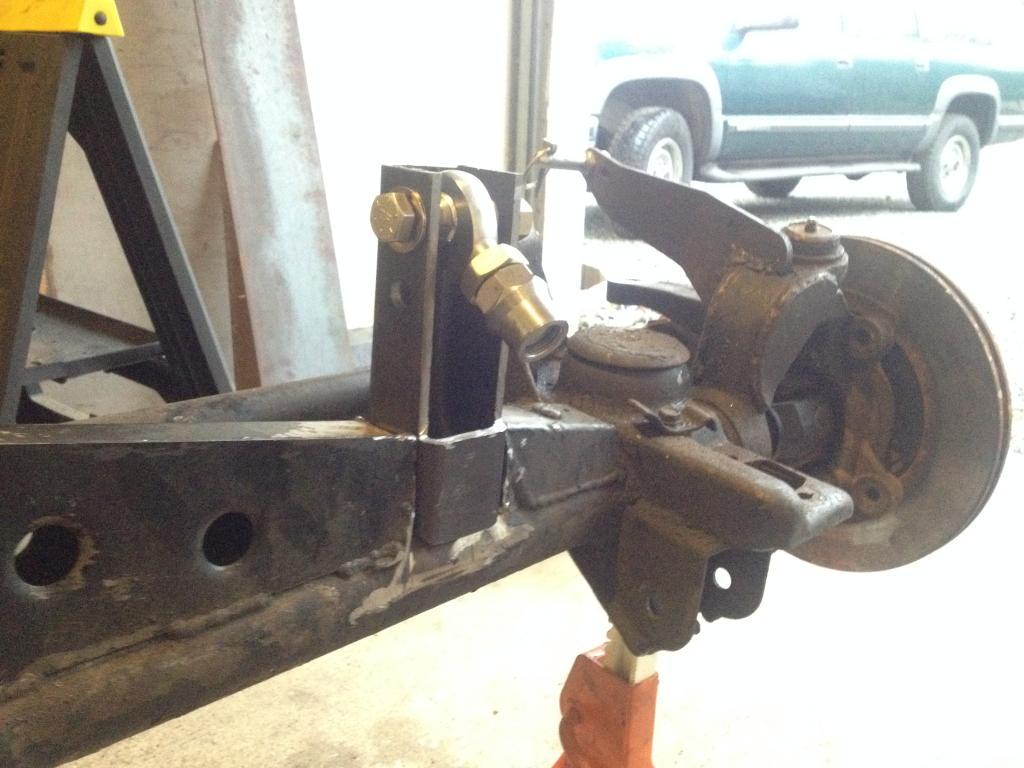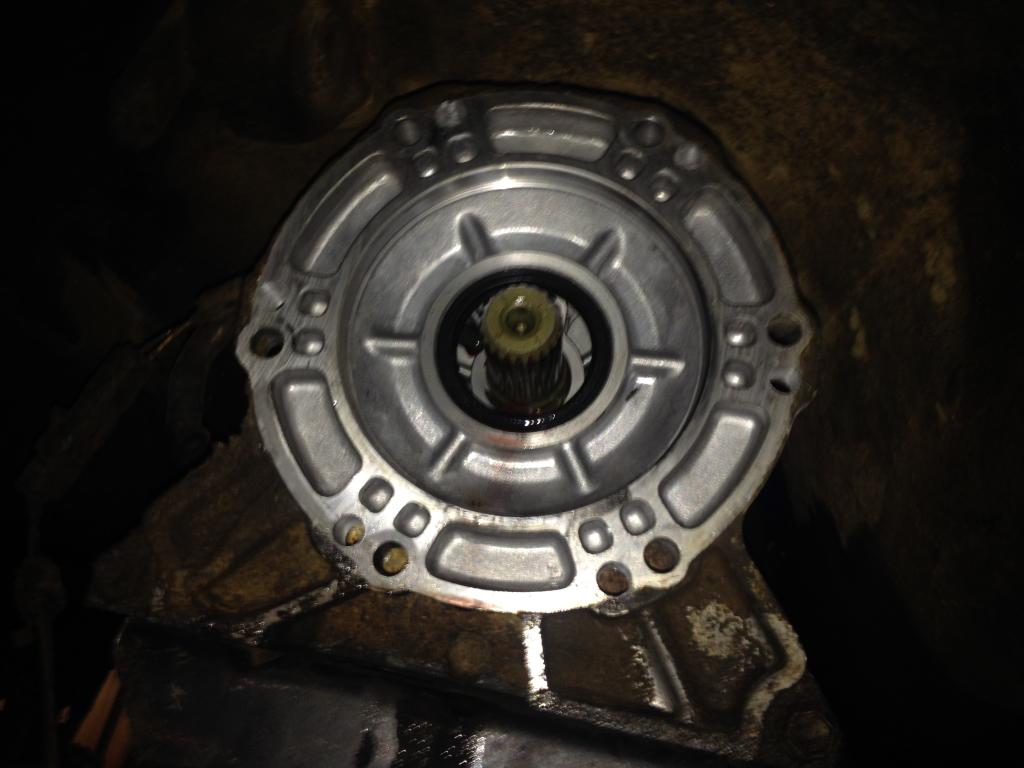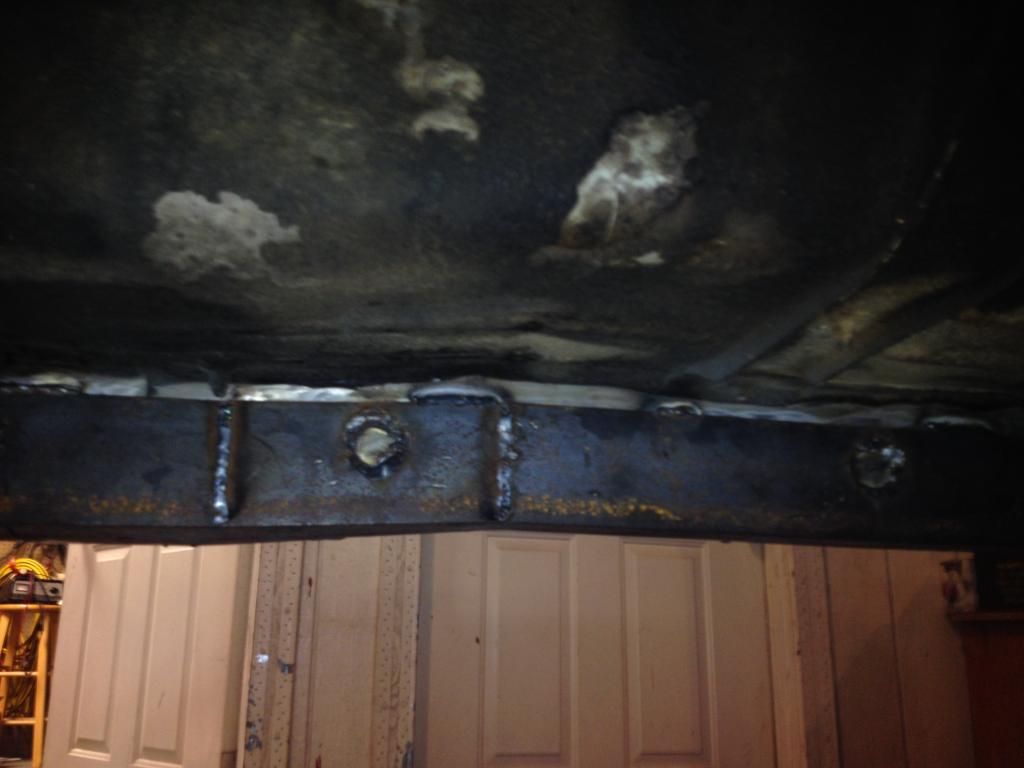 12-7-2014
Side by side size comparison of 242 and 231.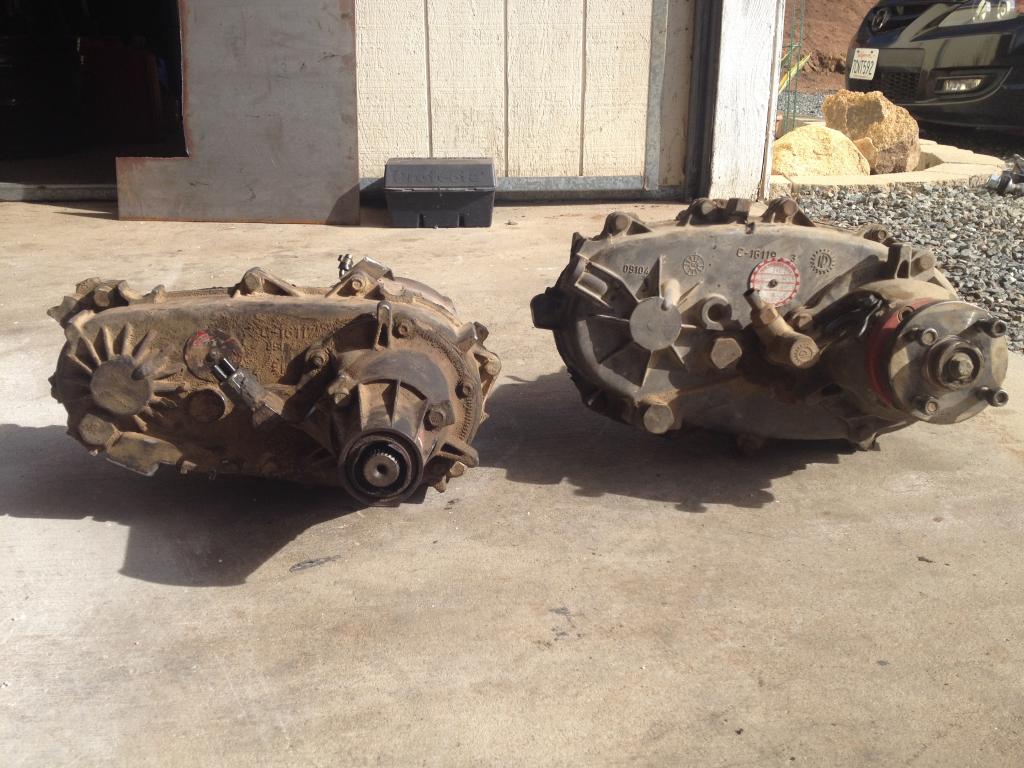 12-10-2014
Got crossmember done and arms in place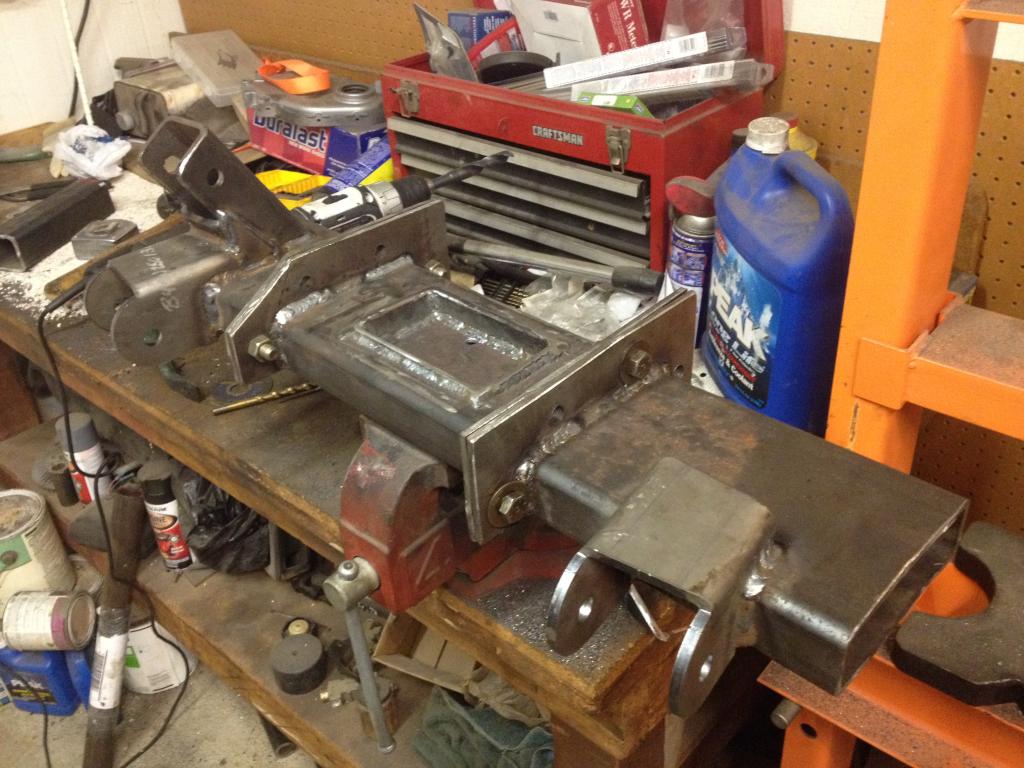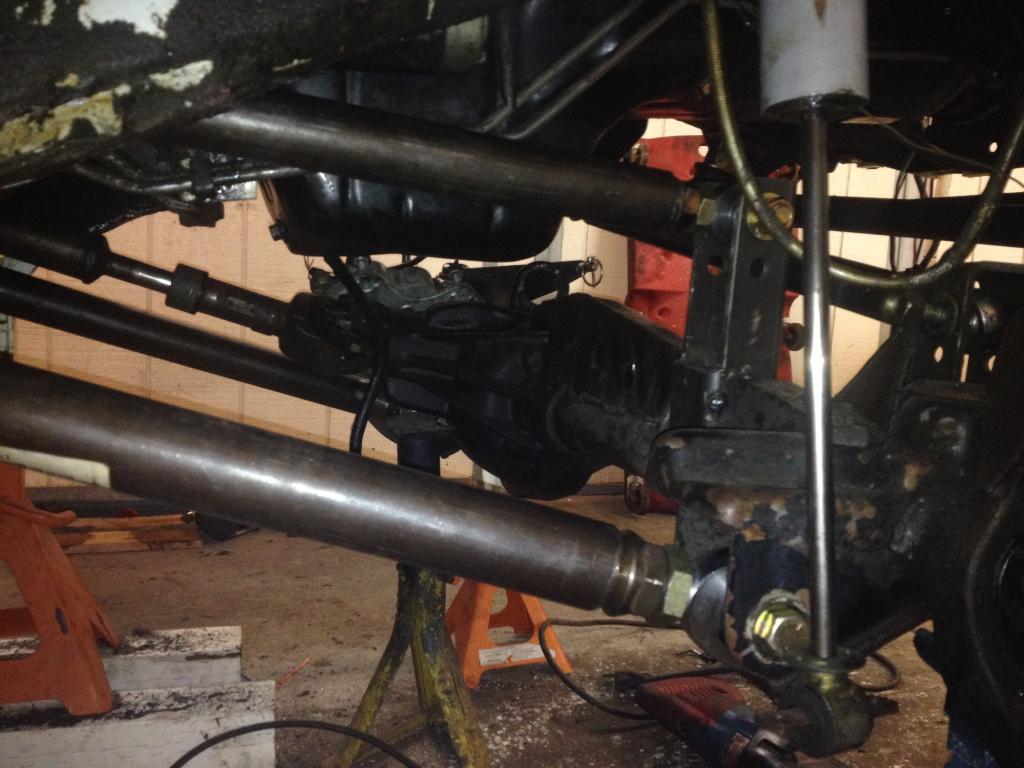 12-16-2014
Fabbed it all my self. Got the jeep back on all fours yesterday.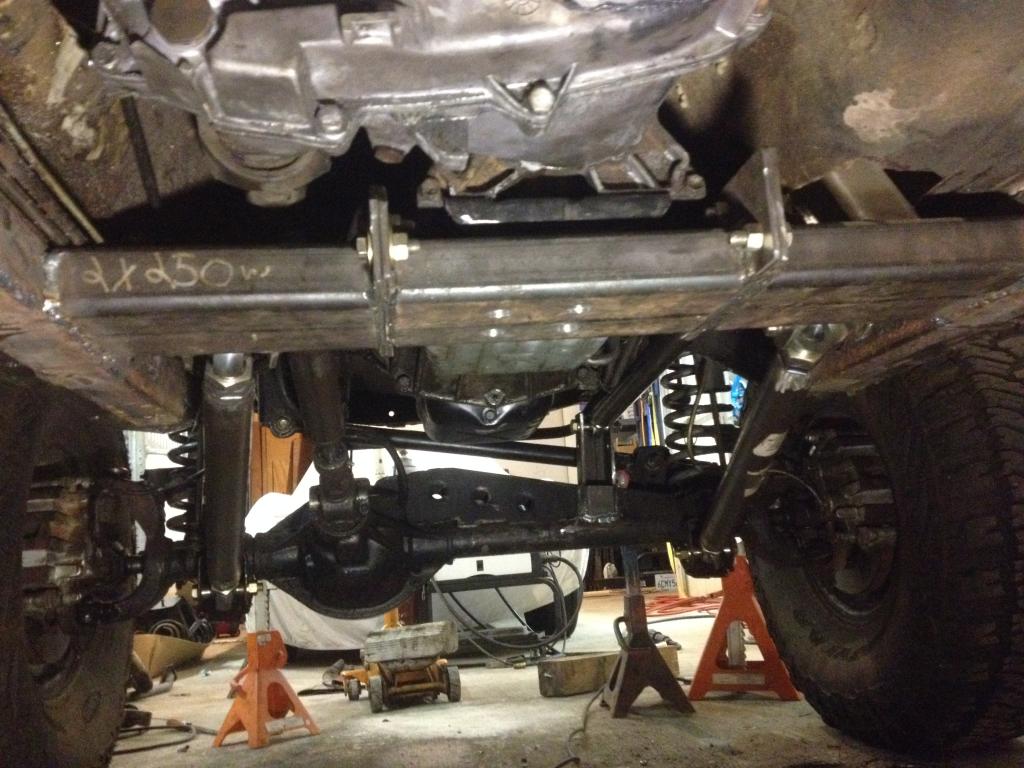 3-4-2015
Got bumper on. Had to cut and weld a little because the shackle relocation brackets lowered the subframe of the bumper. But it's damn solid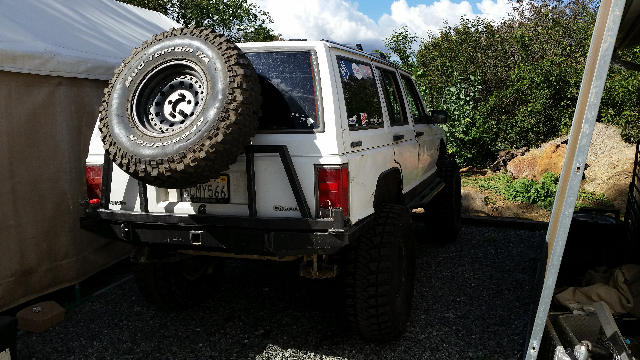 3-12-2015
went wheeling this past weekend. i love the stance with the 35's. destroyed another set of RE leaf bushings, had a new set of 3.5" leafs and swapped those in. also did a much needed tune up. plugs, cap and rotor, O2 sensor, air filter. 10-11mpg wasnt cutting it. was an absolute dog on the highway, even with 488's.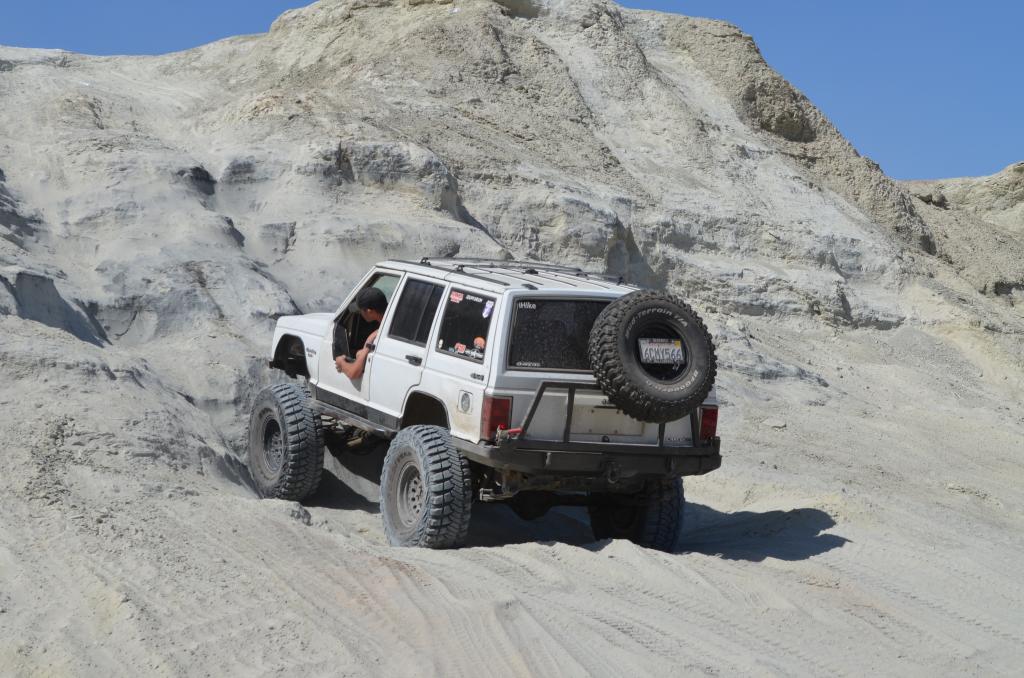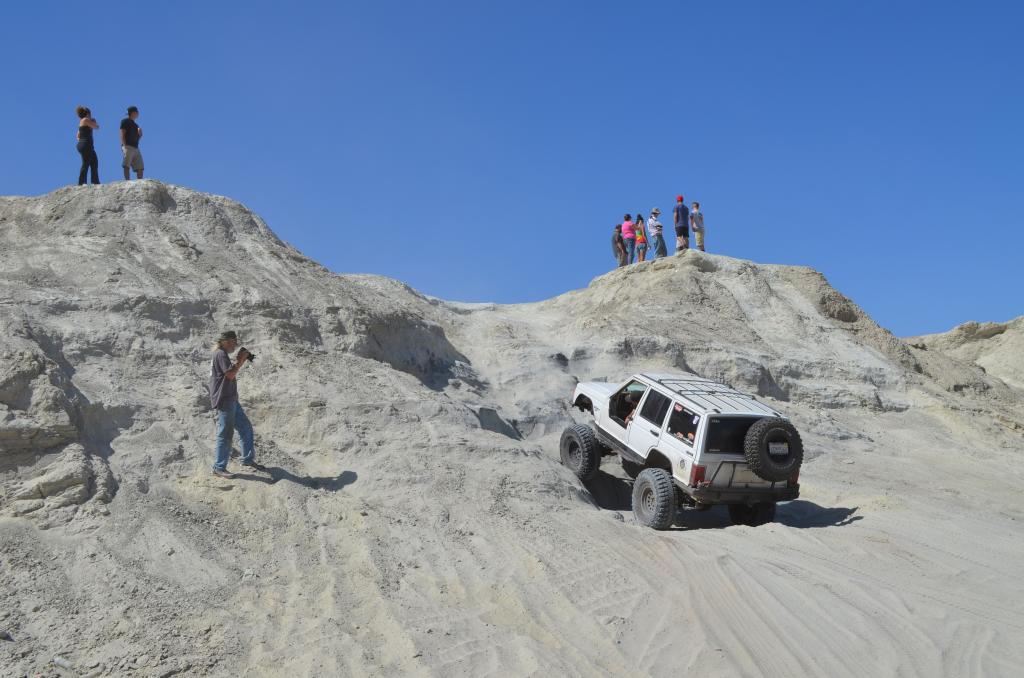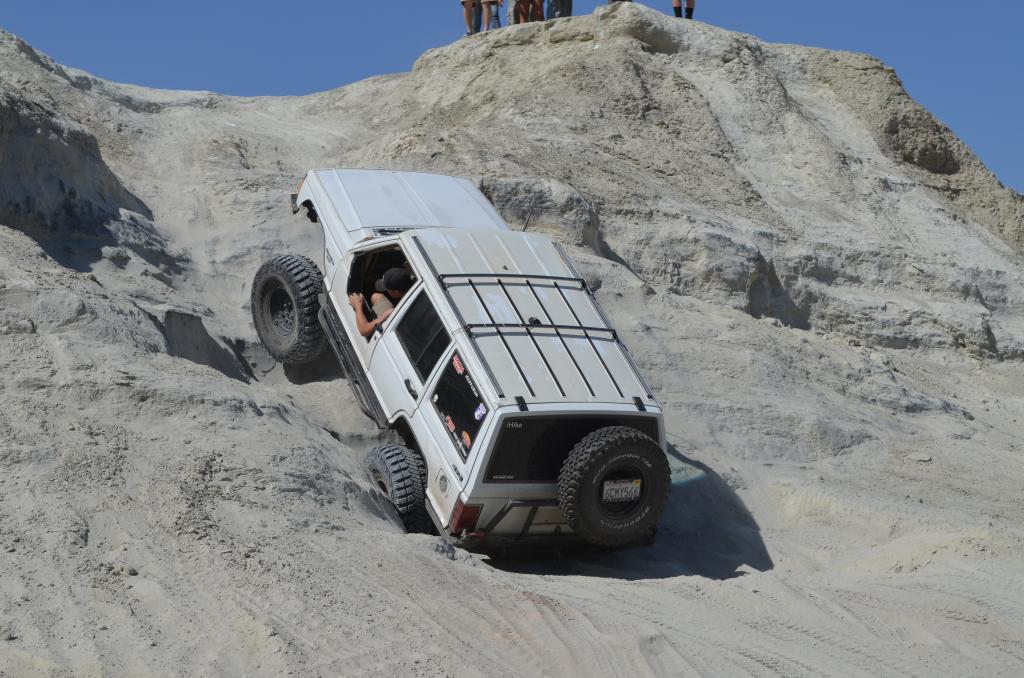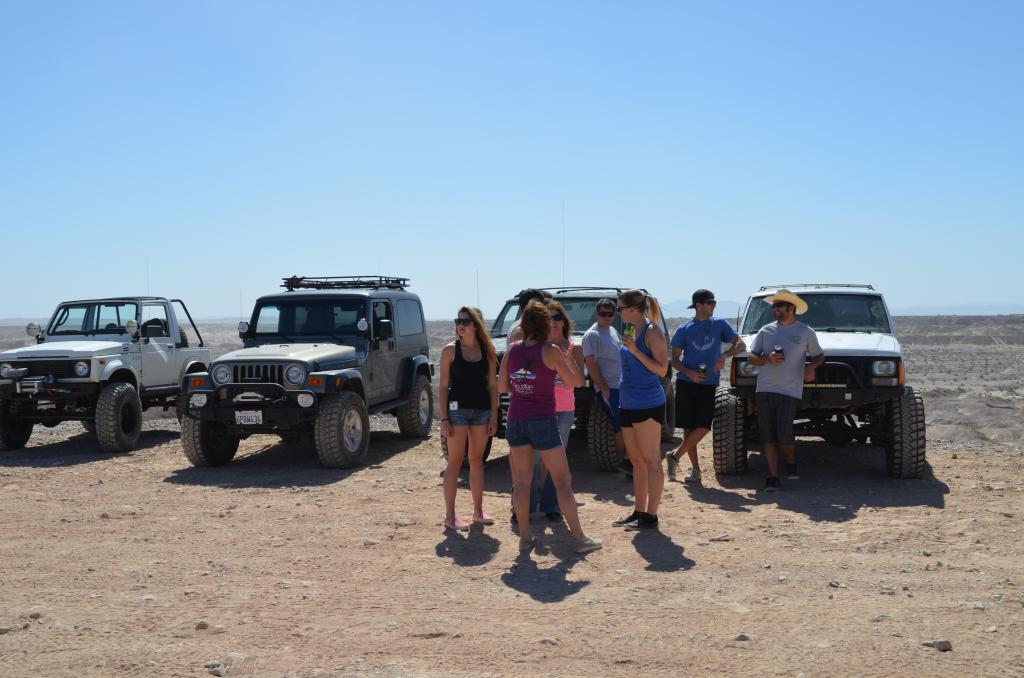 4-11-2015
Decided to be all fancy and install a spectre cowl intake. When I did that I also made myself an oil catch can so I stop soaking my intake in oil.

Made the catch can out of a small paint can and some brass fittings. Should work just super. I'll get pictures up one of these days
5-2-2015
Bought a tow rig for the Jeep. Much needed now with how slow and uncomfortable it is on the road anymore.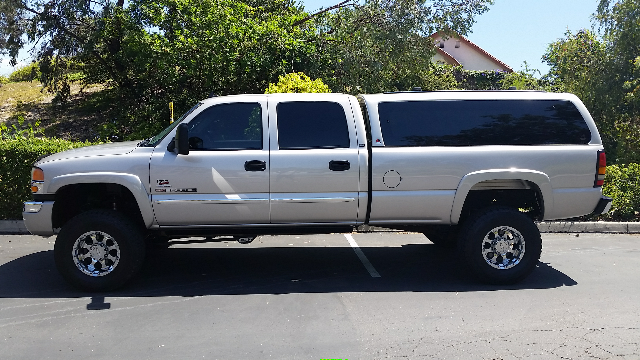 2007 GMC 2500 Duramax. 93k miles, LBZ, 4dr, long bed, 4wd, leather, bose, sunroof, and a slew of aftermarket goodies such as OBA, air horns, gun rack in the shell, intake, exhaust, intercooler, and other fancy gizmos.

Should tow it without a hiccup. Next I'll be shopping for a flat bed trailer
10-31-2015
Been doing a lot of little things lately

Novak cable shifter for the tcase
Psc hydro assist
Vhf radio
11-3-2015
1-11-2016
Also picked up a set of rebuilt 12" 7100s. Cut off the factory lower shock mount and made simple ones.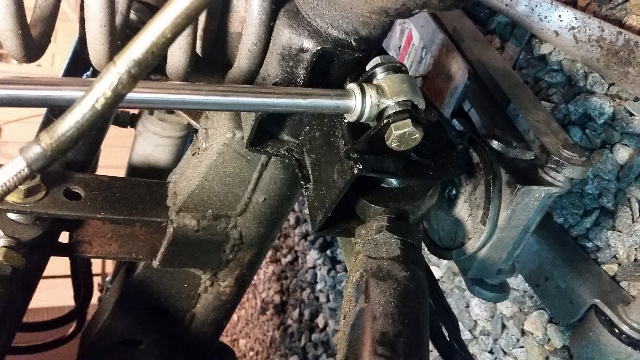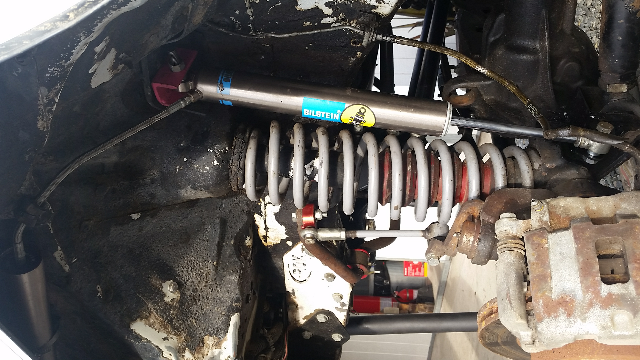 1-29-2016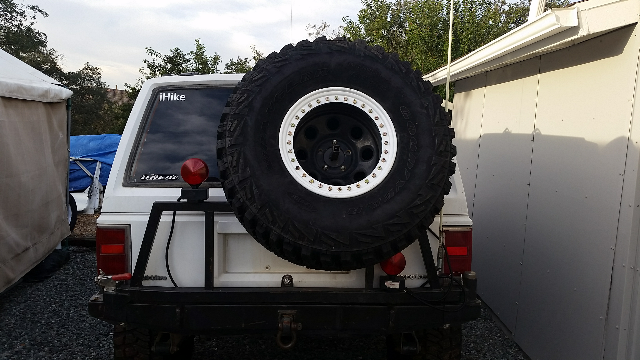 2-5-2016
Got all of the beadlocks mounted. Holy crap are they heavy. I'm guessing 100+ lbs per wheel and tire combo. We shall see how well they hold air.
2-17-2016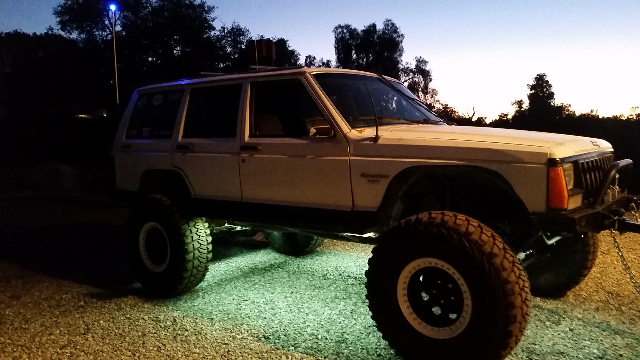 3-15-2016
Found out that flat towing with hydro assist does not work. Went wheeling last weekend and having the hydro assist is amazing.

Next major upgrade is seats and cage. Just need to wheel the poo out of it as it for now

Also had to trim a few more inches off my front bumper due to tire rubbage
5-3-2016
Well I had an exhaust leak. Minor understatement there. Manifold was cracked in 3 places. #5 was cracked all the way around. Lol. Probably why it was running like poo. Also had low vacuum and it looks like I also had an intake leak at the gasket. New felpro gasket and stock replacement manifold are in. While I had it apart I decided to replace the injectors and valve cover gasket. Just waiting for injectors to arrive. Motor is surprisingly clean inside.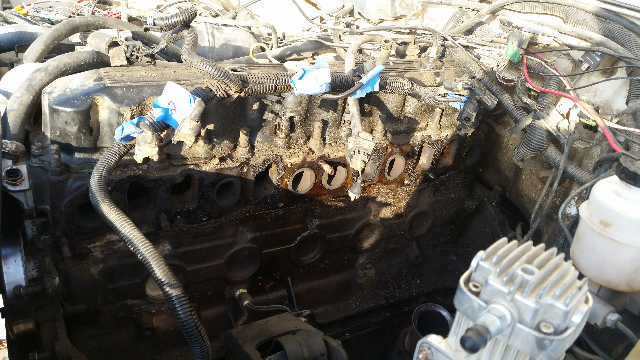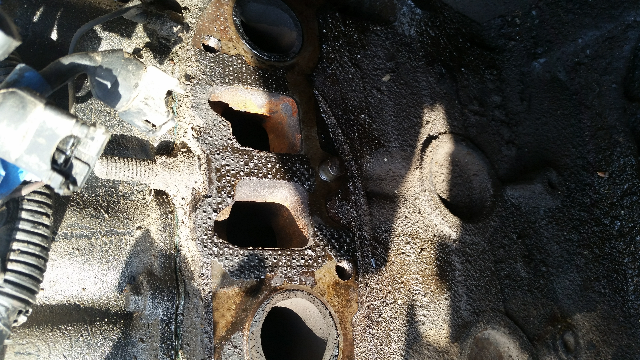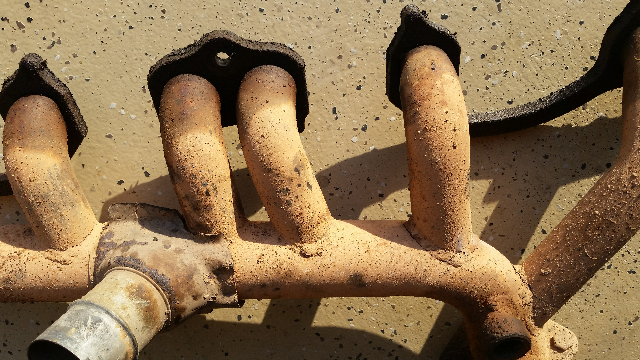 5-15-2016
Splurged at 4wp last few days. Got new ball joints which were much needed. Went with the new Teraflex ones. I also bought alloys and an artec truss for the rear axle.
6-4-2016
Got the truss welded up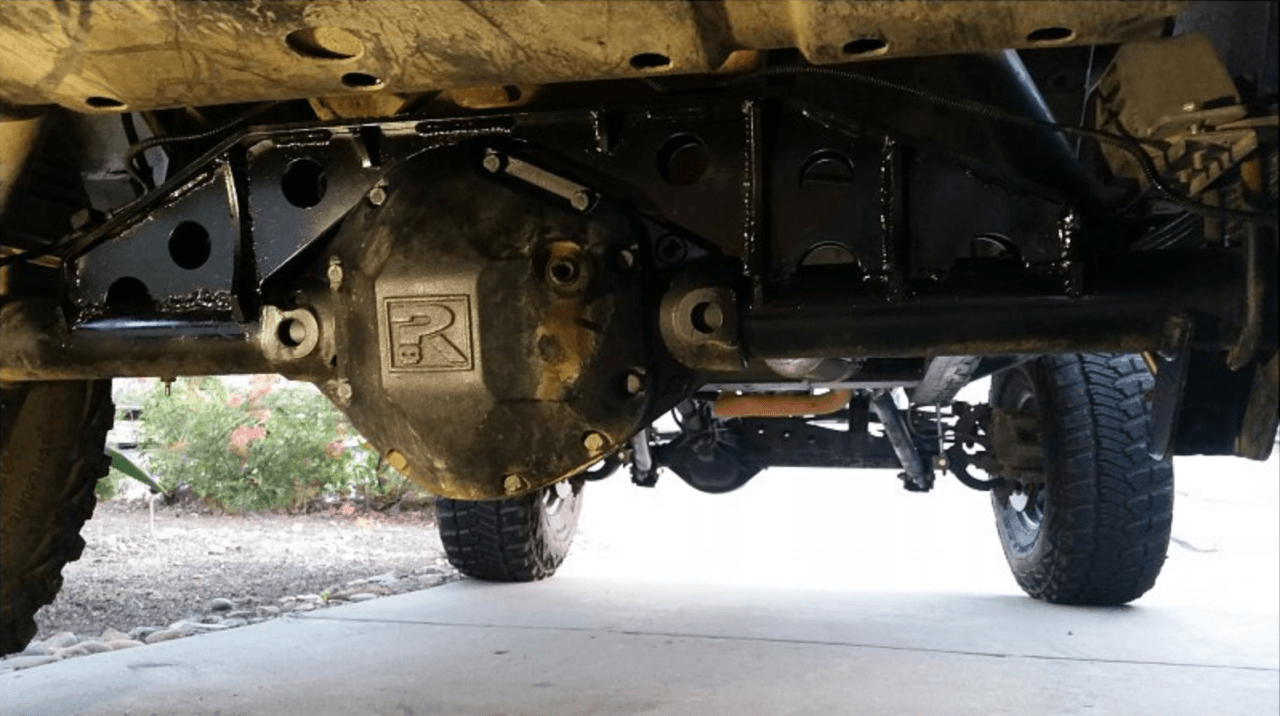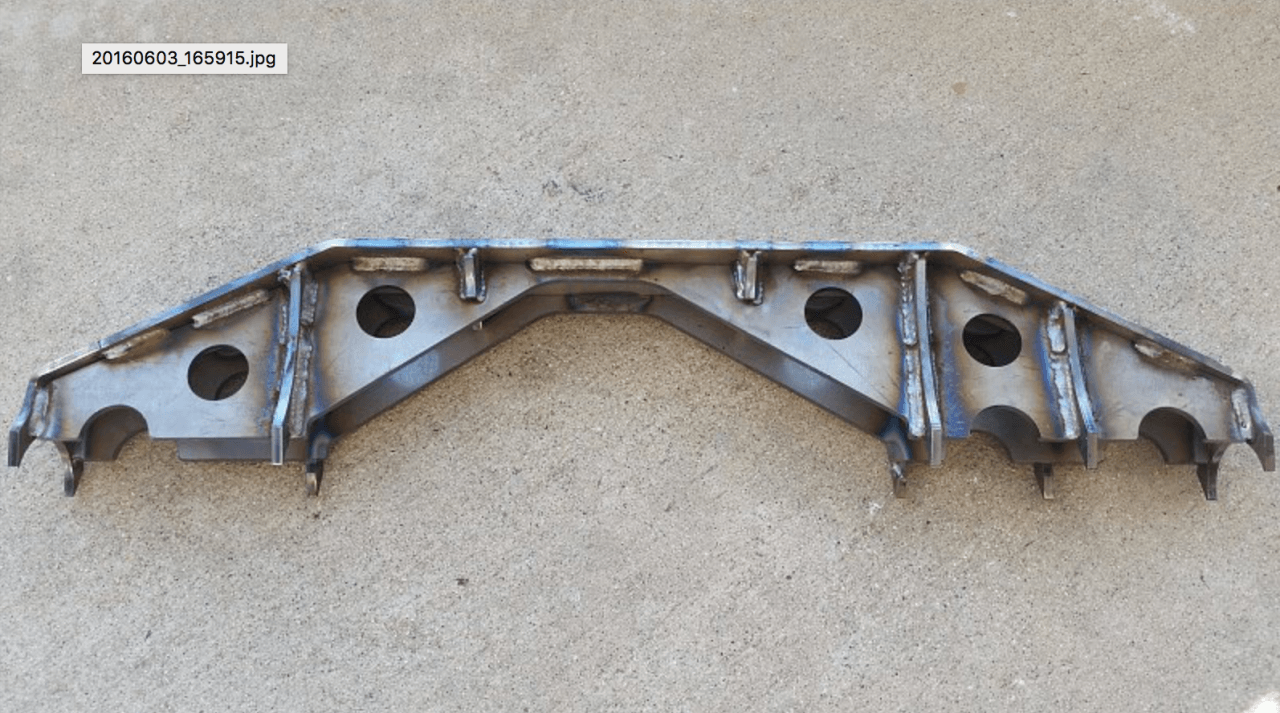 9-8-2016
Since last update I have done the ball joints, the alloys, and bought some used PRP suspension seats. Only using one since one of them is a little smaller and even I dont fit in it. Also gave up on trying to retrofit 8.8 discs on the 44. proving to be a pain for me for whatever reason. My 44 has the larger 10" drums and slightly larger than stock wheel cylinders so it stops fine. Also put some carpet down in the front passenger area, head shield over the cat, muffler and other exhaust thats near the floor. I have also added a hi-lift mount to the tire carrier so it mounts horizontally under the spare and a jerry can mount next to the spare.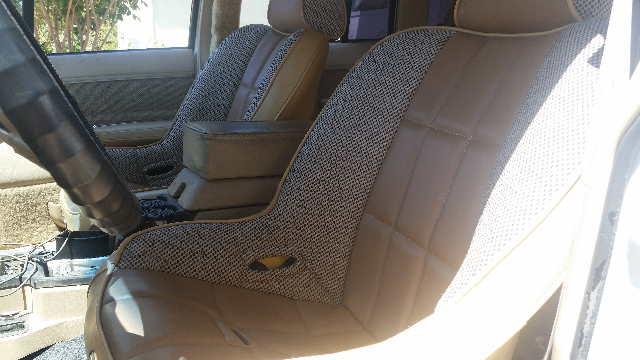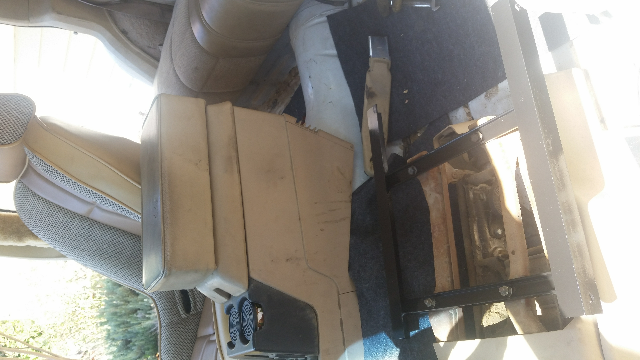 9-17-2016
Started on my anti-wrap bar/tcase skid today. Got mostly done
11-7-2016
Got the anti wrap bar done and took the jeep to John Bull in Big Bear. Some of the parts are showing their age. Ripped the driver front soft brake line at the calper. Nearly 10 years of being a limit strap finally killed it.

Also blew out passenger rear shock. Installed same time as brake line with my initial lift. Been a bumpstop forever.

Passenger side mirror also just fell off.

Then at the second obstacle of the trail, just after the gatekeeper, I decided to take a dumb line just because. Slid the *** end over off a rock and center punched the rear yoke. Broke the straps on the ujoint and will need a new yoke. Had to do 75% of the trail in front wheel drive after being pulled up that obstacle. My little 30 sure is taking a beating so far.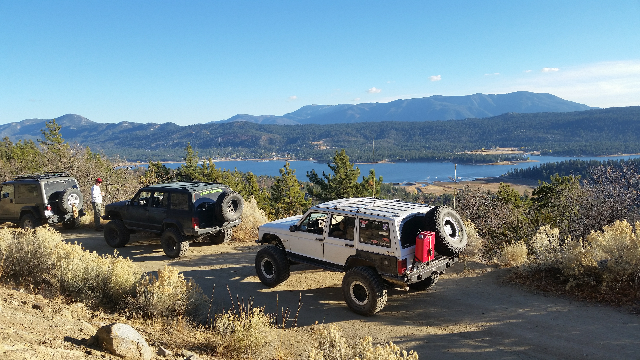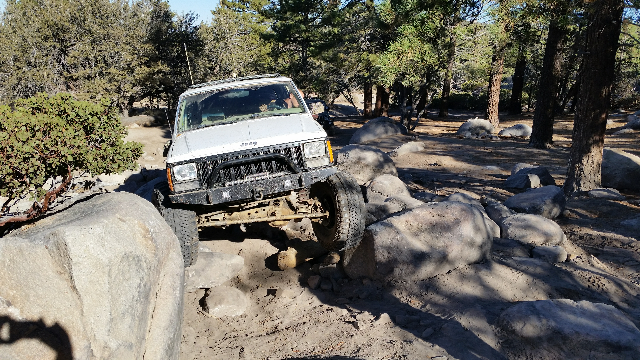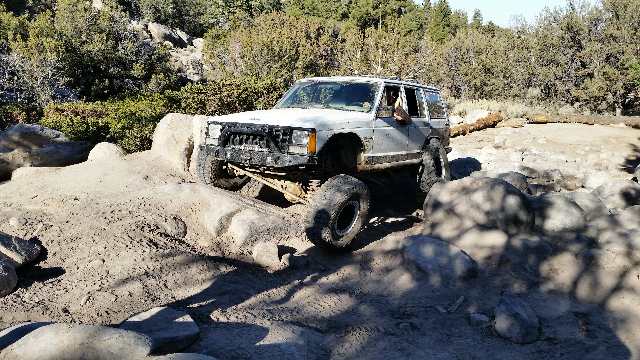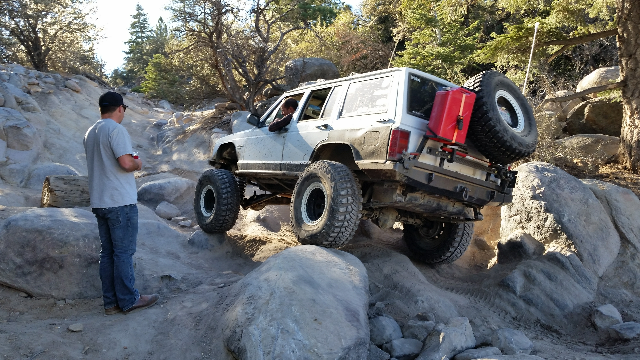 11-12-2016
3-29-2017
Haven't done much lately. I did relocate the alternator to where the ac compressor was. Got tired of it being so low and a pain to change as well as down in the elements. Relatively easy project