81 cj7 rebuild by nixer600
By diyauto
You must be logged in to rate content!
81 cj7 rebuild
Compliments of nixer600 @ jeepforum.com
9-5-2012
Will have outboarded leaves, 40" tires, amc 360, t18, Dana 20, York, cage, dana 60s, air bumps, and some nice clean body work.

Before this build it had.
258 40 over
headman header
DUI distributer
weber 2 barrel 38/38
Flow master 50 series
Yj caged
mile marker 12000 hydrolic winch
super lift 2.5 lift

Dana 30 wide track trussed and stitched, yukon cromo shafts detroit locked posin spider diff cover 4.56
heavy duty tire rods all new brakes bearings warn premium hubs

Amc20 trussed stitched, 4.56 Detroit one piece shafts. Wide track

T18a 7.32 1st gear
Dana 20 case twin stick.

Snorkeled
Super swamper sx 36x12.50x15



get this when I got married 10 years ago I needed to reduce my bills as much as posible, so I sold my (in its day) sweet 2001 Honda civic SI and bought this jeep for 1800 cash, drove it home, and it would not start the next day. So we rebuilt the engine cleaned up the floor boards but some bed spray on it, black painted the under carriage and I drive it to work day or shine for 4 years. (north Florida) about 6 years ago it became a toy, and now im about to rework this thing over and keep it daily drivable bit not particle.

Soon to get and be documented in this build will be.

Dana30 rebuild diff, my gas peddle broke the ring pinion when I hit a bridge piling in a creek crossing. I thought I was just spinning in mud but no it was a hard hit.

Holbrook long leaf springs. 3" lift Said to be real nice handling and good articulation. I'll stretch the front an inch or two. And the rear a inch or two. rancho 9000 adjustable shocks. Custom shock mounts, not sure how yet?

Newer wrangler tub made to look like a cj7, bed lined and painted nice, body armor corner guards rock sliders, and metal cloak front fenders, the rear will be cut maybe Even comp cut. Rember 36" on 3 inch lift and I plan on bigger tires when I build my HP44 front, one day.

New dash, windshield frame, revolver shackles.

This thing has a fairly rusty tub right now, not really saveable. Frame looks good. Not much rust. Comments please.


Don't let me build this thing wrong!!!!!!!!
These are some pics from about 4 years ago or so when it was in its prime. The 3 guys photo is is when I got a call to come help a stick friend one hour from us at 11 pm in January. We crossed water holes to pull him out a ditch. It was about 20 degrease that night when we got home. No top no heater.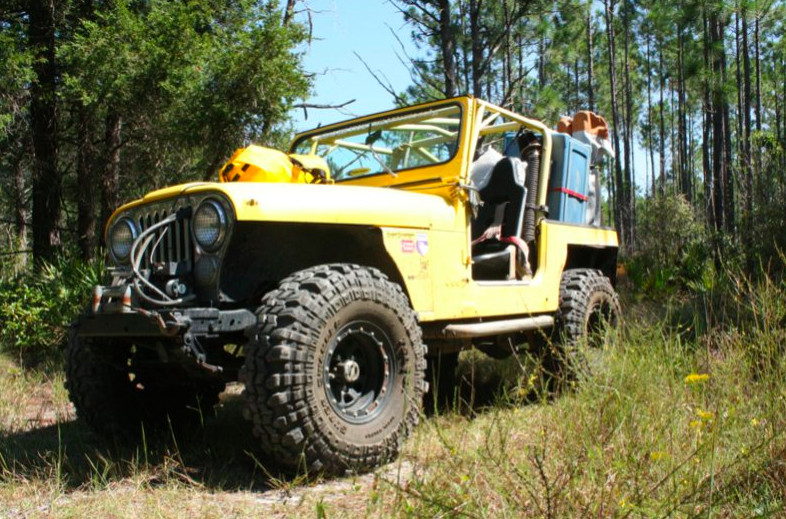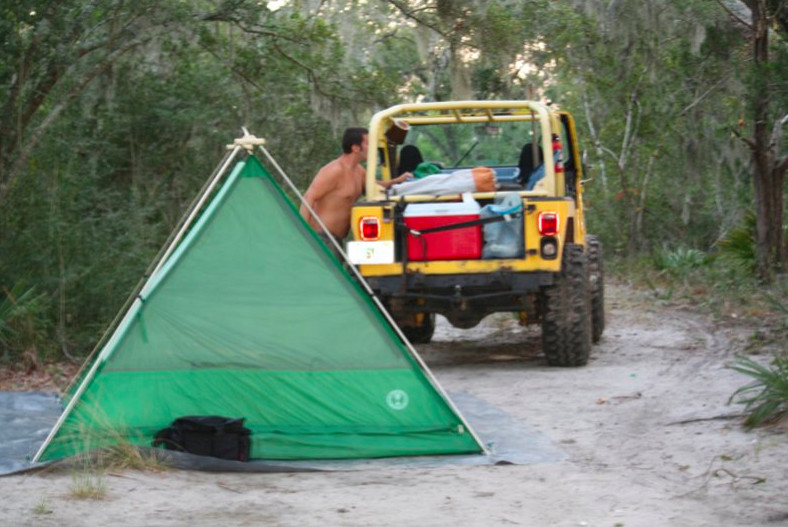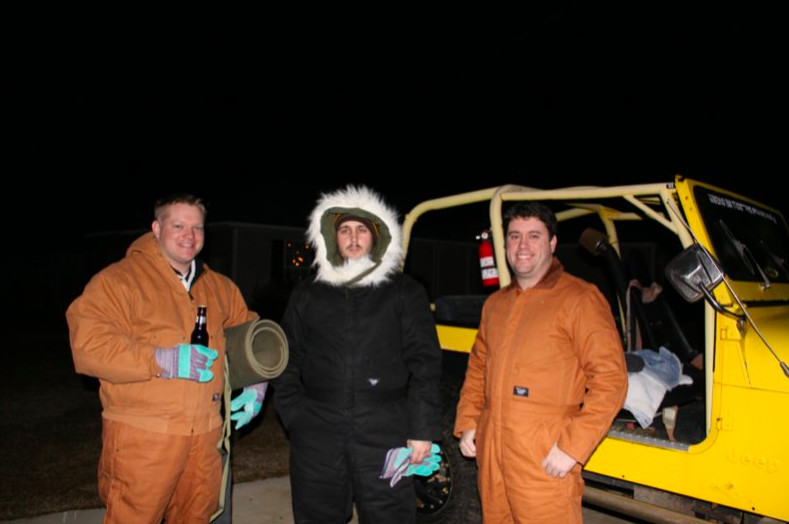 Tomorrow I'll post some current pics of the jeep, shes got some big rust holes in her now.
Her is some more pics while it was in its prime about 4 years ago.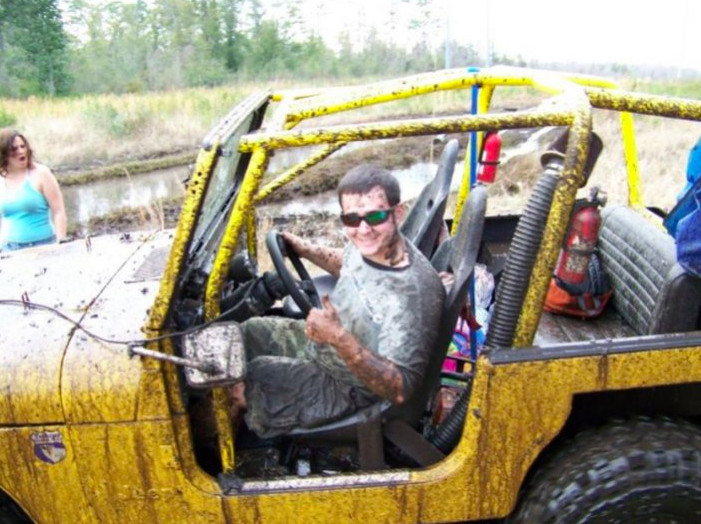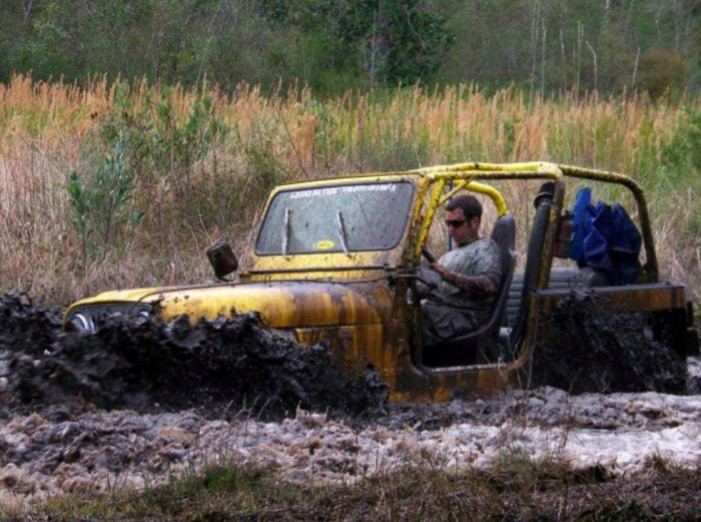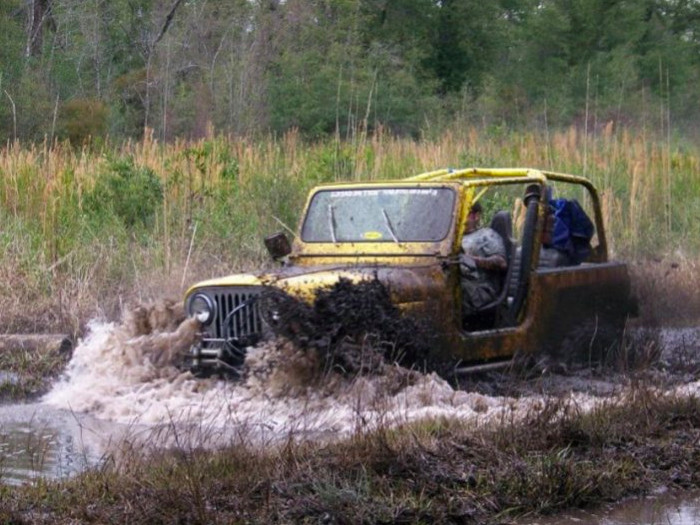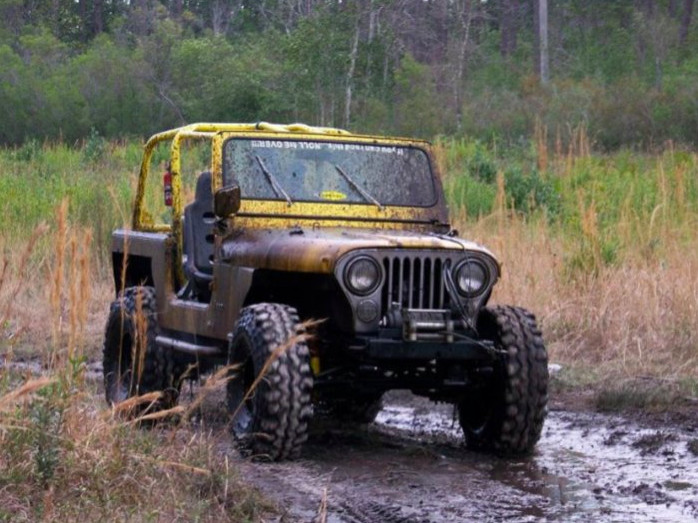 This is the Dana 30 ring after Cryo (looks the same to me) the pinion and diff bearings where treated as well. I'll be selling these on about 6 months to a year along with my Dana 30 Detroit and inner Yukon cromo shafts.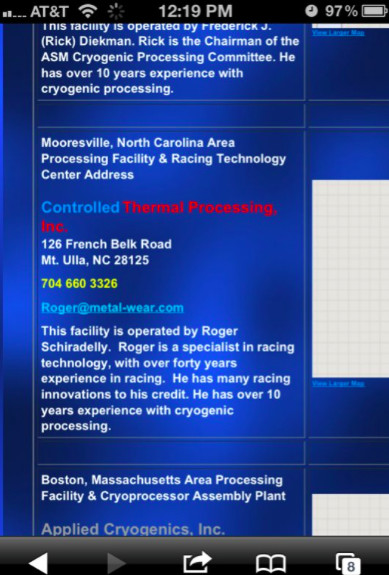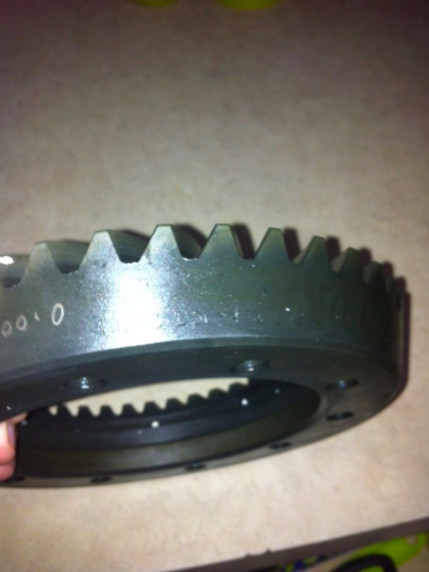 9-7-2012
So I picked up a Dana 44 hp out a 72 f150 Today. I plan to cut it down to scout II width and use my Dana 30 stuff from the balljoints out. This will give me a close WMs to the original front Dana 30.

Since I got my hands on this Dana 44 hp, I decided to mail back my Dana 30 rp and install kit to get a full Refund from randy ring and pinion, I didn't tell them that I cryo it for them. Any ways that's about 470$ back in my packet to fund the Dana 44 build like RP, install kit, ox and Cromo inner shafts. I also found a guy here in my town that cuts down axles for a hobby, he's and ex drag racer and is backed by good word of mouth. I may have him help me if I get in a bind. I'll post pics of the f150 this weekend.
Here is how it sits now, kinda junky.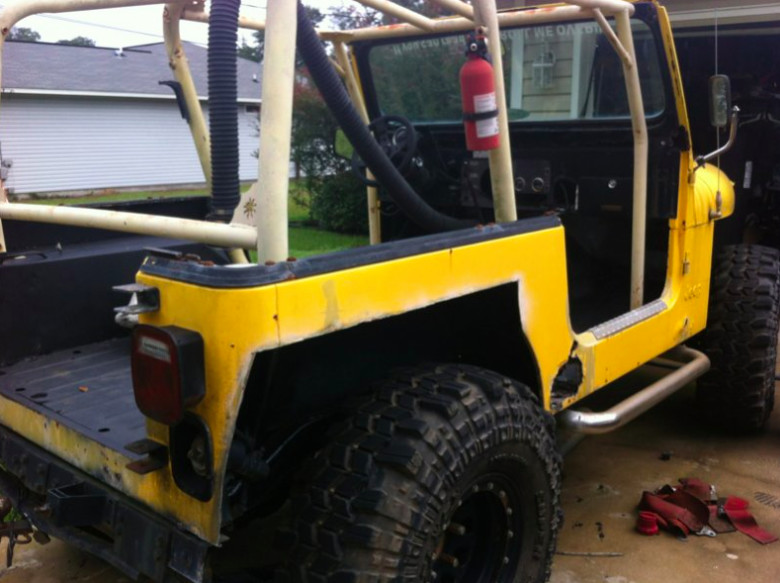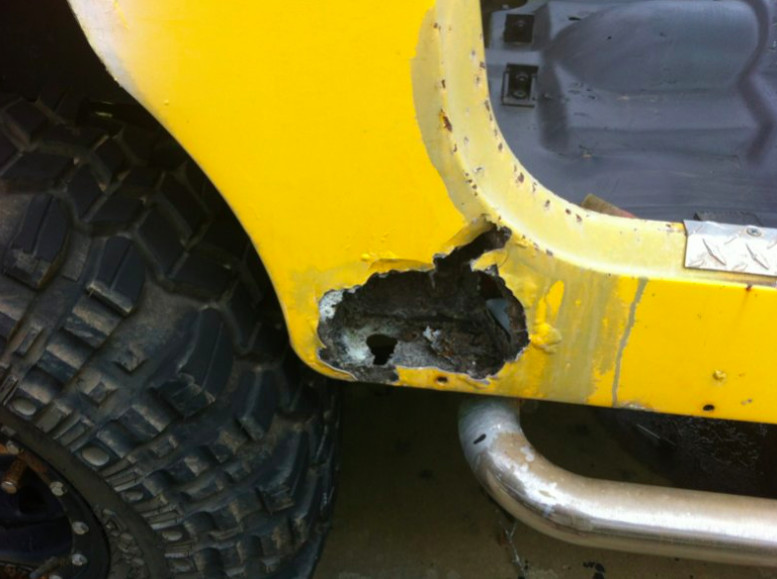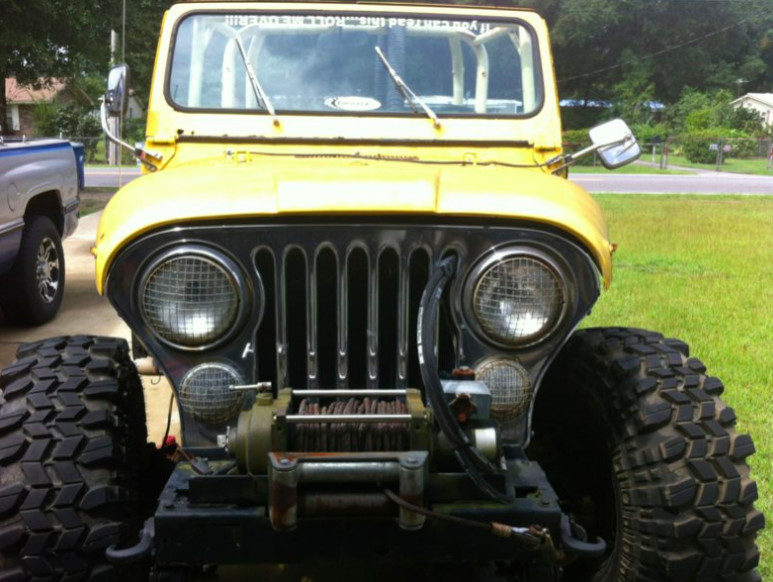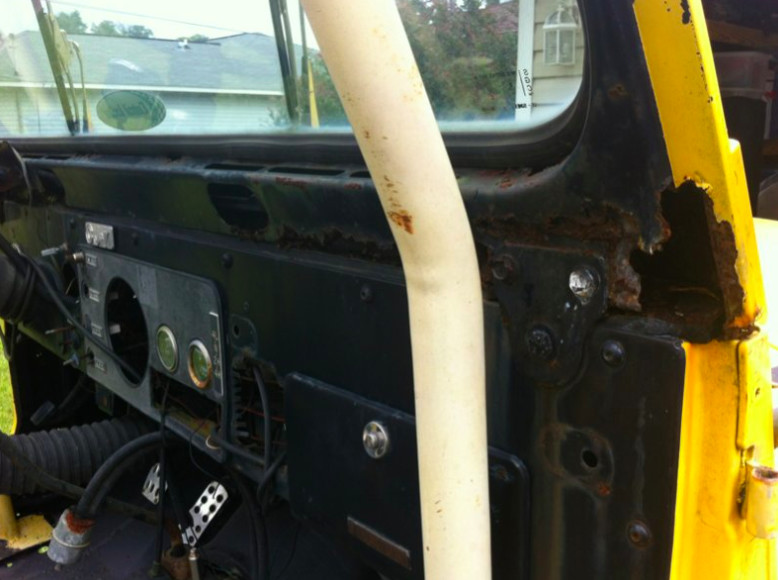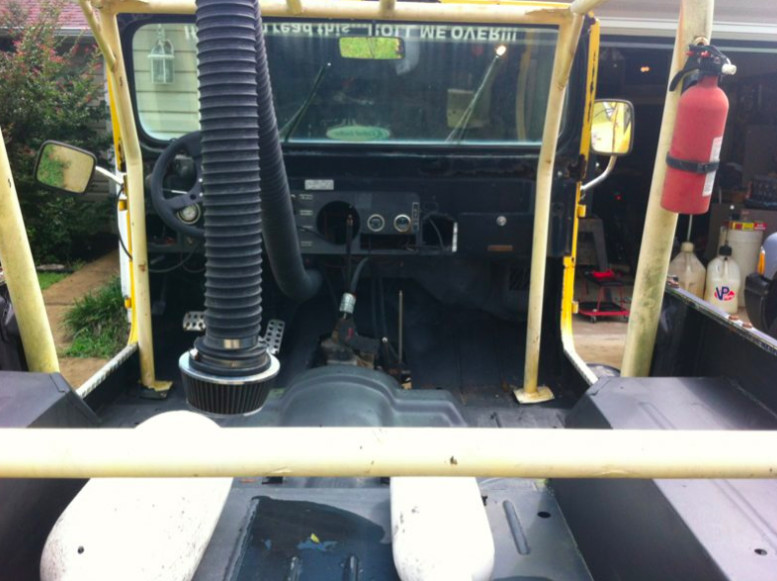 9-8-2012
Thanks, for the comments, one thing has stayed the same since we have owned this thing now for around 12 years, I have never hesitated to use it for all it's worth.

Heck the dana lp 30 may have lasted me a long time if I had not had it in 1st gear 6.32:1 tranny gear with 4.56 ring gear locked Detroit Yukon cromo shafts 760 joints to 36 12.5 15 super swamped SX (super heavy)

I was crossing the creek at night christmas eve 4 am in north Florida no top on the jeep 4 other vehicles on the trails with us, the water was flowing thu the doors and up to my knees (it was freezing out, it was sleeting badly for here) and I was like man I don't want to get stuck in this smelly cold creek swamp mud thing I'm in, at this point I was already spinning tires against old bridge pillings in the water that I did not know about, so bad Idea floored it for
What seemed like 3 seconds or so, then the front end snatched straight up, i remember seeing headlights in the tops of the trees, the still Floored jeeps, front end came down on the dry bank on the edge of the creek! The steering felt funny for a second and then I drove out and then every 5 feet or so the jeep would bind up, and then power thru it. I assume ring gear lost some teeth I'll let ya know when I open it up.

I wish I had not broken the front end so quickly cause I would have liked to report on how strong it was. But my story is clearly shows that a poor judgement call broke the diff. We have no rocks here and we need wheel speed for deep sand and sandy black mud, heck we don't even have the heavy clay mud, so I figured I'd get long life out the Dana with my i6. Stupid beer, and adrenalin combined with fear of getting stuck in cold water. Ohh well lesson learned, (it was private land)
This is some pics I took of the LP dana 30 ring and pinion gear, showing its size in relation and ratio. I know as the gear gets numerically higher the pinion gets smaller, this is critical on a small gear set, I always wished I went with 4.27 instead of the 4.56 thinking that would have made things a little stronger, if you have measurements of a Dana 30 similar to these Post em up sober can see how contact patch changes as the gear ratio does.

Any one know off hand what gear would be the strongest ratio, in a Dana 30 my Luck like some 2.76 or something useless.

Just a strange fact I've always thought about but never researched.

This week I'll post some pics of the front Hp 44 and read ford 9 inch I picked up. I'll prolly sell the 9 inch or trade it off for work on my jeep. I have a body paint guy...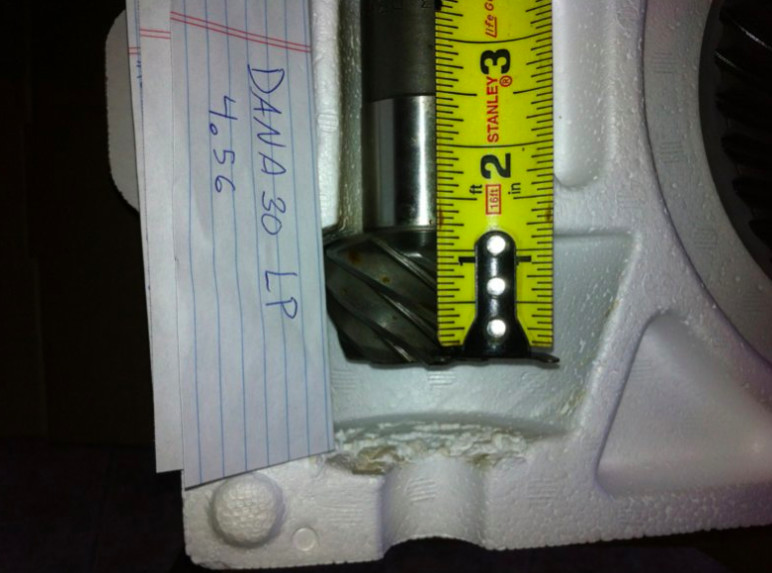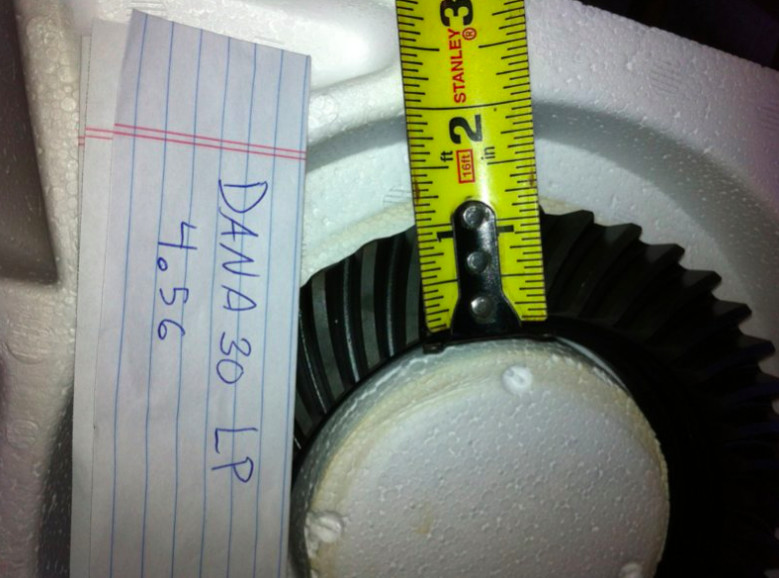 9-12-2012
72 f150 parts truck picked up for 500$ then some guy on Craigslist paid me 240$ for the hood fenders and doors, I pulled the axles for me HP Dana 44 disk brake and and ford 9 inch drum. Also got the drive shafts carb lap belts shifter boots radiator new starter and distributer. Small stuff I'll sell on eBay, np465 and a Dana 21 I believe so I'll sell the sm465 Dana 21 combo. I still need to scrap the truck to recoup my money and get the axles for free!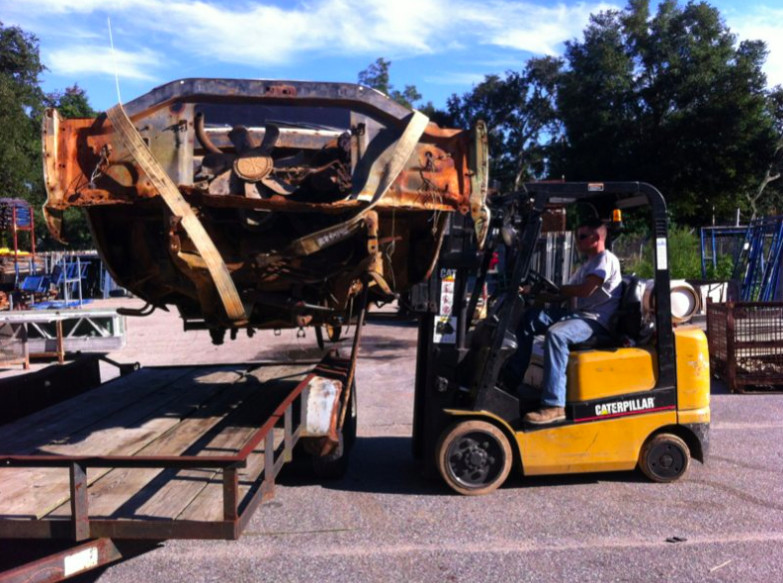 I'll post some pics of the drive train once I get it cleaned up. It's nasty right now.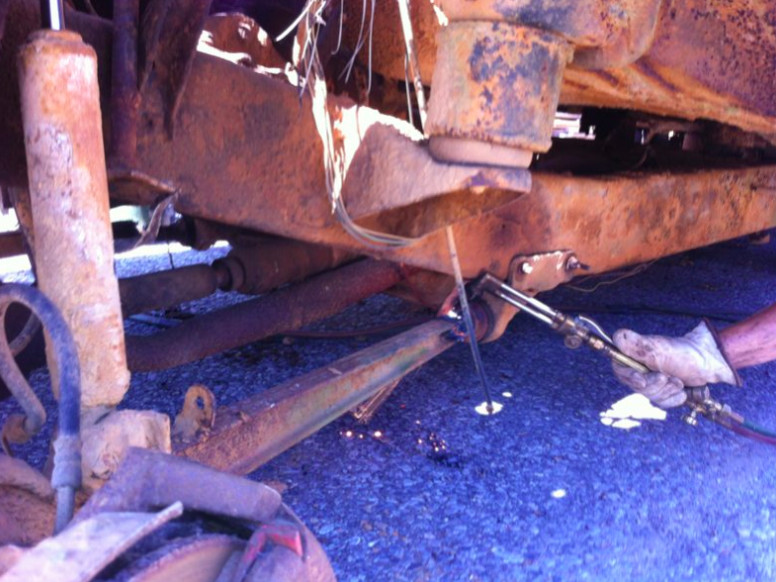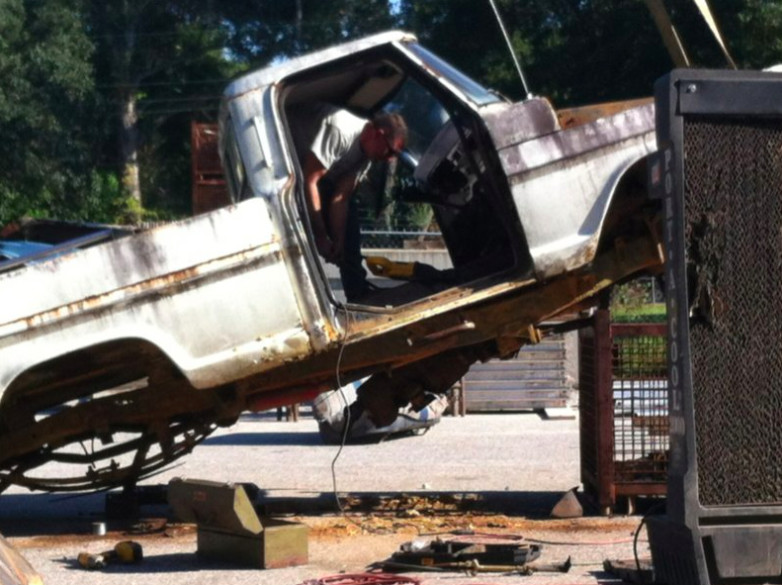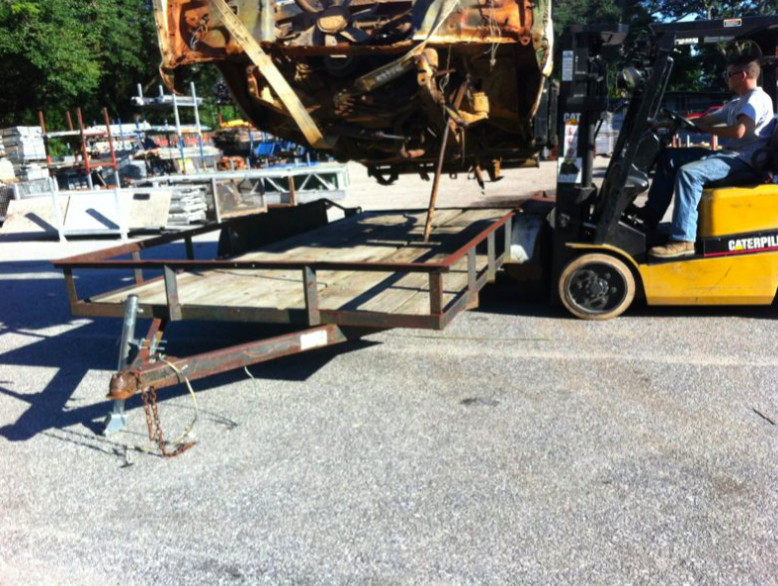 I'll post some pics of the drive train once I get it cleaned up. It's nasty right now. Few days
9-17-2012
So the expense of cromo 44 shafts and longfield joints and flipping the axle tubes to make a passenger side drop, was silly, so I have the hp44 front and ford 9 rear for sale, and I bought Dana 60s front and tear with the passenger side drop. Now I don't have to truss either, I may shave them if easy enough.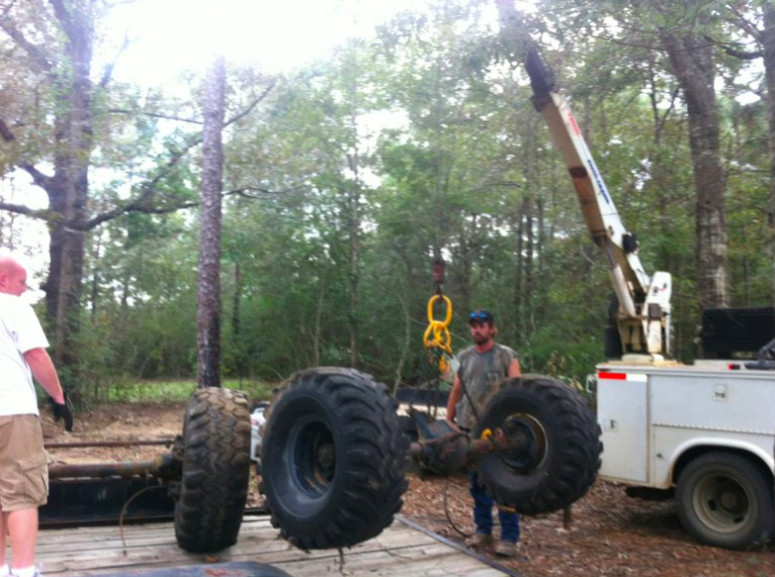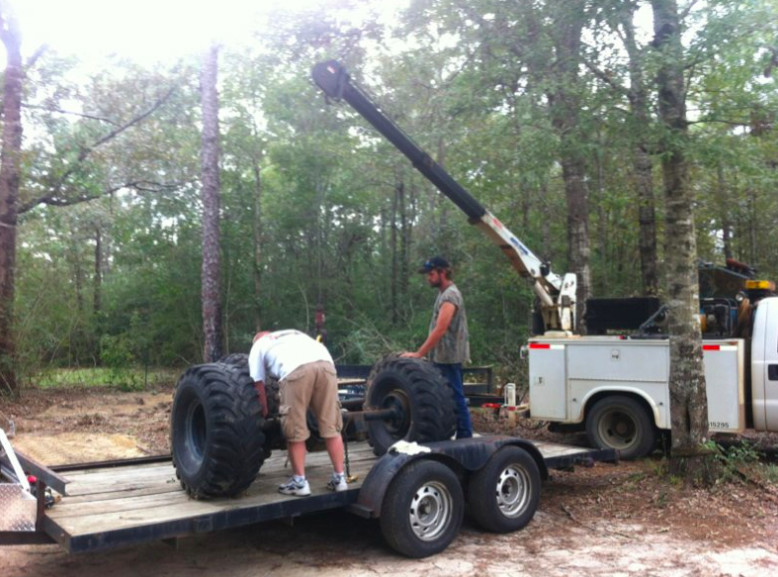 9-18-2012
Thinking about ordering 40 ltb's 16x16 what y'all think? Then getting ready to order poison spider outboard kit.

Theses Dana 60s are going to get 4.56 and detroits. Spicer ujoints 1350 yokes.

Called Dever springs today talked to the partial owner slash spring designer he said he can make me some nice springs for a 3 inch SUA lift I like the idea of a flexy 3 inch lift on 40s low rider.

Any problems with my build ?? So far, I'm also looking for a used hydro assist kit that is dependable for street use easy to find replacement parts but NOT top of the line. Any tips on this.
9-19-2012
Well the 40 ltb are back ordered untill January so think I'll be looking at a different tire. They said the are moving the build location of the ltb to another place over seas and that's why they are out and on back order.
9-21-2012
I'm trying to pick up some h1 wheels, with the PVC inserts or a good deal. They are kinda hard to find locally.

I've been on the forums picking up good used parts. 4.56 gears, new master install kits some 35 spline outer stubs and hubs. Diff thick cover. High steer arms, hydro assist Psc. I think as far as lockers I'll buy brand new. I'm looking to run low low sprung over on 40s maybe Sam 35 tsl, they are on back order everywhere but the guys at interco told me personally that he would find me some if I can't. He said All boggers and all tsl are being produced currently and all small Ltb is being produced, large Ltb will may be 2013 nice guy. I'll post some picks of the grinding and cutting i did cleaning up the axles.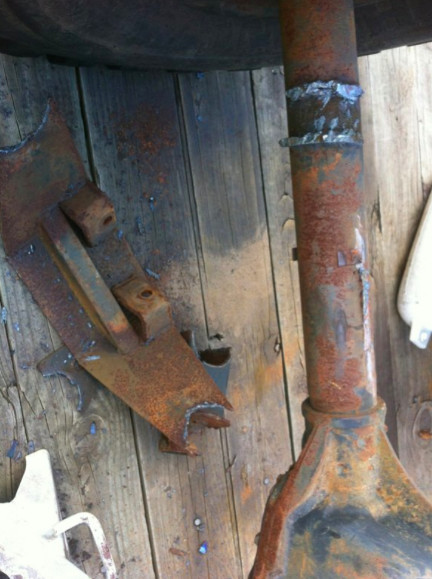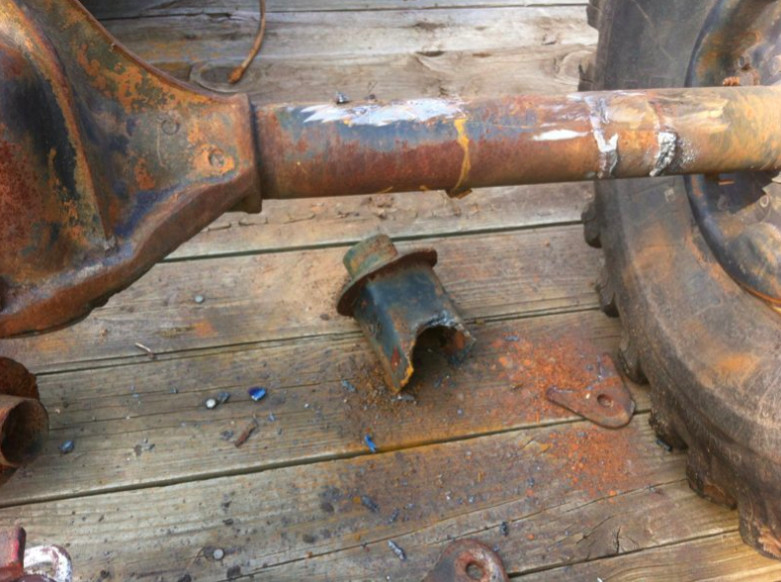 9-22-2012
So I plasmad the parts off, with my new Eastwood plasma cutter (3 year warenty) of worked great I've never used one before but it went fast and made nice cuts.

Then I grinded down the left overs smooth, slapped some paint on it just for now, once the housings are empty and gutted I'll look into trusses if it's necessary, I hope not since I'm trying to keep it light weight as posible. And then I'll sand blast them down and paint them with some nice anti rust sealer or something industrial any ideas on what paint to sure?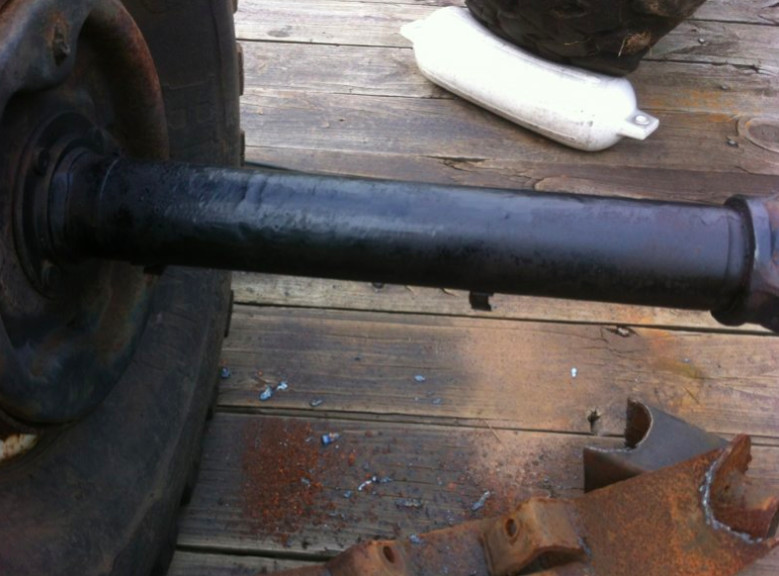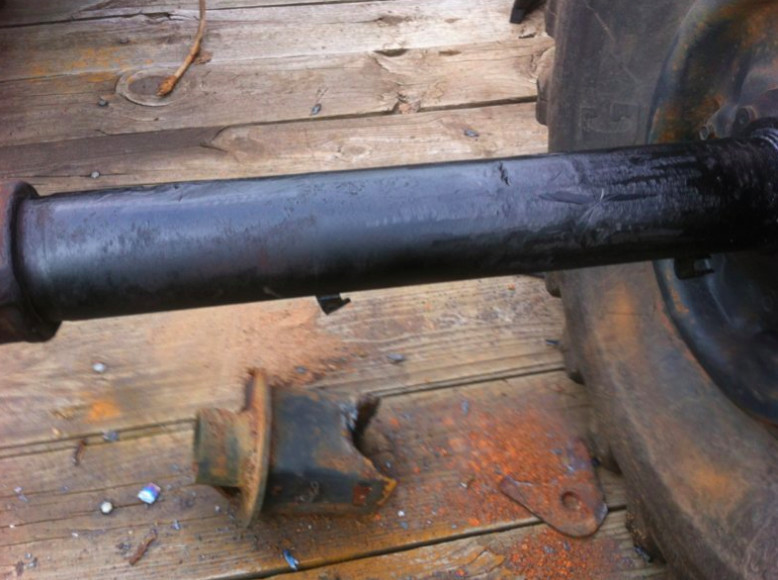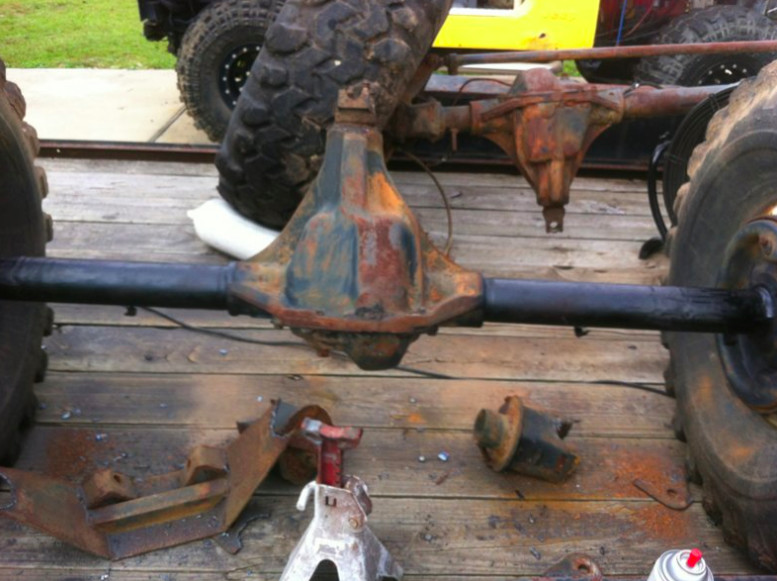 9-30-2012
So if you go back to page one you can see the Dana 30 ring and pinion stuff and measurements.

Here is the Dana 60 stuff.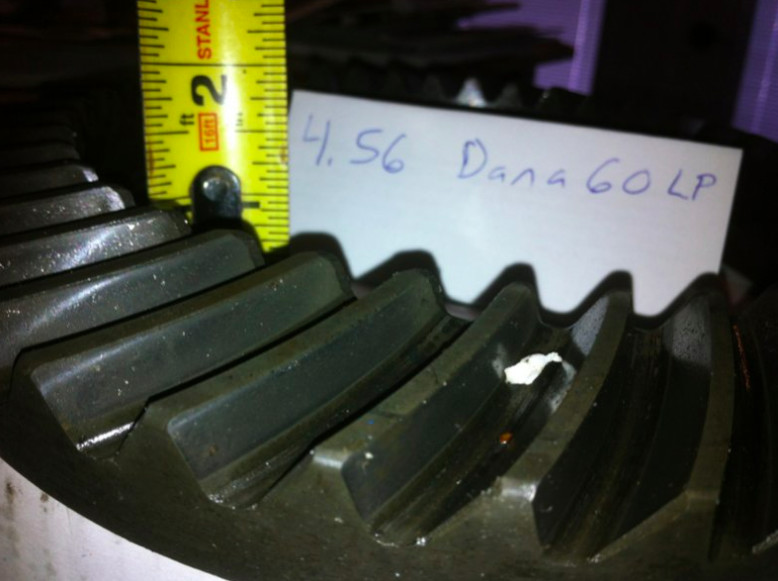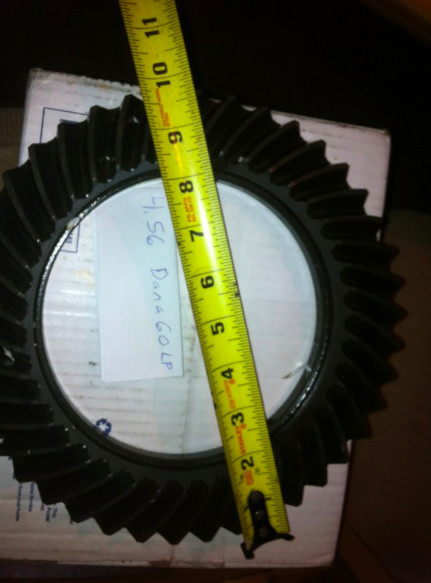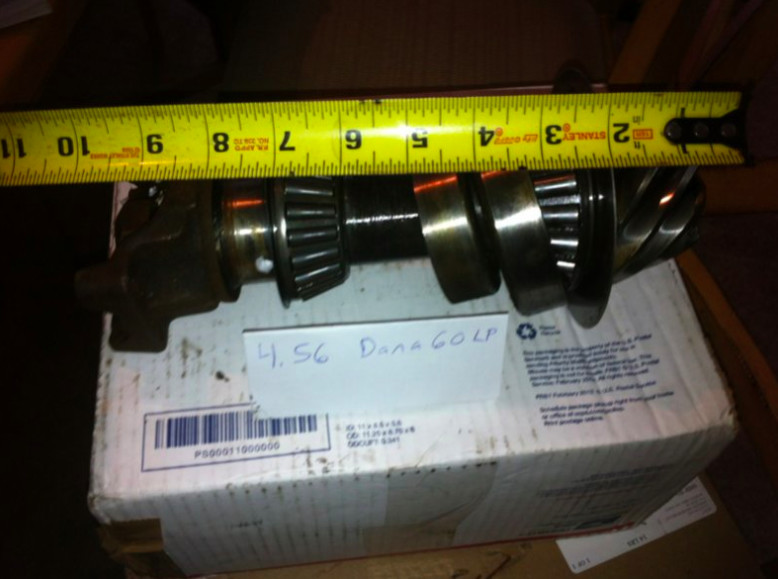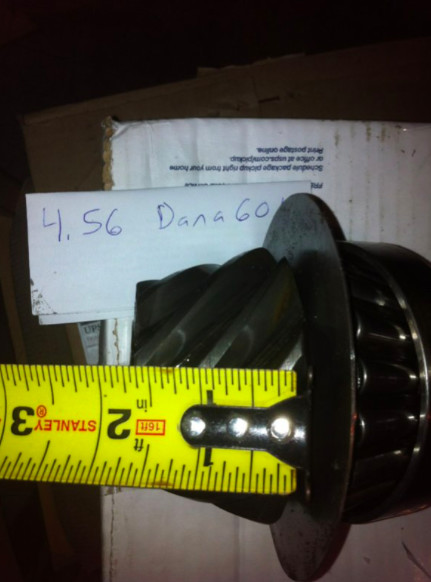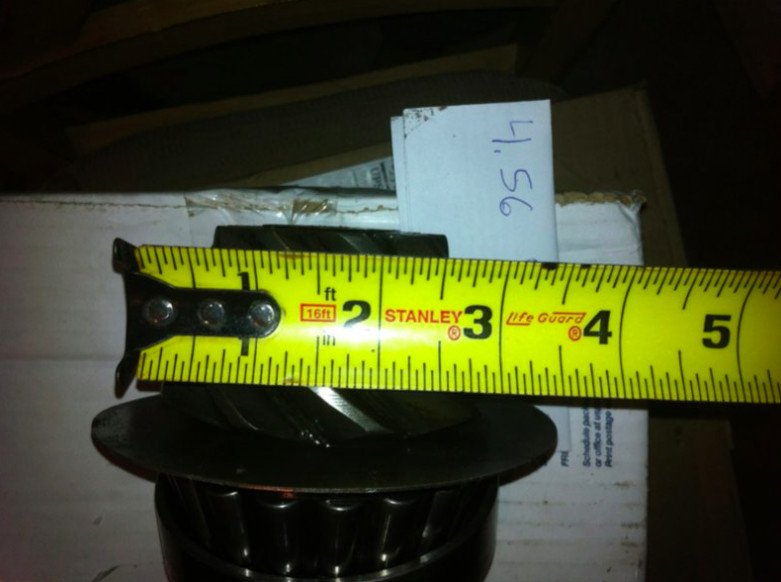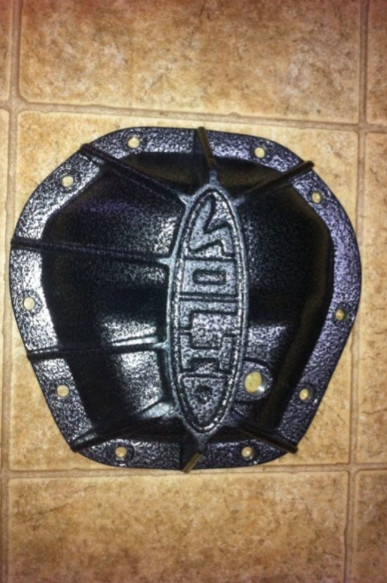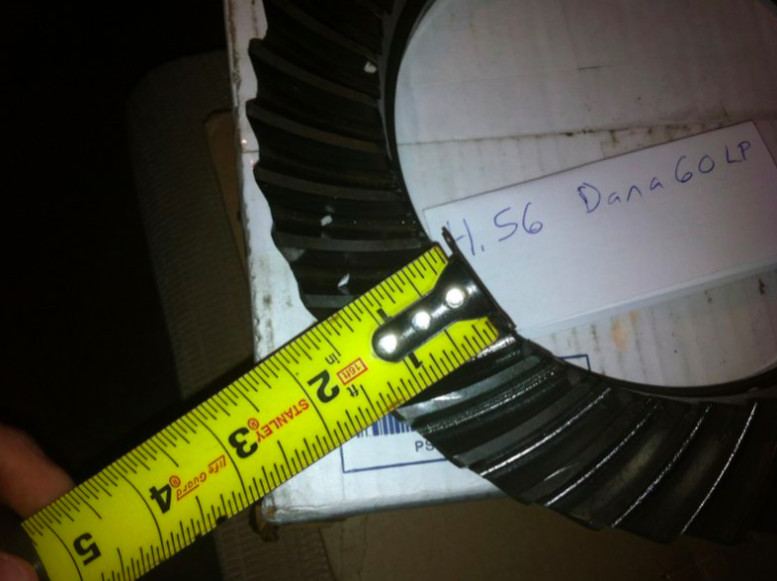 Here is a pic of the hydro assist ton tie rod ends.

And my 35 spline outer shafts with warn hubs. This stuff is huge!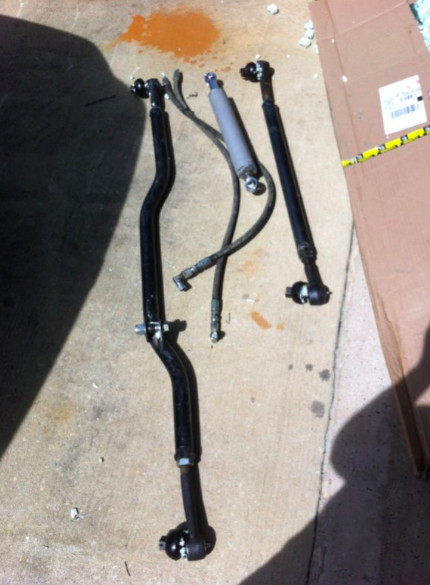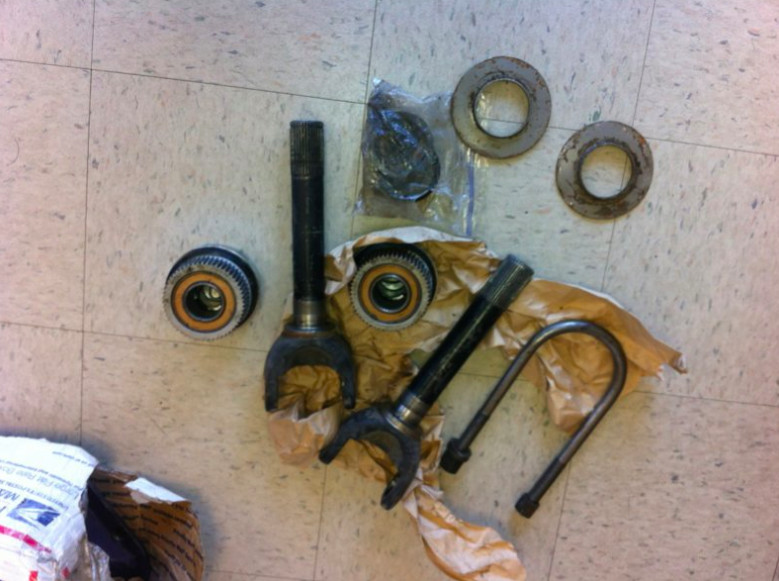 10-1-2012
Sold the hp 44 and ford 9 np435 and Dana 21 today for 700$ and that helped me offset the 1000$ Dana 60s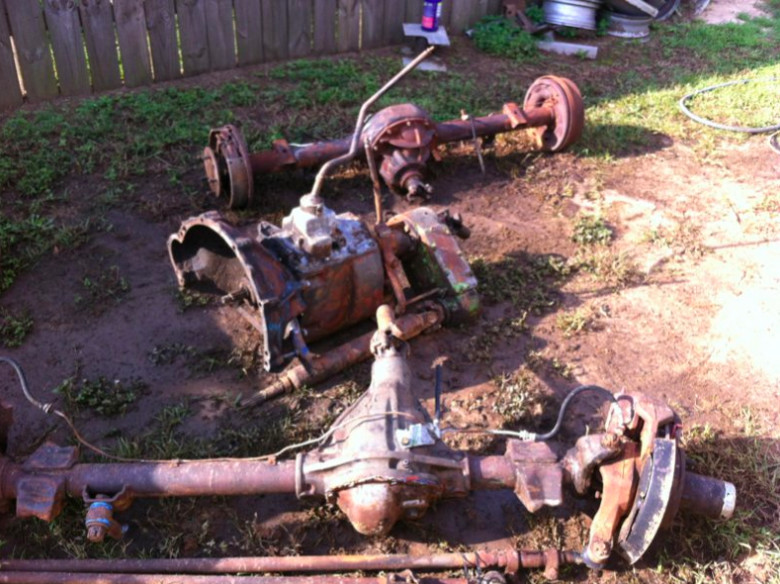 10-11-2012
Cutthroat4x4 has east coast prices and is as far as I can tell a family owned or at least family style business, when you call, the owner or family answers, and gets you the info you need. A matter of fact one person couldn't answer my question so they gave me the owners cell phone number told me I could text him for a faster response or that the owner would return my call tomorrow, my choice. I texted him and got my answers within minutes. Wouldn't it be nice if all business operated like that?

I went to place my final order of disc brake kit, some trick ubolt elimiter kit for better ground clearance since I'll be SUA on the rear, weld on shock tabs and ubolts. I was checking out and my shipping looked very HIGH I know it's allot weight but the shipping was just to much. I did not place my order I called them to inquire about the shipping and they informed me sometimes the shipping calculator Gets messed up, and that they are trying to get there web page people to fix it. WE decided I'd place my order an that they would refund me all but actual shipping! That's a deal! I placed my order an within minutes they refunded all my shipping fees!!! Free shipping on metal that's crazy but I'll gladly take it.

I recommend doing business whenever possible with cutthroat4x4 and I will post pics of my sweet parts when they arrive.

Price better than fair,(USPS flat rate) actual shipping cheap, Products needed.

I wanted to go to disk brakes on my axles they were needing drum work anyways so I started to look around. Cutthroat4x4 had the best prices and some other neat parts. This lead me to ordering all the parts I needed from them as they had the best prices.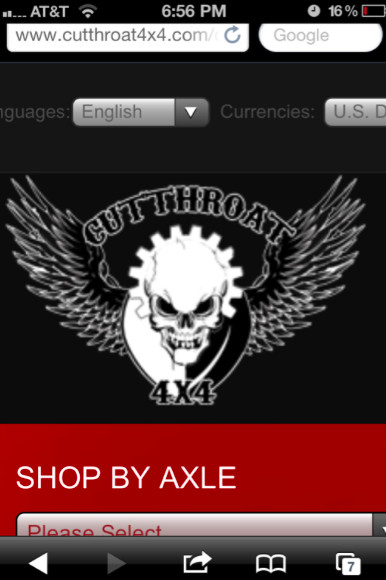 10-15-2012
Here's the parts fast shipping for sure. Thick and strong, nice cuts, nice bolts well packaged.

Check out the cchromo u bolts, and then check out the trick u bolt eliminator kit.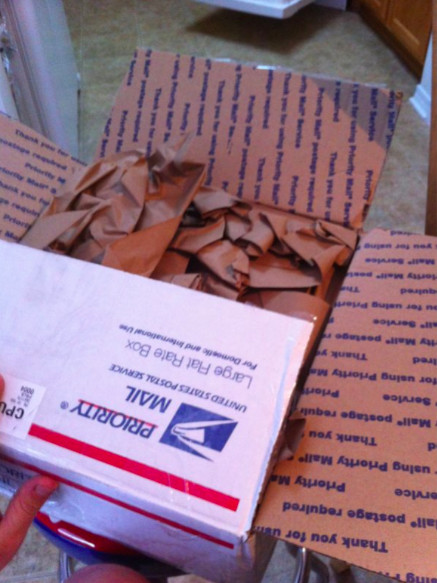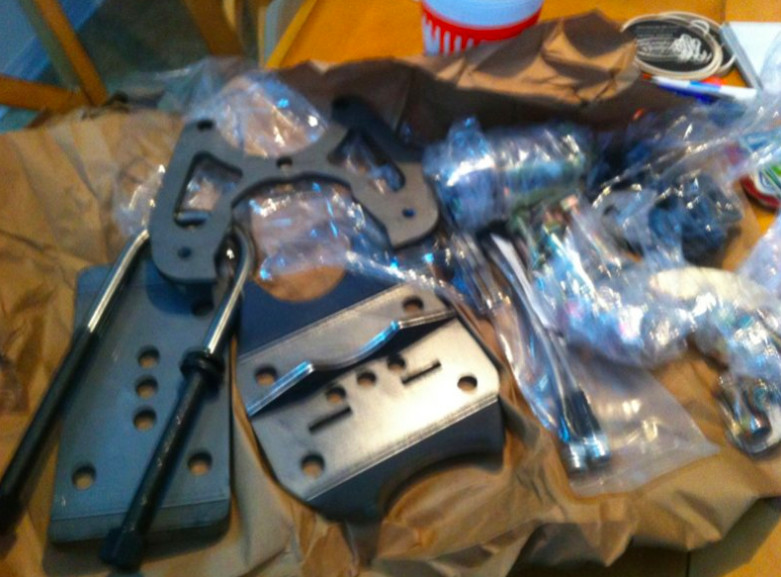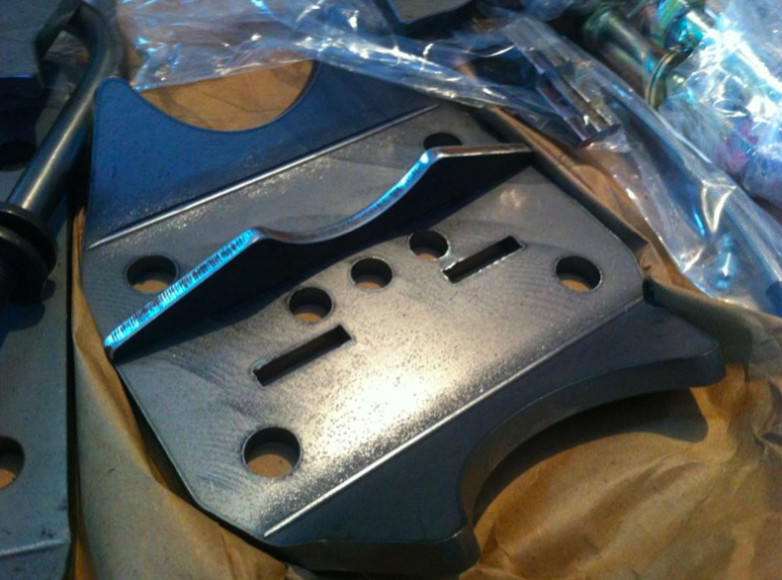 10-18-2012
My new used with wiskers 41.5 pit bull rocker on pro comps scored for 1500$ less than 3k miles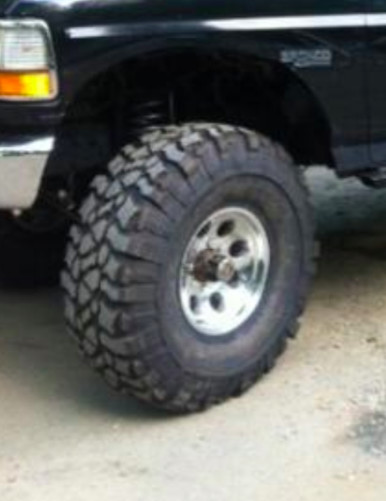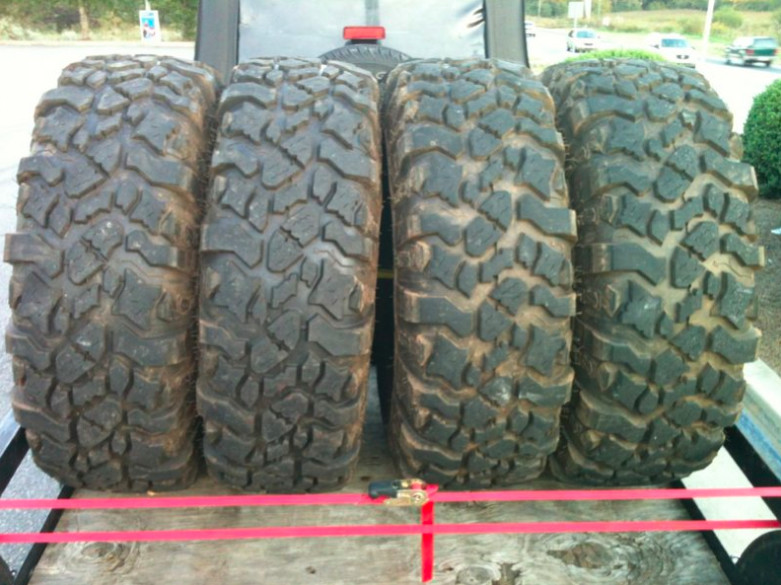 11-1-2012
Dana 60 pulled down and ready to get the caster changed, to 5-6 degrease. also gotta aim that pinion up some.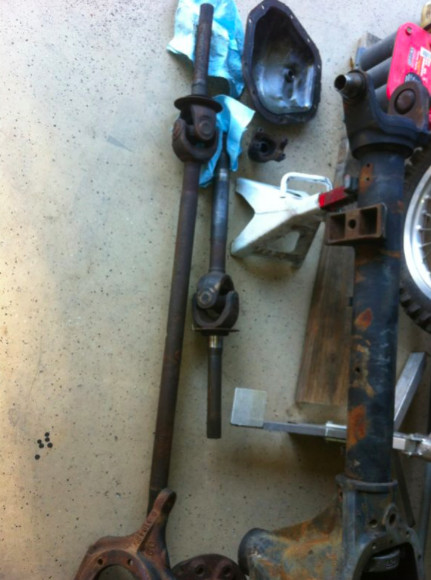 11-8-2012
Gotta bore the spindle out to allow passage of the larger 35 spline shaft and passage of the oil. 1.560"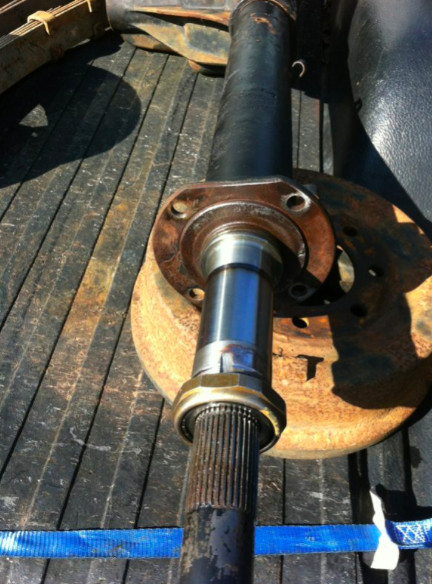 11-15-2012
Machine shop cut off the rear spindles to boar them out. 1.562 is what they ended up at. I need 1.56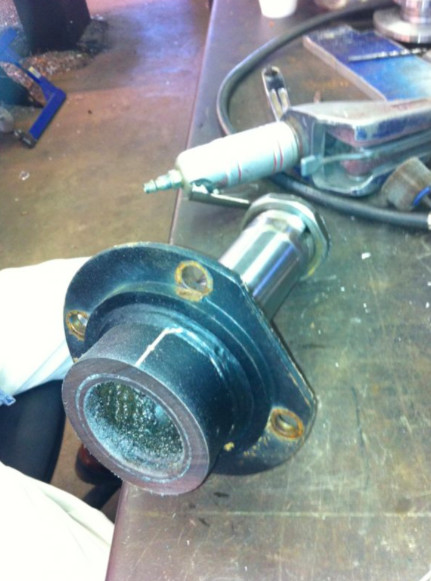 11-18-2012
Christine dougherty and I taking 4 oem Yj springs and making two front springs with them with two more long leaves.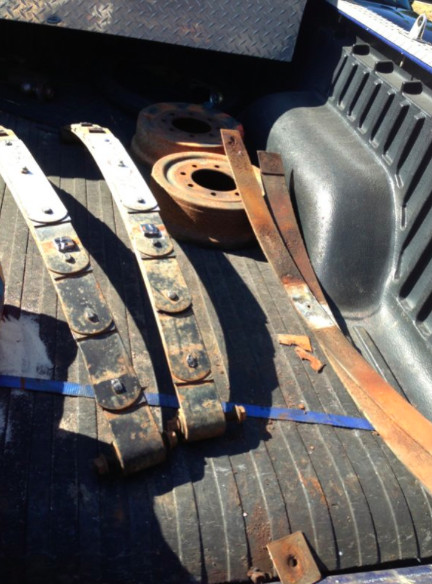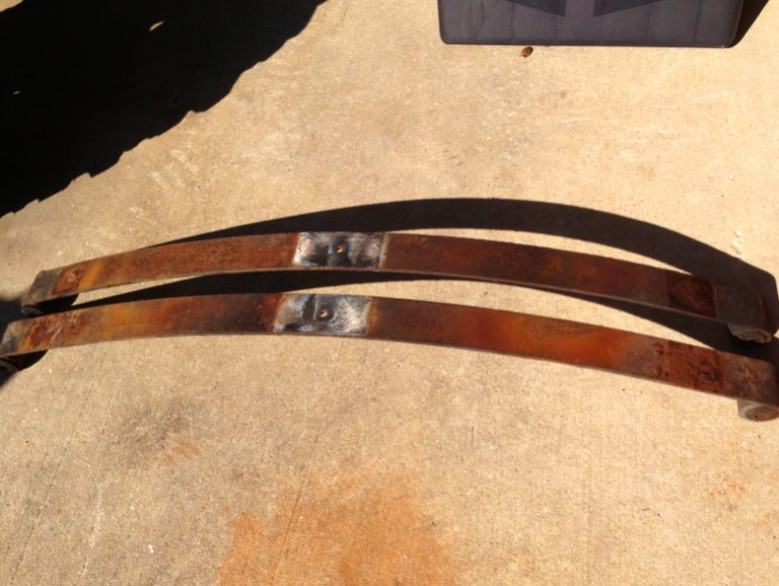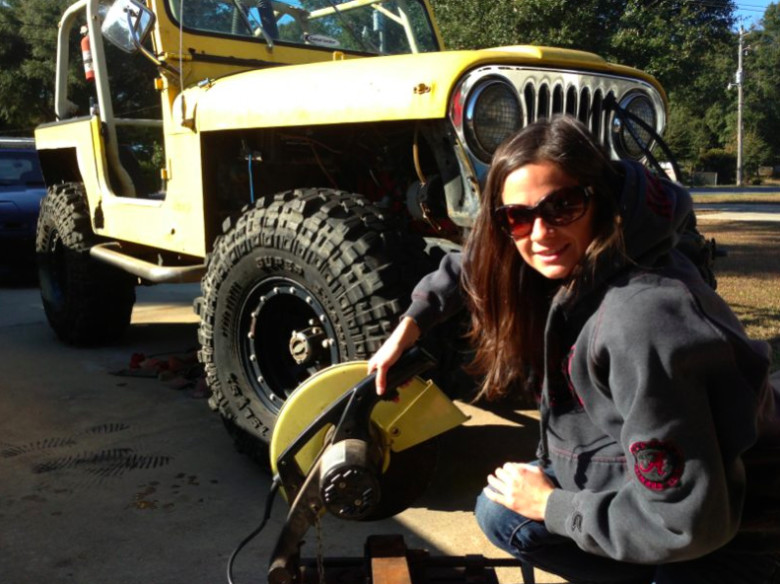 11-23-2012
Mostly done with the leaves, still need to clamp them bands on them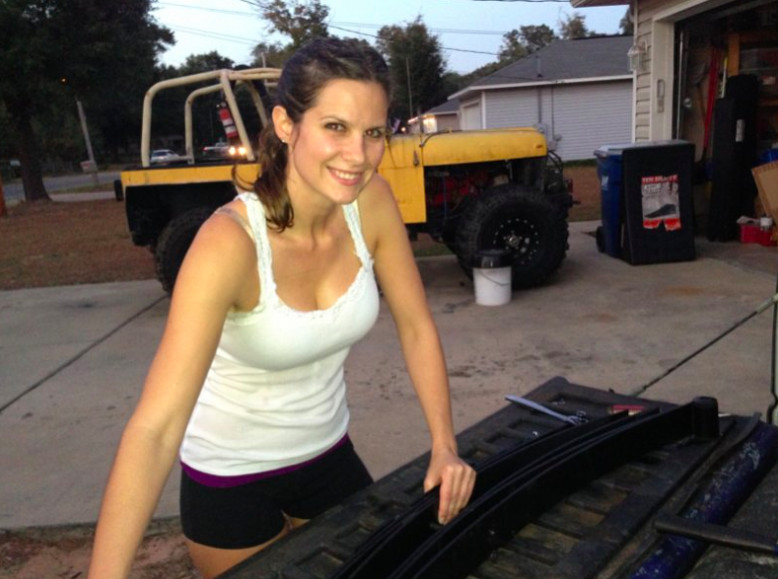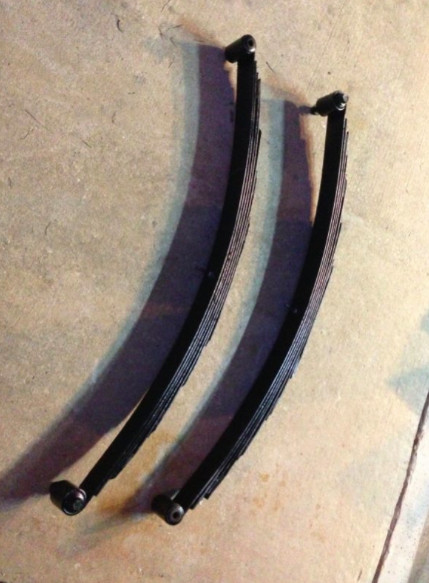 Unbolting the tub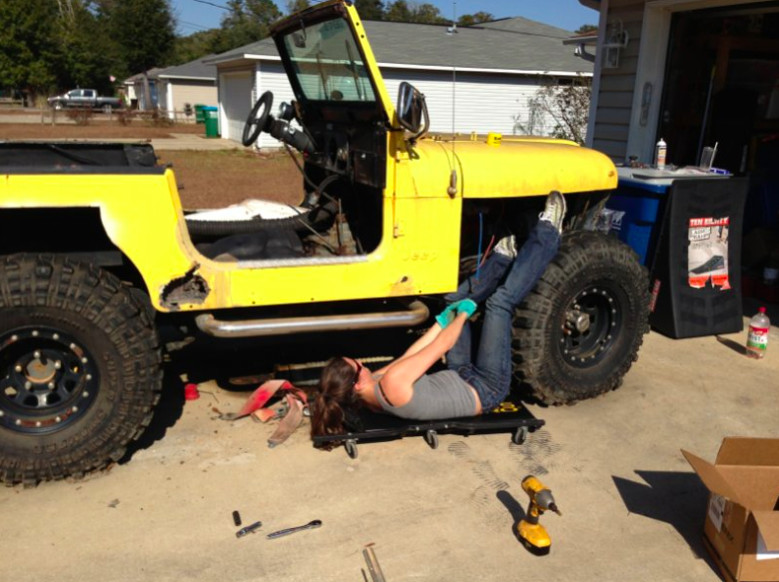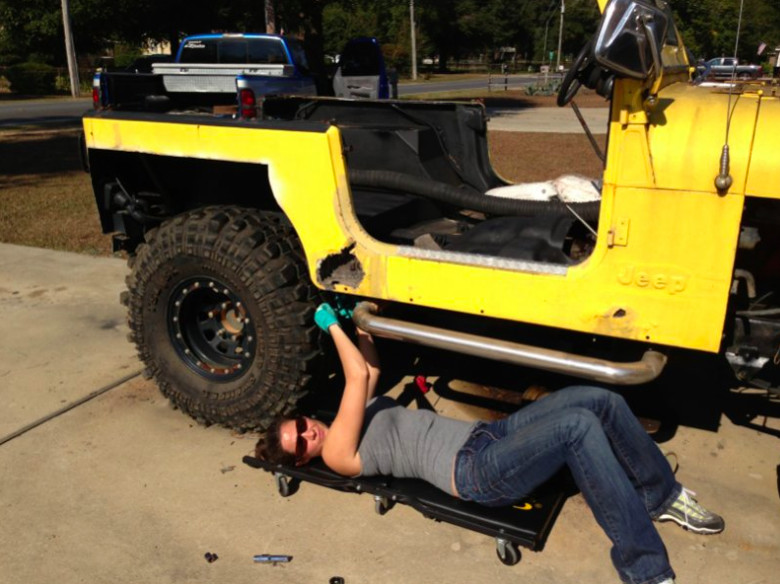 New tires arived today!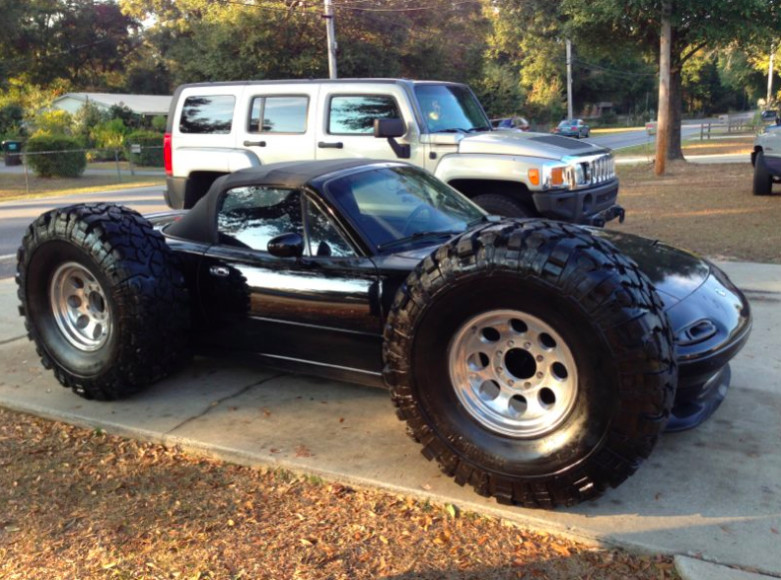 11-27-2012
Got the tub off roll cage out and my wife did all the work since I'm pretty much useless.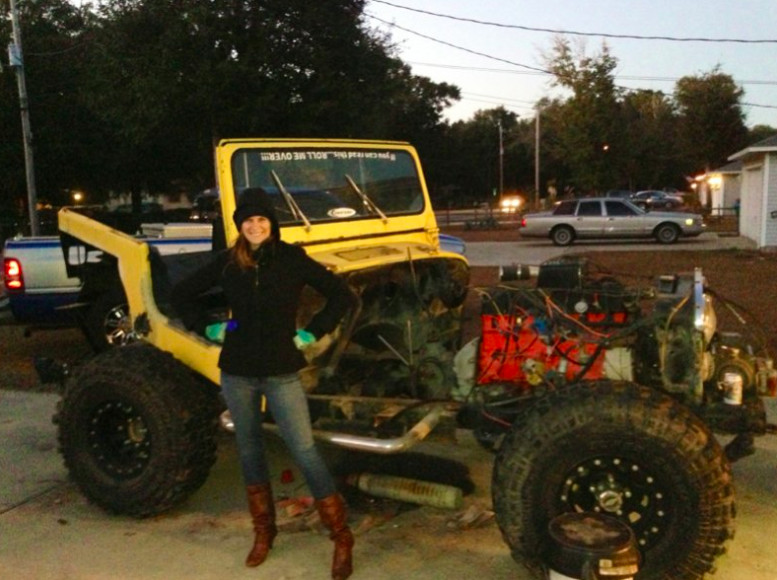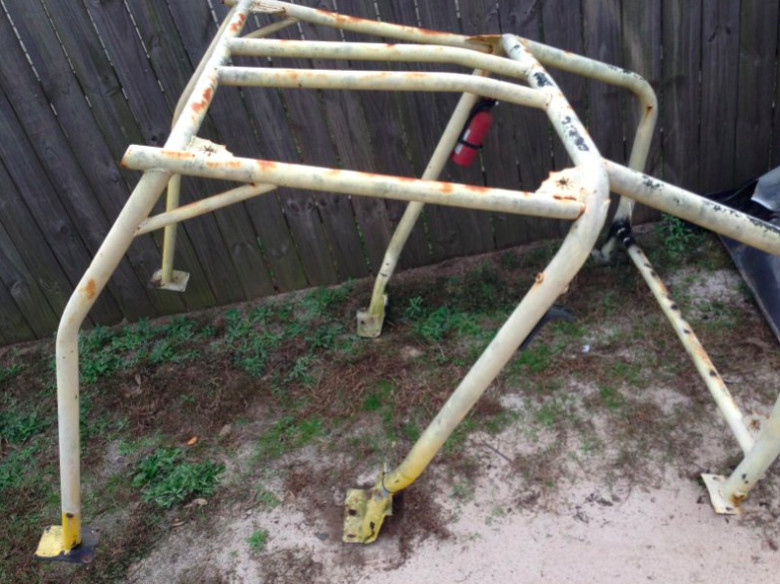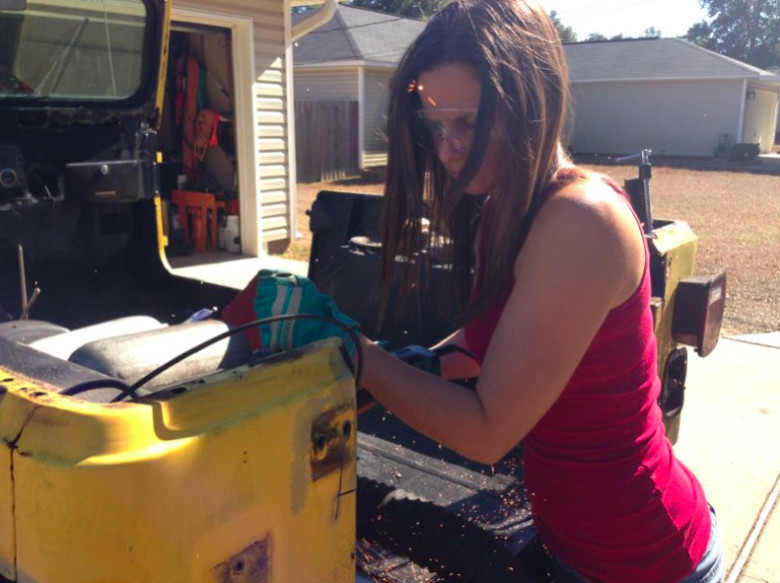 11-29-2012
Parts getting paint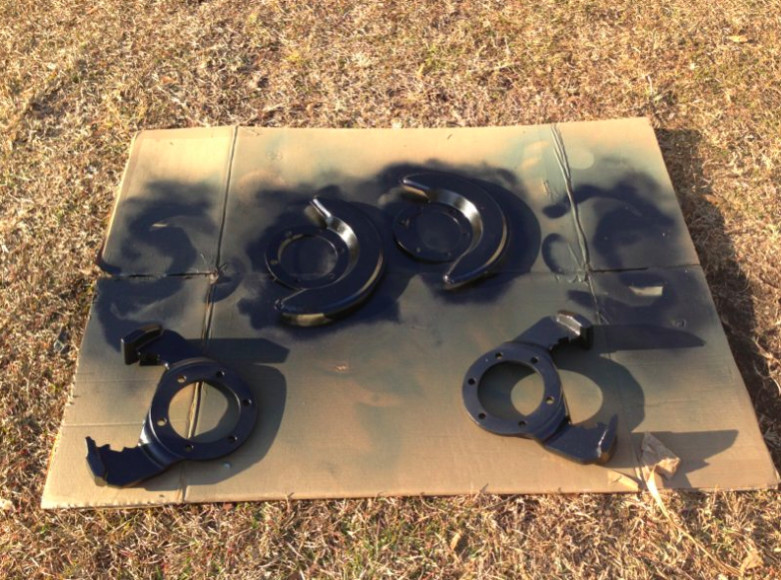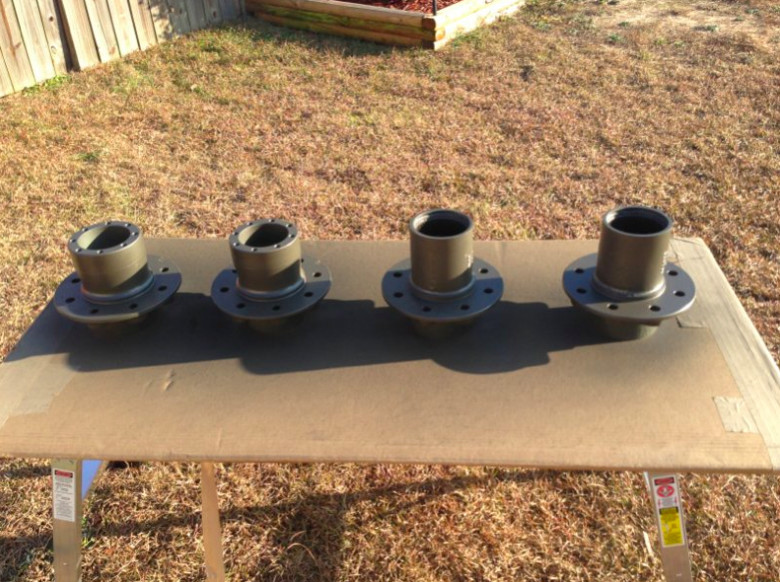 12-22-2012
Tub all off

Axles cleaned

Painted up,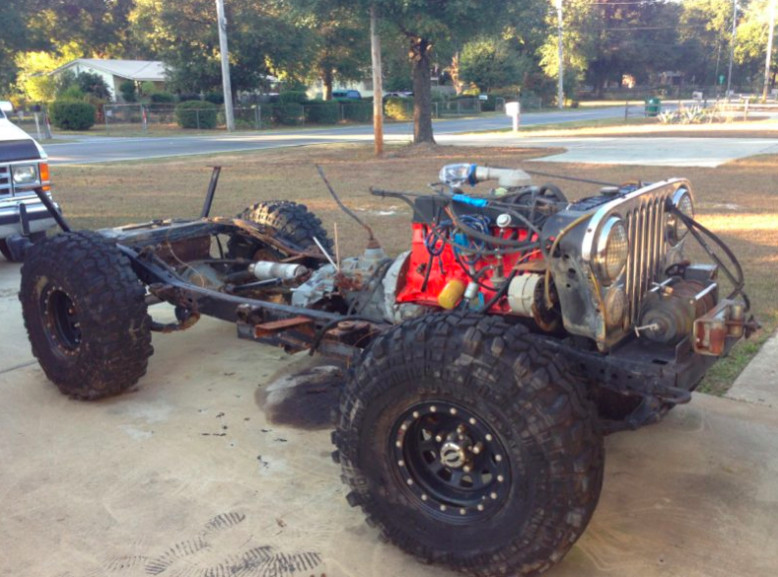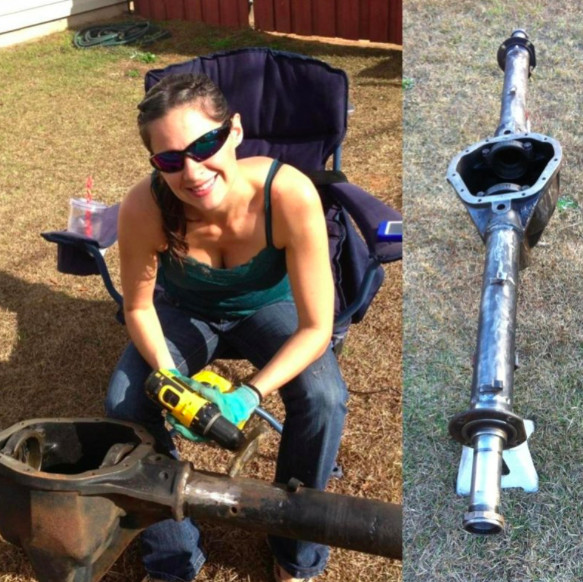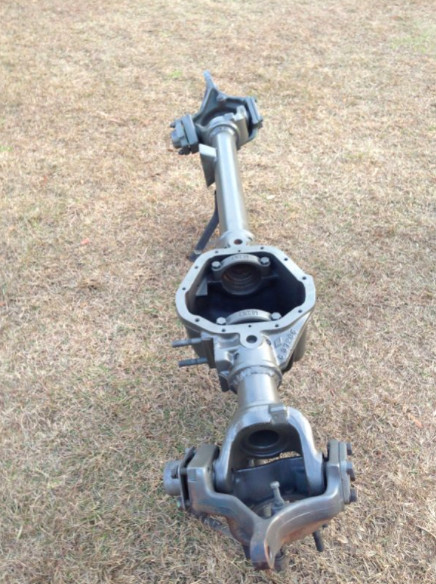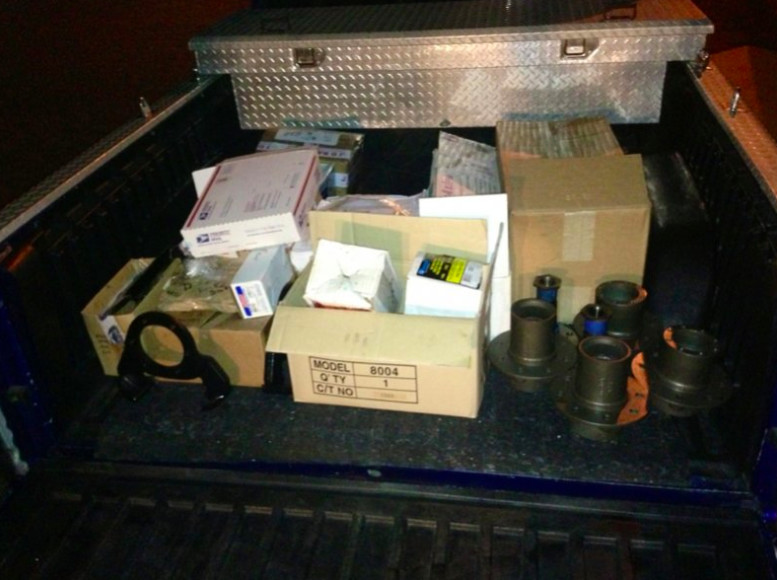 6 Yukon 35 spline chromo shafts, 2 Detroit lockers, 2 4.56 Dana gears, two master install kits, 2 solid diff covers, 4 wheel bearing kits, 2 Chevy wheel hubs, 4 calipers, 4 rotors, 2 1350 ubolt yokes, 2 new Yukon spindles, 2 king pin rebuild kits, 2 Yukon hardcore chromo lockouts.
The Dana 20 needed a new front output bearing and seal. So we rebuilt the whole thing. Christine dougherty did most the work again.

Here is the intermittary gear before and after. She Got all the needle bearings In easily.

This was our first gear box rebuild of any kind, we did good nothing held us up, things went smoothly, good instructions is a must and carful disassembly with all parts laid out Nicely helped.

Needed to buy a small bearing separator though.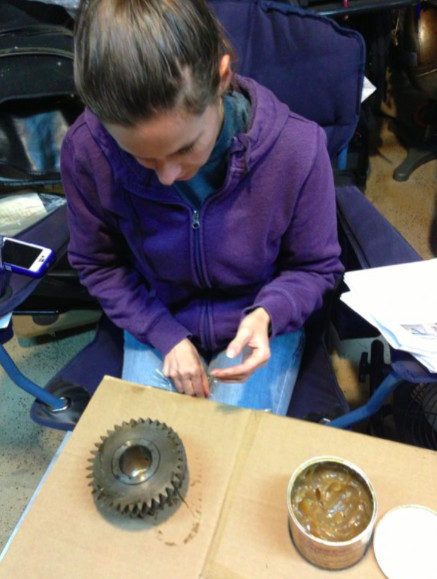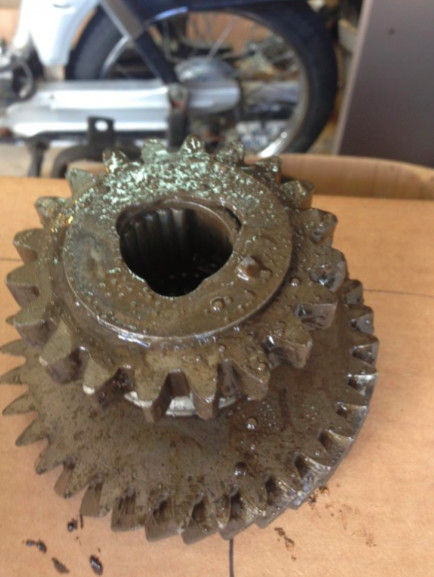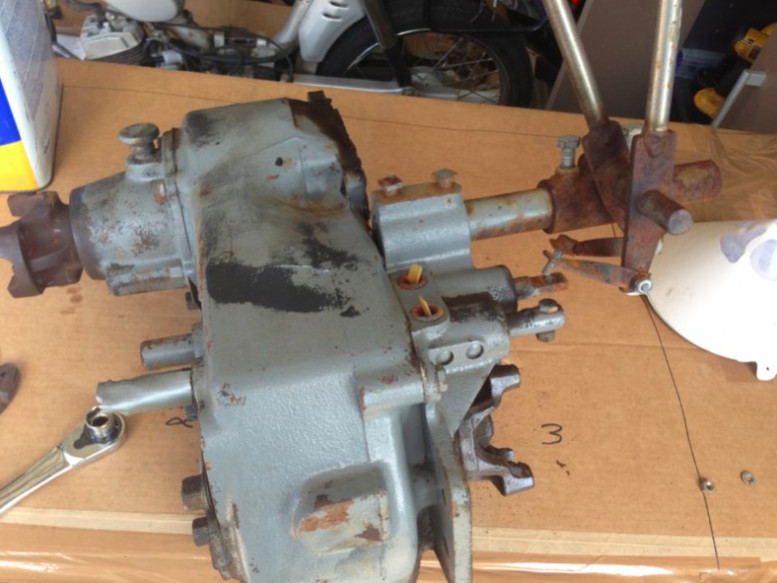 Replaced the cover gasket on the t18 and changed the mushroom vent to a barbed fitting for vacuum hose to run to higher location for water proofing.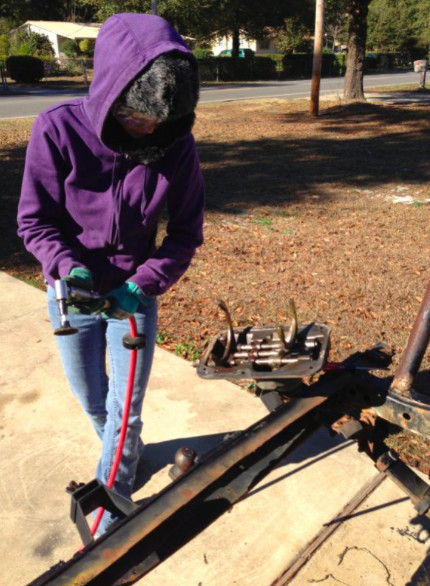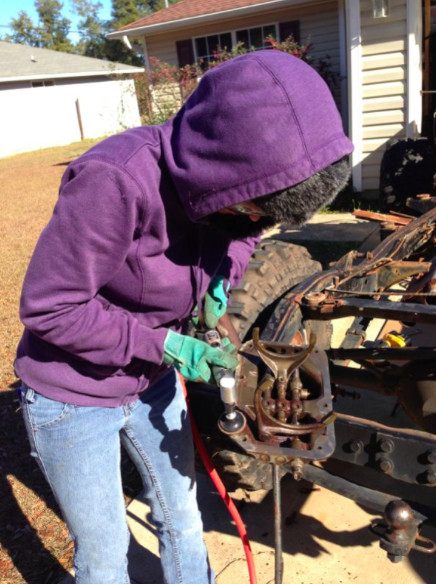 12-29-2012
Christine finished up the Dana 20 And bolted it in, all fluids filled and waterproofed.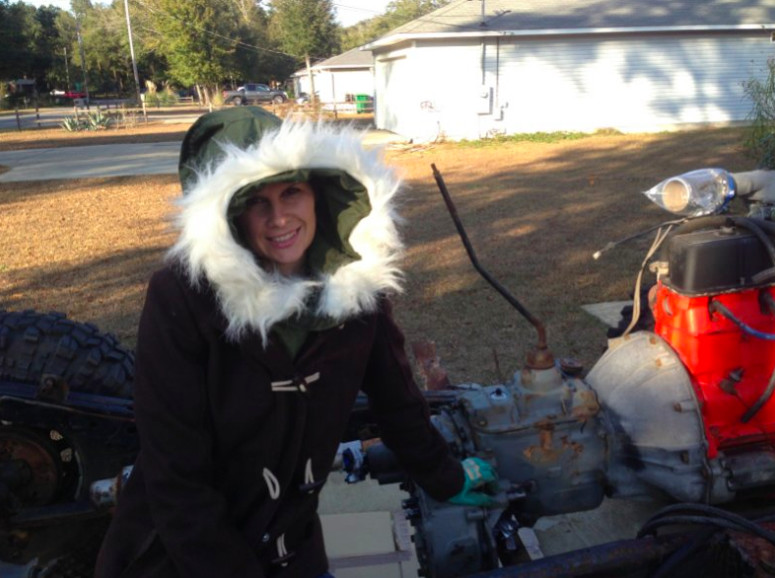 1-31-2013
Axles built

I'd like to thank Wade Martin at Off-road Enterprises in Stockton, CA for helping out.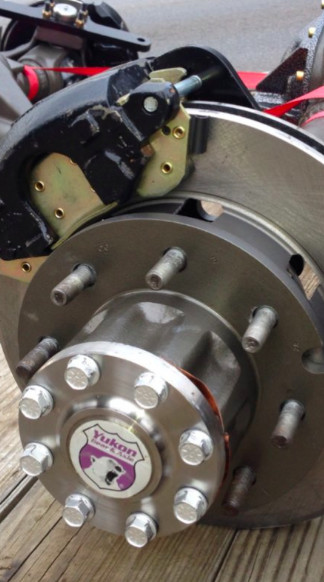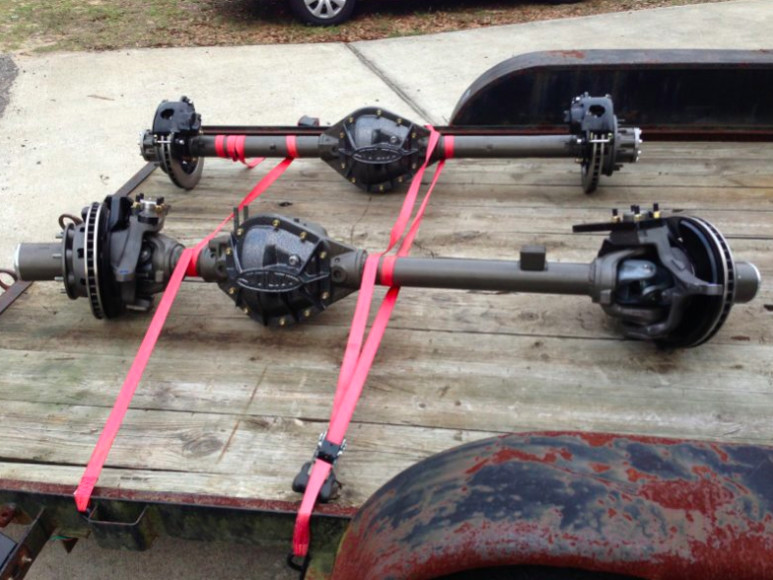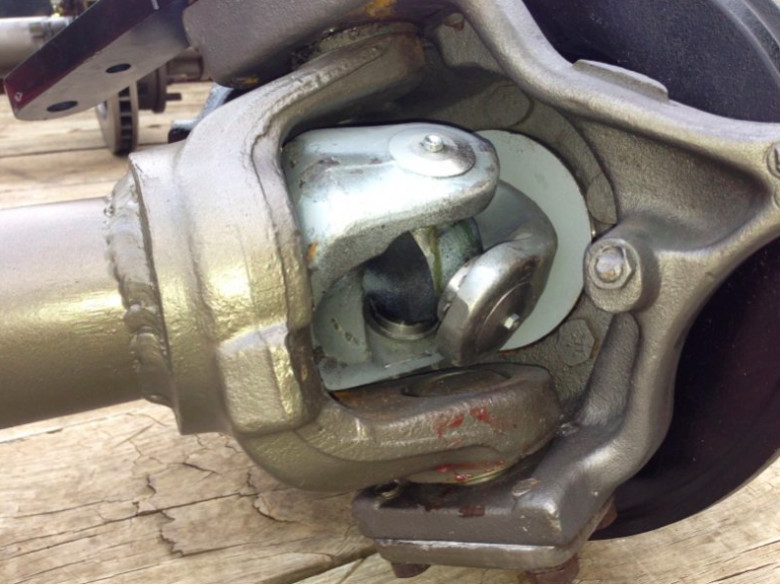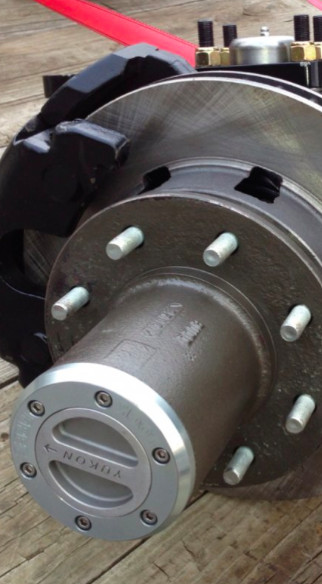 2-20-2013
Ki da at a stand still, waiting on a friend to finish a project so he can get me jeep in his garage and fit the axles and outboard.
3-14-2013
Well my friend backed out on the job so I bought a miller 211 auto set. I started the project with the help of my wife. We are keeping it low as posible and stretching the front 3 inches and the back 6 or so.

I relief cut the tab on the steering gear box, so the bumper would fit on, I used MORE steering box breach that moves the box forward 2 inches.

I have it all tacked up and ready for mock up.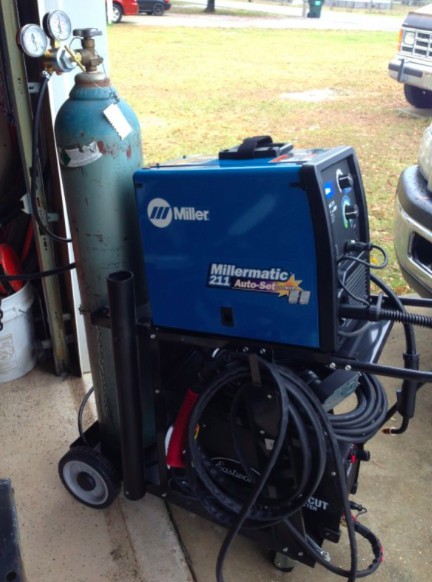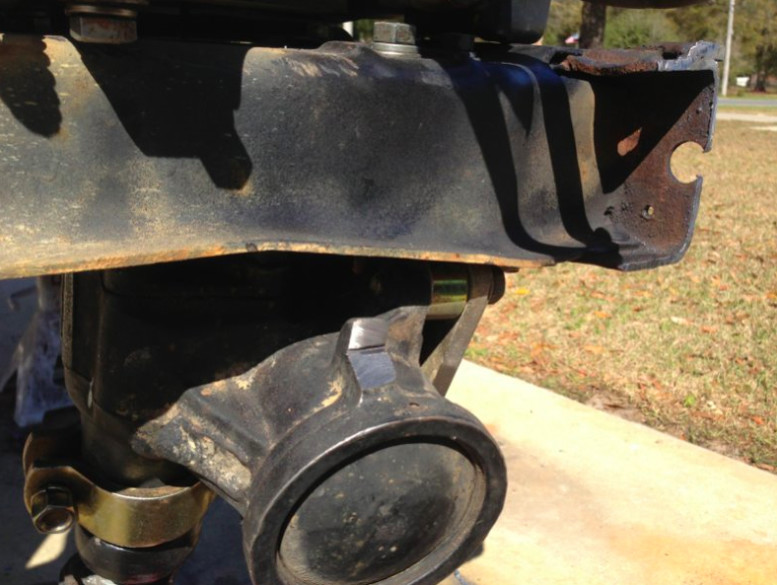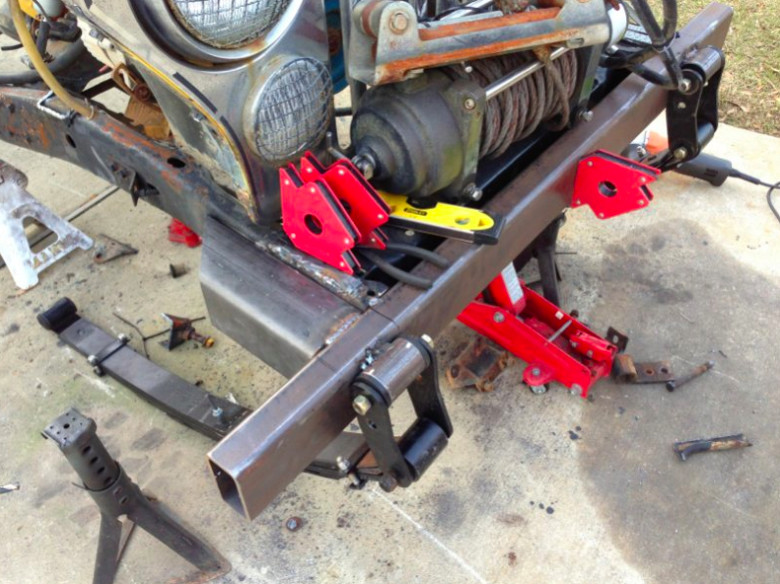 3-17-2013
Mocked up the front all went fairly smooth.

I tried to keep it as low as posible, but I made it to low, so I added some height back into the spring hangers.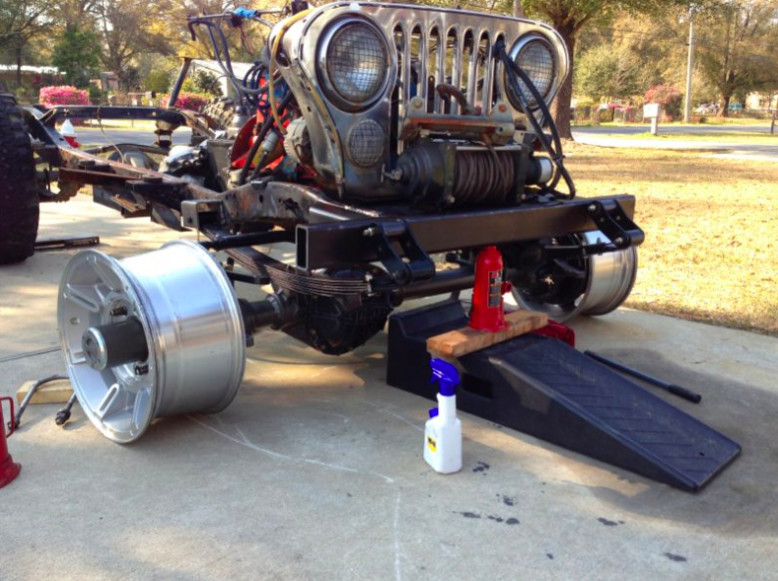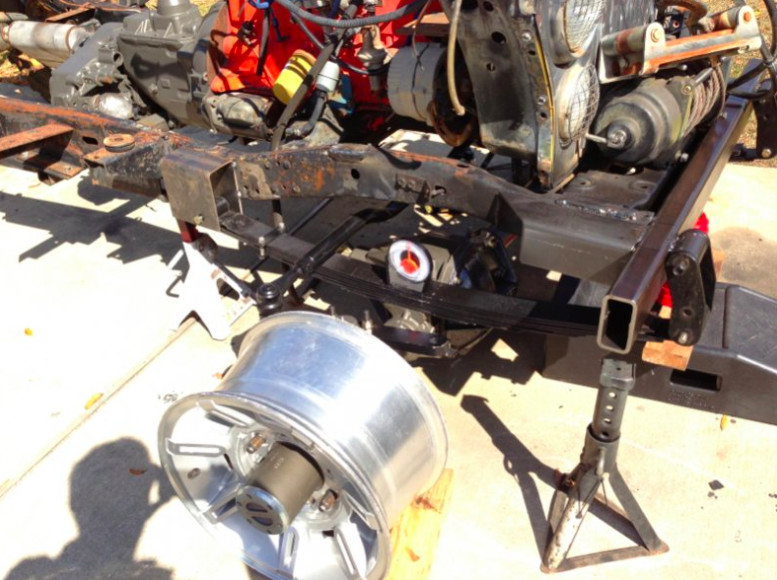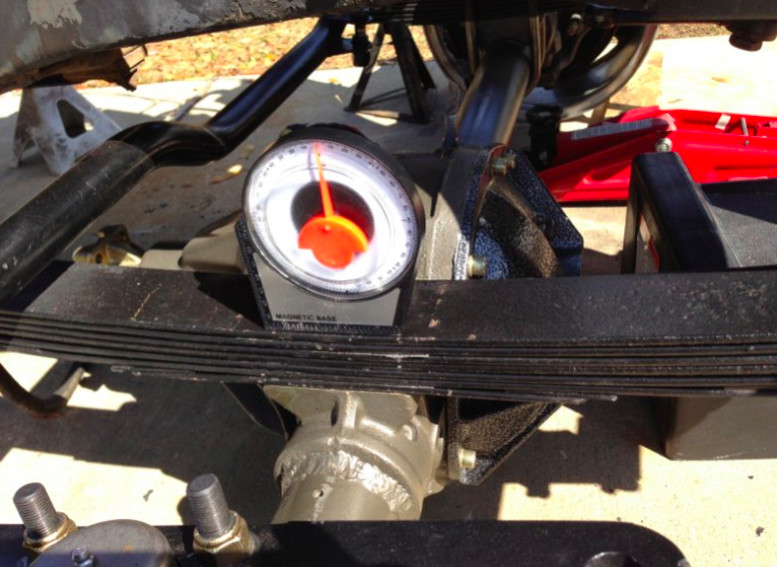 You can see here where I lowered my front hanger.

I also lowered the rear hanger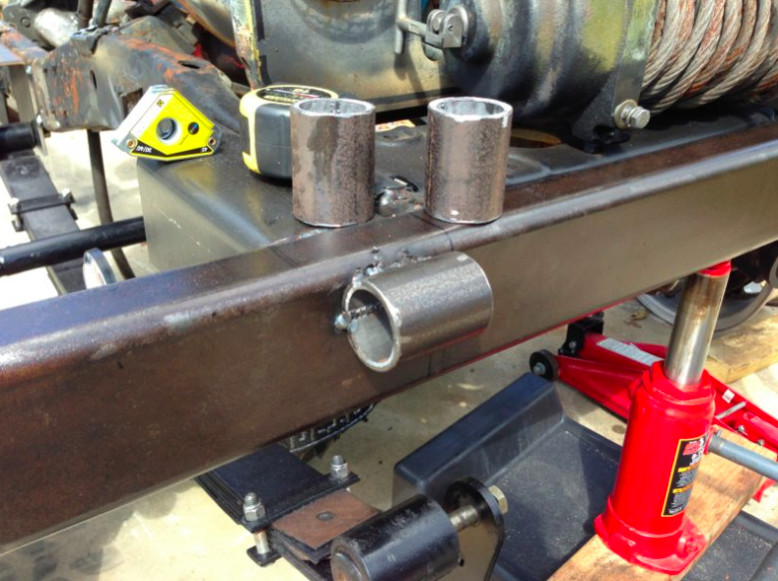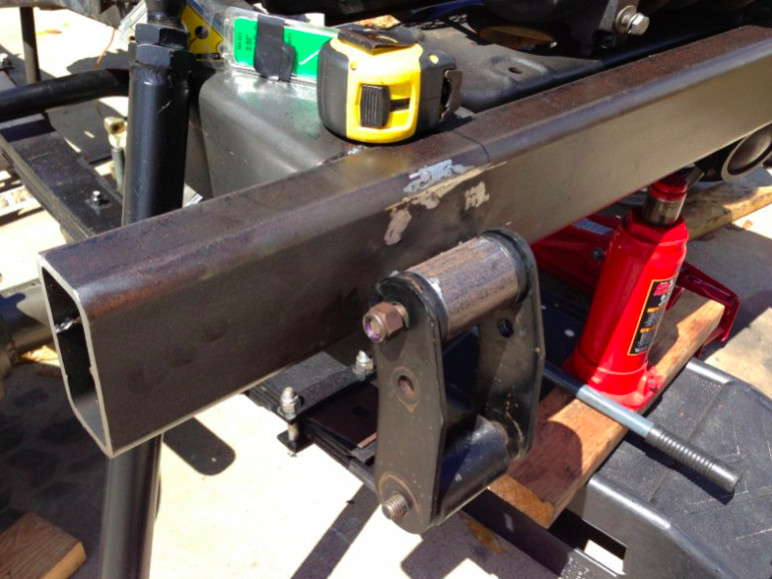 Pulled the rear axle, and had Christine Dougherty help me with most the work today.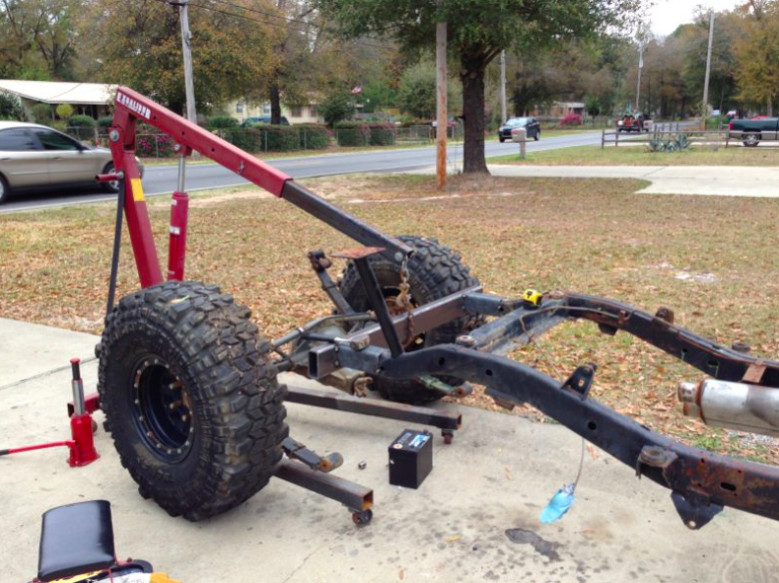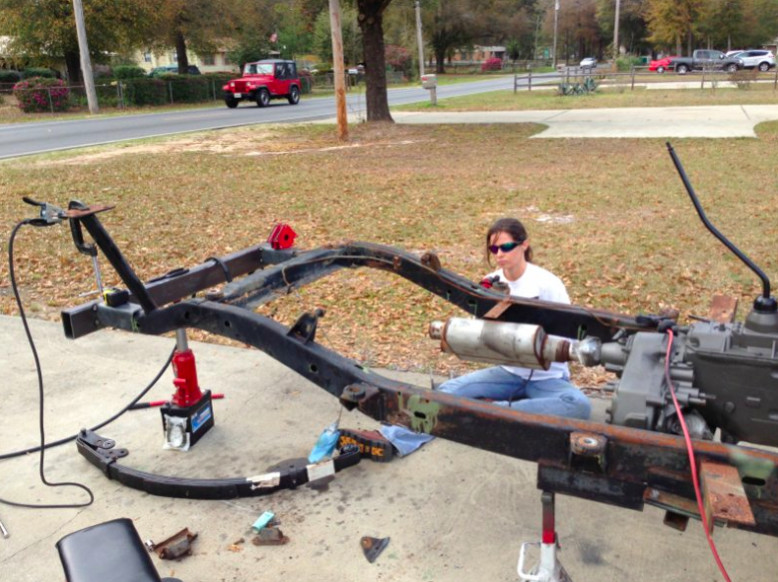 3-18-2013
Pulled the rear axle, and had Christine Dougherty help me with most the work today.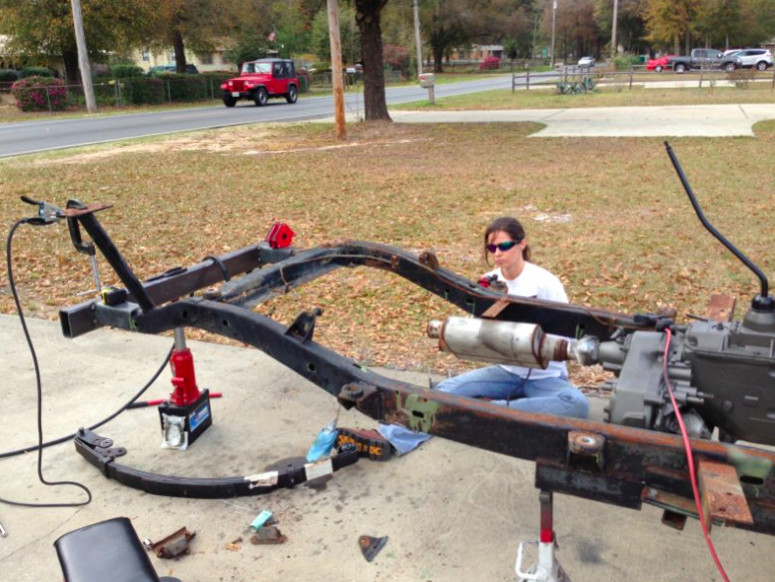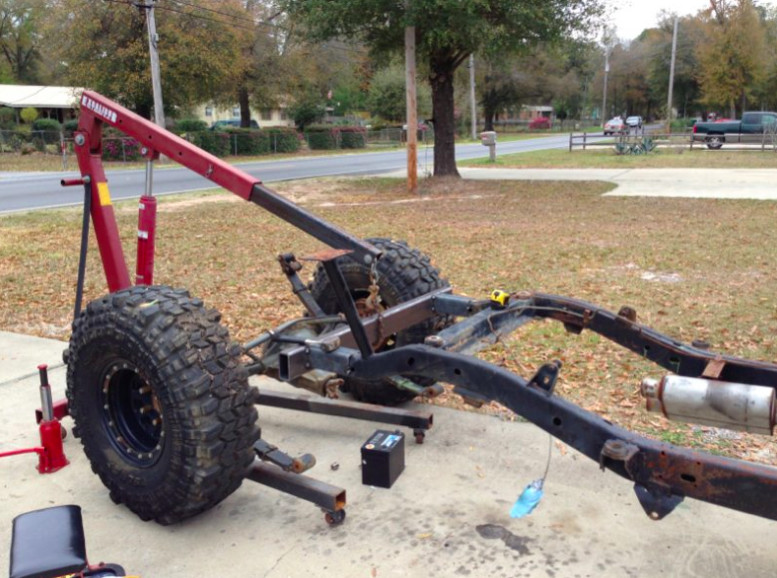 3-19-2013
It was critical to keep the axle flat, so that the caster angle stayed true to 6 degrease. I was carful to check this as I mocked up the front axle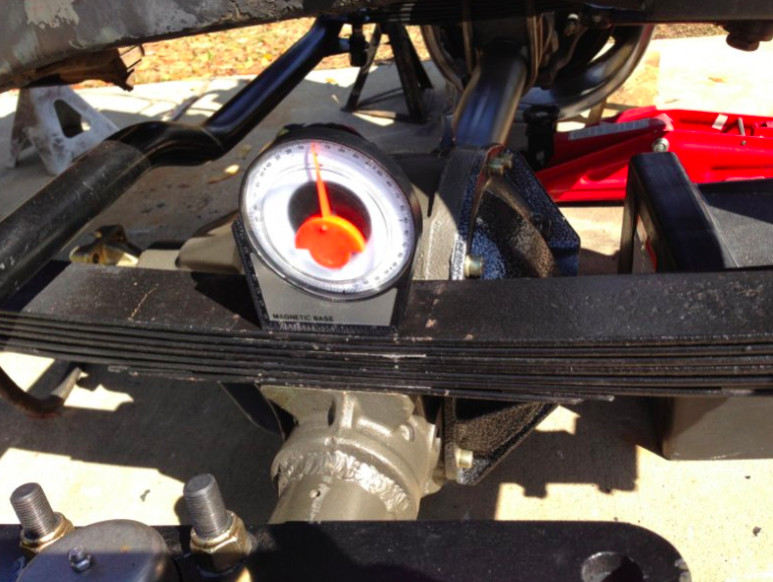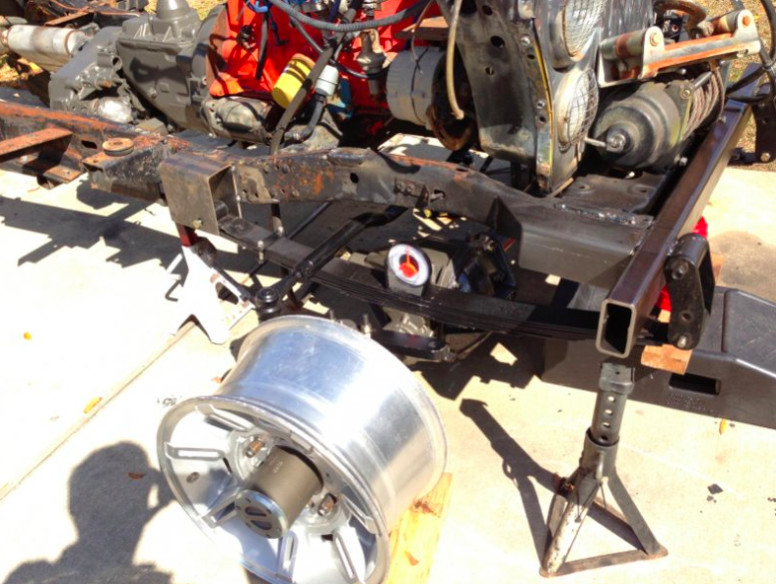 After the first mock up I noticed the jeep did not have enough up travel in its suspension to give a comfortable ride. I moved both the front, (pictured here) and rear spring hangers down, again making sure the axle stayed level.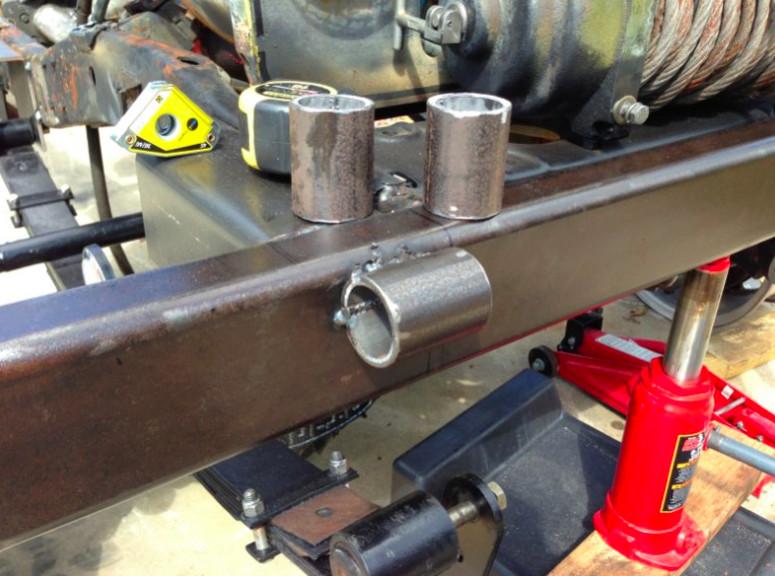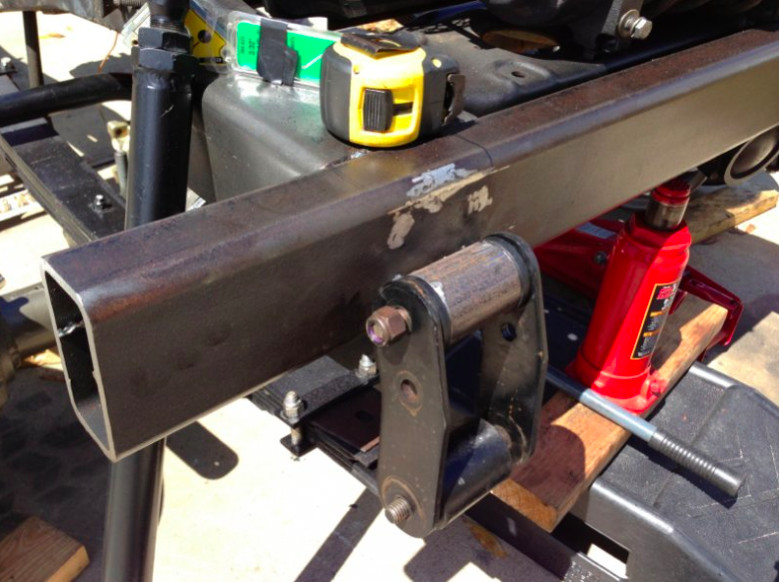 Once the front was done it was time to move on to the rear.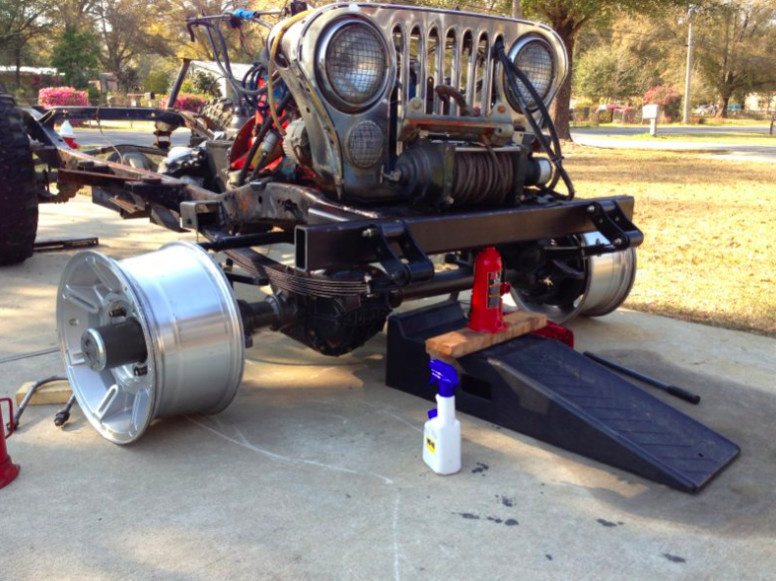 Removing the rear.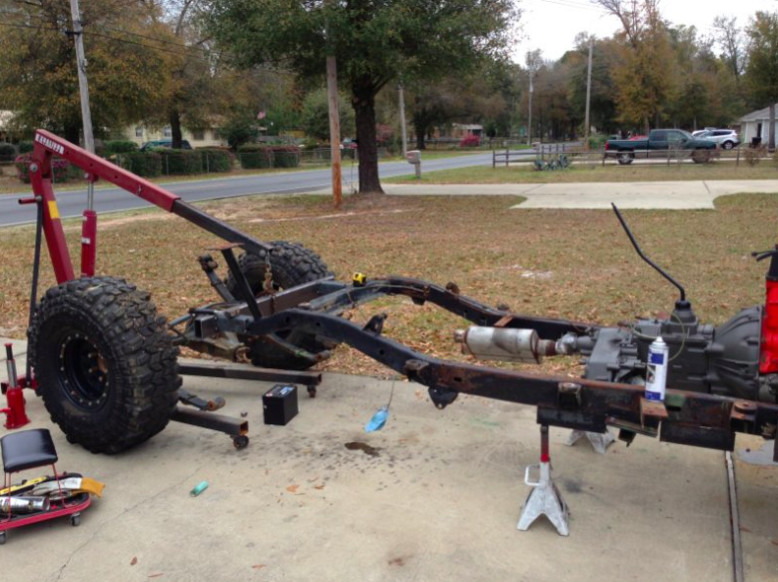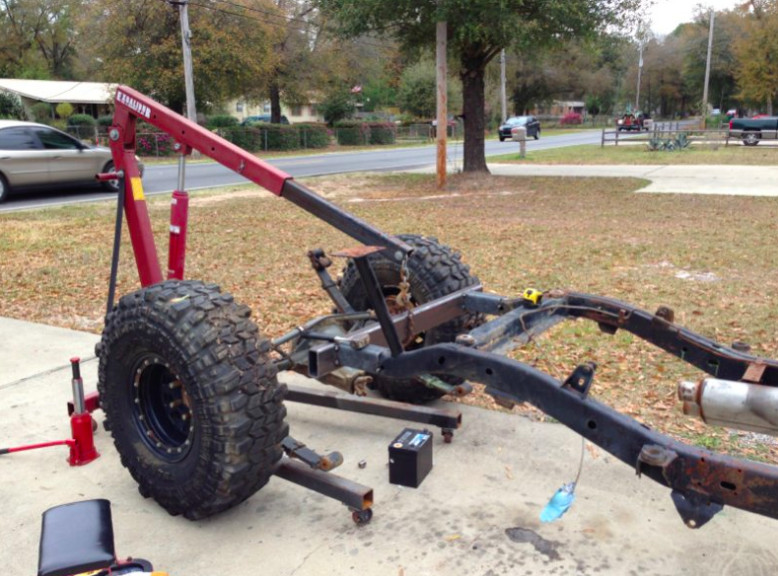 Set the rear pinion angle for the new cv shaft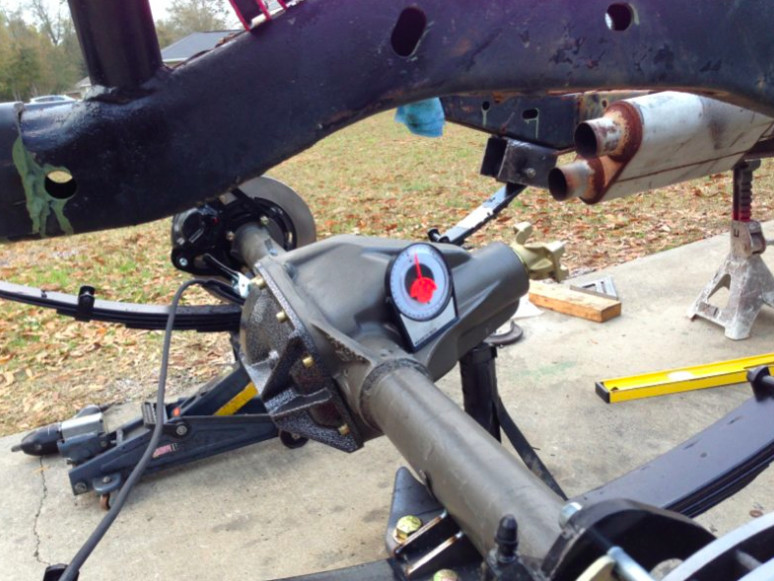 Notice the front approach angle after the 3 Inch stretched front wheel base and 41.5 inch tires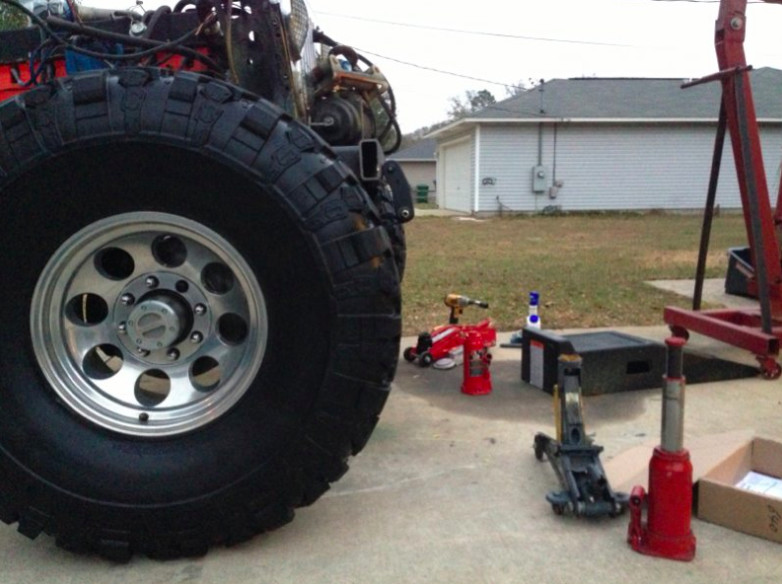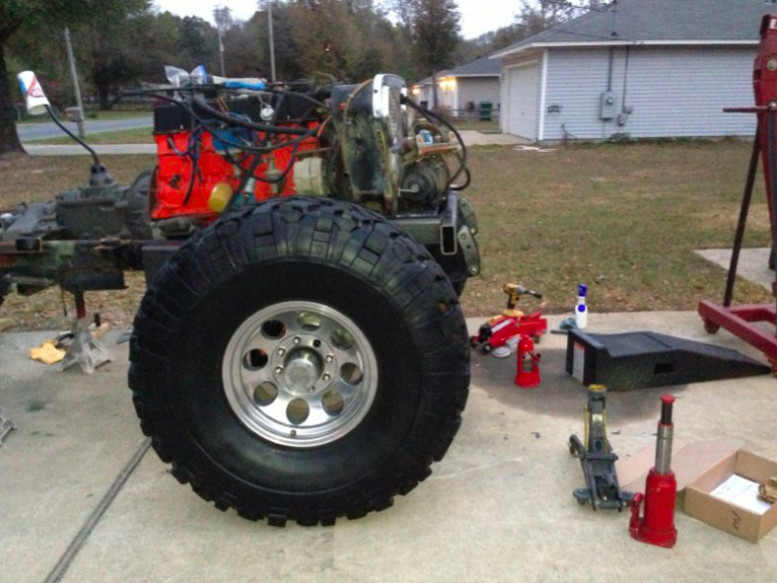 I stretched the rear about 7 inches, this also improved departure angle,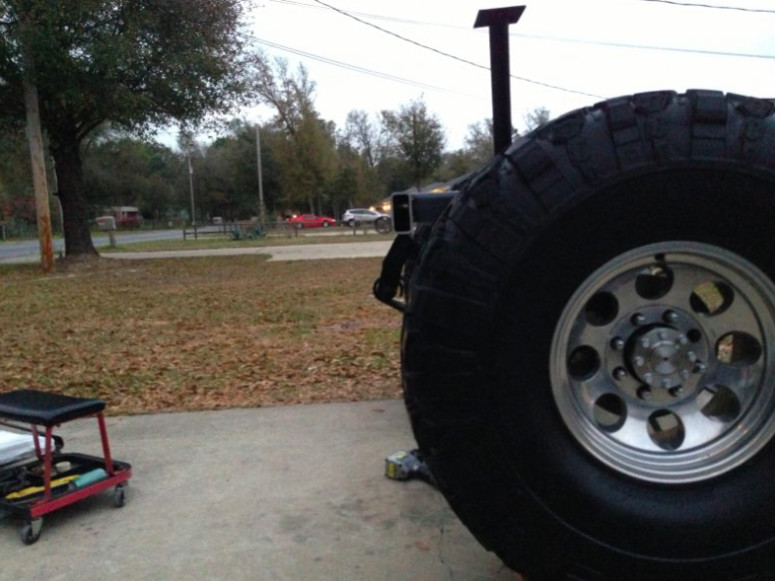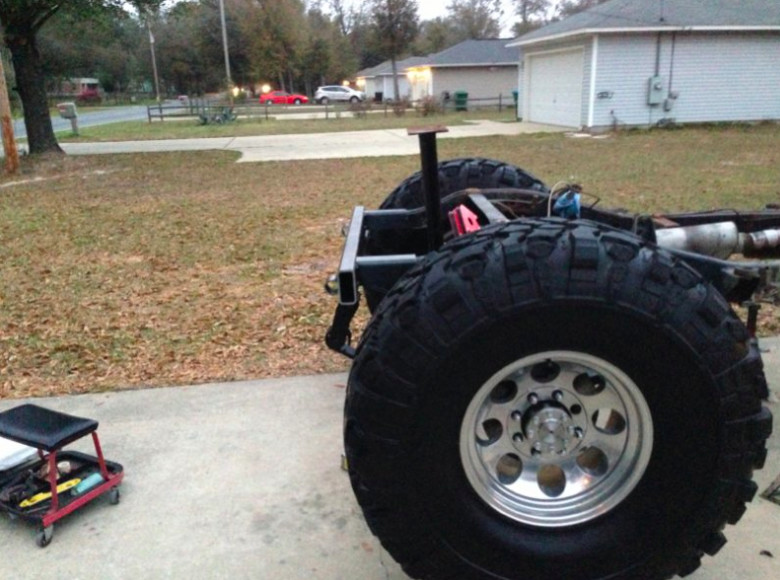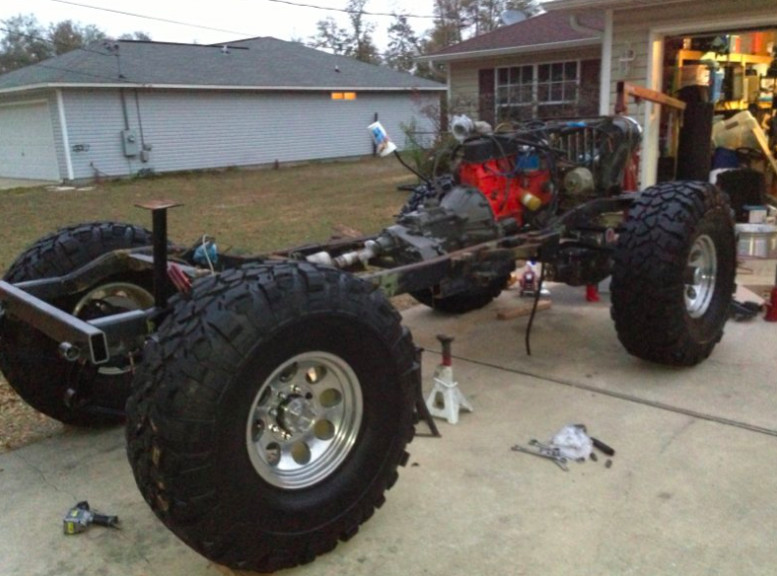 Factory wheelbase was 93.5 it's now 104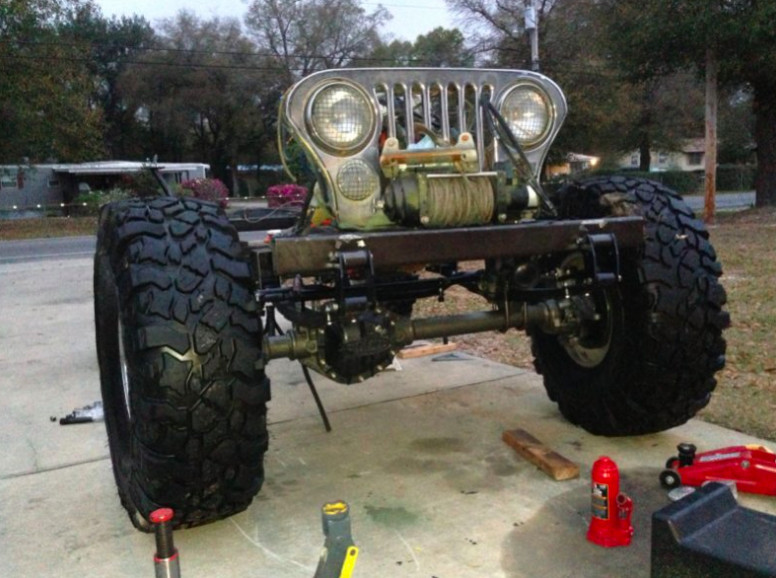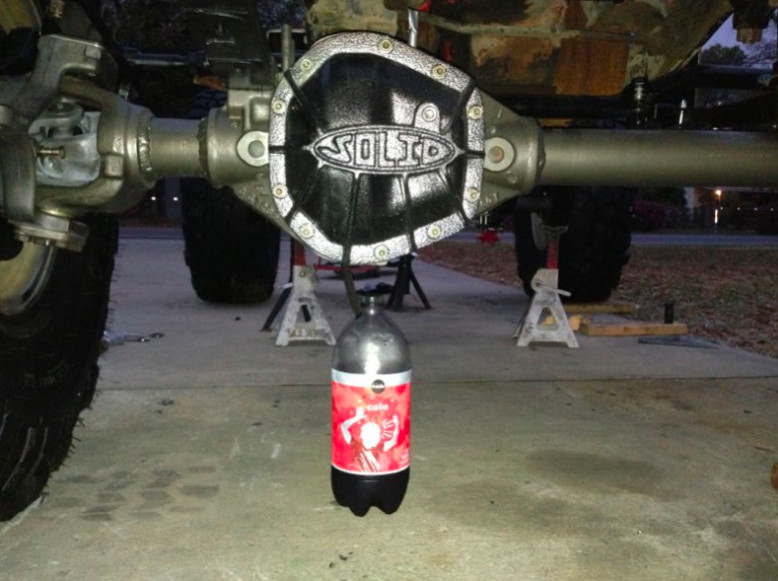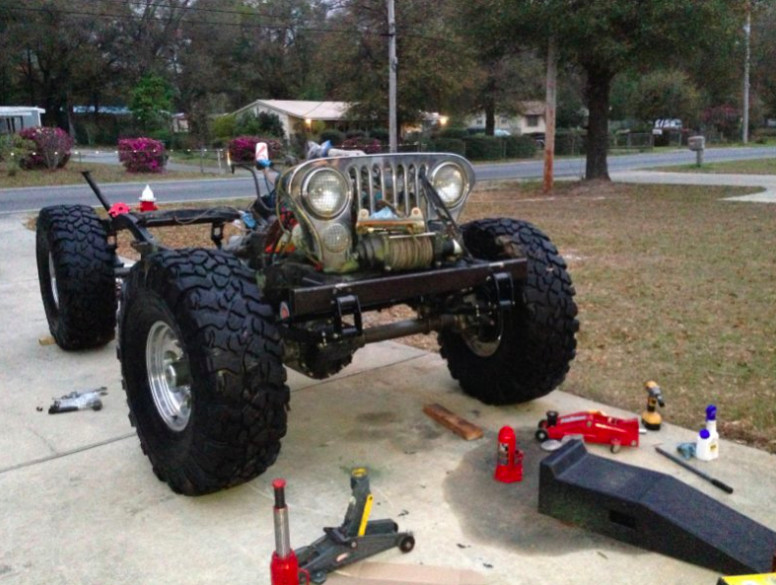 3-21-2013
My tie rod and drag link was to long so I cut out what I needed to, beveled the edges, sleeved the tube with the only thing I could find, and welded it up. No I am not a welder, but I think it will be strong enough to hold together.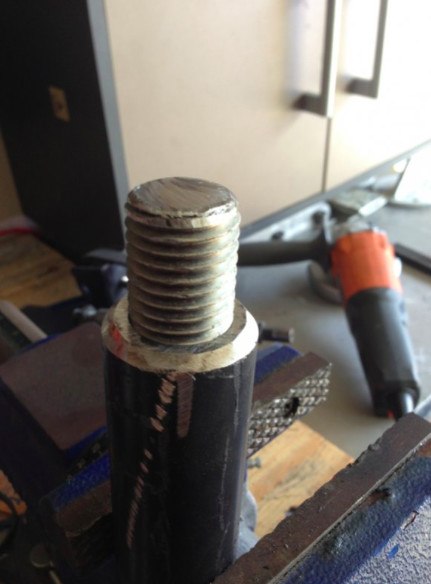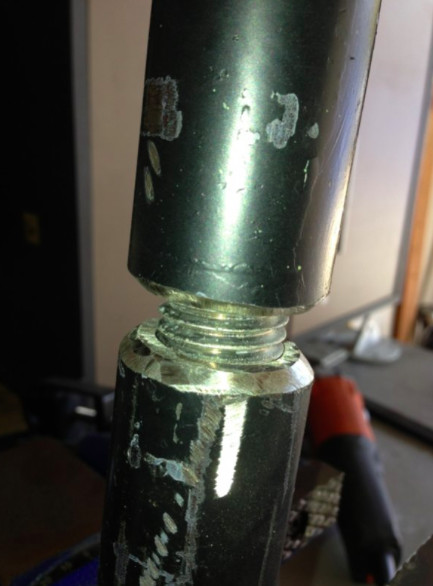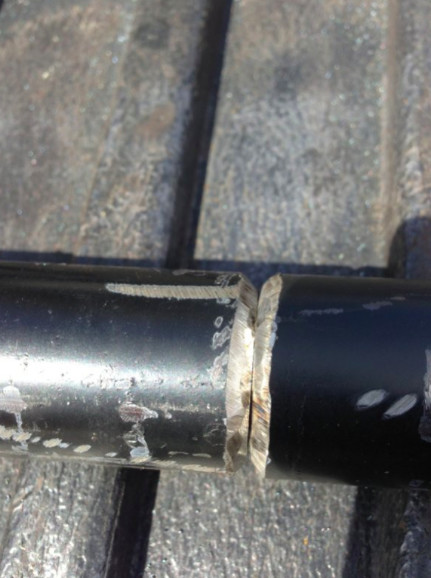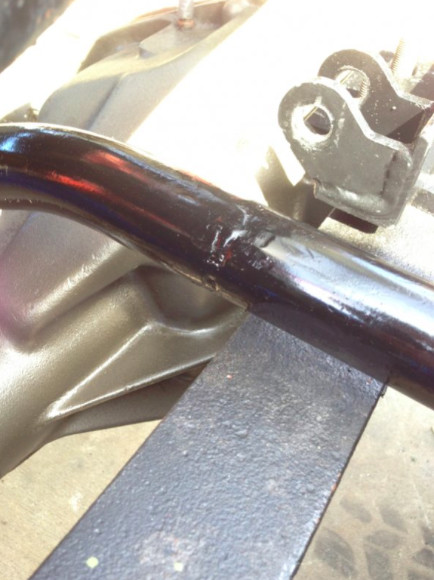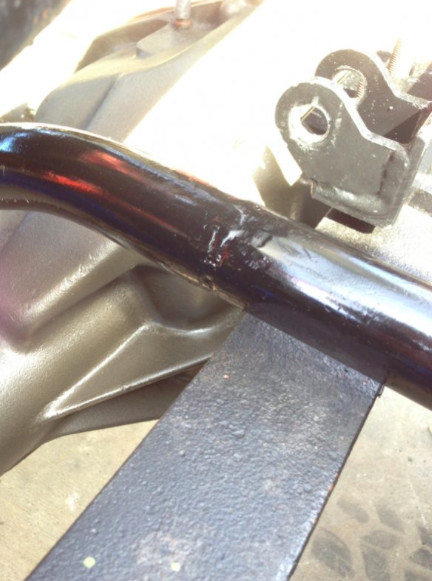 3-23-2013
Dosent look like much, but I didn't have much in me today. I don't feel well most of the time. Anyways I took the rock sliders steadily brushed on gel paint stripper, let it soak lightly scrape, brush on lightly scrape 5 times. Then pressure washed, a now plain steel. I will DA them to ruff them up and the etching primer and raptor coat them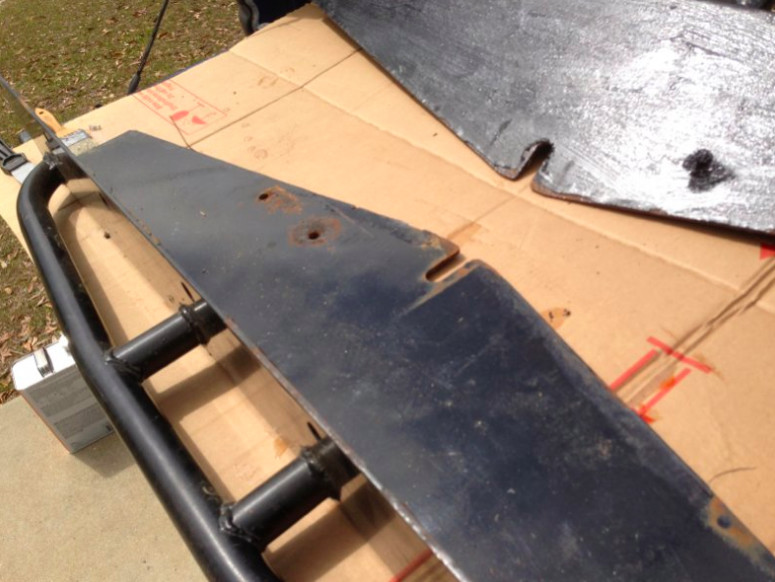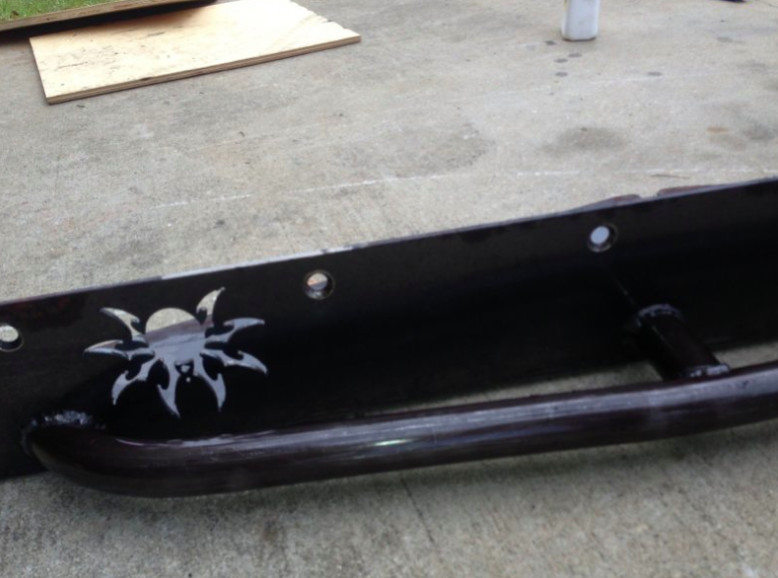 Almost got the engine out today but the rain started so we aborted mission.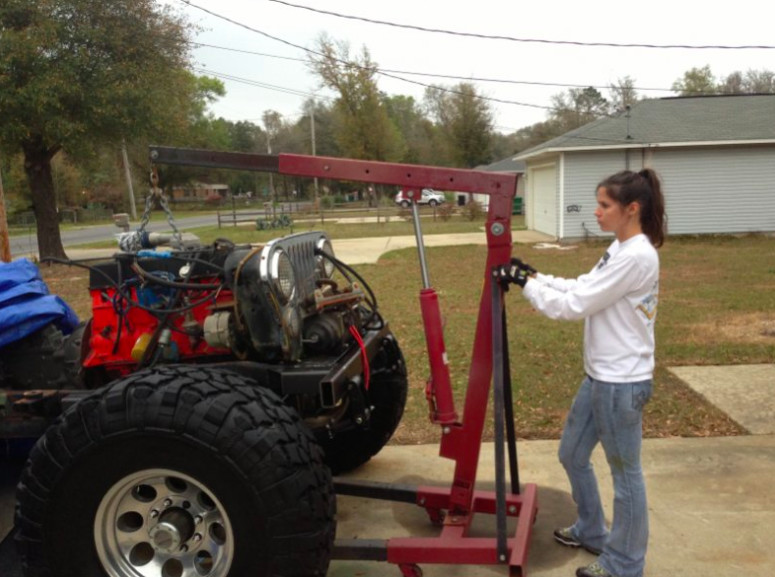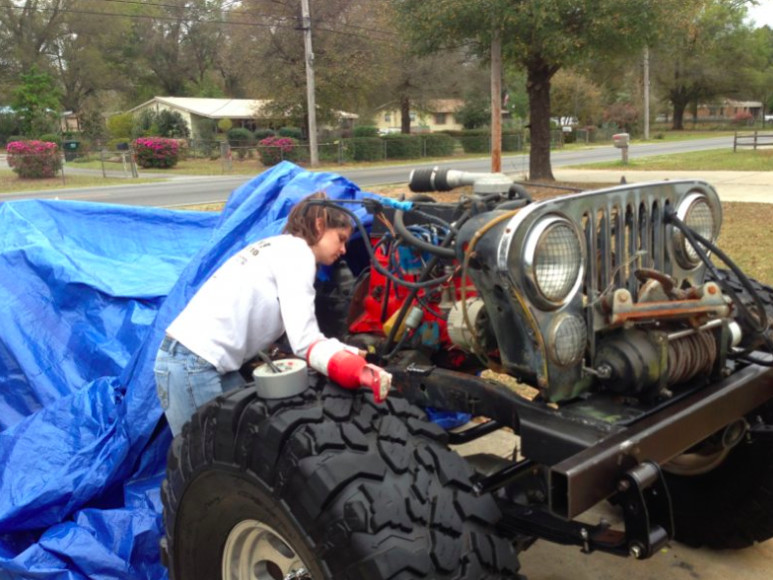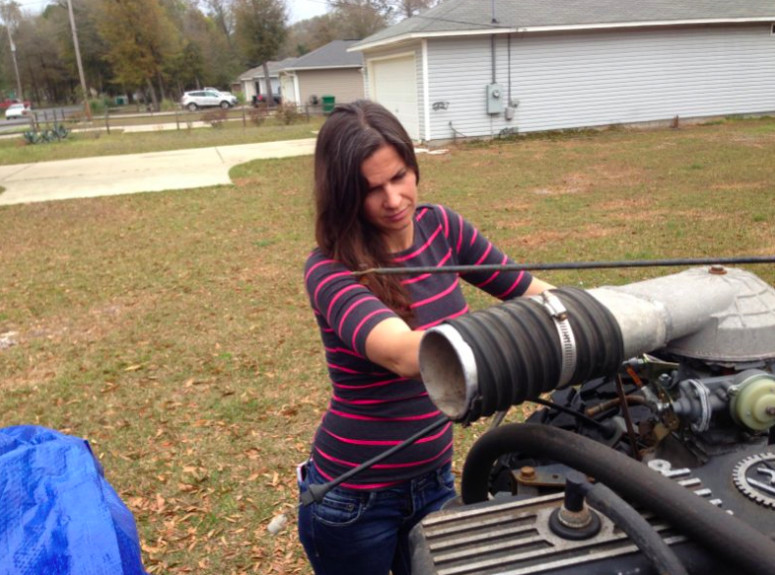 3-14-2013
Got it out today, just need to pull the motor mounts and paint the frame.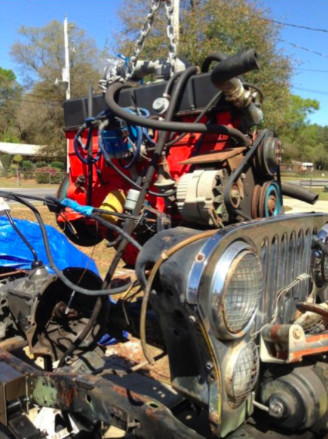 4-10-2013
Waiting on some small tools and metal to come In so I can make the final burn ins on the frame.

So I decided to turn my attention to the amc360 at first I was gonna reman the heads, all new gaskets, new cam kit, springs, lifters, double roller chain , new chain cover new Intake and carb.

But since money is tight and the engine runs good we will just drop it in as is.

Problem was a broke header bolt, broken off down in the head I first welded a small washer to it carfuly not weldin the bolt to the head, then i welded a nut to the washer and took my time easing it out. Took about 30 minutes not to bad and now I don't have to pull the head and pay a machine shop to do it.

It's funny how the easiest jobs can turn out very difficult, and the tough jobs can turn out very easy.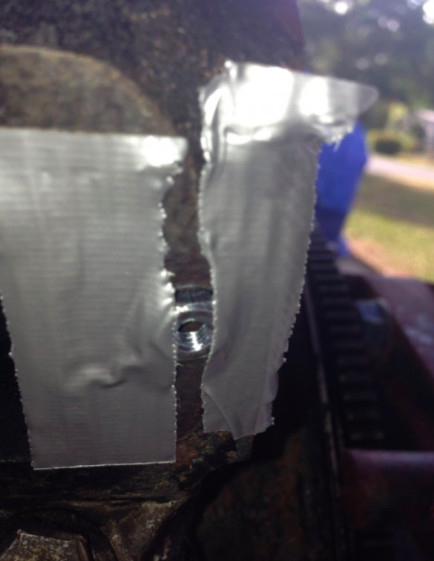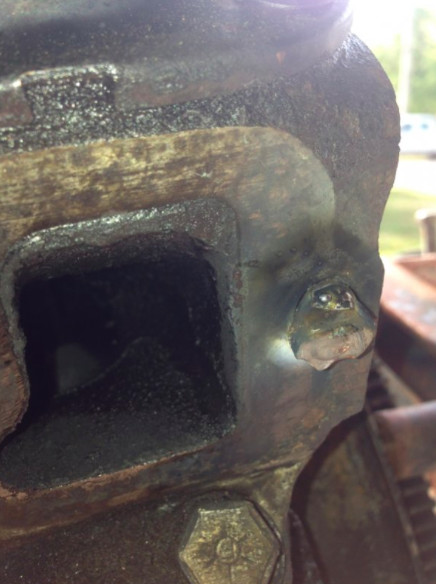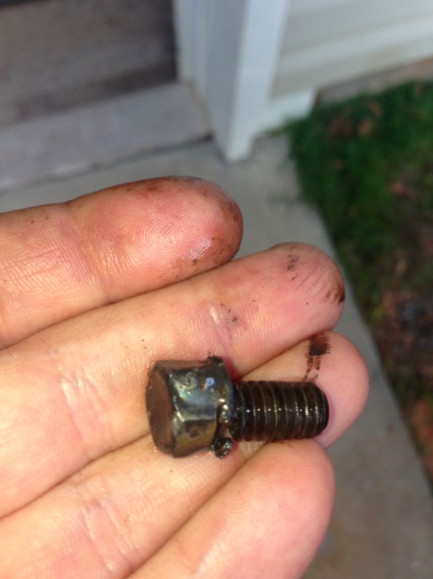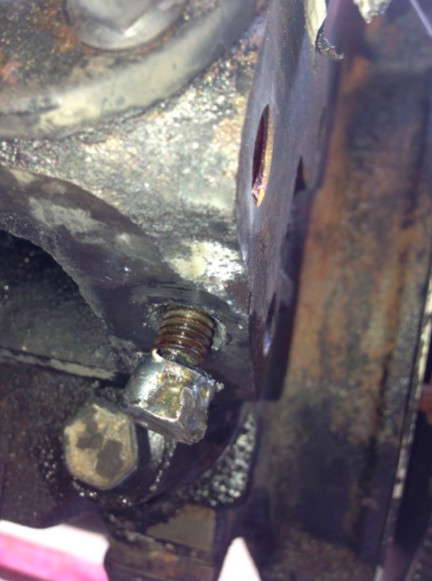 5-4-2013
And I'm stupid, non ferris metals is metal without iron.

Needless to say the bad saw cut 1/16 of am inch before the blade was spent.

I used the chop saw with metal cut of wheel to cut what I needed it was tedious and difficult to keep the angles straight and accurate.

I tacked up some supports to the frame and I'm getting close to final burn in.
Some parts showed up. These will be altered some before bolting on In Order to fit the wheel base better. I might also add flares.

I got a new grill in as well.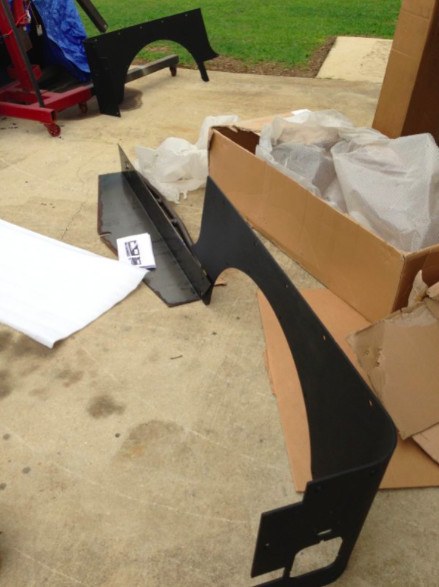 5-26-2013
Late night start, but my brother Inlaw, Rod Whitaker came over to start the final welds, he finished up the front end and a few roll cage tie in points, Monday he will finish weld the rear spring stays.

Thanks Rod.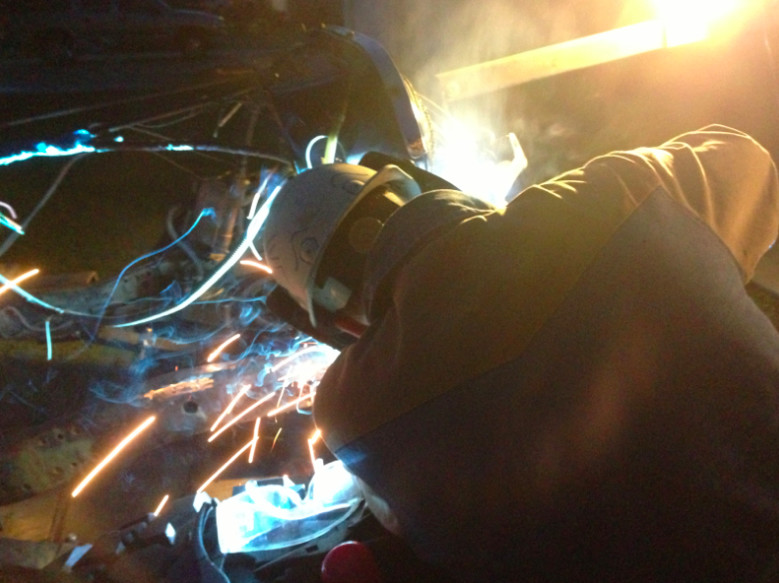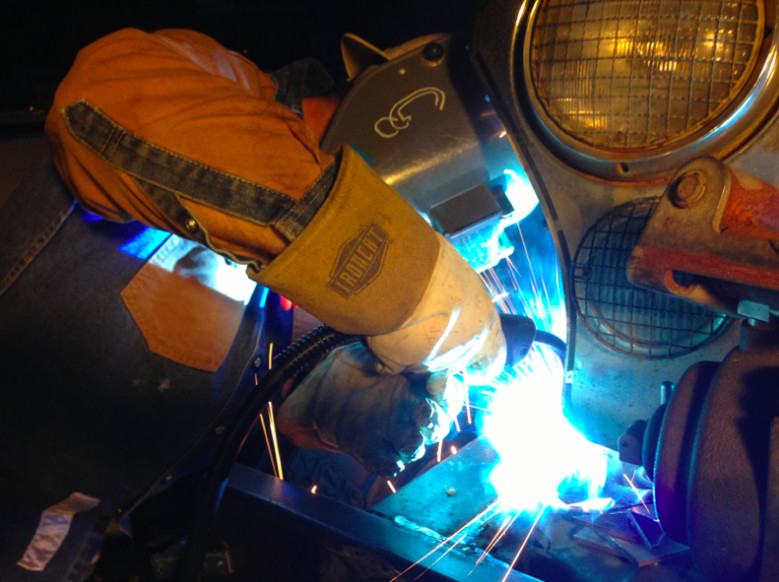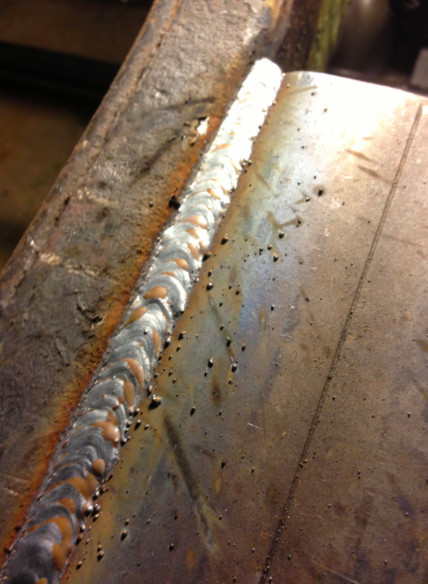 5-29-2013
I finished up the structural welds on the rear. Time to strip and paint the frame. Then Fit the tub and bolt in the engine.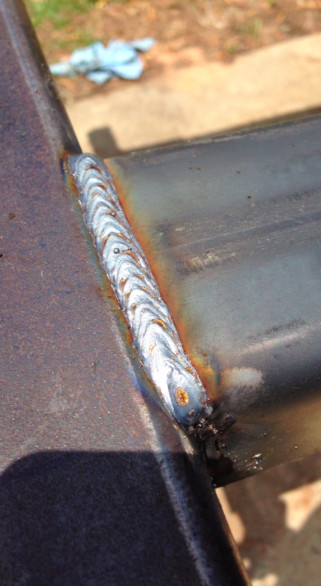 6-4-2013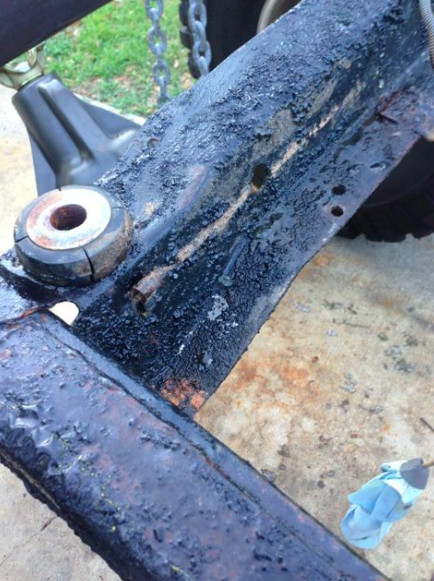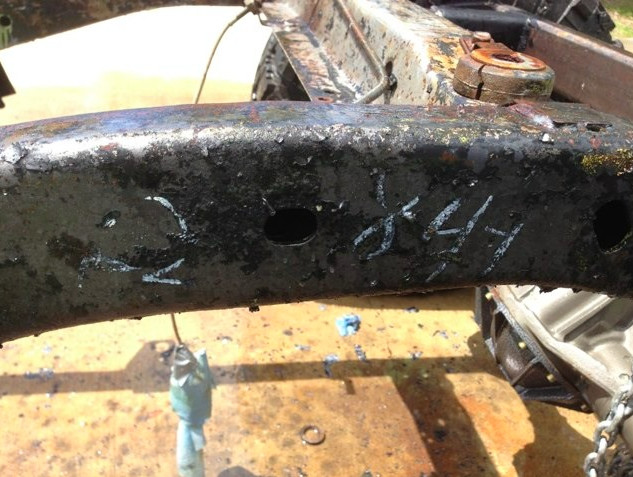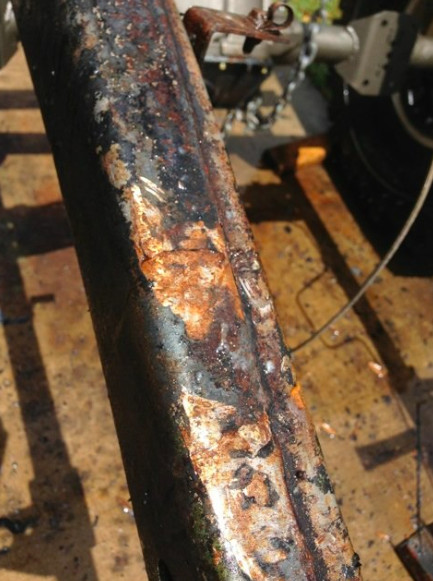 6-5-2013
Need a little more stripping. Easy but slow going.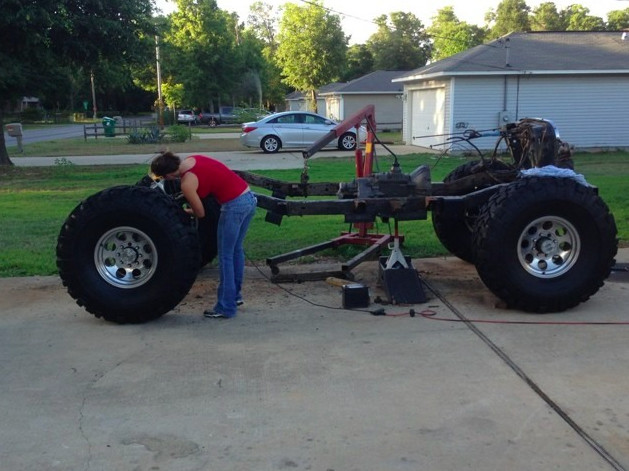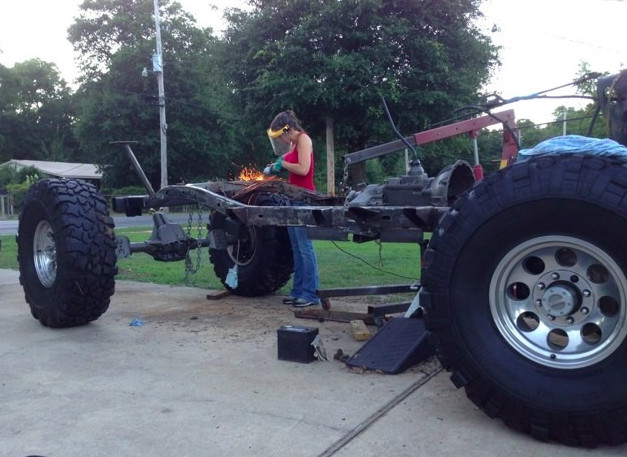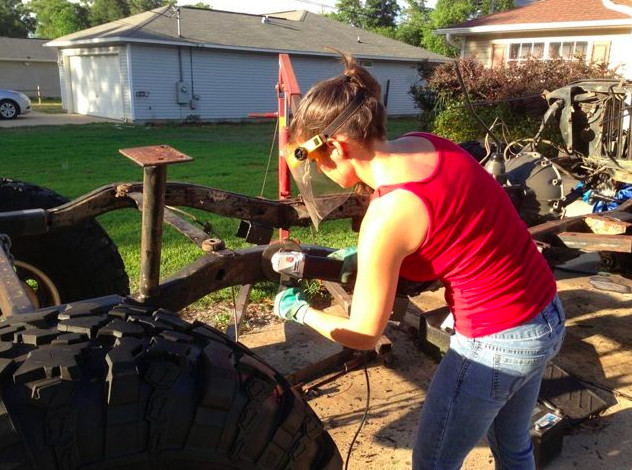 She felt like using the flap disc and wire wheel. I wanted to apply stripper one more time but she wanted to use the power tools.
6-12-2013
Final cleaning up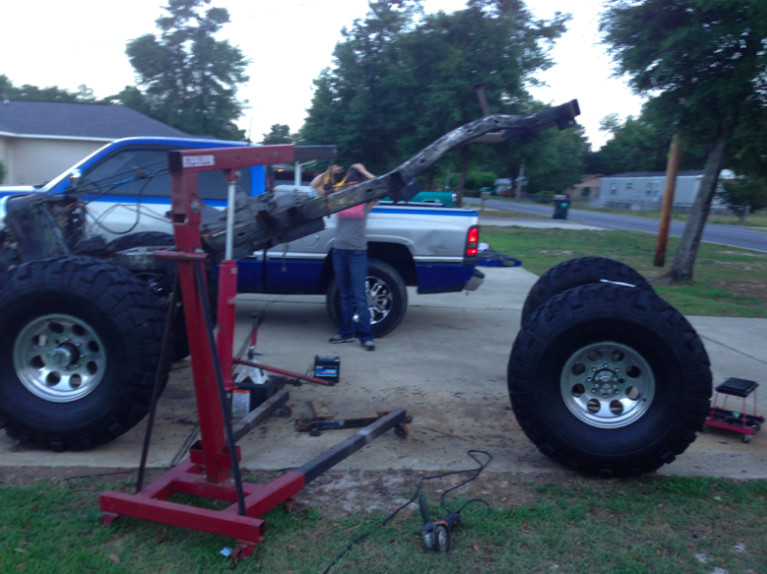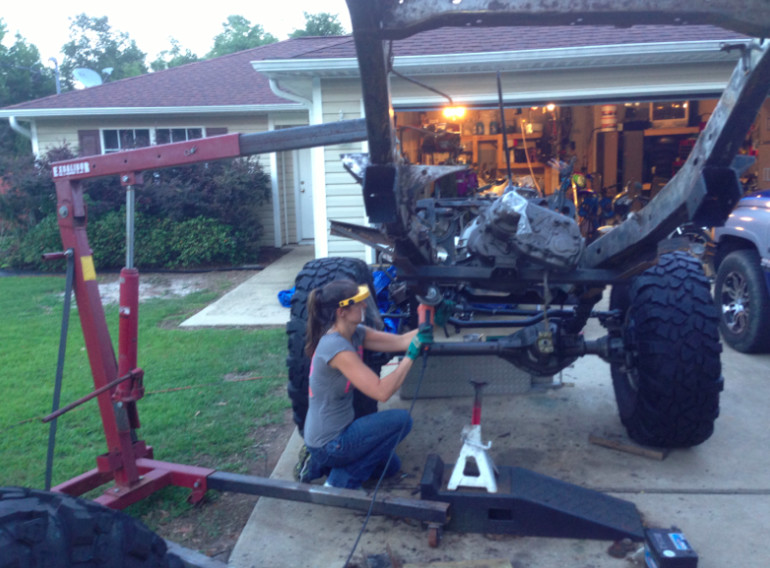 And painted, its starting to look nice IMO
East wood rust flat black encapsulater , safe as a top coat.

2-3 qts is all that was needed. I ordered 4 and I have one that is unopened and 1 that is 80% full.

I'll use some to touch up on my future welds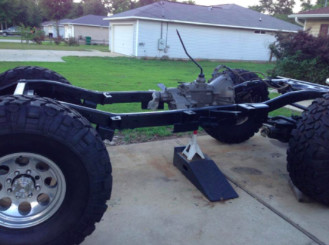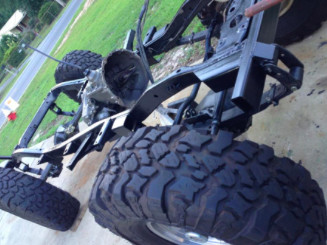 6-20-2013
Pulled the intake and stripped what I don't need, or what needs new gaskets. Hopefully by the end of the weekend she will be bolted up clean and painted.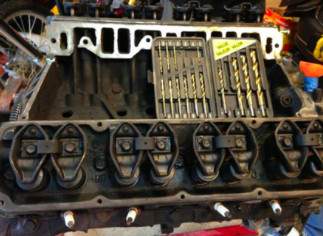 6-27-2013
So anybody know why all my pics don't work any more? Are they forever gone or will this forum get it fixed so that my build thread will be able to continue?

Got some newer parts today. Tilt Cj Column and a Yj tub in better shape than the old one, new gas tank and gas parts.
10-18-2013
Made some minor progress today. Pulled the trany/case and set the body on it it was nice to see the wheel offset and axle combo wasn't too wide for my liking. And I was mocking up the cuts around the rear wheel well, and looking at the gas tank lift.
It will be painted yellow.
10-21-2013
Wife working


11-3-2013
So the brand new smitybuilt corner guards powder coating striped easily in about an hour. The 6 year old poison spider rock sliders took about 6 hours to strip.

I'm not saying poison spider had better powder coating I'm just saying the chemical I used destroyed the smitybuilt coating way faster than the PSpiders.

Also smitybuilt is metric steel and poison is standard. So smitty is slightly thicker than 3/16 it may cause issues if your working with it.

Mocked up the corner guards, drilled all the holes. The smitybuilt corners fit pretty good as far as radius goes, but as far as gas tank and accessories like the tire stop and hinges, I have no idea because I'm using a YJ tub and CJ corner guards.

We traced the cut tub onto the corner guards so we can make some cuts, and unbolted the corner guards.


11-4-2013
Keeping the wheel well true and big enough for the tires and the stretched wheel base.

Found center Measured it out made it a 45 to match the front fenders 45 and the made a paper template.
11-7-2013
I used my Eastwood Versa cut 60 today and I loved it, I used a straight edge to help me trace my templates and it worked out great, not cut off wheel dust, way faster, easier, and more enjoyable.

Made work easy and fast.

All the templates are cut and ready to weld in.
11-10-2013
Ordered shocks for the build, 14 inch travel. The Shock mounts have not been built so I have the freedom to build some.
11-13-2013
It didn't turn out as nice as I hoped, however a little body filler will do the trick.


11-20-2013
Since you will be able to see into my rear fender well, more than when it was stock there was some eye sores that needed to be removed. I plan to paint inside the fender wells yellow to give it a clean body color match.

I debated on removing this all together but I thought that I may need it with all the corner guards weight bolted to the side fender.

(Note that my body is not in the correct position, it's slid back for better access)


I decided to cut off the sharp edges and make it rounder and smoother than original.

Used a cut off wheel, a grinder, and a welder.
12-4-2013
AMC360. I had a low compression cylinder, 95lbs the other 7 were 137-145 so I had some hope.

Christine and I pulled the heads, I sat the heads on a board so that I could see the base of the heads. I added water to the intake and the exhaust ports, the low cylinders intake and exhaust leaked instantly.

About 1/2 of the valves leaked water as well. Some one drop a minute, some 1 drop every 10 seconds or so, and 2 flowed out like a stream.
To my knowledge each CID Amc motor has its own fly wheel weight measurement.

As in 232's take a certain weight,
258's their own
304 their own
360 own
390 own
401 own

My donor motor was a auto, with a flex plate, I'm reusing my standard shift t-18, so I need a Amc 360 flywheel.

Problem is all of the Amc's share the same fly wheel bolt pattern. Although they are not directly interchangeable..

Buying a fly wheel for your motor is a gamble. Mine came with my engine it was brand new in the box and the seller told me 3 times it's the correct weight.... I just wasn't sure.

I took the flex plate and the new fly wheel in to verify balance, and sure enough it was I correct.

They rebalanced it for me, to the exact same as the flex plate. 56.87 grams was the counter weighted balance for my Amc 360

They just drilled holes until it was correct.


On a the heads where at the machine shop getting torn down, I cleaned up the head gasket surface on the block, and cleaned up the pistons with a wire wheel on my drill.

TAPE everything up first.

I also deburred the block.

I forgot to get a pic of the completely cleaned pistons.


I watched this about 4 times while my heads where getting torn down and cleaned.

http://www.powerblocktv.com/episodes...r-power-how-to

Then I used one harbor freight part number 96826 my carbide bit set for steel and aluminum. (I have a edlebrock performer intake) I port matched my intake and exhaust.

I did not do as good a job as power block for sure, but for my jeep its fine. Even though my work doesn't look the best, It's amazing how much metal I removed in a few places. Some as much a 1/8 of an inch was removed.

I chose not to mess with the combustion chamber. For fear of messing up a valve seat.

The steel was easier to work with, but took allot longer. The aluminum was harder to work with but was done in 30 minutes. The performer intake to My surprise needed a good bit of porting to match up well.


It was actually hard work, my back got real sore and I was covered in metal and dust from head to toe. I received at least one metal splinter and it took me about 4-5 hours. Eye and ear protection is a must for the die grinder.

I would also like to mention that In some places there was casting boogers in the ports of the Amc.

I reached in and removed these no mater how far in I needed to go. Some where the size of a paper clip.

There was also boogers in the cooling ports so I took care of those as well.
Got my suspension reclining direct bolt in seats today.

A few reasons made me choose these.

They were a little cheaper than the others.
( I won't use smitybuilt seats)

They reclined.

They directly bolt In, no need for an additional expense of a seat bracket adapter.

Memory foam!


12-5-2013
Got my rear bump stops and a used complete dash in the mail today!!!!

Happy times
12-6-2013
I'm currently organizing, and It looks looks like I'll have more items for sale than I thought.
12-7-2013
Got the fox 2.0 2.5 travel in.
12-21-2013
Gasket matched the exhaust manifolds.


Gasket matched the block where the high pressure oil enters from the timing cover.
Christine installing the freeze plugs



Got the engle cam and springs in the mail

Christine Dougherty installing the engle cam.


Islander striping, GONE.



1-27-2014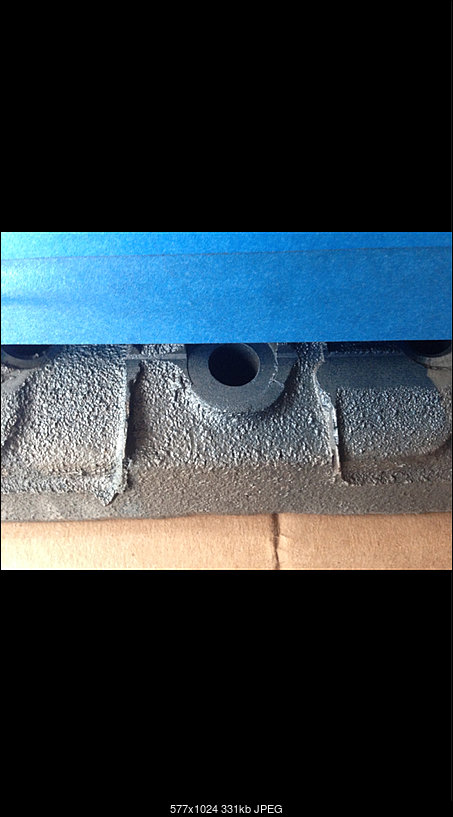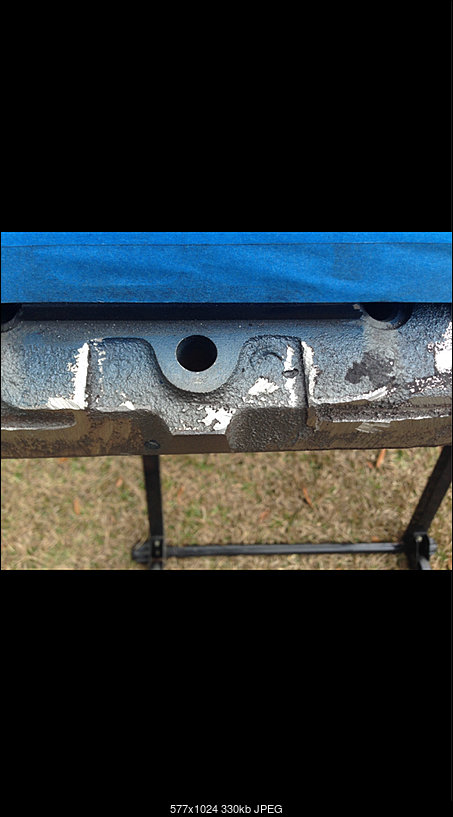 On the side if the head near the spark plugs was allot of casting marks that I did not like. I used my carbide bit and cut them down to a modest level.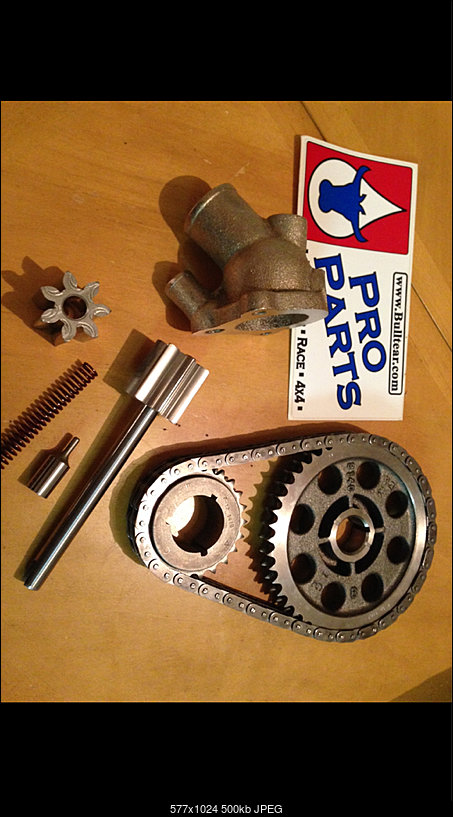 Finally got my true double roller from Bulltear in the mail, it was worth the wait. (It was The holiday season so I'm sure they were off normal schedule) I also got the HRC oil pump gears.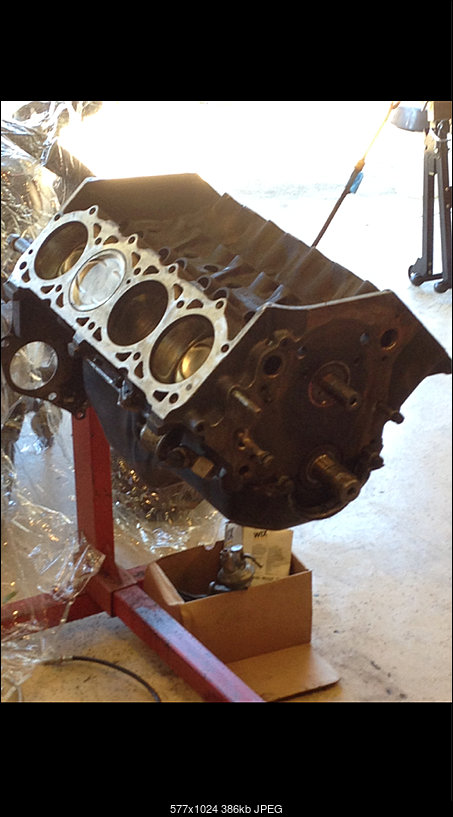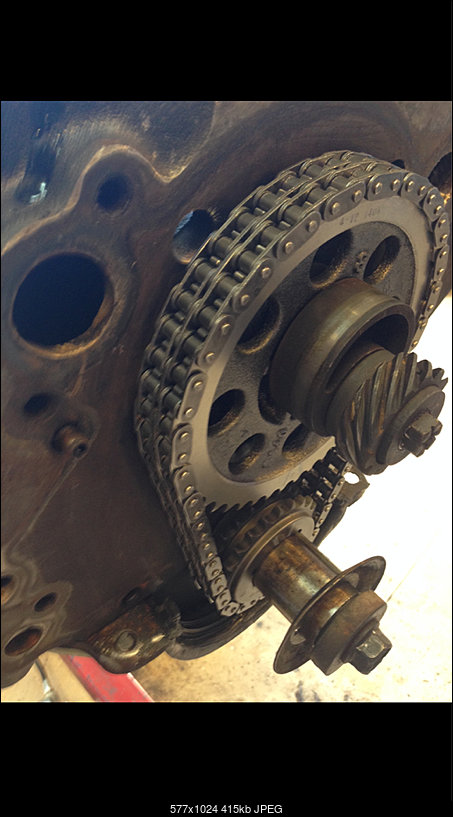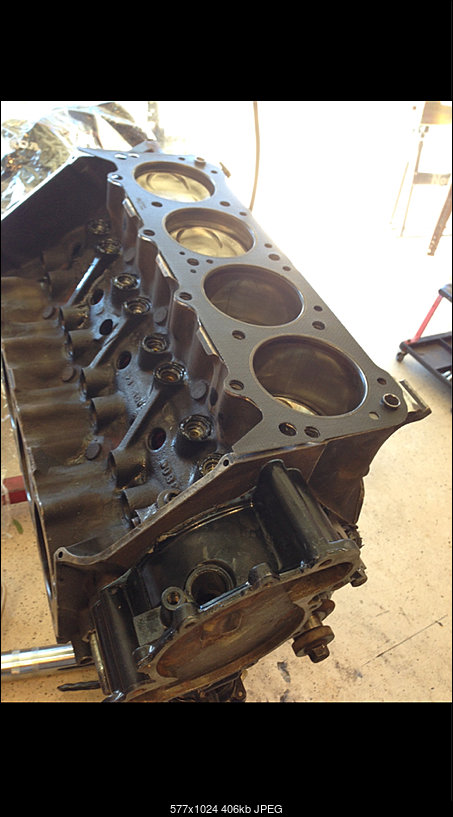 Here you can see where I installed the timmning chain and gears, and the timmning cover, and started to mock up the heads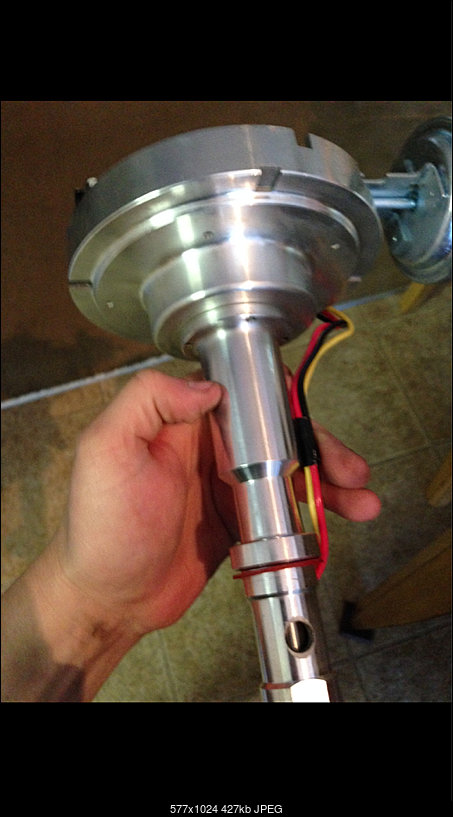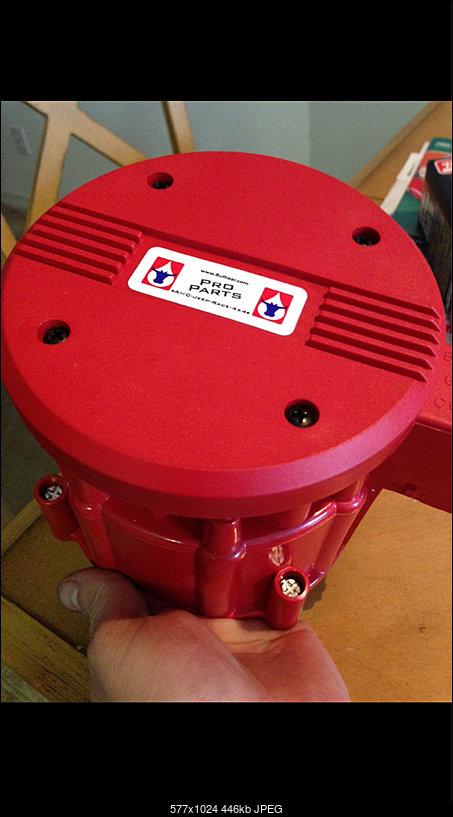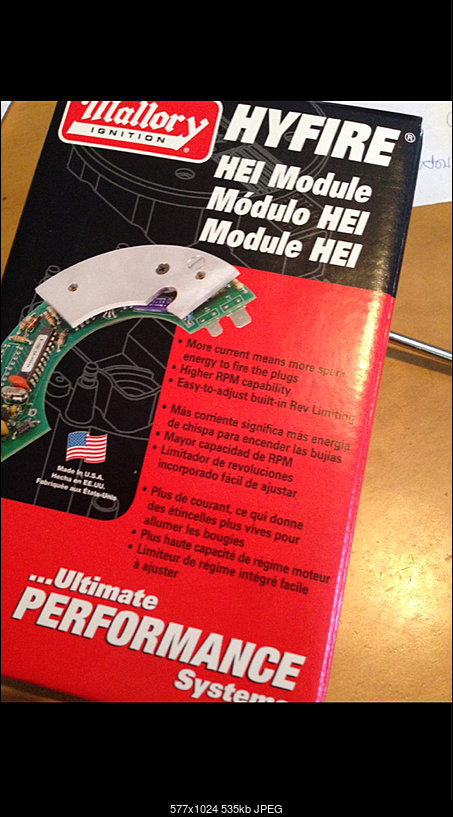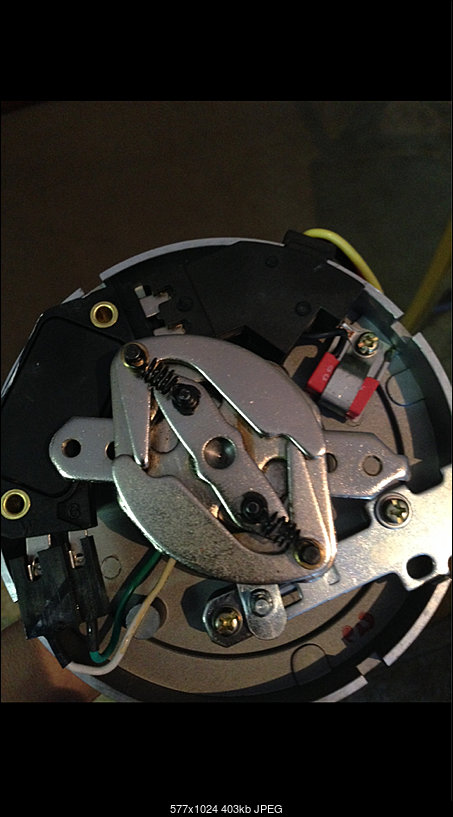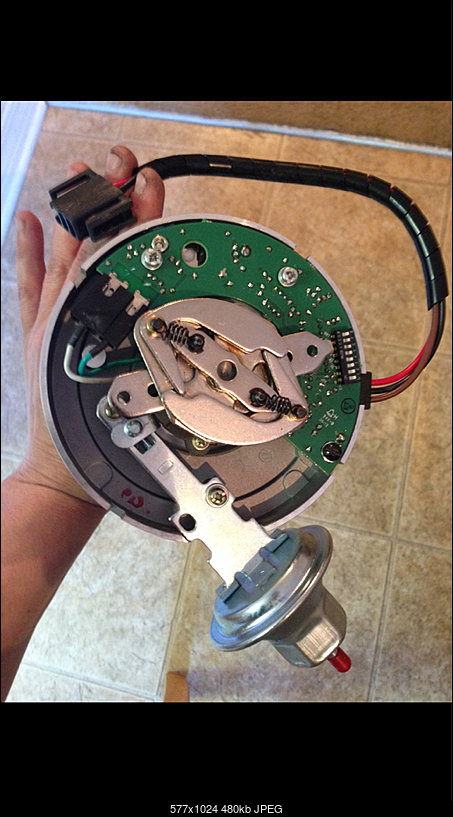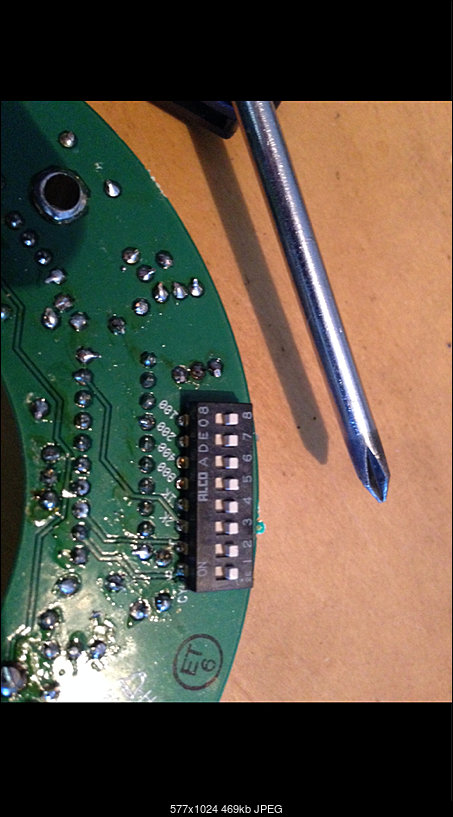 I purchased a HEI distributor from Bulltear, it was ready to run, but I wanted a rev limiter of some type, this Mallory 699 module, bolts in and is adjustable from 5000-9000 rpm b moving those little switches. Pretty nifty.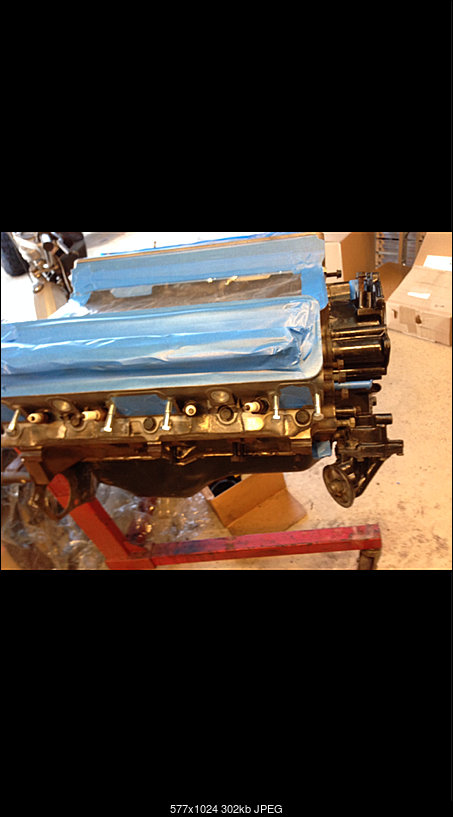 Taped it off and plugged the holes with old bolts, and old spark plugs and old parts in general.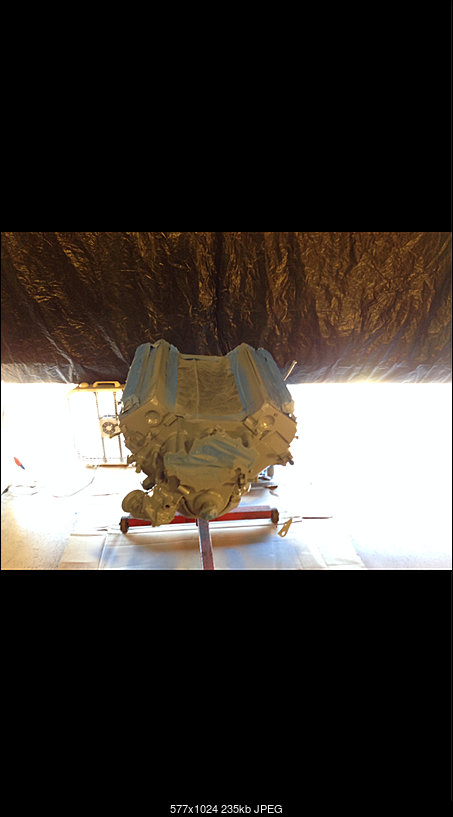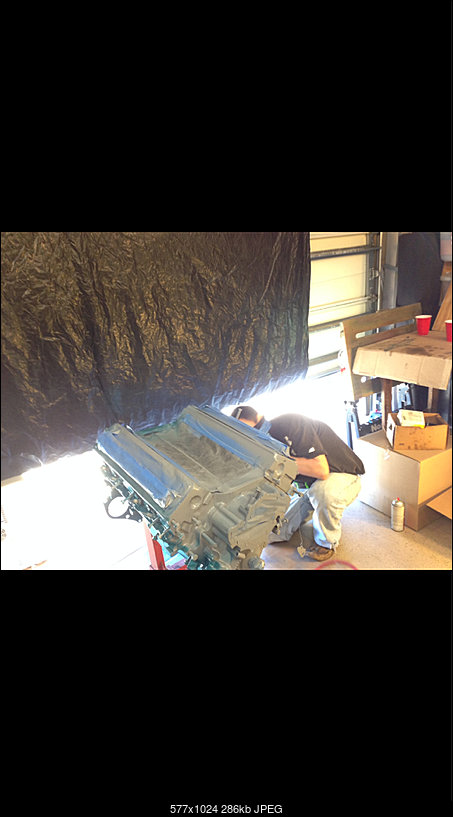 We first sprayed it with a epoxy primer to seal it up and promote adhesion.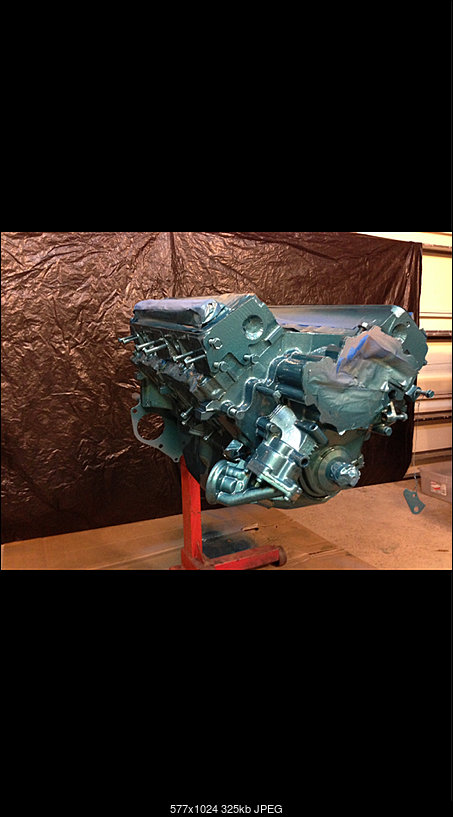 Then we laid on some color, it is a Eastwood brand Amc blue ceramic engine paint available by the quart.

Personally I think it's a little green, not as blue as I think it should be but since it's just going in a jeep and not a numbers matching car, I don't much care.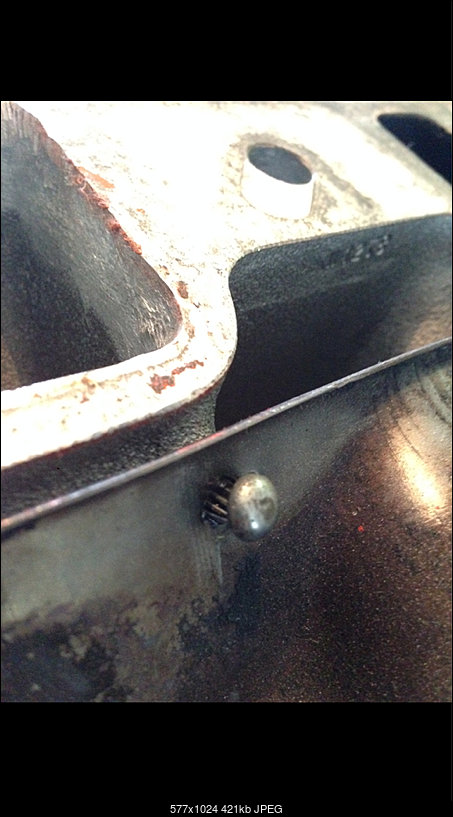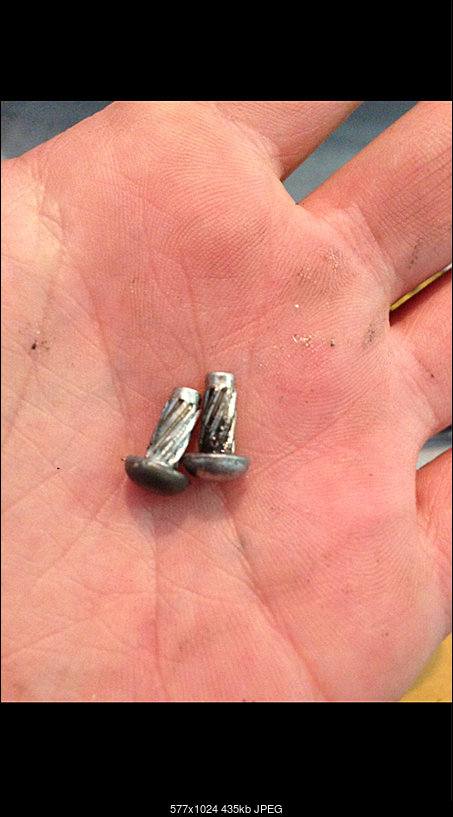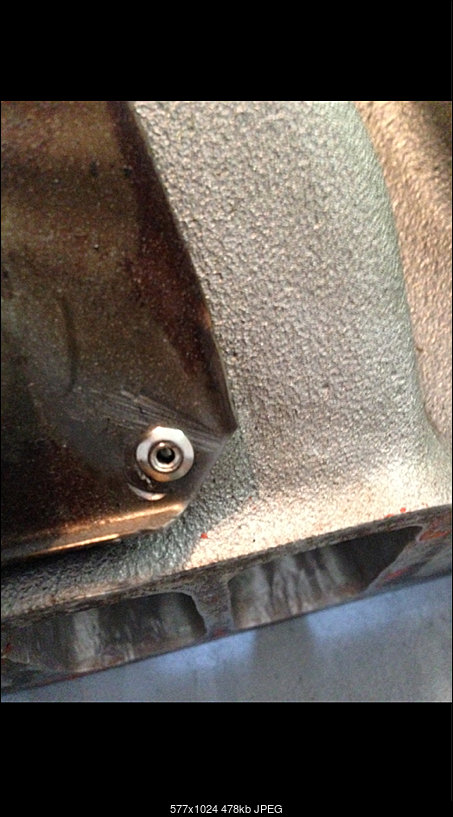 On the bottom of the edlebrock intake you have to move the oil baffle type of thingy over , from your original intake.

My edlebrock was used and came with it already installed, but I noticed one looked a little loose. I easily pulled it out with my finger!!! That could have fallen into my engine a ruined everything! I replaced all 6 of these screw/nail things with stainless steel rivets. I gave it a tug test and they seem to hold very well.

Close call for sure !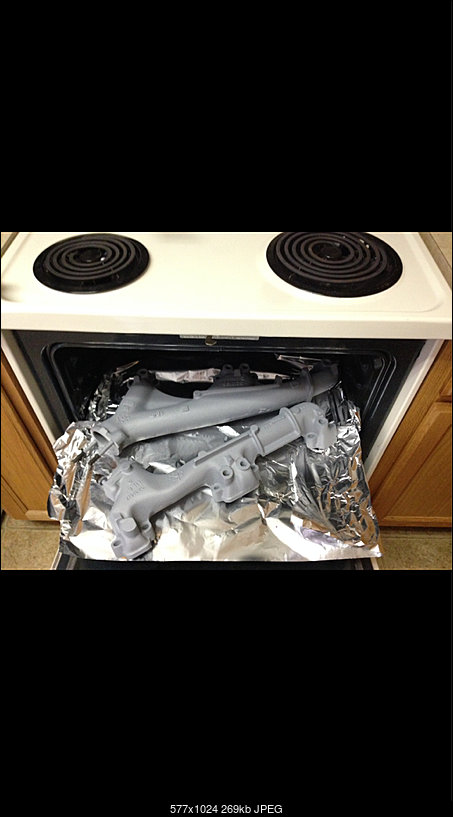 I sand blasted then painted the ported manifolds with VHT and baked them per the instructions on the can.

I opened the front door and back door and placed a fan in the door way the first two heat cycles were the stinkiest.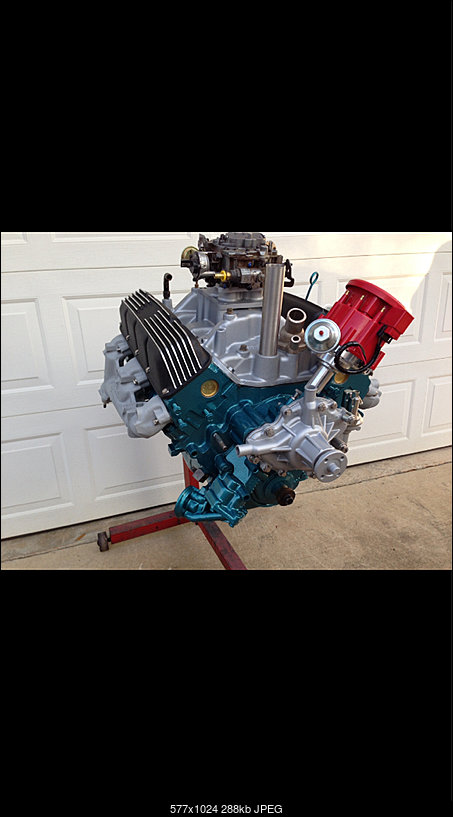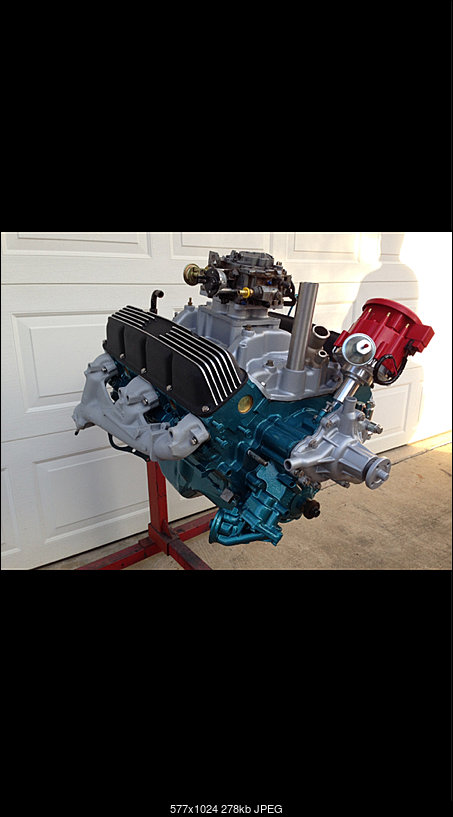 Mostly done! I'm extremely happy!
2-5-2014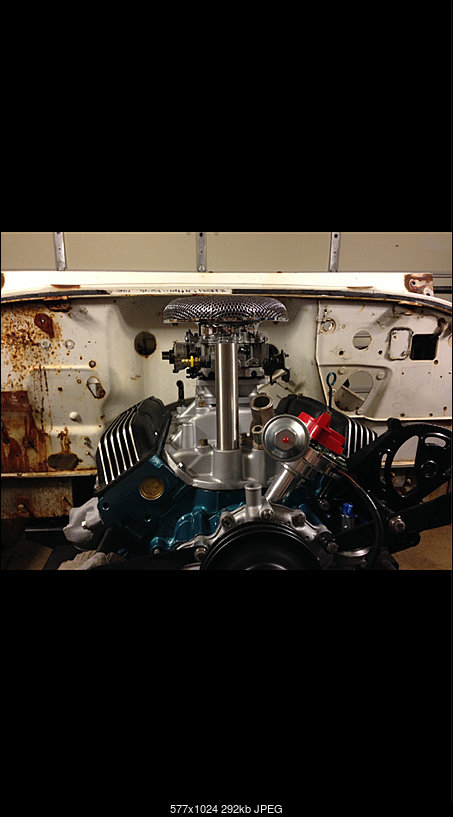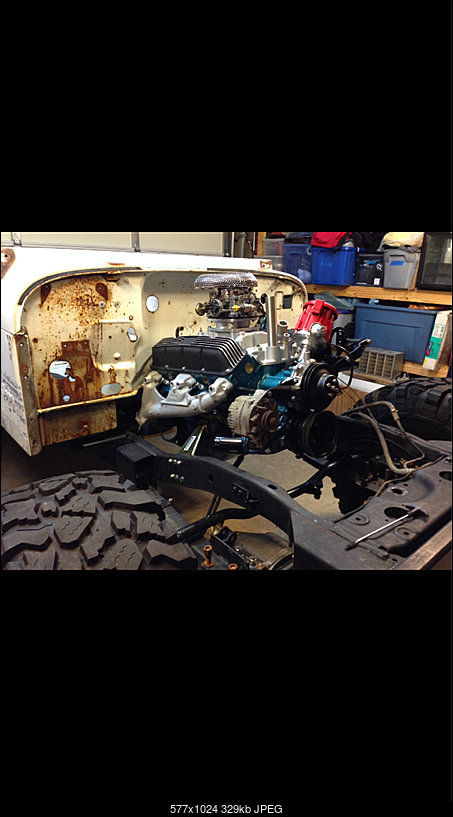 We cleaned up the garage put the jeep in the garage and bolted the engine in. Getting closer to paint!
2-14-2014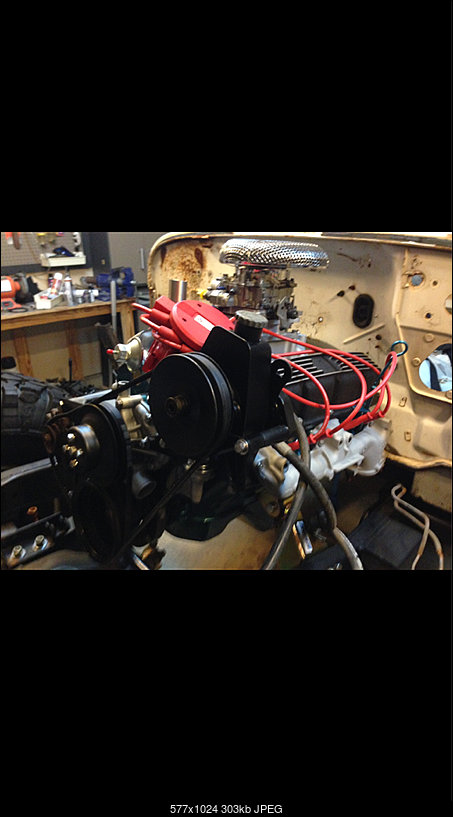 Belts on Magnacore plug wires on and Ngk plugs, shimmed the water pump so it would line up perfect. Just need power and fuel.

Still need to mock up the suspension.
2-17-2014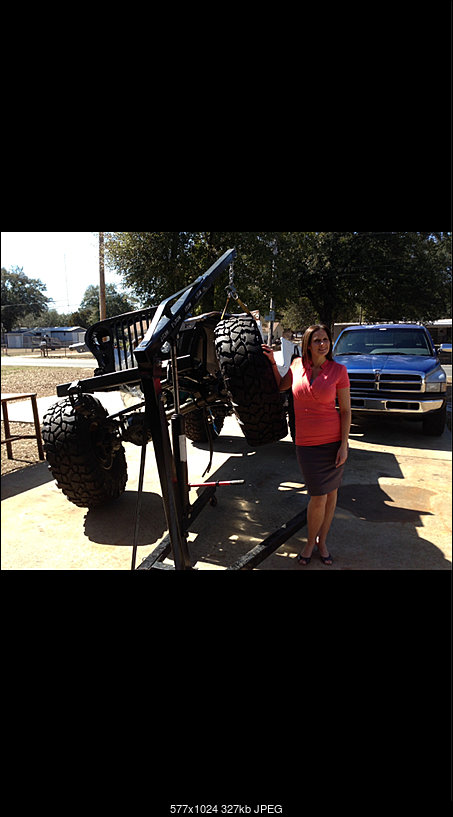 Playing with the flex to measure for shock hoops. Front is great rear is ok.
2-18-2014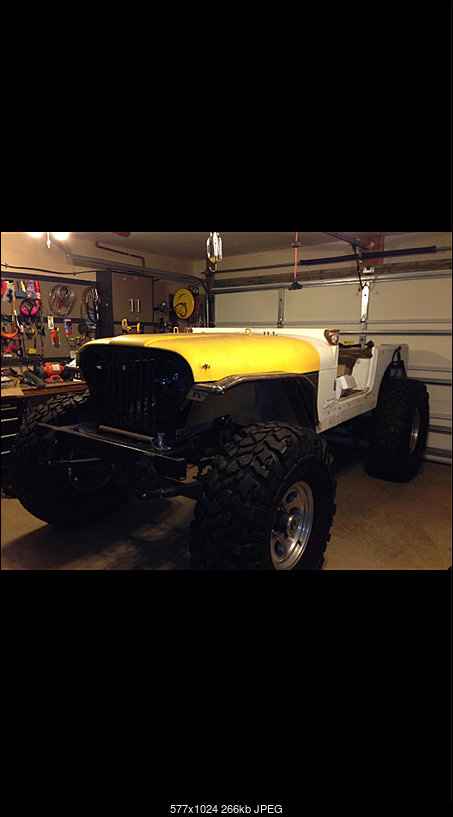 5-9-2014
Lots go updating to do. I got all the shocks lined up nice, with the fenders on I was able to mark where to trim the inner fender in order to allow the upper shock mount to fit through the inner fender.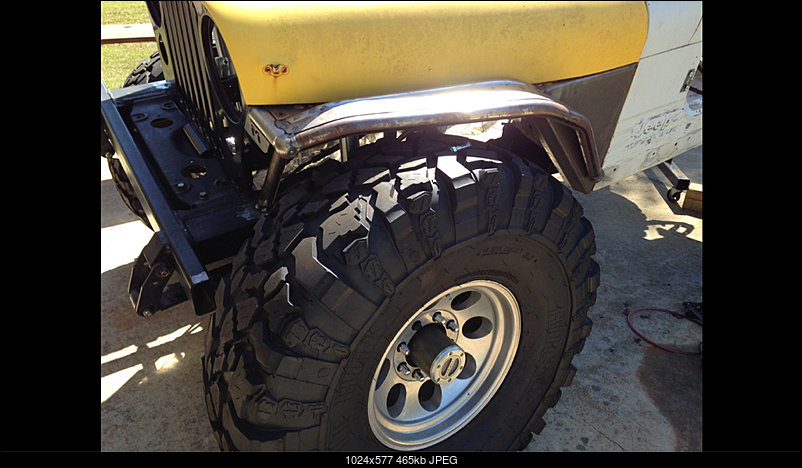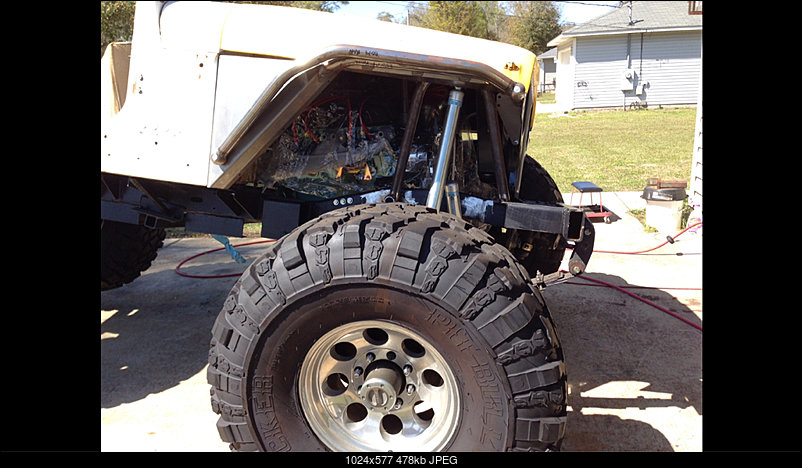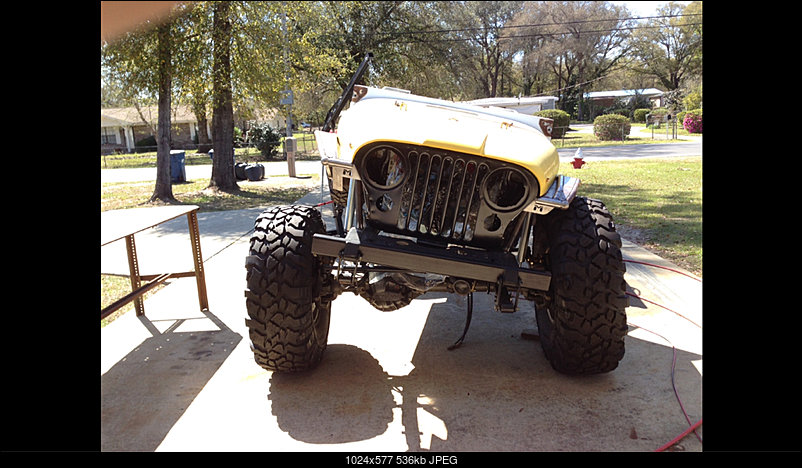 This was towards the end of final mock up of shock mounts hoops and bump stops.

Really just more measuring involved.

When the axle is a full compression the shocks are almost straight up and down. That's what I was trying to accomplish.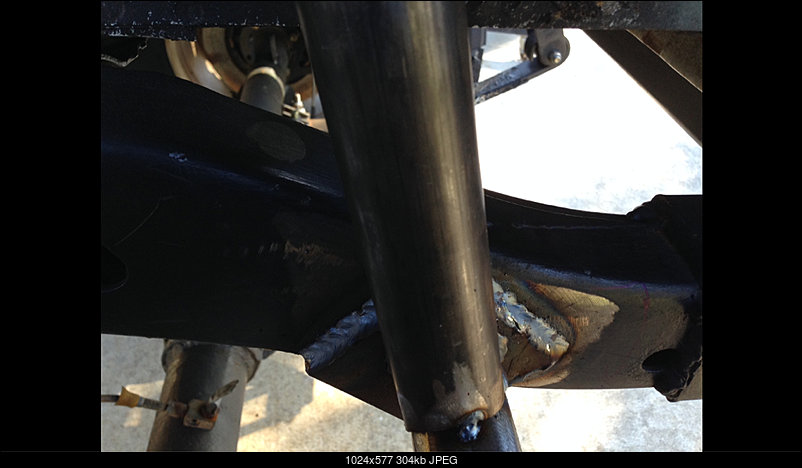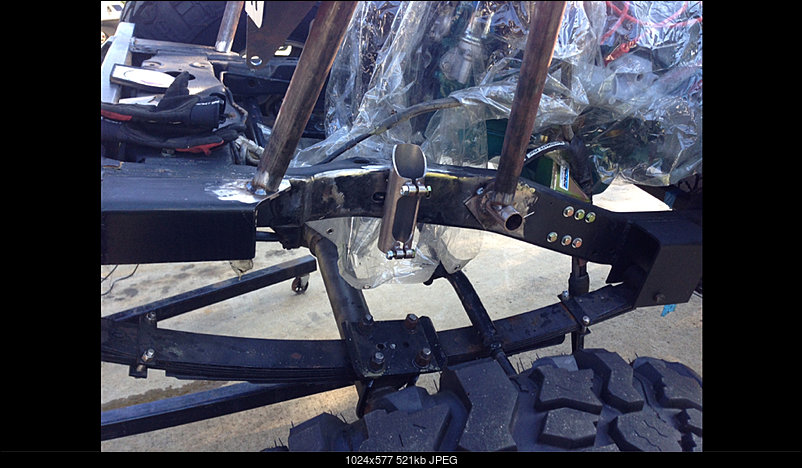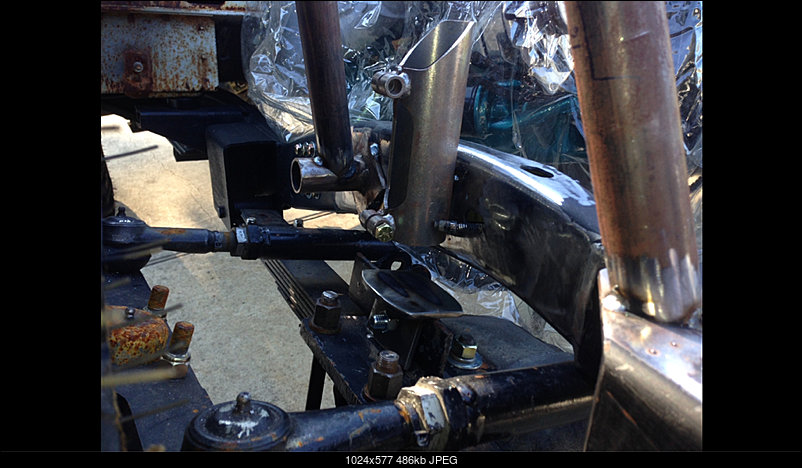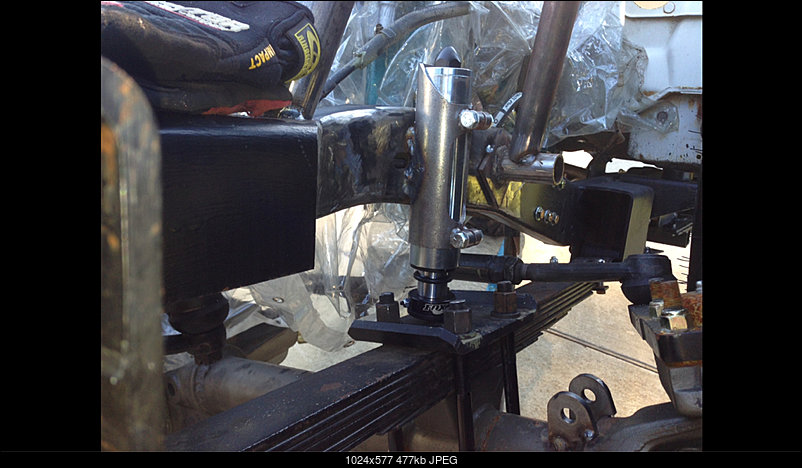 This is how I ended up attaching my shock hoops. I wanted the extra contact area of the square sheet metal between the tube and frame. Dosent look the best but it's how I wanted it, I some parts of the frame had holes from the factory and this covered that up so I didn't have to worry about where the tube fell.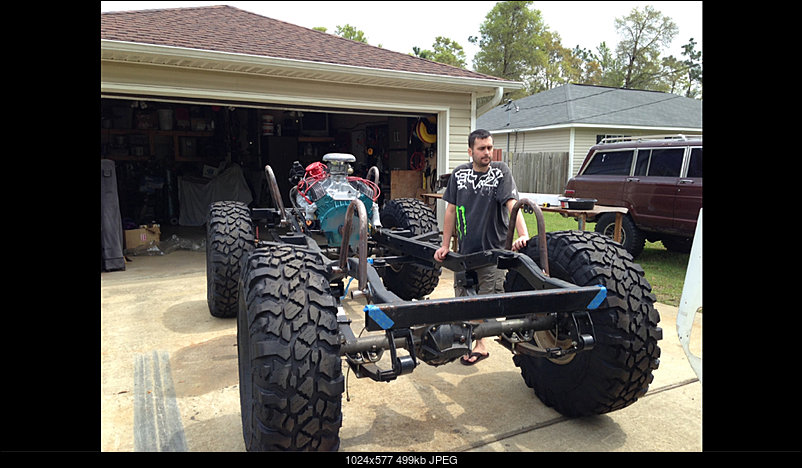 one cool dude.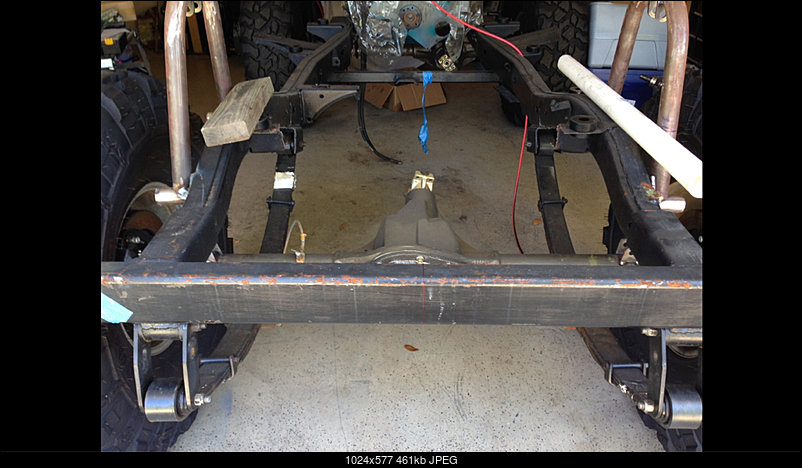 this is the rear bumper. It's 2x4 .25 wall. Since I will have a fuel cell due to to far of a rear axle stretch. (Diff would hit factory gas tank during compression.)

I decided to triangulate things a bit.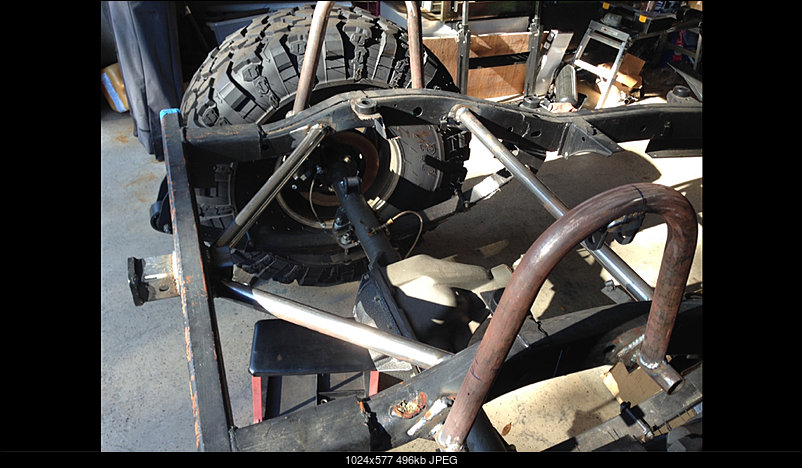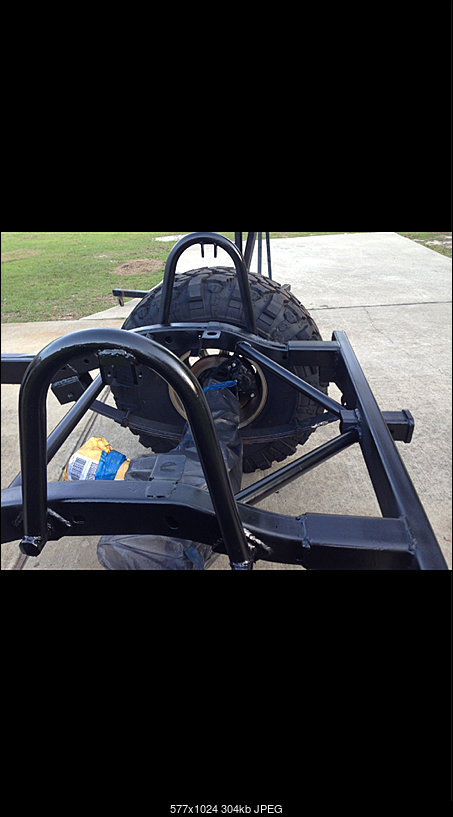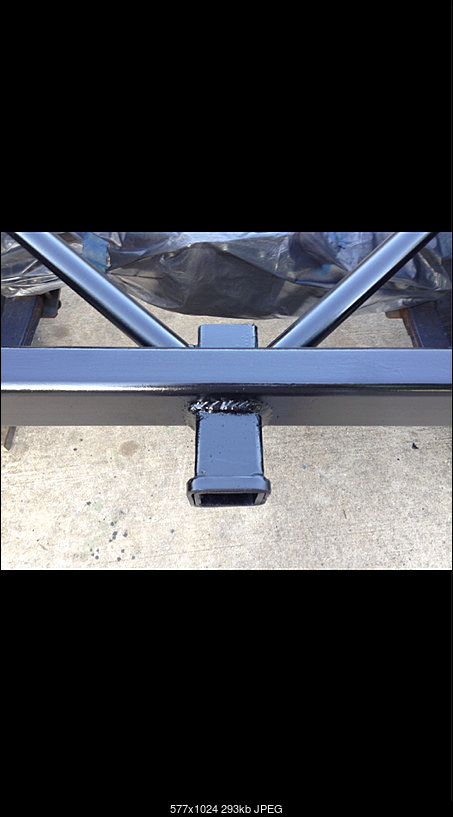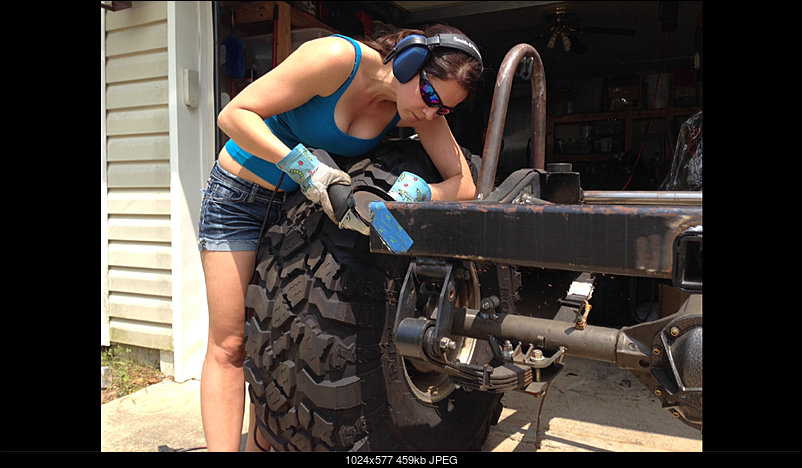 My wife trimmed the edges of the bumpers to align with the edges of our tub.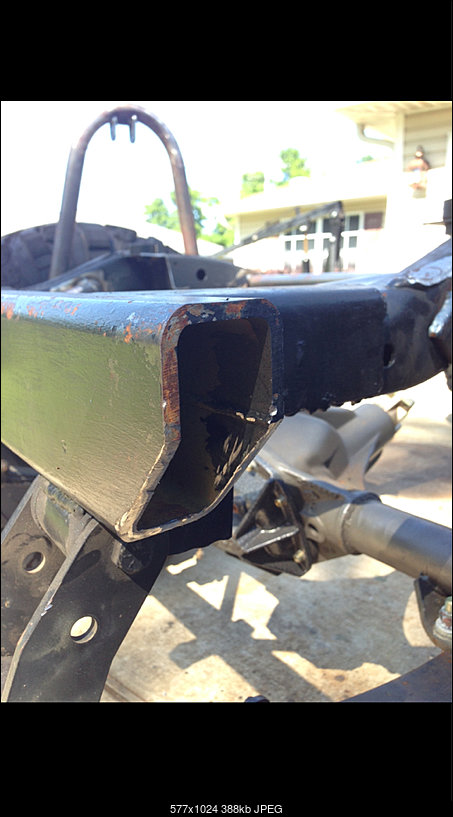 We cut some plate from 3/16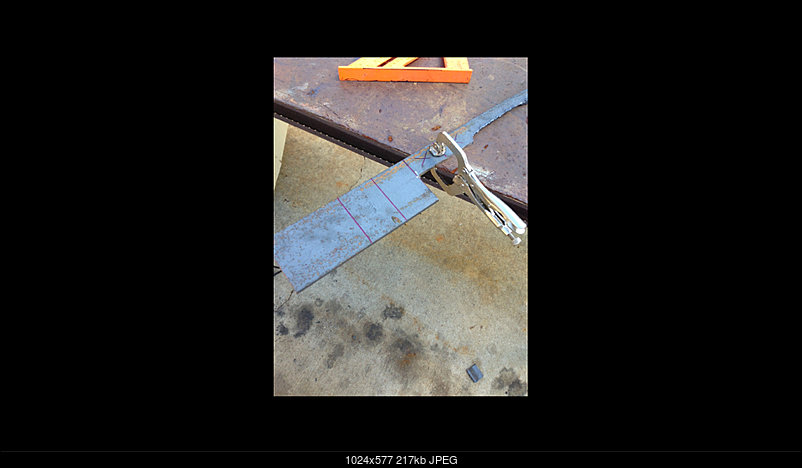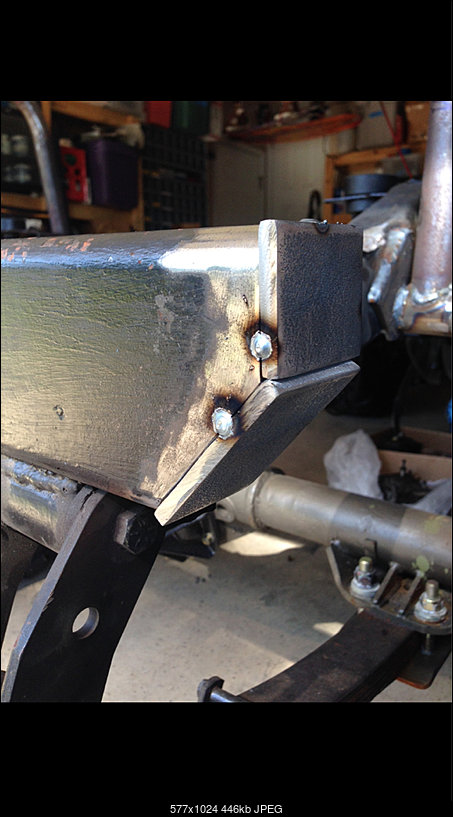 Welded it up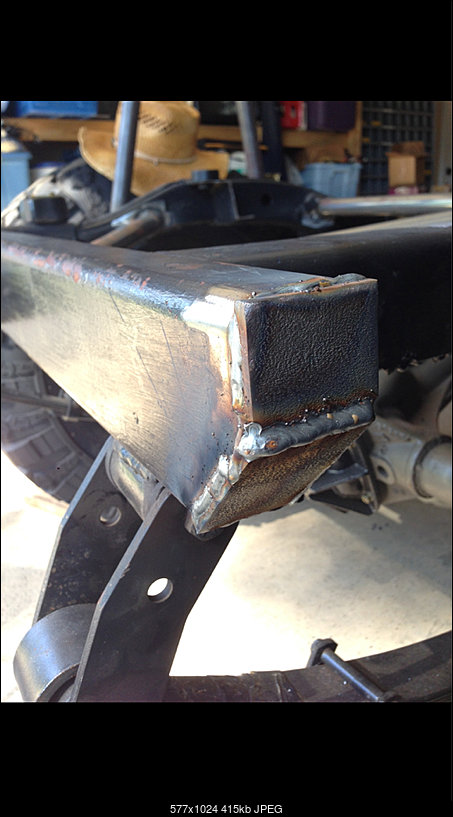 Ground it down and tiger paw/flap disced it to a pretty smooth surface.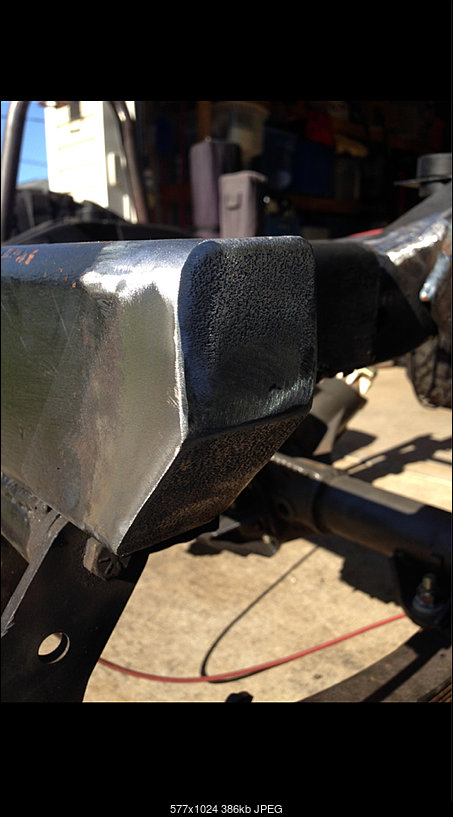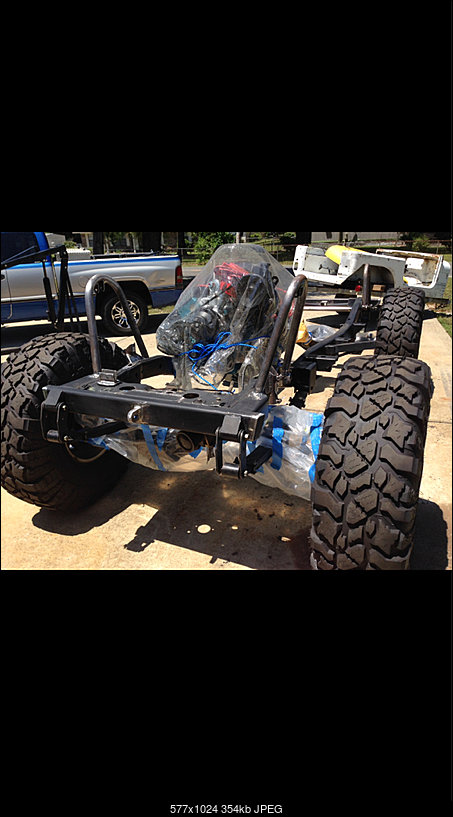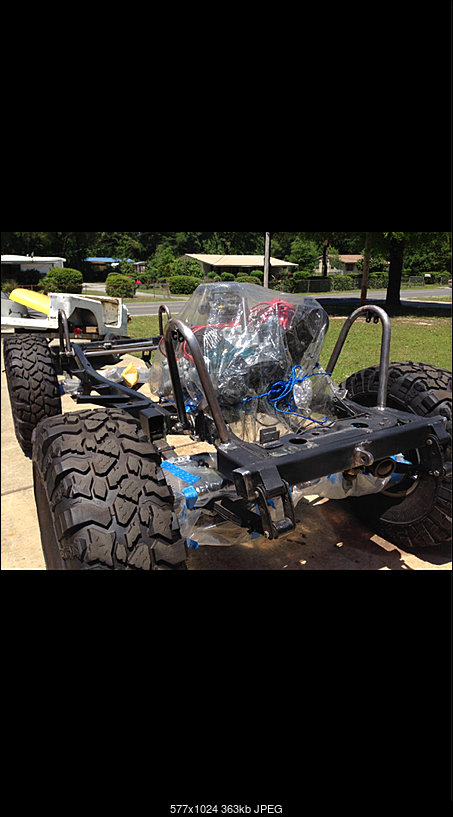 Then It was time for the final frame paint. Originally I planned to use Eastwood frame rust encapsulater how ever the first 3 coats that I put one about a year ago was faded way to bad for such a a short time. It clammed it was uv stable but Florida sun is harsh. So I through on 3 more coats of the Eastwood for anti rust measures then top coated it with a 2 part commercial grade tractor type of paint I think it was call uv101 it looks good for a frame... I can't paint. Used a harbor freight spray gun.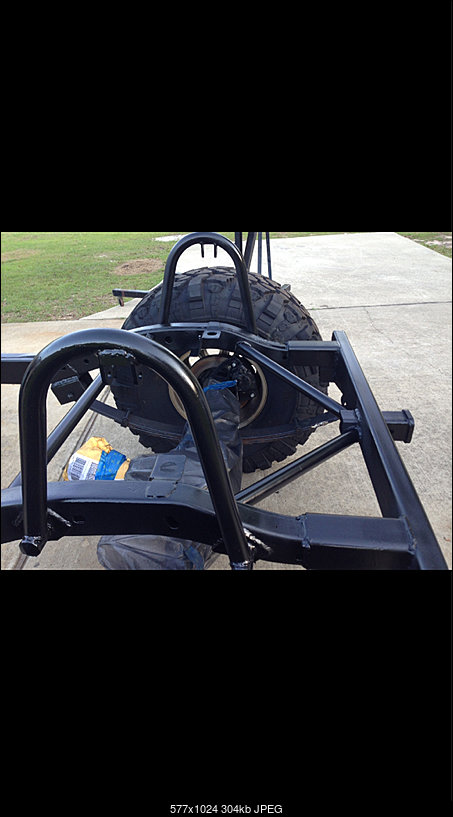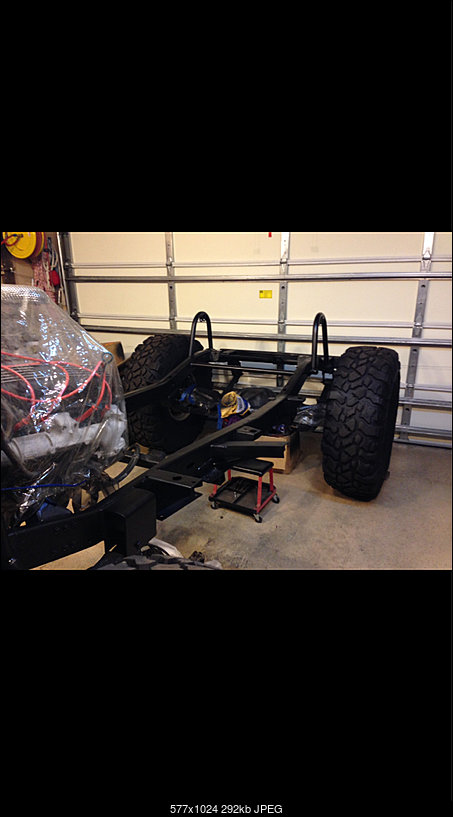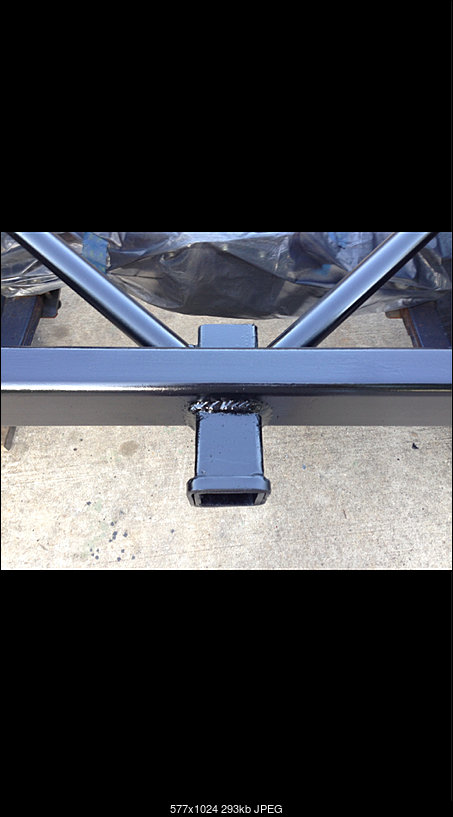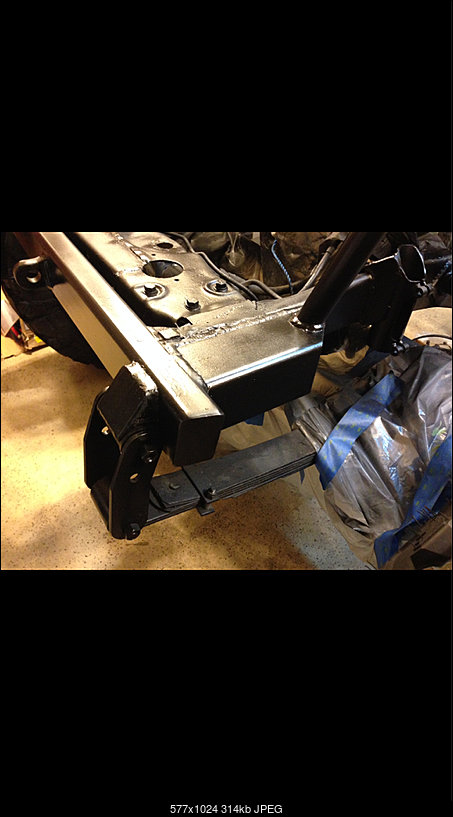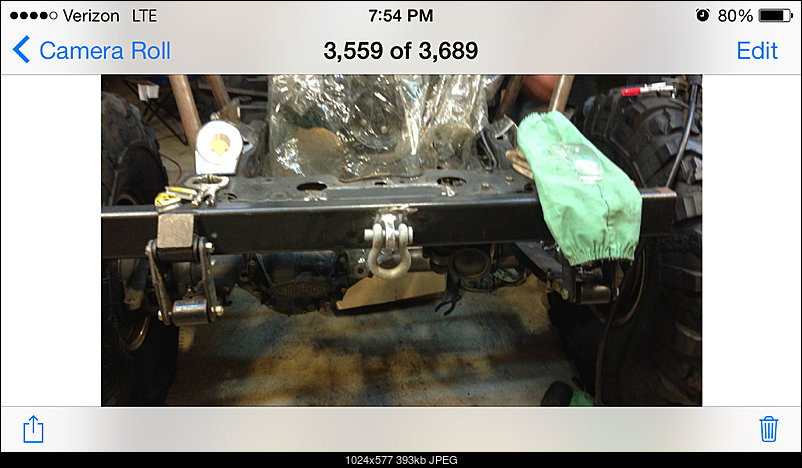 ohh and this is the front bumper, a friend convinced me to not use hooks and go with a d-ring. I used a plasma cutter to cut the hole all the way through the 2x4x.25 tube and welded the d-ring mount all the way through.
And I've got a york210 that I might start flirting with for onboard air.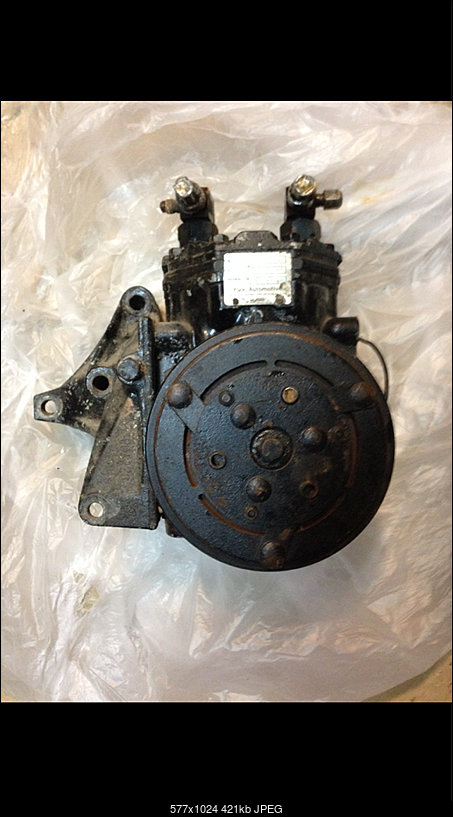 5-11-2014
Question...

I have a set of brake lines that will work except I need to drill out the block end to 5/16 it's currently a 3/8 block.

There appears to be plenty of material.



If it's iffy I will not drill, safety is important to us, please inform.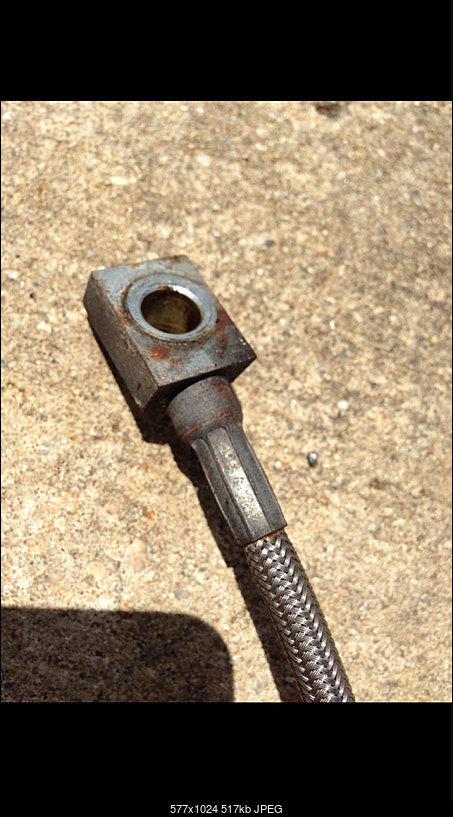 5-17-2014
Well I got my rear brake lines finished!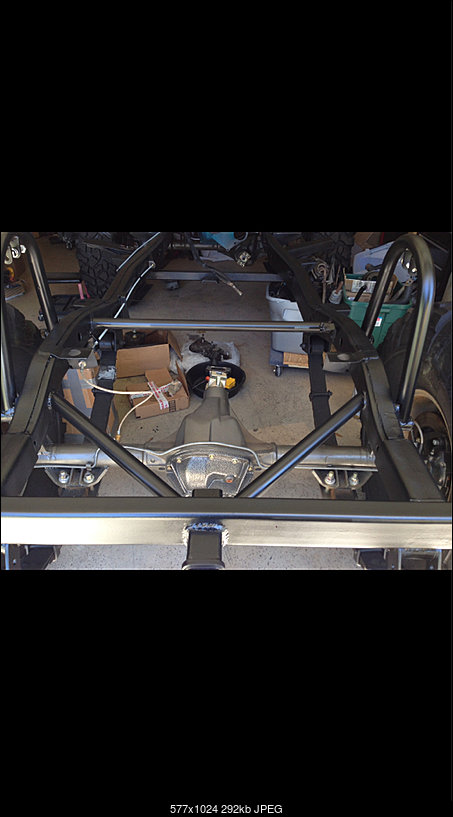 6-1-2014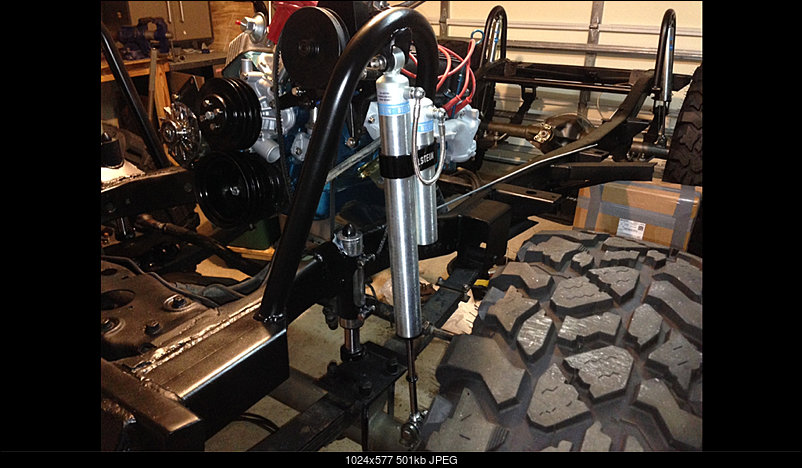 Got the shocks in bil5165 from "kolak" jeep forum member. Super guy. And the fox bump cans up front. I got the greasable shackle bolts in and tight.

Next is to bolt the Trans in and break the cam in.
7-2-2014
Trans in.

Waiting on the sand blast guy to open his schedule.... Need to blast the tub and body parts.
8-27-2014
Yeah I've been doing some things here and there. I have more updates but haven't taken pics yet.

It has been real hot here


8-30-2014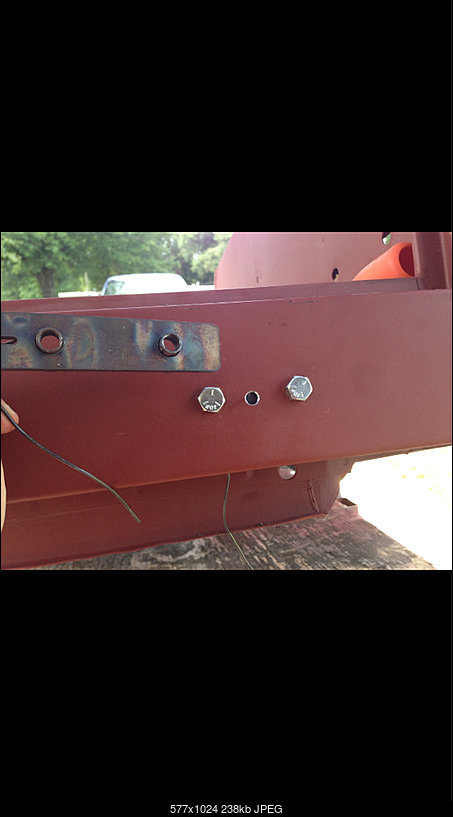 swag off-road sells these to put a Cj tailgate on a Yj. The wire is there to slip up through a factory hole and still be able to manipulate the piece I to the holes you drilled. You can leave it as pictured, but I plan to spot weld it I to place in the center hole.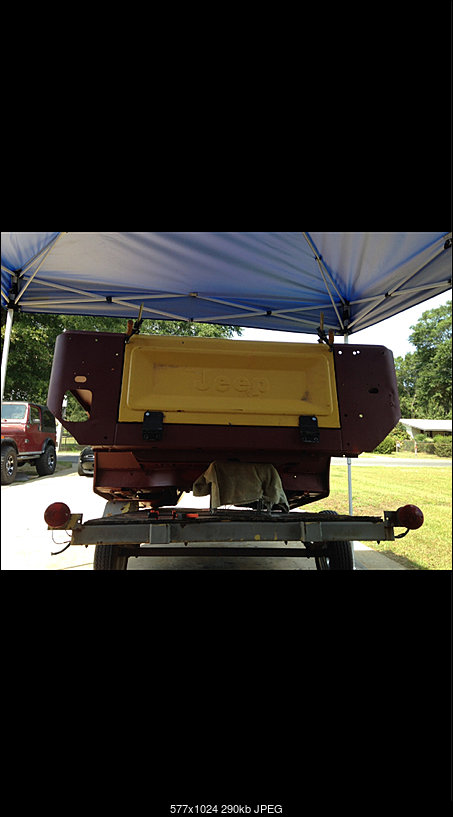 Tailgate fitting.

With my dad's 83 limited in the back.
10-20-2014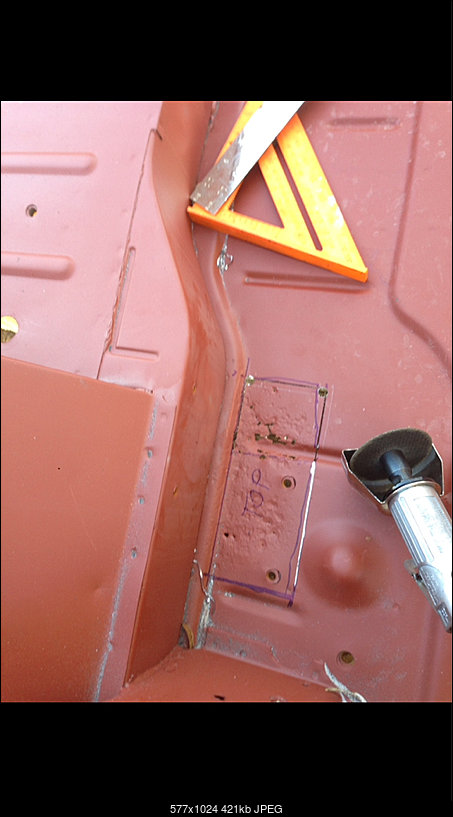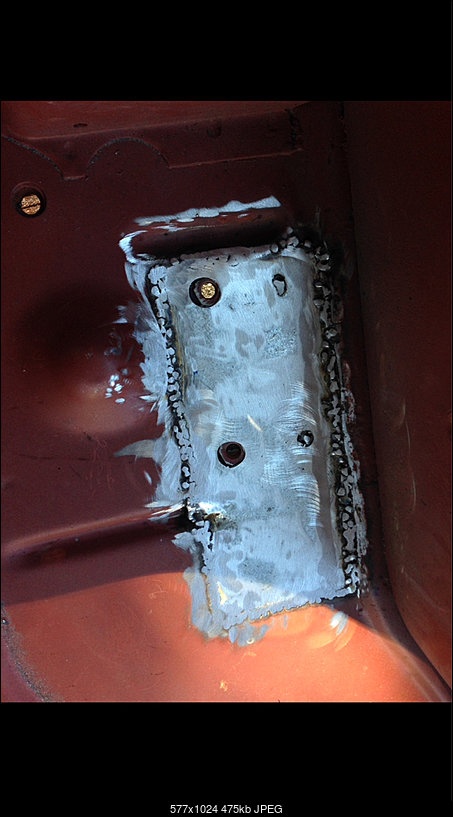 So this is the 1st panel rust repair I have ever done. Fortunately I know it will be covered with monster liner top and bottom.

Over all I'm happy with the end result took about 5 hours lol.

This week I have some more work to do maybe 10 hours then it's off to paint.

While body parts are being painted I will focus back on the chassis finish the last half of the brake lines and fire the engine,
1-1-2015
I just spent 9 days and in the hospital and now I can't lift
More than 20lbs.

Maybe in a month I'll pick back up And get it ready for paint.

I still have to see how much this hospital visit And my in home nurse is going to cost me.
2-1-2015
Thanks, fortunately my insurance seems pretty good and my out of pocket should be less than 10k not bad since I'm accumulating about 300k in medical services.



I have surgery in a couple months and then I'll be able to work on my jeep FULL time. So excited to get it finished up.
6-29-2015
Well, I've had 2 surgeries now, one more to go. Still can't lift more than 10 lbs. My last surgery was pretty in depth, and it occurred only 3 weeks ago. I live in Florida and summers are ruff.

I'm really hoping to get it painted before my next and final surgery, my wife needs a new used Daily driver. I'm hanging in there pretty good just don't have the energy and strength to want to get out in the heat and work on this jeep. I'm hoping in a few weeks I'll feel more energetic again. In the past 6 months I've spent 19 days in the hospital, that is located 5 hours away from my home. I've been busy being sick. It's the worst type of busyness. The good news is I should be making a full recovery around December. And I hope the jeep is done at that time.

I look at this jeep almost everyday. I'm not going to forget about it, but it is hard to work through the recovery times.

I think we are back to red now on the color, lol we are so indecisive about it.
9-1-2015
Most everything is in primer. I had my rock armor corner guards, sliders, and metal cloak fenders blasted and primed.

Color choice is still between red And now grey.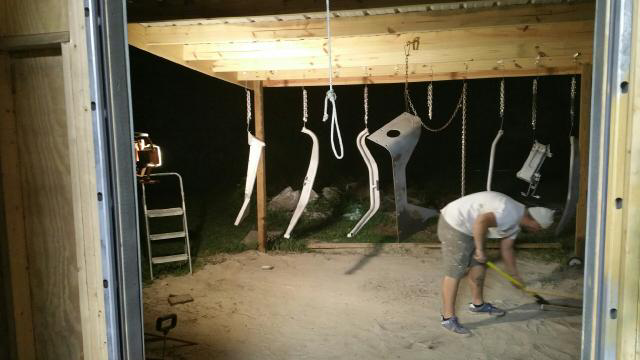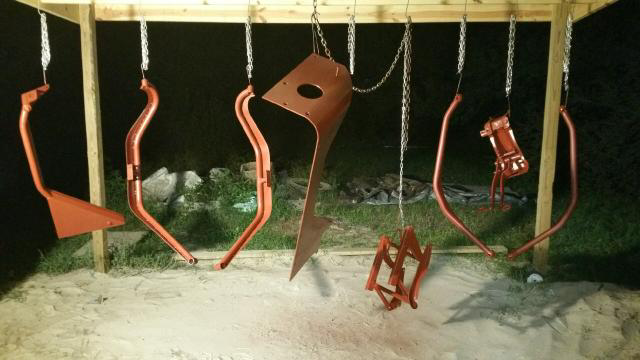 9-9-2015
Thanks guys. It's been fun and a lot of work. We can't wait to drive it.
9-26-2017
Got the bottom raptor lined, it's the 2017 Ford mustang blue self tinted.

I kept the monster liner to long and it got thick, well to thick to spray. It is not monsterliners fault, I kept it for over 3 years. It's still good to roll on, but it's just to thick to spray so i Ran up to my local store and got the raptor liner.

I my painter is painting the tub, and I plan to get it back this weekend. I will lizard skin spray insulation the inside fire wall and front floor boards. Then I will spray raptor liner on the inside, and just over the edges where a hard top would sit, or feet may step climbing in and out.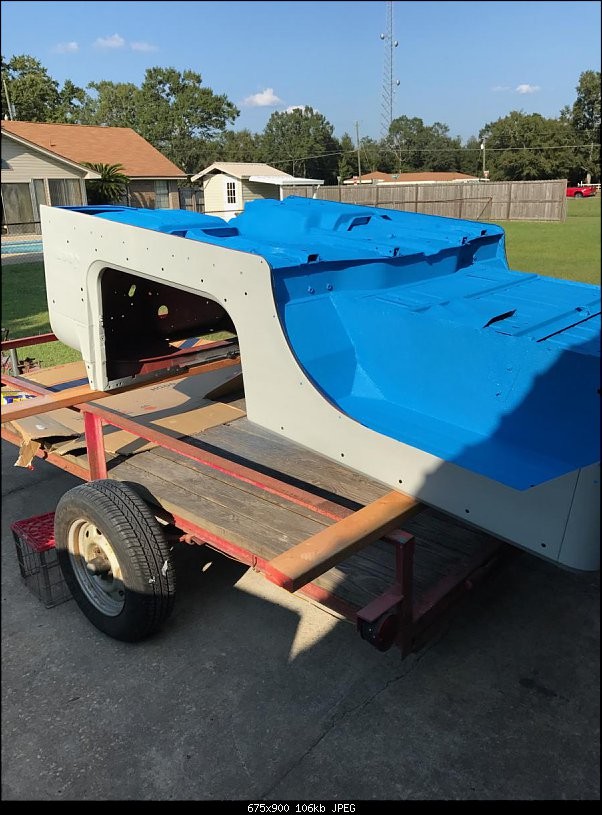 Every year when it cools down outside, I get the itch to work on my jeep.

I looked back over my build and this time every year I get motivated.

Parts I already own. All metal body parts, all seats, all guages, wireing kit, seat brackets, fuel cell steering column, dash.

So once it comes back from paint it should get assembled fairly quickly. I hope to at least drive it around the block this winter.

I still need drive shafts, roll cage, and some small hardware pieces like tailgate cables and latches.

Getting excited again.
10-3-2017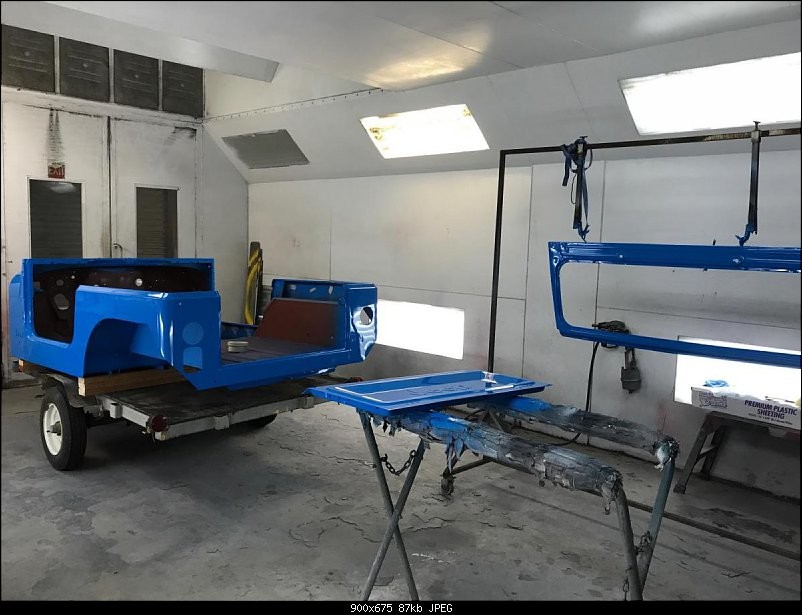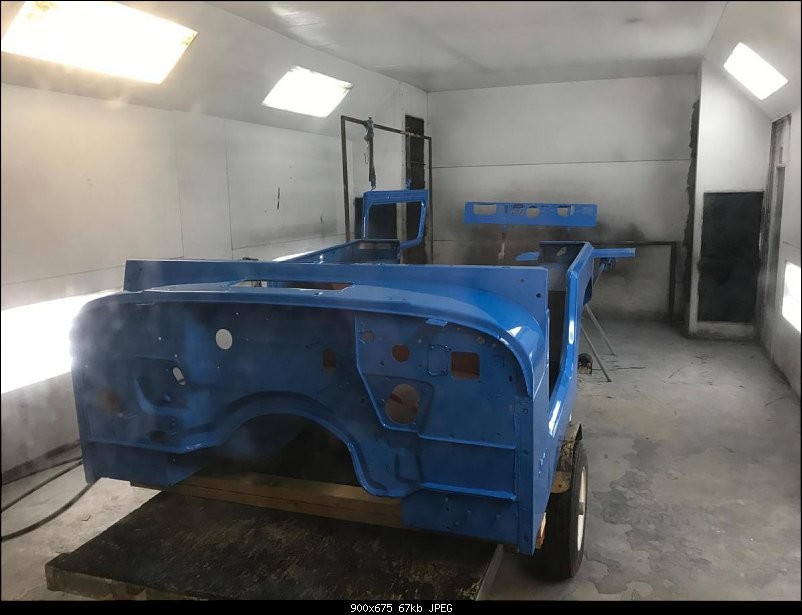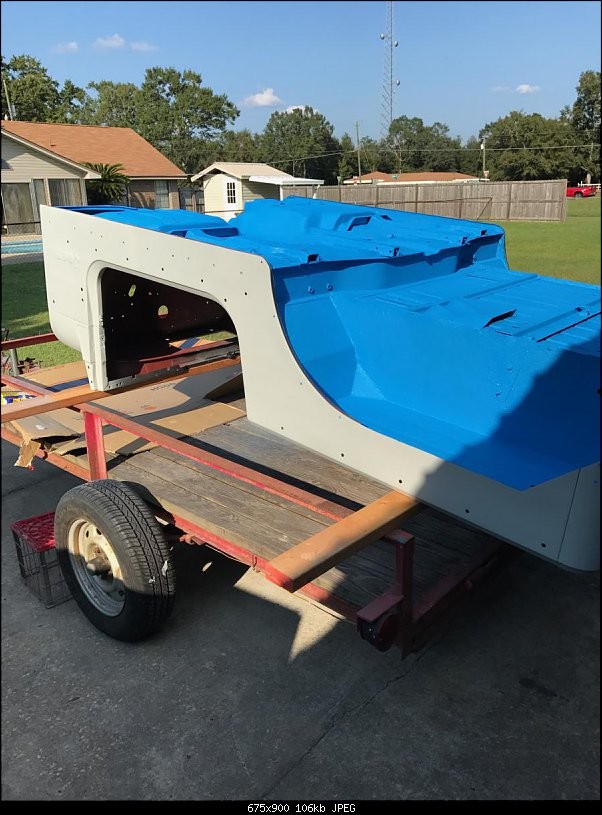 10-7-2017
Got the tub, laying on the frame. Have the dash, tailgate, and windshield frame painted.

Waiting on the rock armor, corner guards and front fenders.

Time to lizard skin insulation of the inside, then raptor line over that!

Getting excited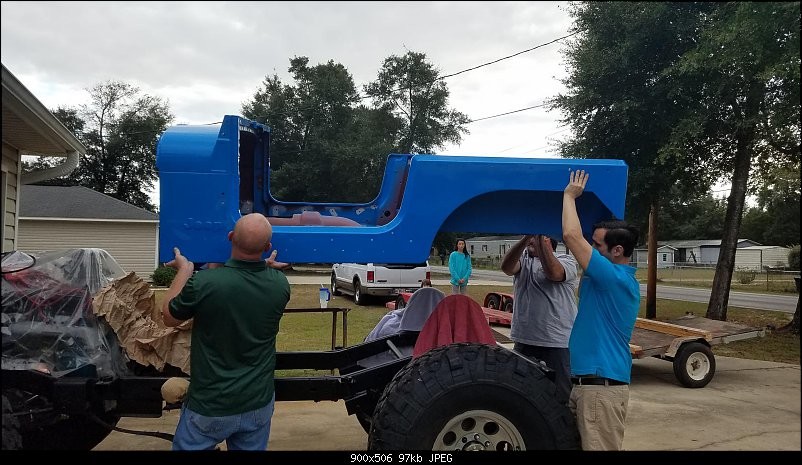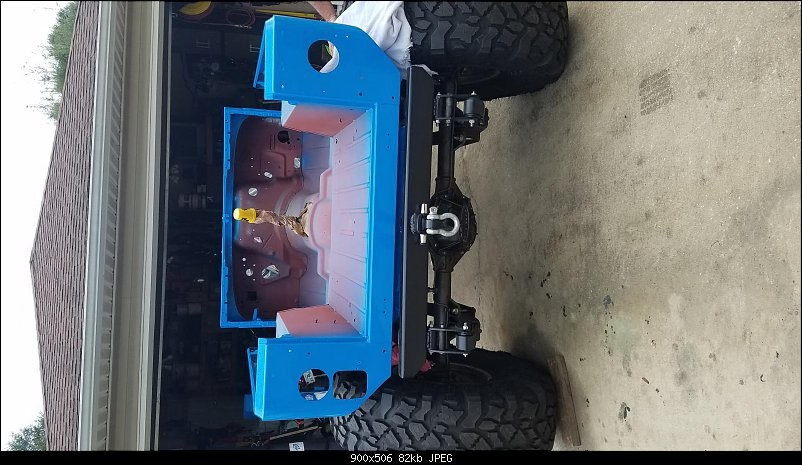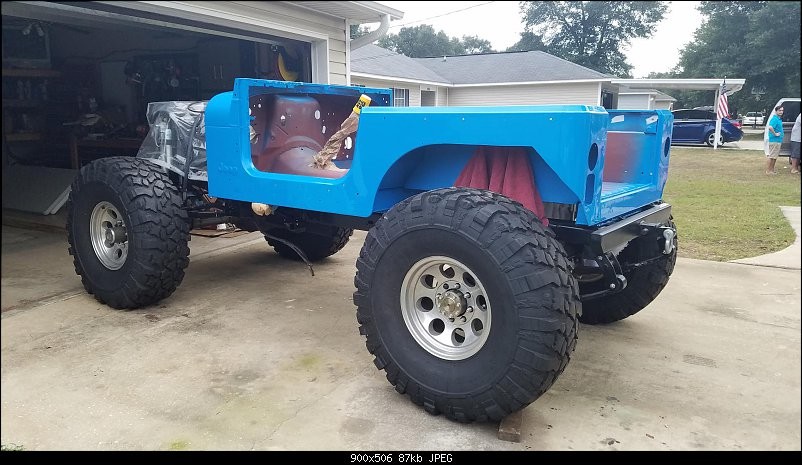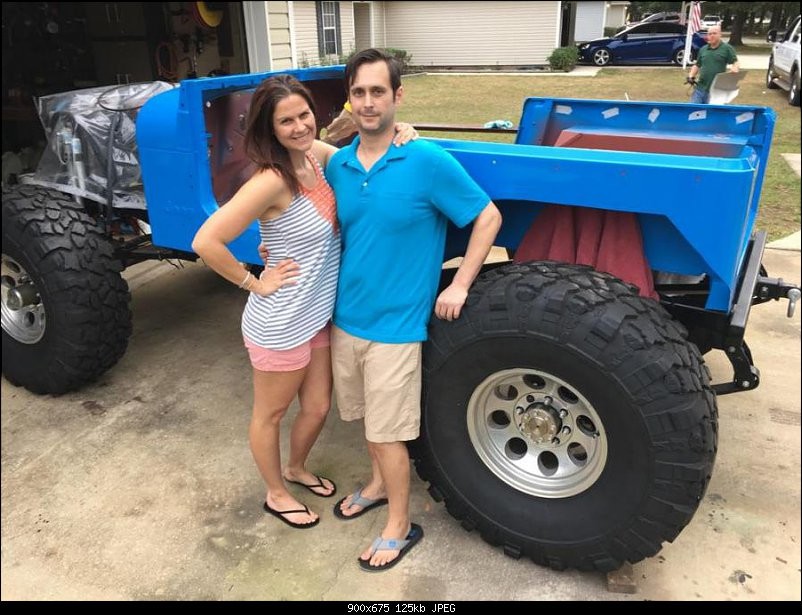 10-16-2017
One thing I did not consider when starting this build is how much storage space a disassembled jeep would take up.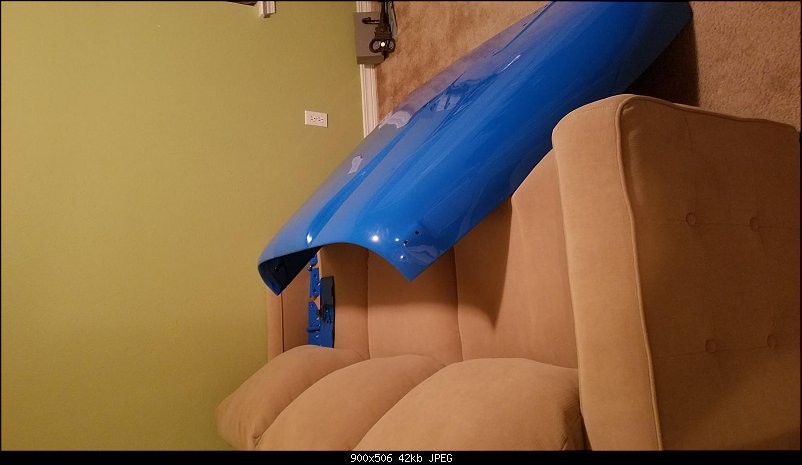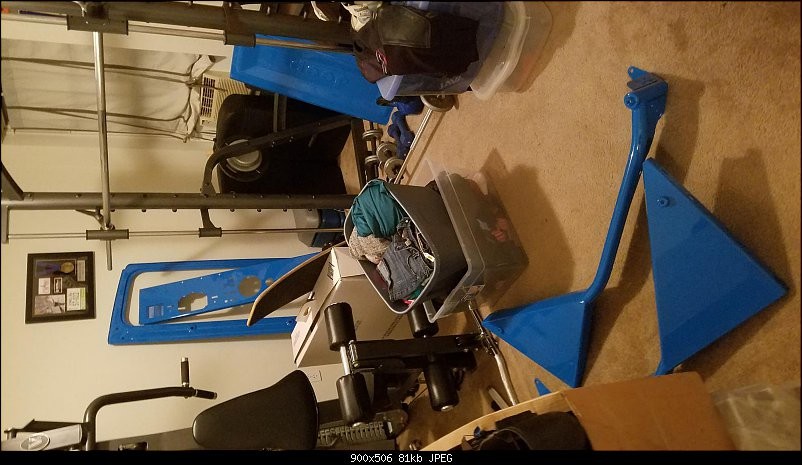 1-22-2019
I haven't done much got the front fenders painted. And went to install twin stick and i most have messed up something on the dana 20 rebuild. One shifter shaft would not move. I had a friend go through it for me.

Ive been reducing clutter around my house like boats and jeeps amd jeep parts. Also a home remodel project.

Soon as i sell my last boat i will be on this jeep. As long as nothing else comes up.