The "Get Me By" MJ Truggy by cgmrdc
By diyauto
You must be logged in to rate content!
The "Get Me By" MJ Truggy
Compliments by cgmrdc @ jeepforum.com
12-15-2012
So, a small introduction here, I started off in an XJ and then built a very capable, DD TJ while in school, click the link below for the build thread. Traded it with plans of building a buggy, but a year later and a big career move i still hadnt started the buggy build and was tired of not wheeling so i picked this up for 500 bucks.

Sample of previous work

My TJ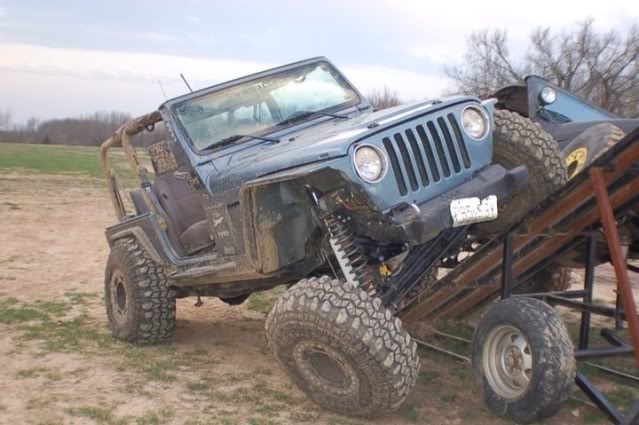 Friends TJ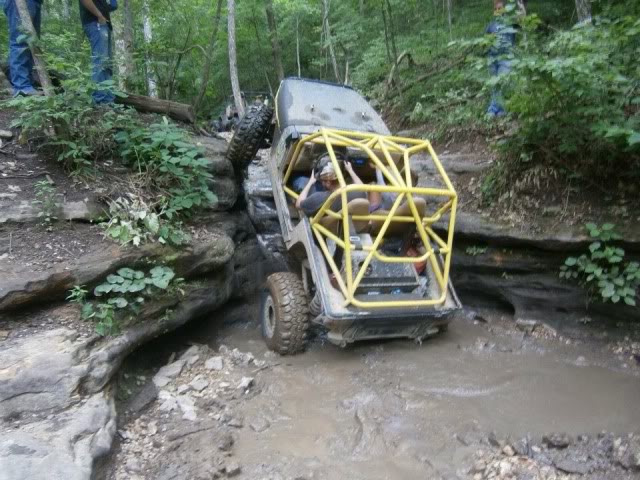 Two other friend's XJs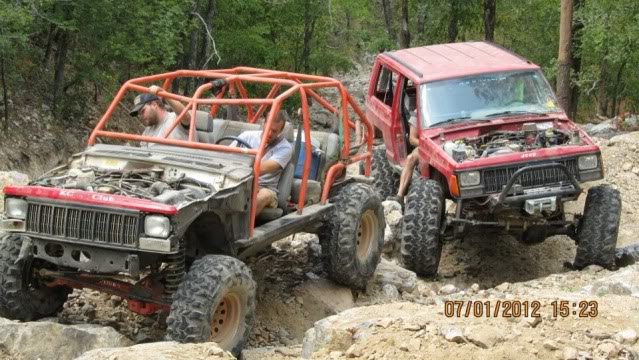 And another XJ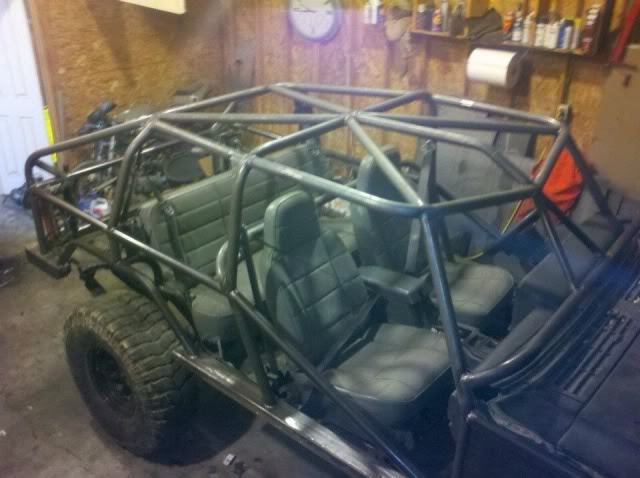 TJ Build
http://www.jeepforum...ge-fund-878243/

NEW BUILD
88 MJ
4Cyl, 5 speed, 2 wd

Basically everything I have collected for the buggy will be going into this build.
350 on propane, sm465, dana 300.
Currie Rock Jock 60, 5.38s, 35s spline inner and outer alloys, drive flanges, detroit. Full hydro
Shaved 14 bolt, 5.38s, detroit, disc brakes.
Currie antirock Rear Sway Bar
16 inch FOA coilovers
4 in FOA air bumps
39.5 TSLs
105-107 in WB
Dual Wilwood master cylinders and cutting brake.
Mastercraft seats
Warn HS9500 winch
4 links front and rear

The plan for the MJ is do 2x6 rocker/boat sides, internal cage, Rear in going to be cut off behind the cab and tubed out, Front grill is going to be narrowed, tube fenders and engine cage with the winch behind the grill and the radiator in the back. Interior is going to be stripped and have custom dash... Hopefully done by March.
makin some progress

strippin stuff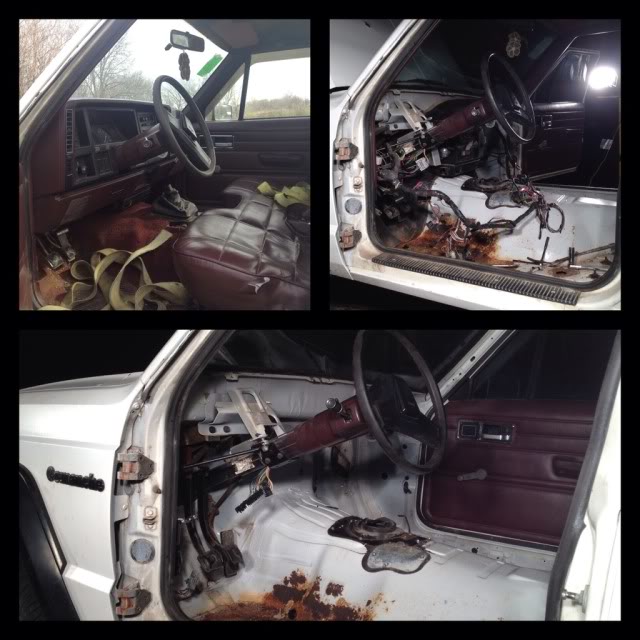 shed cleaned up again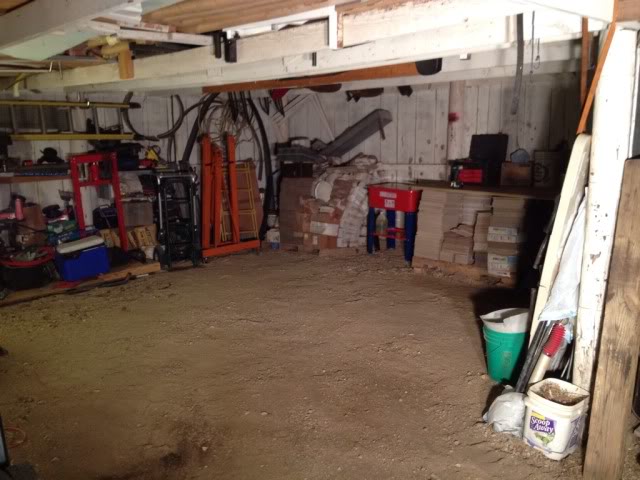 jeep rolled in with all major components removed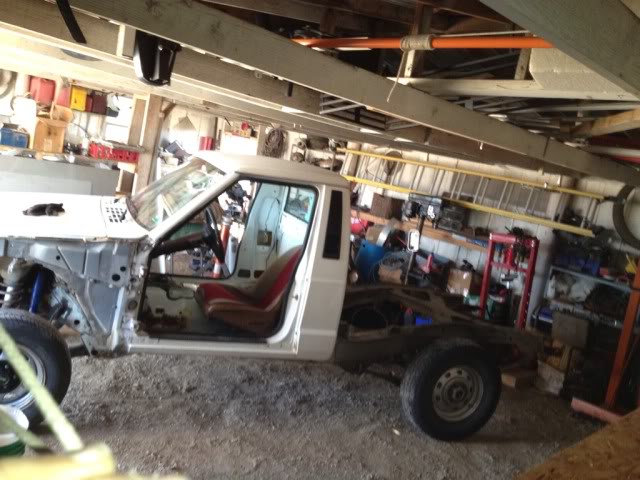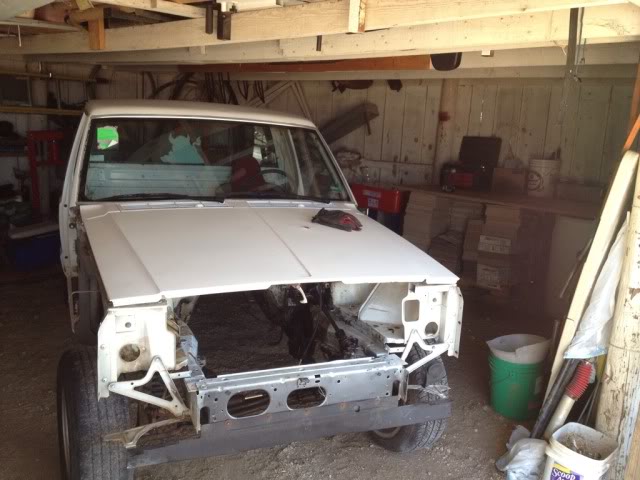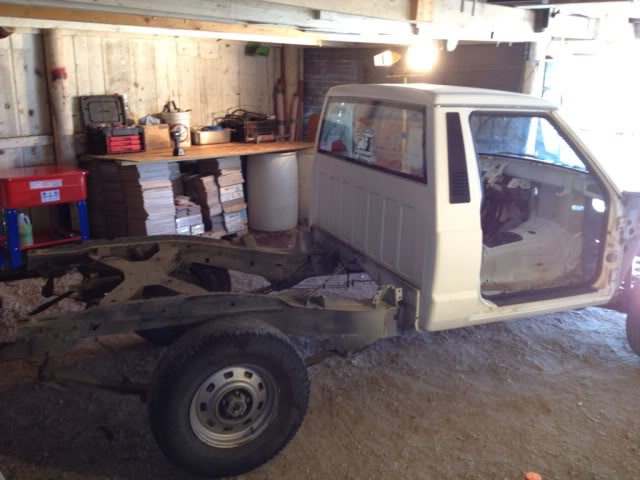 literally zero droop...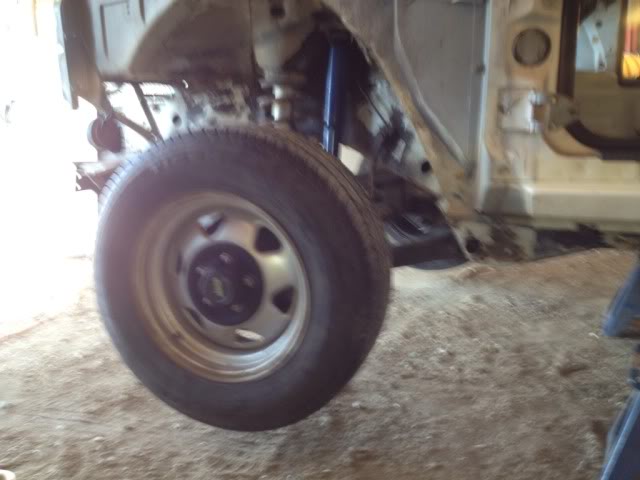 no longer an issue...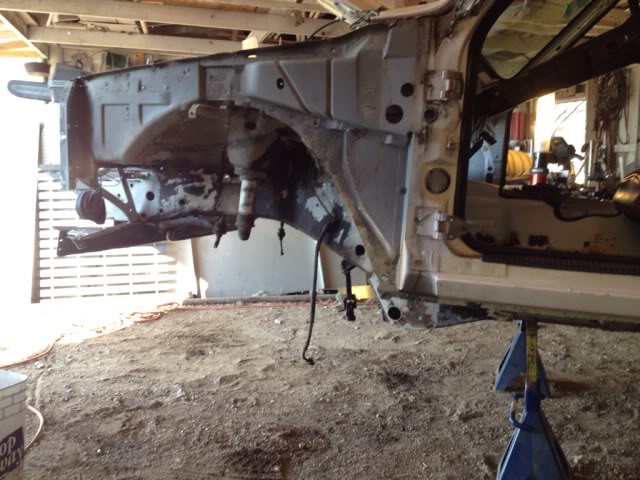 sage is ready to go wheelin...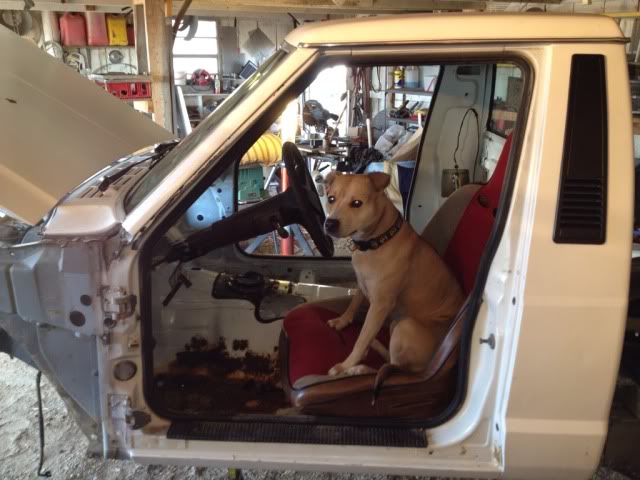 and just cant stop cutting!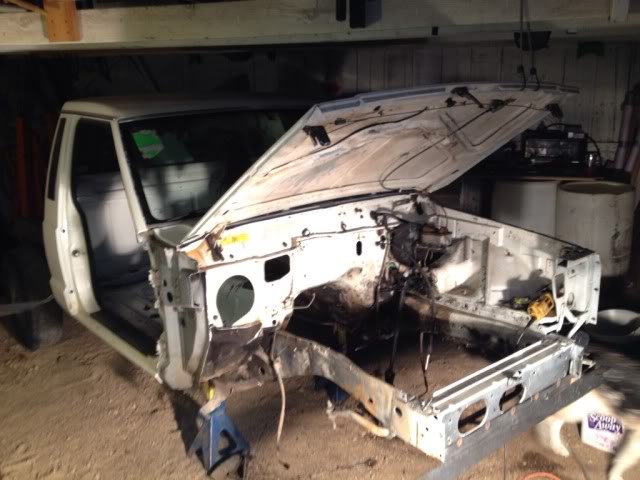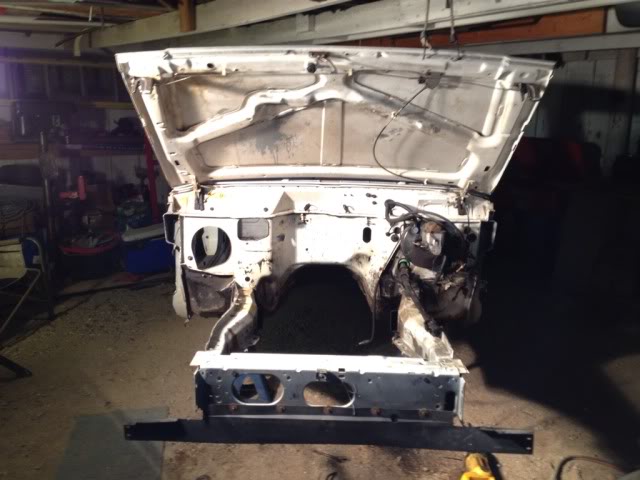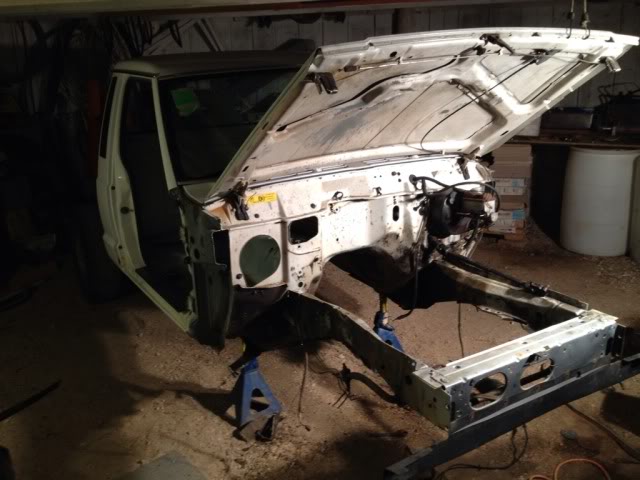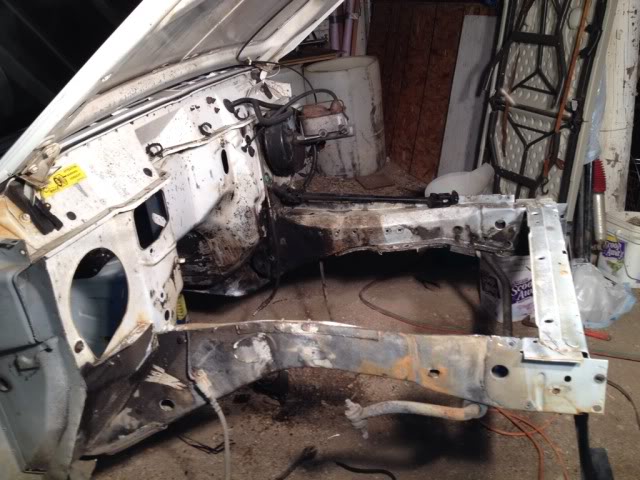 frame prep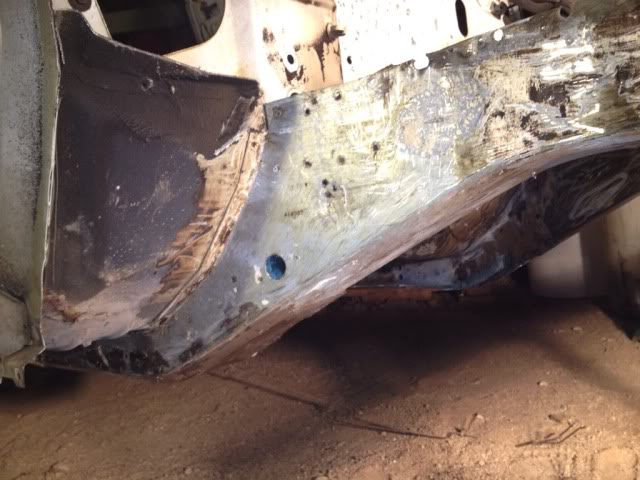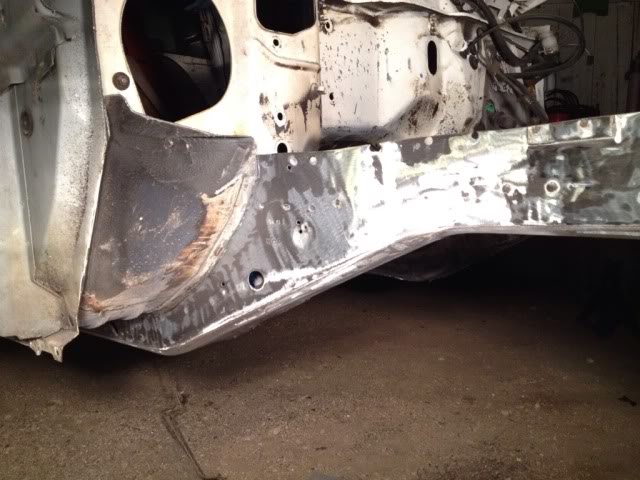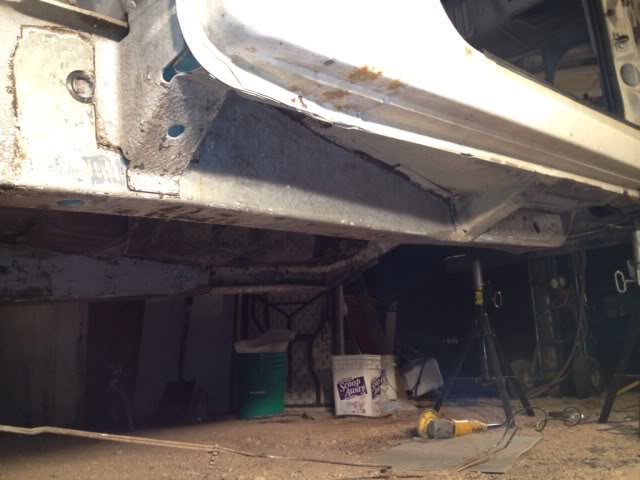 a sharp wood chisel works really well to scrape the majority of the undercoating off, for future reference. then i used aircraft stripper to remove the rest of the paint and such

when i cut the inner fenders out i left the finch seem where it was spot welded to the frame, but im wanting to box the whole front frame section in sooo...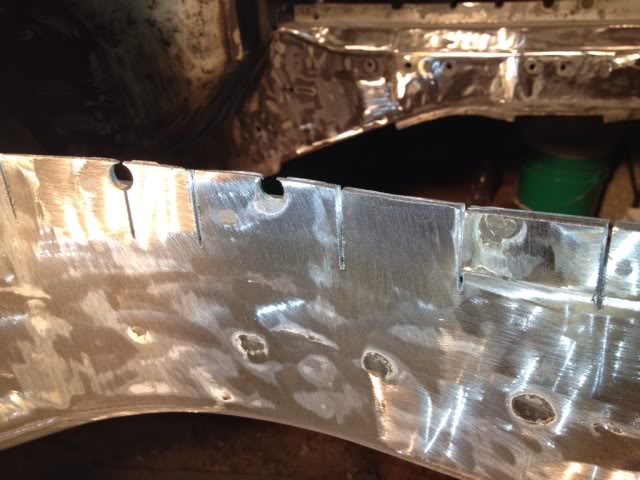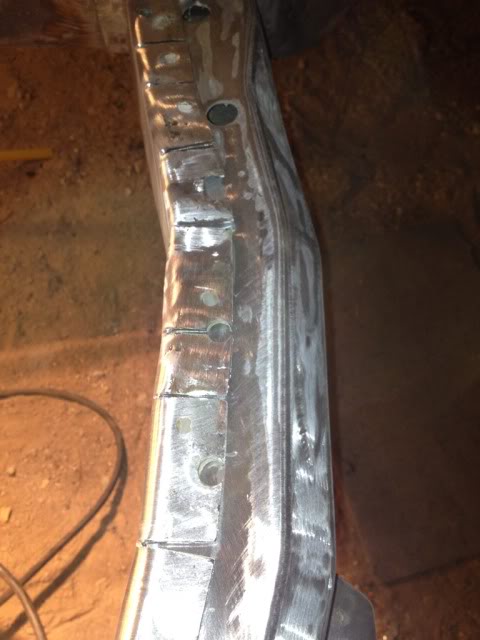 then folder it over with a hammer and welded it back together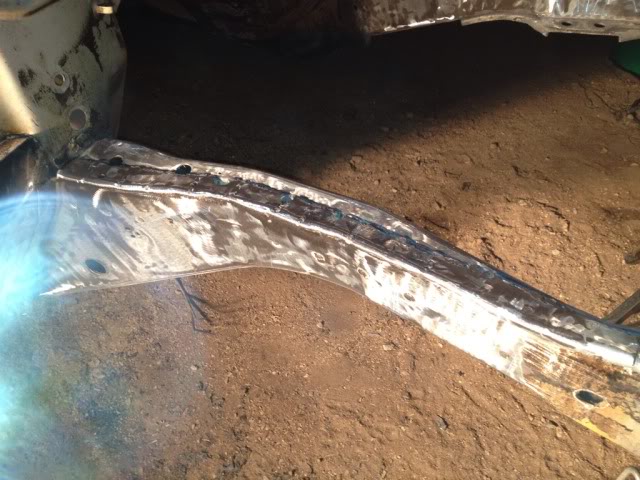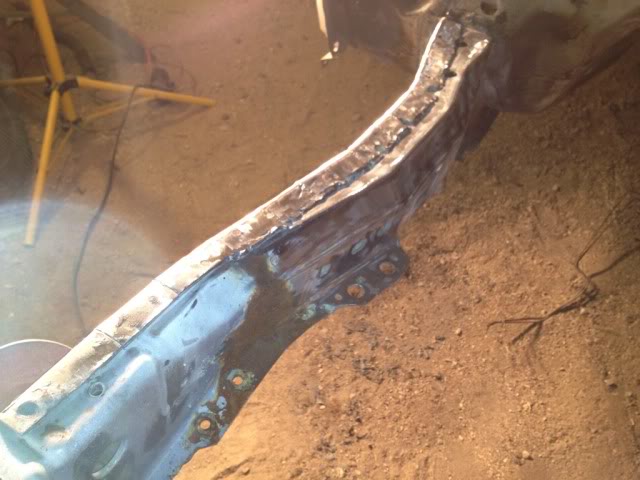 the last 12in or so were left unstripped and welded because one the motor goes in ill be cutting it off and tubing the rest to clear the 60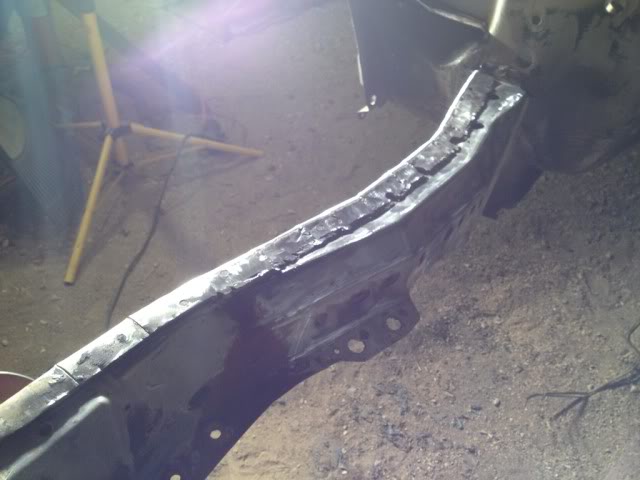 Currie 60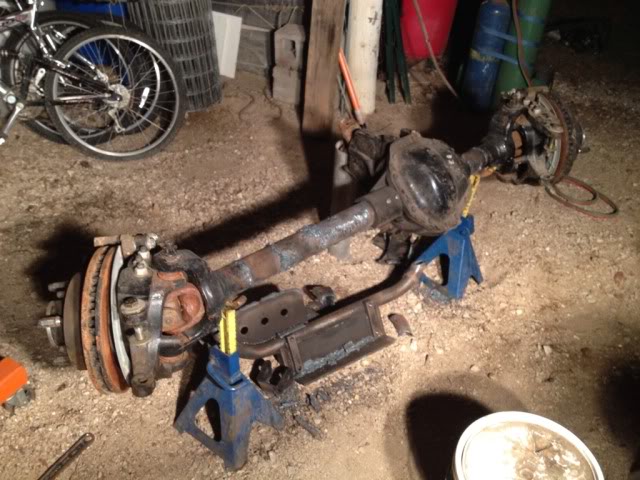 14 Bolt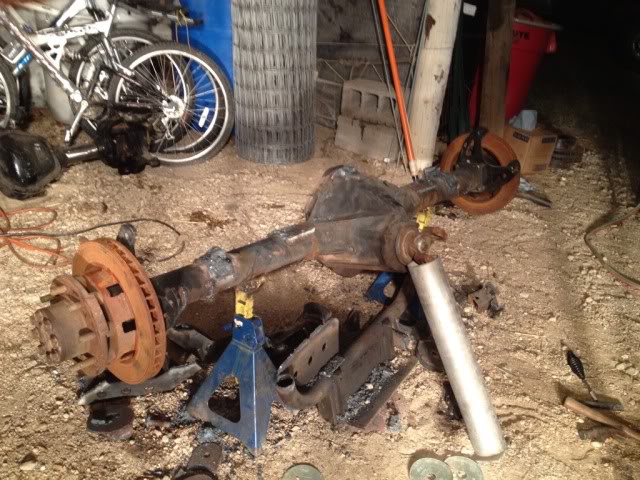 39.5s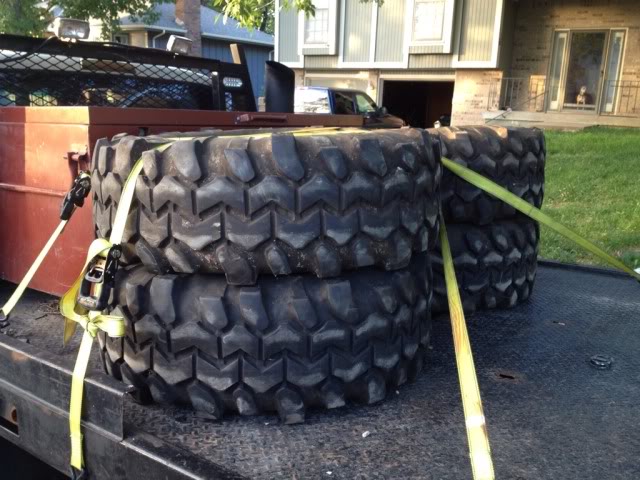 FOA air bumps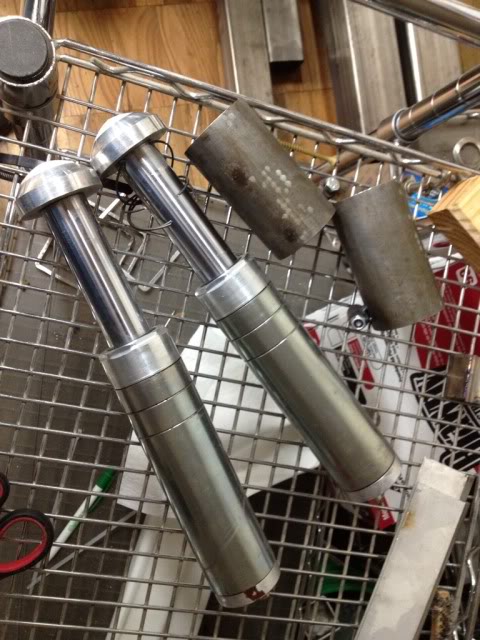 12-16-2012
finally feel like im making steps forward instead of just taking things apart

folded all the pinch seams and rewelded them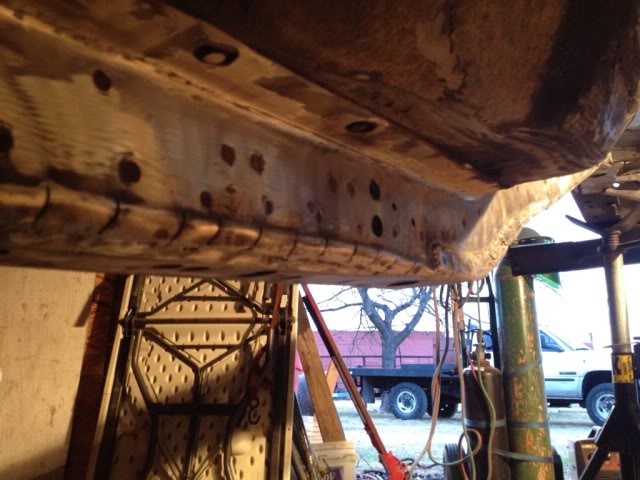 Cut off the "gussets"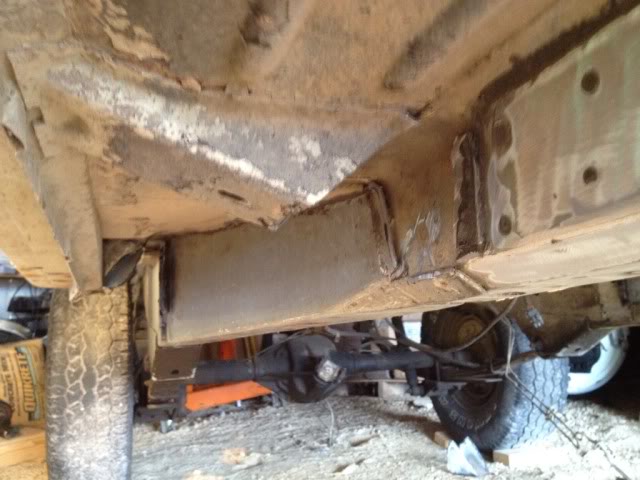 started on the templates for the frame plates, doing 3/16 on bottom and inside, 12 ga on the outside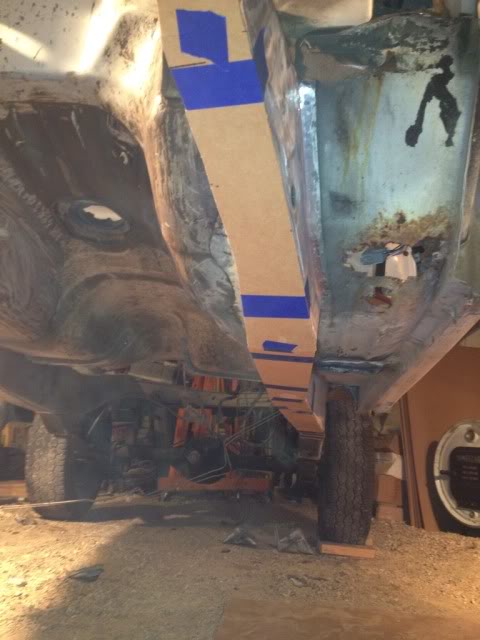 got one section cut out and tacked up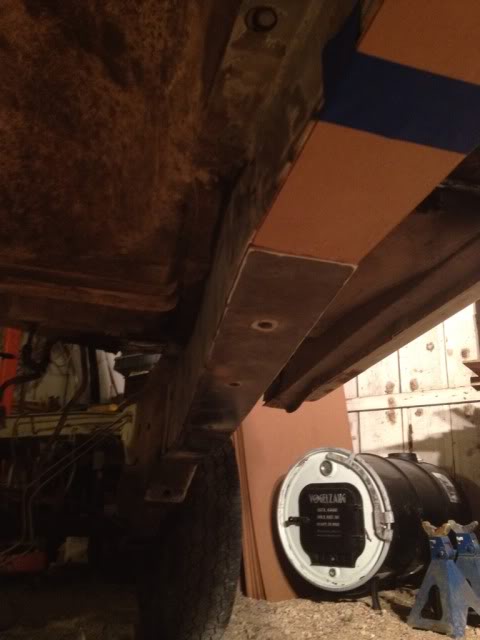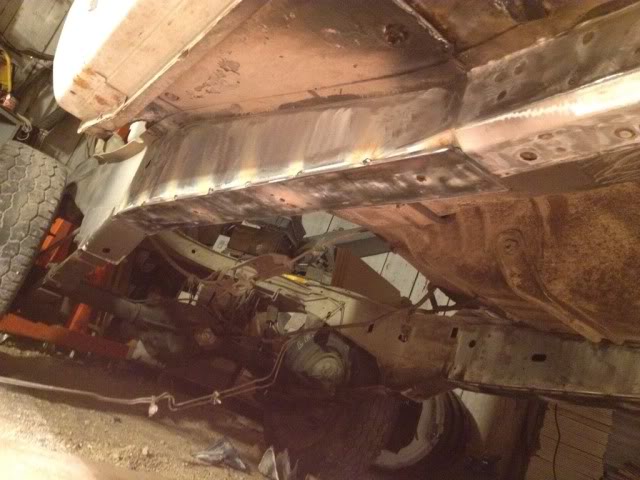 Cut the rear frame off yesterday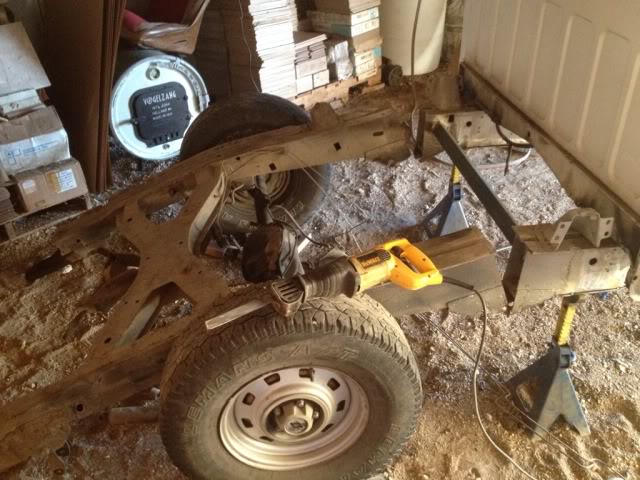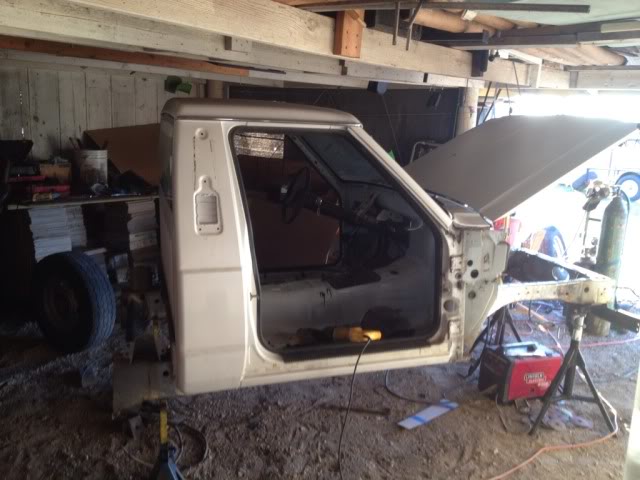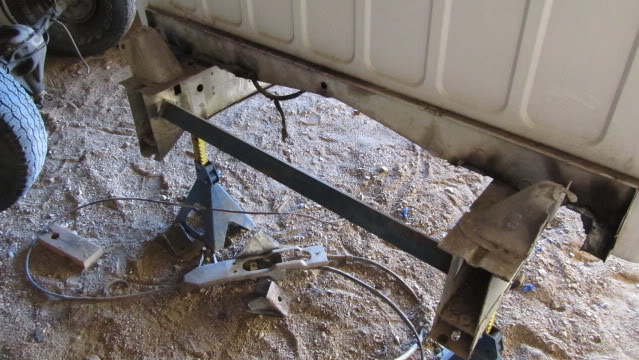 And before anyone throws a fit about this next picture, its only temporary, i can lift the jeep myself, the 4x4 is just a secondary support, its also safety chained to the ceiling rafters...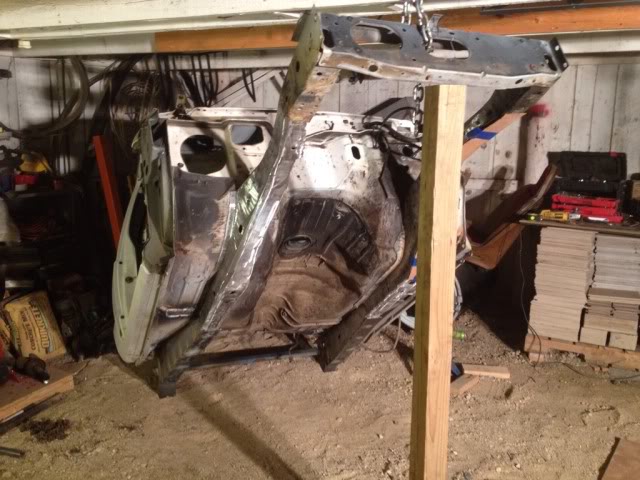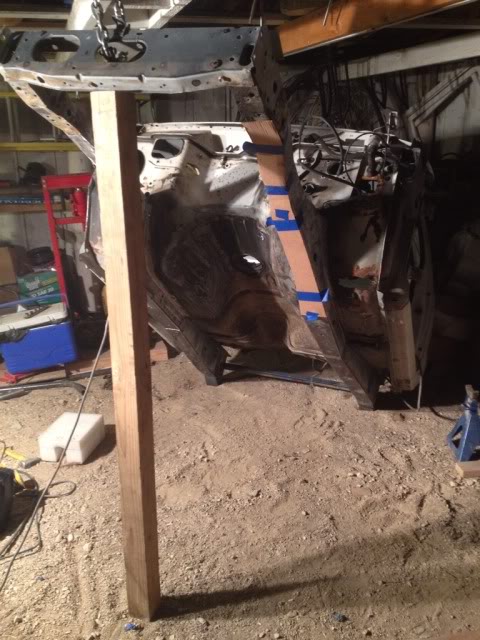 i got the rest of the bottom plates cut out and the middle pieces tacked up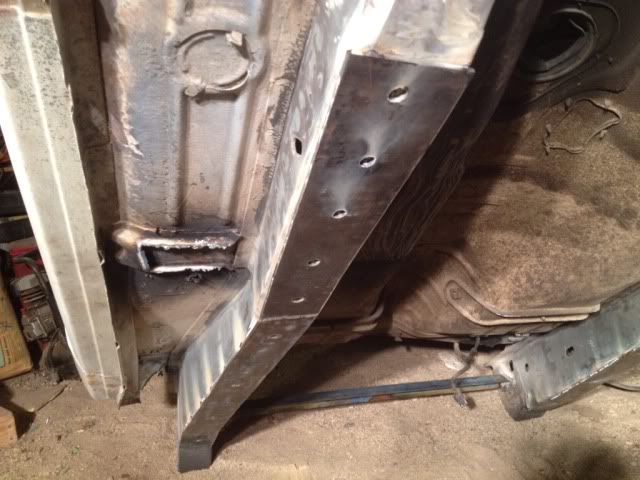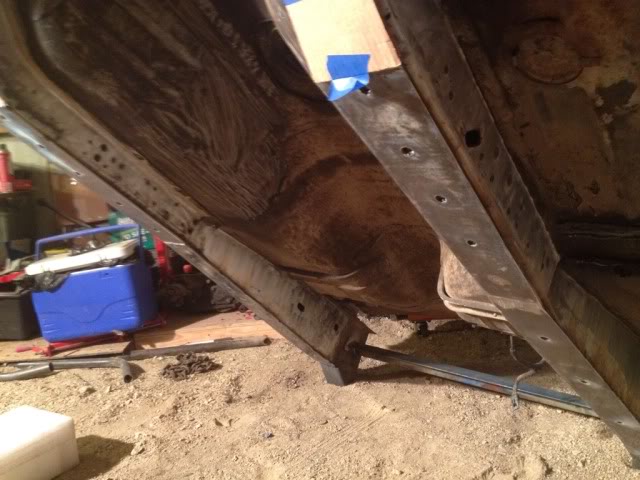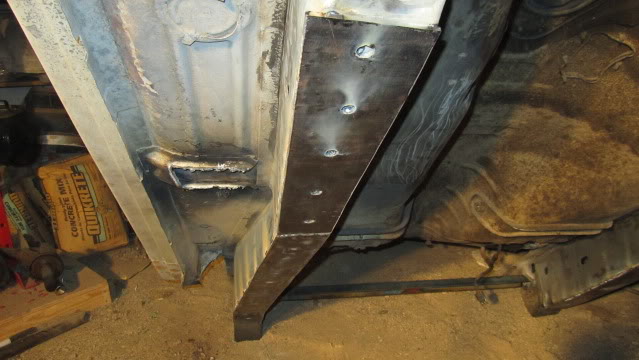 12-26-2012
The whole point of this build is that I don't have the time and space to set up a whole tube chassis. I've got a Cj tub already for that build. This is supposed to be a quick build so I can get back out wheelin till I'm better set up to build the buggy I want. Obviously there are a lot of faster cheaper easier ways I could have built it, and at times I've told myself this is real close to getting out of hand. Buuuuuut if I'm gonna spend the time and money building something besides the buggy I've wanted for over a year now, it's gonna be a little over the top and exactly how I want it.

1-4-2013
real quick before my flight leaves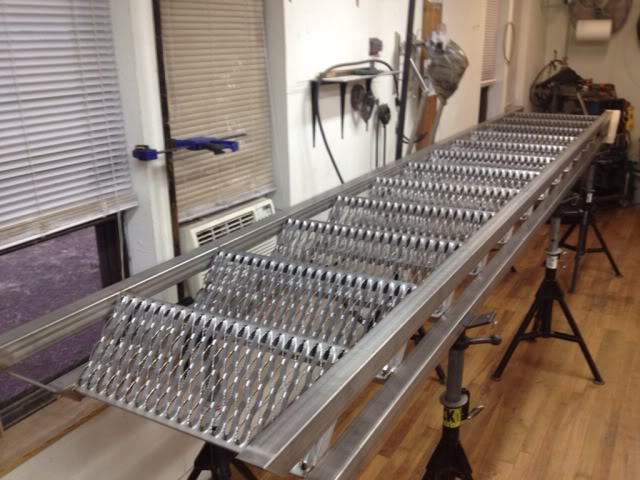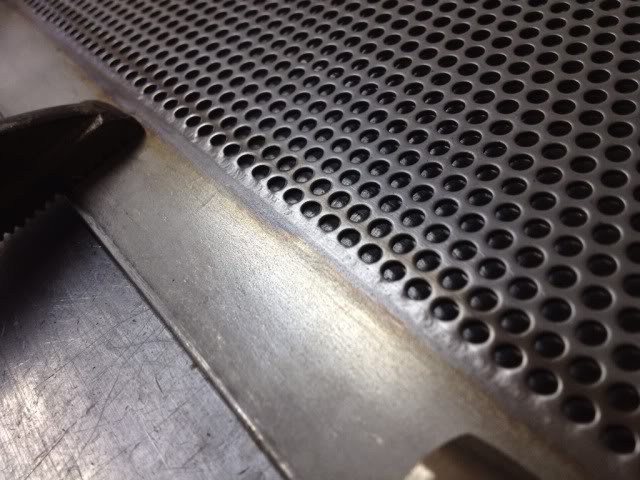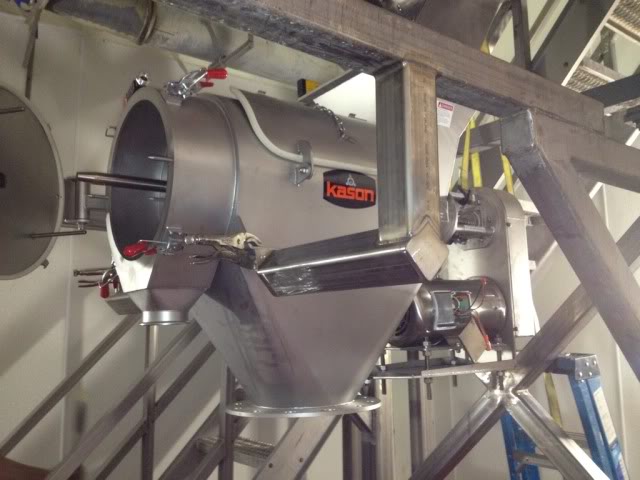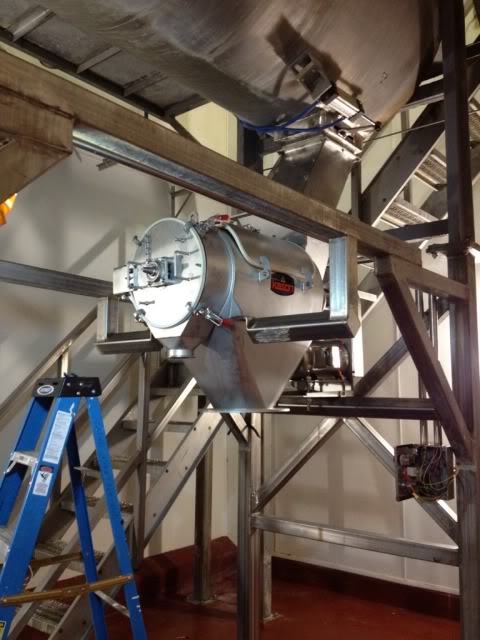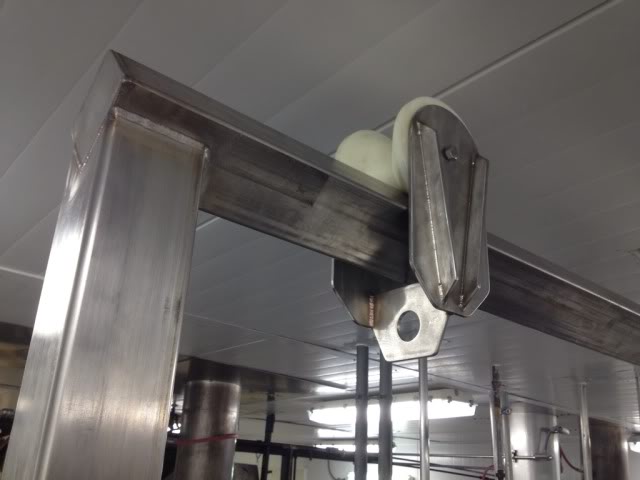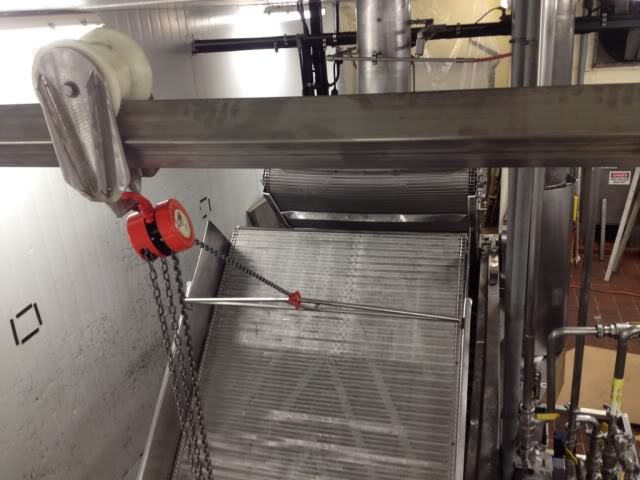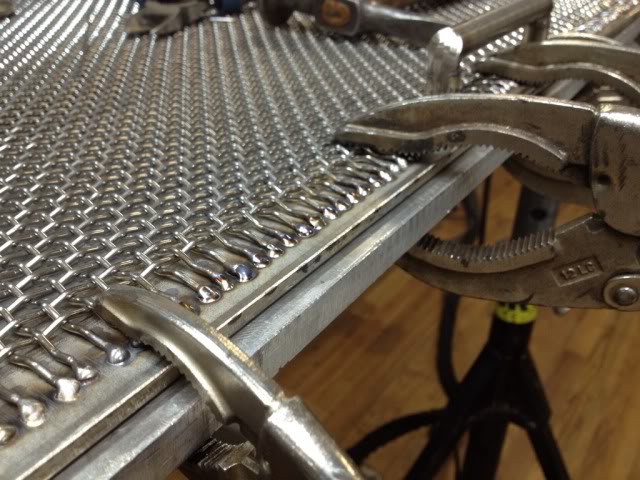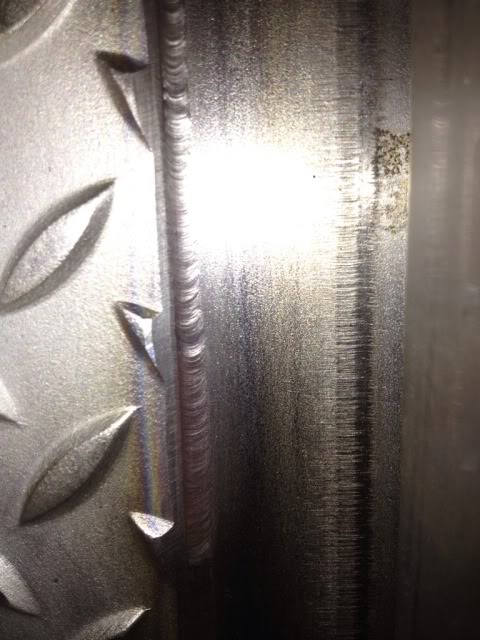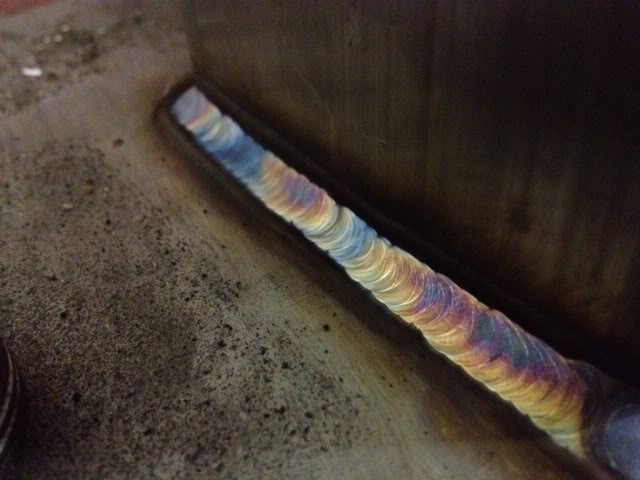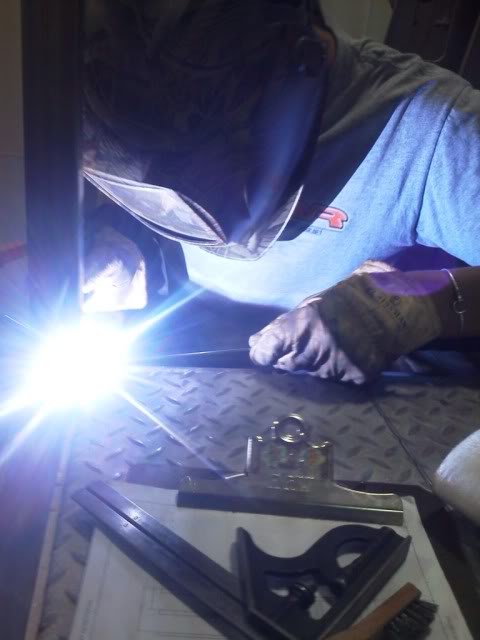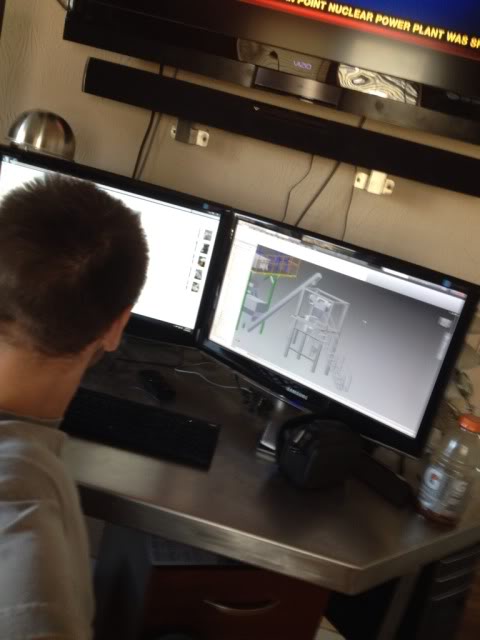 1-4-2013
some artsy stuff ive done for people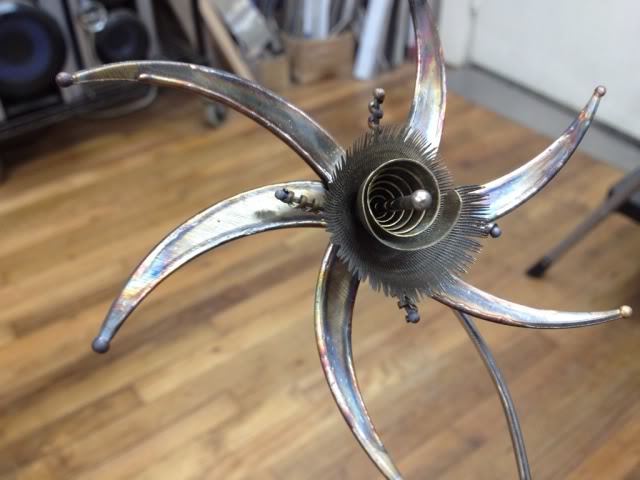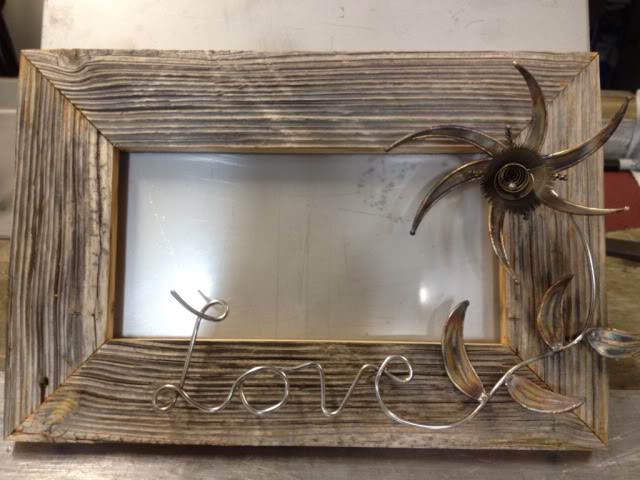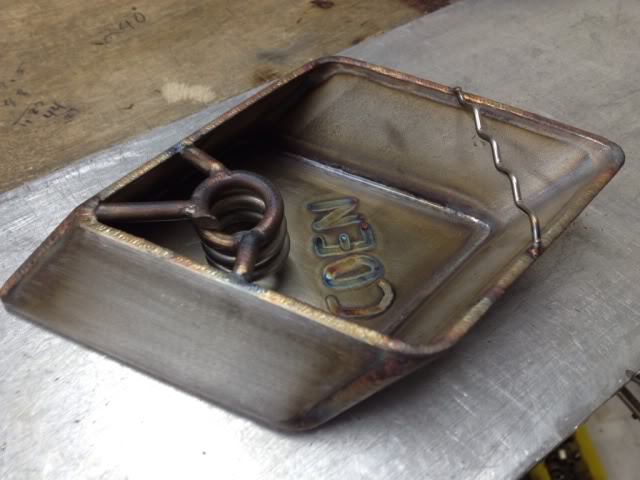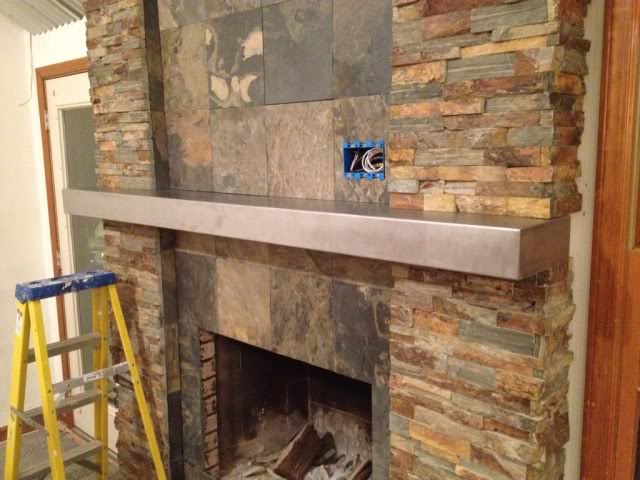 1-24-2013
So, not much of an update, but its something for now.

I figured Id be back at this by now, but the day i got home from the holidays we started a huge project at work and ive been working 10-12 hour days every day since the 9th.

But here are a few more parts ive collected for the MJ

77 4 bolt main 350, itll be freshened up a little, new gaskets, ive got a set 64 CC heads that have been rebuilt to help the CR for the propane on stock pistons, dual plane aluminum intake manifold and lunati cam for it too wake it up a little. also have a serp belt set up for it and need to get a msd dist and ignition box. itll be a mild 350 by most standards, but itll get me on the trail while i build the 383 i want.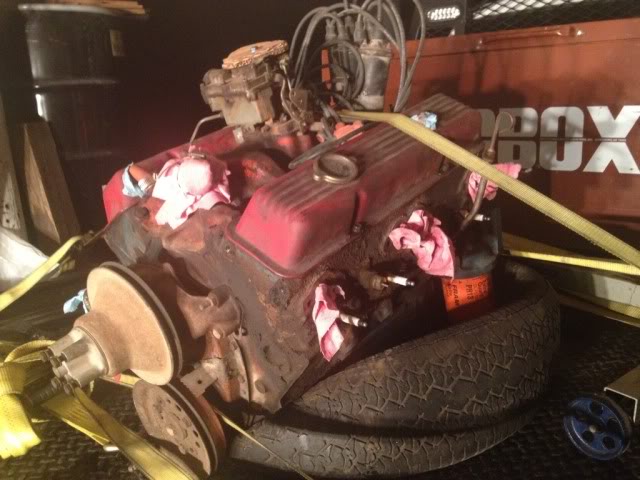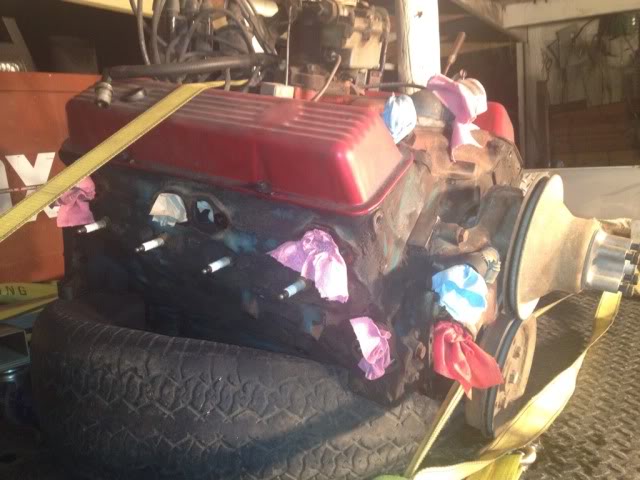 Picked up a set of 12 bolt H1s with rubber inserts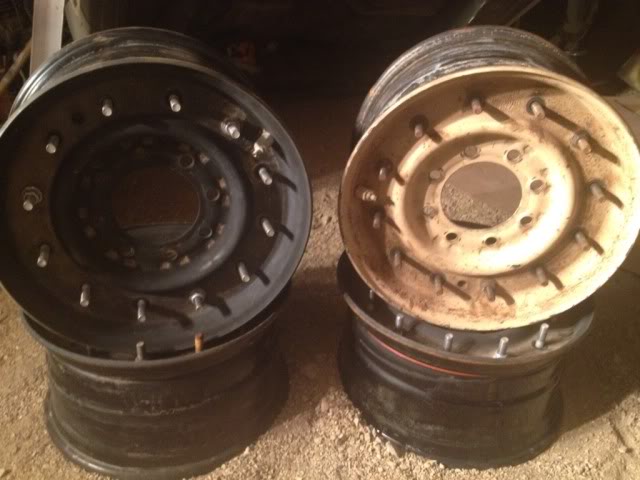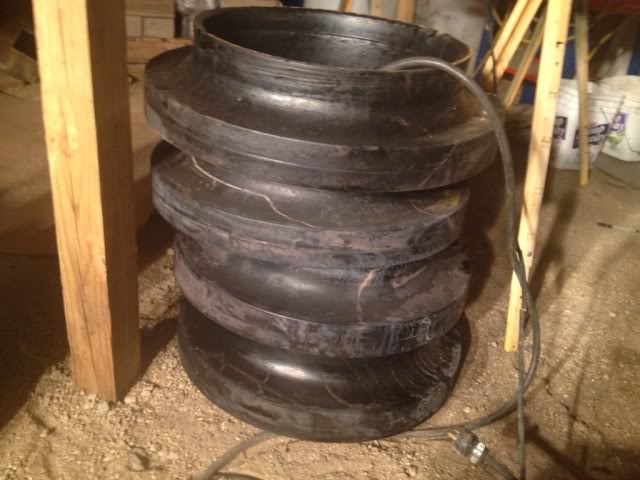 and a radiator for free! brand new, was for a gasser superduty a buddy used to have. should make a good candidate for a rear mounted rad.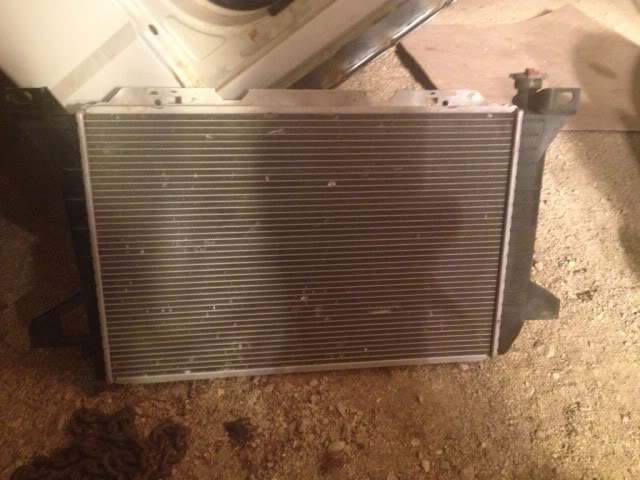 Got some dimple dies from TMR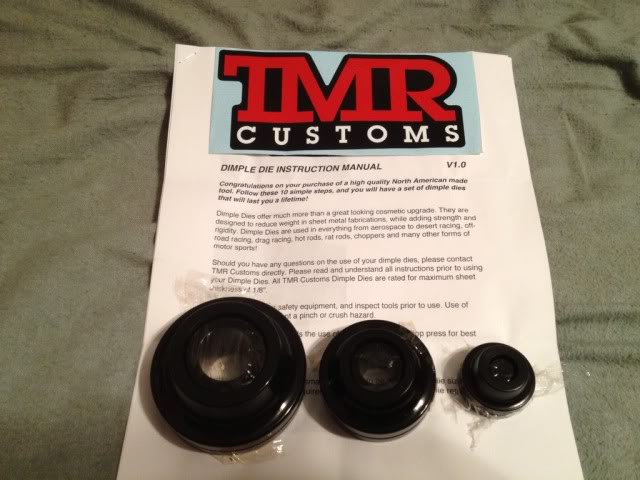 Cutting brake from off here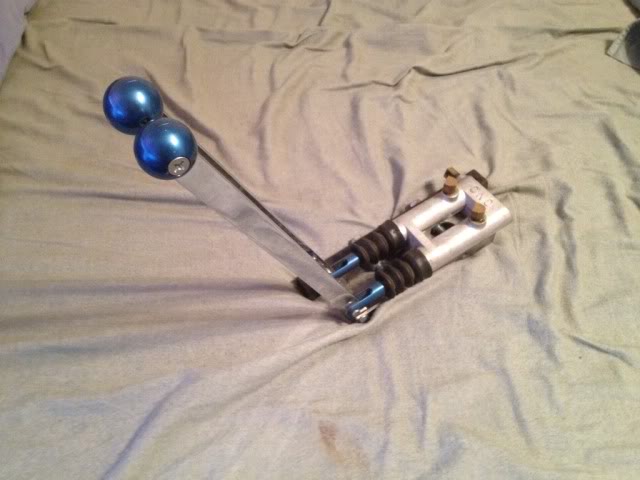 And kind of related, picking this up on saturday, i have a 26 ft gooseneck that i bought in college for hauling two jeeps, its too long to justify hauling just the one jeep but i got a stupid awesome deal on it so would like to hold on to it. i couldnt buy a 16 ft bumper pull for what i paid for this gooseneck...gonna set that on the front, keep the lady a little happier when winter wheeling... and help get out of the hot texas summers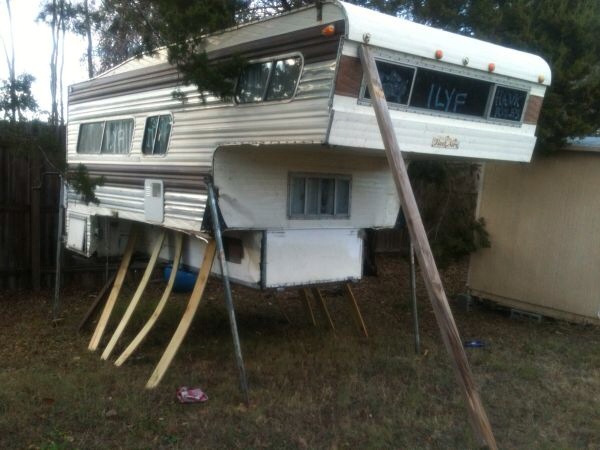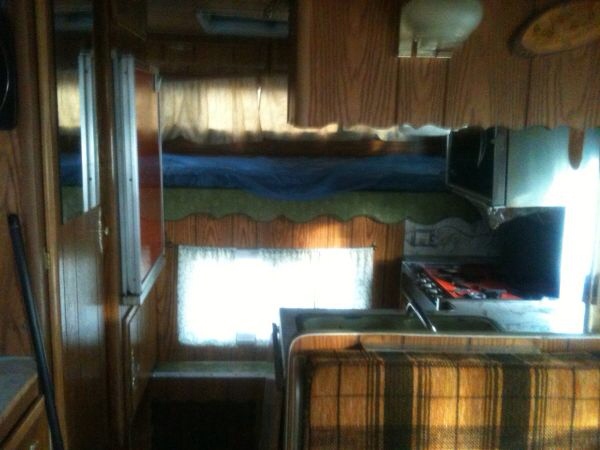 project wraps up on the 28th, then ill be gone for a couple days wheelin with some friends. but when i get back ill pick up the rest of the material i need and should start coming together pretty quick.
1-31-2013
Weird. The link is in my sig too, but here is te direct link.

http://www.jeepforum.com/forum/f22/p...e-fund-878243/
2-10-2013
Another small update, i swear im gonna get some decent progress done one of these days, at least this post will have a little tech in it...

but first, got the camper set up and took it to SMORR Froze Over. all i can say is WAY better than tent camping, especially in the bitter cold

This is the trailer i started with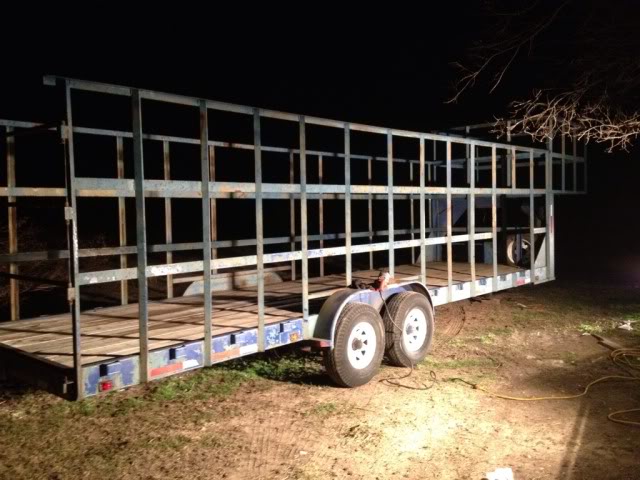 Finished up about 2 am the morning i was supposed to leave.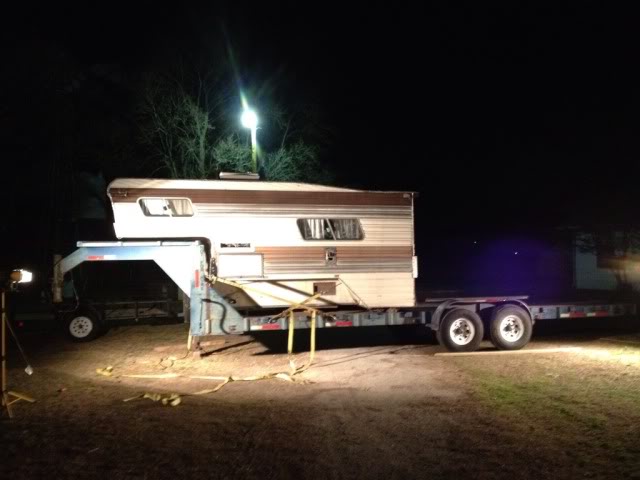 The outside is a little rough but the inside is in really good shape for 1971... Stove, over, fridge and heater all work!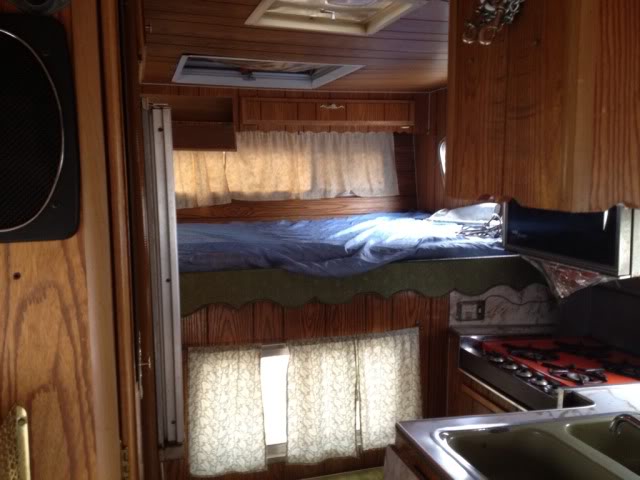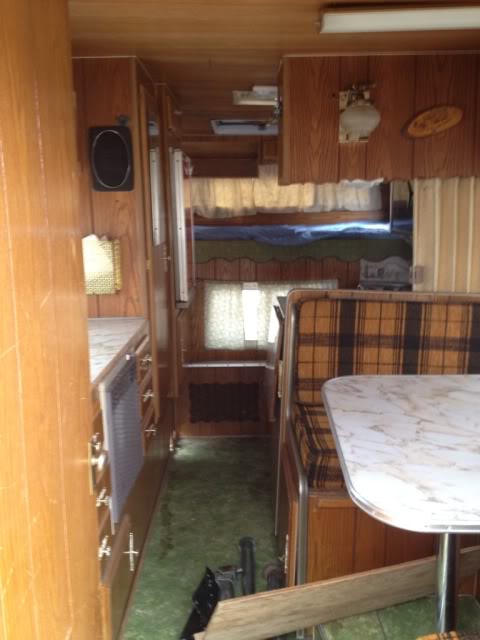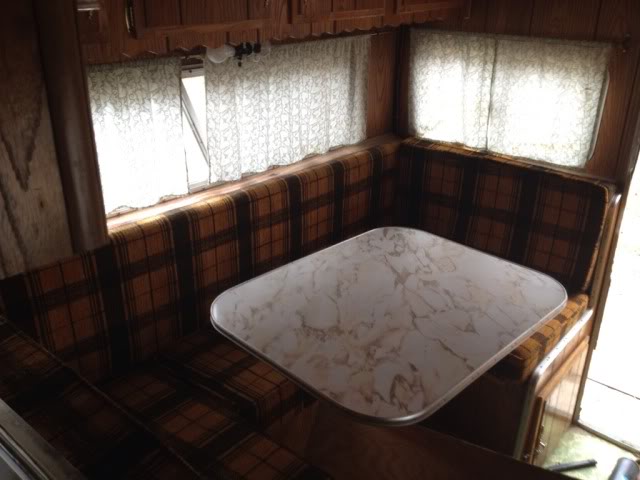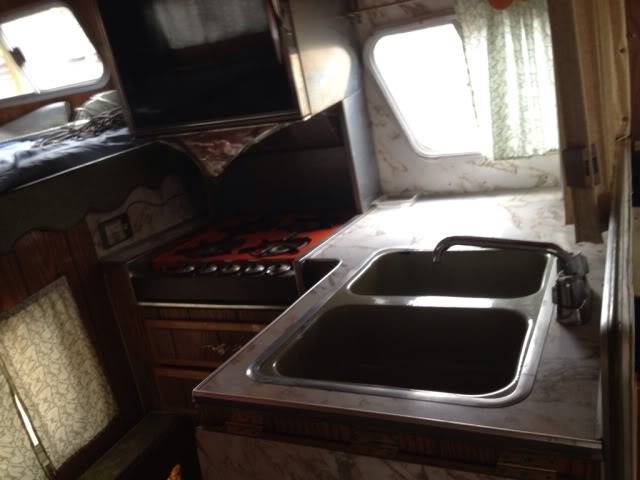 Just the right size for a jeep on the back (lilnickt's xj)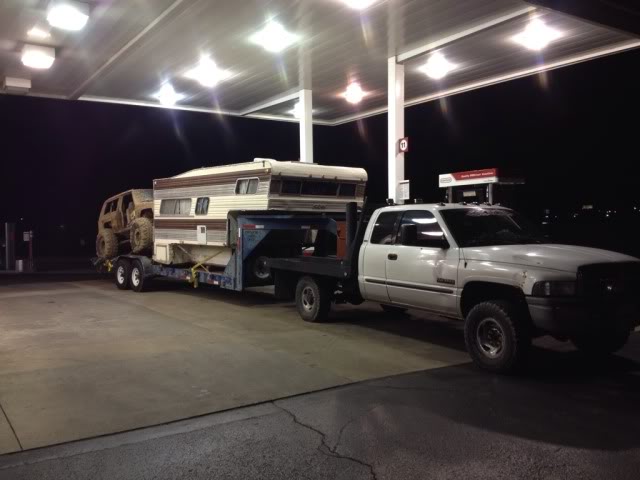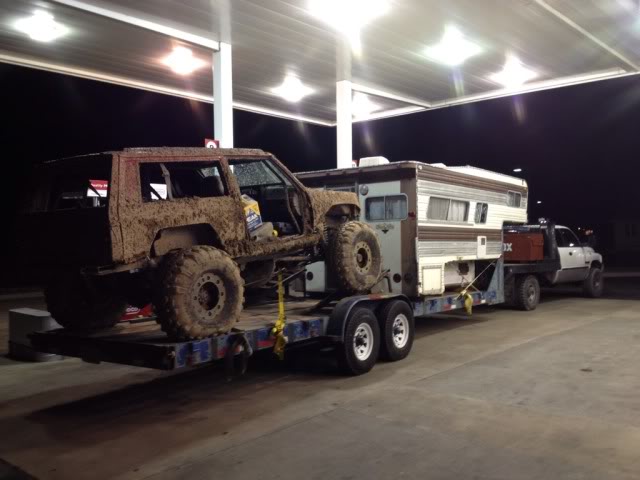 Some wheelin pics
Nick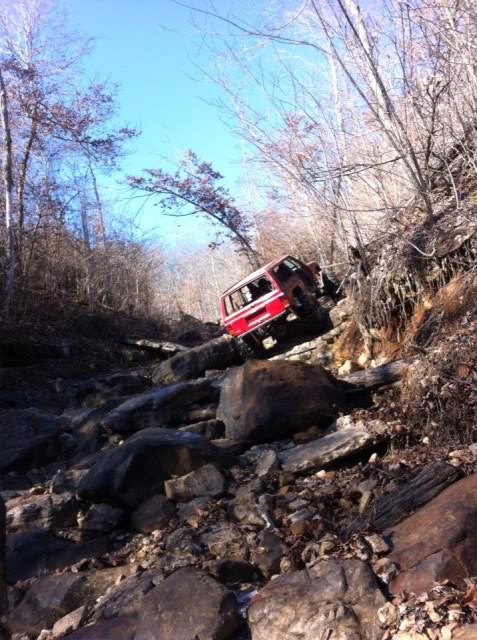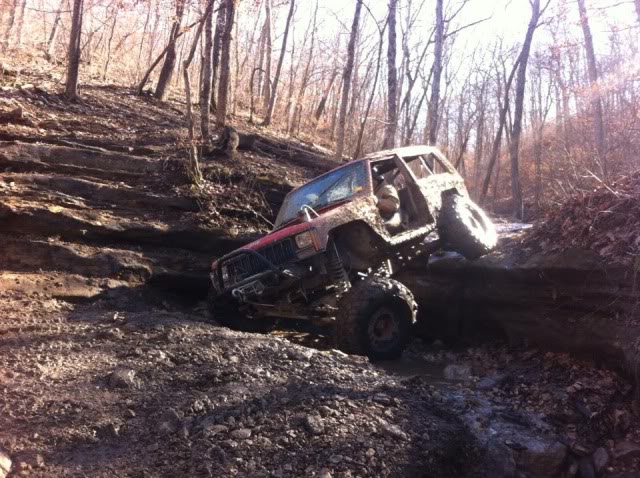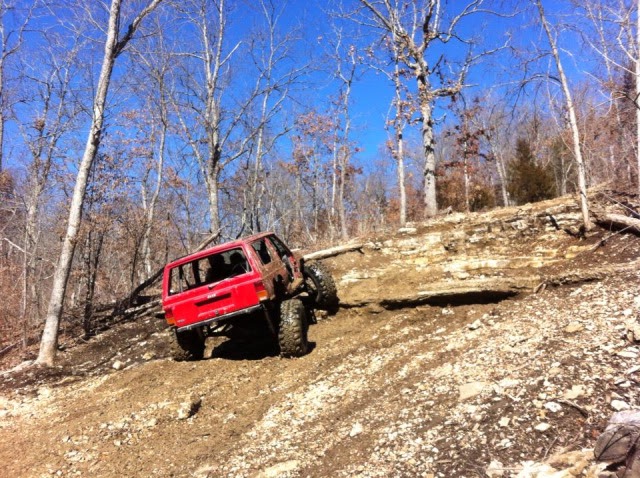 Matt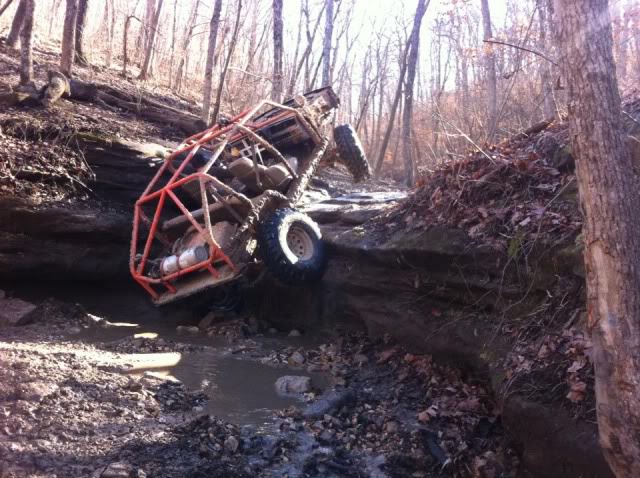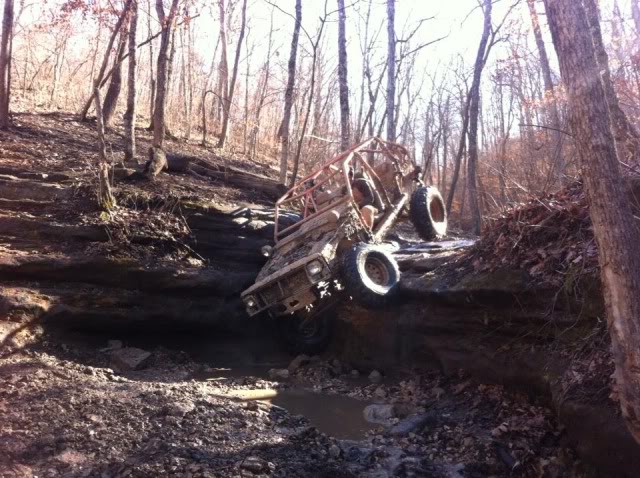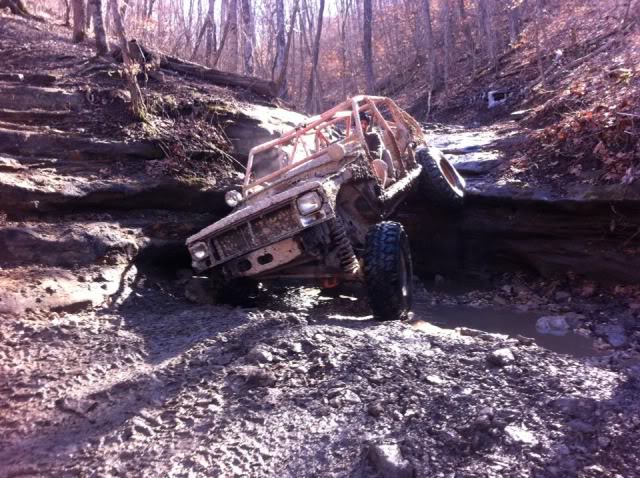 Me and the GF in my buddies "Spareokee", XJ we built one weekend out of spare parts for an extra rig while he puts tons under his TJ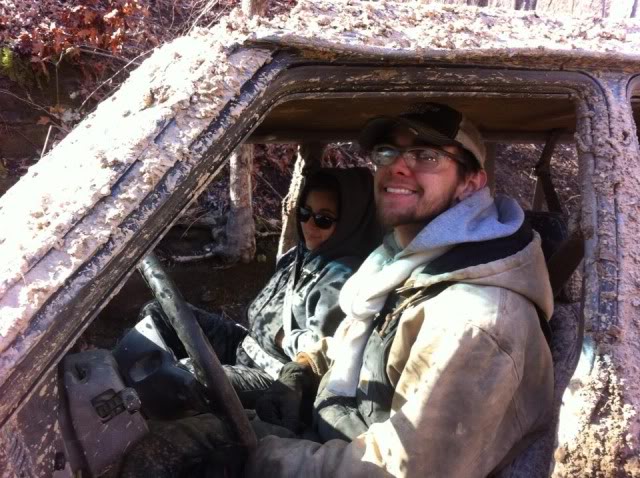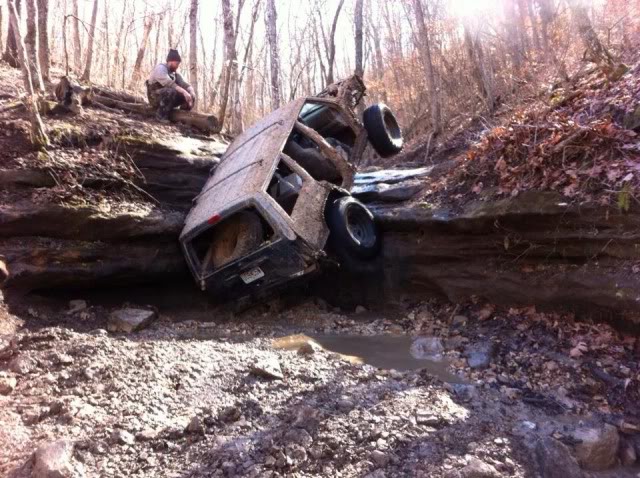 and back to the MJ

Picked up some LED fog lights, 20 bucks, dont know where im gonna use em yet, but oh well... maxxima 6.5x4s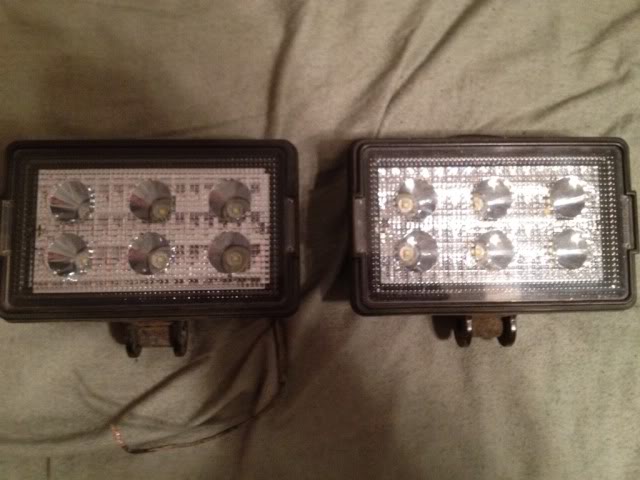 got some more plate for the frame, 90 ft of DOM to start the cage, 2x6 box and 1.5 spare for the boatsides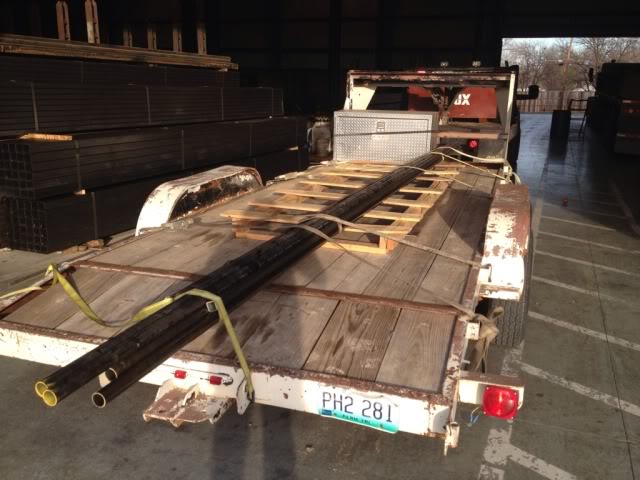 so the side stiffeners are a little more difficult to make templates for, obviously you can trace out the lines on cardboard, so i drew lines on the frame every two inches and measured the cross section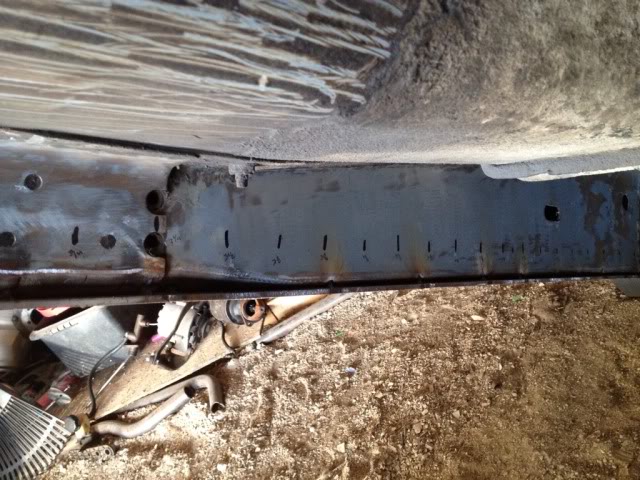 then i transferred that to the cardboard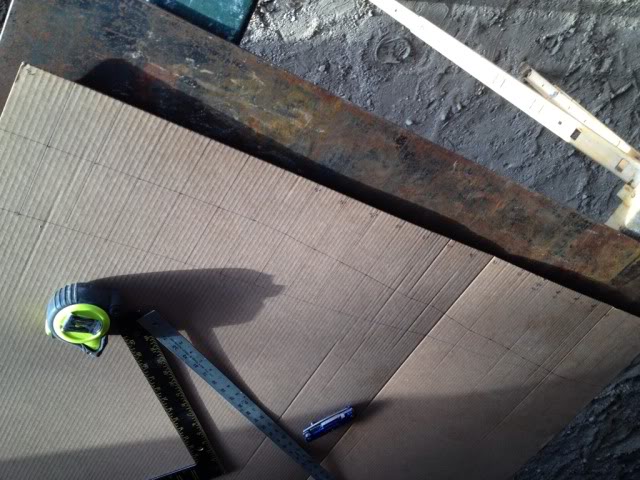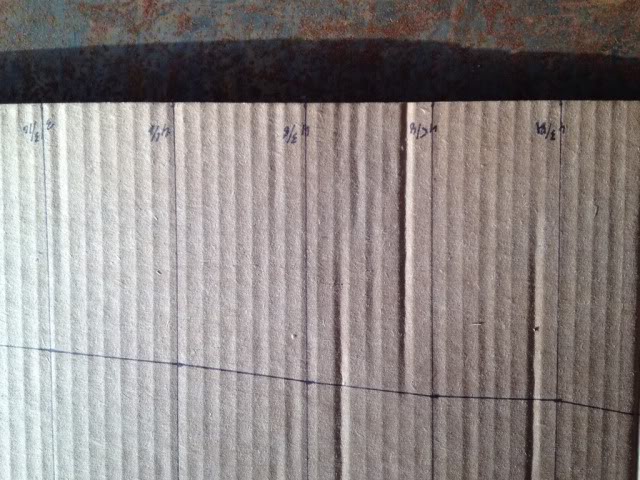 cut it out and trimmed a couple small spots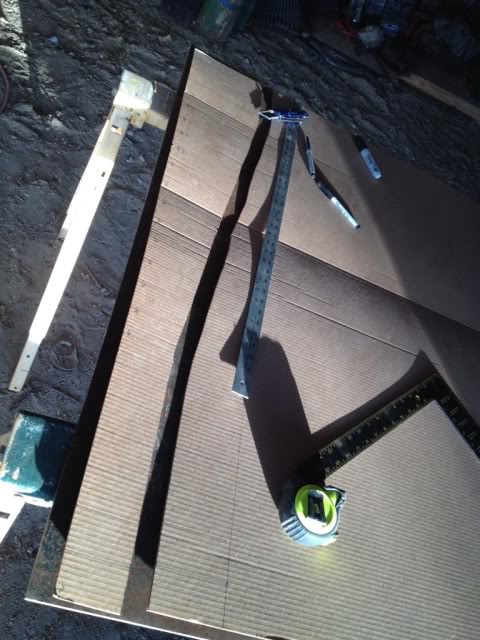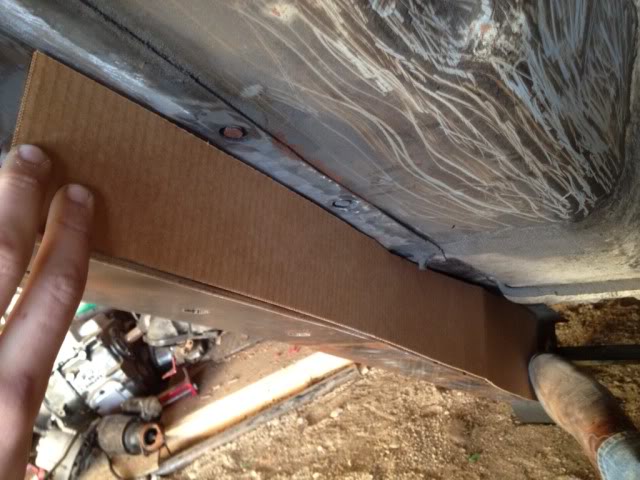 the best part is this template works for the inner and outer frame rails, so i traced it on the steel and cut it out, cleaned em up and tacked em on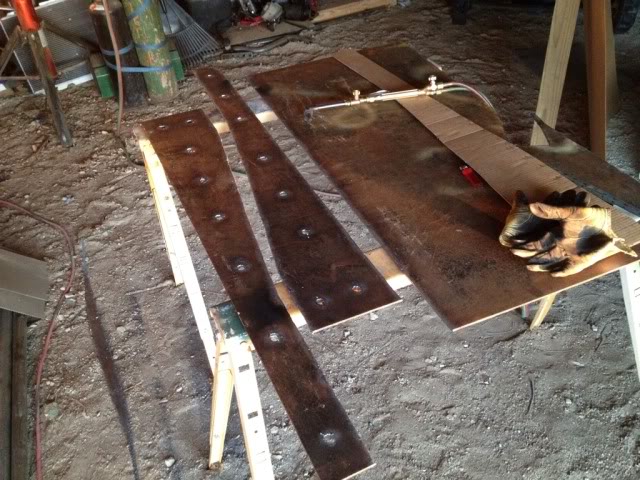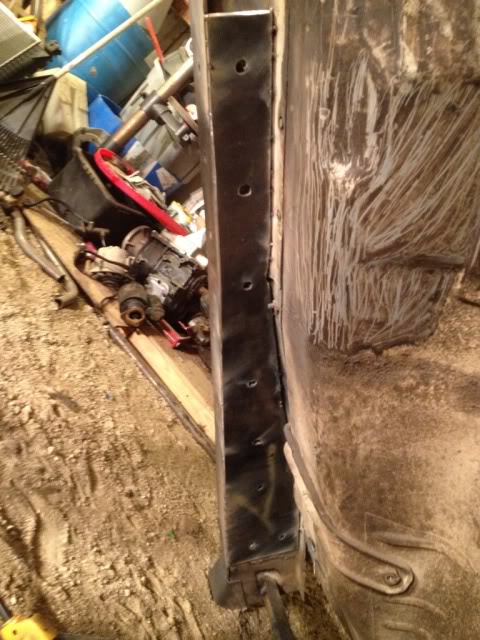 Got some friends from back home coming down at the end of the month to help rebuild the motor and get it set in place so should be quite a bit going on from now till then... as long as work cooperates...
2-23-2013
sooooo, as if i wasnt busy enough with work got some upgrades to do to another jeep has put the halt on the MJ... but that just means more money for the build right!?

Doing a rear 4 link/ coil conversion with a mixture of ruff stuff and artec parts (normally i build my own brackets but in the interest of time we decided it was best to buy some) i will say im extremely impressed with the artec 4 link brackets we got, shipping was super fast too. and as always, you cant go wrong with ruff stuff.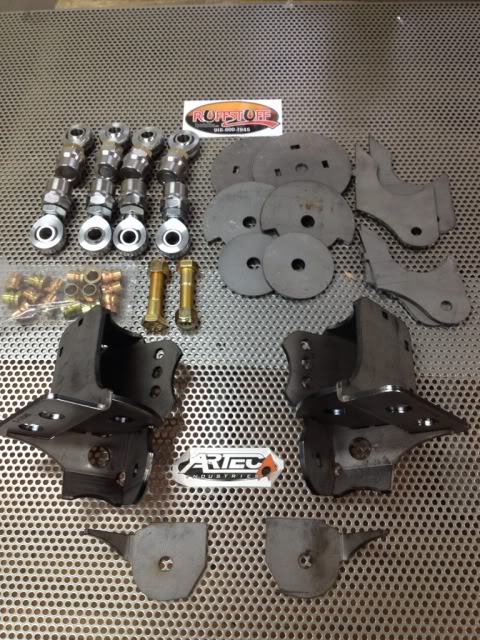 cutting off the frame behind the rear seat and redoing some of the cage work, also going to add a fuel cell. and stepping up to 36s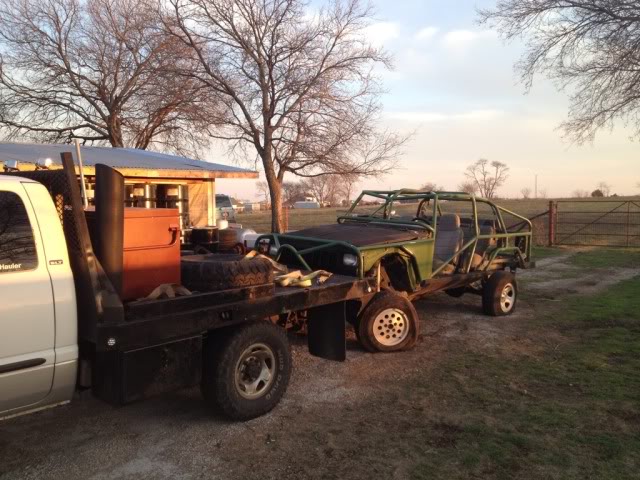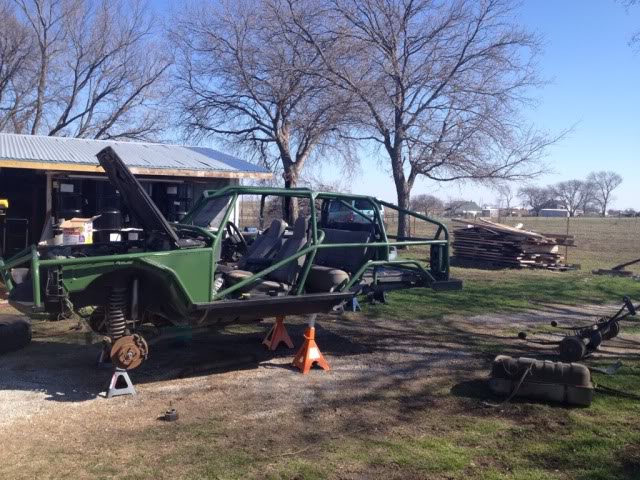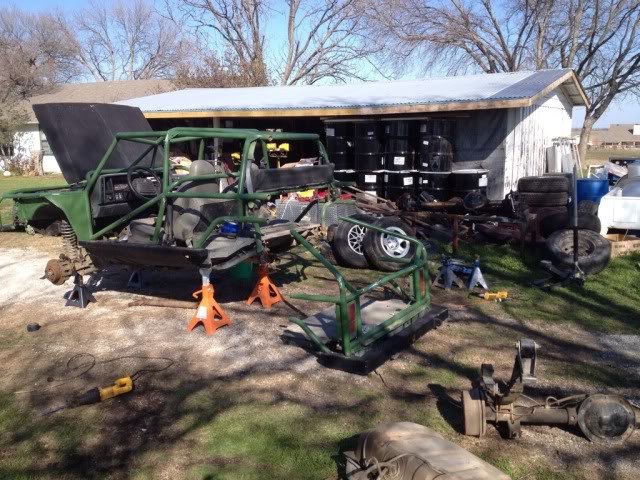 Got some friends coming down on thursday for MO to help on the MJ so i sould have a decent update on it next week.
2-25-2013
More parts! got an MSD pro billet distributor and MSD-6 off off road ignition with a blaster high vibration coil from intensebik on pirate and got an MSD off road rev limiter from a guy here in dallas on CL. everything brand new in box!:smokin: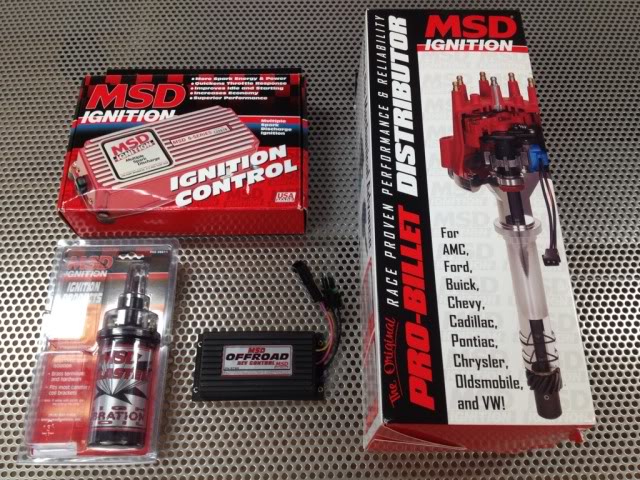 2-26-2013
got the bottom and inner frame plates welded out tonight. im going to go ahead and cut the frame off at the fire wall so i set the jeep back down and put it at ride height so i could make a straight cut and then build my last small inner stiffener piece.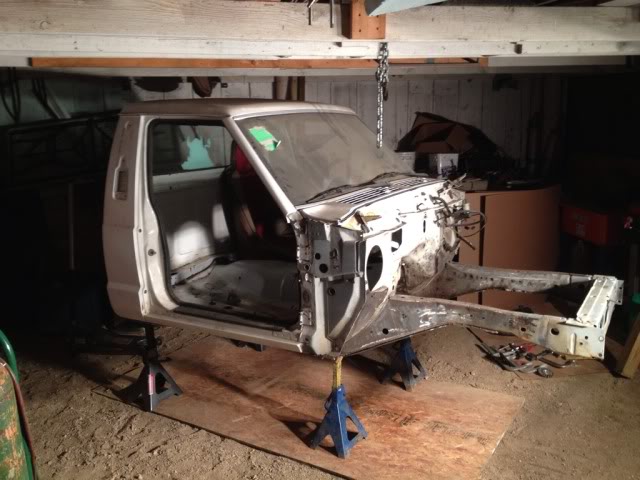 and since i was wrapping up for the night i figured id throw the tires up and see what it would look like. Pic is at 110" WB with 20" belly on 39.5 TSLs. Thinking maybe another 2 inches in the front would look about perfect. Thoughts?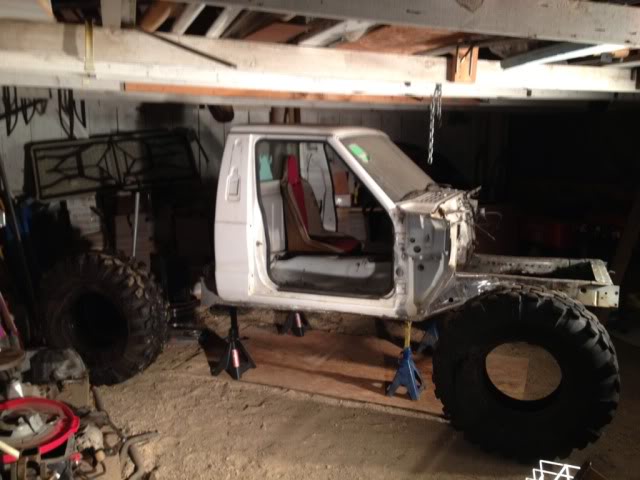 2-27-2013
dont have one of the rear pushed back, but this is 115 with 5 more in the front... the whole front frame is coming off at the fire wall and the grill is getting narrowed so tire clearance isnt an issue. 115 im thinking will be too long for the trails we ride. some times stock wheel base XJs have trouble making some turns in one shot...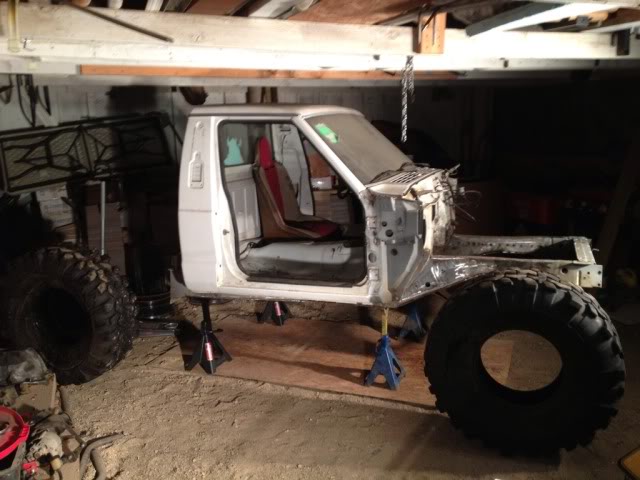 Im thinking its the picture angle and bad lighting. i cant get far enough away in my shed to get a straight side shot. but with how im planning on doing the rear tube work it should help the proportions as well.
3-5-2013
Ill let the pictures speak for themselves...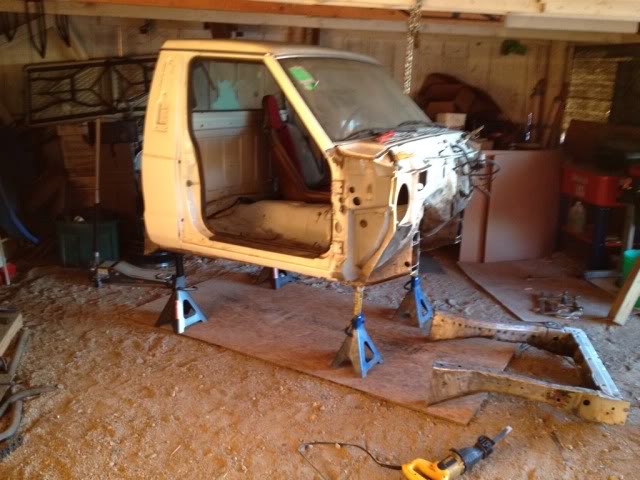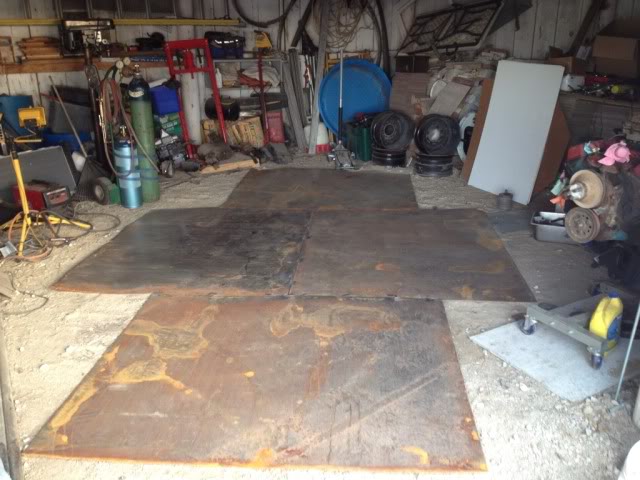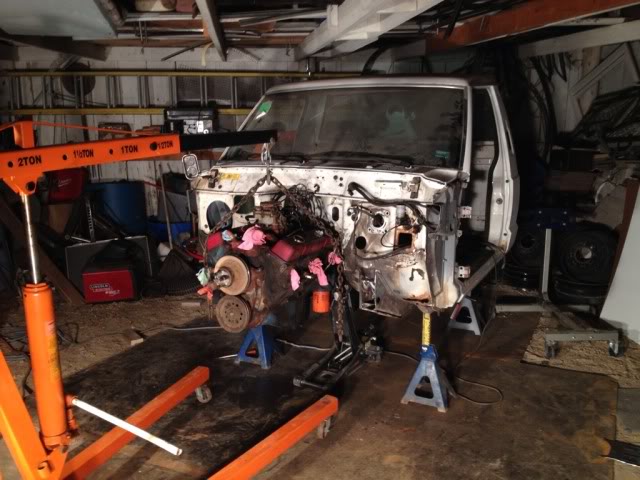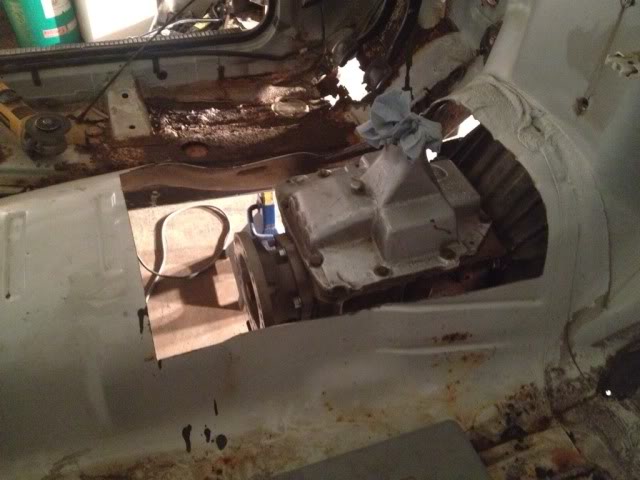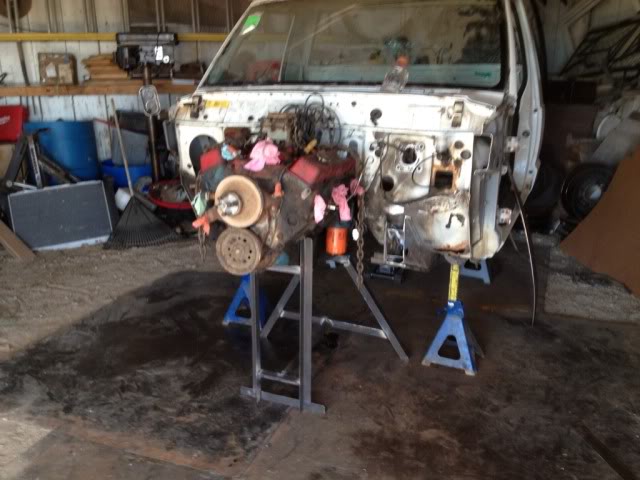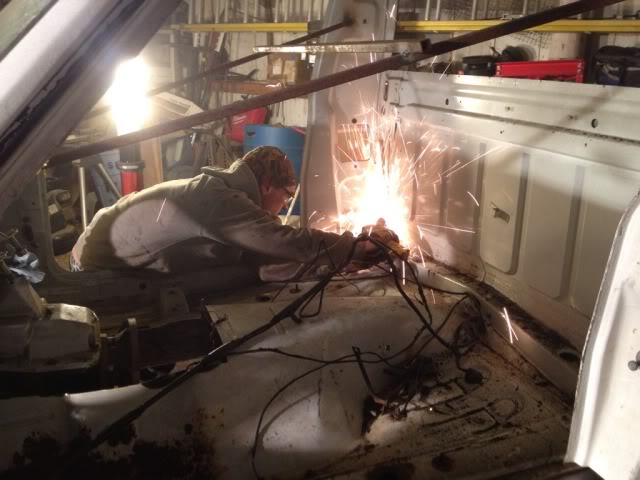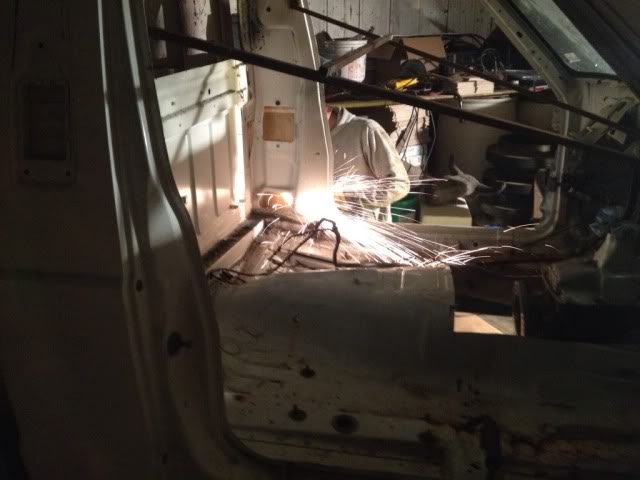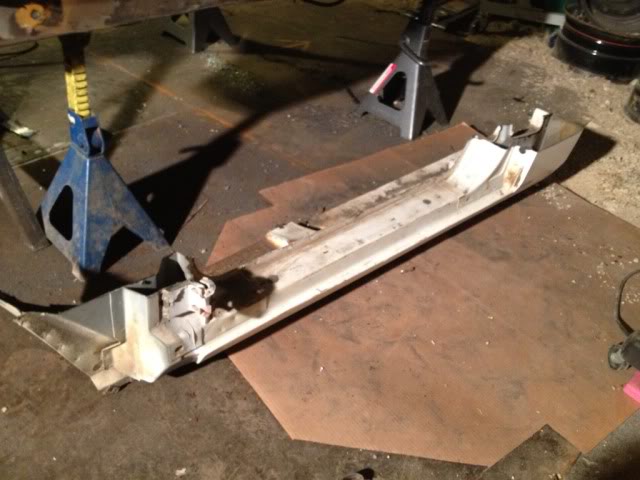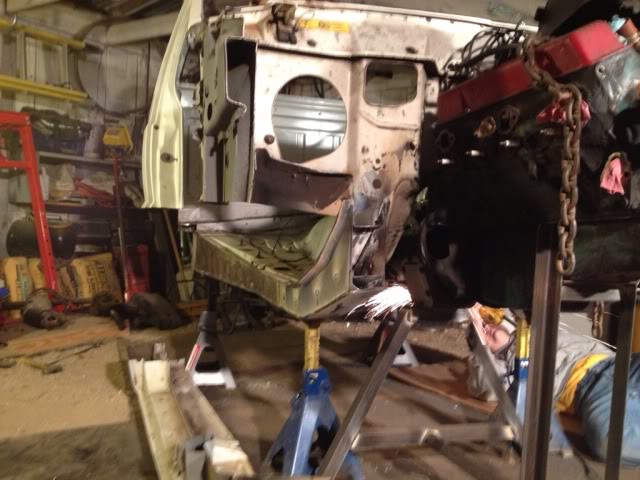 more...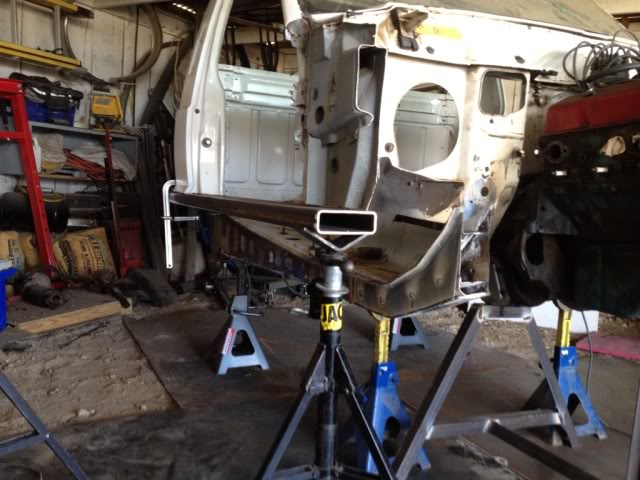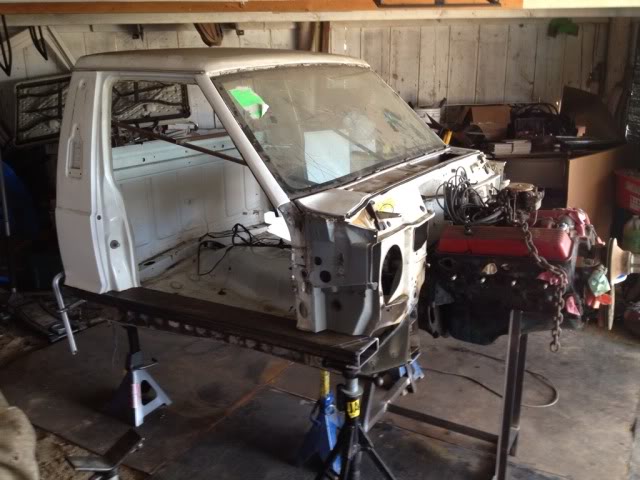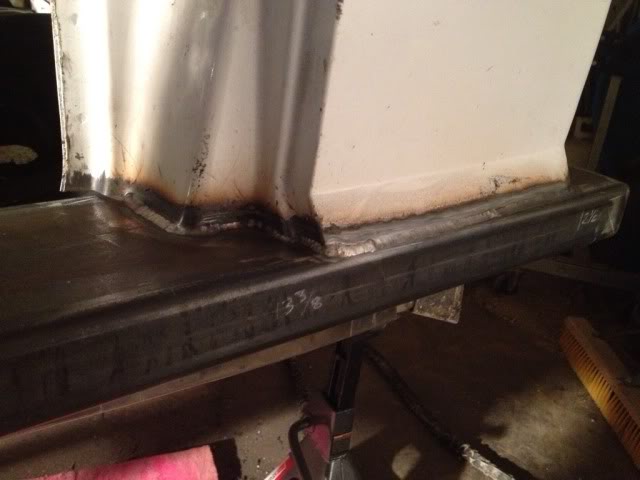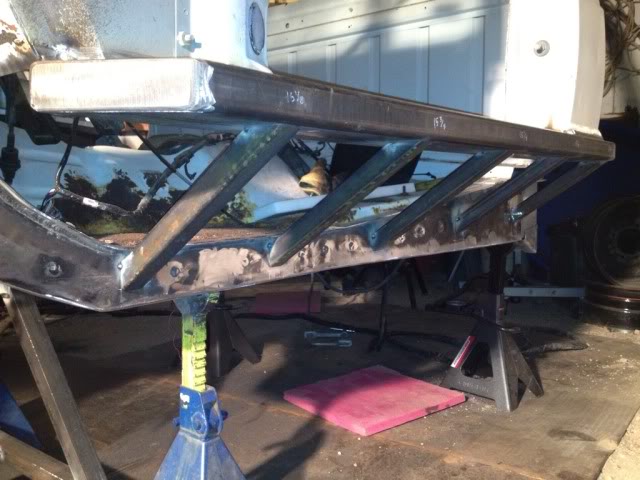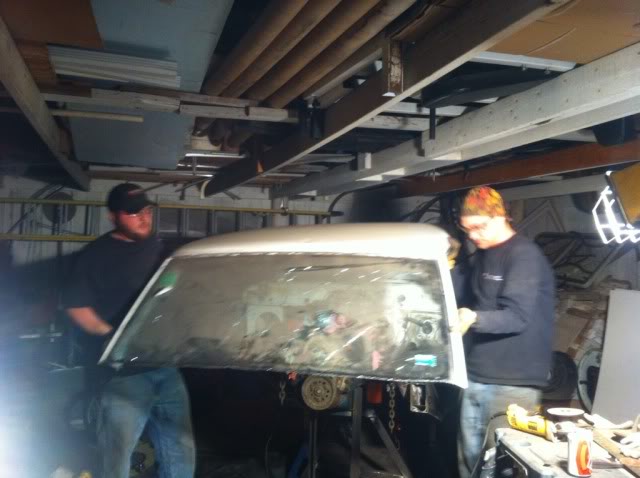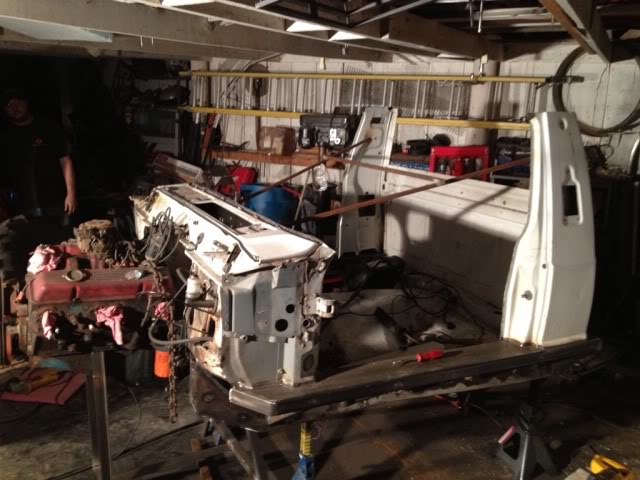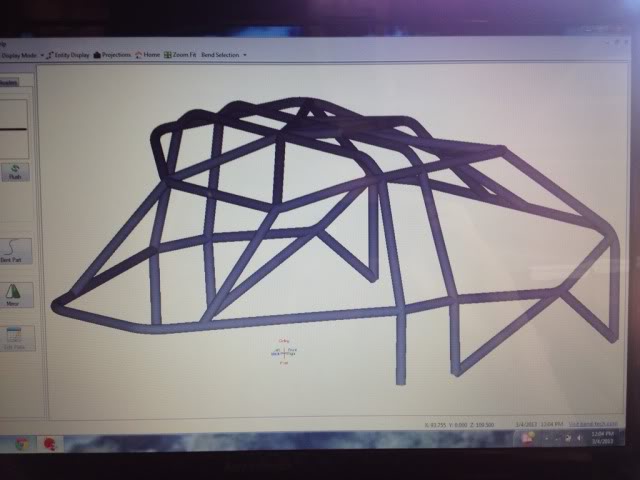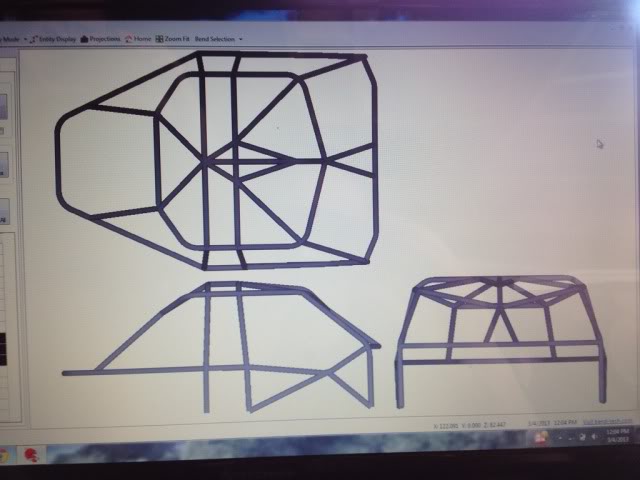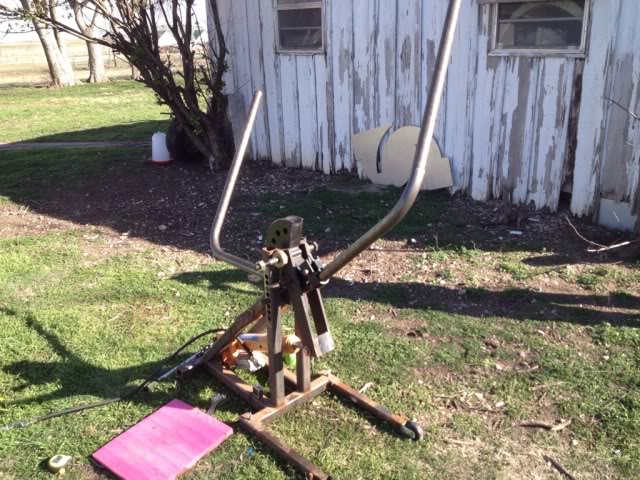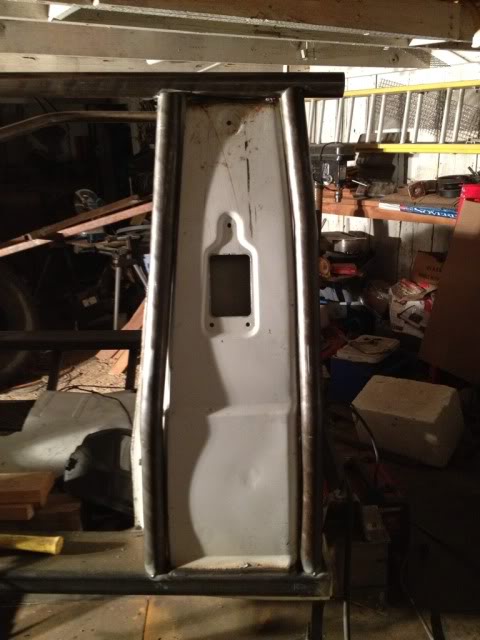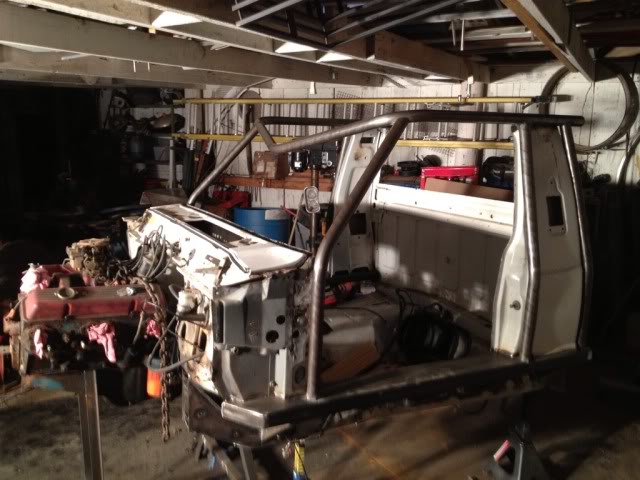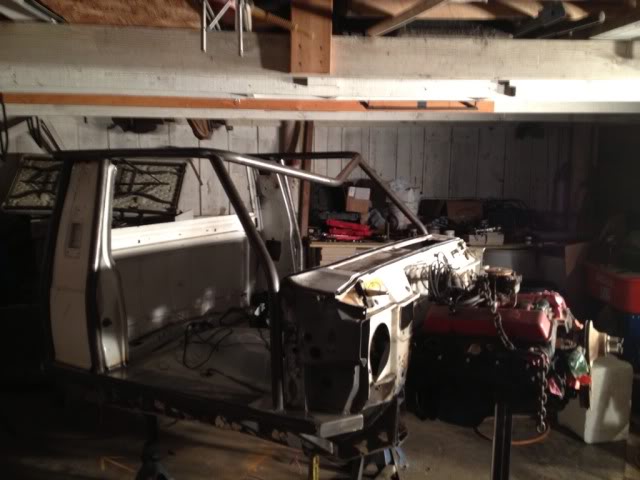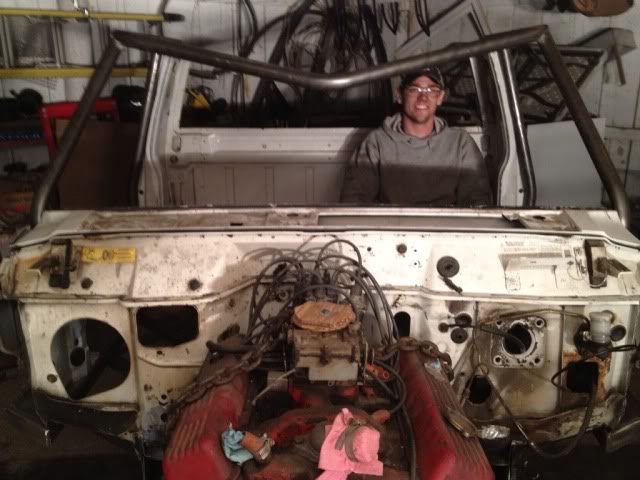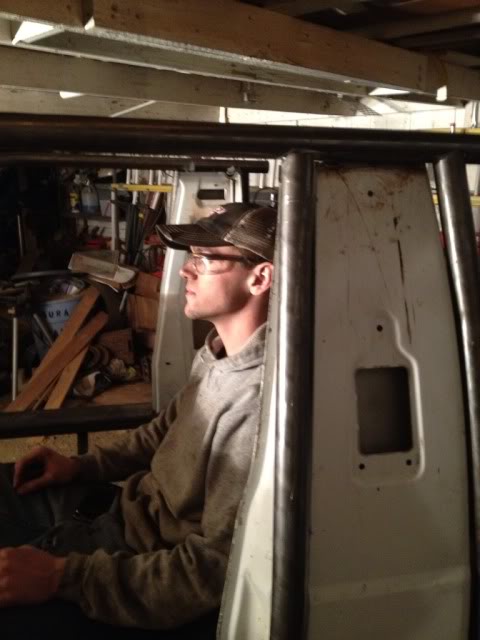 Trust me, its been asked many times... So originally when i sold my jeep a year and a half ago the plan was to build a buggy. but after a career change and move to TX i was left with out a shop. and as you can see my alternative was very limited in space. I decided it would be easier and faster to build off an existing platform bc i was getting really tired of driving all the way back to MO to just ride along with friends. So i started looking for a cheep jeep to build off of and always thought building an MJ truggy would be cool. Found this one for 500 bucks, yeah it was in darn near perfect shape, but it was a police impound and had a bad title so trying to resell or license wasnt really worth it. XJs are everywhere, and everyone builds them... i dont want to build just any old trail rig and wanted to utilize all the parts i had collected for the buggy. and the more i got into it the more i remembered why i sold my last jeep to build a buggy, and now im left with what i got. yeah at this point i may as well have but my unwillingness to sacrifice the capability i was trying to achieve turned into not much MJ left... whatever... oh well... with all the parts i got rid of i made money on the initial purchase. lesson learned, in order to build a jeep thats as capable as a buggy with all the same components means basically getting rid of the jeep... itll still be really cool when its done, itll do the things i want it to do and it will hold up to many years of wheeling.

3-8-2013
Thanks



got some time in this evening after work

side protection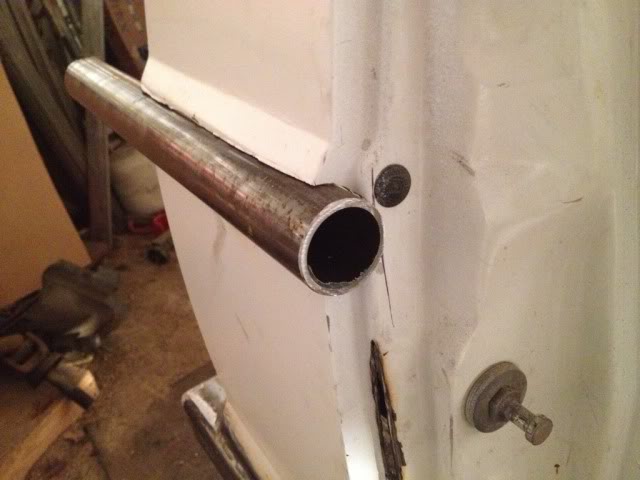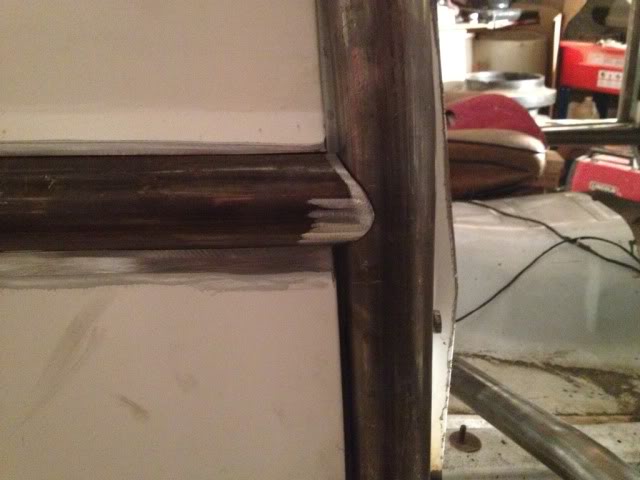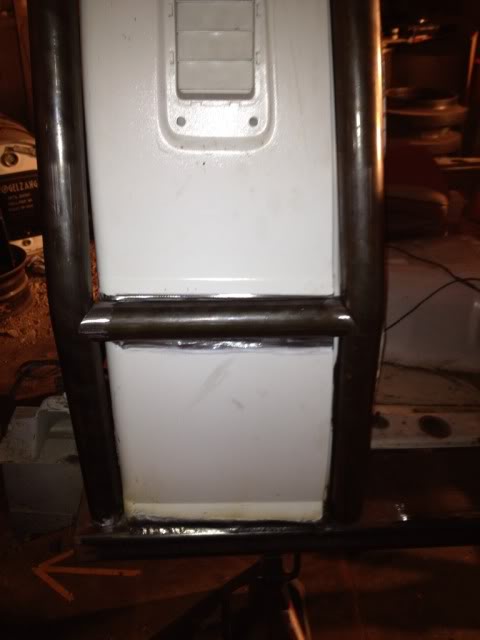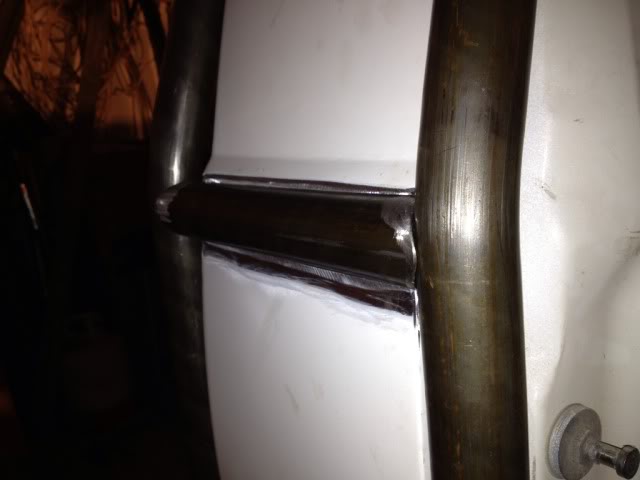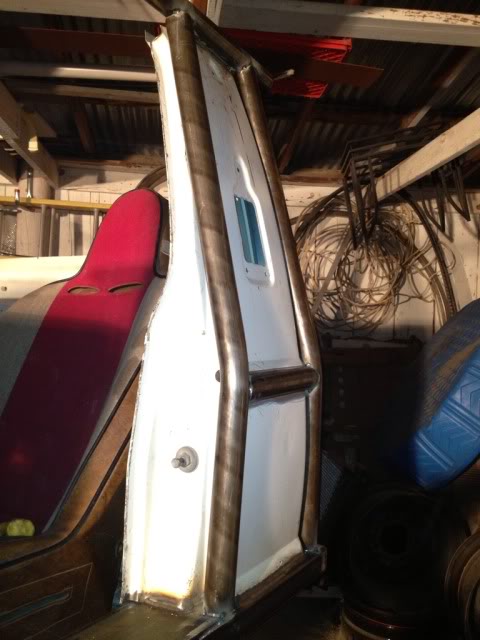 dash bar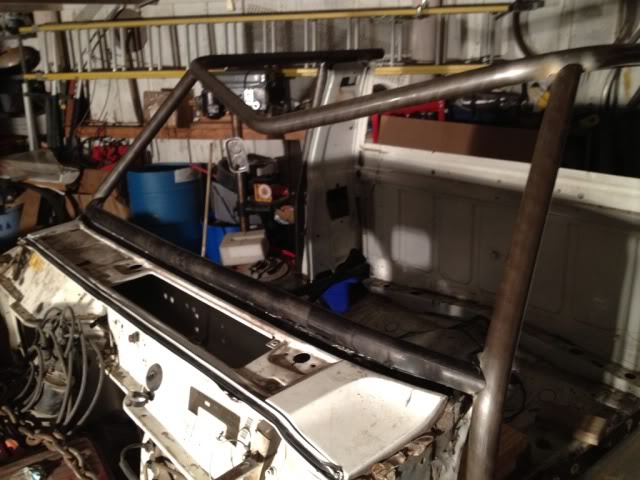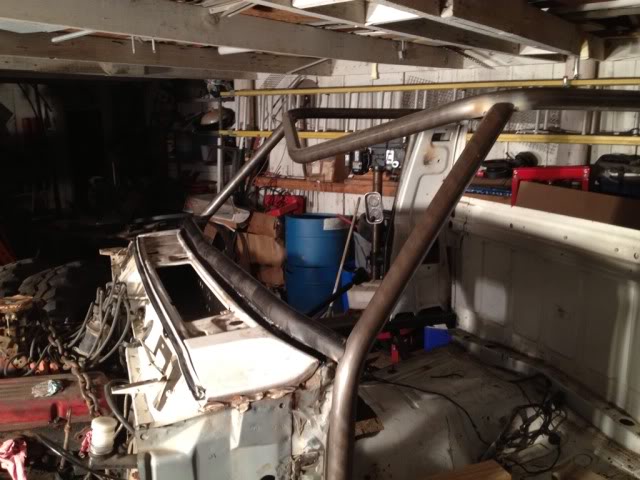 mis bent the a pillars and they ended up being perfect for how i wanted my door bar so went ahead and threw one on tonight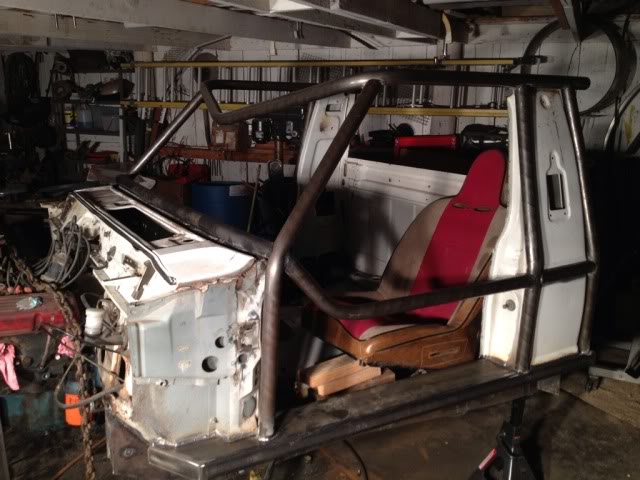 3-12-2013
The original plan was to graft the roof back on to the cage but the stock sheet metal sucks, even with the TIG it's a pita... And I work with thin sheet metal all day long... I'm going to fill in a couple places with some 12 ga, but most of it is going to stay open. Now that I've got the cage design locked down I don't really want to cover it up ya know?
3-14-2013
Would look cool, and that's what I had originally planned on doing.

Gf was in town for a couple of days so last night we went out and tinkered a little.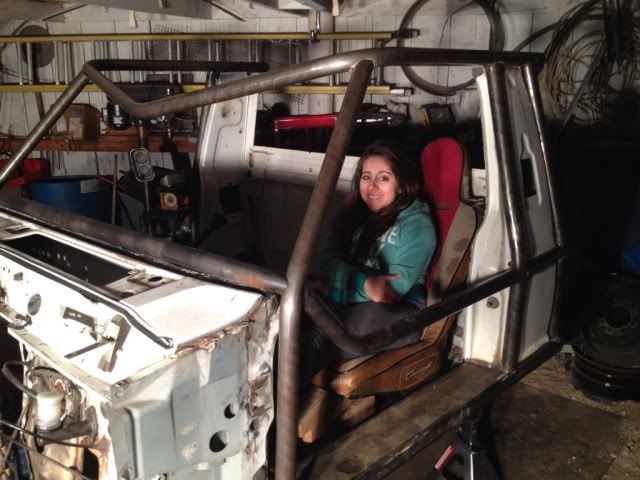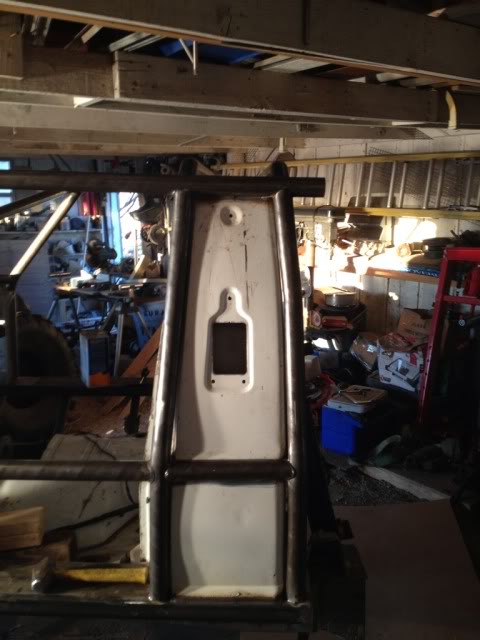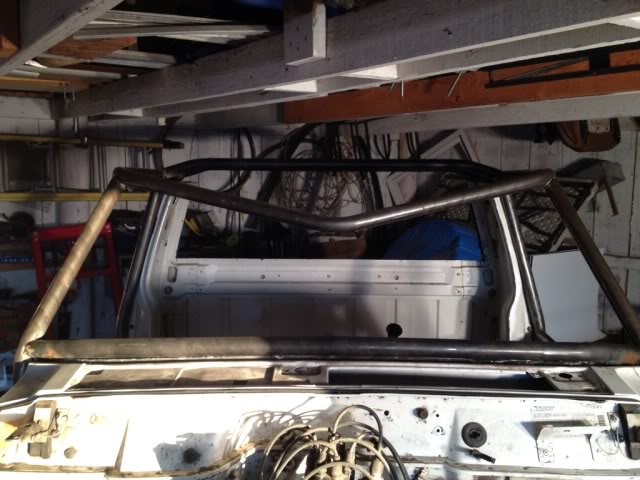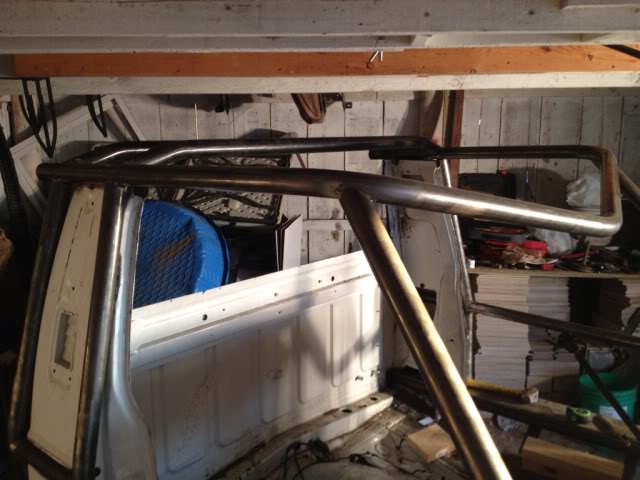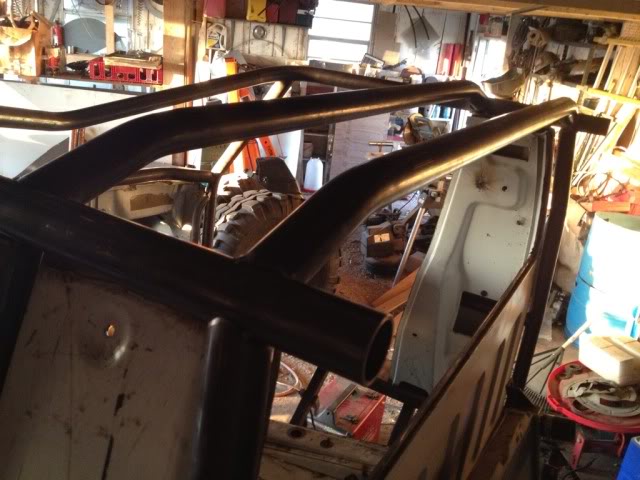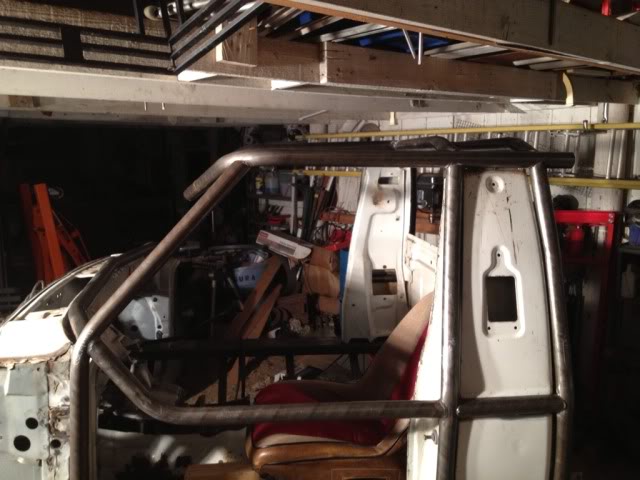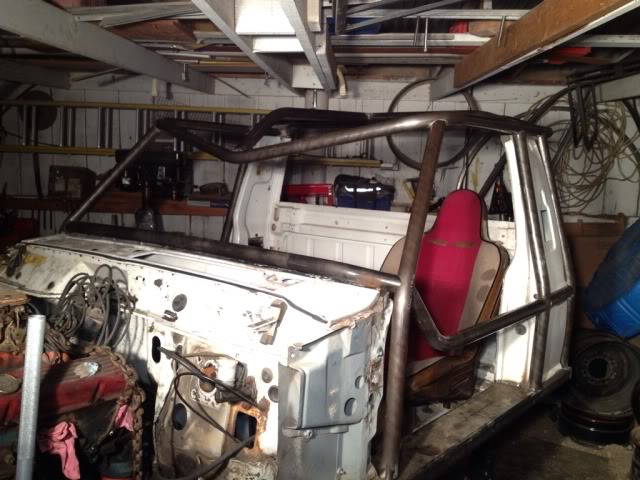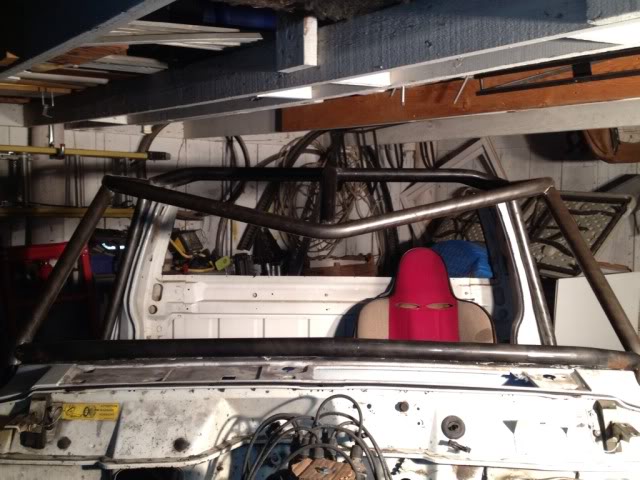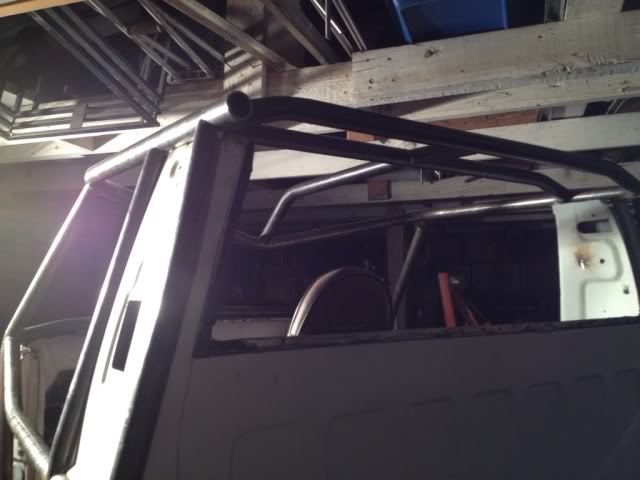 im not trying to come off harsh... Just getting tired of the roof issue coming up... I've got two other sites to deal with too... I'm not opposed to putting filler panels on it down the road, and have thought about a removable soft top... But I'm about just say screw it and deal with the rain, snow, mud and blistering Texas sun just out of spite bc I'm tired of hearing how I should've left the roof on lol!!! Now no need to go crawl off in a corner!

Ive got plenty of tarps and duct tape!

Plan for the front tube work depends on the front susp... which is next on the list. the reason i build the engine stand was so i could move the drive train around to clear any susp depending on where my geometry wants to be. itll be some sort of tube structure. i have what i want it to look like in my head, we'll just have to see if the susp plays nicely with my design. should have more details on that this weekend. buddy is coming down to help and im going to try and get the front axle underneath it...

radiator is going in the back, one reason i wanted to keep the back of the cab in tact so i didnt have to build another fire wall. im narrowing the brill and mounting my winch behind it right above the front axle. most of the time till just serve suck down duties..

the plan for the back is to do tubes, following the two body lines, narrowed and bobbed, with a baja basket style "bed" above the sway bar and propane tanks... still kinda up in the air on the rear till i get the rear susp going. what i have in my head isnt full on tube buggy bare minimum but not full on flatbed either...

3-18-2013
Nick came down this weekend and helped out while we banged our heads against the floor... seems like everything we tried to do had clearance issues... but what ever, got a plan to move forward. Cut the firewall and cowl out and got the motor pushed back 6 inches. going to have an access panel in the cowl to remove the distributor. the 300 stock shifters interfered with the trans so i had to take it apart and going to have to move the shifters to the top of the case. i wanted to run lexan panels in the foot wells so we decided to cut the whole fire wall out and trim some more off the frame so i can run longer lowers. with the manual my foot pedals were going to be close with a 4 link and the boat sides so we decided to run a 3 link with pass side upper. got the rock jock set at full bump, which is 6"s of up travel, should be able to get away with a one piece drive shaft. also bought another set of air bumps. ordered my headers this morning so once they show up ill be able to get moving with the front geometry.

pics...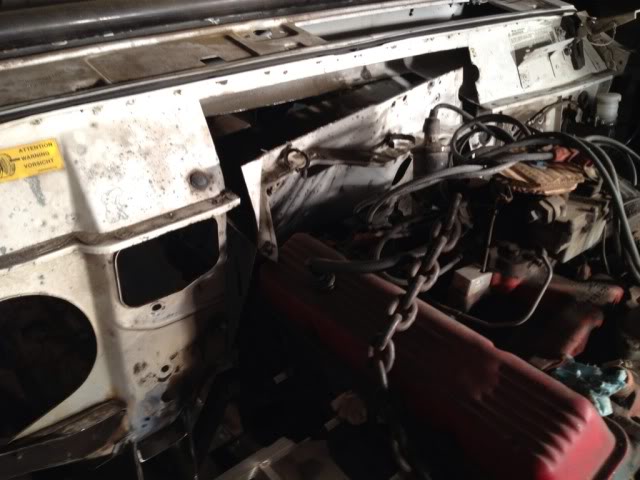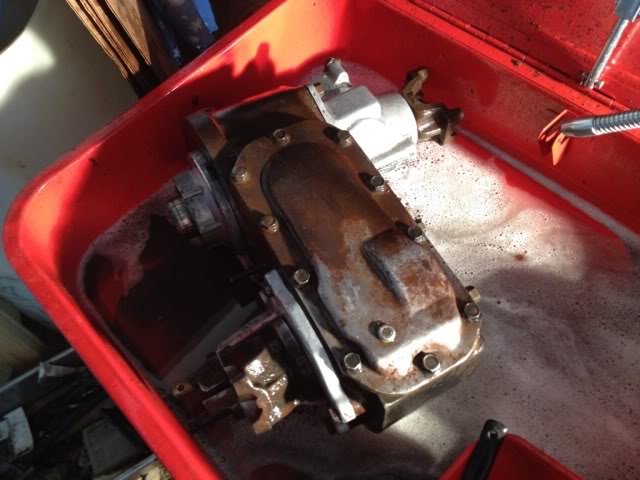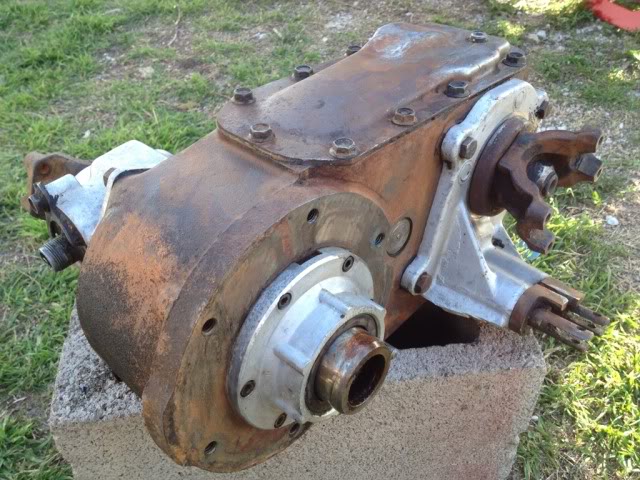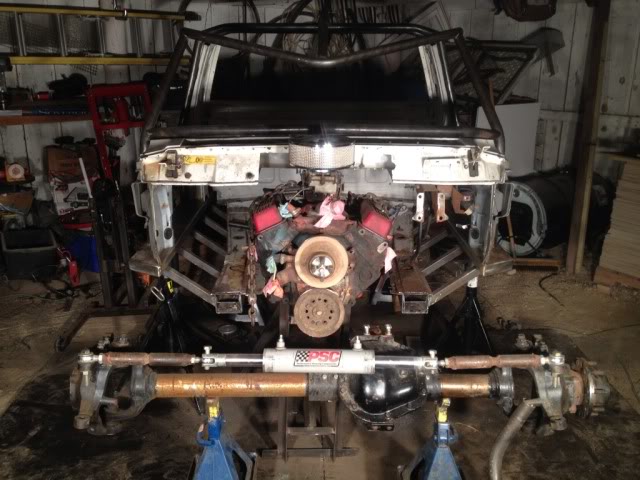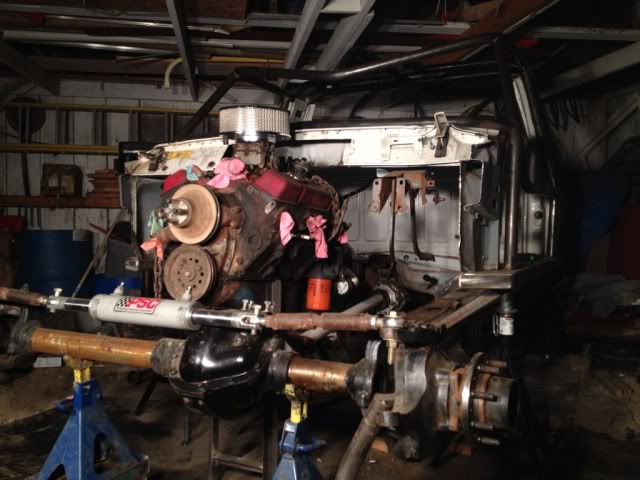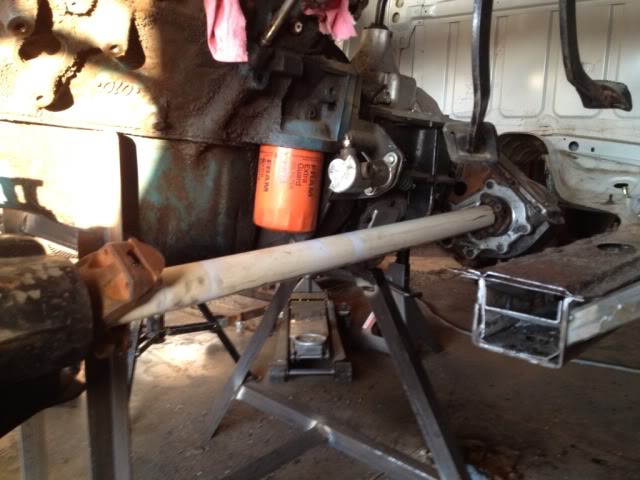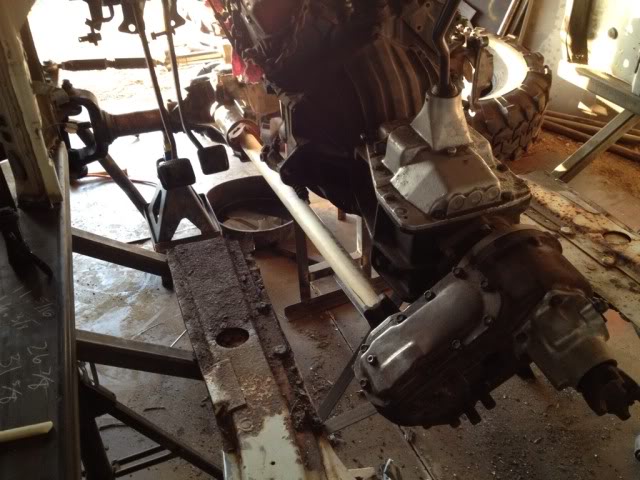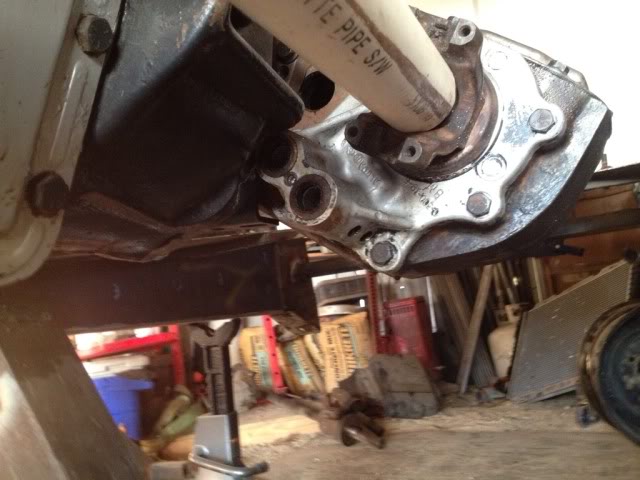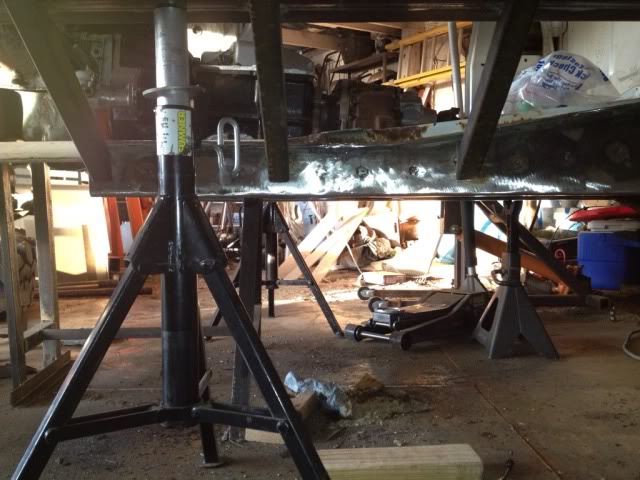 works better this way, ill be able to run some more structural tubing down to the frame and have a flat firewall without all the BS holes to fill. also plan is to build a removable dog house and trans tunnel so everything will be serviceable from above. bring on the hate...
5-3-2013
I wish I could say there was... I hate using this excuse but life is really getting in the way lately.

Only thing I've bought are new parts for the H1 wheels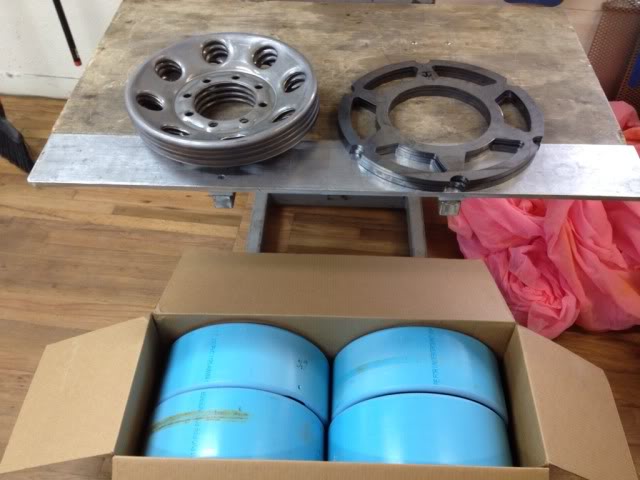 Oh and then there is this...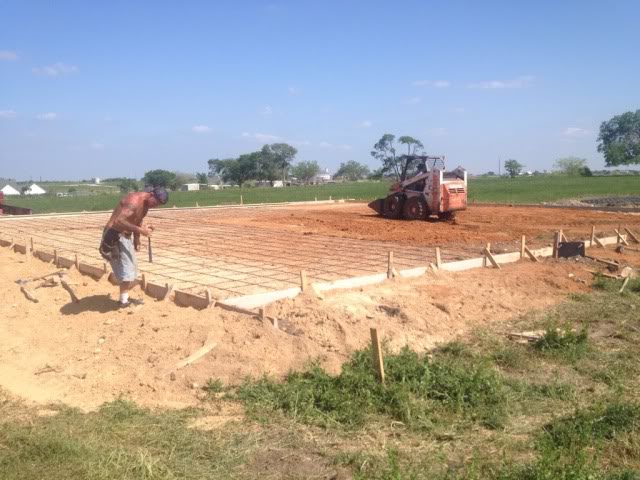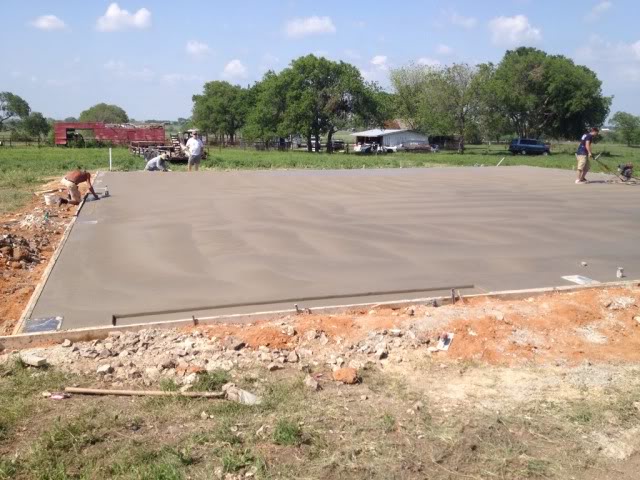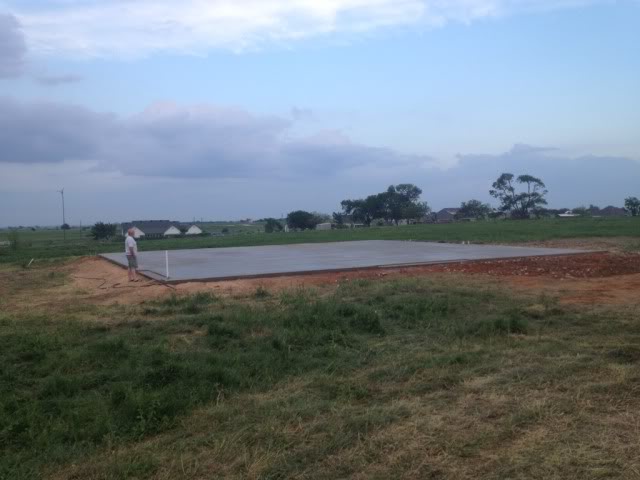 Finally building our shop! 60x60, overhead Trolly hoist, and 2 post lift. Stuctural is going up next week!
8-13-2013
wellll, heres the update everyone always hates seeing. but at least i have some goodexcuses...

since the last update, we broke ground on a 60x60 shop for our every growing buisness, moved my GF friends MO to TX, bought a beater XJ for a 4th of July trip to Superlift, bought a 4x8 ez-router CNC plasma table...

we contracted the main structure but we have been doing all the finish work ourselves, and fixing contractor screw ups so almost all of our free time has gone to getting the shop ready to move in. Im hoping within the next month ill be able to start moving the MJ in.

on to the pics...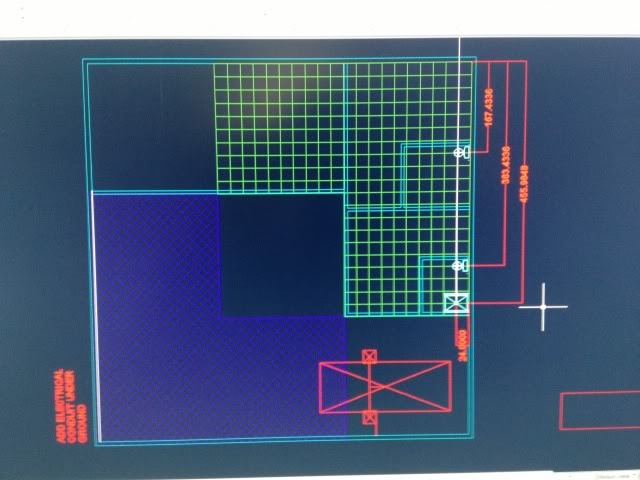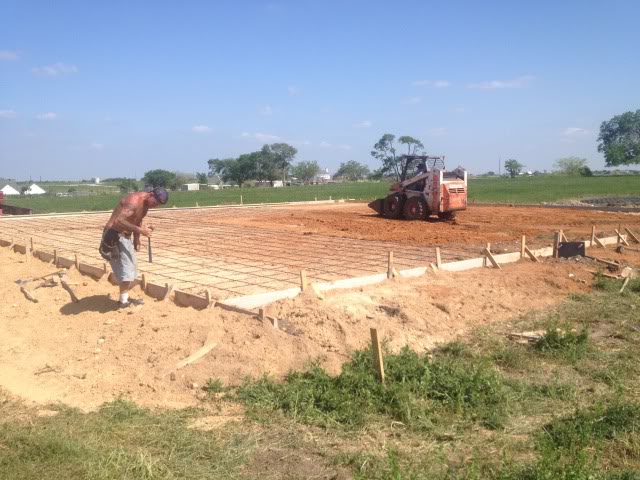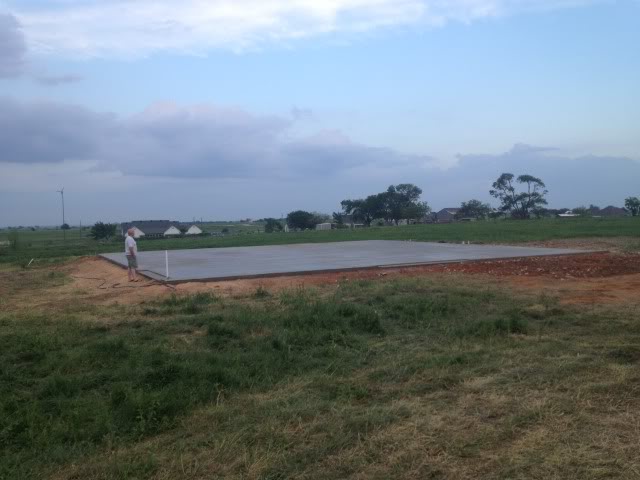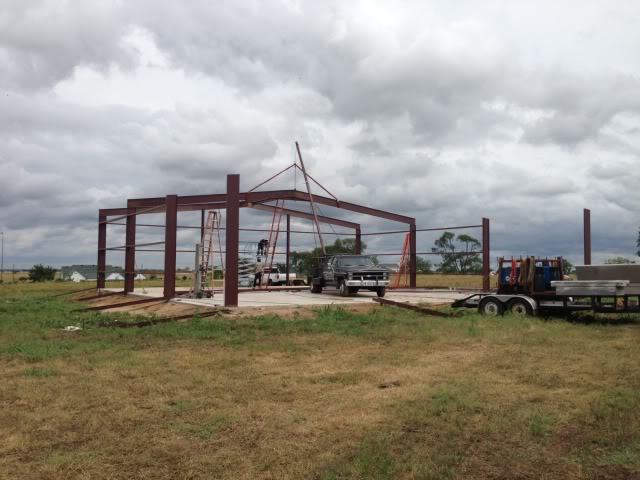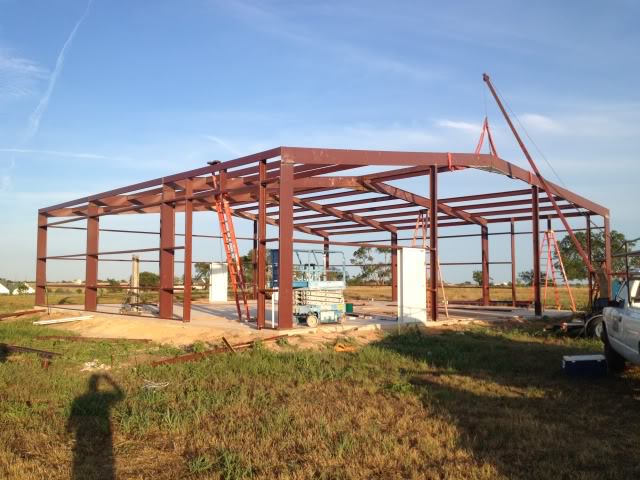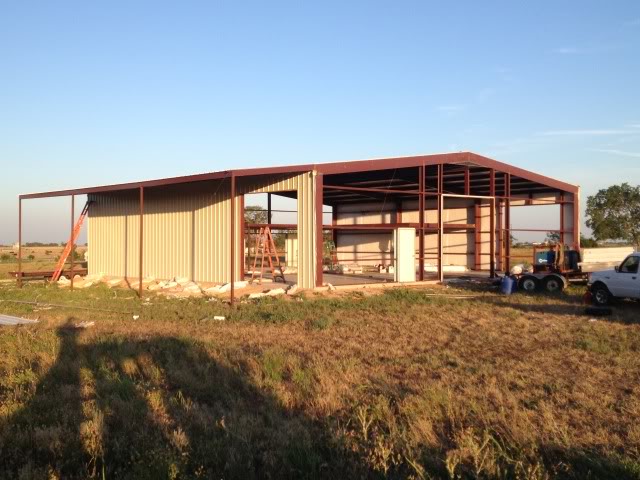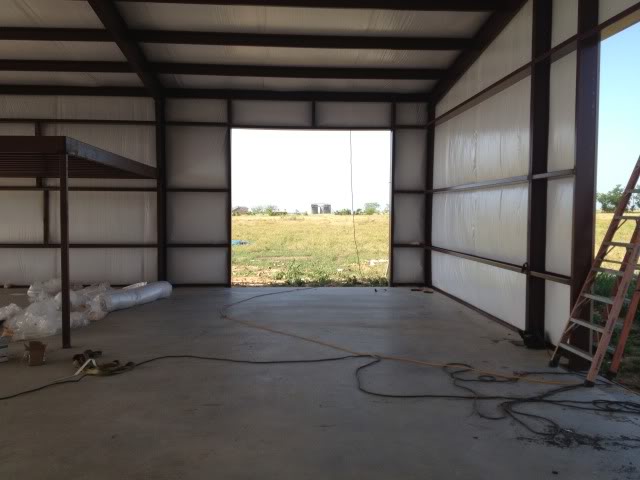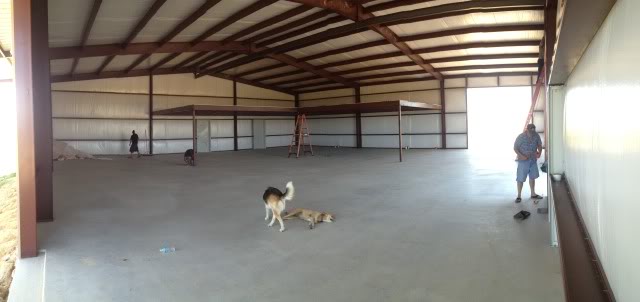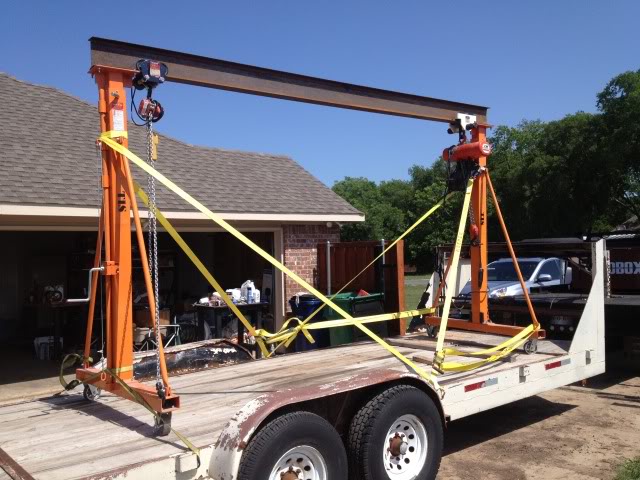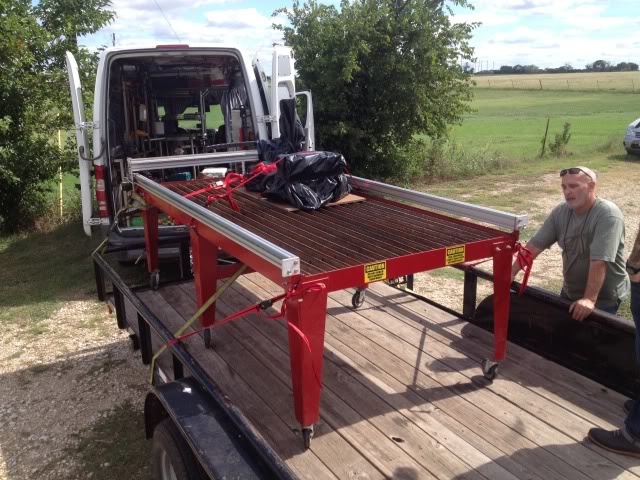 and the current sad state of the MJ...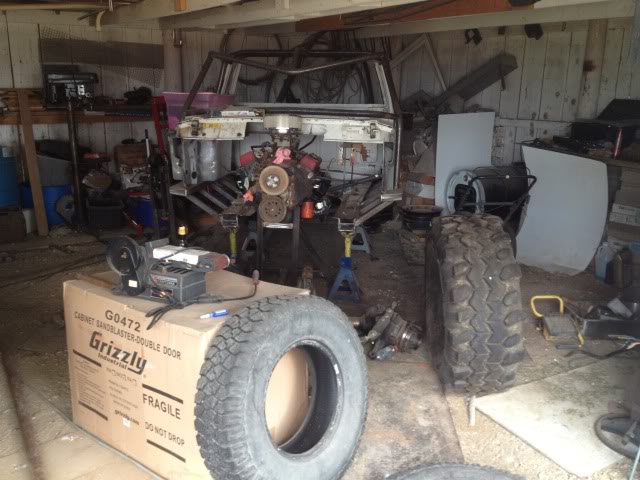 4-30-2014
So, its been a while... i have really gone back and forth about finishing this thing and just let it sit till i made a decision. Made the trek out to KOH this year with LilNickT and his XJ and had an absolute blast, and pretty well confirmed that i need to just finish the thing already. so its been about a month of consistent work so i figured id go ahead and get every one fired up again, bc im starting to get really excited with the direction this is going.
So to start, one of my hang ups was running the Dana 300, drivers drop, with the sm465. The reverse idler is on the driver side of the case so the case is a lock thicker on that side and given the amount of travel i wanted and the belly height i had to clock the 300 way down bc the 465 is so tall, this left me hardly any room for anything but a 1310, non CV.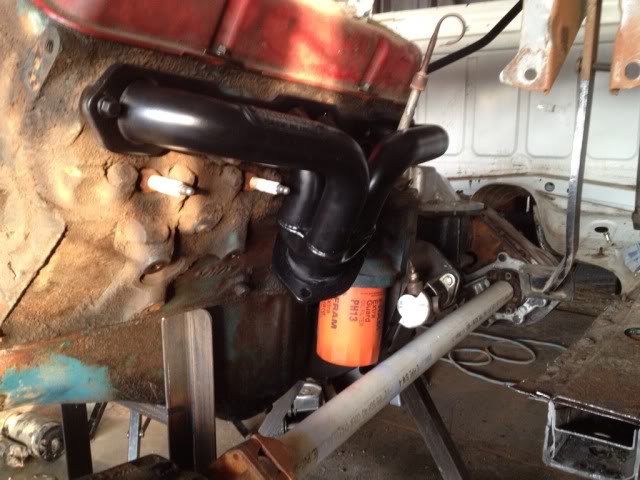 The best solution for this would have been to run an atlas, which isnt in the budget, and neither was building the SBC i wanted so i parted out the beater XJ i bought and used the drivetrain for the MJ. I sold a bunch of parts to the guy that originally built that jeep and bought a 231 doubler with NWF triple sticks. more on that later.
On to current, first priority was get the wheels and tires assembled. Picked up a set of 39.5s while at KOH for another buddy, never thought id have 8 "40s" sitting in my shop...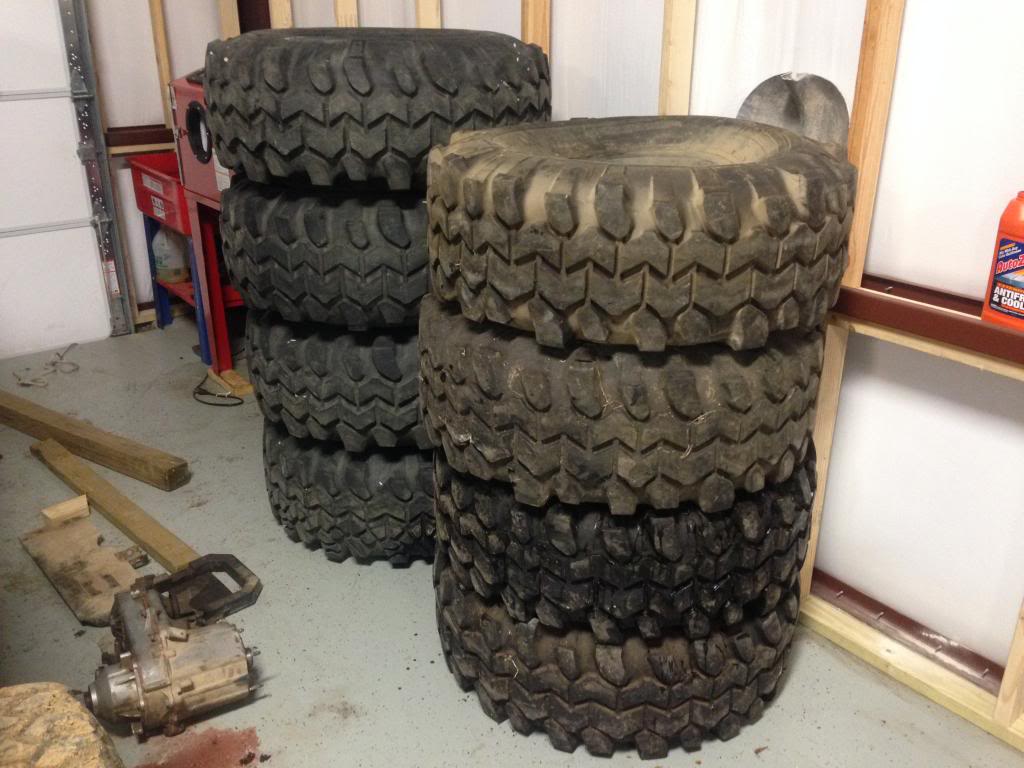 Word of advise, if you plan to go TWF, just buy the stuff from TWF already built... I love building my own stuff, and got a smokin deal on my 12 bolt wheels, but it would have been worth spending the extra money to just have them build it... between dealing with the coating, stripped studs, bad orings, all the tedious welding, dealing with the coating!!! anyways...
this is after 20 minutes of sand blasting with black diamond medium grit abrasive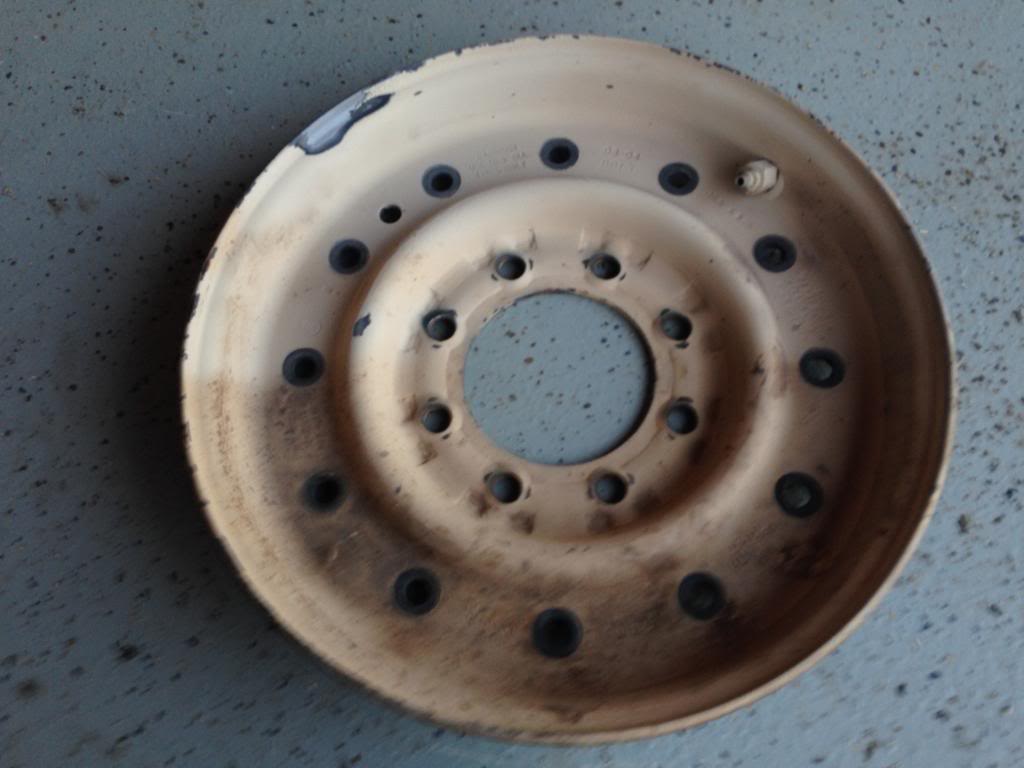 ended up calling TWF and they recommended just using a strip disc, which worked great!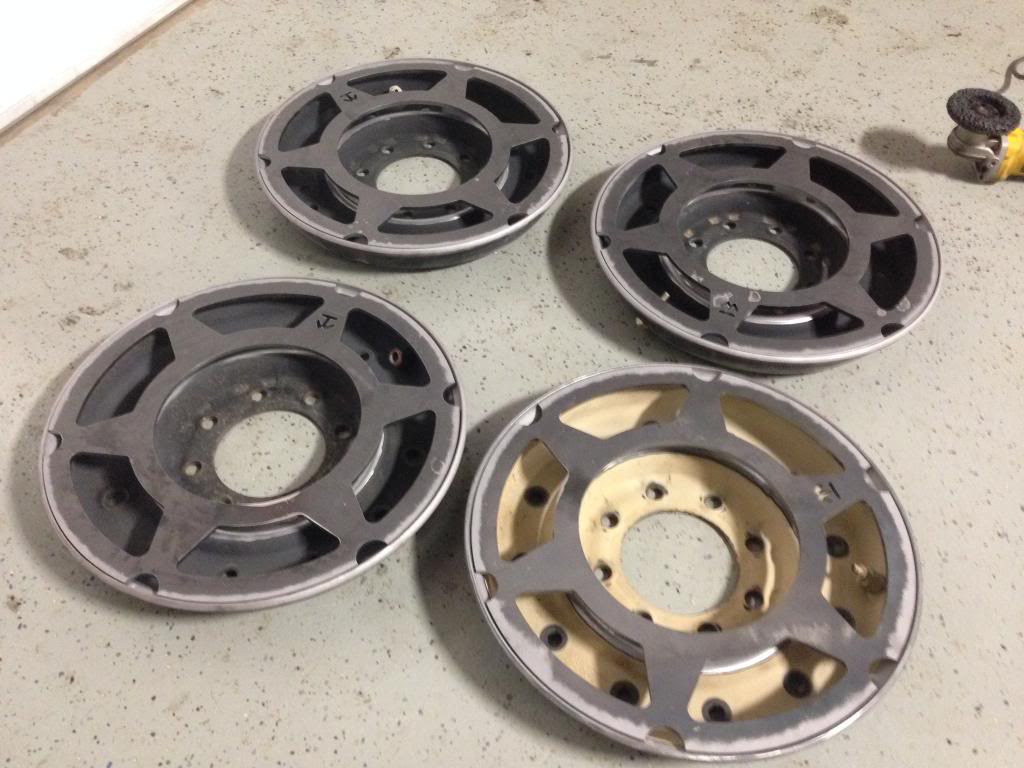 Just primed for now, plan on doing a shake down run before i break everything down for paint...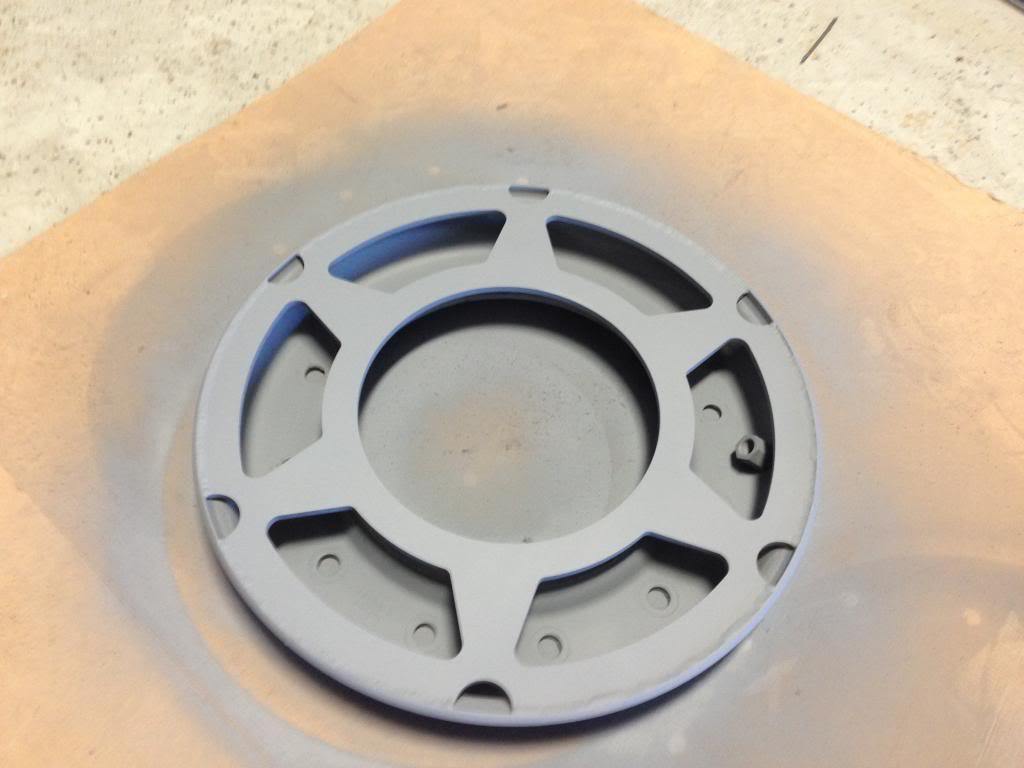 new wheel centers, pressed, welded and primed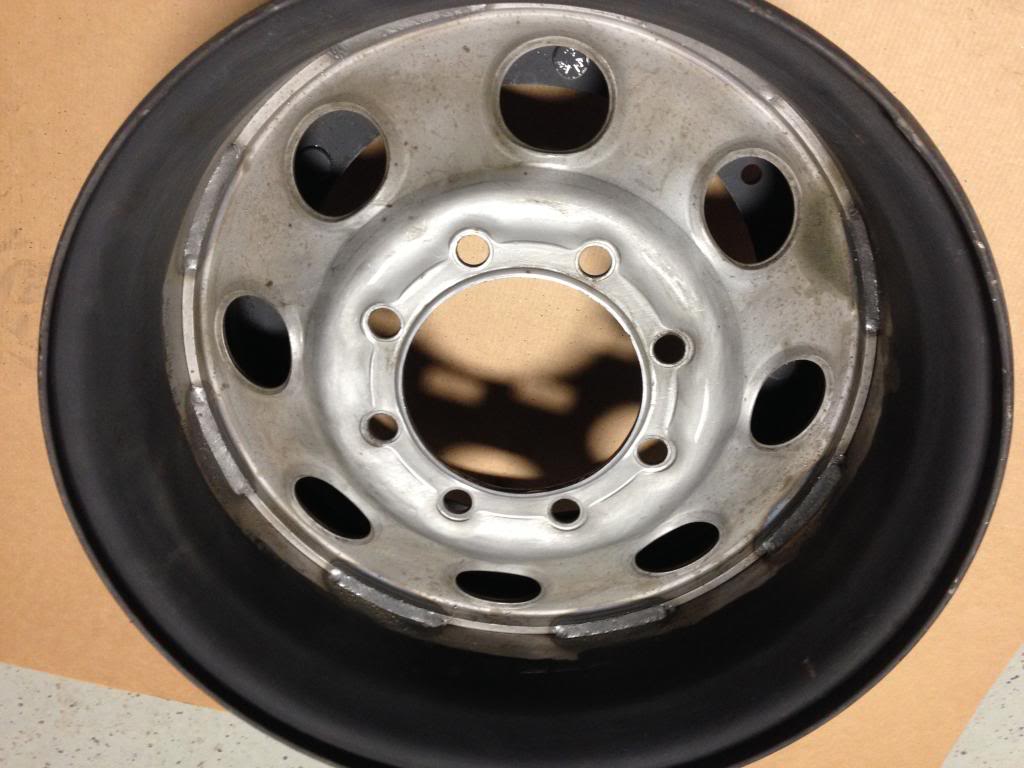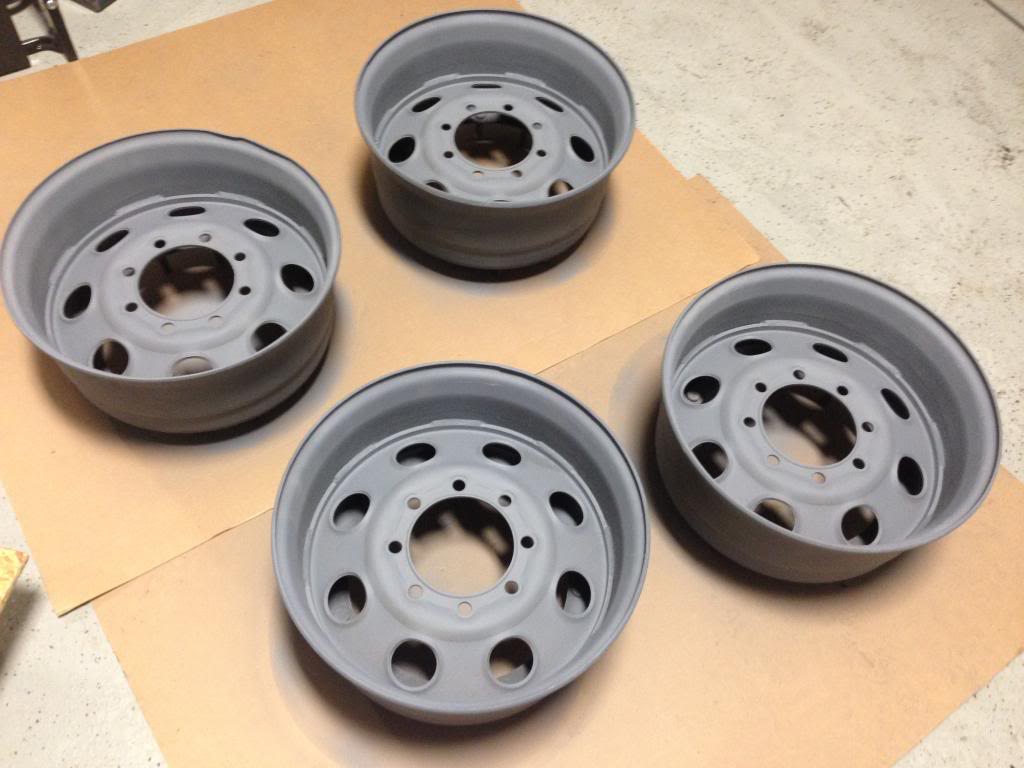 wheel assembled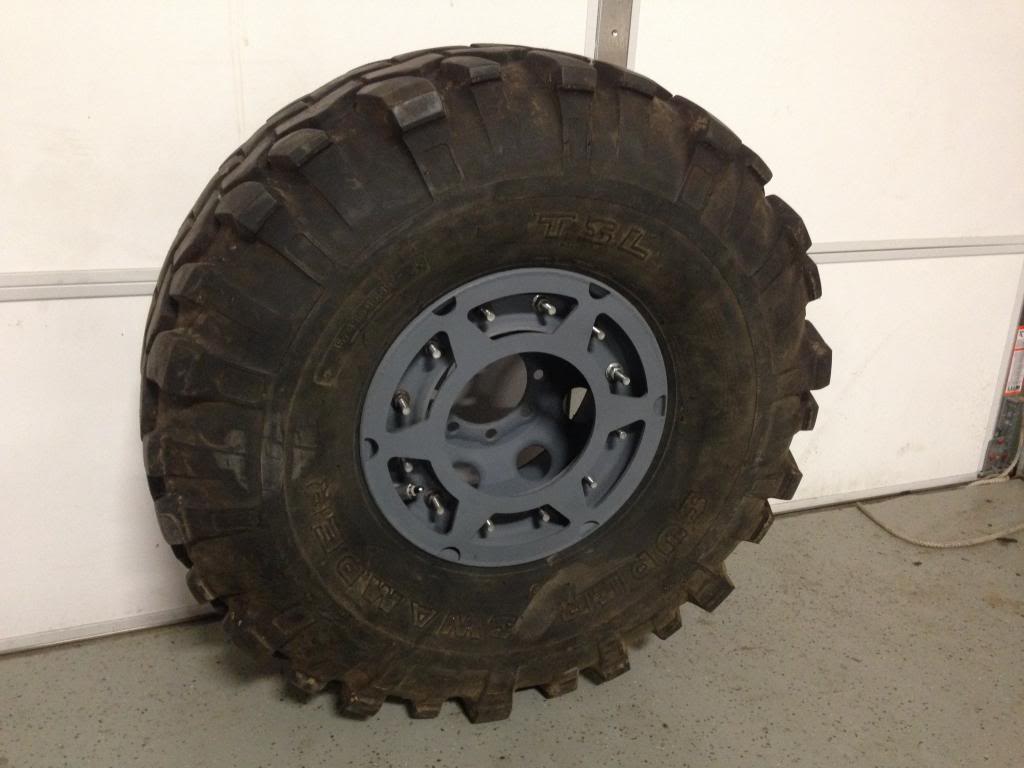 next i got the axles moved out of the shed and cleaned up, a year of sitting had rusted most of the parts and the chickens had crapped all over em. The 60 had been completely stripped prior to my "hiatus" so i blasted all the parts, primed, painted and reassembled the outers and ground the tubes again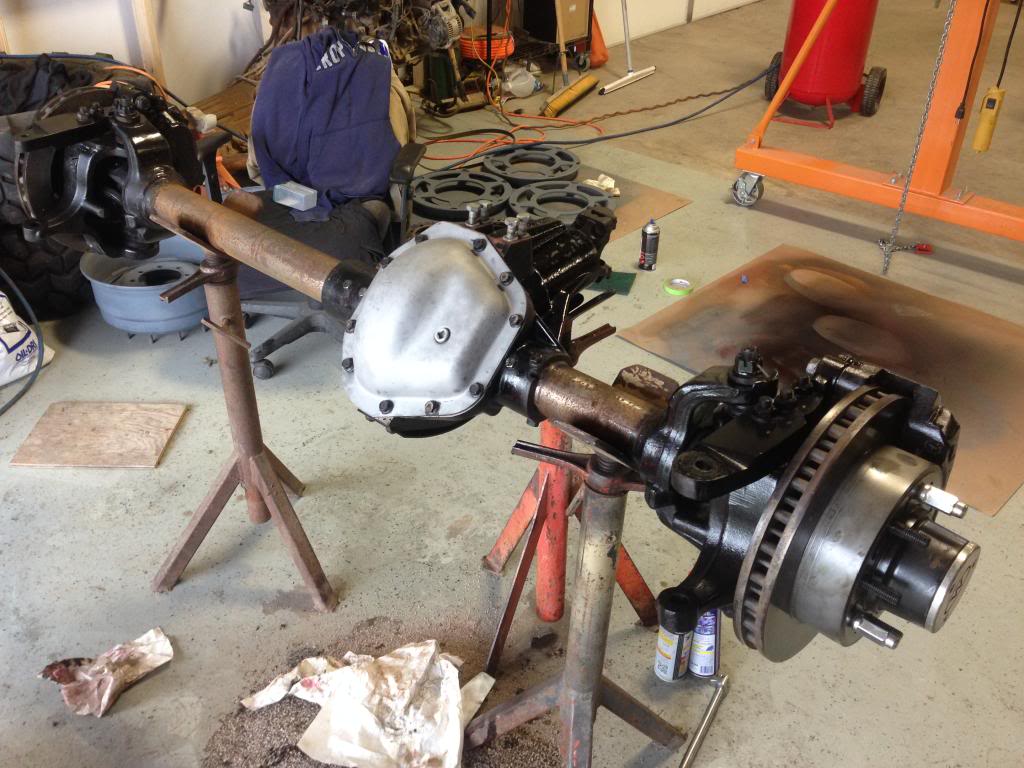 The 14 bolt never got fully stripping so out came the torch again and it got the same treatment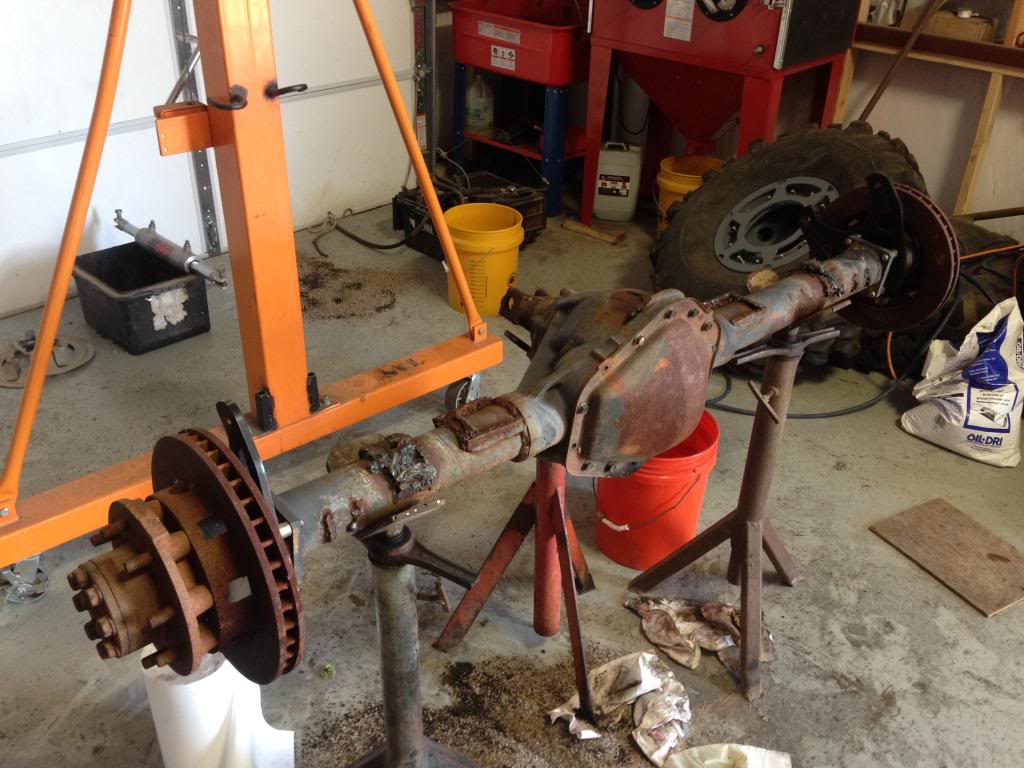 once the 14 bolt was stripped, it was time to install my TMR 15 bolt shave. this kit is awesome, and totally worth the work!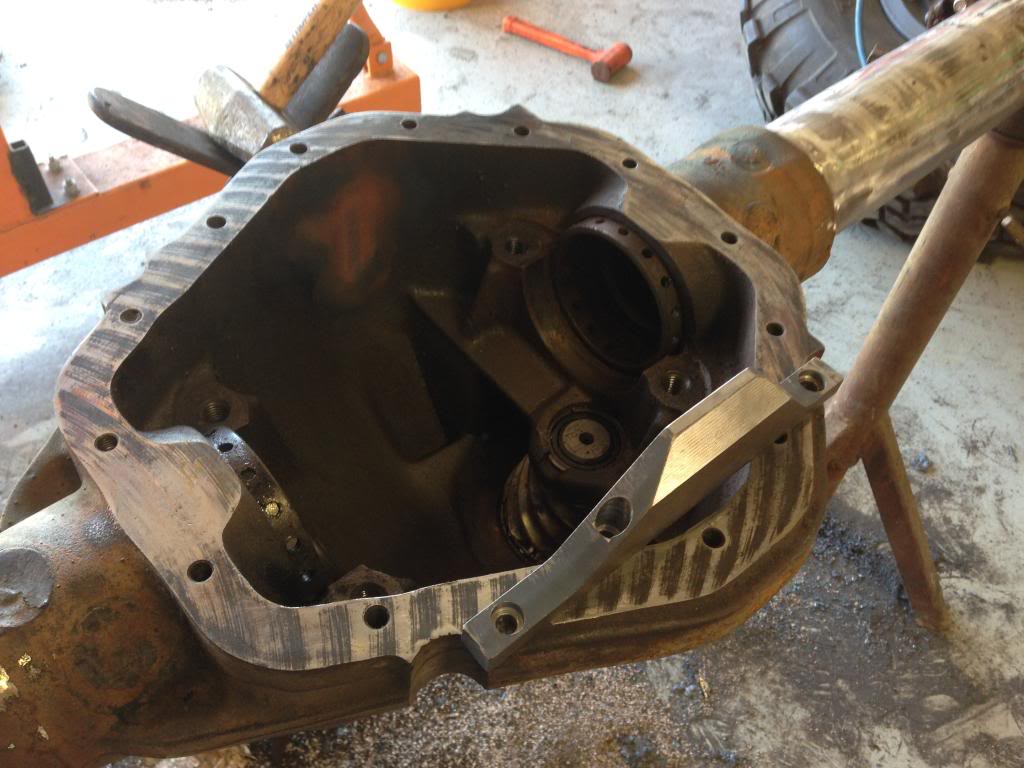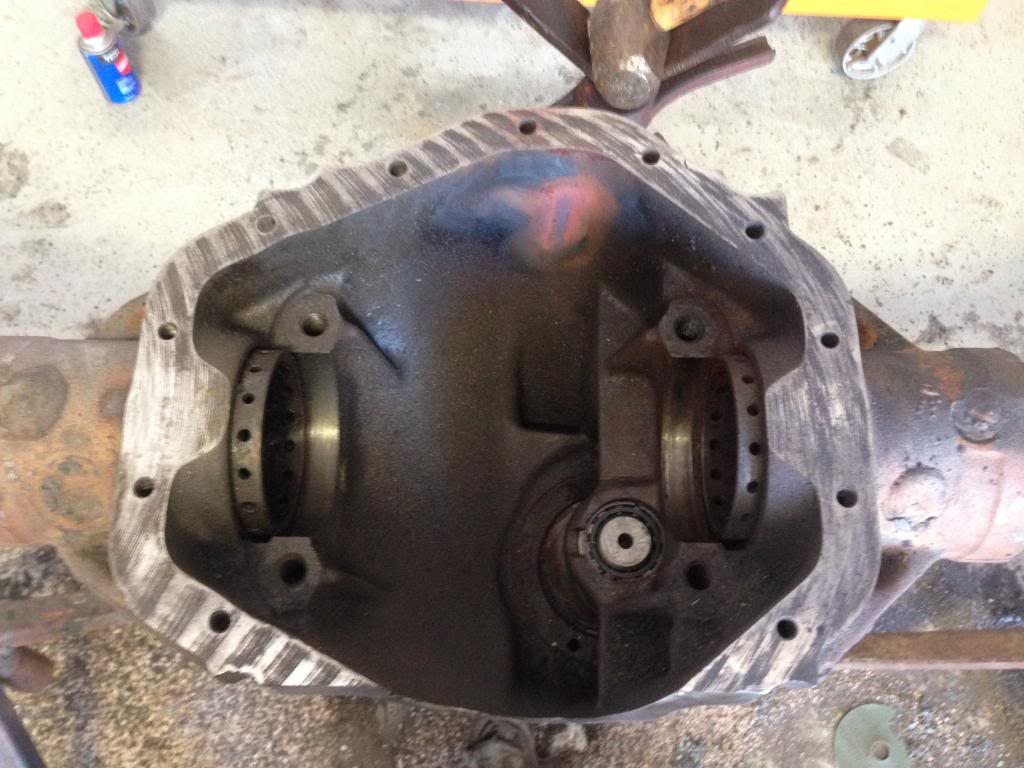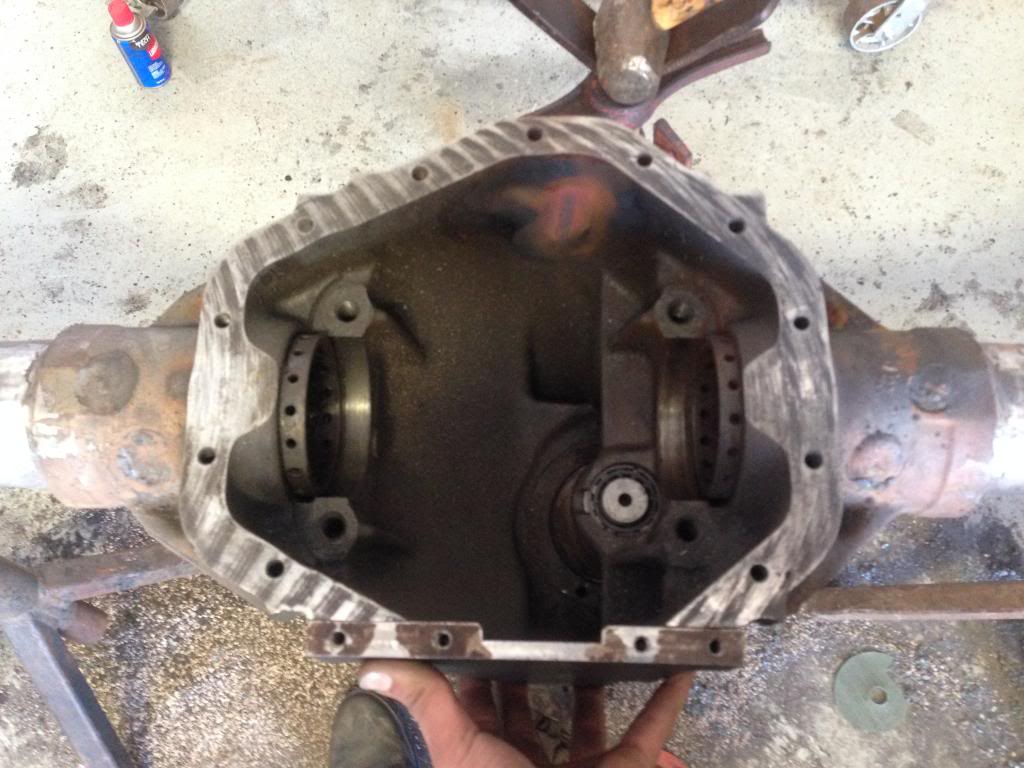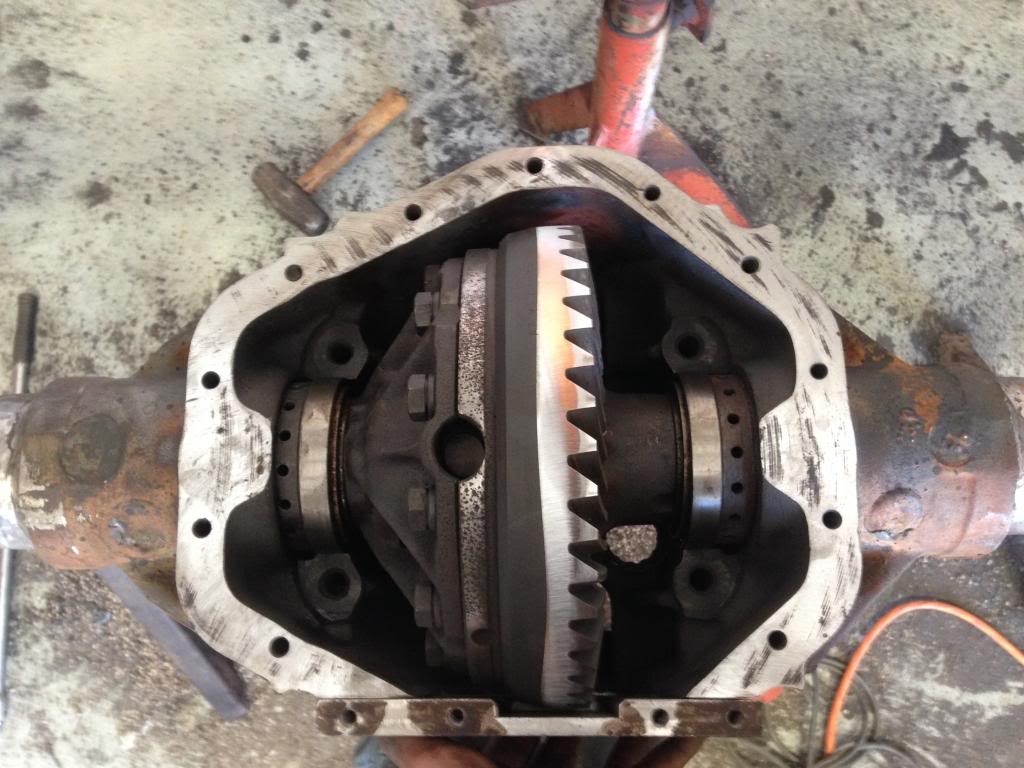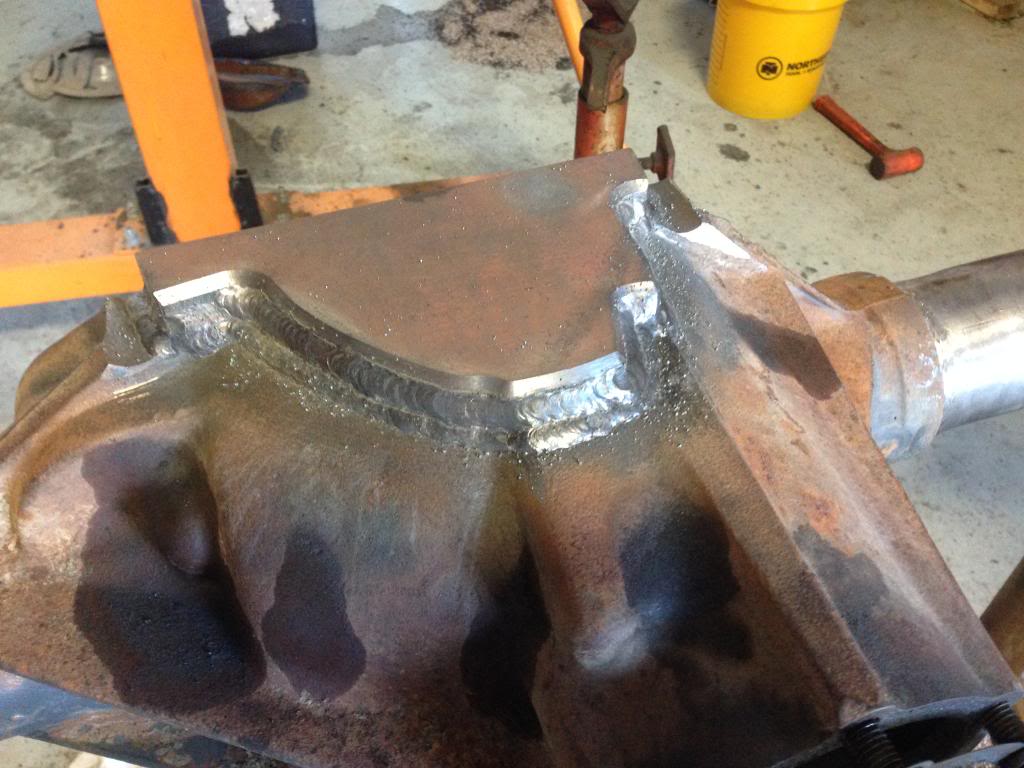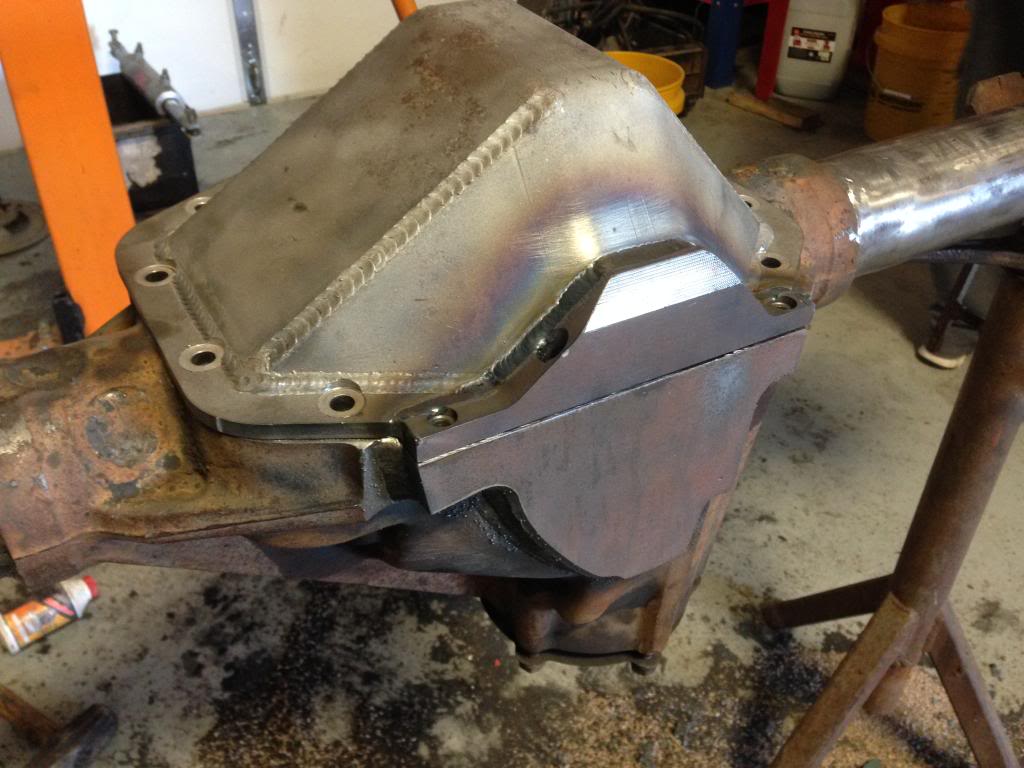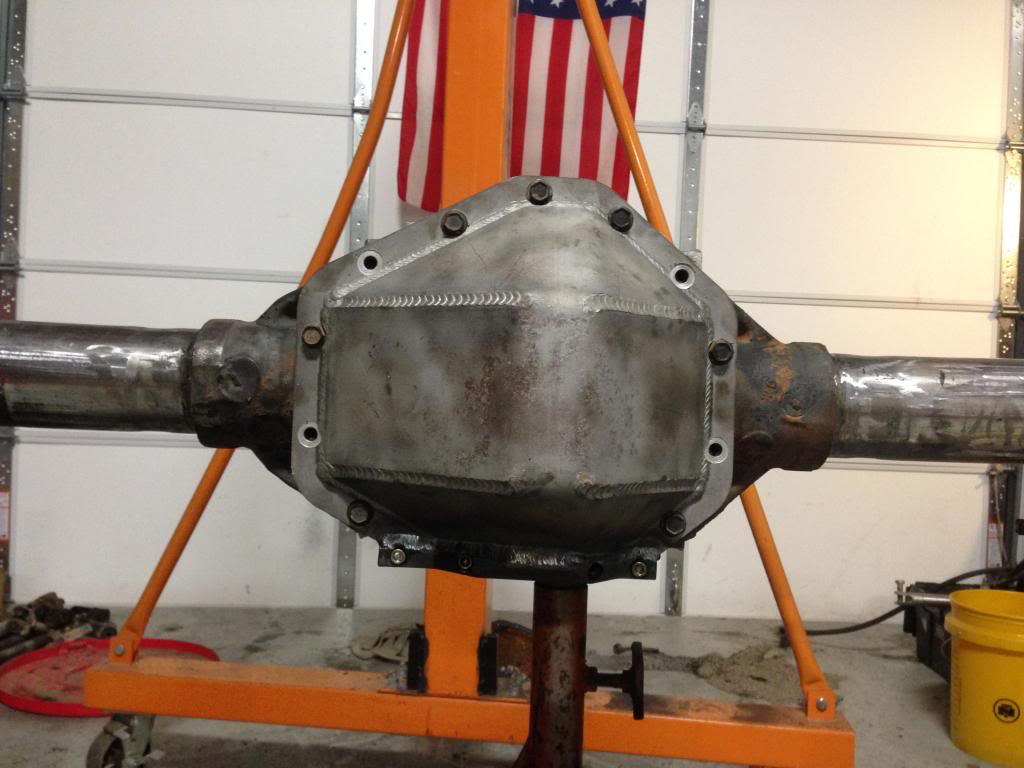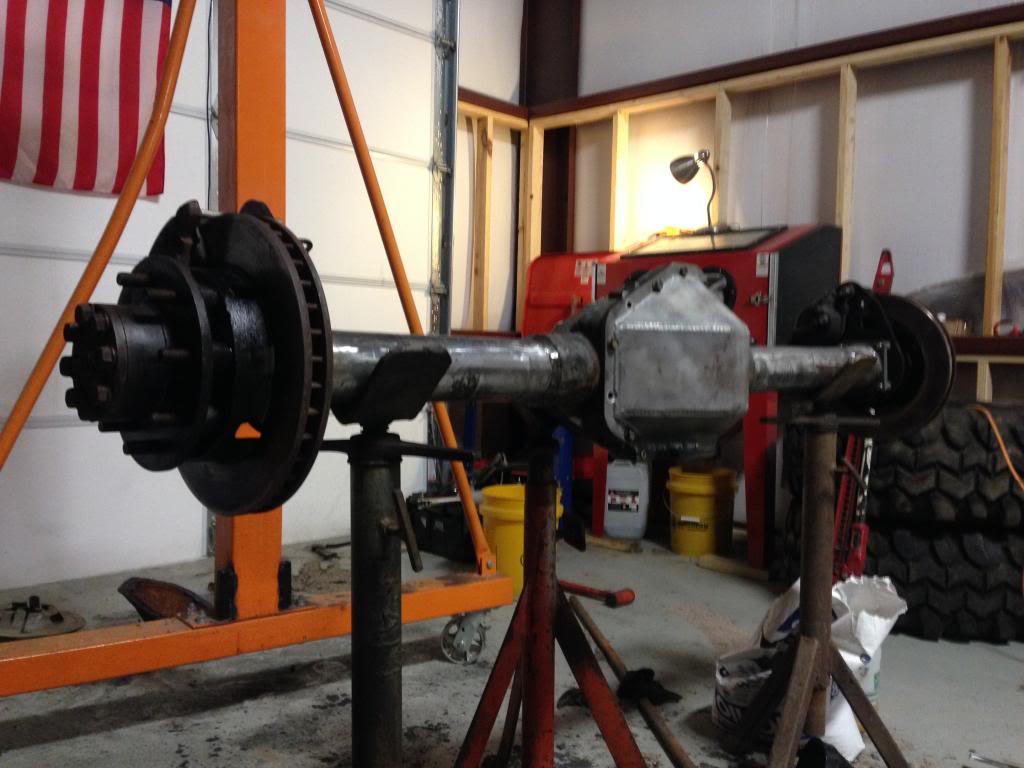 while i was ordering new orings and wheel studs of the H1s i ordered a 20" Trail Series from TWF for the front of the MJ. I was blown away by the light output of these light bars at KOH and had to have one!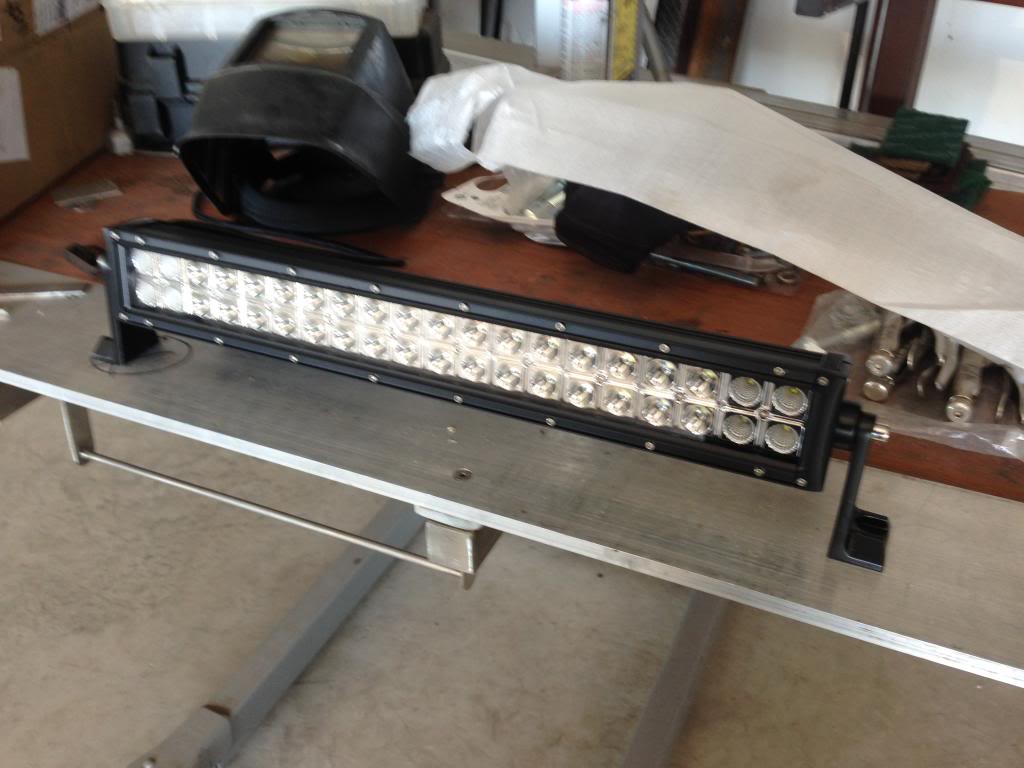 and finally moving day! I was super stoked to get the MJ into the new shop, didnt even care that it was raining!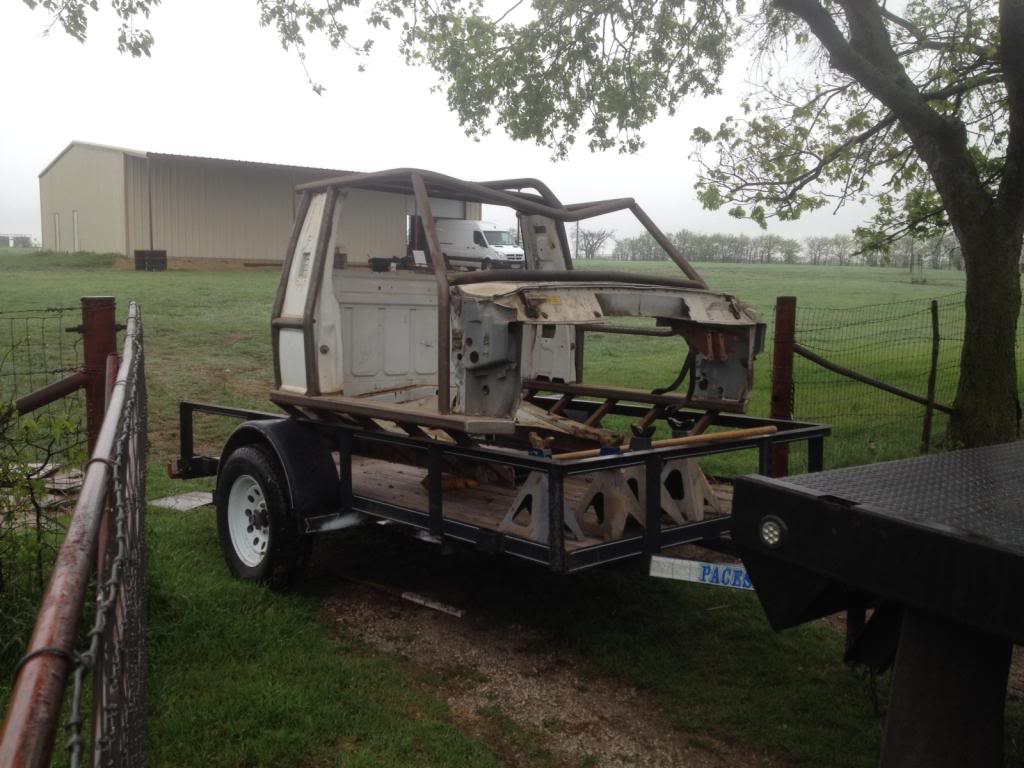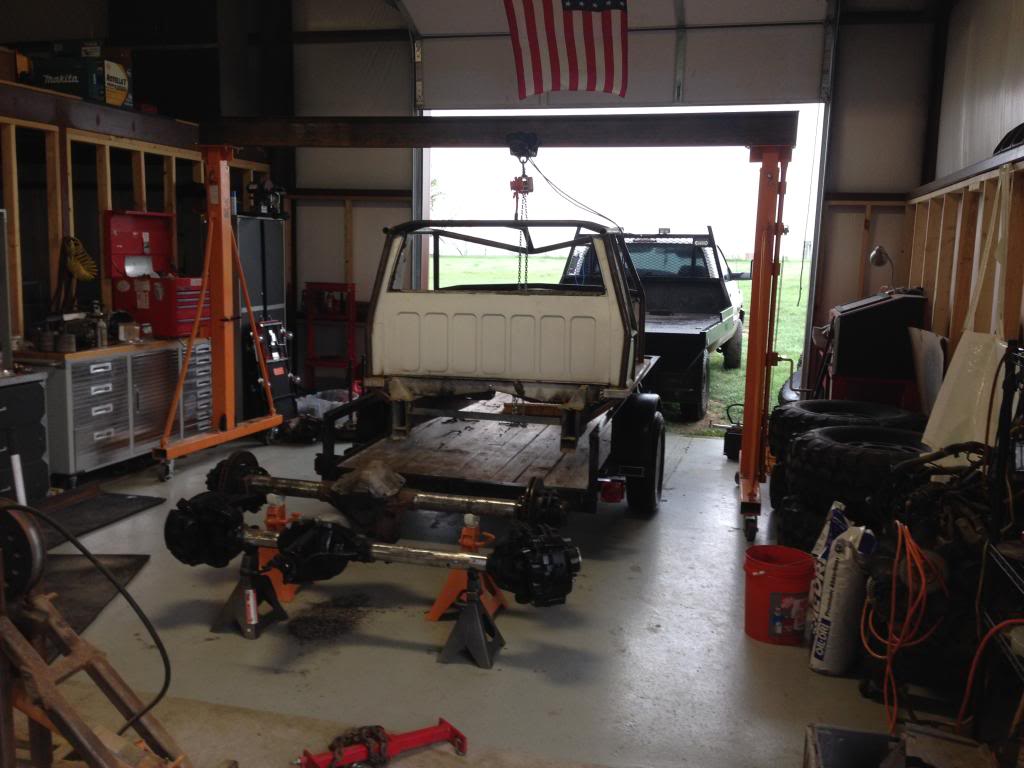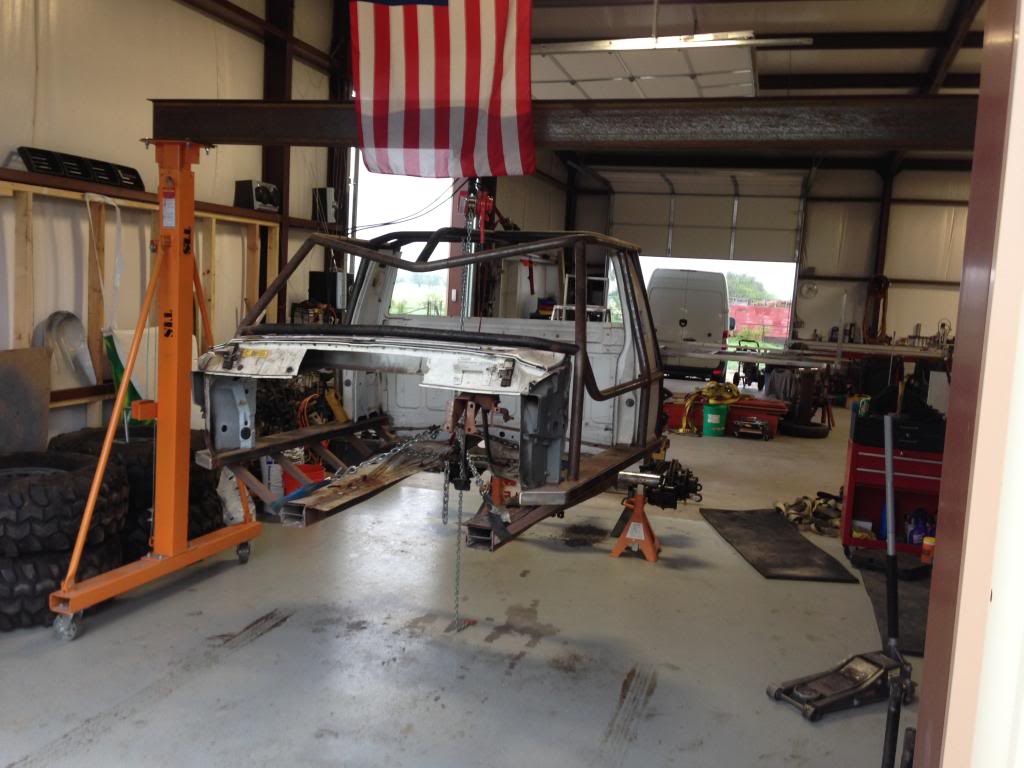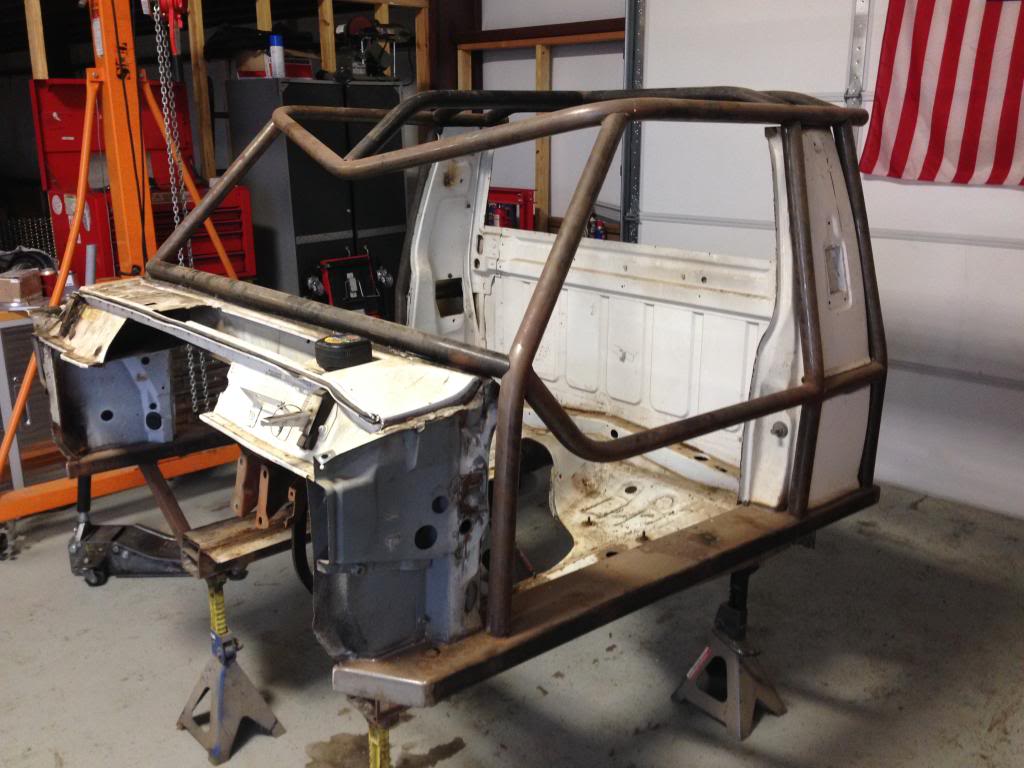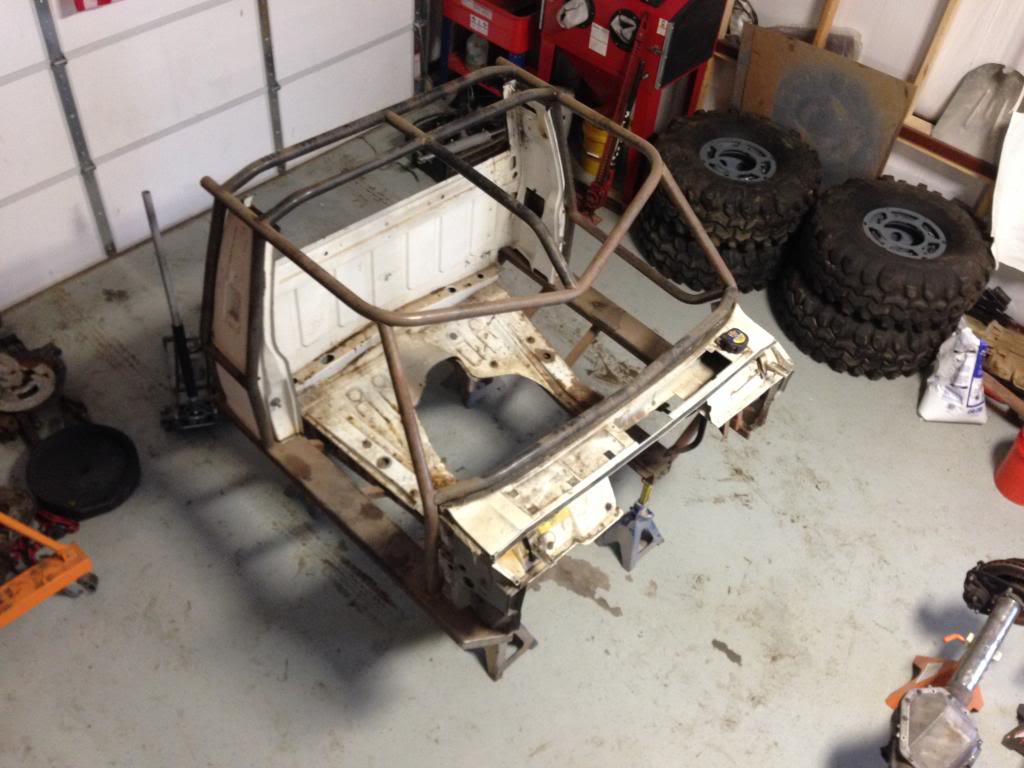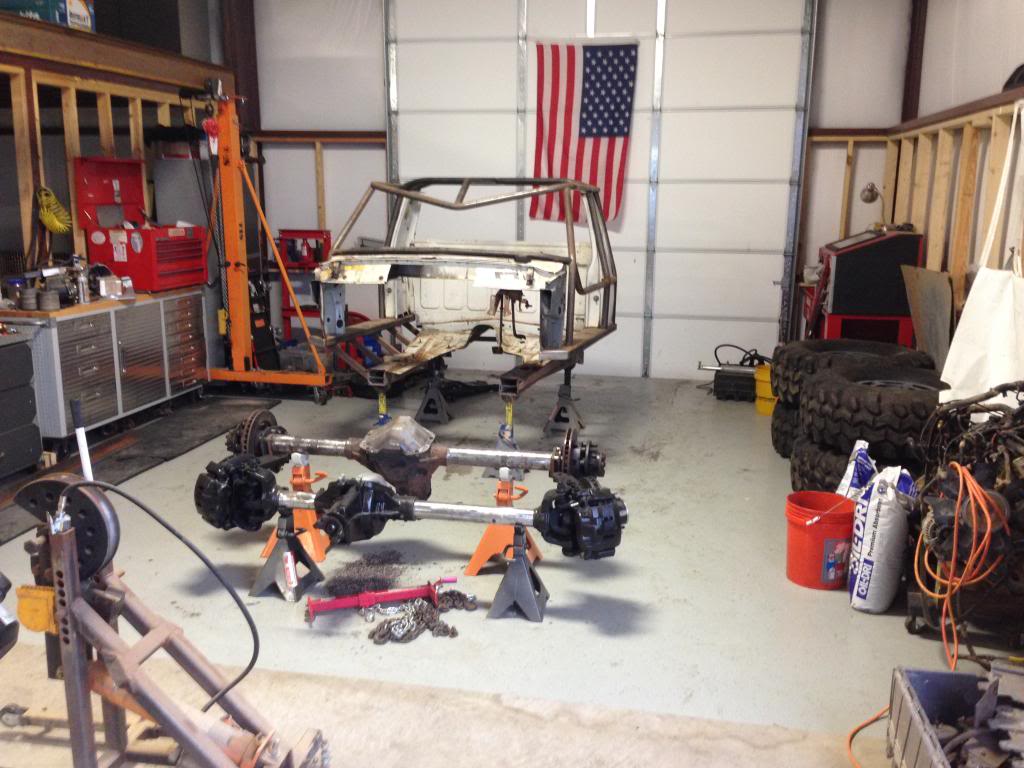 Got a set of FOA 2.5" remote res 16" travel coilovers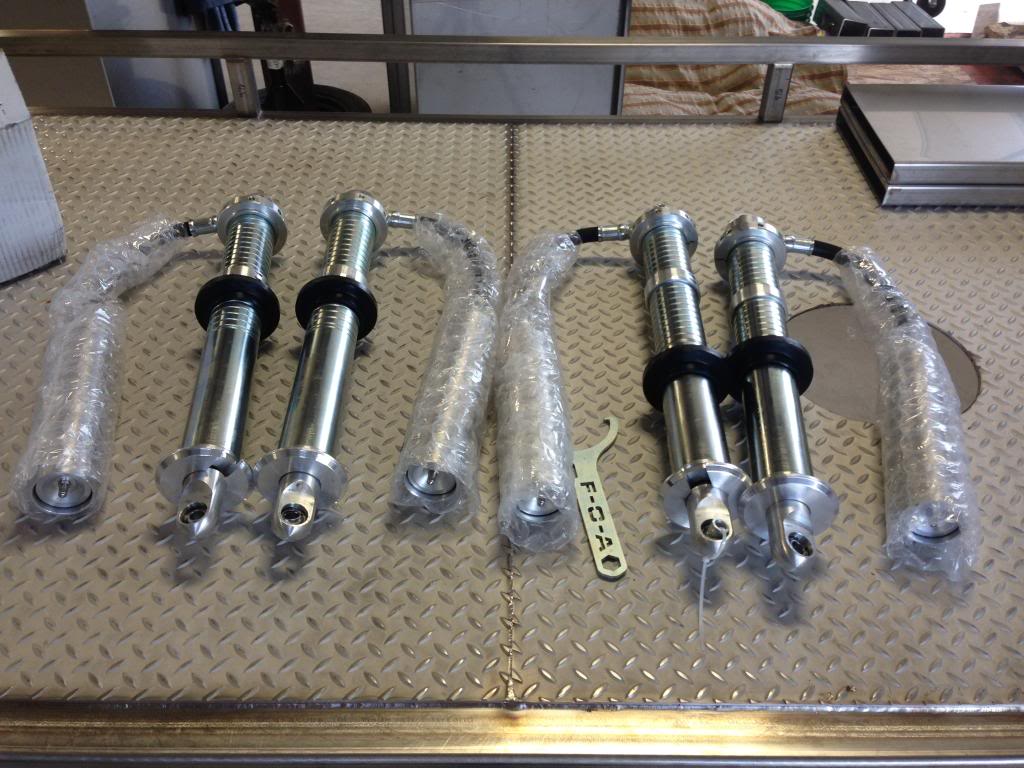 that brings me to about 2 weeks ago, still got a big update that most are prob gonna give me a hard time for but is really going to bring this build to the next level. ill get more updates tomorrow.
5-1-2014
i couldnt help it so i mocked up the hood and wheel base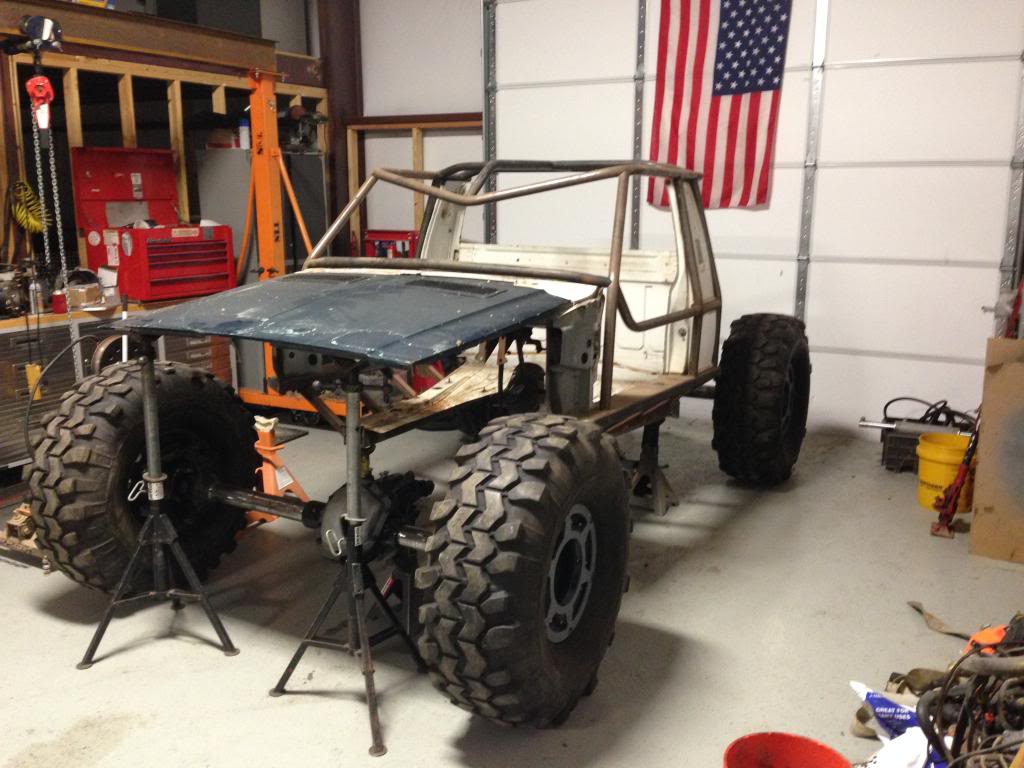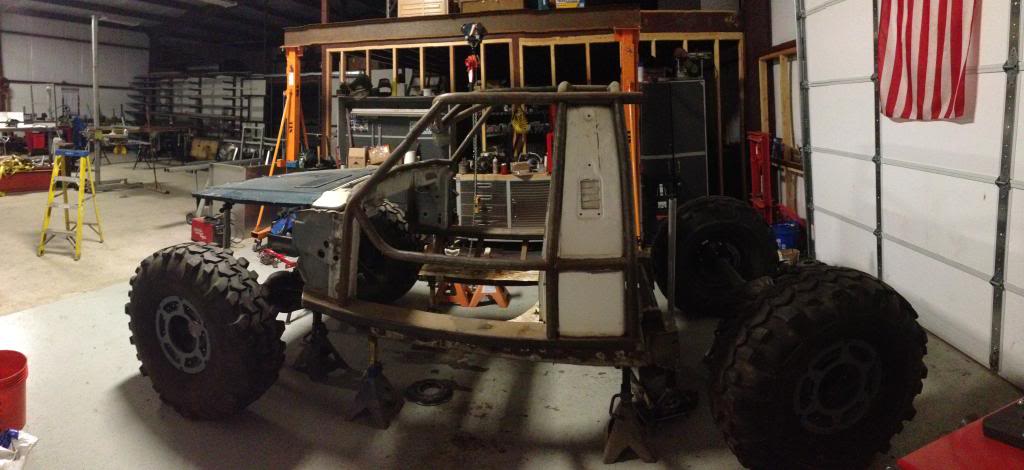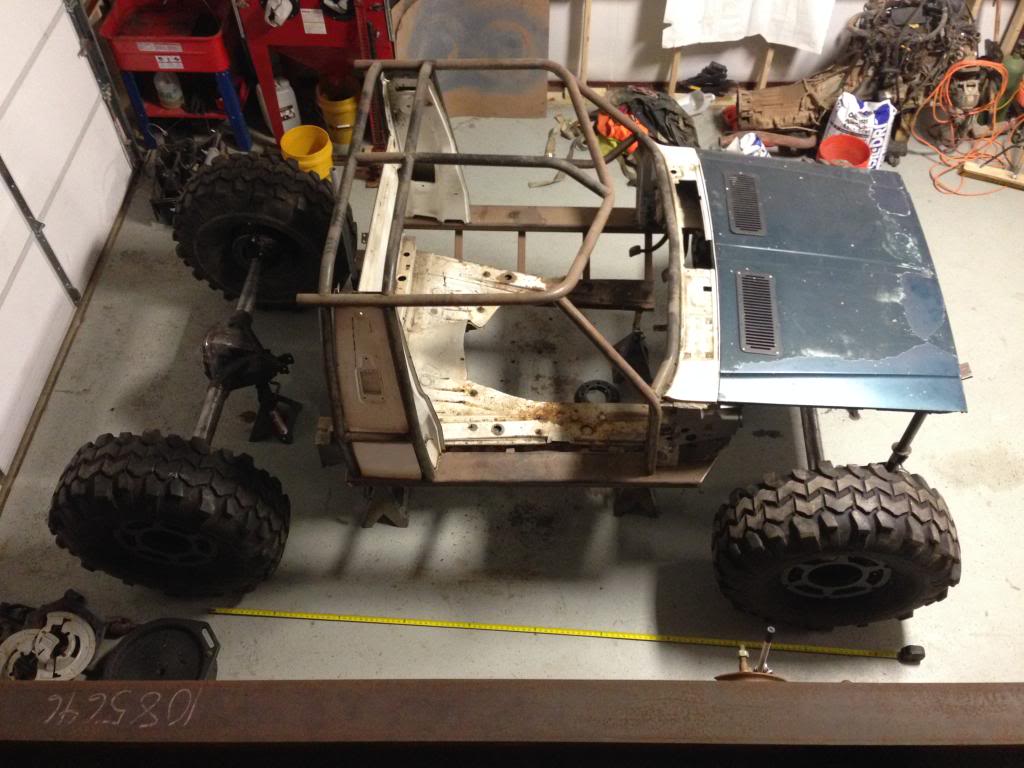 got our plasma table running again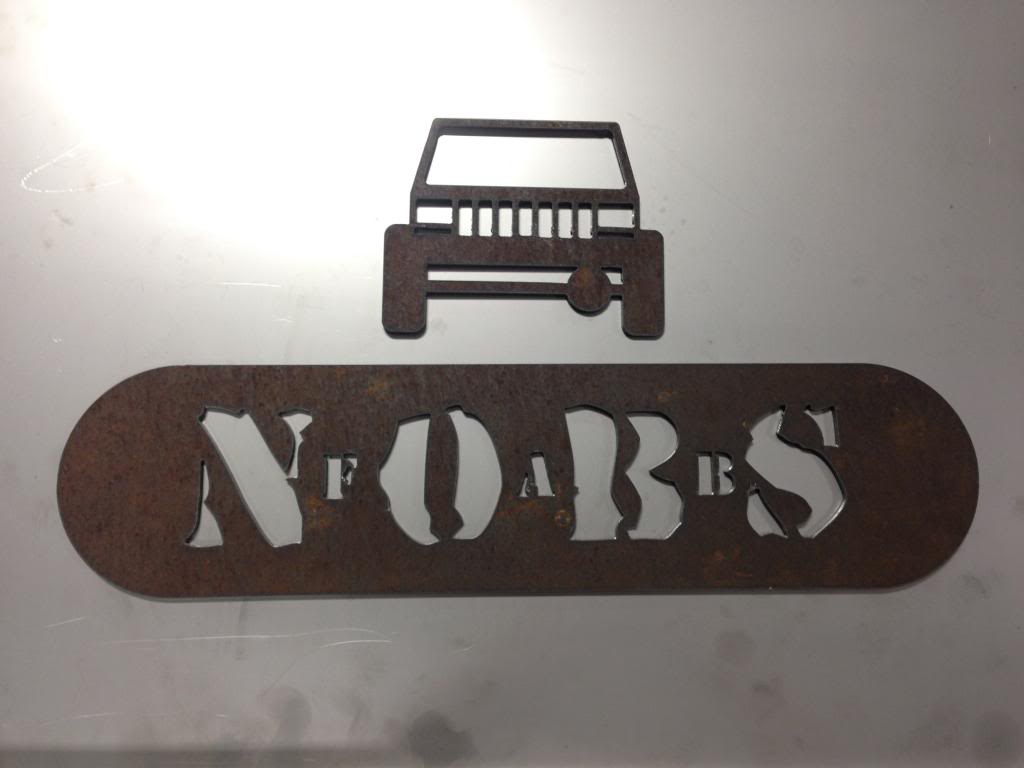 I had started thinking about making up the crawl ratio i was going to lose going from the 465 to the aw4 so got a really good deal on a brand new box for rocks kit and NWF triple stick set up. First I had to switch inputs in my doubler, luckily i had a broken 231 from the donor XJ
I had purchased another 300 a while back with a DEO flip kit to solve part of my 465-300 problems. had to woller out 3 holes to get the 231 clocked how i wanted on the pass side so i could get the 300 to fit.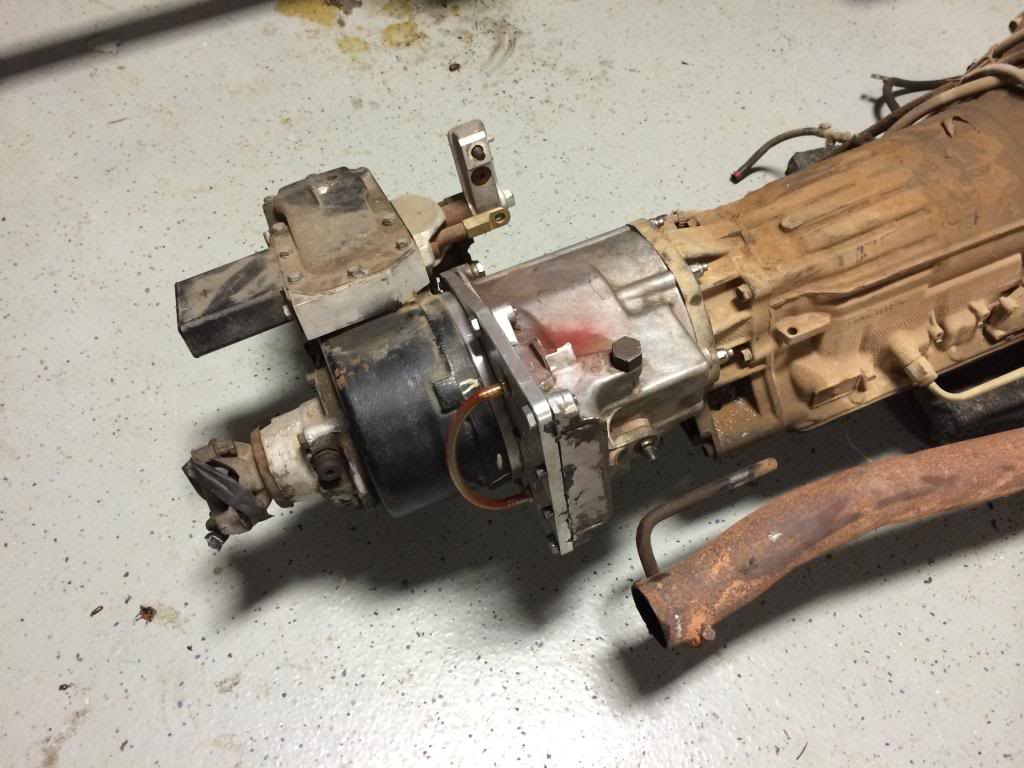 I under estimated how long this drive train is... spent too much time staring at the 350-465-300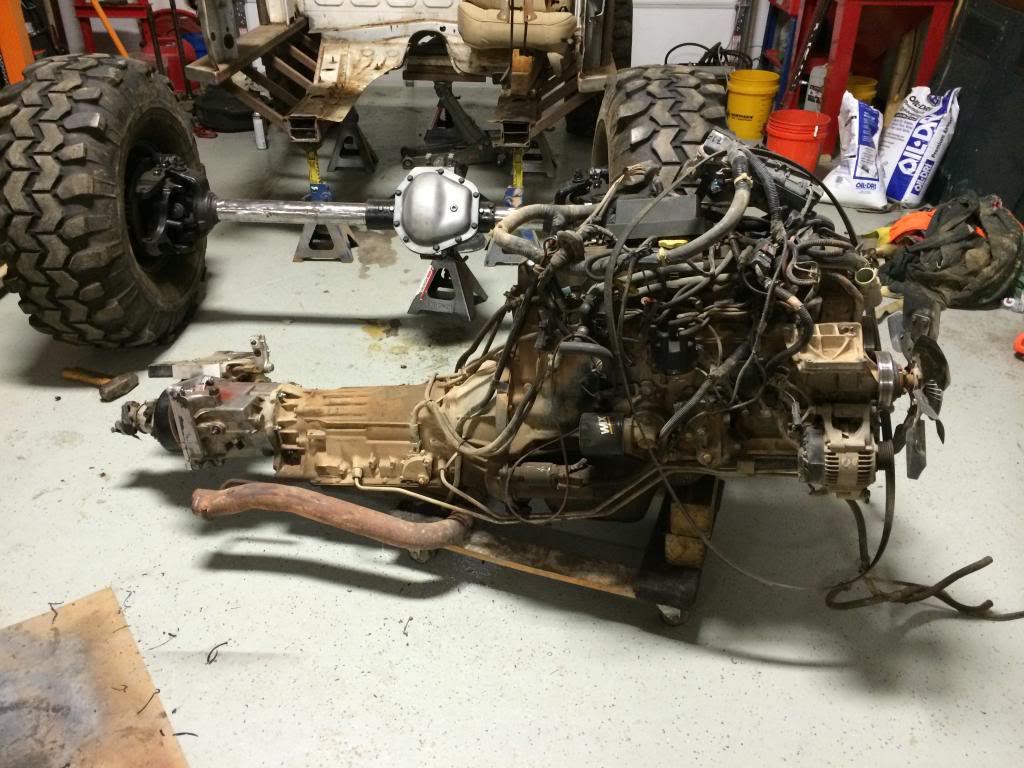 so even tho i have acquired 8 jack stands over the years i was running low so i reused the wheel center from the H1s, cut center plates and gussets out on the plasma table and built some permanent ones to hold the MJ at ride height.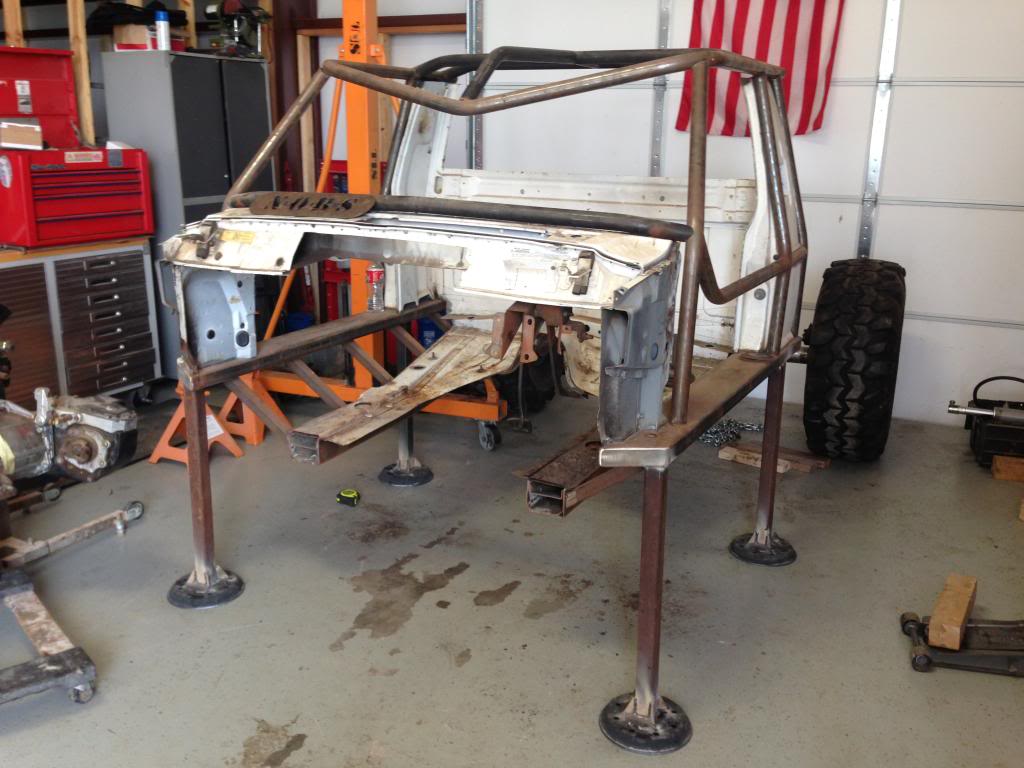 and then i came up with this really good idea to repair the rust in the floor...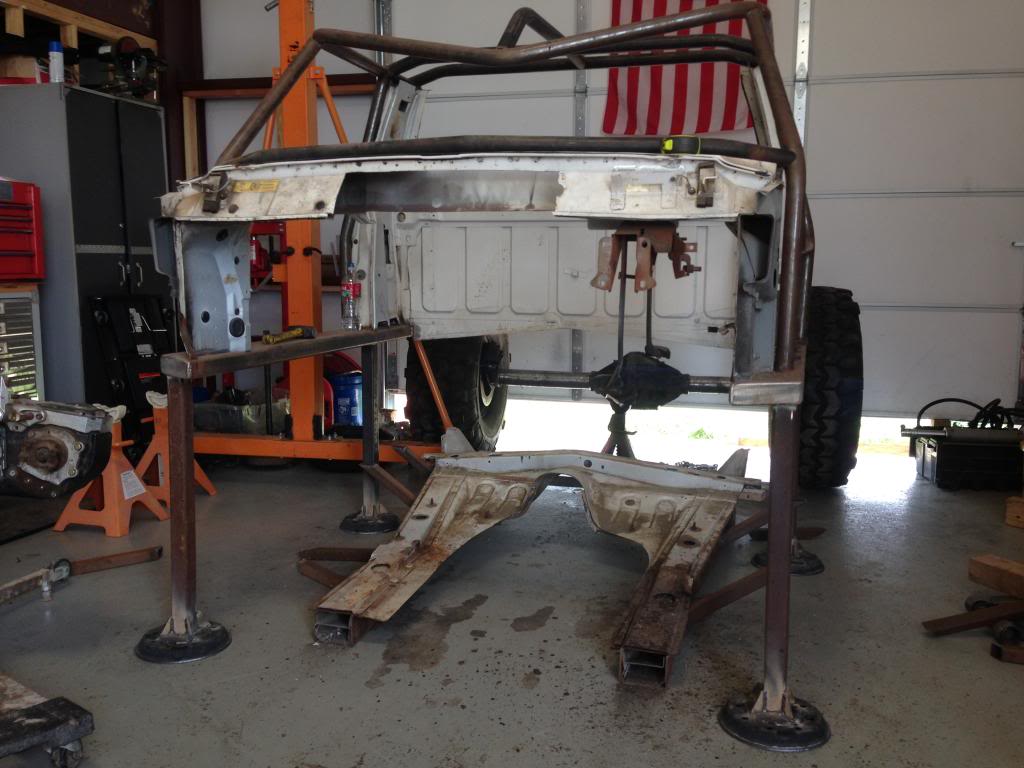 now i know what yall are thinking... wtf is the point of even building this thing? its nothing left of an MJ! why not just build a buggy and get the hell out of the cherokee section?! which to a point yall have some merit. so let me explain... one thing i noticed this year at KOH was the lack of clean hard core unibody rigs, and no im not talking about in the race, im talking the every day people that come out to watch and wheel. Another thing that blew me away was the amount of attention and positive feed back we got while driving around in LilNickTs XJ. One thing that every "XJ Buggy" in this forum has in common is they all maintained some portion of the unibody frame rails. and for multiple reasons that i completely undersatnd, most evolved over time into a "buggy" so suspension, drive train, all that was already in place and retained. very few have started with a bare chassis, ONEtonXJ is the only one that comes to mind but he maintained the majority of the body, factor firewall and engine placement. do to the direction this build has taken i was left with no firewall limitations, 75% of the frame was already removed and the rust repair was not something i was looking forward to, and why? All so i could still have the unibody? why not get rid of it so im not limited by anything but the drive train for proper link geometry? now back to whats the point? I think I saw maybe 3 MJs at KOH, im sure there were more, but the biggest i saw was maybe on 37s. I really want to finish this rig and while there isnt much of the original MJ left, what i have planned should bring back a lot of the MJ look, and yes its pretty much a buggy at this point, but im OK with that. and i wont have to worry about the unibody starting to crack 5 years from now after beating on this thing like i plan. agree, disagree, as you can tell from previous posts, i dont really care. Im really excited about the direction this is going and finally excited about finishing a rig again. sorry for the long soap box and back to pics!:beer:
I got the drive train in place, wheel base mocked back up, settled in at 115 with a 20" belly, which is a little longer than i wanted but with the coil overs i can easily raise ride height if im constantly bellying out, or step up tire size when the 39.5s wear out. should be room for 6 up/ 10 down, might be room for 8 and 8 but i think im gonna leave it at 6 just in case i do decide to raise ride height later on.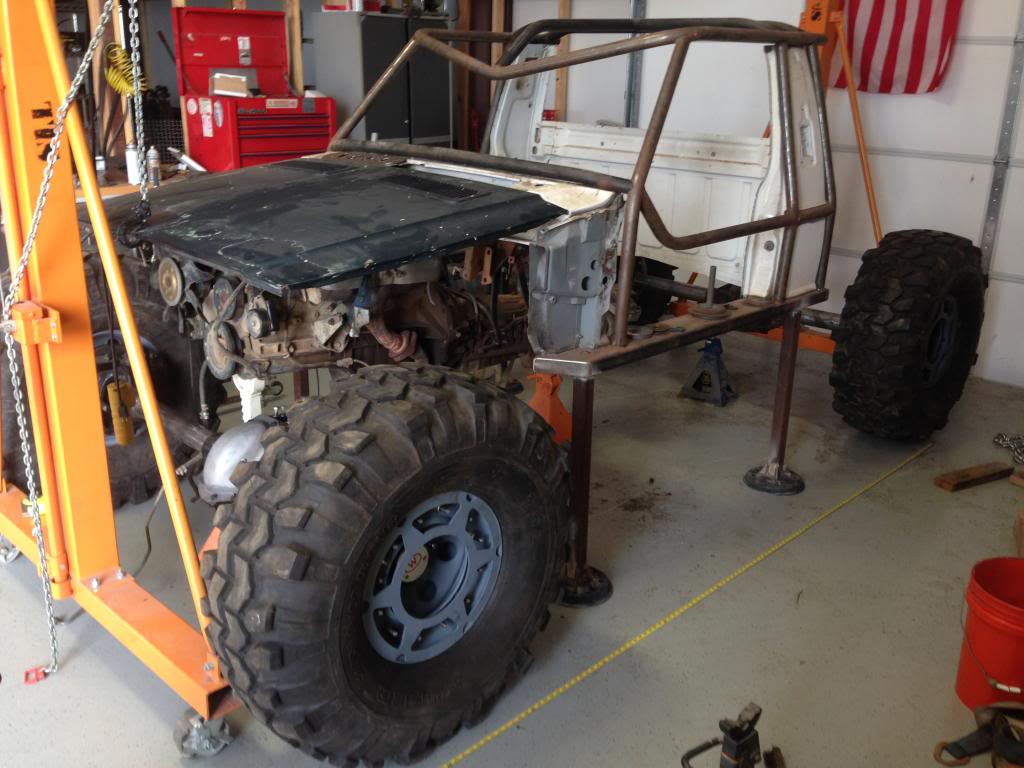 the plan is to narrow the hood and grill, winch is going to sit behind it with the light bar frenched into the top of the grill. thinking about leaving the mechanical fan in and building mounts the the tranny and power steering cooler right in front of it so i dont have to run lines all the way back to the radiator behind the cab.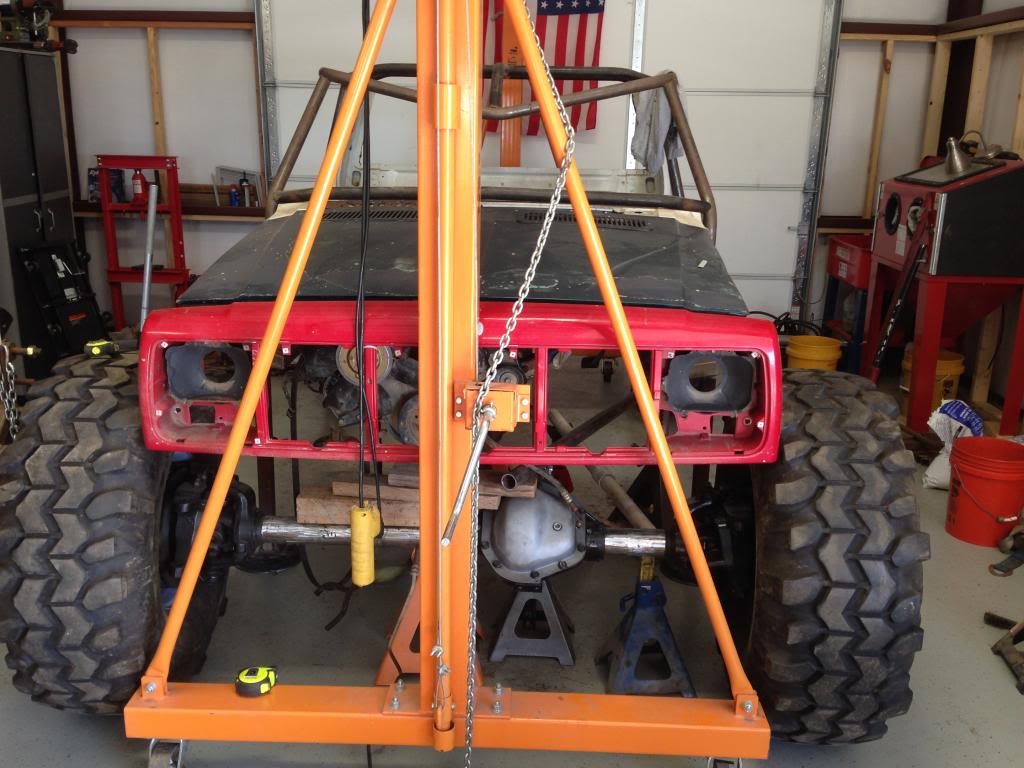 took the cage from bend tech and imported into autodesk inventor and mocked up the drive train and axles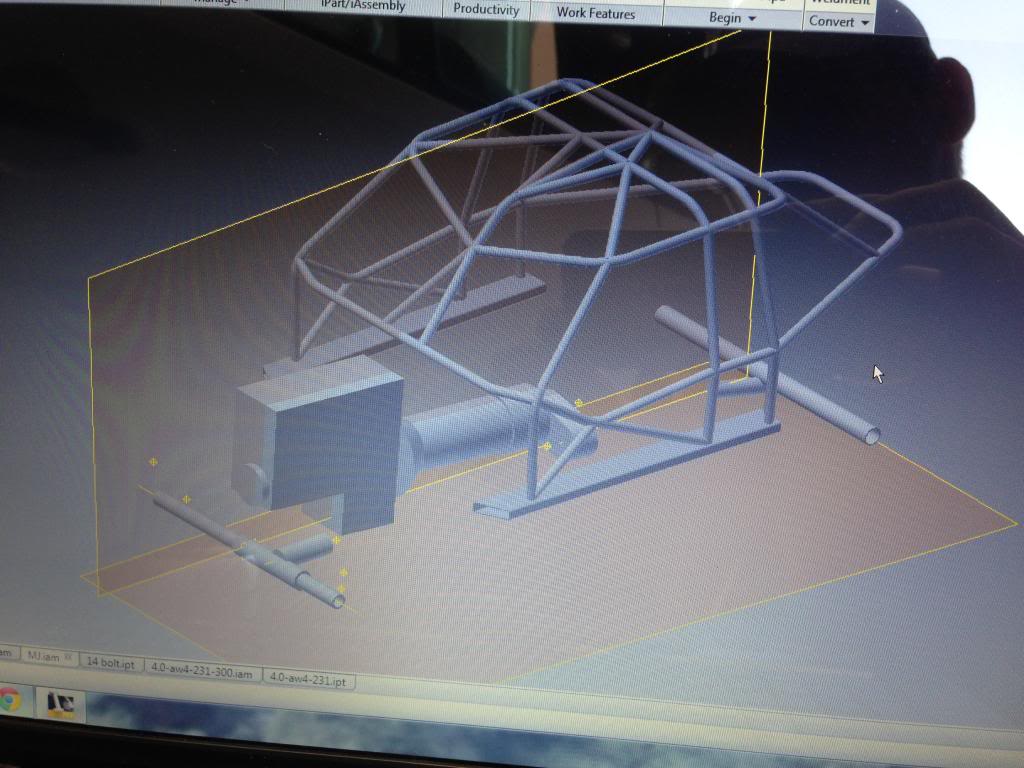 Geometry front and rear, will be adjustable up and down about 10% each way from this point. pretty happy with it, excellent pinion tracking in the model, flat roll axis front to rear and a negative roll axis angle at each axle, should be a very stable and predictable set up.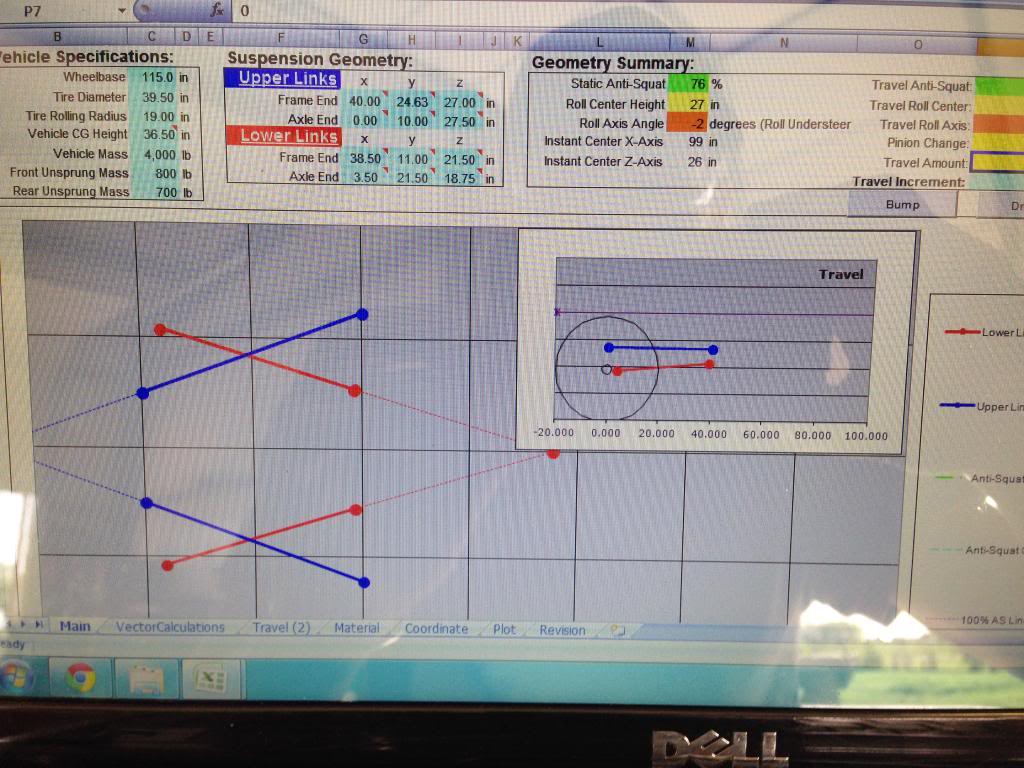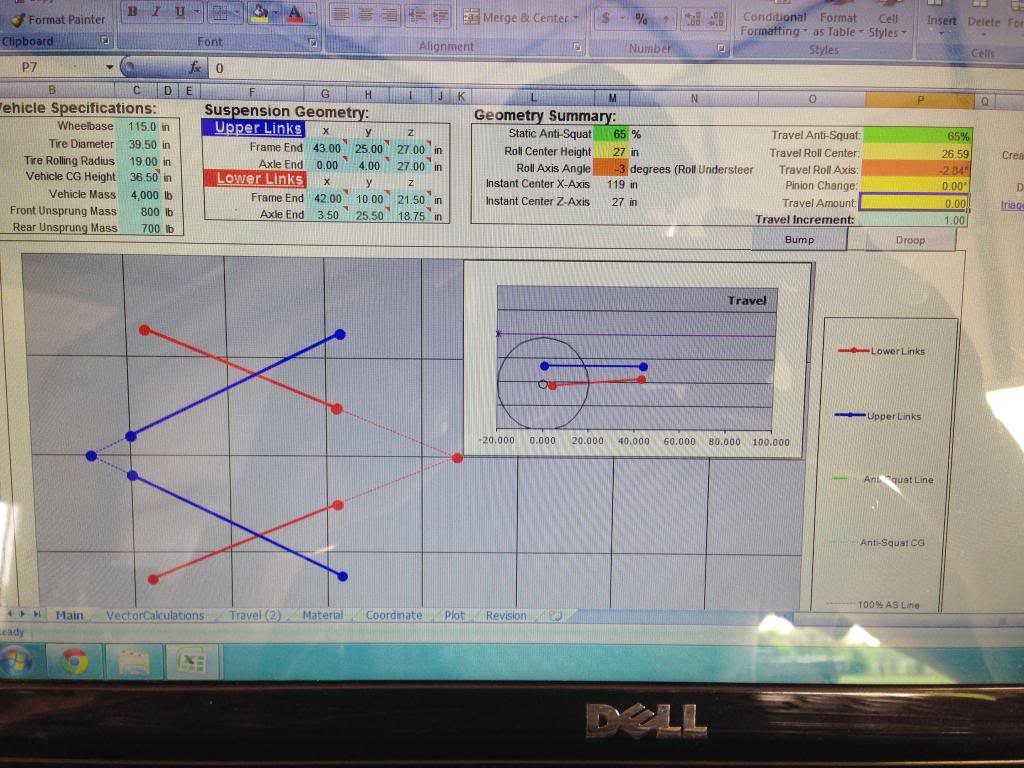 so the plan from here is to build a plate subframe, kinda keep the "unibody" theme and ive always really liked the extra craftsmanship it shows when people run them on their buggy builds.
so this is just in mock up stage right now, its a very simple representation that mainly is going to be used to verify the model and drive train placement so i can mock up links and check clearances throughout travel before i spend a bunch of time and material building the final version.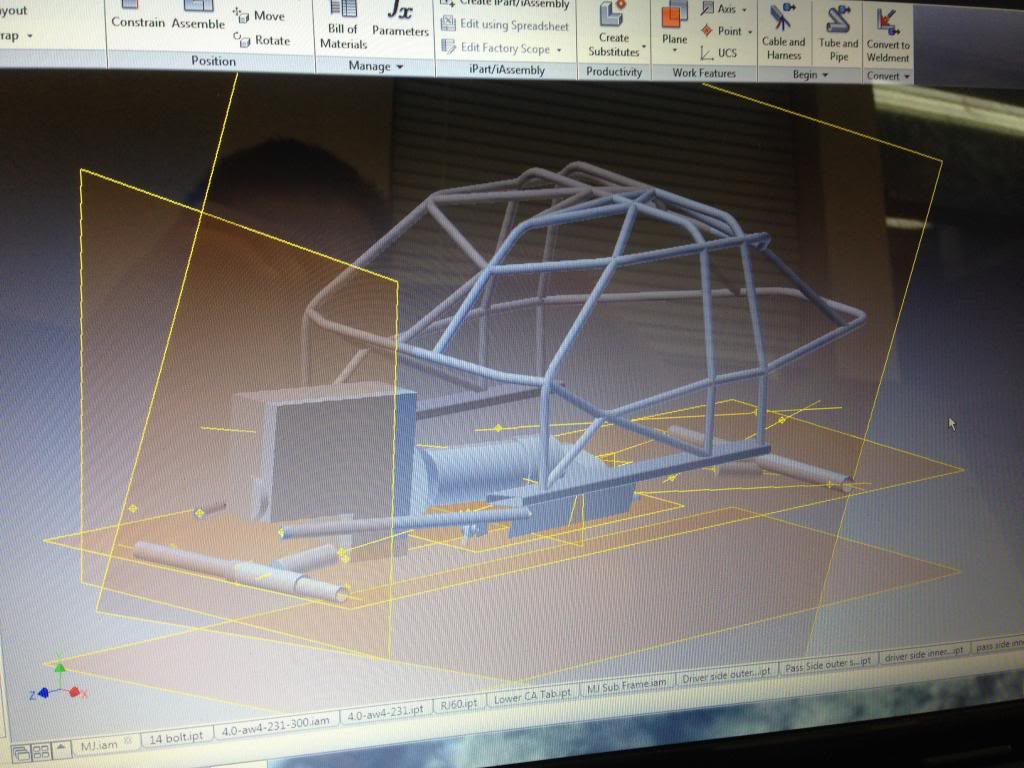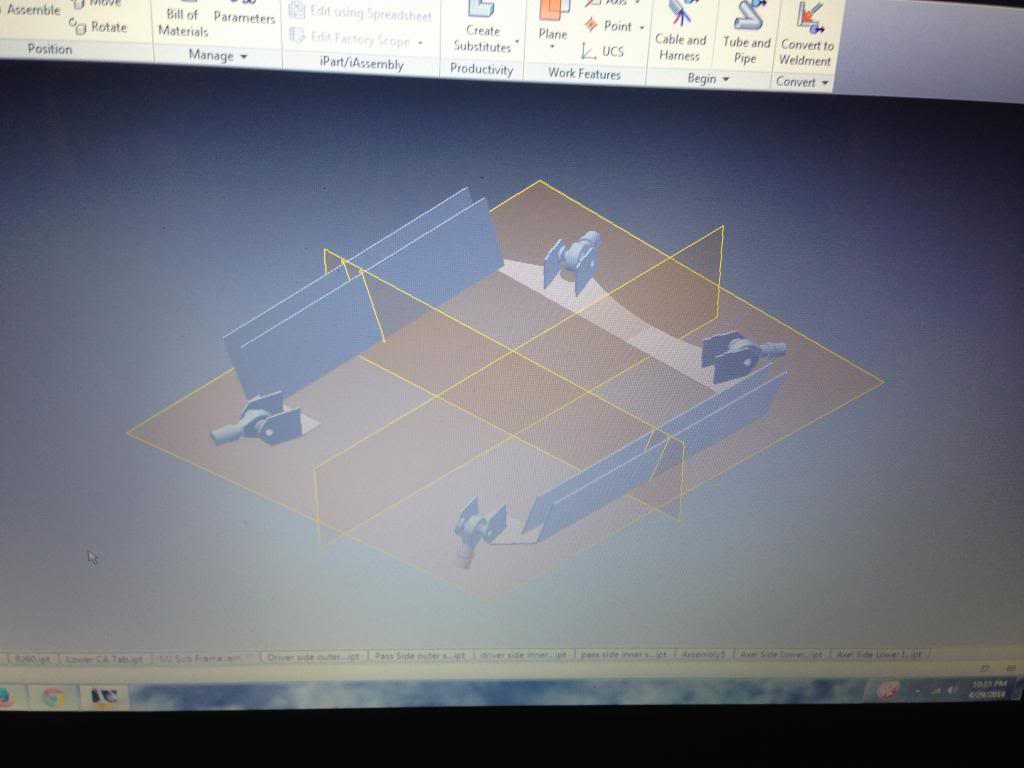 cut it out on the plasma table using some .125" i got for free. still fairly new to using the cnc so i also started experimenting with self jigging brackets. turned out pretty good, was in a hurry so didnt fully vet the drawing first so theres a couple tabs that moved do to drawing adaptivity that changed...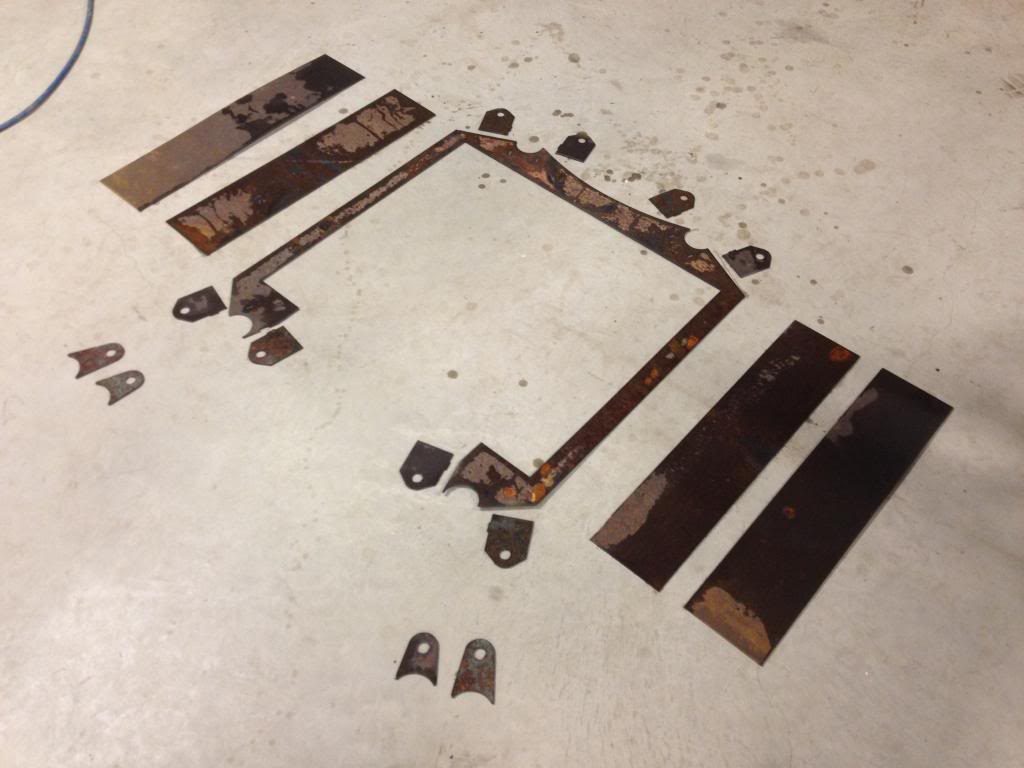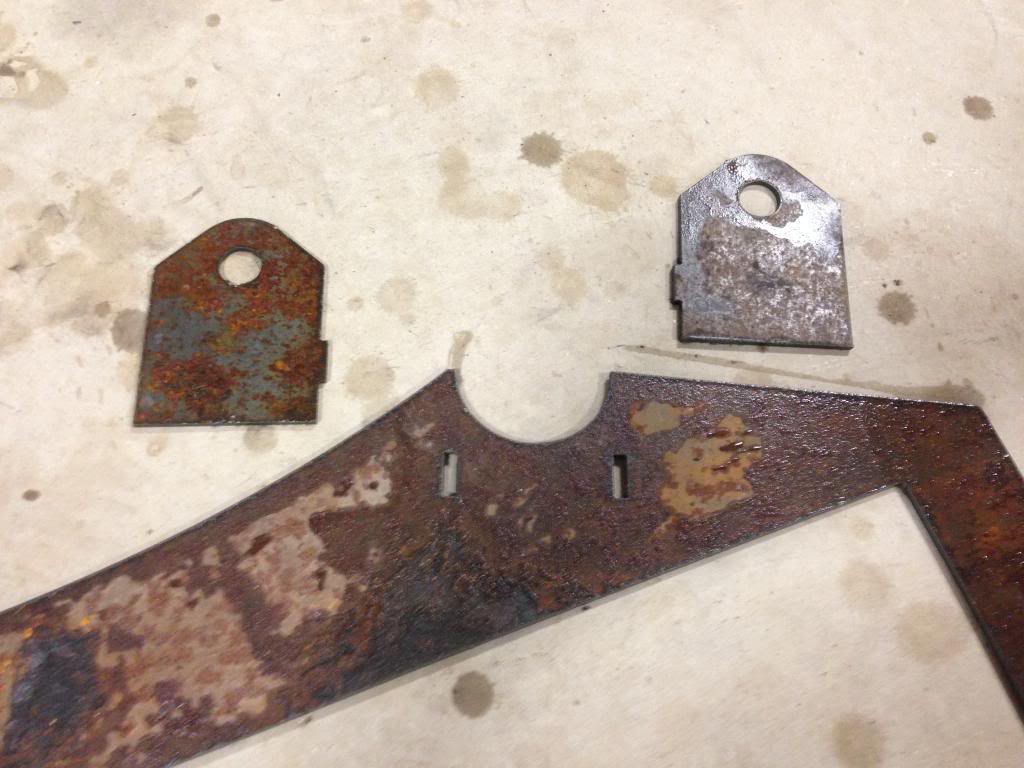 assembled and installed, appears to clear everything, i need to take about an 1/8 out around the tcase but pretty happy for the first shot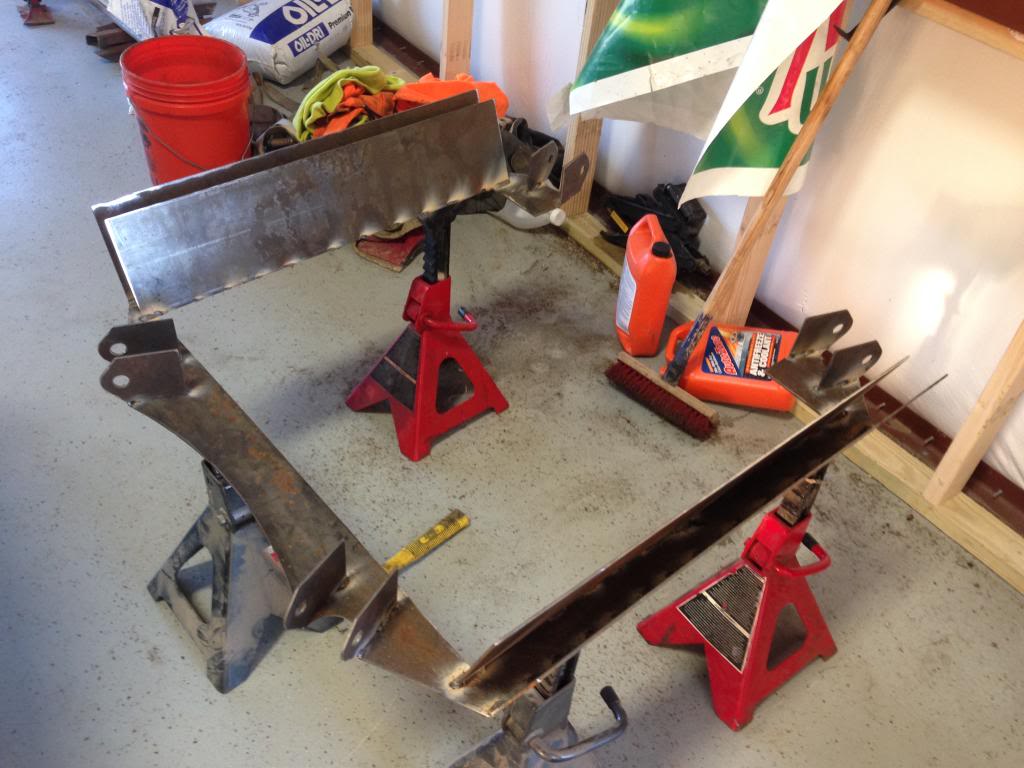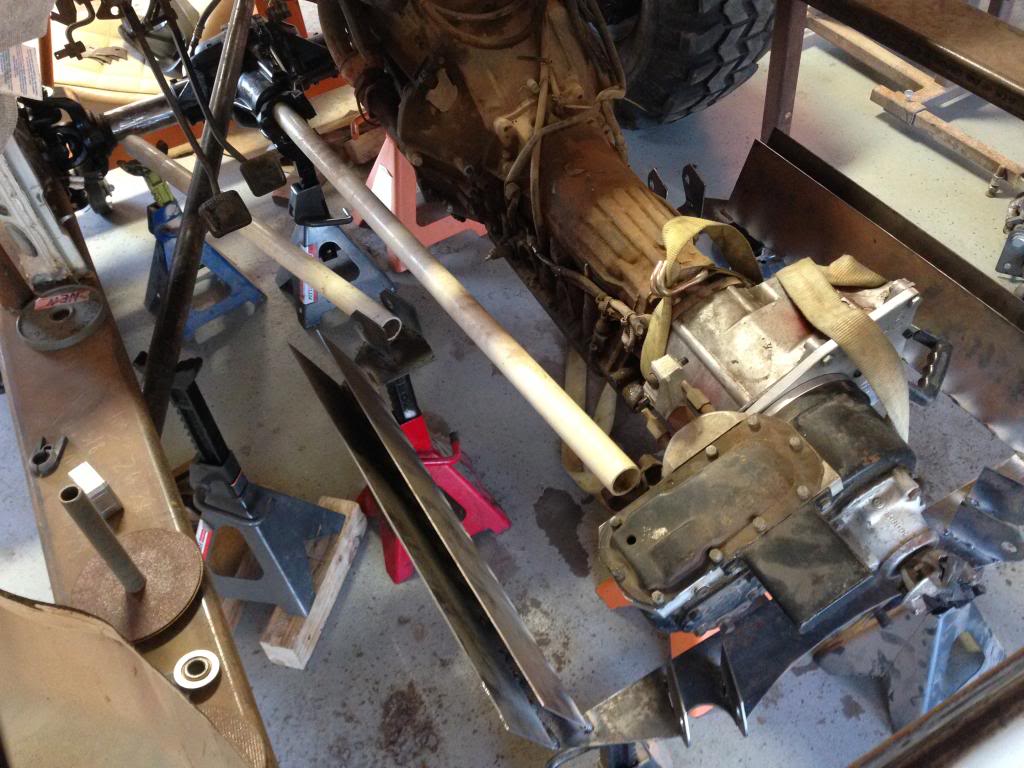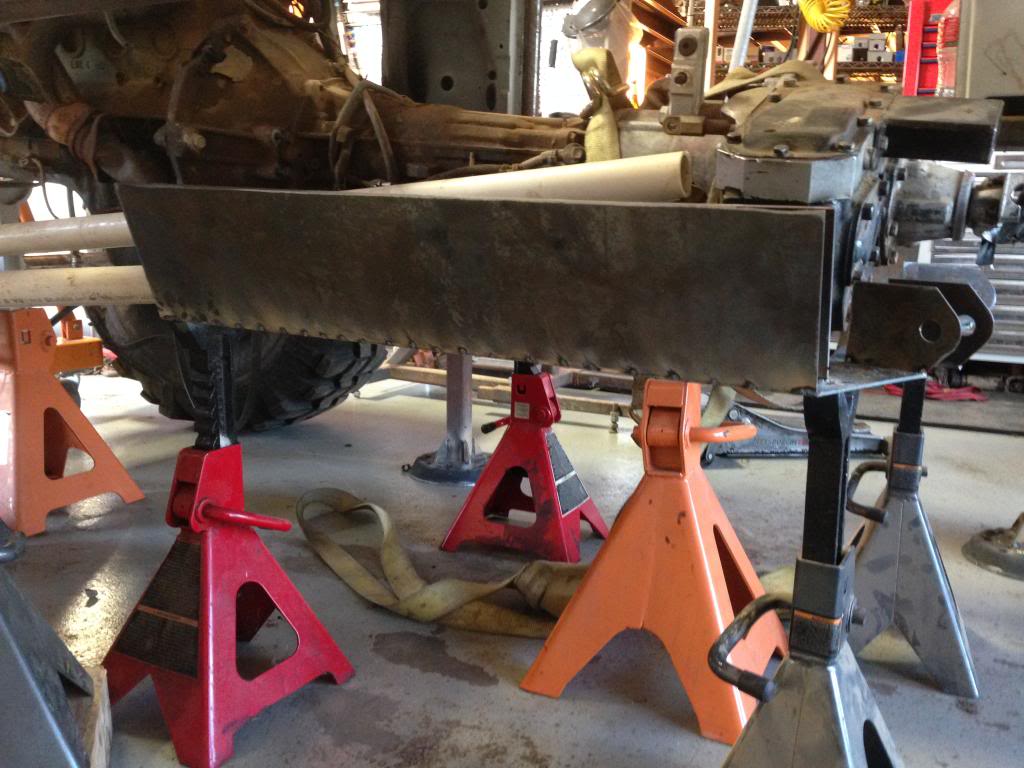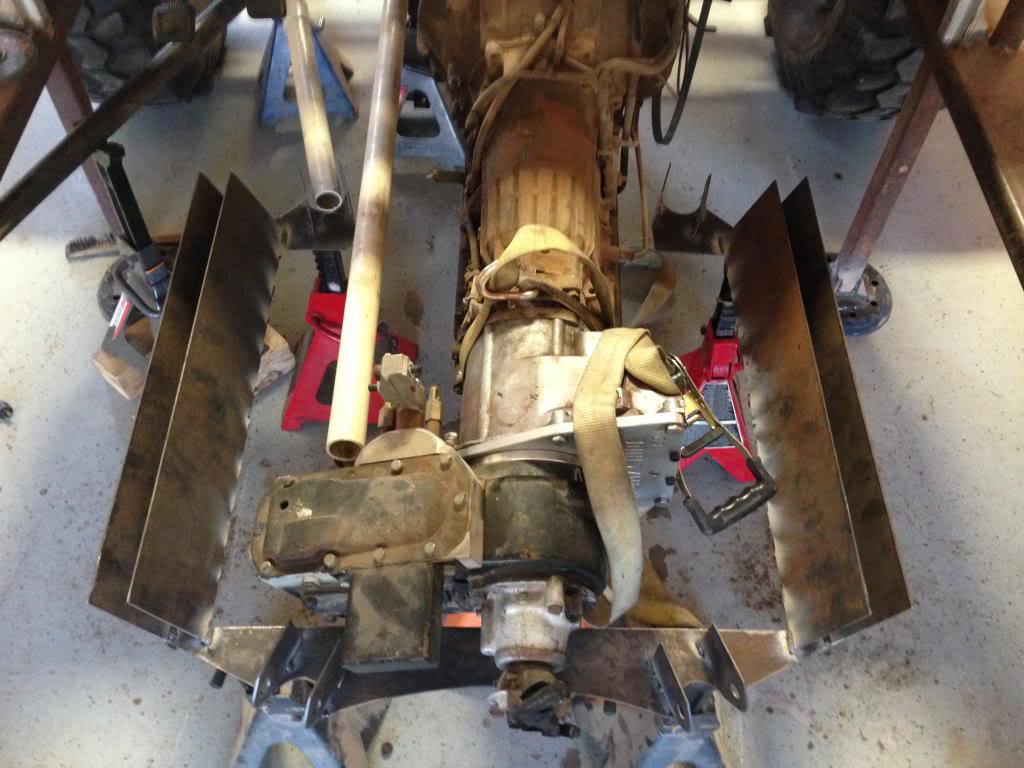 so i left the front of the subframe open to clear the drive shaft, i cant run a two piece and get the 10"s of down travel im shooting for. Im going to support the front lowers with a tube that ties into the dash bar, this will also act as the edge of my dog house/firewall.
final piece to bring us up to current, the sides of the subframe will cradle an 1.75 tube that will run front to back and serve as coolant lines.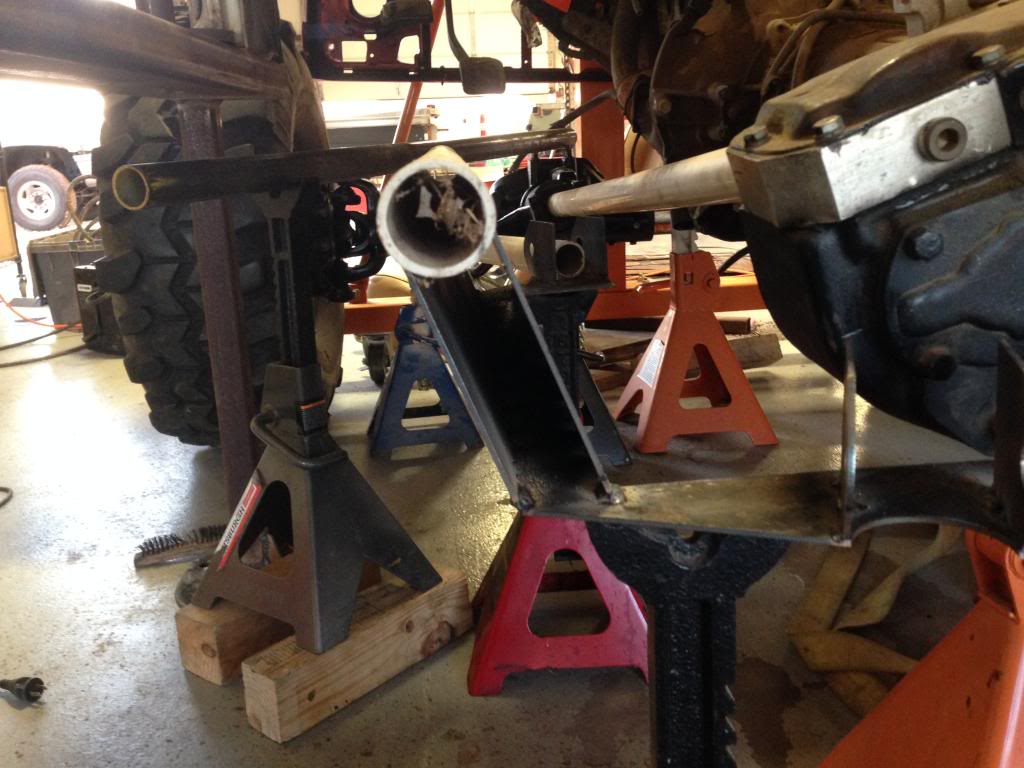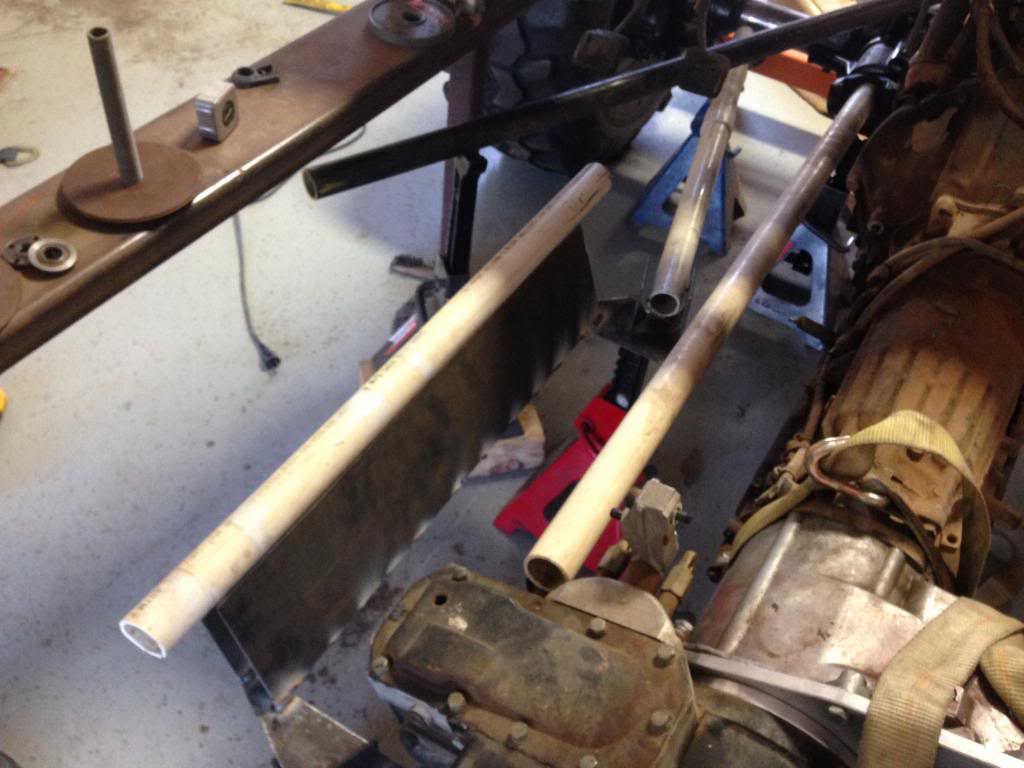 That brings me up to last night, got a lot done in the last month or so and things are moving along at a good pace.
5-18-2014
Nick came down to help hammer out some details on the chassis this weekend, got a little distracted at the 4wp expo... Which was kinda disappointing... But non the less got quite a bit accomplished.
Main goal for the weekend was to get the frame rails built, which was a challenge to say the least.
Made a couple small changes to the geometry, and moved the motor back and closer to center.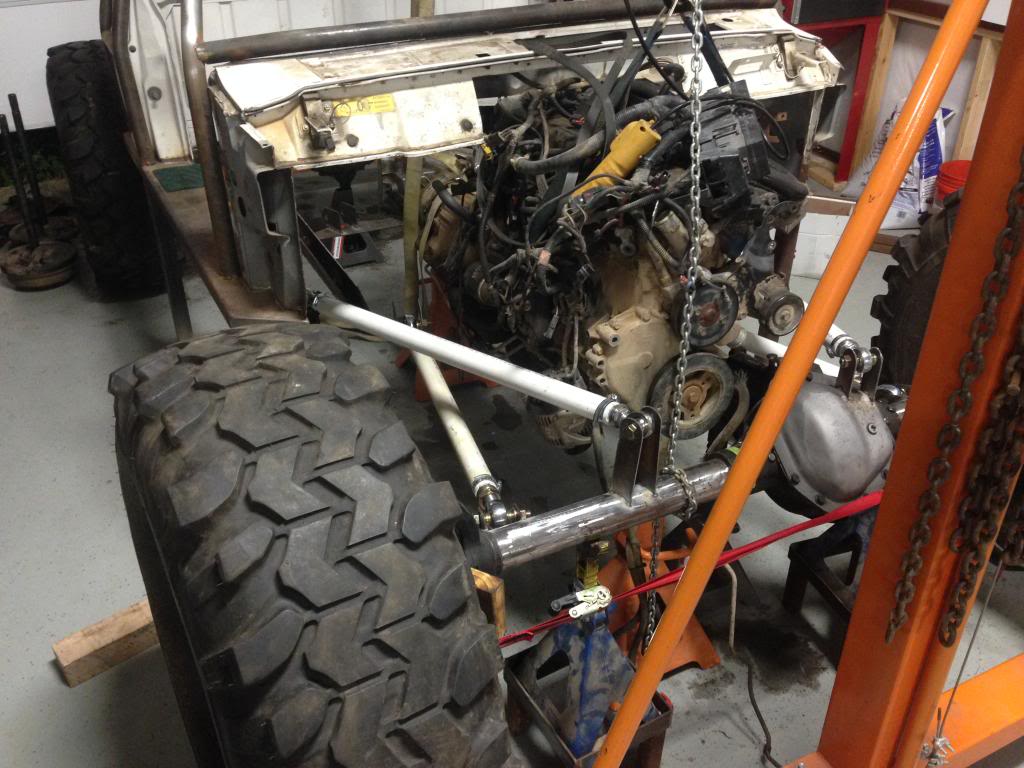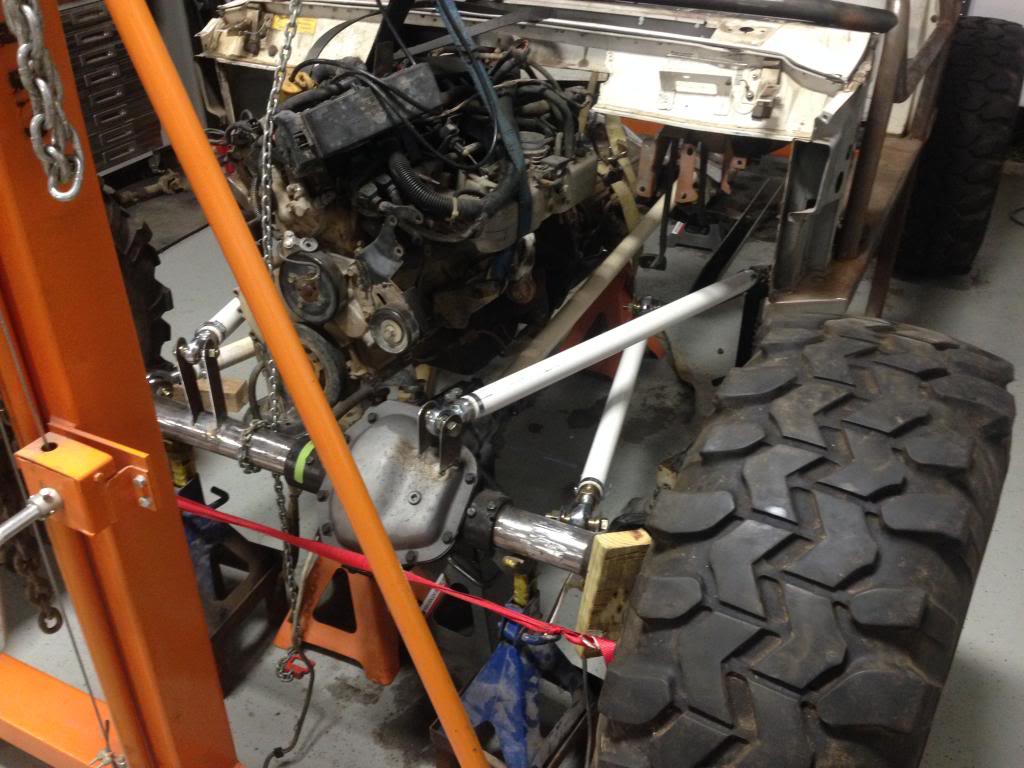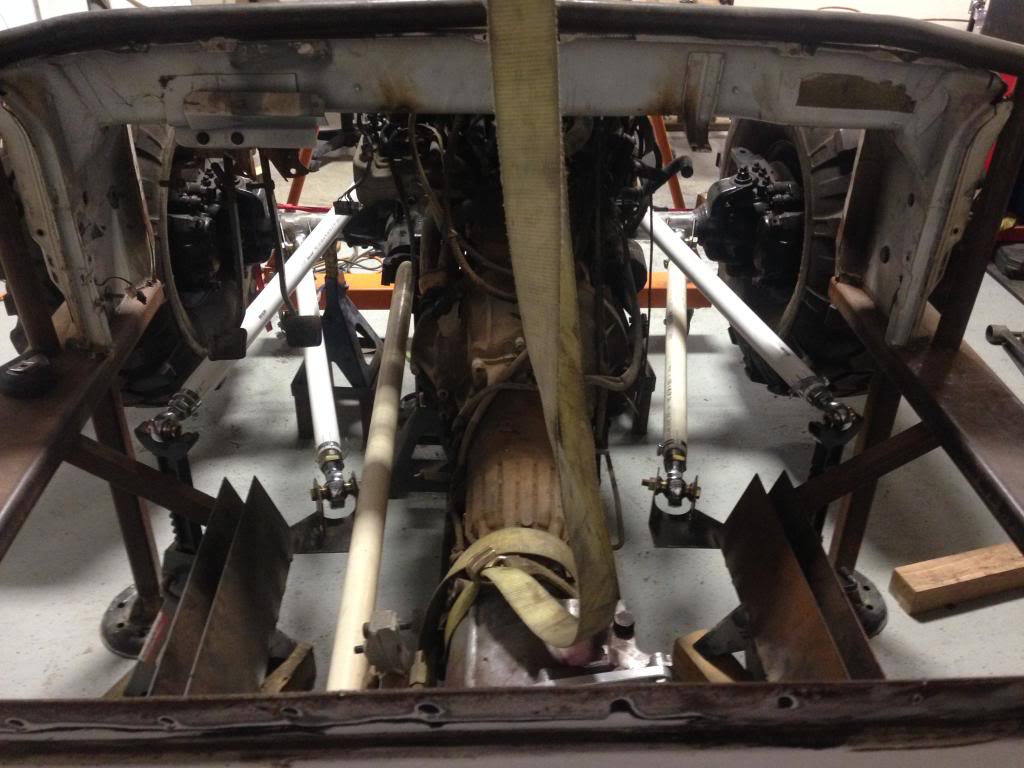 Axle at full bump, 6" up, might have been able to squeeze 8" out of it but would've made things really tight. Gonna stick with 6" for now because I'm not settled on the 20" belly and may raise the rig later.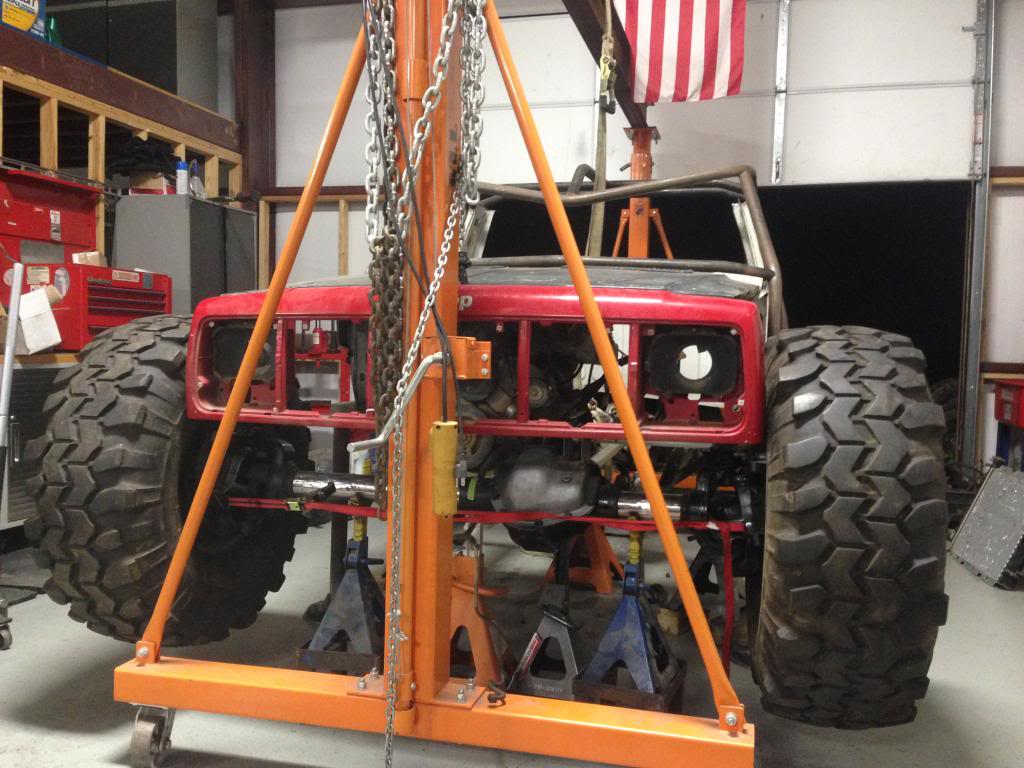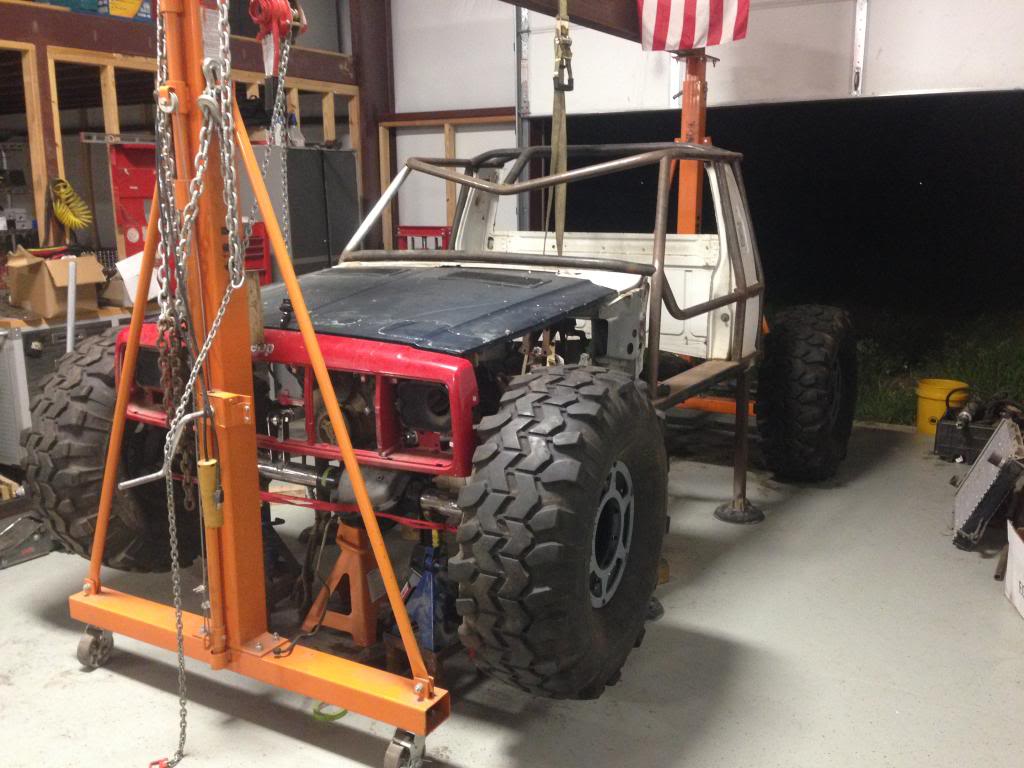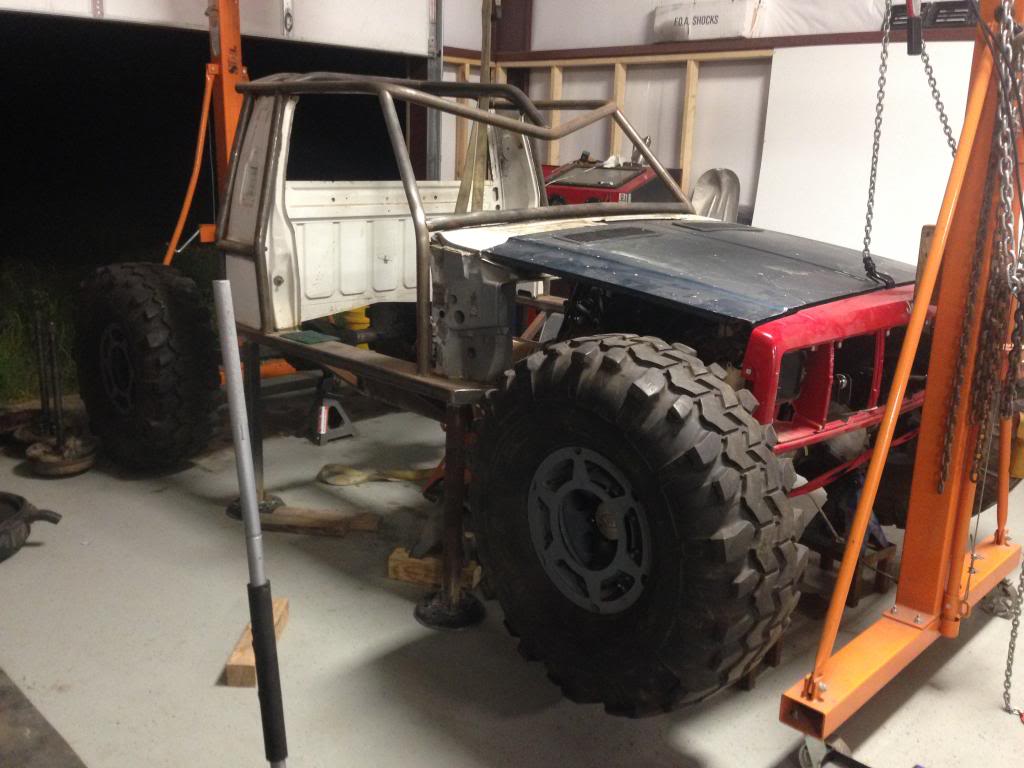 Added some more to the bend tech model.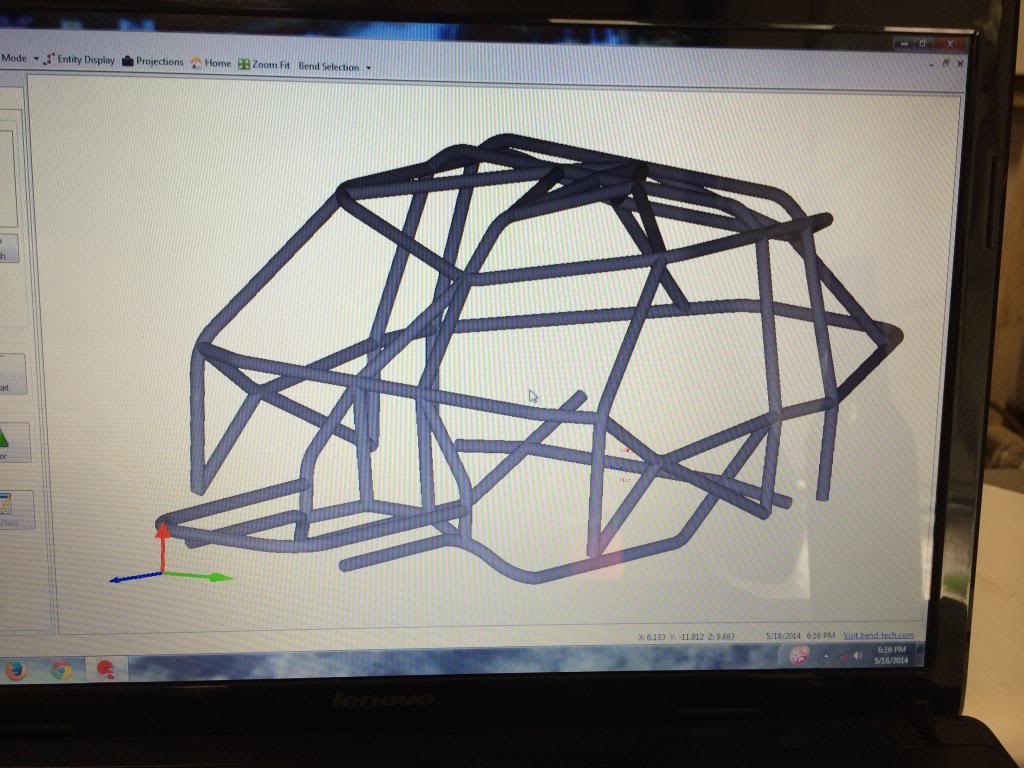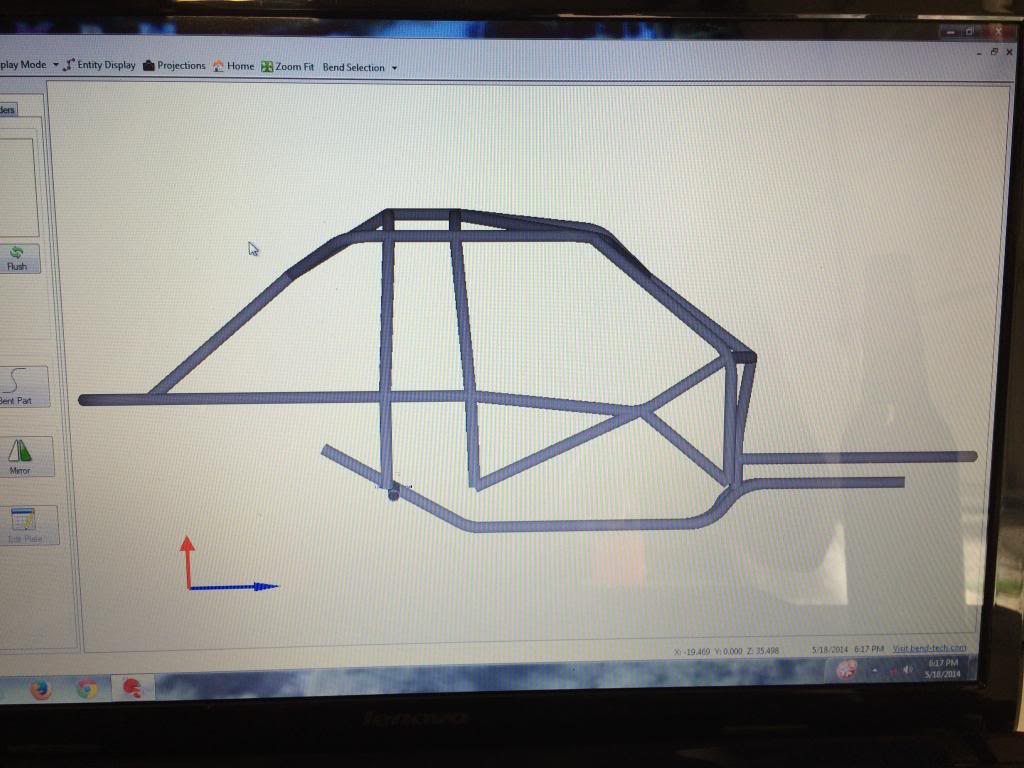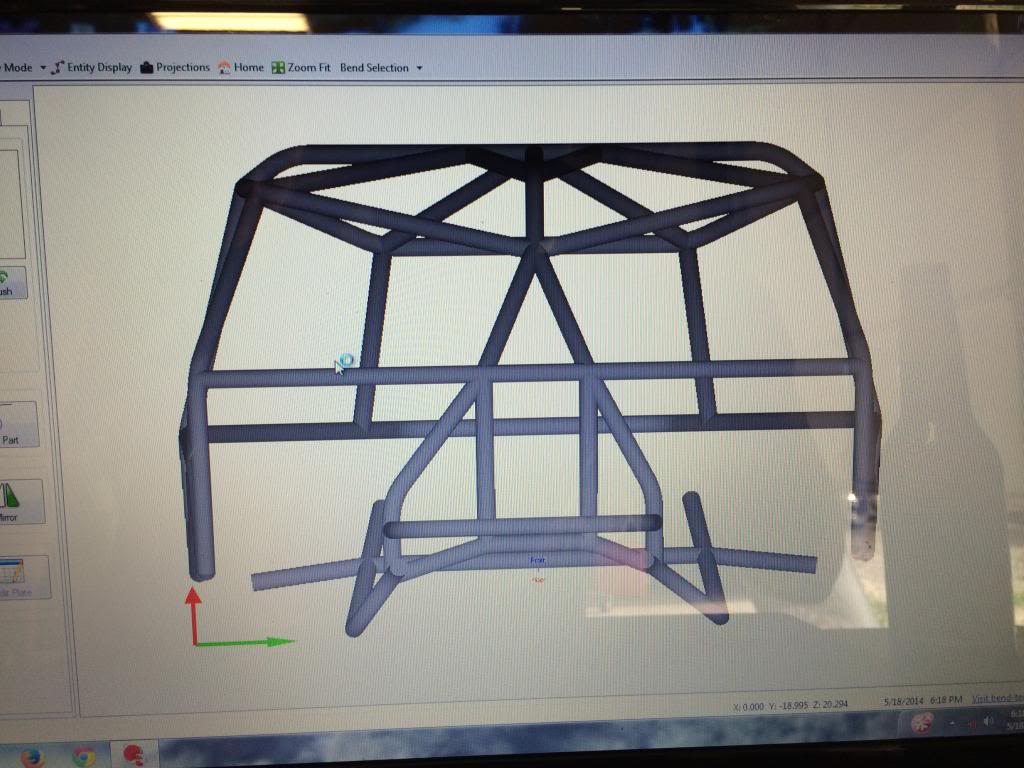 Got both coolant lines bent up before nick had to fly back to little rock.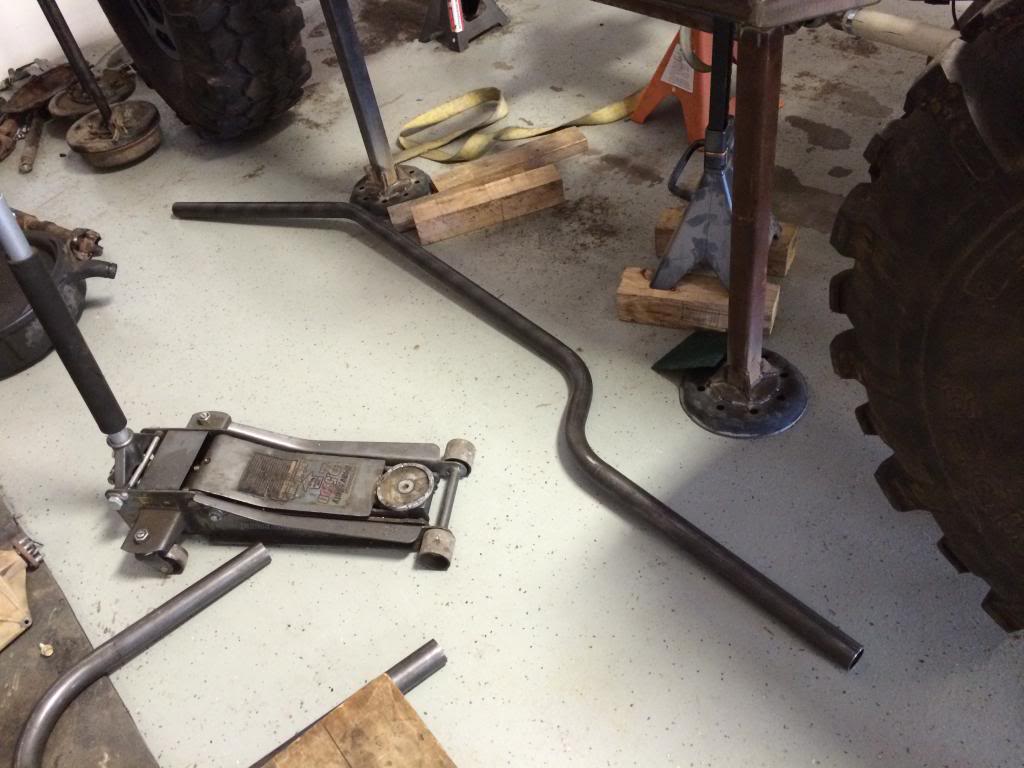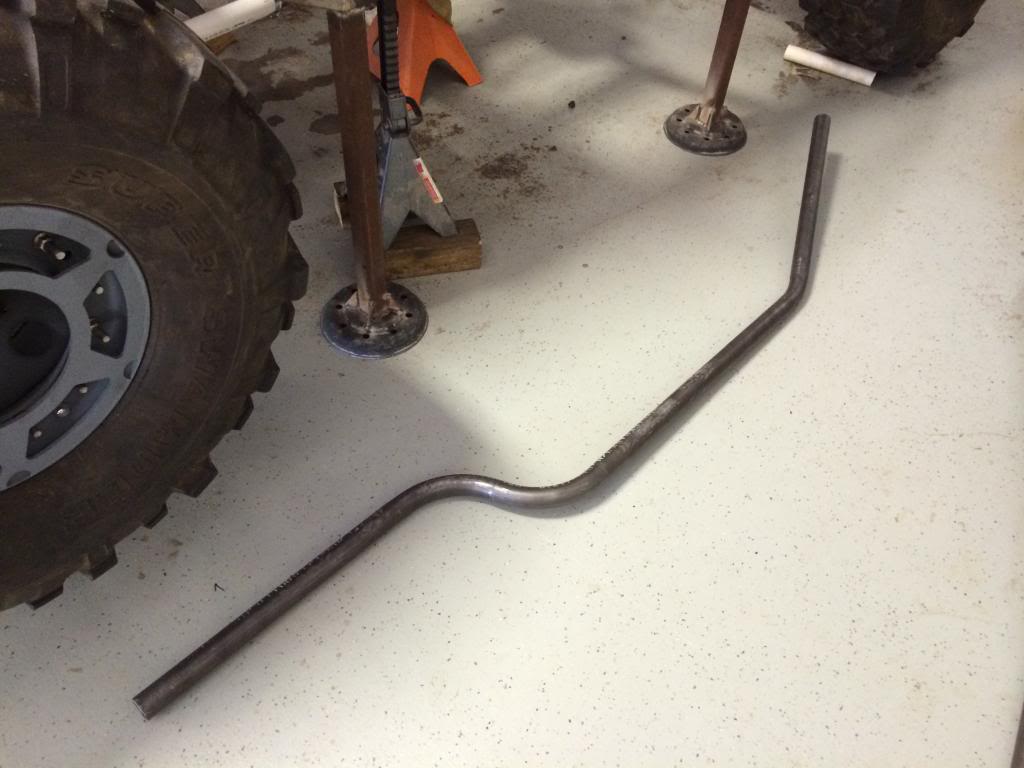 I think I've done more out of plane bending on this build than anything else I've done...
6-7-2014
Finally got something done tonight since our wheelin trip this weekend was cancelled. Been a lapse is progress since nick came down to help. Had a big project at work over Memorial Day, the new truck needed some repairs/upgrades, and my GF graduated college so we've been busy job hunting and celebrating. But I did pick up a miller 252, so no more flux core!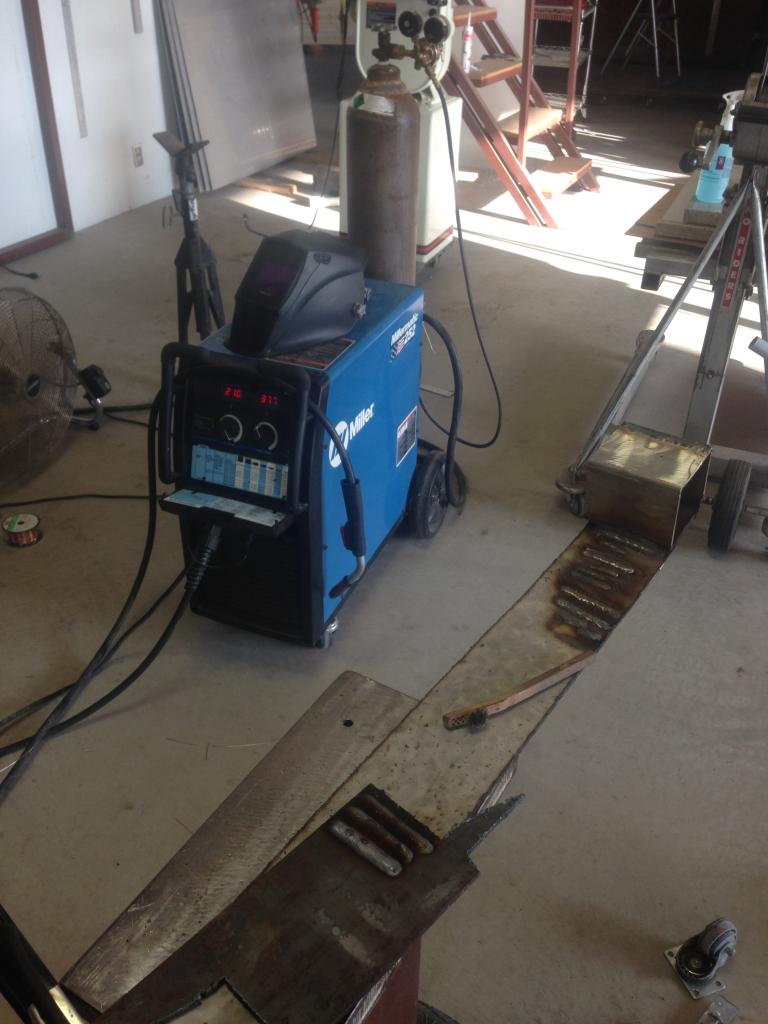 I made some changes to the cage design. I picked up a set of front fenders a couple weeks ago and after mocking then up some ideas started flowing around on what to do with the cage to bring back some of the MJ look. I took out the center diamond and added a second roof halo. I feel it really helps bring back the shape of the MJs cab. I also changed the rear hoop to mitered corners and am going to build square LED tail light boxes to square off the rear. Just need to pick up a CJ tailgate to get the final dimensions.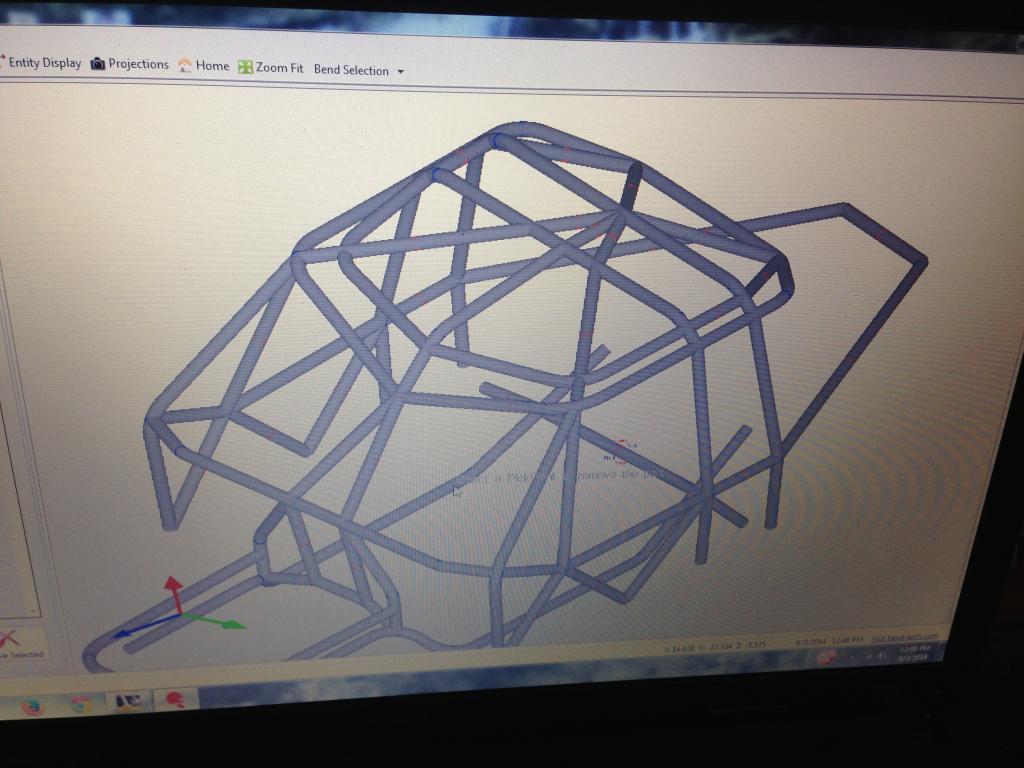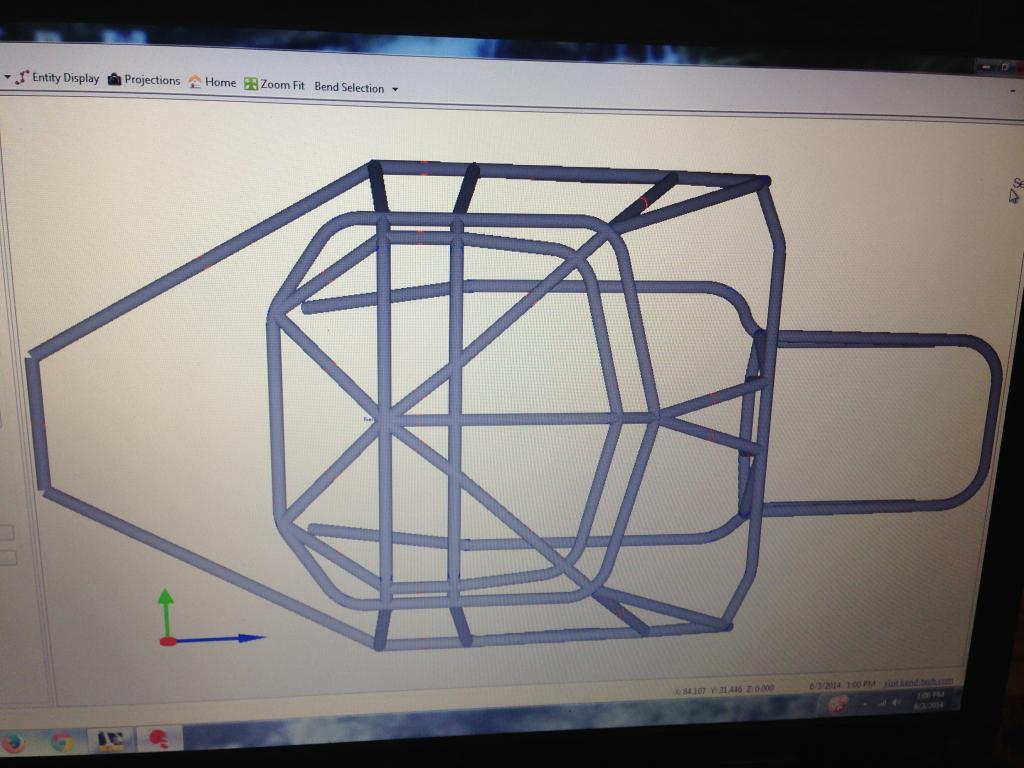 Then tonight I got the pieces me and nick bent up for the coolant lines/frame rails fit up and started the rear cross bar.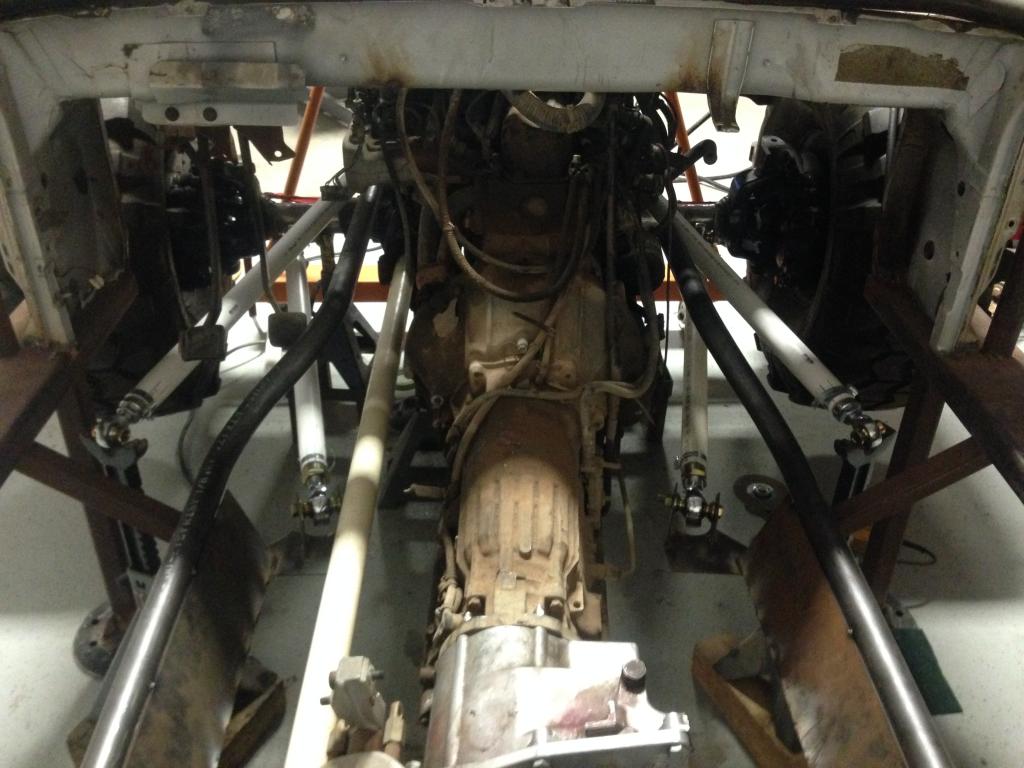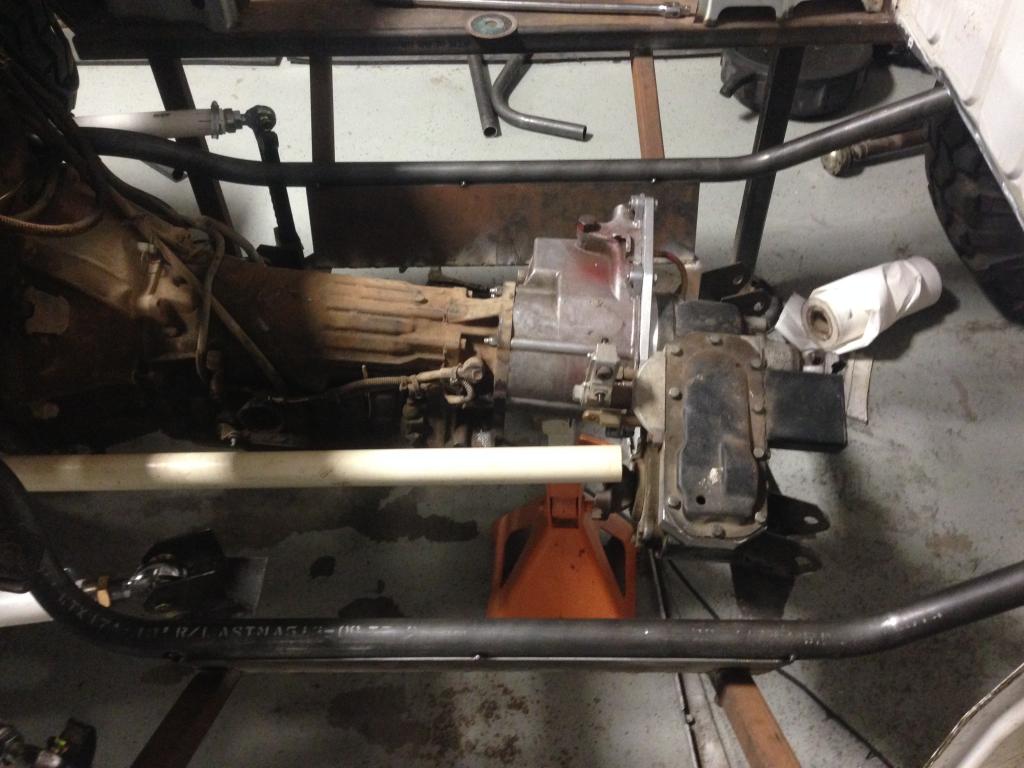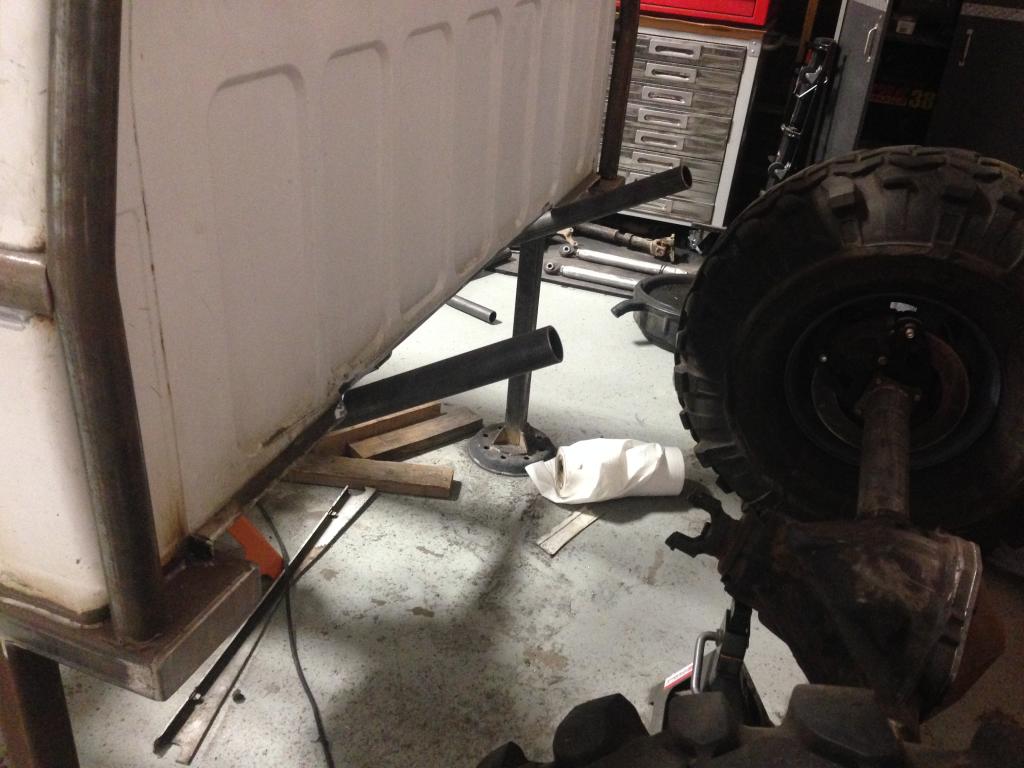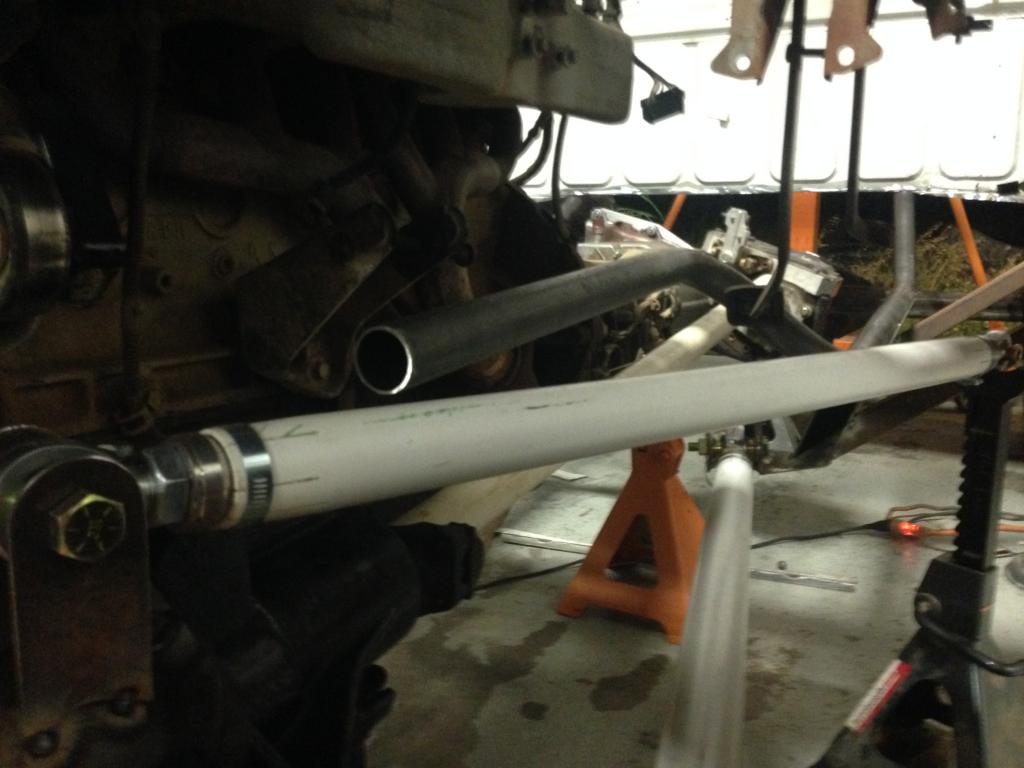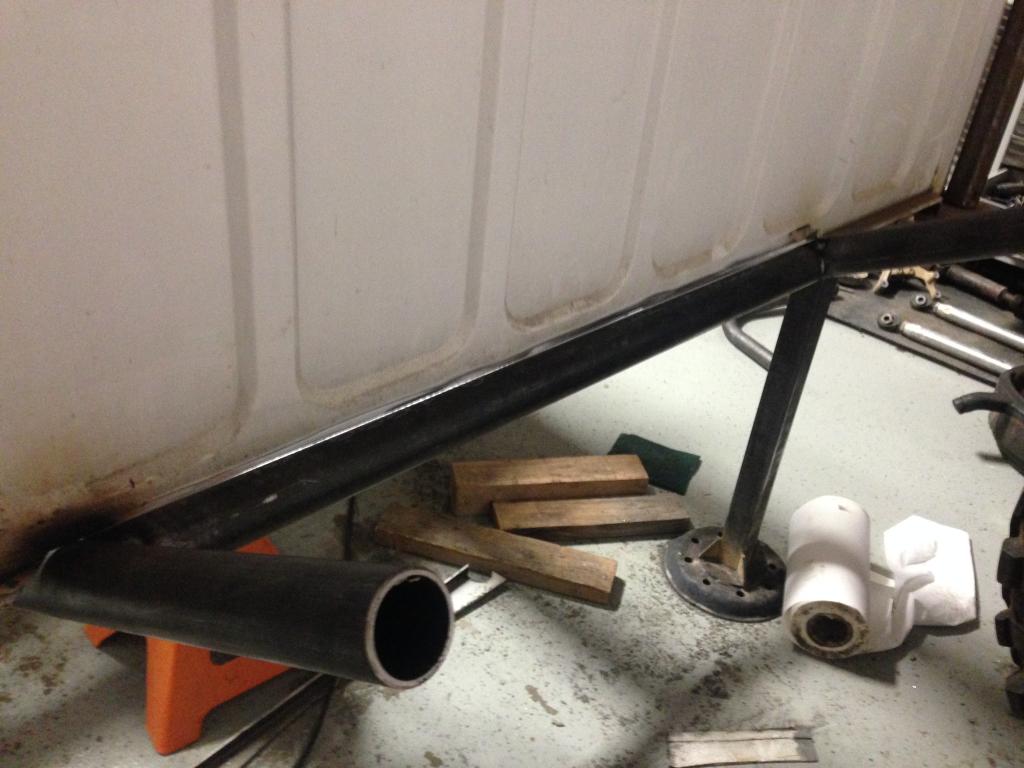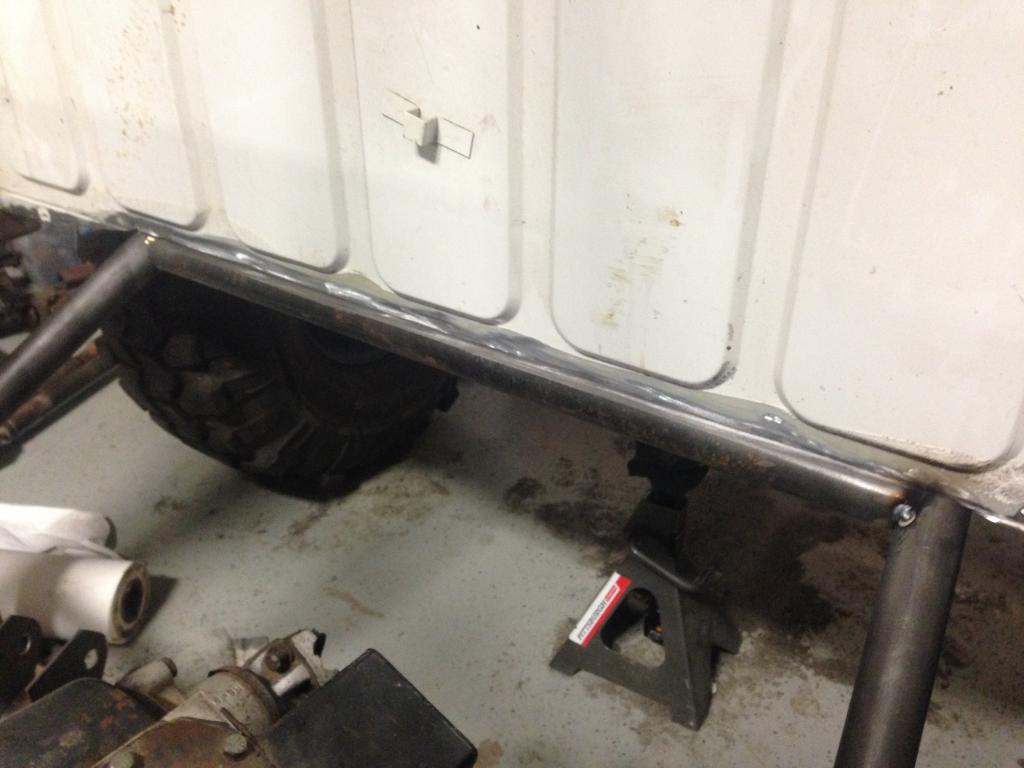 Also picked up an AX15 from a TJ so the beast is goin back to manual! Which I'm super stoked about. The ol lady is getting inpatient with how long the build is taking so hopefully progress will continue to speed up!
6-8-2014
Another change in direction!

http://www.pirate4x4.com/forum/engin...l#post26142545
6-29-2014
Ok so to catch up a little on where my thoughts are headed. Right now I'm at 6 up/10 down in the front with 2" bumps and 8 up/ 8 down in the rear with 4" bumps. I was planning on 8/8 in the rear for two reasons. 1. It seems silly to me to run a 4" bump stop with only 6" of travel, what is the point of running dual rates if you've only got 2" of travel before hitting the bump stop, basically negating most of the softer dual rate. Leaving a very short transition between either running a really short rate stop or compressing the bumps. 2. With the 231/300 and motor pushed back my rear DS is less than 30" and JB is back ordered on their 32 spline upgrade making 1410 yokes hard to come by and I don't think I can get enough travel to run 1350 and don't want to be constantly breaking 1310s.

Soooo, that led me to selling the doubler set up and buying a buddies brand new atlas 4.3. Between the atlas and switching to the newly acquired ax15 I'll be losing over 10" of drivetrain length, making both shafts almost equal length. And that led me to wanting more down travel in the rear. So thinking about running triangulated lowers and straight trailing arm uppers. I'll be possibly sacrificing some stability but I think between the rear anti rock and how wide the chassis is I think I can move my uppers out far enough to make up for it. So I'm shooting for 20" of total wheel travel in the rear, which given this rig is primarily just a trail rig I'd like to some day build an ultra 4 buggy and so I'd like to experiment with some go fast tuning. I've decided this rig is basically just one big experiment for me to test my skills and push myself into territory I've never been. No one in our group has really built anything like this before so I've been kinda of shooting in the dark as to what's going to work based on all I've gathered from this board. This thread has been mostly pictures and I'd like to get some tech in here so if anyone has any feed back, advice I'd love to hear it.

Summary of the rig:
4.0/ax15/atlas 4.3
115" wb
39.5s
20" belly
16" FOAs
6/10 in front
8/12 rear with the trailing arms
Anti rock rear
Pics of some progress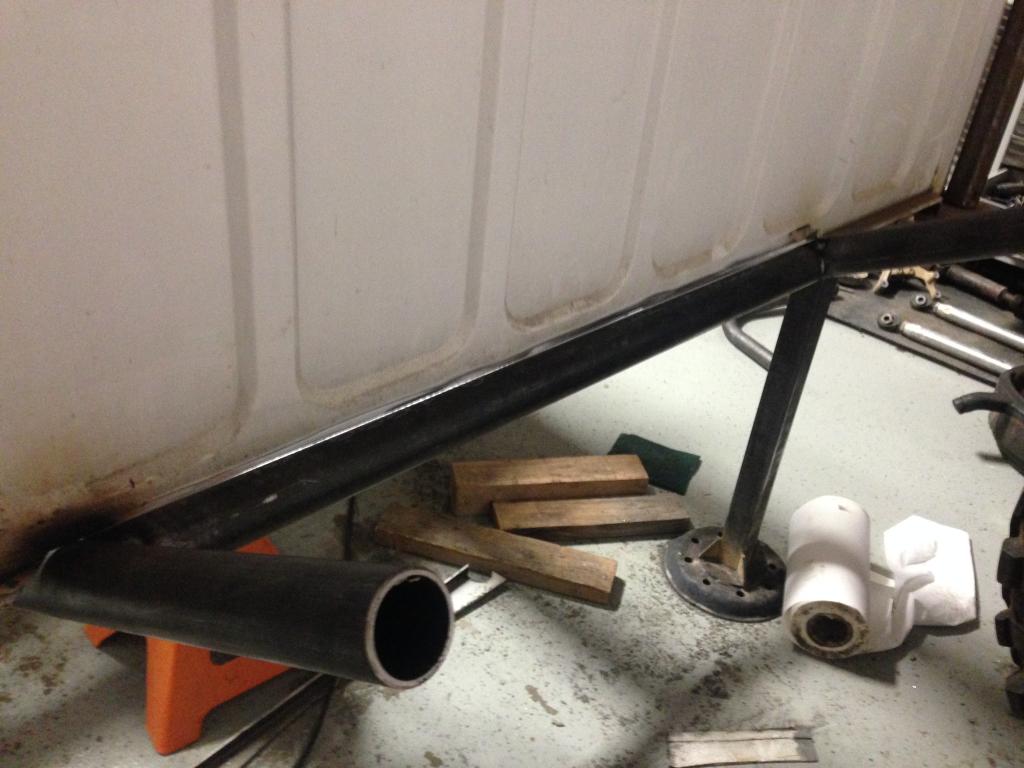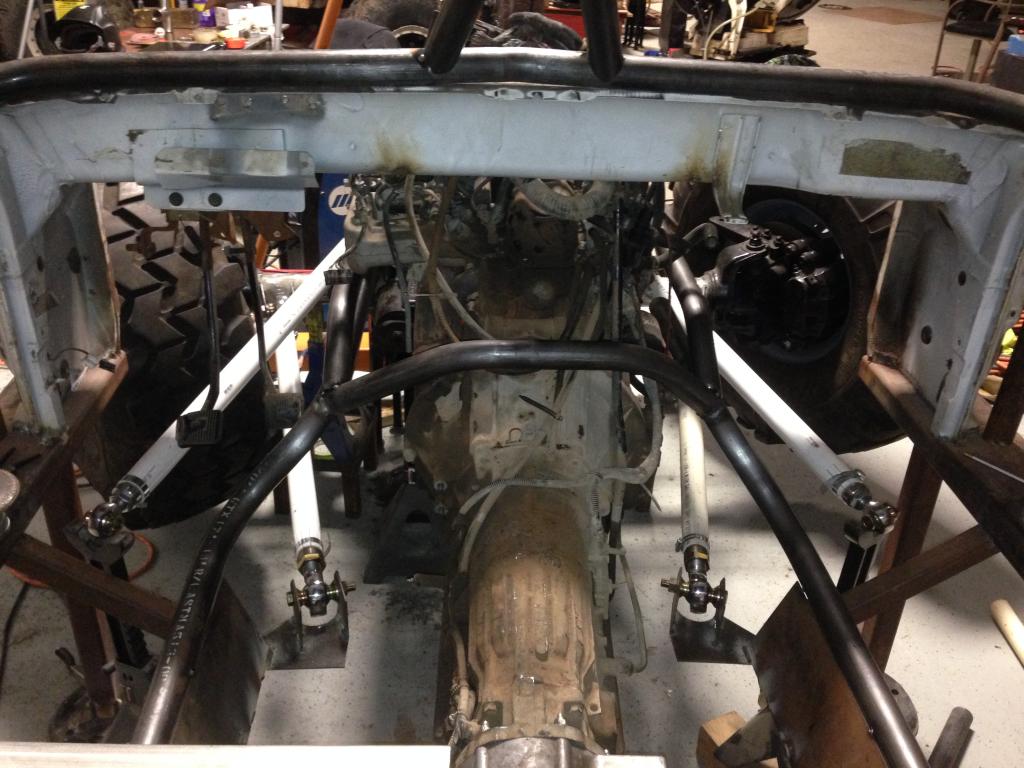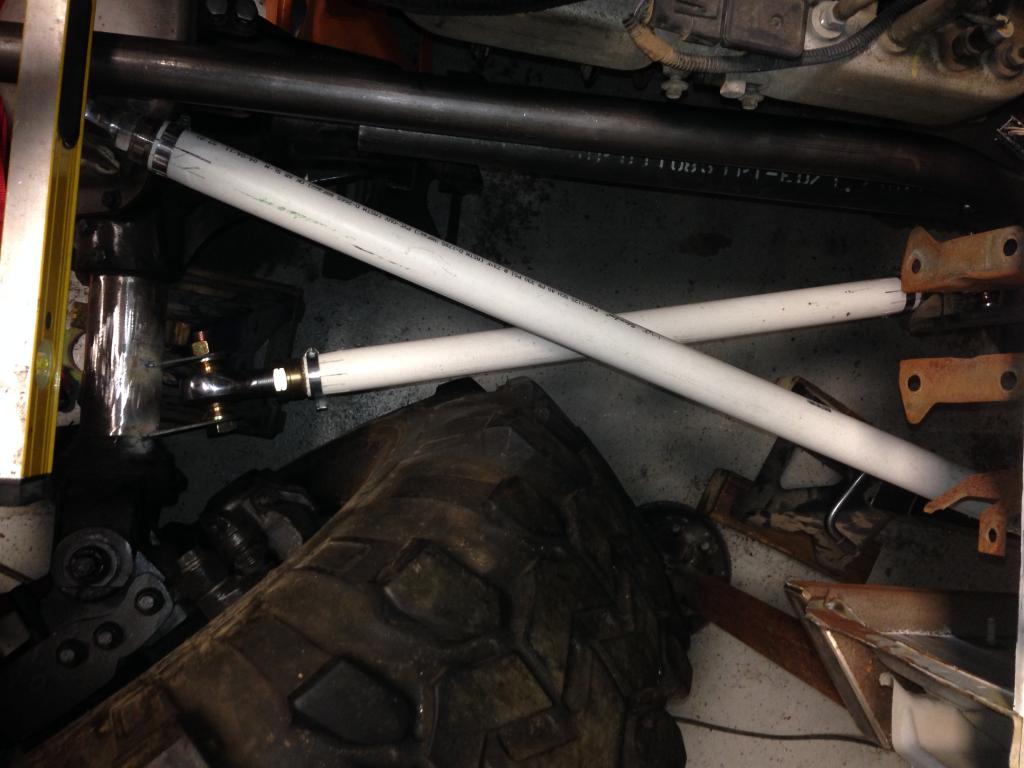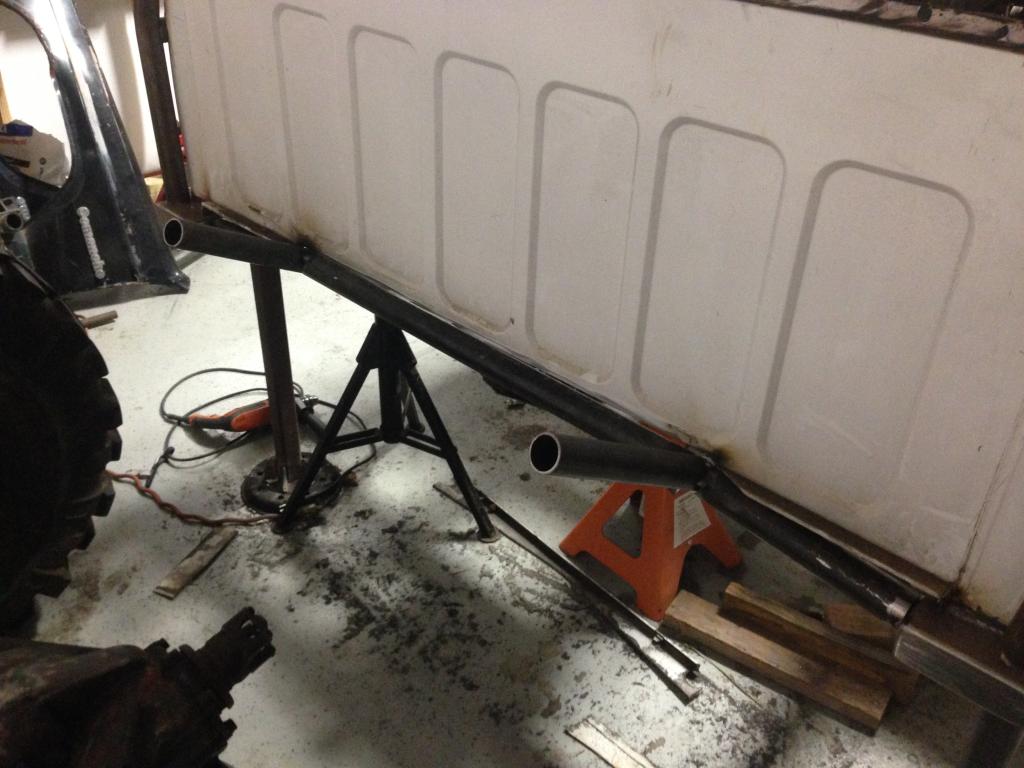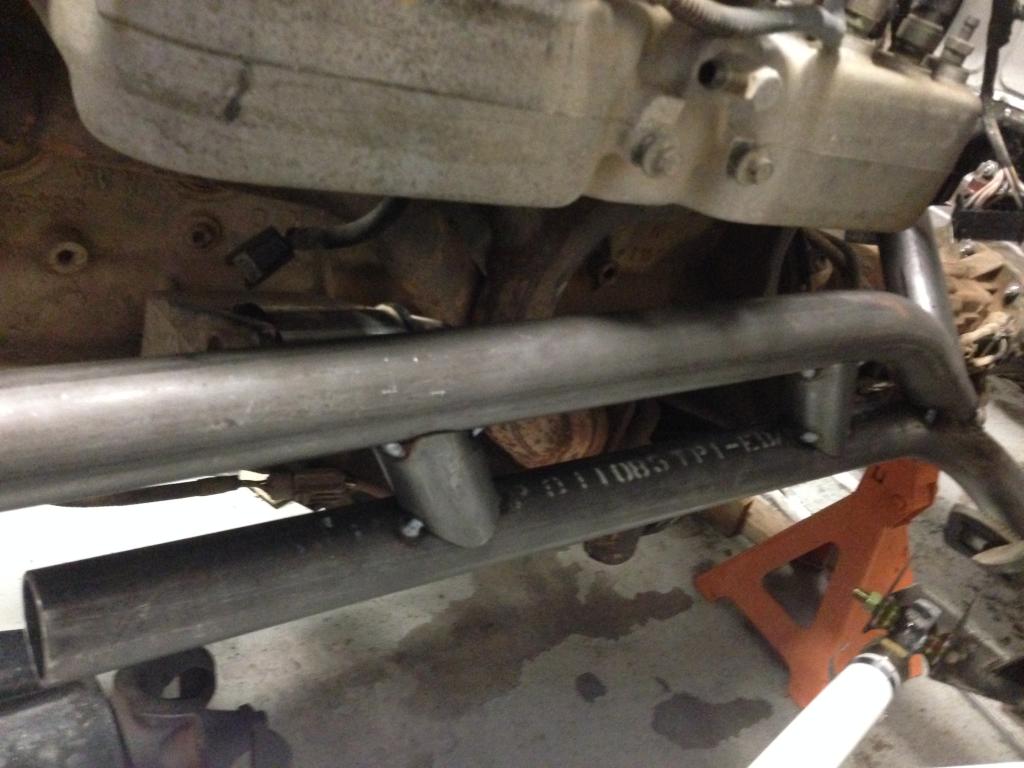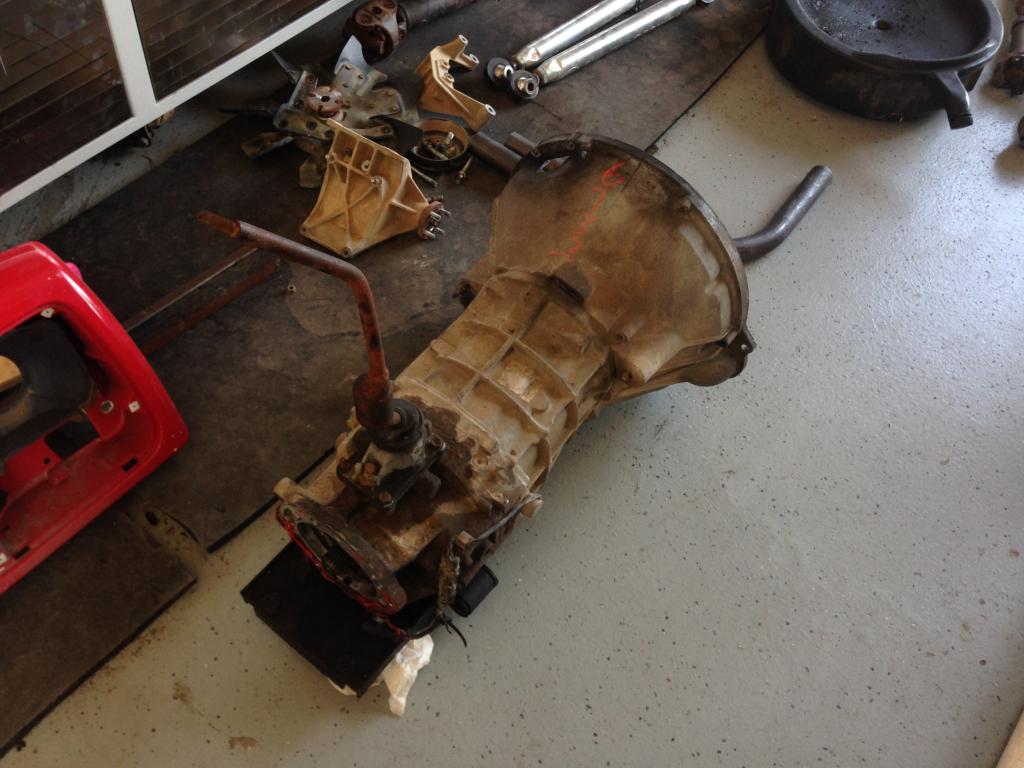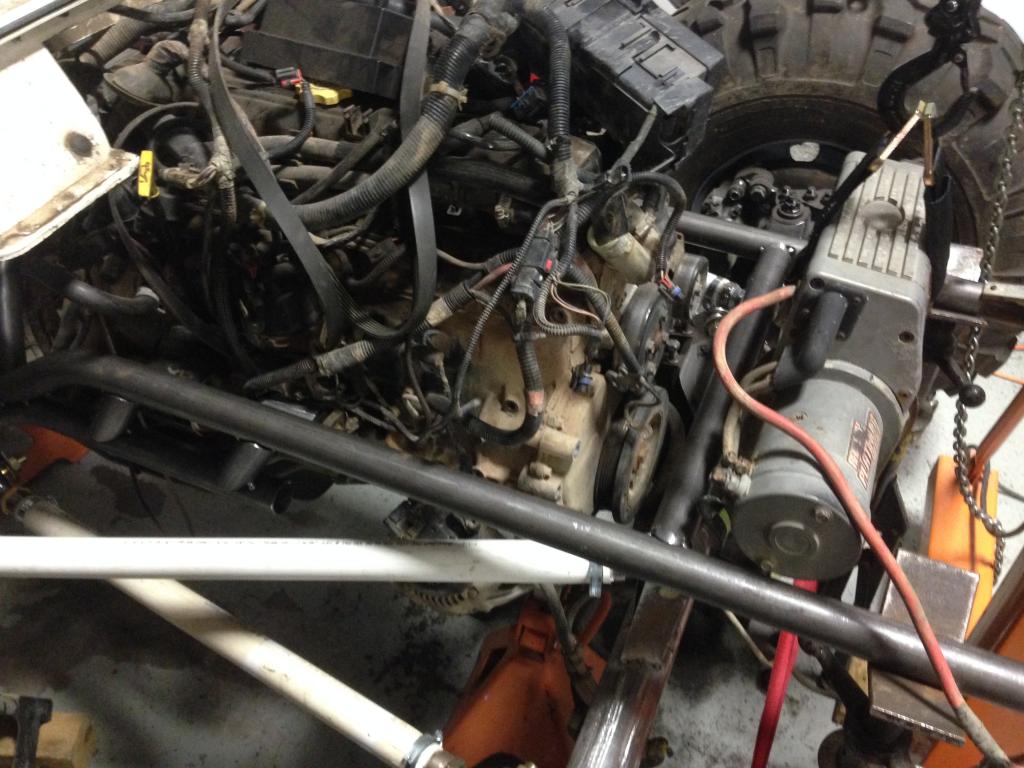 Welded up the pass motor mount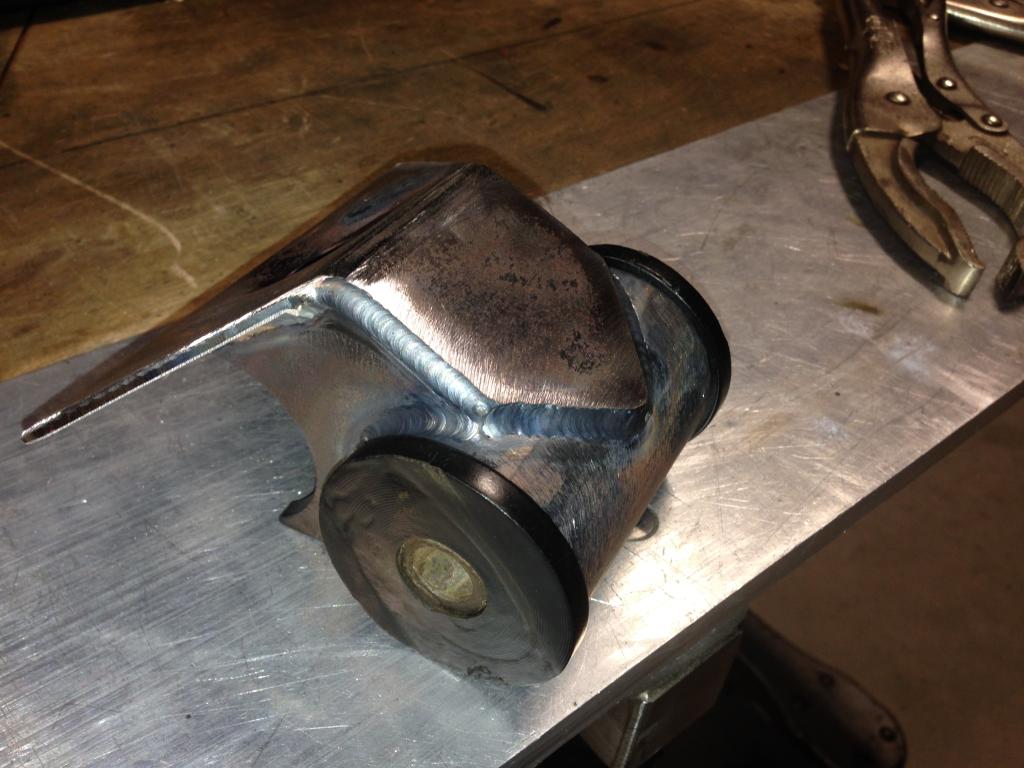 Went wheelin with tribe 4x4 to break in the new ultra 4 buggy and test out my cousins CJ5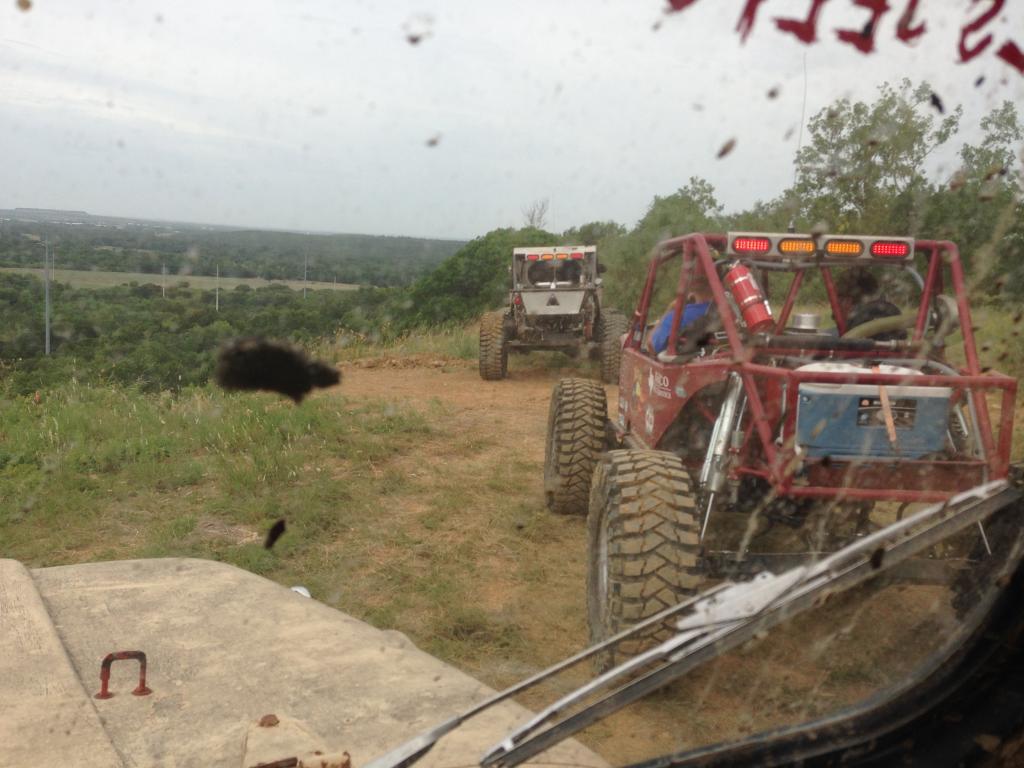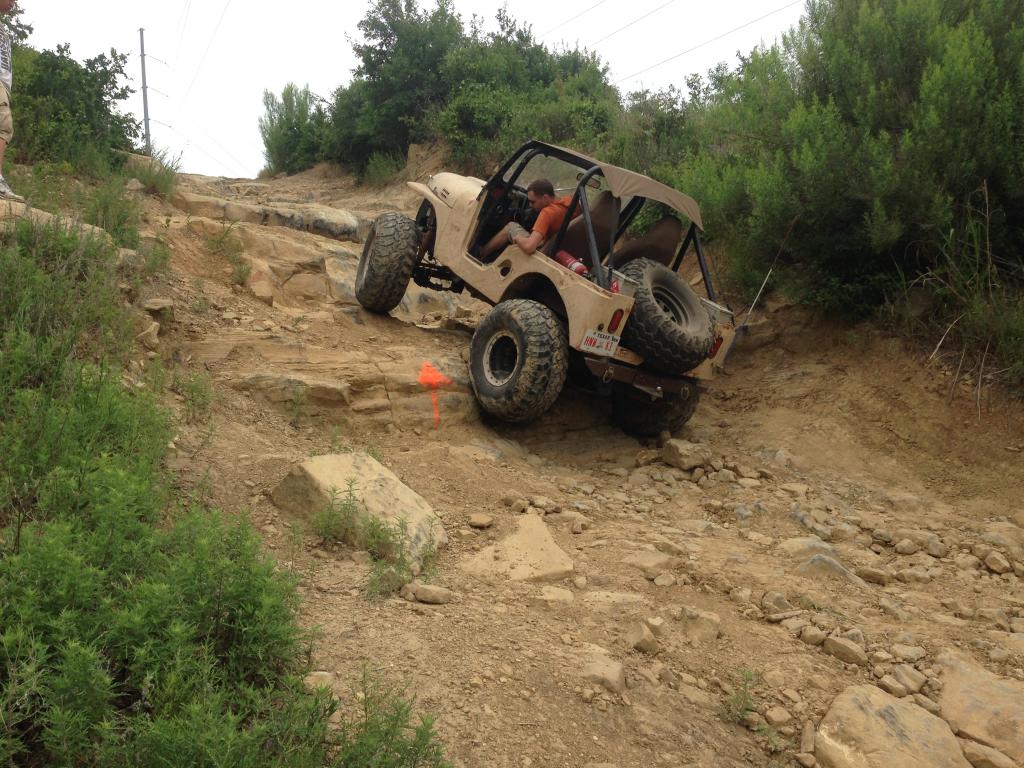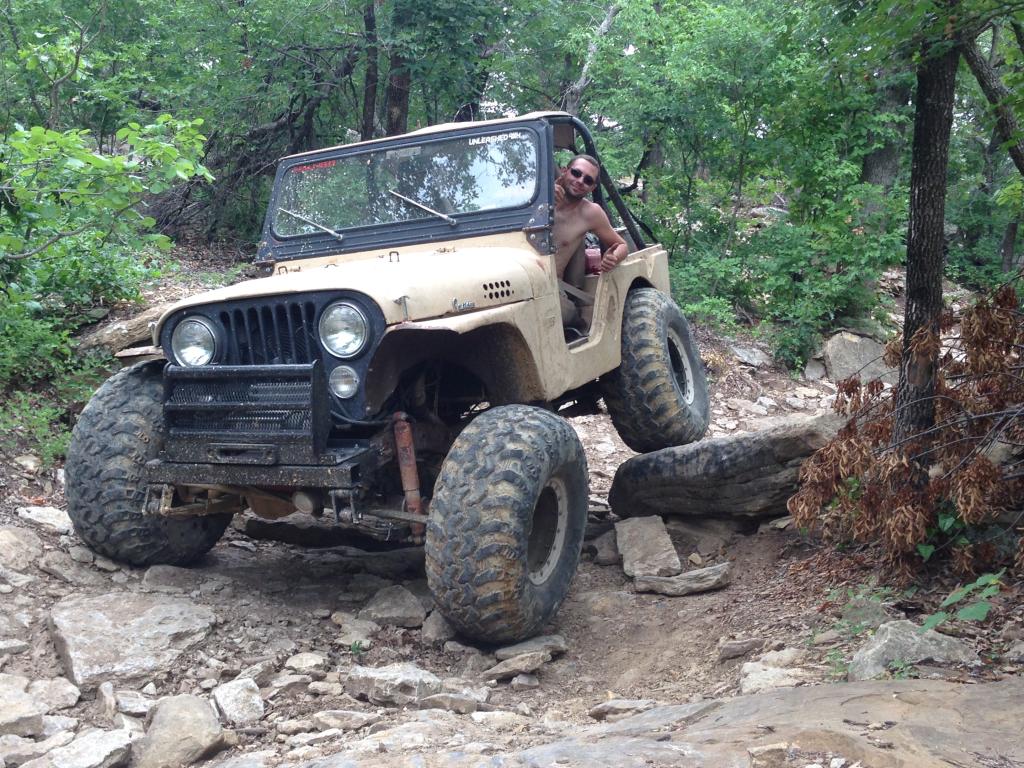 Got home and my seats had been delivered. Decided it was worth it to spend the money and get new corbeau baja ultras. I've decided in my older age that something's are worth just buying new. And these def were!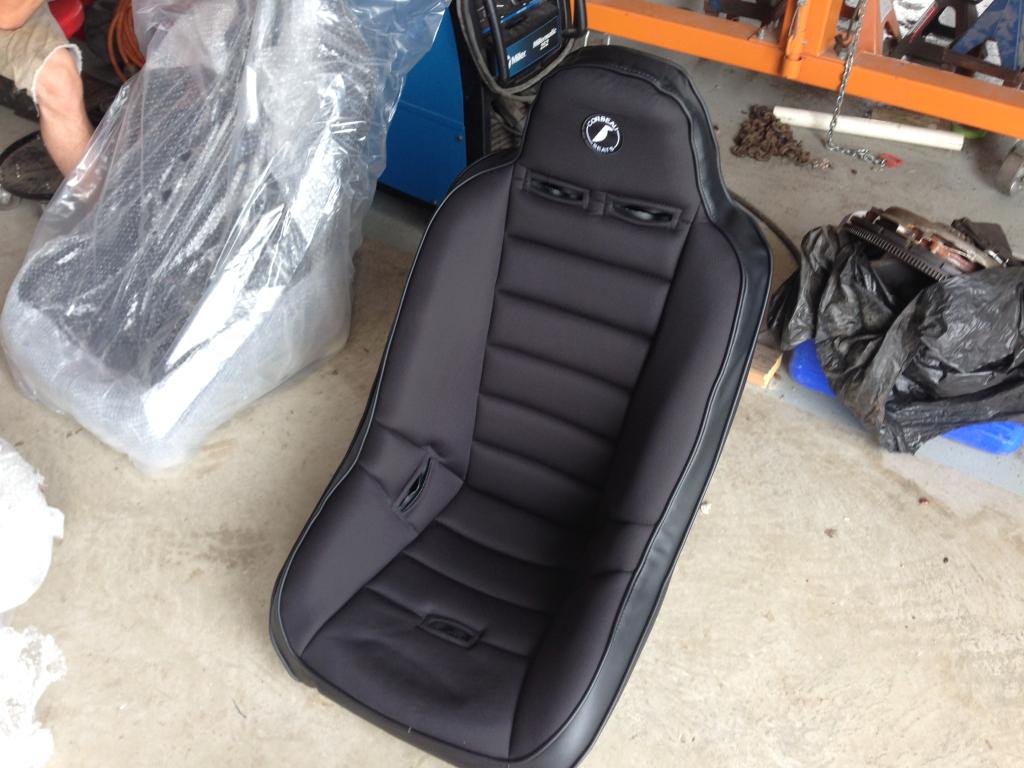 Driver motor mount is done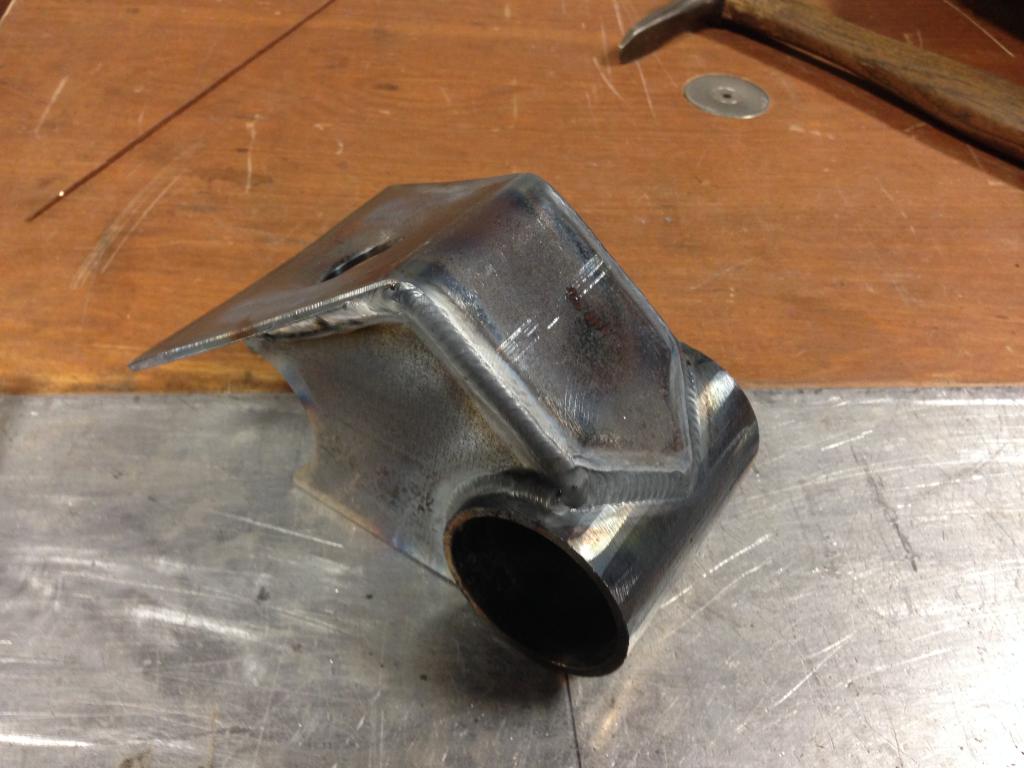 Built a stand for the vice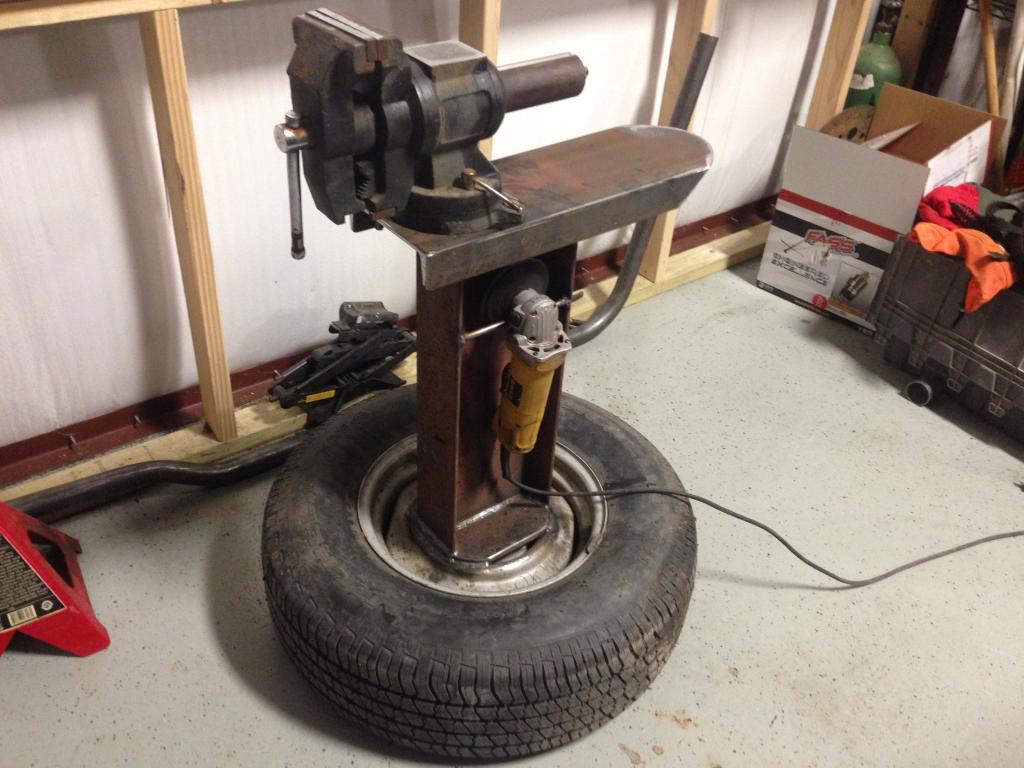 Threw a piece of tube in that I'm calling the driver heel support, when I cut off the frame I lowered the chassis and raised the belly, so under the cowl is a little tight, but my size 13 feet have just enough room.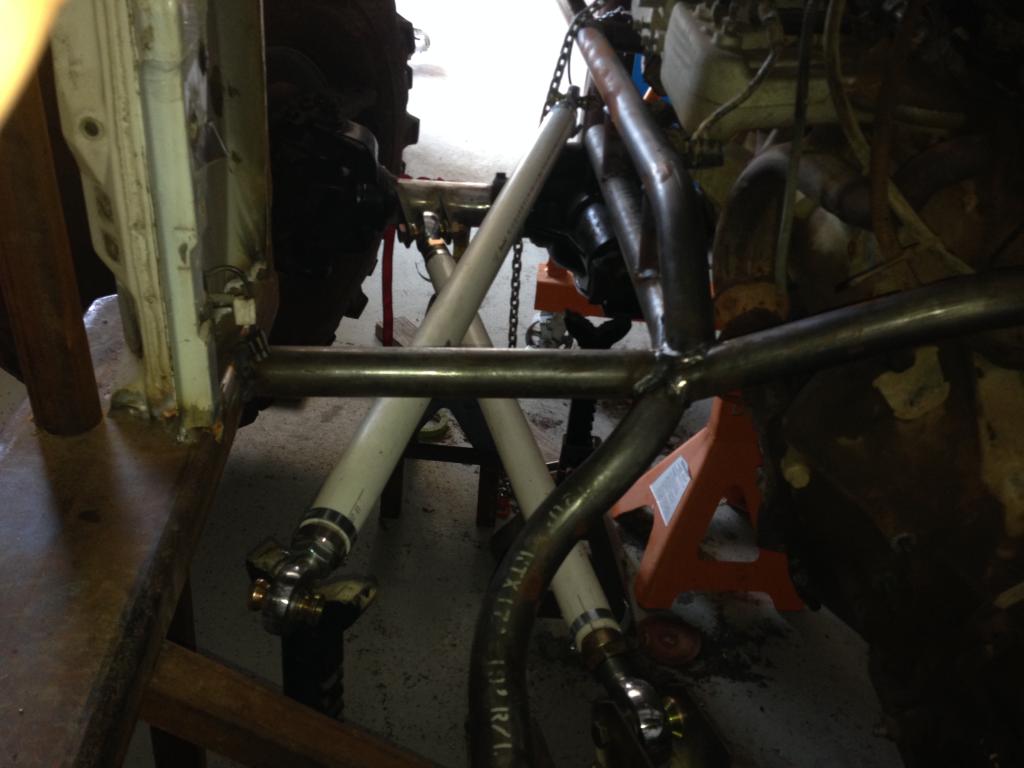 I've been stuck for a while on what to do next on the rig, lots of things need to be done in order to do the next thing but that thing needs to be done to figure our another thing that the first thing depends on. It's a vicious circle. Talked to nick for a while about it and we came up with a way based on where my lower coil over mounts will be to approximate how much the tire will move in at full flex full lock, after lots of triangles I came up with a max grill width of 39", with 3 slots the grill would be 39-3/8, 2 slots is 34-3/8. Decided to go with two, prob could've cleared 3 since the inside of the tire won't fully stuff that high buuuuut decided it would be safer to leave room for future jump in tire size. So first I picked the two best grill slots and cut them out and used blue tape to get a cut line.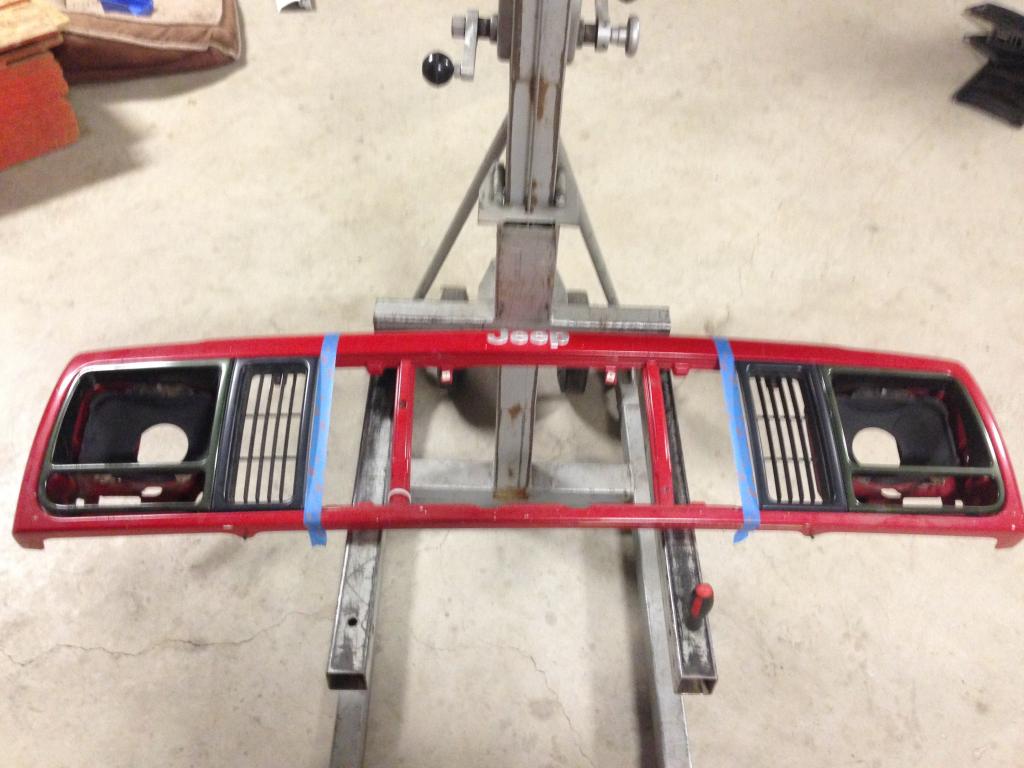 Once cut I used a piece of 1x12 ga stanless and riveted and epoxyed the bottom section together.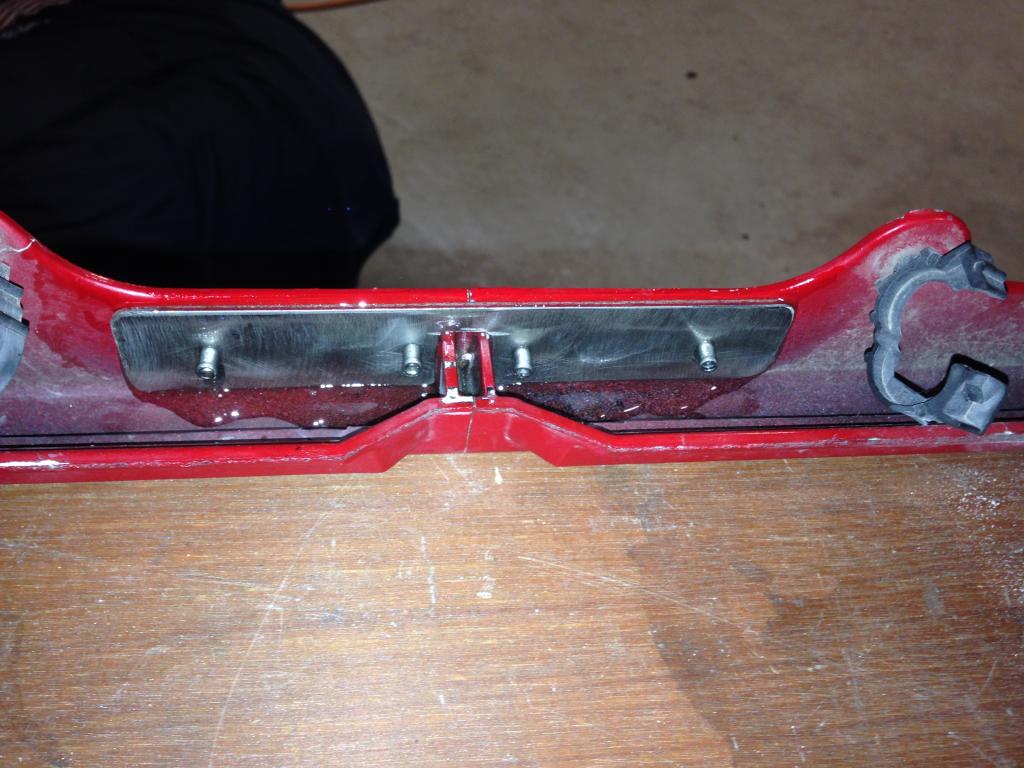 Took a piece of 14 ga stainless perforated and rolled it to fit the inside of the header panel. Epoxyed that on and let everything cure.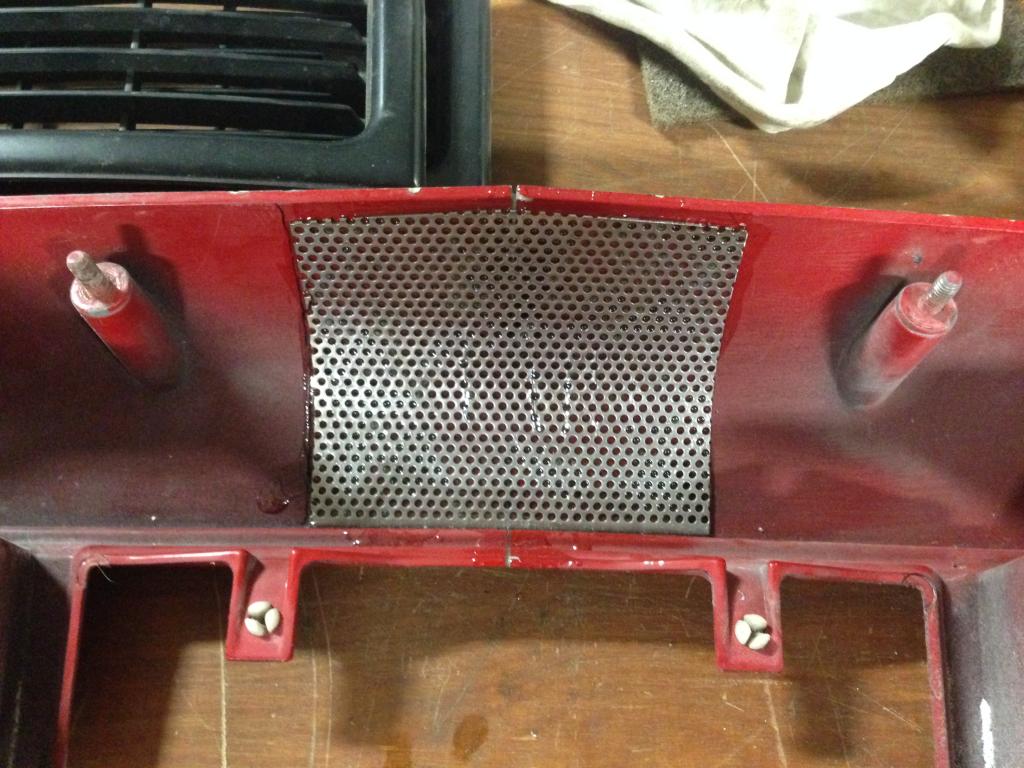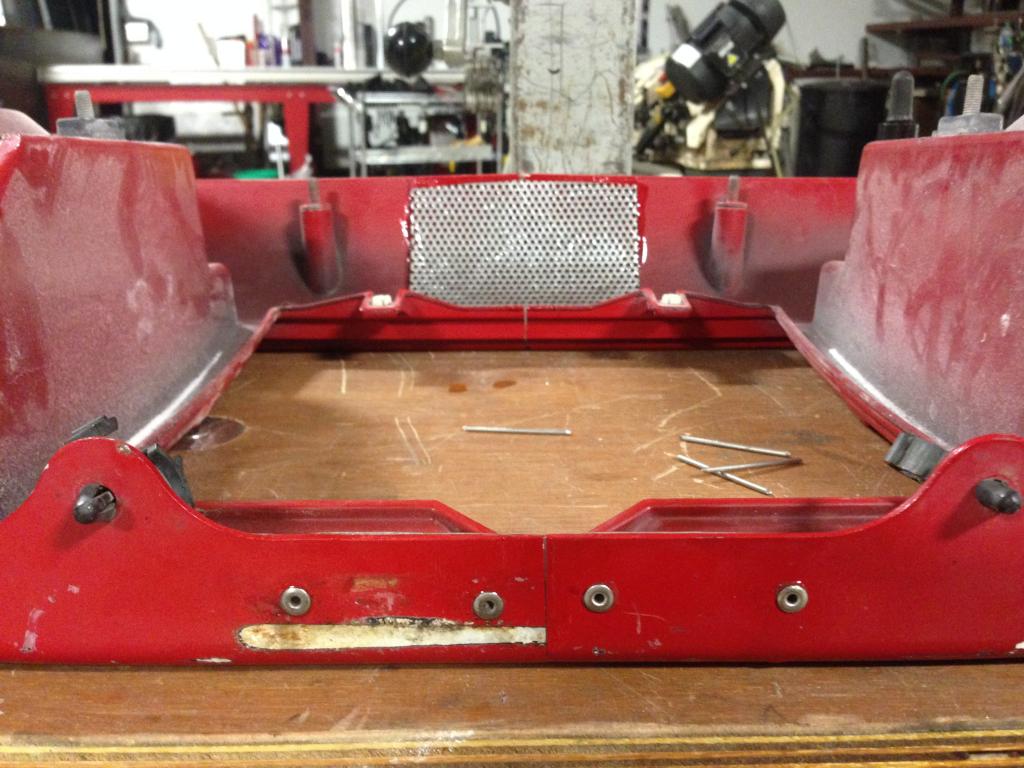 While that was cureing I sectioned the header support bracket.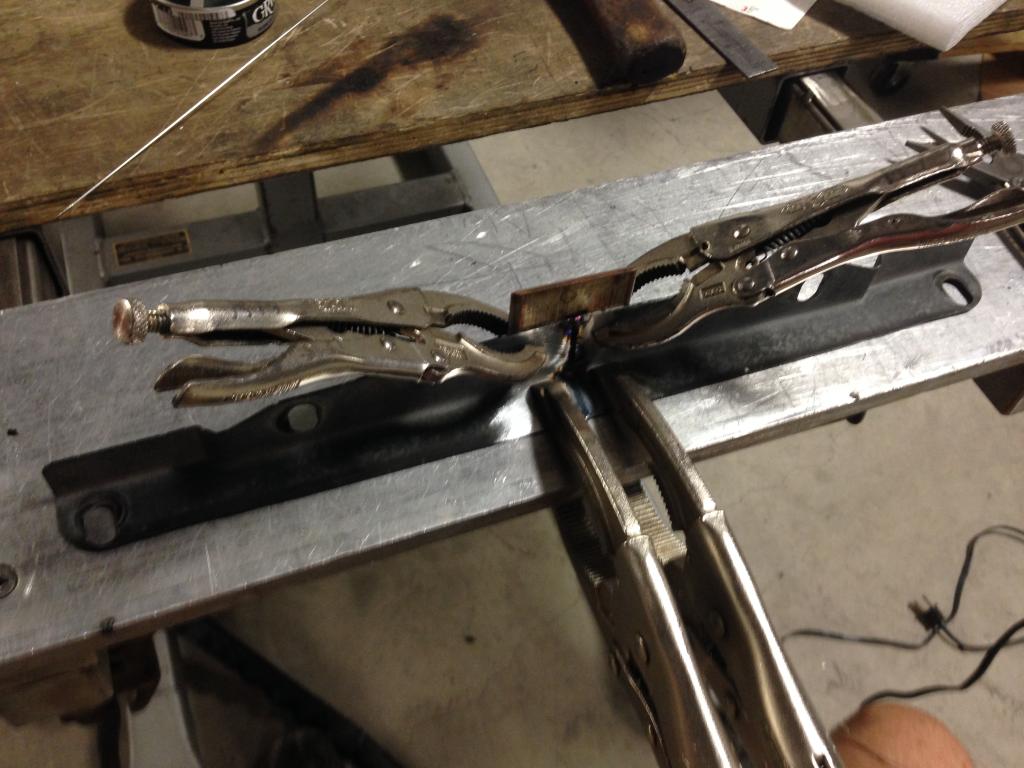 And used a soldering iron to fuse the two grill pieces back together.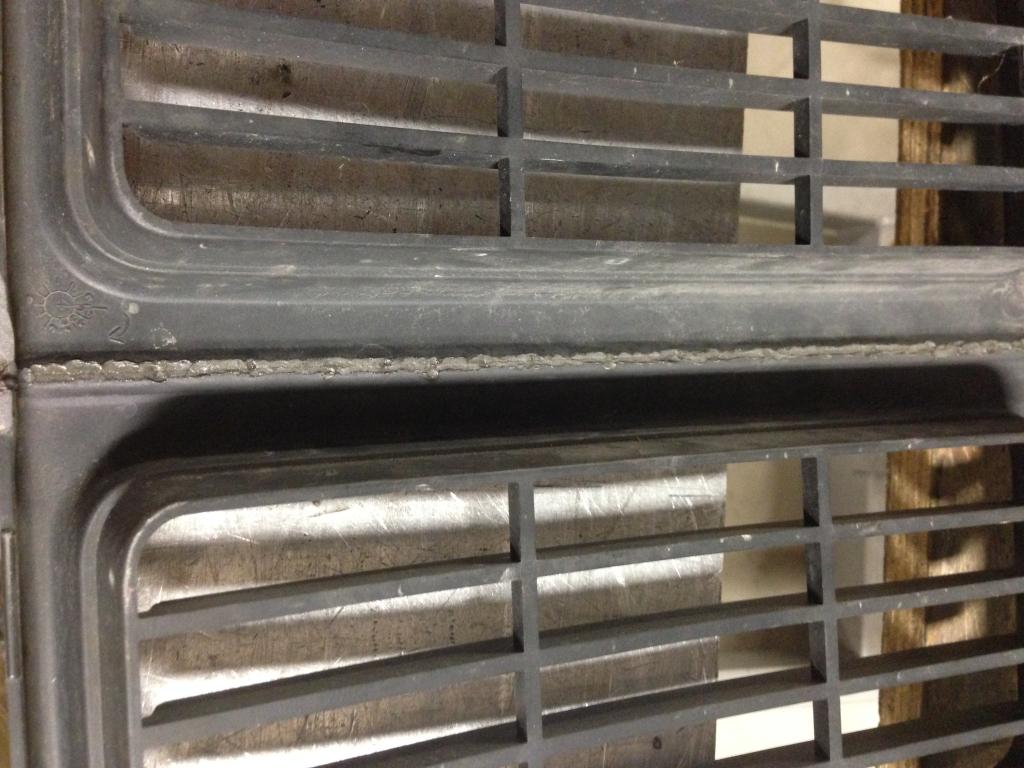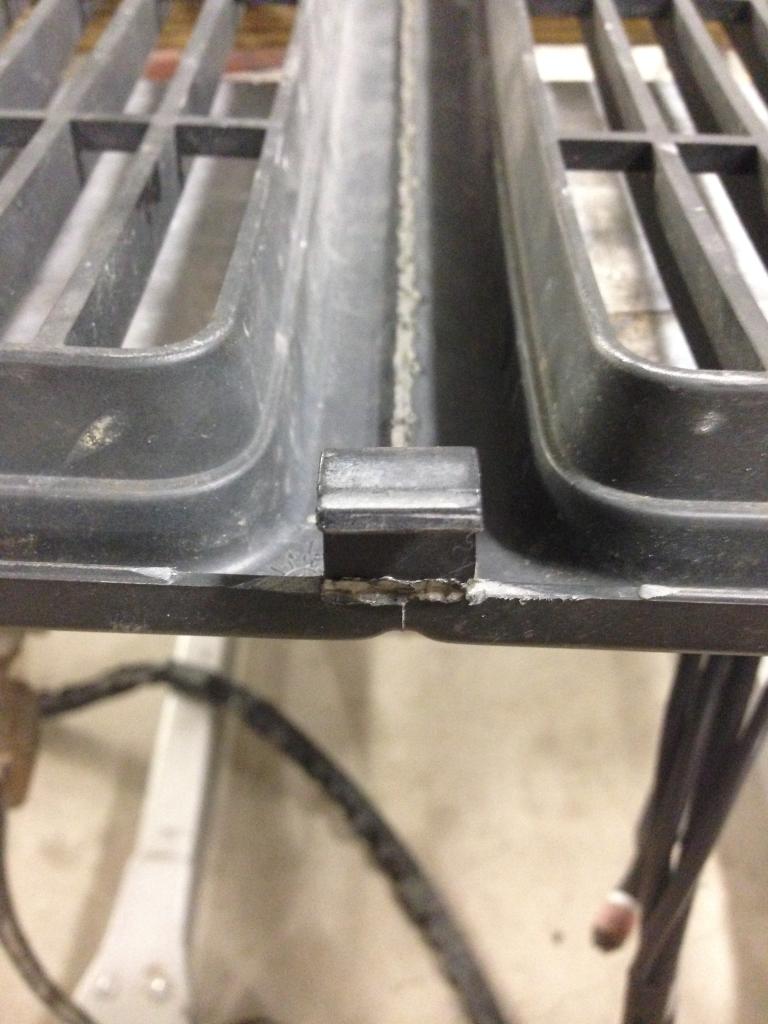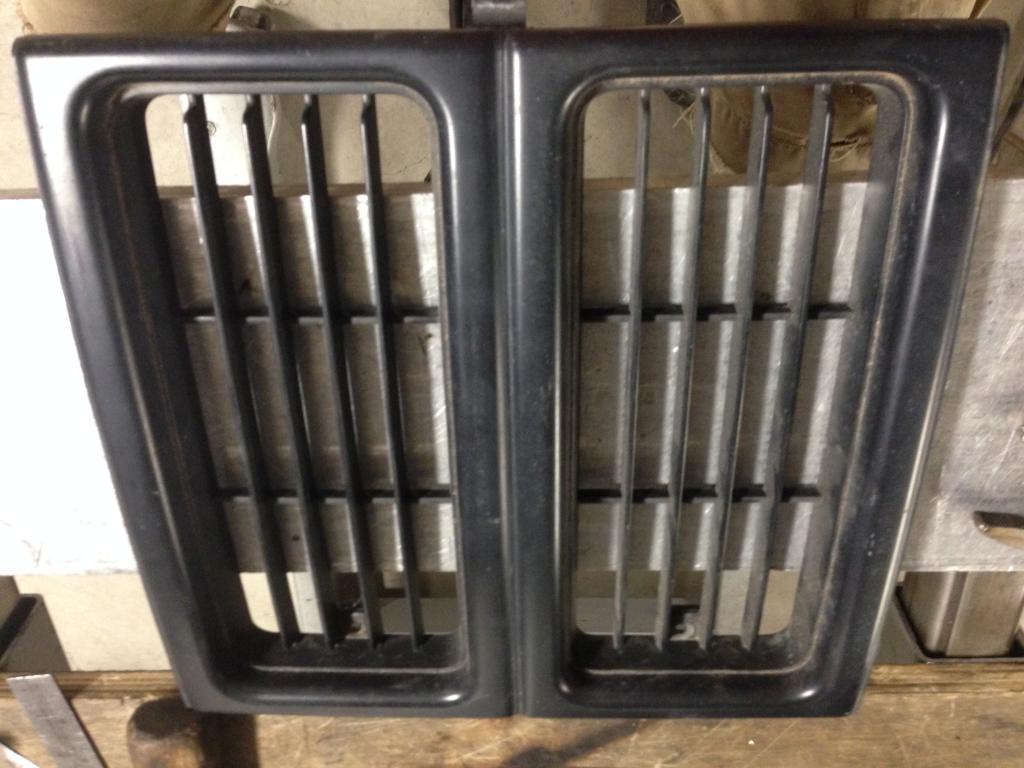 Over all I couldn't be happier with how this turned out, a little sanding and some paint and you won't be able to tell where it was sectioned. Took about 4 hours but the extra time spent getting everything ground straight really helped it come together clean in the end.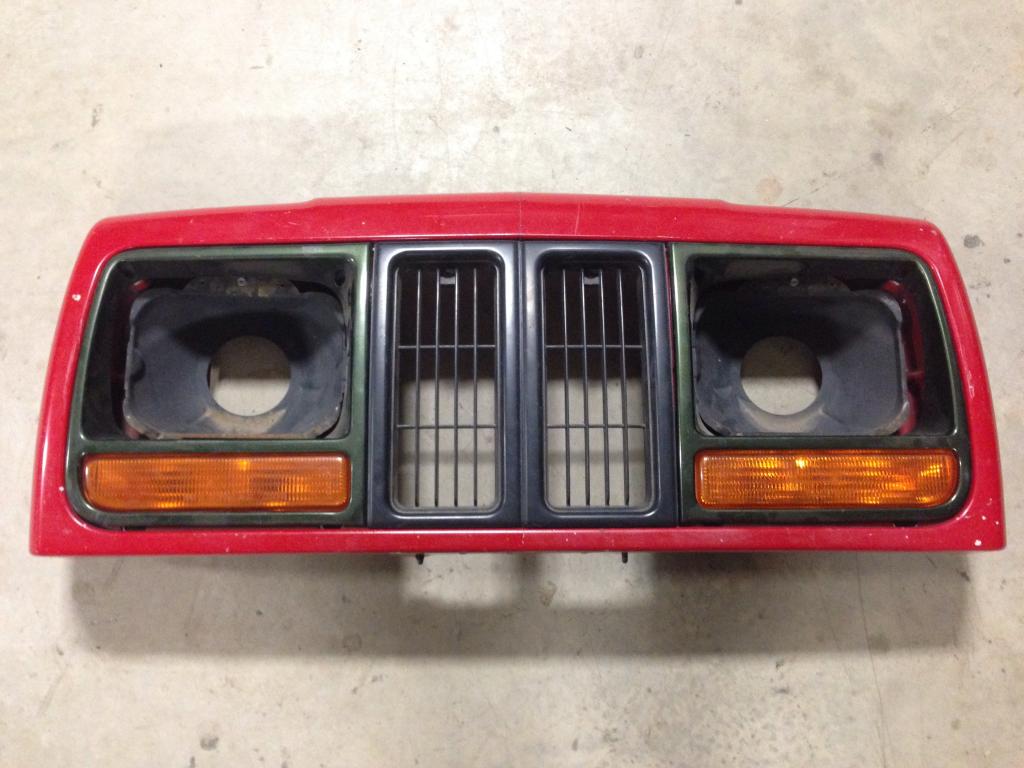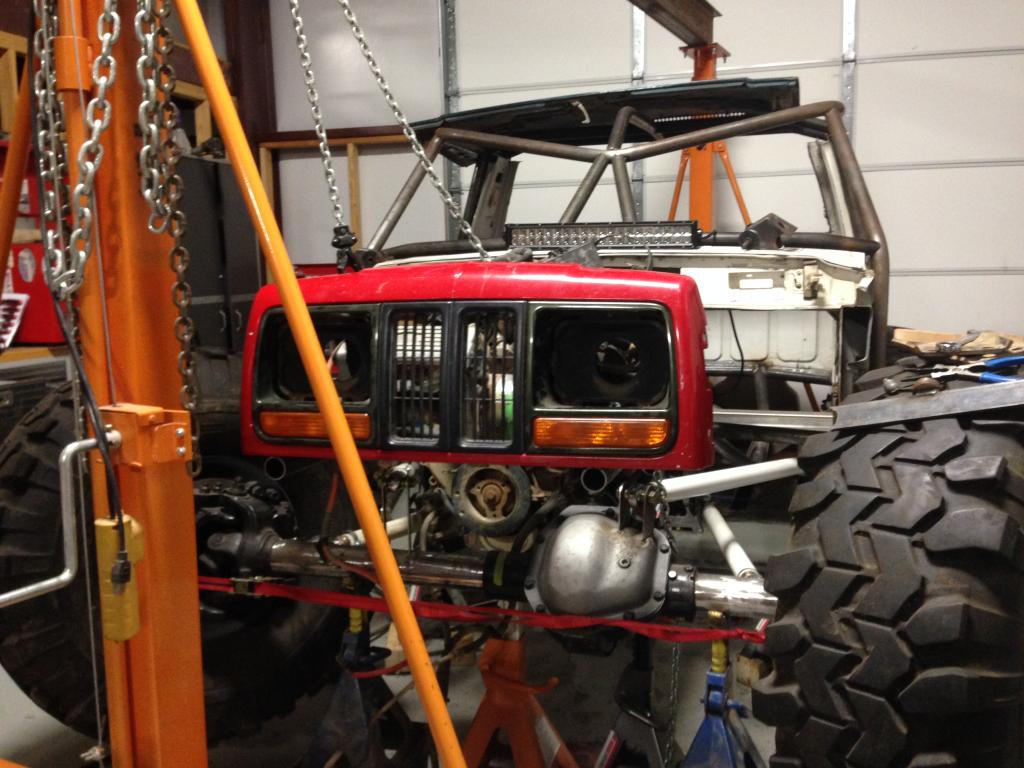 Time to finish out the front tube work!
7-1-2014
Got the grill in its "final" position and started designing the front tube work. Didn't make it as far tonight as I was hoping, everywhere I turn I'm realizing these jeeps are a lot more curved than they appear.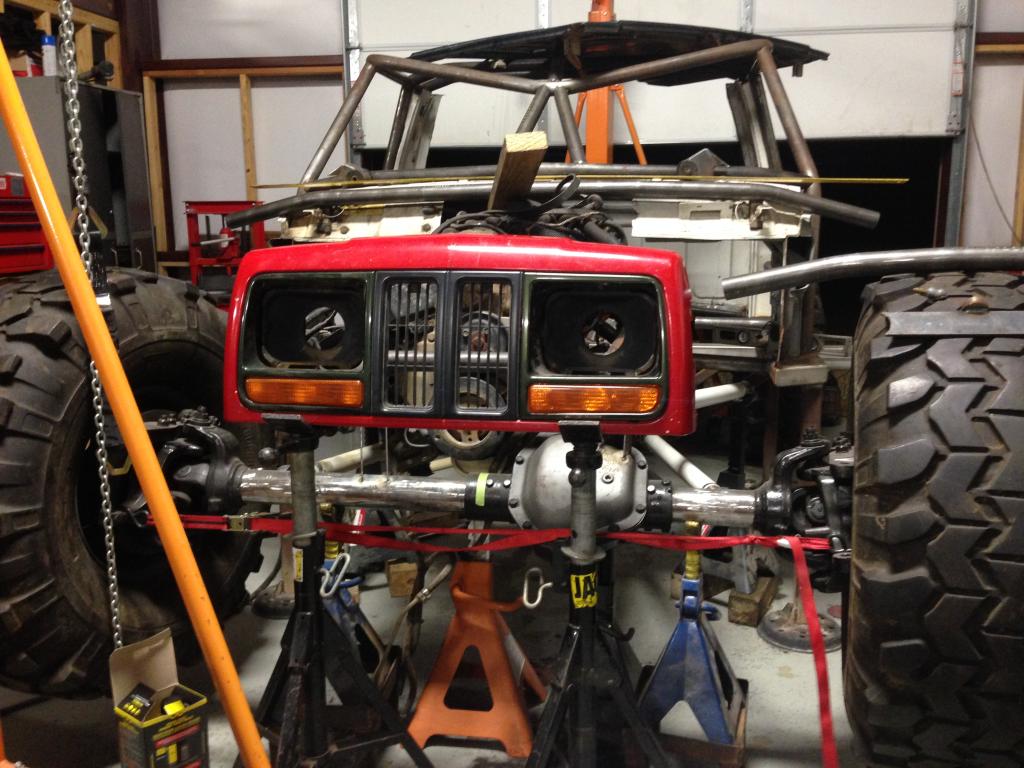 The cowl piece took a while to figure out, 5 bends, 5 rotations and the cowl actually curves in and down... Pretty happy with the fit, I'll trim that drip edge down to bring it in tighter.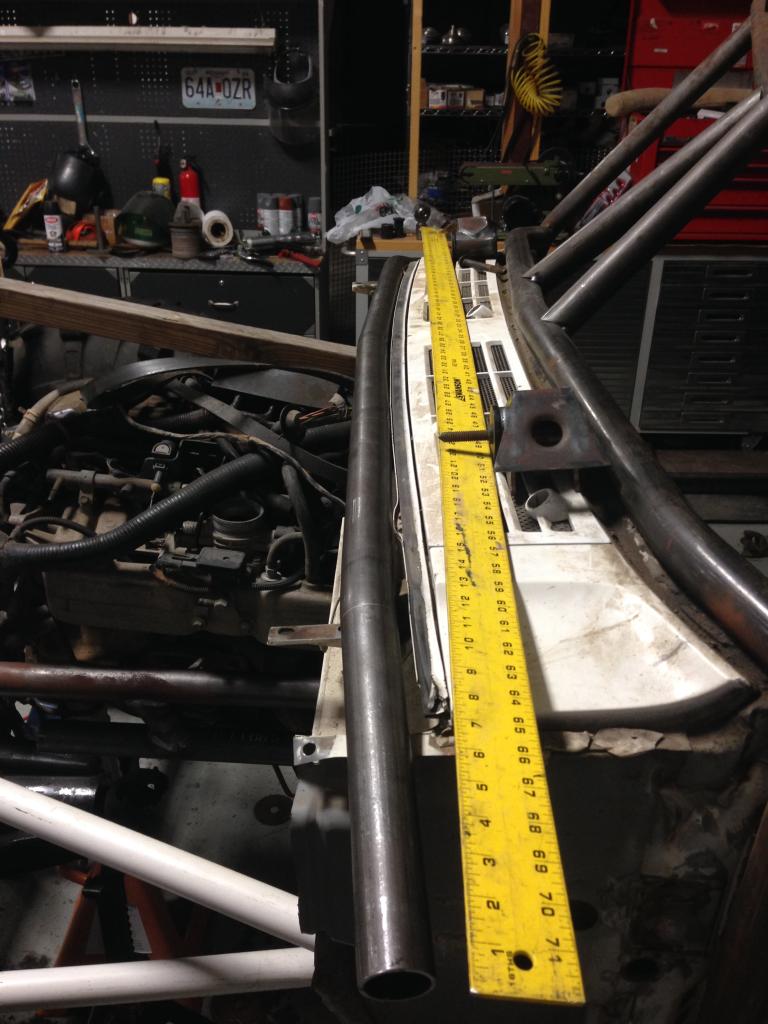 Got the top of the grill bar bent up tonight too but no helpers to hold **** in place means no pics...
The plan is to run the tube up by the cowl and one behind the grill, then all the supporting tube work/engine cage will intersect the hood, so instead of sectioning the hood I'll cut it into 3 panels, the one in the center above the motor pinned and the two sides will prob be bolted.
While I was staring at it a grabbed the frame rail tube I screwed up and mocked up a fender, gonna bend another one to match.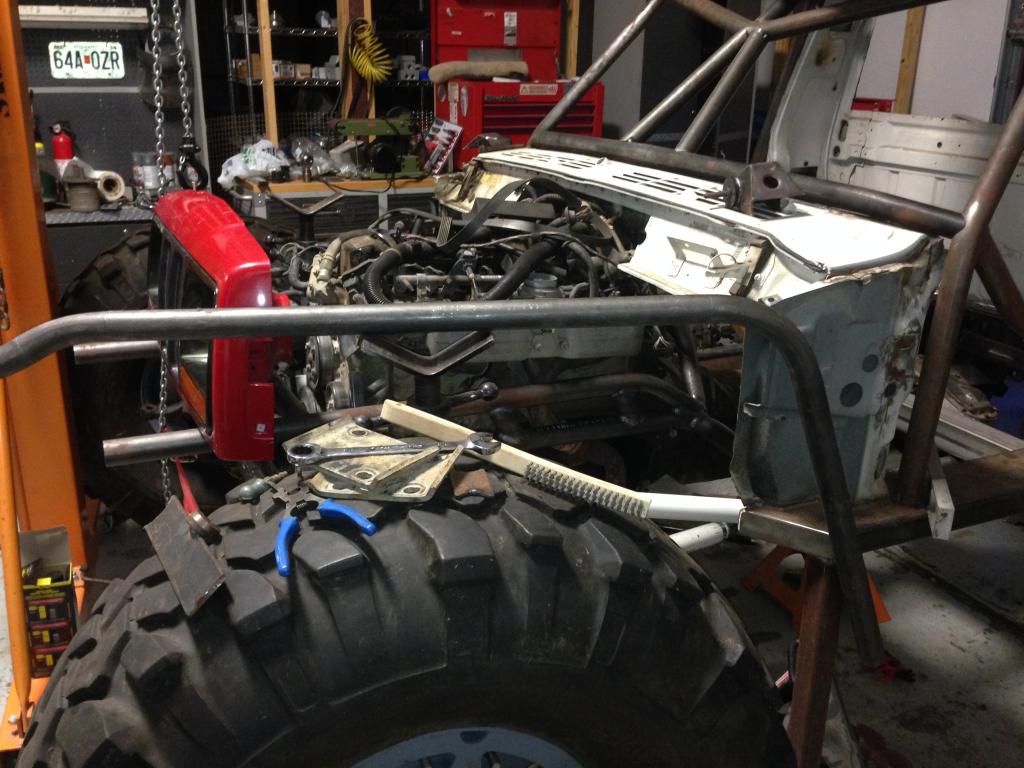 Slowly but surely...
basically what im doing on the front end could be done on a full bodied XJ by cutting the unibody off at the motor mounts. The hard part would be fitting a radiator behind it, although if youre not planning on 10+ inches of front stretch the grill wouldnt need to be nearly as narrow. there will be plenty more pics for you to look at. if it aint worth taking a picture of then it aint worth building... IMHO...
8-14-2014
Little behind on updates.
My dad came down to visit over the 4th so I put him to work and we knocked out the rest of my walls, electrical and air.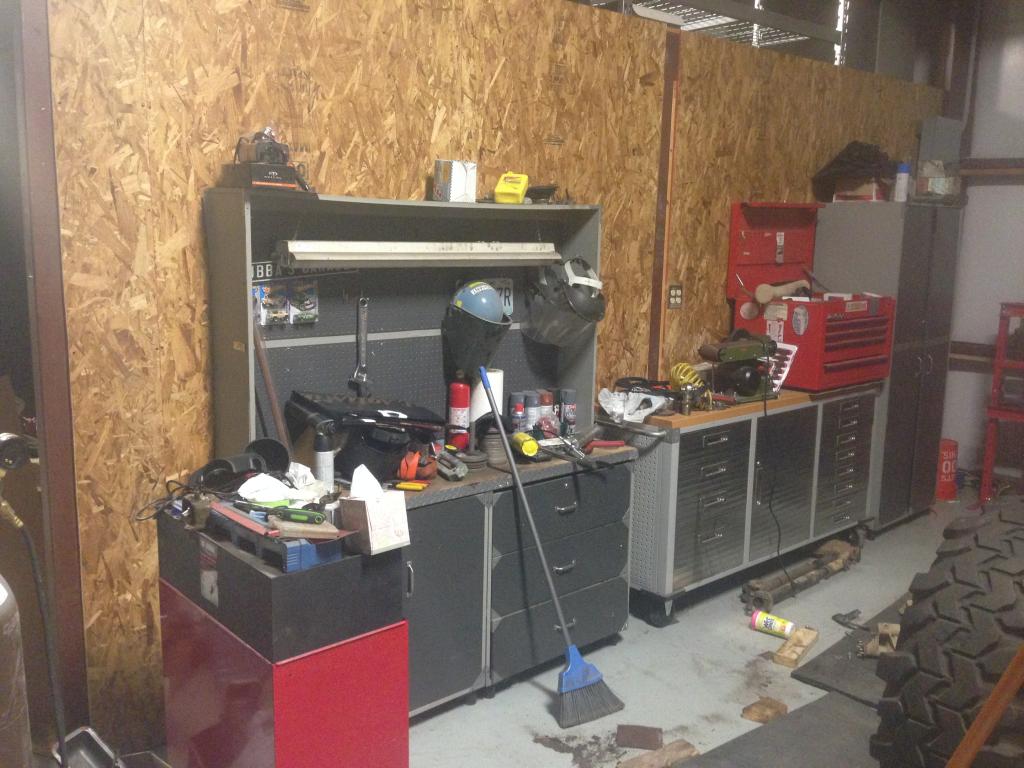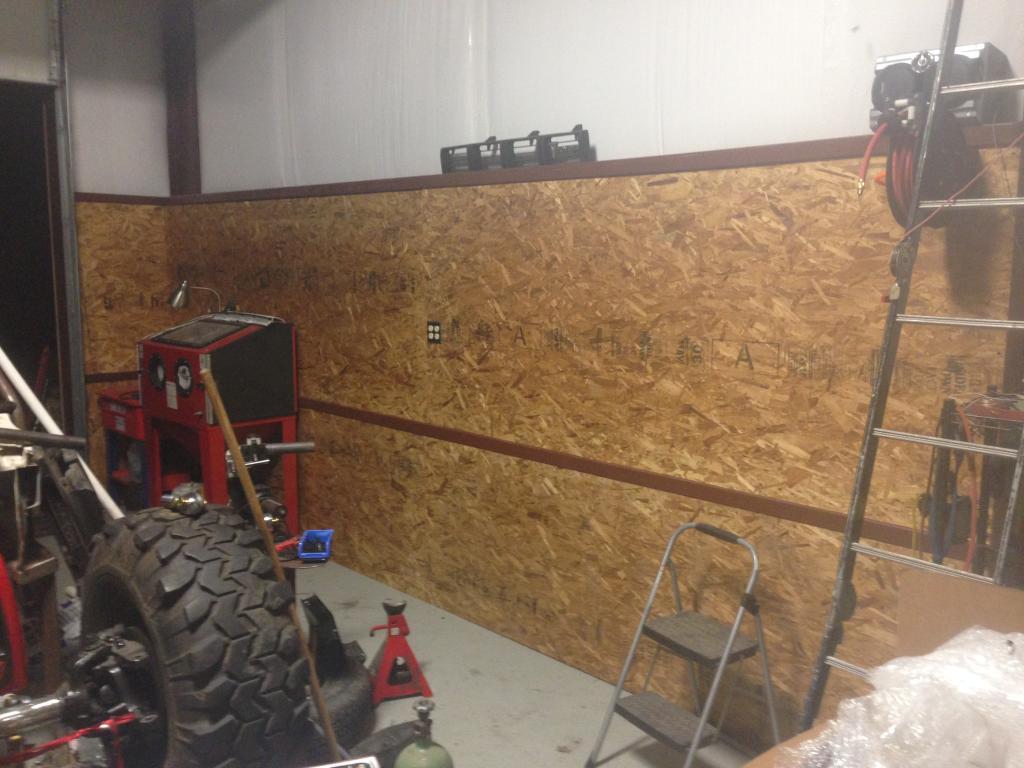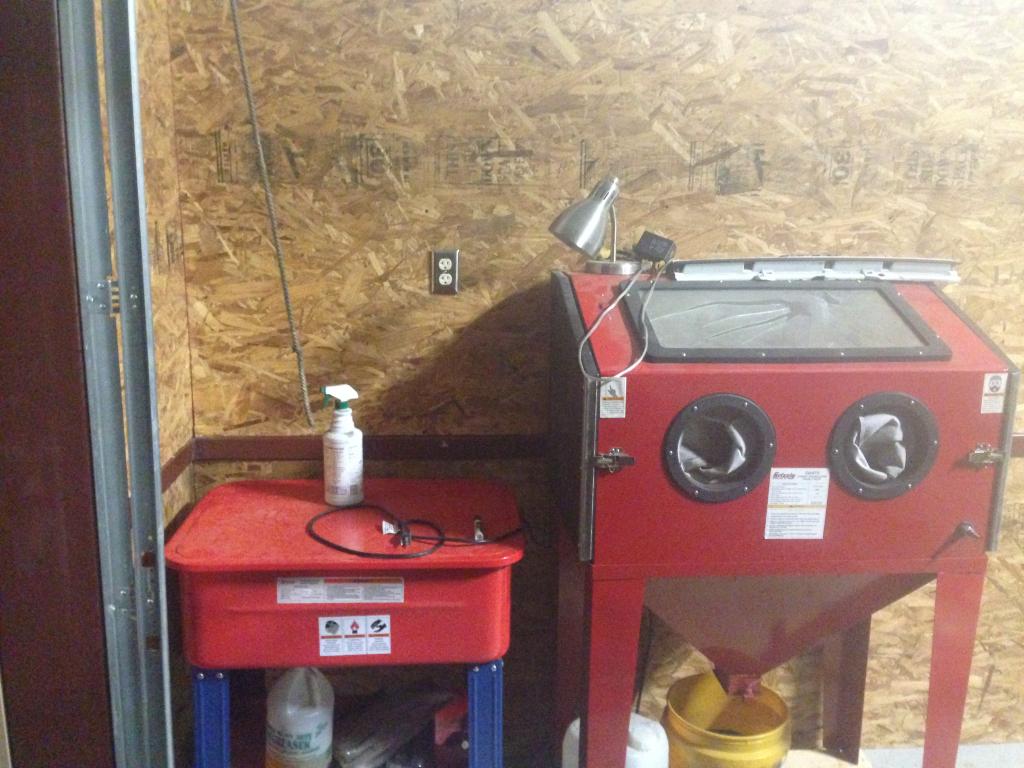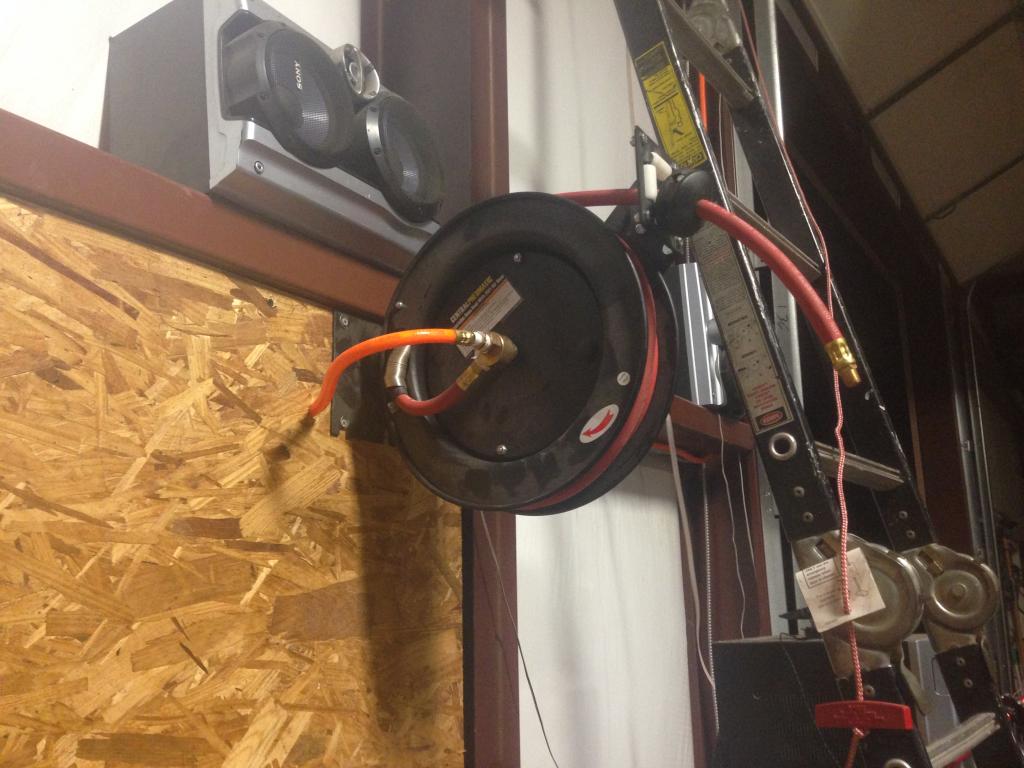 Meanwhile I spent some time drawing up the front tube work.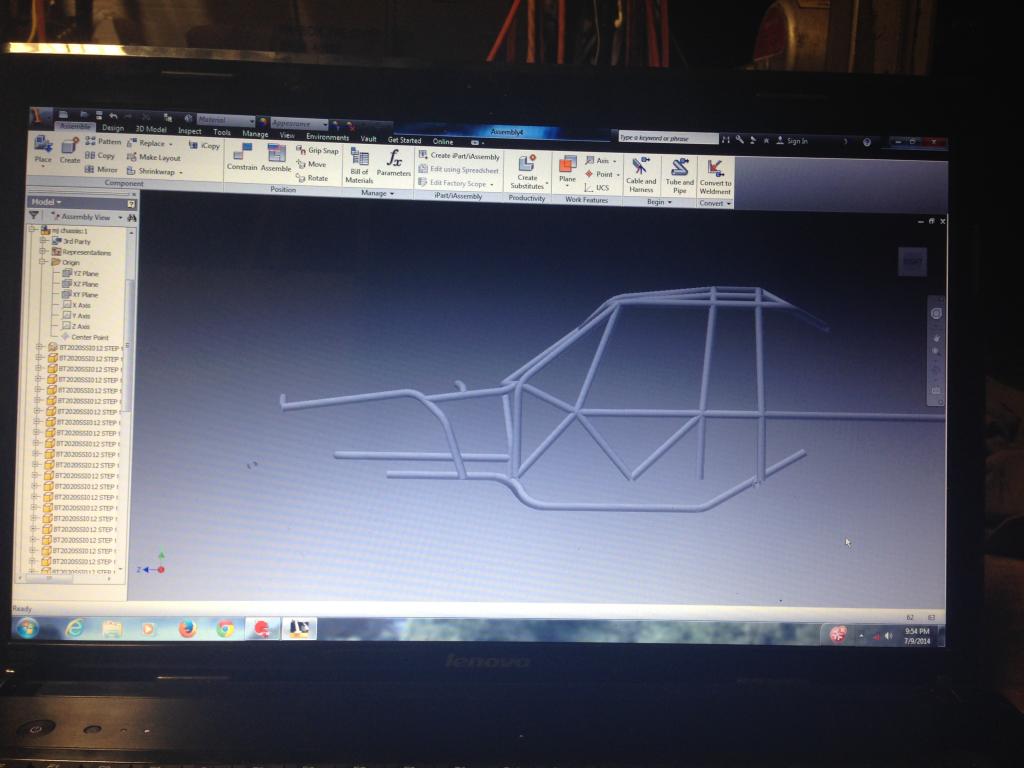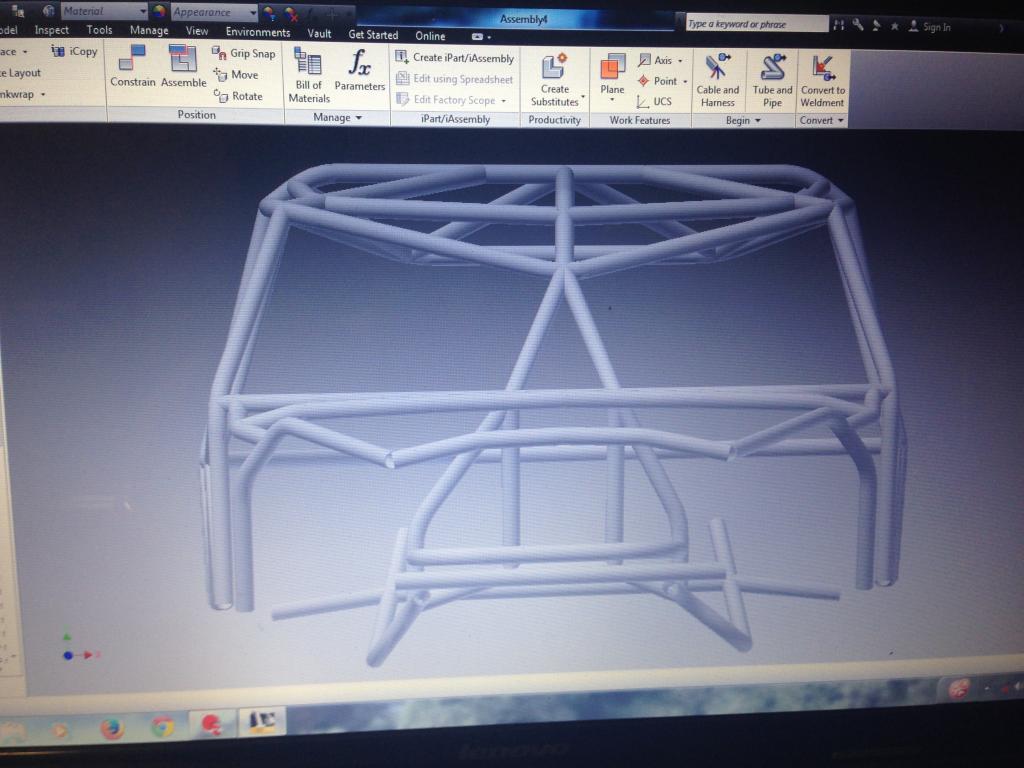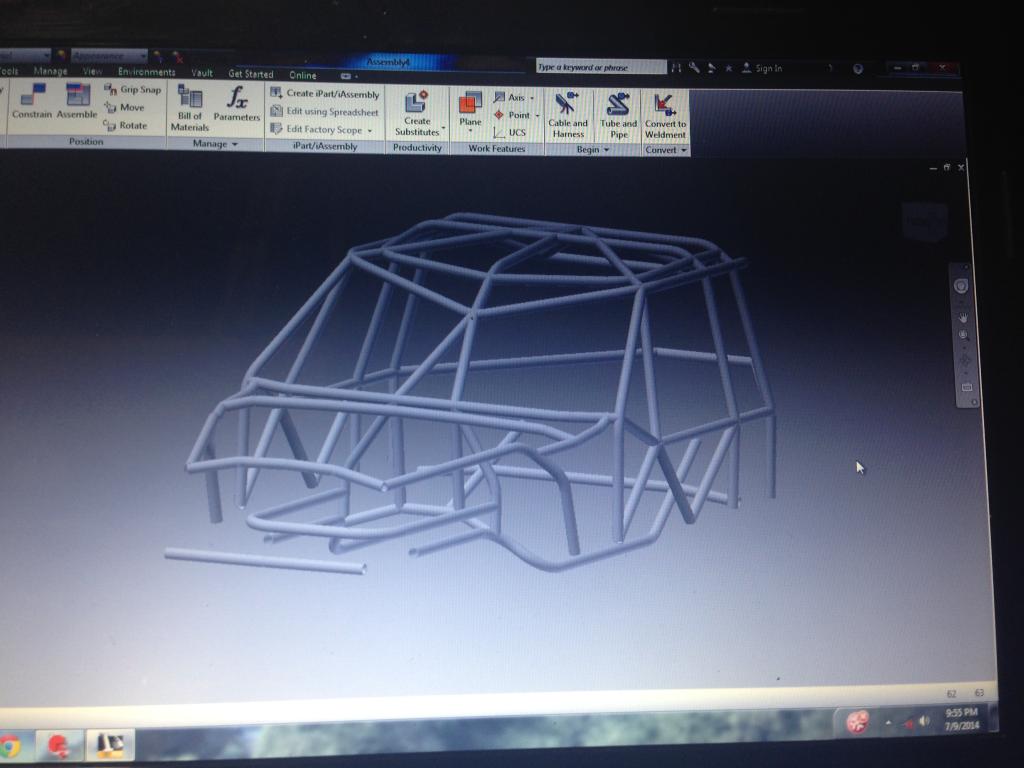 Got the majority of it tacked up tonight.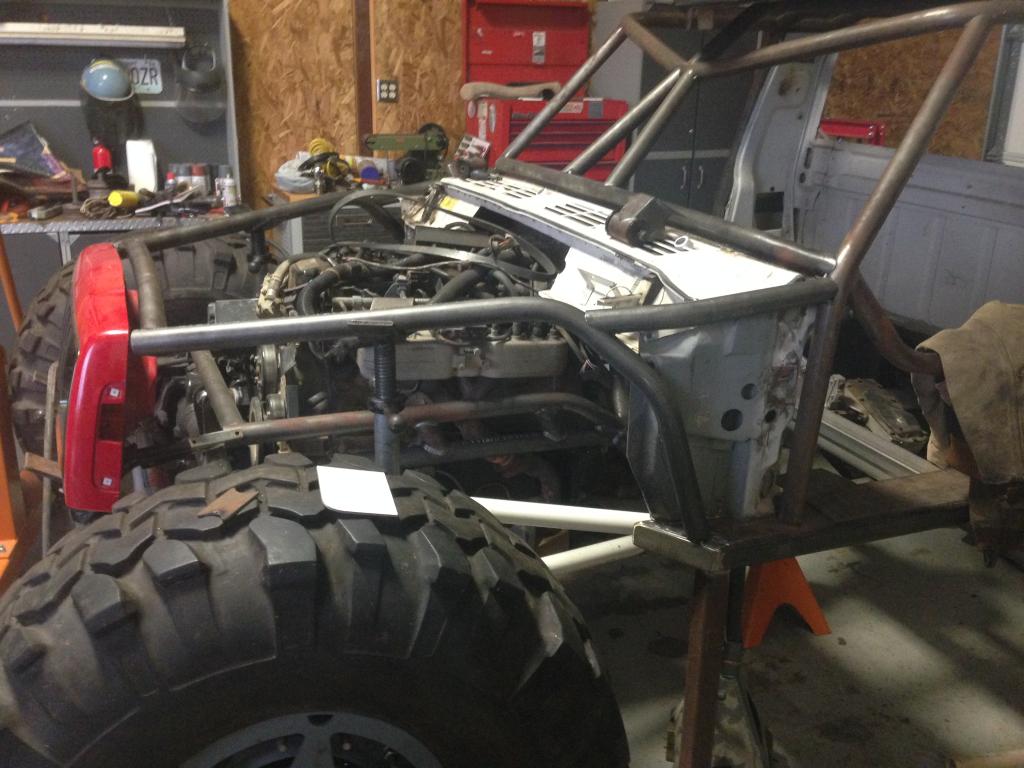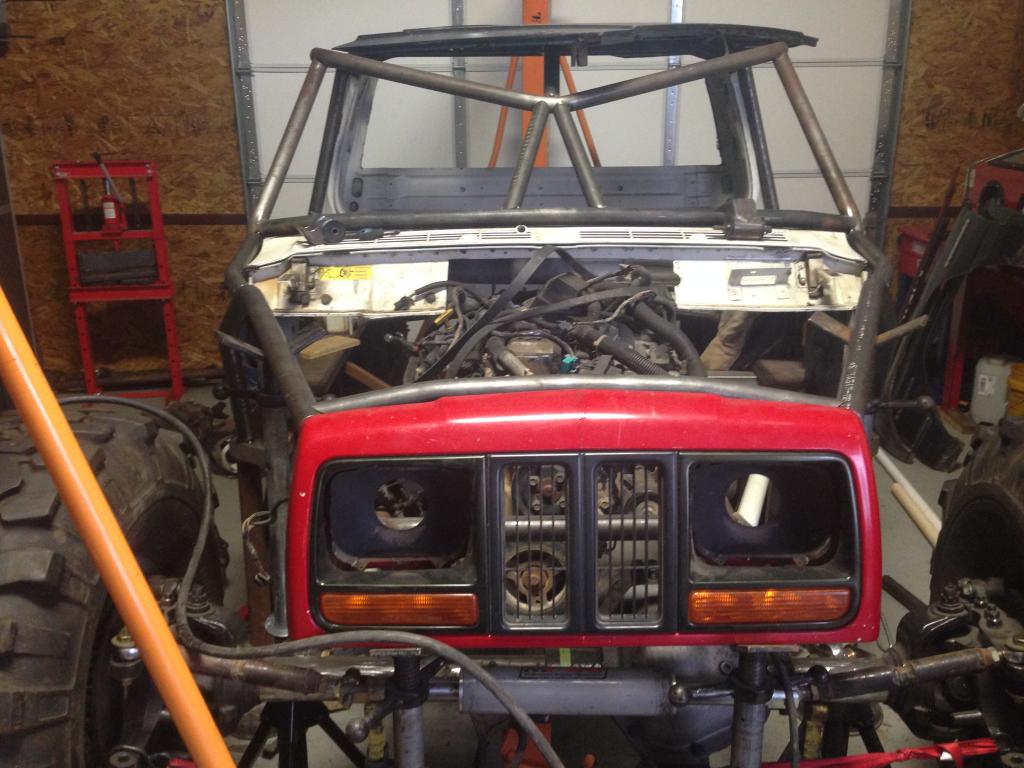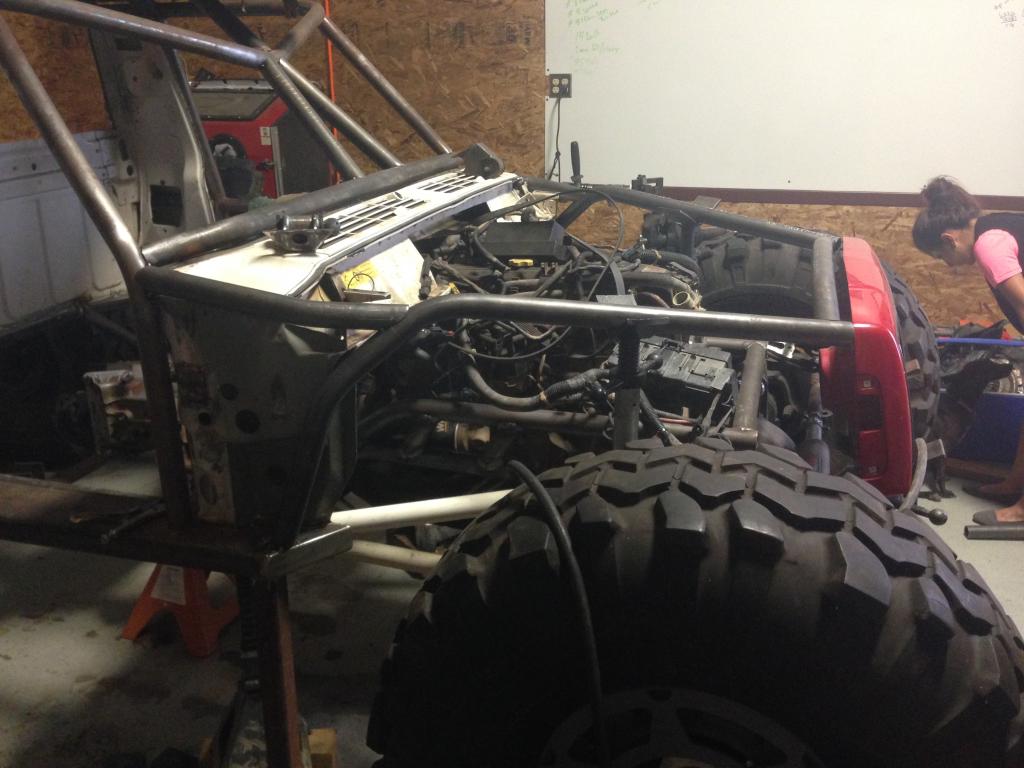 Need to trim and cap the fender tubes and build mounts for the grill. It'll fit right up against the tube.
works been slow this week so the last couple of days ive been pluggin away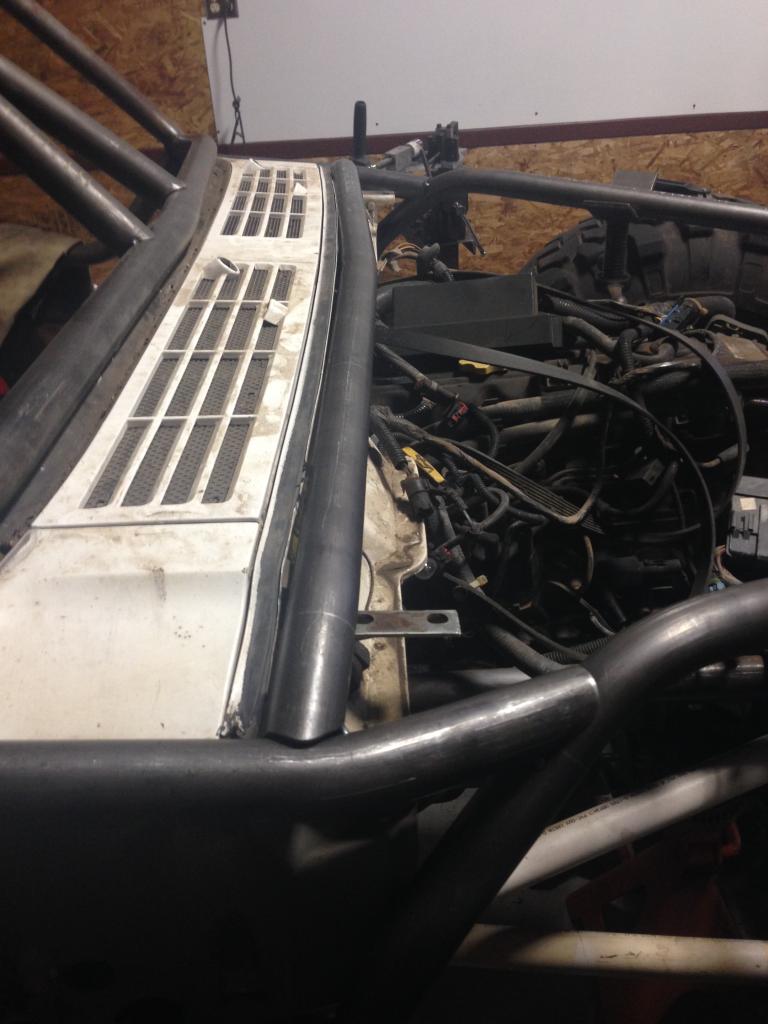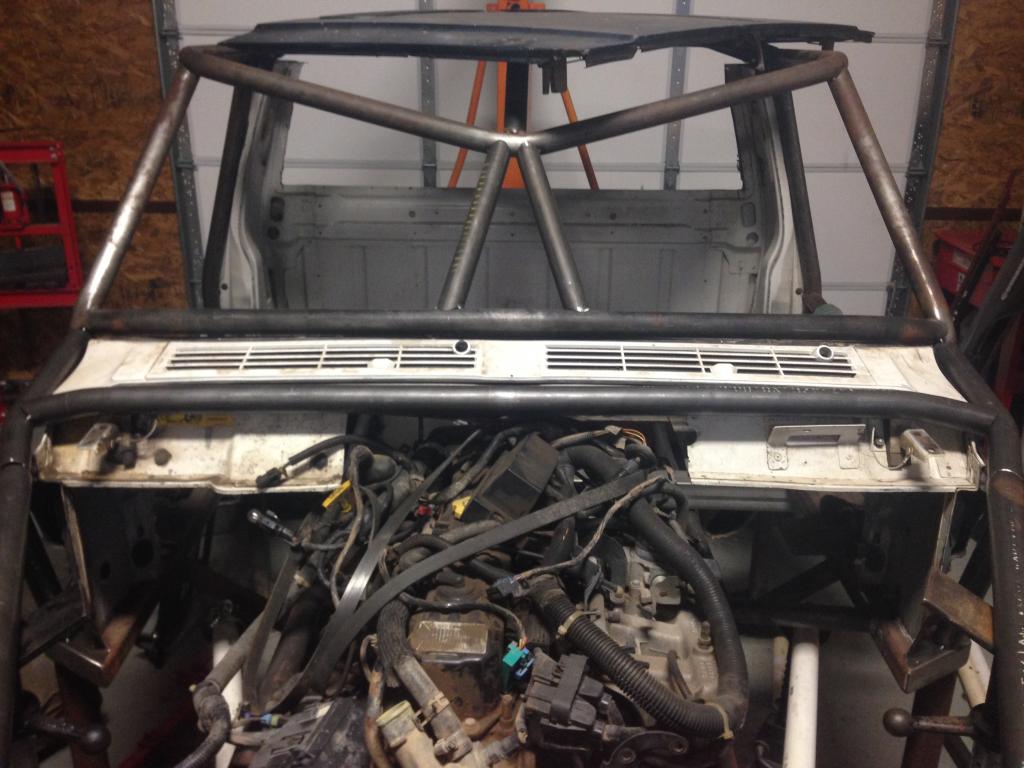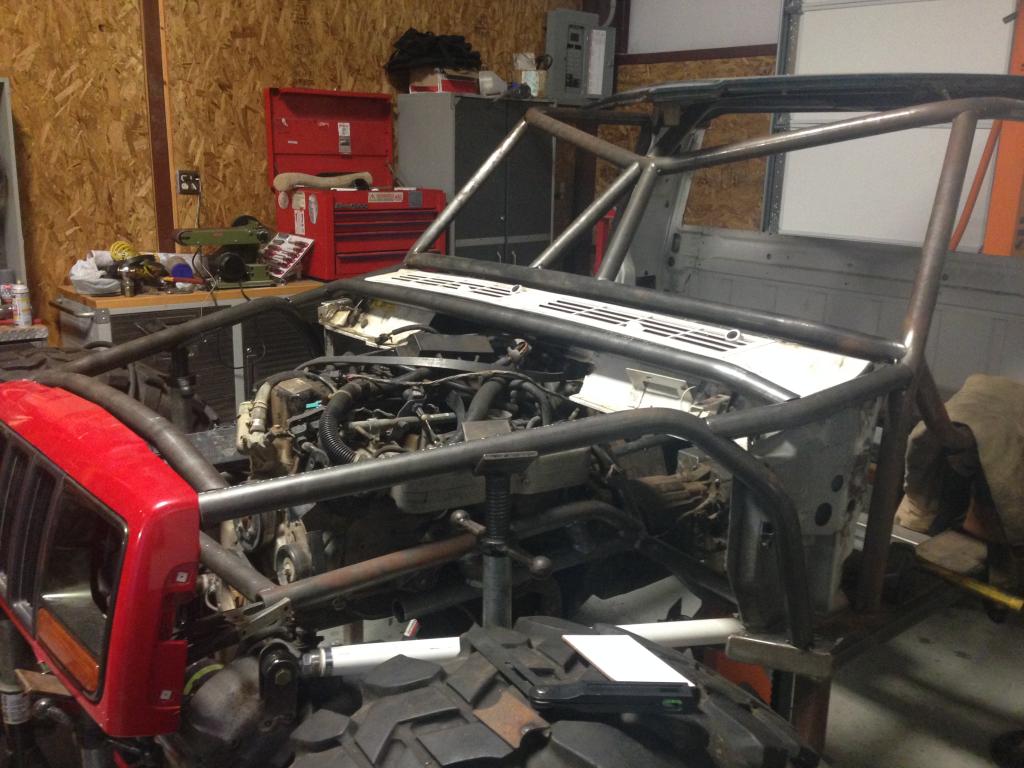 Had no idea what i wanted to do with my front tube work so i just started stringin tape... turned out pretty sweet i think.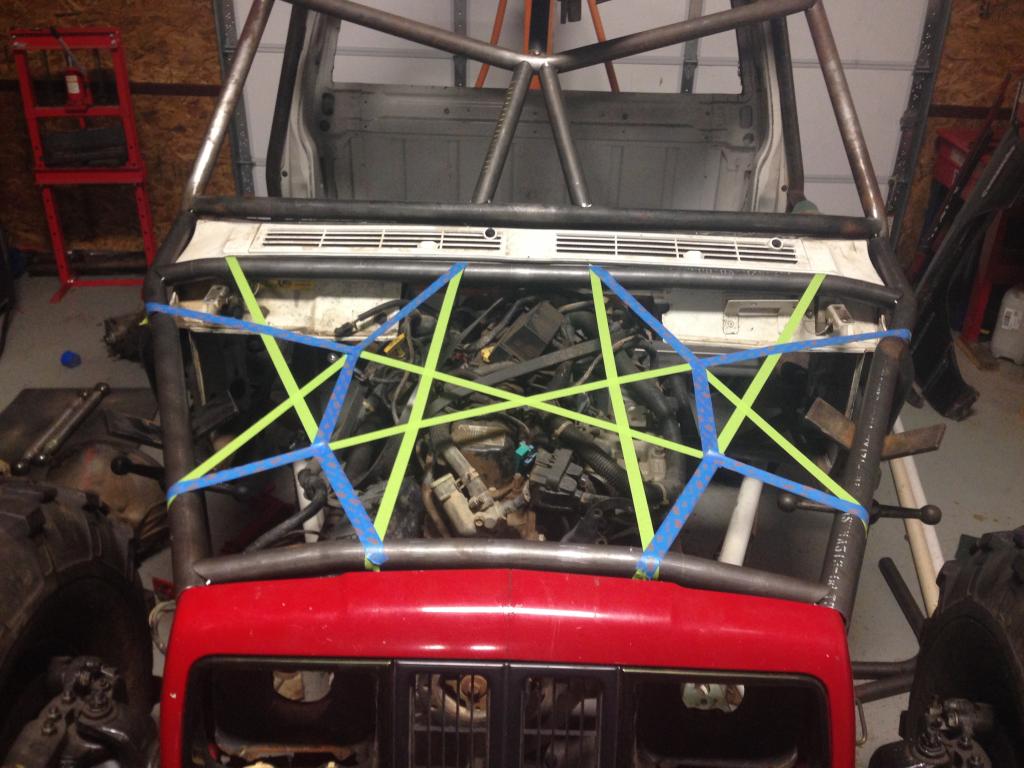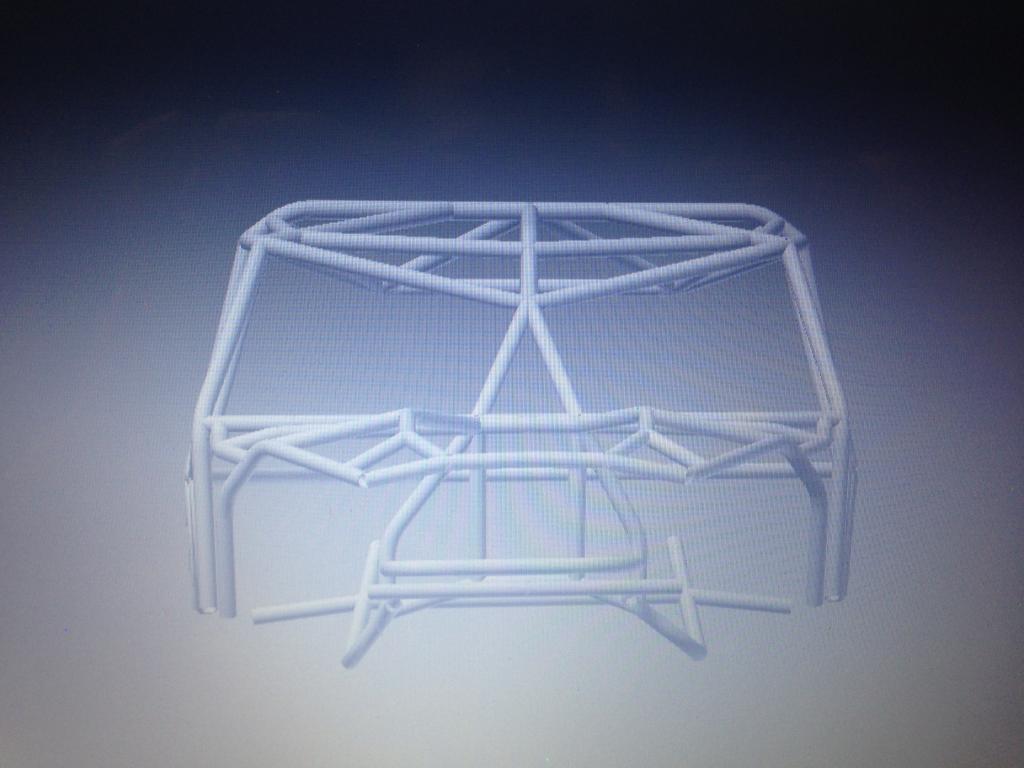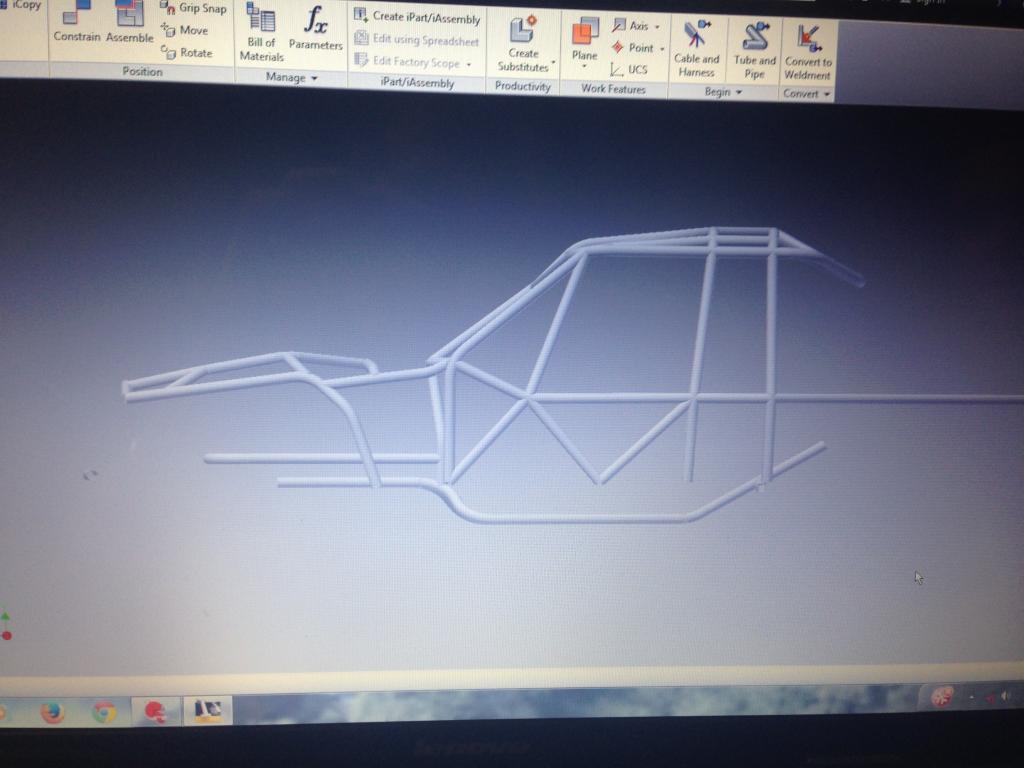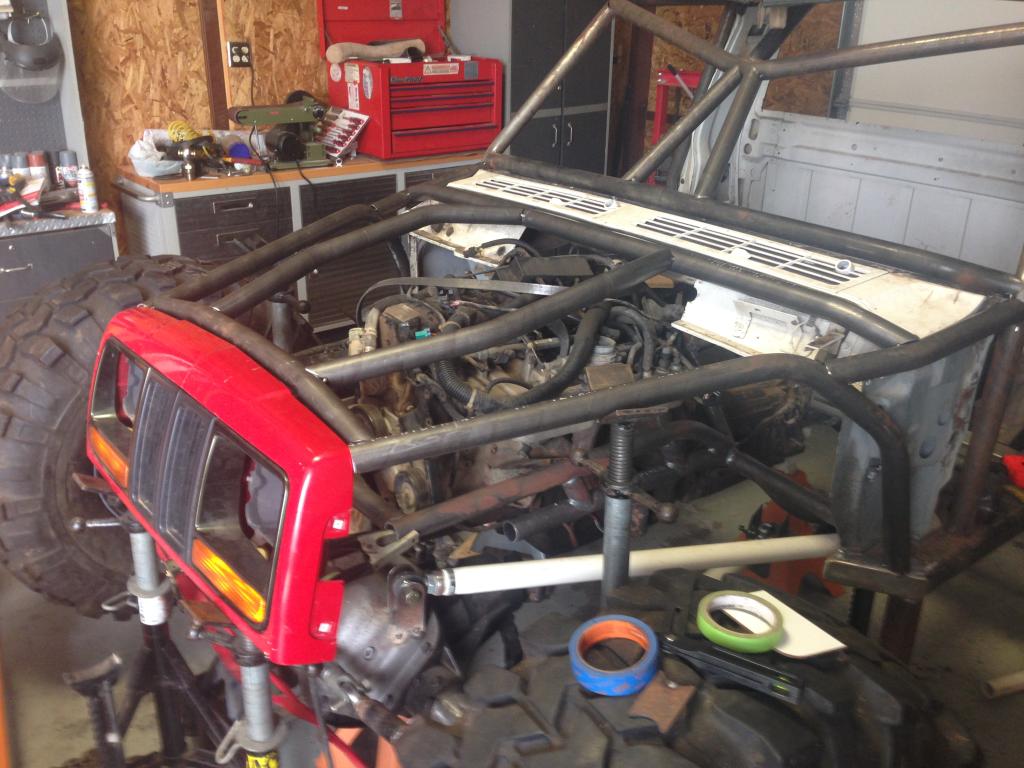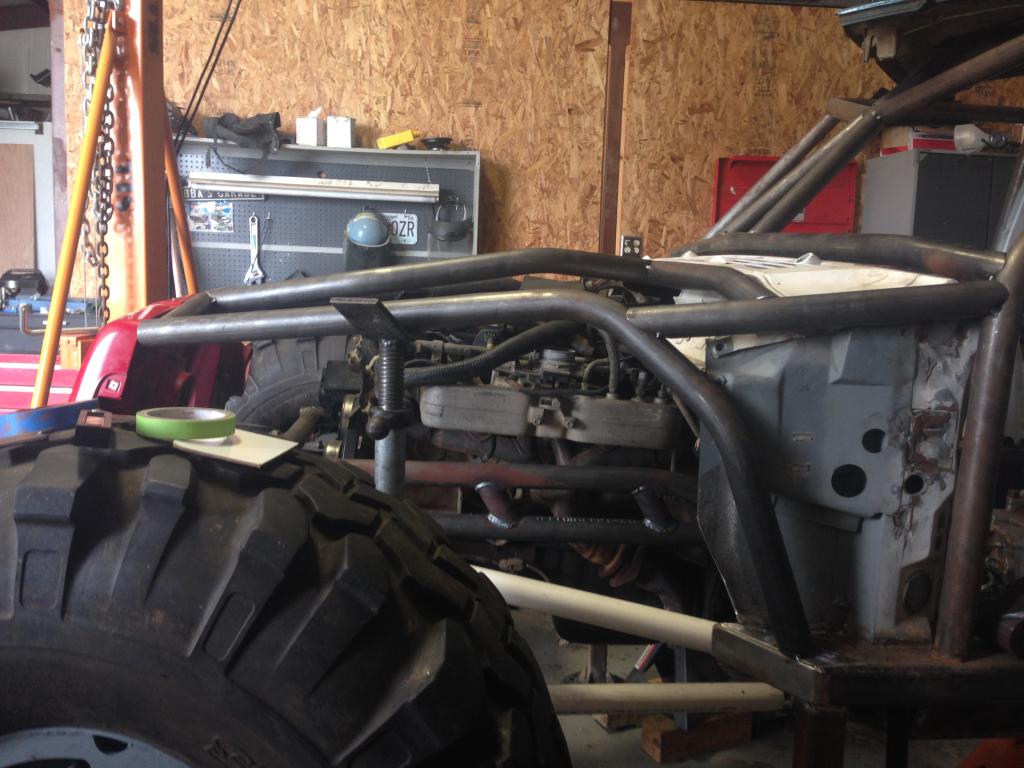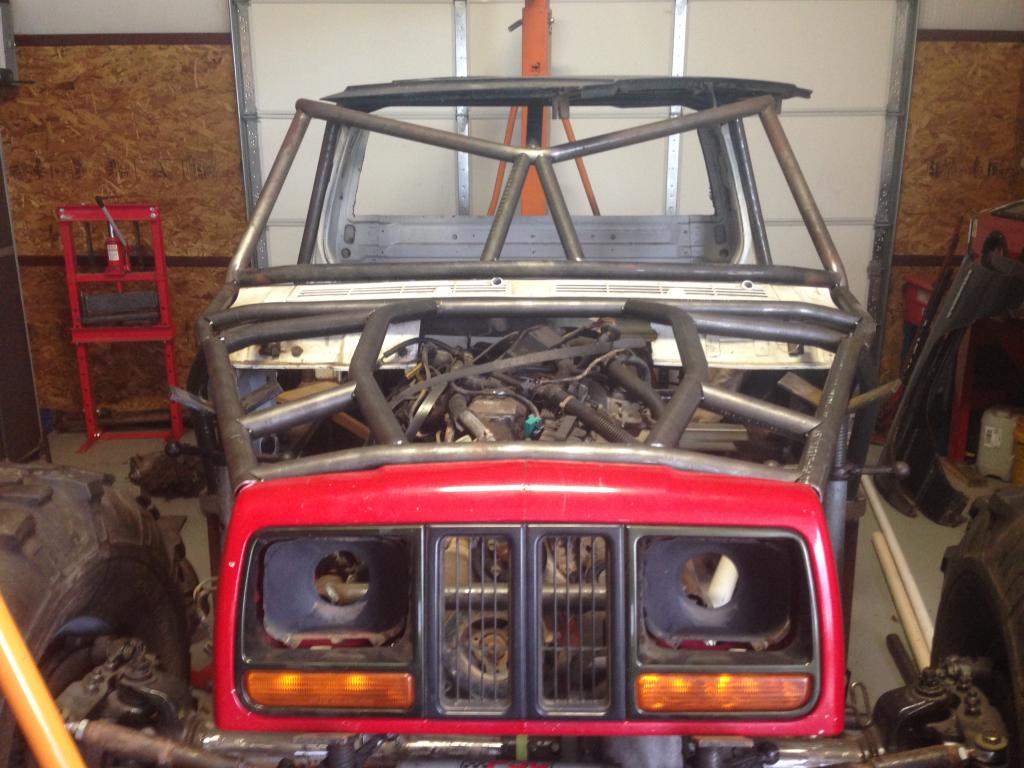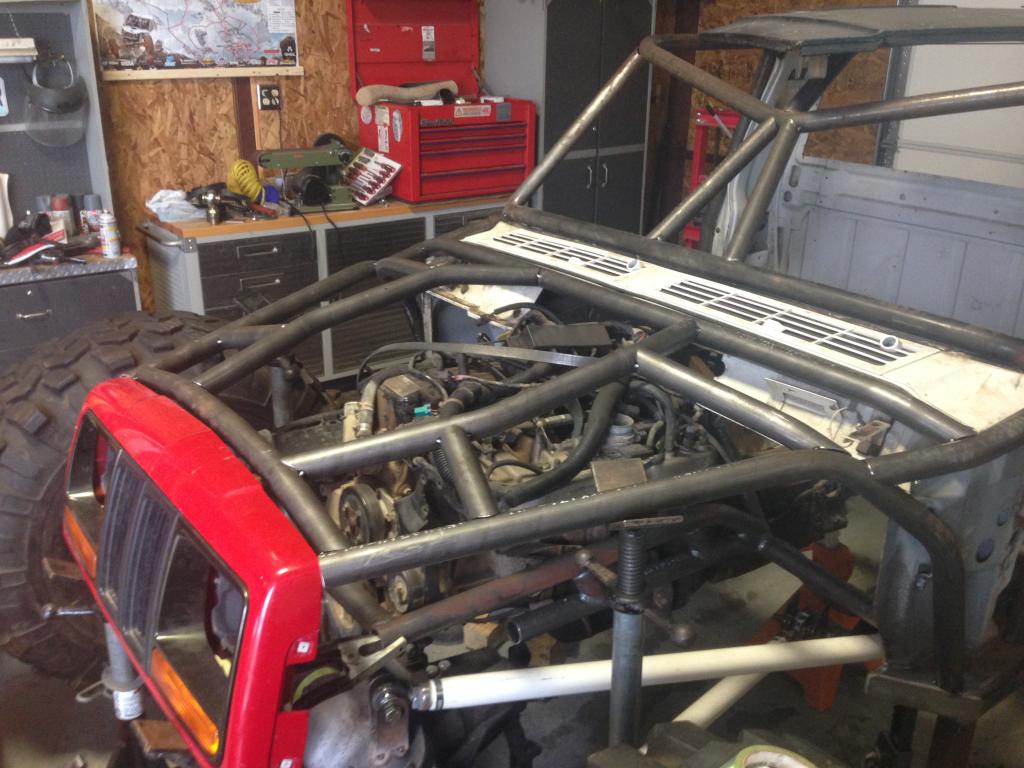 8-15-2014
Thanks! It's coming together just like I want it too!

Spending the few minutes and extra tube to calibrate your bender to bend tech is well worth it. Saves having to go back and rebend pieces bc it calculated the angle a little wrong. Are you using a horizontal or vertical bender?

Pulling the engine is going to be close. My tranny and tcase will be remove able from the interior, which is awesome! Swapped trannys the other night and it was the easiest job I've ever done. The biggest question will be if I can pull the motor with accessories and manifolds. It will def come out if I pull the intake but I'll find out when I pull it apart for final welding.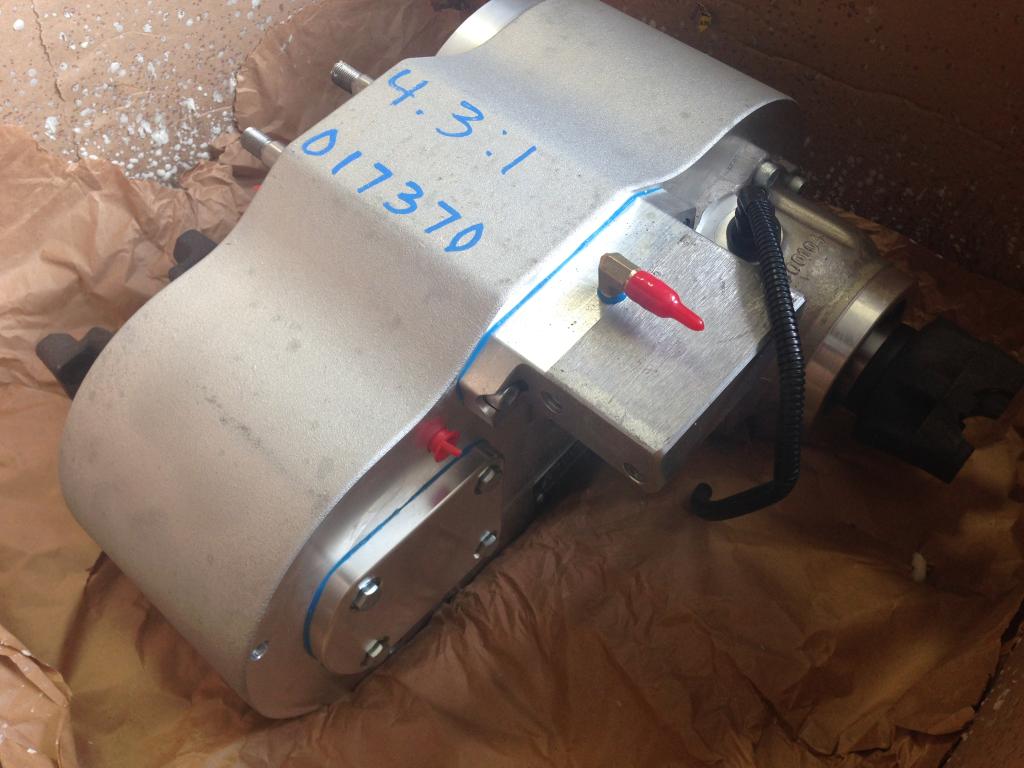 BLING!!!

Did some measuring and with the aw4/231/300 my front and rear drive shafts were 55" in the front and only 25" in the rear. With the ax15/atlas I'm at 40 in the front and 35" in the rear. Should make the rear drive shaft a lot happier with the 20" of rear travel I'm shooting for. And went from 1310s to 1410s.
8-15-2014
Got the front bumper started and winch mount. The two tubes are going to get Clevis mounts welded in.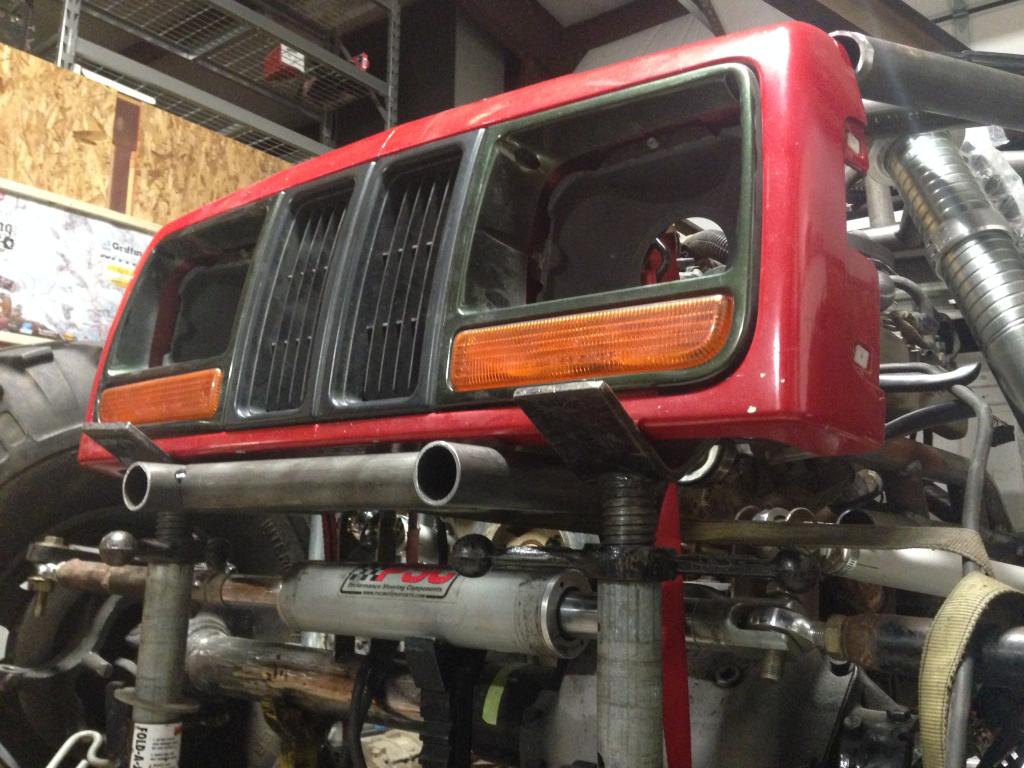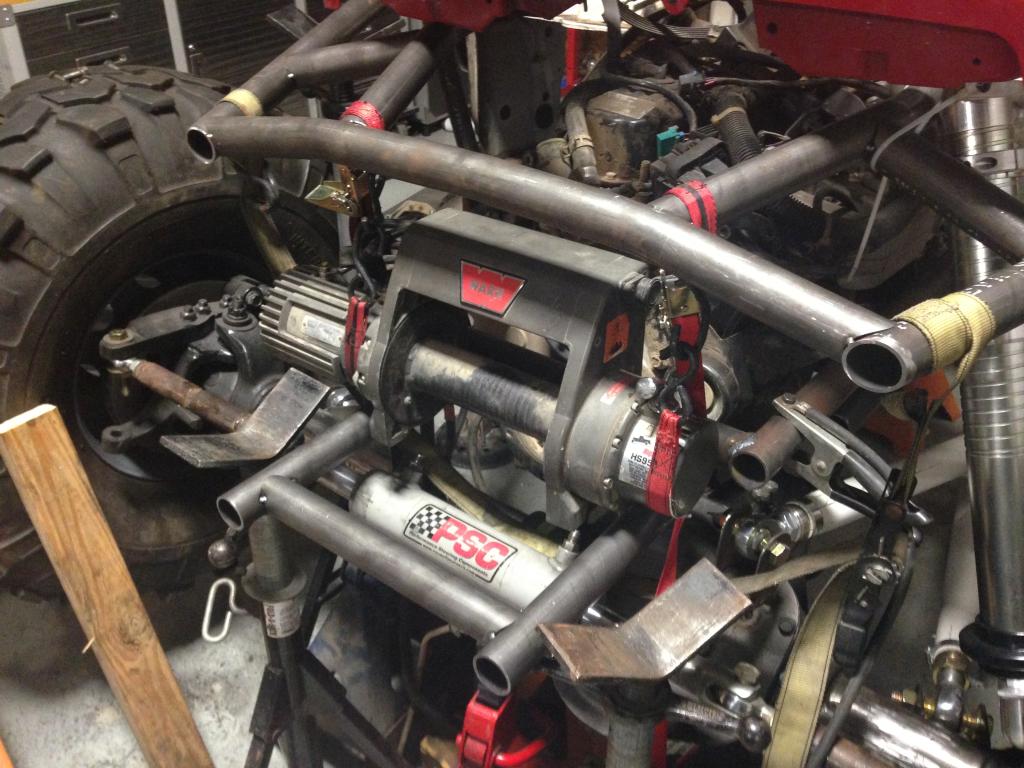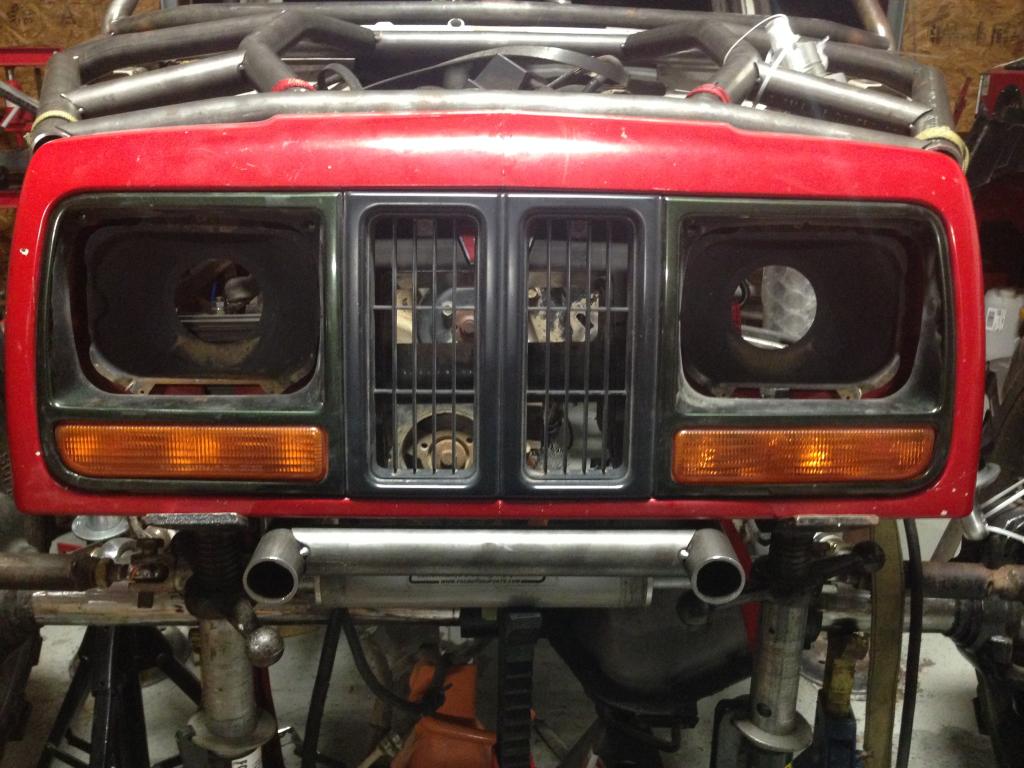 Finished framing in the grill so it's mostly protected, will go thru and cut, trim and cap all of the front tubes. Just found as much drop as I could.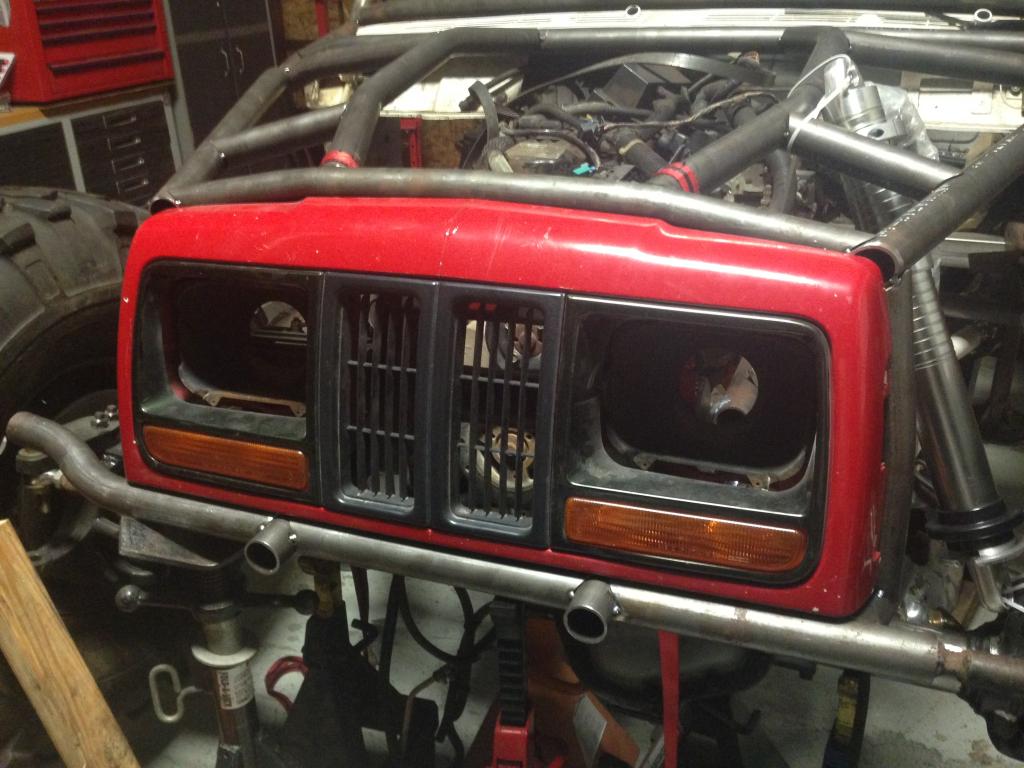 So when I cut out the rest of the floor/frame I actually lowered the rest of the chassis 2". So originally the frame was set up with a 20" belly and 74" at the roof. Now with the new subframe I'm still at 20" belly but 72" roof. That did a couple things for me, I narrowed the subframe so my boat side runners are flatter so even tho I lowered my rocker height I gained a ton of clearance. Annnnnd made it easier for my 5' tall girlfriend to get in and out. So the challenge has been I've basically raised my floor height a good 6+" which left very little room under the cowl for my size 13 shoe and hardly enough room for all 3 pedals. And my seat was offset towards the center bc of the inner structure of the cab and in order to get my leg over to where the clutch would be I had to twist my leg which was very uncomfortable.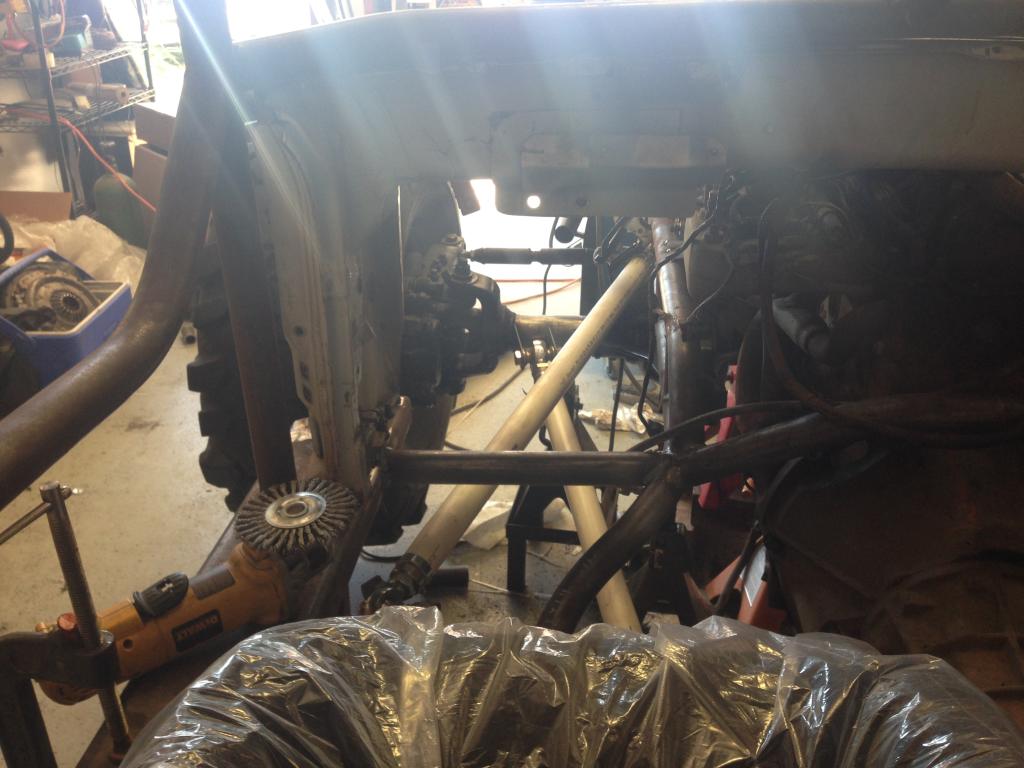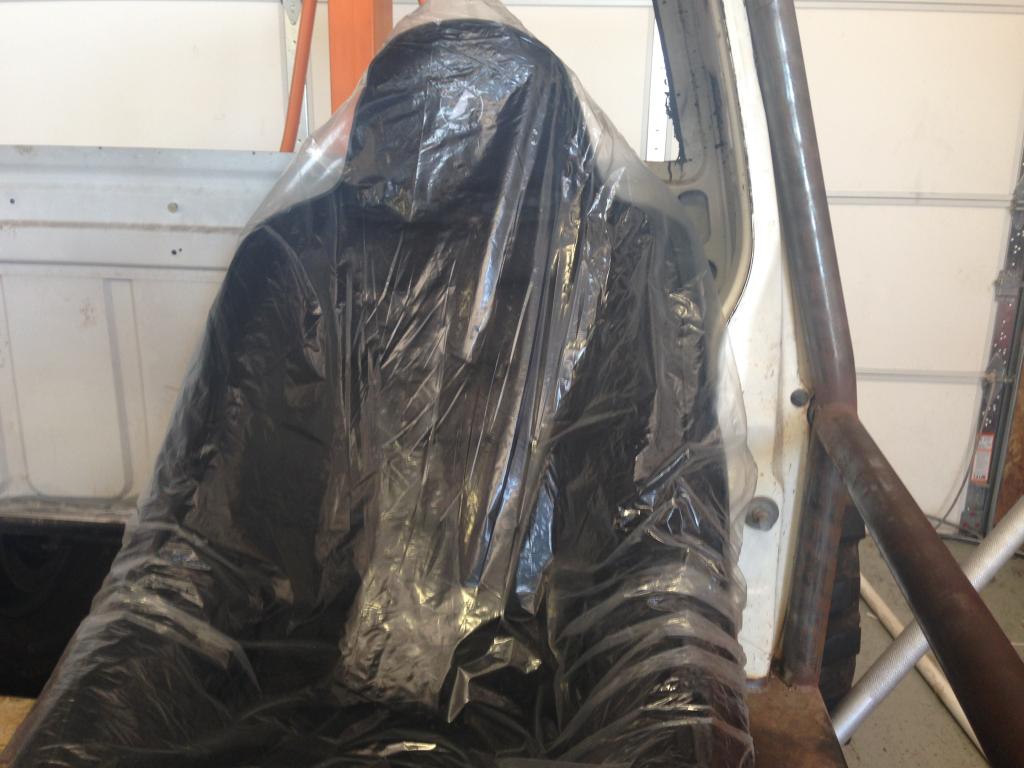 So out came the plasma. I decided that cowl had to go. The only reason it stayed as long as it has was bc I wanted to keep that plastic cowl cover. I can build something similar pretty easily and it opens up so much space for mounting steering, master cylinders and clutch. Just not worth keeping.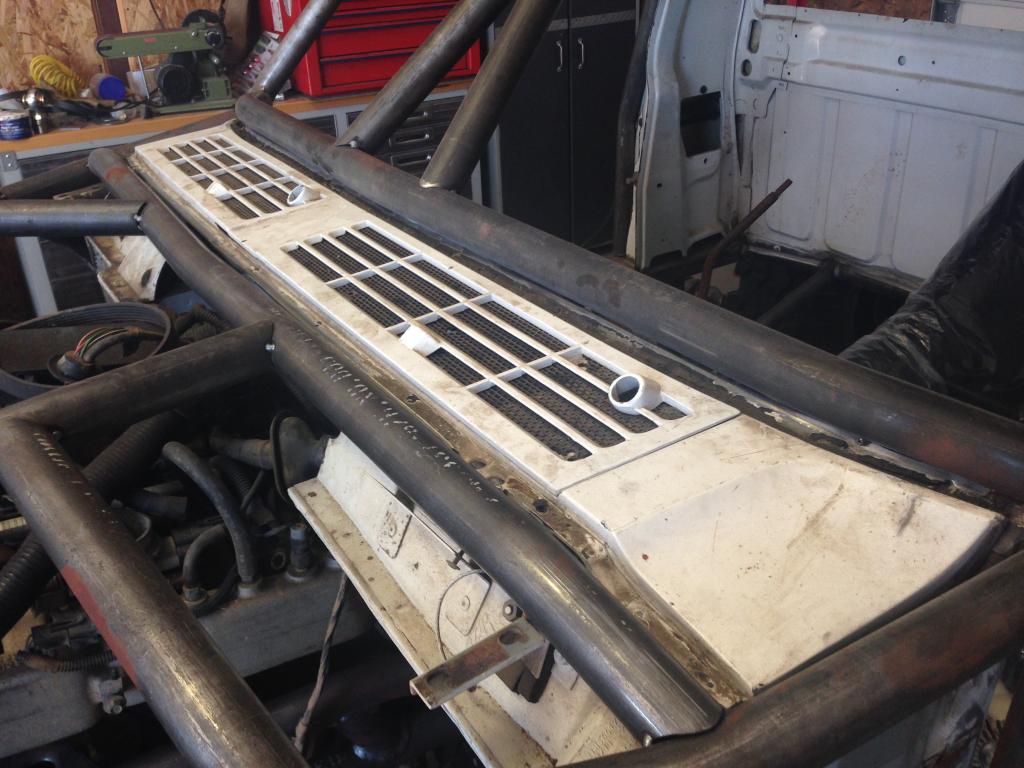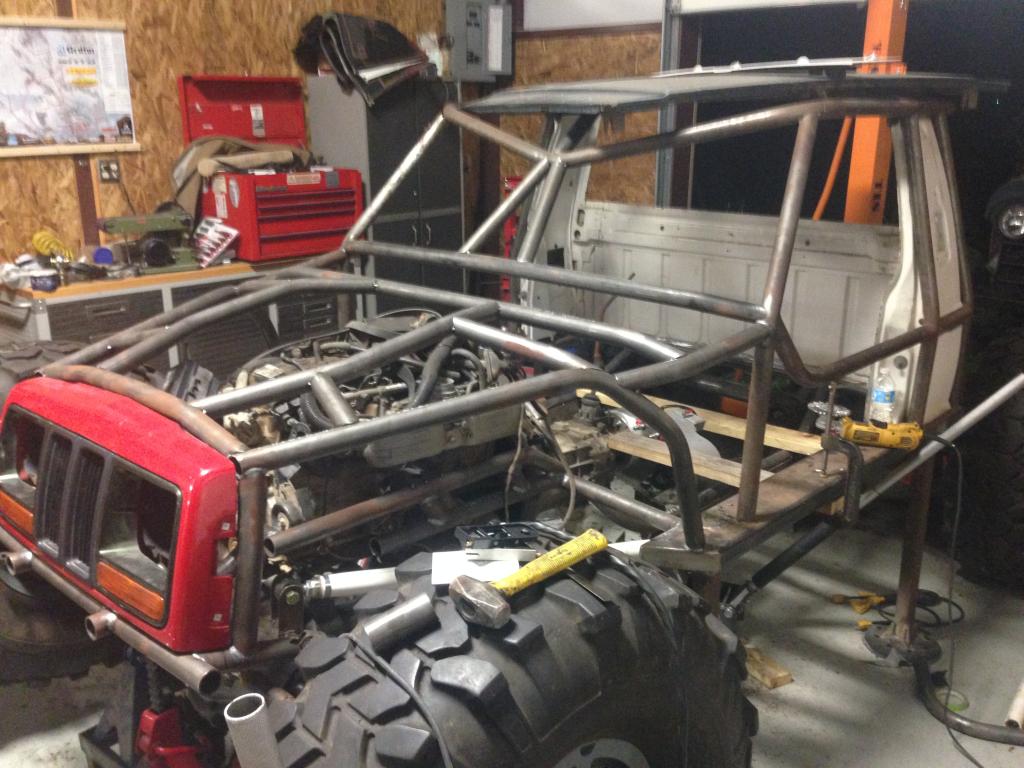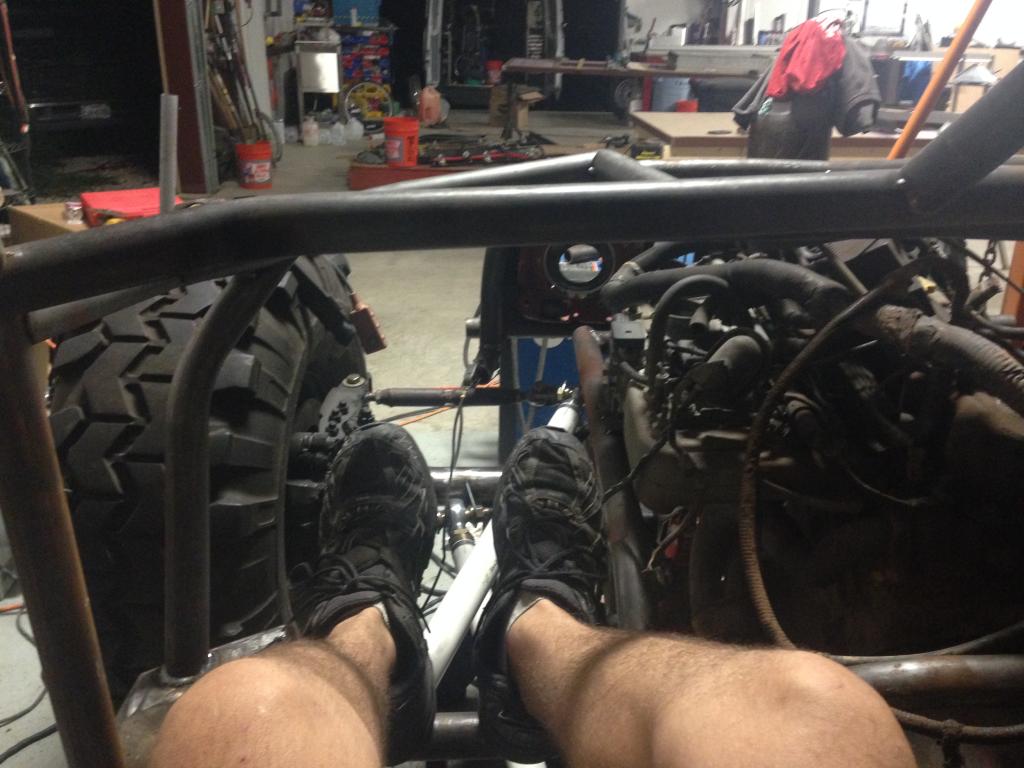 Then I also removed the inner cab structure so I can move my seat out.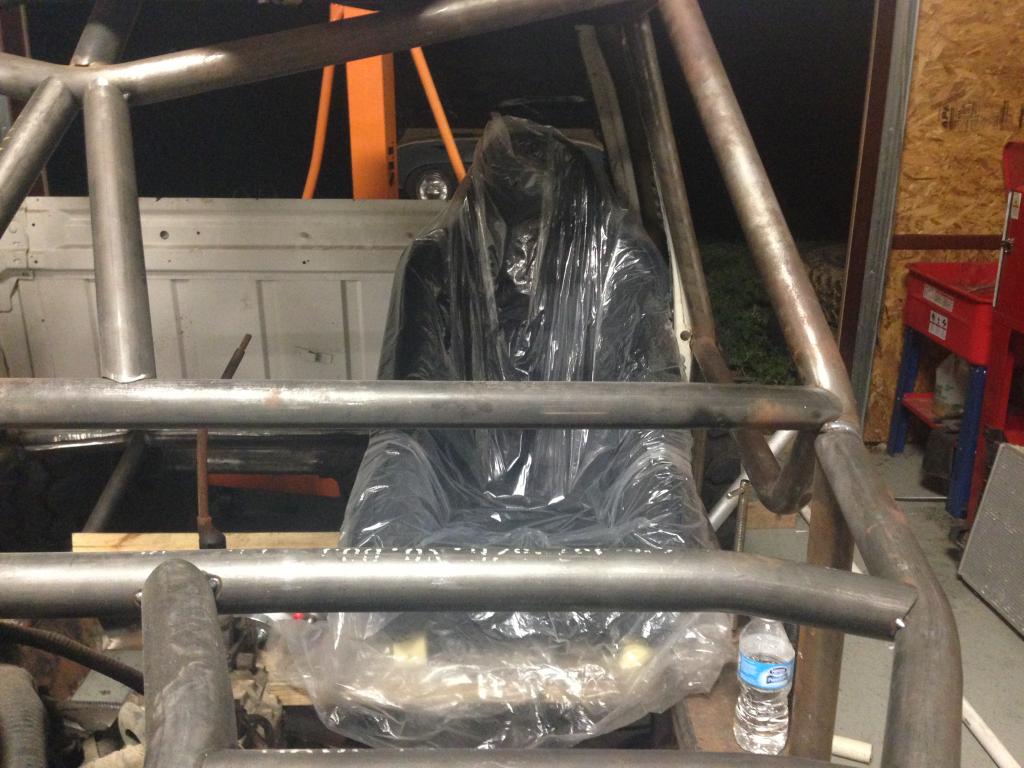 Didn't get a pic but the ax15 and atlas are also installed
That's where I'm at now, got some more PVC to start mocking up the rear end and get started on the tube work and build the final subframe. Ready to get this beast a roller!
8-17-2014
So my shops been slowly accumulating crap, all my work benches were unworkable, couldn't roll the welder around the jeep, blah blah... Spent the day reorganizing, cleaning etc. finally got my first unobstructed view of the chassis. Nice to be able to step back and actually see all the lines.
Before: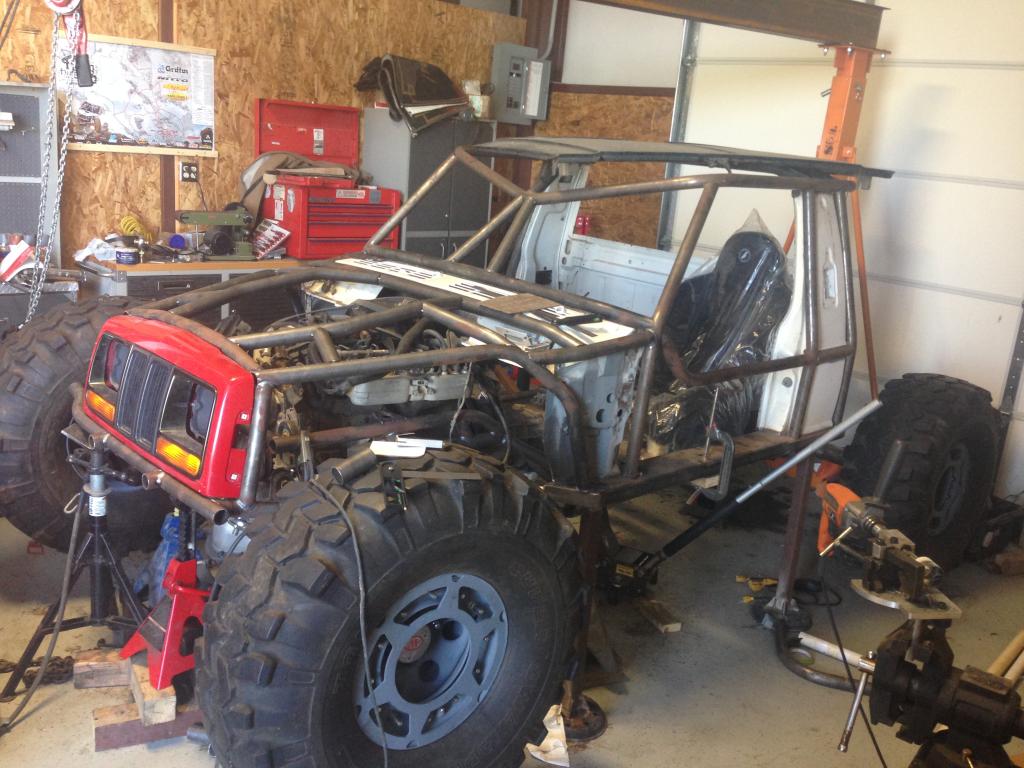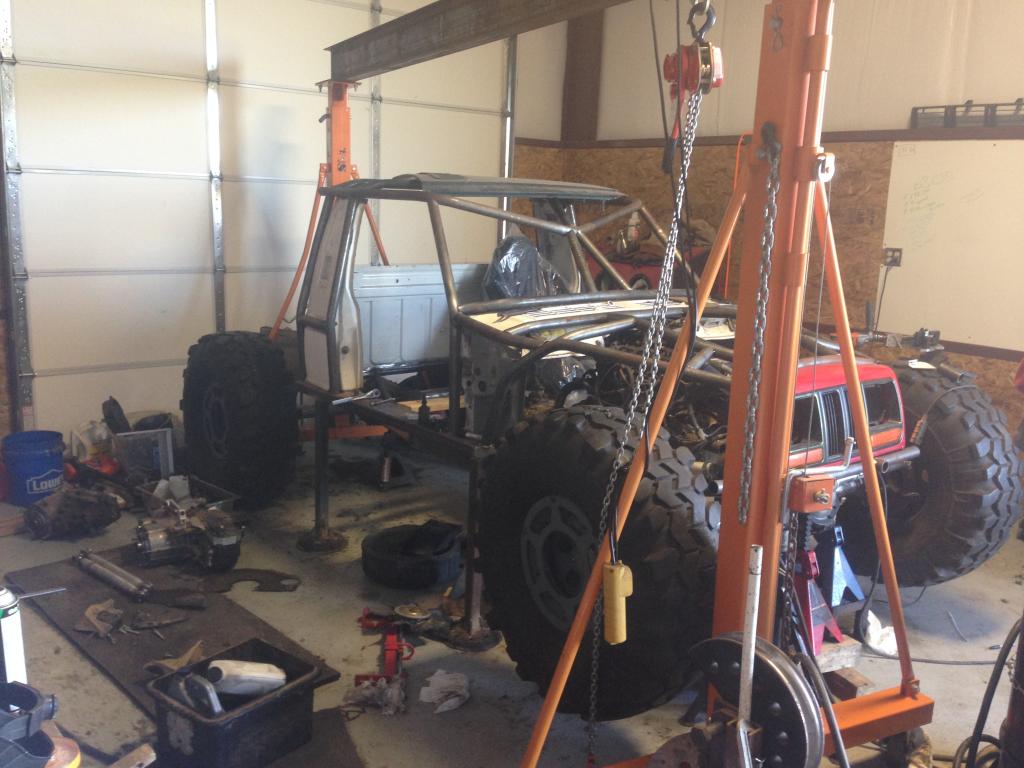 After: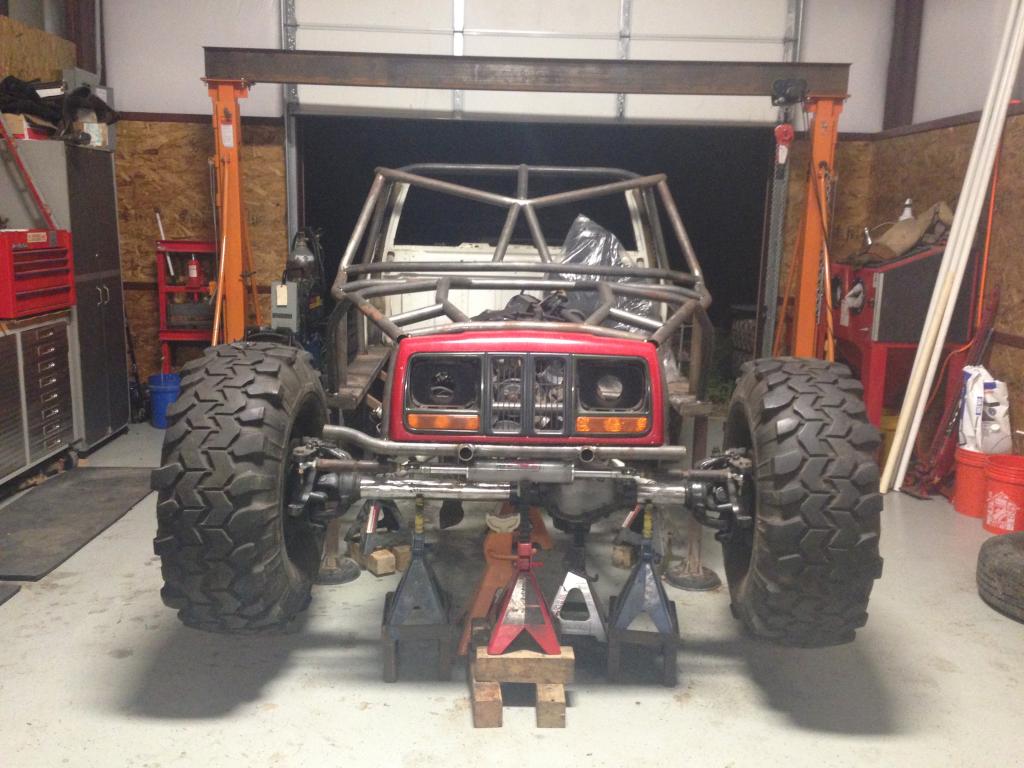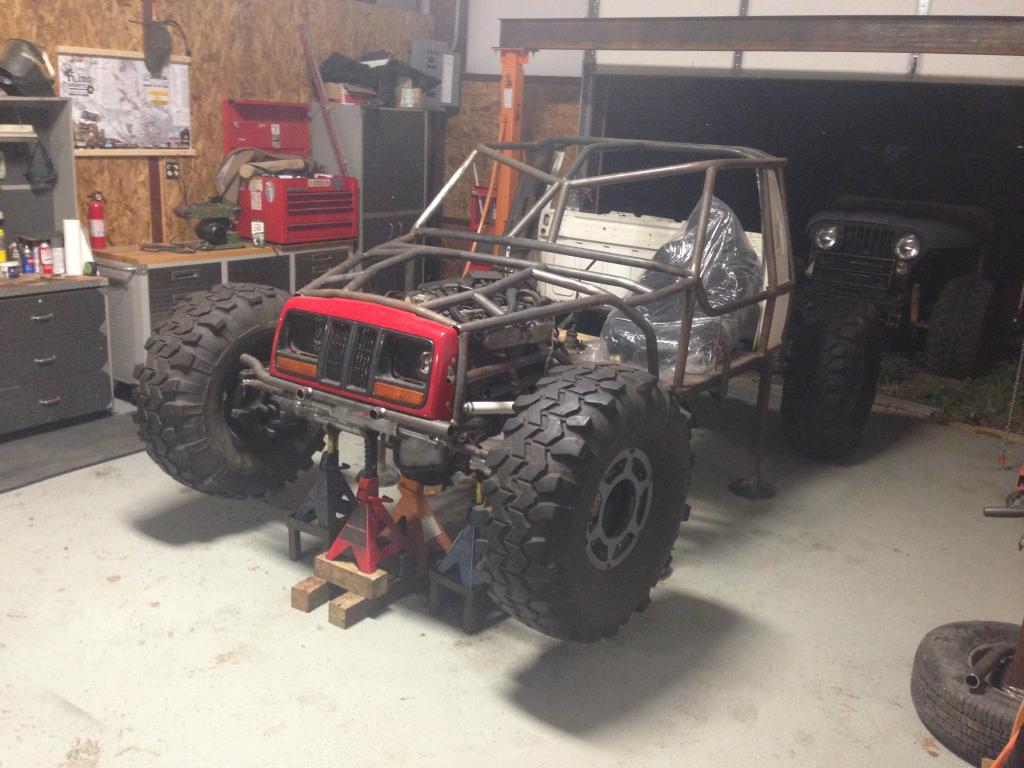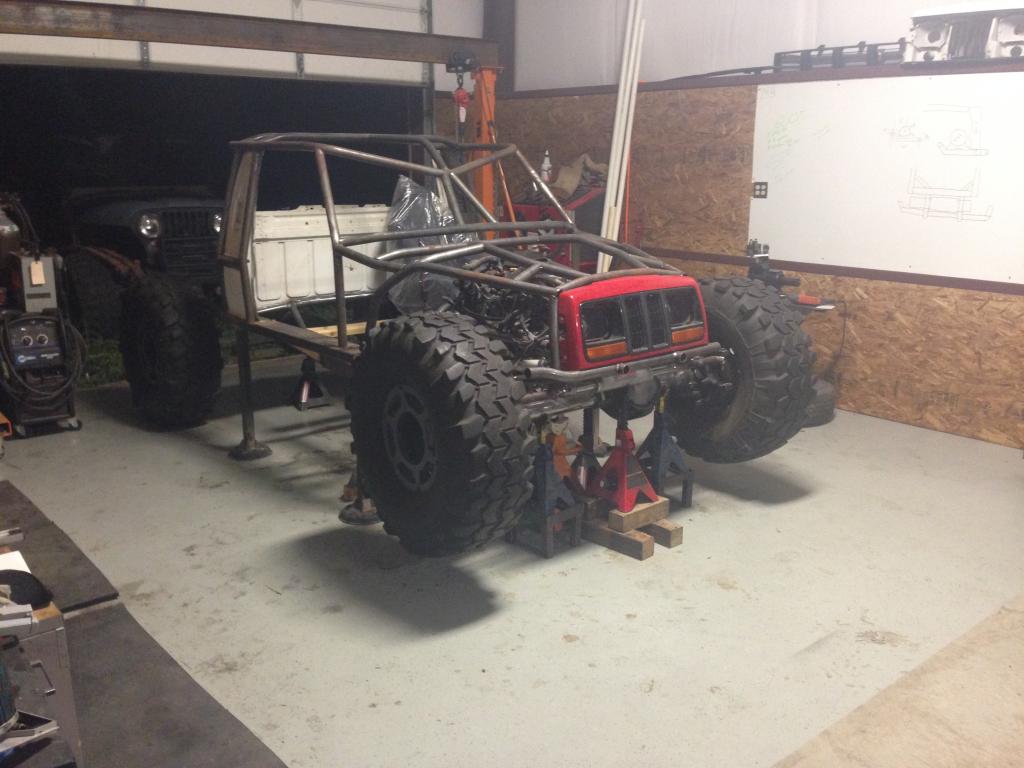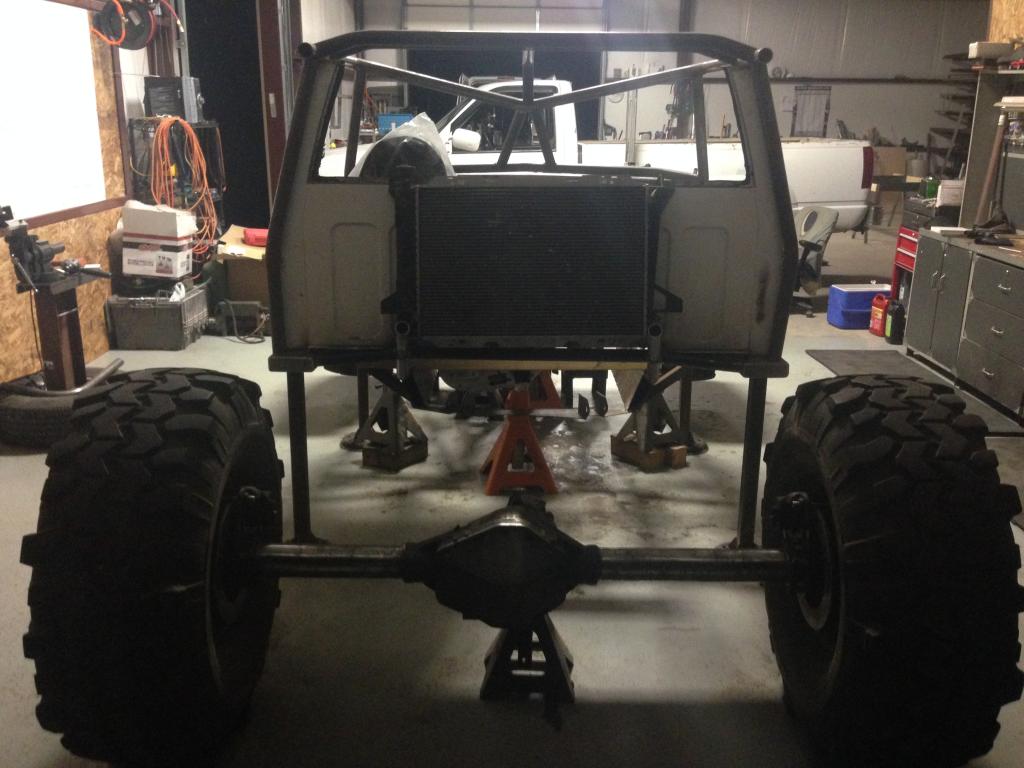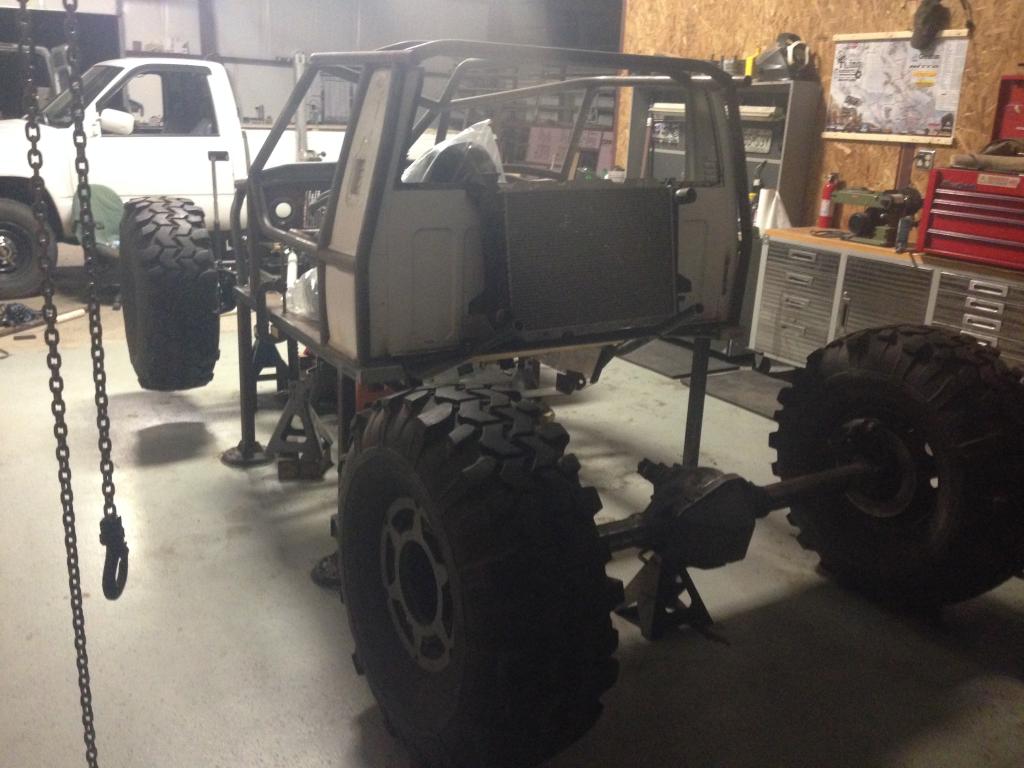 A little more motivating knowing I won't be tripping over crap trying to get something accomplished and spend half my time looking for tools.
10-13-2014
Not bad visibility I'd say.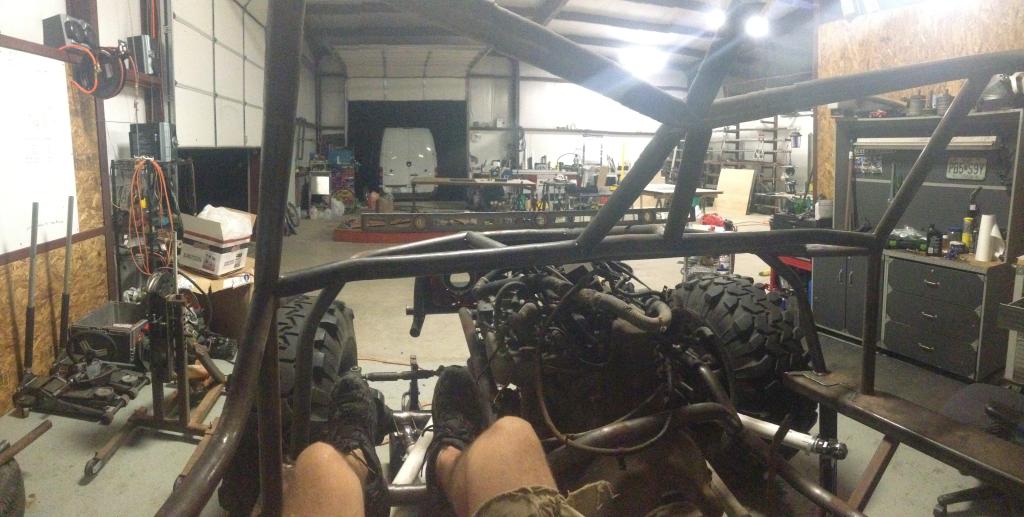 Picked up a CJ tailgate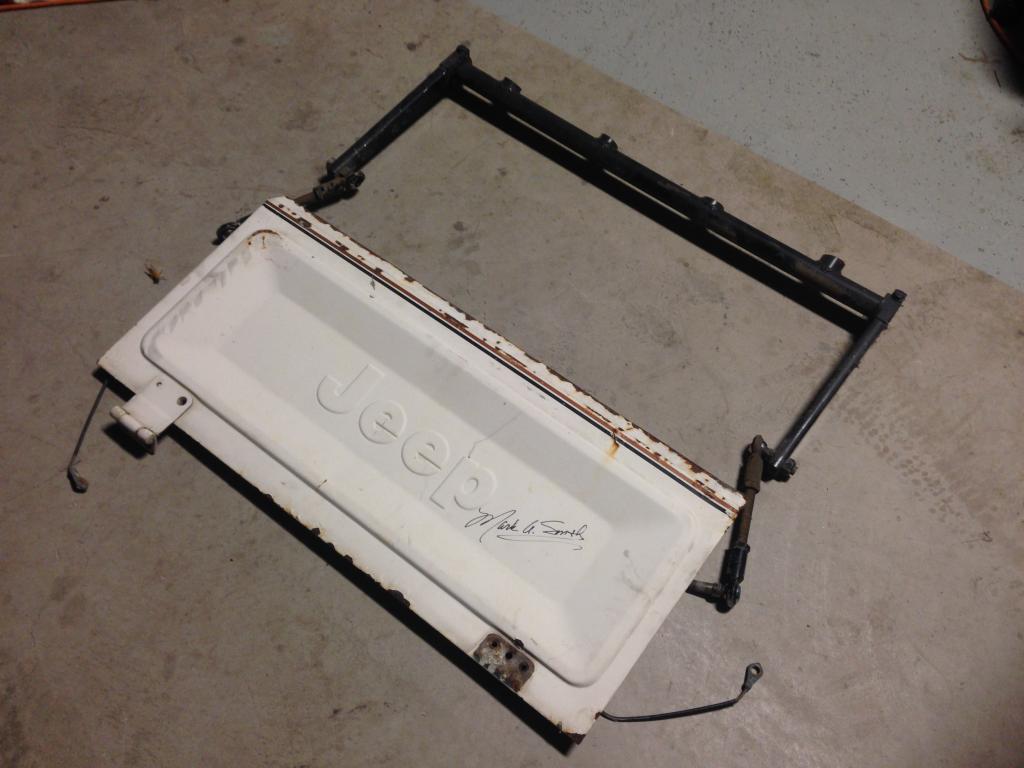 Still trying to get rid of this Dana 300...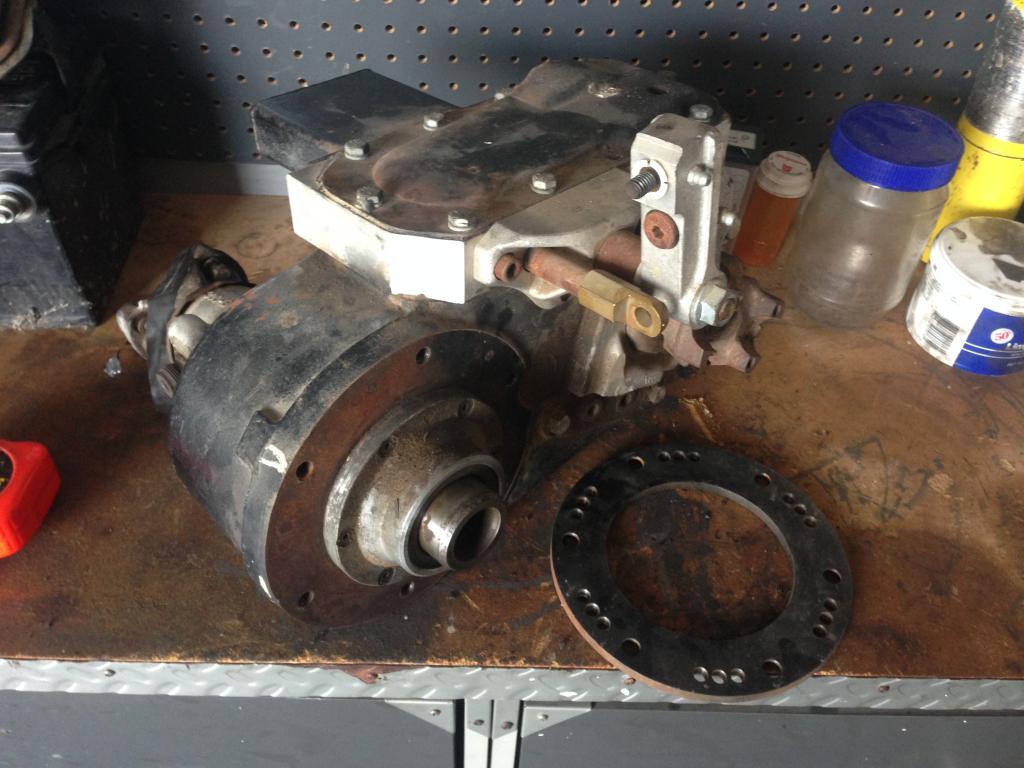 And ordered some more stuff from TMR.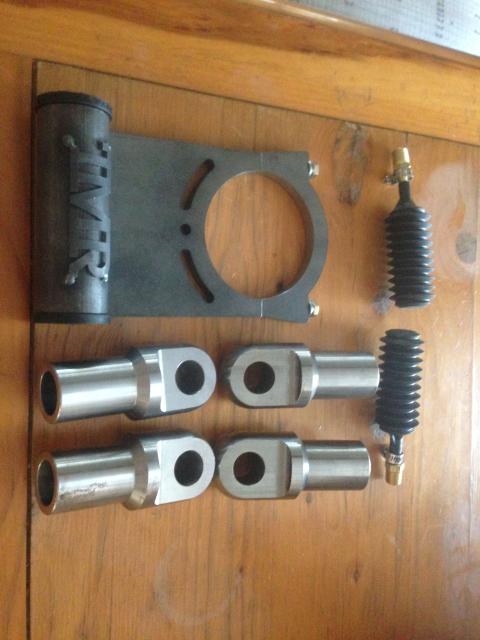 Now onto the real update:

I got the subframe designed and built, took a little from ultra4 cars and sleeved the lower tubes for extra strength.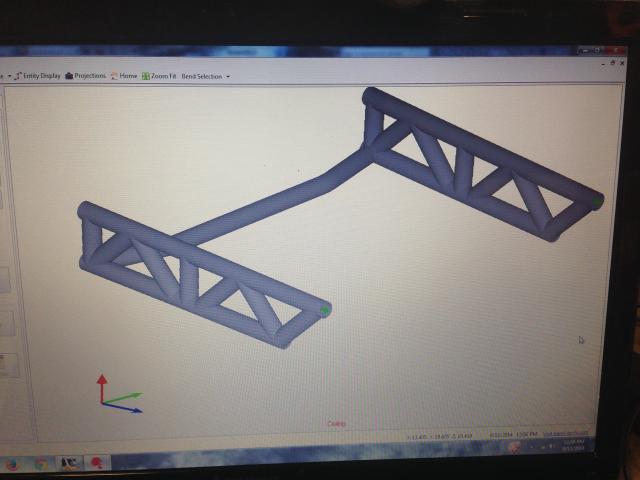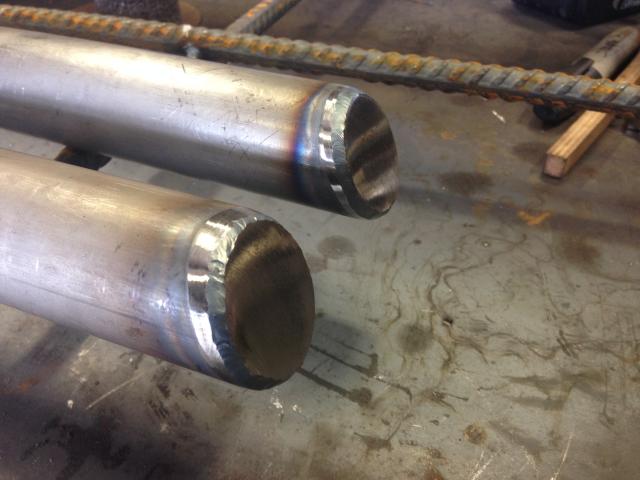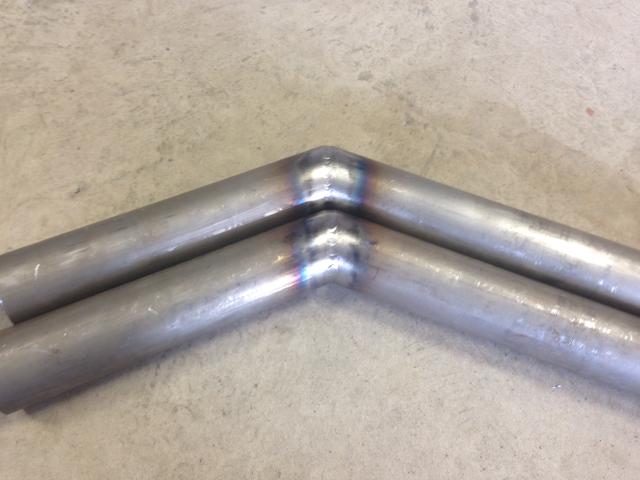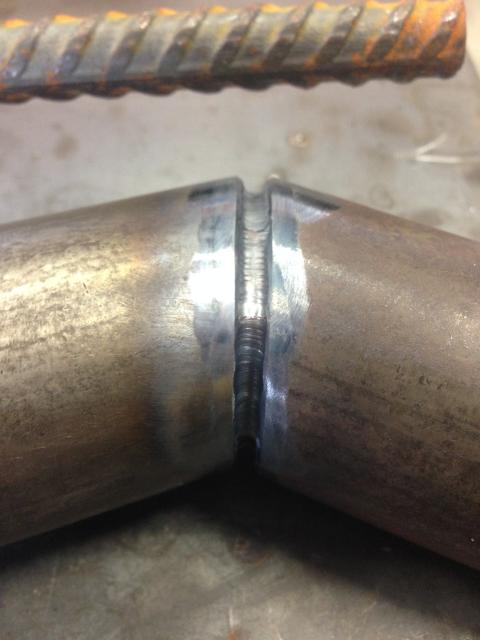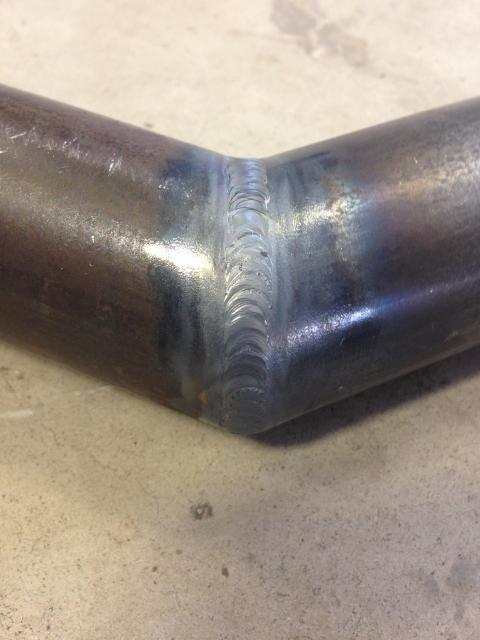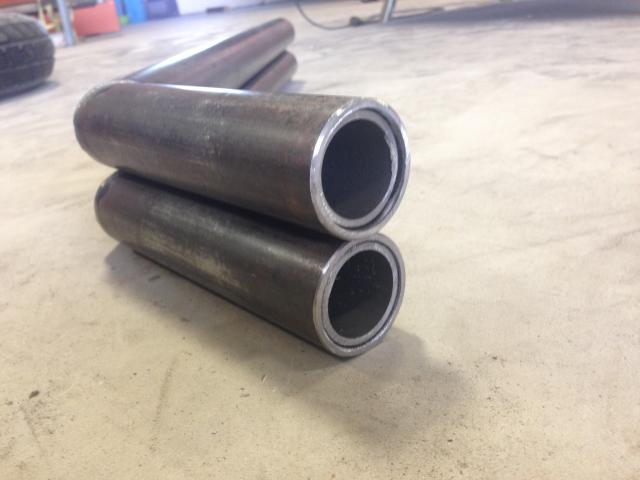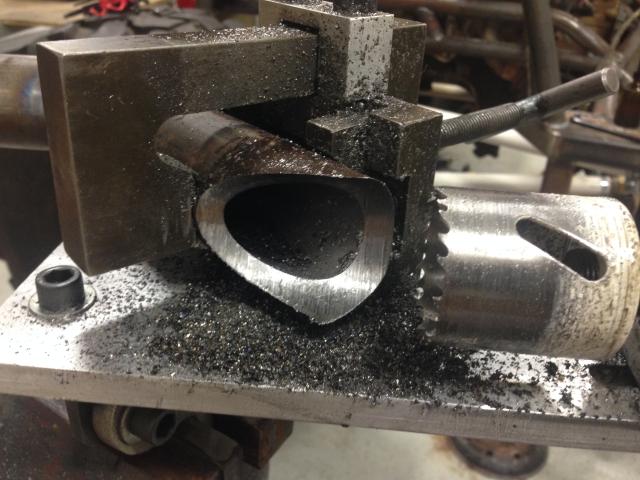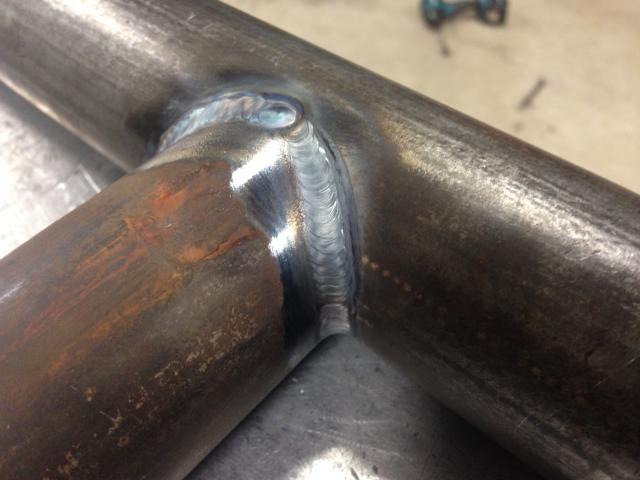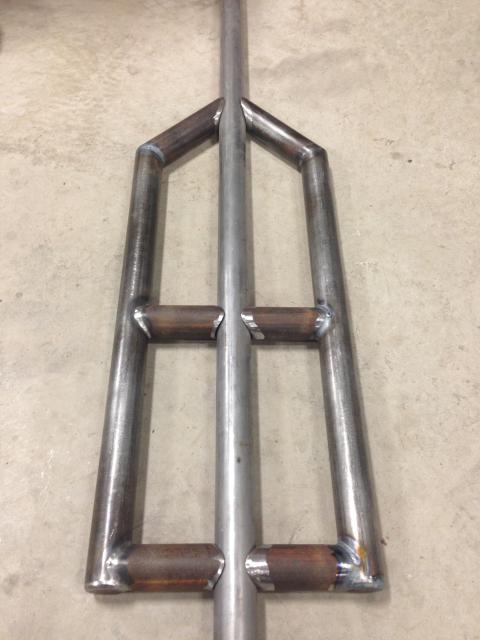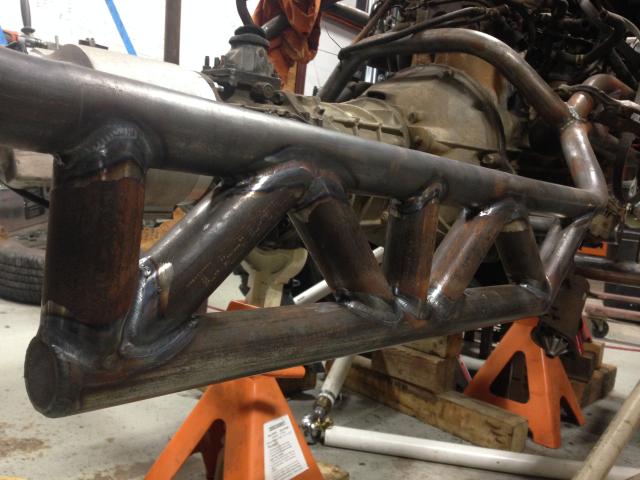 Couple of the welds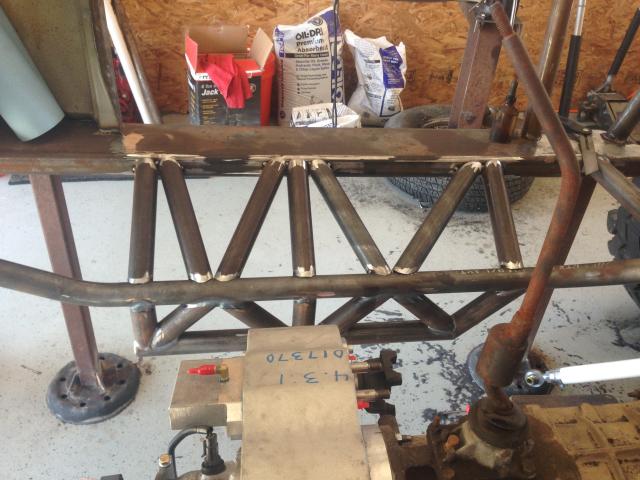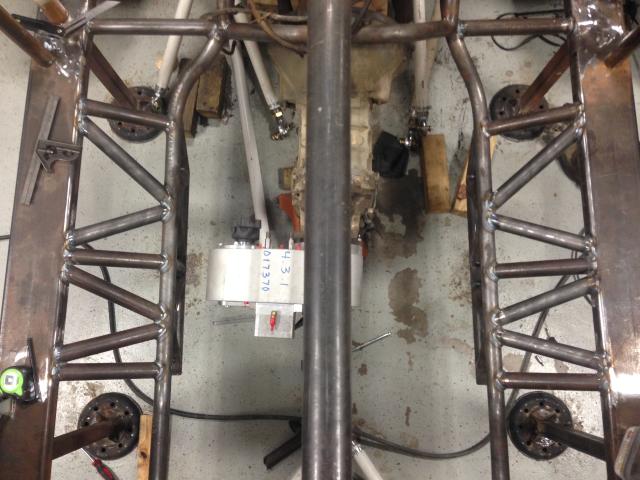 Got a little distracted this week with 5 semi loads of broken concrete to build a rock course on our property.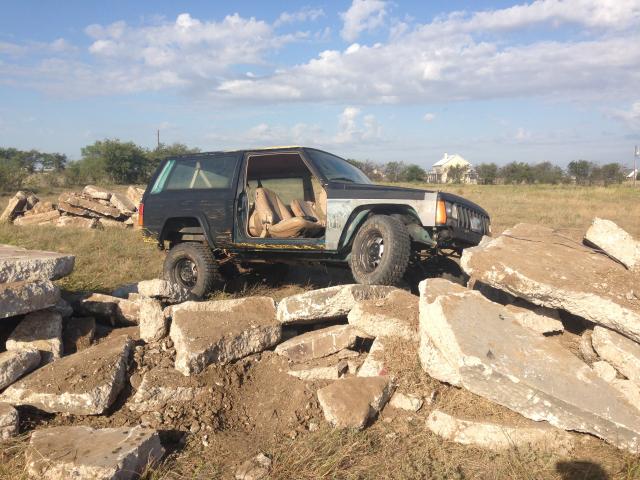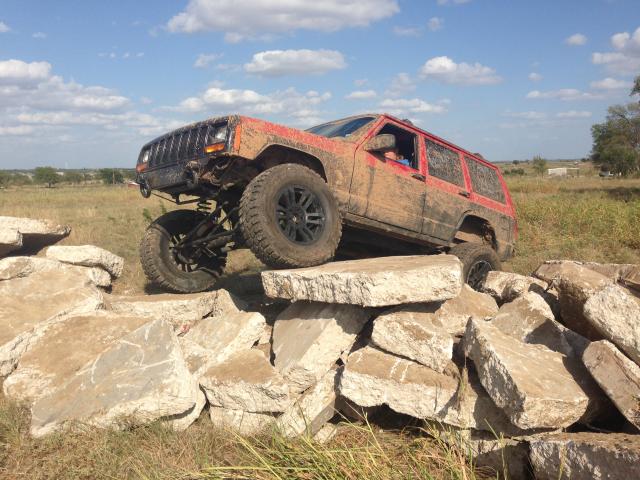 So nick came into town Friday night and after a couple beers and staring at it for a while we started with the rear crossmember.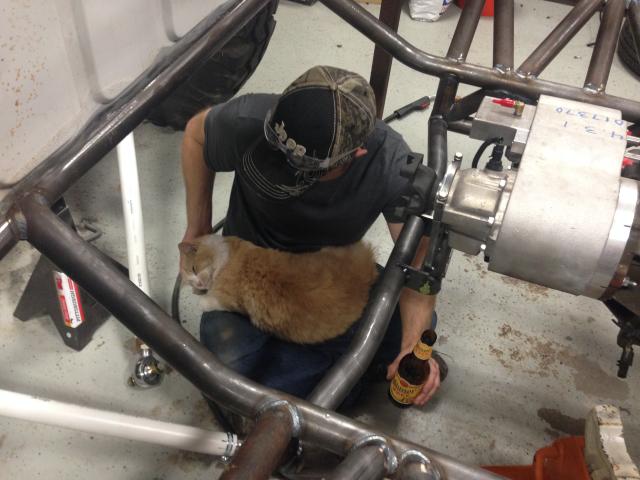 Rear susp mocked up and flexed out. Still have a couple inches of droop left.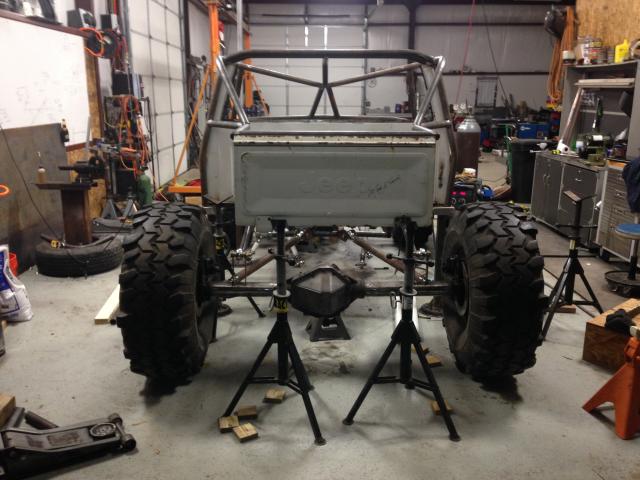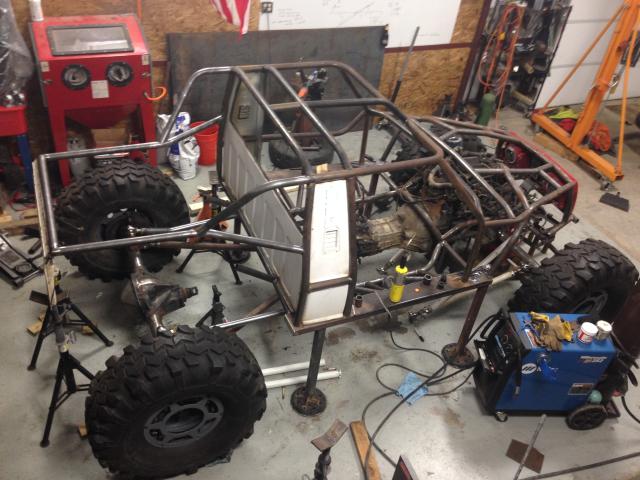 Filled the rear up with stuff.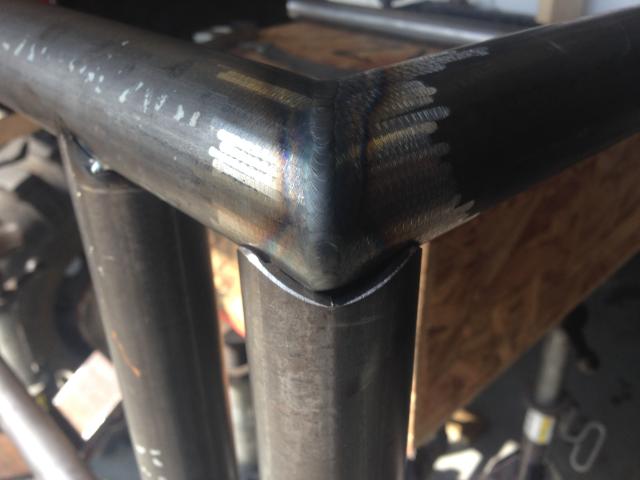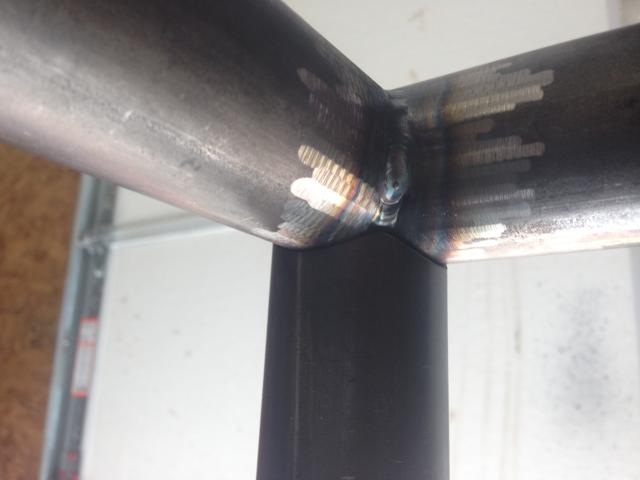 Bed corners, rear bumper, sway bar and rear frame all in place. The inner tubes on the back get taken out, and the tailgate fits inside. Still need to tie the sway bar and back bumper together and add the Clevis mounts.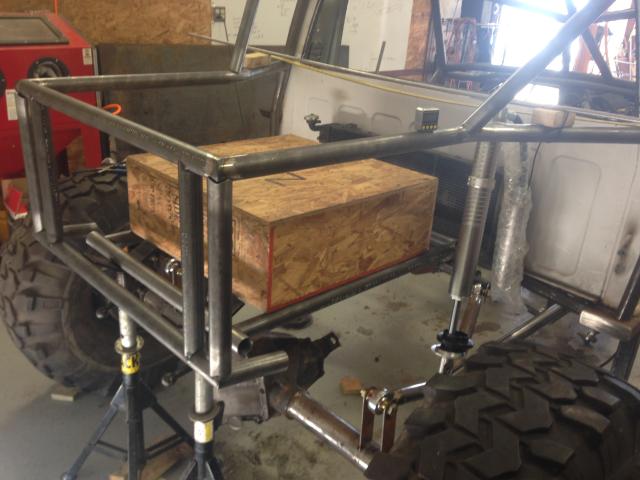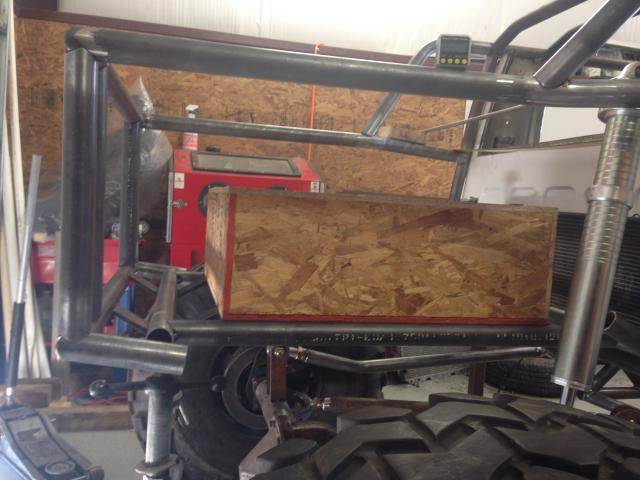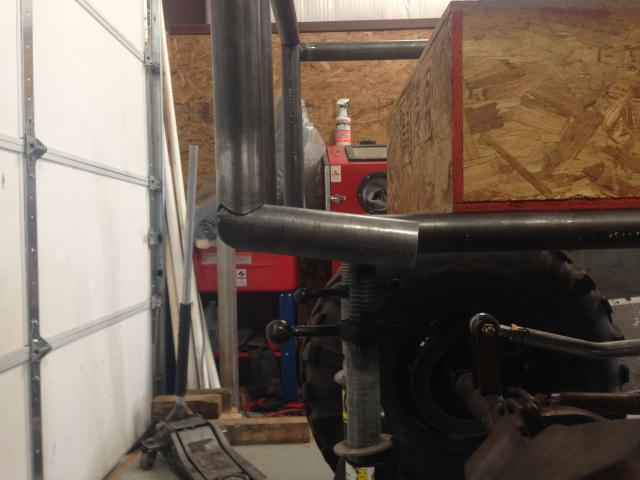 Had to take nick back to the airport so that's where it sits today! I'm Really excited about the progress we made this weekend.
10-25-2014
Thanks!!

Been a little distracted lately, put in a new septic system and had a bunch of left over dirt and had 4 semi loads of busted up concrete delivered from a race track they are rebuilding so we built a little offroad course in the back yard.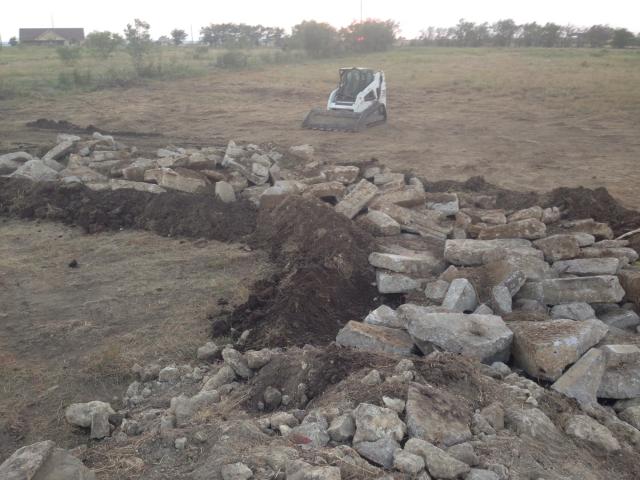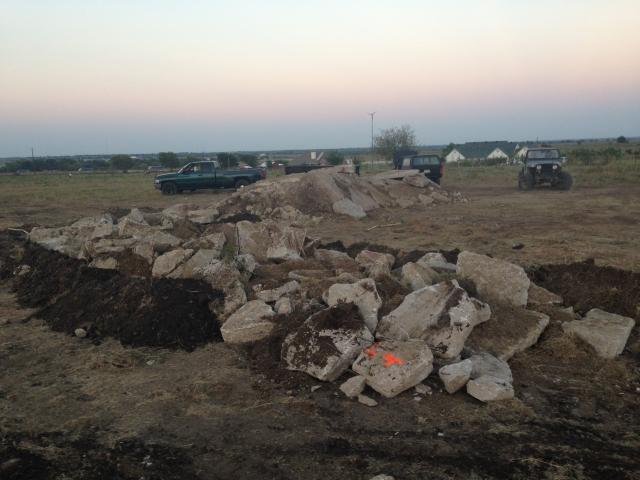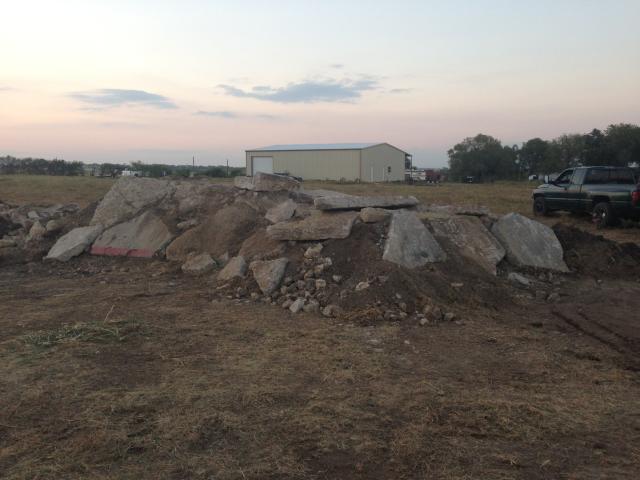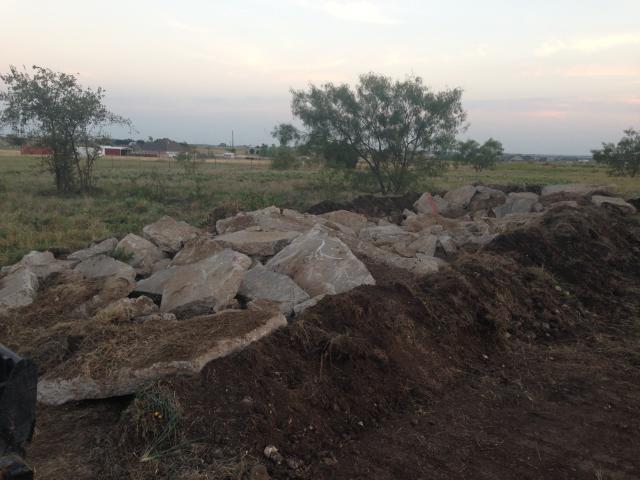 Should make for a nice little test course for when the MJ is done!

And for Halloween, couldn't help myself.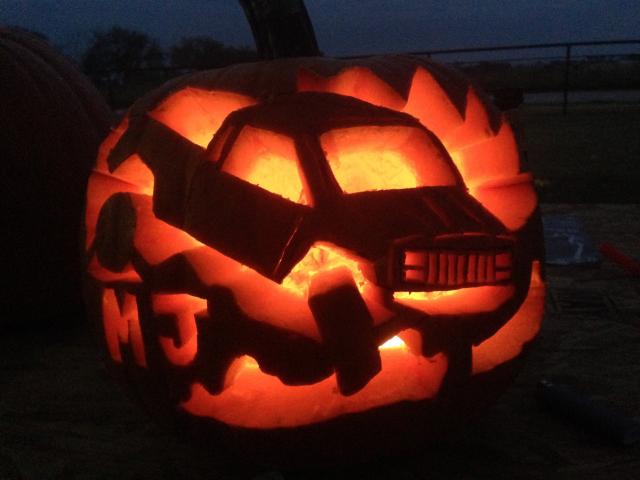 Family night in the shop, my girlfriend and our two dogs came up and we made the front fender bars, gonna add matching ones in the rear.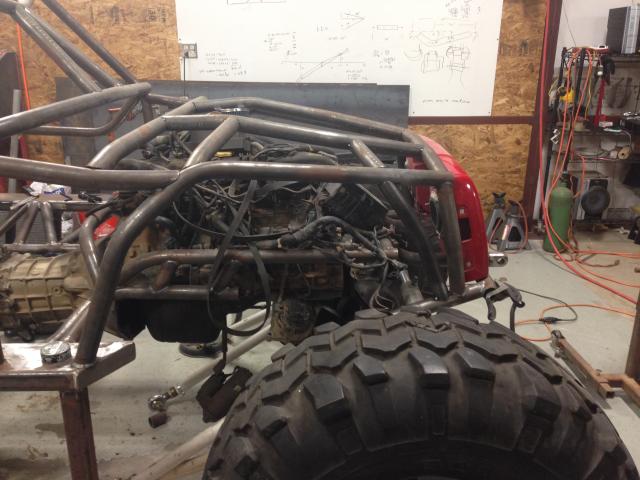 And finally got the back of the chassis figured out.
10-28-2014
Missed a couple replies I guess.

I design and build stainless steel equipment for the food processing industry. I went to school for mechanical engineering. After school I moved to Texas and joined my uncle's small fabrication company. Our shop is 60x60, the majority of it is used for our business and he has his living quarters and office and I have a 20x20 section in the corner I use for jeep stuff.

I started welding after high school and put myself thru school working for local fab shops and the schools machine shop. So I've been welding for close to 10 years, 6 of that has been doing jeep stuff and the last 2-1/2 years have been here in Texas.

Our local jeep club was supposed to have a pumpkin carving contest so I had to bring out my A game. Unfortunately it's been hot this fall so my pumpkin has already turned to mush...
12-13-2014
Ran out of tube so progress on the MJ has been slow. And drove 3400 miles round trip to Nevada and back to Texas to pick up a Clydesdale for a friend of a friend right before thanksgiving so that slowed me down too.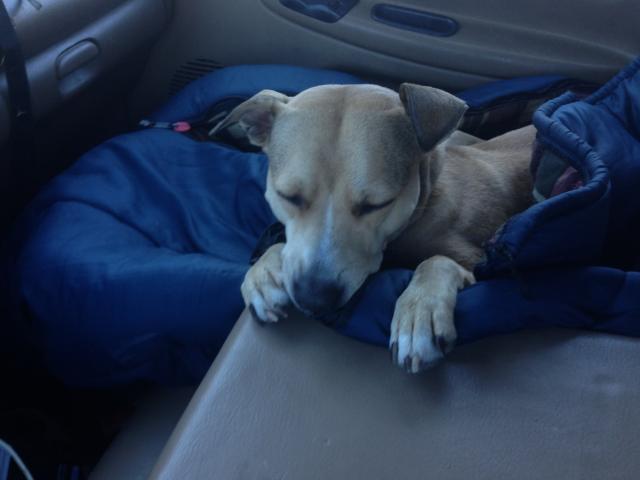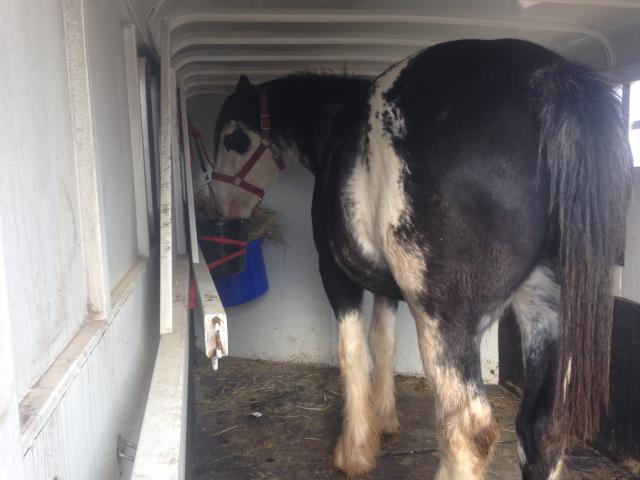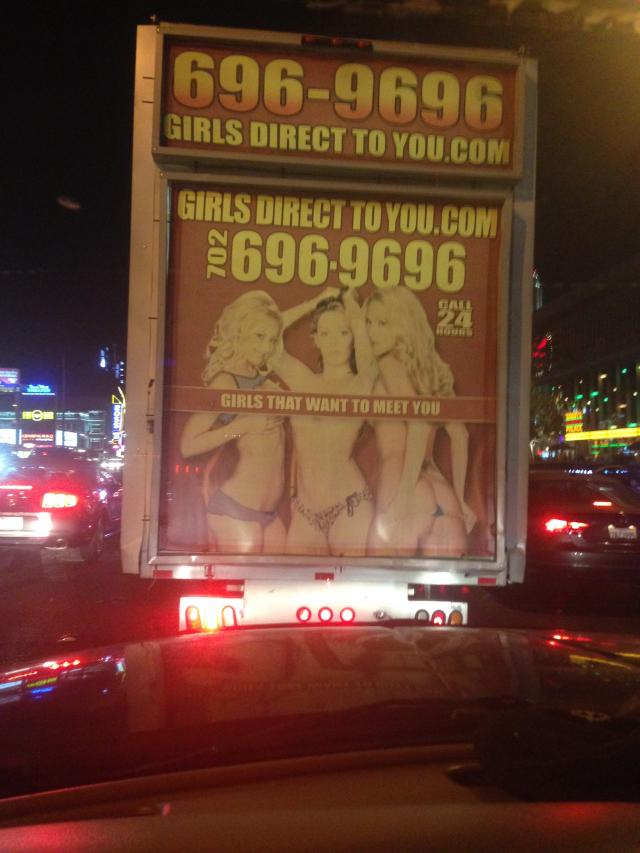 Bought an 1.5" die for the bender so I decided to rebuild it and build a stand.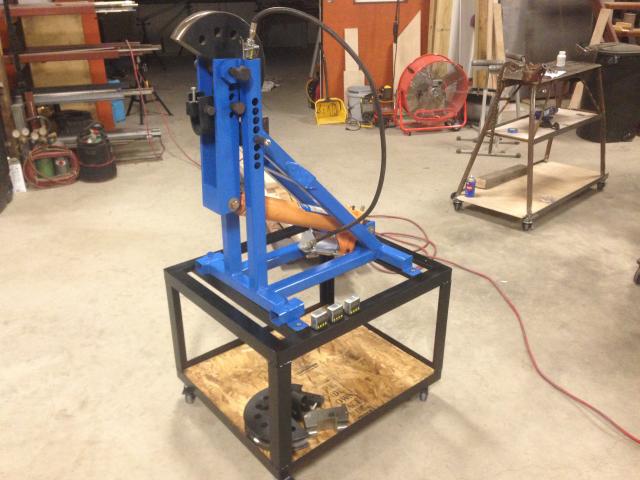 After almost 10 years of fabricating I finally built myself a nice welding table too. 3/8" plate top, metal castors. I'll add some more over time but this will get me going on fabbing up all the suspension brackets.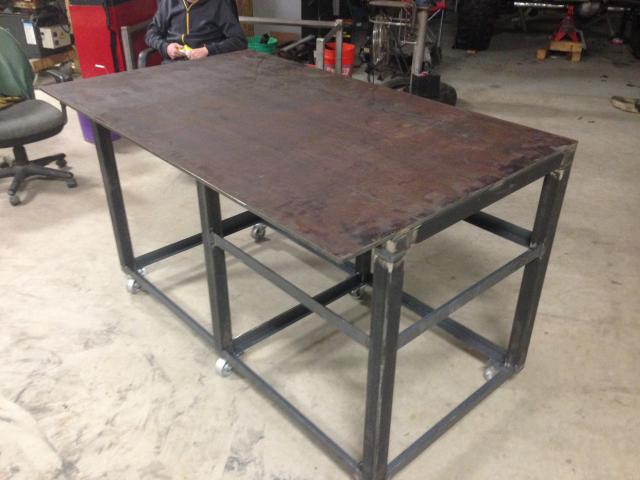 Got my Christmas bonus so was able to go pick up a bunch more DOM. Shouldn't run out this time.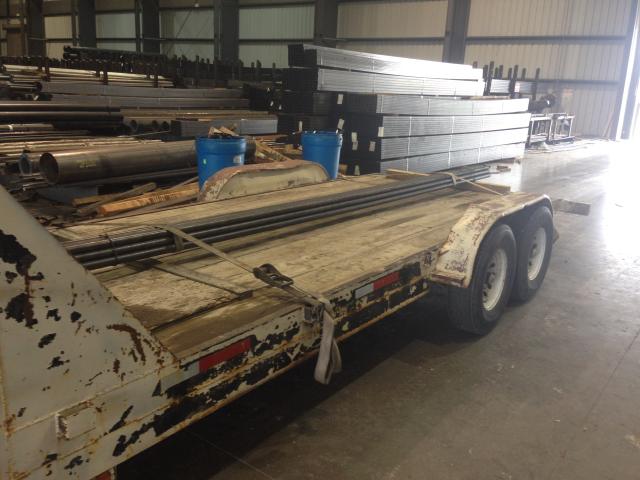 And got the front set at full bump so I can get the front links made and lay out steering and the truss.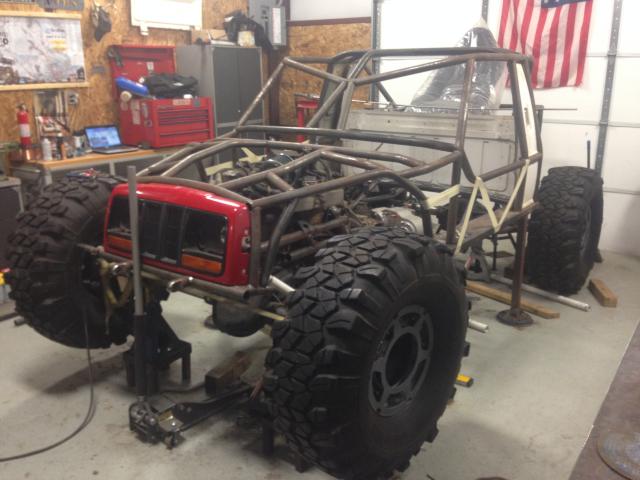 Had a little chat with the GF tonight so hopefully work cooperates and I can have this thing done before KOH this year!
12-21-2014
Drivetrain is finally all in place. I don't have much room between the belly and tcase so I had to get creative. Trying to keep the drive train as low as possible so I can have a flat floor.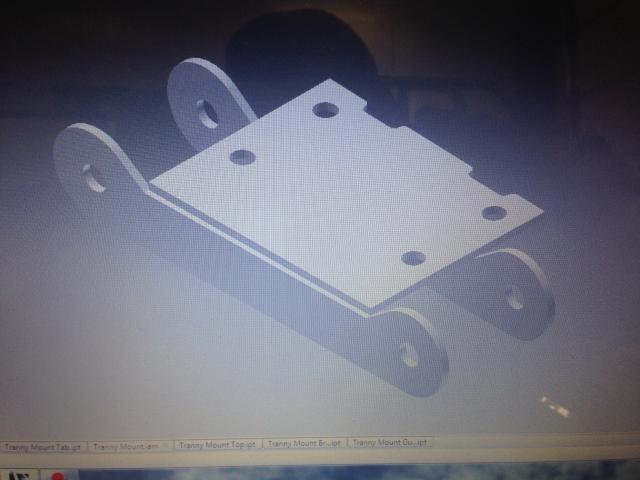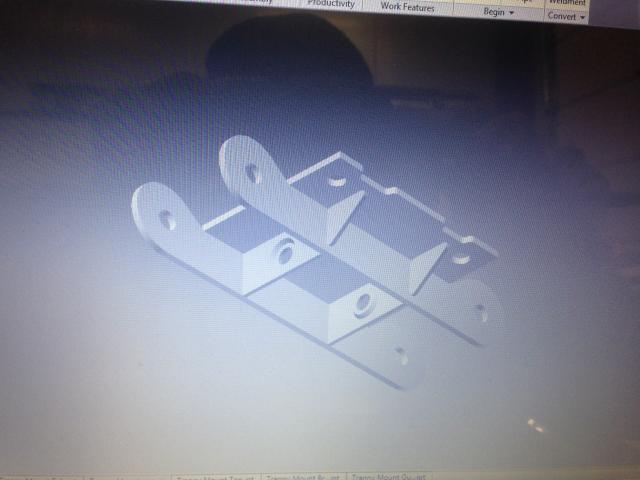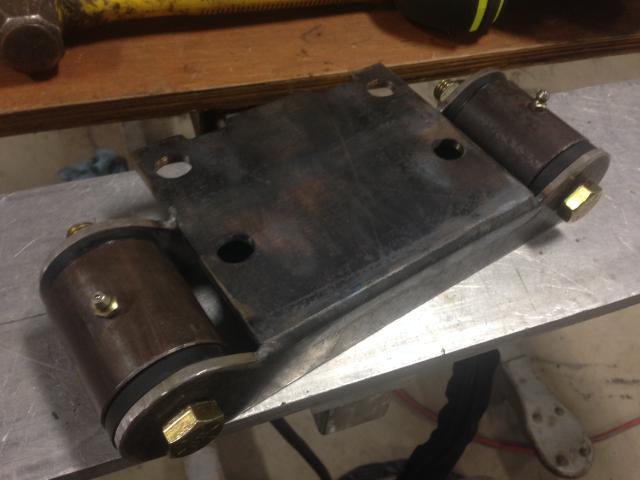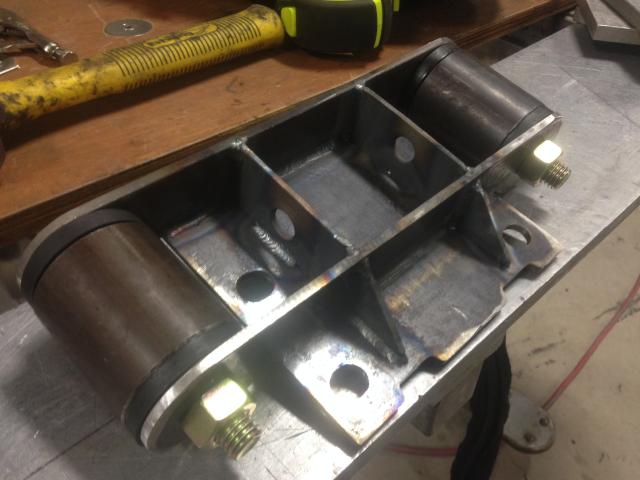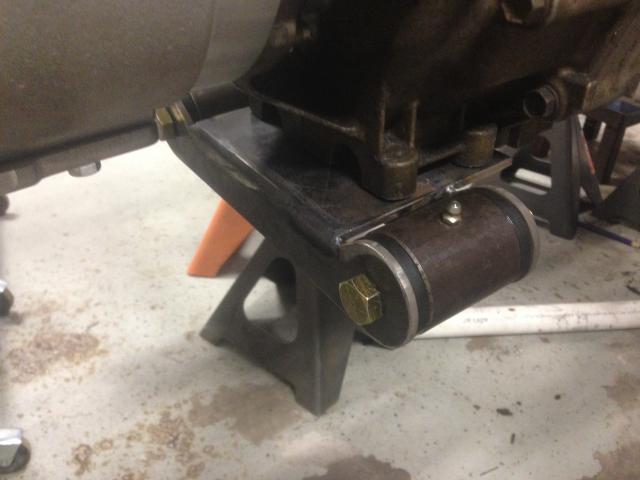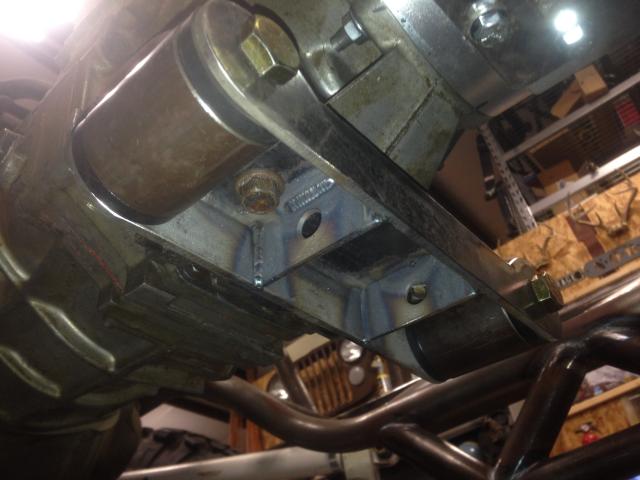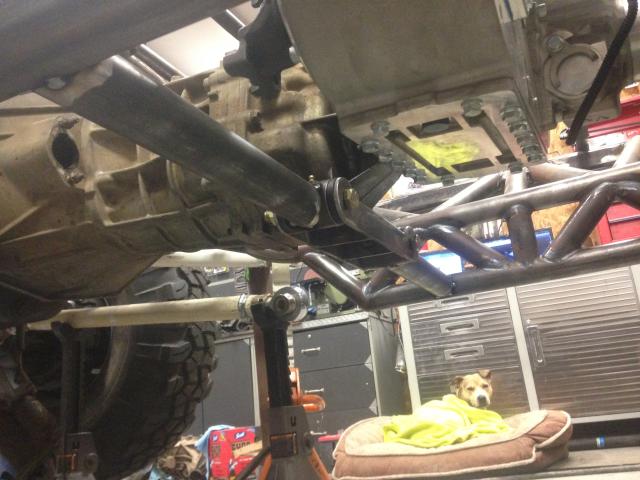 Gonna start on the engine skid and hopefully front suspension tomorrow.
12-22-2014
Engine skid tonight.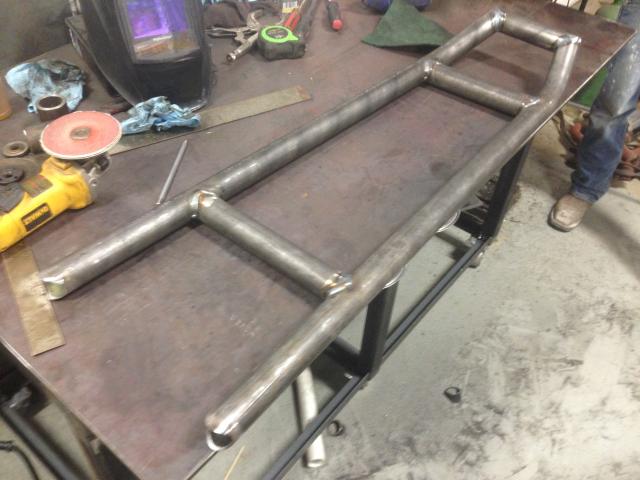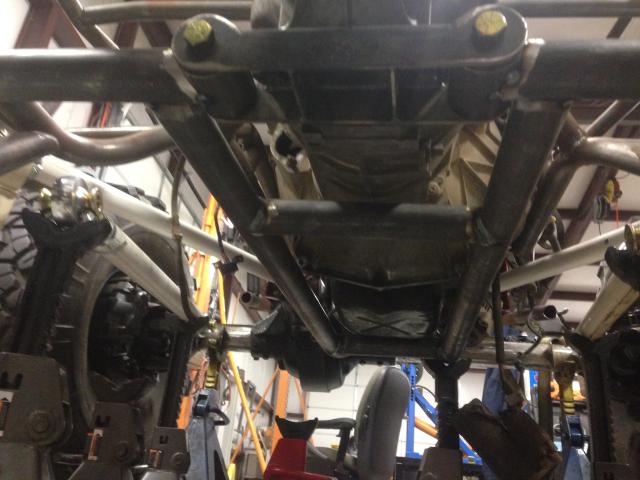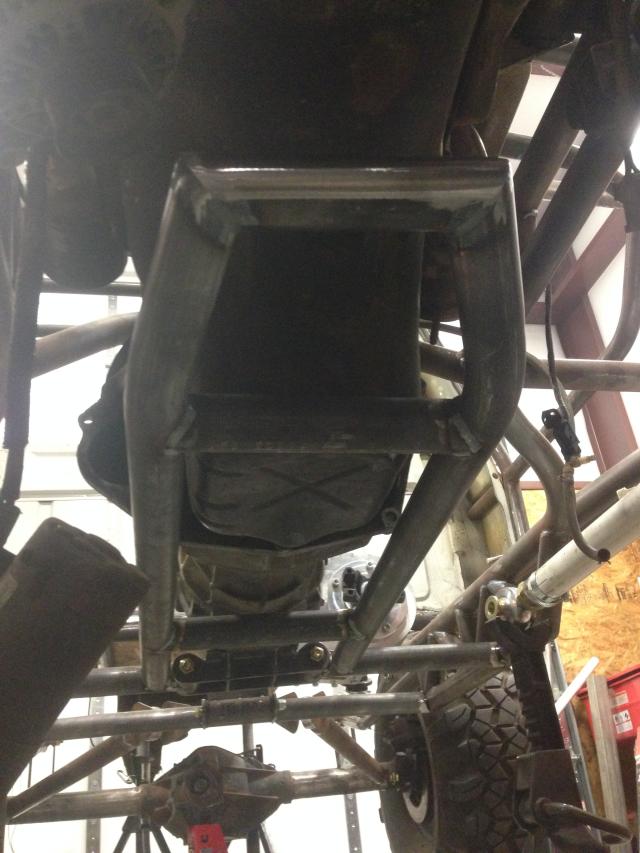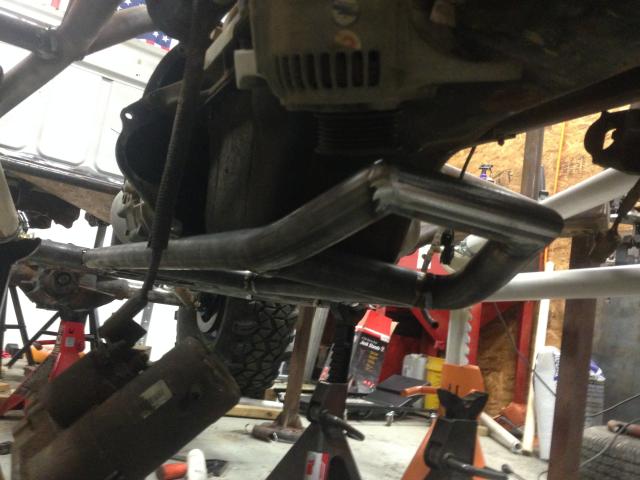 1-22-2015
So safe to say the MJ is not going to KOH this year and neither am I. Work was slow this year so it's just not worth stretching the budget to either finish the MJ in time or go, bc there def wasn't room for both... Been fixing up an Xj to sell and fund some more of the MJ but I have been making some progress none the less.

Got all the temp front brackets in place and links made so I could check clearances.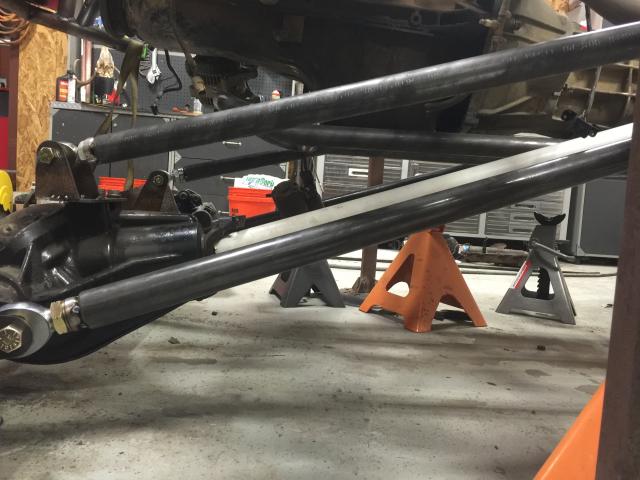 Most of the rear structure is done, just gotta do the bed floor and tie the roof into the harness bar.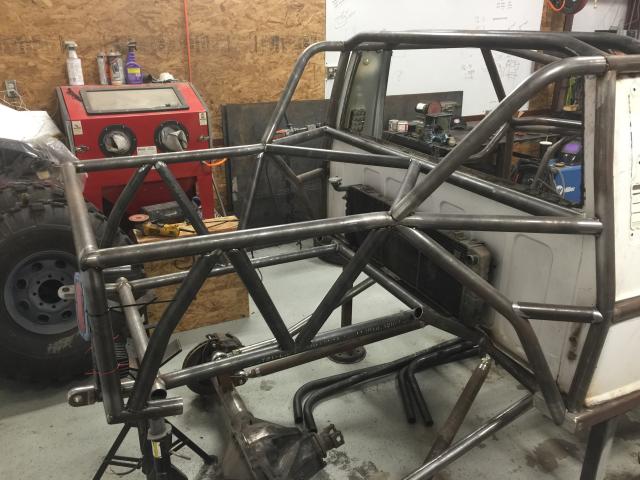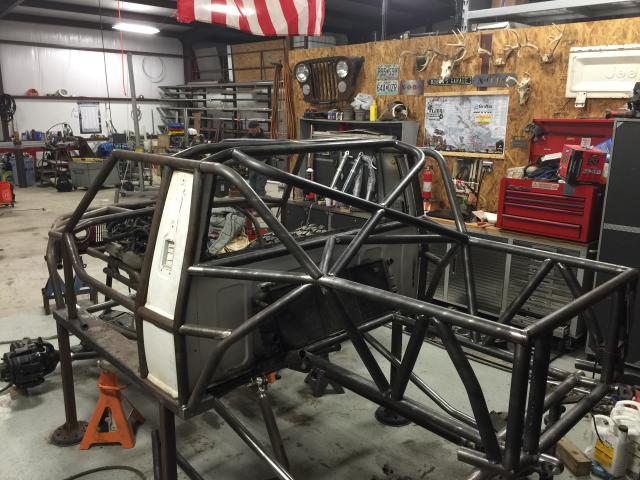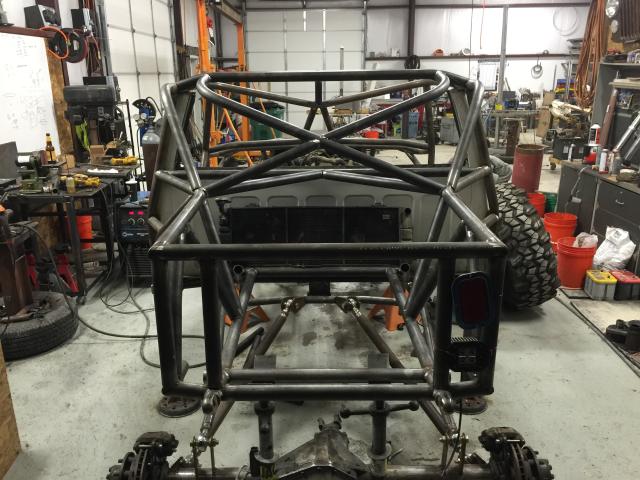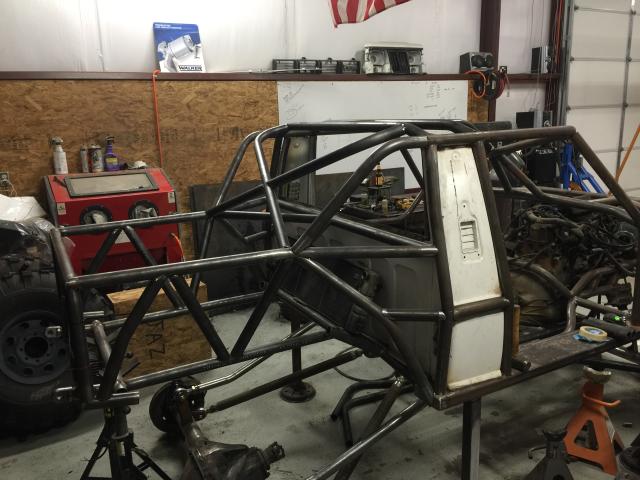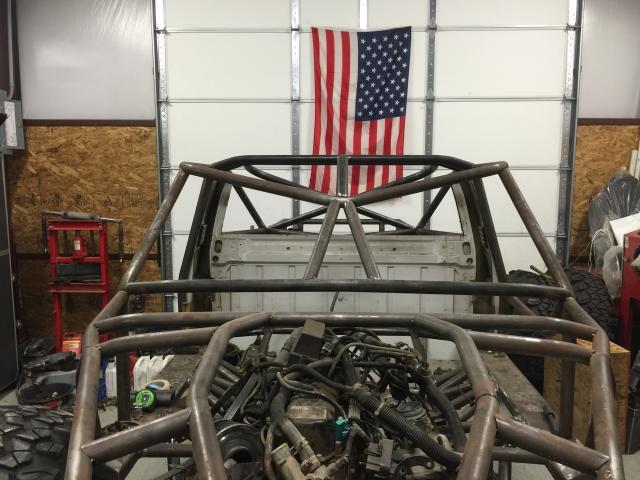 A couple tubes left to add to the roof and front of the chassis, door bars, bed floor and then the chassis will finally be done!
1-24-2015
Got a bunch more done today. Getting down to a couple tubes left.
1-29-2015
No I want to keep the tube work visible so I'll build filler panels in between the tubes. I'll use a section of an XJ hood and a Cj tailgate but the rest will just be aluminum. Already sold off the rest off the MJ sheetmetal, bed and tailgate so don't see the reason to cut up another on and hide all the tube work.
1-30-2015
Yeah the title is a bit outdated. That was the original intent but it's grown to much, much more. However, it is a big experiment, I've taken aspects from traditional crawling, the go-fast buggies and even a little rock bouncing and meshed it into one rig to try and figure out what I enjoy most. It's all going to be a big jump from my old tj and really don't know exactly what I want to build next. So even tho I'm sure I'll run this for quite some time (unless someone throws a big number at me one day) it is def not intended to be my end all rig.

2-1-2015
For now I'm calling the main chassis done. There are a few tubes left but those all need to wait till the suspension is finished. So I've moved my attention to the interior.

Started with general placement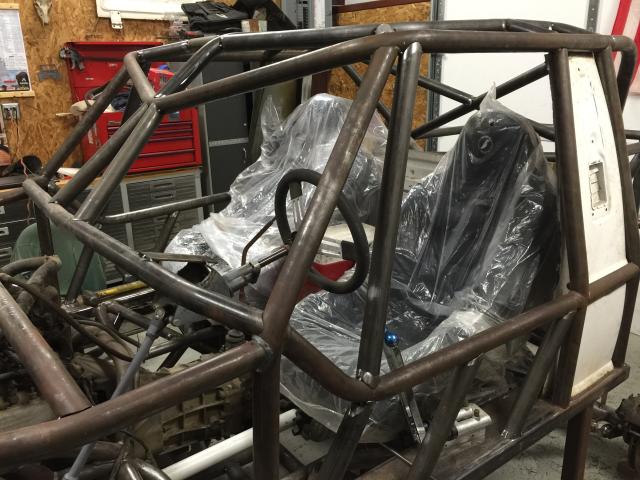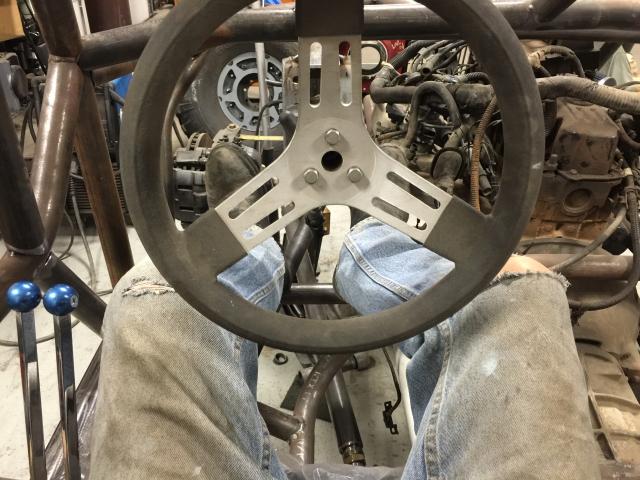 Wanted something I didn't have to remove any time I needed to work on the atlas or trans but would still support the floor and seats.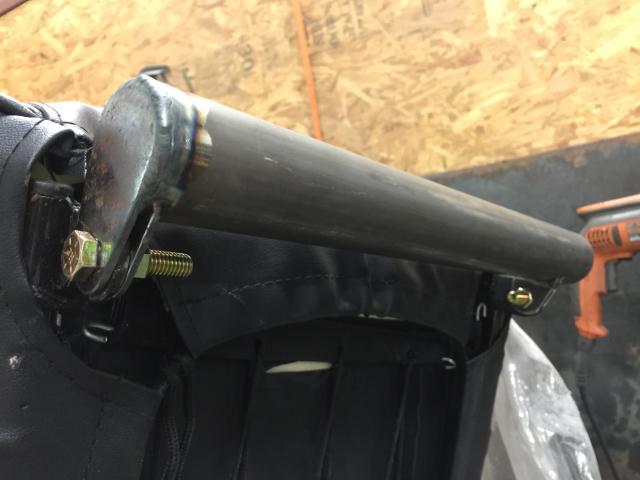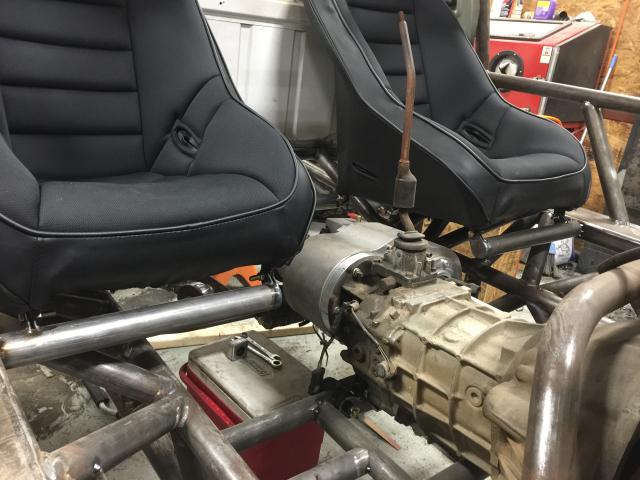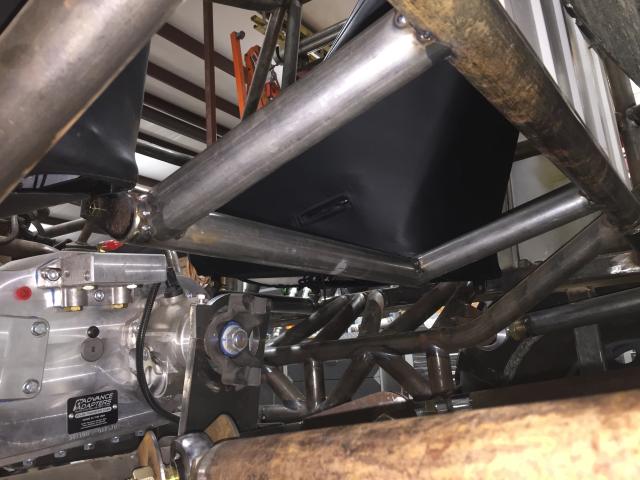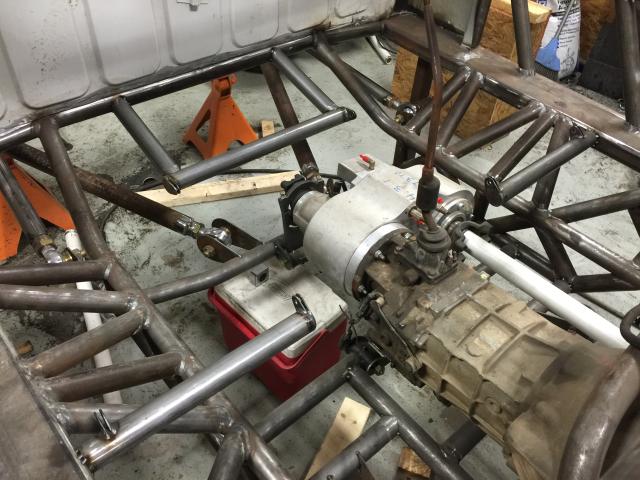 Still need to run a support down to the belly pan but even now the seat mounts feel super rigid. Next is dash.
4-7-2015
Been a minute since the last update. The ol not having all your parts on hand when you build bug is coming in full force here now that I'm getting down to the final details. Seems like no matter how much planning and fore thought I tried to put it things are getting harder and harder to find places for. Finally got ordered and received my fuel cell from Liquid Iron Industies. Went with Jaz 22 gal fuel cell with 4 walbro pick ups, ATL foam and all the pumps, filters, valves and fitting to build an ultra4 legal fuel system. Come to find out the cell is slightly bigger than what they advertise and it doesn't fit between my frame rails like my mock up did. Gonna raise it six inches and build a storage drawer that pulls out the back. My XJ radiator was cracked so I ordered a griffin aluminum radiator.

And the big change in plans, picked up an unused 505 performance turbo kit with water-methanol injection local from a friend of a friend. Deal was too good to pass up and I've been thinking about it for a while now any ways.

Had my buddies from back home, nick and Travis, come down for my birthday week and work on the rig. Didn't really get much work done other than trying to figure out where in the hell I'm gonna stash all this stuff! Got my 99+ intake manifold on and my new stainless header, relocated the alternator using a WJ alternator and bracket, made a template for relocating my PSC pump, mocked up the turbo and all my coolers, figured out a way to get my uppers more triangulated and another inch of up travel, and redid seat mounts to pass ultra4 tech. Added the last few structural tubes to the chassis and capped all the tubes. While it doesn't look like much I couldn't have made this much progress without them. Always nice to have another set of eyes on the subject. Pics are uploading now.
4-7-2015
Forgot to mention, bought a SWAG tubing roller for the business. Too late in the build to do anything with it but it'll be a fun tool to have.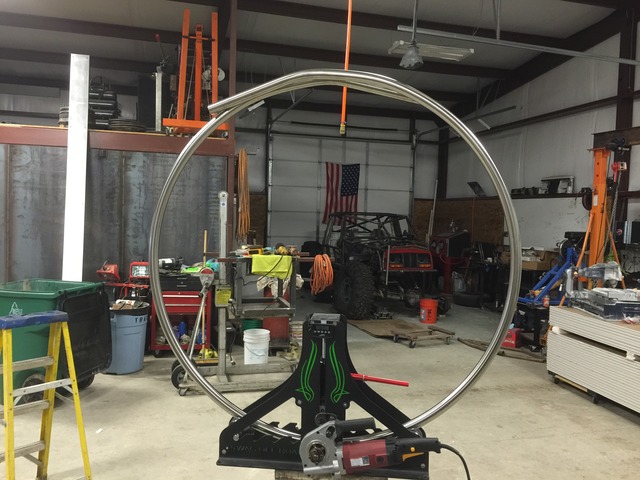 Fuel cell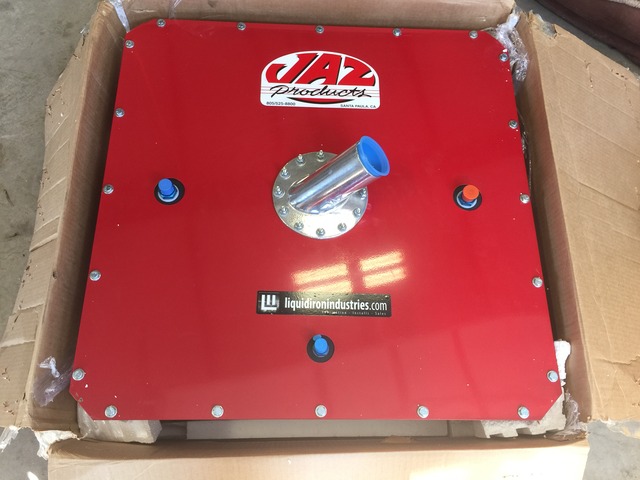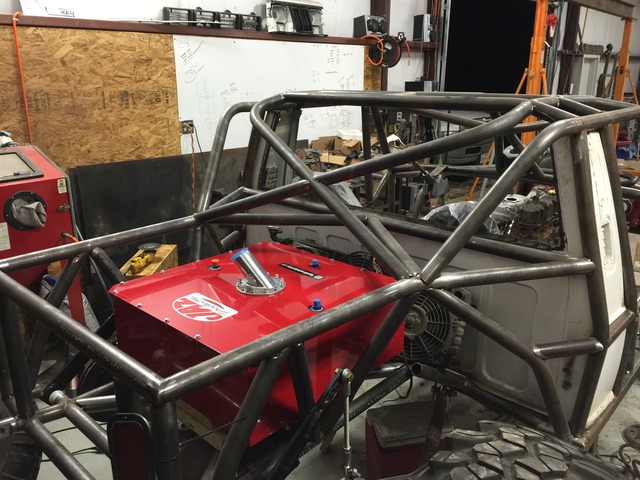 Turbo!!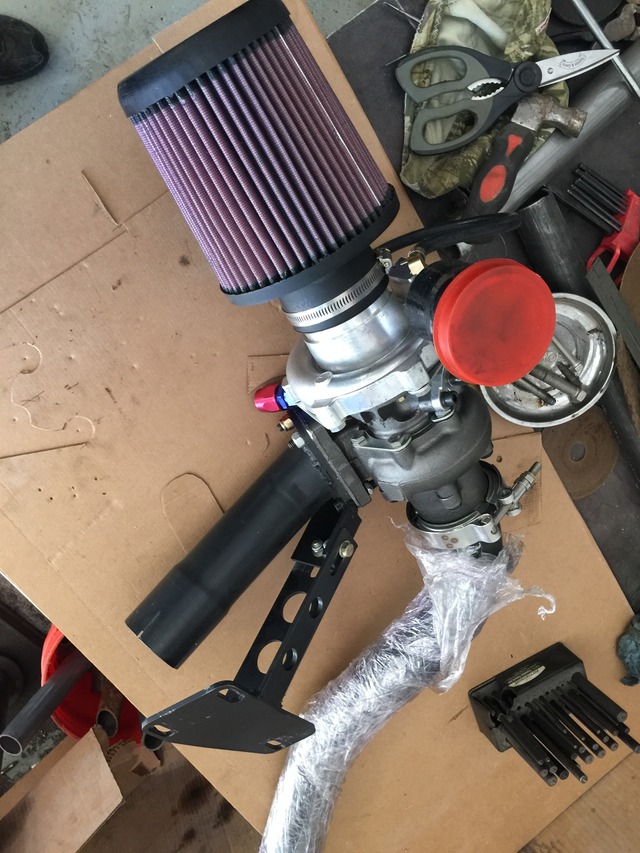 Nick, Travis and my uncle doin work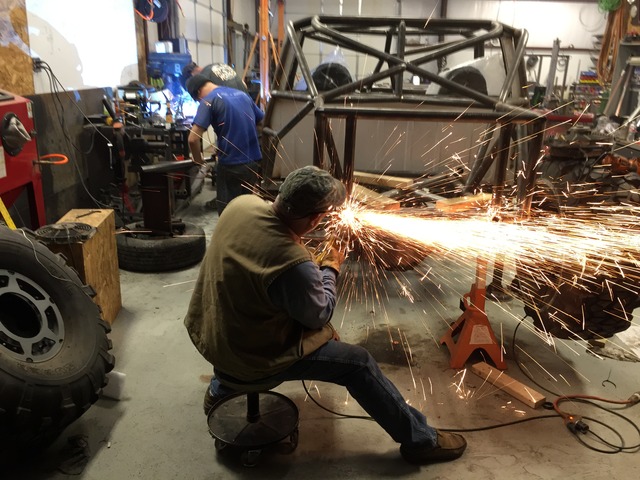 3 am TIG welding lessons. We were slightly intoxicated by this point.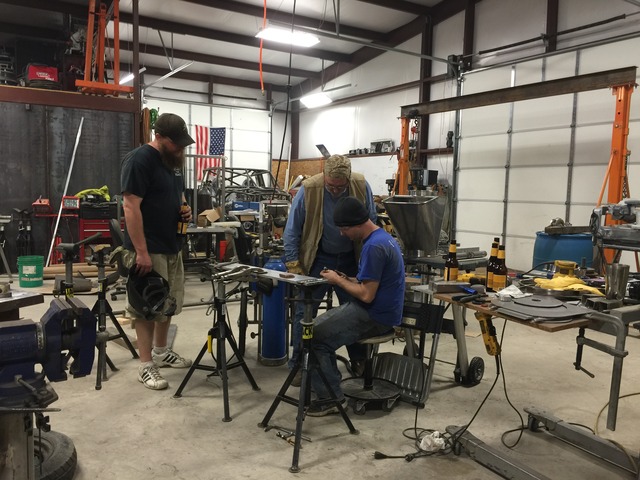 The rest of these don't warrent much explanation.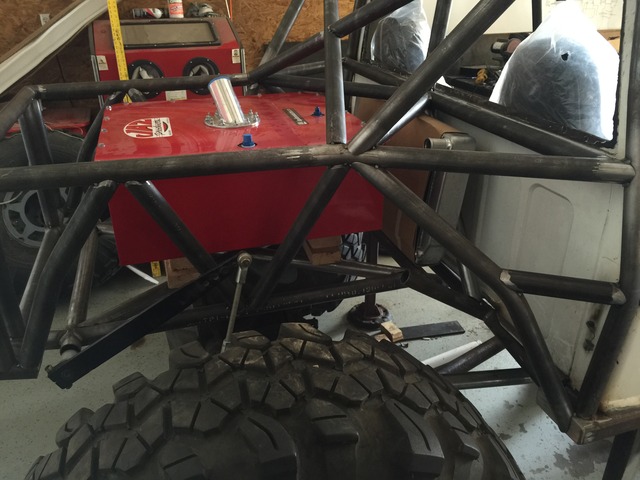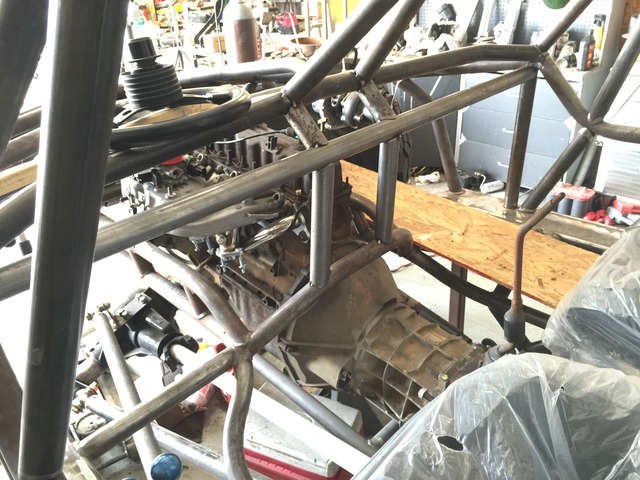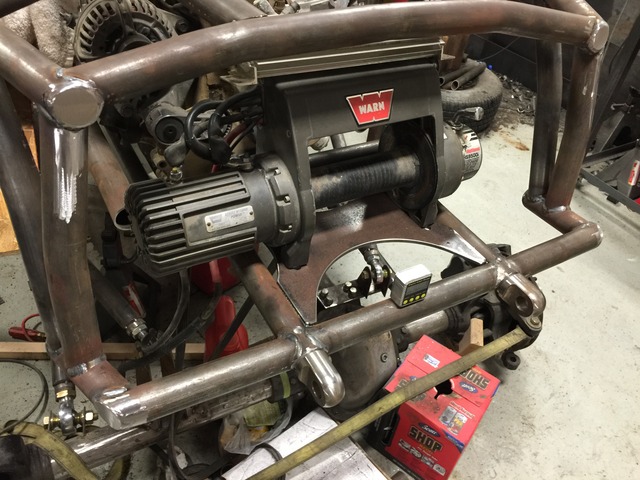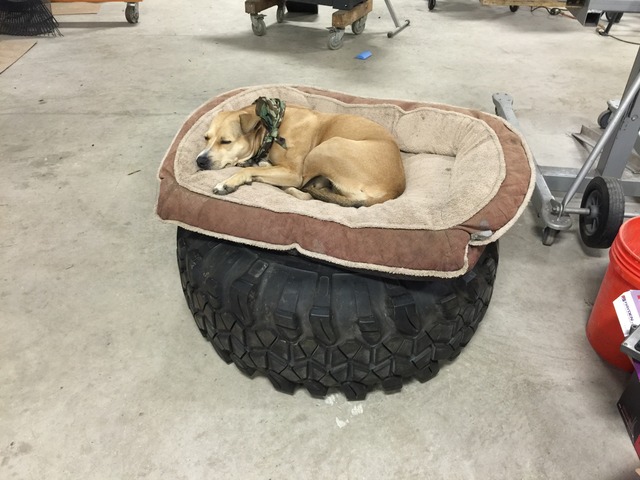 4-9-2015
Started on the power steering pump relocation bracket.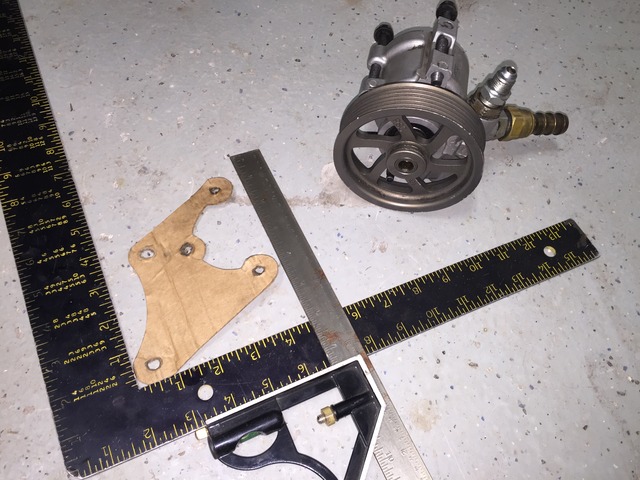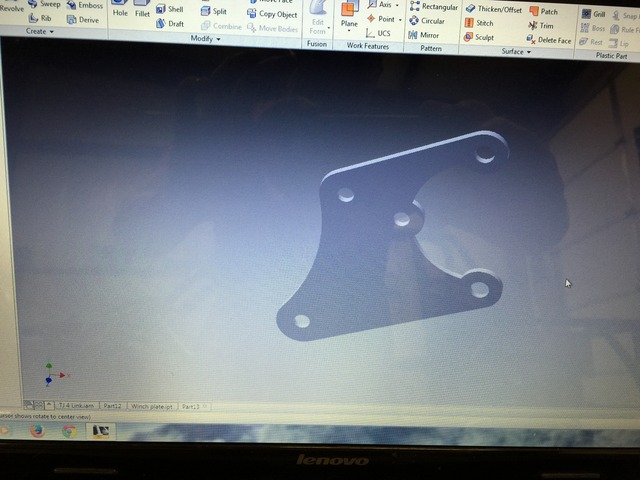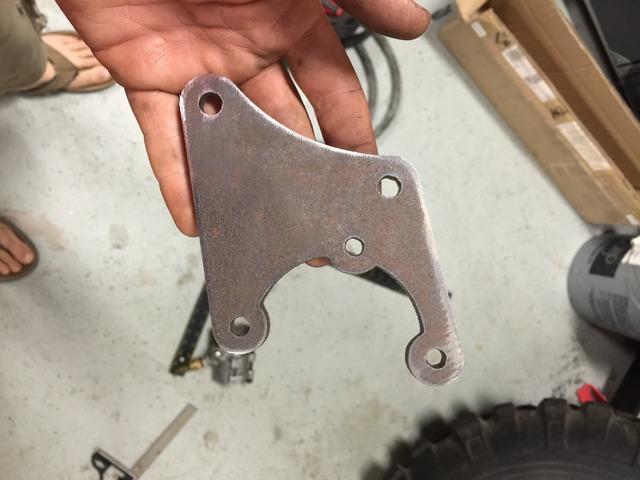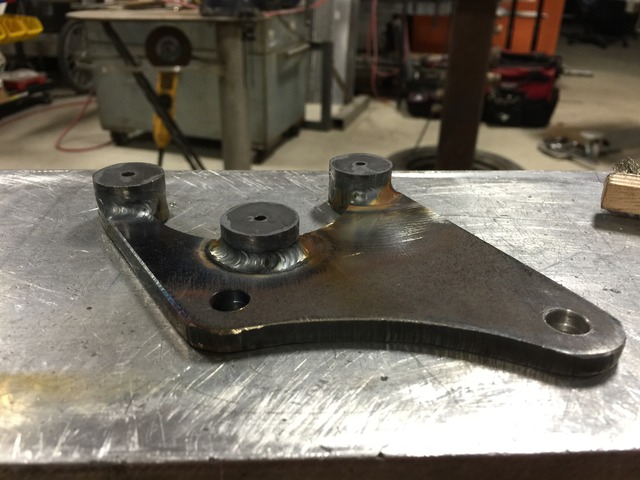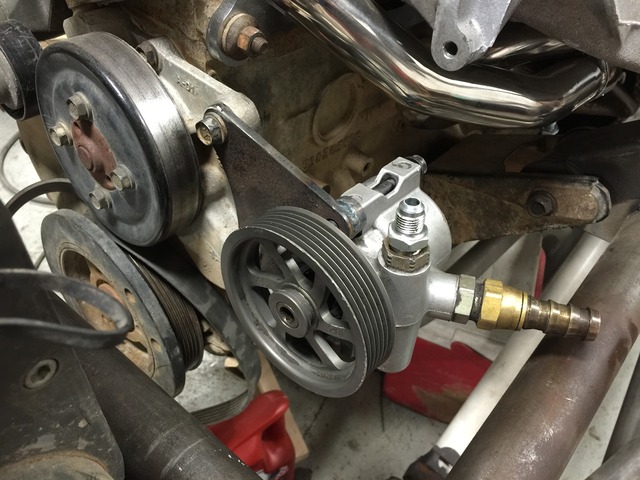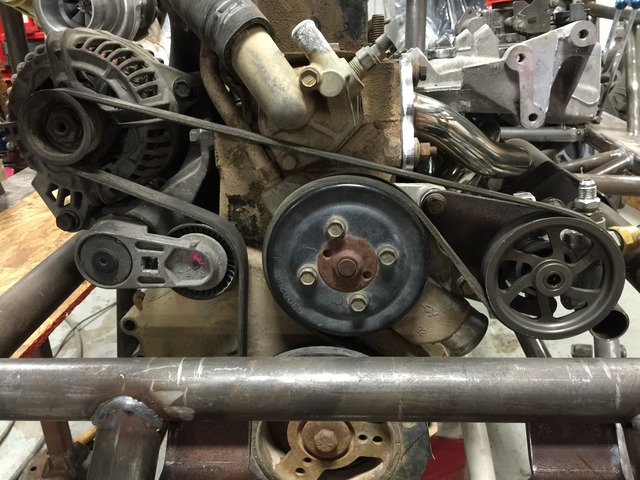 Going to build a back plate that ties into the intake manifold. Prob not needed but can't hurt.
4-13-2015
Reworked my front uppers to get another inch of up travel and mocked up the coil overs so I could see how much I could move my lowers in without interfering with the drive shaft.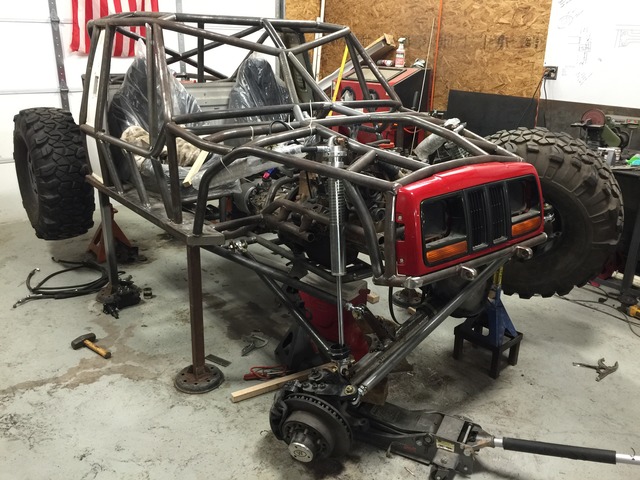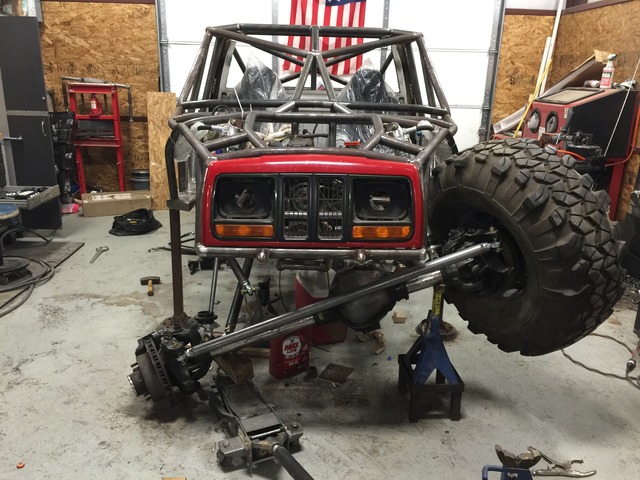 So here I'm at 7" up and only 8" down. The rotor is on the ground so another inch to go. Plenty of room at full stuff but my coils will hit my alternator at full droop so I need to move the upper coil over mount out another inch or so but everything else is really happy. I can move my frame side lowers in another inch as well.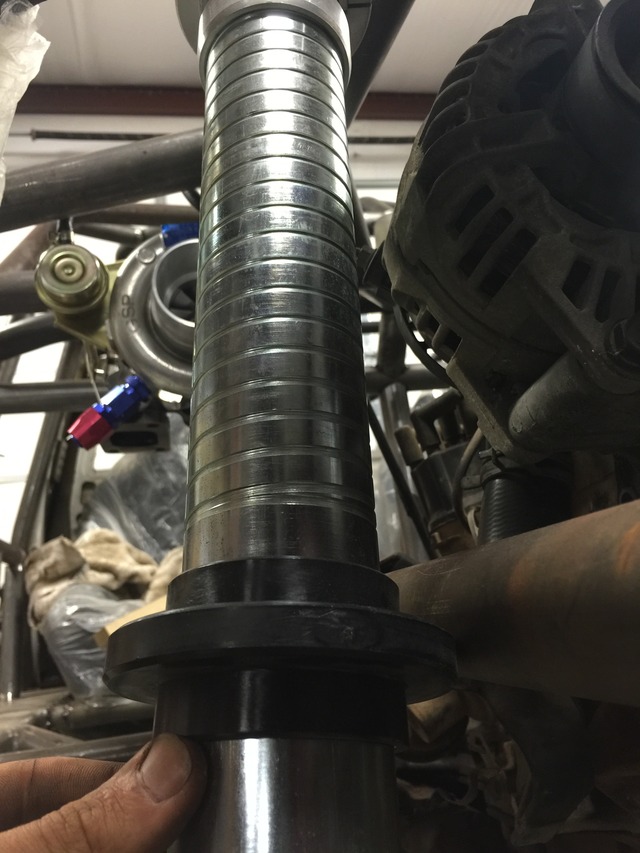 And I guess it's been a while since I posted any over all shots.