Builds
97 TJ Heep to Zombie Killing Jeep Build by north50
By diyauto
You must be logged in to rate content!
10 minute(s) of a 286 minute read
97 TJ Heep to Zombie Killing Jeep Build
Compliments of north50 @ jeepforum.com
2-12-2011
So I always wanted a Jeep Wrangler and recently had an opportunity to pickup a 1997 TJ for cheap. Being that it is an SE with 4cyl and auto trans dana 30 and 35 cheap is really all it was worth anyway

But now i had a platform to start with and with our first child just being born I will be selling my motorcycle which will help fund the build. Along with what I had sold of a collection of 1/5 scale RC cars, one of which paid for the Jeep. But still looking to do this build on a budget and so I won't be buying $900 bumpers. The Jeep is taking place of the motorcycle as a toy and I still have my F-150 daily driver so can afford to have it down(torn apart for days or weeks at a time).
What I purchased in October of 2010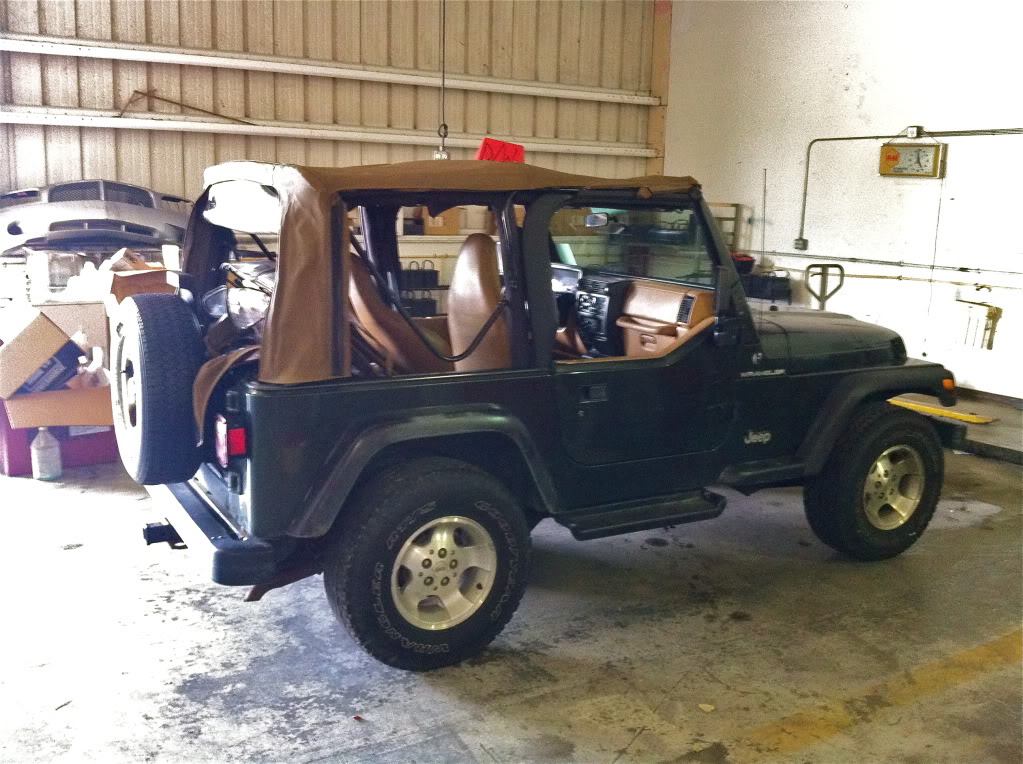 What I sold to buy the Jeep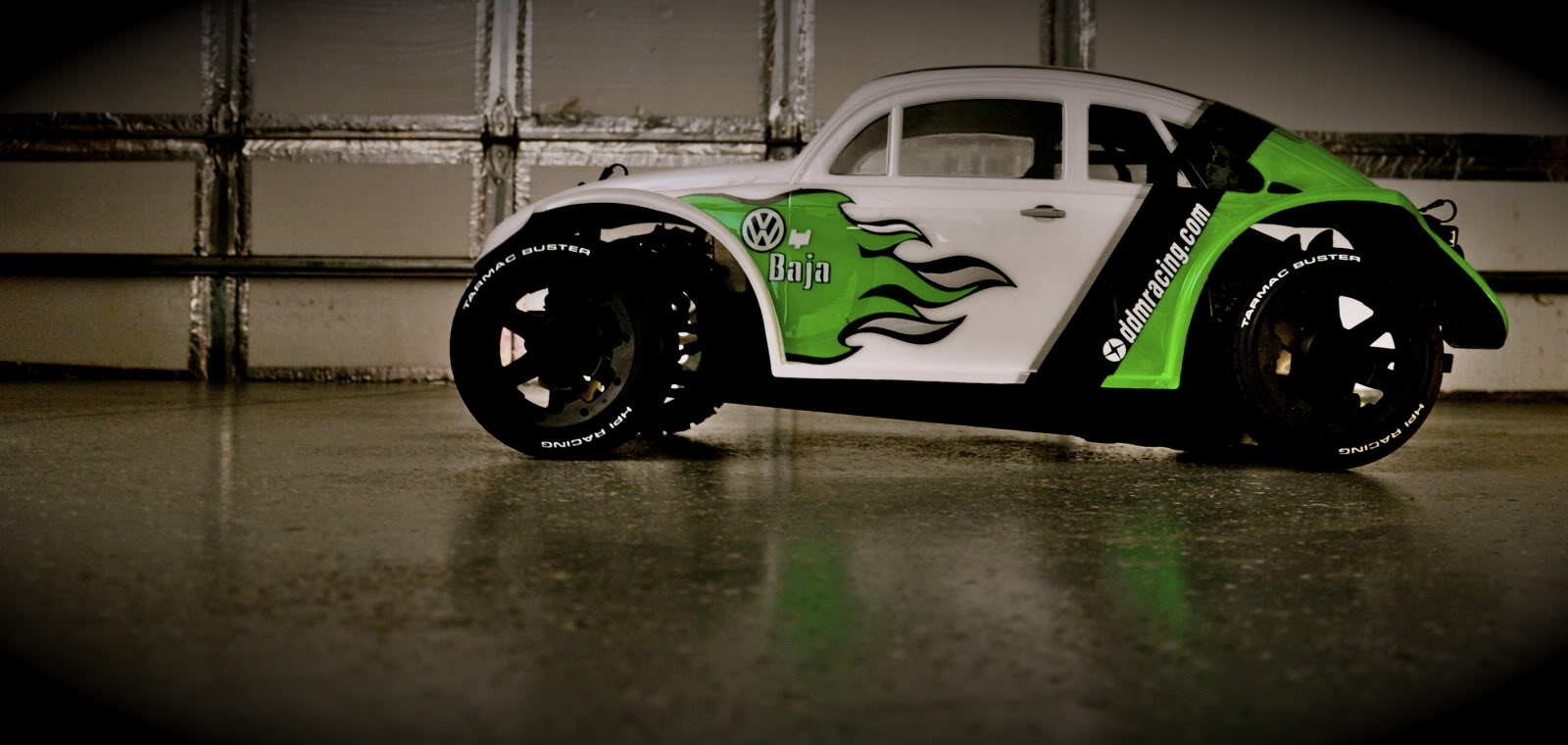 First thing I did was gut the carpet, it was trashed. Also took out trunk thing to remove rust and repaint.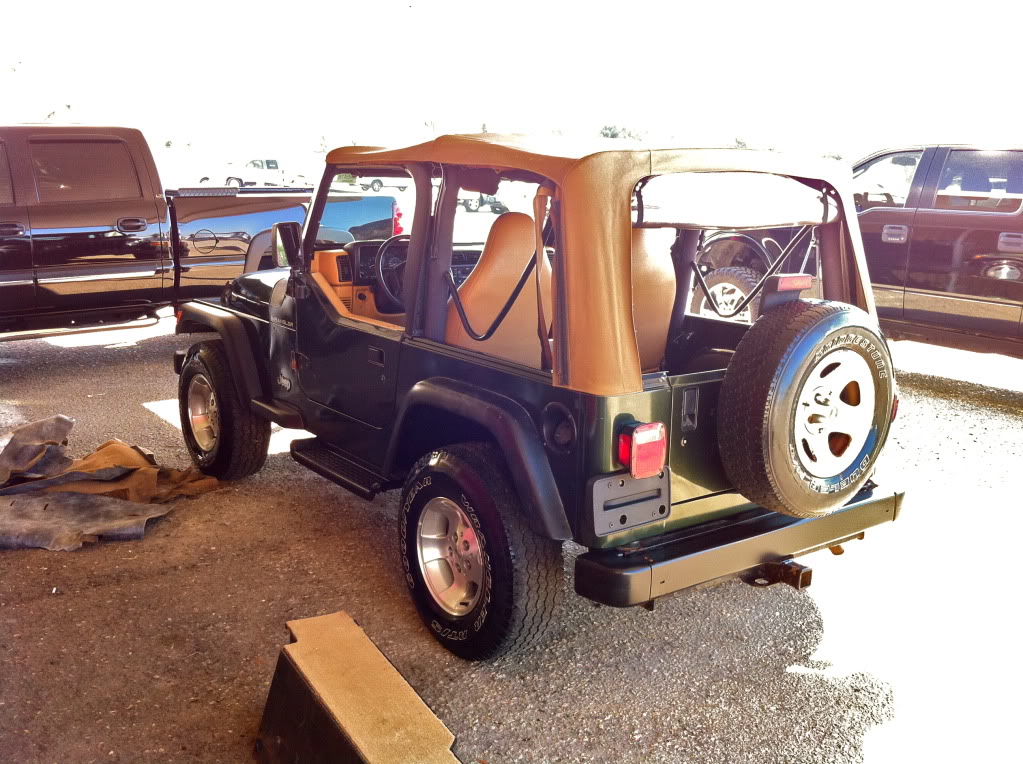 Parked next to the daily driver.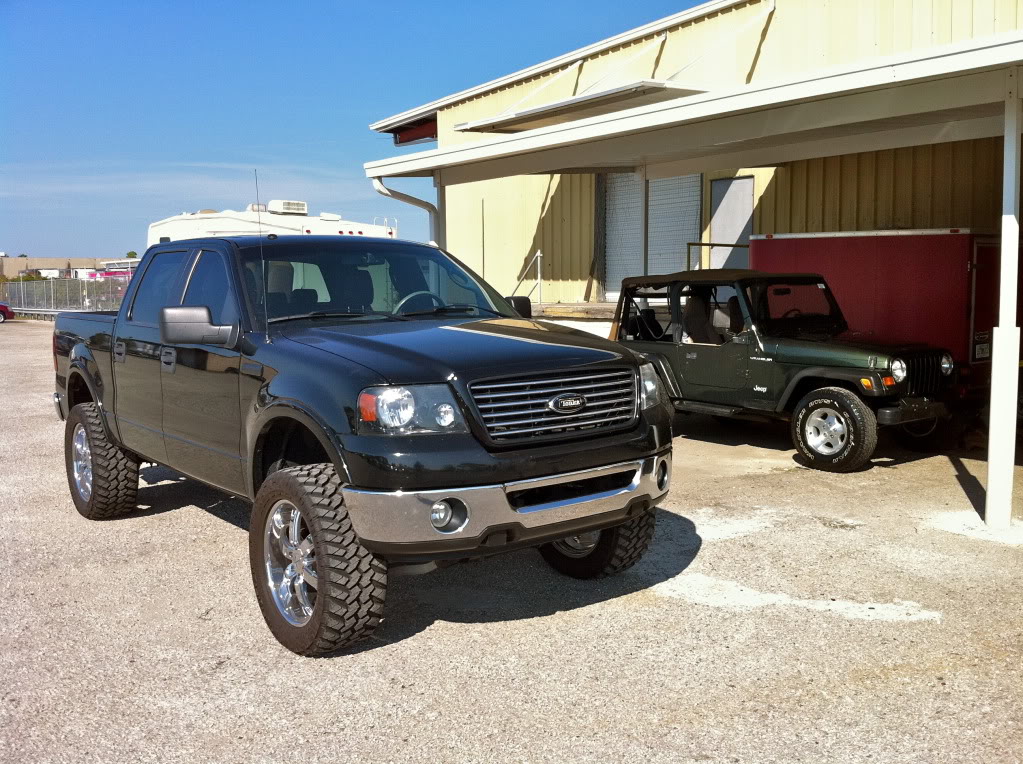 Took off the fenders to repaint and removing the stock steps. Also cut off front bumper jugs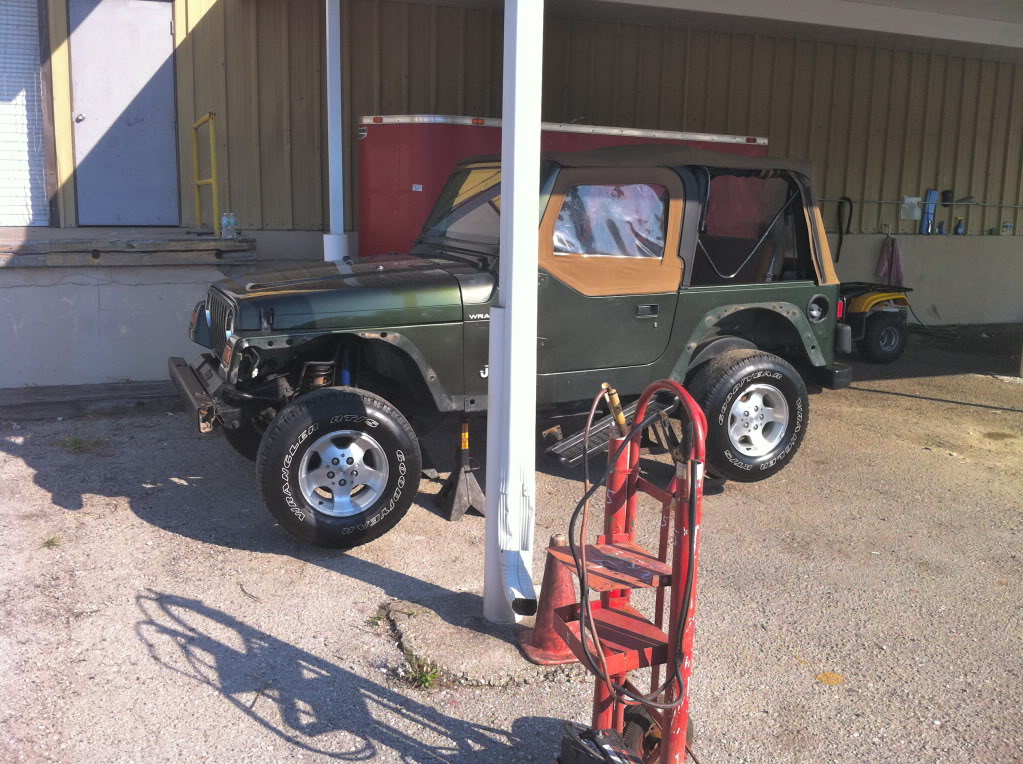 With the carpet torn out the floors revealed some rust but not as bad as I would have thought with the condition of the top which would be my next purchase.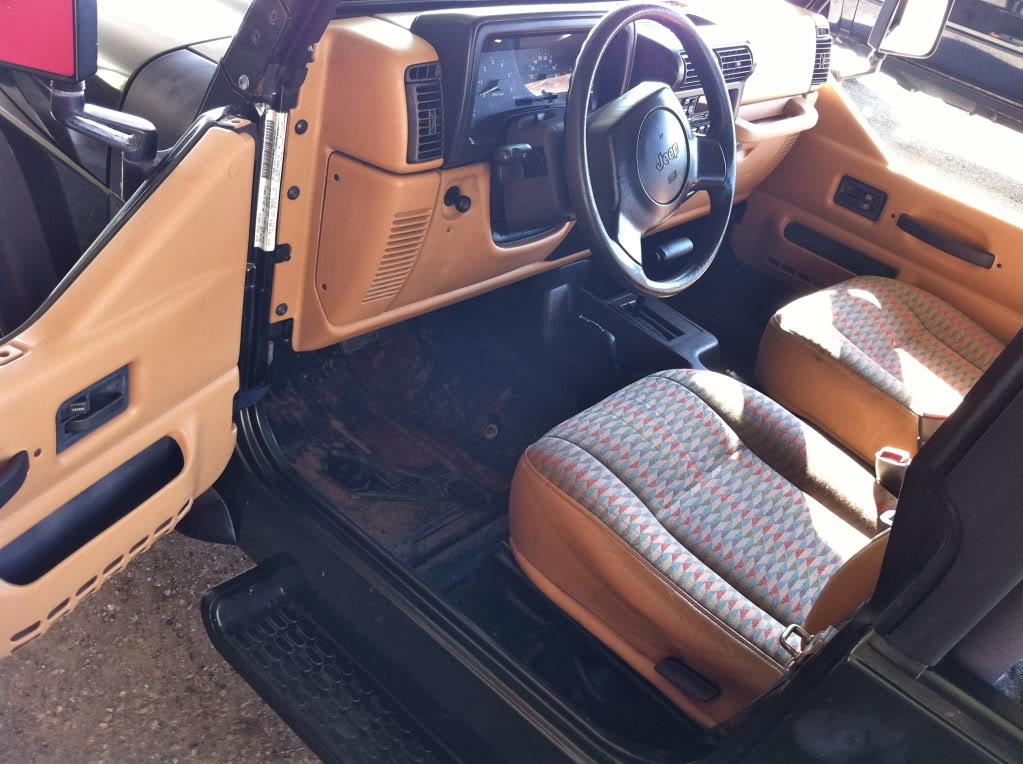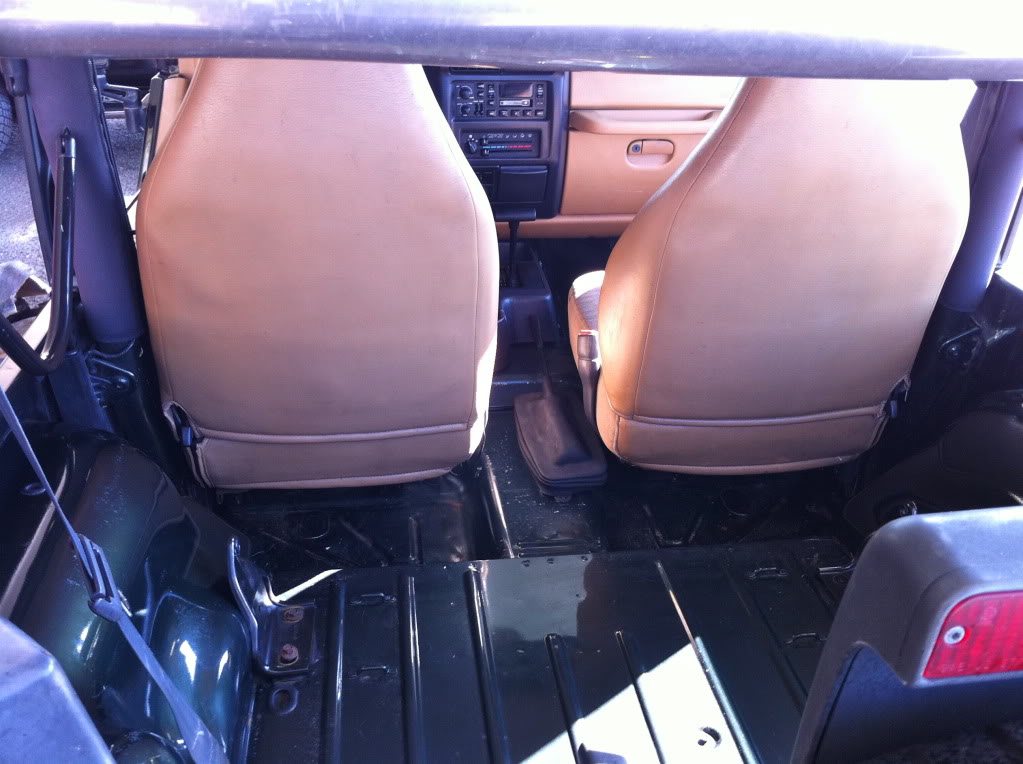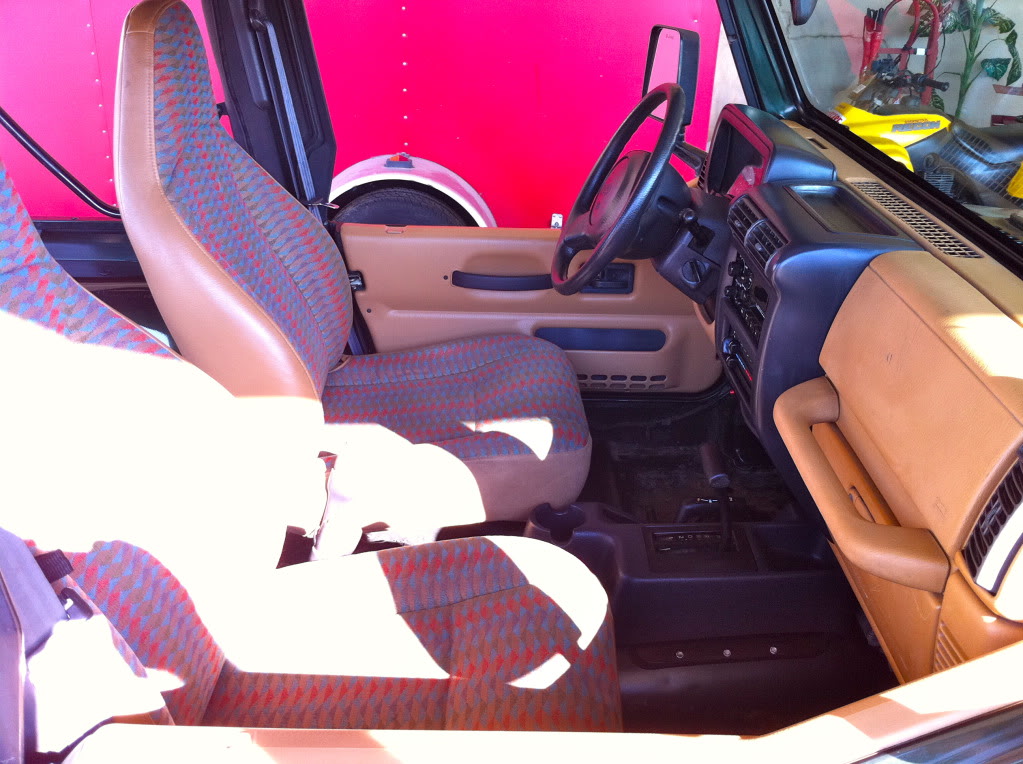 Brought it by a friends house to put some H2 tow hooks on the rear bumper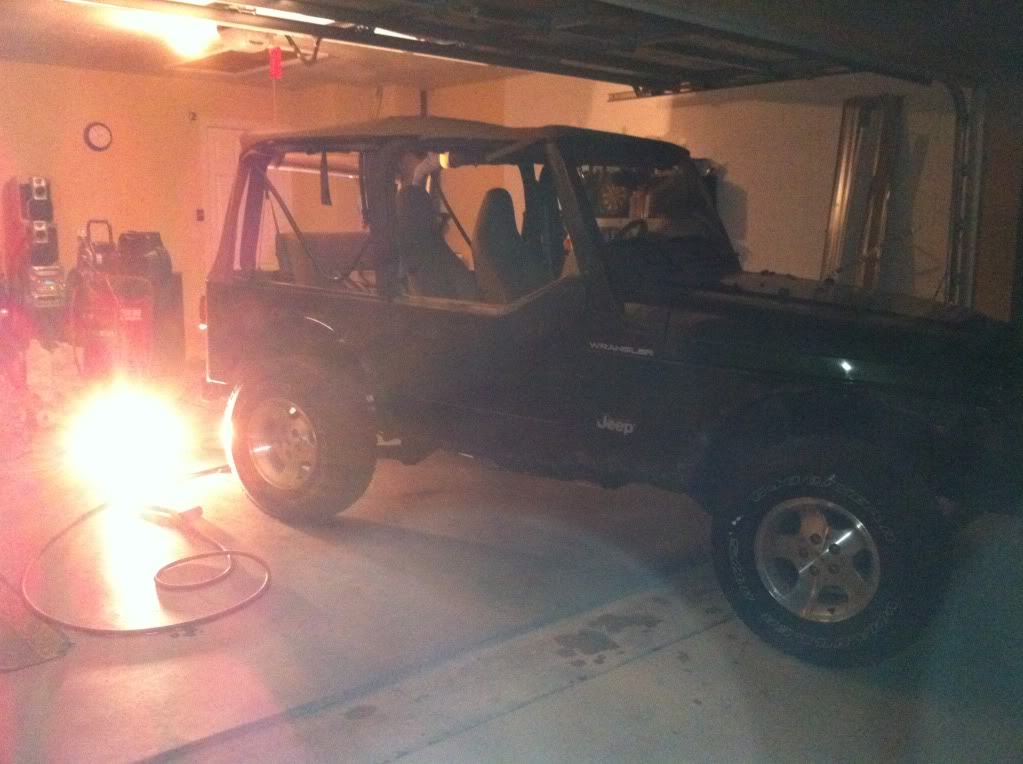 Home in the garage for the first time. Took off mirrors and wiper blade arms and sanded and repainted. Let the money spending start. Did alot of tune up things like plugs, cap and rotor, new battery, O2 sensor, TPS, valve cover gasket etc...............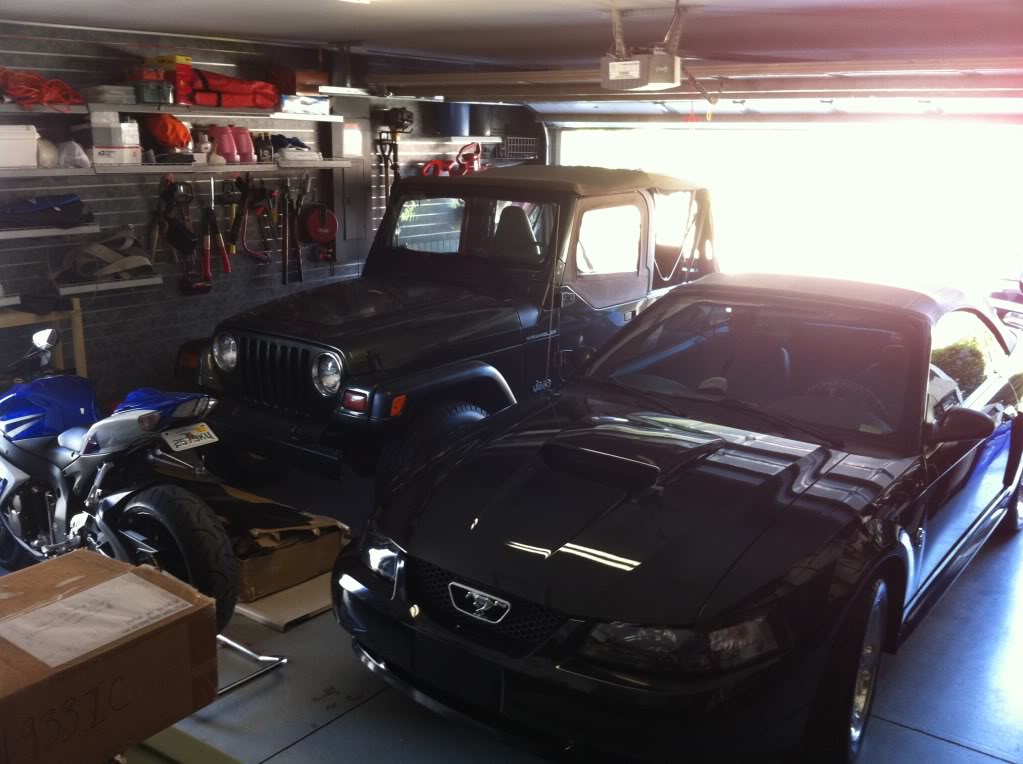 Put new black top on with tinted windows and removed rusted spare tire and spare tire holder. Added NRA sticker.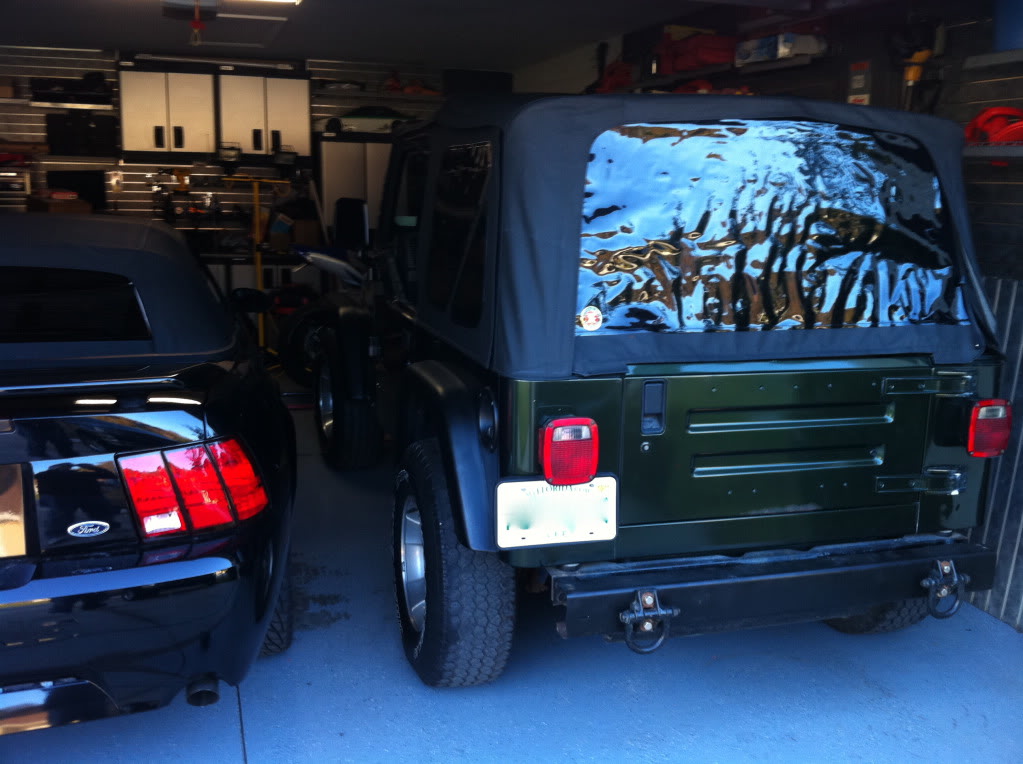 So after putting a black top on I decide I wanted the interior to be black (slate) so I purchased a dash out of a wrecked 06 TJ to install.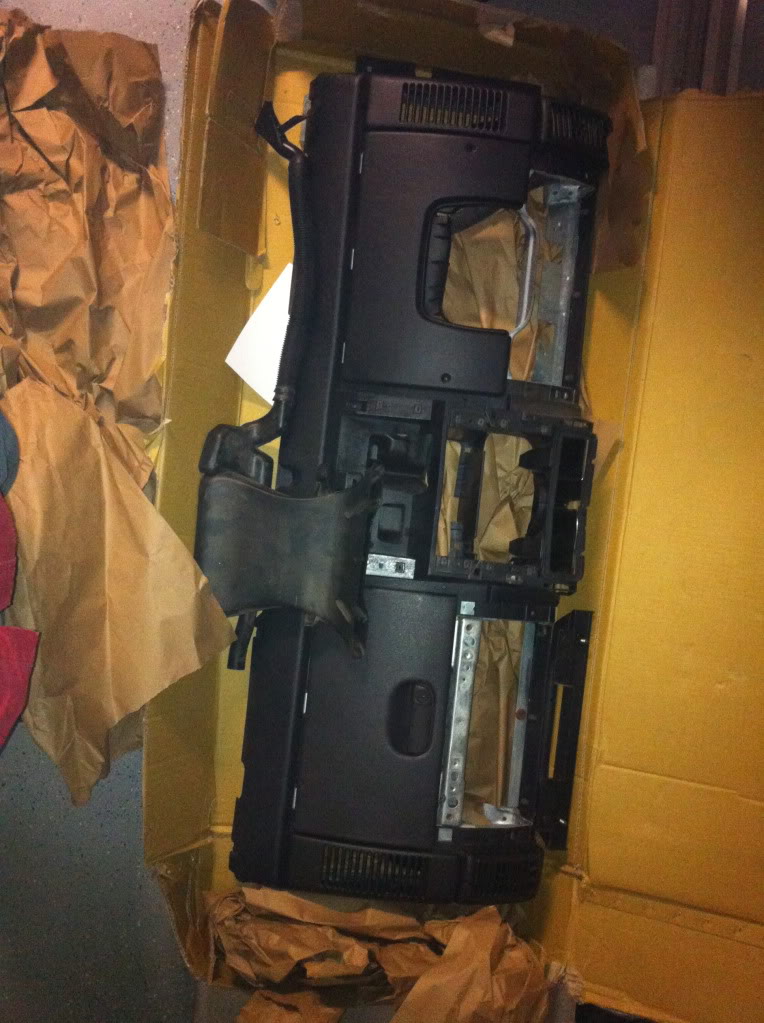 Painted the headlight bezels black with Krylon Fusion. And took off the front bumper to expose the rust under it. Ground it down and repainted, then installed smitty bilt stinger.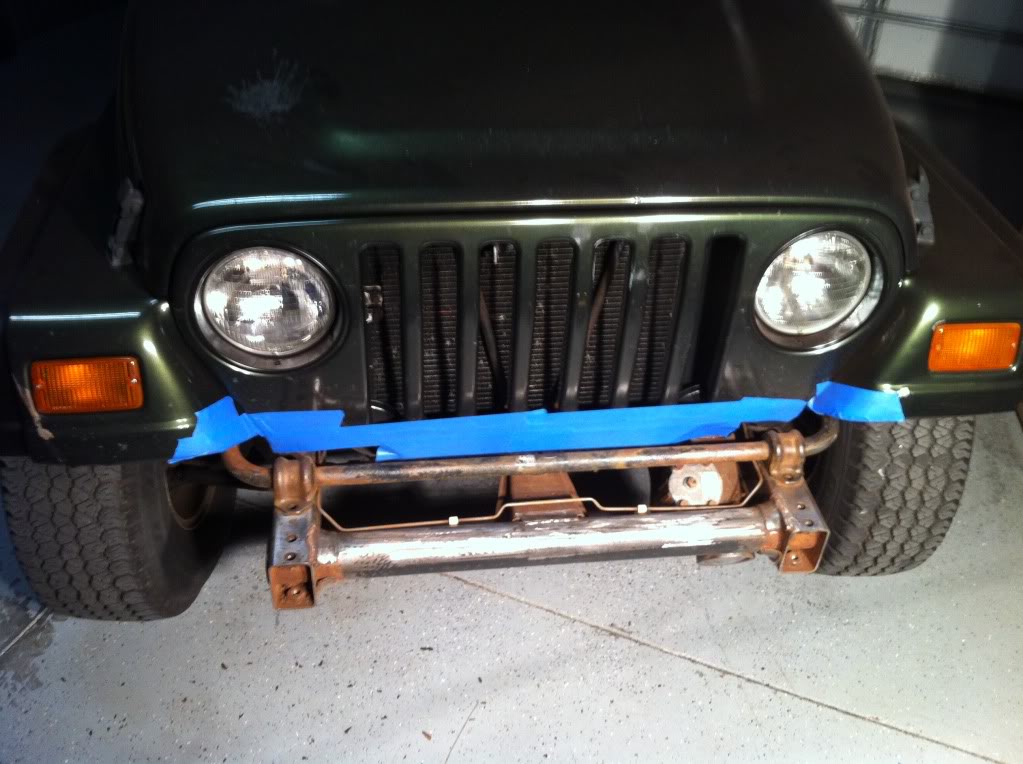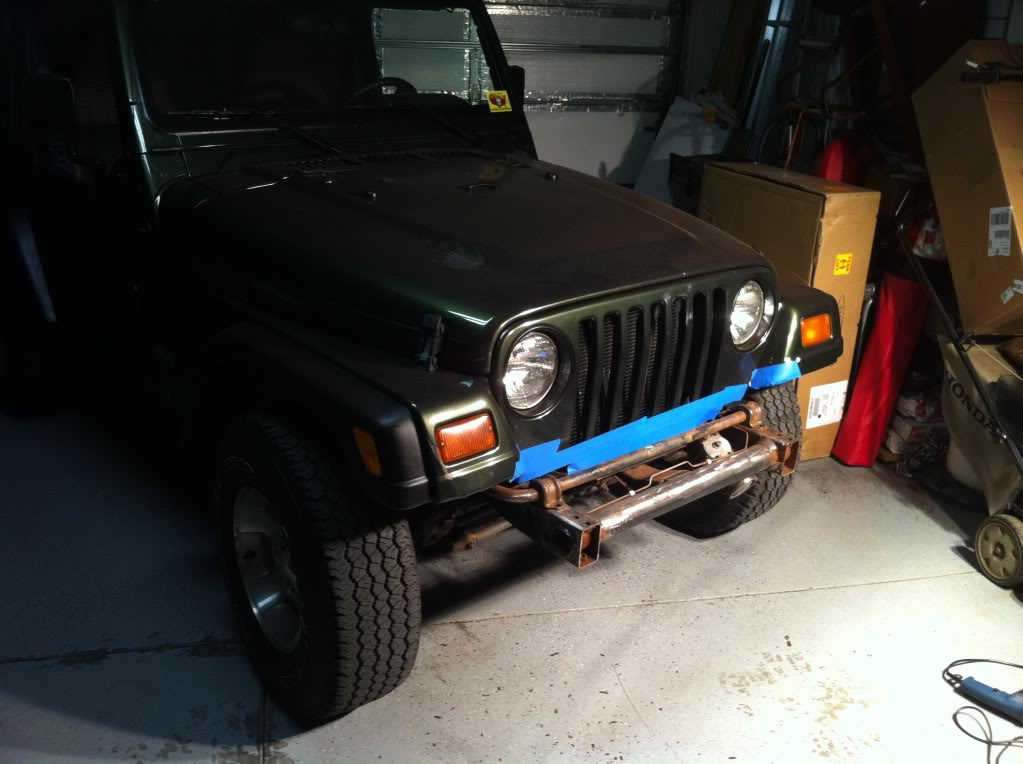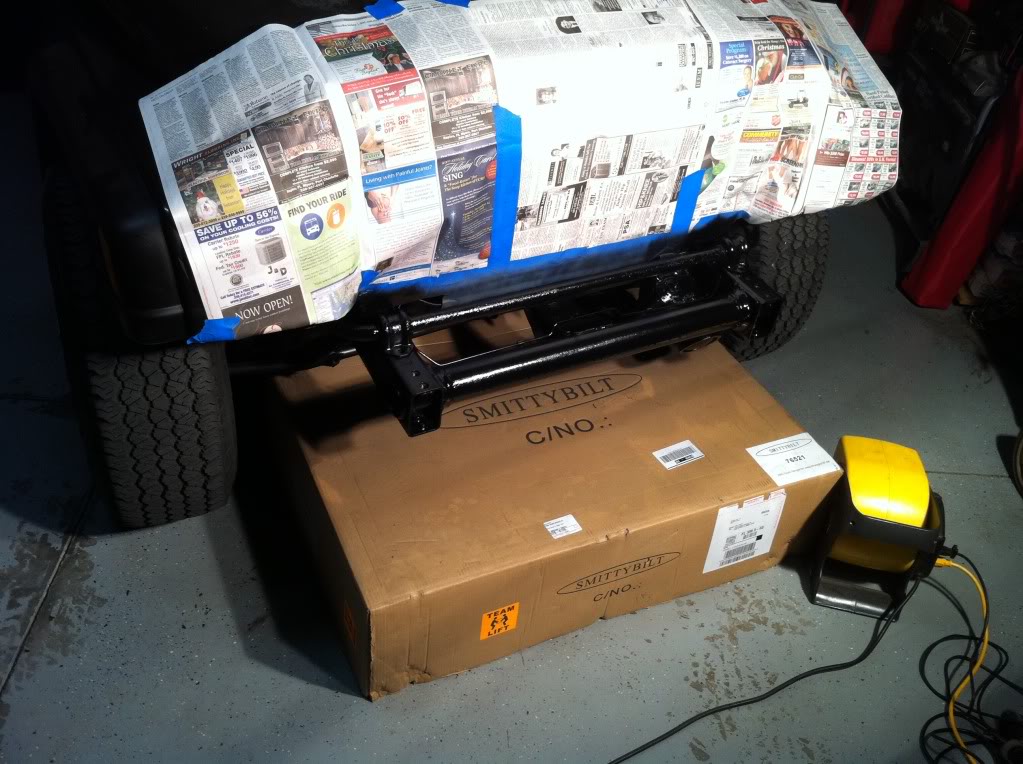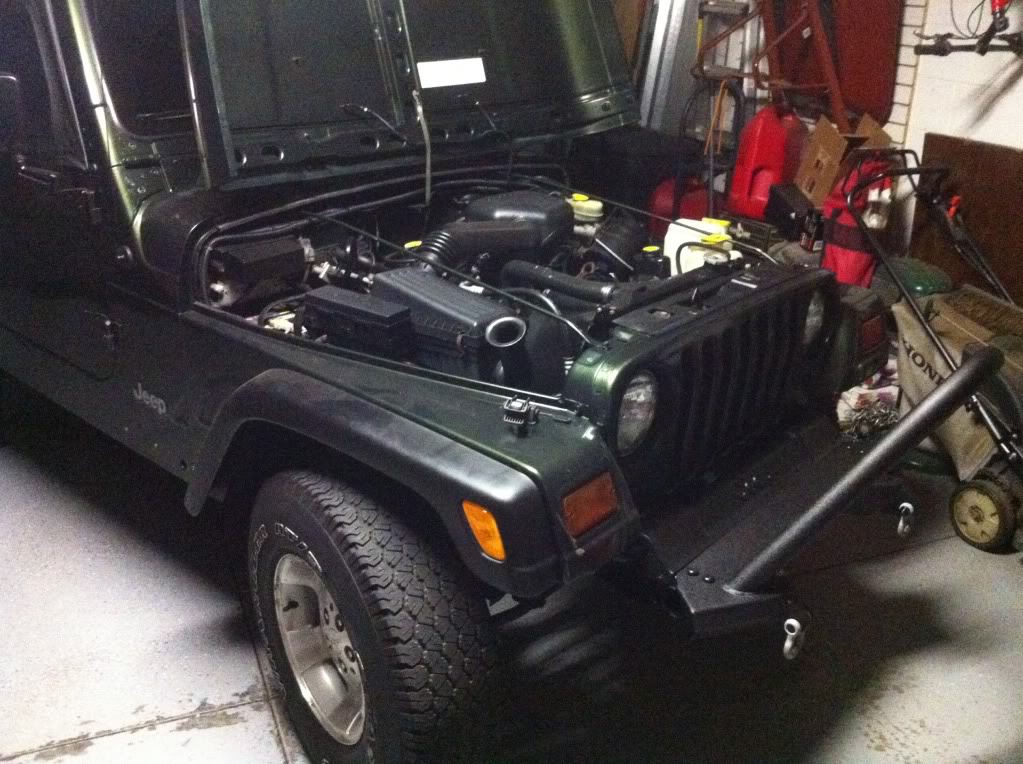 A couple posse shots while I use the jeep around town, still need to get it off road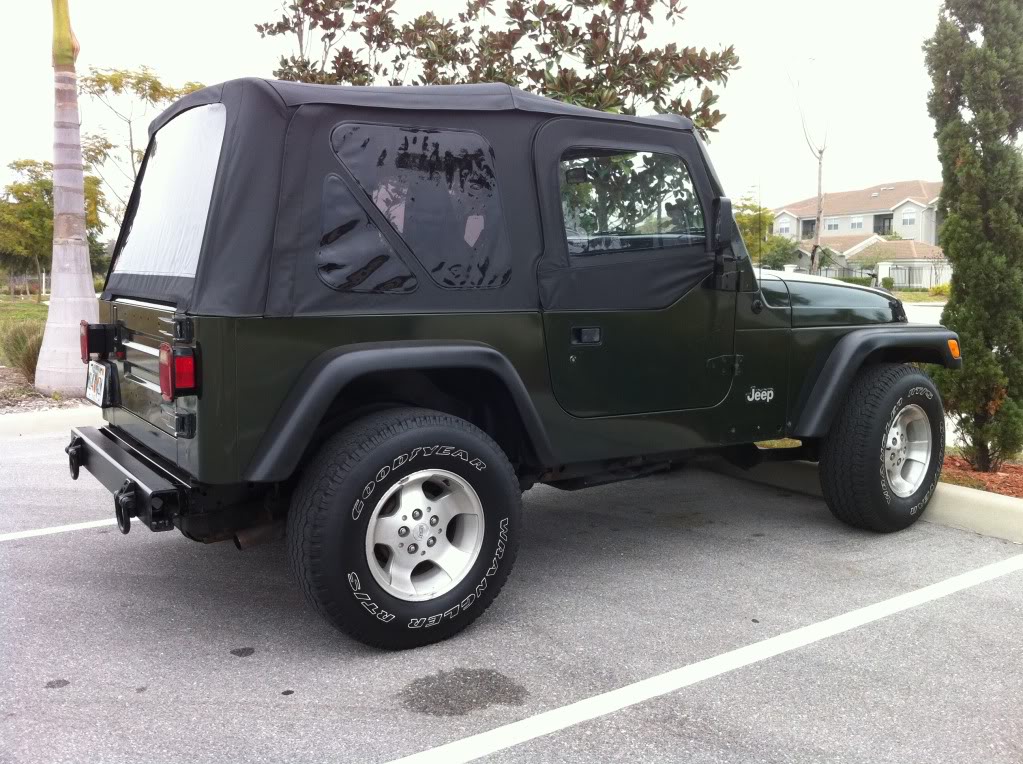 notice the Zombie permit on the windshield, it was around this time I read the Thread on this site about having a Jeep ready for a Zombie Apocalypse and had to have one. It also gave me a direction for my build and at this time I ordered all the free catalogs I could to start looking at what parts I could buy and possibly some I could fab.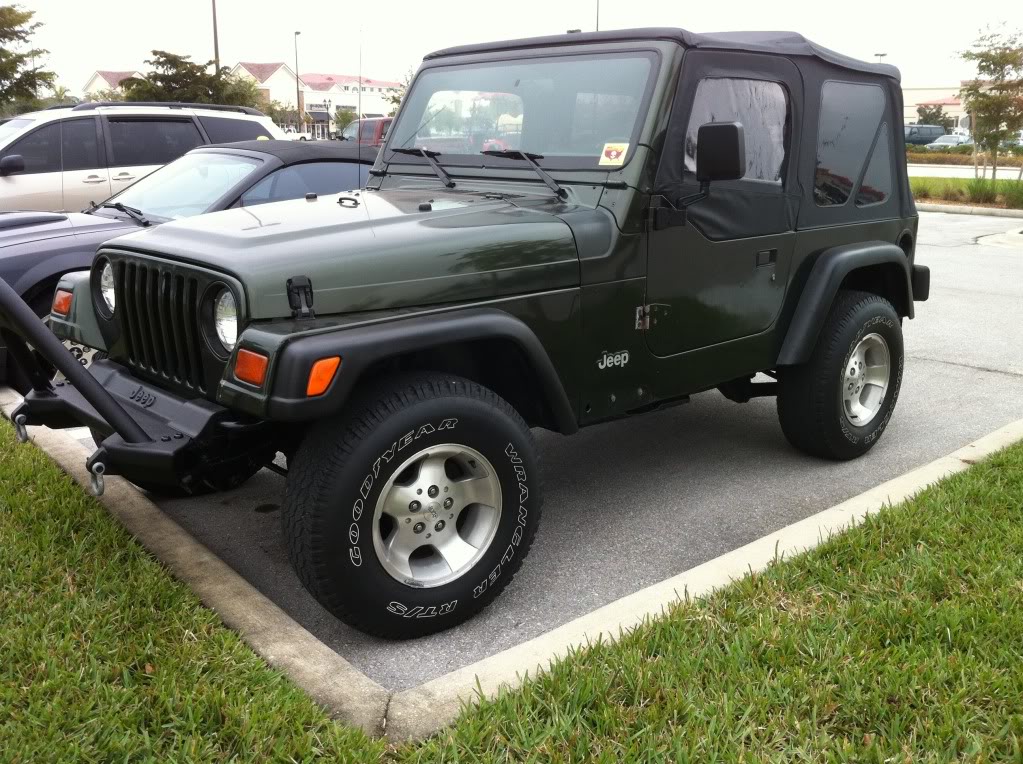 Washed up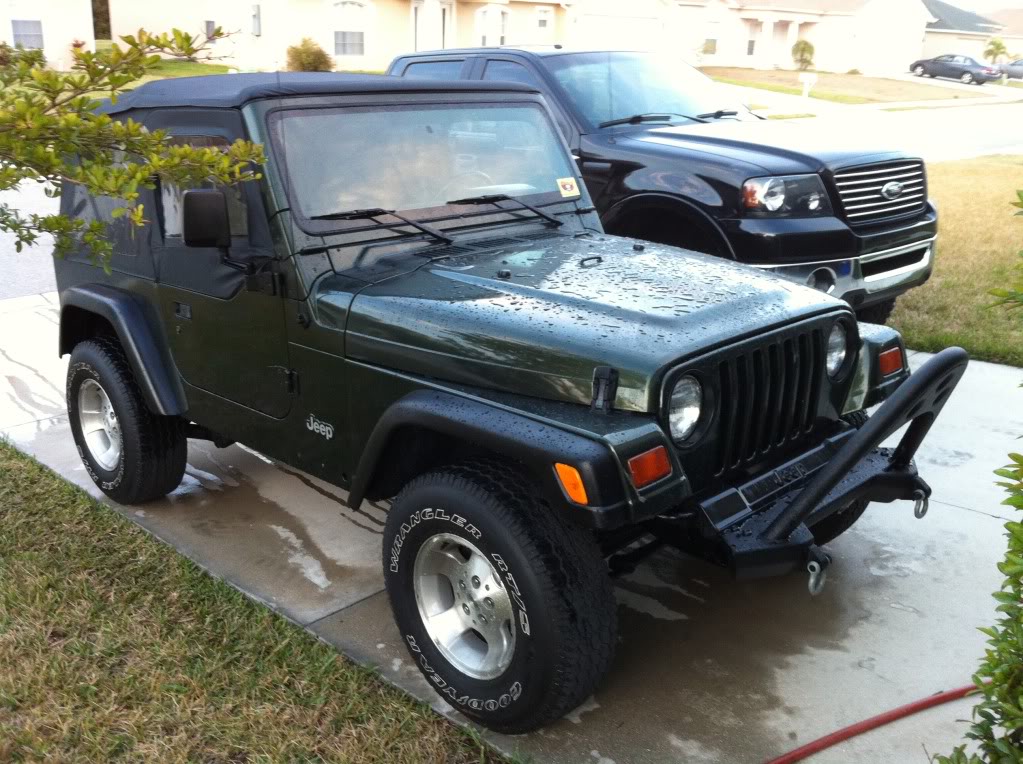 Flexing, weak I know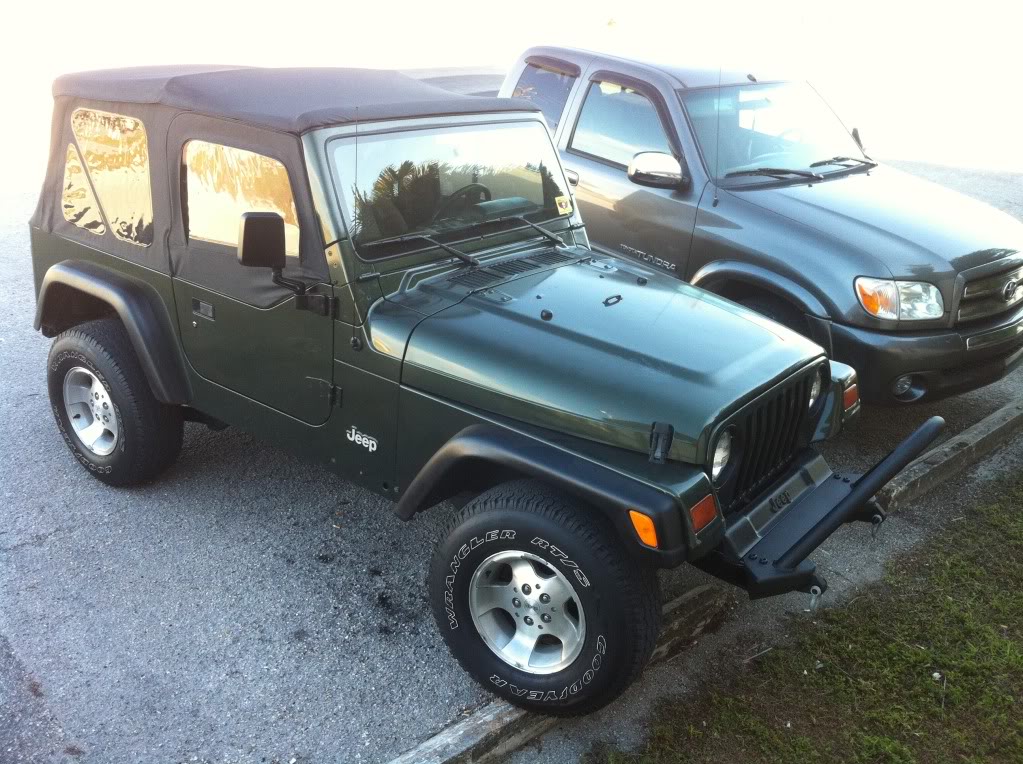 Installed Smittybilt XRC rock sliders, really needs a lift next.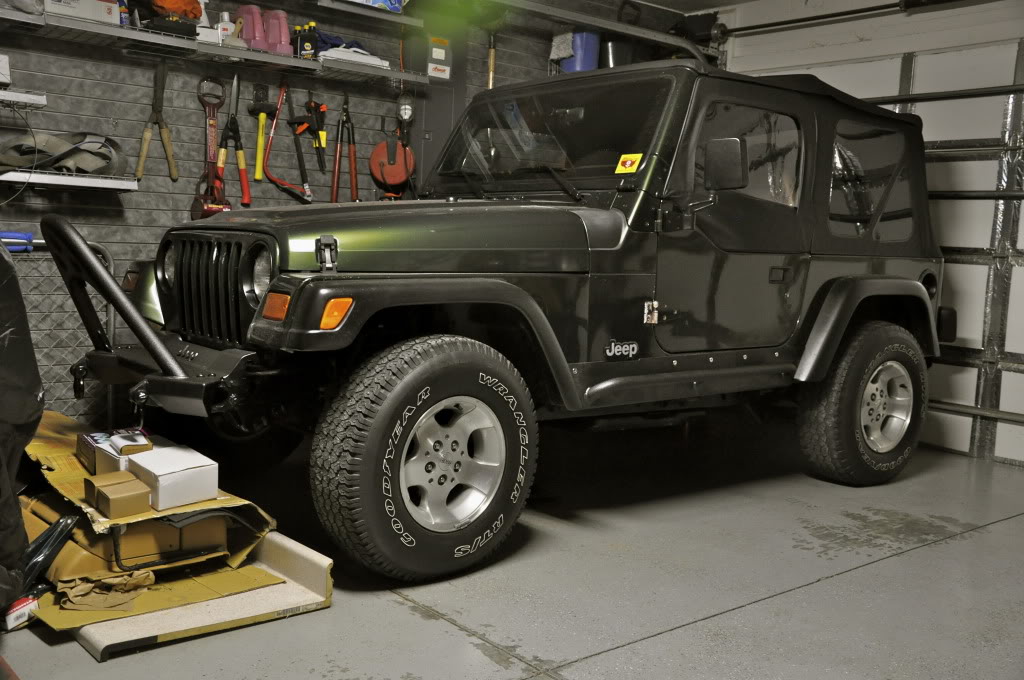 Floor was more of an issue than first anticipated.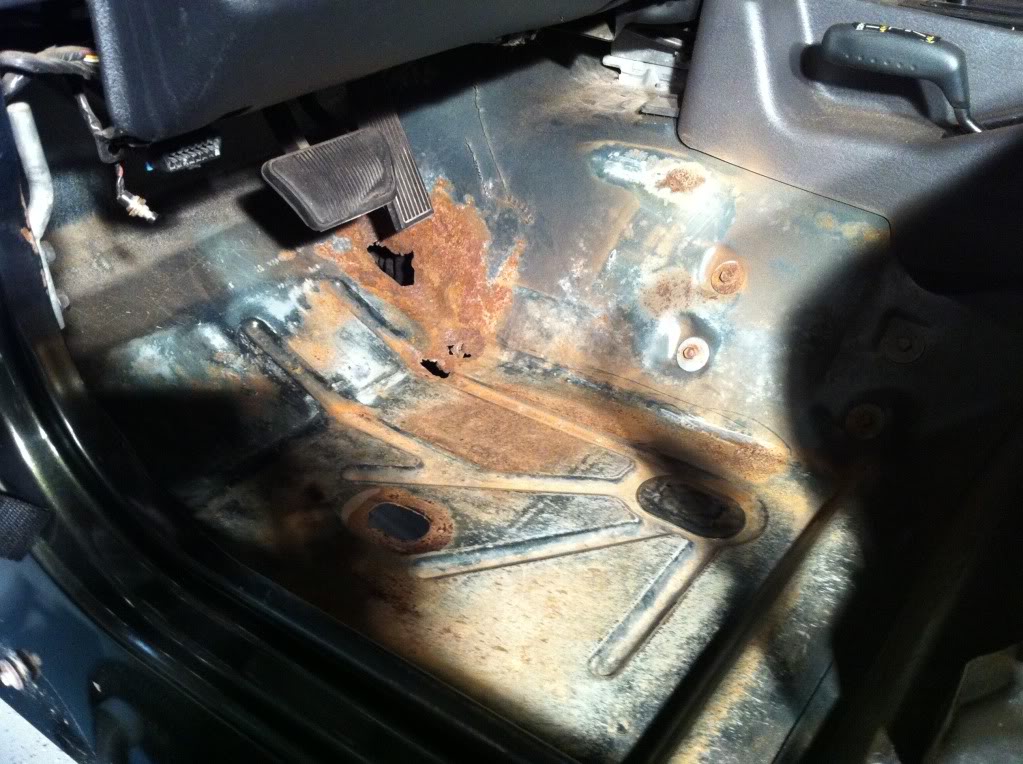 Installed the 06' Slate dash. Only real issue was that the piece below the steering wheel wouldn't work. In 03' I believe that part went to smooth surface and my 97' needs the bump and cutout for the headlight switch. so I bought an agate colored piece and it fits great, and the color difference is very very hard to notice. Also put down some Monstaliner rust preventative and plan on bed lining the inside of the tub. Painted the doors until i can find some for a reasonable amount. Also have my eye on a set of Corbeau Moab seats in black.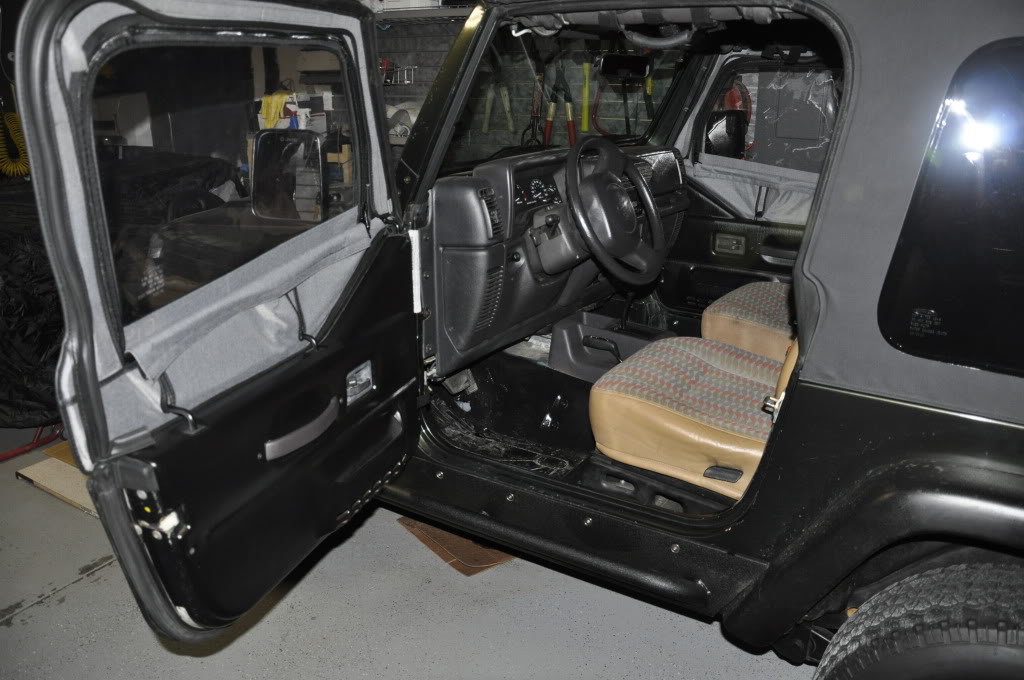 Got a heads up on this forum about a deal on the rear smittybilt bumper and tire swing I couldn't pass up so bought one and installed then decided to go the LED tail light route. Cut holes with jig saw and after referencing some threads on here install was a piece of cake.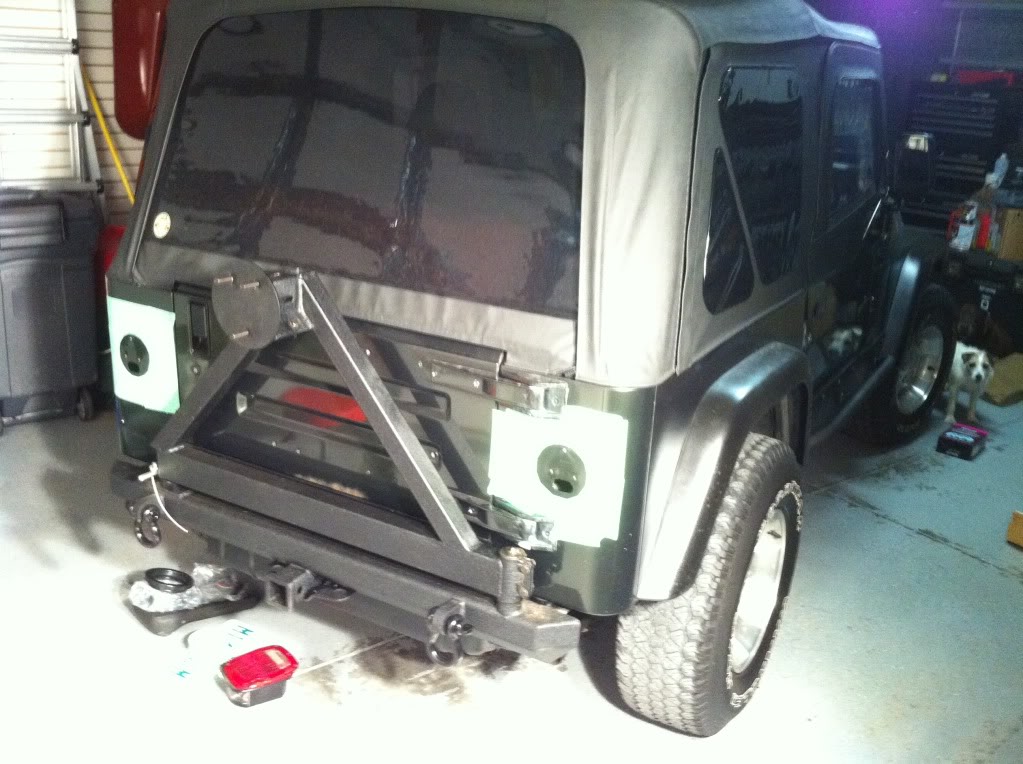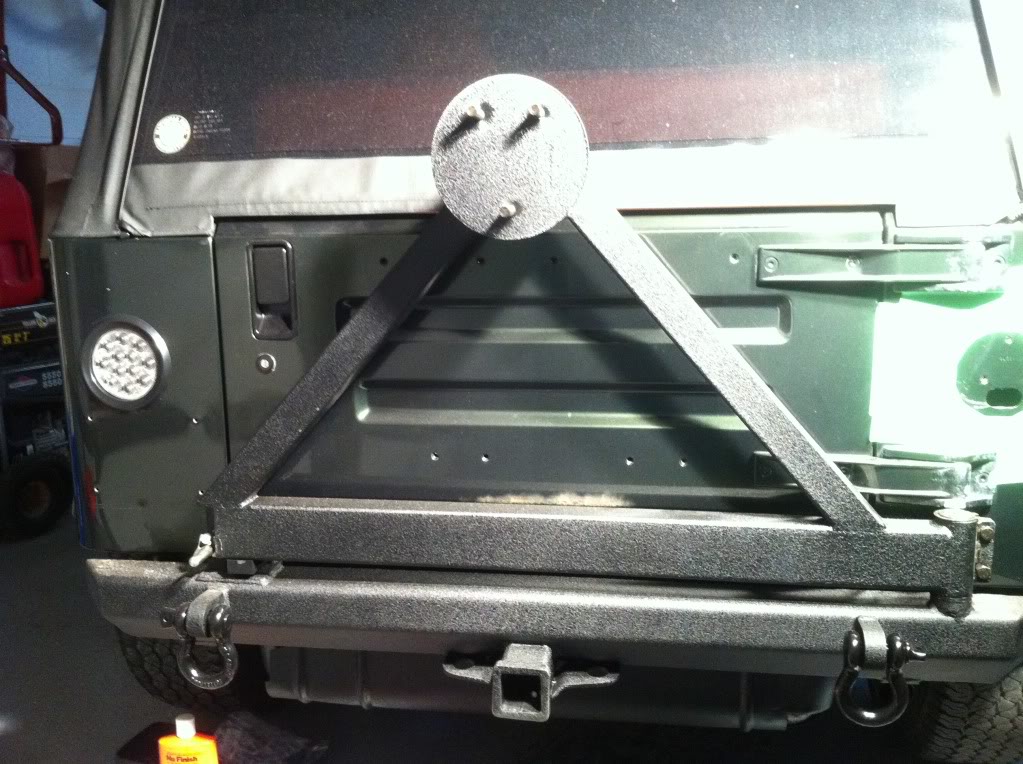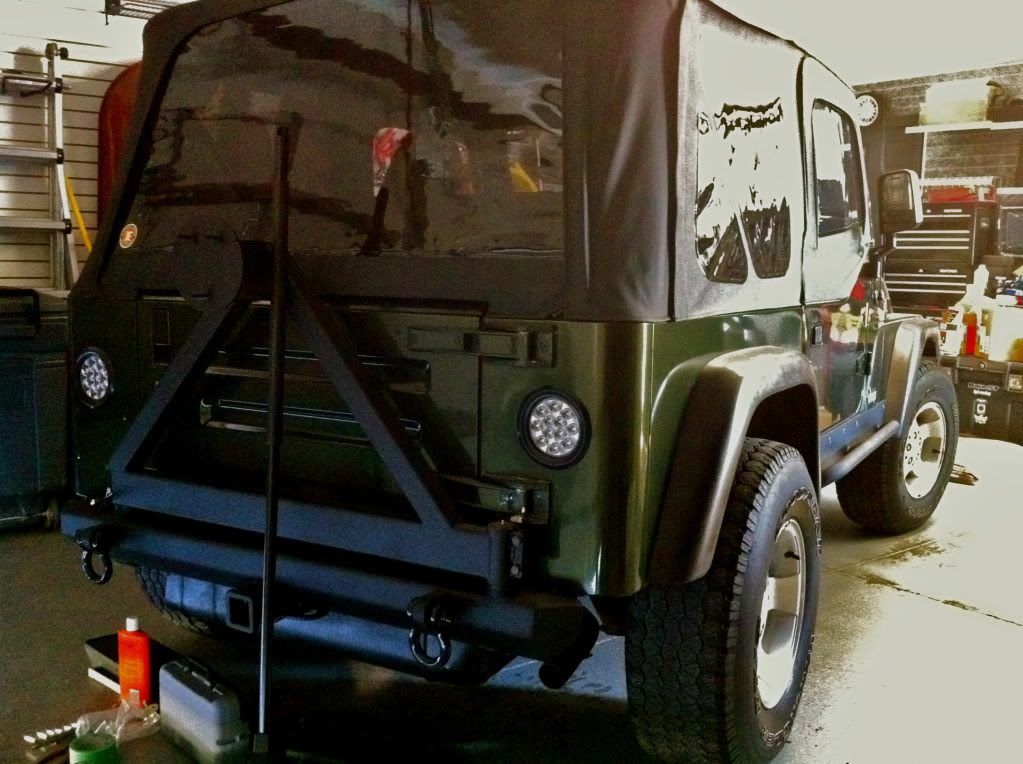 Thank you all for the words of encouragement

I have big plans for this jeep so hopefully someday it will be worthy of the Zombie apocalypse thread and trail running.
With the stinger and rock sliders the jeep looks alittle funny on 31's and so I wanted to go 33's. But wanted to get different wheels while in the process so after hunting TJ moabs with no luck(wanted them cheap) I ended up with a set of JK 17" moabs. But still haven't decided between Cooper SST and KM2's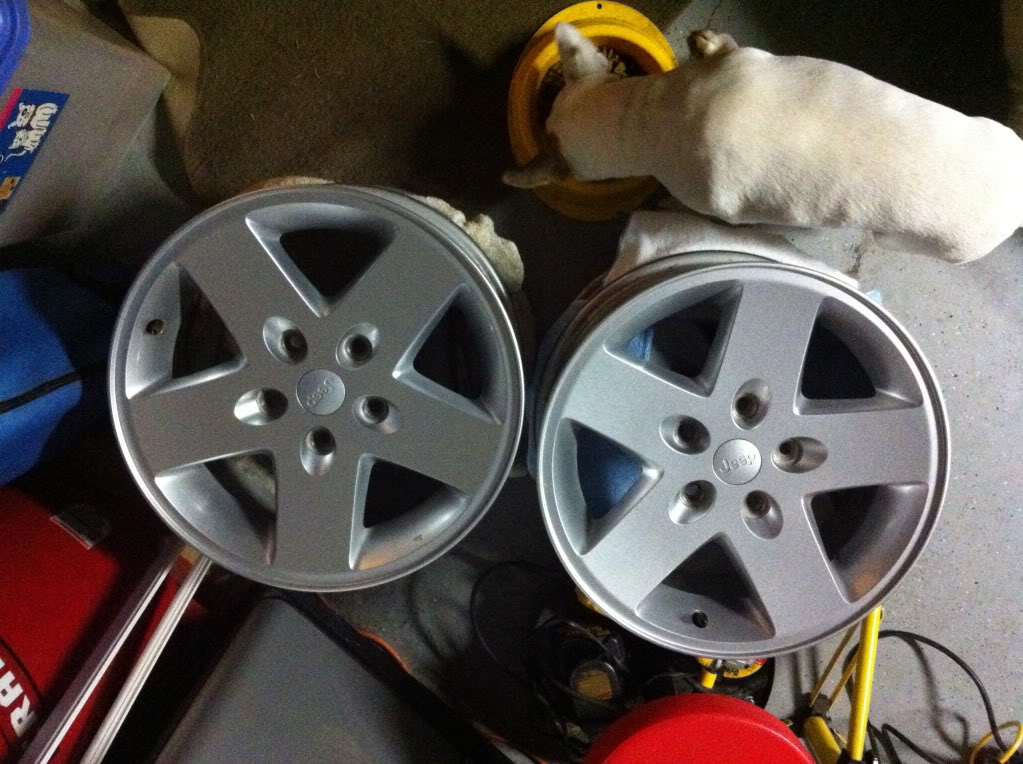 Thought I would go little at a time and ordered a JKS 1.25 BL and MML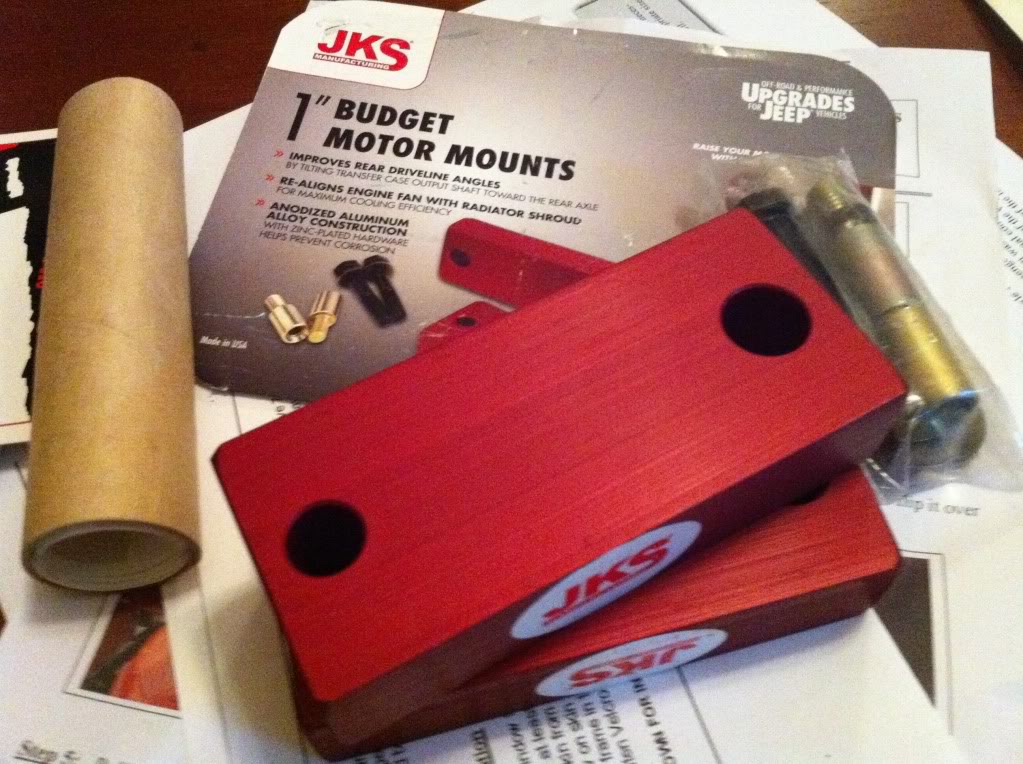 But then came across the Zone 4" and thought for the money it would be a good starting point.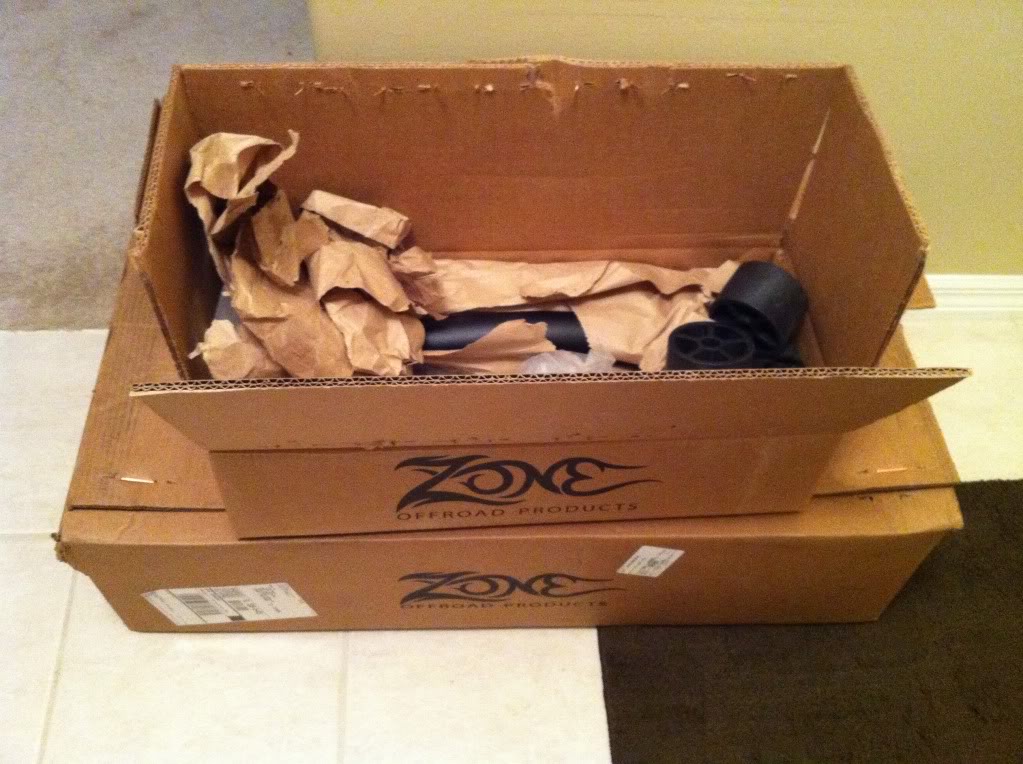 So anyway this brings us to how it sits in the garage at this moment.
Thank You, I'm in the Fort Myers area. Got the wheels for nothing but had to buy $200 worth of spidertrax adapters. Again something I saw on this site and for the money figured it looked pretty good.
so here is the rear of the lift going in. wish I had purchased adjustable uper control arms but ended up drilling out the mounts on the axle and using the cam washers to move the the stock upper CA's forward a hair.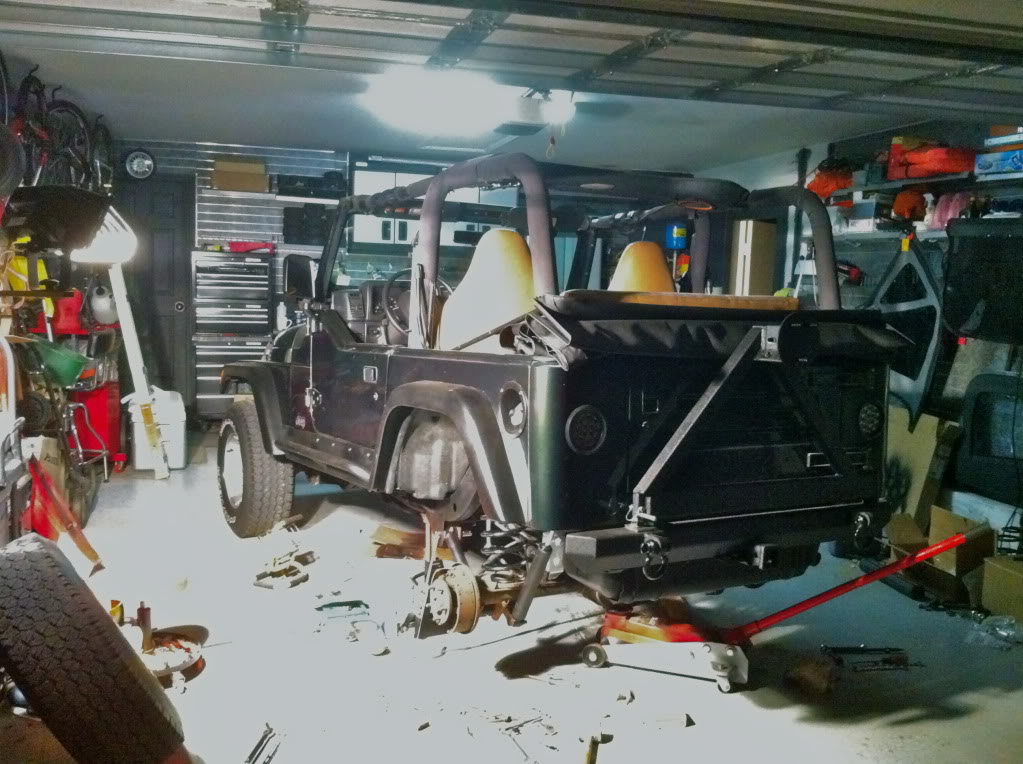 Rear done, looks beast and ever closer to a Zombie slaying MF'er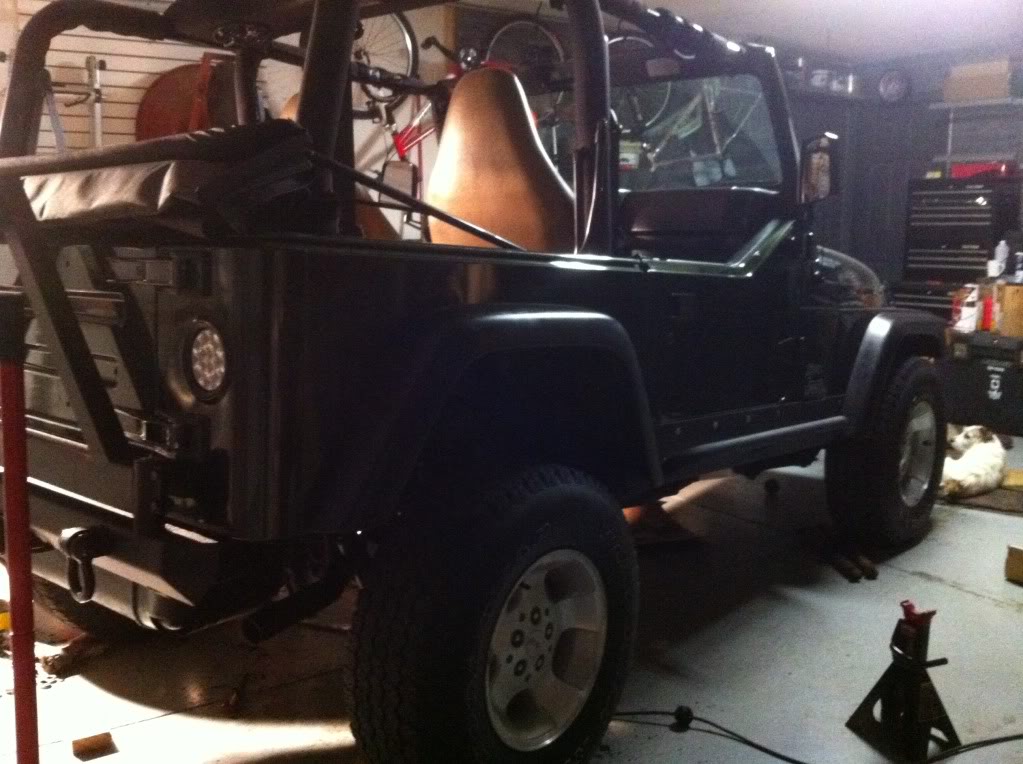 Front on jack stands gives a good indication of how bad it is going to look with 31's

Time to decide on tires.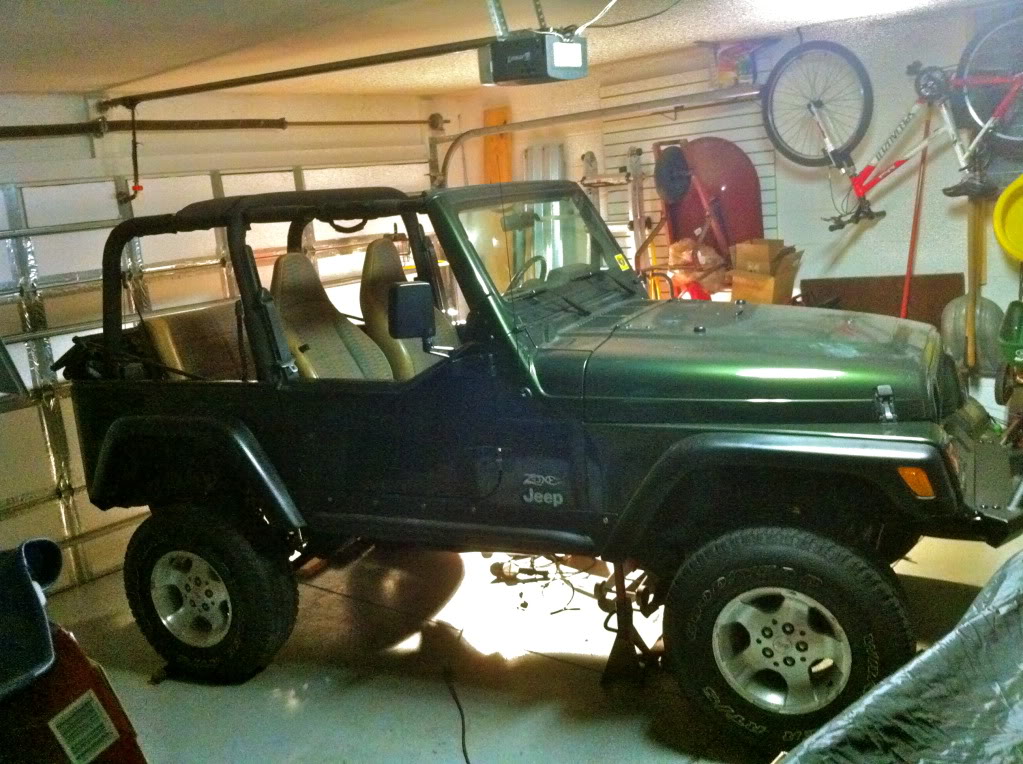 Started on the front and got smart and ordered front disco's sway bar links and an adjustable trackbar. So the front is on hold until the rest of the parts come in.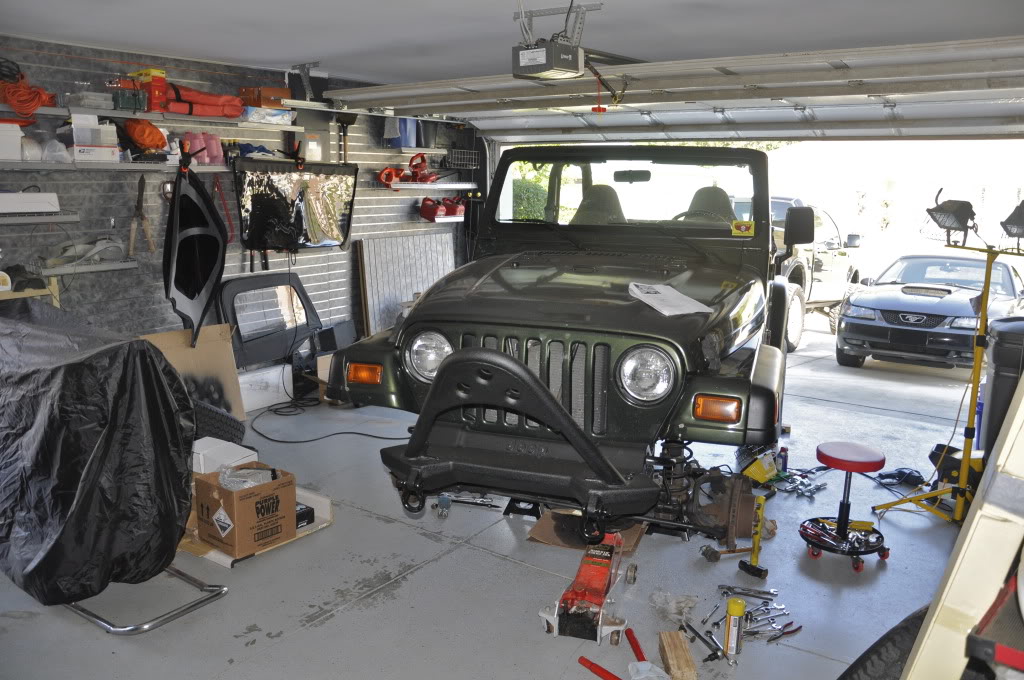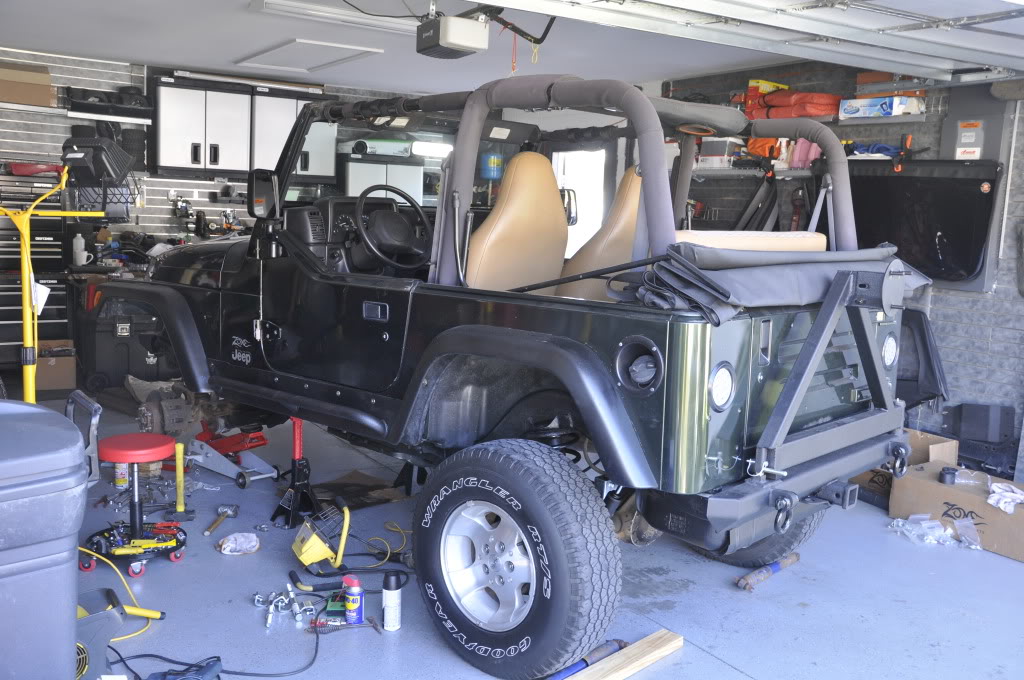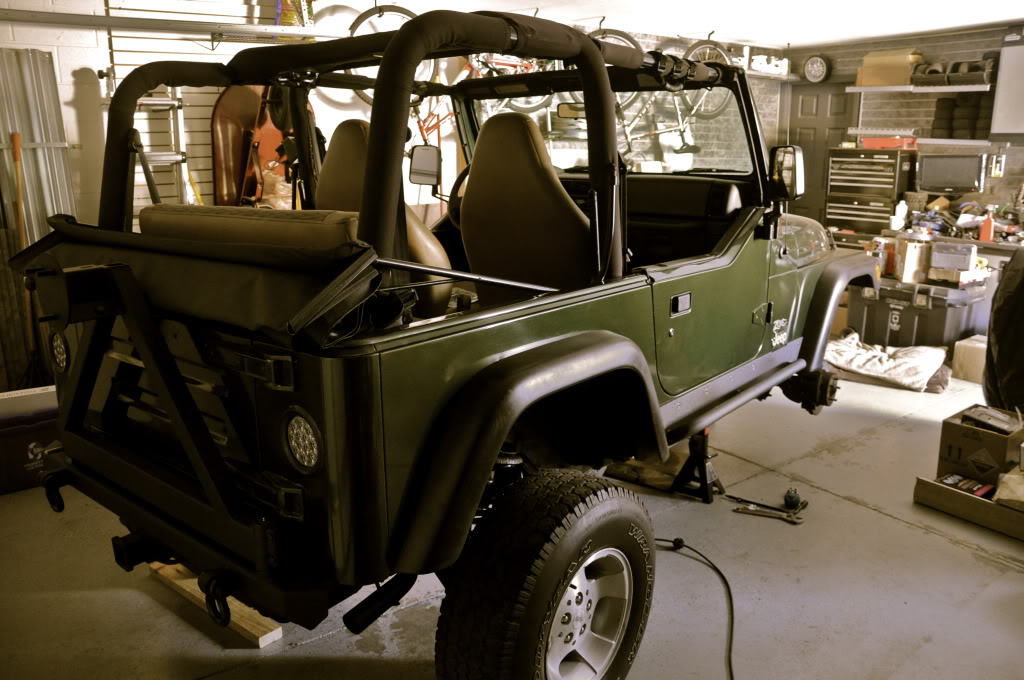 I think I have read that if I install the BL/MML I don't have to do the transfer case drop, might have to try this. With having to buy tires a SYE is on hold for the moment. Also will be getting 4.88's so the little 4cyl can sort of handle the 33's. Really looking to do an LS1 motor conversion but haven't found what I'm looking for yet, that will be when this build gets real. but for now just having alot of fun working on the jeep and transforming what was a turd of a jeep into something to be proud of.
This is correct, The other thing worth noting is that the center radio bezel mounts differently so I couldn't use the one off the 97 dash and have to do some modifications. Also When I switched the dash it changed the vin number because it is attached to the dash so have to re-rivet the original one back in. Also I used the sub frame from the 06' dash because it had no rust and the 97' looked pretty bad. This wasn't a big issue but I had to make a braket to hang the headlight knob from because the 06' frame didn't have the mount.