Builds
Nate's 2002 TJ, Not so simple anymore by gst95dsm
By diyauto
You must be logged in to rate content!
3 minute(s) of a 391 minute read
Nate's 2002 TJ, Not so simple anymore
Compliments of gst95dsm @ jeepforum.com
10-16-2011
As things change I think I'll try and keep a current photo right at the top....
Updated 1/17/14

The Hammers….. Chocolate Thunder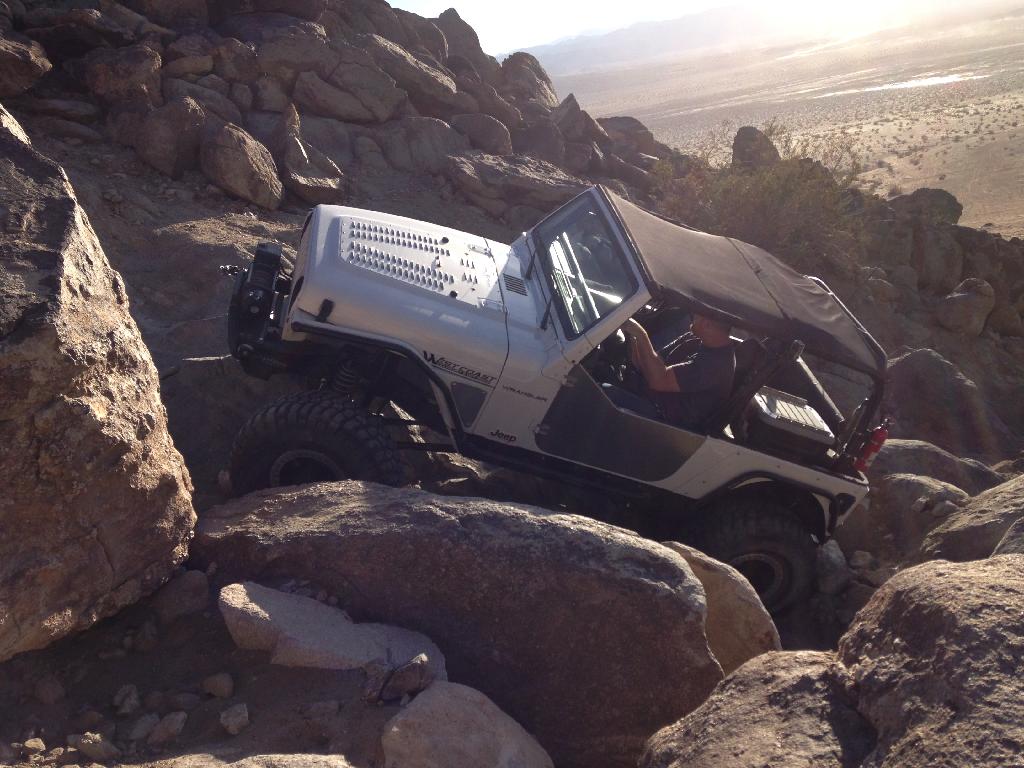 I never really post on here but I do appreciate all that I read! Here's a few pics of my TJ. I really don't know how it's even come this far. I'm a broke family man with way to many hobbies, but this Jeep thing has been the BEST one i've ever gotten into for me and my family! The Jeep is more like a family member than a vehicle. Here's a basic mod list. Any questions or more info. needed please ask!

Powertrain:
-2.5L
-AX-5
-NP231 with TeraLow 4:1 and Rugged Ridge SYE
-Tatton CV driveshafts

Front Axle:
-LP D30
-Sierra 4.88 gears
-Aussie Locker
-Yukon Chromoly Axles
-Spicer ball joints
-Alloy USA axle seals
-Clayton 3 link bridge
-Artec LCA brackets
-Blue Torch Fab diff cover
-Big Daddy Off Road Tie Rod.

Rear Axle:
-D35 (the most famous D35 ever)
-Sierra 4.88 gears
-Superior 30 spline Axles
-Detroit Locker
-Poly performance shock mounts
-Blue Torch Fab diff cover

Chassis:
-Custom 6" rear frame stretch for 100" wheelbase
-Genright "Alien" stretch fuel tank
-1" body lift

Suspension:
-Front 3 link
-Teraflex 9550 shocks
-R/C 2.5" springs
-Teraflex coil spacers
-Metalcloak Duroflex joints
-Custom .250 DOM links (29" length)
-UCF lower frame link mounts
-Barnes 4wd inner frame mount
-Clayton 3 link bridge
-Stock track bar
-Currie AntiRock sway bar
-Custom front suck down winch

-Rear 5 link
-R/C upper and lower links
-UCF chassis link mounts
-Metalcloak Duroflex joints
-Stock track bar / with relocation bracket
-Moog rear springs
-Skyjacker Hydro shocks
-Poly Performance shock towers
-Relocated stock coil buckets
-Factory rear sway bar with extended links

Wheels / Tires:
-Raceline Monster Beadlocks 231
-35x12.5r15 BF Goodrich KM2's

Exterior / Armor:
-Barnes4WD front bumper
-Custom steering box skid
-Custom Oil pan skid
-Barnes4WD flat T-case skid plate with custom bracing
-Poison Spyder Hood Louver
-MetalCloak arched front fenders with rub rail
-Trail Gear rock sliders
-Savvy Aluminum half doors
-MetalCloak rear corner armor customized for 6" stretch with rub rail
-Swag Offroad drop down tailgate kit
-Custom rear bumper crossmember
-OR-fab front sport cage
-Custom cage additions, windshield bar, front spreader bars
-Poison Spyder rear trail cage
-Hella H4 headlight upgrade
-DDM Tuning 5000k HID kit
-4" LED rear tail lights with aftermarket flasher

Interior:
-Iggee seat covers
-Radio Shack CB
-Custom in cab winch switch
-Hand throttle
-Raptor Lined tub
-Artec Quart Crate
-Swag off road Baja Bin
-Poly Performance 10lb CO2 kit
-Crawl Magazine fire extinguisher mount
-Smittybilt mesh top
-Sony Bluetooth stereo

Recovery:
-Smittybilt XRC8 winch with steel cable
-Warn steel fairlead
-Tractor supply D-rings
-various recovery straps and snatch block


And....... well probably a bunch more little stuff but that's most it.

I've done all the work besides the re-gear.... so if you have any questions I may be able to help.