Nate's 2002 TJ, Not so simple anymore by gst95dsm
By diyauto
You must be logged in to rate content!
Nate's 2002 TJ, Not so simple anymore
Compliments of gst95dsm @ jeepforum.com
10-16-2011
As things change I think I'll try and keep a current photo right at the top....
Updated 1/17/14

The Hammers….. Chocolate Thunder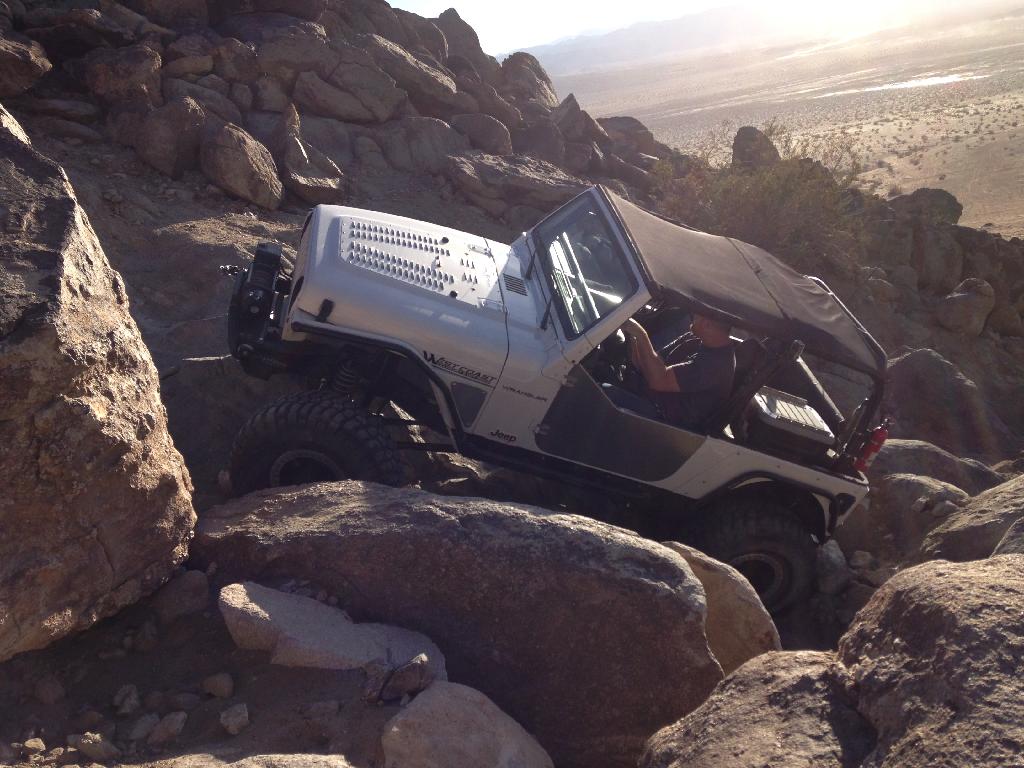 I never really post on here but I do appreciate all that I read! Here's a few pics of my TJ. I really don't know how it's even come this far. I'm a broke family man with way to many hobbies, but this Jeep thing has been the BEST one i've ever gotten into for me and my family! The Jeep is more like a family member than a vehicle. Here's a basic mod list. Any questions or more info. needed please ask!

Powertrain:
-2.5L
-AX-5
-NP231 with TeraLow 4:1 and Rugged Ridge SYE
-Tatton CV driveshafts

Front Axle:
-LP D30
-Sierra 4.88 gears
-Aussie Locker
-Yukon Chromoly Axles
-Spicer ball joints
-Alloy USA axle seals
-Clayton 3 link bridge
-Artec LCA brackets
-Blue Torch Fab diff cover
-Big Daddy Off Road Tie Rod.

Rear Axle:
-D35 (the most famous D35 ever)
-Sierra 4.88 gears
-Superior 30 spline Axles
-Detroit Locker
-Poly performance shock mounts
-Blue Torch Fab diff cover

Chassis:
-Custom 6" rear frame stretch for 100" wheelbase
-Genright "Alien" stretch fuel tank
-1" body lift

Suspension:
-Front 3 link
-Teraflex 9550 shocks
-R/C 2.5" springs
-Teraflex coil spacers
-Metalcloak Duroflex joints
-Custom .250 DOM links (29" length)
-UCF lower frame link mounts
-Barnes 4wd inner frame mount
-Clayton 3 link bridge
-Stock track bar
-Currie AntiRock sway bar
-Custom front suck down winch

-Rear 5 link
-R/C upper and lower links
-UCF chassis link mounts
-Metalcloak Duroflex joints
-Stock track bar / with relocation bracket
-Moog rear springs
-Skyjacker Hydro shocks
-Poly Performance shock towers
-Relocated stock coil buckets
-Factory rear sway bar with extended links

Wheels / Tires:
-Raceline Monster Beadlocks 231
-35x12.5r15 BF Goodrich KM2's

Exterior / Armor:
-Barnes4WD front bumper
-Custom steering box skid
-Custom Oil pan skid
-Barnes4WD flat T-case skid plate with custom bracing
-Poison Spyder Hood Louver
-MetalCloak arched front fenders with rub rail
-Trail Gear rock sliders
-Savvy Aluminum half doors
-MetalCloak rear corner armor customized for 6" stretch with rub rail
-Swag Offroad drop down tailgate kit
-Custom rear bumper crossmember
-OR-fab front sport cage
-Custom cage additions, windshield bar, front spreader bars
-Poison Spyder rear trail cage
-Hella H4 headlight upgrade
-DDM Tuning 5000k HID kit
-4" LED rear tail lights with aftermarket flasher

Interior:
-Iggee seat covers
-Radio Shack CB
-Custom in cab winch switch
-Hand throttle
-Raptor Lined tub
-Artec Quart Crate
-Swag off road Baja Bin
-Poly Performance 10lb CO2 kit
-Crawl Magazine fire extinguisher mount
-Smittybilt mesh top
-Sony Bluetooth stereo

Recovery:
-Smittybilt XRC8 winch with steel cable
-Warn steel fairlead
-Tractor supply D-rings
-various recovery straps and snatch block


And....... well probably a bunch more little stuff but that's most it.

I've done all the work besides the re-gear.... so if you have any questions I may be able to help.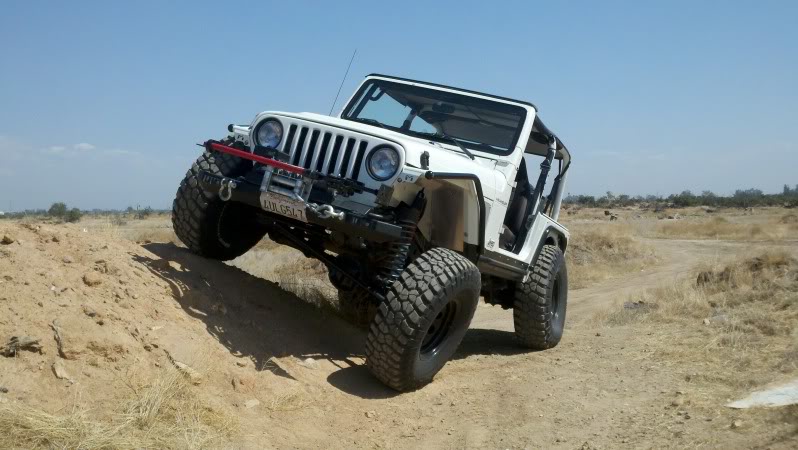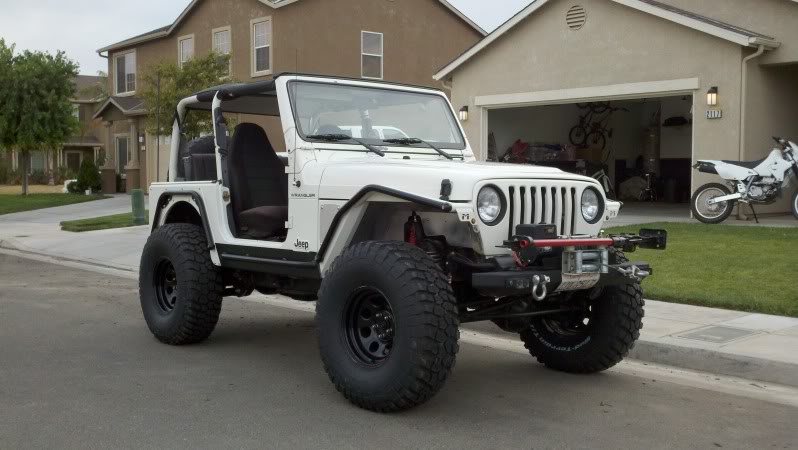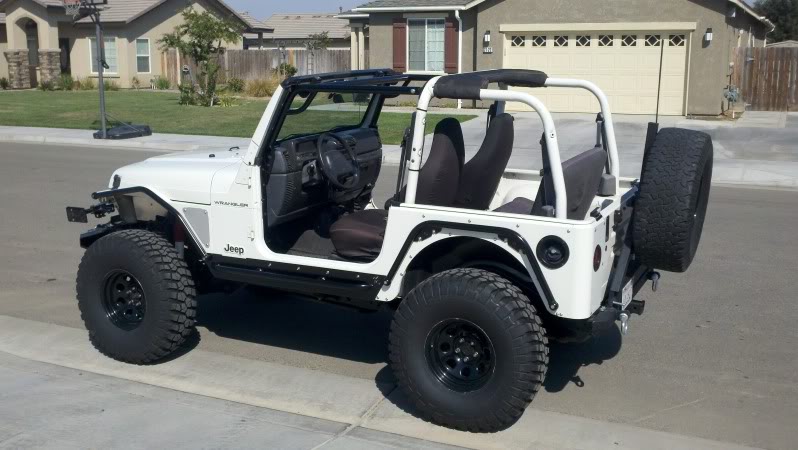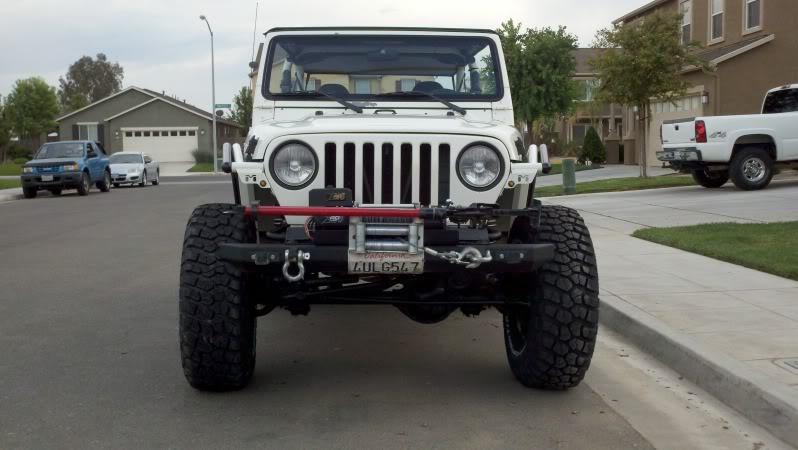 10-17-2011
Yeah I DD it. The Aussie in the rear doesn't bother me a bit. Now i'm not saying that I can't tell it's there...... just that it's behavior becomes predictable and just something you get used to. The main thing you can feel if you have a manual transmission is when you shift and get back on the gas the jeep tends to pitch slightly to the side. I would guess if you had an auto this would be a non issue. For the money, quality of the part, ease of install and capability it adds to the jeep I think it's well worth it.
10-18-2011
Next mod is going to be some DIY Beadlocks...... can't wait to get started on that. I couldn't find much info on JF about them, but I think I think it's pretty straight forward.
This is kinda funny.... my buddy a little new to the rock crawling getting a little overzealous. No harm done.
Hope you all don't mind some more pics.... a couple randoms from this year and few from my latest outing after installing the Metalcloaks and 35's.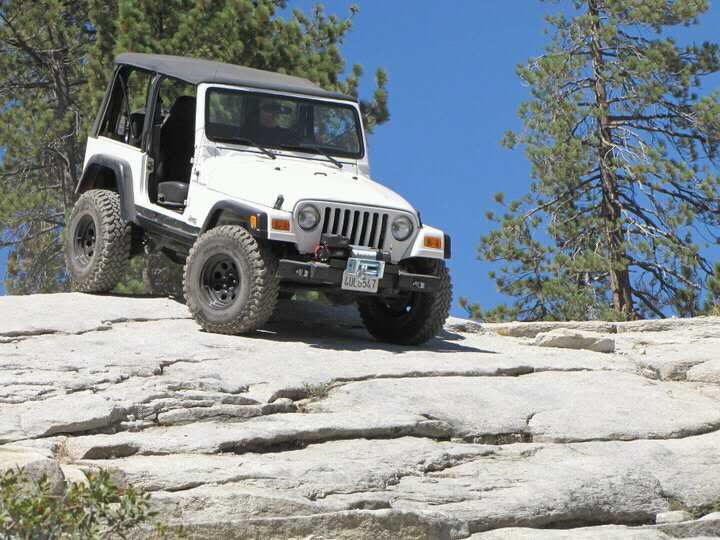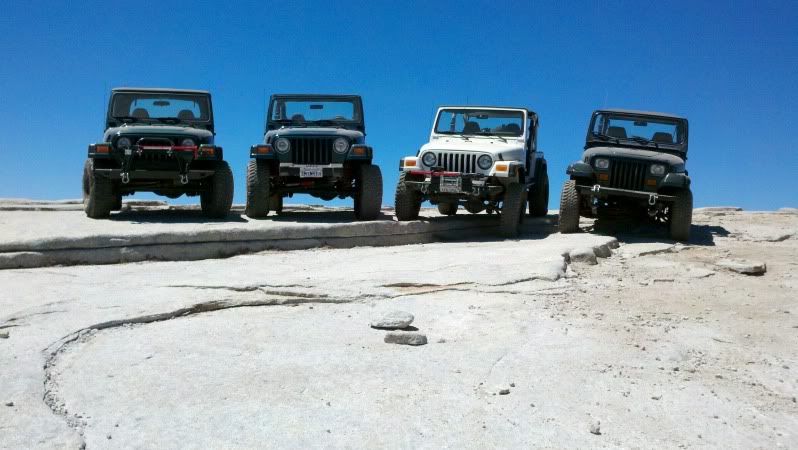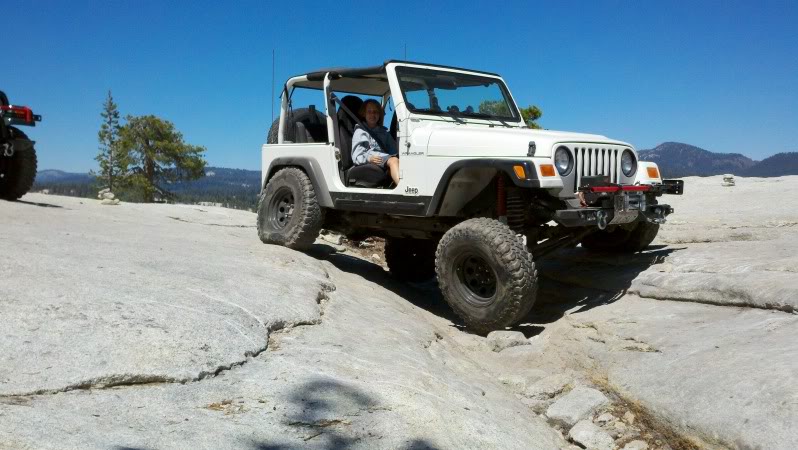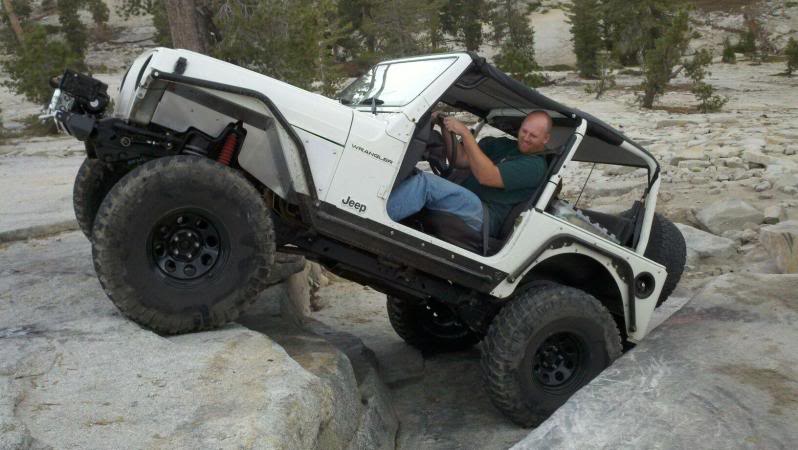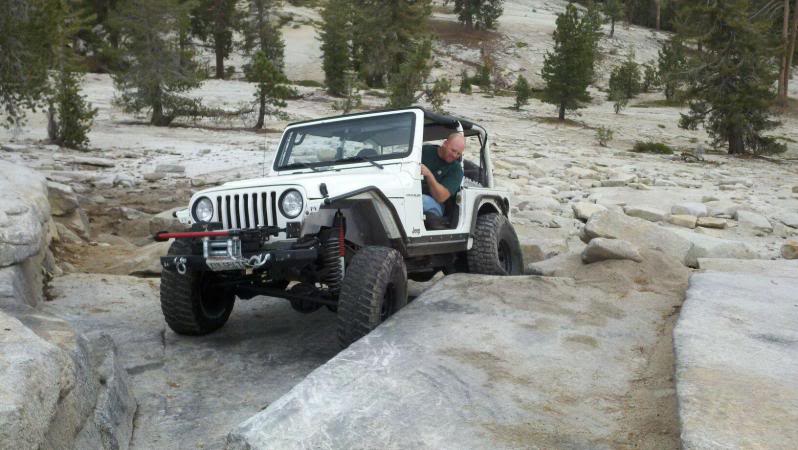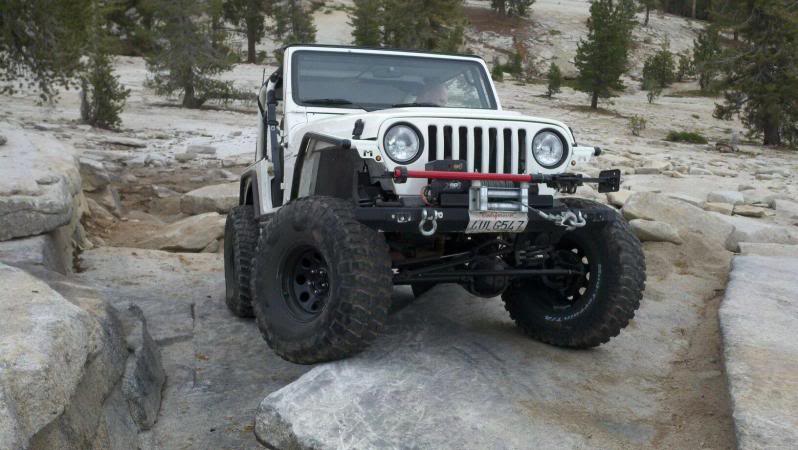 4-4-2012
Haven't updated this in a while. Well my Aussie locker in the rear started popping and acting really strange so I had to take it out. I can't really say for sure it was the unit itself because it actually looks to be in really good condition. I think maybe the carrier was damaged in some way.

I just put in a Superior super 35 kit with Detroit, and feel really good about my purchase based on the research I've done on the kit.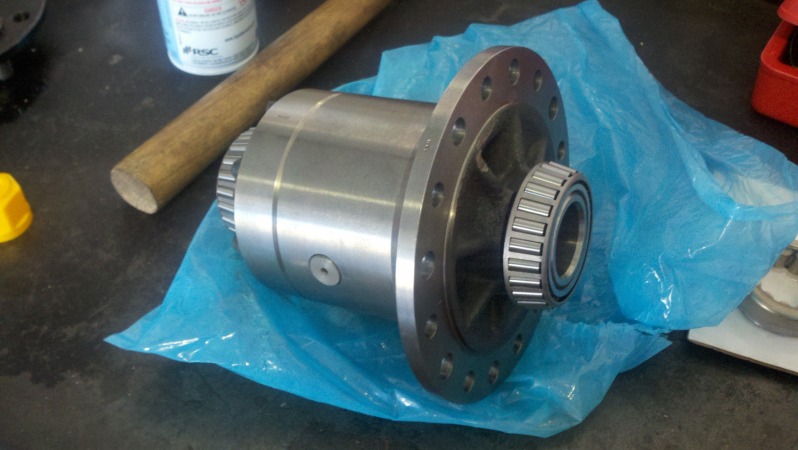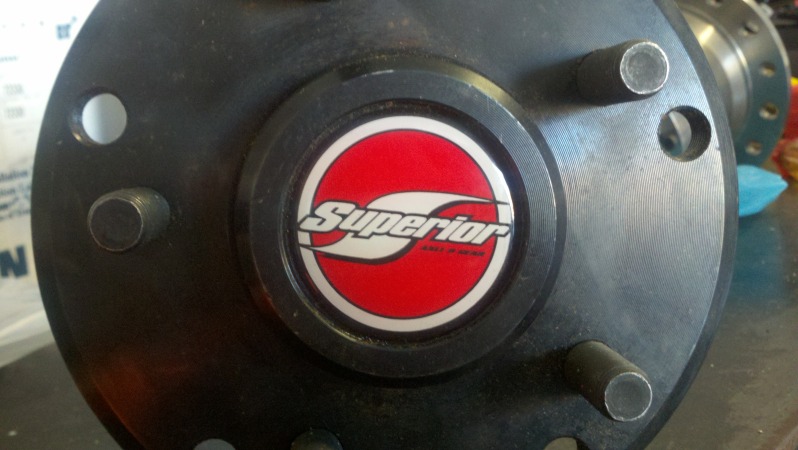 I managed the install myself, and it went pretty good. You just have to be relatively comfortable with what's going on in there.

Now my next project is a Rough Country long arm upgrade. I went this route for several reasons. I was running stock control arms prior. One reason is that several people I know run this kit and love it, and I've had the chance to really look at it installed, and it's very stout. (my stock stuff is SO beat) I also run my rig relatively low but want lots of droop. Improved ride quality also sounds good. And besides all that.... I was just looking to make more of a change to the rig besides simply replacing short arms.

I spent the day yesterday prepping for the install. I disassembled everything, painted a bunch underneath, cleaned and basically just tried to do whatever I could to get ready (parts haven't arrived yet)

Cutting off the stock control arm brackets with a 4in. electric angle grinder was a *****. I didn't like how it went. I got it done but not without getting into the frame more than I wanted to. In retrospect I was going about it wrong and didn't really figure it out until the last bracket. I tried to cut right on the weld down into it at an angle, then when I got into It pretty good I beat it with a BFH. This worked but I had to keep grinding....... and grinding. Well the last bracket I went lower on the bracket below the weld and didn't get into my frame very much at all. I've done a lot of things, but removing brackets like that was new to me, and the lack of clearance was tough. Oh well its DONE! Here's how it sits now. Still waiting on parts!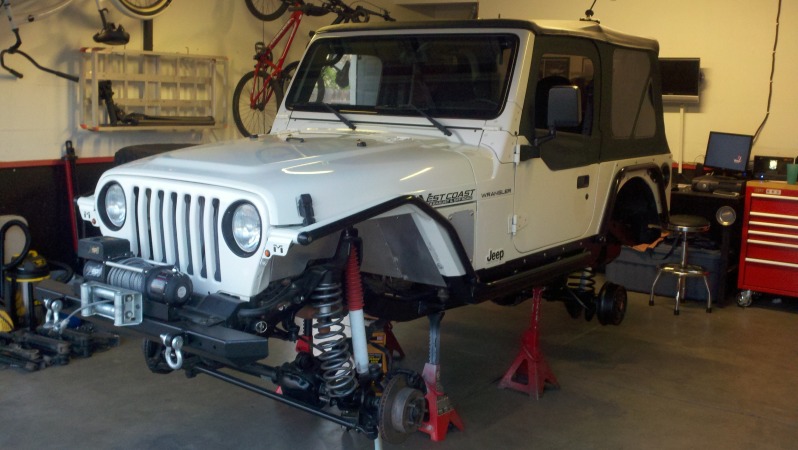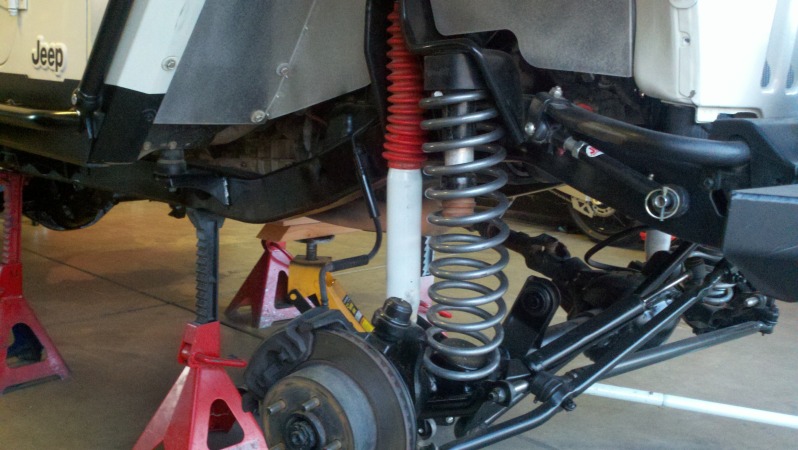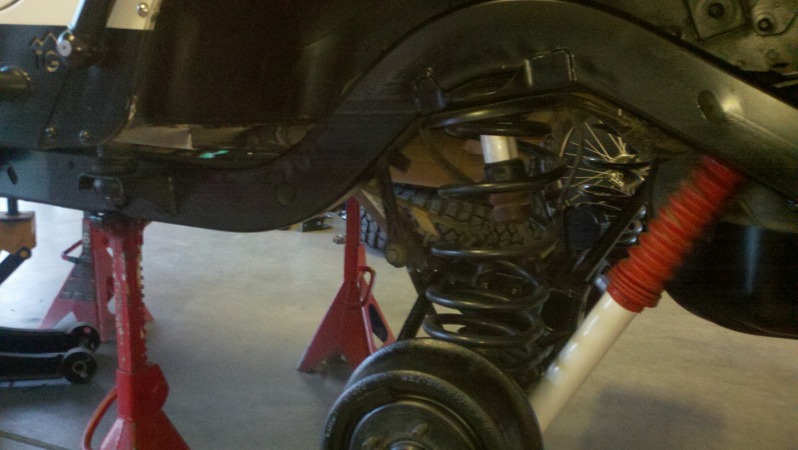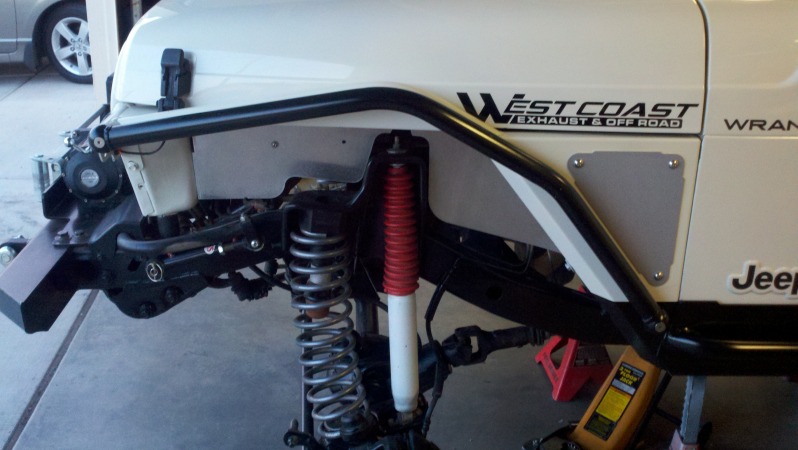 I'll post up some install pics over the next few days. Excited to get it all on.
4-13-2012
RC long arm kit installed and tested. Really like it so far, despite the negativity anything RC receives on JF. We'll just have to see how it holds up now.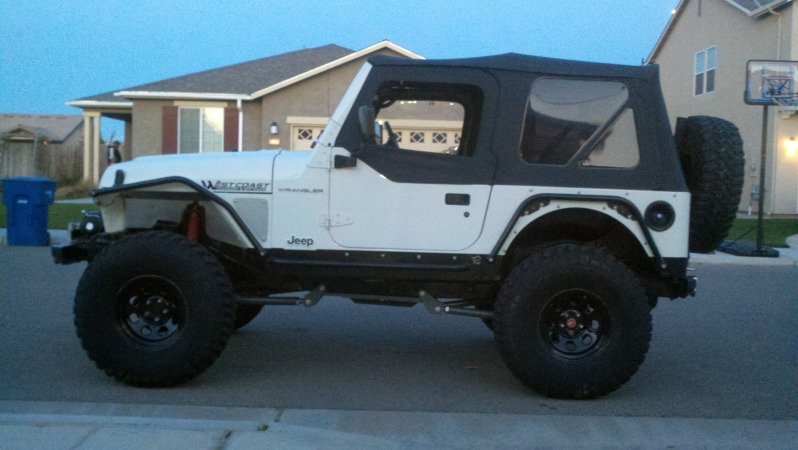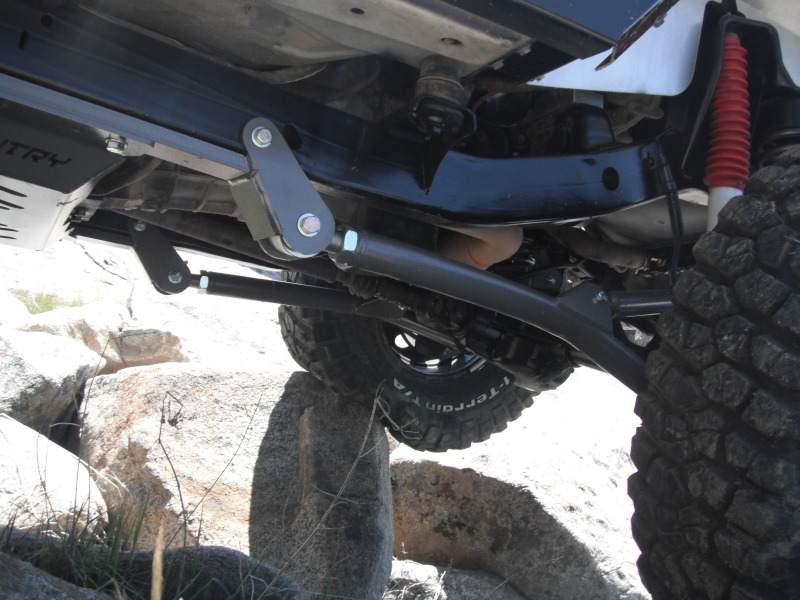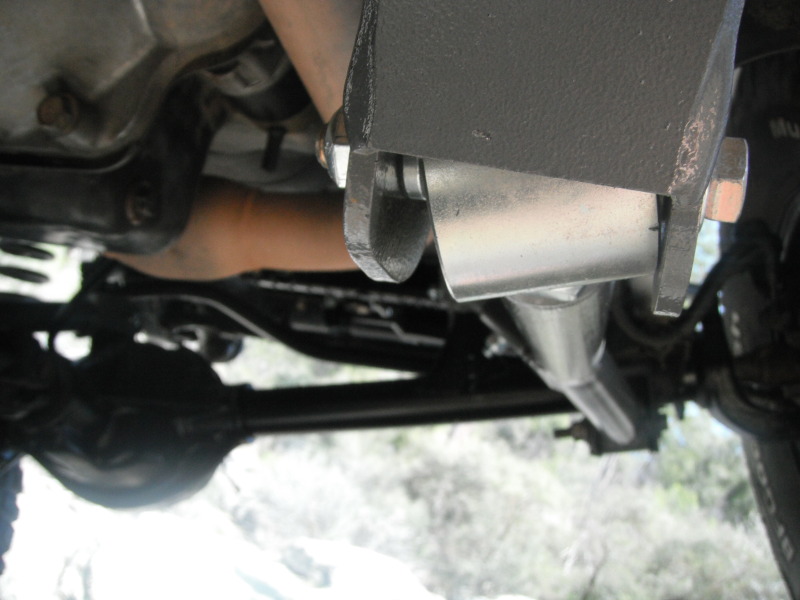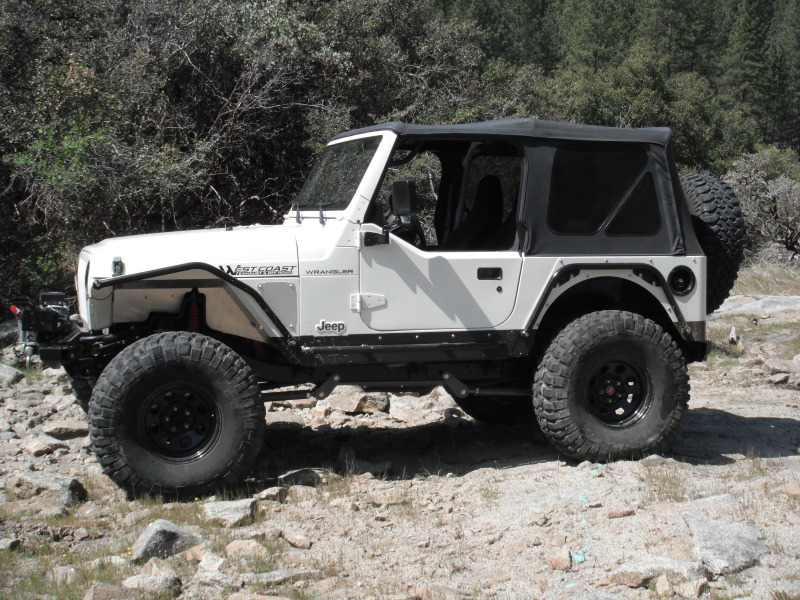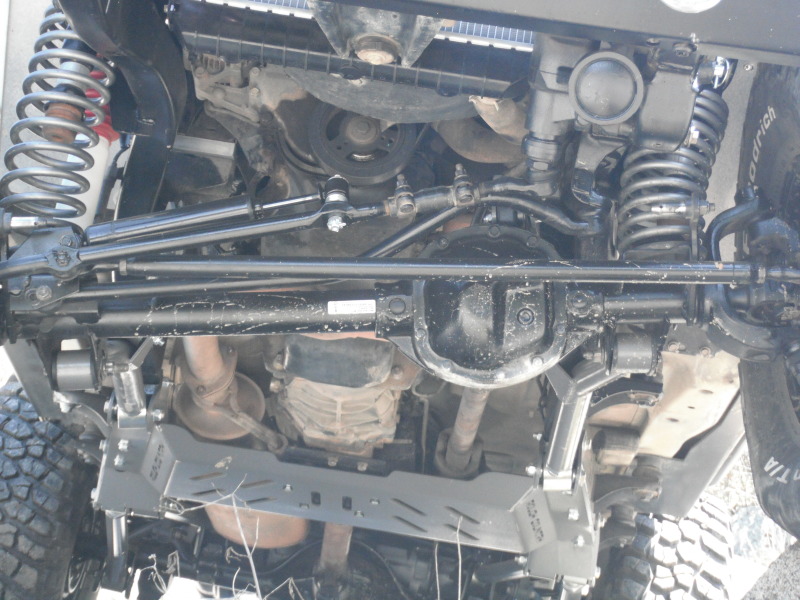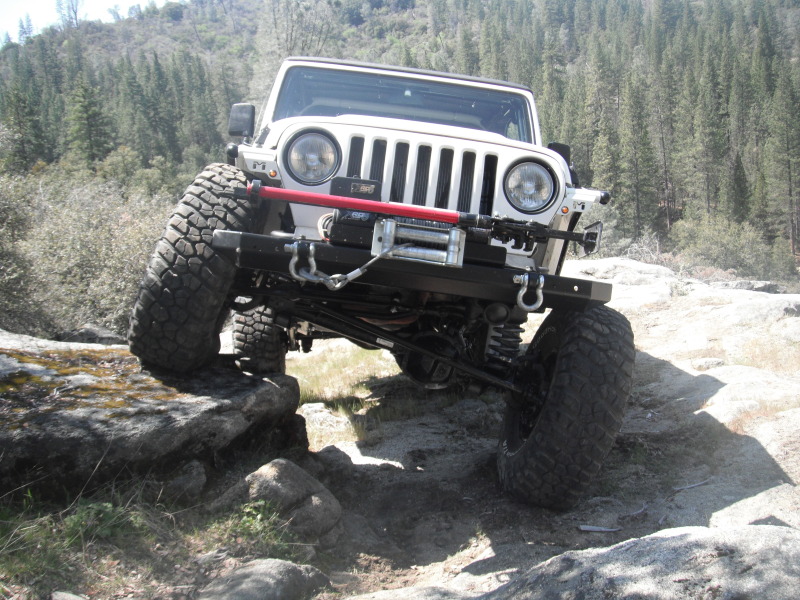 Thanks! Yeah I get a little OCD with the black satin paint. Coming from Michigan and now living in CA, the easy to clean underside of my jeep is really appreciated. But it has seen mud a few times, but never without regret!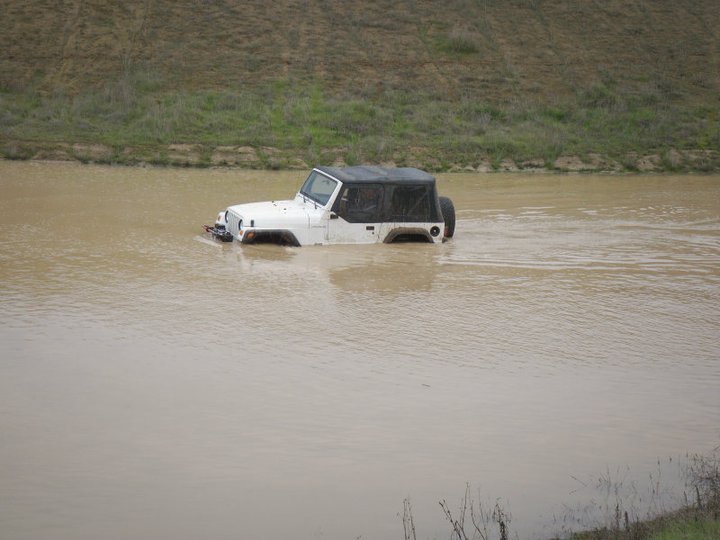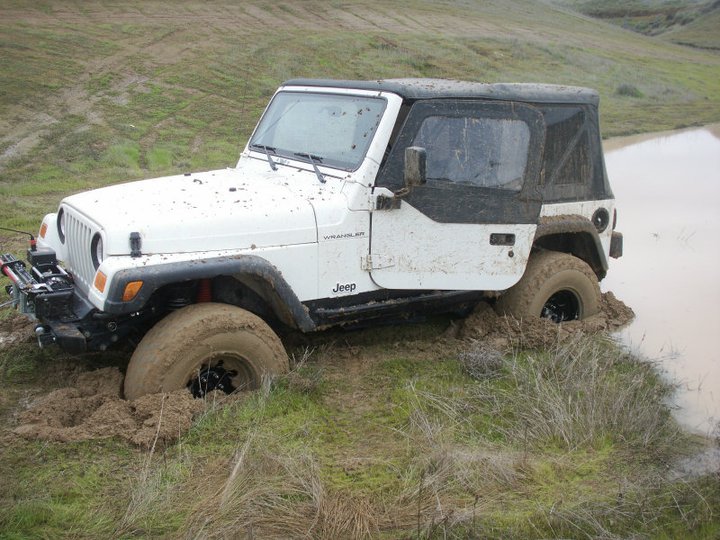 4-17-2012
I've been trying to think of a good way to really flex out my Jeep in a controlled clean environment to check clearances, and see how much droop, uptravel, and if my bumpstops were really at good levels. My buddy has a forklift but his shop was closed so I had to improvise.

I'm not recommended anyone actually repeat this but it worked!



I've got a motorcycle lift I use ALL the time for my bikes, and it just so happens it can be used as a platform to lift a tire on my jeep. Well it couldn't lift it on it's own, but a little help from the floor jack and it had no problem. Then I just locked in the safety bar and did some inspecting. The whole time thinking I'm gonna flop my damn jeep IN my garage. haha.

Found out nothing is hitting, front droop is limited pretty bad by my 22.5 inch shocks (longer Bilstein 5100's on order). Brake lines are good, bumpstops are working and at proper levels. Good info. Here's a few pics of the sketchiness....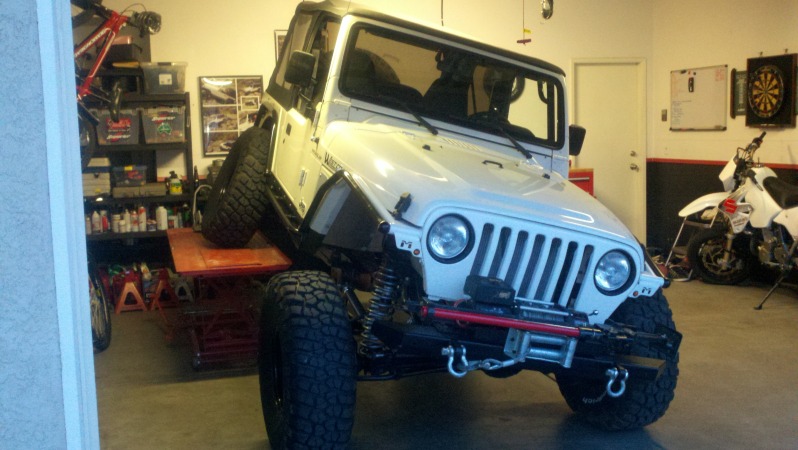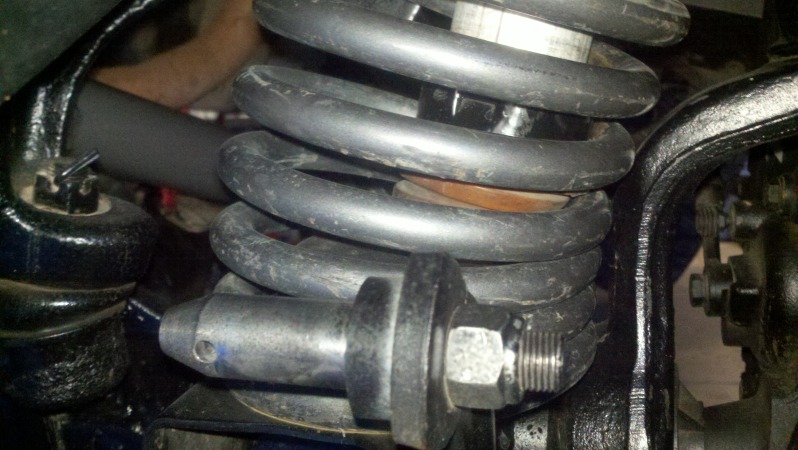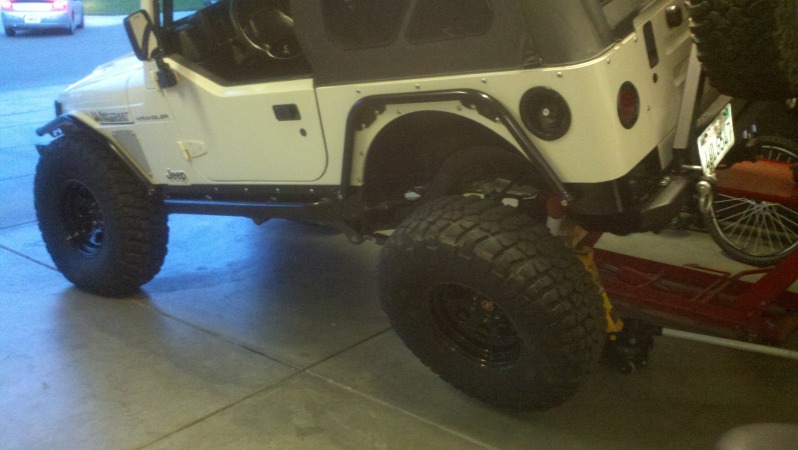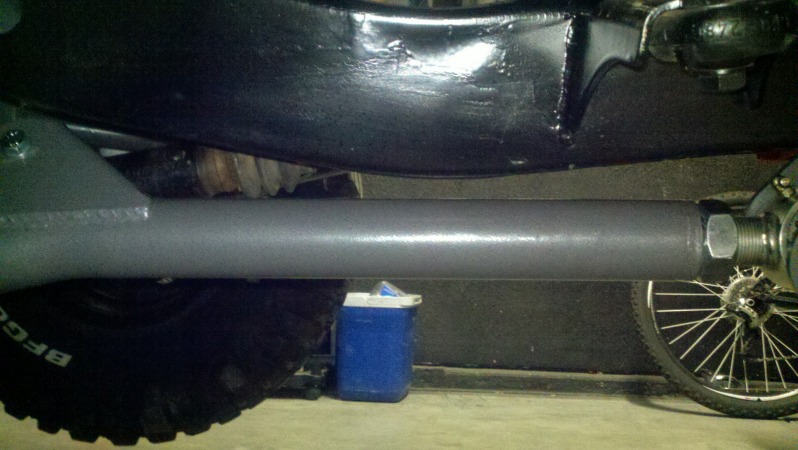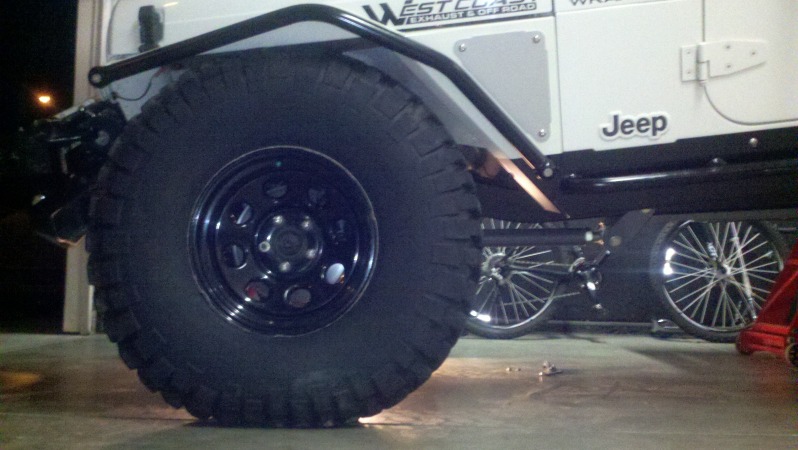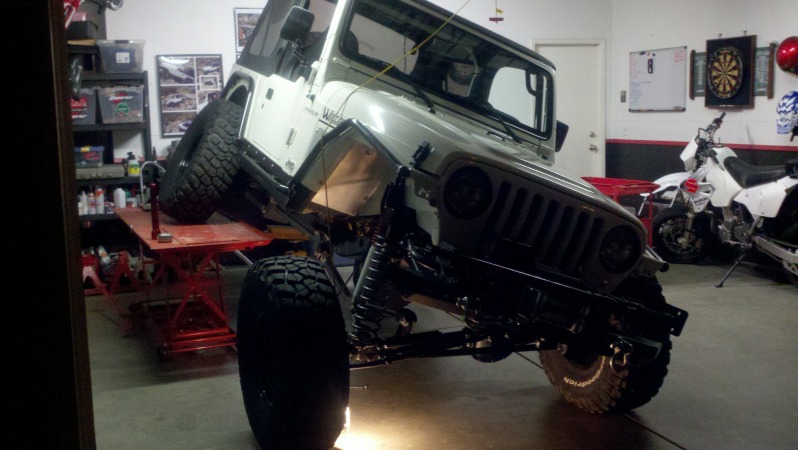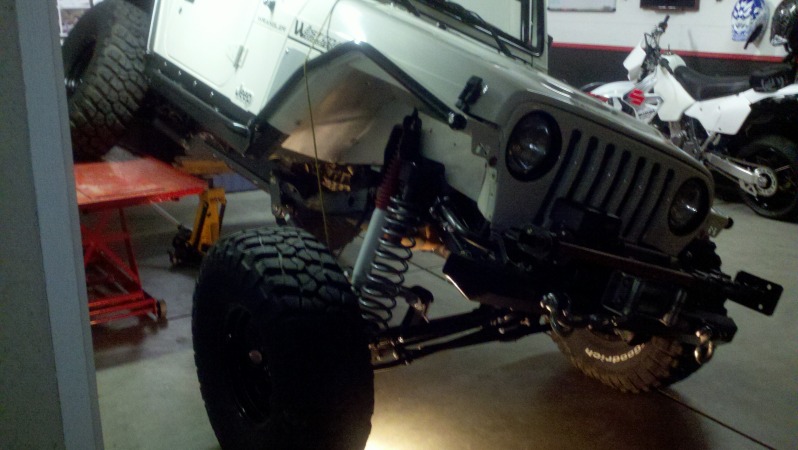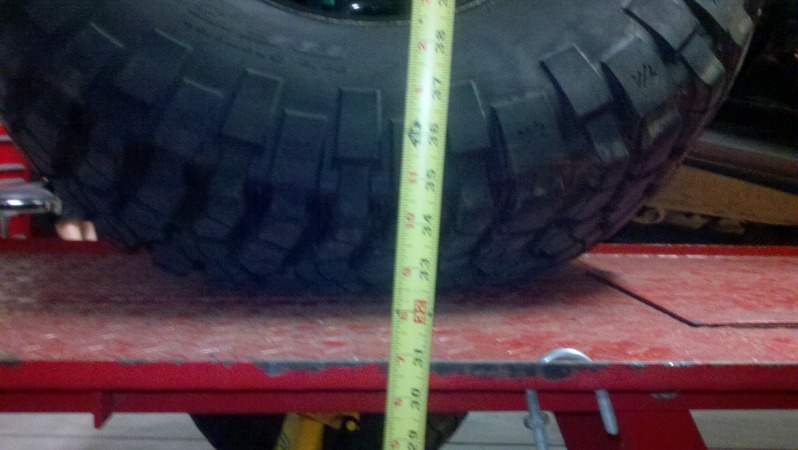 4-24-2012
I had a pretty full day of Jeep wrenching fun today. First I was having this bright idea about running spare less for a while. Well I wanted the tailgate to look "cleaner" (still have rubber bumpers on it and bolts). So I took all that crap off and cleaned it up best I could. Then I went to my local Ace and bought some stainless button heads to screw into the holes, they match the bolts used for the metalcloak armor so it looks tidy.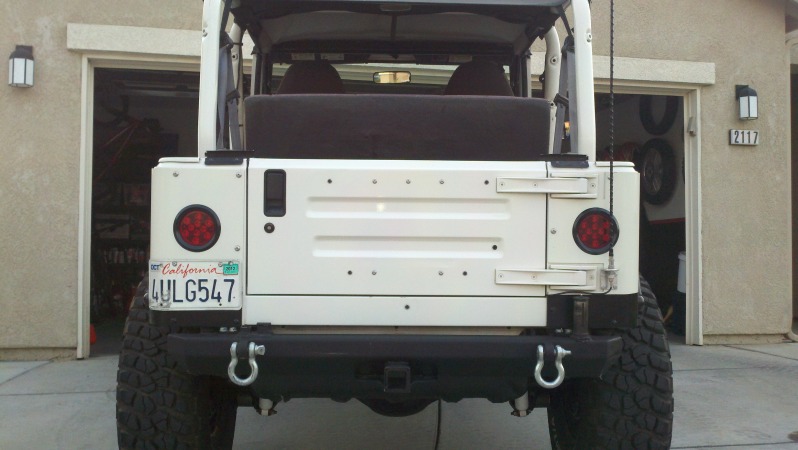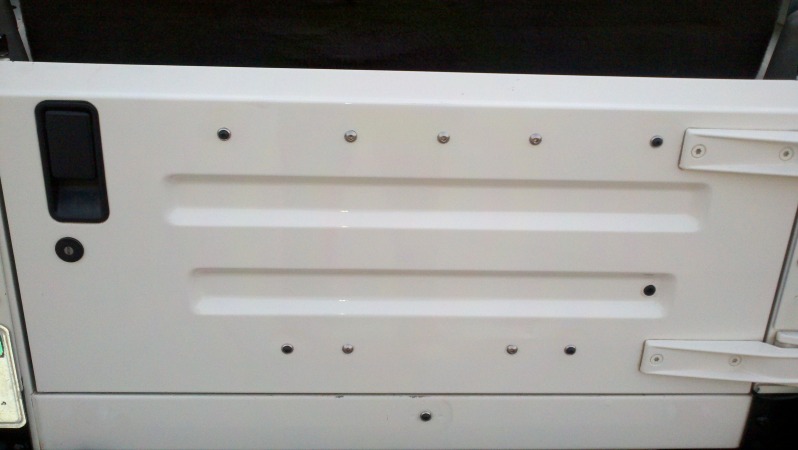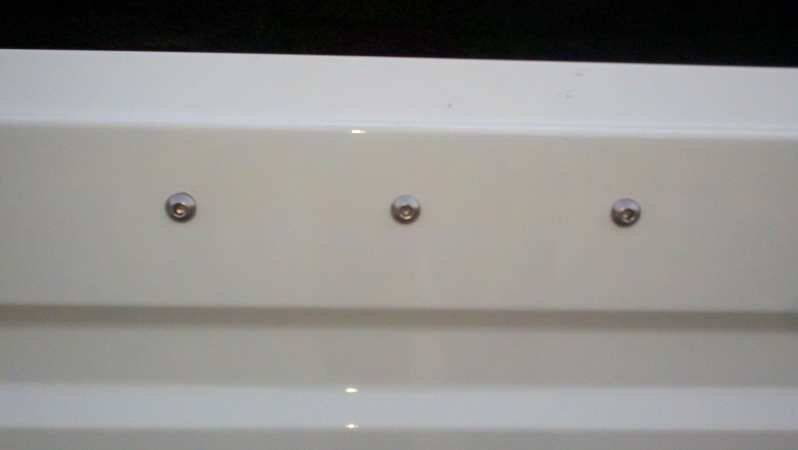 I've never needed my spare in the last 5 years, so now of coarse now that I'm lugging it around I'll need it sometime soon! haha. I'm digging the look though and all that weight hanging off the back can't help rock crawling. We'll see though. It's just a quick 5 min. deal to put it back up there.

Next was something I've been meaning to do for a while now. Ever since I got the Metalcloak fenders, my Smittybilt "classic" bumper has just looked Loooong to me. And now with all the current stubby style simple bumpers out that I really like, I decided to "bob" my bumper.... I cut out 4 1/2 inches on each side and welded the caps back on. Came out pretty good I think, and now maybe I get my tire started up something before my bumper hits it. And it saved me from buying a new one, although these aluminum ones keep calling to me....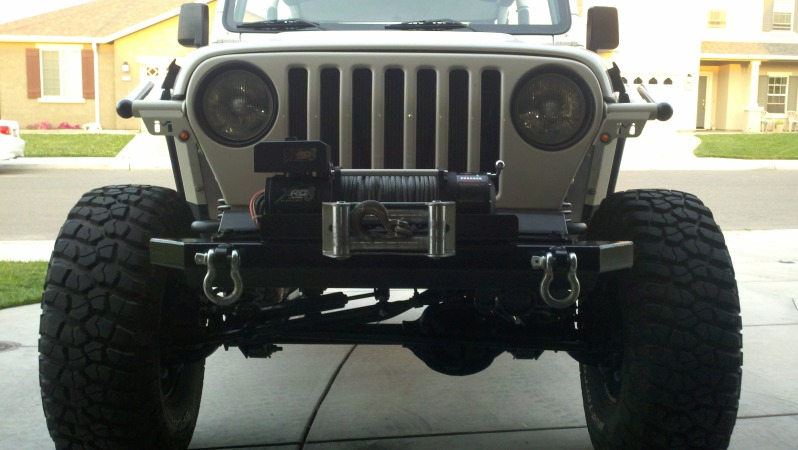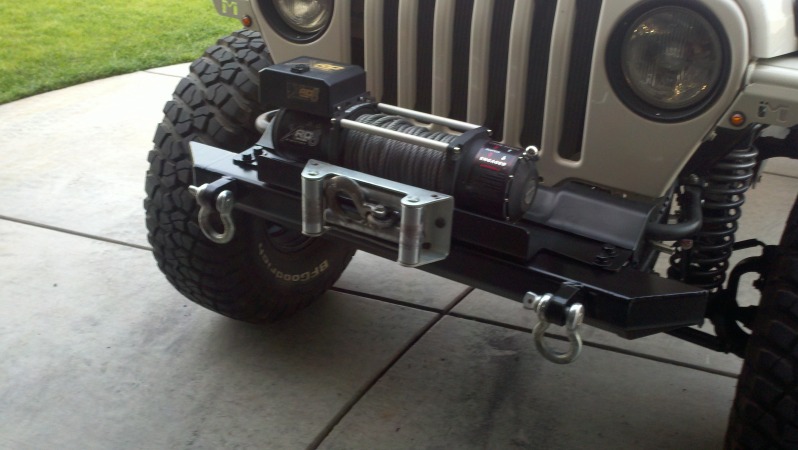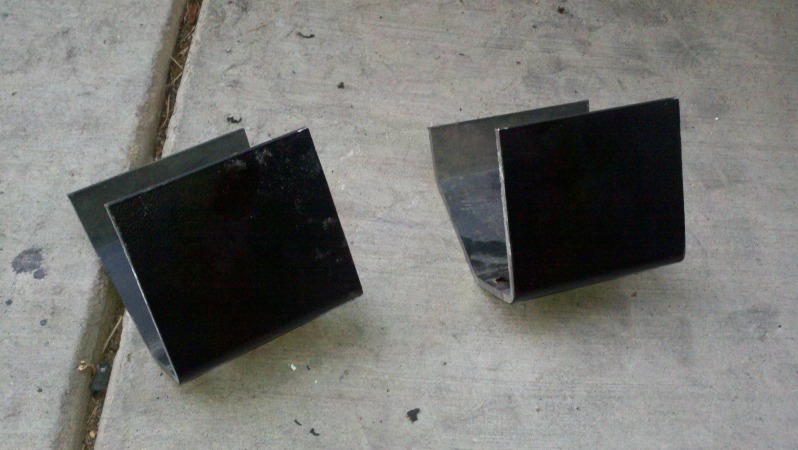 I also got my new shocks in today. Been looking forward to this for a little while now. Originally I ordered Bilstein 5100's but apparently they are on back order for ever. So I had my order switched to the TeraFlex 5550's. Saved a bit of money over the Bilsteins, and took a little chance on them, they measured out exactly what I needed.

Seems like a lot of JK guys use them, not many TJ guys. I got them put on and think I'm going to like them. They are A LOT softer than I thought they'd be. That a good thing to me, I don't like really stiff shocks and just thought it was a given with a Nitro shock in this price range. The seem softer than my Skyjacker Hydros I took out.

As far as the lengths go, couldn't have been better! Shock fully compressed when hard on the bumps, and shock fully extended is juuuuust barely to the point where my spring has very little / no tension on it. I did finally have to adjust my brake lines though. They had some tension on them. I just simply tweaked them out a bit and redrilled the holes a little over an inch lower and there was plenty of slack. Should be problem solved.

On my test drive I forgot to connect the sway bar so my initial impressions before realizing that were kind of WTF!.... haha. After that though the ride felt good, no crazy improvement or magic carpet ride but it felt tight and smooth, but willing to move when it needed to. Overall I'm a little disappointed I didn't get to try out the highly revered 5100's, but still feel I made a good choice over the "standard" white body shocks out there...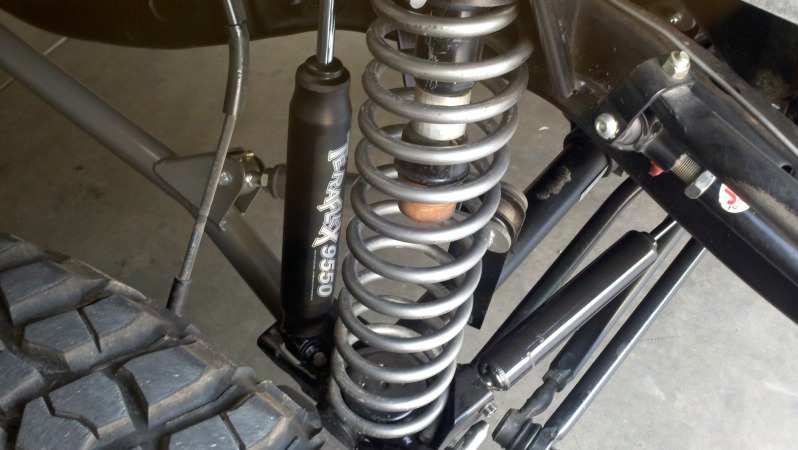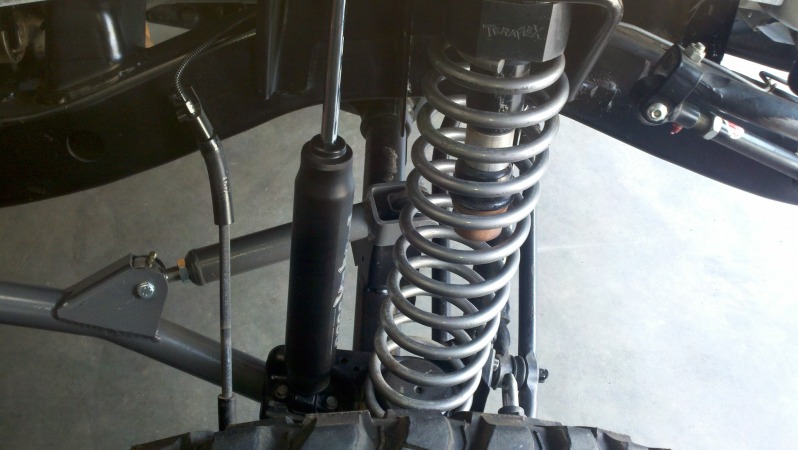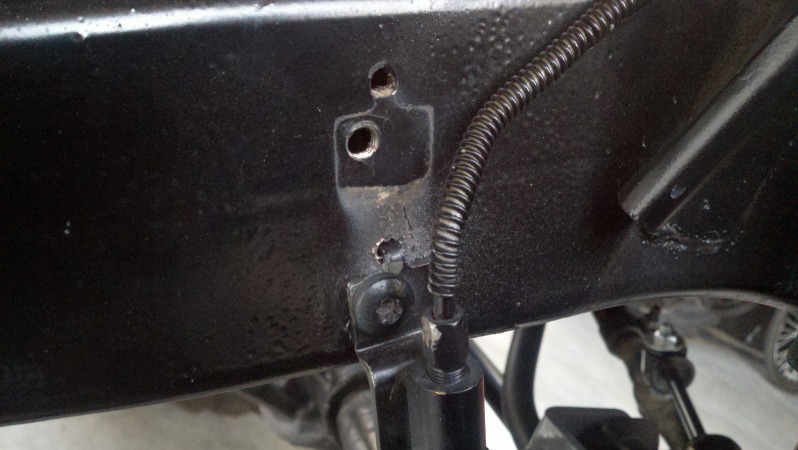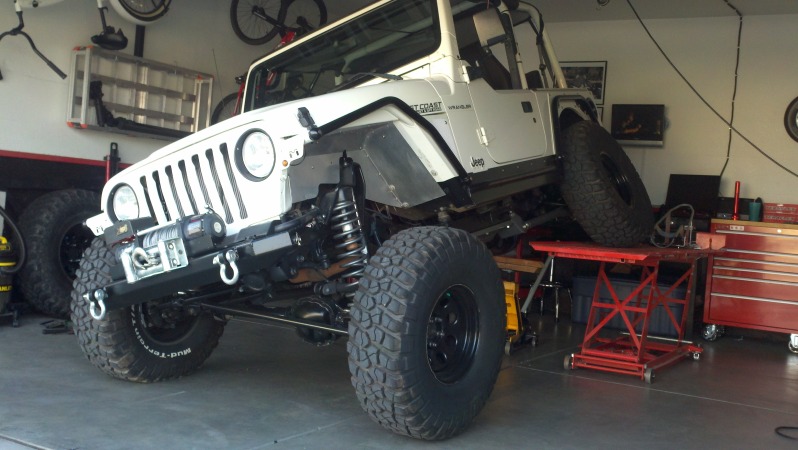 Overall pretty good day Jeep wrenching.......

Oops... forgot one thing! Took the top off! yes!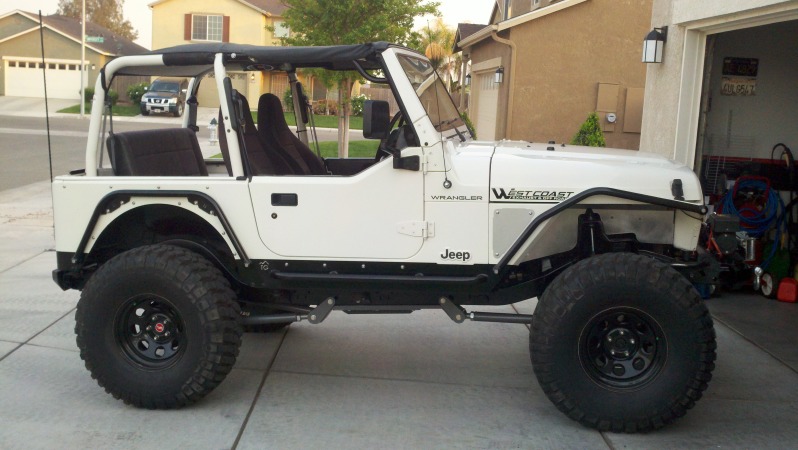 4-27-2012
Knocked out a little project I've been wanting to do for a while now. Put together an in-cab winch switch. Always meant to buy one from 12v guy but never got around to it. Anyways I was bored yesterday so I decided to hit radio shack to see what I could come up with.

Came out looking pretty much like the one's you can buy pre-made. Works good, was a fun little project.

I got everything at Radio shack, spent about $30 including the wire, fuse holder, loom. The wire was over half that, so if you have wire already laying around this is a very cheap little project. I anyone wants to know what items were used specifically let me know.

It was always annoying having to get my controller out any time I needed the winch. This will be handy!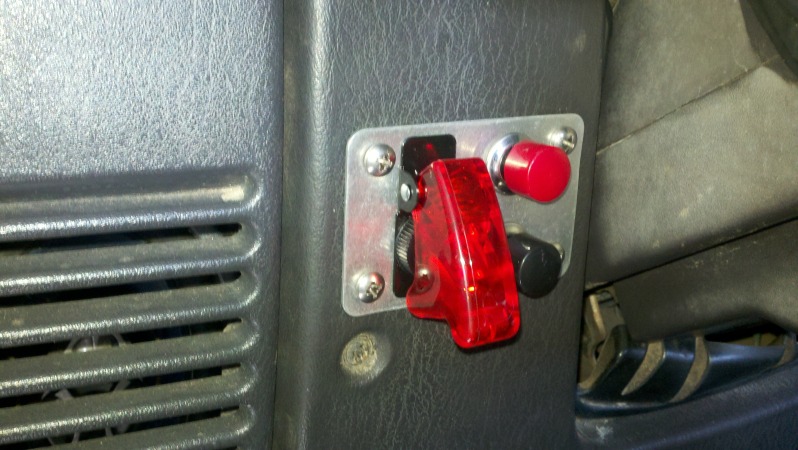 I bought an LED also not realizing the tip of the safety switch had one build in, I thought that was pretty slick!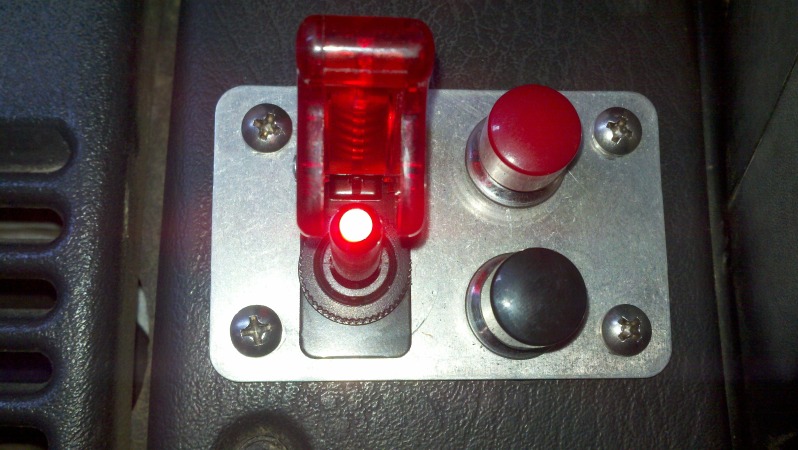 5-3-2012
Installed the Swag Offroad Drop Down Tailgate kit last night. Maybe I was just tired but I found it to be a finicky install.. Getting those backing plates into place behind the tub for the lower hinge bolts was about the most frustrating thing I've done in recent memory! Also somehow even though I drilled the hinges with the tailgate locked solid my striker attached to the tub does not have enough adjustment to be completely smooth when opening.... bleh!

I'm also leery of how the cables attach to the tub, Self tapping bolts? I would much rather use a bolt / nyloc combo. It seems like A LOT of force being put through there. Also self tappers and a small bracket on the passenger side cable mount on the gate itself. I really hope these hold up to years of use. I just can't see it happening though. 400lbs???

The newest design has a plate that runs the length of the gate with the Swag logo in it. I'm just not understanding why we wouldn't want that solid plate running the length of the TUB where the hinges mount?? Seems like MUCH more pressure is on the tub with weight on the gate. A plate running the length of both is probably ideal Bleh.....

Honestly feeling a bit of buyer remorse with this one. I hope it changes once I actually get to use it and it comes in handy. I was already thinking $200 was a lot for what your getting but figured the kit was designed incredibly stout based on what I've read. Maybe I was just expecting to much. Somewhat disappointing.......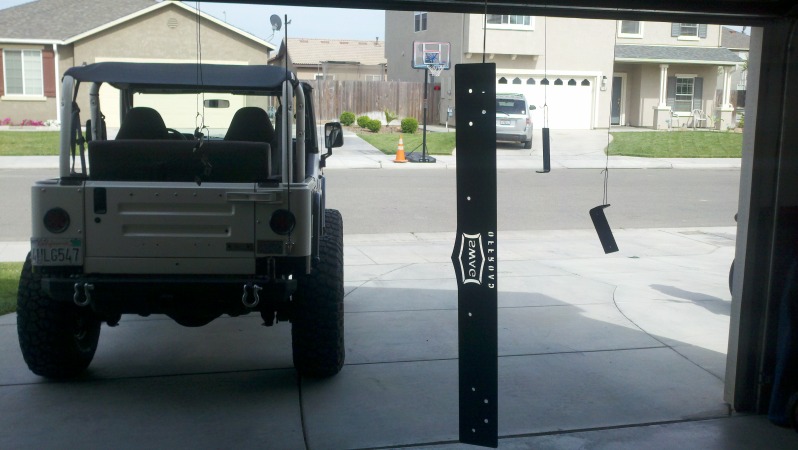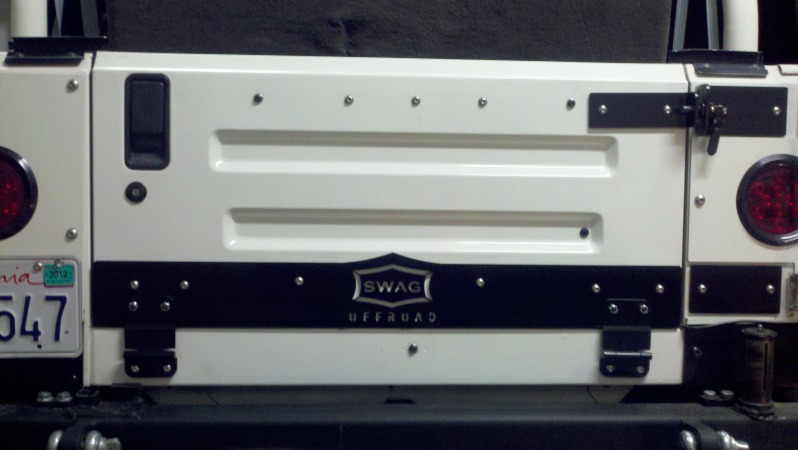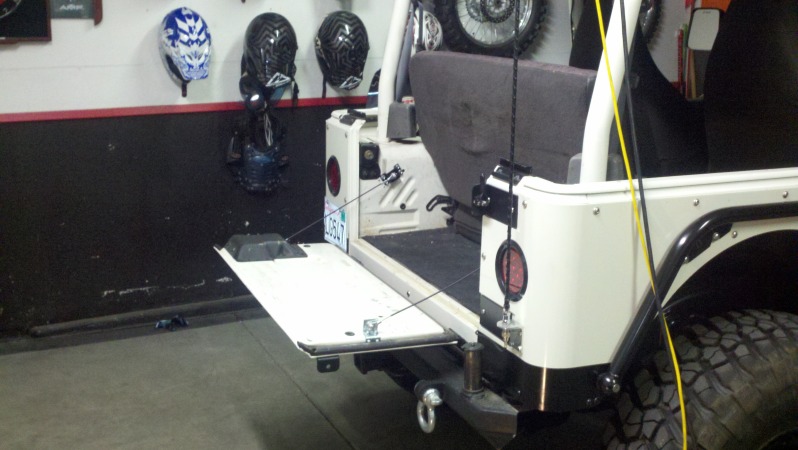 5-4-2012
Just wanted to follow up on some of my impressions on the Swag Tailgate kit. I've had a chance to show it to several friends now, most had never seen or heard of the kit. Well they all think it's pretty cool. And a few of them who have more experience than me using self tapping hardware said that the self tappers are very legit and will hold up just fine. I just wanted to clear that up since I was pretty hard on them in my initial reaction post. So now my only real gripe is that I think the tub hinge mount should be a solid plate all the way across, as you can see some flexing on the hinge area with weight on the gate. I'm pretty sure I'll be hitting up Troy for the aluminum solid plate he offers. Overall it's growing on me.
5-6-2012
Opened up a big can of worms tonight.

I've wanted to line the inside of my tub since I bought the jeep but never have because the previous owner actually redid the rear carpet and sprayed ADHESIVE!! down to keep it in place....... I've just left it for years but finally have had enough and just want it nice and clean inside there. So anyways prep began tonight. I got my son in on it too..... lots of tedious sanding ahead of us. I've decided the Raptor liner is gonna work good, and plan to be spraying next Saturday, so i've got a week to get it ready..... we made good progress tonight i thought!



Wow, if you thought your prep took a while.... imagine this~!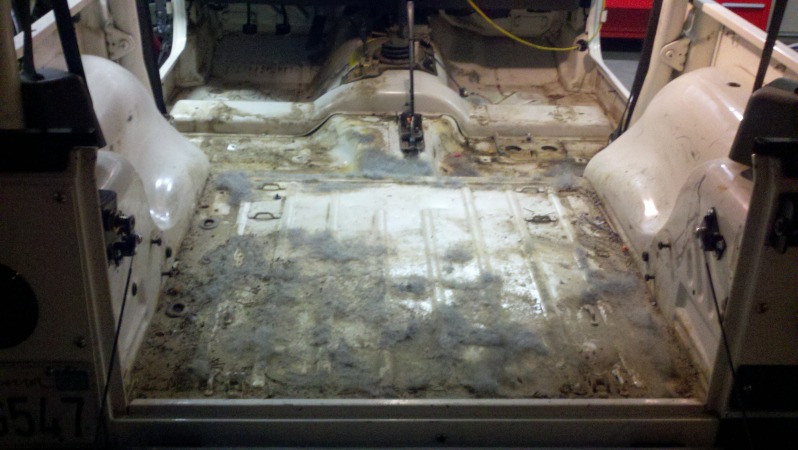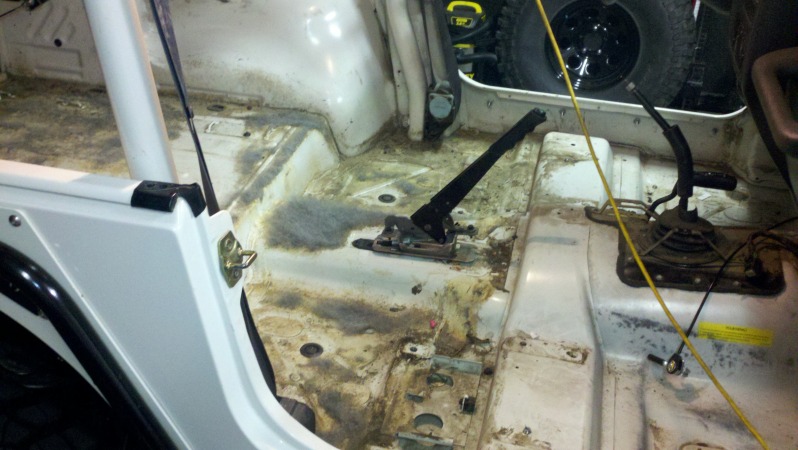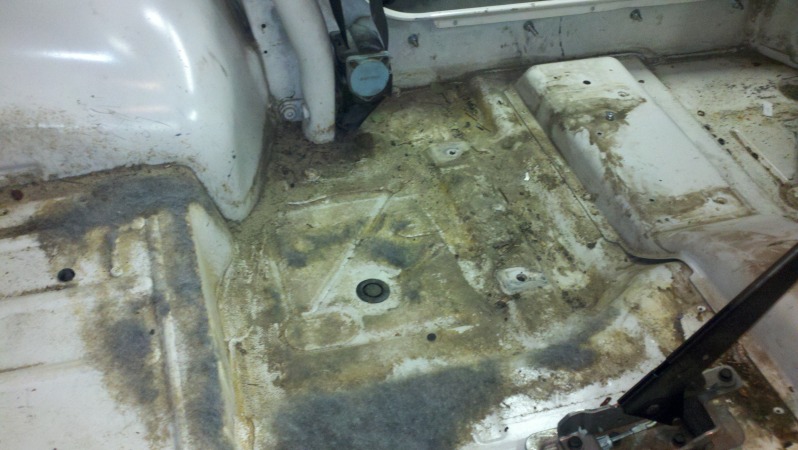 My helper, great kid!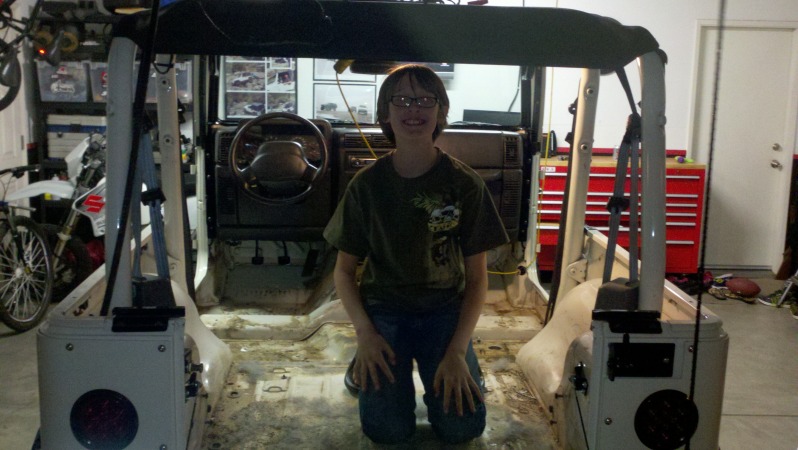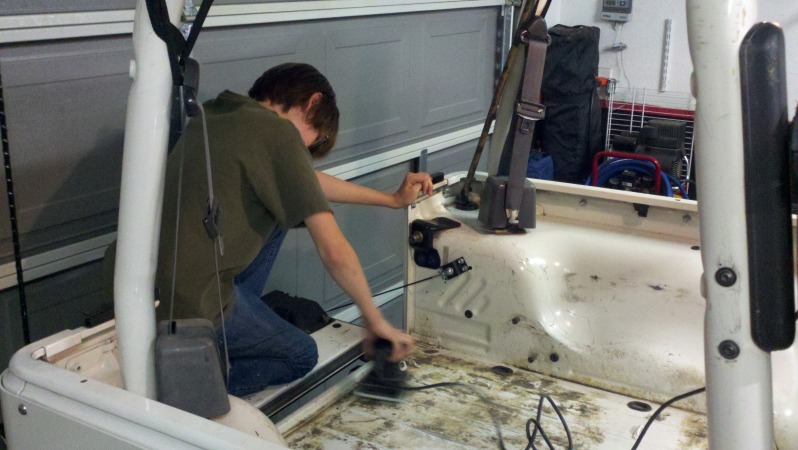 Well we got it cleaned up a bit and made some good progress on the rear area.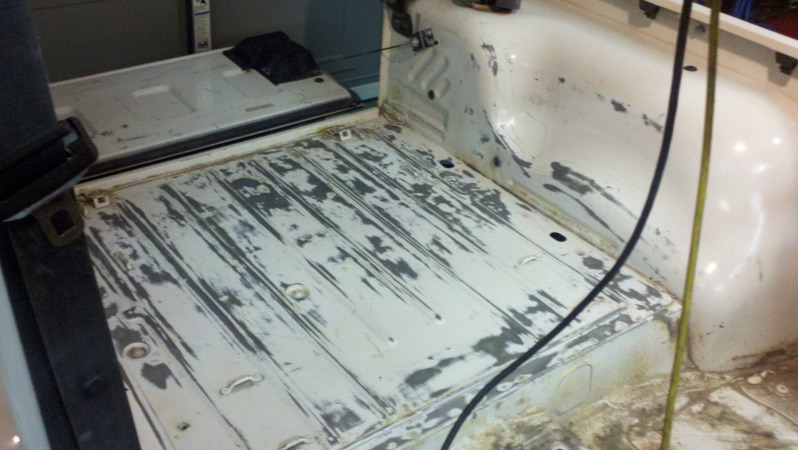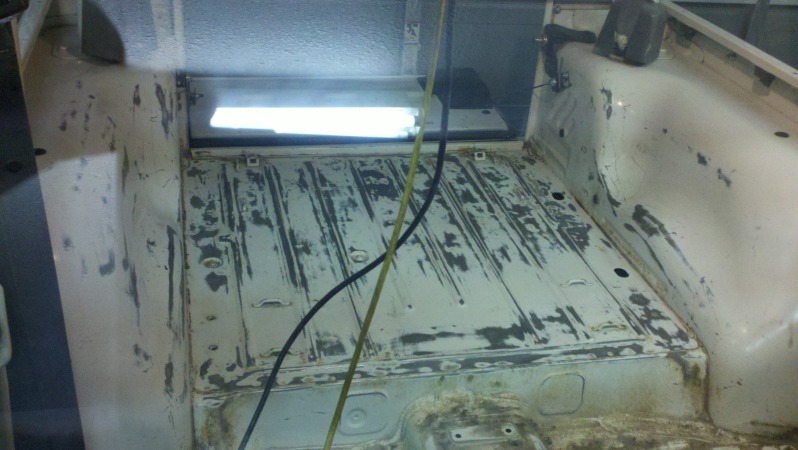 Should be able to put in a couple hours tomorrow also.
Well my prep is about 90% complete. Mostly done sanding, just have to clean it, and sand it a bit here and there. Feels good to be this far, getting through all that glue and fuzz was no fun.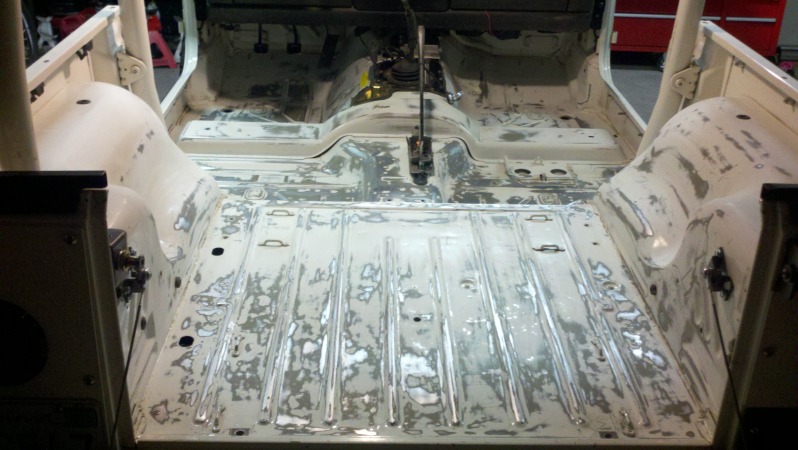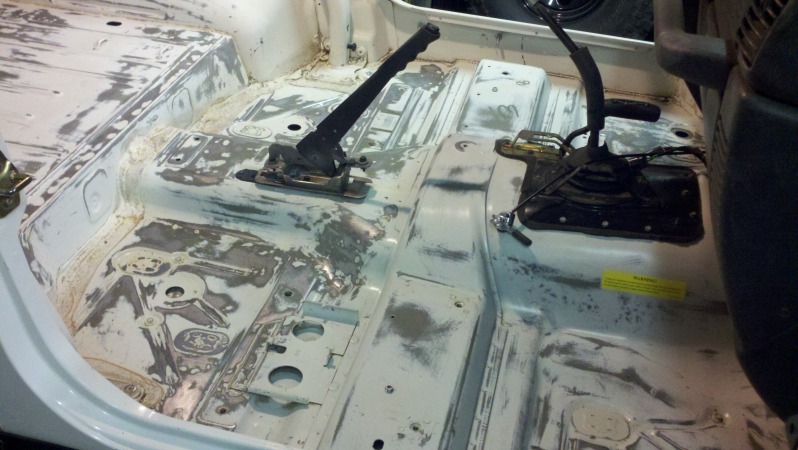 5-8-2012
Getting close to being ready to spray on Saturday. Underestimated how long it takes to mask.... uhg. Hard to know if rolling it would be faster or spraying in the long run. I think i'll like the results from spraying better though. Overall this is a much bigger project than it seems imo.... having fun in the garage though....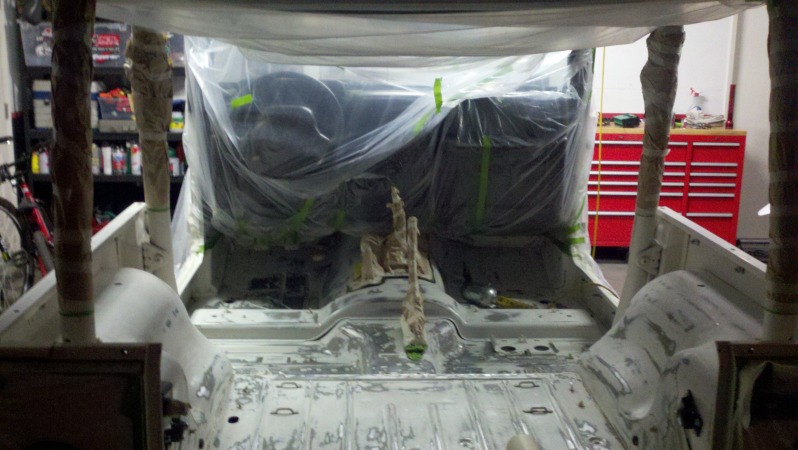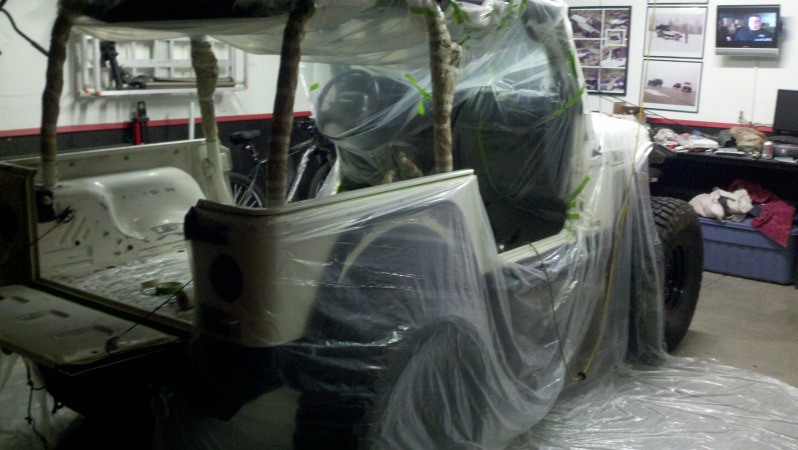 5-9-2012
Ended up spraying today. Overall pretty happy with it. Was kind of looking for a fifth bottle though. It surprised me how quickly I went through them. There's already more than a couple spots I can see now caused by gun angle and spray direction, and not hitting it the other direction. One small can of this liner in aerosol form would really be handy to take care of minor mistakes. I ran out of light today so we will see tomorrow if anything really bothers me. I know once I get all the interior in and stop staring at it so hard it'll all be fine. I'm just a little over critical of my work usually. Handling this stuff is easy, but my recommendation is to purchase one extra bottle.

Before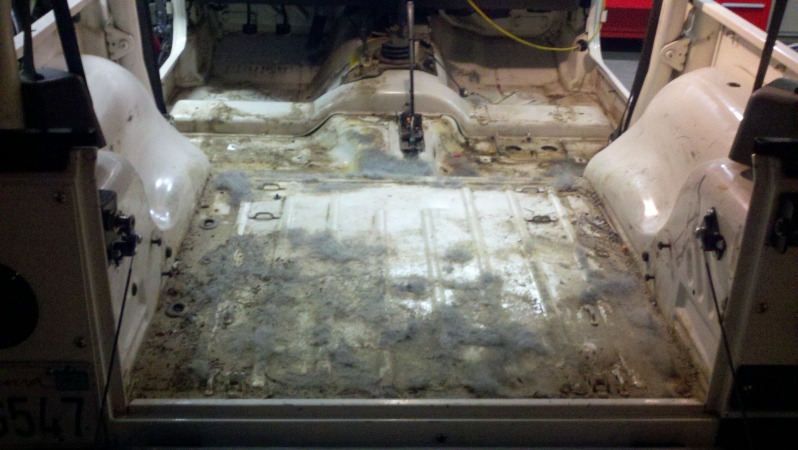 After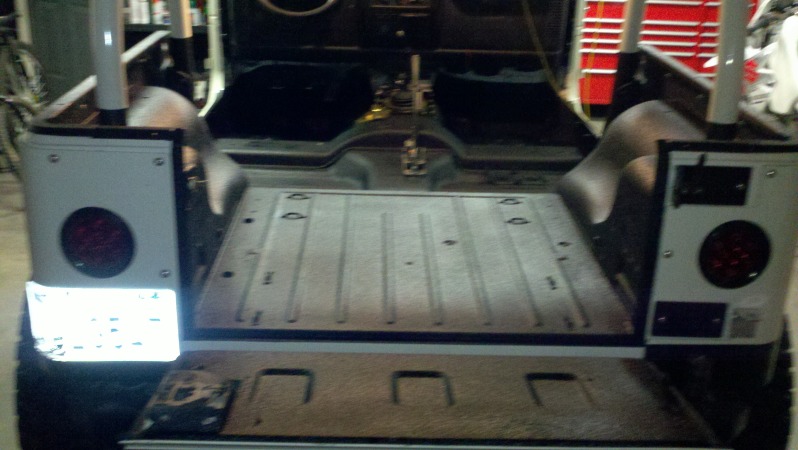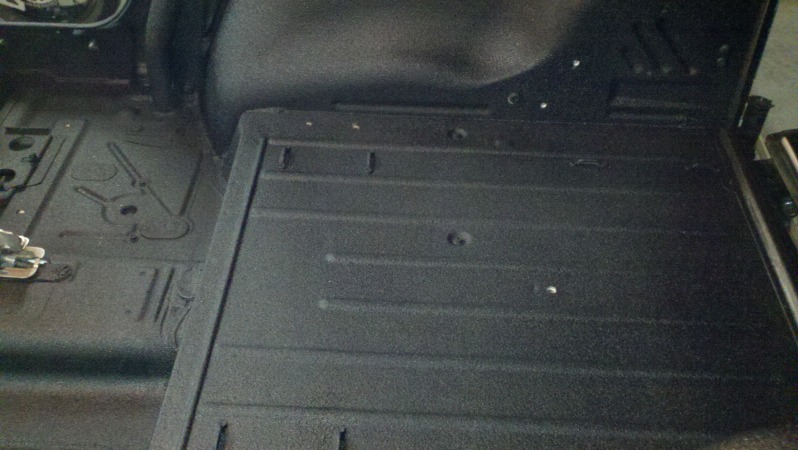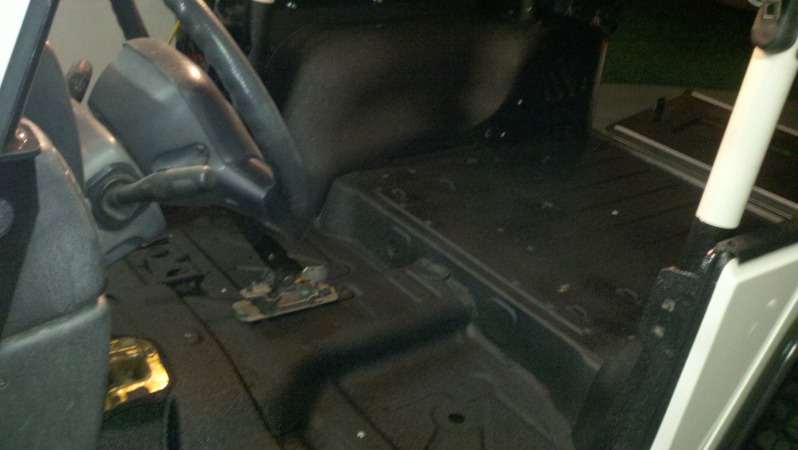 5-31-2012
Went wheeling on Memorial Day! Really happy with how everything is performing. The new Teraflex shocks in the front seem to work real good and the additional droop gave a more planted feeling in situations where the jeep was really flexed out. Also the RC Long Arms are working just fine for me. All of the steep climbs I like to do, all of the ledges, just everything I throw at it, it feels solid. No drama, bad behavior, noise or weirdness. Here's some pics, it was a great day~!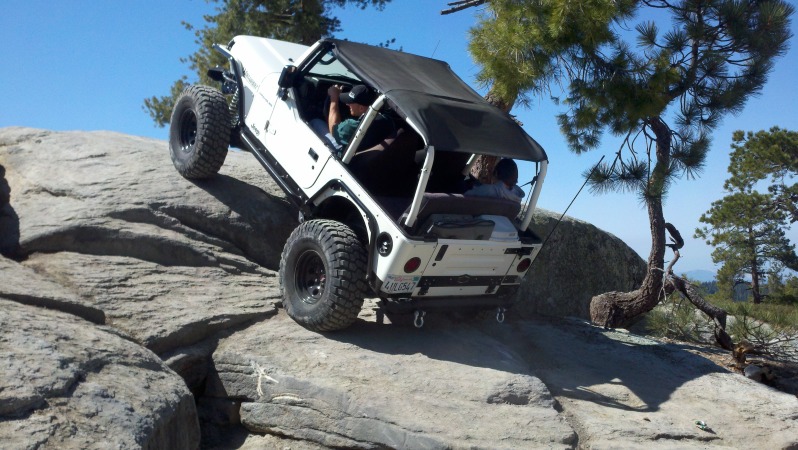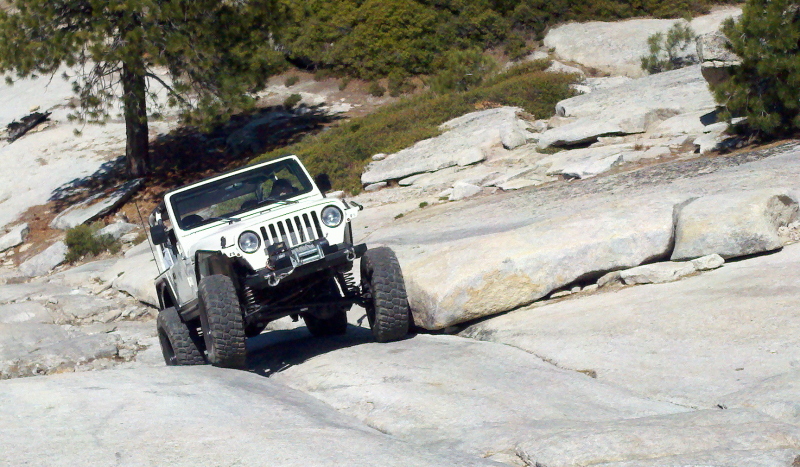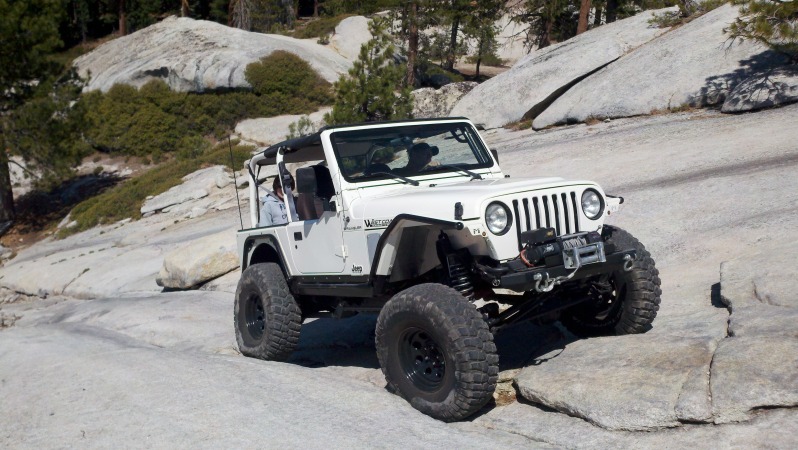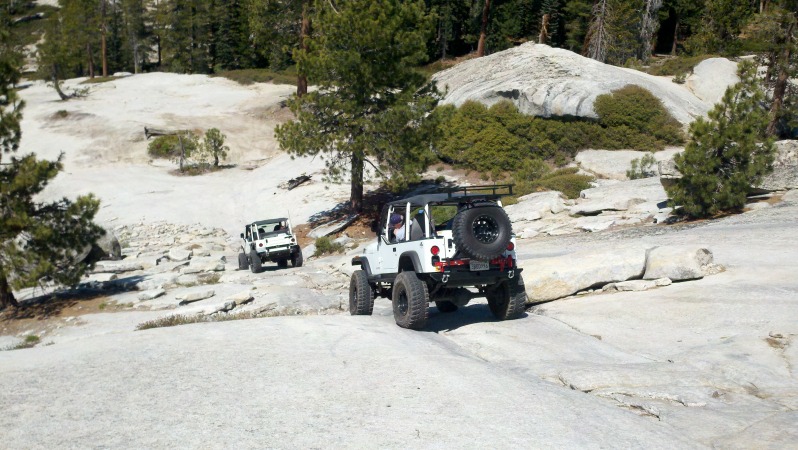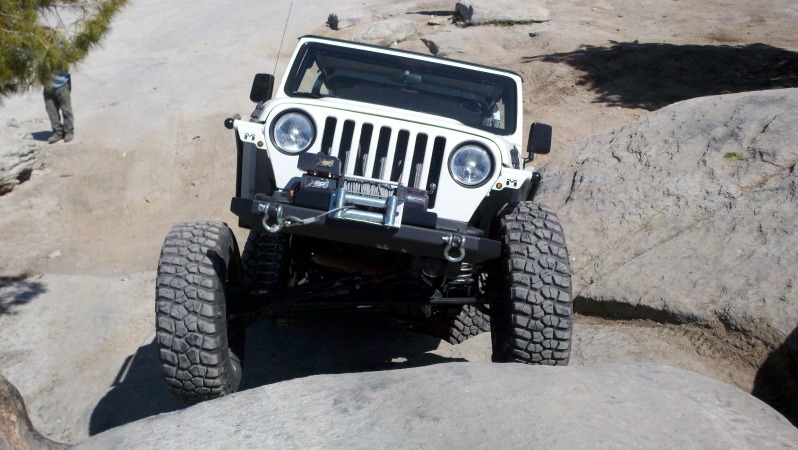 Next thing im ordering is a Savvy GTS. Can't wait to get it.
6-11-2012
Added another little piece to the puzzle today. Savvy GTS. Nice piece of work as expected! Shipped fast and complete.
Makes me want more aluminum!
Install is cake, I've already dropped my tank once to modify my stock skid by cutting off an inch and re bending the mounting tabs to gain clearance after my 1 inch body lift. So I was familiar with the process and over all it was a little disappointing just how quickly the install went!
Stock / but modified skid clearance was 16 5 at the lowest point, and now I have 17.25 at the lowest point. Pretty good! The real two reasons for this purchase was that my stock skid has taken some HARD hits and that my track bar was all over it.
So pretty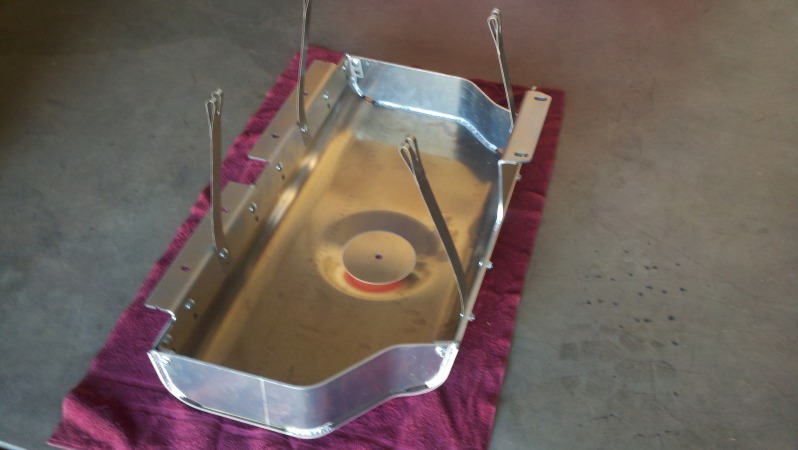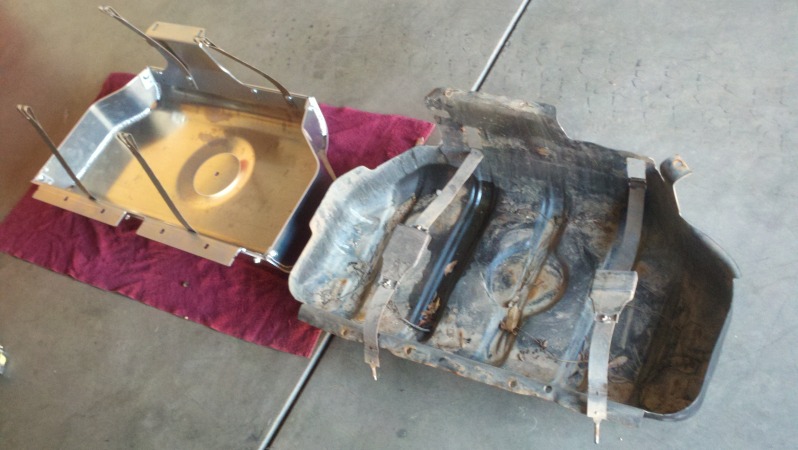 stock skid track bar clearance... none!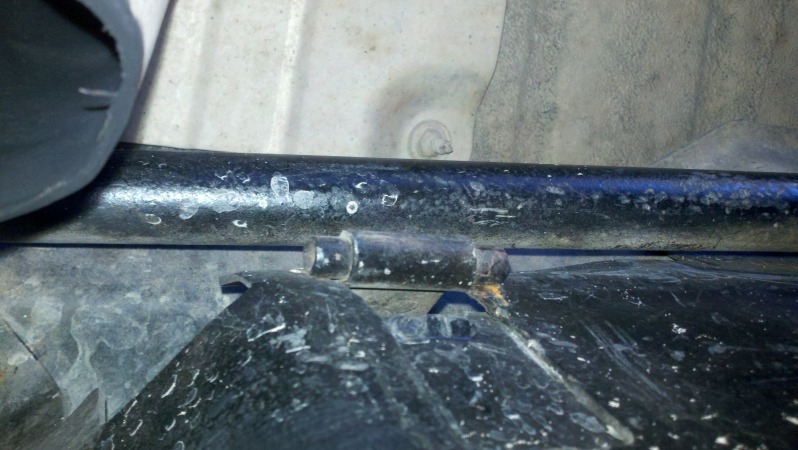 Savvy clearance... some!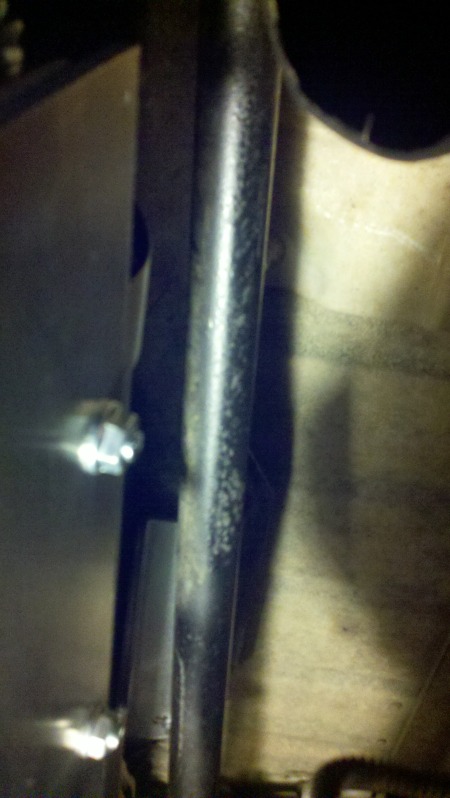 All buttoned up and looking sexy...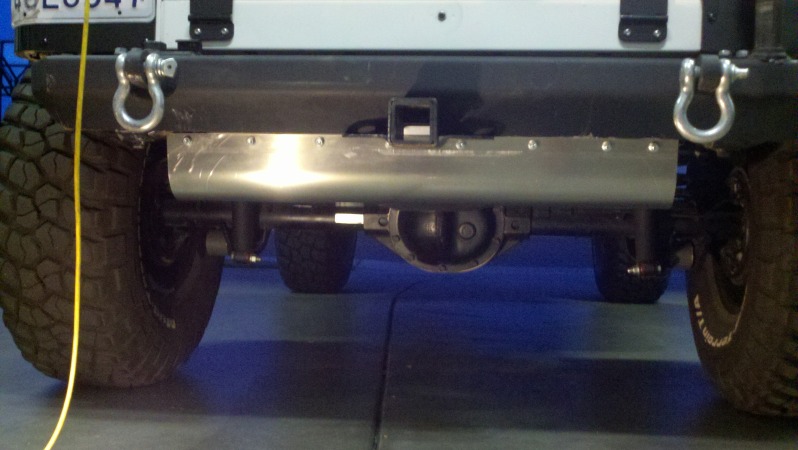 Next thing............ CO2 tank! Getting old and airing up at the end of the day with a compressor while my buddies have power tanks is

6-12-2012
This is kind of lame but it was something that bothered me a bit. I did the typical "wrap around" license plate mod when I did my corners and tail lights but always hated the unfinished look of it. I even did a little search for a curved license plate frame a while back to no avail. Well I didn't realize for some reason how nicely a cheap pep boys frame would bend until I saw one on another jeep today. So I picked one up and bam.... looks a lot better. Bent like nothing and looks like it was made that way. It was even already black. Now I need a simple little light..... hmmm. Sometimes cheap little stuff can be fun too.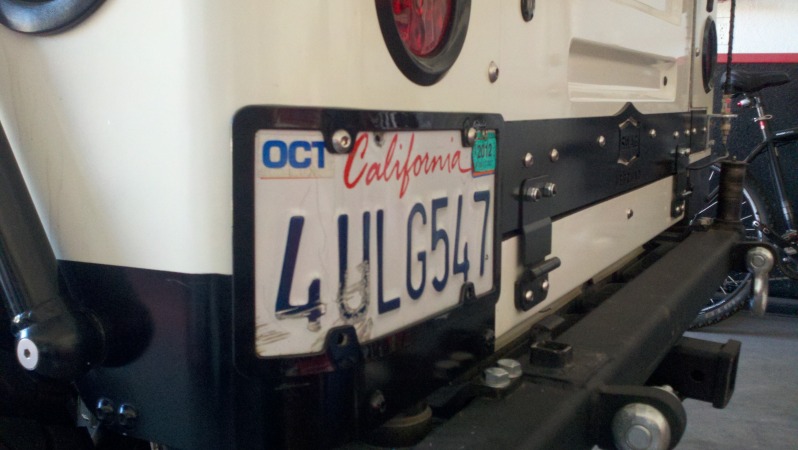 6-17-2012
I had a chance to test out my Savvy GTS yesterday. We ran Red and Coyote trail near Shaver Lake CA. Very fun trails with some challenging boulder fields and tough optional lines. Both of these trails end at lakes that were beautiful and provide some great camping opportunities. Bring your bug spray though, the mosquito's were quite bad. We were making good time in and out, with no real issues until my friend with a Toyota snapped all 4 steering knuckle studs! Not good. We had to drill them out, easy out and then pull 1 stud from each lower and the other upper knuckle so he'd have 3 at least.... well this took forever.... Drove out in the dark, home by 1am. Good times. Here's a few pics. Loved the Savvy GTS, Seemed to hit way less with the extra clearance, and rear suspension motion seems more fluid and quiet due the track bar not rubbing the skid. Also loving the Swag tailgate, I think that mod get's more attention than any other.... well maybe a tie with the MC fenders.

Gate keeper at the start of Coyote... got lucky with my line and walked it pretty easy.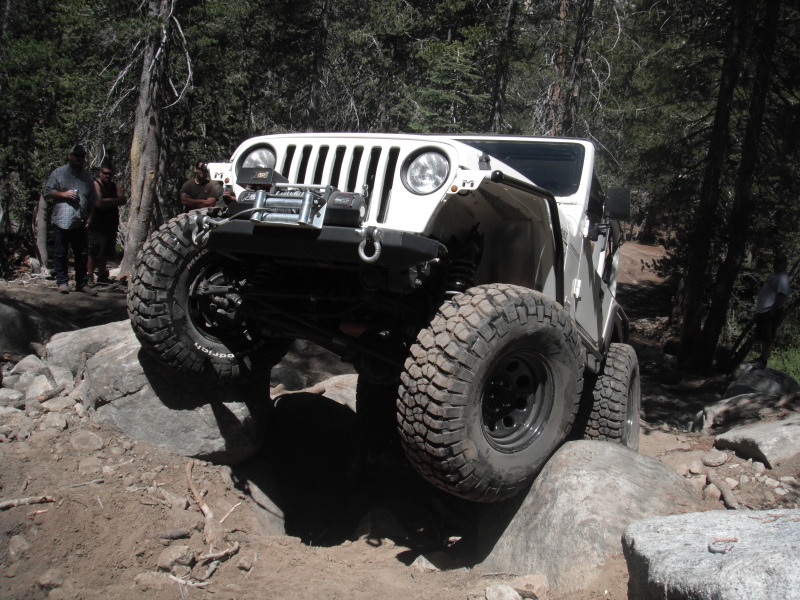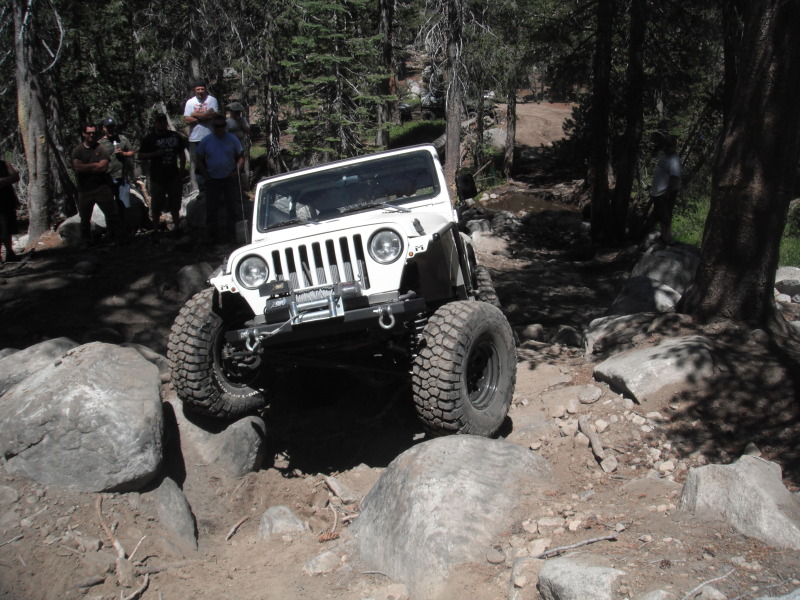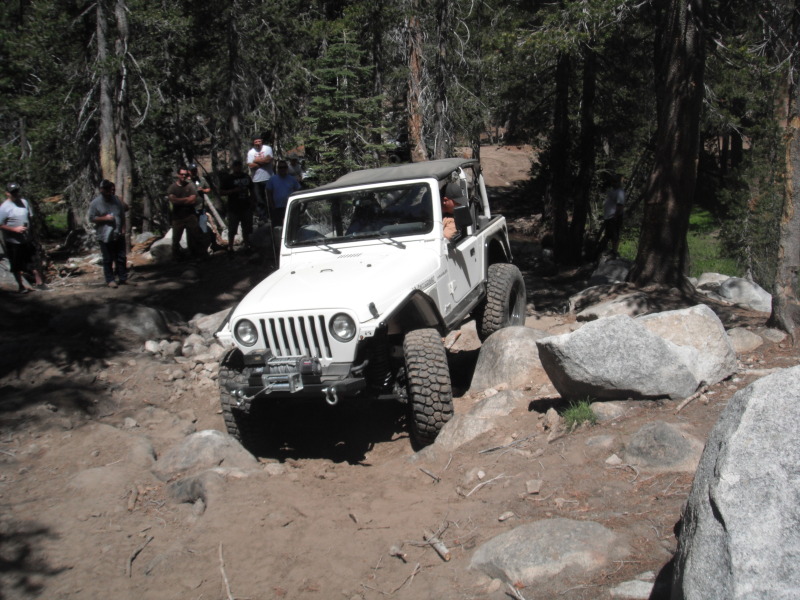 Gotta love the tailgate...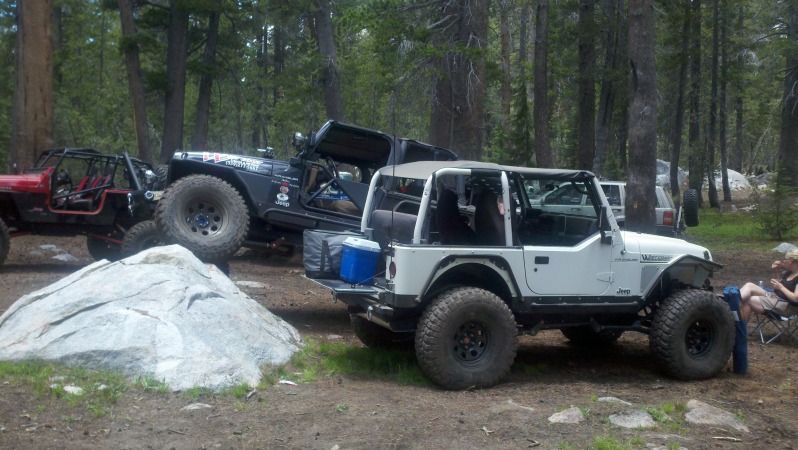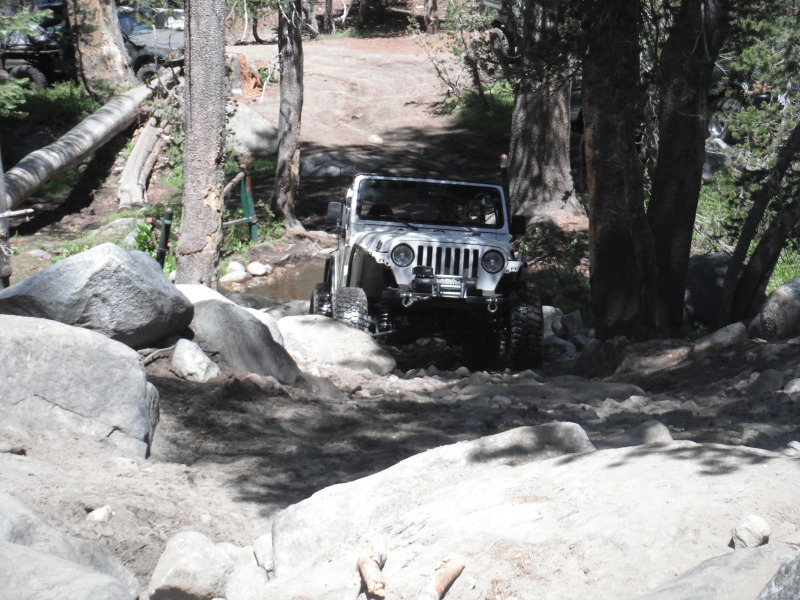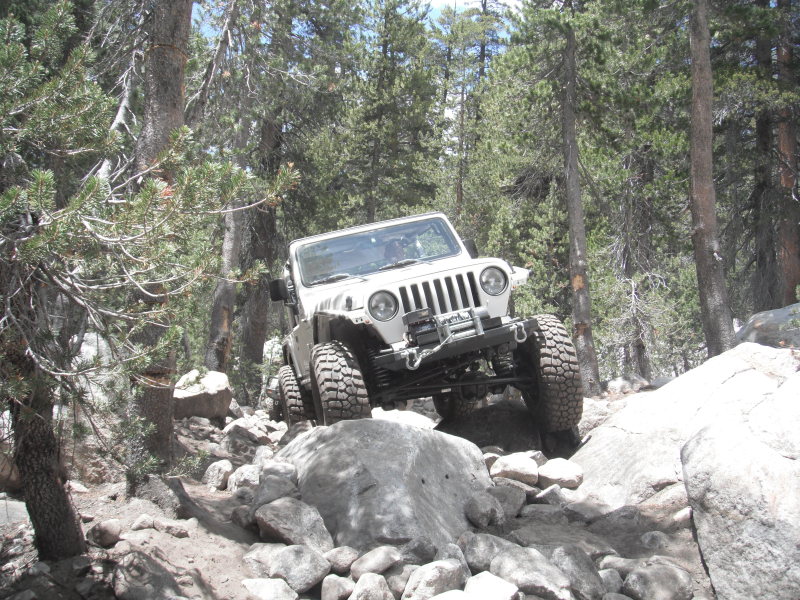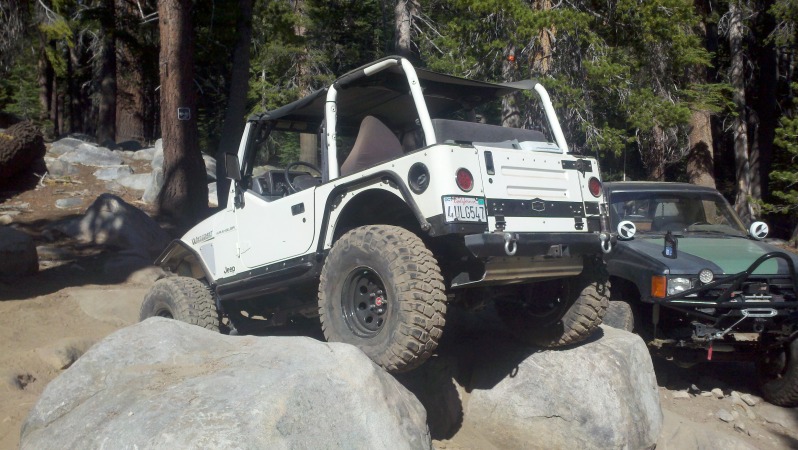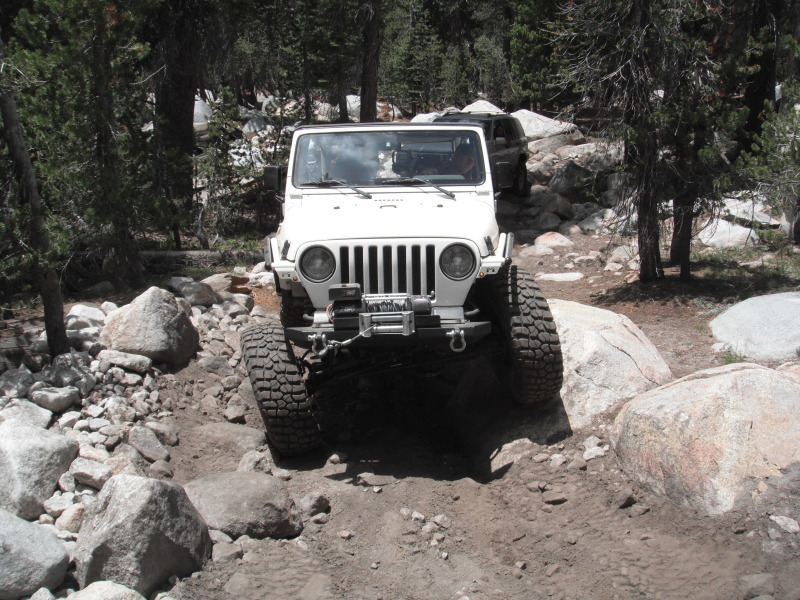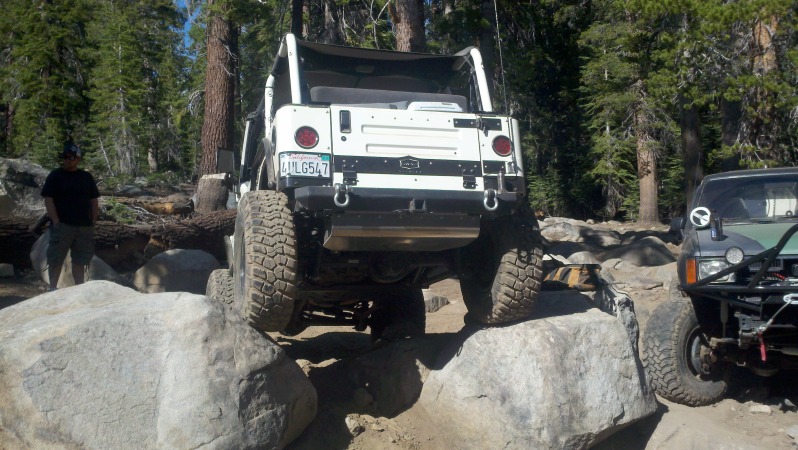 Savvy Gts at work...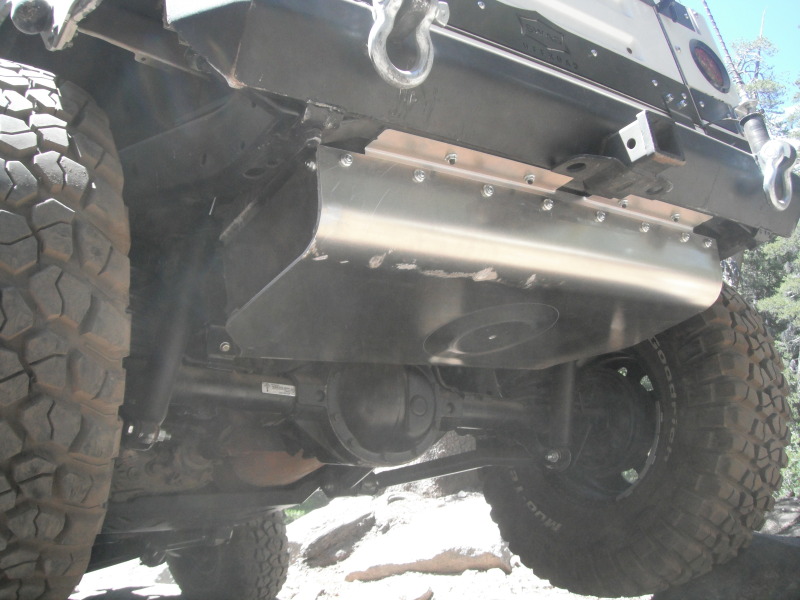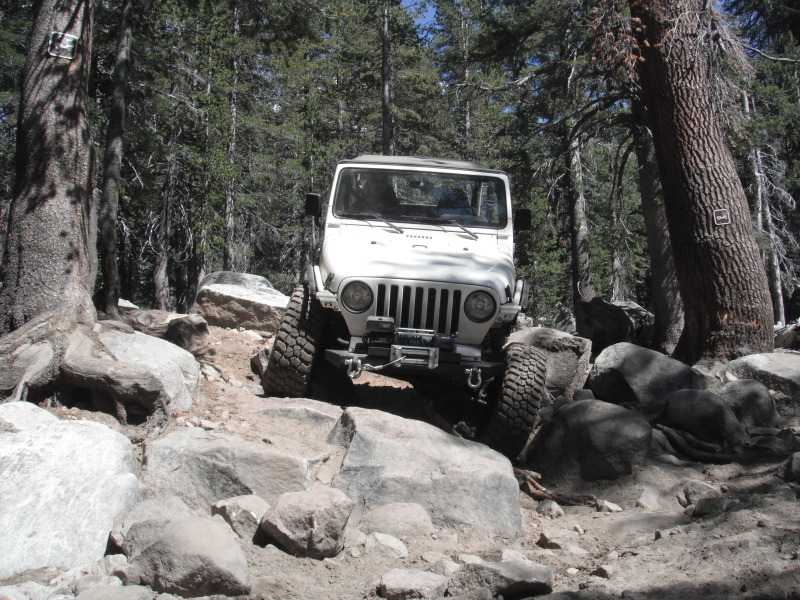 Another good day of wheeling in the books....
6-18-2012
Finally had a chance to clean up the Jeep today and do a little post run damage survey, this was probably the toughest I've been on it since a lot of mods ago. Happy to say everything is cool. Only thing I noticed and was a little surprised to see is a big ol dent in my windshield frame, haha I have no idea when that happened! Oh well I'm actually surprised it's the first time i've hit it.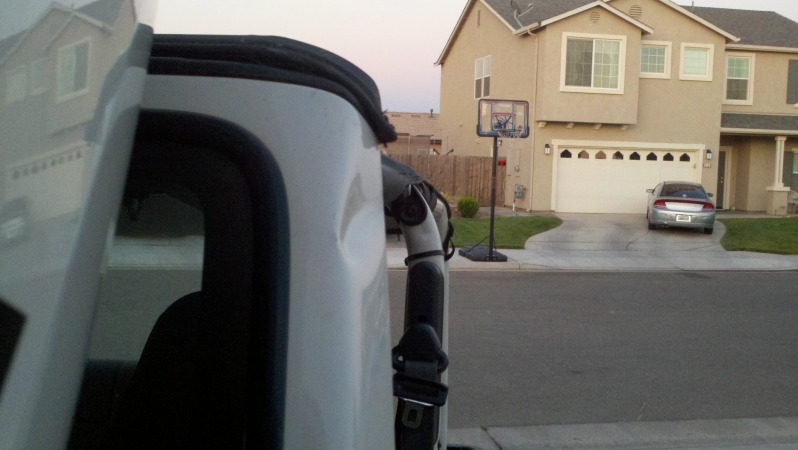 Also had a little extra time to clean my engine bay, kind of a waste of time since it's all dust for the next few months up there. Clean right now though....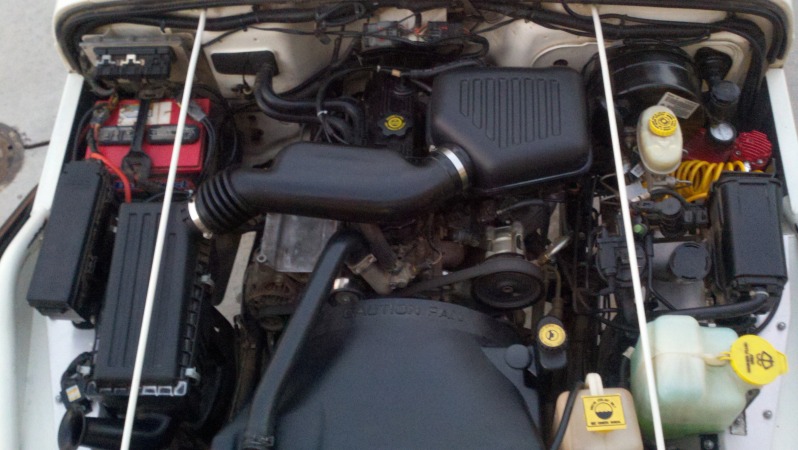 Well she's cleaned up and ready for the next adventure....

7-4-2012
Had a chance to go wheeling today. Today we did a short section of Swamp lake trail and The Brewer lake trail, both of these are located just past Shaver Lake CA. The small section of the Swamp trail we did was to check out an old quartz mine..... it's a pretty neat spot with a lot of still standing buildings from the early 1900's I presume....

The miners cabin, still in pretty good shape...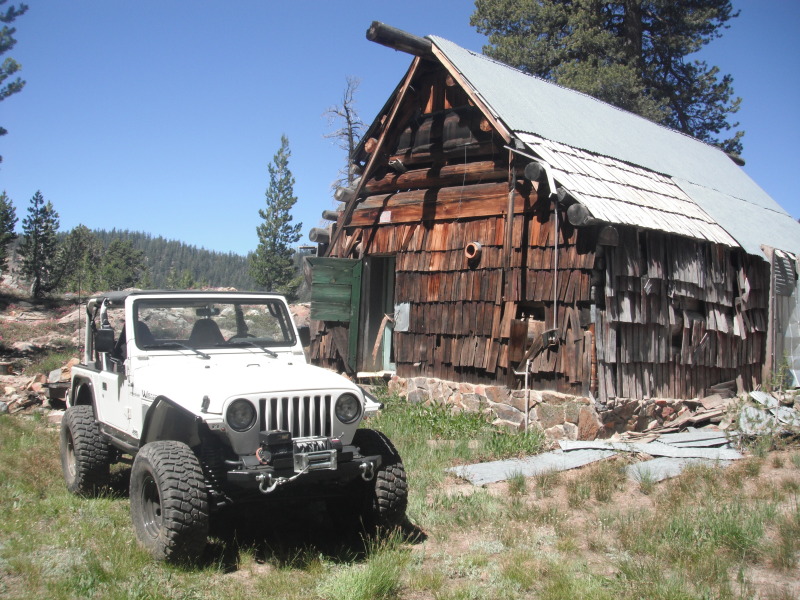 The actual mine... I've been in it a few times. Not smart but fun.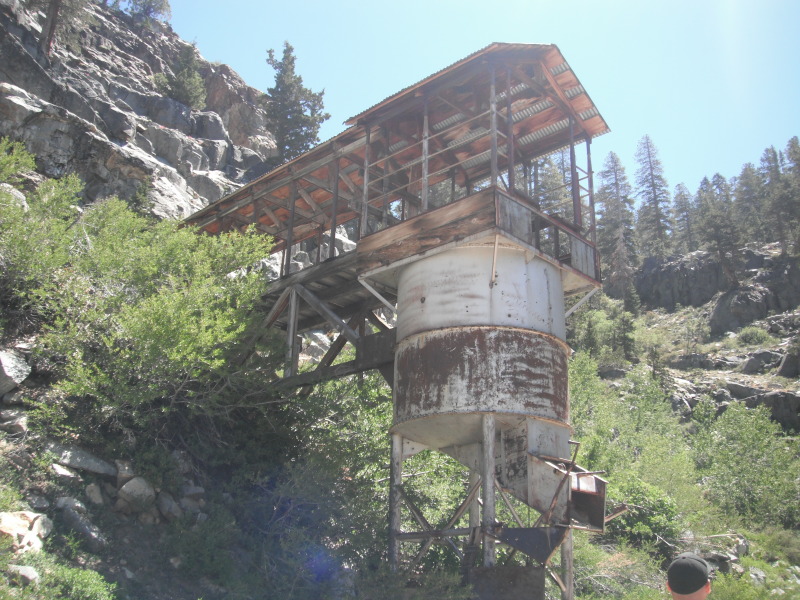 Random trail shots... Jeep worked good as ever.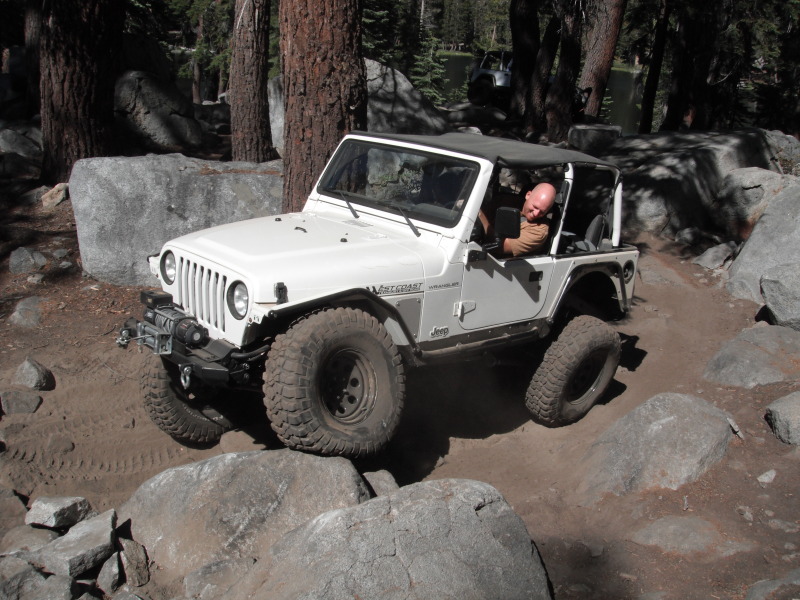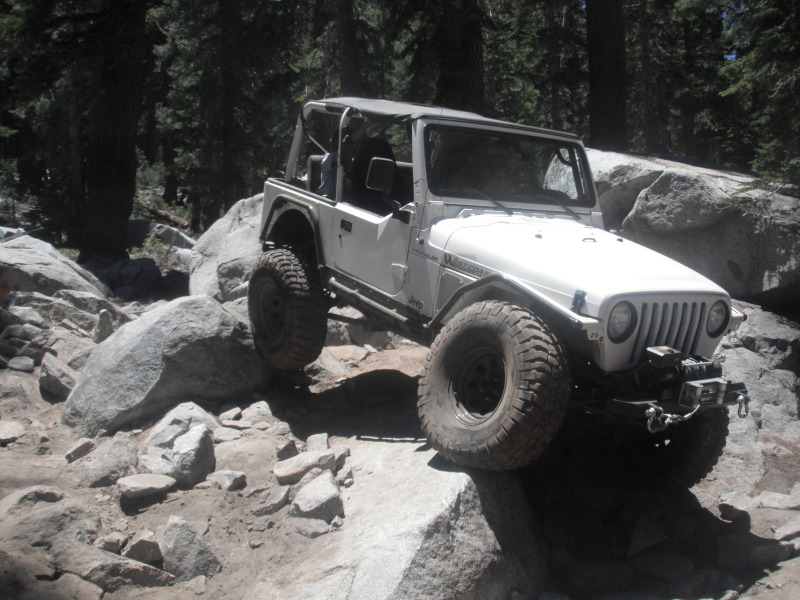 Such a poser...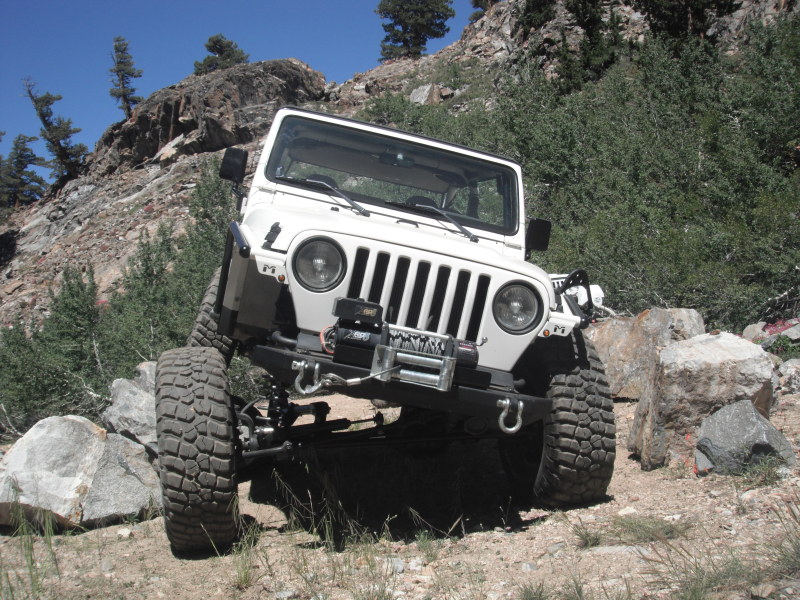 And here's a vid coming out of Brewer Lake right at the bottom. This is a knarly spot. Very fun to watch rigs come through it. One of my favorite little spots to mess around. Good spot to bang some stuff up.
The clean up has begun... well sorta. It doesn't need much lol. I always like to do thorough post inspections underneath to see what's going on, actually I think I just like laying under my jeep looking at it's guts for some reason. Hot out today ...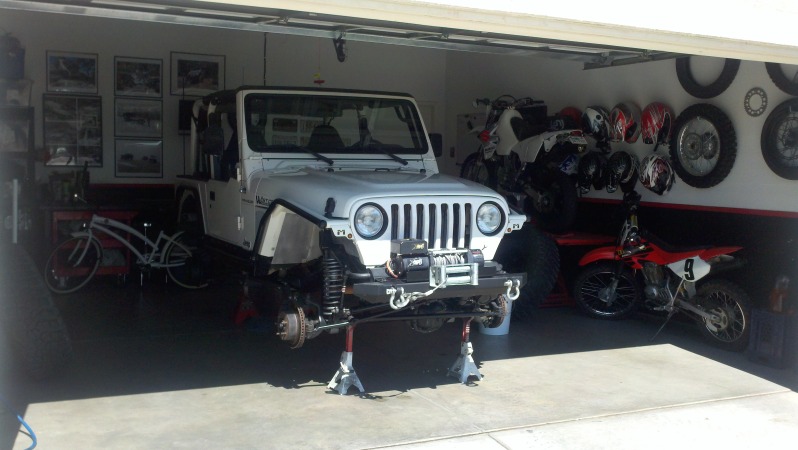 Looks like the ol' long arms are taking some abuse, but handling it just fine. I do scrape them a lot, I don't know if it's actually MORE than the short arms...... scraped them plenty too.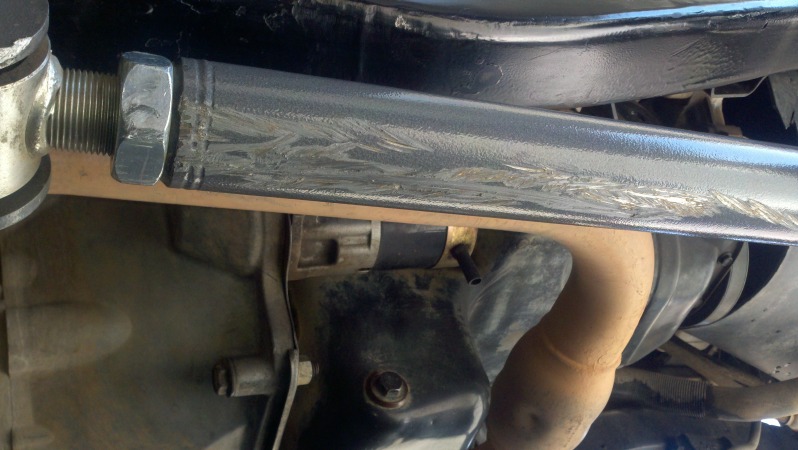 Now this is a little concerning.... I'm surprised it's actually in this good a shape after all these years, but these are definitely some new scratches. I wish there were more options for bolt on oil pan skids for 2.5's! This is going to the top of the next mod list...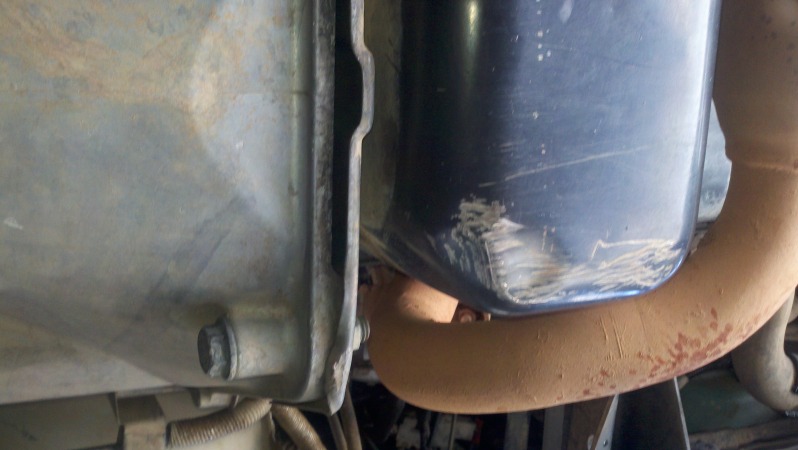 The RC skid is holding up great, I'm really surprised just how little I actually drag it around, The only bit of scraping is on the far edges of it, center's never been touched... weird. I'm really low too.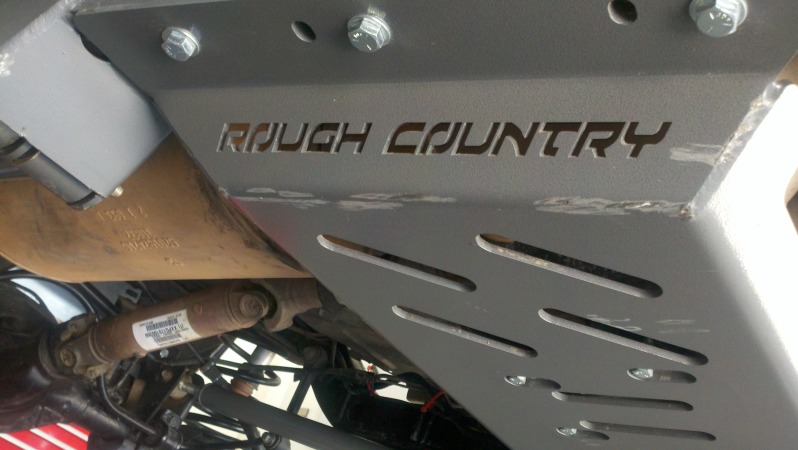 Ok well after inspecting the front end and looking for anything out of place, everything looks cool. I'm kind of waiting for some front end parts to start showing some wear. My jeep has 87k on it. Stock U-joints, Ball joints, unit bearings...... no issues though so I'll keep running it I guess.

Now off to the store to get some paint, Gotta get her all cleaned up for her little SAVVY surprise tomorrow.
When you do replace the ball joints, make sure you get Spicer units. A friend swapped this D30 into his Explorer and ran 33" TrXus tires with an aussie locker. The axle was of unknown mileage but the ball joints were within spec and did not have appreciable play. He did not change them and on his first trip out:

The lower joint pulled apart at the bottom and so did the upper joint. This caused the knuckle to come apart and ruined the lower joint beyond any kind of repair.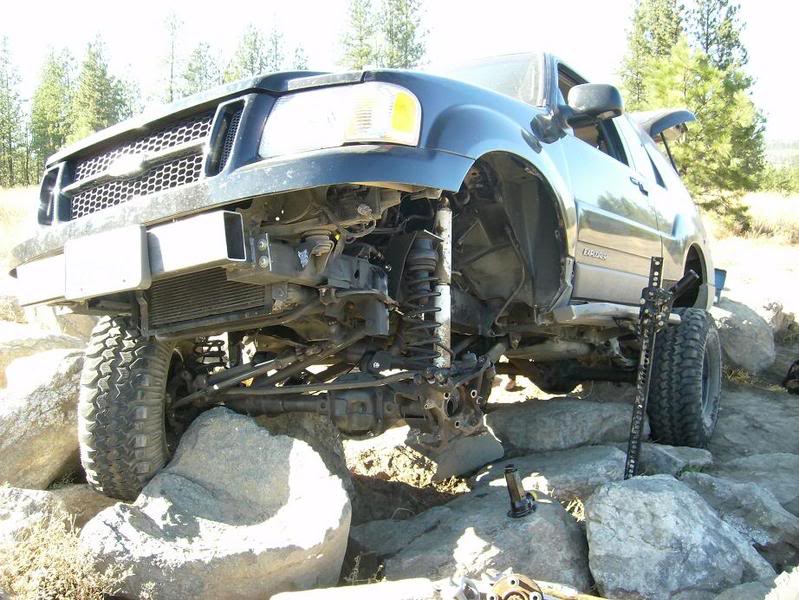 We were able to stick the upper joint back in and use a bolt through the bottom like this: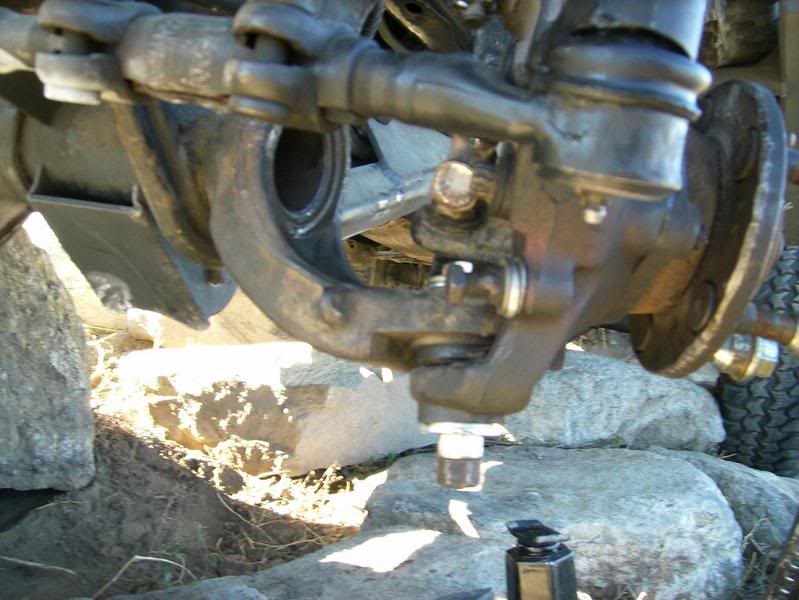 So we could get him home like this: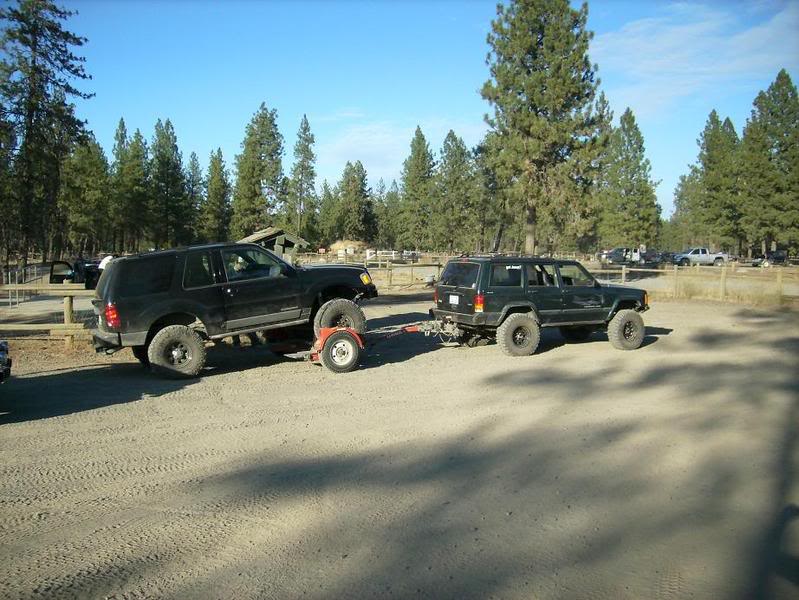 When I swapped an HP30 into my XJ, I changed the ball joints even though the existing ones are good. Remember, we put a LOT more abuse on these than they were ever meant to withstand, so standard service intervals don't always apply. I would also recommend sticking with Spicer 760 U joints (though I don't get the impression that you cheap out anyway).
Well a little painting and I guess this clean up is done! I found out today that Rustoleum DARK grey is a perfect match to the grey RC uses on all there parts. That worked out good.

I KNOW eventually I'll get sick of touching up the grey because I have to half *** mask off the surrounding black but it'll all stay grey for now, it wasn't to a big a deal and the color match was so good I was surprised.

Touched up arm...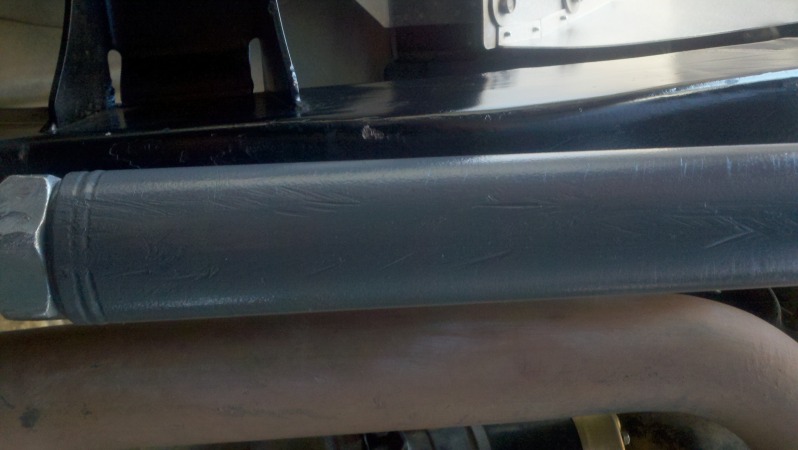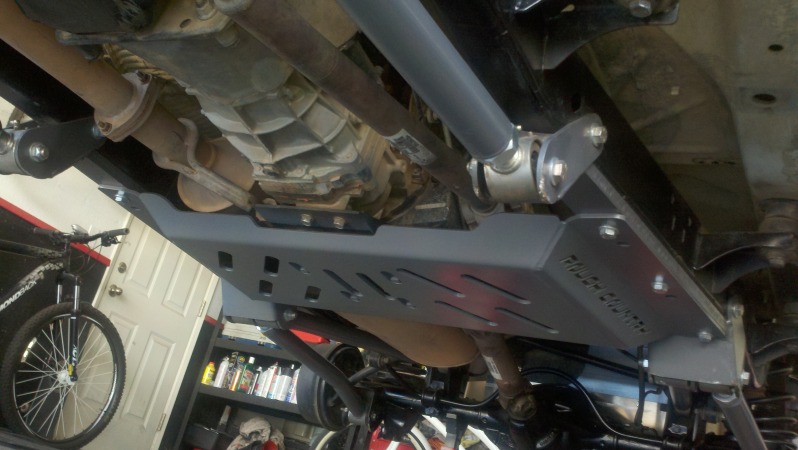 Love it when the front end is cleaned up... funny how after all the wheeling i've done my stock Diff covers have barely been touched besides the bottom three bolts getting abused... One day i'll get some beefier ones. Anyone reading this ever personally destroy a diff cover to the point it was an issue?? Pics?? Curious...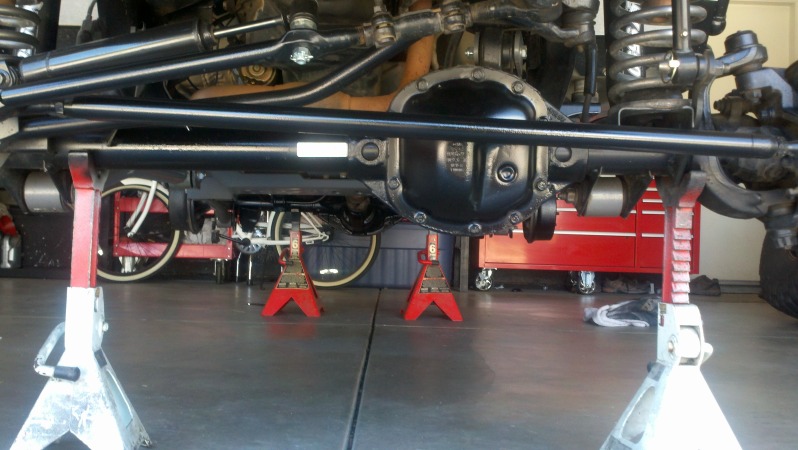 Rear's pretty boring... my faithful little d35 soldier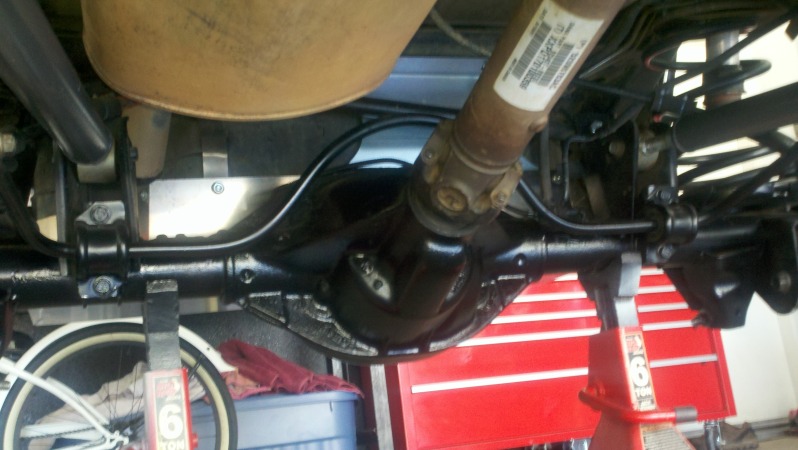 Gotta put the wheels back on, torque it.... and call it a day.
Well after a well deserved nap the jeep is back on all fours, officially inspected and ready for the next trip. Now it's time to give my other toy a little love.... got to finish swapping back to my Supermoto wheels. Stripped a caliper bolt the other day.... damnit!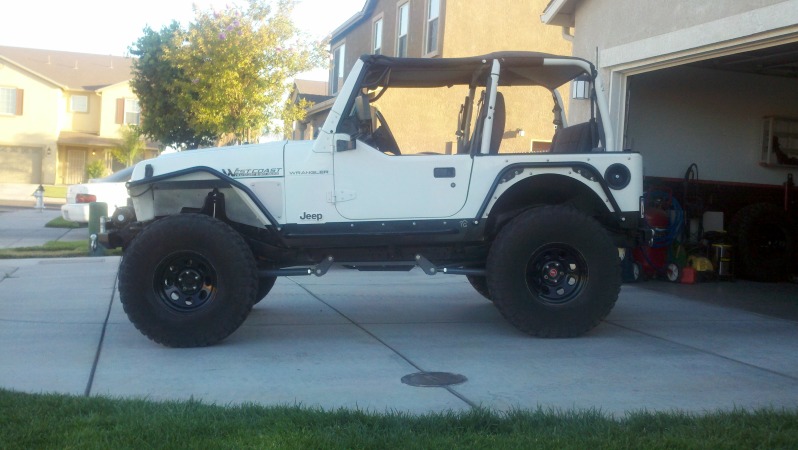 2003 DRZ400S/SM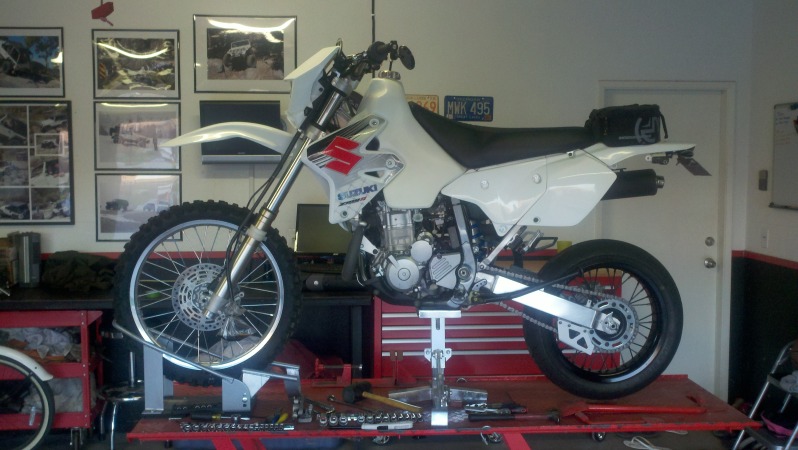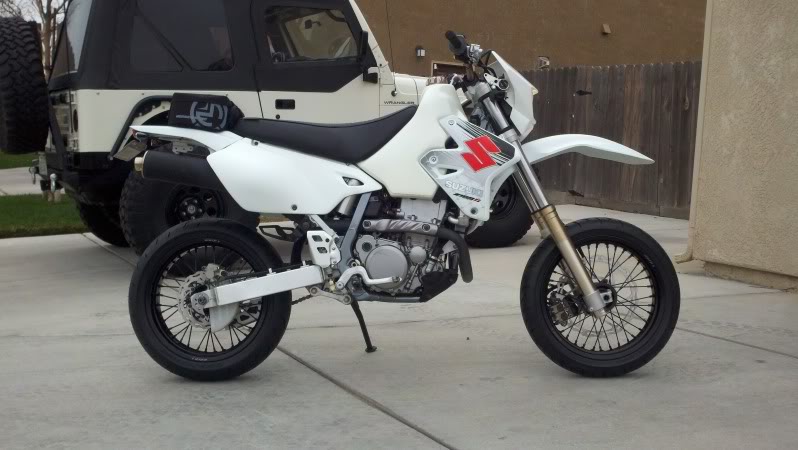 7-5-2012
Ordered some Savvy aluminum half doors last Sunday, was hoping they'd be here today (I'm only 4 hours away, 1 day UPS ground transit). I just got an email saying they are just shipping today! And actually not even arrived at UPS yet. Man I must be getting spoiled by the quick shipping most e-tailers are able to provide cause this irritates me, haha.... Probably be Monday now. Darn.
7-9-2012
SAVVY half doors
Got my medium sized brown box today containing a little Savvyness. I'm not quite sure why I just couldn't live without these, and even now..... that they are actually on my Jeep I still don't know! haha. They are neat though, and will serve there purpose just fine.
Install is pretty basic although it took me a bit to figure out just what was what and where it was going to go. The hardware bag was also much more than expected (it always is, it seems like). The instructions got me through it, but are lacking in my opinion. No photos and you have to keep referencing the hardware list to correspond to whatever step your on.... Kind of weird I thought. It's nothing you really can't figure out on your own though, I just like to follow instructions perfectly for the best install possible.
Here is all the hardware sorted out: Nice quality stainless, lots of it~!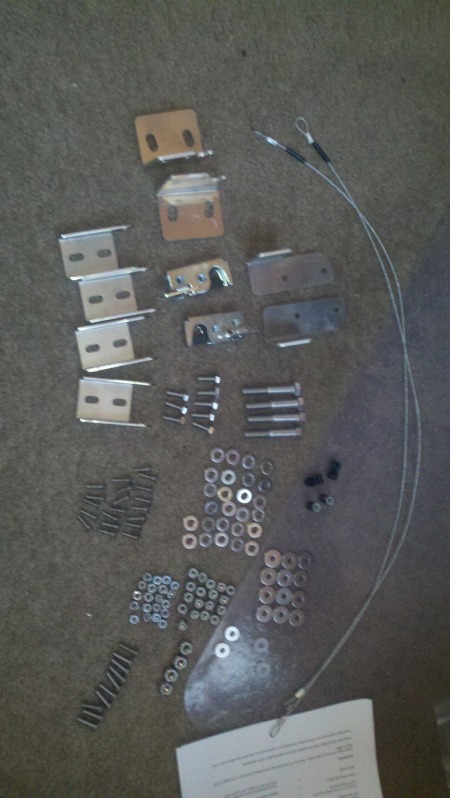 Cross braces, These are also nice pieces, I would have liked to have seen a vertical brace as well, you can easily twist the door, A little surprised at the lack of structural rigidity. I don't see it as an issue, but when the first thing people do is grab the door and pull on it to see how "stout" it is..... it twists quite a bit giving the impression it's pretty flimsy...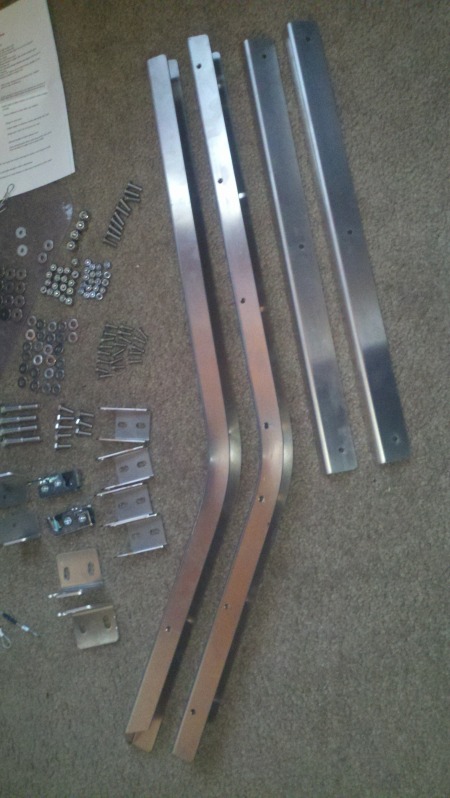 First you mount the hinges
Then you can loosely mount the skin onto the hinges.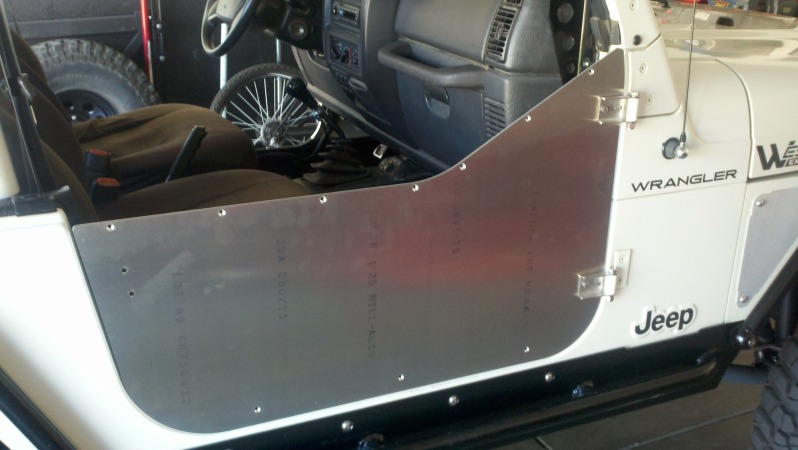 Then you go to ACE because you're missing the 4 bolts to mount the latches! BOOOO.... annoying!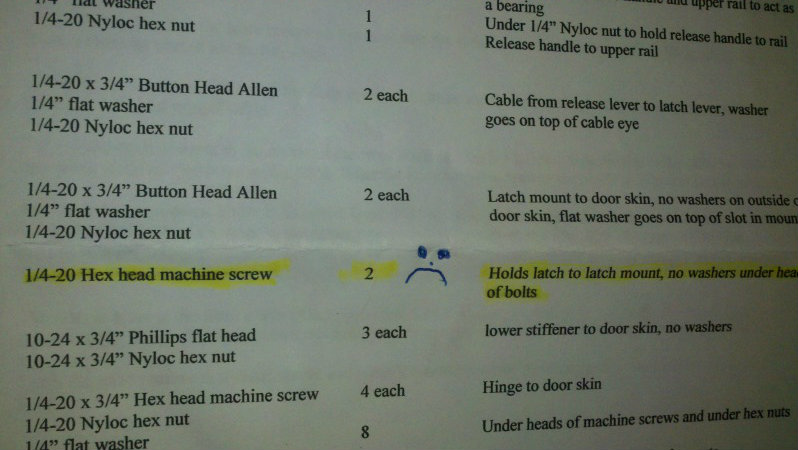 Then you can mount the latches, pretty easy to adjust really, just get everything on loosely, jiggle it around till it's operating smoothly and snug things up. They are so light it's pretty easy.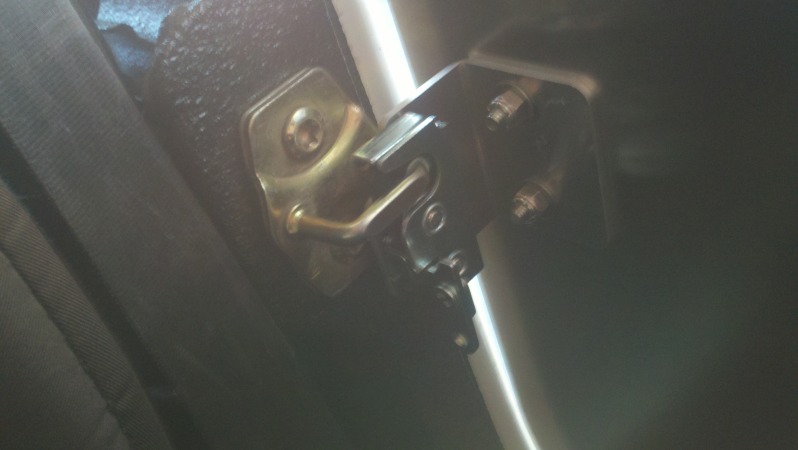 Then the support bars go on. Nicely countensunk screws, all holes lined up perfect.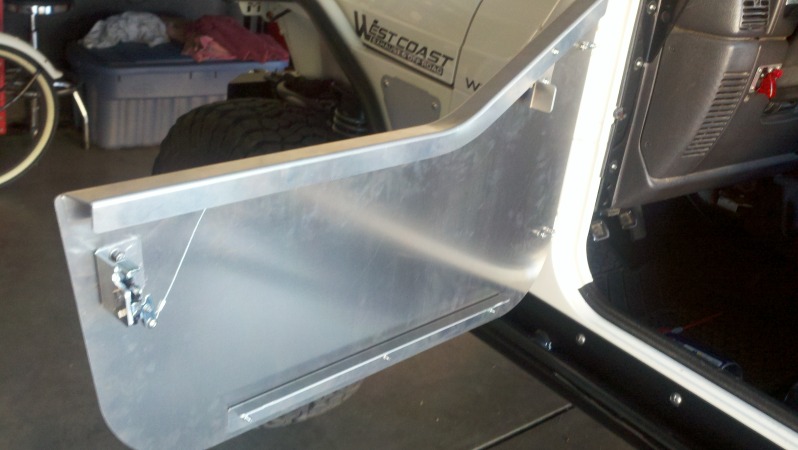 The cable and release lever are pretty ingenious and seem to work well. The positioning is good and operation is smooth and simplicity is high.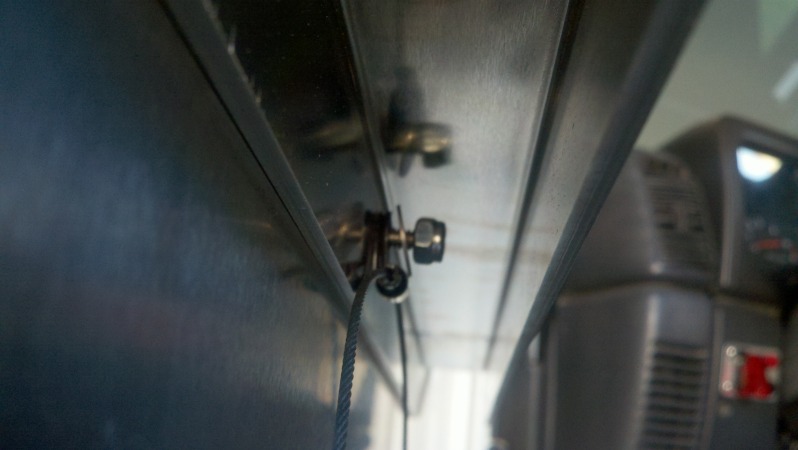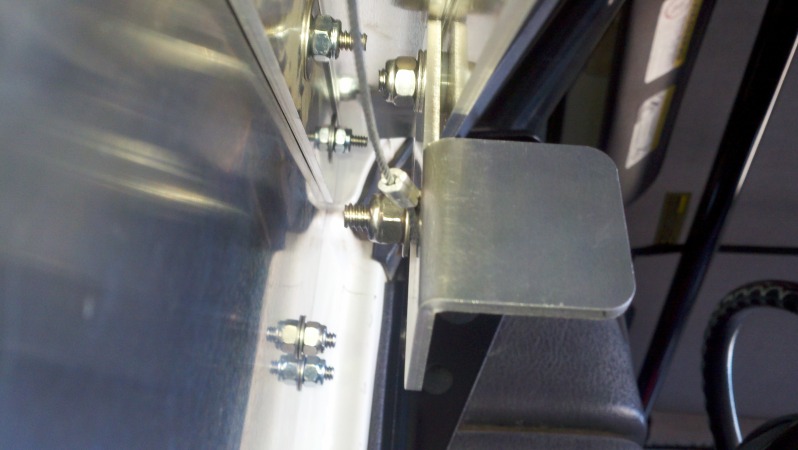 Ohhh so pretty almost.... now you gotta get some type of cleaner and get all the lettering off the aluminum. Some stainless cleaner took it right off...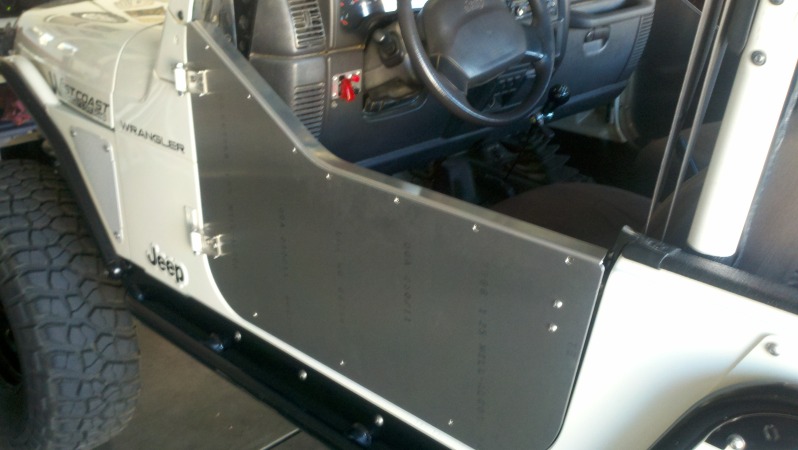 Some final tweaking on the latches and I was ready for a test drive.
All cleaned up and looking, clean.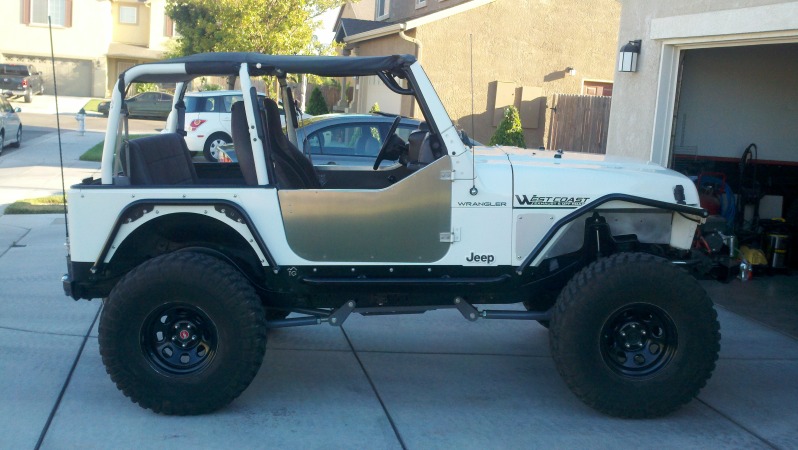 Test drive revealed that they rattle at the very bottom, not really surprised since they kind of wobble pretty easy. The solution is simple though, I can move the latch striker out about 1/16 and it shouldn't hit the tub at all, or I was thinking just a very thin strip of adhesive weather stripping along just the bottom would do the trick also..... Not a huge deal but I must reiterate I wish they were more rigid!
Overall I'm happy with my purchase, Leaving them raw will definitely make your Jeep stand out. Some will hate it, some will love it. I personally love unfinished metal, I wish my entire jeep was just raw metal.
I think with the PSC louvered hood panel in raw aluminum and the Raceline Beadlocks I'm planning on getting this thing's gonna look pretty crazy, haha.
I made a short video kind of showing the latch function that's uploading to Youtube right now... I'll post that in a bit. I'm also going to cross post this in it's own thread since my little thread doesn't get much traffic, just in case some people are on the fence about these and wanted some more info.

Youtube Vid.....
7-18-2012
Wheeled Swamp Lake Trail today in the Sierra's. GREAT day of wheeling! The trail is over 10 miles of technical rock crawling. Considered to be a challenging trail by many and definitely one that would be good for camping. I've done it several times in one day, and today we covered it in 7 hours moving pretty good with two fairly capable rigs.

This was my first time on it since many mods ago, so I was excited to try some new lines that I may have shy'ed away from in the past. This trail is a belly scraper, I don't care how much clearance you have, so there was plenty of scraping on this and that, but no breakage. My buddy drives a well set up 4 runner with gobs of clearance in every direction and although he doesn't scrape nearly as much as me, even he got his fair share today. FUN!

I've got some vids uploading to youtube i'll share later. I did upload one already though. My buddy in his 4 runner walked this line with ease while I had a little excitement. I knew the tire was in the air but I also knew it would settle if I could get just a little more forward movement so I kept in it and made the line. This one was purely a function of wheelbase! I think I had more fun though.
Here's a few pics my son snapped that I thought turned out good! He's 12 and endures these long wheeling days with no complaints. Good father son time today since he's getting ready to start Junior high, we had some good talks.

The beginning of the day / still clean! DUSTY today!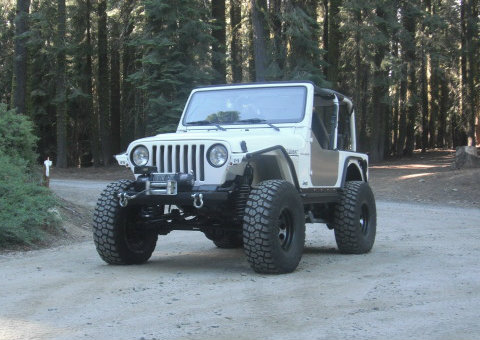 Sick 4runner




Coming up "rooster" rock.... nice climb. Picture does NO justice!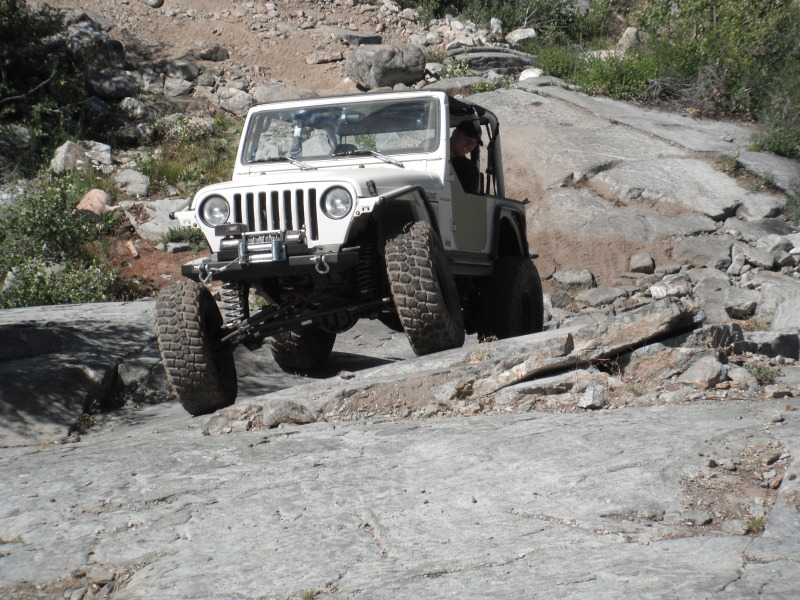 Little tire lift, cliff to the left... no big deal.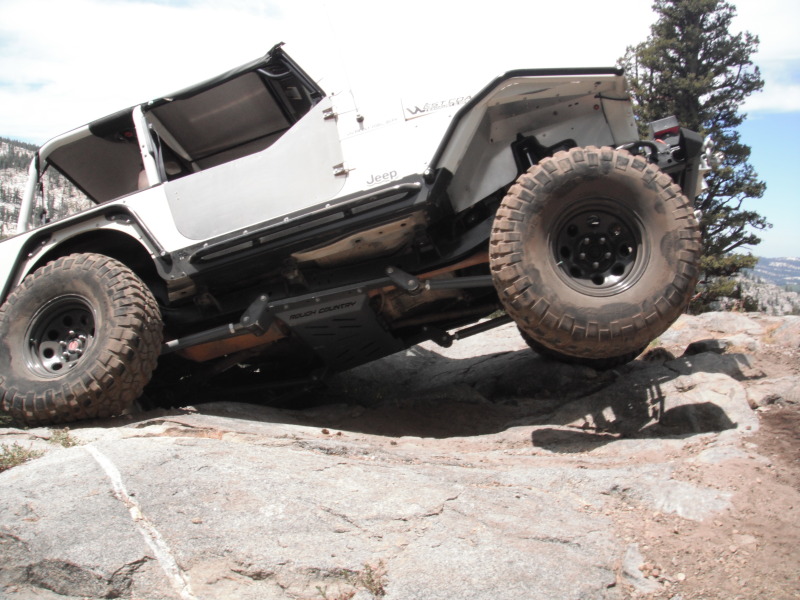 This thing goes places.....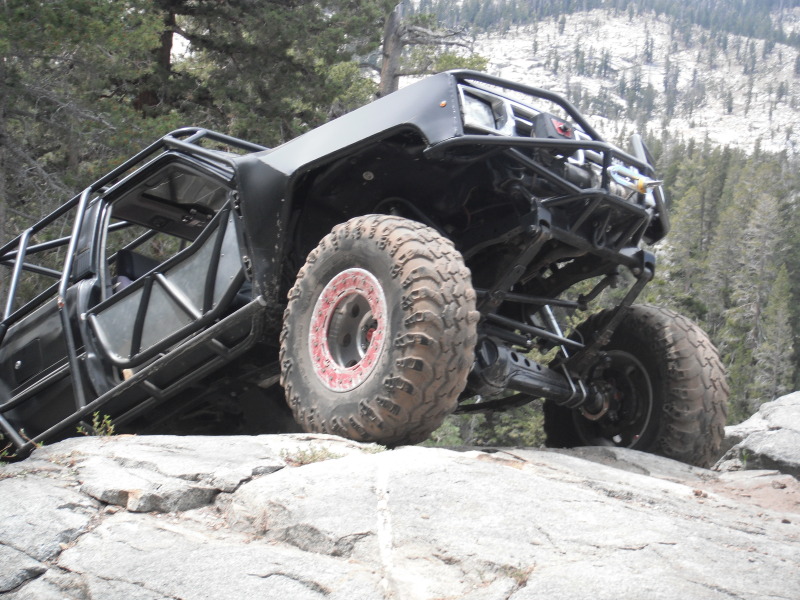 Thanks for looking!

7-19-2012
Here's a few more videos from yesterday. Good times...

Here's a couple pics I found. Basically I asked for the most basic bicycle cable shifter they had and I think 8 feet of cable. It's pretty easy to just run the cable similar to the throttle cable. To attach it to the throttle I just looped it around and used a wire crimp connector. I didn't think this would last but it has for almost a year now with no signs of failure, with regular usage. As far as attaching the shift lever to the stick I just cut a piece of fuel tubing to wrap around the the stick (to make it thicker) so I could tighten up the clamp. Worked out perfect. This $20 investment has made getting started on steep hills so much more controllable I could never livewithout it now.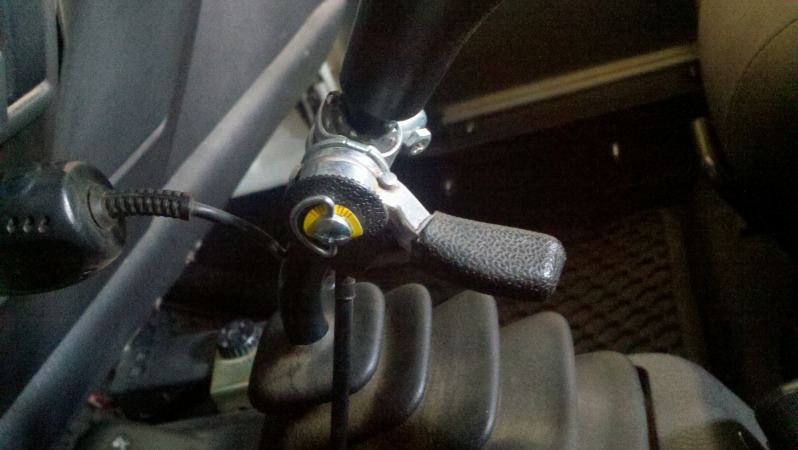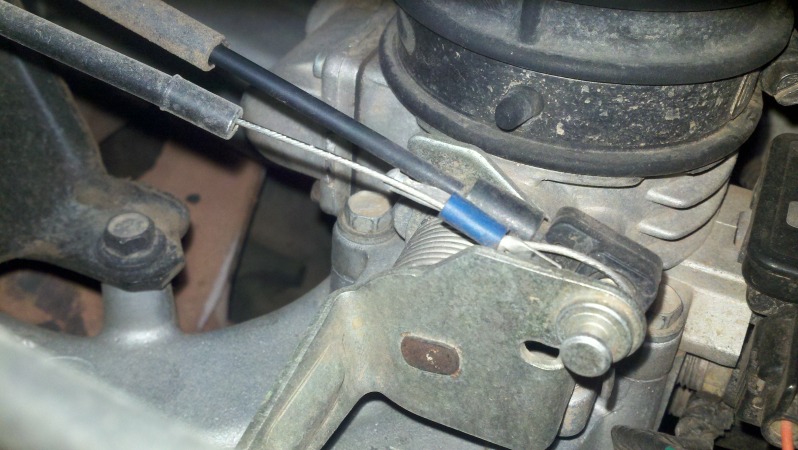 7-22-2012
About to pull the trigger on the Raceline Monster beadlocks....... can't decide on black steel rings or just aluminum since they will surely be getting scratched up.... any reason to get either one besides looks??
7-23-2012
Yes this is my DD right now. I've had other cars and trucks while also owning the jeep and of course my wife has a car but I just LIKE driving it to much, even though it's over a 100 degrees outside I just always want to drive it so I've decided to finally just admit that it IS my DD. haha.

I would guess around 15-17 mpg city and probably 12-14 highway. DEFINITELY better in the city. I don't really expect to much out of it and I only work 4 miles from home so fuel costs are pretty low for me overall. Putting around town it seems to get pretty good mileage.

And so far my D35 has just been a straight up soldier for me. Wheeled it a bunch on stock axles / open with 31's, wheeled it a bunch with 27 spline chromos / open with 33's, wheeled it a bunch with 27 spline chromos, 4.88's, aussie with 33's and 35's and now with the Superior S35 kit / Detroit locker 4.88's and 35's.

Now from my videos you can SEE how I drive and the terrain, over all I think this is the number one key to whether or not a D35 will live for you. I do bind it up between rocks and get the occasional hop / wheelspin but I also have a lot of patience while wheeling a like the crawling aspect of it way more than spinning tires and tearing stuff up.

My jeep, like everyone's is a work in progress and I've got little doubt I'll outgrow the D35 someday but for now it's doing it's job just fine.
7-29-2012
Got a new toy today. Now maybe I can stop being such a bolt on master. Picked up a Hobart Handler 140. Based on a zillion reviews I read the consensus was that this is a quality machine. Seems like it. My only experience MIG welding was a brief ownership of a harbor freight MIG-100 that absolutely sucked about 10 years ago. And before that I did some ARC and OXY/Acet. welding in High School. Other than that... I'm a total newb. Well I just got it home about an hour ago, got it assembled and set up (no gas yet) and just for kicks I made some sparks. I can tell it's going to be NICE when I get some practice. Even my total rookie nervous hands almost made something that looked like a weld bead. haha. Was actually quite the rush pulling that trigger for the first time.
Nice looking machine, sucker is heavy too.....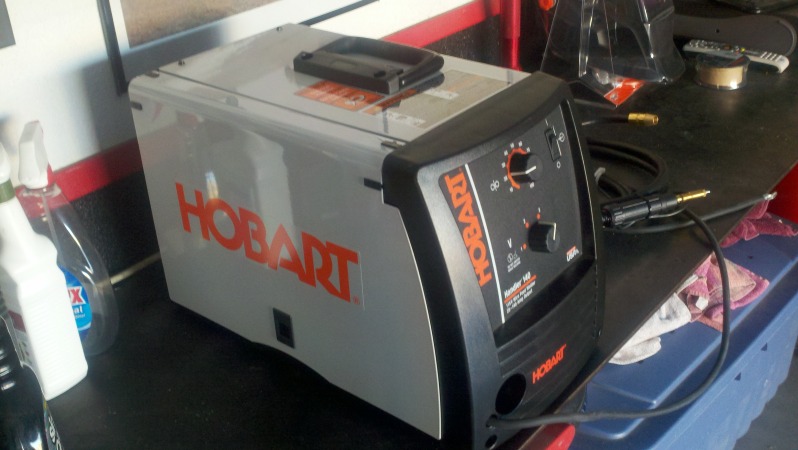 Practice Practice...... haha.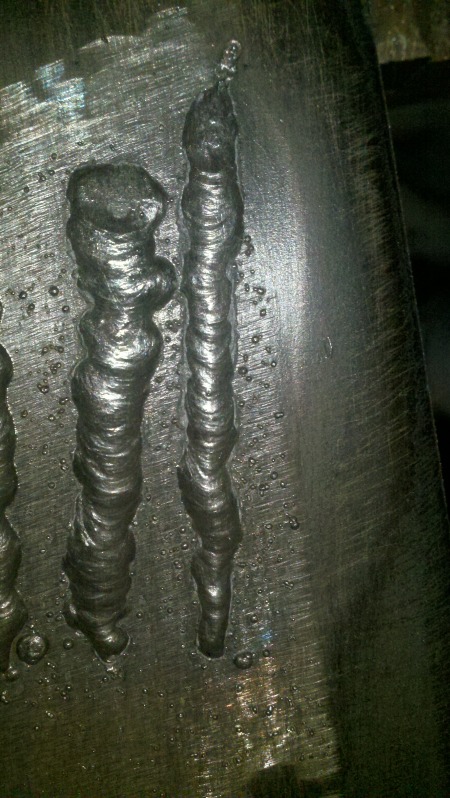 7-30-2012
Spent the day after work gathering up the rest of my modest welding set up. Picked up a cart from Harbor Freight. I'm really trying to get away from buying junk but this little is pretty nice. Seemed NICER than the hobart cart they had for twice as much money. The only weak link I see in this cart is the casters are absolute bottom of the barrel. So they will most likely get a nice upgrade. Very simple though and should make the cart last forever. The welder fits perfect on it also, could not fit better.

I also went to the local gas place and looked into renting a bottle. Well it was around $15 a month... So 180 a year. He suggested to just "buy" a bottle, own it and just pay for refills. I decided to go this route. I guess you own your bottle, but you just simply swap it out whenever you need a refill with a like bottle. This way your also getting a bottle with a current certification and never have to worry about it. It was $180 up front for the bottle and a fill. A little more than I was expecting but at least I know the bottle is mine. It wouldn't surprise me if one fill lasted me a whole year. The bottle size I got will weld for 3 hours continuous. That's ALOT of welding I think. So GAS and cart done! Pretty much set up.

The one thing I didn't get today was some scrap to practice on. I only have this one piece of bumper I cut off a while ago. So after setting up the tank, regulator, swapping to the solid wire and just making sure everything was hooked up legit I was able to run a couple small beads. WOW at how much difference the gas makes. It's like I would NEVER not use gas unless I absolutely had to. It's so clean and so much easier to SEE the puddle and what your doing. It was very enjoyable and much calmer. If anyone has a gas capable welder but has been using flux core just because they have not wanted to bother with gas...... you're really missing out on a much more pleasant welding atmosphere IMO. I also think that welding with gas will really speed up your learning curve and make welding with flux core that much easier when you need the added strength or convenience. Just because it's much calmer, you have more visibility and there's no smoke coming up into your face.

Ok here's my set up. UHG at how much I've spent on it, but hopefully I'll have some fun with it and learn with it.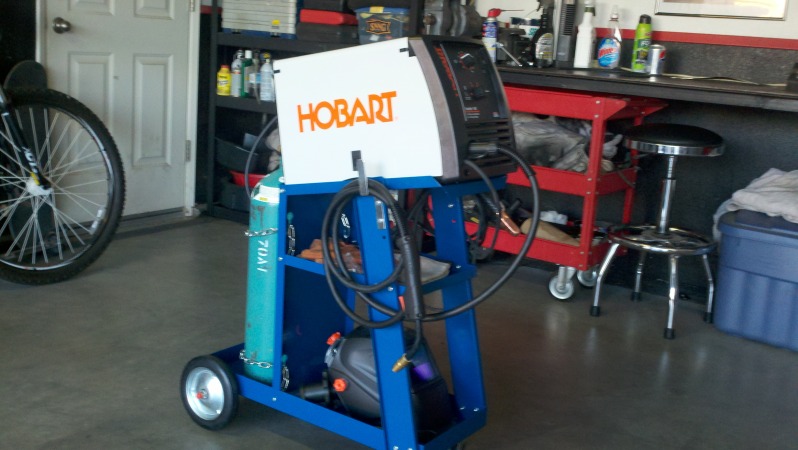 My first beads ever using gas..... keep in mind this metal is NOT clean...

Top one was u shape motions pulling (to fast I think)
Middle was weaves pulling (to fast)
Bottom was weaves pushing (slowed down cause I've never pushed before)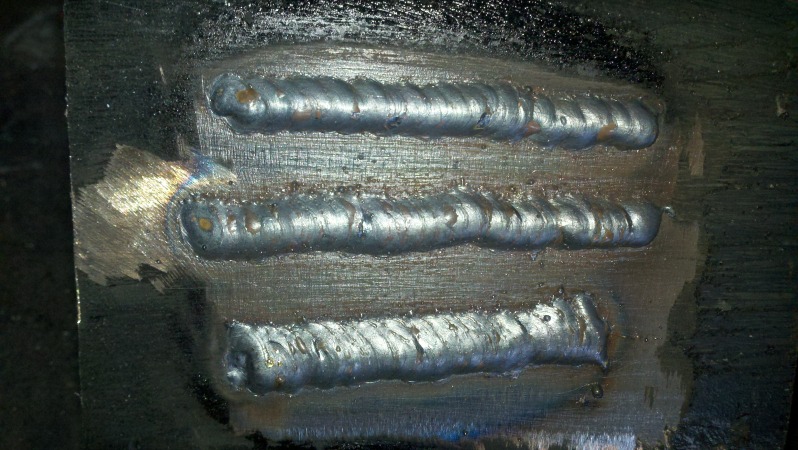 I know it's nothing special..... just having fun!
8-1-2012
Ordered!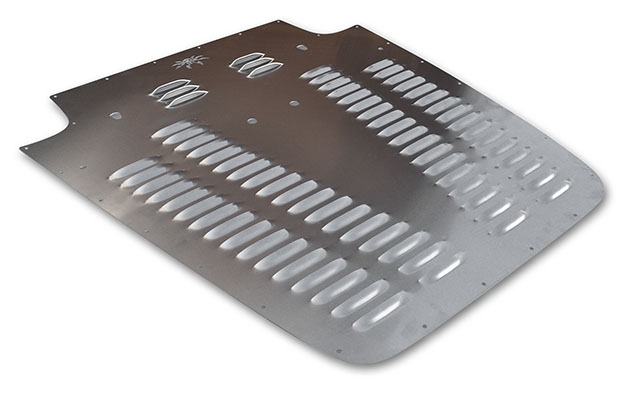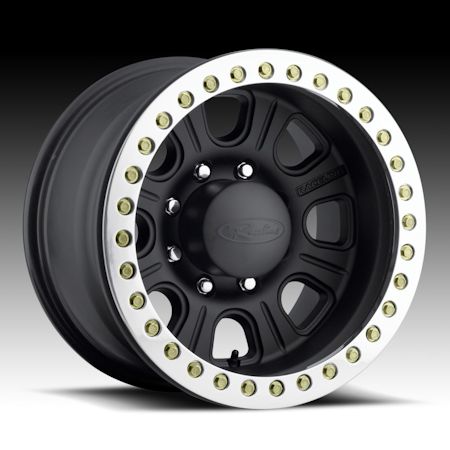 Can't wait to get this stuff.

Today I'm doing welding practice welding up my little harbor freight trailer. So far the welding is fun but welding on stuff that's already been painted sucks. It's hard to get it all clean enough to weld smoothly.....

Ok well I sure did do some welding today. Bit off a little more than I should have. I started welding all the seams on my HF trailer. Cleaning the metal sucked. I ended up using Aircraft stripper with good results. My biggest issue today was there was pretty good sized gaps in some of the seams. It seemed like the arc was shooting through the gaps and I was loosing control of the bead. On some of the bigger ones I started running one bead on the edge of the metal and then another to connect the two. I had some good some bad results with that. My weld quality was decent on most of it. Pretty good on a little bit, and HORRID on a little more than was pretty good. HAHA. I got to do a bunch of different angles though and feel that I learned quite a bit.

I was proud of this little bead so I took a photo.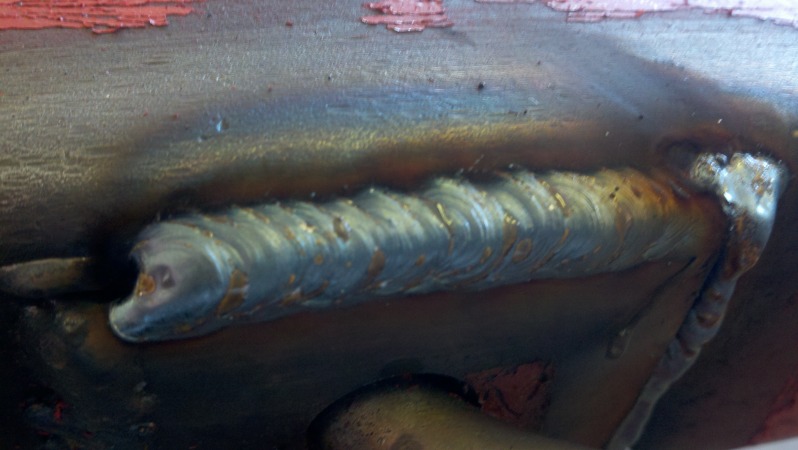 I also definitely learned painting stuff that's been painted or powdercoated in the past SUCKS. Even with good cleaning of the weld area, the surrounding area from the heat will blister and smoke.... FUMES.... bad... headache. I think a trailer like this is a worst case scenario being made out of C channel with a lot of nooks and crannies.... still fun though. Now i'm painting the damn thing, gotta put it all back together today and be done.
8-2-2012
Poison Spyder Hood Louver

My PSC hood louver came in today

. The install is pretty straight forward. Just typical sheet metal cutting, drilling and de-burring. I would recommend using a little jig saw with a metal blade instead of a 4 inch grinder like I did. It cut like butter but lacked really good control. I also went out and bought a fresh hole saw. The template is pretty fool proof, I would say that you DON'T need to put much effort into sticking it on there and pressing it down.... just make sure it's aligned and lightly rub it down. I put a little to much gusto in this and it was terrible to remove, tearing and leaving residue.

After you make your cuts I spent a little time deburring then instead of spraying the exposed edge I sprayed some color matched white paint onto a foam brush and just dabbed the edge so as to avoid having to mask for overspray and making a bigger mess. This worked fine for me. You may want to spend more time on this step. Overall cutting the holes isn't a huge deal. The more anal you are, the more time you'll spend on it making it perfect. It all gets covered by the louver anyways and you can't see in there unless you're really trying. My level of detail was medium for this.

Once all that's done you clean up the hood and lay out the louver. The nice thing is that the windshield bumper things will pretty much align the louver. I pulled those through and it was pretty much perfectly aligned for drilling. I drilled each corner out and put in a bolt. Then drilled all the the rest of the holes. Nothing hard about this step. One good tip is use Anti-seize on the little bolts. If you tighten them to fast they will seize up on you. The second one I did, did this and I had to cut it off (there were extras luckily). I used anti-seize on the rest and was able to tighten them down as fast as I wanted with no issues. After the holes were drilled I removed the back two bolts and starting tightening from the front center out to edge and up each side towards the back. This allowed the louver flatten out nicely as you tightened.

After that it's just a matter of bolting the hood back up and cleaning it. And it's a pain in the but to clean! Especially if you leave it raw. haha.

Here's a few photos of the process. Overall I think it looks cool, is priced right, high quality and functional in regards to venting the hood.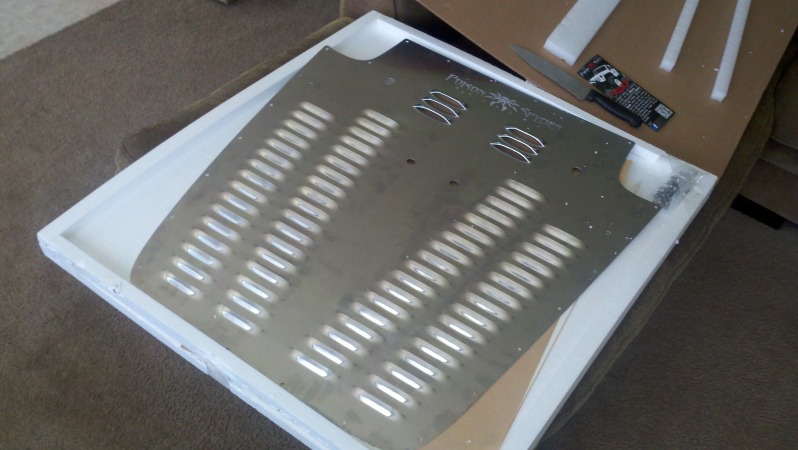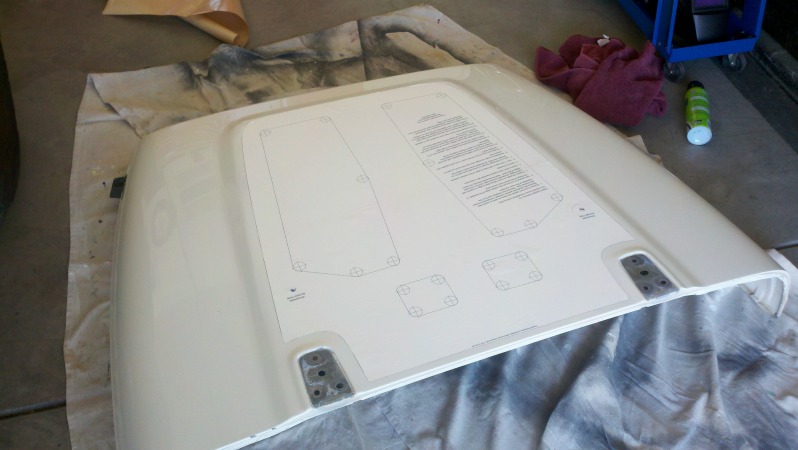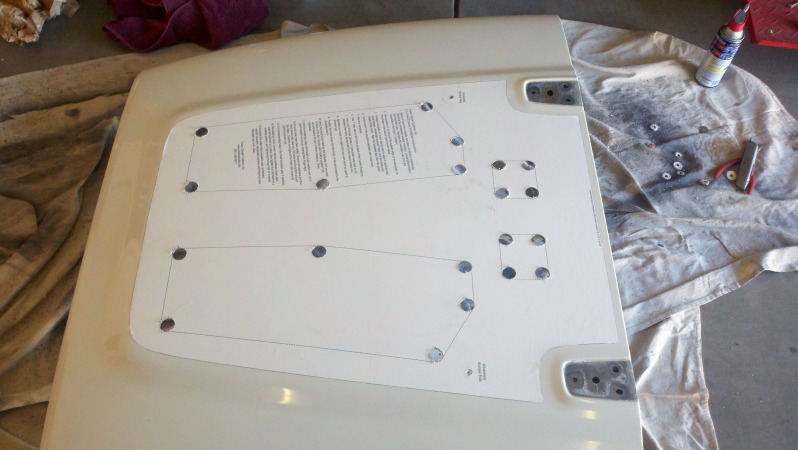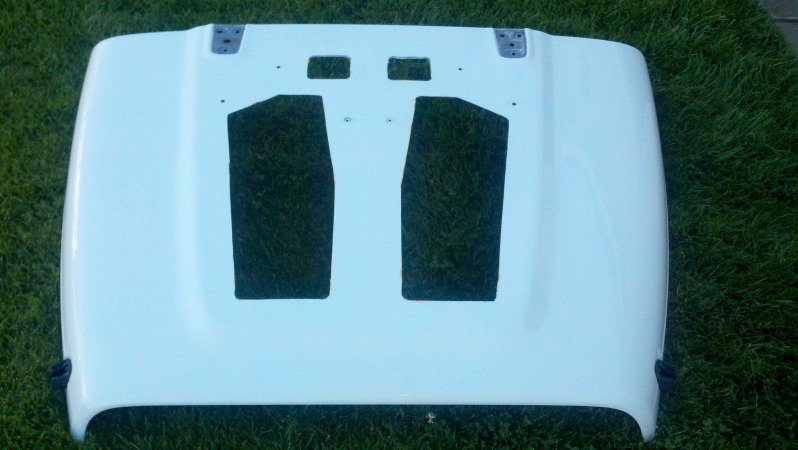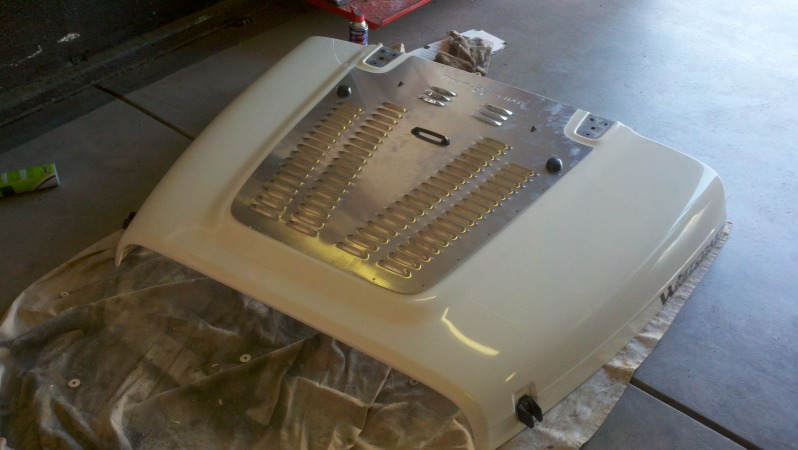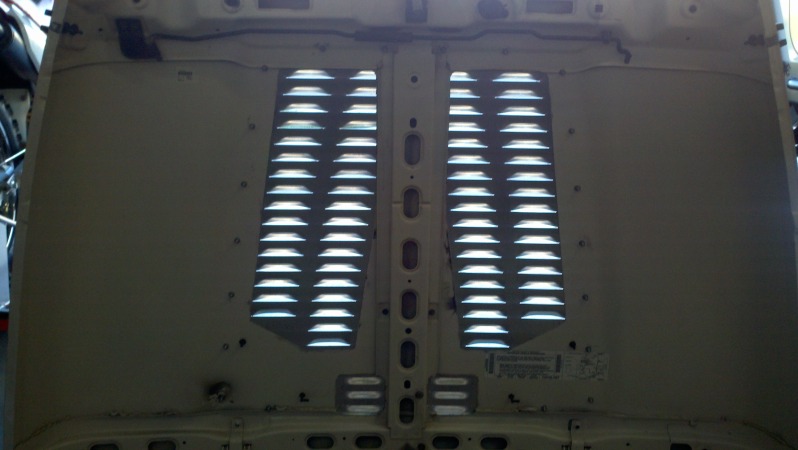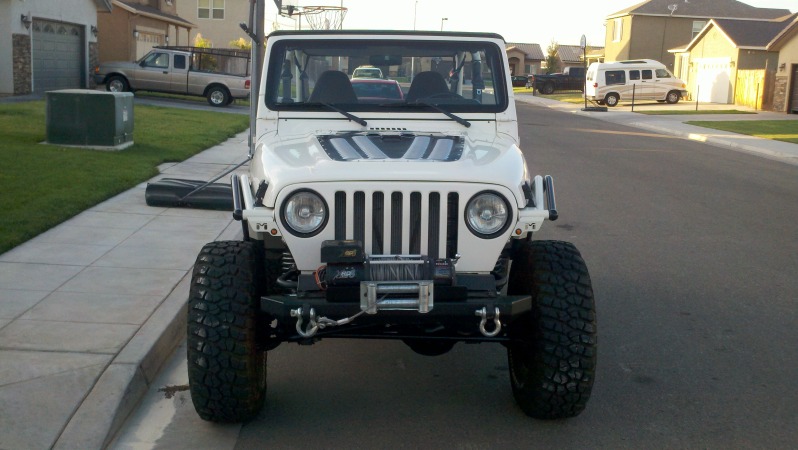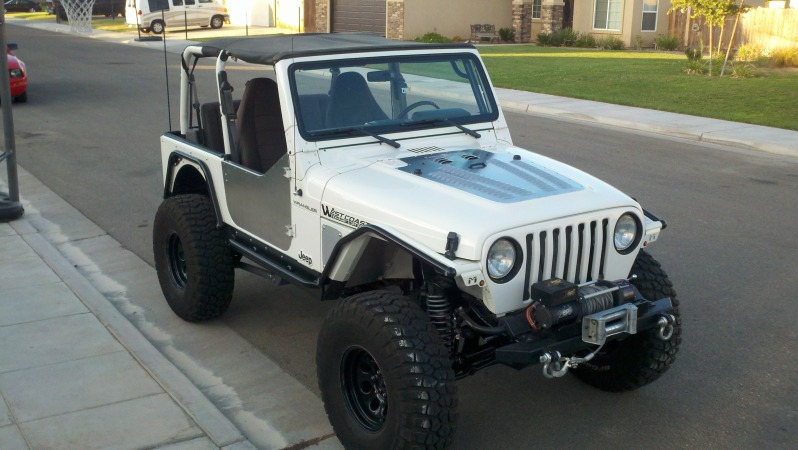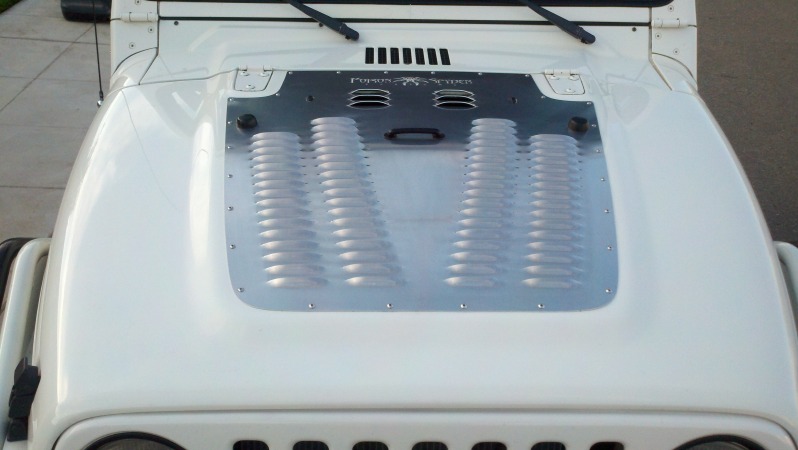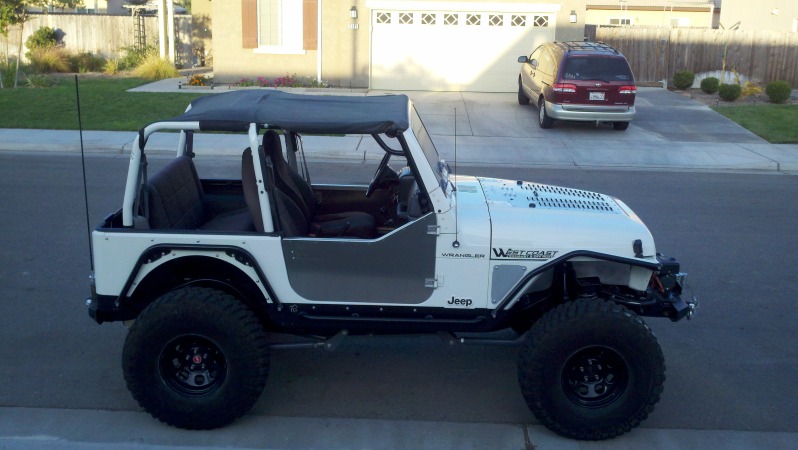 8-3-2012
Wheels are here!

How or when or has it always been the common practice for UPS to just drop stuff off at the doorstep?? Over 1k worth of wheels just sitting there, probably for hours. Scary!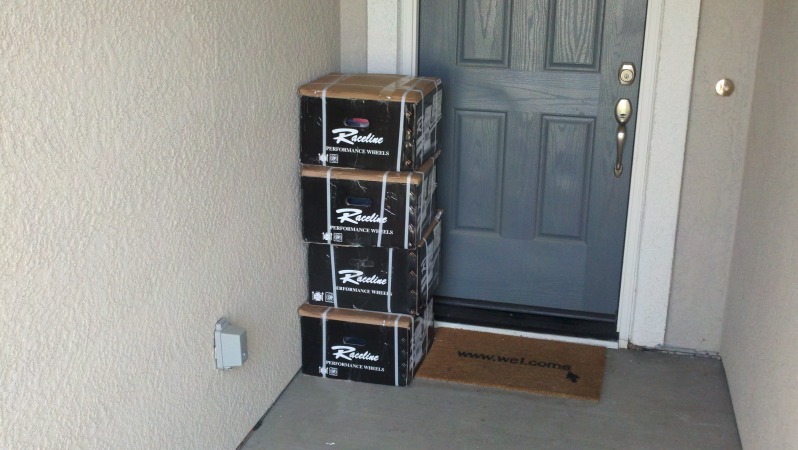 First order of business was unboxing and checking inventory and condition. All look good!!! Except that mirror finish on the beadlock rings. I knew I wanted aluminum rings and I knew they were polished so I was expecting to have to scotch brite them..... NOW they are beautiful!

Scotch Brite left..... Polished right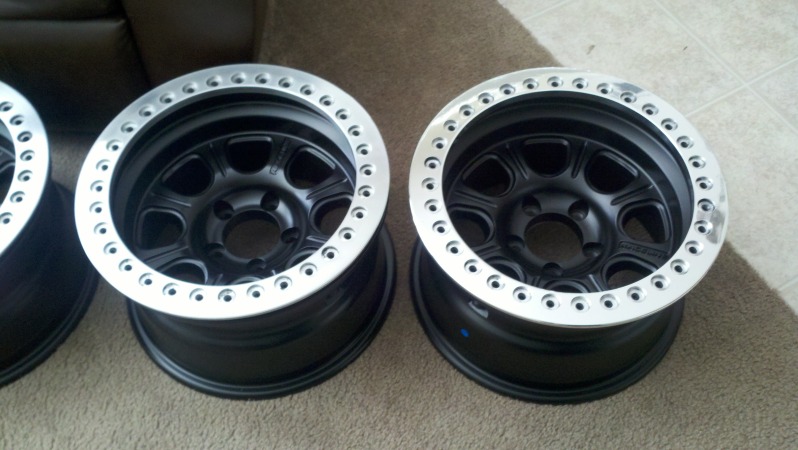 Nice wheels....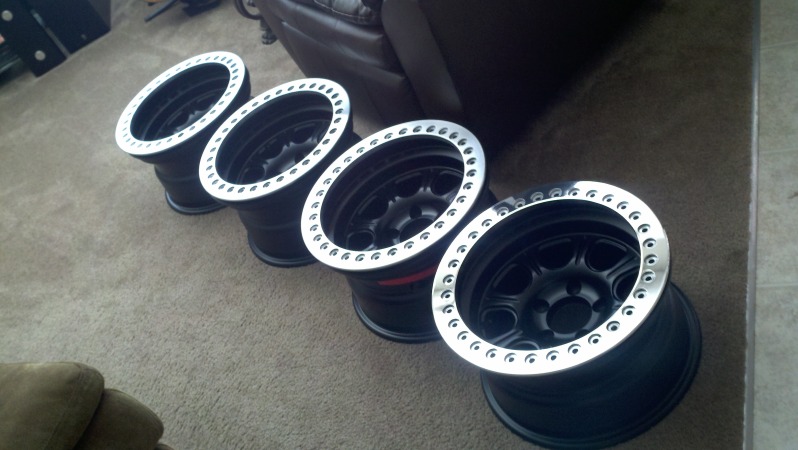 Now to go to work and dismount my tires.....
8-4-2012
Got two of them done tonight.

Everything going smooth so far. Just time consuming. I think they look great, I really can't believe they are even mine. Very grateful to have been able to make this purchase. I agonized over what ones to get and feel like I made the right choice in regards to quality and function as well as aesthetically. Looking forward to finishing up tomorrow and getting it all cleaned up.

The inner bead pops on suuuuuuper easy....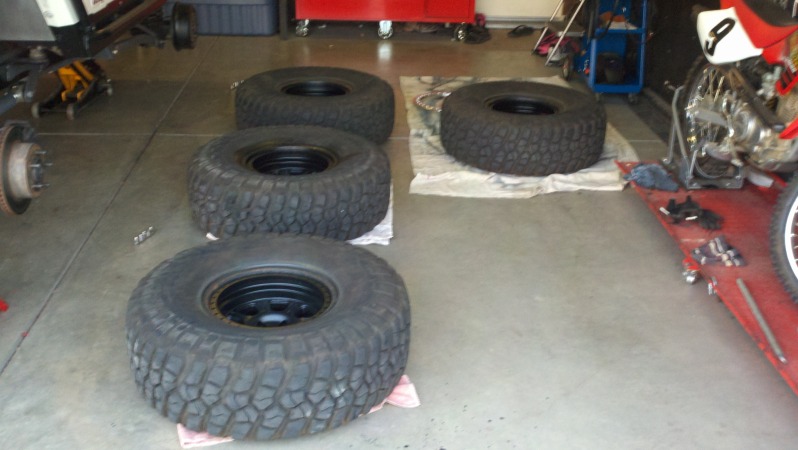 After scotch brite these things are sexy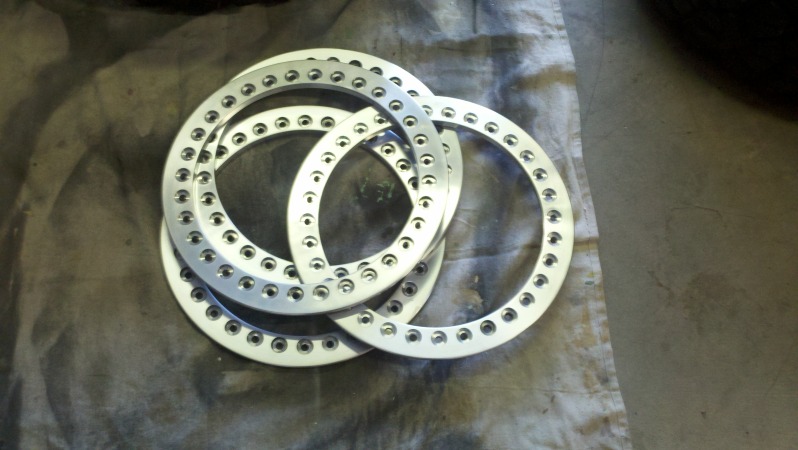 One done... phewwww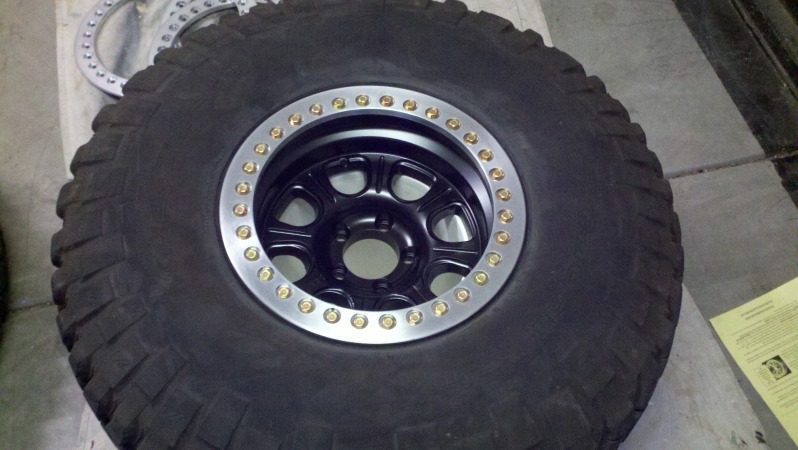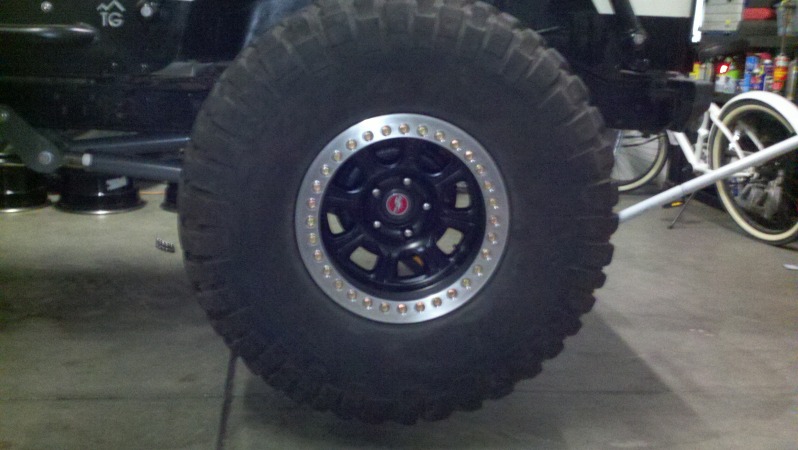 Here's one fresh outta the garage, I need a break photo! Very pleased with the look. Assembly on all 4 went very smoothly.

As far as the wheels go.... they are nice, but there were a couple things that kind of caught my attention. One was that the powdercoat or paint finish wasn't all that great, definitely not "perfect". Some fish eyes, and heavy spots on every wheel. One wheel had a minor chip. Also the rock rings had some burrs and there was polishing compound all over the back side of them and inside the recessed bolt holes that was annoying to clean. And finally, MADE IN CHINA! For some reason I thought these were American made. As far as I know the Trail ready's, Spyder's, and Hutchinson's are American made. This would have influenced my decision if I had known prior to purchase. I should have asked.

Now I'm not saying I'm not happy with them and these are obviously a proven wheel under the harshest usage, but when I buy at the "top", my expectations are always HIGH.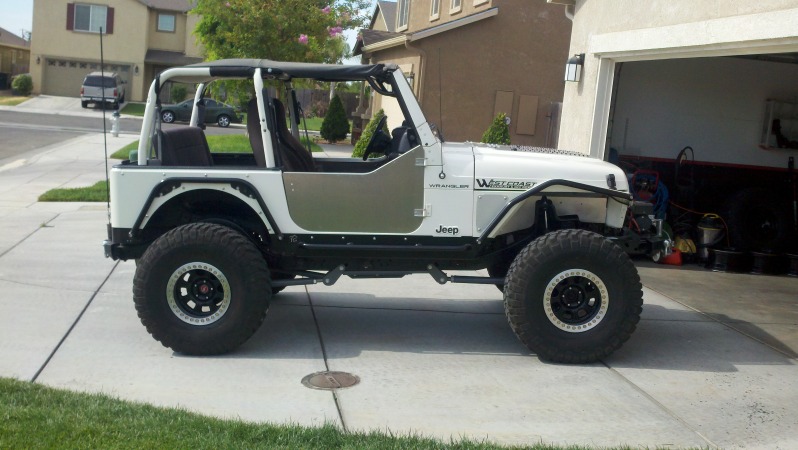 Got her all cleaned up after it cooled off today. Snapped a couple better photos. Looking forward to wheeling next weekend. While driving around today people were looking at the jeep like it was a spaceship or something. Haha it's funny, I think the doors and hood louver are what causes the odd looks. Oh well.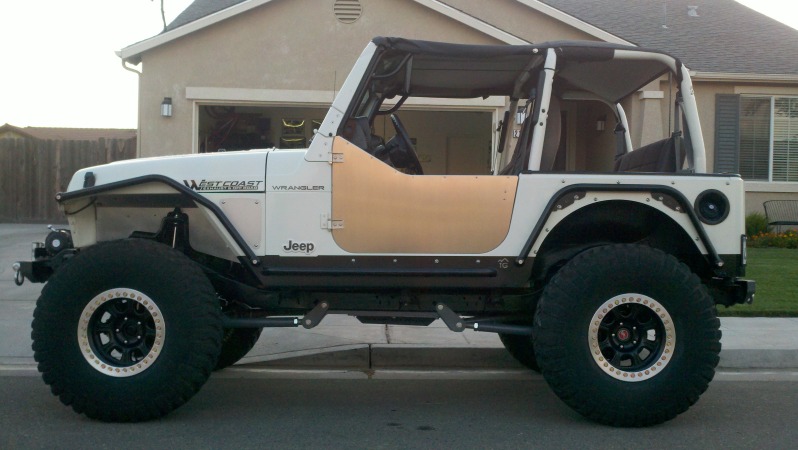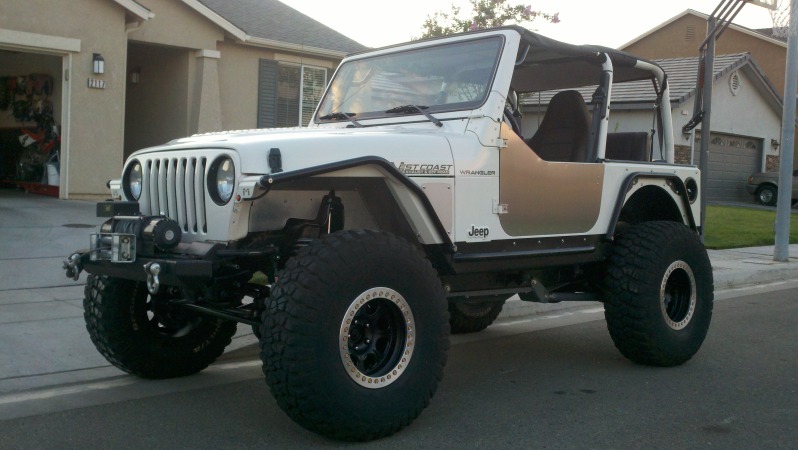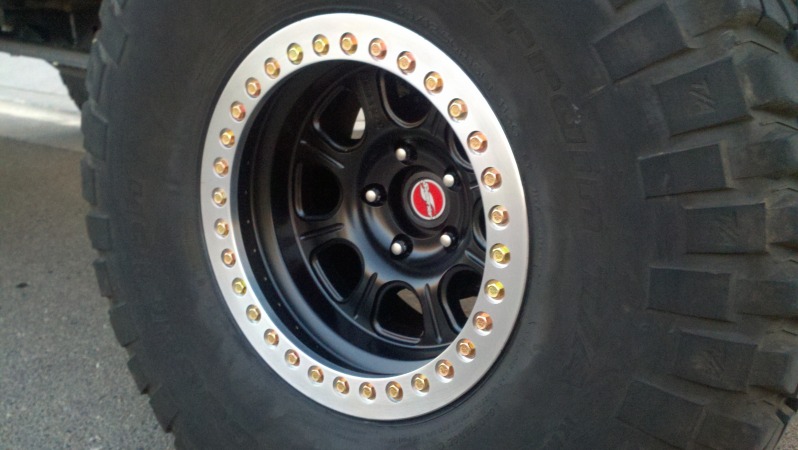 And just like the crackhead that I am..... this is next on the list. PSC rear spreader bars. This will be my first official welding project on the Jeep. Looking forward to it.
8-7-2012
I had a chance to balance my new Raceline's today at work. I read a lot on here about how hard it is to find someone to balance big tires / beadlocks and how hard it is to find someone to do it right! Here's a few tips that may lead to more success.

First of all you want them to use Pin plates. This aligns the wheel assembly on the balancer using the bolt holes as well as a cone. Not just a cone which is what we use on 90% of everything. This will align the wheel more precisely and give a better balance. This is pretty important, especially since not many of us use hub centric rings, therefore making our wheels Lug centric, which technically they are not.

Now on wheels with less than 3.5" of backspace that you don't want or there's no place to use weights on the outside of the rim your only real option is to do a "static" balance with tape weights in the center of the rim. This should give the best results. If you tried to do a dynamic balance with so little rim width behind the hub the two readings would just simply counter balance each other and you'd have to use a TON of weight.

Mine balanced out pretty easy, one only took 1 ounce, I found that suspicious but went with it. One took 8 ounces, a little high in my book, and typically I would have spun the tire 180 and tried again but with a beadlock, I wasn't gonna loosen all those bolts. haha. The other two took around 3.5 ounces and that's what I would want the average to be on something like this. I see a lot of guys throwing 8oz. of dynabeads in there wheels...... that would have been excessive on all but one of mine. Just something to think about.

I must say that I spin a lot of aftermarket wheels and I'm usually pretty amazed by how much run out they have even brand new but these Racelines were incredibly true.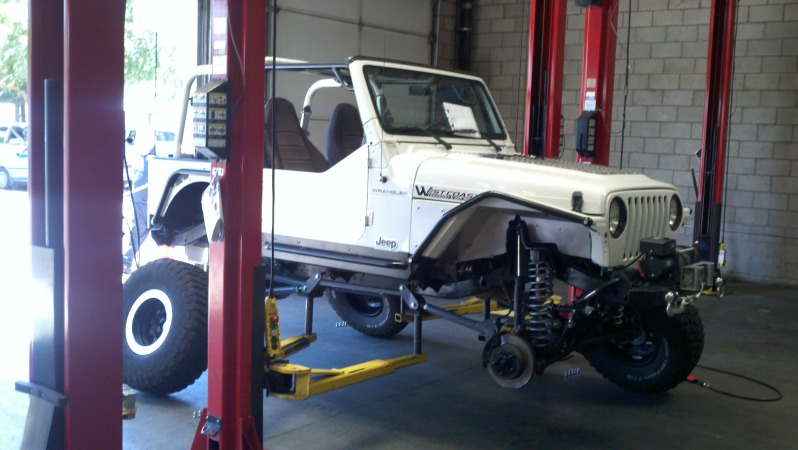 Notice the pin plate.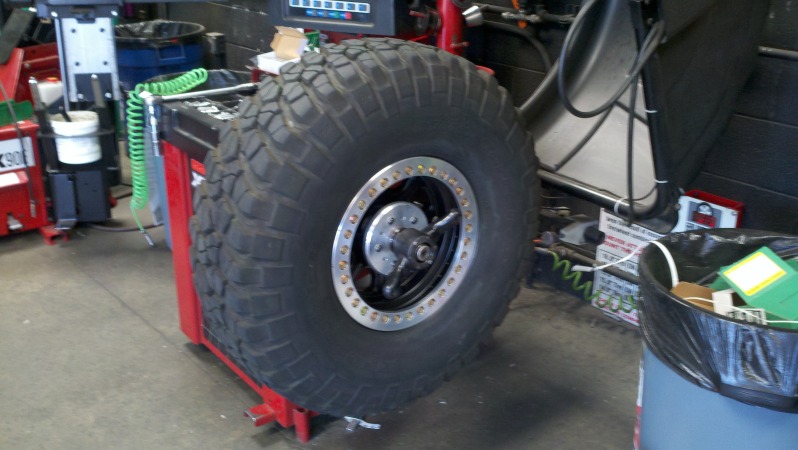 Eeek that's a lot! It zero'd out so I'll run with it!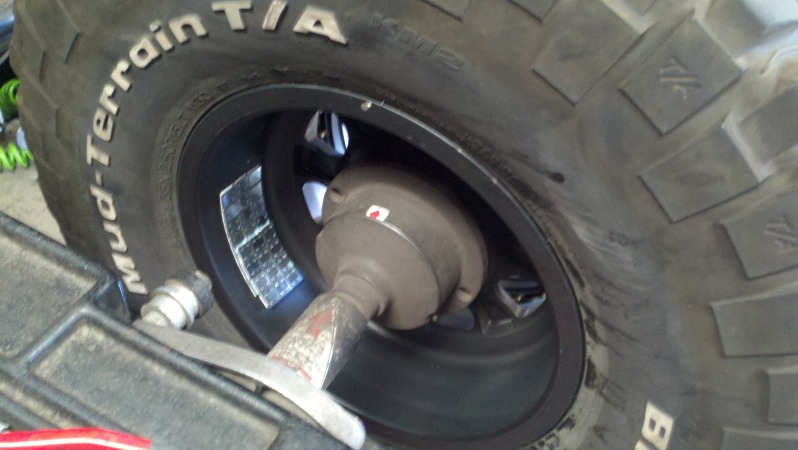 8-10-2012
Poison Spyder Rear Cage

My rear spreader bars came in today. Nicely cut and notched, fit was literally perfect. I find that amazing and unlikely given the how much each Jeep seems to be different.

I got everything tacked up and fitted easily enough. Now if you've ever read my thread before you know I've been welding for about two weeks now and this is my first "real" welding I've done on the Jeep. I've been practicing my *** off though and felt pretty good going into this. Well I got a WAKE UP call! Overhead welding or upside down welding just was not working out for me at all. I tried slower, faster, closer, further, shorter, longer..... just nothing really worked. It was like I had never pulled a MIG trigger before! Well needless to say the welds looked like absolute crap,

I WAS able to do it though, just a lot of starting and stopping, a lot of build up, and a lot of ugliness! So out came the grinder to clean up my mess, and my hopes of having some pretty little beads to show off that I did myself were lost! The only areas I was able to actually get a nice puddle going and a nice fluid motion were on the top halfs and around the sides. I think I need to learn to just lay off the trigger when things aren't going well, I kept in it to see if some more heat would get things moving along, but it was just making a mess. The only that worked was grinding everything back smooth and just using a sort of "thin" sheet metal method, basically just starting and stopping instead of "running" a bead. Well..... Im learning! On to some photos......

My little nightmares....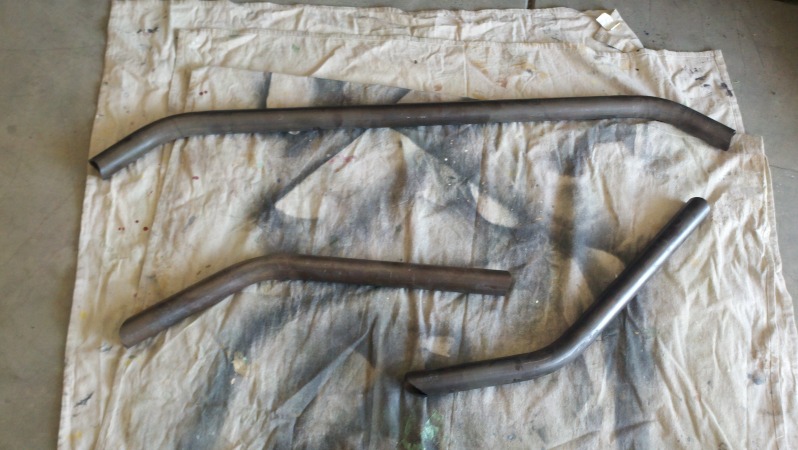 Tacked up...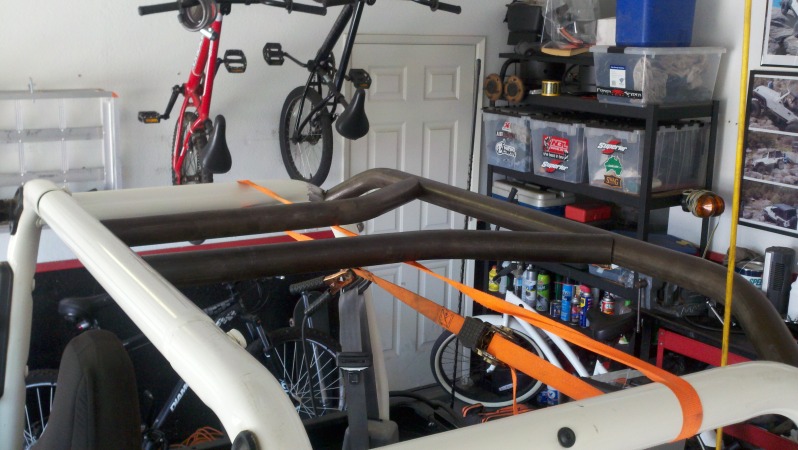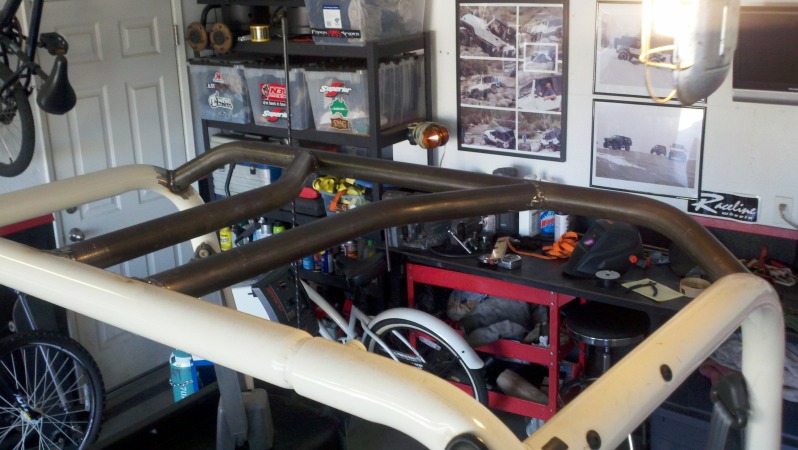 One of the only I didn't have to grind on at all....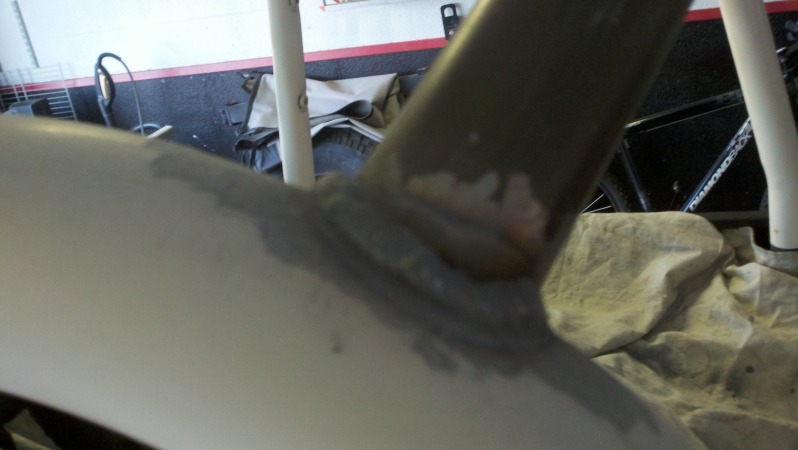 Getting ready for primer....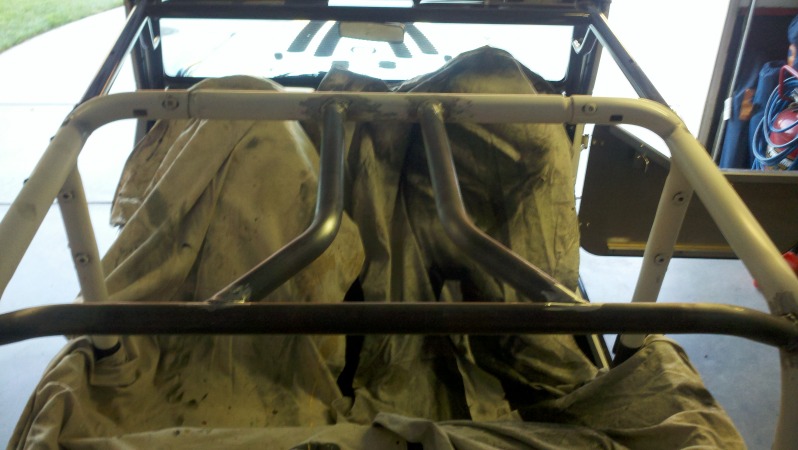 Got some paint on it tonight, Cage is finally all black, I knew it would happen sooner or later... looks pretty cool all painted, and hey my crap welds look a little better painted also....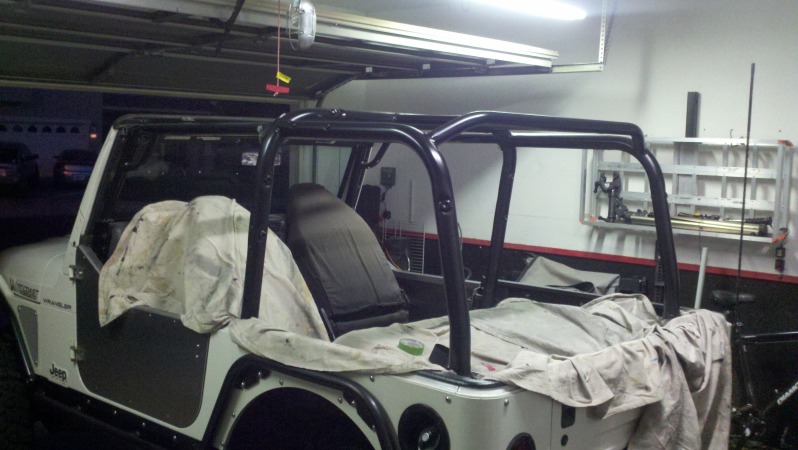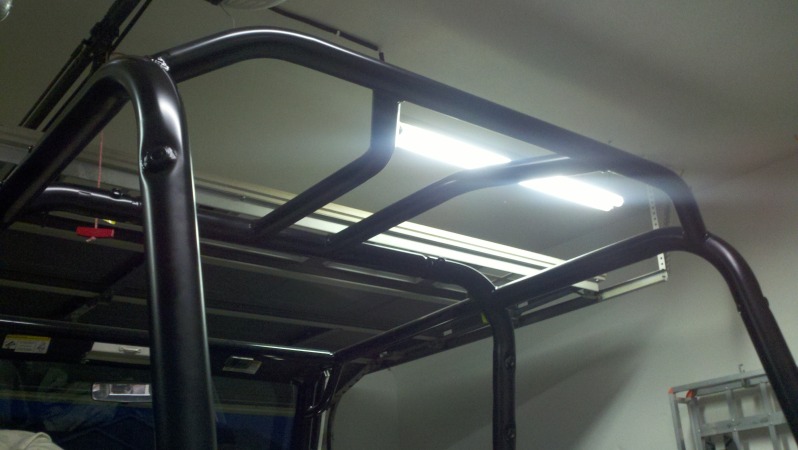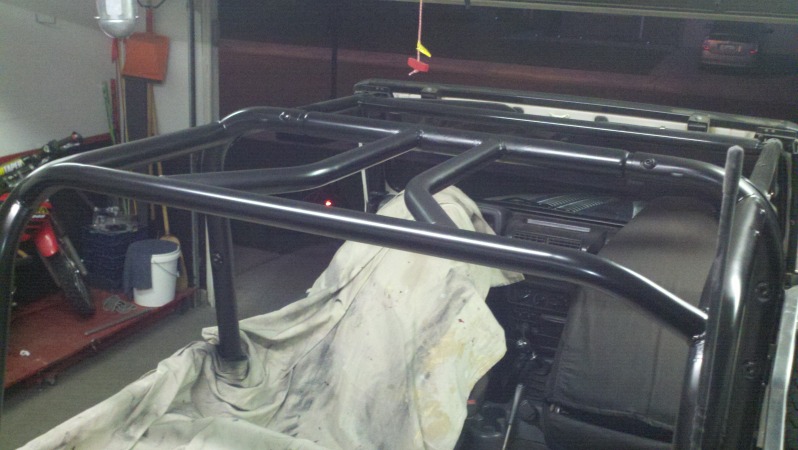 Thanks for looking and PLEASE!!!!!!!!!!!!!!! If you have any tips for overhead welding, share them!
8-11-2012
So after reading about overhead welding all morning, I've come to the conclusion that although it didn't seem like my wire speed was to low, it must have been... the reason I could not get a continuous bead going was that the puddle was traveling down my wire, explaining why when I was done welding there was little to no stick out, and a blob on the end. Also now in retrospect a little more angle would be better. So I think I'll practice with that later today.
It's got to be a 150 degrees outside today..... wheewwwww.

Ok so I finished up this little project. A little more sanding and painting to get the finish looking presentable. I hate spray painting tubing because you get a good wet out and then unavoidable overspray around the tube causing shading.... Oh well I just went for shading on TOP of the tubes and a nice wet finish on the underside. Overall I'm proud of myself for getting this done. I know I'll look back in a couple years and laugh a little at how much I struggled to weld the underside of the tubing..... but hey you gotta start somewhere! It has definitely added some rigidity to my Jeep, In the past going down my driveway at an angle always resulted in a "creeek" from stuff flexing.... and now it's completely silient. That's cool! I also feel that in the event of a flop I can count on those C pillars working together to minimize damage, and increase the safety of my passengers.

for this mod, at $180 it's pretty reasonable. Some finished photos, I'm digging the all black cage...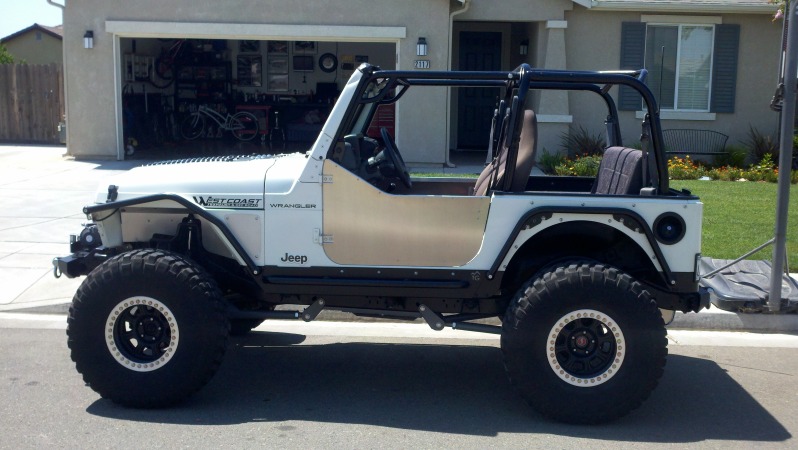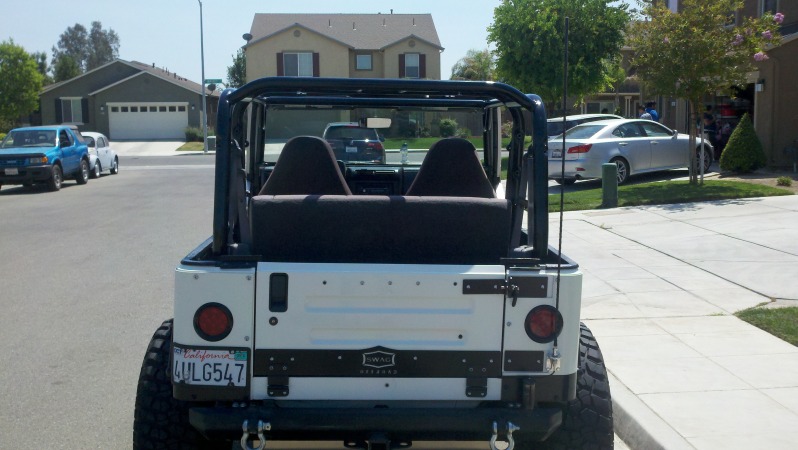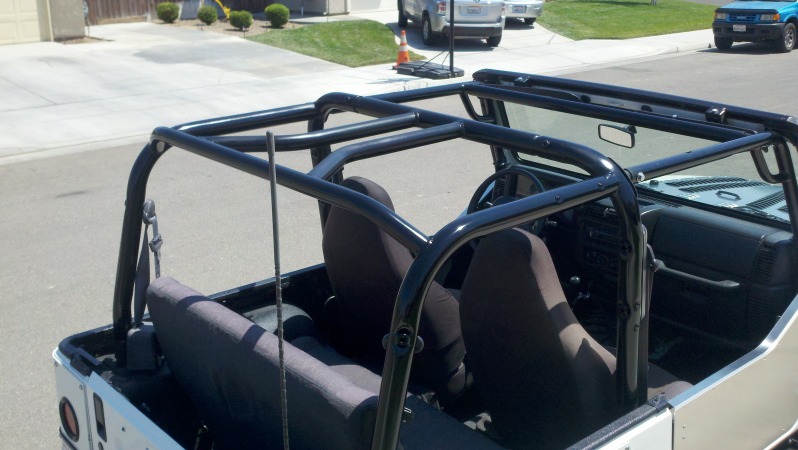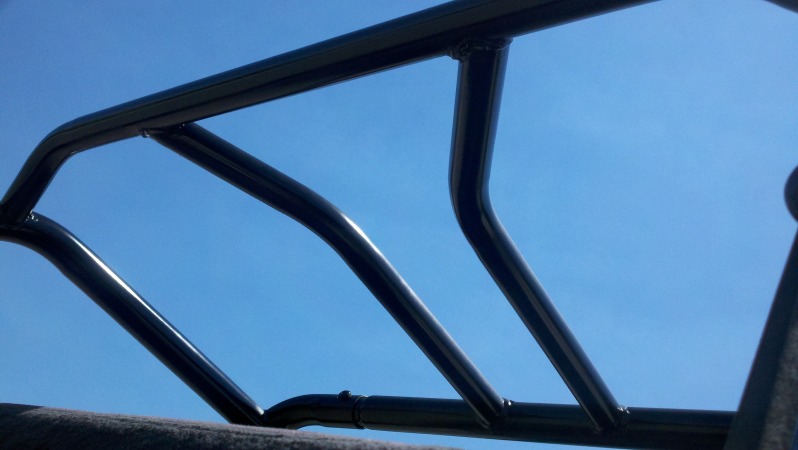 8-13-2012
Looking through an old Photobucket album I saw this oldie.... Having the time of my life on "fins and things" in Moab 2008. 31's and a BB.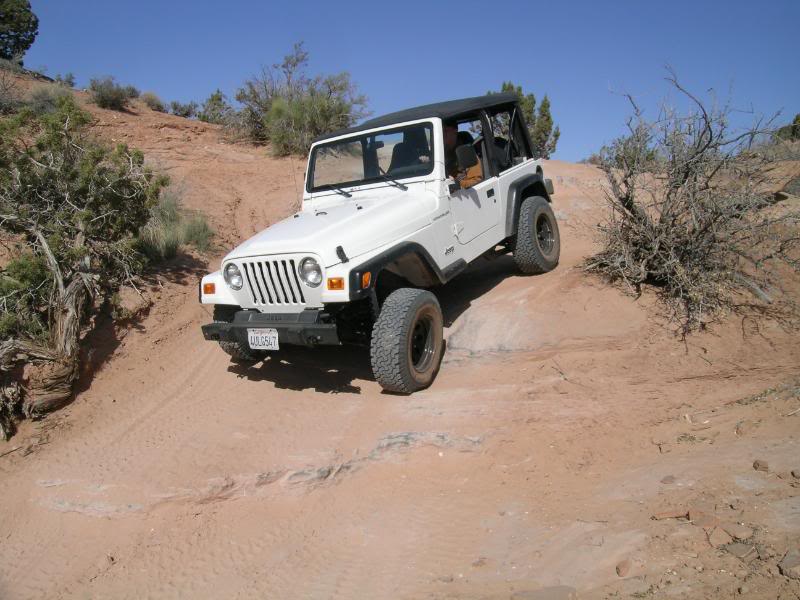 8-25-2012
4cyl. Oil Pan Skidplate

Yesterday I decided to take on fabricating my own Oil Pan Skidplate. As most 4cyl. owners know there aren't many aftermarket options out there for us. And if you take out complete under armor there are basically none. I've wanted to make one for a while, and now that I have my welder it seemed like a good project. My inspiration for my design was the AEV unit sold for the 6cyl. only. So armed with my Hobart 140, suicide wheel, vise and a drill I went at it.

I used 3/16 plate. This was my first time buying plate from an actual metal supplier. That place was AWESOME! And really close to home. I ended up buying a remnant piece @ .75 lb. My piece weighed 39 lbs. and was roughly $28. I used maybe a 5th of it.

Oh well plenty for the next project.

Here's how it all started after taking some measurements under the Jeep. Cardboard mock up...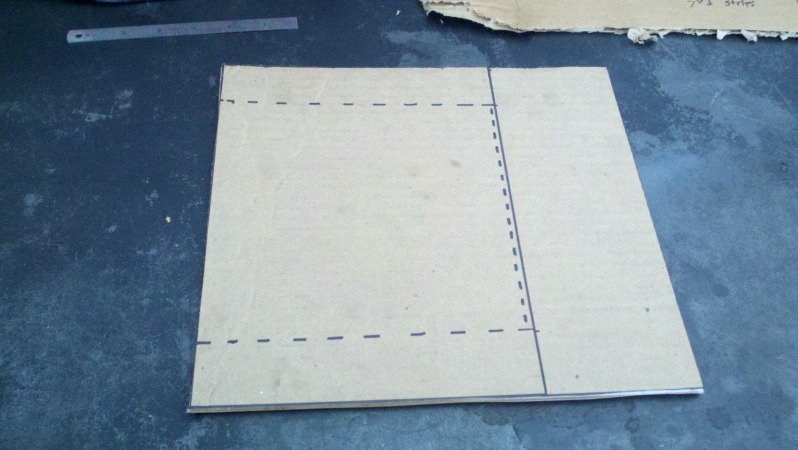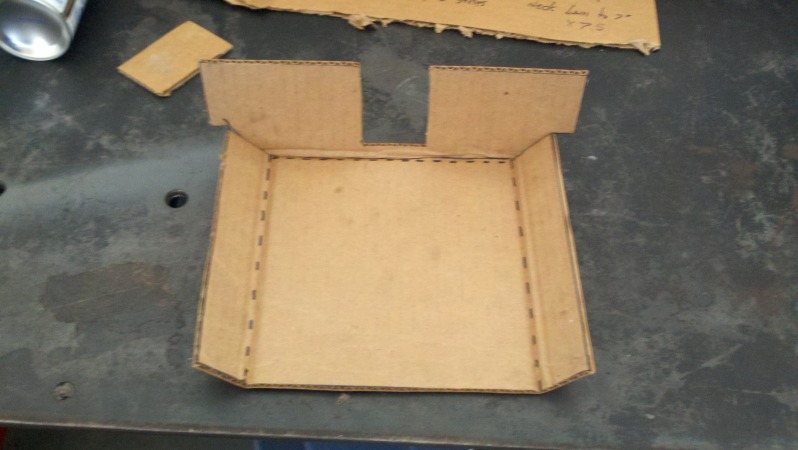 I was pretty happy with this basic design so I transferred it onto my plate. It was nice to only need to make 2 long cuts with my suicide wheel. I can't wait to have a better method to cut metal. I found some new cutting wheels at Depot though that are suuuper thin, and they worked really well.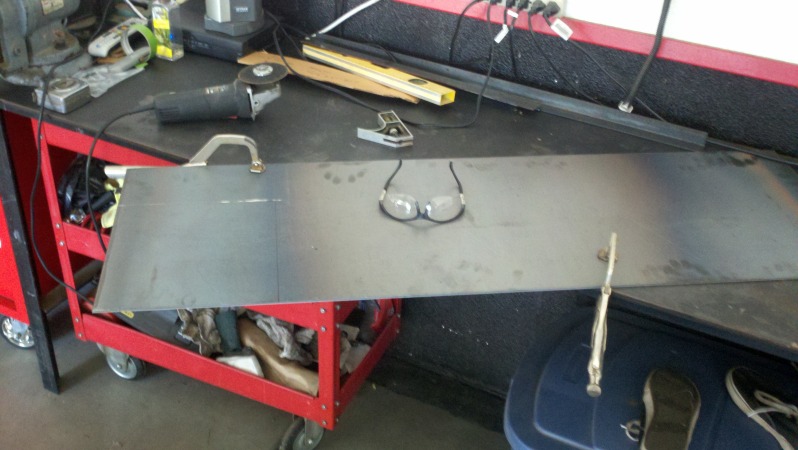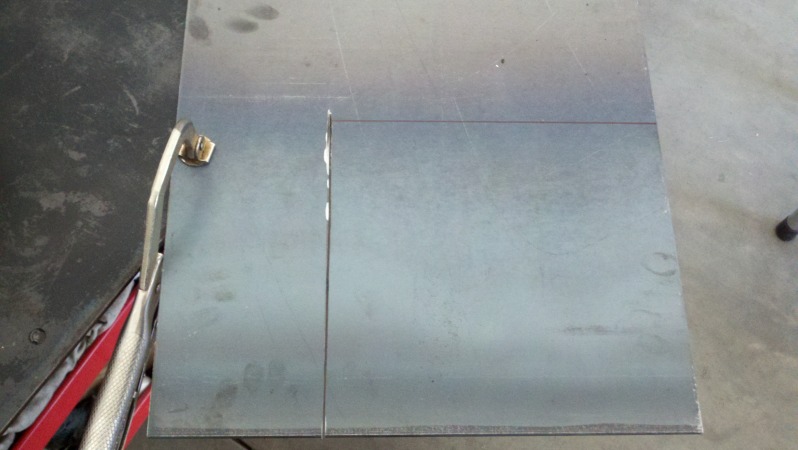 I had to laugh at myself for buying so much metal, In reality I only needed a 12" by 12" piece. So maybe $5 worth of metal.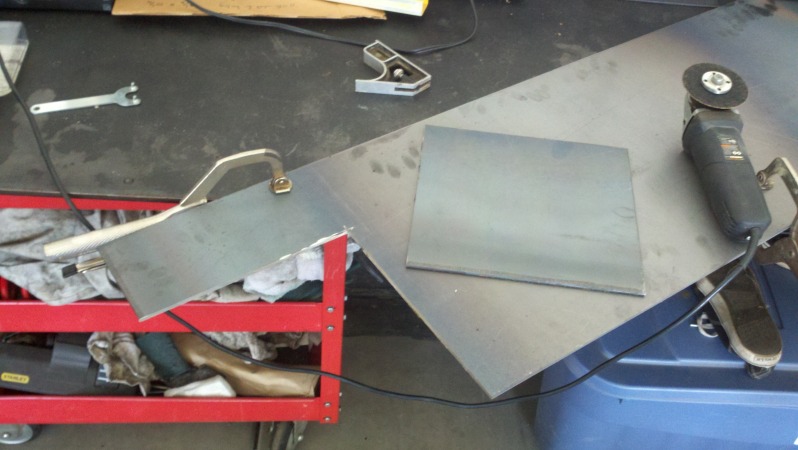 So now it was time to transfer my measurements onto the plate and then make my bends. Now I don't have any "real" bending tools besides a vise and hammer so my plan was to "score" the joints on the inside until I could bend them to my liking and then just weld them back solid. It worked better than I thought it would and gave me a nice clean professional look. I was really pleased with these results.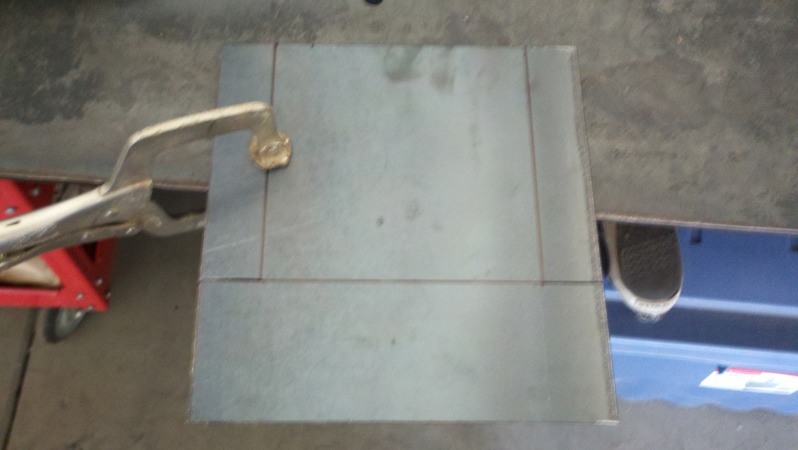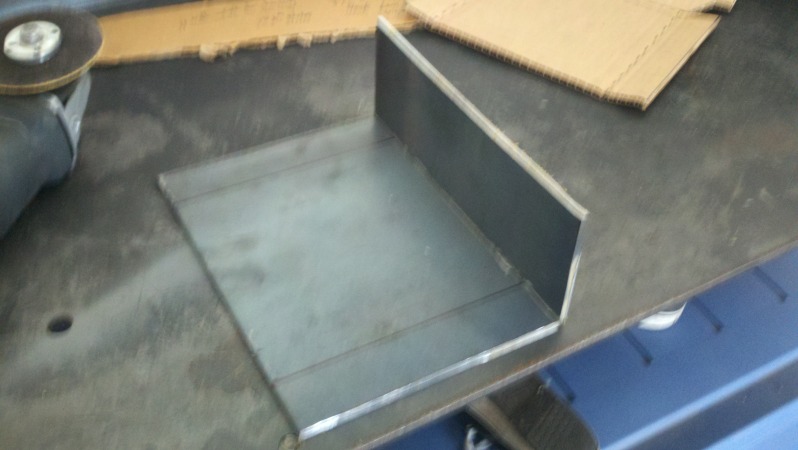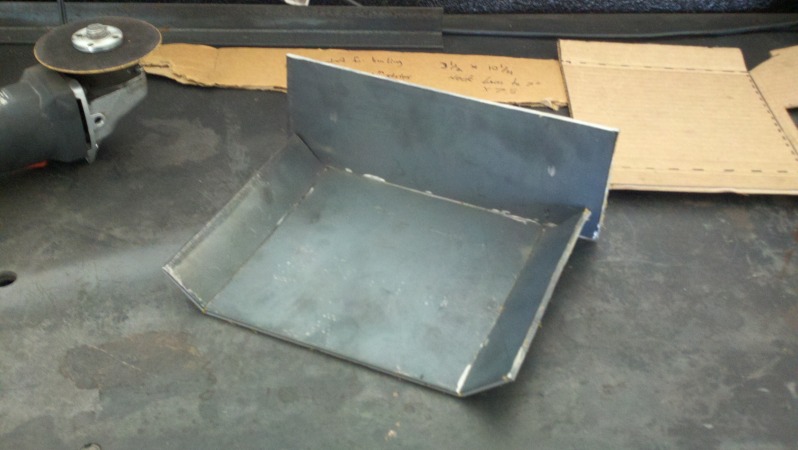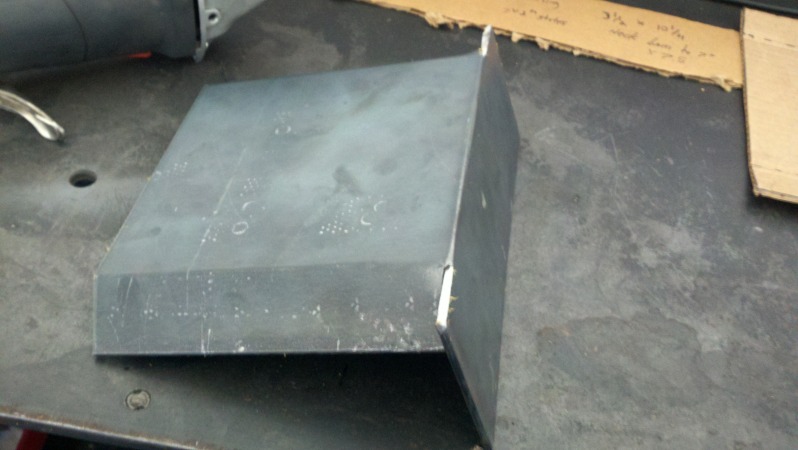 This was the point I could do my first test fit. It was at this time I decided to add the bend to the front.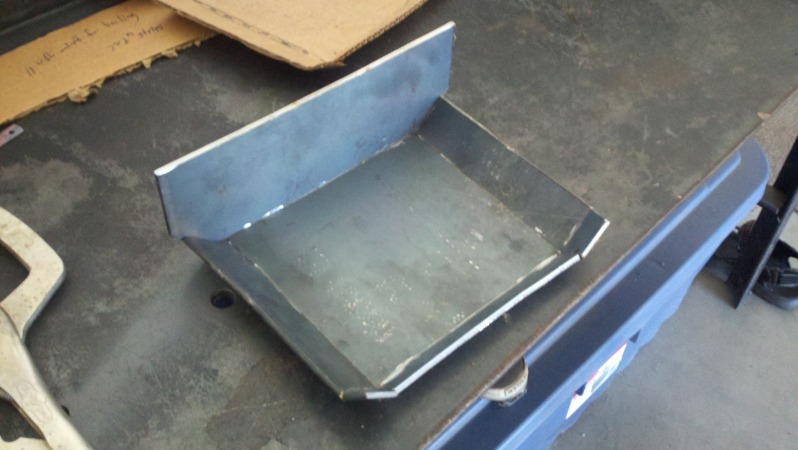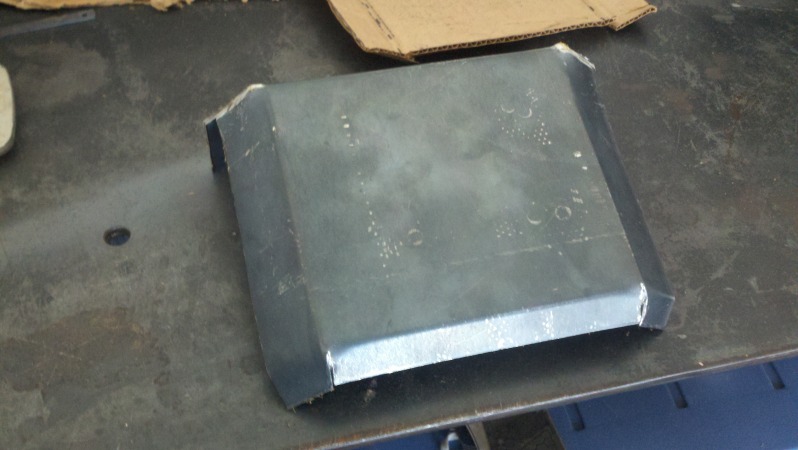 Now it was time to weld my seams up. I used this as an opportunity to practice some different welding techniques. I knew this would all be hidden so appearance was not important to me on my welds. I was just messing around with speed, angle and motions.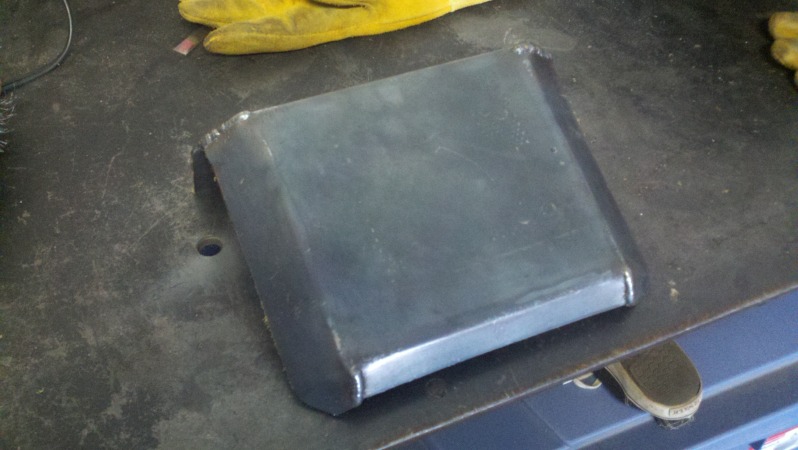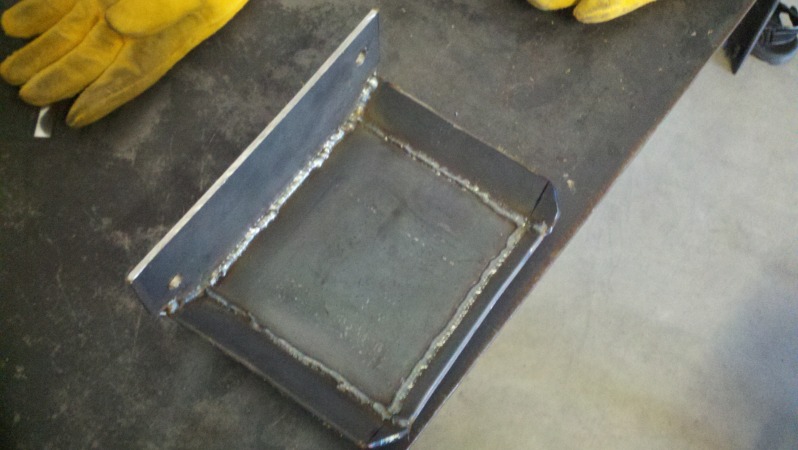 Another test fit, before adding the struts and oil drain cutout.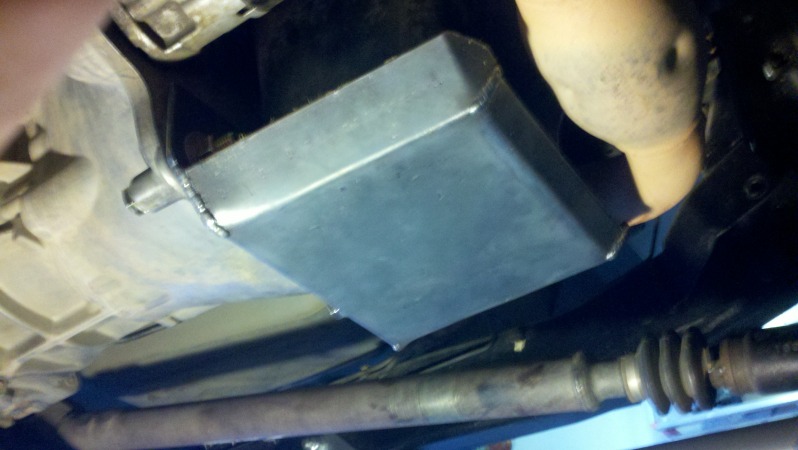 Used a 1in. hole saw and made a drain cut out. I still think when I change my oil it's gonna make a huge mess in the pan. I may drill and drain hole in it.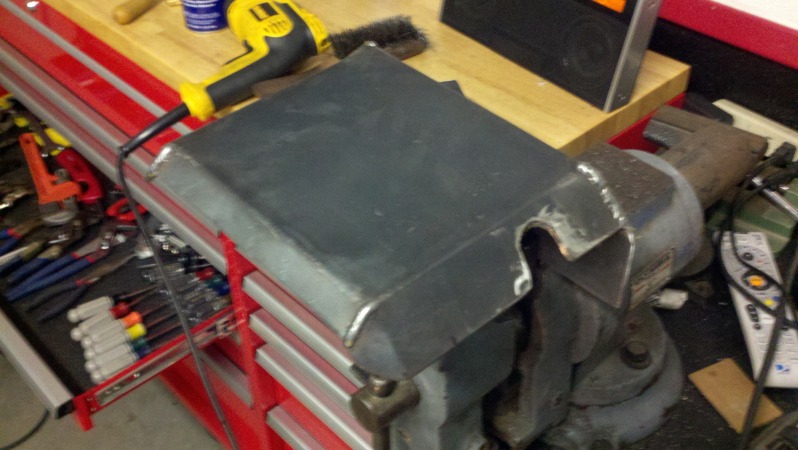 There are two unused bolt holes in the block that you can attach support struts to. The driver side one is easy, straight shot up but the passenger side needs a bend and it's tight behind the starter. This took some careful measuring and cutting to get right without slotting the bolt holes in the struts. After a couple tries I got it. It was a good feeling getting all the bolts started and everything lined up.


Struts tacked....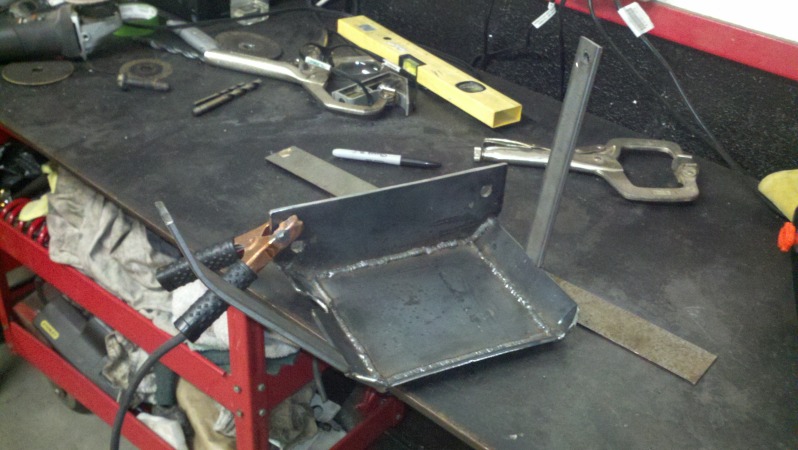 Well here it is after a final test fit, and finish welding on the struts. Ready for paint!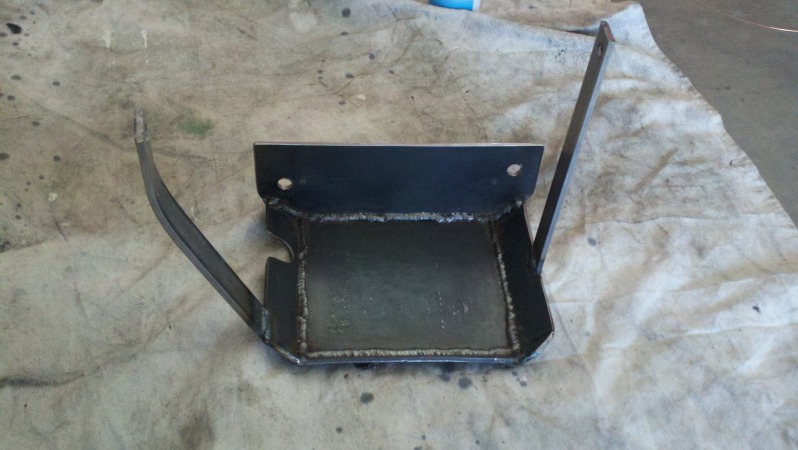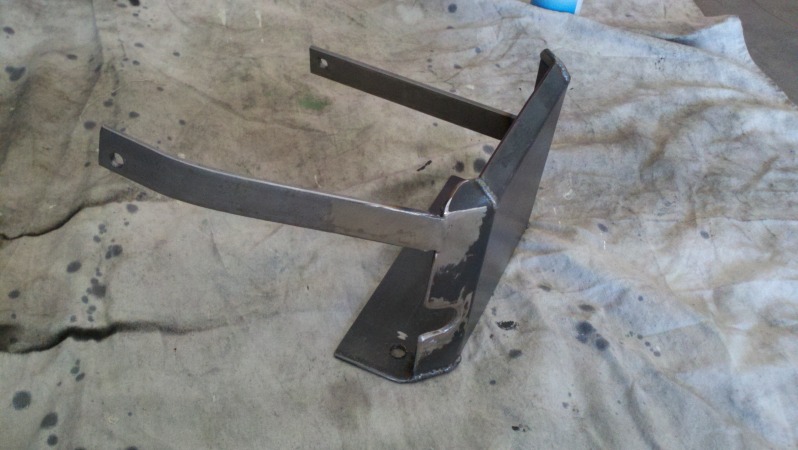 And there it is.....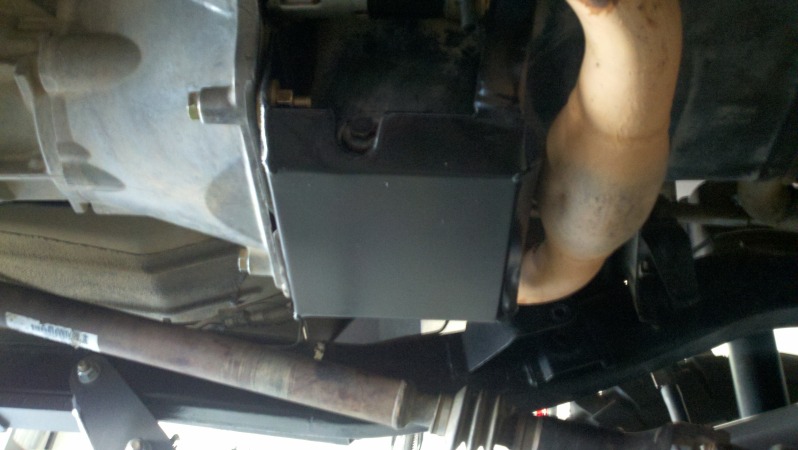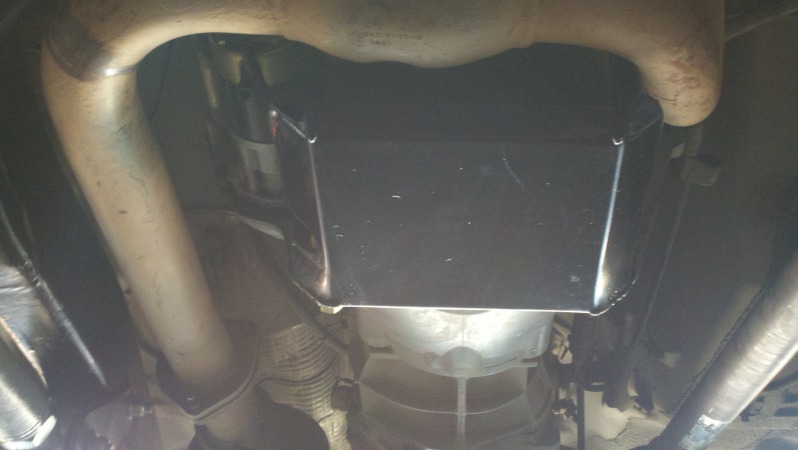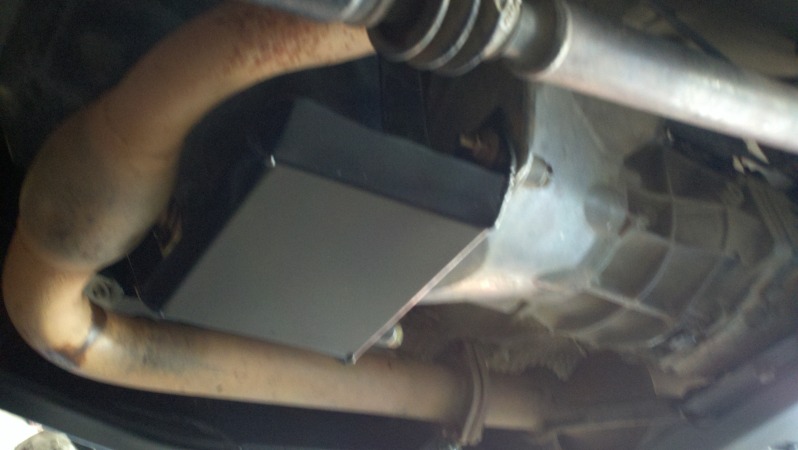 REALLY pleased with it! Luck was on my side during this project as everything went very smoothly and the end result is something I can be proud of. I also solved a VERY big potential issue for very little money, Maybe $25 of actual material cost, and a day's worth of entertainment in the garage is hard to put a price on!

8-26-2012
Black Magic Johnny Joint Washers

I wasn't even going to document this little project but I was pretty shocked by how badly I had deformed the holes in the lower control arm mounts in my Dana 30. I figured that there's probably a lot of us that haven't really paid much attention to this so a few pictures were in order.... These little buggers can be ordered here http://shop.blackmagicbrakes.com/Joh...ashers_c80.htm. Well worth the $25.

Here are the little buggers...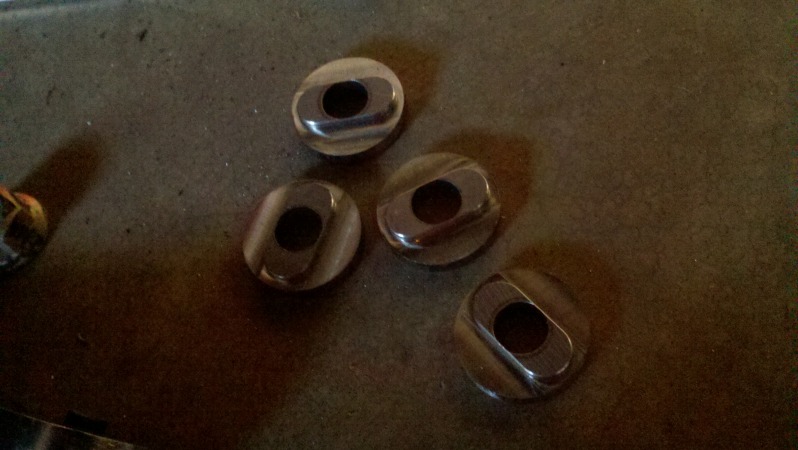 Now this is where they want to live.... Obviously they aren't going to fit in there. Some filing was in order, quite a bit. It went quickly though and they fit like a glove after a little time.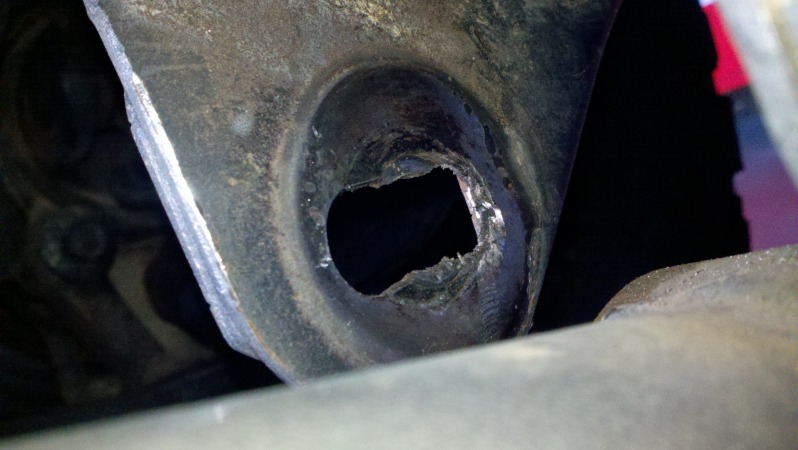 The drivers side one on the inside was the worst by far but I hadn't decided to take pictures yet... this is pretty bad though.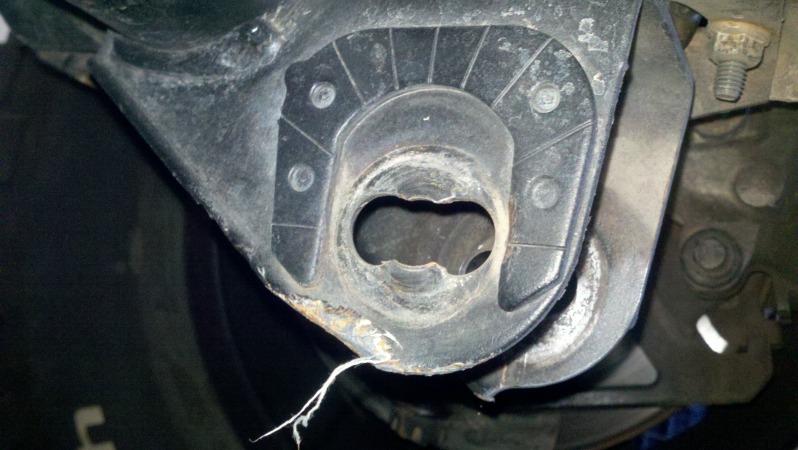 Now after they are in you want to make sure your mounts aren't so worn that they protrude on the inside.... if they do you'll have to file down the new washer itself. Mine did not protrude to my surprise.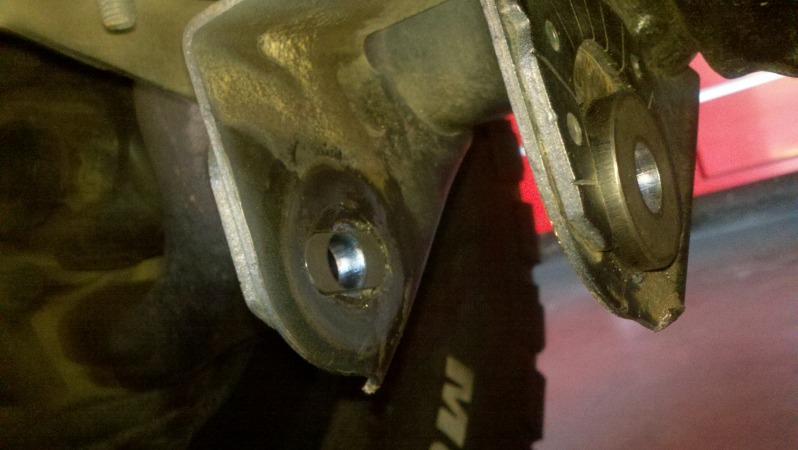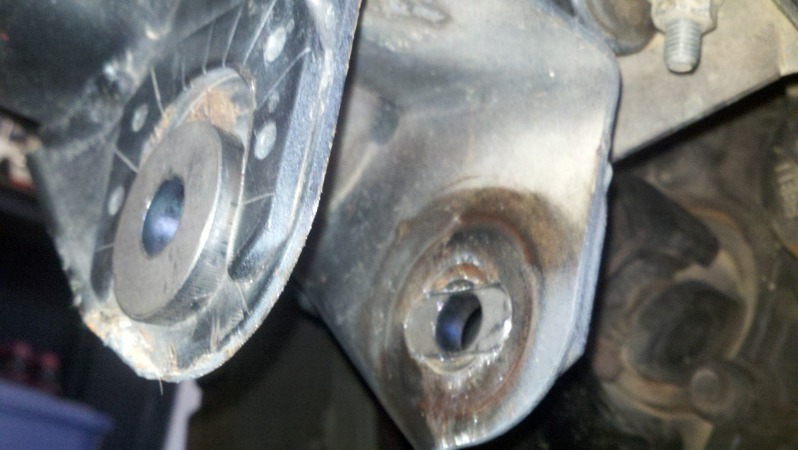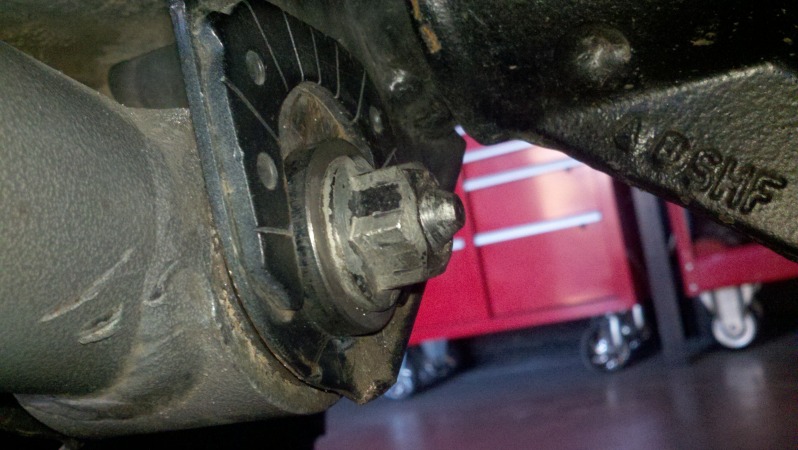 I could tell just by how the bolts felt while tightening them that I was getting a much more secure fastening between joint and mount. The final torque was crisp, I remember in the past feeling like I was compressing the mount.

Thanks Blaine for making these. MUCH needed, I think everyone who has this axle should get these ASAP!

8-28-2012
Homemade Steering Box Skidplate

Had some free time today and decided to try and hone my metal fab skills a little more by doing another Skid project. I know everyone and their mother makes a steering box skid and I know they are cheap. It's just something that I've never got around to buying so I decided to make one. My design is just like every other one out there. It turned out to be a finicky little sucker to make though without any real bending tools. I'm pretty happy with the results. On to some photos.

Forgot the photos of the cardboard mock up...

Here are my measurements and template transferred onto my metal(3/16ths).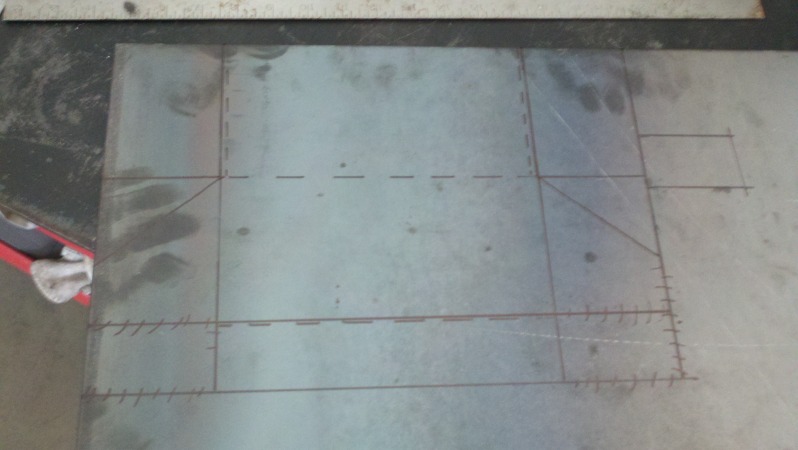 Tada.... becoming a master of the suicide wheel. Not exactly laser quality haha.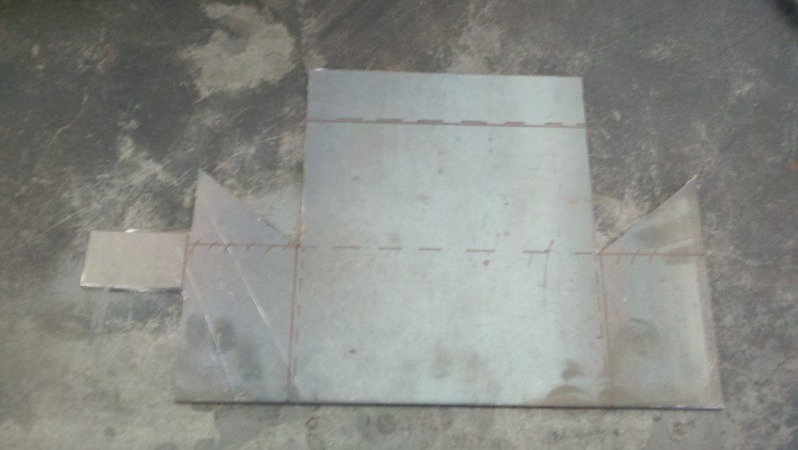 This is the hard part of making stuff like this.... scored and bent in a vise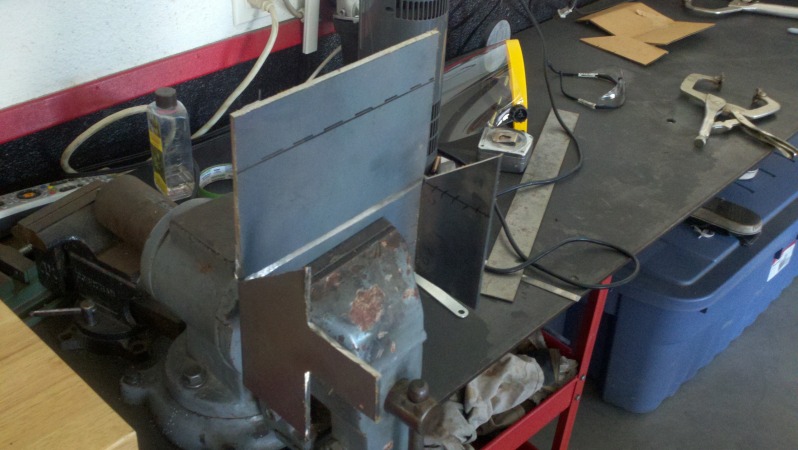 OK...now even I was wondering if I did this.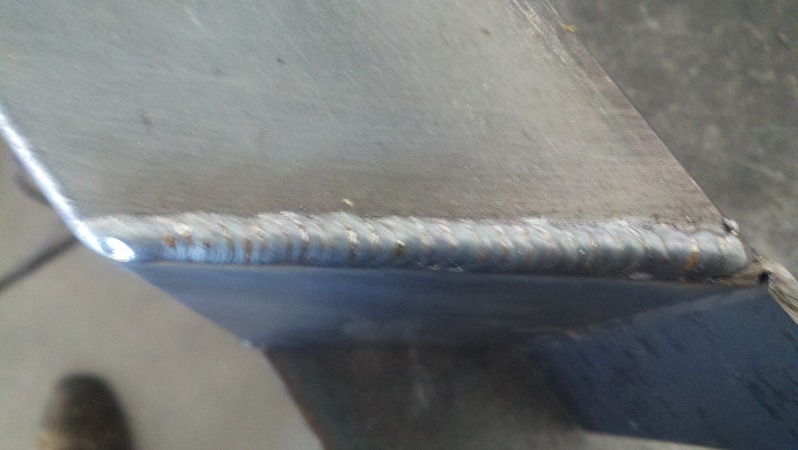 This is after lots of fitting, grinding, cutting, drilling and what not..... I kept the pictures light. You all know what these look like haha.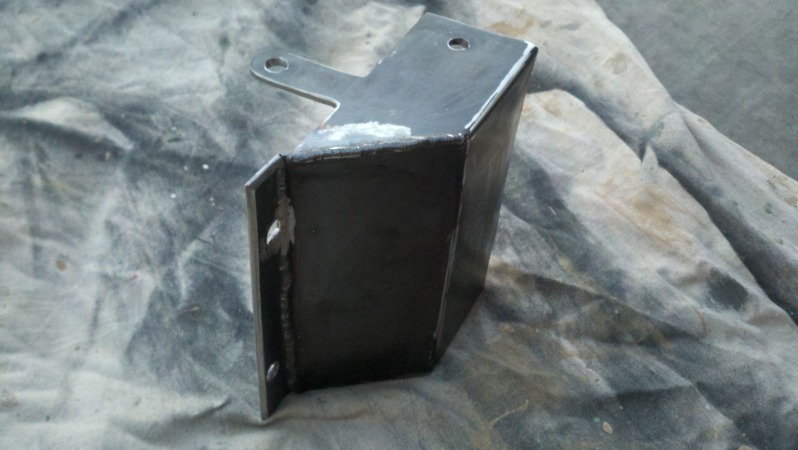 Here it is installed, It ended up working out good! It was dark and all my installed photos came out terrible....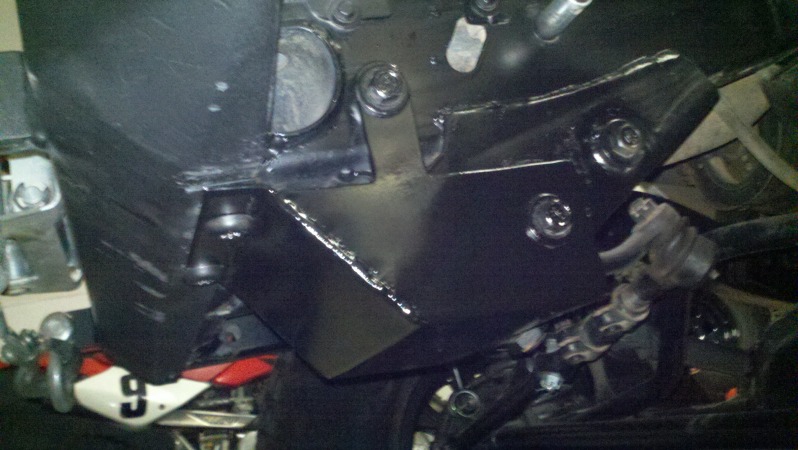 Another good day in the garage though making noise and sparks. Couldn't ask for more.

9-4-2012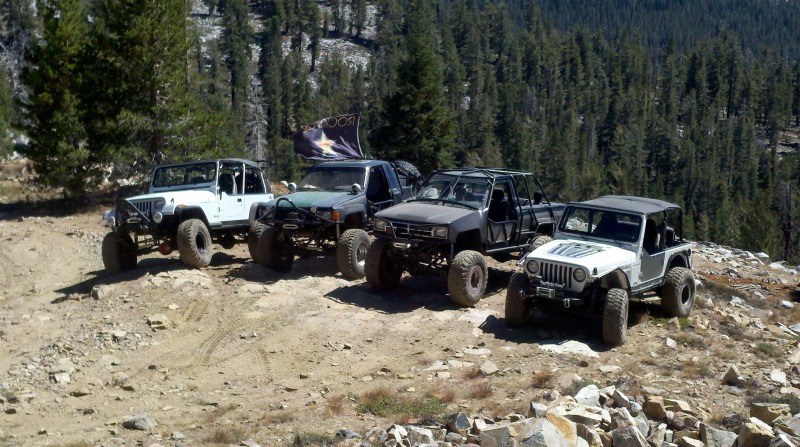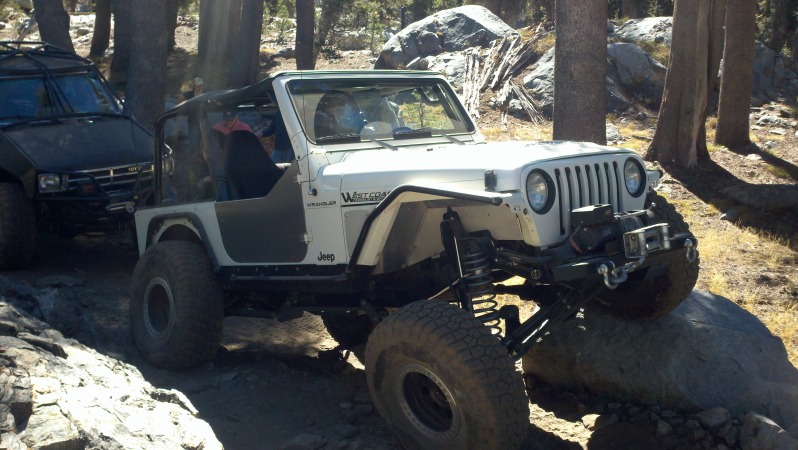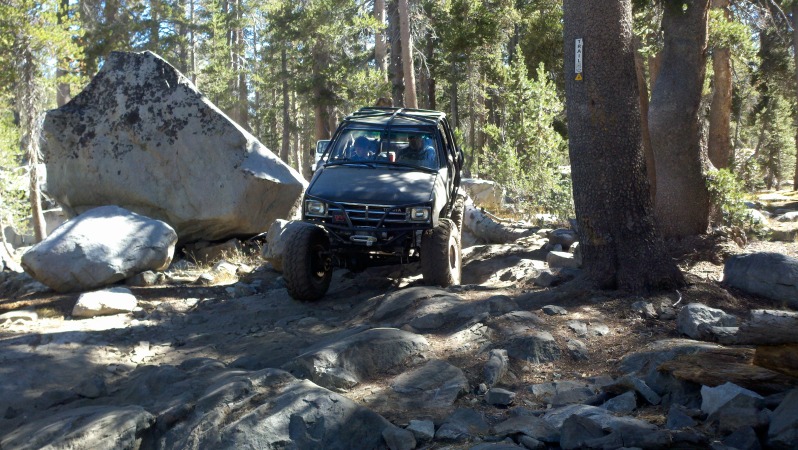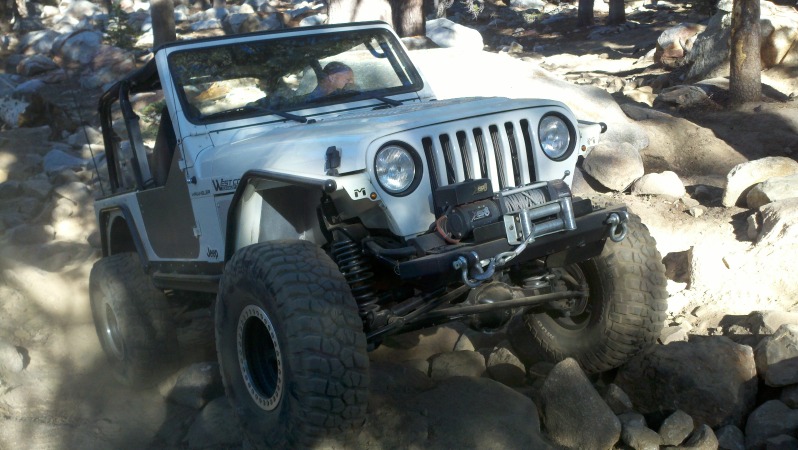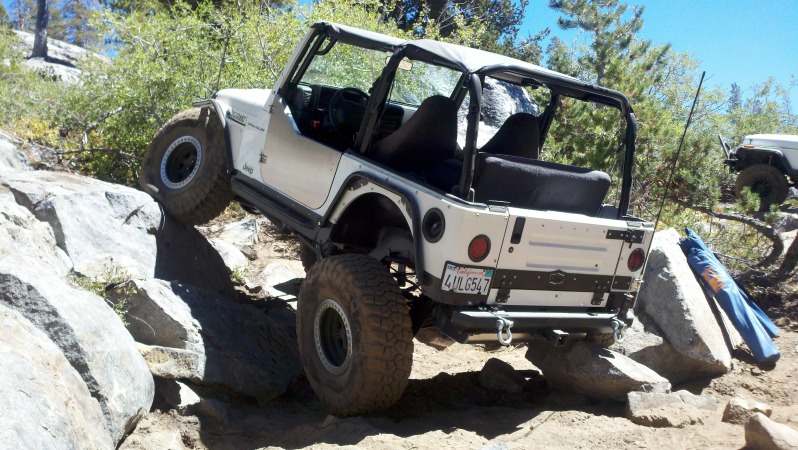 Picked up half a stick of 1 3/4 .120 tubing today to play around with. I decided to make two bars to connect my A and B pillars in the middle to match the B to C bars. This is my first time really fitting and notching tubing so it's good learning! Cutting and notching the bars was pretty easy, I can see why a good notcher would be cool to have though. Way faster and cleaner. I was DETERMINED to make sure my welding went better on these bars than it did last time. It went better but not much! I was smart enough this time though to lay off the trigger and just stitch it together with the intention of grinding it down for cosmetic uniformity.

I was able to fabricate the bars, weld them in and clean up the welds pretty good in 3 hours. Not bad I thought. I just have a little more cleaning up to do on the joints, some sanding and finally paint tommorow. All in all it went well! Sport Cage is done........ well until I decide to build a real one.

Raw materials... did you know they make you buy 10ft. minimum!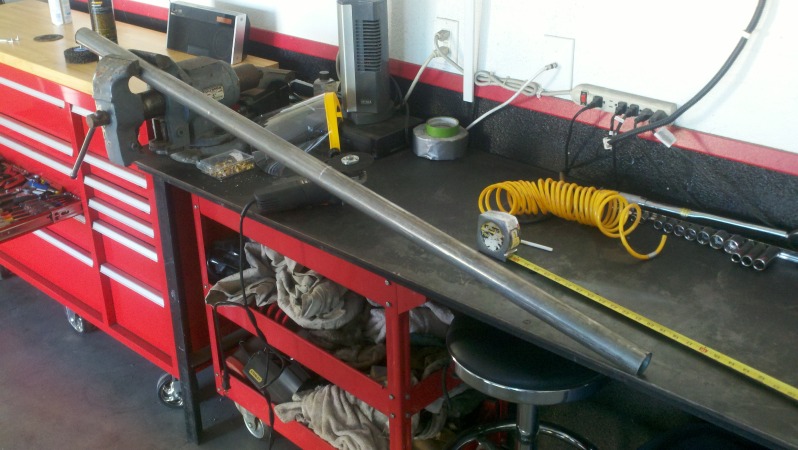 First bar being notched....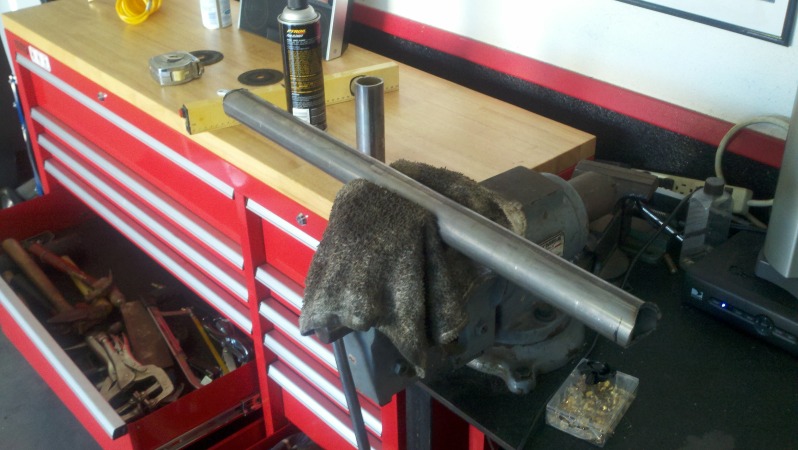 First bar fitted..... now to copy it.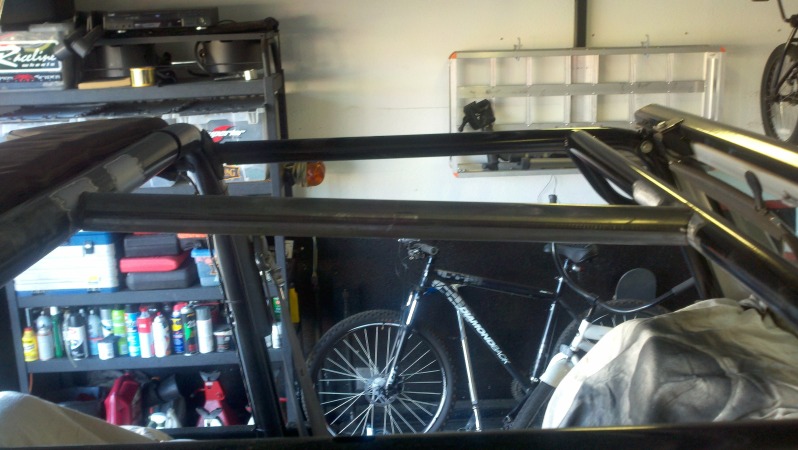 Pretty good fit up...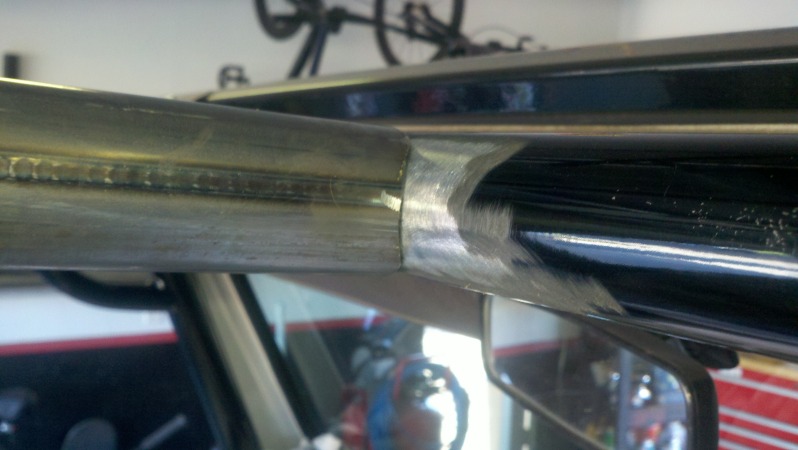 Both bars set in place




Looks like it belongs...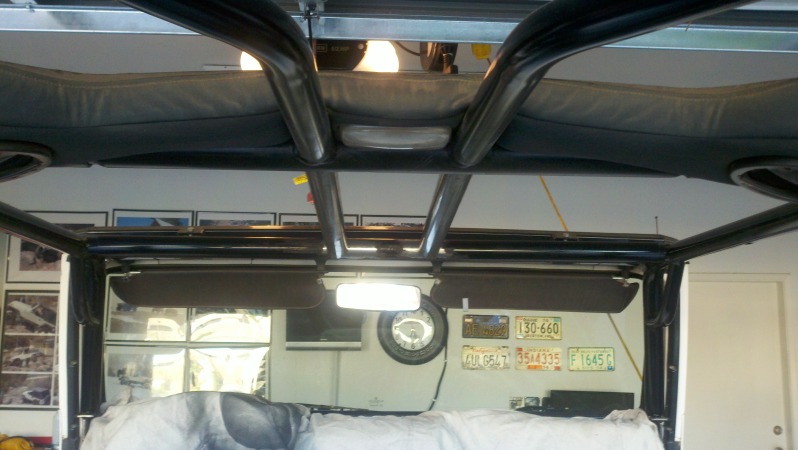 9-5-2012
Wrapped up the cage work this evening. A little more grinding, some sanding, some priming, then a little paint and it's all back together. I'm pretty happy with it.

First time I've even folded the windshield down, I was pretty excited.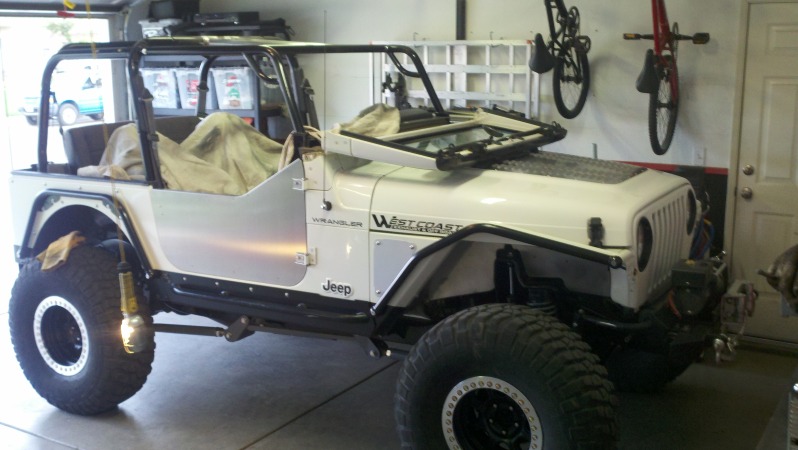 Ready for some paint...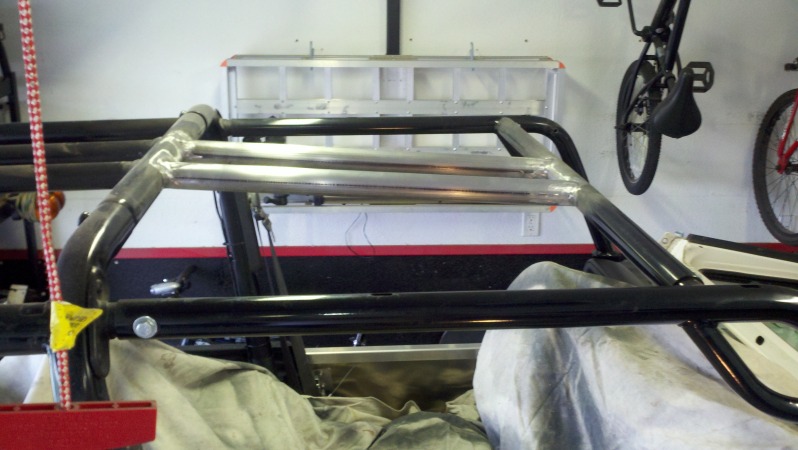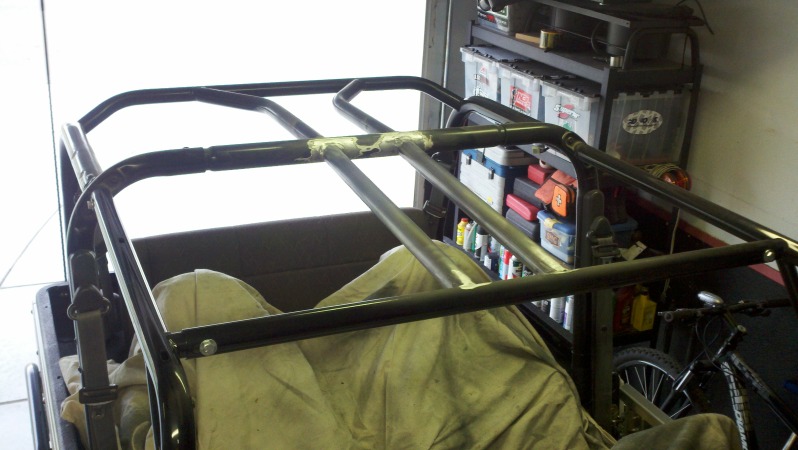 All painted up, pretty half *** job really on the paint. It's just black though....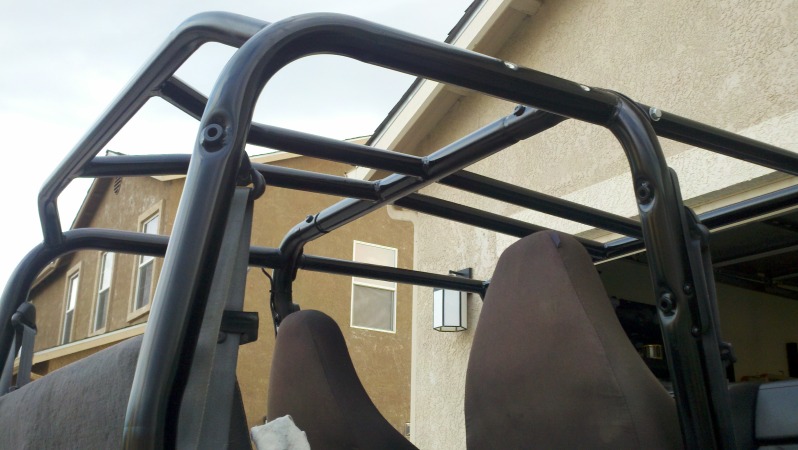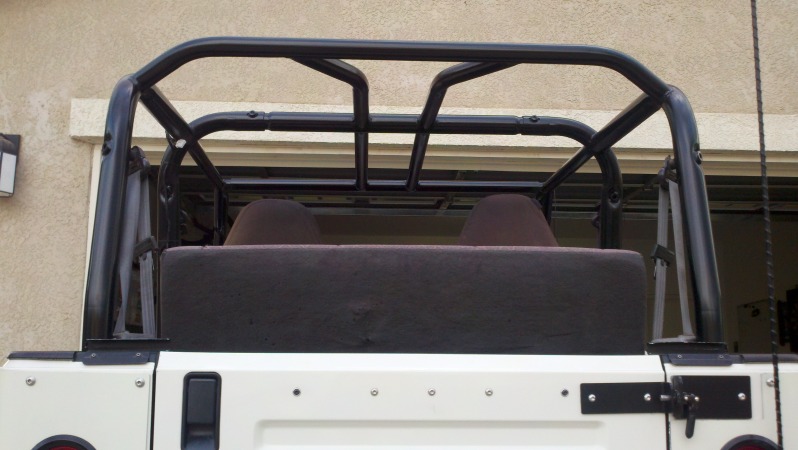 Put the soundbar, and bikini top back on.......and washed the whole Jeep..AGAIN... just did it yesterday but it got all dusty from the sanding... oh yeah... here's a tip. Cover your windshield and rear view mirror when you weld near it or it'll get welding slag ALL over it. The mirror is ruined, the windshield responded well to a razor blade...

9-9-2012
Had a stupid idea today to actually remove my cb rack (cage) to fab up a lower windshield spreader bar. It's a stupid idea because the factory torx bolts are stupidly hard to remove for the first time since the jeep was born. Only 1 really gave me a fight though and I had to drill it out some, then pound an Allen socket in it and it finally gave up. I was WAY off my game today so the fit up of the spreader bar SUCKED bad. I did not account enough for my notch or that the notch was tapered as the A pillar bars angle inward. So I had to fill some gaps while welding. The welding went GREAT compared to welding tube inside the jeep. Being able to flip the work over was awesome! I don't think I'll ever weld inside my jeep again other than tacking unless there is NO other option. I tihnk this will be the final addition to the stock cage. All that's left is some more painting tomorrow and a trip to ace to get some new bolts for the cage. 12 more torx bolts off my Jeep YAY!



I think it's looks neat like this!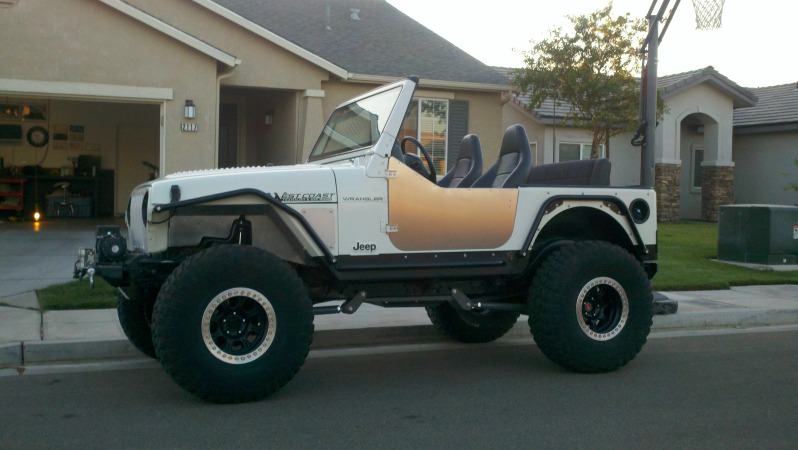 I was light on the pics cause things were not really going my way and I was frustrated....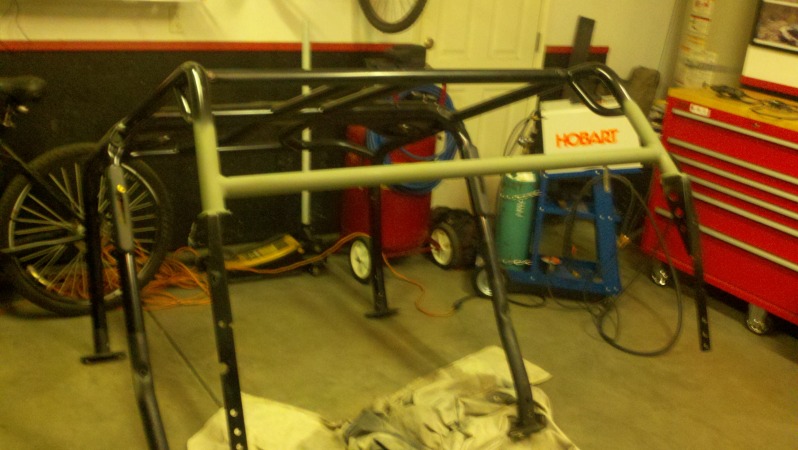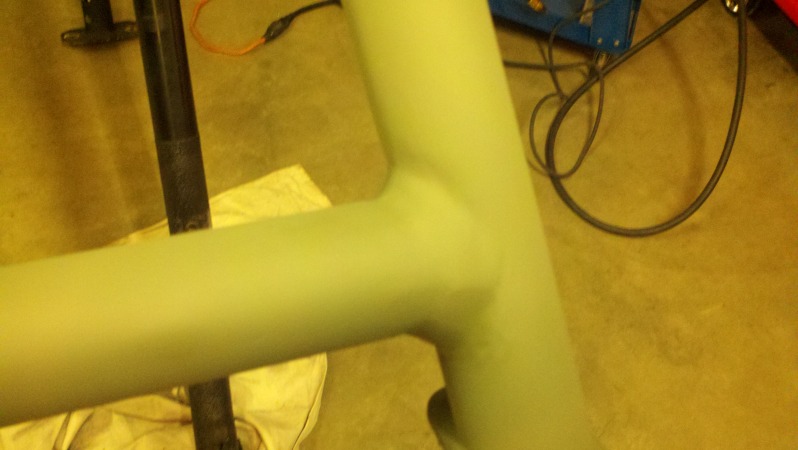 9-11-2012
Well my windshield spreader bar turned into a real nightmare! Upon re fitting I realized that although I welded my bar in level, the A pillar bars were off 1/2 an inch and square up when you actually put the bolts in to tighten them down to the firewall. This meant I had to cut the bar out again, clean it up and reweld it!!!!!!!!! Holy crap talk about frustration. Then after all that drama the paint started acting up! Spider web cracking in several areas! So I had to spend a bunch of time sanding and painting. It was pretty terrible! Well I finally got to an F-it point with it and said good enough! I got the cage back installed and am calling the project DONE! The kicker is that I don't even like the bar there. I think I should have used 1.5 tubing instead of 1.75 and maybe even cut the plastic in the gauge cluster cover to recess the bar down lower. UHG.... my son got in the jeep (he's 12) and said all he can see is bar now..... good one dad. HAHA! We'll see if I just get used to it. I hear you do.....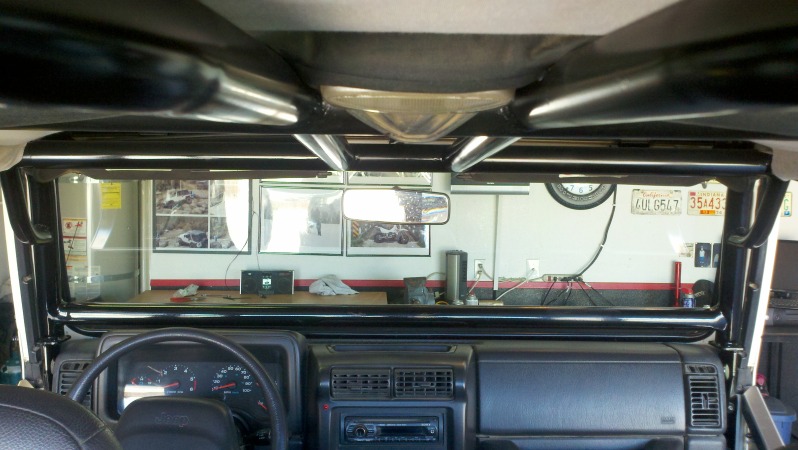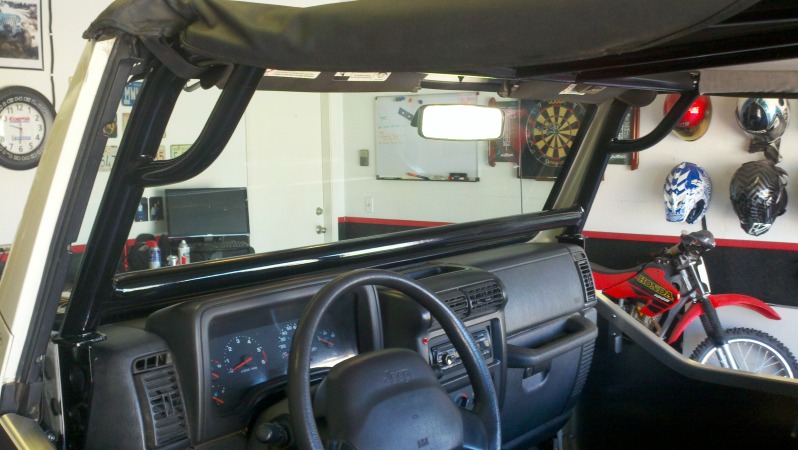 9-16-2012
Went wheeling yesterday! Good times on Bald Mountain. Hit all the usual obstacles, V-rock, Hollywood, Posi, Bumper Buster. Had a good time as usual. Nice short day but relaxing. Here's a few pics I thought came out alright.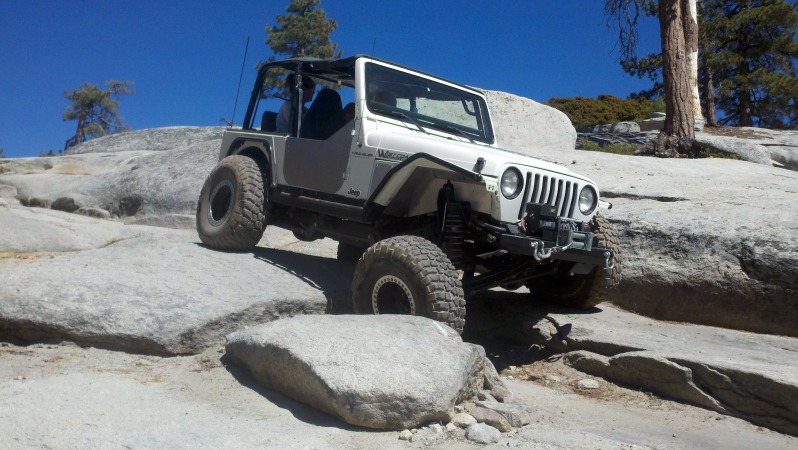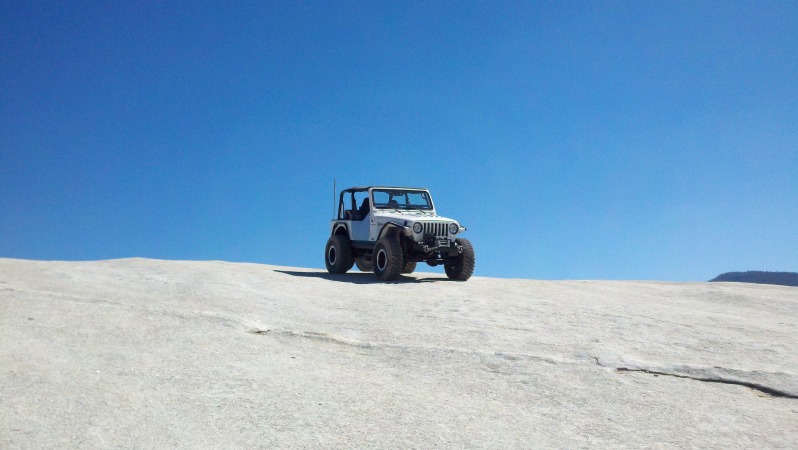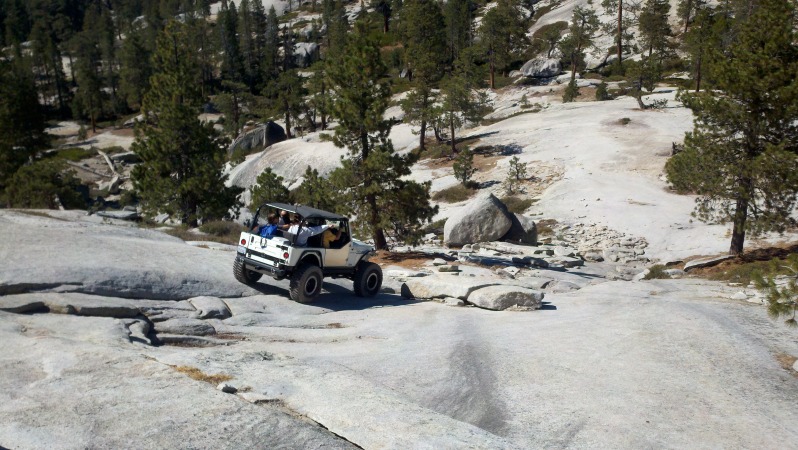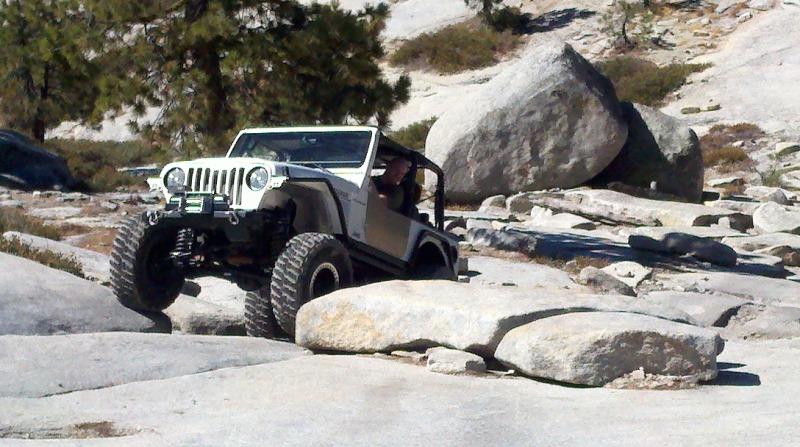 Posi Hill Sequence... this is a fun spot, you can tell by how the dirt looks and the black on the rocks this is a popular play area. It was very tore up!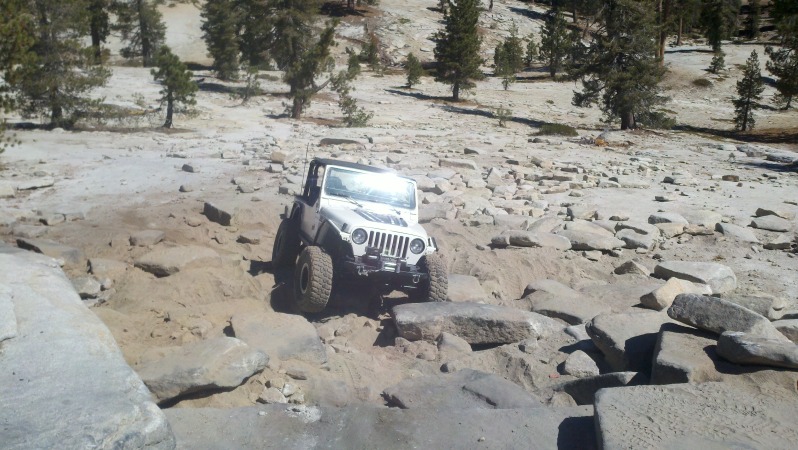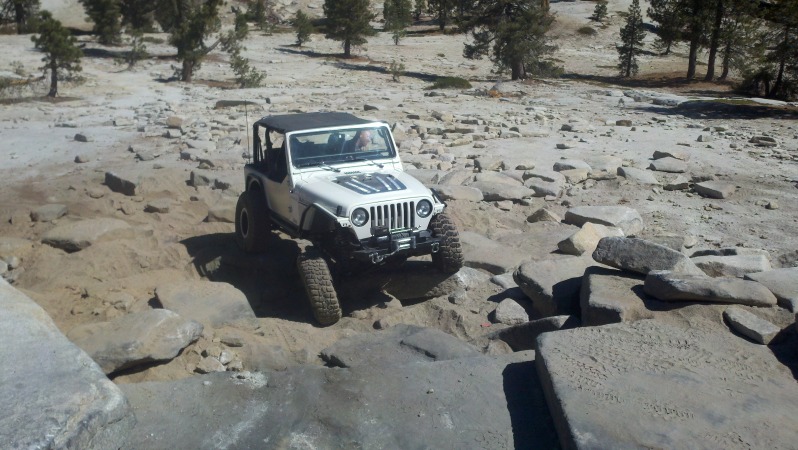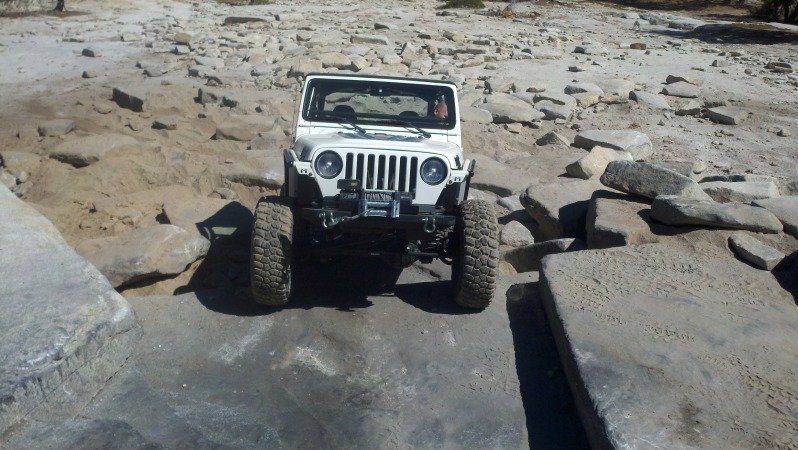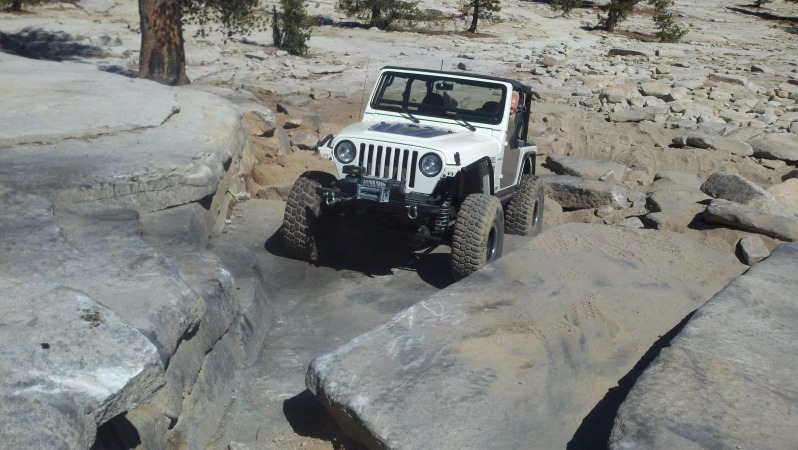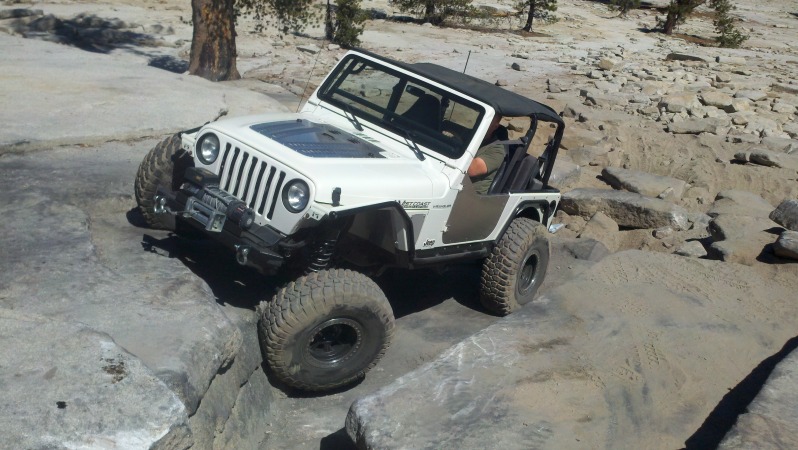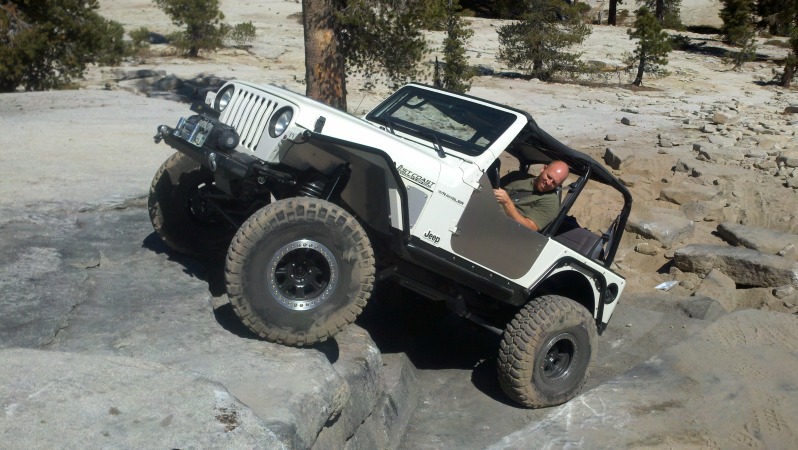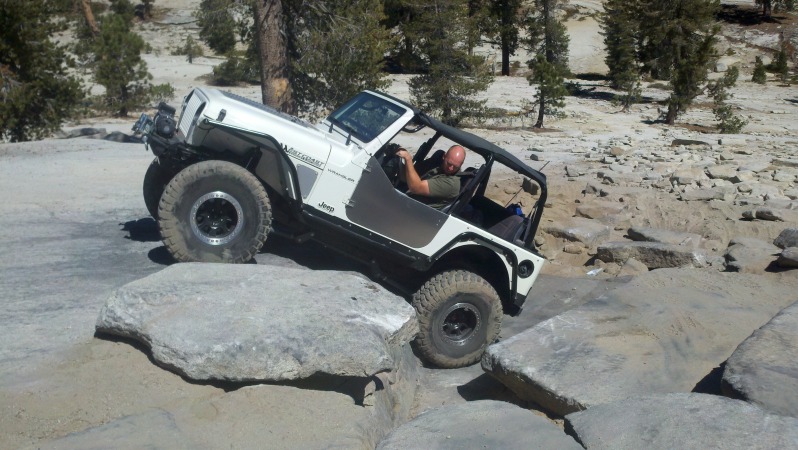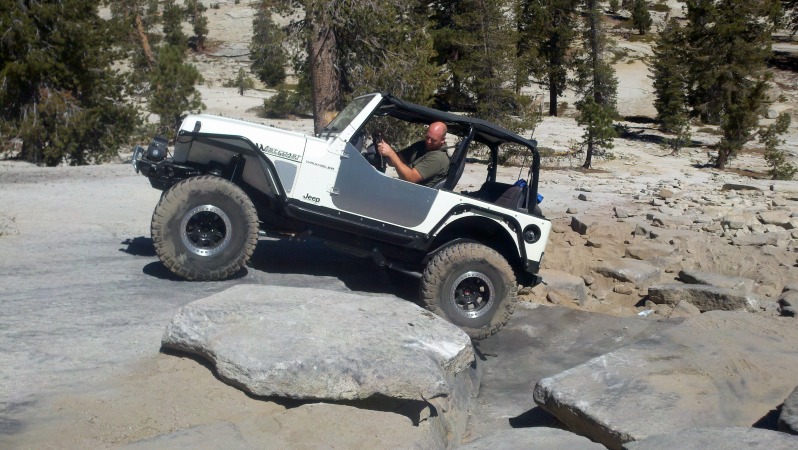 The Jeep performed awesome for me. Can't really say I NEED to change anything right now. There's a few "wants" but definately no needs. As this wheeling season winds down I'm going to start putting together my winter plan for some minor tweaks.... rear shock outboard, coil bucket relocate, and maybe new frame side control arm brackets from UCF.

Really starting to enjoy my picture collection. For anyone interested in starting their own..... a lot of these are cell phone pics (granted my phone takes good pics) but they are simply uploaded to Costco photo and enlarged to 12x18 for $3!!!. Then I get a 6 dollar frame at Target. So $9 get's you a nice memento of whatever cool pic you get and they look cool hanging in the garage.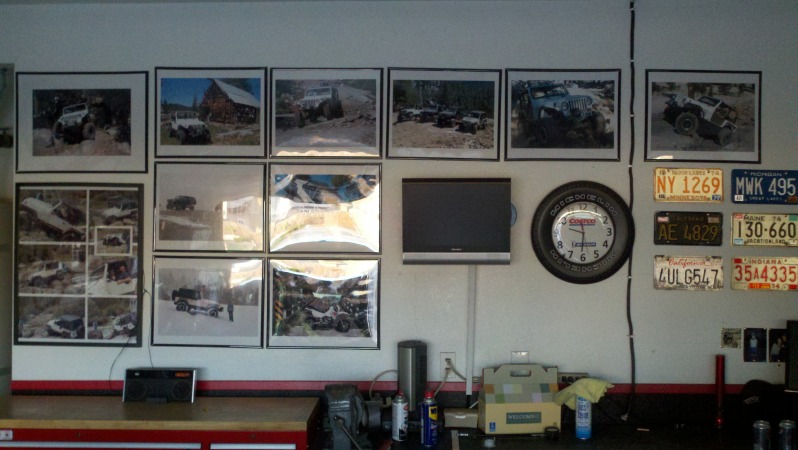 9-27-2012
Haven't been messing with the Jeep much lately, I've been a little focused on picking up a new DD / Tow rig for myself. Well I went ahead and took the plunge and picked a new Ram 1500 Express. Reg. cab and stripped down, just my style but still with a 390hp V8!!! Say what! Also has MDS so the gas mileage is great for a full size truck (low 20's highway). Overall very pleased so far, but hey it's new..... this feeling never lasts! Oh yeah and for anyone else interested in this type of truck. Huntington Beach Ram sold me this truck for 18,000 OUT THE DOOR. full sticker MSRP + tax / title was 27,000 (23,000 after manufacturer 4,000 rebate). How they are willing to sell at a loss I have no idea.... but also no complaints! I highly recommend them. I tried to spend my money in my own town but they were 3800 more OTD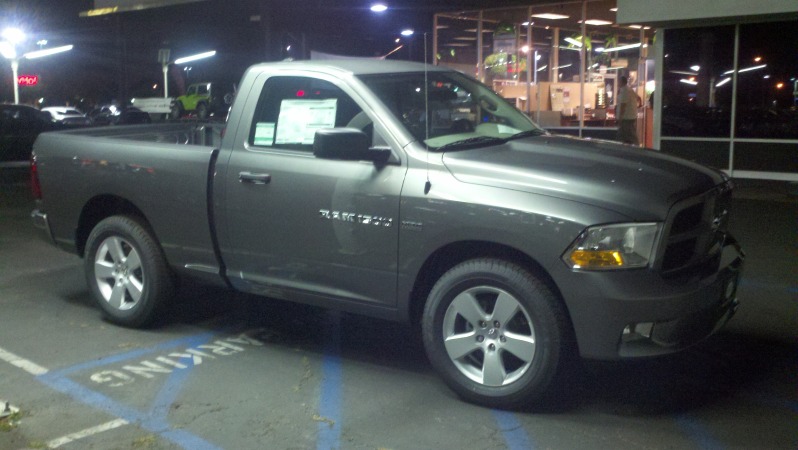 10-16-2012
Well crap this Ram is taking away some JEEP money..... i'm almost done. Leveled, bed liner, tow receiver, alarm...and splurged a bit on some SRT10 wheels haha.... Now just needs blacked out headlights, intake and exhaustthis thing will be just perfecto.... I hope!


11-10-2012
Got off my lazy butt today and started the coil bucket relocate. Felt VERY nice to be back in the garage working on my Jeep again. I love my new truck but there's nothing like working on my Jeep. I've got the buckets moved and re-welded. Now I just need to paint, and clean up. Also need to bring my links in about an 1/8th. Track bar still rubbing gas tank. Here's a few pics... nothing out of the ordinary here.

I've found the thin 1/16 4" cutting wheels are pretty awesome. They made short work of cutting the buckets off. I just cut right below the weld, being careful not to get in to deep and to my surprise, even on the back side they came off quite easily and much less mangled than I had envisioned.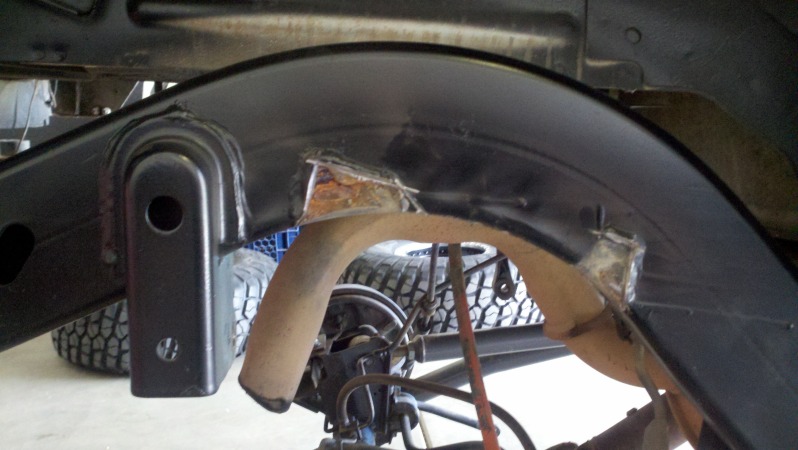 I had visions of these being unusable afterwards.... they really needed very little clean up to re-install.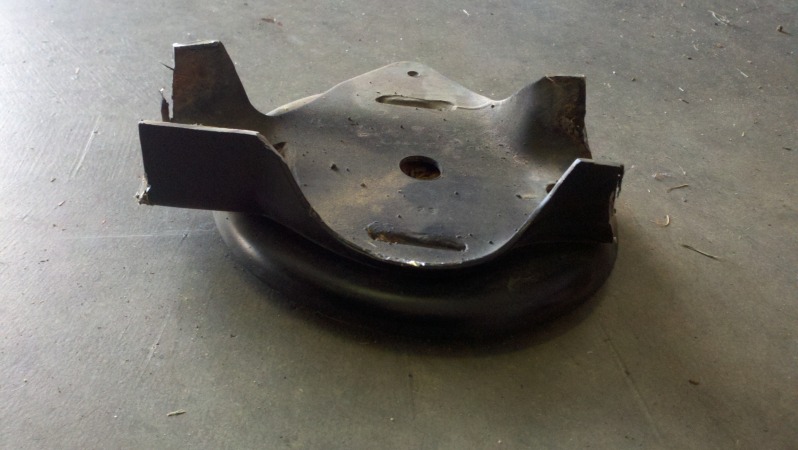 Frame cleaned up ready to party.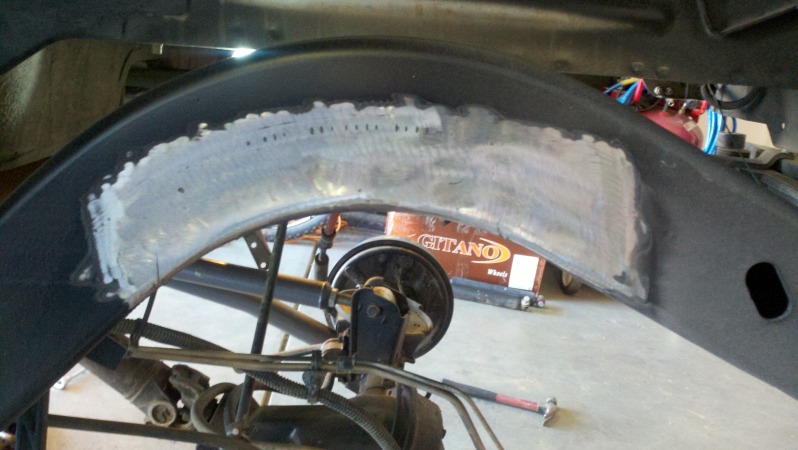 Welding went well today, the insides are ugly due to it being hard to get to but I was happy with the outcome.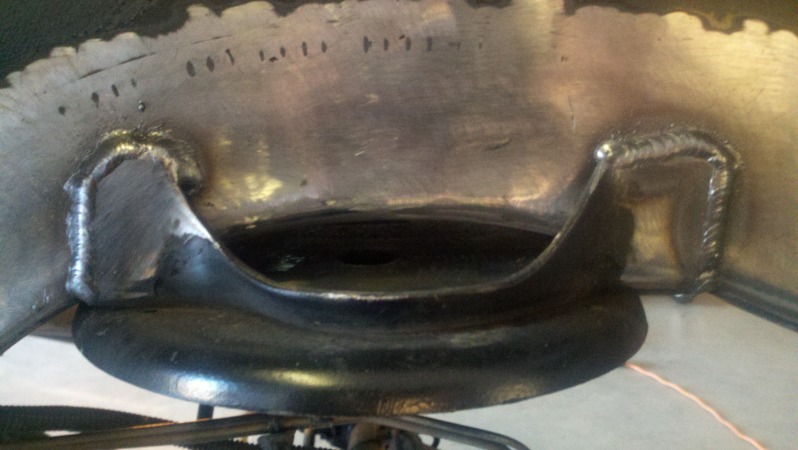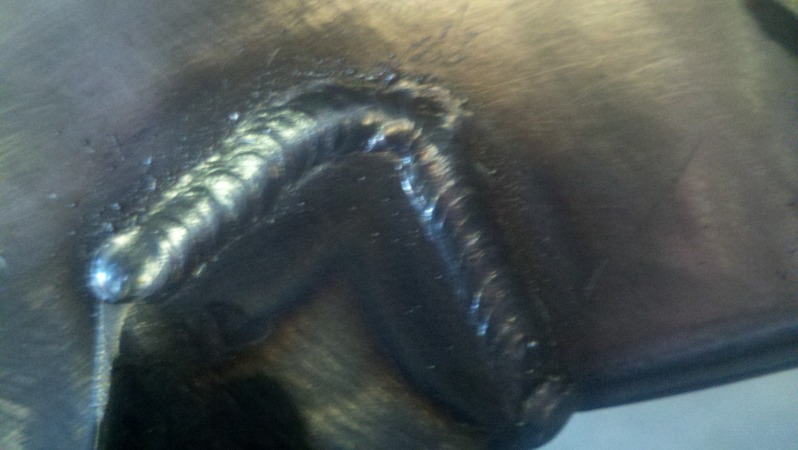 Threw a quick coat of paint on, it was a little cold out so it looks like crap, I'll have to redo that tomorrow.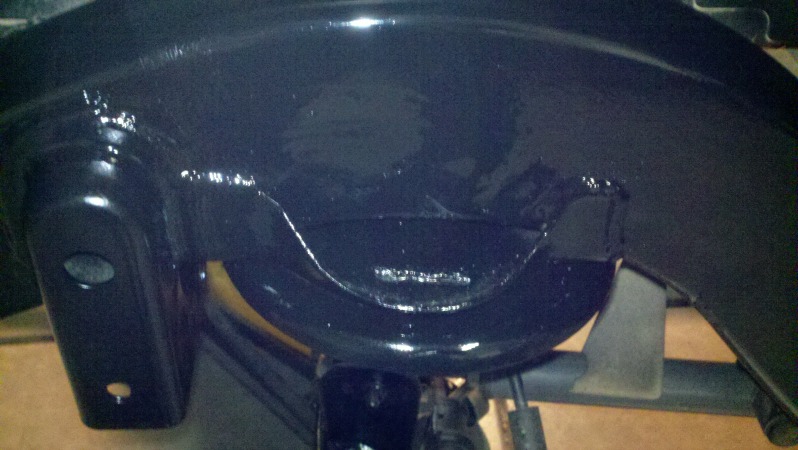 Overall I got further than I thought I would for one day, taking it easy. Oh yeah.... since I lifted the body WAY off the frame to get to the inside welds, re-aligning it with the body mounts was probably the hardest thing I did today..... I was determined to get it done tonight and I did, just took a little ingenuity with the hammer, a tie down and the high lift. good times.
11-16-2012
It's time to make some decisions. After getting a good look at my rear suspension while modifying my coil buckets I've decided it's just not that well set up. It seems to work fine, and doesn't give me any issues wheeling but there's just a lot of bind and on paper very poor geometry. I still stand behind the R/C long arm upgrade as a GOOD stepping stone into something other than short arm suspension and an awesome choice for someone who doesn't weld and wants to install the kit themselves and get away from short arms. Having said that..... I think I'm ready to ditch that rear track bar, gain back some belly clearance and also try out a 3 link front instead of the radius arms (which have been nothing but great to me). I'm just simply curious to feel the difference between the two at this point. I'm heavily leaning towards this clayton set up... it seems to be some good stuff, and the price is within my budget. I just got to get past the "why do it, it's fine" stage.... and just do it! Looks pretty cool to me!

http://claytonoffroad.com/product_in...roducts_id/355
11-18-2012
Here's my parts list so far..... yikes! Just missing tubing and bolts... and the 3 link bridge from Clayton. I've got to trim some fat off it, but it's all the really neat stuff! After seeing all this.... the other trusses and brackets out there just don't measure up! I'm now leaning towards.... I hate to even use this term, a "MID ARM" set up. Using 1.75 .250 for links.

I need my front links shorter in order to run a higher clearance bracket like the Synergy. If I were to run the same length long arm I have now, at my lift height / bump stop amount.... the lowers would hit the frame. Right now they barely miss.

I hope this plan actually happens. Just have to start ordering I guess.

Items

Synergy Suspension Universal Rear Axle Truss

$275.00 x = $275.00


Update


Delete item

Synergy Suspension Universal 4-Link Frame Mount Brackets

$265.00 x = $265.00


Update


Delete item

Synergy Suspension Universal 3-Link Frame Mount Brackets

$235.00 x = $235.00


Update


Delete item

Forged Johnny Joints®

Selected options:
Joint Size: 1"
Thread Direction: Right Hand Thread
Add Tube Adapter: [PPM-3610-12]
Jam Nut: 1"-14 RH [FKB-SJNR16-1]

$62.95 x = $440.65


Update


Delete item

Edit options
Forged Johnny Joints®

Selected options:
Joint Size: 1"
Thread Direction: Left Hand Thread
Add Tube Adapter: [PPM-3610-12]
Jam Nut: 1"-14 LH [FKB-SJNL16-1]

$62.95 x = $440.65


Update


Delete item

Edit options


Subtotal:
$1656.30
Shipping:
$52.05
California Sales Tax 7.75%:
$128.36

Total:
$1836.71
11-20-2012
I've been thinking about my upcoming 4 link project and things just started to not make sense! I was thinking about all these pre-made brackets and link length specifically. It then occurred to me that only at 1 length would the Joints be "neutral", using mounts with a predetermined degree of angle in relation to the distance between the center line of the axle and the width of the frame. That leave me VERY little control over things. When I read build threads it seems like the link length is basically a preference, not a length based on many calculations. With pre-made brackets I don't see how you can alter the length and have the joint be neutral in the mount.

Ok so anyways..... the "real" research has begun! I'm actually really enjoying it so far. I'm a math geek that never liked math unless it was something I was interested in. I found this: http://www.orcfab.com/tech/4link1.html And it's really helping me understand things. Here is my first drawing.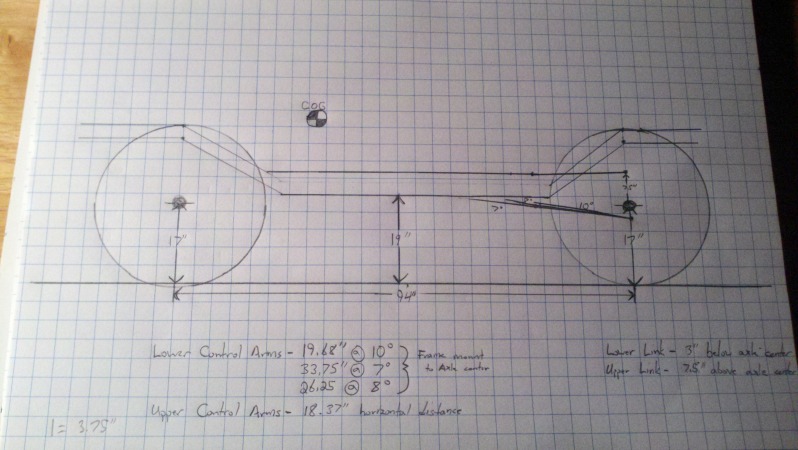 Each square is 3.75". I'm trying to be as accurate to scale as possible to get a better visual. Right now with the lower links at 8 degrees, they will be around 26.25" eye to eye using the factory lower axle mount. Vertical separation between upper and lower will be around 10.5" (a little much??) with a truss 7.5" above axle center line. Upper links around 70% the horizontal length of the lowers from the axle center line would be roughly 18.5" (horizontal length to axle center, not actual length). And if I keep 50% of the separation I would have 5.25" separation on the frame side mounts. SOOOOOOOOOOOOOOO...... whewww. Not even gotten into frame width, axle center or degree of mounts. What I do know now though is..... I should stop thinking about this before my jeep is completely torn apart and on jack stands for a year!
11-27-2012
Finally have to admit winter is here. Winter mode activated. This may be this tops last season...... that rear window was a pain to zip!

Ok so here's the plan. Order two 1" JJ's, two 1" tube adapters and four 1.25" tube adapters. Snow wheeling this Saturday!!! Tear down next Tuesday when my brackets arrive, and reassembly throughout the week / weeks..... depending on how everything goes. Goal to be ready for our annual Snow wheeling trip on New years day.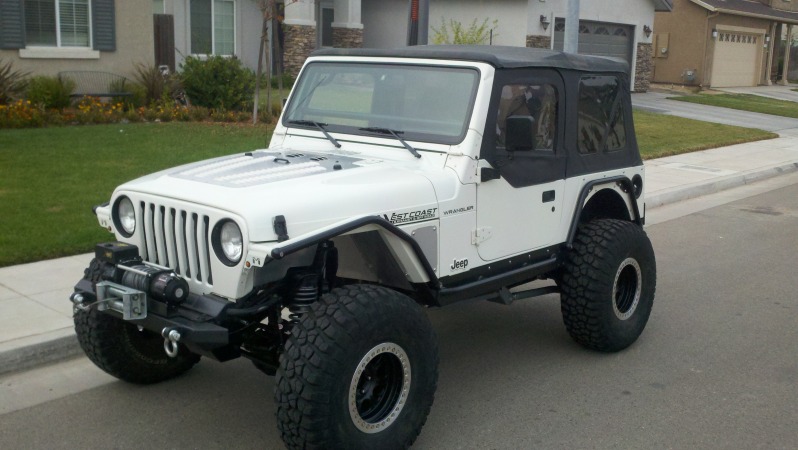 11-30-2012
Ok so next week is a big week for my little Jeep. My UCF brackets arrive on Tuesday, and tear down begins. I've decided to leave my rear links alone. After doing some research on what length's have been working well for people these are actually already pretty close at 28.5" eye to eye. Short for a "long" arm. I am going to take approx. 2 inches off the front links and get them down to 27" ish. I need to do this because at my low lift height, and lower profile of the UCF mount my links will most likely hit the frame, as it is now it's very close.

I also just ordered this....



It about killed me to spend the money, I don't see why it costs so much! Pretty exciting changes. I can't wait to dig in.
12-1-2012
We had a fun time wheeling today. I tried some new lines, had some success and some failure! The group consisted of 3 teejays, and one H1 HUMMER...... that broke. Looking forward to my tear down but was glad to get one more wheeling trip in before the really heavy snow.

The traditional air down and sway bar disconnect to start the day.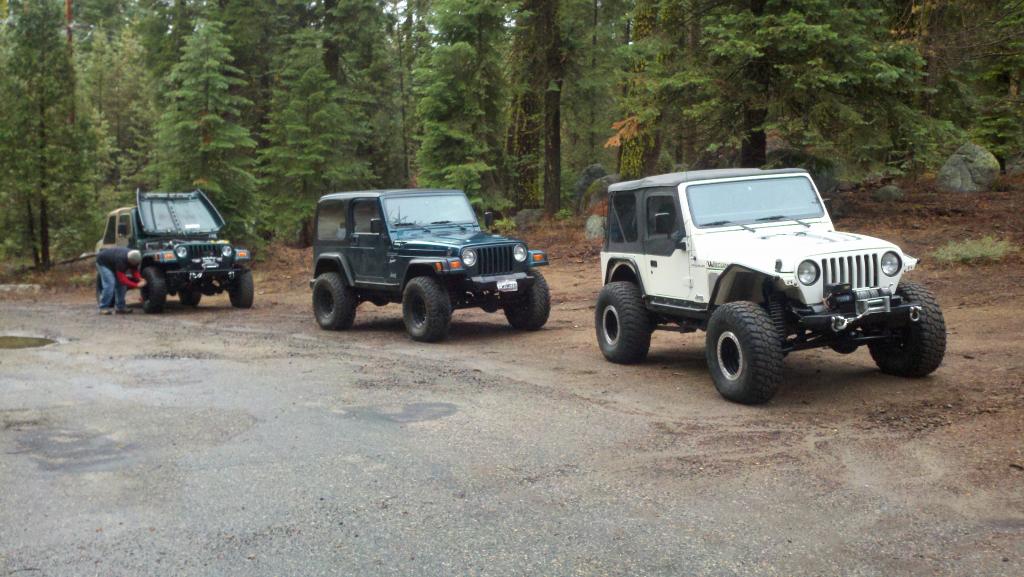 Today's terrain consisted of a lot of wet rock and a lot of snow up a little higher. Very fun conditions.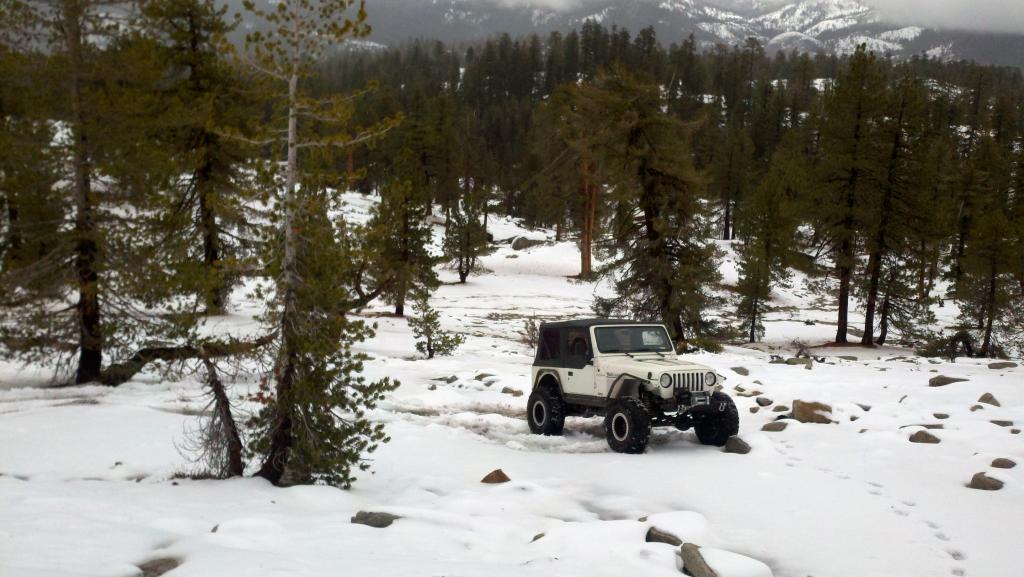 It's hard to tell, but this is a long steep loose rocky hill that we came down. The actual trail is on the right, but the snow pushed us to the left and everyone was way out of shape trying to control the slide and stay on trail.... this photo is funny, I had made it down already and was just laughing at the these yahoo's all kinds of sideways and out of shape.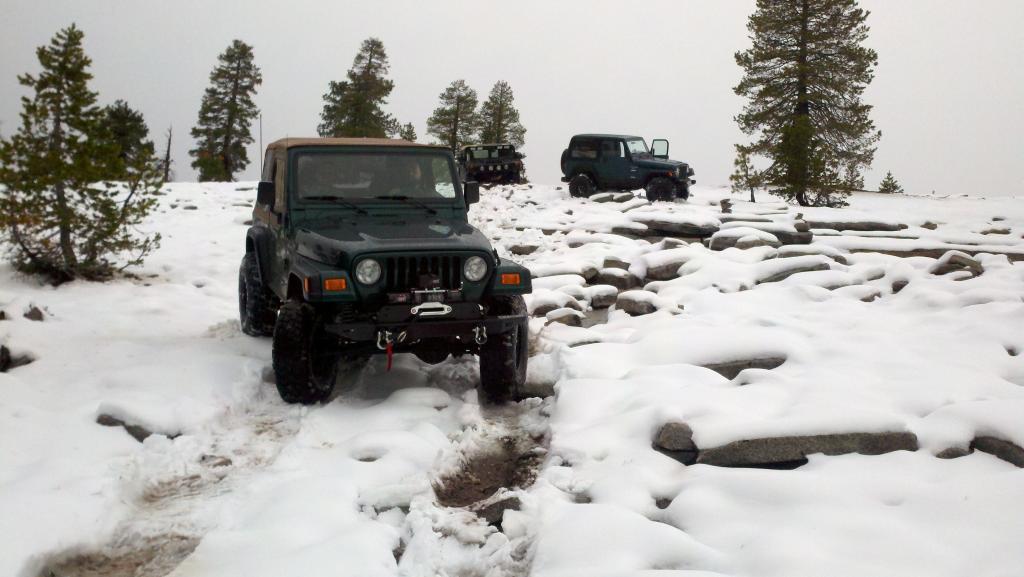 Beadlocks collect a lot of snow...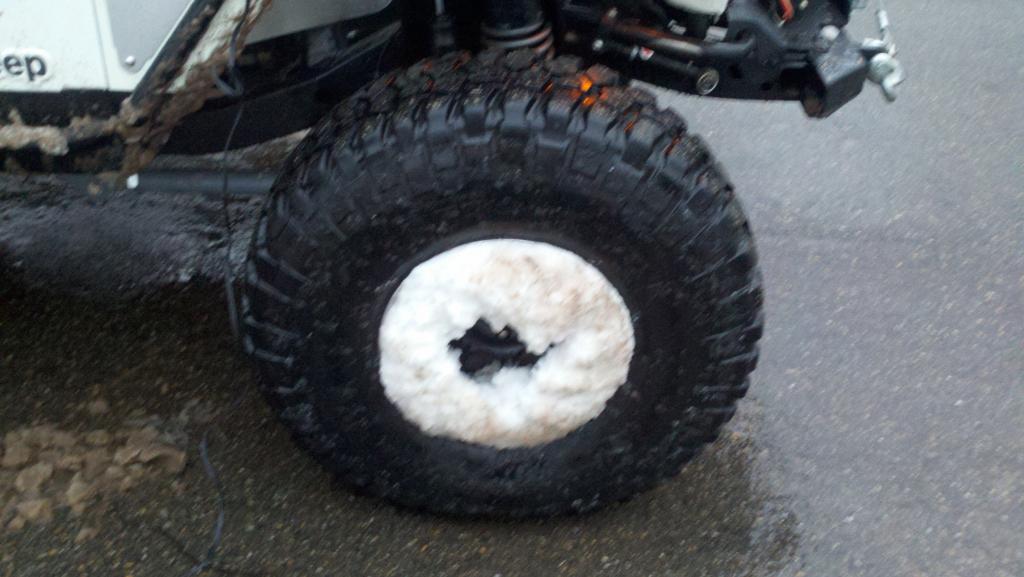 Finally made it out.. after several hours helping the hummer. One of his front axles came undone from the center section, well it either sheared the bolts or they backed out.... and guess what??? The axle captures the brake rotor and the caliper is on the inside too.... all I could do to get him out was get the axle un wedged from the rotor, caliper and let it droop down on the a-arm and we took it slow in 2wd. It worked luckily, cause I wasn't wanting to take it apart..... not that I even knew how to! Long tow into town for him.... about 60 miles after we hit the main road. But I got him out!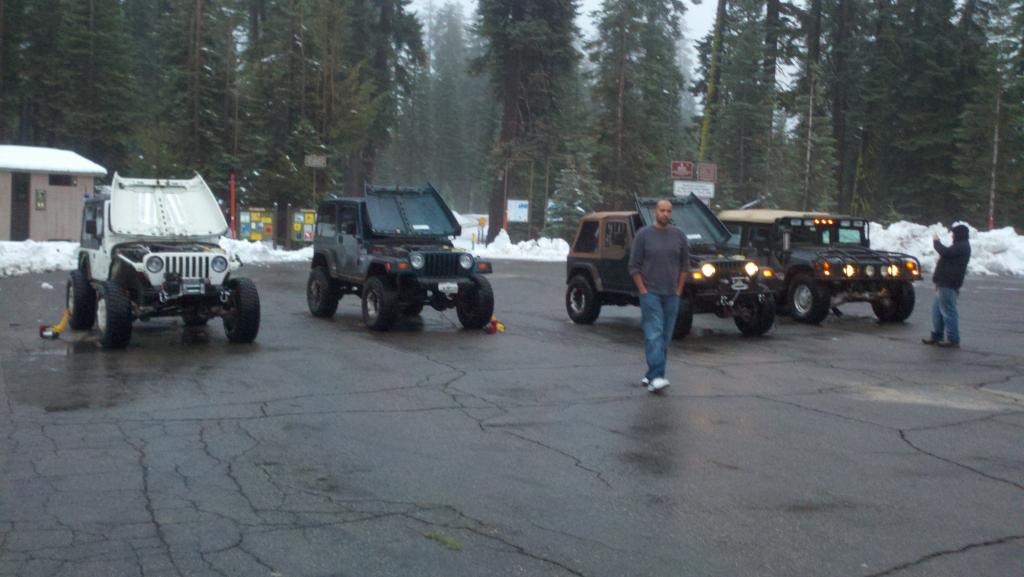 Well it was a memorable day. Can't ask for more.

12-2-2012
Trail turns into a stream in some areas in the winter. Pretty fun to cruise along it.
http://s13.photobucket.com/user/gst95dsm/media/video1.mp4.html
12-3-2012
Cleaned up and ready for surgery tomorrow. I'm going to tackle the shock outboarding, then the link mounts.... Wish me luck!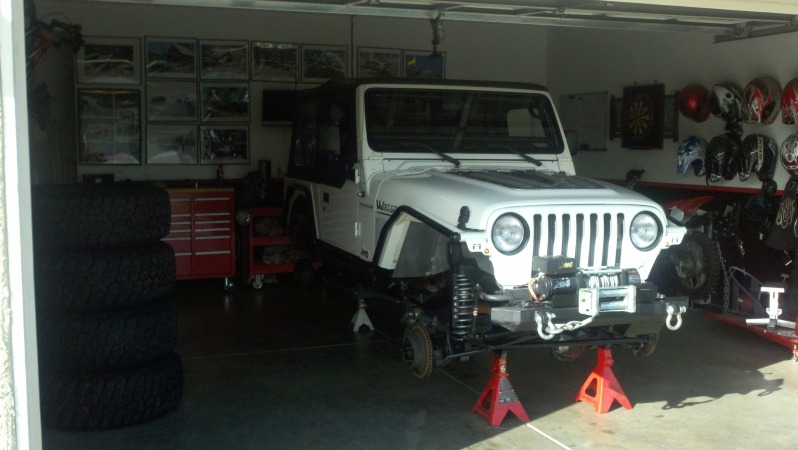 I walked into the garage right now to get that measurement for you.. then realized my Jeep is on Jack stands, haha. As soon as it's back together I will get it.

Well my shock relocation stuff came in as scheduled and is quite beautiful. Nicely tig welded. I also ordered some tube adapters from Poly at the same time..... and BOOO! They sent the wrong ones! One size too small, and yes I did order the right ones. Oh well I'm sure they'll make it right. So tomorrow is strictly focusing on the shock outboard.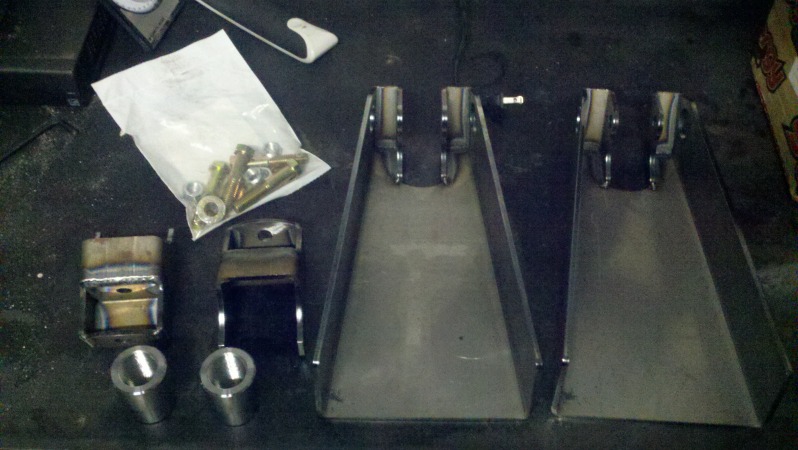 12-4-2012
It's going...... teaser.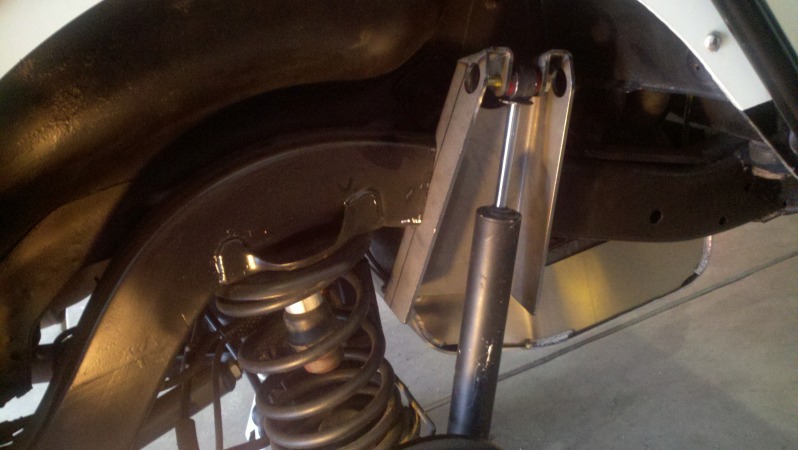 I worked on the shock outboard pretty much all day today. Everything went fairly well. There was quite a bit more grinding and fitting than I envisioned for some reason. Part of the problem was me being timid and making my cuts less than what I knew they needed to be and grinding to the final dimension. Better safe than sorry.

Fit up on the lower shock mounts I thought was going to be as simple as sticking them in between the control arm mounts and tacking them up.... WRONG! Haha... this was really my only surprise today and ate up some time while I got my head together to figure out why they didn't fit up well. They are made "square" and well, the place they go (assuming stockcontrol arm mount) is NOT square. The control arm brackets are at an angle in relation to the axle tube that needs to be matched by the bracket in order for it to be level horizontally and fit in between control arm bracket tightly. It probably would not even matter if it wasn't level, but it looked wrong and it didn't fit against the tube very well. So the grinder had to start making noise.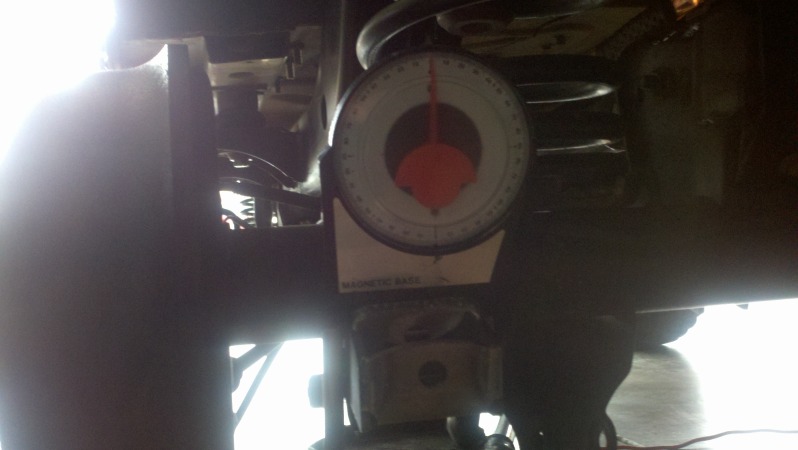 Oh here's a quick pic of why I really wanted to do this. And it's actually only 3 inches... this is where I discovered my axle wasn't level. Oh yeah.... it's NOT easy to get things level, using jack stands. Good lord.... I was driving myself nuts going from side to side taking measurements.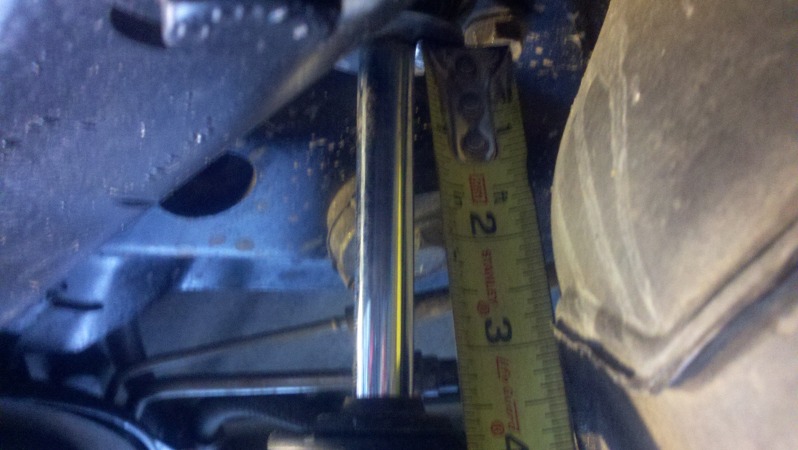 Now onto cutting the frame.... just measure, fit, measure, think, measure, think again, measure, then start cutting. No real advise here, sorry.... I found it awkward to figure out. I cut small and ground my way into fit up a little at a time until I got the desired amount of up travel. Be careful if you're using a grinder to cut, I had a drop today, and luckily did not hurt myself.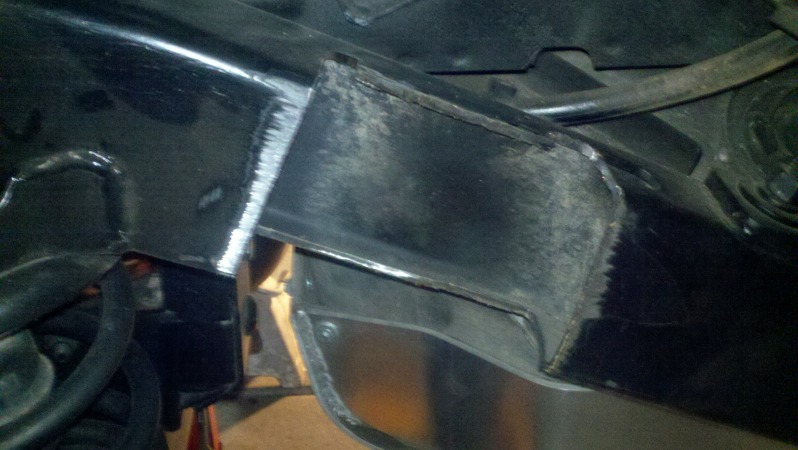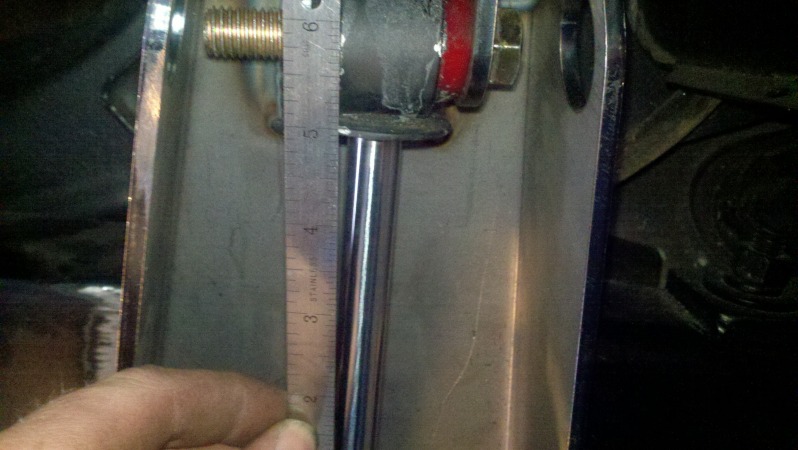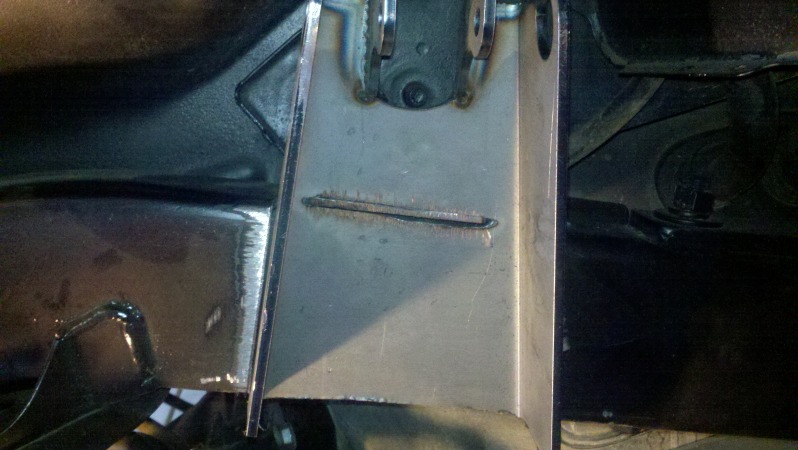 I have the drivers side completely fitted, I just need to clean it up a bit and it's ready for welding. The passenger side is much more difficult dealing with the track bar bracket. I'm about 80% fitted up on that one and it's going pretty well. I plan to get that squared away after work tomorrow.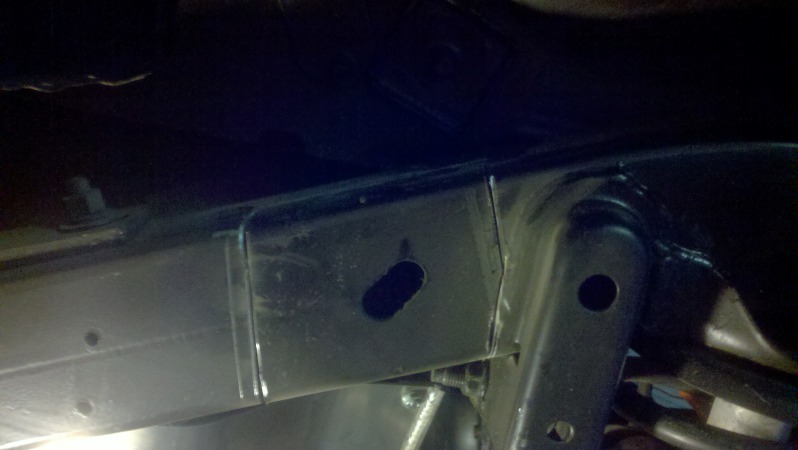 So all in all I was productive today, a little slow and a little messy but I think it's going to work out.
12-5-2012
Had just a little time tonight to work. I did some more fitting on the passenger side and have it about as good as it's going to get. Fit up is pretty tight, not nearly as clean as the driver side but still not bad. I will have some "filling" to do with my welds by the track bar mount and unfortunately in my center notch but not much at all considering. I plan to drop the tank to weld the backside lower portion. I just think it will make it a lot easier and dropping the tank is easy enough. Overall I'm feeling pretty good about it. My next chore is to thoroughly clean up the frame around all my weld joints. I could tell just by some little tacking I did that if I don't spend some time cleaning it up better my welding is going to suck.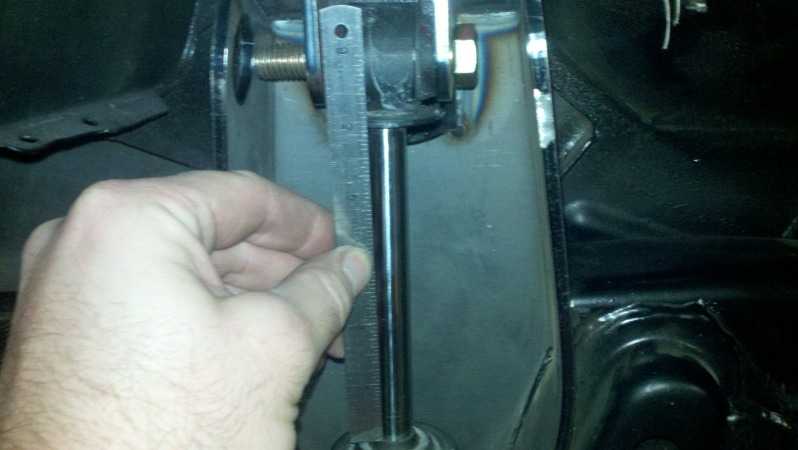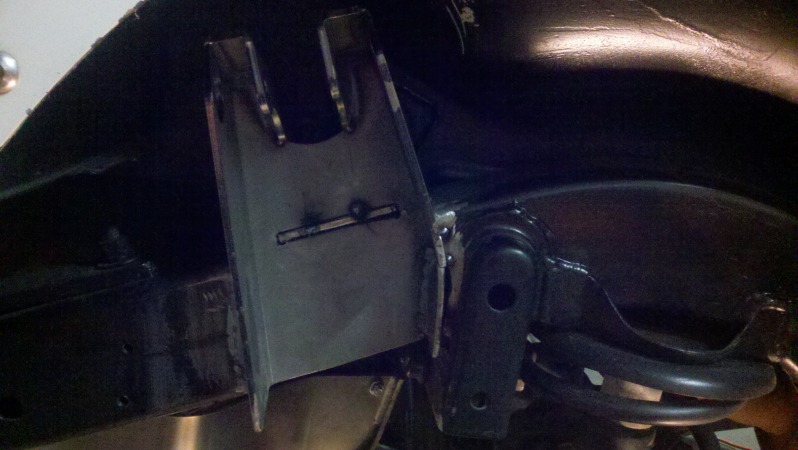 12-6-2012
Well this whole deal is on hold until I either buy or borrow a 220 welder. I know my 110 is at it's very limit at 1/4, IMO... it's not even close. No way I can trust it,
12-8-2012
Between Christmas shopping today I managed to get a little done on the Jeep. I finished cleaning up the frame and towers and got some tacks down while I wait for my new welder. I installed the shocks and wheels and dropped her down to finally see how she sits. 1/8 more shaft showing on the passenger side. No big deal. Overall I'm very pleased with the results and can't wait to burn them in completely and paint it up.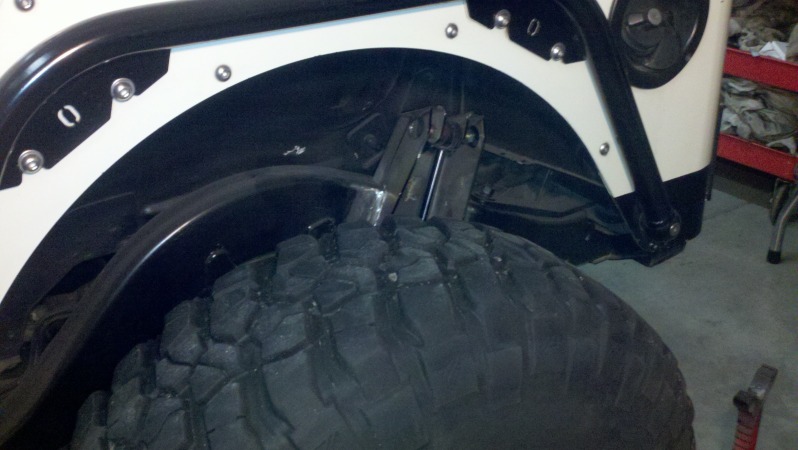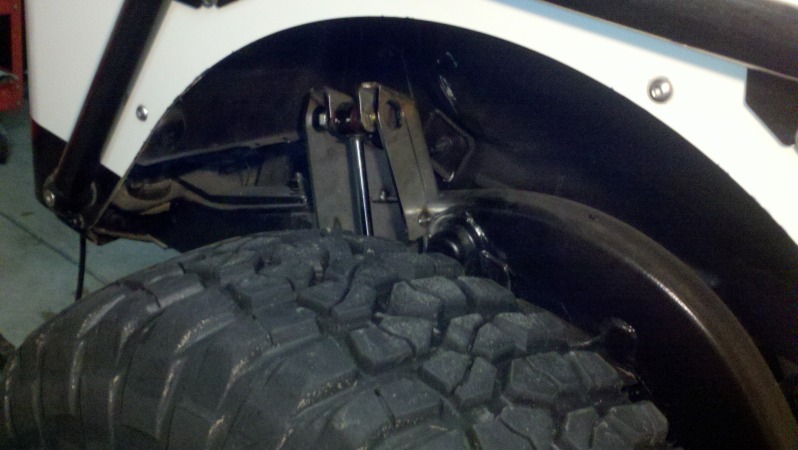 I also spent a frustrating couple hours chasing down the parts to build an extension cord for my new welder to hook up to my dryer outlet. Let me tell you, I now know about 5x as much about electrical plugs than I did yesterday. Sheesh... confusion. After I got the right stuff (from 3 different places) It went together nicely. $100 for a 30' cord! Expensive!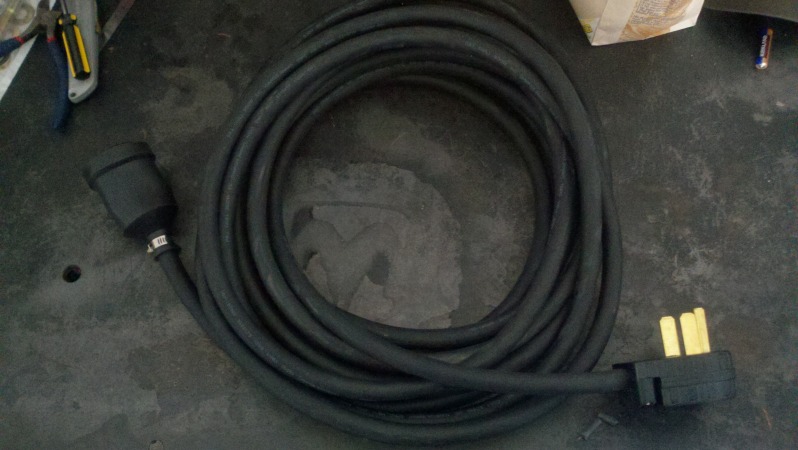 12-14-2012
Back in action!!! Ok this little thing is a tank compared to the 140, it's got to be at least 30lbs. heavier. I just did some practicing with it.... and YEAH! it's got a TON more power.... Holy crap. I had to keep that gun moving!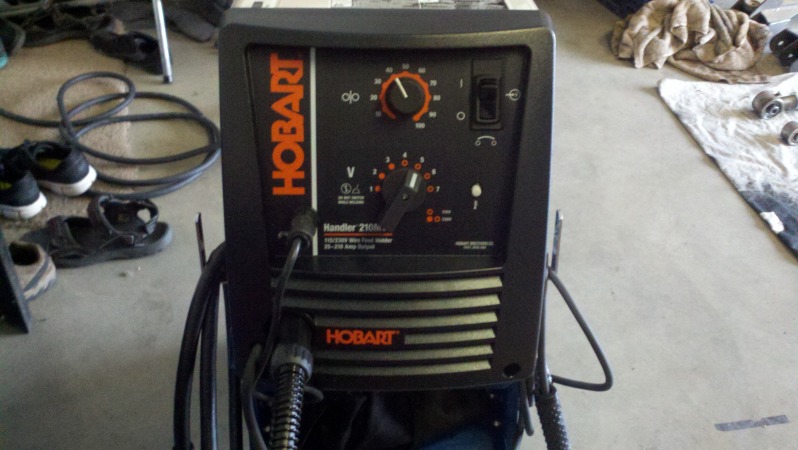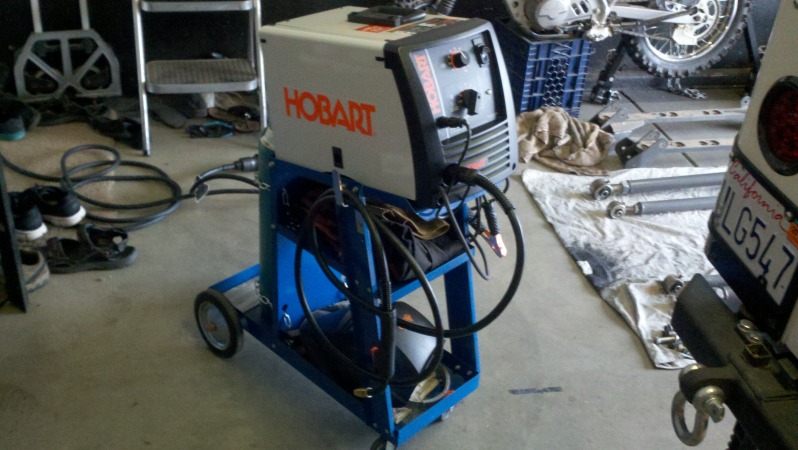 12-15-2012
Rear shock outboard DONE! A lot more time invested in this mod than I anticipated, but I feel that I took my time and got good results. Not perfection and not as "pretty" as it could be, but still a solid effort. The welding went pretty well this morning. I read a bunch last night and along with the tips from you guys I was able to get it going. My beads are running quite a bit wider than I'd like..... more like a stack of nickels than dimes, haha but I'm still struggling with control during vertical welds when it's not just sitting there in front of me. I think my biggest hurdle with the new machine is realizing that I have to play with the settings A LOT, even when it's the same material, and just a different orientation. On my HH140 it was just.... as hot as possible, and mess around with the wire speed a bit. Some of the welding looked good, some ok, and some just plain ugly but I'm confident it's solid. I was able to get some paint on it, it looks pretty good!
Horizontal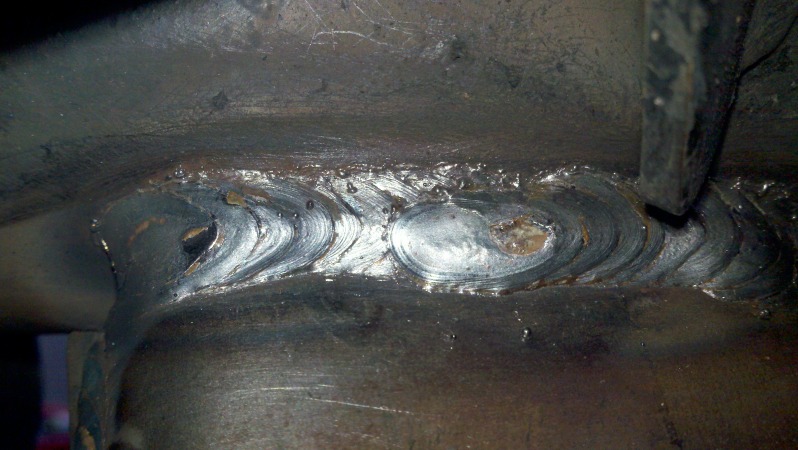 Vertical down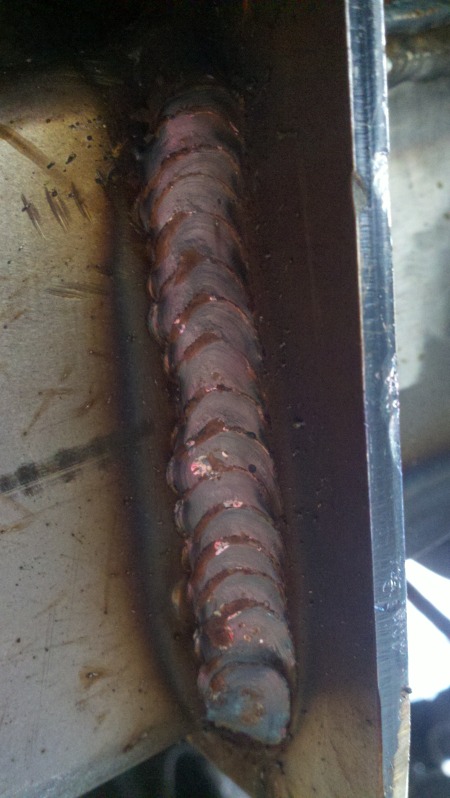 45 degree vertical up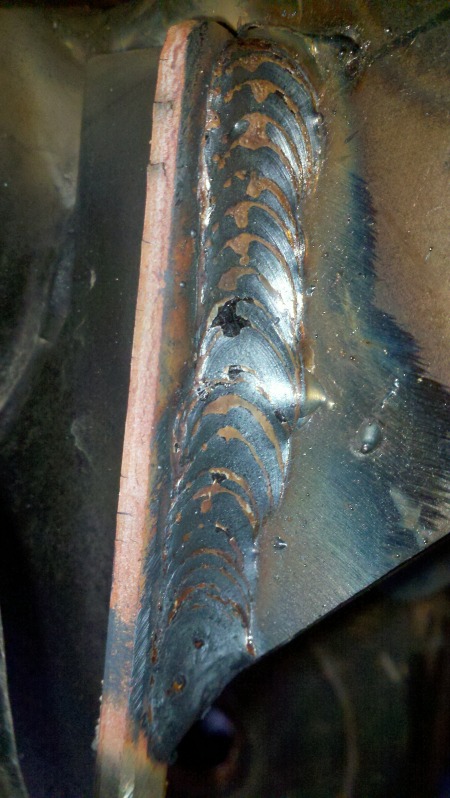 Tada....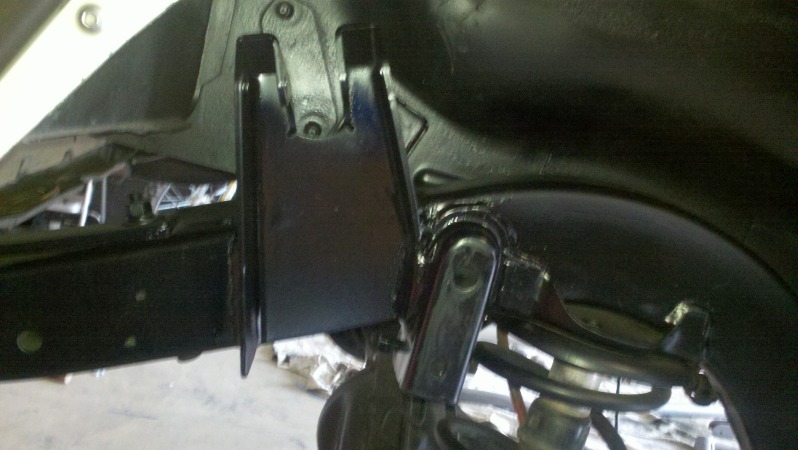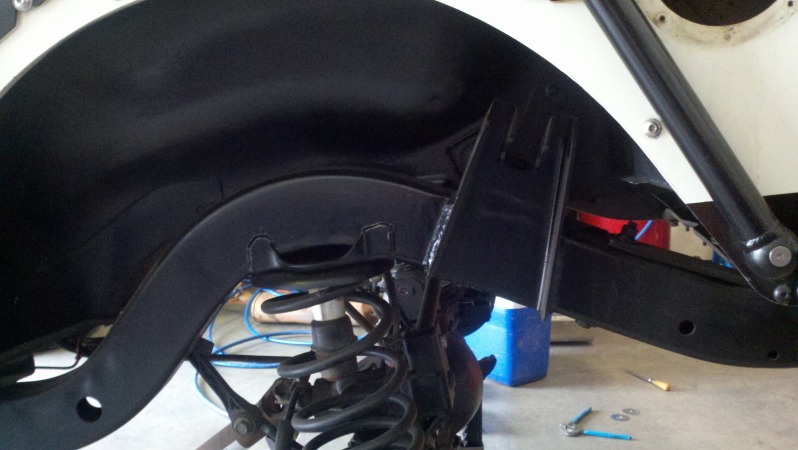 Comments???

Wire speed down and same heat.... was quite a bit more poppy??? I think another issue is that I'm not "fine" tuning the wire speed, I'm pretty hasty about going from 50 to 60... maybe there's a sweet spot... 52.5? haha.

And were on to the next project..... painting my links, and going to start the long, overcomplicated (because I'm doing it) process of determining my new link mount locations.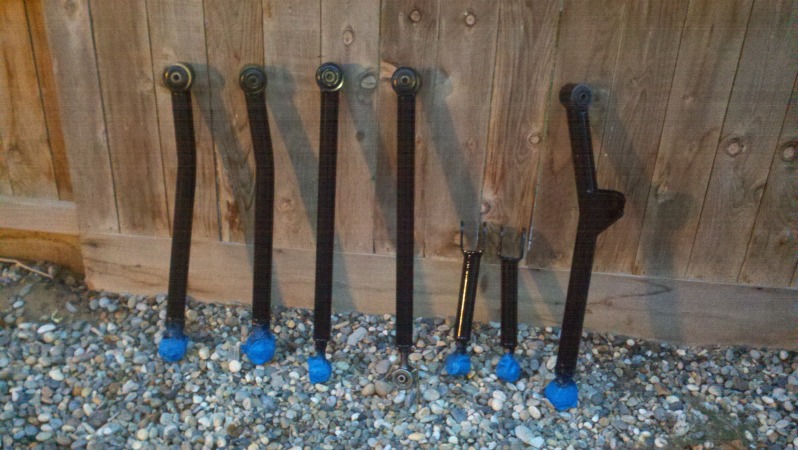 Thank you Gspup, I really appreciate any feedback I get on here. I also played with the gas setting, I'm at 25 trigger pulled, I tried less, and more while I was testing and this seemed good.

Well I'm DONE for today..... time to relax! I got my tank back in, my links painted, and did a little measuring and mock up. Looks like my rear links will end up being 28". I've got a little conflict with my mounts and my R/C transfer case skid, but nothing a small cut won't fix. I'm looking forward to cleaning up the frame, getting some tacks laid, and NOT ALOT OF GRINDING AND FITTING!!!, haha. Let us hope!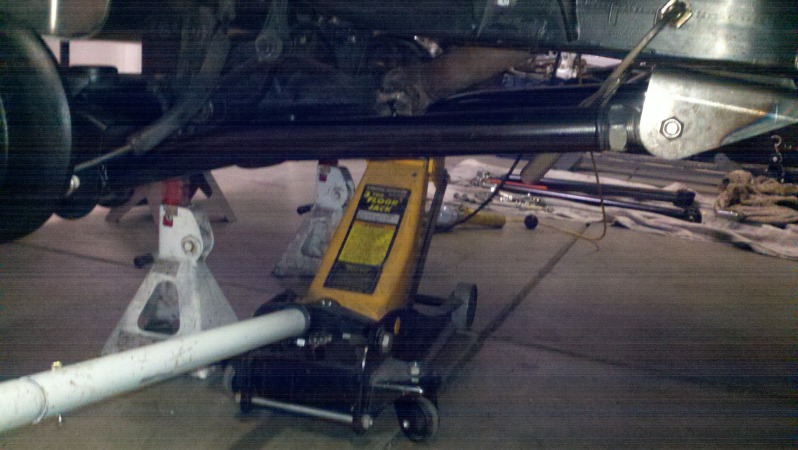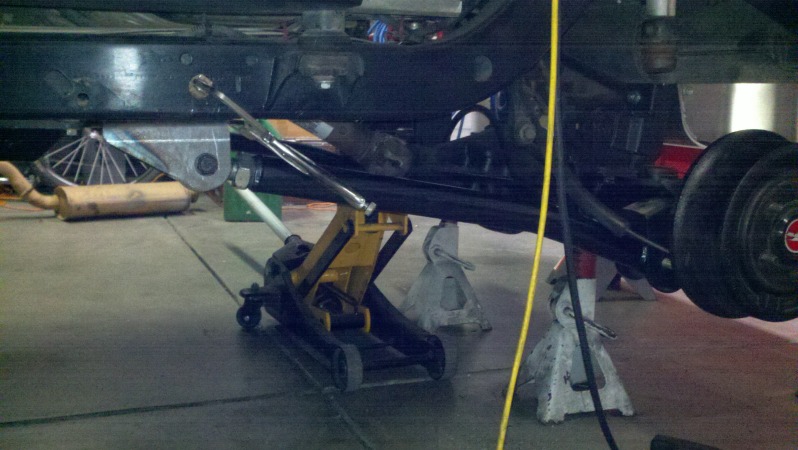 12-16-2012
Nothing exciting today.... just had a couple hours to fiddle. I cleaned up the frame where I'm going to be welding the new brackets on. Then I realized much to my disappointment some grinding and fitting was in order for the bracket to sit properly on frame on the inside of the rail. The bracket mounts right where the frame has an angle. Oh well it was easy going with the bracket in the vice. This should have me ready to do some final measuring and get some tacks at the very least on Tuesday, I'm thinking I'll get quite a bit done but you never know how things are going to go. I ate up two hours tonight doing something that I would think would only take 30 minutes! Glad no one is paying me to do this work!!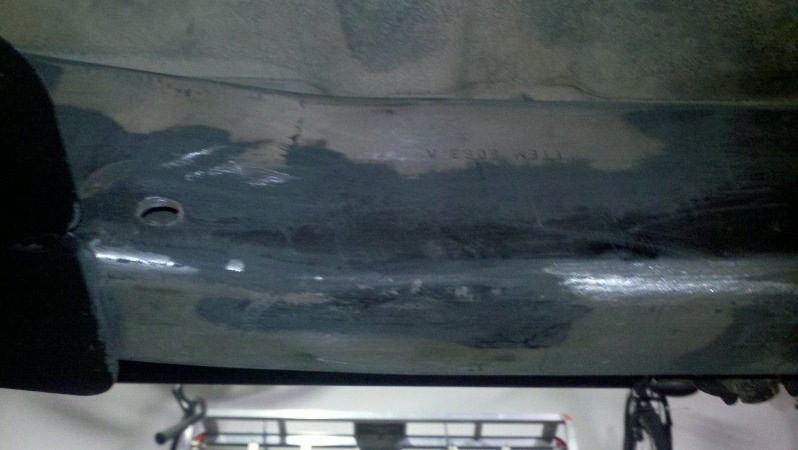 Hard to see what I trimmed.... But I trimmed it and it fits better!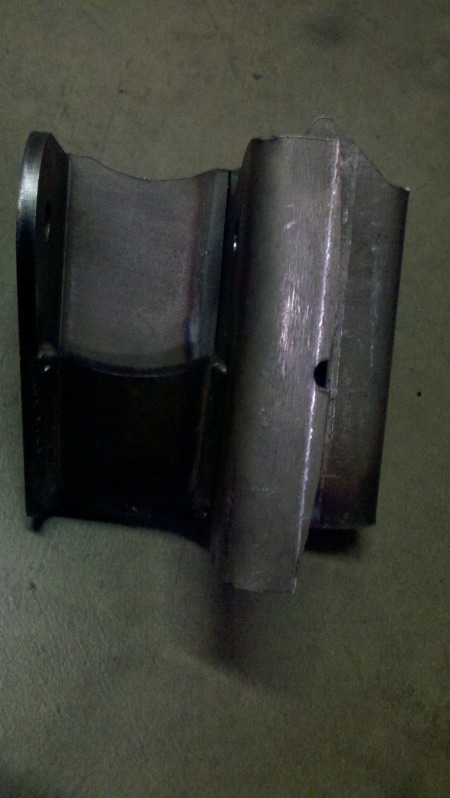 12-17-2012
I was able to sneak in another couple hours of work this morning before actual work. Got some pretty cool photos I thought. I got the rear link mounts tacked in for some suspension cycling and final measuring. Everything is looking good so far! It's nice to see the geometry of everything coming into line a little better. Lower links are 27.5 eye to eye, uppers are 28 (mainly due to the axle being clocked up for pinion angle). No interference with track bar / gas tank. This is all subject to change though.... pretty rough mock up right now. Going to have to finally ditch the stock muffler for sure. Exciting morning though!



Tacked in




Looking better!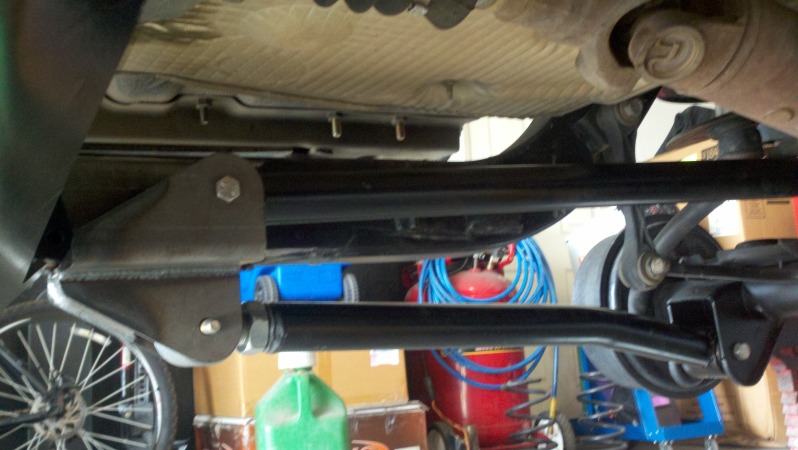 Full droop drivers side... shock angle in relation to links looks good I think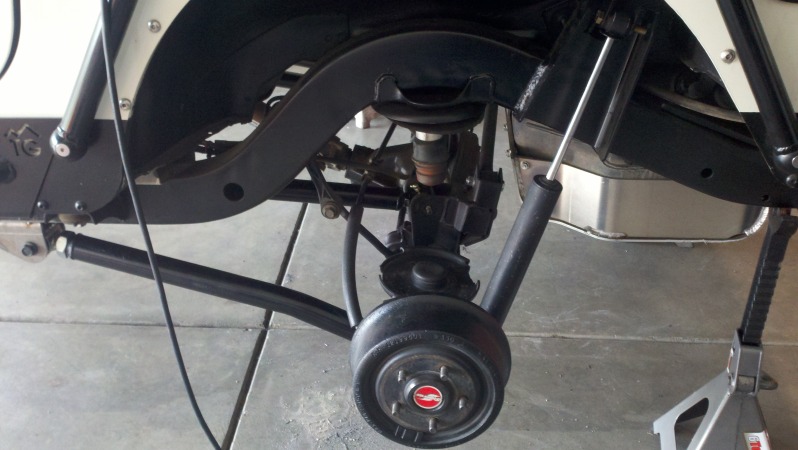 Full Bump,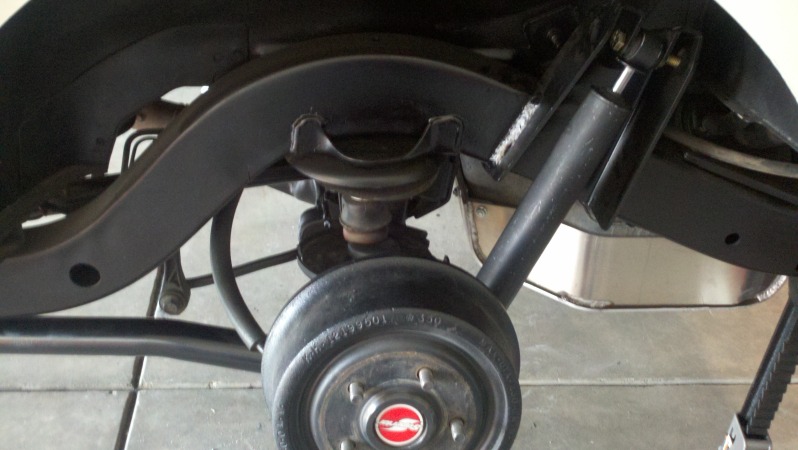 Full droop on passenger side...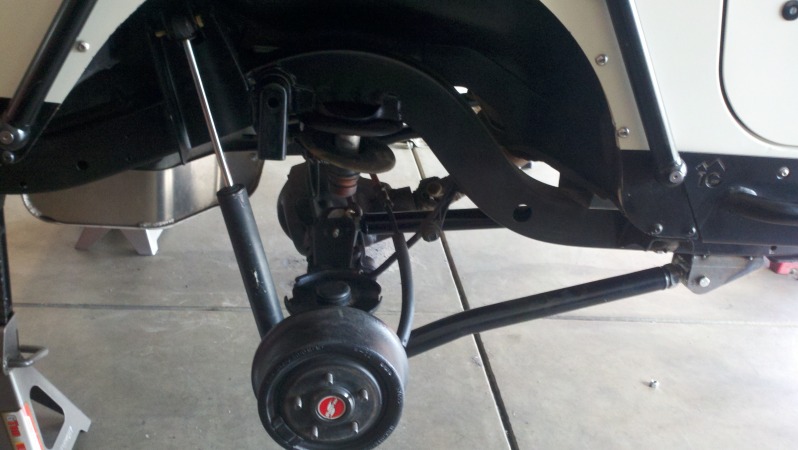 12-18-2012
Finished up the rear today, Burned it the mounts completely, welding went fairly well. The upper weld inside the frame went especially well since I thought it was going to be impossible, I didn't do much documentation today, I had to chase down some 9/16th's bolts and that took FOREVER. Oh well it's sitting on it's rear tires, everything is torqued and painted. I actually thought I might get to the front today.... silly me! Well I was able to get it on jack stands close to ride height and took out the springs and organized everything.

Also took some much needed time to clean up the garage, I re-organized and put all my tools away for a fresh start tomorrow, it's amazing how many tools you get out and use, and just the random crap that accumulates on the floor and work bench. haha. Snapped just a few pics,



As she sits tonight...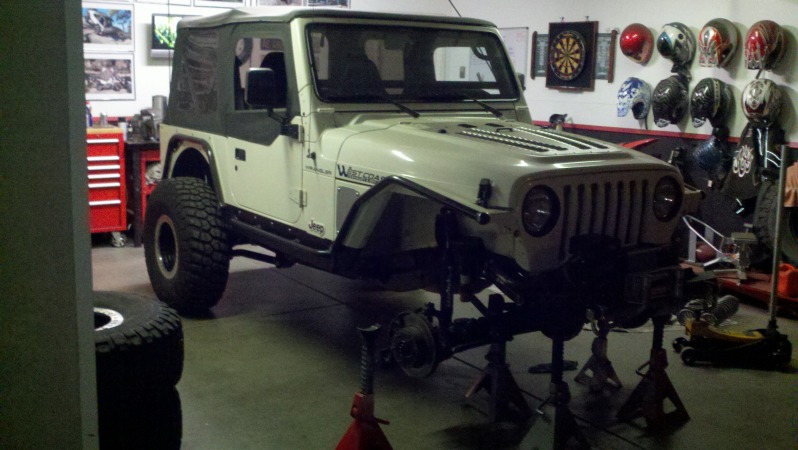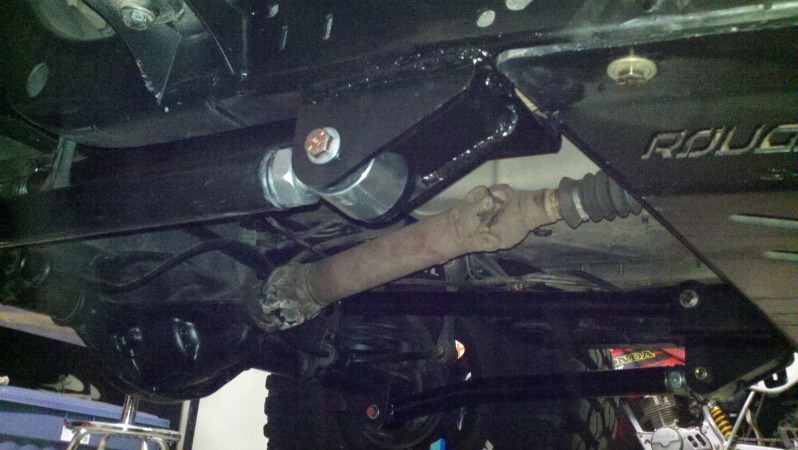 3/4" gain in skid clearance (I'll take it) and a 1/2" on the Bracket, along with a much better "ramp" to the bracket itself. The R/C one was super steep and did not slide well when it hit.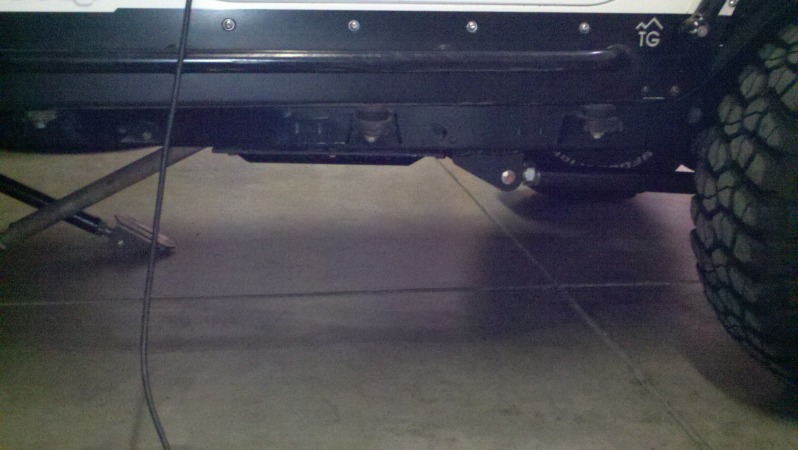 Man I still am in love with these wheels! Also I find it interesting after doing some searching on link set ups in regards to link length, long arm, short arm, mid arm....... The R/C "long" arms very short for having that designation. Lower's eye to eye 27 3/8".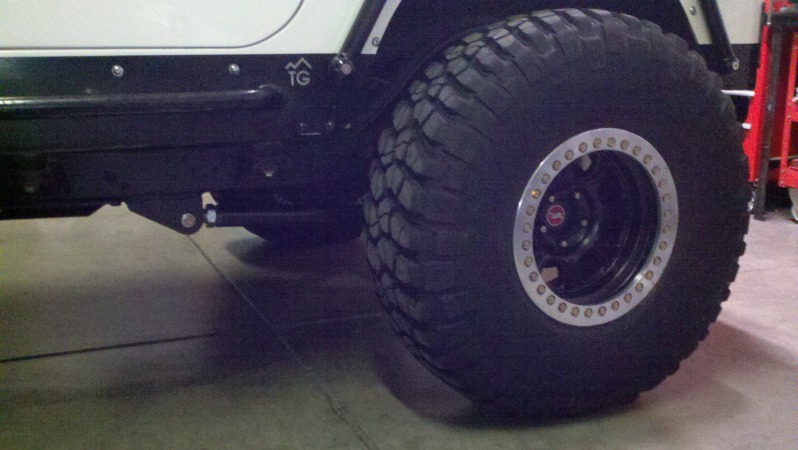 12-21-2012
Been sick

, Made some good progress today though..... Should be able to wrap up tomorrow, aside from FINAL measuring and link adjustment.

I'm going to take a bunch of crap off tonight, front DS, downpipe.... skid... in order to make the welding on the inside of the bracket as good as possible. No FUN!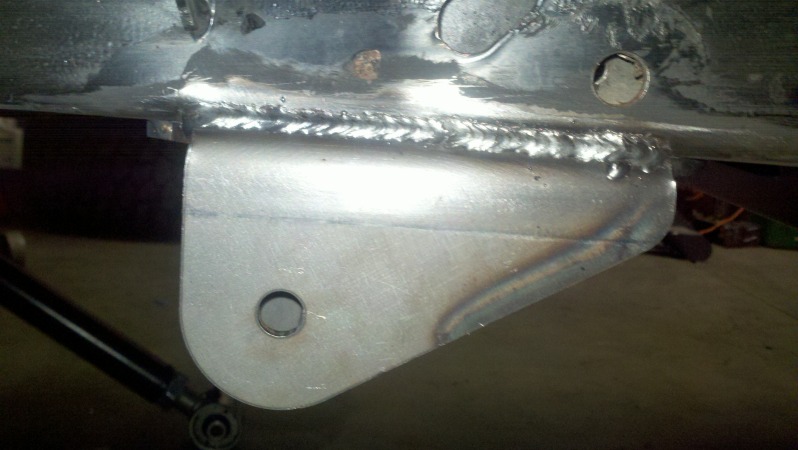 12-22-2012
So what happens when you were up all the previous night sick and slept all day?? You get tweeker status and work on your jeep all night.....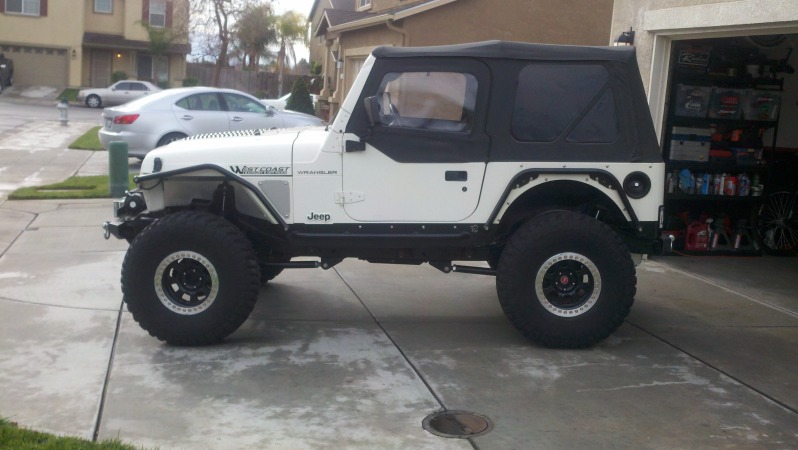 Test drive went well. (nothing fell off at least) haha. I ran over to my buddies exhaust shop so we could figure out the muffler situation but he was just about to close early for the day. Oh well. Really the only thing pending is a triple check on all my nuts and bolts, and a double check on my axle "squareness" which I'm sure will need some slight adjustment..... I just don't feel like doing it today!



So here's a list of pro's to all the work I just did vs. what I had before.

Rear shock axle mounts relocated UP behind control arm mounts
Rear shock axle mounts relocated OUT away from coil buckets (they hit before)
New shock towers allowing for 50% up travel (up from 30% before)
Eliminated weak bar pin
Better handling characteristics by out boarding shocks
Looks COOL!
Raised T-case skid by approx. 3/4" by eliminating the R/C link mount
Gained 1/2" clearance using UCF link mounts along with better slide angle
Gained separation at the frame for the rear links providing better geometry
Cut the size of the lear link bracket exposed to rocks by 50% by having upper link bracket up on frame.
Was able to shorten rear links by 2", front by 1"

Not to bad for about $500 invested and a lot of learning, metal fab practice, welding practice and just good wrenching time. I did buy the new welder..... but hey it will probably be the last one I buy and should last many years.

12-24-2012
Haven't been able to hook up with my buddy with the exhaust shop so I decided upon his recommendation to simply cut off the flange and the tail pipe and switch sides. Originally the inlet is in the center and the outlet to one side. So swapping ends will result in the muffler moved over a few inches, and able to clear the upper link. It fit's good!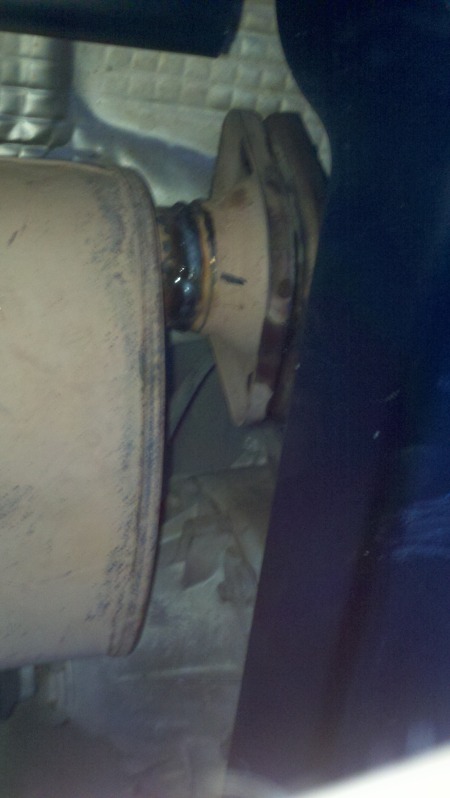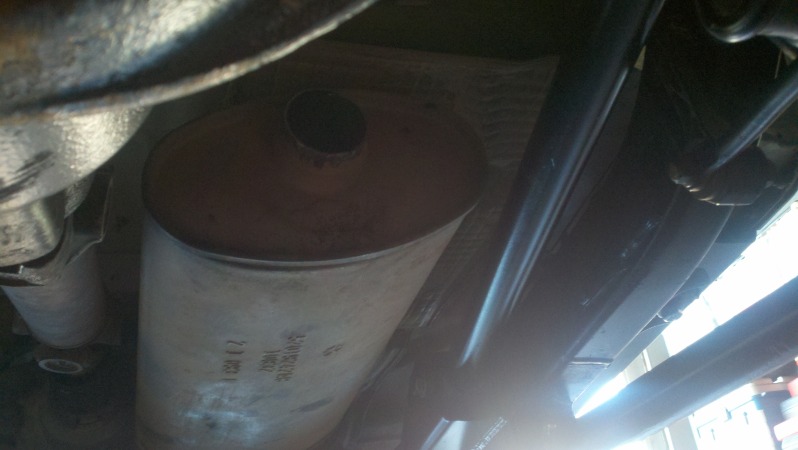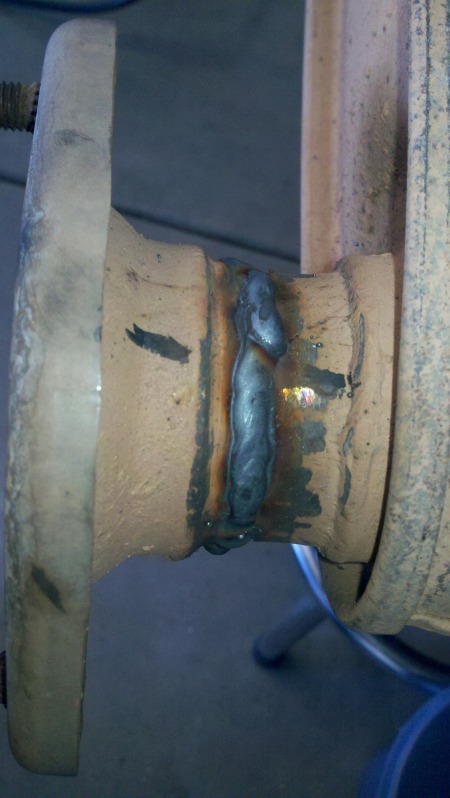 It's nice and quiet again. Now I can start shaking it down a bit over the next week. Going snow wheeling on New Years Day.

12-28-2012
I had my buddy flex it out with his forklift today, to check clearances and what not. Everything looked good. He was in a hurry (busy! very successful exhaust business) so I just had a minute to look it over, I wanted to take measurements. Oh well looks like I'm cleared for wheeling on New Years~!

Crappy photos.... to much SUN today over here!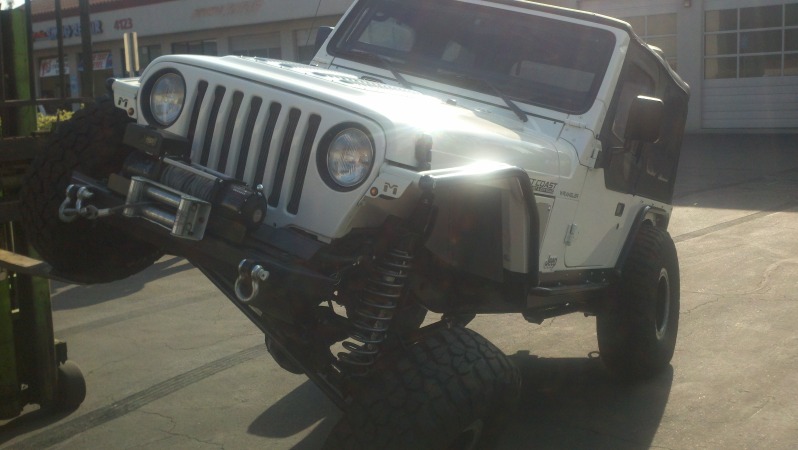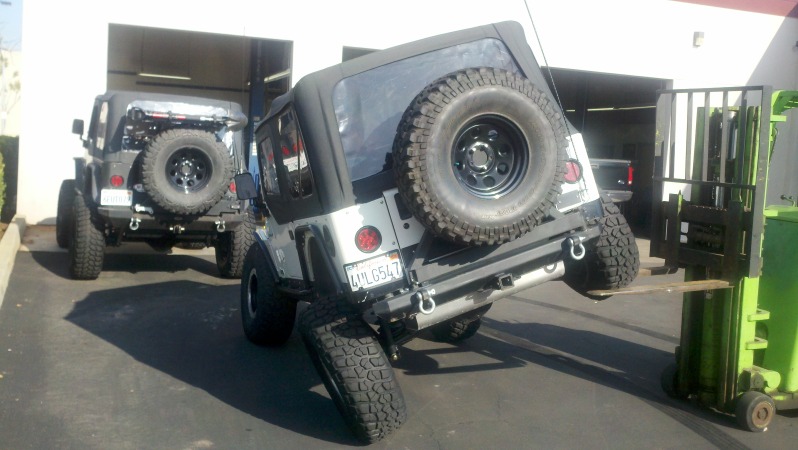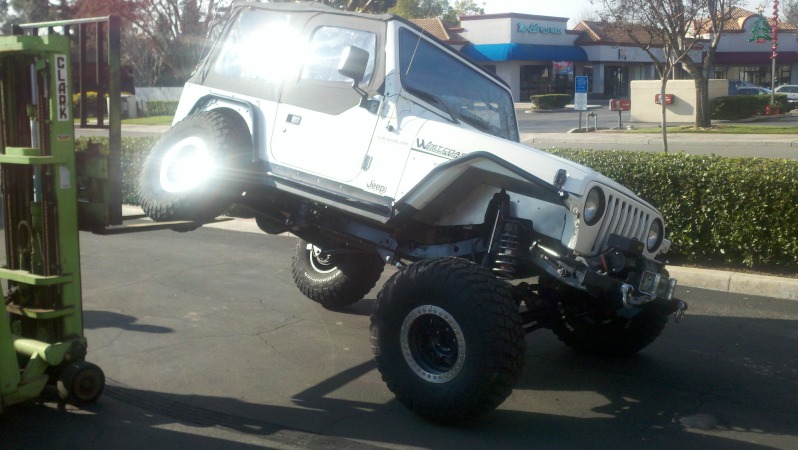 1-1-2013
Not really any good photos to share from today. It was just shenanigans all day. About 30 rigs were on the trail. In various forms of STUCK all day long. It was super fun though and what I expected. It's kind of a tradition to go wheeling on NYD around here.

My jeep did well though. Felt solid. I really didn't think this would be a good test for the suspension but I was wrong. It wasn't a matter of flexing it out today and crawling, but there were several miles of quick, well tracked snow trail with various dips, bumps and what not. It REALLY gave the suspensiona work out similar to dune wheeling. I just did a post trip inspection (briefly) and everything looks good, nothing loose, no signs of anything rubbing on anything it shouldn't. So all in all I'm happy.



Oh yeah and it was just a beautiful day up in the Sierras today.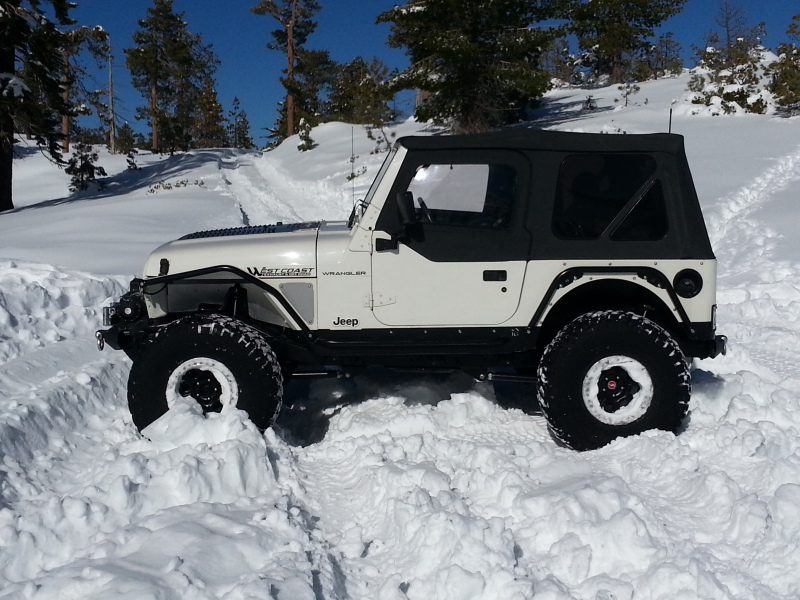 Stuck.....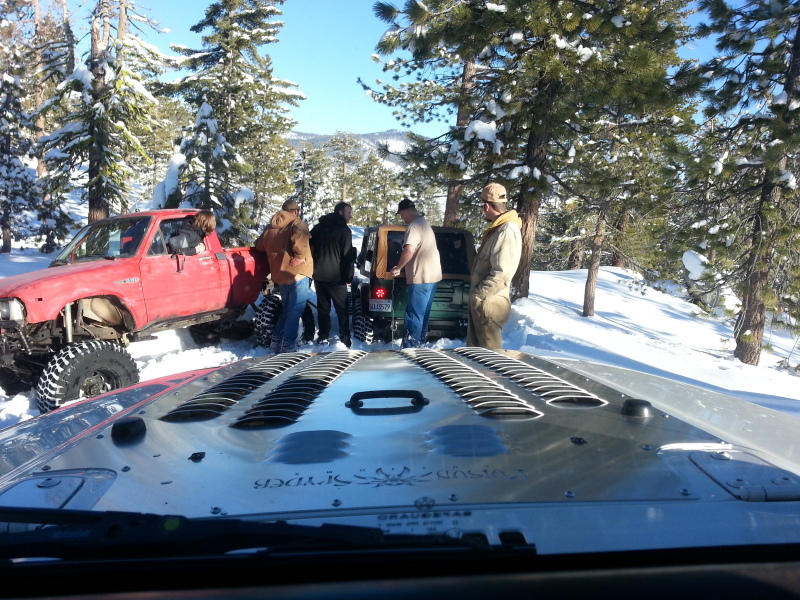 Toyota's and Jeeps everywhere...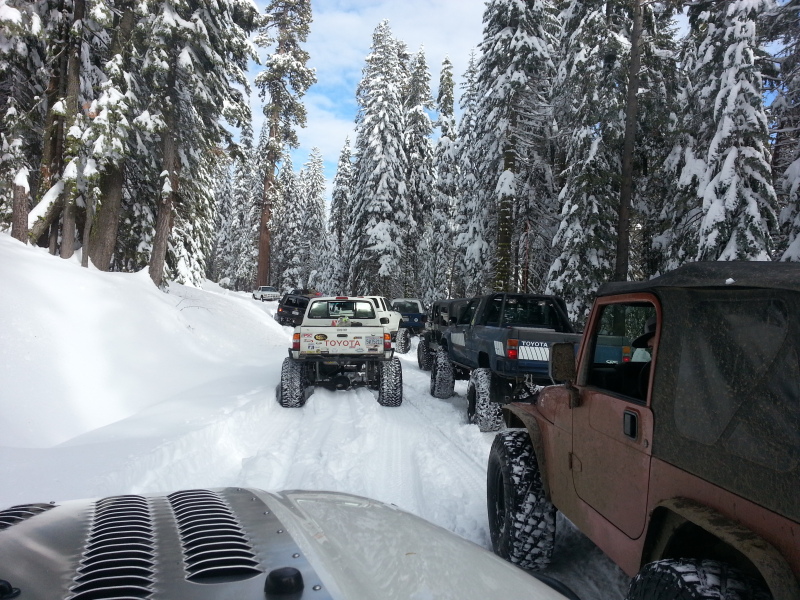 Sorry to much driving, winching, pulling, walking in the snow, getting soaked and laughing for pics today... I regret not getting more now though!
1-2-2013
Yeah Beasley, it's your turn now! Just try not to make me look to bad!

Just a couple more pics from the day.

4psi!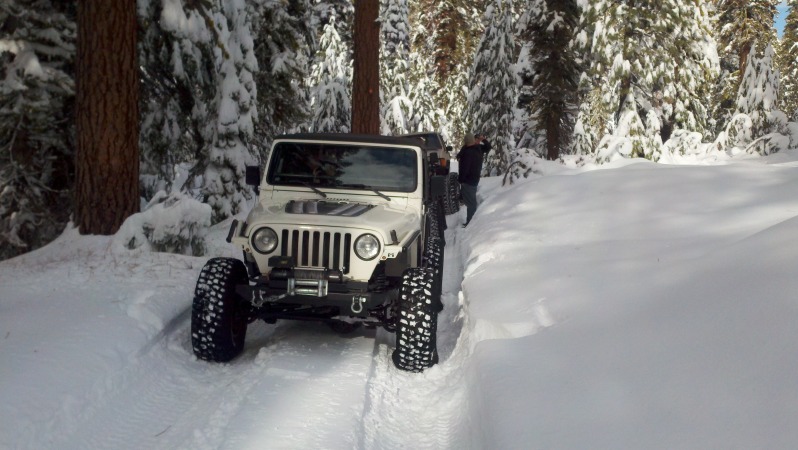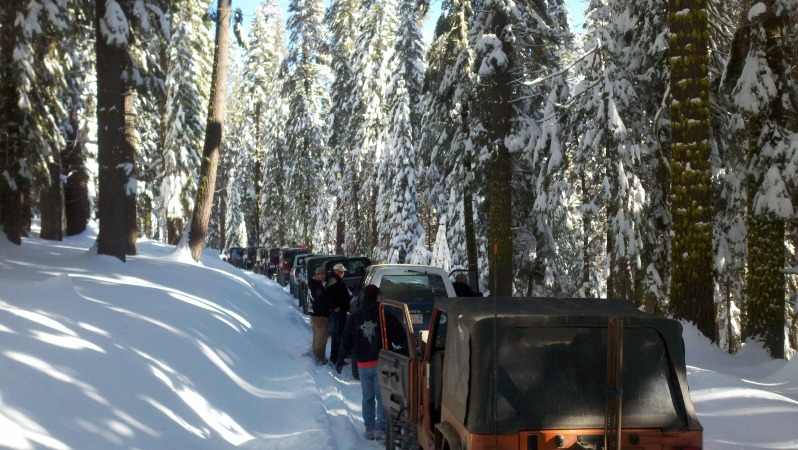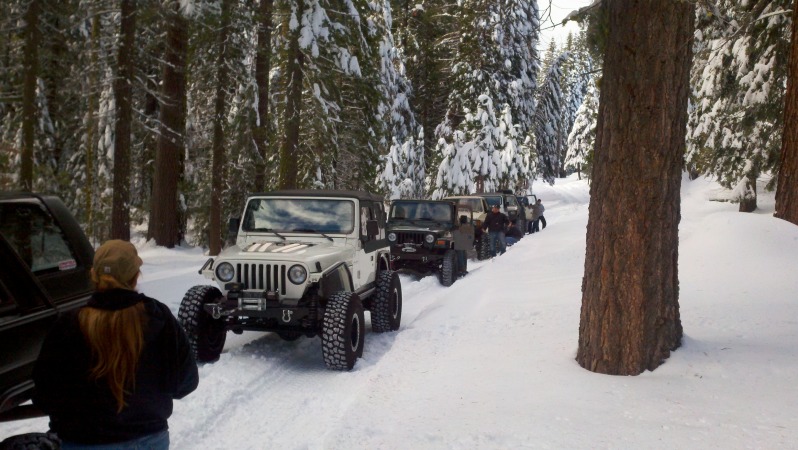 My son enjoying the snow.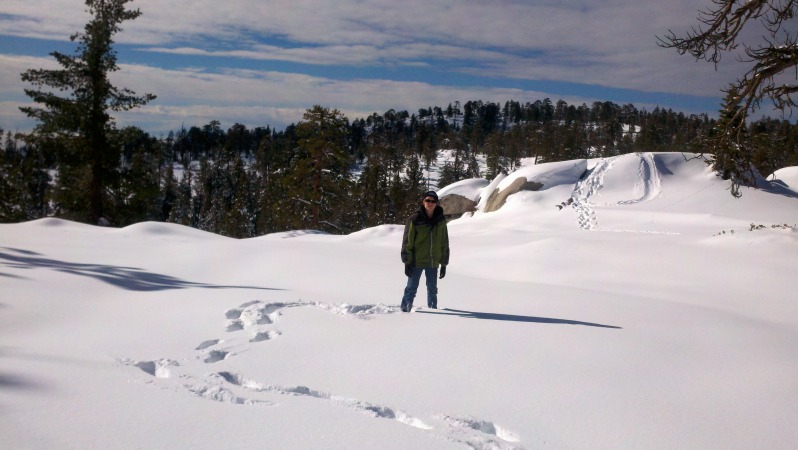 1-8-2013
Well I cashed in some unexpected stock dividends and got a little play money, so I bought some fun stuff for the heep. I'm not in the mood yet for any fab work so I got some easy stuff I've been wanting for a while.

IGGEE seat covers! Finally my interior can look nice again!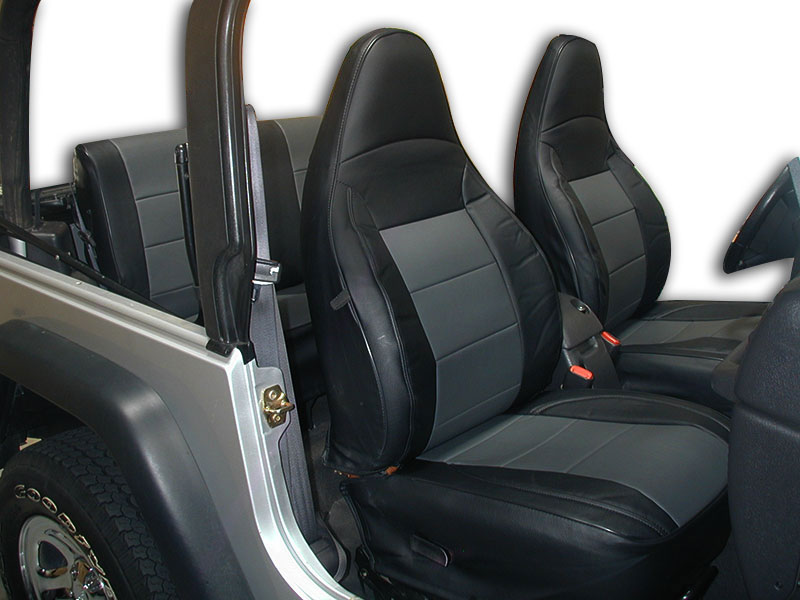 10lb Polyperformance CO2 kit!!



And finally.... a cool CRAWL fire extinguisher mount.



Got a Currie Antirock in the shopping cart also.... just can't get myself to pull the trigger. I'm not convinced I'll like it! I've been reading like a mad man about the benefits. Just can't wrap my simple mind around WHY it would work better for my type of wheeling, I picture just how badly a stock sway bar hinders actual rock crawling, then try and picture how a much softer sway bar would hinder it less, and then how NO sway bar would hinder it NONE.

I don't see how when flexed out hard in the front, pulling the low side of the chassis down even further with a sway bar attached is MORE stable or comfortable in the jeep. It seems like the tub angle would be much more severe. I can see a benefit in off camber situations reducing body roll and pulling the "high" side down. Then obvious high speed benefits.... not happening!! Hmmmmm.....
1-11-2013
Got my Iggee's today. Pretty satisfied with them. looking forward to when they are broken in and trained better. Fit is good though and material is the best i've ever seen on a "cover". I took out the seats for install to make things easier and to clean up my interior a bit.

All dirty!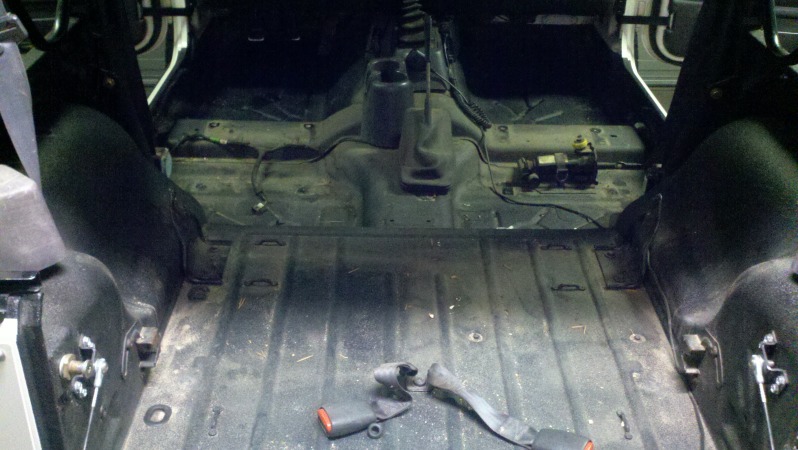 Faded cloth rear seat, Faded Rugged Ridge bottoms (waste of money) and torn factory vinyl.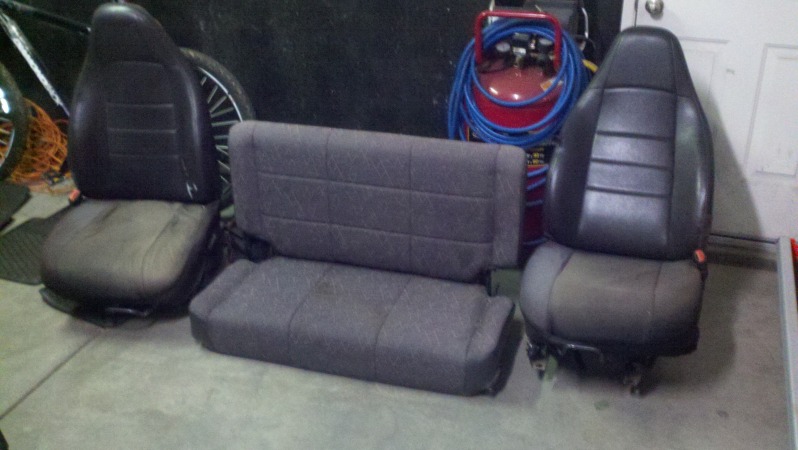 Simple Green to the rescue...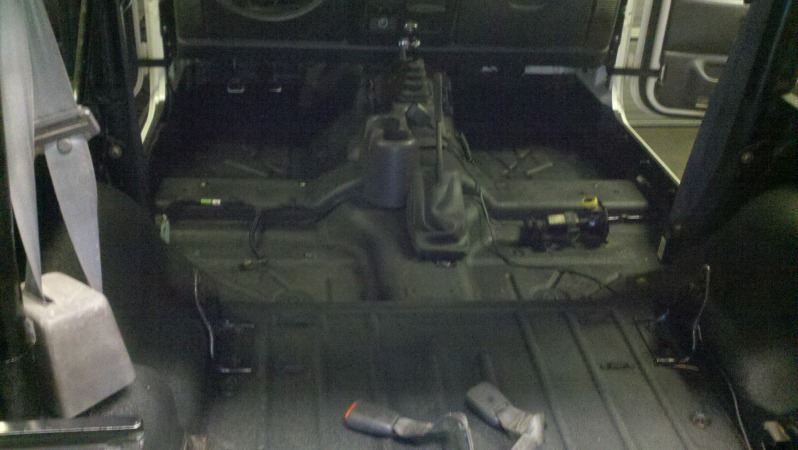 And looking pretty good for a cold install. Really cleaned up the interior I think.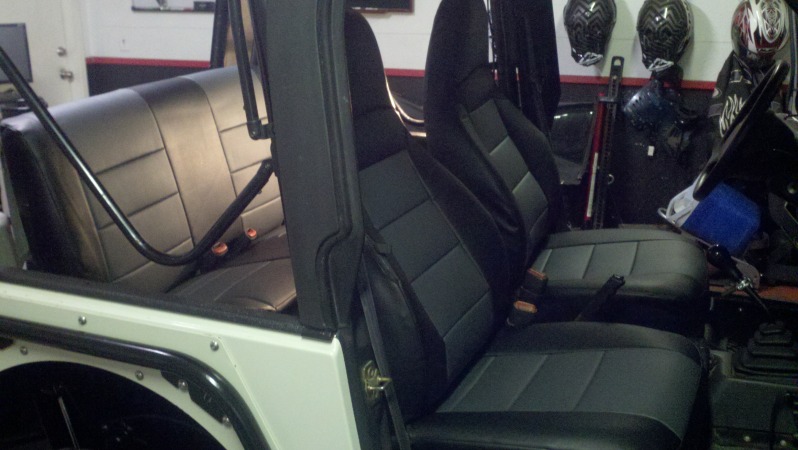 Got my CO2 kit also.... gonna work on that tommorow.
1-12-2013
True, since I can't find one used, they must hold there value!

Got my CO2 tank mounted up today. Worked out pretty good I think. I had to fab up some small spacers to go between the bracket and the tub to space it out for my cable attachment for the swag tailgate kit. Easy stuff though.

I bought the 10lb. CO2 KIT from PolyPerformane. I wasn't willing to spend powertank money but was going back and forth between this and the Smittybilt. I'm not sure if I made the right choice! The Smittybilt is $225 right now with free shipping / no tax. It just does not come with any kind of bracket. The Poly one was $240 but I paid shipping and tax on it. The smitty comes with an adjustable regulator, quick release coupling and a nice hose. The poly comes with a fixed regulator, no quick release, and a TERRIBLE cheap hard harbor freight type yellow hose, that is surprisingly a VIAIR hose. I hate it! And just the fact that I had to run to the hardware store to buy some couplings for a quick disconnect irritates me. (I didn't know the hose was going to suck, or that no couplings were included). I should have just bought the Smitty and bought a bracket, or just pieced it together with a good powertank hose. Oh well, aluminum cylinders look cool though! I can't wait to fill this sucker up and use it!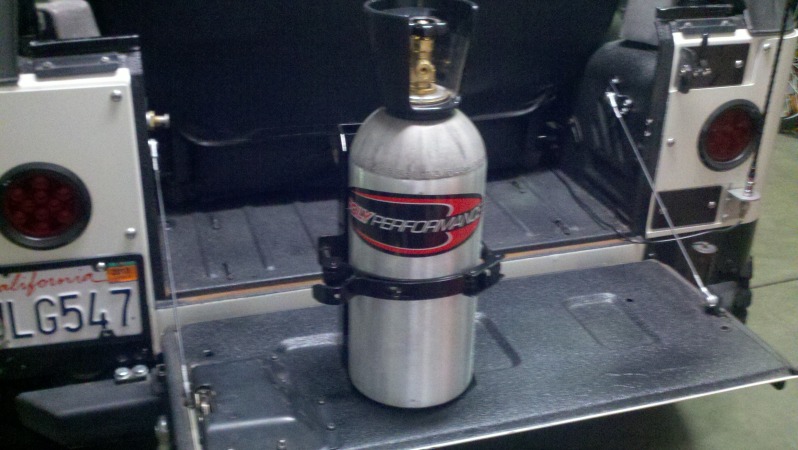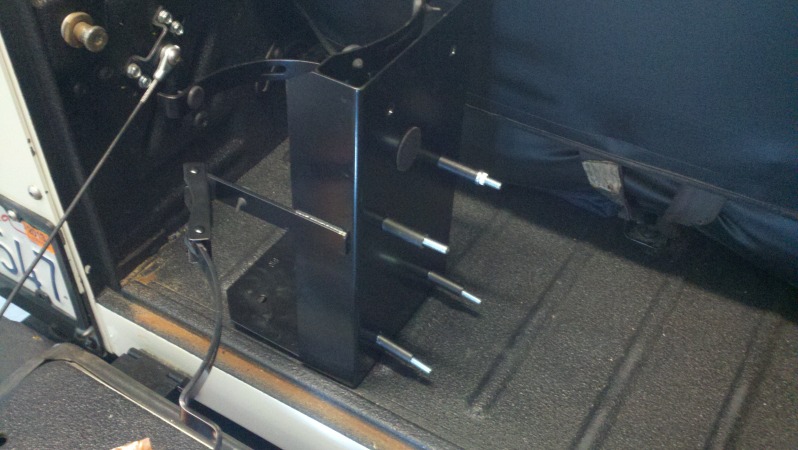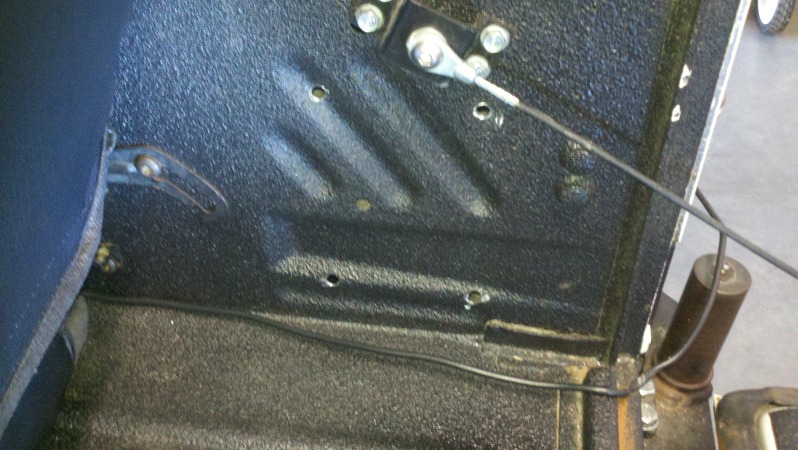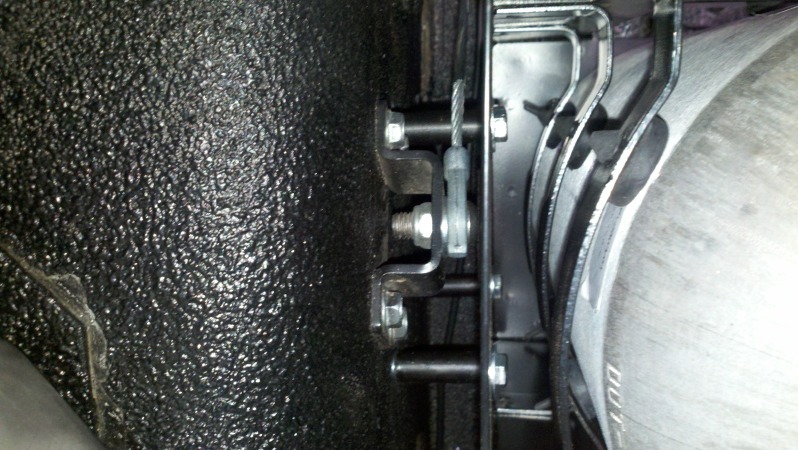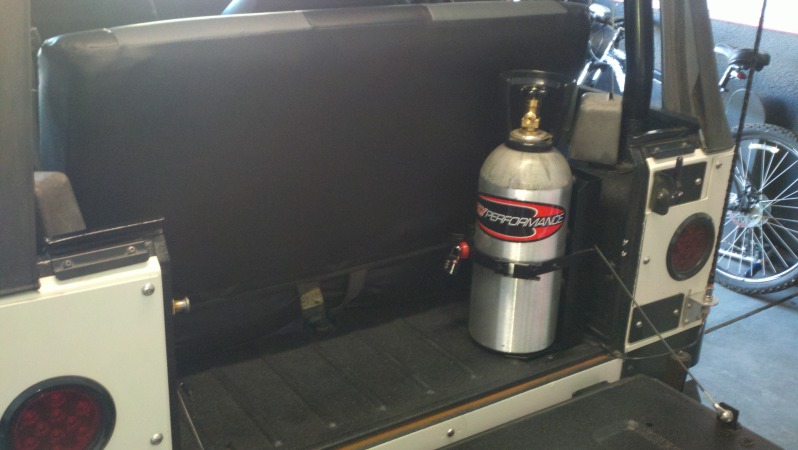 I remembered why I ran my CB cable like that... it was to darn short. Well I went and bought a 20' and it was perfect. I ran it up over the pedals, and along the driver side where all the other wires run, then down into the tub through the existing grommet in the L/R, then across in the channel behind the bumper and to my antenna. Looks a lot better and I bet it works a lot better too. The old cable was kinked, smashed, and also frayed at the end. I'm surprised it worked at all. Thanks for the motivation bobthetj03!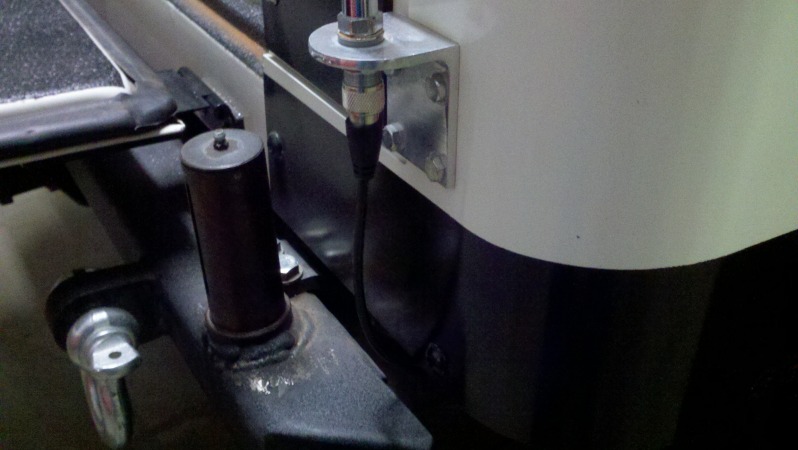 1-13-2013
Spent a little time perfecting my CO2 set up today. The terrible hose the Poly kit comes with was making me angry just thinking about it! So to my surprise I went to Harbor Freight today and they actually sell a nice Polyurethane braded 25' hose. Temp rating of -30 to 175. 250psi rating. Overall pretty much perfect for what I need it for and super light weight. (the cold performance was what I was most worried about and this was the lowest cold rating from rubber, pvc, and polyurethane. FWIW, the actual powertank hoses are -40.)

I also needed some fittings, and found a pretty cool little assortment at Pep Boys, anodized red for coolness points! So I added a blow gun and two different tire chucks. Now I'm good to go besides the tank being empty until Tuesday.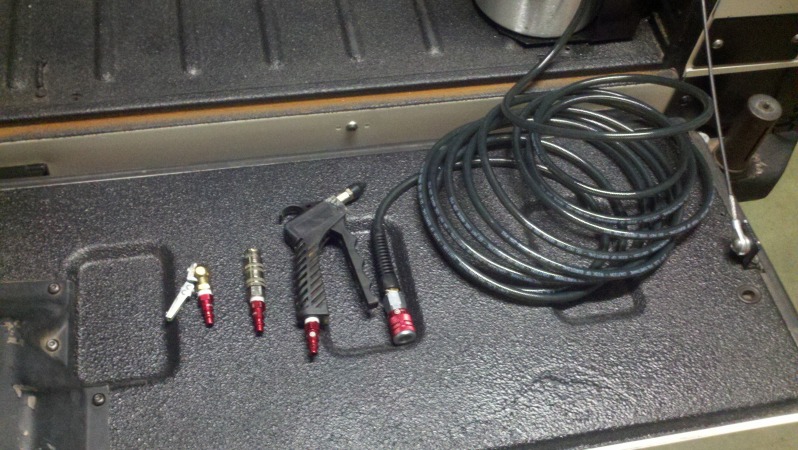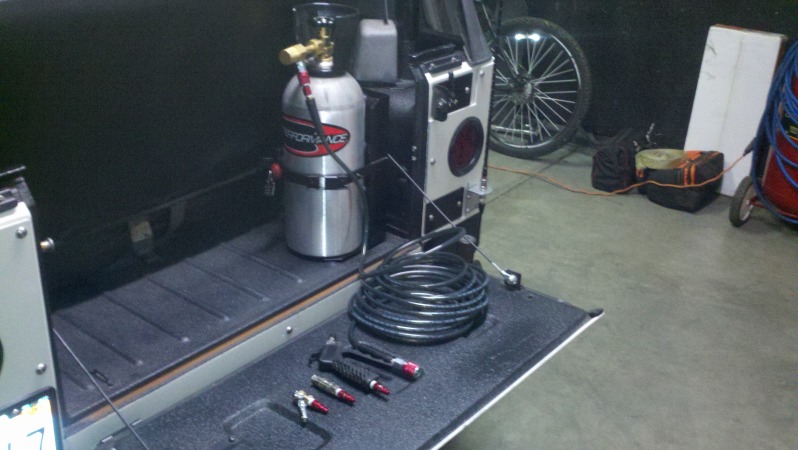 Very compact when coiled and lightweight, I think it takes up less spacethan a springy coiled hose.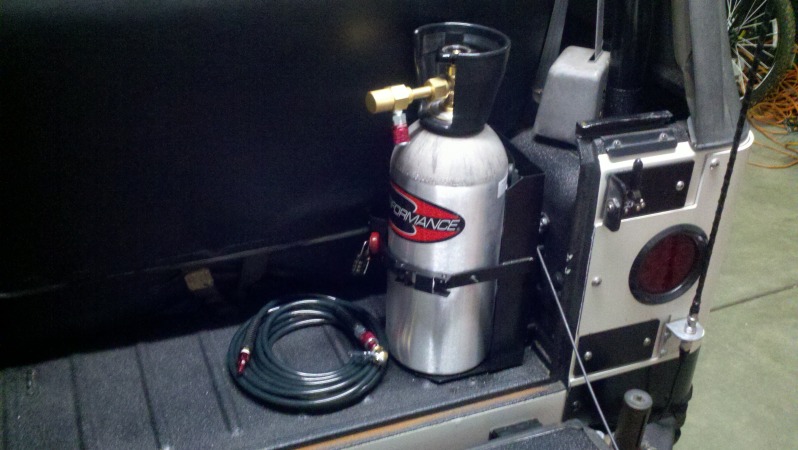 1-14-2013
Thanks man! Here's a link to the exact hose I bought. I figure if I get a season out of it, it's $10 and readily available.

http://www.harborfreight.com/25-ft-x...ose-60353.html

I got my neato CRAWL fire extinguisher mount today! Cool little thing. Can't wait to paint it up and install it tomorrow. It's nice how even the little things in this hobby can be fun and exciting to install and attain. Came with a little swag to, always appreciate that!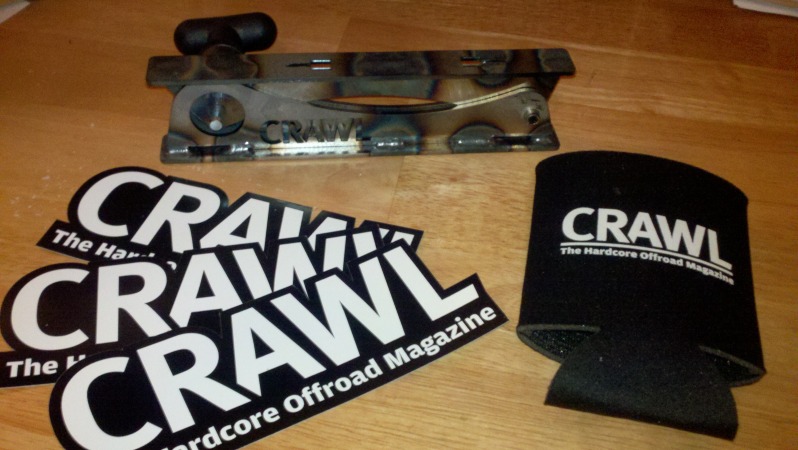 1-15-2013
Got my CO2 bottle filled today! I have heard of it being a hassle at some places but luckily I have a place locally that I heard was familiar with customer owned CO2 tanks for our uses. And sure enough as soon as I walked in the door someone snatched up my tank and less than 10 minutes later I was on my way.



I also got my Crawl fire extinguisher mount painted up and installed today, I really like it and it's literally a split second to get the extinguisher off the mount. Little sucker rattles though, gonna have to figure that out.

And my final bit of "jeeping" today was putting on my new Smittybilt mesh top. Yeah it's way too early to be switching back to summer mode but my buddy is having a grand (re)opening (he moved locations) at his exhaustand off road shop and is having a show and shine kind of thing on Saturday and I think my junk looks like crap with the top on, so off it came today. Put my fancy doors on too.... haha!

Oh and just a quick preliminary review on that mesh top..... LOVE IT. My buddy bought one last year and I liked it, but now having one I can see it's the way to go. It lets the wind pass through so it doesn't flap or catch air at all, silent! Also to my surprise, the straps and plastic buckles are WAY more stout than my Bestop Bikini top. Very secure feeling when your tightening them, my bestop always feels about to break. I found this quite the surprise since this top is only 39.99.

Only two issues I can foresee are.... not enough sun coverage, and snagging on trees while wheeling.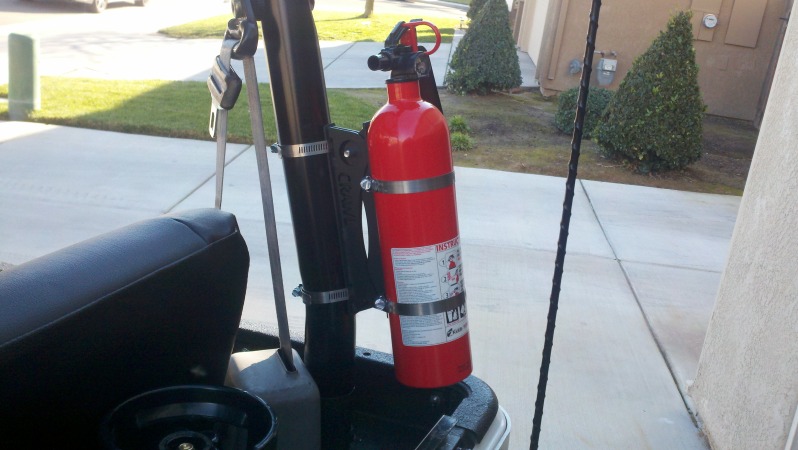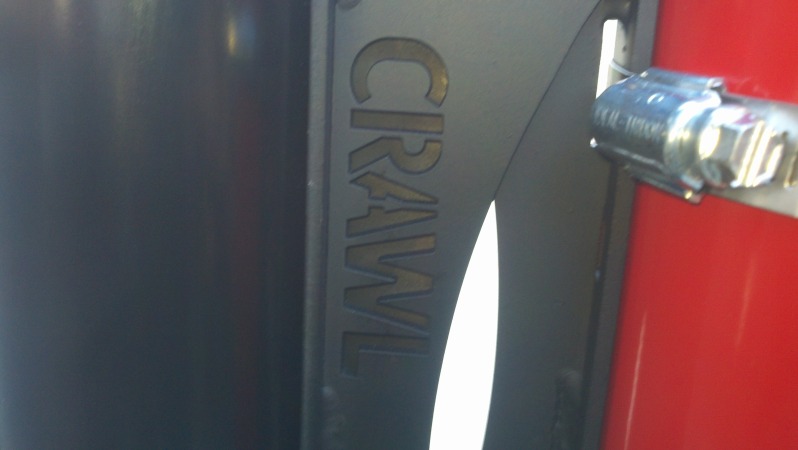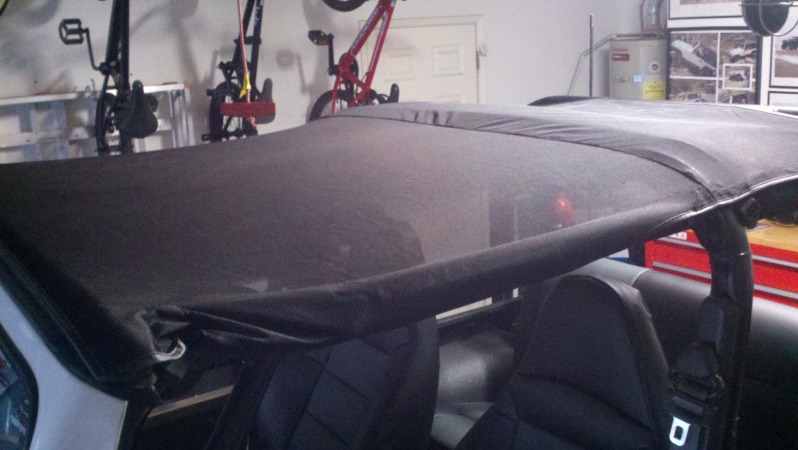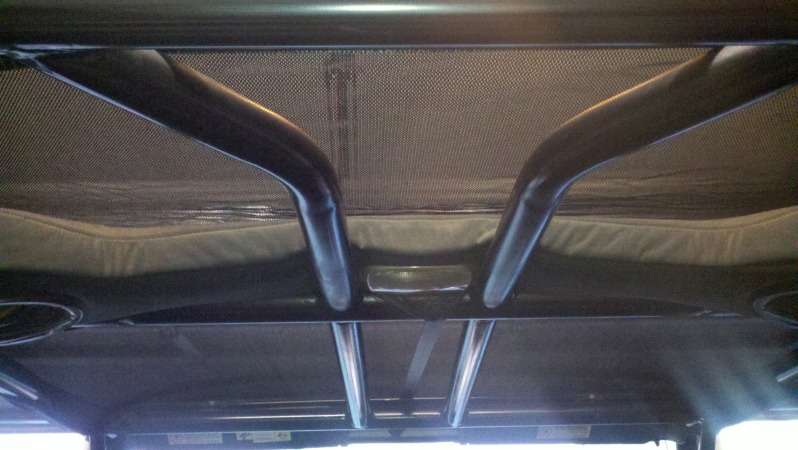 About as clean as it's ever been.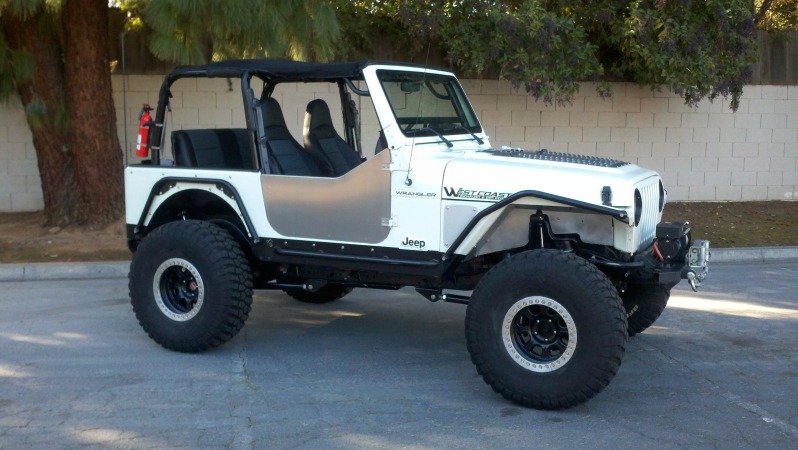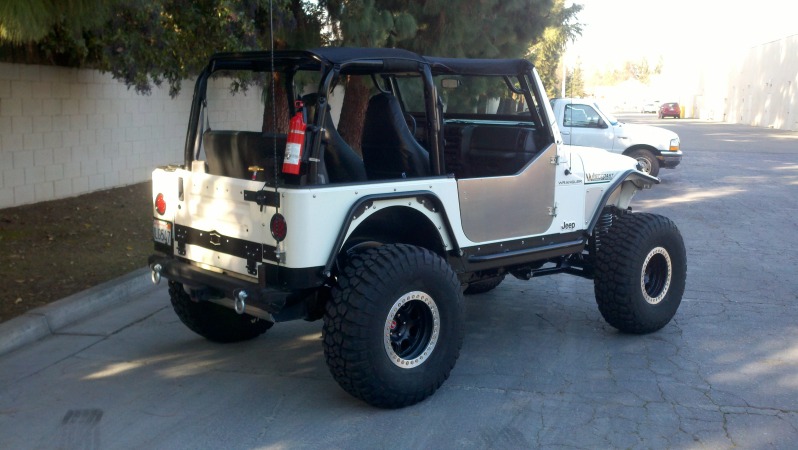 1-19-2013
Did some parking lot crawling today supporting my buddy at his grand opening. Good times!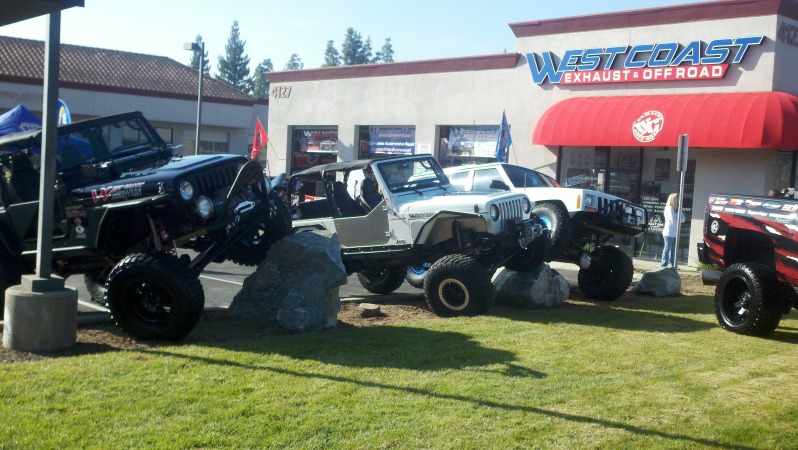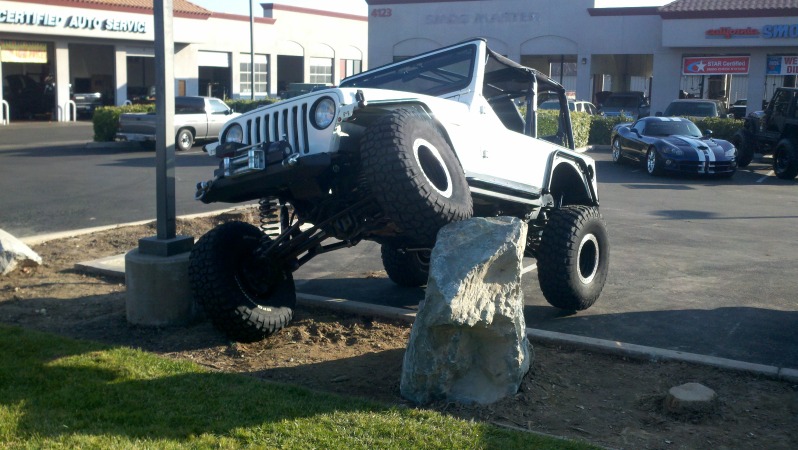 Planning to attend the EMC in a few weeks! Anyone else going as a spectator???
1-22-2013
Well I am working towards some goals of being a little more self sufficient and ready for whatever comes my way in the back country, as well as being more organized with my gear.

I always carry a fairly comprehensive tool kit, first aid kit, and 3 day supply per person survival kit. What I never have carried though was any fluids. And have always felt that I should. I decided to utilize the drivers side battery tray as a fluid storage compartment. I think some year TJ's have ABS crap right there so this might not be possible for everyone. Also I have Metalcloak inner fenders so I don't even remember what it looks like without them.

All I really did to accomplish this so called compartment was to fabricate a fourth "wall" out of some sheet metal and welded it to the battery tray.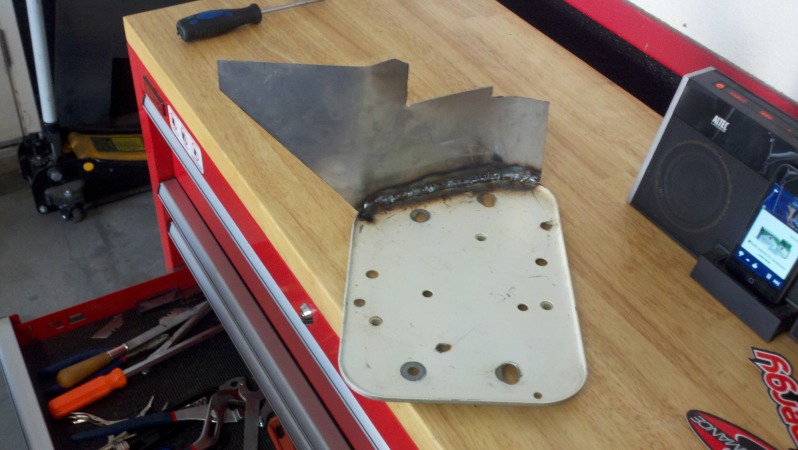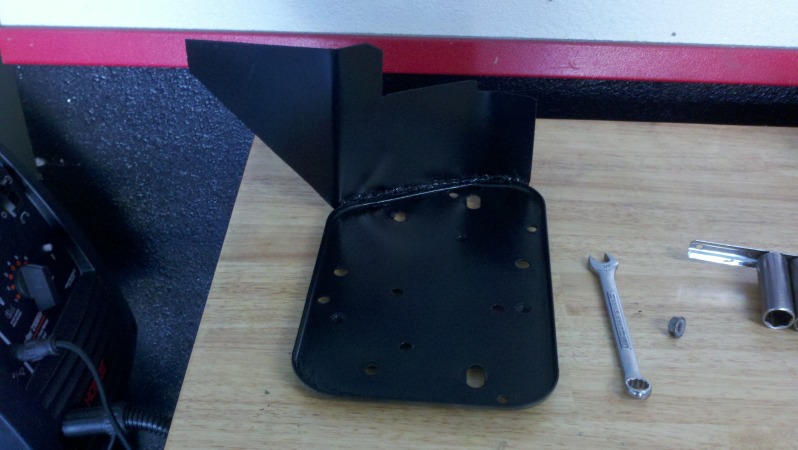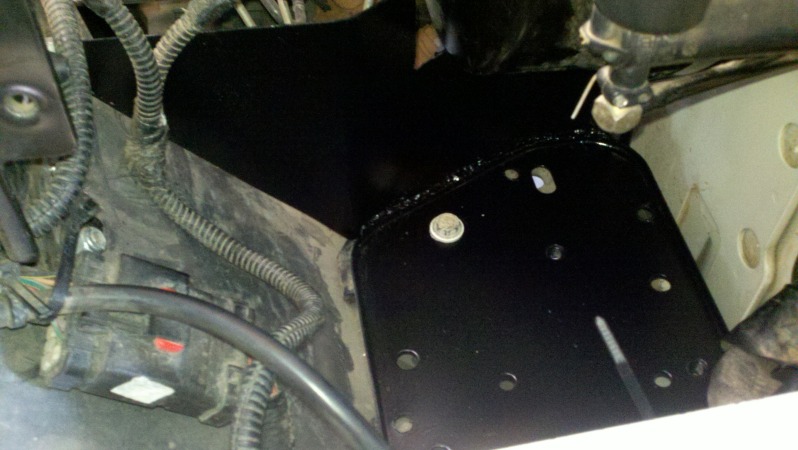 It's really not a lot of space obviously but I was able to put a surprising amount of stuff in it. I went to Wal-Mart and just bought the cheapest fluids I could, after all it's just for emergency. So here's what I'm able to carry...
1 auart of oil
1 quart of ATF
1 quart of gear oil
Small container of brake fluid
Small WD40
Funnel
JB Weld
Tube of RTV silicone
Superclue
Gloves
And 5 Gallon sized Zip lock bags.

One bag contains all the small stuff and the other bags. The bags come in handy for containing or reuse of any liquids you can capture, like if you have to pull a diff cover.

I figure this is a good start from carrying nothing in the past. I've got a bungee around the containers keeping them snug, we'll see how the containers hold up over time in that environment.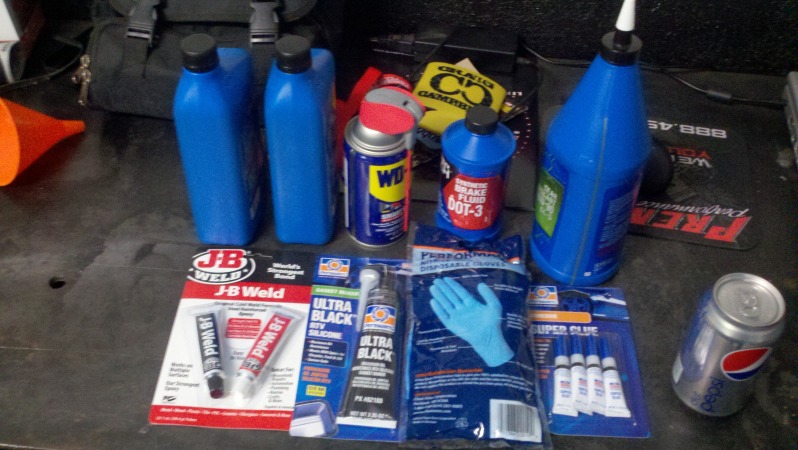 My next project I'm pretty excited about....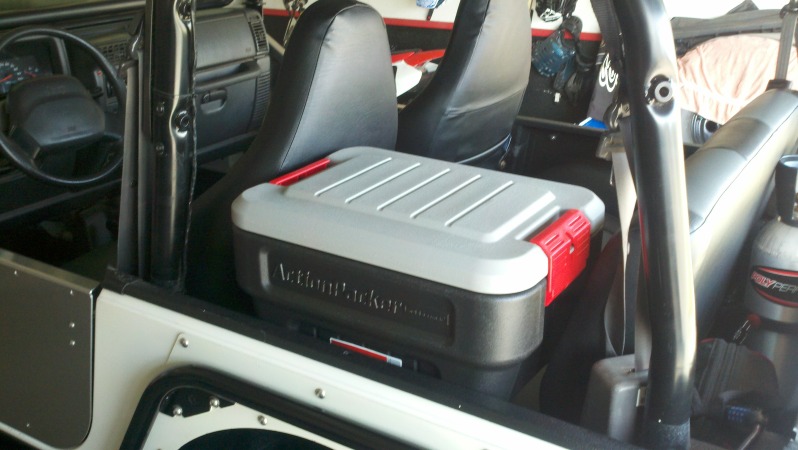 I picked up this 8 Gallon action packer today and will be ordering a SWAG Baja Bin asap. This is where it will be mounted. I've just got to fab up a simple but strong mount. It fits there perfect, doesn't take up much of the back seat room, will be accessible without removing it and will stop all my crap from rolling all over the Jeep while wheeling.

1-26-2013
Posted about this install in tech.

http://www.jeepforum.com/forum/f9/sw...kseat-1469490/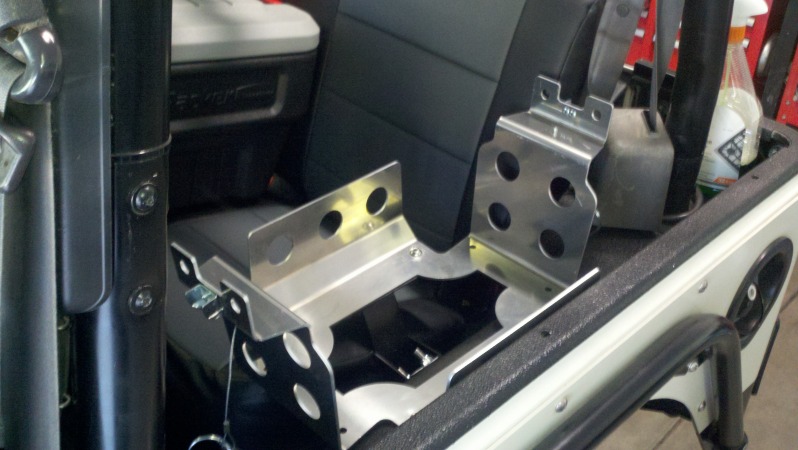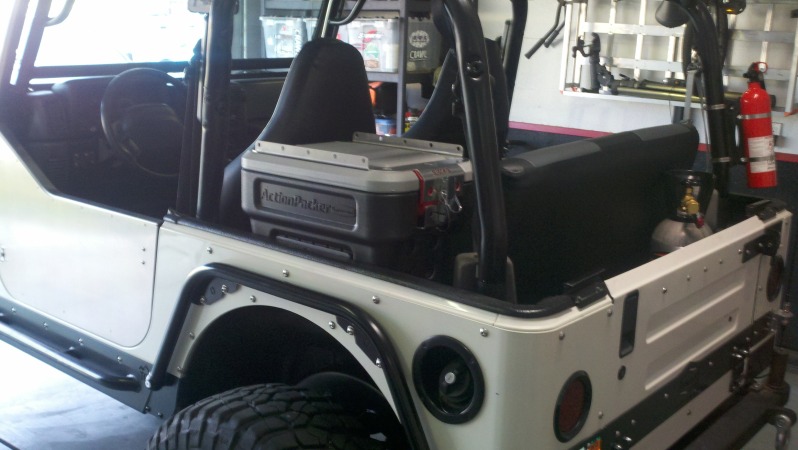 2-20-2013
Build has gone a little stale! Just not sure what I want to do right now. Pretty happy with everything besides wanting to just go crazy and make it a race car after going to KOH. Fitted up an Artec 4 qt. crate the other day.... whoopdy do. Nice piece though.

2qts. of oil, 1 aft, and 1 gear oil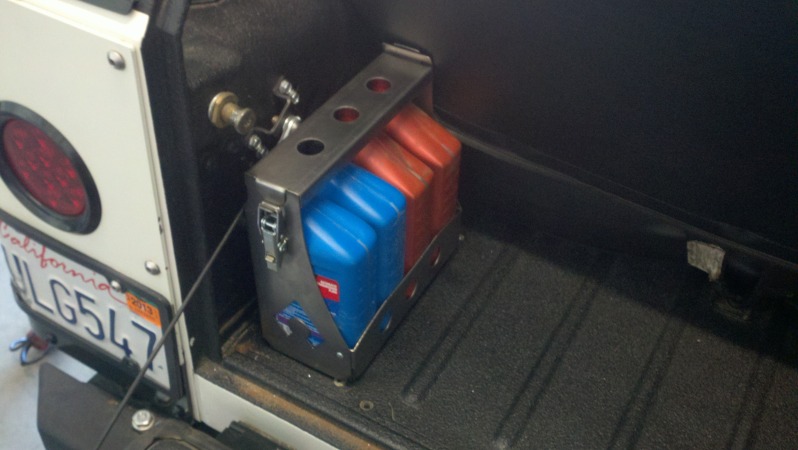 Flat towed to the Hammers without incident... It rained on my way home. Needless to say, hammers dust, rain..... dirtiest this jeep has EVER been.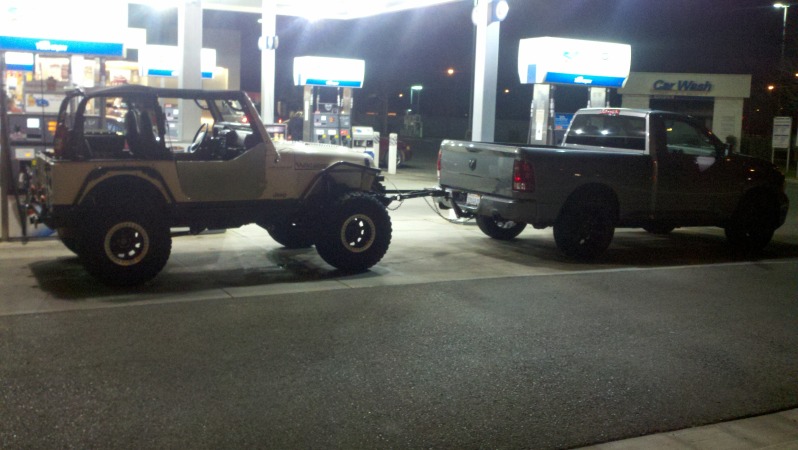 John and Gerald doing work on Chocolate Thunder.... They were SOOOOOO far ahead already by this point. I thought people would start coming through right after them but it took about a half hour for the Gigglepin team to show up, and then another half for the next closest team. It was pretty disappointing as a spectator at what was supposedly the best spot to spectate to see so few cars come through, and I was there ALL day. Seems like Aftershock would have been the place to be! If I had known my way around better I would gotten over there. It was good just to SEE Johnson Valley though and get a feel for the area. I can't wait to go wheeling there very soon.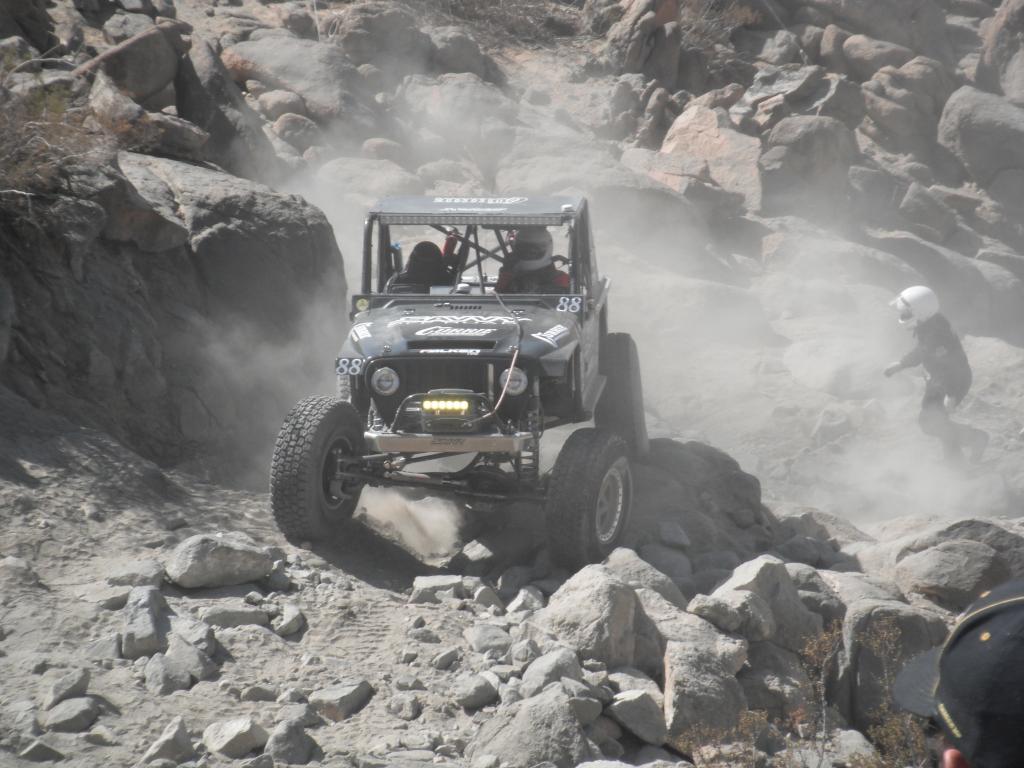 2-24-2013
I hope everyone is able to follow through with the MOAB plans. Myself included! An annual JF trip to somewhere would be a great tradition to start. Getting all you easterners to the Hammers would be quite the undertaking. The Hammers are however NOT a place you probably want to be in JUNE. But would be a welcome break in the winter for you cold weather folks. THANKSGIVING at the HAMMERS 2014!!!
2-25-2013
Gotta CONFESS something.... I usually don't have much time to post on here aside from updating my little build thread, or I'm so tired from life I just don't post and just read. But if anyone has noticed I've been posting A LOT the last few days. It''s been a fun distraction from a potentially serious time. I've been suffering from a pain for the last 3 weeks in my head, behind my left eye unlike any other pain I've ever experienced. 24hrs. a day. I'm on strong pain medicine, light duty at work, and very loopy. For a guy who doesn't drink, smoke or generally partake in anything that would alter ones natural state..... medicine effects me very severely. The pain is relieved though. I have a cat scan on my head scheduled for tomorrow to get some more answers..... I only bring it up to let you all know this could effect my MOAB trip, and that the conversation on here lately has really been helping keep my mind off of things so THANKS!
2-26-2013
Thanks man! Luckily our incomes are very stable. We don't make a lot of money but as a team we're pretty fortunate. In all honesty, the rental's we're considering are going to be several hundred less per month than our mortgage, and WAY more house so I'm kind of looking forward to it. MY only real requirement beyond making sure the neighborhood is better is to step up from my 2 car garage to a 3 car garage, haha! ON a side note..... here is my garage when I moved in.... I was so proud!

I spent a ton on the tiles, but unfortunately they didn't hold up. I was dropping trannies, rebuilding motors.... doing a lot of REAL mechanic work, and they were more for just a showroom.... oh well they looked cool for a while!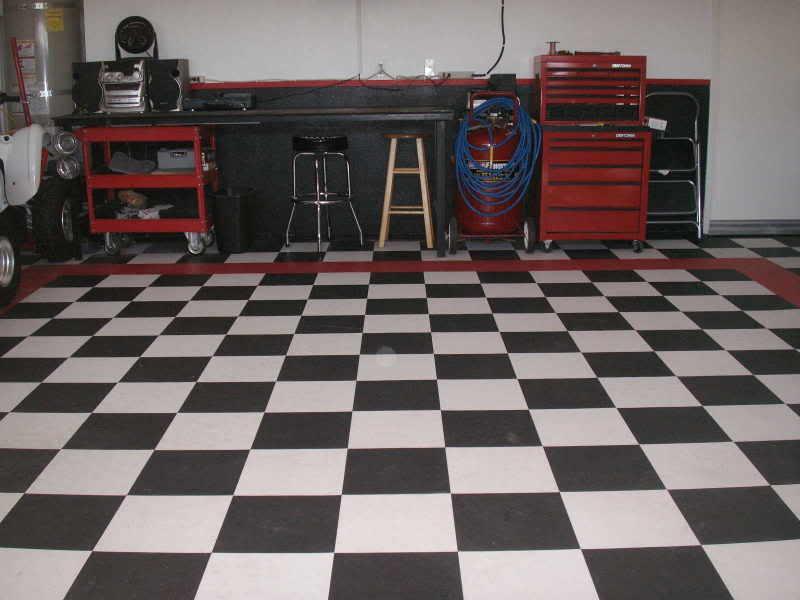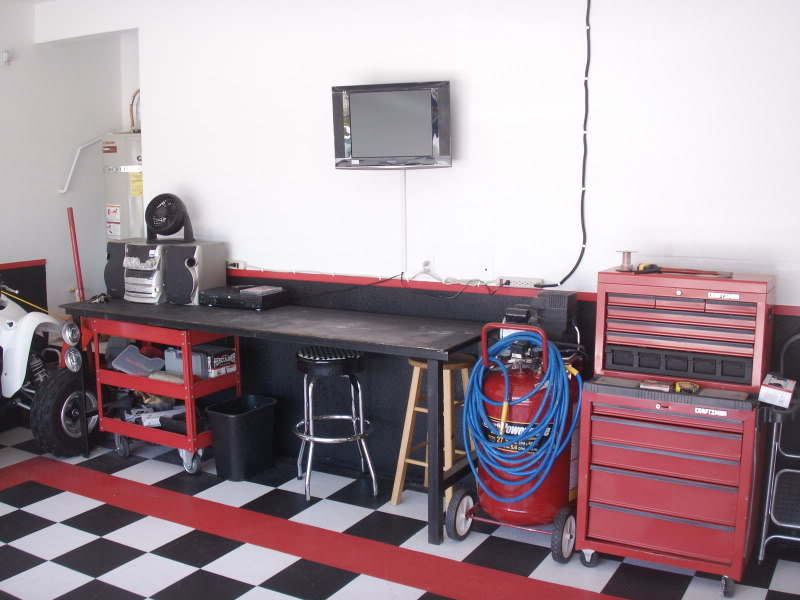 PRE Jeep hobbies....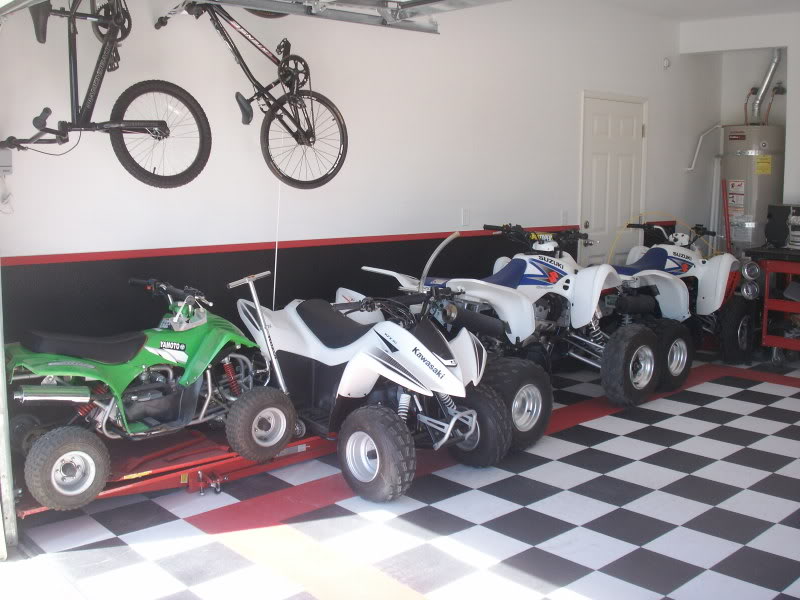 It was quite funny..... got my keys and went straight to work in the garage. Here is what I started with! I'm kind of a painter by trade though....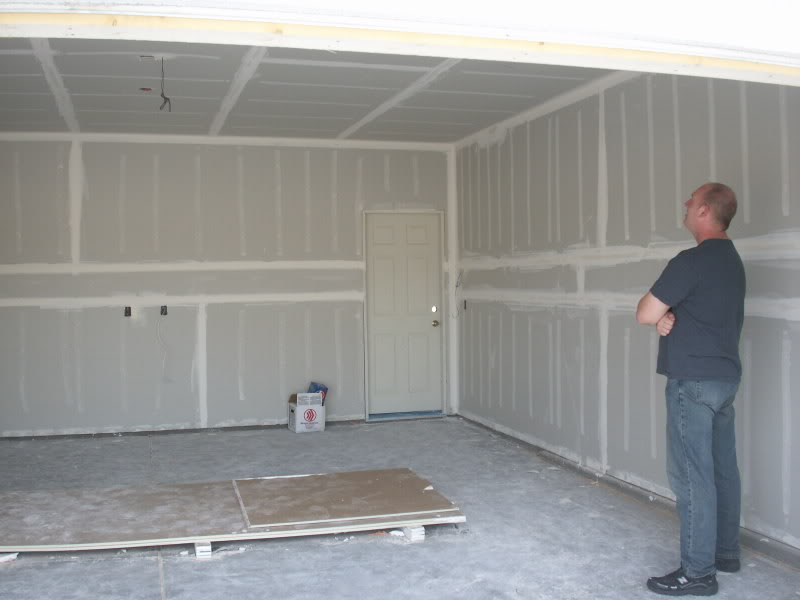 2-27-2013
Ok this is next! Not a real exciting install, but an exciting item to purchase and have. Big $'s so it's gonna have to be saved up for. But it'll be happening sooooon. My front axles are what I worry most about it seems like. Having tires wedged, and turned, and applying throttle get's a little scary. I was also on a run last year where a stock shaft let go.... destroying the unit bearing also after he had to drive it out. Don't want to be that guy....


http://www.rcvperformance.com/produc...aspx?sku=CVJ30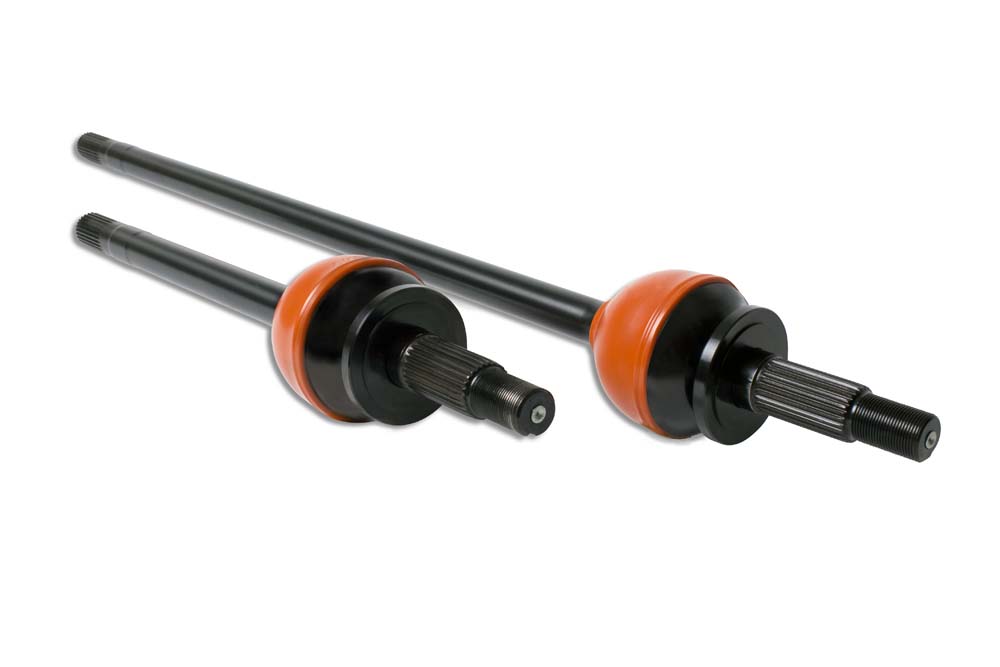 2-27-2013
The failure is still surprising to me. I would almost blame the U-joint being defective more so than the conditions it was being used. If anything, I was thinking you guys bent the housing, or knuckle, or C, just by hitting the whoops to hard or unexpectedly. Then I thought maybe you were bound up, turned, and opened up an ear on the axle and it was down hill from there. Interesting! Why would the U-joint break Mike?? Shock? I know it wasn't just simply worn out.... or was it?

I know the brake upgrade is very worthwhile, safer, and just down right a good idea. But I have just NEVER thought I needed more brake during my 5+ years and 50k with this rig, 1 year on 31's, 2 on 33's and now 2 on 35's.

My previous "fun" car was this.... A 2006 Lancer Evolution RS, with rather large Brembos, so I've experienced powerful braking, REALLY powerful braking actually. This car was regularly auto-crossed and drag raced.

Loved this car like no other....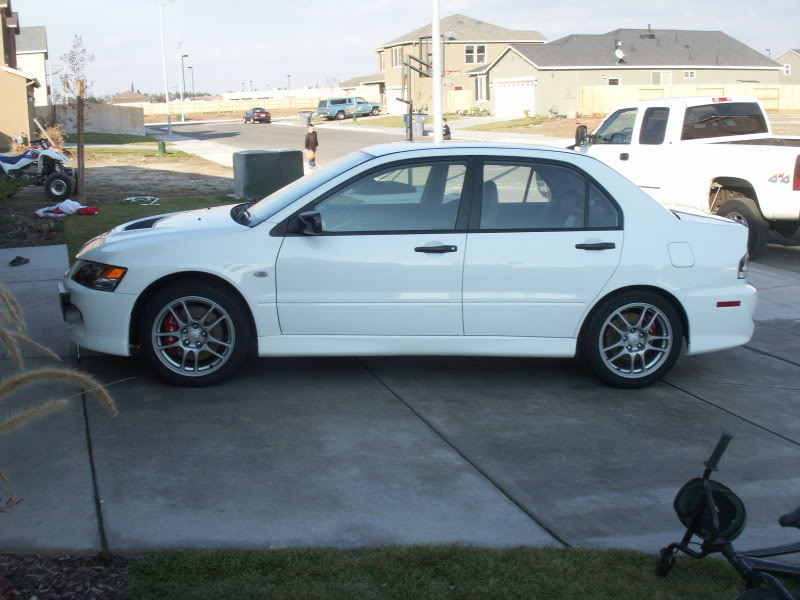 So losing my ability to do the Vanco isn't really even on my radar, perhaps because of how I drive the Jeep..... like a 4cyl. Jeep.

So for me... it seems like RCV's will make me a happy dude, and give me a little more confidence to work the wheel a little more to gain some front traction in the rocks.
3-2-2013
Im ready! I think this is the longest i've gone in a while without spending some money on my Jeep. I've actually got some extra cash but am ALSO looking for one of these to restore...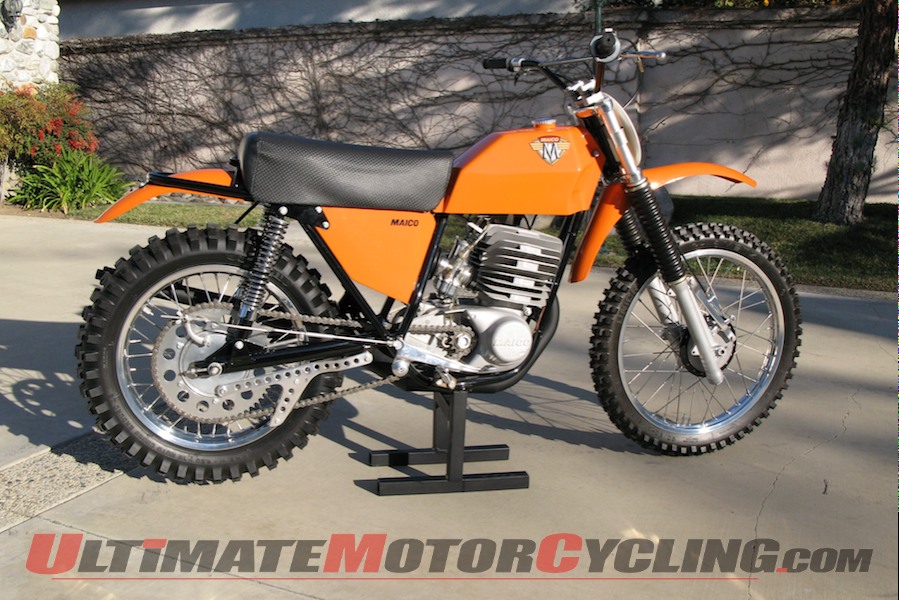 AND, I just found out yesterday my Uncle was one of the first in the US to own (actually be partially sponsored by) Yamaha in 74 and be on one of the Canadian mono-shock YZ360's. Basically the FIRST monoshock MX bikesavailable = holy grail of MX bikes. I'm going to go out on a limb though and say those are pretty much unobtainable...


Haha, I don't know, this is the LONGEST i've not had a two wheeler in the garage in 10 years so I'm getting a little crazy. Another long term goal that I want to accomplish before 40 is BONNEVILLE, specifically going the magic 200mph on a bike. My grandpa did it in a GT40 when he worked for ford in the 60's doing R&D and it was a dream of his to do it again on a bike, but he never made it. He died at the age of 77 riding a 2002 GSXR1000. So anyways..... wheeling is a passion, but I've got this motorcycle thing also. 6 month Bonus is coming up in April, so I may be able to have it all, so to speak.

And I usually shop hard on Pirate....... seems like I always find the best deal from someone on there.
3-3-2013
What's going to be interesting is that I take him so often wheeling with me, and since he has been riding quads and dirtbikes on a lot of these same trails since he was 4, he's a little jaded by the difficulty of what it takes to handle a full size rig. I think it'll be a wake up call, and then FUN for him as he realizes how many times he's been in the rig with me, we've just crawled up an obstacle that just seemed easy, and just how technical or challenging it actually is from the driver's seat. A lot of times, were doing a hard line, and he's reading a book of all things (loves to read), or maybe even napping!!!
I know this is JF and not Facebook, but just to update on my health problem I posted about earlier this week. They Scanned my head and the results came in. NO abnormalities found. So that's good. I just wanna know what the hell is causing these headaches now! Anyways at least I can relax a little about thinking about the worst case scenario. On a side note I'm on a new med, can't remember the name of course that knocked me the f-out last night..... haha.
3-4-2013
Ok, I thought up a little project just for me to try and get my **** together again without over doing it.... I just ordered up some BTF diff. covers, DIY style, cause I'm WAY cooler than Kate. Should be a fun little Saturday project. It's time to get a look inside those diffs to see what's going on anyways just as a preventive maintenance before the heavy wheeling season starts.

So now while I wait for them to come... what's the BEST chrome paint???? for these babies???

http://www.bluetorchfab.com/Product/...r-DIY-Kit.aspx
3-5-2013
Gotta admit.... still love me some Plasti-dip. Got a little intense out there today when I ran out, Hopped in the HEMI RAM!!! haha sorry, and it was out of gas so I hopped in my wife's civic and headed to o'rielly and those dope's were out also.....so ALLLLL the way across town at 5pm during rush hour to Home Depot, luckily they had some. Barely made it home before I road raged myself into a ditch. Sprayed that last little bit I needed and now that huge project I took on today is DONE! Hey at least I did something Jeep related!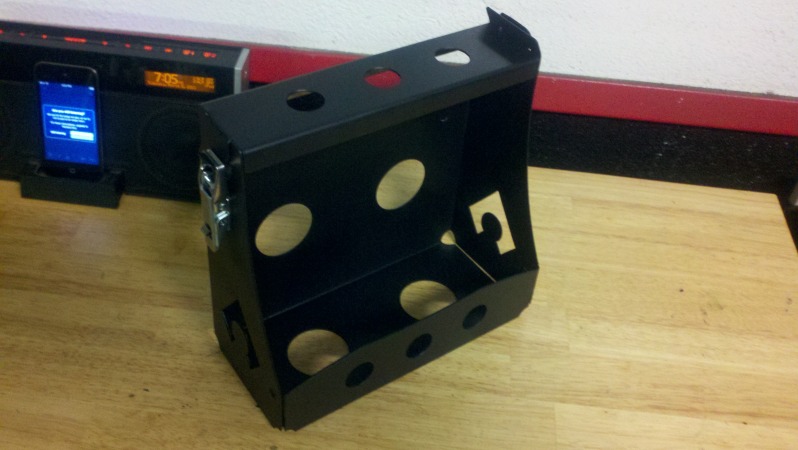 Oh hey Tate, thanks for the Thumbs up...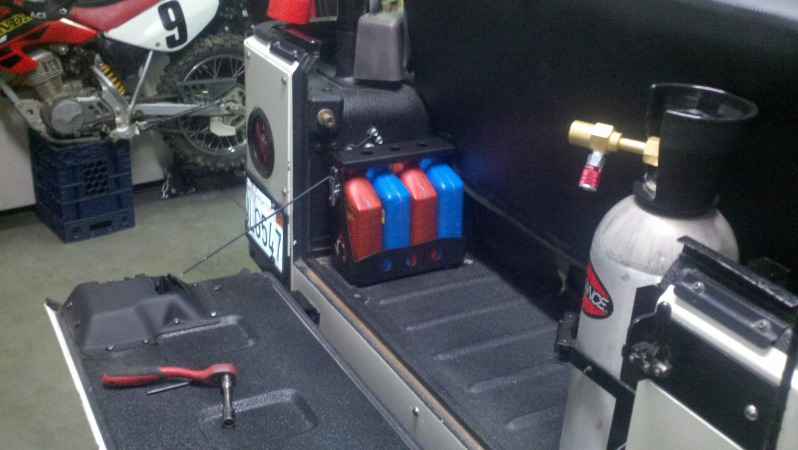 3-6-2013
A little weld therapy for me tonight..... much needed!!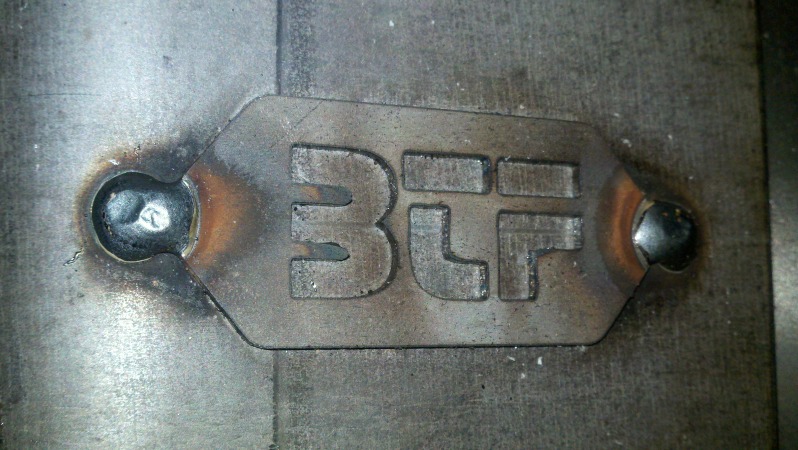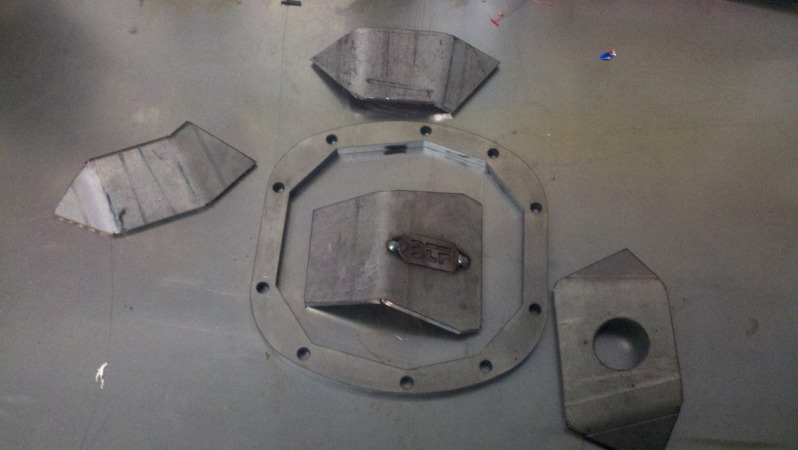 well this thing is just cute as can be.... I would highly recommend these as a fun little welding practice project. There's lot's of welding to be done on them lol, but it's easy going. They fit together just beautiful. I'm not gonna finish this one tonight but I got a good start on it.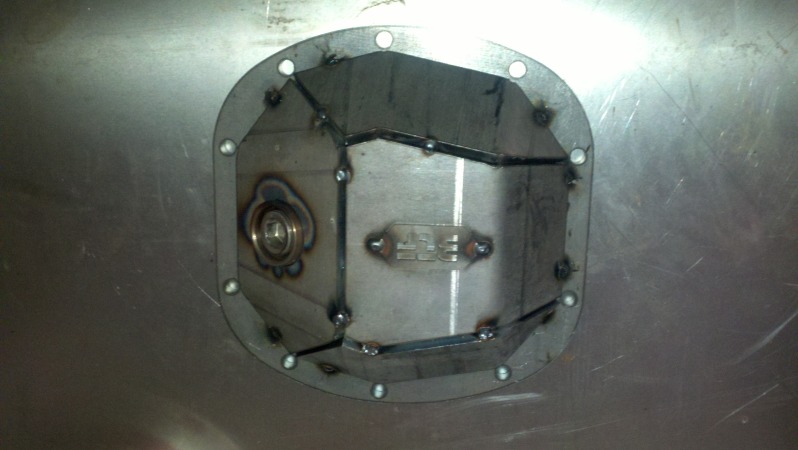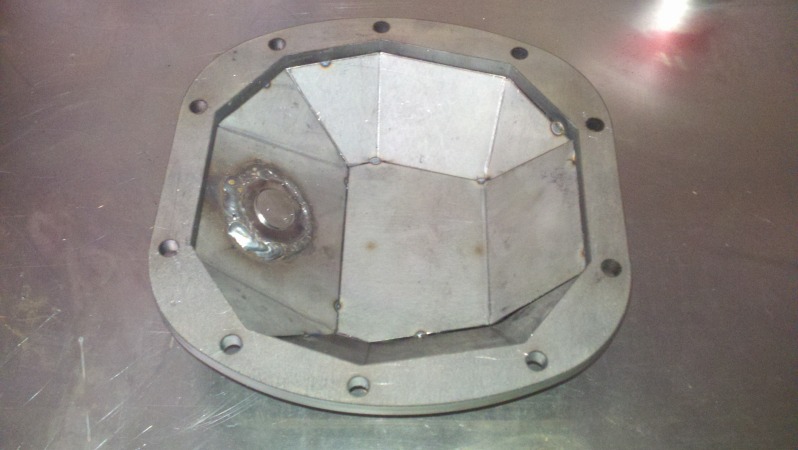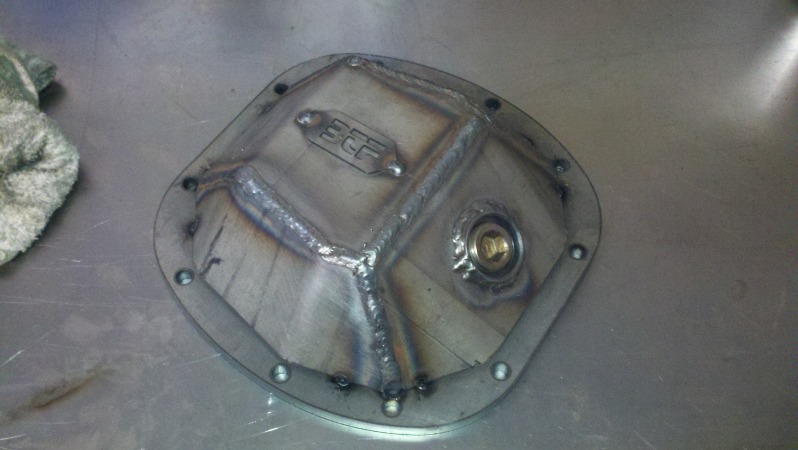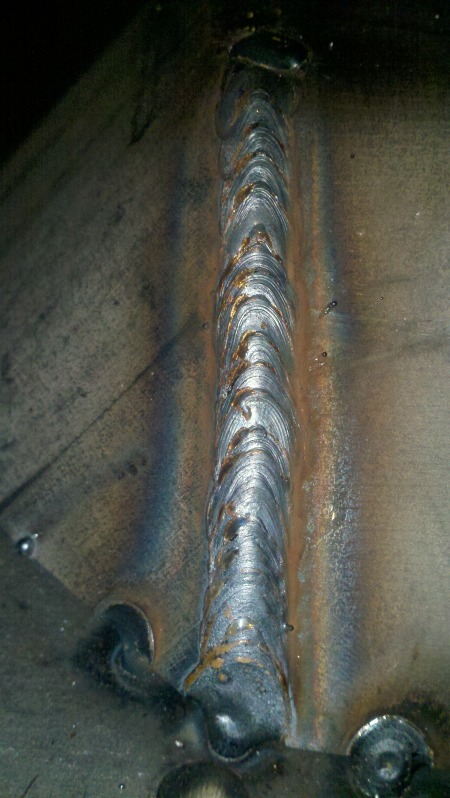 3-7-2013
Well after looking at hotel prices for Moab, and factoring gas and emergency money, I'm going to hold off on the RCV purchase. I'll just pick up some stock spares to have on hand, and just do some general maintenance before the trip. It still could happen, I would love to be showing off those orange boots, while you guys shake your heads????

.... I wish I wasn't such an impossible ******* and could stand to sleep near anyone, because I'm sure it would be cheaper to go in on a double bed room..... oh well. The price I pay for being annoyed by everything!
Welded all the way around the inside of the ring, letting it cool, perfect chance to post some pics for no good reason, lol.



Went side to side, section by section, letting cool a bit between. A little concerned about warping, but it doesn't look like it's an issue at all. I woulda took Mike's advice and bolted it to the axle but it looked like his axle was out of the Jeep, and it would have made the welding a zillion times harder with the axle in the jeep....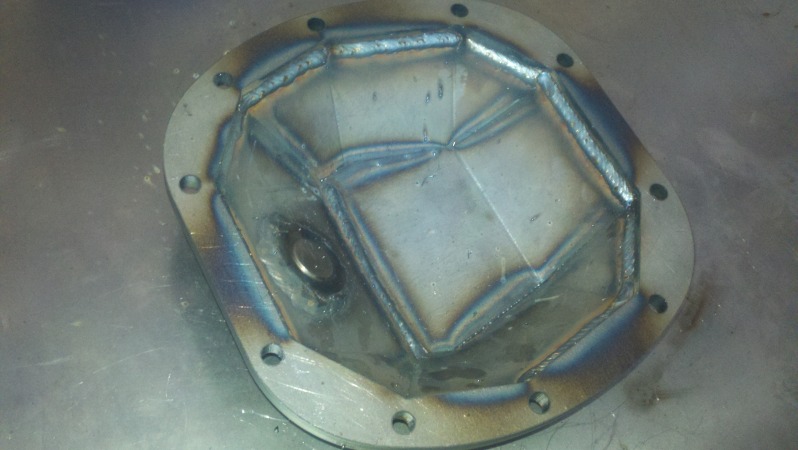 good time for a weld bead critique???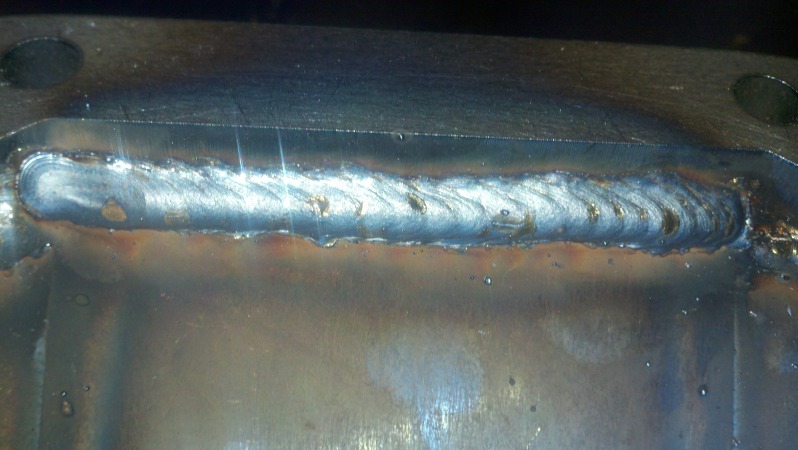 I just think HAZ looks cool....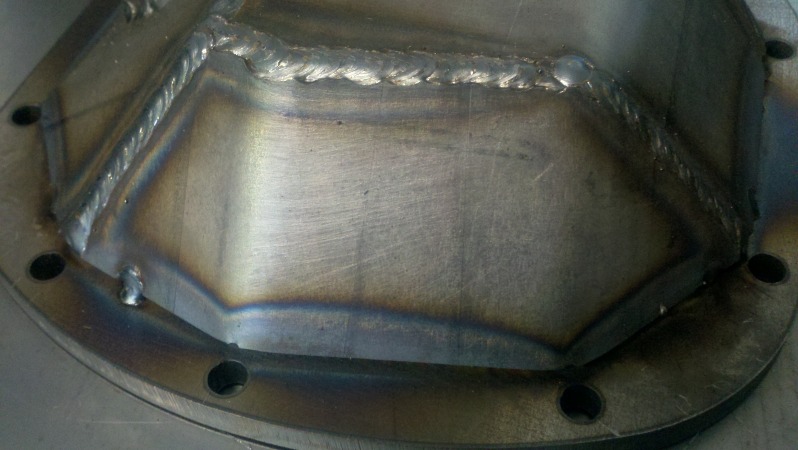 I'm planning to take a photo of my stock d30 cover and this one side by side profile, this is NOT a deep cover, I doubt it's any deeper than stock, not much at least. I know the depth of aftermarket covers is a big issue and I don't see the BTF cover mentioned often as a go to cover.... so maybe this will help. The welded version is only $89, so I don't know why it wouldn't be more popular??
Inside welded completely, did one vertical up that was ugly, but the rest was good practice in several angles, positions... now just gotta cool again, and weld all around the outside, then probably grind a bit around a couple bolt holes for clearance, go buy some new allen head bolts, paint, gear oil, and maybe if I'm feeling froggy, put this thing on tonight.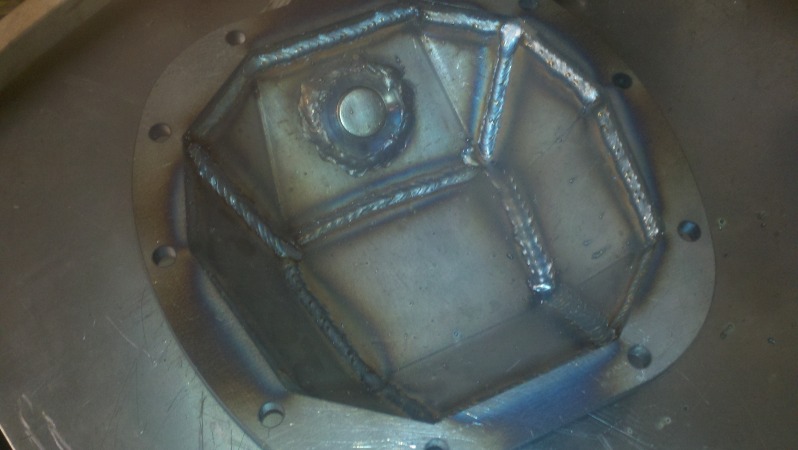 haha, yeah I guess that was the wrong choice of words!

Well I'm happy to say all it took was a little work with a dremel grinding implement to get all the bolts to drop in and sit flush and was really no hassle at all. So i just sanded her up, cleaned her off with some lacquer thinner and shot a coat of self etching primer on it. It looked badass in all it's raw metal glory, but alas.... plain old black it will be.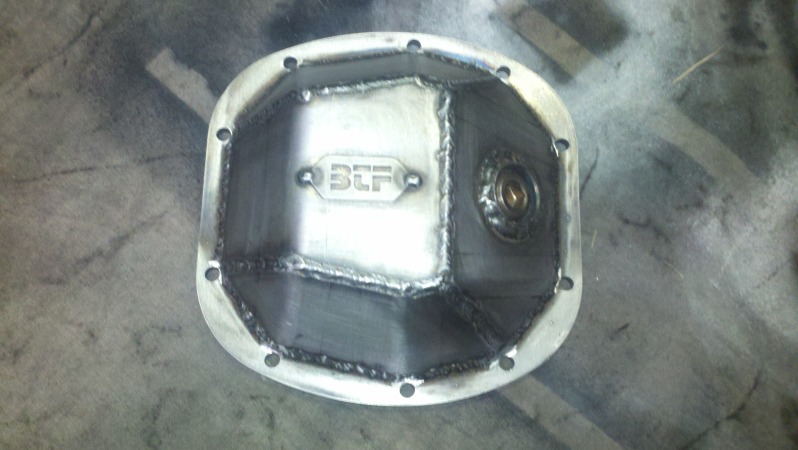 well the primer is dry, wet sanded, wiped, and two coats of rustoleum semi-applied that laid out like glass I might add..... looks killer.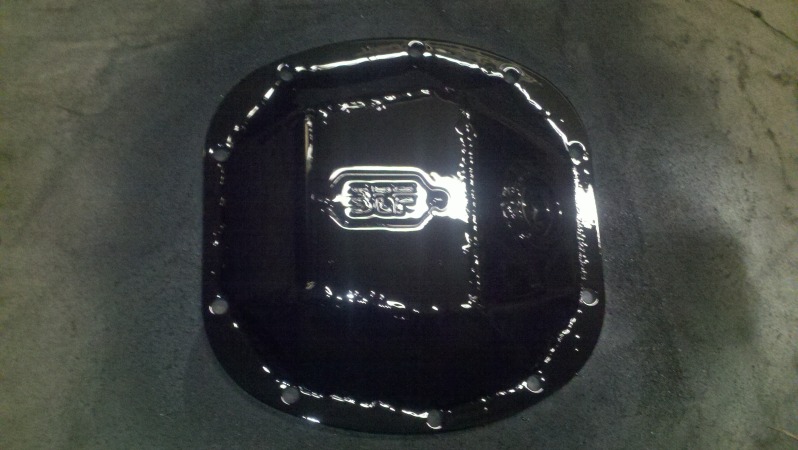 I'll let that settle over night and get it on in the morning, I don't work till 12, so plenty of time to fiddle around. Overall cool cheap way to spend some time in the garage!
3-8-2013
Getting ready to install diff. cover, waiting for RTV to set up, snapped a photo of the the stock cover next to the BTF one, and just as it seemed, the BTF is only slightly taller, 1/4in. or so.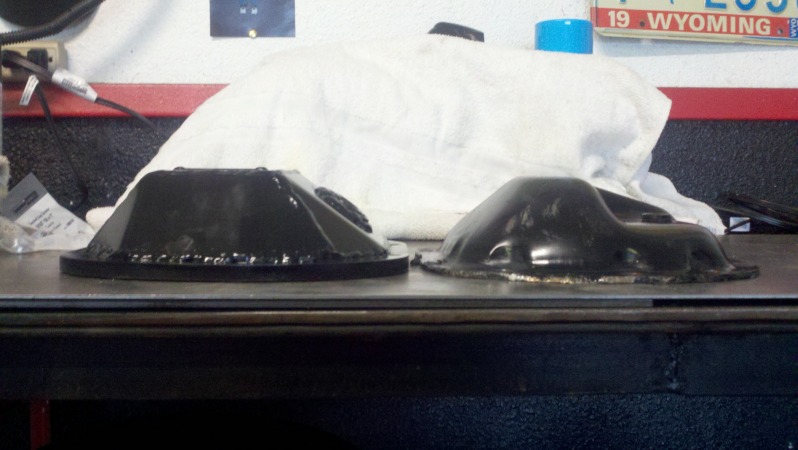 Thanks buddy!

And, Done, I was being a geek and actually torqued the allen bolts to 25ft. lbs. haha. They will be BLINGING until the the first touch up.... lol. Now I have the rear one to do if it comes in today and I promise not to document it like I did this one......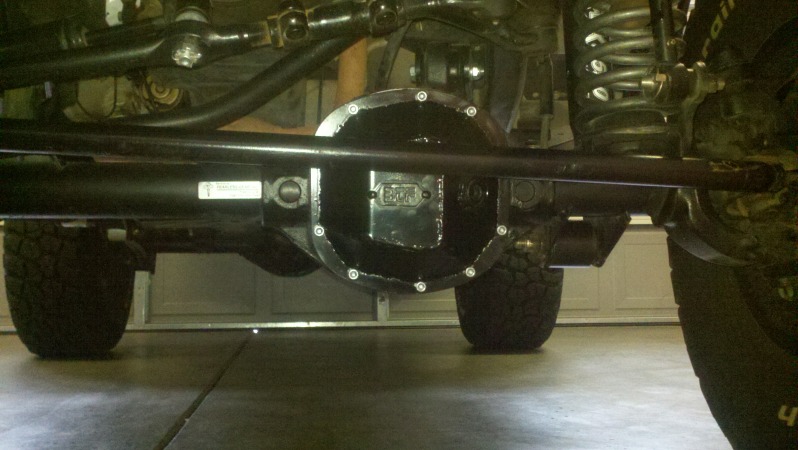 3-9-2013
Beasley was holding out on the Canyon Land Cabin details though (they probably upgraded since he's last been).... on their website it says, actual A/C, TV, Fridge, WiFi, There's a pool.... $65 a night, cabin's sleep 6! Not bad at all and a GREAT deal for you social types. Can I get over a communal shower system / restroom though?? WOW, sometimes it's so hard to be me. It's still appealing at the price point and the good reviews on the cleanliness and location. Final decision to be made by tonight.
So today was pretty relaxing. My other diff cover didn't come in so I decided to do a maintenance job I've been putting off for no good reason. Front brakes on the Jeep. No I didn't get Black Magic with Centric rotors, and not because I don't think they are worth it or better than standard replacement parts, it's just because I didn't want to. Never during any of the tire sizes I've had from 31 to 35 have I felt my brakes were inadequate, so for a $100, NAPA replacement pads and rotors are going to be just fine for me. The brake job was about as easy as could be.... had to look up the torque spec on the caliper pins bolts, 11ft. lbs or 132in. lbs. I can onlyimagine how many of these are rolling around severely over torqued. I had my son help me today, let him use the impact to remove the front wheels today, he enjoyed that.... then let him get me tools and stare at me and annoy me, and mess around.... good times with my boy.

Right after I took that I told him to switch his hands....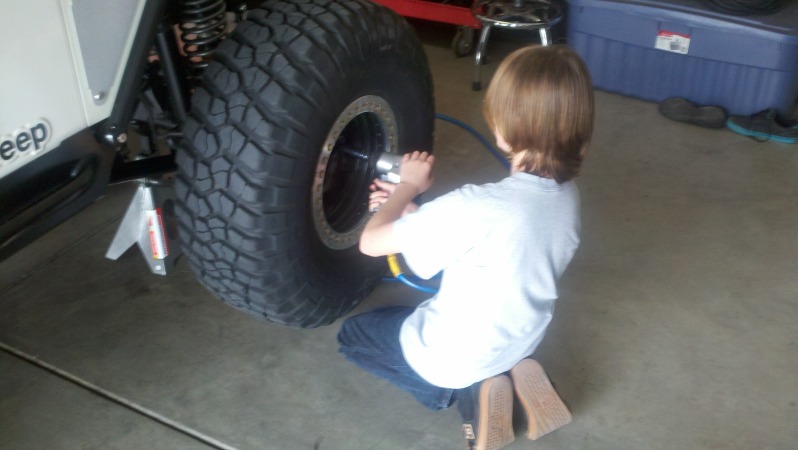 And haha.... still my little boy for a couple years. (video, click it)
http://s13.photobucket.com/user/gst95dsm/media/2013-03-09_14-50-16_804_zps9c5ec712.mp4.html
BOOKED, Moab Valley Inn. $105 a night for reference. You other ****ers better show up, well actually I don't care, I know Beasley's gonna show.... and me and him'll Moab it up no matter what! But I would love it if we get a good group of JF build thread posters. I want to actually see these Jeeps! Glad that dilemma is over.... stressing me out.

3-10-2013
Gantt chart it up Kate.... using Beasley's intenerary, and whomever has said they think they are gonna try and go. Should be a fun excel project! You could by PM get the required information. Meh, on the email group thing.... I already got too many emails I don't remember to look at, but am always on JF.
3-13-2013
This made me happy today....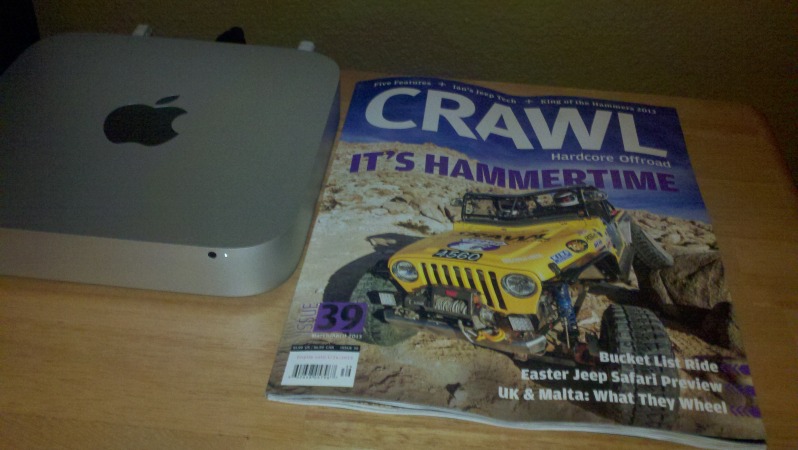 Issue seemed a little light on content, I pretty much read it all in about 30 minutes oh well. I bet some good features will show up next month on the top KOH Finishers. Always cool to get the mag though.

So I've been racking my brain about maintenance to perform before MOAB, I hate to replace stuff that's just fine, but figure it's still a good idea, the Jeeps pushing 100k and a lot of the front end is OEM, actually ALL of it besides the brakes now and the Tie rod, and the gears and the aussie and diff cover, lol. So I think to be cost effective, I AM going to replace all 4 ball joints on Saturday, on the fence on the UNIT bearings, I may buy one to have on hand since they are a relatively quick trail repair if actually needed. I also plan to have a spare tie rod end and drive shaft U joint's on hand, I'm always worried about the driver's side one. Then I plan to focus all additional funding on the front axles, whether it ends up superiors, RCV's or just another set of stocks as back ups, I want to have something.

I laid under the Jeep today and discovered to my absolute horror, that the underside was covered, well not really covered but there was oil on my skid, tranny, rear diff..... annoyed! When I built my oil pan skid plate I did not build my access hole for my drain plug with enough clearance so when I drained the oil during my first oil change since I installed the skid, a lot of oil went into the skid....well ****!! So i drilled a "drain" hole in it and thought, well I'll just have to deal with it dripping for a couple days then it'll be done and that's that..... well I guess a lot more oil got in there than I thought because that **** is everywhere. And my Jeep doesn't leak.... AT ALL. I can't have that. Saturday has now become an official Jeep clean up day, along with ball joint install day. Looking forward to it!

3-14-2013
Upon a little more research I have concluded that HF no longer sells the cheaper version of this tool and that I'll just rent it. I don't plan on doing ball joints often so, meh, no big deal, they can hold onto to the tool for me. And let's just see if my CA luck holds true and these things come out with just a little fight. I'm curious to hear everyone's battle's since so many are doing them at the same time and you all live in the weather.
3-15-2013
Tracking info now says parts won't be in till Monday, that's a downer, Oh well I'll still tear it down, and it'll just motivate me to do a better job cleaning everything up prior to re-installation.
Hey the back ordered BTF diff cover showed up today.... that's cool! Get to do some welding tomorrow between other activities. All in all, weather will be nice, spending time in garage working on Jeep. Almost on par with a good wheeling day.
Here's the punch list!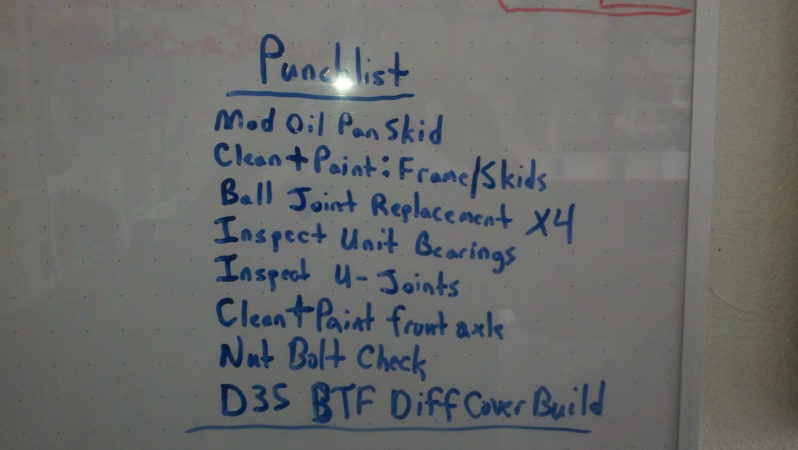 Added one more thing... I missed a plug weld opportunity on my front link brackets that I think I'm going to try and take advantage of. It won't be easy now that i've painted the area but I'm gonna try and see if I can get in there after dropping the link down.

I also went to the closest two auto parts stores to rent the ball joint press and neither one had one available so that made my choice pretty easy.... I now own the HF Ball joint press, and you better believe if it's a POS it's going back. The jeep is on jack stands.... let the fun begin!

This is about as far as i'll get tonight, funny how with the time change how the neighbors are out, I've been spending just as much time chatting as I have working. I down to bare knuckles, And I took care of the Oil pan skid, mistake.

So far so good....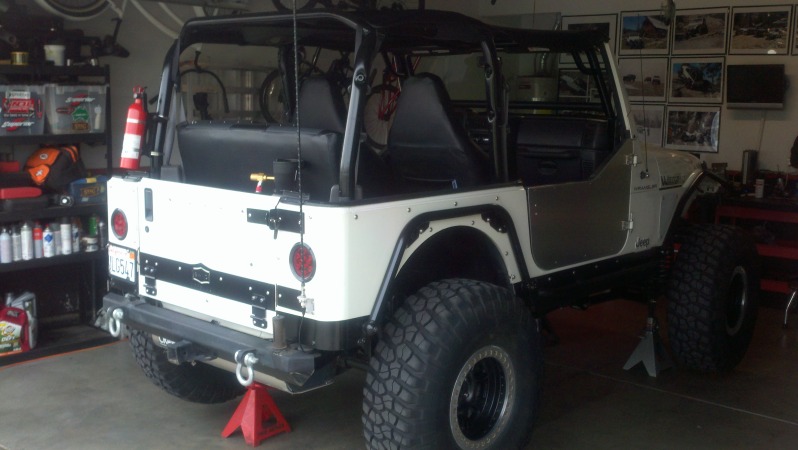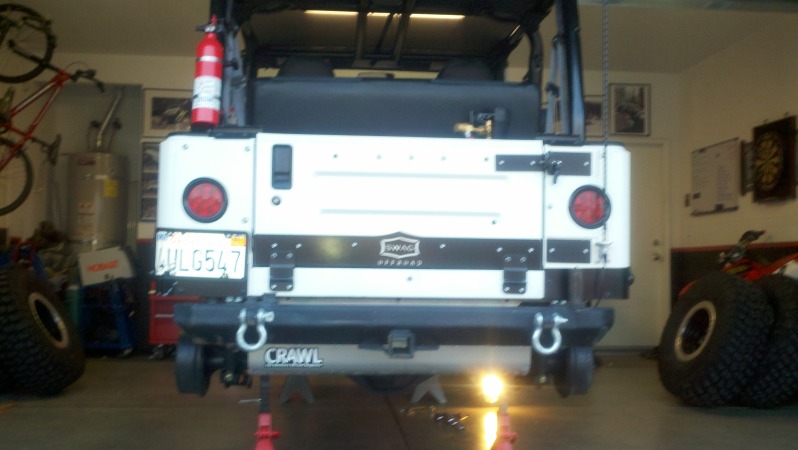 Pile O parts...U joint's and Unit bearings feel good.... ???? OEM 90K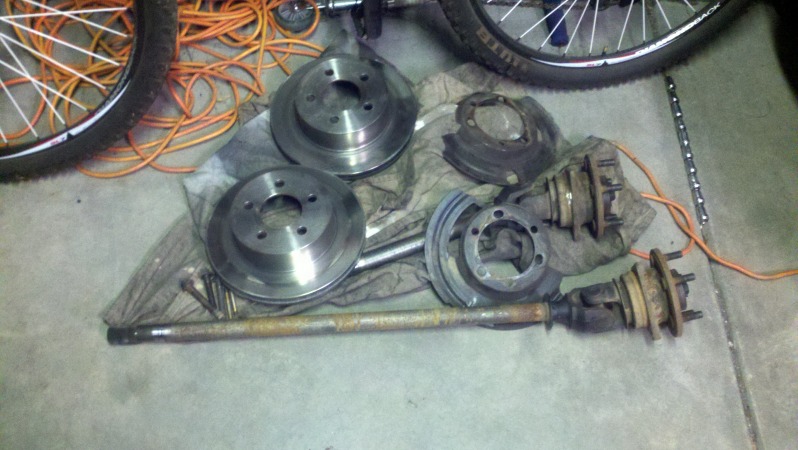 Bare Knuckle ready for action.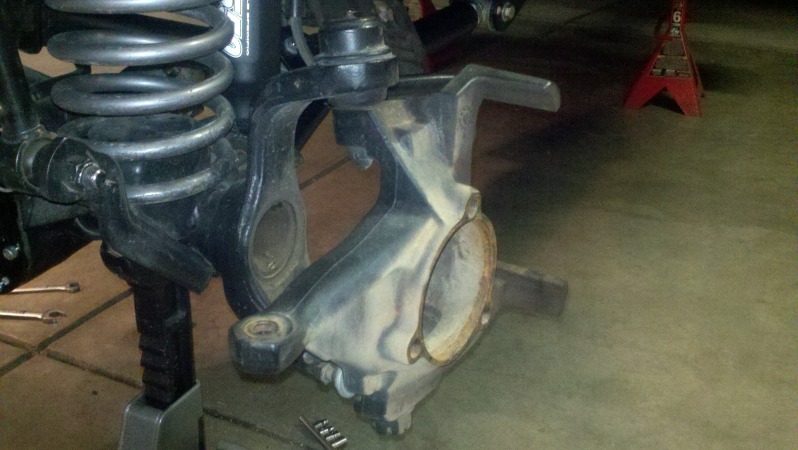 Time saver for you guys... torque specs I've looked up so far.

Brake pins.... 132 in. lbs.
Unit Bearing bolts 75 ft. lbs
Hub Nut 175 ft. lbs (although I ended up not undoing it)
Upper ball joint 75 ft. lbs.
Lower ball joint 80 ft. lbs.
Tie Rod Nut 35 ft. lbs. (thanks Bail Out)
Here's a funny one... I decided to thrash for a minute to try and separate a knuckle from a C... I was pounding on the pickle fork as normal. And it was coming easy peasy. Then this. Haha... not exactly how I wanted it.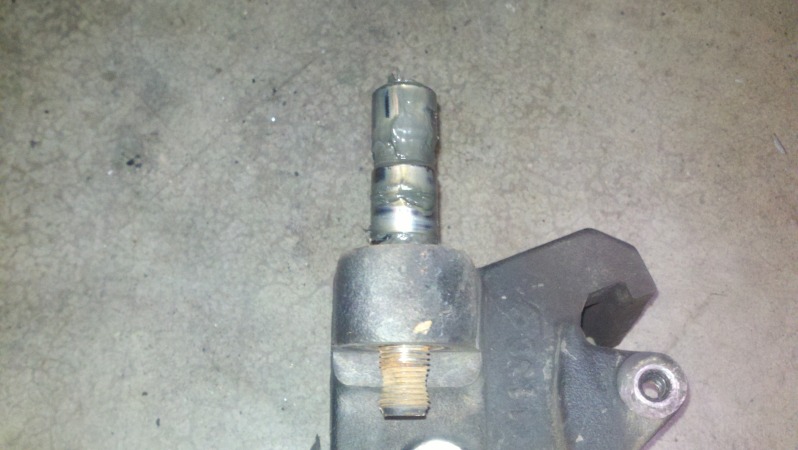 I'll deal with that tomorrow as it's getting a little late for BFH use in the ol neighborhood. I have to say one thing... these Ball joints are DONE! I truly thought I was kind of pre spending my money here and just doing some preventive maintenance but I'm actually doing some overdue maintenance, for that top one to come apart, and the bottom to have a brittle boot and dried up grease and rough crusty motion these things are done. I actually don't know how common it is for one to come apart during a beating.... so I don't know if that's any indicator... it just surprised me.

Thanks Beasley, and everyone else really for all this ball joint talk lately that motivated this.

EDIT: IF this happens, I just put the castle nut on it partially, put it in the vise and one good solid whack with a 5 lb. sledge is all it took to get it out. No harm no foul, The nut threaded right off.
3-16-2013
Ok so all 4 ball joints are out. I have to say I am thoroughly impressed with the HF tool, and it will be a welcome addition to my toolbox. I think it even comes with an additional adapter that the common "rental" tool does not have according to many of the online tutorials I viewed stating that the lower was kind of a pain with the provided spacers because it was not level. Many suggested some sort of spacer. Well the HF kit supplies in addition to the standard hollow spacers ONE additional spacer that fits directly into the C clamp without use of of the stepped washer that just fits over the lower ball joint PERFECTLY flush and flat on the C. It was literally the only piece besides the clamp that was needed to remove the lower ball joint. Anyways.... very very easy.

The uppers were somewhat dramatic though. Both studs popped out, one while taking off the knuckle, and one while pressing out the ball joint, through the top of the joint. This really is NO issue, and may make things easier. I just simply found the correct sized socket for the ball joint barrel, and used that in the ball joint press to press out the barrel itself, worked like a charm. There will be a very distinct sound when you've "popped" the joint, you'll be happy the hear it as you'll be a little concerned with how much pressure you're exerting. It's pretty fun work actually..... TIIINNGGG. haha.

I haven't done a ball joint in years so this is all coming back to me, so far so good. So now that I don't have my new ones, I'm going to cleaneverything up, paint, and fiddle around with some other stuff. I'm glad the tool worked good though. That was my biggest worry.

Hey no ball joints, cool.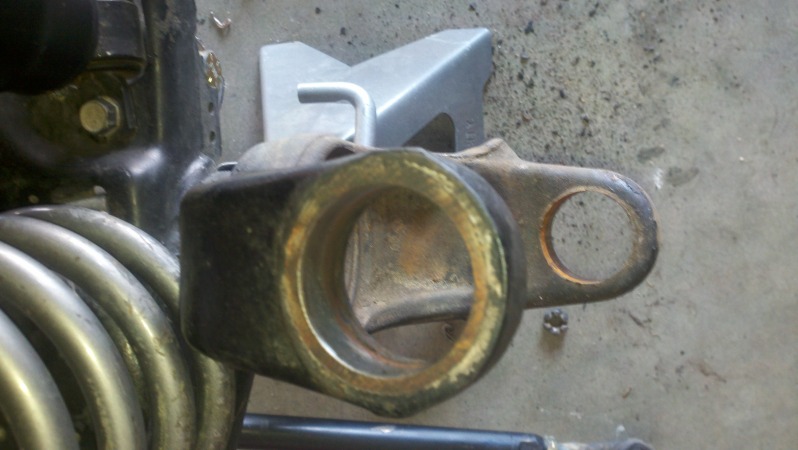 Ball joints grave yard,

the uppers... lol.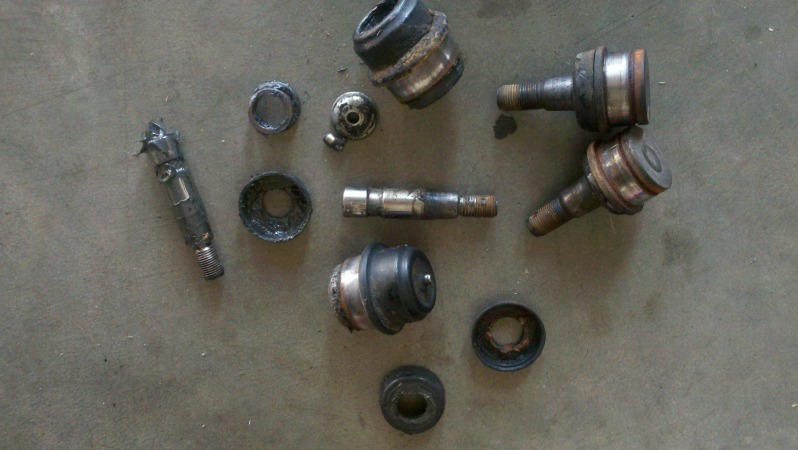 Man I'm getting pretty pumped to get this all back together on Tuesday. This will by far, be the cleanest and best this front end has been yet.

A front upper JJ kit and some axles this year and I'll really be pretty happy with this little D30.

Mostly cleaned up. That black satin works miracles....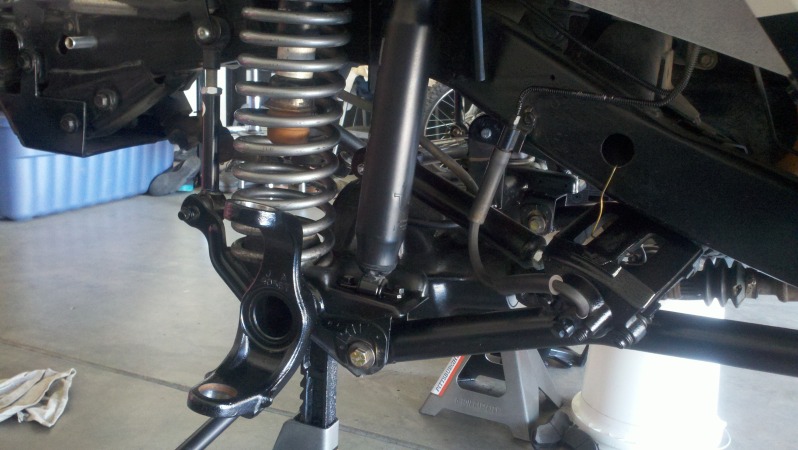 Busting out this D35 cover, this one didn't fit up nearly as nice as the D30 though, Maybe it was my fault but I tacked the drain plug piece perfectly and thats kind of the first piece of the puzzle, not a big deal, just a little gap to fill and by the time this thing is welded inside and out.... it'll be one piece.

I'm really trying to slow down my welding, my beads are looking pretty good, maybe a little muddled, but definitely more "filled" especially during this style of welding when plate is meeting at weird angles.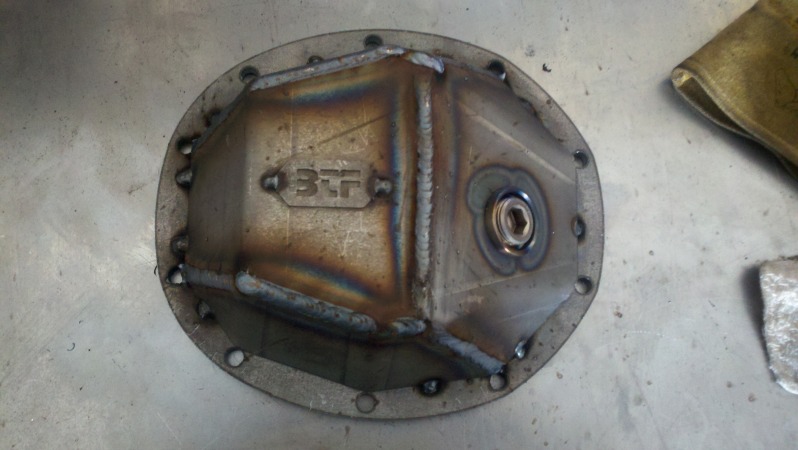 Bead example...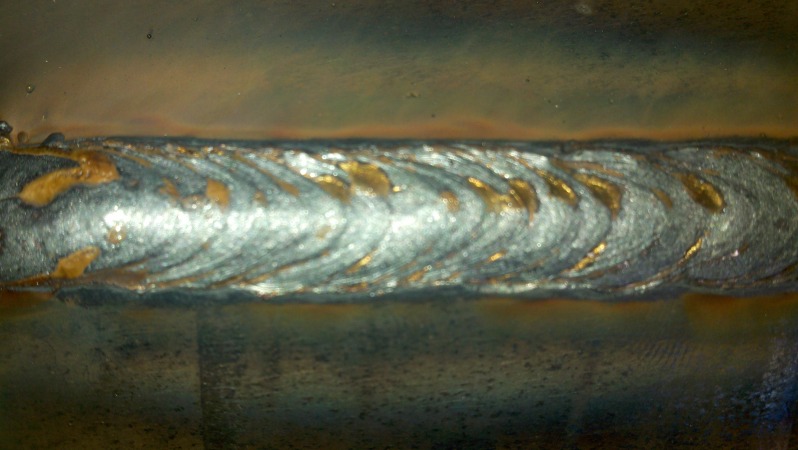 3-18-2013
As luck would have it..... amazingly a check for $750 showed up today from a supplemental insurance policy (he race's BMX, and Karts, rides Dirt bikes) we have on my son from when he broke his arm last year, out of the blue, that we had totally written off thinking we didn't have the correct documentation or that it did not qualify. My wife knowing that I'm chomping at the bit to get some front axles and that I don't want to charge anything during this house fiasco and that we need a good cash supply right now said here ya go! So add that to my already saved $200 and I'm all set. Now I just really have to make the decision. Uhg.... HELP!!!!! Gspup.... now I REALLY do need that quote buddy. If I don't get RCV's, Yukon is very appealing to me.... they are local so any warranty issues could be solved immediately. Hmmm... long night of research ahead. And I guess my rig won't be put back together this week... might as well wait till I get everything now. Feeling very grateful right now. We pay a lot into insuring his safety and that we'll be able to account for any accidents, but this little kick back came at a good time. I know there's a zillion RCV vs. Chromo threads.... but if anyone wants to throw in their opinion right here I'd appreciate it.
So I'm looking a little closer at the Yukon's.... and I think Beasley may have misinterpreted the warranty a bit.

"This warranty is not transferable to another party, "No questions asked" replacement for FIRST warranty return, however, Yukon reserves the right to either replace or refund the purchase price after the first warranty claim."

So basically they are protecting themselves from people running bad set ups. And that's just smart business. And not saying that after one break they are done with you. Thats how I took it at least.
Finished up this little gem today before work.... came out pretty nice I think. Some good welding practice for sure. I've got this, and my ball joints to press in tomorrow, and the final axle decision. Also going to order the unit bearing from Rock auto. No way am I going to slap new axles into old unit bearings.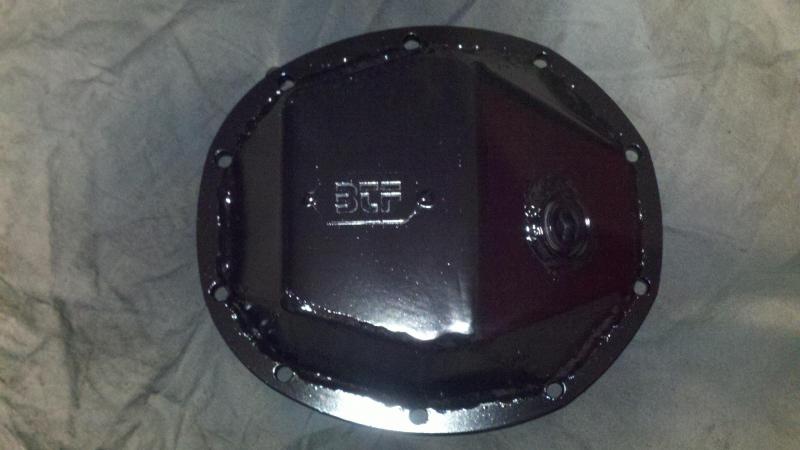 3-19-2013
Holy ****! That's expensive.... Never looked into these. In shock!

http://eastcoastgearsupply.com/i-117...-u-joints.html
So.......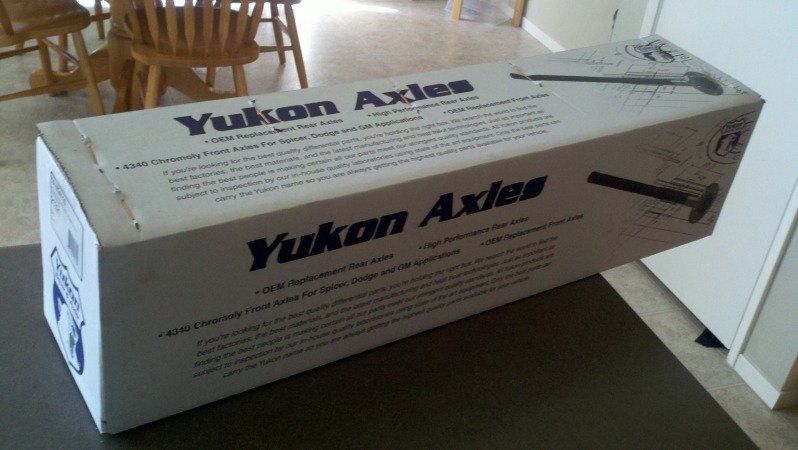 Haha... and... got my pretty new ball joints pressed in.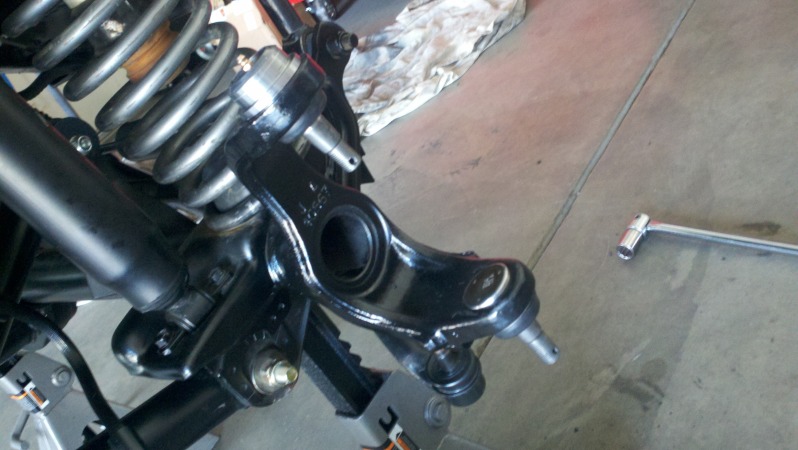 I bought them from Dave's Offroad Supply on Pirate. I bought my Racelines through him and he was great to work with and the cheapest. I hit him up for a quote this morning... he replied, price was good. I paid him, he set up a pick up at Yukon... and bam. Now I gotta assemble them. I'm two timken Unit bearings away from being able to put this thing back together. So off to Rock Auto website I go.
Thanks for the Plate GSPUP... added to the wall! That's a cool plate!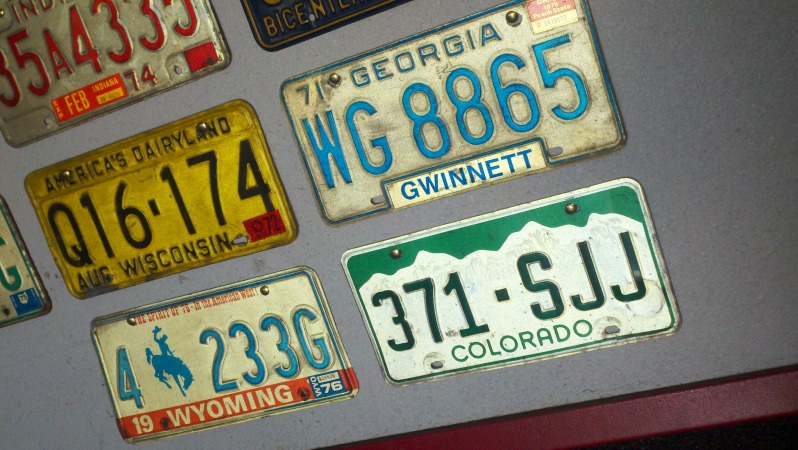 Here we have two assembled axles.... I gotta say I botched the U-joint install on the first one I did and I'm not happy! It'll be ok, It just pisses me off! I distorted the dust covers pretty bad on two ends.

I was being a complete dumb dumb and while I pressed in the first cap, let the jointjust sit there instead of pushing it up into the cap as far as it would go. So it put a little pressure on the dust shield and jacked it up a little. I'm not worried about it, just irritating. The second one went on like butter after I started paying attention! They are pretty though.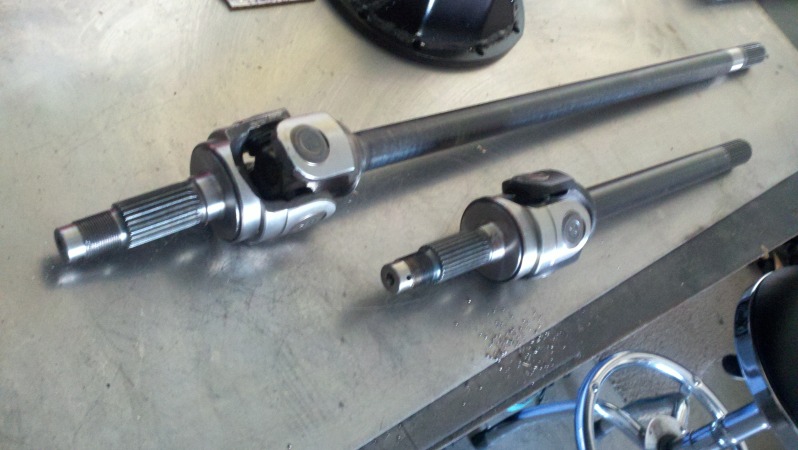 Thrashed for a couple hours and the front end is together, went back together real nice. Everything torqued to spec and ready to go. I'm thinking shake down run on Saturday at my little play spot. Only thing left to do is put on the rear diff cover tomorrow. I didn't feel like playing with the Ultra Black tonight. I did notice the old axles slid right out of the unit bearings and the new ones did not slide right in, it took me tightening the hub nut down to "pull" them in, I can only imagine when it comes times to remove them the fight they'll give. I'm curious if Beasley's new Superiors are like that or not. I'm pretty satisfied with the work. I desperately needed a refresher course on solid axle front end overhaul.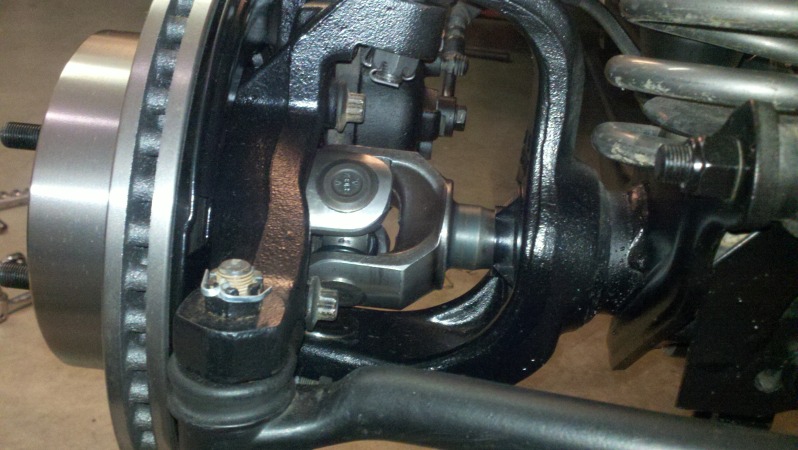 3-20-2013
Isn't it cute. I think I actually miss my little plastic fill plug. So this is what a super high clearance diff looks like folks..... yep, pretty awesome stuff!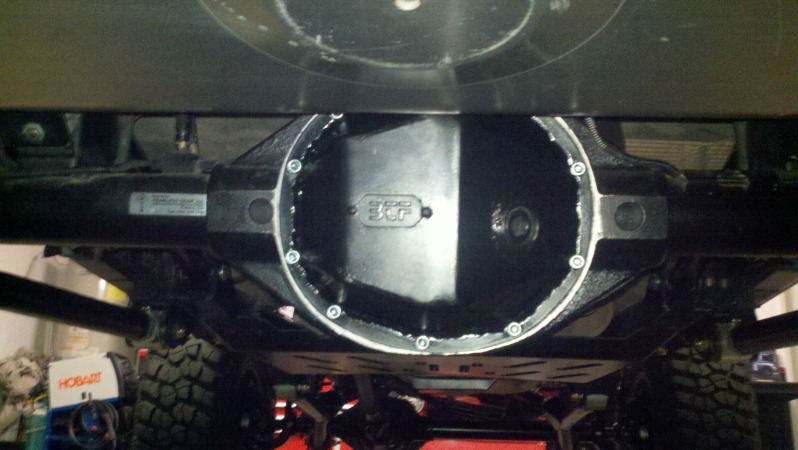 I'm a little, just slightly tweaked out cause the top edge of the diff cover and edge of the Savvy GTS currently want to occupy the same space during suspension travel.... not so good. I'm hoping with a little massaging with the grinder they can find a happy place because the axle isn't moving forward nor will the pinion angle be altered to accommodate this little guy.... I'd just assume sell it and re-install the stock one. Although I think I can make it work. I don't see how in the world people put big diff cover's on though.... maybe I just have my axle back as far as I absolutely can have it. This diff cover was not much taller than stock, but on the top edge it is much broader whereas the factory one is round. Oh wells.... stuff aint always gonna play well together.

3-21-2013
I'm claiming victory over that damn diff cover. After a lot of grinding, and some more grinding.... and some more. And some more on the GTS, and then loosening the GTS and using a pry bar and then retightening it to get that extra 1/16th in. I finally have clearance. Unfortunately I ground a hole in the damn thing haha. So I'm taking it off..... gonna add some material from the inside, make it pretty again and this ordeal will be over. WOW.... sometimes it's the easy things.
3-22-2013
Got that layer of dust cleaned off it.... nice day today, now a long day of work ahead.

Lookin clean though I think.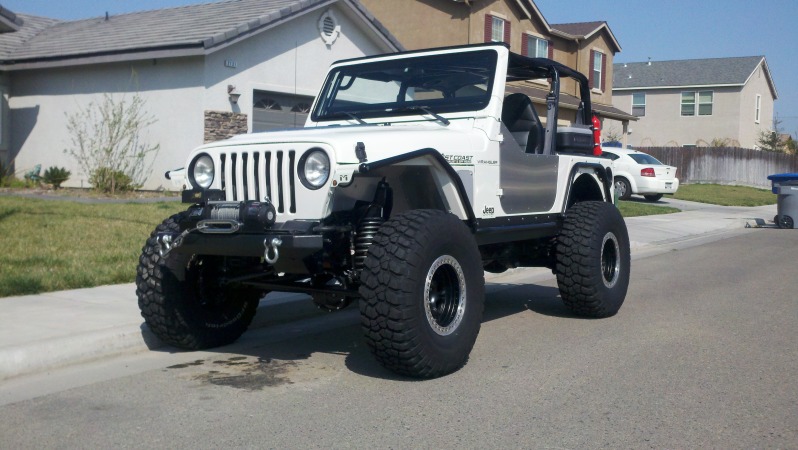 3-23-2013
Well today went well. I shook the Jeep down pretty hard. Took some new lines at my little play spot. There's some pretty big boy rocks here, and trouble to get into if you're not careful. I was alone so I didn't do anything stupid but I did challenge myself. A lot of these photos are posed with no one in the jeep obviously, I was spotting myself (with the help of my son, and teaching my son) through some new lines so whenever I'd make it to the next stopping point which was usually one he'd yell... "that looks cool", we'd talk a bit about the next line, and shoot some photos. It was fun and his level of knowledge about how the rig is going to react and what I need to do is getting pretty good.

The Jeep felt great. No issues, I think those new diff covers were rock magnets though, I pounded that front one several times and the rear was also hit. The extra confidence in the front axles felt good!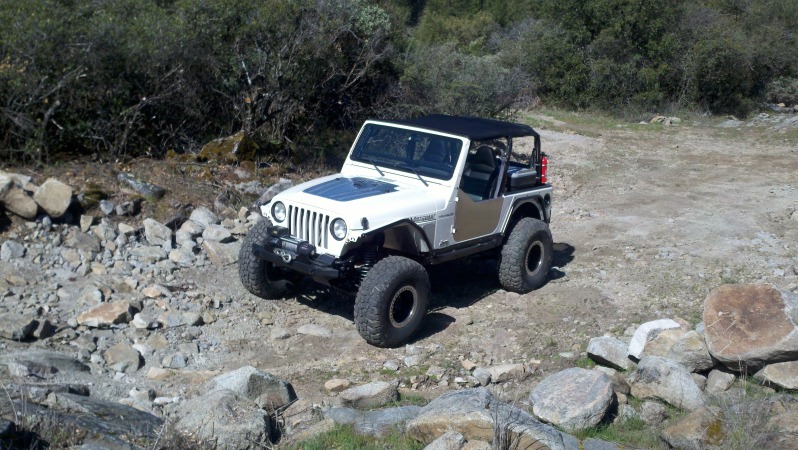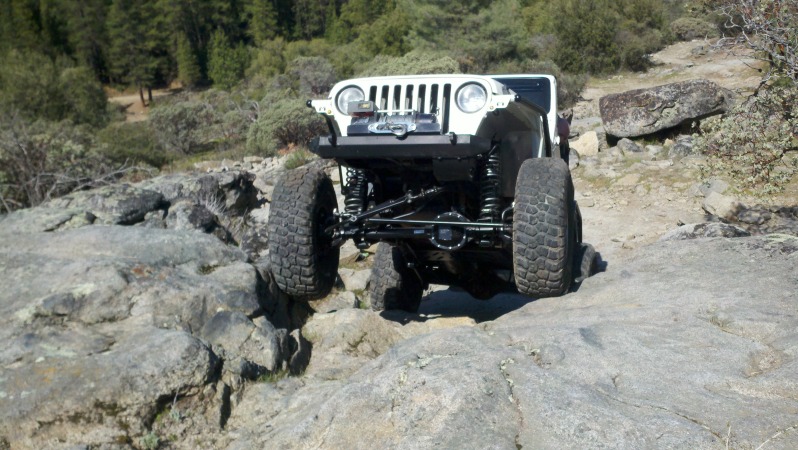 This ledge is always a good test if things are working good.... walked it easier than I ever have.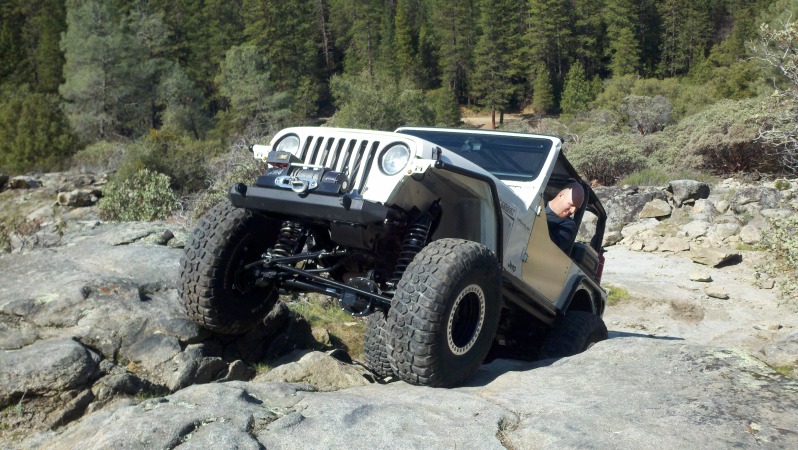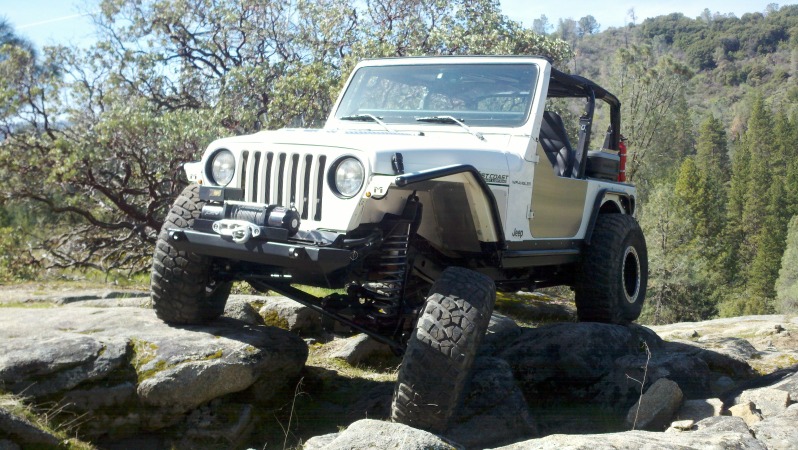 My head got sunburned haha.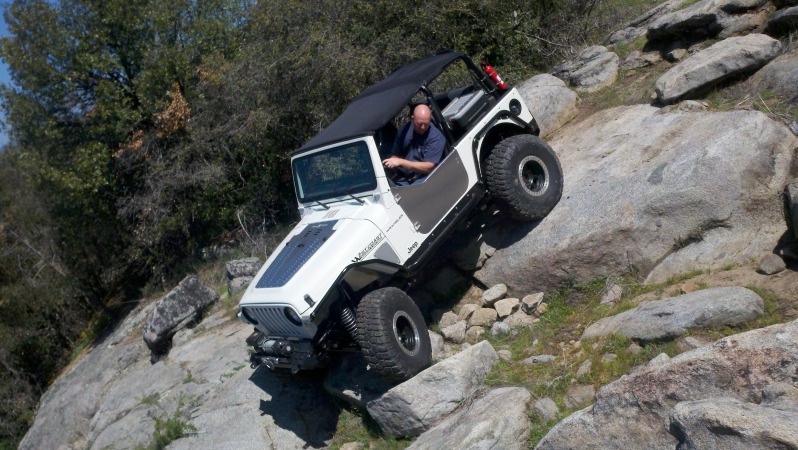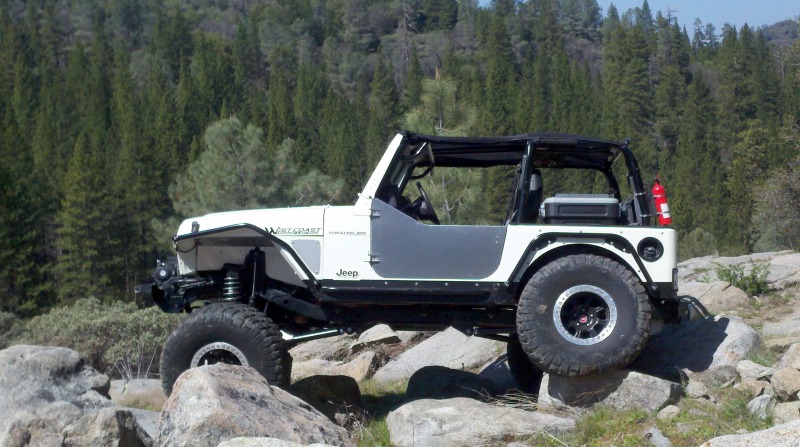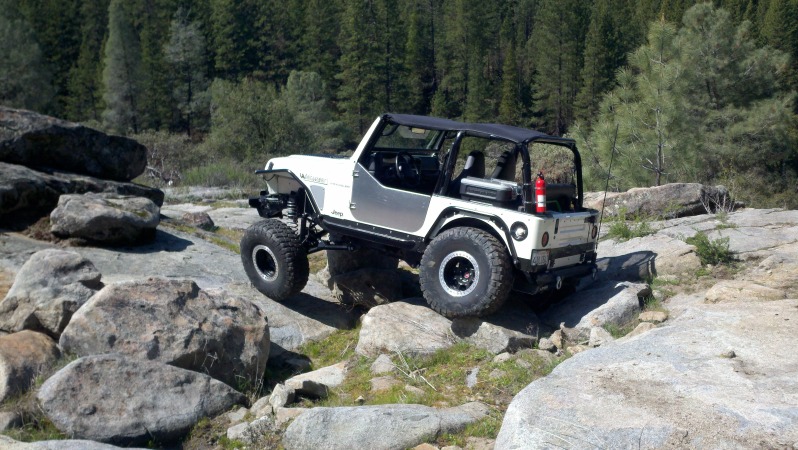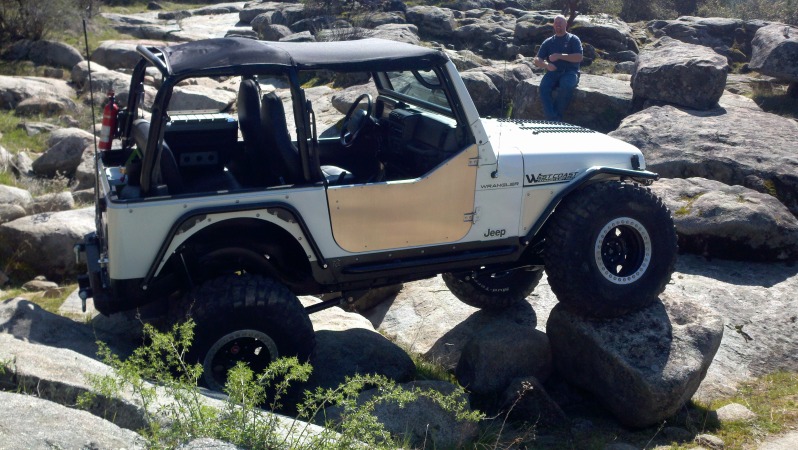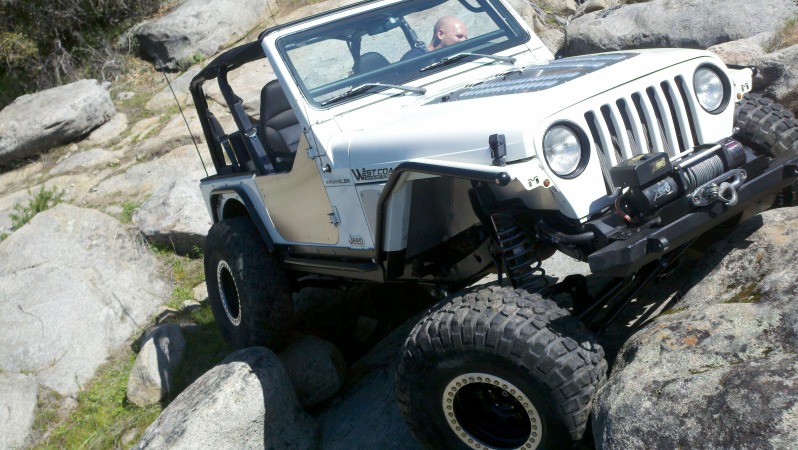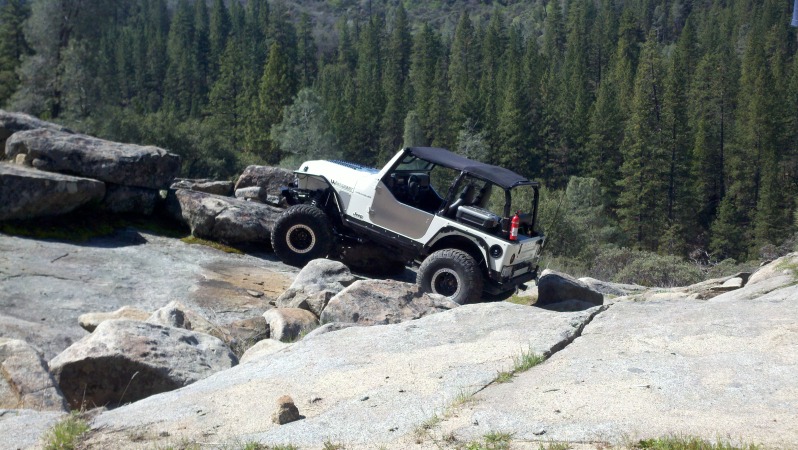 Oopsie!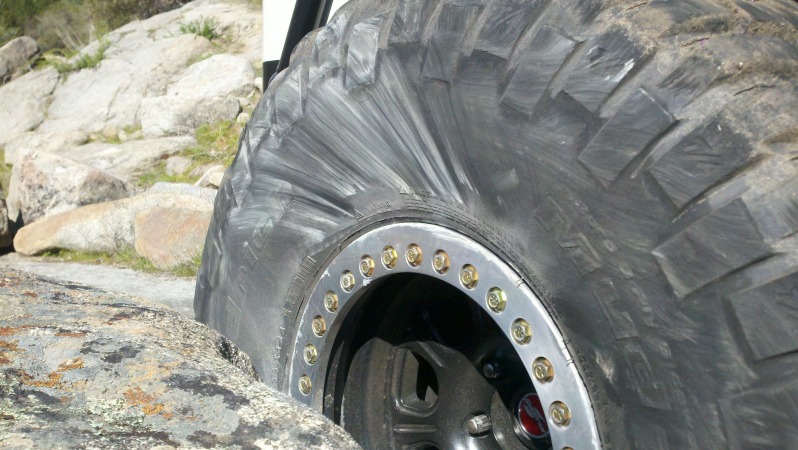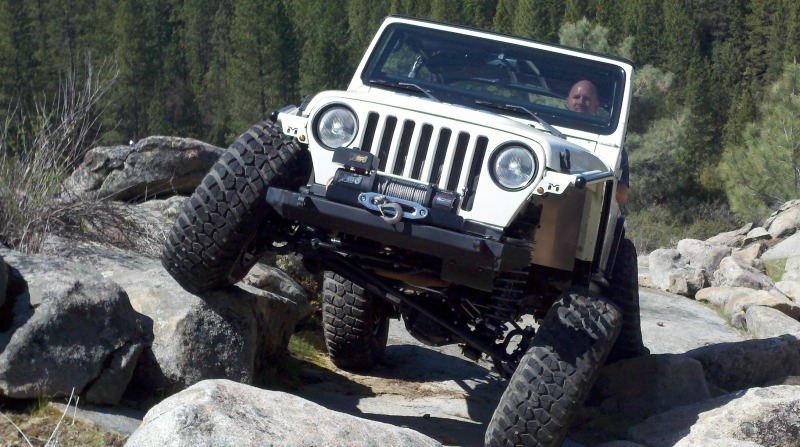 I ended up not making this line, the R/R needed to also come up and caused a WAY tippy situation, I probably could have driven through it, but with just me and my son there I decided to back out.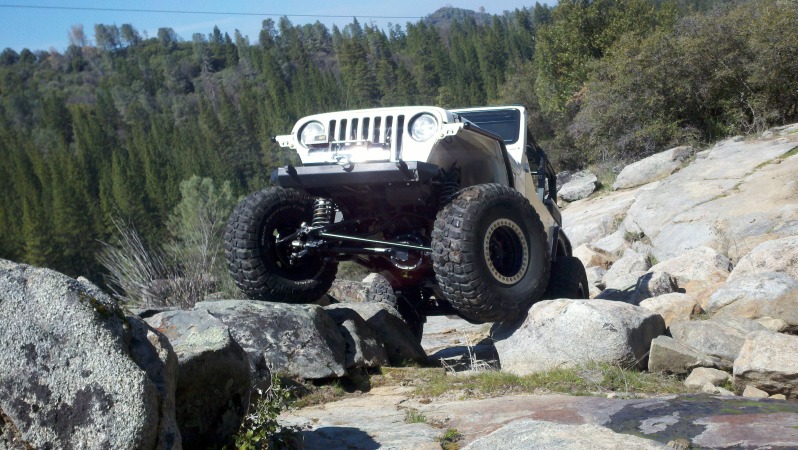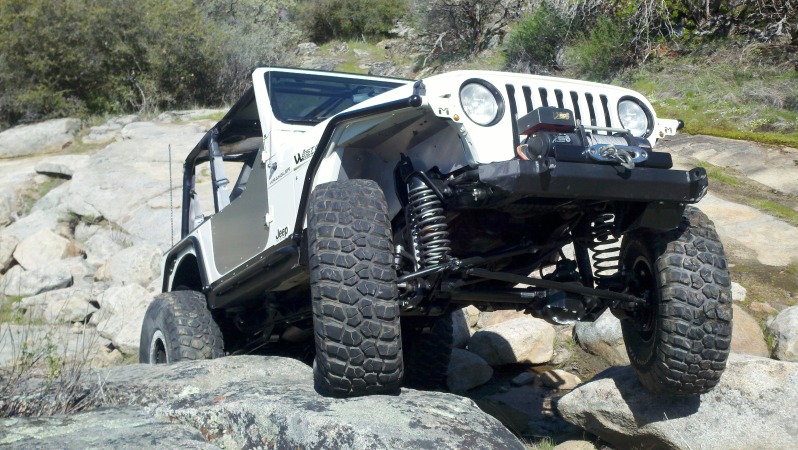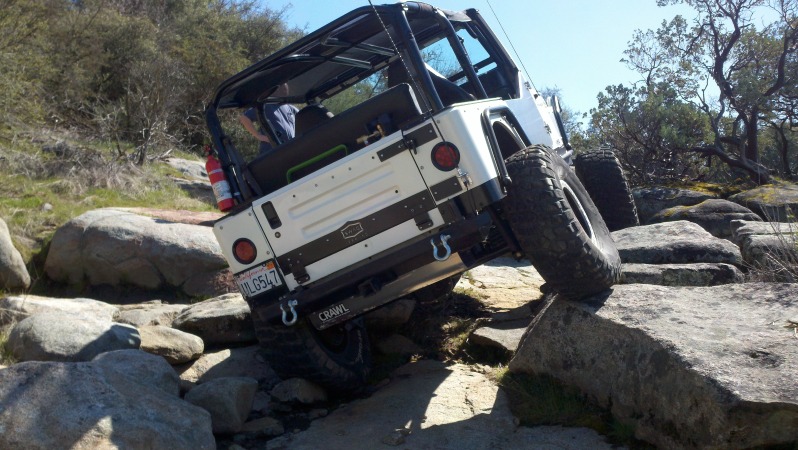 Good times!

3-28-2013
After almost 4 years this is the only part I've replaced on this little guy.... countless pulls. Never a hiccup. One of those few time's where I feel like I got more than I paid for.

For vanities sake.... the California sun has taken it's toll on my solenoidcover.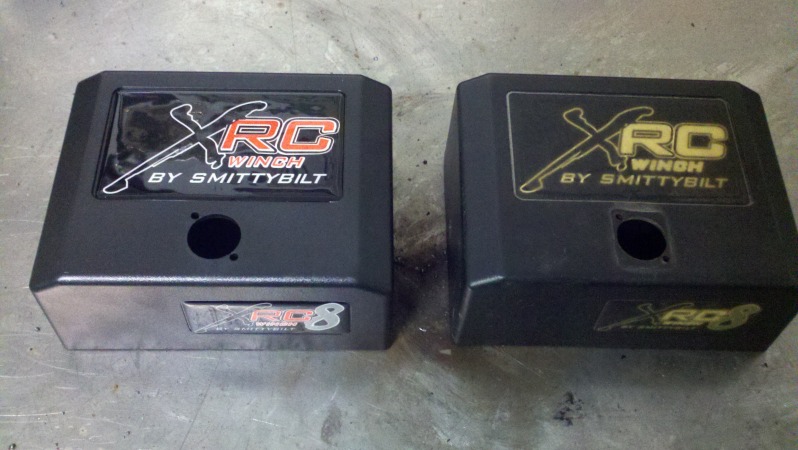 I thought about moving the solenoid under hood, since I rarely use the controller.... now that I have an in cab switch. But this will do for another few years I'm sure. haha.... pretty exciting install tonight!

Does look a lot better.
4-1-2013
Not a Jeep mod, but something I've wanted for while and one I wanted for the Moab trip. I'm NOT a small electronics person at all anymore. I actually kind of loath the complexity of it all, even when it's "supposed" to be easy and everyone can manage I still get bored very quickly with it all. But I think I'll enjoy having this around. I have to say the integrated Wi-Fi connectivity between it and my phone is what sealed the deal. Being able to have it mounted some cool place on my rig, and being able to turn it on and off, switch from camera to video, and access all menu functions in a MUCH easier to use format than the camera itself AND to be able to see what the camera see's on my phone is pretty badass.

The $199 price point for the entry level unit is also a winner in my book. I do NOT need any more clarity, resolution or speed than that. A 32gig micro SD and I'm all done besides a couple mounts I'm going to get.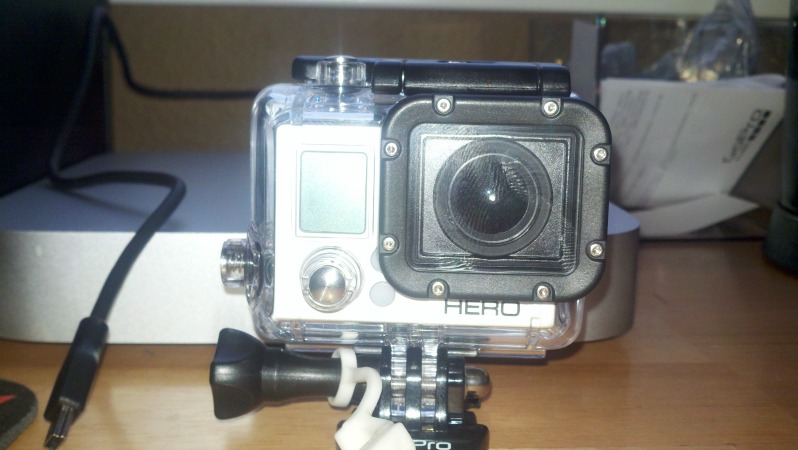 I've got a little sideways suspension test video uploading haha....
Here's a crooked video, I thought I'd be able to rotate it, but I'm not that smart I guess. This is just a field by my house that someone dumped some big piles of dirt some time ago that now has some field grass on it. Flexed it out pretty good though. The clarity to me is amazing, ease of use also is good enough to keep me from wanting to throw it...... so far.

I notice at 2:14 in my video, I'm fairly flexed out and turned to the right some, and the brake line is actually a little more snug than I'd like. Hmmmm.... I thought I was good there. I lowered the factory line and while during a full cycle there seemed to be plenty I guess I never turned the wheel and checked..... duh!!! Looks like some fancy brake lines may be in order.
4-2-2013
I just redid BOTH diff cover gaskets, Geez I must have been slipping because I swear I've never had one leak before and this time they BOTH were leaking. I'm also suspecting that It may have been a bad tube of Ultra Black, somehow.... It seemed really dry when I pulled the diff covers off. Interesting. Oh well, this time I used

This stuff is always good to me....and is much less of a mess.
4-3-2013
Going to watch this on Saturday! Excited.... should be fun.


4-4-2013
Strange exhaust leak popped up all of the sudden yesterday..... seems to be coming from the manifold. Just redid that sucker last year. Annoyed! The first bolt on the top was completely gone. I put one in and snugged the rest of them and the leak persists. I wonder if I just simply finally blew out the gasket and the bolts been gone for a while. We shall see tomorrow, it's either that or the manifold cracked.

4-5-2013
My fun for the day. Looks like the leak was coming from where the bolt was missing, no surprise there. Hopefully it's quiet again after I replace the gasket.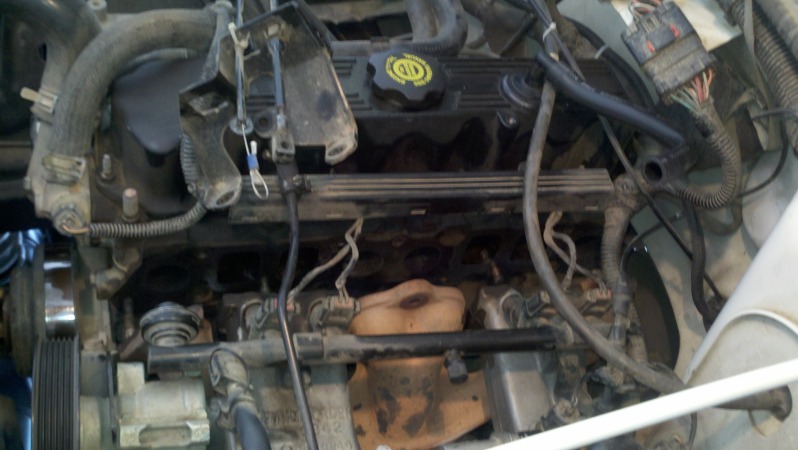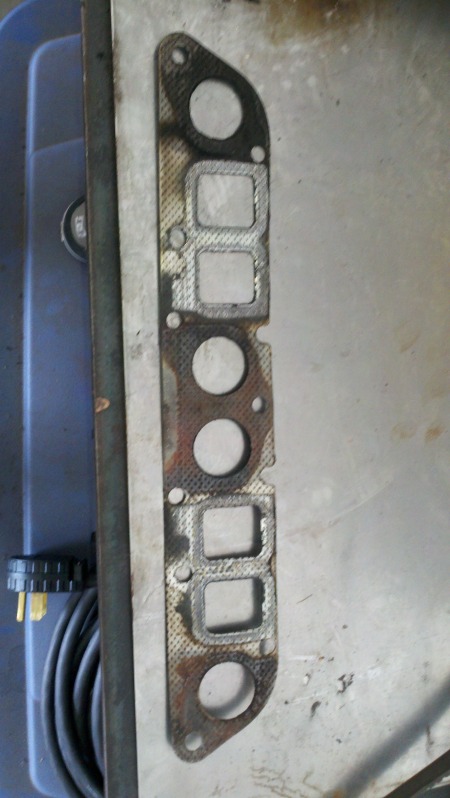 4-5-2013
Success.... wheeww. I don't really like the combo intake/exhaust manifold crap. Oh well it's all cleaned up and ready for more. Took the time to replace the serpentine belt also. It was at least 6 years old. I'll throw the old one in the action packer as a spare.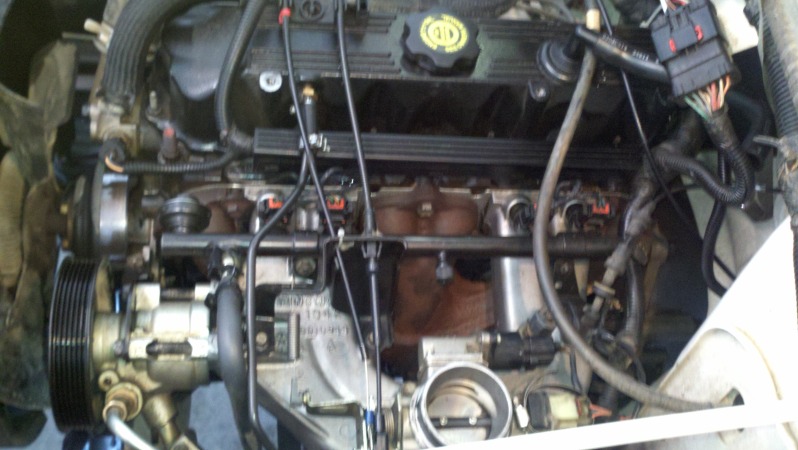 4-6-2013
Just got home from the KOH qualifier in Prairie City. Fun day.... good racing. Shearer, Healey, Campbell for the top three..... Wayland not Shannon. Shannon's transmission gave up on the first lap. That was disappointing!

Just took a few pics...

My son next to Goliath on 54's, haha.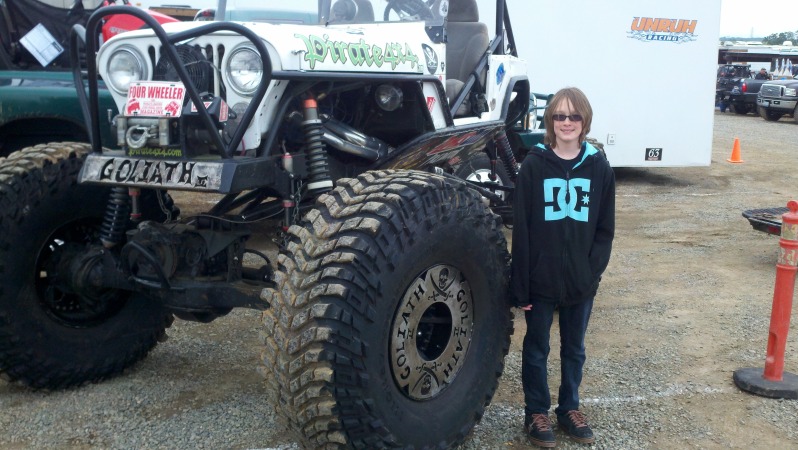 Finish line jump.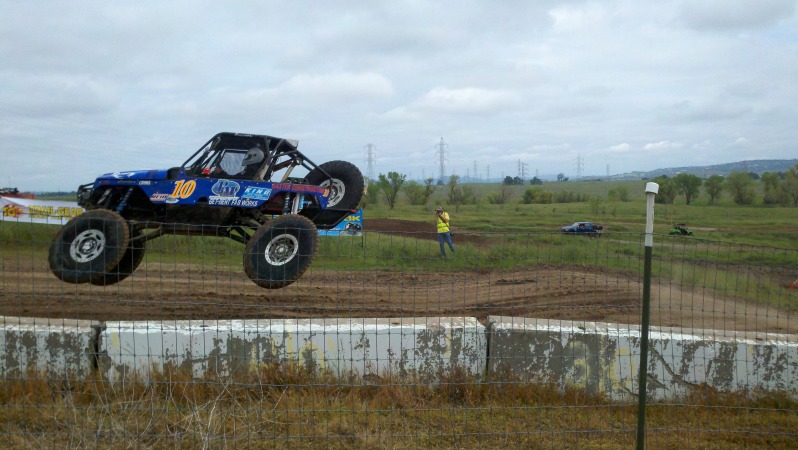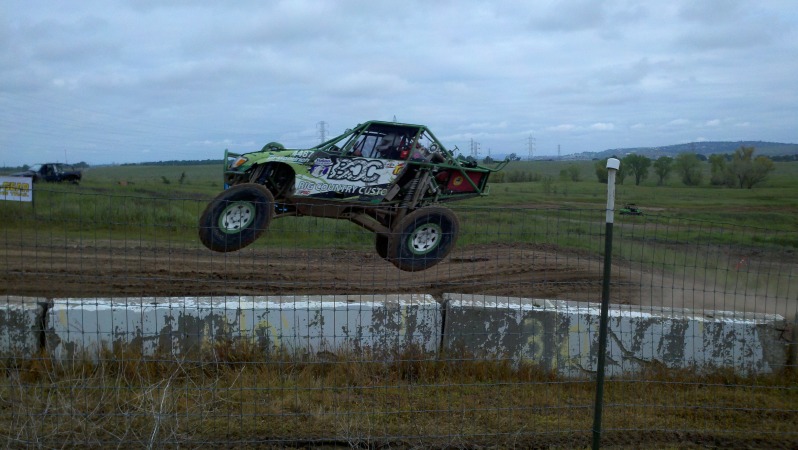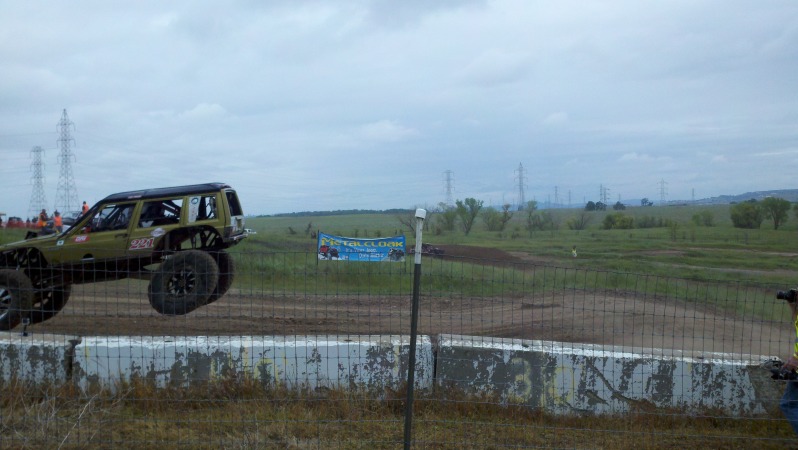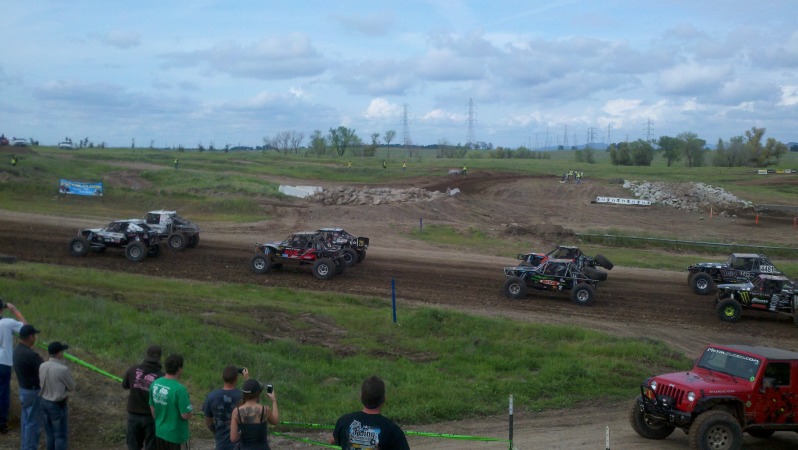 First rock pile carnage.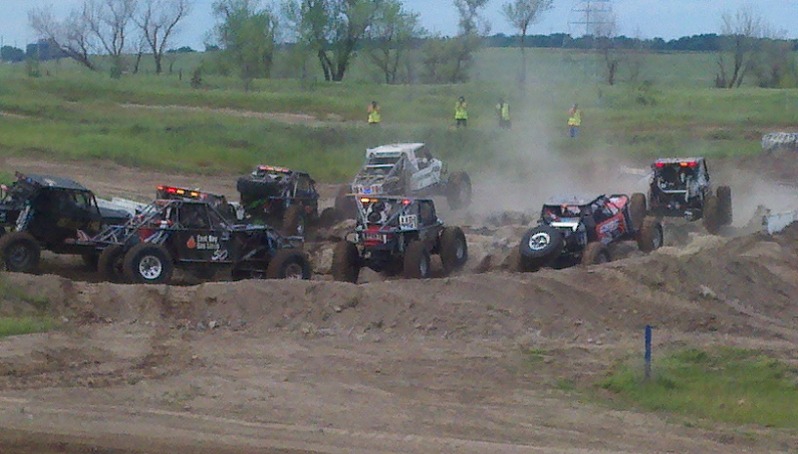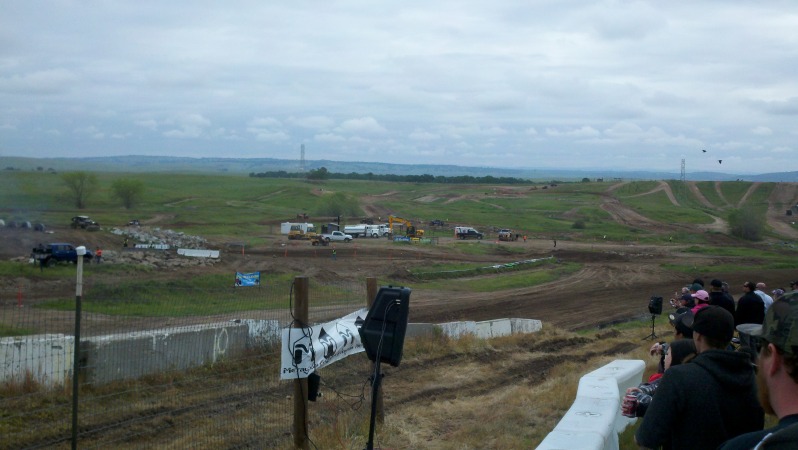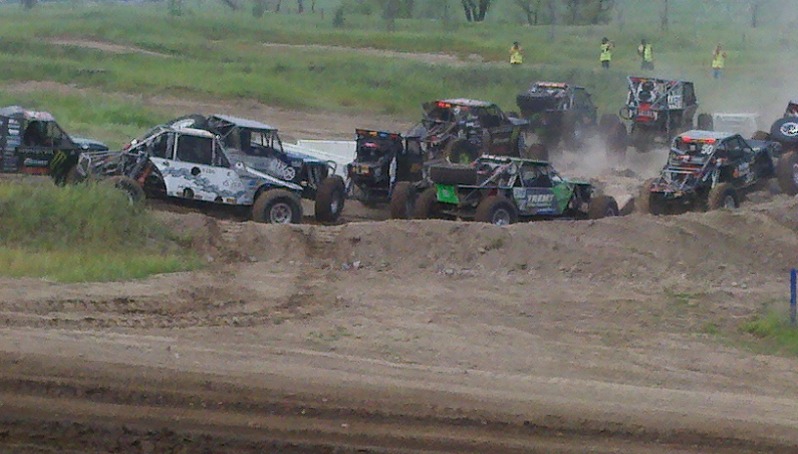 Fun day overall. Tired from driving..... wheewww

4-10-2013
Been a little bored lately! I think im going to order a front upper JJ kit today, and some synergy sleeves for the D30. Should be about as stout as possible after that. I need a little project!
4-11-2013
Ordered the Currie JJ kit for the D30.....chickened out on the sleeves for right now. I'll save those for a rainy day. I'll wait and see how Beasley attacks that install. The instructions suggest pulling the entire axle and that's really not a challenge, I just simply don't feel like doing it, haha. I also gotta get my head on straight..... there are other things I should be worried about. I need to beef up my spares "kit", also need to take care of that pesky SYE I've been dodging for the last 5 years..... no vibes though! I just know it's got to be hard on the Ujoints when the axle is drooped. Never any issues though so I'm having a hard time spending the money there although I know I need to get it over with. And most importantly the Currie triple plated chrome grille I want isn't cheap.....

4-13-2013
Not jeep related at all..... spent the day beefing up security at my casa. Ordered a Shotlock wall mounted quick access mount for my Maverick 88. It Should provide me safe and quick access to it if needed. That install went well and I really like the design. Mounting my new safe to the concrete on the other hand went terrible! I hate drilling into concrete it never goes well. And manipulating a 350lb safe onto redheads is awful. Kicked my ***..... doing nothing the rest of the day!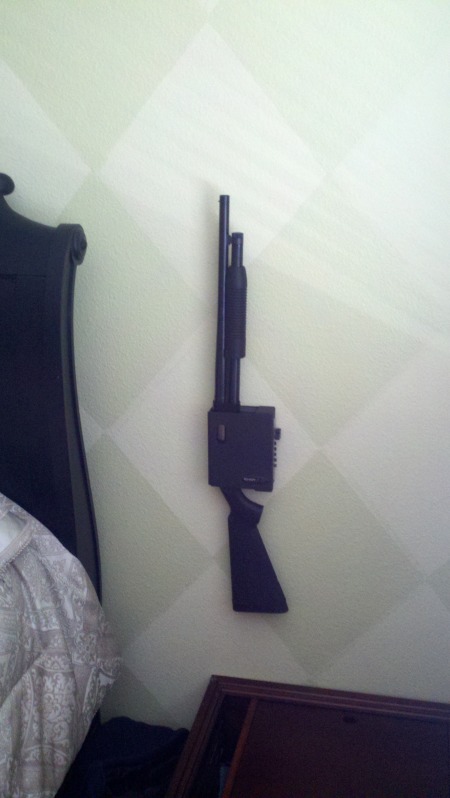 4-14-2013
Ordered these handy dandy little devices..... I never realized really how easy it was for crap to get inside the D30 housing. Now that I have the chromo shafts, the little plastic stock "seal" doesn't really have a spot to live.... I put it on the new axles but it's even more useless than it already was. These should help! And also I've made my decision on the sleeves.... I'll pass on this axle. Maybe on my next one. I think these axles are going to end up in my son's rig when we buy it in about 6 months.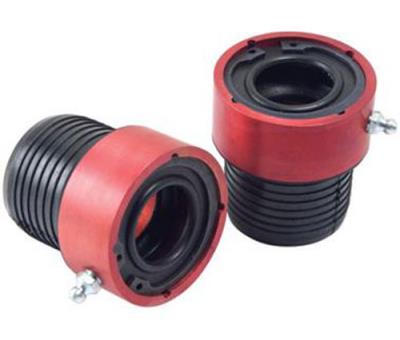 4-16-2013
Well that little project went pretty smooth. I've heard the horror stories about getting that driver's side bushing out and when I first went at it I thought maybe I was about to be in for a fight! Instead of fighting it I just went to Harbor Freight and bought a new air hammer (my last one must have grown legs). I used my Ball joint press to press out the center. Then I whacked the bushing IN more just to get it moving since you can take some big swings from the outside. Then once it budged I just put the air hammer on the lip of the bushing and it came right out.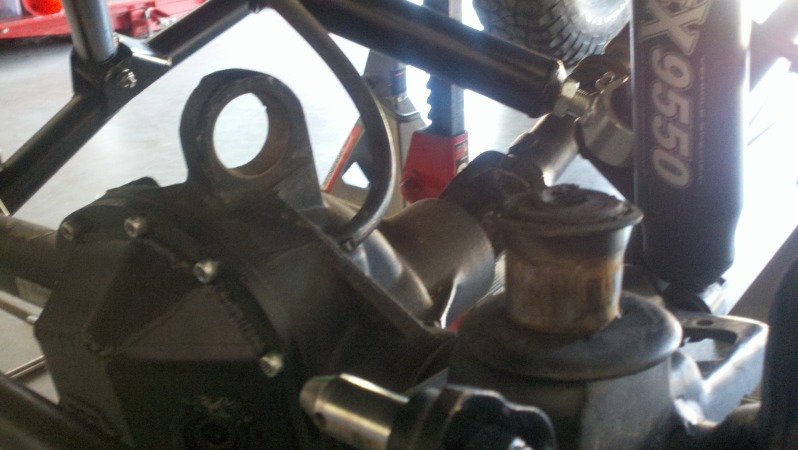 The new one presses right in with little effort with the supplied tool.
Hacking the top of the passenger side one was no big with the angle grinder. My mount was collapsing pretty badly so I'm glad I took care of this.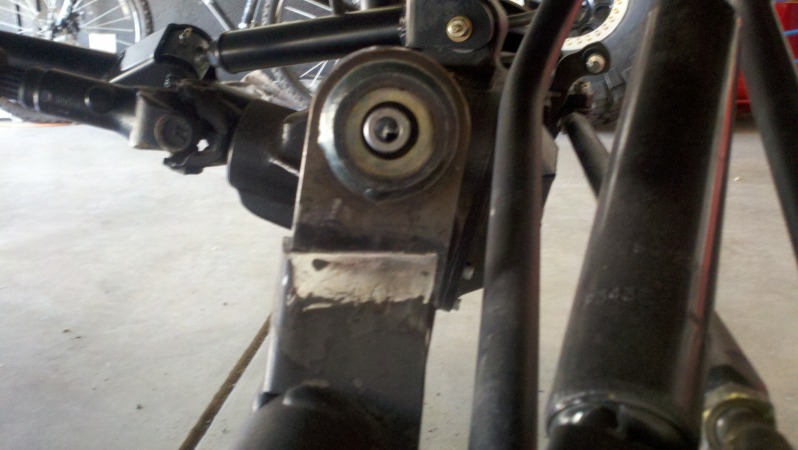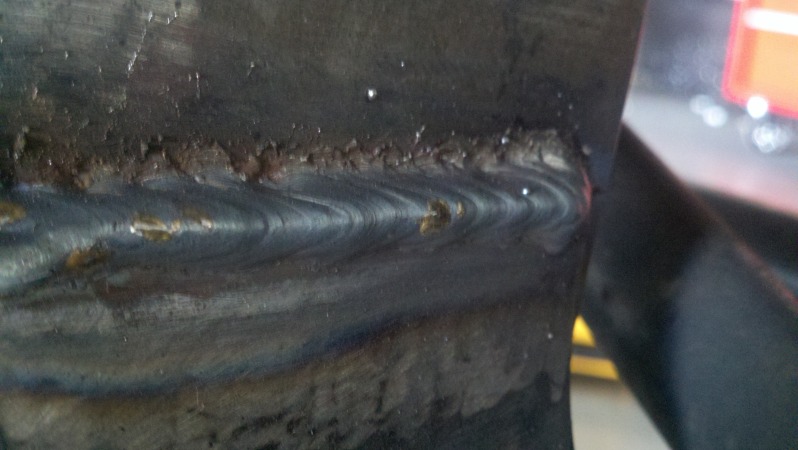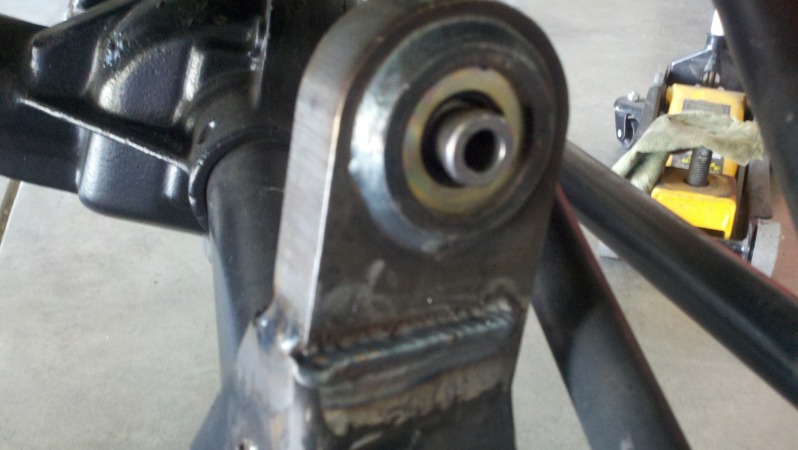 All painted and purty.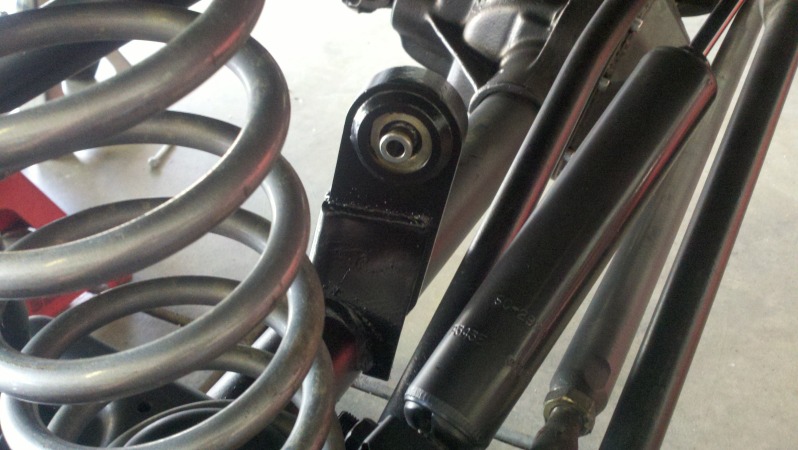 And DONE!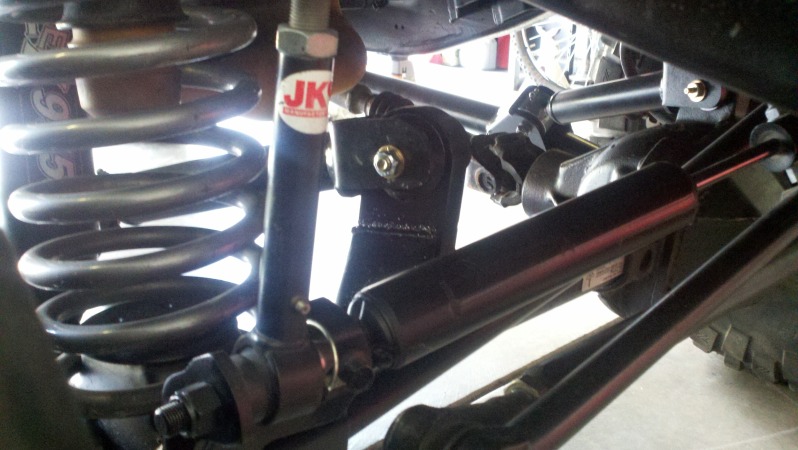 Overall it's a pretty simple mod. I brought the ugly on the inside weld. Being out of position I couldn't find a comfortable spot! Technically I should have removed all the steering components and track bar to get in there easier..... but I managed.



Oh yeah, and with the weight on the axle the passenger side control arm bolted right up with no adjustment. That surprised me!
While welding today.... I started thinking about how much my welding helmet was a pain in the *** when in tight quarters.... then I starting thinking about why it has to be so bulky..... I figured they would have to make a "low profile" helmet... so I just did a little searching and came across this....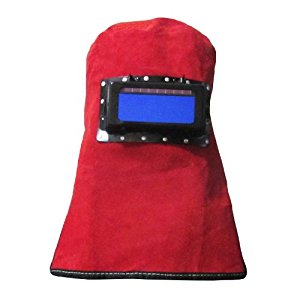 http://www.ebay.com/itm/Leather-Weld...-/110773896904

I think I might pick one up! Anyone of you guys have one???
4-17-2013
Well these are sure cute. Pretty necessary IMO. Keep all the crap out of your axle tubes and keep your nice Chromos in good shape.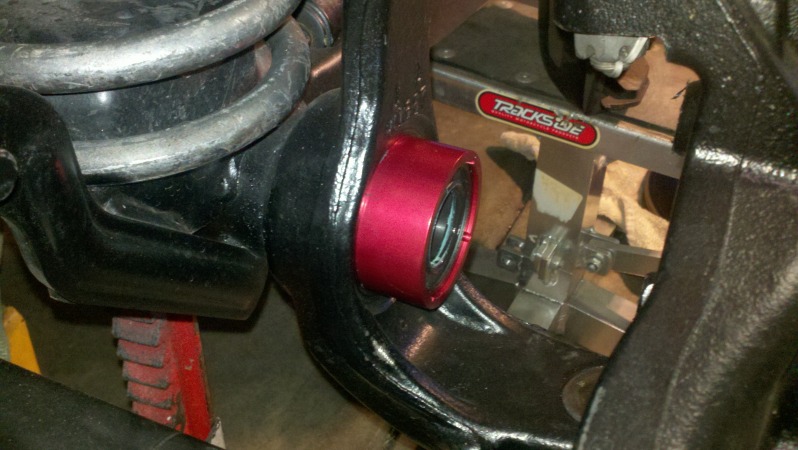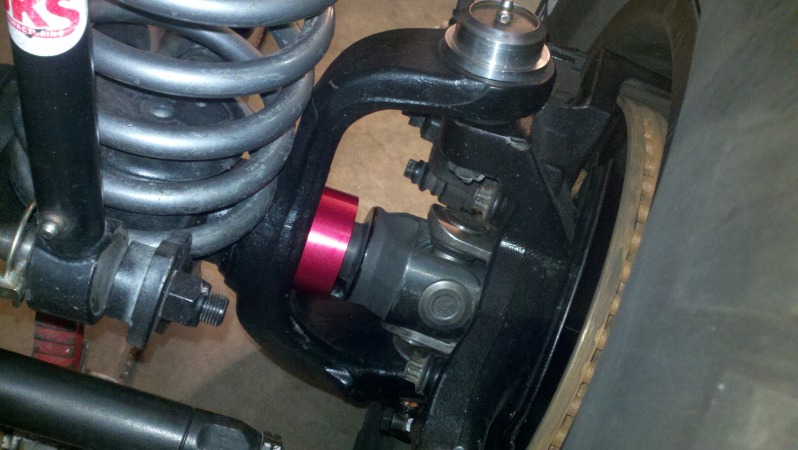 4-18-2013
Just drove the Jeep to the gym and back, and must say there is a noticeable difference in how "tight" the front end feels. I don't know if it's the JJ or just the fact that the passenger side bracket was flexing so bad, but I'll take it. My clevites looked good for their age. Happy to be able to tell a difference though. Ok now it's time to do a little suck down winch research and see if I can get serious about making something happen before Moab.

4-19-2013
Doing a little suck down research and came across this....

4-20-2013
Well I guess i'm serious about this project. haha. Picked this up for mock up, if it doesn't look like it'll work I'll return it but hopefully I can find a somewhat elegant solution that I like.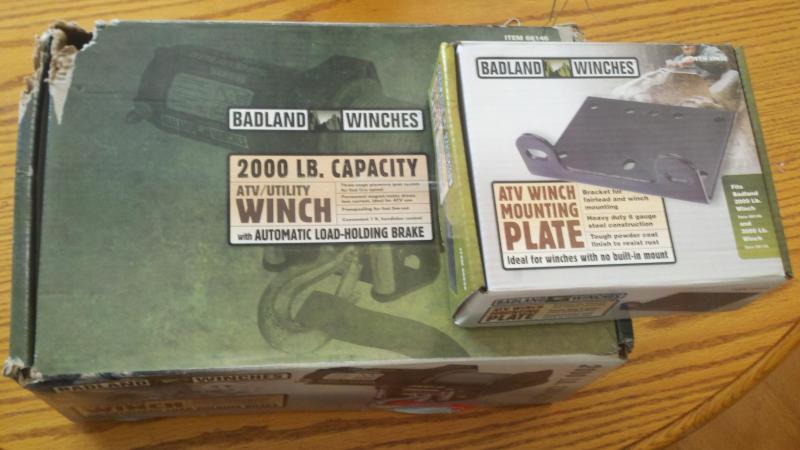 I think this thing could live quite happily on the inside frame rail with the winch plate mounted to the frame and to the tower at a 45 degree angle. This would allow me to be able to bolt the winch to the plate easily, and also provide a perfect angle for the cable down to the pulley..... hmmm. I think the possibility of it working is so good I'm going to take out the air box and shroud to gain more access.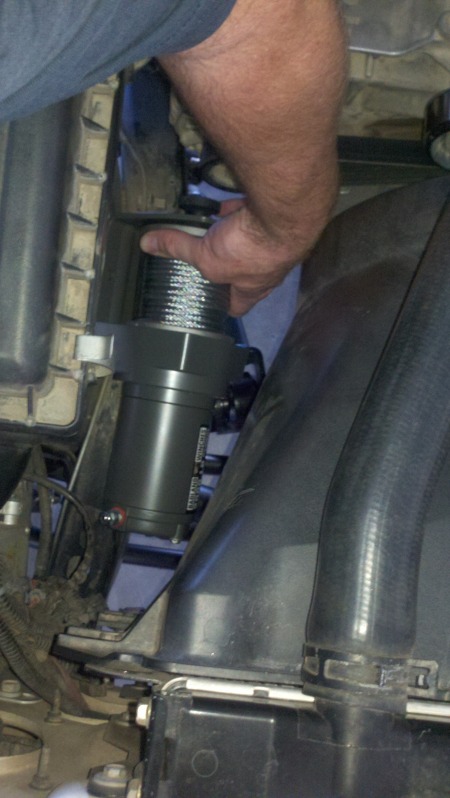 Getting the frame prepped for welding on the winch plate. This is probably only an option for 4cyls, but it's looking promising.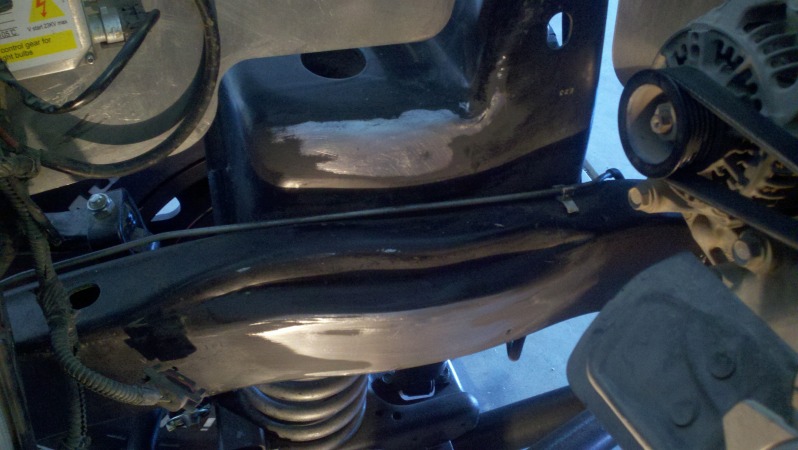 Ok the winch plate is tacked up and the winch is bolted to it..... looking good so far! I even put the shroud back on expecting to have to clearance it a little but It's fine. I gotta keep taking breaks it's hot outside!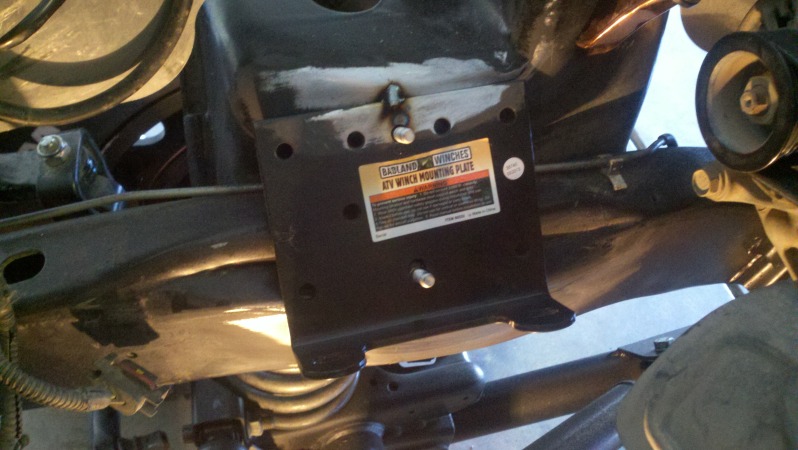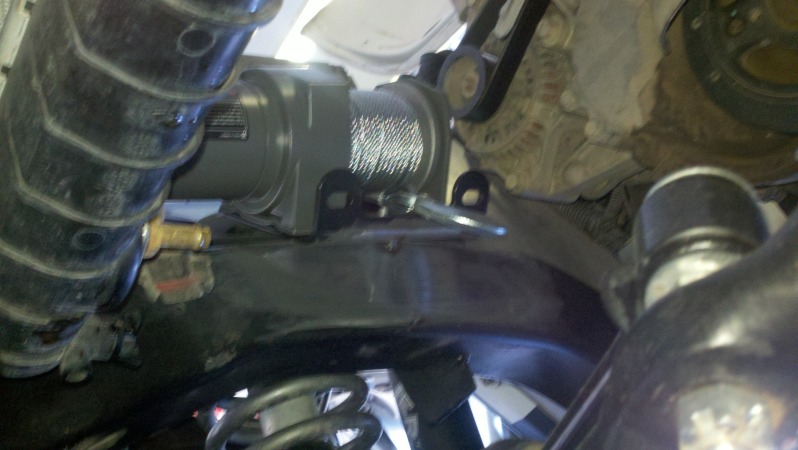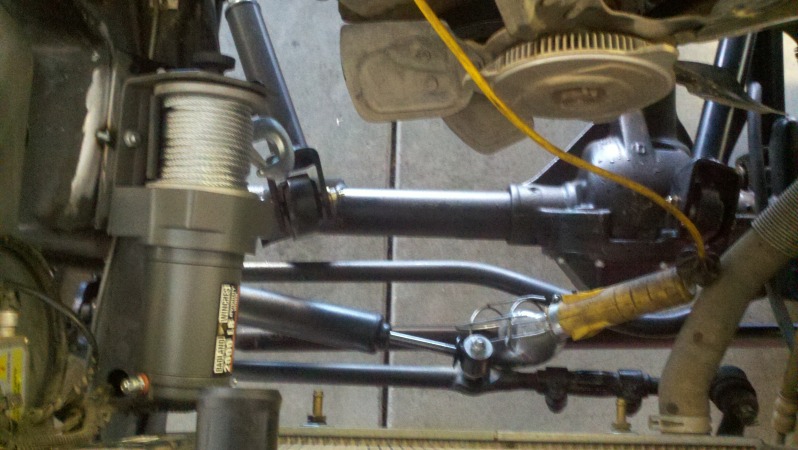 Ok the winch plate is welded on, painted and the winch is bolted down. I even get to use the cute little roller fairlead. The line should be coming straight out of the winch, I'm sure the little guy will appreciate that. Now I'm off to tractor supply to see if I can round up the rest of the parts. I don't plan on doing any more welding today, but I'd like to get the parts and maybe work on some of the wiring tonight.



Due to the angle I was at.... left is a push, right is a pull... interesting to see the difference in the beads.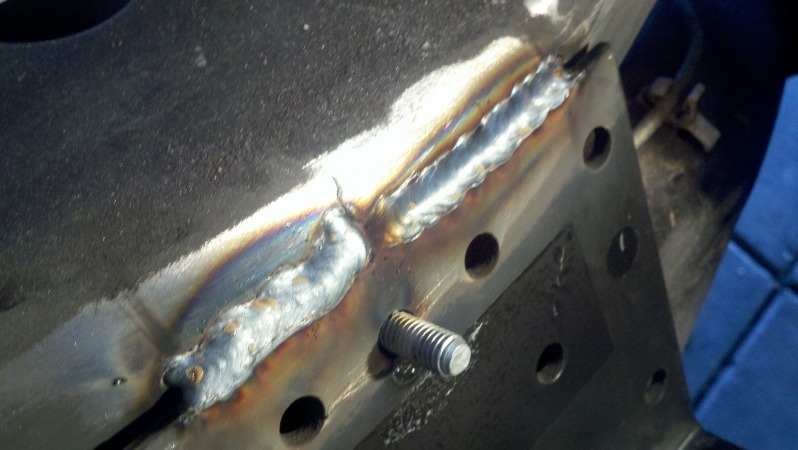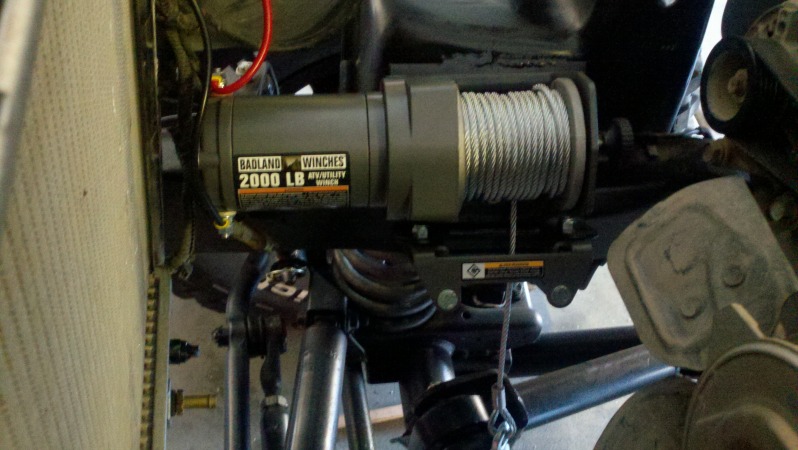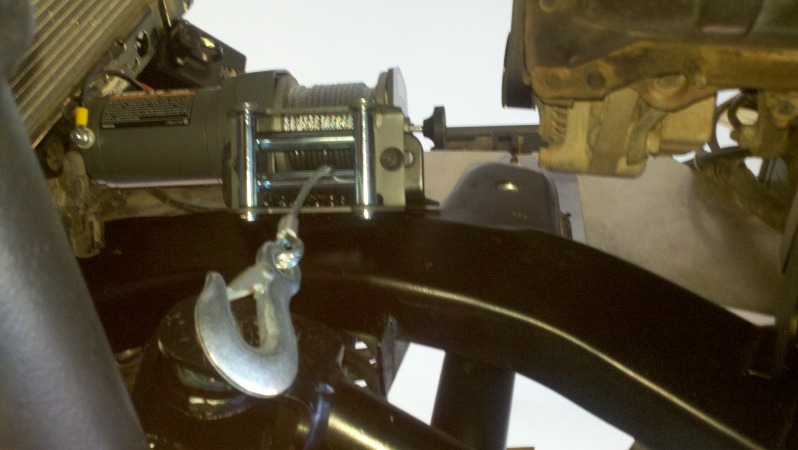 Just welded the pulley to the axle, Haha..... now I just need to weld the attachment to the driver's side frame and i'll be hooked up mechanically..... then the electrical. Getting a lot further than I thought I would today.
Ok.... driver's side attachment is done.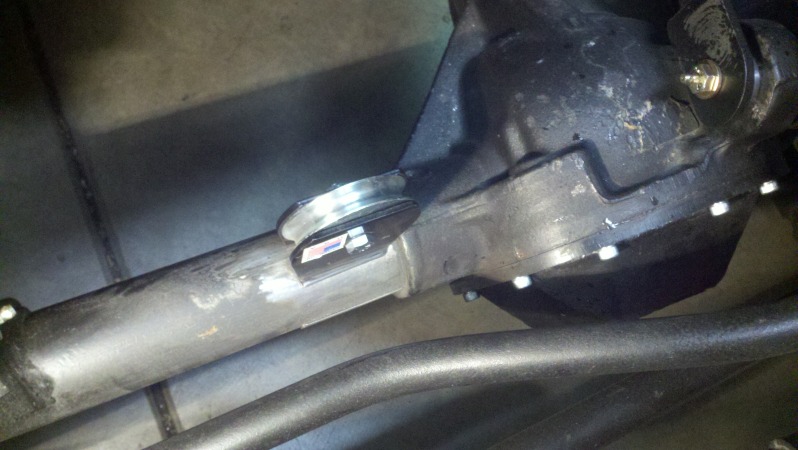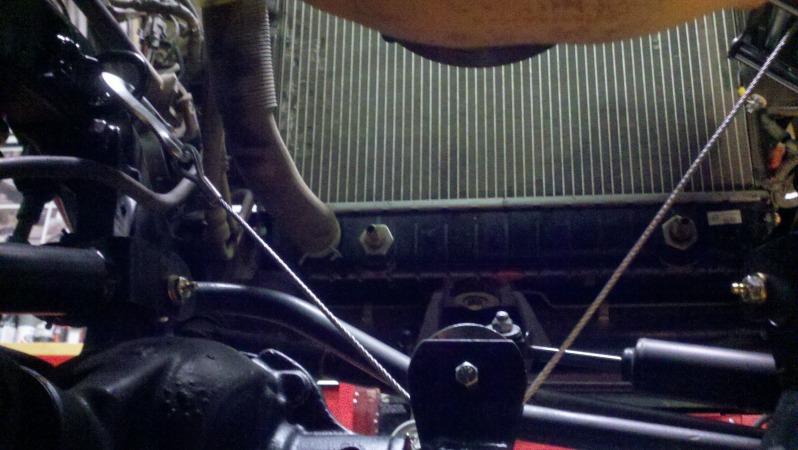 Sneak preview is uploading....

I hooked up power real quick for a little test.... it seemed like it sucked her down good with little effort. I haven't even shortened the cable so it's not nearly the full 2k lbs. Pretty neat looking though..... time to clean up and go to bed! Electrical tomorrow maybe, then work out any minor issues and hopefully this will be a reliable set up, I think the angles are good.
4-21-2013
This is what I used for the pulley on the axle.... I cut most of the bottom tabs off, I just left about a 1/4in. and it set on the axle very nice.

http://www.tractorsupply.com/en/stor...t?cm_vc=-10005

Then I used this on the drivers side frame to attach the cable. I just ground off the zinc coating for welding.

http://www.tractorsupply.com/en/stor...-5000-lbs-load
Got the engine bay wiring dialed in tonight. Along with putting my air box, and shroud back on. When the dust settled I did have to trim the shroud a bit to get it sitting perfect. No big deal, just a little irritating taking it off and putting it back on to trim until I had clearance. I also cut down my winch line to about 15 feet. Seems to work well and ends up being two rolls on the drum. Seems to have plenty of power and the brake holds it steady. Now all that's left is to work out the in cab switch.

4-23-2013
Went trailer shopping today, absolutely nauseating. I'd like to have one, sorta need one but not really, but I feel like I'm just putting off the inevitable and it would be nice to have on the Moab trip. Just can't get myself to shell out the money! I also thought I could negotiate a little on pricing......but everywhere I went to had the same line.. "we can't keep these in stock". Why can't I find a good one used??? Best OTD price I could find local was $2199 for a basic carson. Another builder had one that put the carson to shame, with more options and a wider deck for $2370. Lotta money in my world!
I just kept it simple with the switch for the suck down. It's in a good spot for me to hit it, near the shifter, near the hand throttle..... so it should work good and quick when I need it, and the switch is so low profile and firm, I'm not worried about ever accidentally hitting it.

This project is DONE!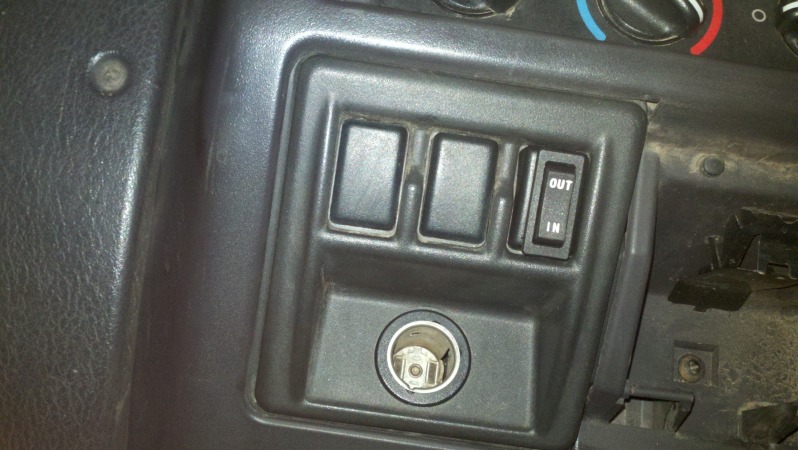 4-27-2013
Took a little day trip to the Ocean... I may or may not have some decent gopro footage..... But it was a nice day!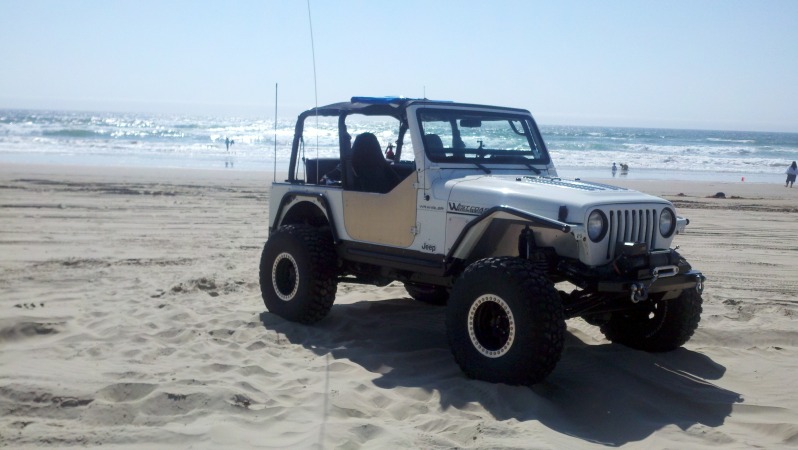 4-28-2013
Here's one gopro vid. That constant clicking is my sway bar link that I somehow forgot to secure that was dangling.... oh well, pretty cool to see how active the suspension is in that terrain.
Ok guys, first time using iMovie and actually trying to edit clips together and overlaying a song. Took an incredibly long time to upload for some reason. Oh well..... check it. Sorry it's a little boring.
4-29-2013
This was a proud moment...



https://www.facebook.com/photo.php?v...47744465623860
+V8 = Trouble! People DESTROY their trucks out there. This is the hill that I went up twice in the video. It's "comp" hill..... people line up and race up it all time, and it's usually where all the carnage happens.

This is the "creek" that Beasley was referring to at high tide, after a storm most likely....VERY entertaining!
4-30-2013
Here's my not so fun project for the day....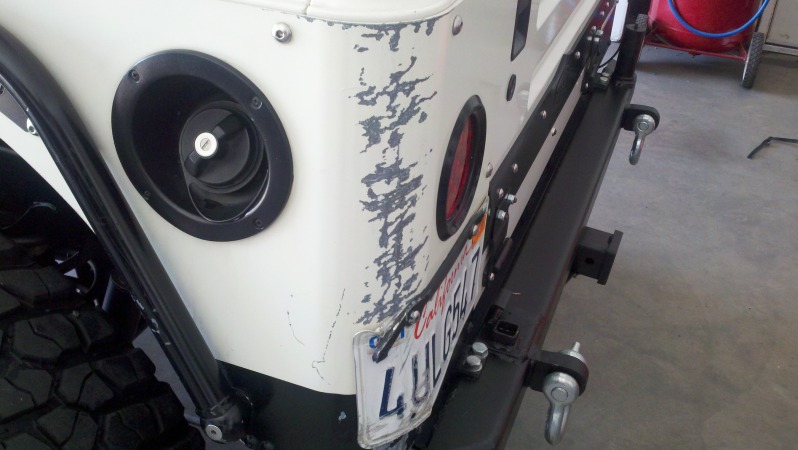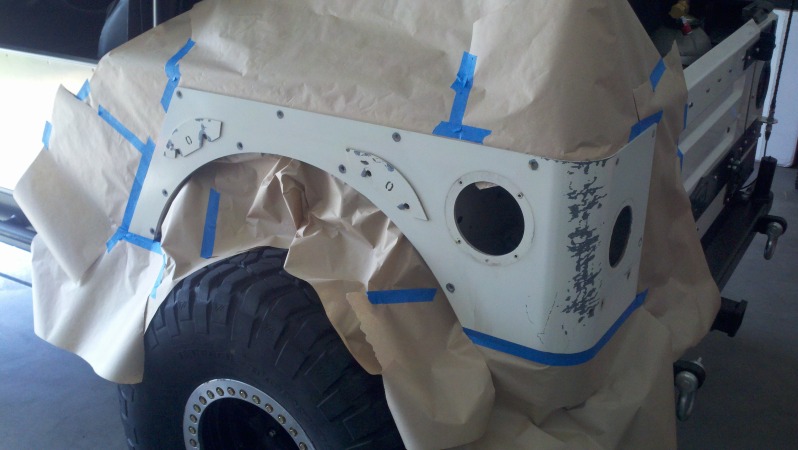 All cleaned up! What a pain but god bless Duplicolor for the color matched spray paint being available.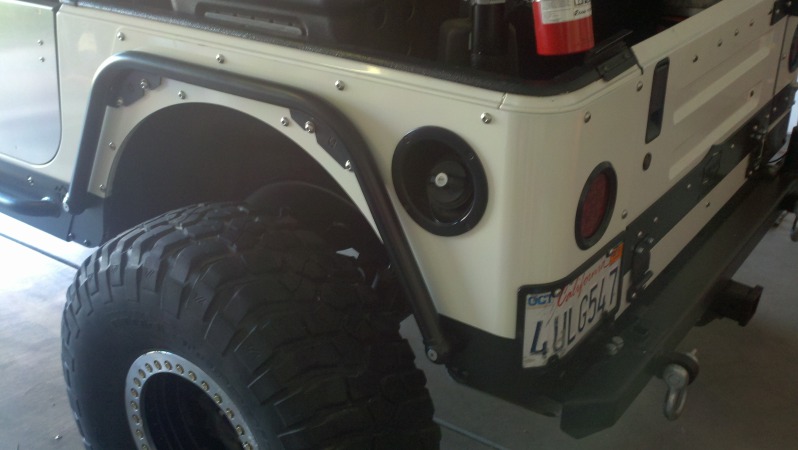 Also turned out to be a pretty big day for me..... Made the trailer purchase! After just about the most exhausting craigslist search I've ever done looking for something, yesterday a 16' car hauler popped up 4 miles from my house, and it actually looked decent. He was asking $1400 and that's what I gave him for it. Finally something with decent tires, a title, NOT a home built death trap and actually a fairly new 2005 model year for a good price! I'm going to replace two tires before Moab, one for a spare and one that is older than the other 3 and I'll also touch up the paint to make it pretty again. I'm stoked though to have it.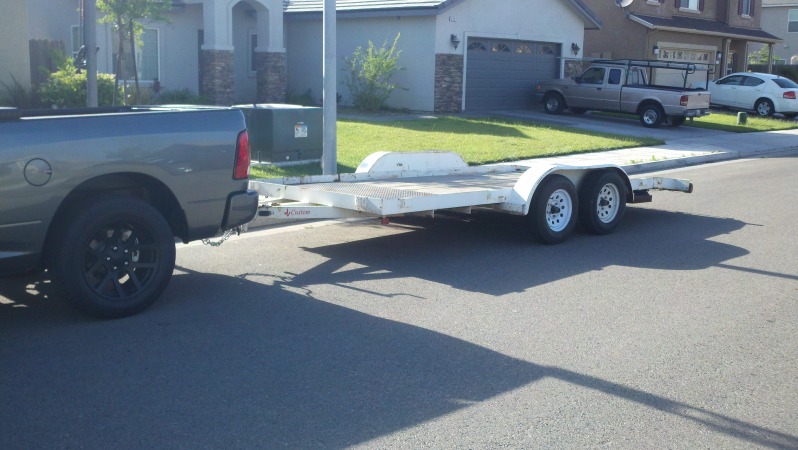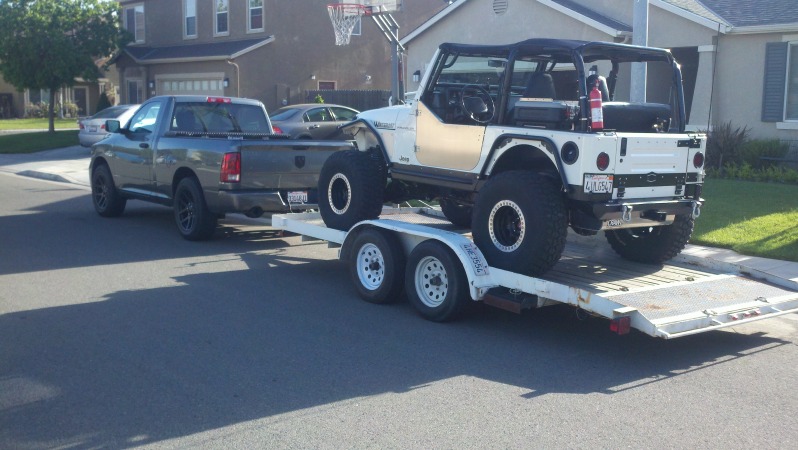 5-2-2013
Sometimes I think it would be nice if I could leave something alone. Na.... well the trailer clean up has commenced. I chopped off the dovetail. The previous owner actually added that to the trailer and although he did do a good job, I felt that he added a lot of weight to the already fairly light duty 6k gvwr trailer. He also inadvertently altered the intended unloaded tongue weight, he compensated for this by adding the diamond plate to the front of the trailer.... but that also added significant weight and upon removing that the trailer did a nice wheelie while resting unhooked. Haha. So anyways.... chopped and grinded until I got that sucker off....phewww! And moved onto sanding the surace rust and missing paint areas. Almost done with that then it's a little bit of welding on the rear and painting on Saturday. It's gonna look sweet when I'm done!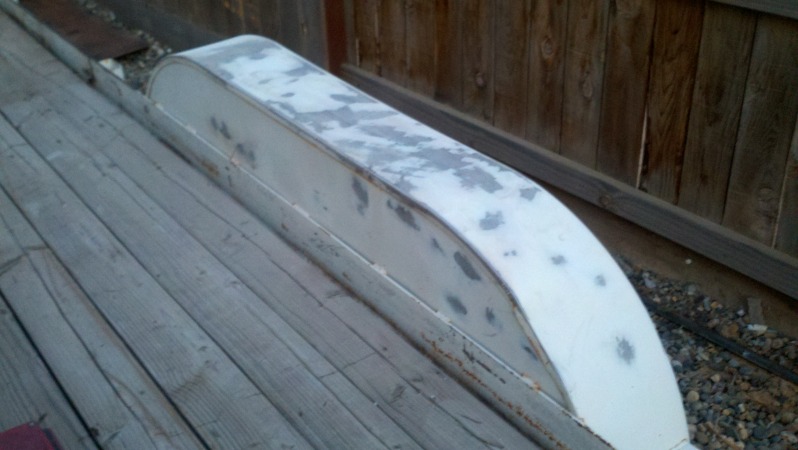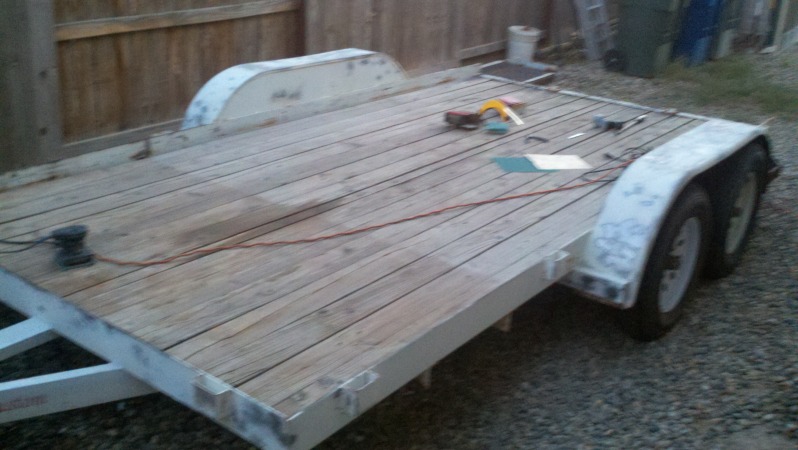 5-5-2013
Trailer clean up almost complete! I've been putting in some hours this week prepping for paint, cut off the dove tail and bought new light mounts and a new lower profile tongue jack (the other one hit my tailgate when I put it down). So I got the ramp bar welded up and the new light mounts welded up today.... along with paint, and resealed the deck. All in all it looks pretty darn good I think. Lots of work though.... Just a few final details it'll be ready for action.

Before... well, more like during prep.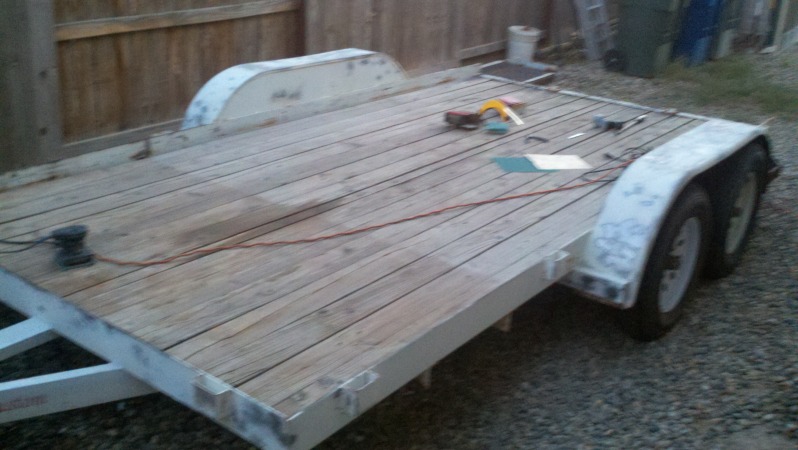 After....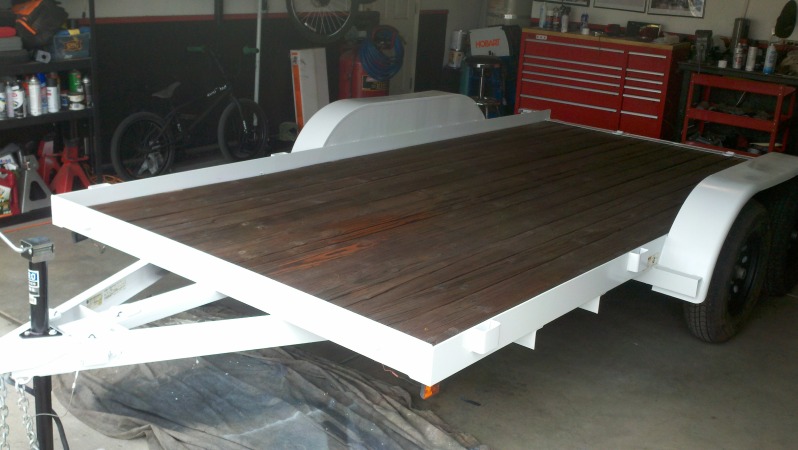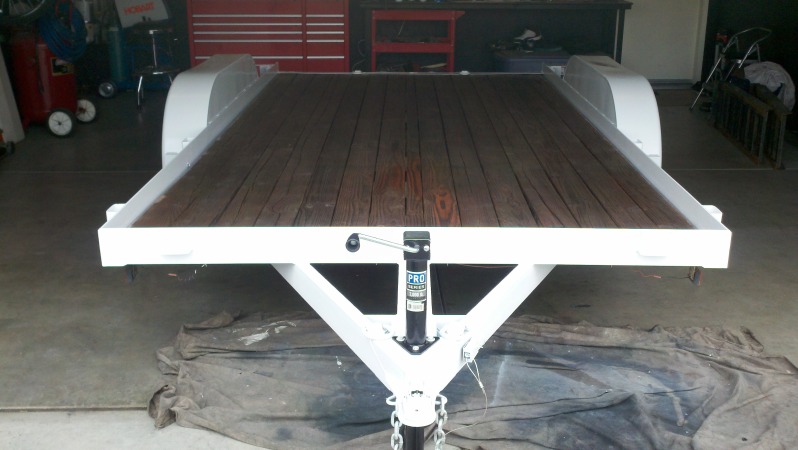 Thanks fellas! And just for fun I plasti dipped the wheels.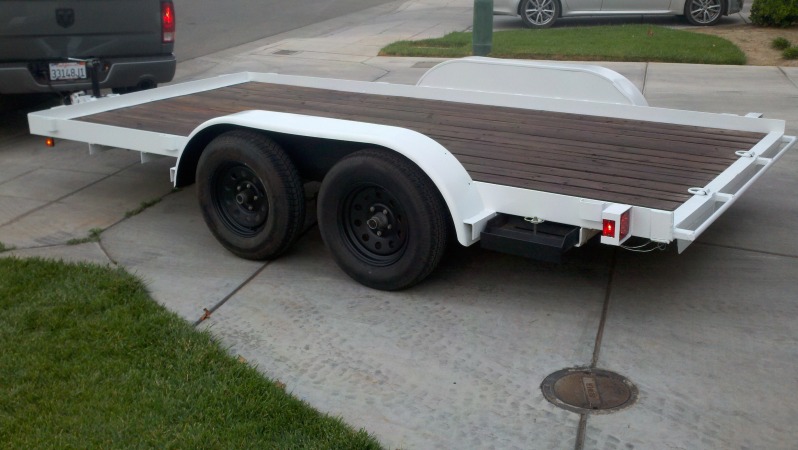 5-7-2013
They see me rollin.....they hatin.....

Test rigged my set up today, and drove it a little in town. Everything feels good. Still waiting on my brake control to test freeway speeds. Opinions on strap placement? I'm just using the tie down points that were already there..... obviously I can change them. The only thing I can see changing is the front, having them on the tongue like that doesn't seem very traditional, but I don't know if it's necessarily something that needs changing.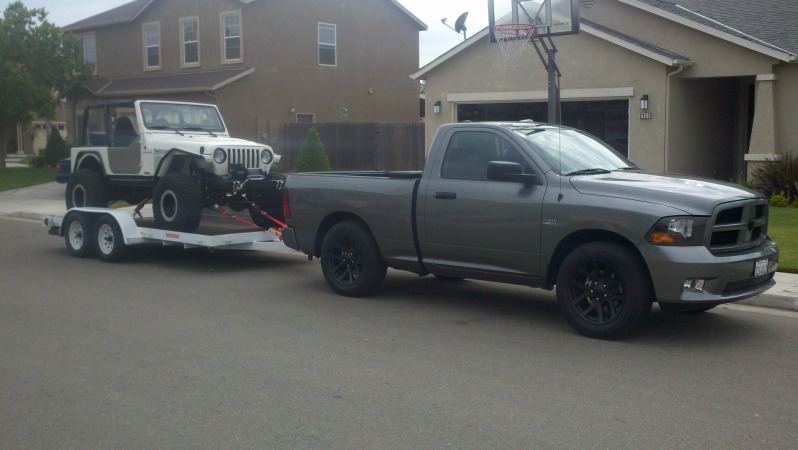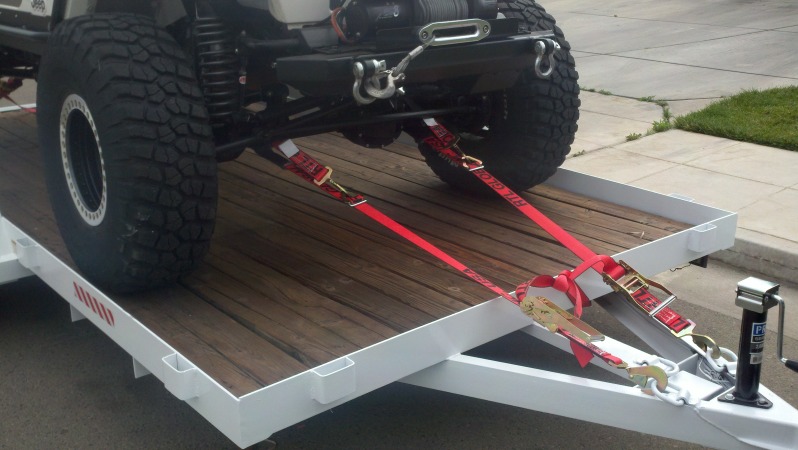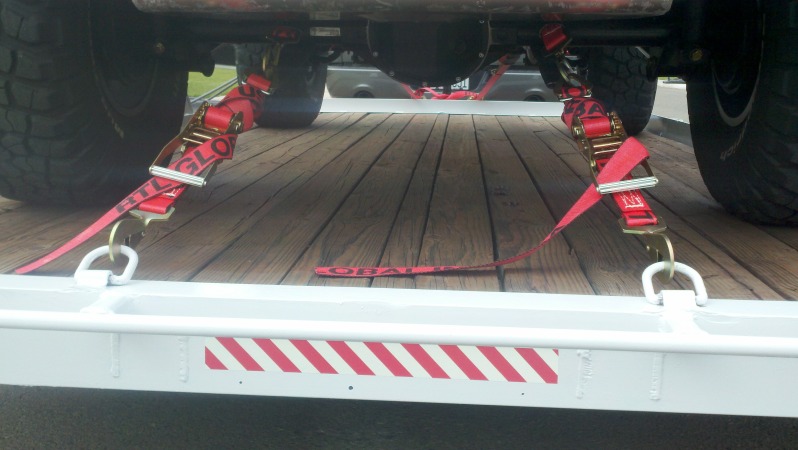 5-9-2013
Gathering the last of my junk for Moab.... trying to think of everything. I just ordered another Gopro case that I can modify to run a power cable into so I can get as much footage as possible without constantly monitoring a battery. My trailer tires are here, brake control should be here today. Just a few little spares that I want to have on hand and I think I'm good. One of my favorite local trails opened up early so I have a wheeling trip planned for next Thursday to really test out my trailer set up. Should be fun. Getting close!
Thanks guys, I am going to weld on two more D rings in the front, spaced out and run the front's straight and cross the back. This should serve me well, I'll be towing up the mountain to go wheeling on Thursday and will report back with any concerns.
Trailer brake control is installed! So glad I went with the factory controller in the factory spot. Looks clean. Unfortunately my truck was one of many that did NOT have the two connectors you need to hook it up, and only had the one for an aftermarket controller but luckily the interweb is awesome and someone figured out what wires to splice into to complete connections. So a little soldering and time under the dash (not a place I like to be) and I think I got it...... gonna go do a test right now. It powered up with no errors so I think I'm good.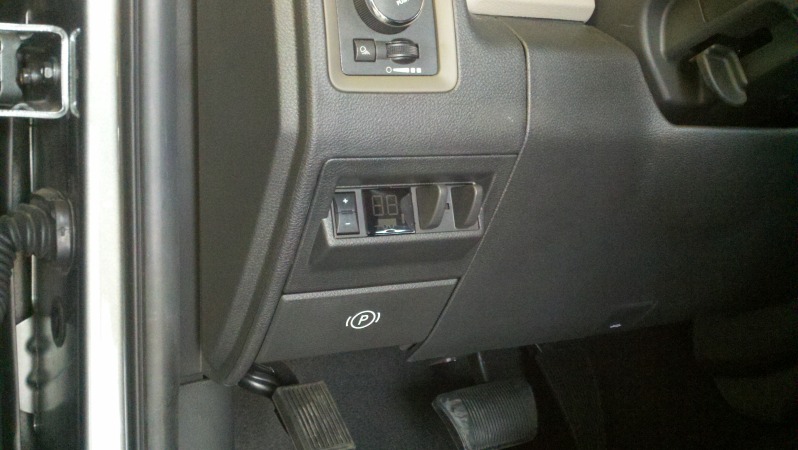 5-11-2013
Welded on some new 15,000lb D rings today. Also mounted my new tires. Just waiting on my wife to get back with another can of plastidip to finish the wheels. Then another test rigging and test tow. Then I THINK i'm safe and ready to tow.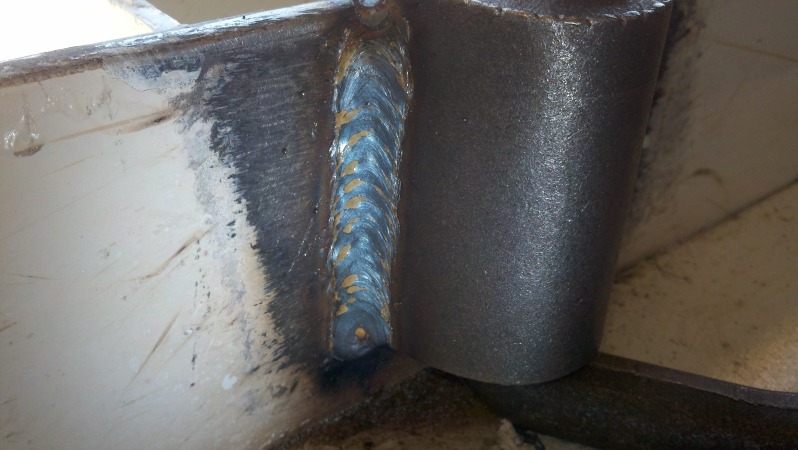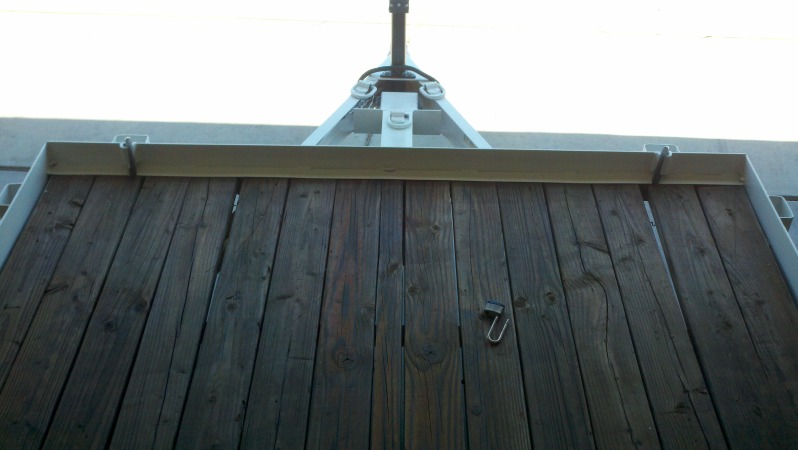 Ok here is the new tie down set up.... opinions please. I crossed them at first and that seems pretty good. I just didn't really like how the straps were rubbing on each other and how the drivers side strap looked around the pumpkin was kind of funky. I then just ran them direct and I think I like that much better. I'm still getting the effect of triangulation for lateral movement and the straps are pulling clean and free from any other parts. I tried crossing the rears but the strap is so short it's awkward so I'm going to leave them straight. All in all......from where I was I think it's better.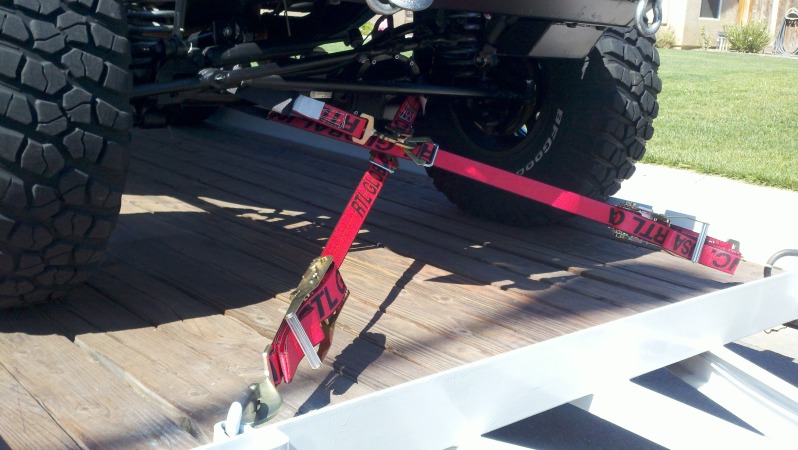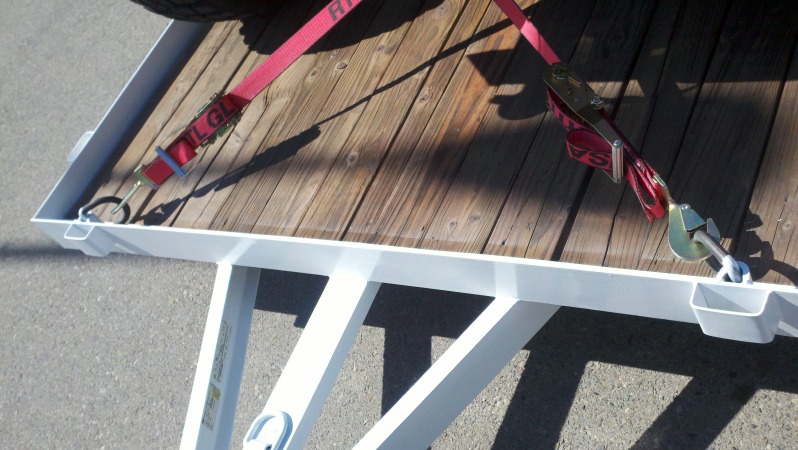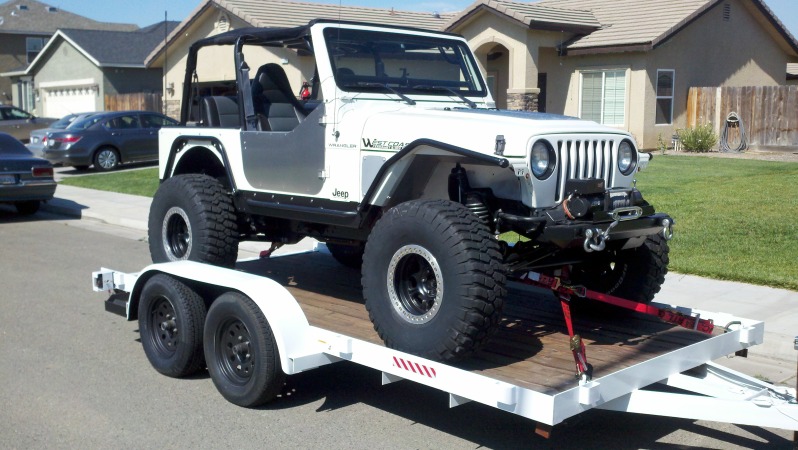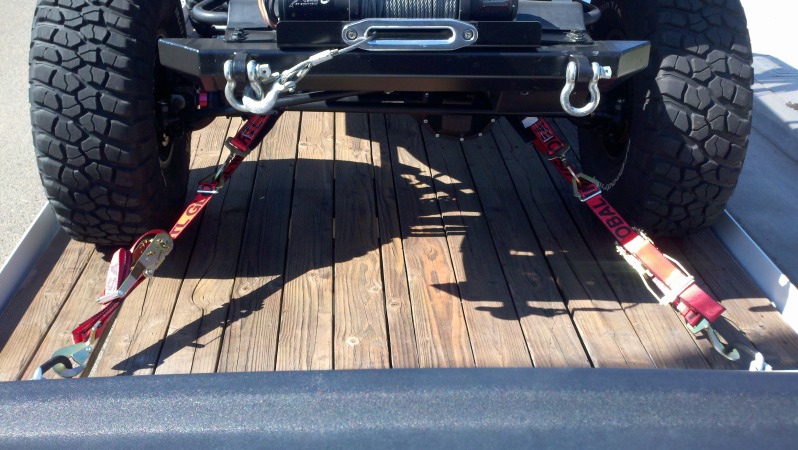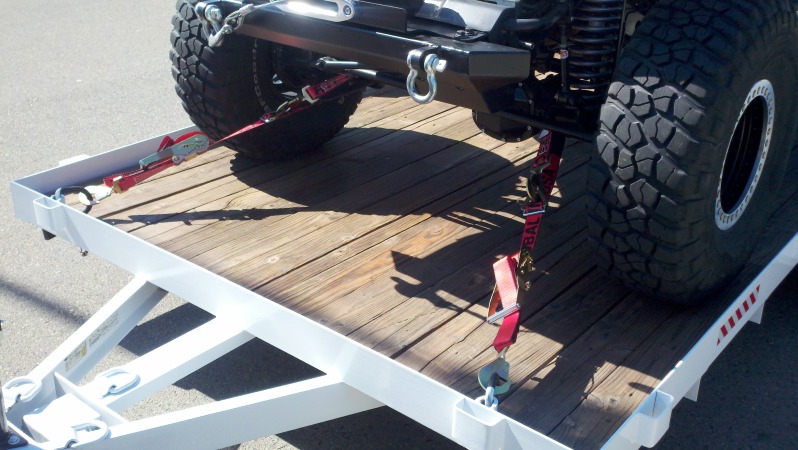 5-13-2013
I don't have many, that was a time when digital media was kind of new so a lot has been lost over the years. It was a fun car. 333whp, FWD, lot's of tire smoking! Nowadays the HP comes pretty easy but in 2000 any 4cyl, with over 300whp was a fast street car.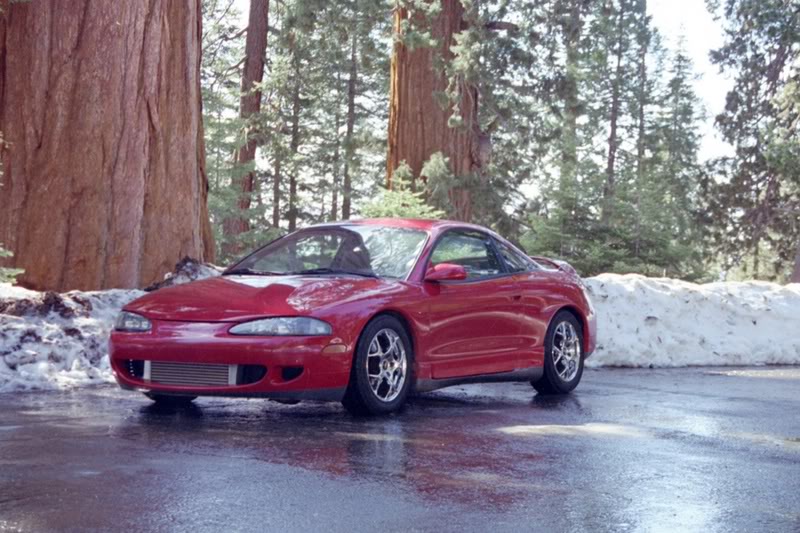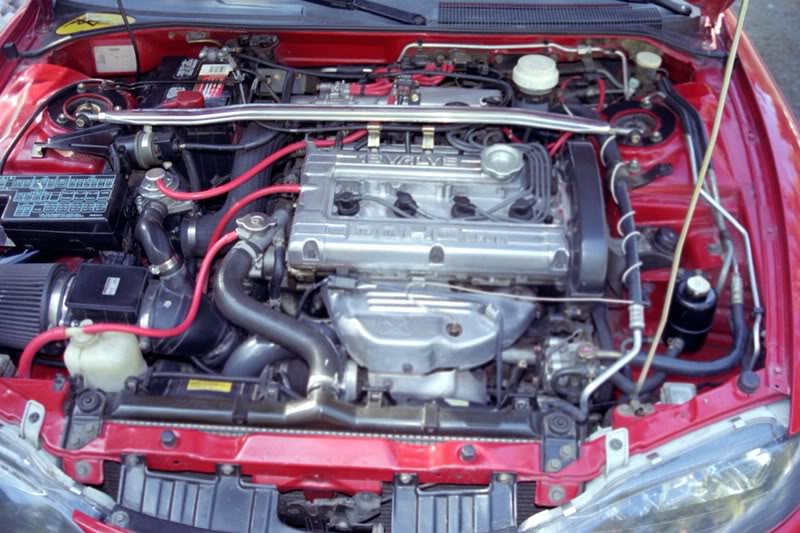 And as I started making a little more money I was able to get what's still kind of my realistic dream car and foolishly ended up selling it.....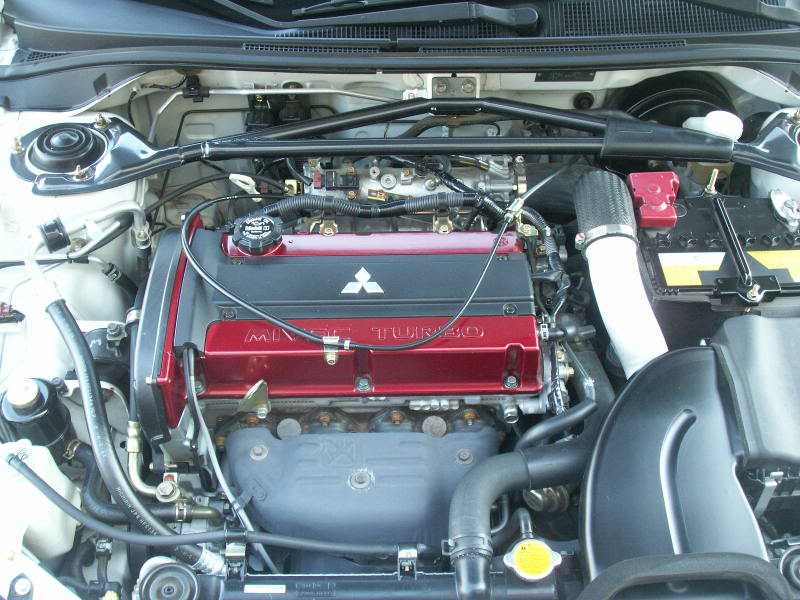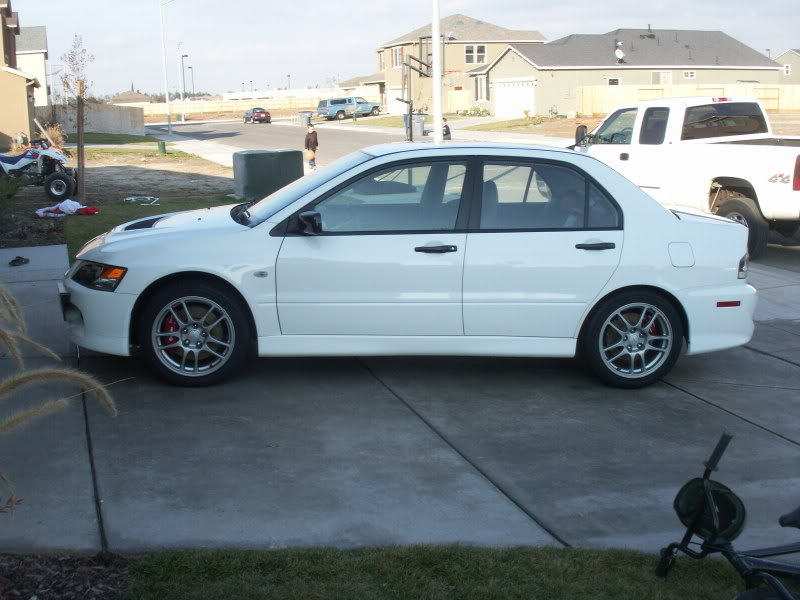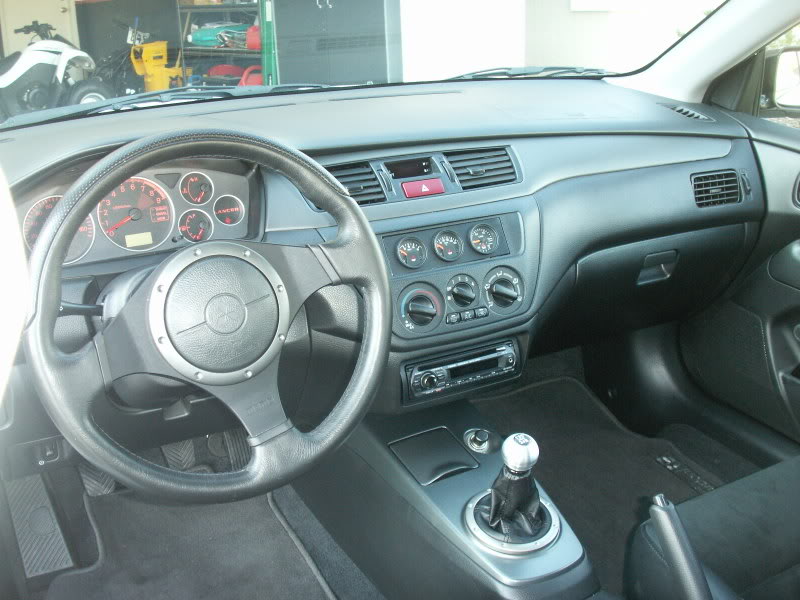 4G63 for life! Haha!

Oh yeah..... I even had one of these! This car was super cool. A 1992 Galant VR4.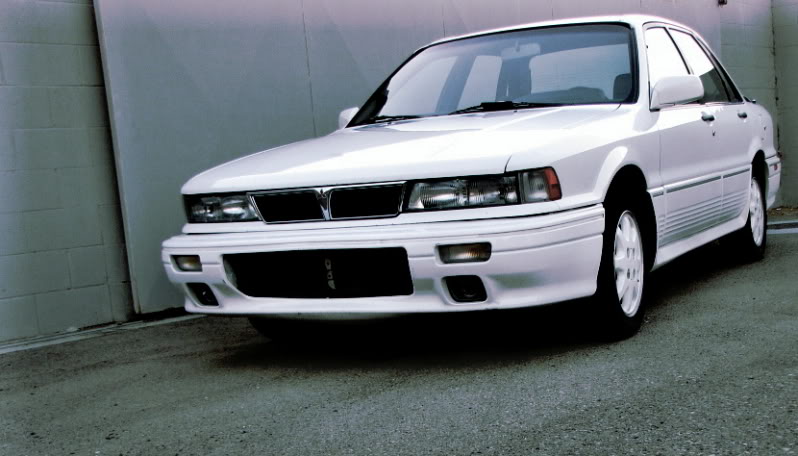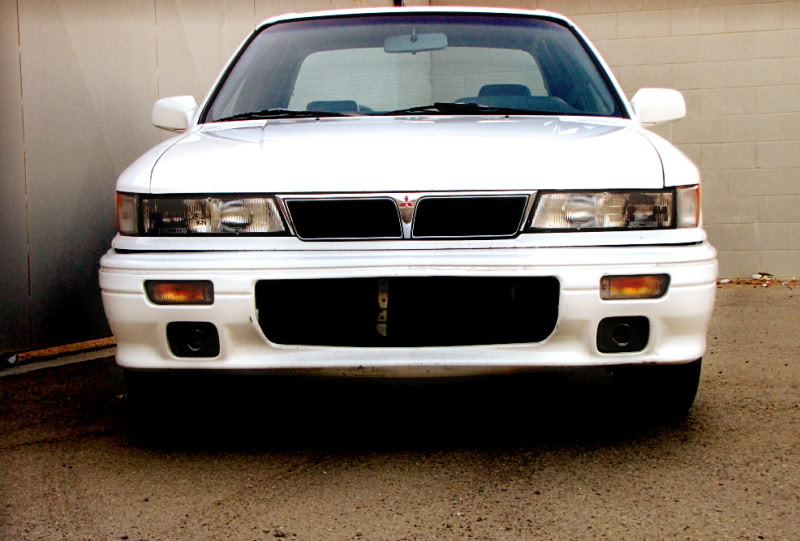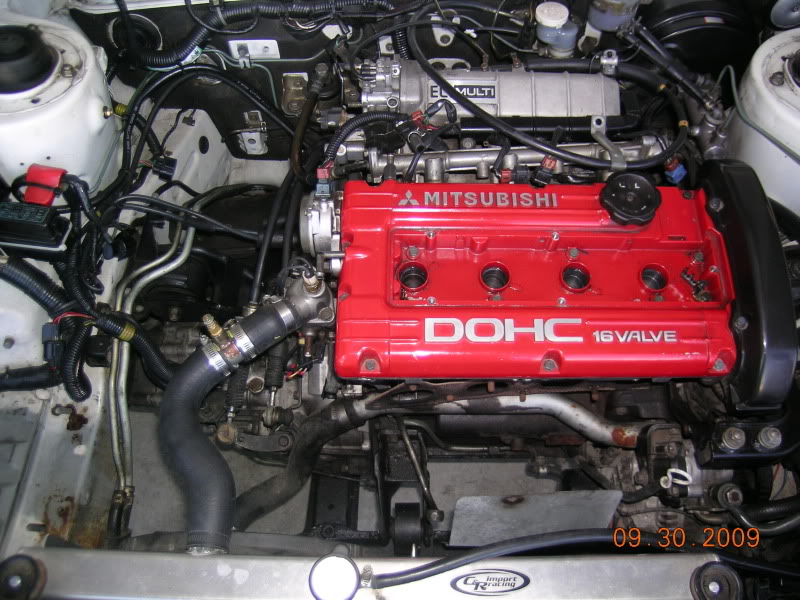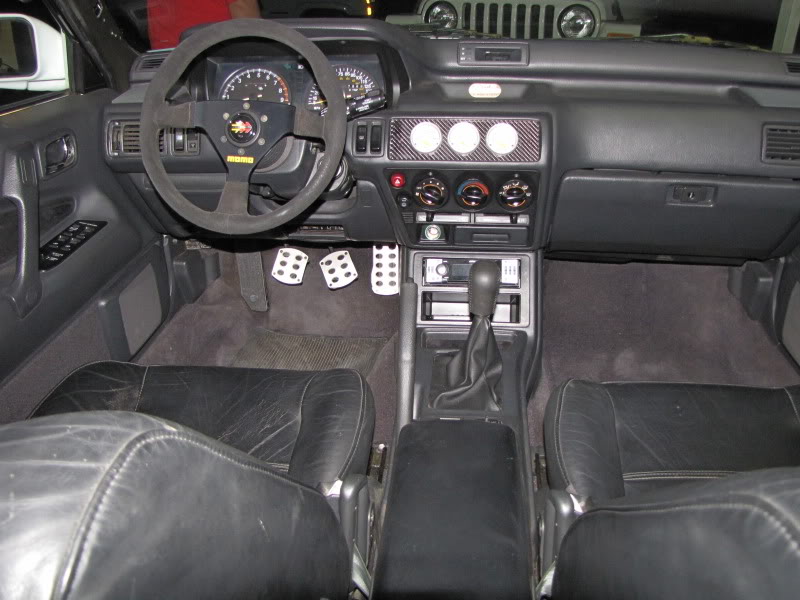 Pretty big news for me! I got it cleared with all of my son's teachers to allow him to come to MOAB with me.

He's a good little trail lackey, we'll put him to good use!
5-14-2013
Well I took care of an issue today with my front axle side control arm bolts. The last time I assembled the suspension I replaced all of my control arm bolts with grade 8, 9/16ths like a lot of people do. Well the factory size is actually 14mm, and on the front the 9/16's didn't really want to fit in the clevite bushing. I was able to get them in though, they pulled themselves in as I tightened the nut. I wasn't thinking straight and thought that would be fine. Well duh.... the bushing needs to be able to rotate around the bolt freely (somewhat). I guess over some time the bracket compressed some and the entire bolt was essentially "loose" in the mount and rotated WITH the bushing. Well that's not good. So as you can imagine those bolts were very difficult to remove.... I had to use my ball joint press.... then an air hammer. I got them out eventually and went and bought some new 14mm bolts and all is right in the world now. I also took the time to whip up some little skids to box in the bracket a little better much like Beasley did the other day.

So my wheeling trip has now turned into camping tomorrow night and a night run. Should be fun. Gonna work on my Gopro skills, and this will be the last final shake down run before Moab.
5-17-2013
Great time wheeling Yesterday. Trailering up the hill went perfect. Took it easy on my rig, being this close to Moab I didn't want to have to fix anything or spend any money on repairs. We camped overnight on Wednesday and I froze my *** off. Good times though. Gopro vid is uploading.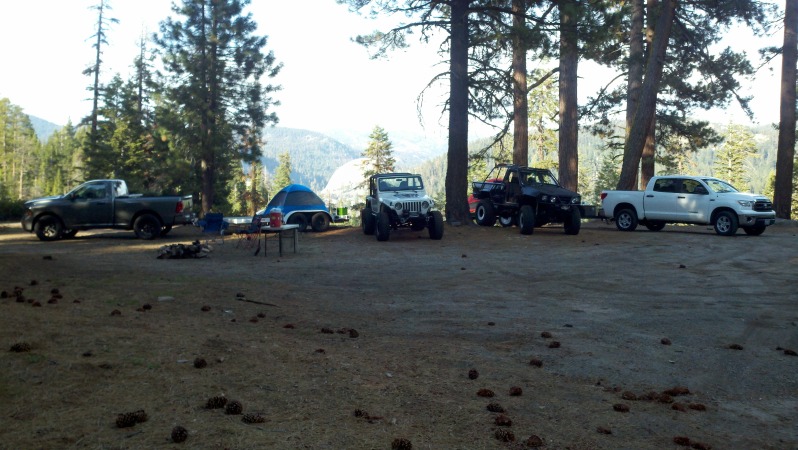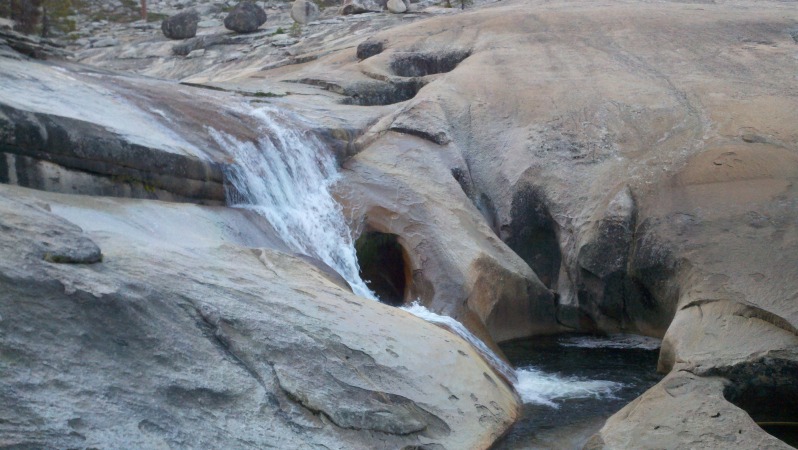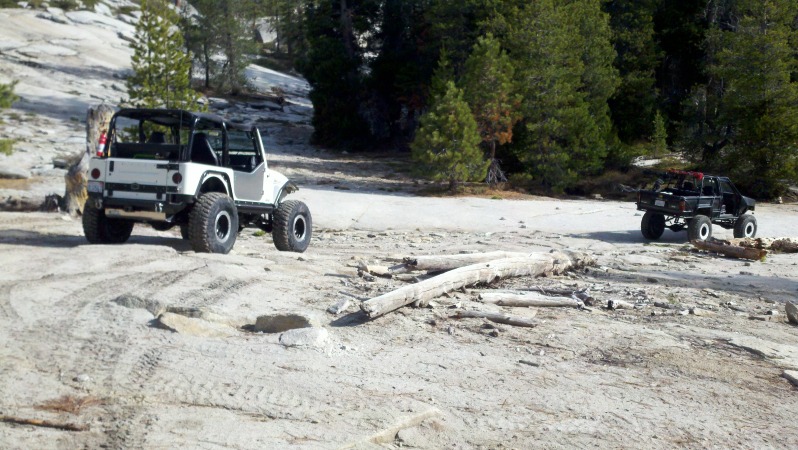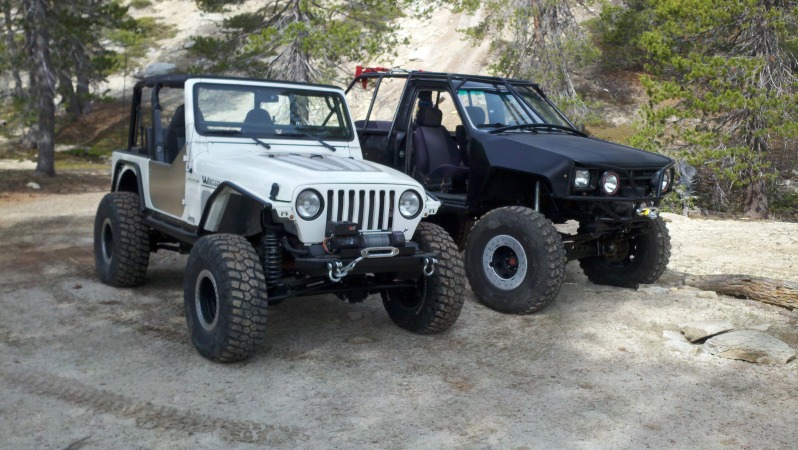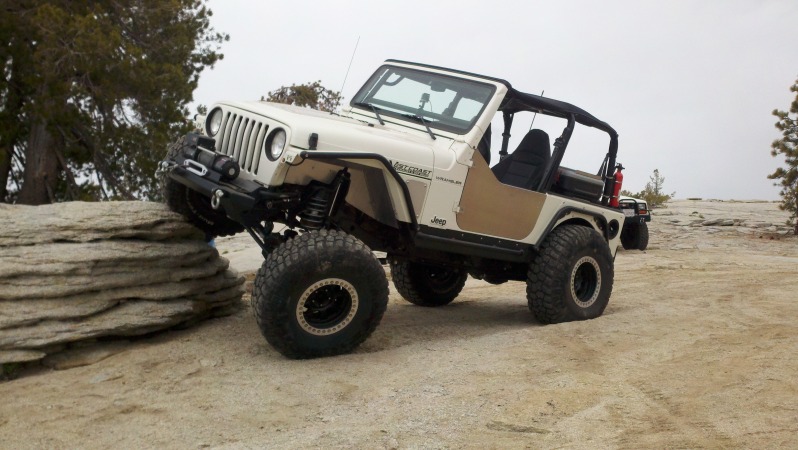 I hope this is at least a little bit cool, I put a bit of effort into it. Haha!
5-25-2013
Doing some final detailing before MOAB today.... just a little paint here and there. The cleaner I used the other day is giving me hell though, it must have left quite a residue and is causing some paint issues even after after wiping down with thinner. Oh well.... I just really wanted to get that L/R rub rail repainted after it came out so dull after I touched it up a couple weeks ago using a different satin black than I normally do. I also had the bright idea to swap out my incredibly worn stock rear sway bar links that are a tad bit to short (they almost lay flat with the sway bar flexed out and could possibly swing back the other way = bad) with stock links from a cherokee that are about an inch and a half longer....well that was all going well, I just need to drill out the sway bar one bolt size bigger....well my damn bit is completely DEAD! Off to the parts store again!

What's everyone else working on today????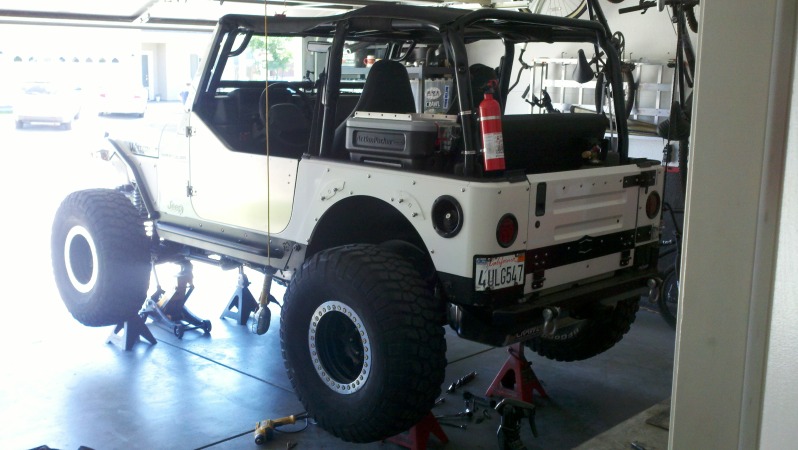 Well the sway bar links worked out well. Did you know the rear sway bar is made out of diamonds and is virtually impossible to drill??? Even after running to the closest hardware store and getting a new 1/2 bit, it STILL wouldn't drill out. I don't know anything about metallurgical properties but something has been done to that thing. Oh well I had to use my step bits and kind of keep wallowing it until I could get the bolt in. They went in nice so no worries. I always had a hard time finding aftermarket sway bar links that were longer than stock but only by a small amount. Or they never listed the lengths so I never bought any. These Cherokee links are only about 1.5" longer than stock..... so perfect for 2"- 3" lift. And available everywhere.... My stock links had about a 1/8 of play in them. So it's nice to have the sway bar nice and tight again and not fully extended anymore while flexed.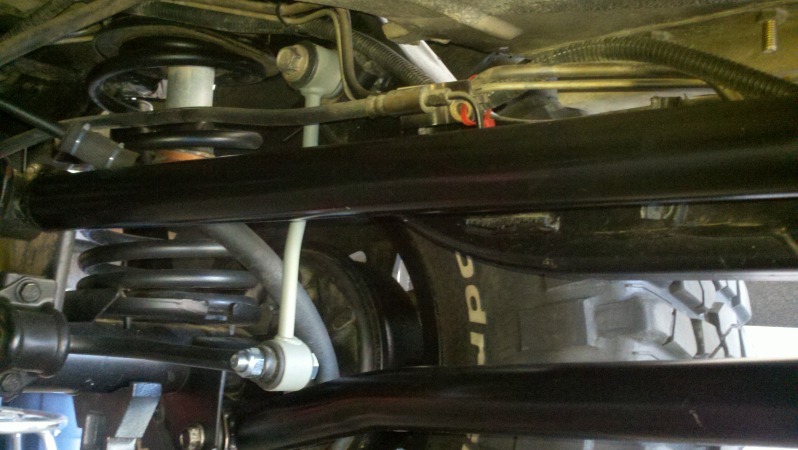 Got my 10' mini USB charge cable for my Gopro today also.... so my Gopro setup should be pretty legit. Picked up the suction mount also and a dual USB cig. adapter to keep my phone charged to control the Gopro while it's mounted outside the rig. Nice not to worry about the battery! Gopro currently does not make a case for the Hero3 that allows you to plug into the side so I had to drill a hole in mine. And of course I had to buy another housing in case I need waterproof capability. They aint cheap!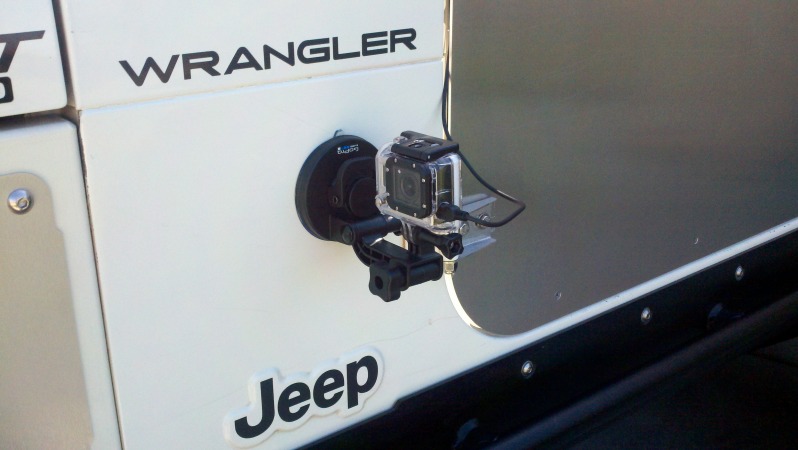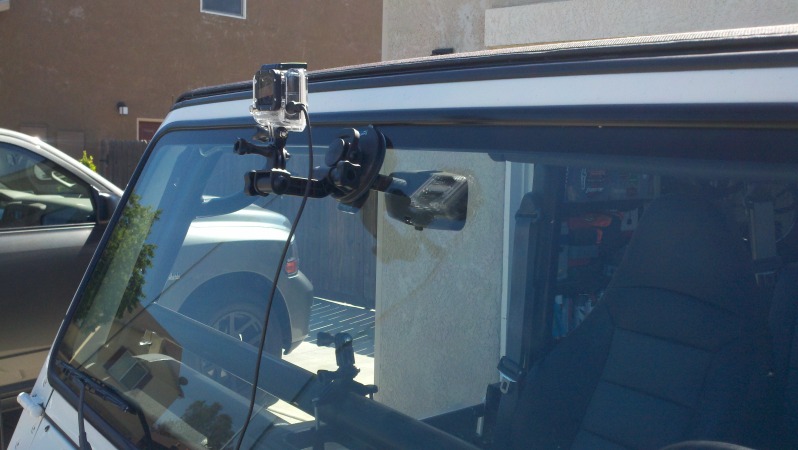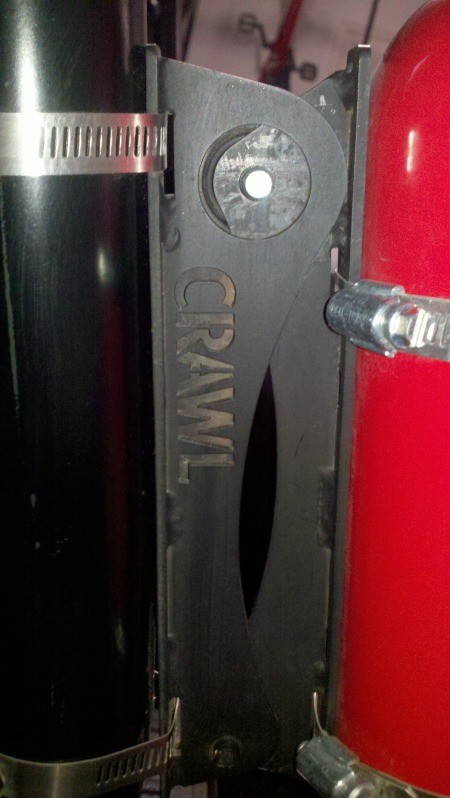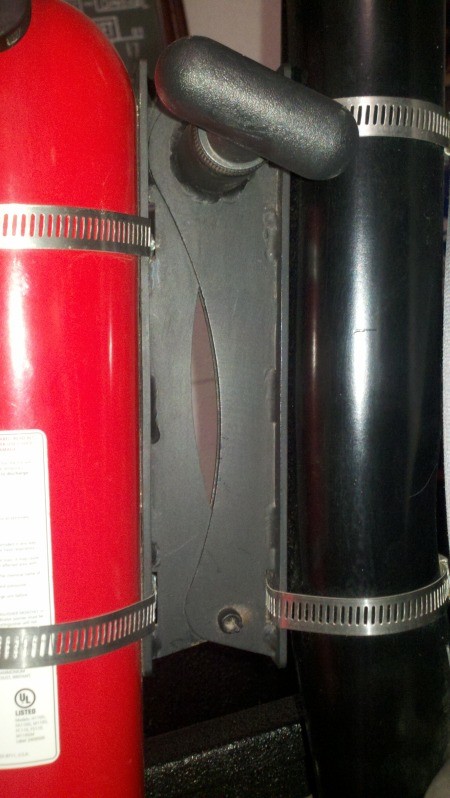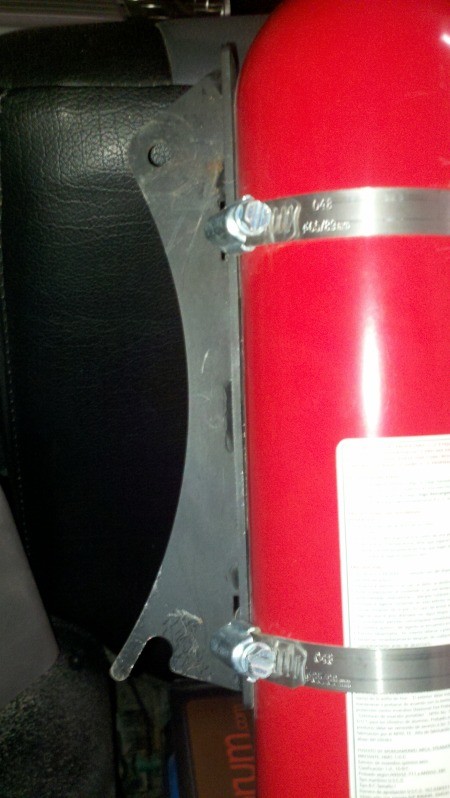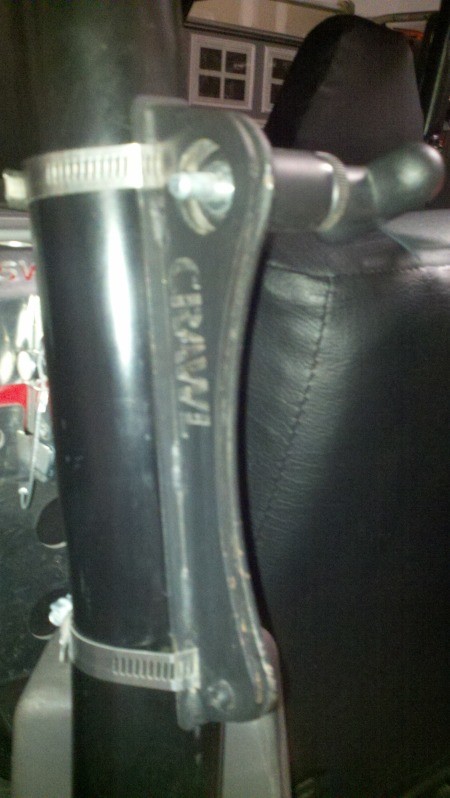 5-27-2013
Last day off until departure for MOAB. Just going through my spares, and prep stuff..... looking good.



You can fit a lot in a small action packer!

Spare: u-joints, TRE's. Brake fluid, RTV, JB Weld, Serp. belt, funnel, fixaflat, first aid, snatch block, hitch d-ring, lug wrench, gloves, zip ties, (2) 3 day survival kits, air line, PSI gauge, Air down tool, sunscreen, bug spray, winch controller, jumper cables and who know's what else!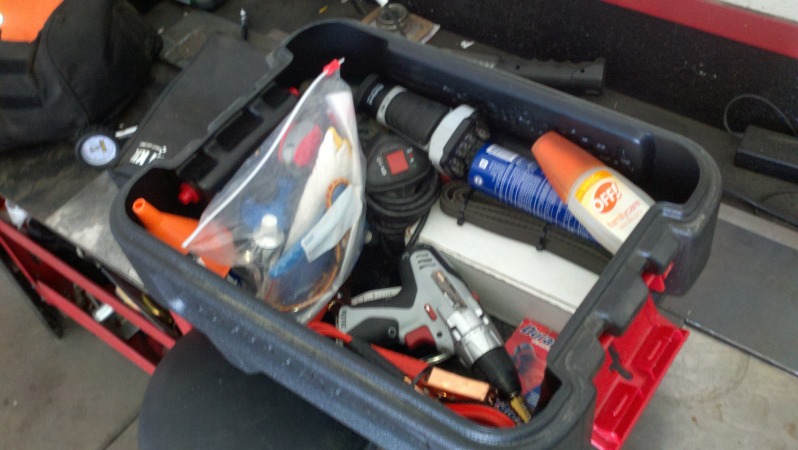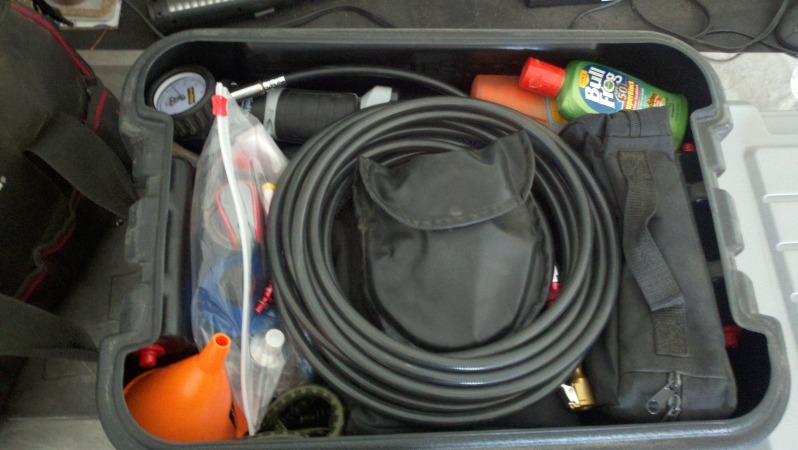 Prepping my truck box with spare axles front and rear. Along with my non mesh bikini top in case of rain. Throwing my spare in the bed of the truck, locked down.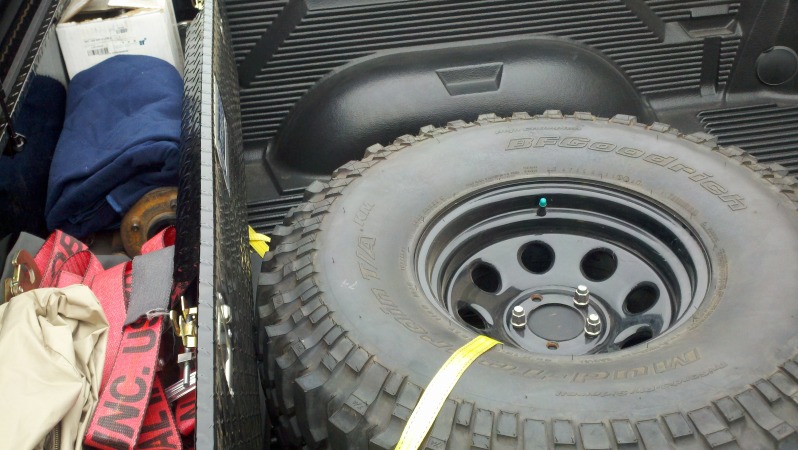 Gonna be a LOOOOONG week.... waiting to leave.
6-4-2013
Having a great time here in Moab. Really fun to actually meet all these people, and everyone is wheeling hard and doing very well with everything. Its too much of a pain for me to post photos, but I have some good ones, not to mention over a 100 gopro clips so far. Its going take some time to go through all that! Should be some good stuff.
6-6-2013
Awesome photos. Looking forward to viewing the go pro footage.

Big thanks to all the jf crew for making this trip so memorable. Props to Lu for running helldorado today, I don't know if anyone could have talked me out of it, but it was nice to have another "little" Jeep with me. And thanks Jeremy, Mike and Art for the spotting, laughs and entertainment!
6-7-2013
Thanks for posting those Art! I'm HOME... finally.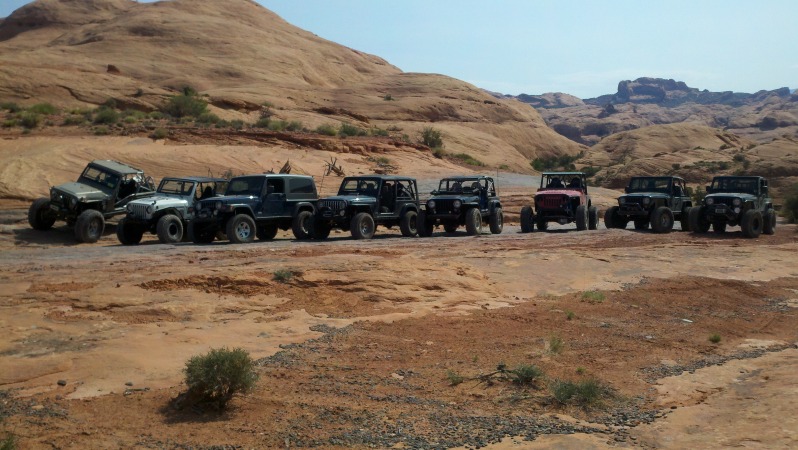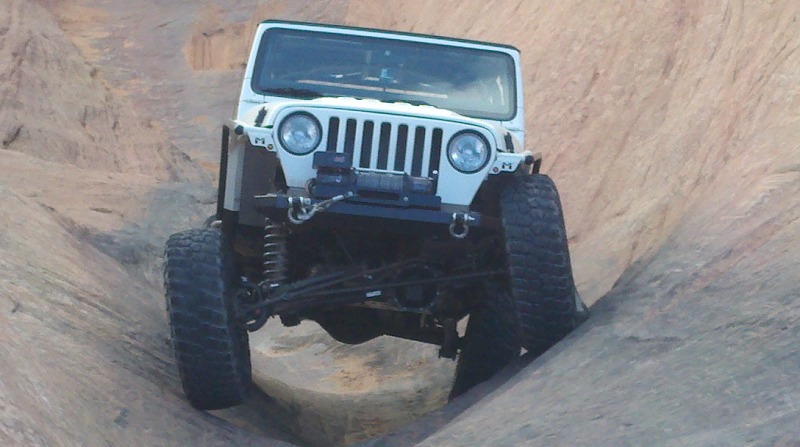 The waterfall was scary enough winching up it...... just try not to stall half way up like I did..... and then it wouldn't start for a few tense seconds. Haha.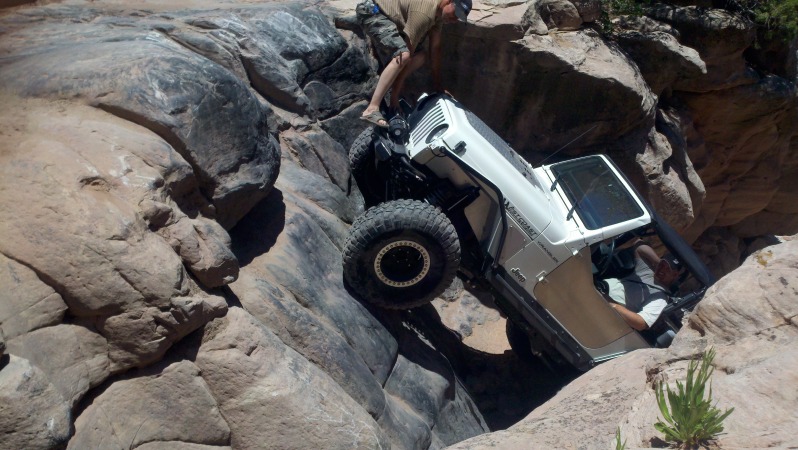 Just starting to look at the gopro footage...... I'll see if I can get something up tonight. Just a raw clip or two.
I'm going to post up some raw clips from Helldorado since not everyone in the group got to be there, and since they are pretty sweet by themselves. Then try and make an edited video tomorrow. There's A LOT to go through....

Me going through the squeeze..... if you were to fall off to the driver's side, it would be bad!
6-8-2013
Helldorado Gatekeeper....
Video, "collage" is uploading..... maybe. It's 28 minutes. I think it's neat.... it was hard to pick through it all and if you were not in front of me or you ran obstacles faster than I could get over there I missed a lot! Oh well I did my best!
6-9-2013
6-10-2013
This is a cool shot of me in the Helldorado gatekeeper. Thanks Jeremy's wife.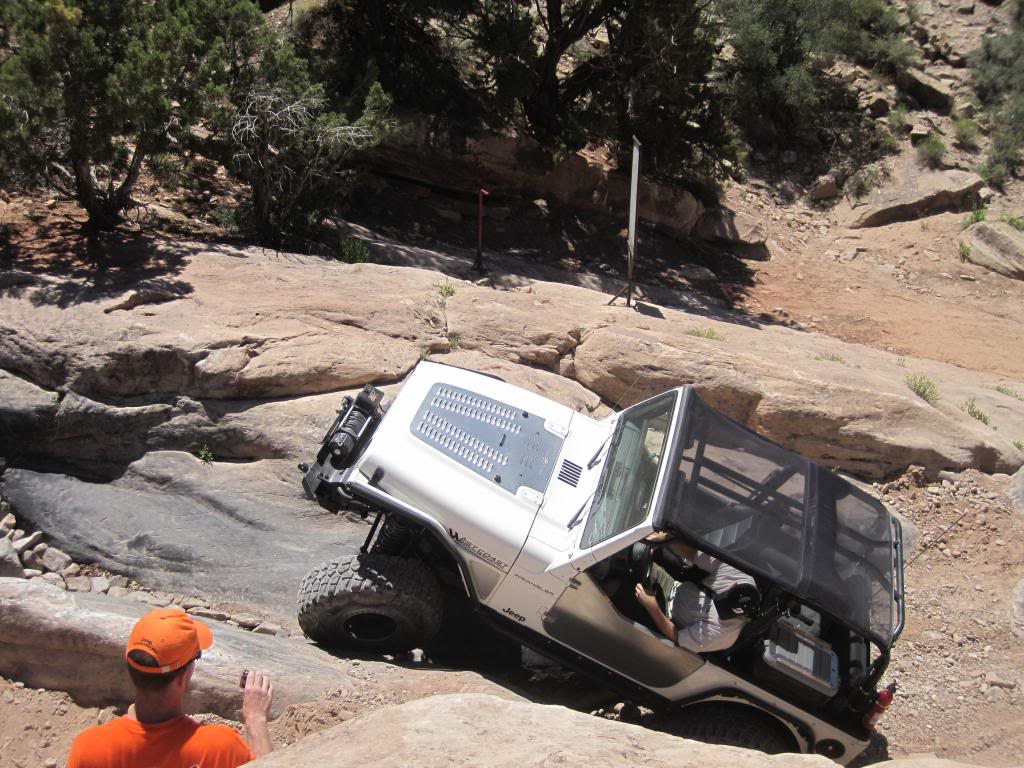 6-19-2013
Having a hard time deciding if I should just wheel my rig as is for the summer or start on my next round of mods that will probably have it down for a couple months. I'm anxious to wrench.... and to wheel! Decisions.....
You guys are right, ill wheel it until the trails close for winter again. Planning some stretch action Lu.... rear..... and front! Whatever it takes to get to 104" is the plan in my head. We will see how it turns out in reality. D35 stays. Haha, Tates Jeep purchase has been put off to next spring due to us moving and the expenses I've incurred over selling my old house. Boo.
6-20-2013
I did have a hell of a time. Actually one of the best times of my adult life. I highly recommend anyone who even thought about going this time.... DON'T miss the next one. We spend all this time and money documenting our builds and running our local stuff, but it's really awesome to meet the people behind the builds, run some stuff out of your comfort zone and truly use the machines we build for what we built them for.

My son had a great time. He's at an age (13) where he's got a lot going on, so he's just a typical teen. Kind of selfish and self absorbed but it only took one short talk on the first night to get him on the program (looong wheeling days). Everyone may have thought he was on the cell phone the whole time but he was actually controlling the Gopro for me with it via wifi. He got a little sick of me telling him when to stop and start recording, haha.
6-21-2013
Added a couple photos to garage photo wall, also a couple new plates thanks to GBeasley, thanks man! My new garage has tall 10' ceilings so i've got more room. I have a couple more printed out, but Target was out of frames. Oh well.... Mike you made the wall man.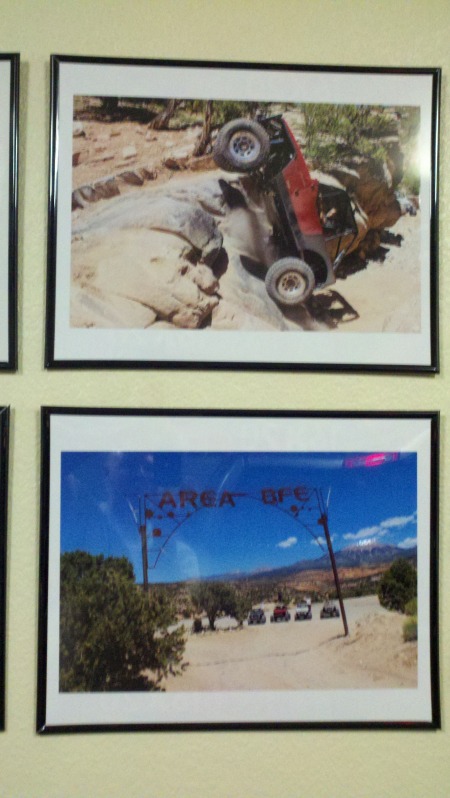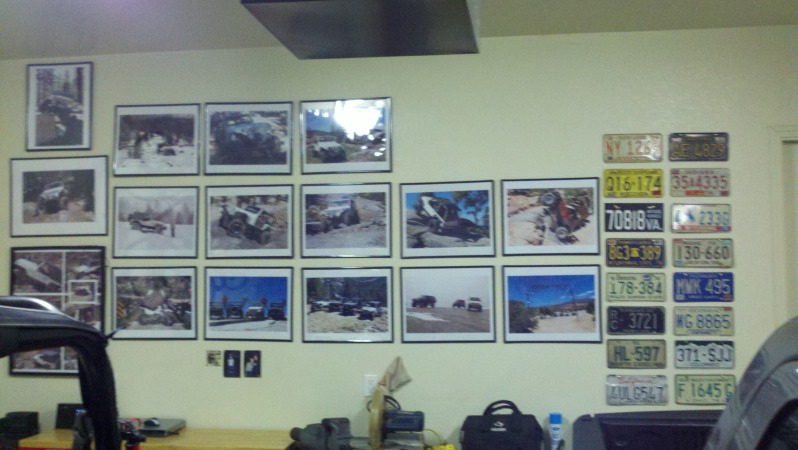 6-26-2013
Printed out a nice 20 x 30 of the group shot today and framed it. Nevermind the glare from the photo I took of it, it looks awesome. Thanks for sending me that version Kyle.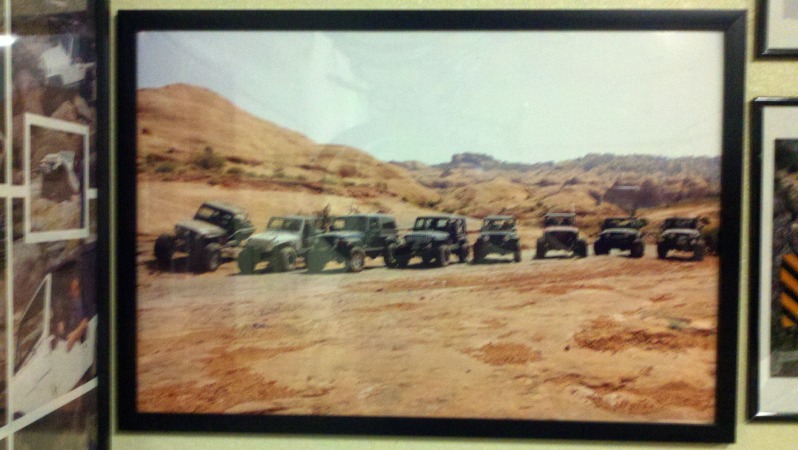 I've been kind of bugging to wrench lately and got to do some today...... I put new shocks on my wife's civic, and re painted my exhaust tips on my truck, it seems the plasti-dip didn't appreciate the 16 hr. marathon drive to Moab.

Needless to say..... that kind of wrenching sucked. I want to tear my Jeep apart but don't want to miss out of wheeling this summer...... I guess I better go wheeling soon to get over the urge.
7-1-2013
Drove up to Backdoor and put my tires on it, not doable for me but it was fun, got some good pics, ill try and post some later today. Getting hot so were heading on down the road..... can't wait to come back and spend a few days here.
http://s13.photobucket.com/user/gst9...tml?sort=3&o=6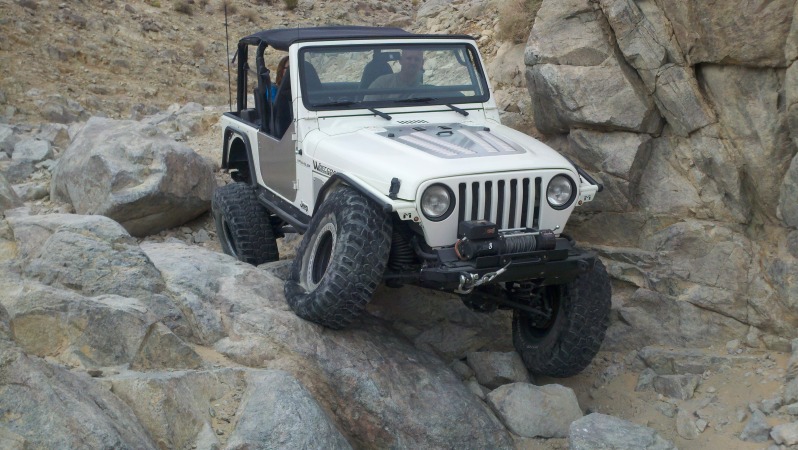 I think I finally figured it out!! Thank you Beasley!
7-3-2013
Here's a little taste of Chocolate Thunder in a pretty Mild TJ. It's a GREAT TIME!
I don't know why my boy is so shaky with the Gopro, sorry about that! I wish my wife would have filmed me going around the big boulder from a little closer.... that was about as sideways as I've been, the rock would keep you from going over at the expense of your body, but I stuck with my line and it went right around without even touching. That was a FUN moment though, I said "holy ****" in my head for a few.
7-9-2013
Took the first step in my stretch project...... refilled my gas cylinder for my welder!!! Haha.... I'm also eyeing a piece of frame section from a TJ on Ebay.

I also refilled my 10lb. CO2 tank. I got 6 fills from 7 to 20 at Moab, and I filled my rear truck tires from 10 to 40 once at the Hammers. Pretty good! I love the speed of CO2.

Looking through my photos I thought this one was cool that I hadn't posted yet.

Chocolate Thunder....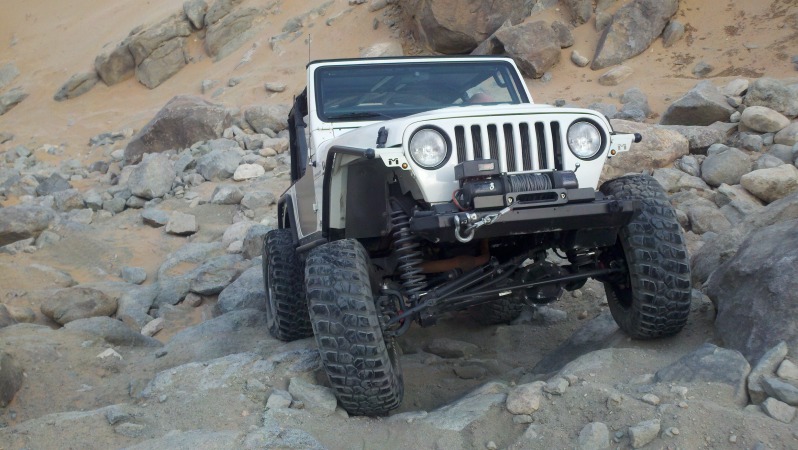 7-12-2013
Well all this talk about stretch and rear axles and this and that has my head spinning, so to remedy this I decided to plan some wheeling for Sunday. I've got a little group lined up to run "Mirror Lake" trail. It won a 2012 outstanding trail award from BFG. I've never run it although I've passed the trail head many times. Should be a fun time. This video I watched on Youtube of anothers trip motivated me to cross this one off the list.



http://www.ufwda.org/2012/04/bfgoodr...anding-trails/
7-14-2013
Wheeewwww..... long day of wheeling today. We did Mirror, which was a blast, and then ran Red lake also. 10hr's wheeling, 13 hour day.... i'm beat. I also beat the crap out of my rig today. I don't know why, I was just in a bit of an abusive mood. It took it with no complaints as usual, just some missing paint here and there,

. I had my first real Gopro fail.... forgot the memory card in computer and only a 512mb as a back up...... so I only got a couple clips, and nothing of myself. Barely got any photos! All in all a good day.....



This is the gatekeeper to this trail..... it used to be pretty easy, but some HUGE rocks are now in way different places. I got myself in a bad spot and had to winch up it. That kinda pissed me off so I had to go back around and try a little harder. I made it no problem focusing on my line a little more.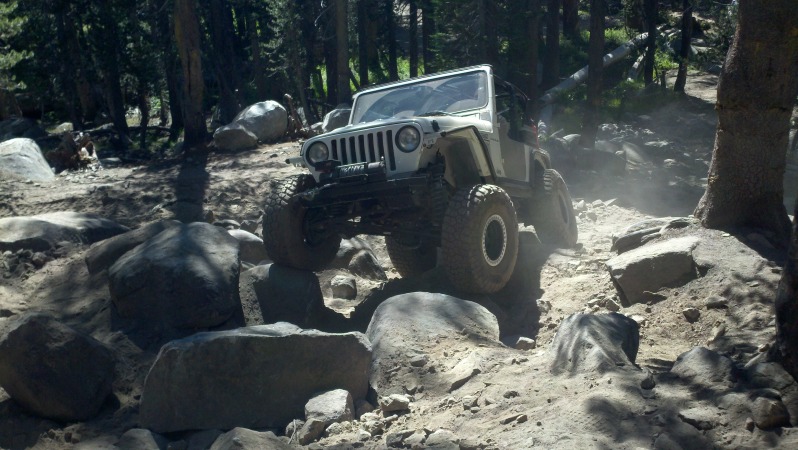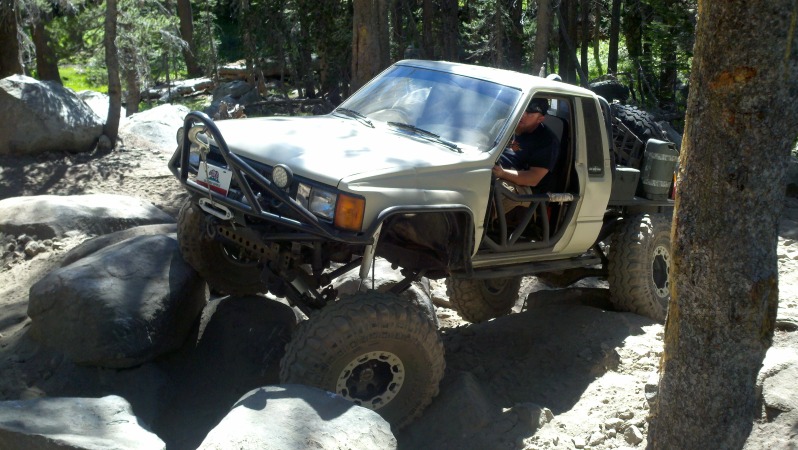 It takes a lot to upset this 4runner, He lifted the tire HIGH right here and had to back out of it and reset.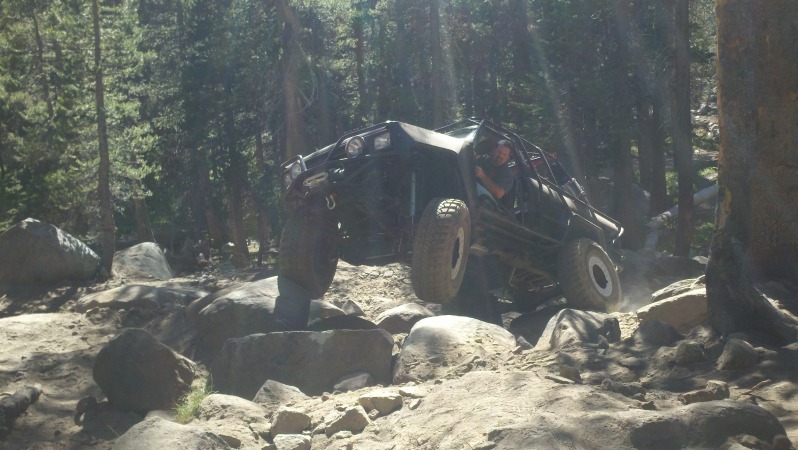 Father in law's YJ, one of the nicest and most capable I know of.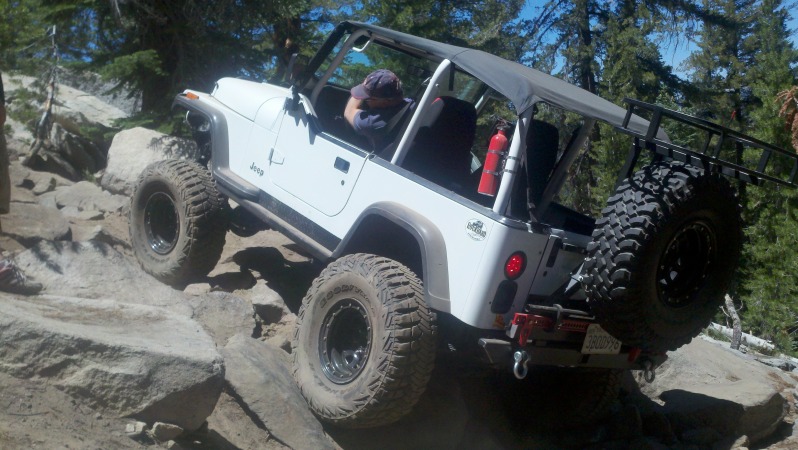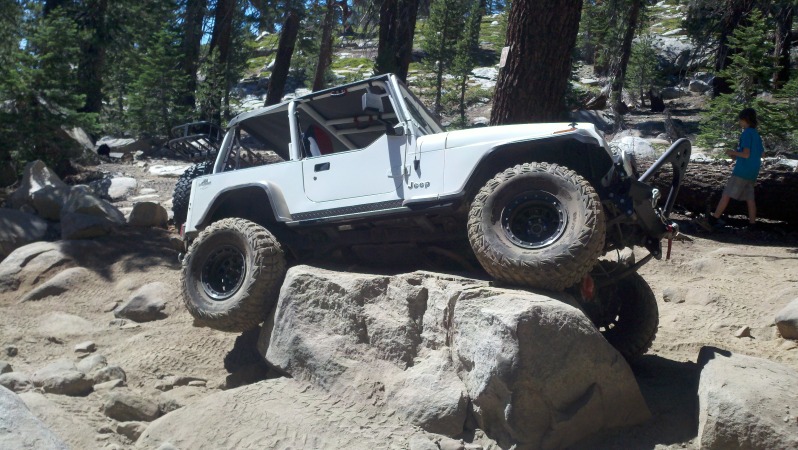 Me being a dork with my good ol flex shots.....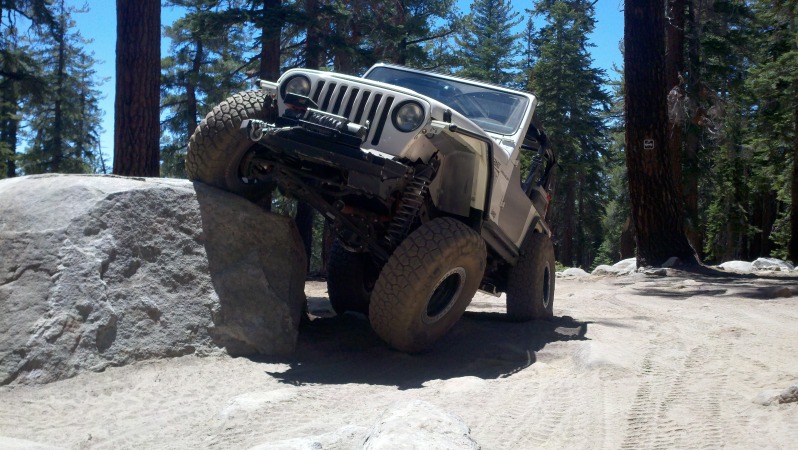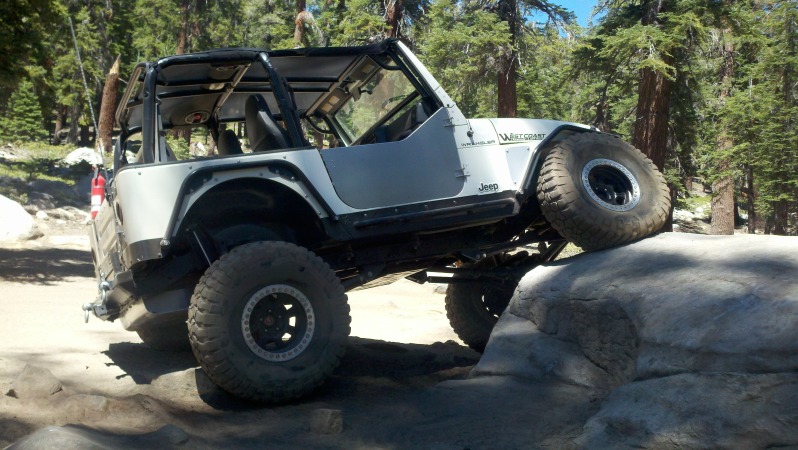 This is a fun section...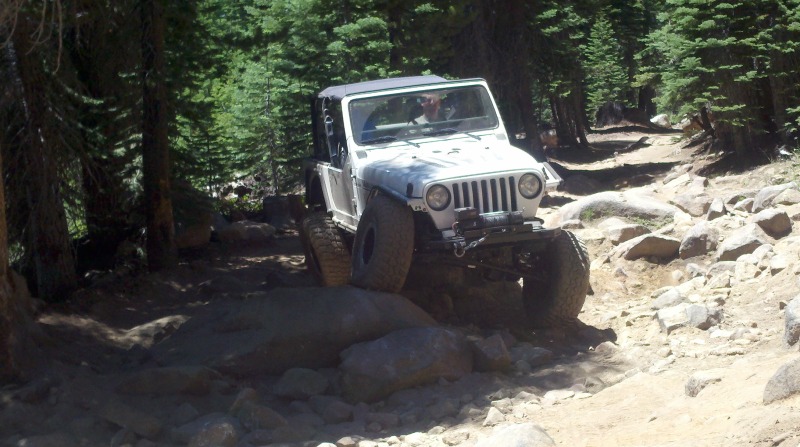 I drove up Highway 1 from San Fran through half of Oregon. It was BEAUTIFUL, once you got into Oregon, haha.

Well my rig has Moab dust, Johnson Valley dust, and Sierra dust in every nook and cranny imaginable. I got her cleaned up pretty good though. A little black paint and she'll be good as new. I'm amazed at what it put's up with. I've probably wheeled a years worth or more for most people just in the last two months, with no issues to report.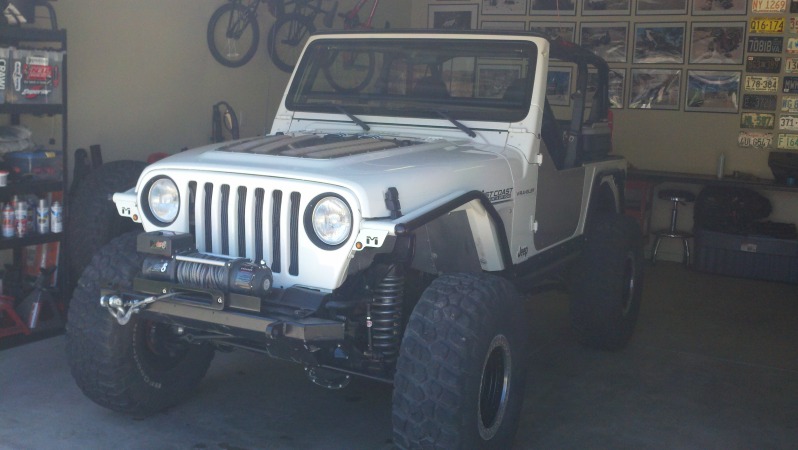 7-16-2013
Pretty cool photo from Helldorado courtesy of Lu.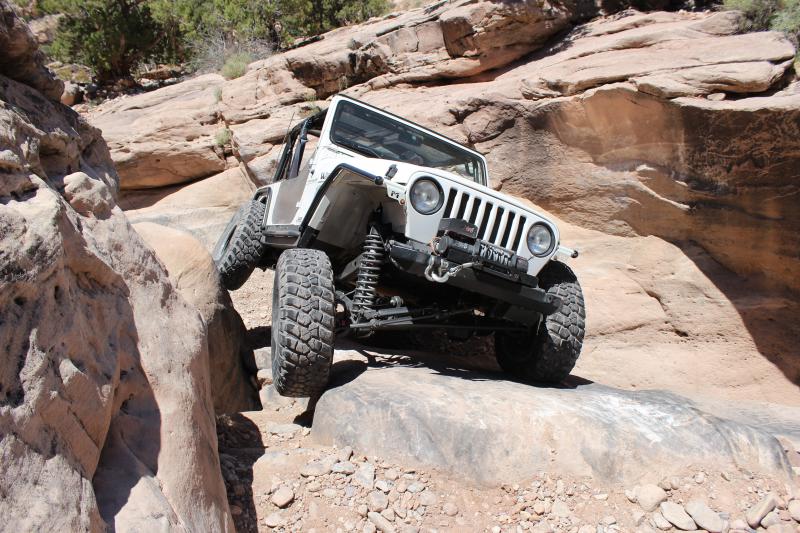 7-18-2013
Well all I can say is that I hope everyone who wants to make the trip finds a way to get it done. It looks like it's going to be one to remember!

I bought this today! Pretty excited to actually have purchased something for the stretch project. I paid a **** load for it, but I really want to accomplish this as cleanly as possible. It's a left side frame rail from a TJ, I'm going to make my frame stretch sections out of it. It's way more material than I needed but it was the only piece of straight framefrom a TJ I could find on the web right now.
7-21-2013
A local Junkyard was having a half off sale today, so I finally went and extracted an 8.8. I scouted it out the other day and they had 4 so I went with the cleanest and easiest one to remove. It was surprisingly easy to pull it. I was by myself and the only help I needed was to lift it onto my wheelbarrow. The stretch project is taking precedence over this axle build, but this will be something to tinker with also. The plans are for a Detroit and 4.88's, not sure on what brackets yet. Oh yeah..... $85 OTD!!!!!

Junkyard fresh!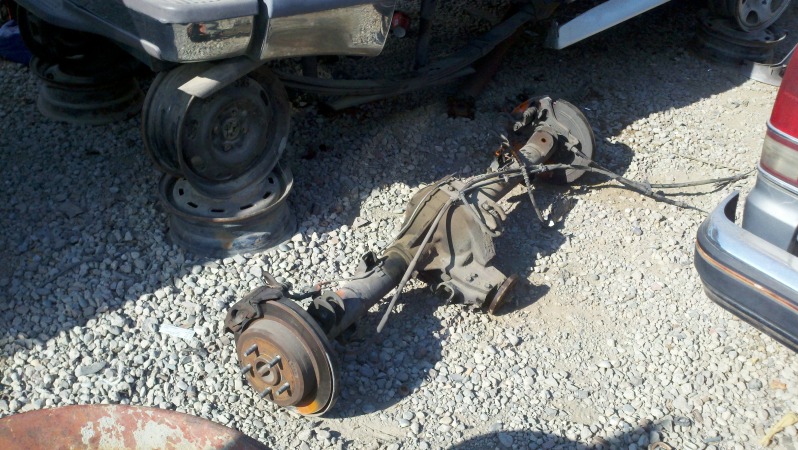 It's home for a while!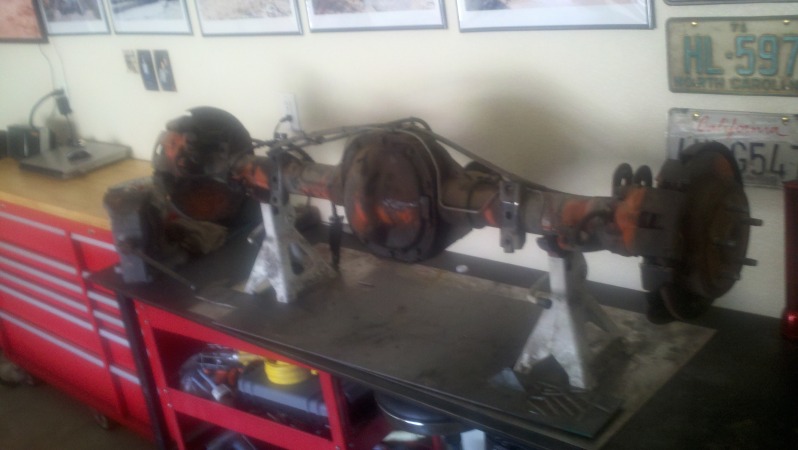 7-23-2013
So..... I think I started my teardown.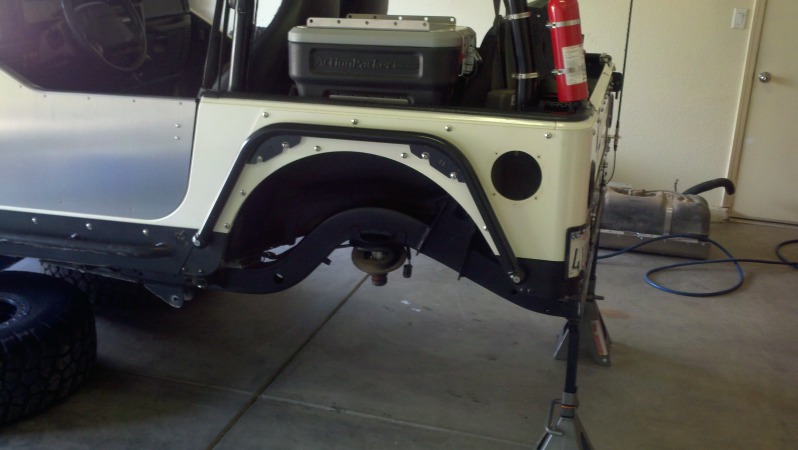 THE LEGEND!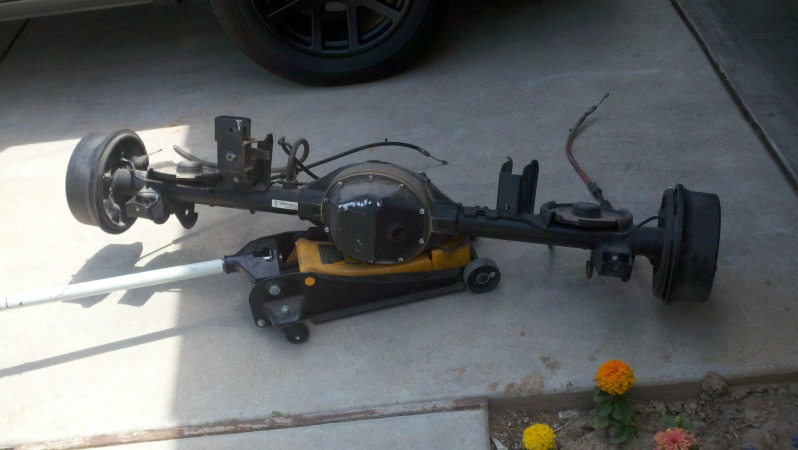 Well this is a little hard to admit, but I think I'm going to try and sell the D35. Adding up my build costs, I just simply need the money for parts. We will see if anyone wants to pony up some cash for it. If not... oh well.
The big dilemma now becomes what front to run. It's a crap shoot financially. I personally think "I" could make a HP30 Live a long time on 37's, but being limited to 4.88's messes up my crawl ratio. It's good for me to start thinking about that again..... it just totally reminds me how NOT worth it, it would be to run 37's. New wheels.... tires are way more. Ok screw it! 35"'s fo life.

I just cut my link mounts off the frame....... it was just as bad as I envisioned it. Those mother****ers were on there. There was NO hope of saving them after the BFH had to come out. Oh well.... it was the part of this I was dreading the most.....and it's done. Besides cleaning up the frame a bit. For ONCE I was smart enough to use ear protection and I feel so much better after all that grinding than I normally do!
Build day ONE!
7-25-2013
Working on my corners. Going as expected.... dirty, loud and hot.

Yes this is a lot of work, but it's pretty rewarding. One thing I'm not happy about is that i'm blowing through $3 diablo cutting wheels faster than I expected... these curvy cuts just eat em up. Oh well, I'll probably have $20 in cutting wheels per side. I think I'm going to focus on these the next few days until they are done while I'm motivated on them. It will really motivate me to see them in stretched form on the jeep. I think I'm just going to go all black with them, I like the white, but you have to clear coat it and that's a pain when doing touch ups. I'm ready for a little bit of a new look anyways.

Keep in mind, this is a ROUGH stage..... just a rough stretch cut and a cardboard extension mock up.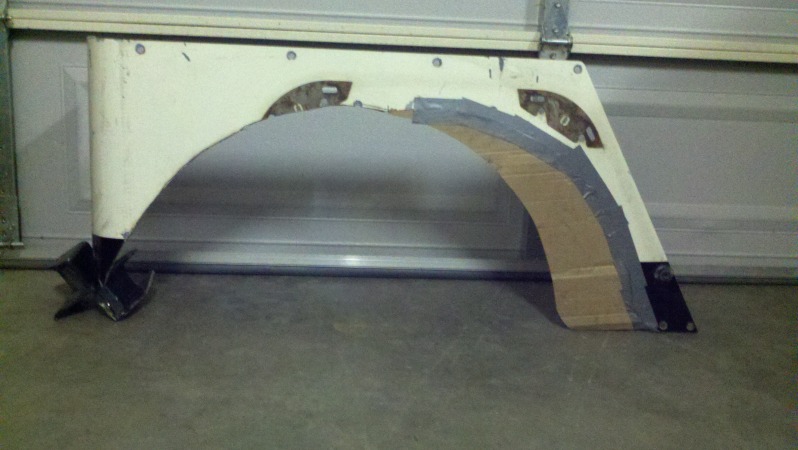 My extension piece almost cut out. The cuts are coming out rather well. I ran out of cutting wheels....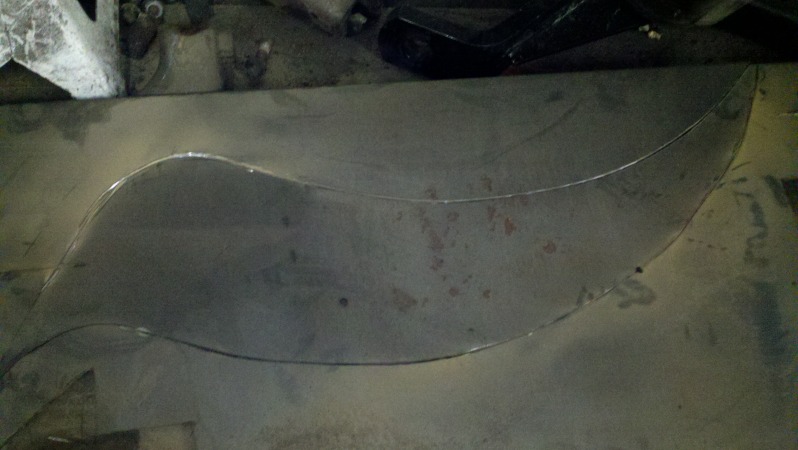 I've got about 2 hours in this one so far. That's not bad. Removing the metalcloak rub rail mounts has taken the longest! And I still have one to get rid of.
7-26-2013
I'm pretty happy with how it's turning out. Still lot's of finish work to do, but the rough work is done. Looks like a stretched corner to me. I went with a little thicker disc and they are lasting much longer. I like the thinner one's better though.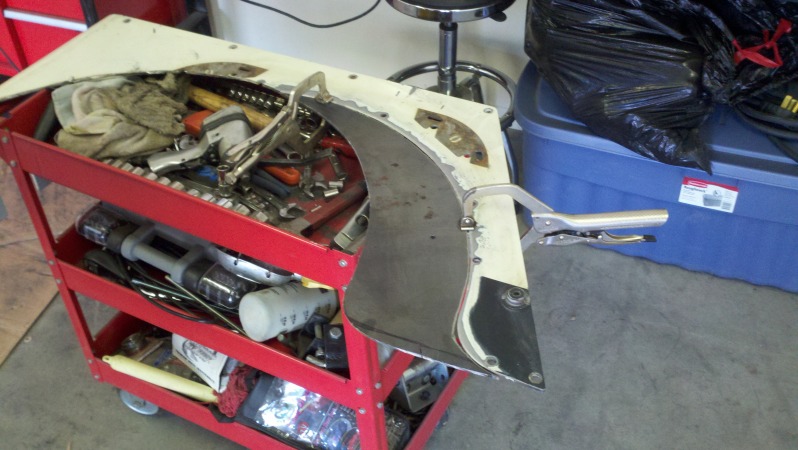 Welded up, I created a valley to weld into so the bead wasn't so high and for better penetration. Worked well as a guide also.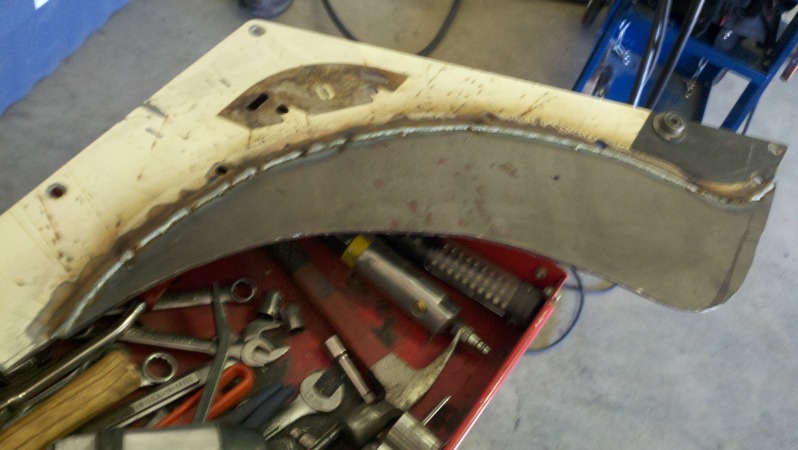 Ground and briefly flapped. Almost ready for body filler.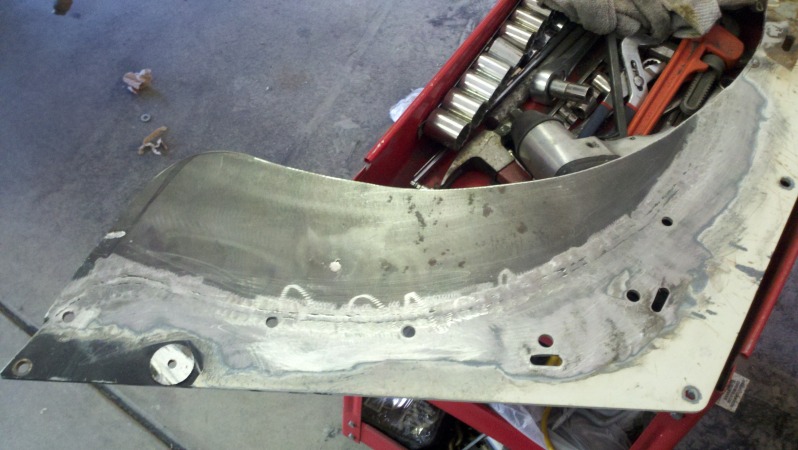 Can't wait to cut the tub tomorrow maybe.....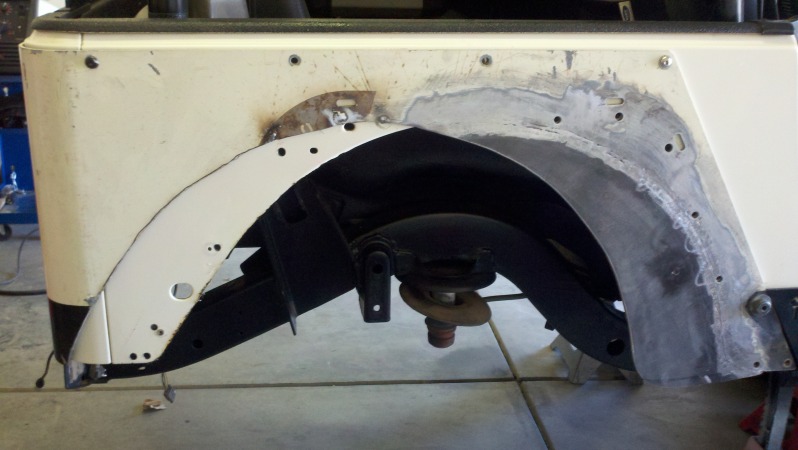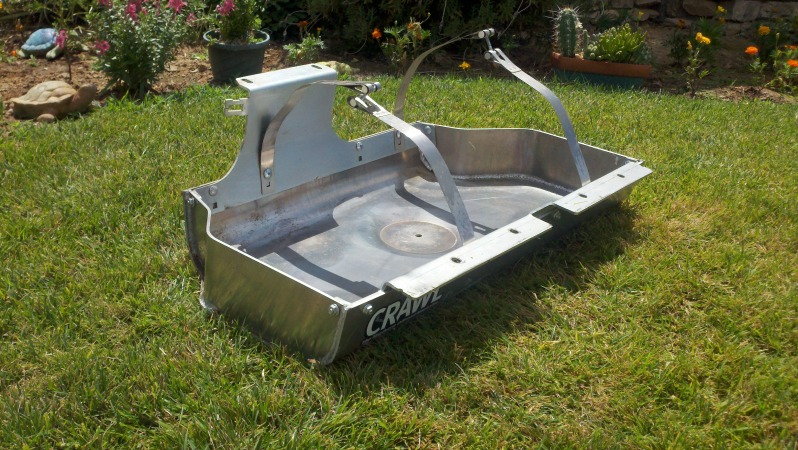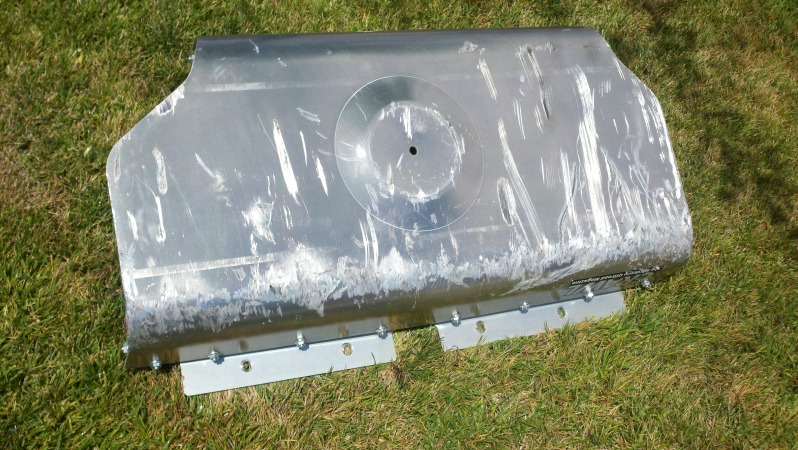 A lot of those scratches happened at some pretty cool places. Should I charge more???


$180 + ship is bottom dollar, and is a good pricebecause I know I would have been all over it when I was shopping for one. Only other thing to mention is that I ground away some material on the very front of the skid to clear my diff. cover. Invisible when mounted, and has no effect on the skid.
7-27-2013
Taking a break..... wheeewwww. Hot today. Well getting down to the details becomes very time consuming. Thank god the VHT wrinkle blackis able to hide so many imperfections....
. Overall happy with it. I think once it's mounted on the jeep I may take the flap wheel to the arch and smooth out a couple high spots, but overall...... for a grinder and a welder, and me not being a body man at all.... looks pretty good I think. I think when I mount the rub rail, it'll really pull it together. I just gotta figure out how I'm going to do that.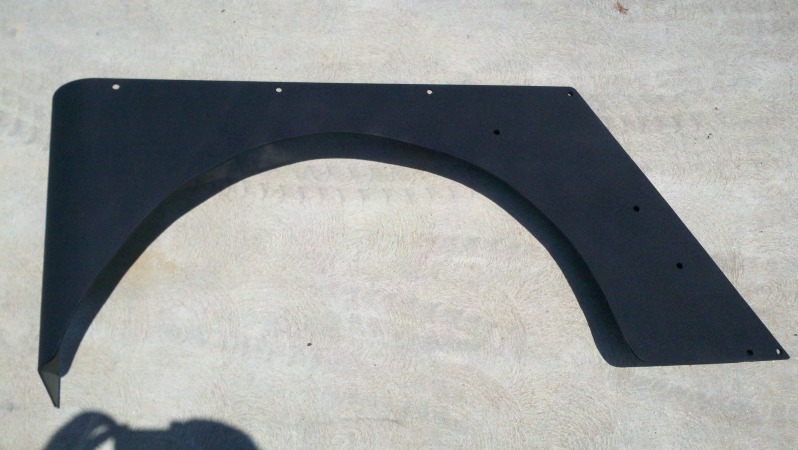 Ok now here's some real motivation for all us stretchers out there.

Loooooong road ahead, but at least I can get a visual now.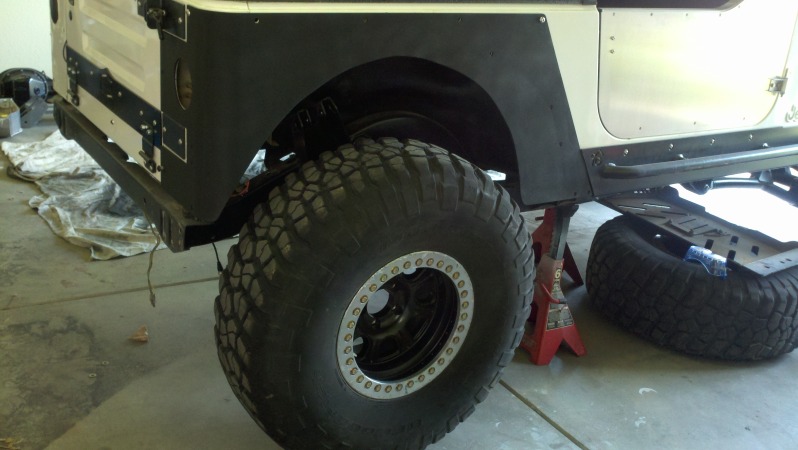 I keeps it 100....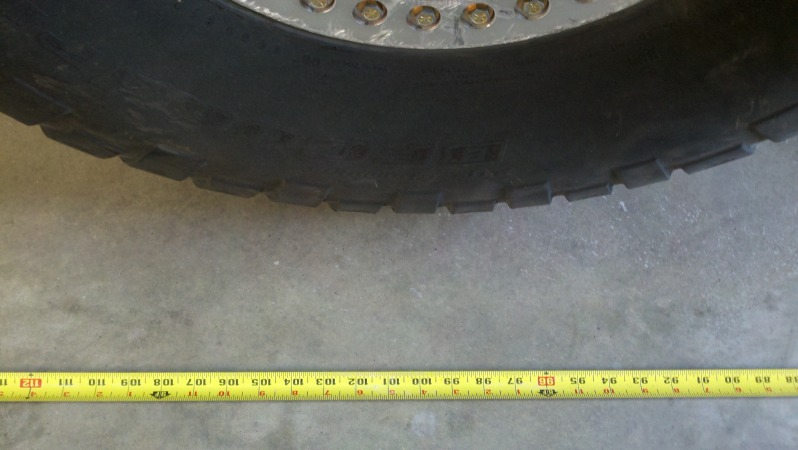 Progress on the driver's side. This one is a little harder with the gas hole. My cut's were quite a bit cleaner on the wheel well so It'll take less fussing to get those smoothed out. Annoying thing is that I recently repainted this one, and the paint isn't nearly as cured as the other side, so it's a chore to sand.... it's pretty gummy. Gonna go get some more aggressive sand paper and have it after I grind the welds.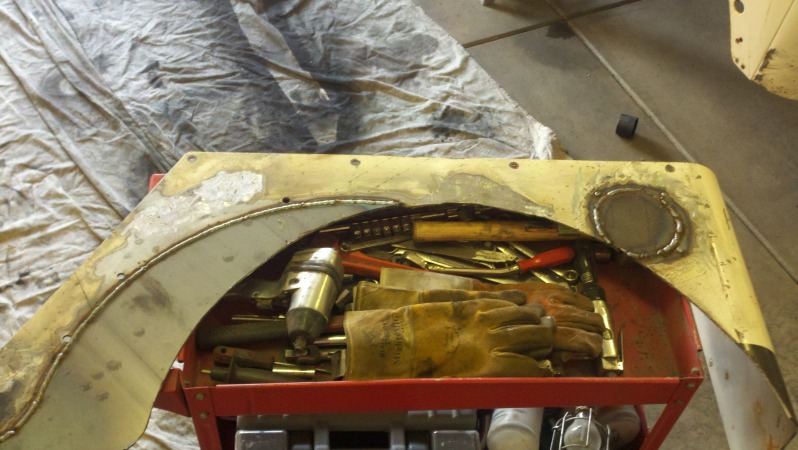 Thanks for the suggestion. I just powered through it with some good 60 grit.

This is my stopping point for the day. I got pretty far! All that's really left on this one is a skim coat of body filler on the weld seams and plugs, some sanding, flap wheel along the arch, probably some more sanding, and then paint. I welded the gas filler panel a little high so that sucks, but I'll see if I can float it out with the body filler. All in all a productive a day. I still have all my fingers. I've got a dust headache though. I'll have a couple hours after work tomorrow to get a little further on this corner, then I have Monday AND Tuesday off to finish the corner, make the frame inserts, cut the frame, modify the center crossmember, weld it up, cut off the back of the frame...... and start making my new rear bumper / crossmember...... wonder how far I'll get??? I think I'm gonna have my friend plasma out my frame insert sleeves with his torch mate to save a little time cutting with the grinder.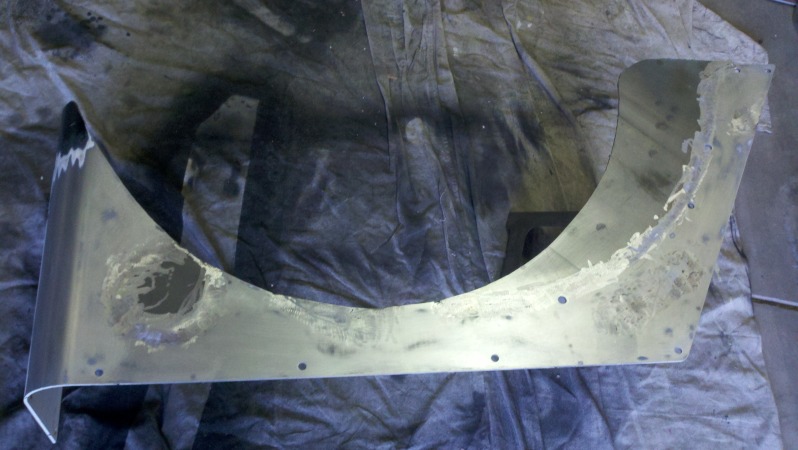 Just ordered my Genright fuel bezel. Kind of looking forward to have the corner situation wrapped up. I know most people do that last....
7-29-2013
Ok well I'm plugging away today. I've got some setbacks with the corner armor. I'm not happy with the black and think that I've got to color match it. Well my body work isn't good enough for a smooth finish, so I'm gonna keep working them until it is. My OCD has kicked in on them..... so right now i'm working the body filler on the driver's side and I'm working on the frame stretch between sanding.

For anyone who still wasn't clear what I was doing....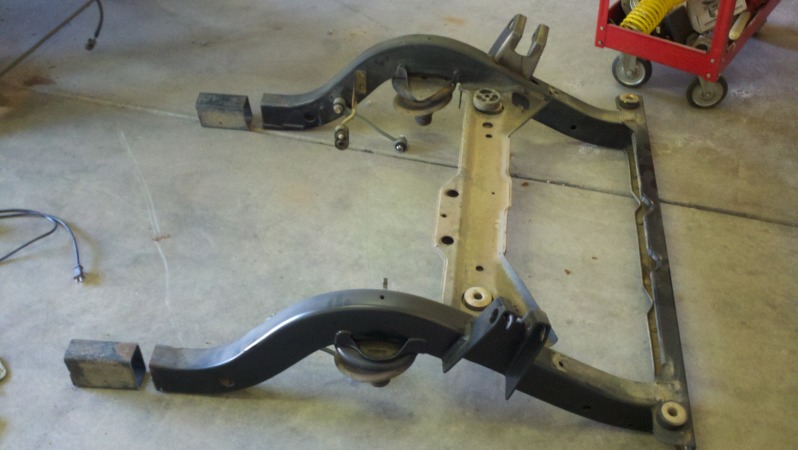 I'm going to start working on the sleeves for 6" inserts right now. I'm looking for ideas on what to do with the center body mounts.... I want to leave the crossmember for structure, and use the body mounts. I'm not opposed to just simply drilling up into the tub and running a bolt down through the mount from under the rear seat, but am open to ideas????
Proud of these so far.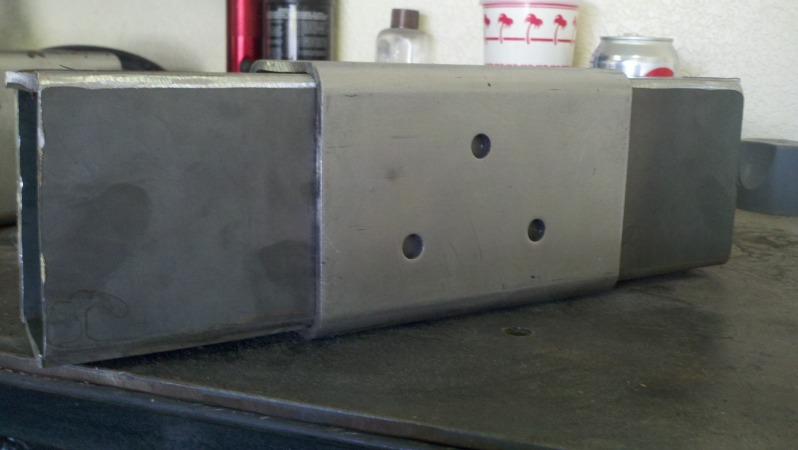 Getting ready to start welding them up. I'm very glad to be working with a piece of actual TJ frame for these inserts. Now making the sleeves is still some considerable work, but it's been pretty easy. My thoughts right now are to weld them into the rear portion of the frame completely then insert the entire assembly, level, fiddle and then weld. I've also got 12 more plug weld holes to drill..... that might be my least favorite thing to do, trying not to kill my bits and drilling slowly.

Another bit of good news is that I actually got the drivers side corner armor looking quite good. I think it'll take a smooth finish and look good. Just had to be a little more patient and willing to work with that body filler. I've decided to focus on the frame, and go back to those when I can clean the garage and be in a good environment for finish work.

Tomorrow morning brings another trip to the metal yard, for a piece of channel to make a crossmember and a piece of square tubing for a rear crossmember / bumper.
Today's stopping point.... one frame insert with sleeve, 99%, the other one is about 90%. This one just needs a little grind here and there to fit snug into my frame and the spot welds ground. I think they are pretty cool!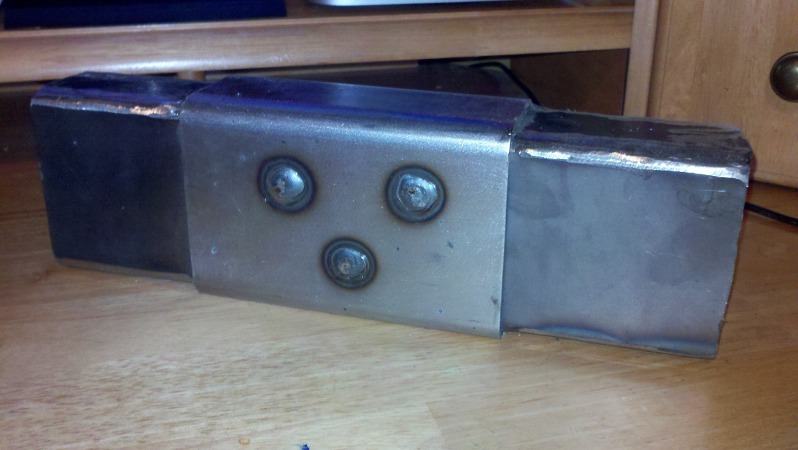 7-30-2013
Hi Jermey, Yeah I got a little bord and this happened.

Well i've got the frame extensions in the rear portion of the frame. Some advise for anyone else who does this..... ease up a little on the tolerances, I made the sleeves pretty exact and it turns out "my" frame has just ever so slight of a different shape, due to the proximity of the arch in the frame and the subsequent deformation of the frame rail. That was pretty annoying, they fit SNUG, haha. I've decided not to weld anything until the frame is completely set up. Overall a frustrating first couple hours today.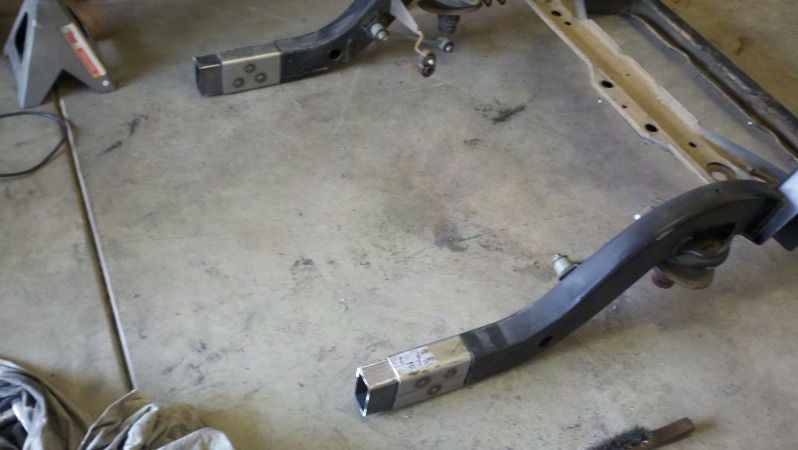 I also wasted an hour and half this morning driving to 3 different metal suppliers to find a remnant piece of 2 x 4 square tubing for a bumper....no luck. I didn't want to buy a 10'.... dammit! I did get the channel for crossmember and that's what I'm about to work on now. I had to buy 10', I hate that!
Reached my stopping point for the day. Quitting early to clean up the garage a little, it's INSANELY dirty, grinding dust and bondo dust, and tools... and just **** everywhere. I can't believe I'm even getting any work done! Oh well, over the years I've learned that when I'm doing something for the first time, that's not well documented by someone else I get a little anxious to get through the "major" assembly just to make sure my ideas are going to work...... then I can calm down and focus on the details. That's kind of where I'm at right now.

The crossmember is made, it's a little tricky to get it in the right spot not knowing exactly how much stretch your ending up with, And you will have to lose your body lift puck for that spot, and maybe even the stock rubber Isolator, I havn't determined yet if I'll be able to slip it in the there or if I'll have to use something a bit thinner. The crossmember ends up right on top of the coil buckets, and you're kind of stuck with it's height. Looking under the jeep now I got lucky and it looks like my holes I drilled for the body mount bolts are lining up with the body mount.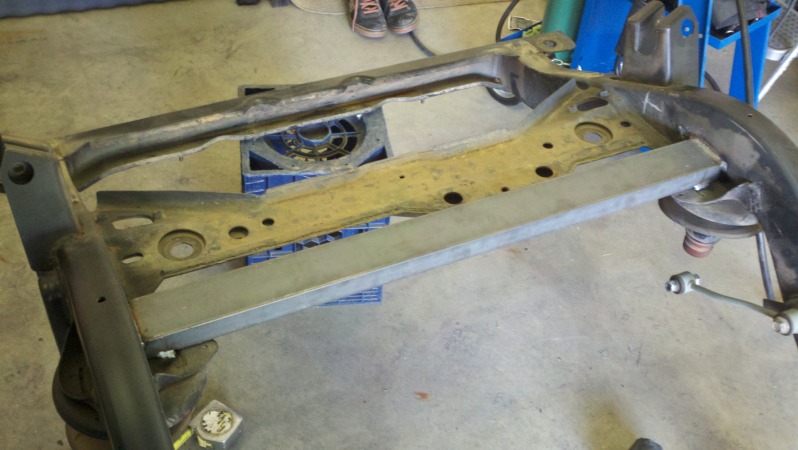 Weld porn....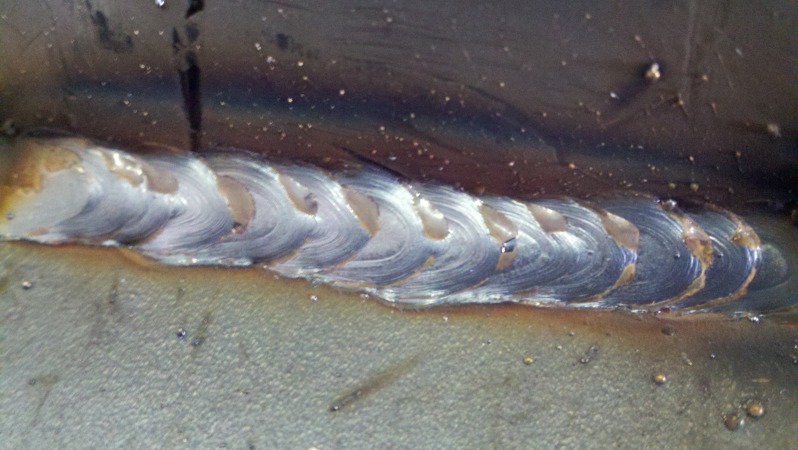 So after the crossmember, and running to home depot yet again for more saw blades to cut the old crossmember out..... which is a *****. I drilled my plug weld holes in the front frame, did a super rough cut on the drivers side of the tub for the shock tower to not have interference......and then attempted to position the frame under the jeep. Well lets just say this is when the unknown become known..... every freaking thing imaginable was in the way. the shock towers were hitting everything, the body was in the way, the frame was in the way....... I got extremely lucky with the length I made my sleeves... because even a 1/2" longer and I would have had to trim them down. So after some time lowering the frame, raising the body, tilting, turning..... lifting..... cussing. The damn thing just kind of popped up a little and the sleeves were even with the frame. Hallelujah, praise the lord. Now to see if the sleeves want to slide into the frame or fight me like they did on the back side..... well to my surprise they started going in, with snug resistance just like i wanted. Both sides were able to be worked in the some ratchet straps, and a big hammer hitting from the end. It took some time to work them all way down but they got there, and then all the clearance issues were gone.... the towers clear everything fine, the rear of the frame is ready to be lopped off for a new bumper / crossmember and I was able to breath a huge sigh of relief. Now mind you......... this part could have been MUCH MUCH easier if I wasn't so dumb and waiting for a buddy to come over and help me. This is an awkward heavy piece of metal to be manipulating by yourself. Everyone else I've seen stretch like this has had the rear of the tub cut off so I didn't even think about how much harder it would be to position the frame with the tub there.......... oh well. It's ON!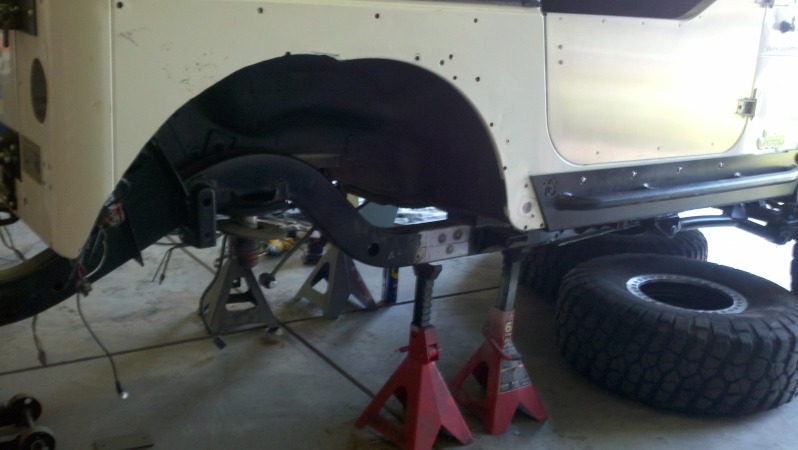 At this point, I can slow down. Get the frame positioning as perfectly as I can and get her welded up..... work on the rear bumper that I'm really looking forward to, dial in that corner armor.... and keep saving my pennies for these expensive bolt on parts that I need.....

8-1-2013
As far as the tire talk goes...... my KM2's have been awesome, I'm a pretty die hard BFG fanboy though. I think the MTRK is actually the best M/T available right now, A lot of my buddies run them and they just seem to hook up well on dry rock, wear nicely without chunking and drive well on the street. I don't know about the wet, mud or snow. And I don't get the KM2 noise issues either.... Mine are perfectly acceptable, I'd even say quiet for an M/T. Oh well...... Toyo sucks.

My stock frame mounts are long gone, sorry for all the confusion guys, I know I've been talking in circles. Specifically ill be using the combo bracket that UCF sells, that runs the links out to the factory axle side brackets.
Here's the install I did last year..... this time it will be the same... just 6" further back.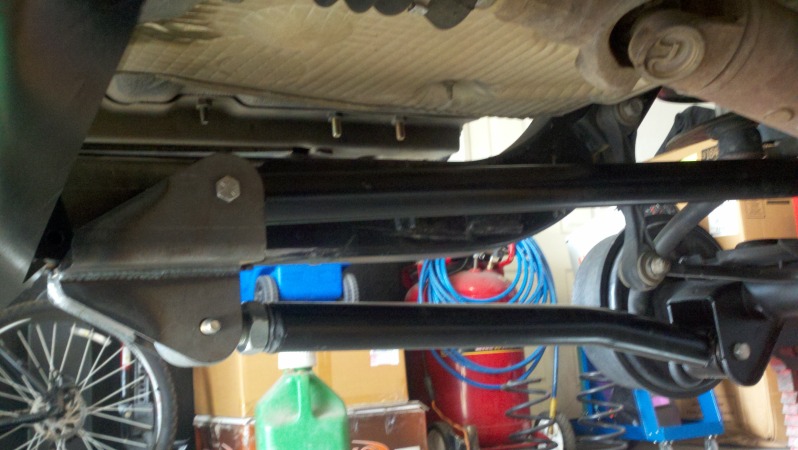 This photo signifies that the rear of the frame is able to come up to the proper height! This means that a lot of things have gone right, clearances are good but tight. A 5" stretch would have been much more convenient now being able to actually see every little thing that's in the way, but I'm glad I went 6". I also just sold my rear bumper, so $200 just went back into the build fund. That's a good thing.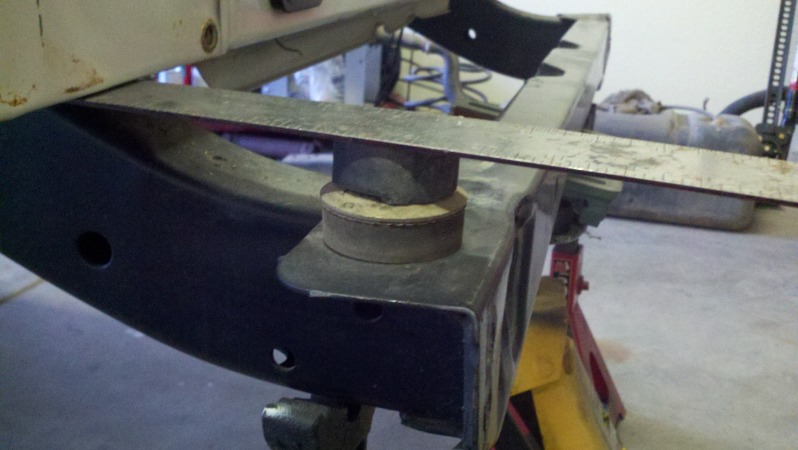 8-2-2013
Thanks man, should be a big day tomorrow getting everything welded up. I hope to be posting photos of a very clean, seamless frametomorrow along with a temp crossmember.... and a rough start on the new rear bumper/crossmember. Long day at actual work in store for me today!



Having to buy these minimum amounts from the steel yard is getting bit annoying! I know in time I'll use the material, but it's blowing the budget having to over buy like this. I've bought 10' of 3" channel, 4'x4' of 3/16 plate, and now a 10' of 3/16 2x4 tubing..... that's $200 worth of metal that I'm using only about a quarter of, if that. Oh well I guess it'll be nice to have the materials "in stock" for future projects. I wish I could find a local place that sold just what you need or close.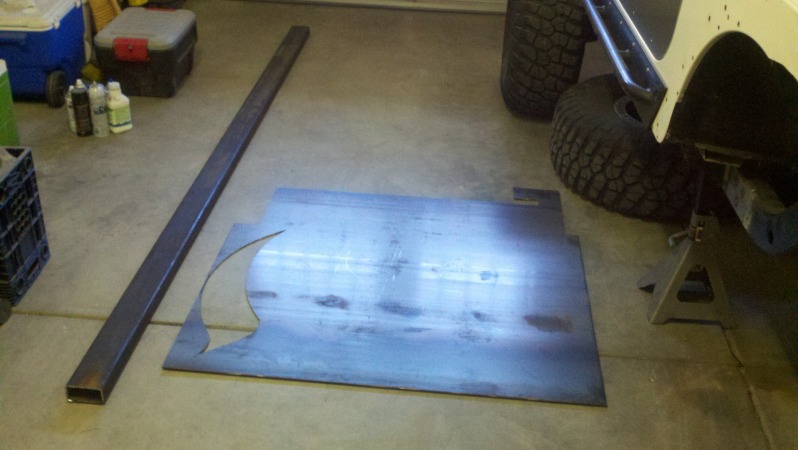 8-3-2013
Well the sparks are flying.... getting the frame welded up. Everything is going OK so far.

I find the vertical welding a bit tough, especially on something like this that I'm trying to burn in slow and heavy, dang gravity.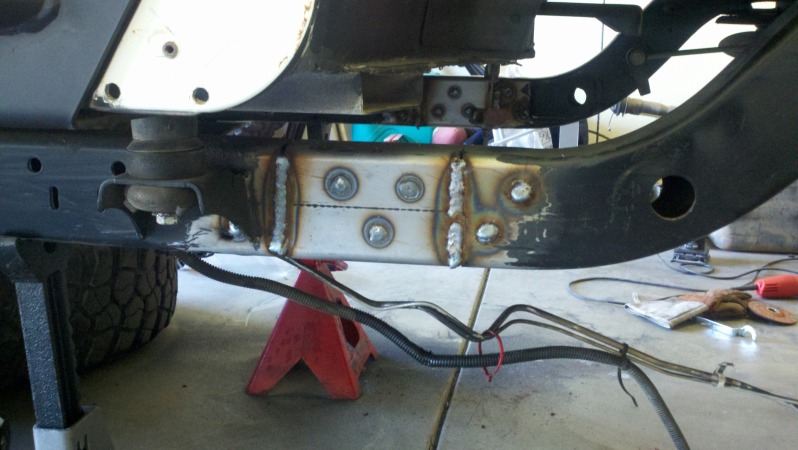 What frame extension????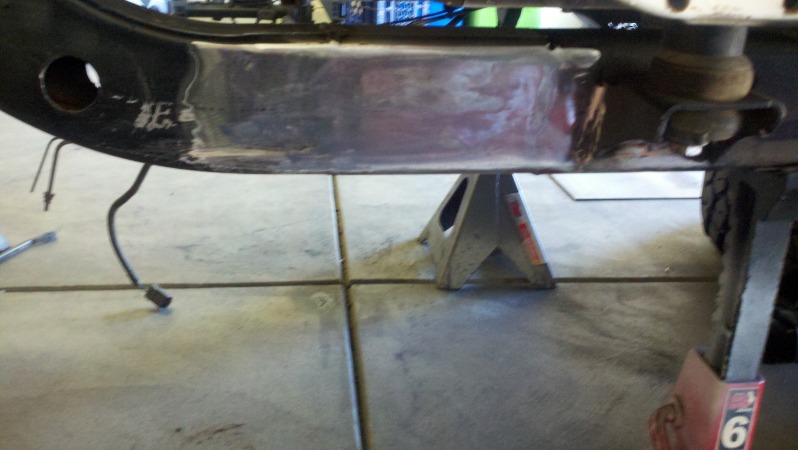 Well I'm happy to say my frame is officially extended. I ground the outside welds nice and smooth for a nice appearance but just cleaned up the inside of the frame. No sense in spending the time grinding all that perfectly smooth. It looks pretty good. Attention to detail was about a medium +. I was having a porosity issue with my welder. I still don't know whats wrong but I had to turn up my shielding gas way higher than normal to cure it. That caused some issues, and some extra grinding to redo some welding, which in turn caused less time spent on the minor details. All in all, I think it came out pretty legit.

Wow, I just looked at the time........ this day FLEW by! I'm still going to get the temp. crossmember in today, and cut off the back of the frame. I can't wait to see it without that section hanging off the back.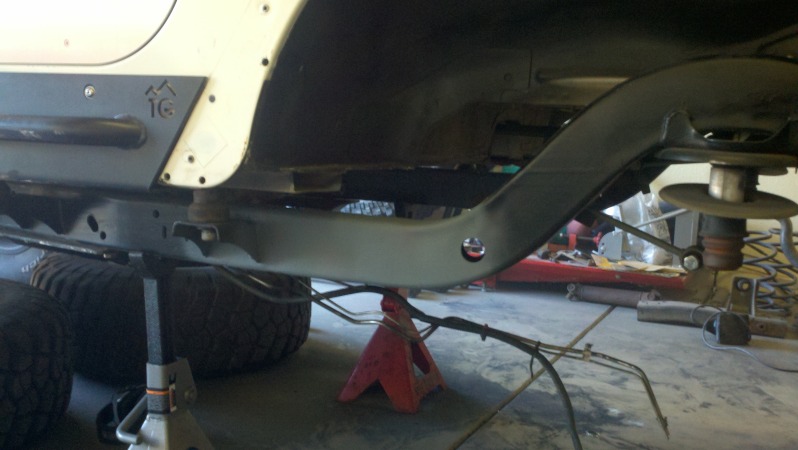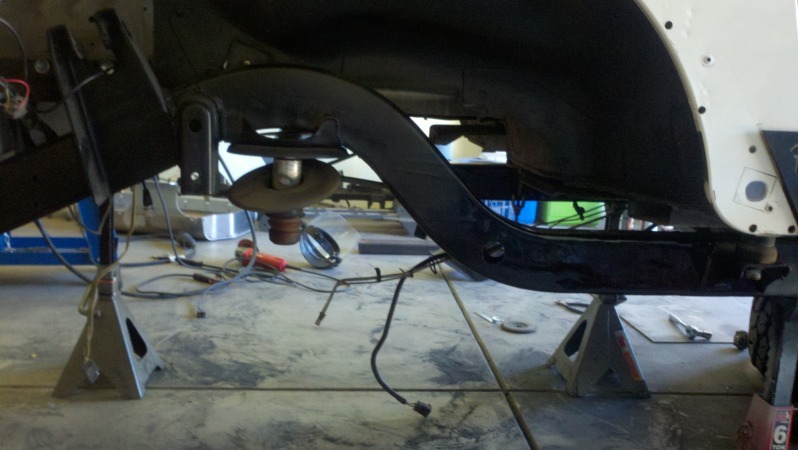 Got the temp crossmember in, and cut off the rear. Looks so much better, lol. Got the tub aligned properly finally, damn that thing can move around a TON even with the body mounts snugged up. It was throwing me off. I'm trying to be accurate but the tolerances seem pretty forgiving a 1/4" here or there. I think this thing will probably be more square when I'm done than it was originally, haha---- probably not!

Well I got a little tired of cutting metal so I decided to clean up, and throw the axle under the jeep, I put it up on jack stands as high as I could and lined it up with the bumps. I stuck the wheels on for a visual and some measuring. It was tripping me out how long the wheelbase looks. Looks awesome IMO. It looks like I'll be able to dial in exactly 100" when all is said and done. I needed that motivation of seeing the wheels under it!

Still lots to do, I got my Gen-right fuel bezel in. It's pretty much a piece of crap but will do it's job fine. Just not worth the $35! I've got some Besrk weld through clevis mounts coming on Monday, and I also order my UCF link mounts today when I found out they are having a 15% off sale! So in reality... I could have the axle under the jeep by next Saturday all hooked up. I've got a fair bit of finishing work to do on the corners still, and the rear bumper to make. I hope that by next Saturday I've got a roller. Then just waiting on the tank and driveshaftand we're back in business for a bit. Then the duroflex swap a little later this fall / winter.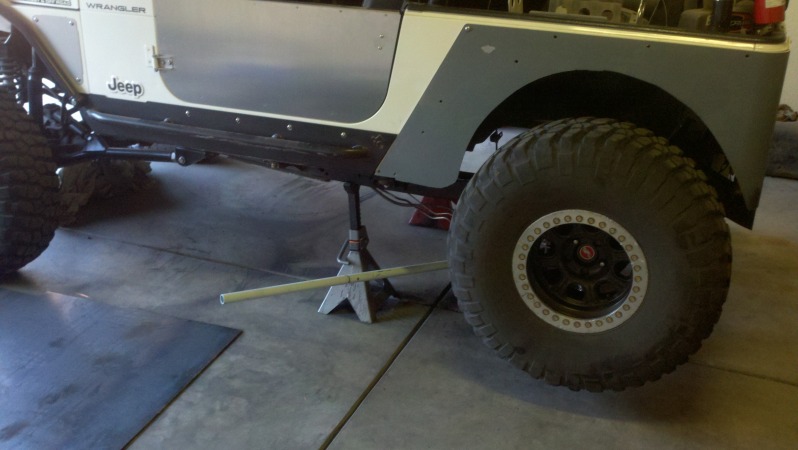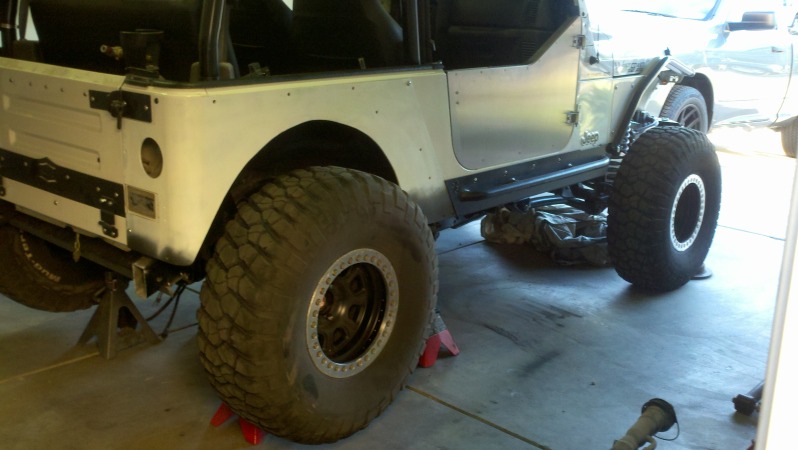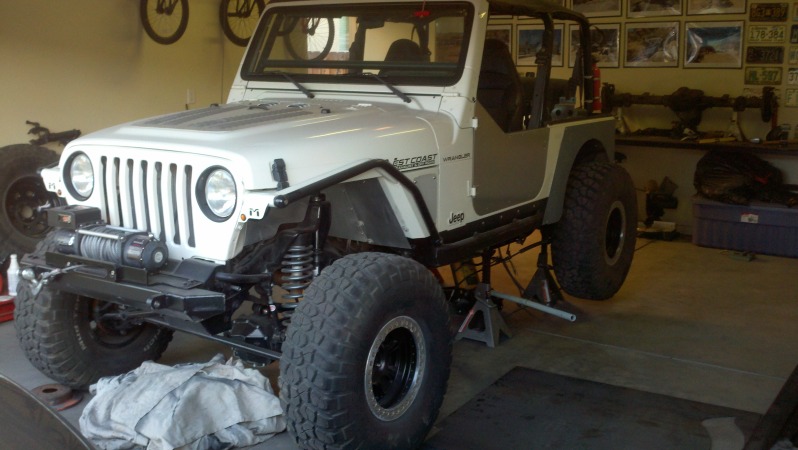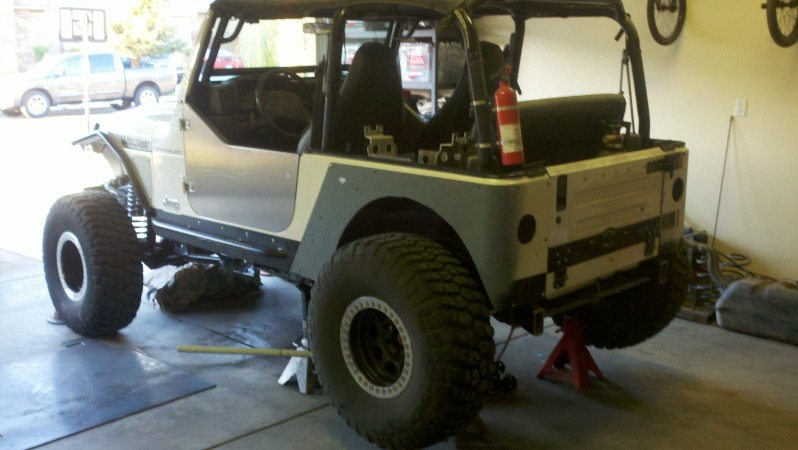 8-4-2013
I was afraid if I fish plated, Id have a really stiff spot, a 1/2" thick section. I think with the internal sleeves it'll be good. The fish plates Would make me feel better, but I know the frame is strong the way I've done it and making it too rigid would actually be bad. Thanks for the compliments though, you two are some of the best builders on here so it means alot.
8-5-2013
Got a nice start on the rear bumper / crossmember with the couple hours before work I had today. I made two of the four plunge cuts for the Clevis mounts. Not to hard with just the grinder. I didn't feel like running out looking for jig saw blades, haha. I over cut a little more than I wanted in a couple spots but not bad and nothing I can't fill in with weld. Going pretty good. Should be a nice little bumper. It won't end up flush with the tub, but will be tucked in pretty nice compared to my old one.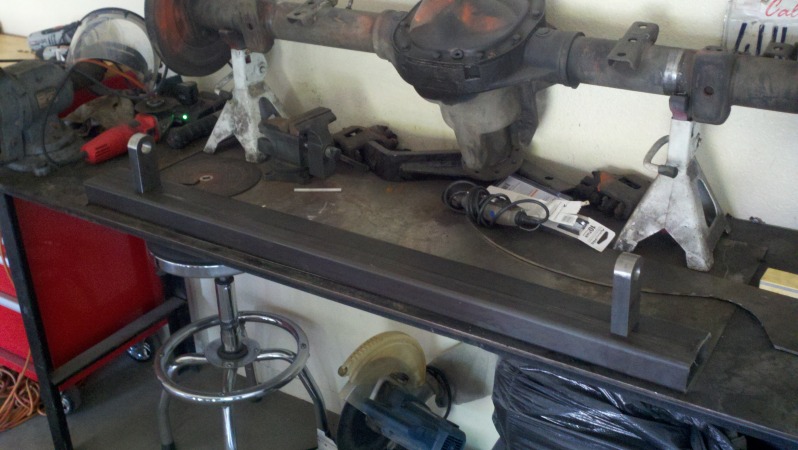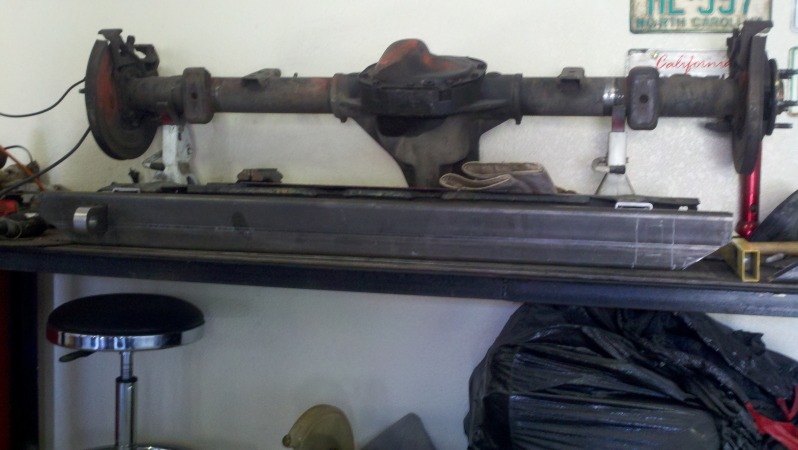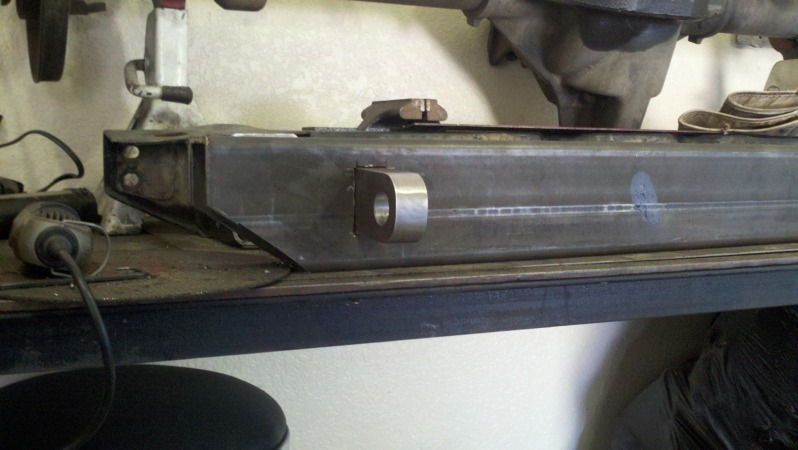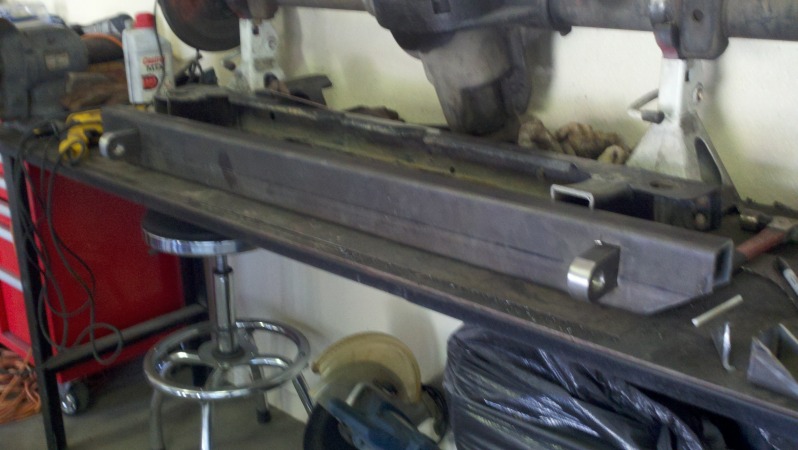 8-6-2013
Bumper coming along pretty nice. I've got the clevis mounts welded up, and I got it capped off and ground. I took the time to flap the welds on the clevis's also for a smooth appearance. Looking pretty cool IMO.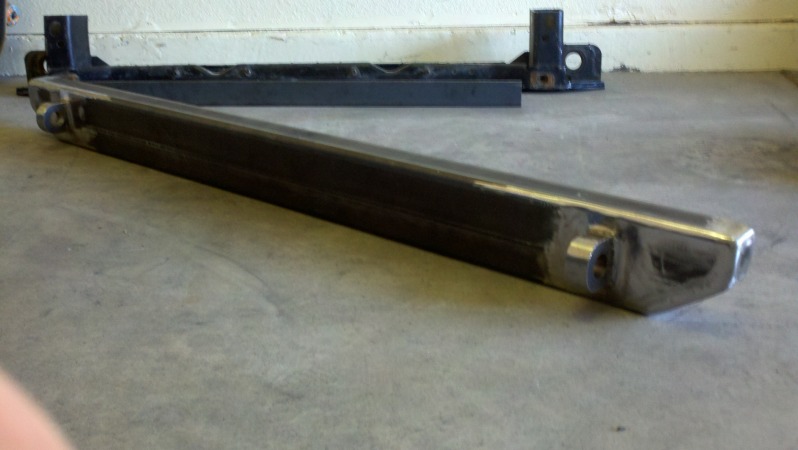 Now I've got to take some measurements and get the angle iron welded to the inside that'll be my tank mounting point. Also need to cut the frame a little shorter, and get to my final measurements before welding. I hope to at least get it tacked up by tonight.... possibly burned in solid. Oh, and also gotta whip up some body mount platesbut that shouldn't be real hard.
I wanted to originally, but I can't. There's is NO way to raise the bumper up high enough to eliminate them, AND have the bumper LOW enough for tank mounting. I could eliminate them by simply raising the body mount higher, but what's the point? I'd rather just tie the body mount simply into the bumper and frame with some flat stock. It's not a big deal really, just like every other TJ with a 1" body lift.... It looks a little strange to me right now because there's no tank but as soon as the tank is there it'll look right.

Tub isn't secured down at all in these pics, so after doing that it'll probably eat another quarter to 3/8's of that gap.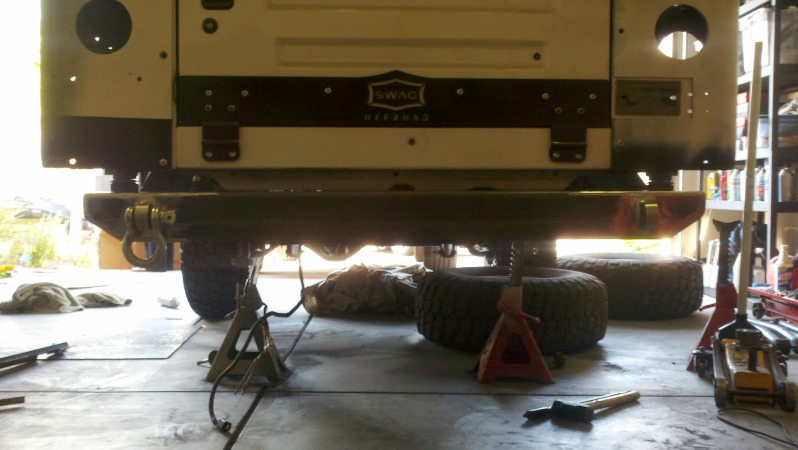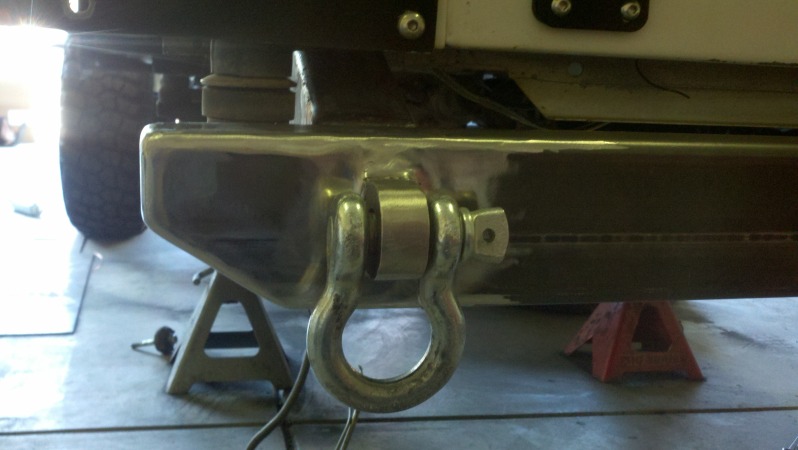 I had some momentum going today so I pushed on.... And reached a huge milestone. I now have the tub attached to the frame at all body mounts. A lot of things need to go right in order to accomplish this without just welding the mounts on where-ever they "want" to be. I'm happy to say that the rear most mounts wanted to be welded on in just about the exact same spot on either side. I'm about 1/8 low on the drivers side it looks like, I welded the rear crossmember on a touch off it appears (even after several re-tacks) but hey... there's a lot of crap that you have to account for! Overall a very productive day.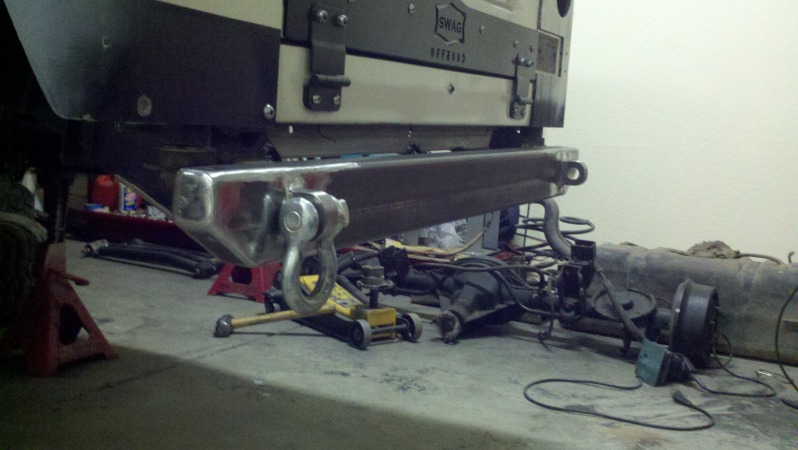 8-7-2013
Believe me Art, a part of me wants to do that badly, it's just that I'm very attached to what little space I have in the Jeep. Just as soon as I can officially say I no longer need more than two seats, the tank will be gone. That'll be at least 3 years though. Improving the departure angle as much as I am I think the hard tank slams will be much improved.

Well I had a couple hours to tinker tonight with my son in the garage. He mostly played on the computer, but did really help me get the garage cleaned up!
Tonight I focused on the inner fender wells. Now that I've got rid of that vertical support towards the rear all the ugliness in there is exposed, it needed some attention. Nothing some black paint can't clean up. I also took the time to clean up the taillight wiring. I completely cut off the factory connector finally and soldered on my plugs for the round lights. A little loom and some zip ties and it looks much better. Nice to knock out that little project on a work day along with some much needed garage cleaning.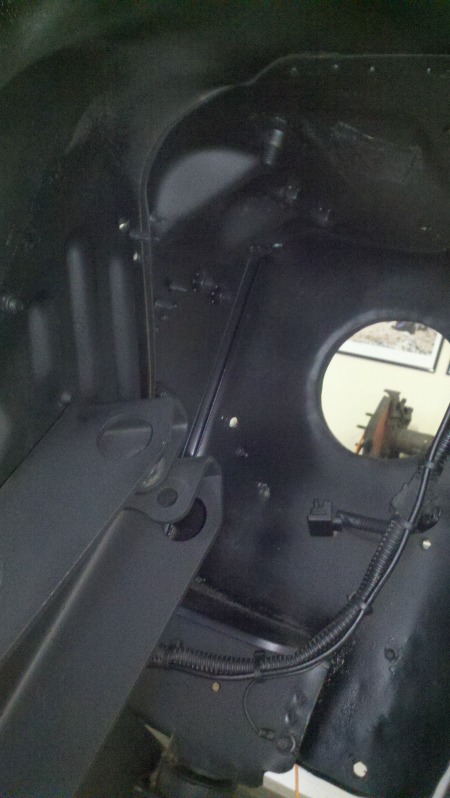 Some major focus on the corner armor again is next. Looking forward to putting those behind me.
8-8-2013
Ok I'm looking for suggestions or opinions on the what to do with the rub rail.

I made the cut for the new gas filler bezel. And I knew the rub rail would overlap the bezel quite a bit, but I'm not willing to move the bezel (actually I can't, unless I move it to the back of the tub) It's up as high, and as far over as possible. My thoughts right now are to cut off the two mounting brackets for the rail and have it only attached at the ends, much like the front rub rail. I think this will be a cleaner look.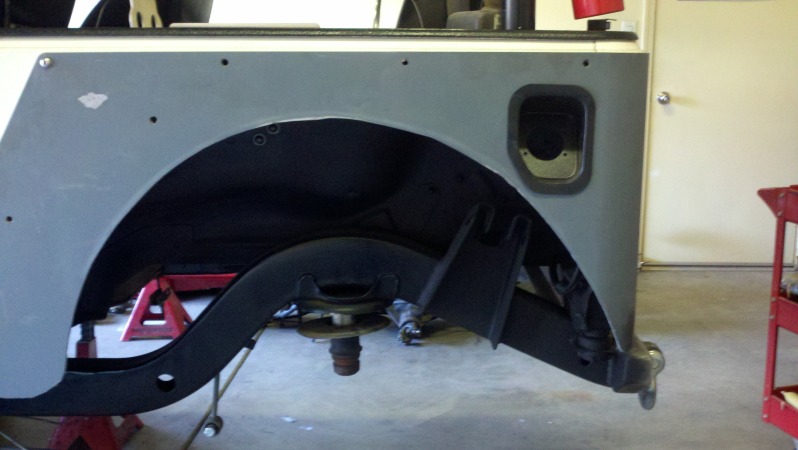 I know it's not the cleanest with it overlapping like this, but I need to make the best of it.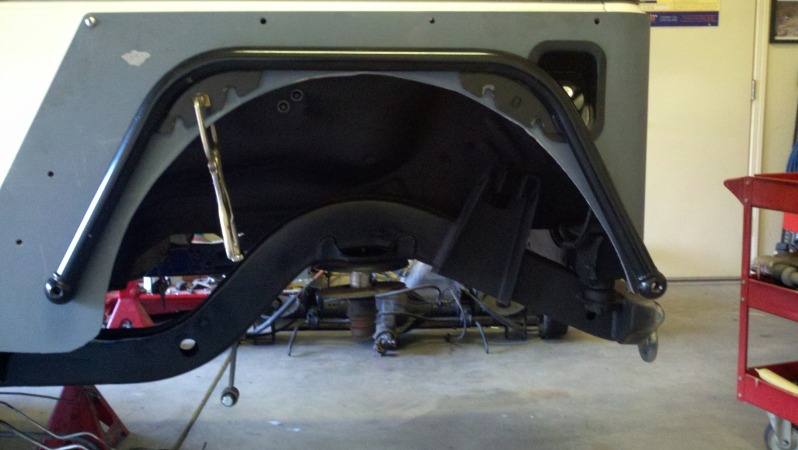 I've got to cut it right at the beginning of the radius.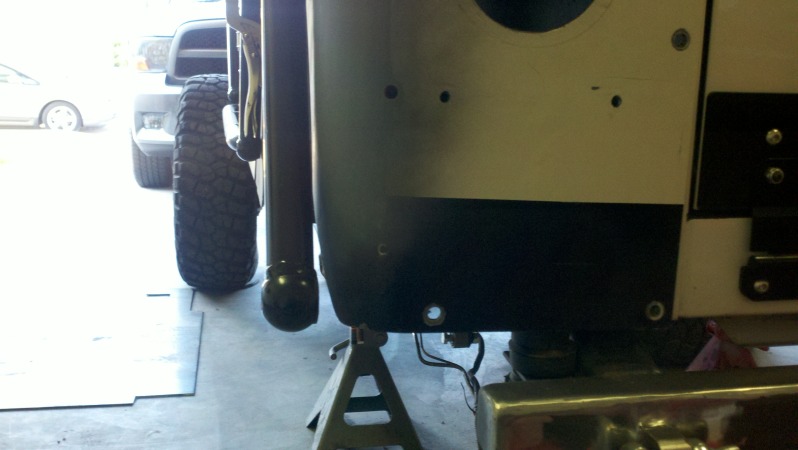 I'm thinking about just cutting these brackets off....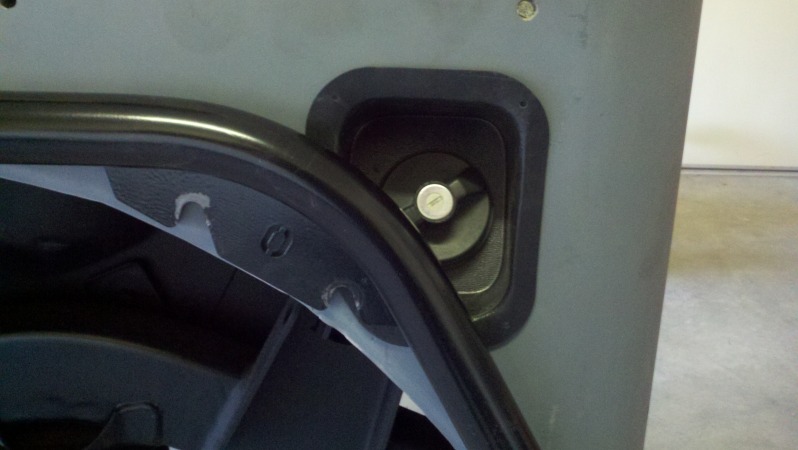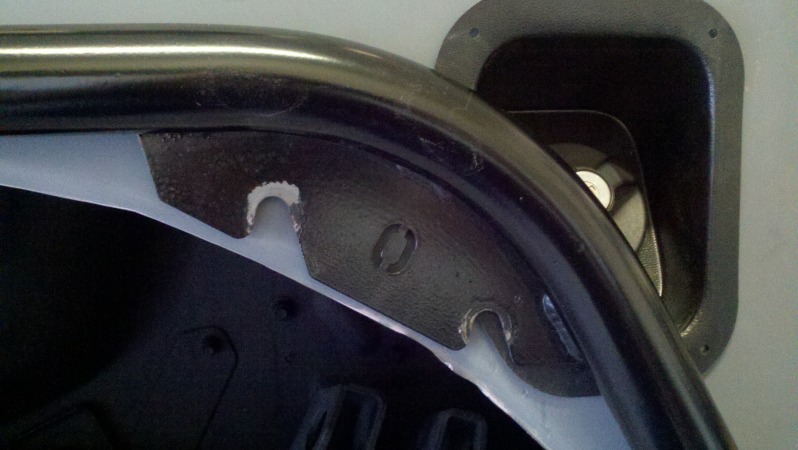 I'm not opposed to that, but that's 1.5" less tire coverage than I already have, and while I know it can just "barely" be considered tire coverage, especially after I cut it more, it's still something.

Here it is with the gas bezel moved over an inch. Now it's as far as I can take it before the bezel is on the curved area. This is much better. It looks like I'll have to cut the rail's rear leg in half to be on the flat area. I'm over analyzing it right now but I'm confident now that with the armor painted nicely like before, and rail simplified and cut, it's gonna look good. By Saturday end, I hope to be posting a completed photo, with a tire in the wheel well for visual accuracy!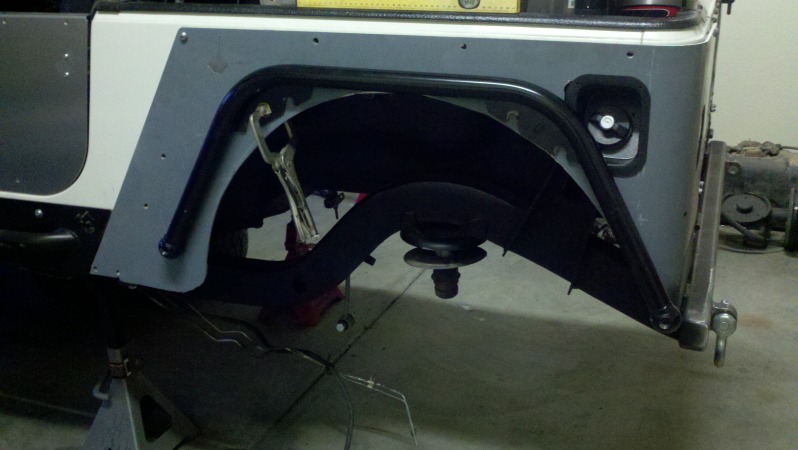 8-9-2013
Working on the rub rails tonight.... I have to say I like them A LOT more than I thought I would. I think this will work just fine for me. These are some rough mock up photos. I think I'm going to paint the area below the rail black like some had suggested I do in the past, I think this will make them blend better. All in all.... pretty happy with the modified version.



Neither the gas bezel or the flair is in it's final position here.... but you get the idea.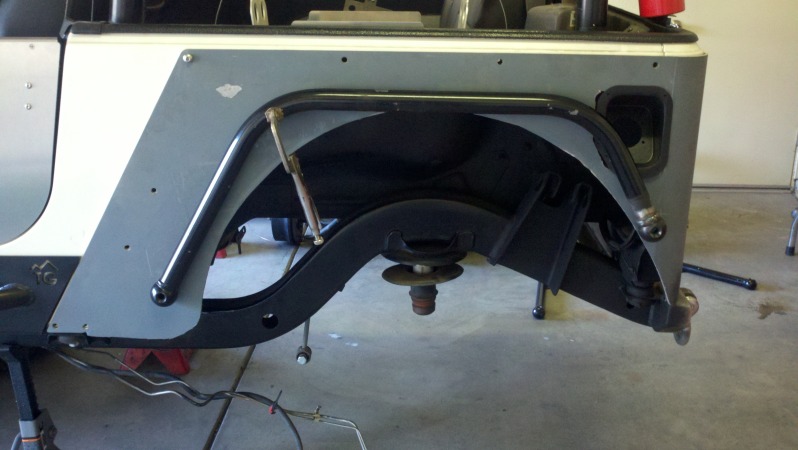 It's going be lower than that, but you get the idea... haha.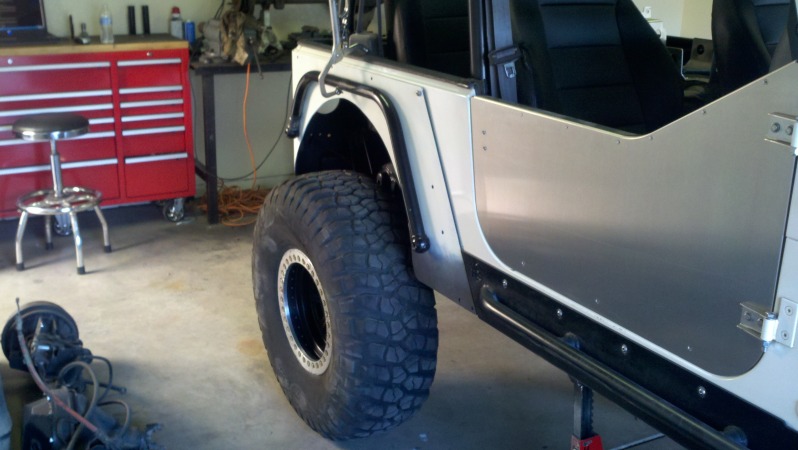 This is the reason I think I have to run them... as you can see I basically have a rail running the length of the vehicle.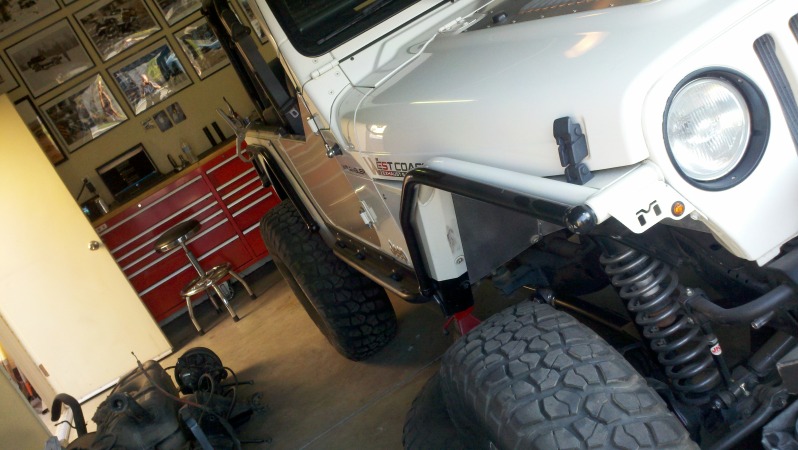 8-10-2013
Working hard today.... things are looking pretty good. I wish I did enough of this kind of stuff to be decent at it!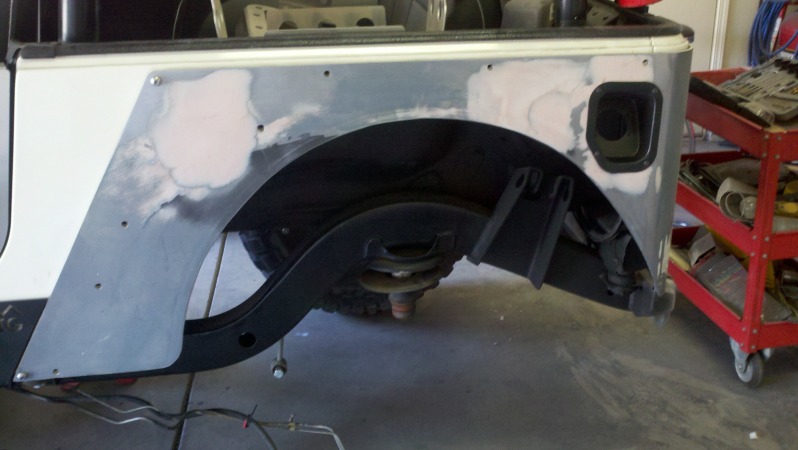 Well I've got the drivers side corner just about buttoned up. And I'm happy to say it looks pretty good. It just feels like my rig again, haha. I'm still on the fence about painting the white portion below the rail. Feels good to have some finishing work getting completed and I'm much relieved that this idea is going to work! I must say, getting all the bolts in, and bottom part painted black like it used to be, along with the plate and rail on.... it's really "masked" the fact that it's stretched. Either that or I'm already accustomed to the look.

Anyways, it's got a very complete feel to it now.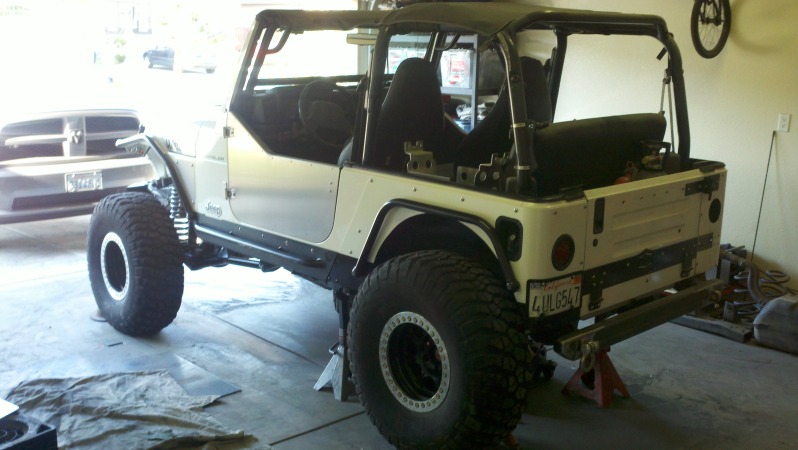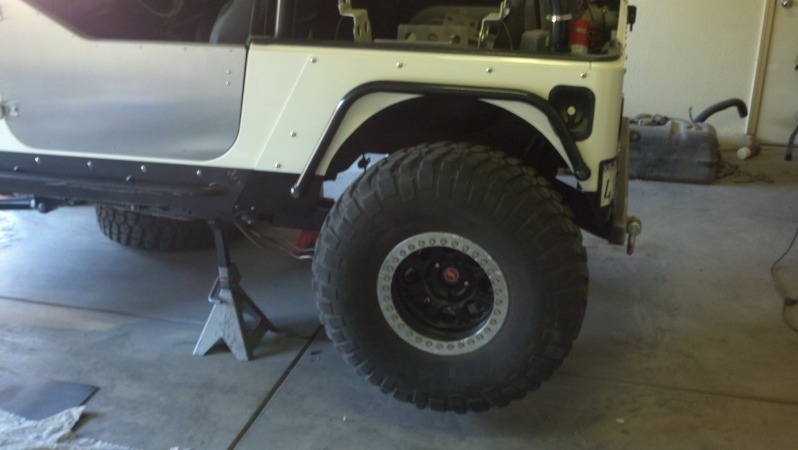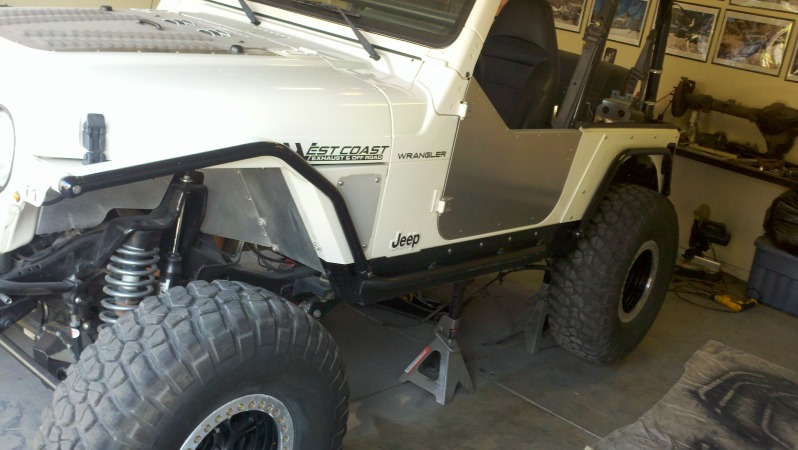 8-13-2013
Gettin stuff re-connected as much as I can at this point and some final painting. Feeling pretty sanitary. Looking good for link mounting as soon as I get the brackets.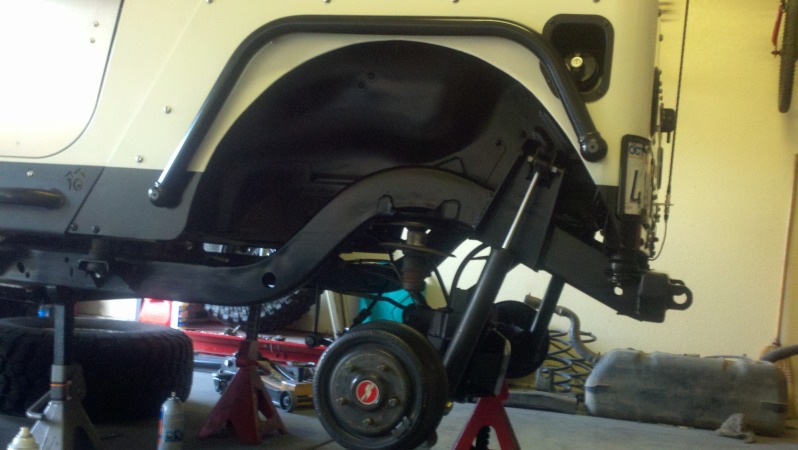 8-14-2013
Took a trip to Sears for some more worthy snap ring pliers so I don't have to be that frustrated with them tomorrow and also did a little late night wrenching and pulled the T-case. Came out just fine ....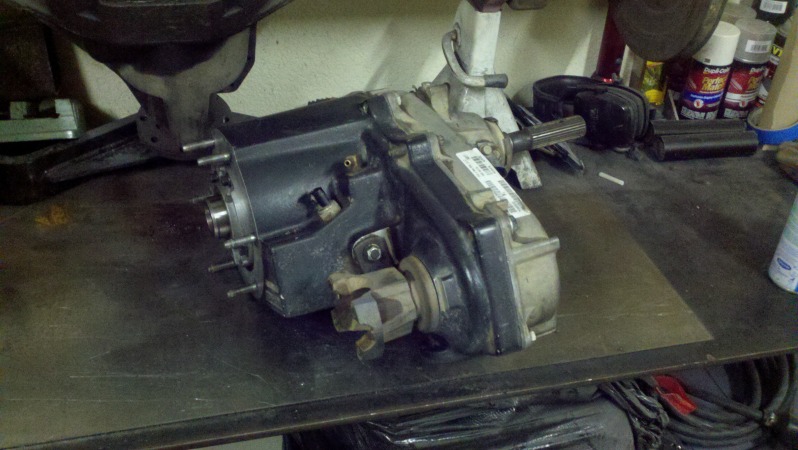 Probably my favorite mod to date.... this little 231 has some $ in it now.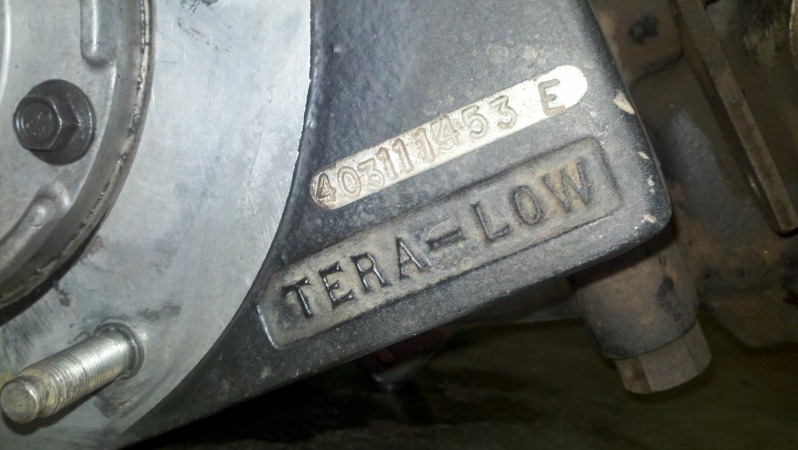 Tomorrow I can relax and install the SYE, and re-install on Friday. Nice to knock out little projects even on work days. Link brackets still have not arrived.... I'm hoping they come by Friday so we can have a roller this weekend for some driveway shots. This thing needs a serious bath.
8-15-2013
I've beat the crap outta mine Art.... I guess they are just hit and miss. Only thing I hate is shifting it back and worth between hi and low, when the terrain changes or I'm trying to go a little fast.

Well the SYE is installed. Not a very enjoyable thing to do actually. I thought it would be fun. Even with good snap ring pliers they are annoying. Why not use a snap ring with an eyelet??? Oh well, damn thing better not leak.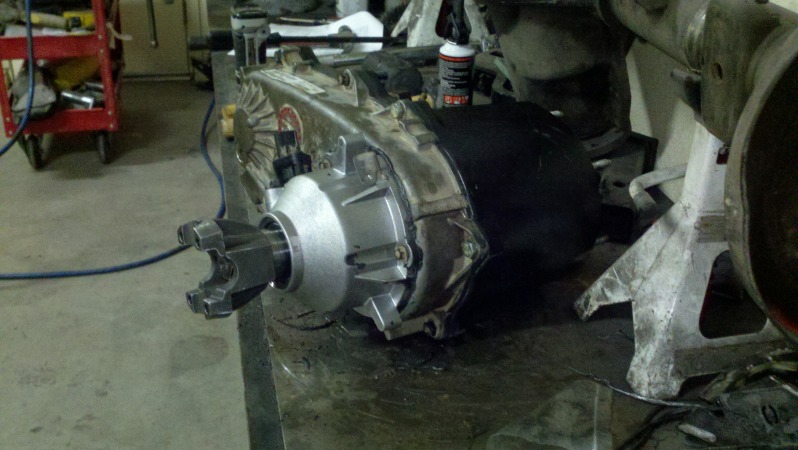 8-16-2013
Some more pieces of the puzzle being completed, and arriving. T-Case is back in. It's actually kind of nice how easy that sucker goes in. Fluids are in it and I'm calling that SYE business DONE!

Also got my link brackets! Finally. I'm going to pull a late night and see if I can get them in. Roller status tomorrow. I'm excited.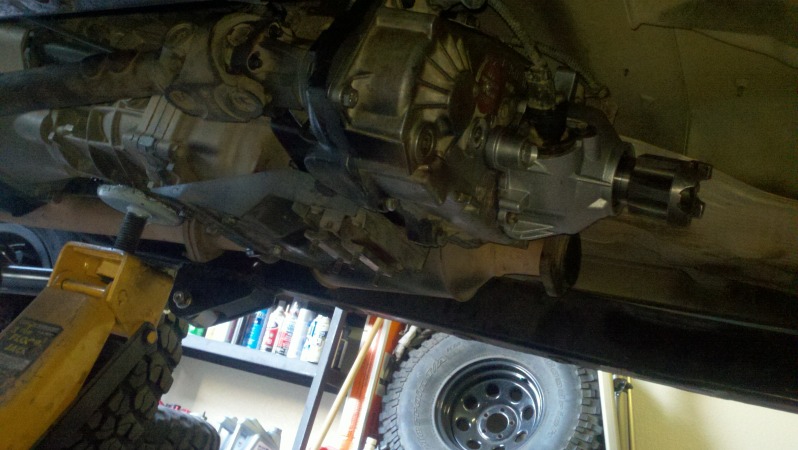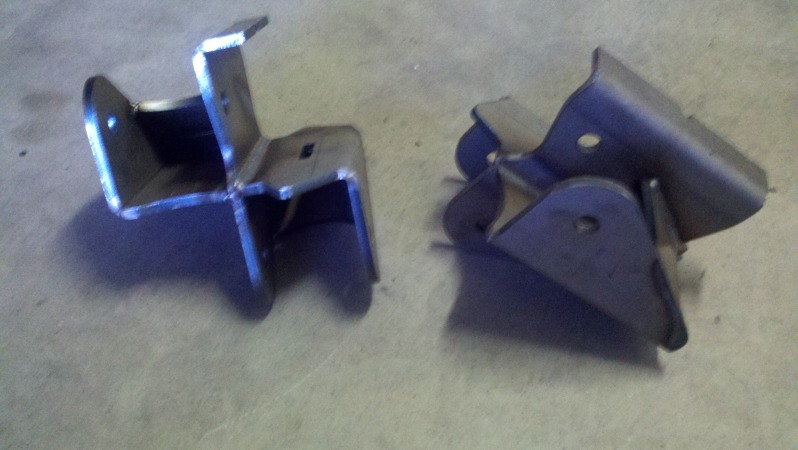 8-17-2013
Roller status.... need tank and driveshaft. Besides a couple very minor odds and ends. What y'all think?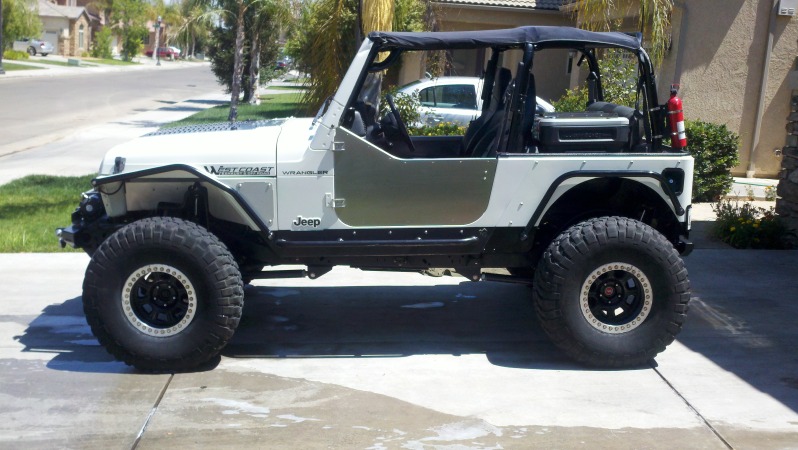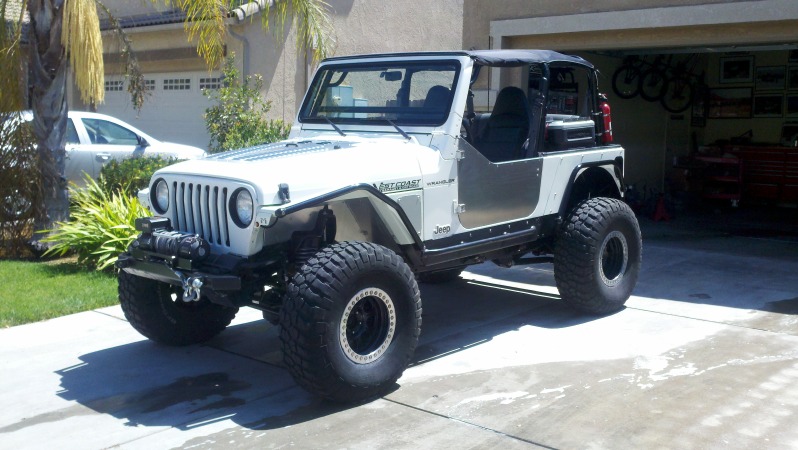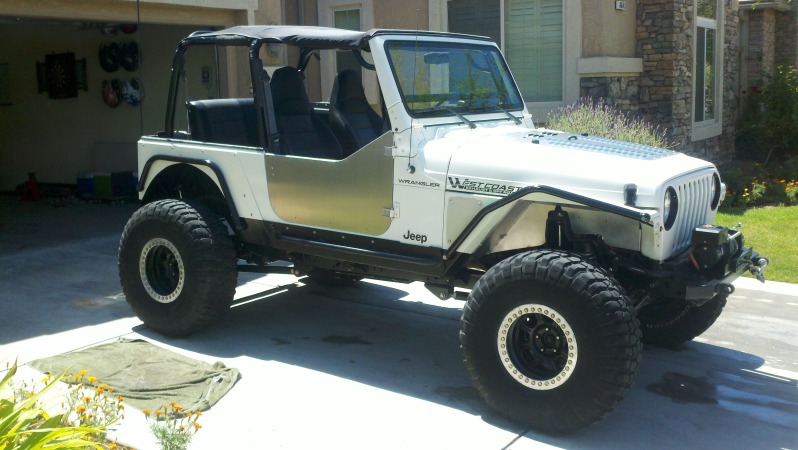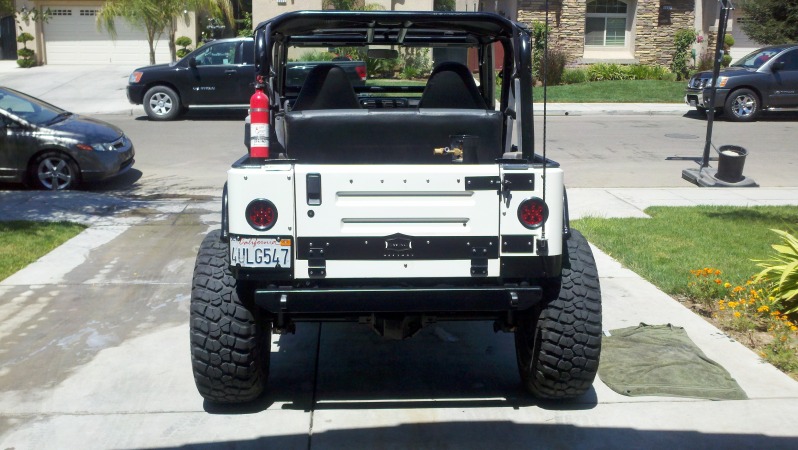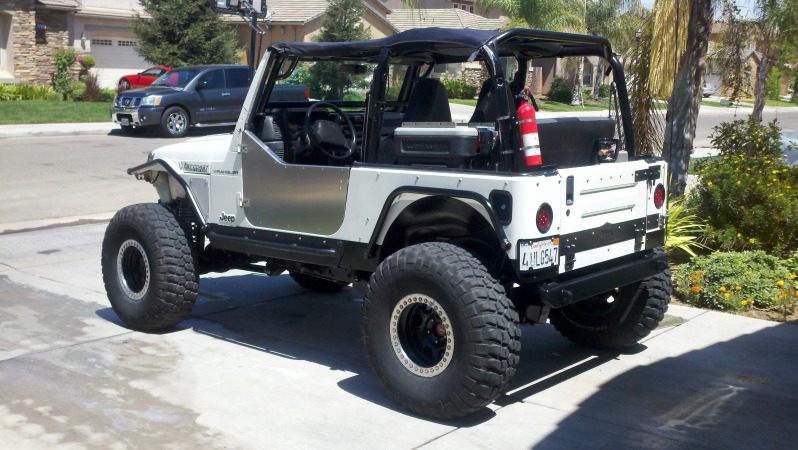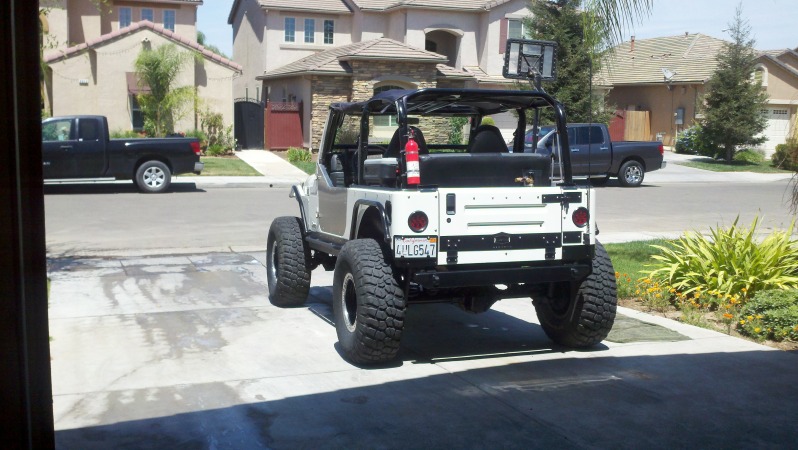 8-18-2013
Working on the Civic today..... Bad A/C compressor pulley bearing. And you have to buy the entire clutch just to get a new pulley. Bull****! Oh well at least I can do it without unhooking the compressor. Ironically the main tool for the job.... A nice set of snap ring pliers. There goes $150 from the tank fund. FML!
8-19-2013
Which one's Lu? The rear most ones I made a 3/16's plate that's welded to the backside of the rear bumper / crossmember and to the frame. Very simple. The crossmember above the coils buckets is one small detail I'm still working on. There's not enough room to fit the factory rubber bumper thingie, so I think I'm going to try and cut one in half. That's really the only thing I didn't quite measure out properly. I should have recessed that crossmember down another 1/2 inch. Oh well I'll have to work around it now.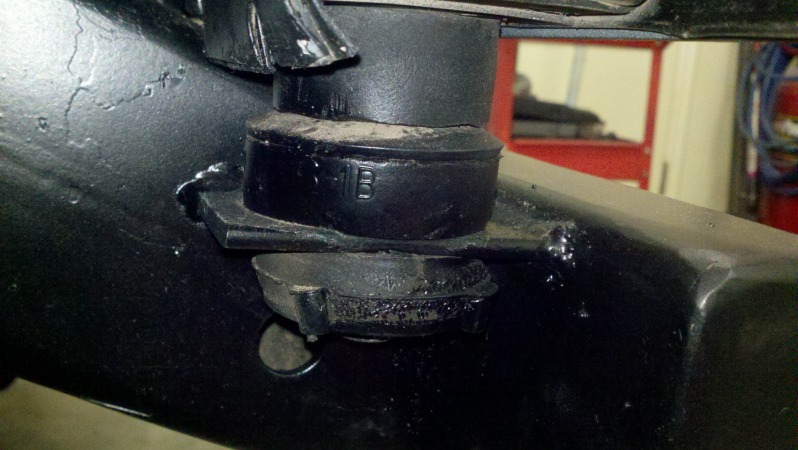 I got it sorted out today, I was able to get half a stock body mount bushing in there, should be fine. I was surprised the holes even actually lined up! Haha.

I also was able to get the muffler hanger tweeked out enough to connect to the exhaust pipe without cutting and rewelding it. Pretty happy about that.

The last small stretch related detail is to get the fuel, vent, and brake line secured to the frame neatly. I think ill have to wait for the tank though since I don't really know how they'll sit when hooked up.

Next real focus is going to be some clean up and painting on the front end and sliders and cage fixing scrapes from Moab and JV. I want to roll out with a clean rig when everything is all said and done!
Couple of photos for reference... The holes for the body mounts weren't centered because the channel keyed into the top of the coil buckets so nicely I didn't want to move it (at the time I wasn't thinking about the rubber bushing needing to fit in the channel) so I also had to cut a bit off the bottom rubber thing. For anyone following in my footsteps figure out another way to measure for this crossmember. I got it close, but I measured with the tub sitting loosely on the frame.... and didn't realize how much space you loose by tightening down the body mounts. That ate up most of the space I allowed for the rubber bushings above the crossmember. I can't think of any problems with this, but would have liked to have been able to use the entire factory body mount bushing just for the sake of build cleanliness.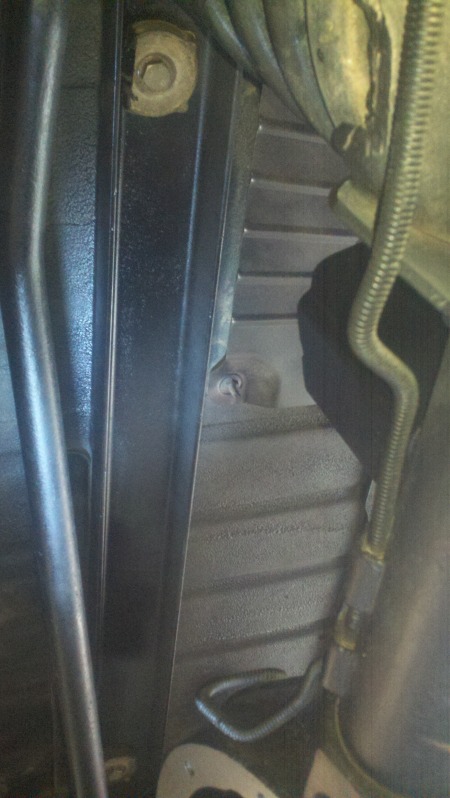 Here is the exhaust hanging nicely by the factory hanger. It's actually hanging nicer than it was before. This is one area not triangulating the uppers is nice. Plenty of room for the muffler.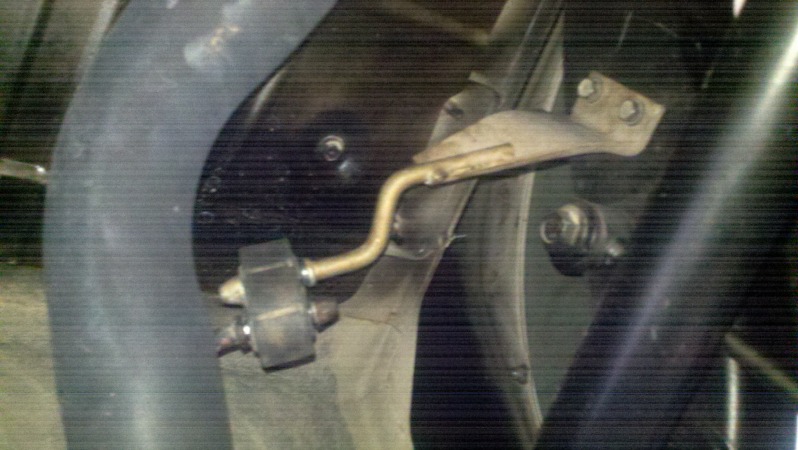 8-22-2013
Might as well it appears. A double 231 would be pimpin though.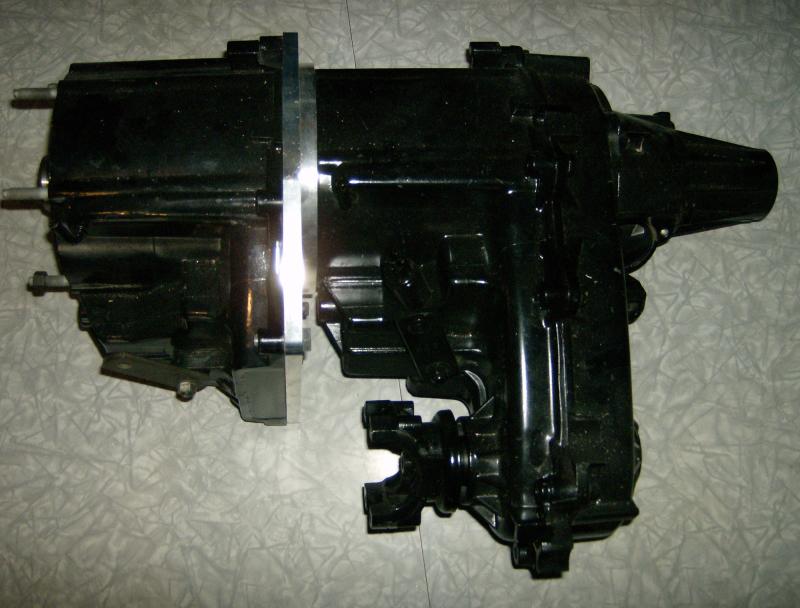 http://www.pirate4x4.com/forum/motor...cks-499-a.html

This one looks the most promising and I "get" how it works now.... but even this guy has gotten flaky over the years. Uhg... this is just something I want to consider before I order a driveline. I know this will make my Driveline very short again..... maybe to short so I'll have to measure before I get my hopes up.
Got the front end up cleaned up again. It's not surgical like when I did the ball joints... but it's pretty clean again!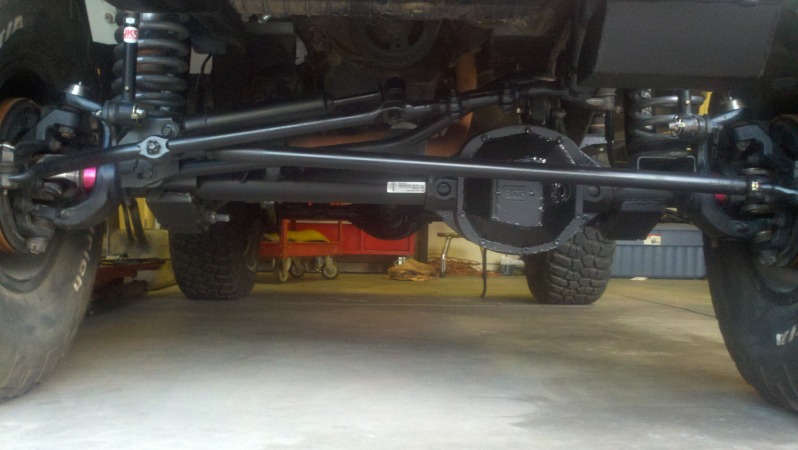 Got one rock slider done, took care of some Helldorado and Chocolate Thunder scratches,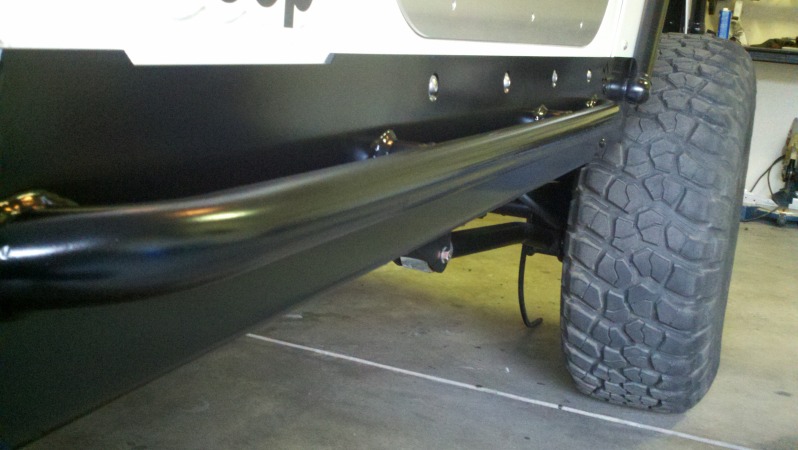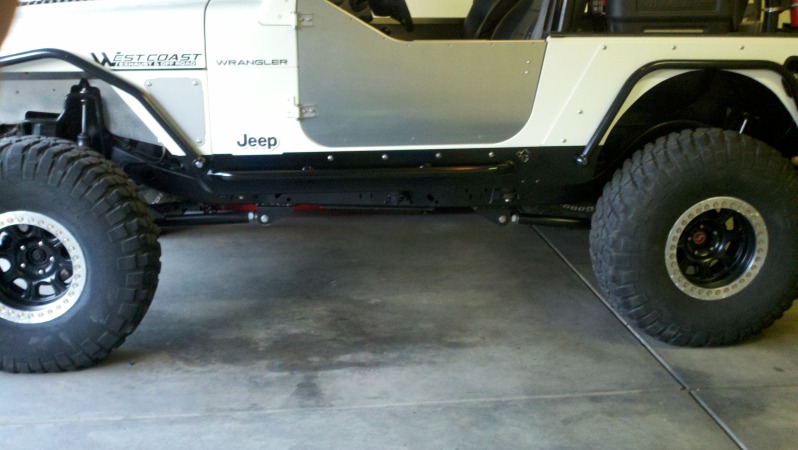 And now I have to focus on the cage.... it took a little beating on Helldorado, I dread painting it because I know it's going to turn into a complete re-paint and not just a touch up. I hate painting tubing! Maybe I'll leave it for a conversation piece.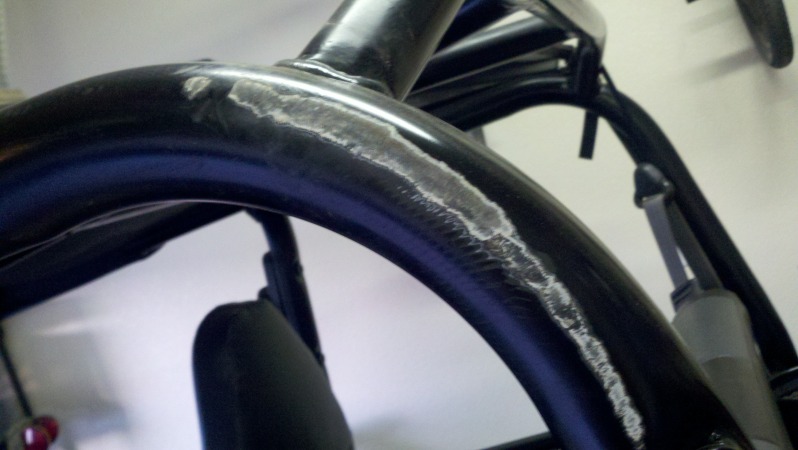 Check my awesome flex back in 2007 after installing my disconnects and unhooking my sway bar for the first time.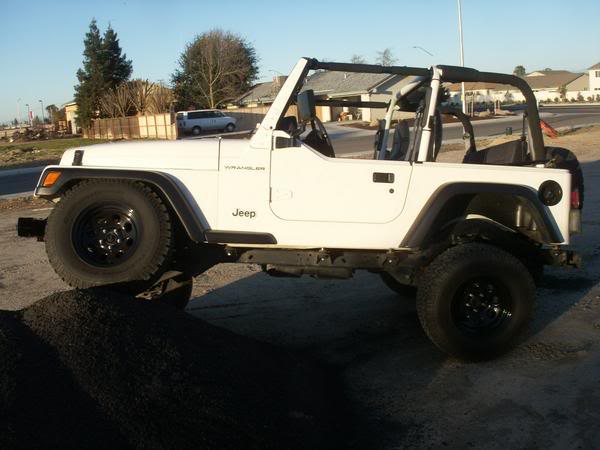 8-27-2013
Got the day off... gonna go out and stare at my Jeep and find some little projects to do. Going to fix my cable on my suck down winch for sure. And probably re-paint my cage.
Knocked out a couple more little projects today.... engine bay detailed out a little more than I did the other day, repainted cage (just the scratched areas), fixed up a buggered weld that was bothering me, fixed the suck down, and made a trip to tractor supply for some 6.5 ton clevises for the rear bumper. Got the swanky black ones with the gold pin.



I think the longer it takes me to get the tank the cleaner and more dialed in this Jeep will be. Haha. I know it's a waste of time but I'd LOVE to pull the seats out and really clean up the interior (again).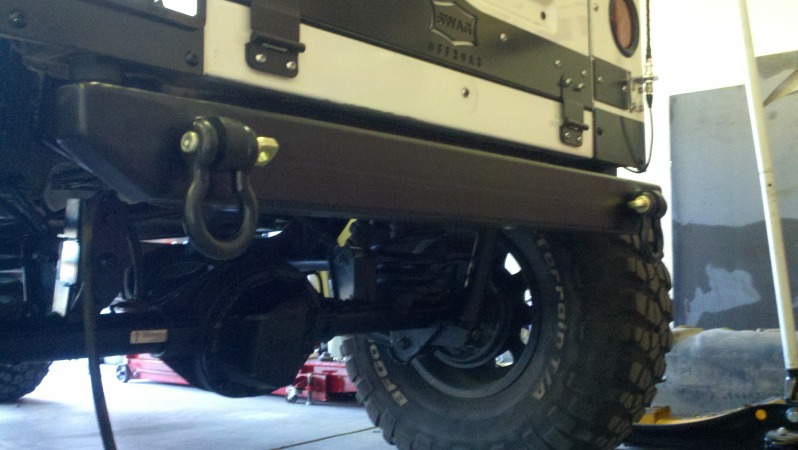 8-28-2013
Made this little full profile comparison photo.... I thought it was pretty cool.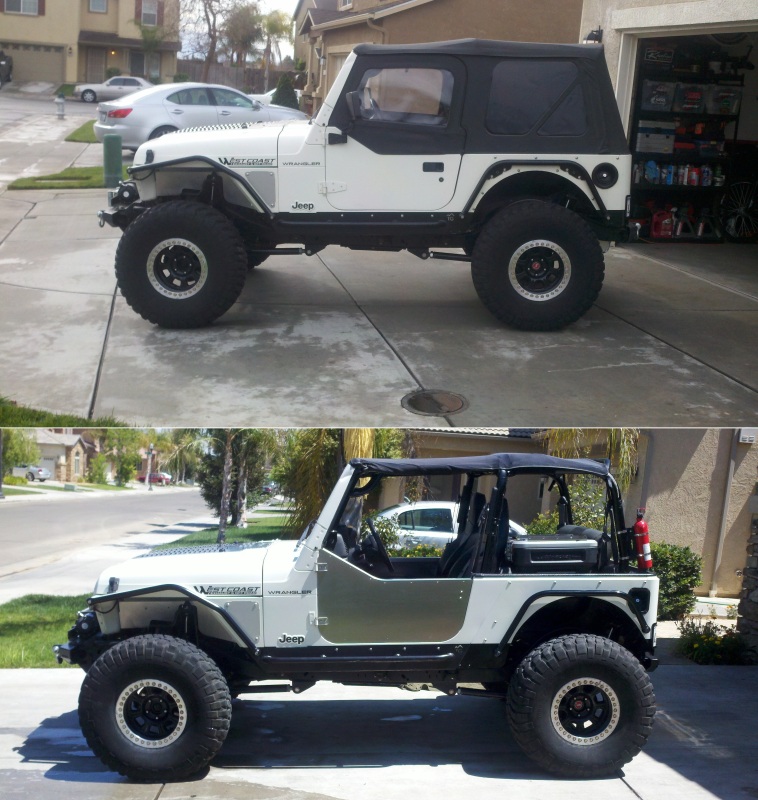 8-30-2013
Got a few days off... gotta think of some things to tinker with on my junker. I should have ordered some parts earlier this week. Pretty sad re-spooling my winch line is the only thing I can think of.

9-2-2013
My labor day fun.... cleaning up this ugly 8.8.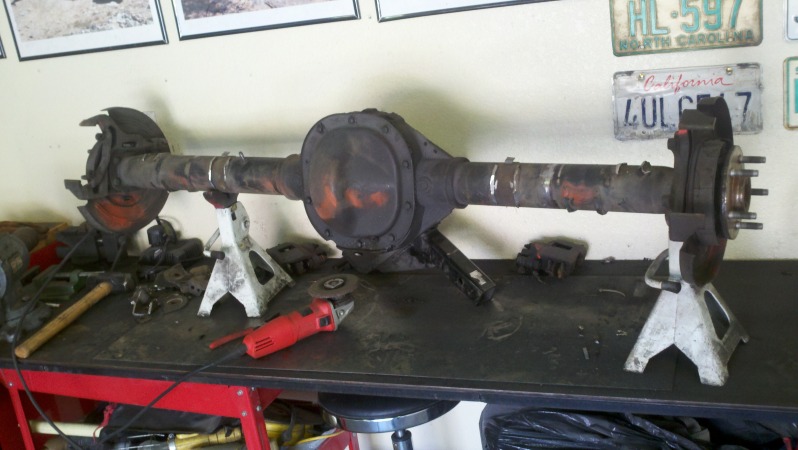 I'm very happy with it. Just planning for the future and having a little fun. I've never built an axle from the ground up so this will be a good learning experience.

One side done... anyone wanna come over and do the other side??? Lot's of grinding.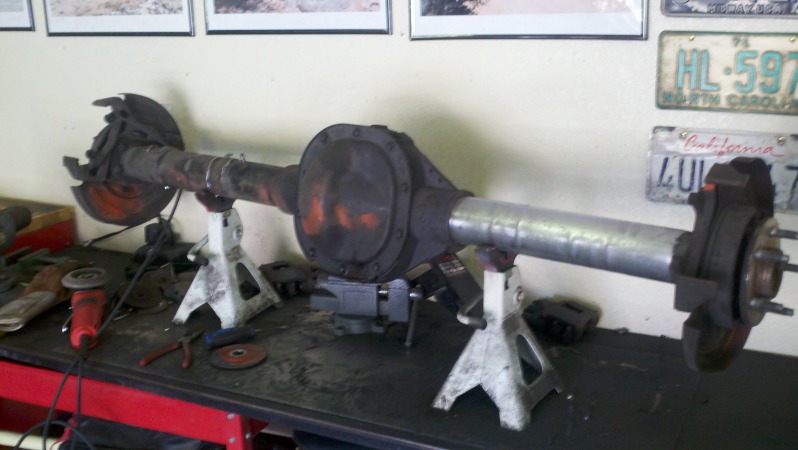 From eyesore, to garage decor.



I'm glad that portion of this axle build is done. Tomorrow I will disassemble it further, replace the e-brake shoes and possibly weld the tubes.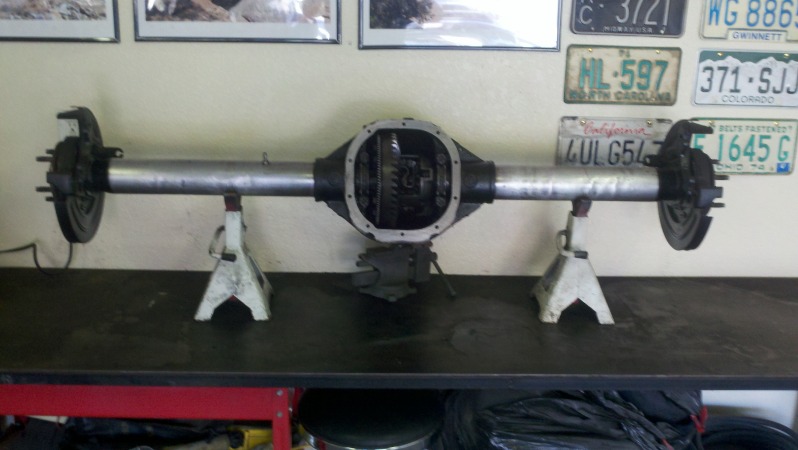 9-3-2013
Welded the tubes....reading online will get you about a 100 different ways to do it, no one can agree. Many just go at it with a 220 mig and never have an issue. That's what I got... so that's what I did! I just did 1.5" sections, going from side to side and rotating the axle around. Now to disassemble further.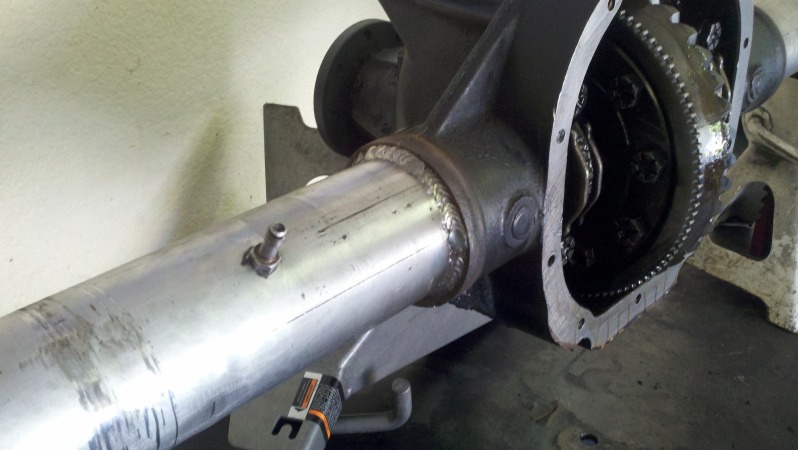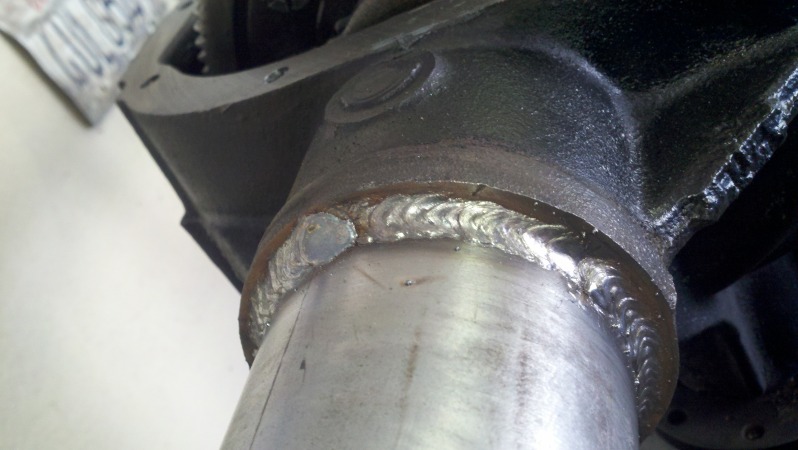 Ok... it's torn down. That was fun. This is probably how it will sit for a while now, gonna do the e-brakes today just so that's done. Also going to order my driveshaft today.

Might as well get that out of the way since it's looking like a few more weeks before the tank will be ordered.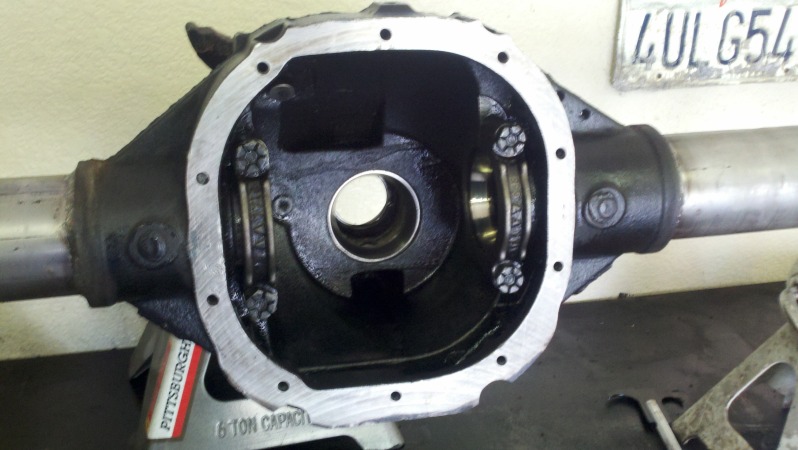 It certainly looks a lot better now than it did yesterday morning. But yeah... stuff stays clean out here. There's no rust at all on this axle, not even surface.
Went to a double cardan shaft. I guess that's not a CV technically. haha.

E-brake shoes are in... not nearly as aggravating as I set myself up for. Actually pretty easy.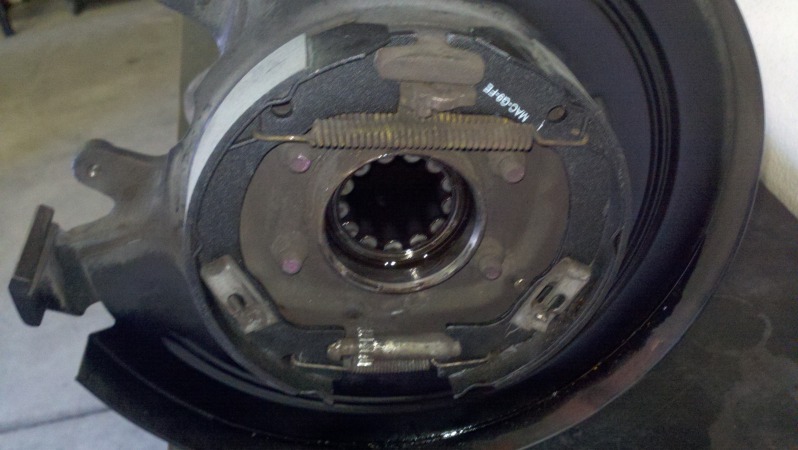 9-6-2013
Tank ordered!!!! Sorta, i put it on layaway. Haha. They are supposed to be in production now. So I'm glad I got my name on one since they had none in stock. By the end of the month I should be good to go. Hoping my driveshaft shows up today.
9-10-2013
An important piece of the puzzle installed today! I don't know why driveshaft's are cool.... but they are.

5 business days from order to install. I think that's pretty good for a custom driveshaft. Looks very high quality all the way down to the finish. Glad to have this piece done!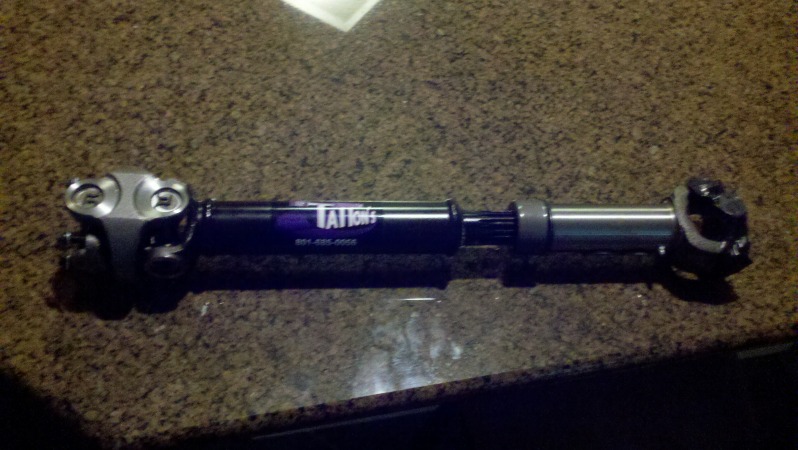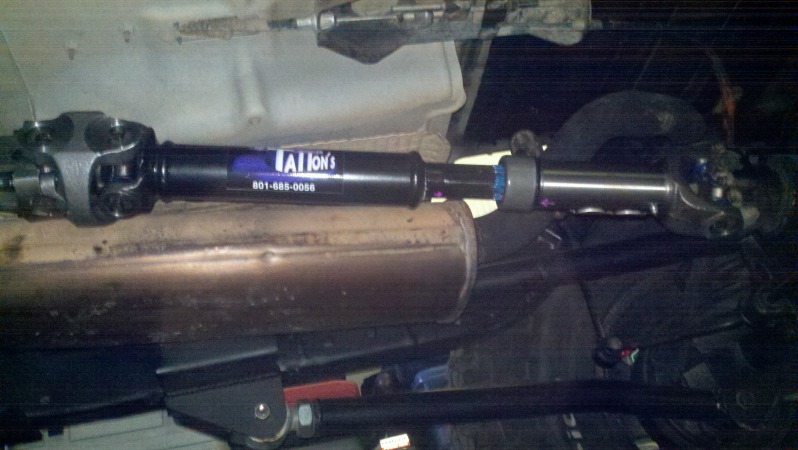 9-23-2013
Little White Lightning is getting some major detail love while we wait for the tank. Kinda funny.... I must be bored! Maybe I need to bring back some of my old hobbies before wheeling took over??? Anyways I busted out the wax and did some detailing on the body today. Probably the most I've ever done in 6 years to actually clean the paint. I always keep it clean.... but not like my other cars. The paint is now actually nice and soft and smooth.

I'm also repainting my flares, the fronts had some scratches, and the rear's came out weird looking when I painted them a few weeks ago so I sanded them back down. All in all... just relaxing in the garage on this rare Thursday off.

Looks cool flareless, but I like it better with them.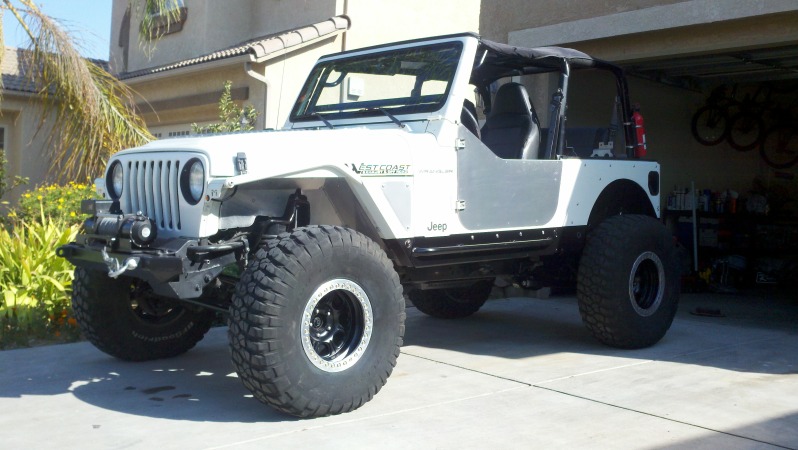 Paint's in good shape for 11 years and wheeled....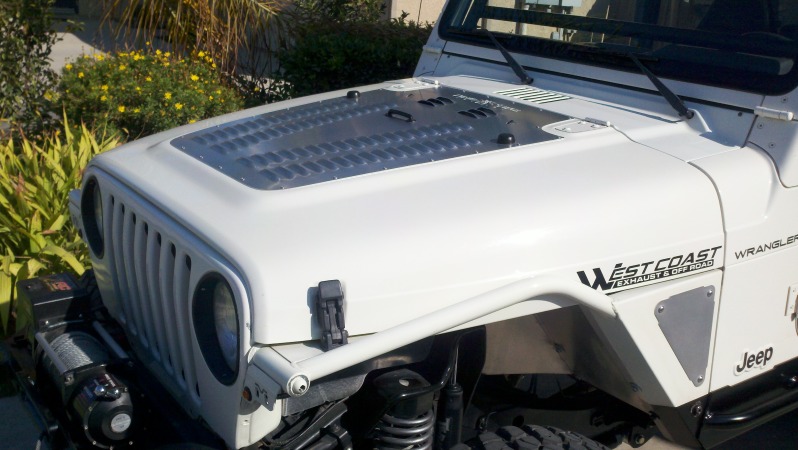 A jeep guy's garage...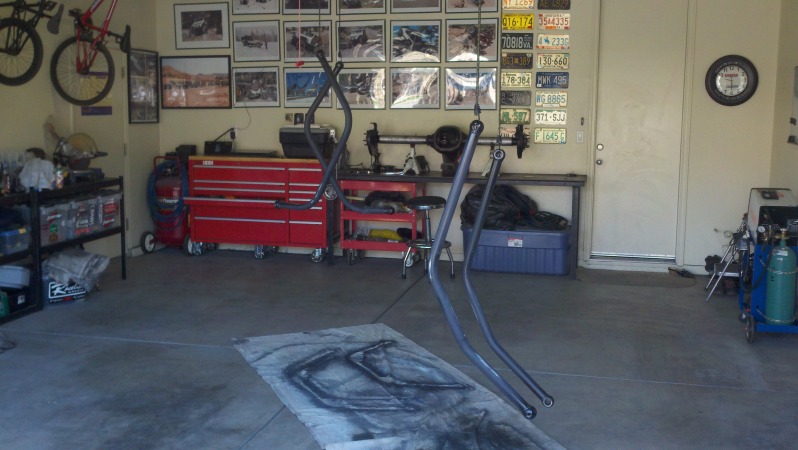 9-17-2013
My buddy who own's an exhaust and off road shop bought a Torchmate 4x4 Plasma table a few months ago, and just simply due to his workload has had little time to play with it. Well.... I decided to help him out and train myself how to use it. I took about 4 hours worth of online training over the last couple days and finally went and played around with it today. Using the CAD software is right up my alley.... I really enjoy working with excel and the like, so this CAD stuff comes pretty natural. It is tedious to do certain things, and I'm sure as you get better you find quicker ways to accomplish the same things. At any rate... I'm excited to be learning on it and glad he's willing to let me. If we get something into production that hit's... it might even turn into some income. We'll see.

He was also having a binding problem at the extremities of torch travel that I was able to fix. The gantry comes pre-assembled from Torchmate and they did not tighten down the inside roller bearings..... needless to say I now know quite a bit about the assembly and disassembly of the machine.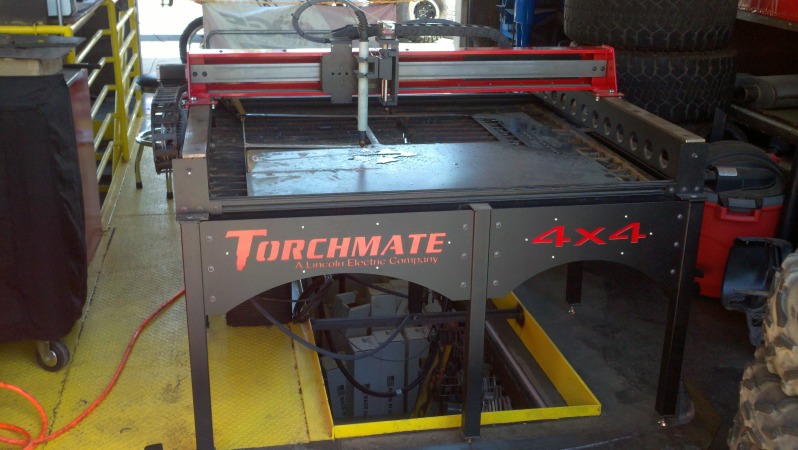 I made a pretty cool sign today with this shop's name in it... I forgot to take a photo but I plan to post up some things that I cut just for fun. If anyone needs something cut out... I'm looking for some simple projects to help me learn. Just pay for the material and shipping.
My buddy sent me a photo of the logo I made today....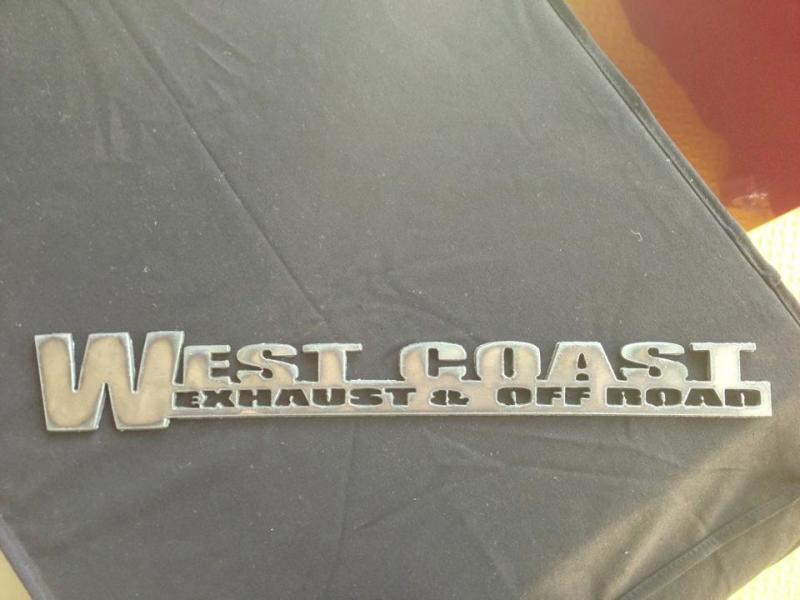 9-18-2013
I worked a little more on the table today. First order of business was to run some line cut testing to configure the plasma for the best possible cut with as little dross as possible. Worked out pretty good and we were able to get the cuts looking good needing minimal clean up. Here's a few things I cut out today. Another goal for today was to import a graphic and convert to CAD. This is pretty but after you get the graphic formatted there is a lot of touch up and modification before it can actually be cut. I learned a lot today.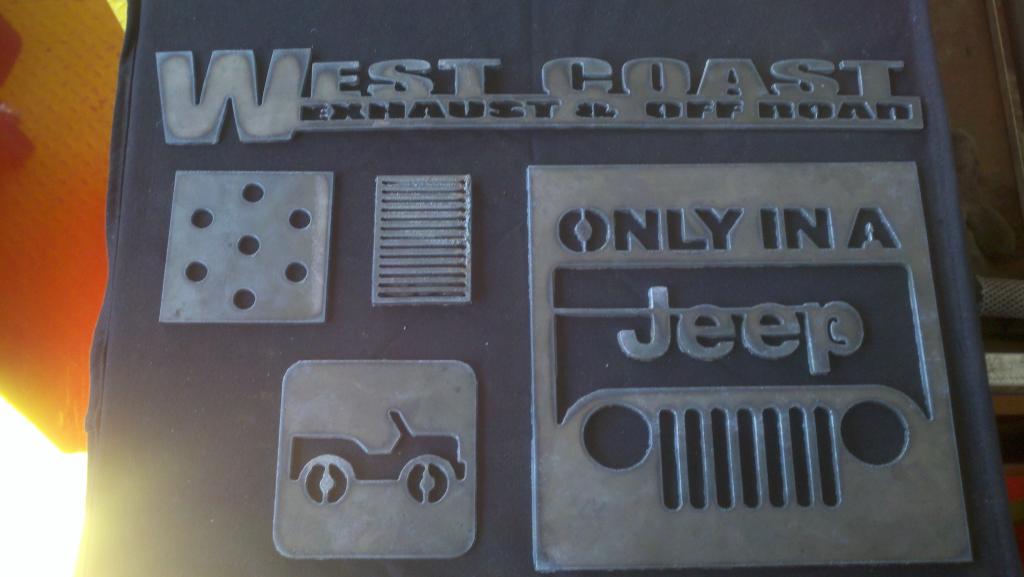 9-20-2013
This is officially the longest my Jeep has ever been down, either broken or waiting for parts. I'm not coping well at this point. Paid another 300 on my tank today.... almost there, probably two weeks. I designed and cut out a DIY style beadlock ring on the plasma table today... that was fun. Shop owner is going to finalize a part to put into production that I might get paid to do the CAD work on and cutting. That would be cool. My full time job is so secure it's hard not feeling trapped...... I'd much rather be fabricating than selling tires.... but I have to look at the big picture. Damn 401k's and health care plans, and vacation time, and corporate umbrellas...... haha. Anyone working a career that pay's well, has security.....but isn't very fulfilling on a creative level???
9-23-2013
Made a fire extinguisher mount on the table today.... well a prototype of one. It actually came out pretty good. I have to order the pull pin and after that it will be a functional prototype. If I was going to make more I'd fab up a welding jig. Overall it was quite fun to actually draw out multiple pieces with the intention of them working together to make a complete part. Definitely a lot to think about to make sure it goes together as planned. I have a few tweaks here and there to make it function better but the overall design works good. It's based off the some other steel mounts out there obviously, but I'm trying things with the design to make it better.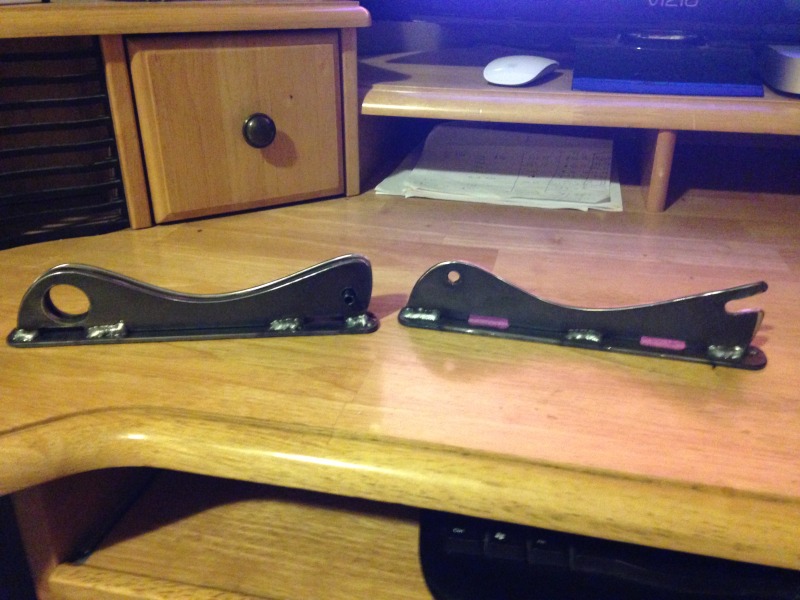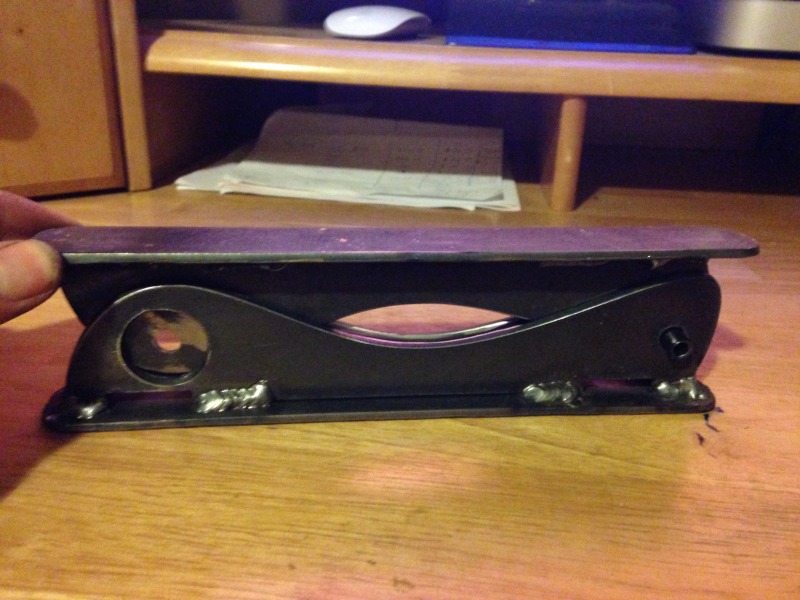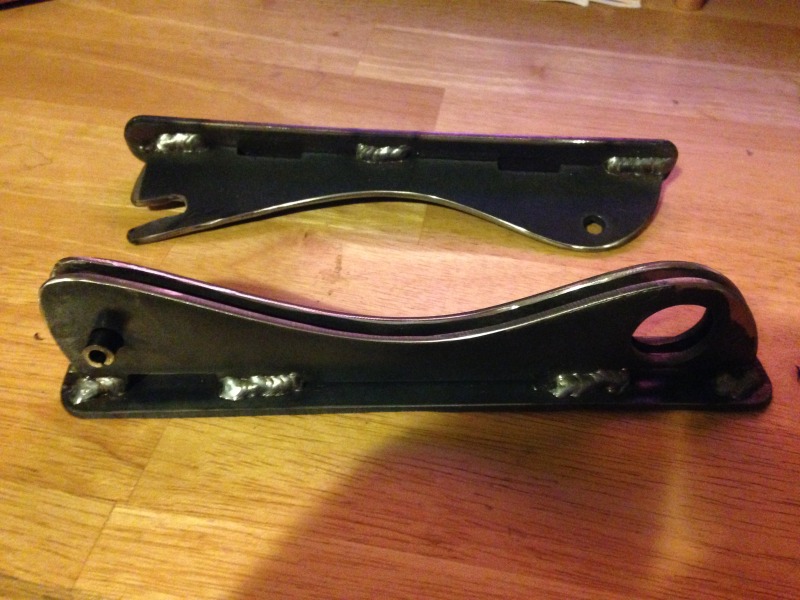 9-27-2013
Cut out a piece of plate for Mike MO2500 today for his spare tire mount. I'm REALLY happy with the cut, compared to what I was getting before. I got virtually zero dross and what I did have chipped off completely and easily. Tweaking the cut height and pierce height just fractions of an inch is what has made the improvement. I did struggle to array a bolt pattern on the piece so we decided to just leave it blank and he could drill the holes. It get's a little tricky spacing things out exactly and maintaining the proper hole size. I just gotta play with that more to get better at it.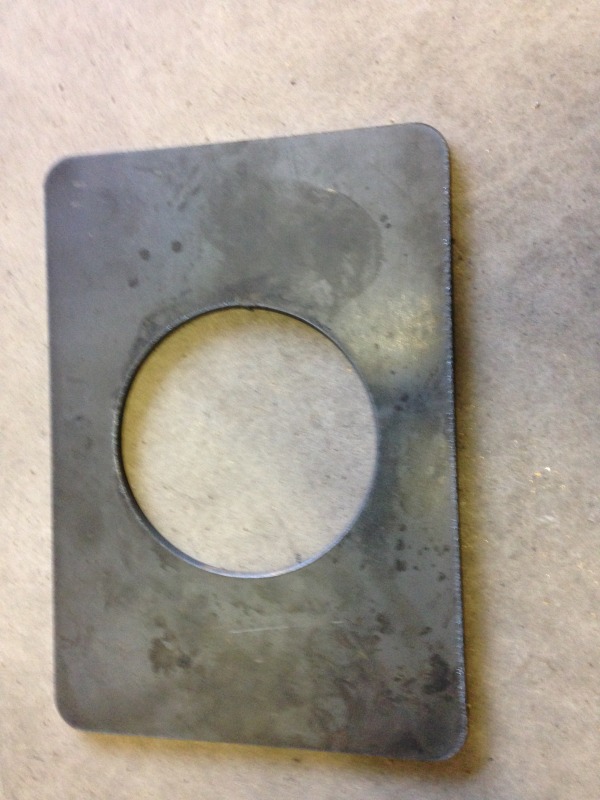 10-1-2013
Yeah it's not cheap.... but it's very nice.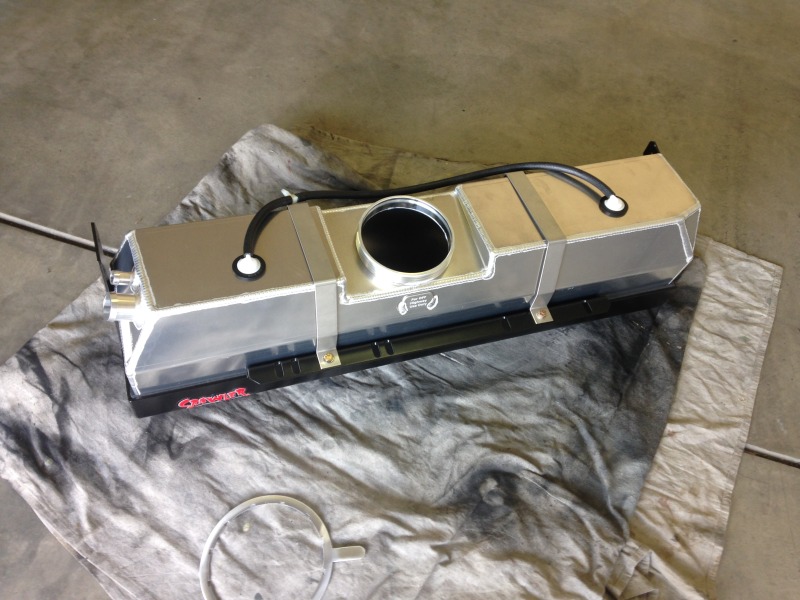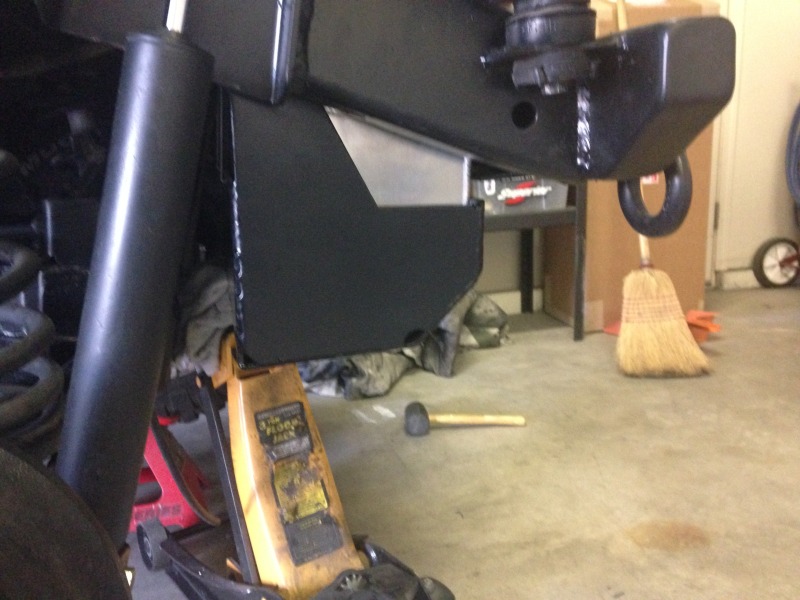 Test drive!!!!!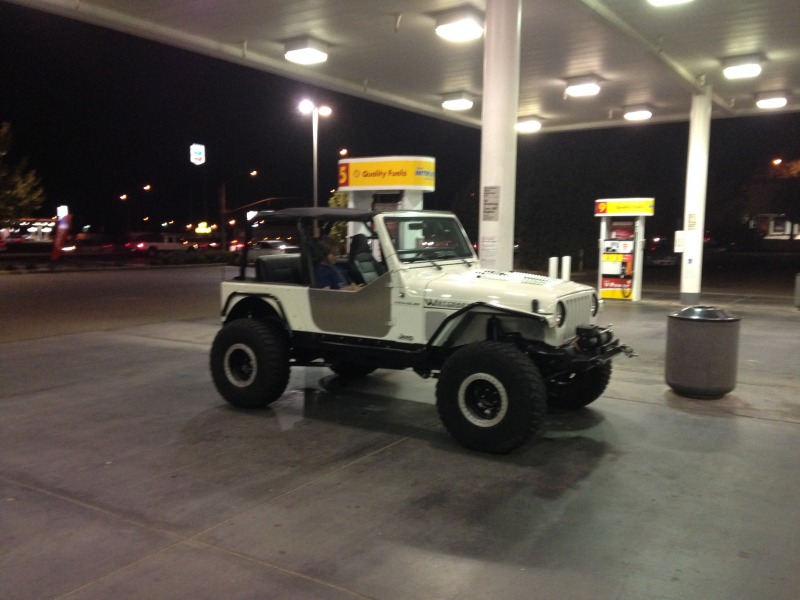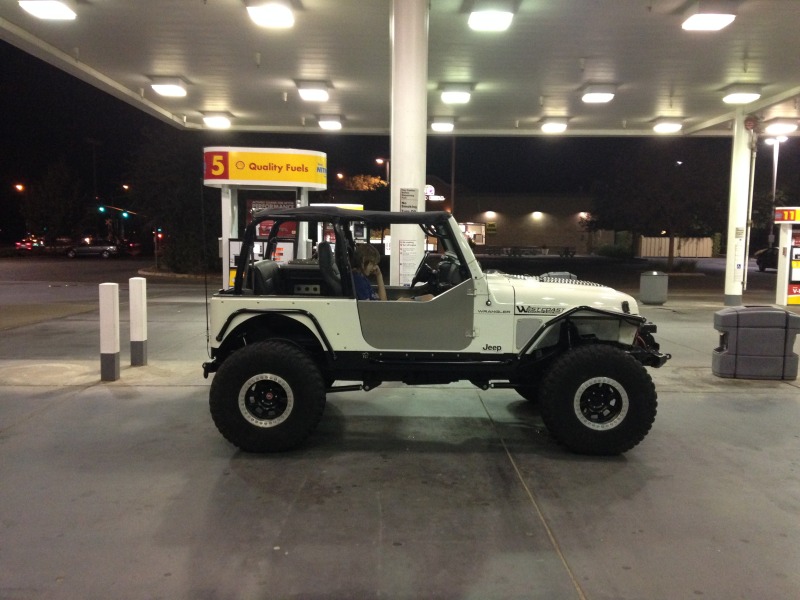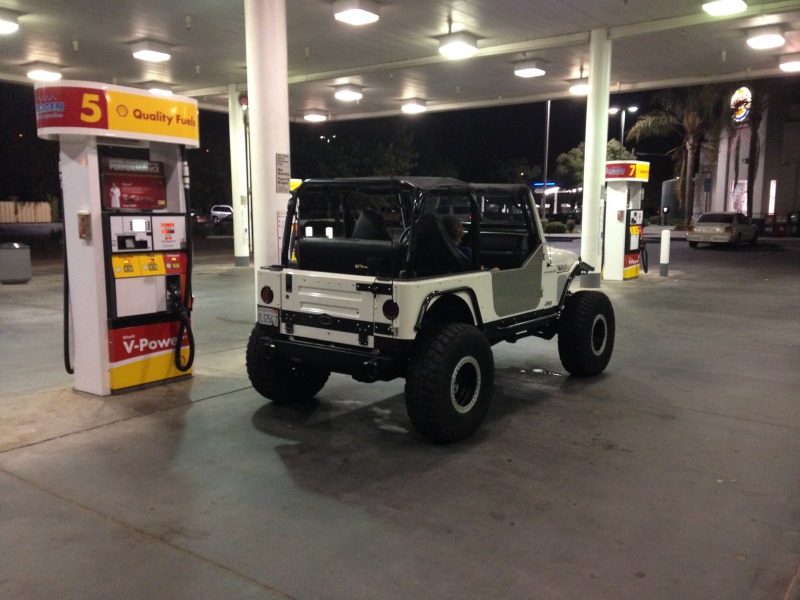 I've got to say luck was on my side with the tank install. I didn't have to modify the skid at all. I got pretty scared when it looked like the neck for the filler hose was going to be directly in front of the frame but after adjusting everything and getting the tank up as high as possible it worked out fine, it's TIGHT in that area, but all good. I was also able to use the frame mount just as it was designed and it fell towards the bottom of my shock tower, perfect. I've got plenty of diff clearance and track bar clearance. The fuel line, electrical and vent line all hooked up with minimal persuasion. I flicked the key a couple times and it started right up. Drove over to get some fresh gas in it, put some air in the tires and drove around a bit. Everything seems cool. I'll do a thorough nut bolt check, and rear alignment when I get some time but overall.......... I'm HAPPY to have my Jeep back! Took 9 weeks to accomplish this and I learned a lot, now time for wheeling.
10-2-2013
Does anyone have an opinion on running Metalcloak joints on one end and clevite on the other? I don't see how it could harm the MC joint with it's desire to self center... I can't really think of any reason it would be "bad" per se, other than being more restrictive and less flexible than a dual MC jointed arm. I was thinking about going this route to get rid of the noisy (well squeaky) and dirty joints I have now, but not taking the entire $800 hit all at once. Thinking out loud here....
10-3-2013
Got my other new toy today.... gotta say it's a pretty sexy contraption. I can't say installing the bushings in the frame is much fun though. Mine were a rather tight fit.

I swung by my buddies on the test drive and forked it out, I wasn't worried about the flex, it's got plenty, but I was worried that the bolt for the sway bar link was going to be all over my MC inner fender. I was wrong though, it just barely clears. That's cool. Street driving impressions were good, little more body roll to be expected but not a big deal. It's going to feel weird not having to disconnect and reconnect, I'm so used to doing it.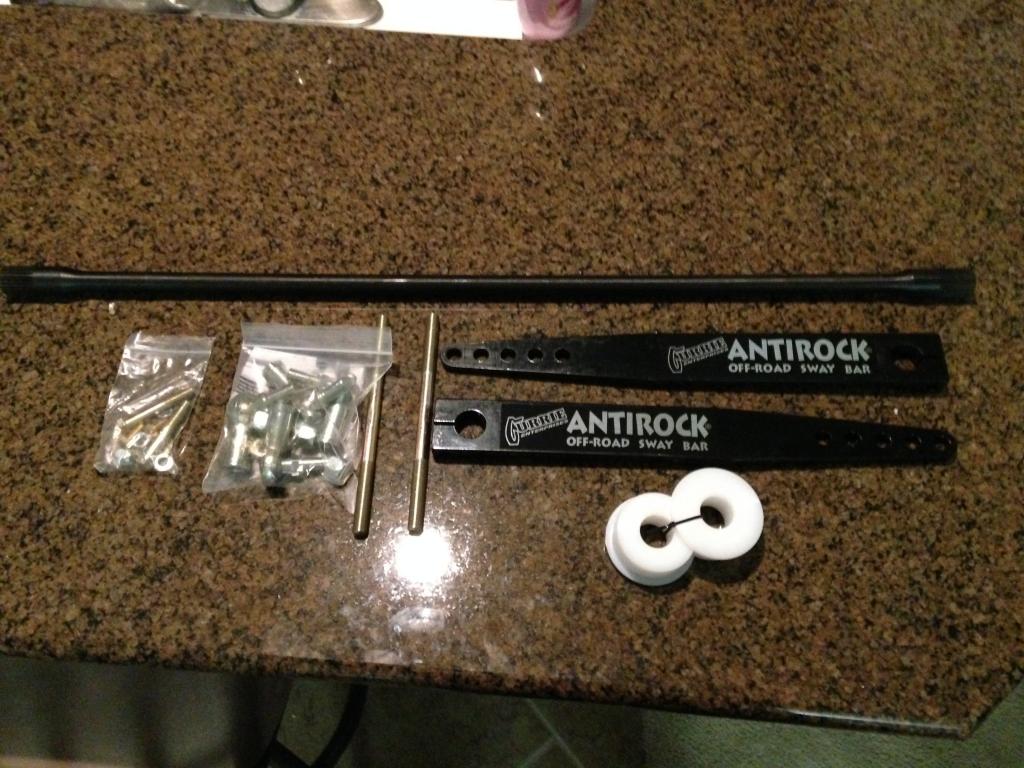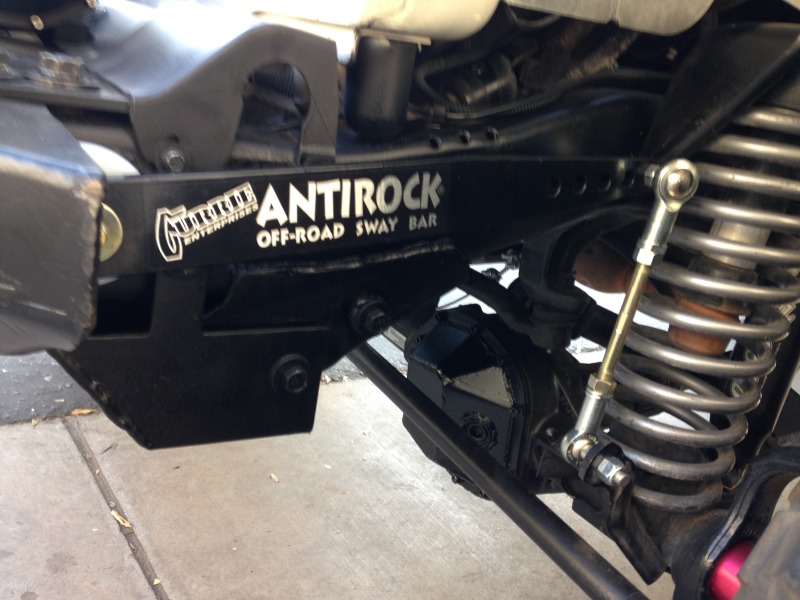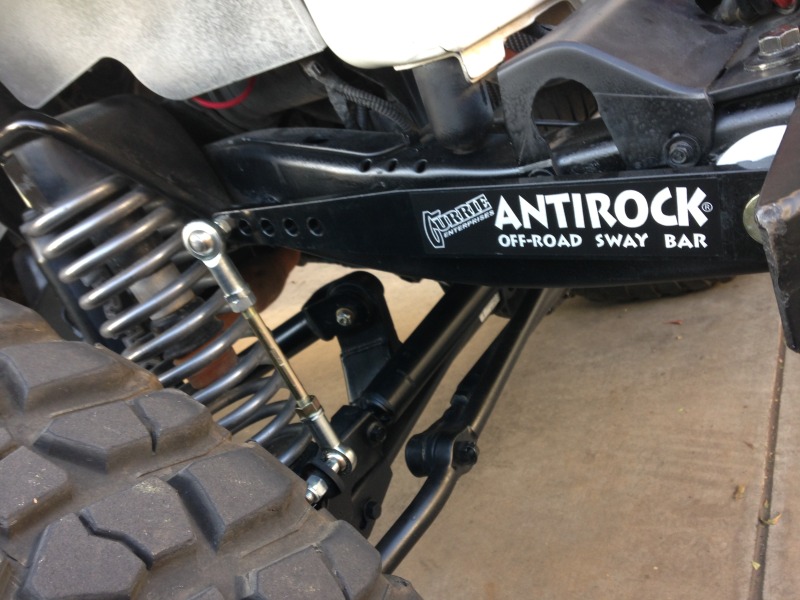 10-4-2013
Now that the ugly stock sway bar is gone I'm looking at a new better looking and lower profile bumper. I'm really liking the Barnes bumper... Anyone have an opinion on it? The price is crazy cheap. I'm ordering the flat skid for sure, and just might order both
Took some measurements.

18 3/4" frame to ground (measured just behind the T case skid)

16 1/2" T case skid height to ground. (soon to change, ordered a Barnes flat skid today)

16 3/4" Gas tank skid to ground

100" wheelbase

72" top of windshield frame (not including header for bikini top)

5" up travel in the rear (4 and change down travel)

4 1/2" up travel in the front (5 and change down travel)

24.5" long rear driveshaft

Ummmm.... that's it I think. Anything pertinent I missed?
My buddy got his 2011 JK back from Jeep Speed Shop today..... 5.7 Hemi Swap! Pretty sweet. Went for a ride and it's definitely a whole different ball game. The swap was very cleanly done also.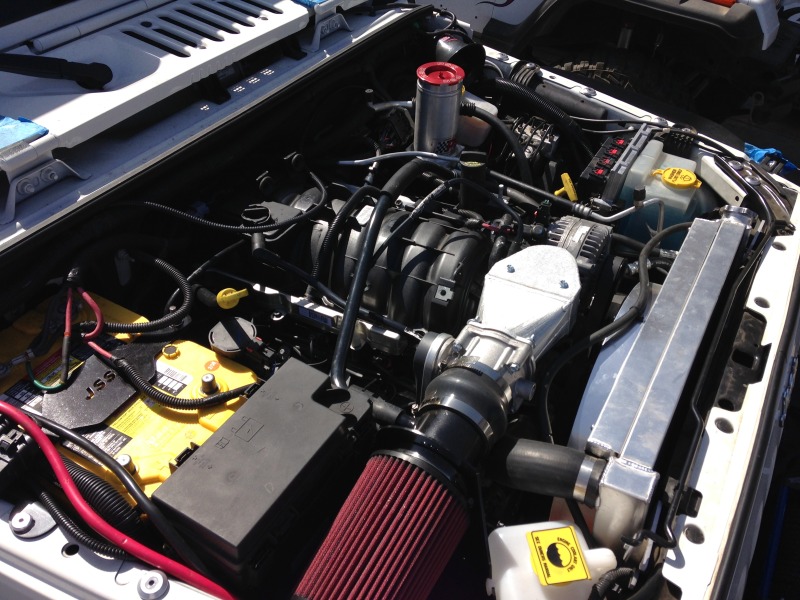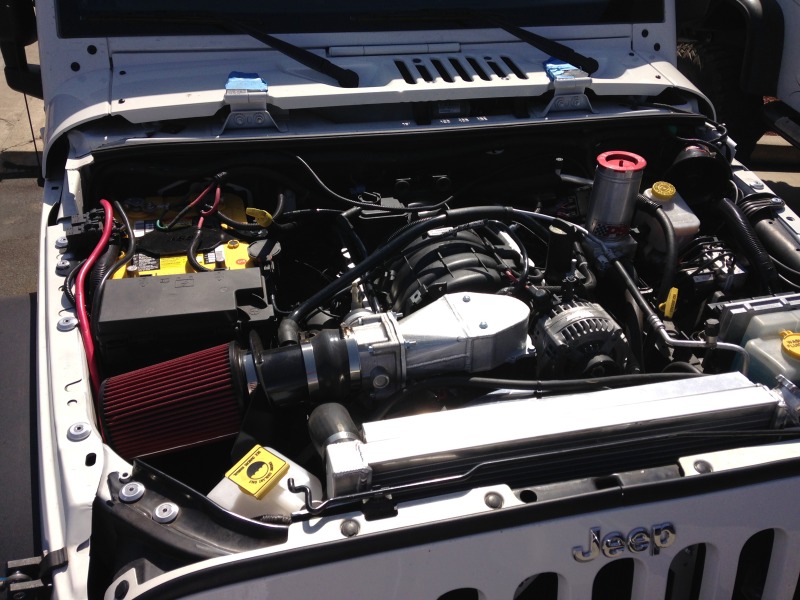 10-5-2013
Gotta throw out this tool recommendation. I've been needing a new work lightfor a while now, I have a few but they are pretty weak and don't have stands so I'm always trying to find a place to hang them and shine the light in the right direction, annoying. I found myself using my iPhone the other day propped up on something under the jeep like a dumb dumb so I finally sprung for a new light. I noticed at Costco they had a SnapOn work light with a sturdy base for $40. I finally picked one up and holy crap it's pretty impressive. 1600 Lumens is A LOT of light I found out. Anyways if you're looking for a nice LED work light I'd go snatch one up before they are gone. I know I'm going to love having it now.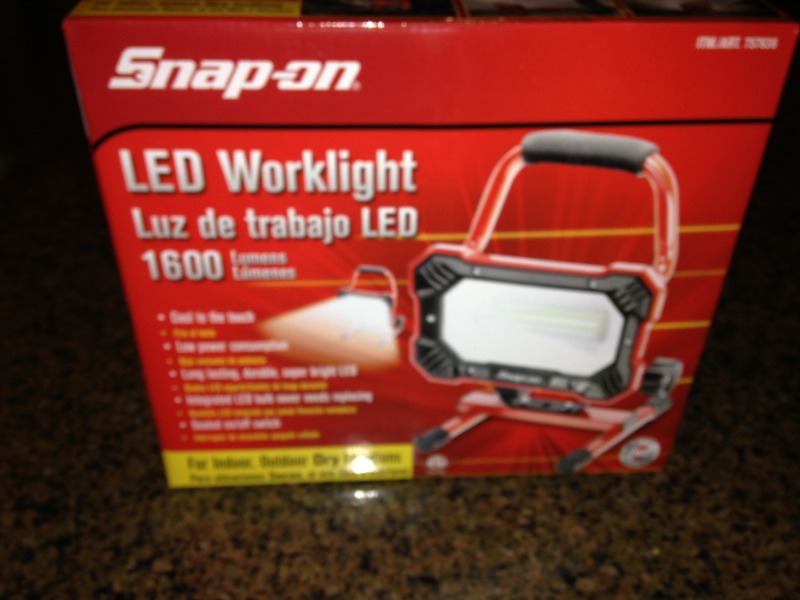 10-6-2013
Well my shake down run is complete! Everything went well. I will have to get used to it again as it just feels different. The stretch made a lot of obstacles I've been climbing for years just seem much less steep, which I guess is what you'd expect. The anti rock was nice, mostly because I didn't have to fiddle with the discos. It did seem to control the front axle and keep it from feeling "floppy" under the rig. It seemed quieter up front with less sounds coming from the coils as they quickly go from extended to compressed on the rocks. Over all it felt good. It was very nice not slamming down on the tank! I barely scratched the skid at all. Well.... overall I'm happy. Everything worked well, no issues, no leaks, no weird sounds.
I decided to try a climb called $10 rock that gives the area it's name (I have no idea why). I've pulled up to it but never actually tried it and no one in my group has done it un-assisted either. Well.... I did it! Haha. I pulled up to it not really thinking it was doable, It's about a 10' waterfall, steep and fairly intimidating, something that with stock wheelbase makes you instantly feel like you're going to go over. I pulled up a couple times and it didn't feel to bad. It was just me and son so I didn't want to do anything unsafe, but after a couple feelers I went for it and climbed right up. Felt pretty good to do something I haven't done before after all that work!
Here's some photos and maybe a video or two.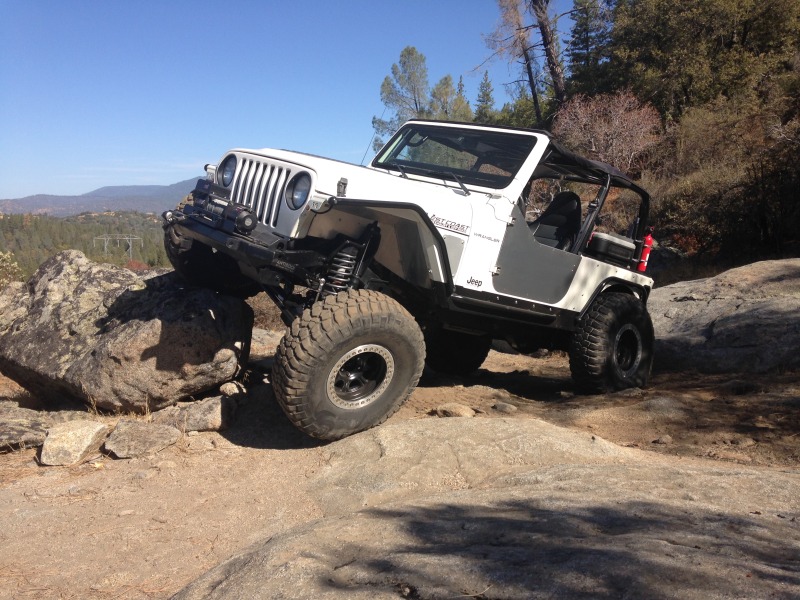 My wheel well cut out came out pretty perfect.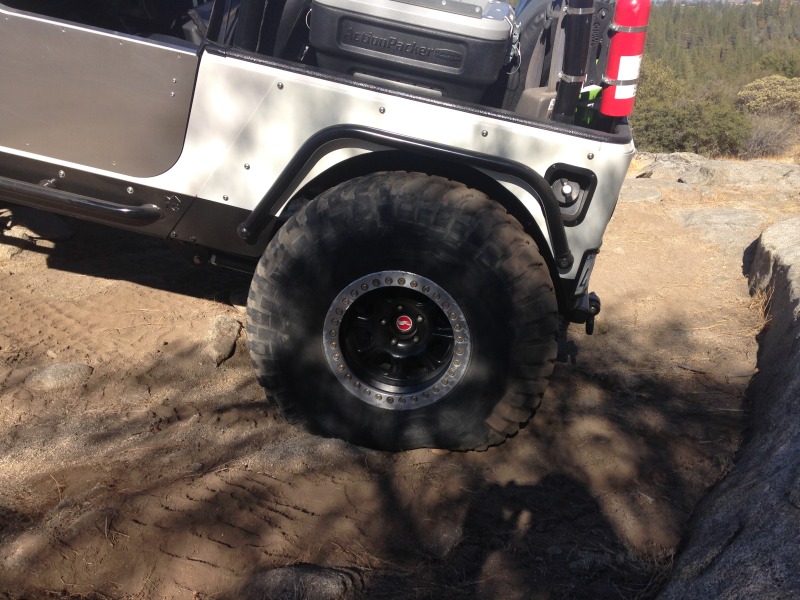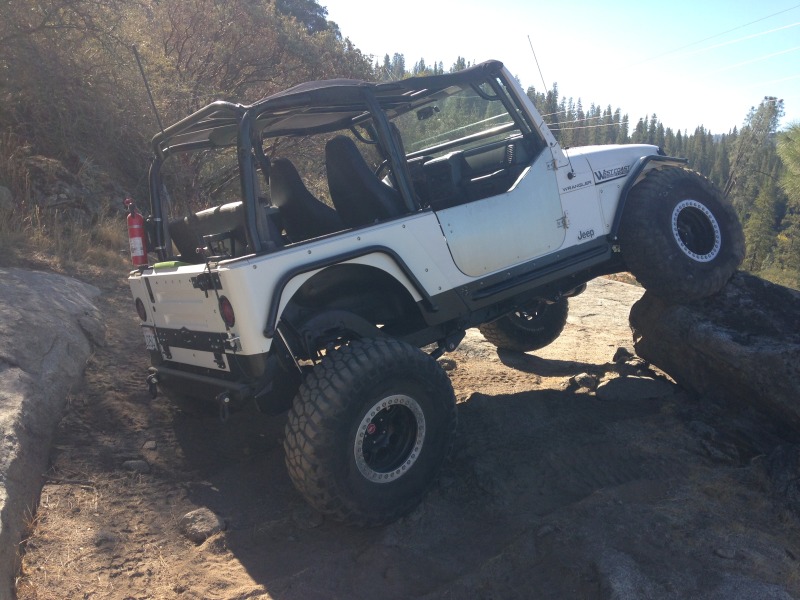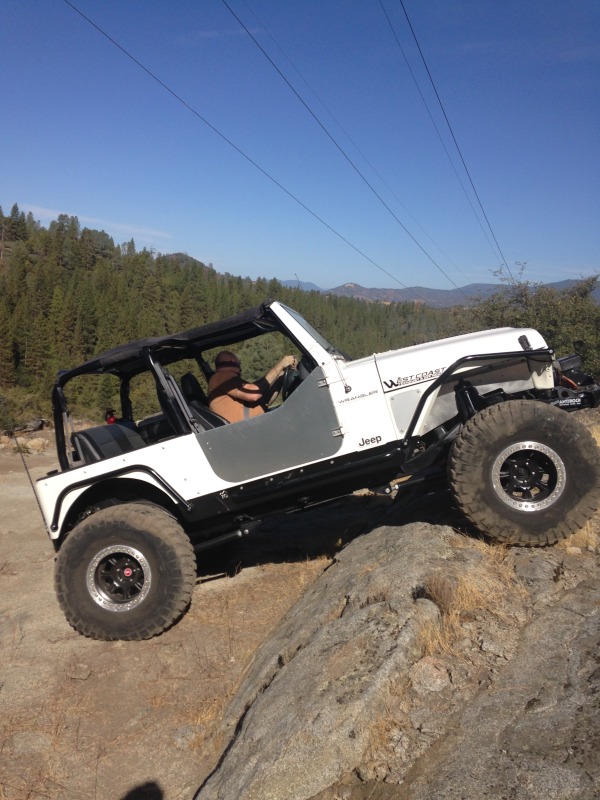 $10 Rock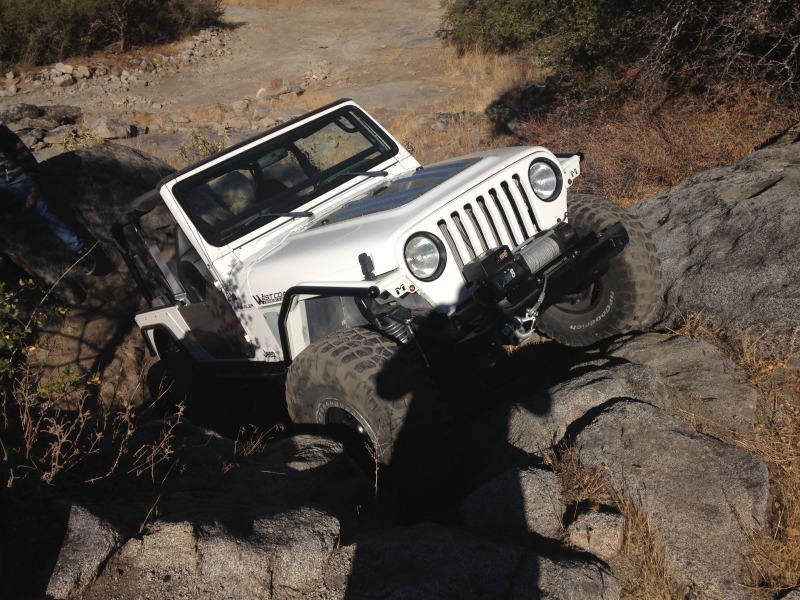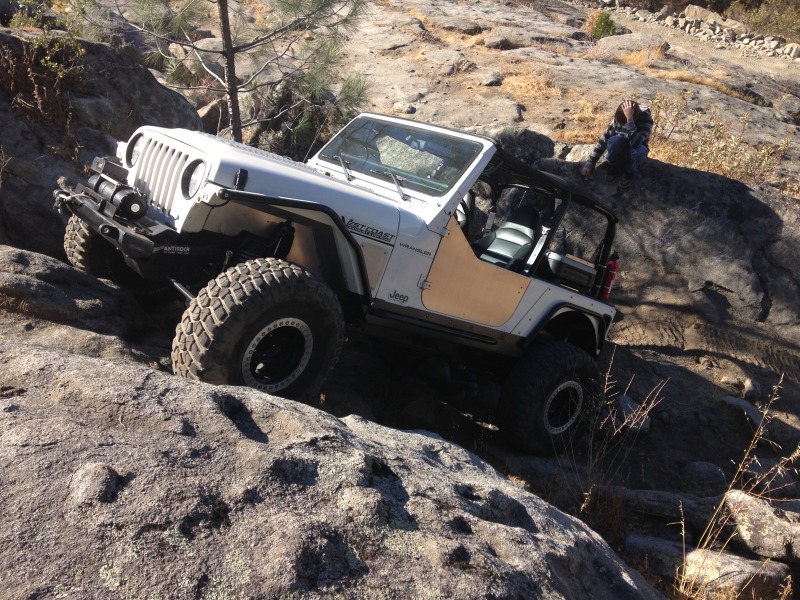 Tate shot in vertical.... dammit, haha. Of course video does no justice once again.
A little bit more media from today.... Just got the jeep all dusted off and inspected for anything loose or leaking. All is well. Looking forward to the next couple weeks getting the new front bumper dialed in and the flat skid figured out. Should be some pretty worthwhile mods. Then after that it's Duroflex time.
http://s13.photobucket.com/user/gst9...2ebef.mp4.html
http://s13.photobucket.com/user/gst9...682ca.mp4.html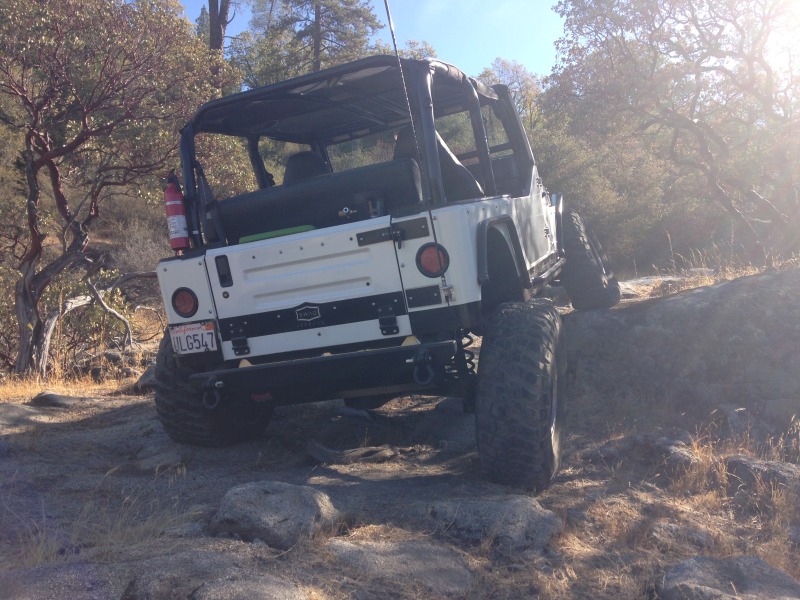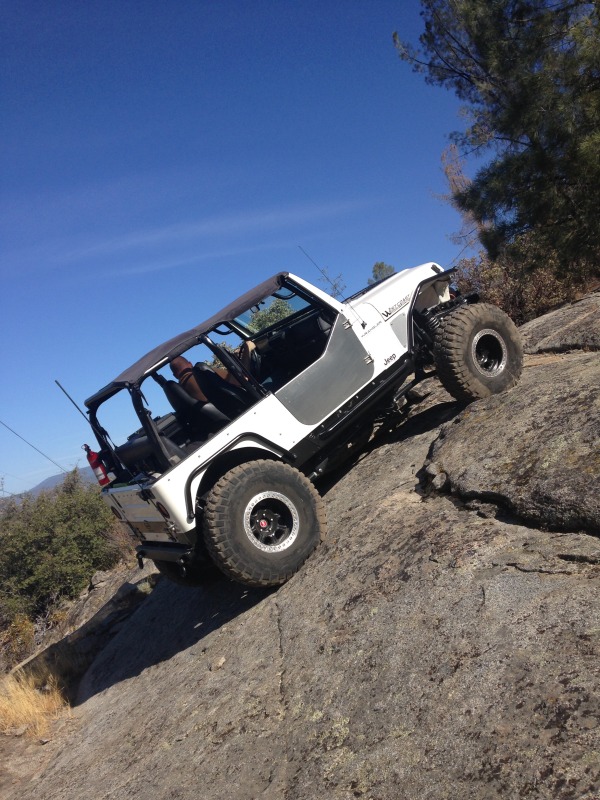 10-8-2013
I decided to drive the Jeep around town today to run some errands and hit the freeway since I have not been at freeway speeds yet since the stretch. It drove good on the freeway but there was a somewhat rhythmic high frequency vibe around 70 mph. It was there before the stretch but didn't seem as prevalent. It felt like a driveshaft vibe..... and I believe it is. I've got some considerable play in the splined portion of my front driveshaft. I think when I pulled the t-case and pulled the front drive shaft apart on accident I failed to orientate it the same way during reassembly. I'm not blaming the wear on that, (I blame the lack of a boot, grease, or any maintenance over the years on that particular part) but I think it may be why the condition is more prevalent than before. I'm actually not sure how much play in those splines is acceptable, I assume NONE, like my new rear shaft is. Just to clarify, by play I mean you can grab the shaft where the two pieces connect and feel movement where the splines are not firmly engaging each other. Can anyone go out and grab their DRIVEshaft and see if it's got any play in it?????

It figures I spend all of, and then some, of the Jeep money I've saved up the last couple months and end up needing a general maintenance repair! Haha. Oh well.
I just noticed this pic in my photobucket.... didn't even remember taking it. I thought it was a pretty cool shot!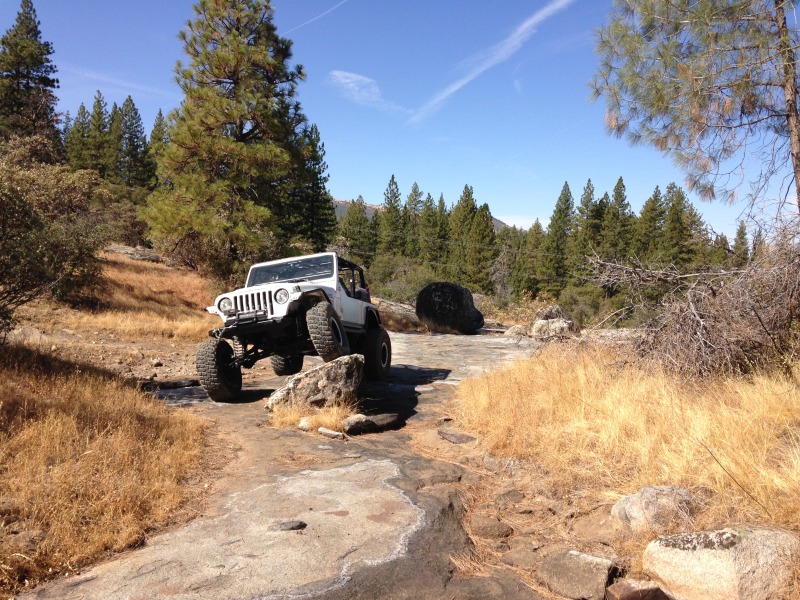 10-13-2013
Great time wheeling today. I'm making a little video right now. I climbed and did some obstacles that I either wouldn't do before or that I never felt much confidence on. Needless to say I am VERY pleased with the rig right now. The stretch has really just transformed the rig into a great climber with a great departure angle... I never drug the rear going up or down anything today, and comfort and stability especially with my suck down winch was better than it's ever been. It was eye opening!
Good times....
10-14-2013
Drew up a fairlead mount for my new Barnes bumper and cut it out today. Should work out good. Just waiting on the UPS guy... dude is running late today.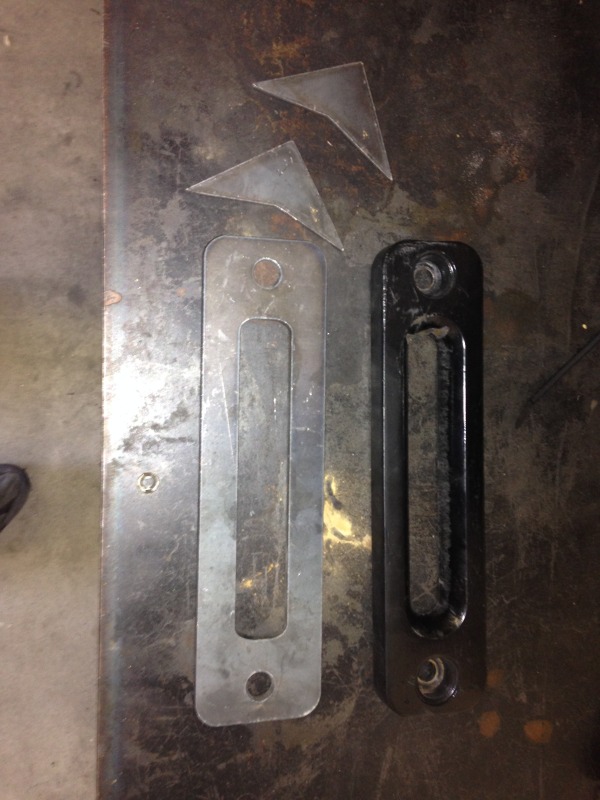 This new bumper is pretty sick IMO. A lot more detailed in it's design than I thought it was. My fairlead worked out perfect and looks pretty at home I think. I'm going to work late tonight and try to wake up to a nicely painted (dry) bumper to stick my winch on and call it done.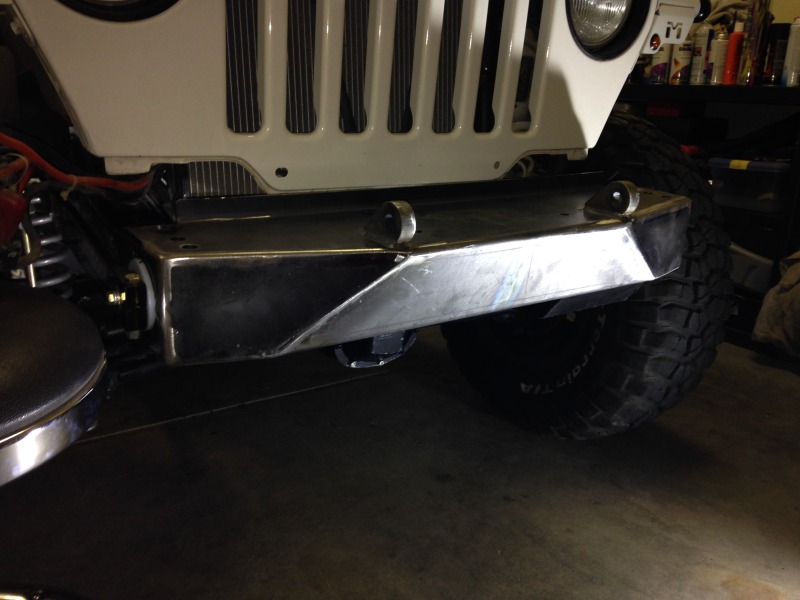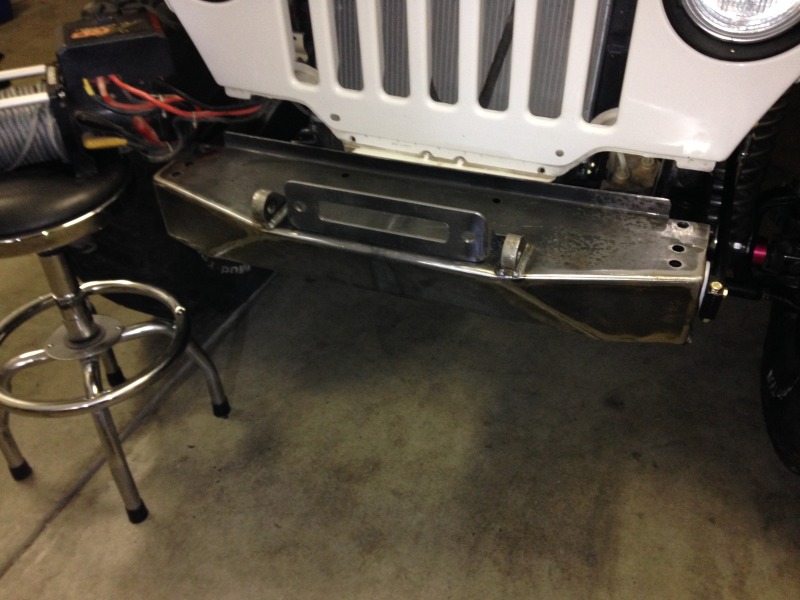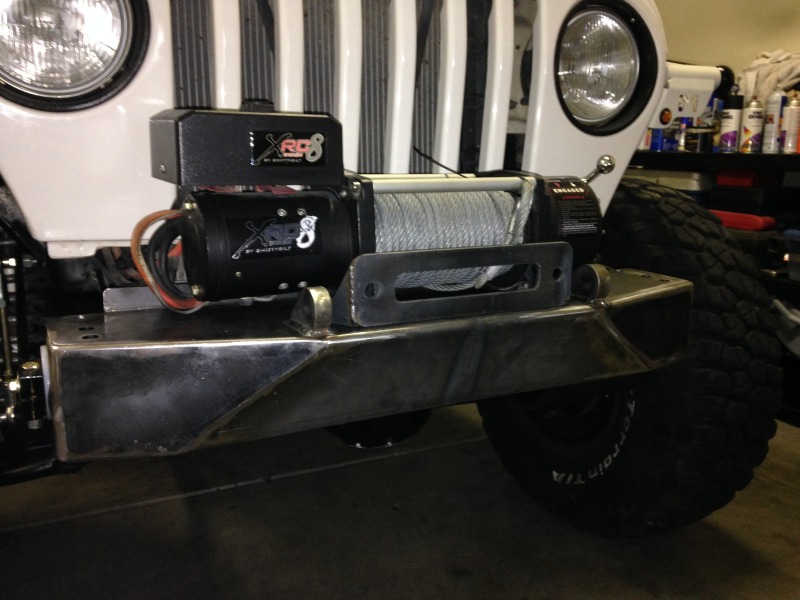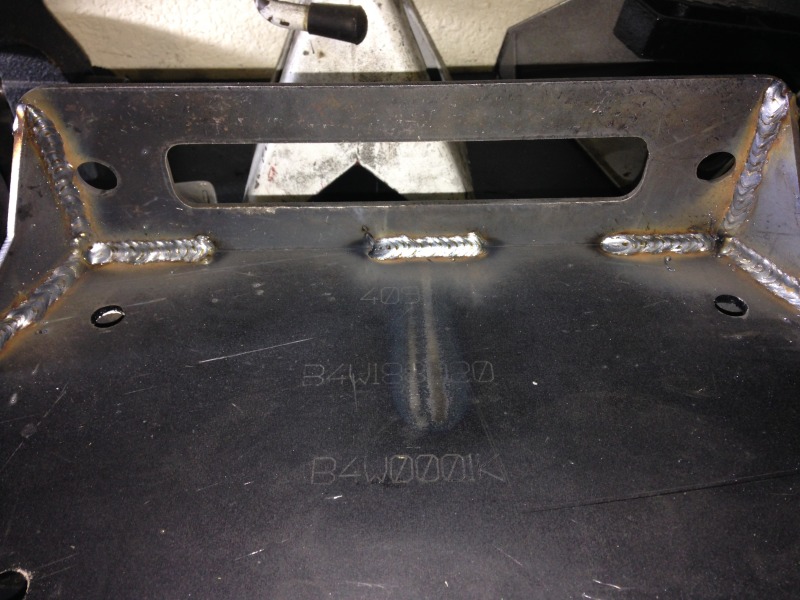 The interior of the bumper is a lot more elaborate that I thought... it's got a nice gusset in the center.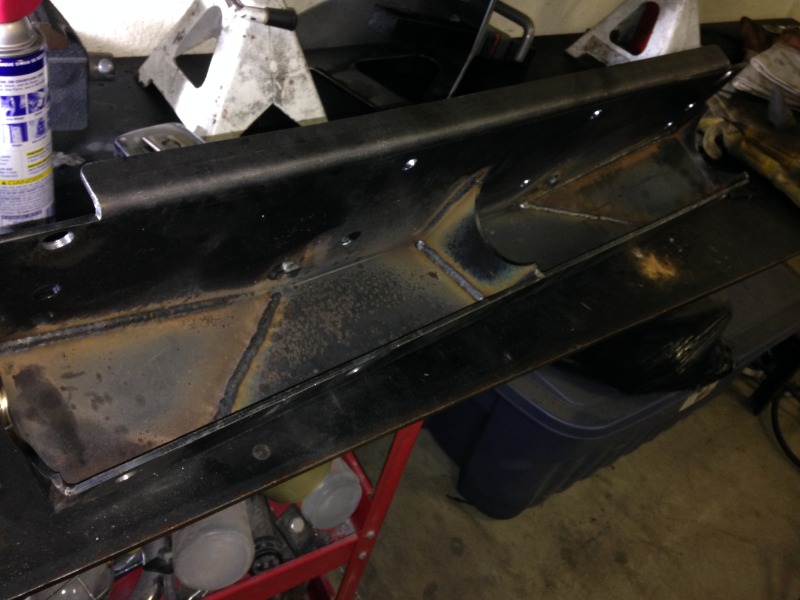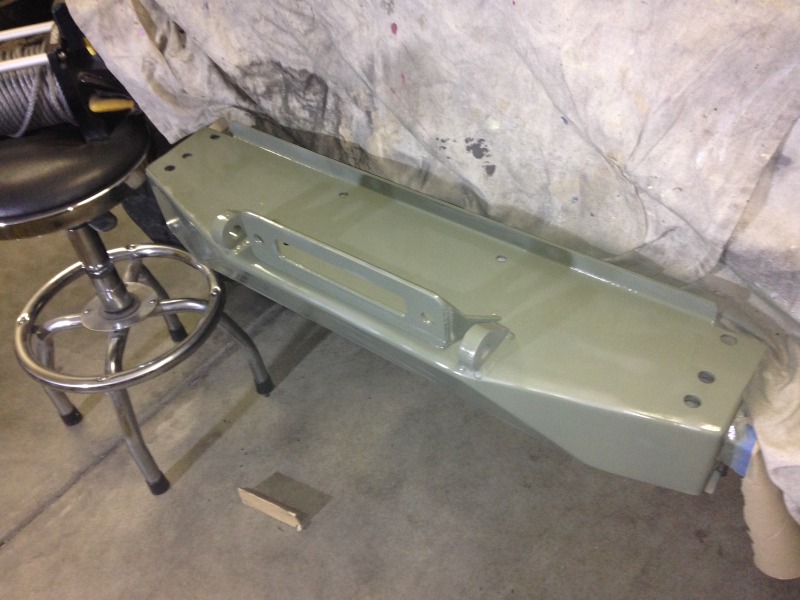 Overall pretty pleased, especially for the reasonable price.
10-15-2013
I was thinking the same thing. Not to mention shipping the bumper AND a 1/4" T-case skid across the country for $15. Crazy!

Well here is the sexiness.... I know it just looks like a black blob in the photos, but trust me it's a pretty sleek looking front end now. I've gained about 2" of approach angle and even more if you count not having my shackle mounts sticking way out that I would regularly hit on stuff. One negative I found is that the shackle mounts are for 3/4" pin, shackles, that seems odd to me.

Ah crap... you can't even see it. Later on I'll get it into the sunlight and take a better pic.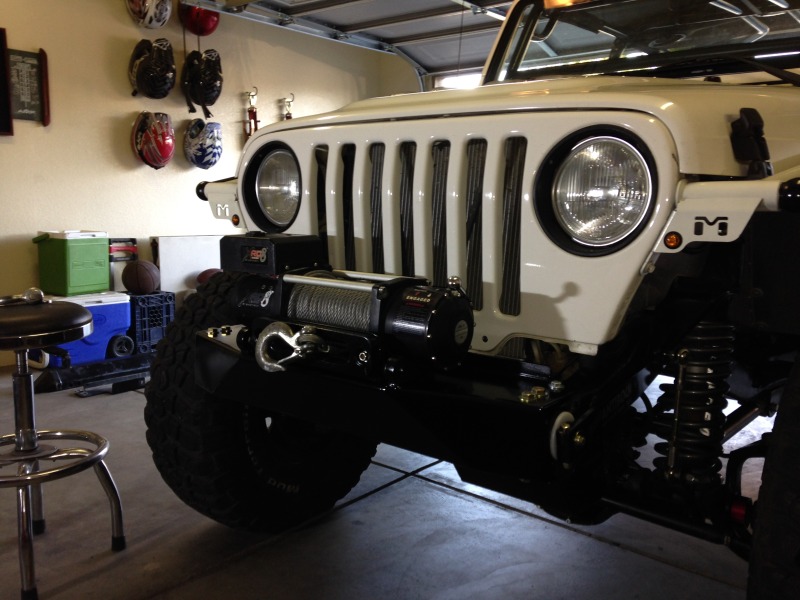 Well the install of the Barnes flat skid happened today. Overall it went really well, considering I was planning on having lots of issues.
Basically you need to either have a cable shifter, or figure out how to lower the factory linkage as you raise the T'case. This is actually pretty easily accomplished by cutting up and redrilling the factory bracket attached to the T'case. In this configuration it shifts as well as it ever has. I was surprised I was able to get it working so easily, I thought I would need to make my own brackets, or just dish out for the Novak. I may still go Novak just to simplify everything and get better shifting action.
The barnes skid come with no holes drilled for the T-case mount. I just used the mount from my RC skid, measured things up and welded it on. Then just take a few more measurements and drill some bolt access holes into the skid. Pretty simple, just measure accurately. Another way to handle this, that was my back up plan would be some basic C channel to create the recessed mount.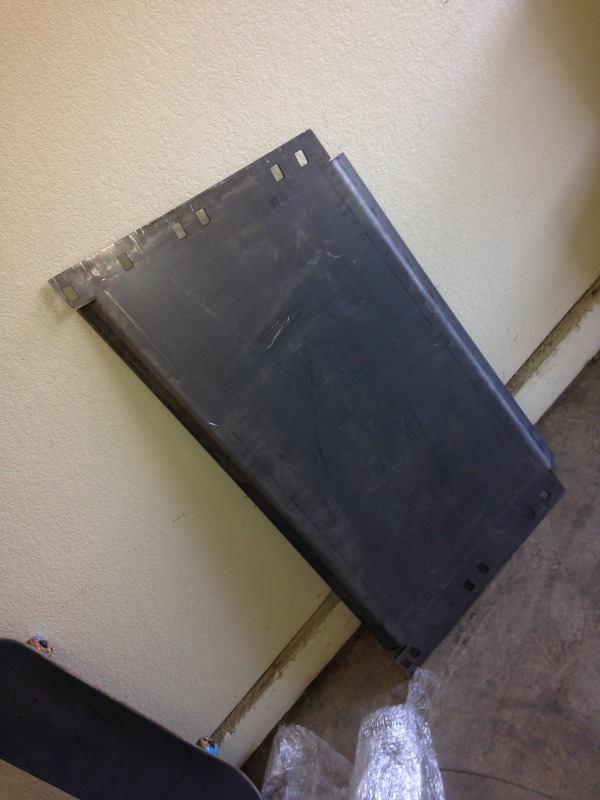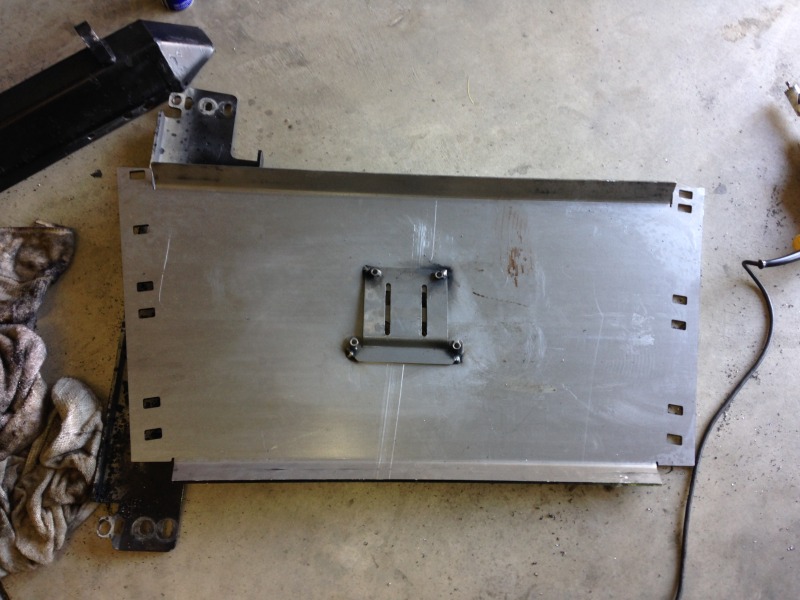 The next thing is to check clearance with the bent lip of the skid on both sides, I had to make some notches for the front driveshaft, the Trans itself, the Cat hanger and the Muffler. Cut with my grinder and faired smooth with the flap.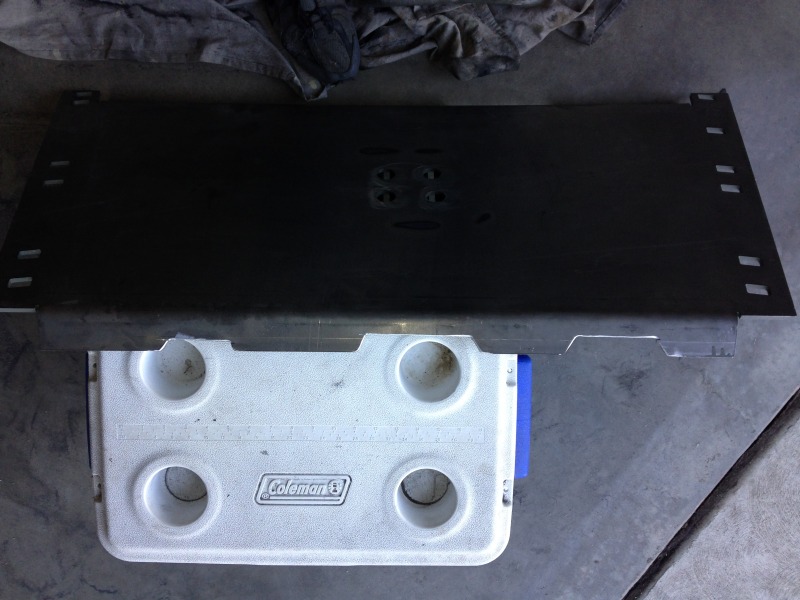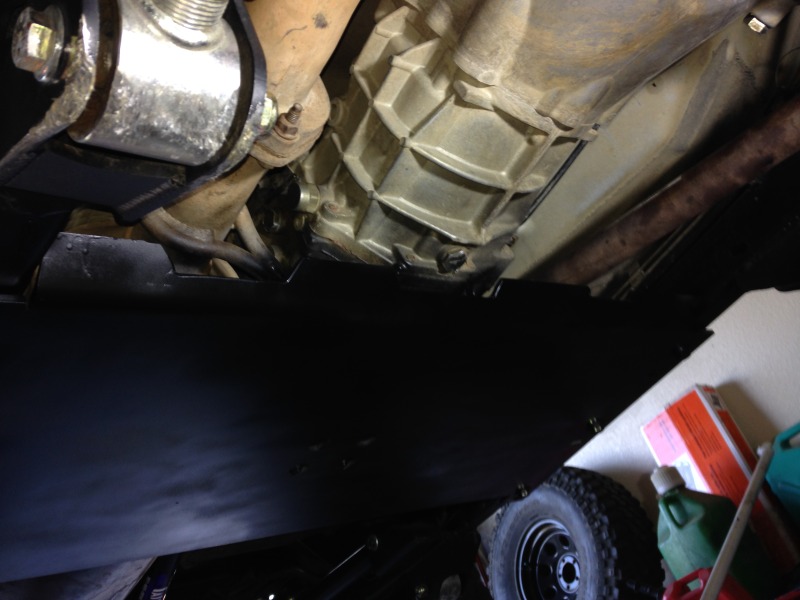 After one quick coat of paint.... Just showing the trans mount holes.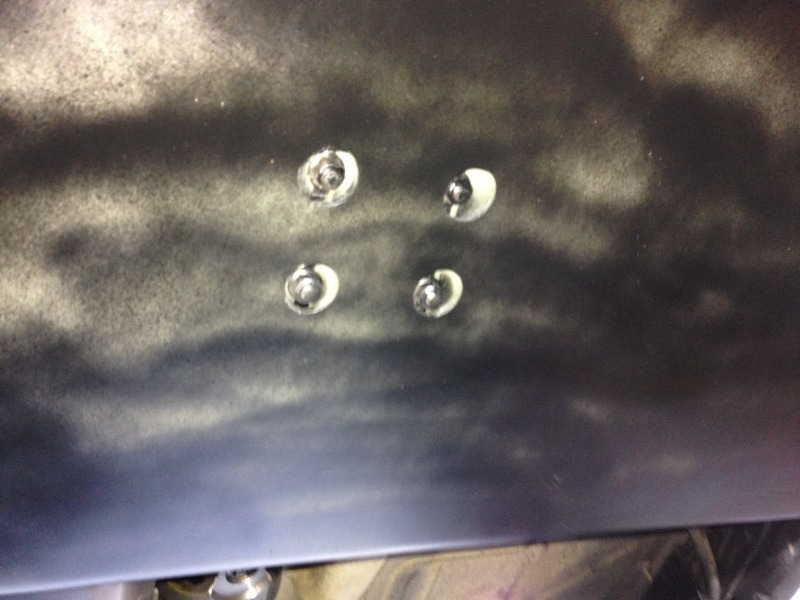 After several times bolting it up, checking things, and taking it back down it's pretty tiring by yourself! The skid is nice though, and the 2" I gained in belly clearance is obviously a huge deal.
Gotta love it...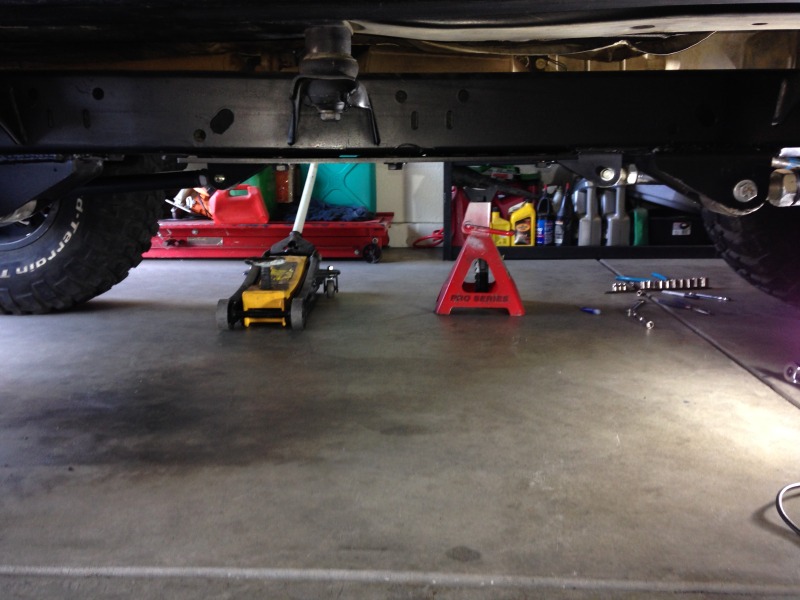 A decently respectable number for a 35" rig that pretty low.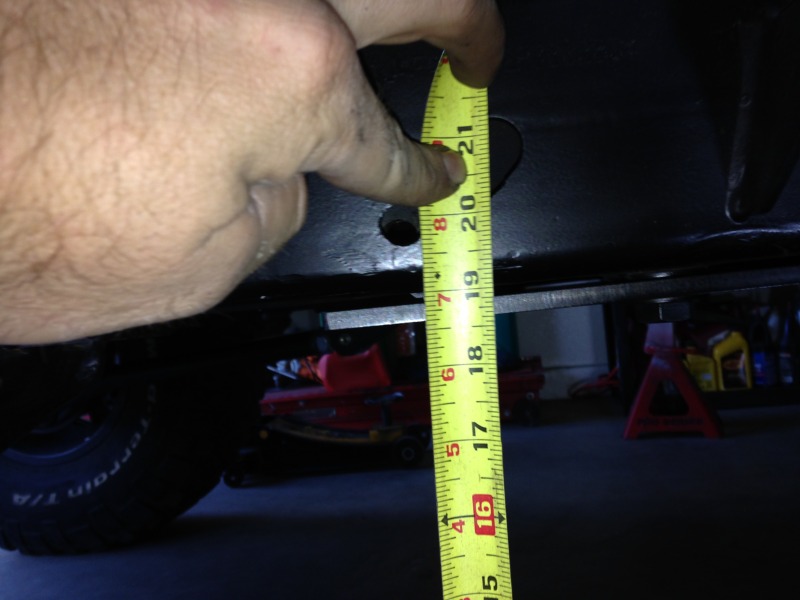 I will say the flat belly comes at cost in the NVH department. You are basically pushing everything up so high that you're taking all or most of the neutrality out of each rubber mount basically putting the entire powertrain into a bind. This will inherently cause more NVH and yes I feel it. It's basically a very high frequency vibe related to engine RPM. I could, and may still look at some ways to neutralize the mounts again but it's now in such an unnatural position it would be difficult. Raising the motor up another 1" inch would really help. Also cutting off and welding the cat mount hanger would help a lot. It's by no means even annoying to drive as is, I'm actually surprised I'm not hearing any rattles or clanking or feeling any heavy vibes. It's very drivable, but I know neutrality within the mounts would be a good thing to restore. One thing that kind of surprised me was how weird it felt having the shifter up higher.... It felt suuuuuper high! haha.
10-16-2013
So I went ahead and cut out some motor mount spacers on the plasma. Not sure if I need all 4 but just incase I made them. This should make the engine height perfect and give me the 1/4 inch more clearance I'd like to have between the front of the skid and the transmission.
Well the motor mount lift spacers worked out well, 2 on each side for a total of 3/8ths lift and motor mounts are fairly neutral, and I've increased the space between the trans and skid to avoid any contact at the very front of the skid. I'll tackle the cat hanger next.
10-17-2013
Had to dedicate this morning to my truck! Between the wrenching and wheeling lately it's been neglected. I don't think it was ever as dirty. Anyone else neglect their other vehicles for their jeep?? She's nice and clean again now.
10-18-2013
Took some time to adjust my exhaust for the flat skid, it worked out well. I basically just cut one of the cat support arms in half so I could more easily manipulate the hanger in my vise to the orientation that let it sit neutral in the mount and also set the height to center it between the tub and the skid. Then I just welded the hanger back solid and reinstalled. Overall vibration at idle dropped significantly! I'm very pleased to have the power train sitting in a state of neutrality!

Notice where I cut and welded and also notice the mount looking pretty happy in its rubber bushing.


10-21-2013
The jeep is loaded and ready for the Dusy tomorrow..... well a portion of it at least. I'm excited!




http://youtube/zqkxVi2D9Ng
10-22-2013
Well the Dusy is a pretty magical place. I'm used to wheeling in this area but this trail stands on it's own in regards to beauty. It wasn't the adrenaline filled day I thought I was hoping for, but it ended up being a day full of awesome scenery and endurance. We did 21 off road miles today. Most of them loose rocks and boulders. Our goal was to make it to Thompson hill (10 mile point) and we did. Thomson hill was the highlight of the wheeling. I don't know of another hill that long with that many loose boulders, rocks, trees and a decent angle. I shot a pretty cool video of it start to finish...... It's around 10min from bottom to top...... that's a LONG hill! Overall great day..... I'm VERY exhausted. Left at 5am, home at 830pm. Haha.... Oh yeah the Jeep did very well today. Seemed a little "creaky" than last trip. I think that means I need to do some maintenance / lubrication stuff.



Here's a few pics.... video is uploading. About 75% of my photos didn't come out because of shadows from the trees.... darn it.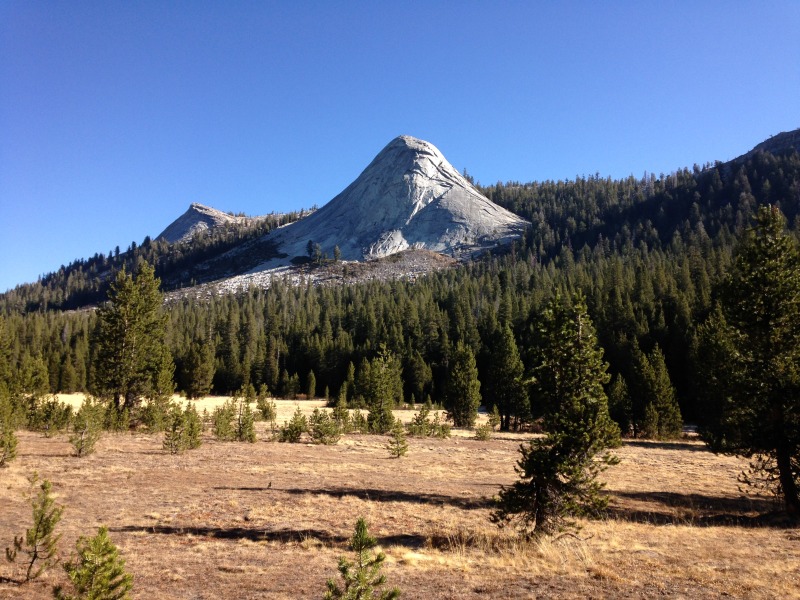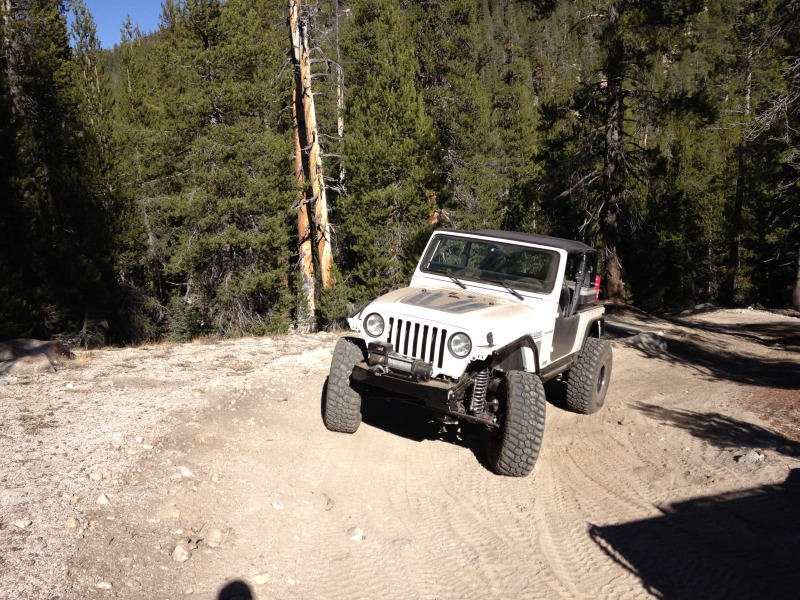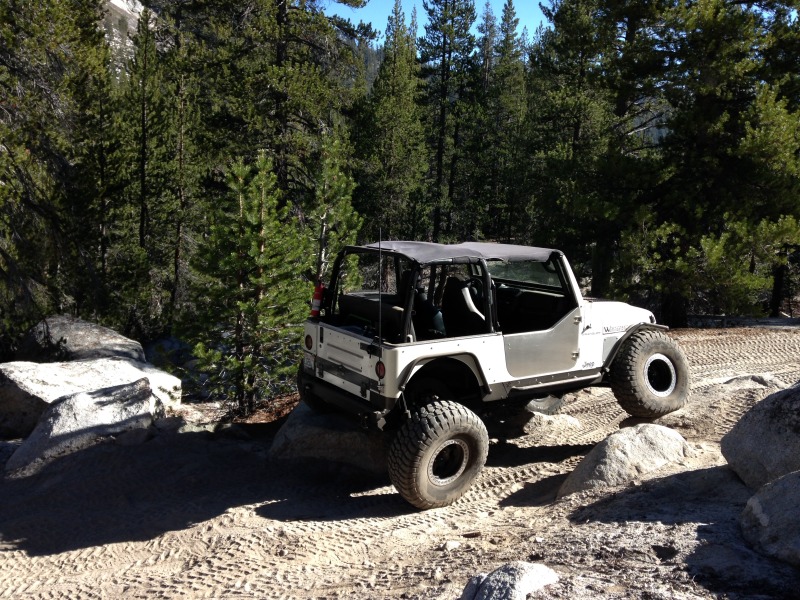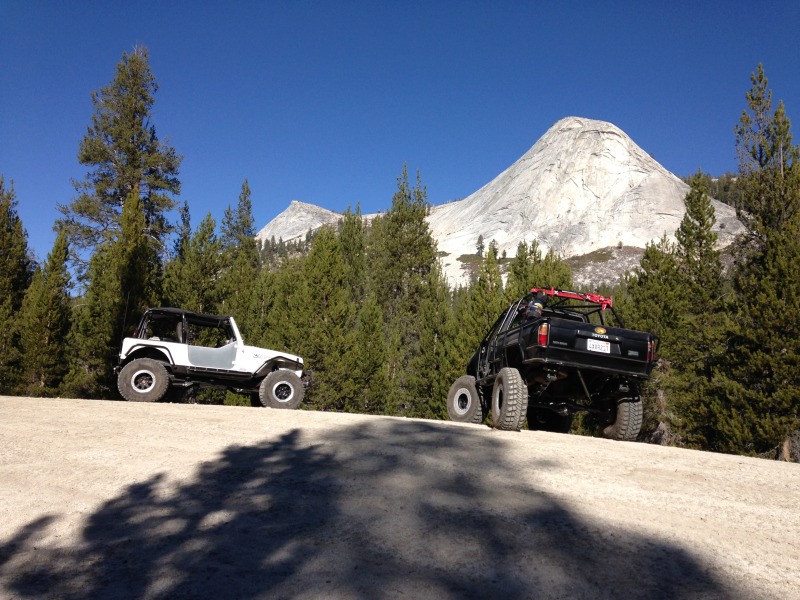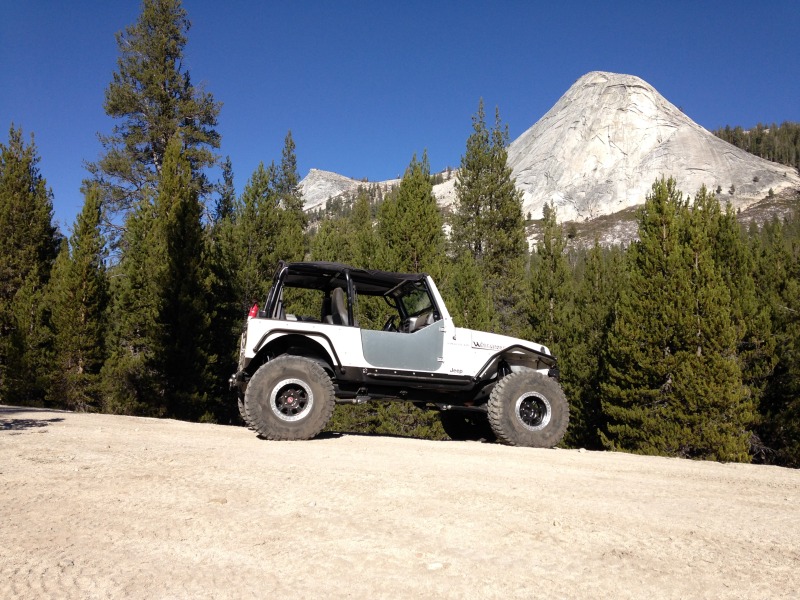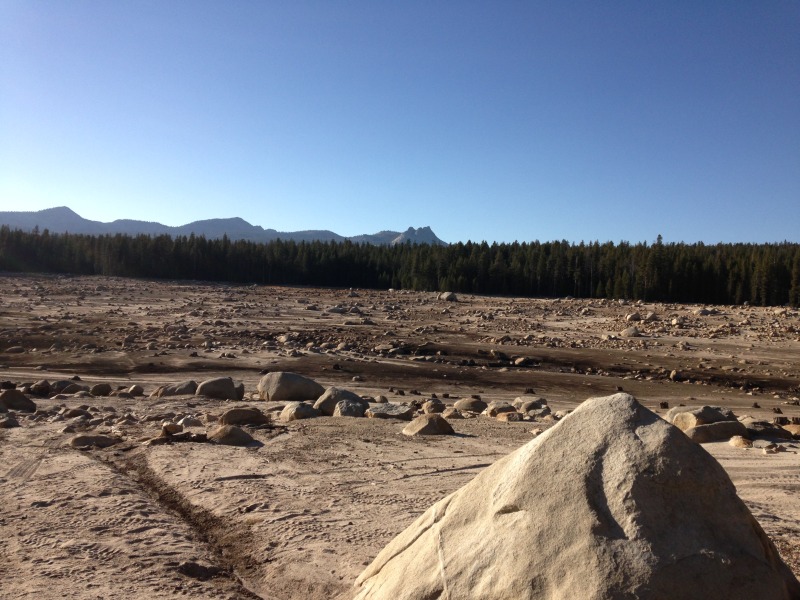 I had no idea I got my friend in this photo but I think it's a cool.




10-23-2013
I really like how this video came out with the Gopro mounted to my buddies rig. Fun to watch my little heep do work!
It's a sweet 4runner. Not all beat to crap like most others. He keeps it clean and takes pride in it. It's dual cased on 37 MTR's, locked, geared, hydro assist... all the goodies and get's around quite well on it's leafs and is stable as all hell in almost every situation even with a relatively high lift height. It's got about 25" of belly clearance that I'm always jealous of.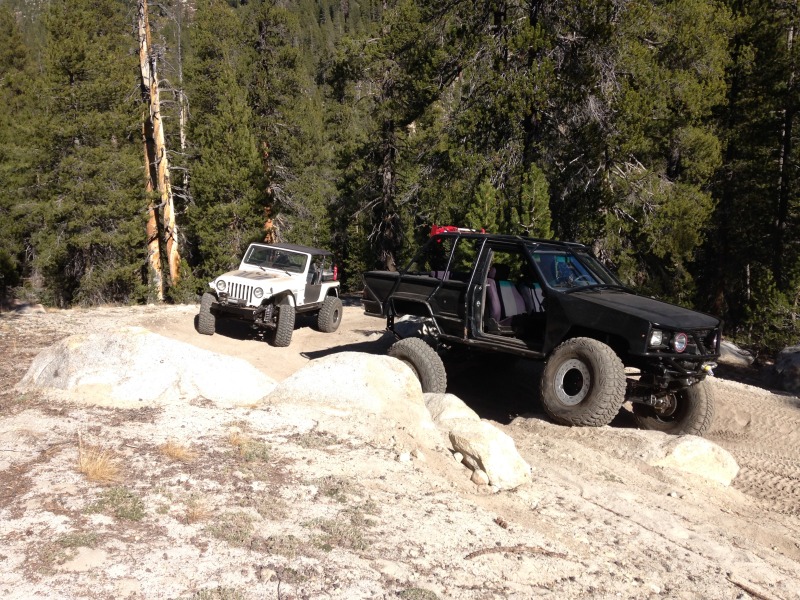 10-24-2013
Ok here's a real tech question..... I just discovered my rear yoke nut backed off. I torqued it to 150ft lbs. during SYE installation. What gives? I noticed because the yoke had a little play in it, I also used the funky plastic washer, but didn't recall any mention of using loctite? Upon a brief search of the issue it appears that maybe some RED loctite is in order? Art????
10-26-2013
Working on maintenance... I re-torqued the year yoke nut with a healthy dose of red loctite and hope to not deal with that again. I also took off the front driveshaftjust to make sure both of them didn't back off on me. The front was fine. Fixed a rear sway bar link that must have gotten into a rock and almost pushed itself out of it's bushing. Inspected the front end for anything out of the ordinary.... I had a new little faint click every now and then on the last wheeling trip that was pissing me off so I hope it becomes obvious or goes away. Also it looks like I somehow bent my R/F control arm enough to warrant a replacement. I don't know when it happened but their is some nice rash where it's bent. Oh well.... **** happens. It almost motivates me to just make my own arms, ditch the radius and weld up the 3 link brackets. Not a good time financially so I'll throw another single arm at it and have my fun until Spring. I WILL be starting to buy Duroflex joints next week though.... I should be able to pick up the 4 I need for the lowers, and I am really pumped to get them installed. My current R/C lower 1.25 joints are in desperate need of a cleaning and re-greasing and I don't want to do it!

I've got a couple more engine related thing to do also, new plugs and an oilchange due to a mandatory smog requirement this time with my registration renewal that's due this month. BOO!
10-29-2013
Plugs, wires, oil change, air filter..... bring on the smog test. Jeep is ready for some wheeling again this Saturday. Heard they got some snow up in the Sierra's.
11-1-2013
Jeep passed smog no problem, I don't know why I always worry about it. Snow wheeling tomorrow.... I hope there is enough for fun and not just a muddy mess!
11-2-2013
Beat that D35!
Beautiful day wheeling today. Bits of complete snow, bits of slush, bits of dry. Just enough moisture to make some usually easy obstacles un doable and some a bit more interesting. Jeep did well, and I conquered an obstacle that's been on my list for a while that I tried pre-stretch and was very sketchy. I decided at the last second to even try it so I didn't get any video or photos.... But here is another guy running the same line in a toyota. Lot's of rolls happen on this hill going the EASY way.... witch is to the right of the rock in the center.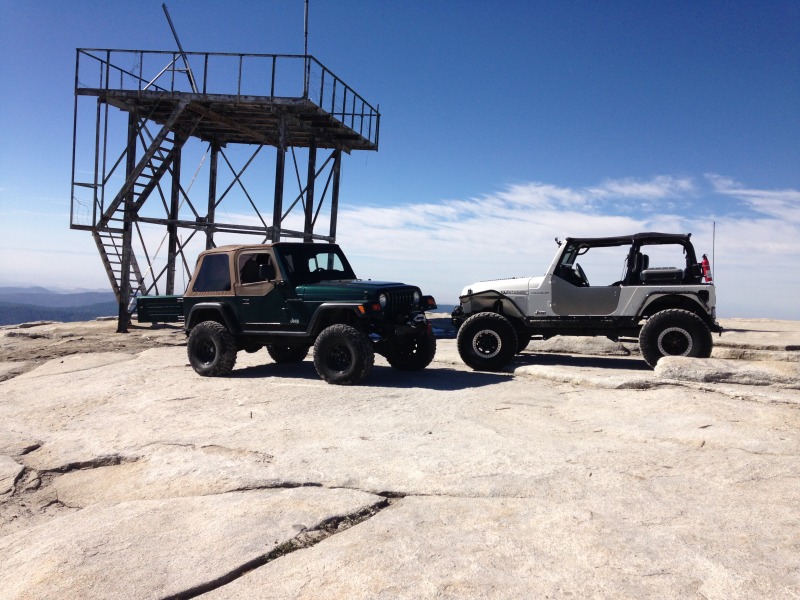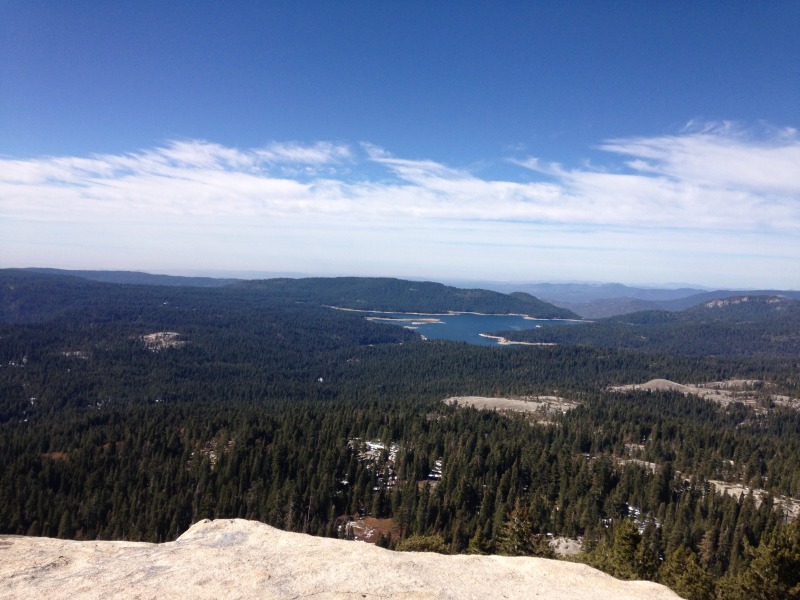 50 foot waterfall....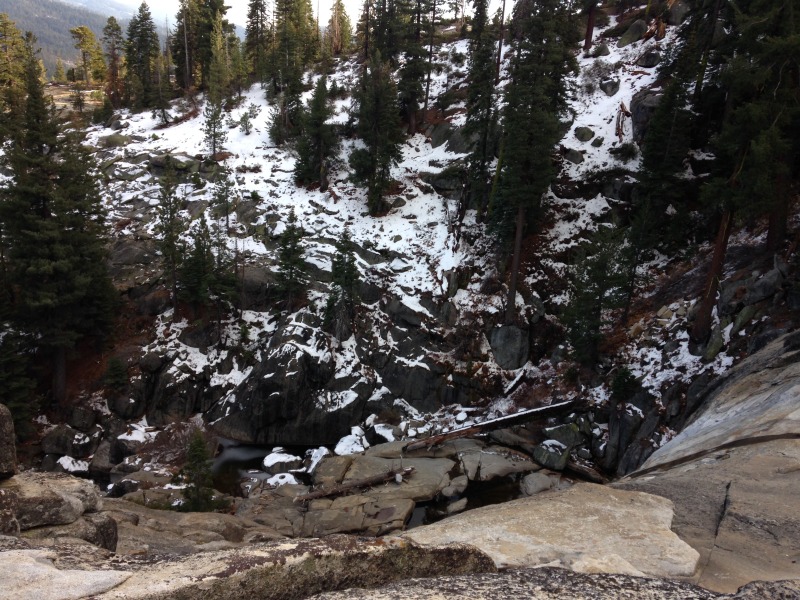 The obstacle I conquered today... I was SUPER pumped!
A little note on that waterfall... you see that log at the very bottom? Well my buddy said "what if you were at the bottom on that log and had to climb up".

My son absolutely terrified climbing out on the log for a photo op.... click it's a video...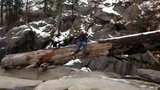 11-4-2013
Ordered 4 of these bad boys just now for my lower arms. Excited to get them on.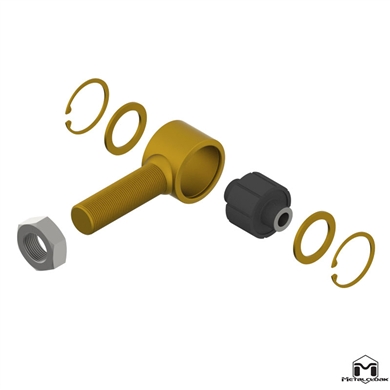 11-5-2013
Guess I should post this in my own thread also. Today I added bracing to my Barnes flat skid plate. After much discussion in Danno's thread I decided to tackle the project. I'm happy with the results and I know that I've definitely improved it's strength. Time will tell if it holds up to my abuse. I think it's going to be fine though. Hopefully this will help anyone looking at the Barnes flat skid... or any flat skid for that matter. Keep in mind this is an AX-5 transmission so those of you with other transmissions will face other (similar) challenges.

Reversed cat hanger...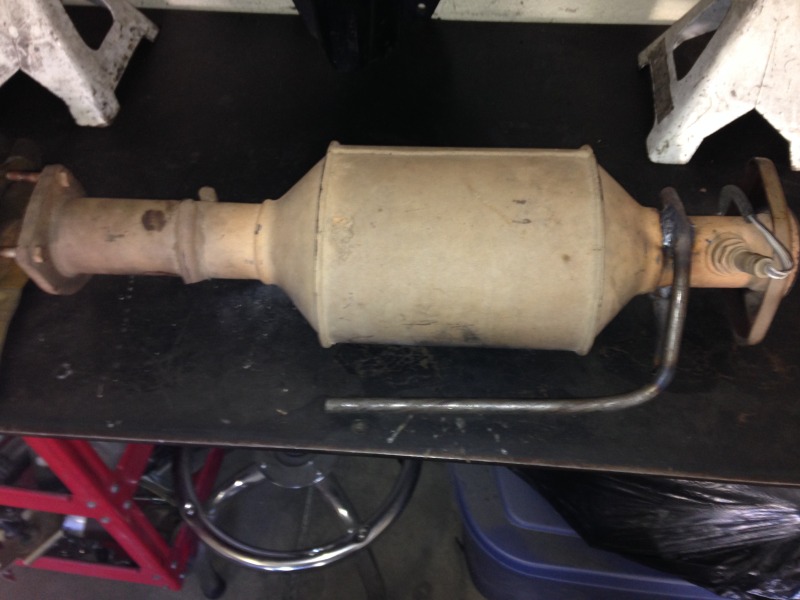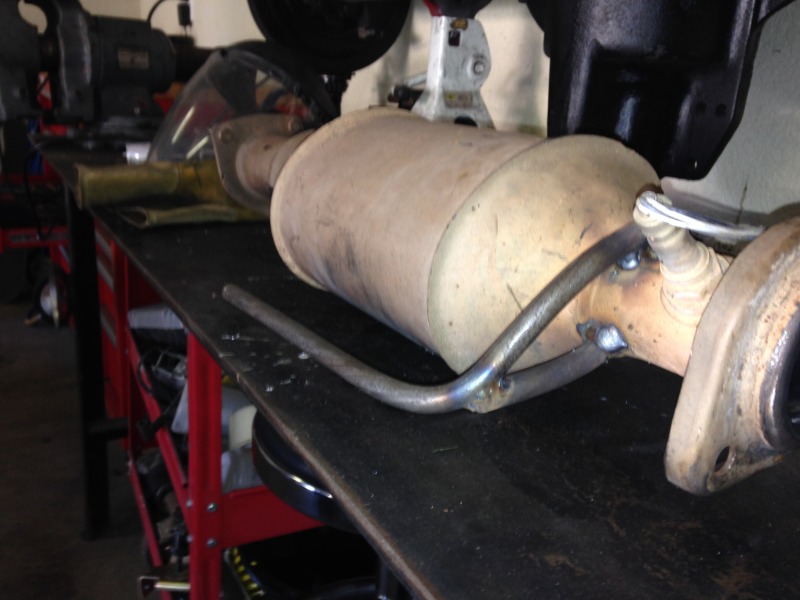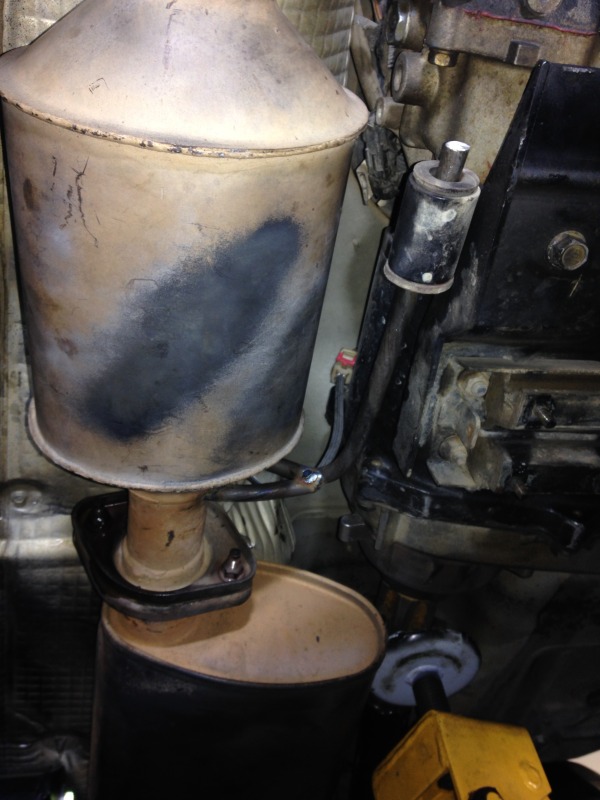 Bracing mocked up...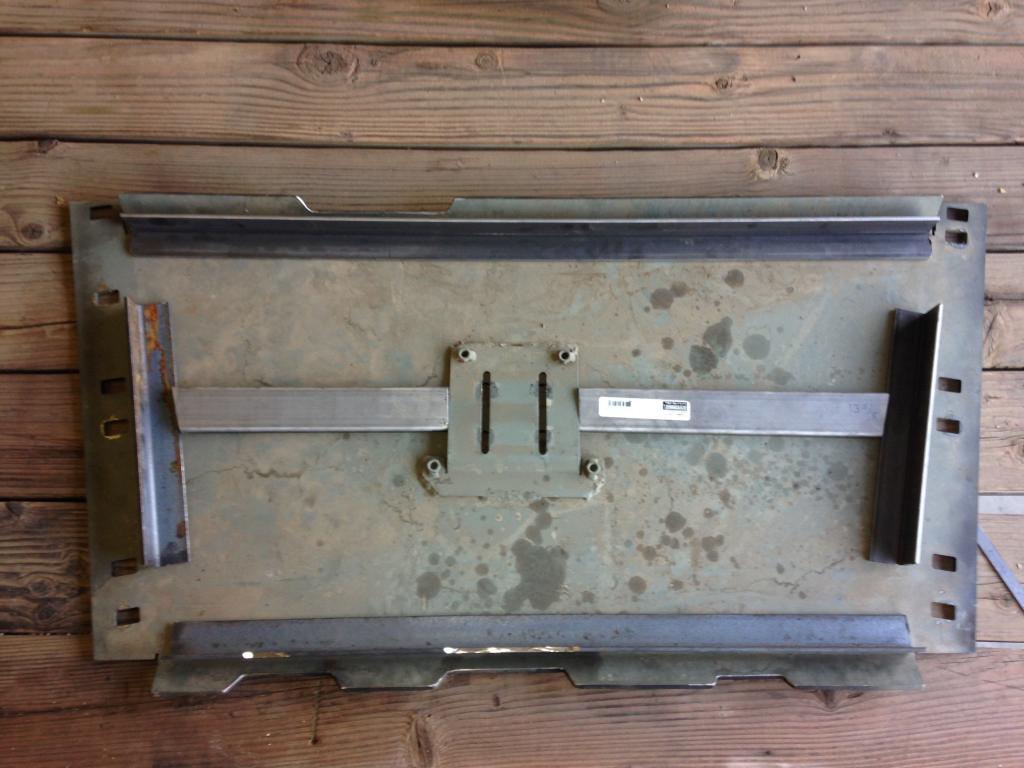 Test fitted and welded...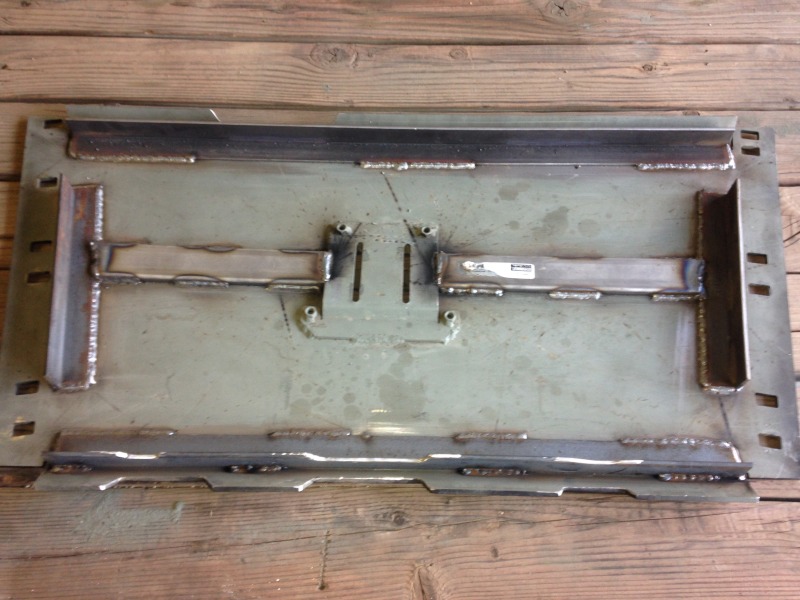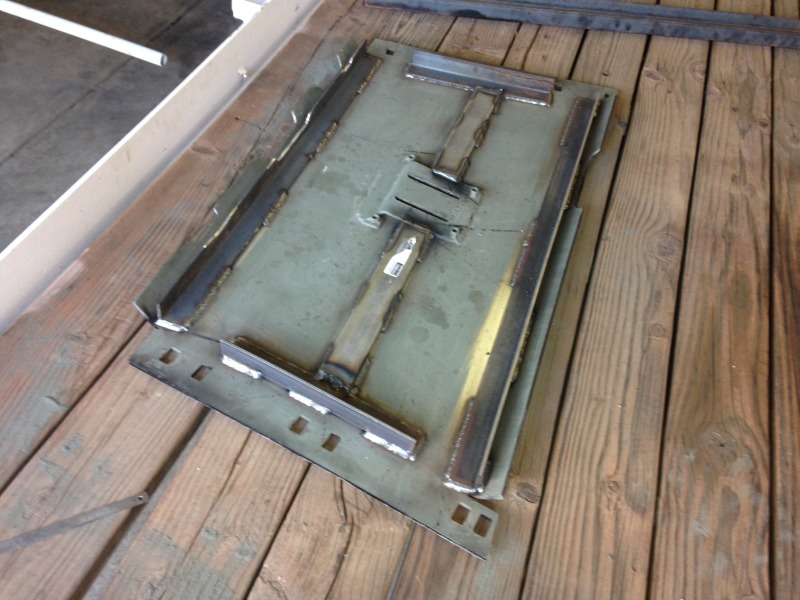 I'll post some more after it's re-installed.
11-7-2013
I zoomed in on this photo.... you can see the joint. These are untouched sawzall cuts. I was quite proud of the fit up. The drivers side wasn't quite as good for no particular reason.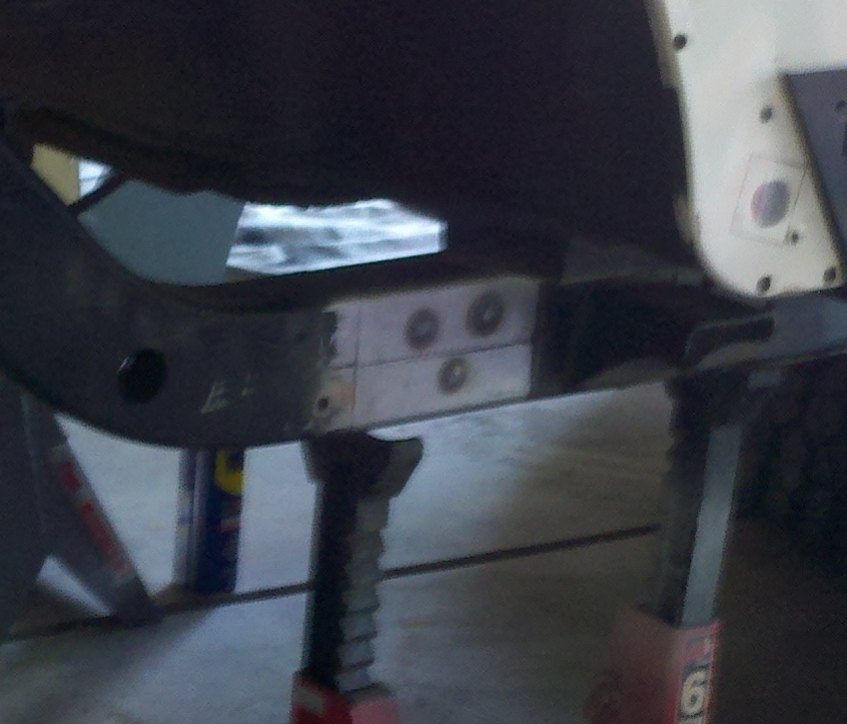 11-8-2013
Only thing I don't have is spare ball joints I don't think... I'll have to check. I'll pick up a cheap one of each. You're cracking me up though Art.... and not because I'm taking you lightly. But because you have no idea how much you emphasizing the difficulty level makes me anxious and excited to do it. I had months of anticipation to run Helldorado, and thought we weren't going to do it..... then when we arrived there was NOTHING that could have kept me off that trail. Little do you know... the videos you post I STUDY looking for lines and what I think I would do in certain situations. I take wheeling pretty serious.... and I take technical rock crawling very serious. I'm looking forward to this.
11-9-2013
Only thing I don't have is spare ball joints I don't think... I'll have to check. I'll pick up a cheap one of each. You're cracking me up though Art.... and not because I'm taking you lightly. But because you have no idea how much you emphasizing the difficulty level makes me anxious and excited to do it. I had months of anticipation to run Helldorado, and thought we weren't going to do it..... then when we arrived there was NOTHING that could have kept me off that trail. Little do you know... the videos you post I STUDY looking for lines and what I think I would do in certain situations. I take wheeling pretty serious.... and I take technical rock crawling very serious. I'm looking forward to this.
Ok well I just went for a test drive.... and I don't really know what to say. I was fully expecting to not have anything to say and that I could feel no difference because I'm only running 4 Duroflex joints. Along with Clevite's, JJ's and R/C joints. Well I didn't even have to get out the GARAGE to feel the difference. Just letting out the clutch in first and feeling the usual NVH you would feel depending on how smoothly let out the clutch and how many RPM's you fed into the drivetrain felt dramatically different. And by that I mean... smooooooth. Driving around town and down some country roads gave me the same feeling, it felt much smoother over washboard type road surfaces and small potholes. I did notice one thing with my Detroit locker in the rear I could feel the Jeep pitch more when shifting between gears. This is a common characteristic of a Detroit and one I'm used to.... but I could feel it more for some reason. Overall I'm a little bit shocked by the difference in NVH. They also have over 5 degrees more flex available before the joint barrel contacts the link bracket. That is going to help take some strain off my link brackets and give my clevites a bit of a break. I'm anxious to flex it out and see if I'm actually able to bottom them out. I know with a double DF jointed arm there would no chance of bottoming out the joints. It's also nice not having a grease fitting on the joint to contend with, and although not a huge deal, being able to dial in the joint length and only going 180 instead of 360 to orientate the grease fitting is a small plus. And my favorite part.... so clean.

Side note..... that was my first test drive since I modified the skid..... Exhaust RATTLED SO BAD it was insane. I don't have the energy to deal with it today.... so on Tuesday (my next day off) I get to pull the skid again. Oh joy.
11-12-2013
Well I dropped the skid again today to see where it was making contact. It was just one spot on the cat. I made some adjustments to my cat hanger to slightly adjust the angle of the cat and height and should be good to go now. I've got everything back installed and you can grab the exhaust and pull on it in every direction without it hitting anything. I hope to not have to drop that skid again for a while. Moral of the story.... Flat skid is doable without a crossmember, flat skid with a decent amount of bracing is doable without a crossmember, but you might as well ditch the stock cat and get one that's smaller. It will make life a lot easier.



Looks like I'm ready for JV this weekend!

The one thing I forgot to check was front driveshaft clearance under full droop. Guess what.... it hit the angle iron. SOB. Dropped the skid, got out the grinder... done.



I also took a long drive to give it a chance to rattle and I'm happy to say I heard none. I was looking for the roughest roads I could think of and railroad tracks but we'll see how it is off road soon enough.

I need to think of a way to control my suck down winch line when I have it slacked out to allow the axle to droop. It's a surprising amount of slack. And if left uncontrolled can catch on bolts and whatever else. Hmmmmm.
11-13-2013
I crawled right up it after this photo....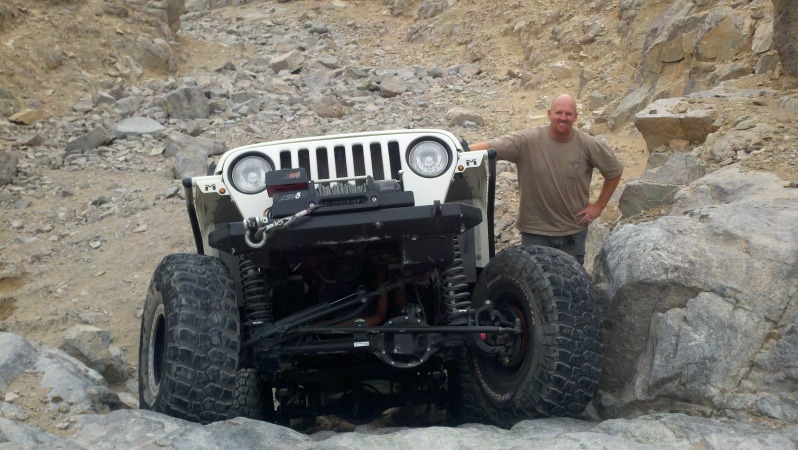 And then took this photo....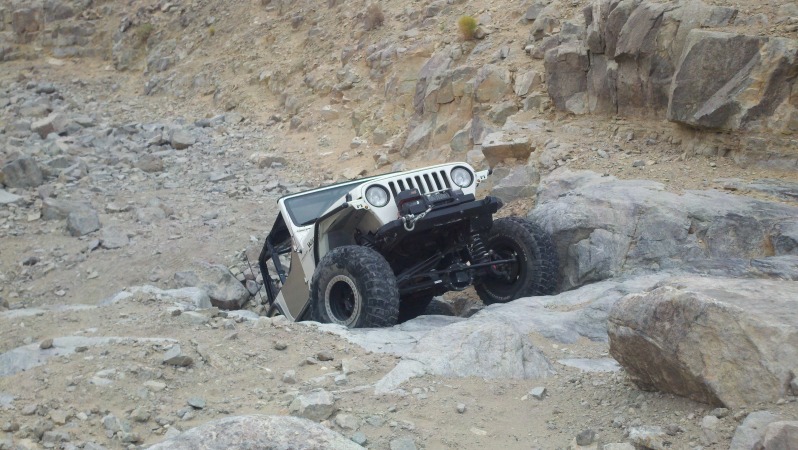 Then I crawled back down and backed my Jeep up.



It's that dang nub that you catch with your L/R tire that just makes that thing nasty.
11-18-2013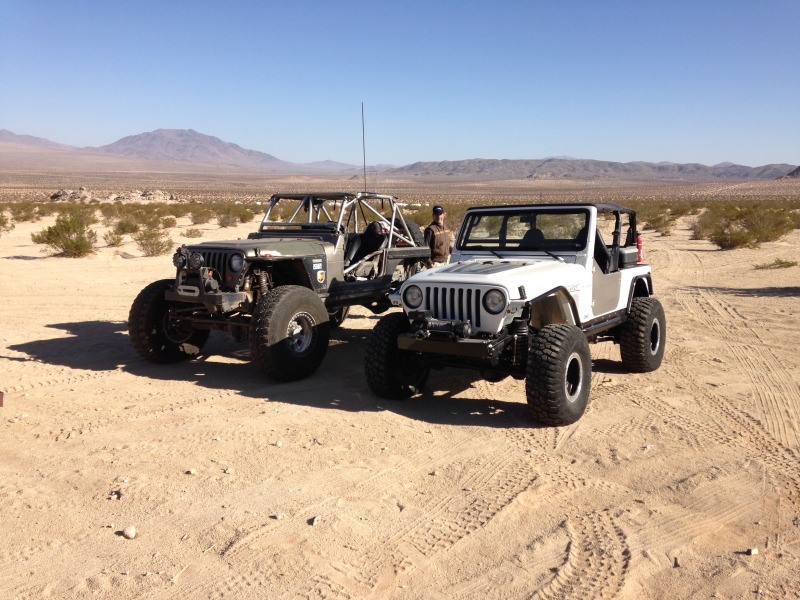 Georgies crack is no joke. I struggled in two spots but made it without winching. Line selection is key. My rig felt very stable on this type of climb. I just got hung up, these are some big rocks.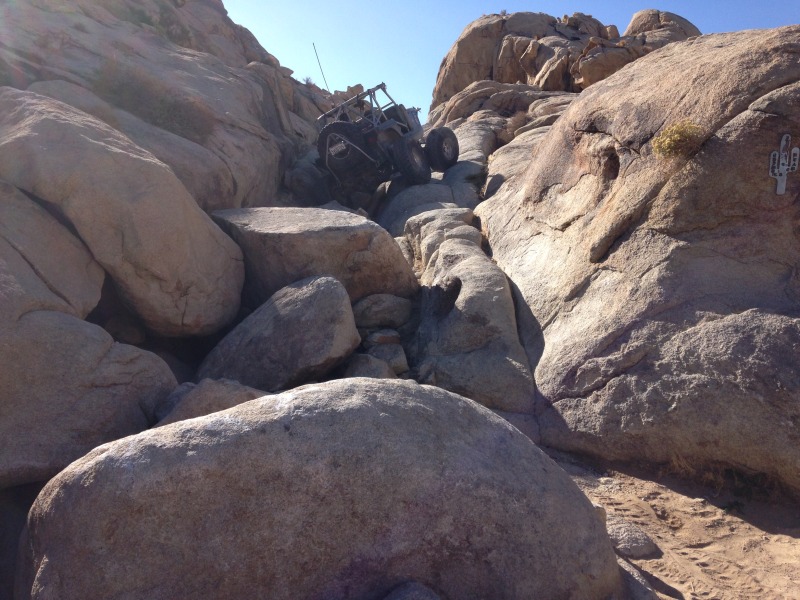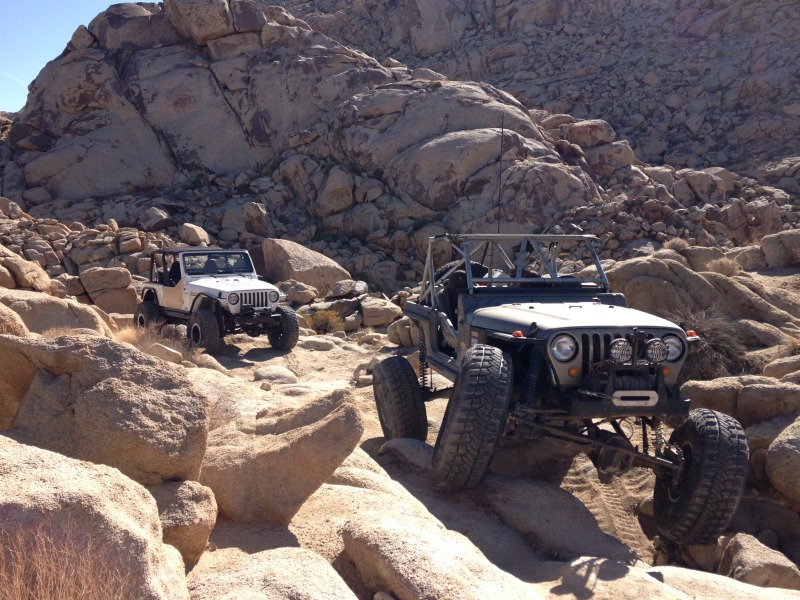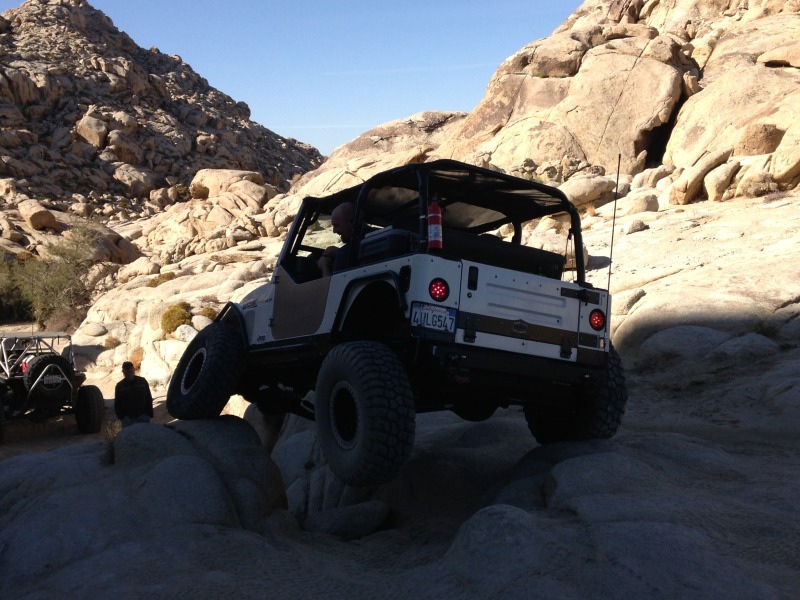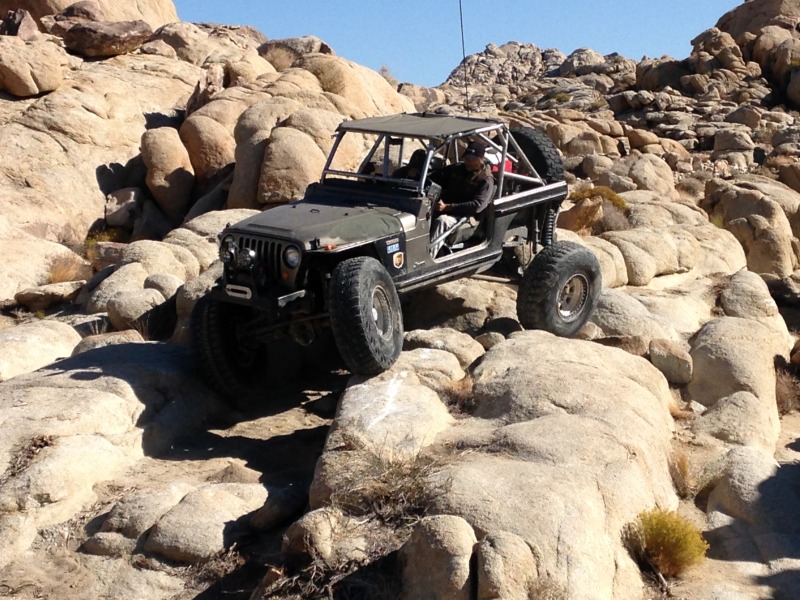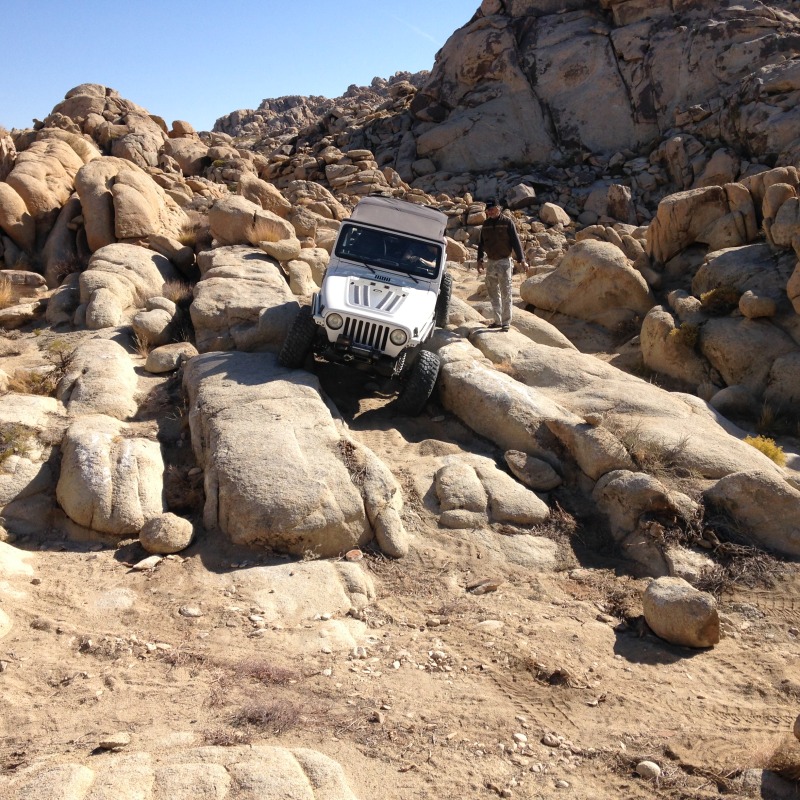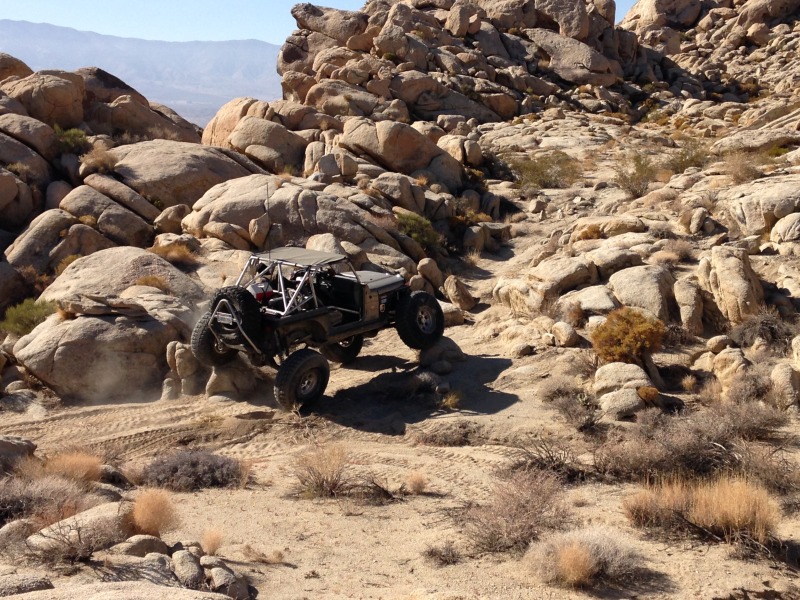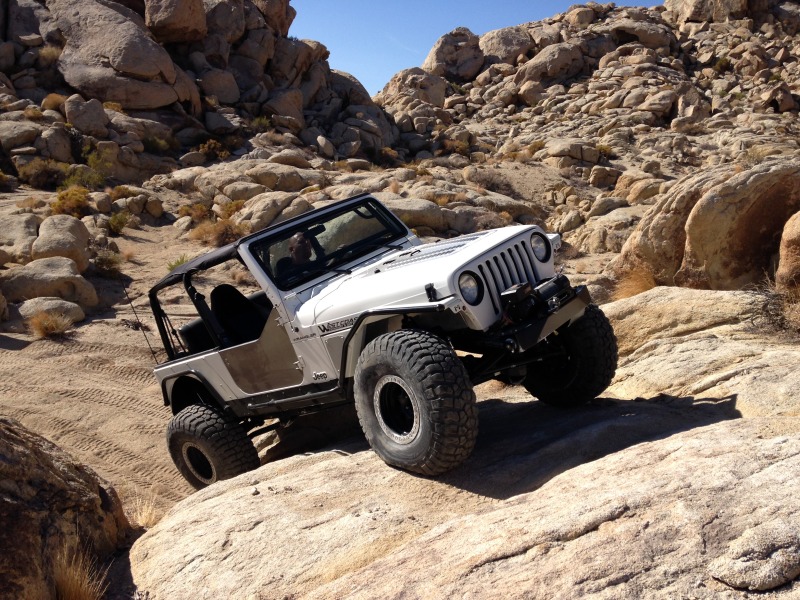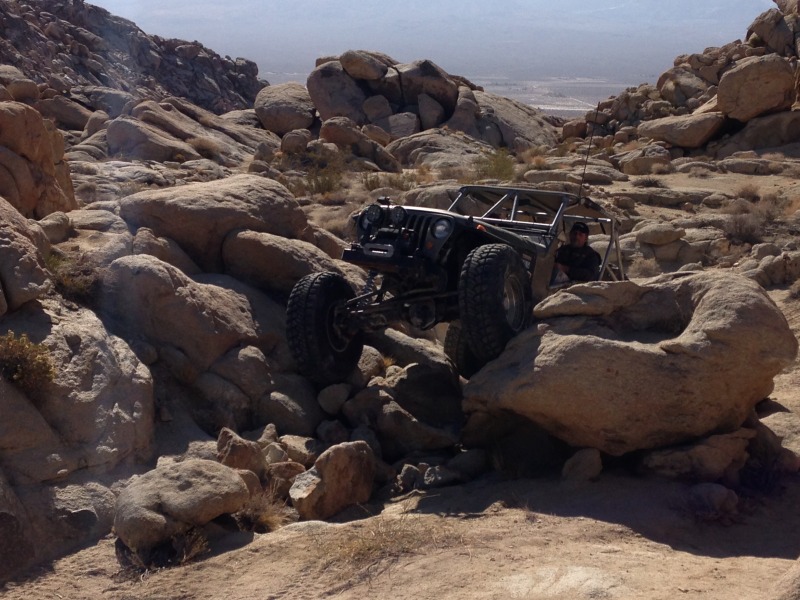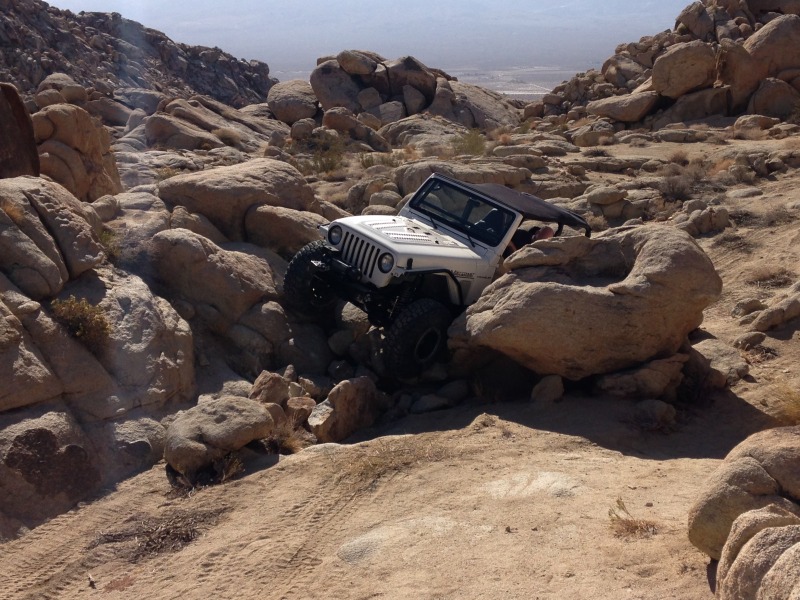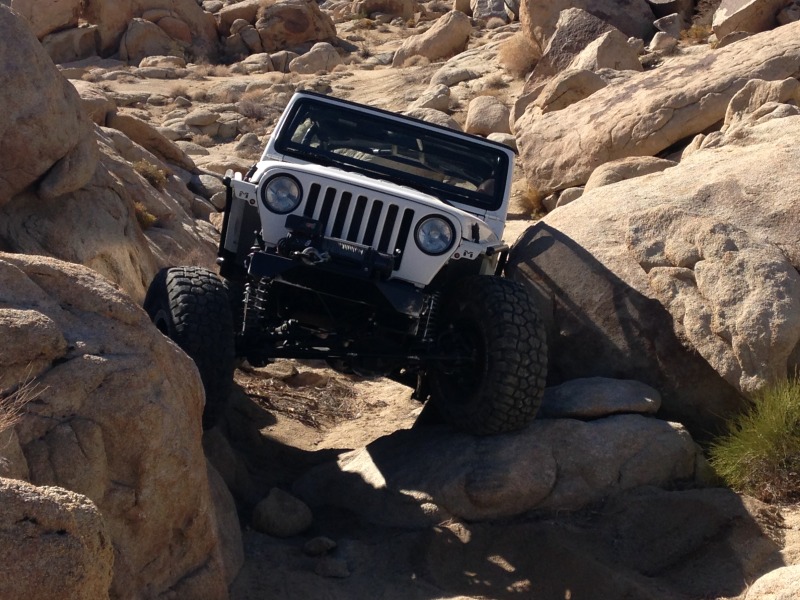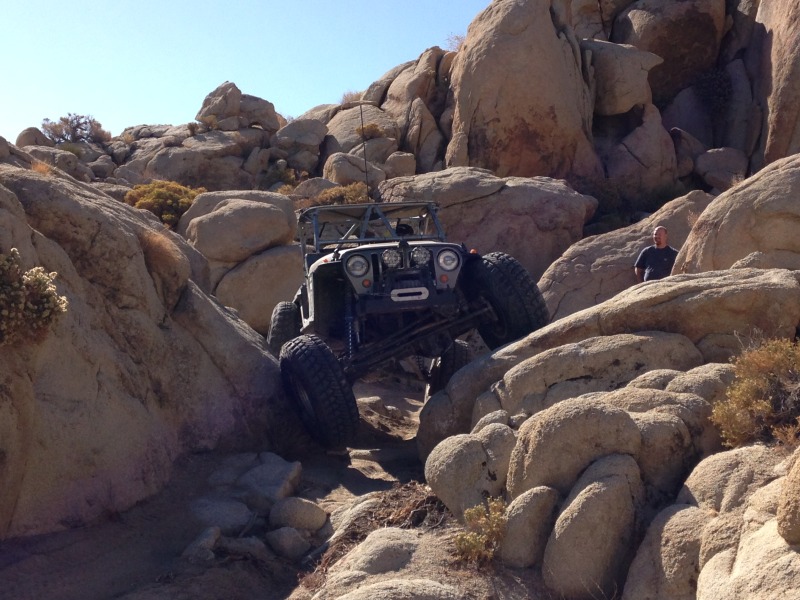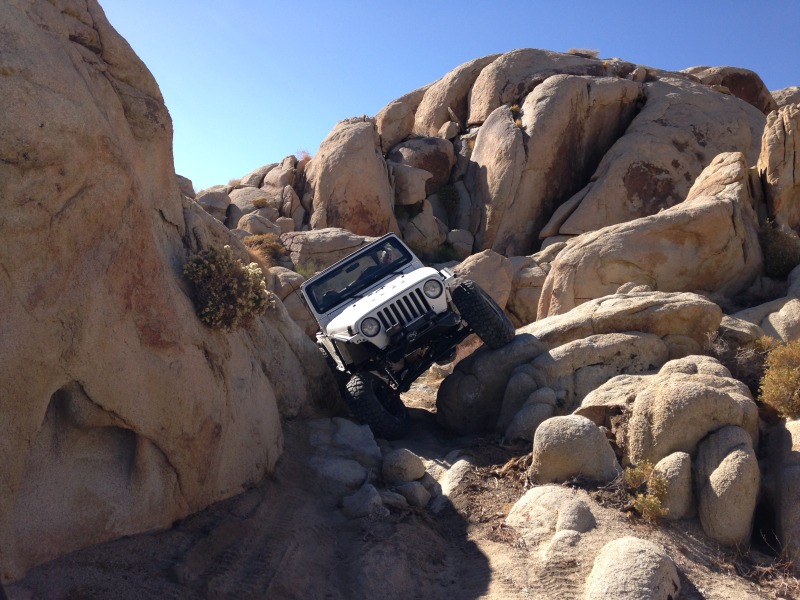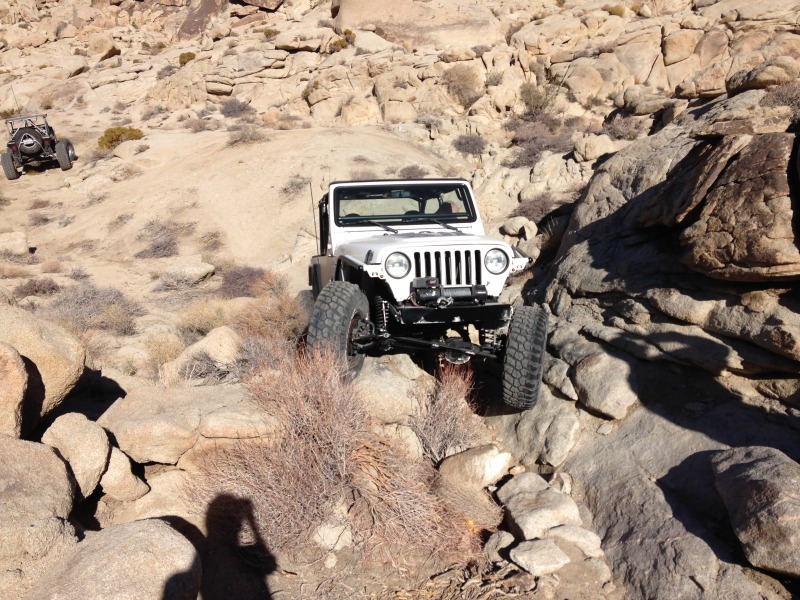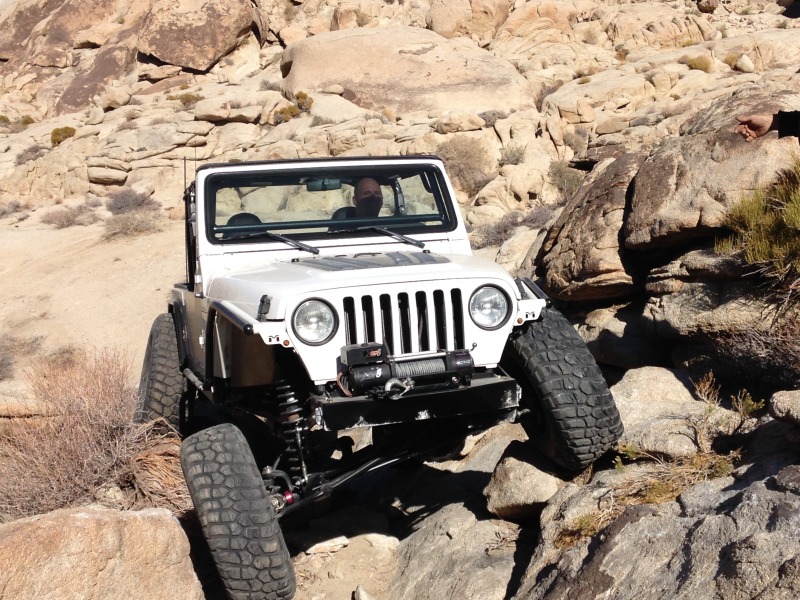 This was a fun little off camber climb... my rig was feeling quite stable on all this stuff. I was pleased.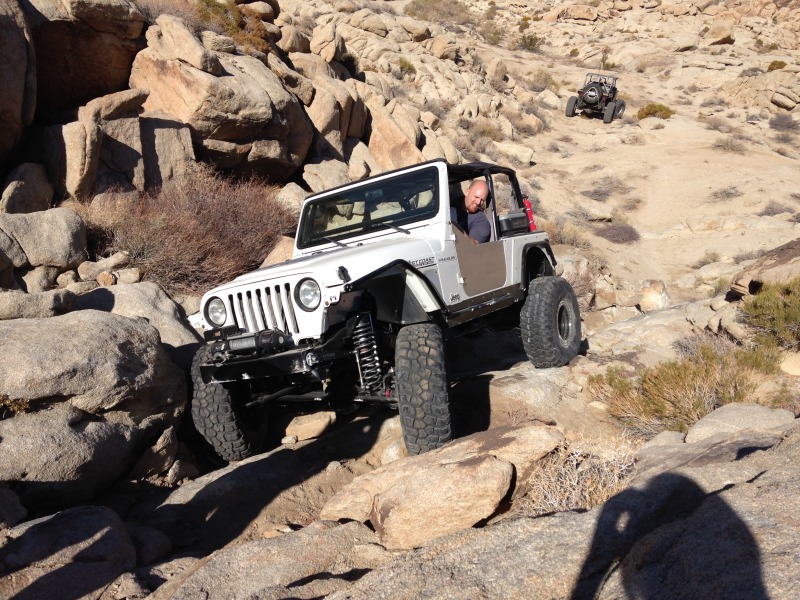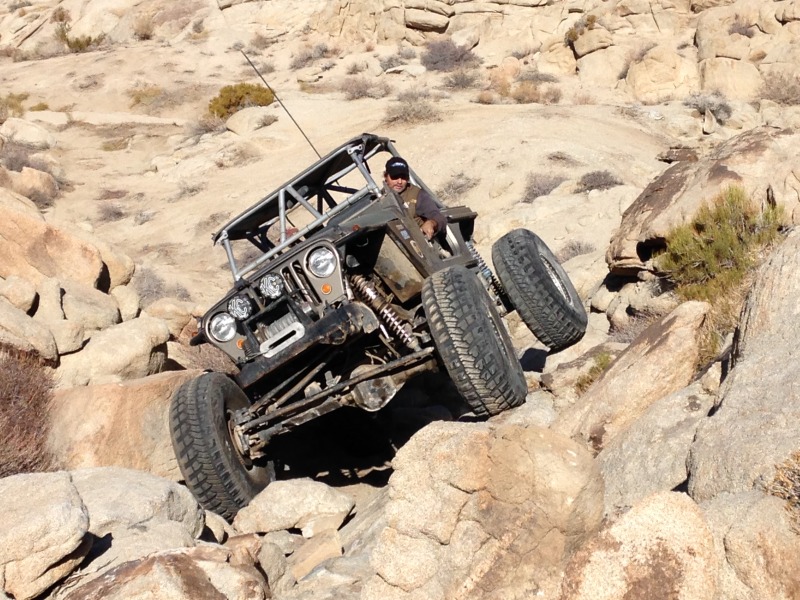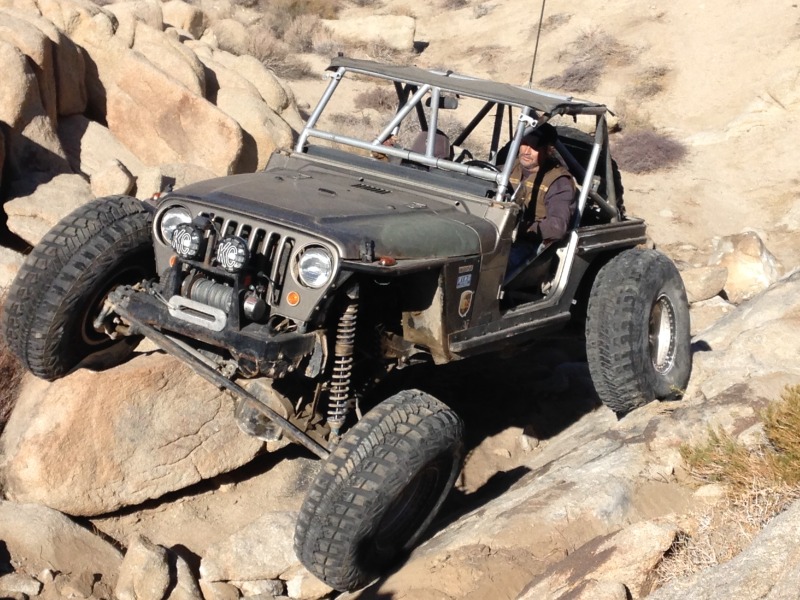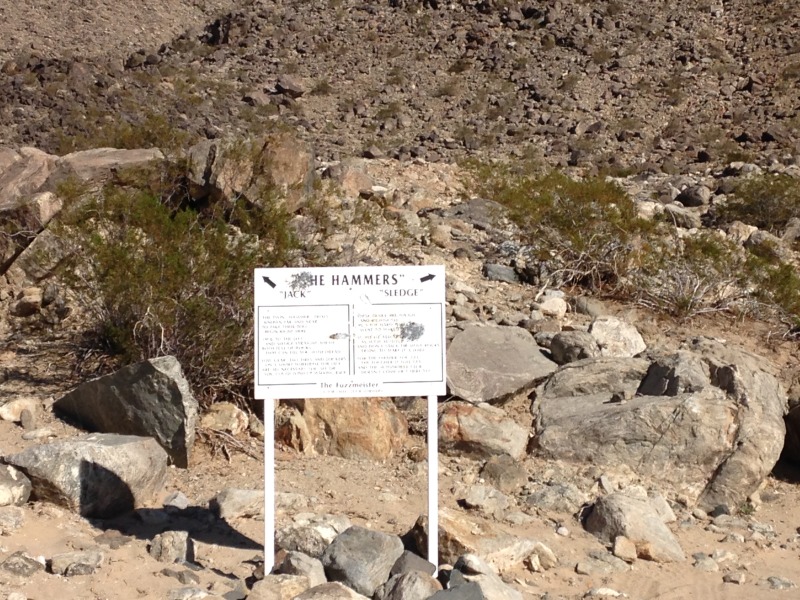 Jack gatekeeper....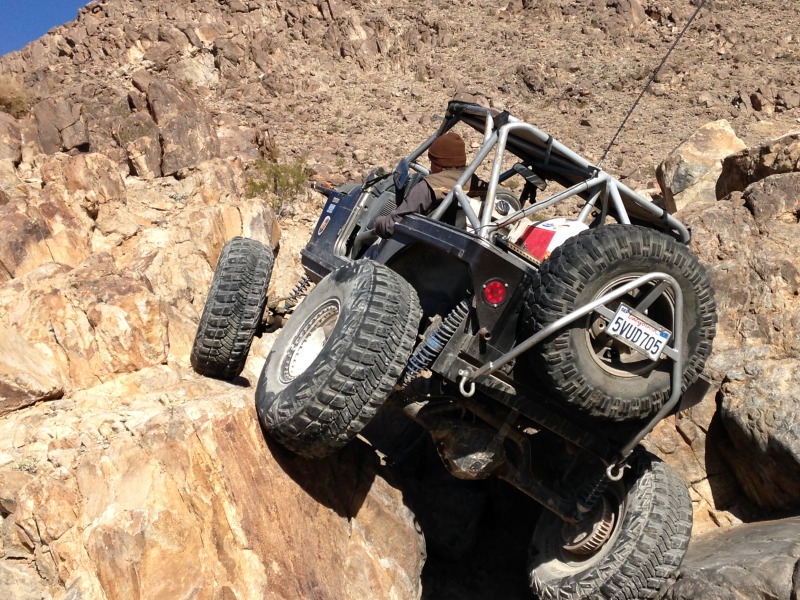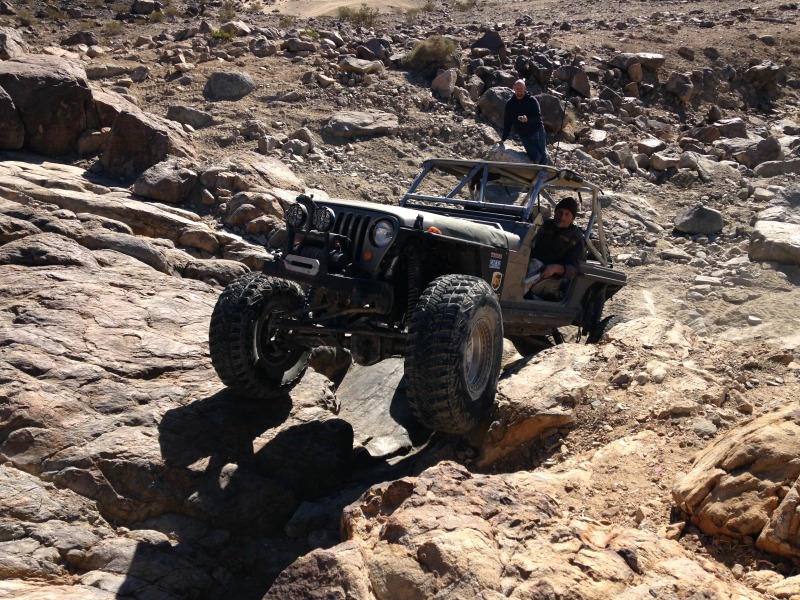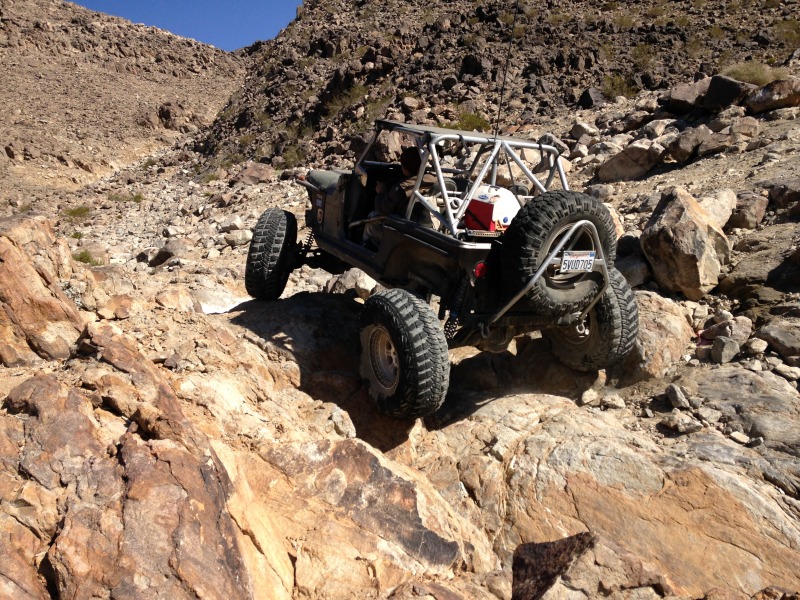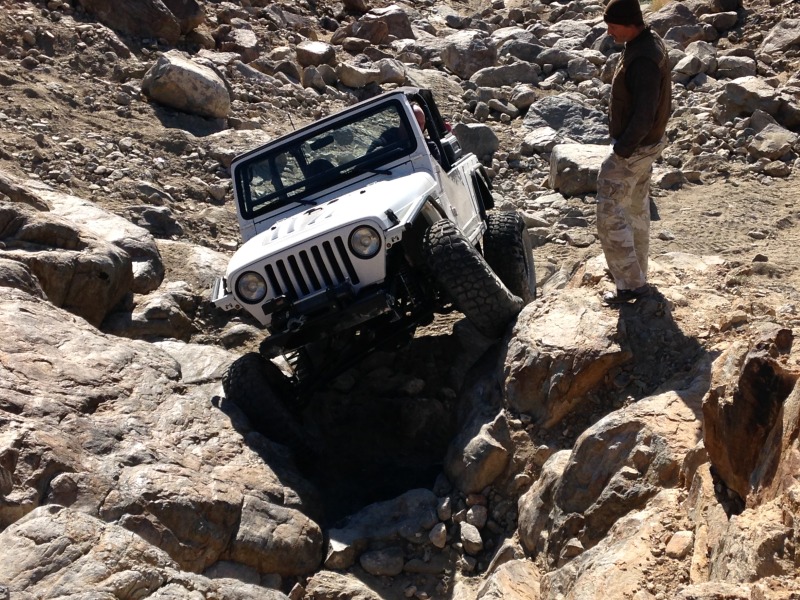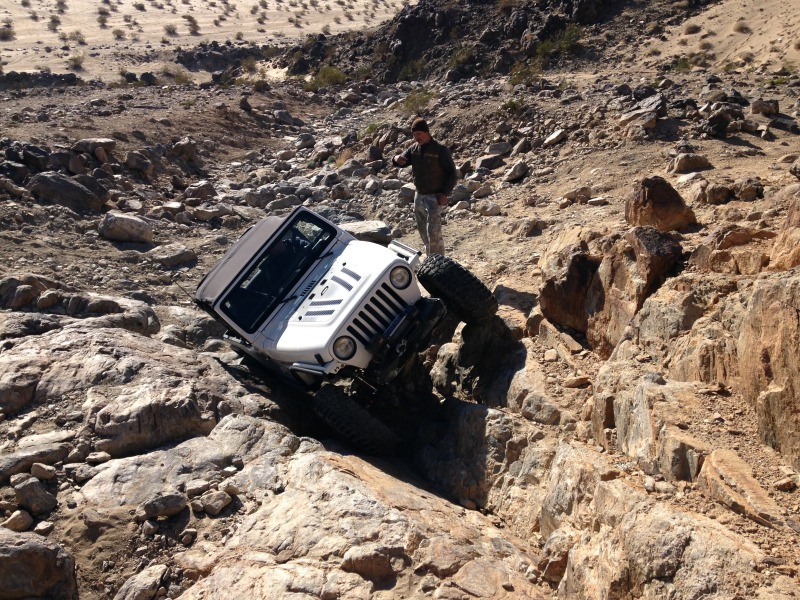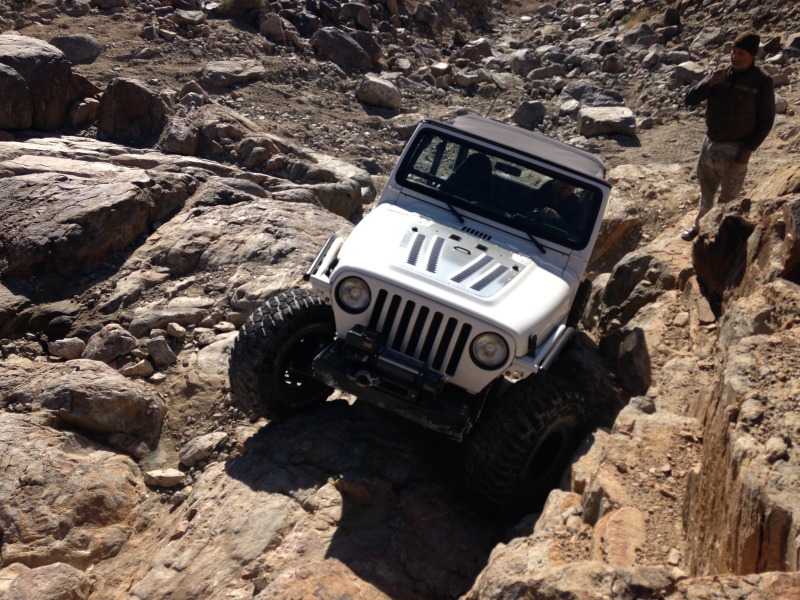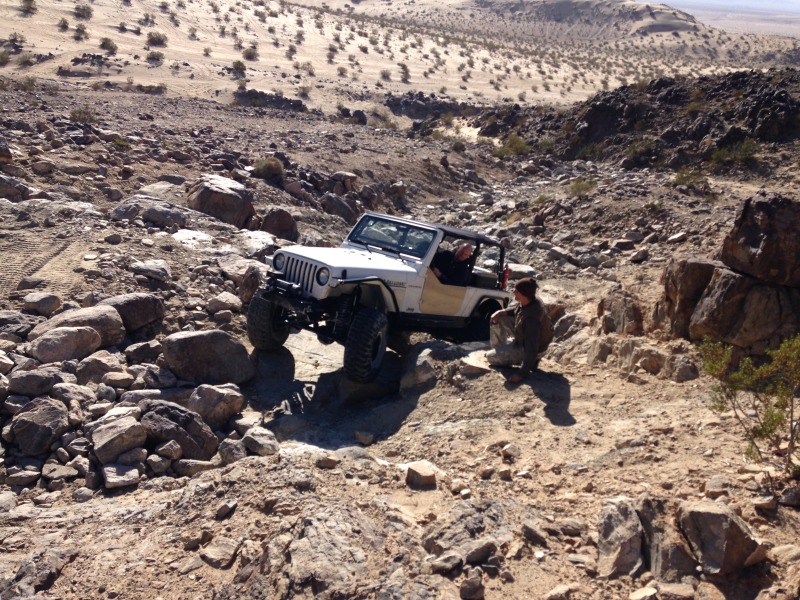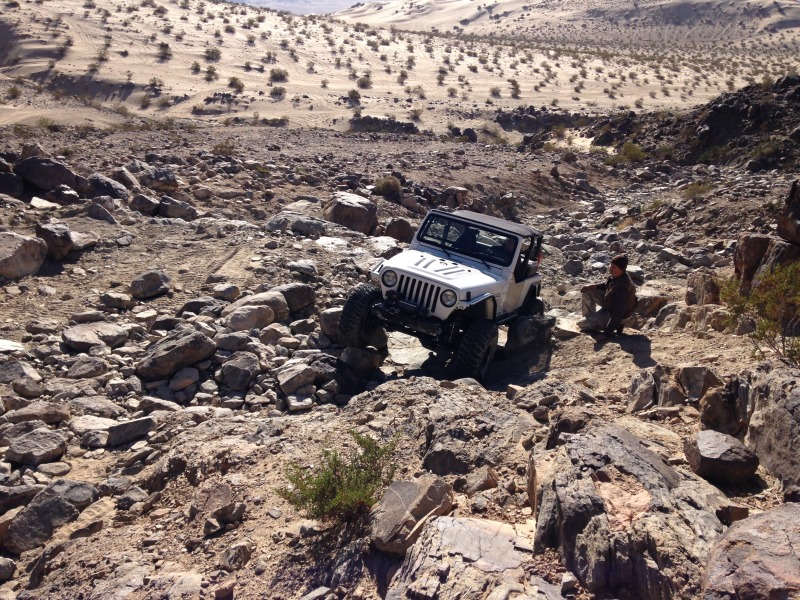 I think Art was a little surprised I made the Jack gatekeeper with relative ease. I was surprised myself after watching the videos earlier in the week. Got a little lucky I guess. I only had to reset once and then it crawled it.

I don't have many photos of sledge. I got stuck a couple times basically because I got a little lazy. I had my adrenaline up for Georgies crack, grinder and the Jack gatekeeper and kind of lost my focus on Sledge. To be honest Sledge was fun but lacked the type of obstacles that I like. It was more like someone just dumped a zillion 100lb to 500lb boulders in a small ravine. Mostly all loose. At that point it just becomes a size issue. I was picking lines and placing tires only to have the rock simply move under the weight of the jeep. I'm a patient wheeler but was doing my best to keep up with Art and made a couple mistakes hanging up my rig to the point of winching. Annoyance level was minimal though, I did feel like
I beat the crap out of my rig though, and that wasn't the best approach, I could have been much cleaner or pulled the cable much sooner. Needless to say the D35 took some abuse. Probably more than it ever has. And some of the vertical ledges that I stuffed the D30 into were quite risky but it all held up.

The plaque ledge on Sledgehammer was quite the *****. The ledge is undercut on the passenger side and about 40" tall. I muscled it up though and was SOOOOO close to making it unassisted (well besides Art throwing rocks under my tires) When I finally gave up I had the R/R tire UP the ledge and just needed a little bit of bite to get the L/R up and over. Well we hooked up the winch and basically gave about the smallest tug I've ever seen for less than a foot and it grabbed. I was a little sad I was that close and couldn't get it done. Oh well. It was fun.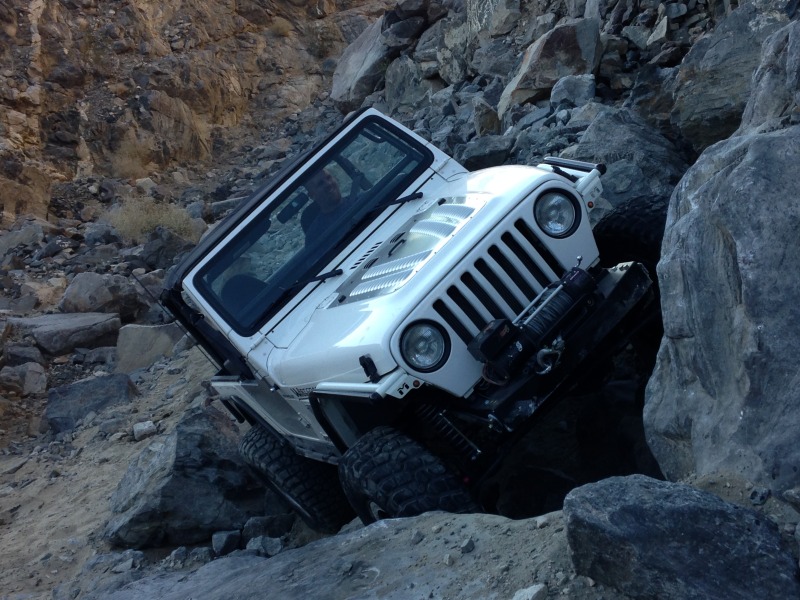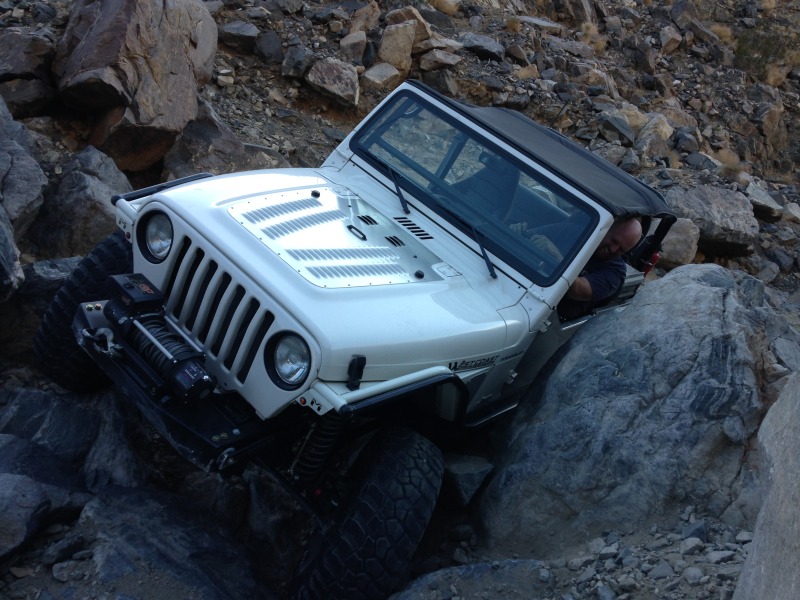 Just got her all cleaned up, and she's in good shape. Looks like I may have pulled the drag link out a bit but the tie rod is straight. Front end is tight. One loose jamb nut on a rear control arm, I thought I bent the skid because the exhaust started rattling but it turns out the muffler came off the hanger in the rear and was sagging.

. Overall just some black paint and replace that TRE for piece of mind and it's ready to wheel again.
Tested! still straight.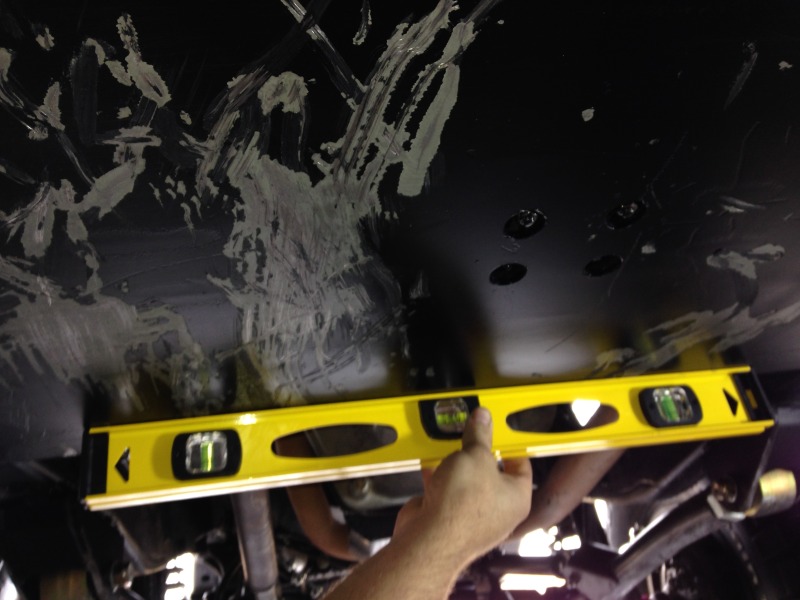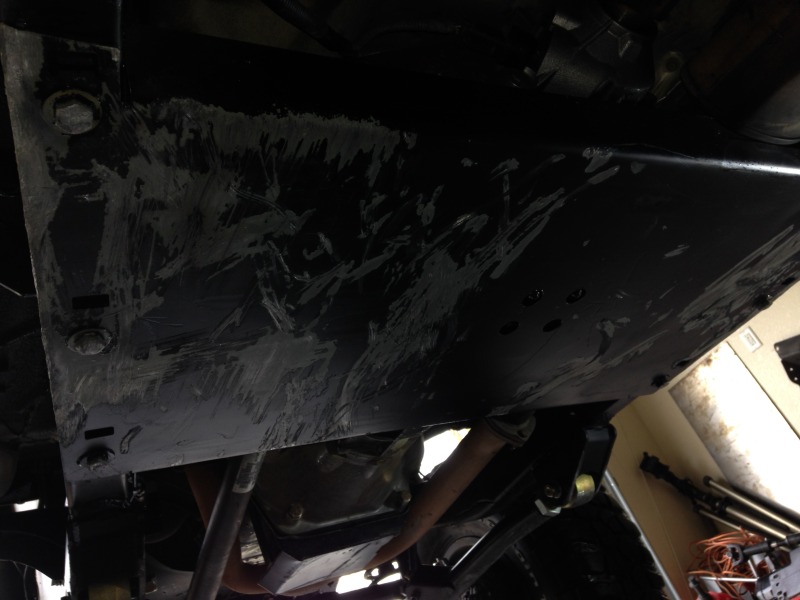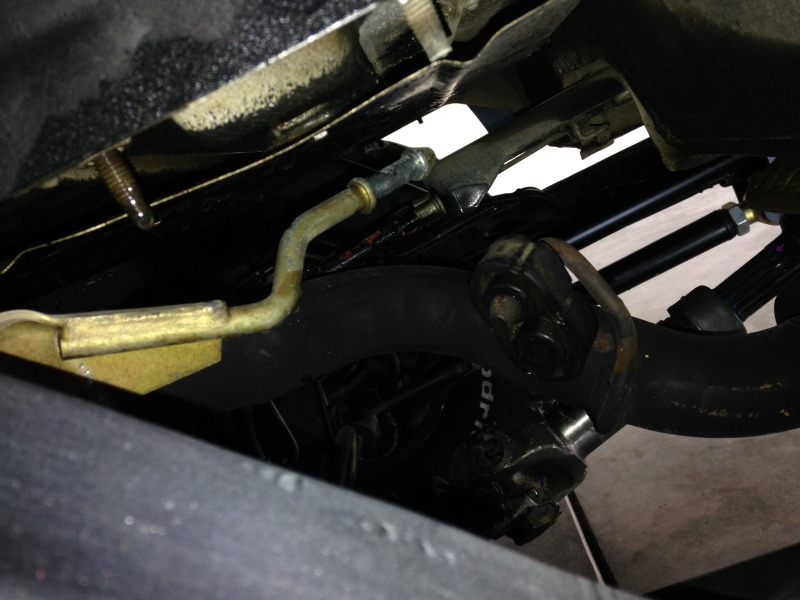 Bumper took some abuse. I actually LIKE how this looks though. This tells me that it slid on whatever it was against. Nothing on it hangs up, like D-ring mounts or sharp angles.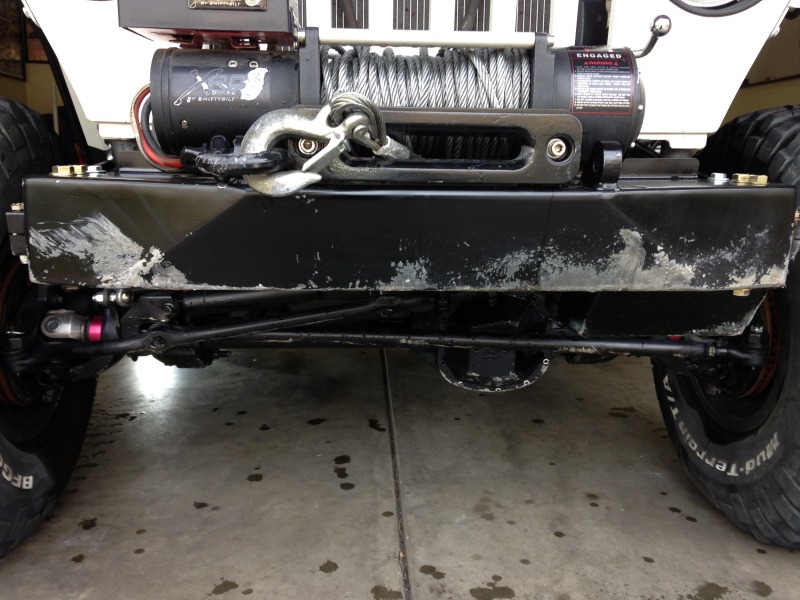 This is a bit of bummer because I can't easily repair it. I think Imped called it a couple months ago. WHY again Metalcloak does the armor not come all the way over??? Haha. I could have avoided this but meh.... when your in the moment in an awesome squeeze it's all good.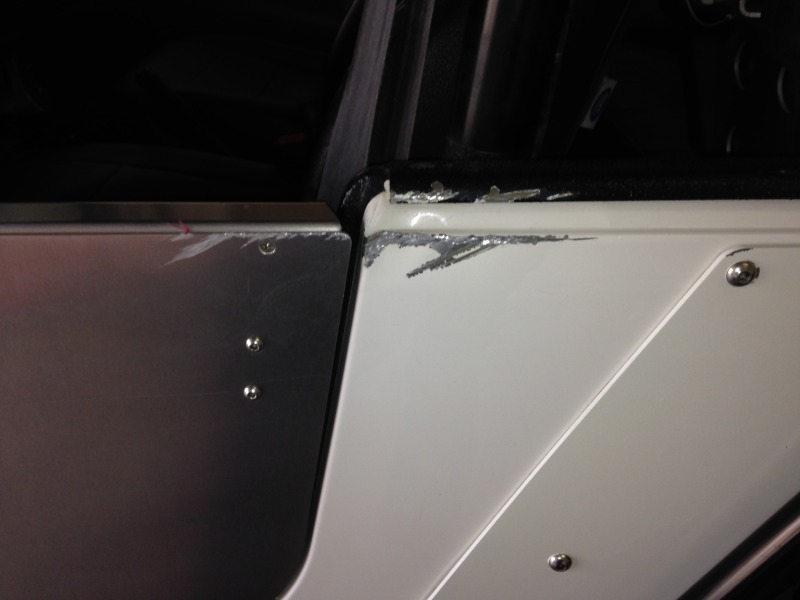 Art schooling the Jack gatekeeper.
This is an optional climb on the "grinder" trail. At cougar buttes. It was fun.
I've got a good D35 beating video uploading. It's a little long and might be boring but the camera angle is pretty sick.
This is towards the top of "georgies crack". After I got out and looked at it, it turned out the line for me was to get the rear a few inches to the left and hold hard driver. Crawled right up after that. Good little fight. D35 loved it.
11-19-2013
I'm sure when the JJ was introduced people had these same discussions about them vs. whatever was popular at the time. Well some folks took a chance and now they are the most respected flex joint around. Well here we go again, someone has a new take on it, and it's going to take time to build faith in them. I'm good with being someone taking a chance on them, I see the advantages, I've felt the NVH improvements and I see the value in those things. Do I wish they were cheaper or the same price as a JJ? Of course but they aren't. Now I'm just a poor working class guy but at this point in my jeeps life where I've spent thousands in mods, the extra for these joints really isn't significant.
11-21-2013
Got the steering back together. Tie rods a little rainbow but it's as good as I can get it. Time for a ghetto alignment and thanks to krylon we're looking clean again, haha.
Ghetto alignment done, first time I've done it and actually feel like I can trust my measurements. Took a drive around to center my steering wheel, got that done, then hit the back roads and some freeway to check everything out since I hadn't driven it since JV. Good as it ever was. All that's left is a little touch up of white on the R/R corner armor and Ol' white lightening is back to normal. Looking forward to getting the front 3 link figured out soon, then some more wheeling.

My buddy with an XJ is raving about the Durango steering box..... I'm gonna do some research but does anyone on here have any experience? If it's a considerable upgrade between stock and Hydro assist..... it's something I'm interested in.
Looks like the Durango box is not worth the effort.... also shopping 3 link stuffs. Clayton 3 link bridge for $75 would do the job. I figure I could sell my Currie JJ kit for the D30. Any takers? Less than a year old. I still can't decide if I want the 3rd link on the driver or passenger side. Driver side has a clear shot but requires a bridge, passenger will need an exhaust modification..... I just think my rig might be to low for the Clayton bridge and I'll run into clearance issues.
11-22-2013
Time for trail research!
Some pretty awesome and big terrain....
11-25-2013
Getting some quotes on Aluminum control arms. If the price is right I might spring for some 2" 7075 arms. Any reason not to, besides they cost a little more than DOM with inserts? Also pulling the front axle tomorrow. Current plan is to run the Clayton bridge, Duroflex joints X6. Barnes frame bracket, and Barnes axle Lower control arm brackets. I'm going to wait for Black Friday to place my orders just incase they have sales. I thought about shortening the lowers down from 29" but I think I'll stick with that length. Should be a fun little project.
11-26-2013
Quote from Branik came in at $115 a link plus shipping. That's to much. Then I found Wide Open Design has a good website set up to give an instant quote. http://www.wideopendesign.com/Produc...num-Links.aspx

Those came in at $85 each. Not bad. I think I may just do my lowers aluminum and do a DOM upper. And eventually do the rear lowers as well.
Well I did go wheeling 5 times since the rear has been done! Luckily this entire front overhaul will run well under $500 if I don't do the aluminum links. Also if you heard how bad my front sounded on the hammers trip, you'd be surprised it held together. Gotta stay busy....
I hear you guys, but it's not happening right now, I have put this LP30 through some ****. I'm spending a $100 on a bridge and some lower control arm mounts and running this axle for the time being. Building an HP30 isn't really on my radar as long as I'm on 35's. What I will eventually need is a front axle that allows deeper gearing.
Calling it a day, got AngryTJ's currie D30 JJ kit cut off and cleaned up, along with my suck down winch pulley and the rest of the upper link mount. Just have to cut off the lower control arm mounts then were ready for some welding.
11-28-2013
All my 3 link stuff is ordered~! Clayton 3 link bridge, Barnes frame mounts, tube inserts and DOM for the links. Artec for the LCA mounts. Duroflex for the joints. Sadly I'm not going to be able to spring for the Aluminum control arms. I can build 3 DOM links for a $100, and the least expensive I could get the AL was $80 a link, which is good deal but not doable right around X-mas (damn Xbox one). Haha. I'll be happy with this stuff.... and look forward to getting it together. I hope everyone had a great Thanksgiving.
11-29-2013
Last two needed Duroflex joints for the front purchased from Imped. Thanks! Came in right at $300 for all this 3 link business with black friday sales, some trades, and some used stuff. Not bad!
11-30-2013
Stock D30 LCA mounts for sale.... lightly used.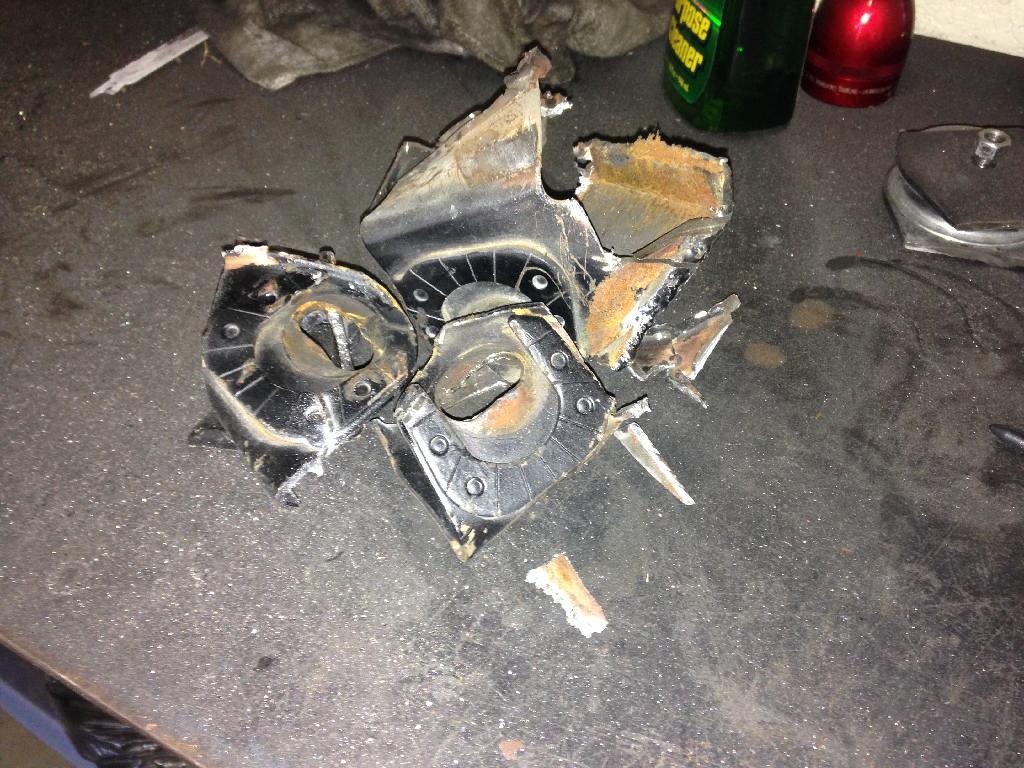 Those were sure fun to remove after I had boxed them in. Glad that's done!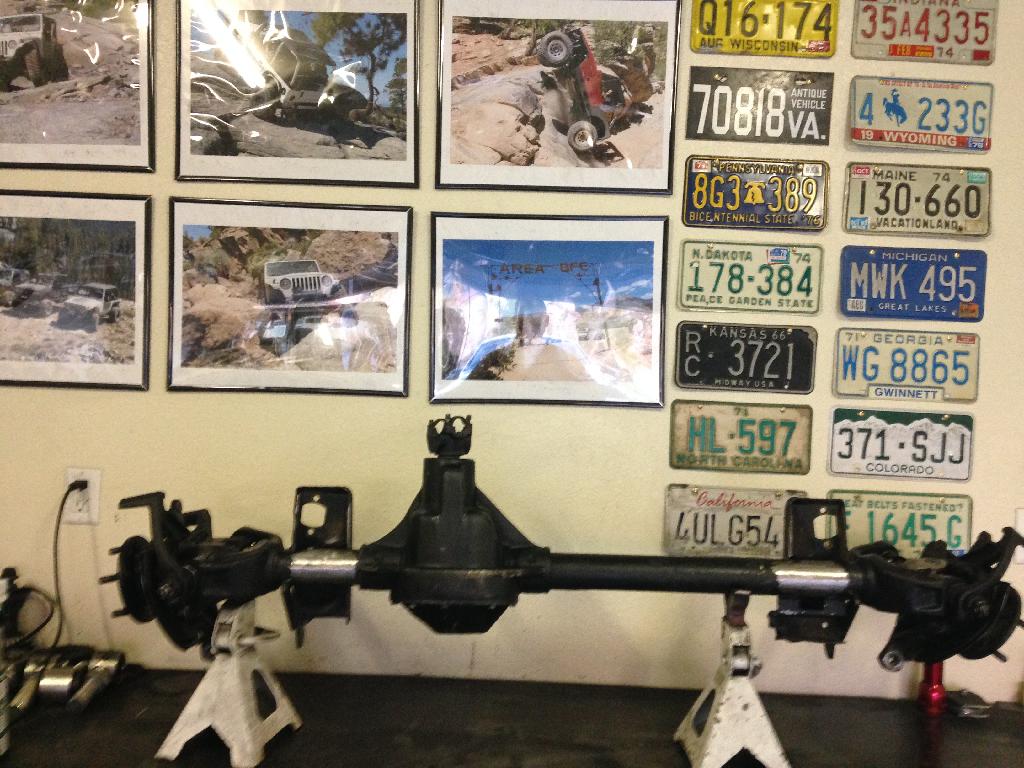 12-11-2013
Not taking photos today because time is short…… but the 3rd link is assembled, clearances have been checked, frame and axle mount are burned in, and now it's just time slow down and clean everything up, paint and assemble. I'll be a bit more detailed on several of my hangups today later on. Tate's got a jazz band performance tonight!
Just a few photos of the shenanigans today, The frame mount for the upper link worked out pretty good. In the top hole I have 7" of separation, any higher and I was getting into the motor mount at full hard bump.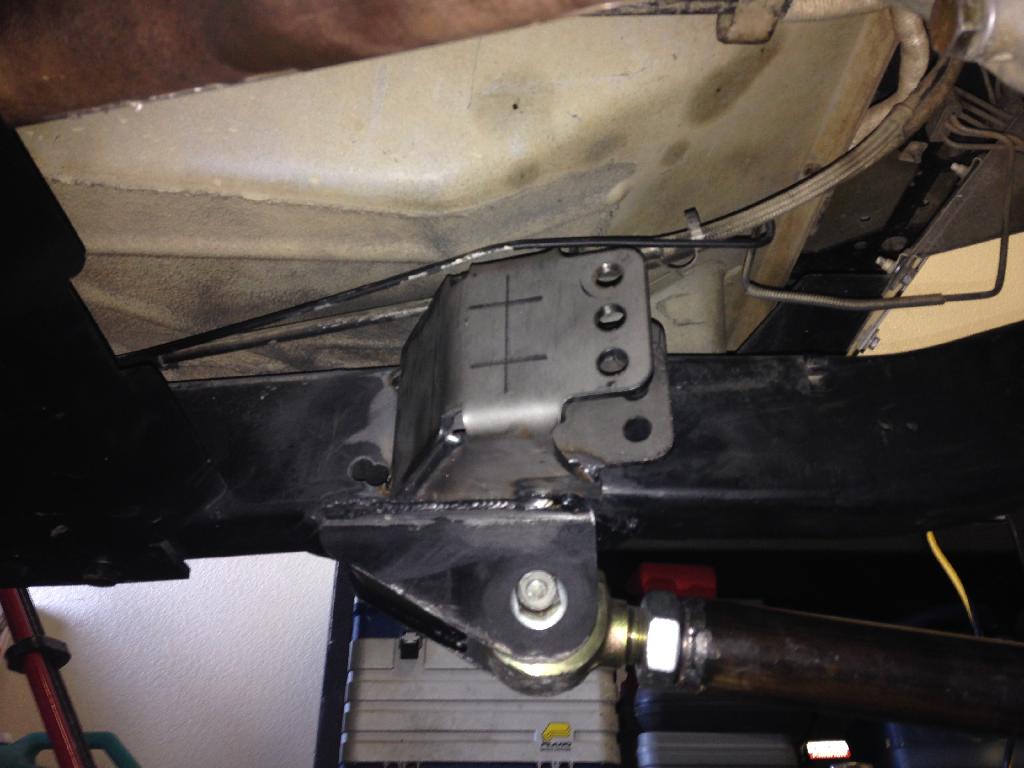 This was my first attempt at setting the link mount on the axle. This is full bump and guess what???? Hitting the fan. It was a simple fix of moving it to the passenger side a 1/2 inch and a little more back. What I lost in doing that was perfect neutrality in the joints on the 3rd link. I don't foresee an issue as it's only a slight adjustment but still annoyed me because I could have avoided the issue altogether if I had been paying better attention to the Clayton 3 link bridge. I didn't realize that it's actually D44 specific in that it's height is set to rest nicely atop the D44 (larger) pumpkin. When used on a D30 it sit's at least an inch higher than the pumpkin. I COULD have cut that amount off the bridge and lowered it. JeremyG brought this to my attention……. only about 2 hours to late. I burned that thing in every which way so it's staying where it's at, and everything is fine, but I wish that thought would have crossed my mind.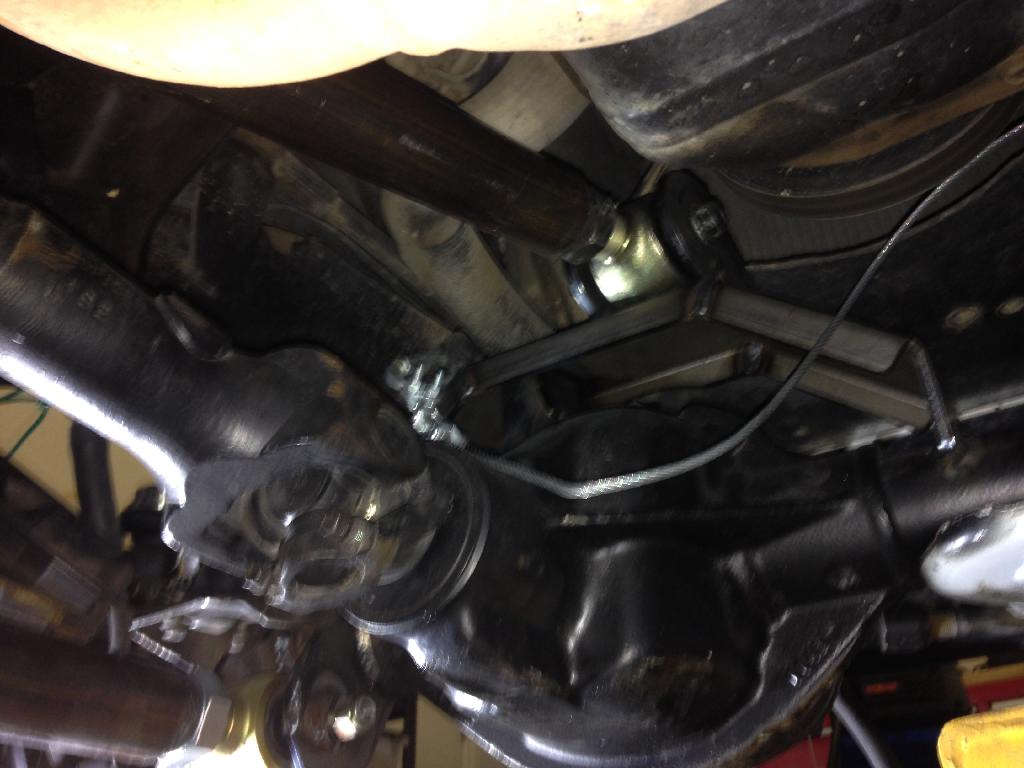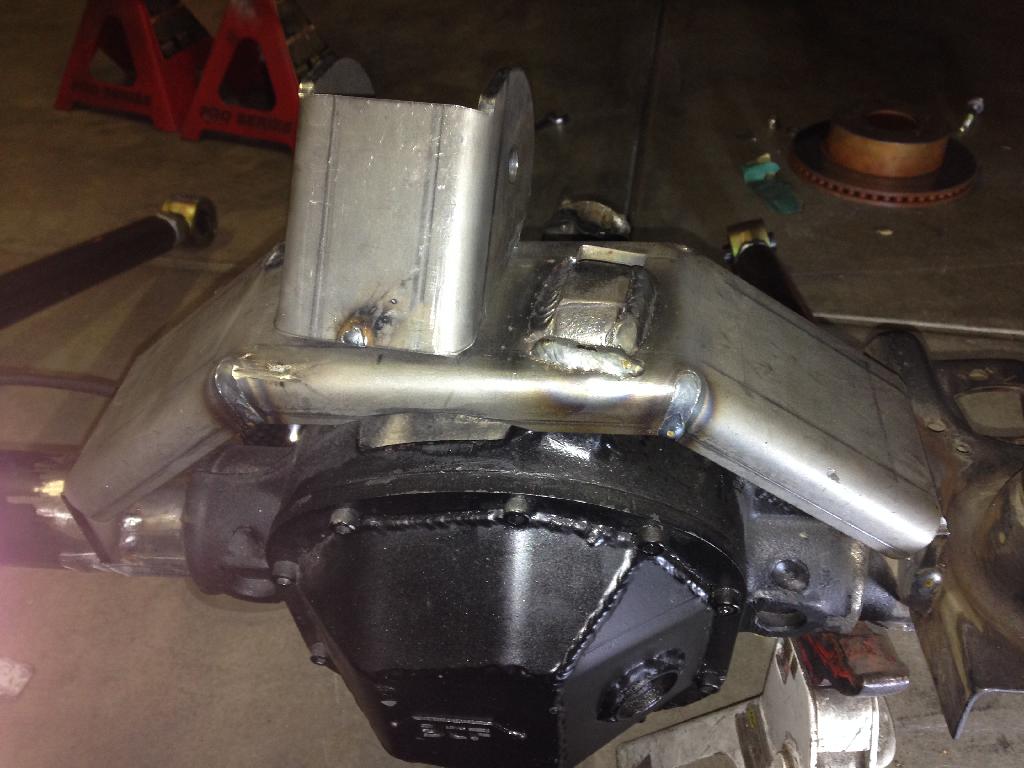 After a couple retacks and double checks I was able to burn in the link mount.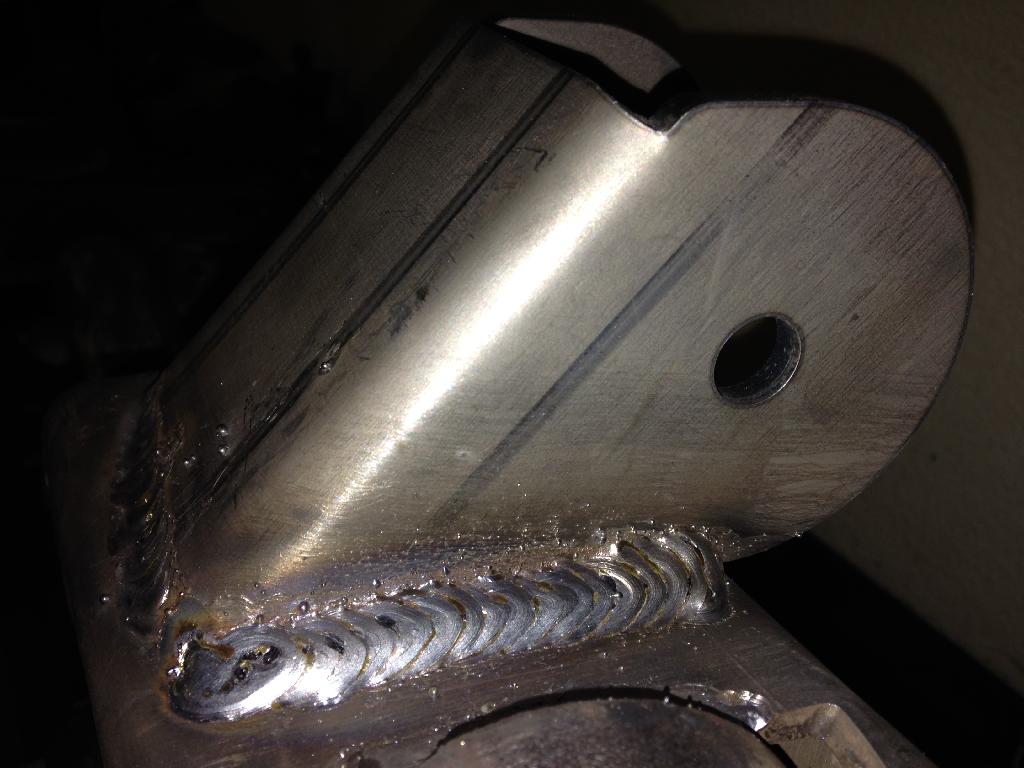 Ok so that's where I'm at…… now it's time to clean everything up, paint it and carefully re-assemble it.
The garage was getting a little out of hand so I took an hour after Tate's performance (he killed it!) to CLEAN. It was the highlight of my day.

White Lightening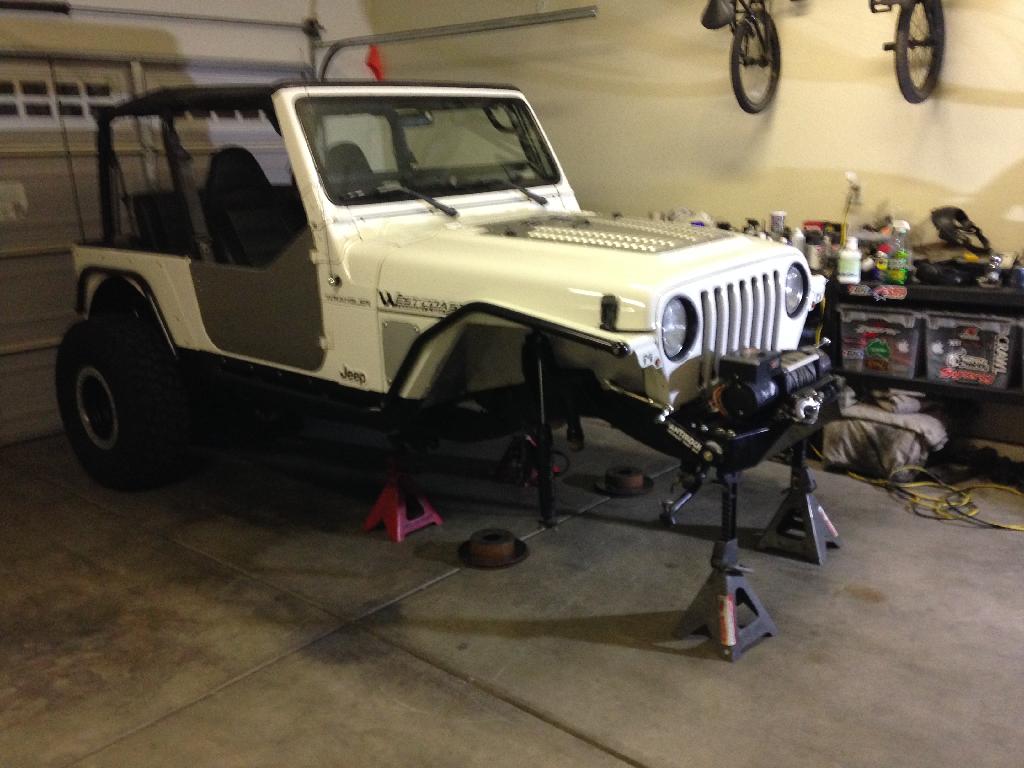 Junk ready to be cleaned and painted tomorrow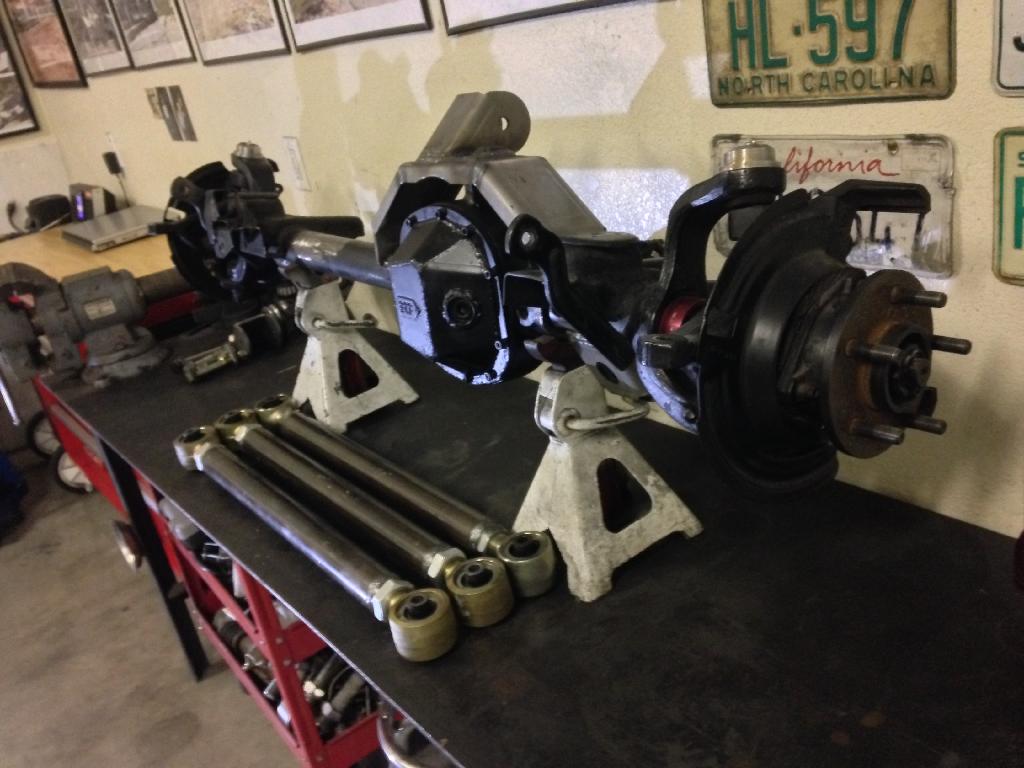 My favorite place besides wheeling….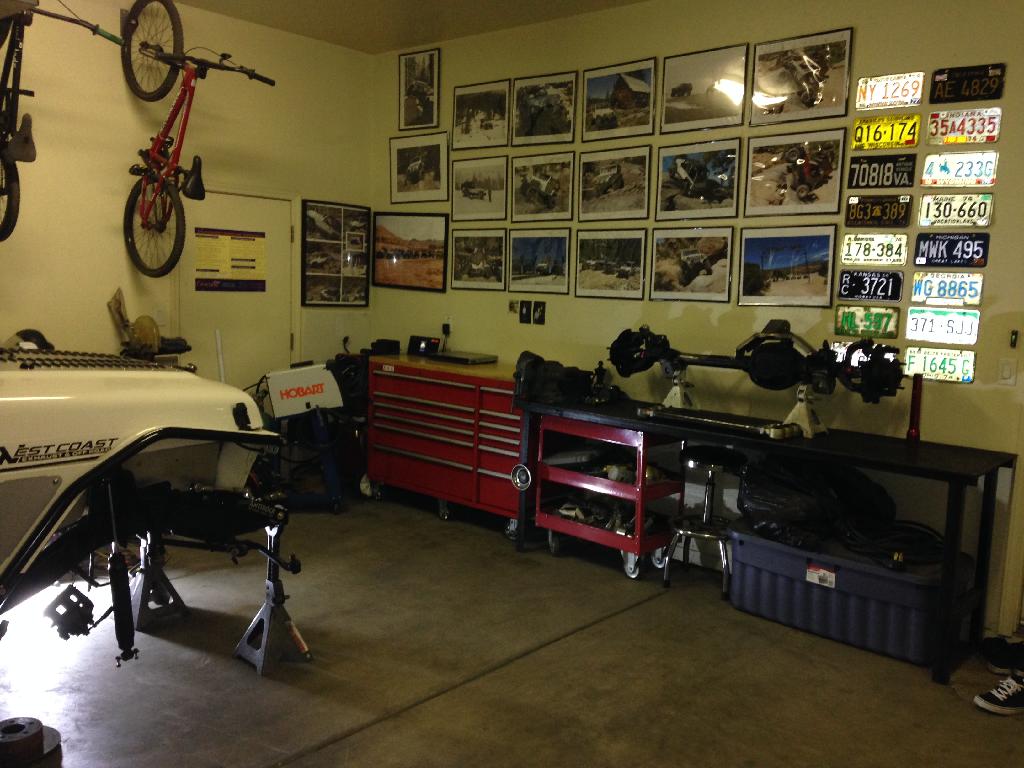 Wheewww….. been a long day!
12-12-2013
Activating chop mode after dinner. Might as well, I've got no rush, everything else is looking nice. It's a bit of work but nothing I can't handle. I'm going to lower the entire bridge. This way I have more up travel available should I ever change things around.
Chop complete. Wasn't bad at all. Fresh sawzall blades are beasts! Gotta clean it up but even that doesn't look bad.
12-14-2013
Ok so I took a brief test drive just to listen for weird sounds or feel obvious vibrations. Nothing out of the ordinary. Things were nice and smooth and quiet. I didn't get going to fast but noticed no brake pitching, and didn't feel anything strange at all. So I'm pretty happy. I've got one more weld bead to run on the inside frame mount that I forgot about, and need to do some final measurements to make sure the axle is square and the pinion angle is good. Project is coming to a close though and I'm happy with my execution. Now time to plan some wheeling.
Snapped a few photos after tying up some loose ends tonight. I worked damn near all day on re-assembly. I have to say I fought with those stupid *** BM cam bolt inserts fitting into the Artec brackets for WAY to long, but I didn't order any weld washers, and wanted to get it assembled today so I had to work with what I had. I think brand new BM cam bolt washers would fit right in but since mine had some "wear" from my beat up stock brackets they lost their precision fit. Oh well. Nothing else fought me to bad. I didn't do LH / RH links so I had to drop them a couple times to adjust lengths, I was kind of regretting that decision but figure once i get them set I won't think about that much again.
Things definitely went pretty slow today and I'm nice and tired from crawling under the Jeep a zillion times but it was a good day of wrenching.

Overall I'm quite pleased.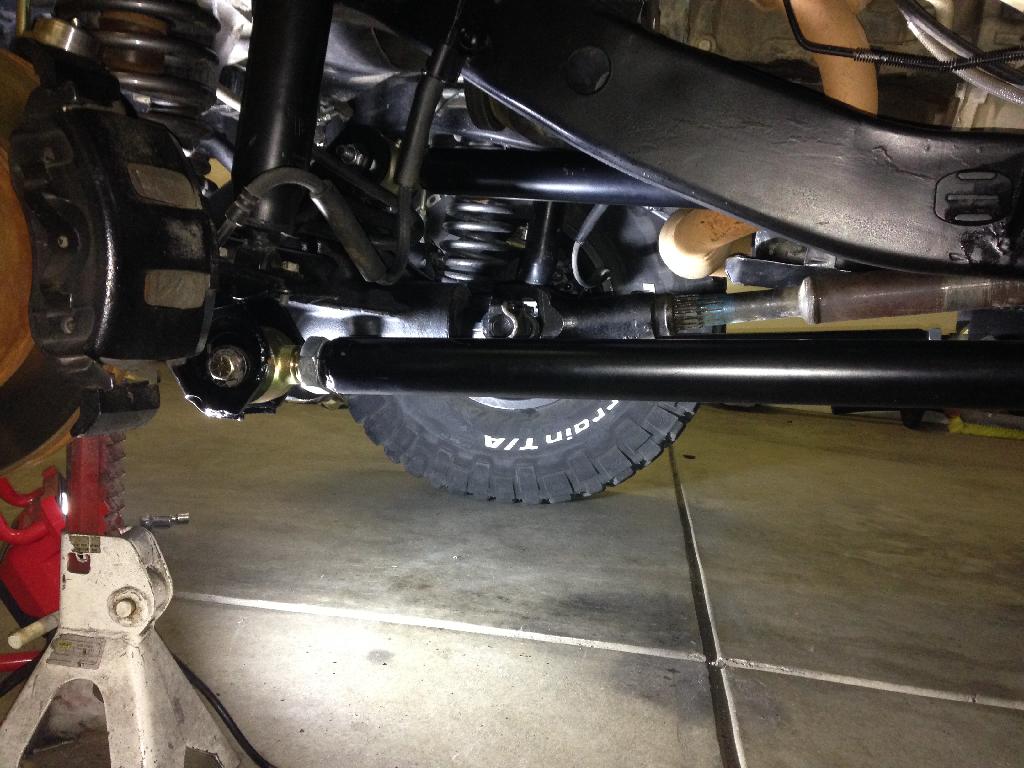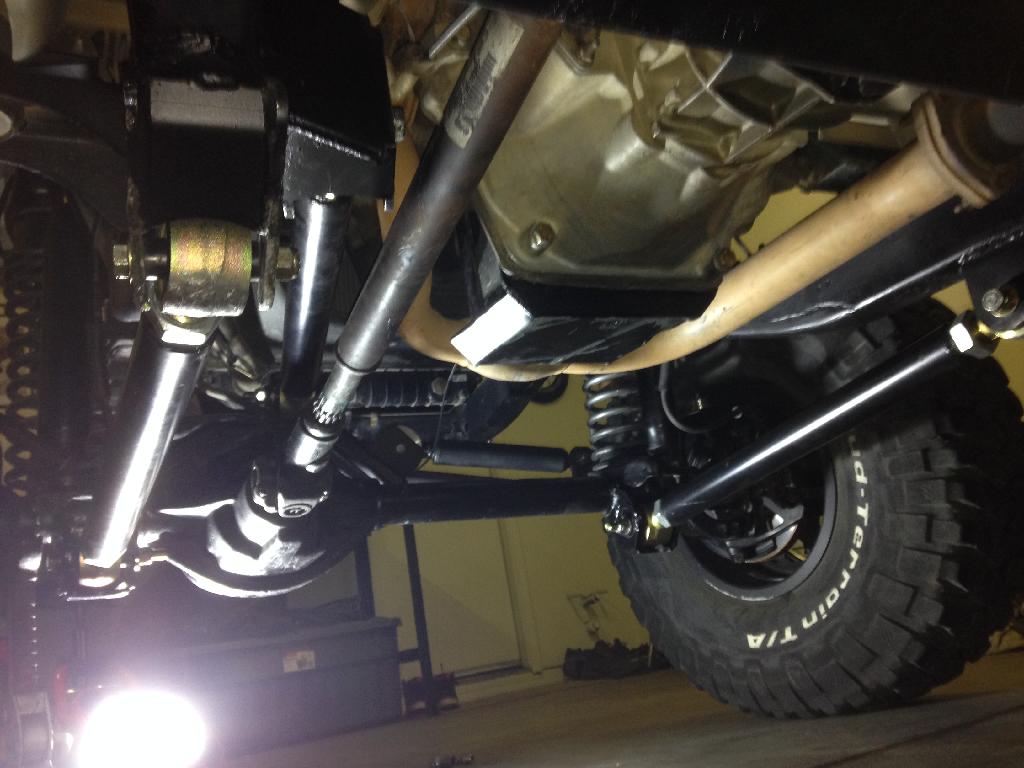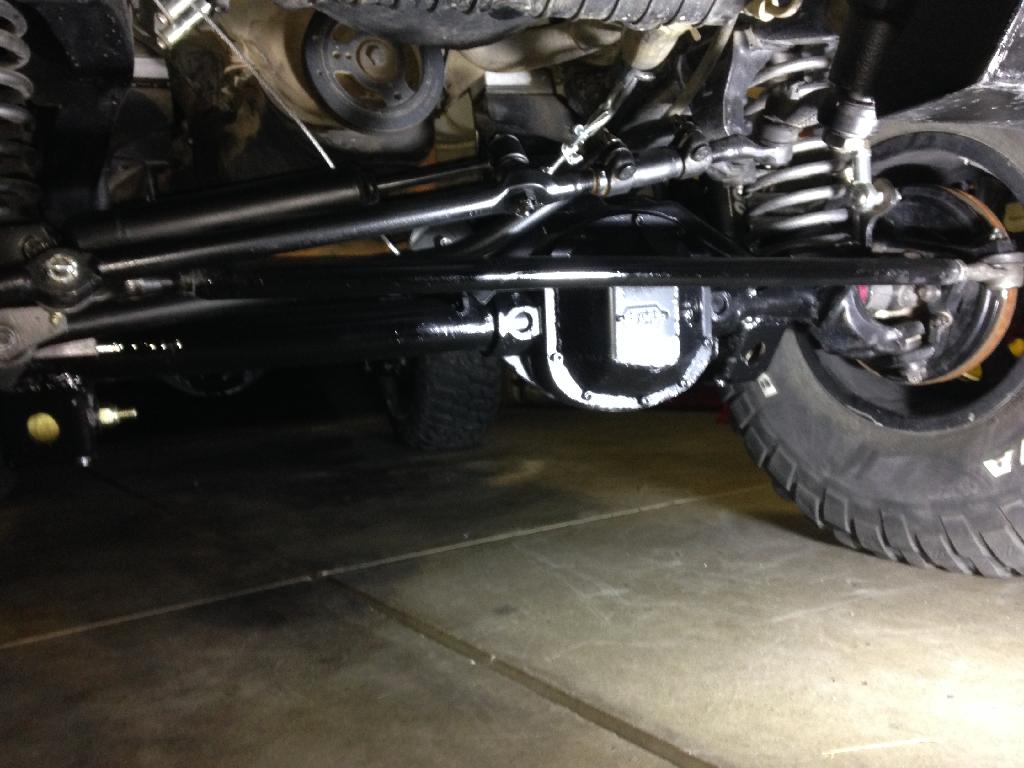 12-21-2013
Well I'm glad I did a shake down run before heading straight to the hammers on New Years. The nasty POP sound was still happening when aired down and on the rocks. I got myself into a spot where I could reproduce the sound by turning left and right. Had Tate get in the drivers seat and turn the wheel while I got under and listened. It's coming from the stock track bar. The bushing is deflecting a TON and is somehow creating this violent pop sound at a certain point. The mounting hole is not wallowed out so I'm not sure how it's accomplishing the sound but I know it is and that kinda sucks! I now somehow have to acquire a MetalCloak track bar or something else by the 1st. Bleh! Other than that the Jeep felt great! Drove it to the trail a 100 miles round trip and it ran perfect down the road. Suspension seemed to cycle off-road very nice and freely compared to the radius arms. Overall i'm happy but wasn't ready to drop the money on the track bar right at Christmas. Oh well. Took some neat pics.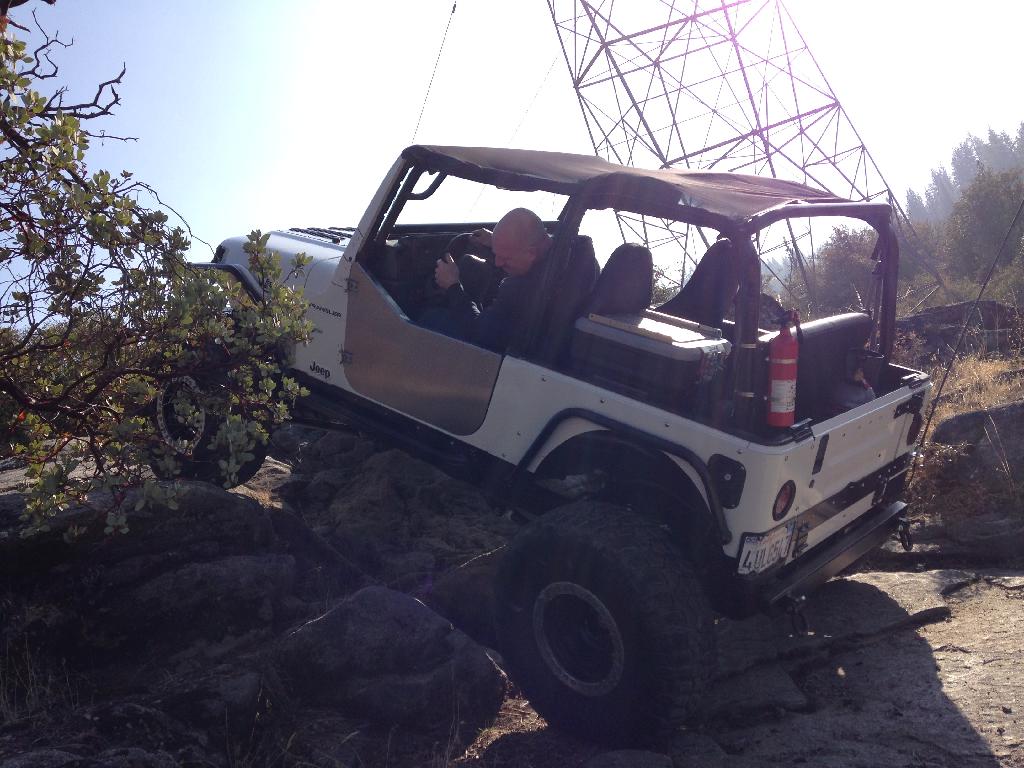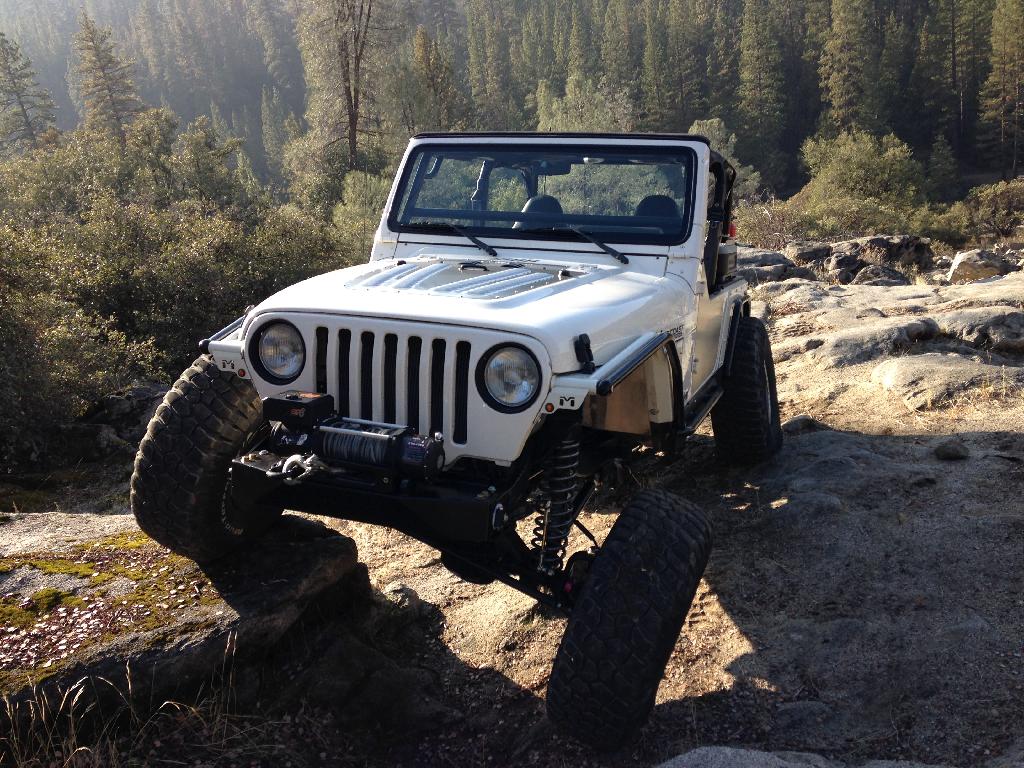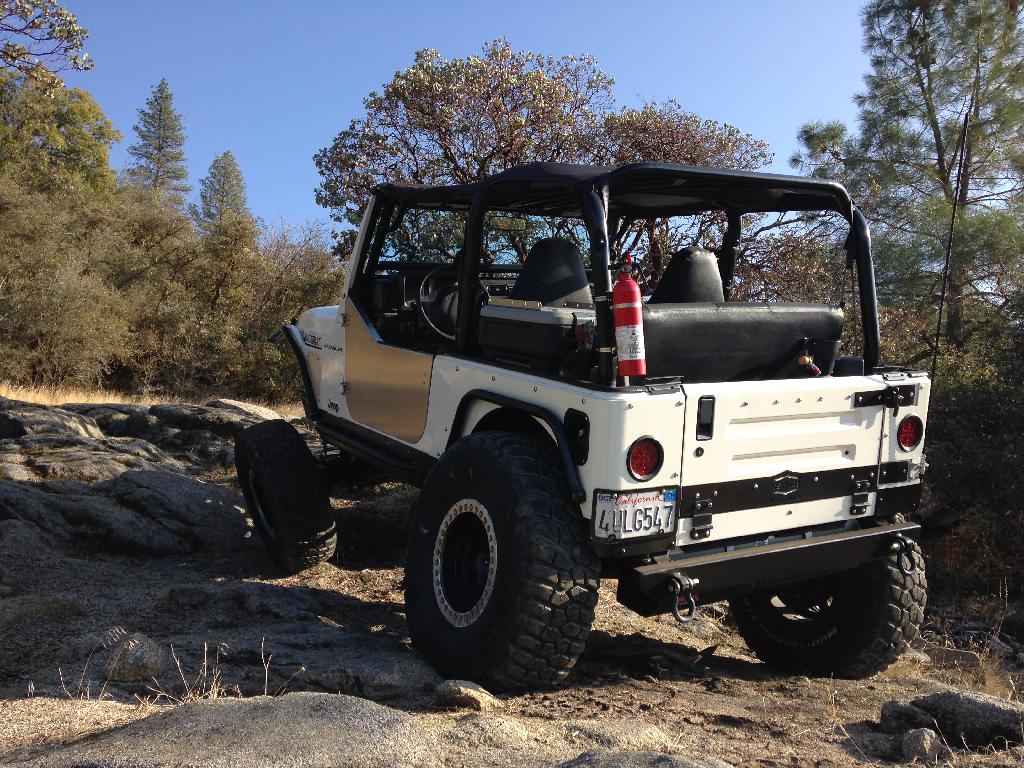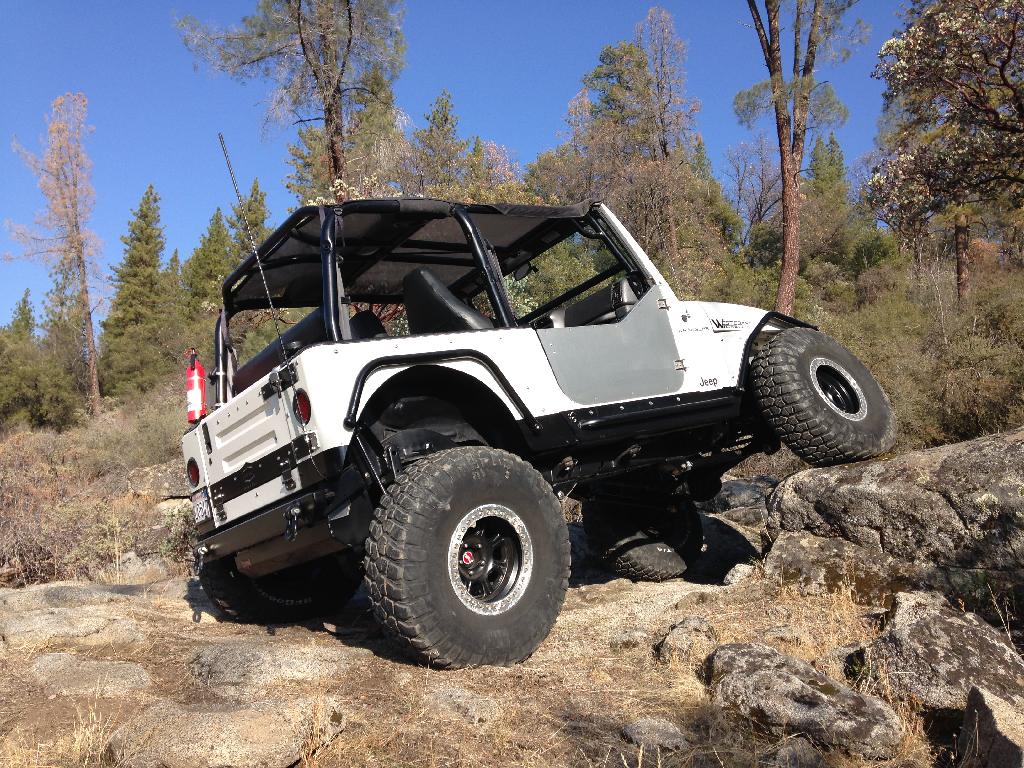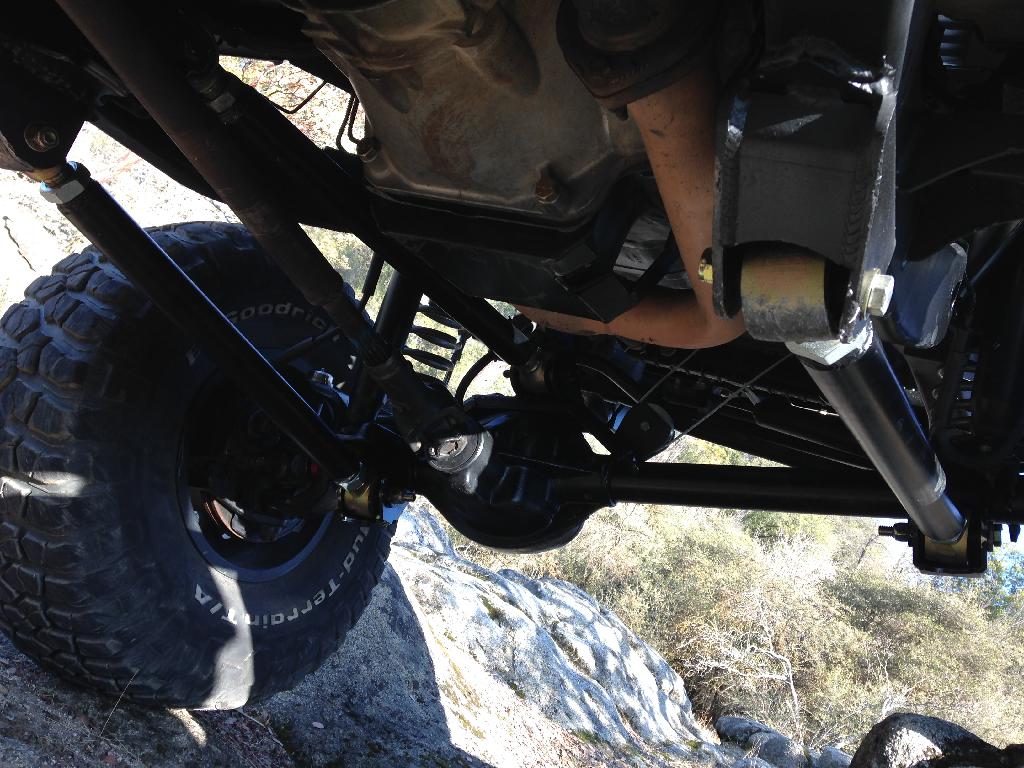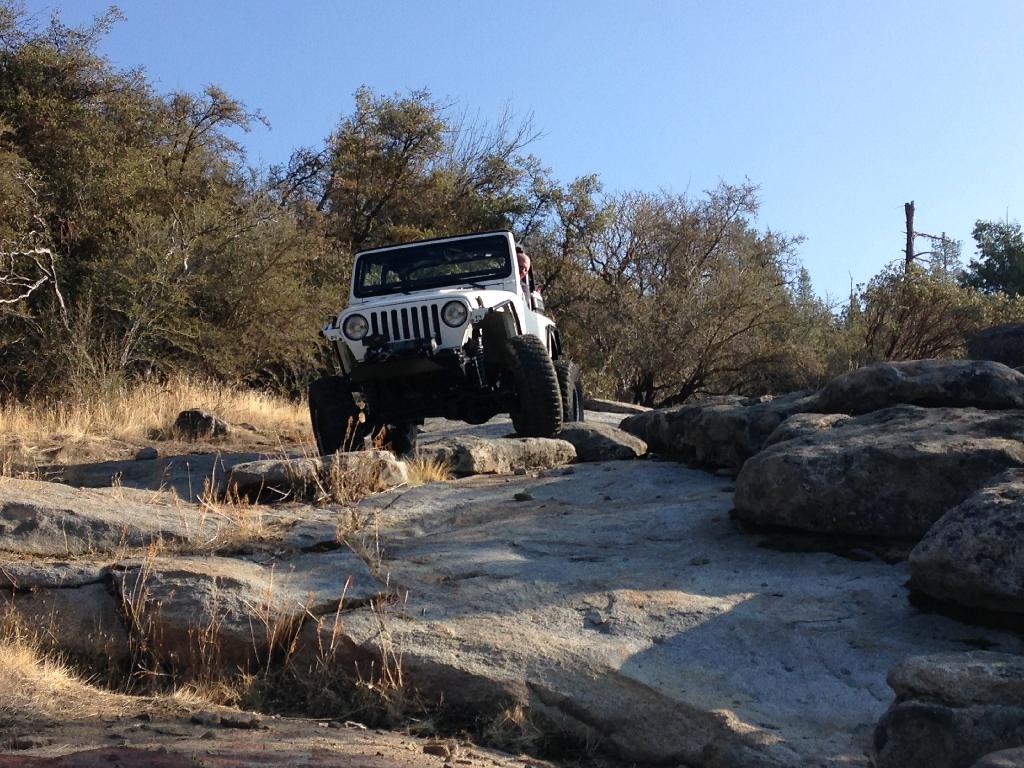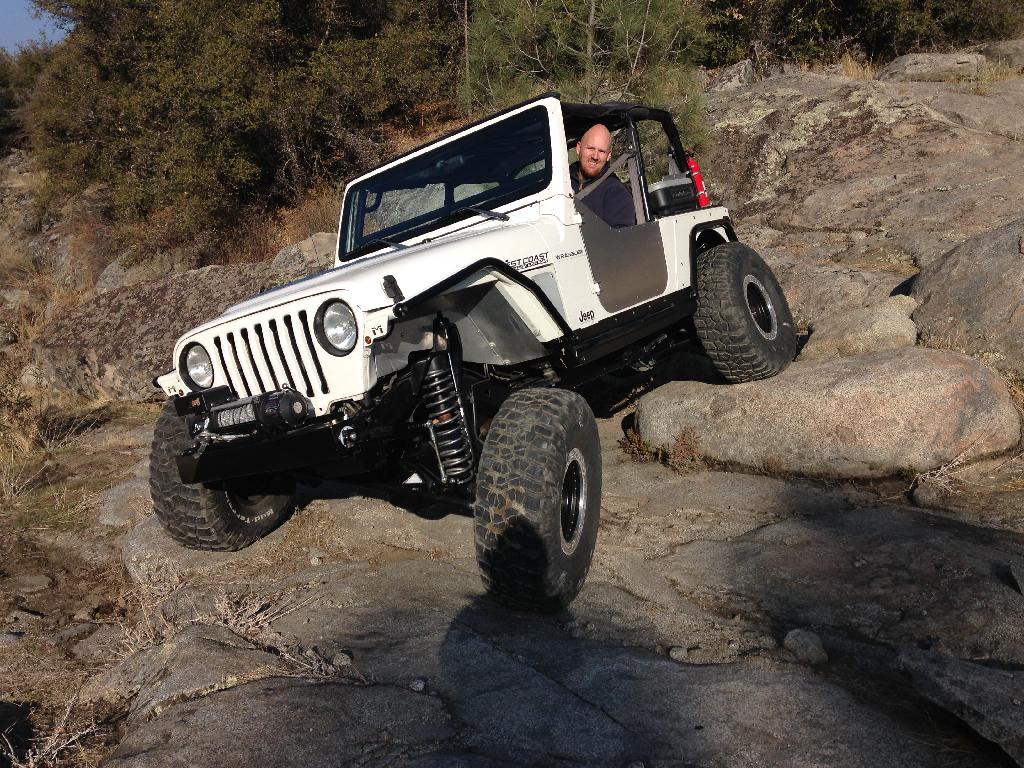 So after doing a little more track bar research, I have learned the factory bolt is an odd duck, and the torque spec is is either 40 or 60. Lol. Well I decided to go get an actual 10mm, 10.9 bolt, and torque it to it's maximum rated torque of 54 ft. lb. depending on what torque chart you read, lol. My bushing looks fine and although I know it's probably quite worn, I just can't logically figure out why a rubber bushing with a sleeve in it could make a popping sound unless the sleeve was moving within it's mount….. and the only way for that to happen would be lack of constraint…. the bolt either lose or holes wallowed out, so the actual cause of the pop has got to be related to it's method of mounting. The bad thing is that I can't really test it without actually being in a wheeling situation. It takes a bit of steering bind to induce the pop. I guess I'll air way down and try turning on the rough street, maybe next to the curb to simulate a bind. I have to say this factory track bar uses some puny hardware for such a critical component.
12-24-2013
First Xmas eve off on in 15 years! And this is the extent of my jeep activities.... A new 12.9 bolt for my track bar. Haha. Oh and I washed it, again. Ready for the hammers though! And white lightening got 3rd TJ of the year! Been a good day!
12-26-2013
Mostly just fire roads, and other mild trails.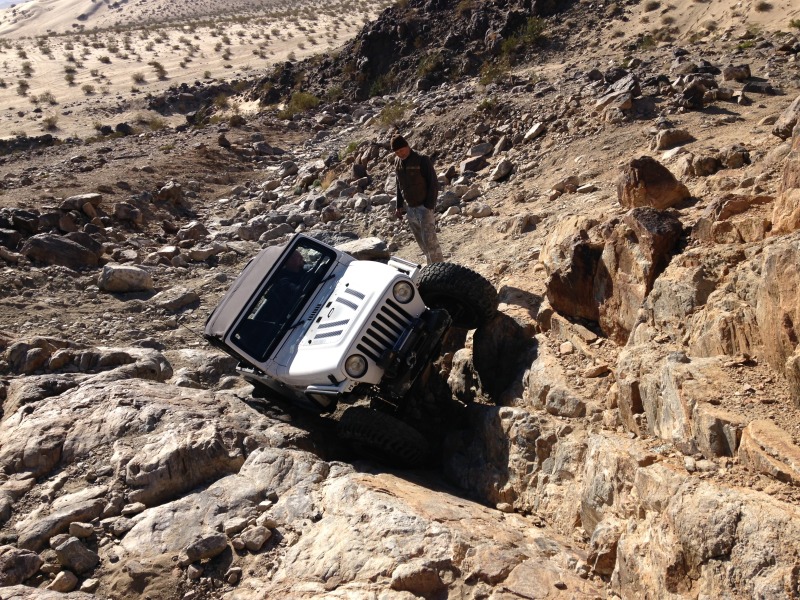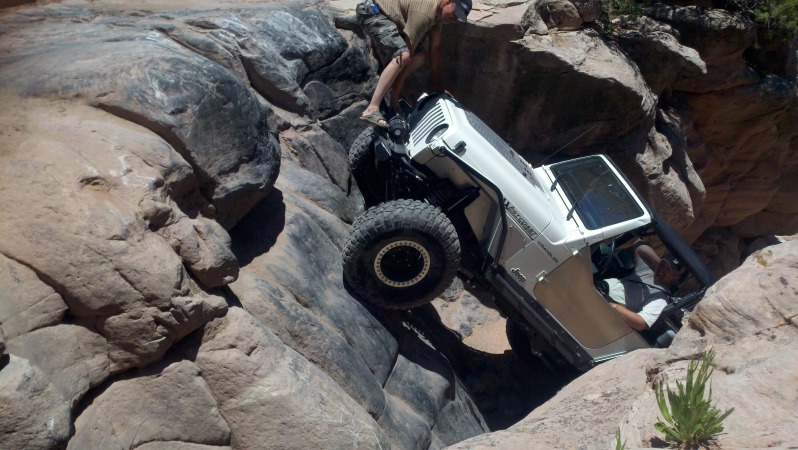 So I went and bought the track bar bushing. I think it's going to be a solid upgrade. It's MOOG brand, but it's an actual Clevite bushing so that's cool… and it's also dual collar or two stage… or something that the stock one was not. Anyhow it seems like it's going to be much stiffer.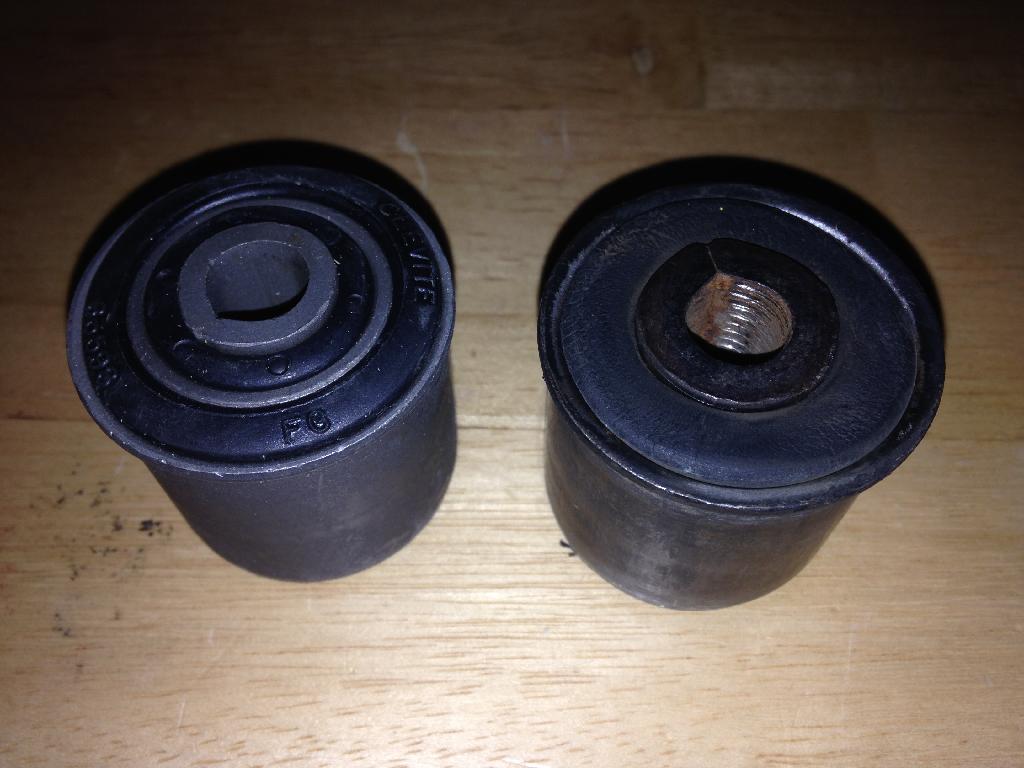 12-28-2013
Signed into myspace for the first time in years and saw the oldest photo I can find of my rig. I was hoping to see one with the grizzly wheels that were on it. This must have been just after I mounted up the new steelies.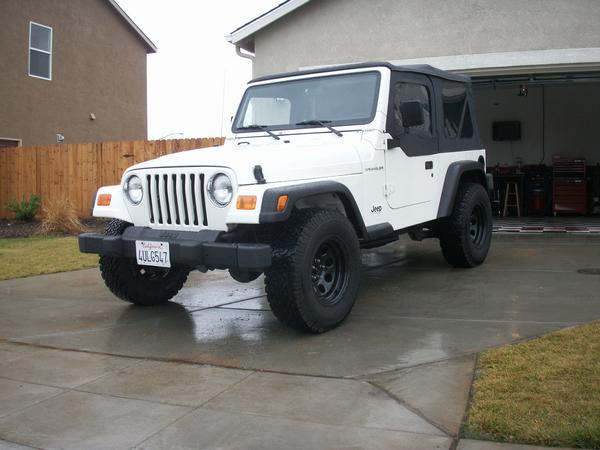 1-1-2014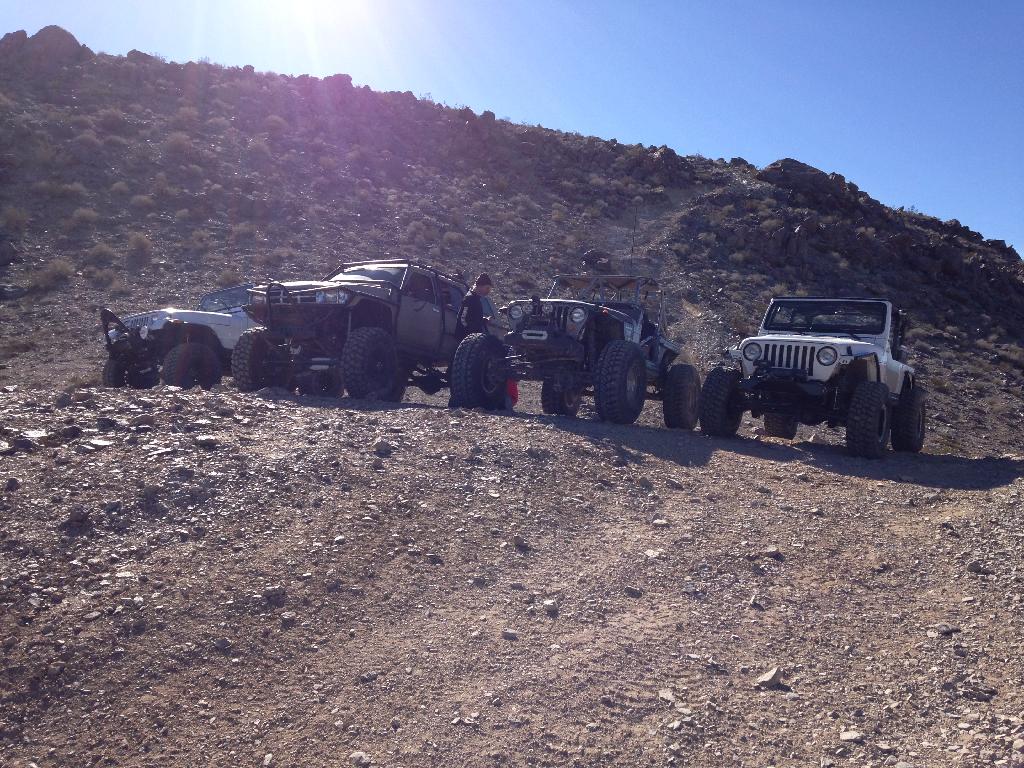 Ok Art got some in the bucket....
1-3-2014
Fun little spot on Big Johnson. Patience is key.
Just a little Desert bashing…
A few more photos. Didn't take many yesterday. I had to conserve my phone battery to make sure we could get out with the GPS. My charger was left in the truck.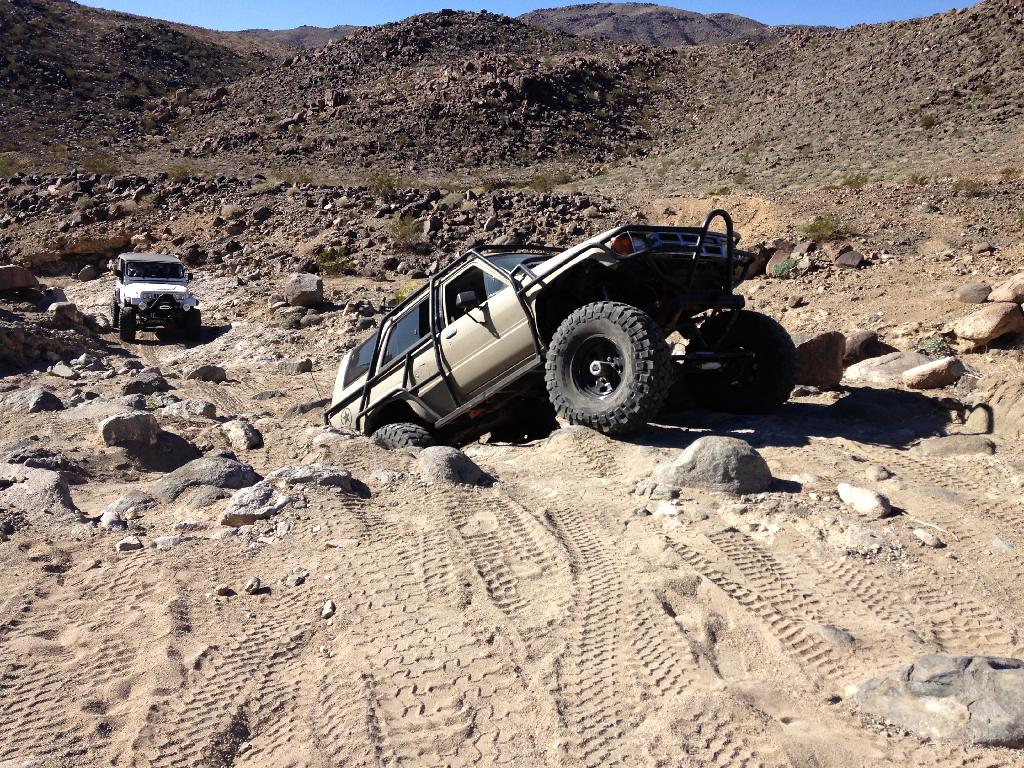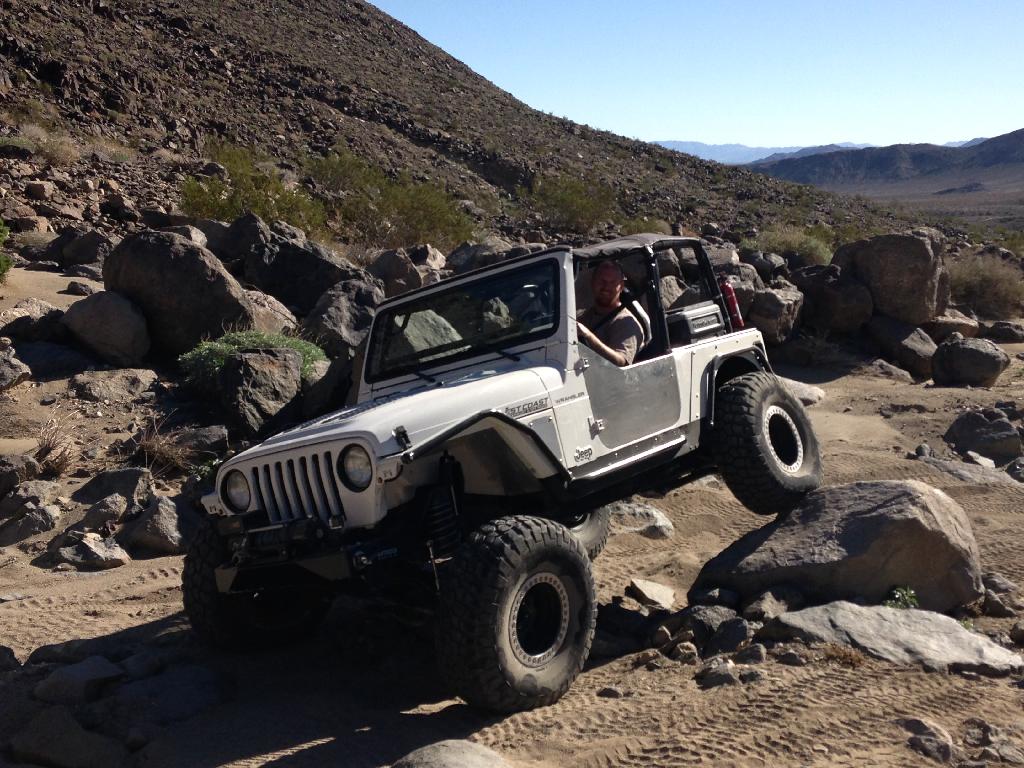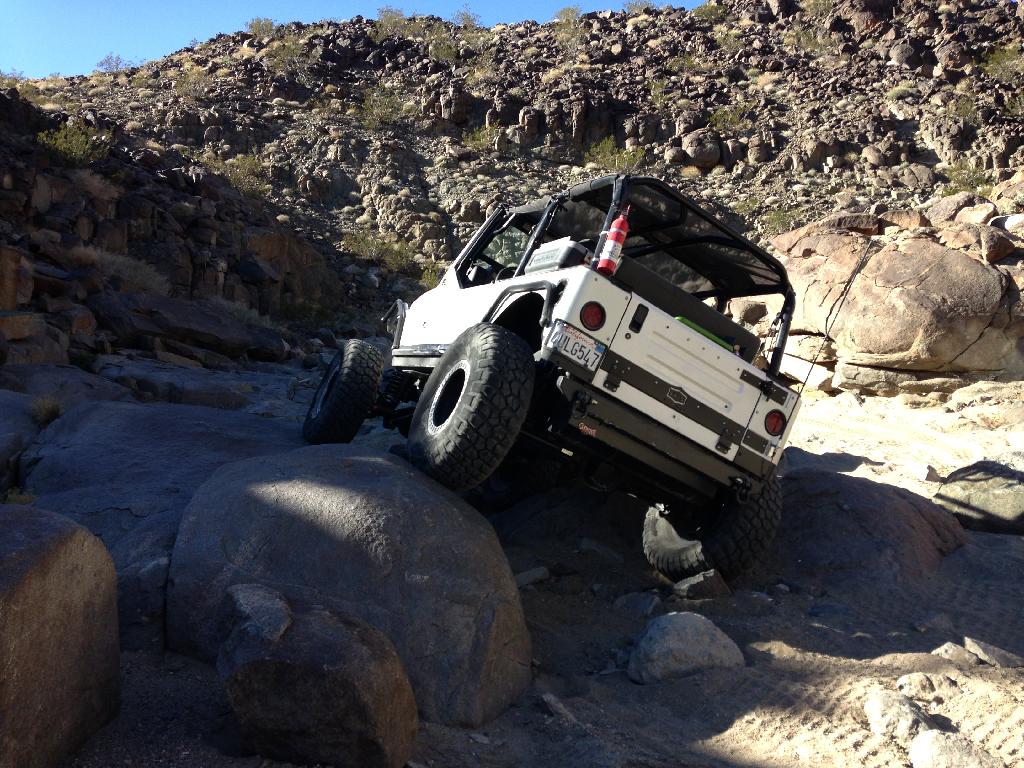 1-4-2014
My friend who was riding shotgun in the YJ put together a little video. Came out pretty cool!
1-10-2014
Got my new drag link installed today. Just sticking with a stock one for the time being and throwing the old one under the rear seat for an emergency spare. Install went well, ghetto alignment done, steering wheel centered. Ready for wheeling again.

Pretty bent even after straightening it out enough to get going on aftershock. Haha
1-11-2014
mall power steering leak coming from the pressure sensor. I can't handle leaks of any kind or size so this is unacceptable! And I'm to late today in diagnosing it so it's got to wait till tomorrow. Damn. Well if anyone has a small unidentified power steering leak, that doesn't look like it's anywhere near the power steering pump check that sensor. Apparently the leak travels down the sensor wires to it's lowest point and drips there, or even worse keeps going down the wire into other sensors and possibly even your ECM! Mine had a low point below the throttle bodyand dripped there, but the wire is wet all the way up to the TPS. Beware….
1-17-2014
I'm never any good at photo editing but I was sitting here messing with this one…. I think it came out good.

Before….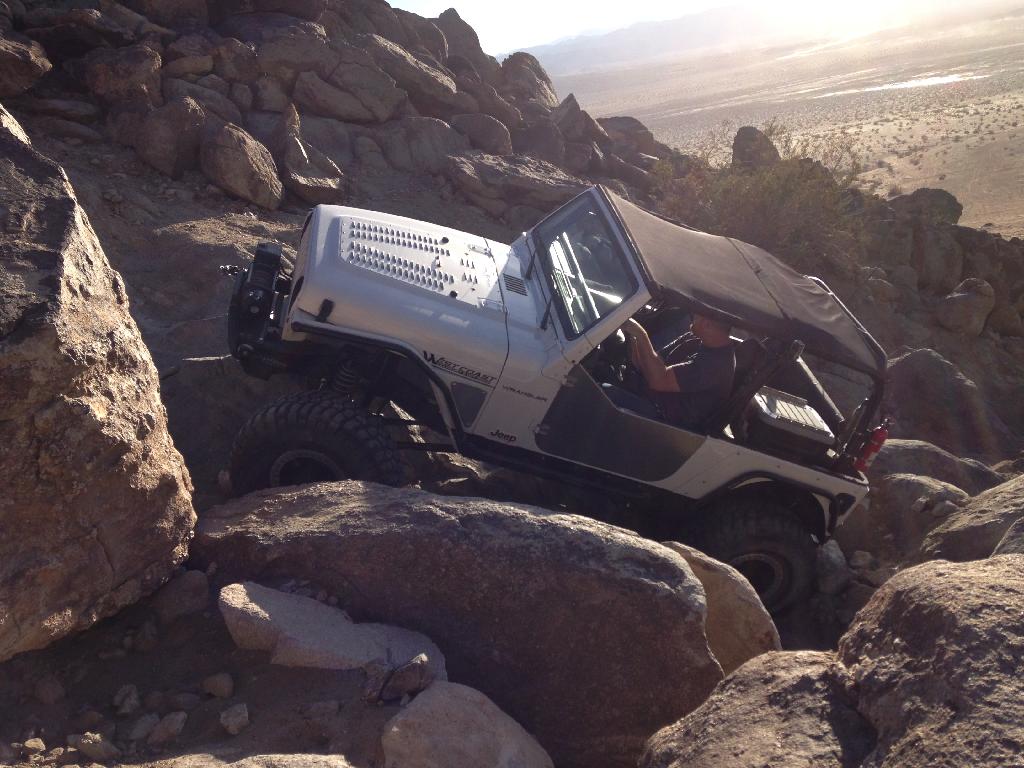 After….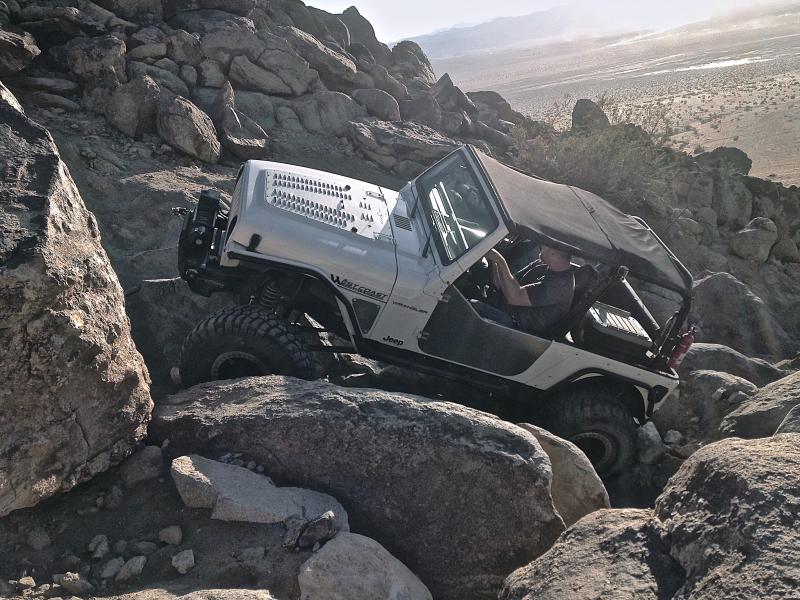 1-31-2014
My build has gone stale!

It's pretty cool to be in a build lull, I haven't been able to pull away from the darn thing in about a solid 2 years. I've been to the gym and riding my bike every day for the last few weeks, truck is nice and clean, wife's car detailed. Haha…. damn jeep was taking over and it was time to step back.

I am having a bit of fun scouring craigslist looking for Tate's jeep. Looks like the end of March i'll have around 4k saved up to make a purchase. Looking for a 4cyl. 5 speed or obviously a running 6cyl if ones shows up in our price range. Were going to make it a simple, reliable, 33" build. If he decides to take it further that's up to him. I CAN'T WAIT to start his build thread.



Tomorrow I'm doing a budget boost and body lift on a nice little stock 01 for a buddy who bought it to flip. Gonna make a little KOH money on that deal.



So Whitelightening is just chilling waiting for KOH, then some Sierra wheeling later this month. But no mods planned until Tate's jeep is purchased! Unless I break something.

2-5-2014
Posting from my tent at KOH, met up with Jay and Mike and crew. Had a great time bsing and talking race strategy. Spirits are high for tomorrow. If I don't freeze to death tonight it'll probably be a good day tomorrow.
2-10-2014
I don't think I can go to another KOH, the post KOH depression….. along with really dumb thoughts of trying to put a car together to compete are really hard on me!

2-11-2014
After just now re-reading the rules. No way in heck a stretched TJ should be legal under the rules. Not even outboarding the shocks and notching the frame should be legal. I wish I would have looked at some of the stock class builds a little closer now.
2-15-2014
Doing a somewhat thorough interior clean and under body inspection / clean today. W/L got rained on on the way home from KOH with no top so my life is basically ruined.

I'm still impressed with how well that raptor liner is holding up and also how well it cleans! I honestly don't spend much time cleaning the inside so this was much needed.
2-16-2014
Reading through the Ultra4 stock class rulebook (again). Man it seems like A LOT of stock class builds ignore a lot of the rules. No air bumps, doors that open and close (including the tailgate), and the only holes you can cut in the body or tub should be for cage bars to pass through. Hmmmm….
3-21-2014
Stock class build dreams fading..... Bad tax year for me. If it happens it'll be a 3 year goal. I just don't know if it will be worth missing those years of wheeling with Tate and the sacrifices it will take to get it done. I'm honesty leaning towards it not. I'm still buying the jeep soon. But it might be a roadworthy 4cyl. And not a project 6cyl.
4-4-2014
4am here.... Just got home from a 13hr round trip to pick this guy up. It's a little rougher than I'd hoped but still a running driving TJ. Gonna take weeks, maybe months just to get it cleaned to my standards. It's OK though, nothing but time now that it's actually purchased. It was awesome experiencing that with my son. He is usually pretty jaded about me buying cars and bikes, but he was genuinely thrilled going through this today.

It's a 97 4cyl. Auto. Yes I know the weakest possible combo, but I know the auto will be better wheeling, and hey as a new driver the slower the vehicle the better IMO on the street. My good friend has one just like this and gets around just fine so I'm happy with the drivetrain. I was sad to see its not original paint, it's a cheapie job but it looks to be a decent one. Single stage though. At least it's black so once it's covered in rattle canned armor it'll be all good. Haha

Anyways I guess I should sleep. I can't wait to wash it, it's filthy!

Keep an eye out for Tate registering and starting a build thread later today! I'm trying to get him excited about joining and participating on here.
Dang thing cleaned up to a solid 5 footer today. Took a lot of elbow grease but it looks pretty nice and is really straight. Had some hard water spots on one side that I'm still working on but they are mostly gone. Clay bar, rubbing compound…. time. Overall the paint is decent. Id like to maybe repaint the hood sometime, it's a little rough, but other than that it's all acceptable.

I let Tate drive it around the block a few times, and he loved it.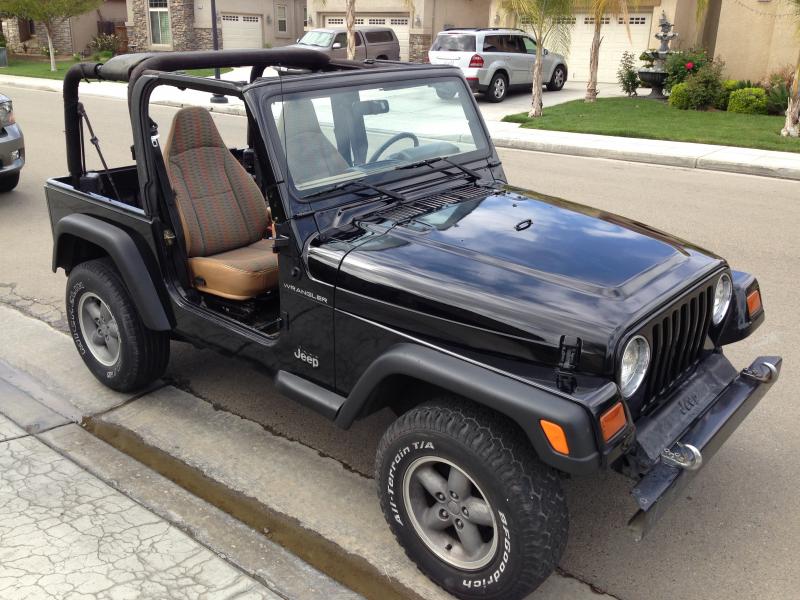 4-12-2014
BAM, I don't usually do many stickers but this one is pretty badass! Thanks Beasley!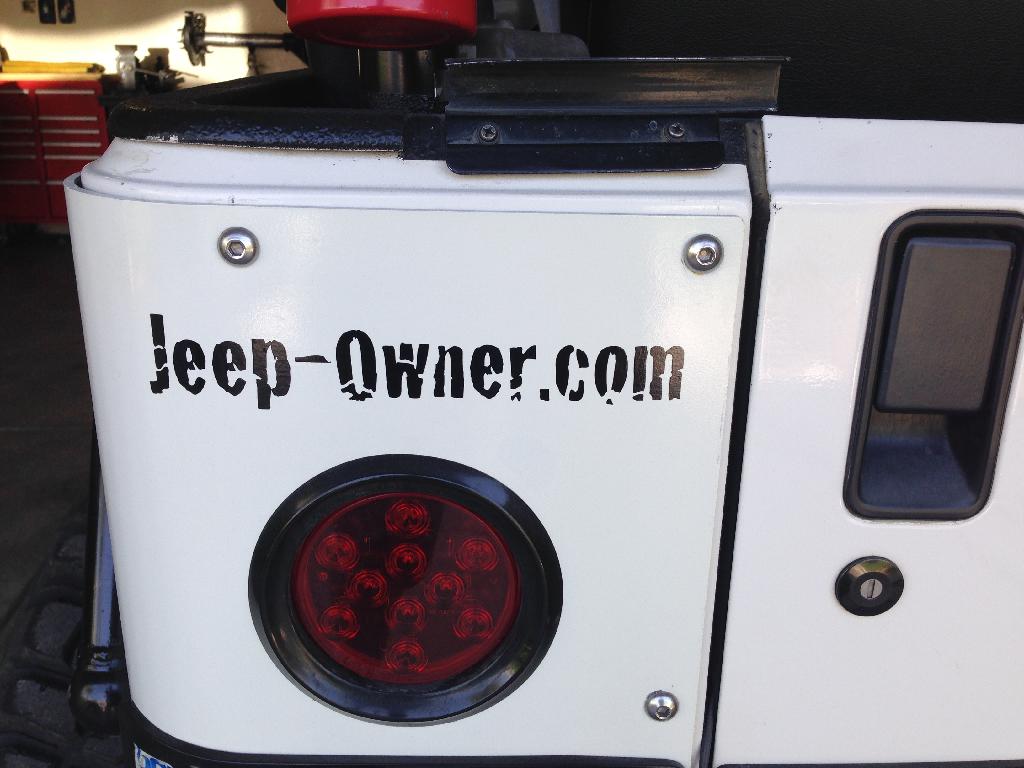 Drove Tate's rig around for about 30 miles today. Seems like everything is running perfect now. The IAC even cleared up. No check engine lights either. I ordered a stock intake today on Ebay so I can get rid of this insanely ghetto aftermarket one on it now. Gotta say I love having two jeeps in the garage! To bad for my truck….. having to live outside until I buy my next house…. with a 3 car garage minimum!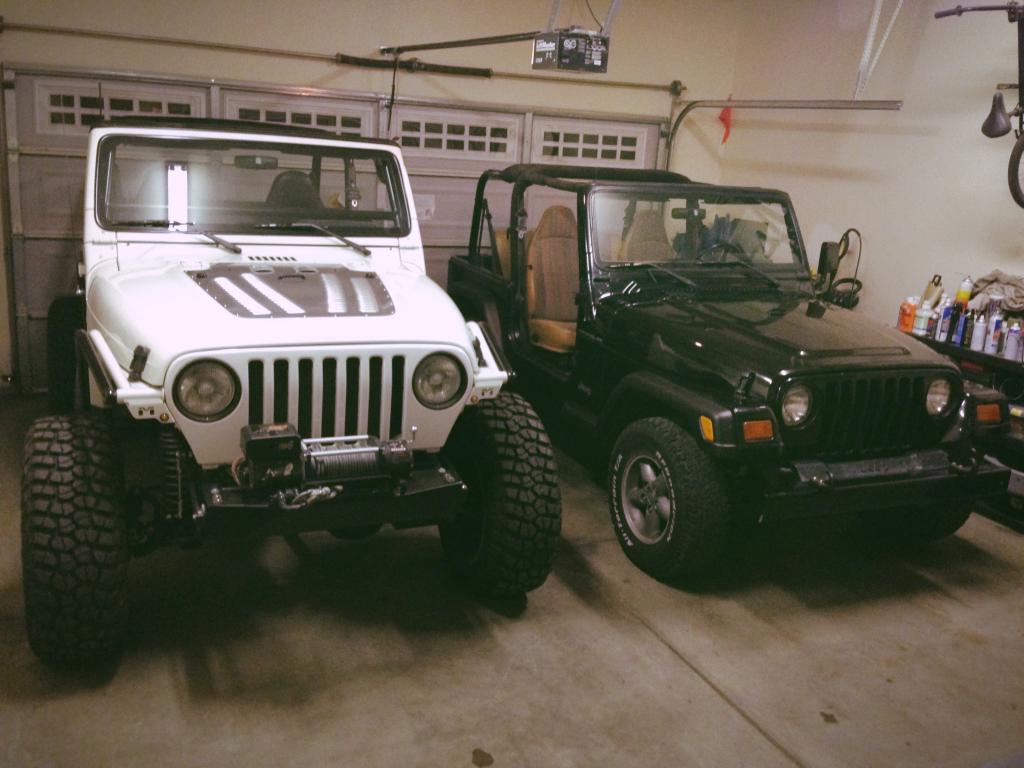 4-29-2014
Here's a little build list I just made up. Thoughts???


From summitracing_sales ( 643882Green Shooting icon for feedback score in between 500,000 to 999,999)
Alloy USA Performance Rear Axle Kits Dana 35 27-Spline 12200
Alloy USA Performance Rear Axle Kits Dana 35 27-Spline 12200
Condition:
New
Quantity:
$262.97
Expedited (3 business days)Expedited Shipping
eBay FAST'N FREE
FREE

Remove| Save for later

Cragar Soft 8 Black Steel Wheels 15"x8" 5x4.5" Set of 4 Fits Jeep Wrangler YJ/TJ
Cragar Soft 8 Black Steel Wheels 15"x8" 5x4.5" Set of 4 Fits Jeep Wrangler YJ/TJ
Condition:
New
Quantity:
$233.28
Standard (4 business days)Standard Shipping
eBay FAST'N FREE
FREE

Remove| Save for later

From e-autogrilles ( 47801Turquoise Shooting star icon for feedback score in between 25,000 to 49,999)
87-06 Jeep YJ TJ Wrangler Front + Rear Rock Crusher Bumper Combo+ 4x D-ring
87-06 Jeep YJ TJ Wrangler Front + Rear Rock Crusher Bumper Combo+ 4x D-ring
Condition:
New

Add 1 more to qualify: Extra 5% off when you buy 3+
See all eligible items
Quantity:
$337.00
Standard (2-6 business days)UPS Ground FREE

Remove| Save for later

97-06 Jeep TJ Wrangler Armor Rock Slider Rock Crawler Guard W/O Step
97-06 Jeep TJ Wrangler Armor Rock Slider Rock Crawler Guard W/O Step
Condition:
New

Add 1 more to qualify: Extra 5% off when you buy 3+
See all eligible items
Quantity:
$155.95
Standard (2-6 business days)UPS Ground FREE

Remove| Save for later

From staticz2229 ( 24417Yellow Shooting star icon for feedback score in between 10,000 to 24,999)
Dana 30 Yukon Spartan Locker - 27 Spline - SL D30-27 - Posi - Locker Axle - NEW
Last One
Dana 30 Yukon Spartan Locker - 27 Spline - SL D30-27 - Posi - Locker Axle - NEW
Condition:
New
Quantity: 1
$255.00
Standard (2-6 business days) UPS Ground FREE

Remove| Save for later

From 4.wheel.parts ( 14067Yellow Shooting star icon for feedback score in between 10,000 to 24,999)
Jeep Skid Plate: Rugged Ridge Steering Box Skid Plate 97-06 TJ Wrangler 18003.12
Jeep Skid Plate: Rugged Ridge Steering Box Skid Plate 97-06 TJ Wrangler 18003.12
Condition:
New
Quantity:
$44.99
Standard (4 business days)UPS Ground
eBay FAST'N FREE
FREE

Remove| Save for later

Smittybilt XRC8, 8,000 lb. Winch - 97281
Smittybilt XRC8, 8,000 lb. Winch - 97281
Condition:
New
Quantity:
$299.99
Standard (4 business days)UPS Ground
eBay FAST'N FREE
FREE

Remove| Save for later

Jeep Tie Rod Assembly: BigDaddy Offroad Tie Rod 1997-2006 TJ Wrangler TR100TXZ
Jeep Tie Rod Assembly: BigDaddy Offroad Tie Rod 1997-2006 TJ Wrangler TR100TXZ
Condition:
New
Quantity:
$89.99
Standard (4 business days)UPS Ground
eBay FAST'N FREE
FREE

Remove| Save for later

From levelingsolutions ( 14946Yellow Shooting star icon for feedback score in between 10,000 to 24,999)
Jeep Wrangler TJ Front & Rear Bump Stop Extender Kit
Jeep Wrangler TJ Front & Rear Bump Stop Extender Kit
Condition:
New
Quantity:
$25.00
Expedited (2-4 business days) USPS Priority Mail
eBay FAST'N FREE
FREE

Remove| Save for later

From 4wheel.drive.hardware ( 6079Green star icon for feedback score in between 5,000 to 9,999)
4 BF Goodrich Tires 33x12.50R-15LT, Mud-Terrain T/A KM2 Tire - 45738
Last One
4 BF Goodrich Tires 33x12.50R-15LT, Mud-Terrain T/A KM2 Tire - 45738
Condition:
New
Quantity: 1
$967.96
Standard (4 business days)UPS Ground
eBay FAST'N FREE
FREE

Remove| Save for later

From jeeperz-creeperz ( 14795Yellow Shooting star icon for feedback score in between 10,000 to 24,999)
JKS 2001 Quicker Disconnects, Jeep TJ Wrangler with 2.5"-6" of Lift
JKS 2001 Quicker Disconnects, Jeep TJ Wrangler with 2.5"-6" of Lift
Condition:
New
Quantity:
$157.50
Standard (5 business days)Standard Shipping FREE

Remove| Save for later

From trends-auto ( 55754Purple Shooting star icon for feedback score in between 50,000 to 99,999)
PERFORMANCE ACCESSORIES 951 1" BODY LIFT KIT 1997-2006 JEEP WRANGLER TJ
PERFORMANCE ACCESSORIES 951 1" BODY LIFT KIT 1997-2006 JEEP WRANGLER TJ
Condition:
New
Quantity:
$98.60
Standard (6 business days)Standard Shipping FREE

Remove| Save for later

From 4x4everything ( 677Purple star icon for feedback score in between 500 to 999)
BDS 2" Suspension Lift Kit# 417H Jeep Wrangler 1997-2006 4WD
BDS 2" Suspension Lift Kit# 417H Jeep Wrangler 1997-2006 4WD
Condition:
New
Quantity:
$414.00
Standard (5 business days)UPS Ground FREE

Remove| Save for later
Subtotal (13 items):
$3,342.23
Shipping to 93723-8119:
FREE
Sales Tax:
$179.74

Total:
$3,521.97
Pretty easy to spend that kinda money haha. I know I can probably shop for hours and save a little here and there and I know I can get some of these things in other brands..... but I'm honestly looking for easy shopping, bolt on, finished products. Little to no fab work or painting.
4-30-2014
So here is the build list with shipped pricing... pretty much what I posted last night, but I didn't Ebay it all. "I" think it'll be a cool little TJ, somewhat built up front to rear, for mild wheeling, hunting and camping duties. With good street manors and good looks. Anyone see anything that I blatantly missed? Other than this I know I'll need a winch plate of some sort, fluids, a Safari top and windshield header and....... that's about it. We'll be at $3500. In the future he can easily add more armor, CA's.... and what not as he get's more into it.

BDS 2" lift $412.00
PA 1" body lift $ 98.60
2" Bump stops $ 25.00
R/C track bar brkt. $ 27.89
Eauto Sliders $155.95
Eauto Bumpers F/R $337.00
Big Daddy Tie Rod $ 89.99
Alloy USA D35 Chromos $262.97
D30 Aussie locker $234.00
Engo 9,000 Winch $279.00
JKS Discos $142.16
Cragar Soft 8's $233.28
33 KM2's $970.00

Total $3,267.84
5-1-2014
To say Summit Racing is on top of their shipping..... is an understatement. Damn...amazing, less than 24hrs. to my door. I wish I could order everything from them. I guess the build starts tonight. D35 Chromos going in.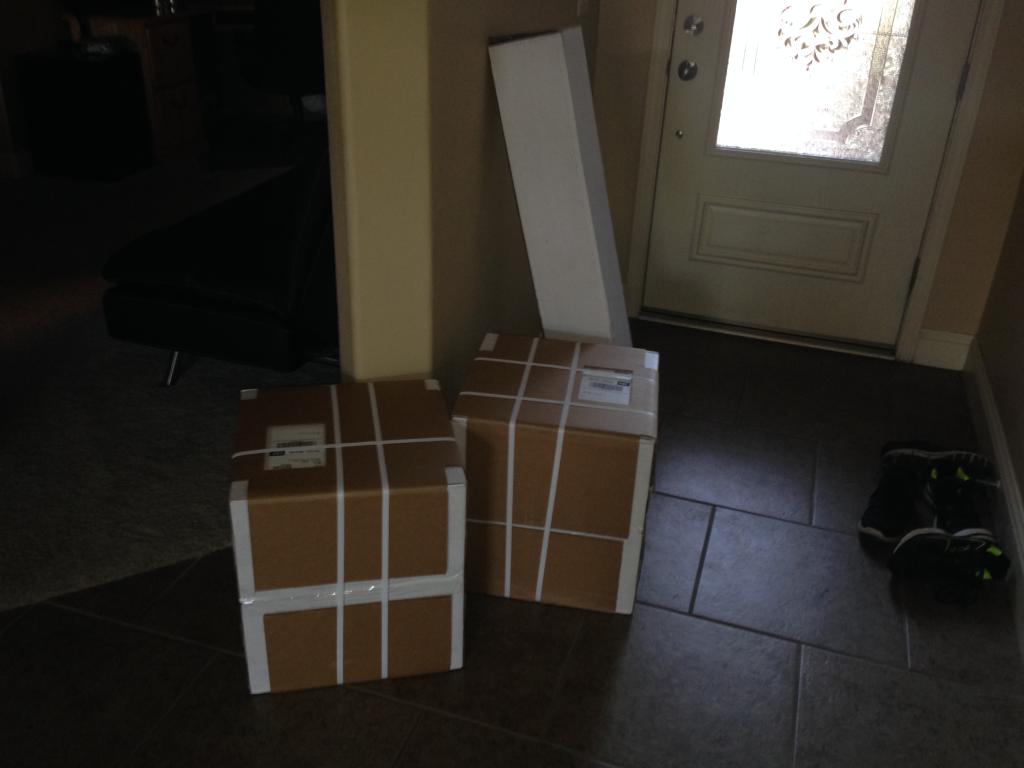 5-5-2014
I got a lot done today on the old man's jeep. Mounted and balanced the tires. Installed the JKS discos, Installed the front bumper and winch plate, rear bumper, rocks sliders, 1" body lift and safari top.

Everything went pretty good. I'm pretty impressed with the rock sliders for the price. I know it's not a complicated part but they sure look clean. The bumpers on the other hand I really screwed up! I should have read the description better. I didn't realize I got full width bumpers. By full width I mean...... WIDE. Especially compared to what I'm used to looking at. Oh well they are gonna have to work. With the fog lights and winch on the front it won't look bad, but the rear I just can't get used to. He will have good protection for his corners and fenders and I'd bet that's what he would like instead of super stubby non existent bumpers like I have, and like. Still they weren't what I was expecting and I hate that.

It looks pretty cool though.... tomorrow I get the Tie rod, and Winch. I have the bump stops, 3/4" coil spacers and D30 Aussie locker sitting here also. The last thing to arrive will be the lift on Wednesday. I've got Friday and Saturday off to get this thing wrapped up and detailed.

These bolt on builds are pretty fun!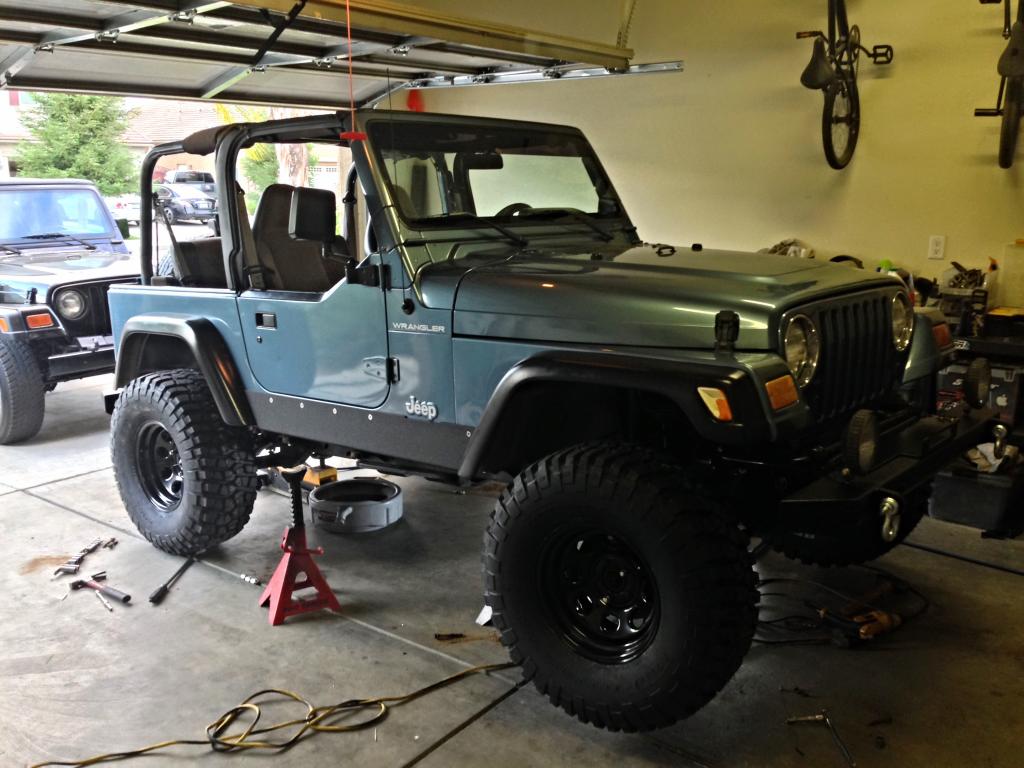 5-6-2014
I knocked out the winch install tonight. I've never seen an ENGO winch in person and I must say they are quite underwhelming. They look to be about Harbor Freight quality. The control switch is about as cheap as they come but looks simple enough that if it ever gave issue you could fix it easy. The engage and free spool lever has a nice solid feel and the wiring going into the solenoid box looks to be quite durable. There's nothing hard about installing a winch so I won't ramble on about it...... I'm glad I bought him one and I'm sure it will be just fine. Oh yeah..... the free spool was VERY smooth and easy and during a powered test the unit sounded good and smooth. I've heard some winches right outta the box that sounded terrible and rough! I think the front end looks pretty complete now and I am starting to get used to the bumper a little more.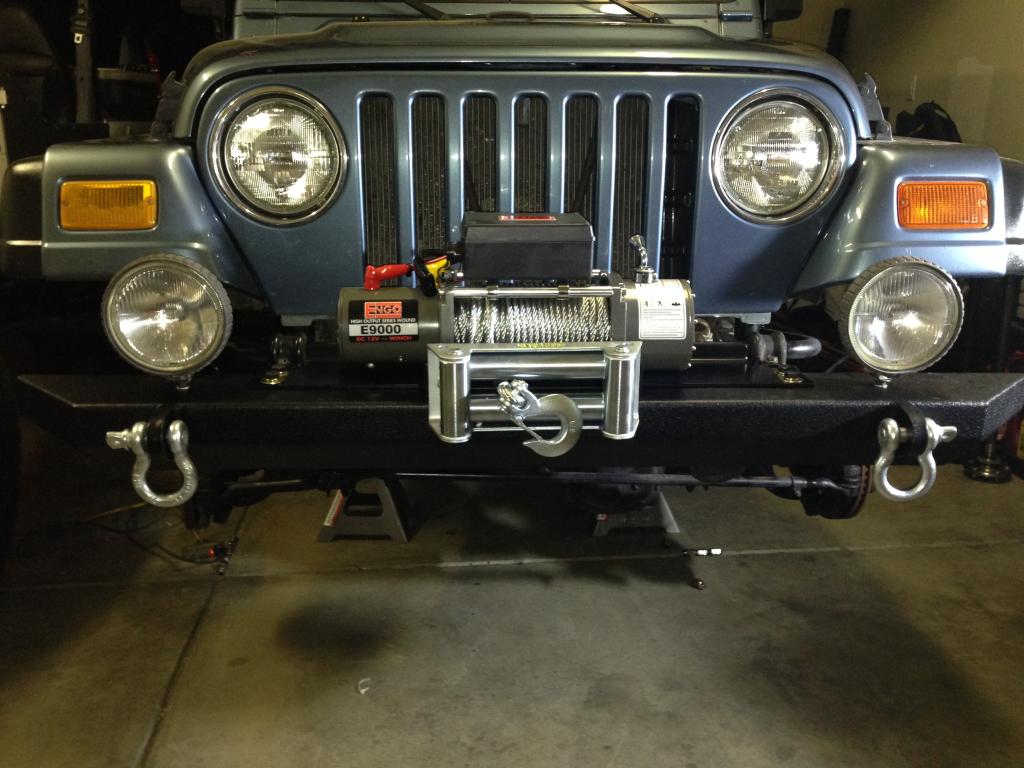 Easily my favorite part so far on this jeep is these sliders.... here's a few more photos as requested.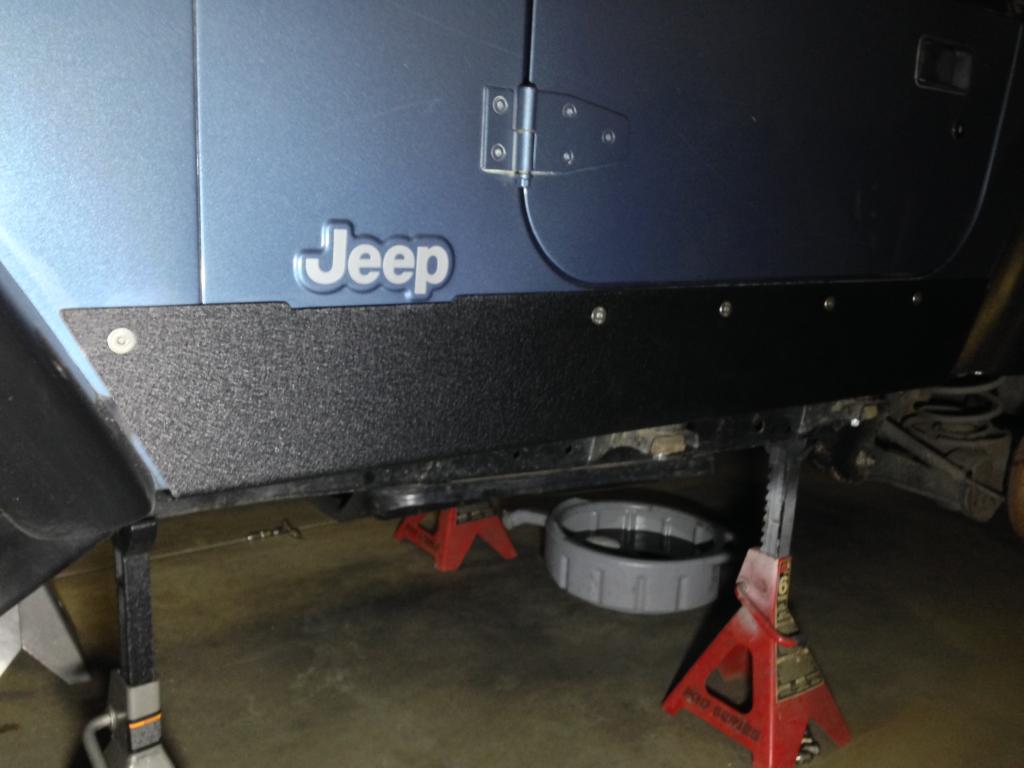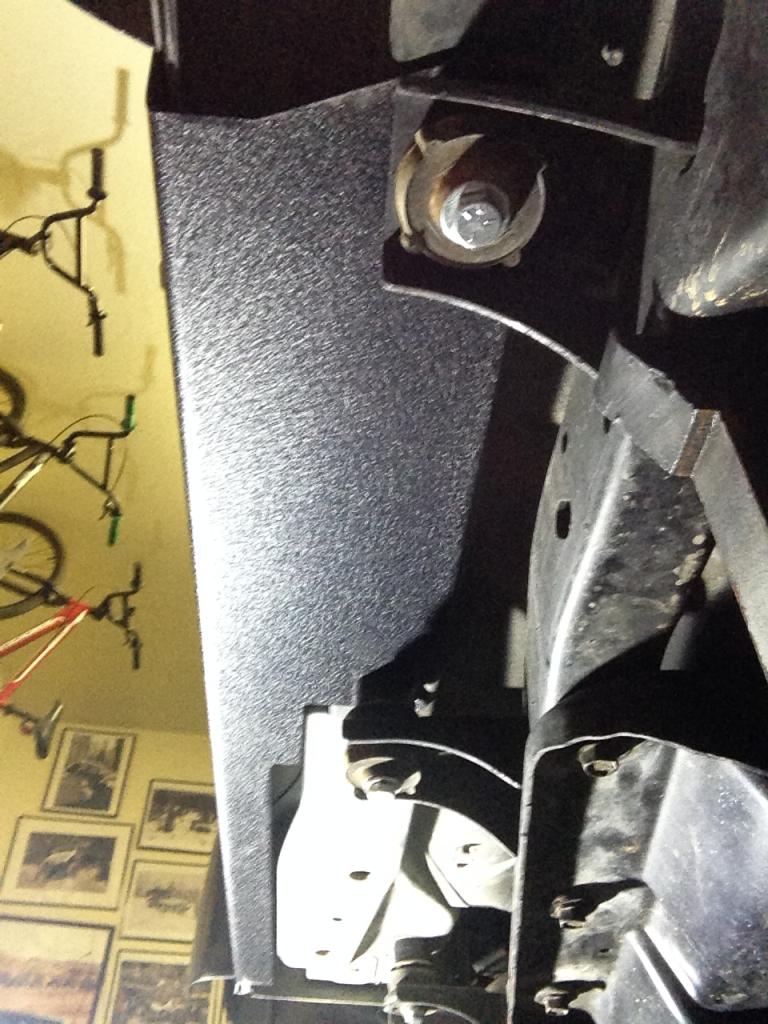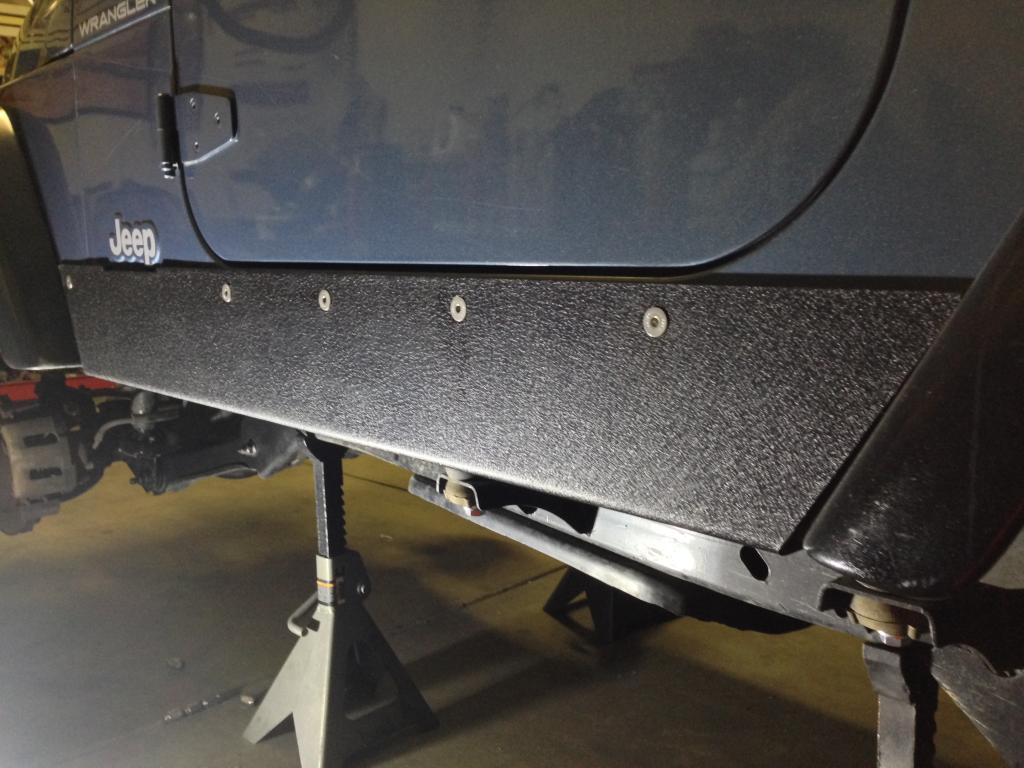 The lift gets here tomorrow..... knowing me I'll probably start on it after work tomorrow. Here's an updated list of what's left to install.
2" BDS lift
2" bump stop extensions
R/C rear track bar bracket
3/4" Coil Spacers (to level front)
Big Daddy off road Tie-rod
D30 Aussie locker
A little painting and general detailing and we'll be ready to deliver it. He's still got no idea his Harley is gone.


5-7-2014
Got the BDS 2" lift on tonight with the 2" bumpstop extensions and 3/4" spacer in the front. It came out nice! I like the springs and the shocks feel soft so I'm sure it'll ride decent. The stance is just about perfect with the 3/4 spacer in the front. Pretty happy with it! A bunch of odds and ends to do still but it's getting close to being a cool little TJ.
5-9-2014
Got it done! Were going to deliver it tomorrow. Were meeting for an early dinner under a mother's day guise, and going to somehow surprise him as we leave. Were trying to be sneaky as possible because he ALWAYS figures out gifts, and surprises it seems like. It wouldn't surprise me if he already knows I have it somehow. Haha. Oh well..... I snapped some sunlight photos so I can remember how clean it was........



For a $3500 build I think it's fairly complete and a GREAT starting point without having to redo a bunch of things. I have no doubts this thing is going to be reliable and capable as heck around here!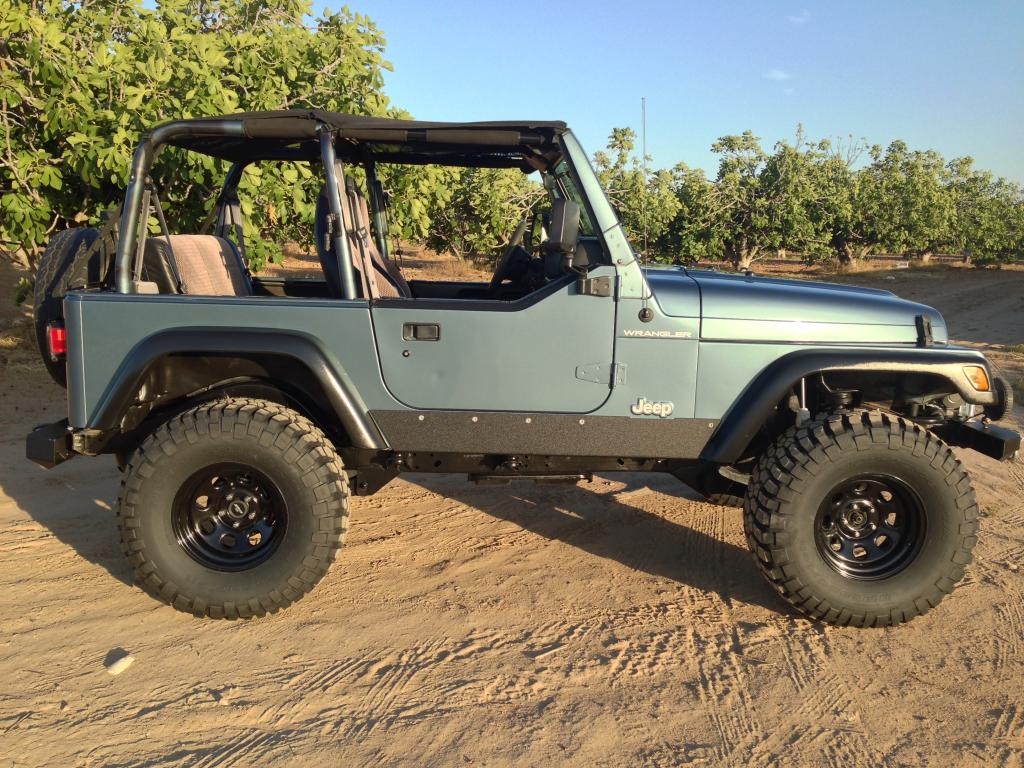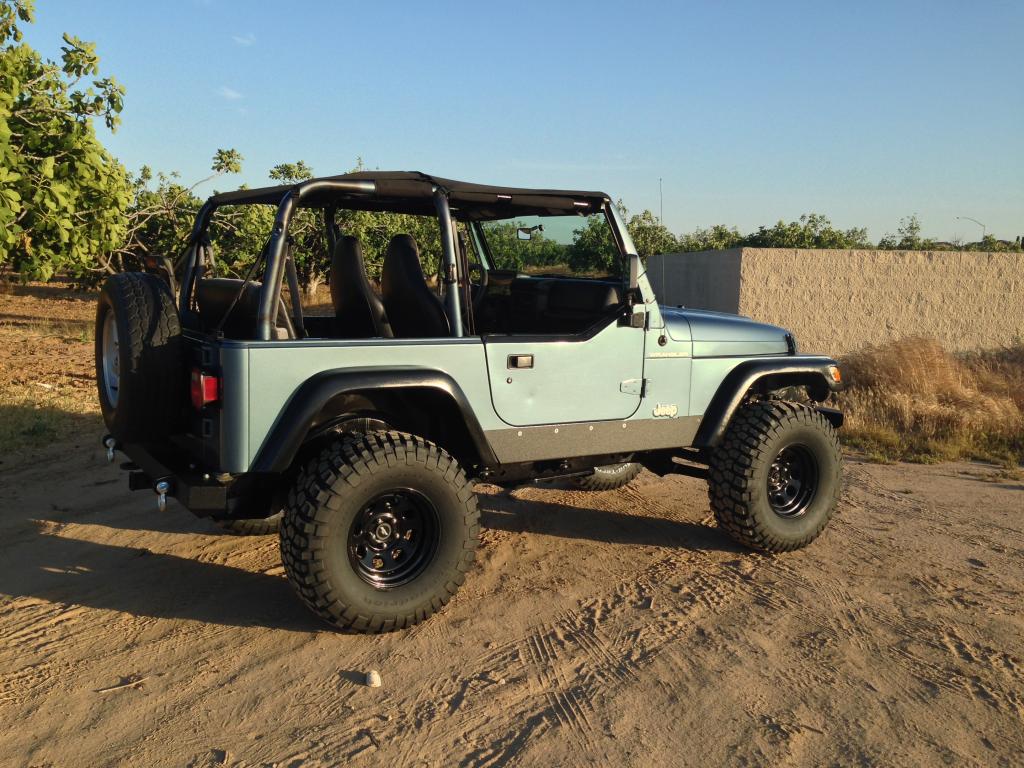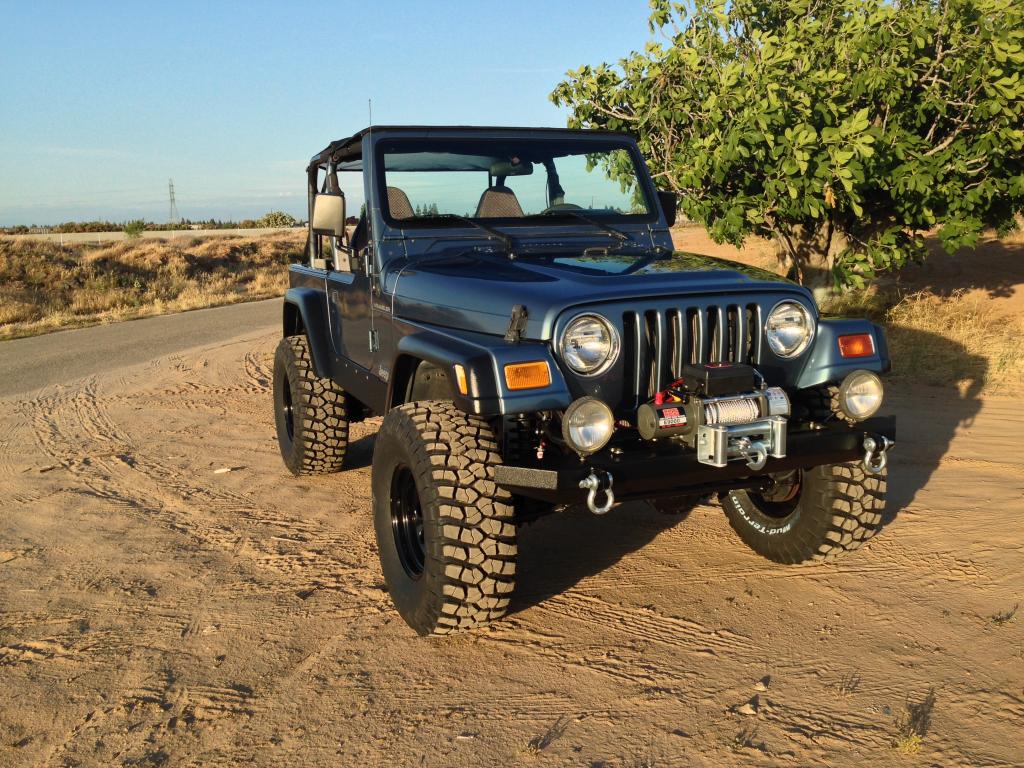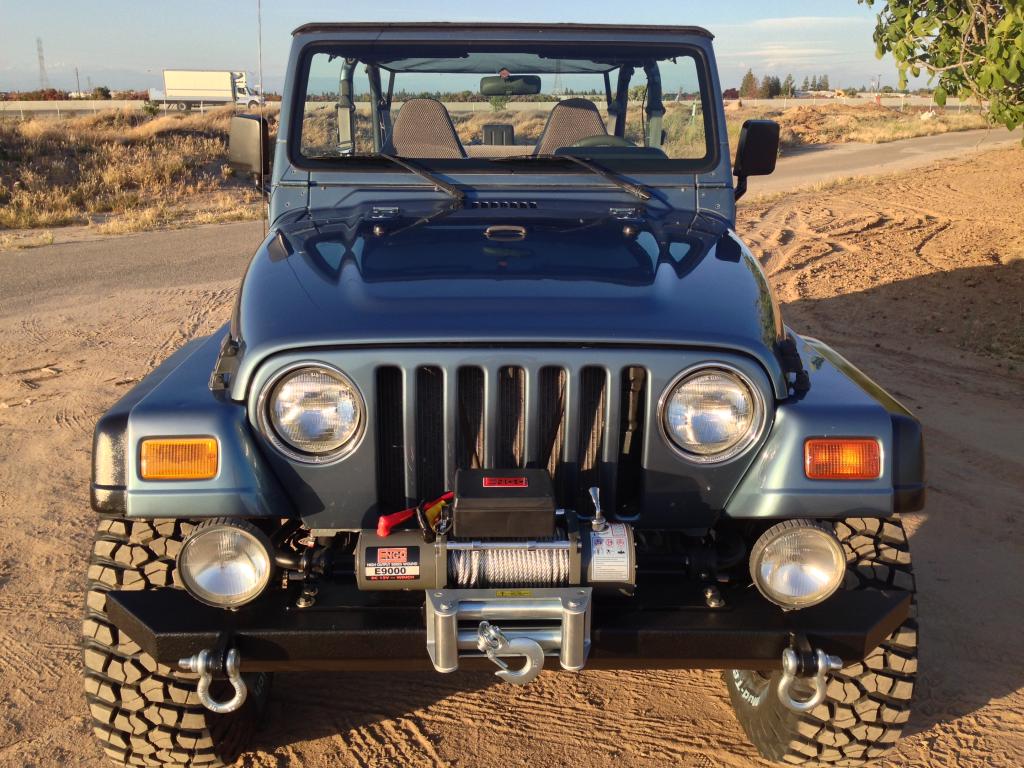 5-10-2014
The unveiling went down today!

Here was the basic set up. We agreed to meet at a restaurant under a mother's day guise, my wife picked him up, saying I was going to be a little late and would meet them there. Well I actually got there before them, parked the Jeep on the street and put a for sale sign in the window. My wife knew exactly where to park so they would walk by it on the way in. I was hiding near them and could see when they approached the Jeep. Sure enough it caught his attention and they stood there and talked about it for a little bit. He took some photos of it to show me when I arrived. I made sure to call my wife just as they were walking away, saying that I was almost there. I could hear him in the background saying tell him there's a jeep for sale.... haha.

So I walked into the restaurant and he immediately hands me his phone and shows me the photos. I told him yeah I saw that Jeep. Looks good and if it's still there when we leave we should give them a call...... Aside from that we just had a nice lunch and didn't talk about it.

Upon leaving the plan was to walk by it again, check it out and me tell him to give the guy a call. Well the phone number is Tate's. I figure he'll dial it, Tate's phone will ring and he'll figure it out...... well it went even better than that. He was so focused on the call, he didn't even notice Tate's phone ringing. When Tate realized he didn't notice, he calmly walked away and took the call as the seller of the jeep. Tate was awesome.... it was funny! Here's the video.

5-18-2014
Here's an example of a video not doing an obstacle justice! dang it! This doesn't look like much it's pretty sketchy. If you get it wrong you're in for a long rideback down on your lid.
5-27-2014
I tried a couple new lines yesterday, got denied mostly. I'll get them figured out soon enough though.



Oh yeah... the old man's jeep did GREAT! He started off a little shaky behind the wheel but by the end of the day was getting used to it. The jeep performed really well though and he was happy to be up there wheeling with his family.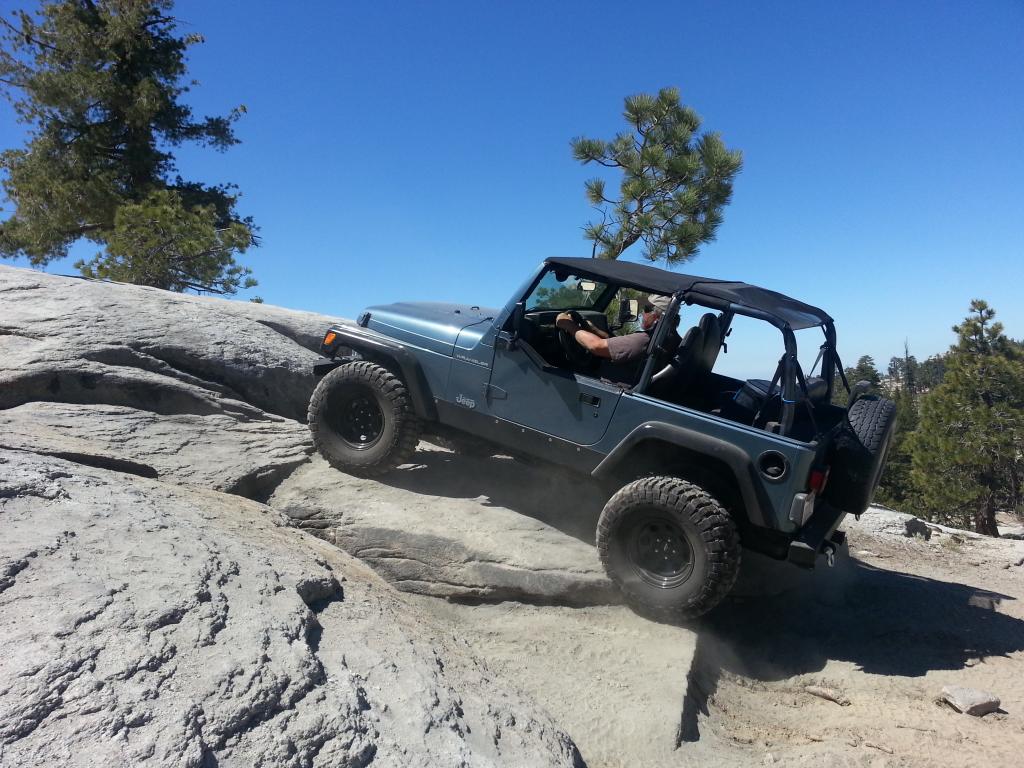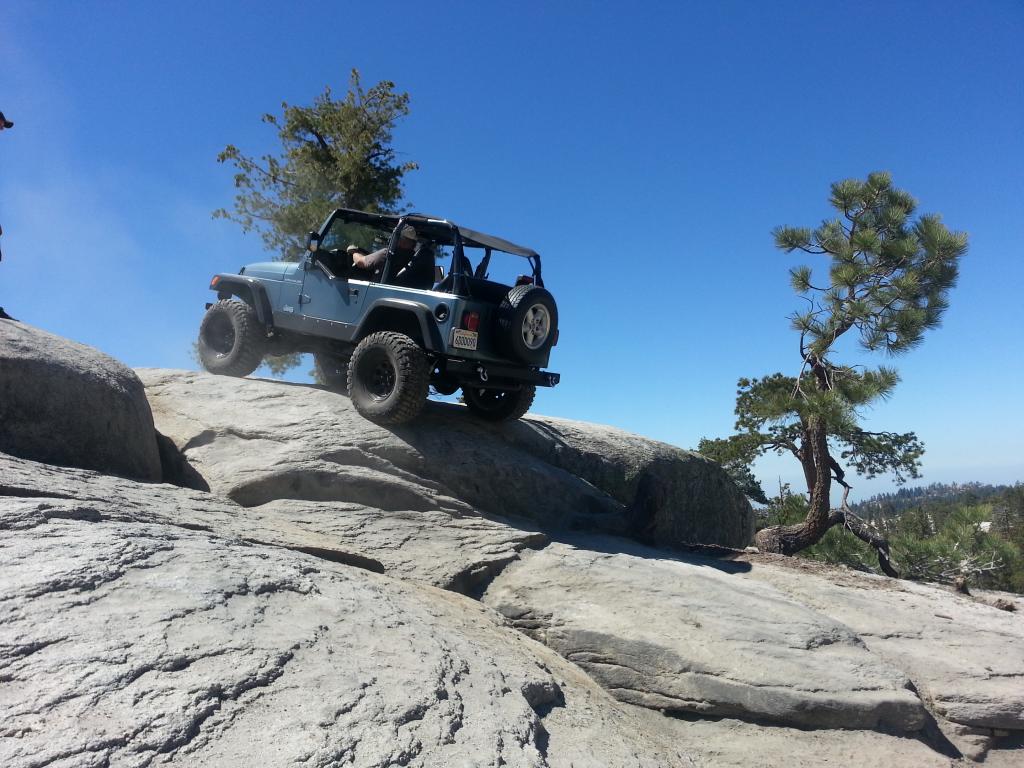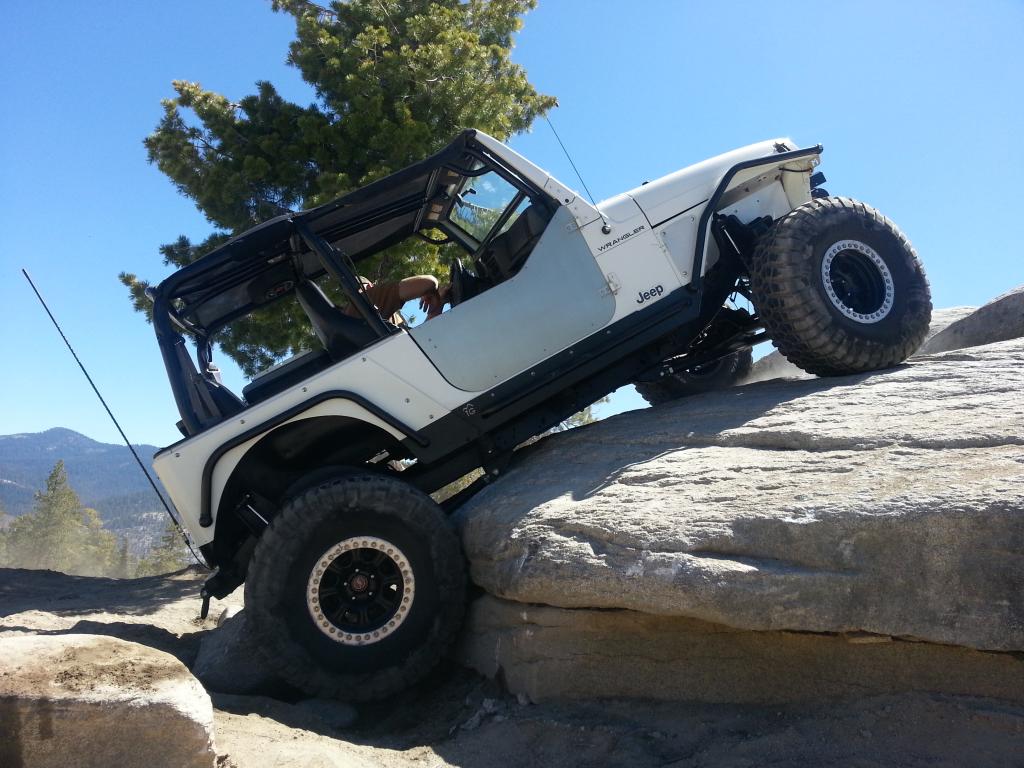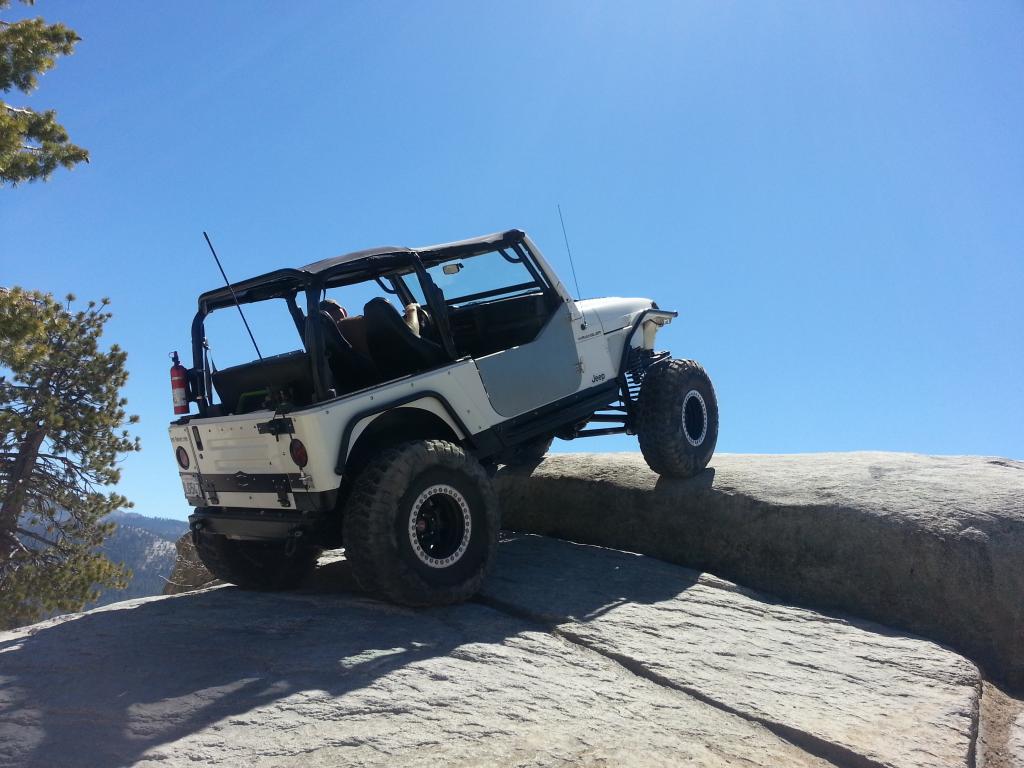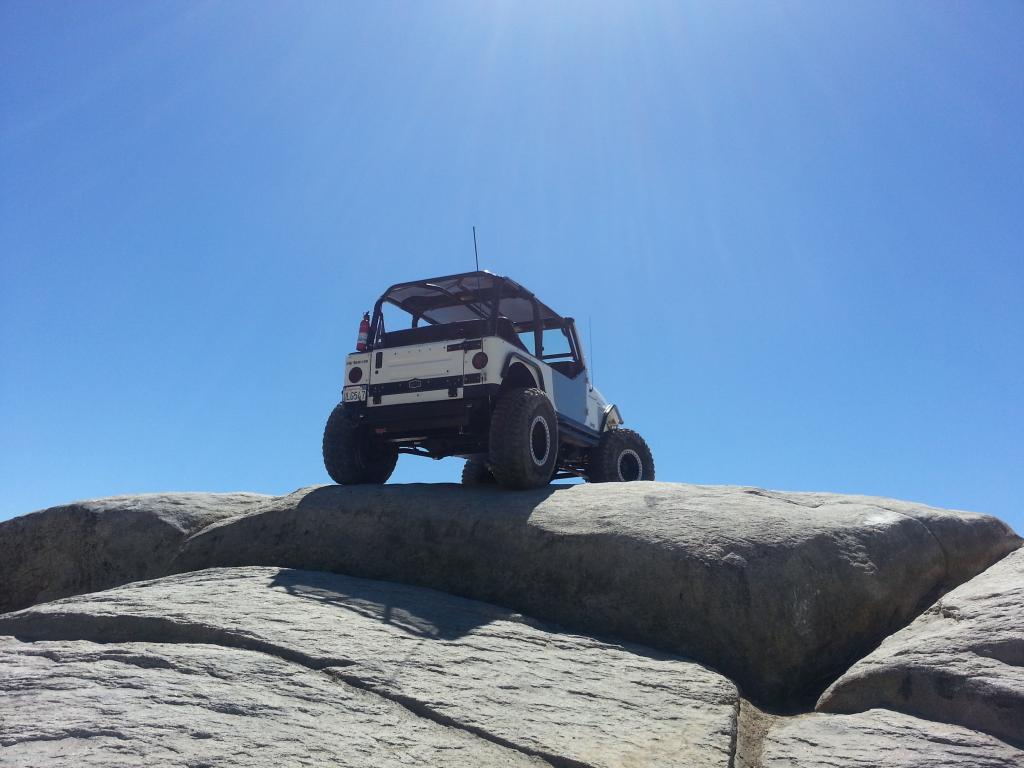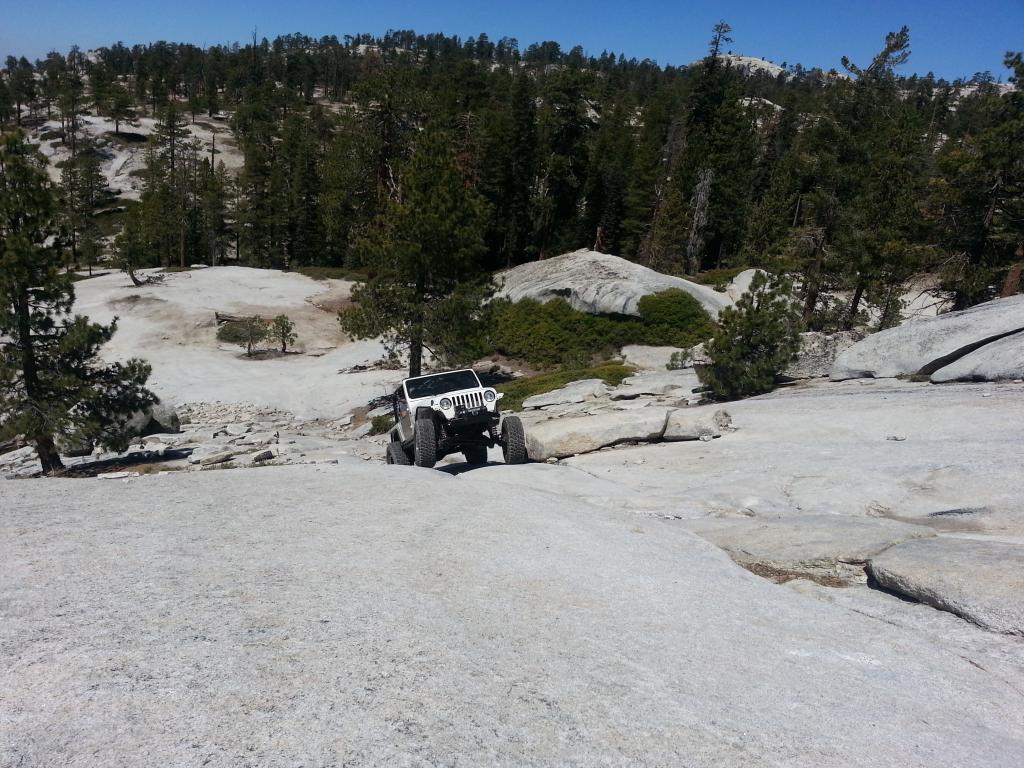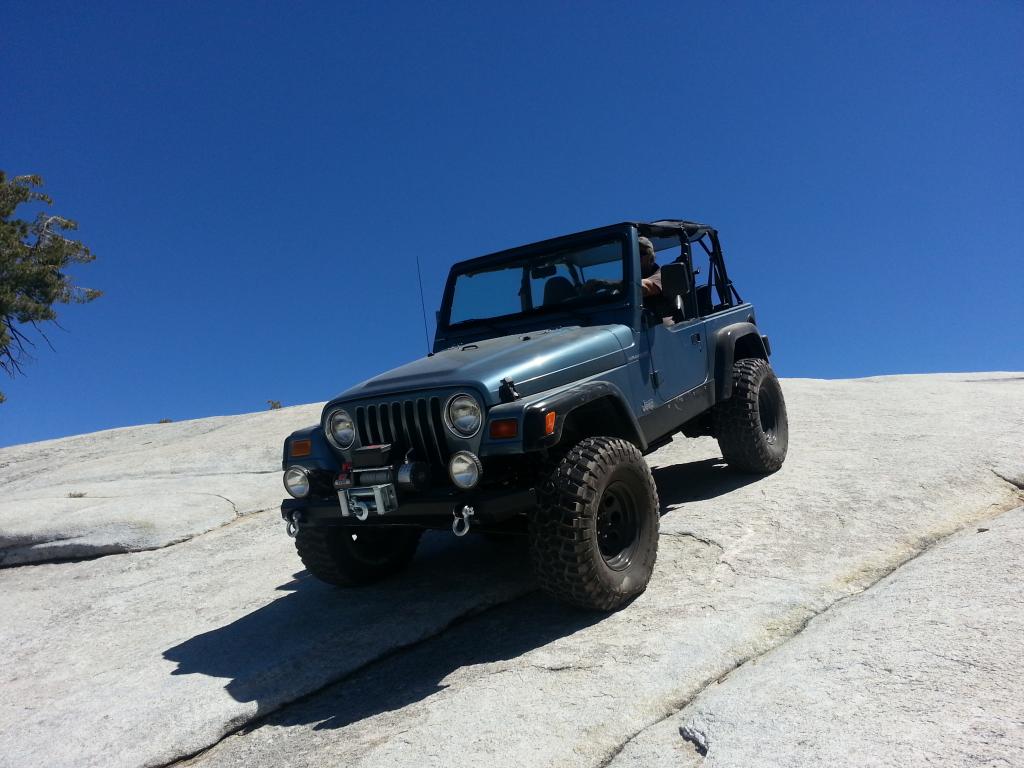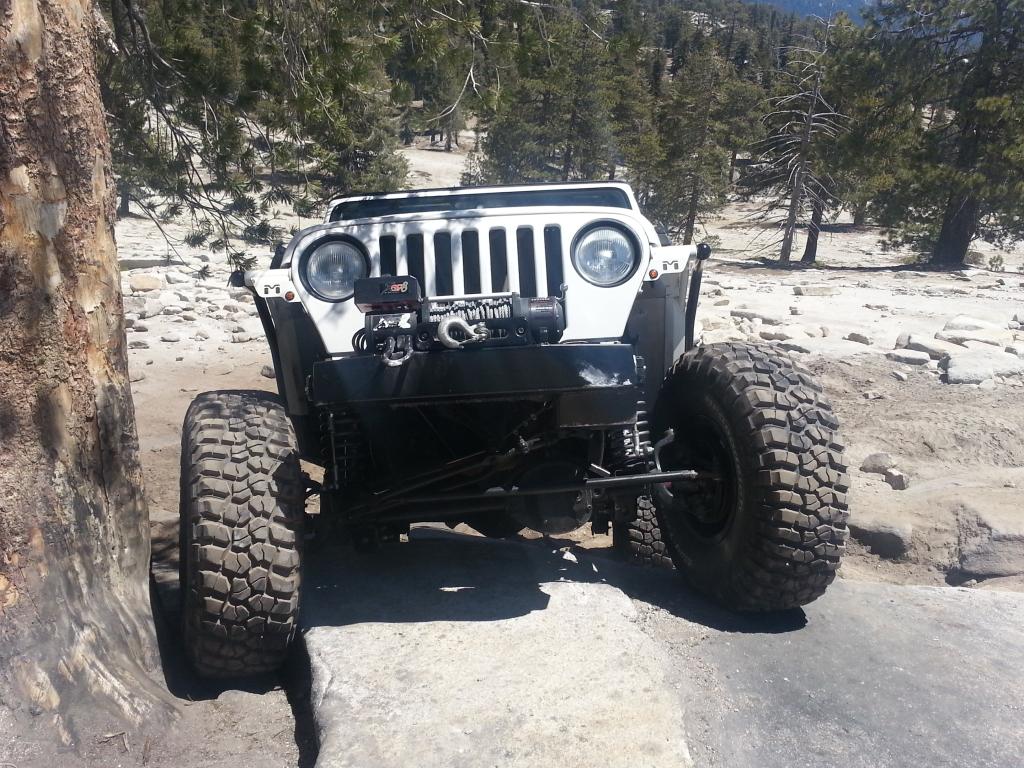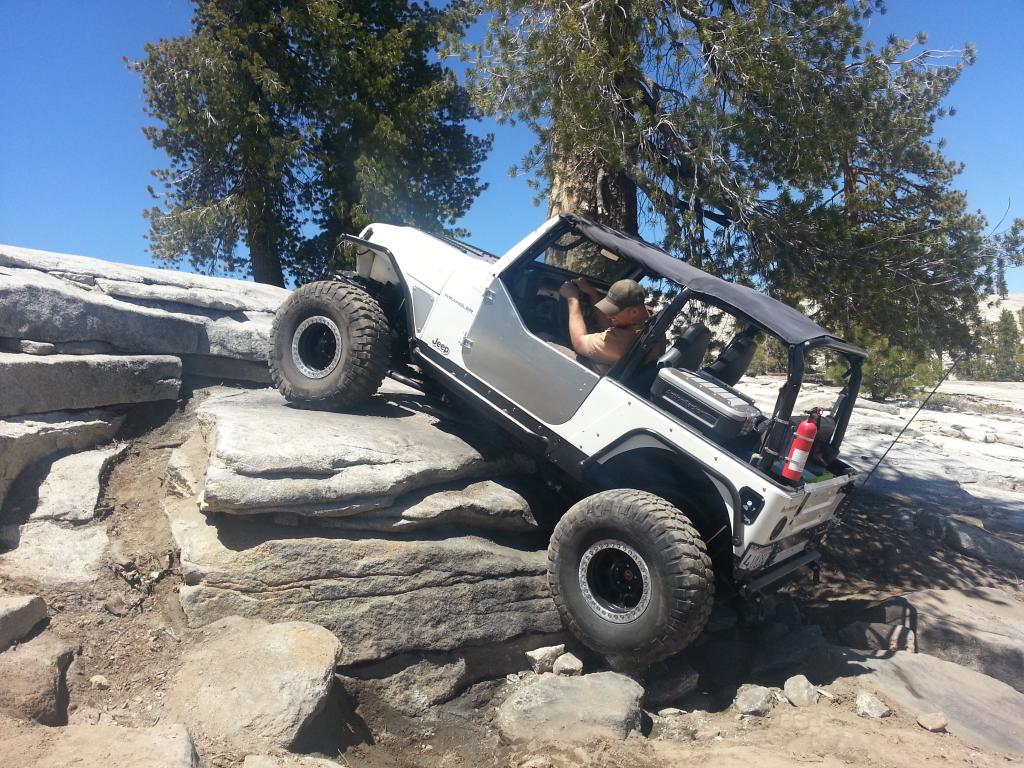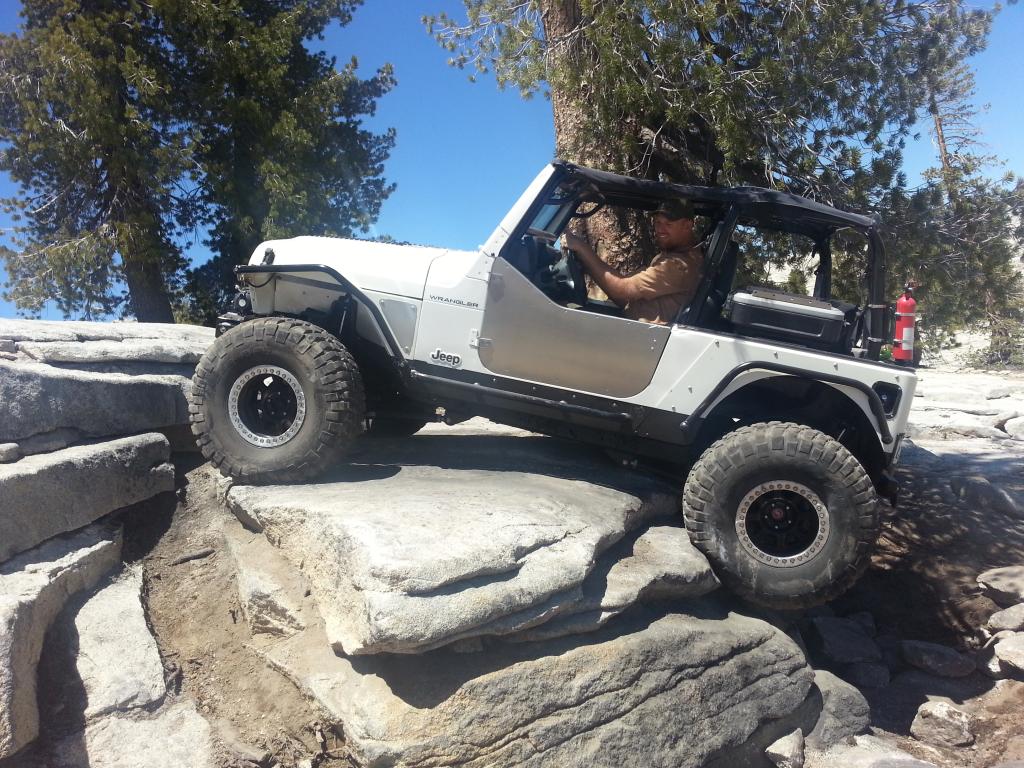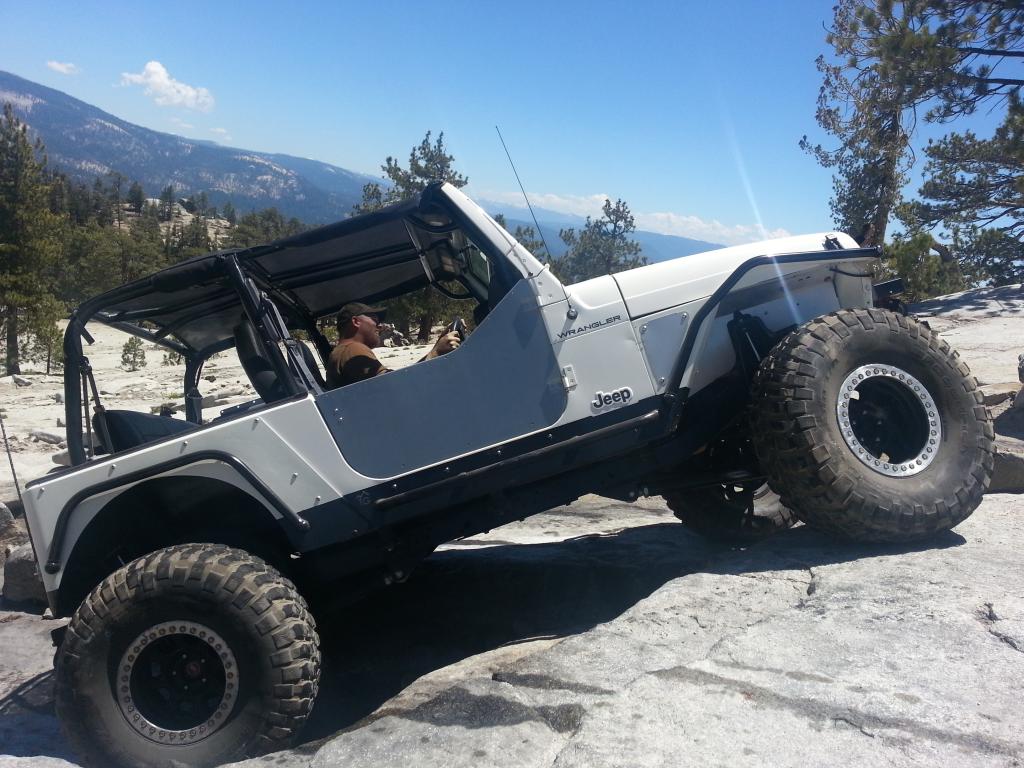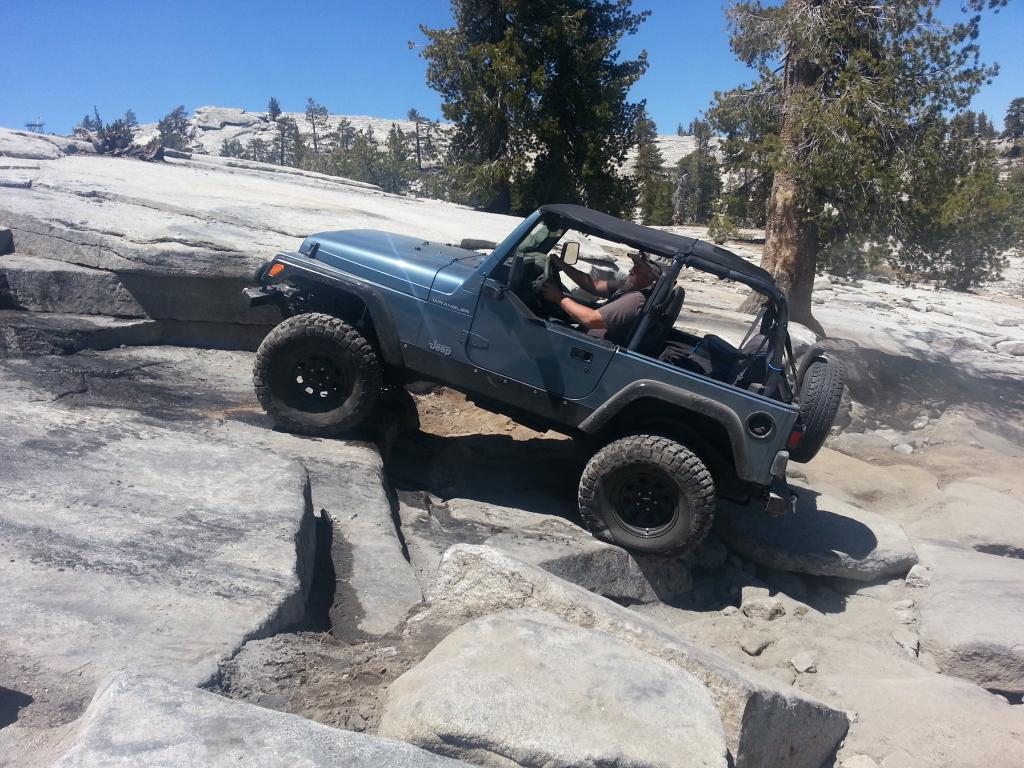 6-9-2014
Got a new toy today.... let's see what kind of trouble I can get into now. I'm thinking about making rock sliders for the Tater Wagon.....



This thing is OLD, and from a high school metal shop. I know it turns on, not sure if it works or what it needs but we shall see tomorrow.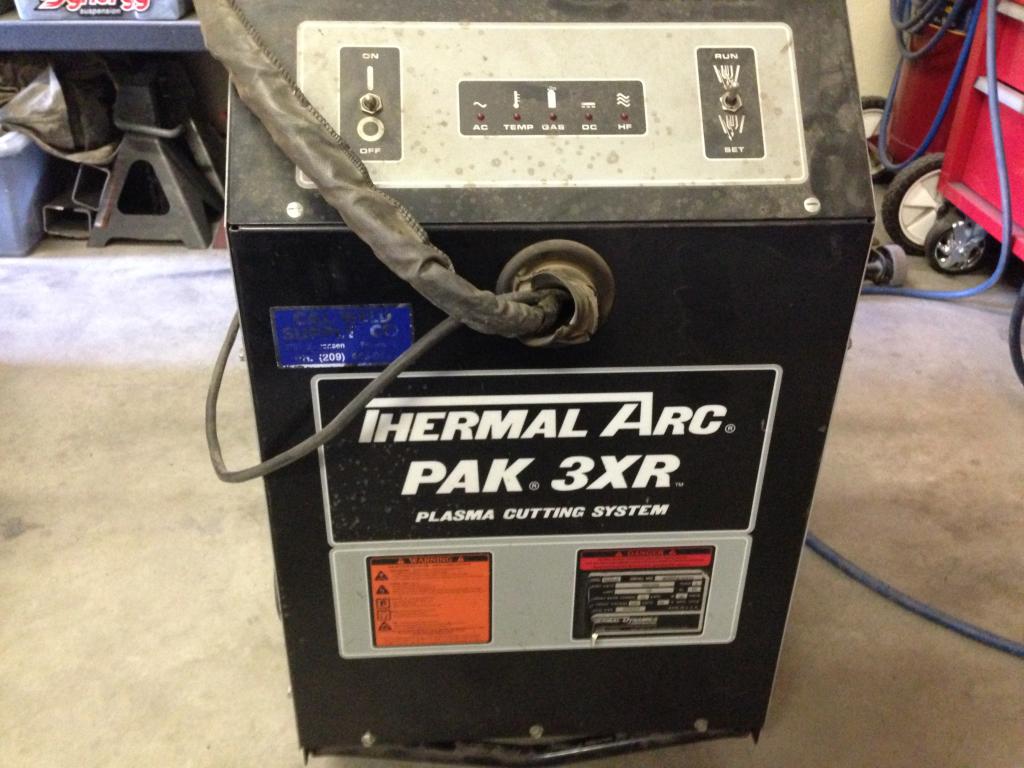 6-10-2014
Plasma cutter seems to work pretty good. Talking to the guy at the welding shop I learned it's a pretty weak plasma cutter, 30amp, and the technology has come a long way since then. The new consumables were pretty expensive also and I guess this thing will eat tips like crazy. So we'll see how useful it is to me. A buddy just had it laying around for the last few years so I told him I'd see what it took to get it cutting decent. It seems be working just as it should. It's giving me a clean cut on 1/8" plate. The photo is a cut I did running the torch along a guide. It's not bad at all and that dross you see chips right off. Free hand it's very hard to cut more than a few inches any kind of straight.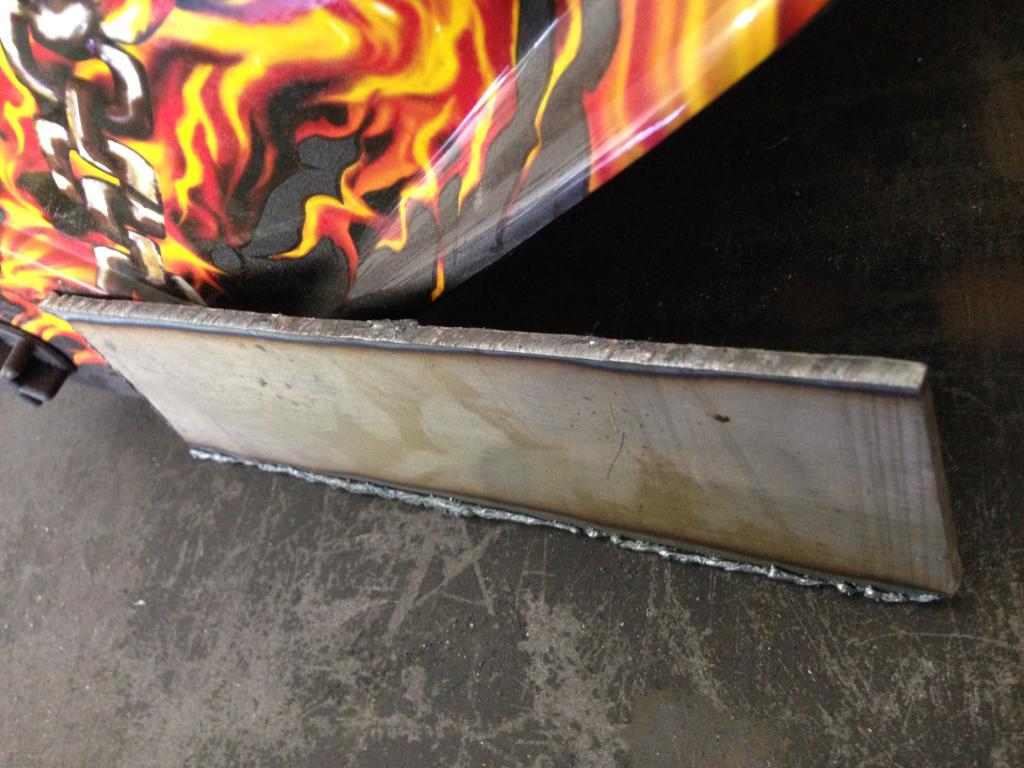 Well I guess it's time to work on the olds mans rig. I've got a savvy GTS and a full set of MC control to install on it.

6-22-2014
Threads pretty dead with all the work on the Tater Wagon..... well I've got some maintenance items / upgrades to address. My track bar was popping again. My special little bolt that I thought could hang must not be able to. It came loose on me. I'm tired of dealing with that so I guess it's time to order up an aftermarket track bar, probably MC. That's not a huge issue since after tightening it up it's ok and now I know I need to monitor it. If money's tight I'm just going to reinforce the axle side mount since there has to be some wallowing now. One thing that is somewhat urgent is that I need a new front driveshaft. The play in the splines is getting out of hand and is causing a good vibe around 30mph. This is my top priority right now since it effects my ability to drive it on the street. If anyone has a stock 5 speed driveshaft in good shape let me know, I may just try to find a stock replacement.

Other than that ol' white lightening is working good. I actually did a night run yesterday and made some lines that trip some people out for how little my rig is. I only took ONE photo though.... thats rare!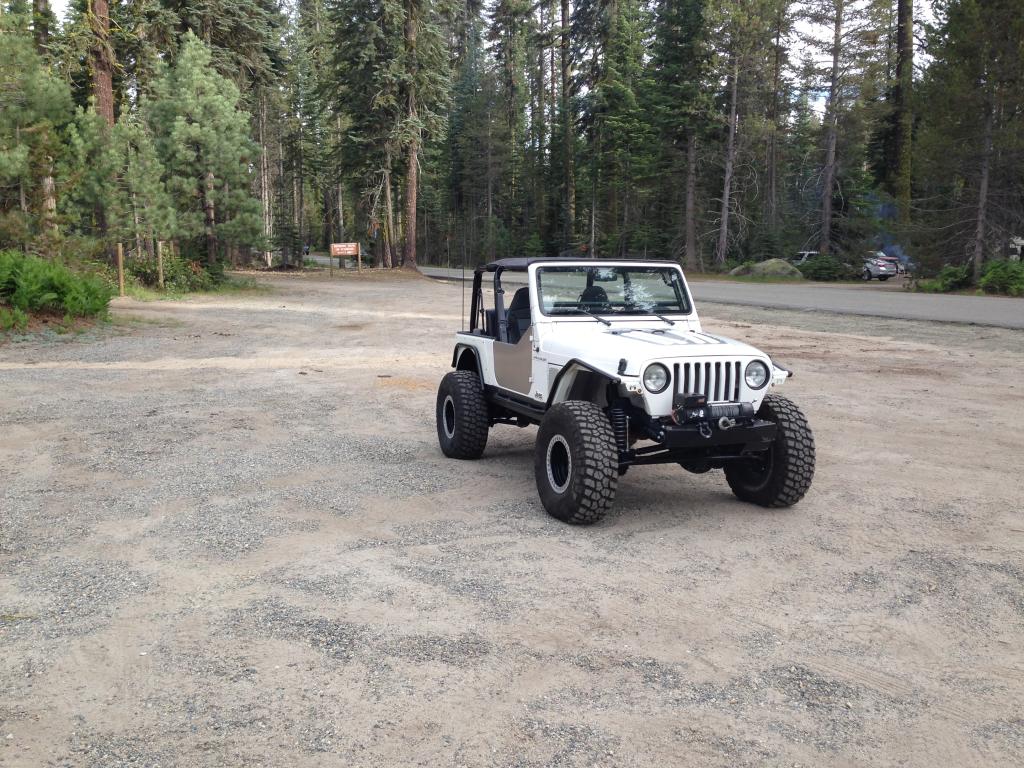 6-23-2014
Right on, well I just went and stared at it for a little while. I see some obstacles and challenges I'm not sure I feel like dealing with any time soon. Having the Tater Wagon to build has put my rig in maintenance mode. In the interim I think I might spend the time inspecting / beefing up / repairing the axle side mount to alleviate the issue with that connection loosening up on me..... which is actually my only problem, lol. Good discussion though.... You guys make such good points to either way that it's hard to make a decision!
7-2-2014
Did some camping and some wheeling over the last couple days.... good times. Ol' White Lightening got to stretch out a bit.....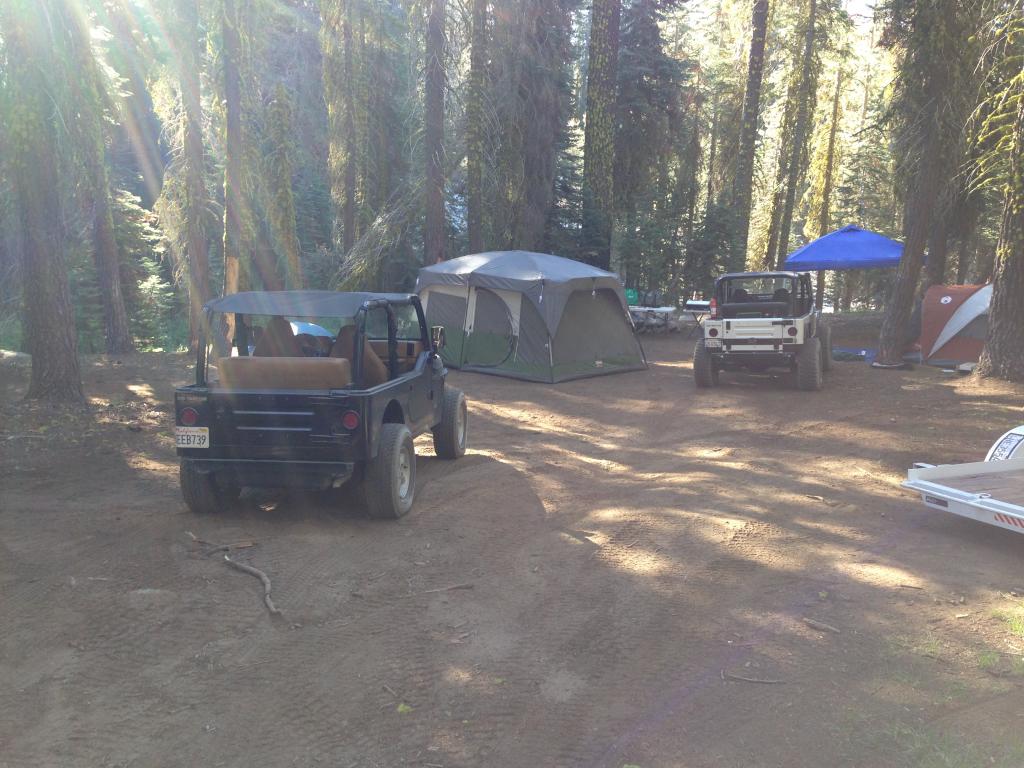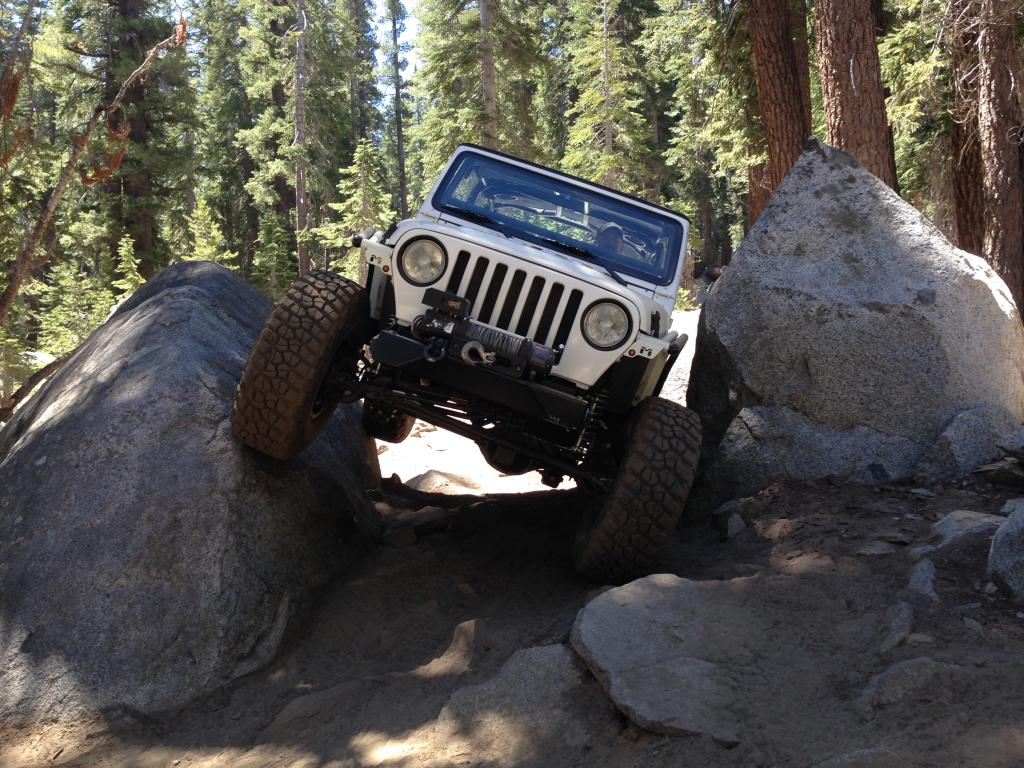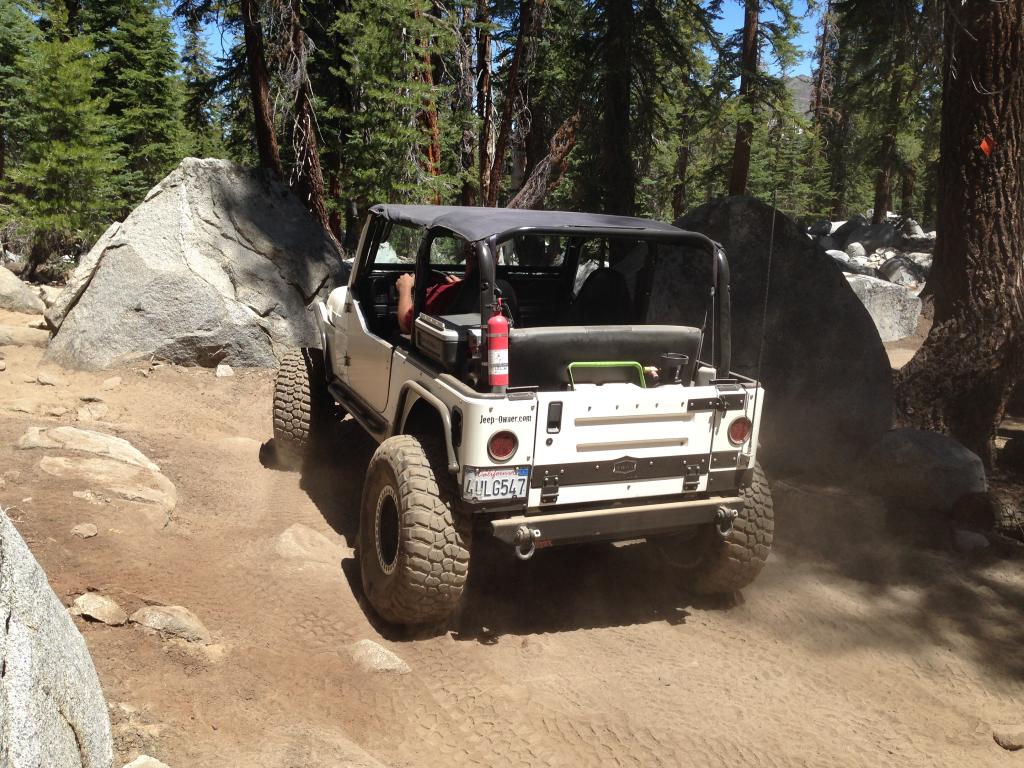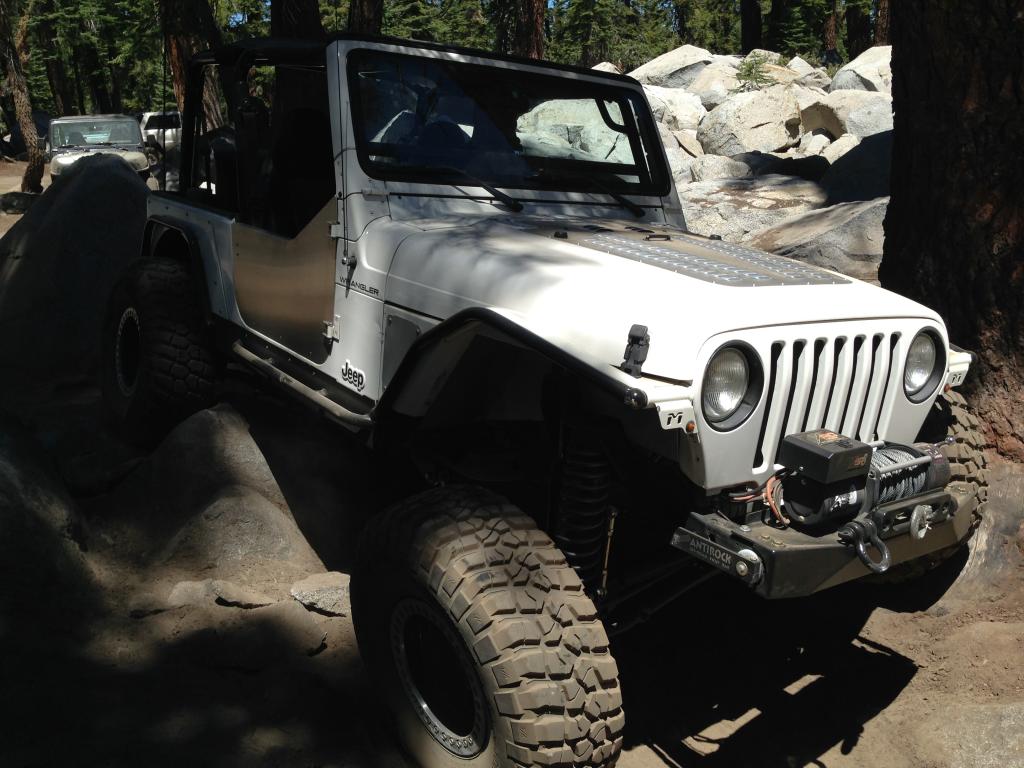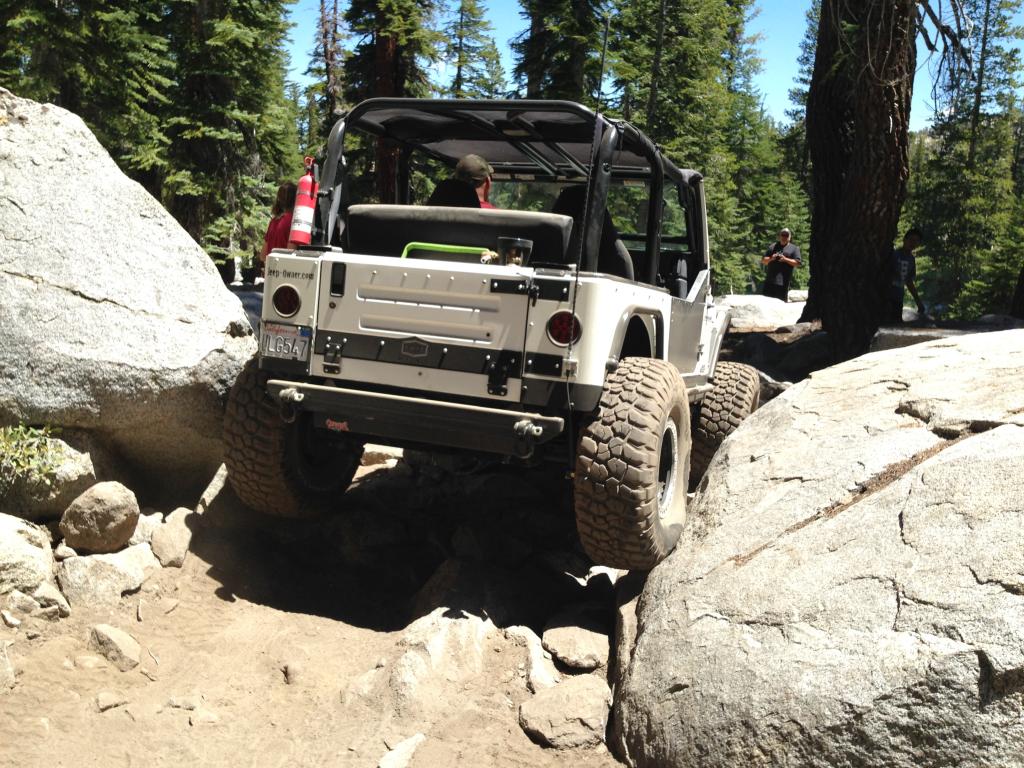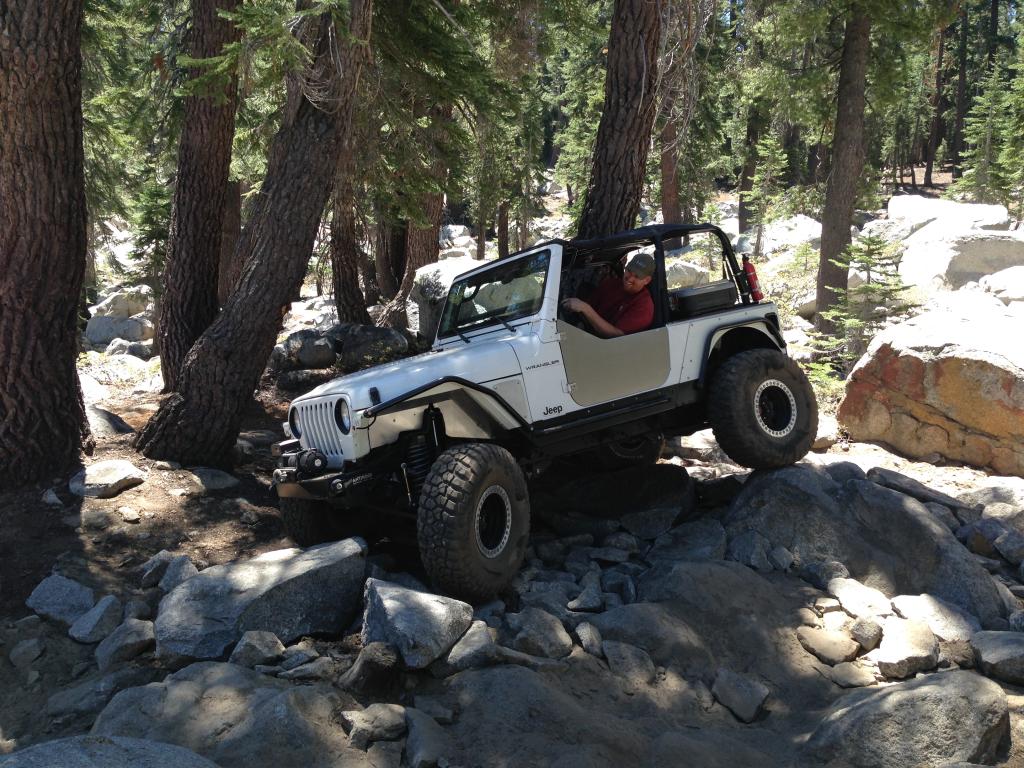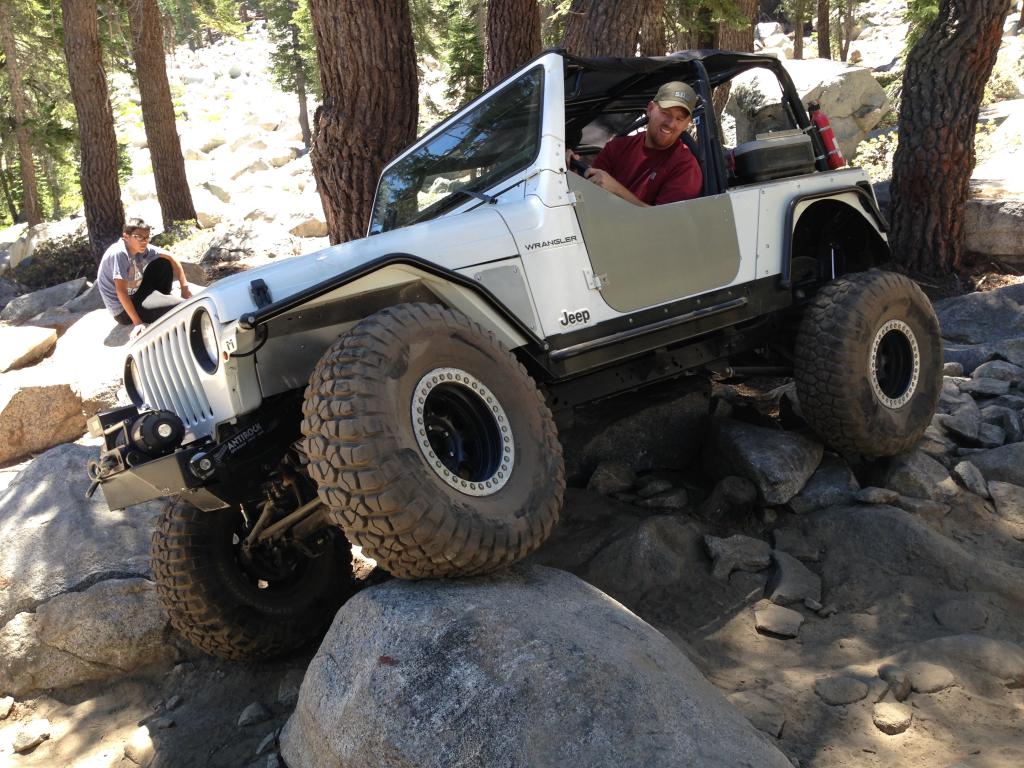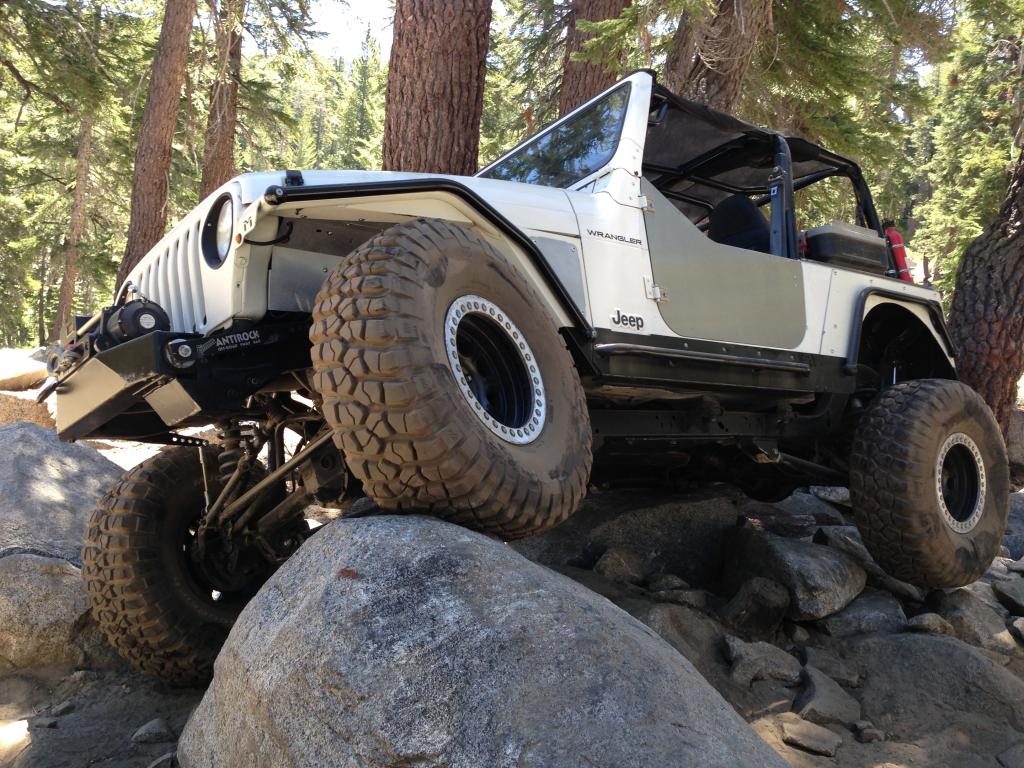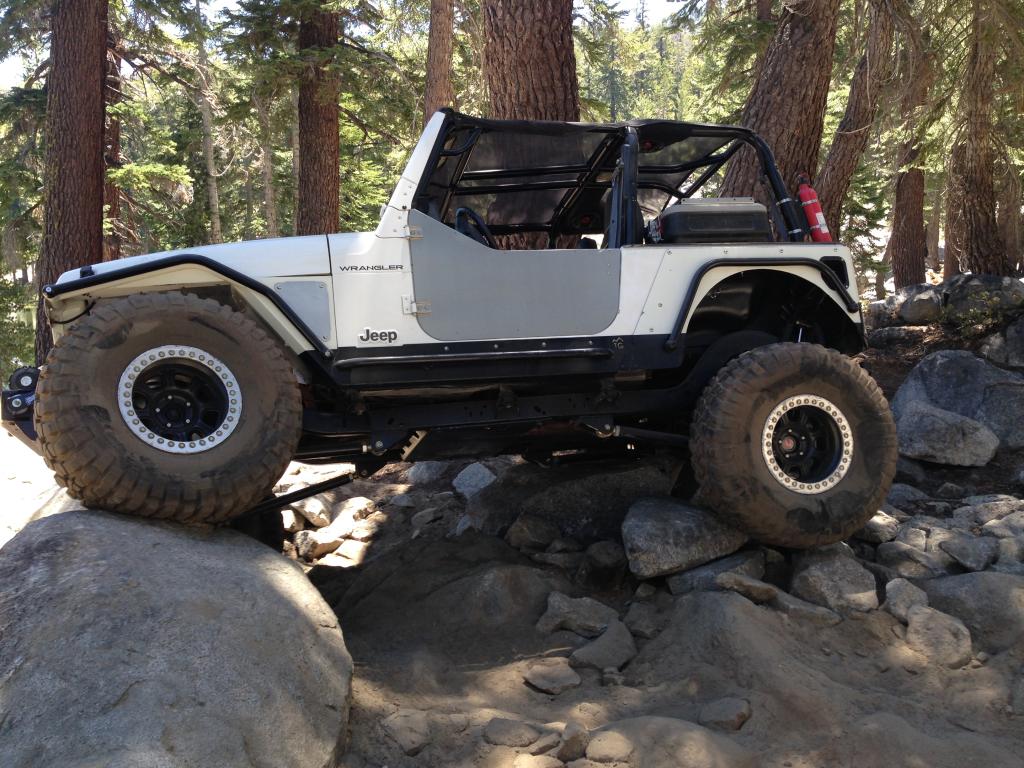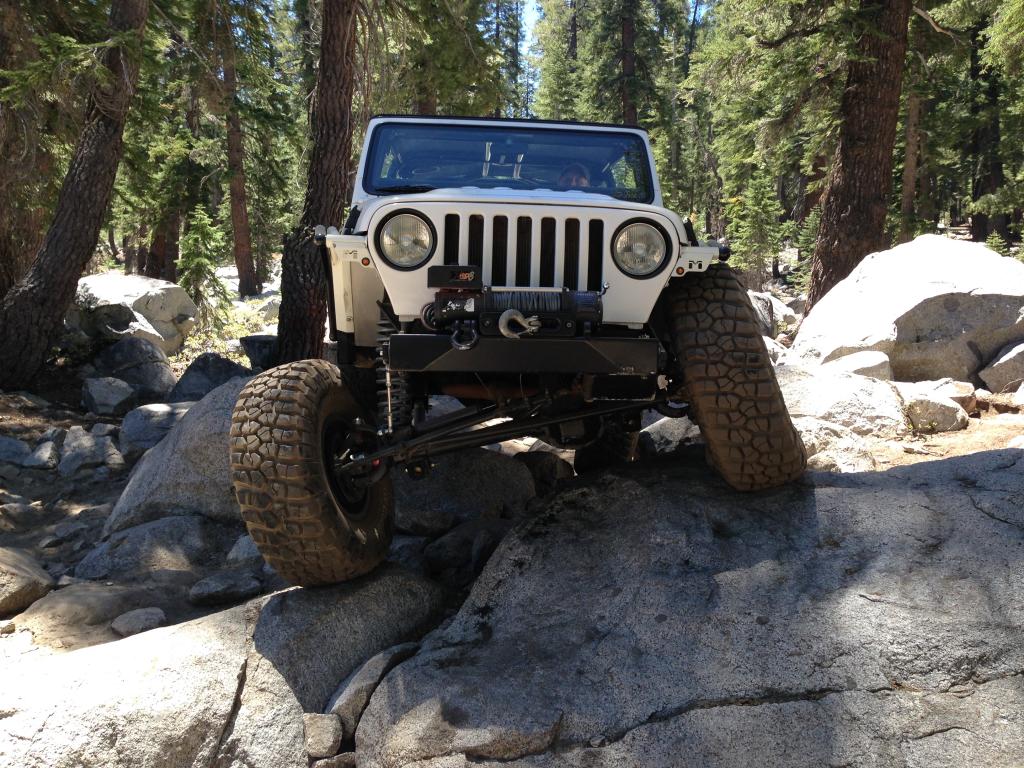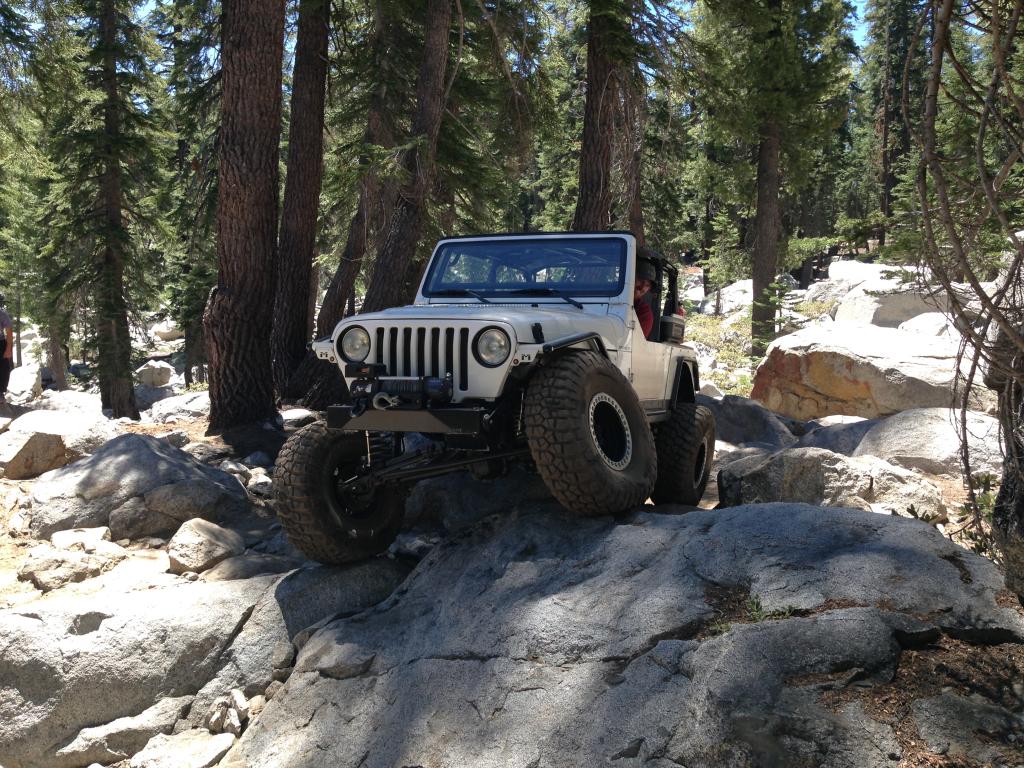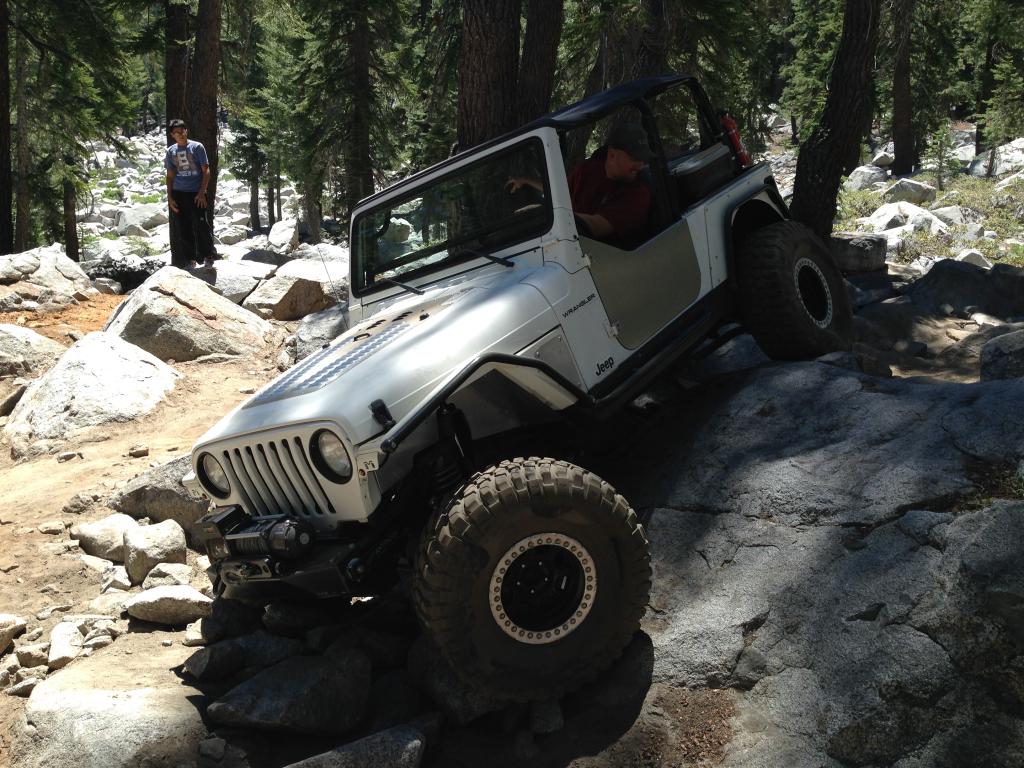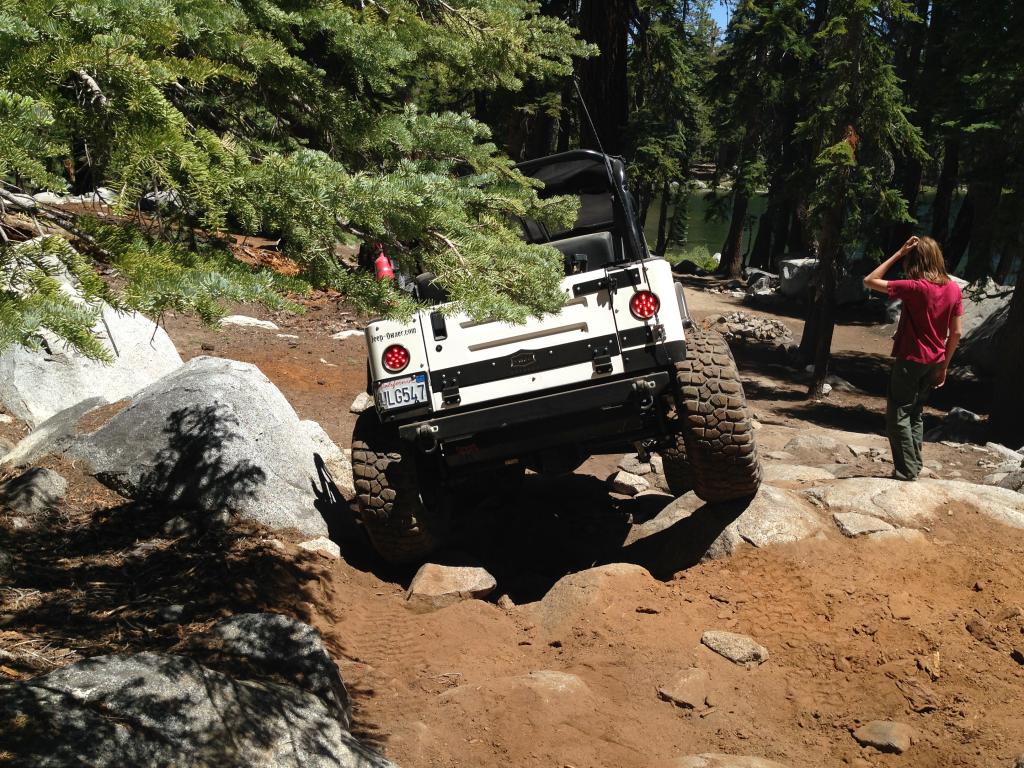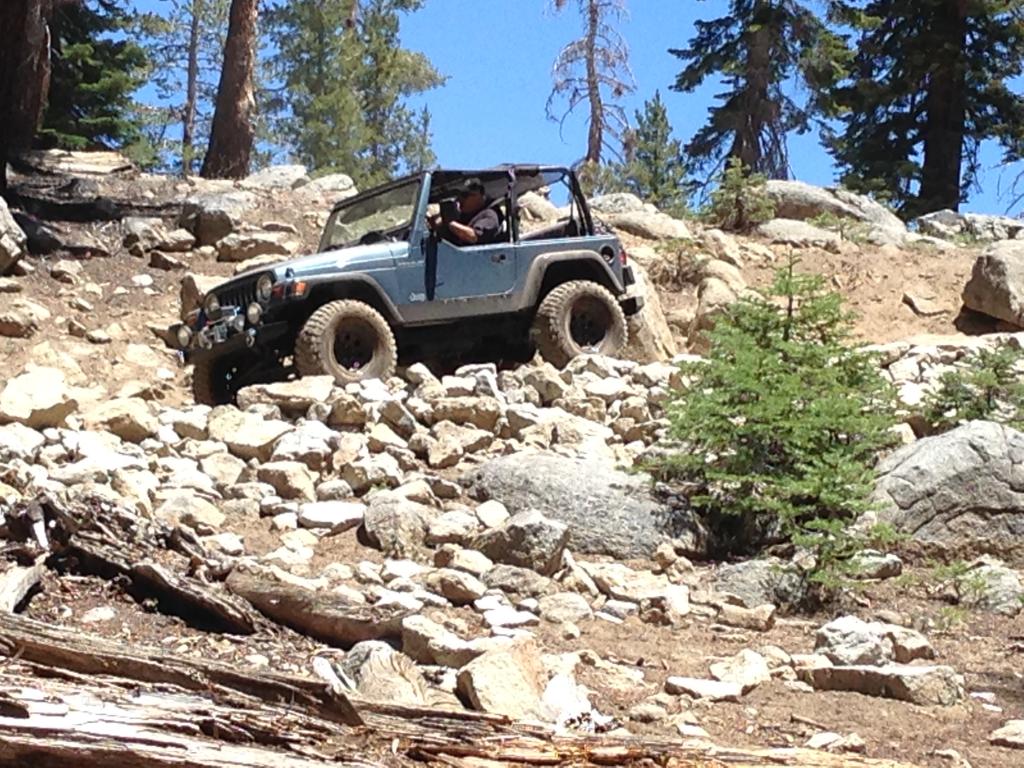 7-10-2014
Well it looks like I've finally worn out the frame end of that factory front track bar. There is a distinct new CLUNK when turning that is body of the TRE moving up and down on the ball of the TRE when turning.... there's probably about a 1/2 inch or more of play in it, haha. I guess I better do SOMETHING about it before it completely comes apart and I'm stuck! Another stock bar is not out of the question, maybe even one with a lifetime warranty..... haha.
7-23-2014
Poor neglected White Lightening finally got some love today. Cleaned her up good. Did a nut bolt check, wrote down a couple maintenance items to address. Lubed up a few things..... getting her ready for Jeep Beach West this Saturday. I haven't been to the dunes in over a year so it sounds like a nice little get away for the family.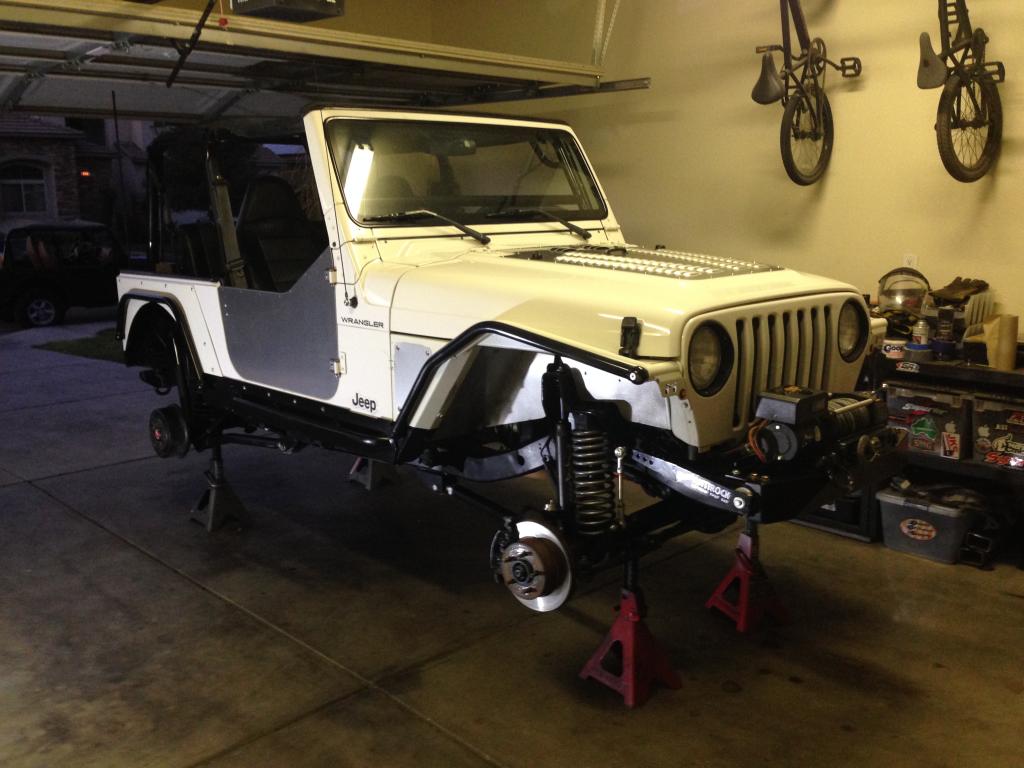 8-5-2014
I knocked out a little to do list today on my rig, and then headed to a local shop for a get together. Matson from Metalcloak came by with his CTI trailer. Pretty cool to flex out both axles at the same time and check things out. Mine scored a 760.... I don't know if that's good, bad, or terrible but I know I'm getting all you can get out of 10" shocks so it's all good!



Over all a darn good day of Jeep related shenanigans.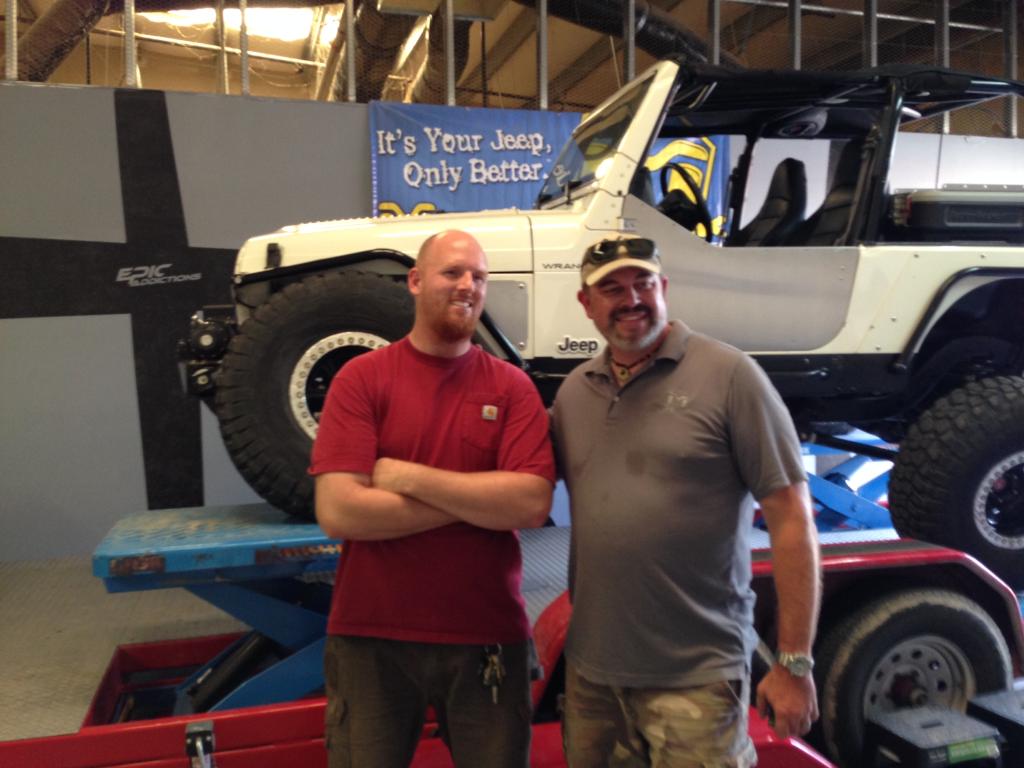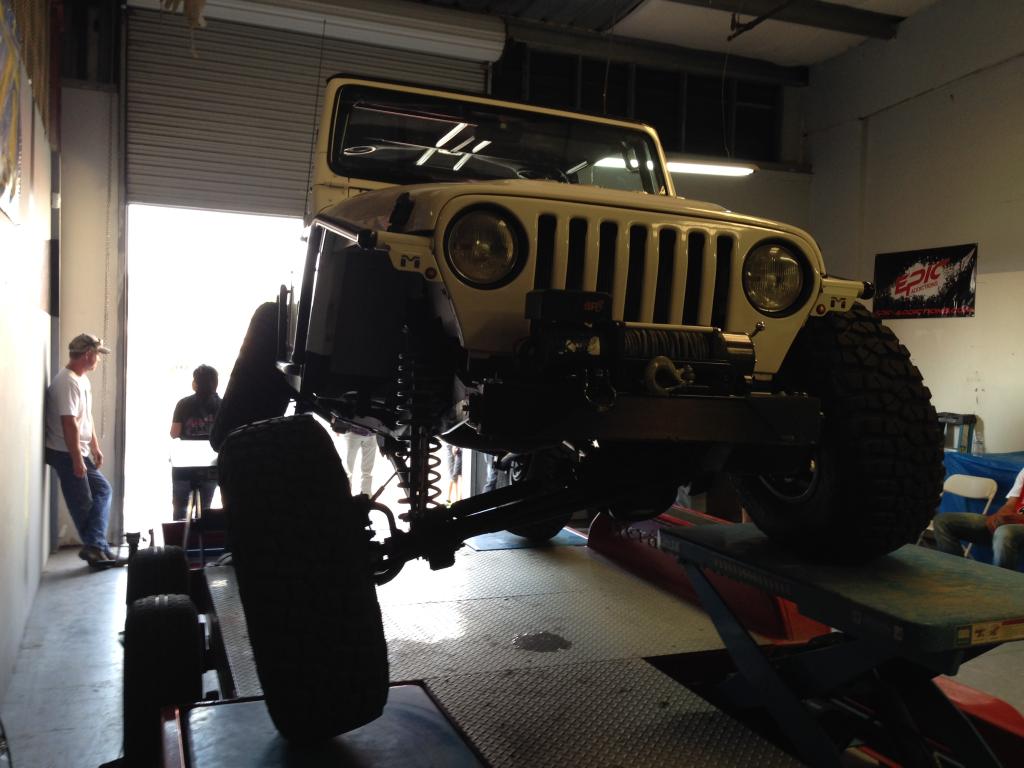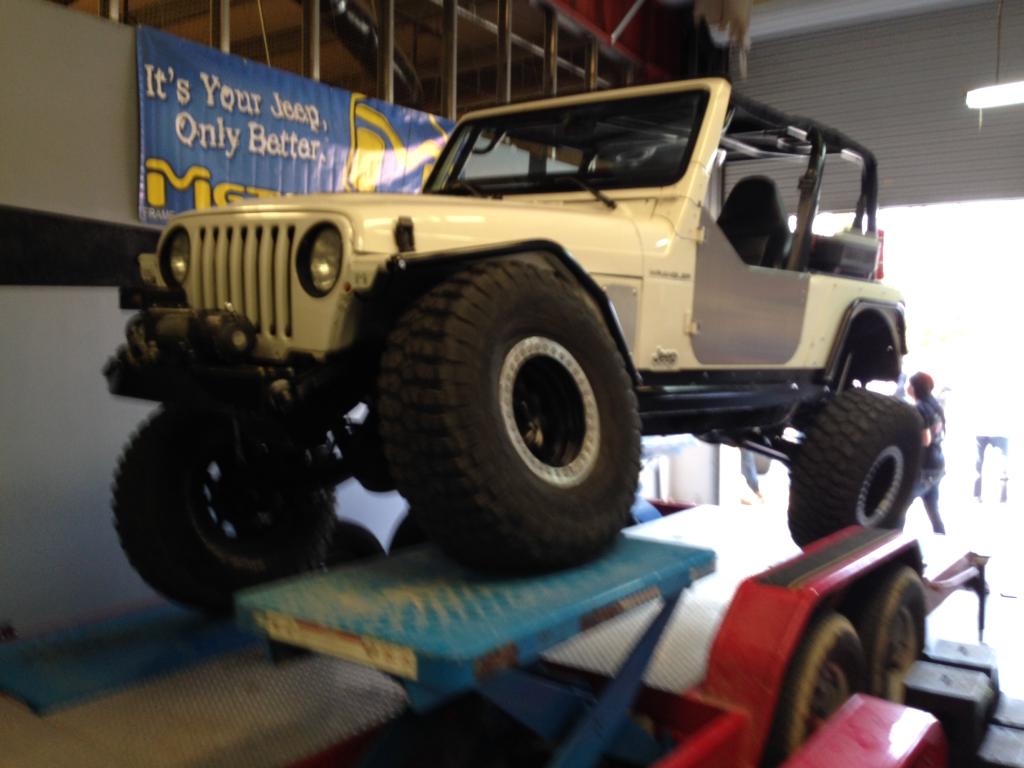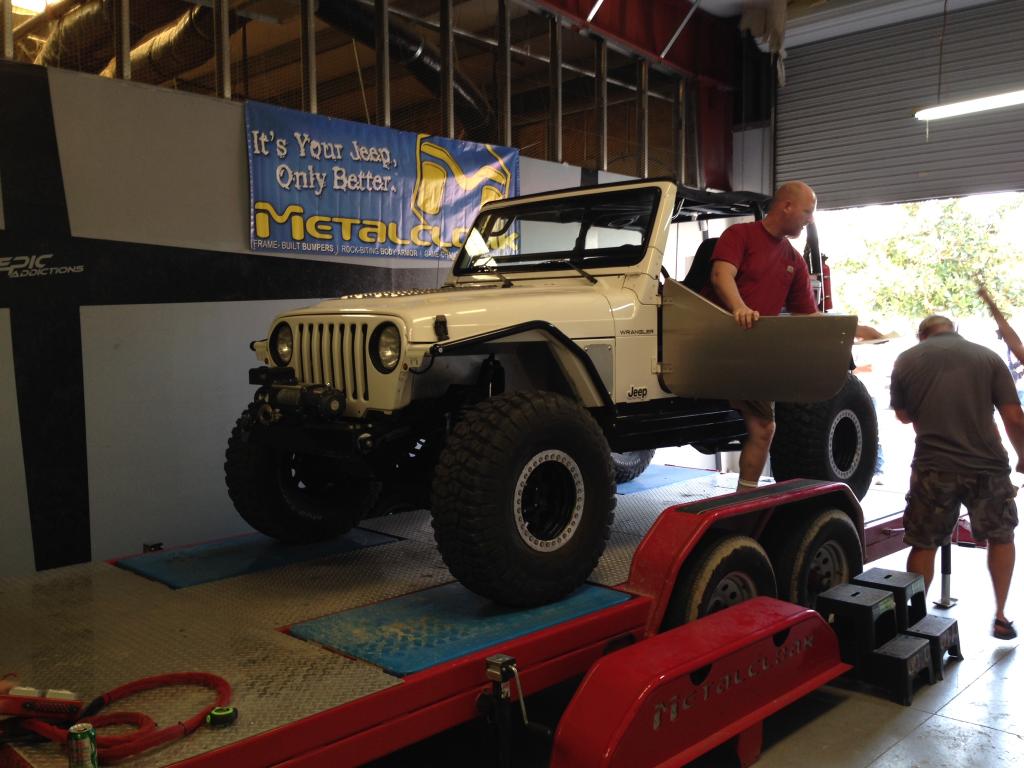 8-9-2014
Just went through Tate's phone and saw he got some good pics....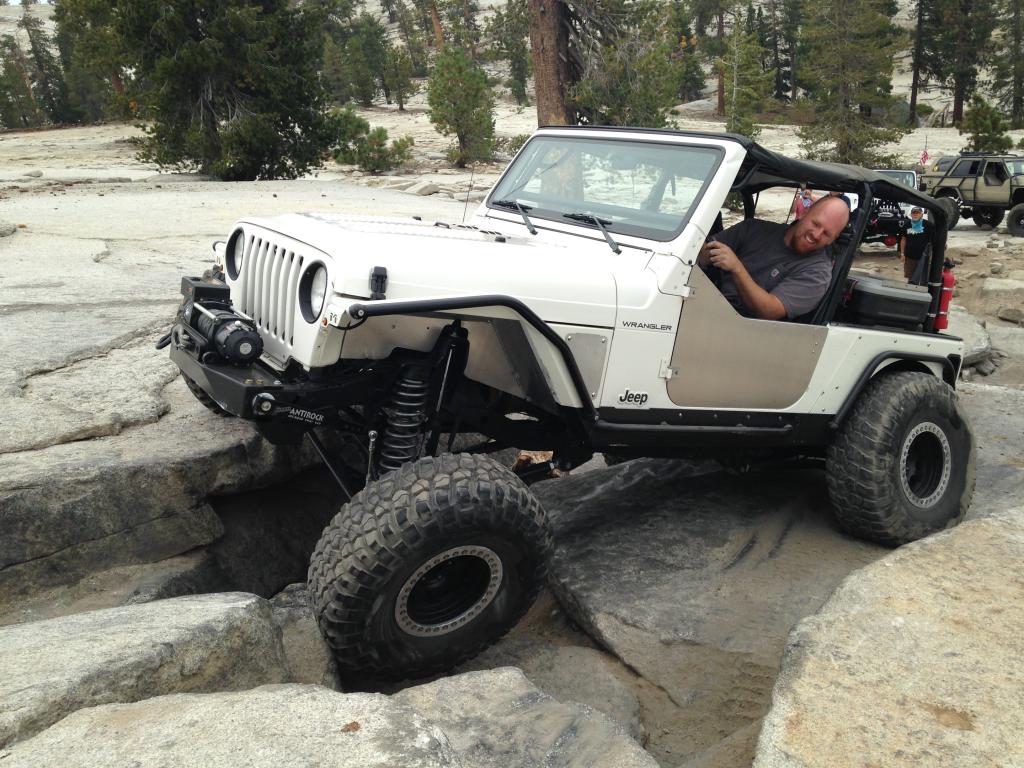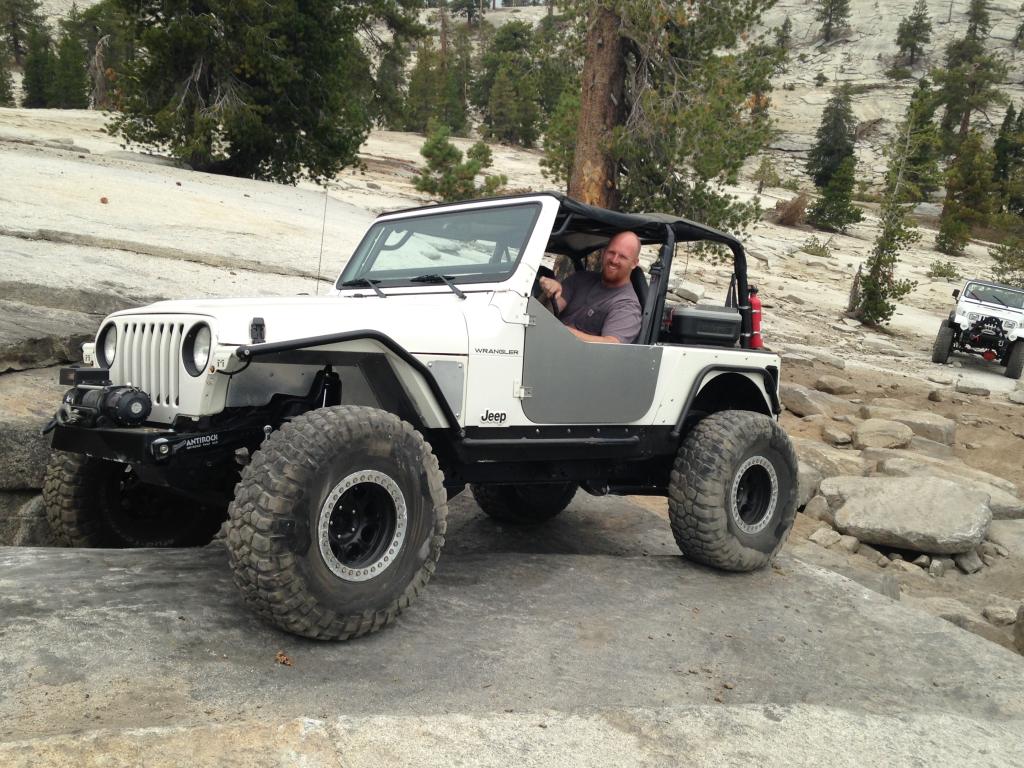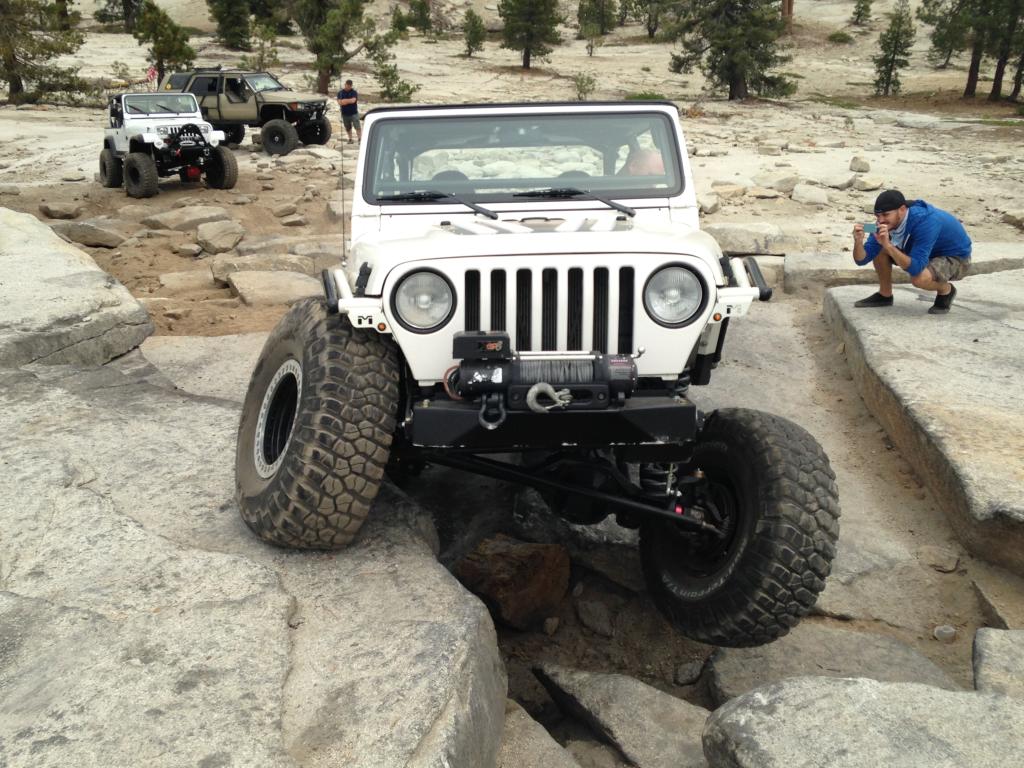 9-11-2014
I have gone wheeling a couple times since I've last updated my stalled build thread! Not many photos were taken. Wheeling with Tate has been lot's of fun and his skills are progressing at a quick rate.

My Jeep is still holding up well, so nothing is really planned right now but the Tater Wagon is getting some MAJOR upgrades in the next month. New wheels and tires, coil spacers, rock sliders, discos and a winch. I'm incredibly excited to get that stuff on his rig. It's going to look like a different jeep.....

9-12-2014
After putting on my 35's.... It just looked too sick with the wider tires.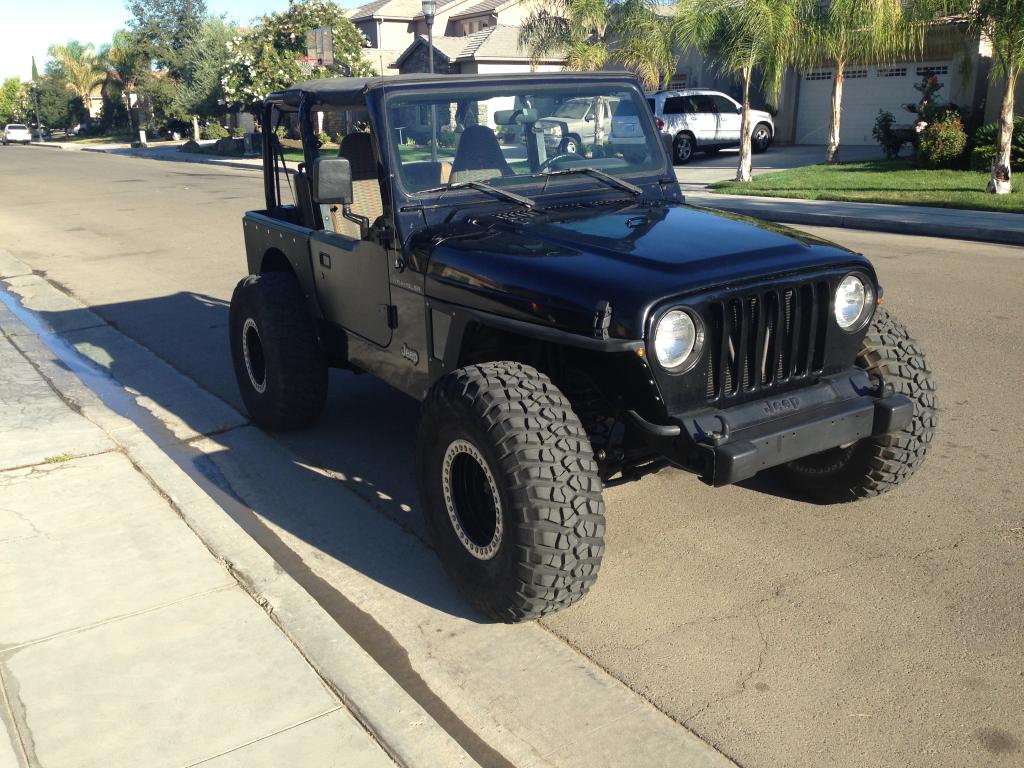 9-20-2014
I took off my R/F wheel today to do some maintenance!



https://www.youtube.com/watch?v=-4NS...9MRxEOuws0xmjA
10-26-2014
It was nice to get away for a day! Between my day job and IAS I've been BUSY! Fordyce got rained out so we went and hit the Kaiser Pass end of the Dusy Ershim trail. It was a good time, the weather was chilly but really nice!
ALMOST rolled my junk..... probably the closest I've been. The trail isn't that hard and I was picking out harder lines than necessary and didn't really see this one coming for some reason, L/F dropped in a huge hole and it started going over, I couldn't reverse because that would have put more weight on the L/F and I couldn't go forward because I was up against a half jeep sized boulder right in front of me. One of my buddies arrived shortly after and realized I wasn't playing around..... "after he snapped the photo" he came over and hung off my R/R so I could back out of it. The angle was so severe that I was literally hanging onto the passenger oh **** handle and falling out of my seat, haha. I kept the enginerunning to keep power to my brakes and steering and at that angle it wasn't getting proper oiling..... check gauges light came on, and it started ticking. It was a tense moment, but all part of the game!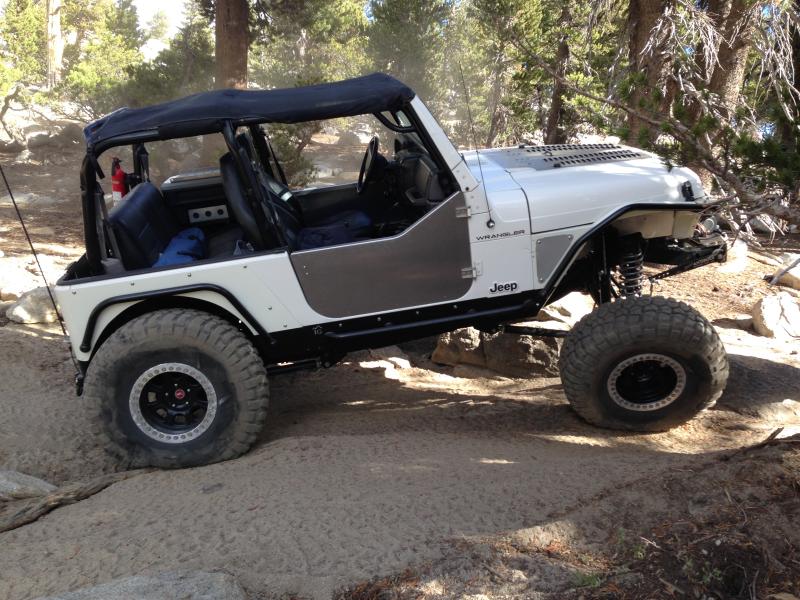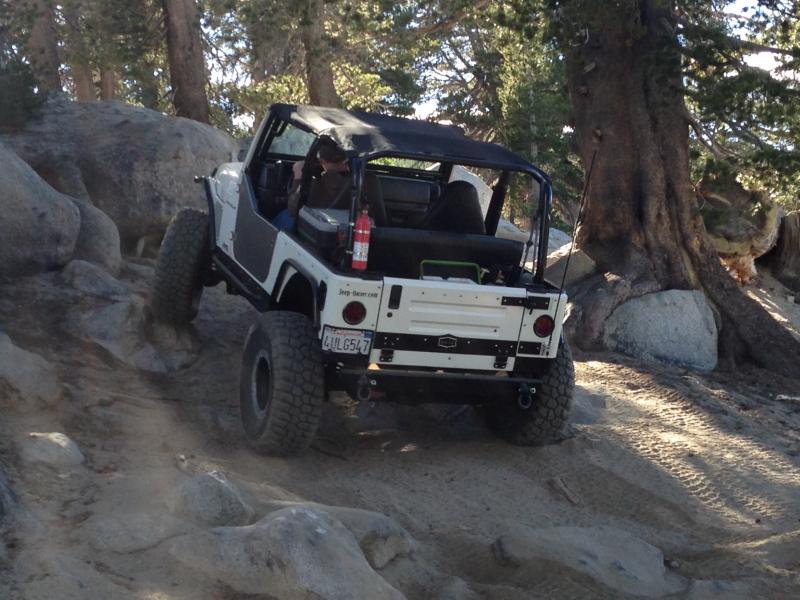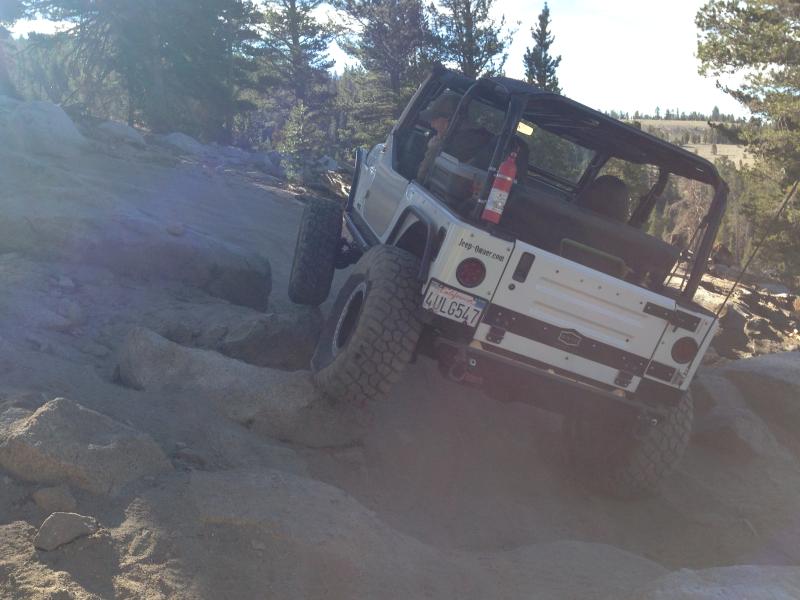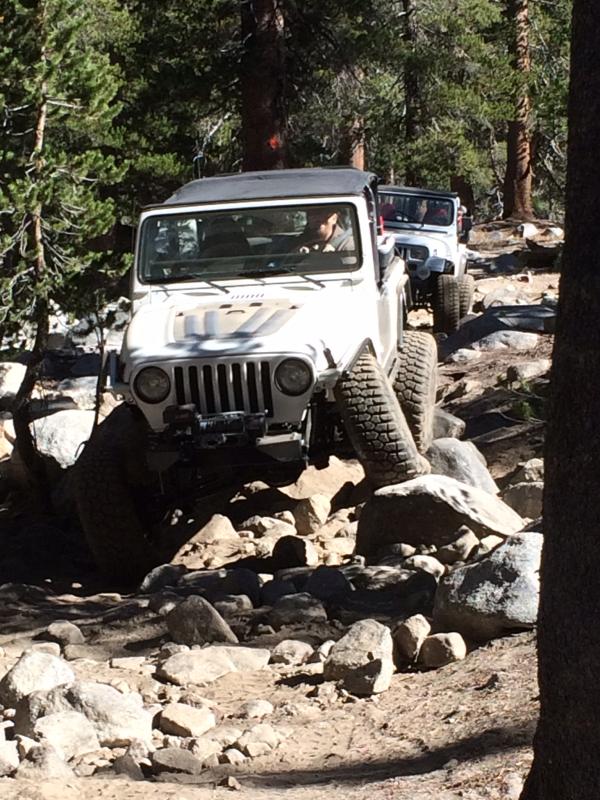 Yikes!!!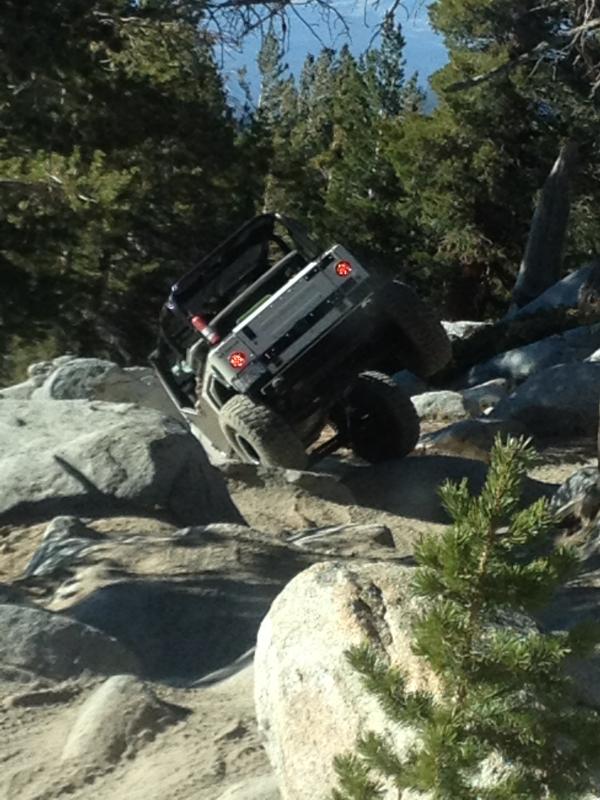 11-15-2014
This actually happened...... digging through the photo vaults!


1-6-2015
So not a lot of pics of Ol' white lightening have surfaced yet of my recent hammers trip but we had a great time. On day one we ran Sunbonnet. I hadn't done any research on that trail but was pleasantly surprised that it was quite challenging. A few of the obstacles didn't look like anything but the rocks were spaced out just perfectly to make you work at it. All in all my rig handled it pretty well. I did need one tug backwards after getting hung up trying to reposition myself. We had 8 rigs to get through the trail and it took us all day. No major breakage or damage.

By day two we down to 3 rigs. Some guys were only planning one day, some guys tore up their stuff a little more than they hoped on Sunbonnet, and another guy got sick unfortunately. We decided to run Sledgehammer. I have run this trail once before trying to keep up with Art. I got myself stuck 3 times on that attempt. Not my best showing. My goal was to run it at a slower pace and only winch the plaque obstacle if needed (it was). The trail was incredibly fun, with a bunch of obstacles that really made you think being on 35's and pretty low. A lot of this stuff you can just mosey through if your running bigger tires. I enjoyed the challenge though. I managed to run it clean and only winch the Plaque and I was quite happy about it!

A friend of mine in his YJ snapped an ear on the front axle at the plaque and things went down hill from there. We pushed on, assisting him with the winch until the very last small rock pile..... at that point the broken axle pushed out the lower ball joint, that lead to the upper ball joint breaking, and consequently the entire R/F wheel and tire assembly falling off the vehicle! That was fun. We drug it off the trail a little bit, and decided to call it a night and return the next day with parts. The repairs went well, we got him back to the trailer and headed home.... a memorable Hammers trip for sure!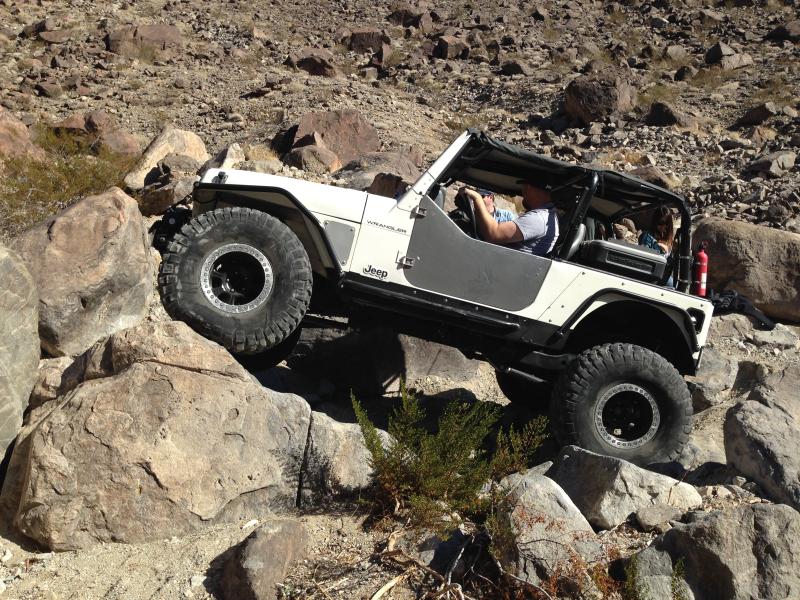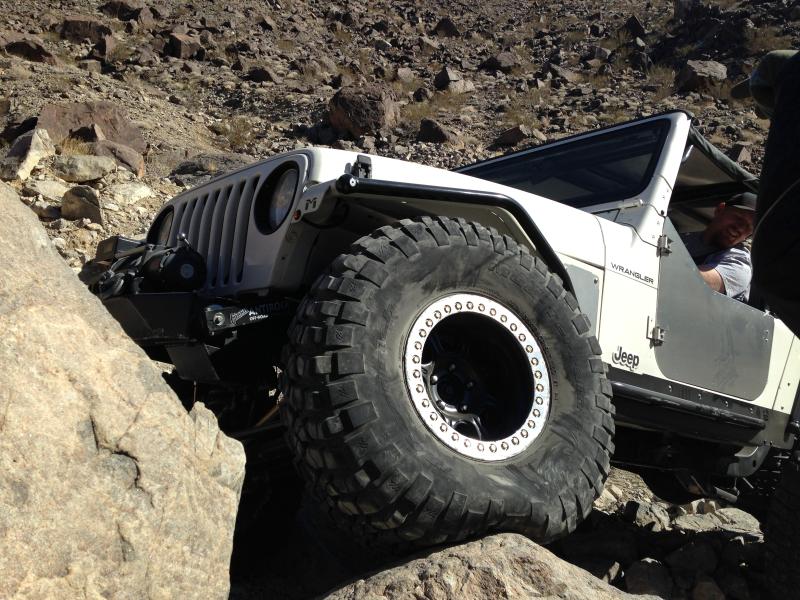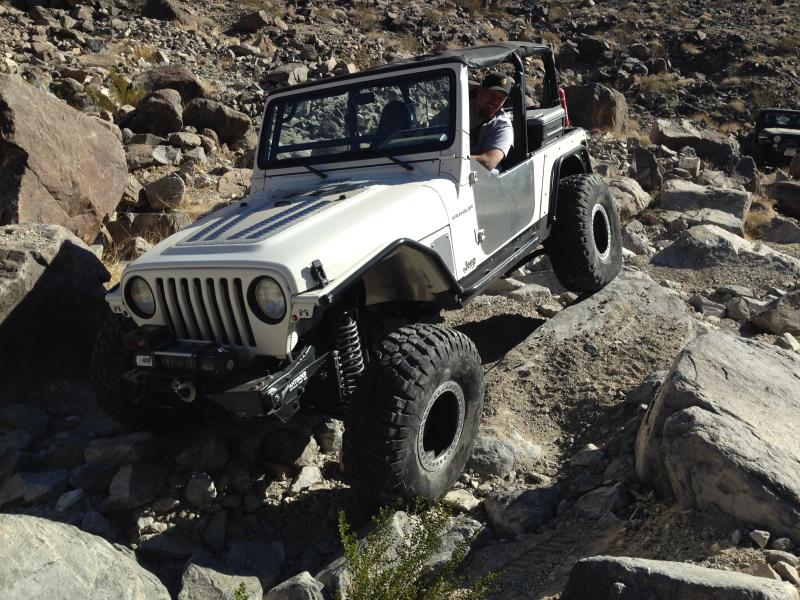 JeremyG in the house......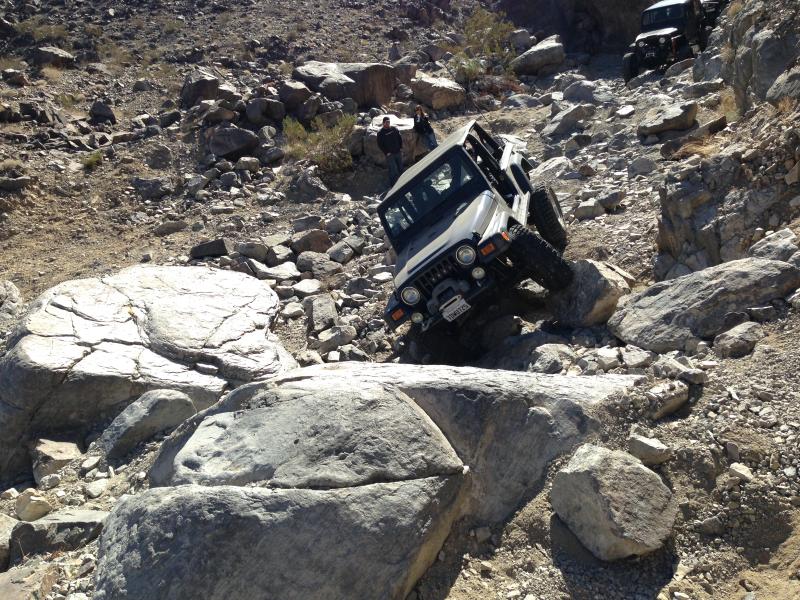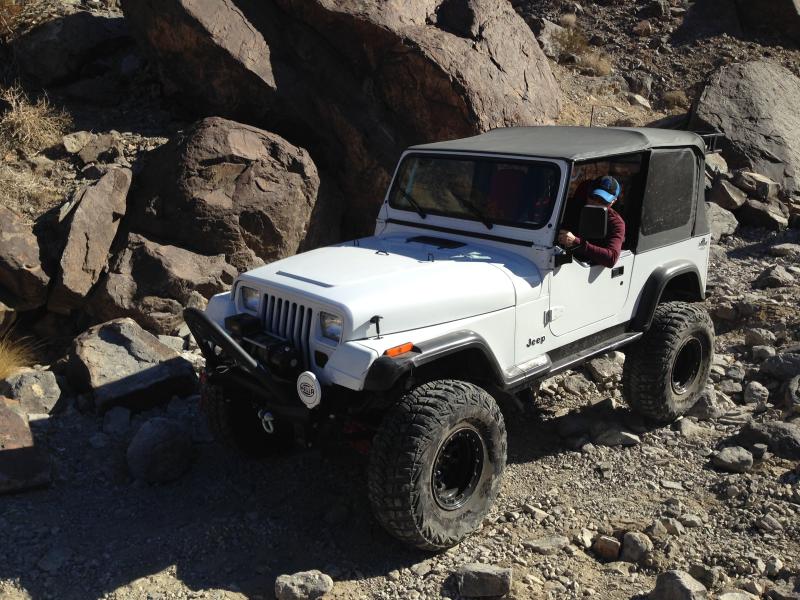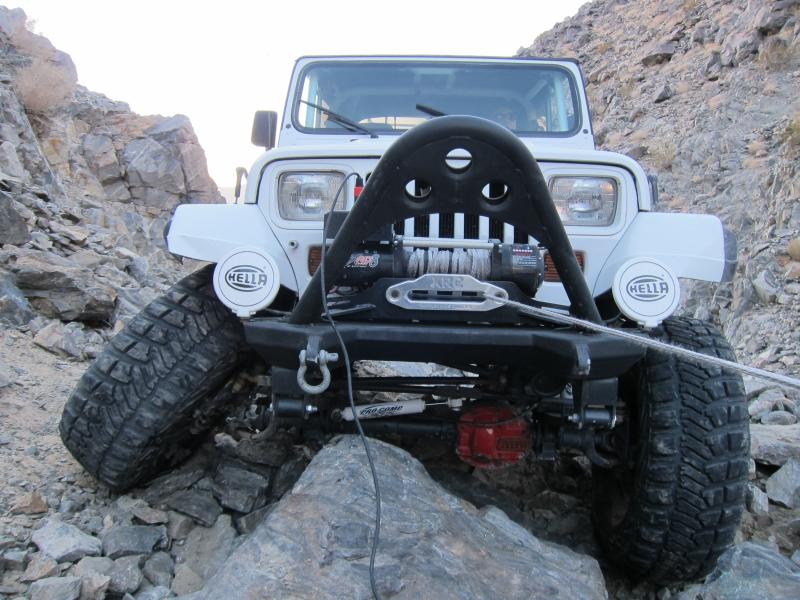 Not good....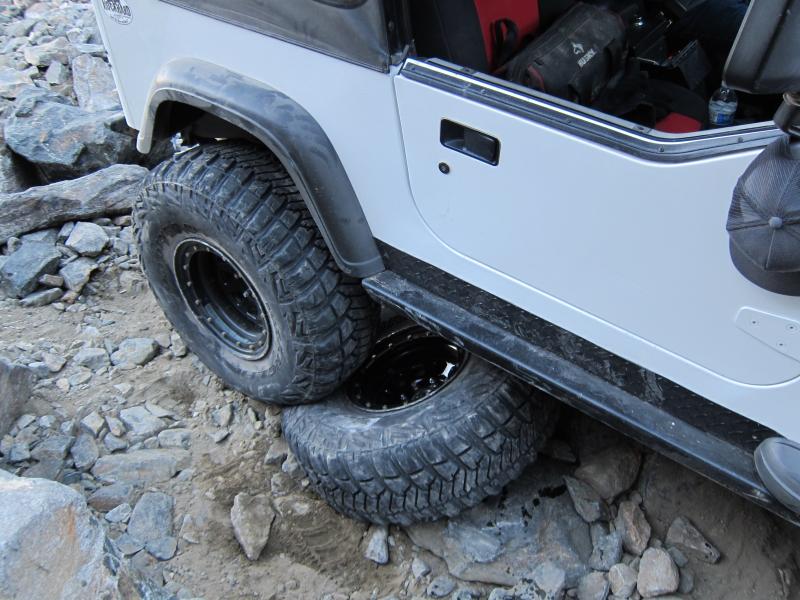 1-26-2015
Cleaned white lightening up a little today. I actually can't remember the last time I was under there with a spray can of paint. That says A LOT to how busy I've been lately, lol. I did a nut / bolt check and besides the Jam nut on my track bar, and one loose control arm bolt all is well. My reinforced Barnes flat skid plate is holding up well! Everything looks great under there for the amount of abuse it all just went through at the Hammers.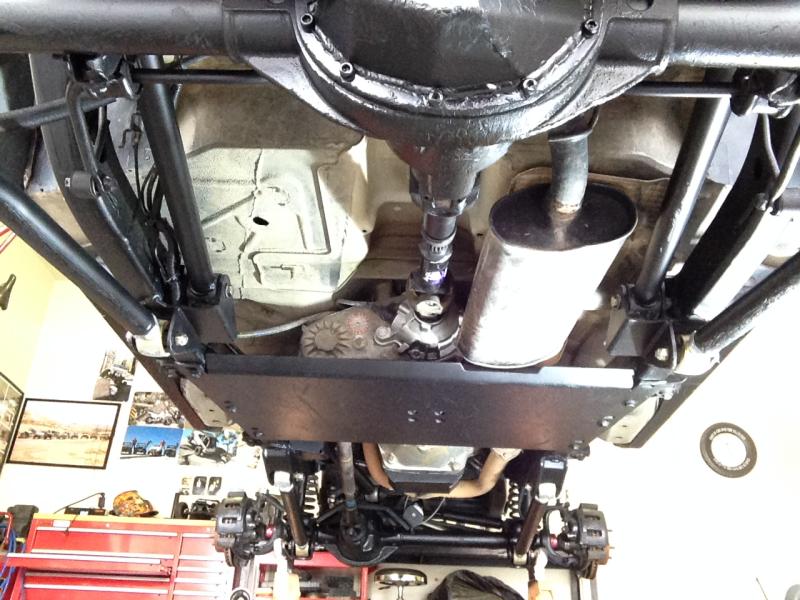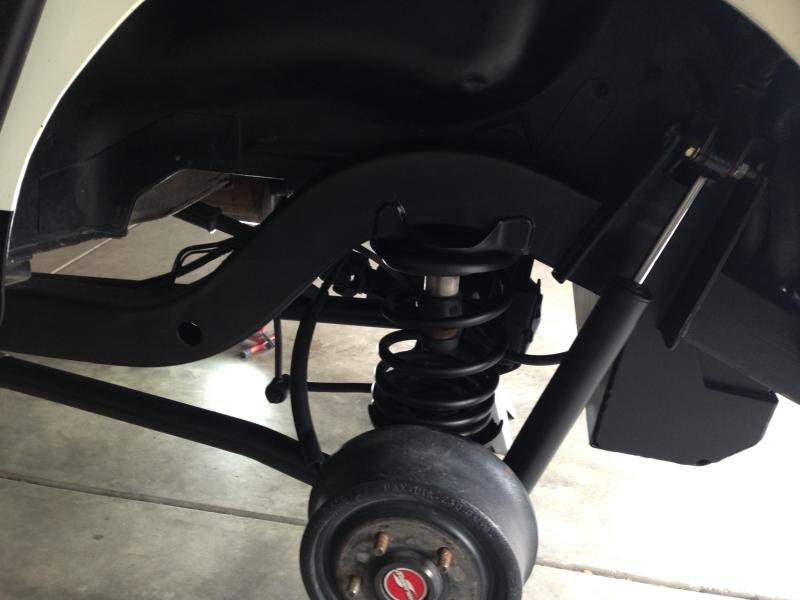 THE D35 of all D35's!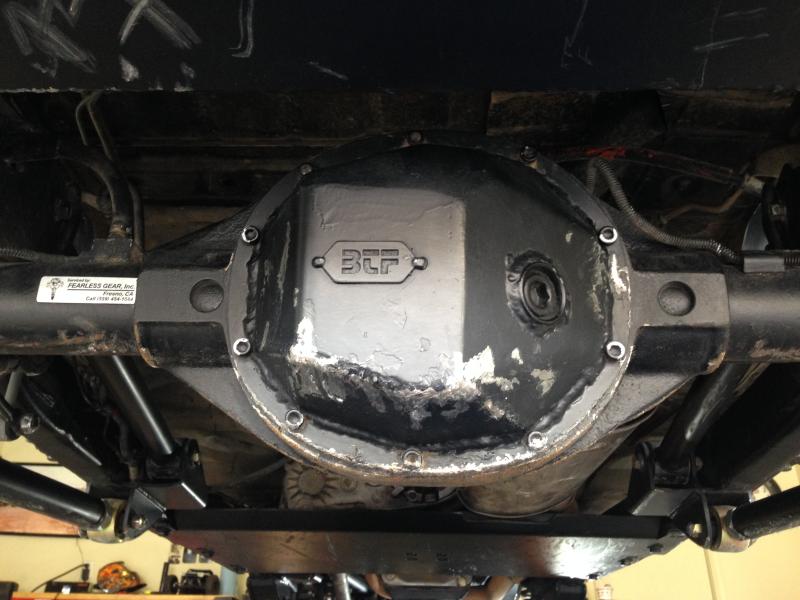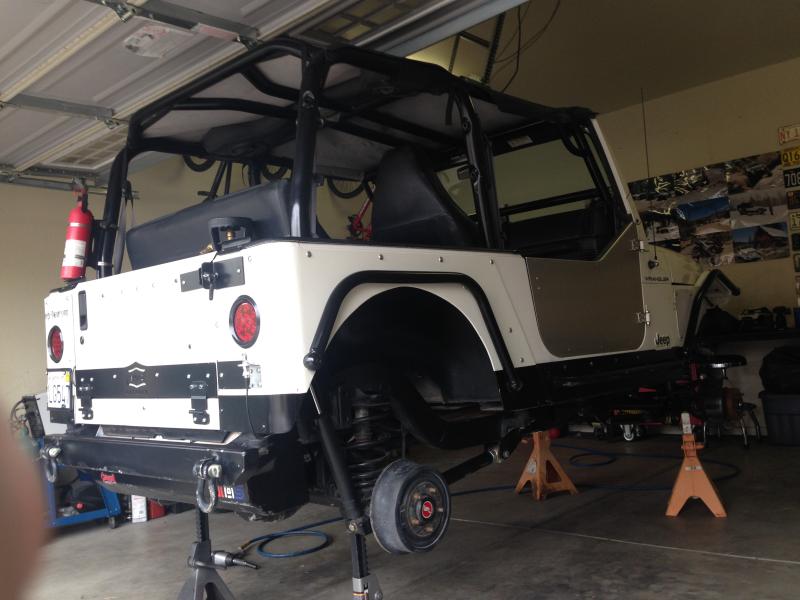 2-1-2015
My Brother in Law made this sweet video of the Sledgehammer trip!



https://www.youtube.com/watch?v=OKbaqEzGp1c
3-18-2015
Did a little Hammer's wheeling.... We ran Jackhammer. SUPER FUN, the spot that held everyone up during KOH was the only spot I pulled cable. It's a pretty nasty spot for sure. I had always seen the pics of people on the high narrow ridge but never put two and two together that it was actually ON Jack..... well needless to say that little climb has some pucker factor. Tons of fun though.
The next day we ran Wrecking Ball, probably my favorite trail to date. I fought with a bad line on the waterfall for a while and ended up bending my drag link. No real big deal, winched up it with a little scraping that I could have done without but all in all very fun! RIGHT after that, I winched up the winch less JermeyG, and then all of the sudden my jeep would NOT start, We ended up dragging it up the hill with my buddies winch, and letting it roll down while I popped the clutch, well on the 3rd try she fired up and we were off..... it was pretty funny / entertaining to try and get that thing started.
I took it apart today and it's a part of the ignition that actually turns the ignition switch thats broken, no big.
Hammers Trail completed, remember D30 D35 still, 4cyl. I'm quite proud of this list and can't wait to add some more.
Choc Thunder X3
Sledgehammer X2
Jackhammer
Aftershock
Wrecking Ball
Upper Johnson
Lower Johnson
Clawhammer
Boulderdash
Sun Bonnet
Tack Hammer (barely a trail)
On to some pics......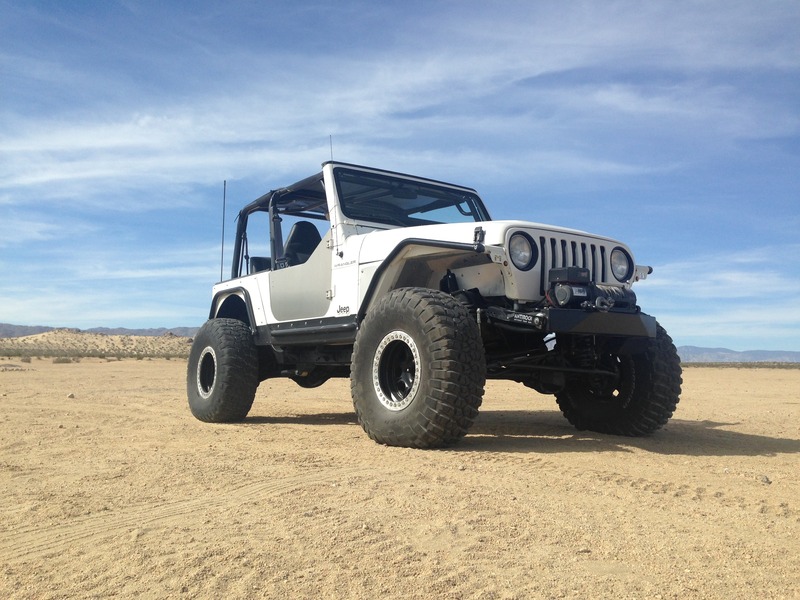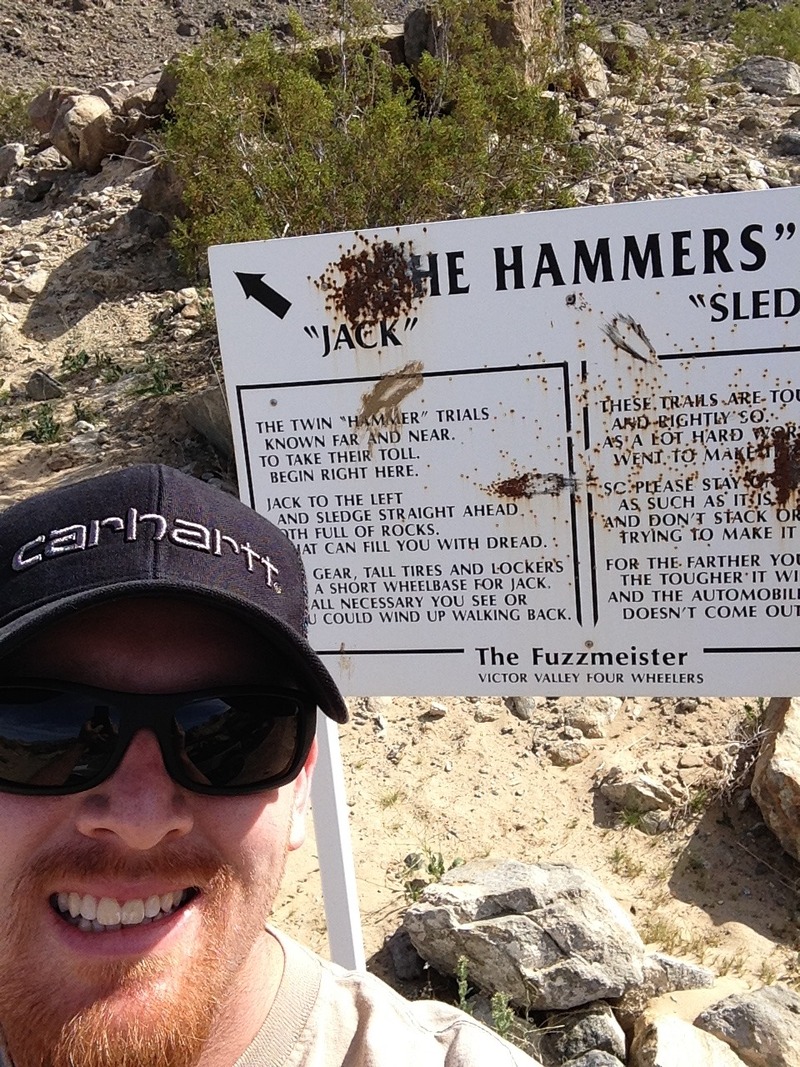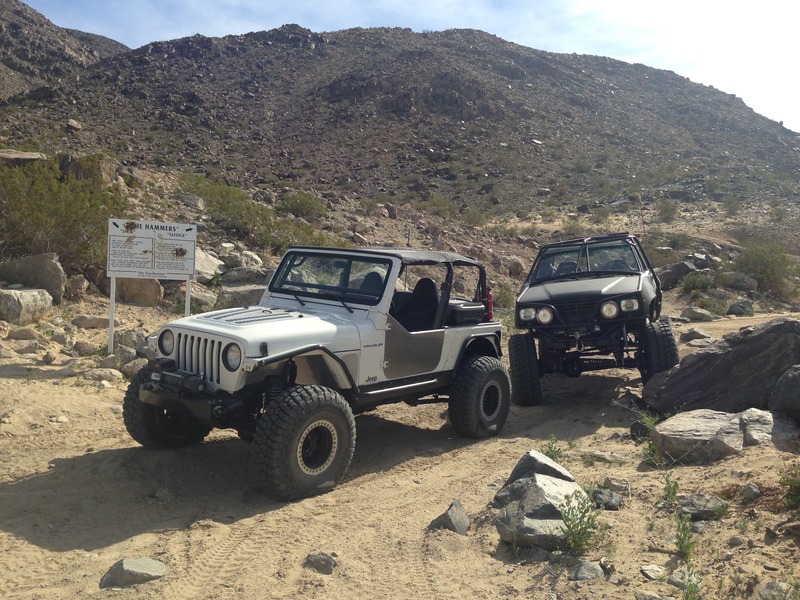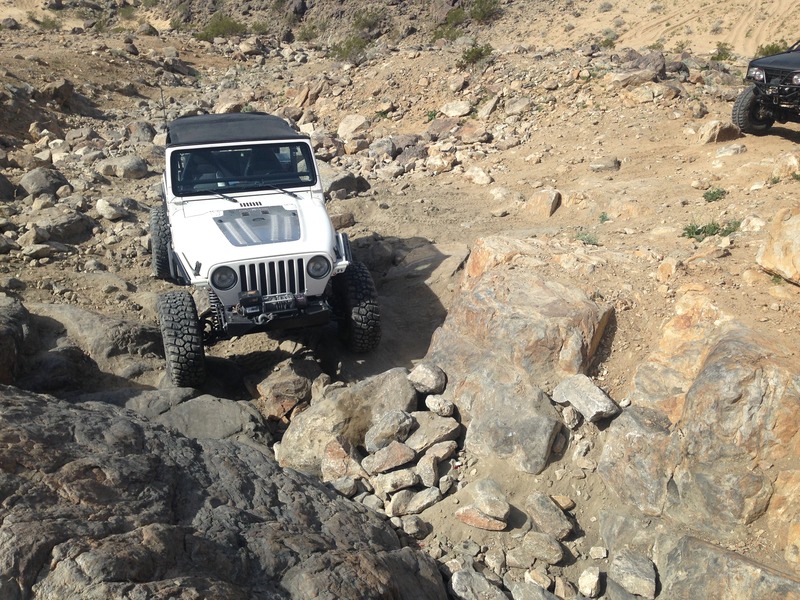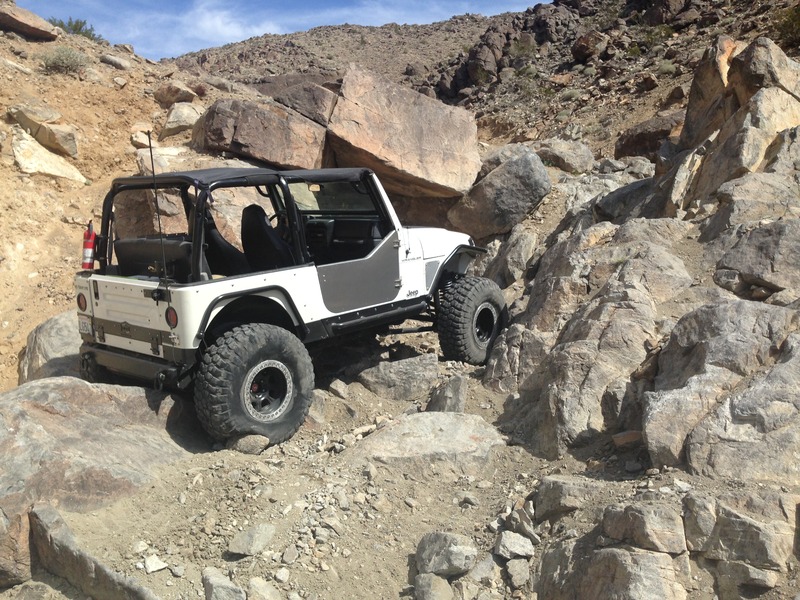 Some more are uploading.... probably post them tomorrow!
7-10-2015
NEW IAS demonstration video! I get asked all the time how the systems work in the real world, how long it really takes and just how difficult is the system to use. Well here is an uncut video showing my fill procedure after a day of wheeling. This is how I do it every single time. It just can not get any easier.

10lb Co2 On Board Air System with Quick Fist mounting solution - Instant Air Supply

The video is boring! But if you want to see a real world demonstration, and get some reassurance before you order, that you're going to save time and frustration with an IAS On Board Air system, WATCH IT!

It's my opinion that the IAS Gauged Inflation Chuck makes the system! It makes checking your progress a seamless experience while filling your tires.

Gauged Inflation Chuck - Instant Air Supply

https://www.youtube.com/watch?v=BFAo...ature=youtu.be
9-11-2015
Did some wheeling yesterday! Jeep is working great and holding up well.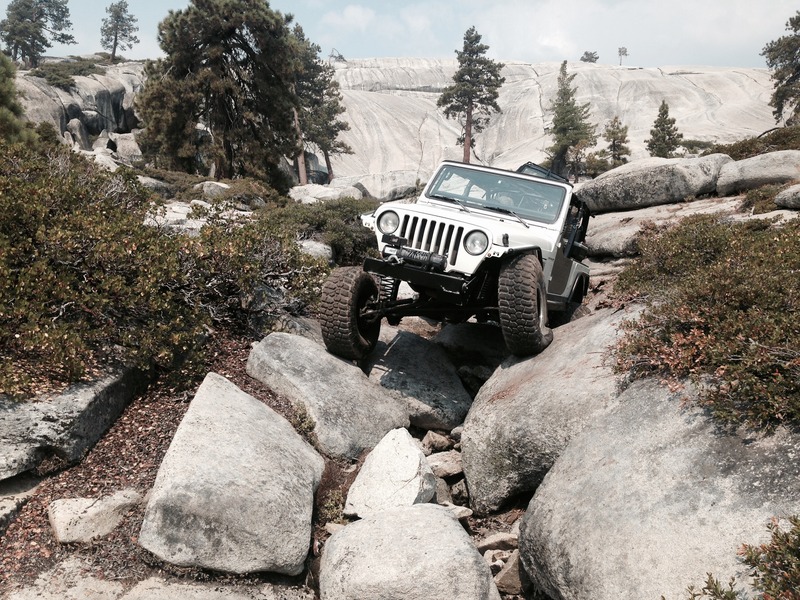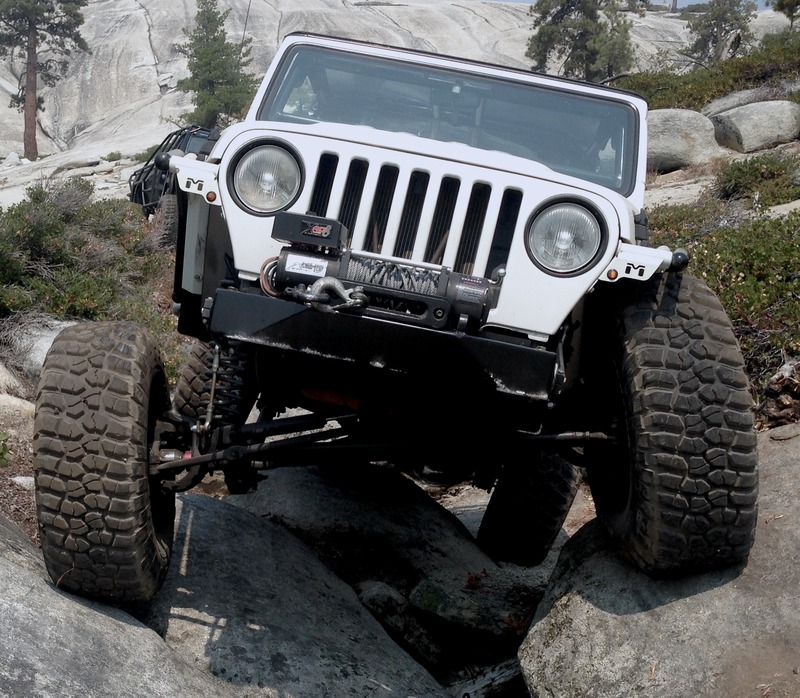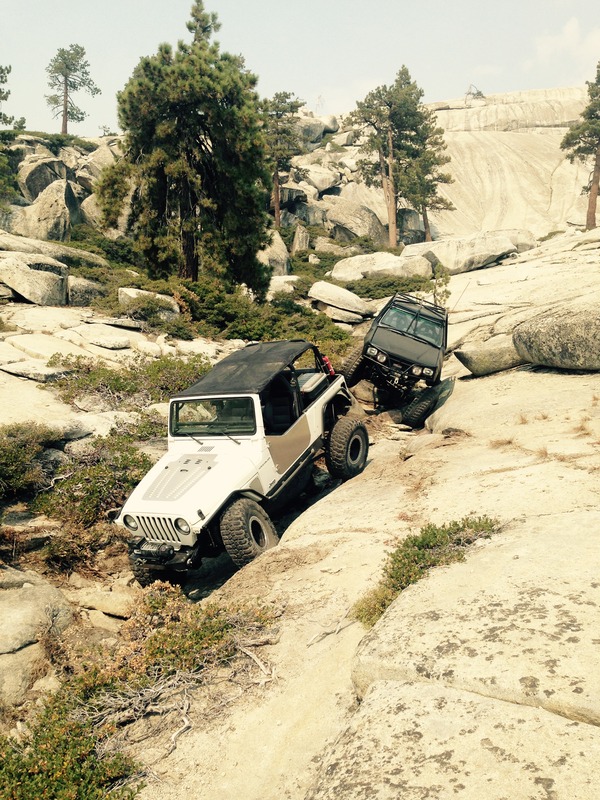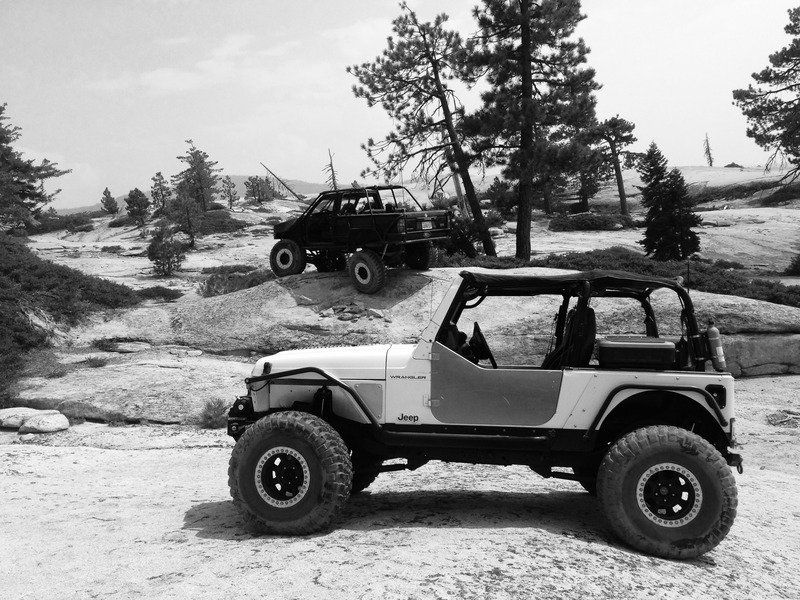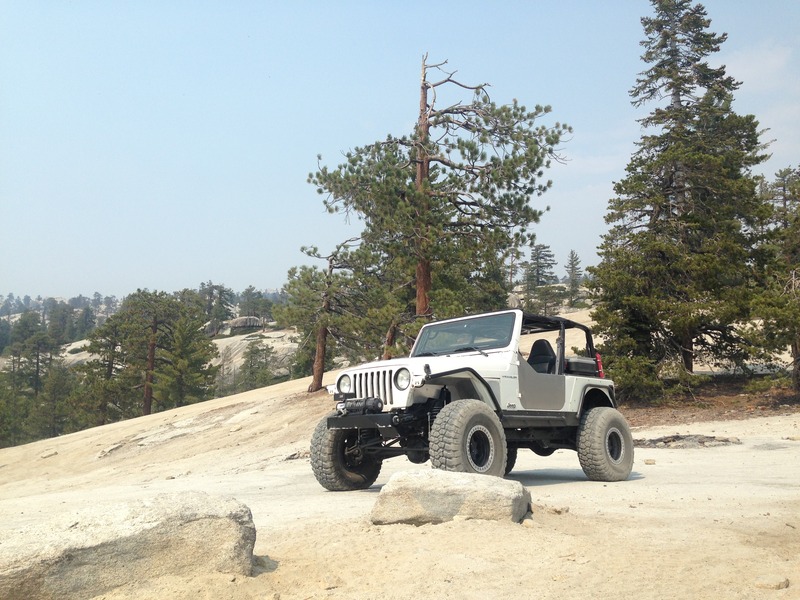 And one last photo of Tate's rig.... it's looking pretty cool nowadays.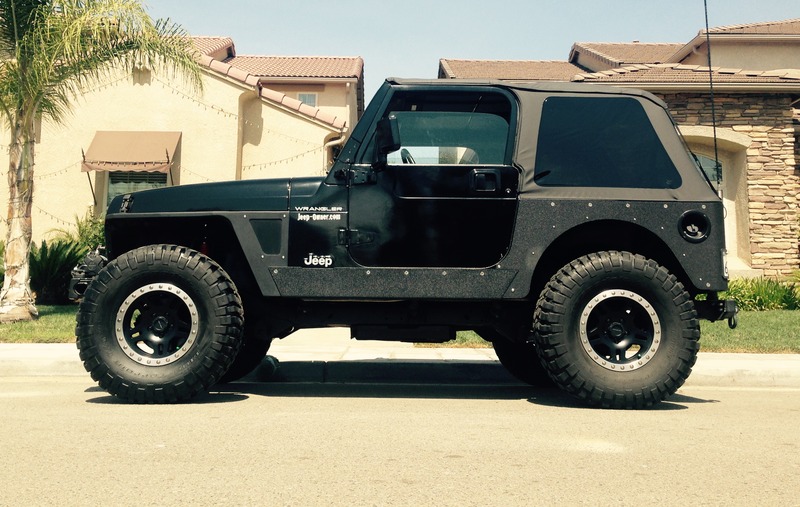 12-1-2015
Did some snow wheeling!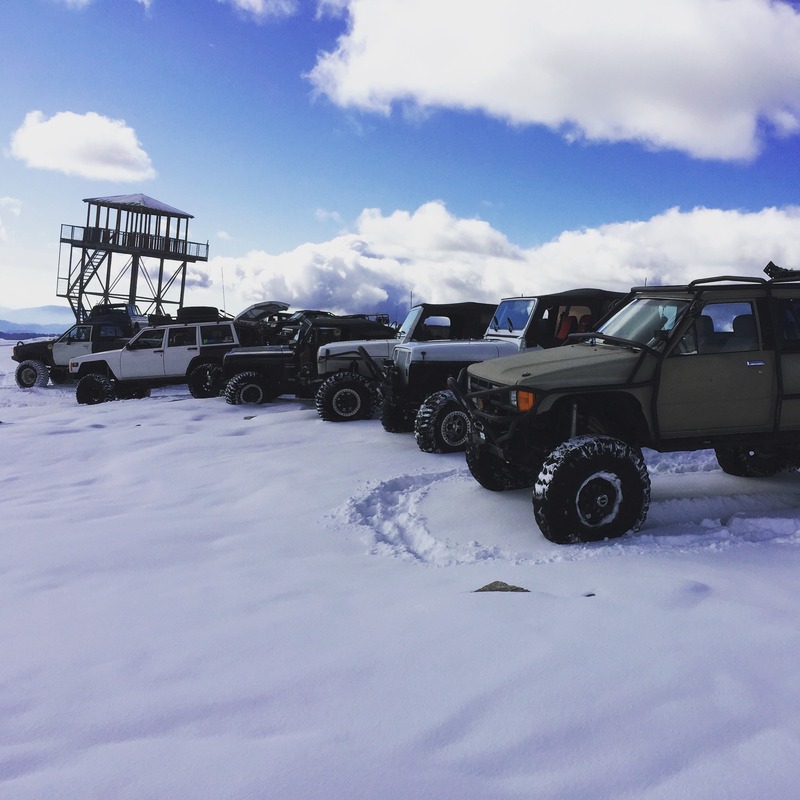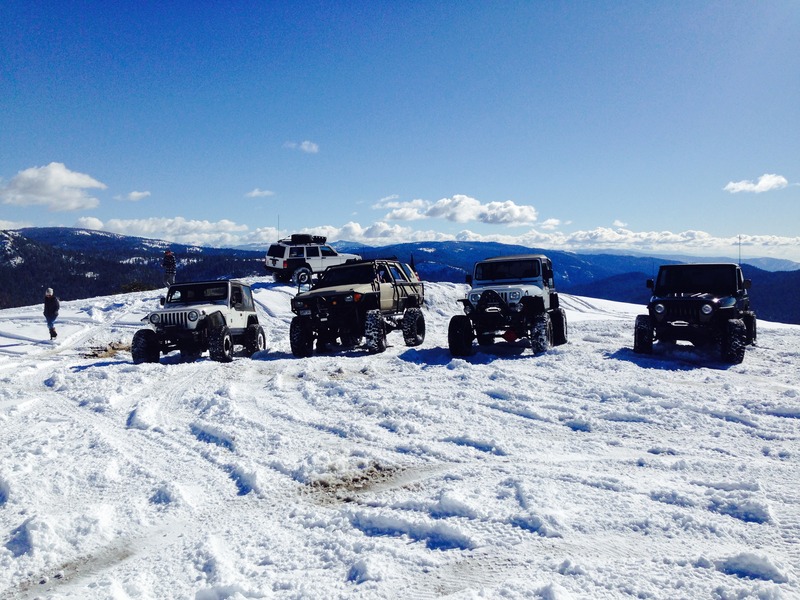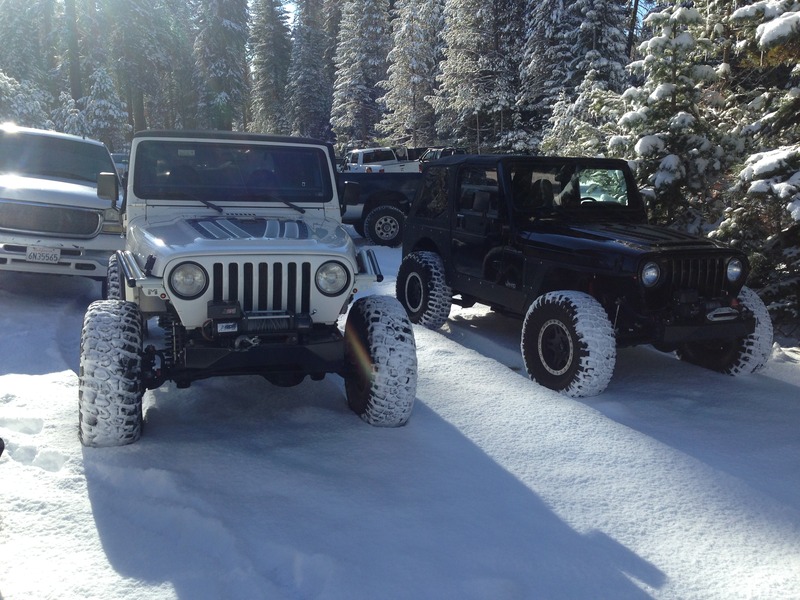 Oh and here is what's caused this thread neglect! Those of you who are on my Facebook already know.....

I bought this...... pile of motorcycle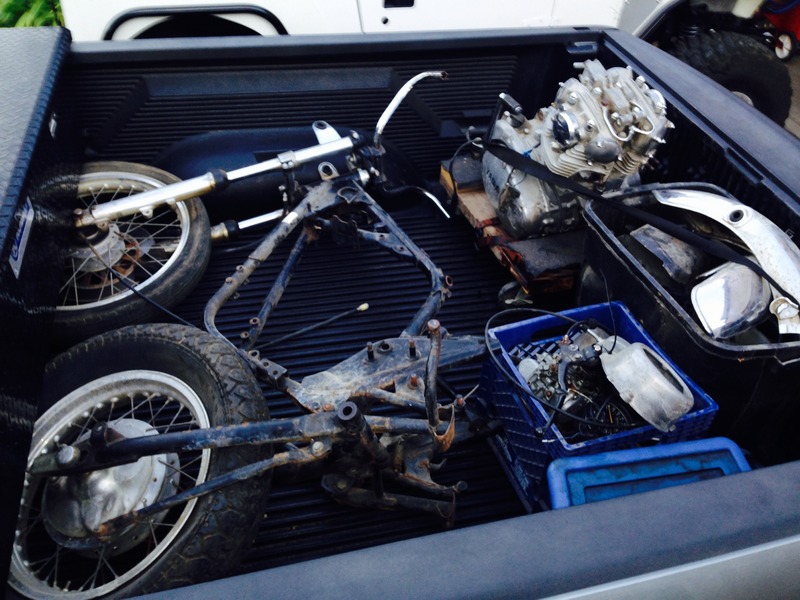 And now it's this....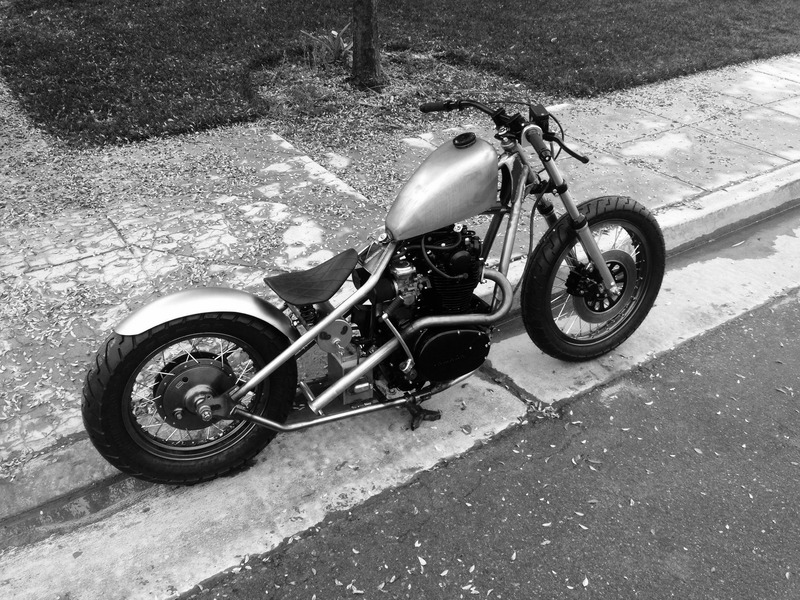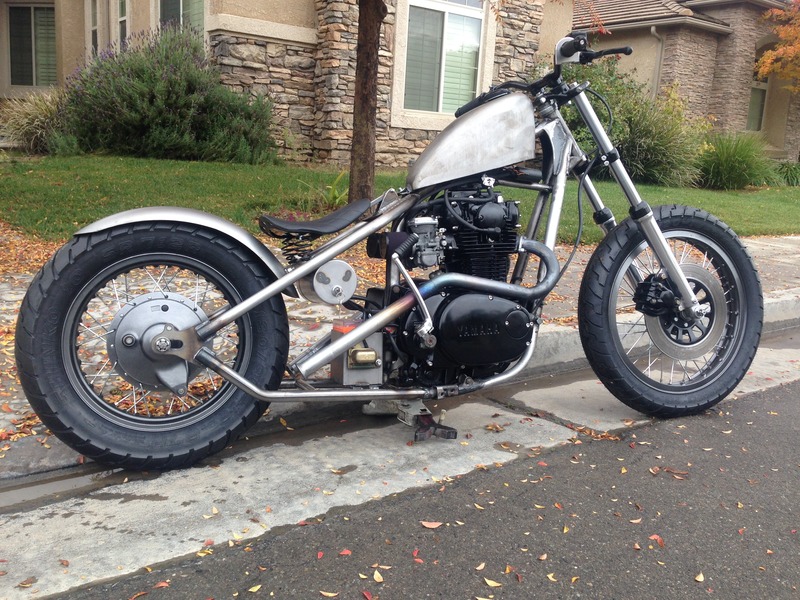 1-7-2016
My chopper is just about done so it may actually be time for some jeep wrenching soon.... Tate really needs a front locker!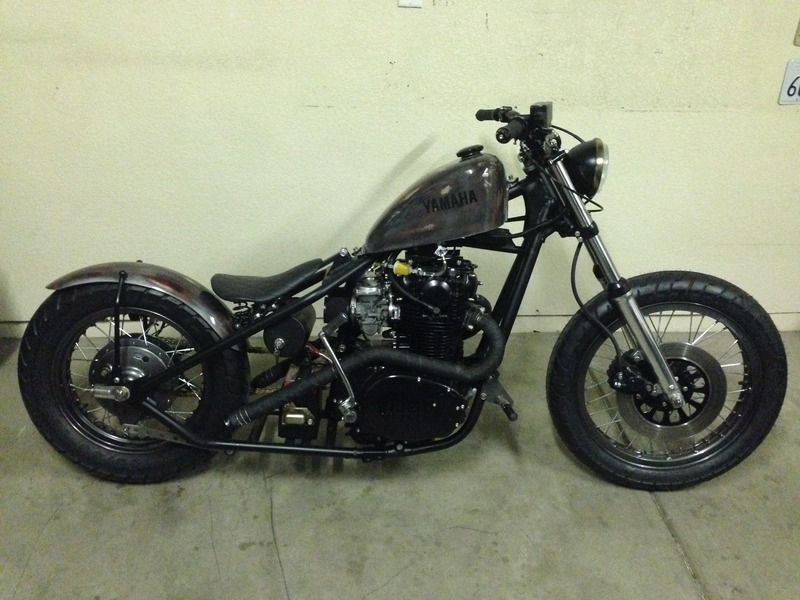 3-25-2016
Knocked a few more hammers trails off the list recently.

Current completed hammers trails.....

Jack
Sledge
Chocolate Thunder
Turkey Claw
Tack hammer
Claw hammer
Upper Johnson
Lower Johnson
Boulderdash
Aftershock
Wrecking ball
Sunbonnet
Highways 19,20,21
Spooners

Needless to say over the last 2.5 yrs since I started wheeling JV with this set up, it's taken some abuse. Mechanically it's been sound, no failures. Now out of sheer stupidity and stubbornness I'm feeling a bit of a rebuild coming on......

Focusing on clearance, mainly raising up all my link mounts, fuel tank, body mounts and boatsiding the tub. Along with a new cage, 2 seater style....

Running JV on 35's is already something most don't do, because it's just hard and can be frustrating getting hung up so much, but I really get off on the challenge and feel like these mods will help me pick through these trails with a little more grace.

Anyhow.... This thread will be coming back to life soon and I'm excited to get started!
12-4-2016
Getting started on the cage mods. I'm still deciding if I like this or if I want to land the bar all the way back and drill new mounting holes. I am kind of leaning towards leaving it like this since the tub is designed (flattened out) in that area to accommodate having something bolted to it. Redrilling further back would sandwiching how ever many layers of metal make up the tub in that corner. Anyhow.... I think it's gonna look
cool and be safer either way.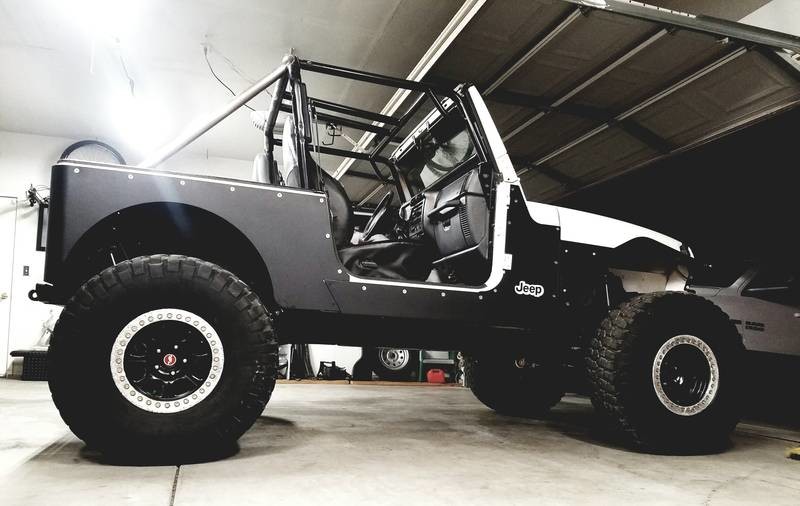 12-7-2016
Managed to get some more work done on the cage, I think it's going to be pretty cool when it's done!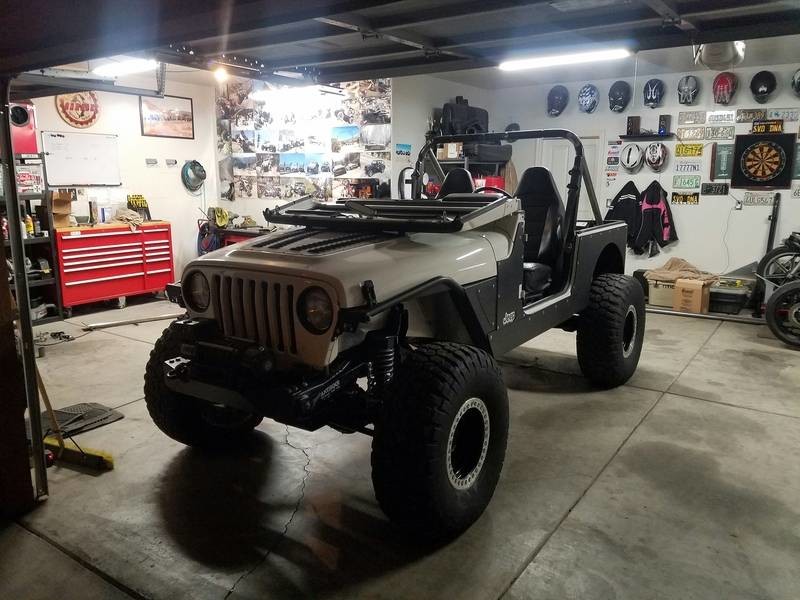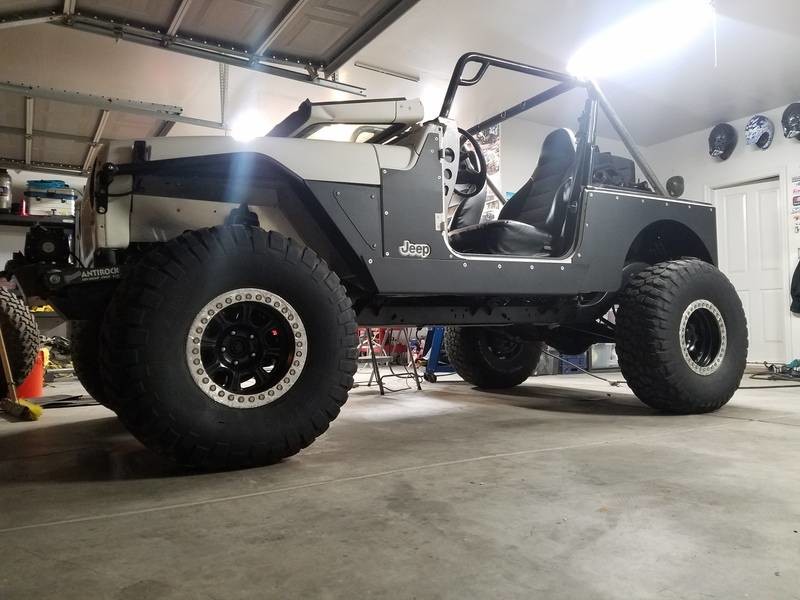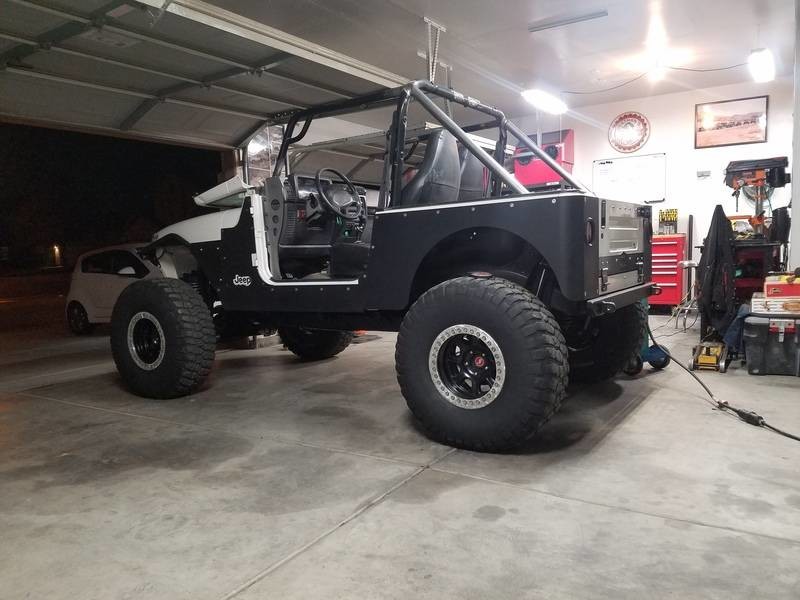 12-11-2016
Put it on a few rocks today, things felt good! Just need to wrap up the cage and its ready!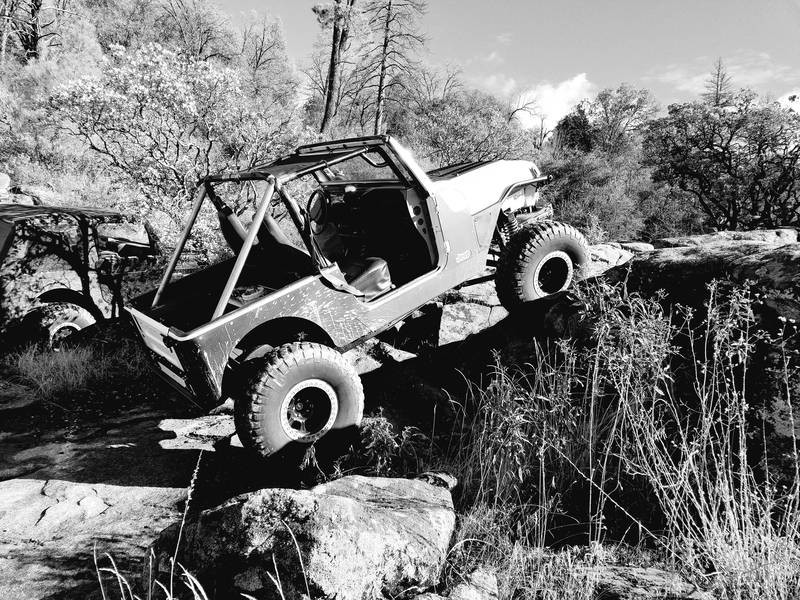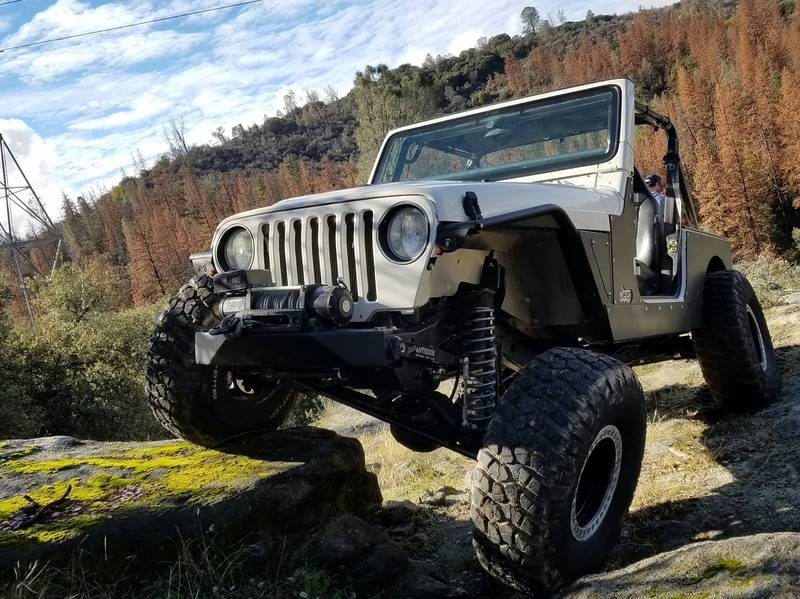 5-25-2017
Cage has been finished up for a while, really happy with the outcome. I also ordered some PRP seats that I am really happy with! Here is the new look..... and a complete ready to wheelmachine for this season!