Builds
Project college FUNd by cgmrdc
By diyauto
You must be logged in to rate content!
18 minute(s) of a 123 minute read
Project college FUNd
Compliments of cgmrdc @ jeepforum.com
10-13-2009
Posting this here to carry over from my club site so non members can veiw... feel free to post up any comments!!!! Thanks...
edit: current pic to gain your attention lol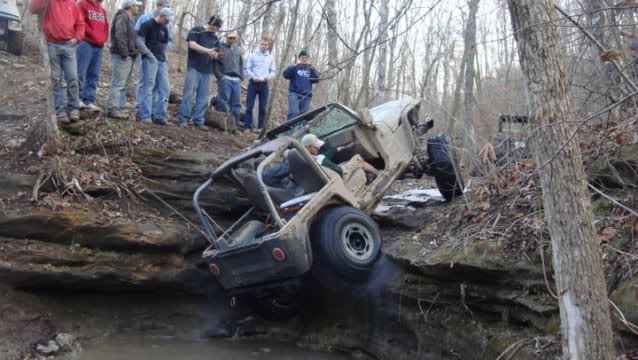 1998 Gun metal TJ
4.0/5 speed/231
d30/35

the only picture i saw before i bought it :lol: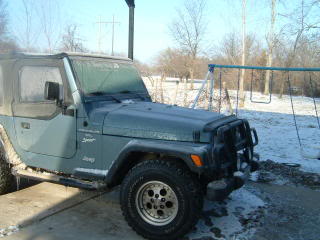 the day i brought it home... and washed it...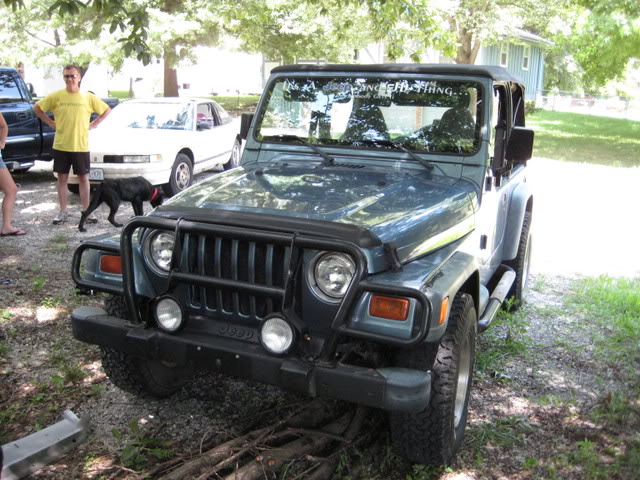 me and nick in front of our fraternity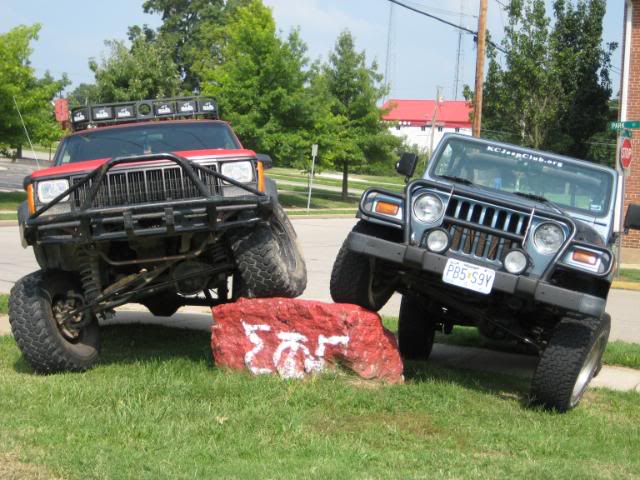 First Mod:
CB
Mirror relocators... gotta stay legal
Corner gaurds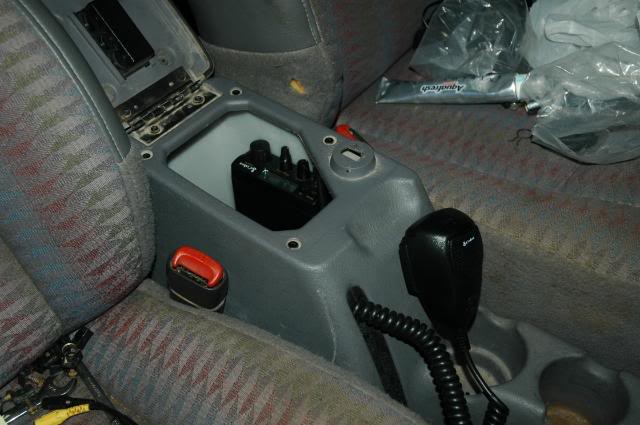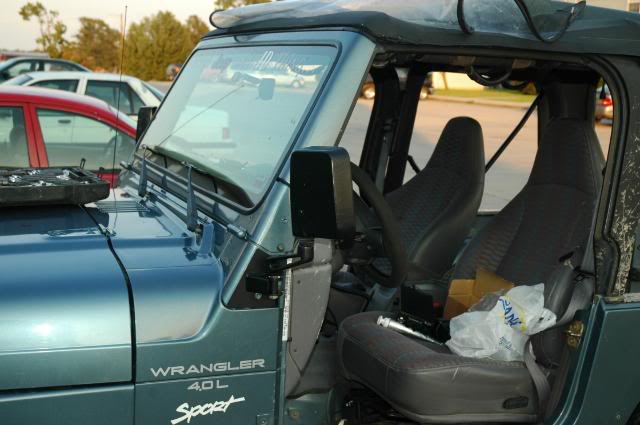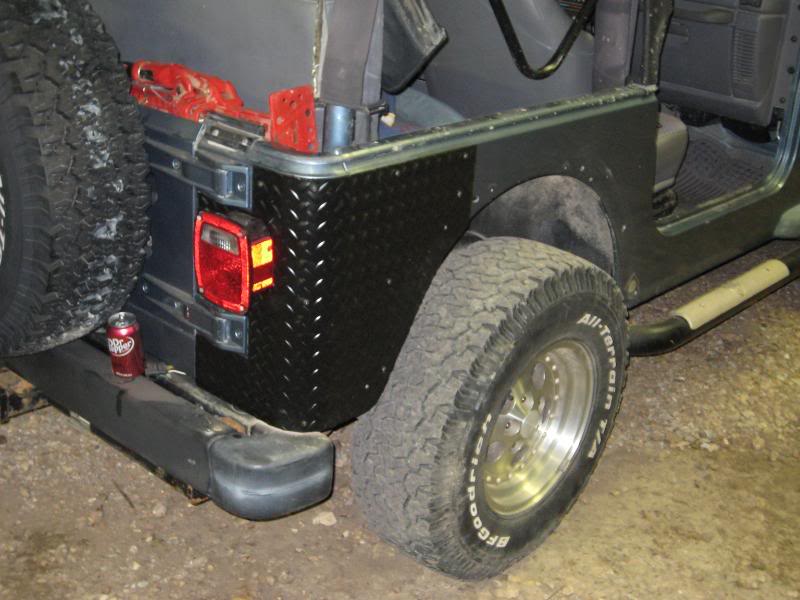 All this in prep for my first trip to Disney... within my first month... and realized it needs to be a little taller :wink: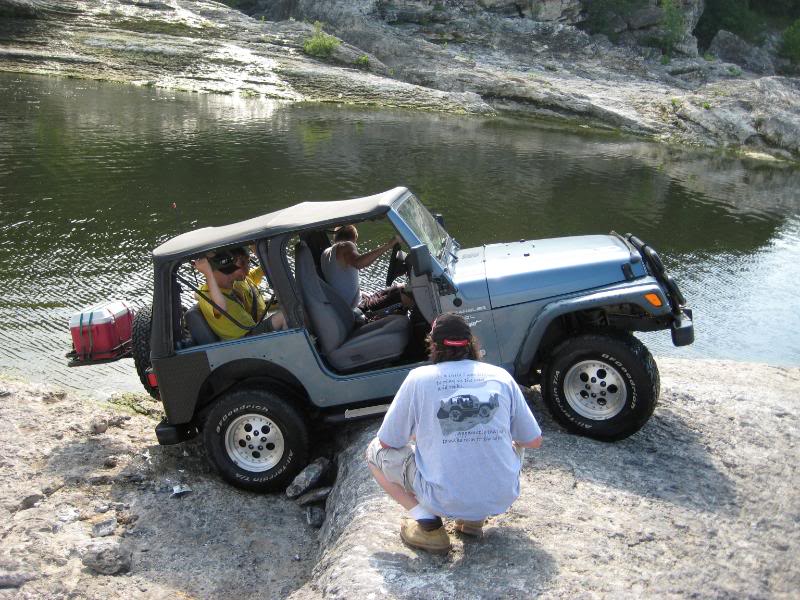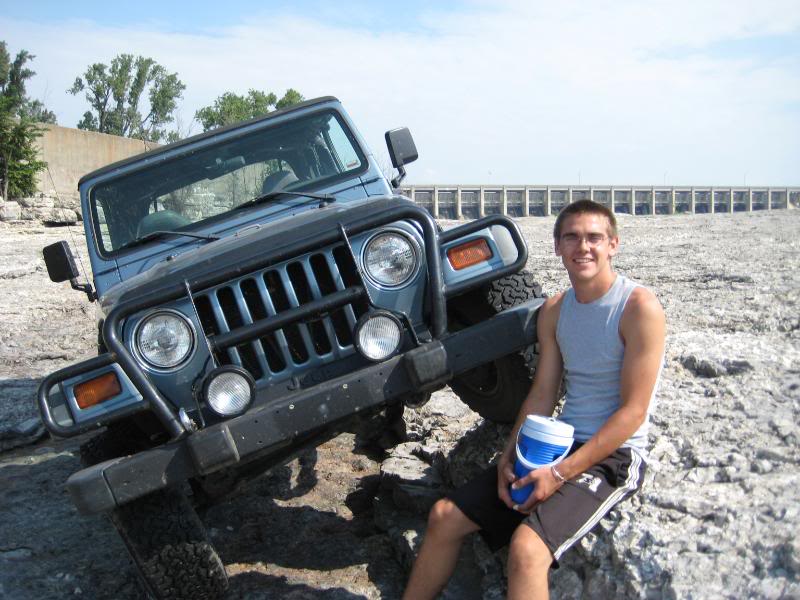 Molli had never driven a stick :shock: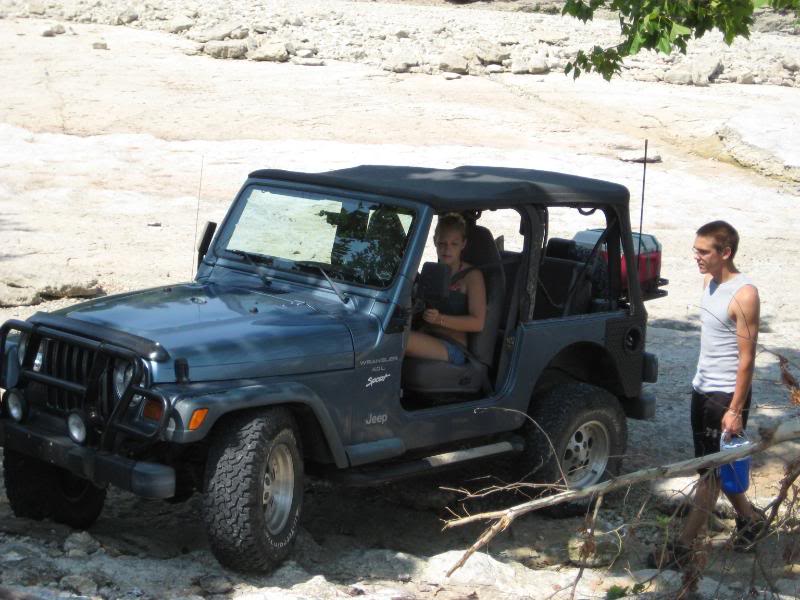 one of my favorite moments... its a little hill but half the group had to be winched up... not me

i was impressed with my little TJ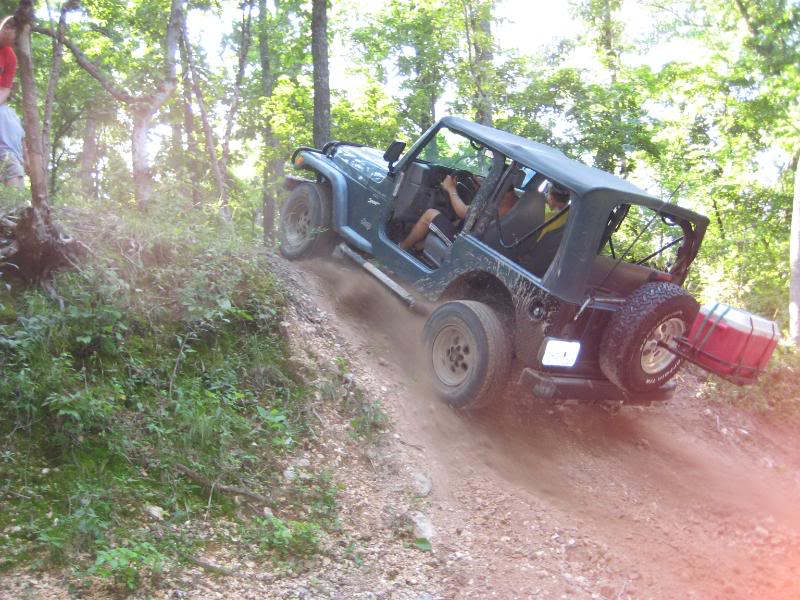 next up was some skyjacker 2.5" springs that a fellow members brother traded me for my stock springs so her could trade in his jeep.
that was some time before MUD FEST!!!!!! little event on the st louis side i go to with some friends from my fraternity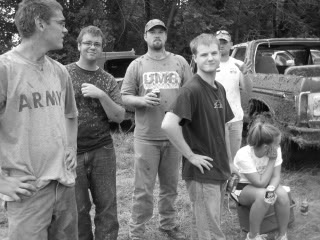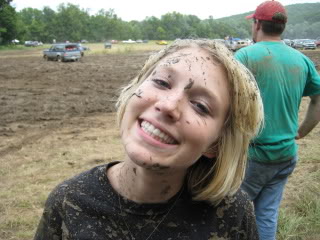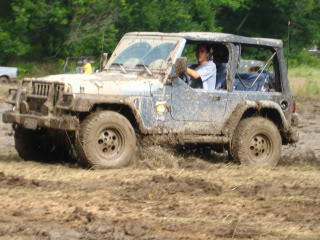 and i realized i needed bigger, more aggressive tires...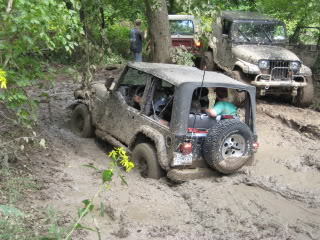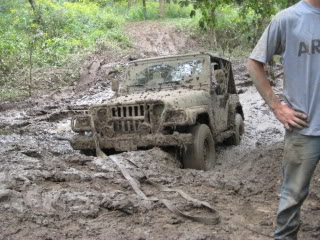 didnt change anything for the club campout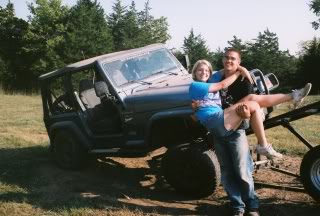 next up was the tires, adjustable trac bars and disconnects... again for my stock parts... but that guy was a jerk...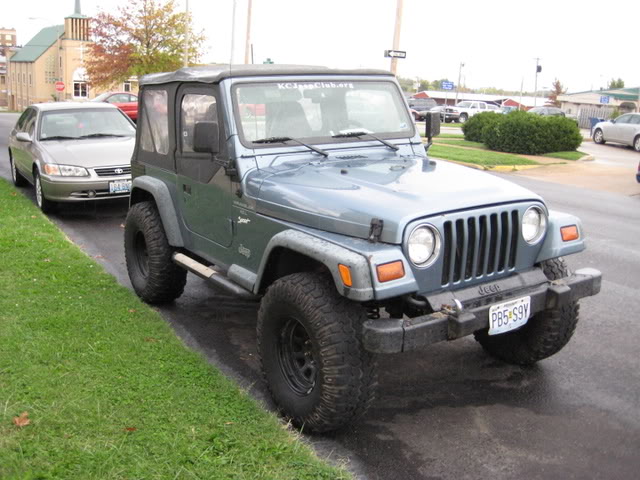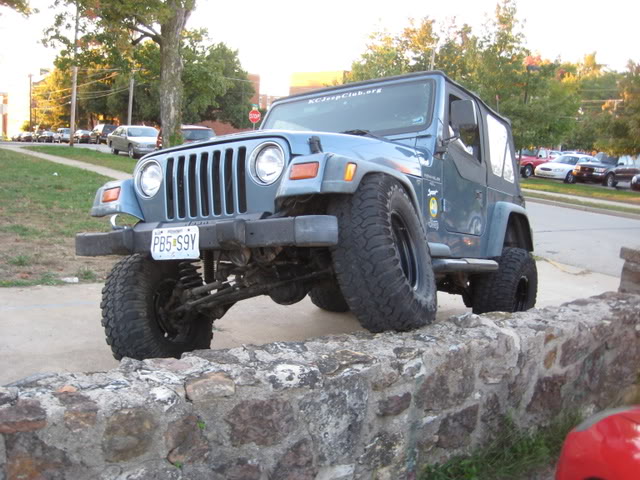 shortly after i did a stealth snorkle based on this write up on here
Tj Cowl Induction & Snorkle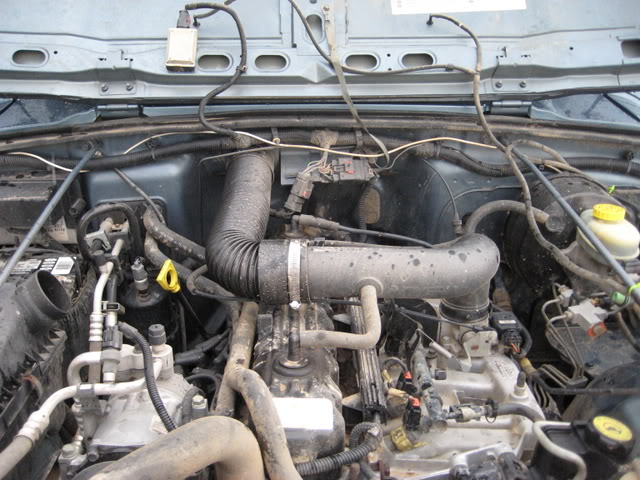 so... at some point between the snorkle ad SMORR I did a 1.25" body lift and 1" motor mountlift
here are some pics from SMORR...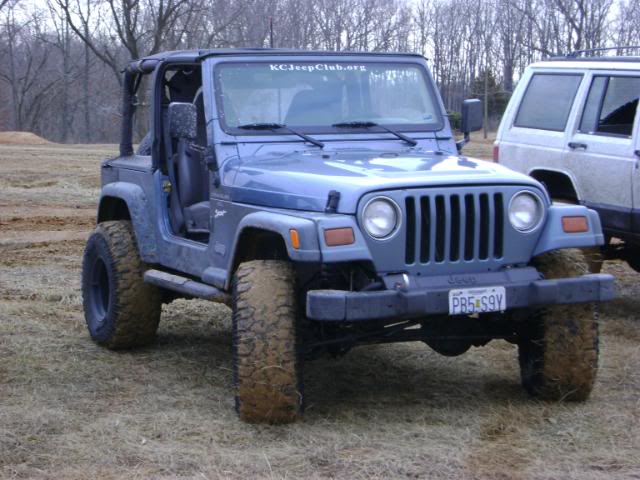 V-Notch... 2nd day and 2nd time... not as successful as the first... but more successful than reed :P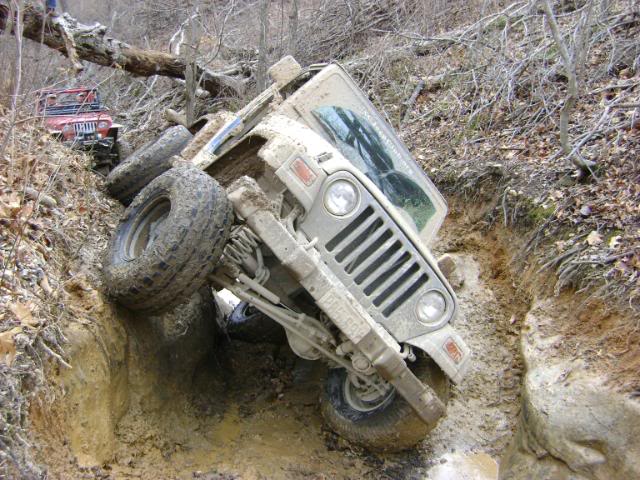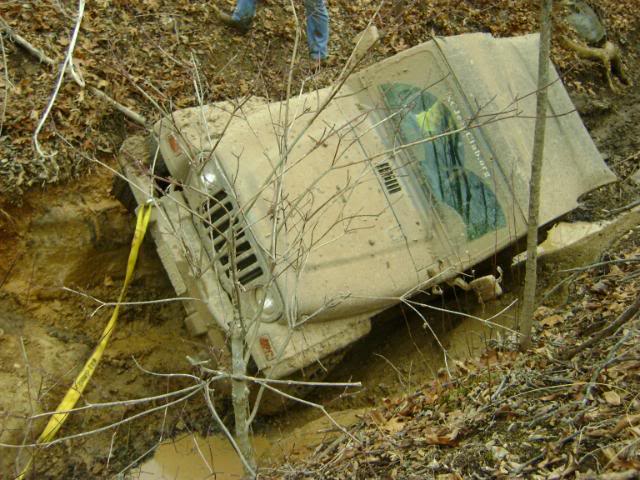 and a cool flex shot from that place out on the ks side... off 435...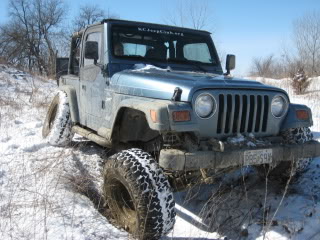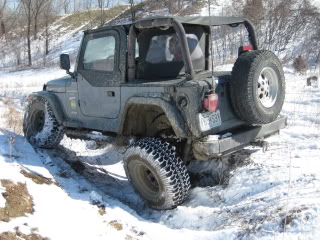 Not much has changed until now... ive been gathering parts for the last two months preparing for the first big set of upgrade:
Mod list: purchased
Home made belly up skid (in progress... pics to come)
HP D30 4.10s/Aussie locker
Ford 8.8 4.10s/LSD
MAD4x4 brackets
Tera 2lo
Teraflex super short SYE
Home made highline tube fenders front and rear
35x12.50 LTBs 36x12.50 SXs
DIY Beadlocks
WJ cross over steering and brakes
custom bumpers front and rear
custom rocker gaurds
sport cage reinforcement
Here is the write up of my belly up in the fab section!
http://www.jeepforum.com/forum/f37/t...p-skid-776123/
pics of it painted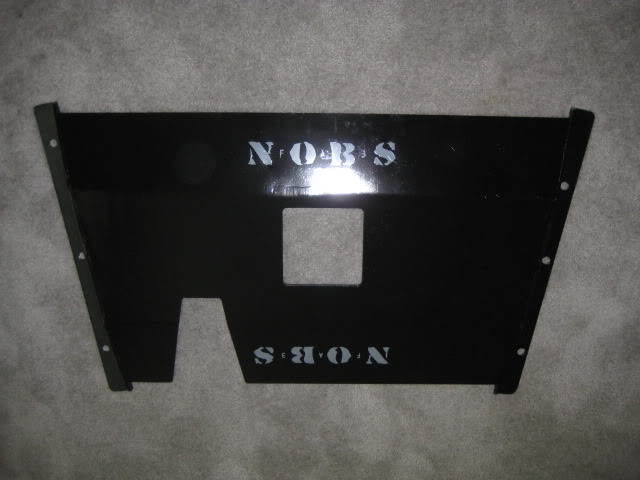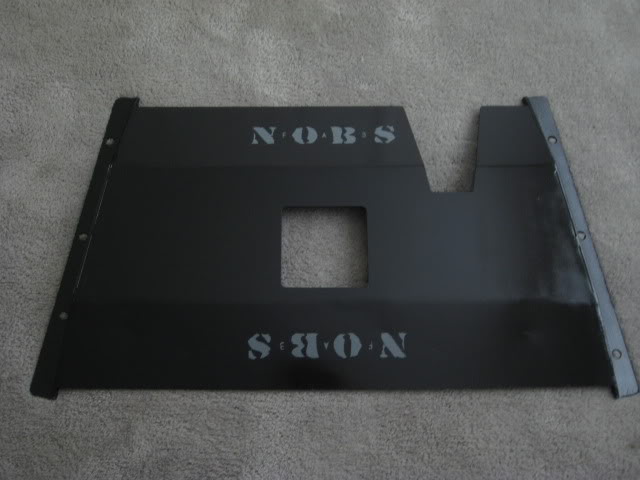 Installed over memorial day:
SYE
2lo
Belly up
HP D30 w/ Aussie
Ford 8.8
Pics:
Parts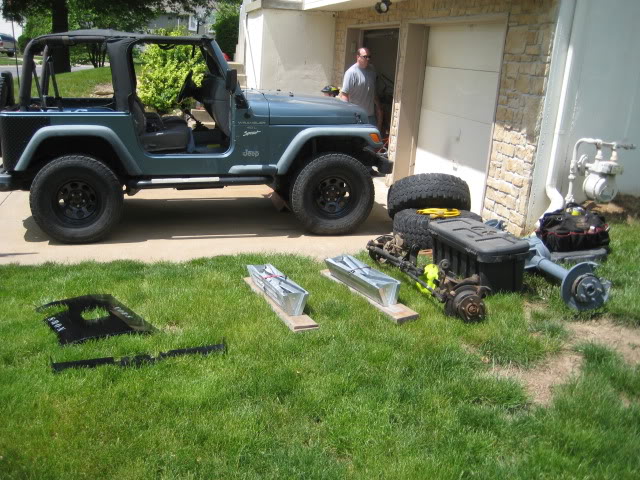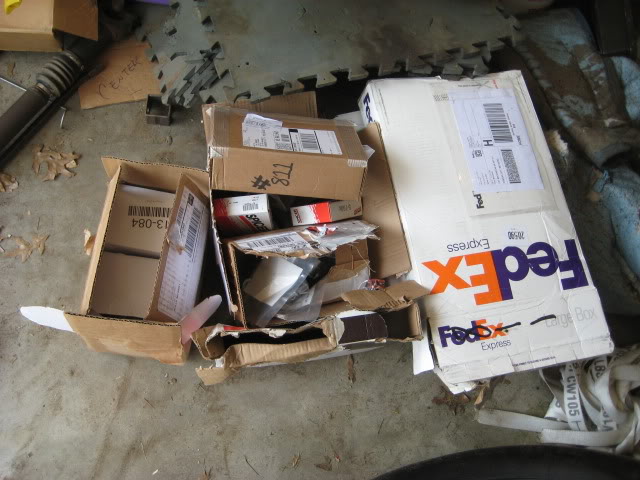 Some of the brackets tacked on... i had some issues w/ the uppers and sway bar mounts. Stu's write up says to mount the sway bars first and then mount the uppers around them but that was for the MORE kit and the madw4d brackets are different. so i measured the D35, welded the upper in the right place and then relised the swaybar mounts were cut wrong...


the one on top is the one i modified vs how they cut them...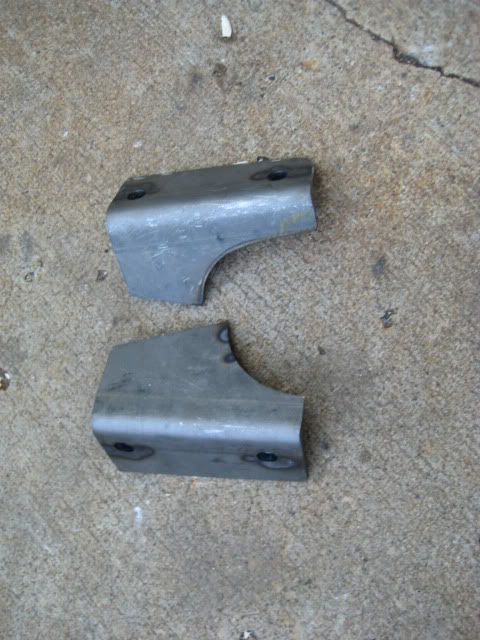 much better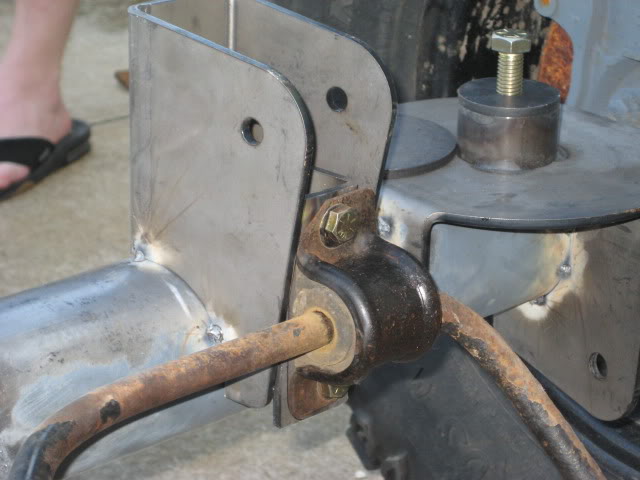 everything welded up... after a couple test fits of course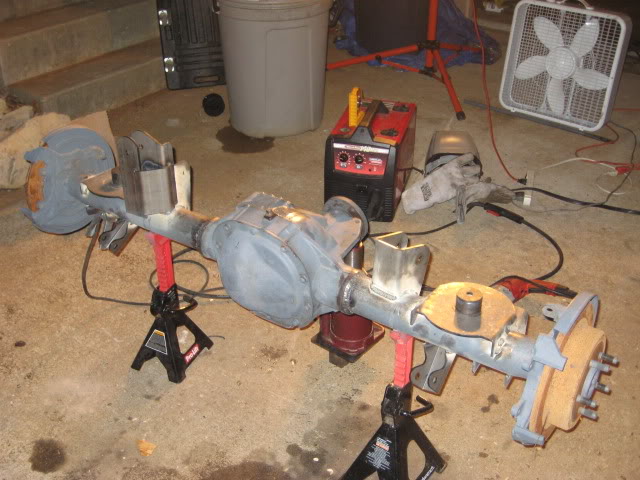 welded a plate over the abs sensor hole and tapped it for a fill plug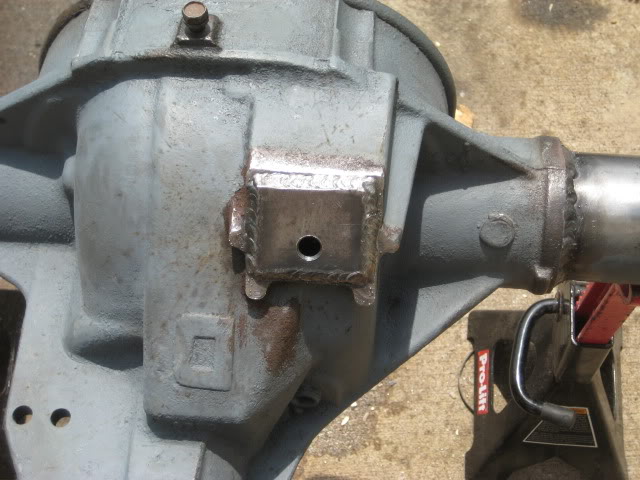 Primed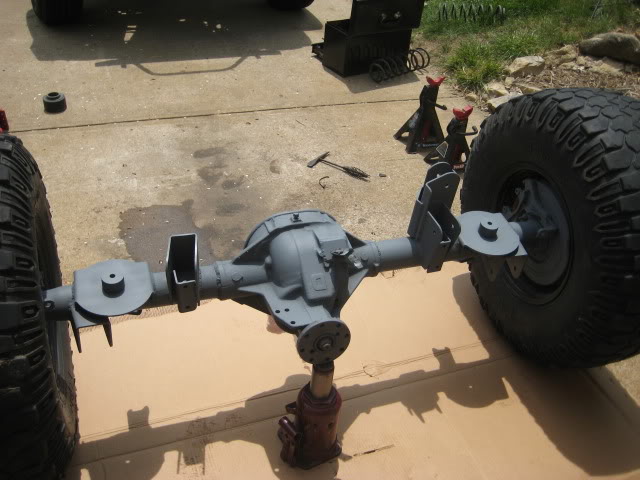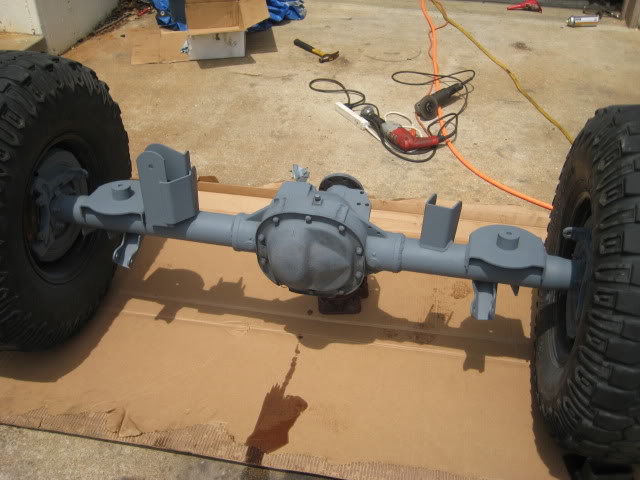 and painted 8)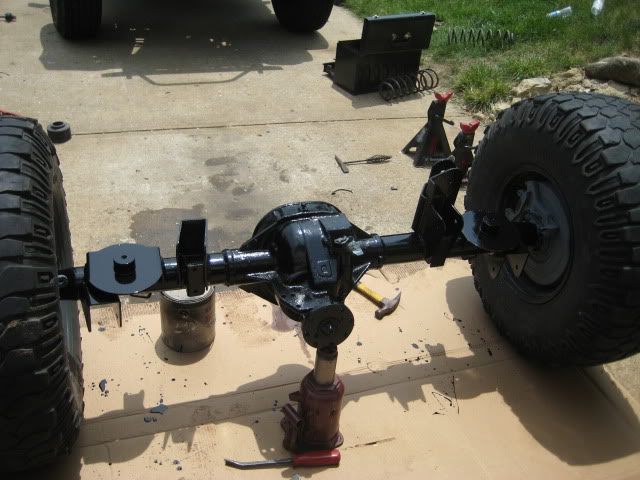 Pulled the front axel and started swapping the shafts and knuckles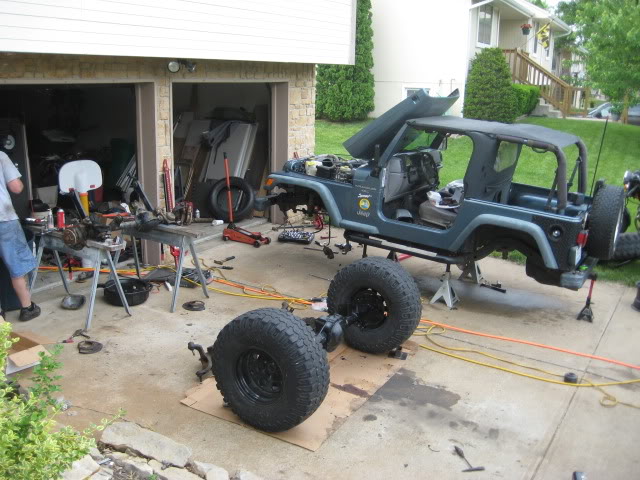 The kids together for the first time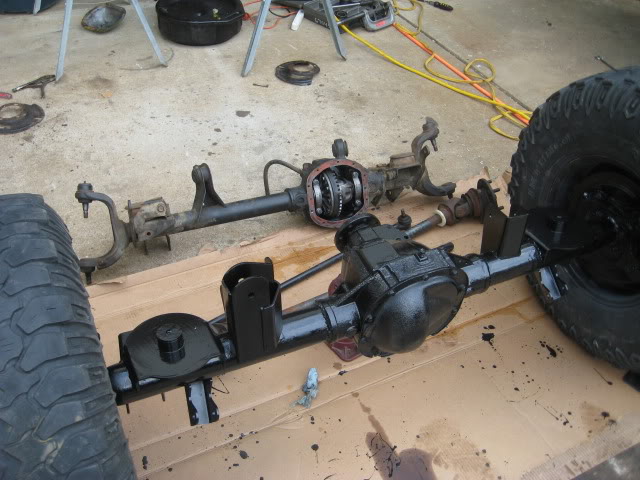 floatin Jeep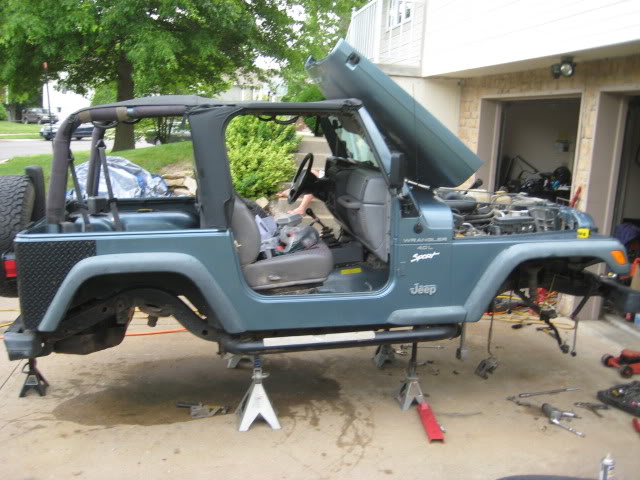 Kevin and Reed came over and did some of their own swappin... the looks from passer-bys never get old...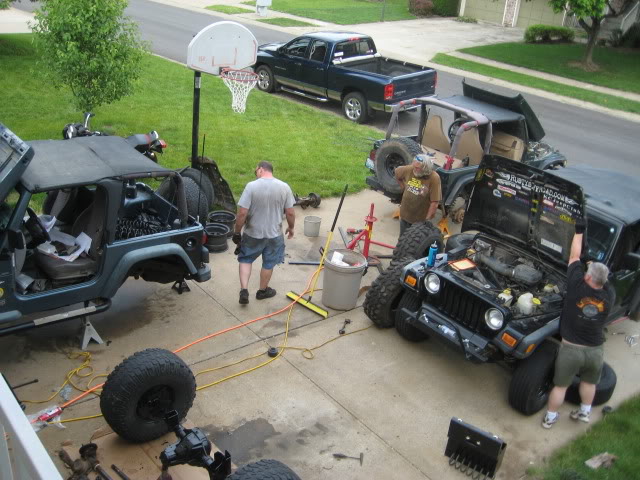 some pics...
since i didnt get pic of my rti i thought id post some flex shots w/ the tsl's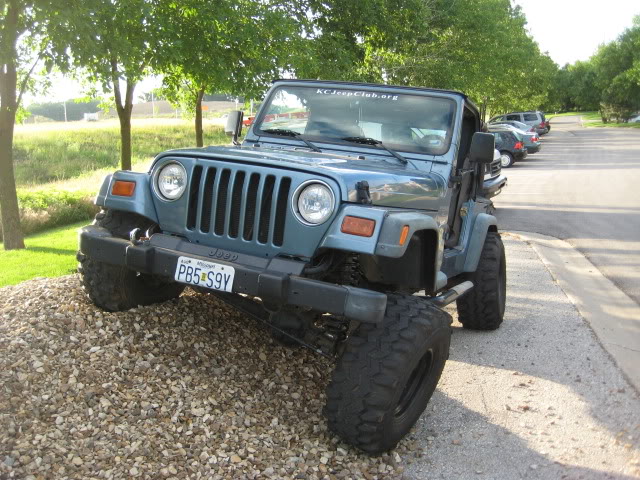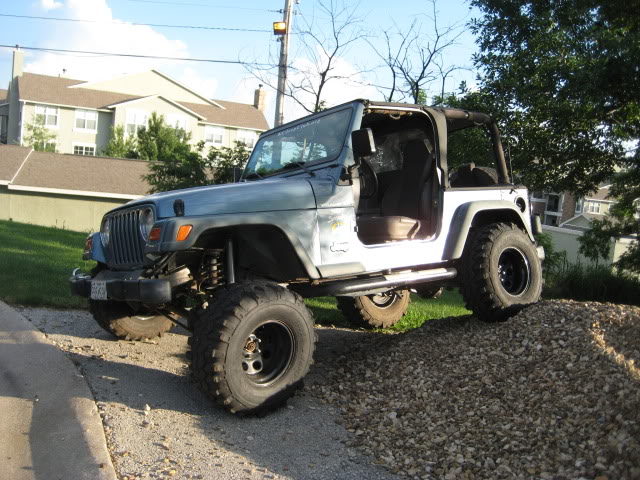 at full bump my shock its the brake line... but after some trail adjustments (flexing) its now out of the way. I plan on outboarding my shocks soon so ill prob just leave it till then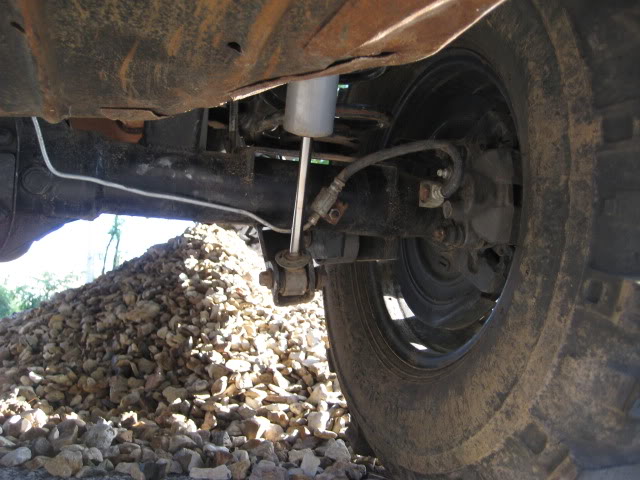 and on to fixing the tire flex issue... i borrowed a groving iron (thanks glen!) today and after doing lots of reading on pros/cons i got to cutting
first cut... like butter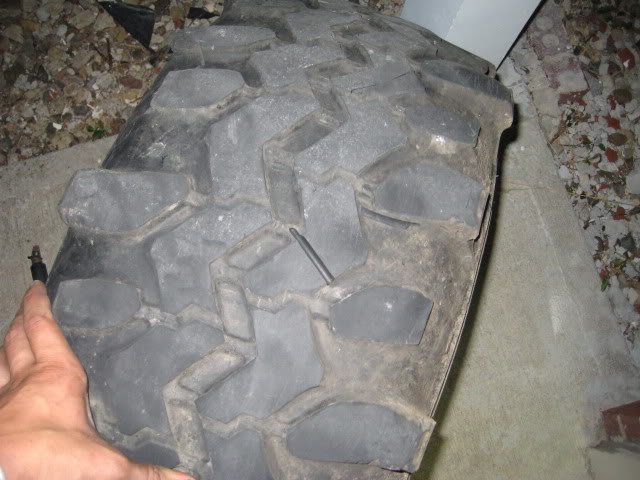 i did two angled cuts, per Glens recomendations, and removed most of the center wear bar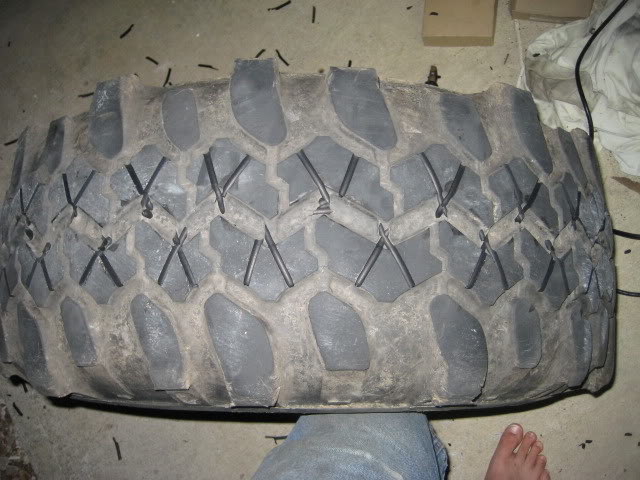 on top of an uncut tsl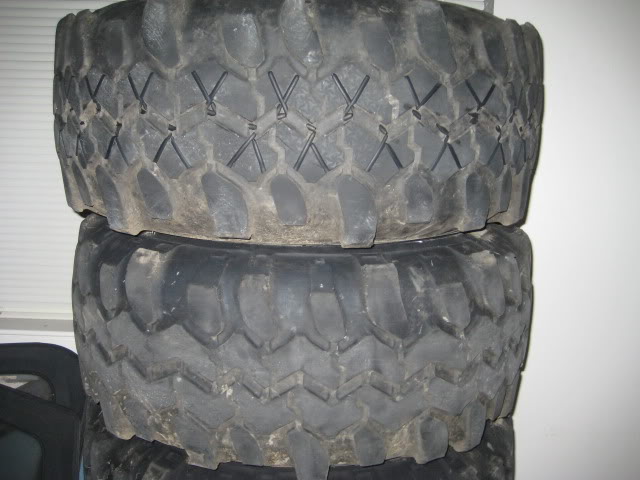 i only had time to do one tonight but it look about 40 min... i suspect i will have that down below 30 on the next 3...
After i finished those it was time to head to CO and Moab for a week!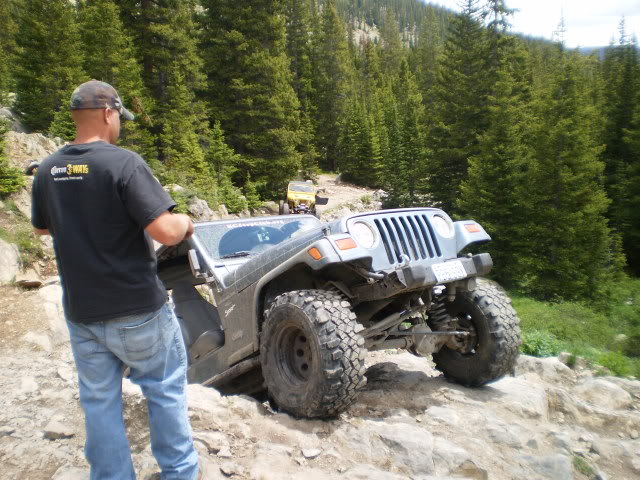 bent track bar trail fix... highlift jack handle...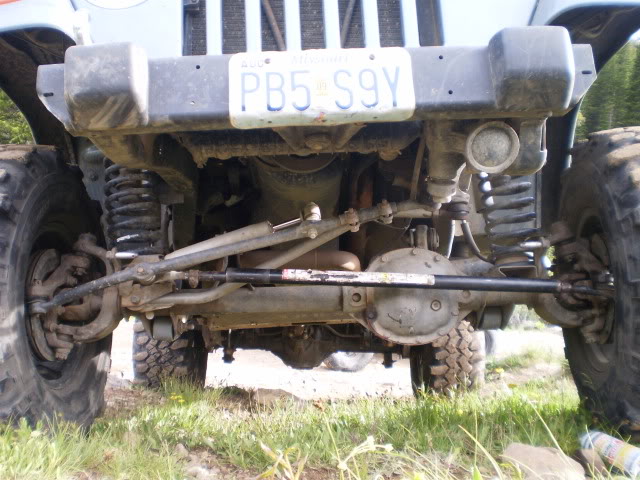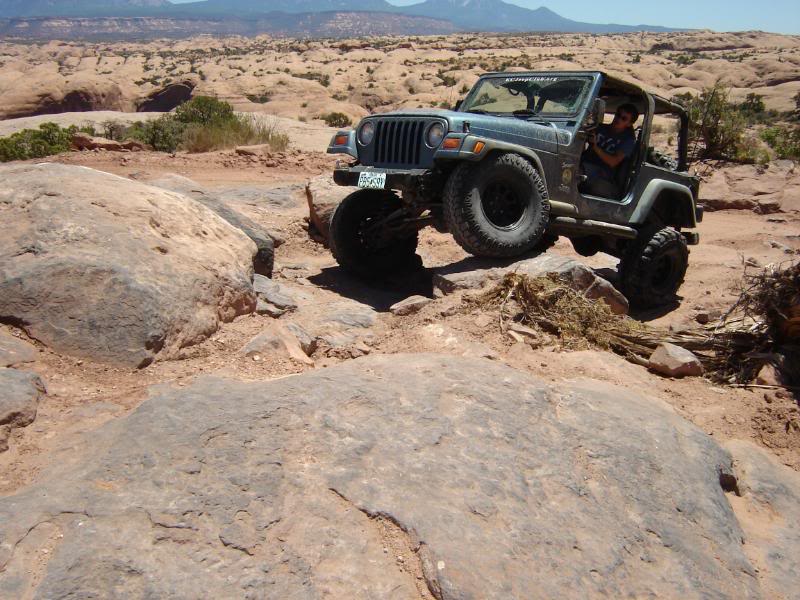 this doesnt do it justice but that wall was prob 10+ ft tall!
me not making it up escilator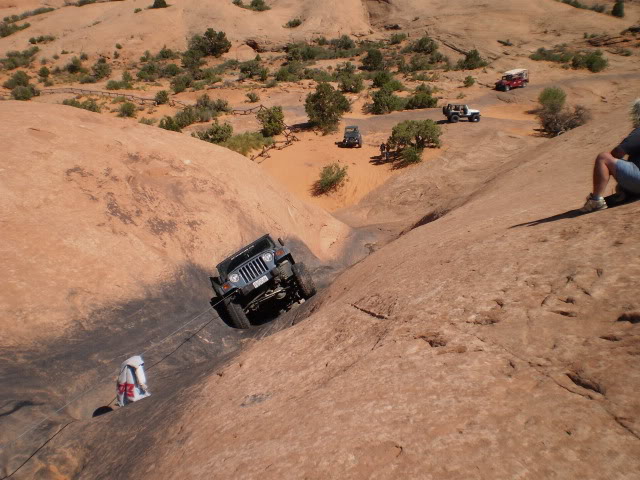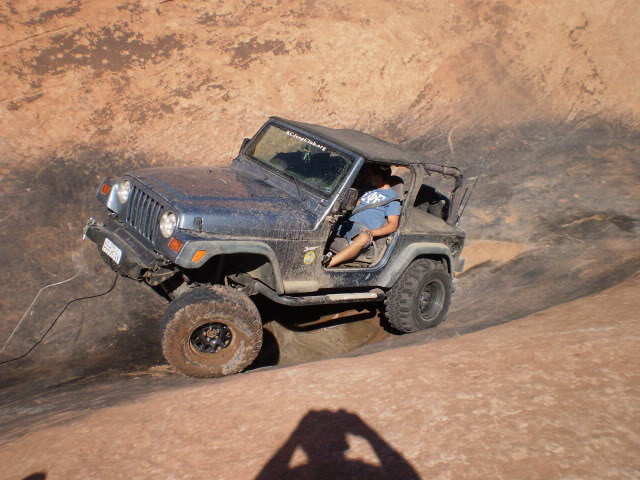 sweet flex! 8)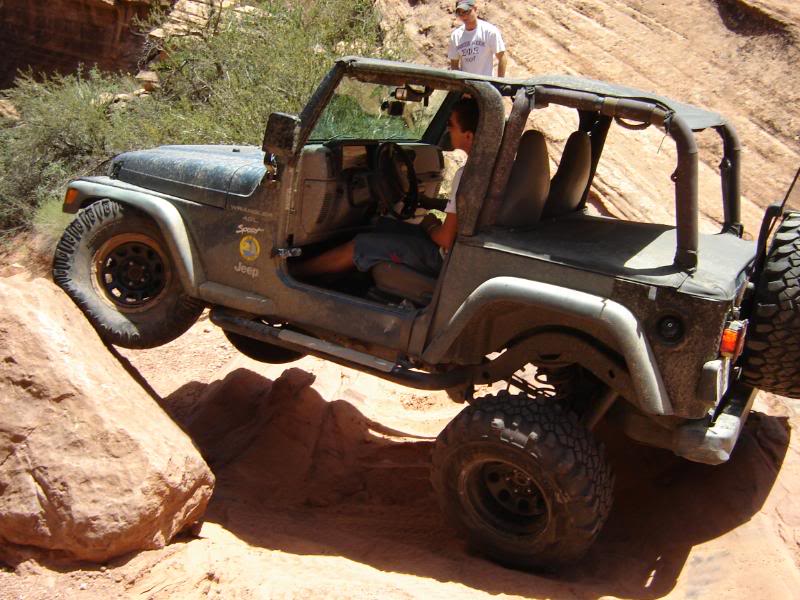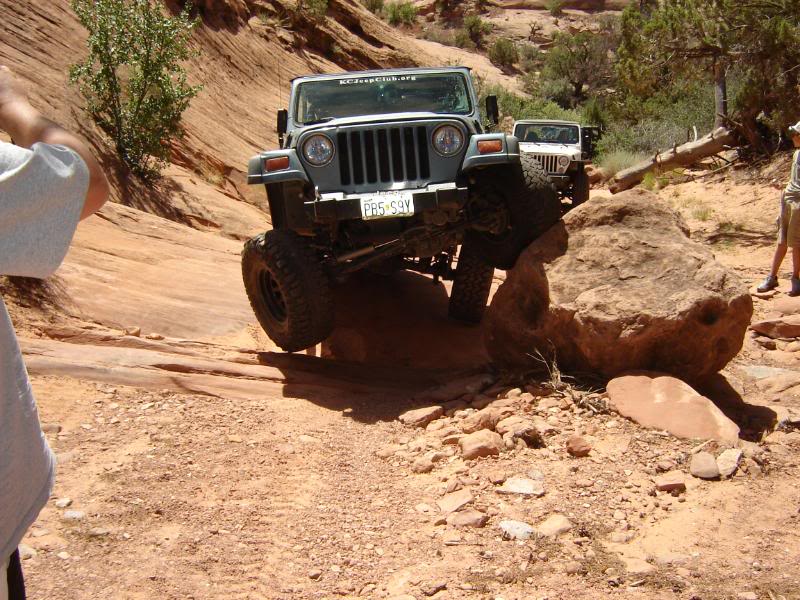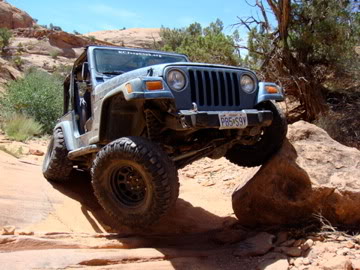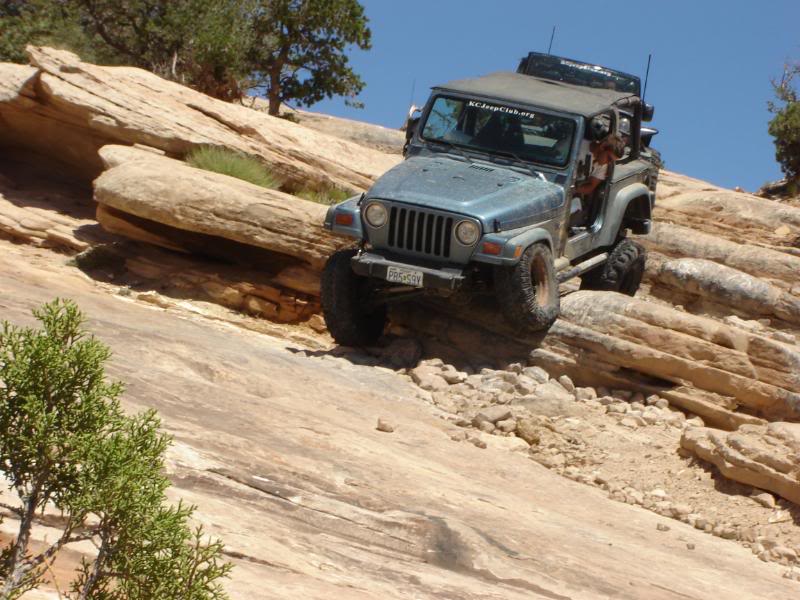 the crack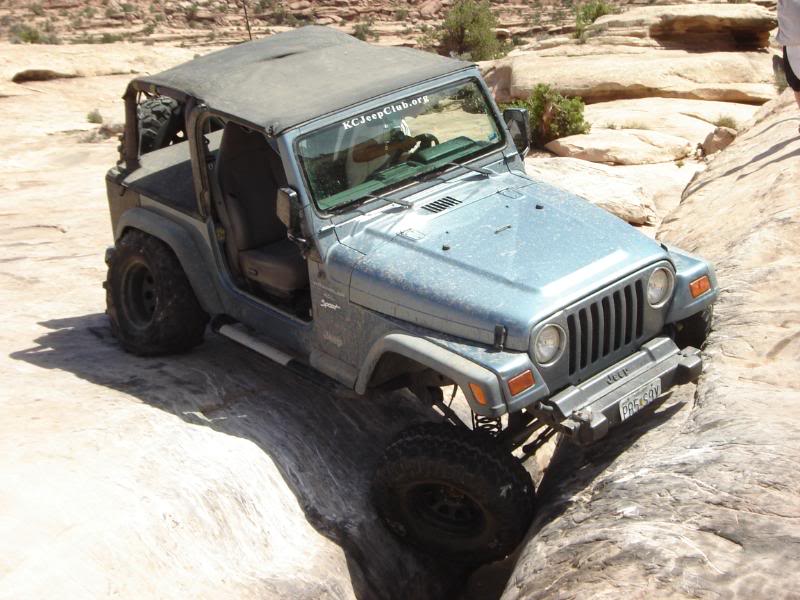 you may notice a tire change between CO and moab... i blew out a side wall going through vail pass and had to run my bald mts up front :cry: which i think contributed greatly to me not making it up escilator... so now do i buy two more 33s or save up and buy 4 35s :twisted:
over all im super happy with how my jeep did. the LCG had a huge impact on almost every obsticle! there were times i could walk up when others would bounce and/or pull a tire :wink:
i need to outboard my rear shocks ASAP so i can get a little more up travel so taking bumps at speed isnt so brutal... poison spyder/ golden spike was a long day... with all our gear by the end of the trip my springs had settled onto the bump stops at ride height :shock:
so next is:
outboard shocks
do a gas tank lift and install newer style gas tank skid
ive also started my designs for rockers and F&R bumpers...
my old gas tank skid was caved in... so i picked up a later model skid plate... and cut it up


http://www.jeepforum.com/forum/f9/st...arance-736901/
i cut the mounting tabs off and rewelded them 1in down, which gave me another inch clearance... didnt think about before pics
heres the old one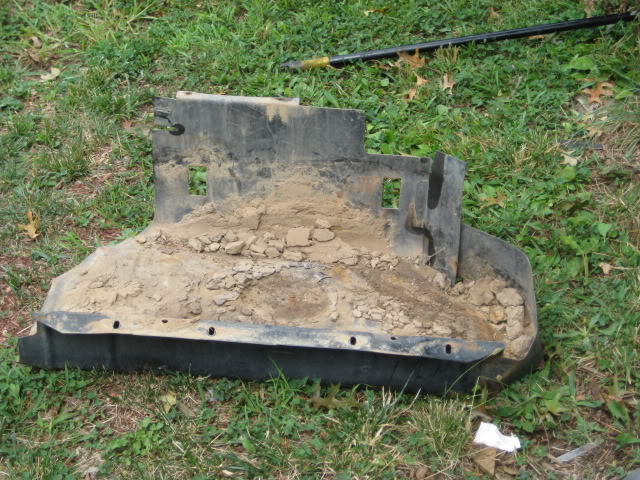 and here is the new one installed


another view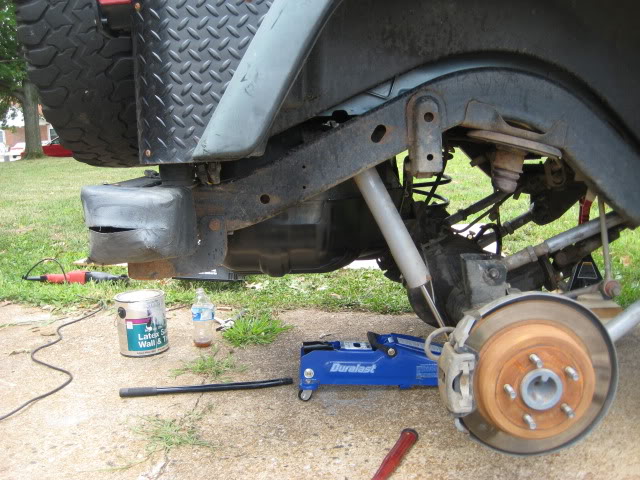 I also got new coils!


as you can see... my rear springs were shot! the old were 2.5 in sky jackers and the new are rough countrys new progressive rate 2.5 in springs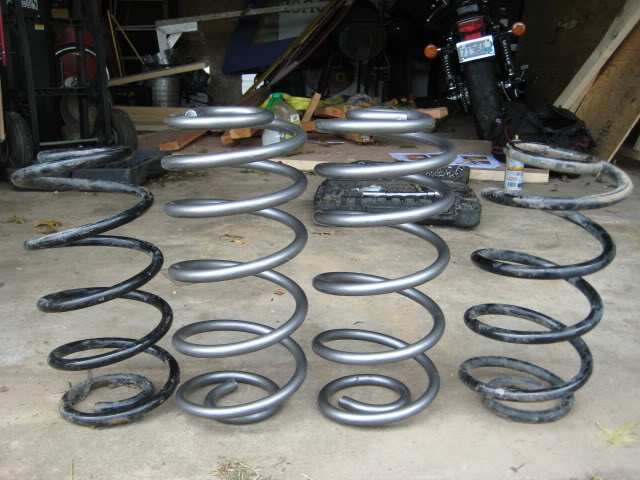 Out boarded my shocks this weekend:
New wheel spacers: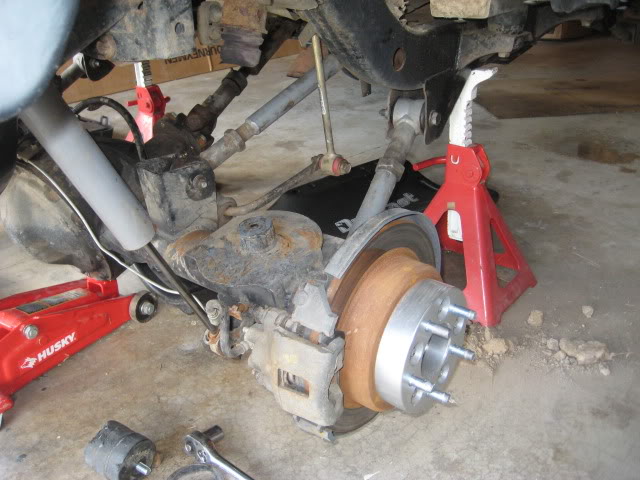 Took some 2.5x.25 wall square tubing for my new lower shock mounts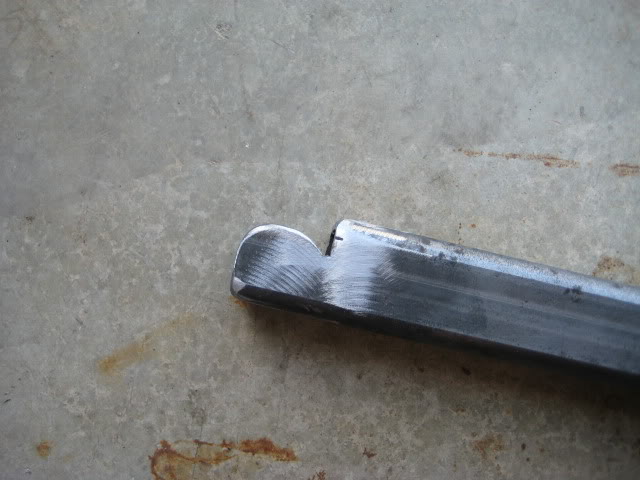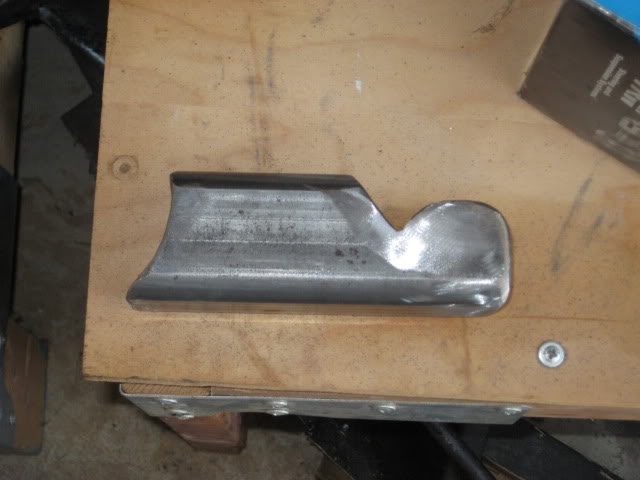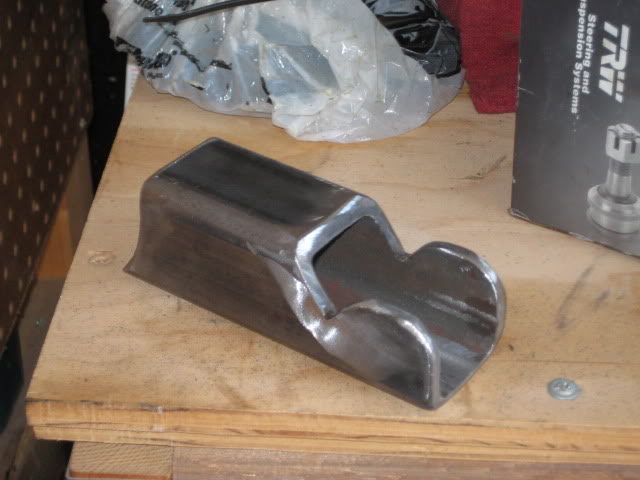 after lots of moving, measureing, and axel cycling here is the final position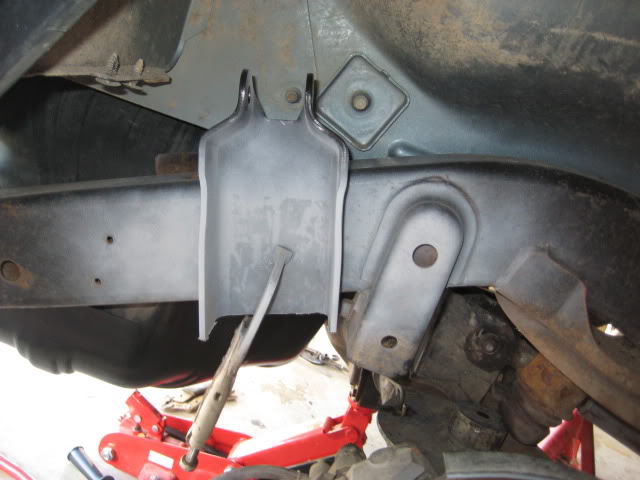 our method for marking 8)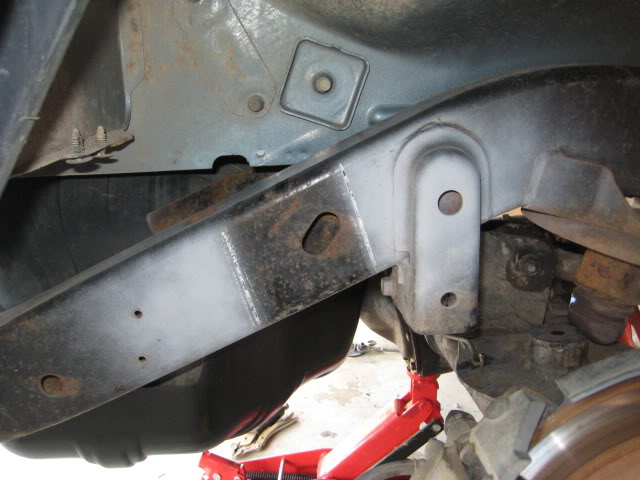 first fit...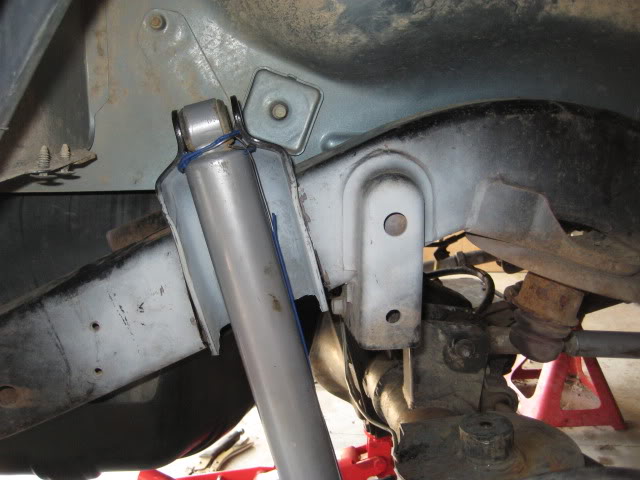 lower mount tacked on... it def tight down there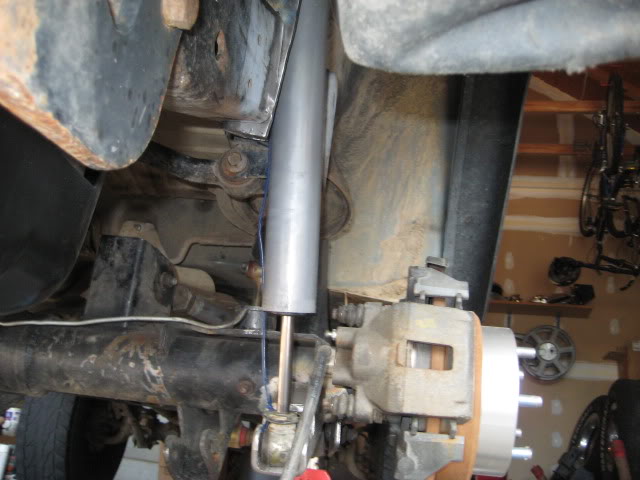 nick working on the other shock mount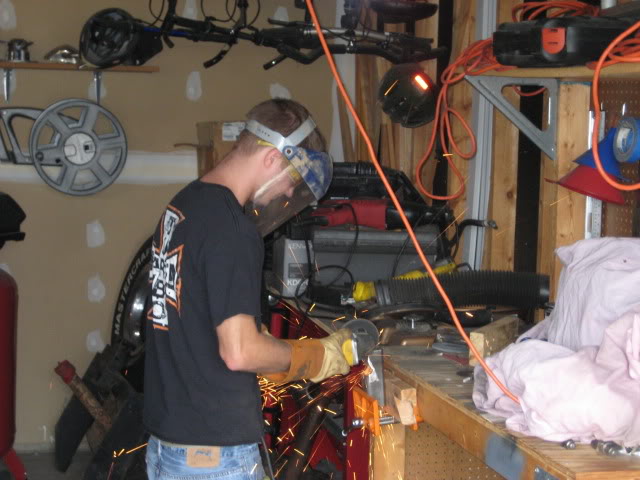 burnin in the upper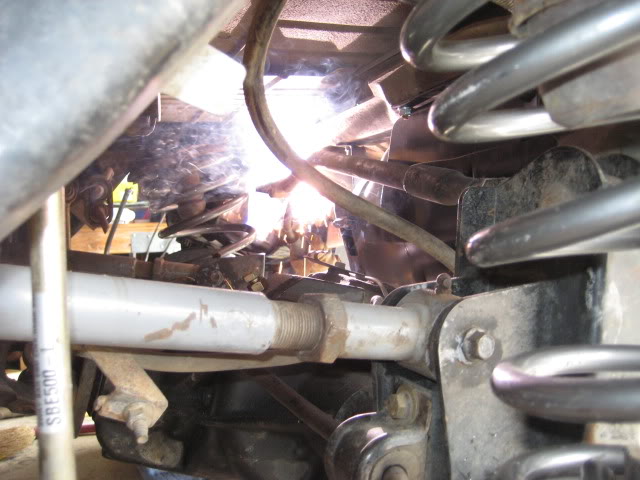 pass side done and painted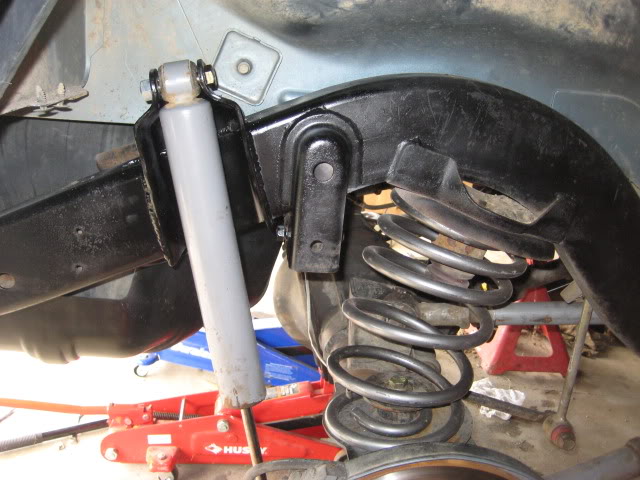 cut driver... man thats a big hole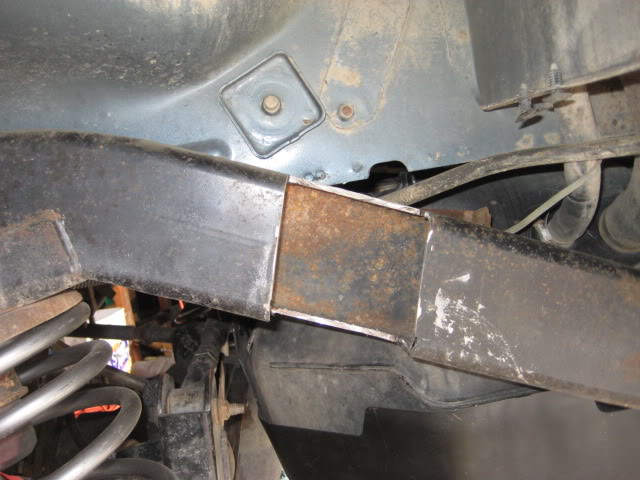 filled up... we were getting down to the wire... had to drive back to rolla in 2 hours... so no more pics till we were done...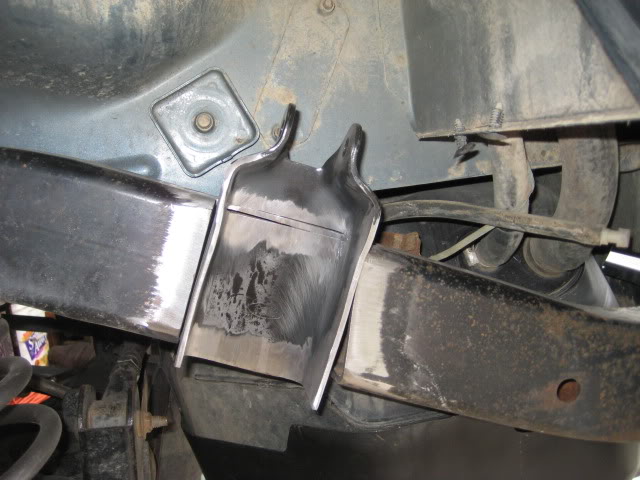 final shock positions from behind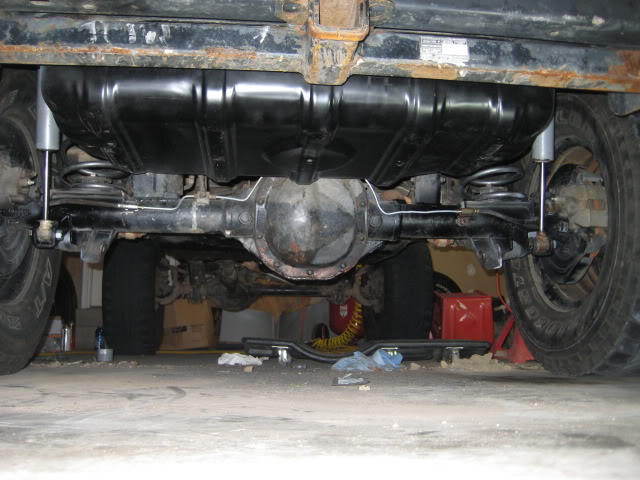 and one more


took some closer pics of the lower shock mounts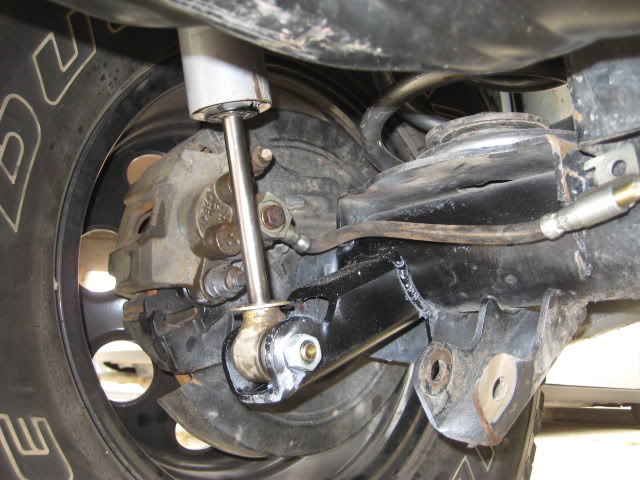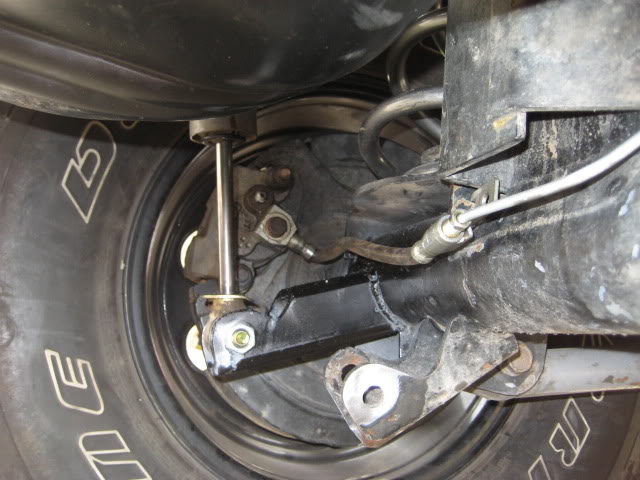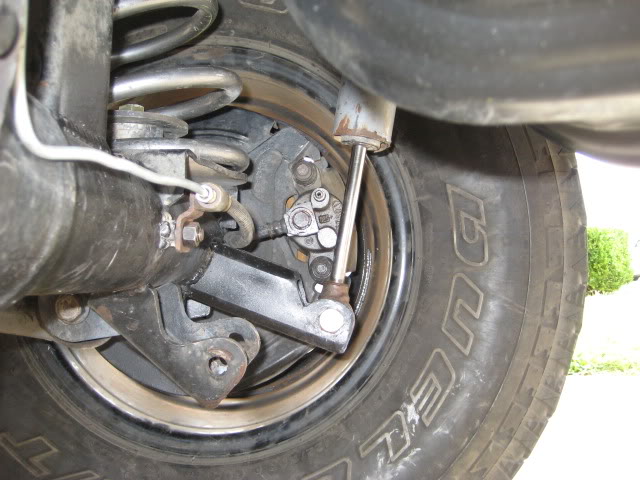 My jeep was stolen and returned in Feb 09 but they destoyed my lock cyl so...
I installed a push button start and some other stuff...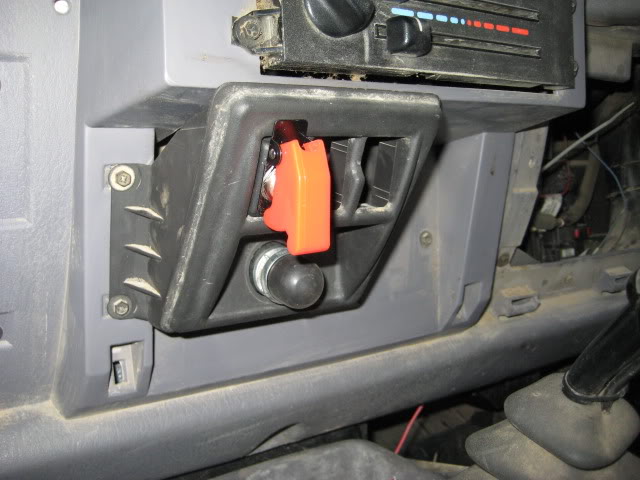 trying to find a good ground for ignition... actually the most comfortable position i could get in...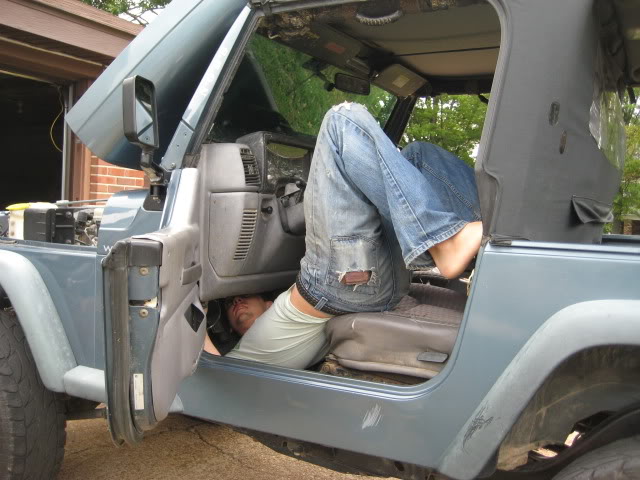 ill get more pics tom when i finish putting all the trim back on
i did this by a single paragraph "this is kinda how i did it from what i remember" so its not too hard once you figure out what all the wires do...
this is the ignition connector that plugs into the lock cylinder, i dont know what the ones with the chips look like or how they work, also as you can see i didnt repin to every wire, i cant figure out some of them and i dont have a fsm to give me a pin out... but so far everything works :roll: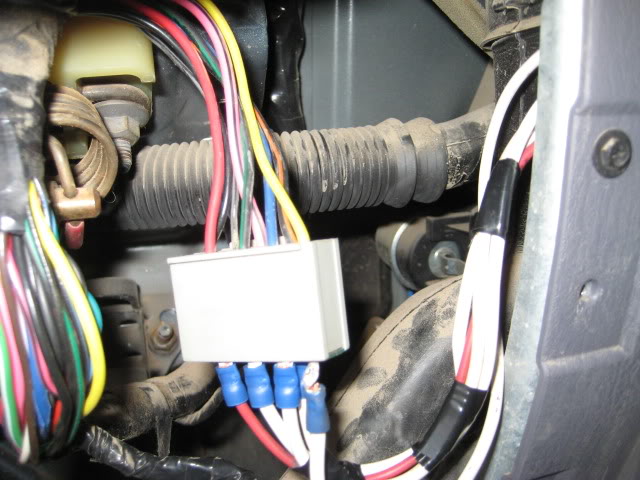 also bc my jeep was broken into and the lock cylinder was destoyed i no longer have a steeringwheel lock, for those who do this unless you take apart the steerind column and remove the lock you will still have to put the key in.
some final install pics
made a peice of brushed stainless to supprt the push button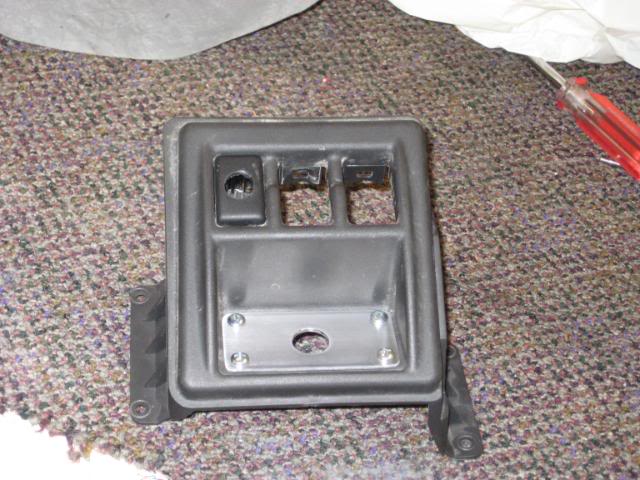 over all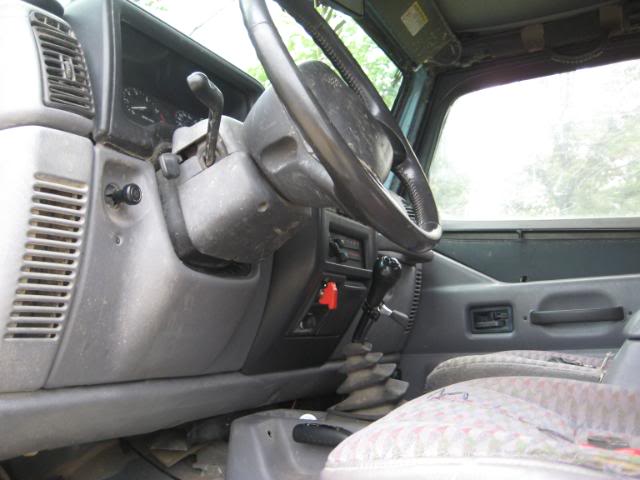 jeep off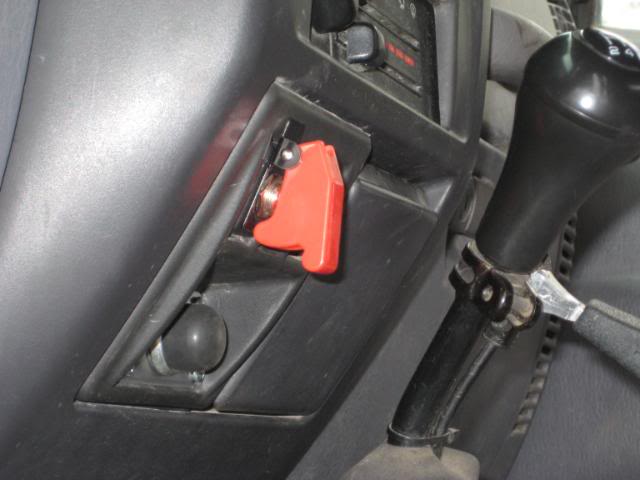 jeep on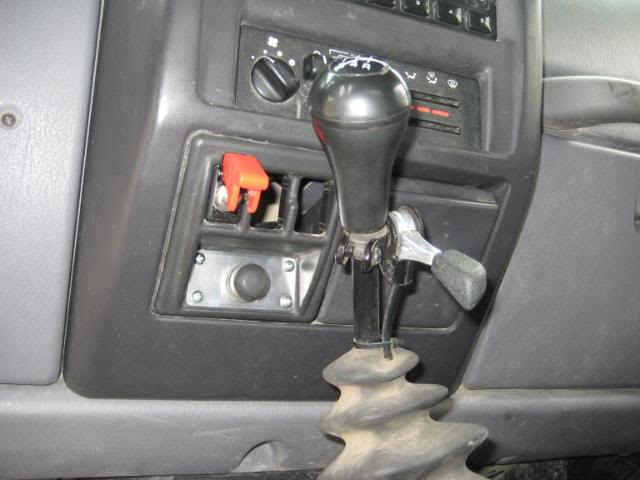 as you can see i pulled the other switch fillers out... some trial and ERROR messed up the other too... so if anyone has some theyd like to let go let me know so i can wire up my acc switch...
brown santa came today and dropped off some new rubber!!!!!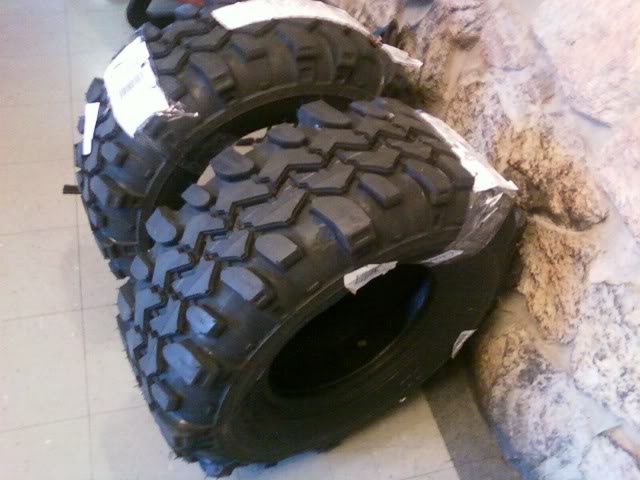 man thats some deep tread!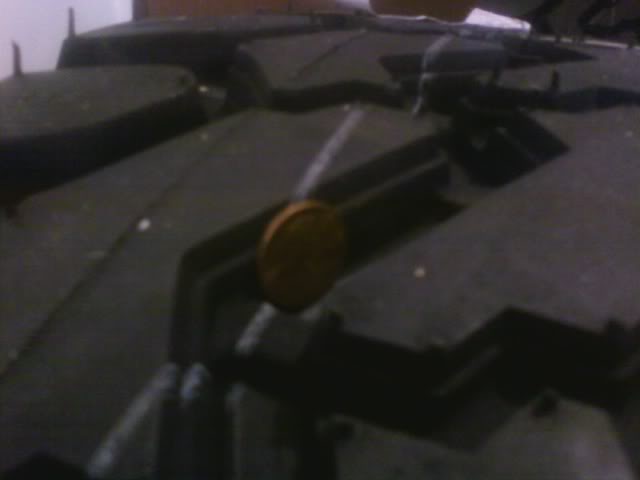 these with be replacing this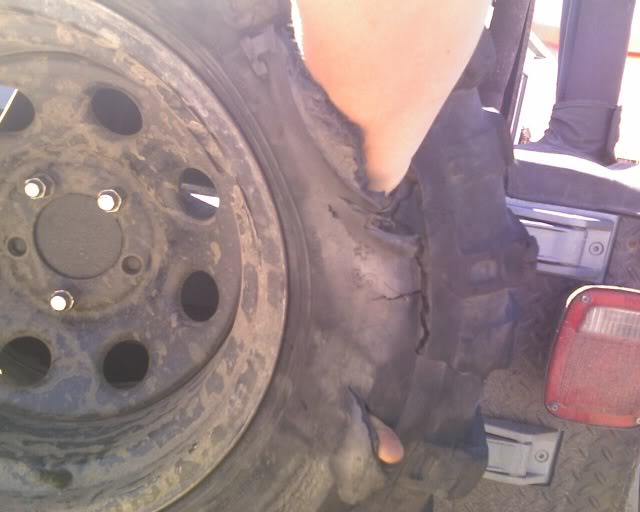 thats what happens when you run an ltb with no air pressure through Vail pass at 12am :roll:
I had a pinion bearing go out so at the moment my jeep is on stands agian while i track down another HP Dana 30 because the race spun and tore up the housing... boo
Im also currently working on a buddies XJ... Dual traingulated 4 link rear with coil conversion and 3 link front. Axels are HP44 and FF60 on 38" TSLs!!!
Thanks, Ive been once... cant wait to go back!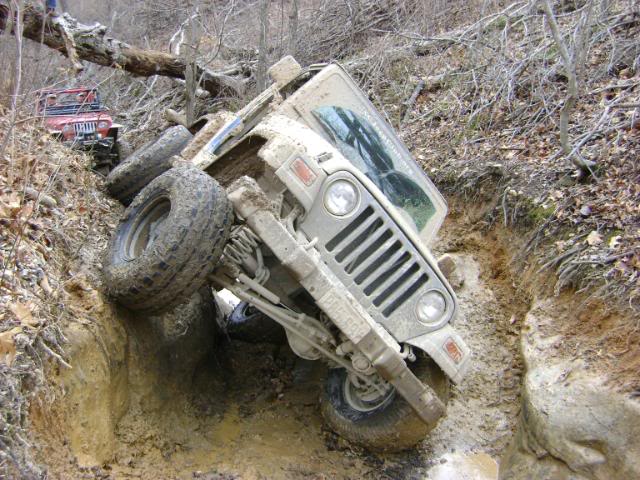 this was the second day there on v-notch. I made it the first day but i rained/snowed that night and was a lot wetter the next day... this was before I installed my locker so i couldnt drive out