Builds
Unlimicon Build by redrelyt12
By diyauto
You must be logged in to rate content!
8 minute(s) of a 42 minute read
Unlimicon Build
Compliments of redrelyt12 @ jeepforum.com
2-12-2013
In the process of updating
Hey everyone,
I figured I'd start a build thread for a few reasons.
1. Keep track of my upgrades/maintenance.
2. More reason to buy new stuff!

In the summer of '11, I decided to get the Jeep I really wanted. Misty, the 2006 Unlimited Rubicon!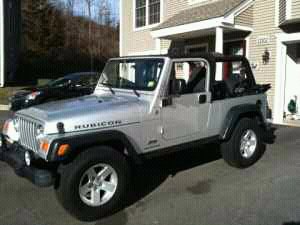 So this is where I'll be starting this build.
And this is where she sits today.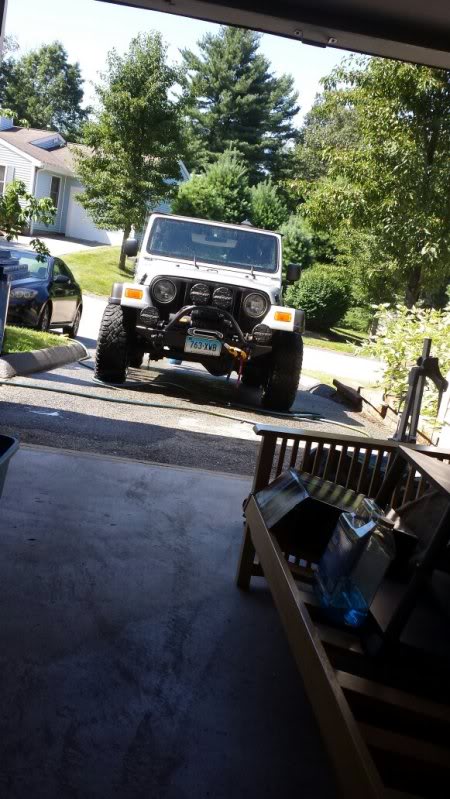 2006 Jeep Wrangler Unlimited Rubicon
Drivetrain Specs:
· Stock 4.0L I-6 engine
· Stock NSG370 6-speed manual transmission
· Stock NV241 Rock-Trac 4:1 transfer case
· Stock Dana 44 front and rear locking axles
· Stock axle shafts
· Stock 4.11 gears
· Tom Woods Double Cardan Rear Driveshaft
· Spicer Front Ball Joints
Suspension/Steering/Brake Modifications:
· Zone 3" suspension lift
· Zone Hydro shocks
· Daystar 1" BL
· Brown Dog Offroad 1" MML
· Ultimate Currie Steering Kit
· Currie Anti-rock Sway Bar
· Rancho RS5407 Steering Stabilizer
· Metalcloak Chromoly Front Adjustable Trackbar
Exterior Modifications:
· Rokmen Mercenary Winch Bumper
· 2x Smittybilt D-rings (Front Bumper)
· 2x Smittybilt D-rings (Rear Bumper)
· Bestop Bikini/Duster Combo
· 5x 35" Goodyear Wrangler MTR on 15" iON Alloy Style 174 wheels
· A to Z Fabrication sliders
· Dirtworx custom rear bumper
· Xenon Flat Fender Flares
· Hyline Offroad Hood Louver
Lighting Modifications:
· Sylvania Silverstar Headlights
· 4x IPF 968
Engine Modifications:
· Banks Intake
· Banks Headers
· Banks Catback
· CATCO Stainless Catalytic Converter
Interior Modifications:
· Quadratec Floor Mats
· Wet Okole Seat Covers
· WarmSeats Waterproof Seat Heaters
· 2x Daystar Switch Panel
· 4x Daystar Rocker Switches
· Quadratec Grab Handles
· Rear View Mirror w/ Compass and Temperature
Recovery Equipment:
· 9.5k lb Quadratec winch w/ synthetic cable
· Jump-N-Carry Portable Jump Starter
· 48" Hi-Lift Jack
· Hi-Lift Jack Handle Keeper
· Hi-Lift Jack Off-Road Base
Electrical/Audio Modifications:
· Pioneer GM-D8604 Class FD 4-channel amplifier (100Wx2, 200Wx1)
· Polk DB5251 (Nalin adapters in front)
· Polk DB651s (Sound Bar)
· 12" Ported MTX Subwoofer
· DieHard Platinum Battery
Misc.
· GM fuel filler hose modification
Have, still need to be installed:
· Rokmen Steering Box Skid
Ordered:
Eventual purchases:
· Monsta-line Interior
· Vanco 15" Big Brake Kit
· UCF skid plates
· 2x Gas Cans
· CB Radio/Antenna
· Gas tank skid plate
· New soft top w/ 2-piece soft doors
· Rokmen LWB Aluminum Trail Corner Armor
I'll start off with a little background. When I was 16, my dad and I split the cost of my first Jeep. I learned to drive stick on my '97 Wrangler Sport. Bought it with a 4" suspension lift and 33s.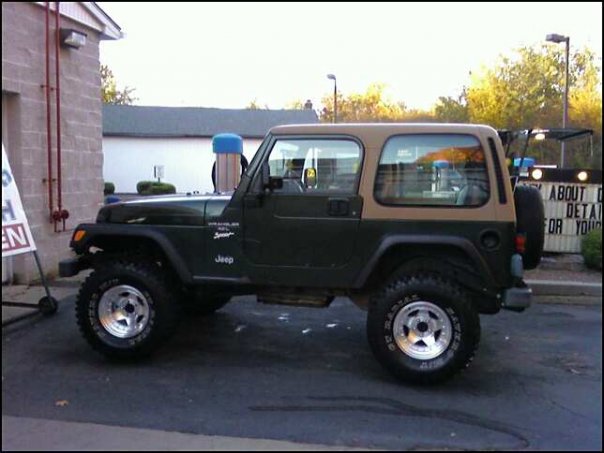 I used and abused this Jeep offroad, running into trees, mud pits, the works.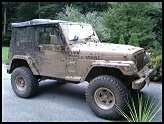 I had a lot of fun with it, but being in high school at the time working part time at an ice cream shop, I simply couldn't afford gas at $4.50/gallon.
Sold the Jeep to buy a 2000 Maxima 5spd. Quick car, fun to drive, but I missed the Jeep. Moved to Alabama to go to school at Auburn University for a year, and then transferred back home to UConn. When I decided to start commuting, I bought another Wrangler!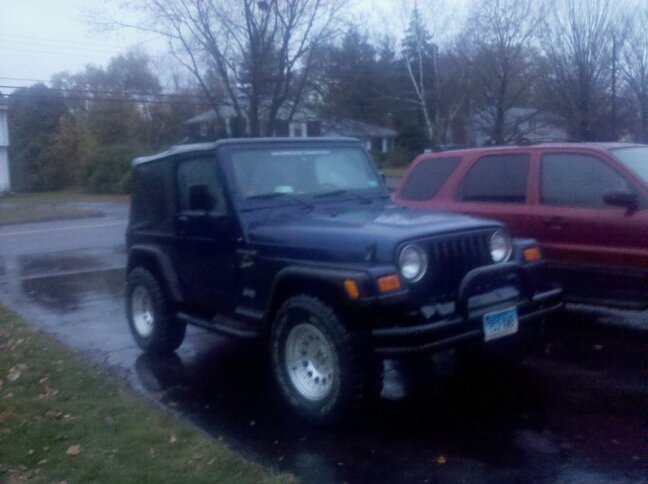 Bought it stock with around 182k miles on the odometer, planned to have it as a second vehicle. Plans never go as planned, and the transmission died in the Maxima so the Jeep was then a daily driver.
Got some Christmas spirit!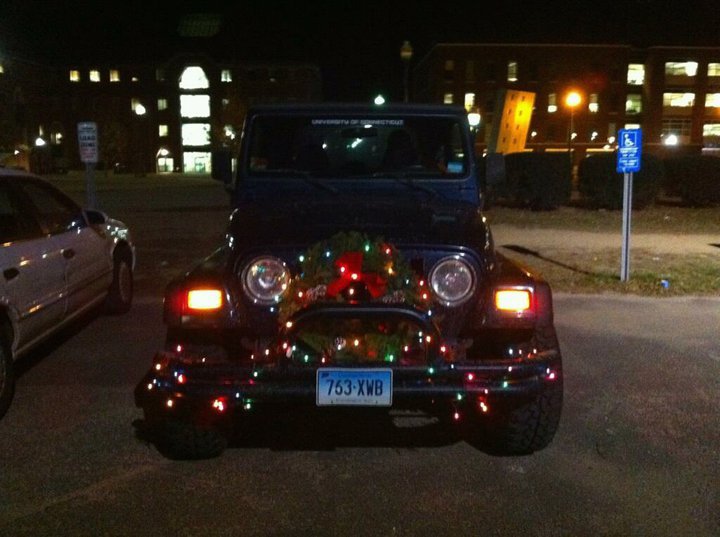 I had this Jeep for a year or two, put on a lot more miles, and finally sold it to a friend and bought Misty.
Well when I bought the Jeep, I knew already that there was an exhaust manifold leak. Unfortunately, being a college student and having a little more in payments than I could handle, I waited to replace the manifold until emissions were due. Unlimicon already had a Banks catback exhaust, so I ended up getting a set of Banks headers from quadratec. Naturally, installation never goes as smoothly as you'd like, so it took a few hours longer when I didn't realign the intake manifold correctly and put the gig back together.
Since I had waited too long, the crack in the manifold to deteriorate the precats, which clogged the main catalytic converter. Breaking down on the Mass pike is not fun, even with AAA, at 9pm on a Sunday night. After waiting at a rest stop for an hour for the tow truck, I learn that he is affiliated with the pike, and can only drive me off the pike. Now it's 10:30, and he finally gets me to his shop and tells me I can go ahead and call the next tow truck.. What? I had to get a separate tow truck to being me back home. I finally get home around 2am with work at 7am. Had to buy a new catalytic converter assembly, but being the cheap guy I am, I made the mistake of getting a low quality piece, which had welds that were too hot. The assembly broke at the hanger causing another leak. I was able to ride it out until I bought a new assembly, and luckily everything is great now!
The tires on the Jeep when I bought it were getting a bit bald, so I got a used set of tires for a great deal, but they were a bit small and lame...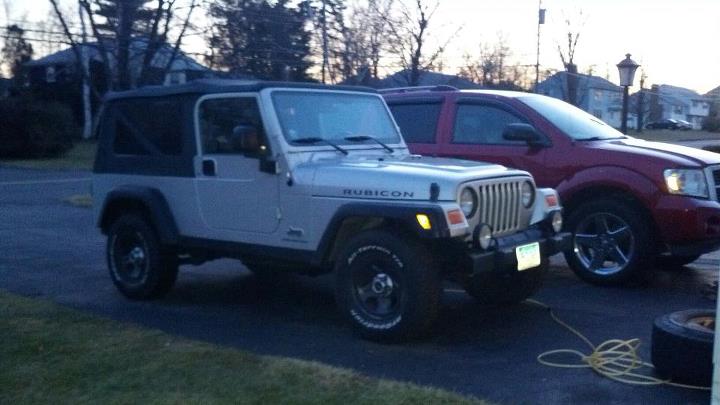 That summer, I decided to paint the headlight bezels as well. (kind of tough to tell)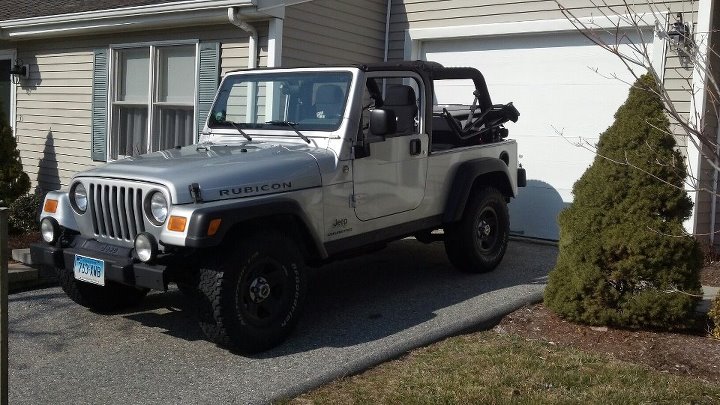 Next step was to paint the grille black! One of my favorite, cheapest upgrades.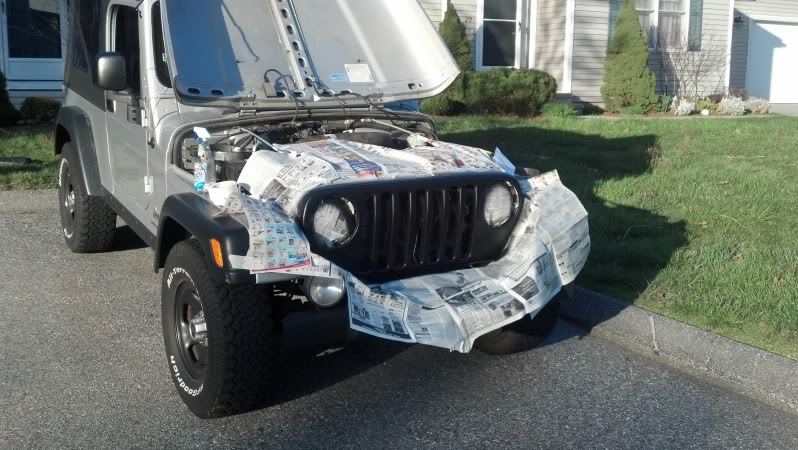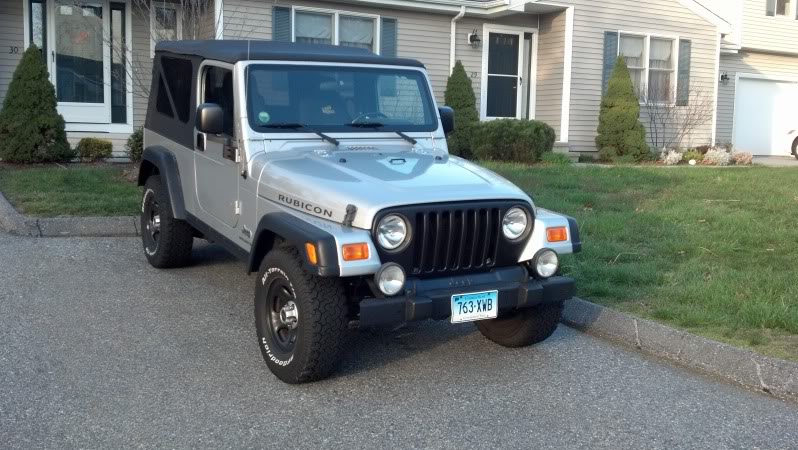 This past summer, I was able to get some better socks and shoes for Unlimicon, as she desperately needed them.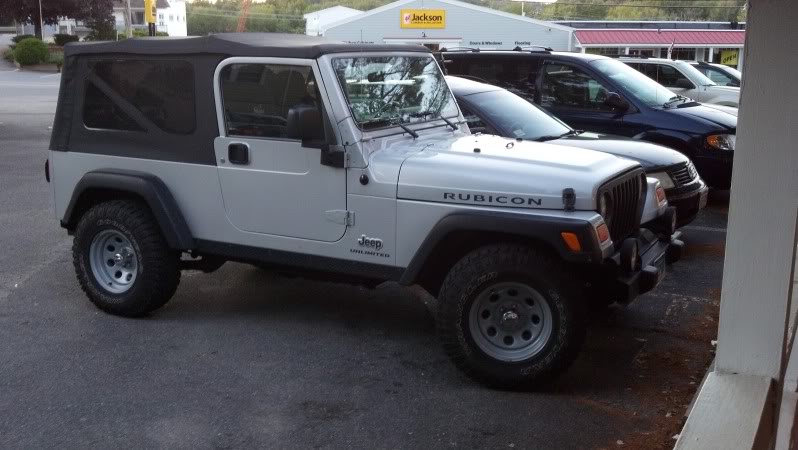 That is pretty much where she has been. Did a little bit of off-roading..
And lastly this past weekend, my friend and I had some fun during the blizzard..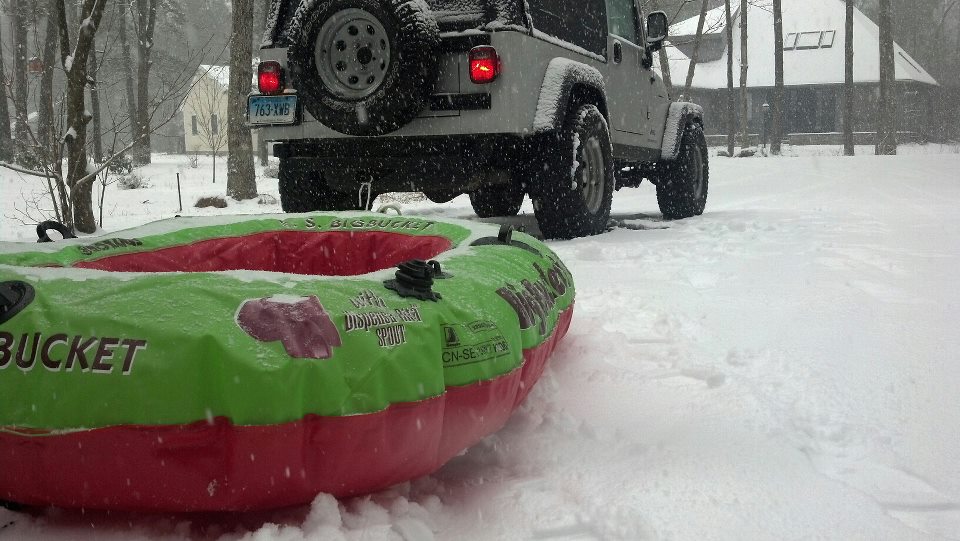 But not much fun digging her out..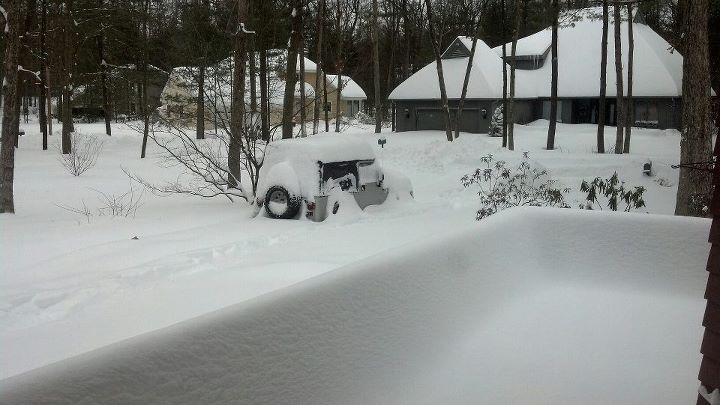 Well next up on my long list of plans will be seen after I get my tax return.

Well let's see, for starters:
UCF Skid Plate System
Front bumper - deciding between the ARB Bullbar and the Body Armor front formed winch bumper
Winch
Rear bumper with spare tire carrier - looking at the Body Armor again, but wish it had a trailer hitch
1" Brown Dog MML
1.25" Zone Offroad Bodylift
Deciding between the 3" and 4" Zone Offroad suspension lift
35" Duratracs mounted on the stock moabs
Mind you this isn't all being purchased with the tax return!
And then just general maintenance and beefing up the necessary components