Jalpa Euro Engine Update by Ross
By diyauto
Jalpa Euro Engine Update
Compliments of Ross @ http://www.lamborghini-talk.com
9-5-2007
Thought some of you might like to see a couple of picks as Evans tears into my engine to replace the sodium valves with stainless and to look it over.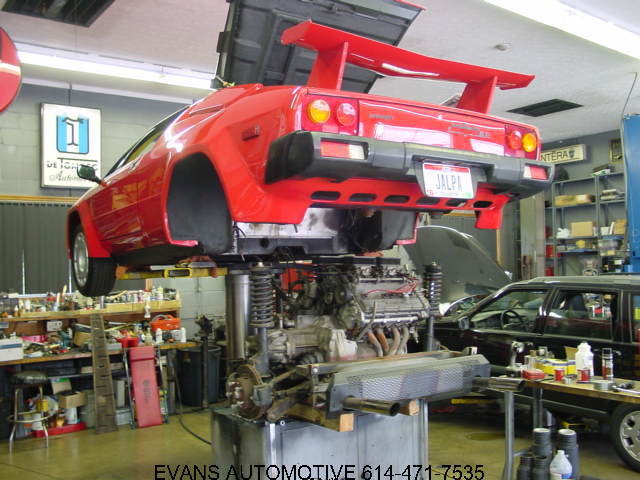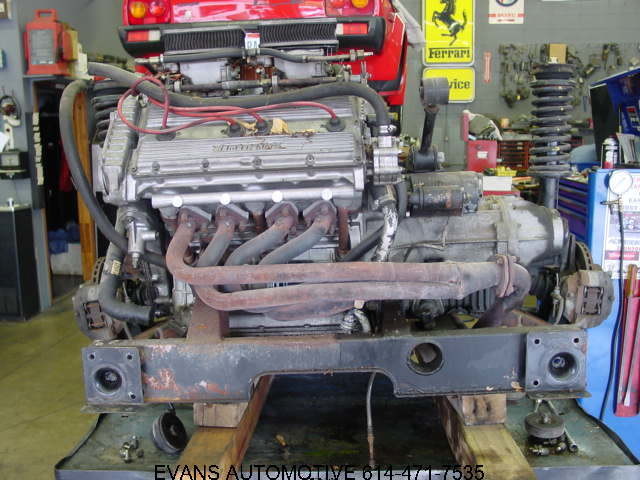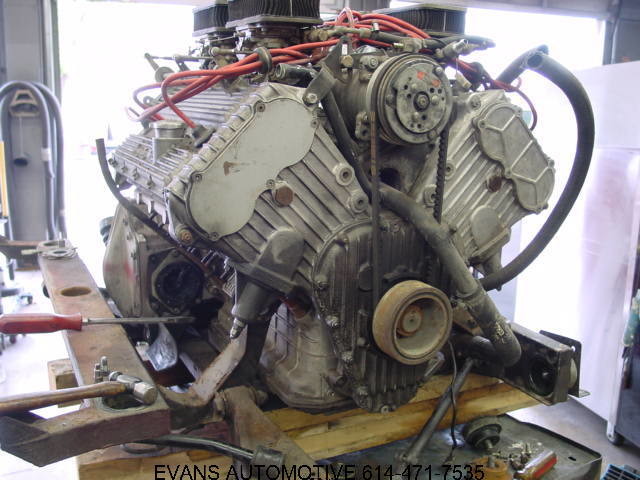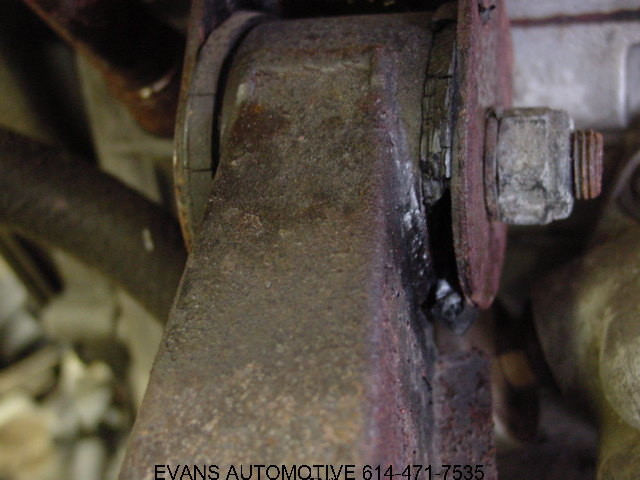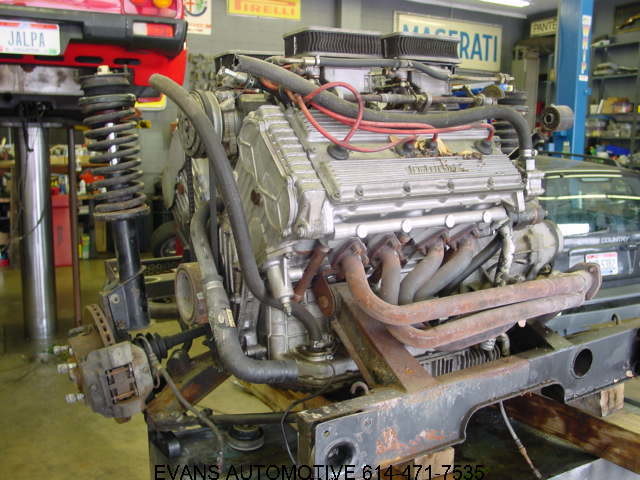 Evans fired it up for a few minutes to have a listen but other than that it wasn't touched. I had Evans pick it up in their enclosed. It was about 2 hours from their shop. It's nice to have such a pro team work on this and I'm lucky enough that they are only an hour away. I'm a pretty good wrench but I'm a little scared of this one. When it's done I want to drive it without worry.
9-10-2007
I stopped by late last week. He's so busy my engine is somewhere in line but setting on a pallet at the moment. Maybe I can give an update sometime this week. Everyone have a good week out there.
9-17-2007
George and Mike at Evans Automotive started the tear-down last week! Here's some pics of the bad:

What's everyone think about the close-up of the head?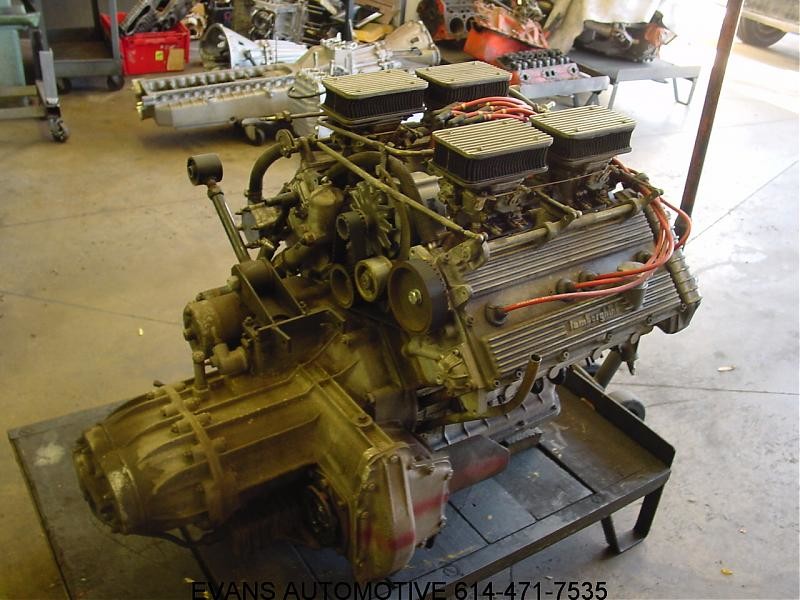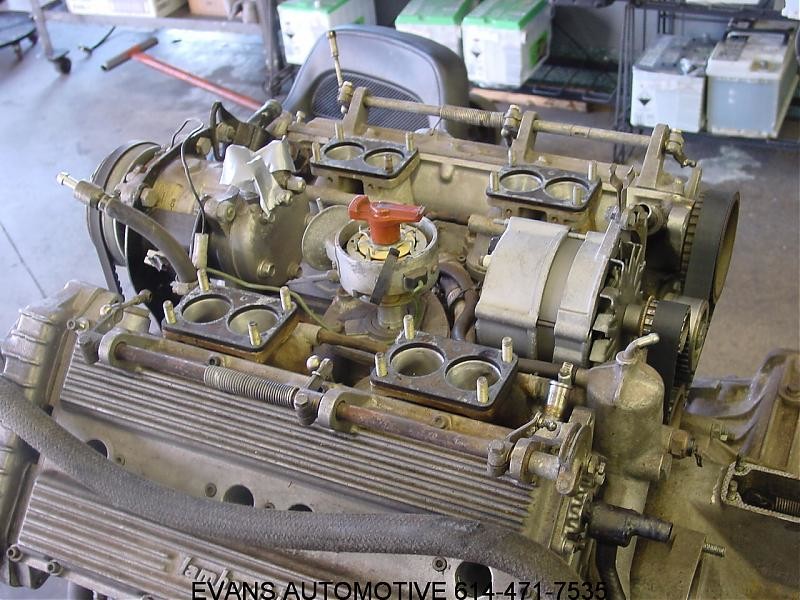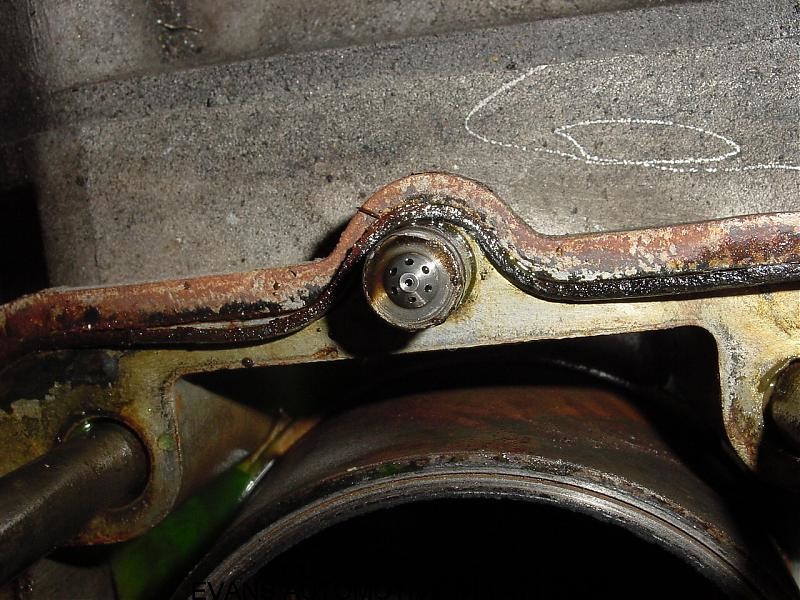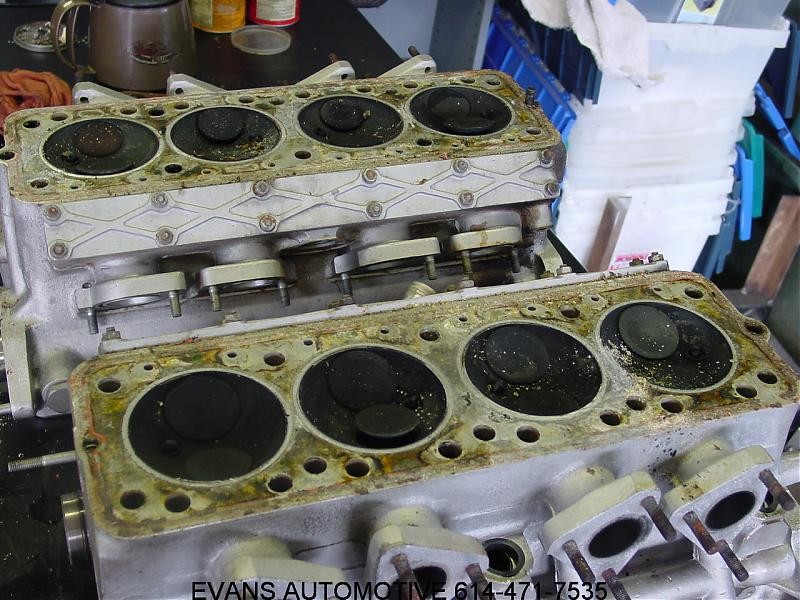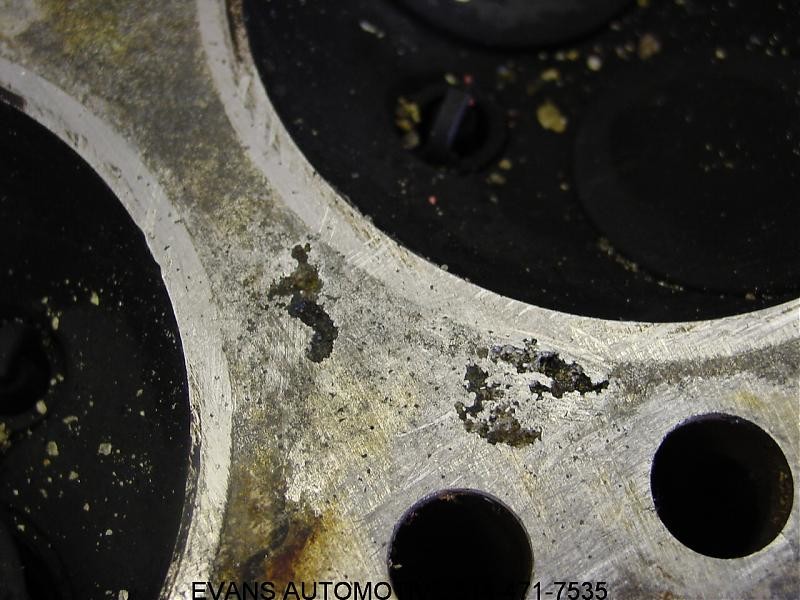 9-17-2007
Here's some more pics of the tear-down. It's sure dirty but it's still easy to see it's a piece of art.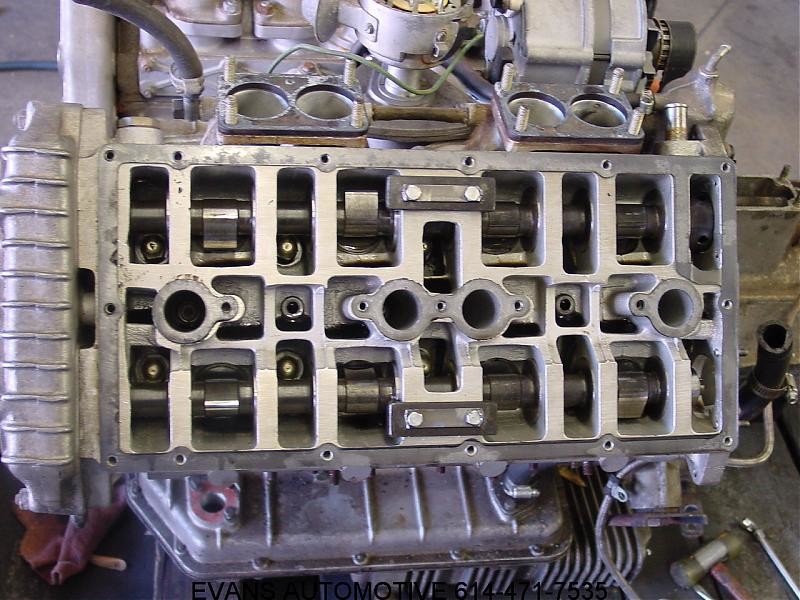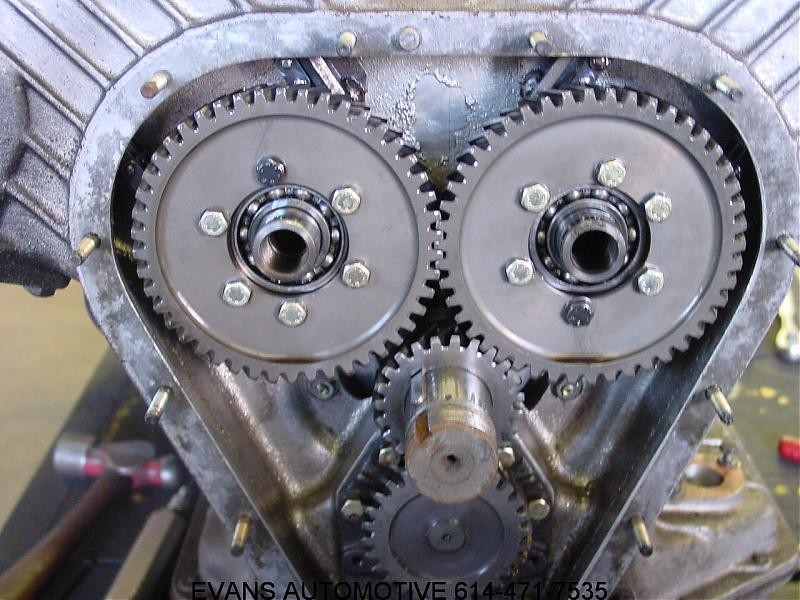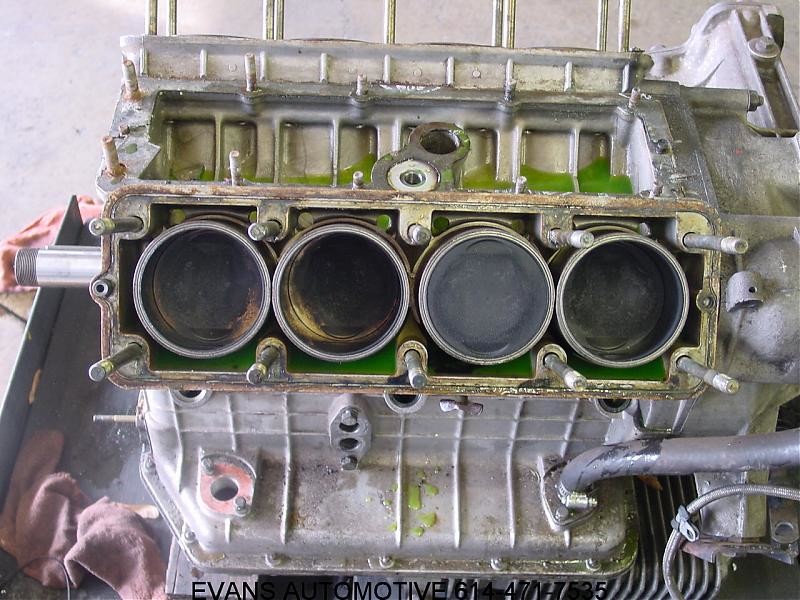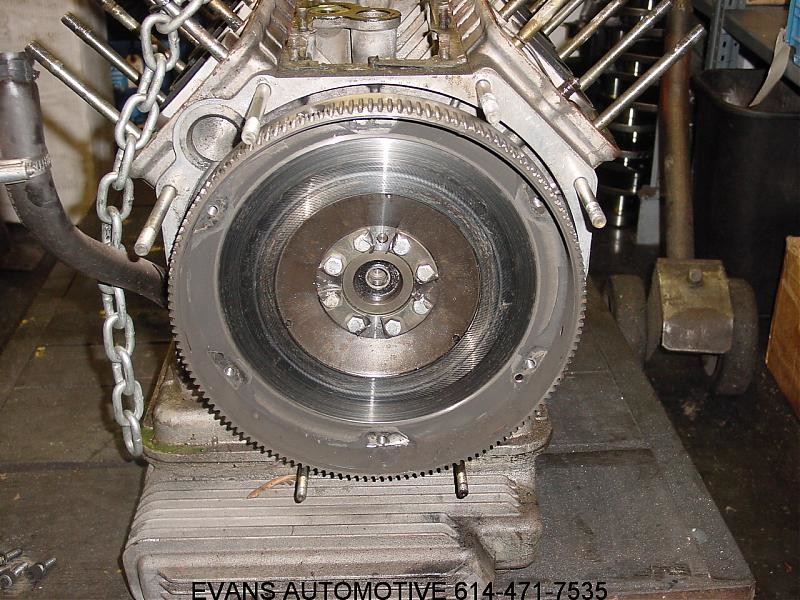 9-21-2007
It's going to take a set of pistons and rings. The front bank appears to have overheated at some time. The pictures are provided by Evans. They are doing a good job of keeping me updated. I received Raymond's engine mounts yesterday. They arrived in perfect shape and look great. Evans didn't think I needed new ones but I kept worrying

so I ordered them. I don't want to worry about the next engine removal for a long time!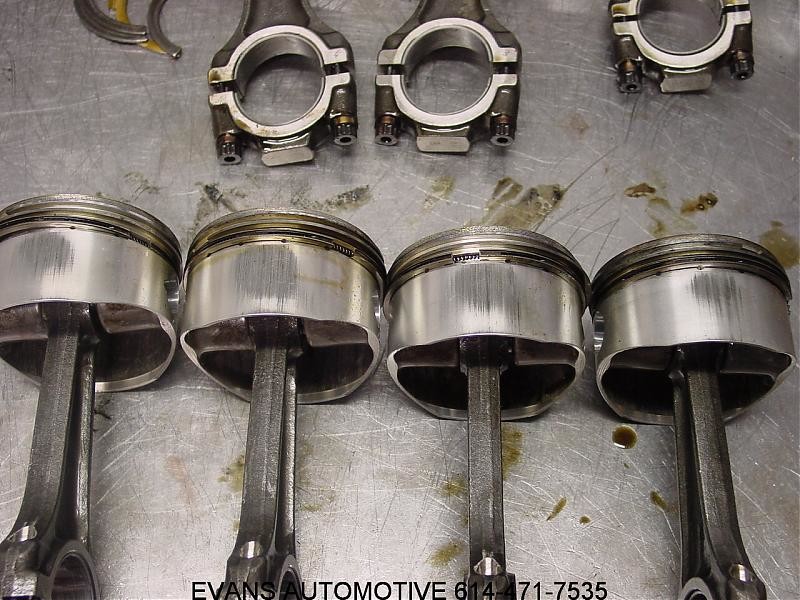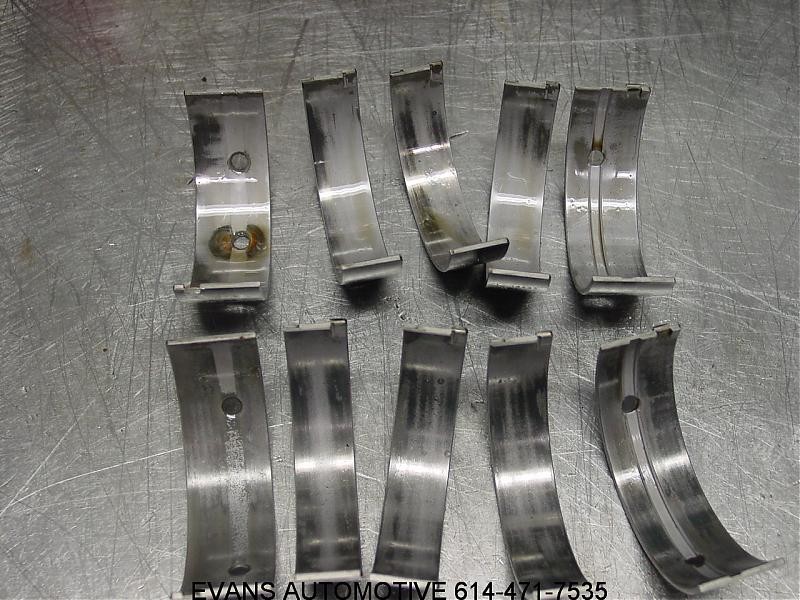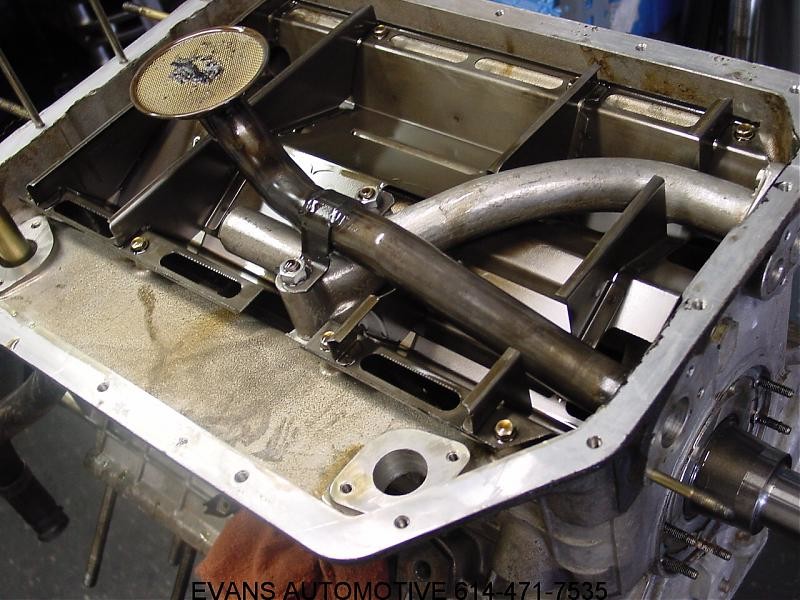 9-25-2007
Okay guy's. I need a few dimensions from the Carb Air Box on a euro engine. Mine is missing. Someone installed after market air filters (see photo) which eliminated the velocity stacks. Luckily the velocity stacks were thrown into the trunk. I either need to find a replacement or have my crew make new ones. So could someone give me the main dimensions of their air boxs? Outside height, width, center to center (outside bolts) bolt pattern then the inside height and width.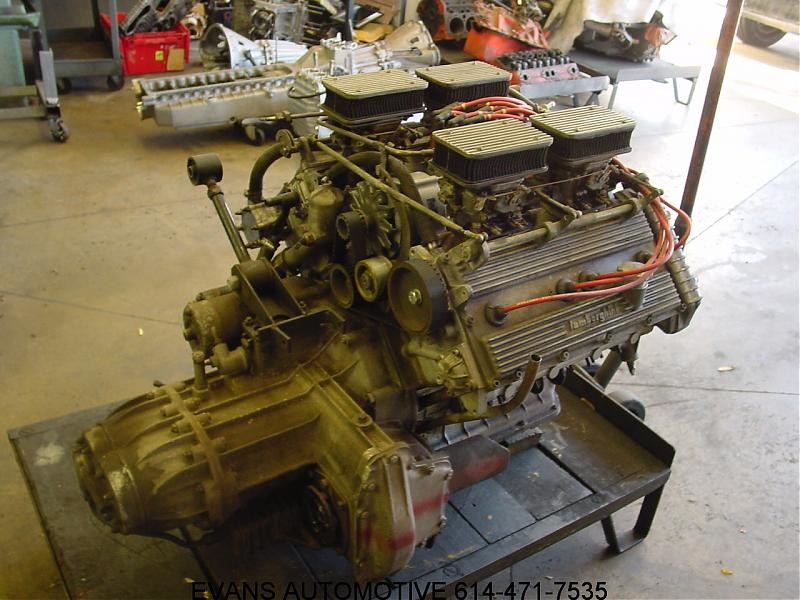 9-27-2007
Hi EarlyCat,
Mine can't be used with the velocity stacks (upper carb body). This allows air to be pulled across the top of the jets on the way through the throat. I don't know if this is a problem because I haven't driven the car yet but it could cause an issue at higher revs. I'll make sure you know when I've got more pictures of them. I'll make sure to let you know when I don't need them anymore. Also, the accelerator linkage is routed on the valve cover on the euro engines vs running through the US air boxes. I'm trying to figure out how to make a conversion kit.
10-1-2007
I found this first picture of the lower air filter plate mounted on the carb. This is how we found the Air filters mounted. Notice the velocity stack are missing.

The second picture shows the velocity stack back on the carb. Luckily the stacks were found in the trunk.

The last picture shows how the filter is supposed to be mounted on the velocity stack.

Thanks Evans Automotive for figuring this out and sending the photos!

Too bad it won't clear the engine cover.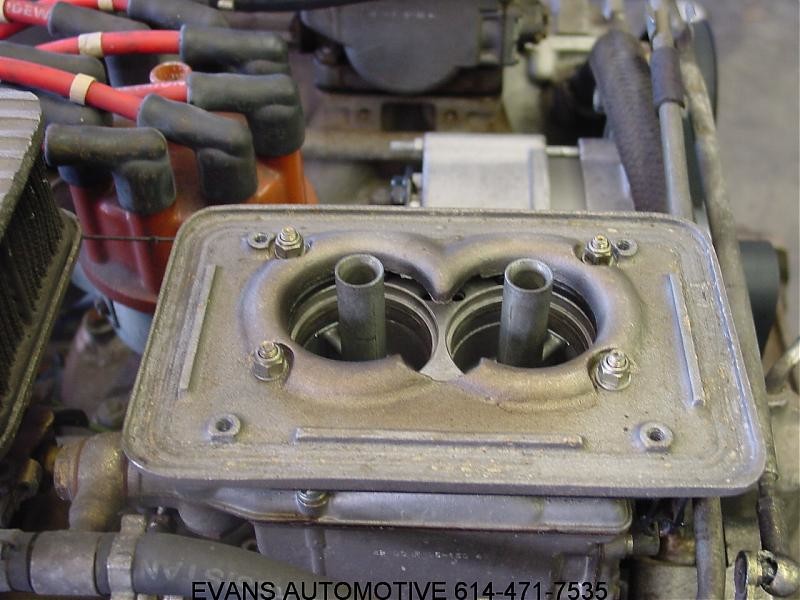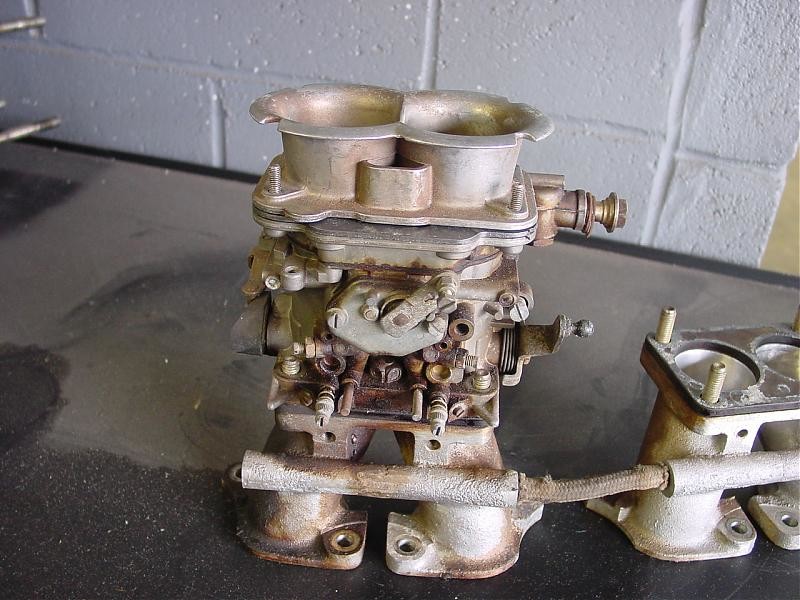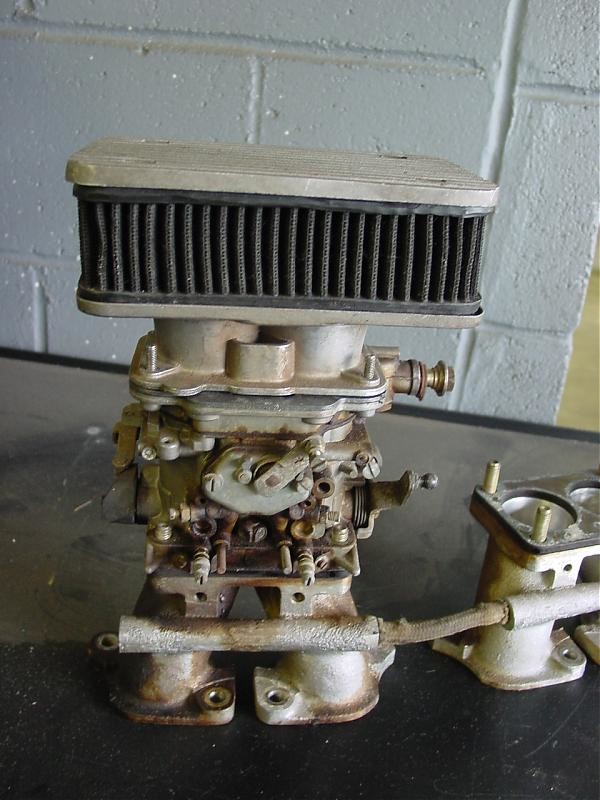 10-18-2007
It looks like your correct! I'm attaching a photo that shows why I'm confused. It shows the lower air cleaner plate mounted where the stack should be. The casting is radiused so the velocity stacks won't mount. That would allow air to be sucked over the jets and into the throat.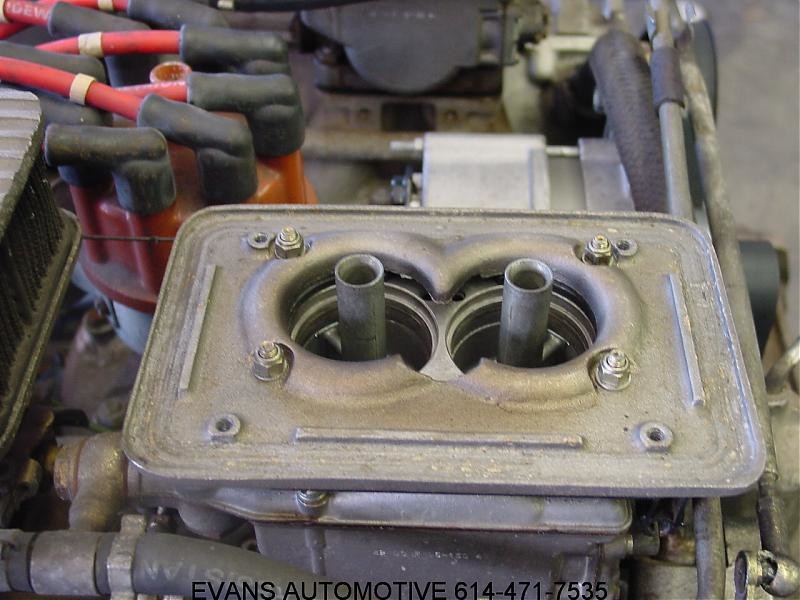 11-13-2007
Many, Many thanks to Jalpa_Aus on my quest for correct Air Boxes! Mike (Jalpa_Aus) has been working with me to solve my Air Box problem. Mike has led me to Lambostuff.com in Xenia, Ohio (which is about 2 hours from me). Lambostuff is going to provide me with original Lamborghini Air Boxes. I'll have to build an air filter housing to feed the boxes but that is the easy part. Here's some of Jalpa_Aus' pictures of his Air Boxes. I'll also update the exhaust mods (Sniffer Tubes).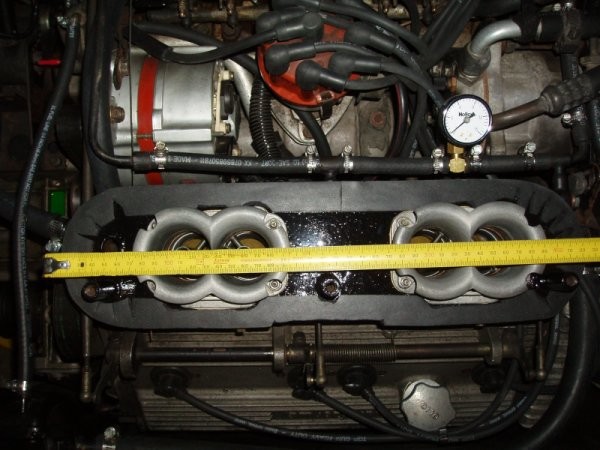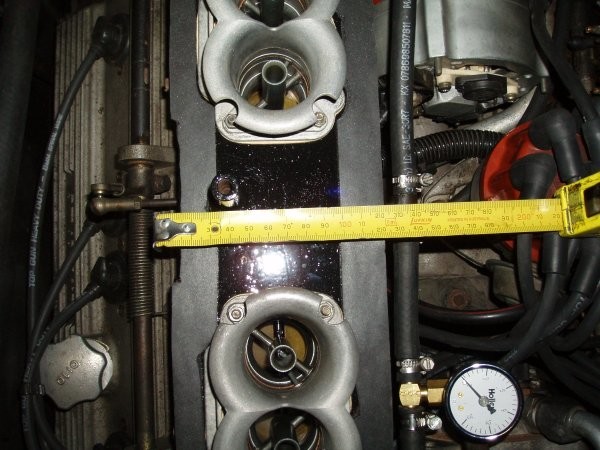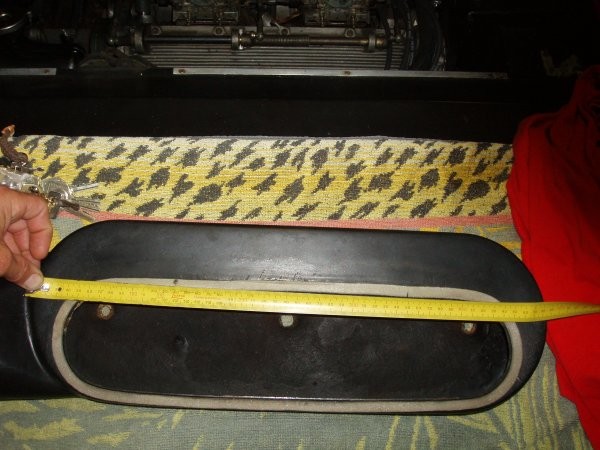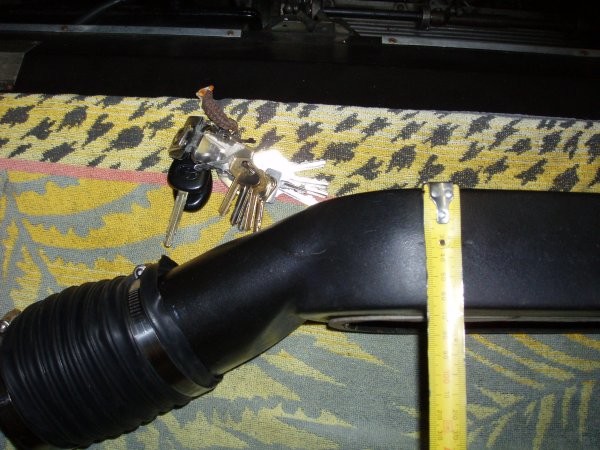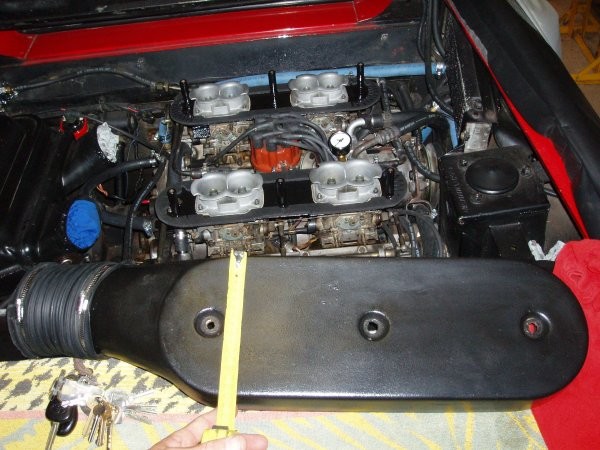 11-14-2007
Here's some pics of my headers being prepped. Notice the cracks in the collector. Also the original air pump hole weld-ups protruded into the headers. I ground out the welds inside and out and had one of my guys Tig the holes shut. We checked them for leaks.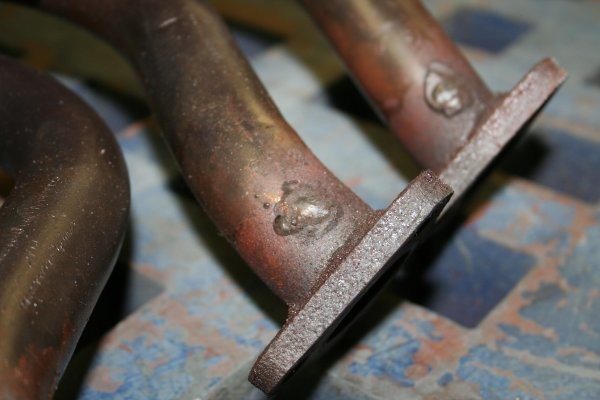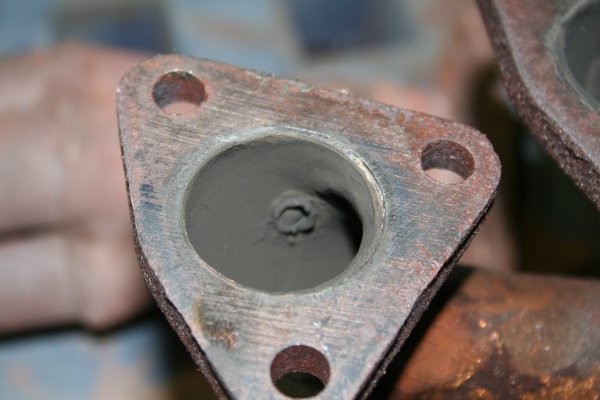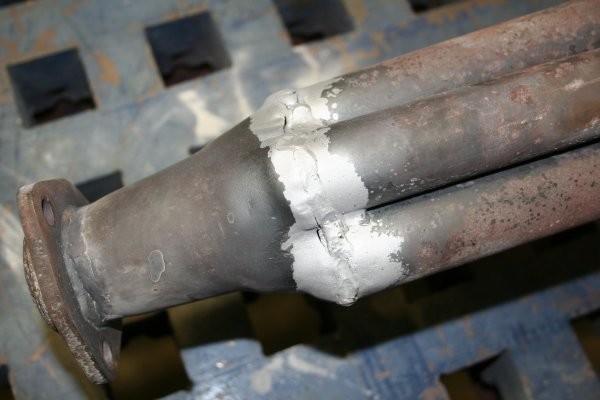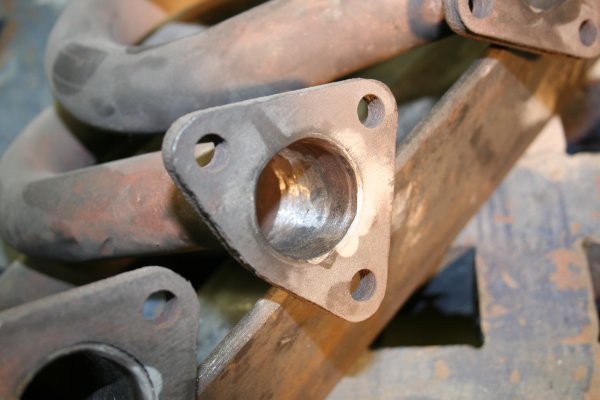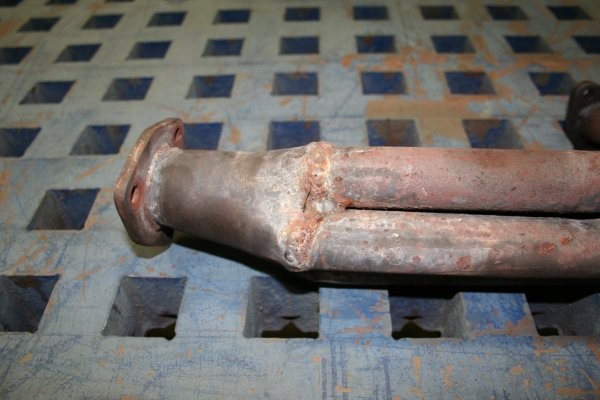 Here's my headers after Jet-Hot ceramic coated them. We built a jig to hold the Headers and a jig to control the Collectors before we welded the Sniffer Tube Bungs on and the Air Pump Holes shut. Sorry that I'm posting the info "Post" Ceramic coat. The aluminum plate on top of the jig (with the pin sticking into the Sniffer bung) was used to line up the angles on all the bungs.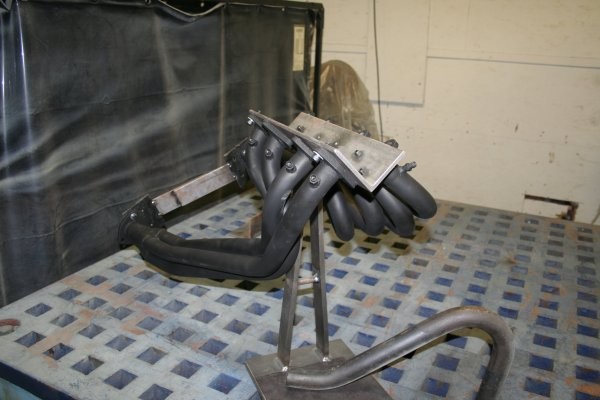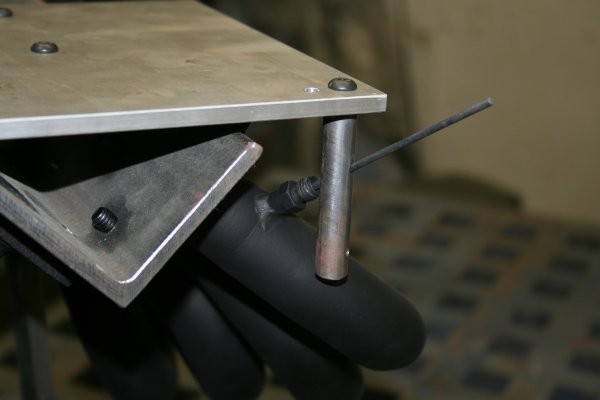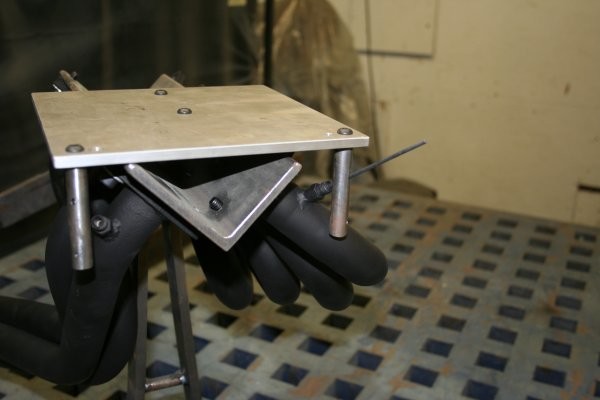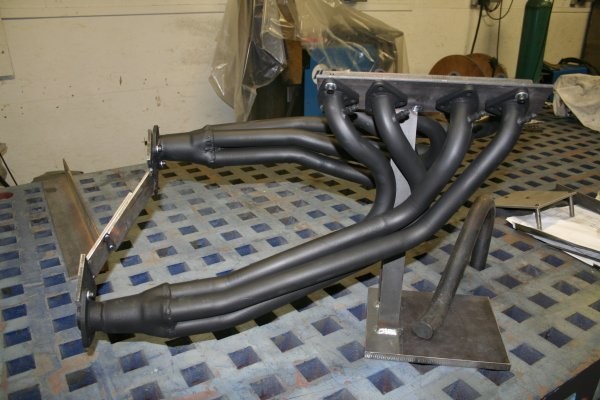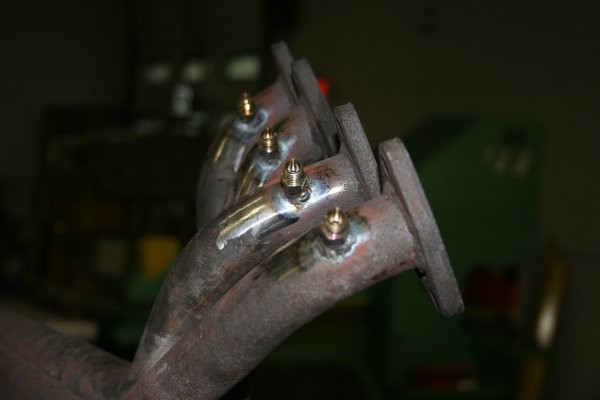 Word of warning for anyone dealing with Jet-Hot Coatings. Make sure you remove exhaust seals, doughtnuts and anything else you don't want coated. Make sure you tape or plug threads also. They'll coat right over anything! I asked them why they didn't cap my Sniffer Bungs (yep, ceramic coated threads) and they said they coat everything unless you tell them. They also said they call to check (which never happened). They did say they would pick them up and fix them. It cost me $42.00 for a special die to fix my bungs but I did learn a valuable lesson! No biggie! Just thought I might save one of you from the same mistake I made!
11-30-2007
Thought you guys may want in on this conversation between Jalpa_Aus and me. It's getting pretty fun. I hope Jalpa_Aus begins a thread when he starts his rebuild! I'll be disappointed if he doesn't! Ya, I'm talking to you Jalpa_Aus!

Jalpa_Aus's Comment:

G'Day Ross,
How's the progress of you Jalpa going? I see you had problems with the amp meter from the lamborghini talk site. How close to firing the car up are you and "That first Drive"? :-)

George has given me some good pricing on the stainless steel valves and the gasket set.
Do you know what gaskets are in the kit, George advises that it is all gaskets, o rings and seals?
George said he will send a photo through so just waiting on that.

My reply:

George tells me he got my engine block and heads back from the machine shop this week. I was pretty happy and thought maybe I'd have a really merry Christmas. Then he told me that all he could do for Christmas was wrap my block up and put it under his tree. I told him that I would be celebrating Christmas at his place then! After waiting 34 years to own a Lamborghini I guess I can wait a while longer.

Here's a good point to remember. One of my cam journals was wiped out and needed to be built up and machined because the cam chain tensioner was over tensioned! Some one was over agressive on the adjustment. Be careful because the tensioners can't compensate for over tension.

The lady I bought my Jalpa from was told the alternator was out so the car wouldn't start. I didn't care what the problem was as I was going to tear down the engine because of the valves. Turns out the alternator was fine. The engine wouldn't start because the Amp Meter was fried. It was melted. She was lucky the thing didn't start a fire! The Amp Meter is not available and has been replaced with the QV Countach Volt Meter. I can't tell you how happy that makes me. The Volt Meter is monitoring the charging system through a parallel circuit so if it goes out nothing happens. If the Amp Meter goes out it shuts down the whole car or worse, it can start a fire in the dash, because it has to be wired in series with the charging system. In other words, all the current the alternator creates is pulling through the Amp Meter! Bad thing to have in the cabin!

I'm glad that George is helping you out. I'm planning on stopping in tomorrrow to look at my block and heads. I'll get an answer for you tomorrow on the gasket set. It could be just the upper gasket kit.

Remember that if you are going to tear into that wonderful piece of art that it would be a good idea to go into the bottom half and take a look around. There are a couple of main (crank) journals that need to have the oil passages opened to insure good lubrication in the bearings. I have no clue as to why Lamborghini didn't do this. My bearings showed that they were starved for oil. Also take a close look at your lower sleeves on your pistons for "piston slapping". My front set of pistons showed unusual wear contibuted to excessive heat. And all of my pistons showed excessive wear do to rusty sleeves because the engine would set for long periods of time without running (22 years and only 15,000 miles).

Take a look at the Lamborghini air boxes I received today. I spent alot of money on something that looks like it came out of a vocational school shop! Picture #1 and #3 are showing some air tube that I've not seen in any other photos. What do you think? I have no clue what that tube does. I'm trying to decide if I can remove it. Maybe this winter I'll have my machine department make some air boxes out of billet aluminium.

I'll be designing a custom Filter Box this winter to feed the air boxes as Lamborghini doesn't have any original boxes available. I'll make sure I fill you in on that too. I've got to get that scoop functional again! If you want a fake air scoop buy a Shelby! If you want a functional scoop buy a Lamborghini!!!

Okay, I really hope you guy's fill my in with your comments! Especially you, Raymond! Help me make sure my comments are correct or straighten me out.

Sorry, I'll get the pictures formatted for the sight on Monday!

Have a great weekend!
12-3-2007
Here's the pictures of the air boxes. After thinking about it all weekend I'm wondering if that tube isn't supposed to be tied into the charcoal filter? I don't think you guy's outside the U.S. have charcoal filters. We use them to trap fuel vapor.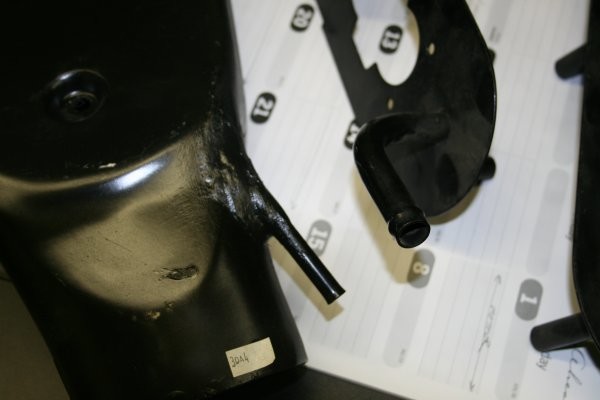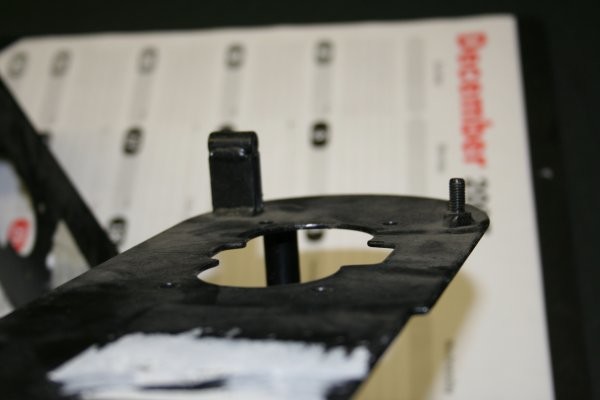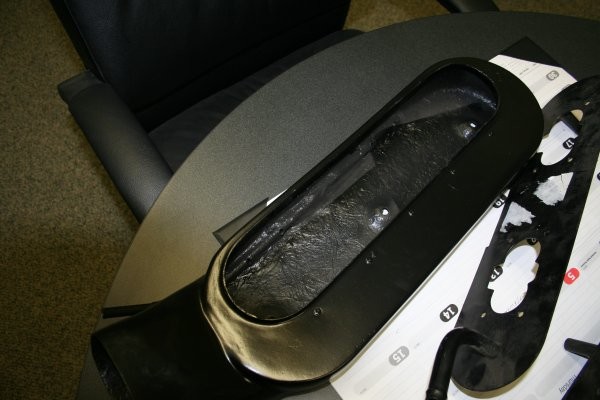 SAD, SAD DAY. The State dumped salt and brine on our roads this weekend. I guess the only highway my Jalpa will see before spring will be from the inside of a trailer.

Here are Raymonds engine mounts after powder coating.

Very nice quality Raymond!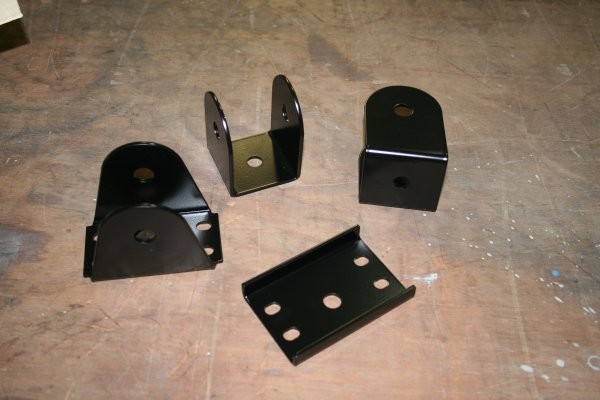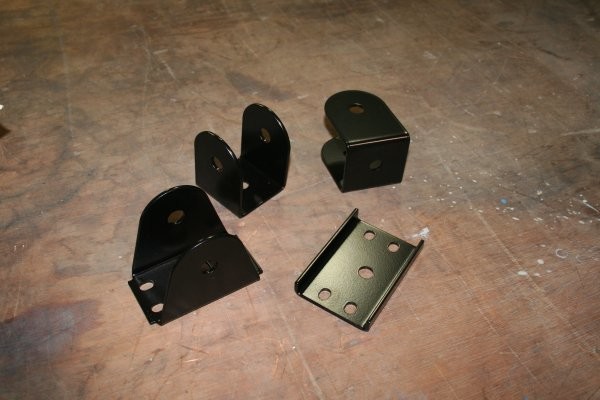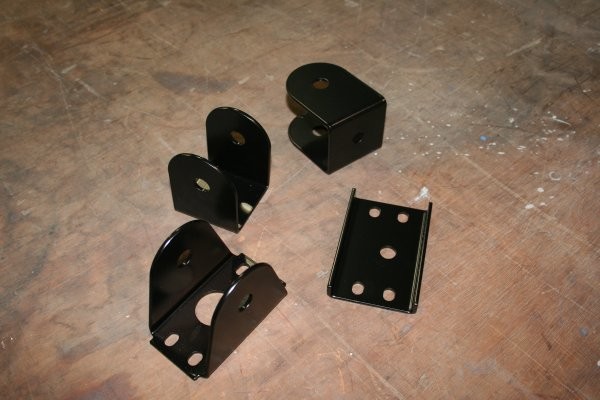 12-8-2007
The way I understand it Raymond is that your Urraco Air boxes are opposite of the Jalpa. The Jalpa, as you know, has a flat base plate bolted to the carbs and the air box drops over the carbs. Your Urraco should have a lower air box bolted to the carb with a flat top plate that covers it. I'm really not sure what happened at Lamborghini but it looks like at some point they tried to blend both systems with a flat base plate that has a crank case vent tube and an air box on the other side that has a crank case vent tube. Very confusing, but for me I can make mine look correct. It should work on your Urraco but there isn't anyway to make it original.

I saw my heads and block yesterday. They look like new. Mike at Evans usually paints the raw aluminum with an aluminum paint but I asked him to leave them alone. The upper end (Cam Covers and and Water Pump, Upper Vally Cover) is not perfect so I'm thinking about letting him paint those. What do you guys think? Mike wants to paint them aluminum and his mark is to paint the Lamborghini script on the Cam Covers red. I'm kind of partial to black Cam Covers with Gold Lamborghini script. Not original I know but paint is reversable. How about your opinions? Thanks!

Some of you may find this interesting.

I grew up in North-Central Ohio surrounded by farm land and Amish and Menonite communities (Horse and buggy). Exotic cars were Porsche, BMW and Mercedes. Our "Exotic" experiance was an ocassional Prosche or Mercedes. I grew up worshipping marques that most people never heard of.

After serving six years with the Navy I returned home to find that most people were aware of the true European exotic cars but no one had ever seen one. I was in my late twenties before I saw my first Ferrari and Lamborghini!

After years of hard work I finally managed to by one of my dream cars, a XKR Jaguar Coupe with 390 HP. Shy of a couple of Dodge Vipers I had the ultimate Exotic in my area!

Well, the XKR had an arguement with a guard rail in July of this year and lost. So I went looking for a replacement. The Lamborghini Jalpa was on my list but I wasn't going to buy a car that I couldn't get repaired out here in the middle of farm land.

Anyway, I started looking and found a Jalpa for sale at Evans Automotive (an hour south of me in our state capital of Columbus). Seems that since the seventies, Evans has been working on these pieces of art. The internet is an amazing thing! I went to look at the Jalpa (which was discussed at length on this web sight) only to find out it was sold. Long story short, I found one as you know.

I guess what I'm saying is that I'm patiently waiting for Evans to finish my Lamborghini Jalpa. But part of the experiance of waiting 34 years (since I first fell in love with the Countach) to get ahold of my Lamborghini is the experiance I'm having visiting Evans Automotive while they do the work! Every time I visit, this country boy gets to walk among greatness! The Lamborghinis, Ferraris and Jaguars are incredible! I'm waiting on Mike to finish his two year restore of a rare M12 Vector so he can start assembling my Jalpa V8! That's an experiance I'm willing to wait for. Is there anyone else here that can say they have touched a Lamborghini powered Vector? This country boy feels he's touched the sky and I'm not looking forward to it being over!
12-28-2007
Here's my engine going together at Evans Automotive!!!!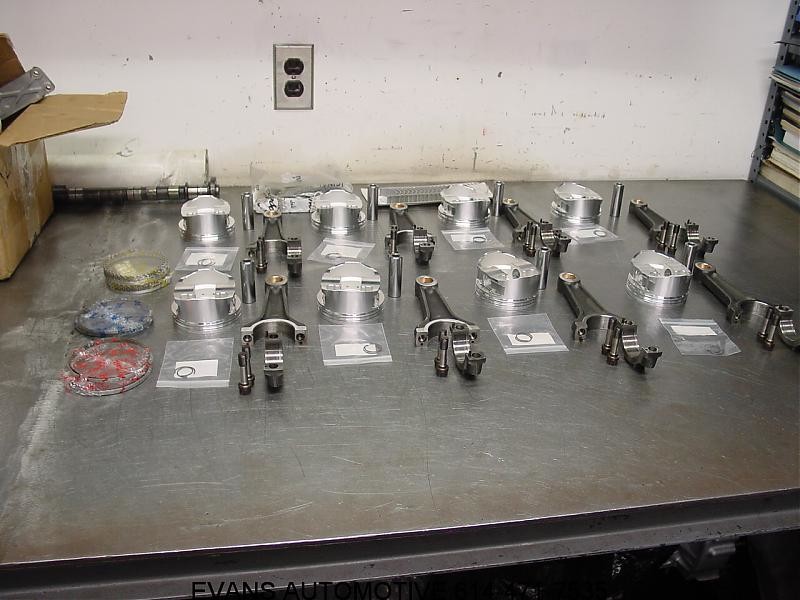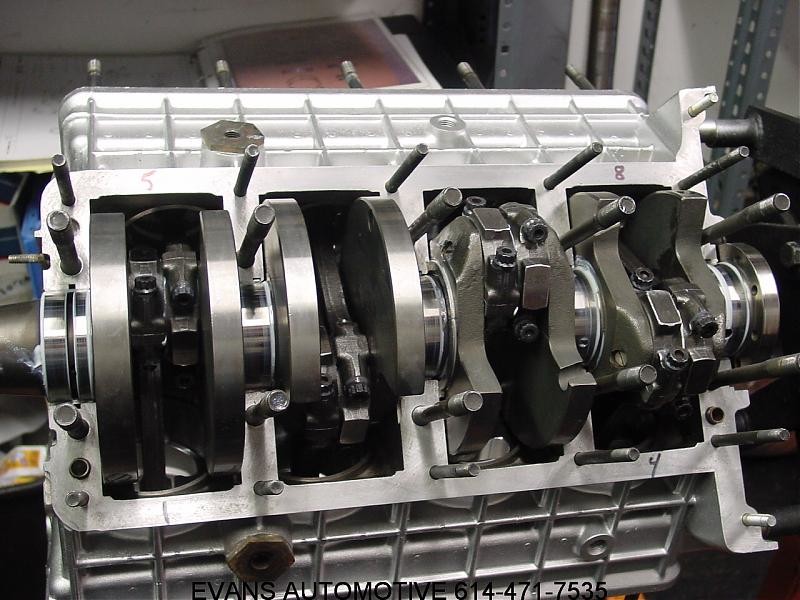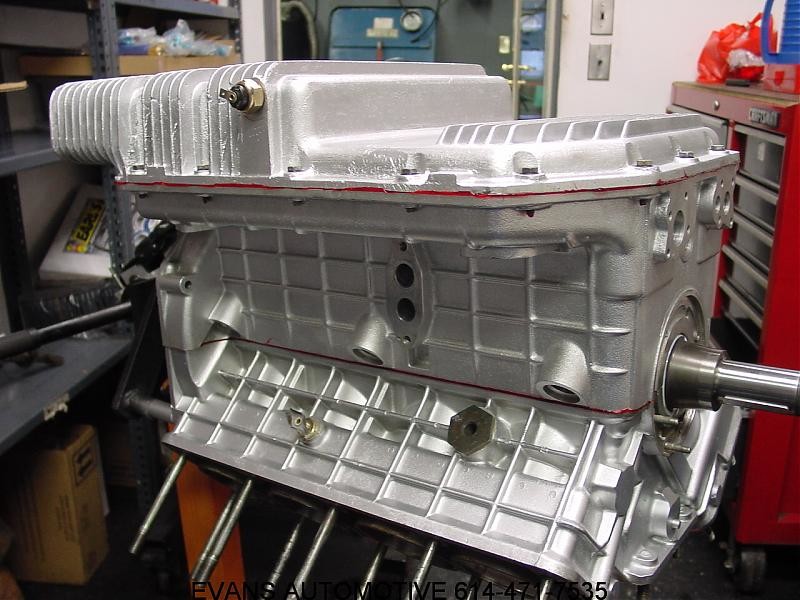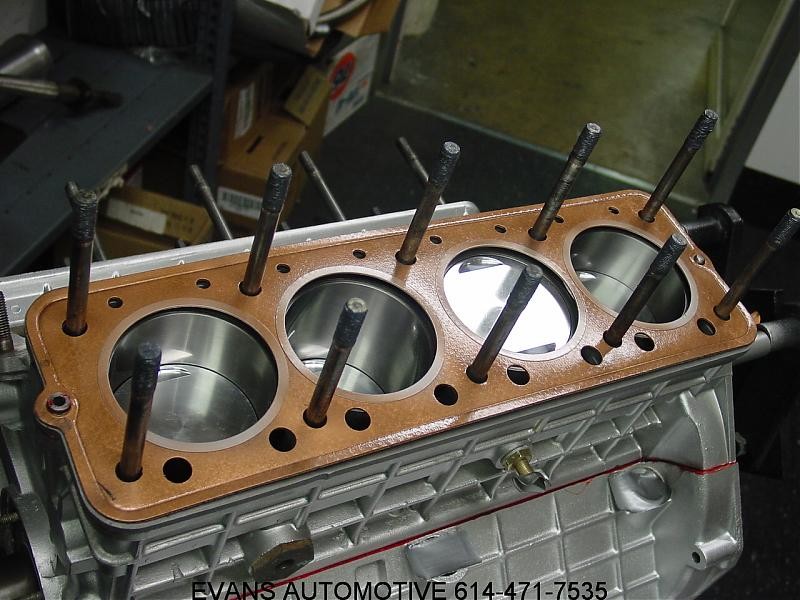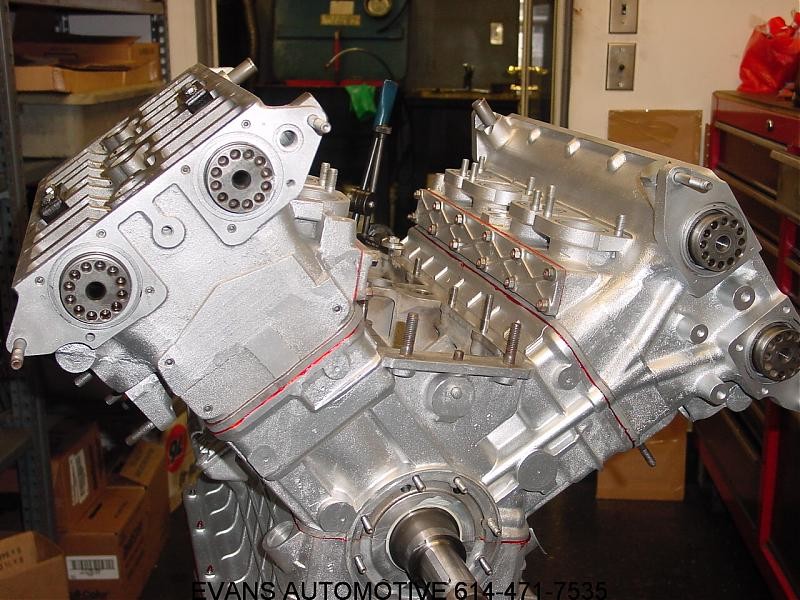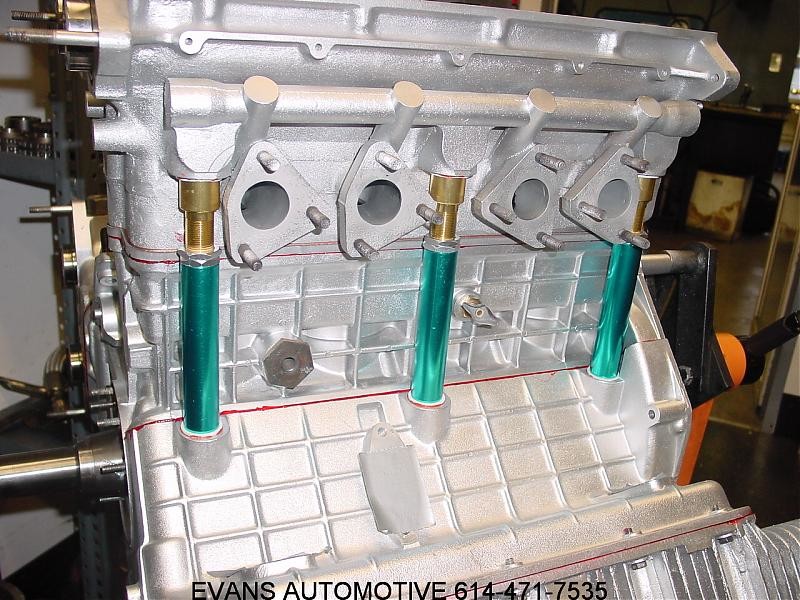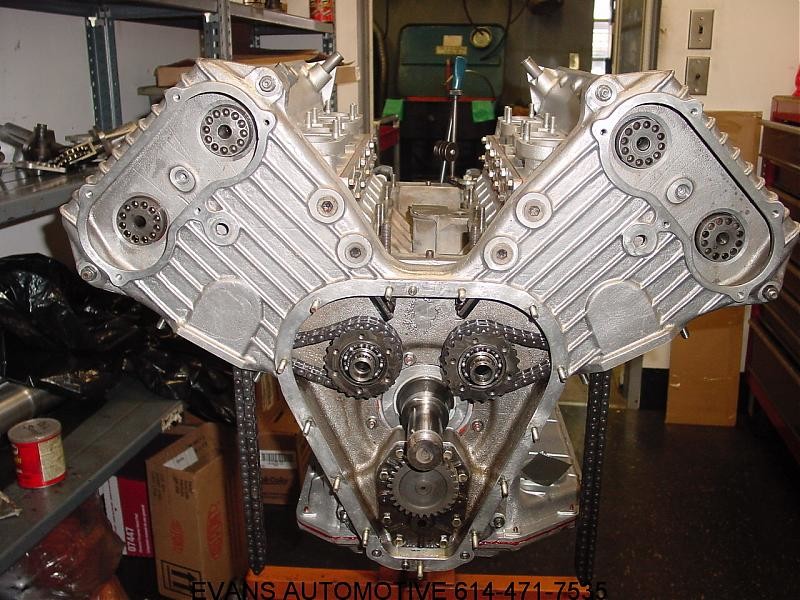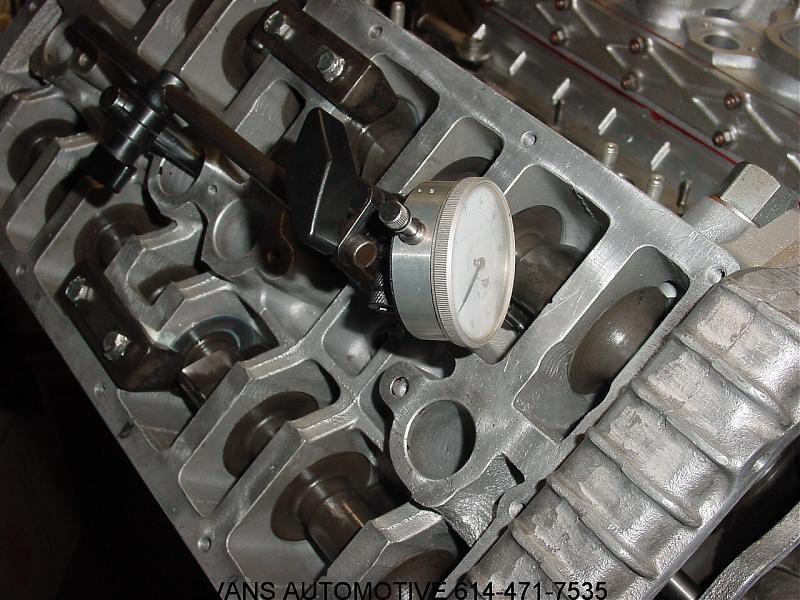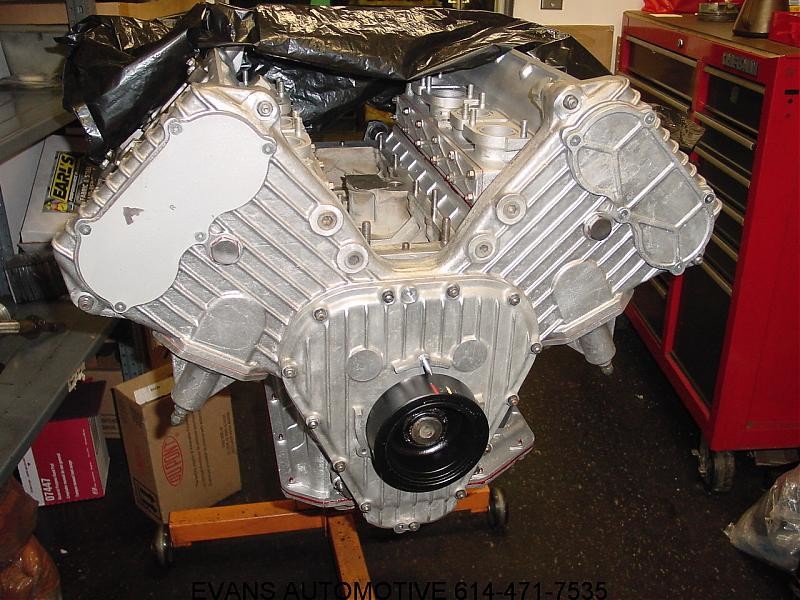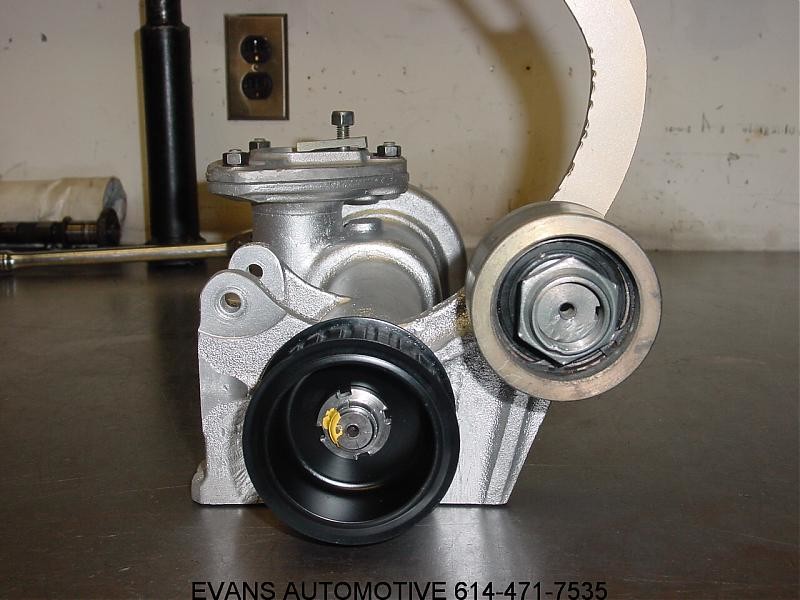 I think I'm about to choke up! It just looks so awsome!!!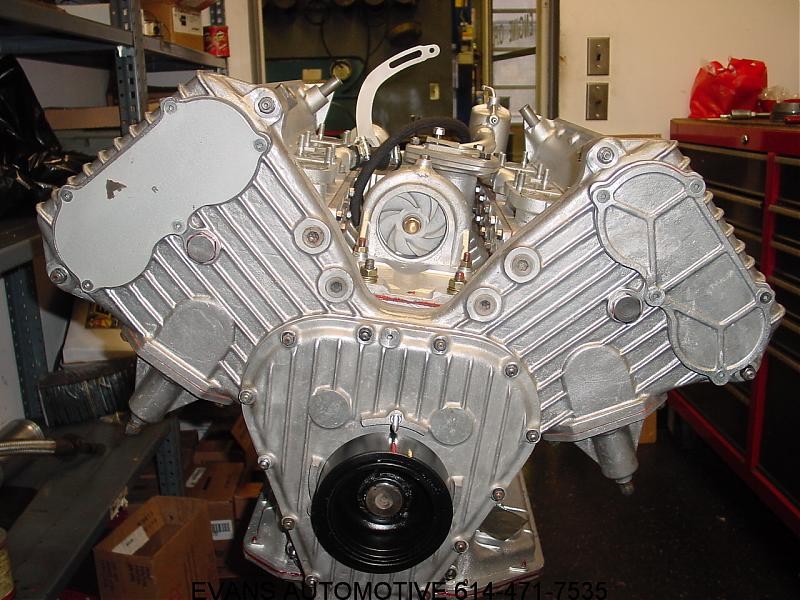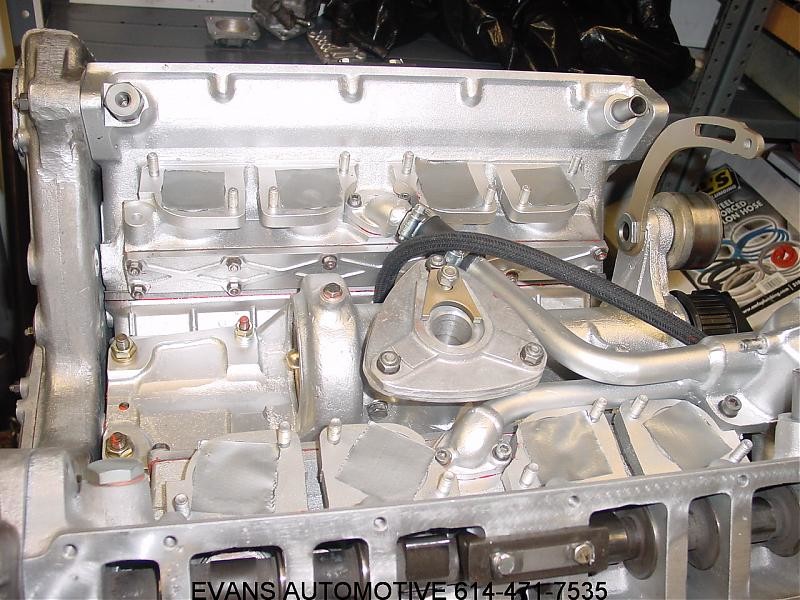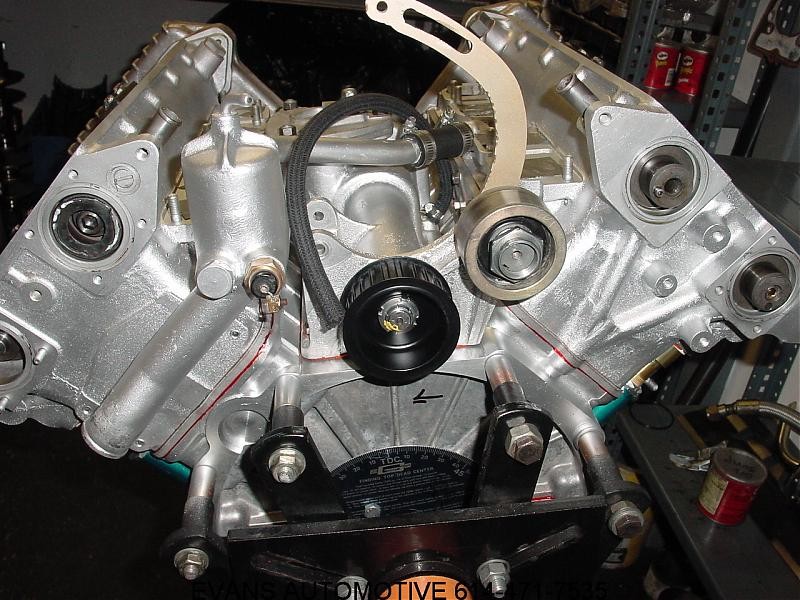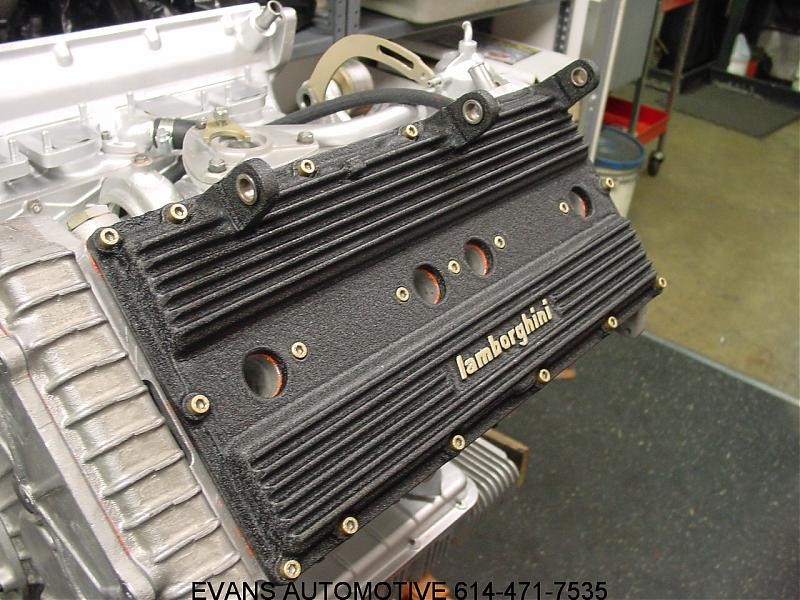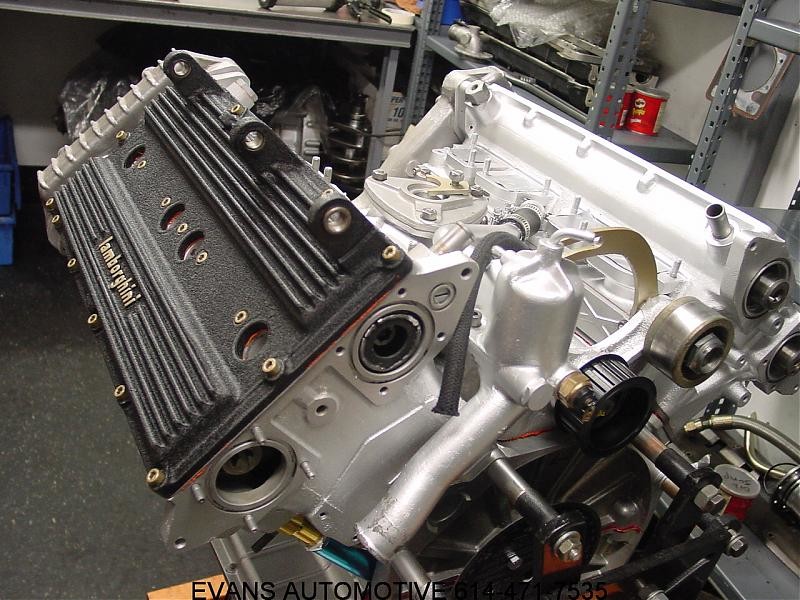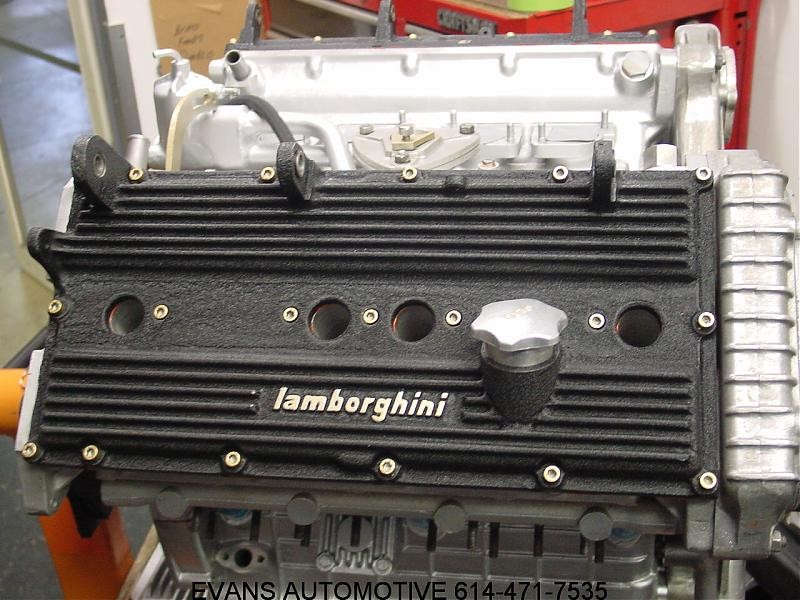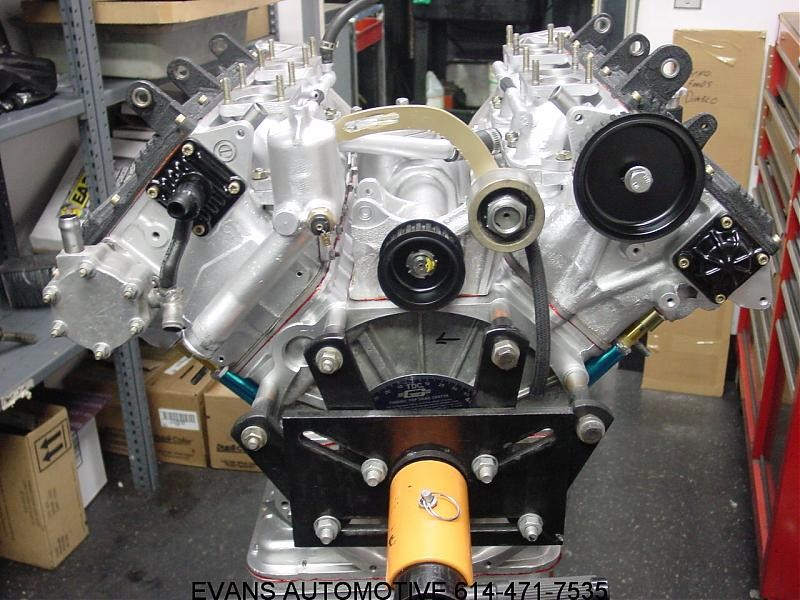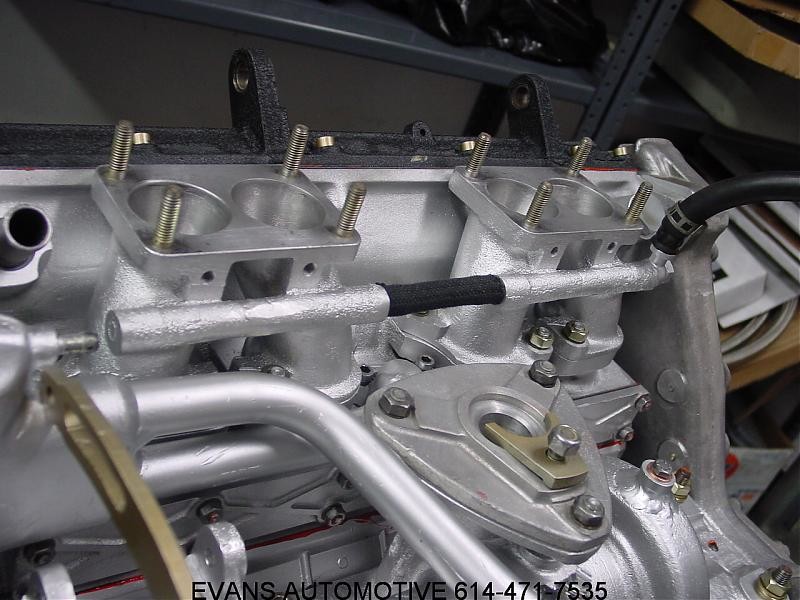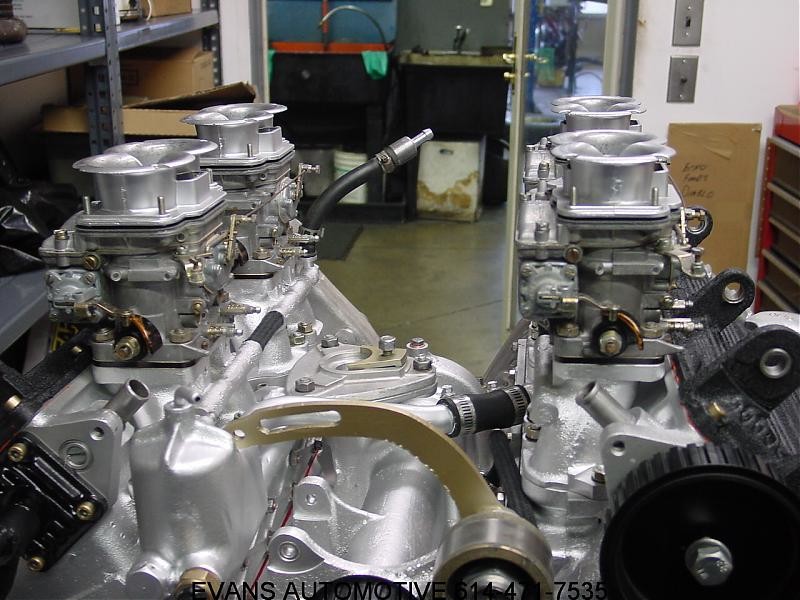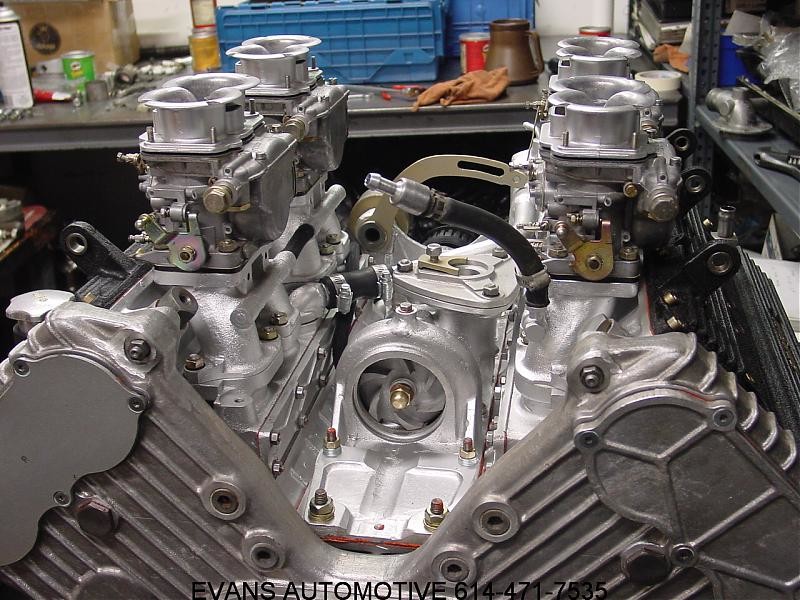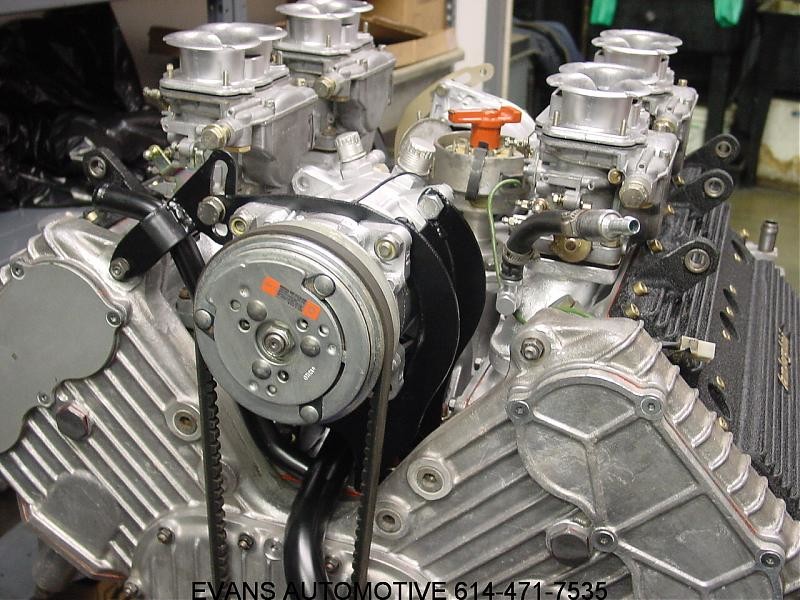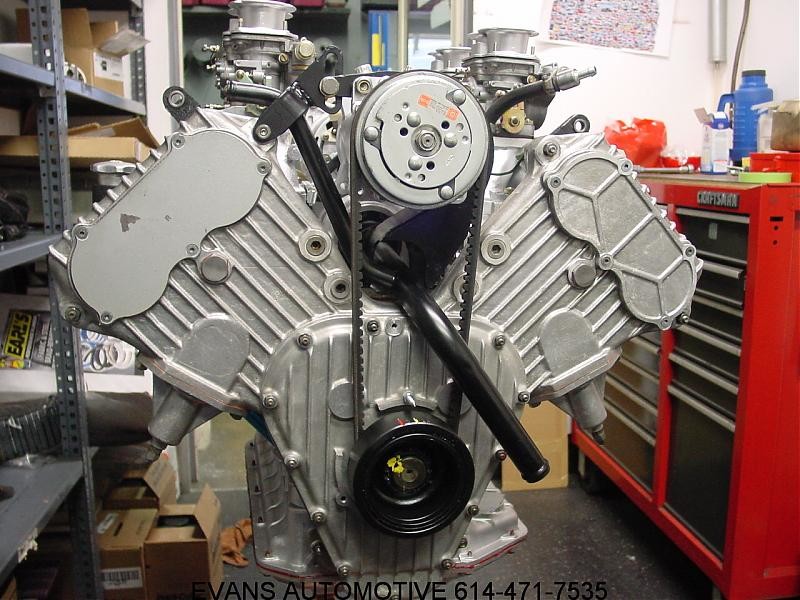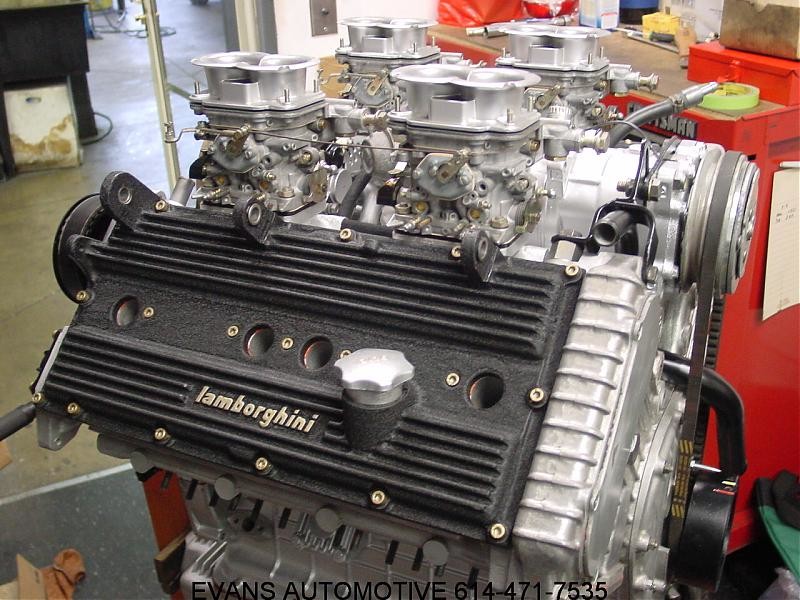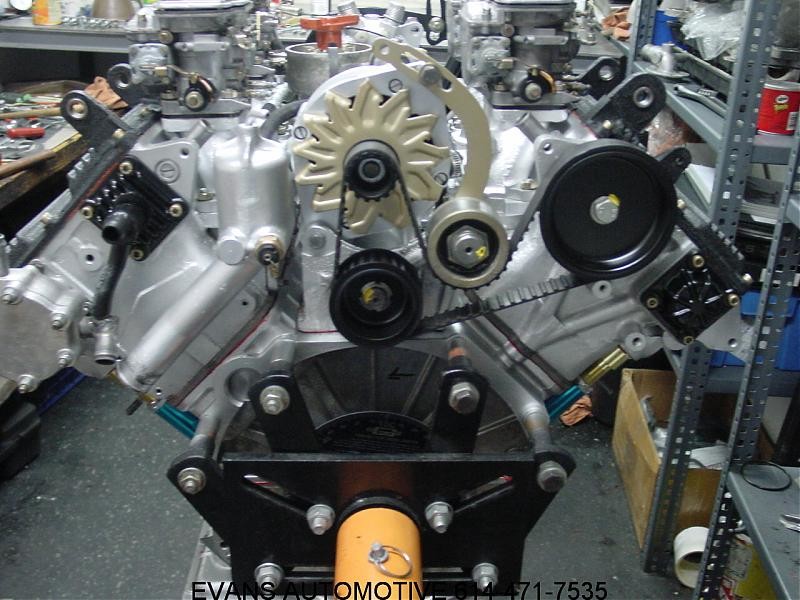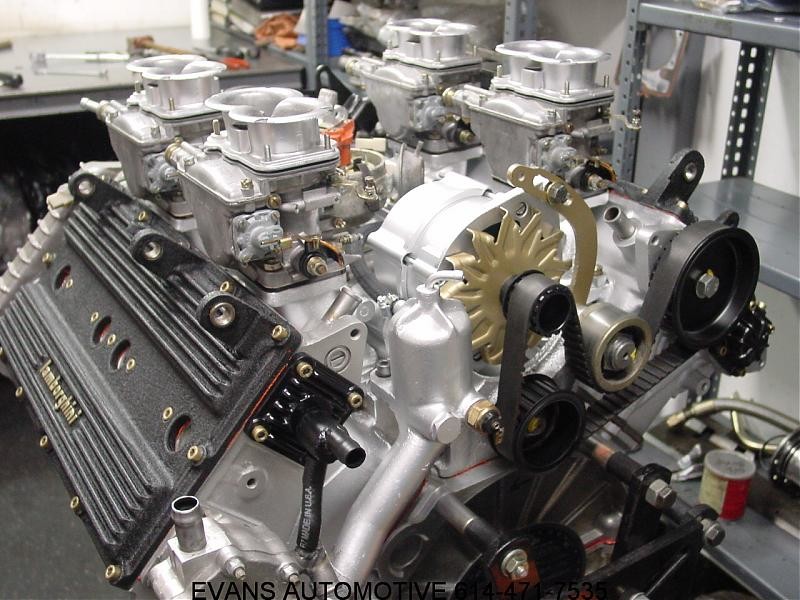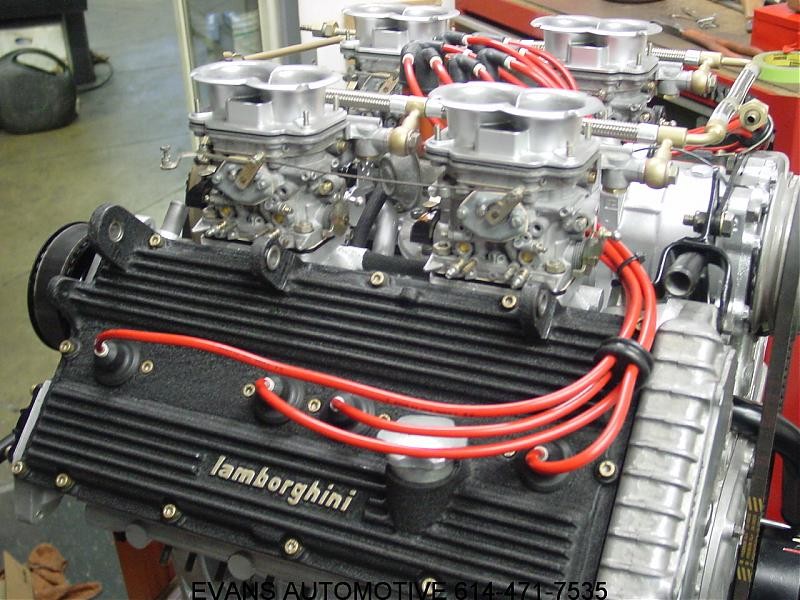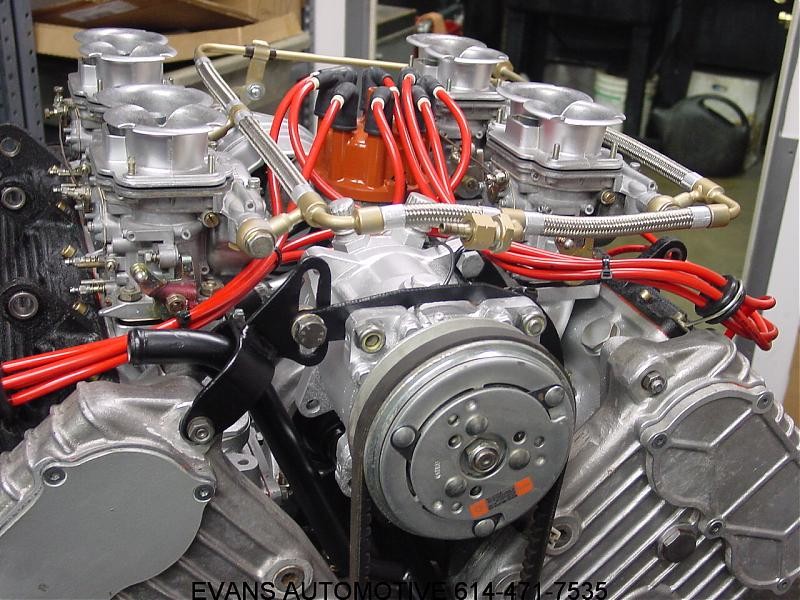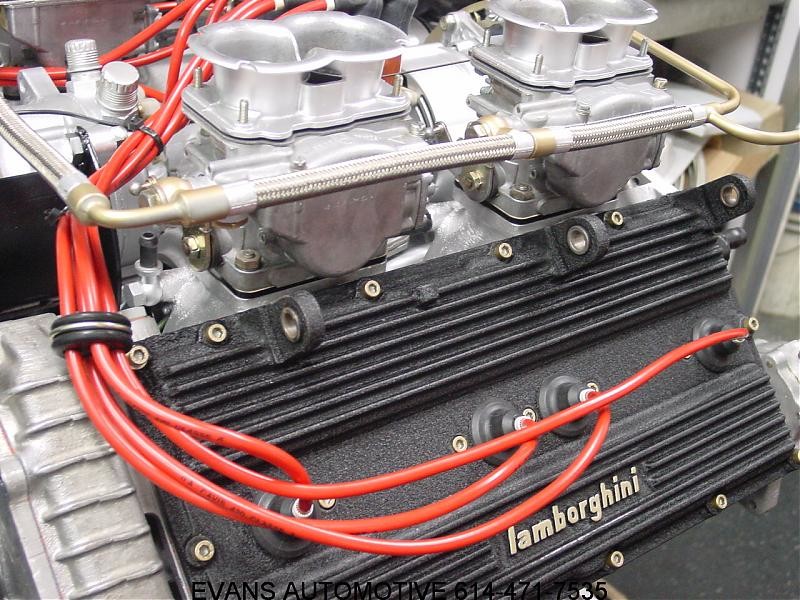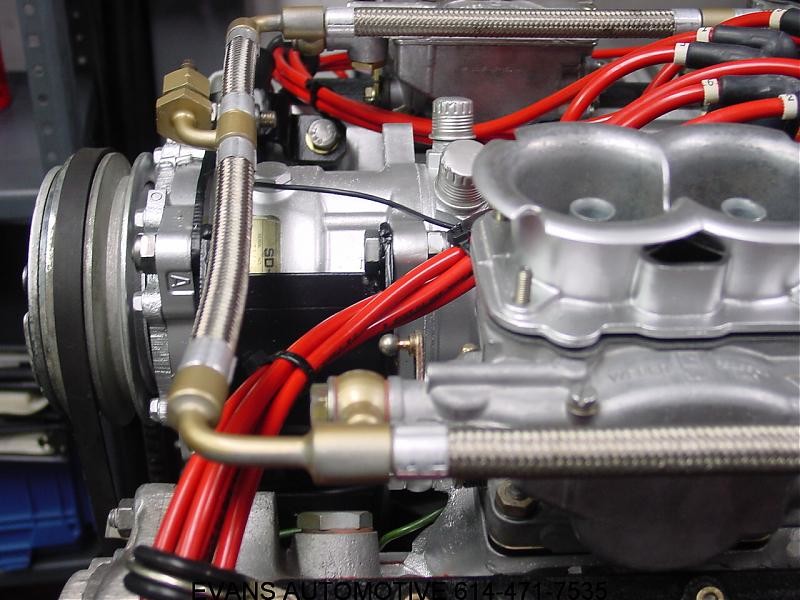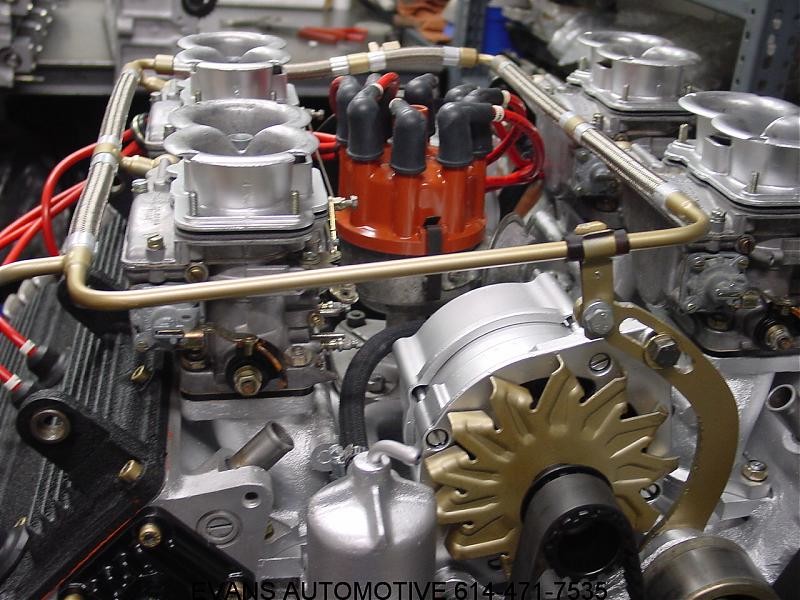 1-30-2008
Well, I'm back. Been very busy here so I've let my emails and posts get behind.

Evan's is installing the engine! I installed the Sniffer Tubes last Friday and delivered the newly Zinc Coated Throttle Linkage and modified Air Boxes. It's been five months but it may finally be started this week!

I'm posting some pictures of the Sniffer Tubes and Air boxes. Notice the extra vent tube (for the Urraco) is gone. The body shop did a great job cleaning up the Air Boxes. Also notice the spacers that I made for the Posts. They take up the gap between the Post and the Upper Cover.

Air Boxes, Before and After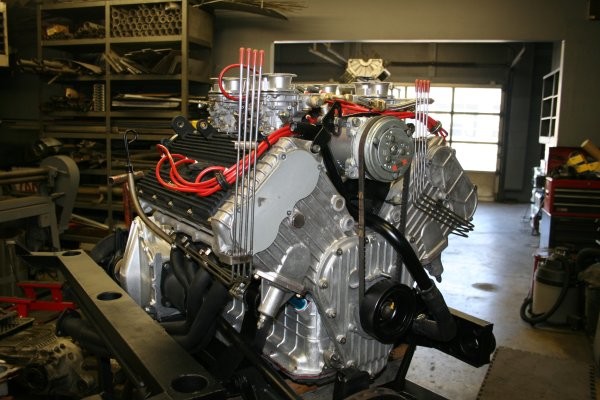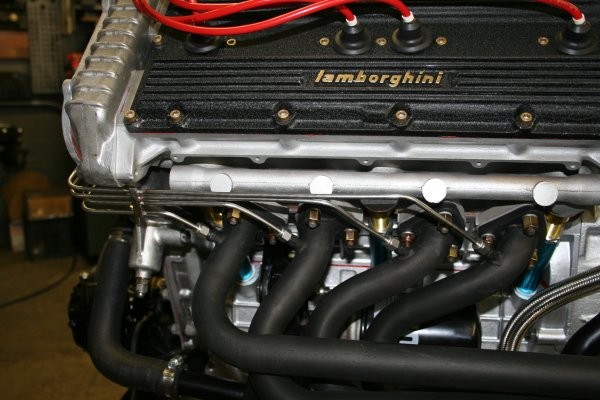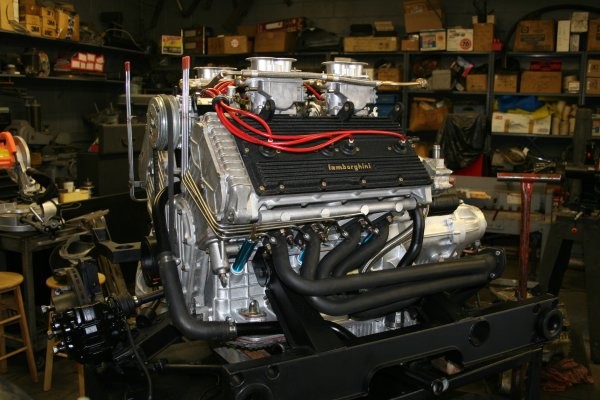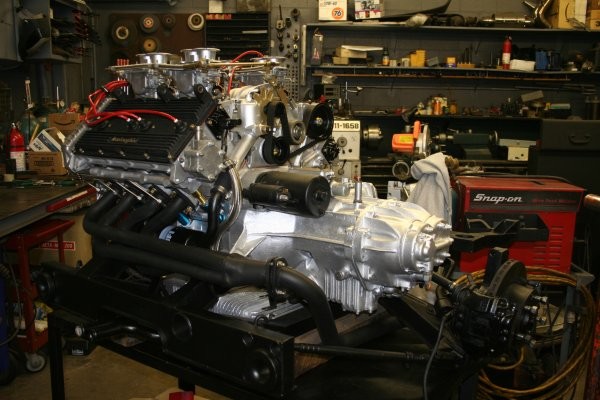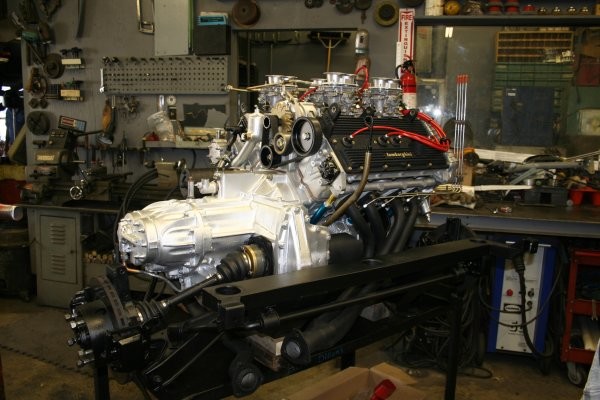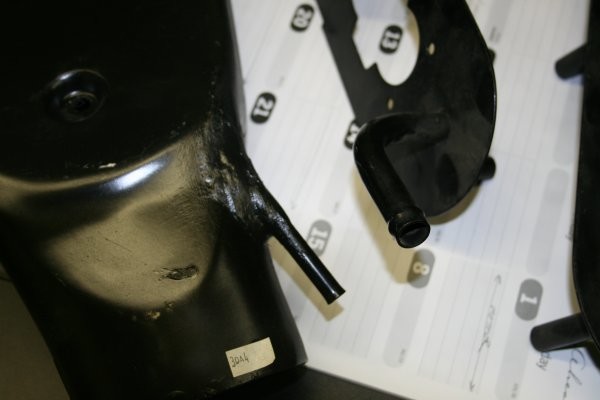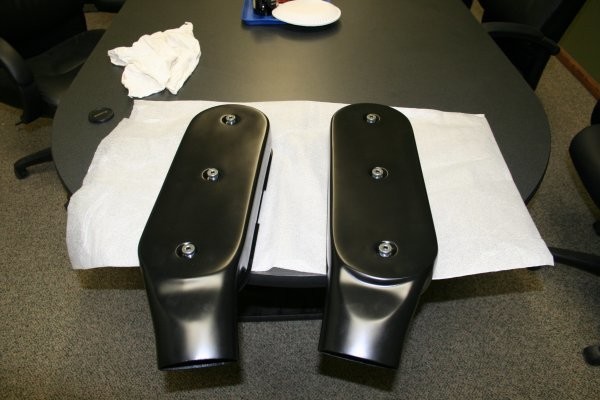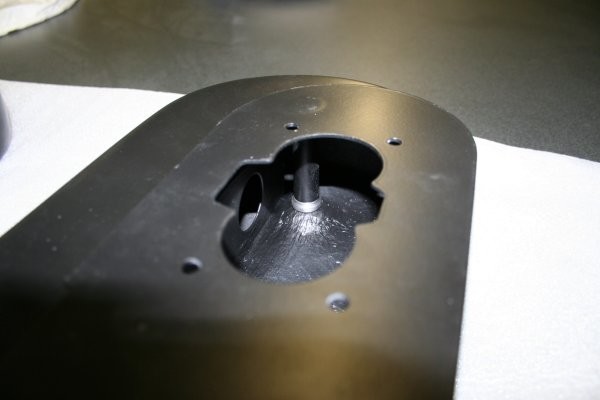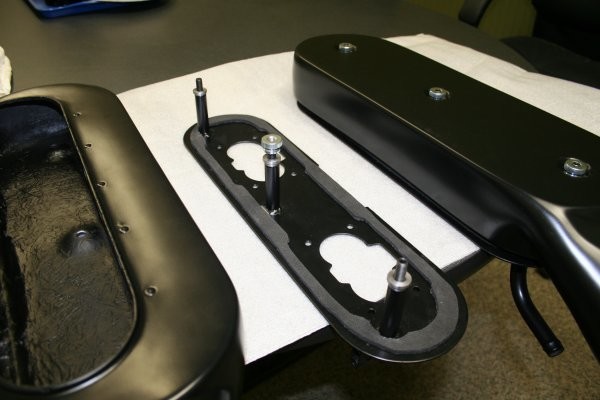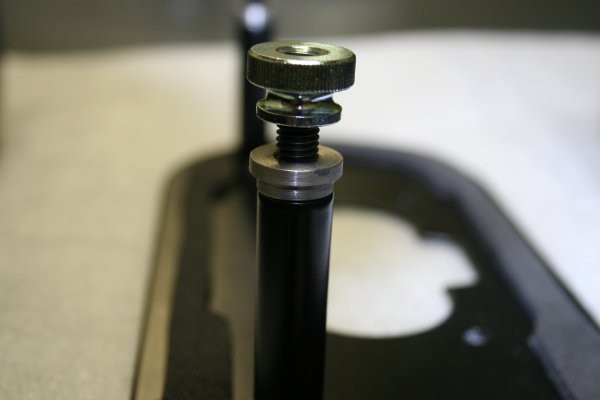 1-31-2008
Hi Lambotsavy!
Well, George and Mike will probably finish it this week or next but I won't be able to take it out until the salt is off the road. Probably April. I have a few things I want to do to it wants it gets delivered. For one thing the rear wing is off a late model Countach so the angle is wrong. It generates lift! So that has got to be fixed.

Here's a few more photos

The Clutch Disc is Kevlar.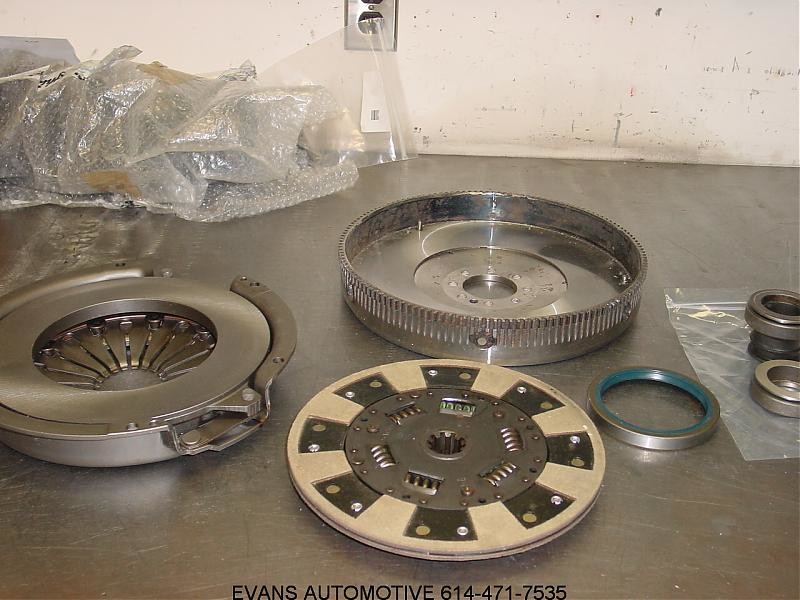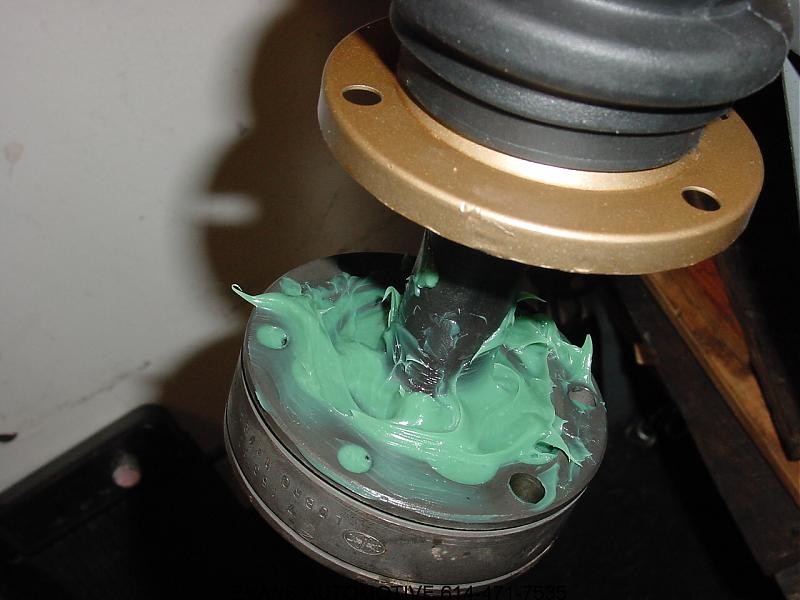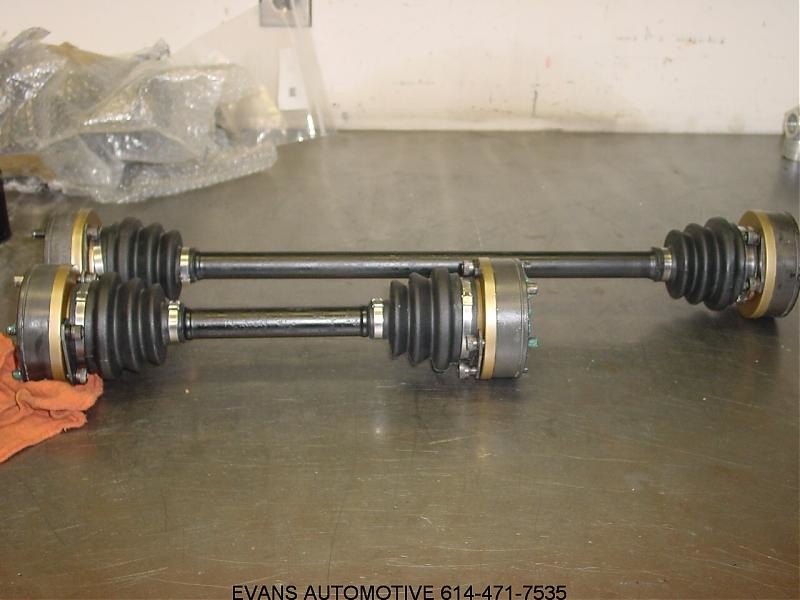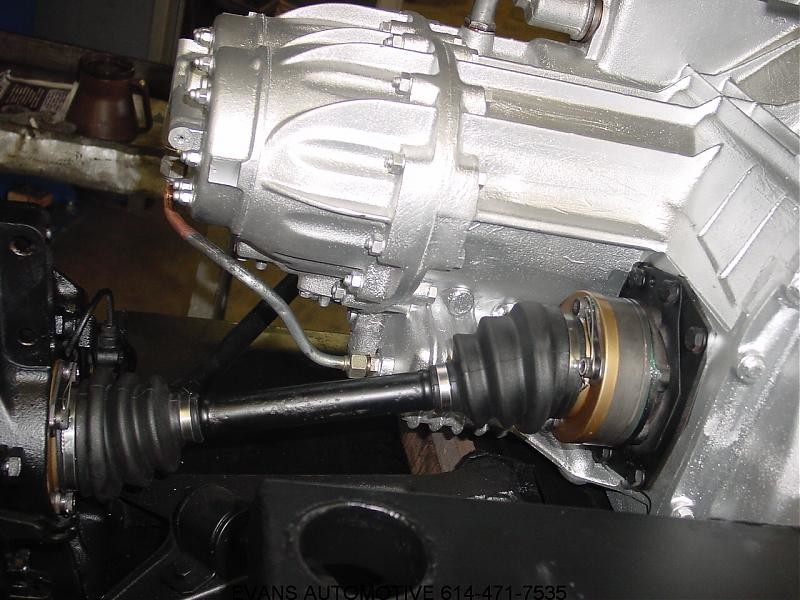 2-1-2008
Here's a couple of design pictures of how I modified the Air Box Posts so I don't tear out the fiberglass. I installed a M8x8 set screw first to use as a lock for the new "Stud" set screw which is an M8x30. I then had my shop machine threaded adapters which are long enough to be turned down for correct fit to the upper Air box as needed. The final item was the hand nut on top. I can post a pdf of the adapter print if anyone is interested. You'd probably need access to a metal lathe to adjust the depth of the adapters.

and the engine is in the engine bay!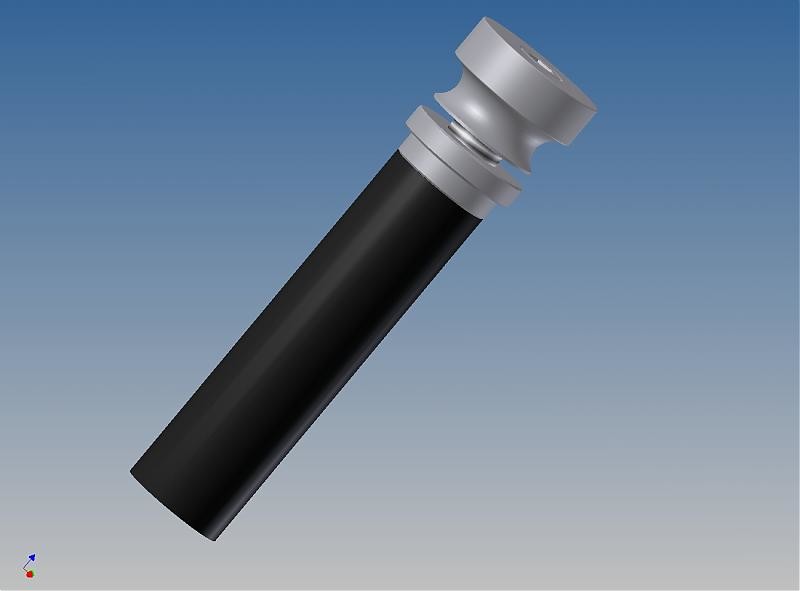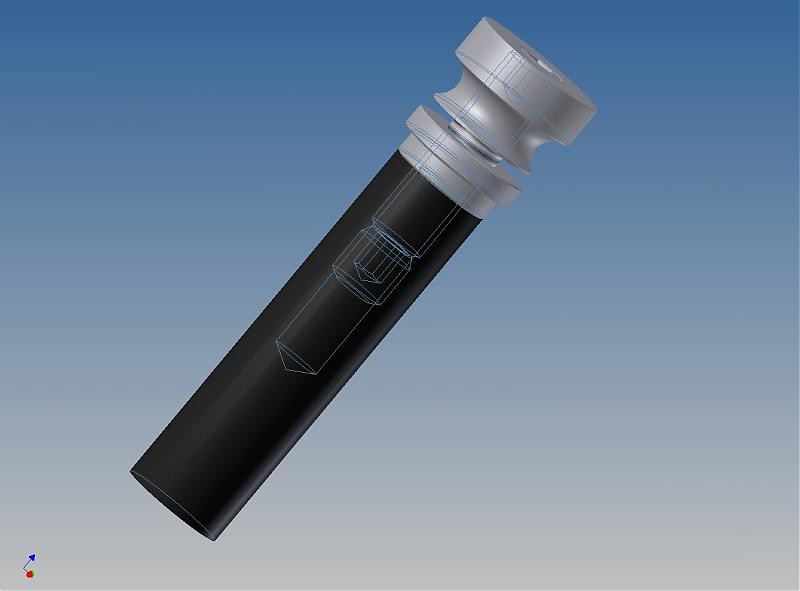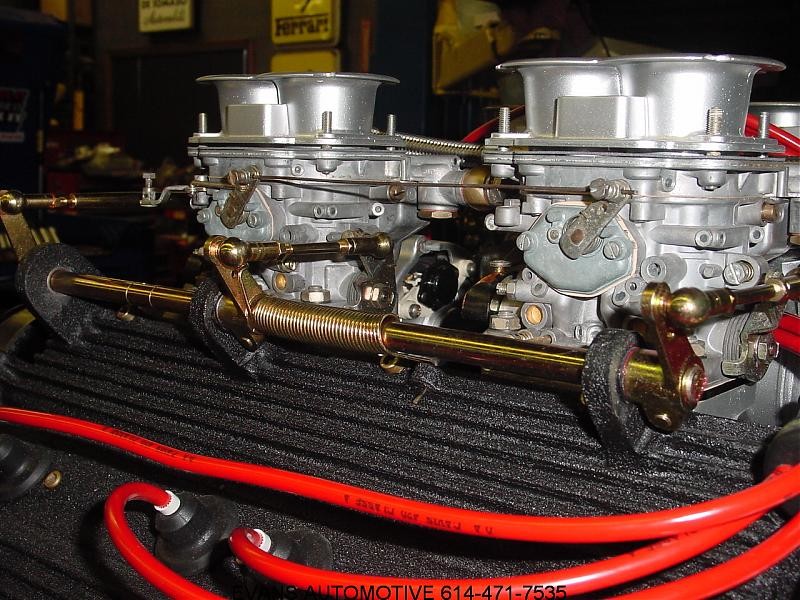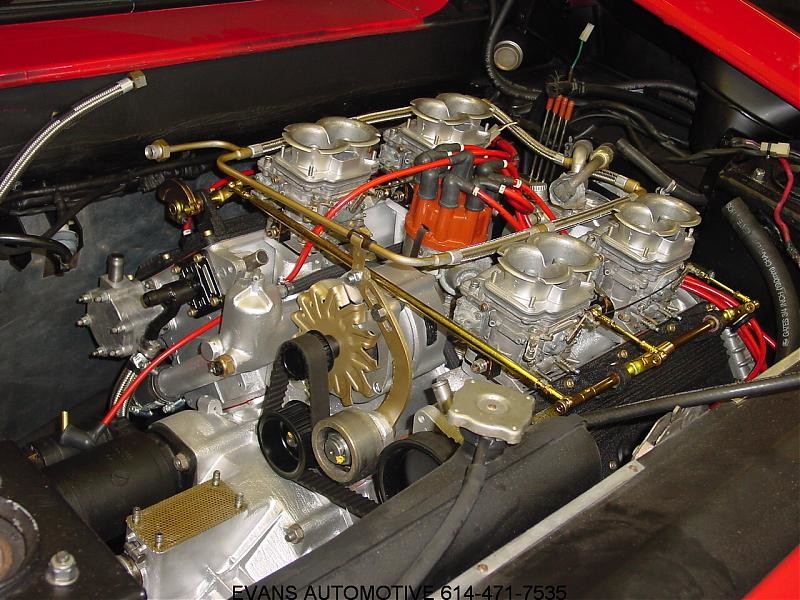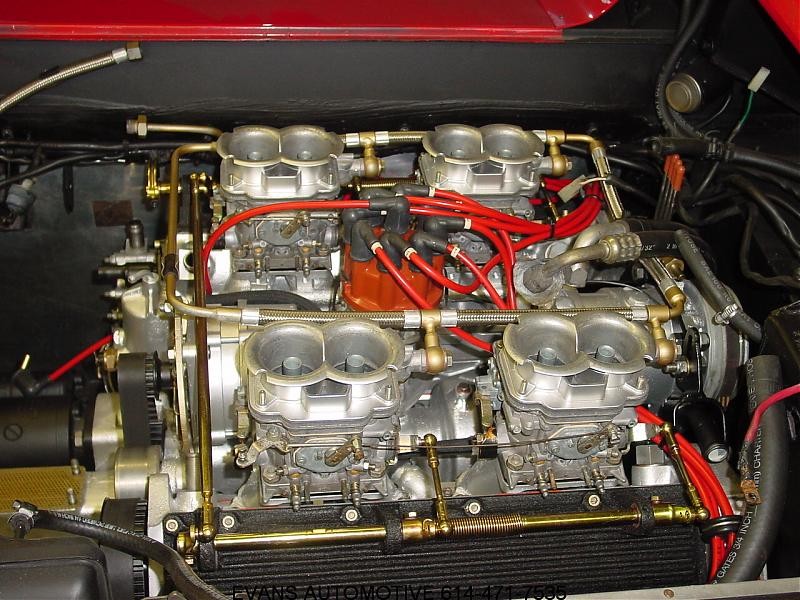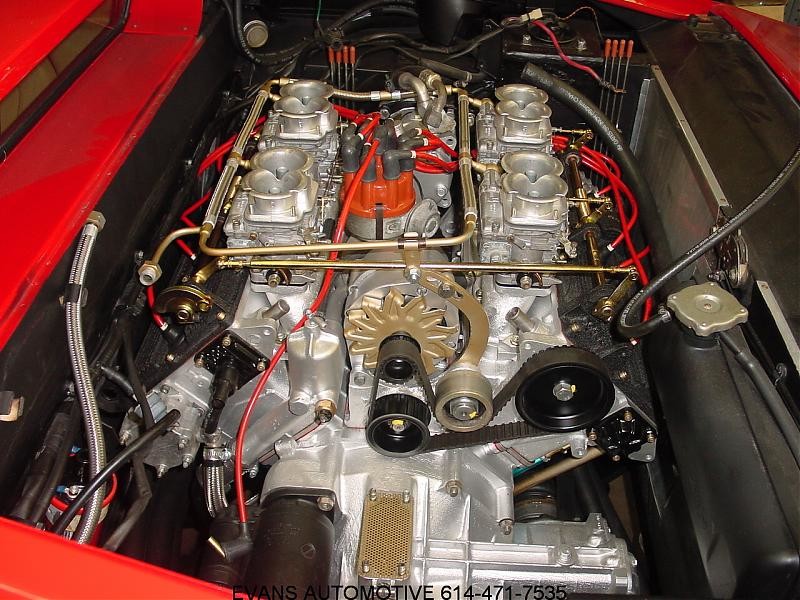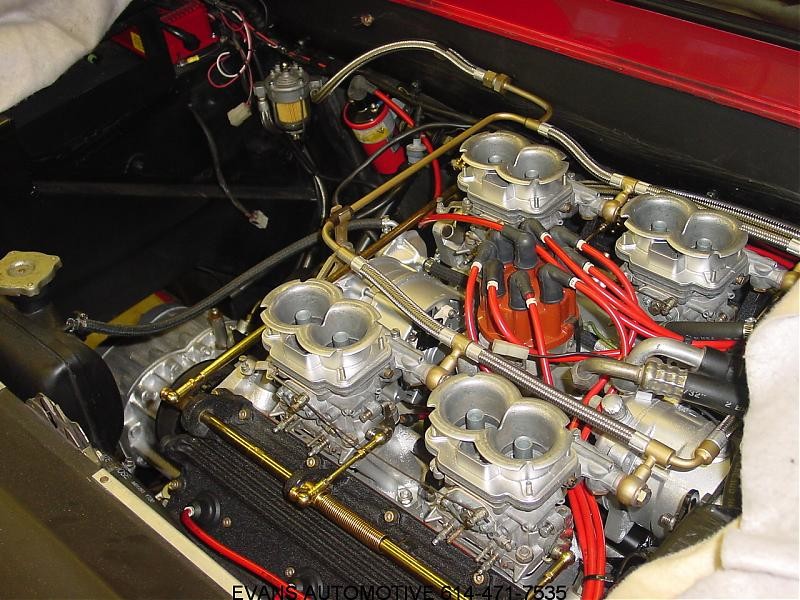 2-2-2008
Here's a rehash of a previous conversation. the original owner of my Jalpa had the dipstick blow out during an 120mph (193kmh) run and the oil sprayed out catching the engine on fire (small fire quickly extinguished). This happened shortly after he took ownership.

Since the car was new it seems unlikely that it could be the piston rings. The original owner never modified the filters either. It seems the problem must be caused by something else.

George and Mike found something else. Is it possible this could happen at the factory during assembly? The picture shows a vent valve? George said that one of them was in backwards?

What do you think? Is it possible? I know the engine at one point had the valve seats replaced and it might have happened then but the dipstick blow out happened prior to that.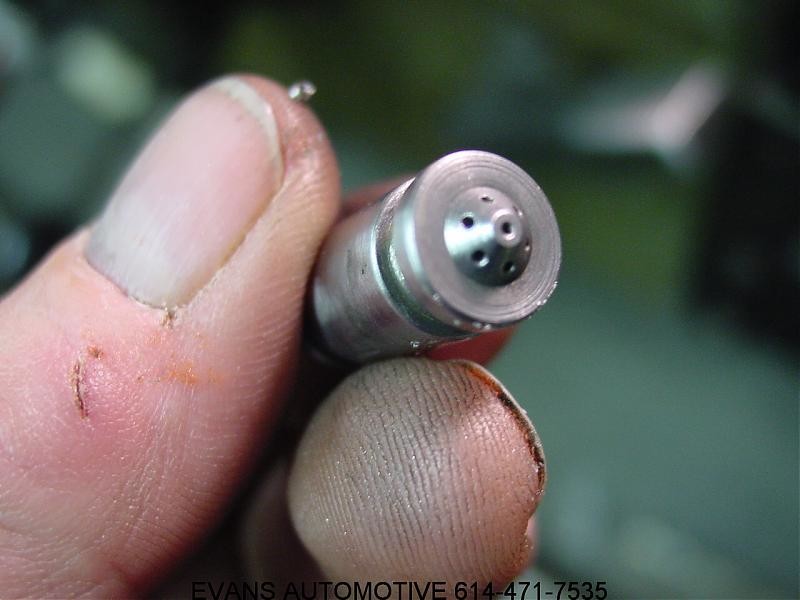 2-5-2008
Here's a short video of my engine.



Can't wait to drive my first Lambo!
3-5-2008
Well the weather finally broke Monday (for one day) and Evan's got my Jalpa warmed up enough to adjust the carbs!

Now the bad news... I bet you can guess if I tell you I had an MSD ignition installed! Yup, my tach is on it's way to CA for modification. Should be a couple of more weeks for that.

Oh yea, My vent tube on my lower air box (the ones I ordered from Lambo through Lambostuff.com) has to be moved. It interferes with the throttle linkage. So Karen, my wife is picking it up in her way home from dropping my daughter off at college in Columbus today. Those air boxes have been more fun than riding a dead horse! I need to get that modified and get my Jalpa home so I can finish fabricating an Airfilter Box before the weather starts to turn nice.
3-18-2008
It appears I may get my Jalpa soon!

The engine is tuned and Evan's is going through the electric (seems mine is having unusual

electrical problems, HAA).

Here's a few more pics. You'll notice the new Volt Meter replacing the Amp Meter. And take a look at the butcher job somebody did on the harness. I'm guessing that is were someone installed a cheap cut-out switch that Evan's removed for me.

I'm hoping to get it to my shop soon so I can build a new filter box and get the wing either adjusted to the correct angle or remove it and get the holes pluged in the trunk.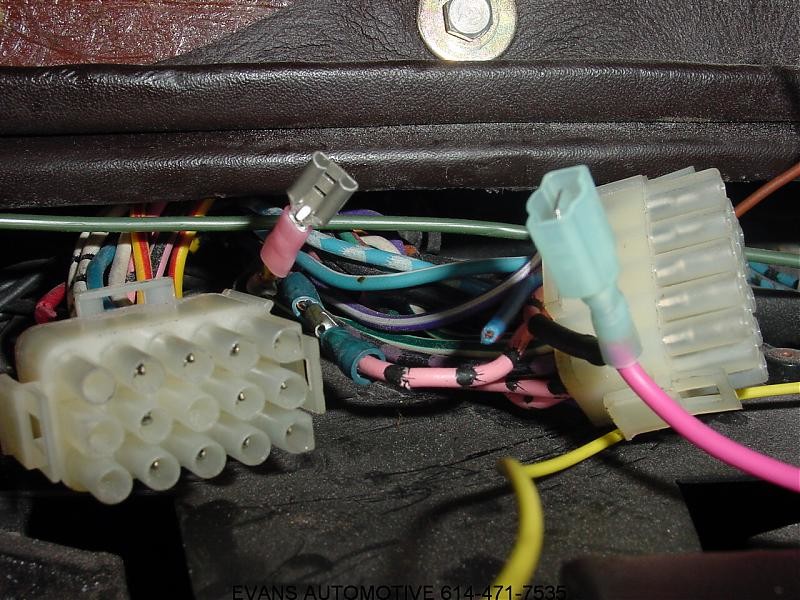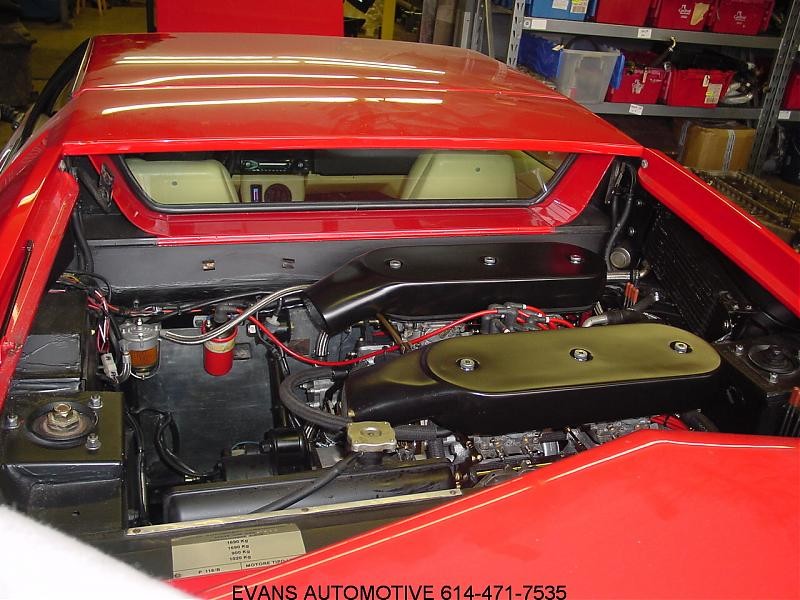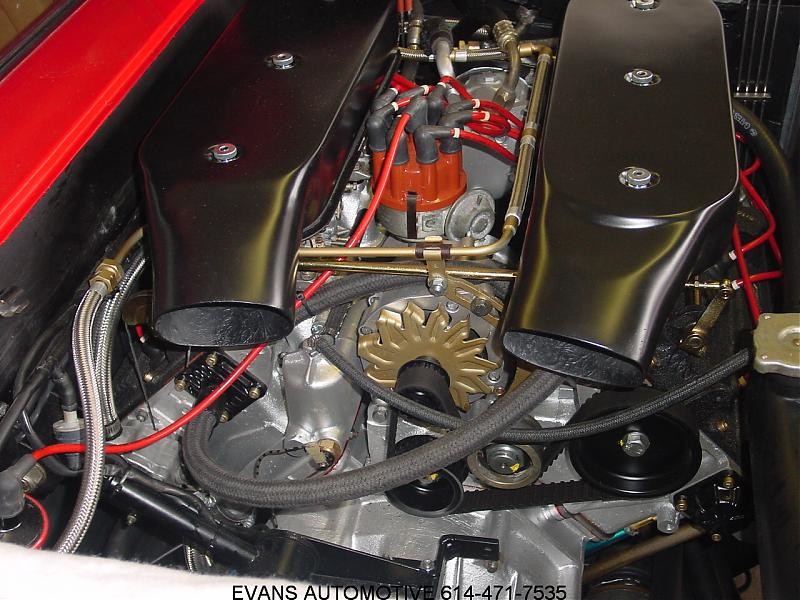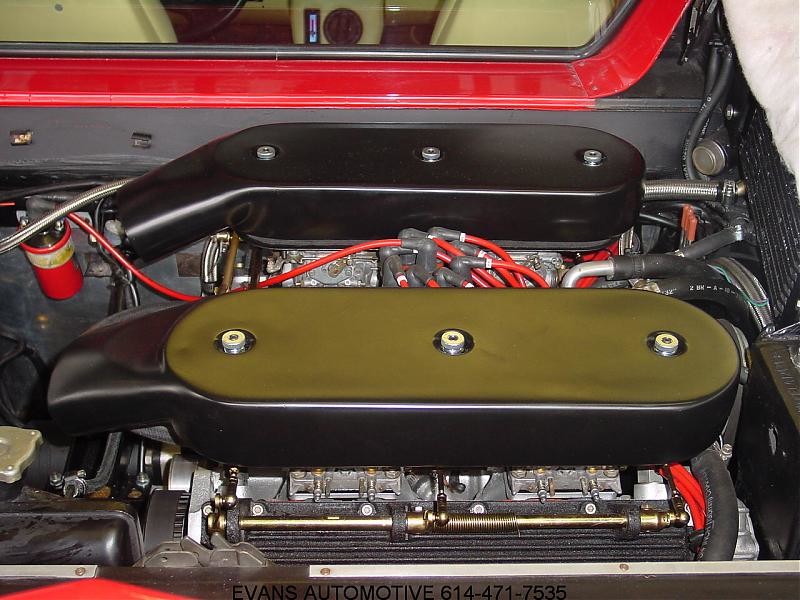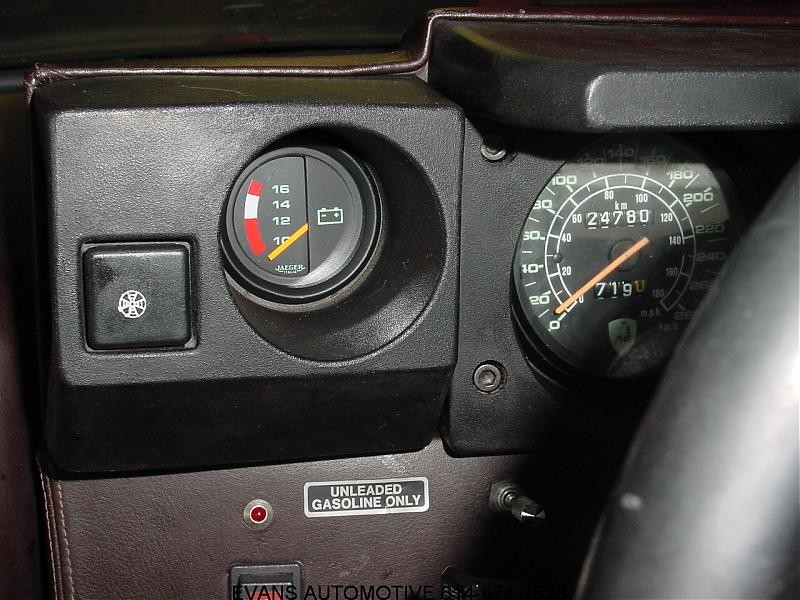 3-22-2008
Well guys, after 7 months I got to drive it!

My first Lambo experience! What a ride! Only about 3 miles but I was grinning from ear to ear! The Gods were shinning on me since it was sunny in Columbus (We were supposed to be in a snow storm but it pushed just north of us). I don't remember my X1/9 being that fun. It sounds great too. Evans did a fantastic job. They're going to do a few more detail items to it and bring it home so I can get my air filter box made.

I've got some pictures and a video that I'll post Monday!

Have a great weekend!

P.S. Thanks for all the input I'm getting on the wing here recently. MILF's like the wing huh? Better warn the wife!
3-24-2008
I thought I posted a few pics on Saturday but they aren't here. Well, if any of you ended up with my pictures on your post, SORRY



Anyhow, here's a few photos from Friday:

Pic #1 - My car in good company. She's with no less than 6 or more Countachs and a couple of Diablos in this room.

Pic #2 - Anyone recognize the guy in the seat? George Evans

Pic #3 - As anyone knows, the general public usually can't read the cars Jalpa badge. I thought I'd help with the plate. (Some of you more astute observers will point out that that the car should be an '84 but it was titled and delivered in '85). So, do I own one of each?



Pic #4 - Going back in after my ride

Pic # 5 - Notice my missing air filter box?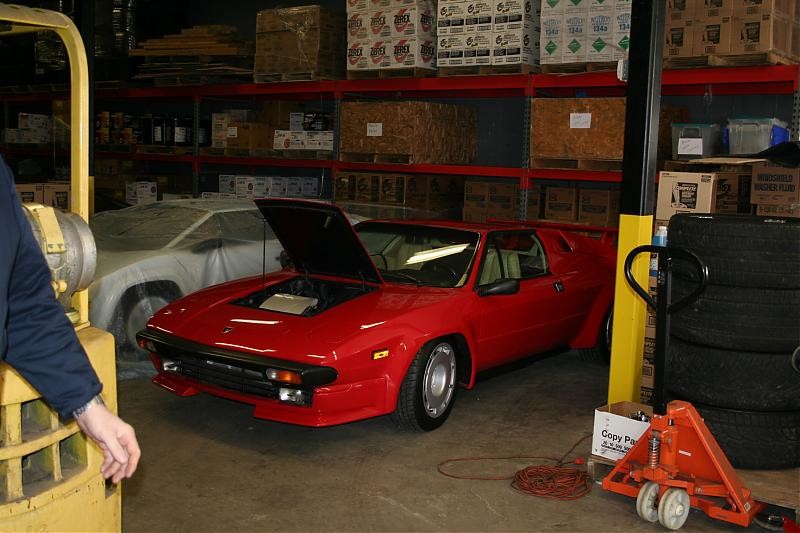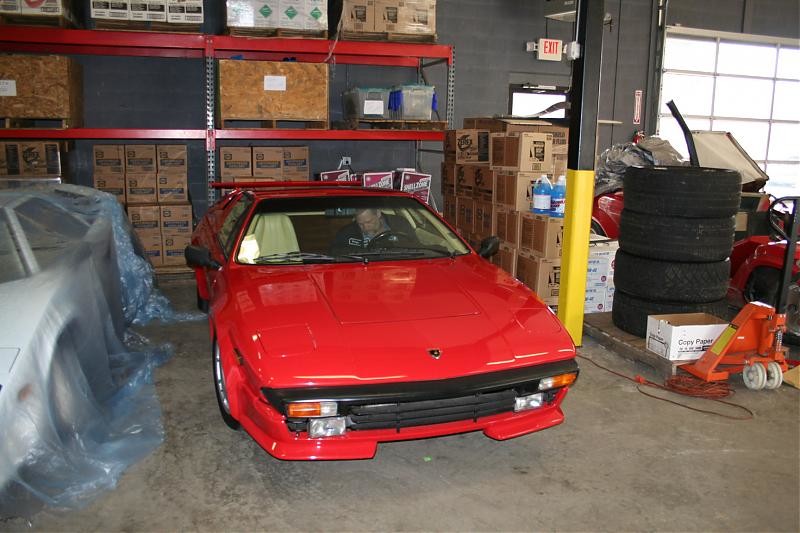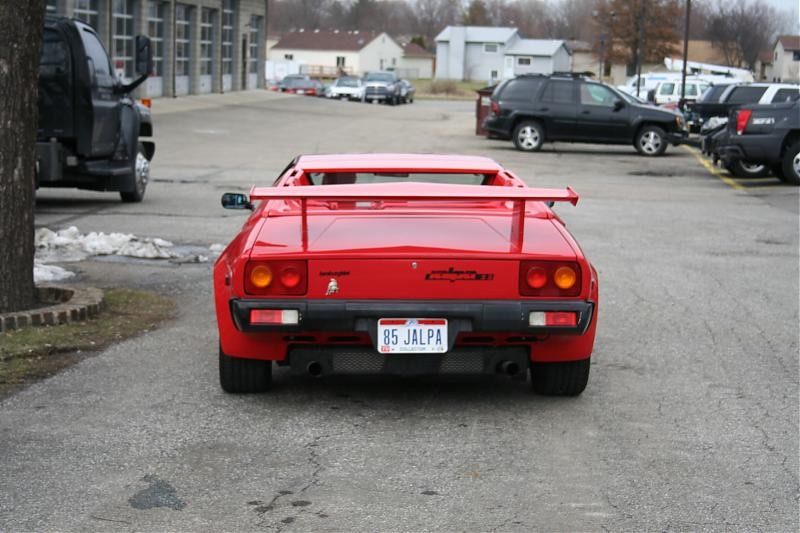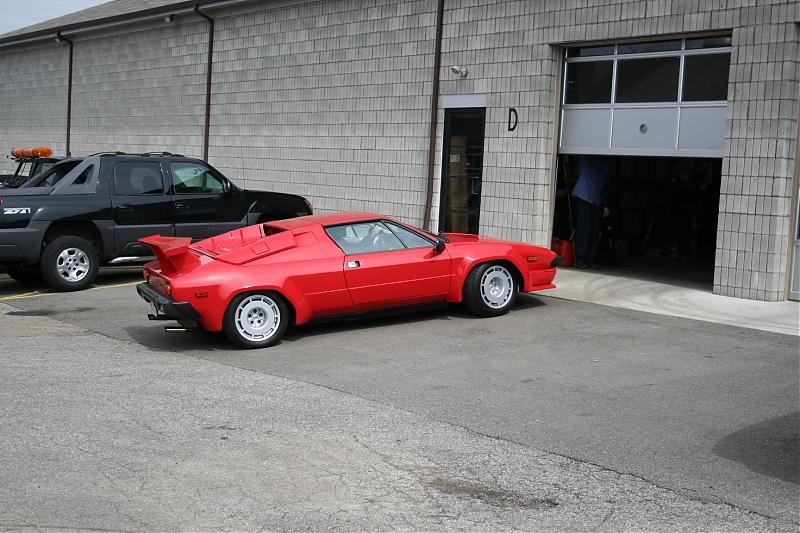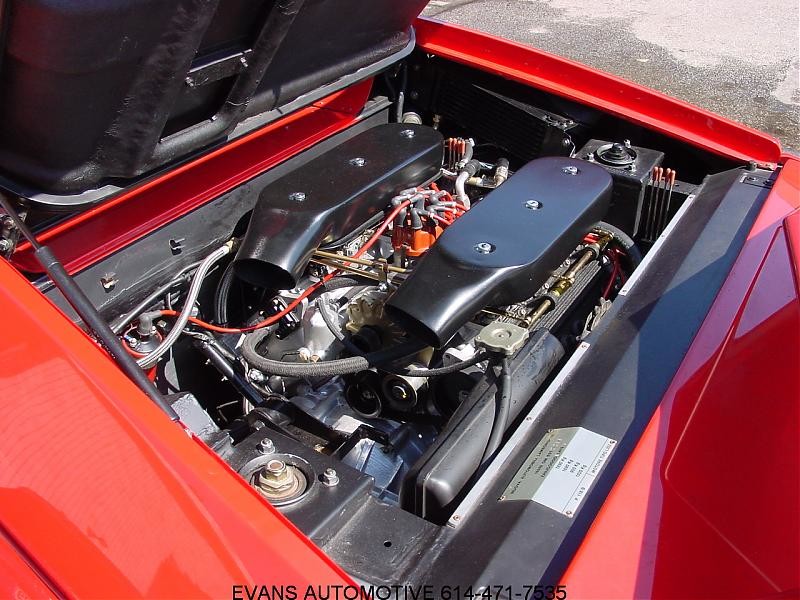 A few more shots from Evans that just look nice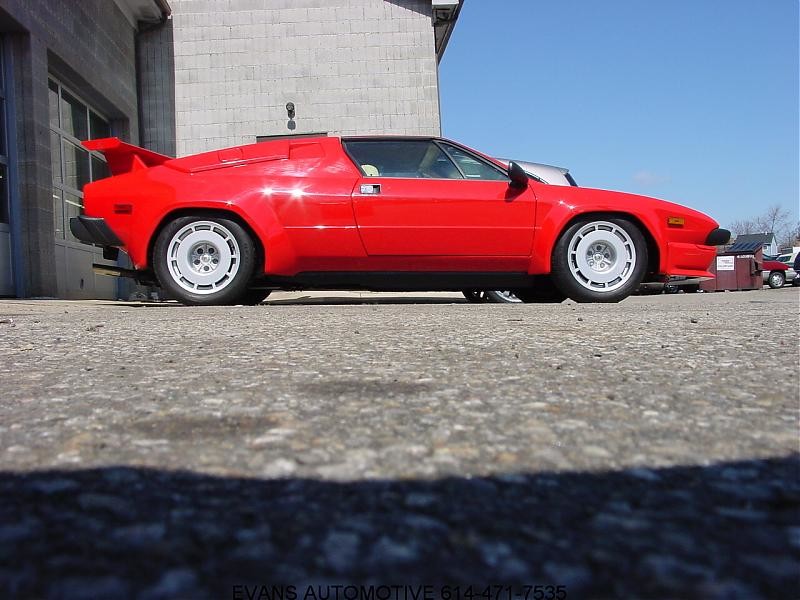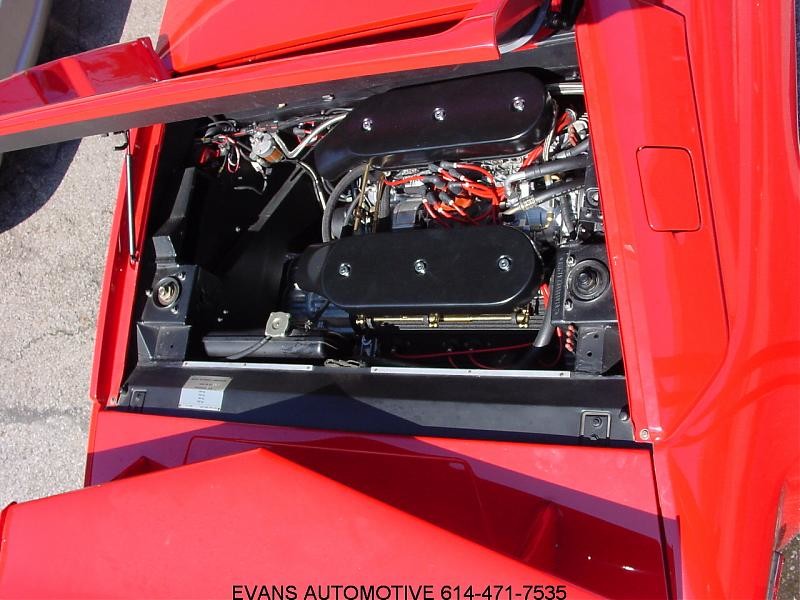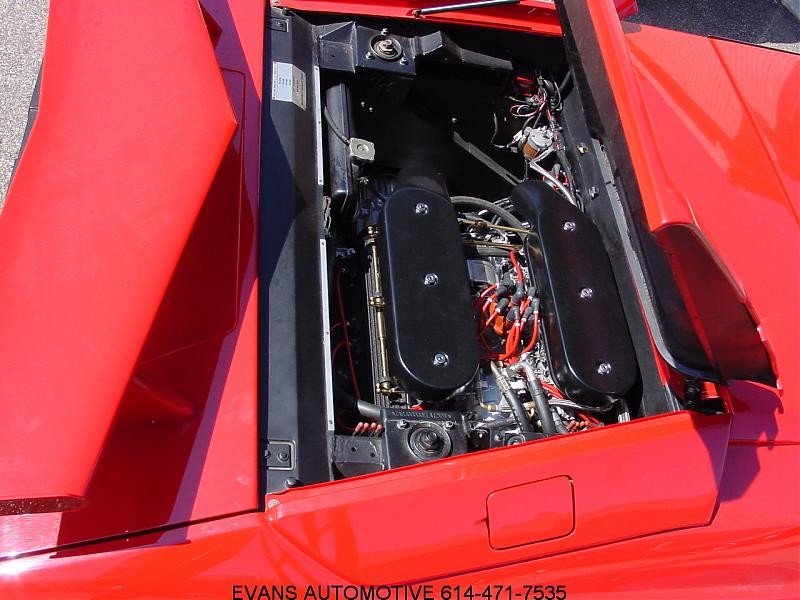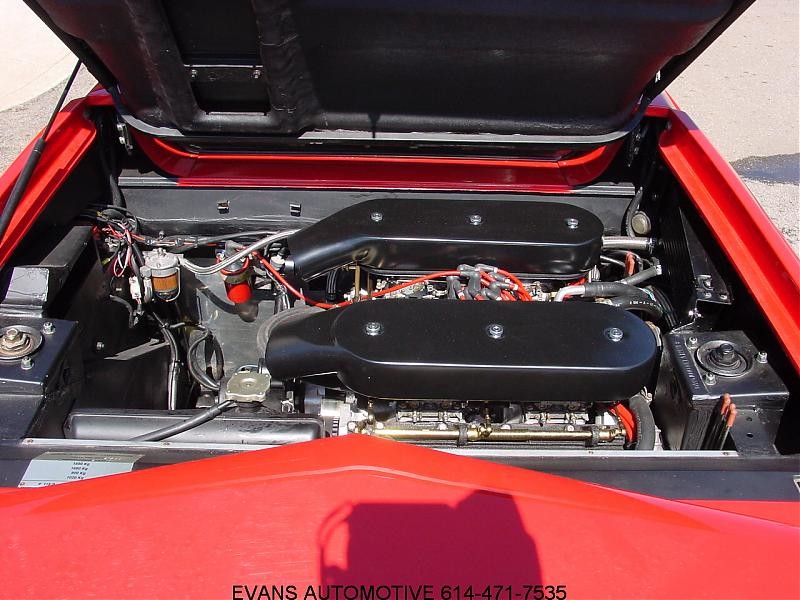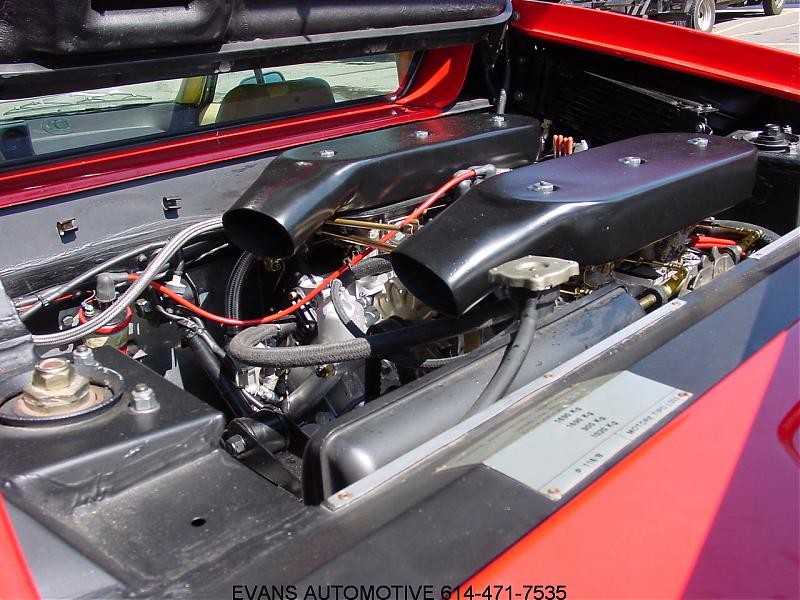 Not yet existing! It was all missing when I bought the car. I can't find an original so I'm going to design one as soon as Evans delivers it to me.

I bought the air boxes from Lambostuff. they needed alot of work but they turned out nice.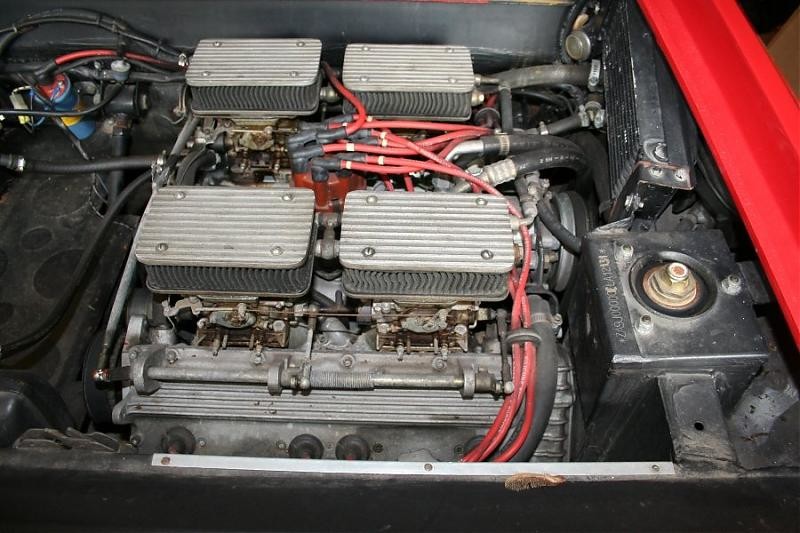 3-27-2008
Here's the latest video. My first Drive was last Friday 3/21/08. Sorry for all the Truck noise in the background. This video was shot at Evans Automotive. That's George Evans driving the Jalpa. I hope you guys like it.


3-29-2008
It's Home!!! I took delivery today at 5:15 PM. I can't contain the happiness I'm feeling about taking delivery of my very first Lamborghini. It sounds and runs incredible.

I'd really like to give great kudos to George and Mike at Evans Automotive. They were professional from the very start and have become great friends during this trip. I can't wait to get number two and have them get at it.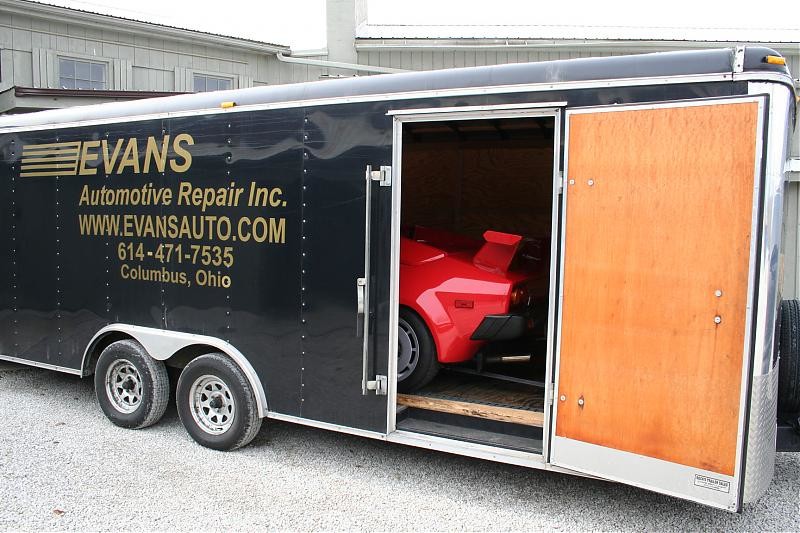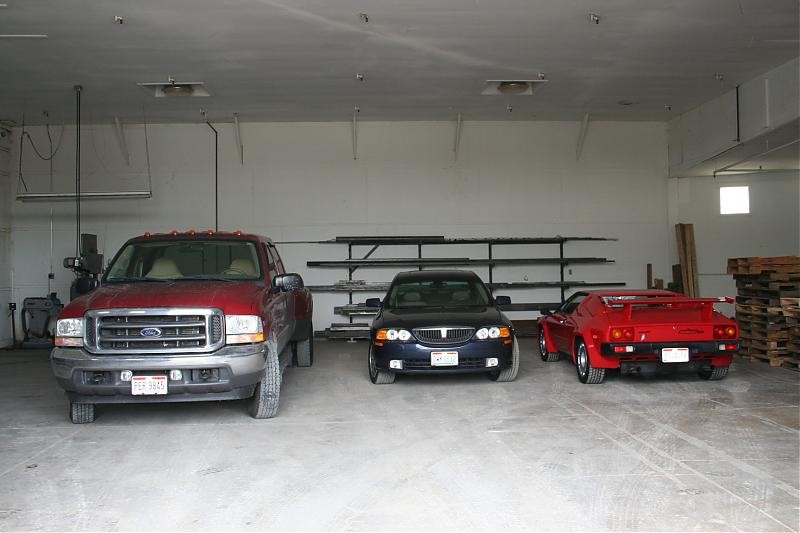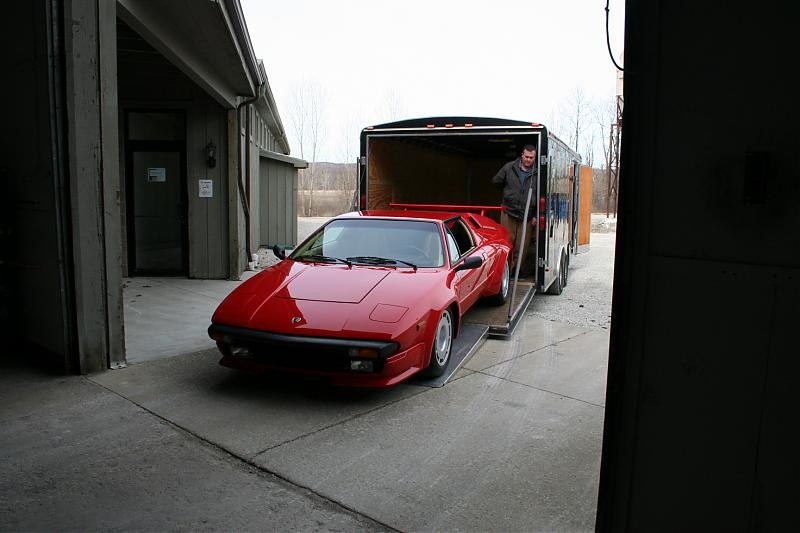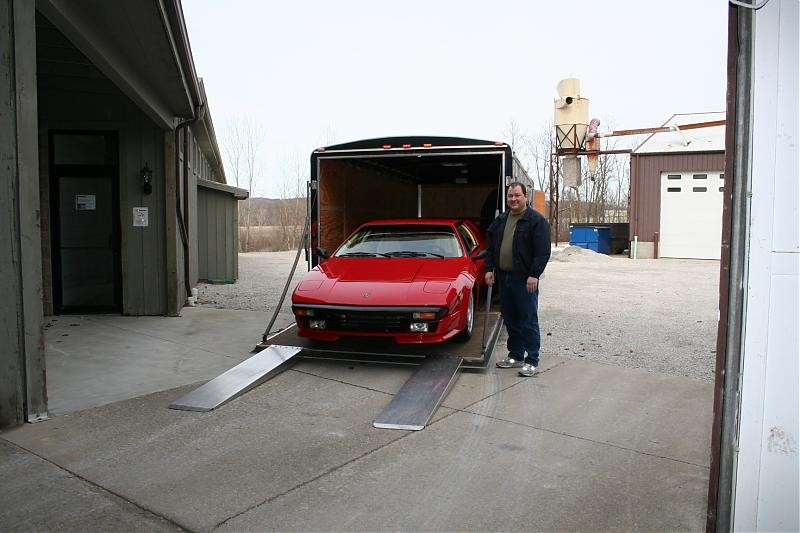 4-21-2008
For you guys and gals following this thread you probably remember my missing air filter box problem. I'm posting some pictures of the system I made, with some help from one of my friends, this past Saturday. Not sure if it's going to be permanant or not. what do you think?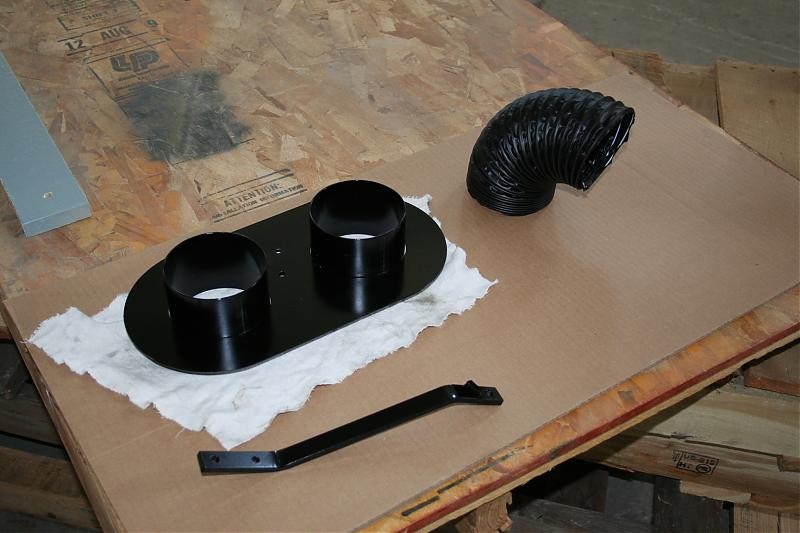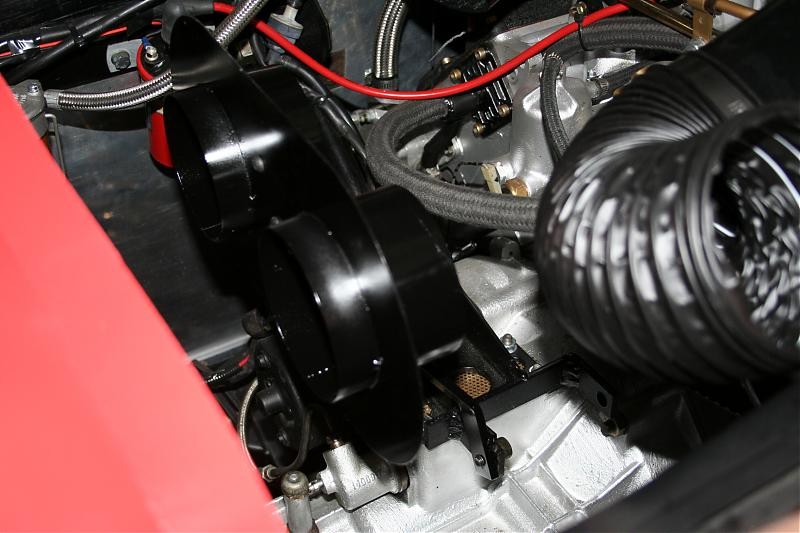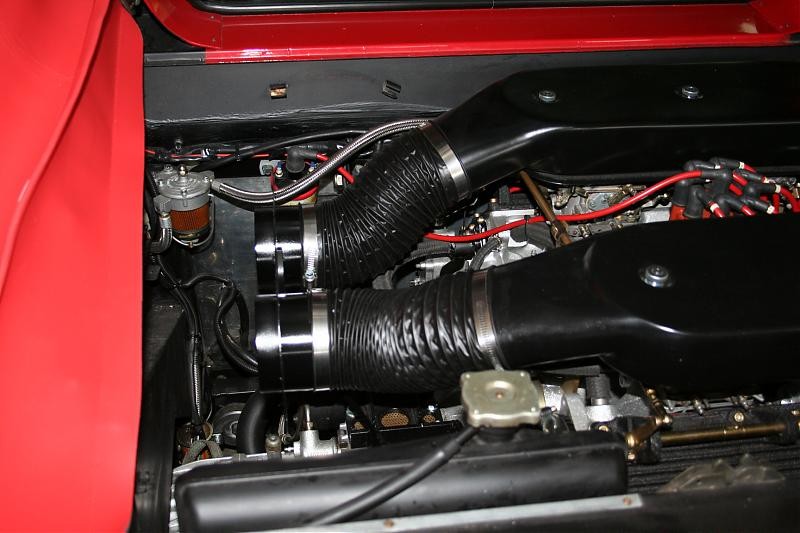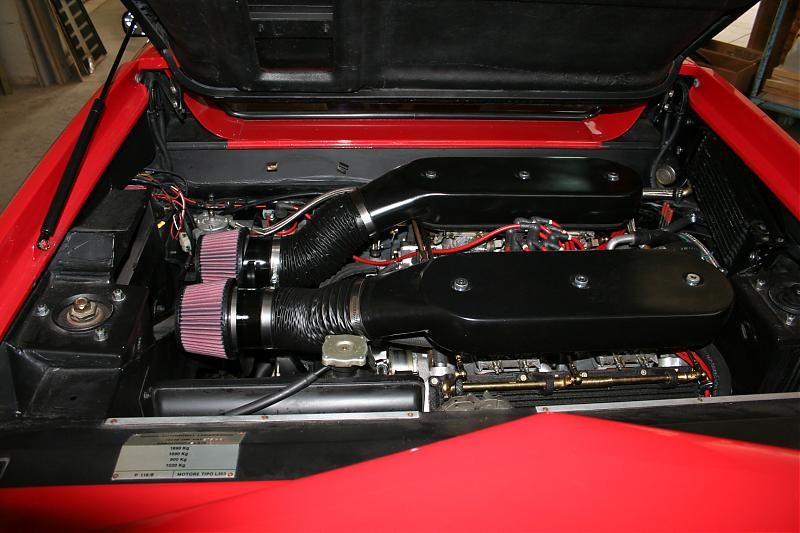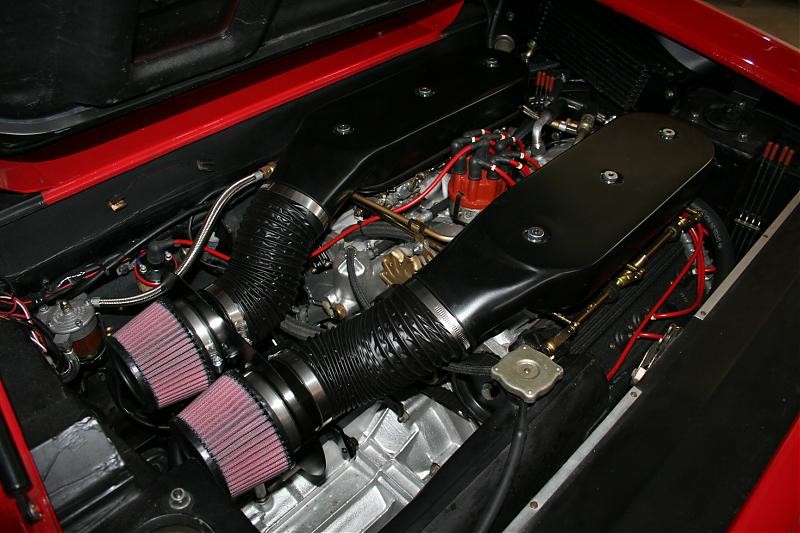 6-2-2008
Took my Jalpa back down to Evan's about three weeks ago. I Had a reaaaallllyy bad rattle in the front end. Sounded like it was about to fall off. He changed the front bearings. I need to get down to drive it around so they can tune in the carbs while hot. It was running a little rich when I first got it and it was loading up in town driving. Other than that I had George change the shifter seal and boot and the passenger side drive shaft seal because they were dripping oil. Note to everyone. You have to tell the service station to change the transmission seals while rebuilding the engine! I guess it isn't an obvious thing to do.

I'm enjoying the front license plates discussion. You guy's should check it out.
6-9-2008
I picked up the Jalpa last week. It's running a lot better. Still loading up a little when cruising street lights but I'm working on it. Evans replaced the front spindle bearings which stiffened up the ride quite a bit. I'll have to rebuild or replace the coil overs this winter.

The joy of owning a prior "Garage Queen"!

Anyhow, I'm really enjoying it! I can't stop grinning anytime I think about it sitting right outside my office door!

Im heading to Mid-Ohio Sports Car Course the last weekend of June for the Vintage Races. Anyone else going?
8-5-2008
Hi Stuart,

Congratulations on your purchase. Mine was a first also. I did respond to your question but evidently you didn't recieve the notice.

I'm refering you to Mike Hill's thread below. He is much more involved in his rebuild than I was. Review his thread for tons of information.

Mike Hill - "George gave me the following details. 55 ft lbs. which is 74.6NM MUST ME DONE IN 3 STEPS THEN REDONE 2 TIMES OVER 2 DAYS."

George is George Evans of Evans Automotive in Columbus Ohio. His shop built my engine and is seen in the video link below.

Mike's thread:

http://www.lamborghini-talk.com/vbfo...-rebuild-7823/

My videos on youtube:

YouTube - Lamborghini Jalpa first drive

YouTube - Lamborghini Jalpa Engine

Have fun with your Jalpa. It's great to see another one being cared for! Please Consider starting a thread of your own so we can all enjoy it.