Builds
My 04 D2 rebuild adventure by knightmetro
By diyauto
You must be logged in to rate content!
6 minute(s) of a 35 minute read
My 04 D2 rebuild adventure
Compliments of knightmetro @ landroverforums.com
3-6-2014
I figure I'd post up my rebuild adventure. I hope some can chime in and give advice from time to time, and of course I hope this may help others down the road trying to do the same.

I just had a 2004 Disco II SE delivered to my house today. Found it on local Craigslist and paid $2,000.

127k miles. White. SE. Heated seats, black leather. Exterior is in amazing condition. Only has one blemish on the pass fender and a headlight that needs to be resealed. Brand new tires. Paint and body are excellent. Interior is even better. Outside of one split in the leather on the driver seat bolster, the interior is a 9.8 out of 10. It even smells new.

I only wanted to spend $1,500 on it, but he threw in a free tow home, it's got a new water pump, new tires, and the full gasket kit new in box waiting for my rebuild. So in the end, I think it evened out.

NOW THE BAD.

The original owner was driving one day and noticed white smoke coming out the back. He picked up a complete head rebuild kit and tore it down to the block. When he got in there he found that it had a slipped sleeve. He put the car up for sale as-is when he realized the cost to repair.

Lucky for me all the work to get the car down to the block had been done. SO, next I'm going to yank the block out. I'll start calling around this week and get some quotes on getting flanged liners installed in the block, get the block tested for any cracks or pin hole leaks, and get the liners bored out to the OE pistons. New piston rings. Etc.

Then I'll throw her back in and rebuild it from the bottom up. Full clean up, rebuild the heads, fluid flush of all systems, and replace anything that needs attention to get it up and running like new.

I have a nice 2007 Nissan Xterra 4x4 that I'd like to sell and get rid of the car payments. So the Disco II is meant as a replacement that wont leave me with limitations of moving on from the Xterra. Well not as much cargo room, but more than able to handle Alaska just as well.

I've always wanted a Disco. I can't wait to get her back on the road and fix the few blemishes she has. I'm thinking $2-3K in the engine, a little paint work, and I'll have a cherry Disco to enjoy Alaska with and enjoy being debt free.

So that's me and my project.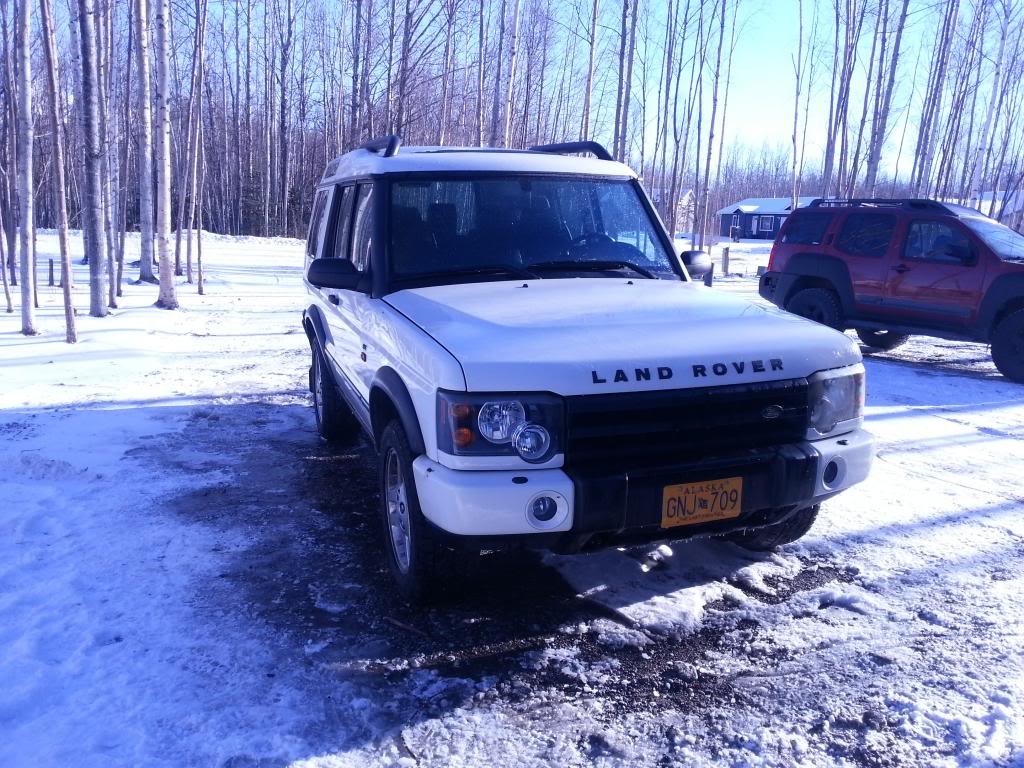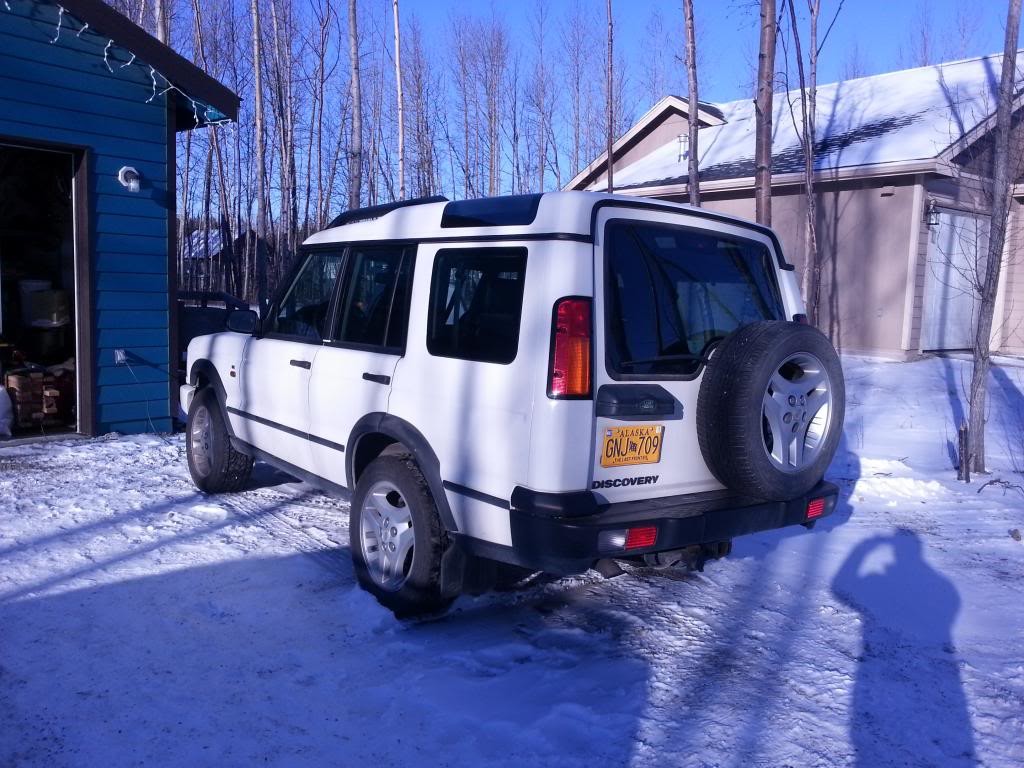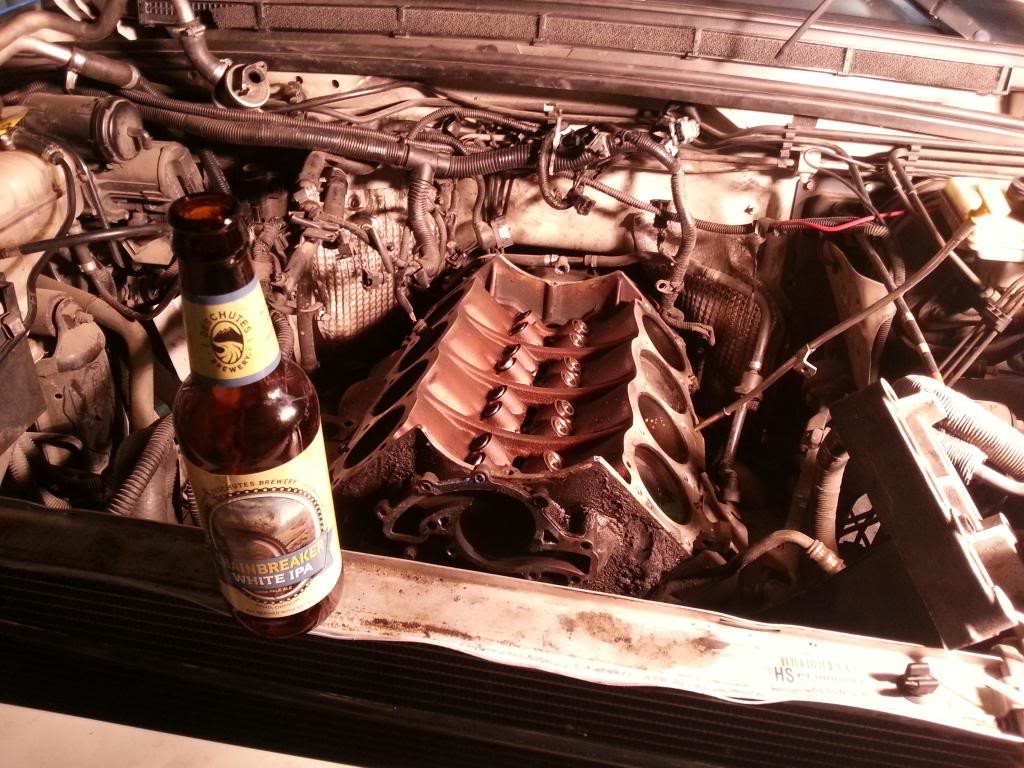 Spent the whole weekend tearing the bottom side apart so I can get the block ready to yank out. I got up to APR rental too late to pick up an engine hoist, so I'll have to wait till this weekend to pull it.

After a weekend under the hood I have concluded:

The thing is built like a tank underside in comparison to the Xterra. Especially when I had a solid front sway bar drop and break my nose. Lovely. I do now have some excitement to see how the D2 will enjoy the Alaskan experience.

The 2nd cylinder on the driver side is the one that seems to have slipped. But oddly enough, it's UP. It's just barely above the deck. All the rest appear to be flush and in OE placement.

No rust on the underside. Must have been washed regularly as well. BUT, the engine block and drip plate on the bottom are nasty. Caked. I'll change that. By the time the engine goes back in, the whole engine bay will be spotless.

That way I can see any leaks clearly after the rebuild.
MY plan for this weekend:

Yank the block. Rig up my DIY Lowes pressure test kit so that I can see if the block has any leaks or cracks in the coolant system. Pending that, I will move forward with rebuilding this block, or step out and buy a re manufactured and warrantied block from a supplier I found for $500.

Now, if the pressure test is good, I'll be rebuilding the block as follows.

Heat up and pull liners. Inspect and clean interior walls. Then I'll be pushing the sleeves back in and sealing them in place with Loctite 640 sleeve retainer.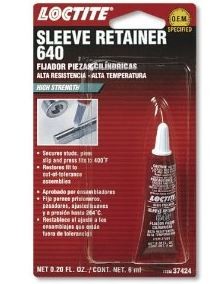 This stuff, just like the Permatex Sleeve retainer, is specifically made to hold things like cylinder sleeves in place. Good up to 400 degrees. BUT, I'll also be pinning the liners as well when I get them pressed back in just for peace of mind. I've already got the tap, screws, and safety wire ready.

Fingers crossed I don't have to order a new block.
I'm replacing all of the gaskets with new. I got a master kit for the top end from Victor Reinz that came with the car. I'll be ordering a complete gasket kit for the bottom end from Turner Engineering. I plan to replace every gasket I can get my hands on and the entire coolant system hosing as well.

Time will tell with the block. I know what to look for when I pressurize the system, but I wont know for sure until I get it done.

All speculation for now.

But if the block is bad, I've got the possibility of a guaranteed block for about 500. So I would weigh the cost of fixing mine, if cracked, vs just having a warrantied one shipped to me.

I should know what we are looking at by the end of the weekend. Then I can see where my $$ will be going.