GS400 2JZGTE Build in the Mitten State by solaradude
By diyauto
You must be logged in to rate content!
GS400 2JZGTE Build in the Mitten State
Compliments of solaradude @ www.clublexus.com
3-11-2014
Hey guys- I've been around on the forums for a while now, but have never actually been too involved as I've never owned a Lexus before- that is, until now. My name is Damon and I'm from Michigan. I'm known on most forums as CamryOnBronze, but that username was too long here. :lol:
Before I get into my GS project, here are a couple of my past builds:
'94 Toyota Camry- basic bolt ons like springs, wheels, front lip, carbon hood and trunk, exhaust, etc. This was my first car in high school about ten years ago: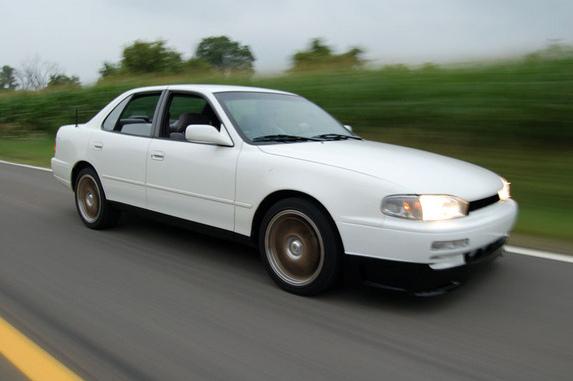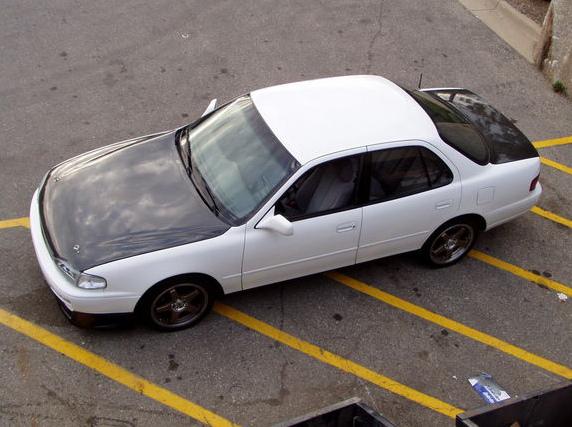 '99 Toyota Solara V6 5 speed- TRD supercharger with full JPP exhaust, Kaminari lip kit, coilovers, Gram Lights, black interior swap with Sparco seats, Rotora BBK, Defi gauges, etc. I love this car but sadly it was rear ended and rendered a total loss back in 2008.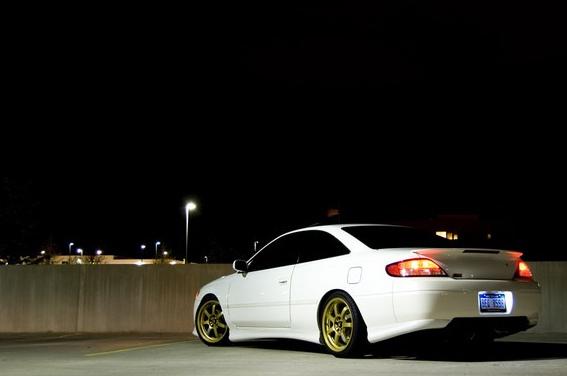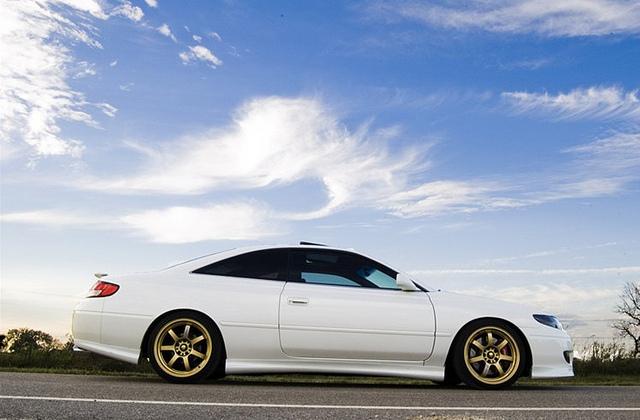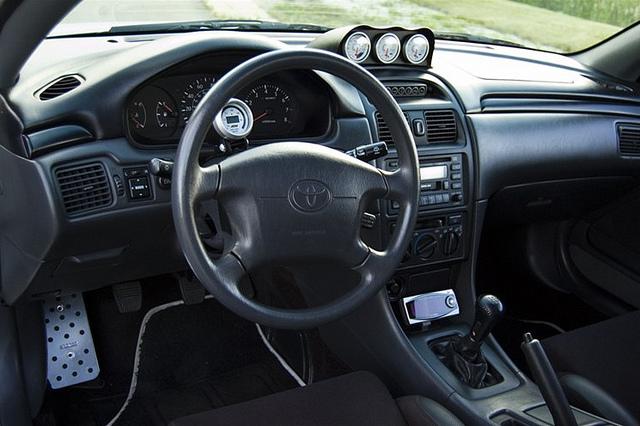 '93 S13 240SX: After the Solara was totaled, I built my S13 240SX. I was fortunate enough to have the car grace the cover of Modified Magazine back in 2010. This was my most involved project yet with a decently modified SR20 swap, shaved engine bay, and full kouki 180SX aero. I completed all of the work myself over a span of four years and was pretty proud to have learned so much over that time.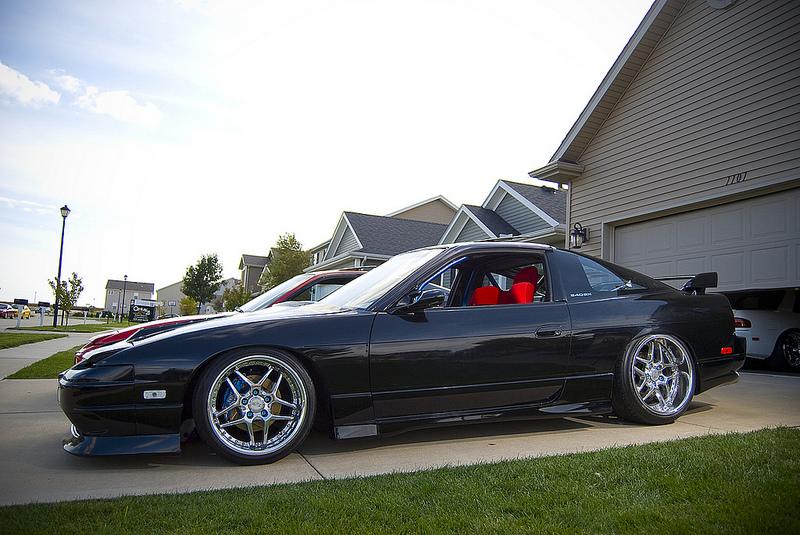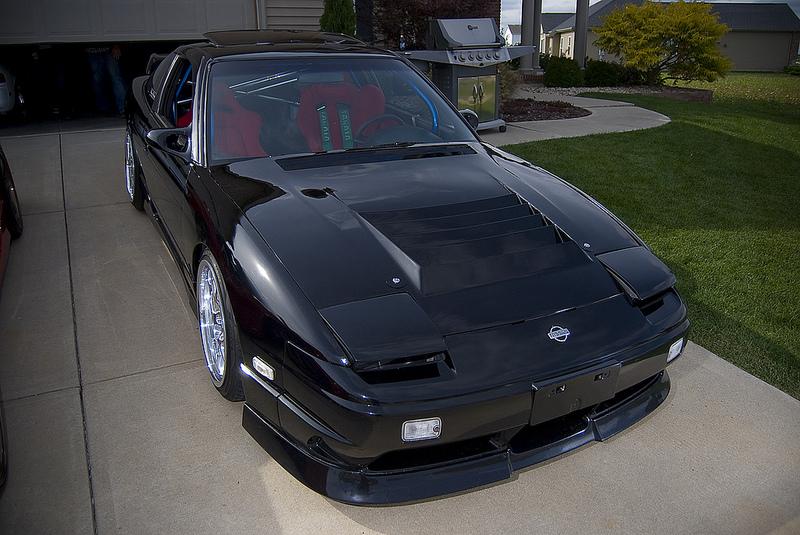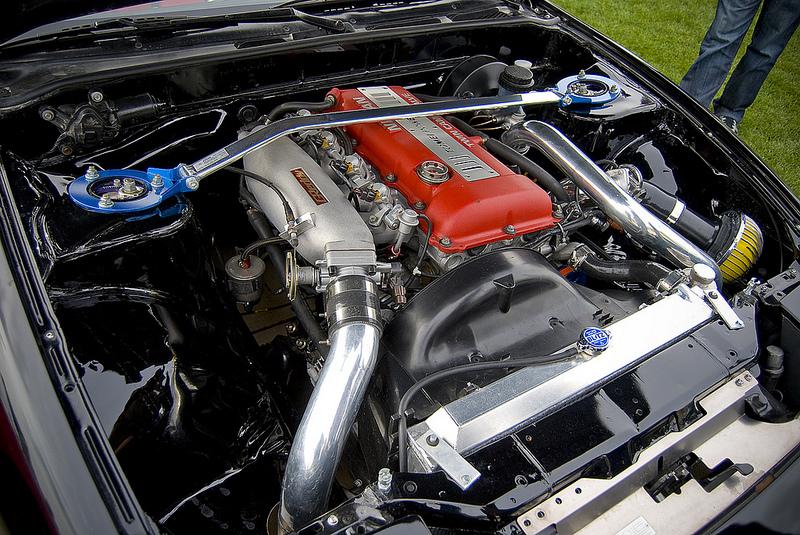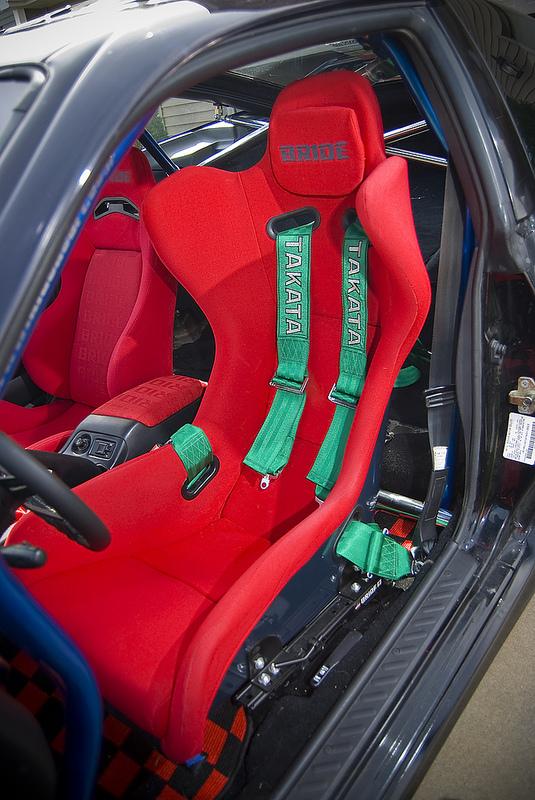 '03 Evo VIII: I decided to part out my S13 shortly after the birth of my first daughter. I wanted something I could take her and my wife to car meets in, so I picked up an Evo and did some work to that including ARC goodies, Tomei exhaust, and a host of genuine Voltex aero components partially funded by my time as a freelance writer for Modified Magazine (RIP):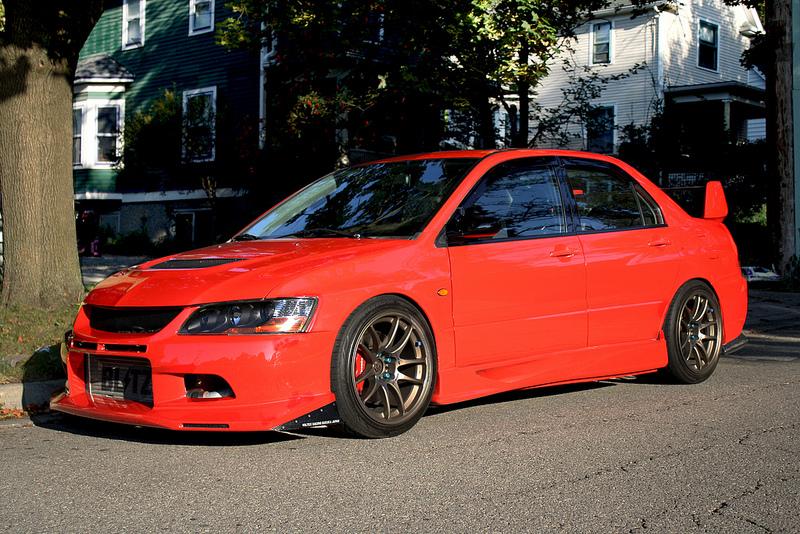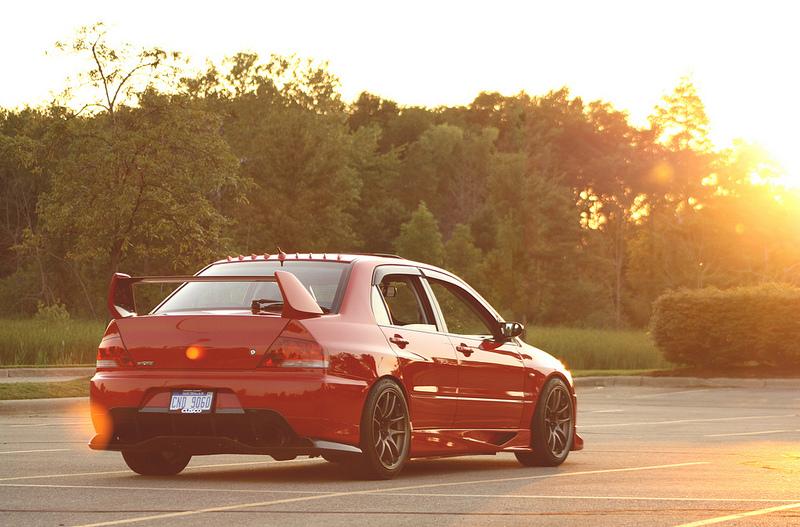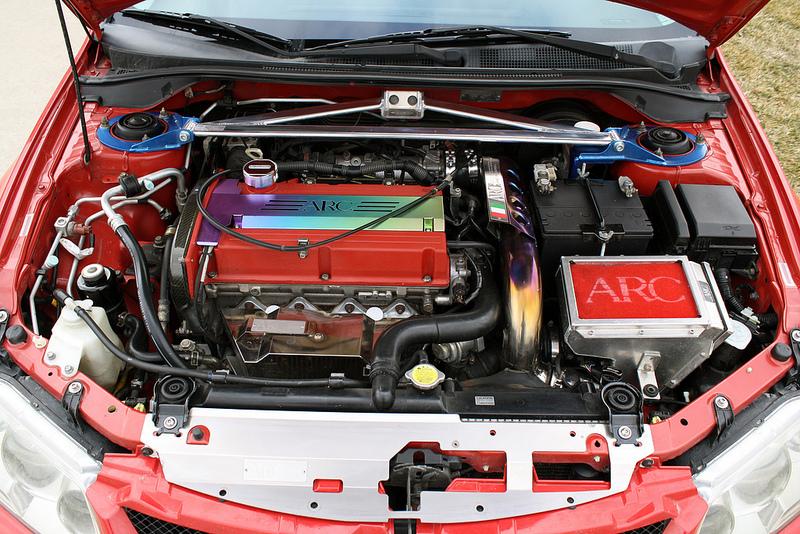 Even though I love my Evo to death, my wife and I are expecting our second little girl next month and I really want to buy her a nicer, newer vehicle for kid hauling duties. I decided to sell the goodies from the Evo and put it up for sale in order to buy her a new car. With some of the cash I had left over, I decided to take on a new project...
___________________________________________________________________________
Which finally brings us to the part you are most interested in- my GS build. I decided to pick up a 98 GS400 from a friend of mine. He bought the car at auction from Ohio in late 2012 with a blown engine. The car had dropped a couple valves, one of them contacting the piston. Not too surprising since the car had over 200k miles on it and was probably not well maintained.
Though it wasn't the color combo I was after, I was able to trade my wheels and tires from the Evo for the car, blown engine, and an MKIII Supra R154 transmission. The car itself is in decent shape. It definitely has its fair share of dings and the interior has seen better days. I hope to address that stuff all in due time.
Here's the car after I took delivery of it last Saturday: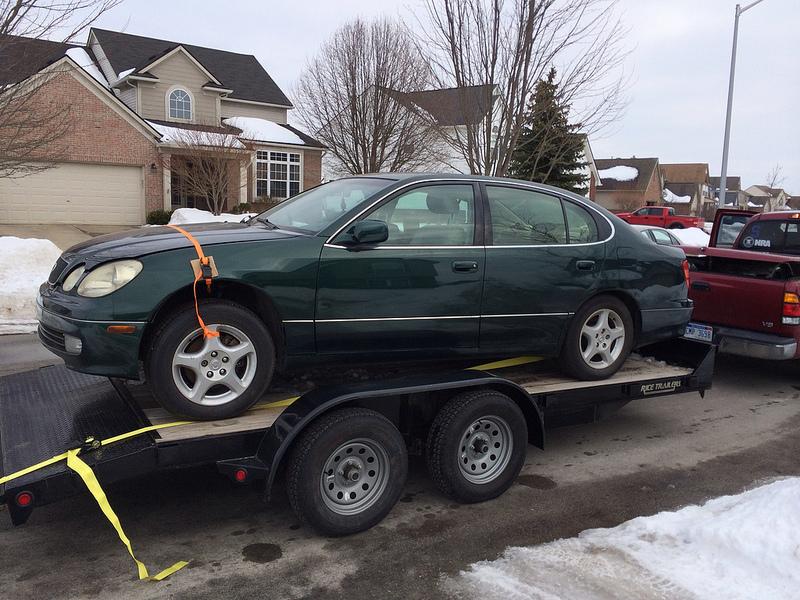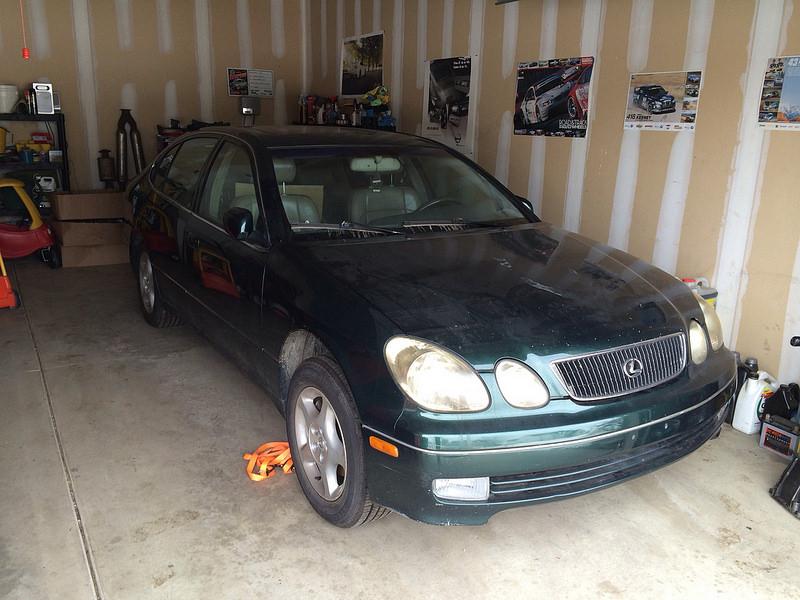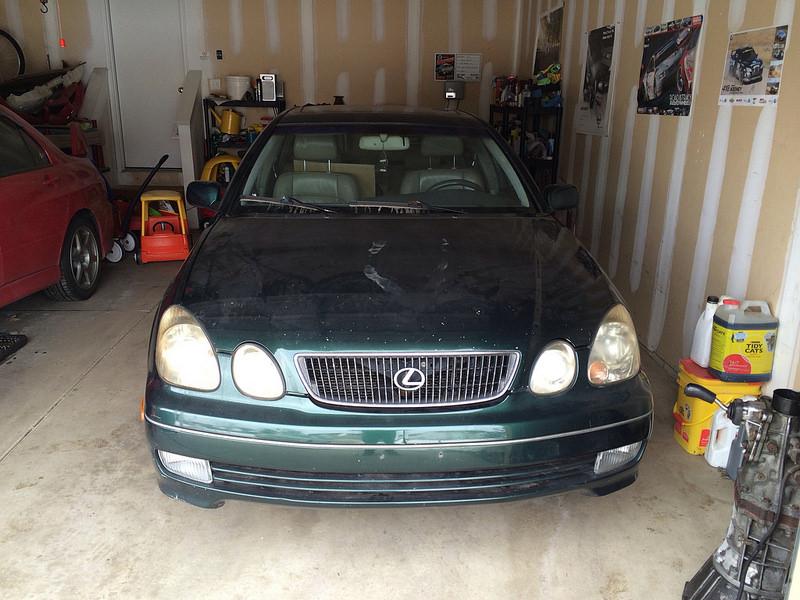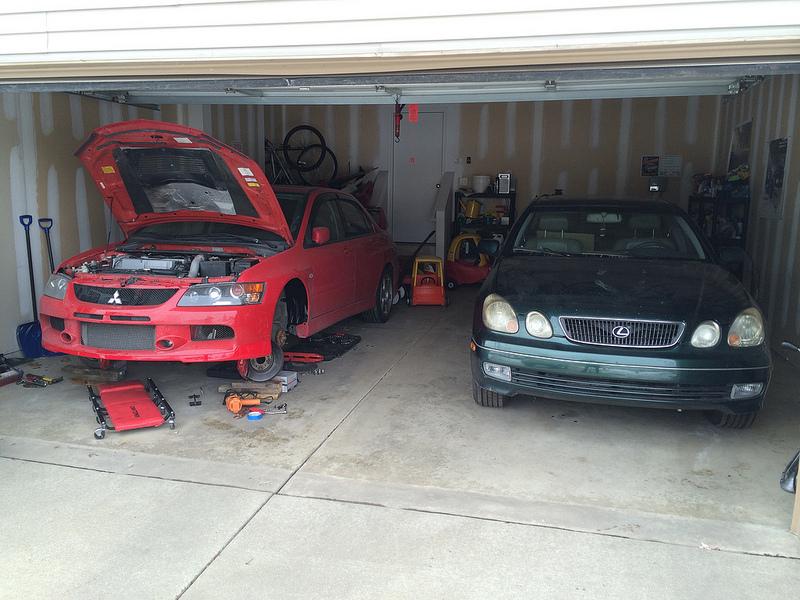 It's going to be a slow process simply because I don't have the free time I did before I had kids, but it should still be a fun build. I've placed an order for a few items needed for the swap including the engine, so I'll be updating this as items arrive.
It will primarily consist of parts collection for a while until I get everything I need, then I can really start to tear into the car. The plan is to run the Aristo 2JZGTE VVTi engine with the stock twins and ECU to start, along with the R154 swap and supporting modifications from Drift Motion. Once the car is running I plan to get into wheels, aero, suspension, and interior work.
Thanks for checking out the start of my build- hopefully I will be able to turn this into something awesome! I have already found tons of great information here. Seems like an awesome community!
Damon
Here are the goodies I have at the moment. Pleae excuse the iPhone photos- I'll use my DSLR as much as possible to document the build:
MKIII Supra R154 transmission. This will clearly need a lot of freshening up, but I plan to take care of all of that before it actually goes into the car. Lots of supporting drivetrain parts to order from Drift Motion to get this ready to rock.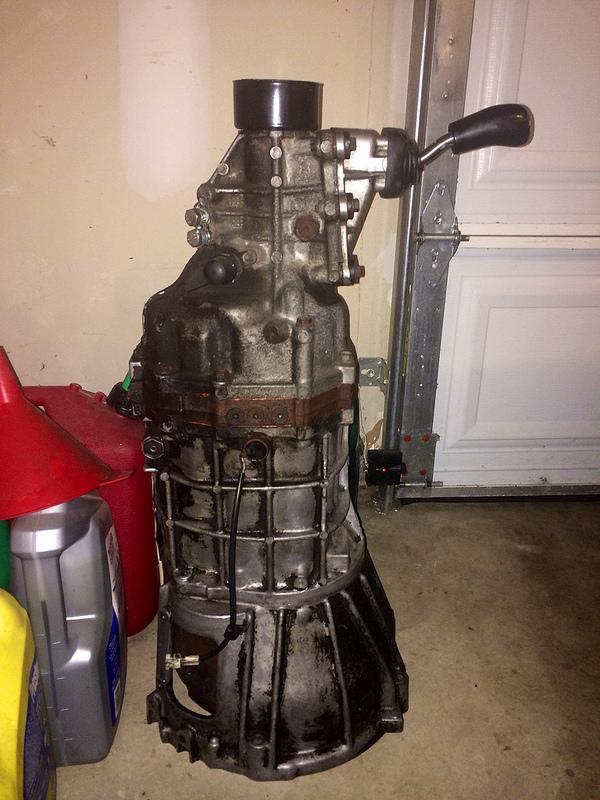 Exedy twin disc clutch for 1JZ. Got an awesome deal and I just couldn't pass it up. So the clutch/flywheel portion is out of the way: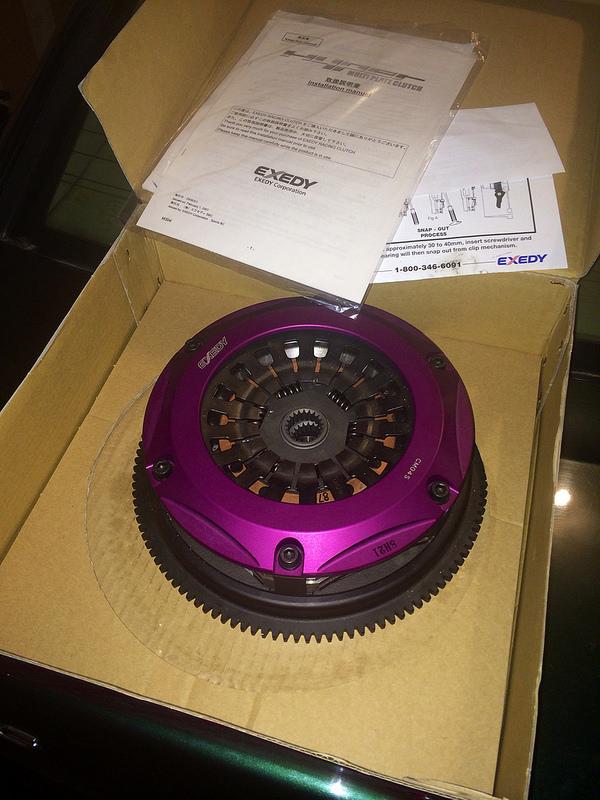 Aristo 2JZGTE swap with auto trans, ECU, and uncut harness: I ordered this earlier today from an importer in New York. When that arrives I can order some replacement items and spend some time freshening that up as well. It's going to take some time, but the extra work and cash should pay off when it all comes together.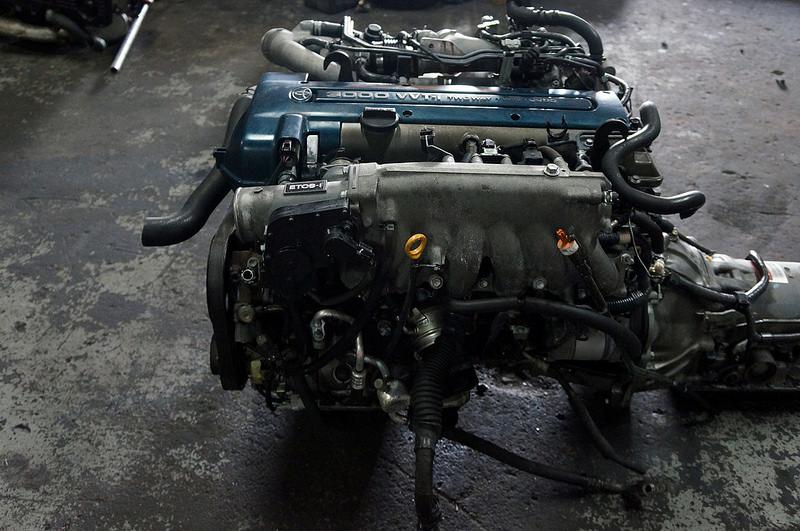 1JZ R154 Bellhousing: Ordered an OEM bellhousing to mate the transmission to the engine via eBay today as well, so that should be showing up next week too. Expensive day! lol
3-12-2014
I dropped some more cash this morning and ended up pulling the trigger on a black interior swap for sale here on the forum. I shouldn't be messing with the interior just yet, but I can't stand how dirty and worn my tan interior stuff is. I'll still have a couple missing pieces to source, but it should be fairly complete. Excited to get that all cleaned up!
I started removing the interior on Monday night to have some room to work on installing the clutch pedal and whatnot when the time comes. Now that I have a black interior on the way, I feel better about the things I took out. I'll have to follow through and remove it all now at this point:
Yeah... not so pretty.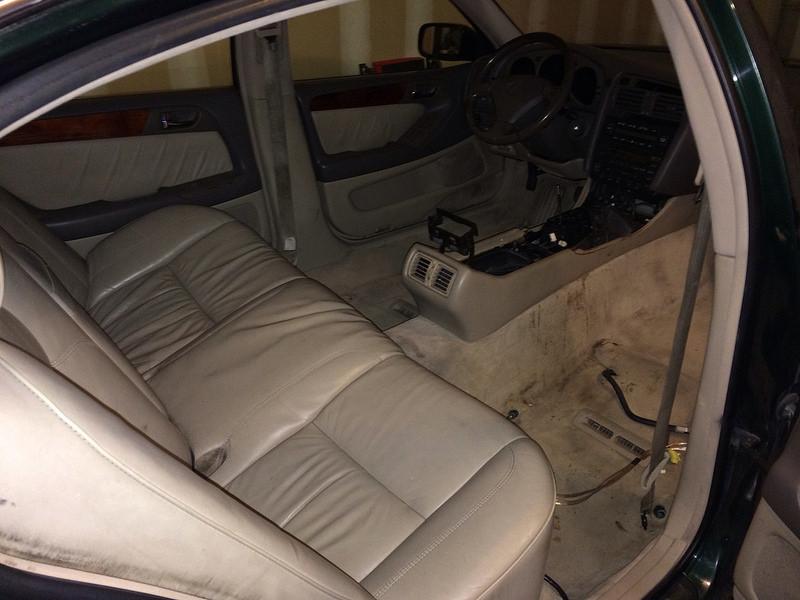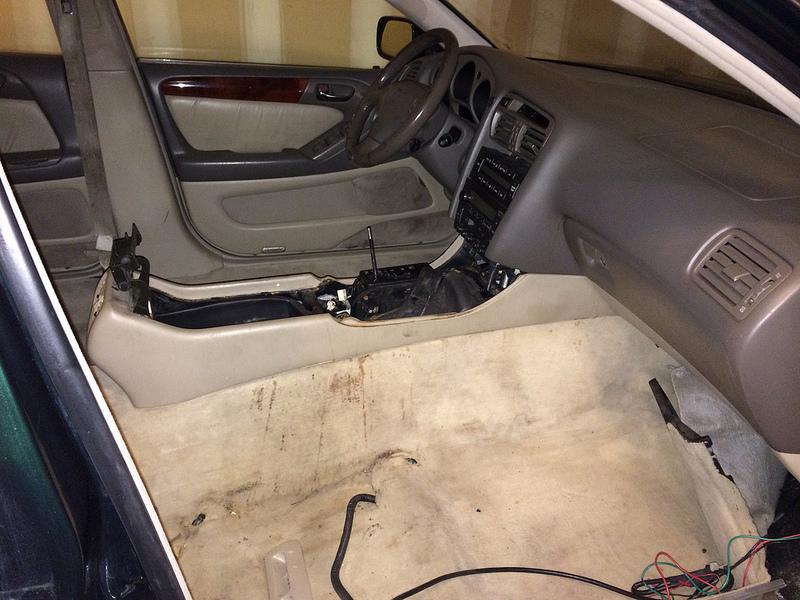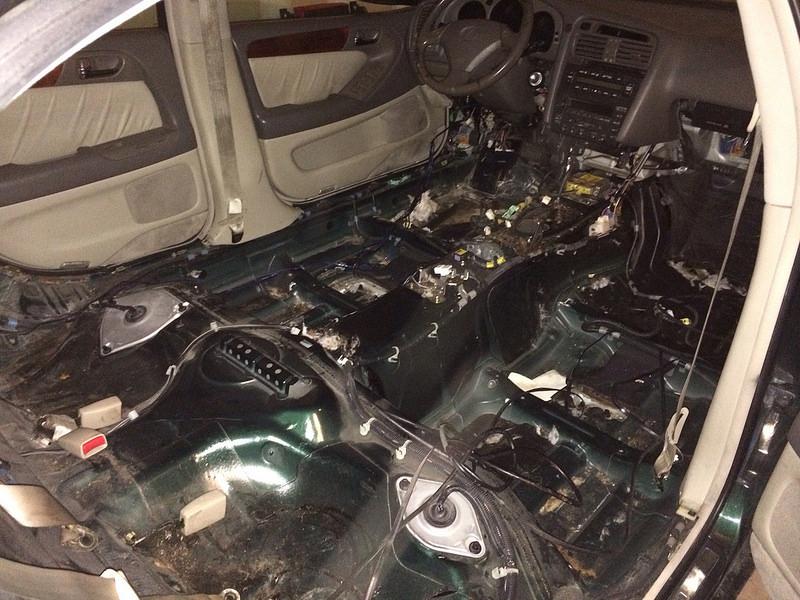 I also removed the automatic gear selector component- won't be needing that!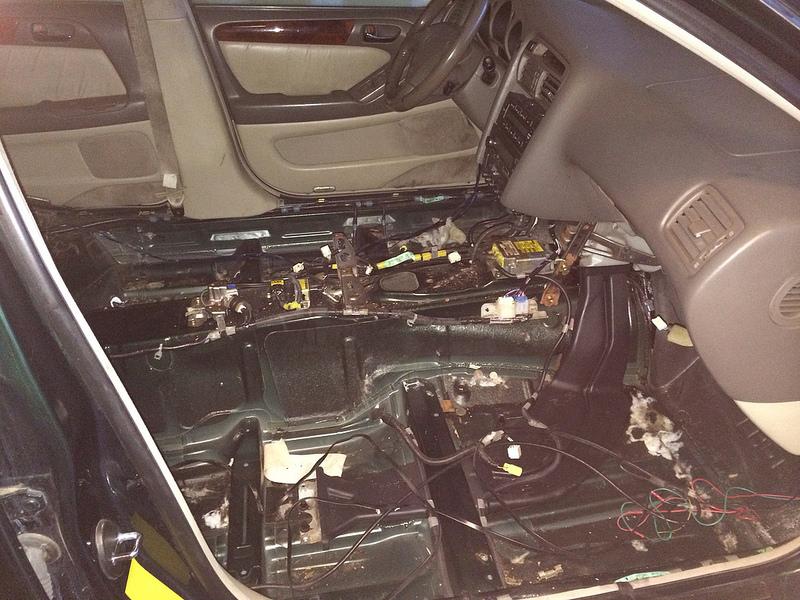 Looking forward to this looking far less gross in the coming weeks!
3-14-2014
Not much to report here. I ordered a Hyper Rev on the Aristo for some inspiration, as well as the MAF sensor for the swap. There's a chance the engine could be here today according to the tracking, but my guess is this stuff will all start to pile in next week. Hoping to work on getting the car on stands this weekend!
I'm not getting into exterior stuff much yet, but I do want to run an Aristo front grille. Anyone have any tips on tracking one down? Most of the ones I find are for the first generation. Is this a tough part to track down these days?
3-17-2014
Not a ton of progress this weekend. Removed the hood, pulled the fender liners, and removed the front bumper. Bumper, headlights, and hood are all in kind of rough shape. It's hard to ignore that stuff, but I just have to tell myself it will all be addressed in due time. I also removed the bumper crash beam to make room for the intercooler.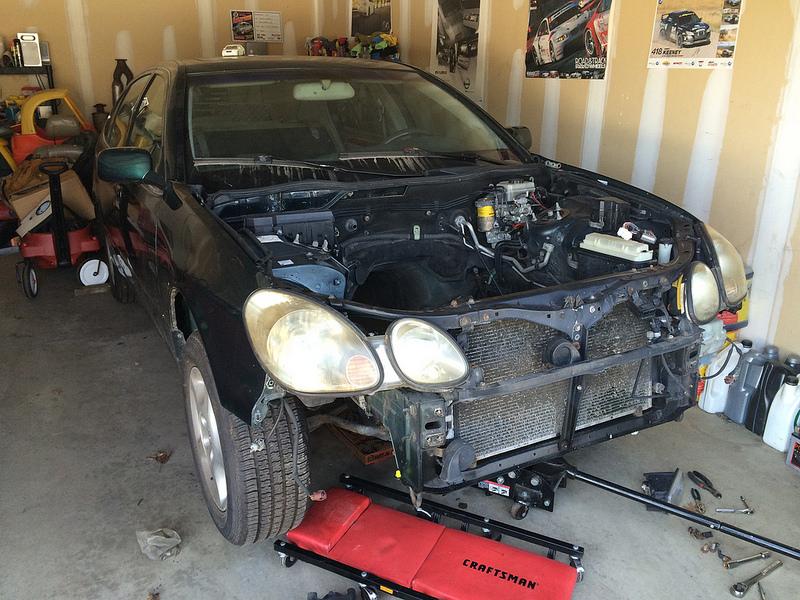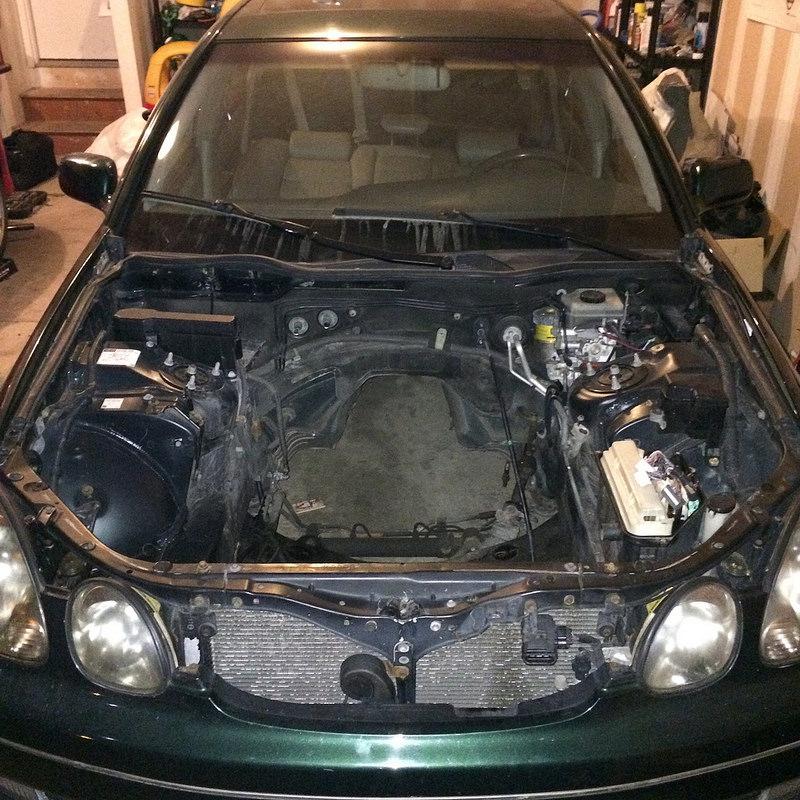 I sourced some other interior pieces I need for the black interior swap as well. Spending a lot of time doing my research, deciding which pieces I want to go with, and getting them ordered at the moment. Should be a lot of goodies arriving this week including the engine, so stay tuned!
3-18-2014
Very cool! Kids are a blast, as crazy as they can be. I'd love to upgrade the turbos down the road for sure. I've really been debating doing it all at once to avoid more fabrication work later, but I am not sure I'll have the funds. I want to be sure the car runs and drives first and then go from there. I'm really excited for exterior and suspension mods as well, so it'd be nice to take care of some of that stuff as well.
___________________________________________________________
Made a little bit of progress last night and over the weekend. My Toyota 1JZ R154 bell housing arrived yesterday: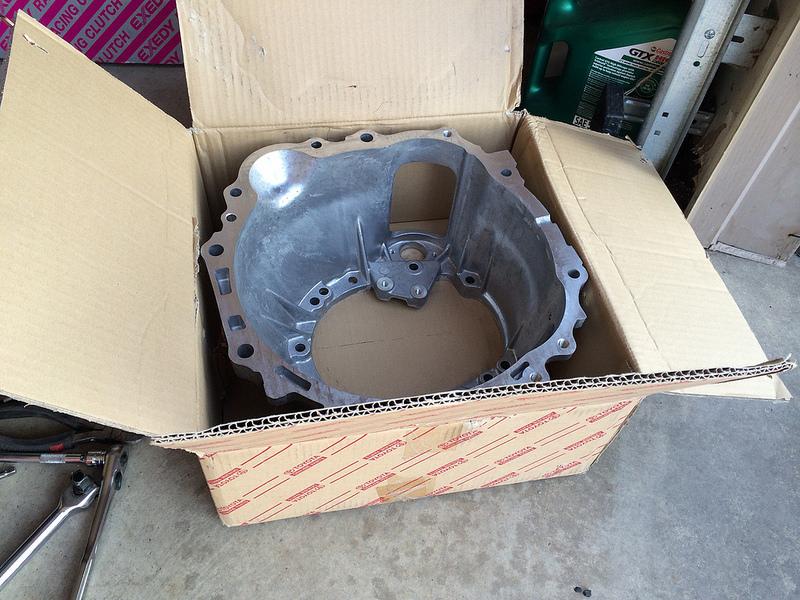 One more photo of the clutch: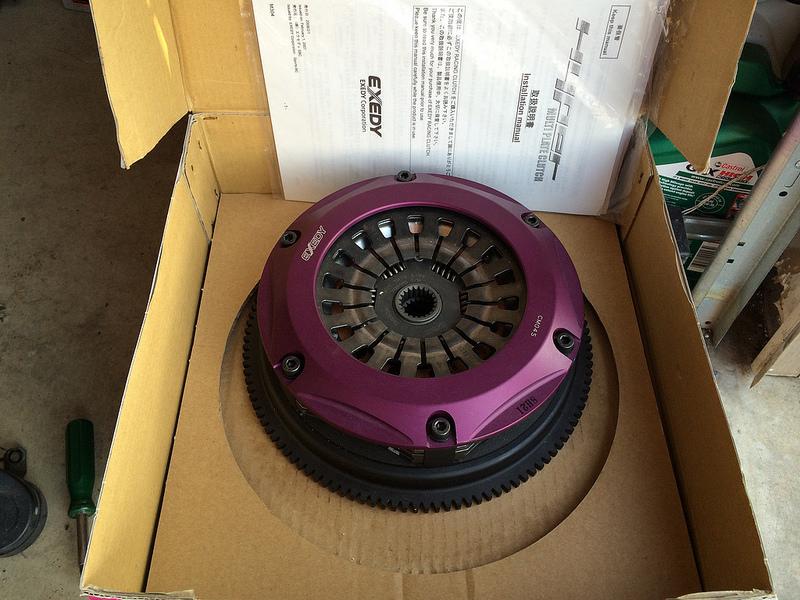 I removed the front bumper, crash beam, core support, A/C condenser, and headlights to make myself some room to work. The headlights and bumper are in pretty rough shape. I'll have to address that stuff later, but the priority is getting the car running for now.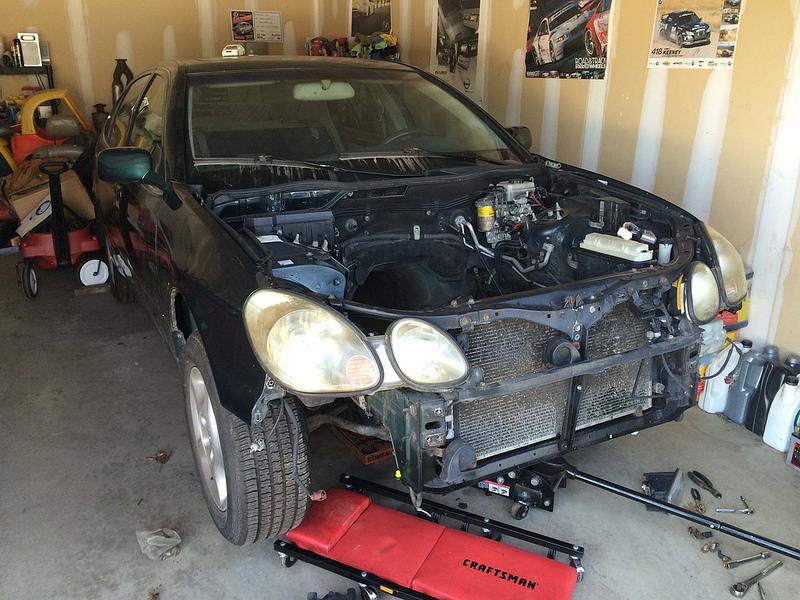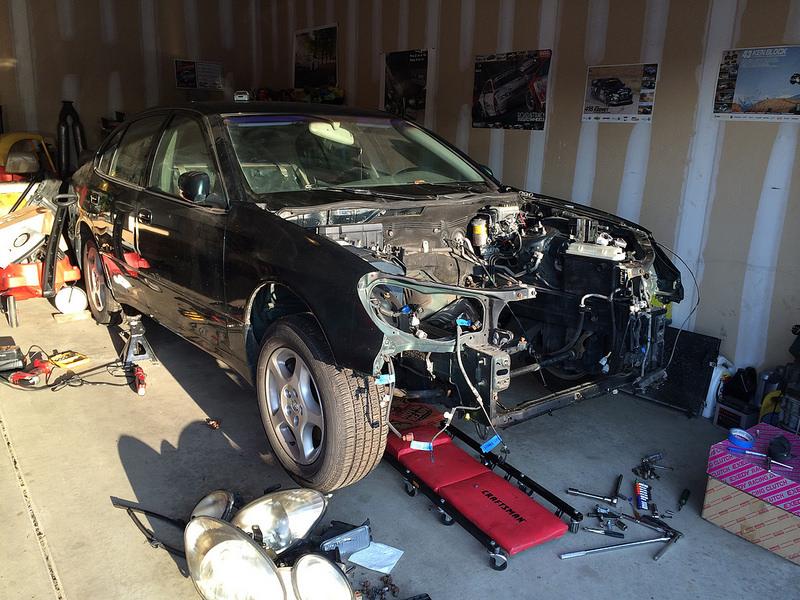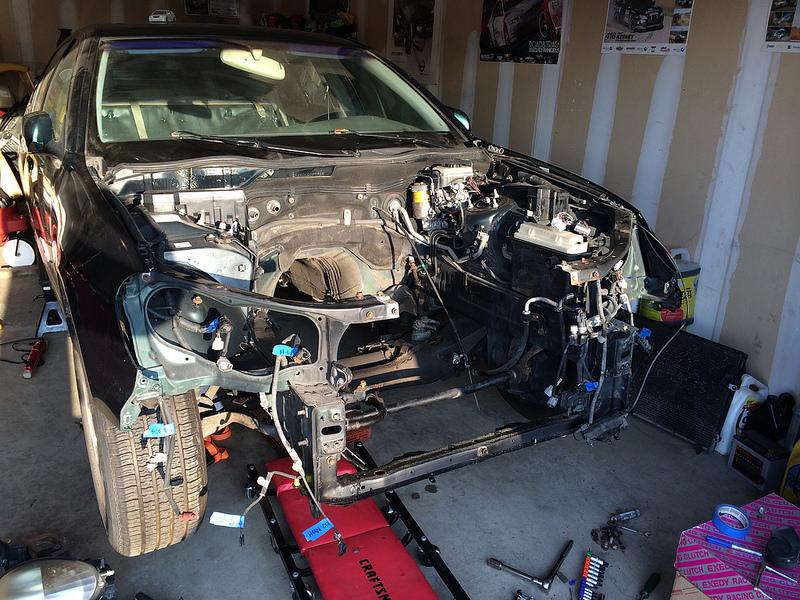 I also worked a bit more on taking the interior apart. I'm hoping to have the dash removed soon to free up some more space for the clutch pedal and master cylinder install.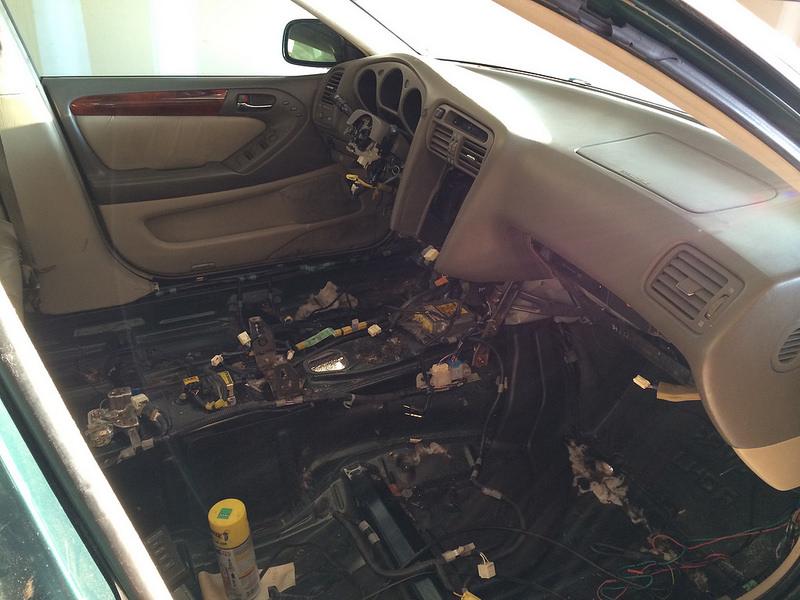 I picked up a package with most of the black interior swap from Greyhound on the way to work this morning. Still waiting on the headliner, door panels, and some other miscellaneous items I need to convert it all to black interior. Still a couple items I need to track down, but no big rush there.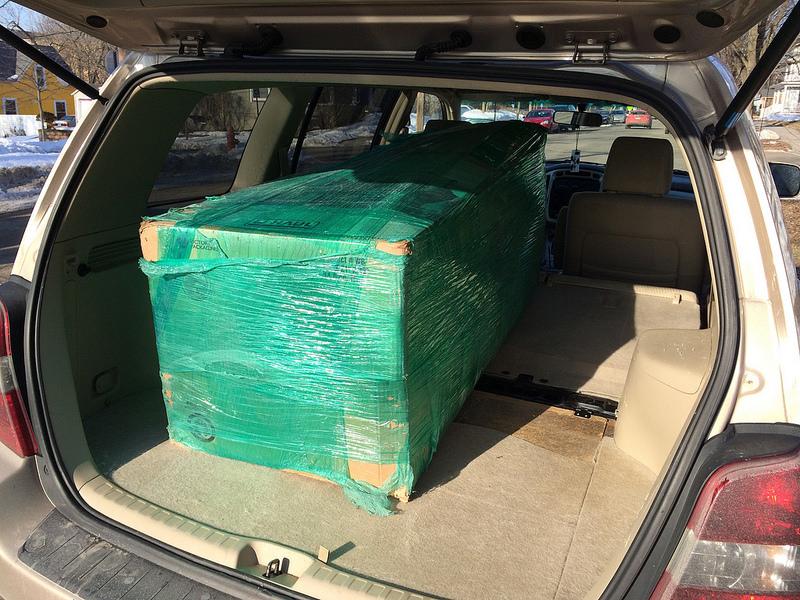 My engine should be delivered today, so I'll have pics of that soon! My garage is going to be a mess. lol
3-19-2014
Pretty fun day yesterday. Here's what went down...
I stopped at the post office on the way home to pick up my Aristo Hyper Rev for some inspiration: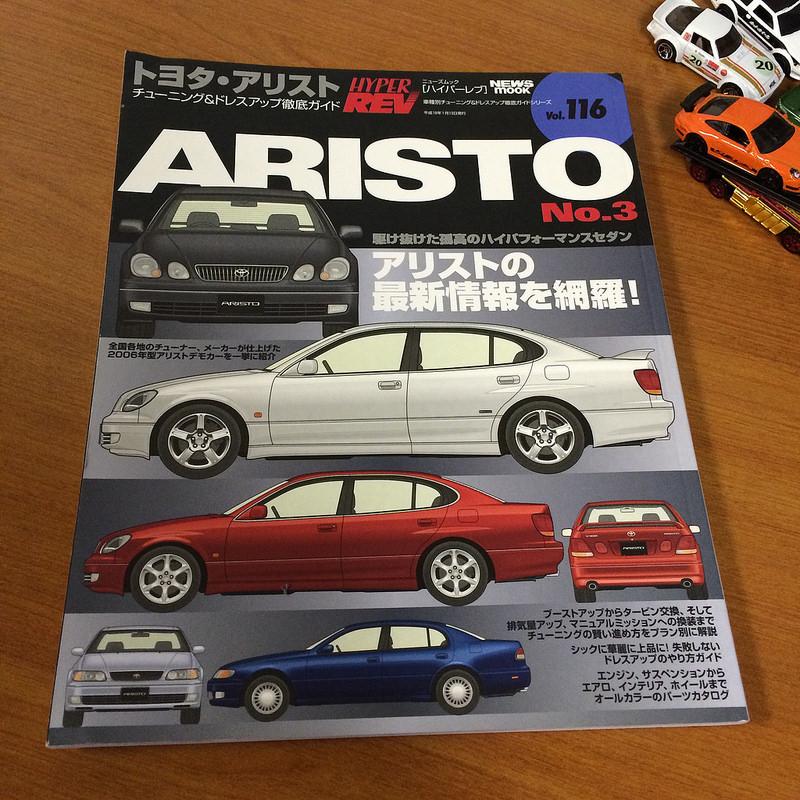 When I got home, I saw that my MAF sensor arrived for the swap. The engine I bought didn't include one, so I grabbed one from eBay. Would love to ditch this someday, but it'll have to do for now: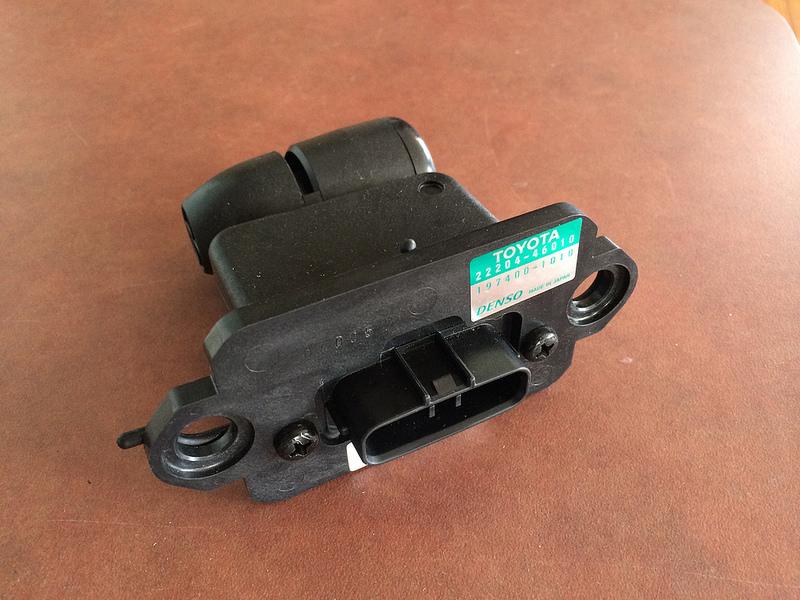 Just after I unloaded the black interior and opened my mail, the truck arrived to deliver my engine: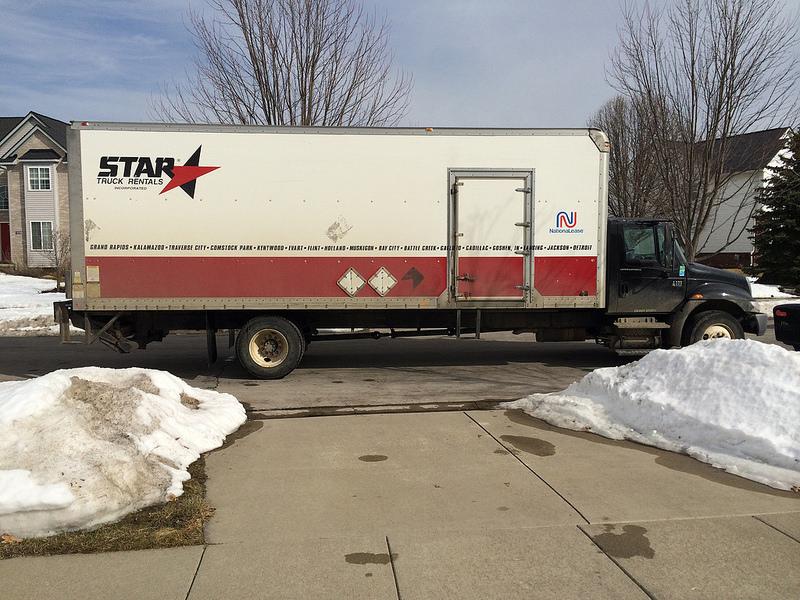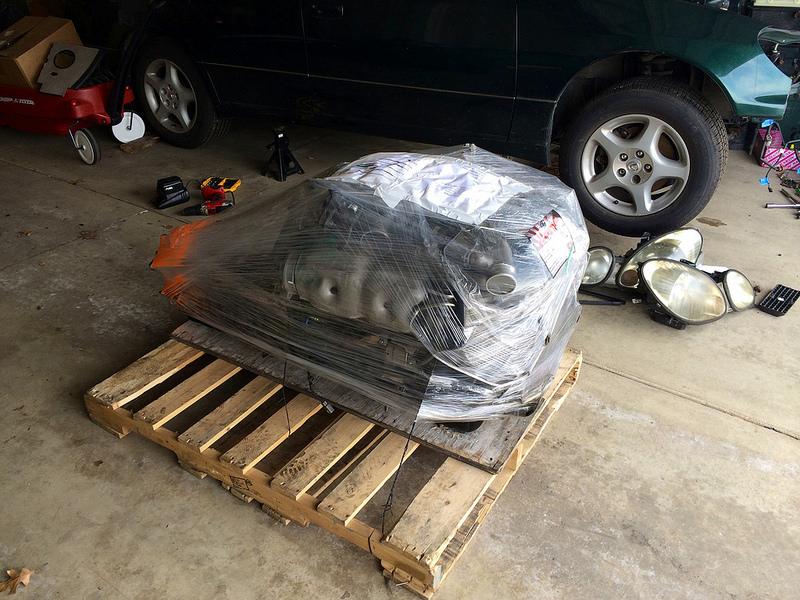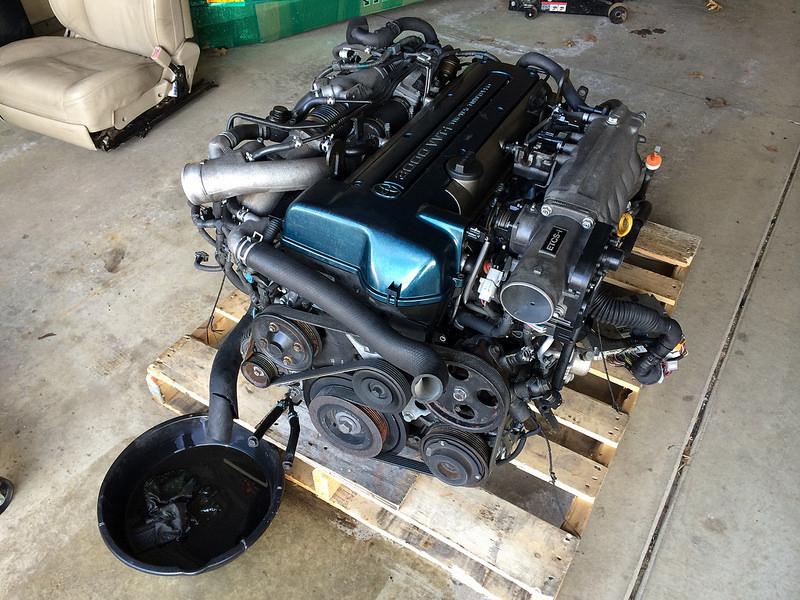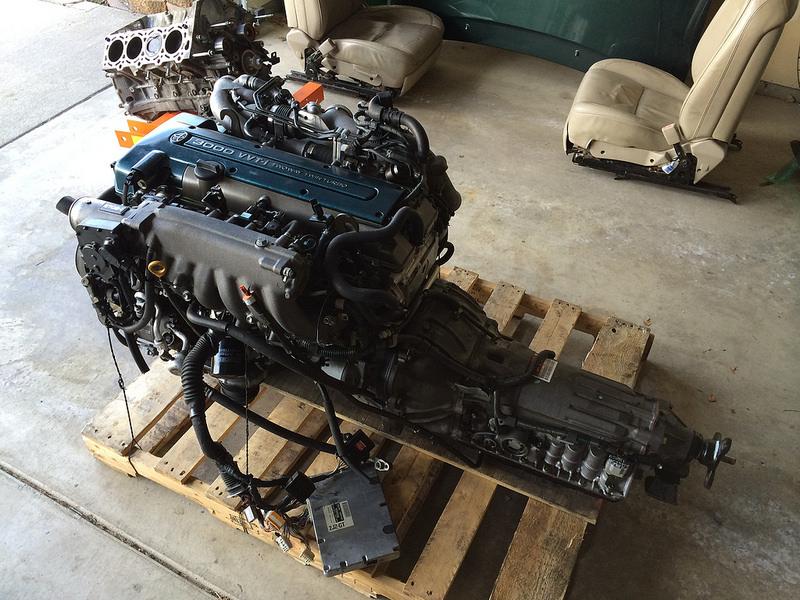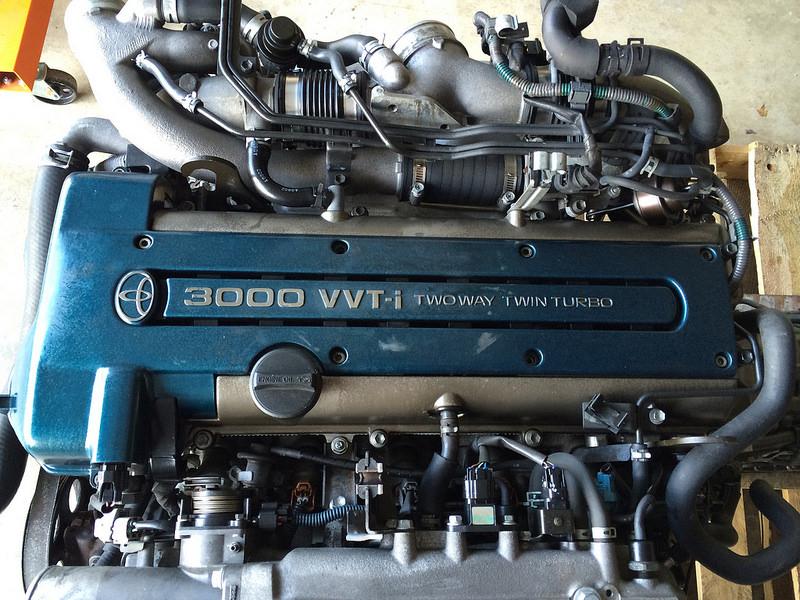 Someone came over and bought the 1UZFE to make a coffee table with, so I was glad to have this stuff out of my garage: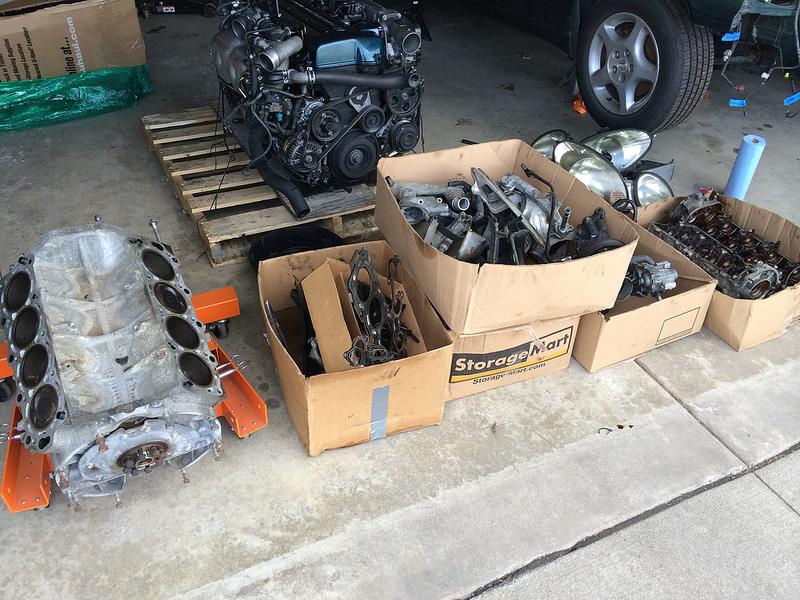 After the engine excitement was over, I spent some more time unpacking the black interior components and removing all of the tan items from the car. I'm happy to report that the interior is almost completely stripped. I have the dash, carpeting, door panels (on the way), rear trim, and A and C pillars for the conversion, but I still need to source front and rear seats, a couple missing seat belts, and a steering wheel to really complete it. At least I'll be able to get started on it and collect the remaining items as I go.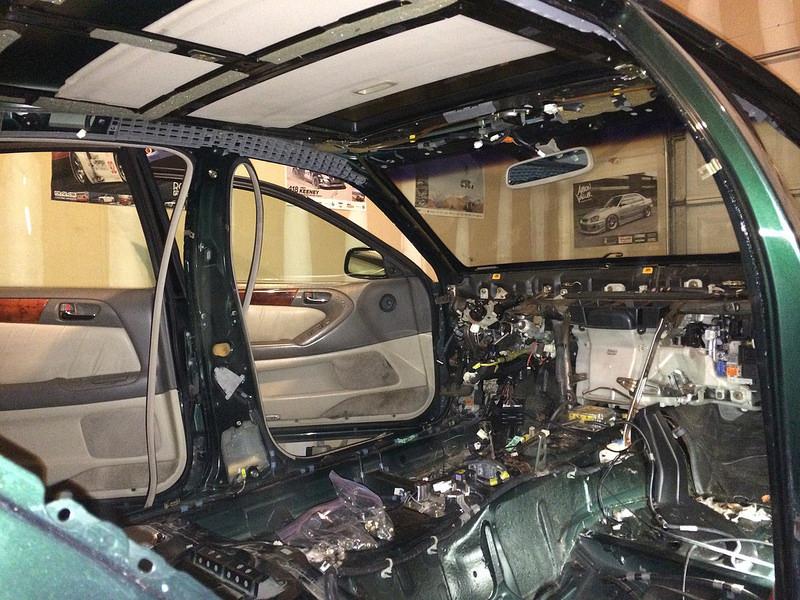 My garage is in shambles at the moment. Hopefully I will have some time to get this cleaned up soon so that I can put my wife's car back in the garage, lol.

If anyone has a black rear seat for sale, please let me know!
3-21-2014
I've made a decent amount of progress on the car this week. I don't typically have this much time to spend in the garage, but everything has been falling into place and I've been sacrificing some sleep in order to wrench on the car.
I finished removing the complete interior from the car. Last night I pulled the emergency brake assembly from the driver's footwell area since I will instead need to install a clutch pedal there. I'm not sure how I will address the e-brake just yet, but I'll have to come up with something custom to allow it to still work.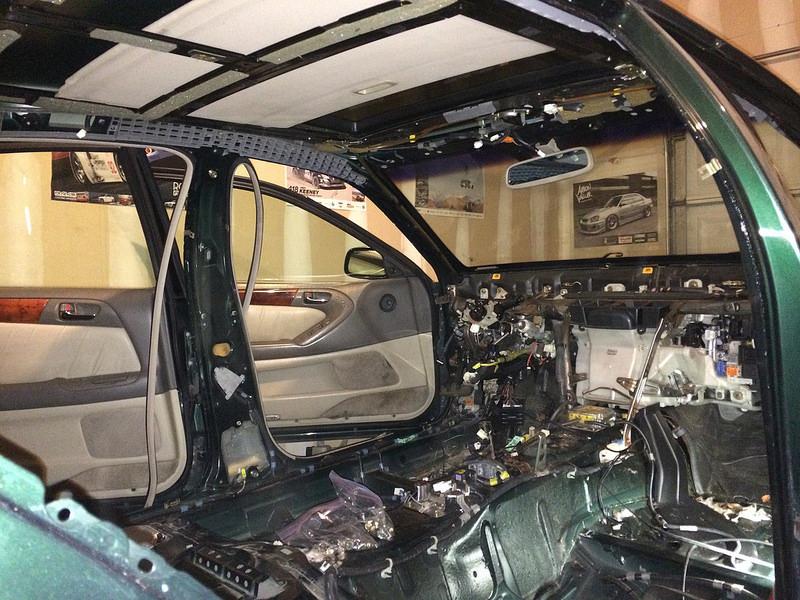 My black door panels arrived yesterday and are in great shape. I was planning to install those last night, but the wood grain trim is bothering me. I'm going to drop the trim off at the body shop to have it sprayed gloss black.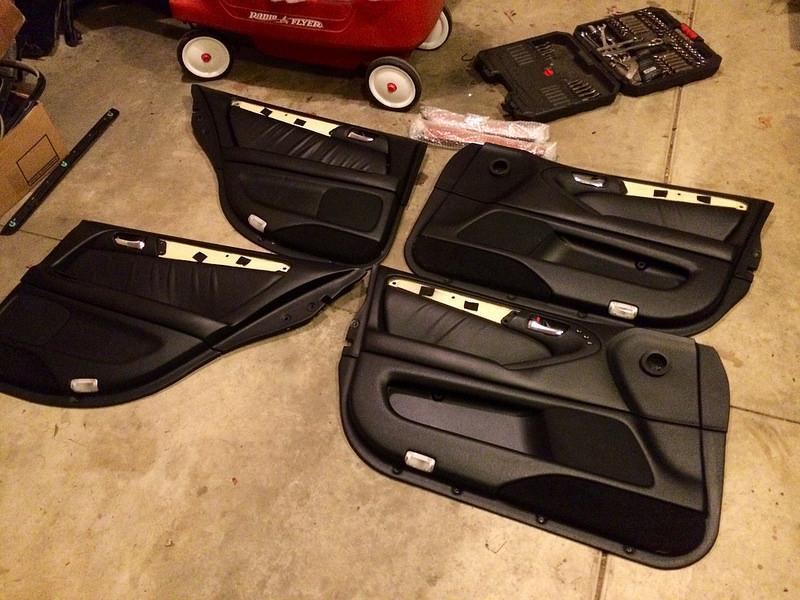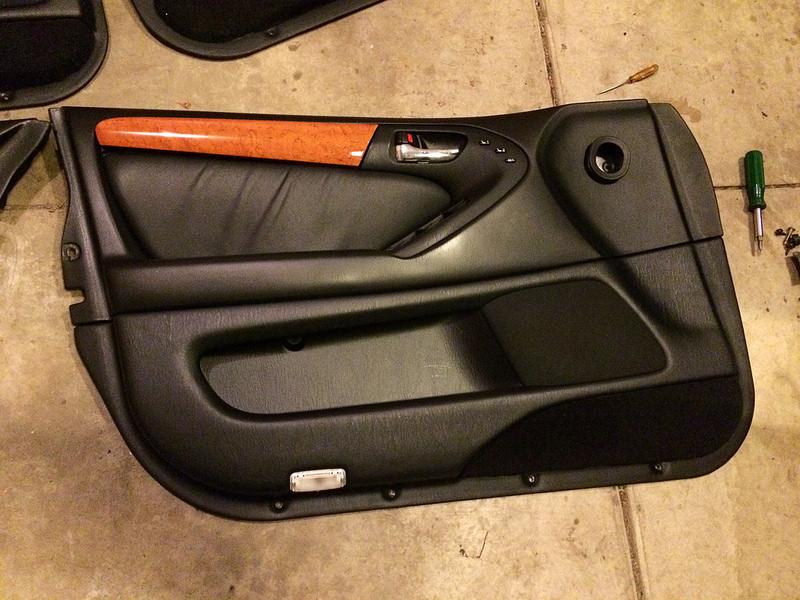 Here's the interior as it sits currently. I'm still waiting on a number of items to arrive next week, as well as some SEM black interior paint that my friend Toby hooked me up with. It will probably be a little while before I can put it all back together since I want to have the dash out of the way for the clutch pedal/master cylinder install.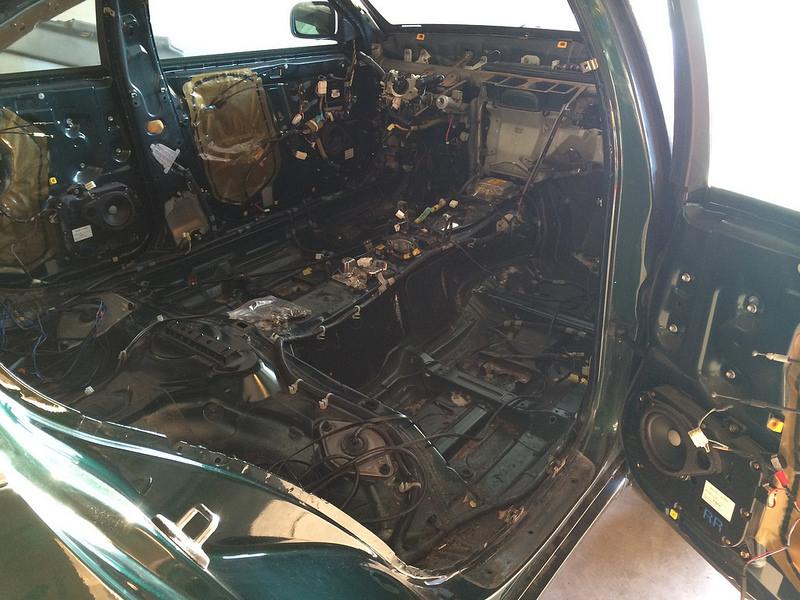 The car is equipped with some sort of aftermarket security system that doesn't appear to be installed all that well. I didn't get a key fob or anything with the car, so my plan is to remove all of it. It looks like a bunch of aftermarket audio stuff was wired in at some point too, but some of it was already hacked into when I got the car. I'm planning to eliminate that stuff as well. Audio stuff is always pretty low on my radar. While I enjoy having music to listen to in the car, I'll worry about that later.
Here you can see the area where the emergency brake has been removed and where the clutch pedal will reside, as well as the rat's nest of security wiring that needs to be taken out and disposed of: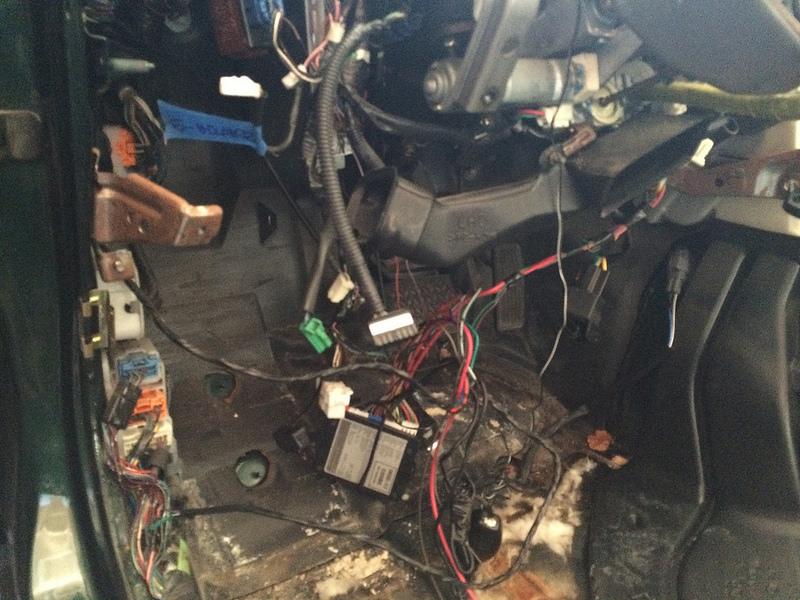 Assembly removed from the car: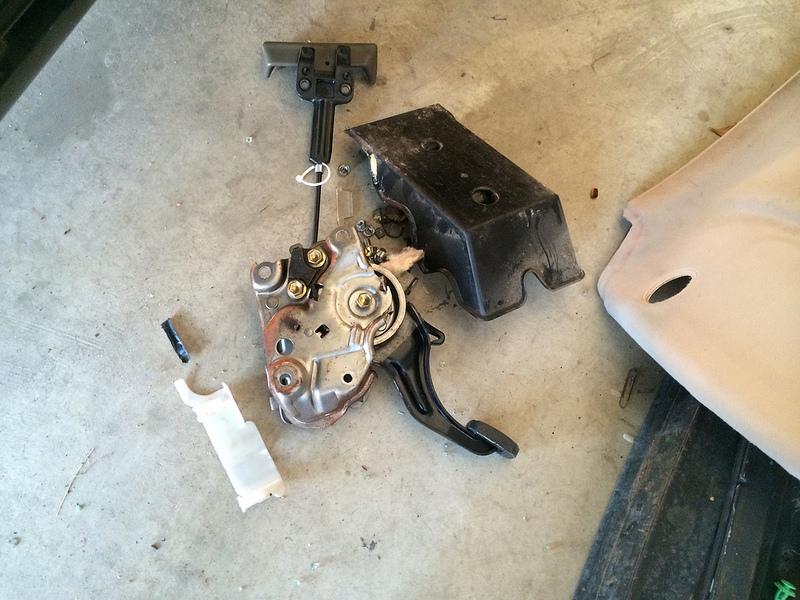 After doing some interior work last night, I removed the automatic transmission from the engine. I still need to pull the torque converter, but this is my first time messing with an auto transmission. I'm not exactly sure what I am doing, but I'll figure it out: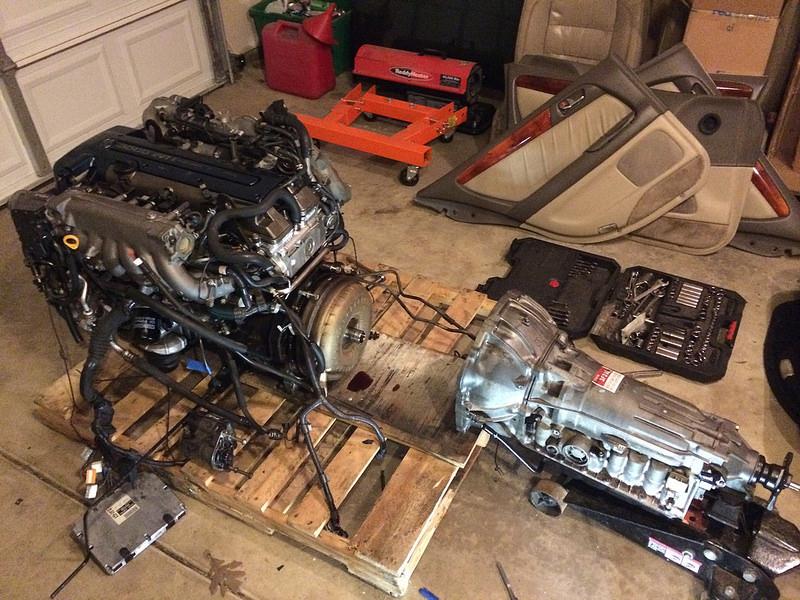 I also had a chance to remove the old pressure plate and bellhousing from the R154 transmission. This thing will need a good amount of TLC before it is ready to be installed, in addition to a shifter extensions to line up with the hole in the car's interior: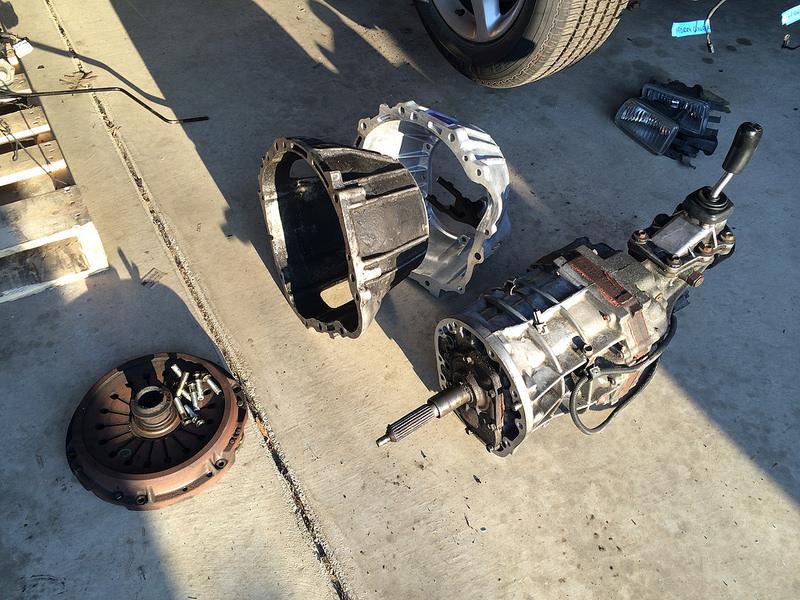 I ordered a number of items for assembling and installing the drivetrain from Drift Motion, so those should be here by the middle of next week. That includes the Supra clutch pedal, master, slave, and clutch line. My hope is to work on finding a way to get that stuff into the car shortly after it arrives.
3-27-2014
I found a Toyota Aristo grille that was in pretty good shape on eBay, so I had to scoop it up: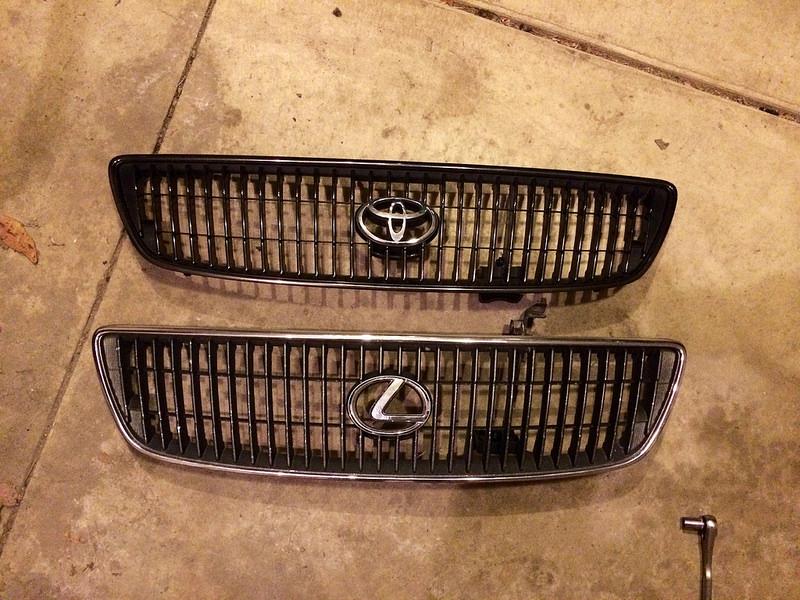 Here it is installed on my chipped up and filthy hood, haha: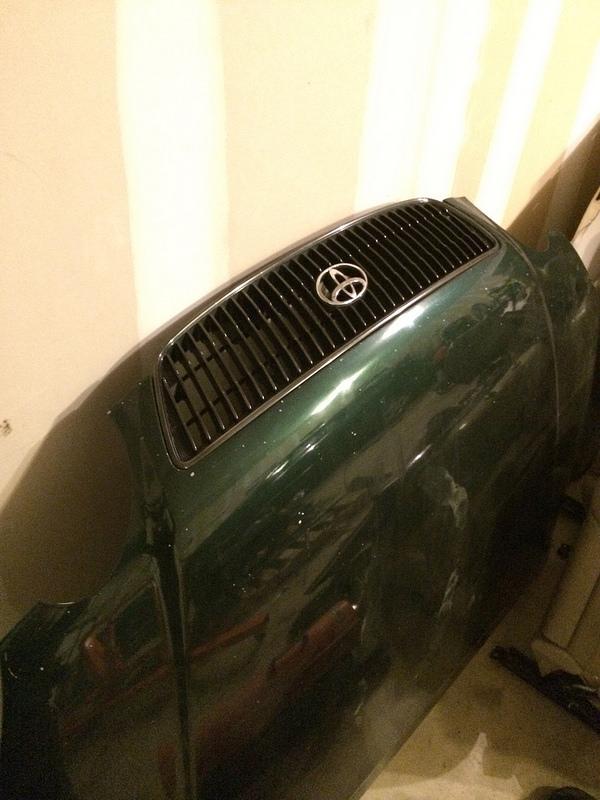 I also grabbed a set of Aristo door sills while I was at it. I actually bought two sets of these on accident, so one set is posted in the FS section if anyone is looking for them! Adds a nice little touch to the interior (or lack of interior currently):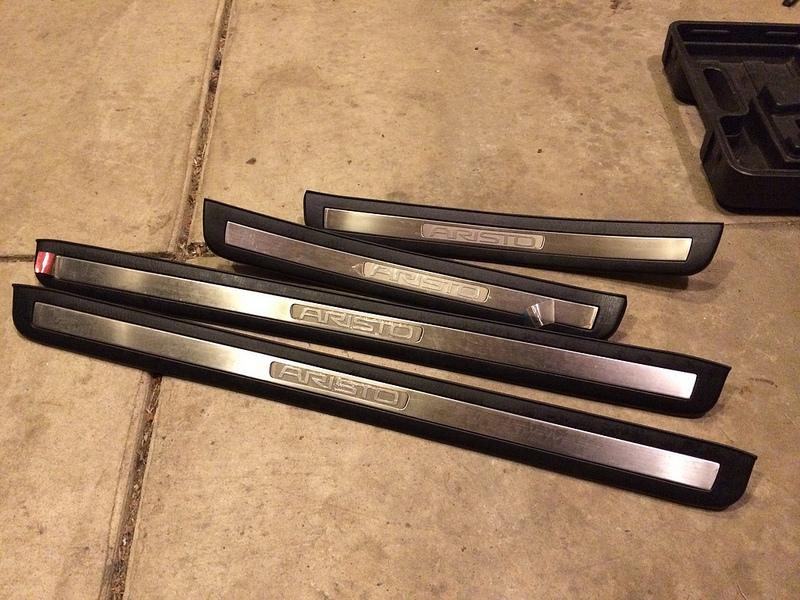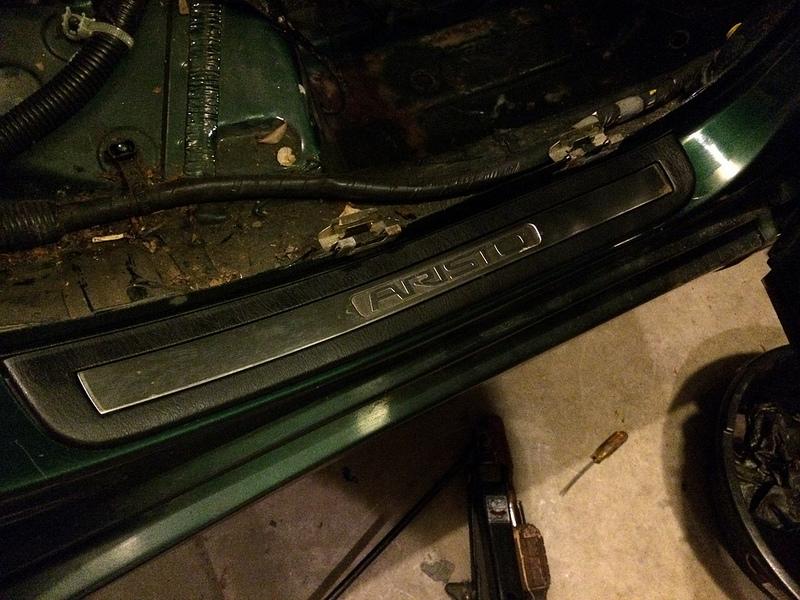 The driver's side seatbelt was missing from the interior I purchased, so that arrived this week too: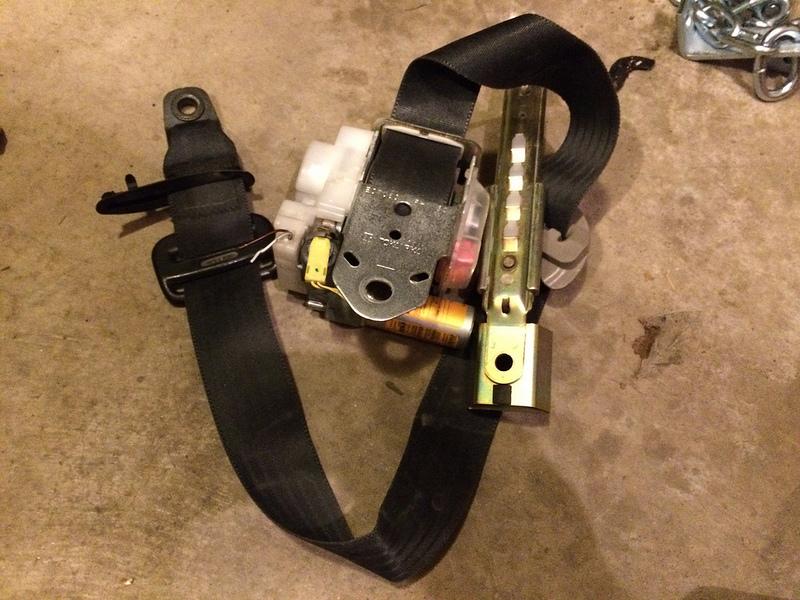 I got a hold of a pair of A and C pillars for the interior swap, but I did not have the B pillars. The headliner was proving to be a major pain for the seller to ship, so I decided just to paint all of these items black with DupliColor interior and fabric paint. I have used this stuff in the past when converting to a black interior on some of my other cars and it works well enough to get the job done. The best option would have been to wrap all of this stuff in black fabric, but I don't have the budget or patience for it at the moment. My car won't have much of a VIP feel to it anyway, so this is sufficient in my eyes.
Here's a shot of one of the dirty tan B pillar covers prior to being painted: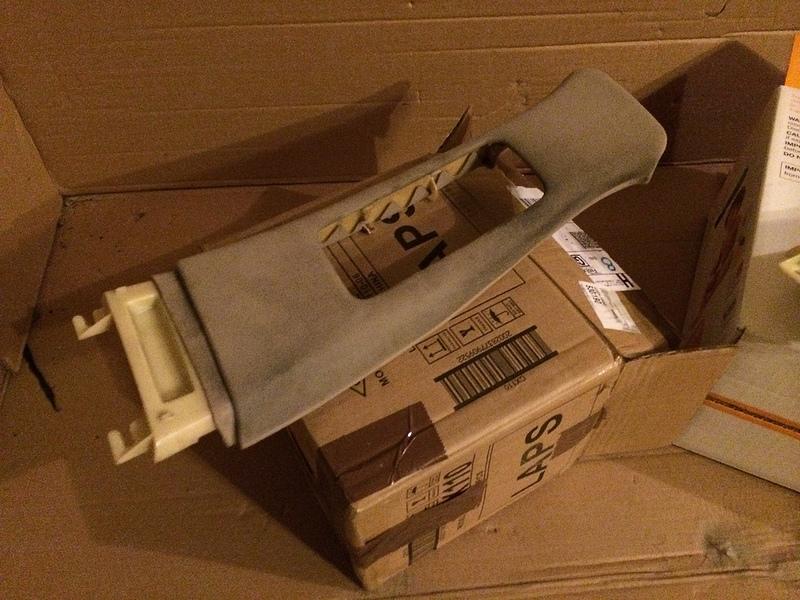 And here are the pillar covers after being painted: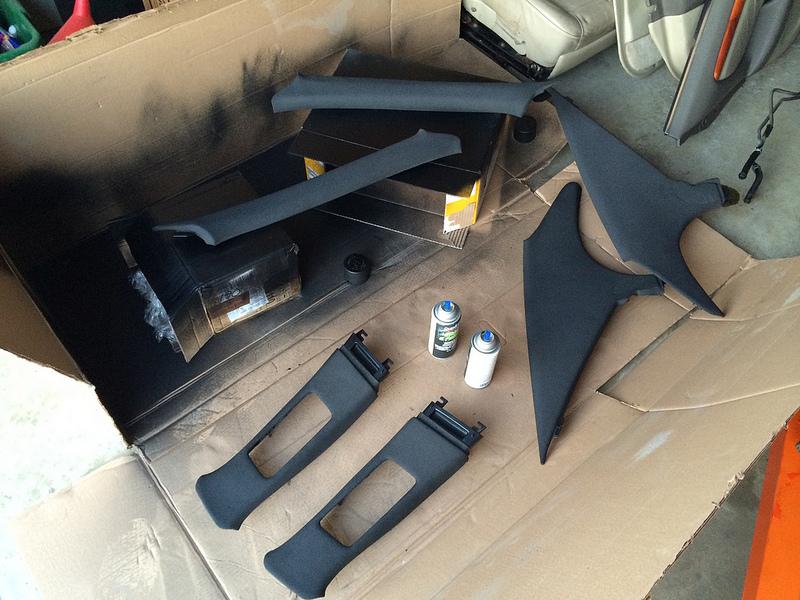 After starting on spraying the headliner, I can honestly say I kind of wish I had wrapped it! It's proving to be very time consuming and using a lot of paint. I think another coat tonight will take care of it though. Then I just need to spray the sunroof cover and I'll be ready to start getting a lot of this back into the cars interior.
For the actual plastic items that need to be painted, including the steering column cover and kick panels near the carpet, I turned to my good friend and interior expert Toby for something a bit nicer than the DupliColor stuff. He hooked me up with some SEM paint that should work nicely for those pieces: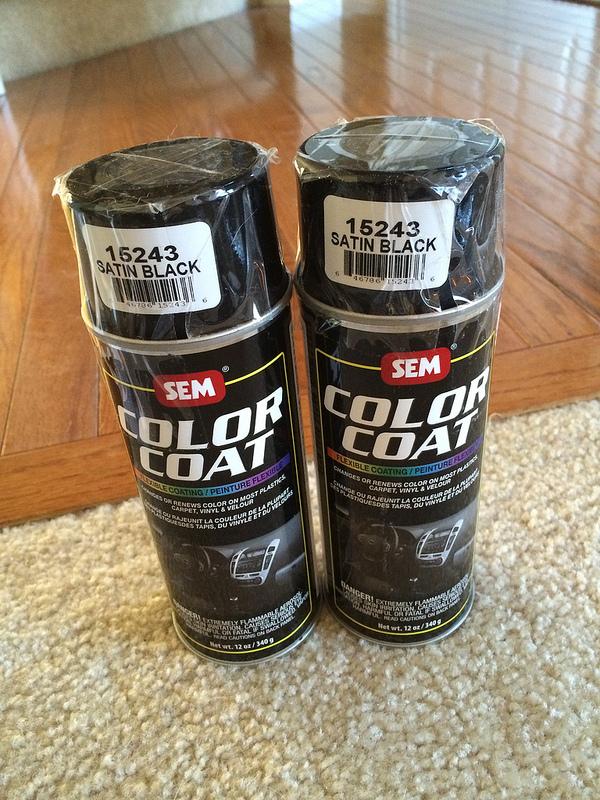 Like I mentioned before, I wasn't really feeling the wood grain trim on the door panels and center console. I took it to the body shop and had them spray it gloss black for me. I'm really happy with how it turned out- looks much better! Again, not really going for a VIP feel so this is perfect.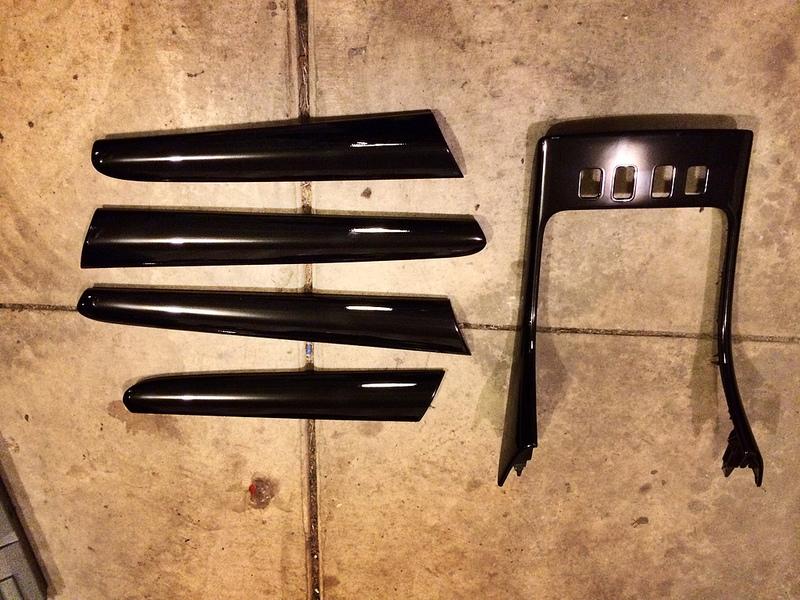 I got three of the door panels back in, but I'm waiting for the black window switches to arrive for the driver's door before I can put that one back in.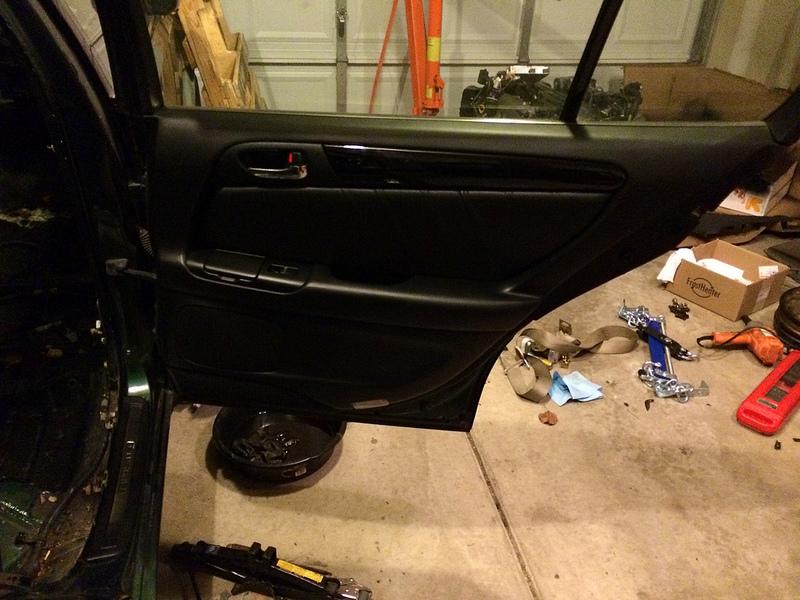 I'm expecting the rest of the interior pieces I need to arrive next week, including a set of black leather seats. They aren't in amazing condition, but I wanted to at least have something in the car so I have one less thing to worry about. I'd of course love to be bolting in a pair of buckets instead, but that will have to wait for another day.
As for the mechanical side, I brought the cherry picker up out of the basement and was able to get the engine off of the pallet. My engine stand is currently out at my cousin's house, so I picked up another one to use in the mean time. The bell housing bolts aren't long enough to put the engine on the stand, so I'll grab some today after work and get the engine on there. That will free up garage space and make it easier to do some maintenance work before the engine goes in.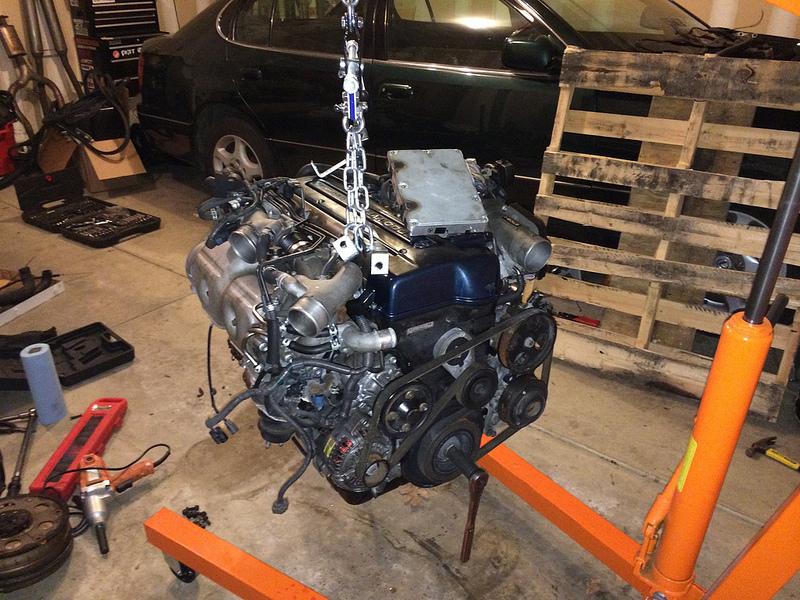 I also removed the flex plate and torque converter. Won't be needing those anymore!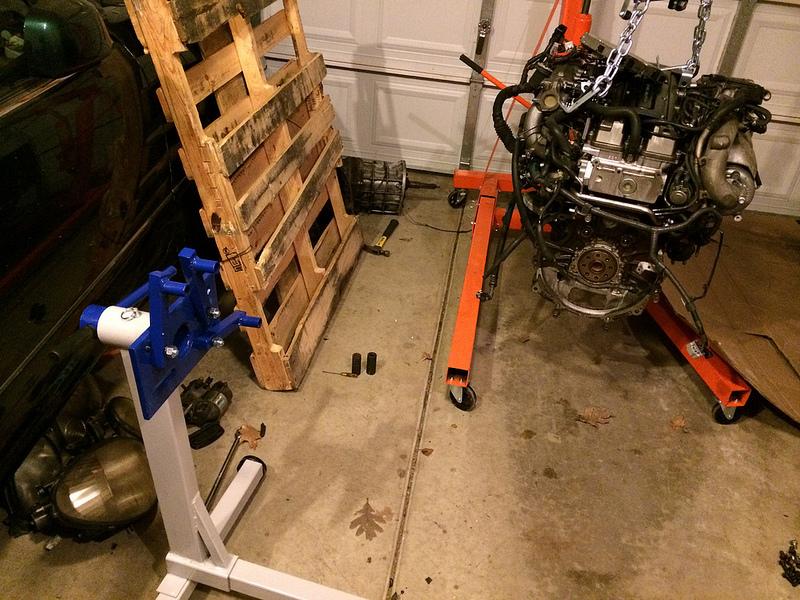 Finally, my order arrived from Drift Motion including a lot of the things I need to convert the car to a manual transmission. JZA80 Supra clutch and brake pedal assemblies, ARP flywheel bolts, bell housing to transmission and bell housing to engine bolt sets, JZA80 clutch master cylinder, braided clutch line, R154 slave cylinder, JZA80 throttle cable, Marlin Crawler bushings for the shifter, and a polyurethane transmission mount.
I'm going to try to install the clutch pedal and master cylinder this weekend. That will allow me to really start getting the interior back into the car. My next step will be to decide how much work I am going to put into the engine and order the necessary parts to get that all sorted out, as well as the fuel pump and other stuff needed to convert the car to a return style fuel system.
4-14-2014
As for an update, my wife and I had our second daughter back on March 30th just under three weeks early. It was a bit of a surprise, but everyone is healthy and doing well so I can't complain! I took two weeks off of work and was able to work on the car during nap time and a bit during the evenings, so that was really nice.
Let's see- shortly after my last update, I was able to get the engine on the stand. It's nice to be able to move it around in the garage now and keep it out of the way: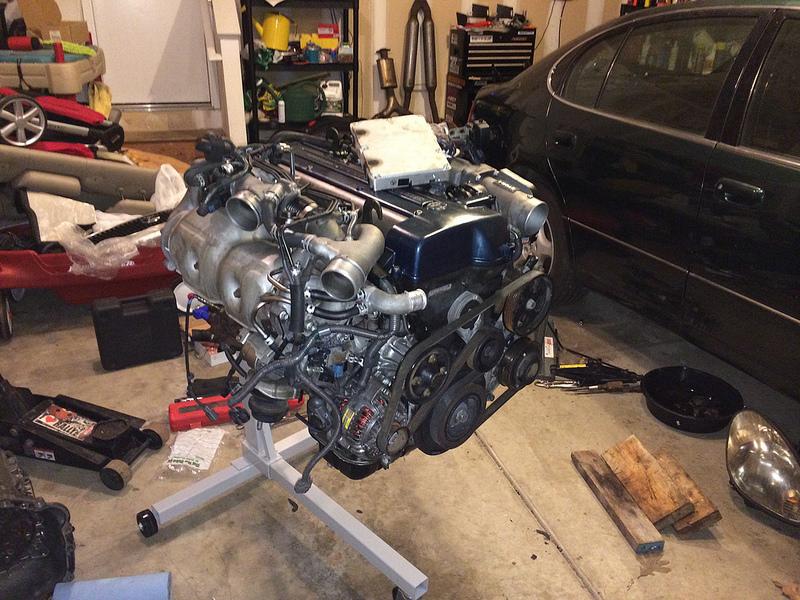 A few maintenance items arrive for the engine including OEM Toyota timing belt tensioner, idler, water pump (not pictured), cam seals, crank seal, and an HKS timing belt. Another order of maintenance items for the engine and transmission will be here Wednesday, which should allow me to get the drivetrain assembled and ready to drop into the car. My goal is to have it sitting nicely in the bay sometime in early May.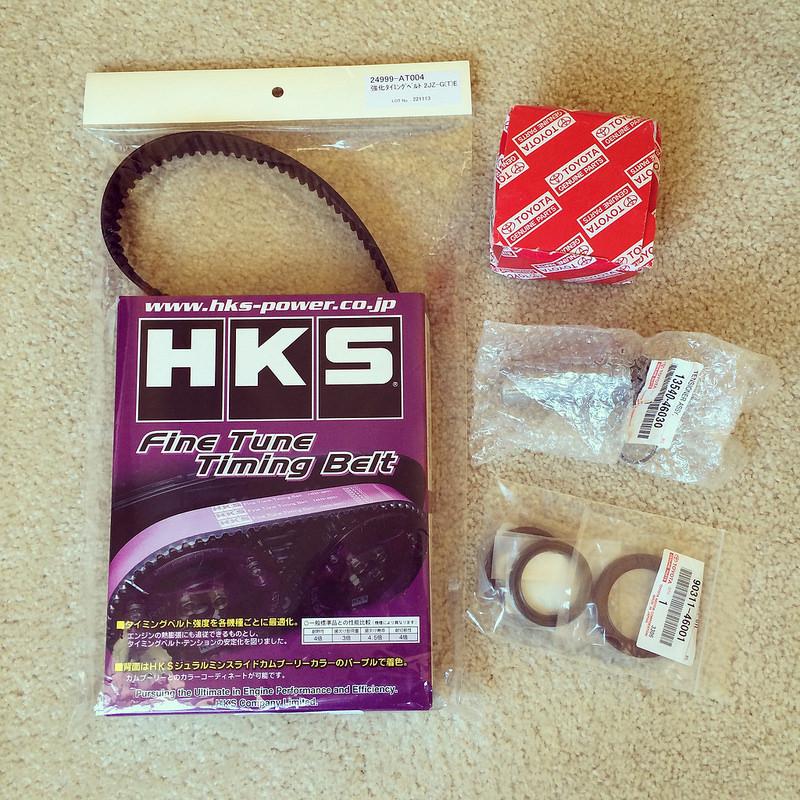 I spent a lot of time trying to install the clutch pedal and clutch master assemblies and I am happy to say I'm getting pretty close. I am using the JZA80 Supra components and had to cut two brackets off of the clutch pedal bracket to get it to come close to fitting. It's a tight fit with the brake pedal, but I think after I build my steel brace running to one of the studs from the old foot-style emergency brake pedal it should all fit OK. If not, I'll have to look into cutting and welding the clutch pedal and/or brake pedal arms.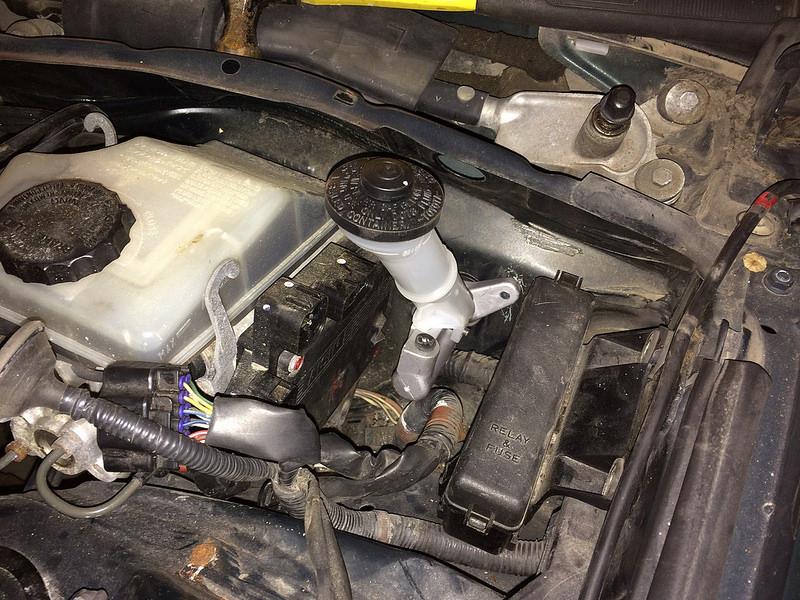 I was hoping to utilize the JZA80 brake pedal assembly, but it doesn't quite work like I had hoped. Here is is next to the GS brake pedal assembly that I will end up cutting down to fit better: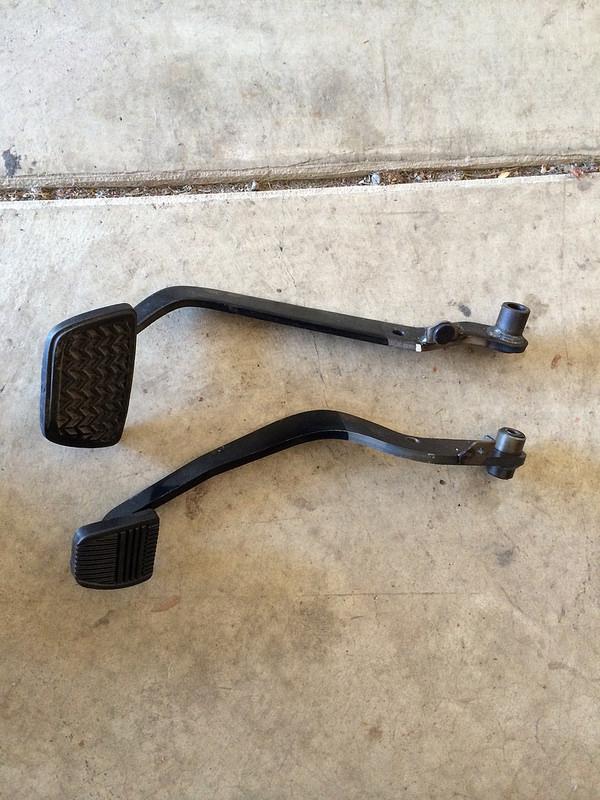 Space is VERY limited down here which does not make it easy. The clutch pedal will move about an inch to the left as soon as the new bracket is fitted, which I am hoping will be enough to clear the brake pedal and not feel too awkward. But we'll see how it goes...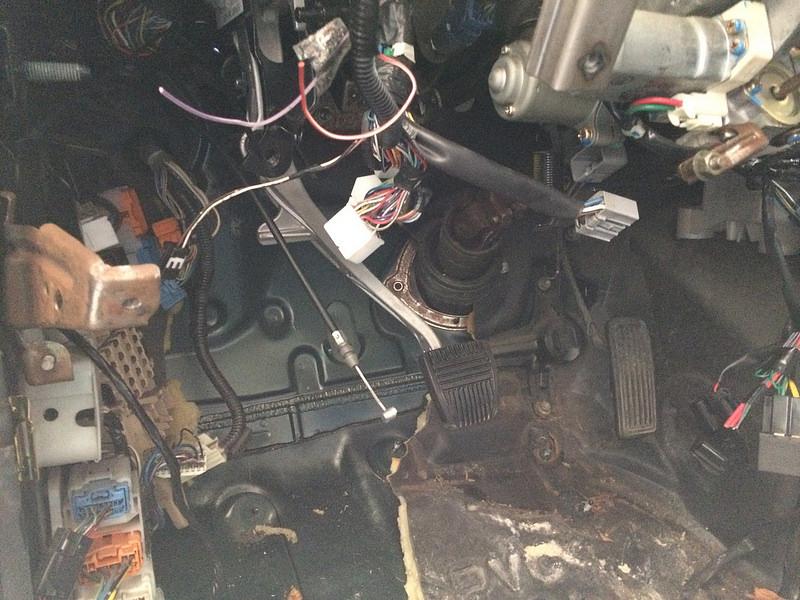 I've made good progress on the interior and I think I finally have all of the pieces I need to install it. I was able to put the mirror, headliner and overhead lights, A/B/C pillar covers, rear speaker deck, and seatbelts back into the car. I just need to finish up the clutch pedal install and order my steering wheel/hub and that should allow me to get the full interior reinstalled. Looking forward to having it all together since it was torn apart when I bought the car and I haven't even been able to sit in there.
It looks pretty bad here due to the flash, but I think I am going to go back and paint some of the remaining grey items black. They look a bit out of place right now with the darker pillars and headliner. I'm hesitant to even post this at this stage, but I am confident I'll be able to pull it all together: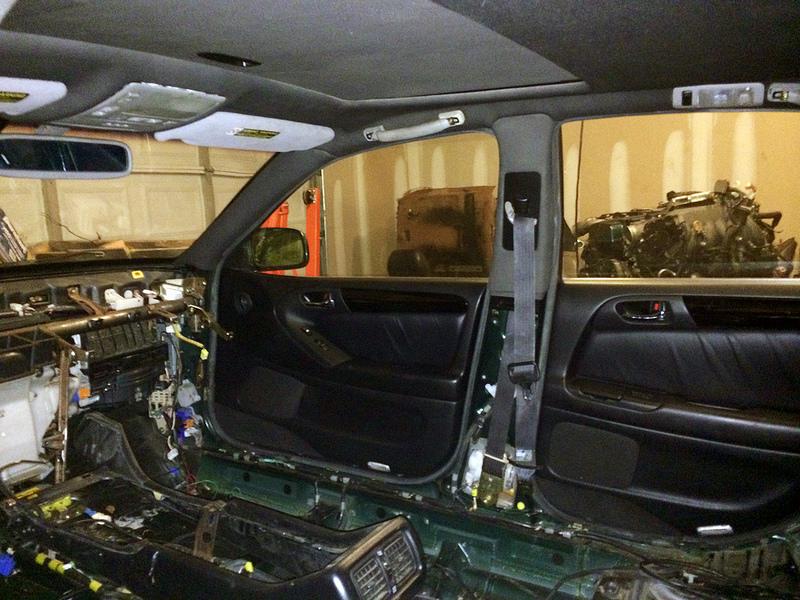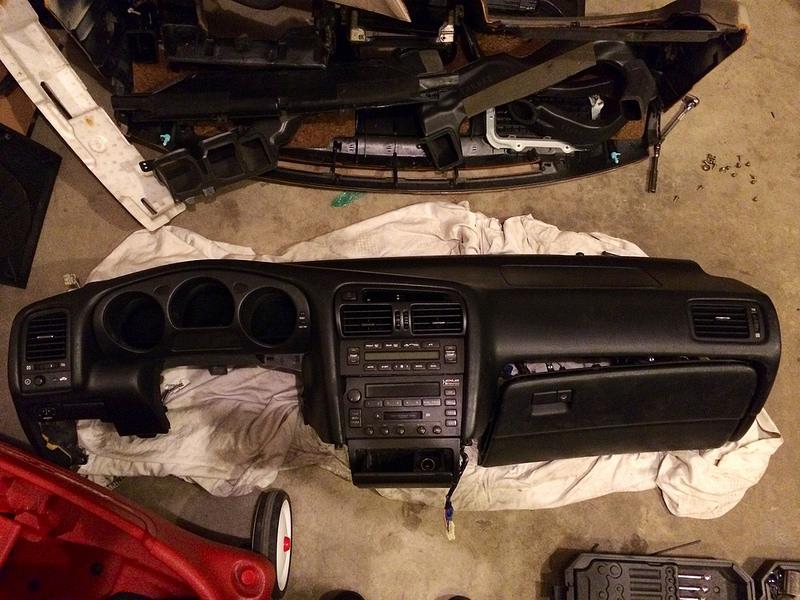 The pigtail was cut on the mirror I got, so I had to do a little soldering work before it could go in: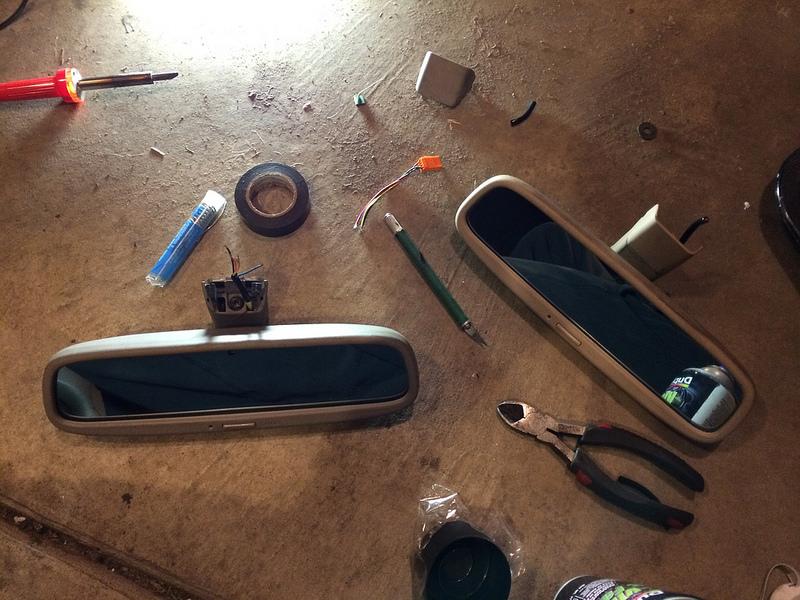 I found a cheap set of JDM black wood trim for the doors and decided to snag it. I think I like the painted trim I had done better, but the jury is still out on which I want to use: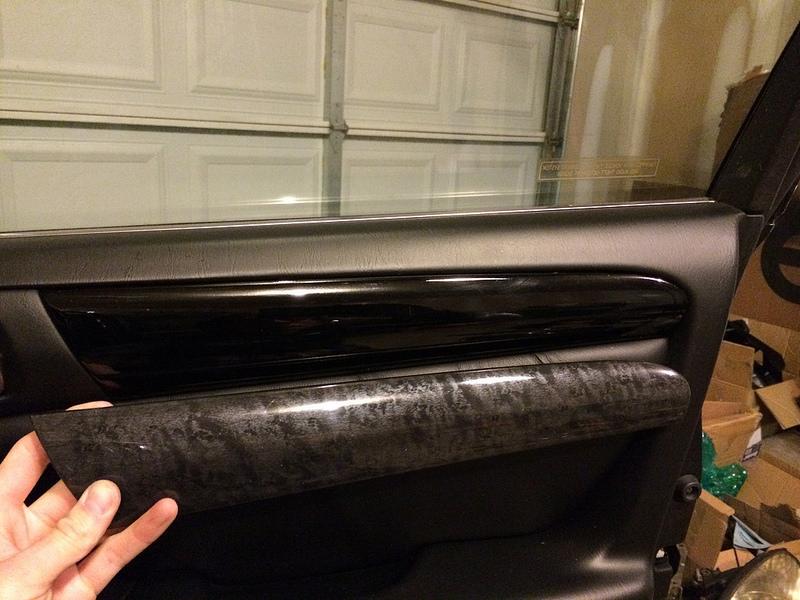 I picked up my front and rear seats as well as a bunch of other interior parts I still needed from the Greyhound station a couple days after my daughter was born. The seats aren't in the best condition, but they'll definitely work for now until I can get something cooler in there down the road.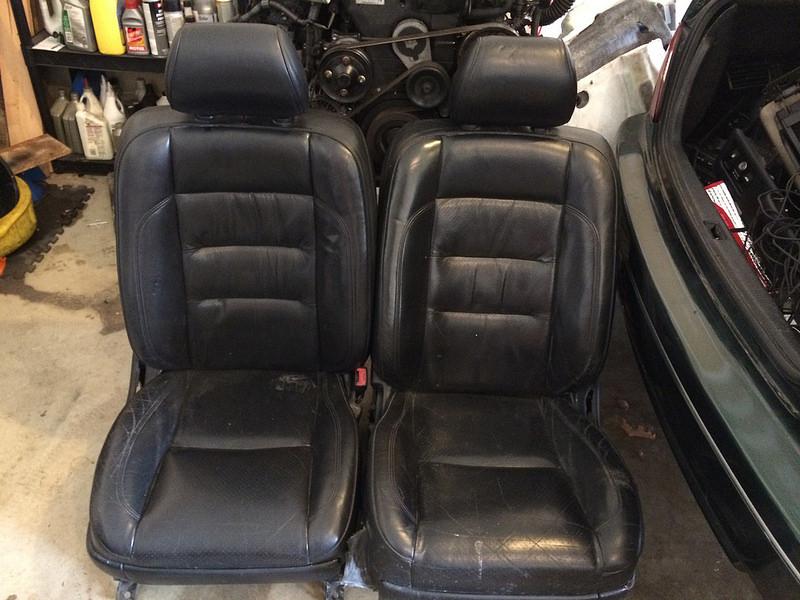 Found a good deal on an HKS fuel cut defencer and decided to snag that. I've heard these are great to have for this swap, but I honestly haven't even looked into how it works too much just yet.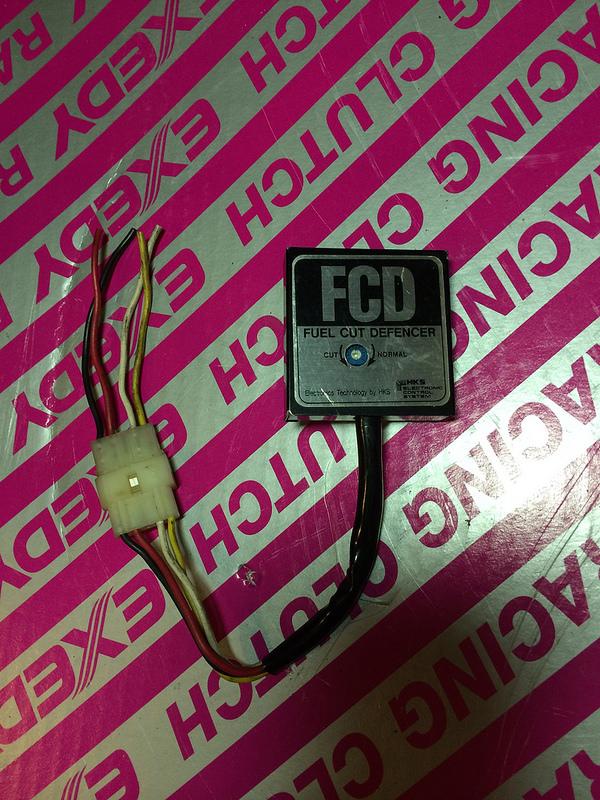 So that's about where everything sits right now. Waiting on those parts to come in from Drift Motion this week and I should have just about all that I need to freshen the engine and transmission up and bolt them together. Hoping I might have the time over the weekend to at least get time timing belt job done and go from there. As usual though, I keep losing focus and jumping between tasks. I'm anxious to get the pedals done and the interior together as well, so we'll see which project I tackle first.
Warm weather is making me excited for more progress! (Despite the fact that snow is on the way tonight...)
4-22-2014
I feel like I haven't accomplished much since last time, but that's because I've spent most of my free time working on the clutch pedal assembly. I've been adding some lateral bracing to the assembly based on some advice from a friend to make sure everything is strong and in the right place. I also took the time to cut down the brake pedal assembly for the manual transmission setup. I'm hoping to wrap that up this week and grab some pictures.
Another order of parts from Drift Motion arrived last week including the following:
R154 input and output seals
Release bearing
Clutch release hub kit
Walbro 255lph fuel pump
VVTi 2JZ valve cover gaskets
Rear main seal
Thermostat (might replace with TRD)
PCV valve
Oil filter
Clutch alignment tool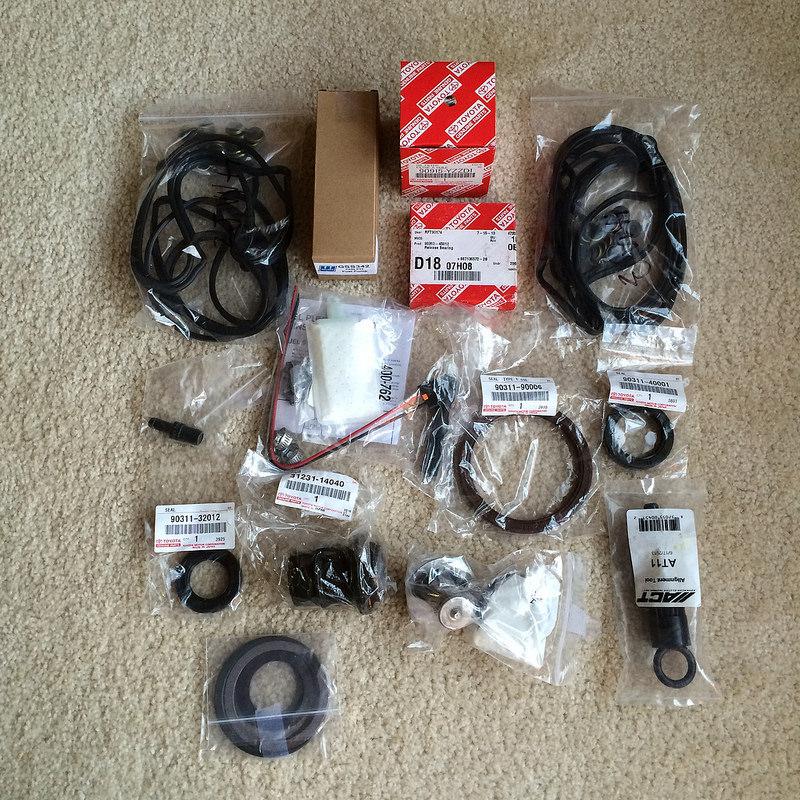 Here's all of the engine and timing service items that I need to install including the OEM water pump- don't think I ever posted when that arrived: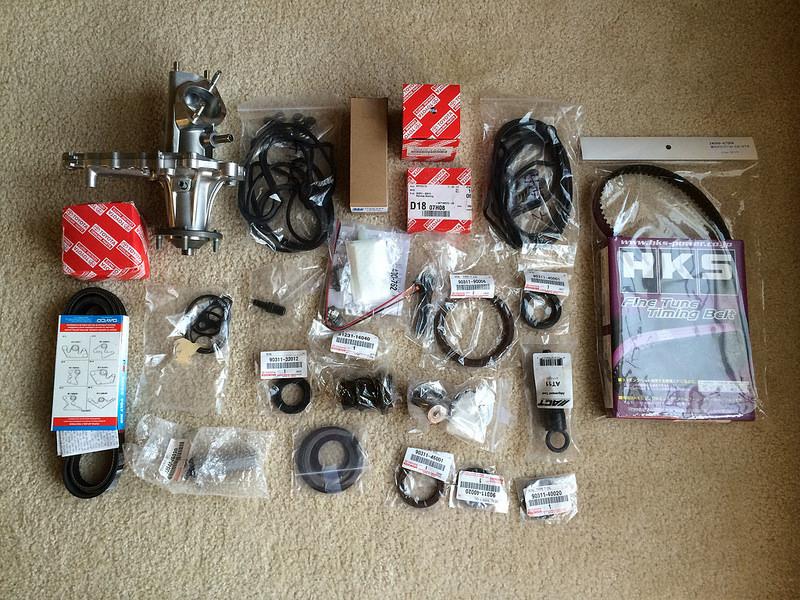 Annnd the even larger pile with everything engine and drivetrain related. I keep thinking I've got everything and am ready to assembly the engine and trans, but I keep deciding to replace/modify other items along the way. Aside from a couple more transmission related upgrades I might buy, I think I've got it pretty under control. Famous last words, haha.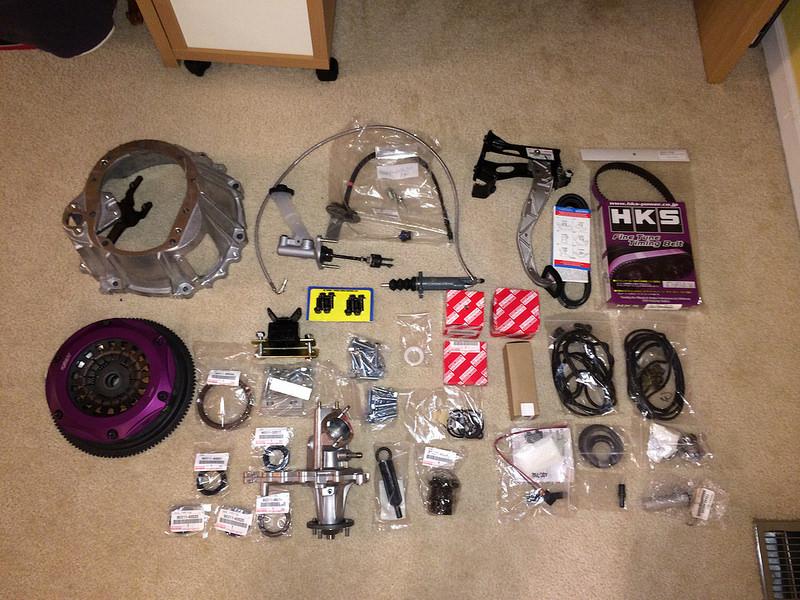 I cleaned and installed the rear seats. Still need a couple missing bolts to fully secure them and the seat belts, but I have to get in there to install the fuel pump and return line at some point anyway.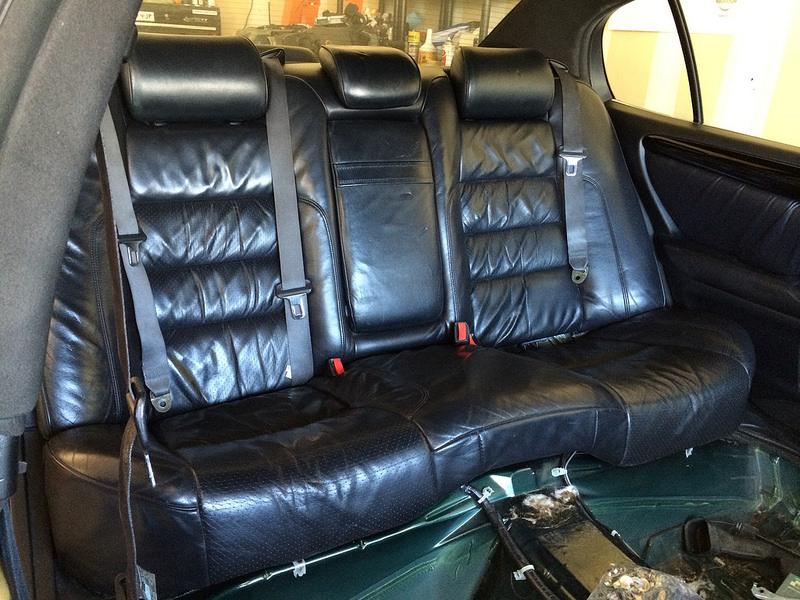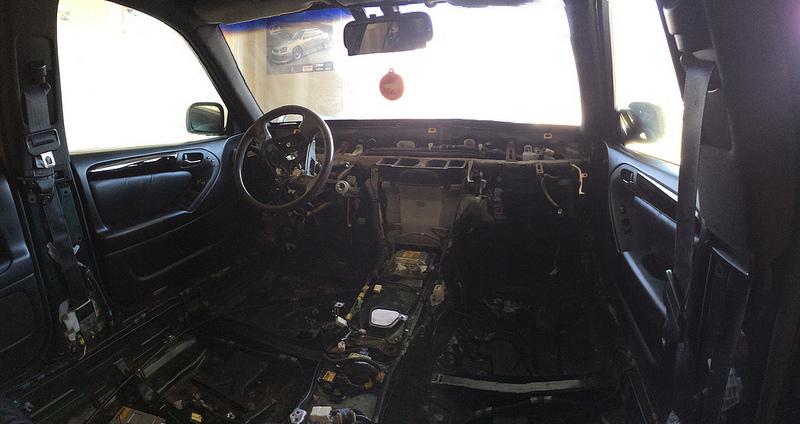 I have a couple cool interior pieces on the way that won't be here for a few weeks, so I'm feeling just about done with sourcing interior stuff for the time being. Need to focus on getting the engine and transmission maintenance done and everything assembled so that I can drop it in and measure for the shifter extension and driveshaft. Still hoping to have that done by the first weekend in May.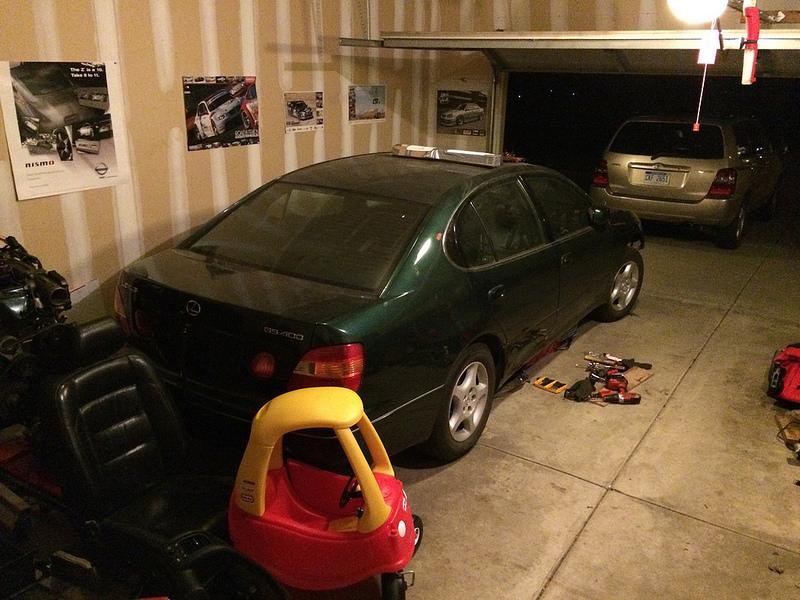 I also sold my Evo last weekend and picked up this 96 Camry as a daily beater while the GS is under the knife, so trying to get that thing a bit more roadworthy has taken up a fair bit of my project car time. It's got bad rear end links and a pretty large oil leak right now, so I'm working to get that sorted before I spend more time on the Lexus. Hopefully it'll be in good shape after a couple more hours of work. For a car that cost half as much as most sets of wheels I own, I really can't complain lol.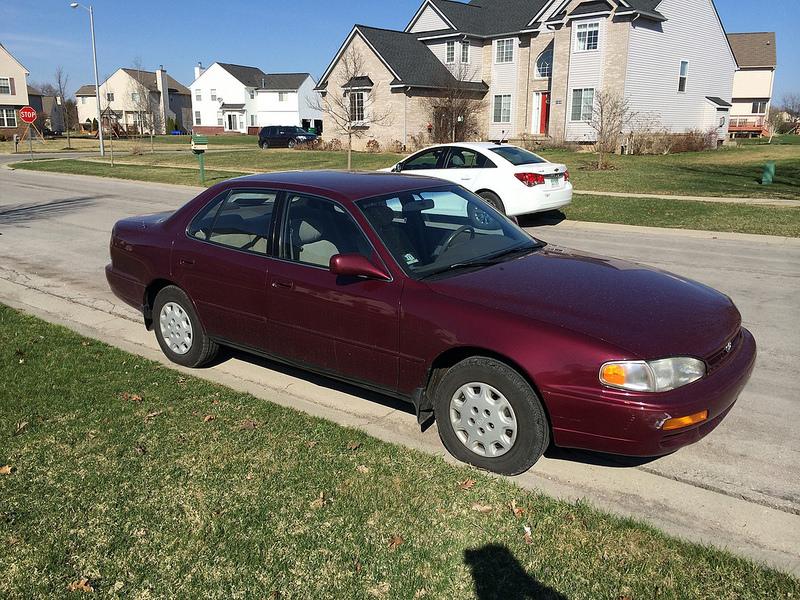 4-28-2014
I was finally able to finish the clutch pedal assembly. It took a lot of work to make brackets and support bracing for the clutch housing, but I finally got it to a point where I was happy with it. I cut the brake pedal down to a more fitting size for a manual transmission setup and I'm happy to say that even though clearances are tight and it isn't perfect, I think it should work really well. Fitment was tight around the brake booster connectors near the clutch master cylinder, but that worked out nicely as well.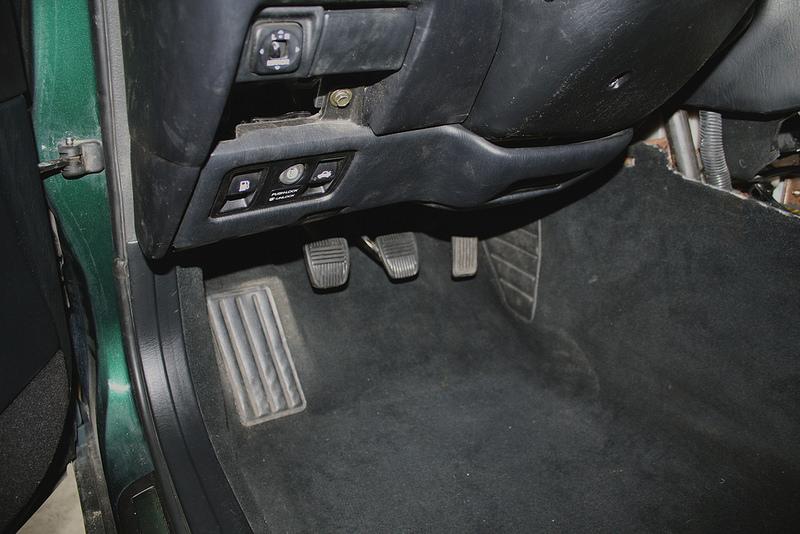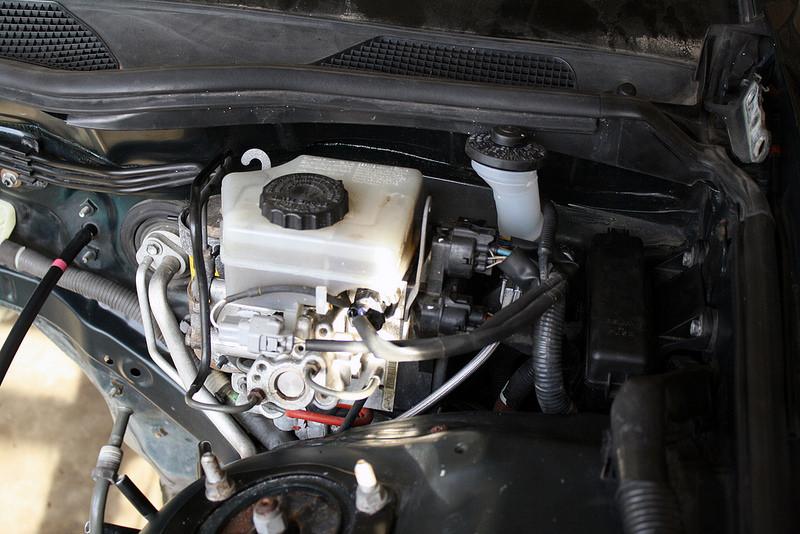 While I was at it, I installed the JZA80 throttle cable and the braided stainless steel clutch line. The engine bay had a decent amount of grimy build up in certain areas, especially on the front subframe, so I was able to clean that up a pretty good amount. I'll probably hit that with a fresh coat of paint before dropping the engine in. I'm debating painting some areas of the firewall as well, but I know it's going to be far from perfect under the hood for a while. For now the goal is to get the car running and clean things up when possible, but it won't be nearly as clean as the 240's engine bay was. Perhaps details like that will be addressed down the road, but when you start with a car requiring this much work you have to pick your battles.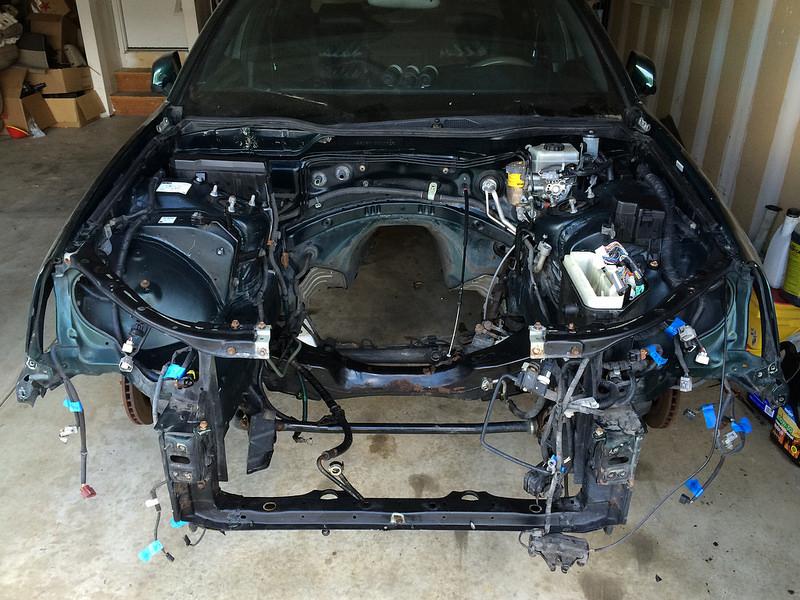 With the clutch pedal assembly finally complete, I was able to install the black dashboard and carpeting. Man, what a difference it makes to see the remaining interior pieces installed! It's really starting to come together now and seeing the tan interior replaced by the much nicer black components really gave me a boost in motivation. I'm waiting on my steering wheel to arrive from Japan and still need to order a Works Bell hub for that, so it'll stay like this for a little while. I was missing the mounting brackets for the radio and climate control, so I'm on hold there as well right now.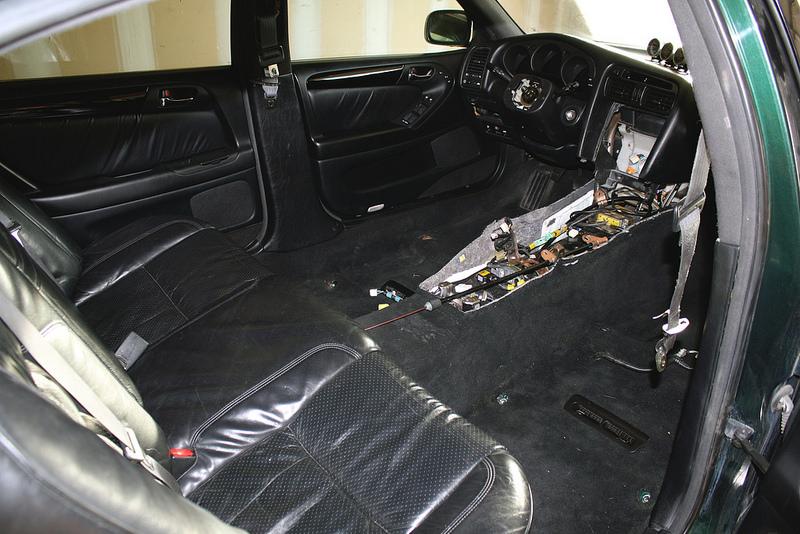 The gauges are just sitting on the dash for now, but those will need to be mounted and wired up down the road. I have oil pressure, oil temp, and boost for the time being. I'm considering adding a water temp gauge and possibly a wideband O2 as well, which will be mounted somewhere hidden if I do go that route. I could probably use Broadfield's help for some of this stuff, but we'll see what happens.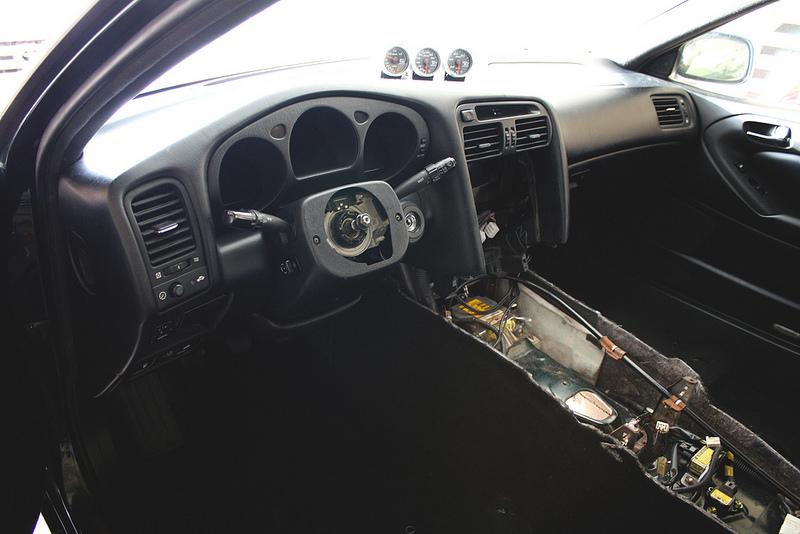 I also picked up a Lexus IS300 emergency brake assembly to retrofit. I've been doing some research on Yahoo! Japan and in Hyper Rev to get an idea of how to tackle this, so hopefully I will be able to figure something out.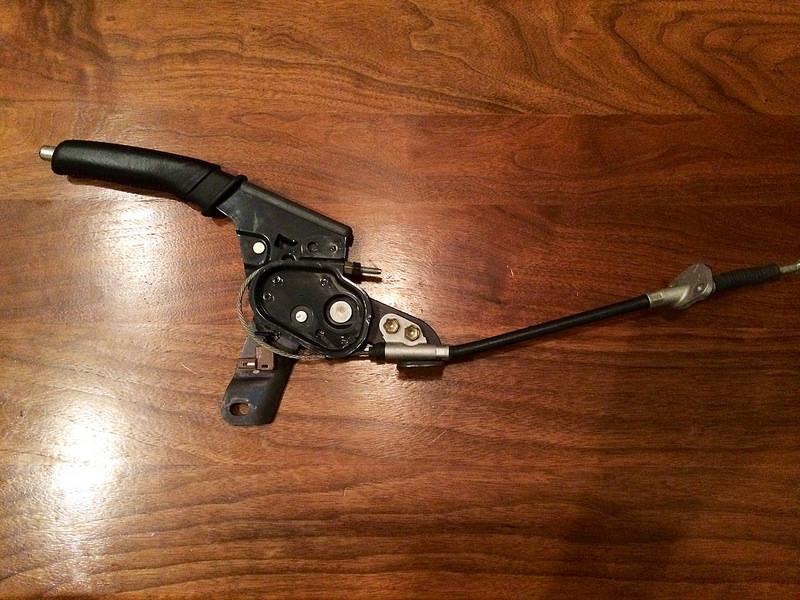 I got the car up on stands this weekend and cleaned things up a bit under it as well. I hadn't seen it yet without the wheels on, so it was nice to take a peek at the brakes and other suspension stuff. I'll need to do some work on the brakes before it's all said and done, as well as repair a broken wheel stud. All in due time I'm sure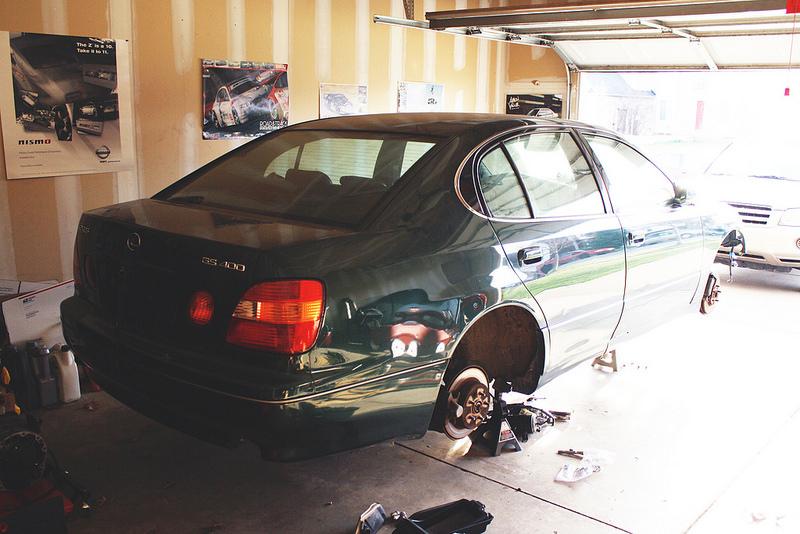 Lastly, I also purchased the supplies needed to run my fuel return line from the pump assembly to the engine.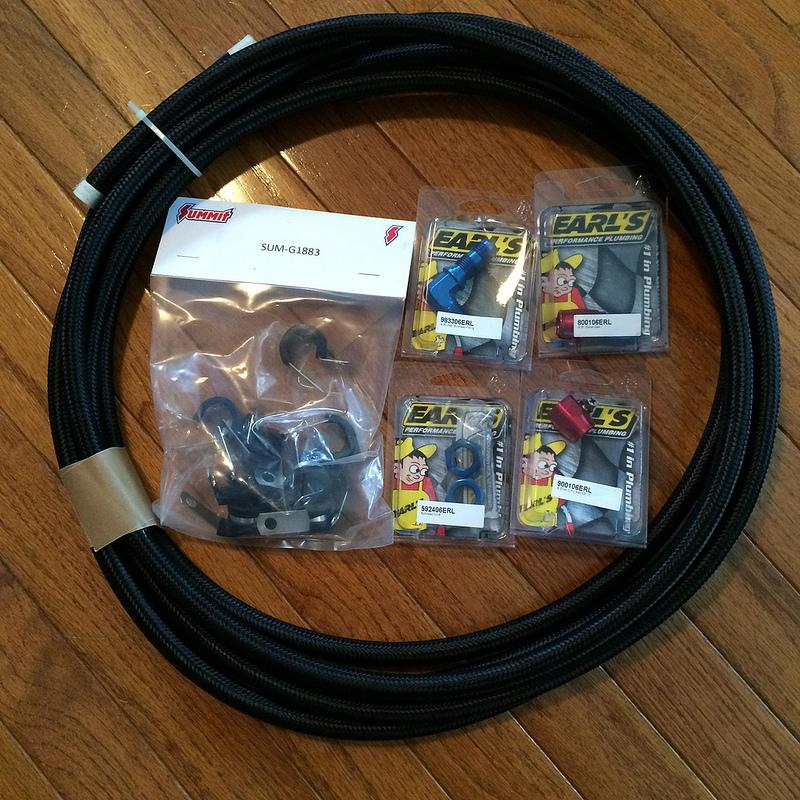 During the next week I am going to try to focus on finishing up a couple odd details in the interior, namely bolts for the rear seats and the center console, and perhaps take a crack at installing the emergency brake. From there it's time to move on to maintenance work on the engine and transmission. I'm still really hoping to have that in the car by first or second week in May, but I'm quickly running out of time. We'll see how it goes!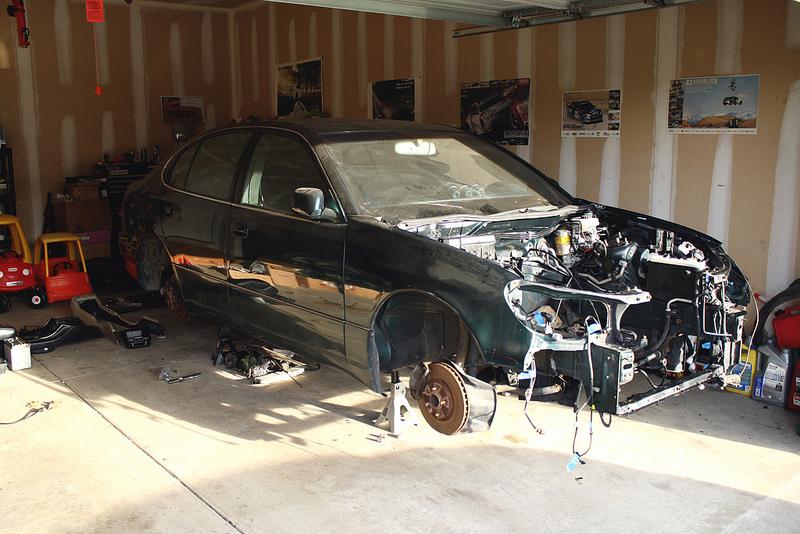 5-5-2014
I'm pretty excited about my progress in the past week. Even though I didn't spend a ton of time in the garage, I do feel like things are really starting to fall into place and pick up steam.
Things were kicked off last week by the arrival of a couple of goodies from Hong Kong. I've been searching for a pair of Ganador mirrors for this chassis since I decided I wanted to build one, but I really was not running into much info about them. I could barely even find any photos of cars that were running them. Junction Produce sells them as their own brand of mirrors, but if you know anything about me you know that I just wasn't going to be content with that. Fortunately, a used pair popped up on eBay and I was able to snag them.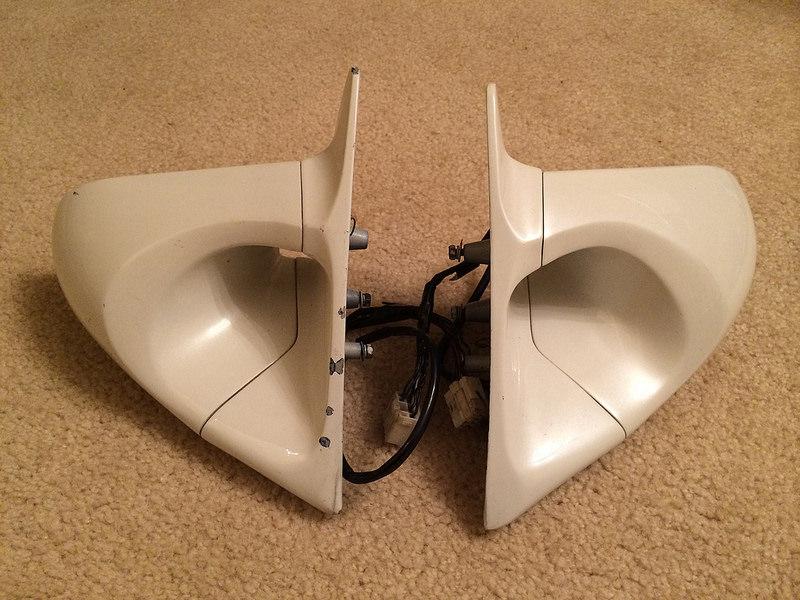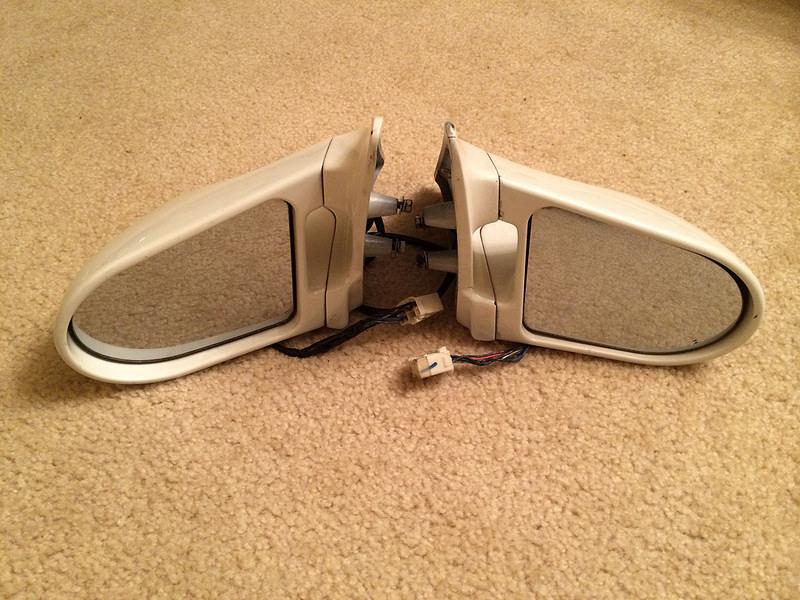 I will of course need to have them painted, but I am super pumped to have these. Though I really shouldn't be focused on the exterior of the car at all right now, it's nice to take a break and shift focus occasionally for a day or two to keep your interest in the project going strong. Had to toss one on for a quick test fit: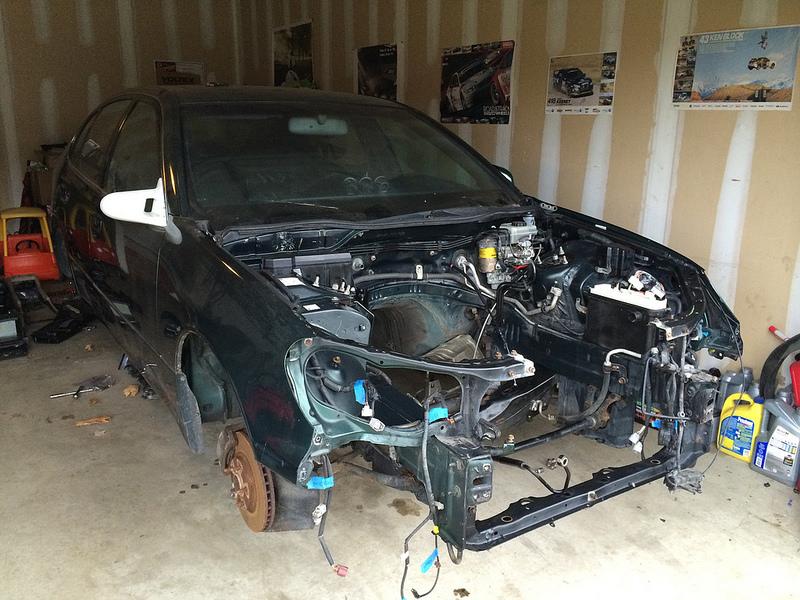 Little-known fact: I never take the time to try to make the power function on my Ganador mirrors work on any of my cars haha.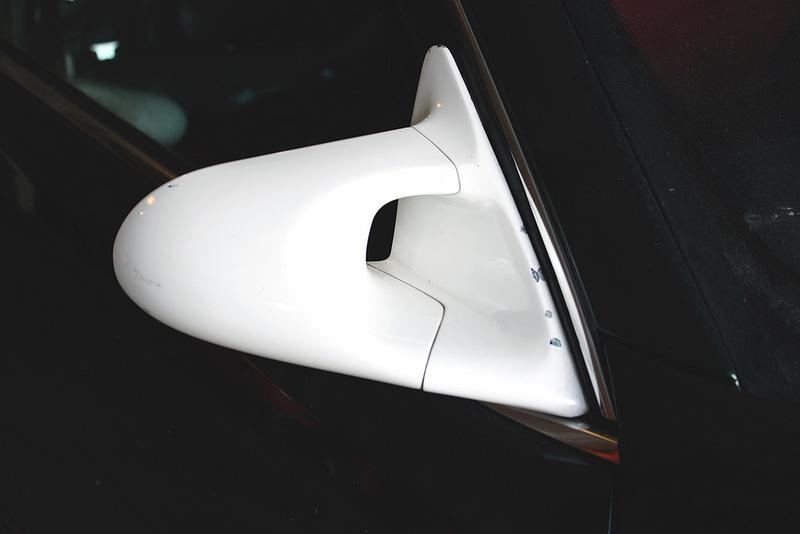 The same seller also had a Toyota Japan/TRD carbon fiber license plate garnish for sale so I was able to score a deal on both pieces. This is basically a fake CF trim panel that goes around the license plate and fills out the trunk opening a bit. I just thought it was a cool detail to have: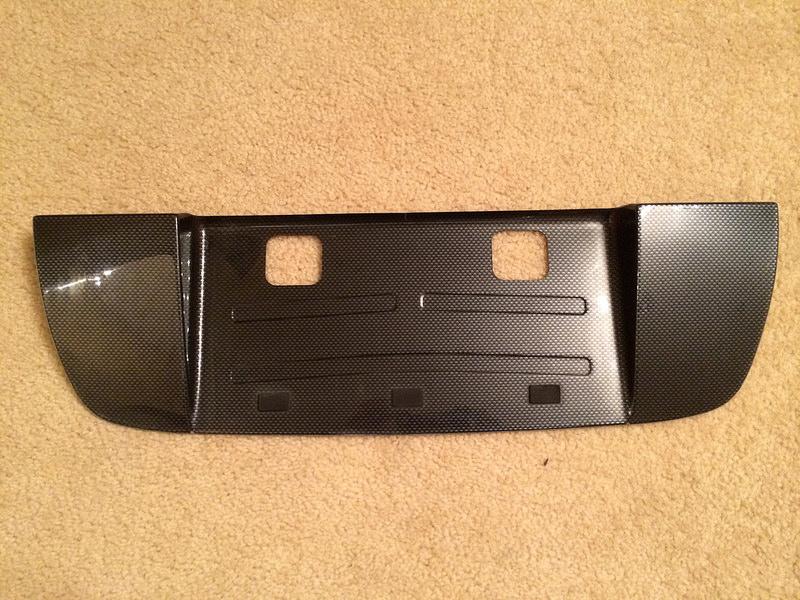 This will actually come in handy since I found out last week that my car had an aftermarket backup camera installed in the trunk resulting in a hole being hacked into the sheet metal near the license plate. This piece will cover that hole, even though I'll probably end up having the trunk redone or replaced at some point anyway.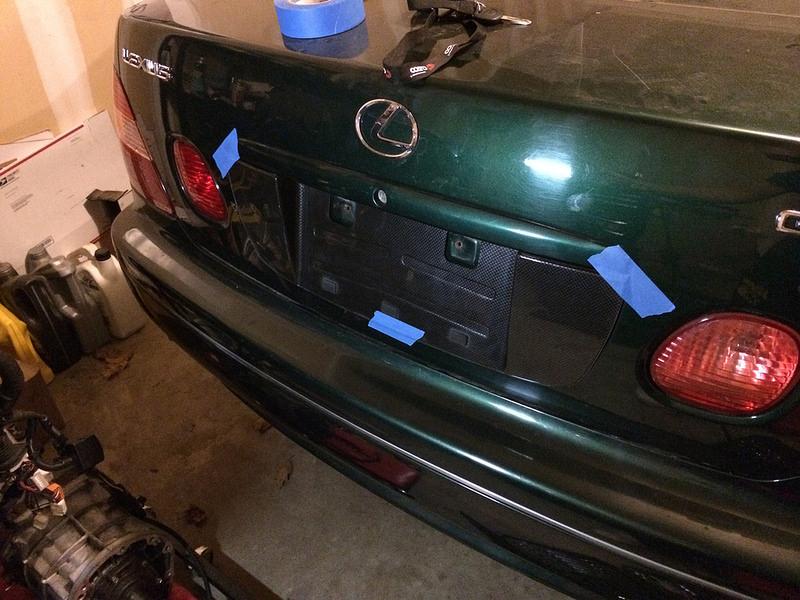 I decided to remove the emblems while I was messing around. I'm not sure if I will end up running the Toyota badges back here to match the front grille or if I'll just leave the car badgeless. Fortunately I have plenty of time to decide. A friend of mine is hooking me up with a cheap set of LED tail lights, so I went ahead and removed the factory tails to make room for those when they arrive.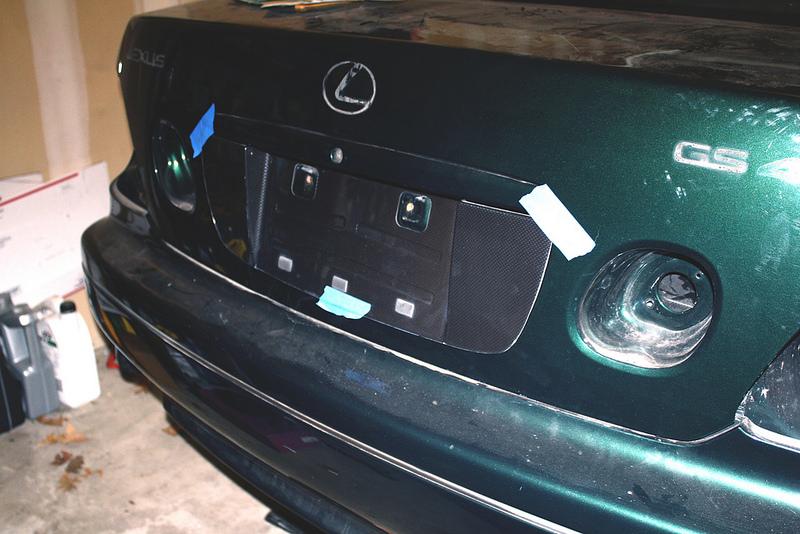 Another friend of mine on the West side of the state bought my Aristo automatic transmission to use as a core, as well as my front and rear tan seats. I went out and delivered those on Thursday. While I was out that way, I met up with a good friend from Indiana to pick up what is probably one of the cleanest Bride Zeta IIs left out there, let alone stateside: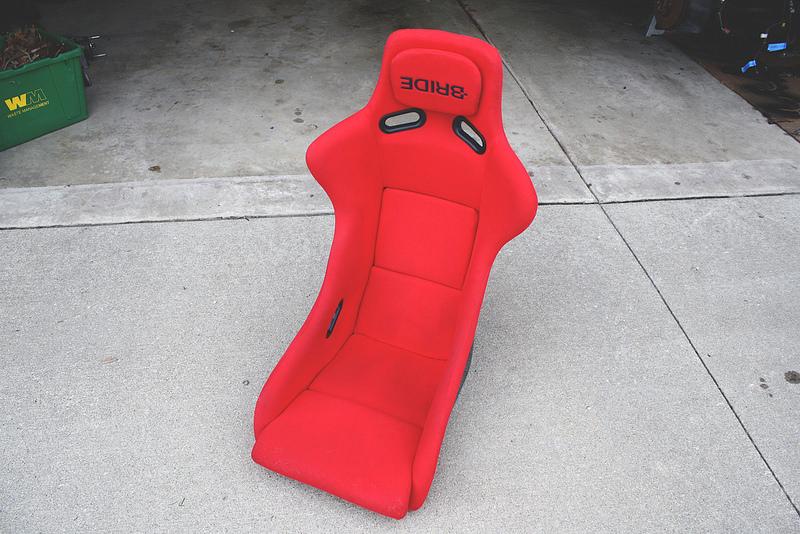 Pretty excited that it has the head pillow with it as well. The back of the seat is virtually scratch-free. Pretty crazy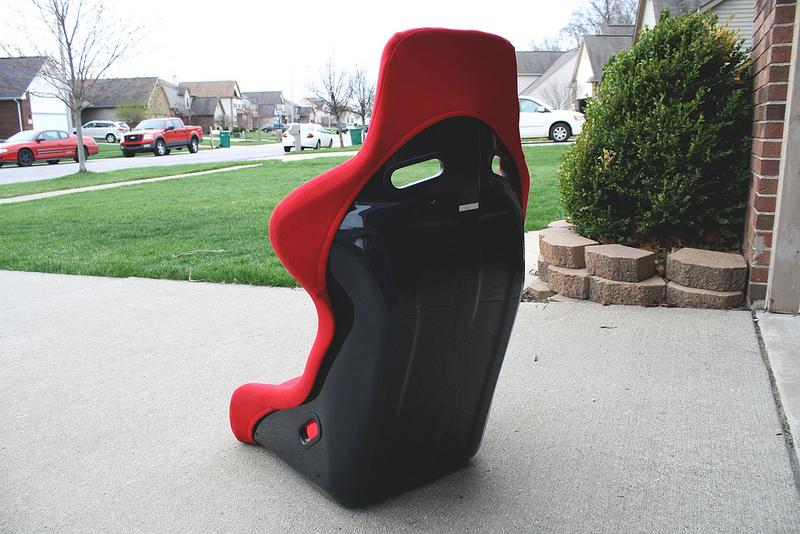 I have a passenger seat on the way from Japan as well, but we'll just have to wait for a future update to see that. I was able to do some detective work on Bride Japan's site and found the seat rails I need for each side, so I'm sure there will be a wait on those when the time comes. I had to toss it in without the rail for a preview though: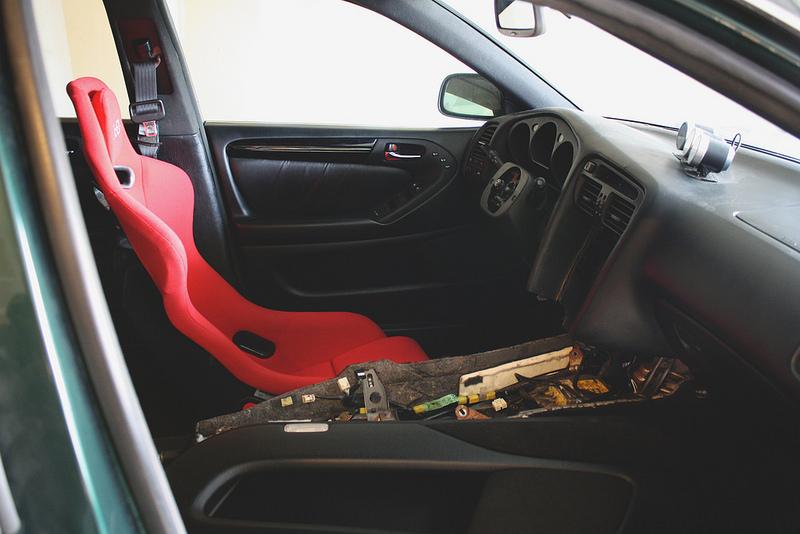 I did a quick comparison picture of the interior when I got the car two months ago and how it sits today (even though I clearly still have some work to do.) I can't wait to see this completed- I think it should be pretty cool.
With the interior in decent enough shape for now, I moved on to actually trying to get this thing running over the weekend. I'm waiting on a tool and a new thermostat before I dive into all of the engine maintenance and assembly, so I decided to mock up the engine and transmission in the car. I was curious to see how things fit since I had heard about various issues with the firewall and the heater core fittings with the swap.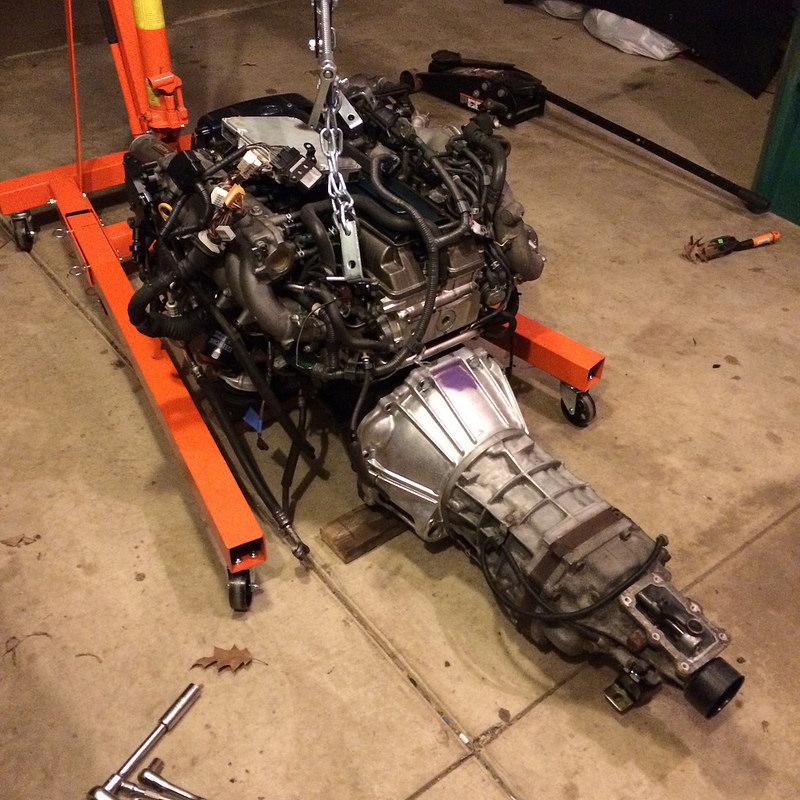 Unfortunately I learned the hard way that if you pick up and tilt a 2JZGTE with oil in it and without a clutch or flywheel installed, the oil will politely excuse itself from the engine and leak out the bellhousing. Annoying, but lesson learned.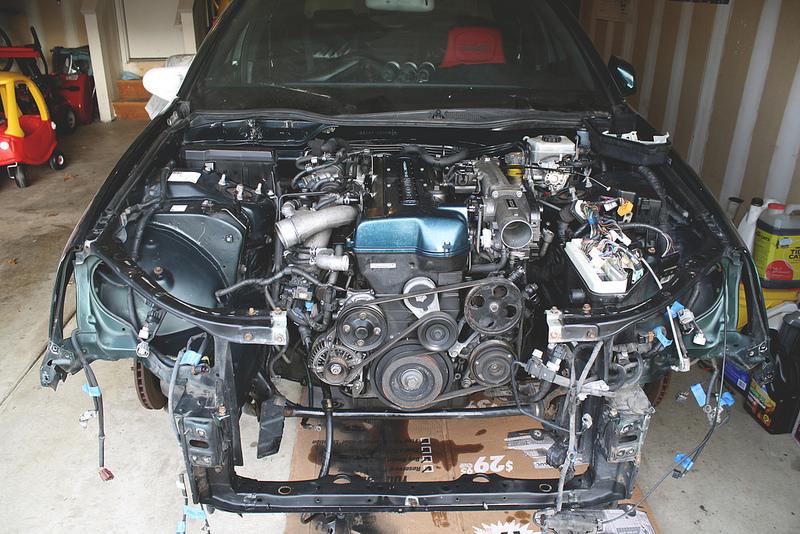 I was actually pretty surprised how smooth dropping the engine went by myself. It's really nice that the core support is removable on this car so that I don't have to worry about the top of the cherry picker hitting the garage door. I'll have to modify the top port for the heater core somehow to clear the twin turbos, but otherwise things look pretty solid overall.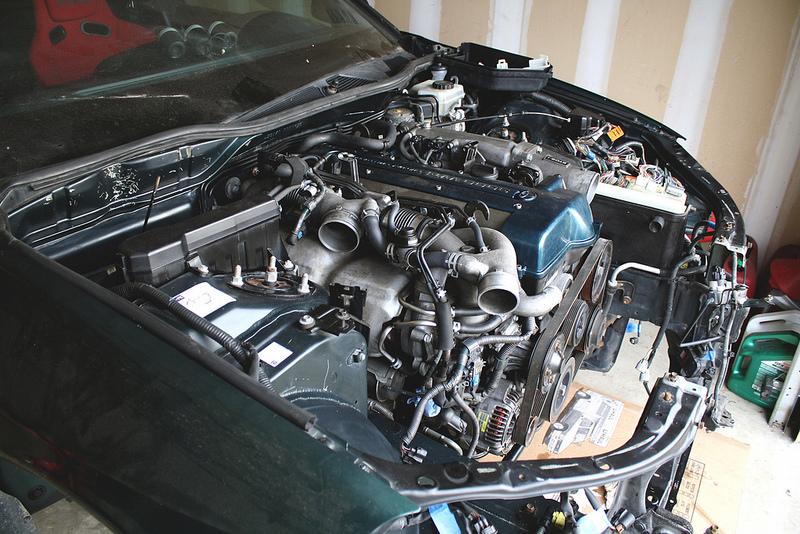 I also spent some time assembling the clutch release hub and bearing so that the clutch assembly is all ready to go in when the engine and transmission come back out: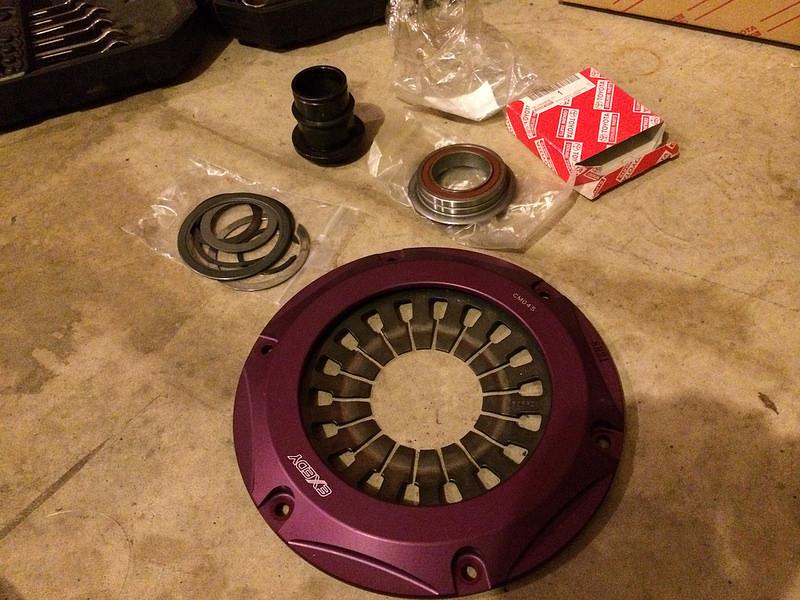 I'm having a hard time getting the final snap ring in place by myself, so I'll have to keep trying with some assistance to see if I can take care of that. Shouldn't be too bad though, I just really need another set of hands.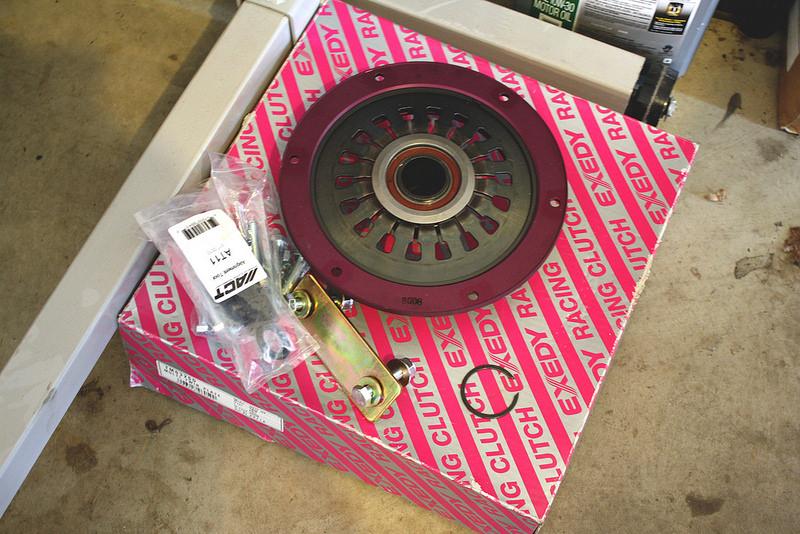 I picked up a set of used Tein Comfort Sport coilovers that a kid was selling as-is. I guess they came in the trunk of a GS he just bought and he wasn't sure of the condition they were in, so he let them go super cheap. I wasn't planning to get into these just yet, but it was definitely worth the gamble. I think at least one of them may be leaking, so I'll probably end up having Tein rebuild them if possible.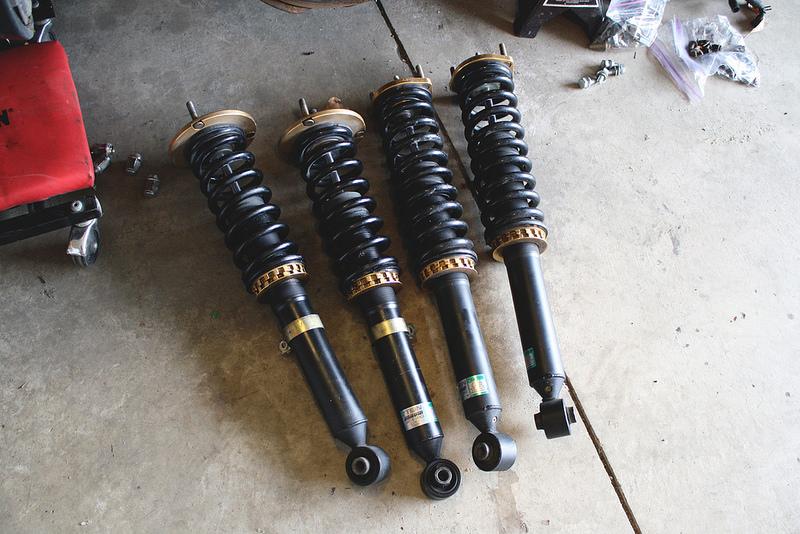 The plan of attack for this week? The first order of business is to take the necessary measurements for the driveshaft and shifter extension so that I can get the order in for those. I am also going to install the Drift Motion transmission mount to make sure that's lined up and set to go when things are bolted in for good. As soon as those things are done, I'll pull the drivetrain back out to go through the engine and transmission maintenance items to be sure everything is fresh and ready to go. I'm hoping to have that work completed and everything in the car again within two weeks if possible.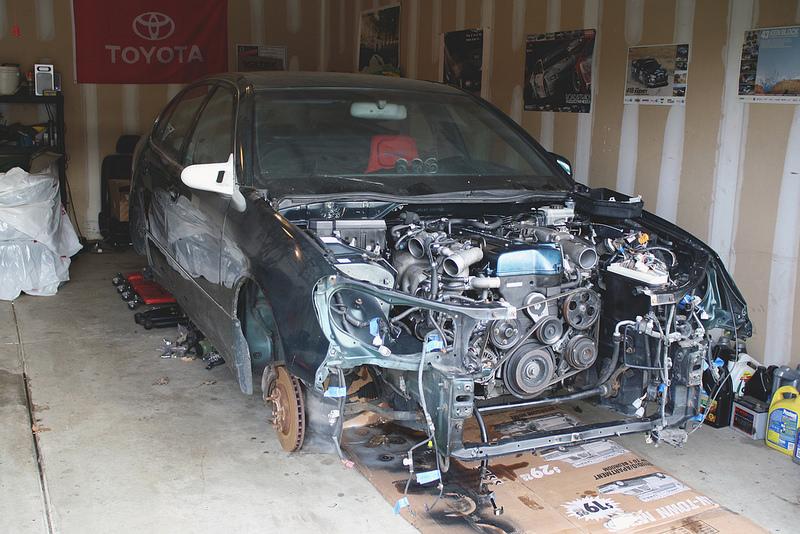 Hopefully the progress continues through the next couple weeks...
5-13-2014
I didn't spend much time in the garage this week, but I made a little bit of progress. With the engine and transmission test fitted in the car, I measured for the one piece driveshaft and shifter extension.
After test fitting the center console, I found that positioning the manual shifter through the existing hole for the factory automatic transmission linkage left the shifter too far back, so I had to cut a new hole in the transmission tunnel for the shifter to reside within. A hole saw bit made quick work of this: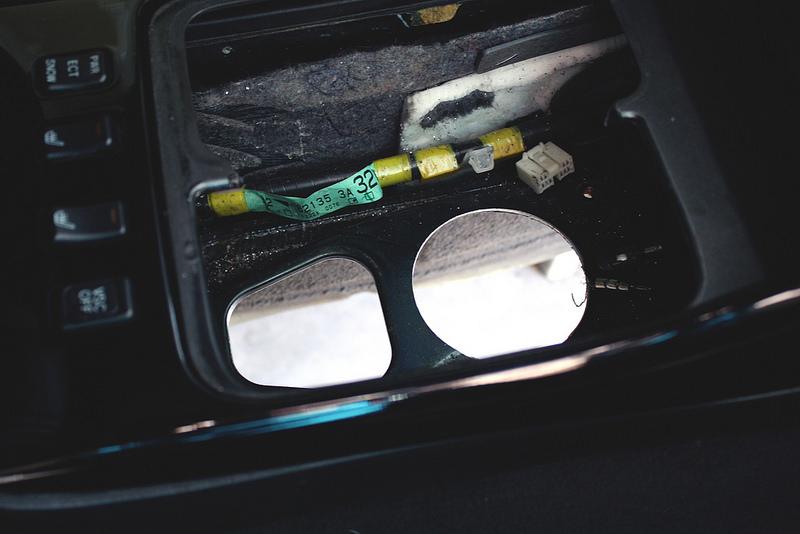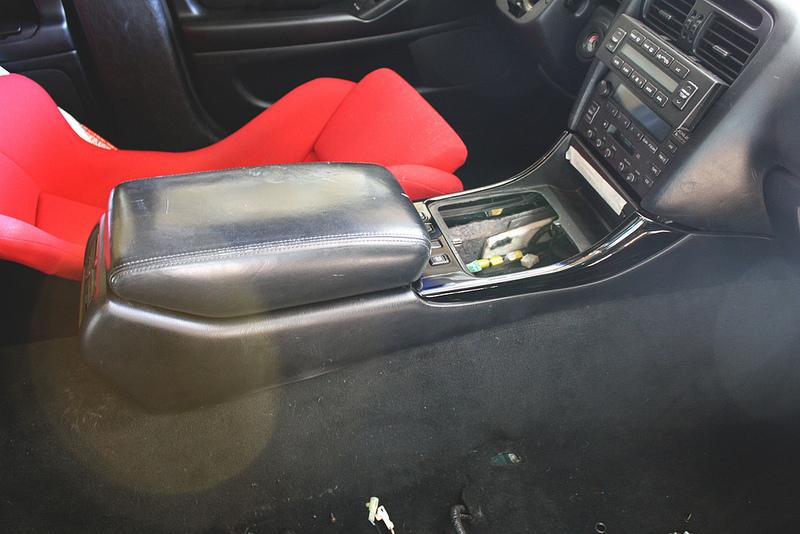 While the engine was in there, I also noticed that the heater core fittings are contacting the back of one of the turbo assemblies. I'll have to find a way to modify this to clear (or just bolt on a big single- hmmmm)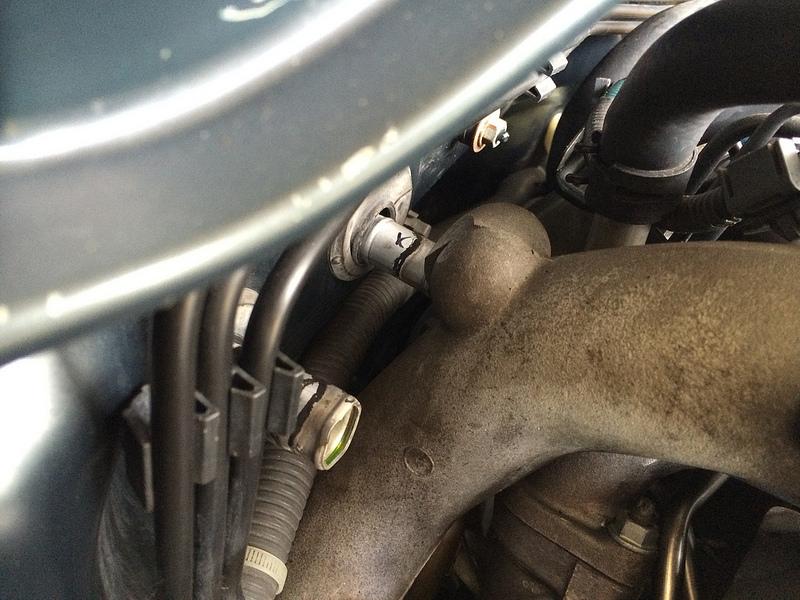 I mocked up the Drift Motion/ Energy Suspension transmission mount and after a bit of grinding I was able to get it to fit perfectly. The back side of the factory transmission crossmember had to be ground down to allow for the mounting plate to sit correctly and some new holes needed to be marked and drilled, but otherwise it went together pretty easily.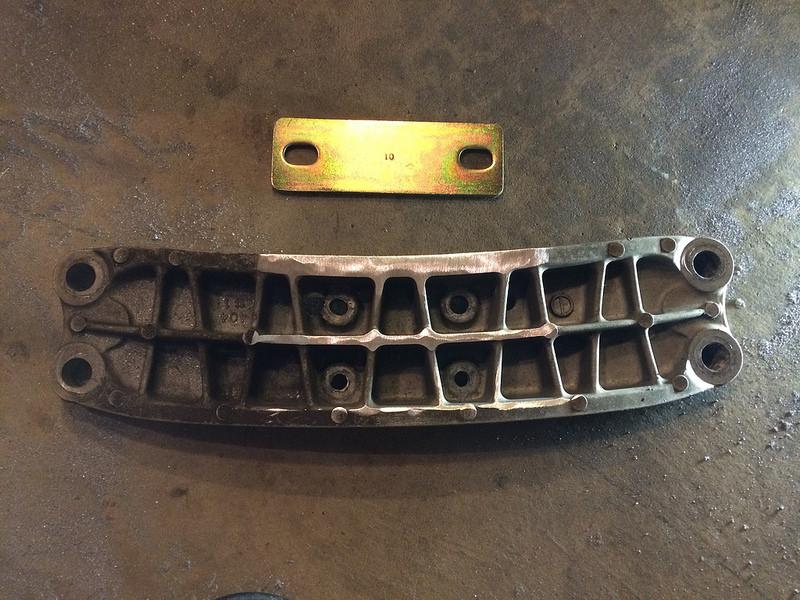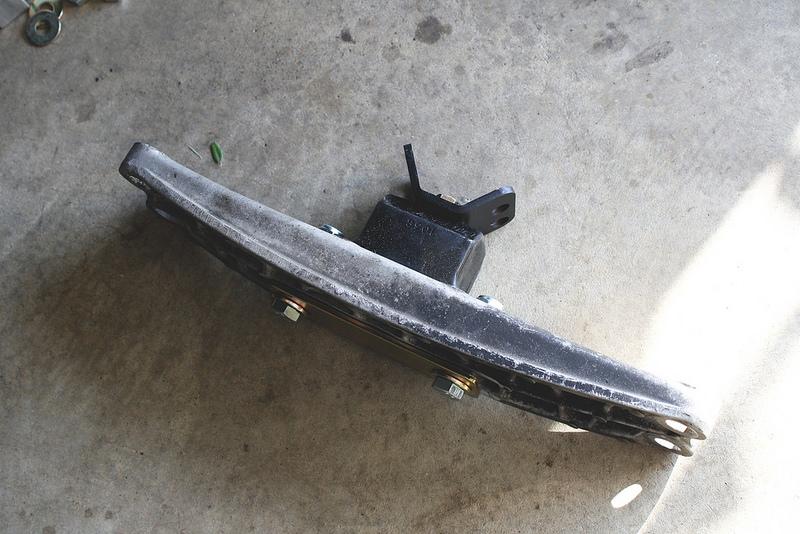 After the necessary measurements were taken and I was finished mocking things up, I pulled the drivetrain back out of the car and began disassembly. My next step will be to go through the engine and transmission to install all of the maintenance items I've collected.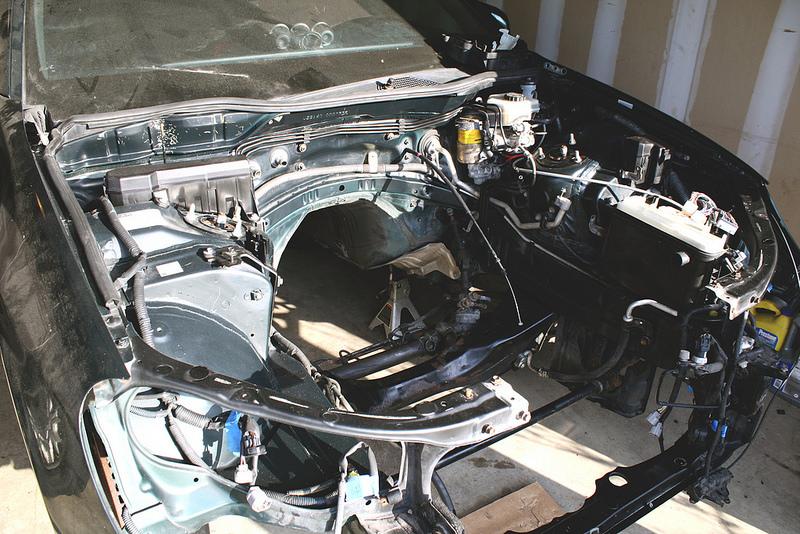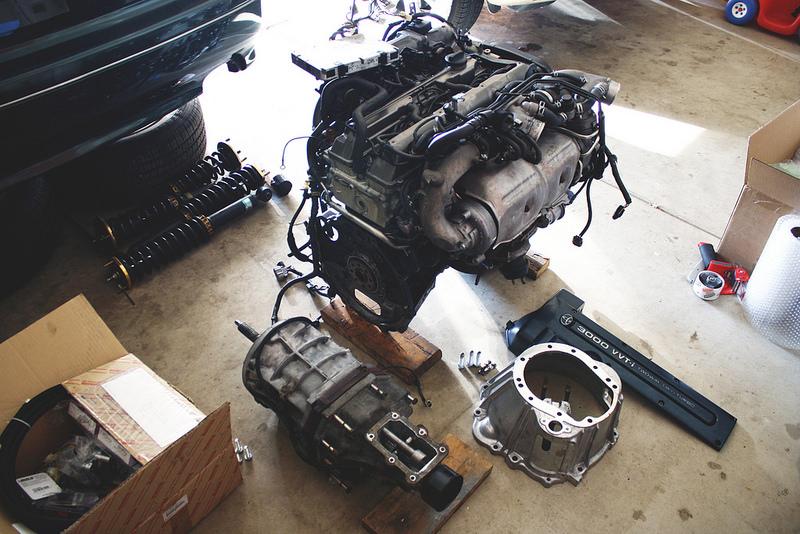 I pulled the case of the R154 apart to remove the shifter housing and linkage. I shipped these pieces out to be extended 2.5³ at Freed Engineering out East and should hopefully have them back sometime next week.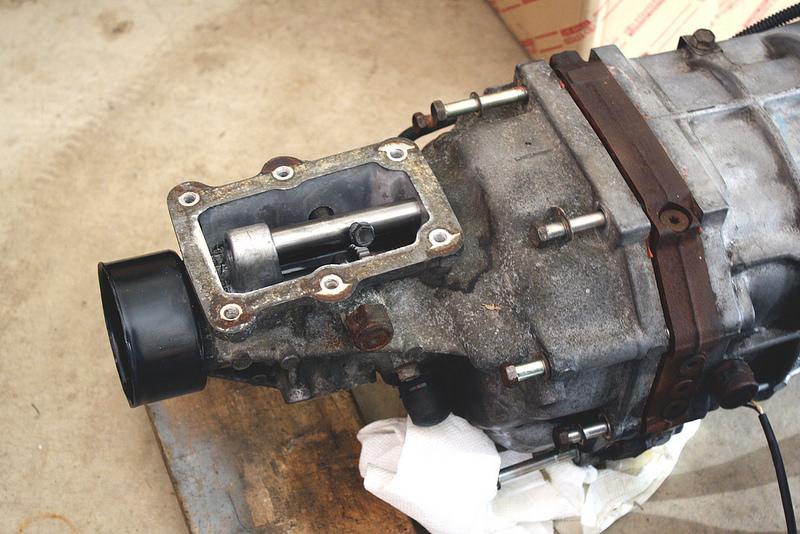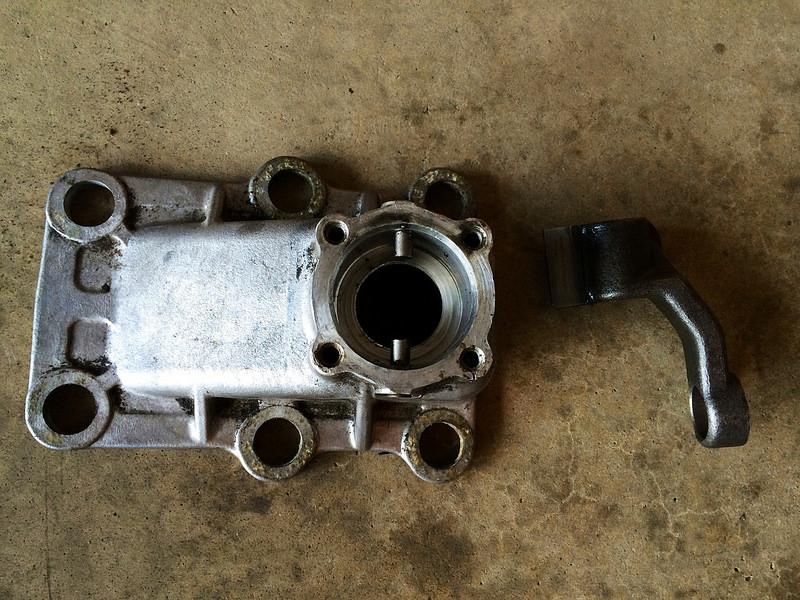 The tool to remove the crank pulley arrived so that I can replace the timing belt: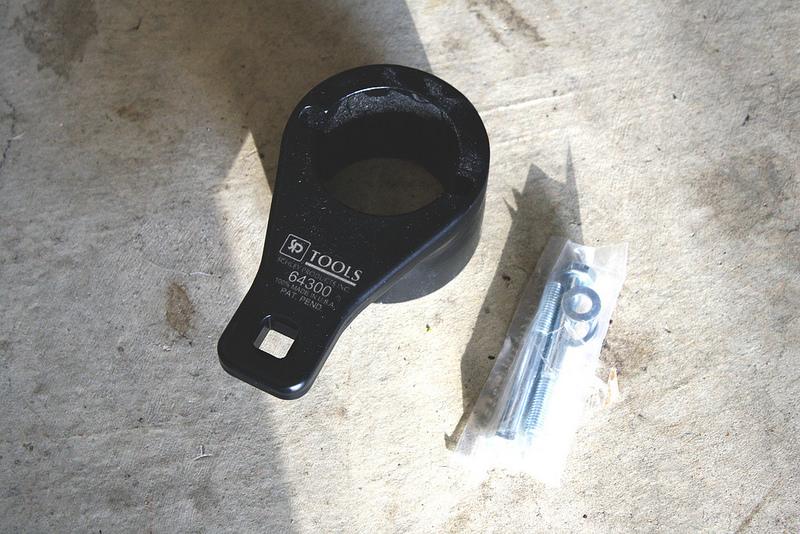 I also scored a cheap pair of LED tail lights from a friend. One of them needs a resistor replaced, but I couldn't pass them up for the price. I'll have to see if I can get them to work at some point later on, but they look cool on the car in the mean time.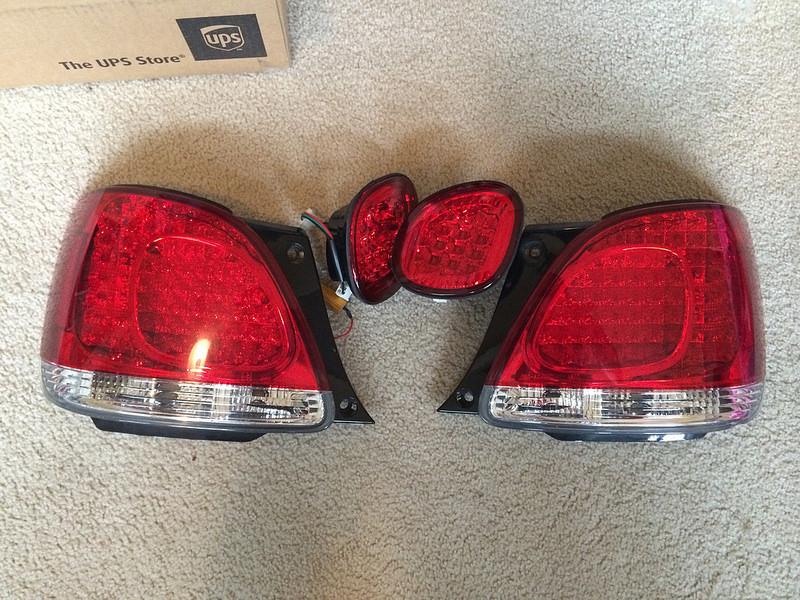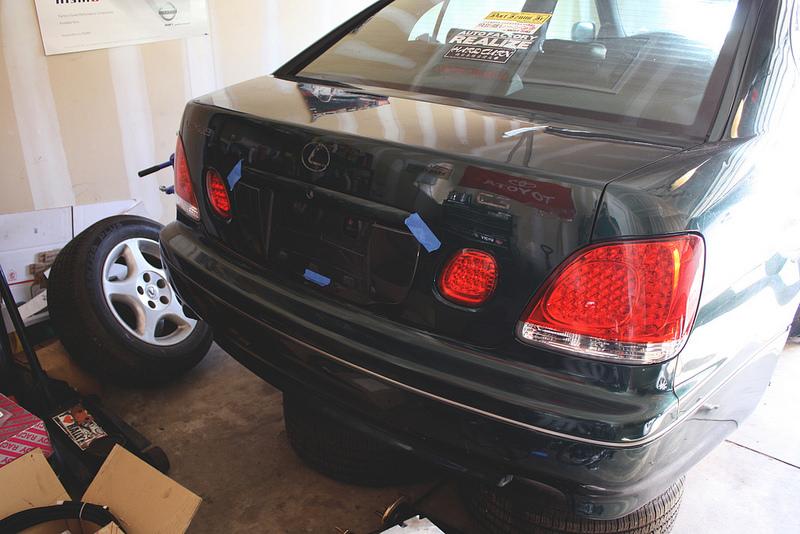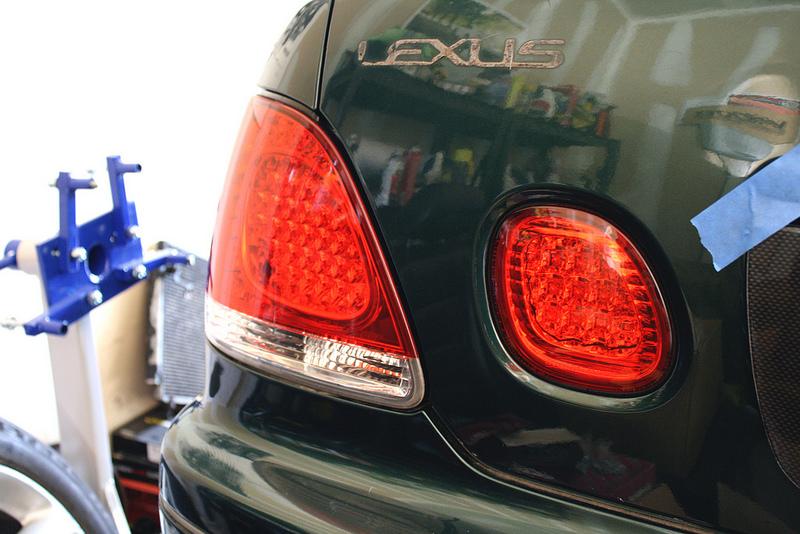 I'm hoping to spend my time on engine maintenance and cleanup this week. I should be able to move ahead with the timing belt service, water pump, thermostat, and miscellaneous gaskets and seals. As soon as that's complete I can begin the final assembly of the engine and transmission.
5-28-2014
Considering a wideband for sure. I've had them in a couple of the boosted cars I have owned in the past and they're always nice to have. I'll see what I can do on the clutch pedal pics, but I pretty much braced it utilizing the threaded studs and nuts that used to hold the foot e-brake pedal. It'll become clear when you're under there for sure though. I think there might be better options to use than the MKIV Supra pedal though.
___________________________________________________________________________
Sorry about the lack of updates! I haven't had the time to sit down and post.
I picked up my painted Ganador Mirrors from Superior Collision. I always use the same body shop for all of my projects and they do a really nice job for me considering the price. I'm pretty happy with how they turned out: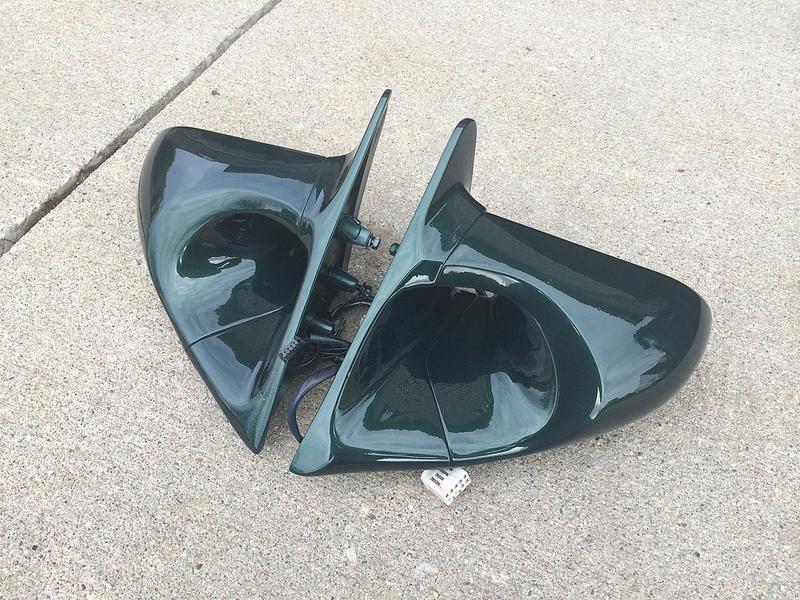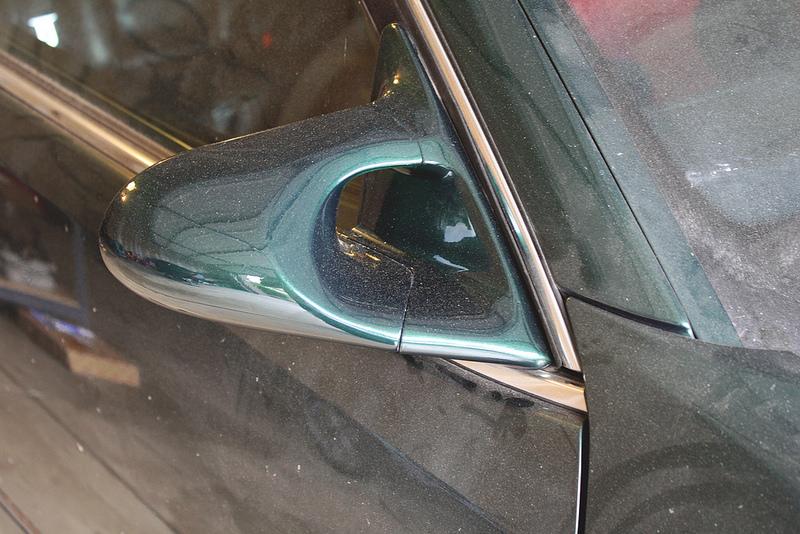 Ganadors just manage to make any car look so much cooler, haha: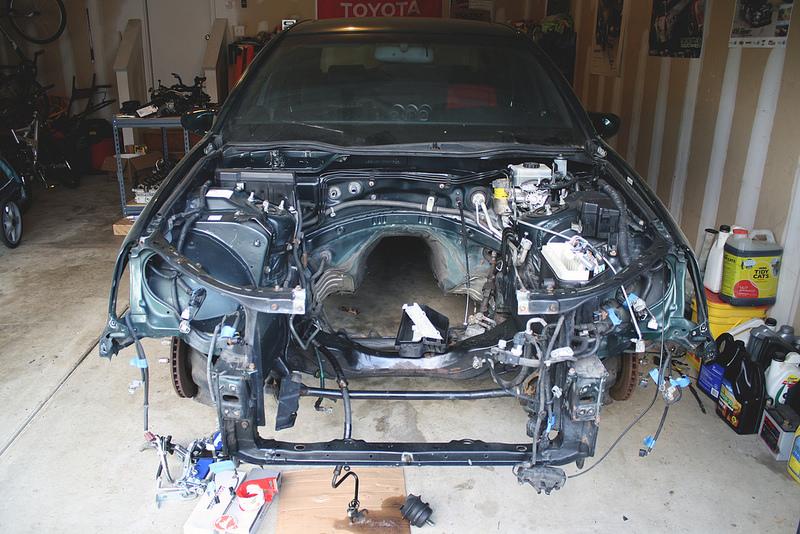 I received my shifter housing and linkage back from Ben at Freed Engineering. The turn around time was less than a week on this work- very impressive! Ben was great to work with and the welds look top notch. I had them extend the housing and linkage 2.5³ to center it in what will now be the manual transmission center console. Still need to install the Marlin Crawler bushings when the assembly goes back together.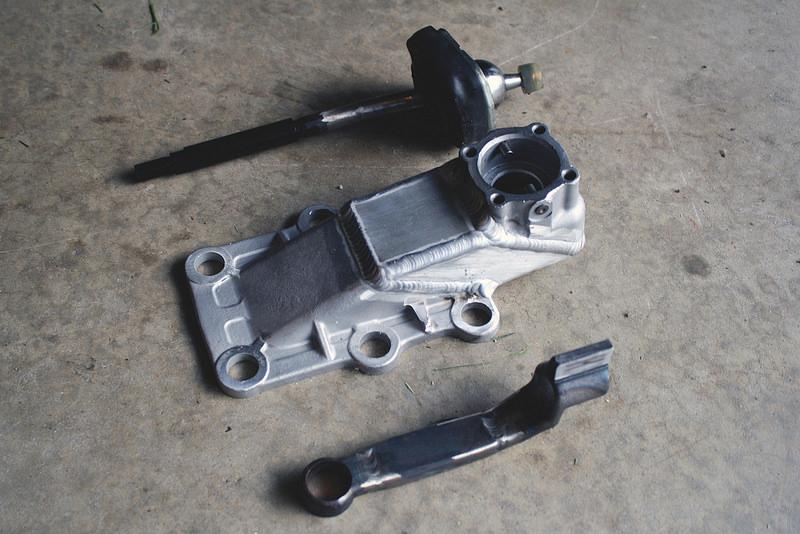 It seemed like the shifter was going to be too short and sunken down into the Lexus beefy center console, so I picked up a cheap shifter extension on eBay. Not normally the route I go with my parts, but it seemed like a fairly tough thing to mess up. I'll have to try it when the transmission is back in the car to see if I like it.
Next, I tore into the engine to begin the routine maintenance work. When I removed the front cover, I found a decent amount of oil had been leaking from the cam seals. After taking it apart further, I decided it was best to completely tear the engine down to replace a number of the aging components and reseal things as nicely as possible.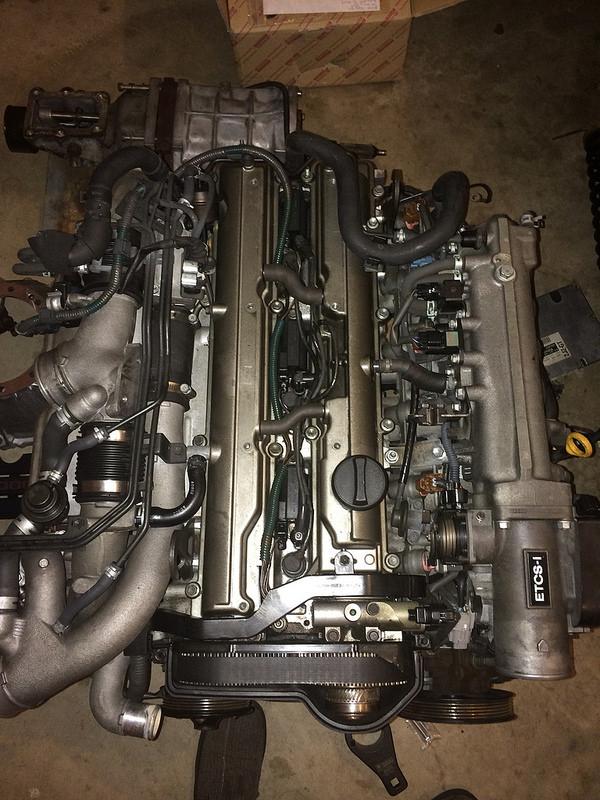 The crank pulley was giving me a hard time when I tried to remove it on my own, so I ended up picking up a pair of pipes from the hardware store. I used one as a cheater pipe and the other as a brace against the floor on the crank pulley removal tool and that allowed me to break it loose. Forever Alone, haha.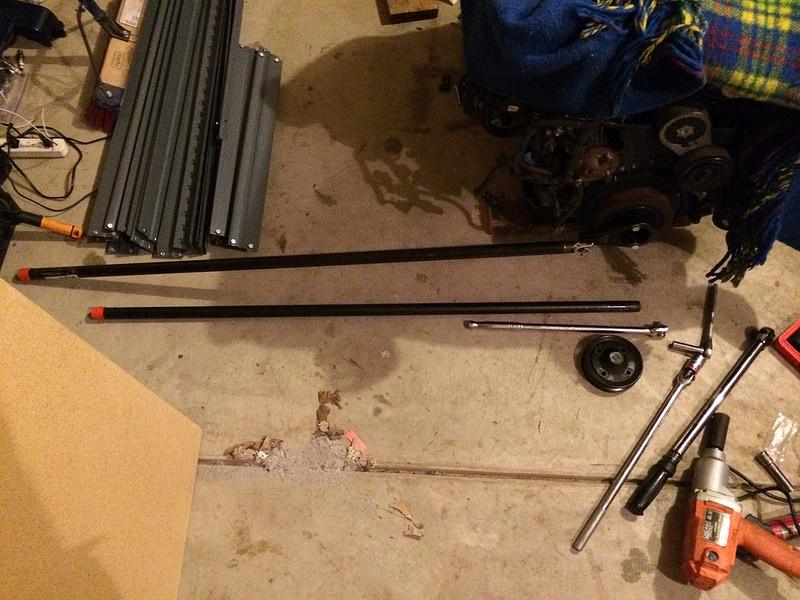 From that point, I went ahead and removed the camshafts and pulleys. I was not able to break the VVTi pulley loose and nearly stripped the nut holding it on, but fortunately I was able to remove the cam with the gear installed. The pulley is showing signs that the internal o-ring may be bad anyway and I wouldn't mind a set of Tomei Poncams, so I might just replace the whole assembly- but we'll see about that down the road.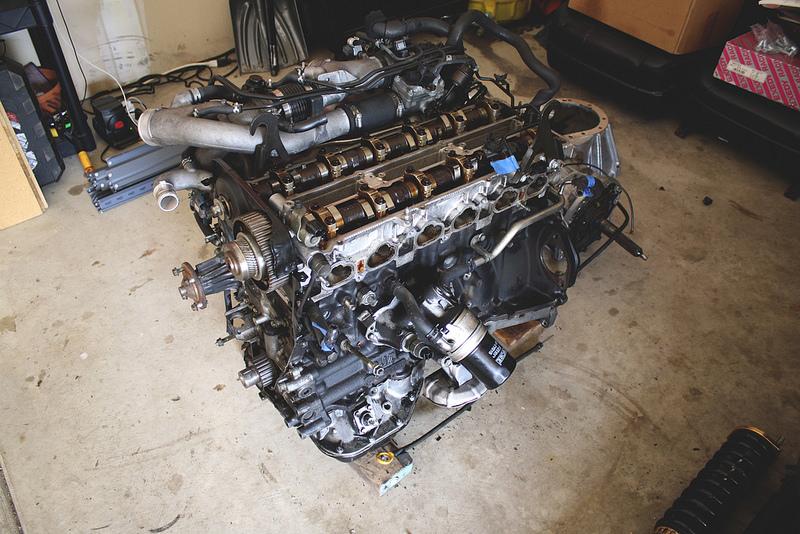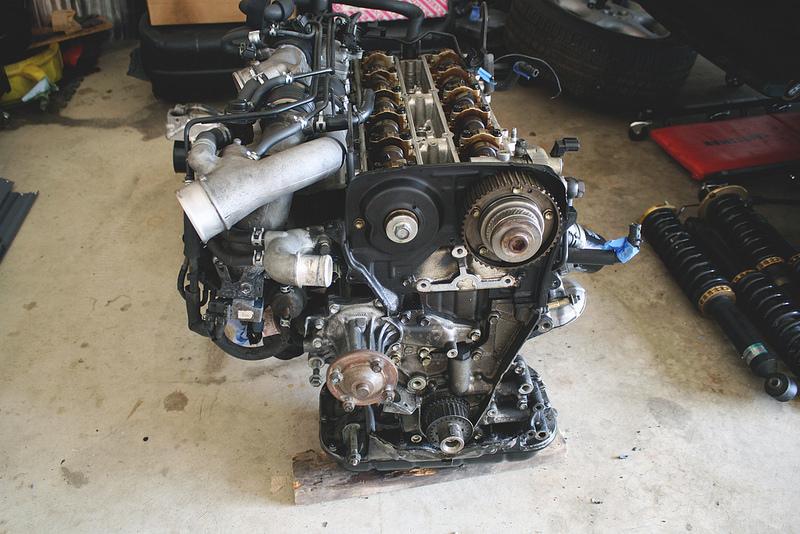 Next I removed the wiring harness, intake manifold, fuel injectors, AC compressor, and power steering pump. But the worst part of tearing down this engine has got to be removing the twin turbo assemblies. I seriously can't imagine doing this while the engine is in the car! I was hoping to find that the turbos were in decent condition, but sadly they have seen better days. I found a pretty hefty amount of shaft play in each of them. With the amount of time it took me to remove them, there is just no way I am putting those back on the car.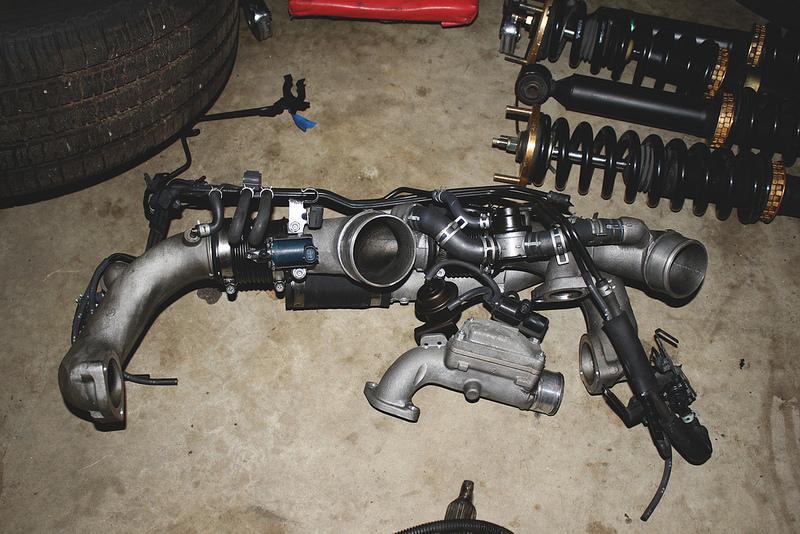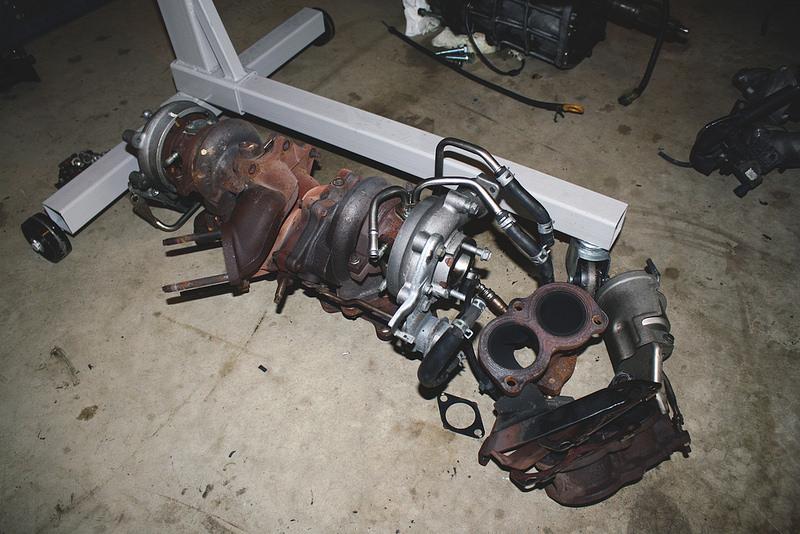 After tossing the turbo assemblies across the garage, I was finally able to put the engine back on the stand. From there, I removed the head studs and lifted the head off of the engine. Here are a couple shots of how the engine is sitting at this point: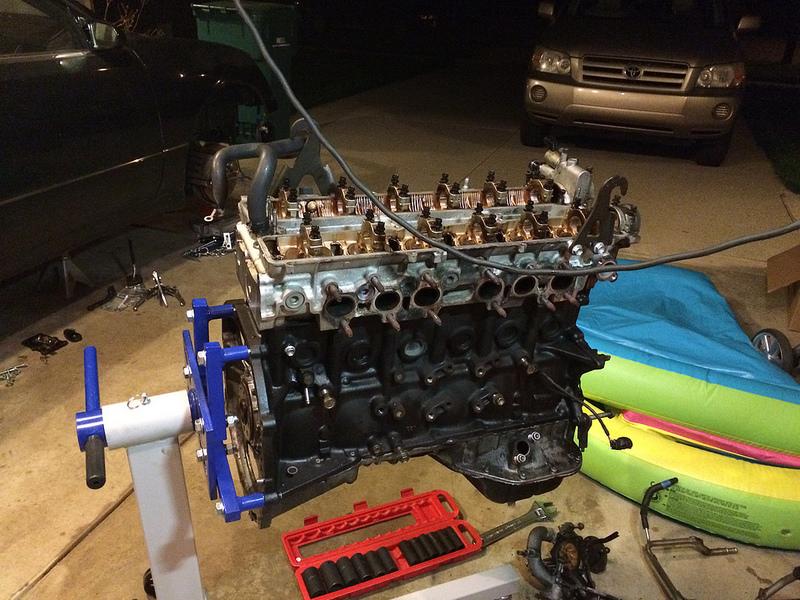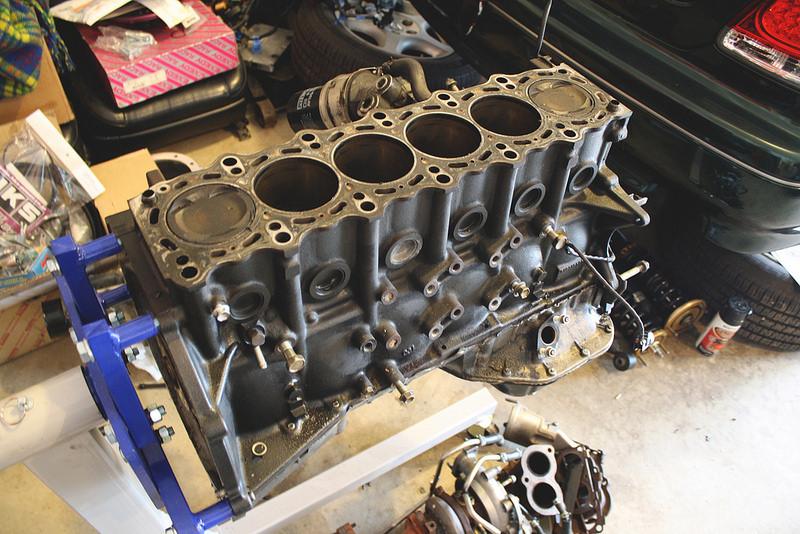 Next I need to remove the lower and upper oil pans, replace the oil pump and strainer when it arrives, and inspect the main bearings. Hopefully the bottom end is in good shape because I really dont want to get into messing with that portion of the engine.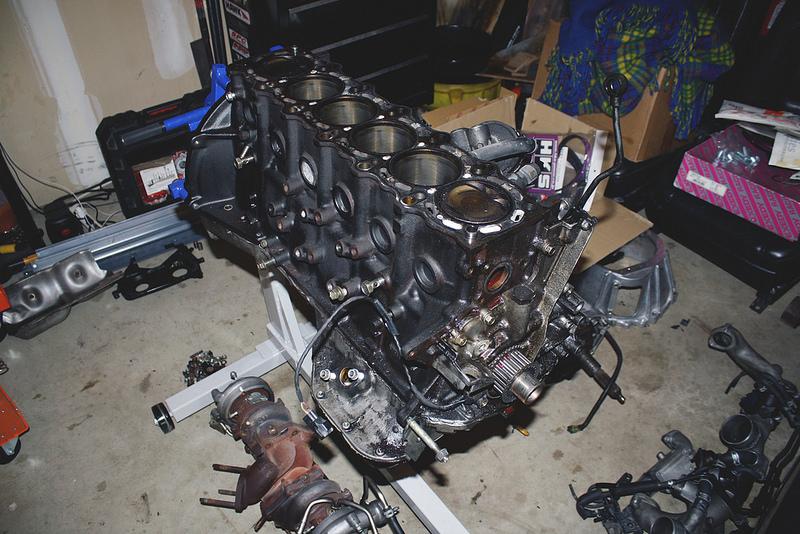 Will all of this add a decent chunk of time to the build? Yes. But will the car be more reliable and better off for it in the end? Man, I sure hope so. I am getting into a little more engine work than I had originally anticipated, but what else is new? I'm glad I am taking the time to learn the ins and outs of the drivetrain so that when problems do arise down the road I will have a better understanding of what the culprit may be. It's annoying to have to take longer now, but hopefully it will pay off in the long run much like it did with my SR20.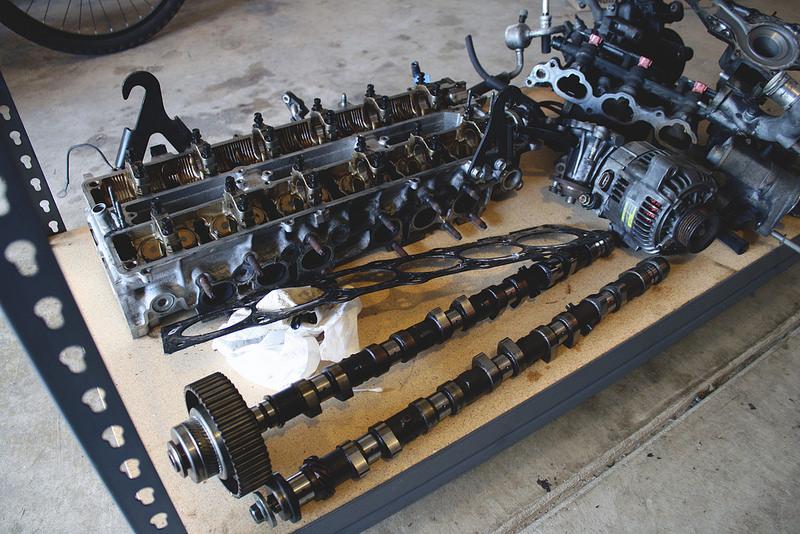 I picked up a couple of shelving units from my in-laws to get our basement organized, but I ended up using one of them in the garage to keep track of all of the engine parts and hardware during the rebuild process. Fortunately my wife doesn't mind if I park her car outside for a while. At least the snow is gone for a few months!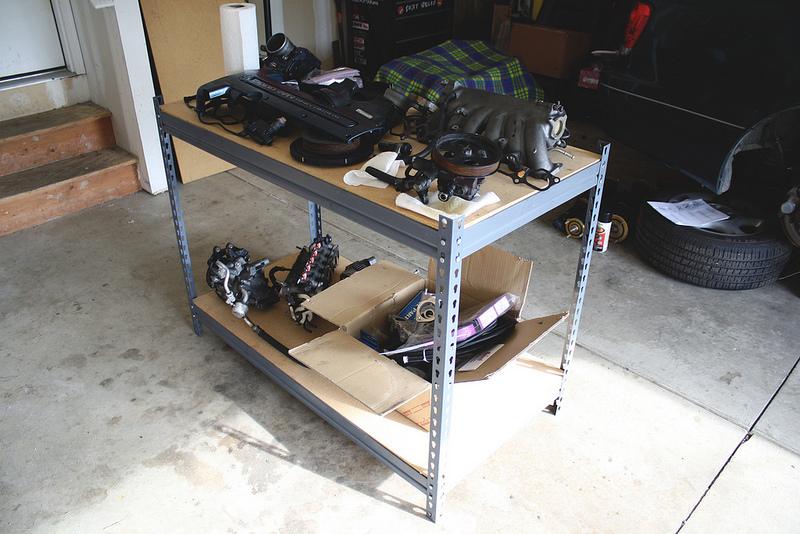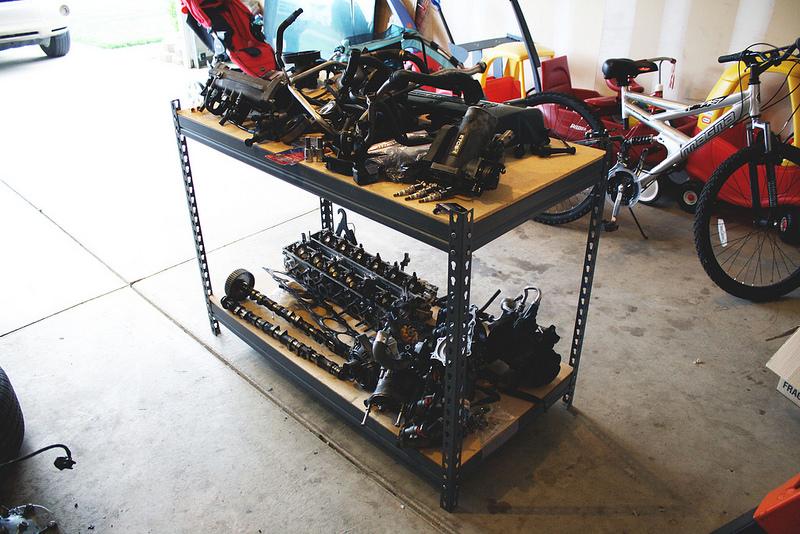 My cousin was gracious enough to take my valve covers in to a connection he has through his work to have them powdercoated, so those should be cleaned up and ready in about a week or so.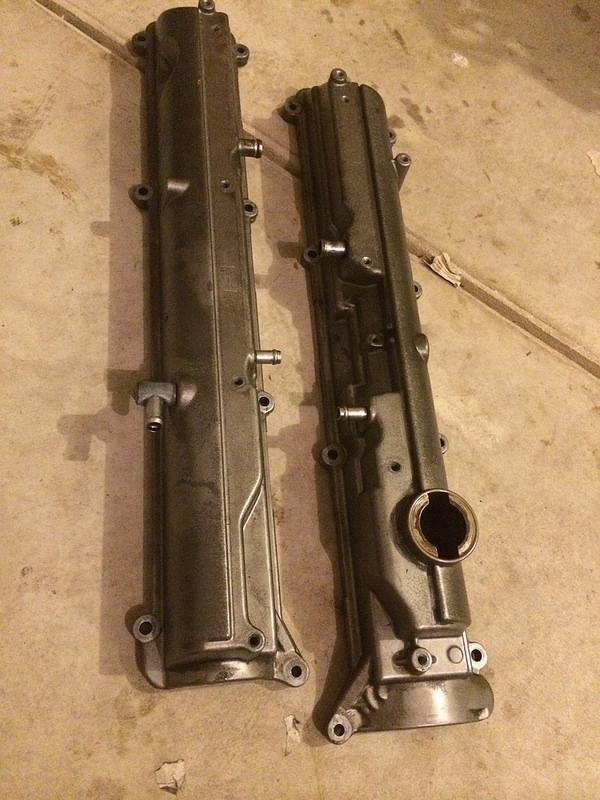 I had a few other necessary parts show up during the last week or so, including my SARD jet pump killer and low temp thermostat. I still don't have a solid handle on exactly what the jet pump killer does, but I know it has something to do with the split design fuel tank and preventing fuel starvation. Not to mention it sounds "killer" on the mod list. heh heh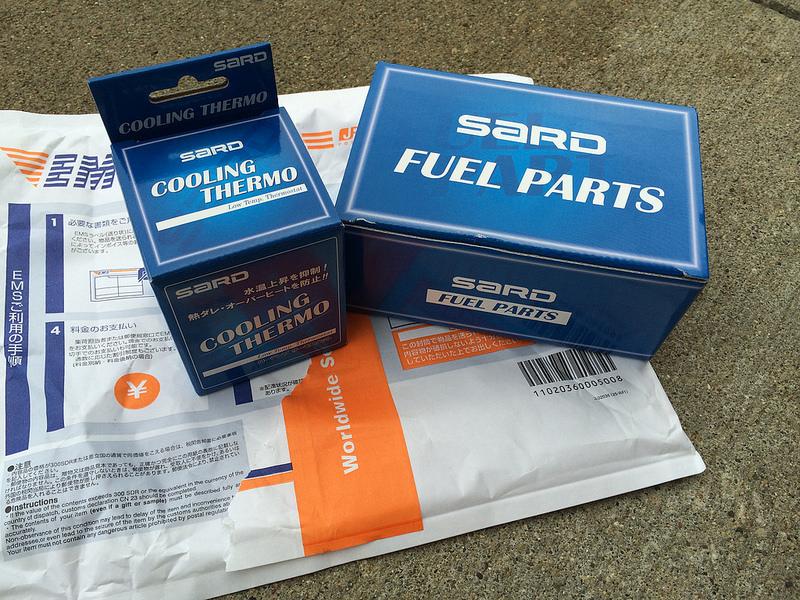 My ARP head studs and GReddy oil adapter plate also arrived from BaoHouse Tuning. It's great to have things arrive so quickly- kudos to you sir!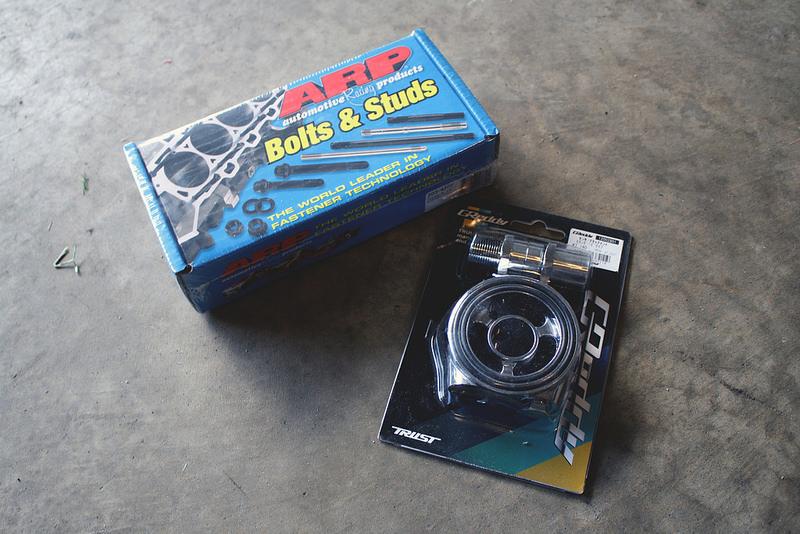 I picked up a pair of radio and climate control mounting brackets since my car was missing these pieces when I got it, so now I can bolt those items in. I haven't even touched the car itself in the past couple weeks with all of the engine and transmission work going on.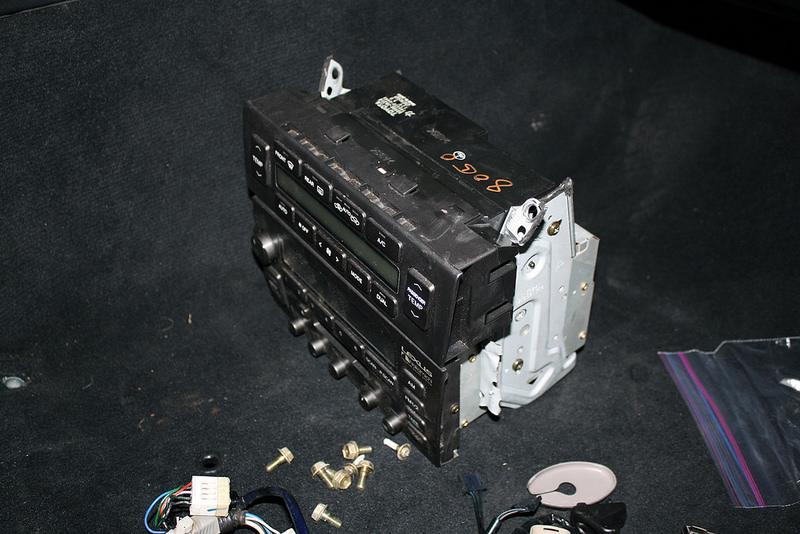 Tonight my OEM oil pump arrived, as well as a couple new resistors that should hopefully get my tail lights working when the time comes: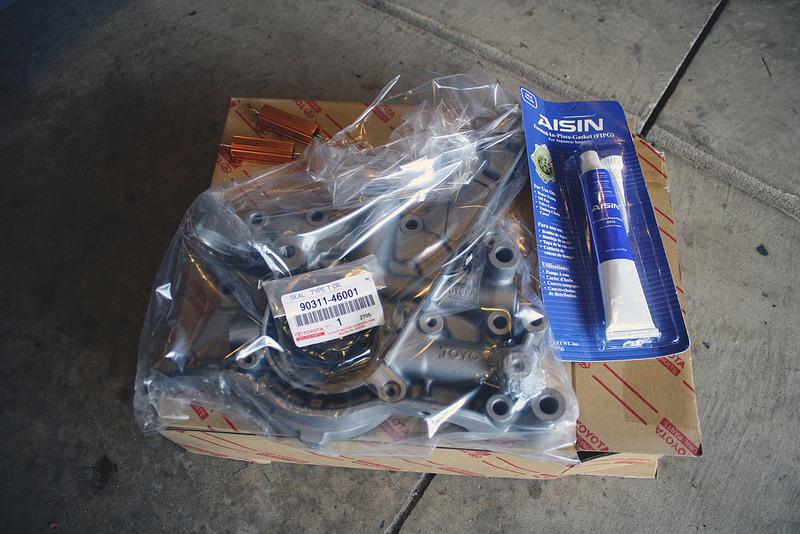 So that just about brings this up to speed. Hoping to have the necessary items to start getting the engine put back together in about a week or so!
6-5-2014
Not a lot to report from the garage this week. I spent some time in Georgia with family and the craziness of traveling with two little ones did not lend itself to much work getting done in the garage in between. In fact, I'm not sure I touched the car or the engine since my last update.
While I may not have accomplished much this week, I did have some parts arrive for the build. The first was a small order from Curt at Elmhurst Toyota. I really can't say enough about their customer service. I emailed Curt some part numbers and he responded within ten minutes to say everything was in stock. The parts showed up at my door the next day- pretty impressive.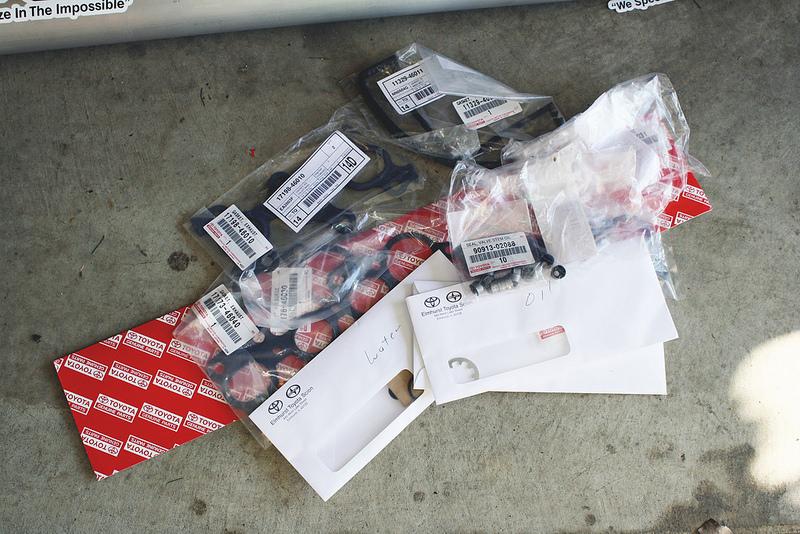 I had originally purchased only the gaskets I planned to replace in my mild overhaul, but after tearing the engine down more than I anticipated there were more items I needed. I've essentially bought the entire engine gasket kit at this point, but oh well. This order consisted of exhaust and intake manifold gaskets, a few miscellaneous oil and water related gaskets, and valve stem seals.
I dropped the head off at the local machine shop to be inspected, decked, and to have the new valve stem seals installed. I didn't take a decent photo, but here's one from Instagram on my way to drop it off: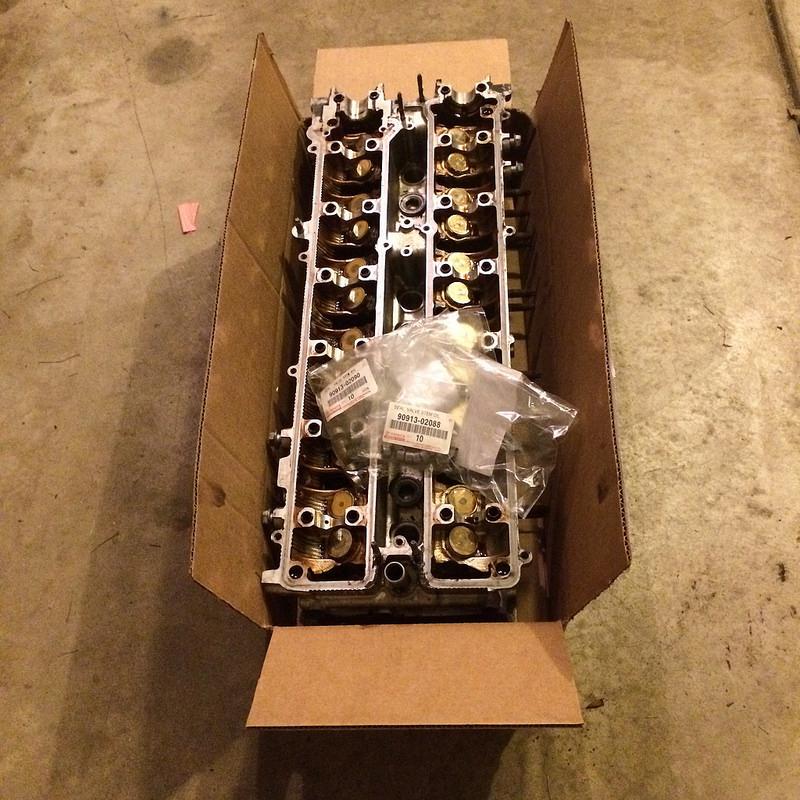 I also decided to replace the oil strainer and gasket. It was common for SR20 engines to suffer oil starvation from the pickup failing, so I replaced it on that build and figured it was a good idea to replace this one as well despite the fact that I haven't necessarily heard this is an issue with the 2JZGTE.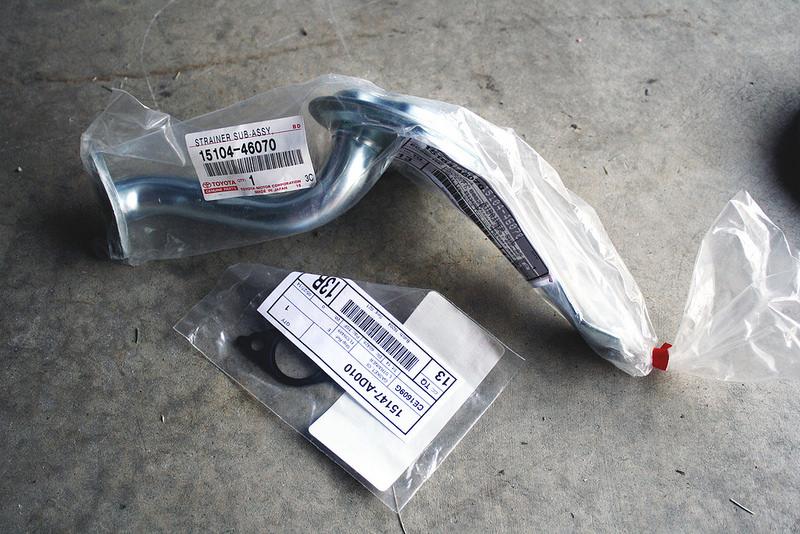 The last major piece to the drivetrain puzzle was the driveshaft. I decided to have The DriveShaft Shop build me a custom 3.5³ aluminum driveshaft to mate the GS400²s rear differential with the R154 manual transmission. They told me the lead time was four weeks on this piece, so I was pretty surprised when they sent me tracking information only four or five days after I placed the order.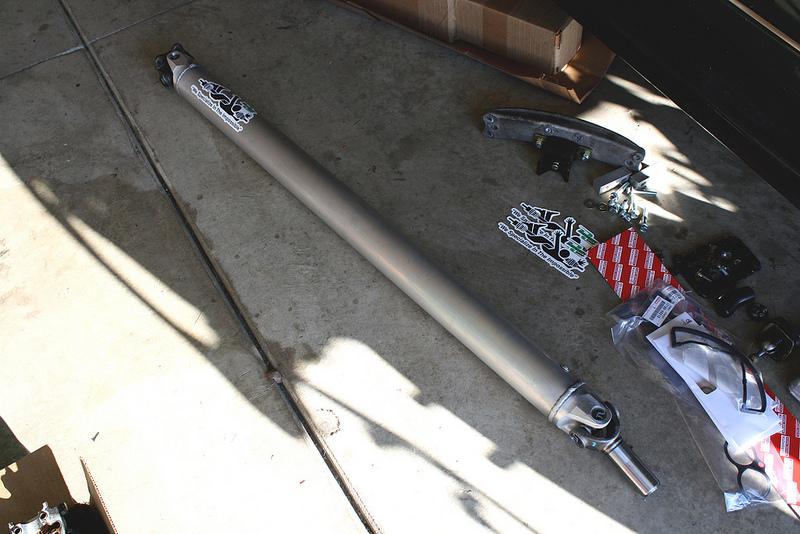 Quality looks to be top notch. Hopefully my measurements check out and this thing fits like a glove when the time comes to bolt it in. Something tells me the stock open differential is going to need to be replaced ASAP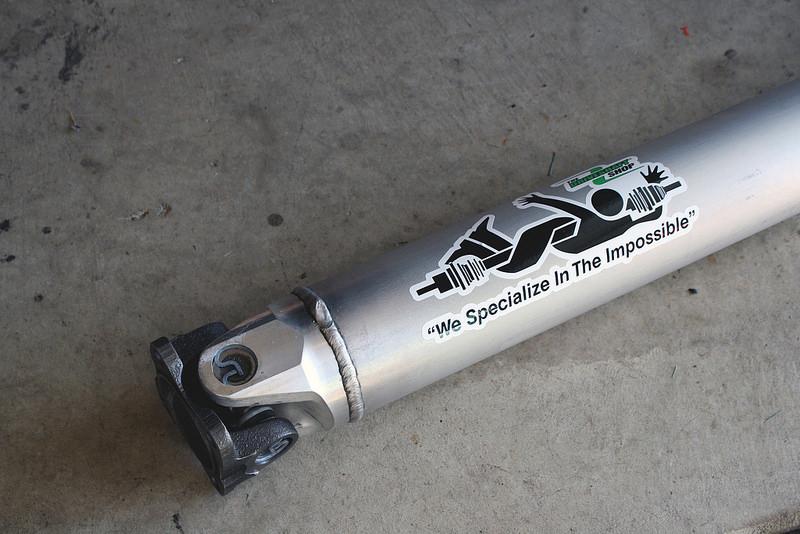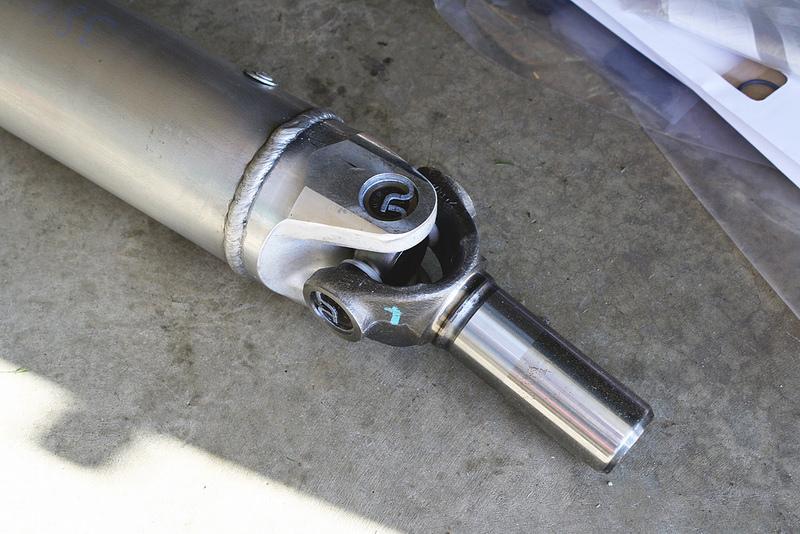 The price also included the necessary adapter to mate the driveshaft with the car's differential flange: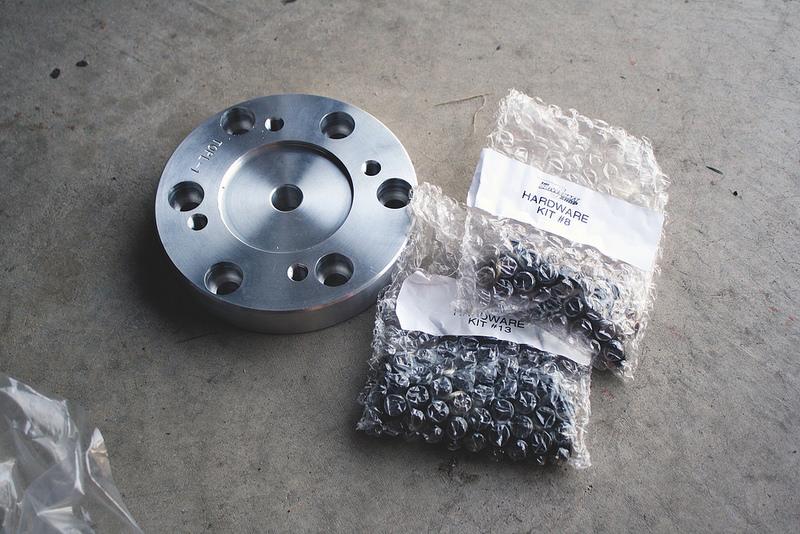 6-16-2014
I haven't gotten around to the fuel system work yet since I have been so busy with rebuilding the engine, but I will definitely document it and post some photos when the time comes!
____________________________________________________________
I'm a little behind on my update for last week, but I knew that I had a three day weekend for Father's Day and was hoping to get some work done on the car during that time, so I decided to hold off on posting an update until today. I didn't get as far as I had hoped, but things always take longer than I think they will. So with that being said, I'm happy with my progress!
After checking out the bottom end a bit, I decided to proceed with reassembly without getting into pistons, rods, etc. I took the same approach with my SR20DET and was happy with the results, so fingers crossed that I'll end up in the same place with the 2JZ.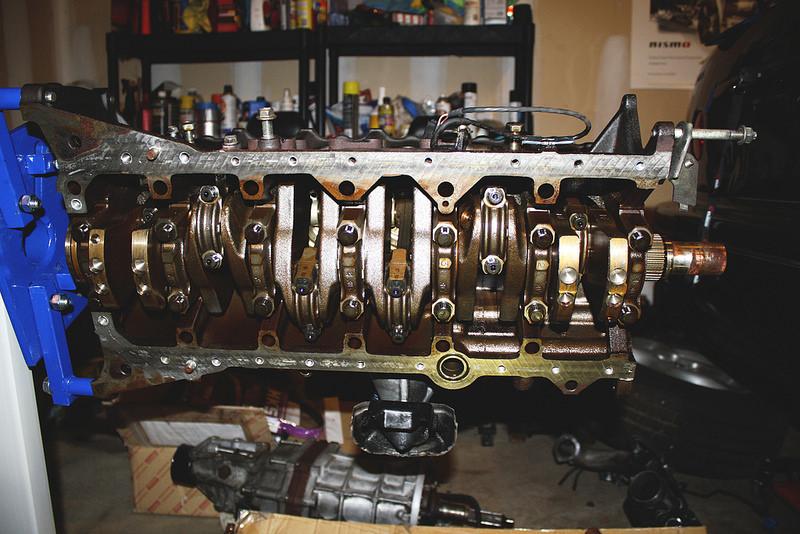 The first order of business was to remove the timing gear from the front of the engine, allowing me to swap the old oil pump out for the new unit. I had to purchase a gear puller from Auto Zone since my typical two-jaw puller wouldn't work with this type of pulley. The included bolts were too large and standard thread pitch, so I had to make a trip to the hardware store for some new bolts. Once I had those in place, the puller made quick work of removing the gear.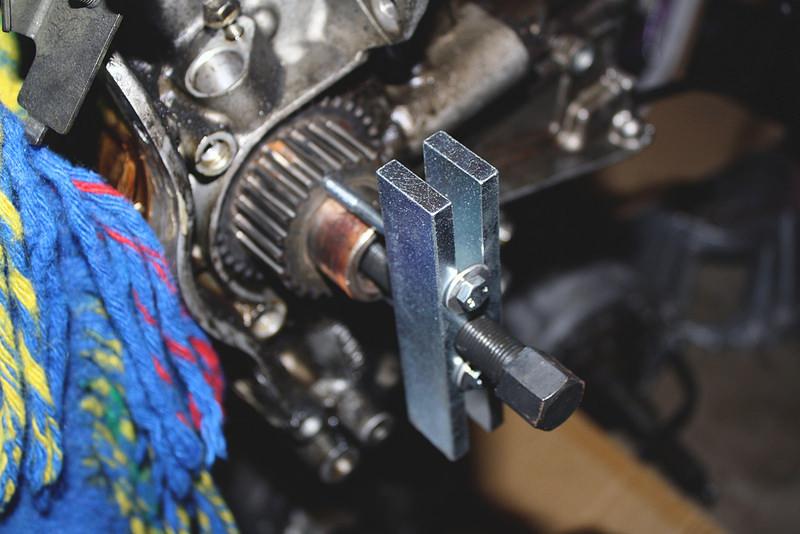 With the gear out of the way, I was able to pull the oil pump. I needed to press the new front crank seal into the new oil pump, but was having a hard time finding something to press the seal in evenly with. I read that a piece of PVC pipe worked well, but it was about 1 AM at the time, so all of the local hardware stores were closed. I ended up removing a piece of PVC pipe from the side of my house that I had repaired at one time (something to do with my washing machine) and it was the perfect diameter! A redneck solution? Yes. But it got the job done! I promptly reinstalled it before my wife noticed I ripped the house apart
Here's a shot of the old oil pump and front crank seal with the new OEM Toyota unit: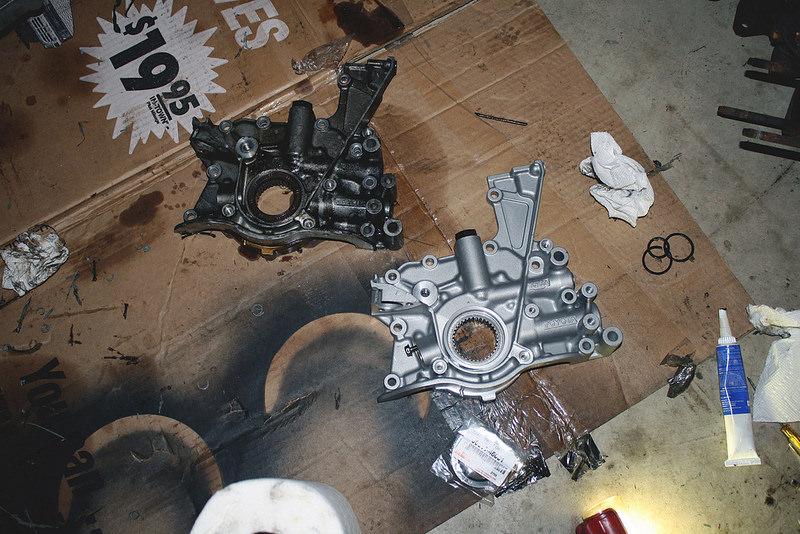 I also replaced the three o-rings on the engine block- two of which are situated behind the oil pump. Seemed like a good time to get these freshened up: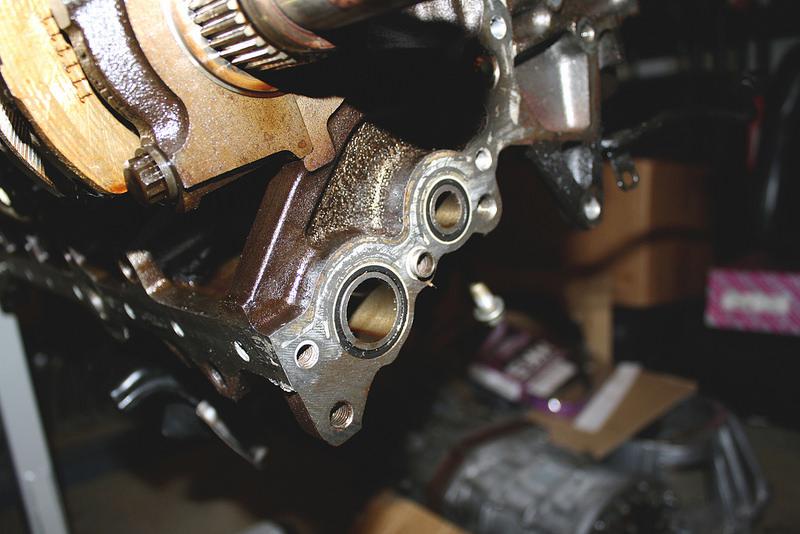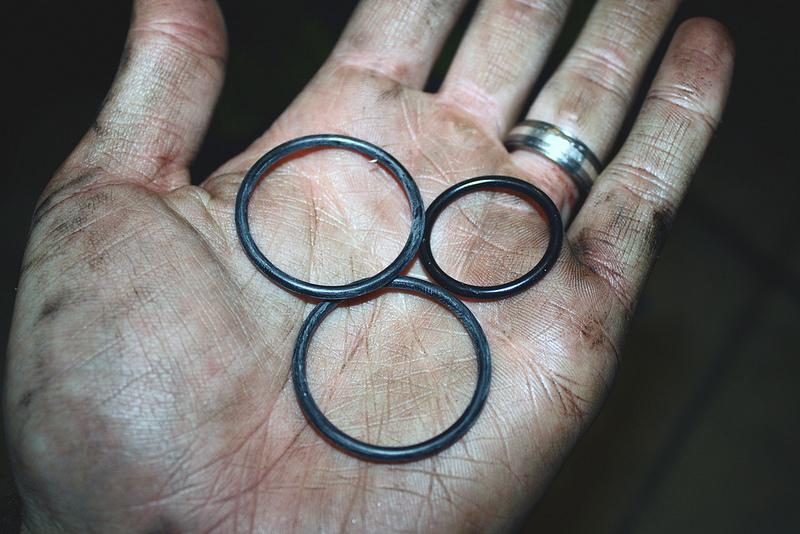 With those seals installed, I was able to bolt the fresh oil pump into place. Much better: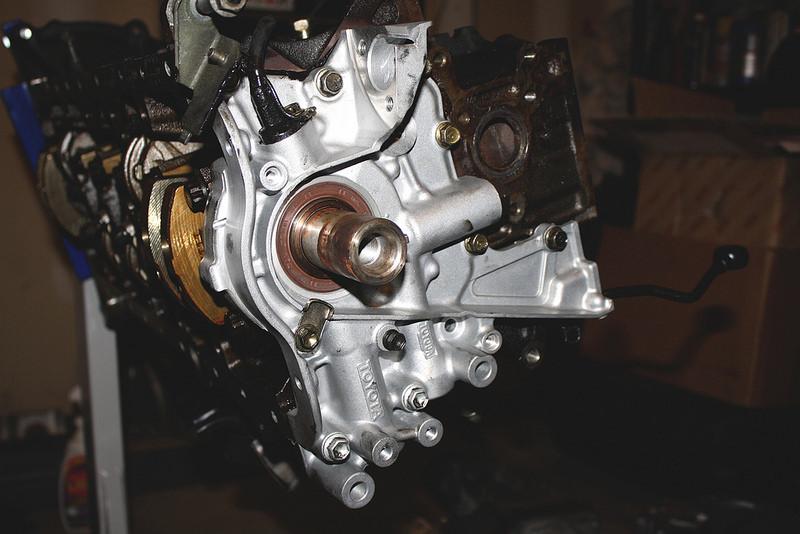 I also took the time to replace the rear main seal. I didn't have any reason to believe it was bad, but this is a nasty one to get into once the engine is in the car. Might as well, right?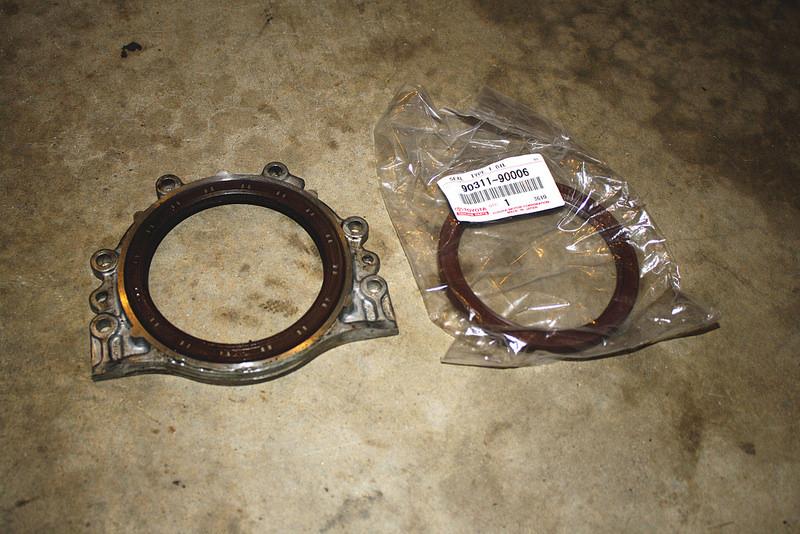 Next up was the upper oil pan, oil baffle plate, and a new oil strainer & gasket: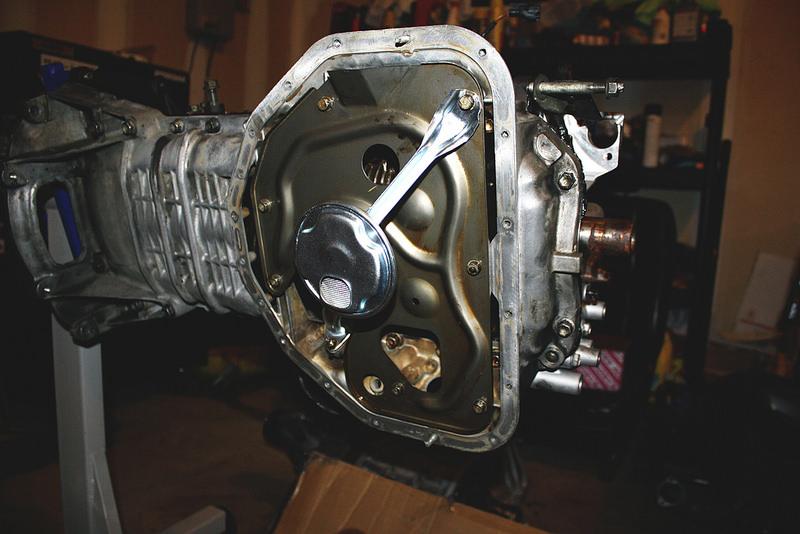 And finally, the lower oil pan. Here's how the engine sits today: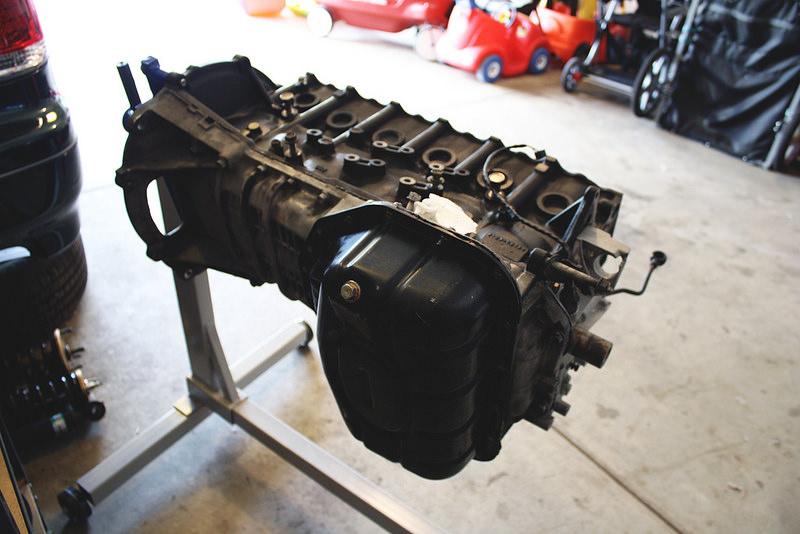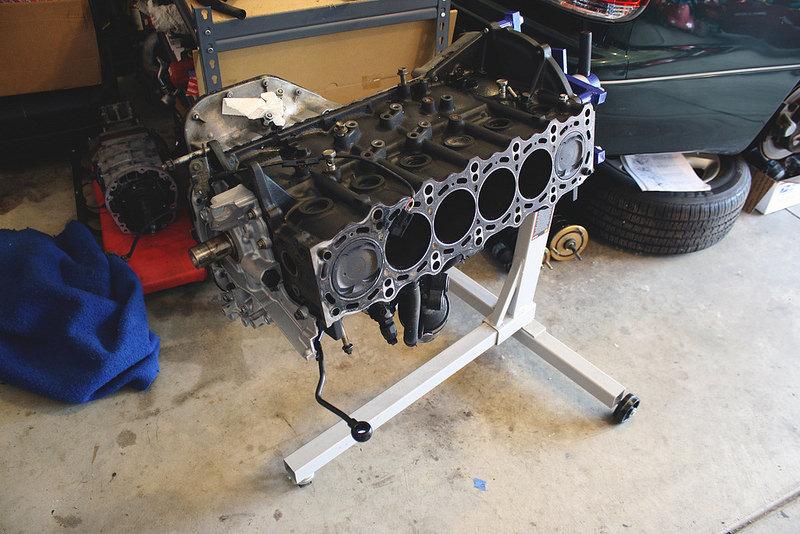 I got the head back from the machine shop late last week, freshly decked and with new OEM intake and exhaust valve stem seals installed. I was hoping to have the head, head gasket, and ARP head studs installed by this morning, but the surface of the block still needs to be cleaned up quite a bit before I am able to complete that work. Hopefully by the next update it'll be back together.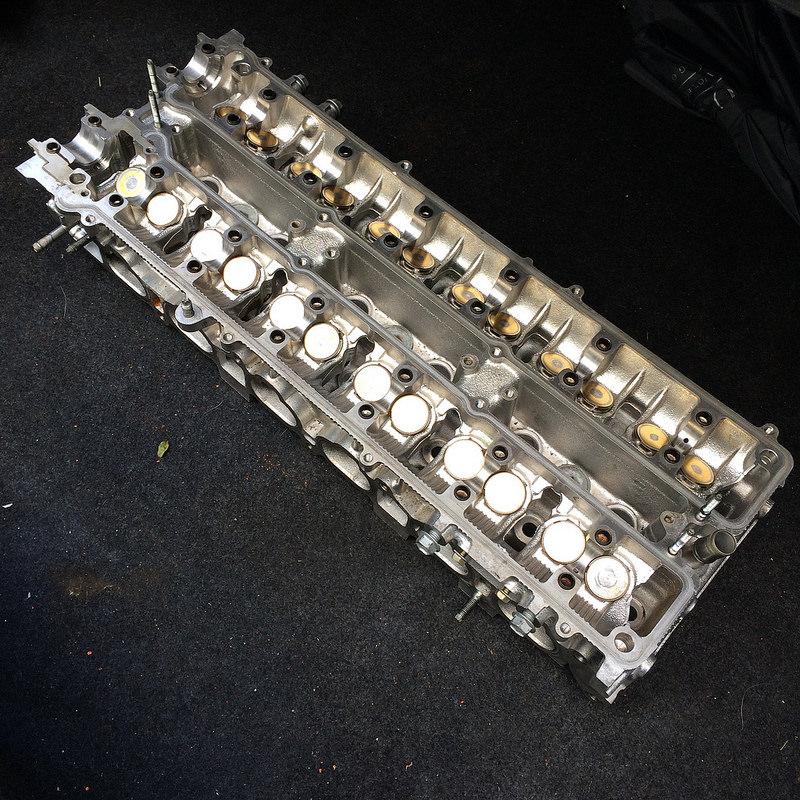 So, on to the items that arrived since last time. I had great luck with my Apexi head gasket in the SR, so I decided to grab one for this engine build as well. The OEM gasket would have been a little cheaper, but hey, bonus points for my mod list. Thanks to Mike at Evasive Motorsports for helping me out with getting this quickly!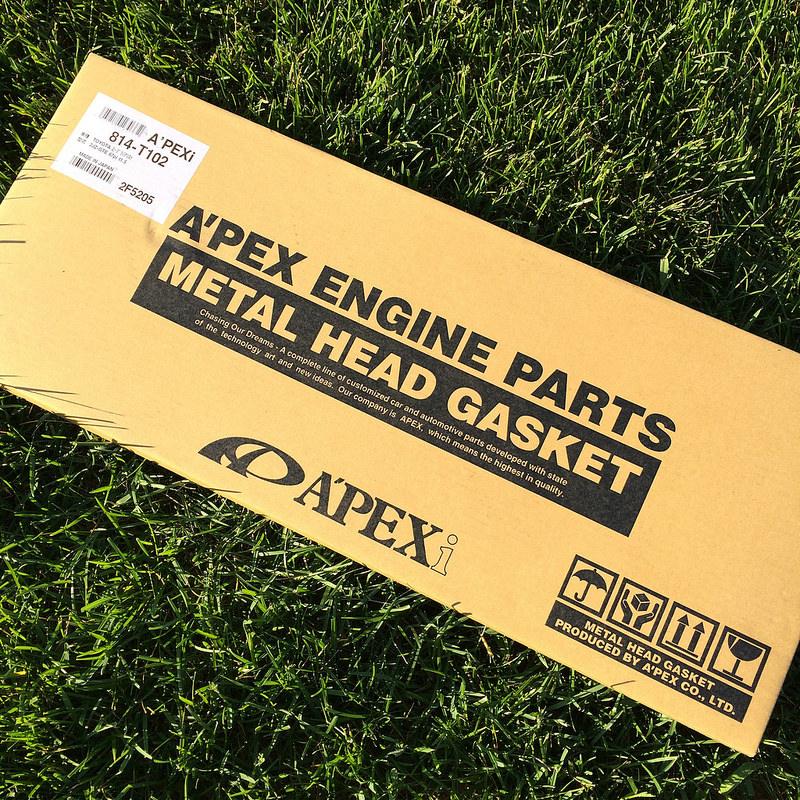 I've been meaning to order Bride seat rails for a while now, but drivetrain components have taken priority. I spent some time translating Bride's website to find the rails I need, but just hadn't pulled the trigger yet. Fortunately, I just happened to find a fellow in Chicago selling the driver's side seat rail I was after for a great price. Not to mention the fact that next day shipping is essentially a guarantee from Chicago to my house. Really excited to have the seat rail here so quickly without a long wait from Japan: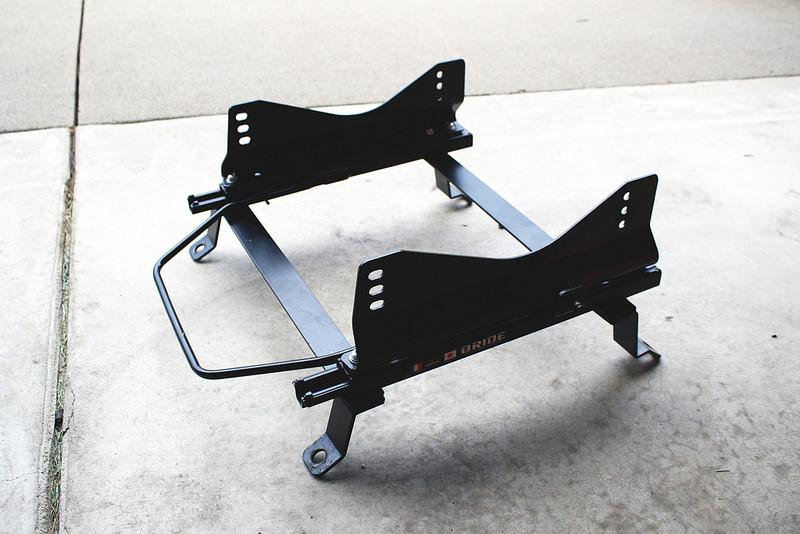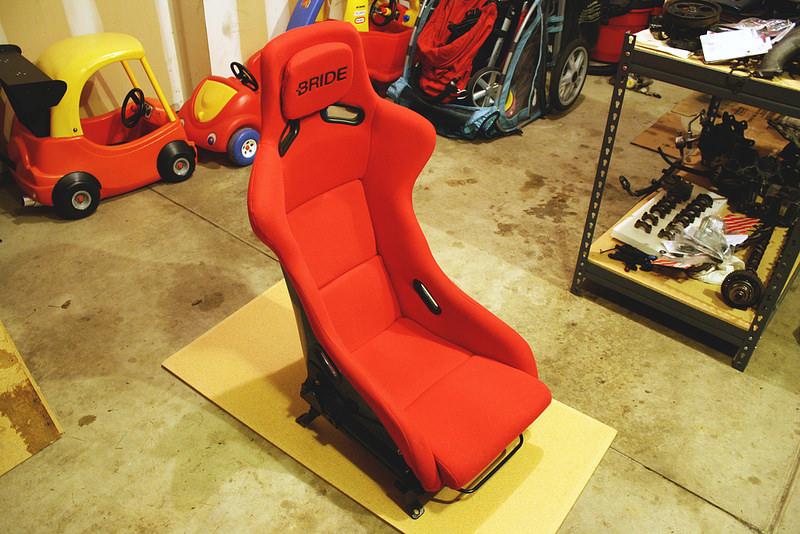 I sat it in the car, but got distracted before I bolted it down. It was fun to actually sit in the car since the factory seats were removed when I got it and I hadn't bothered to bolt the black leather OEM seats into the car previously.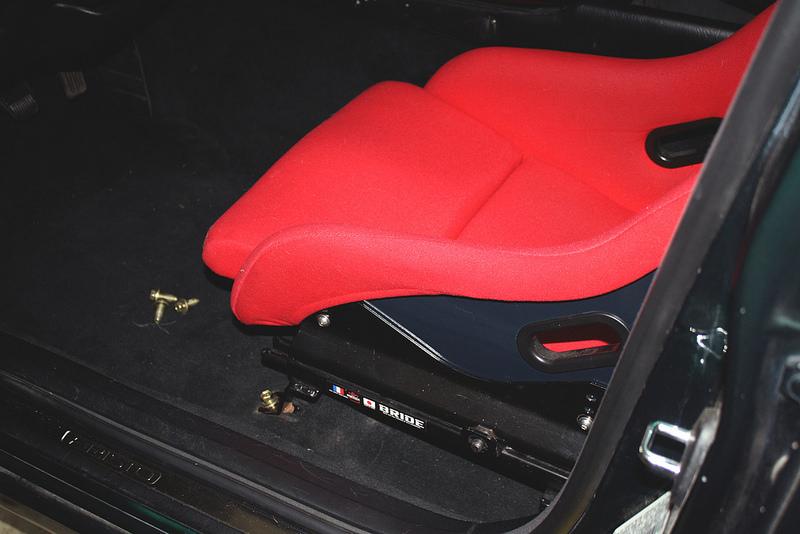 And hey, here's an out-of-focus photo of the seat: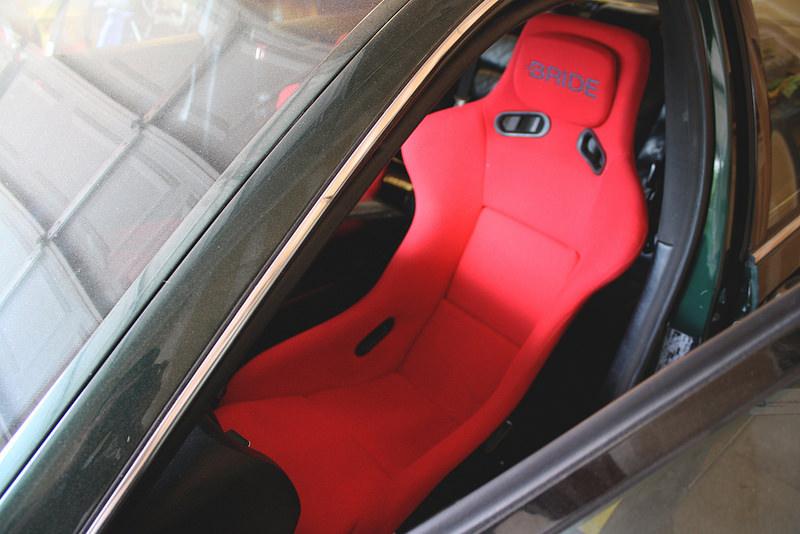 Speaking of long waits from Japan, I finally got a nice box from the motherland early last week after waiting about two months. Inside I found a really clean Bride Ergo that I picked up from Juicey on Zilvia for an awesome price. This was an impulse buy that resulted in me picking up the Zeta II to match, but I am really glad I did: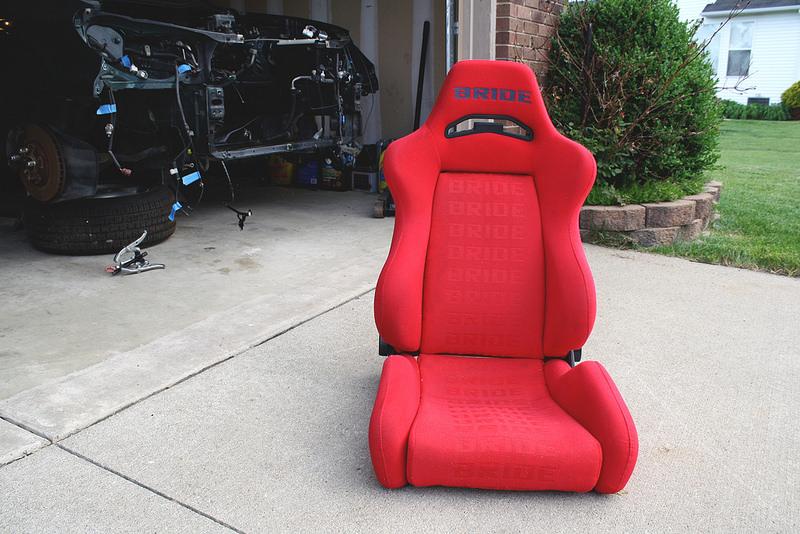 I also grabbed a Nardi Classic 350mm steering wheel to complete the package. I'm really excited about this setup since it is so similar to my S13 interior that I miss immensely:
I just need to pick up a Works Bell hub and a Bride rail for the passenger side and then the interior should be very close to complete. I'm sure a set of red checkered mats from Japan for the Aristo will be the icing on the cake. I'm still considering installing red Bride fabric on the door panels, but I almost prefer the subtle black leather look with the contrasting red seats in this car.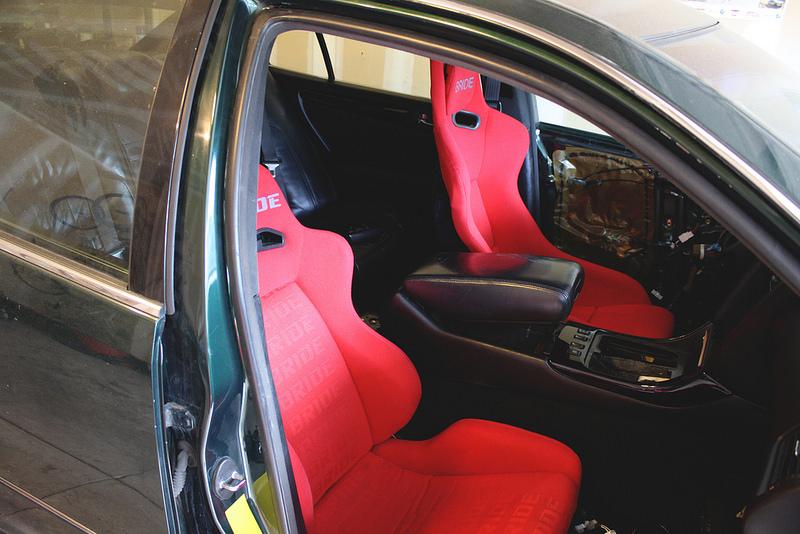 Alicia was kind enough to give me some more time in the garage last night after our Father's Day festivities to reset things a bit and get organized. The garage was completely out of control and I was worried about losing critical engine components, so it was great to be able to get a handle on it to stay organized.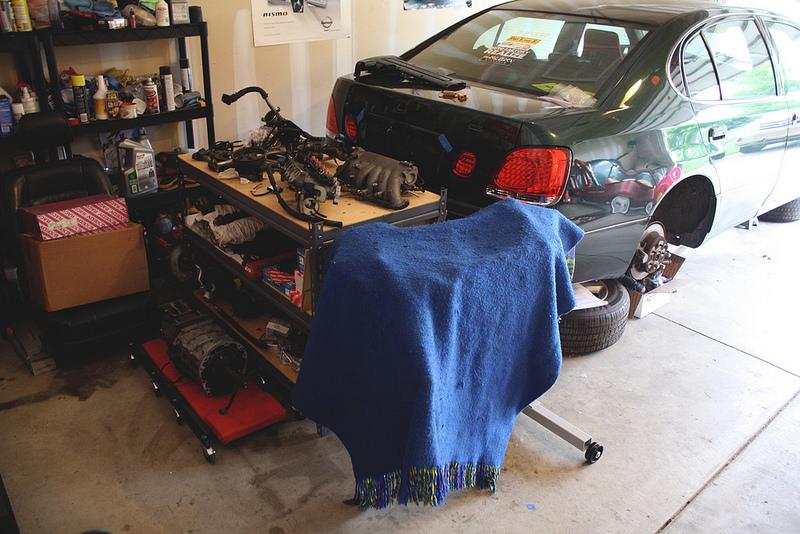 I'm looking forward to getting the drivetrain assembled and into the car soon. This might happen before my turbo setup is all sorted out and installed, but I am guessing it will be much easier to install a single turbo with the engine in the car than it would be to install the twins. I have a lot of research to do before the turbo setup will be here and ready to go, but I pretty much have everything to get the rest of the engine and transmission together and in the car. I always seem to under estimate how long these things take, but here's to hoping I'll be dropping it in within the next month or so.
6-23-2014
It sure doesn't feel like it sometimes, but thanks for the vote of confidence! haha
______________________________________________________________
It took quite a while to remove all of the old head gasket material from the block. I was really nervous about damaging the block or introducing junk into the bottom end, so I had to spend a ton of time with a razor blade cleaning the surface. Hopefully I got it clean enough though and things will seal up nicely.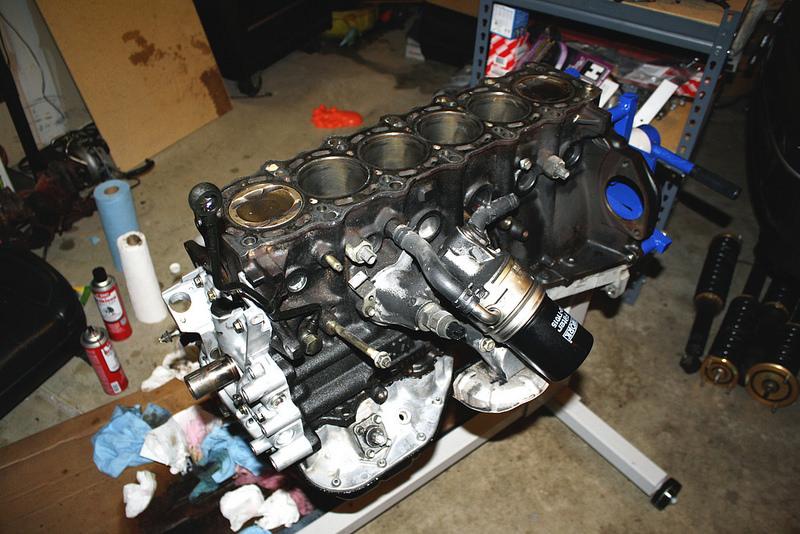 I installed the ARP head studs, followed by the Apexi head gasket. I learned the hard way that the head needs to be mated to the block before the head studs can be installed or you won't be able to put the washers onto the studs. After removing each stud individually and placing the washer in first, I was able to get everything all buttoned up.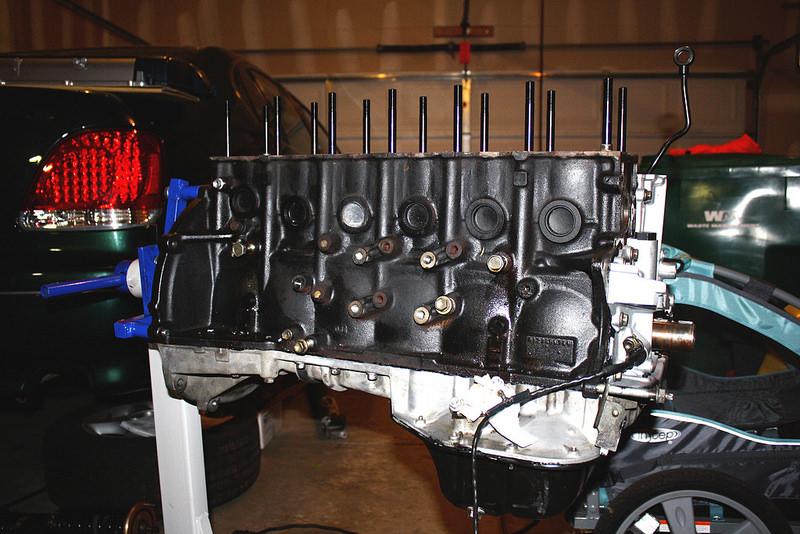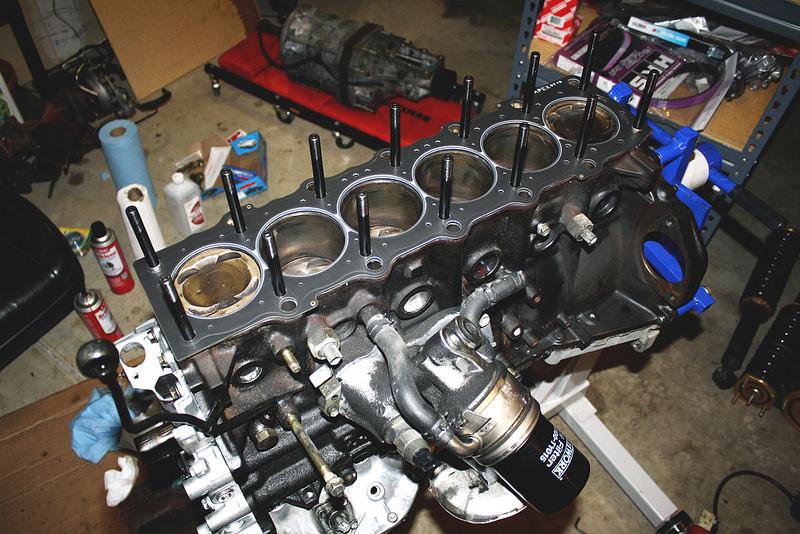 I must have borrowed a 12 point deep 1/2³ socket when I did this with my SR, because I didn't have one to torque the head studs down. I'll have to pick one up this week and take care of that.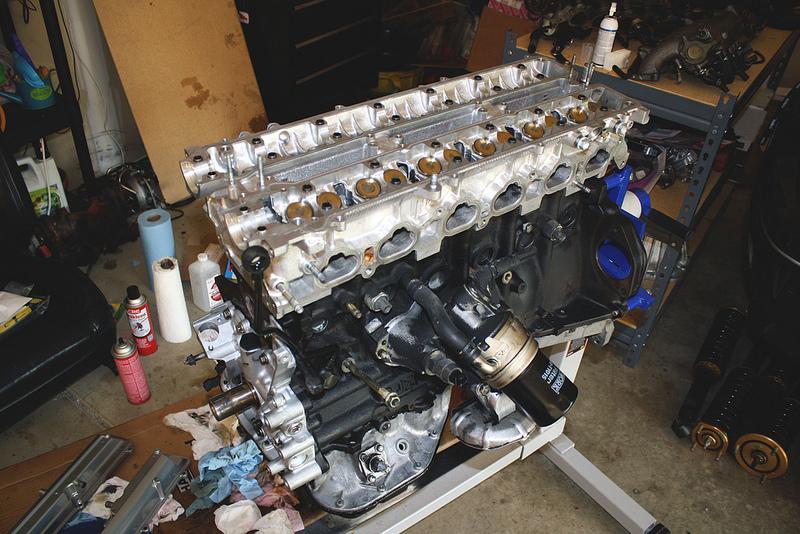 I got my valve covers came back from powder coating last week. They didn't turn out as chrome as I had expected, but they look kind of cool. Much better than the dirty and dull condition they were in previously.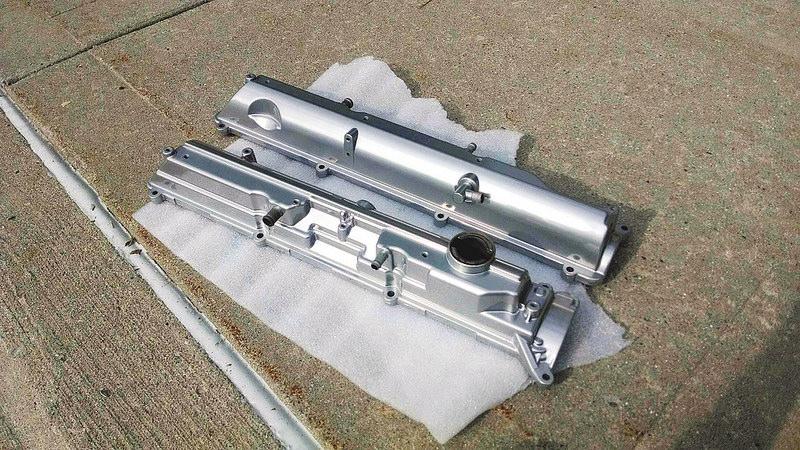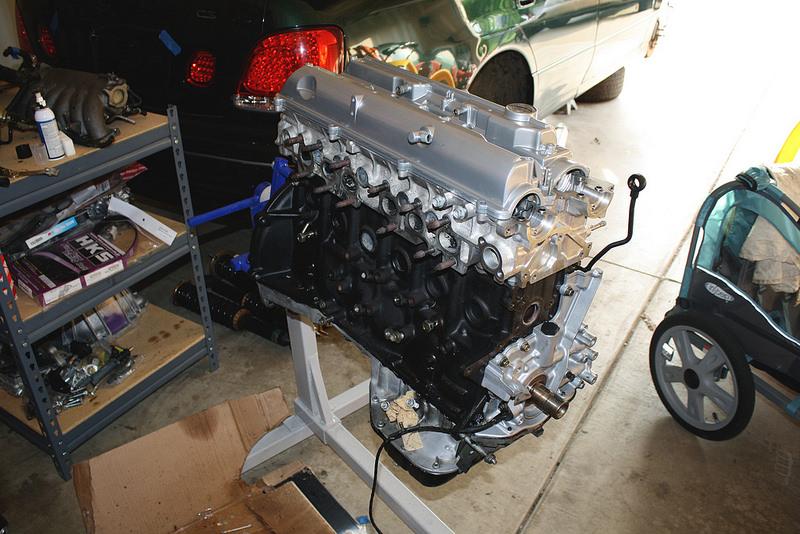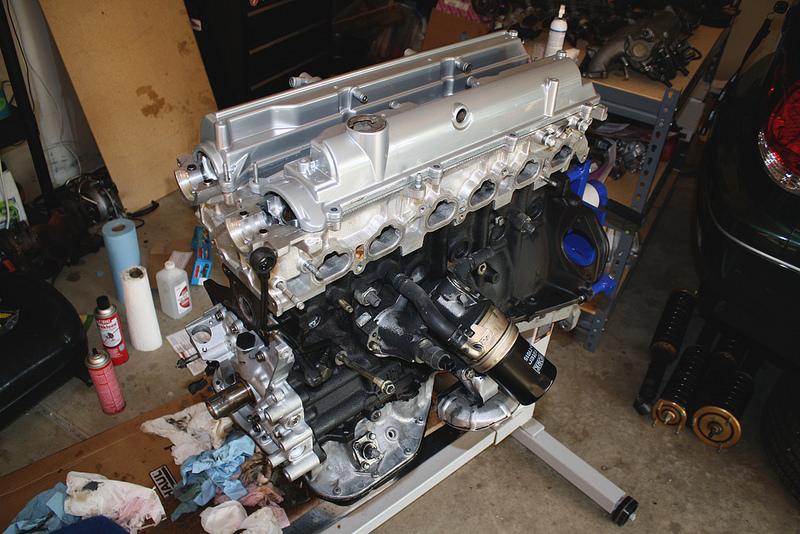 The next order of business is to decide on camshafts. The cam gear bolt on the intake side is stuck in the cam, so I need to break that free and replace it regardless of if I go with OEM cams or Tomei Poncams. Everything else for the intake side and timing related should be ready to go once that is sorted out though. I'm thinking about painting the block silver while it's apart as well.
6-30-2014
Fairly light update once again this week. My oldest daughter turned two over the weekend, so we were pretty busy. I managed to sneak a couple hours in last week though. Here's a recap of what went down.
The first order of business was to tighten up the head studs. I finally managed to find the proper 12 point deep socket and was able to get this all taken care of. The next step will be to install the cams. I'm thinking I will install the factory cams for now so that things keep moving and I'll add a set of Tomei Poncams later on when I can swing it. I'm starting to get a little anxious to have the engine assembled.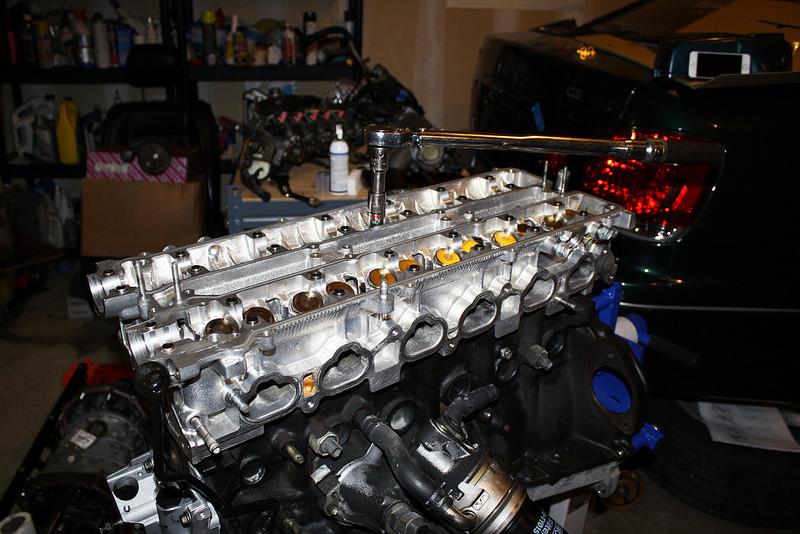 My intake cam gear bolt is stuck in the camshaft and beginning to round out, so I ordered a replacement bolt for when I finally break that free. This is one of the reasons I want to purchase new cams instead of messing with it, but maybe the machine shop can break it free if I am not able to figure it out. I also picked up the pilot bearing needed for the automatic to manual swap: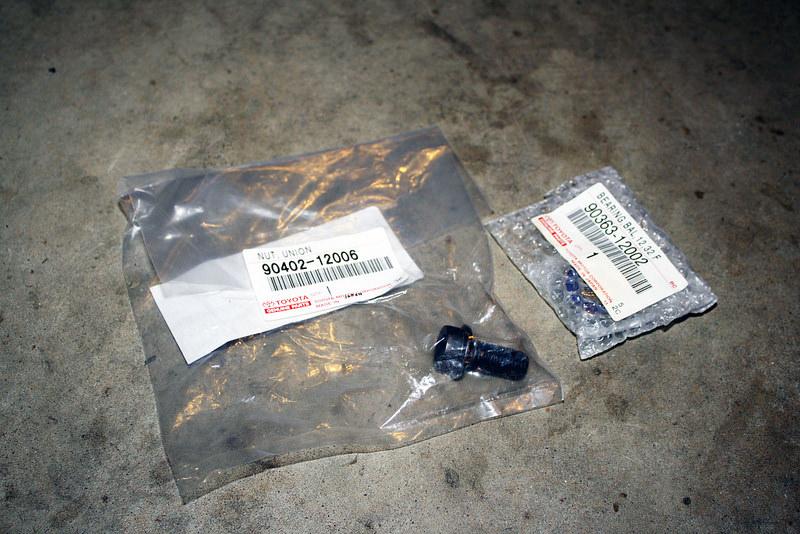 Some of the paint was coming off of the block, so I decided to hit it with a quick coat of high temp silver. I guess iron blocks are typically black and not silver like aluminum ones, so maybe it was in poor taste. I might shoot it black, but I might leave it too- we'll see what happens.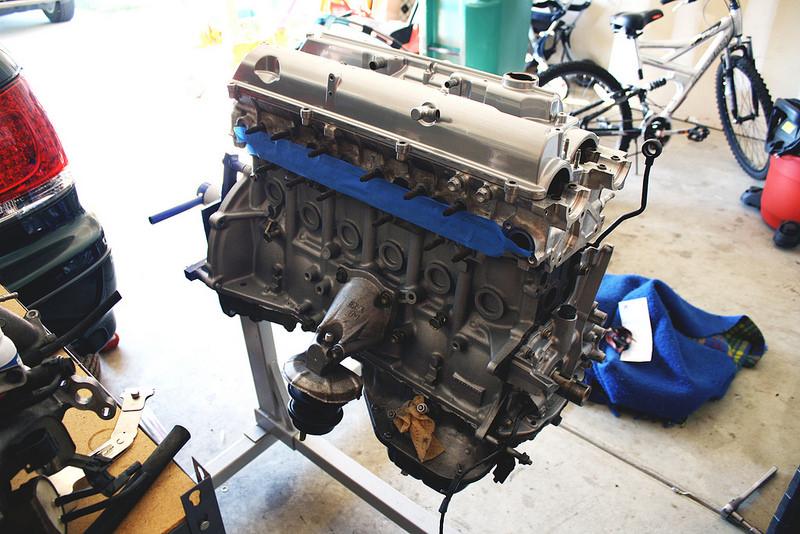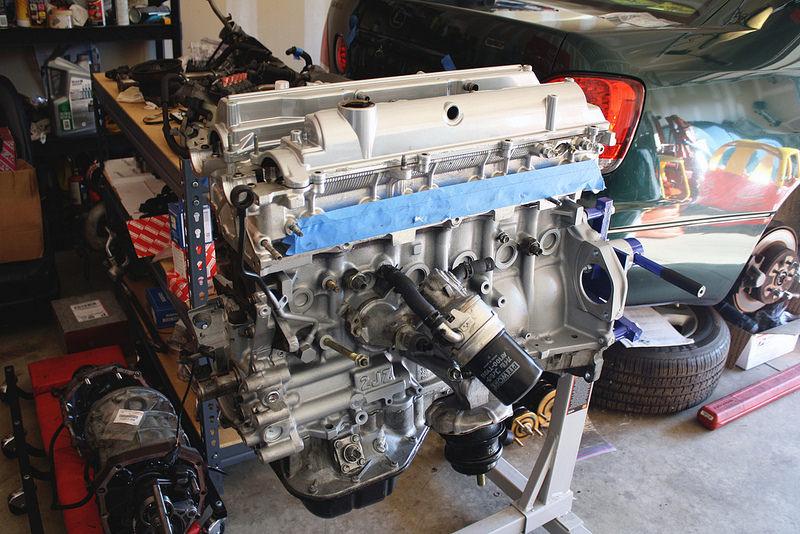 The engine mounts that came with my swap were old and brittle. One of them managed to snap in half during my test fit, so I needed to replace them. I am not usually one to buy parts from Megan Racing, but I could not find any other aftermarket replacement engine mount for this chassis. I had hoped to find some solid Cusco mounts like I had in the S13, but no such luck. For now I guess these will get the job done.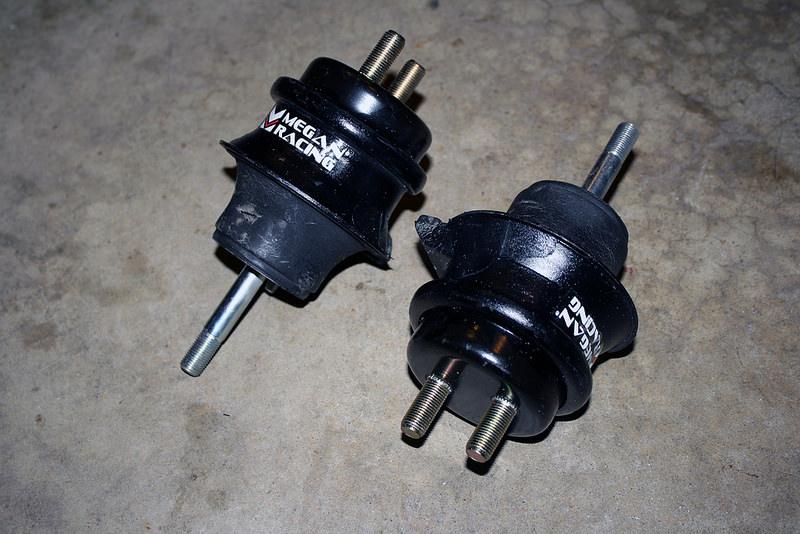 Old broken engine mount vs. the new mount: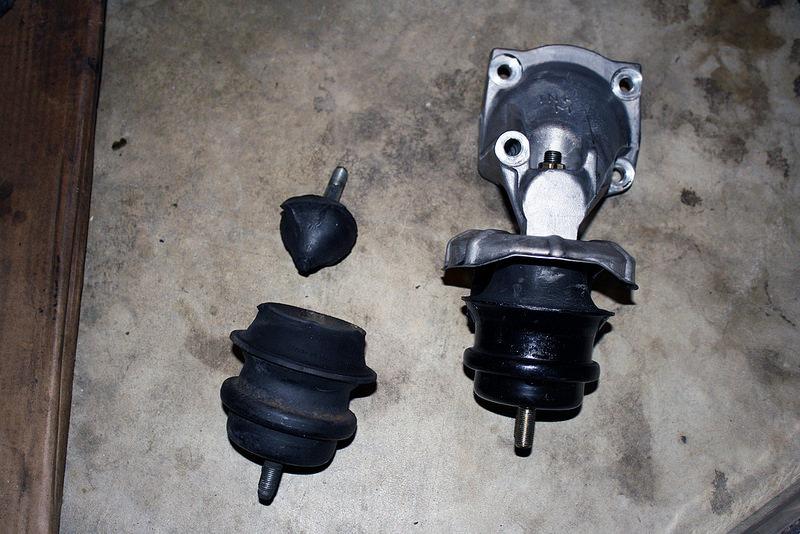 Installed: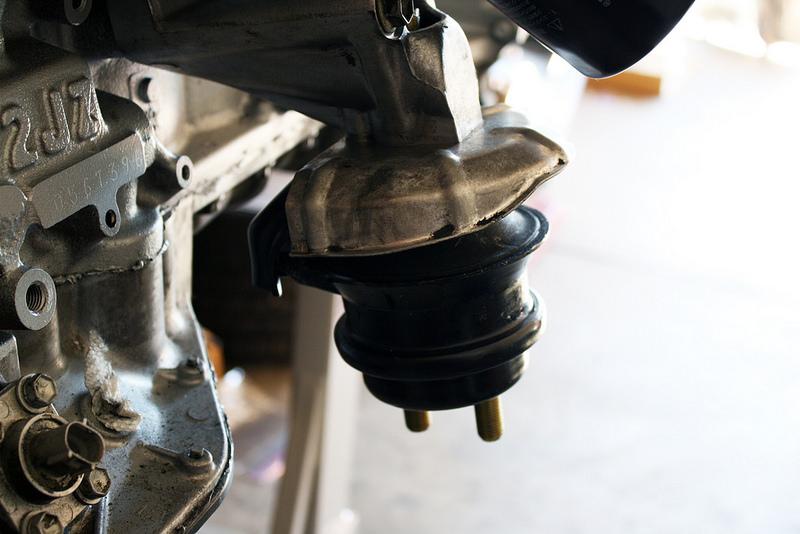 With progress slowed down a bit on the engine, I turned my attention to the transmission. I started by installing the output shaft seal: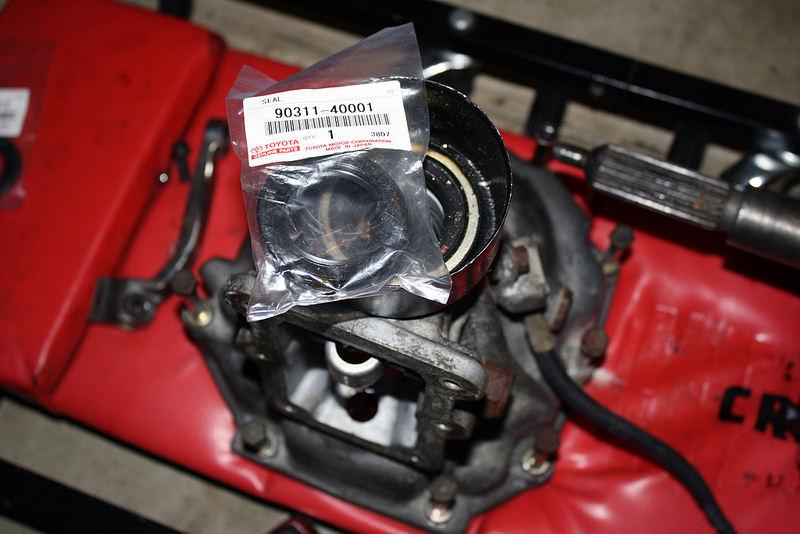 Next I moved on to installing the shifter extension, rear case, and shifter housing: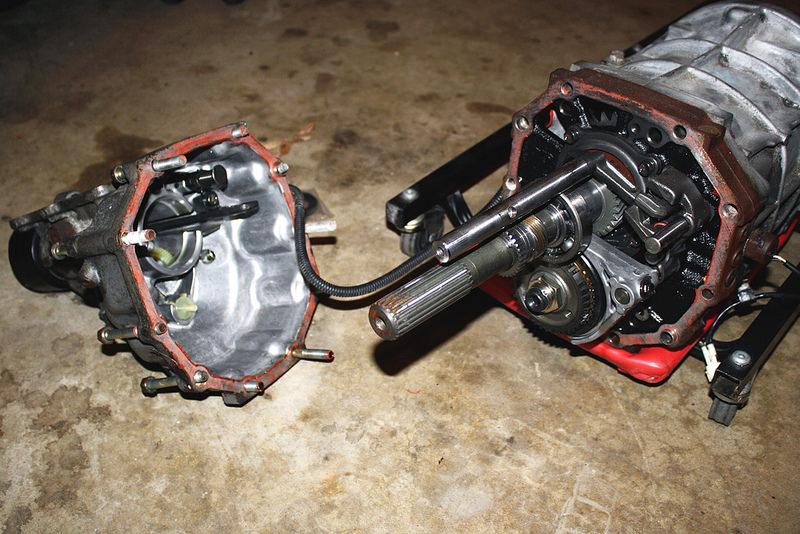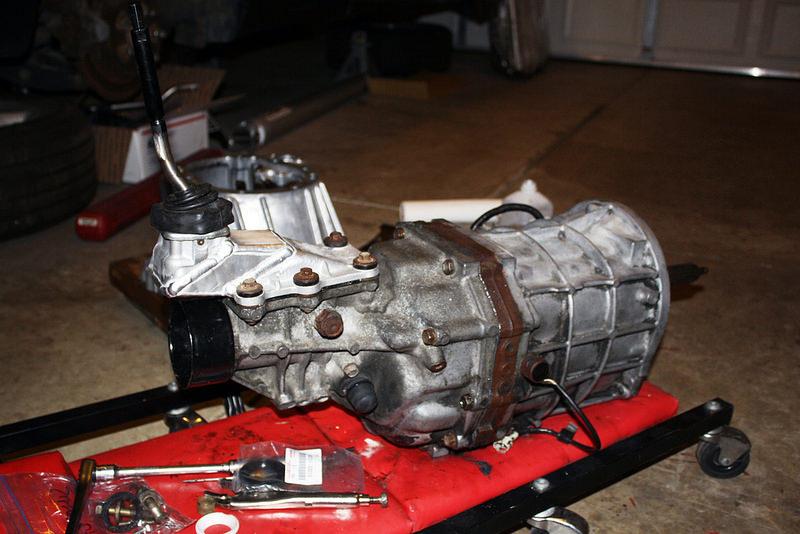 I also installed the Marlin Crawler shifter bushings while I was at it.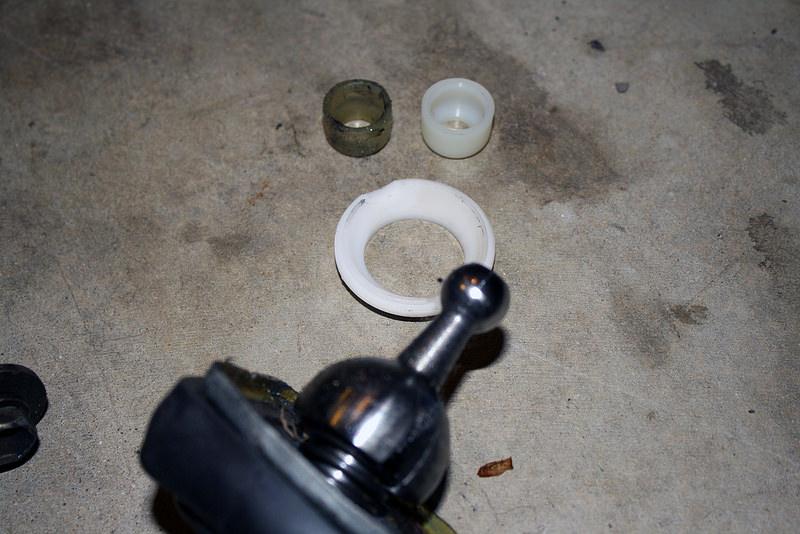 Next up will be installing the bellhousing, input shaft seal, and slave cylinder. One last piece of the puzzle arrived last week- a set of 840cc SARD fuel injectors.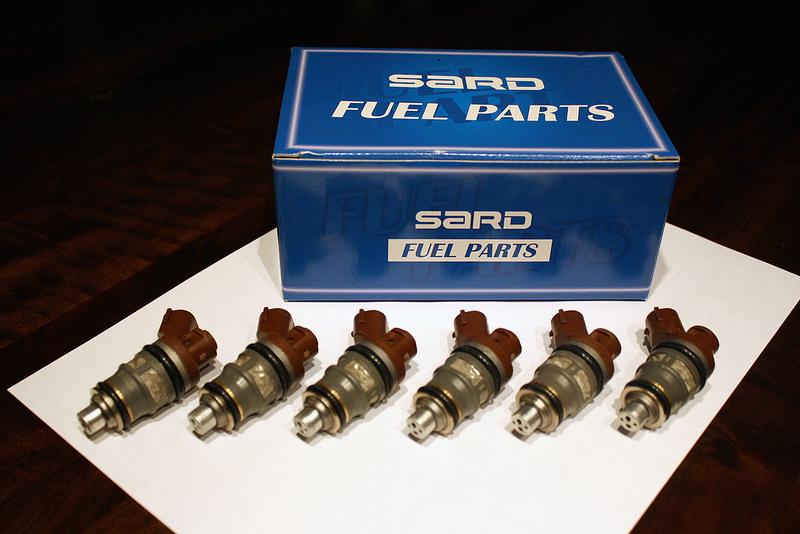 7-25-2014
Thanks a lot!
It's been a long time since I last posted- here's an update on where things stand.
I found after putting my transmission back together that I couldn't get it to go into gear. I had never torn into a transmission before aside from replacing seals and whatnot, so I called my cousin Nick up for some assistance. Nick is a mechanical engineer for Aisin, the company that just so happened to design and build the R154 transmission.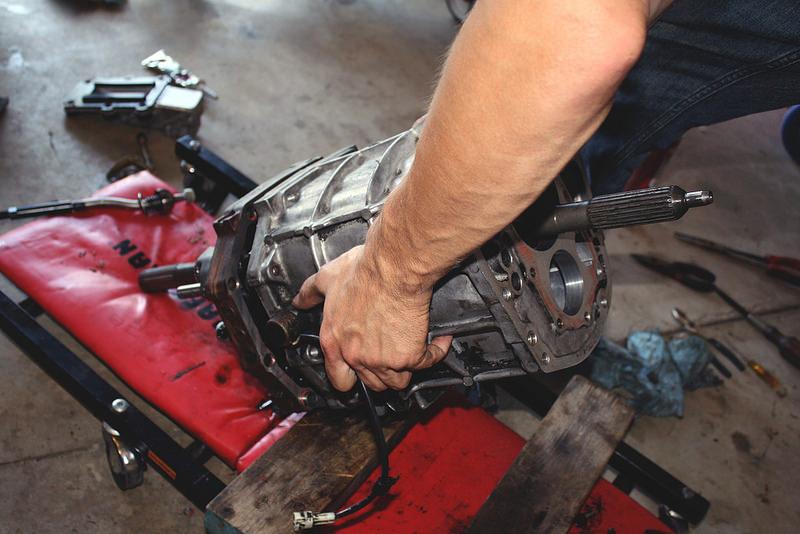 We were able to take the trans completely apart and verify that everything appears to be in good working condition. I probably could have beefed things up a bit more with some more accessories from Drift Motion and Marlin Crawler while we were in there, but my setup probably won't see a ton of abuse anyway.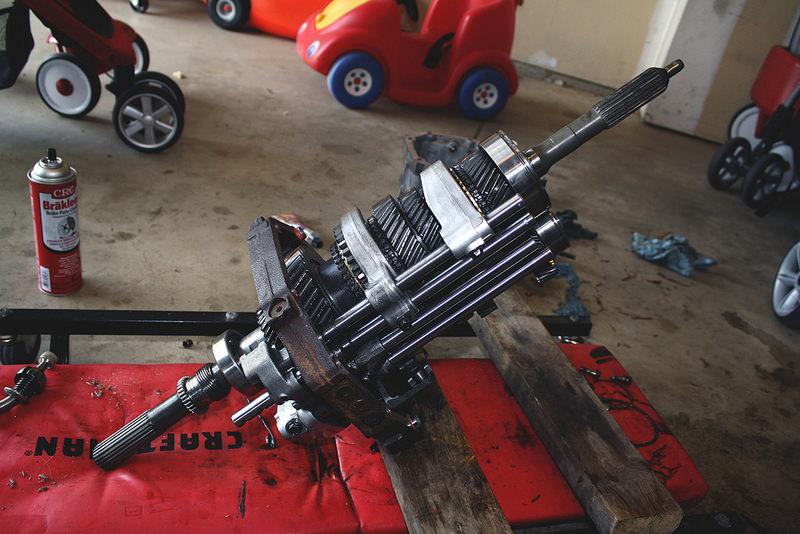 With everything properly reassembled, I installed my Marlin Crawler shifter base bushing, Freed extended shifter housing, and 1JZ bellhousing. The transmission is now finished and ready to be installed in the car, which is a great feeling. Couldn't be more grateful to my cousin for his help with this.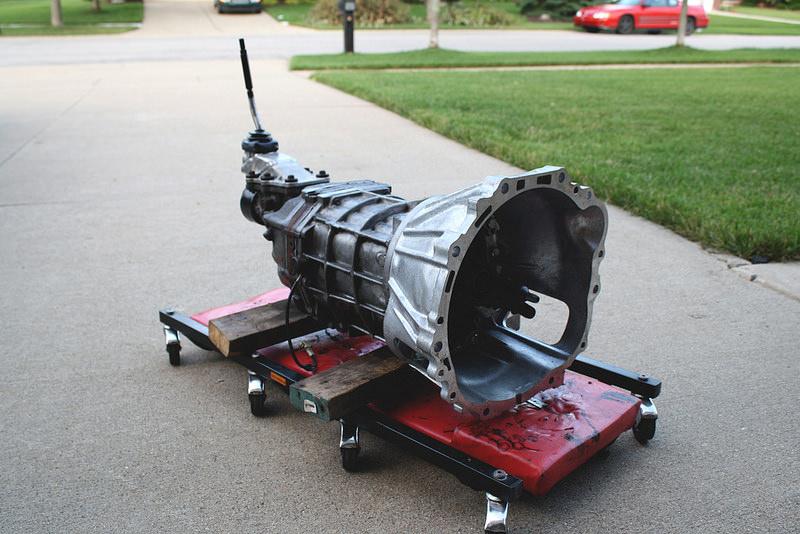 Next up was the installation of the replacement OEM Toyota water pump. I nearly missed the o-ring located on the block, but after seeing the condition of the seal that was in there I am really glad I caught it.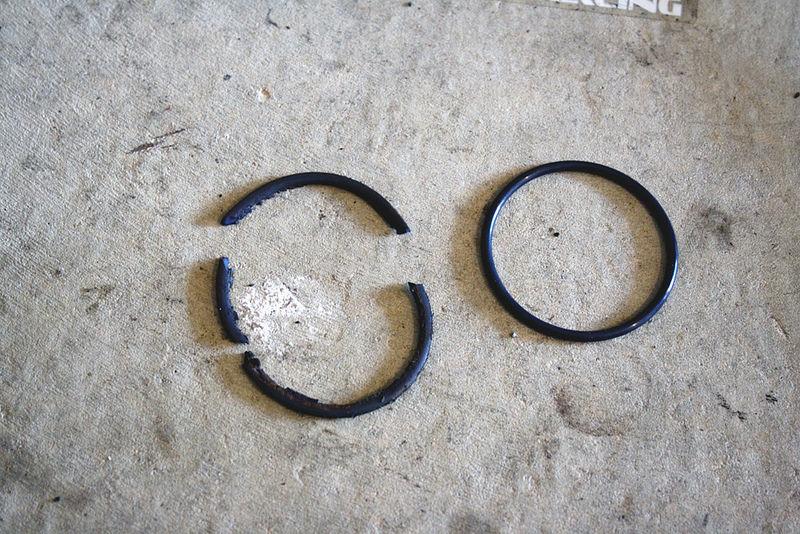 With the o-ring replaced and the new water pump bolted on, I decided to reinstall my camshafts and replacement cam seals. These are a common oil leak culprit on this engine, and I could tell that the seals on my engine were beginning to fail when I first tore into it.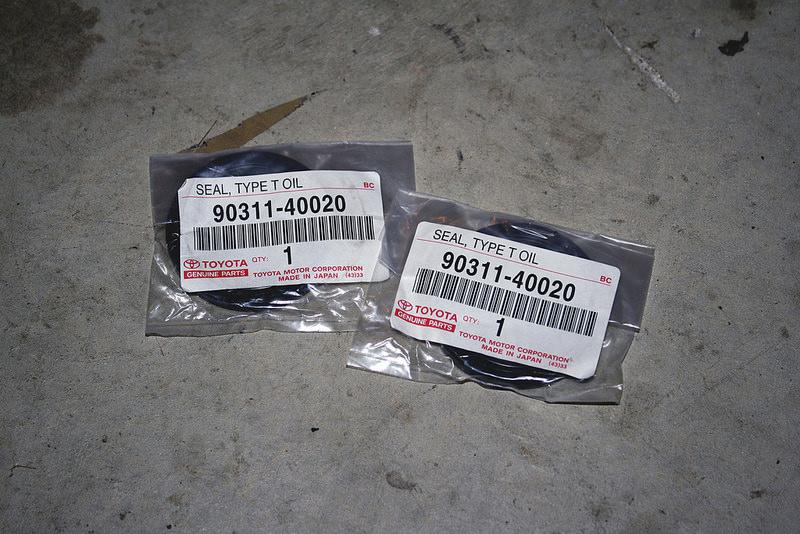 I was really hoping to install a set of Tomei Poncams while the engine was torn down, but I just couldn't justify the cost right now. There are a lot of other things I could use the money towards to get this car into a semi-completed state, so those items needed to take priority. Definitely something I would love to install someday down the road though. Here's a shot of the water pump and camshafts installed. Note that the new timing idler assembly is also now in place: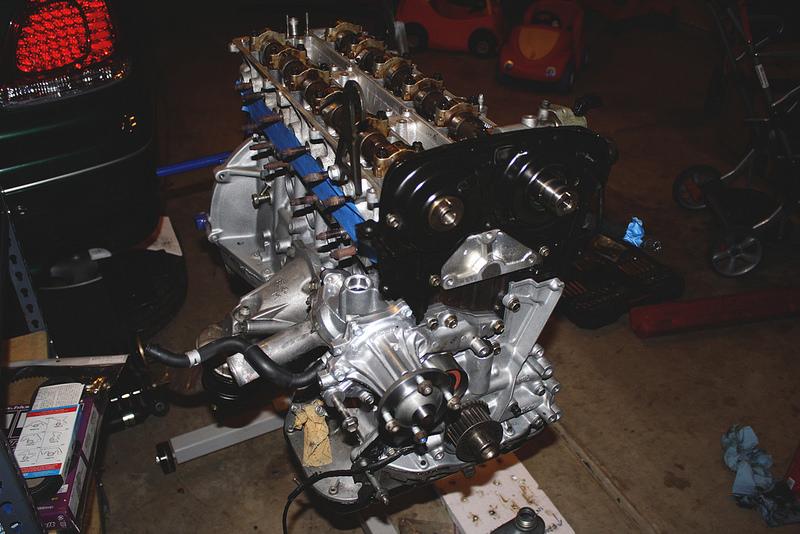 You can also see that I installed my GReddy oil filter sandwich plate and a new OEM oil filter, as well as the sensors for my Defi oil pressure and oil temperature gauges: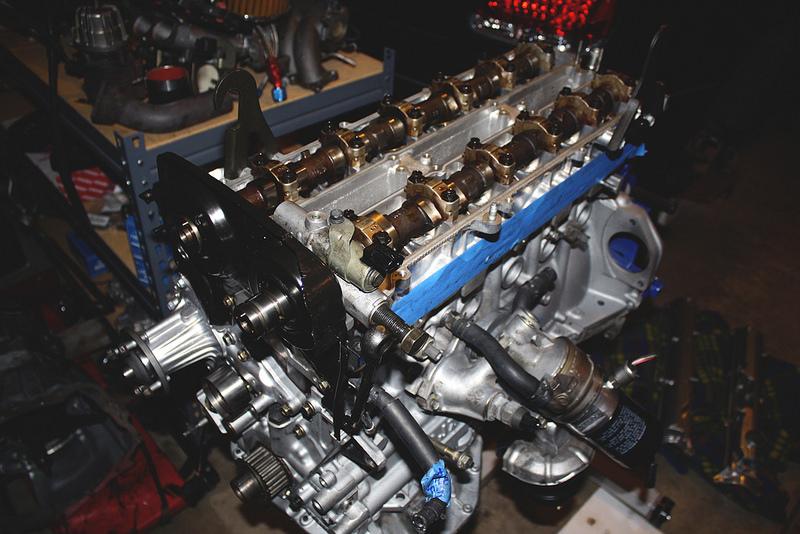 Next came the cam gears. Again, something I would love to upgrade down the road (at least the exhaust side anyway):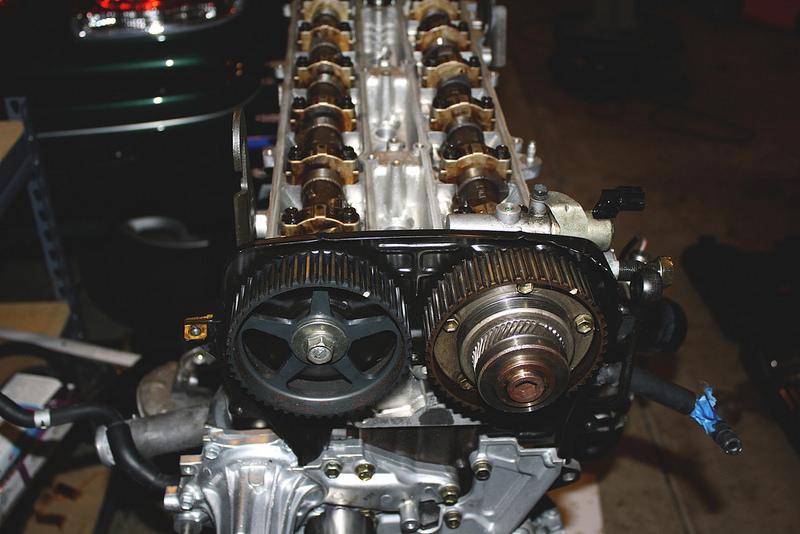 With everything set in the valve train, the next step was to install the valve covers with a pair of fresh gaskets: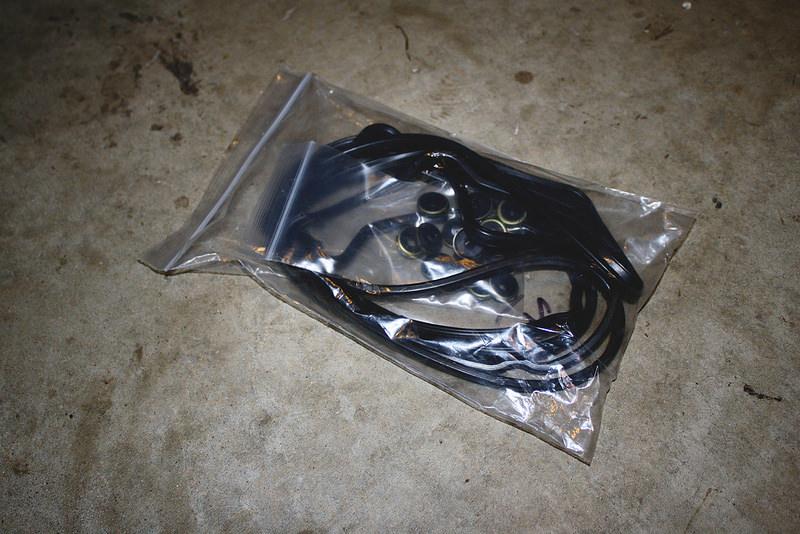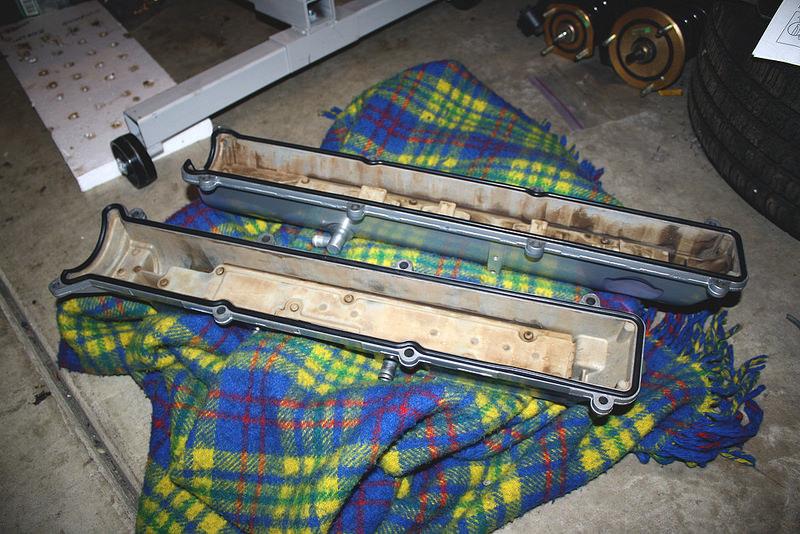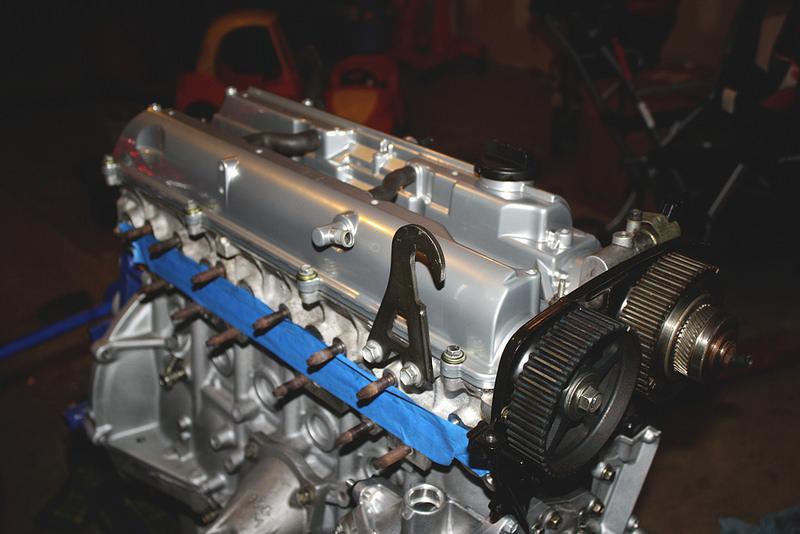 I tossed a new PCV valve in while I was at it for good measure. My oil cap is cracked, so I'll need to replace that with a much cooler piece in the near future: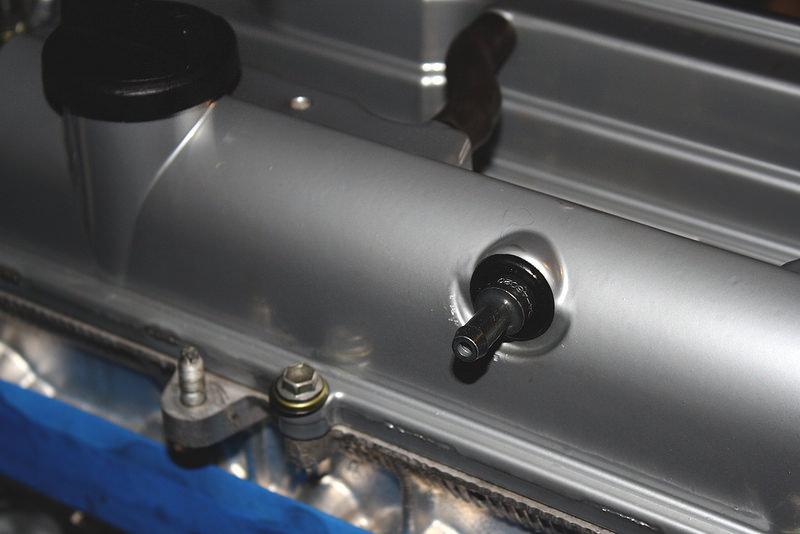 Next it was time to put the timing belt in place: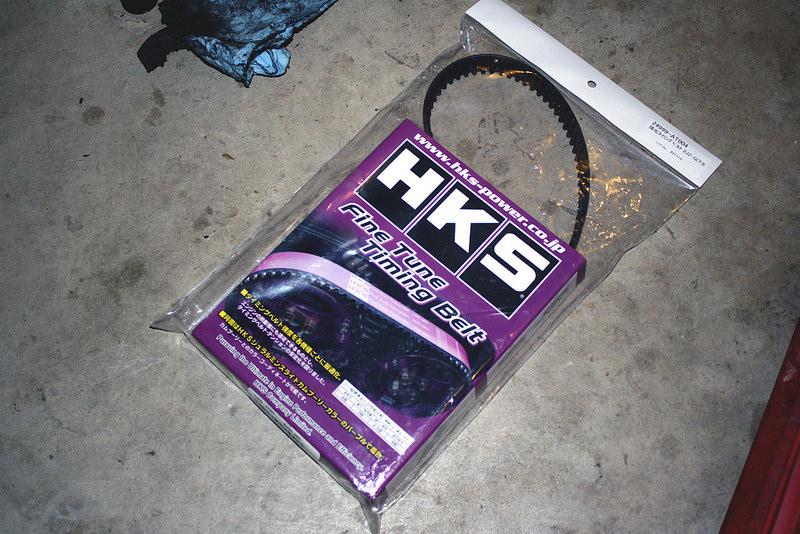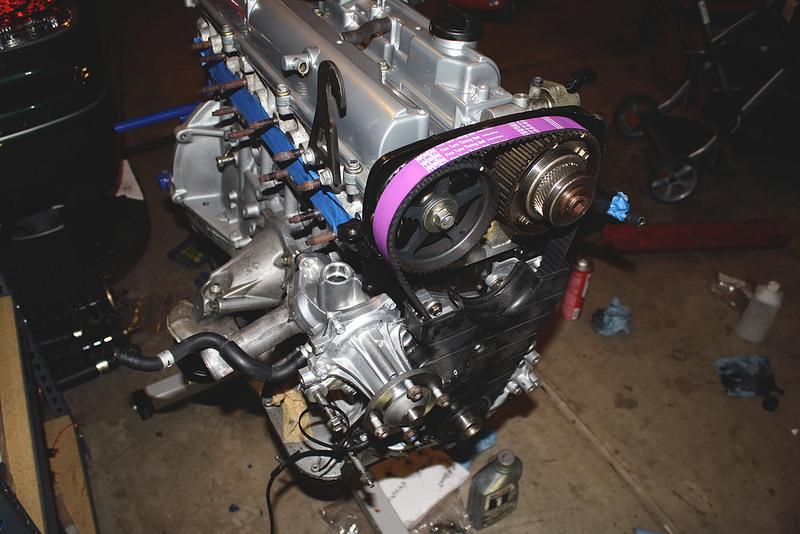 It was at this point that I realized my lower timing cover was looking a bit worse for the wear. It was caked in old oil and had a few broken tabs, so I decided it would be a good idea to replace it: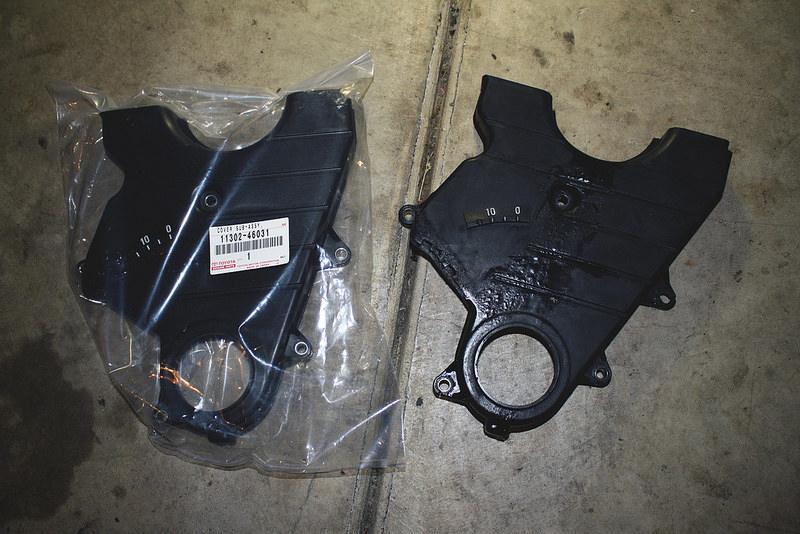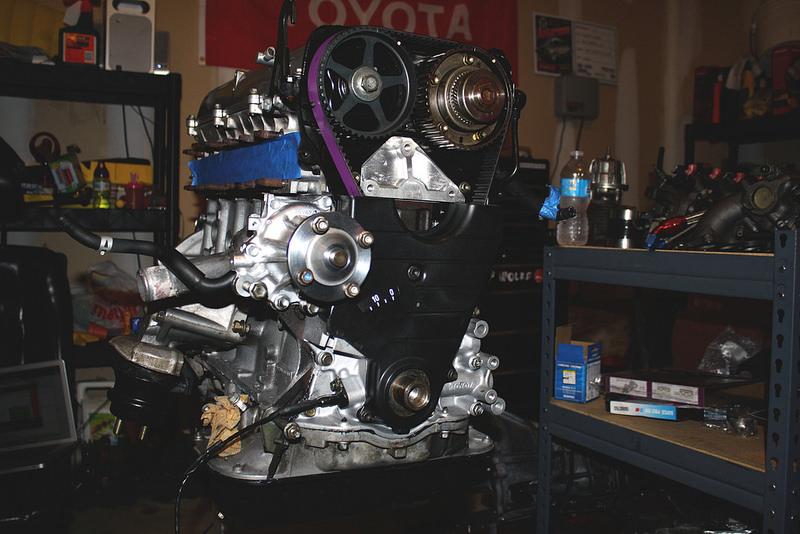 The last piece to the timing assembly puzzle was a new timing belt tensioner: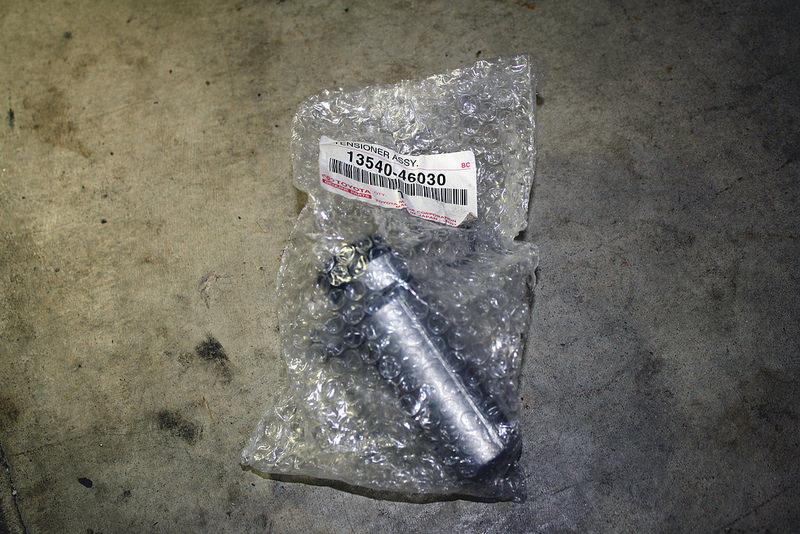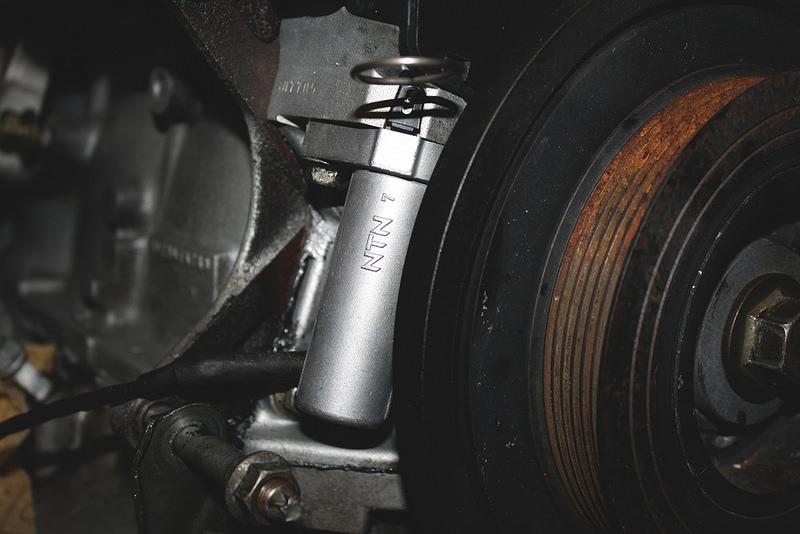 So at this point I am feeling pretty good- the majority of the engine is put together and I can move on to installing the intake and exhaust manifolds, right? Well, when I went to give the engine a couple of quick rotations by hand to ensure everything looked good, I hit hard resistance at just under one rotation. Total bummer I checked the alignment of the VVTi cam gear and found that I did not have it rotated all the way to the right, but that didn't solve my problem. If I get the time this weekend, I need to remove the camshafts and try putting everything together again. All of the timing marks are aligned, but I had to have made a mistake somewhere along the line. I suppose that's all just a part of the build process, but it can definitely be frustrating.
As for new parts arriving, things have been pretty quiet this month. I did however decide on a turbocharger after finding a great deal on one of the forums I frequent. I decided to keep things fairly old school and go with a GReddy T-78 journal bearing tubo. The unit I found was installed on an RB26 but the engine build was never completed, so it is essentially brand new.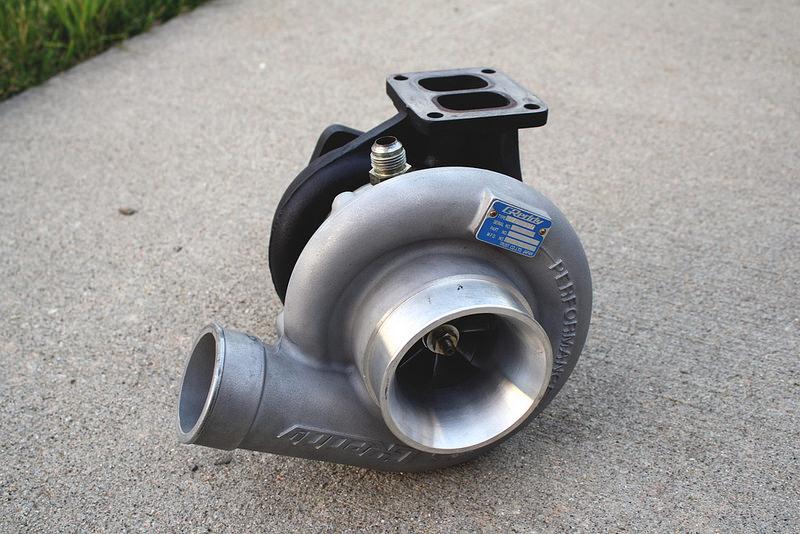 I'll probably get a lot of flack in the 2JZ community for choosing to go with this turbo as there is a lot of newer and improved technology on the market today. But as I am sure most of you know by now, I really enjoy staying true to genuine Japanese components whenever possible with my builds. This setup is sure to be reliable, and will look and sound awesome in the process. While it may be contradictory to the approach a lot of people take, it's the way I prefer to go.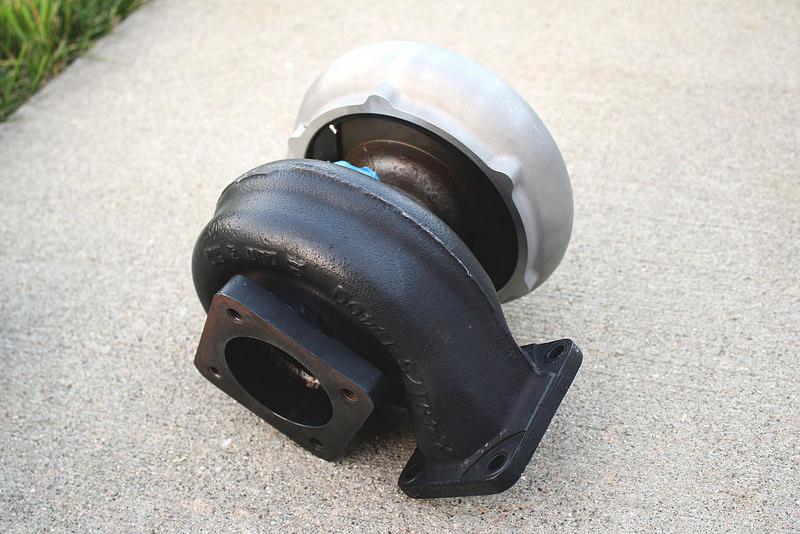 I also managed to source a second hand GReddy Type R wastegate to use with the setup. These are typically more than $1k new, so I was more than happy to find one in decent shape that has seen a bit of use over the years. The dump pipe was included and I don't think it is a GReddy piece, so I am not sure if I'll be utilizing it or not. This is my first externally gated setup, so I'll have to make that decision when it comes time to fab the downpipe and exhaust.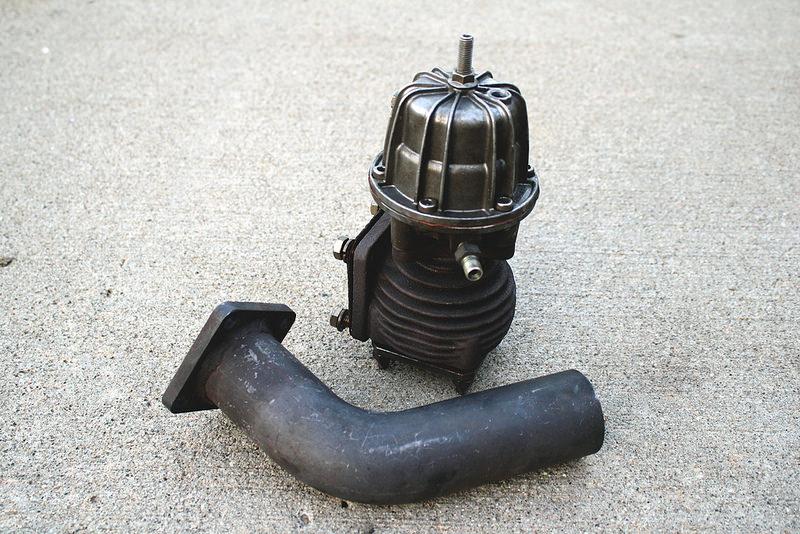 The next order of business will be to source an exhaust manifold and complete the water and oil lines for the new turbo setup. My hope is to find a TRUST manifold originally designed as a part of the T-78 kit, and I believe I might have a solid lead on one of those. We'll see what happens though.
Finally, I got bored and decided to toss the hood on the car while it continues to wait patiently for the new drivetrain. I can't wait to see some crystal clear headlights, a new bumper, and my GReddy intercooler looking back at me from the garage. Here's a blurry photo that I'm going to post anyway: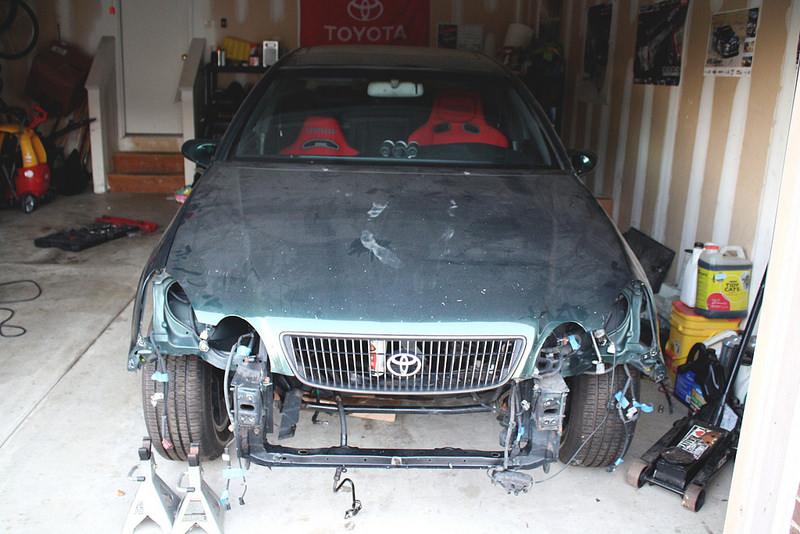 I'll try to do better at keeping everyone updated through the rest of the summer. In the mean time, keep an eye on www.Speed.Academy for updates on my build. Speed Academy is the new venture headed up by my friends David Pratte and Peter Tarach, the guys that ran Modified Magazine before it was shut down earlier this year. I'll be posting updates on the build over at their site roughly every two weeks in addition to here on my personal blog. I'll go into a bit more technical detail over there as well, so if you're looking to rebuild your 2JZ or swap your Lexus GS it should be worth checking out!
8-27-2014
Whew, way past time for an update!
When we left off about a month ago, my GReddy T78 turbo and Type R wastegate had just arrived. I had finished assembling the bulk of the engine, but was hitting resistance when I turned it over by hand. This was really frustrating, and after resetting the timing about six or seven times I finally caved in and removed the head from the engine block a second time. With some helpful advice from my friend Liam, I rigged up a makeshift engine head stand and installed the cams individually, then turned each one over slowly to see if I could pinpoint where things were binding up.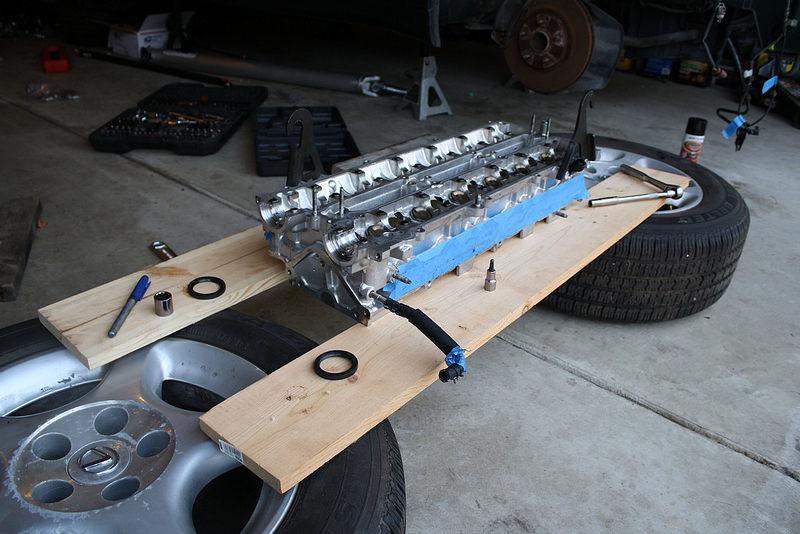 As it turned out, there was one particular valve on the exhaust side that was "stuck" and would not depress when the corresponding cam lobe was rotated over it. I was relieved to know that the valves had not been contacting the pistons like I had feared and that I had been setting the timing correctly all along. I took the head back to the machine shop and they took that valve assembly apart, reassembled it, and the binding was gone.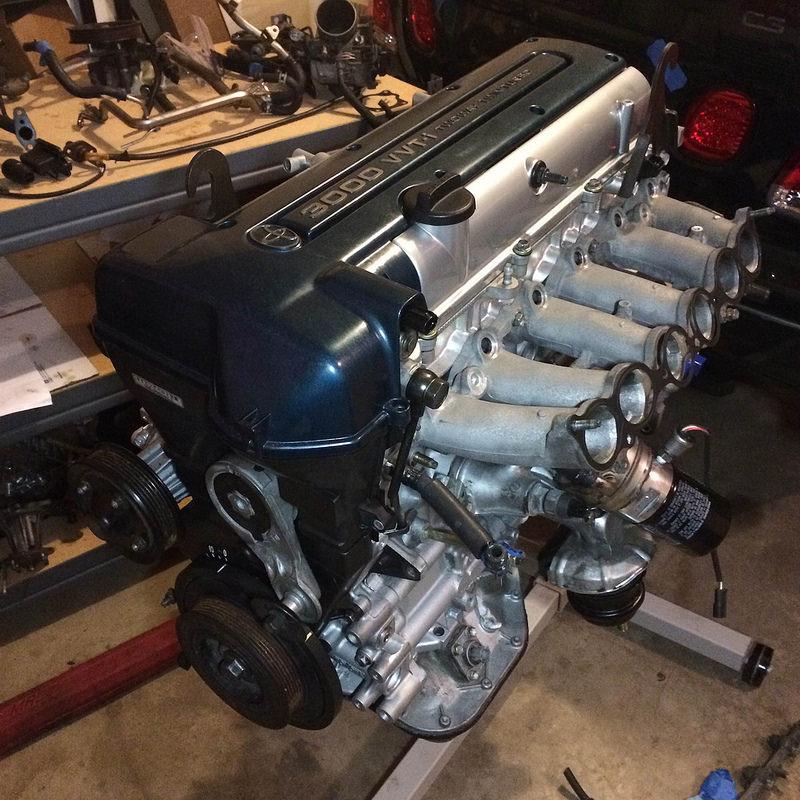 That being said, a lot of August was lost to sorting out that debacle. It only took me a couple of hours to have everything put back together when the engine returned from the machine shop and I was back to where I had left off about two weeks prior- except this time, the assembly rotated properly. When I was removing the head, I realized that my timing gear had been damaged at some point during disassembly or reassembly after replacing the oil pump, so I promptly ordered a replacement and installed it.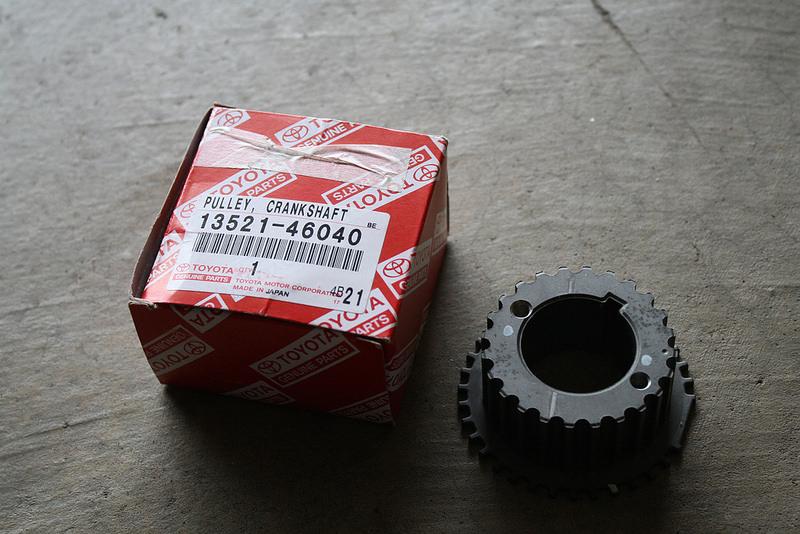 The next order of business was to install my SARD 840cc fuel injectors. When removing the factory injectors, I found that all of the o-rings and isolators were brittle and cracked. After another order from Toyota arrived, I was able to install the new injectors with the freshened up o-rings. After tossing on a new intake manifold gasket, I bolted up the lower intake manifold and fuel injectors.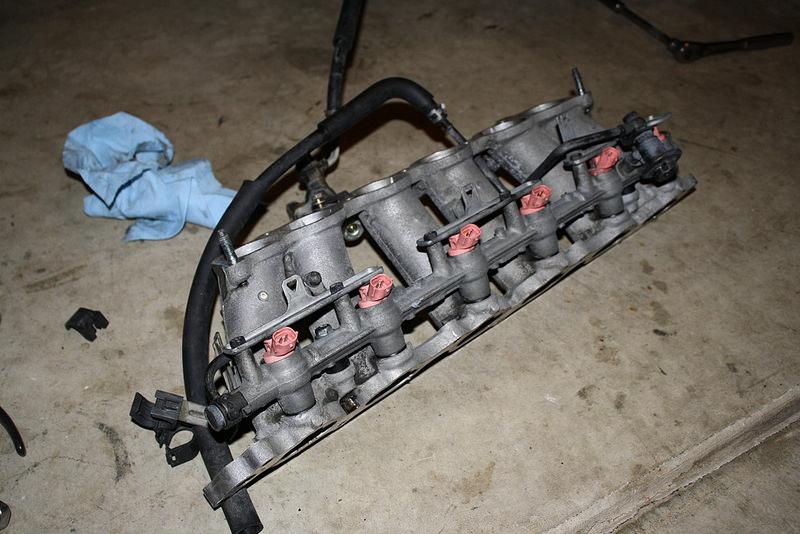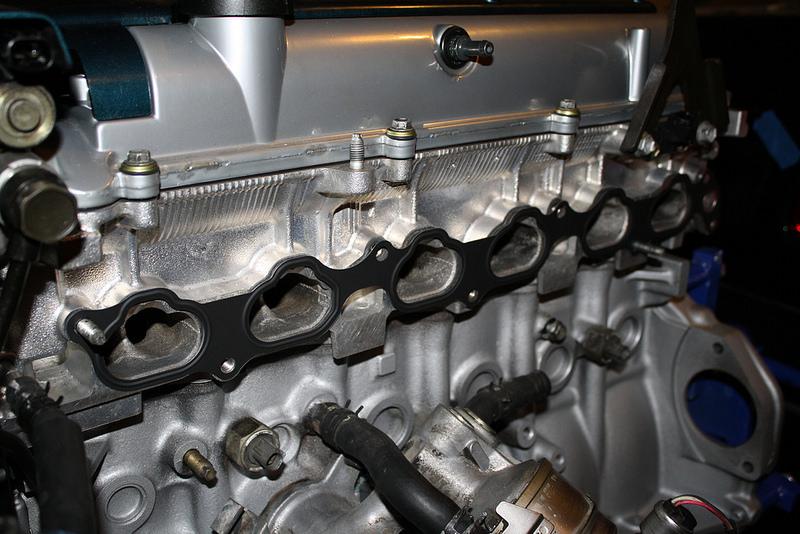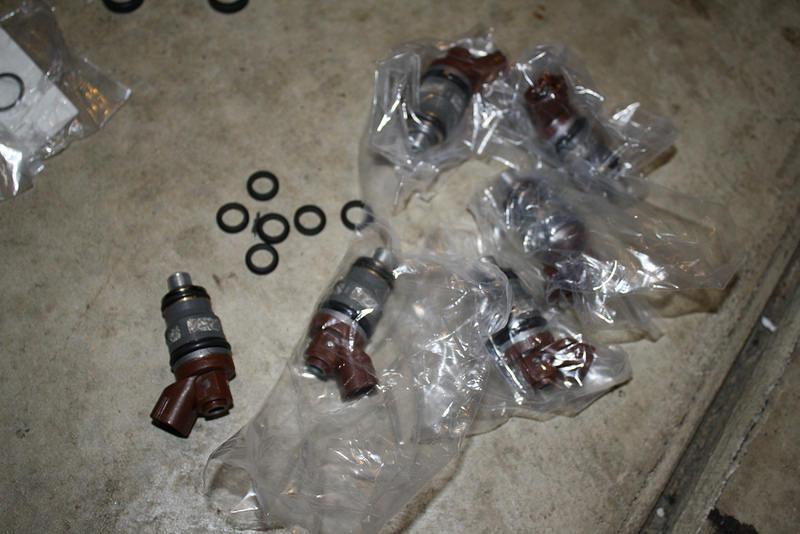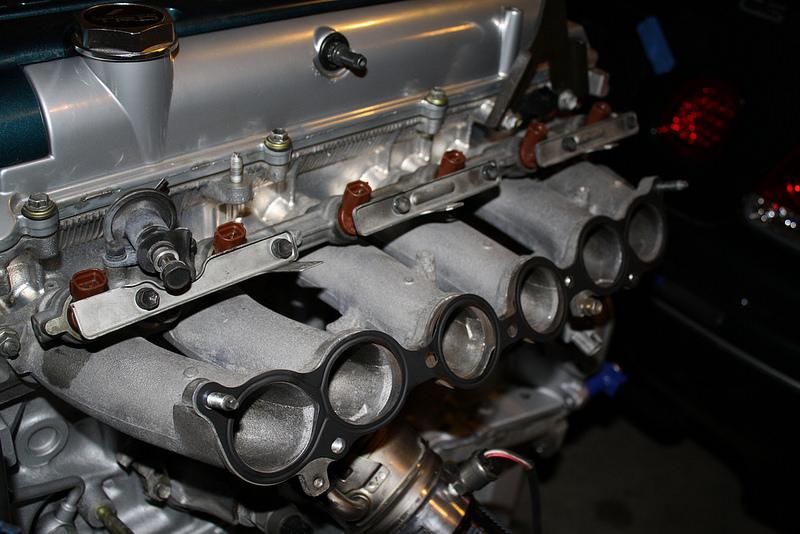 My hope was to install the main engine harness next, as a few of the connectors are a bit tricky to get to with the upper intake manifold installed. When I attempted to do so, I found that one of my fuel injector clips was damaged and no longer locked in place. I ordered a replacement from Wiring Specialties and wired it up when it arrived a couple of days later, only to find that another injector clip was failing. I decided to replace all six, so I'm currently waiting on those to arrive before I can install the harness, upper intake manifold, and throttle body. It's always something with this build!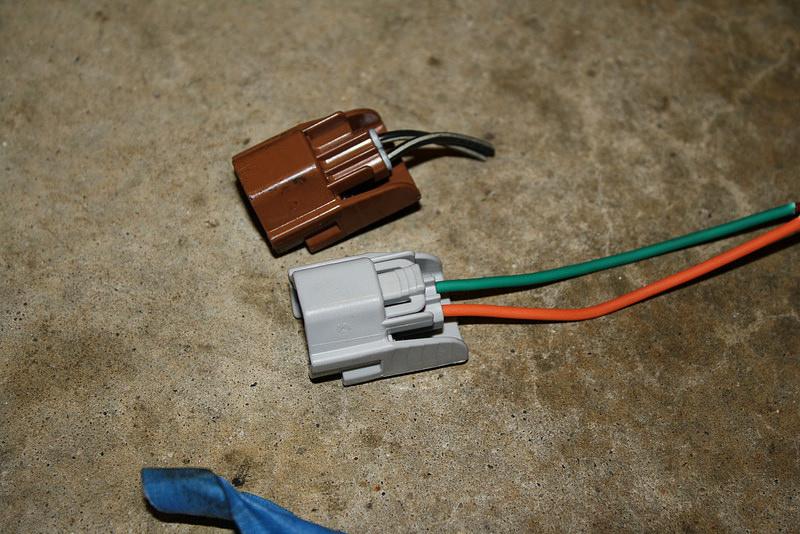 I removed the stock fuel pump assembly from the car and installed the Walbro 255lph fuel pump. I'm currently in the process of installing the SARD jet pump killer and -6AN return fuel line, but I need to order another fitting to connect everything and drop it back in the tank. Once the braided lines have been run to and from the engine bay to the tank, I can begin to piece together my fuel pressure regulator setup. Most of that work won't actually go down until the engine and trans are situated in the bay though.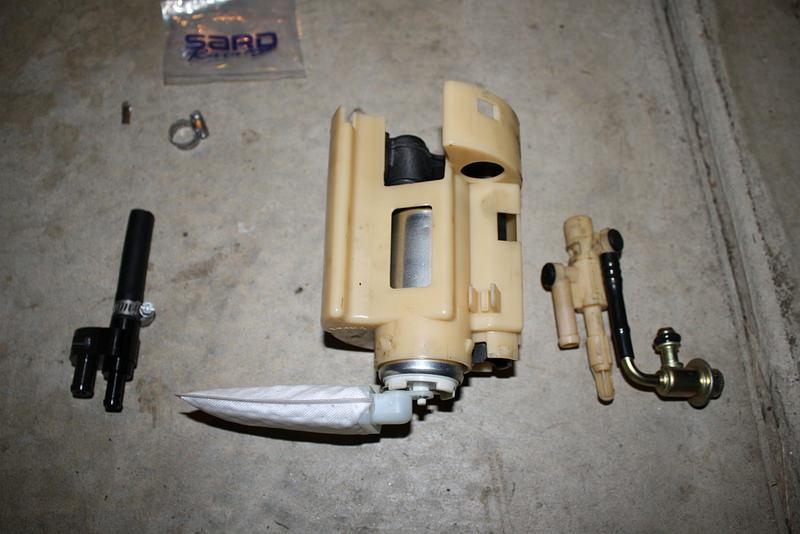 While I was waiting for fuel system parts to arrive, my Works Bell SPLASH steering wheel hub showed up and I was finally able to install my steering wheel. I'm really happy with how the interior is coming together. There's still some work to be done here, but it should be fairly complete once the drivetrain is installed. In fact, there should be a pretty cool change coming along in the near future by way of the return of an old friend if you will, so stay tuned for that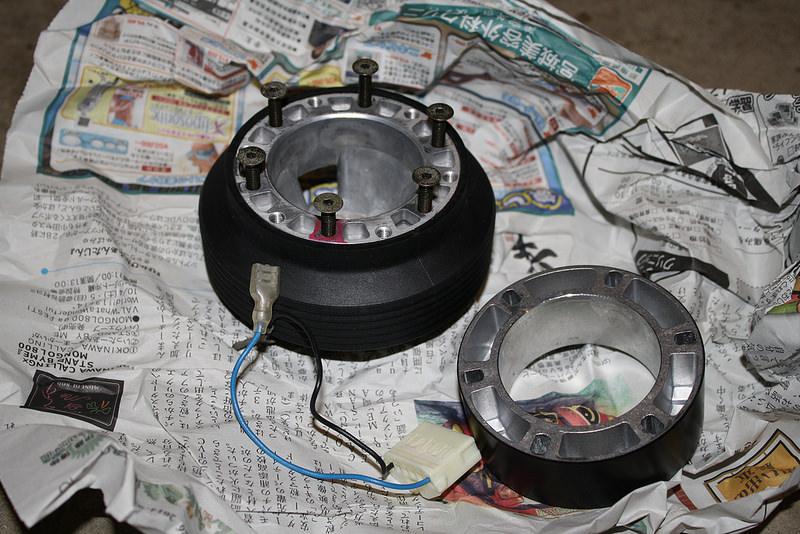 Here's a bad photo of the wheel installed: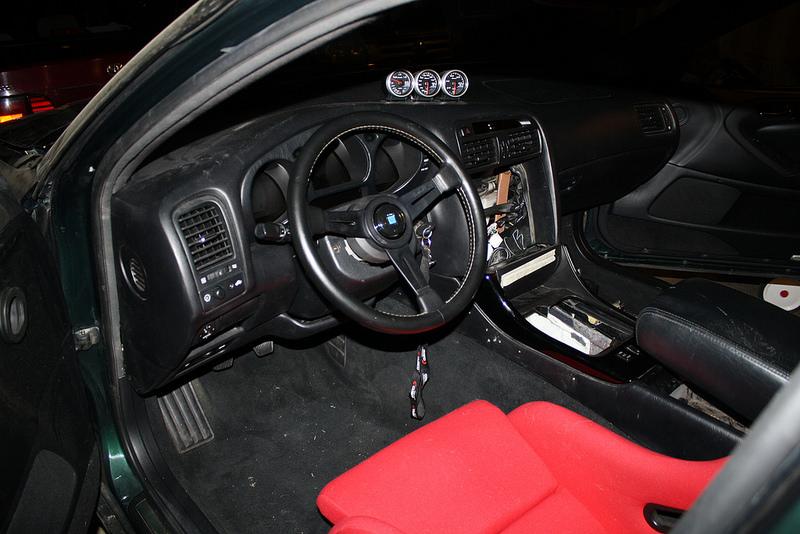 When I had my six speed Toyota Matrix, I bought this genuine TRD duracon shift **** from Japan. After I sold the car, I sold the shift **** to my friend Peter of Modified fame since I no longer had a use for it. Of course, by the time I started this project the shift **** was nowhere to be found online. Fortunately, Peter is a really cool guy and I was able to convince him to sell it back to me. Really excited to have this piece back! I might need to hit up Broadfield to come up with a solution for my shifter trim and shift boot for me once the transmission is in the car.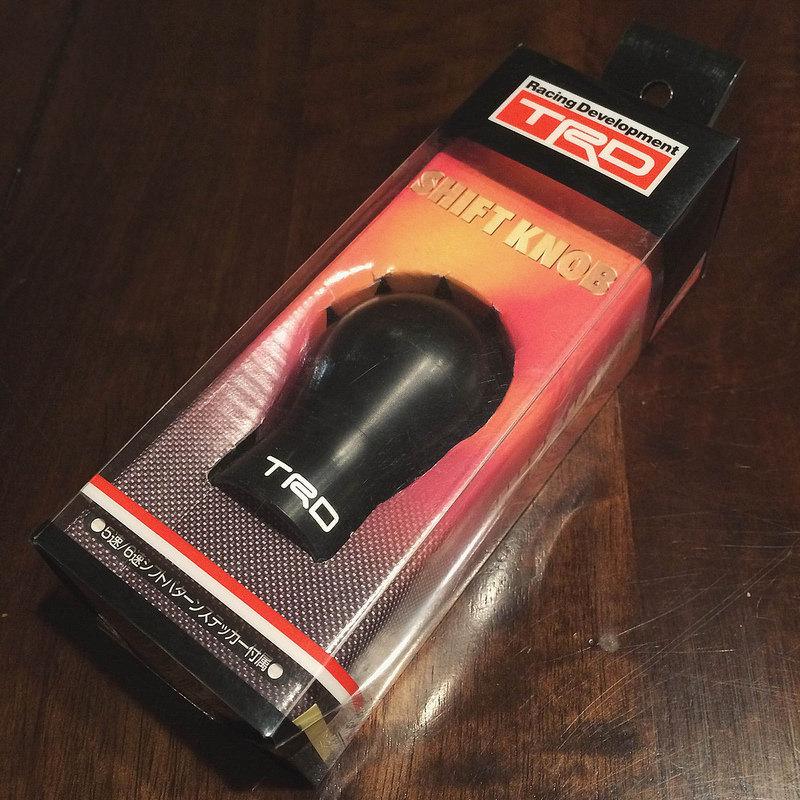 With some more interior stuff sorted, it was time to get back to the engine and transmission. I confirmed that the oil feed and drain line that came with my turbo were going to work with my engine, so I ordered a drain fitting for the block to allow me to connect the -10AN drain line for the turbo. The kit also included a -4AN fitting to attach the oil feed to the block and a block off bolt for the other oil supply hole in the block that is no longer needed with the single turbo setup.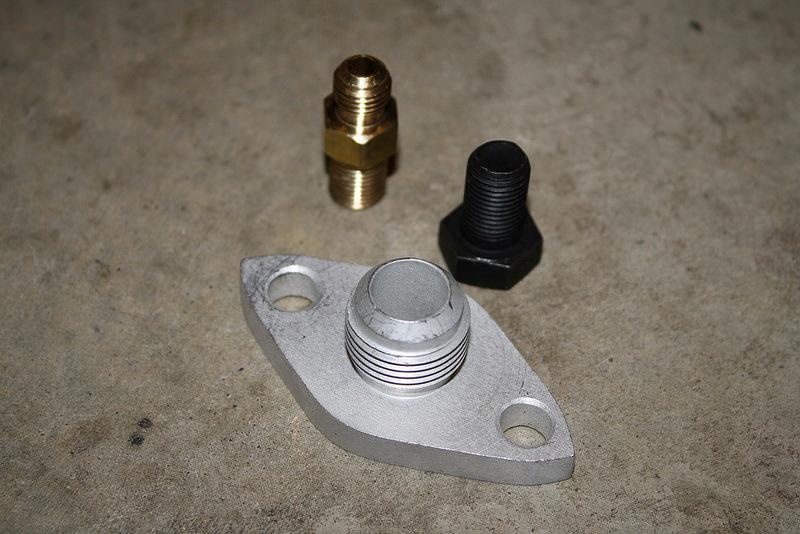 The addition of those items essentially takes care of the oil side of things, topped off by the TRD oil cap I picked up from the Supra forums. My factory oil cap had a crack in it, which was a great excuse to add something that looked a lot cooler.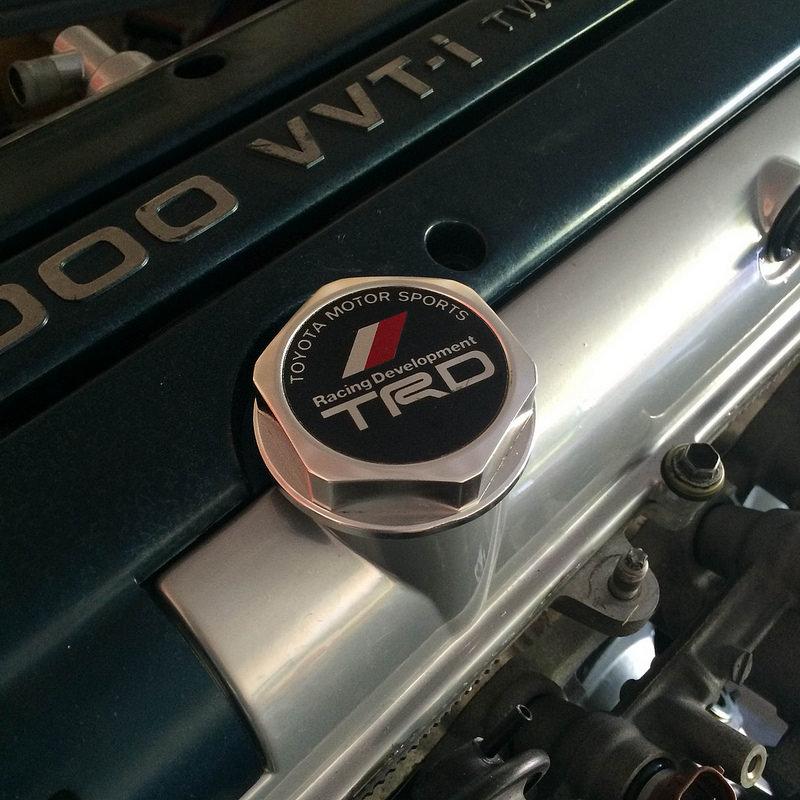 The next thing I needed to address was the coolant system. I picked up some replacement gaskets for the water neck and coolant crossover pipe, so I went ahead and installed those items.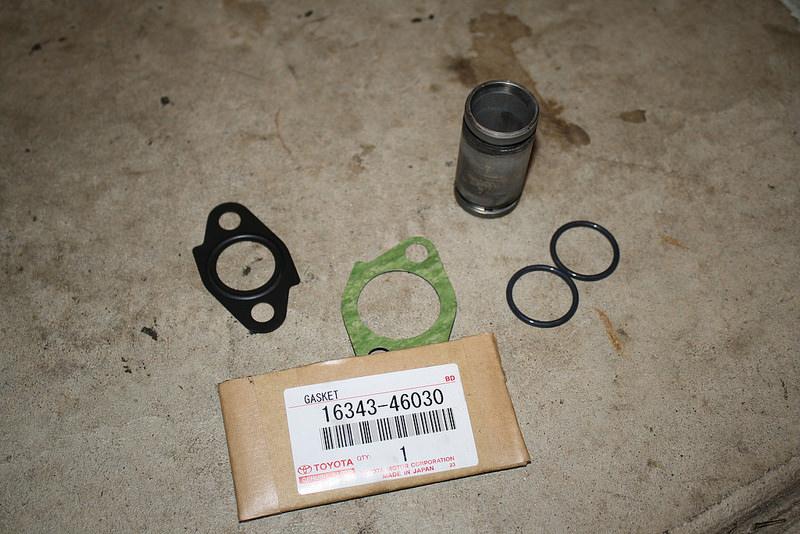 Since my turbocharger is a journal bearing unit, it is not water cooled. This leaves me with about four or five open water ports that I no longer have a use for. It would probably be best to weld these shut, but I opted to install rubber caps with hose clamps since some of the ports are on the water pump and I did not want to go through removing it to have them welded. Some will surely scoff at this, but it will get the job done.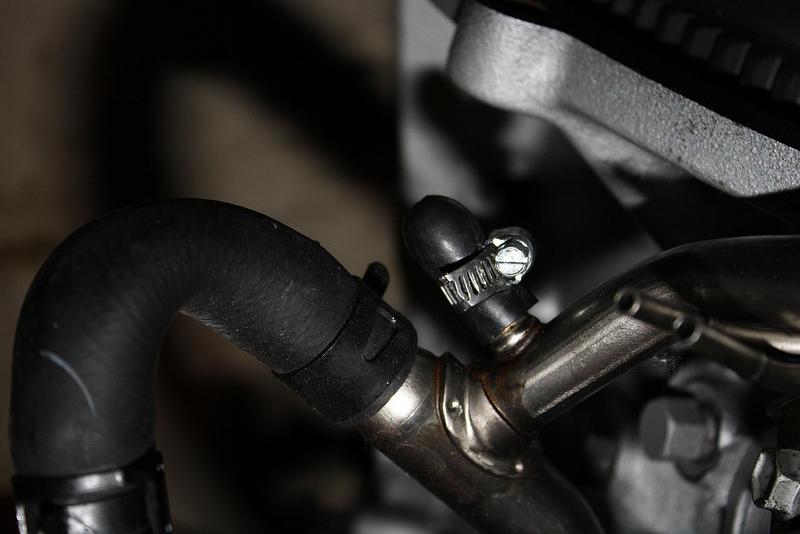 All of the ports have been capped off except for the water neck, so I'll either need to have mine welded up or purchase one from Supra Store to take care of those in the near future. I still need to source a radiator and hoses, as well as hoses for the heater core and then everything coolant wise should be complete, aside from the addition of a water temp gauge at some point down the road.
After messing with those items for a while, I decided to install my Exedy twin disc clutch along with a new OEM pilot bearing and ARP flywheel bolts. I'm ready to mate the transmission to the engine at this point, but I'm having a heck of a time getting the trans into position by myself. I'll have to keep messing with it, and if I can't get it alone I'll have to bribe my cousin to come over again and help me out.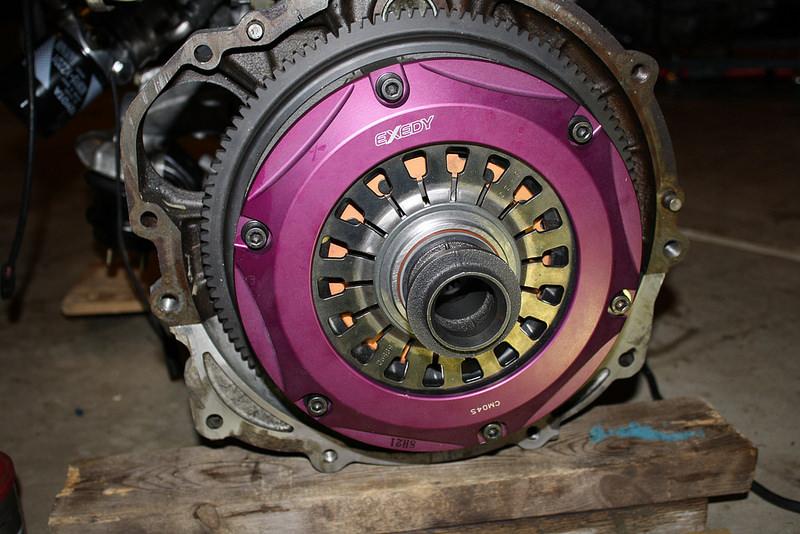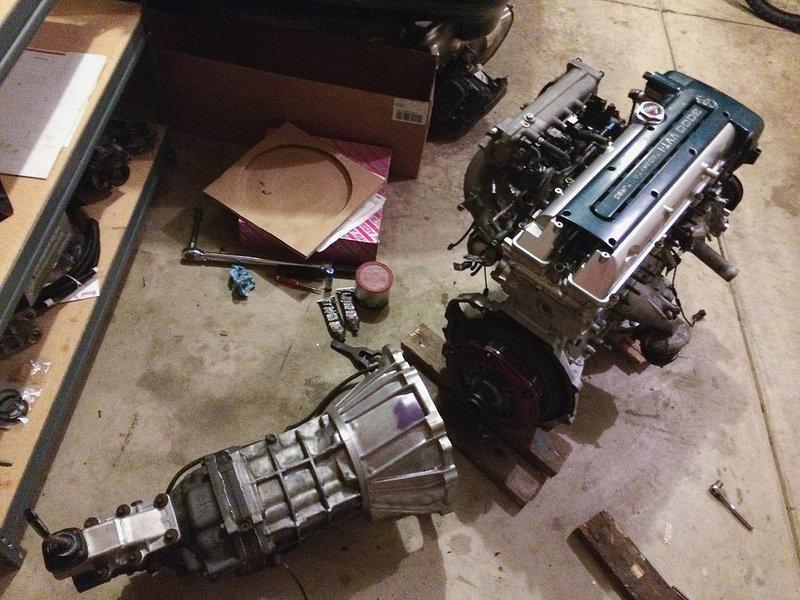 I noticed that my serpentine belt tensioner pulley had some play in it, so I decided to replace it. I believe that Toyota only sells the complete tensioner, so I sourced a pulley and bearing from Autozone for a JZA80 Supra. As it turns out, the pulleys are slightly different between the two. I was able to remove the defective bearing, but I will need to press the new bearing out of the Supra pulley and into the Aristo pulley when I find the time to use my cousin's press at his work. Another hangup with something that should be very simple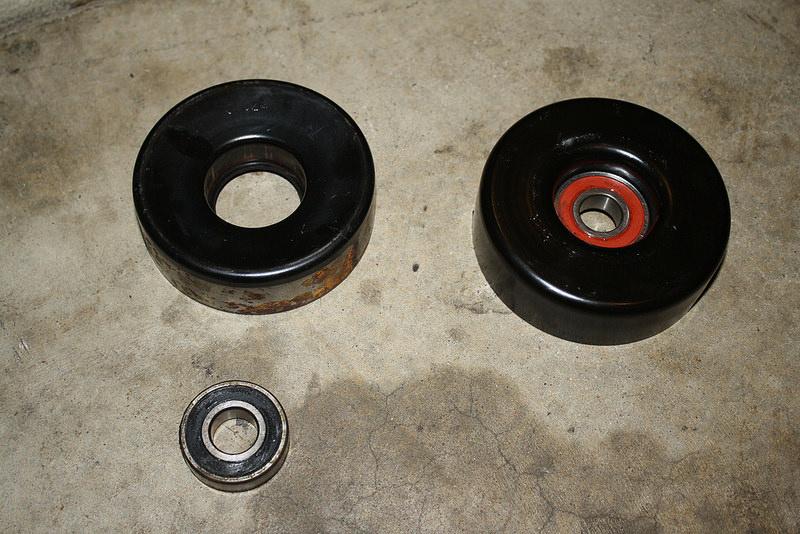 As for parts showing up, I've had some pretty cool things arrive lately. Motivicity Distribution (AKA HKS USA) hooked me up with an SSQV IV blow off valve and flange for the build. Huge thanks to them for helping me out!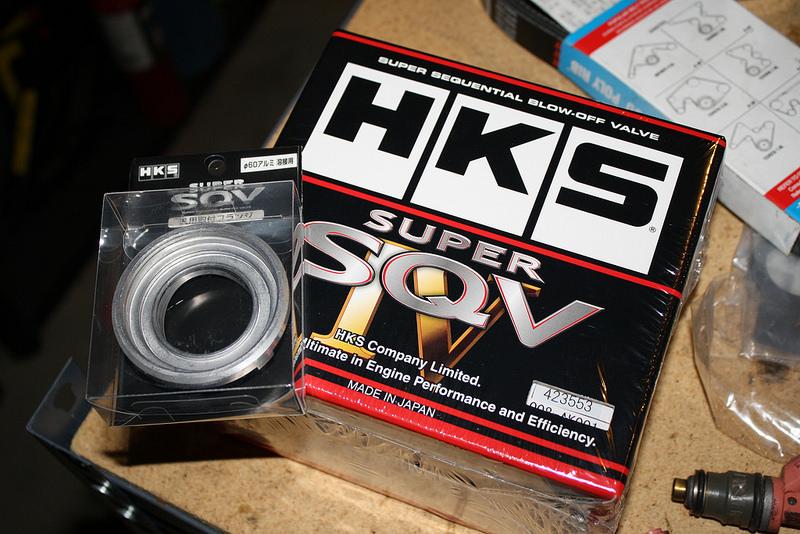 In addition to the blow off valve, I also picked up an HKS Hi Power muffler with titanium tip. All of the aftermarket exhaust systems for this car utilize dual mufflers and I'm not really crazy about the look. I noticed that Orido and *** both use custom single-muffler setups on their cars, so I decided to follow in their footsteps and do the same. I'll have my friend Mike fabricate a turboback system with this muffler when the time comes- probably some time this winter.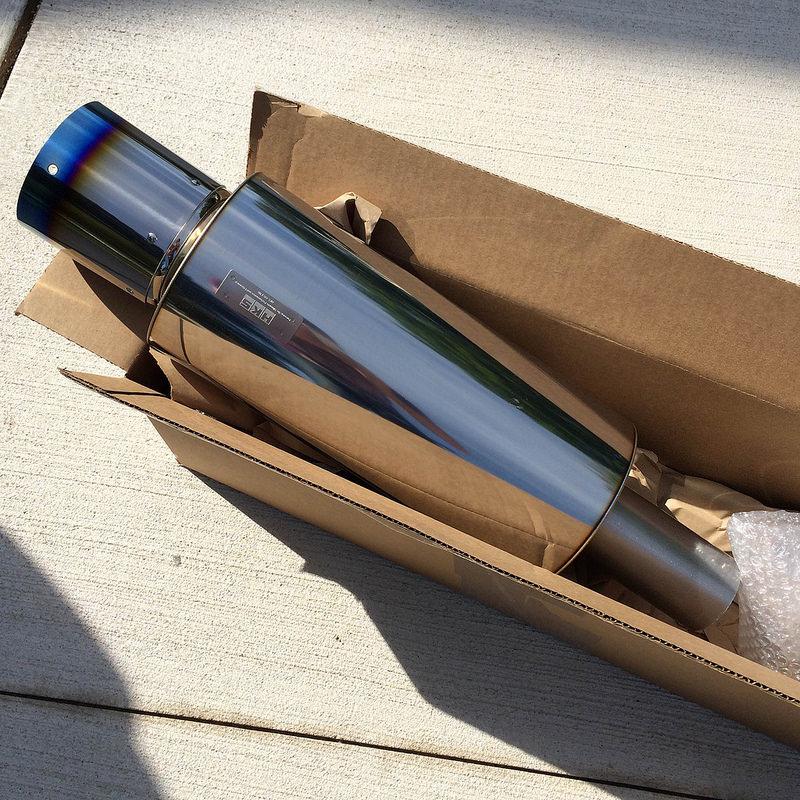 After nearly six months of waiting, my TRUST/GReddy intercooler kit for the Aristo finally arrived at Evasive Motorsports in the states. I'm really happy with the looks of the kit. I was also able to source the original GReddy T78 piping to utilize this intercooler kit with the single turbo setup, so that should arrive sometime late this week.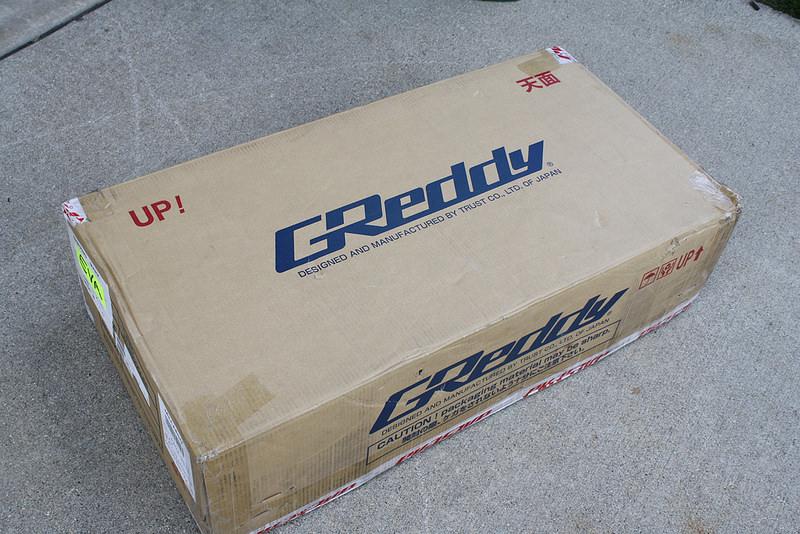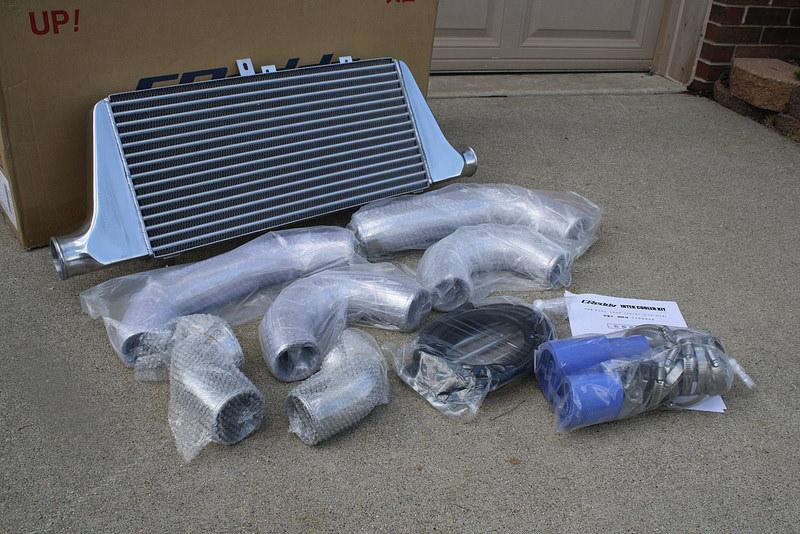 My hope is to source the remaining supporting items to complete my piecemeal GReddy turbo kit in the coming weeks. At this point I mainly need the turbo manifold and intake pipe to complete the setup, but I would love to find a downpipe as well. Even if it doesn't fit perfectly, it will be a good starting point for a custom setup. I was able to find most of the gaskets I need for the kit, with the last one on its way to my house right now.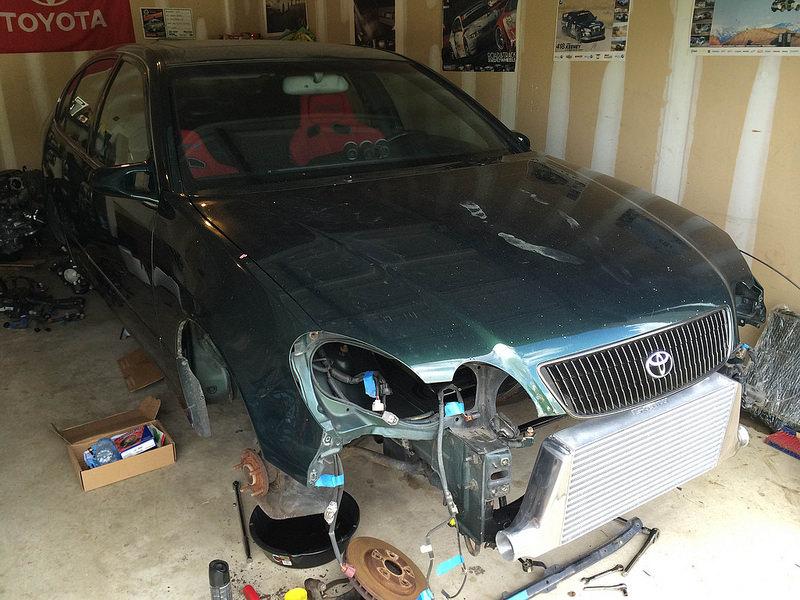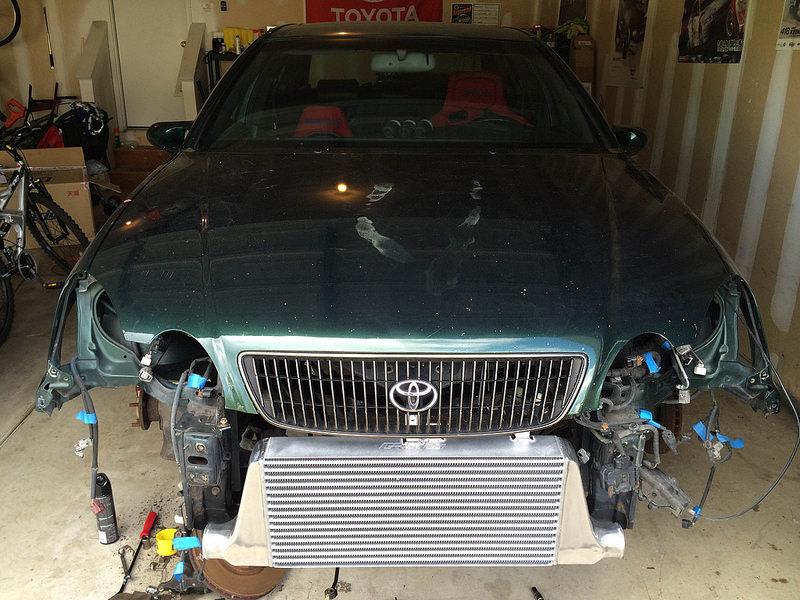 Finally, I scored a set of second hand Toyota Aristo emblems from the motherland. I'm not sure if I will run some or all of these yet, but we'll see. I guess I probably have more important things to work on and sort out at the moment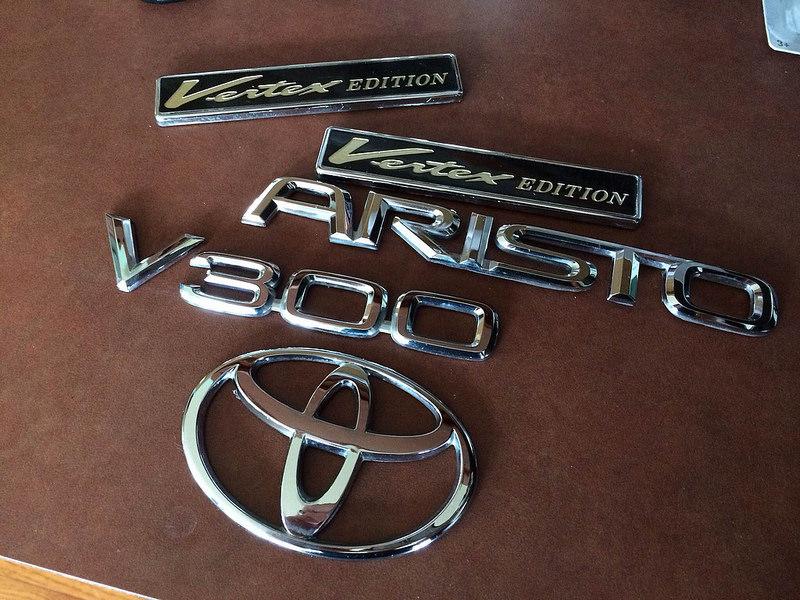 Wow, that was a massively long update with what I feel like was a small amount of progress. There's so much research that goes along with every step of a build like this, so it sometimes feels like I have gotten a lot less work done than I thought I did. But with a long term project that's just the way things go! Hopefully by the next update I'll have the transmission bolted up, the intake manifold and turbo installed, and the drivetrain bolted into the car. Fingers crossed!
Thanks a lot for reading and following along. Keep an eye on Speed Academy for more detailed tech and swap info on this project over the coming months!