IS300 LS1/T56 Daily Driver Build by eng1nerd
By diyauto
You must be logged in to rate content!
IS300 LS1/T56 Daily Driver Build
Compliments of eng1nerd @ clublexus.com
6-16-2013
I started build threads over on my.is and ls1tech a week or so ago and figured I would put one up here as well. The more people I can ask questions along the way the better.

So here goes.
I have always liked the Lexus IS300 and when I saw the LS1 swap was not only possible but practical I decided that was the route I was going for my daily driver. I picked up a 2002 IS300 with 187k on the car for a great price. After that I found a perfect donor car, 2001 Trans Am with 113K on the motor, lots of go fast goodies and a freshly built top end.
My goal is to have the swap done by the beginning of August. I plan to retain cruise control, A/C, and all the stock gauges. I know to keep the temp and mpg gauge working I will have to keep the 2JZ ECU hooked up. I'd like to keep all the creature comforts of the Lexus with more power! The only thing I should be losing is traction control.
I've ordered swap headers and motor/trans mounts from Dedicated Motorsports that should be here any day now. I've also got several other small parts on the way. I got the motor and trans out of the TA today. Next weekend I'd like to get the motor out of the Lexus and set the LS in to get dimensions for the drive shaft, power steering, heat, and A/C lines. Wiring is the only part that has me nervous but I should be able to work through it.
For now here are some pics of both the donor and the project car.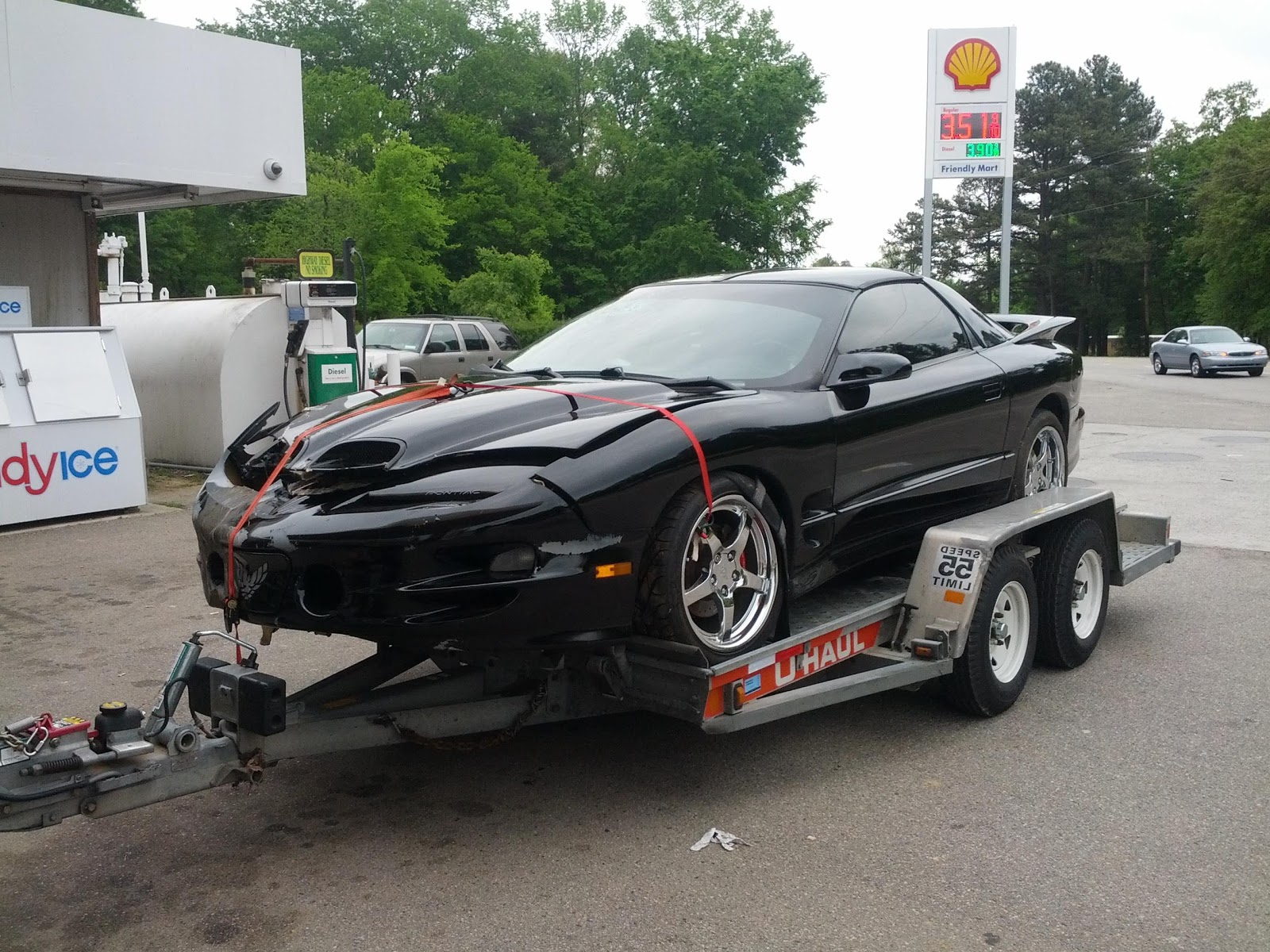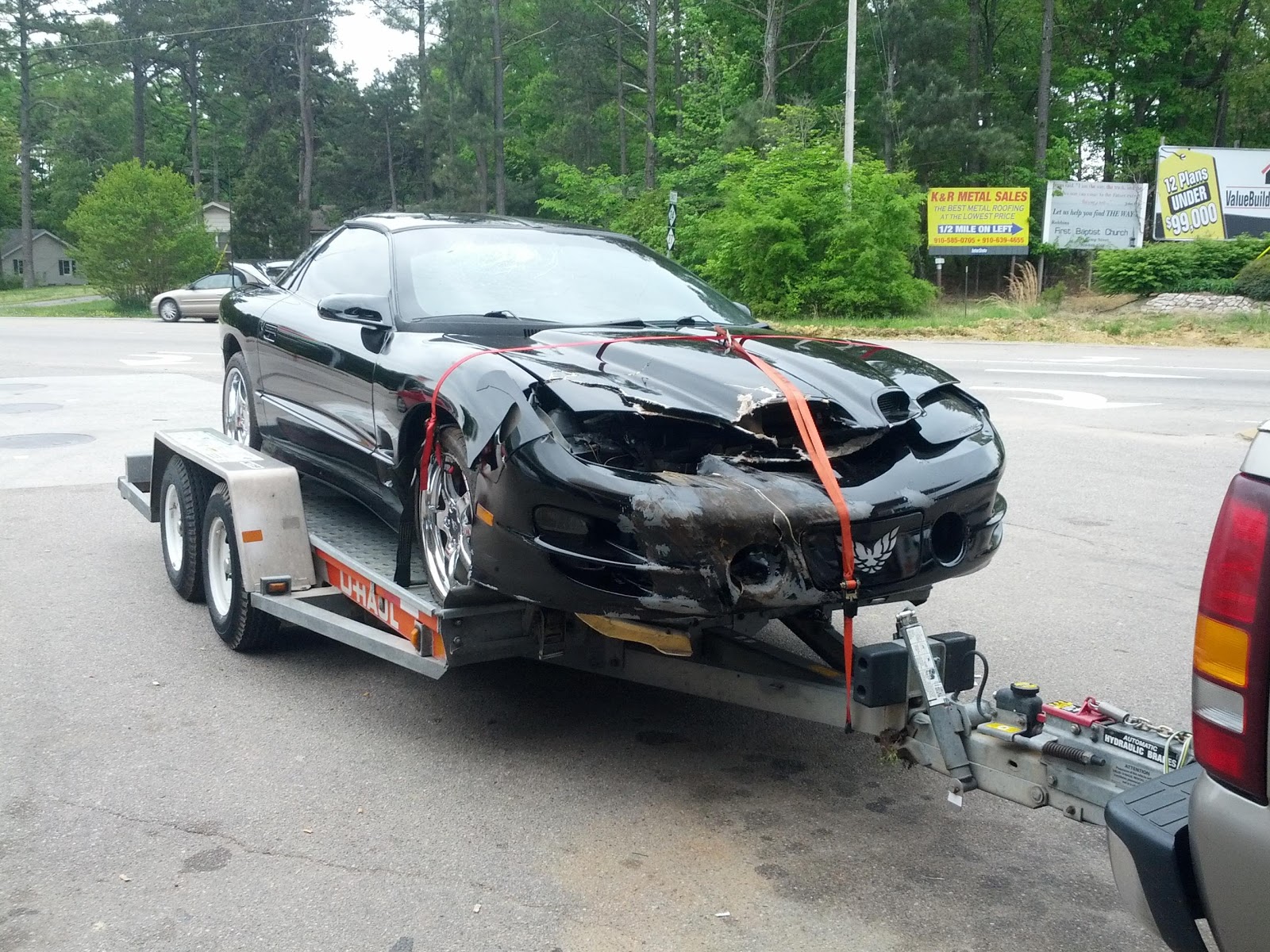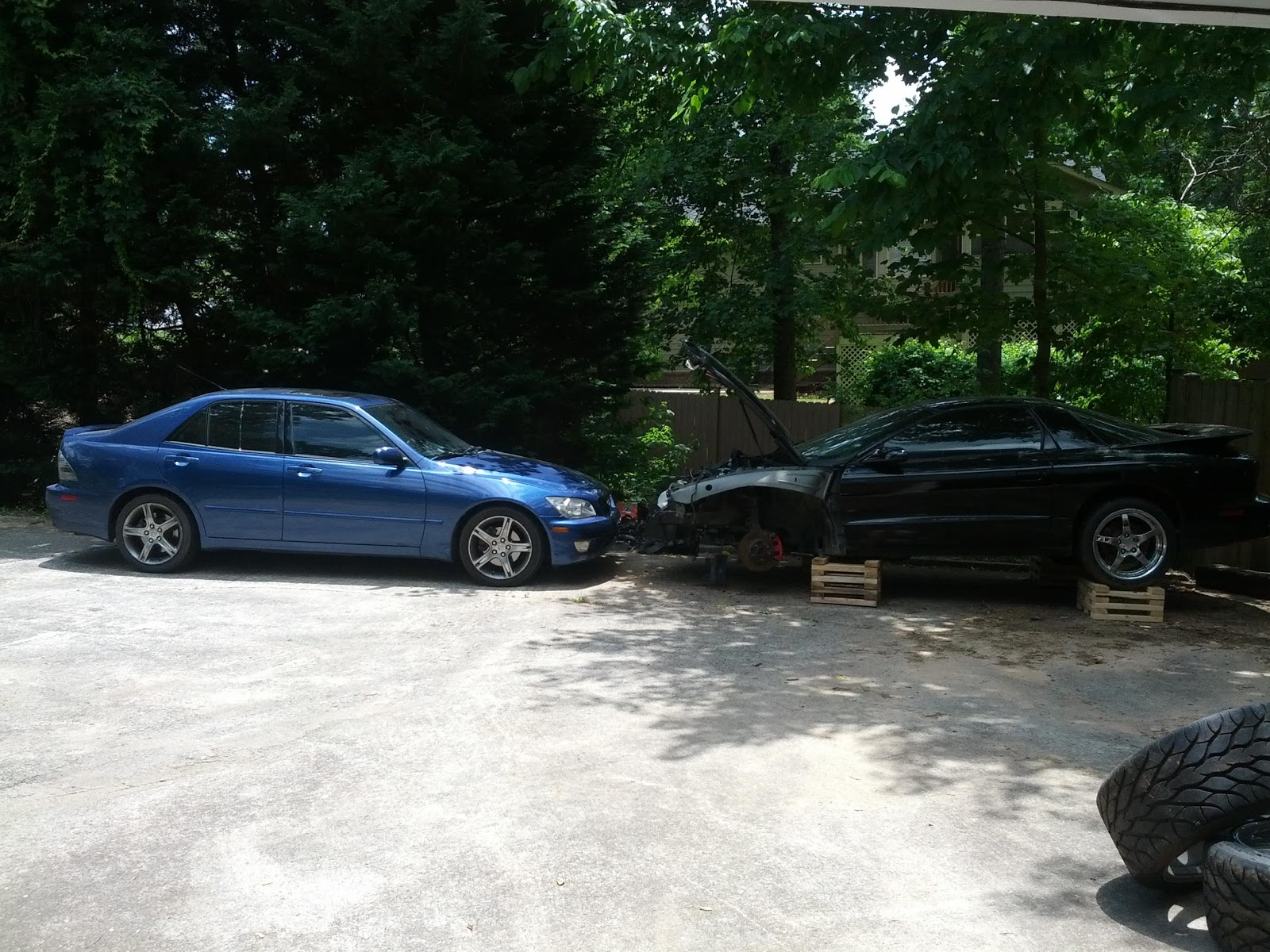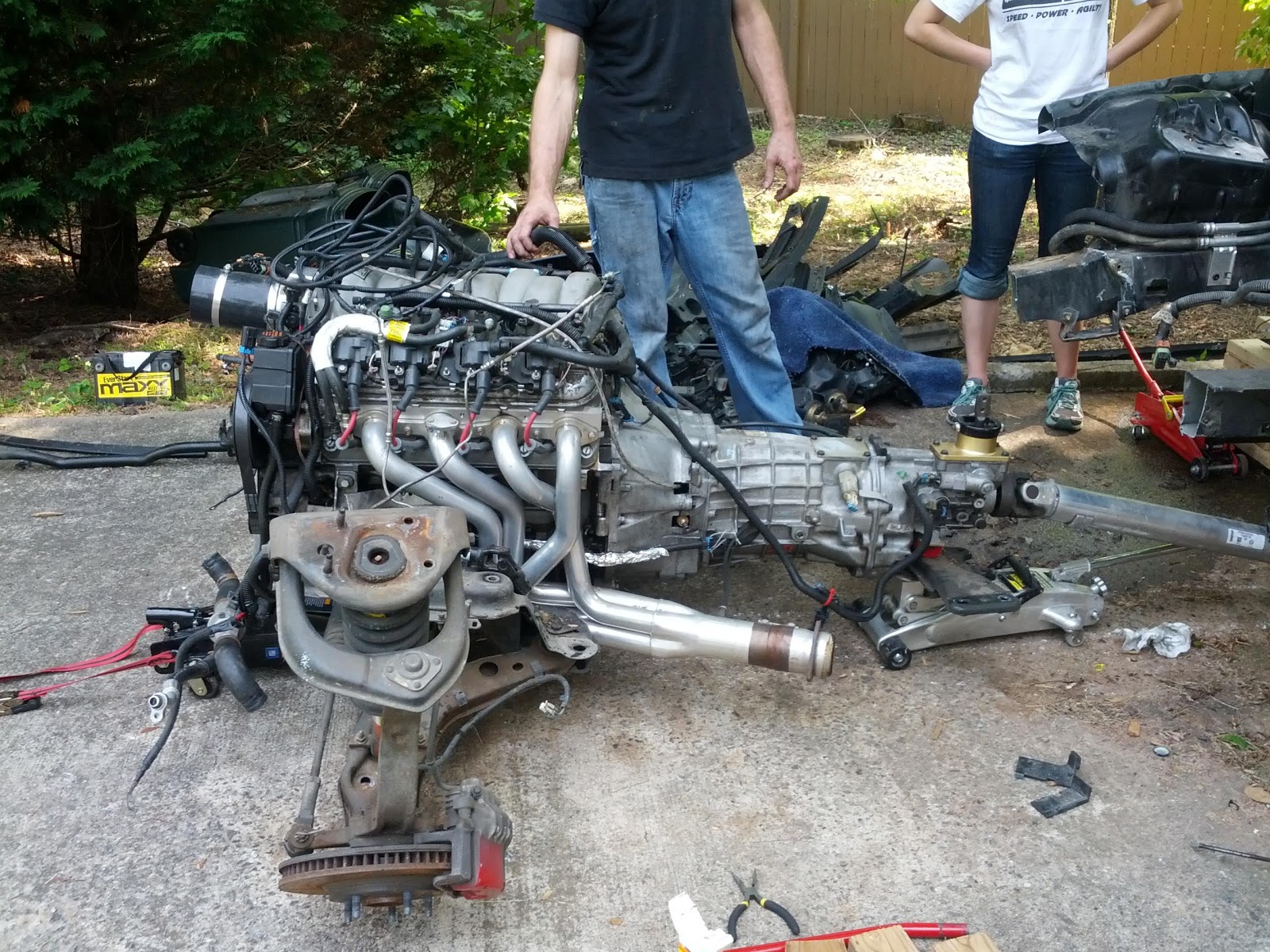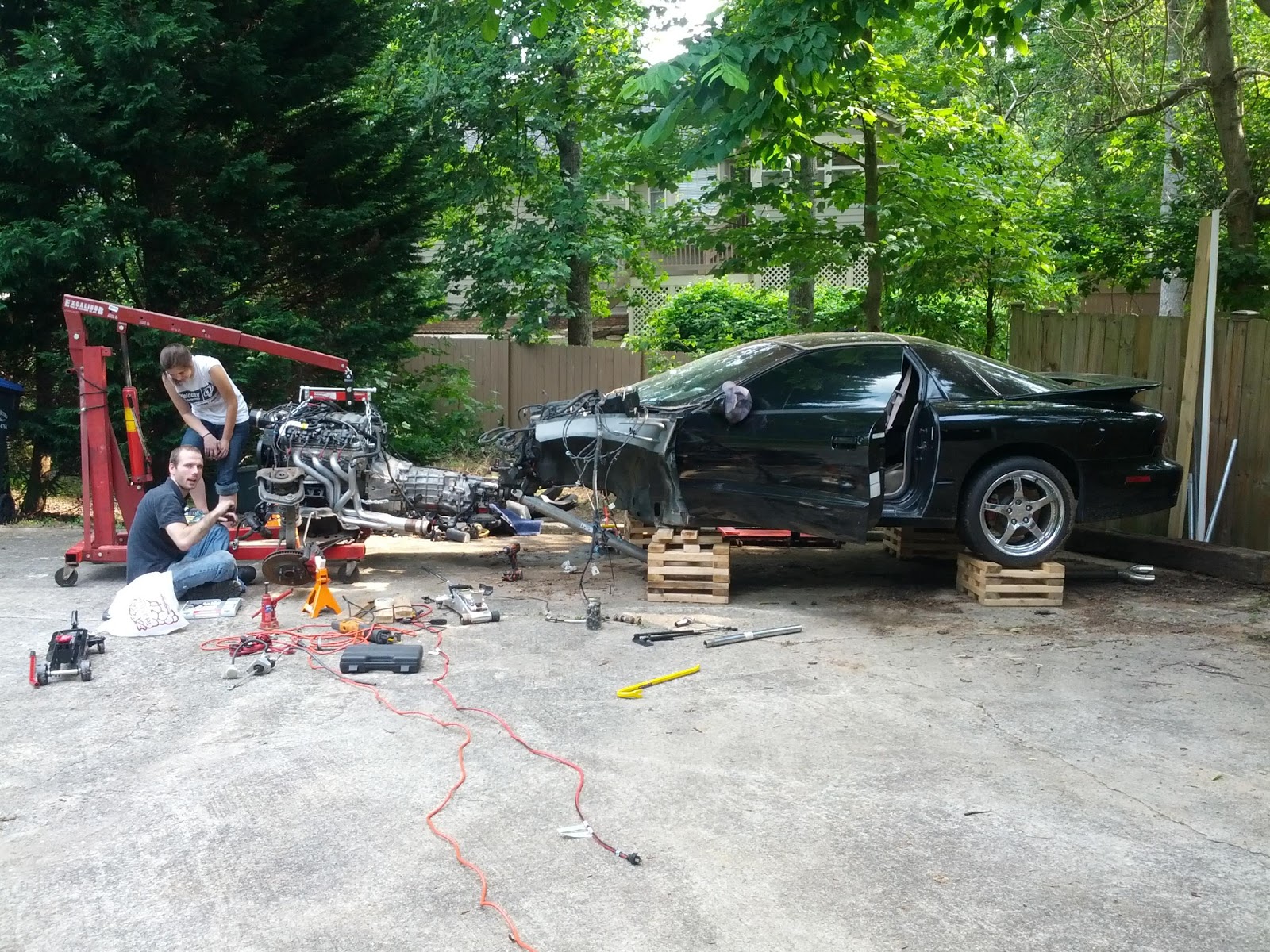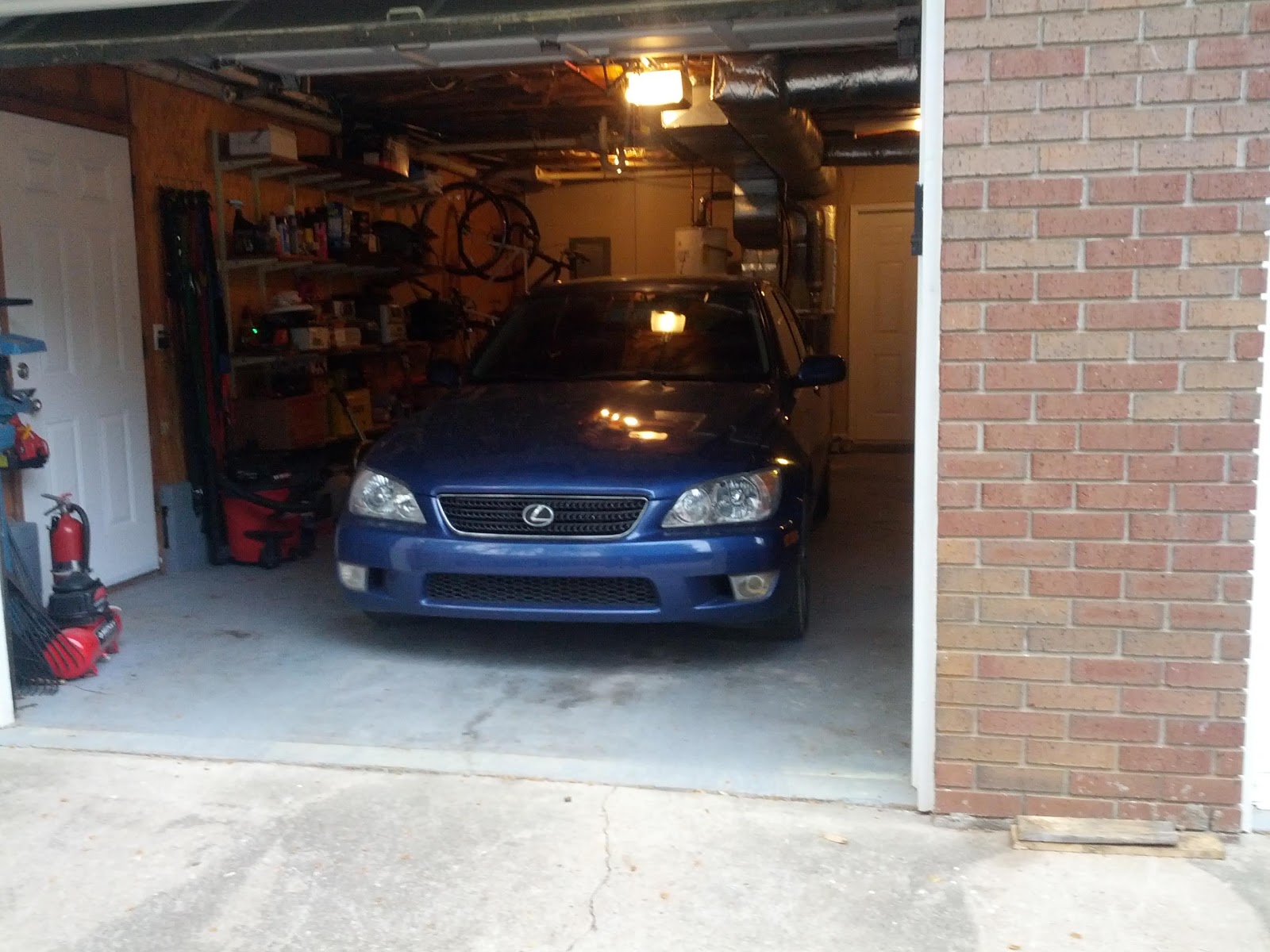 I don't have any real progress updates today but I got a bunch of parts (I bet the mail and UPS guy hate me).
3" Electric Cutout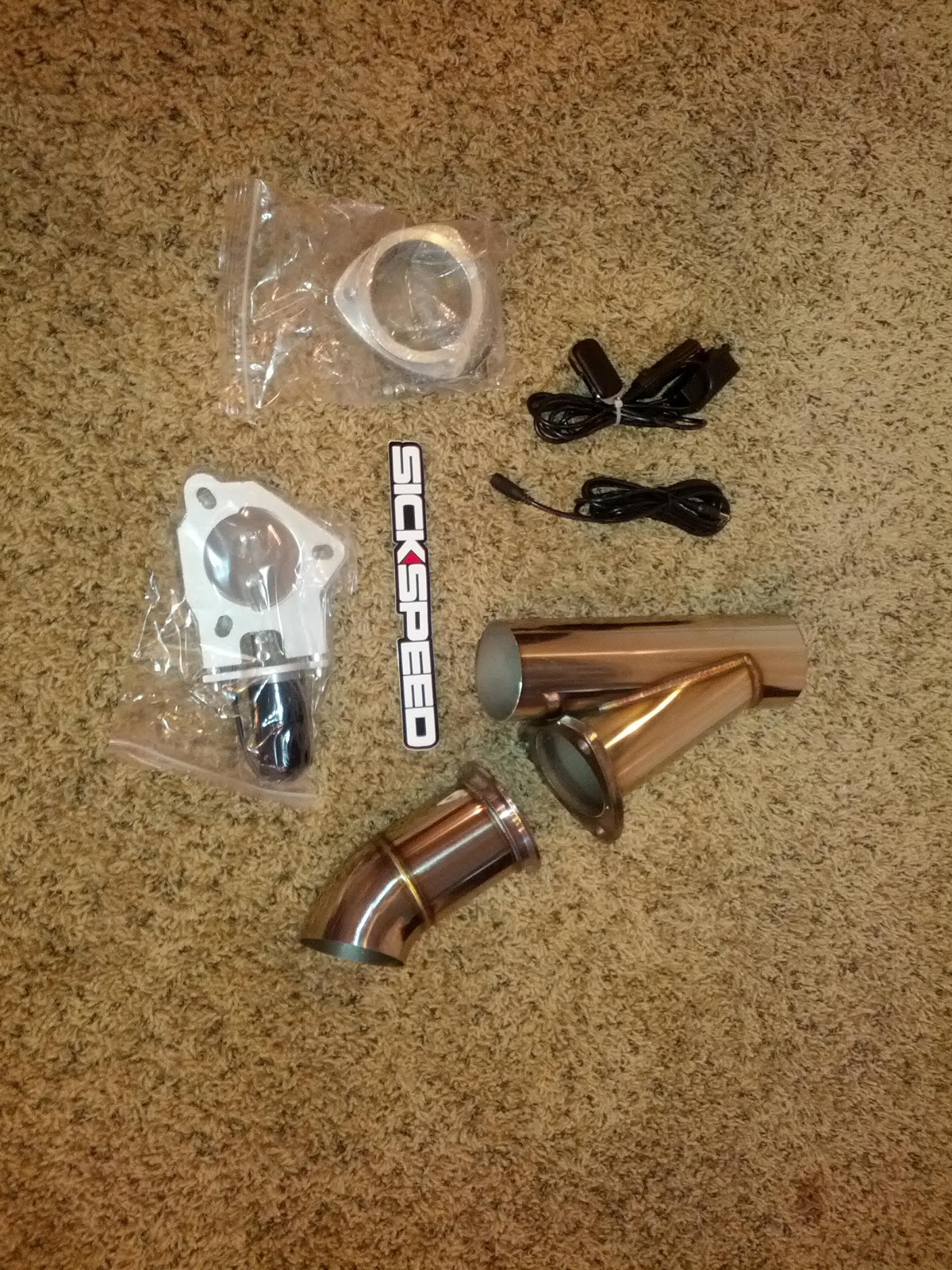 Cats and 3" flex hoses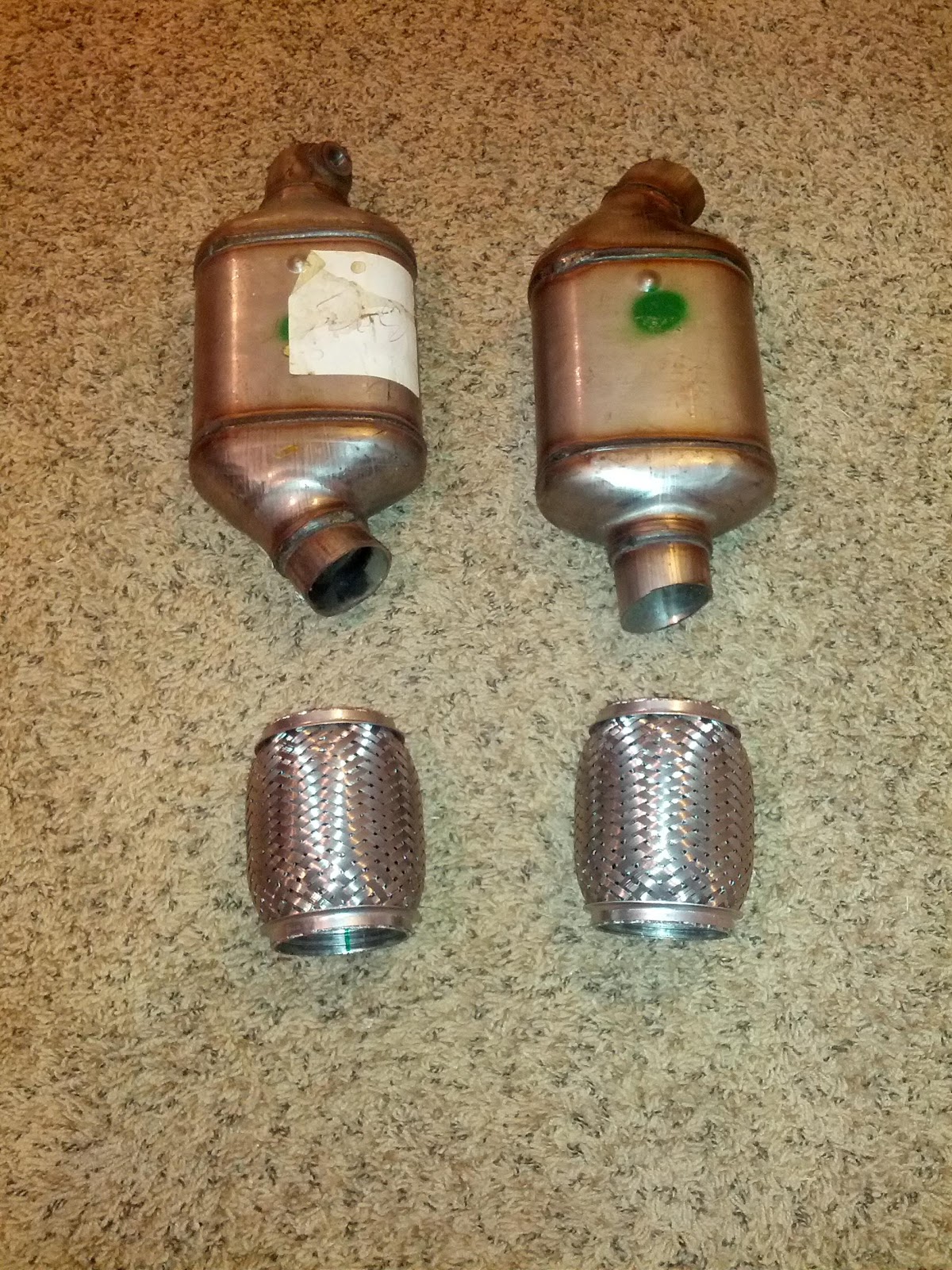 4" to 3.5" reducer for the intake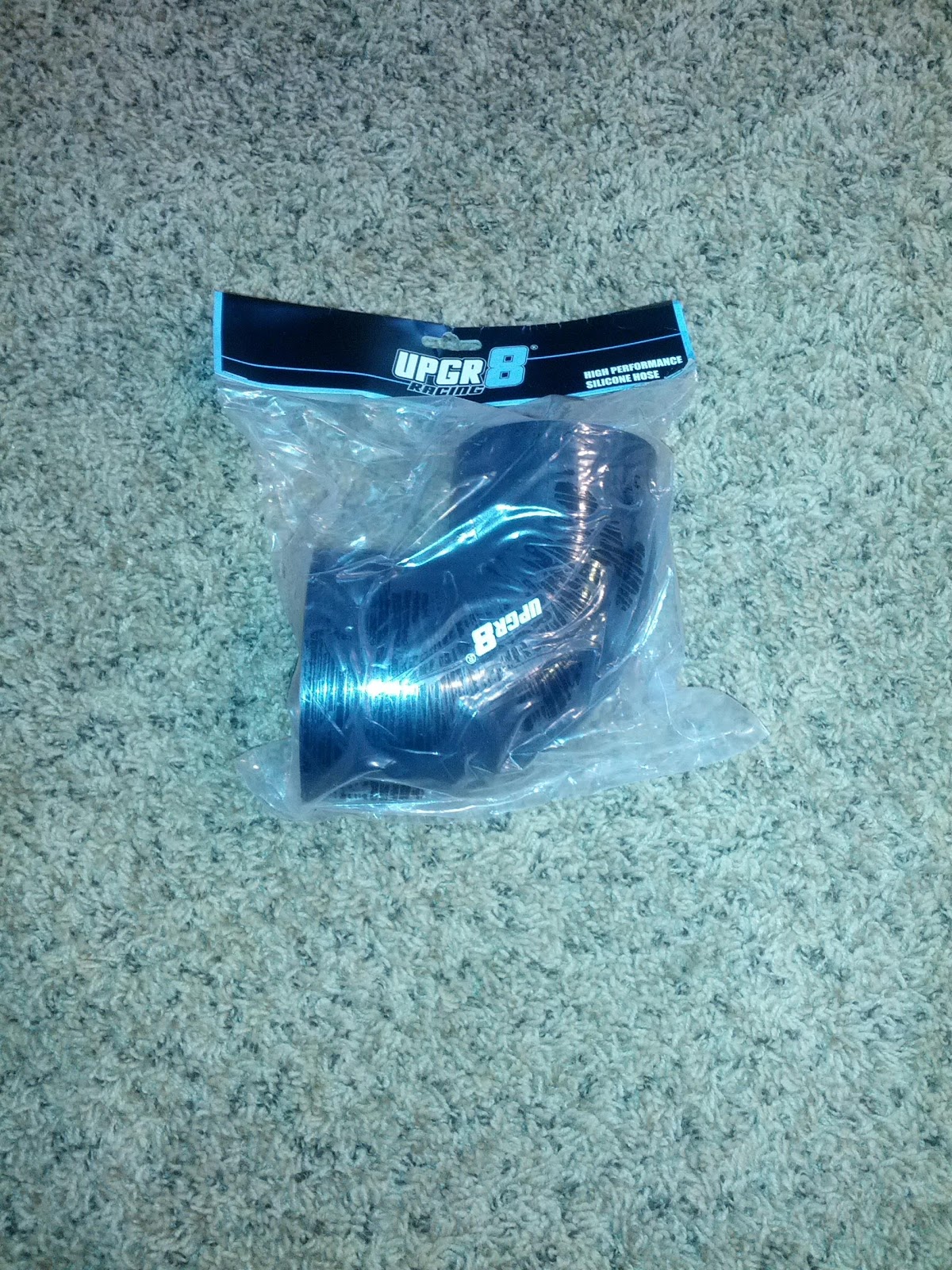 Weapon R Coolant Tank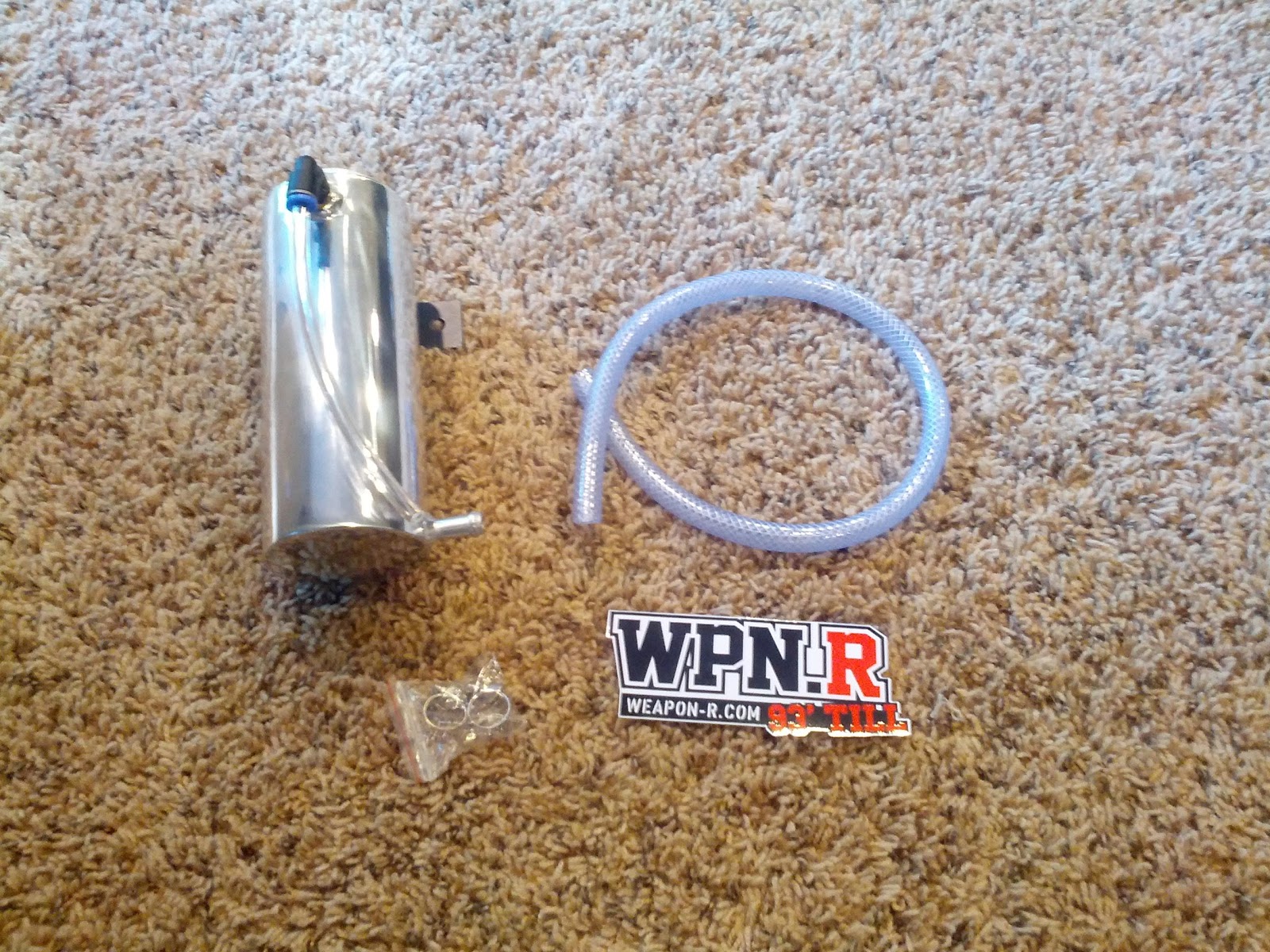 LS2 GTO oit pan, windage tray, pick up, and dipstick (should get this notched and welded at work this week.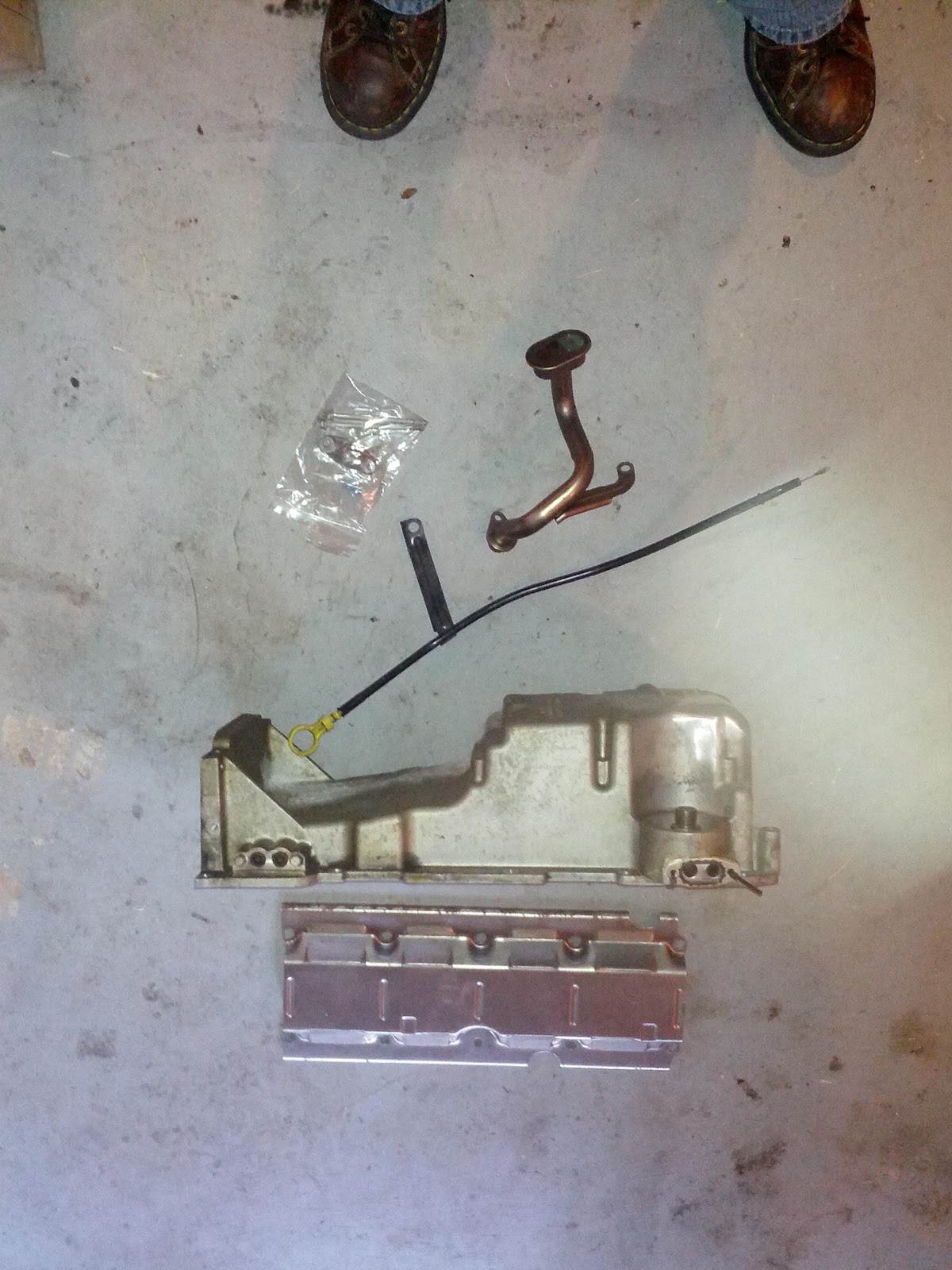 I got these a while back from a buddy at work, they came on his CTS-V and he didn't like them...so I got 'em.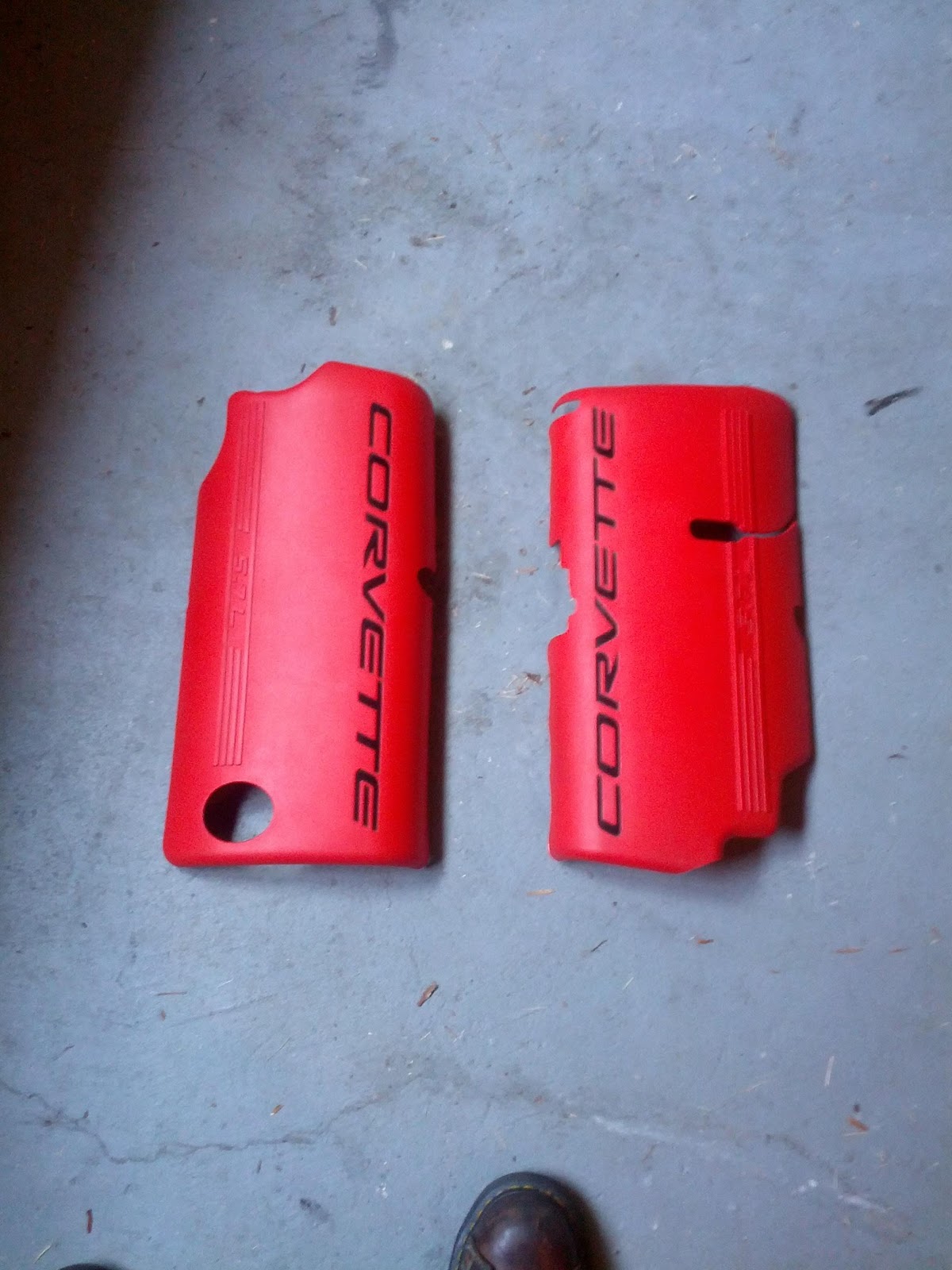 I probably won't get much done this weekend since it's my wifes birthday. I'll probably just get the motor cleaned up and the oil pan installed.
So the first thing I did on the car today had nothing to do with the swap, oh well. I ordered a Chrysler antenna the other day to replace mine which was worn out.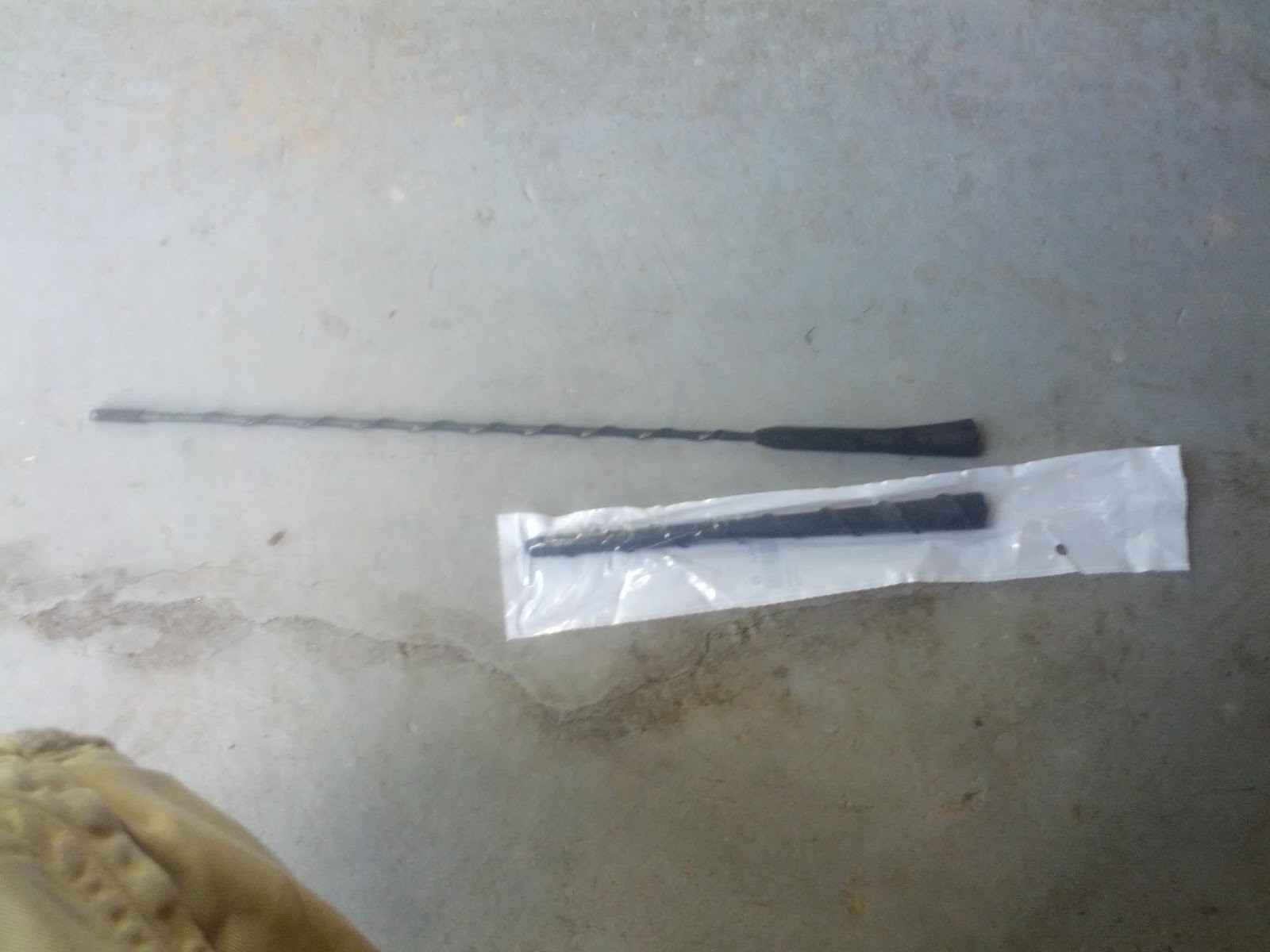 You can see a bit of the donor car in the background in this one.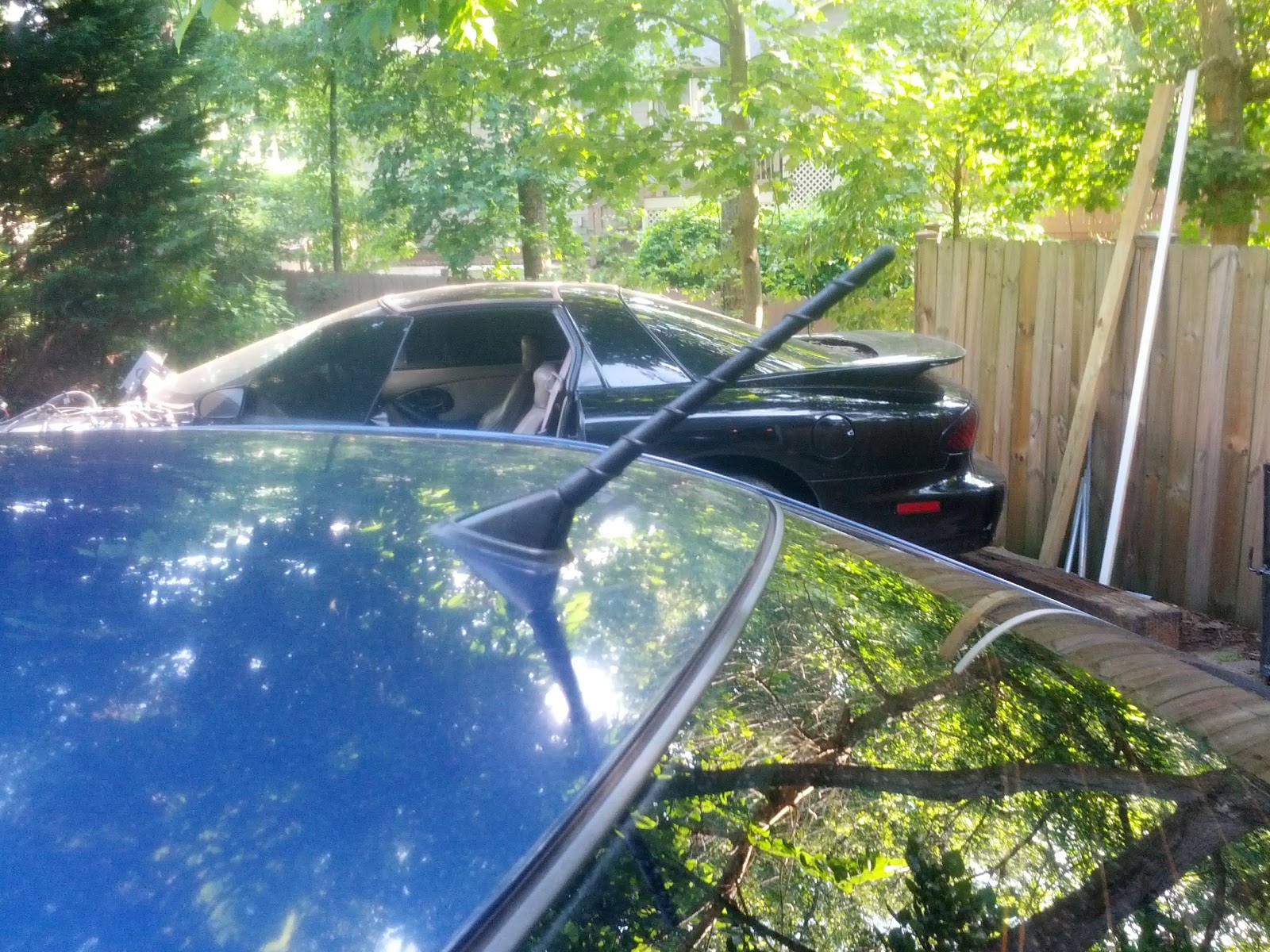 While the motor was out for piece of mind I replaced the rear main seal. I pulled the clutch and flywheel, which are Monster but have seen much better days.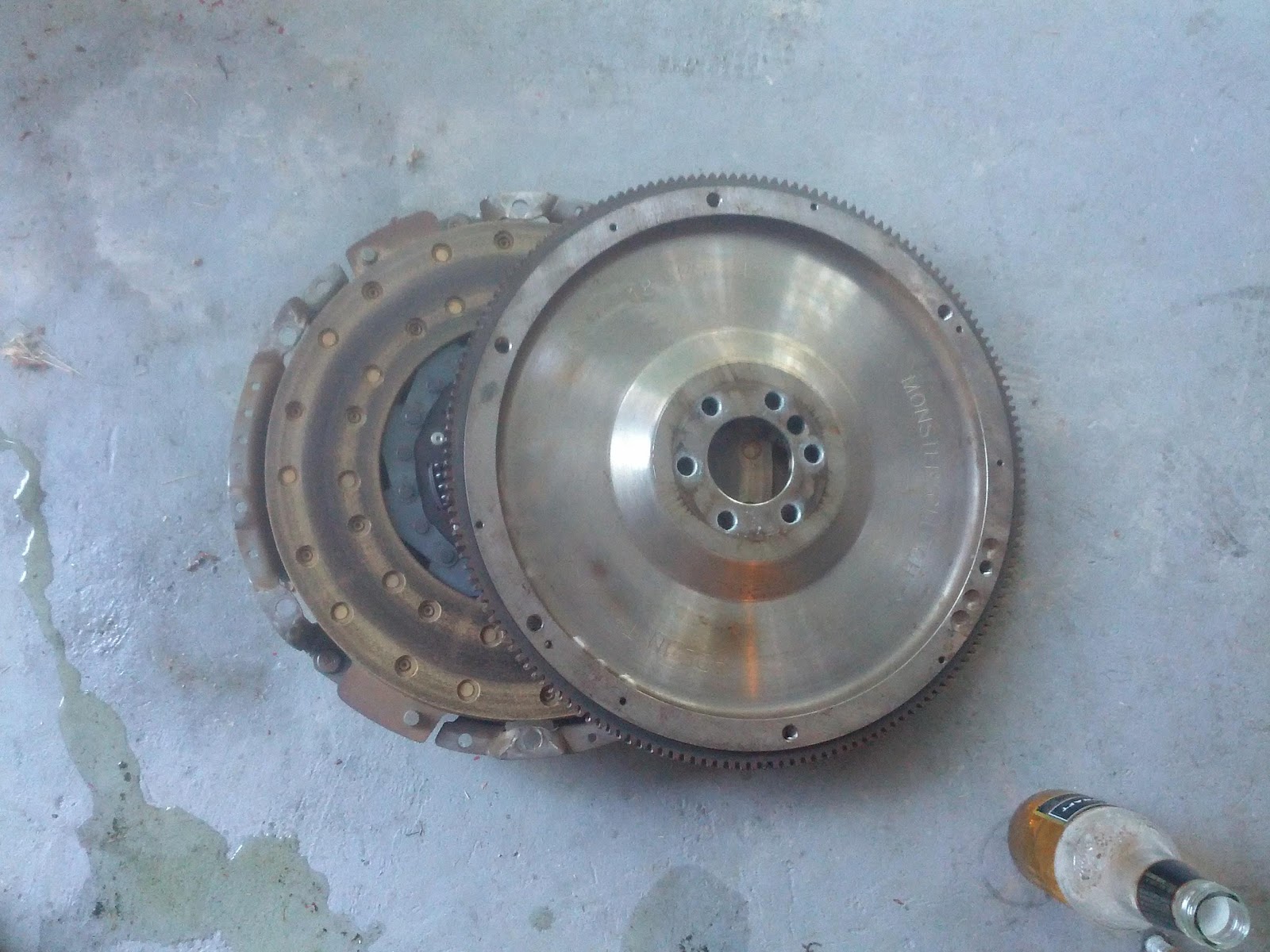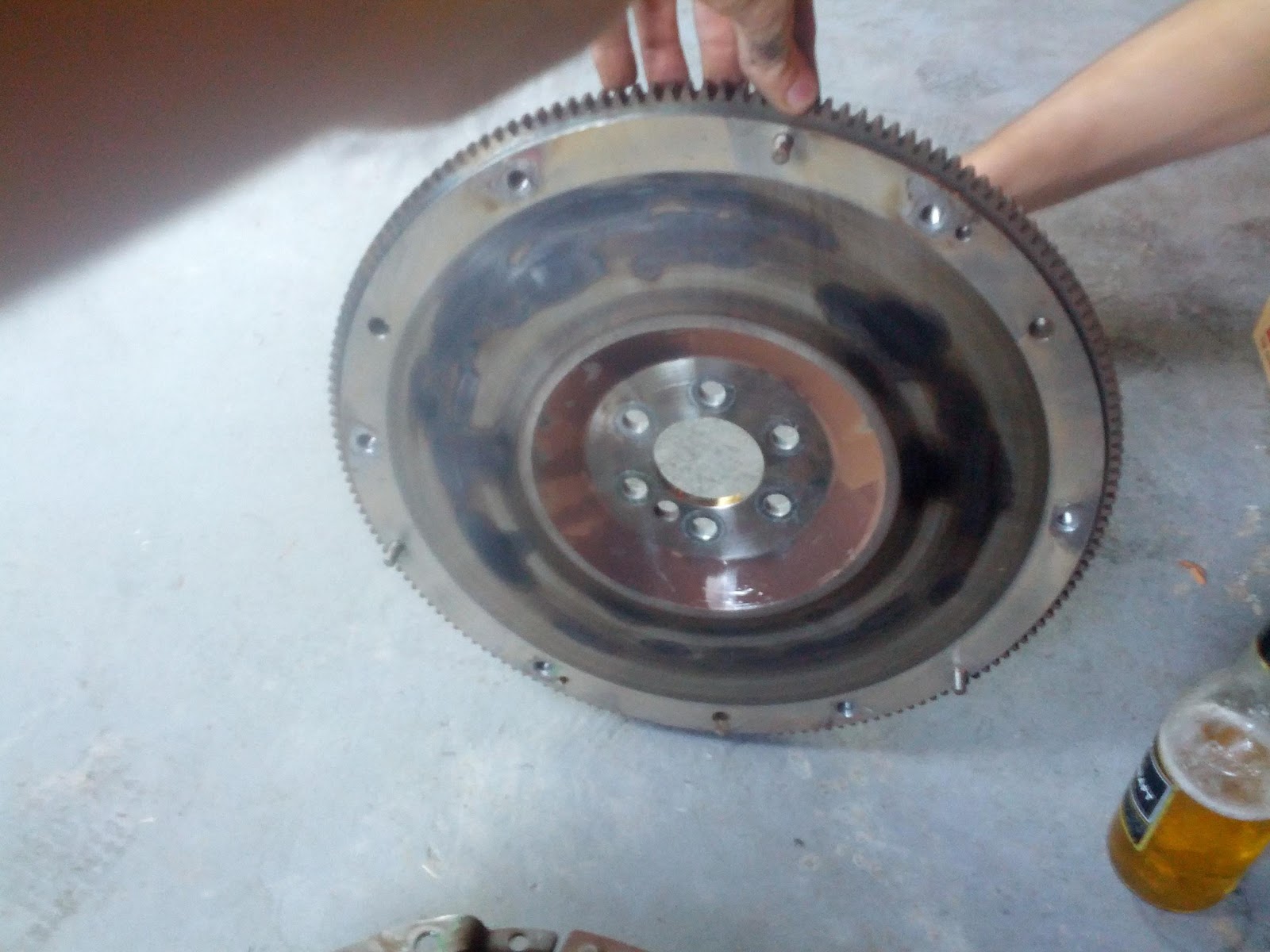 I'll be looking into a new flywheel and clutch this week.
This also gave me a chance to confirm the cam.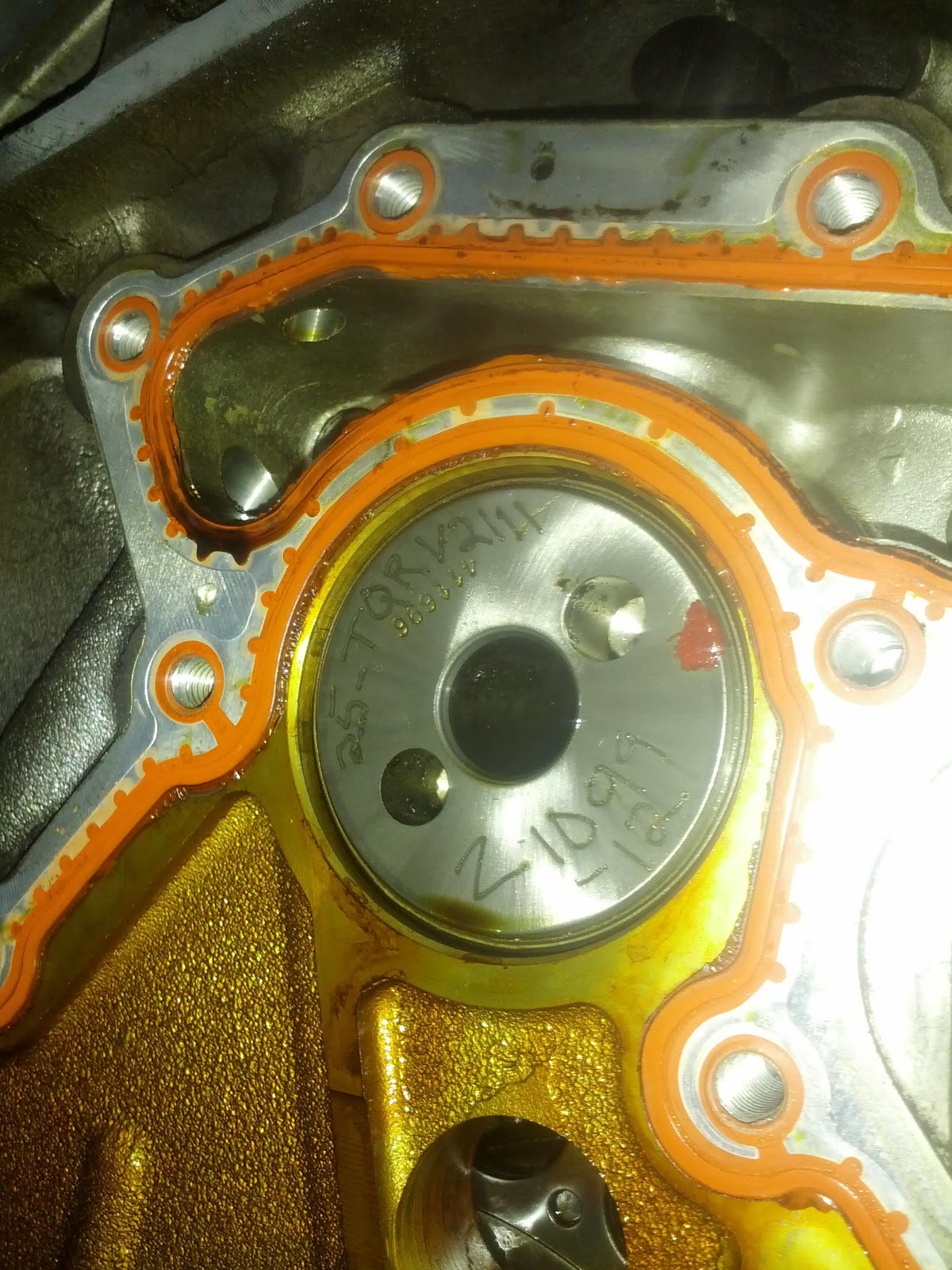 Did the front main and timing cover for good measure while I was at it.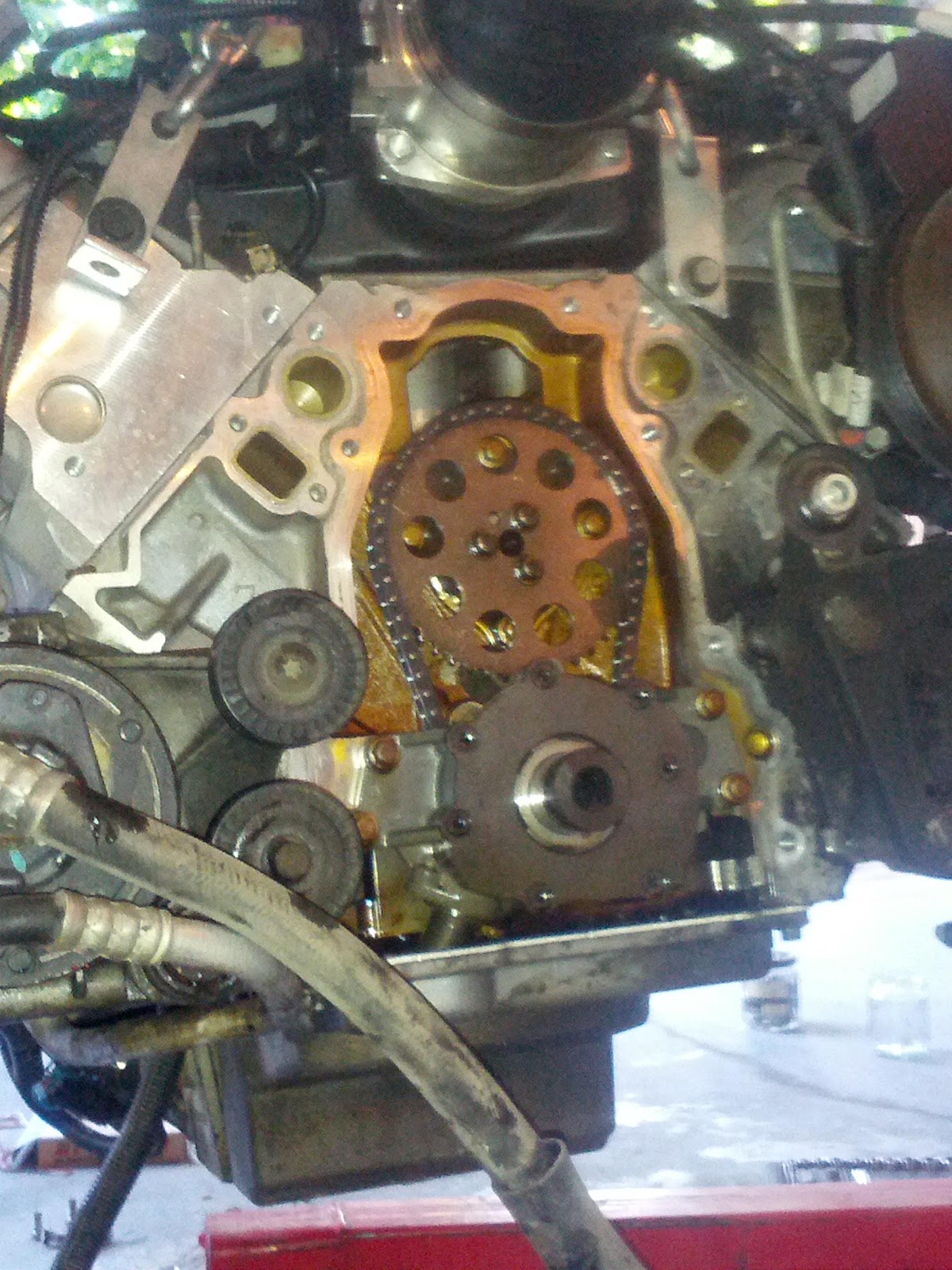 I didn't get any pictures of it but I pulled the intake as well to clean up the top of the motor and I think I'm going to paint the intake while I have it out. My goal is to get the motor out of the Lexus and set the LS in next weekend. Hopefully I will have my motor mounts and headers by then...
6-19-2013
My headers came in today and I must say they look awesome!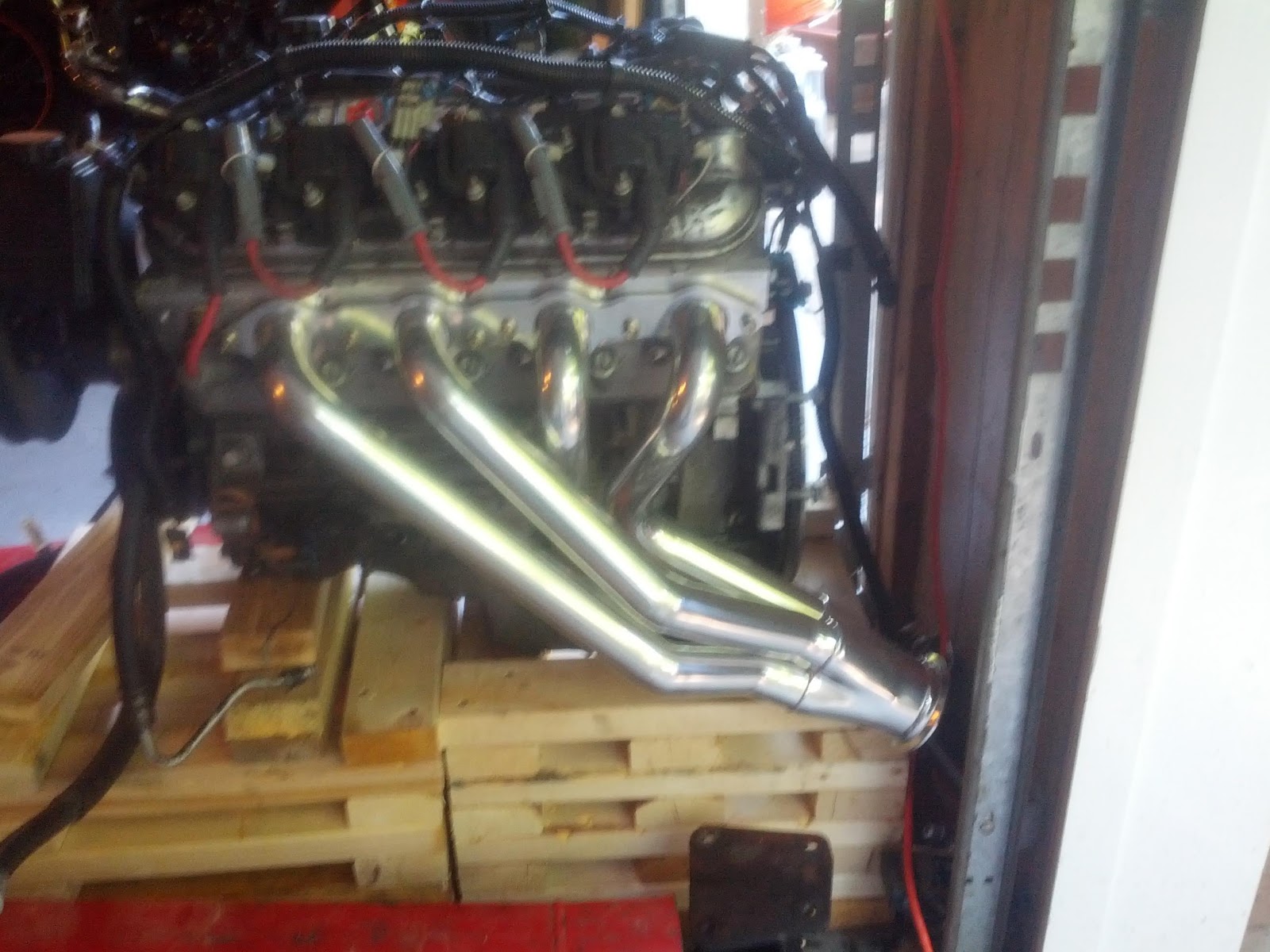 Here you can see the clearance for the steer column.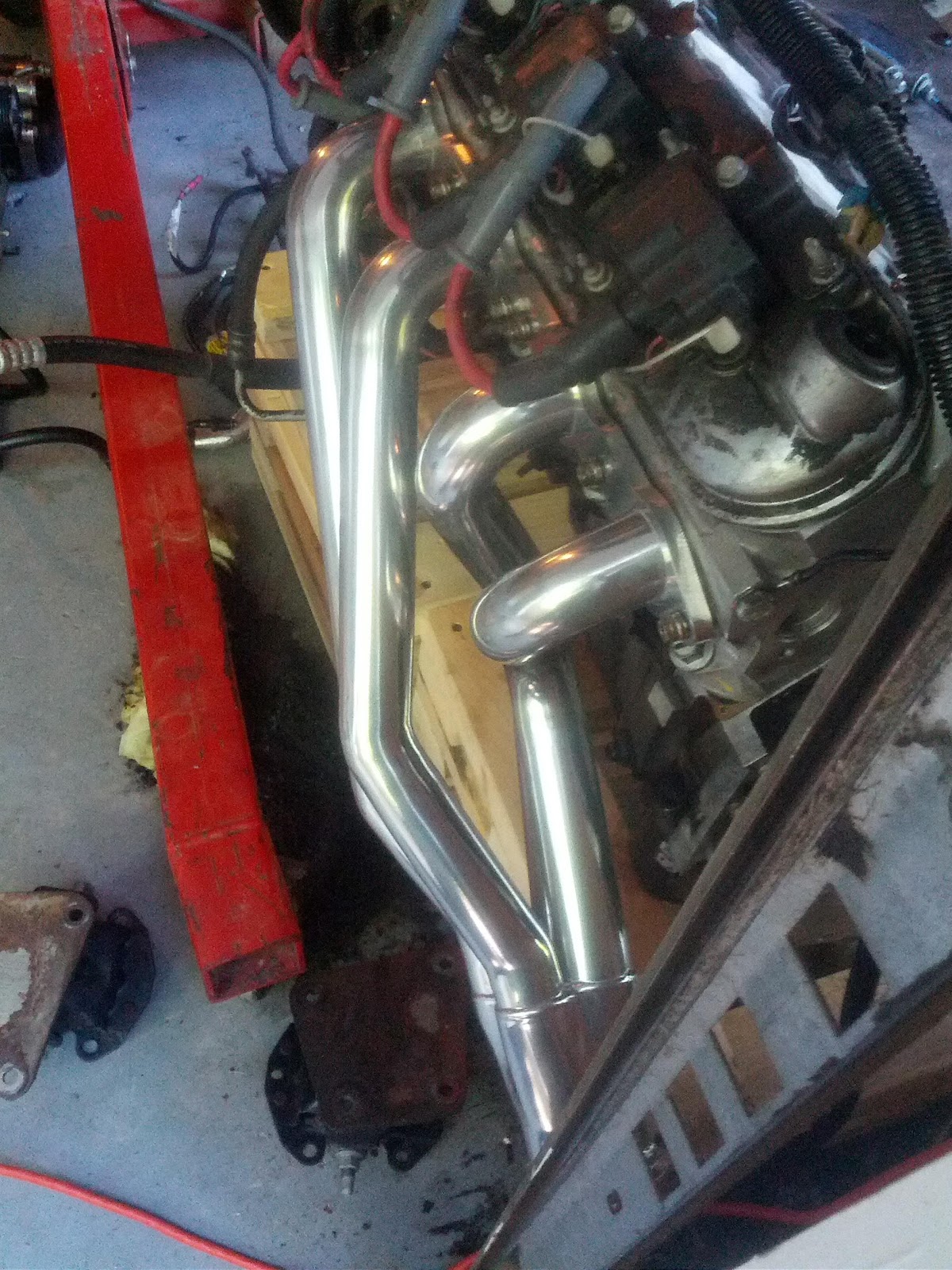 I laid out roughly what I have in mind for the exhaust system:
Headers > Cats > Flex Hose > Y-pipe >(maybe a resonator, not shown) > Cutout > Factory Lexus Muffler (also not shown)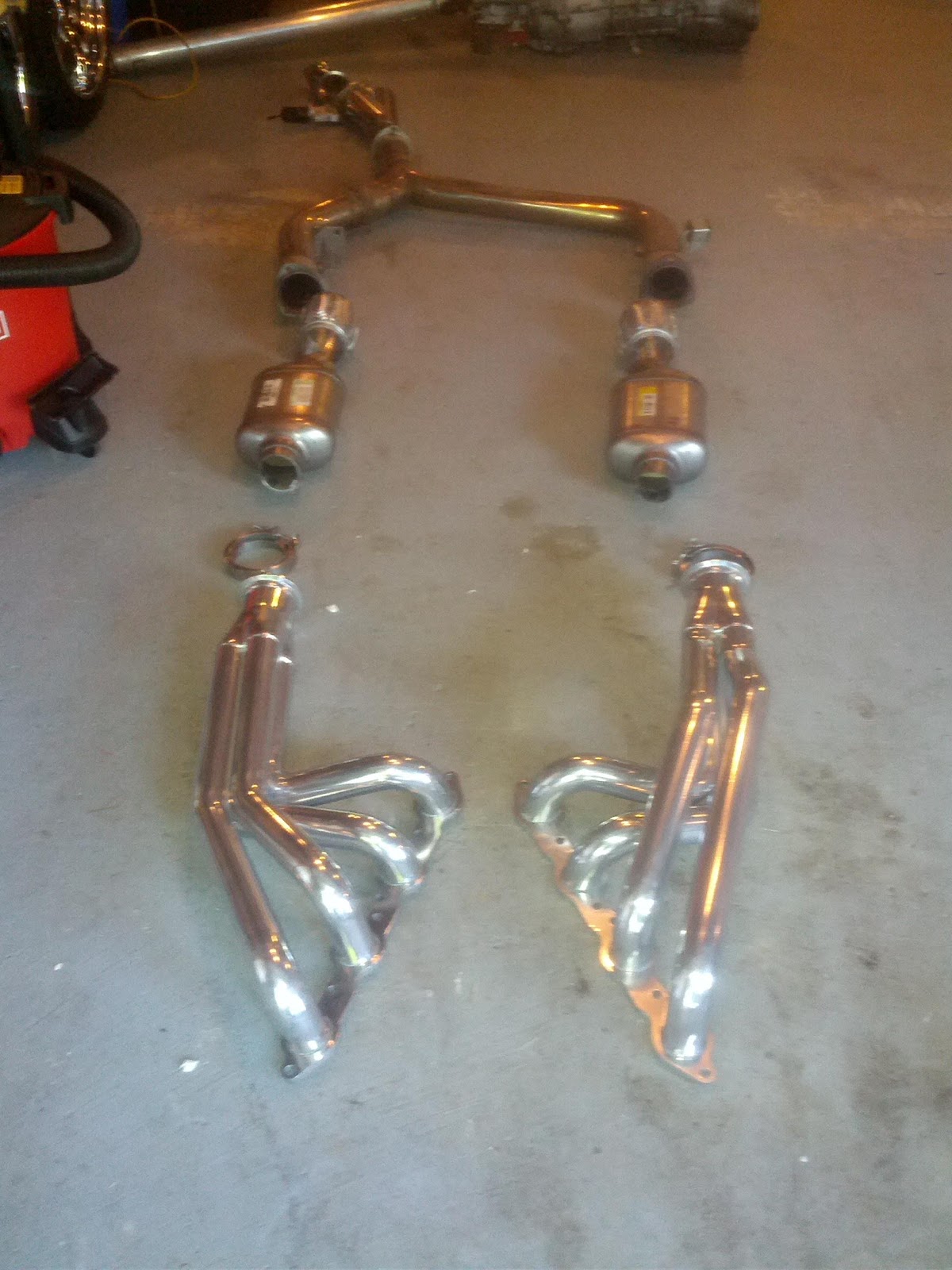 While I was in the garage I took care of that ugly, dirty grey color on the intake. Since I will be running a set of red Corvette covers I figure this should go well flat black.
Before: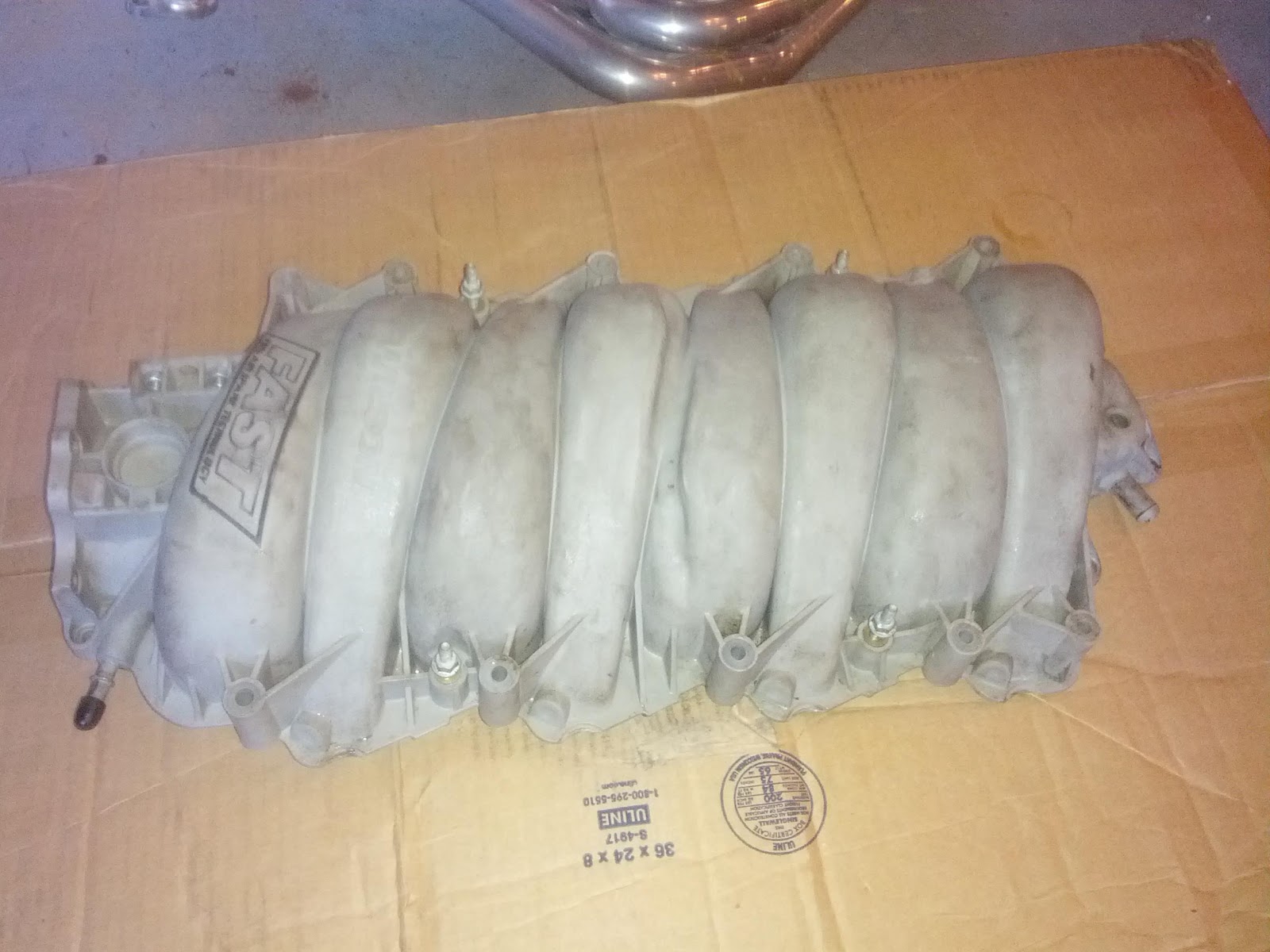 After: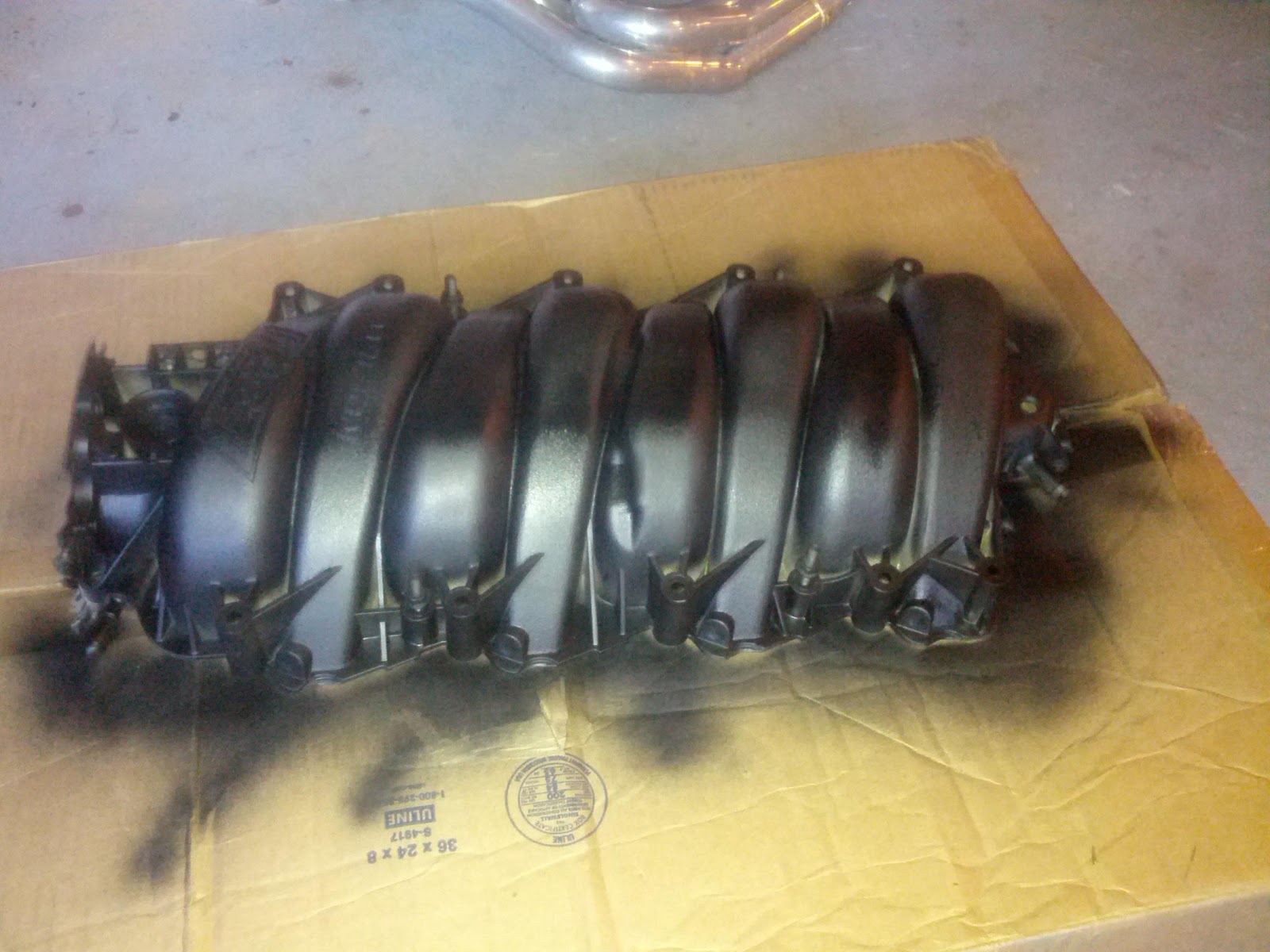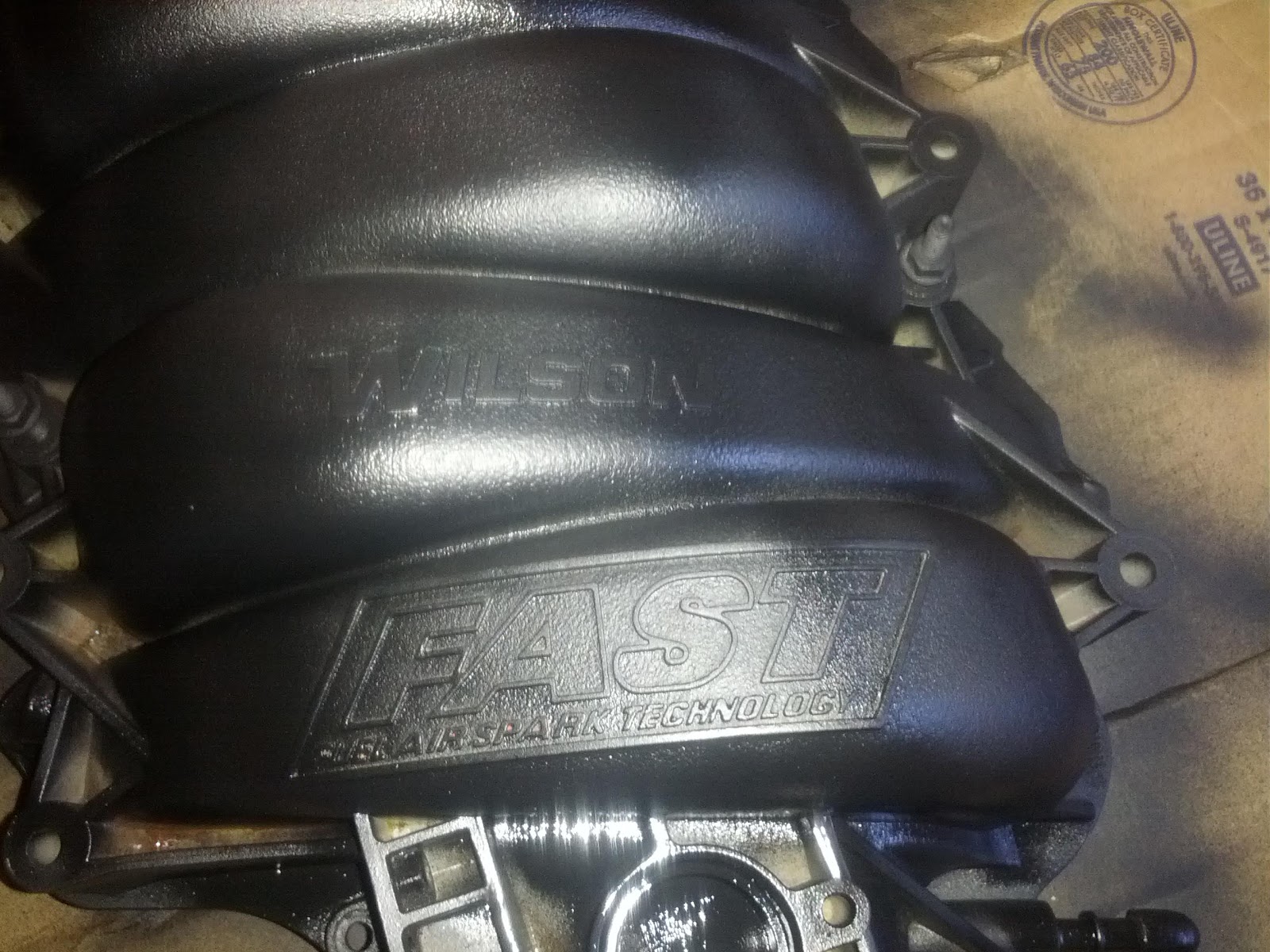 I also heard from Dedicated Matt today and my motor mounts were getting welded up so it is game on for this weekend. My wife is out of town and the garage is all mine, the motor is coming out of the Lexus, bay is getting cleaned and I will probably get started on chasing wires.
6-23-2013
Today was when the real fun began. After stopping by the Lexus dealership and giving them way to much money to have a spare key made (don't know if it can be programmed after the swap) I backed the car in the garage for it's last night with the 2J. All the fluids got drained, radiator, and core support came out to make room for the motor and trans on the way out.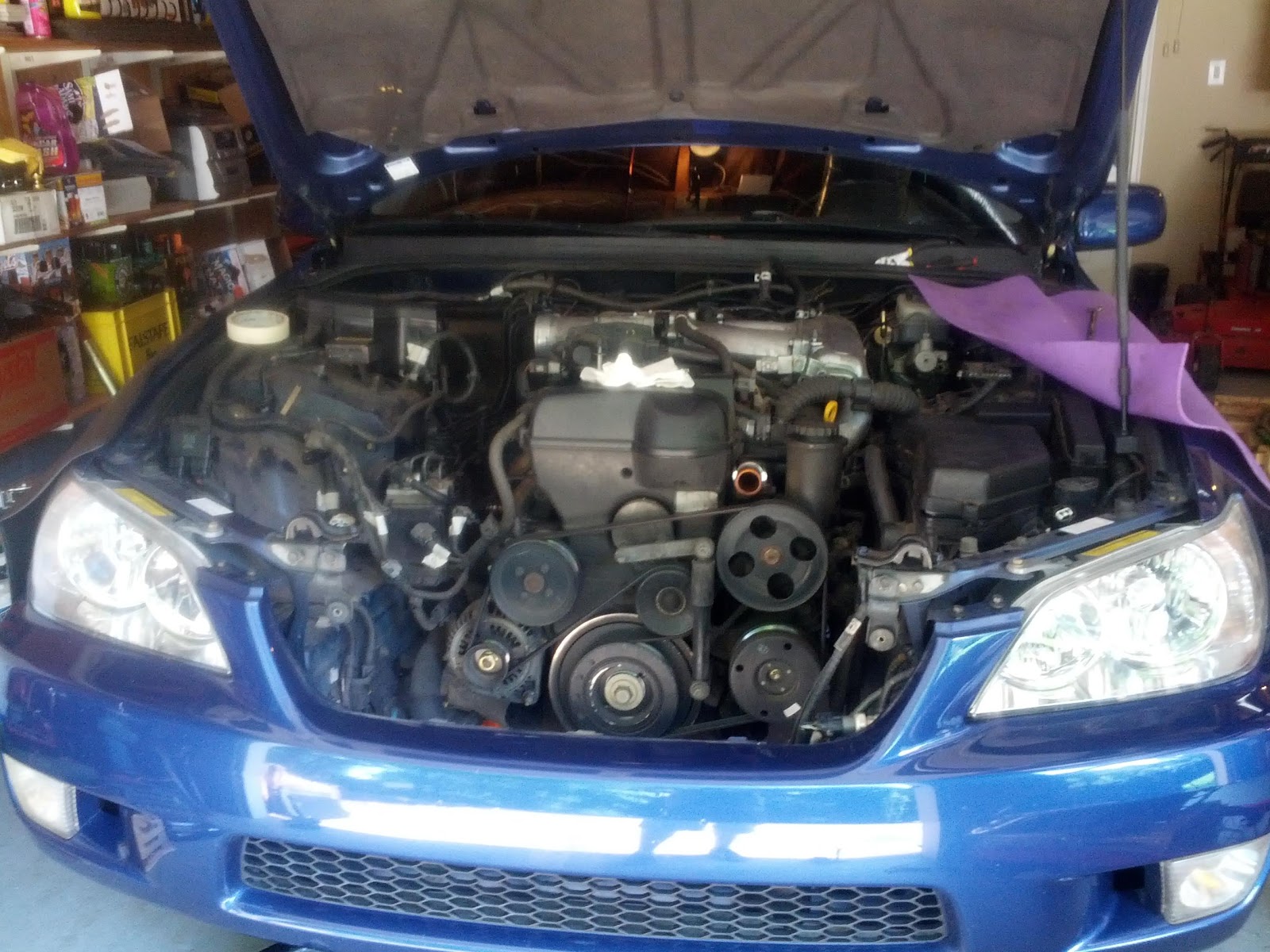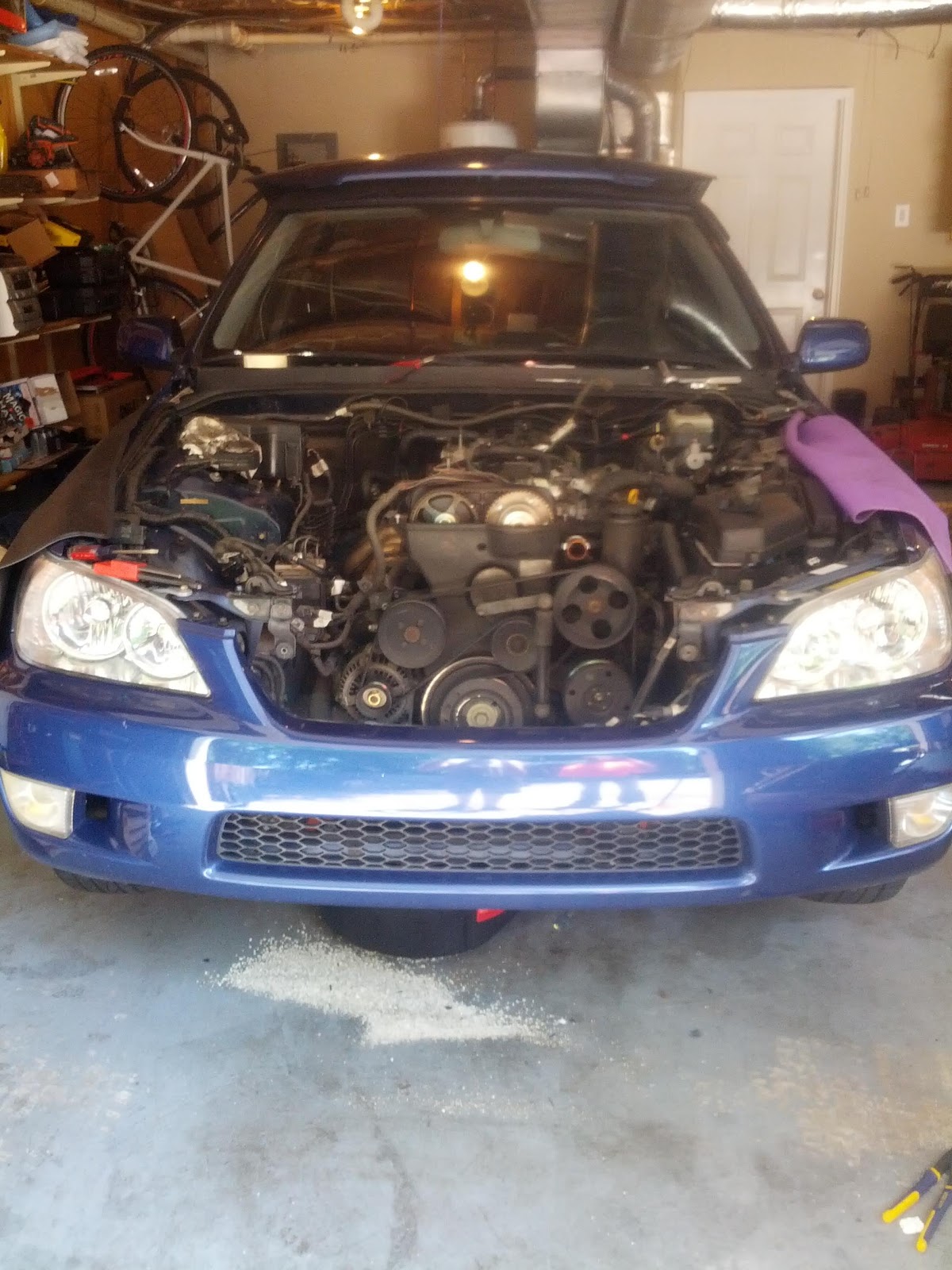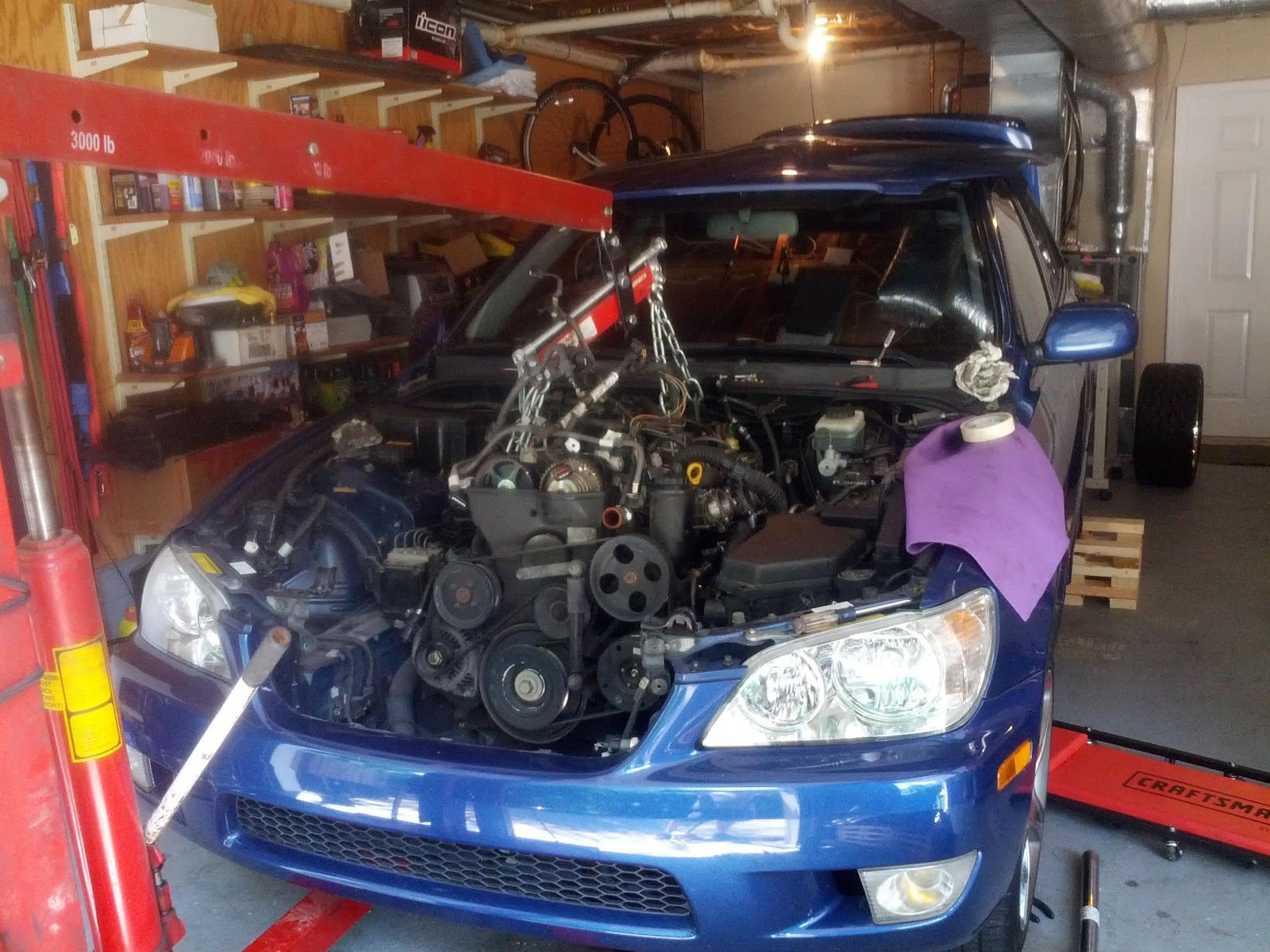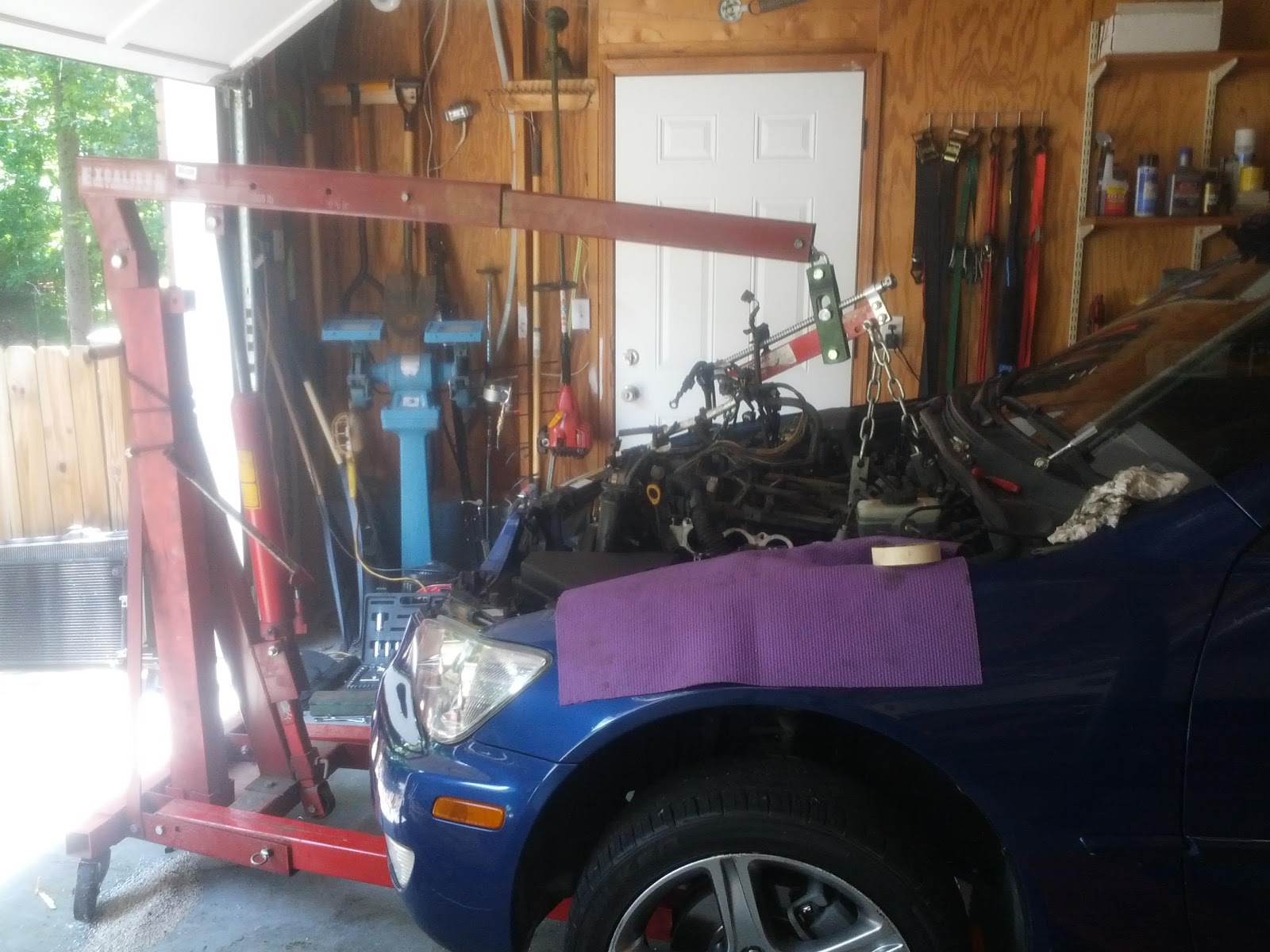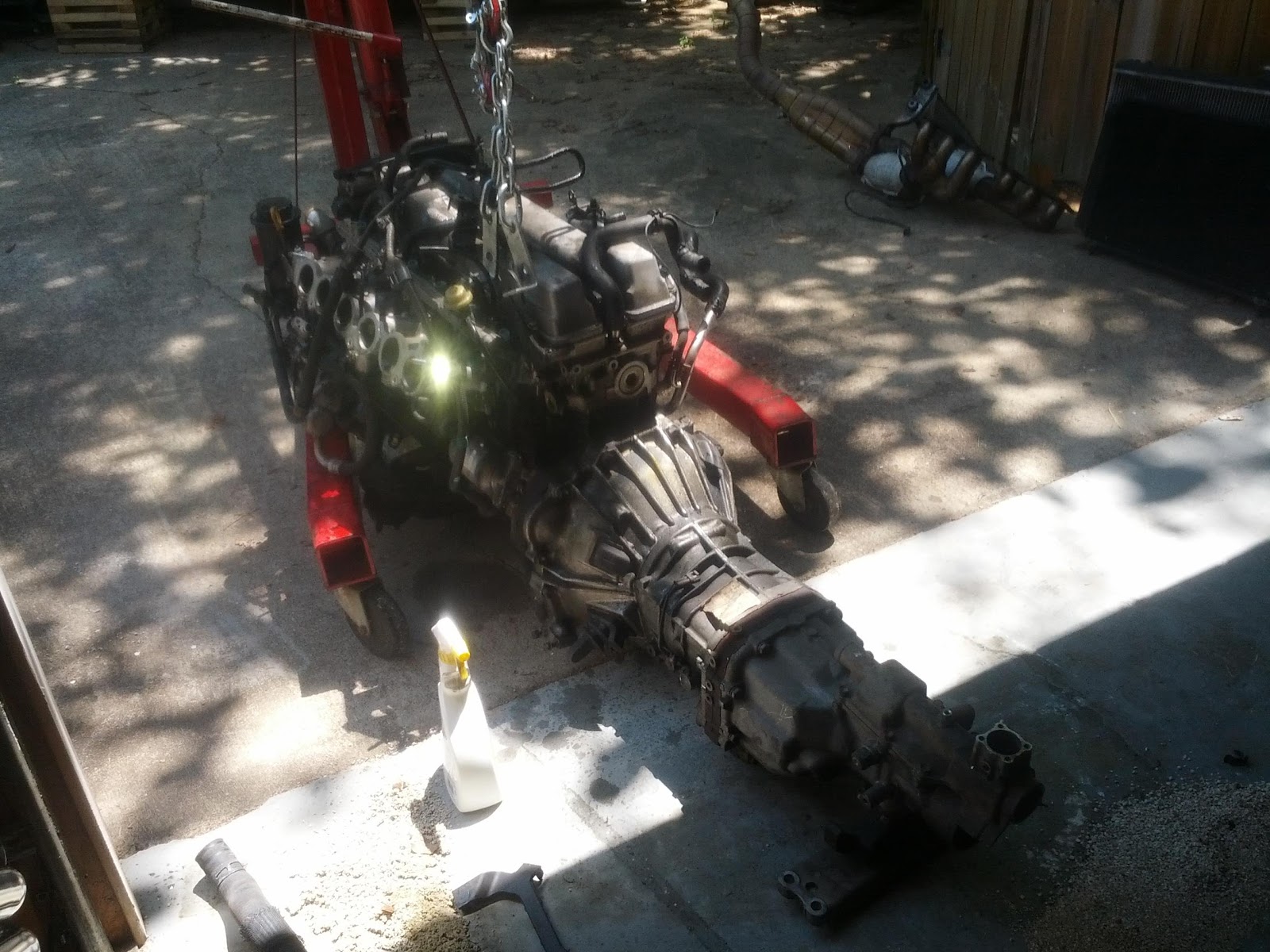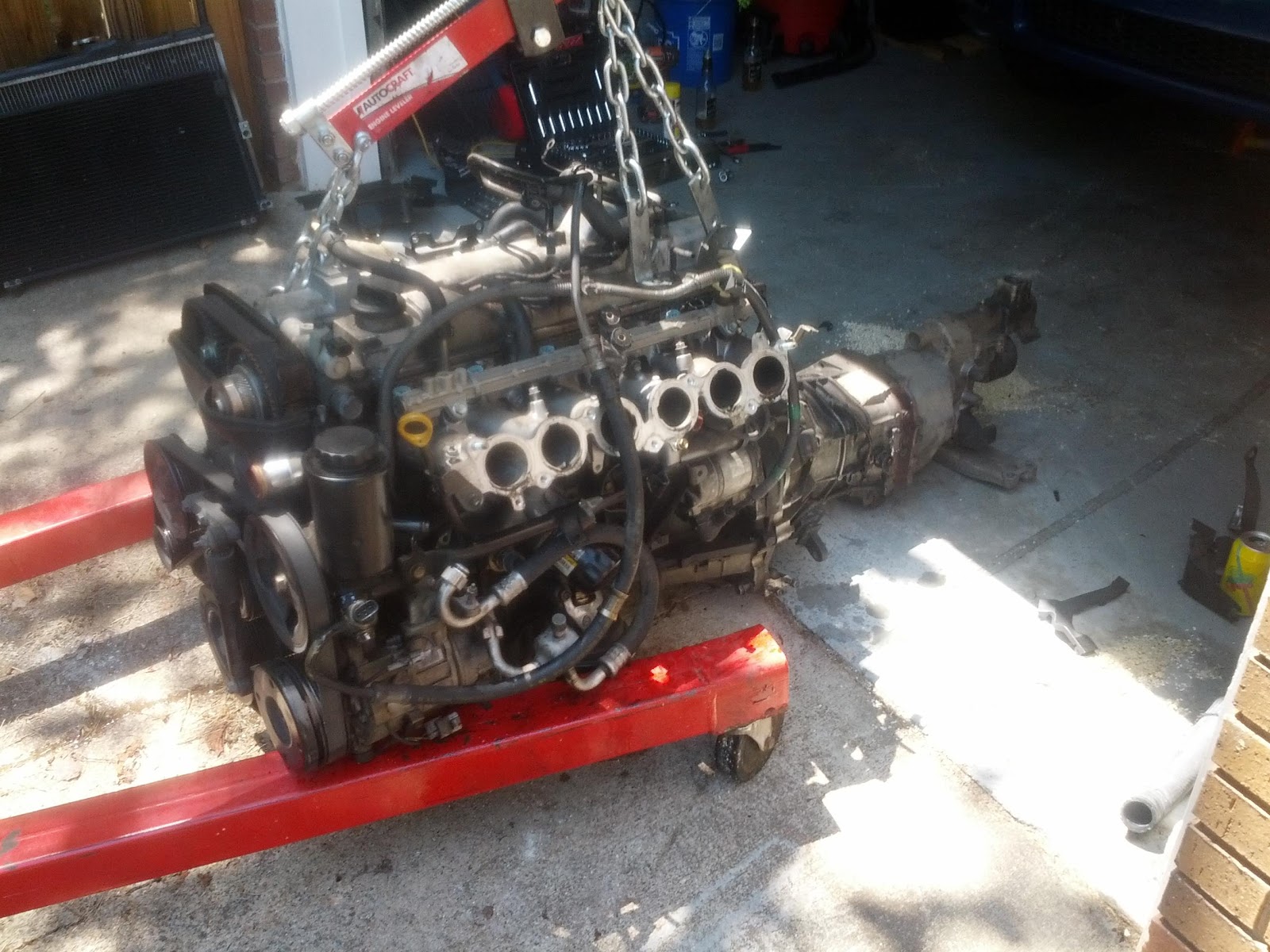 At this point it was time to come out of the garage and get a bath.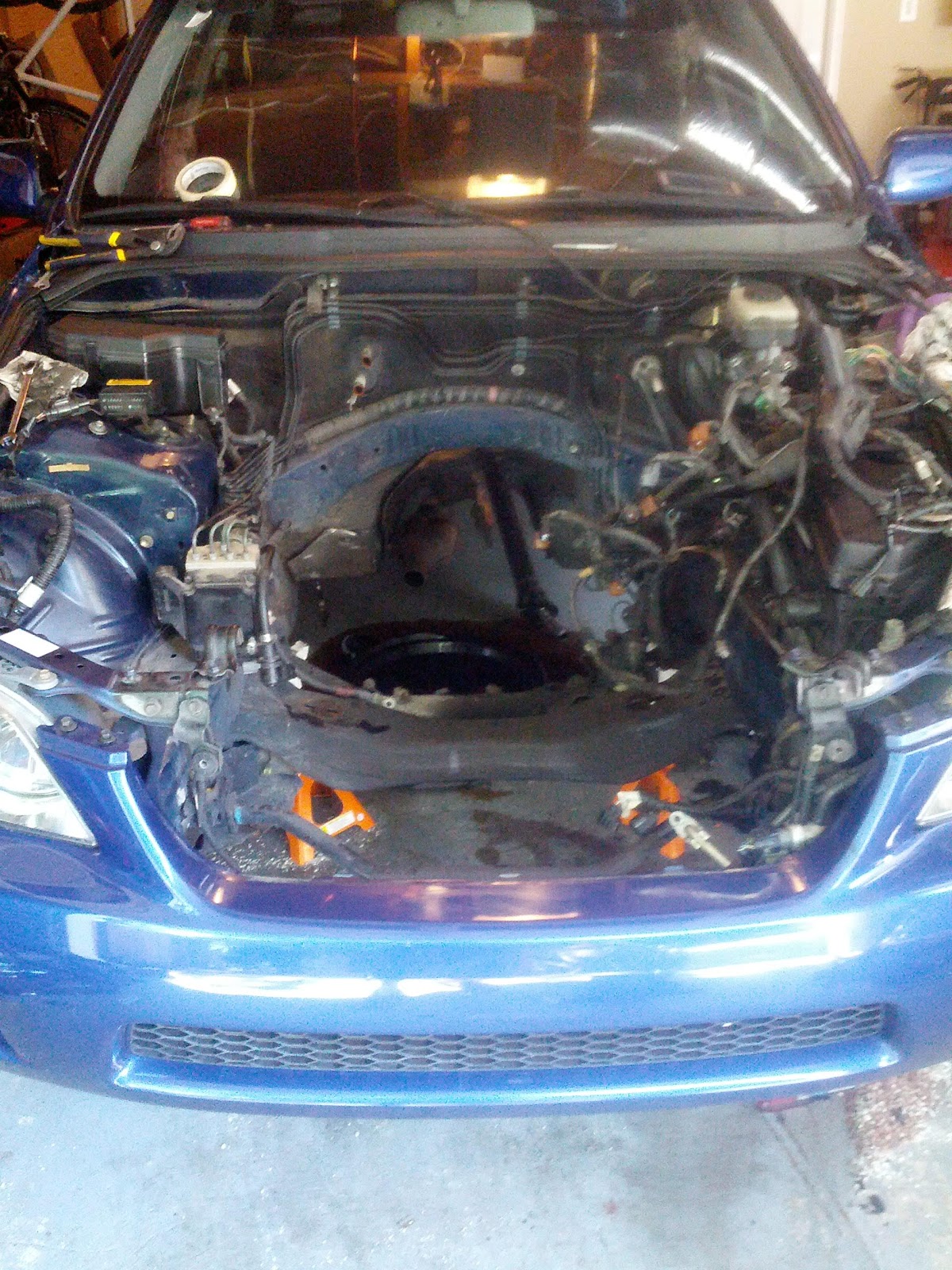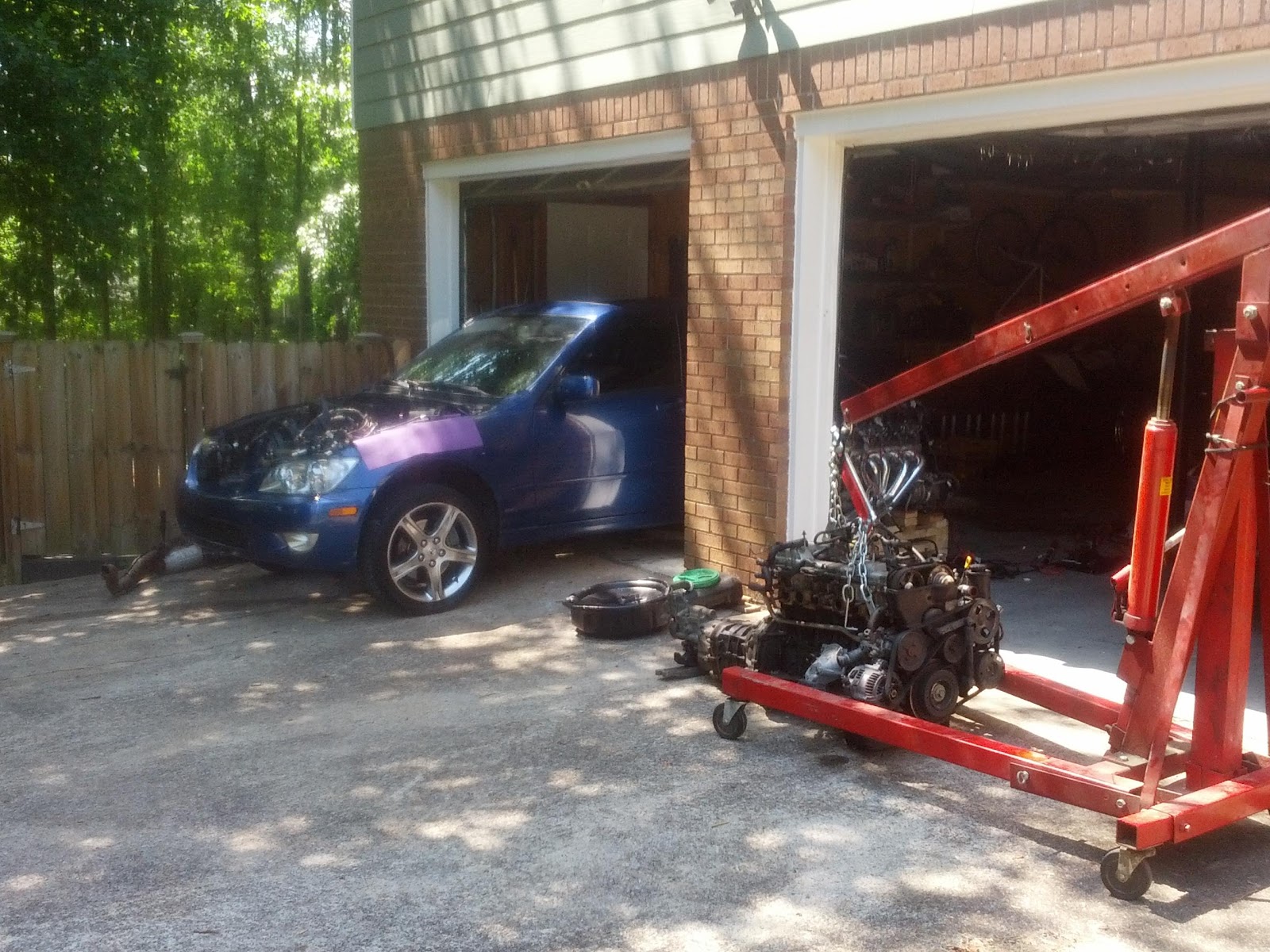 And just for fun this was the pre-clean-up carnage in my driveway/garage.

I also ordered a few more parts when I came in for the night. Walbro fuel pump, K&N filter, and battery relocation kit are on order. I'm going to Clutch Specialties this week to drop off my clutch and flywheel to have a custom set made. I should be spending most of tomorrow sifting through two wiring harnesses and maybe moving my ABS module.
6-26-2013
I've been pretty good about keeping track of what all I needed/ordered so that should be pretty easy when it is finished.
I'm keeping the stock 2JZ ECU for engine temp, gas guage, and A/C control. I'm also using the stock LS1 ECU but it will get tuned when the car is up and running.
6-28-13
With any luck tomorrow this will be the last time my teaser pics are just parts. I got my battery relocation kit, Walbro 255 fuel pump, and most importantly my motor and trans mounts in the mail yesterday.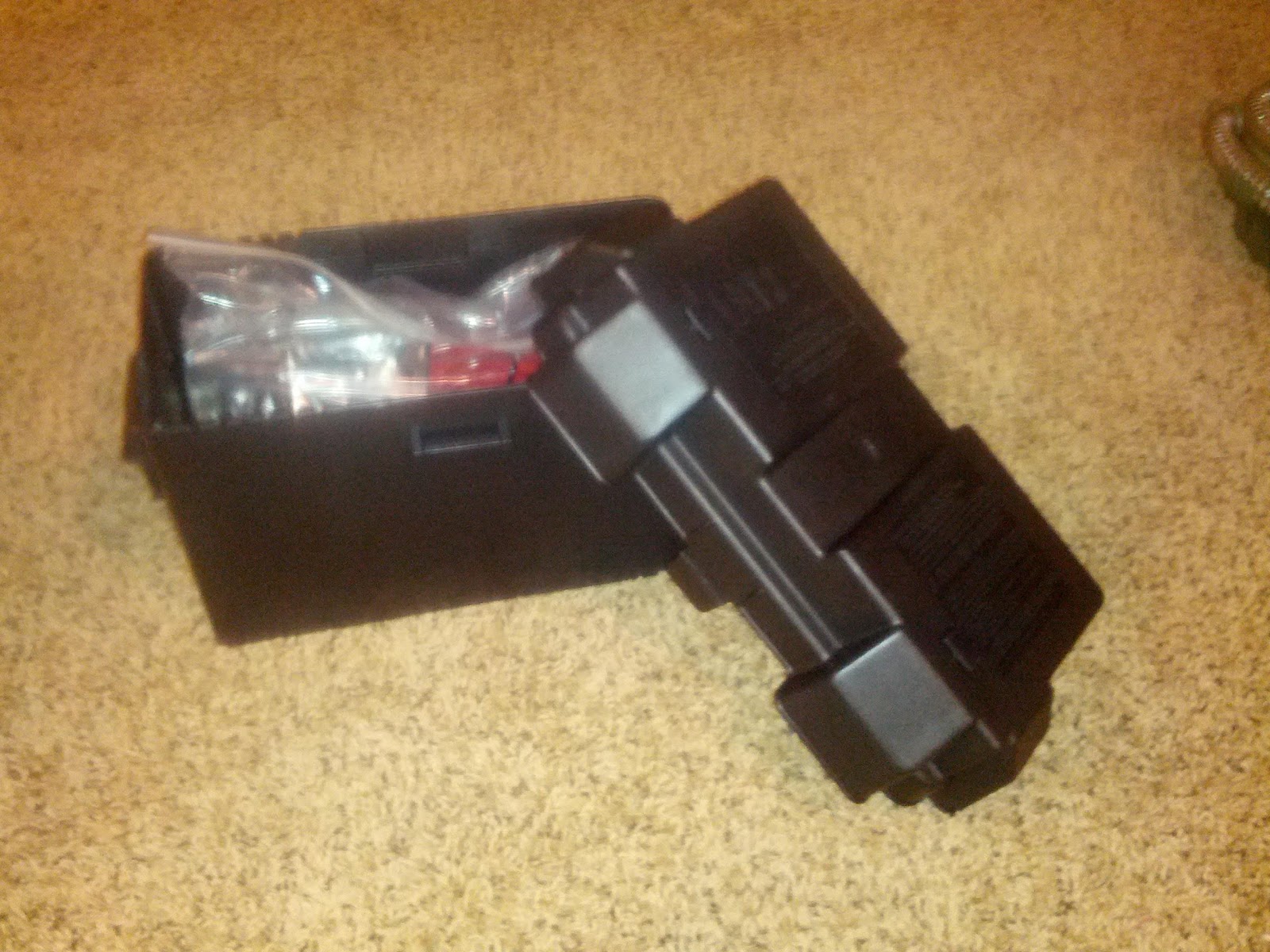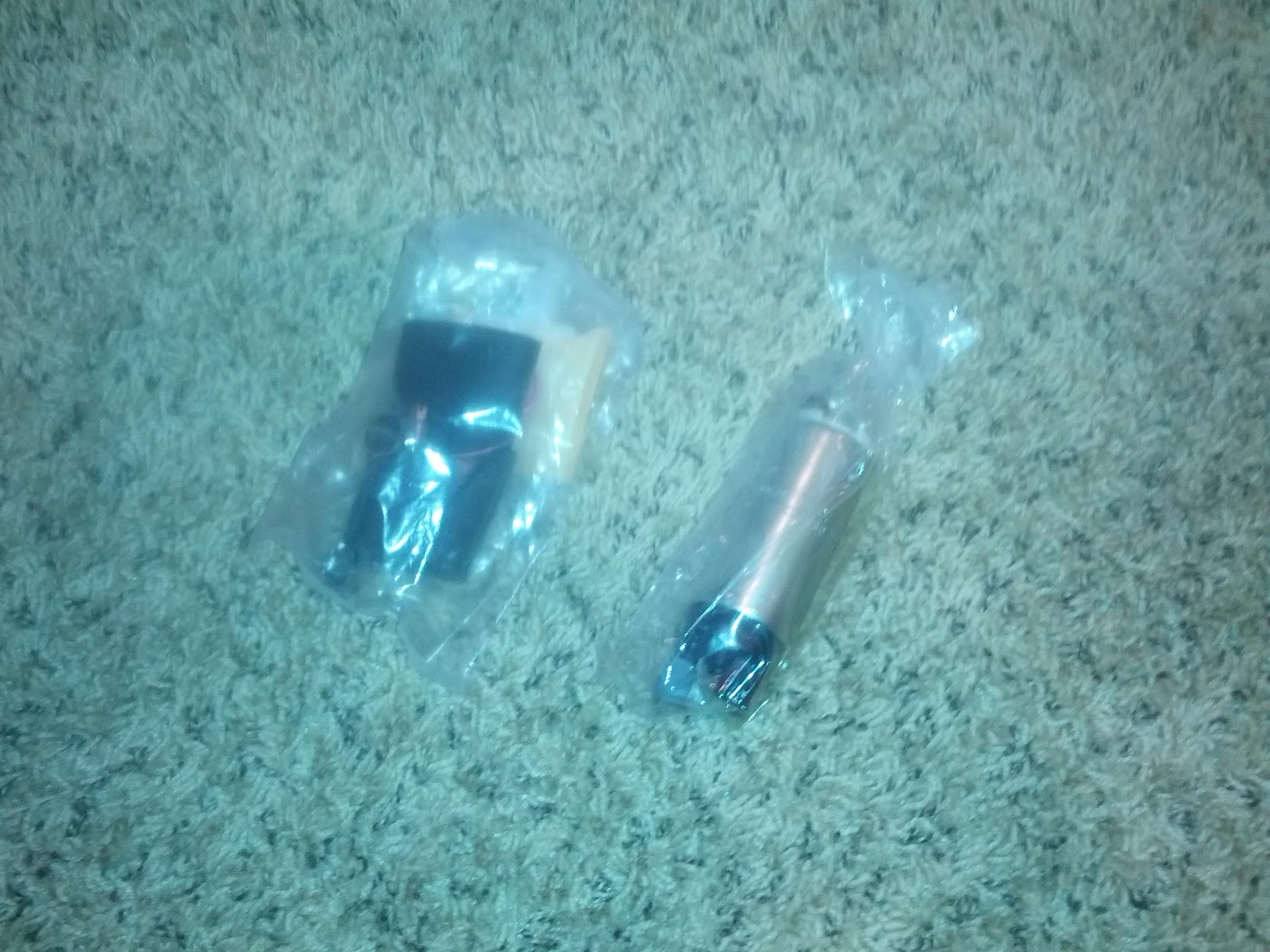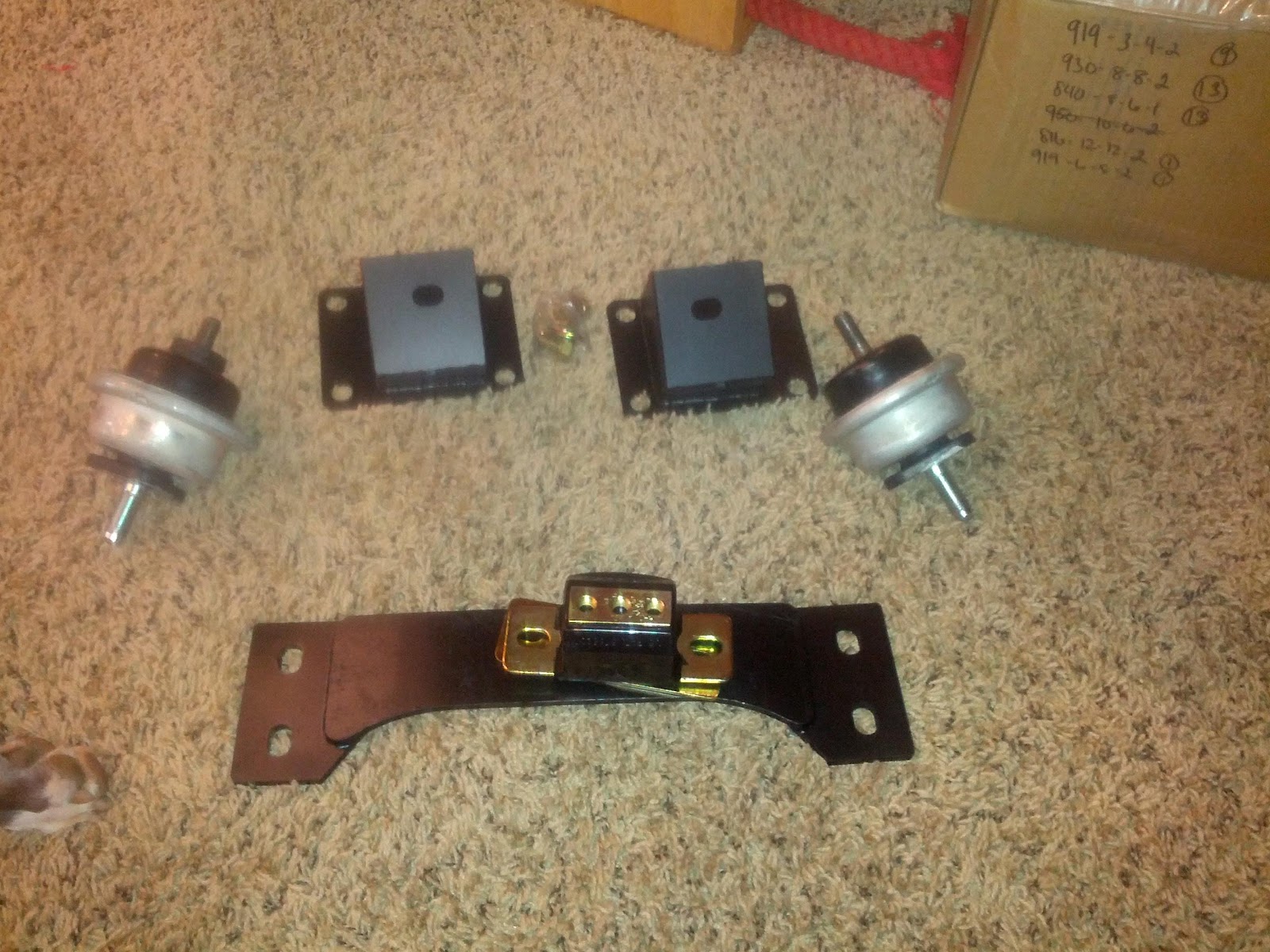 I also got my oil pan back from being welded today. It took longer than I hoped but is just in time for the weekend.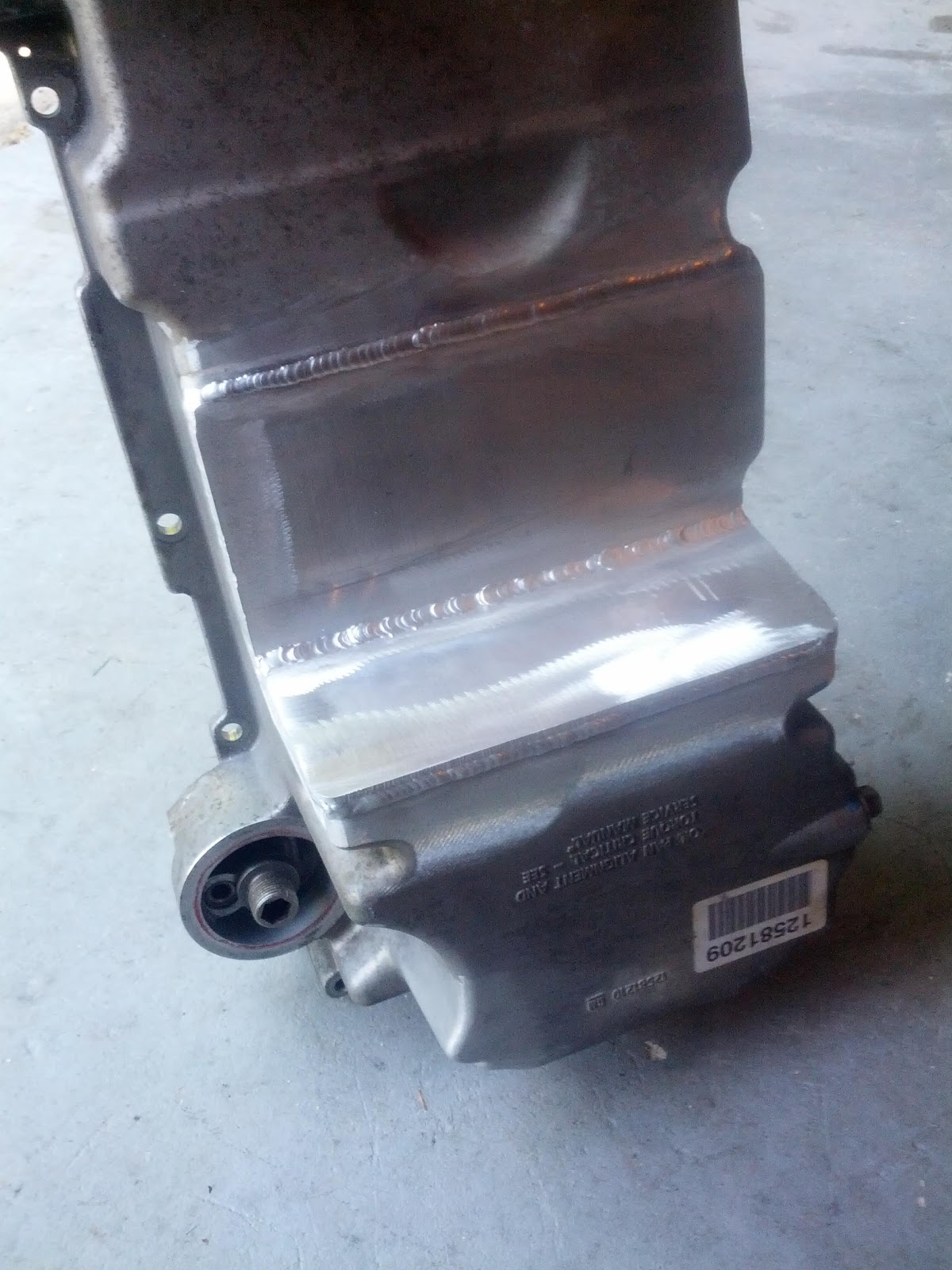 The goal for tomorrow is, after picking up my clutch from being rebuilt, install the flywheel and clutch, motor mounts, mate the trans and motor, then set it in the car. I'm sure it will need to come back out at least once for wiring and other odds and ends but I want to see it resting in its new home.
I'll be sure to take pics tomorrow as I go.
6-30-2013
After my buddy showed up this morning first stop was picking up the clutch from being reworked, and the fly wheel/pressure plate from being resurfaced. It went together pretty easy.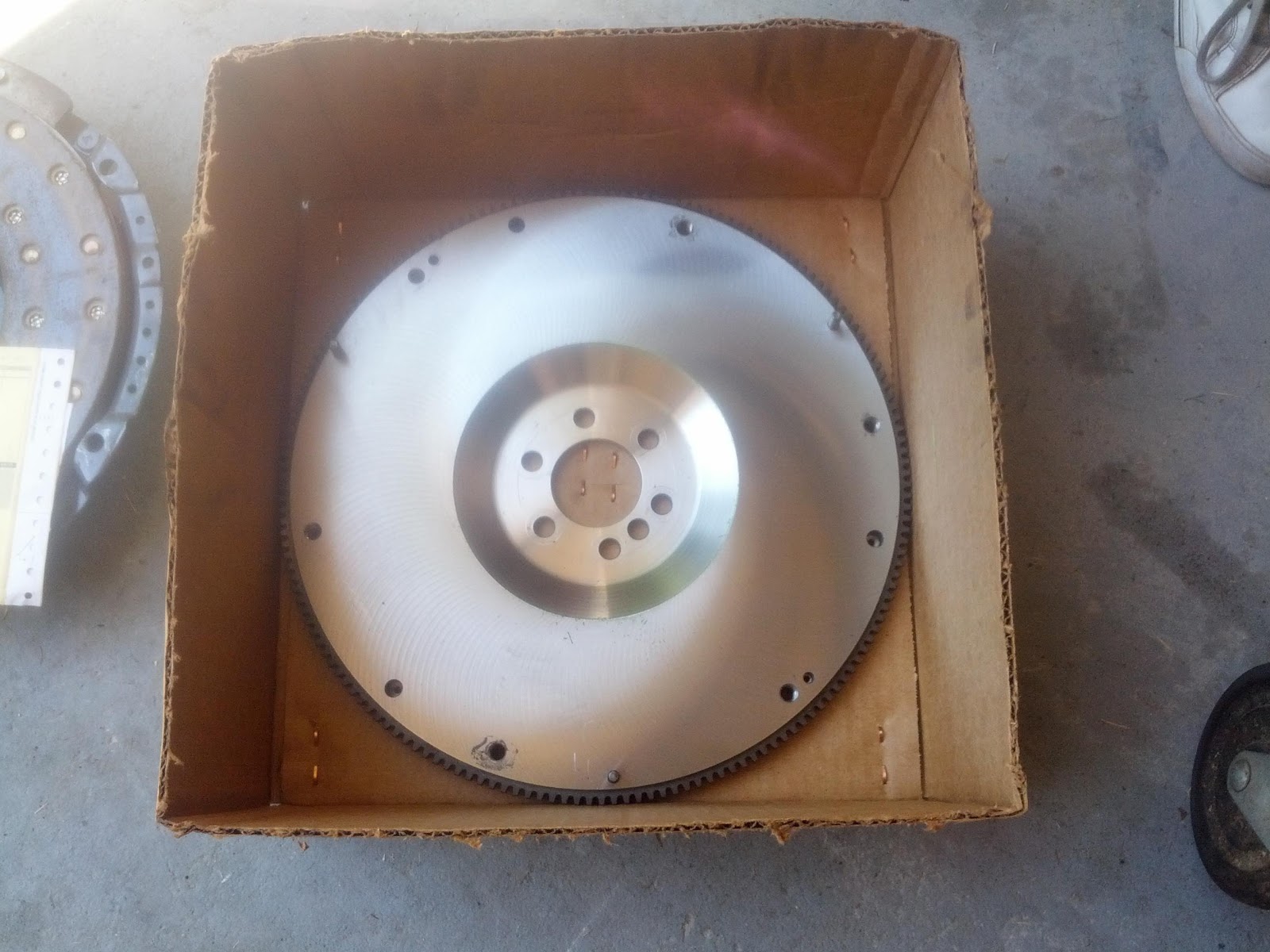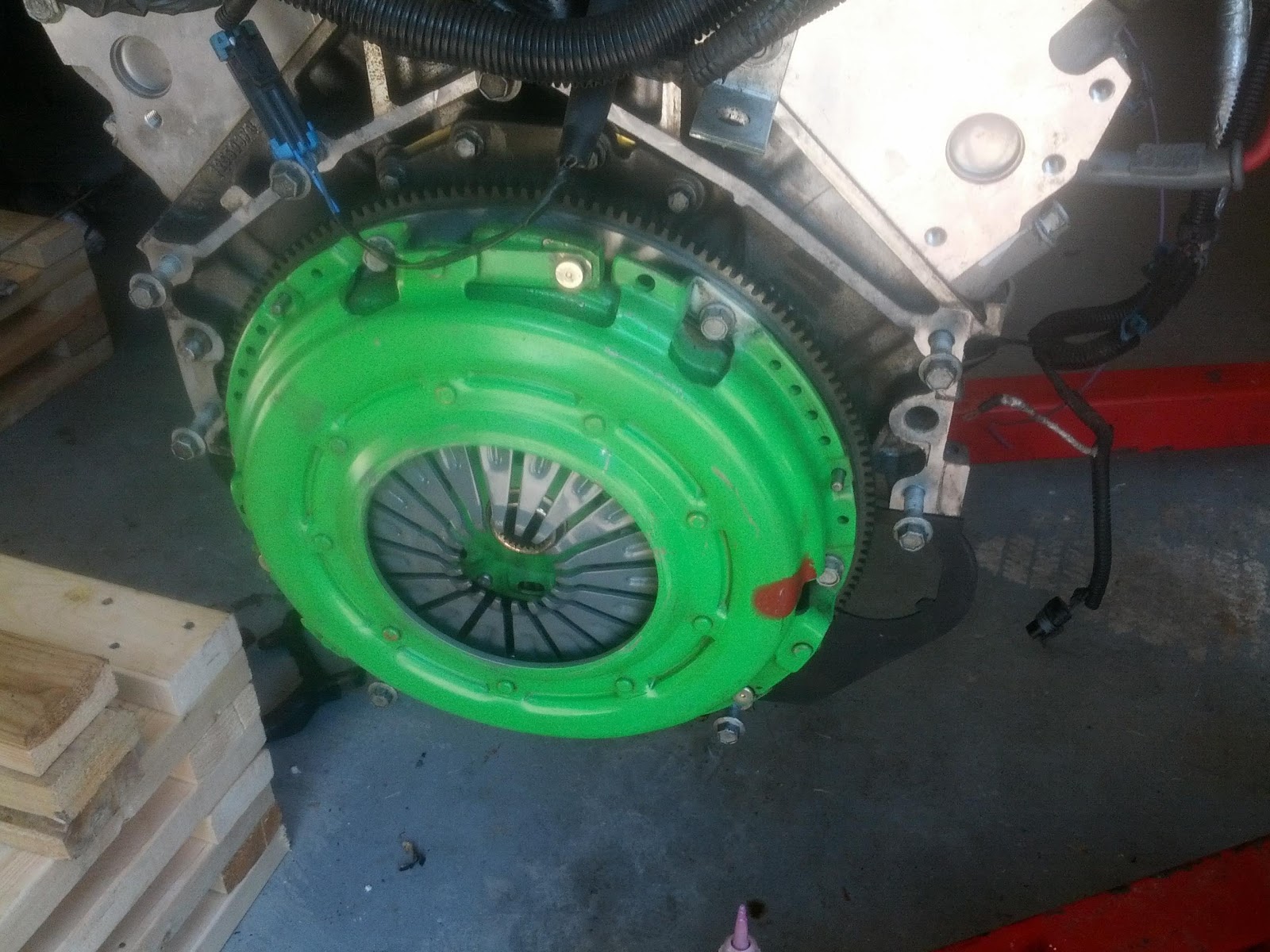 Dropped the old oil pan and windage tray in favor of one that agrees with the cross member. Took a look at the bottom end while it was apart and everything looks good.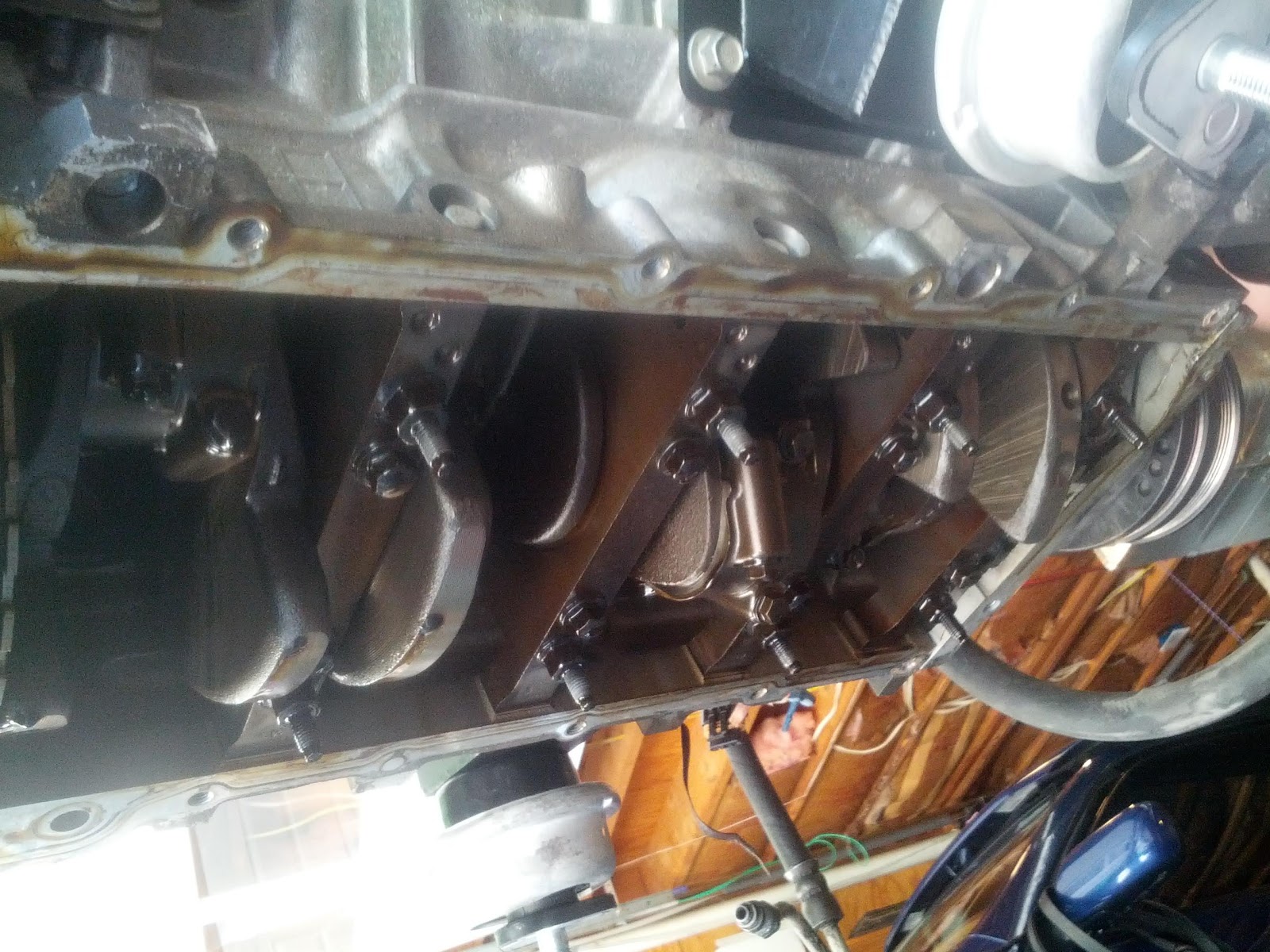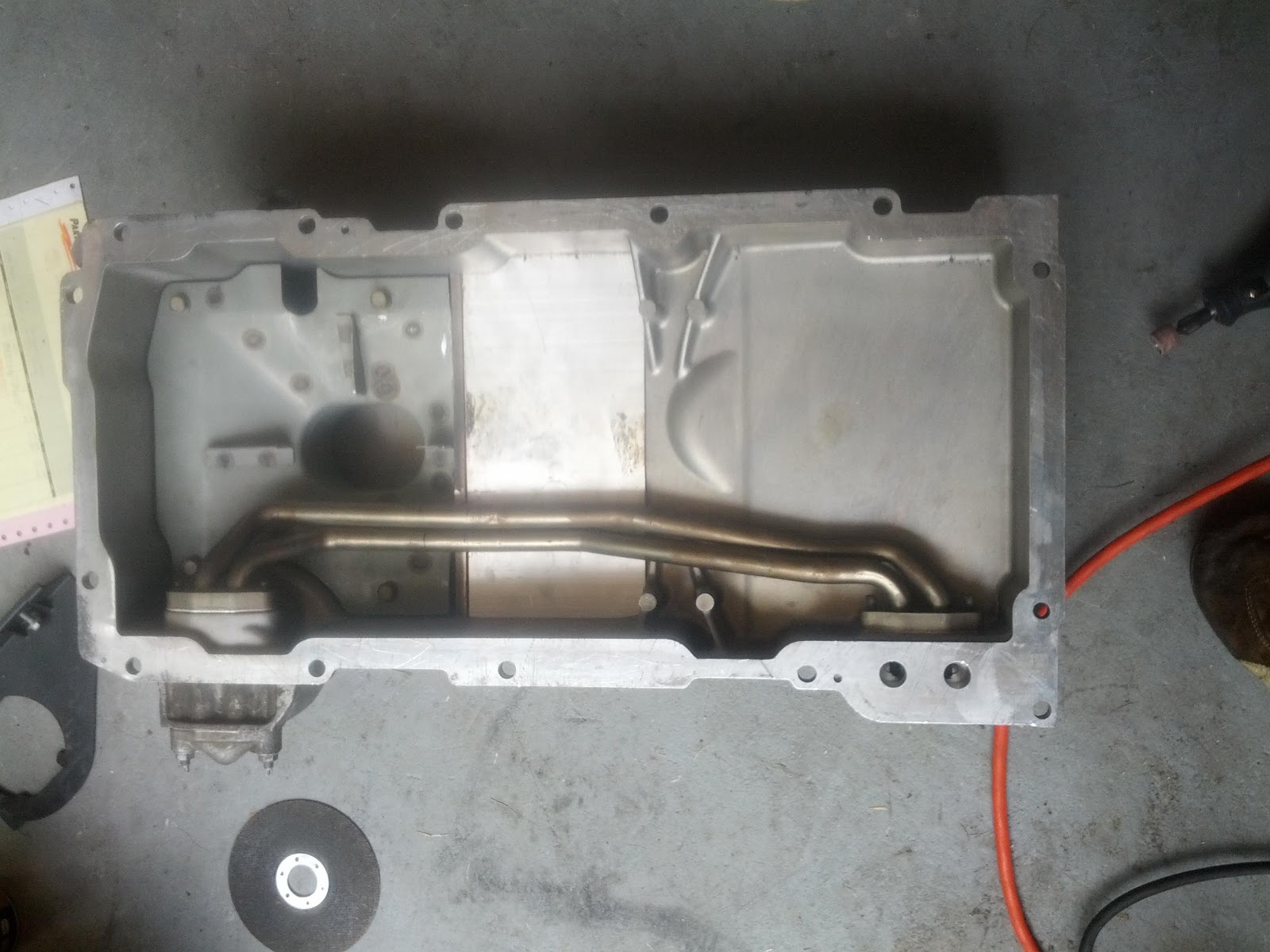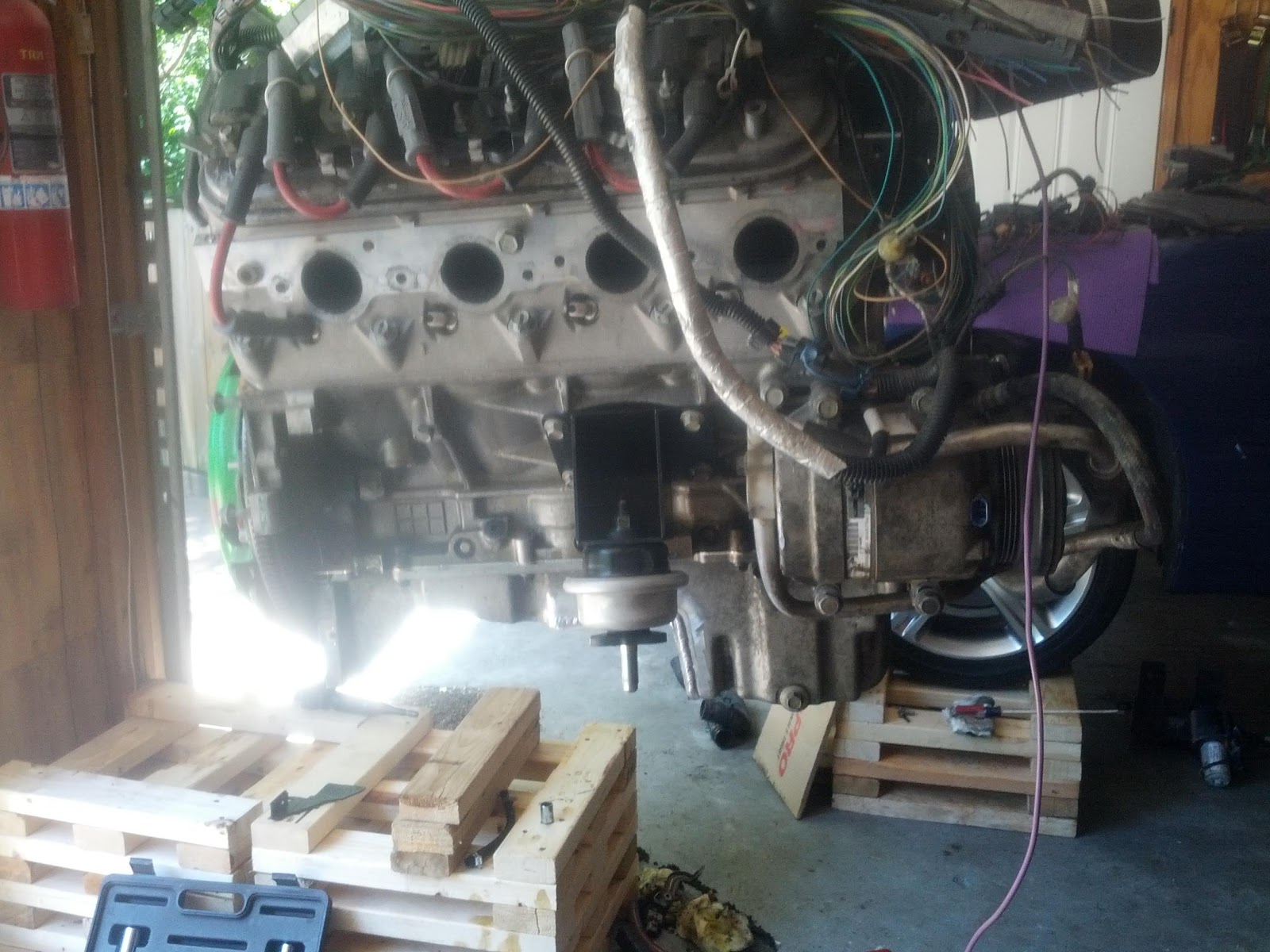 I'll throw this out there for anyone interested in this swap. When putting the motor in REMOVE THE INTAKE. We didn't and while it fits it is a huge PITA. It didn't occur to either of us until after it was in that we would have had a lot more room with that out of the way.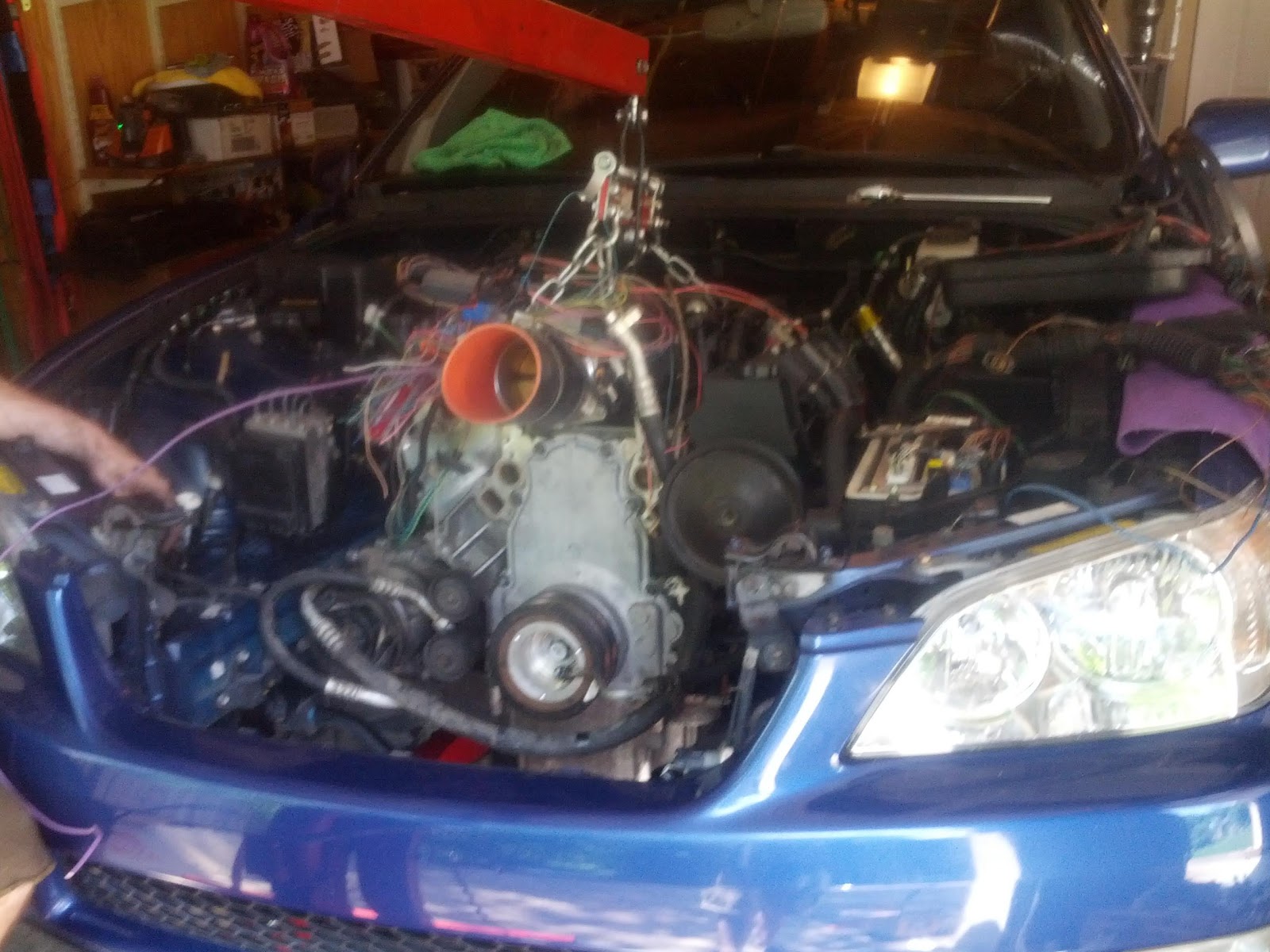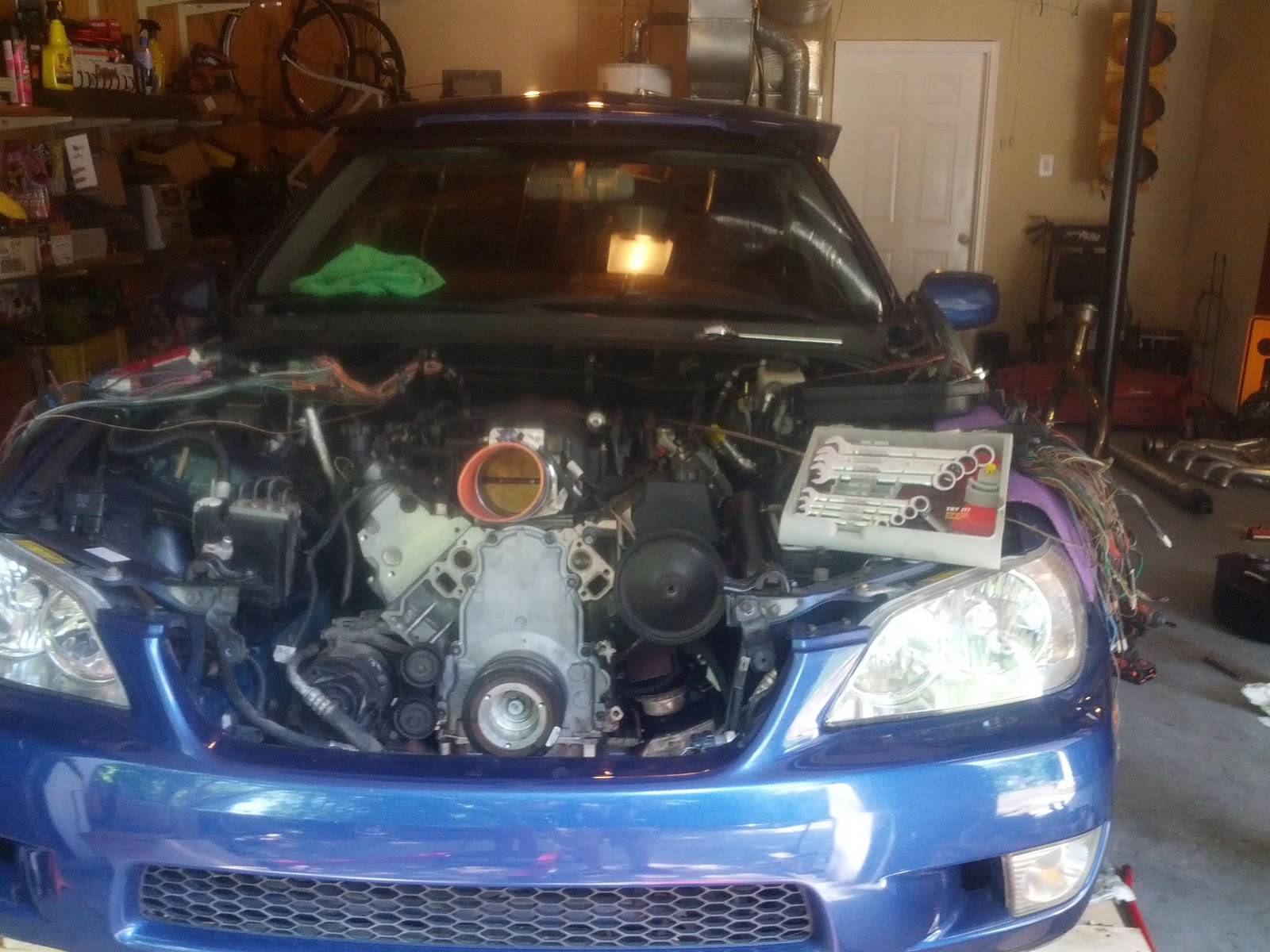 The other part that is pretty tricky is getting the headers installed. The passenger side wasn't bad other than having to drop the k-member to get it in. To get the driver side in we had to pull the steering knuckle (need to anyhow since is runs through the header) and the fuel lines to get it in.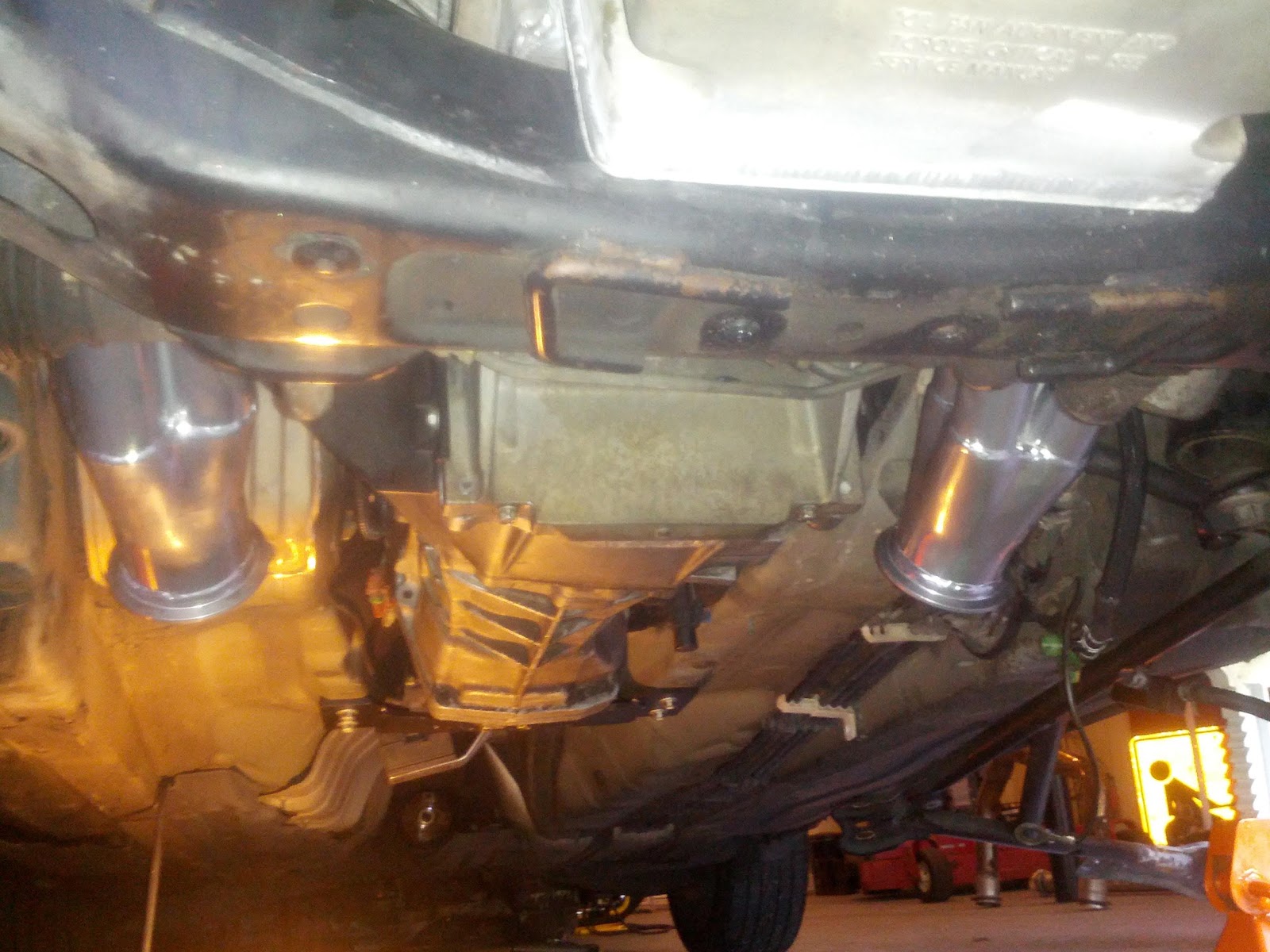 Here is how it sits now.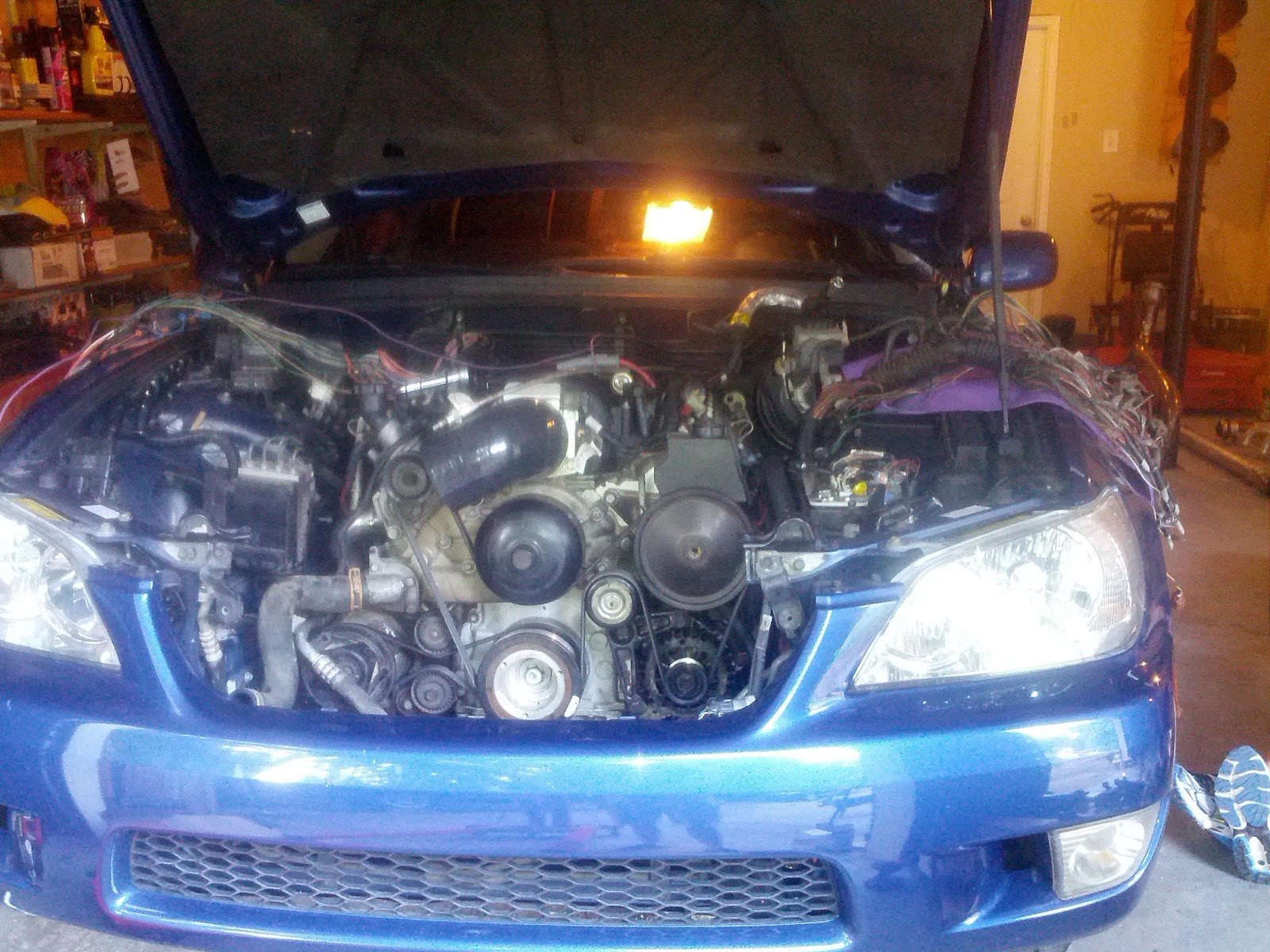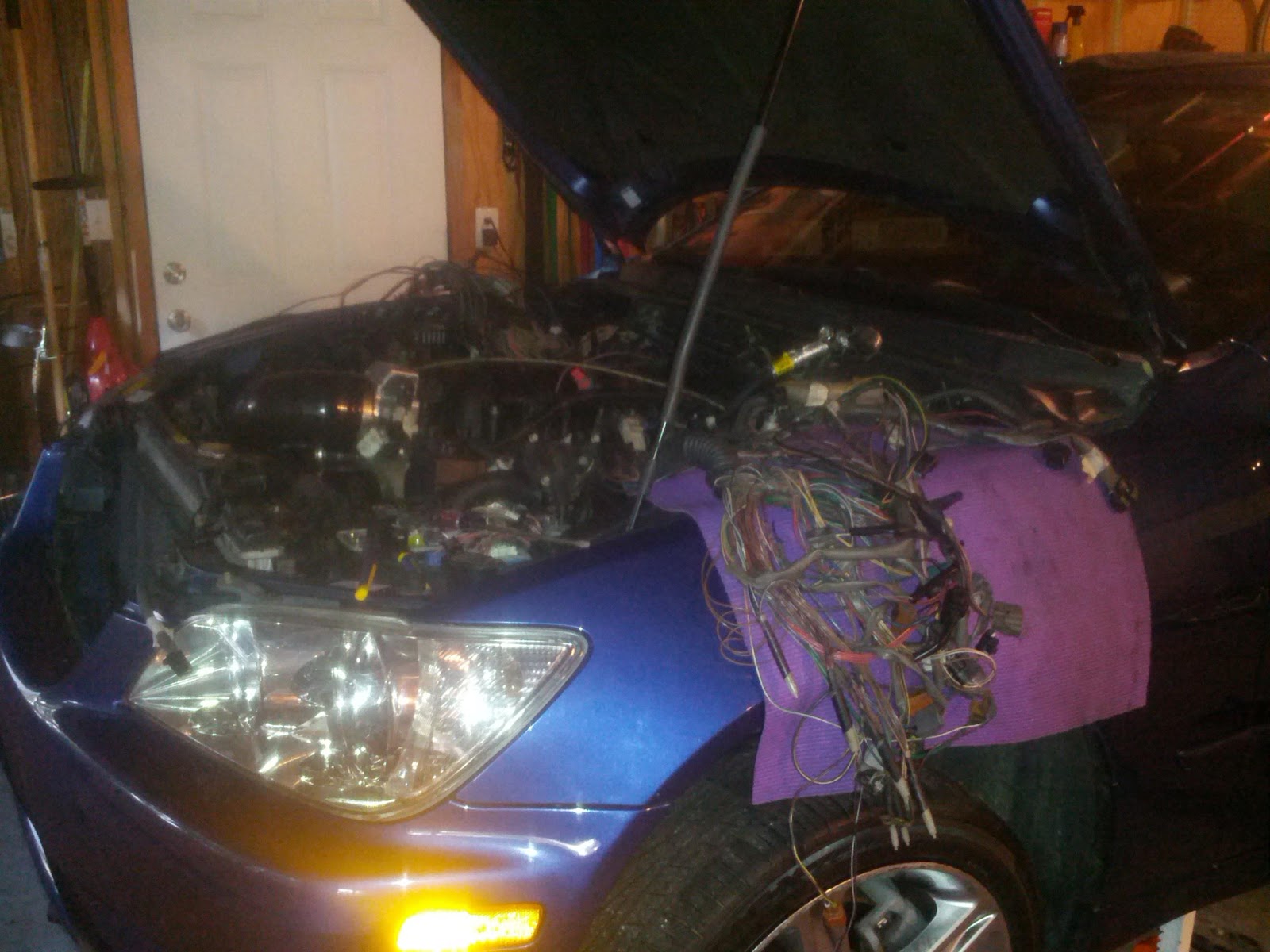 I still have a lot of work to do in details and wiring but the heavy lifting is all out of the way. I also started looking at how I was going to get cruise control routed and working...for now I think that is going to be on hold. I'm going to get the swap done and the car back on the road then dig into adding cruise back in later. I'll leave all those pieces of the harness in place for later.
I forgot to mention that I had to plug the F-body dipstick hole in the block too. I ran an M10 tap down it while the pan was still off and loctite'd a flat head bolt in there. Looked like a pretty clean fix when I was done.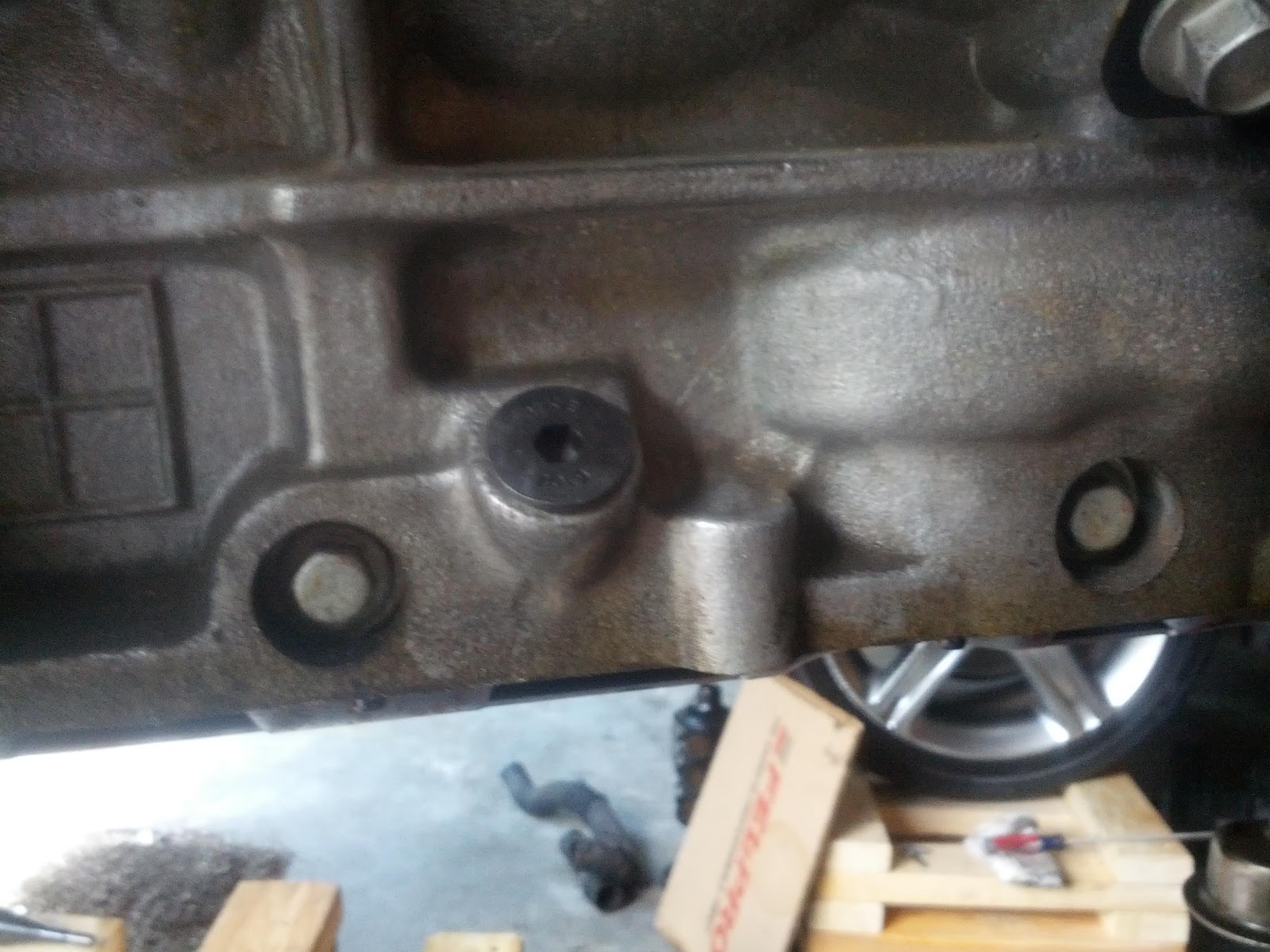 7-3-2013
While the car doesn't look much different I got several things done today. After work I dropped off the drive shaft to be lengthened (as it turns out you can lengthen a drive shaft). It should be ready tomorrow even though I am leaving town for the holiday and can't pick it up until next week.
Here are the Trans Am (aluminum) driveshaft, and the Lexus (2 piece) driveshaft).
I was also able to get my adapter for the master cylinder made at work today. I am incredibly spoiled and I know it! One of our machinists at work had some open time on the CNC mill so he helped me out a bit.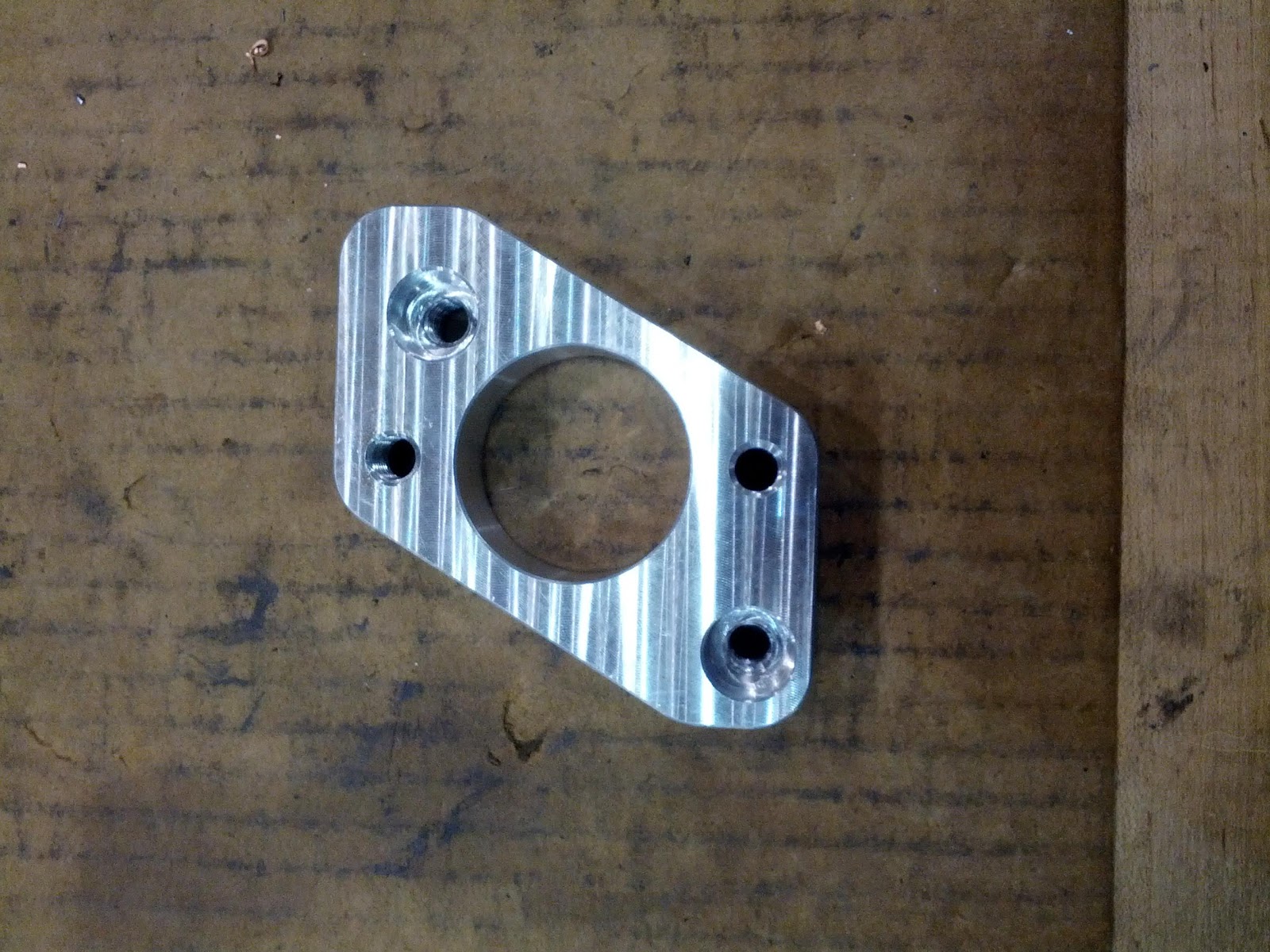 Instead of using studs or long set screws we decided to counter bore and locktite bolts into the adapter.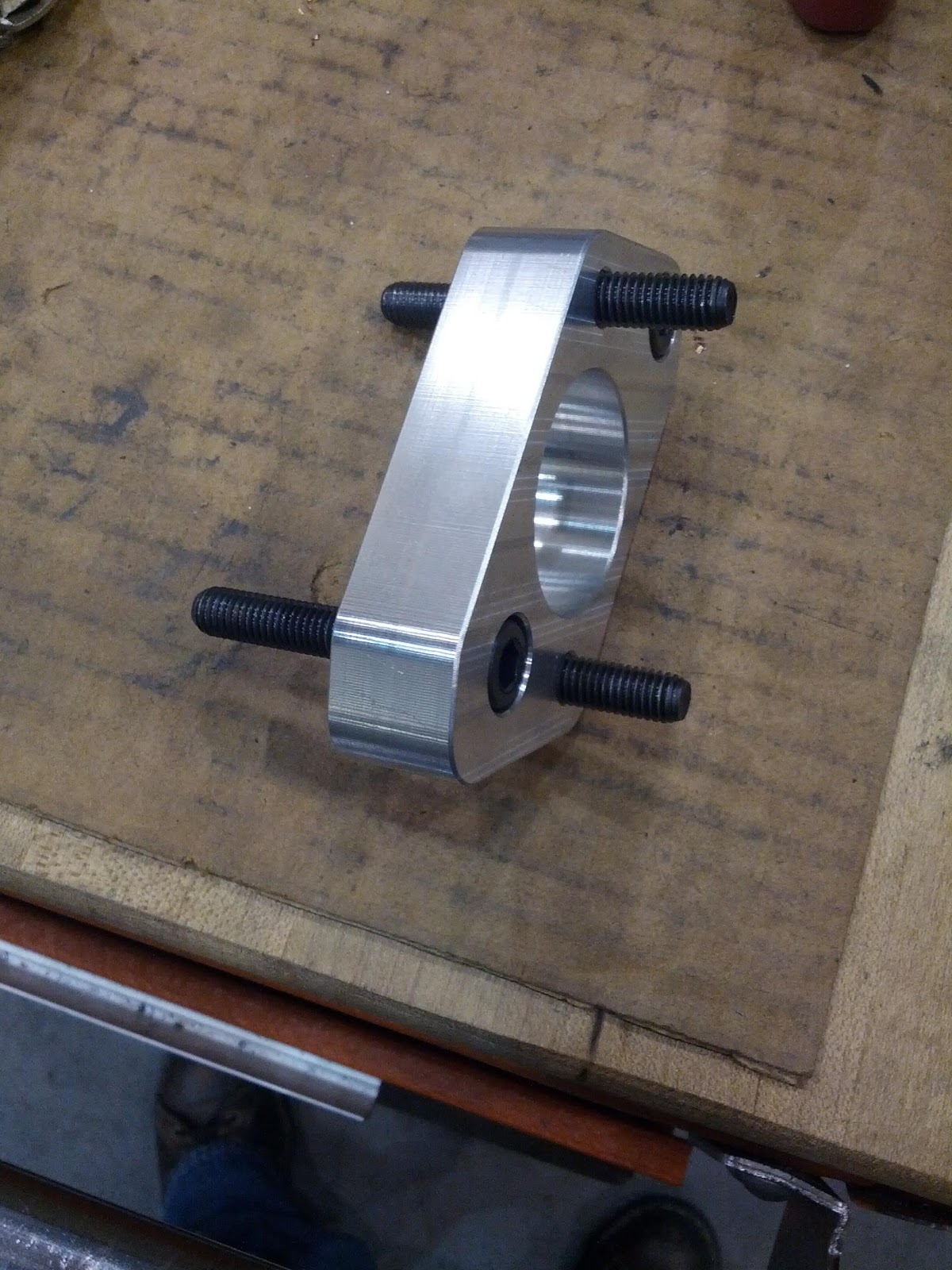 Here is a shot of the old and the new.
Once I got home from the driveshaft shop I started in on installing the master cylinder.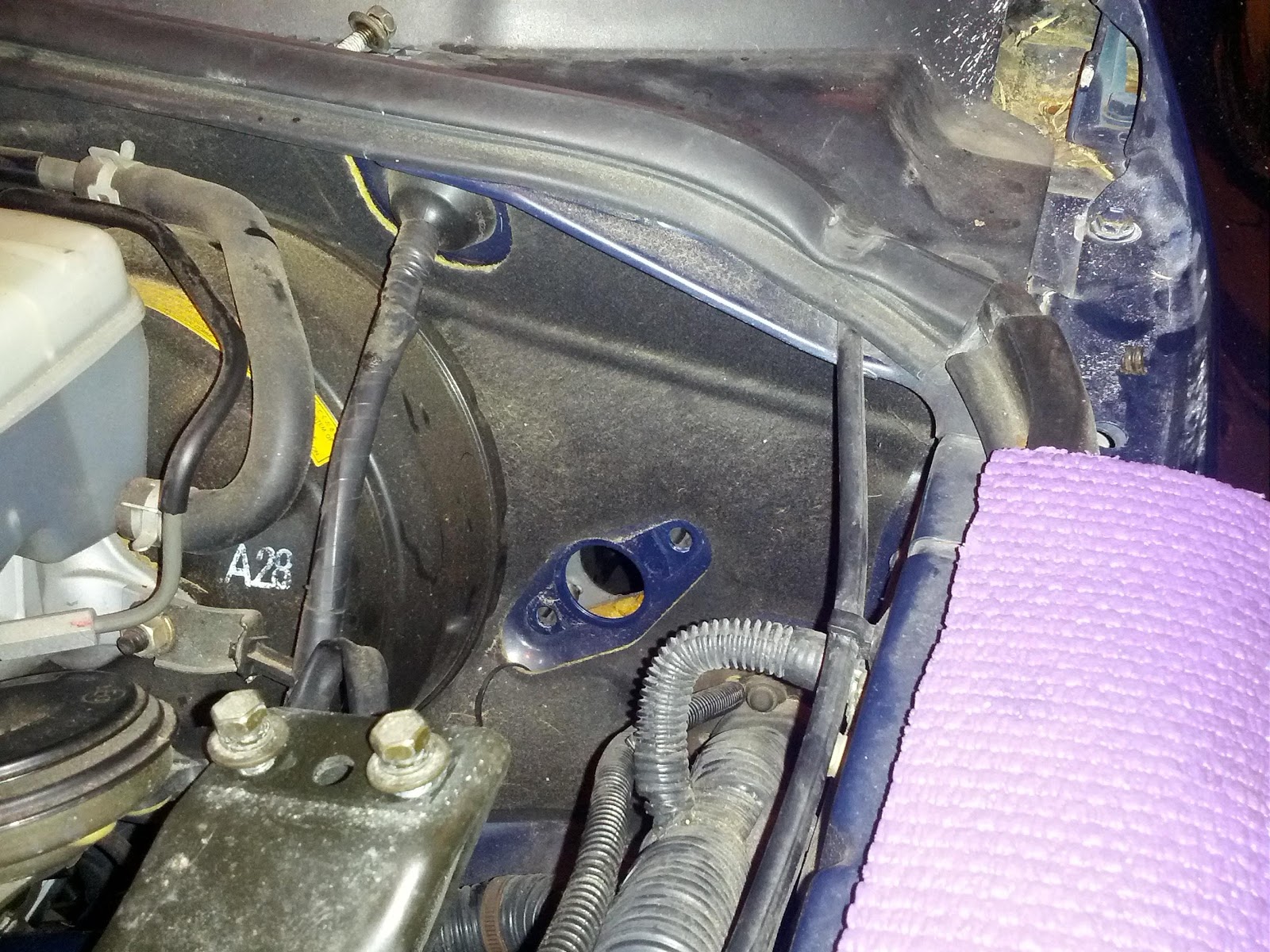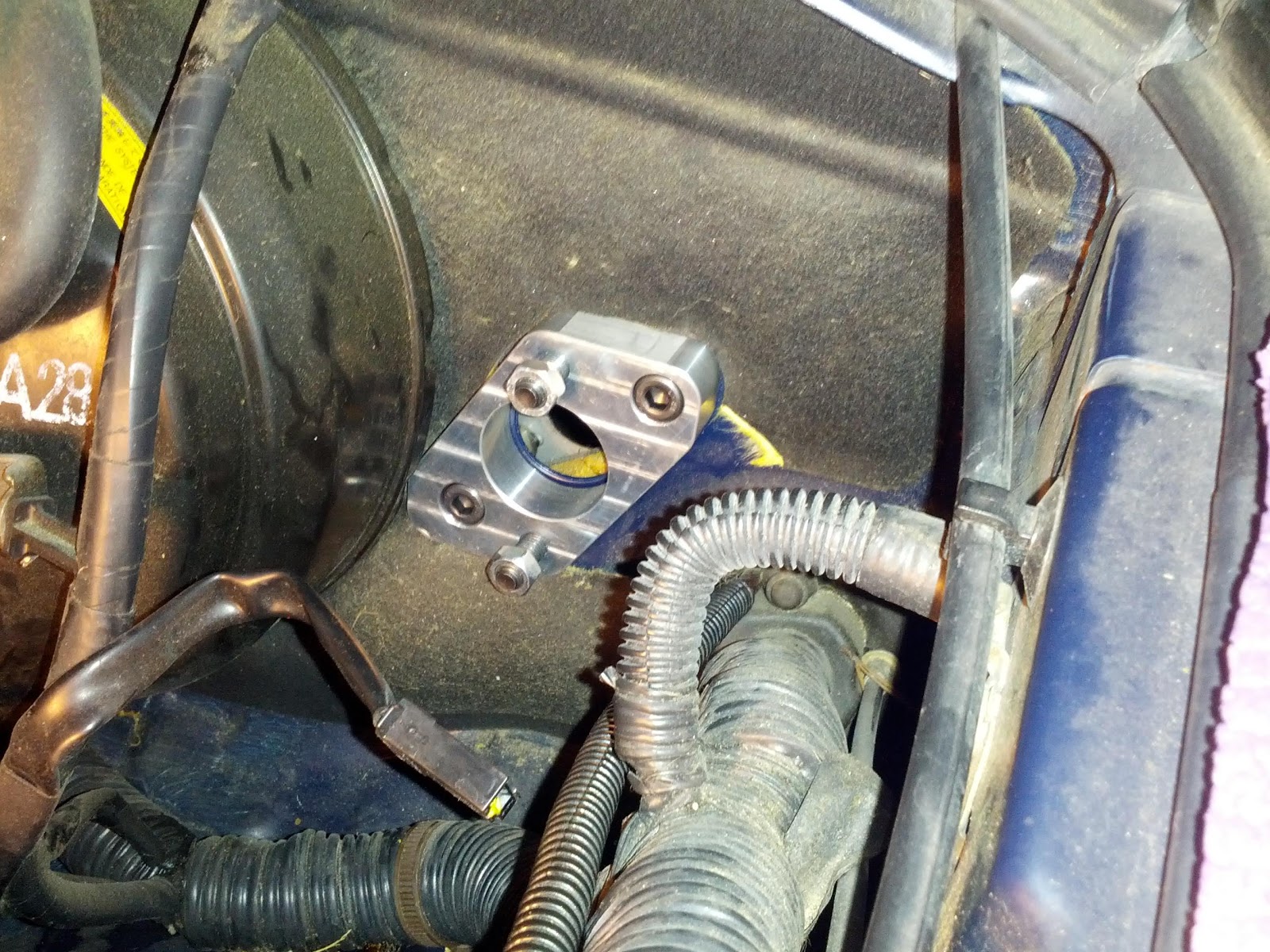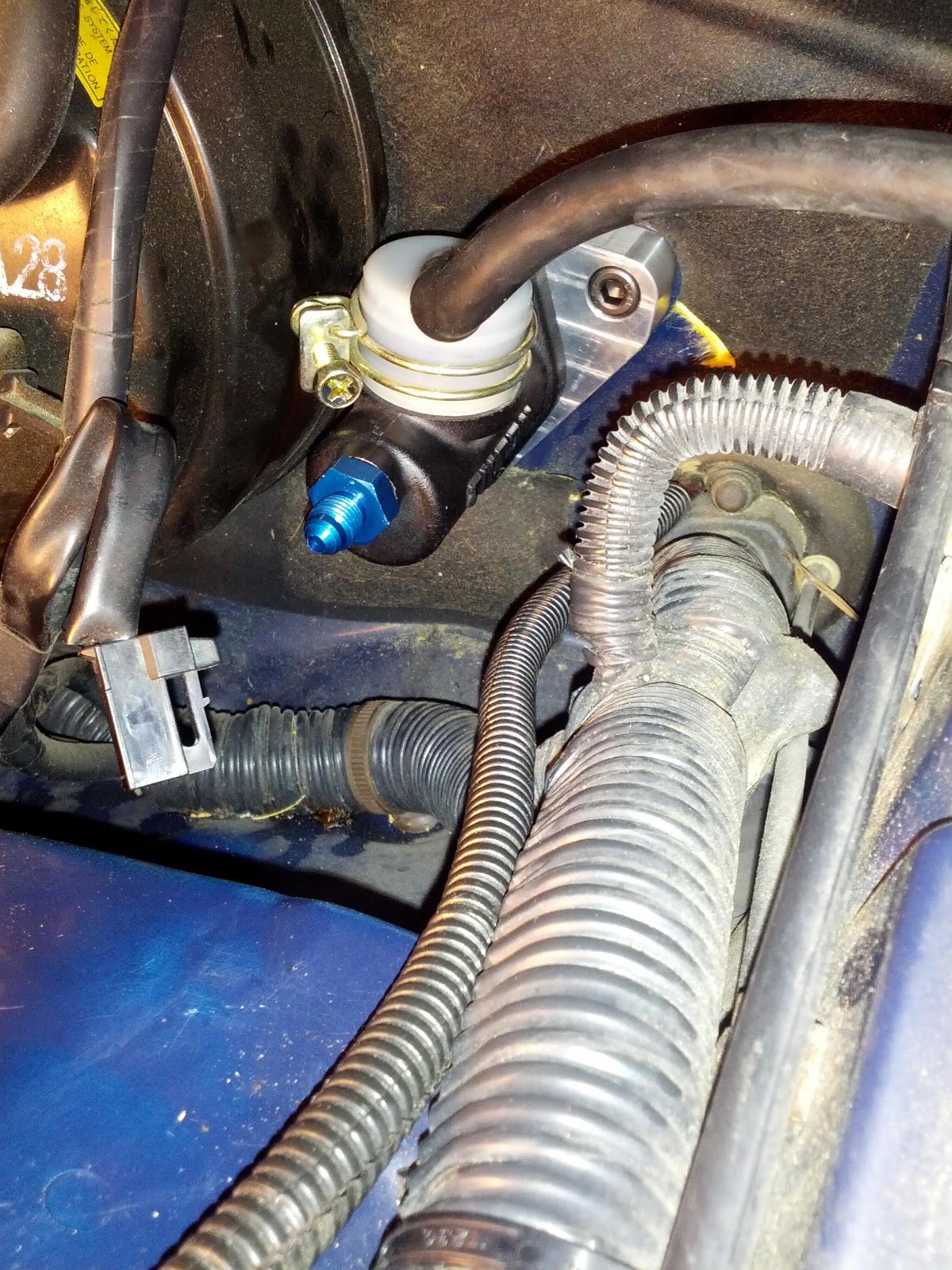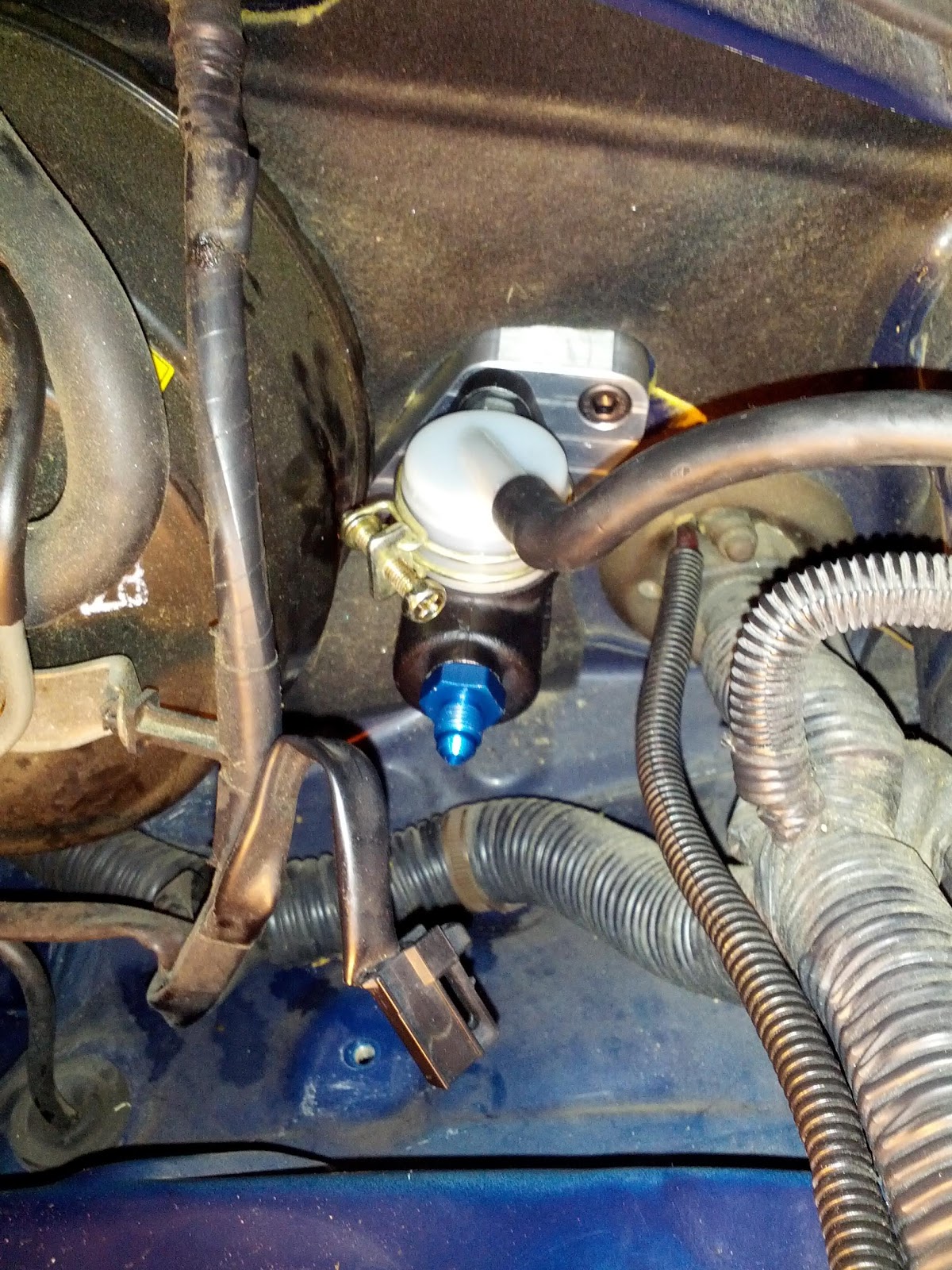 Once the MC was in an hooked up to the pedal I figured I should finally get the steering knuckle back in. With it living inside the driver side header this was a challenge. I ended up having to drop the steering column to get enough clearance. While I was able to pull this off on my own I would really recommend getting a second set of hands to put this together.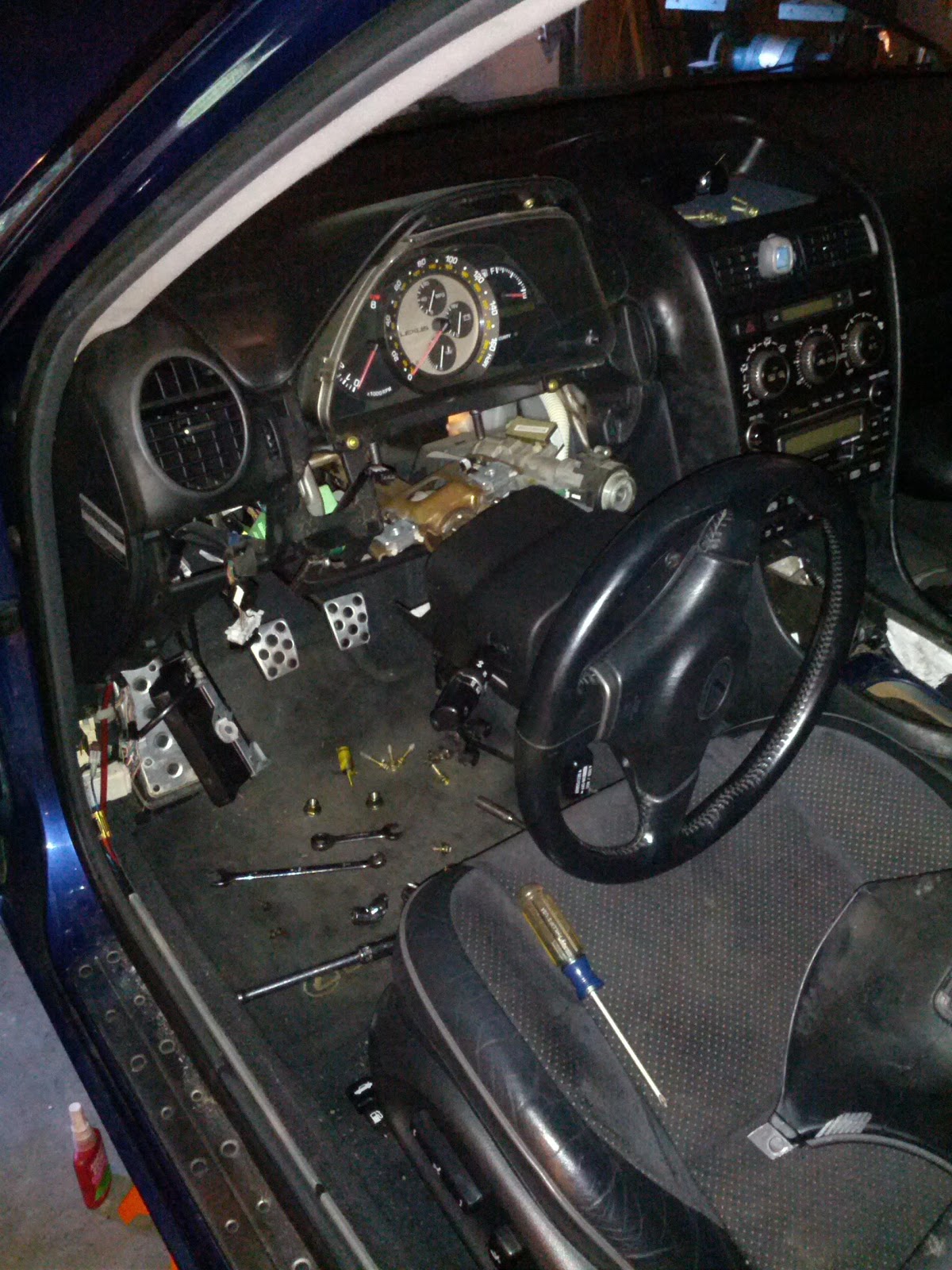 You can kind of see how little room there is to work in there.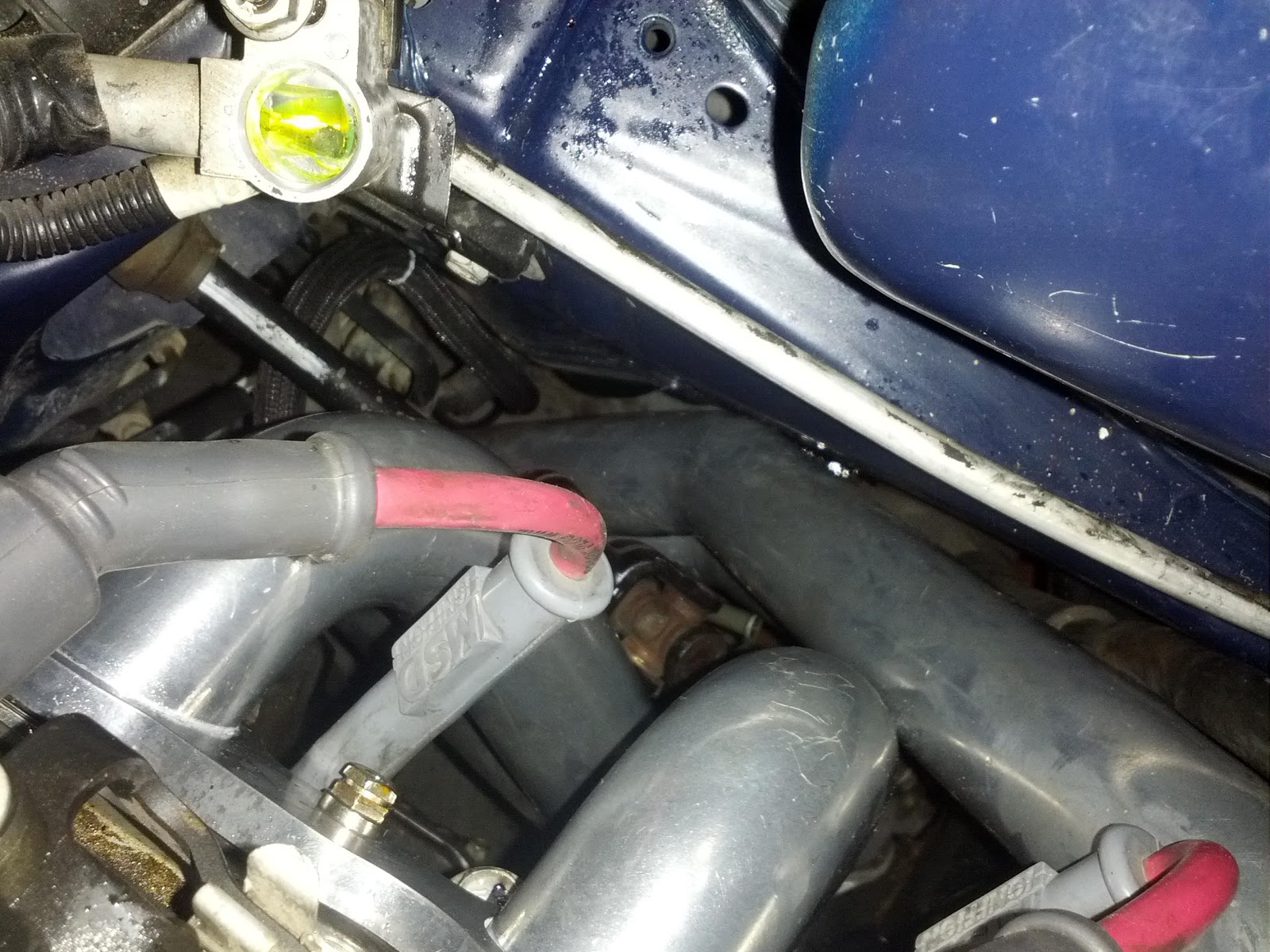 On to the third and final task of the night...make the shifter fit the tunnel. We had pulled the top of the shifter assembly when the motor and trans went in. I marked roughly where I was going to notch.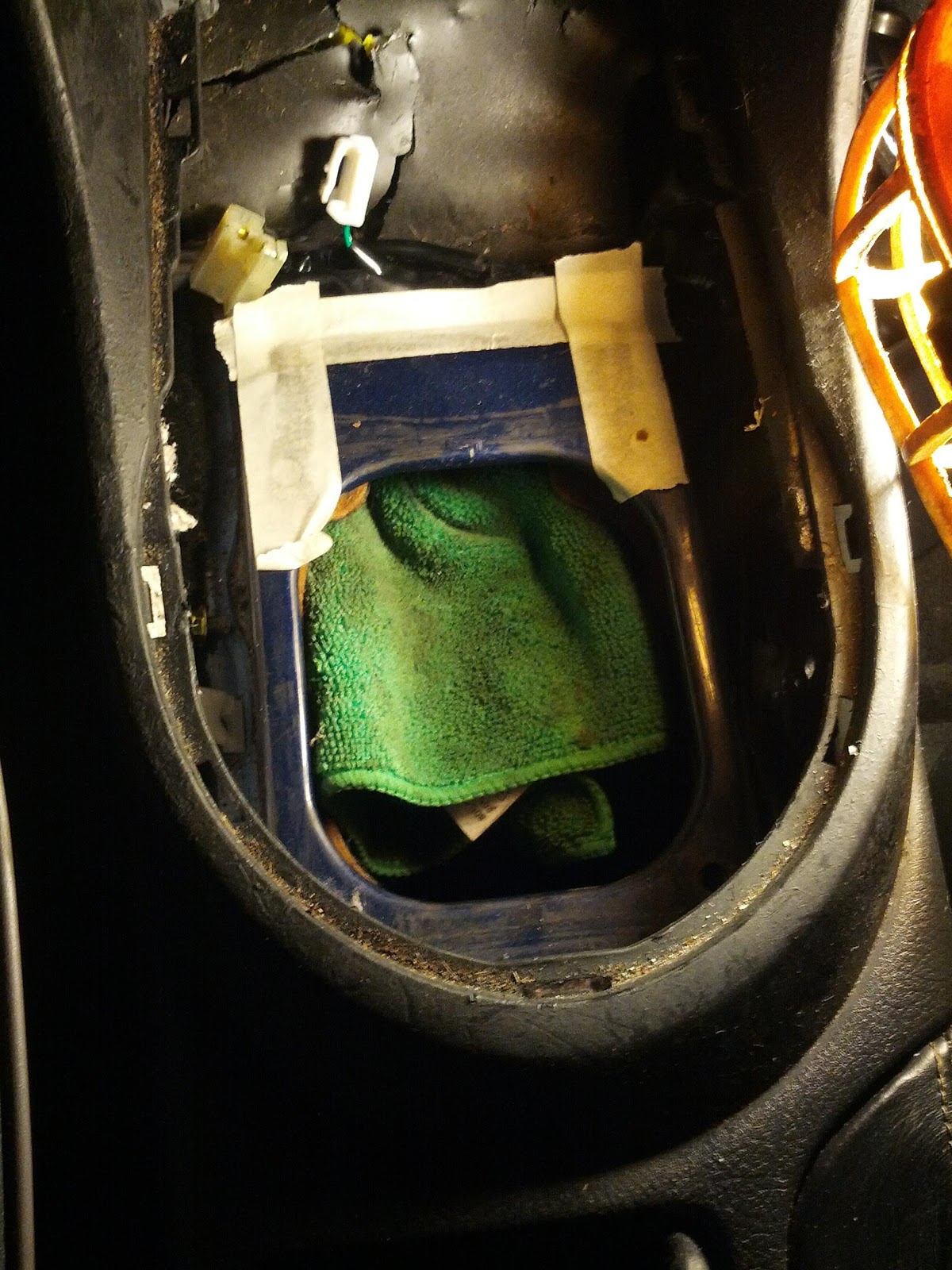 And here is how it looks now.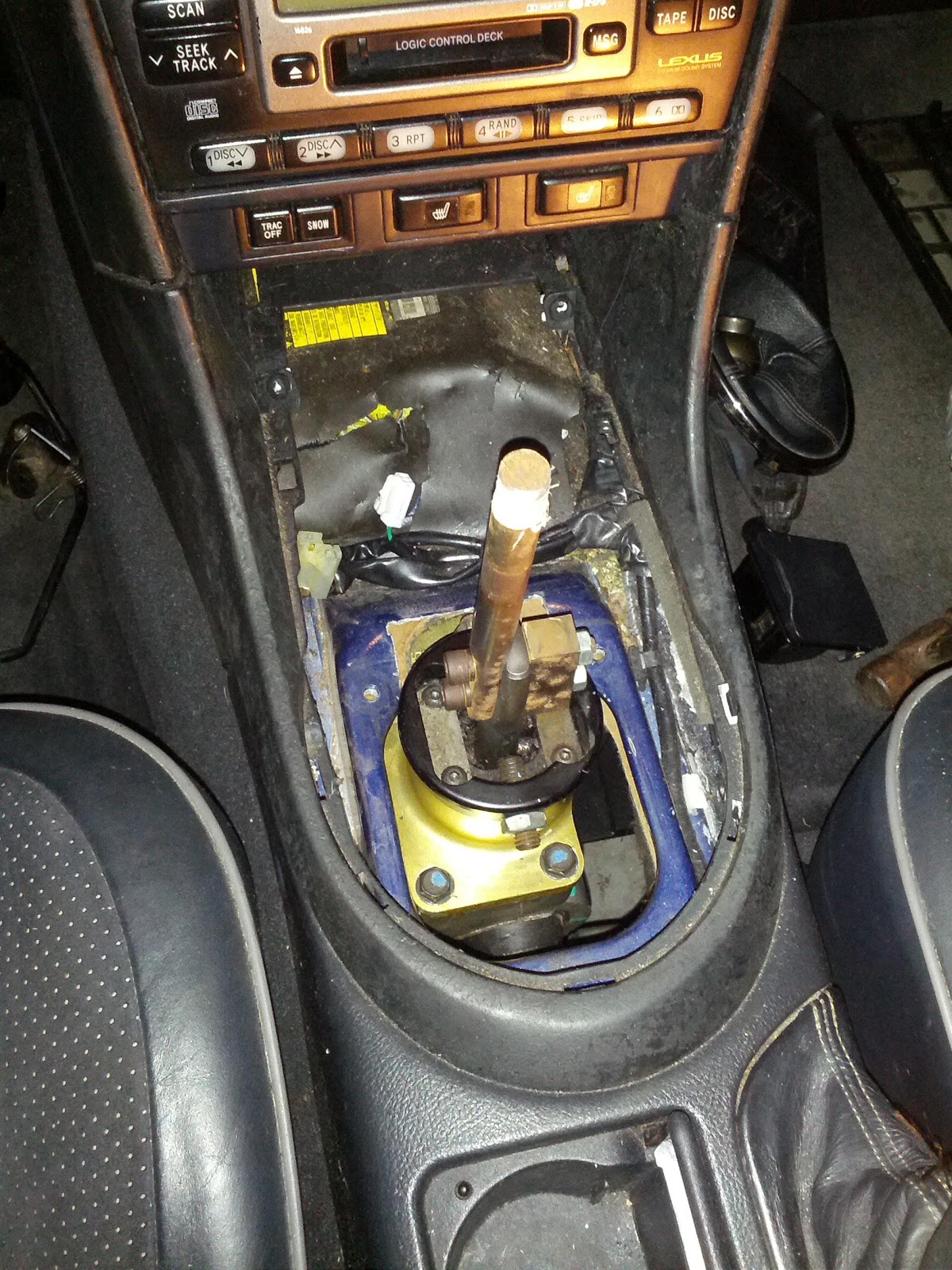 7-10-2013
One of my buddies at work lives just around the corner from the drive shaft shop so he picked it up for me last night and brought it to work. Here you can see the difference between the stock IS300 drive shaft and the "new" aluminum one.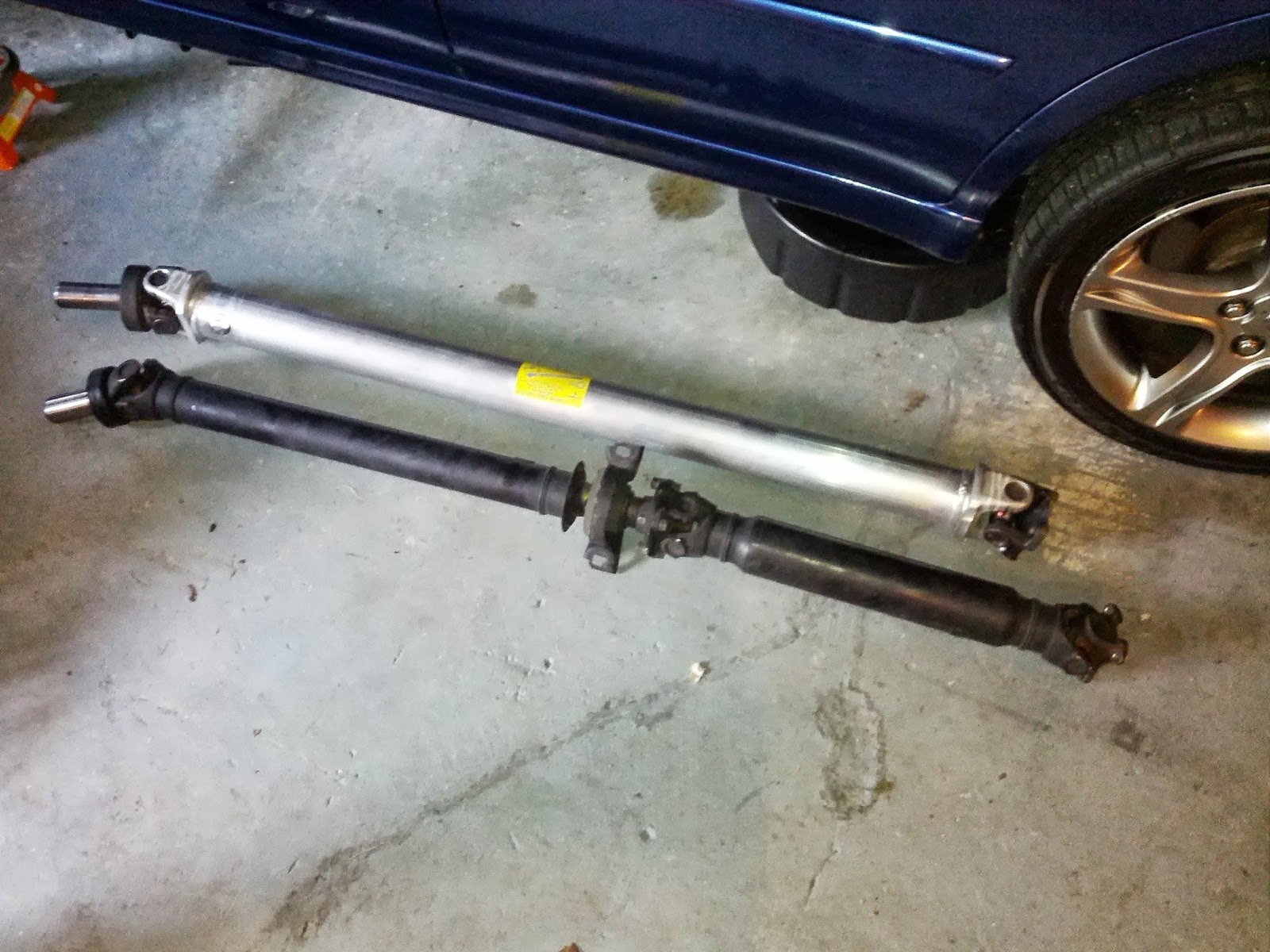 It fit perfect and was actually really easy to get in.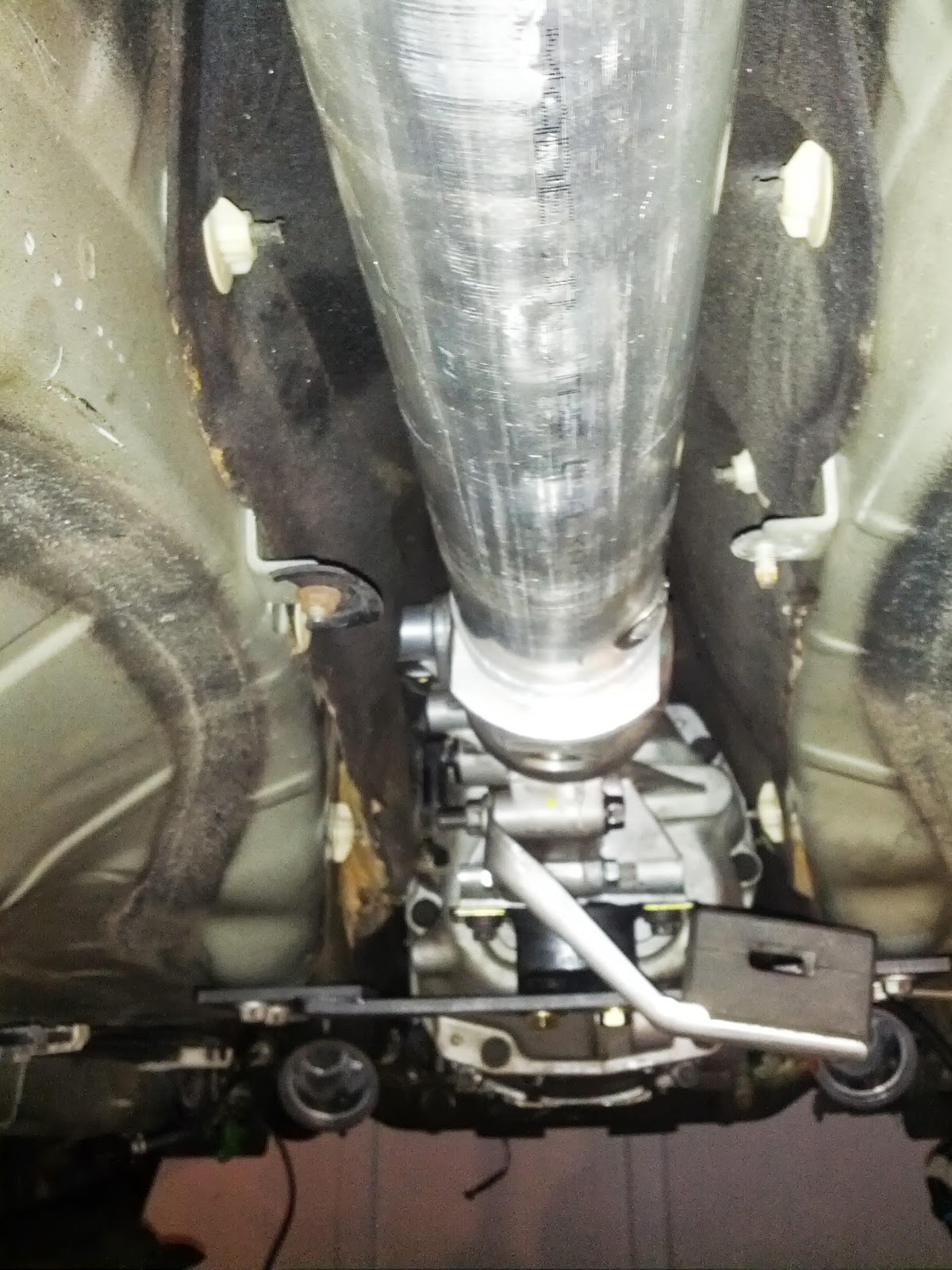 You can see where the exhaust comes out in this pic.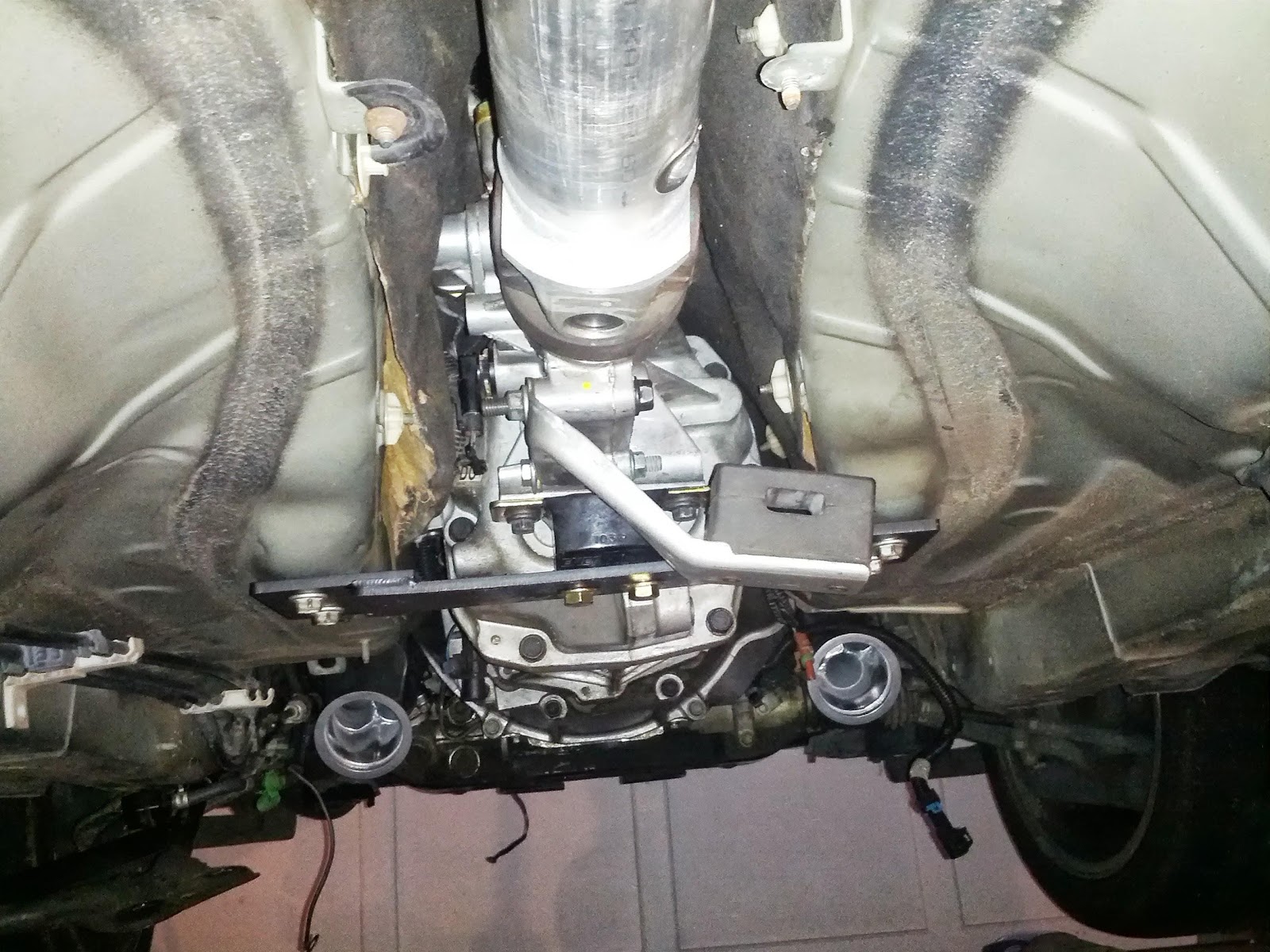 The rear end is pretty beefy too! I don't think I'll have any issues with this set up.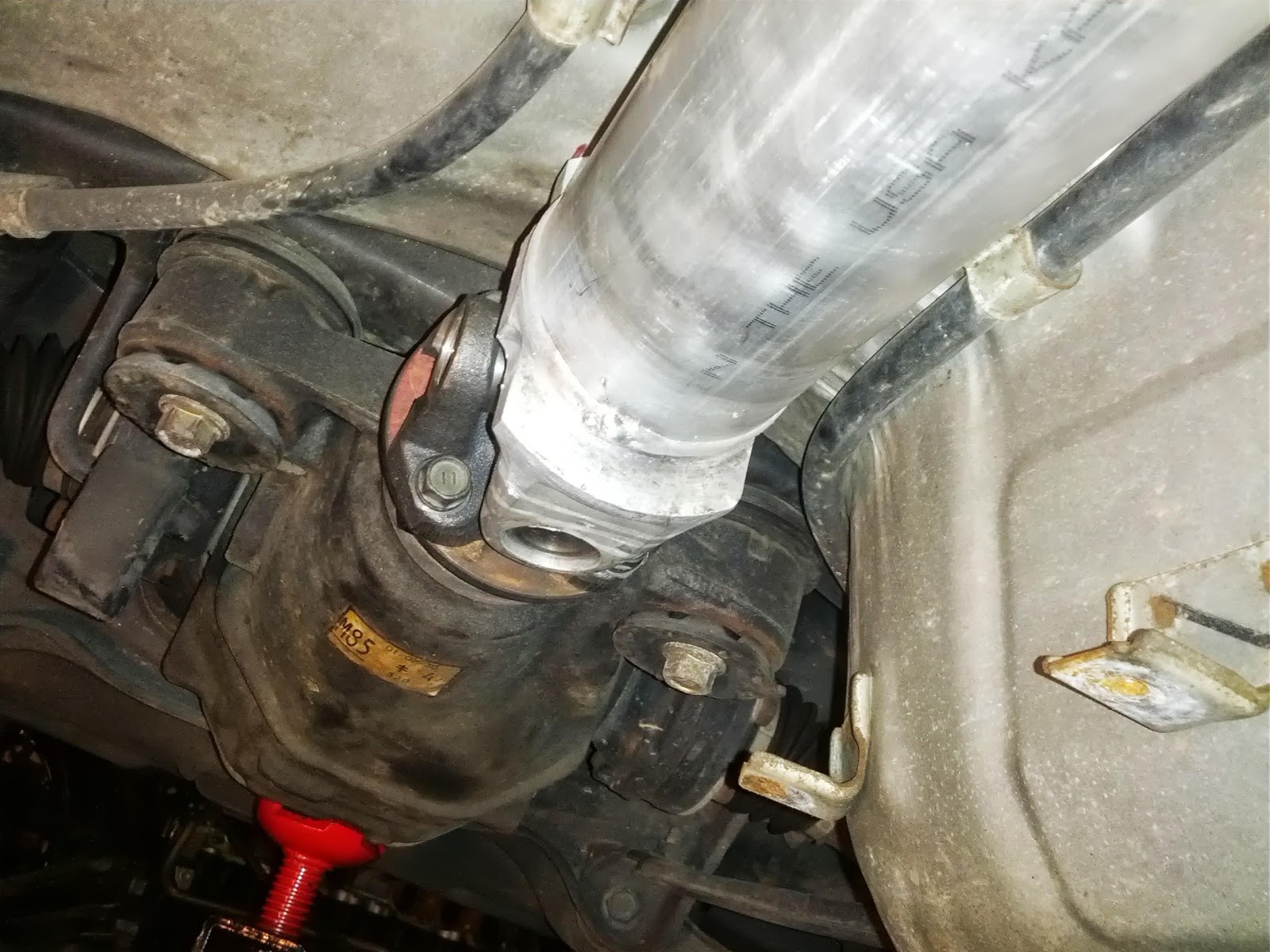 While I was under the car I got the K-member bolted back up since it was still hanging from getting the headers in. I'm hoping this week (after work of course) I can get all the hoses/lines figured out and ordered. Then Saturday is dedicated to wiring. Wish me luck with that.
7-12-2013
So this is my "study" session for tomorrows big test. I have more wiring diagrams and pinouts than I know what to so with. It looks like a LOT of stuff is just getting cut out and a hand full of wires need to get hooked up. I just need to be sure I get the right hand full before soldering.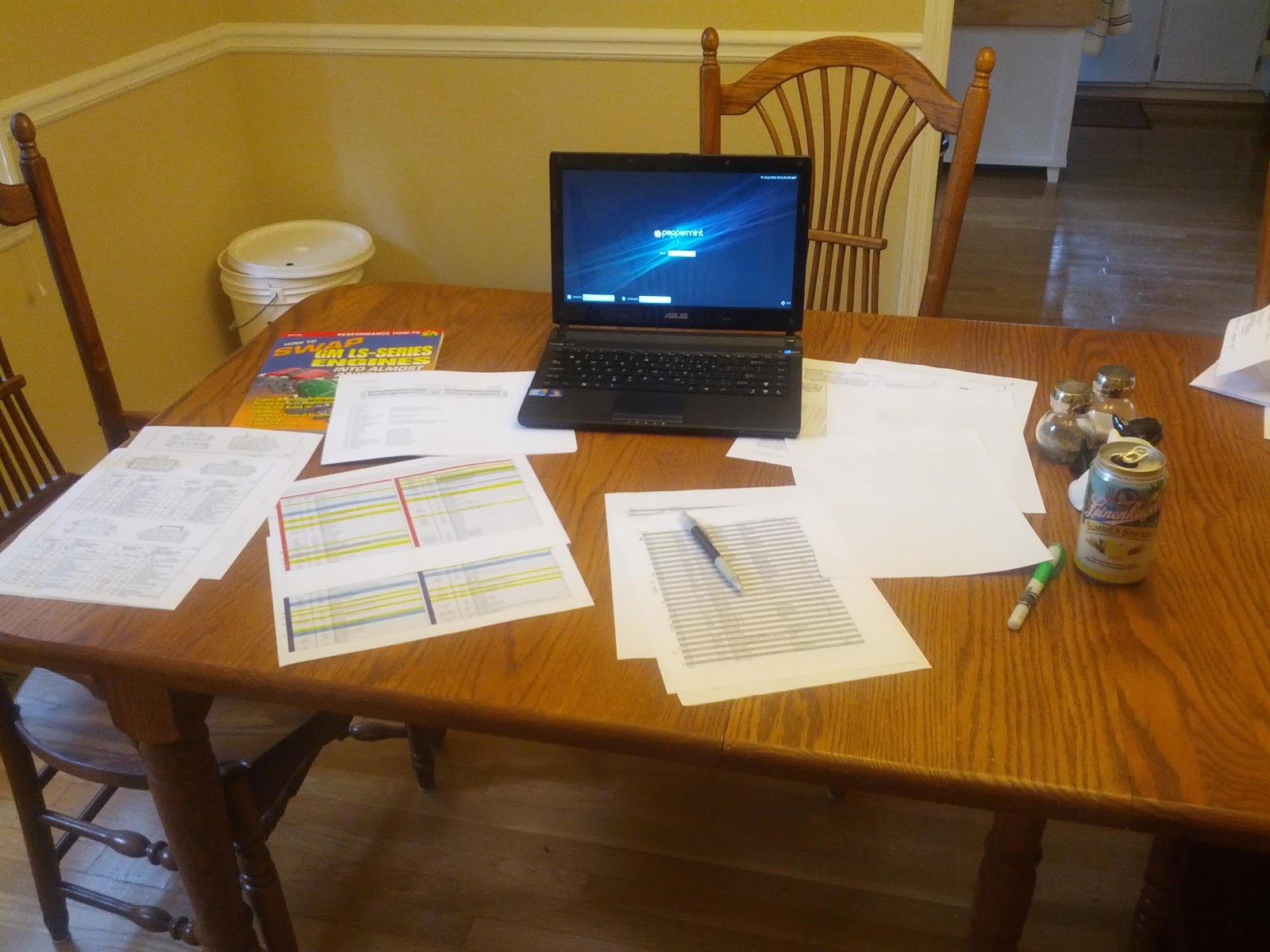 7-14-2013
Today was a long day, but very productive. I probably could have gotten all of the wiring done today if I wasn't so picky about the way I do things. Since this is my car and I plan to keep it for quite a while I not only want it to be right but I want to be able to work on it later on.
First step was to pull the Lexus ECU and harness to strip some wires.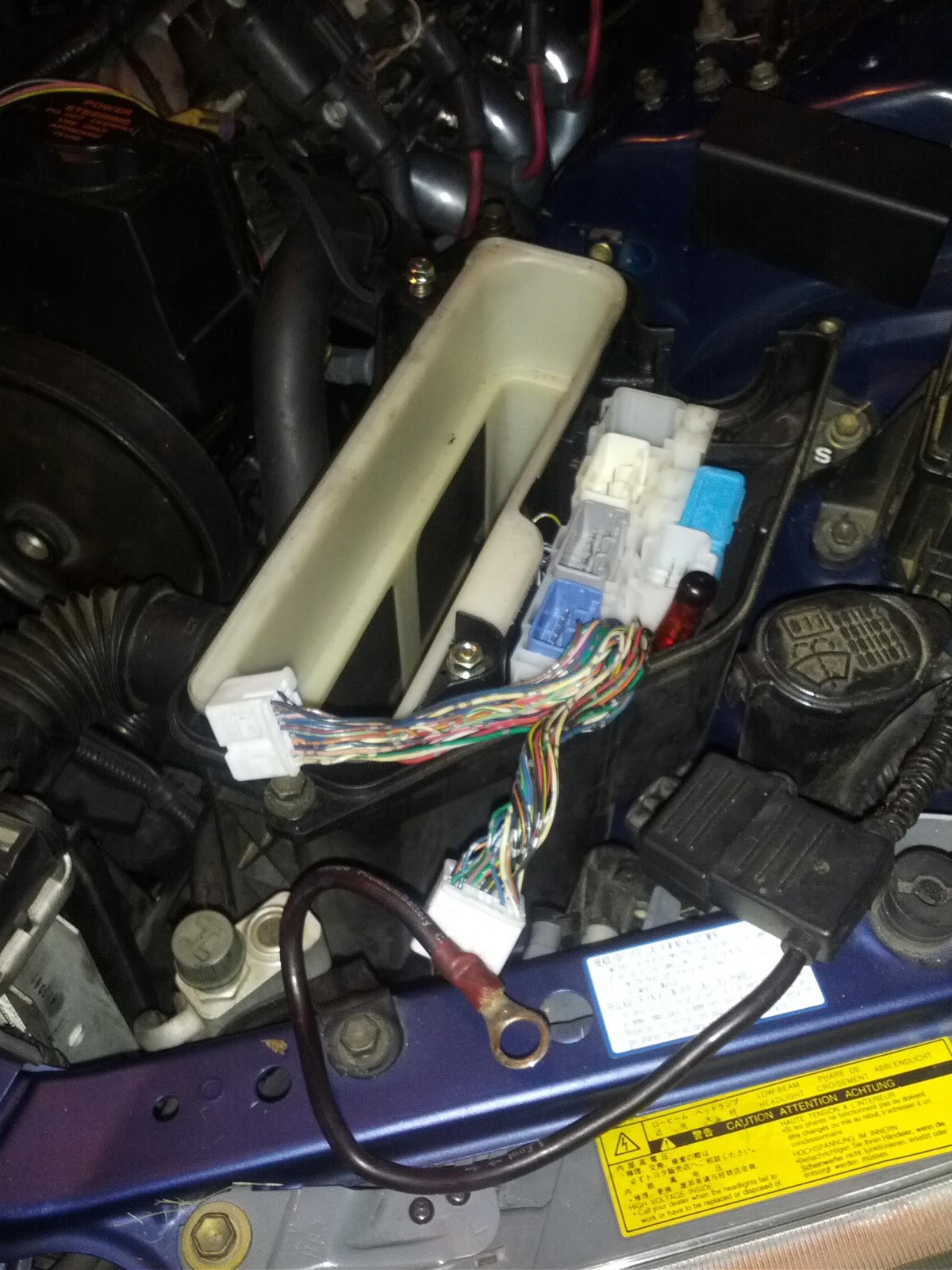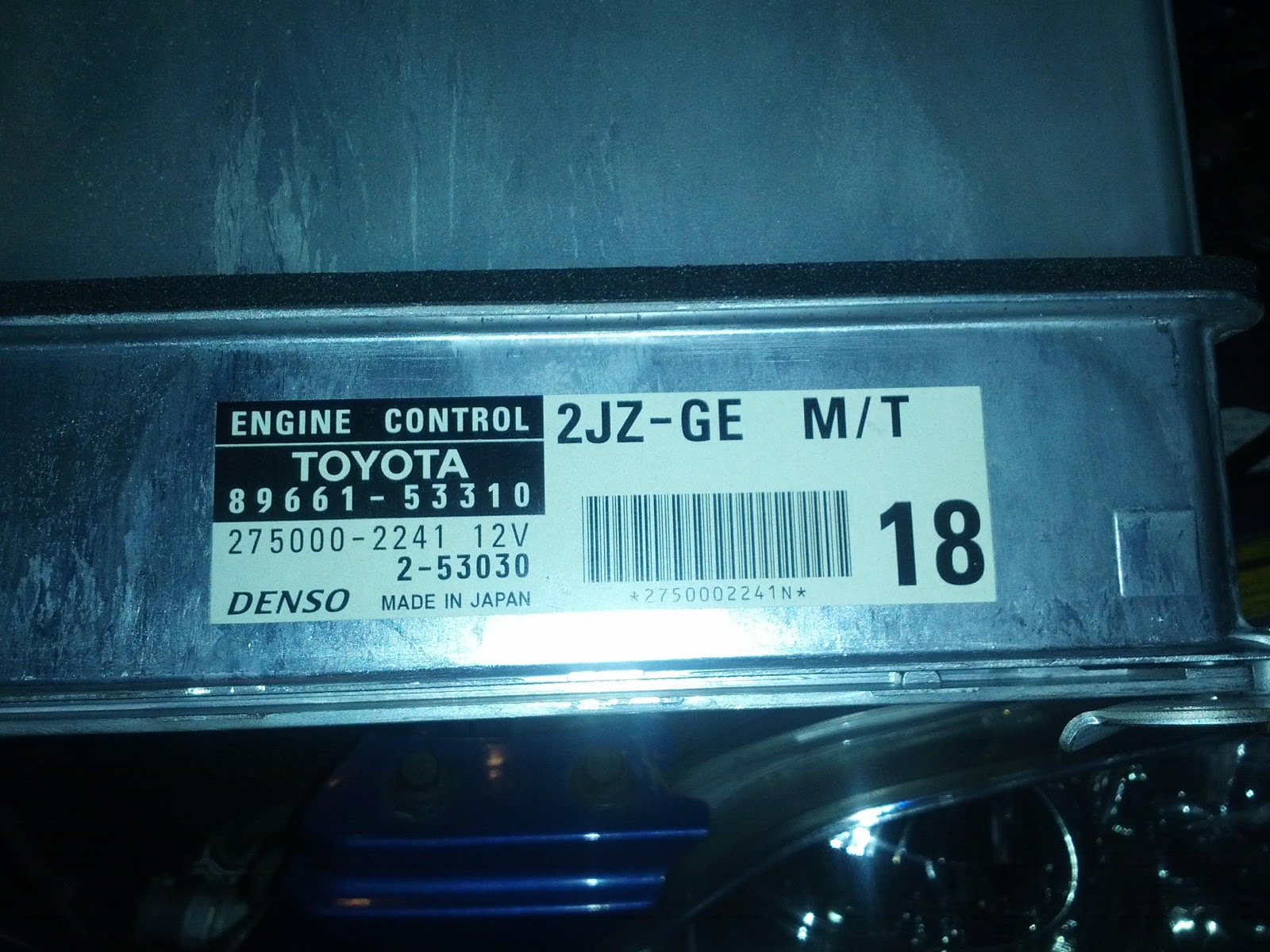 Here is the engine harness out of the car "pre-diet".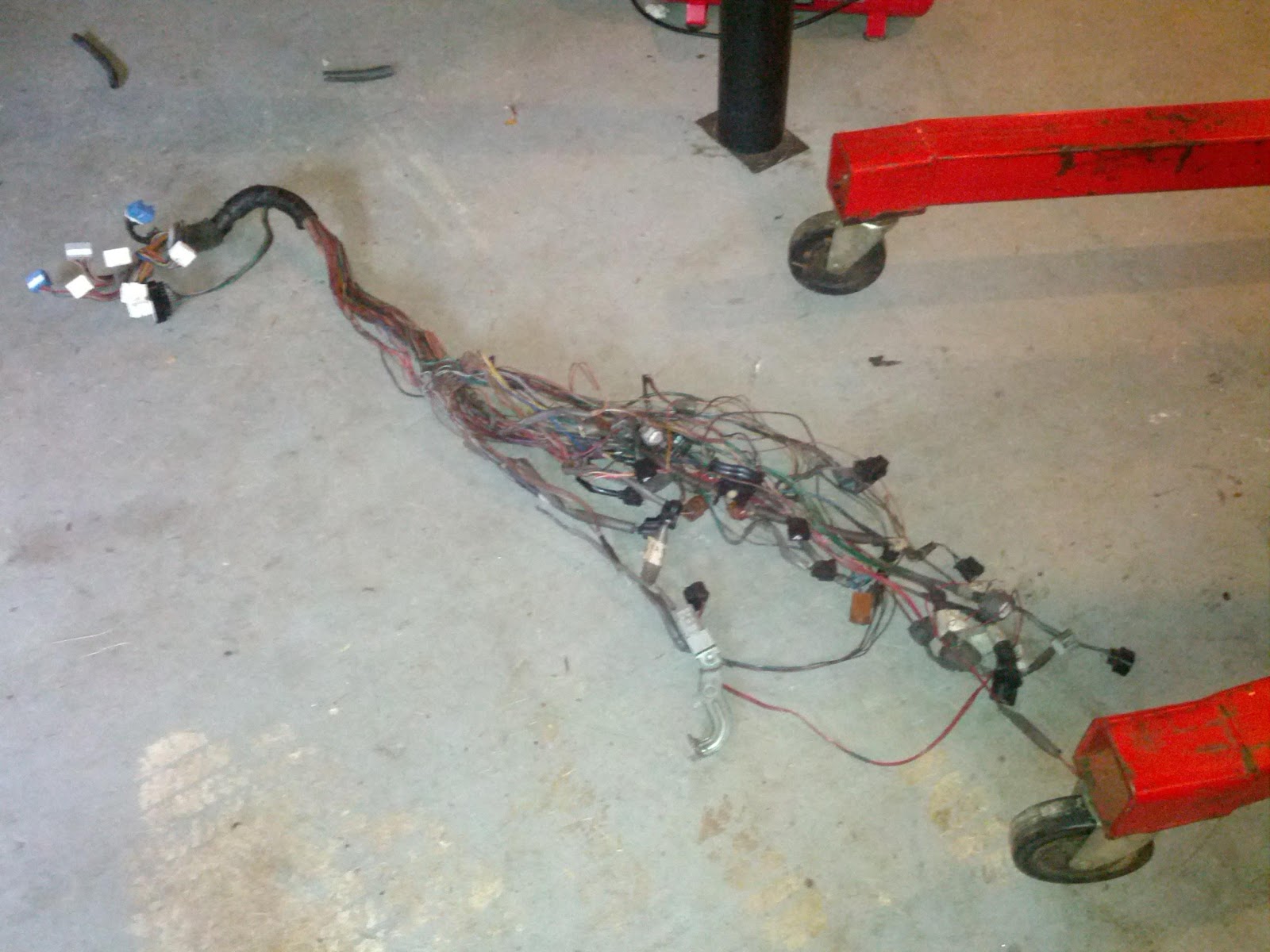 All this crap (and more later) came out of that harness.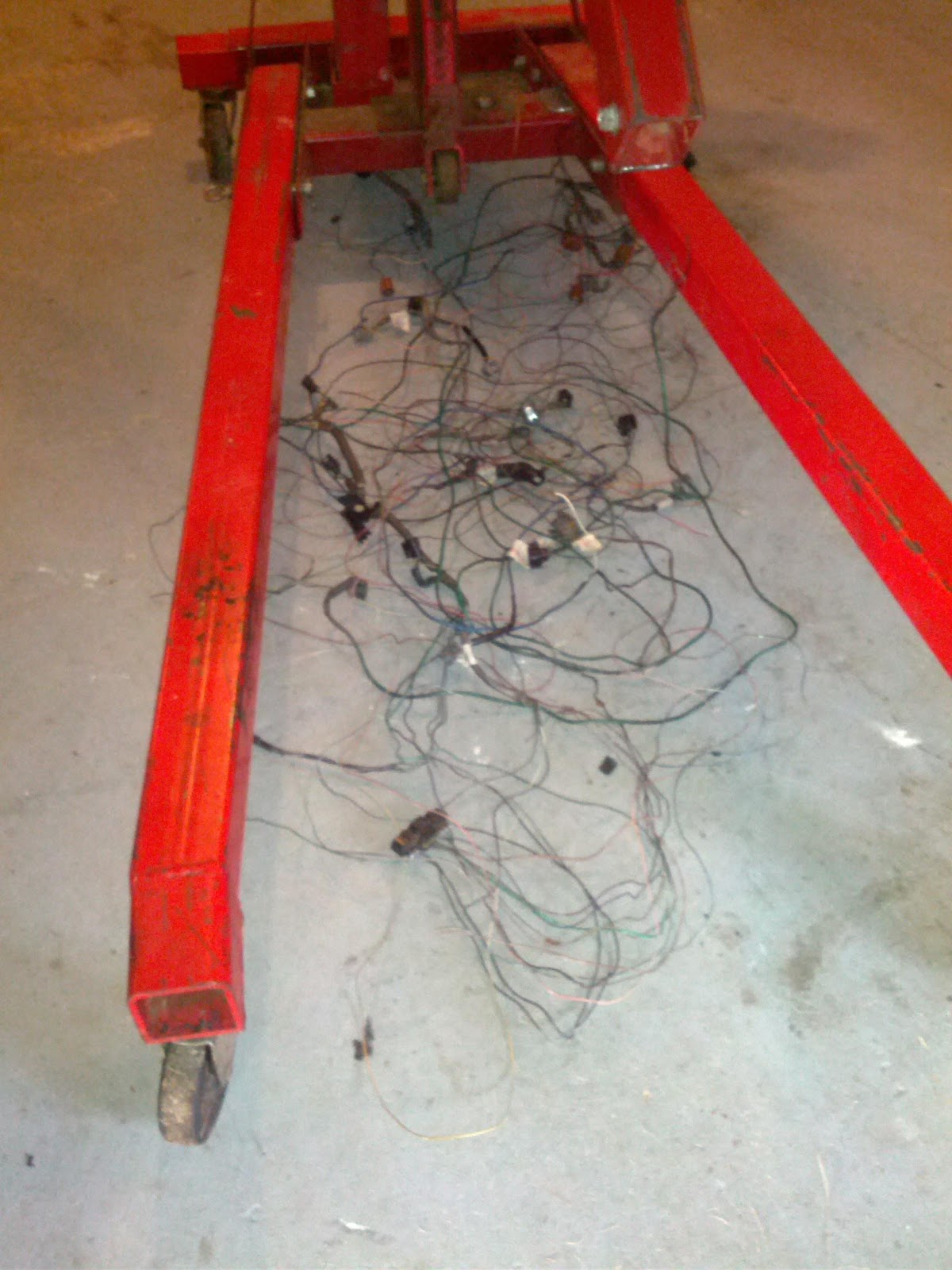 This is all of the 2JZ motor harness that went back in, it has connectors for MAF, A/C, Ambient air temp, starter, and some trans stuff I need to sort out for back up lights.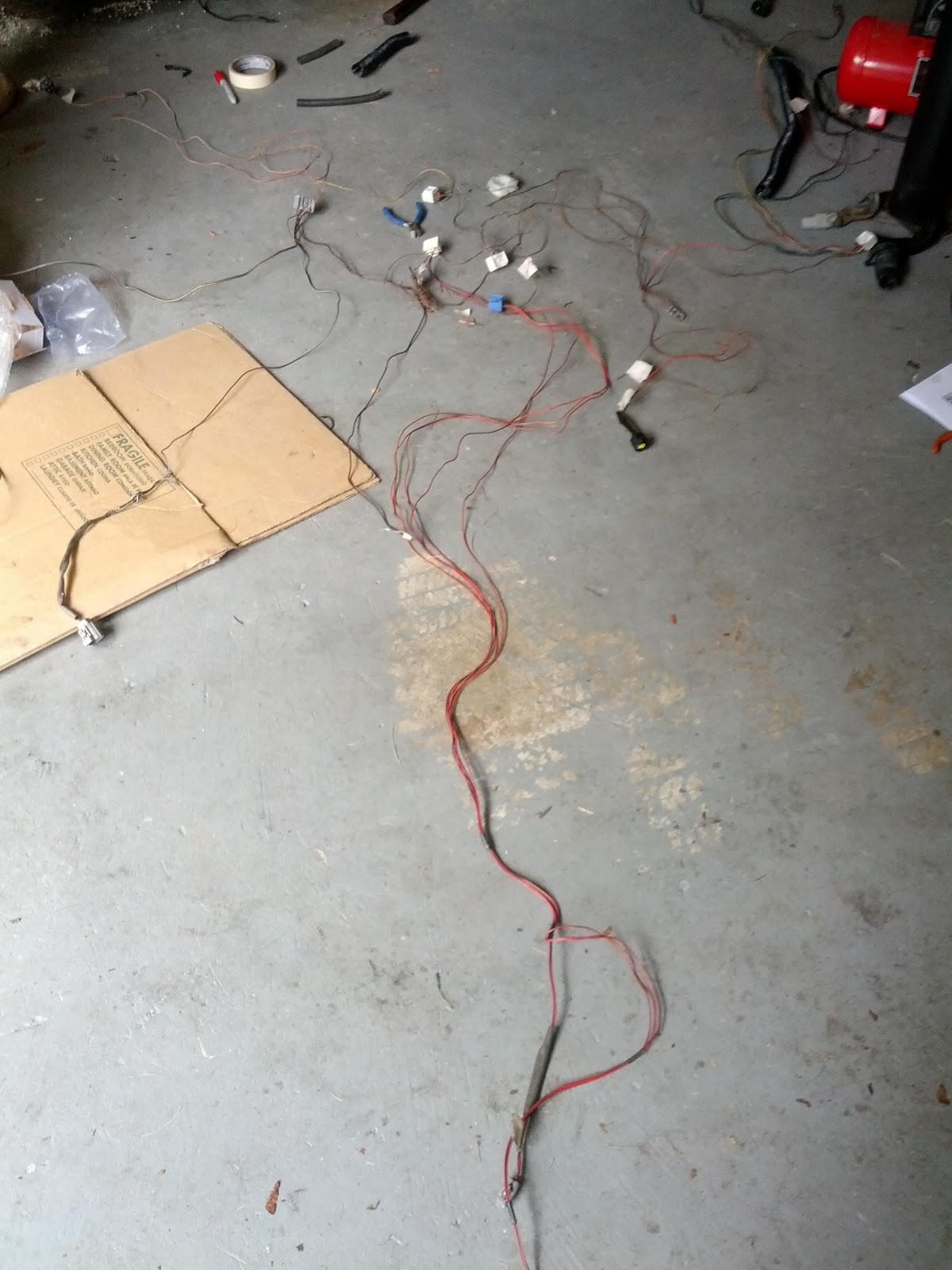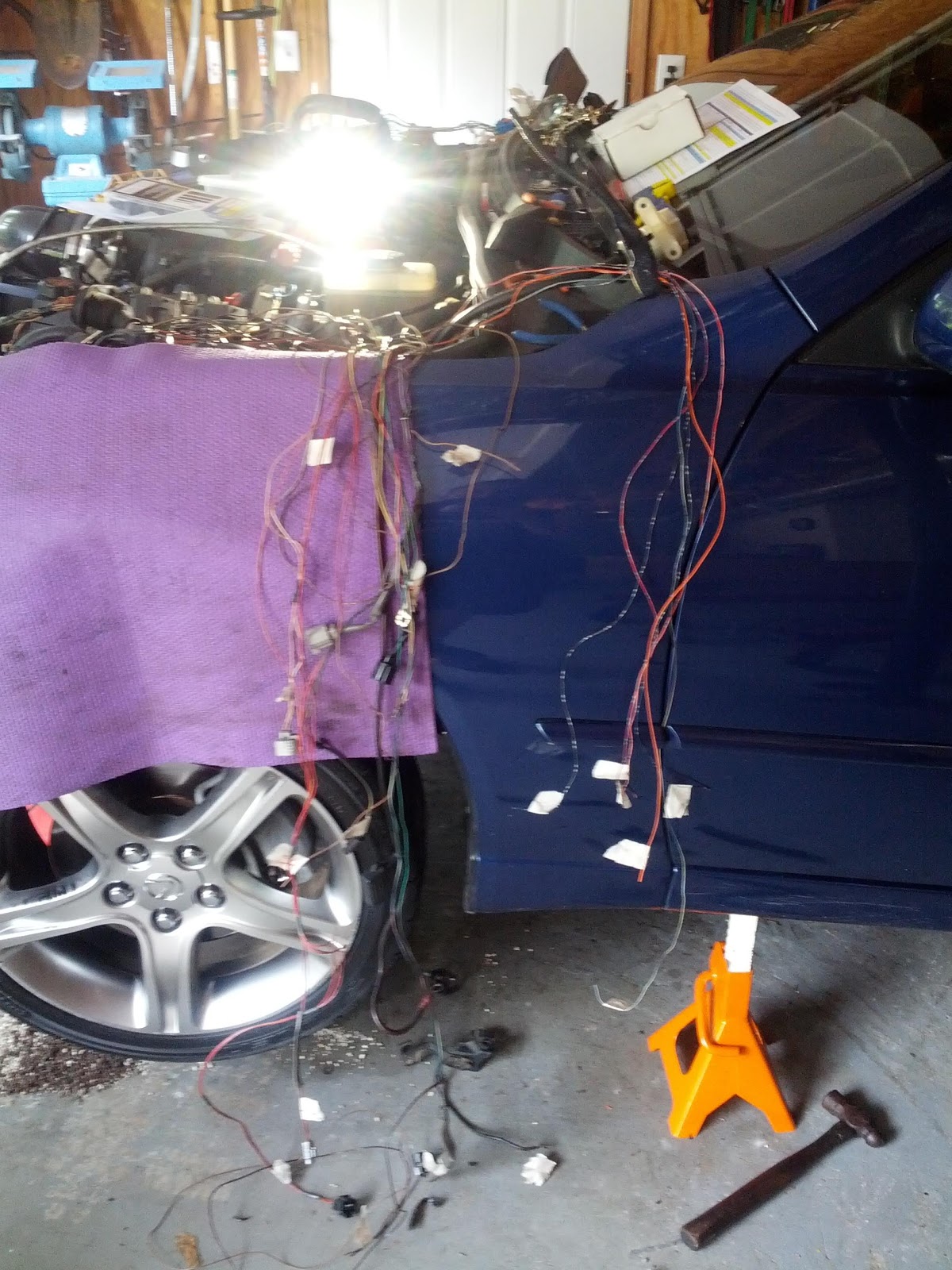 Re-installed with the thinner harness, and done with this portion.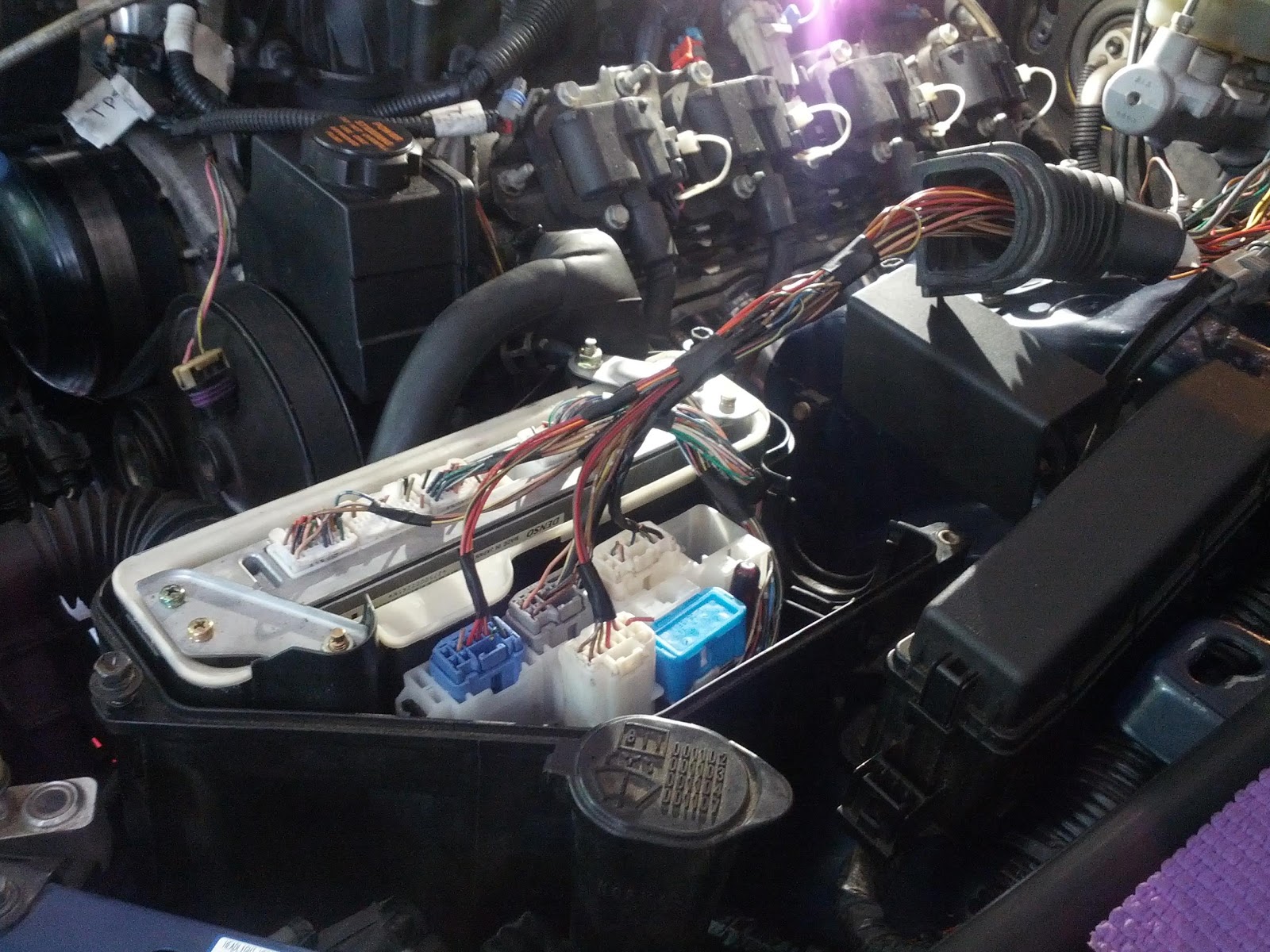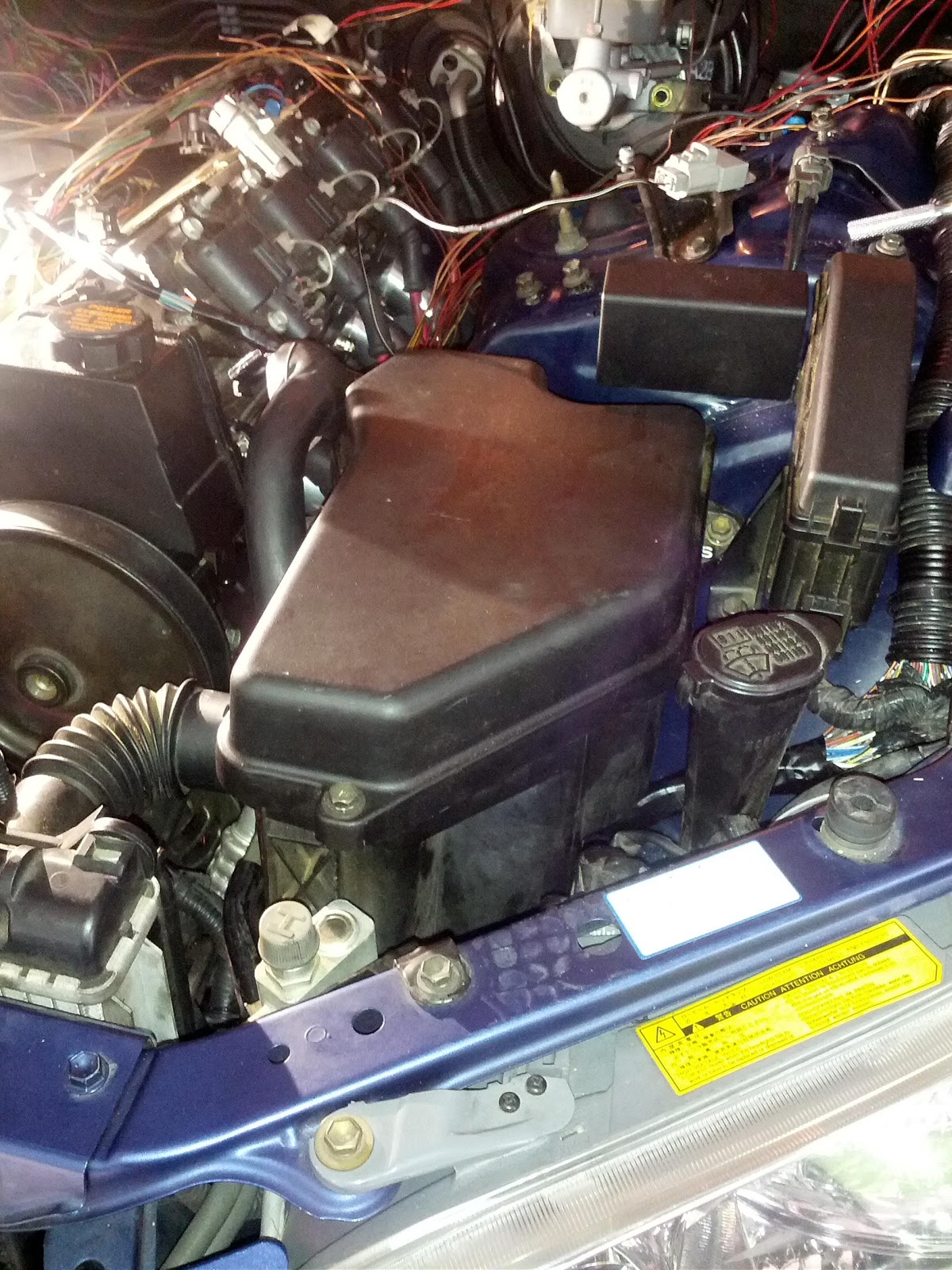 When we moved over to the GM side of things the intake came back off to get to the loom on the back of the motor.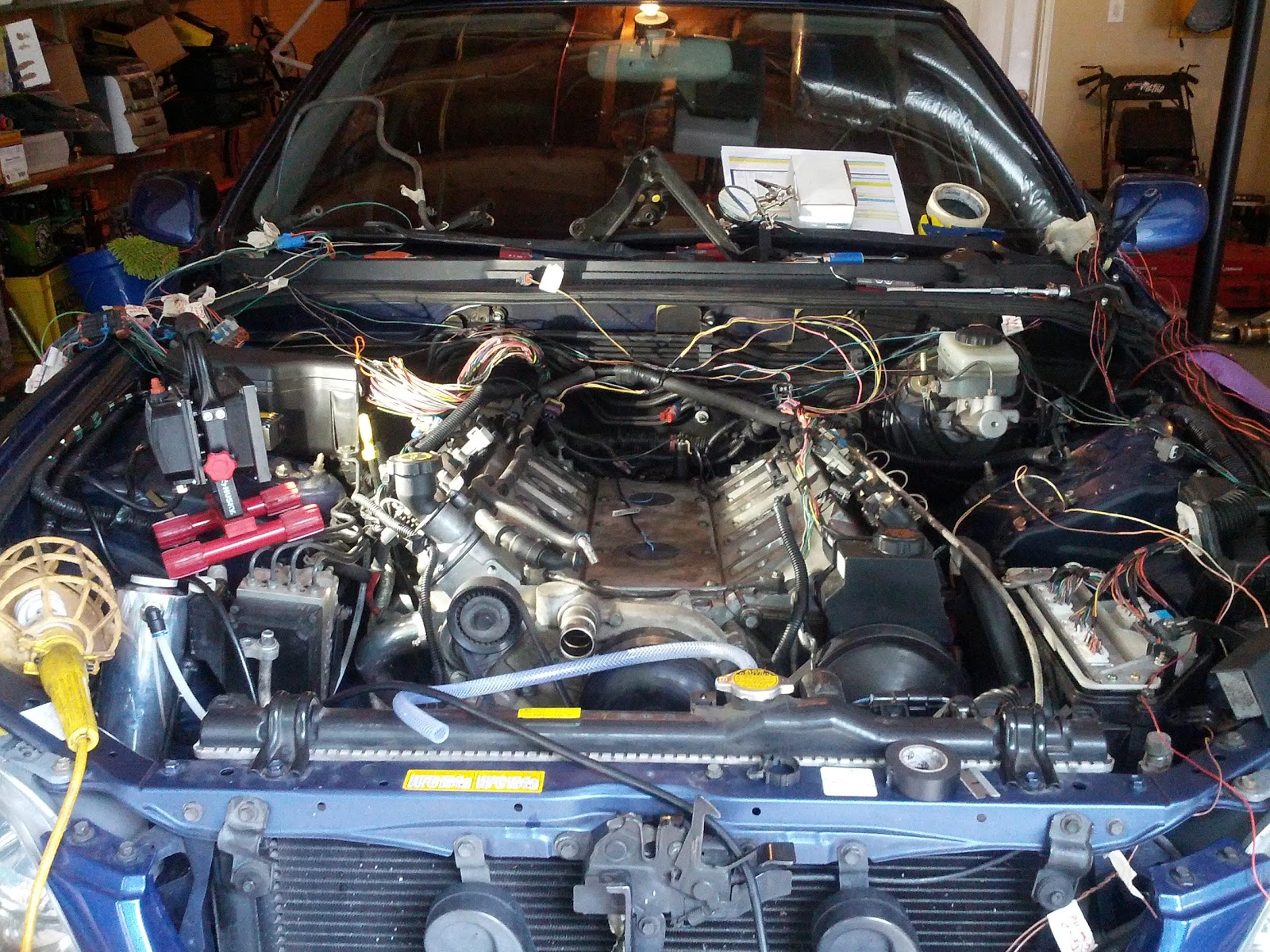 I didn't get any pictures of the LS1 harness but it was a giant mess of wires that got thinned out similar to the 2JZ.
This is what took so much longer but makes the swap serviceable. Any place where the two harnesses were soldered together and or loomed together I added connectors to be able to pull the motor with less hassle should I ever need to.
Here is where the Lexus MAF meets the GM loom to run over to the passenger side.
This is right below that connecting the Lexus ECU (piggyback) to the GM temp sensor. Since they use the same voltage range I am using one to run both for the LS ECU and IS gauge.
This one isn't quite finished up yet but ties the MIL, Tach, Fuel Pump, Brake Switch, OBDII, Switched Ignition, and maybe back-up lights. The connector is on the firewall just over the passenger side header.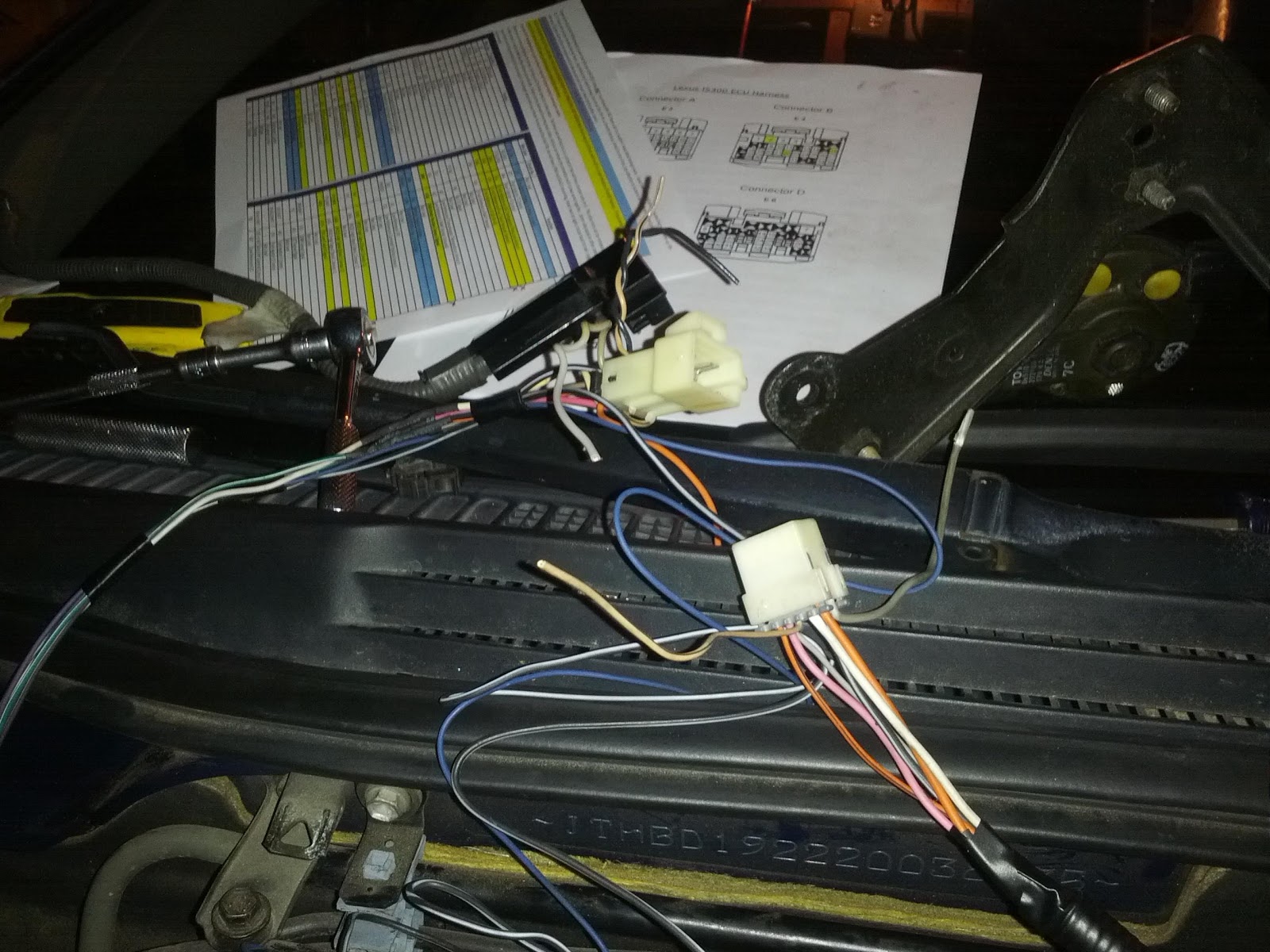 To keep the factory look (and save me from having to but some) I cut connectors out of the Trans Am body harness to splice all the harnesses together.
7-15-2013
Today was another productive day. I tore into the power side of the Lexus harness and hooked up all but one of the LS1 power wires. I also finished soldering all the connections for the 2JZ MAF and the A/C.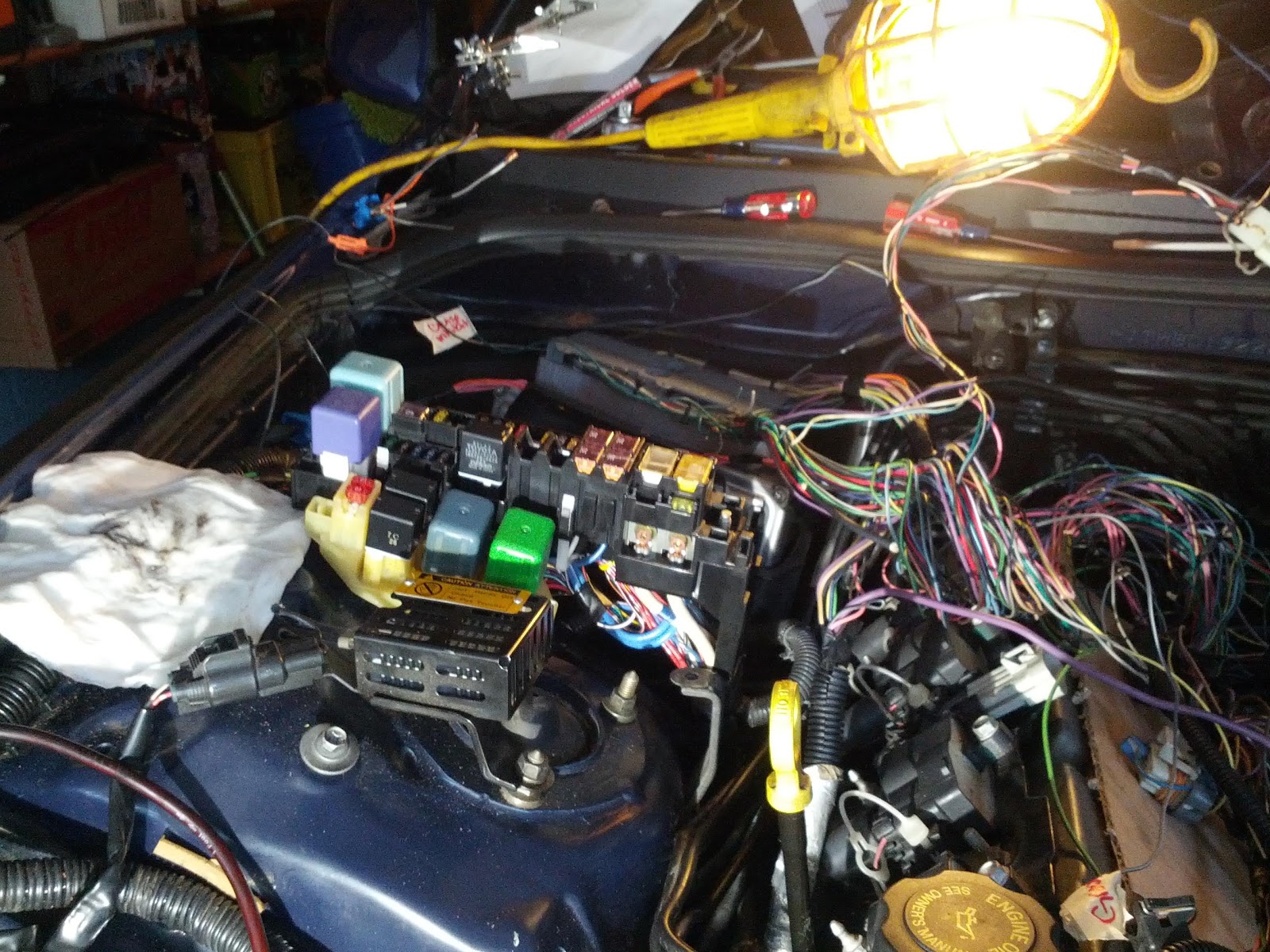 I think the only things left to do are hook up the 12V constant to the LS1 harness and the back-up lights (which I have no ideas how to do). If anyone knows what wires do what on either harness regarding back-up lights I would appreciate the input.
When I finished up tonight the loom isn't back on but the wires are all bundled and look much less chaotic.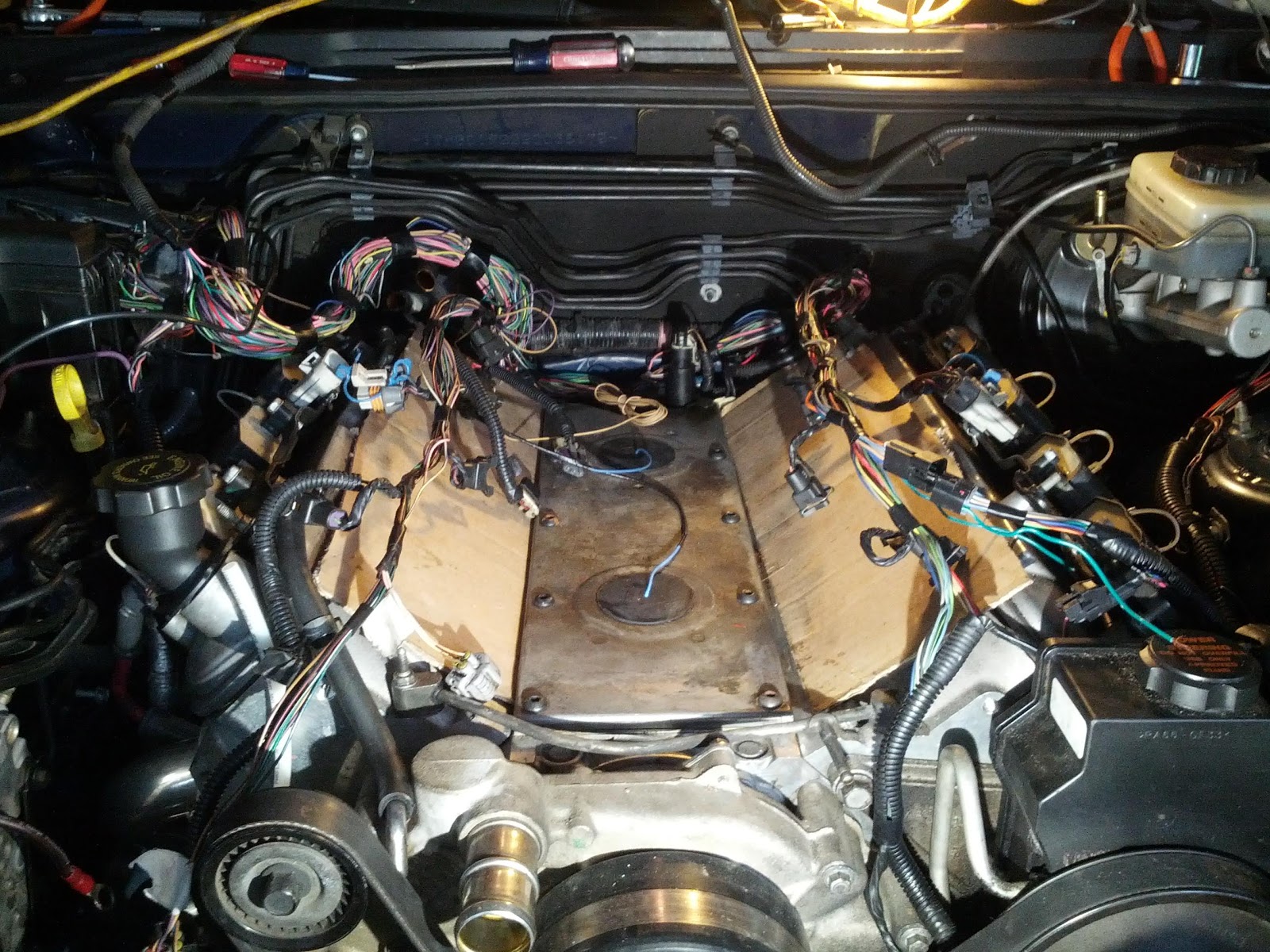 I also got the last measurements I needed for the clutch hydraulics and fuel lines so those will get ordered tonight or tomorrow.
7-17-2013
I got more pretty parts today and have some work to do. Monday after I got off work I stopped by one of our hydraulic suppliers and picked up this fun fitting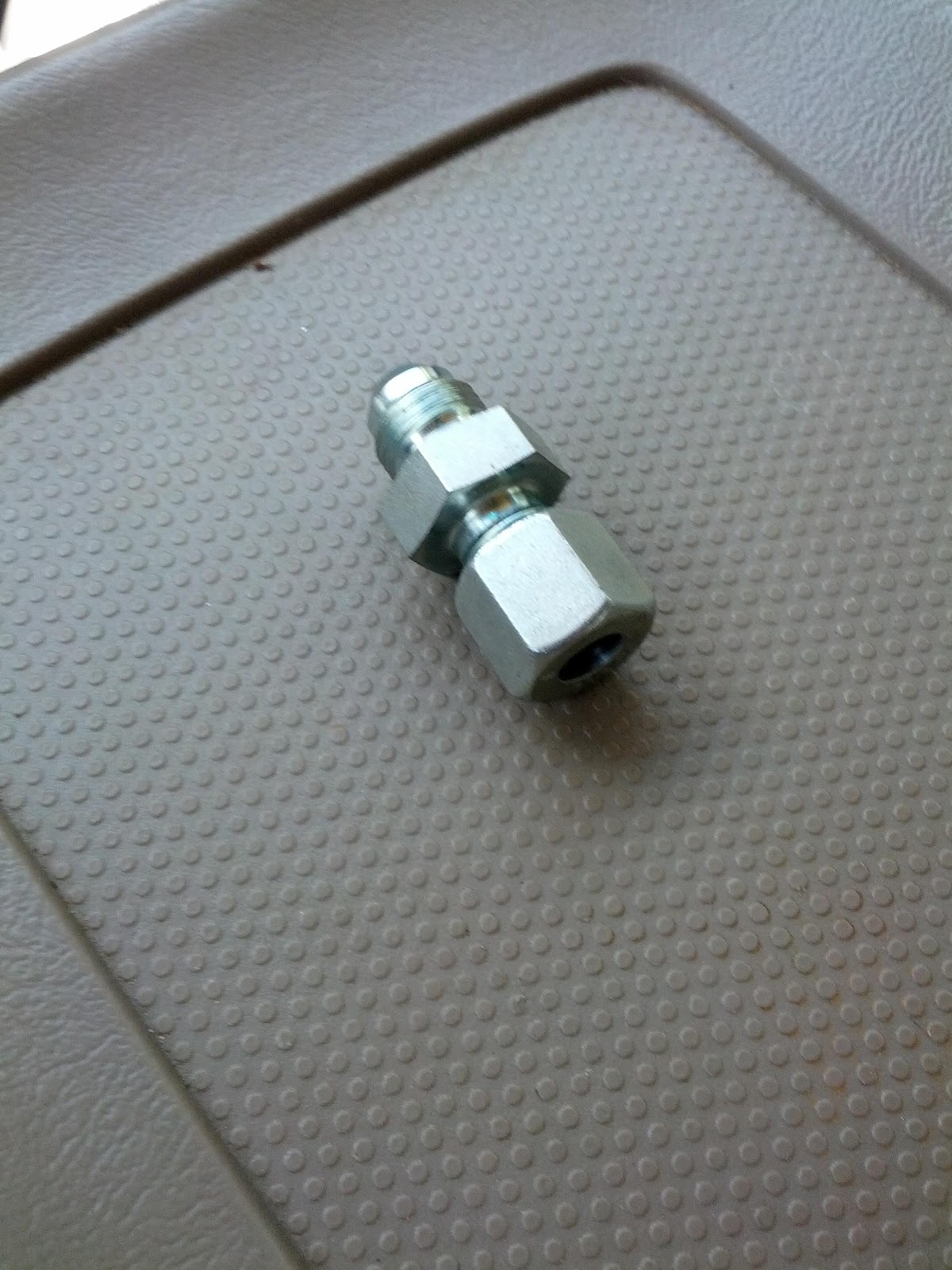 It goes from 8mm hard line to -6 JIC, in layman's terms Lexus fuel supply to new braided lines.
Then when I got home today I had a box waiting for me with my clutch line, FPR, and the rest of my fuel lines and fittings.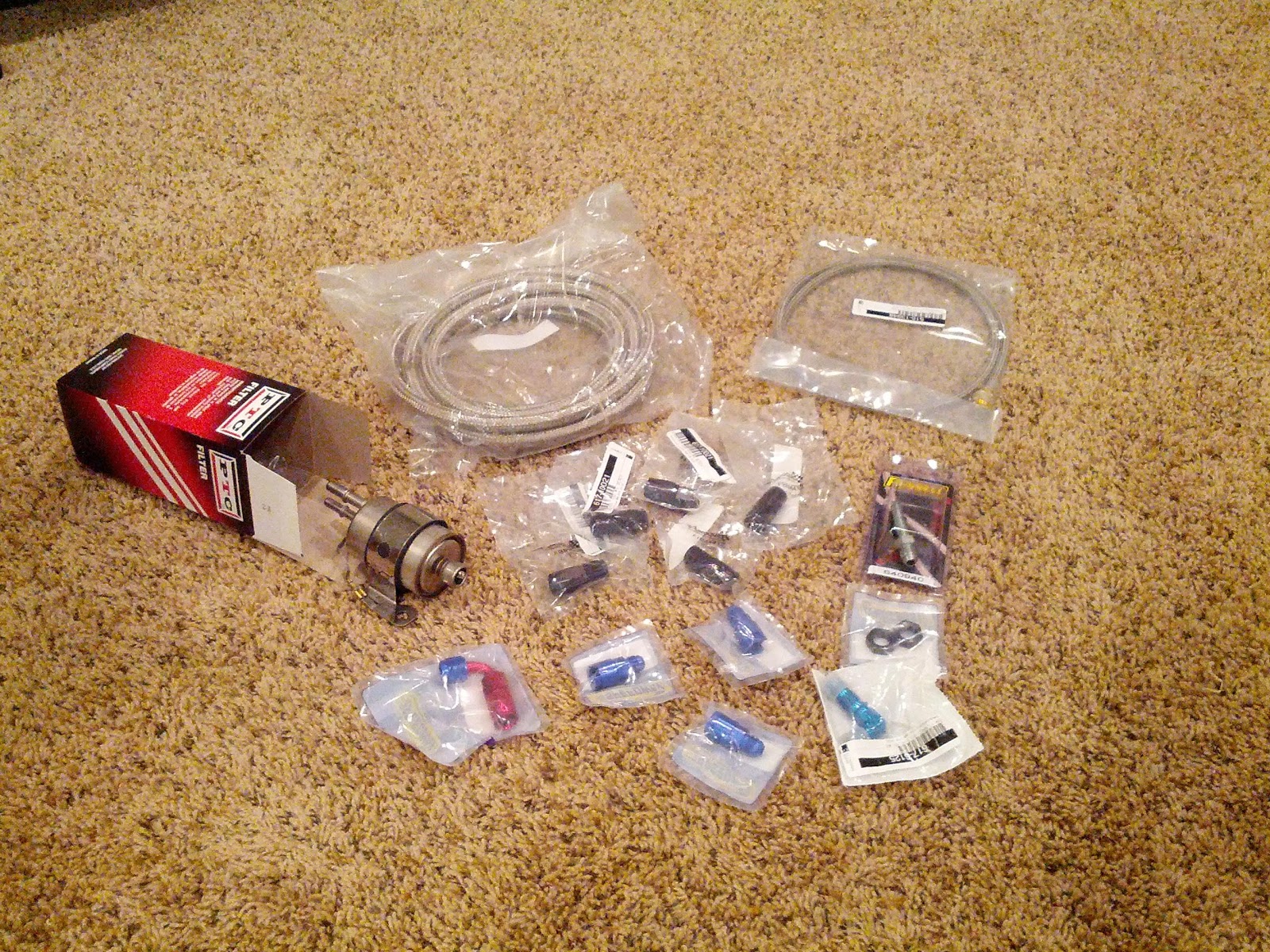 7-18-2013
So I didn't get as much done as I had hoped tonight. As it turns out installing Aeroquip fitting on braided hose is kind of a pain. This was the first time I had ever worked with them and had to learn a bit.
I started of with soldering the new pigtail for the Walbro onto the sending unit and drilling a hole where the bulkhead fitting would go for the return line from the FPR.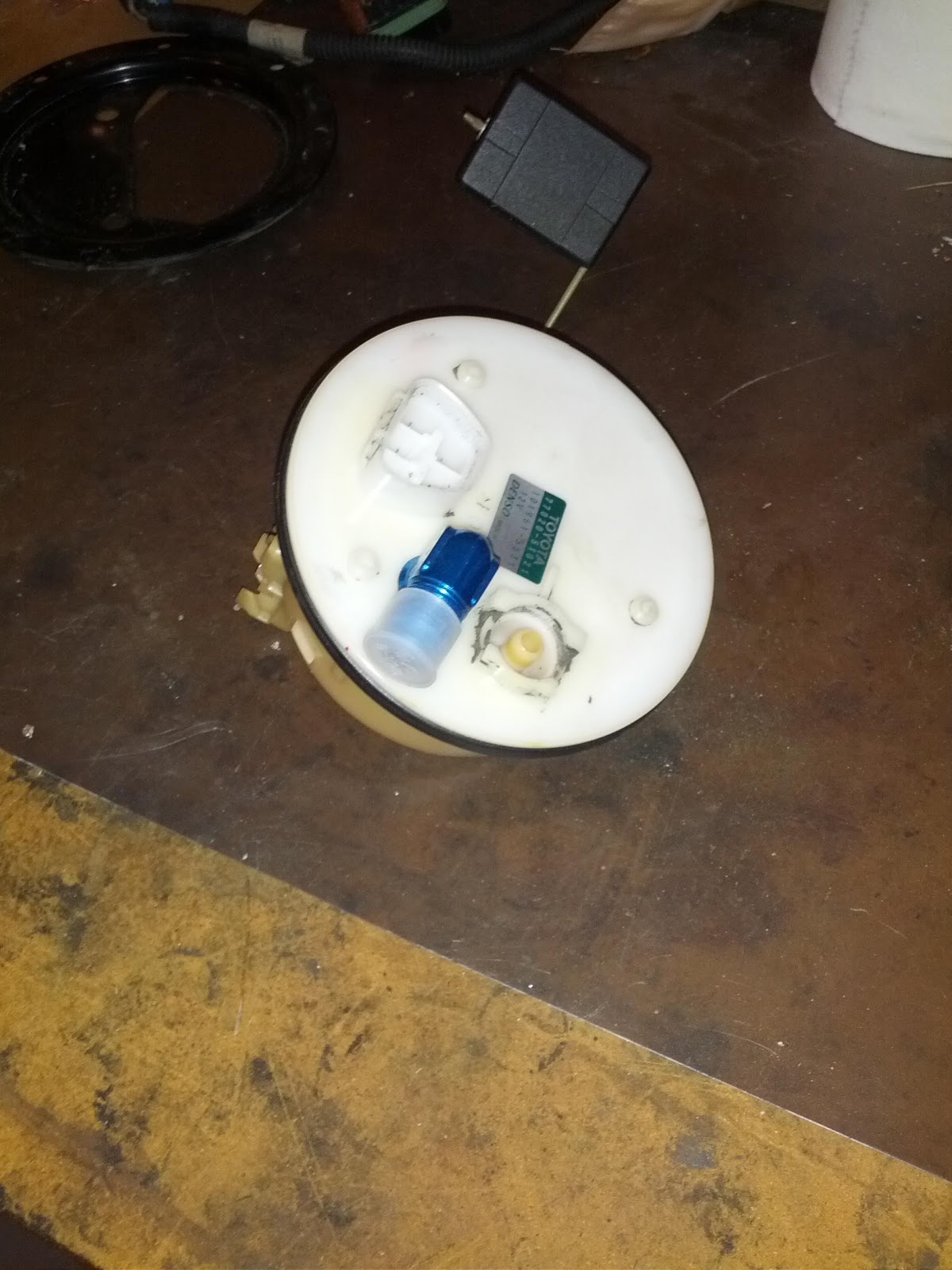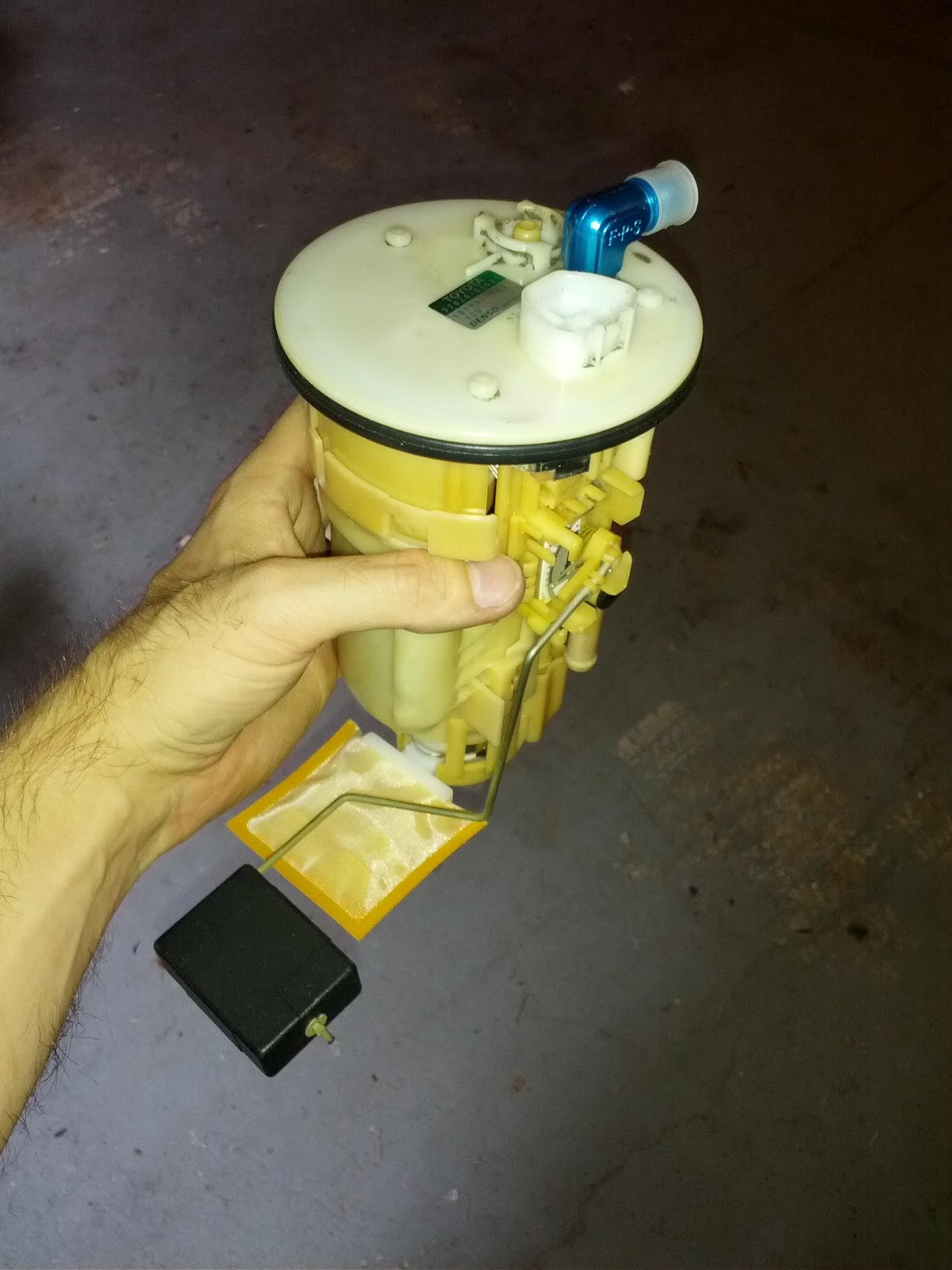 I chewed up the fitting a bit on my first try but lucky for me that end gets to live under the back seat where no one will see it...other than in these pictures.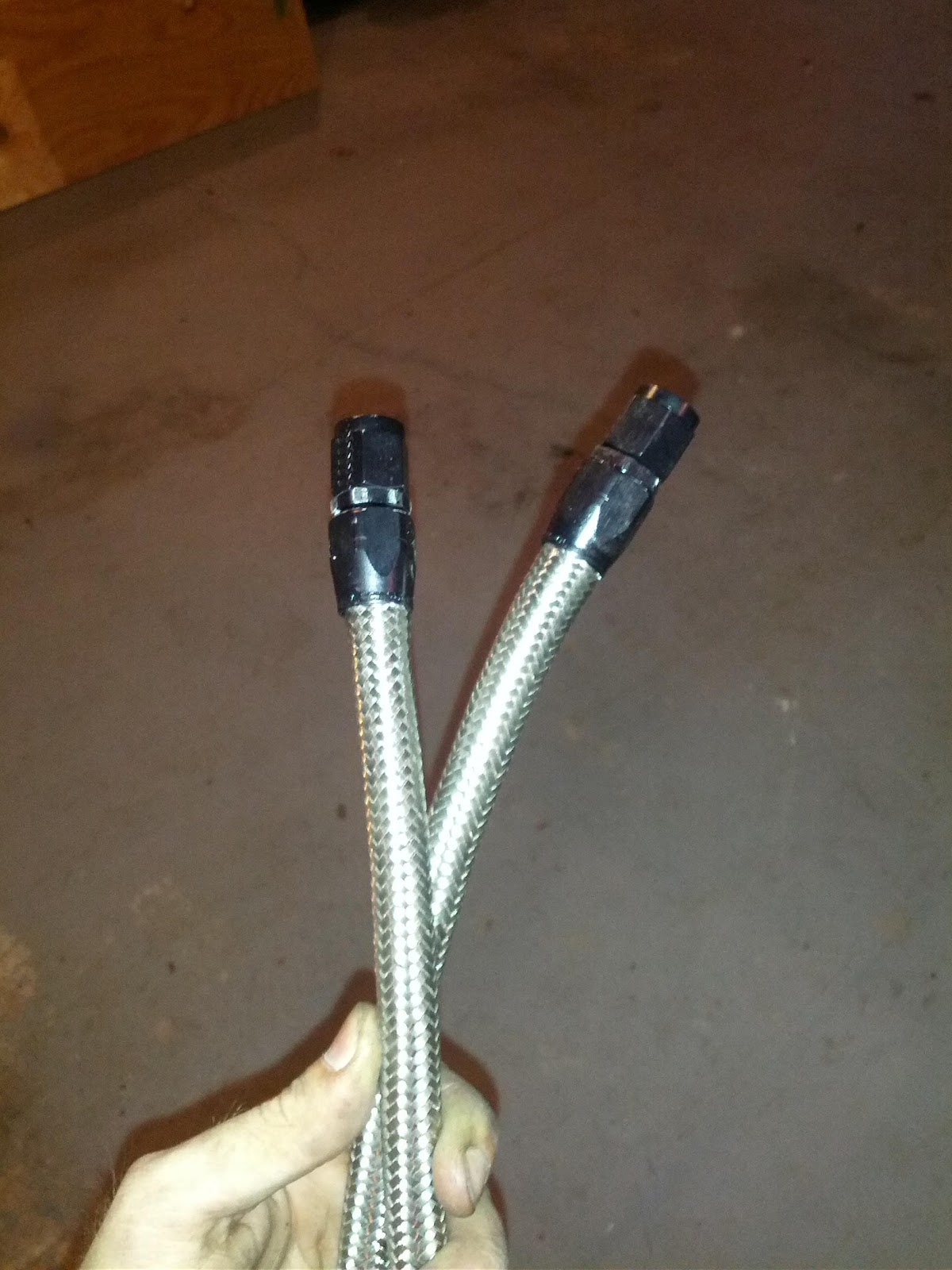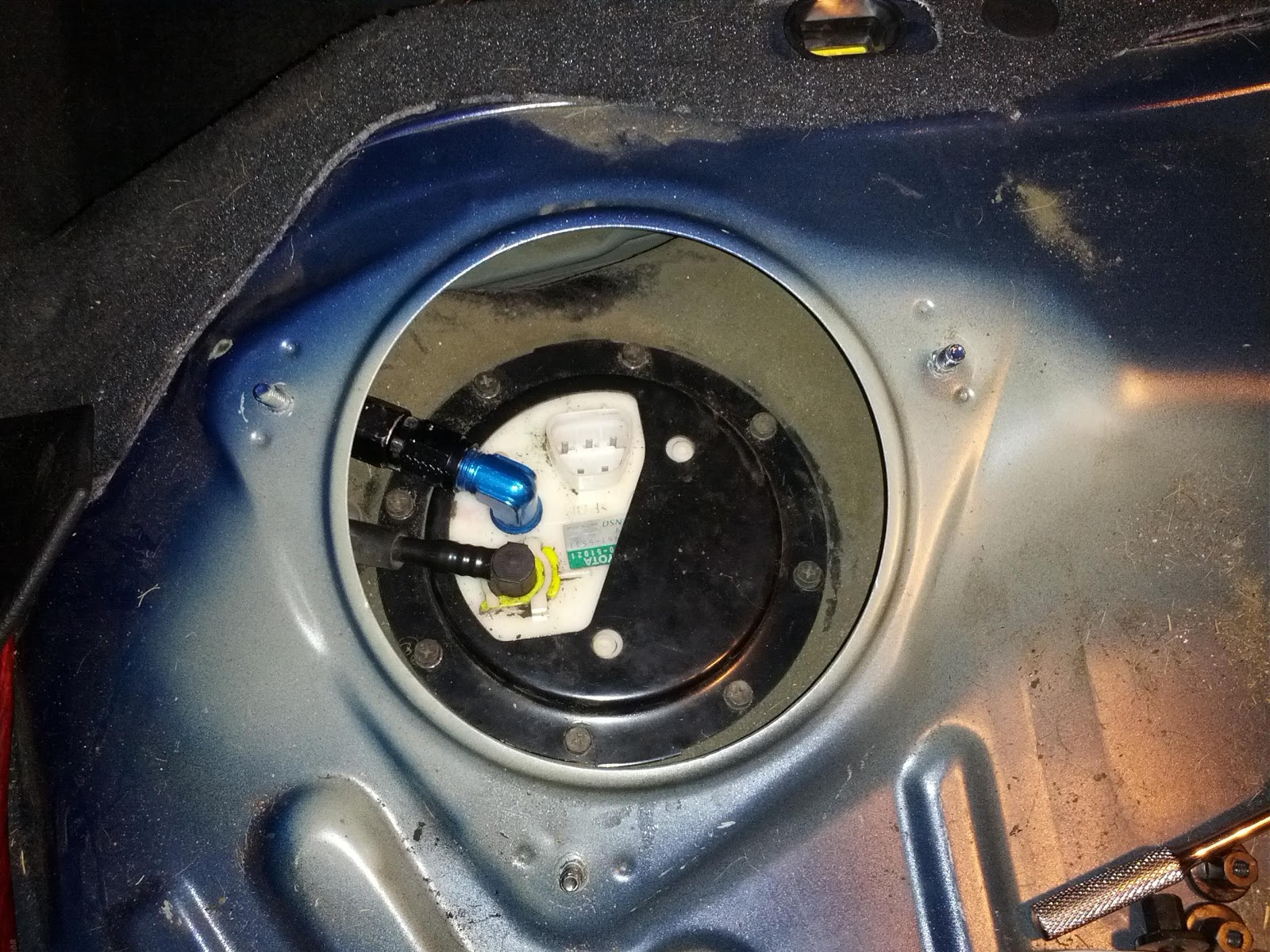 I got the return line ran up to the firewall and mounted the FPR up on the drivers side fender.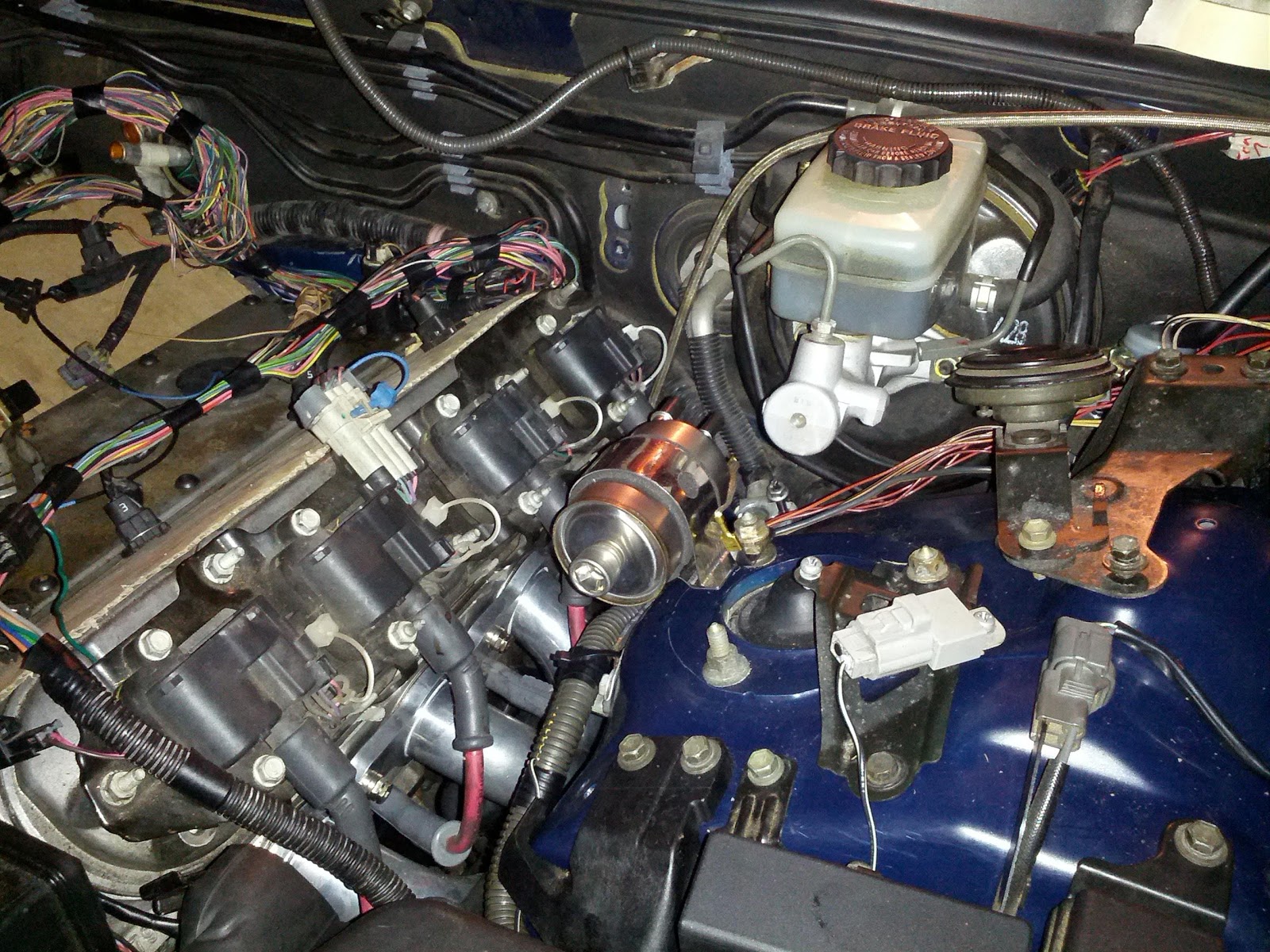 I think tomorrow I'll try to make the rest of the fuel lines and maybe finish up the wiring.
7-22-2013
I don't have a tone of pictures from this weekend but I did get some work in. I managed to finish up the fuel lines. This is where the original Lexus line meets the AN braided.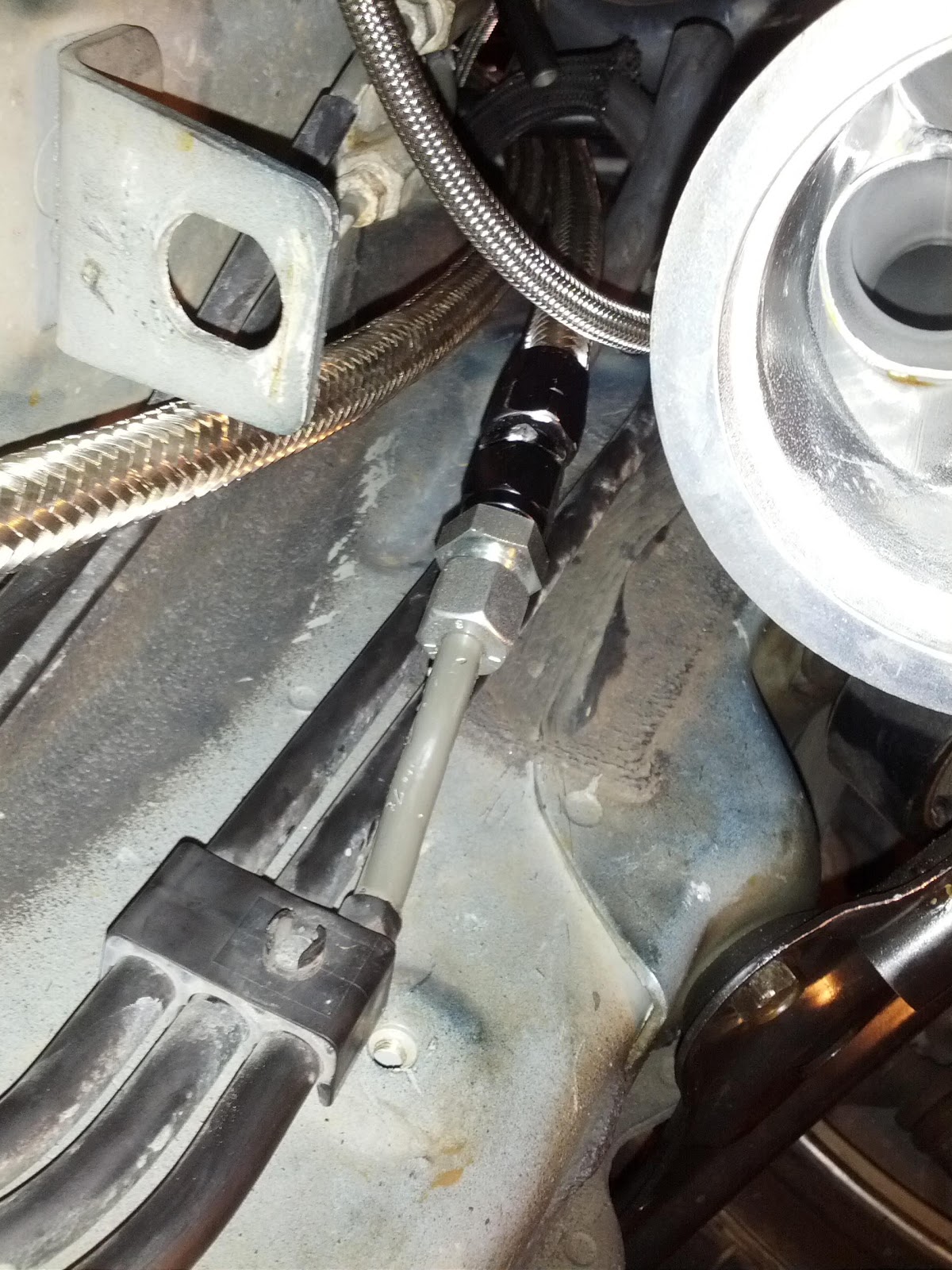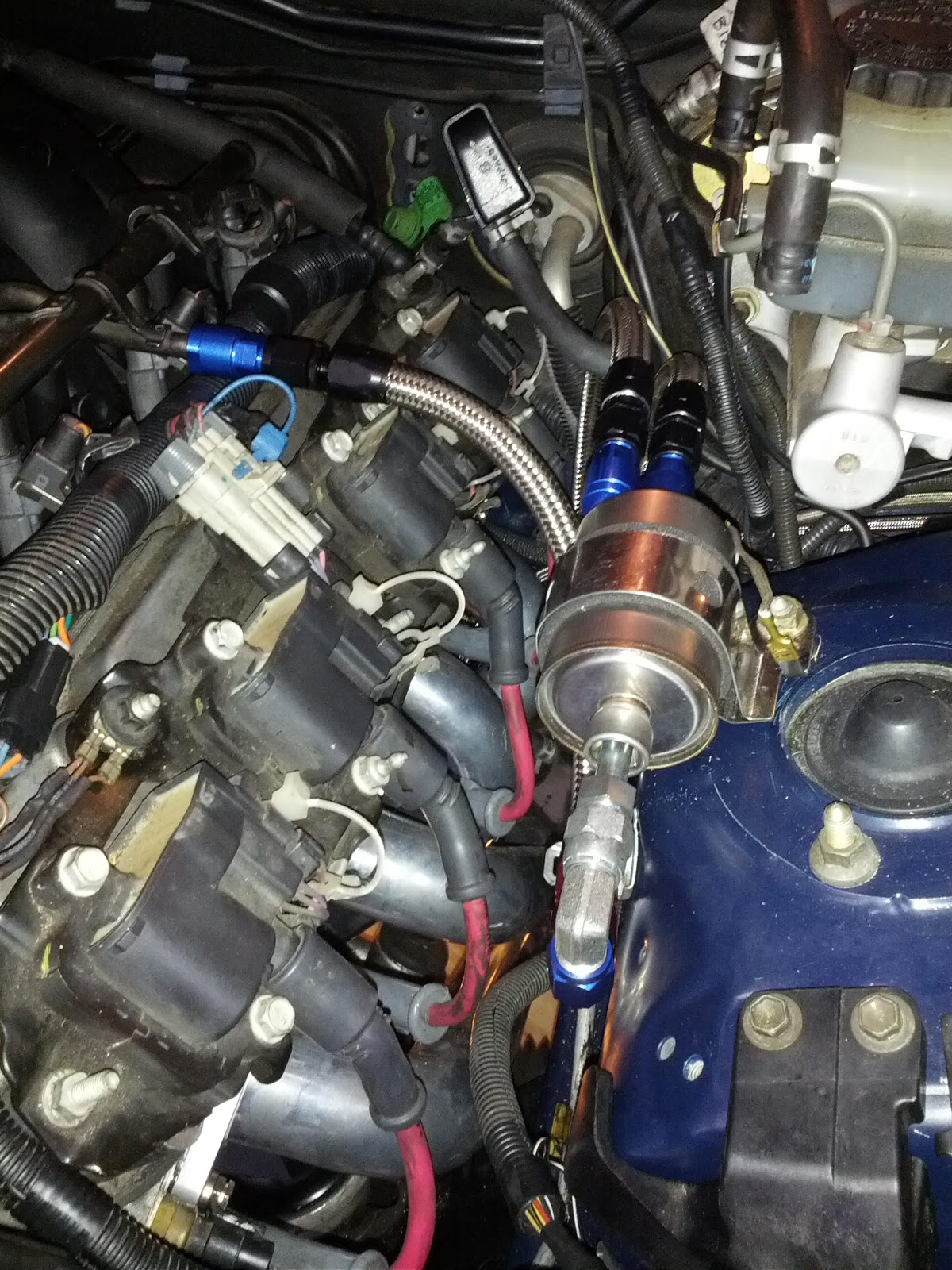 This one connector may not seem like a big deal but it was an adventure. It some how got unhooked when installing the engine and trans. As it turns out you can't plug it in when the tranny is in the car. So I had to drop the trans as low as it would go, drop the K member so I could drop the trans lower, then plug it in and reassemble.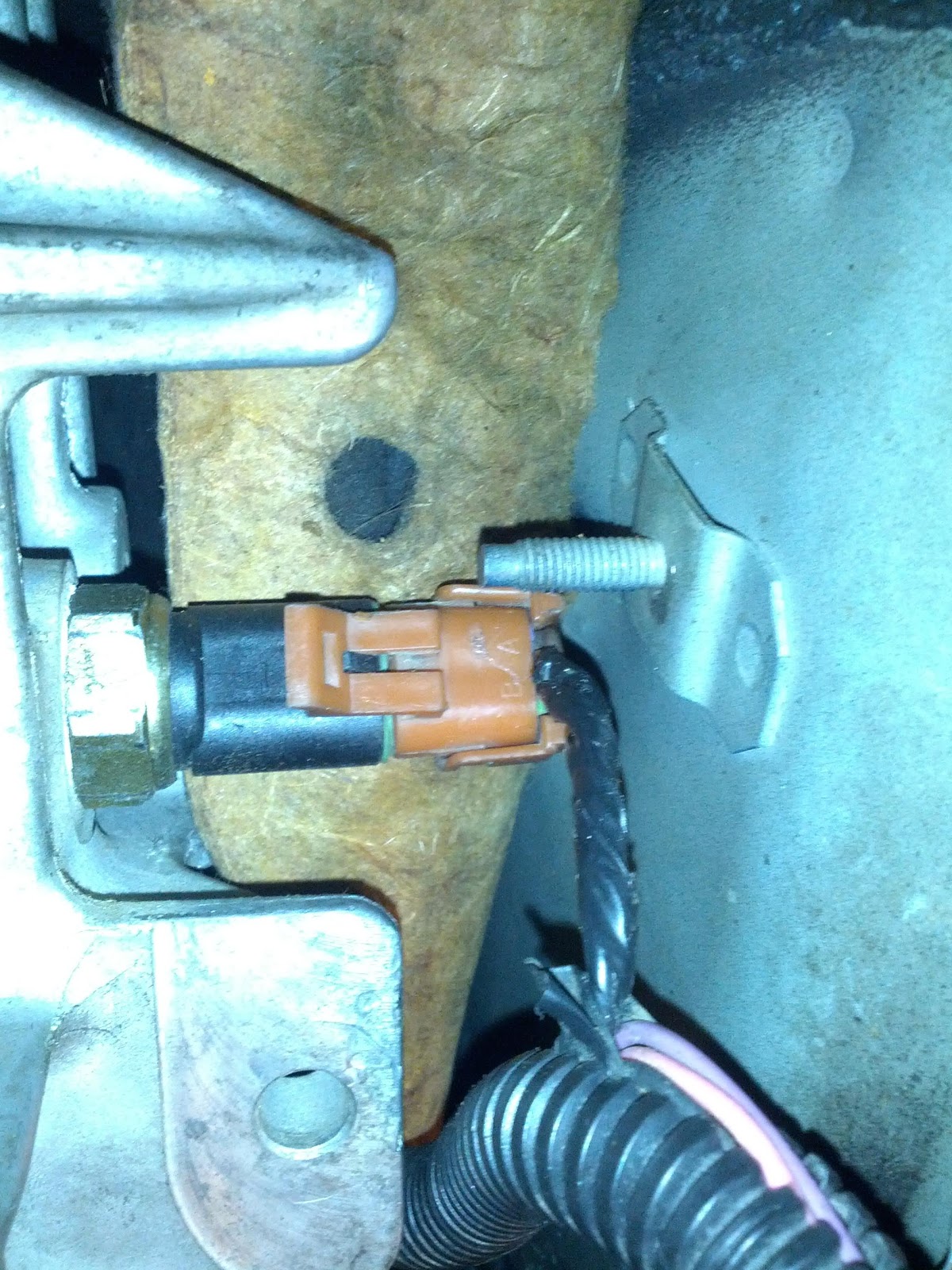 I got my radiator overflow installed and my upper radiator hose figured out.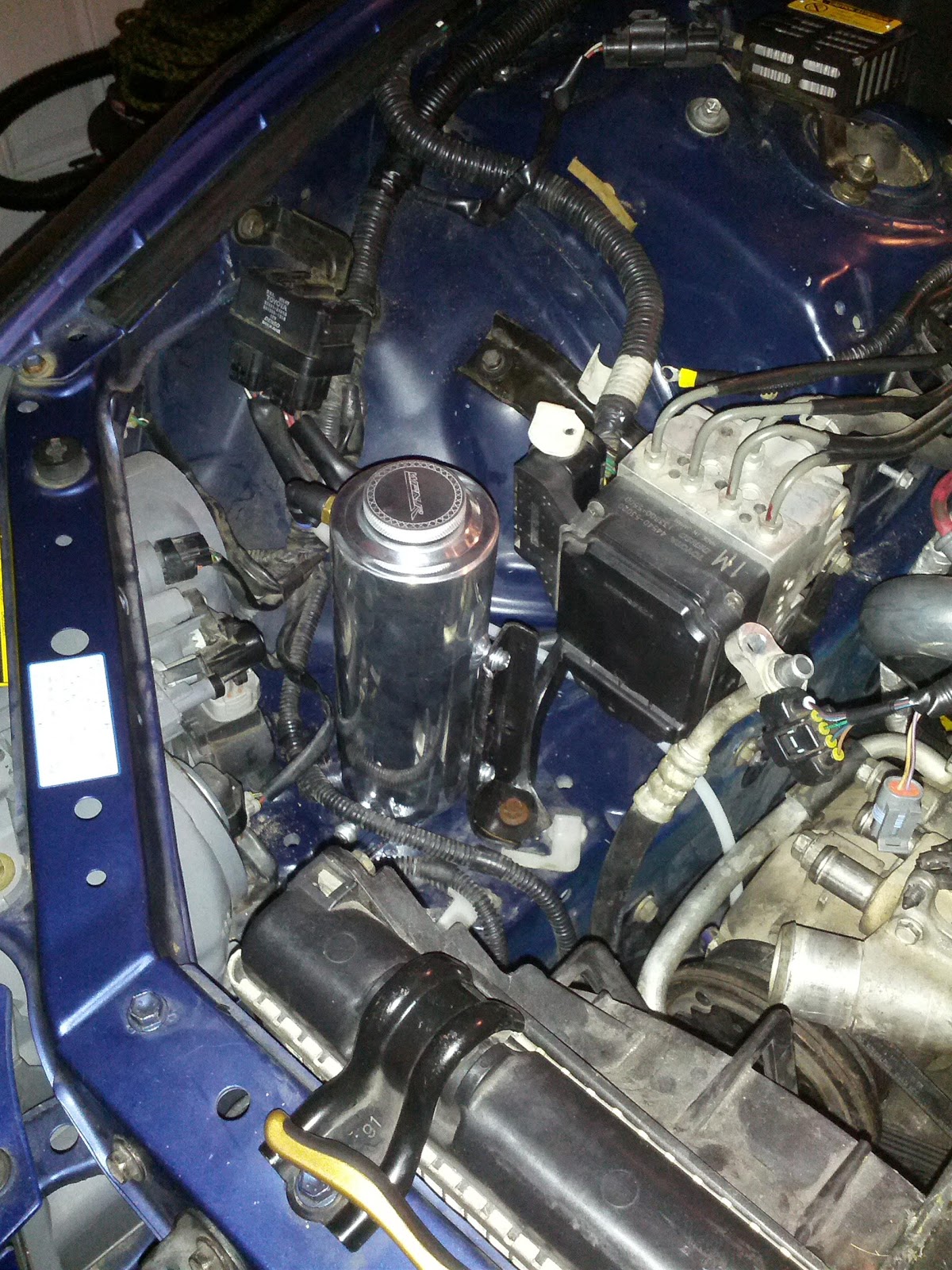 I also finished up the last of the wiring (still need to run battery cables and ground straps).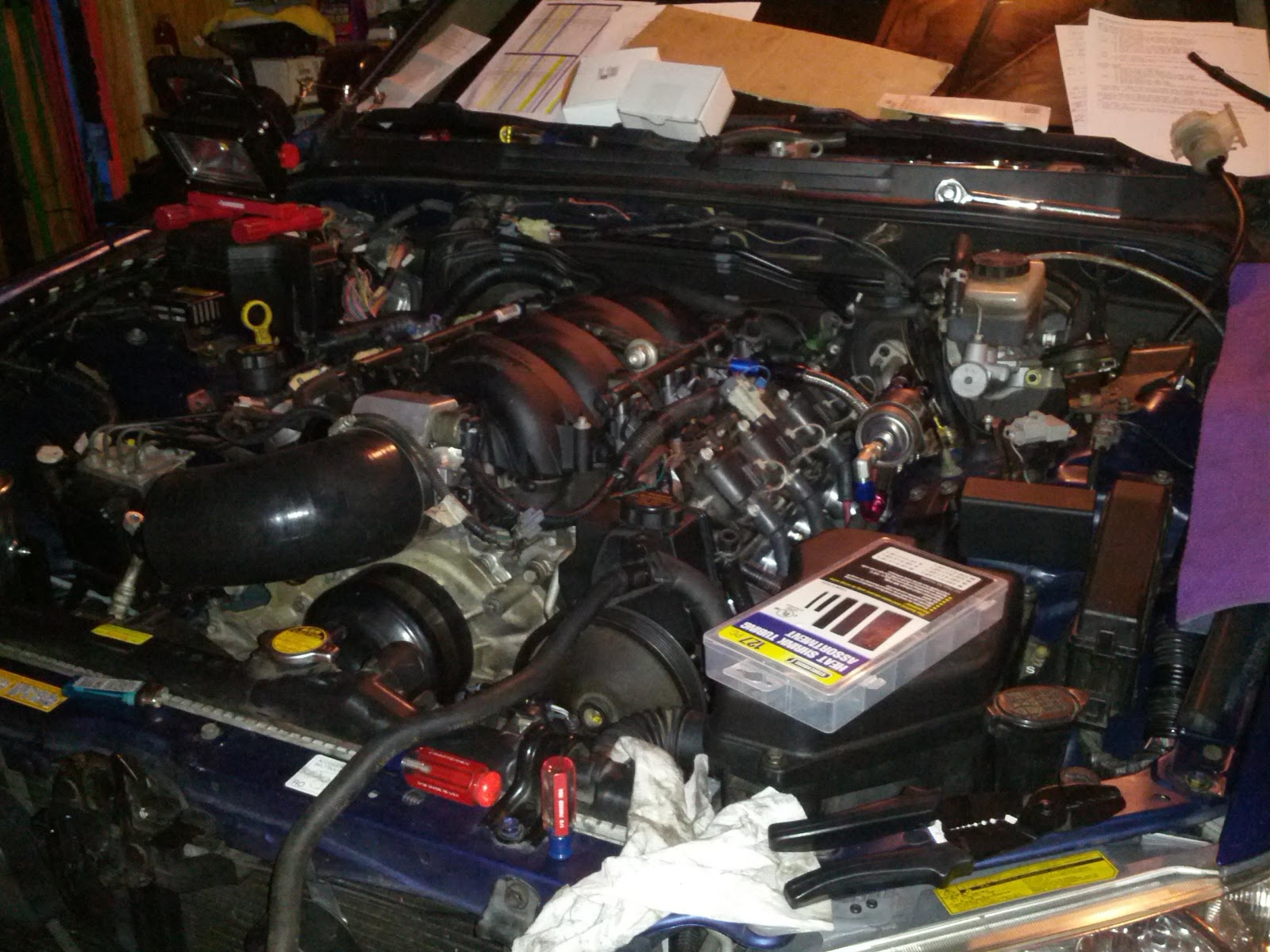 As it looks right now I should be starting it up for the first time next weekend, as long as I can get VATS turned off before then.
7-22-2013
Thanks, I had actually wondered if this would present any issues but figutred I would give it a shot. I'll just install the temp sensor off the 2J and run two sensors.
7-23-2013
So I got a call from my home owners insurance company and since we are just switching to them they came out to do a home inspection and it turns out I won't have home owners insurance if the donor car isn't gone ASAP. If anyone is local (or willing to drive a bit) the whole car is for sale. I realize this is a Lexus forum but if any one is intersted please let me know.
http://atlanta.craigslist.org/nat/cto/3954323411.html
I really do need this gone now.
7-28-2013
Today was a pretty productive day. I got my intake painted last night and assembled this morning.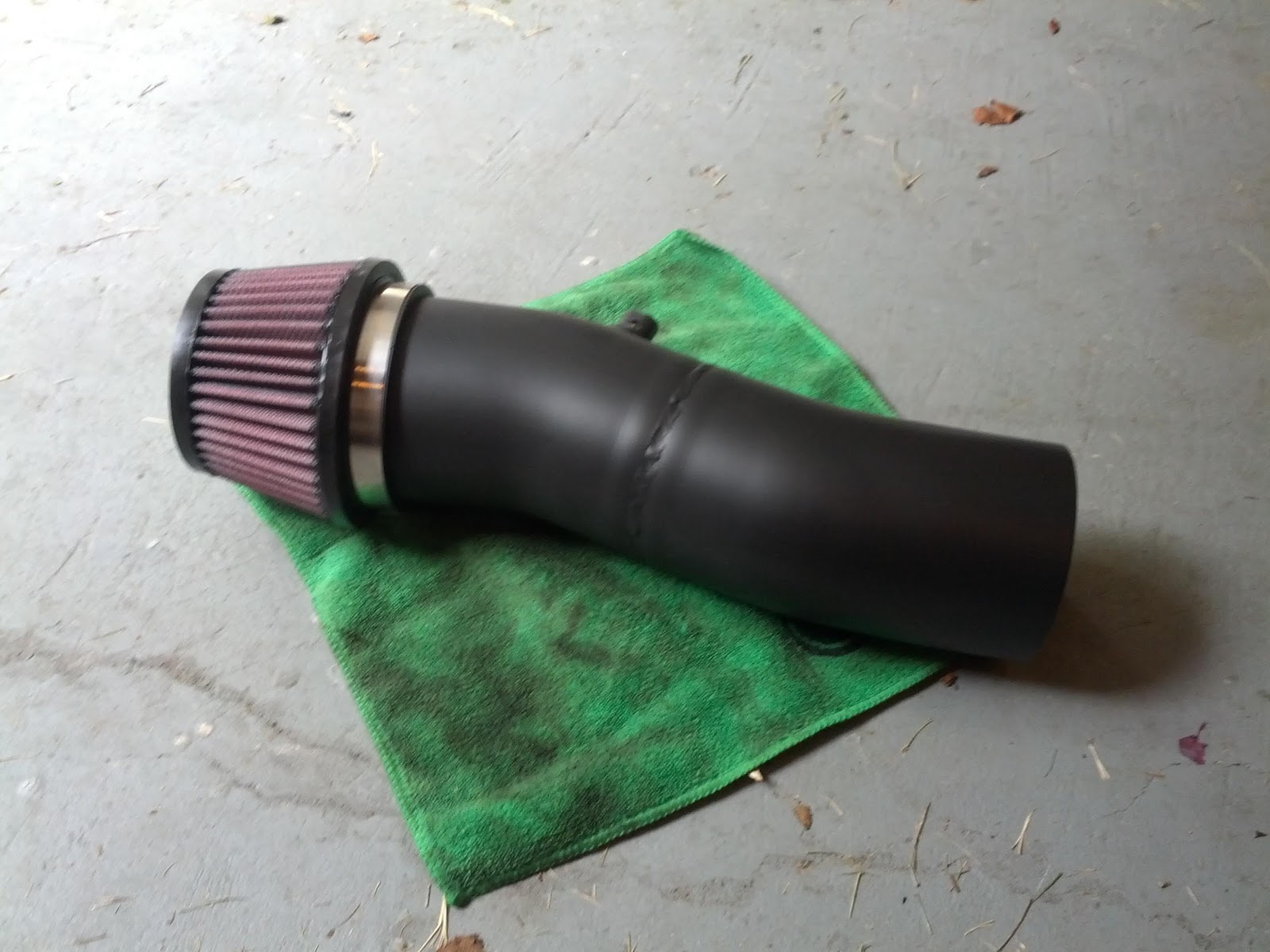 I had to splice together a couple elbows to make the lower radiator hose. However the upper radiator hose was an easy one to match up. This came from a 2005-2010 Cobalt/G5. Also go the heater hoses cut and installed.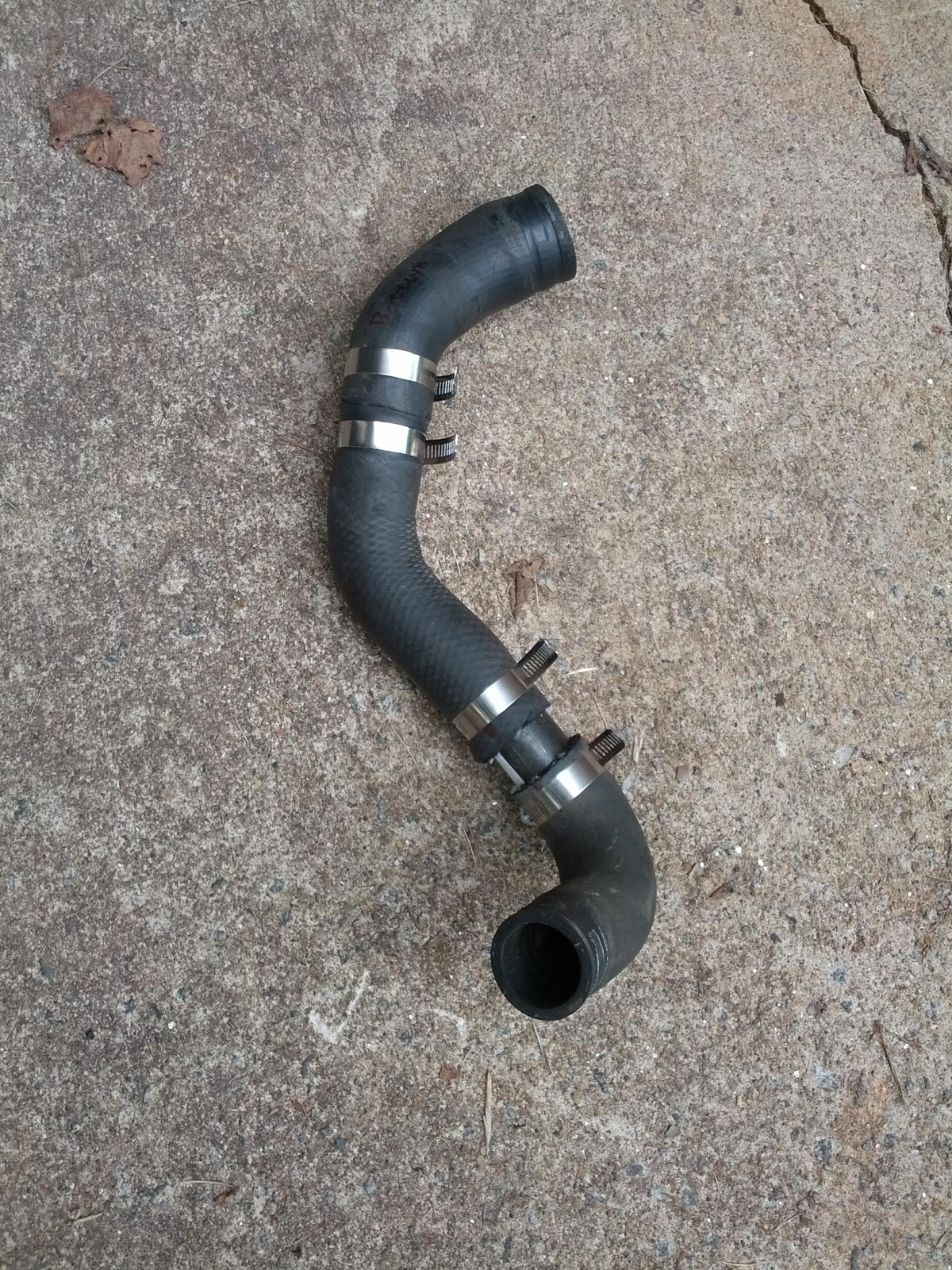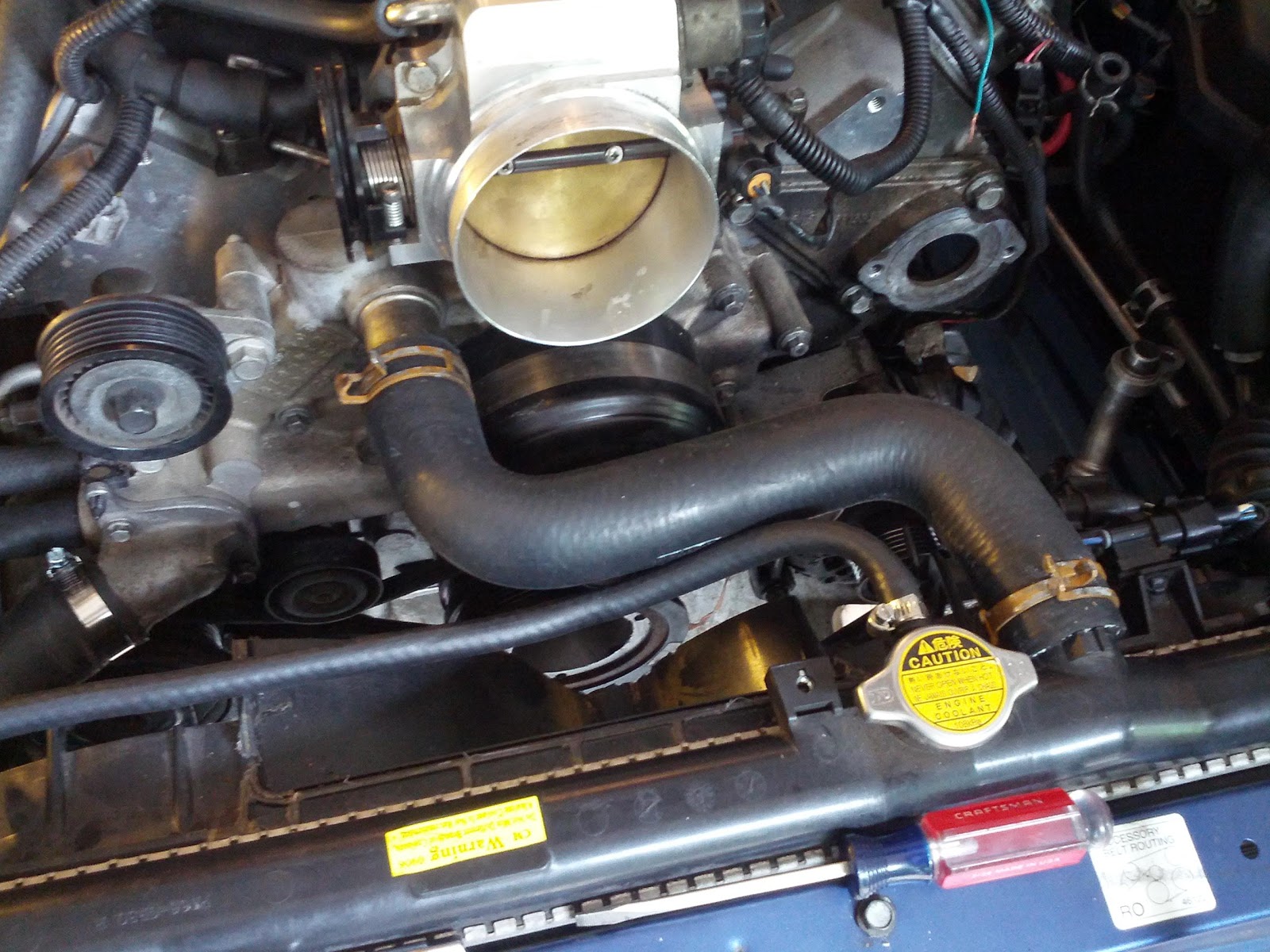 The battery is in the trunk and all the cables are pulled and hooked up. I still need to make up the power steering high pressure hose.
I still need to get VATS tuned out of the ECU (may happen tomorrow) and I discovered today that I didn't hook up the Neutral Safety Switch so I'll need to do that tomorrow before I try to start it up.
No pictures from today but I did work on the car. I got all the heater lines finished up, ground cables landed, and tried to turn the key...nothing. Turns out the "power" cable run to the starter was a ground. Just a little confusion there.
Once that was fixed I tried to start it again and wasn't getting anything. Turns out I didn't have my master cylinder adjusted right with my pedal and the clutch switch wasn't fully depressed when I was trying to start it. After I got that adjusted it did crank under it's own power. However the guy that was coming over to tune out VATS got rear ended on the way to my house and wasn't able to tune it out. We will get that taken care of one night this week and I should have a first start up video.
I still need to order a few parts to hook up the last power steering line. I'll work on the A/C lines once the car runs and I have driven it at least once.
8-1-2013
It's getting so close! I discovered the other day that I didn't have two of my switched ignitions wired right (they were constant) so I re-did both of those. The guy came by to tune out VATS and discovered that there is apparently something wrong with my wiring to the OBD2 port since he wasn't able to connect to it. He did have some pointers on the way I had a few things grounded, so we fixed those and it turned over and started to fire...then VATS took over. I have some trouble shooting to do in order to connect to the OBD2 port.
In other news the last few fittings came in for my power steering lines so that should get finished up tomorrow. Throttle cable also arrived today so that is hooked up and the pedal is back in the car.
Once we get connected and rid of VATS I'll have camera rolling for a first start up.
8-3-2013
I still haven't finished up the power steering but I did get the shifter in tonight. As well as figured out the issues I was having with the OBD2 port. I can now connect with the scanner so whenever I can get the guy to stop by again I can finally be done with VATS for good and start the car up for the first time.
Here are some pics of the shifter installed and the adapter I used to offset it back.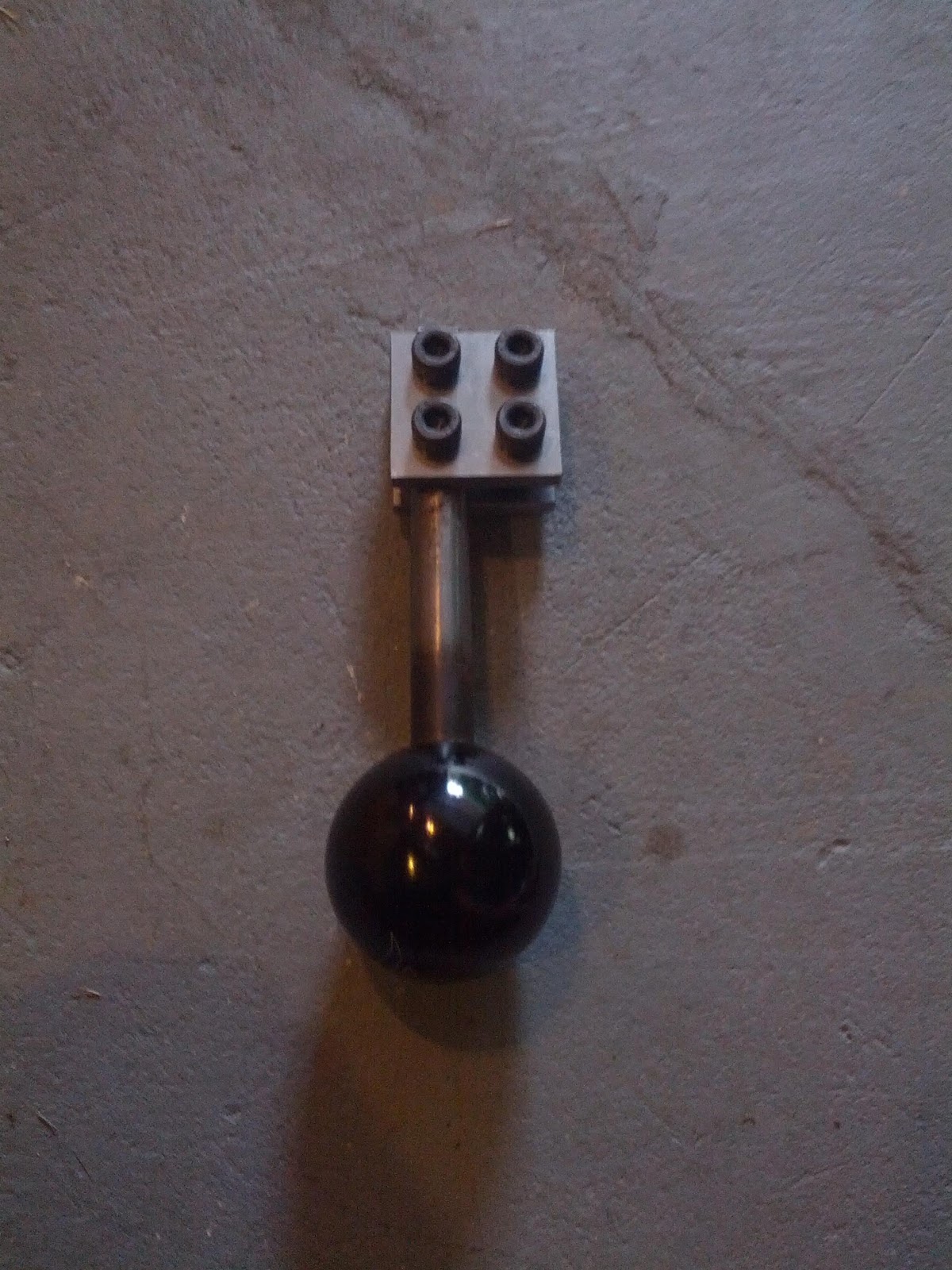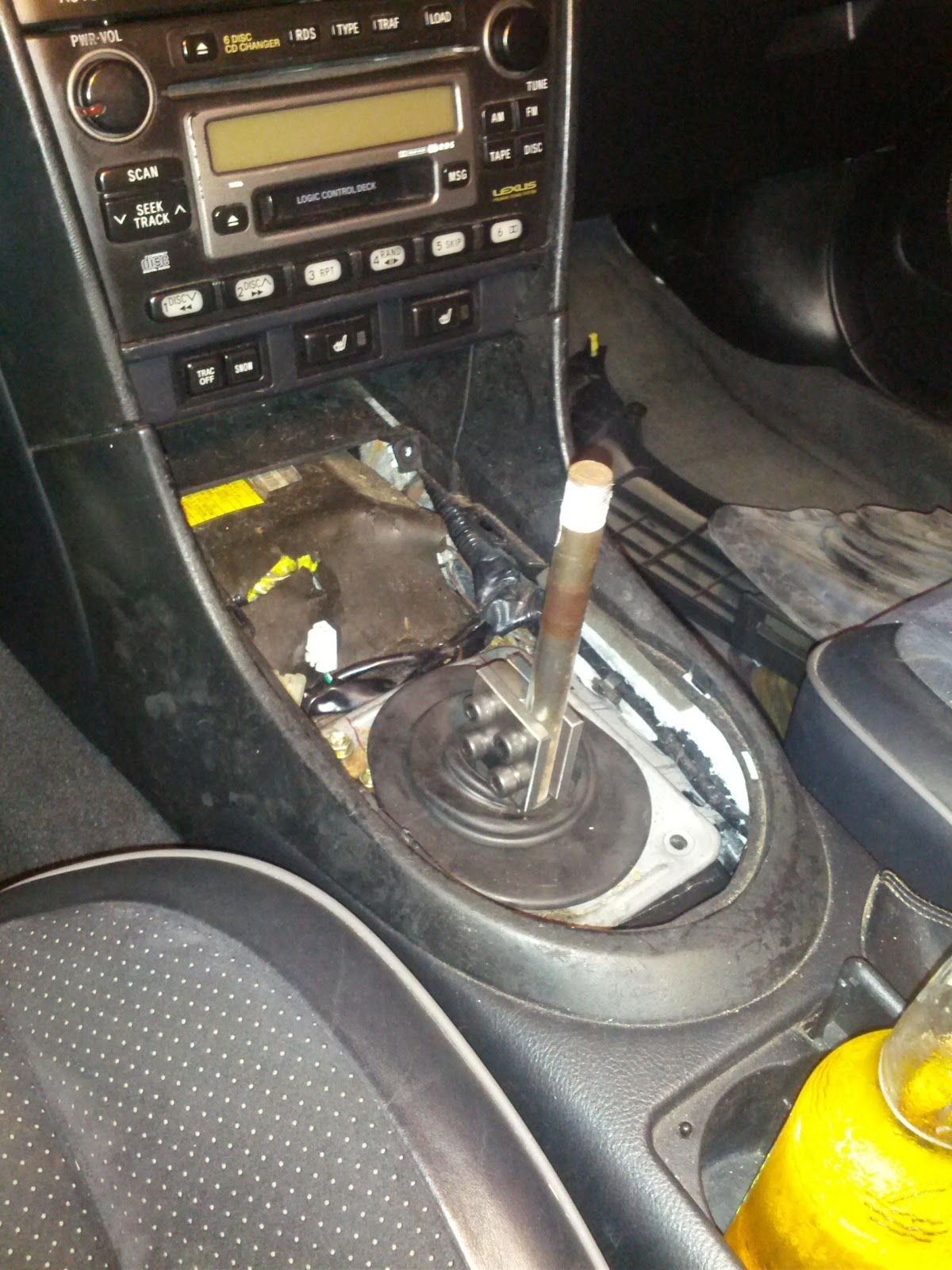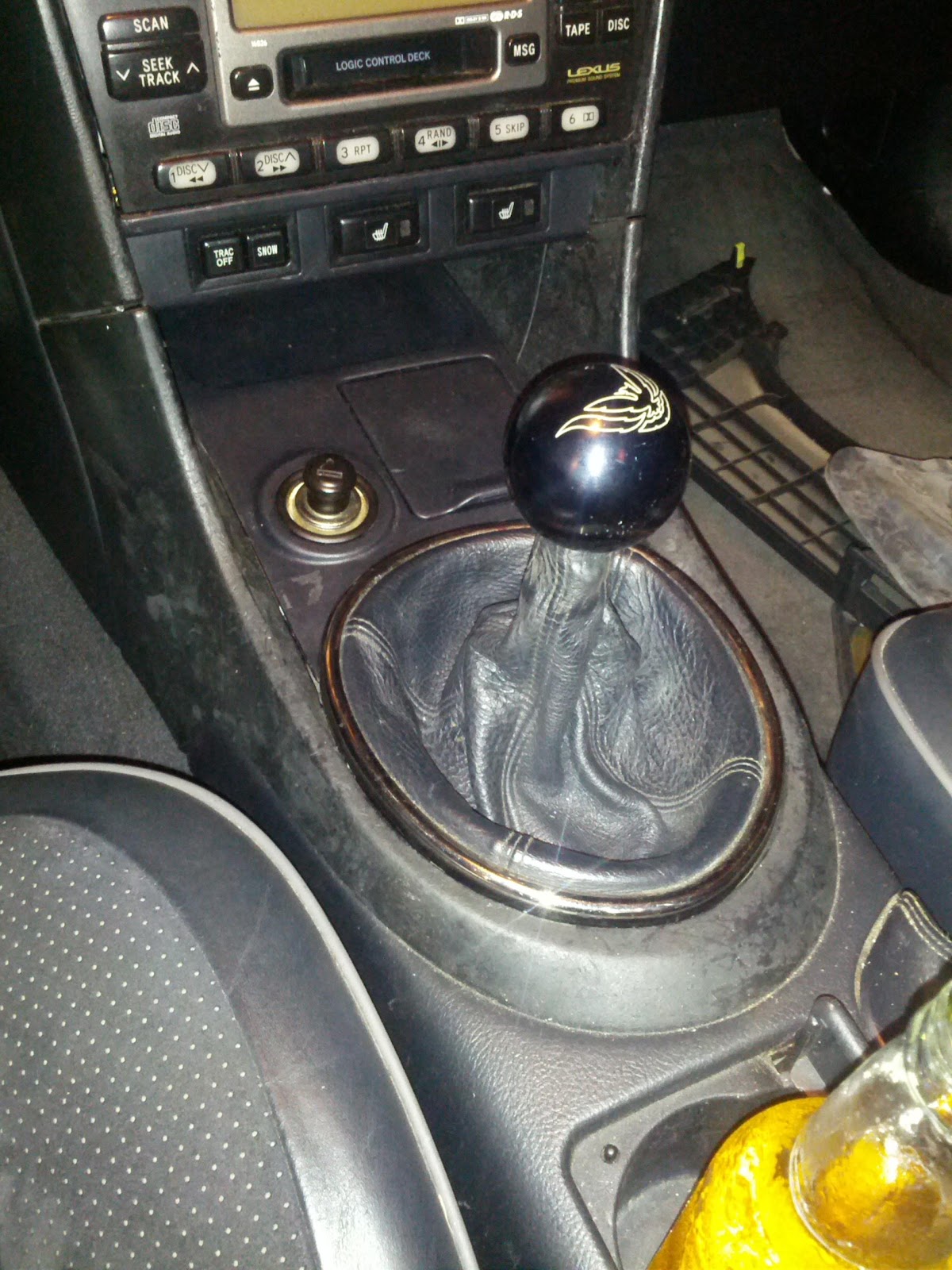 Eventually I will do something different for a shift knob, for now I'll rock the Firebird.
Thanks for the compliments guys. I guess I take for granted what I know. I have a Bachelors and Master in Mechanical Engineering and my full time job is as a Manufacturing Engineer in a production facility. None of the physical/mechanical portion of this swap bothered me. The wiring was the scary black hole and as it looks now I think everything is correct. I already started marking up schematics for the wiring to share with others. And I'm always happy to answer questions or share pictures if you want to know more about something specific.
I got to work on the car for a few hours this morning, we are headed to a wedding this afternoon so this will be all for today. It took me long enough but I have finally figured out how to assemble these hoses pretty consistently.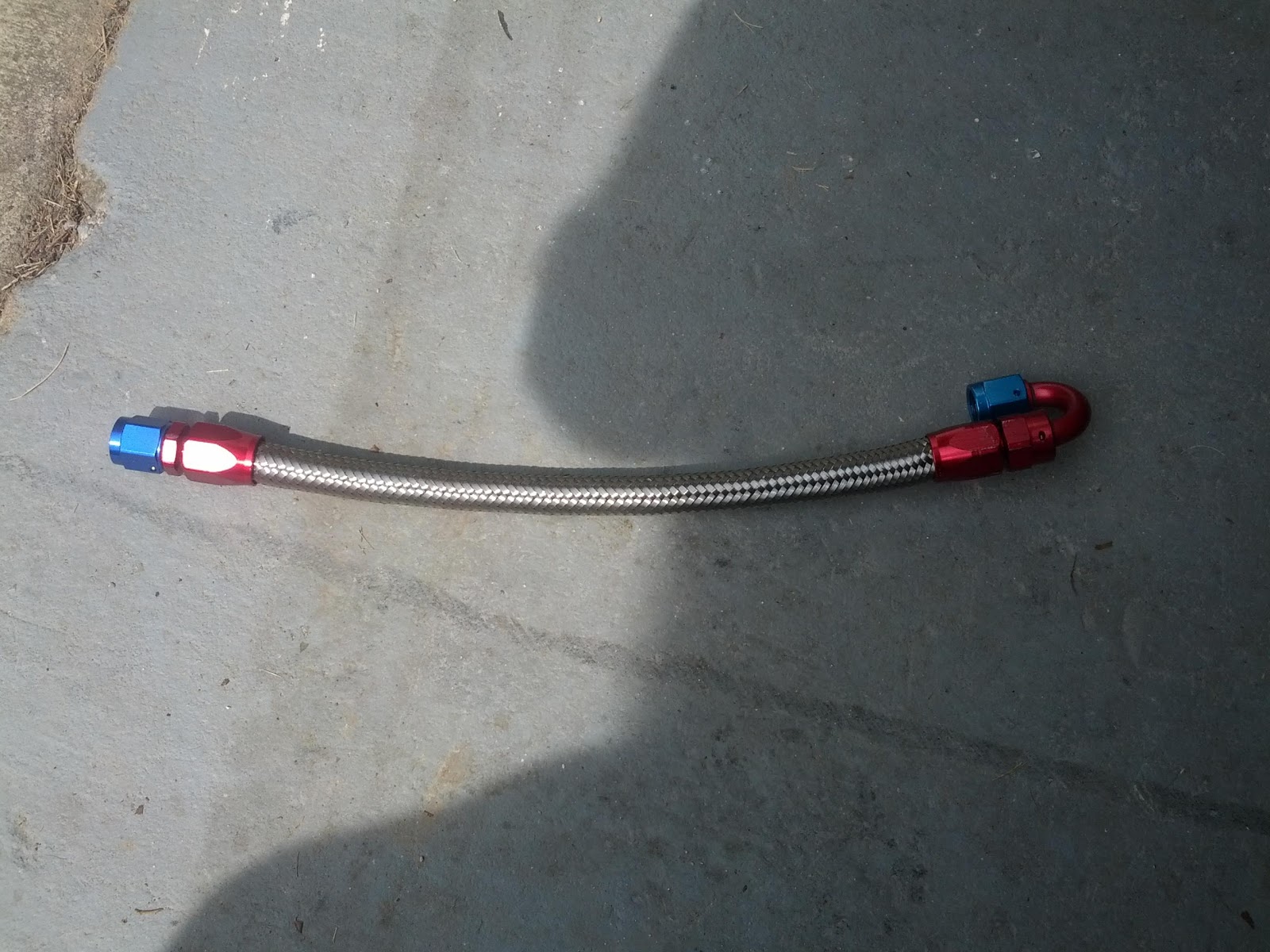 This finishes off the power steering system. Here is where it meets the rack.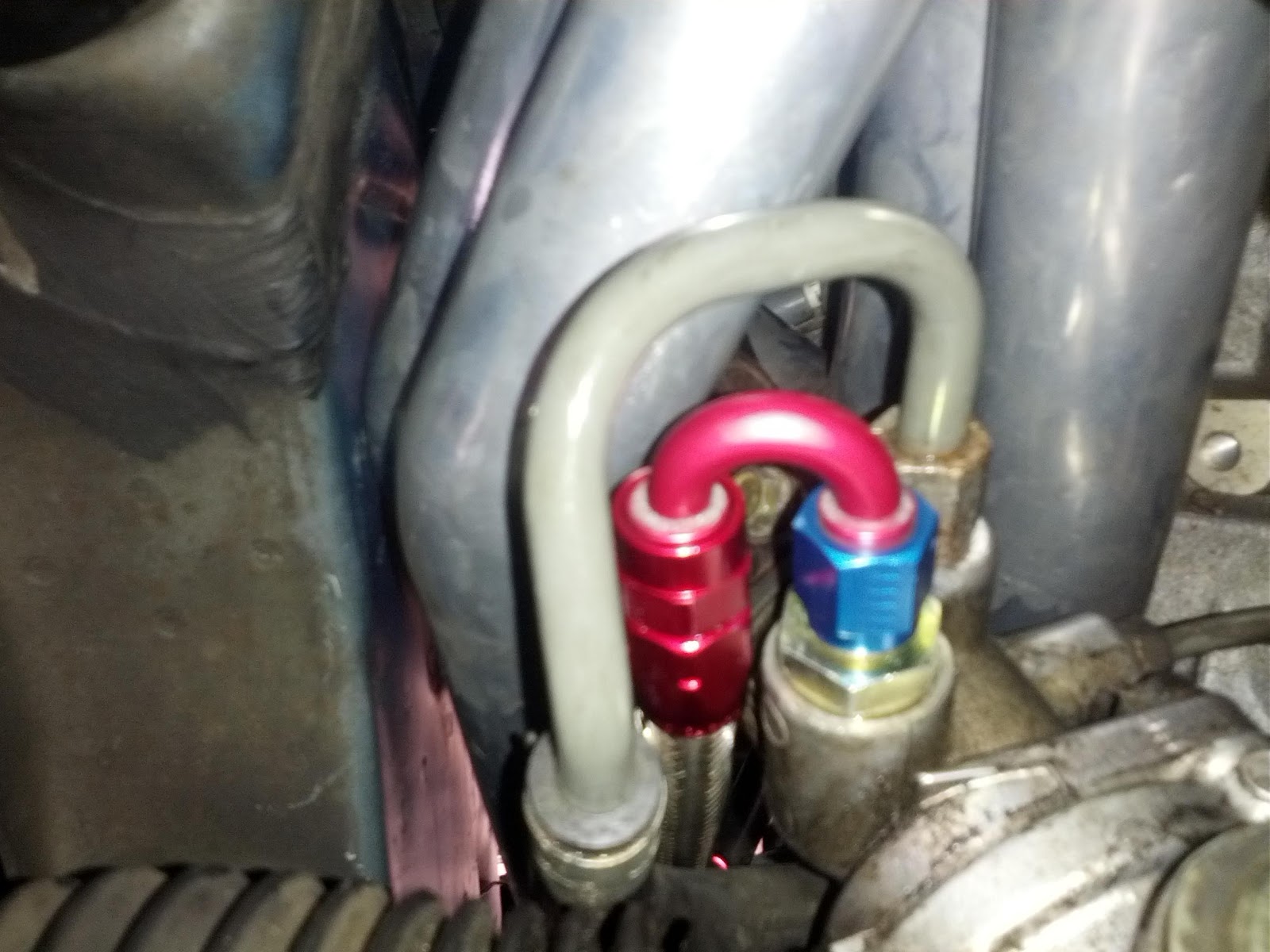 It's tight but everything fits. And here it's spliced into the GM line off the pump.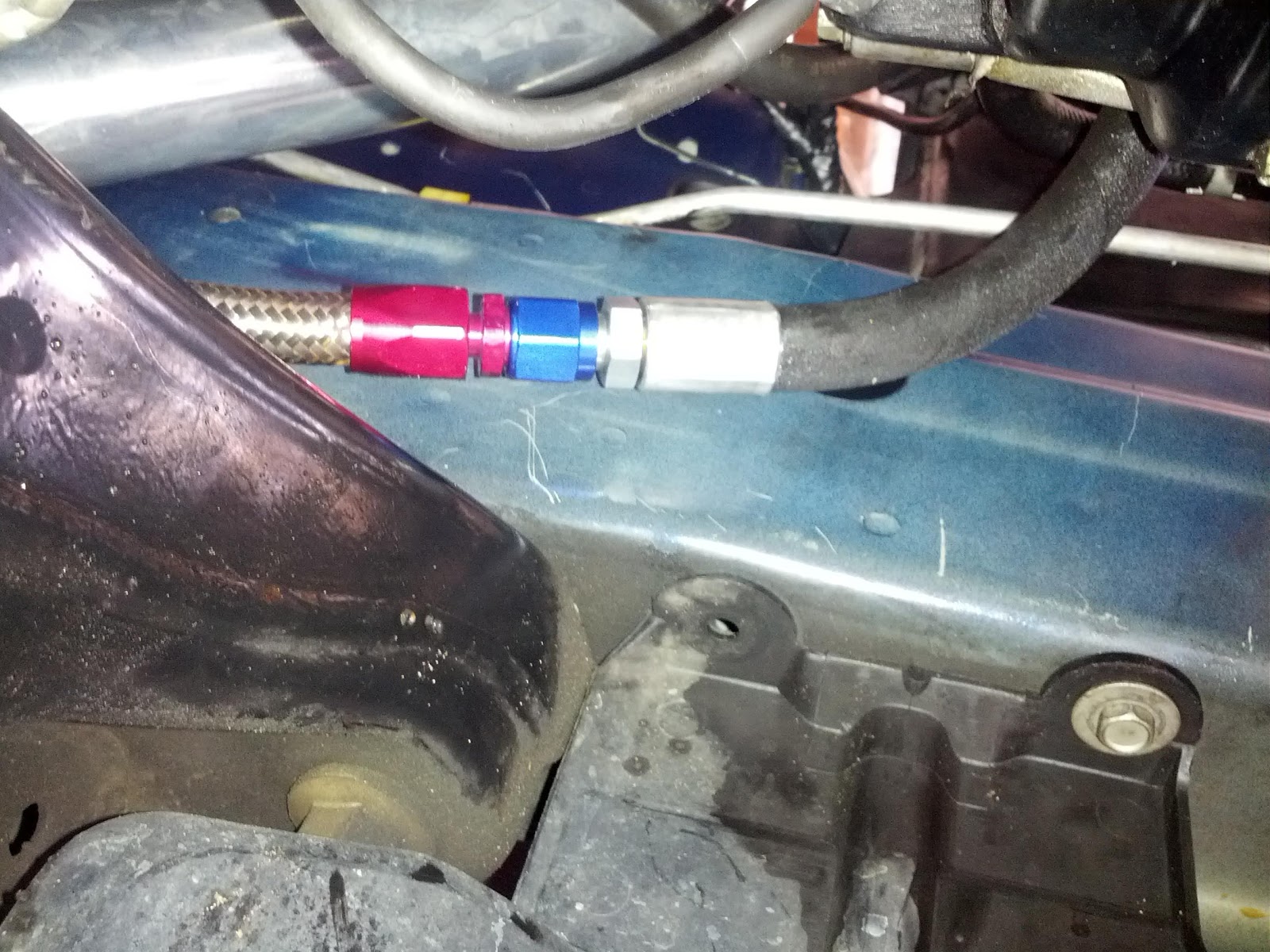 The belt is back on, and I started installing the intake when I realized I had to grind a little to plug in the Lexus MAF. I thew a coat of paint on it where I had to grind and will install it for good tomorrow. This is what it will look like in the end.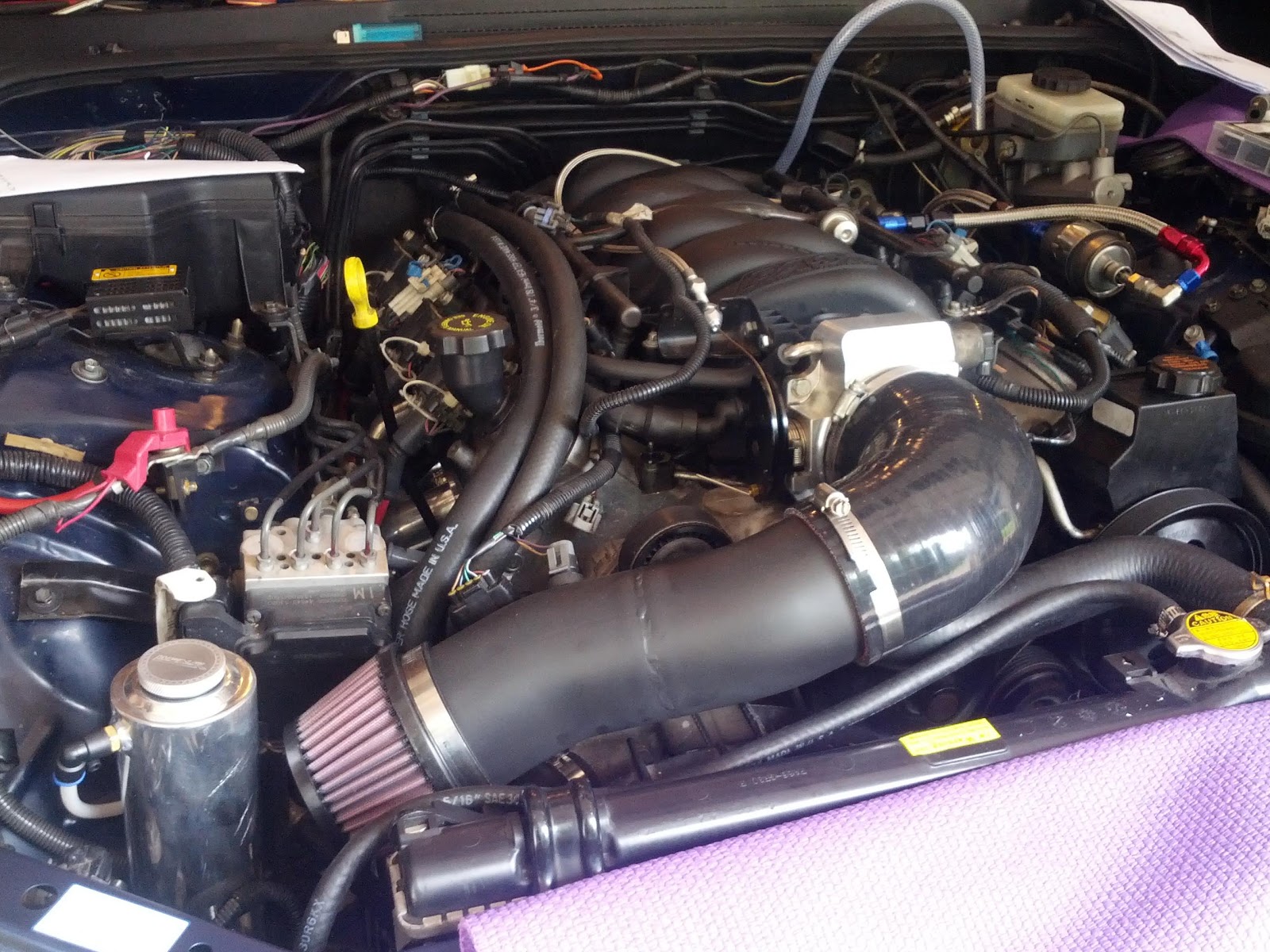 8-4-2013
Get VATS turned off. Then it starts.
8-5-2013
So I got to look at my OBDII wiring again today, this makes the third time. When I thought I had it yesterday it turned out I was picking up the 2JZ not the LS1. For some reason the wire I have pulled into the car isn't happy. I ended up soldering in the connector from the Trans Am at the ECU and can now connect...Finally!
I got all the hoses tucked away today. The last couple grounds landed. Battery mounted in the trunk. Trimmed the vette covers to fit my dipstick and larger intake. And got my intake piping installed. Here are some pics.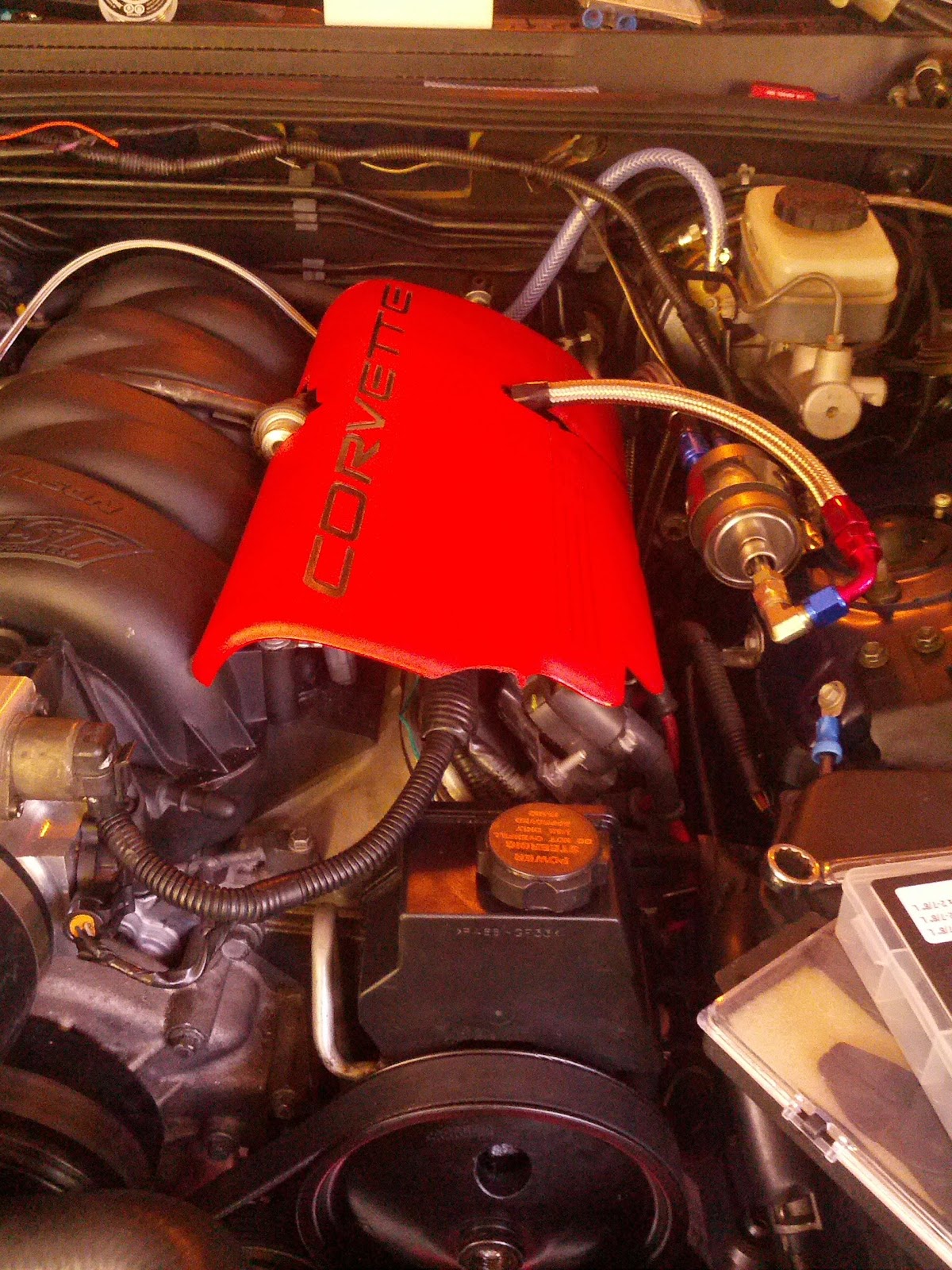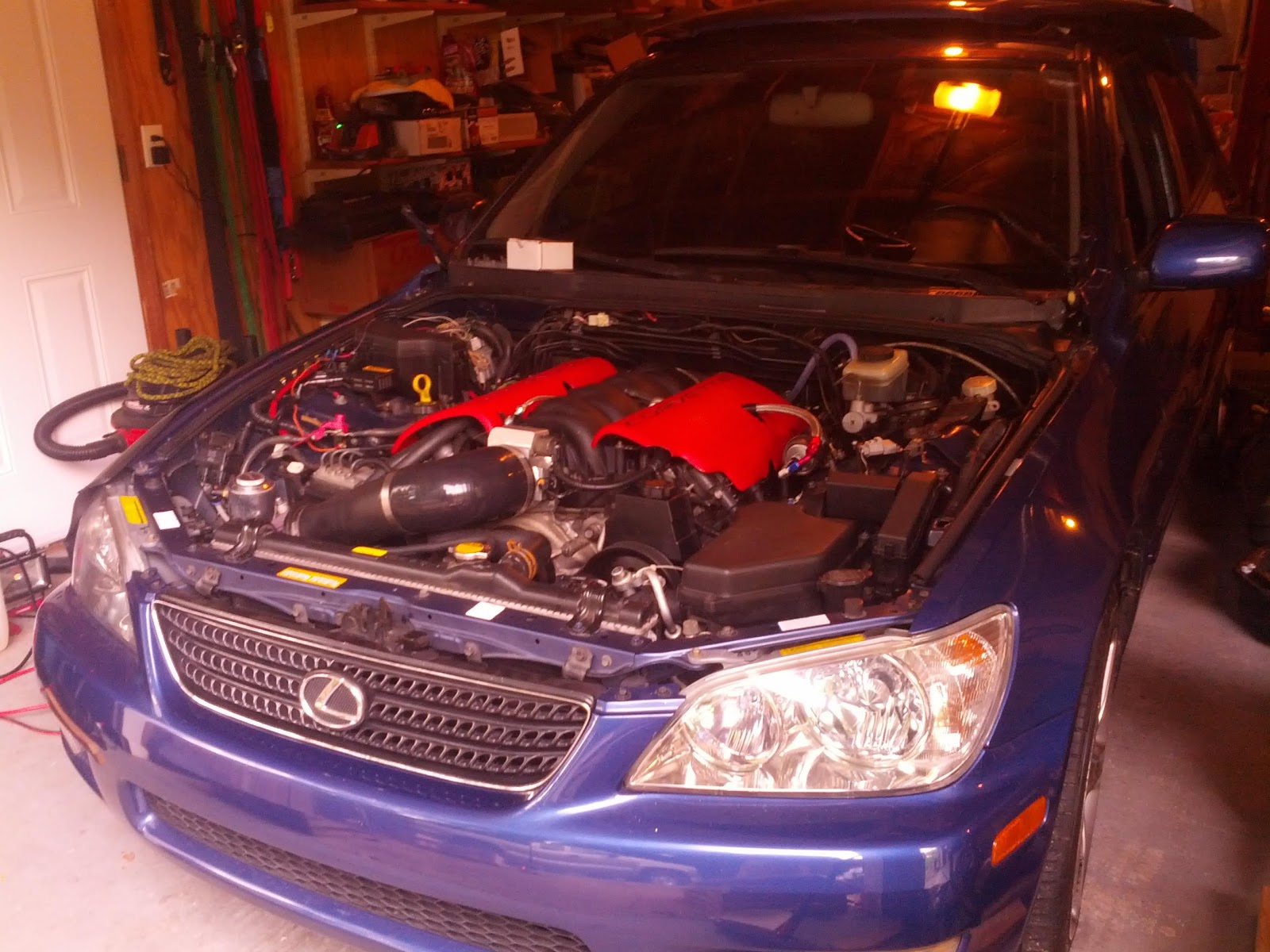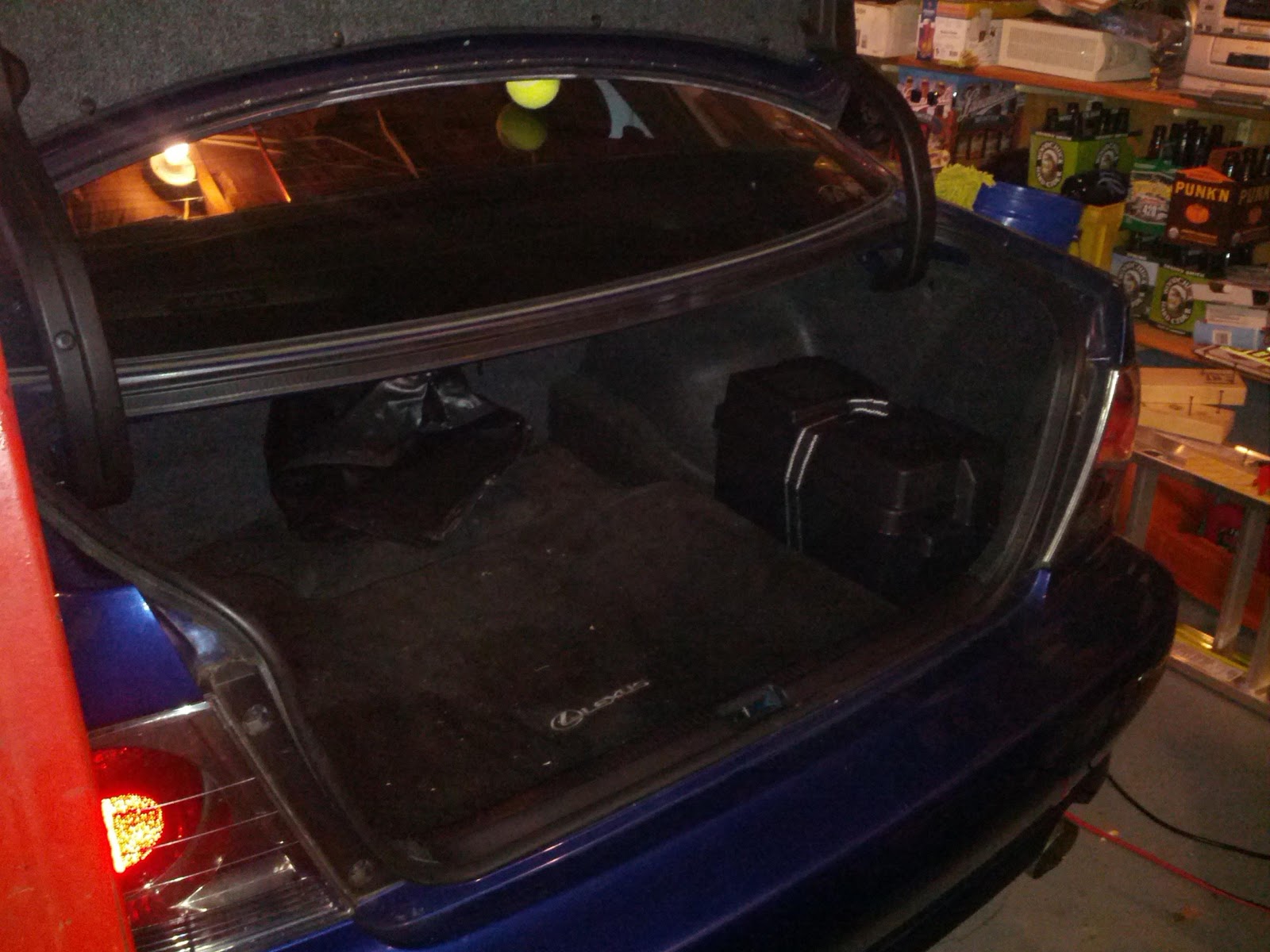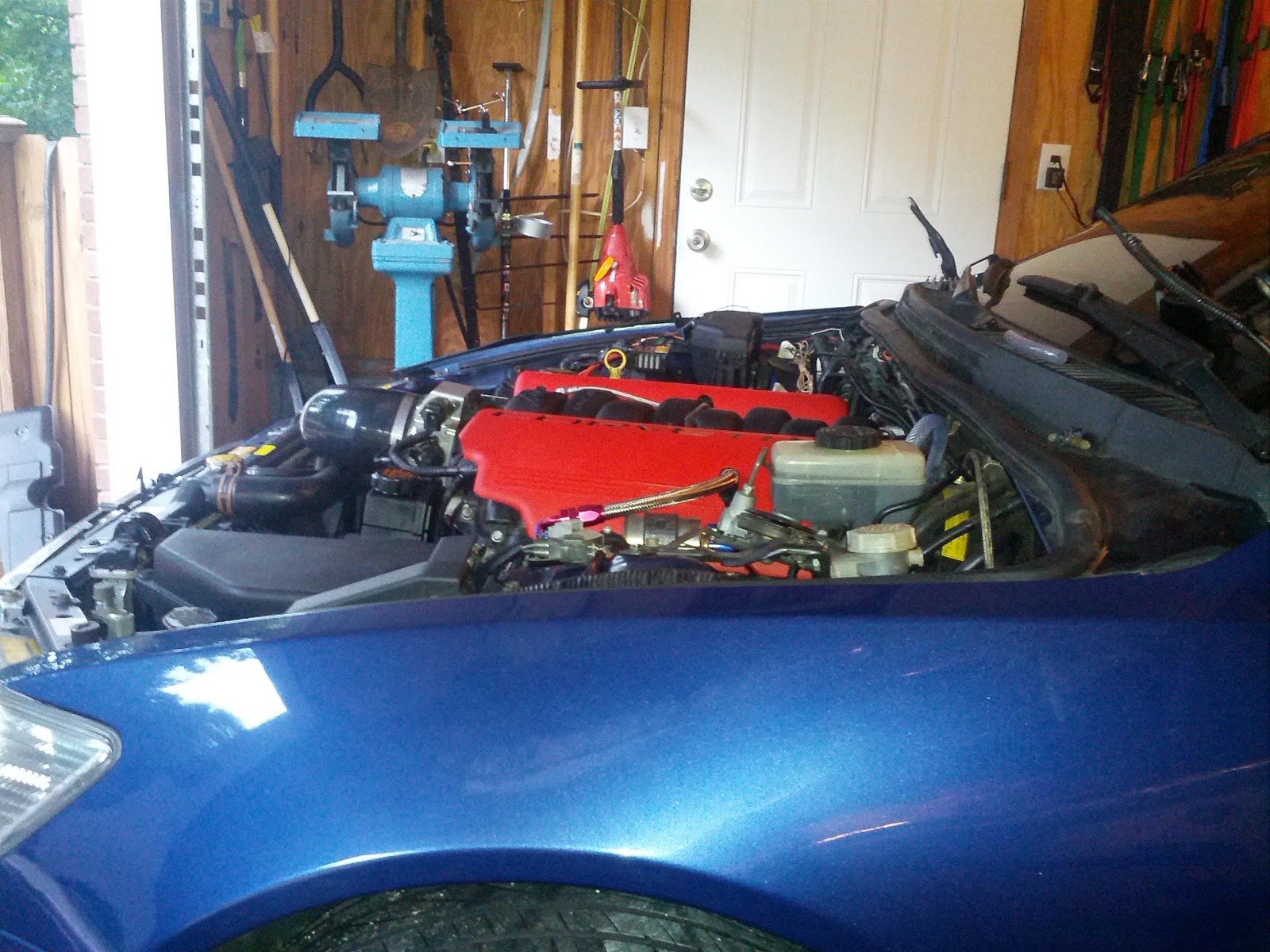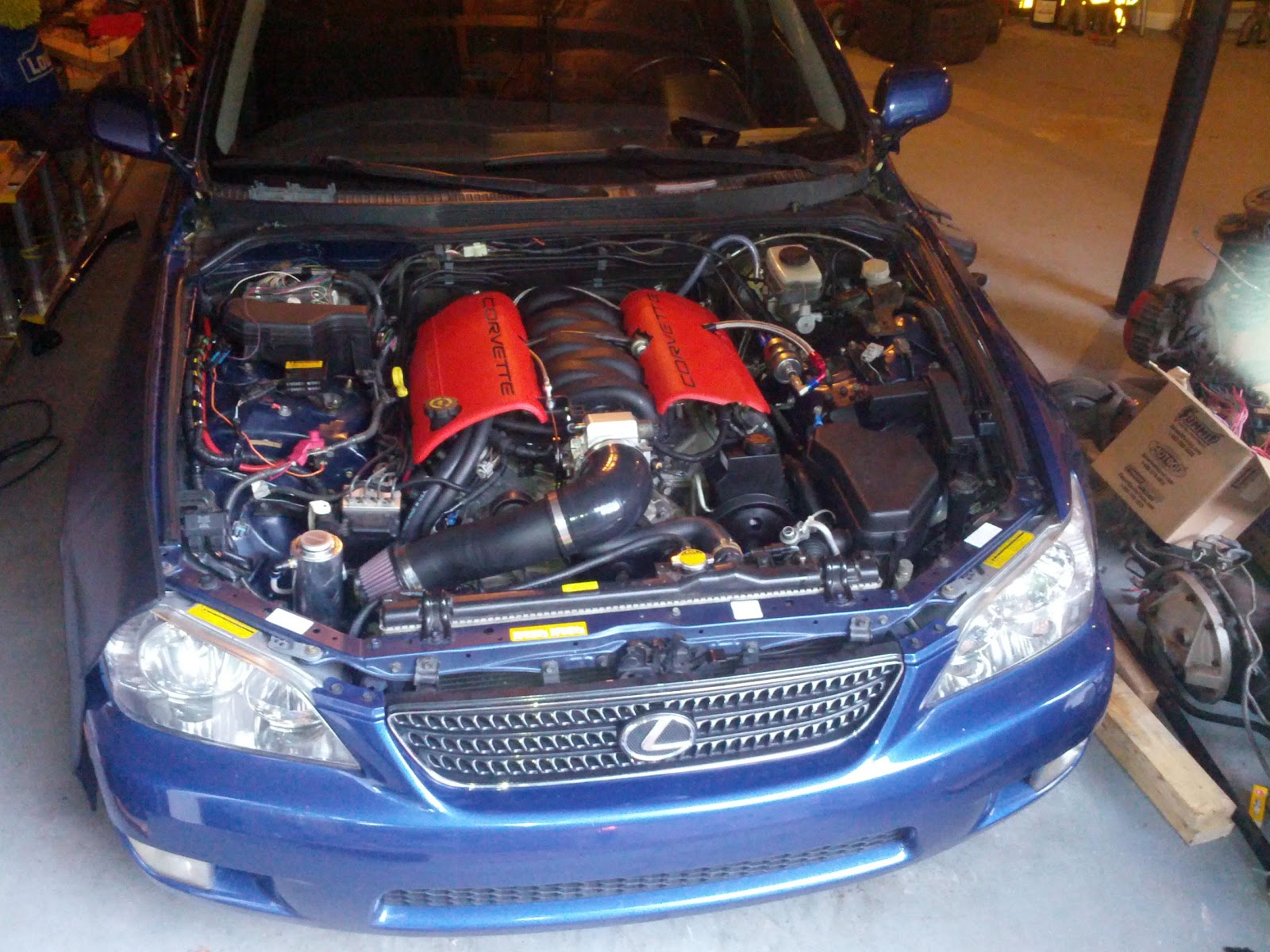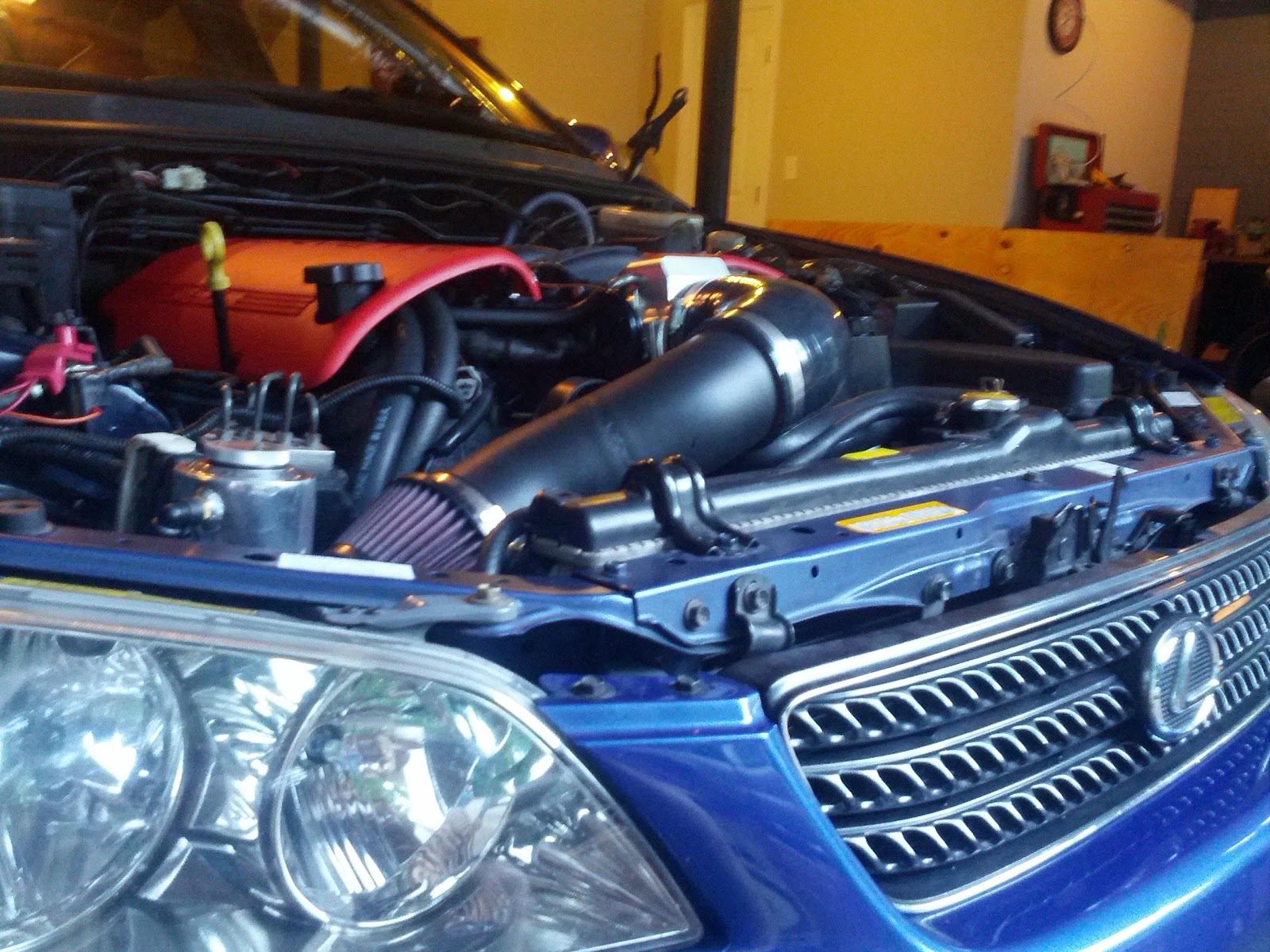 If it starts this week, the next step is off to the shop for exhaust and start driving it. I'll still have to make up the diff bushings and work on A/C though.
8-8-2013
Big milestone. Got all the sensors, issues, etc fixed with the tune last night and discovered I had a wrong wire on the fuel pump and wasn't getting any fuel pressure. I spend several hours and a bunch of trial and error (solder joints) later got the wires right. I committed to the shop that it would get dropped off tomorrow after work for the exhaust to be built...so it had to run tonight.
Here is what everyone has been waiting for, the first start up video. Open headers backed into the garage are loud and don't come up well on a cell phone video, but oh well, she runs!!
Just got back from dropping it off at the exhaust shop. If everything goes well tomorrow I should be driving it home after work.
8-9-2013
I did it with a manual IS. I haven't done this swap before so I am only guessing at auto but you would need the full clutch/brake pedal assembly, some massaging of the trans tunnel at the shifter hole, and a bit different wiring with the dash indicators and clutch switch. I know it has been done before, that was what Dedicated Matt used the first time and I believe a few others as well.
I just DROVE the car home from the exhaust shop and while it was awesome I have a few bugs to work out. My steering wheel is sideways (from pulling the knuckle to install the headers). I have an oil light, flashing seatbelt light, flashing ABS light, flashing Trac Off light, and flashing low fuel light. The biggest issue on the dash is that I have no Speedo and I have no idea why since I was under the impression that was driven by the rear end not the trans. I also REALLY need to replace the diff bushings.
Otherwise it was awesome.
8-12-2013
I was able to wrap up several loose ends this weekend. The power steering leak I knew about and already had a new reservoir on order so that was an easy fix. The coolant took a bit more work, it turned out I didn't have the steam vent hooked up right and it was bleeding though the overflow. It only took me four trips to The Home Depot to get that straight.
Of all the issues I had the lack of speedo (which I was the most concerned with) was the easiest to fix. As I came to learn every IS300 in 2001 used the wheel sensors through the ABS module to read speed. From 2002-2005 this only applied to the auto cars. Factory manual cars had a VSS on the trans. What makes things nice is that all the pins are there to make the manual read speed like an auto. I followed the instructions here to get it working.
http://my.is/forums/f221/diy-auto-ma...ometer-443995/
Next on the list is diff bushings. Mine are blown and get a really bad oscillation under part throttle. If I am off the gas or under heavy acceleration everything is fine.
I also took a quick video of the car idling in the drive with the new exhaust. Enjoy.
As it was over 90 today I need to start looking at A/C soon.
8-14-2013
I meant to post up last night but didn't even get home till almost 1 and still had to get up for work at 5:30. At any rate after work last night a buddy of mine helped me get the diff bushings out, then make and install the new ones. His dad owns a diesel garage and let use a bay after hours. Needless to say there was plenty of room.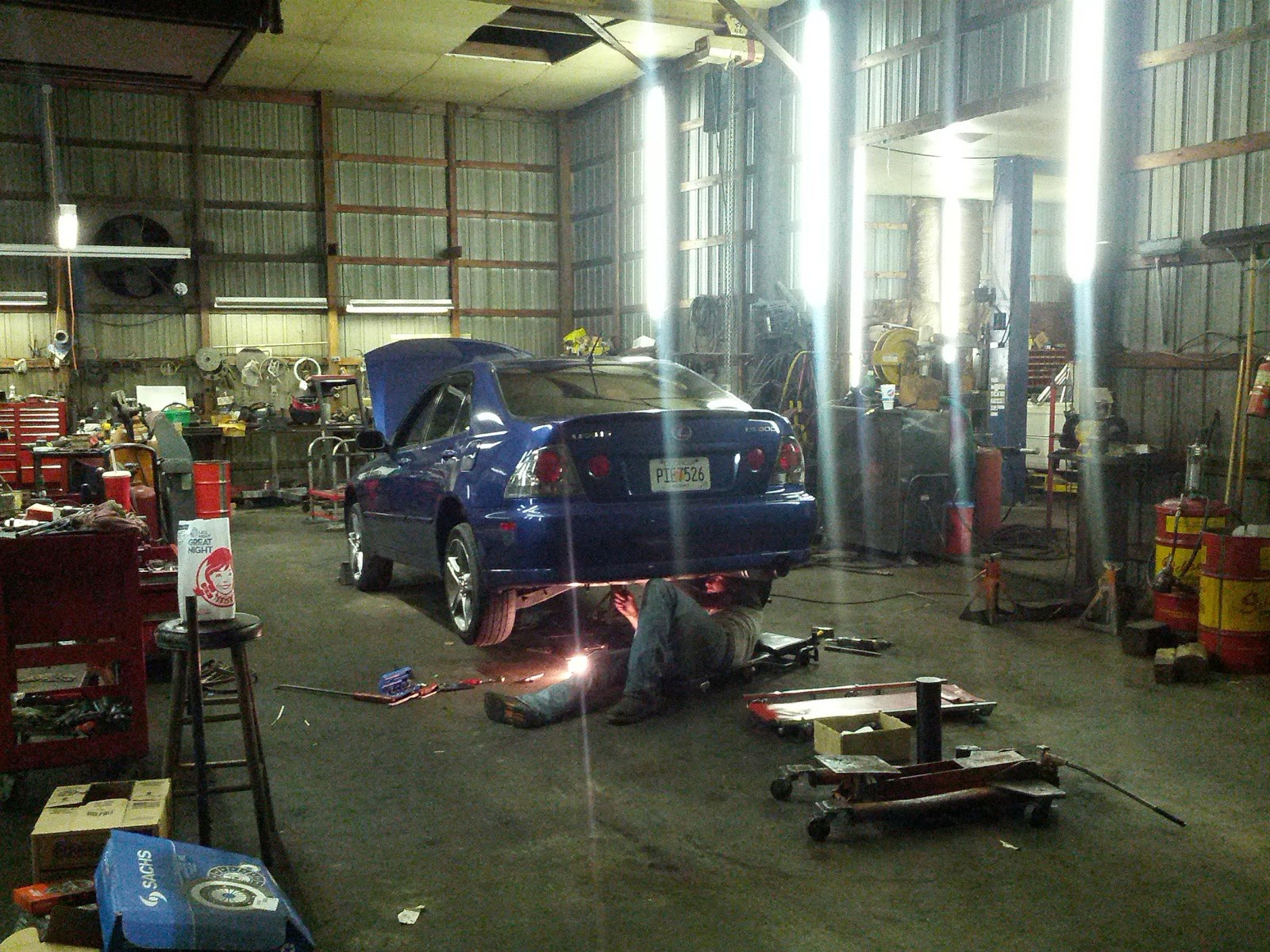 It didn't hurt having the right tools, and by right I mean really big and beefy!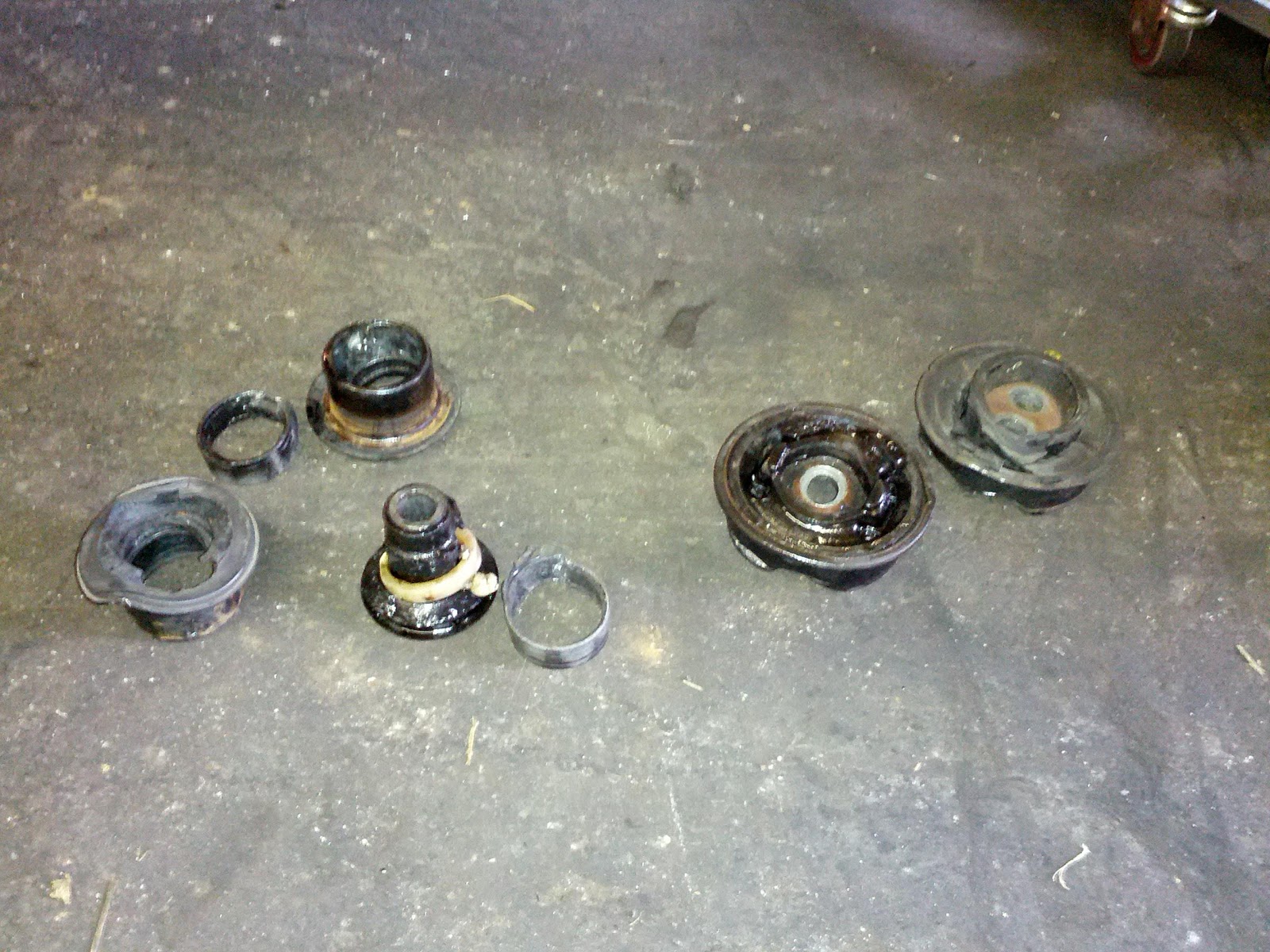 We found the best way (only way that worked for us) was to use an air chisel and drive the old bushings out. I knew they were bad but didn't know just how bad. One of them didn't even have fluid in it anymore. We did a pretty good job of destroying them on the way out but still had enough there to get dimensions from to make new ones.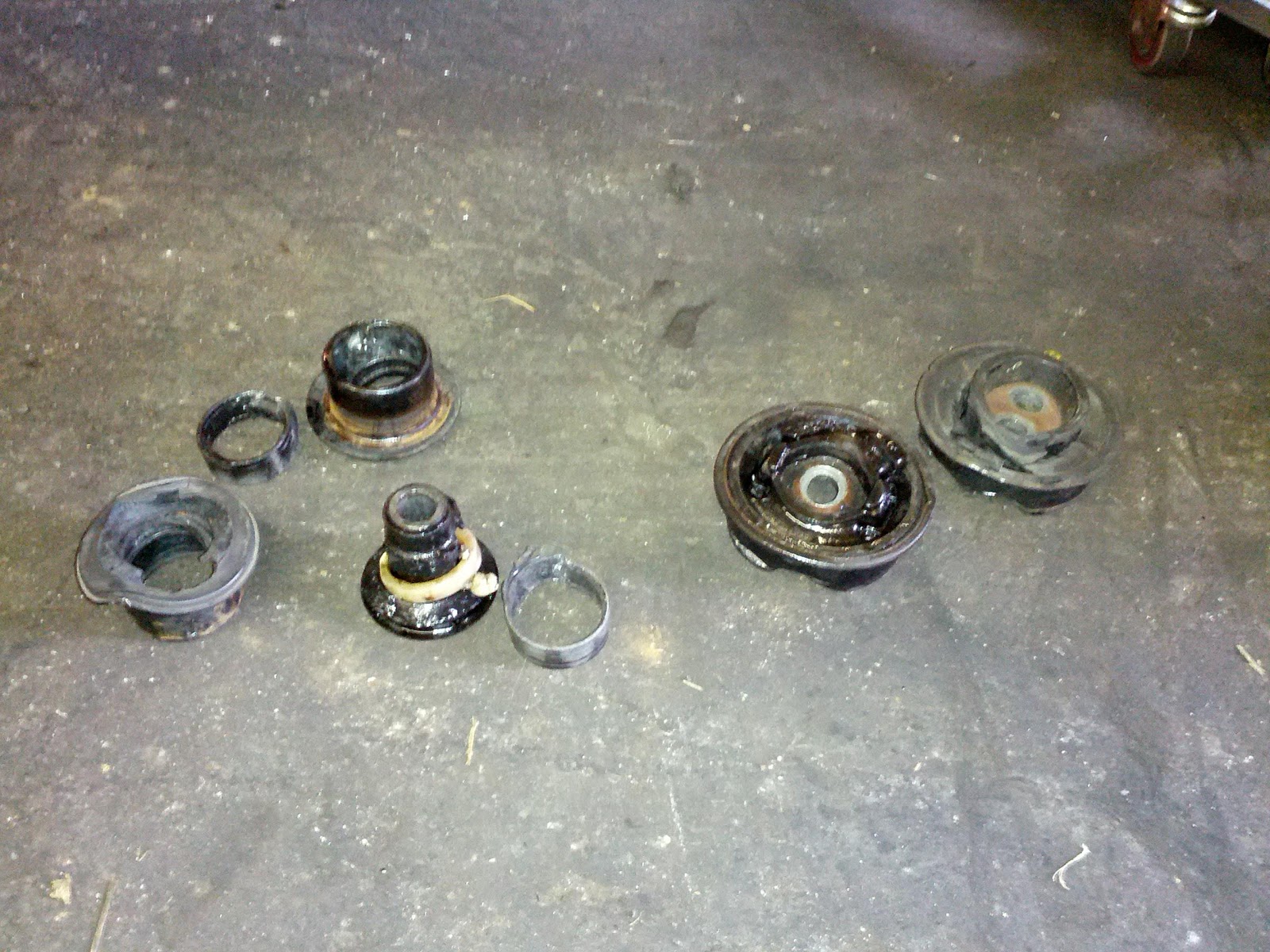 I decided instead of aluminum I would try with Delrin (high density plastic). This should give me enough strength but still allow just a little bit of give to help keep the vibration down.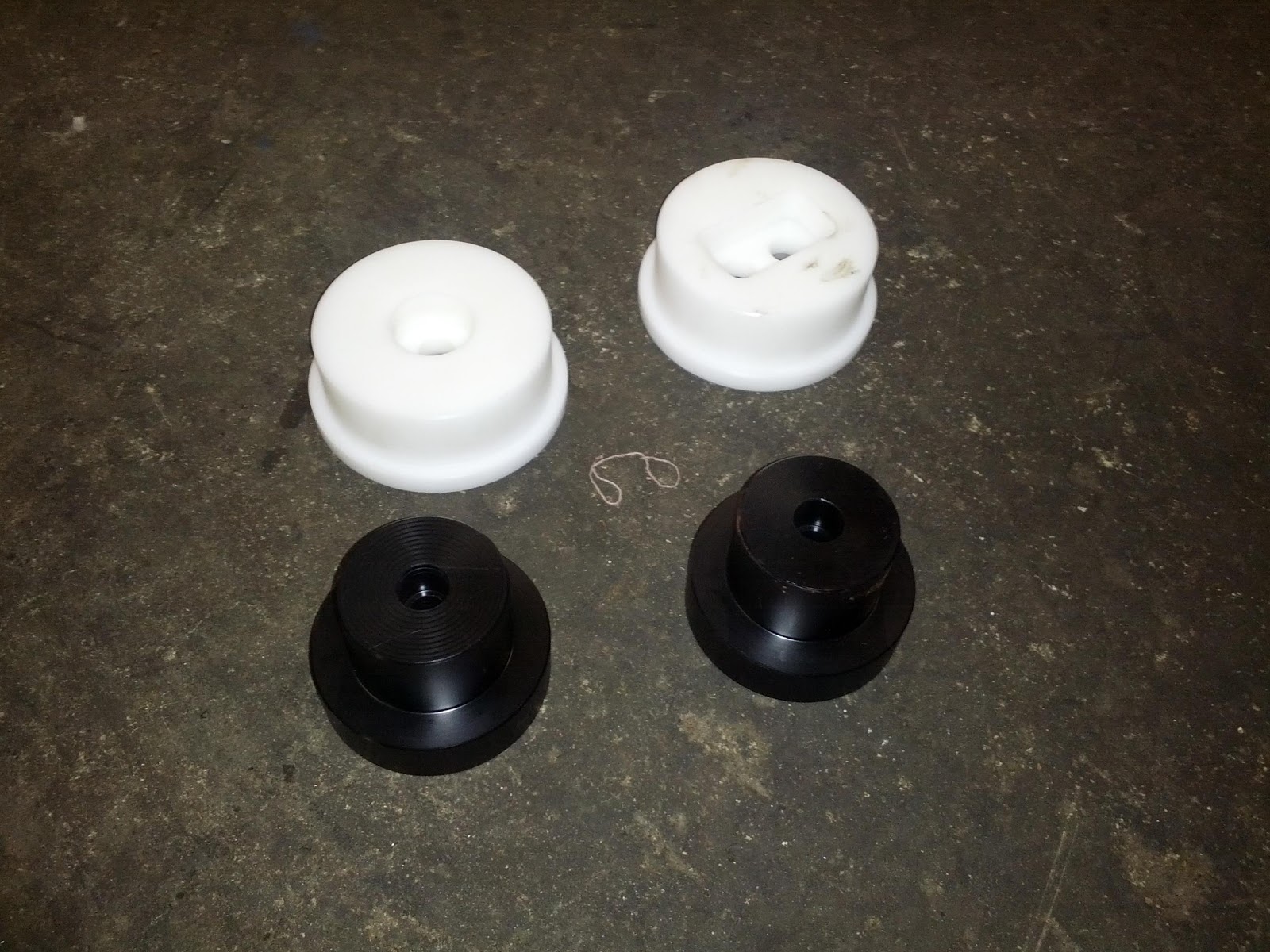 They turned out well, were pretty easy to install (a lot better then removing the old ones). I saved all the dimensions in case these don't hold up and I have to make them again out of Aluminum. Time will tell.
I also figured out today the "bucking" I was feeling was an issue (or several) in the tune along with the bushings. The car is at the shop now and will be getting tuned tomorrow hopefully.
8-20-2013
It all depends on how crazy you want to get with the build. I spent right around $5k on parts and services (this includes drive shaft work and exhaust that I can't do at home). This doesn't cover any of the odd ball little parts I made at work, the cost of the car, or the motor and trans. If you start with an auto expect that number to be higher as you will need the Lexus pedal assembly and some other small items I didn't need.
As for tools...a little bit of everything. I couldn't really tell you what all I used since I used a lot of my tolls and have quite a few. You could certainly do it with less but since I have them I used them (no sense in making things harder if I have the tools). Sockets and wrenches (combination, ratcheting, and stubby), several types of pliers, drill, hammer, pry bars, screwdrivers (mainly used for stabbing the fingers on your other hand), soldering iron and helping hands, floor jack, jack stands, and Cherry picker just to name a few. I also rented a harmonic balancer puller to re-seal the motor and a power steering puller to work on that system.
I would also highly recommend a second set of hands for most of the removal and install (not as big a deal on the wiring and plumbing).
8-28-2013
Picked up the car tonight from being tuned. He just did driveability on the street and I'll take it back to do a couple WOT dyno pulls.
The car drives well except I have a "noise" that I can't figure out. It sounds like a pop, almost like when a car sits for a while and the brakes stick, but it does it in every gear under light to moderate acceleration. And it doesn't do it just once, it will continue to do it as long as it is under load. I can't pin point it though. The guy that tuned it is thinking clutch/trans but I can't feel anything in the clutch pedal or the shifter when it happens. It sounds to me like it is in the rear end.
Any ideas? I'm running the stock Lexus IRS with a factory LSD diff
It is hard to say for sure but it definitely sounds like rear end to me.
9-1-2013
The car got washed yesterday and the dash/trim pieces were all re-installed. I messed with the cutout a bit but don't have a reliable 12v source yet so that will get finished up this week. I did install my homemade baffle and while it helps I think I am still going to look into a 1/4 frequency side branch resonator to cut out the drone around the 2k area.
My buddy that helped me with the swap came over early this morning and we took the car to Caffeine & Octane. It may not have been the loudest, brightest, cleanest car there but it had a crowd pretty much all morning. I got a couple pictures between waves.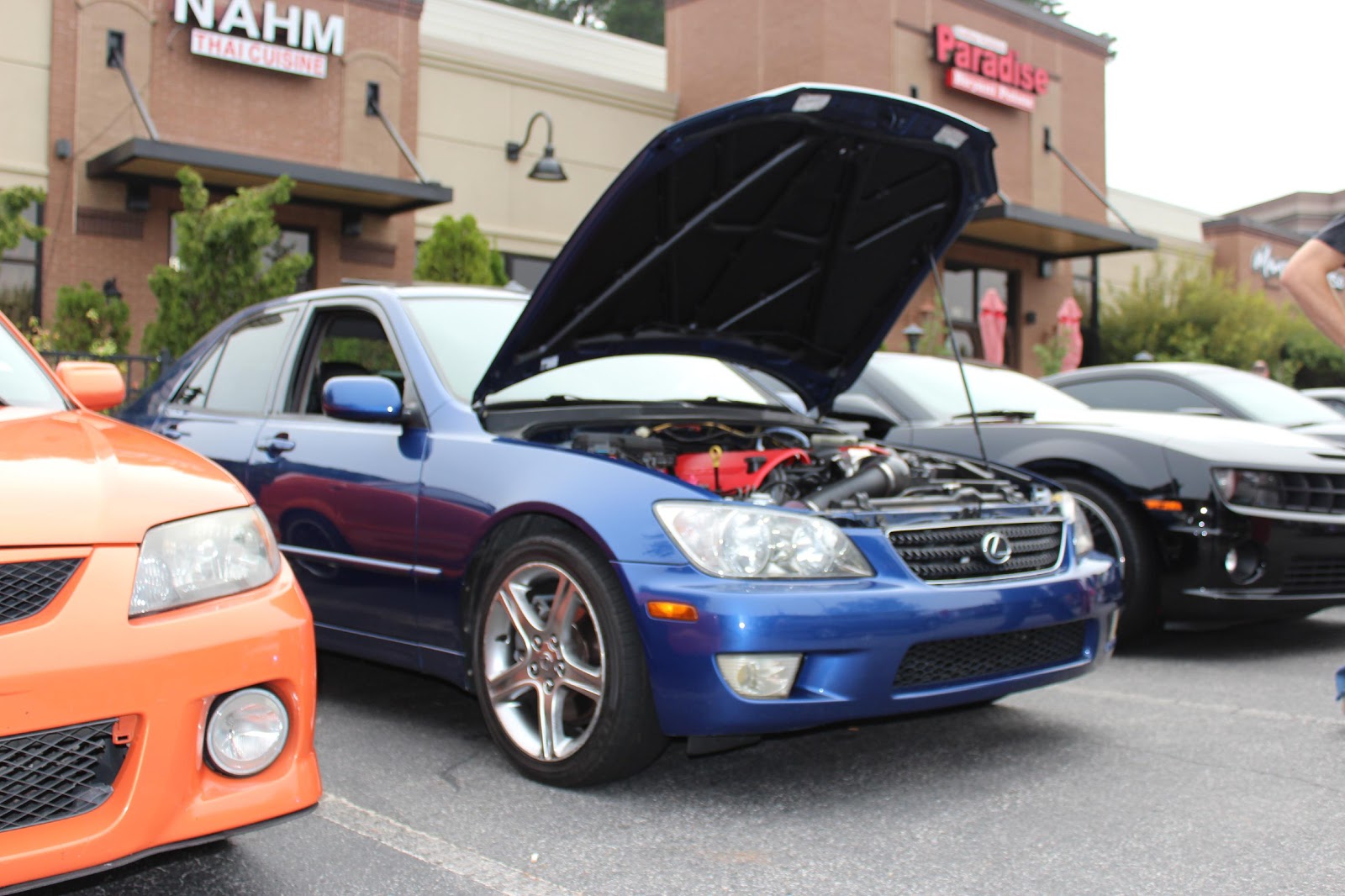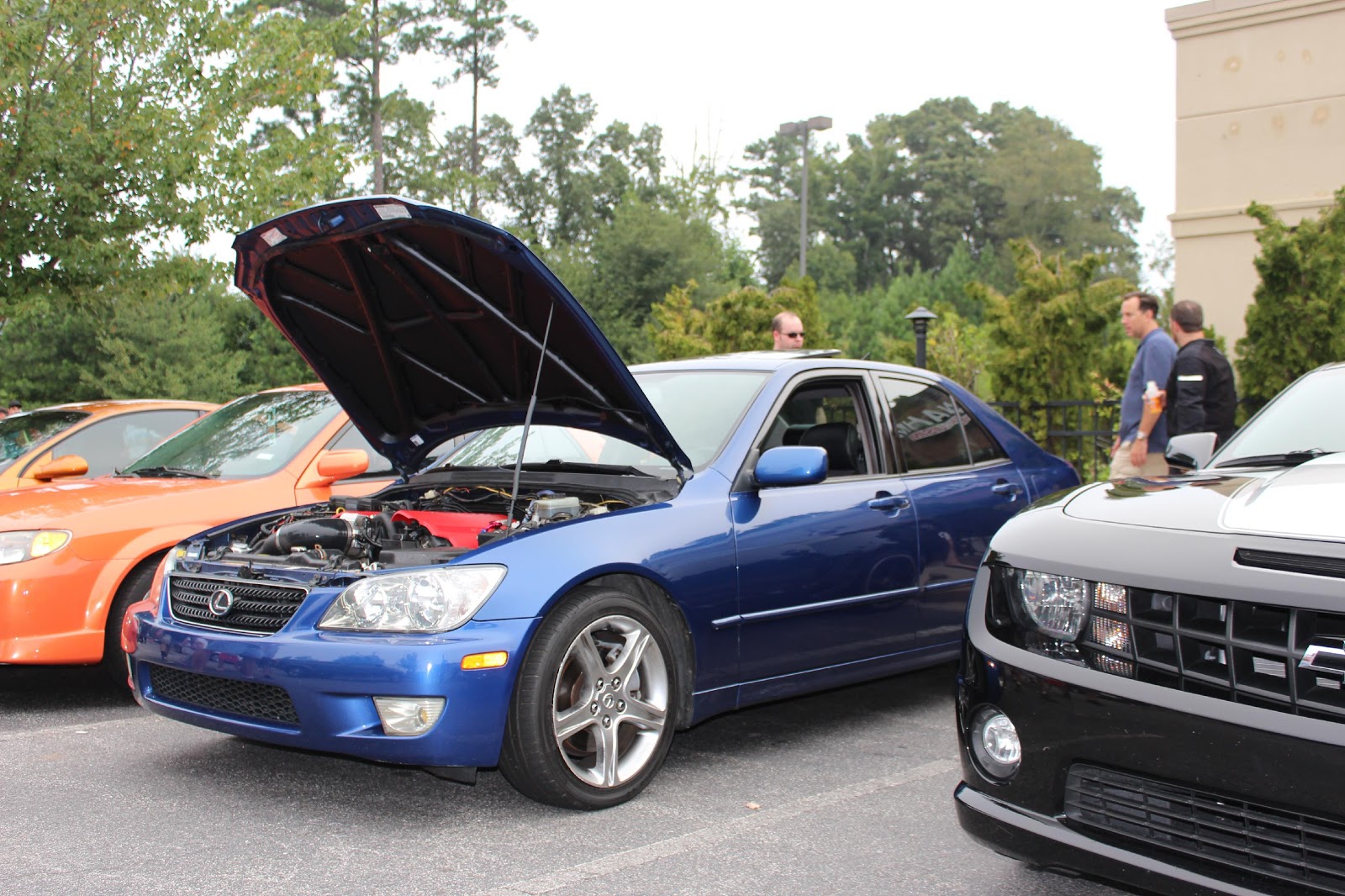 I've got some more little odds and ends to wrap up this week and then we are off to LS Fest next weekend!
9-4-2013
I had an exciting night with the car tonight. When I backed it into the garage after work I saw steam or smoke or something similar from the grill. I popped the hood to find flames under the drivers side header. After grabbing the extinguisher and putting out the fire I discovered that mt return line from the power steering rack to the cooler had been sitting on a header tube. As it turns out power steering fluid is VERY flammable.
I ended up getting a slightly longer piece of hose and wrapping it in a thermal sleeve, then routed it under the header.
This was the first time I've lit a car on fire (smoke from wires don't count), and I don't want to experience that again.
9-11-2013
So I'm still recovering from the lack of sleep after LS Fest this past weekend. My buddy that built the car with me took off after work Friday and drove the car up to Bowling Green for the show (roughly 300 miles). The ride up was fine, spent Saturday morning enjoying the show and talking to people about the car, as well as theirs and the event in general.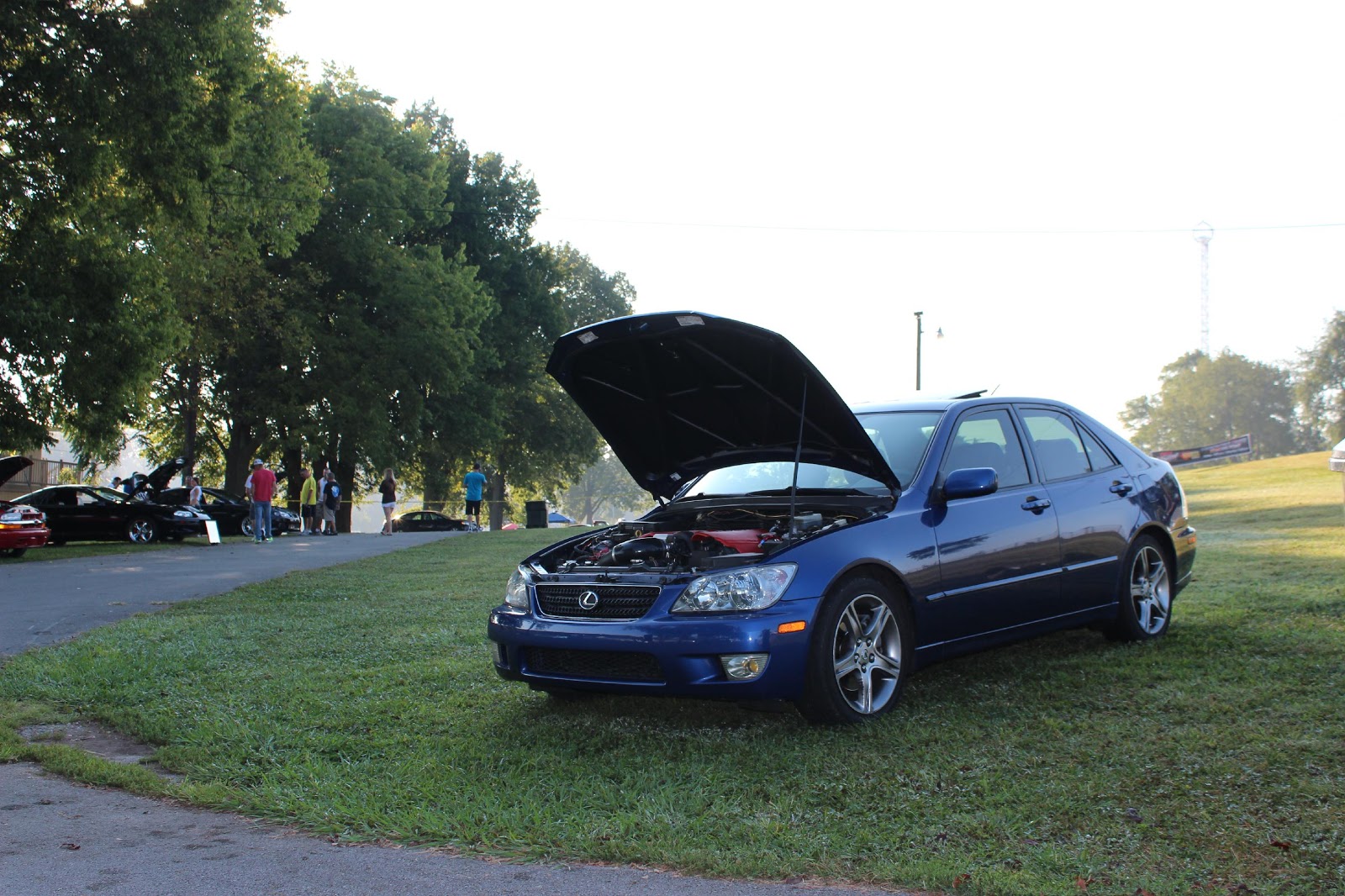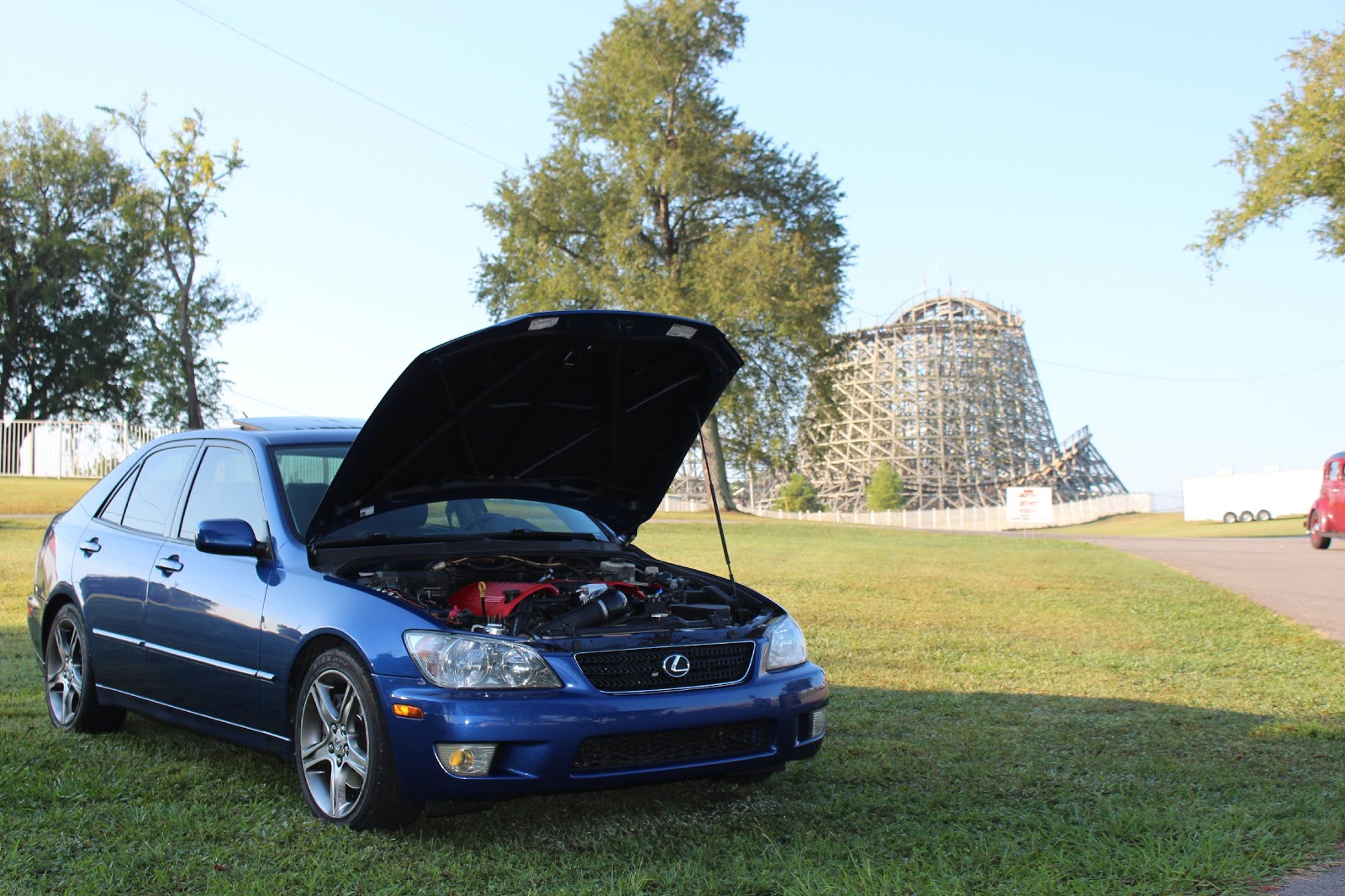 Just before lunch the guys from Holley and LSXTV.com stopped me for an interview about the car. They put a mic on me, got some video and photos, spent about 30 minutes getting what they needed for a video that I'm hoping to see posted soon.
Upon returning from lunch I could not get the car in gear. Looking under the car there was fluid leaking form the bell housing. A couple guys helped push the car over to the pits and the guys from SAM Racing were incredibly generous and let us borrow a jack and four stands, plus a few other odd ball tools. It took about 7 hours to drop the transmission out of the car with the motor still in. One of the guys that helped push was kind enough to drive me to the parts store to get a new slave cylinder/throw out bearing, and one of the racers hooked us up with his generator and lights to work past dark. Sometime around midnight we discovered the pilot bearing was done for too.
Sunday morning we made our way back to the part store with the final piece. Four hours later we had the car back together and driving under it's own power. We were able to drive the car all the way back home with no other incidents, even got 23 mpg.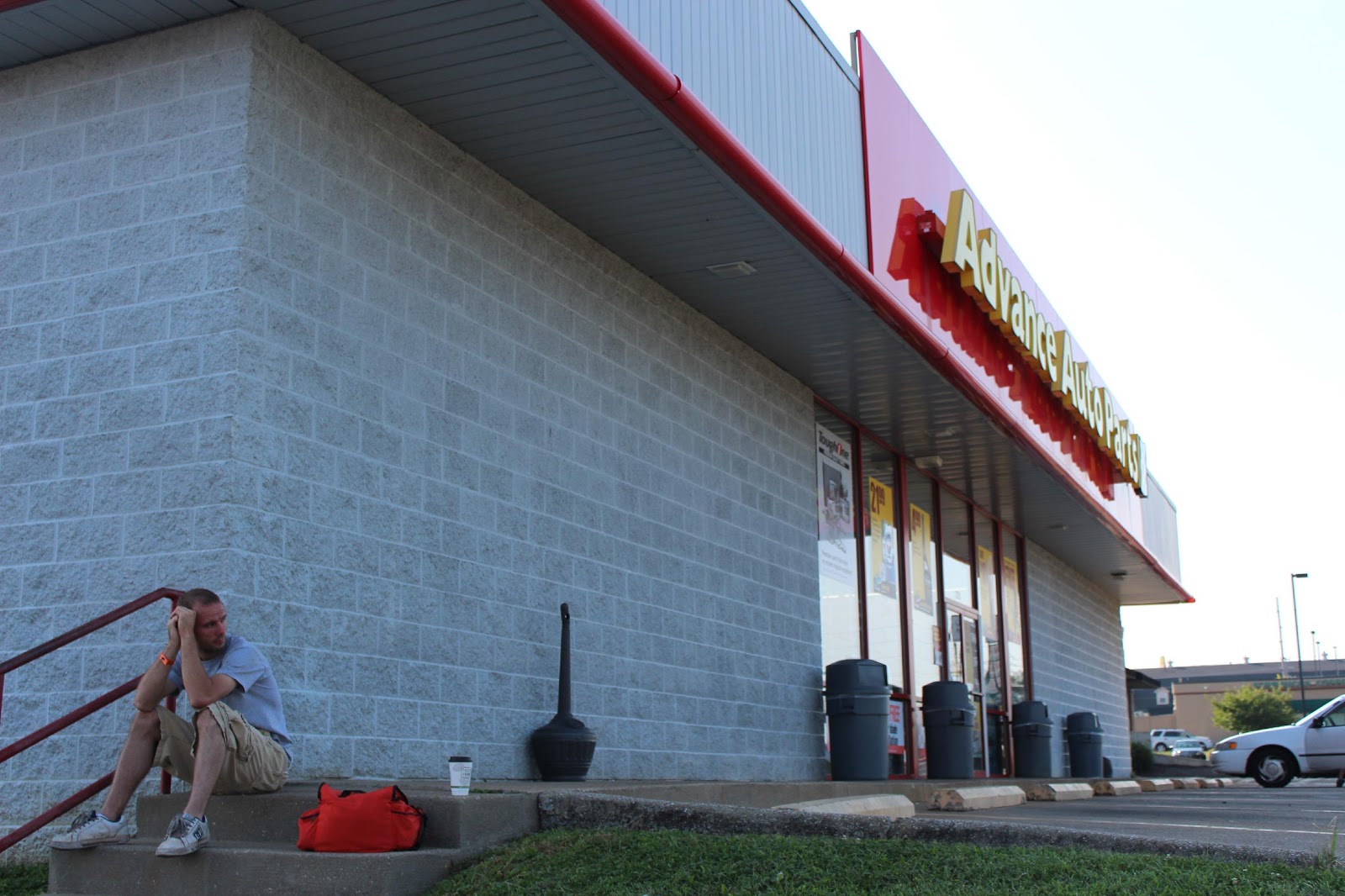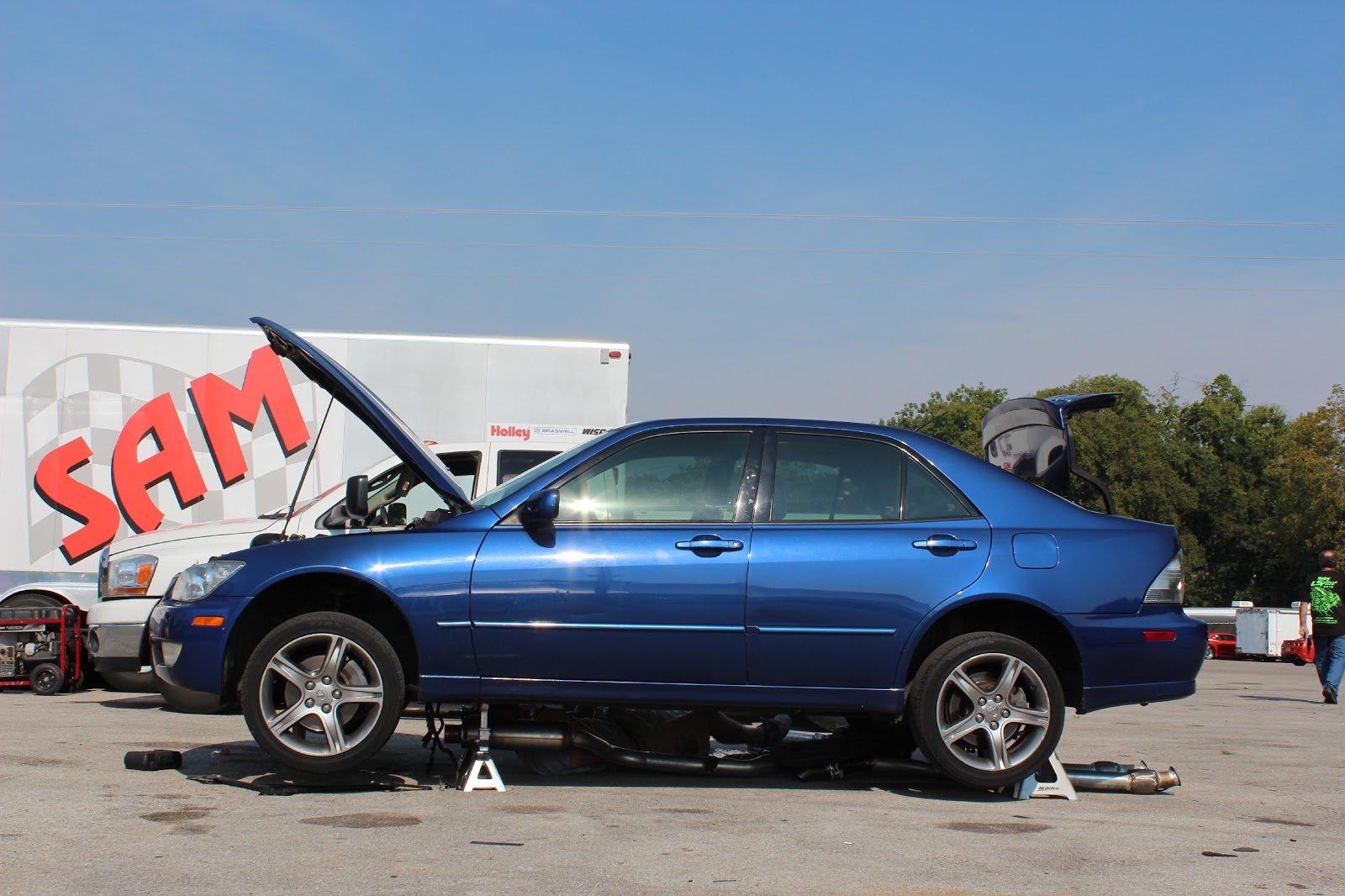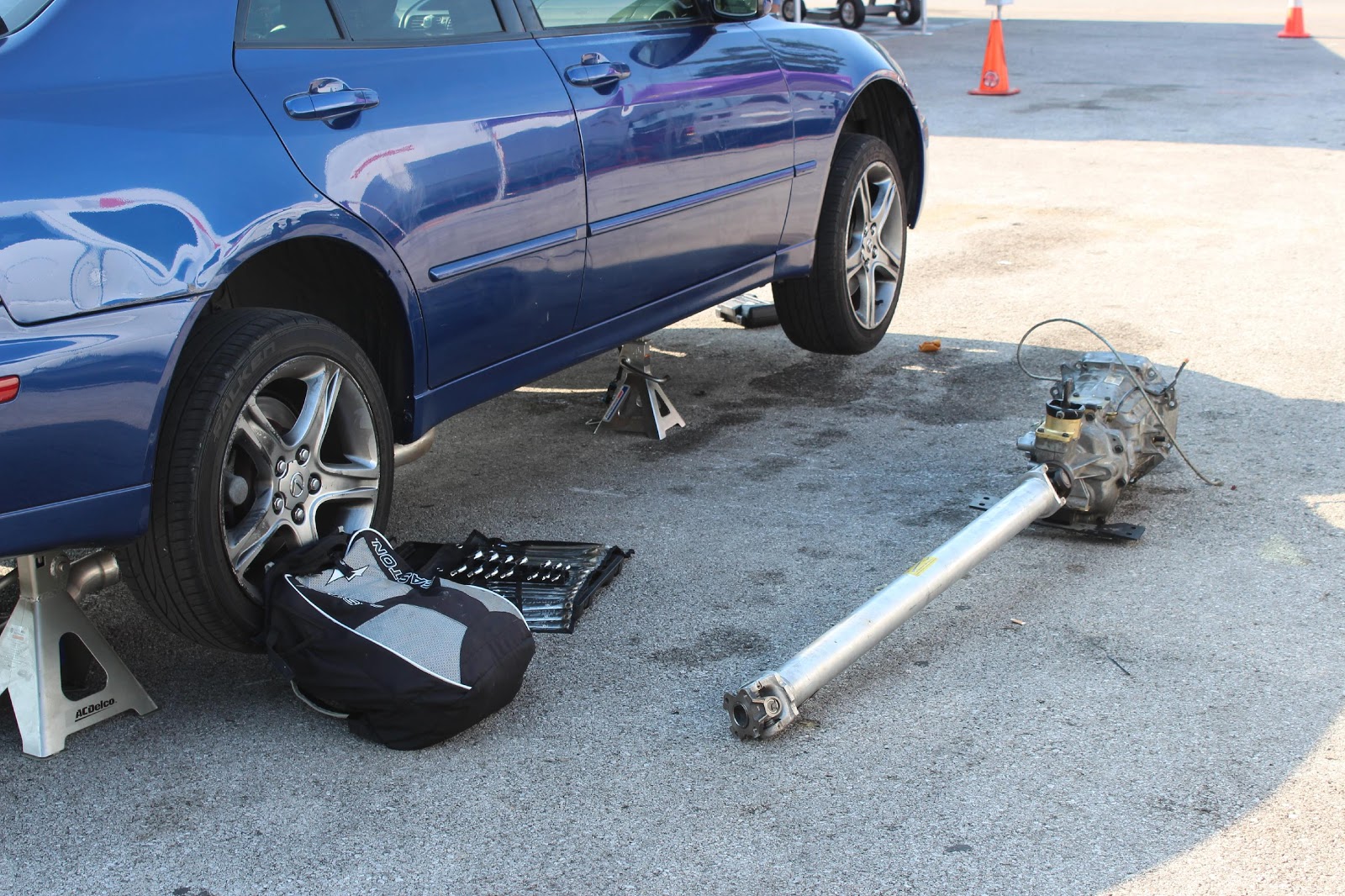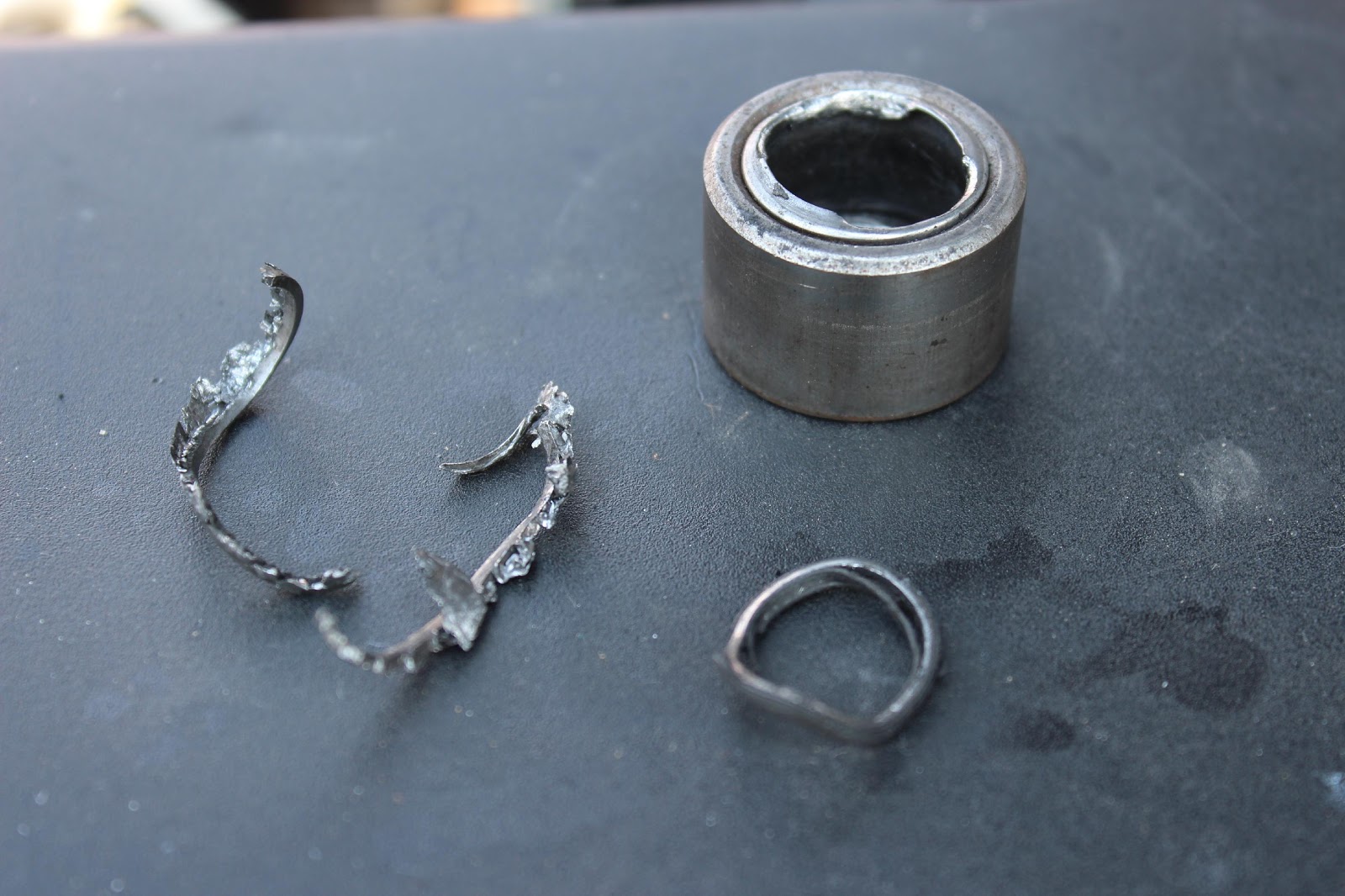 As much as I hate breaking down I could not have hoped for a better place to do so, or more helpful/generous people to offer up rides, tools, parts, light, and moral support. It may have changed our plans for the trip but certainly didn't kill the weekend. My buddy and I are already planning on returning next year and he is talking about his own swap before then too.
10-2-2013
Small update, I didn't think to get pictures (not very interesting anyhow) but the car now has an LS7 clutch and flywheel in it. I was getting some noise and was never really happy with the pedal feel of the Monster it had before, at least not in a daily driver. The pedal now feels just like the stock Lexus setup and still grabs really well. I'm very happy so far with the upgrade.
10-13-2013
Finally the update everyone has been waiting for...Dyno numbers and video. The guy that has been tuning my car had an open house today with a Dyno challenge so the lsxus finally made it. I didn't quite get the numbers I was expecting but am still very pleased for a daily driver with a full exhaust (including cats). The car made 357 HP and 340 Ft-lb.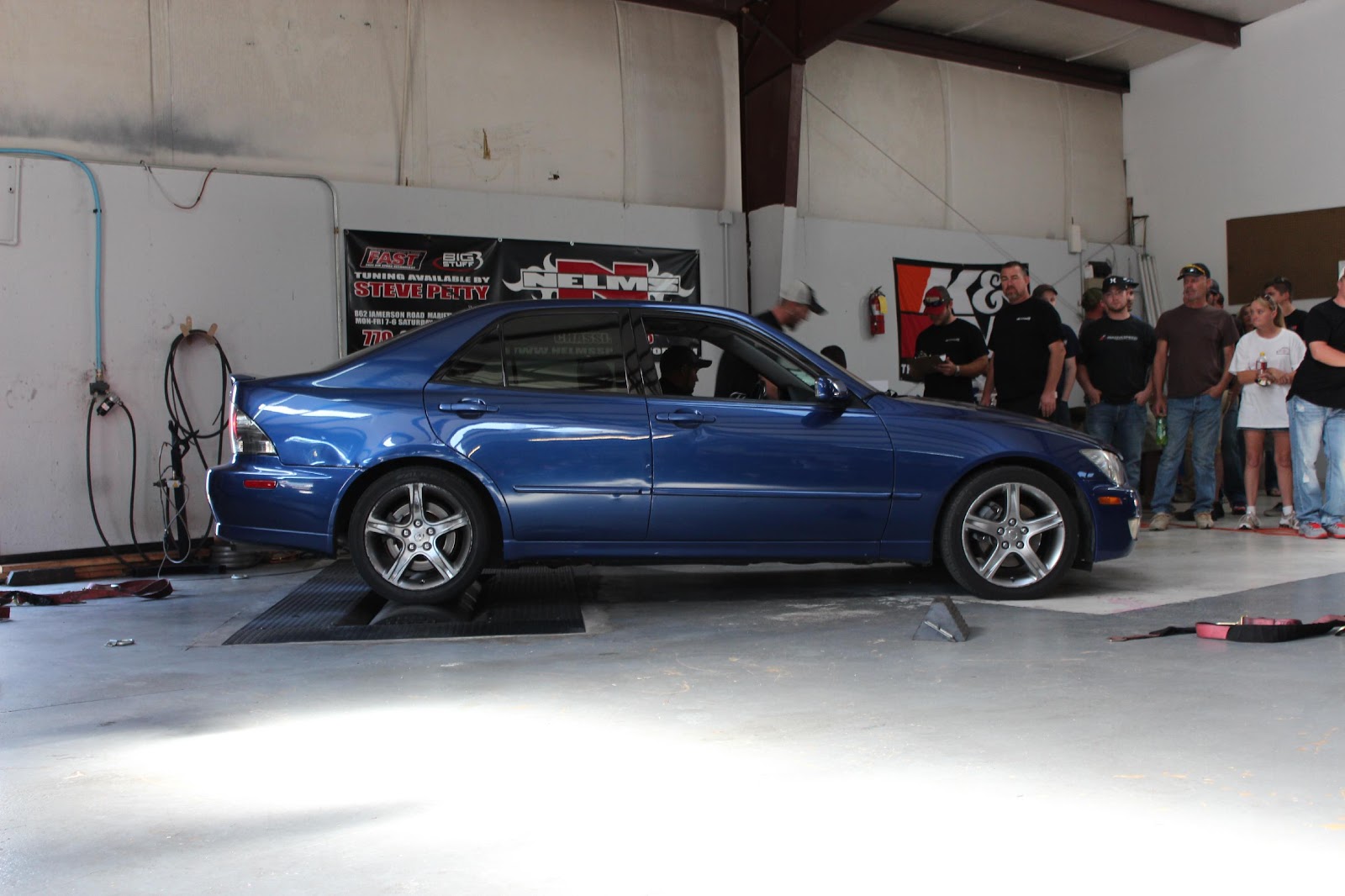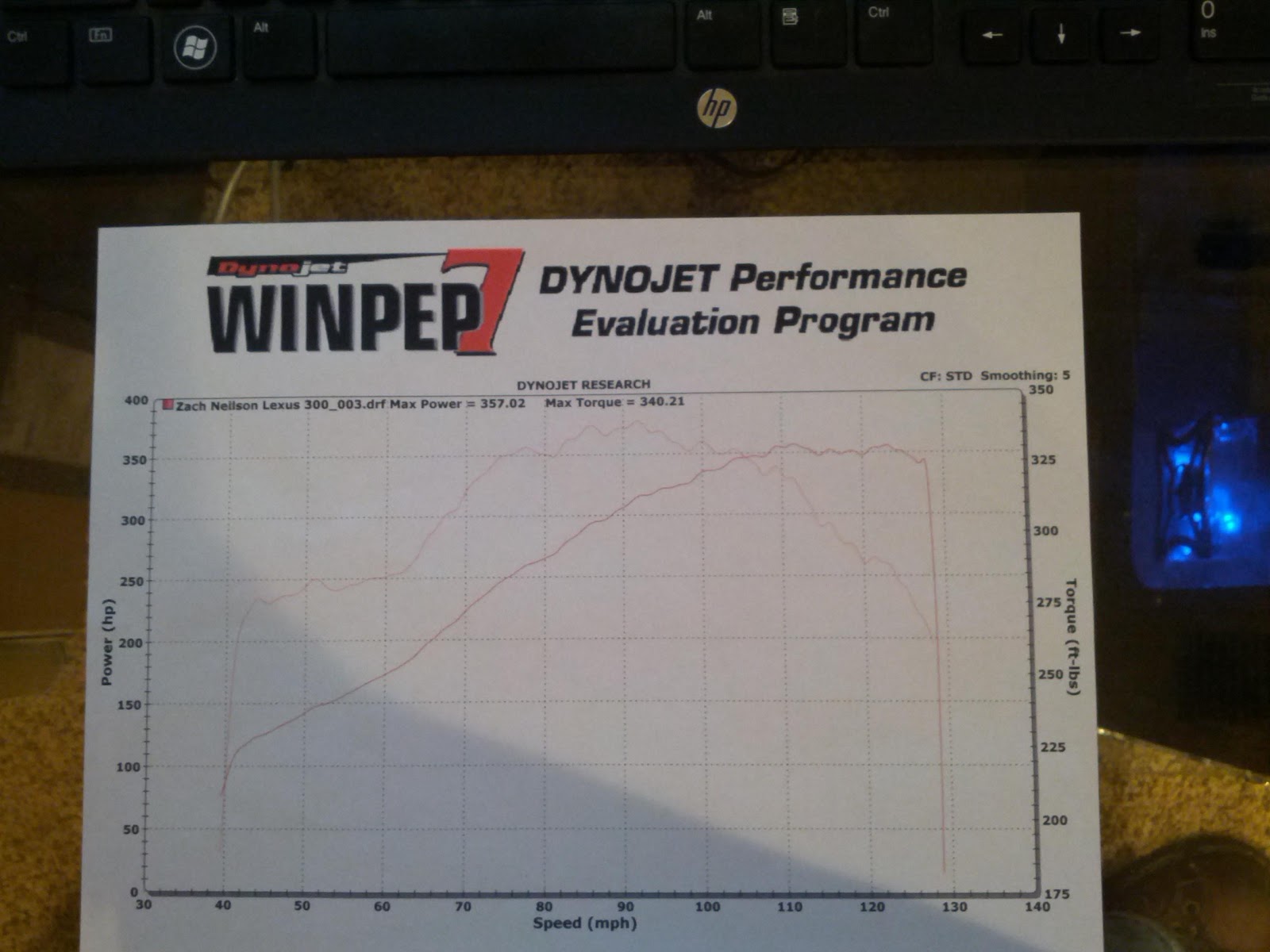 11-9-2013
Yes the Master Cylinder is Tick Performance from the Trans Am. The mounting block in the trans am was a 45 degree wedge.
To have the aluminum drive shaft lengthened and new U-joints was about $350.
11-10-2013
I had some fuel delivery issues that I think are for the most part resolved so the car should be back to daily status. I'd like to make it out do C&O again, see that the schedule looks like for December.
2-9-2014
It's been a while since I had a real update. I've been driving the car daily for several months now and am to the point where the projects I have left are easily done on weekends.
A few weeks back I finally got my OBD2 port hooked up in the car. It had been just temporary under the hood.
This weekend was brakes. I noticed there was a pretty bad lip on the edge of all 4 rotors so I figured it was tine. I got drilled and slotted rotors with ceramic pads all the way around. I know there are mixed feelings about these, and the guys that do like them always have a preferred brand. I have used parts from Brake Motiv (ebay seller) in the past and have always been happy so that is where these came from.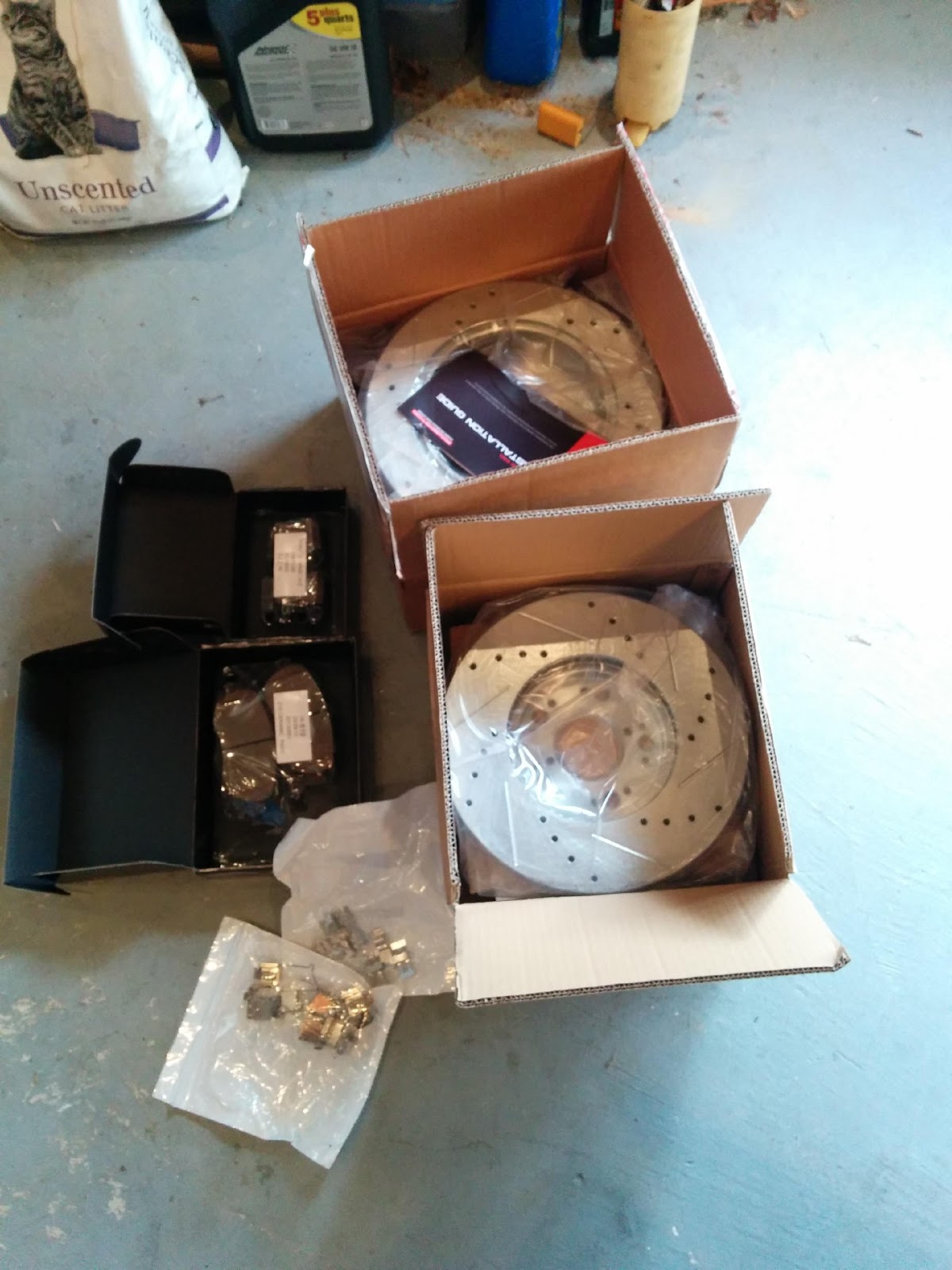 Here is the rear.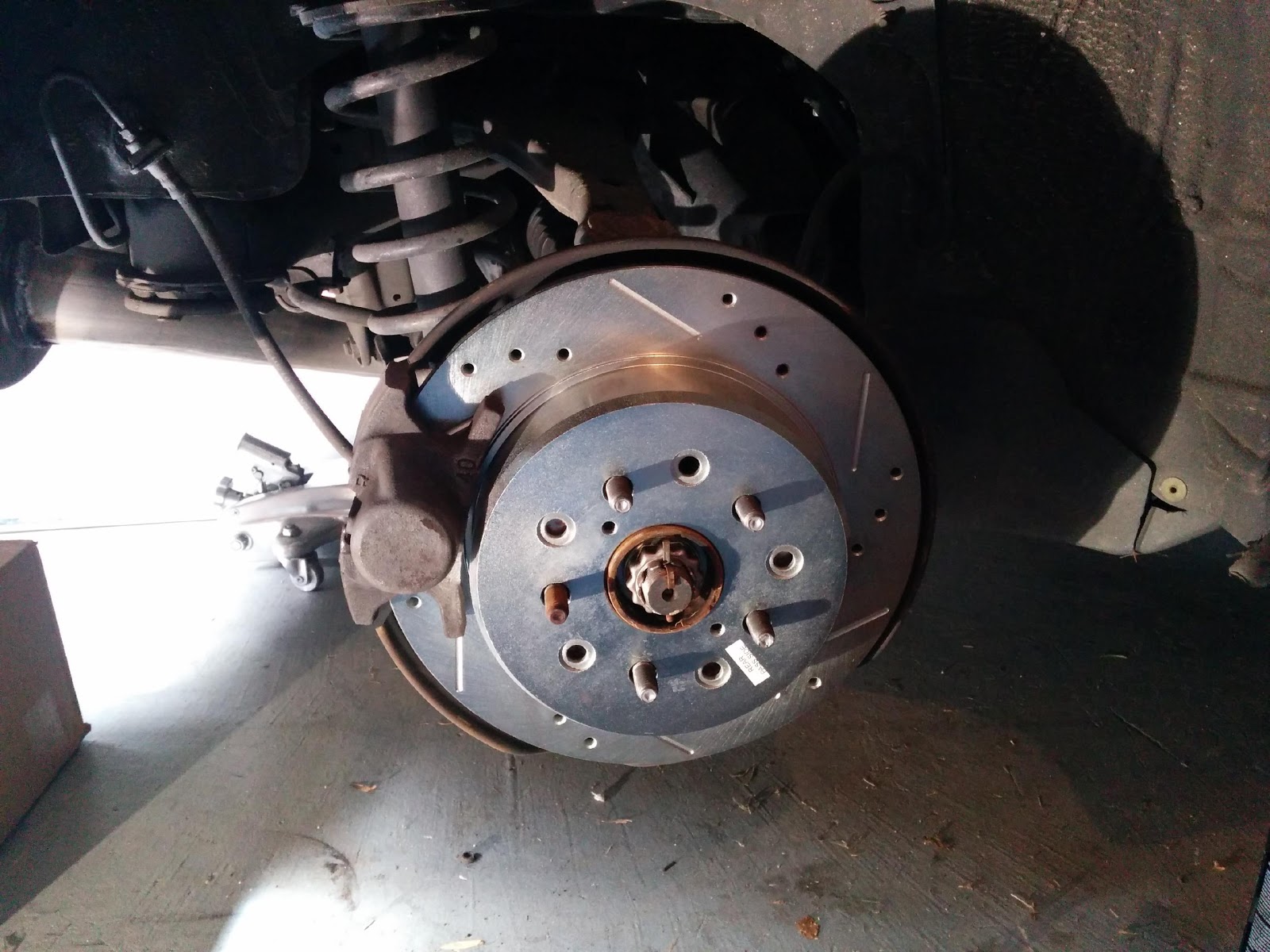 And the front.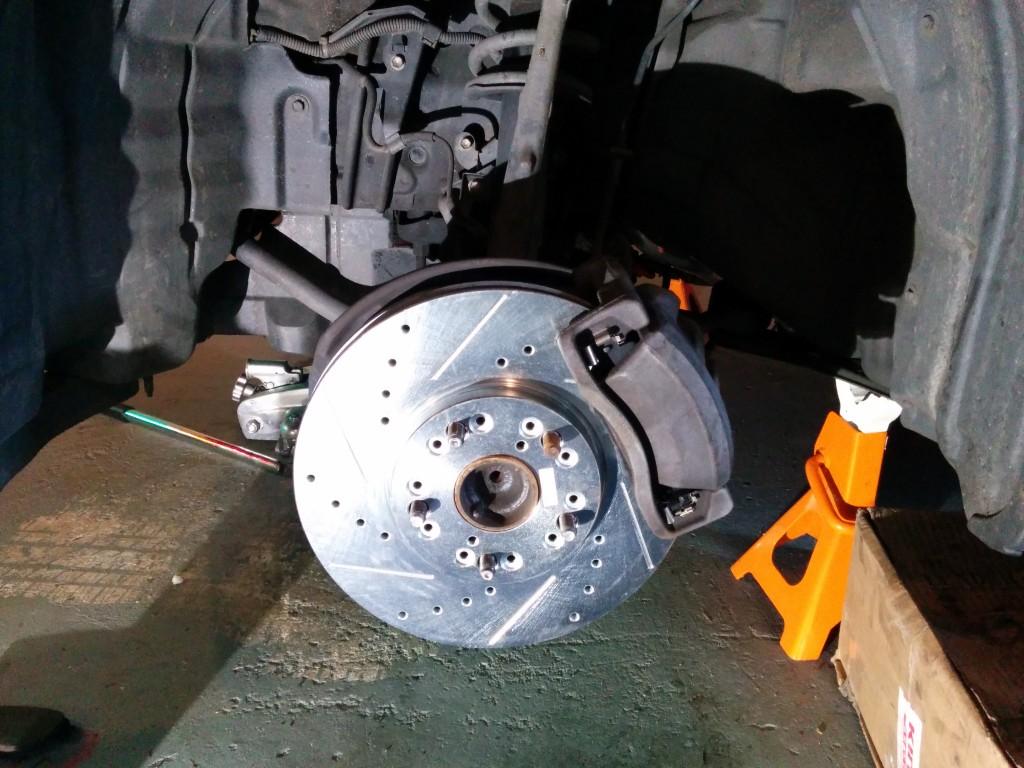 I have also known for some time now that I need solid subframe mounts. The diff. mounts I made help with the rear end rocking but moved all that force to the subframe and have worn them out. While I had the rear wheels off I took a look and as you can see there is a pretty big gap between the metal and rubber that I'm confident isn't supposed to be there. This is on the project list to get done in the next few weeks.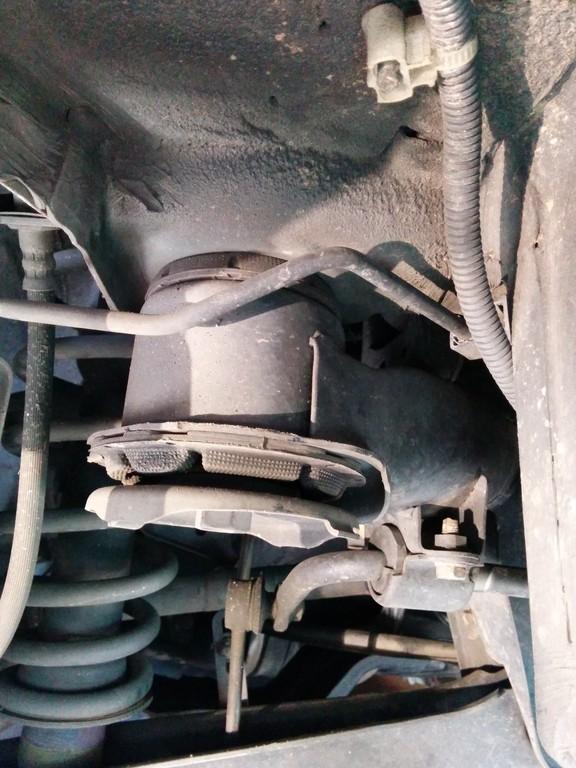 3-10-2014
Sorry man, the thread isn't dead I have been incredibly busy and didn't see that you had posted in here.
I have the receipt at home for hte power steering fitting. If I remember corrrect it is a metric oring seal (M14 or M16) on the rack and then M JIC -6 on the other end. I picked it up at a local hydraulic supplier I deal with at work.
The throttle cable is a universal 36" Lokar from Speedwaymotors.com. Originally I was going to use an F-Body cable but ended up with the wrong version cruise vs. non-cruise I think.
The A/C I still need to hook up. Same with the solid subframe mounts.
My wife and I are expeting our first child in the next two weeks so any time I have has been dedicated to getting us and the house ready. The Lsxus has been a reliable daily driver but hasn't seen much in the way of work lately.
7-14-2014
Been way too long since I updated, been pretty busy with work and family. Anyhow here is what I've done lately.
Getting ready for our baby (who is now 4 months old), the Lexus got a car seat.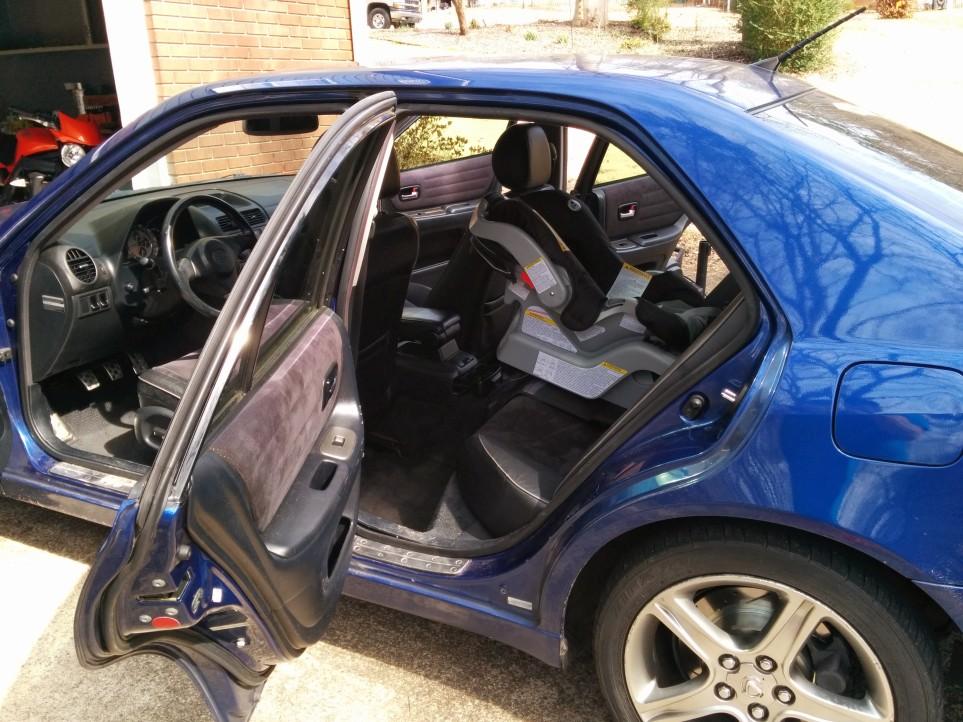 Over the winter I discovered I was slowly loosing coolant. Turns out the barb I had installed for the steam lines was leaking at the threads. I just turned a new barb out of aluminum and got it welded in at work.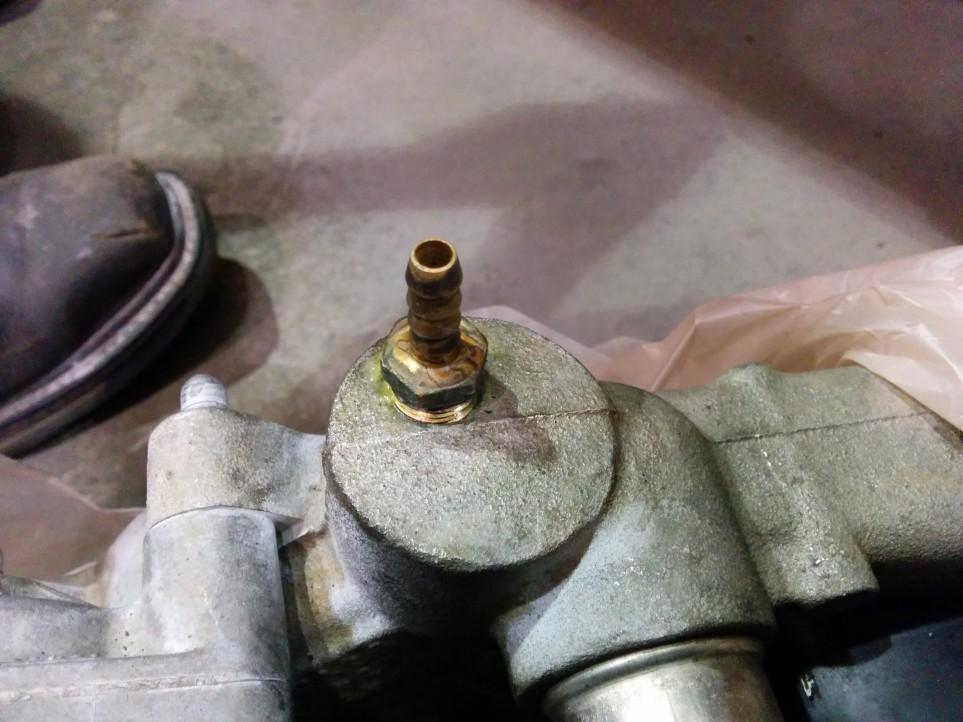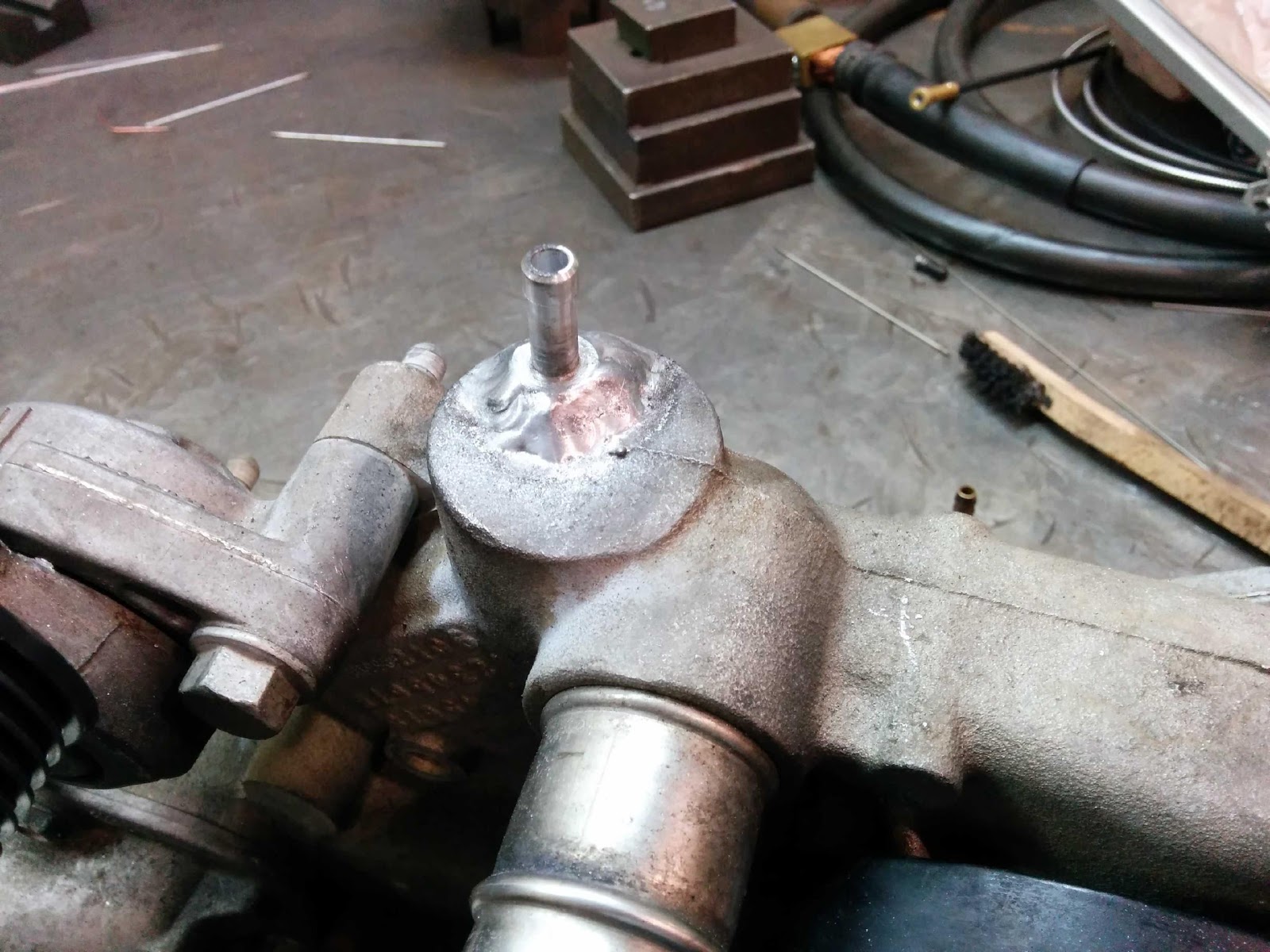 I knew all along that the filter I had put on the intake was too small so I finally upgraded to the biggest size I could fit without going through the hood or fender well.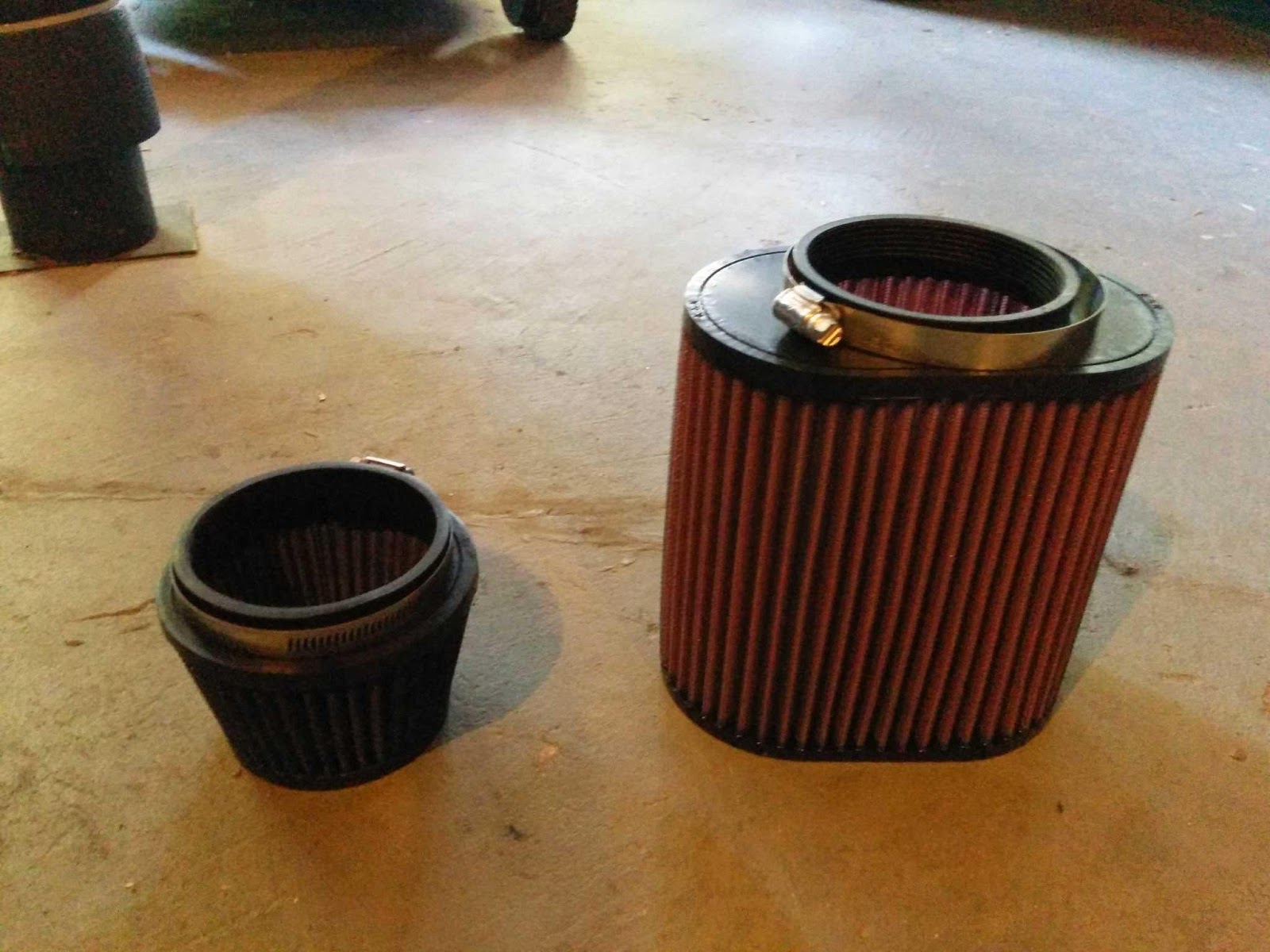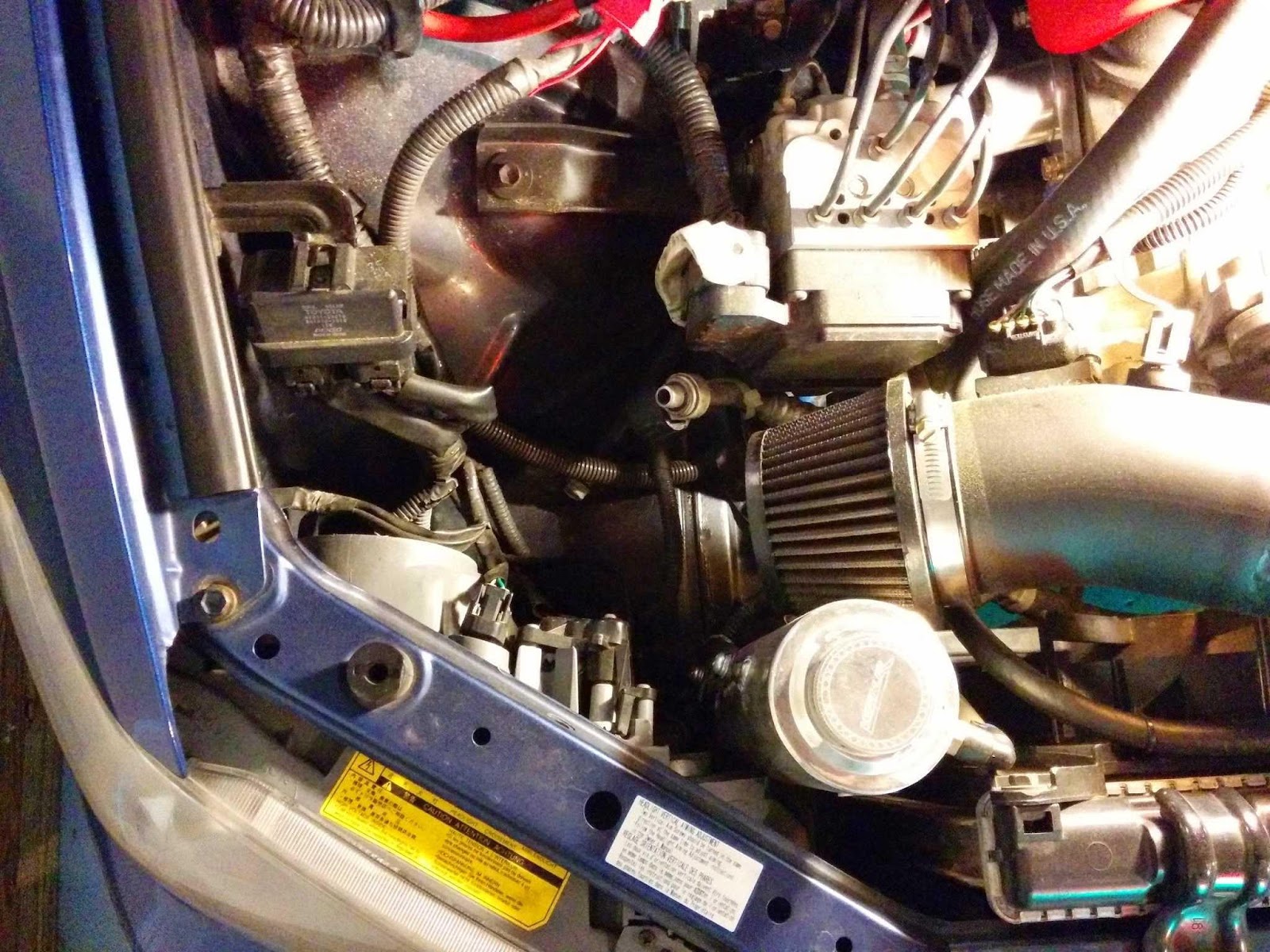 You can see on the right side of this picture where I added a GM MAF into the intake. Still don't have the car retuned to utilize this but at least it is mounted and wired.
At some point along the way I decided I should check the cabin air filter...I'm glad I did and kinda wish I had the day I bought the car.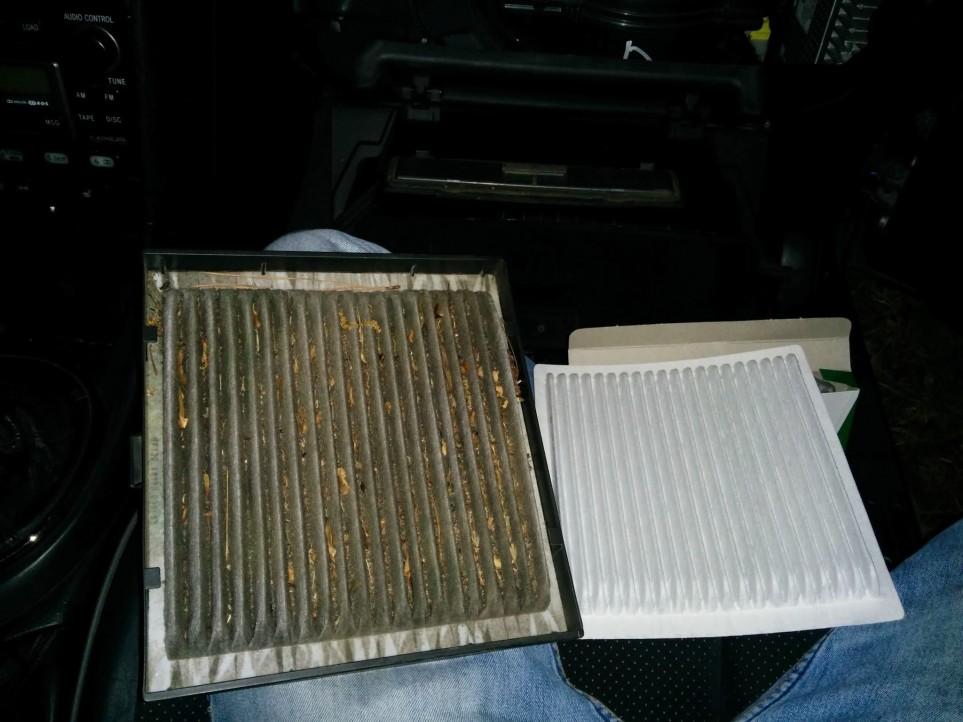 Finally what so many have been wondering about. A/C. I got all the lines made up (and somehow forgot to take pictures of them. I also got the GM side wired with a relay and the factory pressure sensor. Took it over to a buddies shop to get charged and got cold air out of the vents. Then popped the high pressure relief on the back of the compressor. It seems like the system us building pressure and the sensor isn't shutting the compressor off as it should. I'm suspecting either a bad sensor, or poor choice of location for the sensor in the system (on my part). I still have work to do here but at least have light at the end of the tunnel since I felt cold air!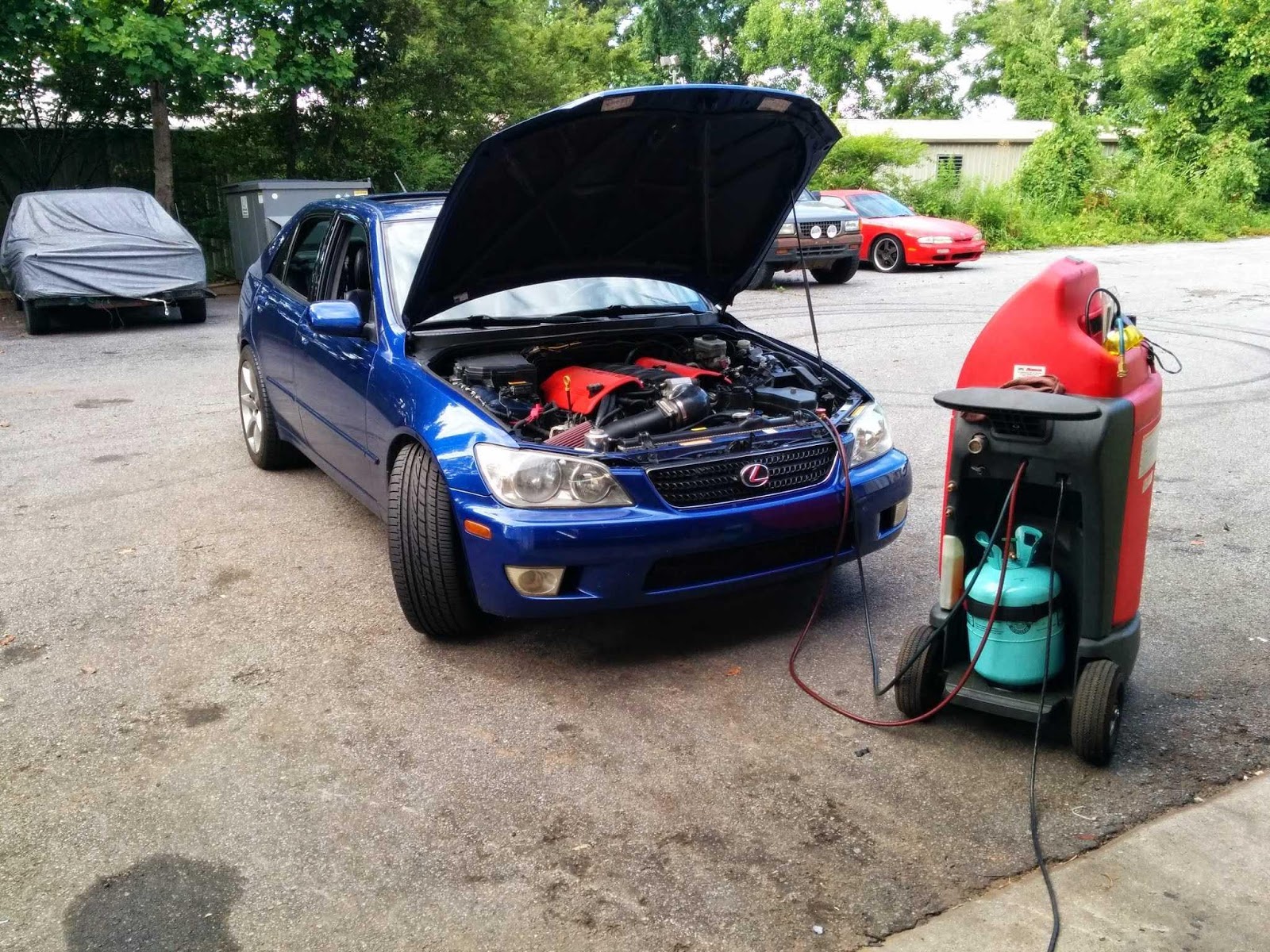 8-15-2014
I feel like a complete moron, but it's ok because I now have working A/C!
What I discovered was that the line I recycled from the Trans Am with the pressure transducer also housed the orifice tube. Not only was it not needed, it was backwards. I pulled that, recharged the system and now have nice COLD air.
9-15-2014
I'm a week late at this point but oh well. I took the car to LS Fest again this year. My buddy even went with me again, even after spending last years trip under the car working on it. The weather was great. Saw some familiar faces again from last year. And...we didn't have to work on the car! Enjoy a few pics I snapped.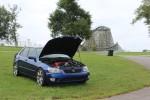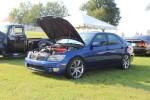 1-11-2016
A LOT has changed.
Back in June I was in a wreck with the car. Ambulance ride, night in the hospital, the whole nine yards. I was t-boned on the passenger side by a full size truck. The car was totaled (I'm lucky to have not been seriously hurt), the passenger door was pushed almost to the center console. Thankfully I was coming home from work and didn't have anyone in the car with me, they wouldn't have been so lucky.
Long story short, I bought the car back from insurance and pulled the drive train, parted out what I could, and scrapped the shell. I have since bought a clean 2005 that will be receiving the motor and trans this summer.
I never did a proper wiring diagram but since I'll be doing the swap again I'm going to try to document some of the details better this time around.
7-13-2016
Here is a brief overview.

This and this...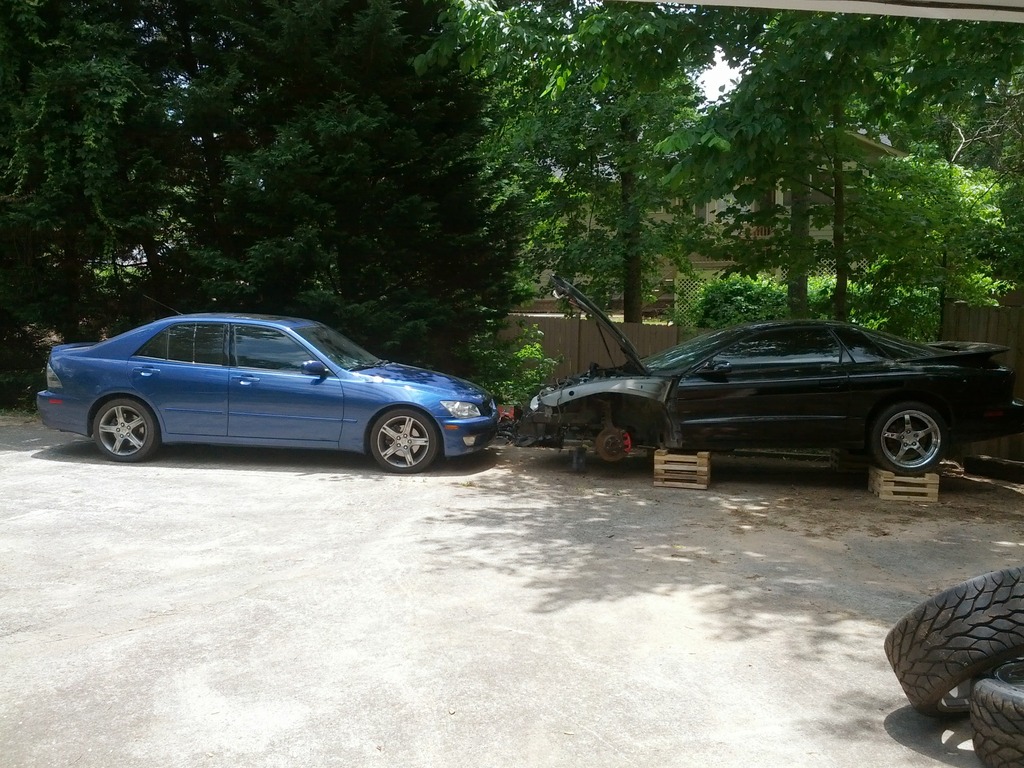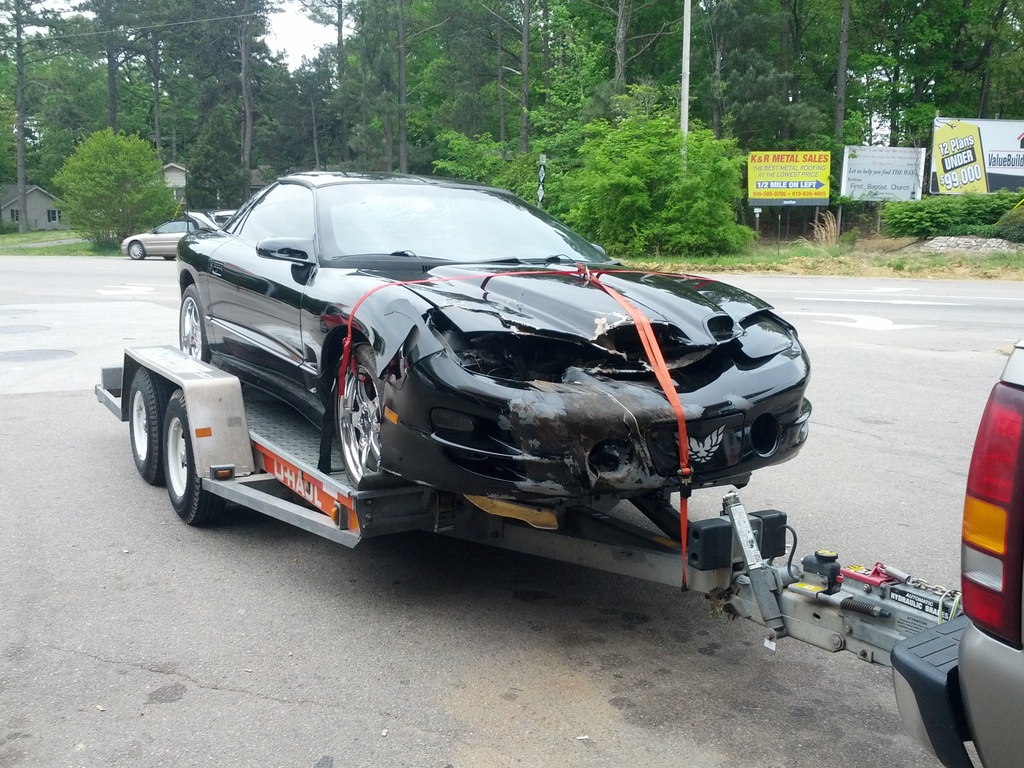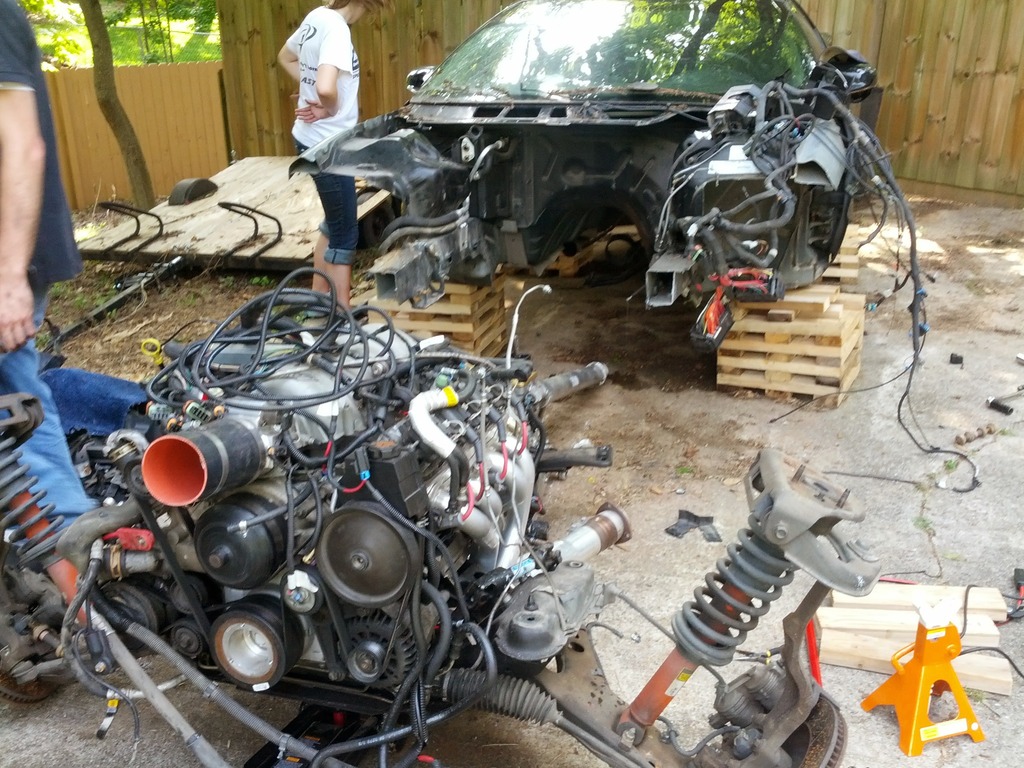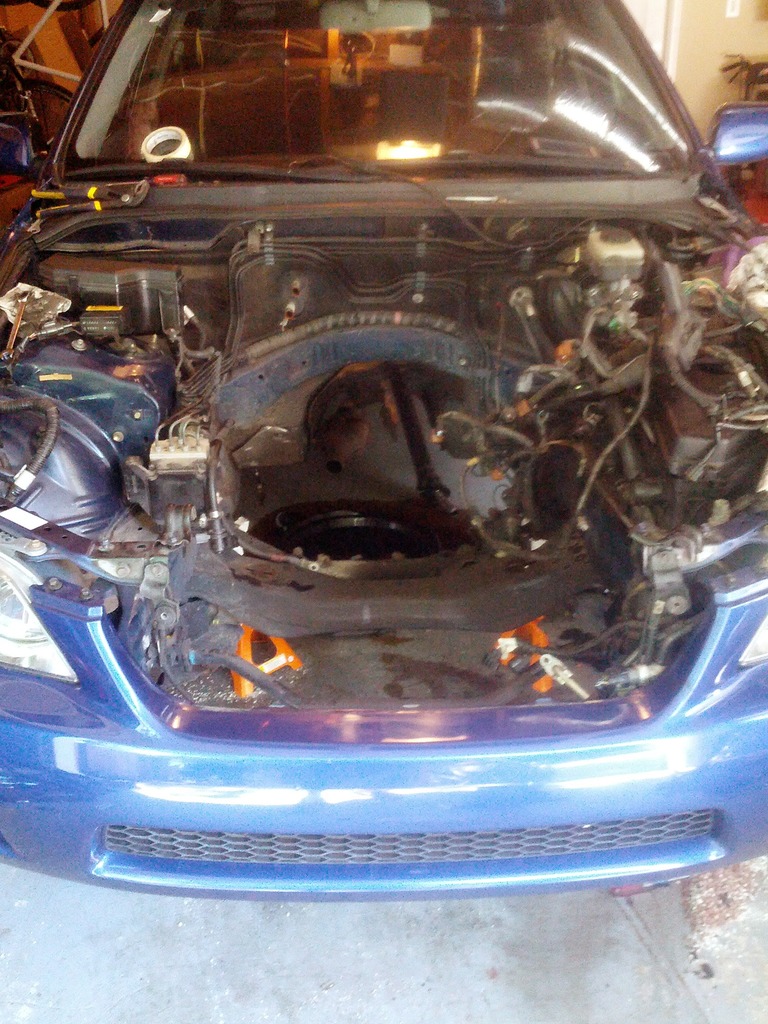 Became this for about two years.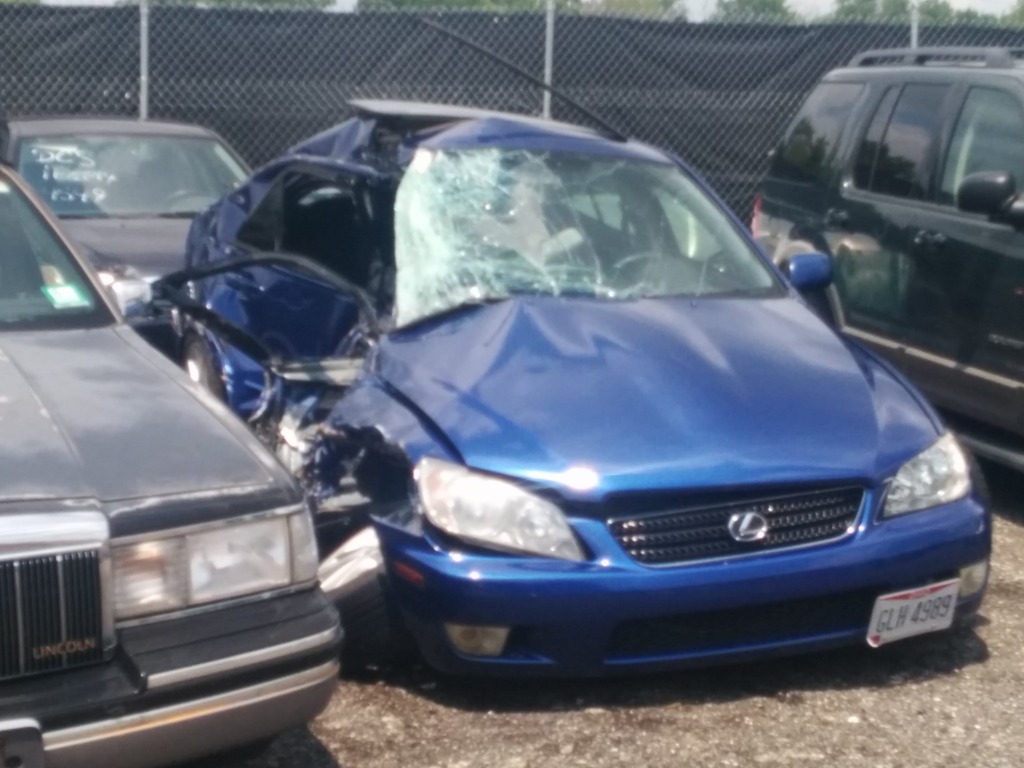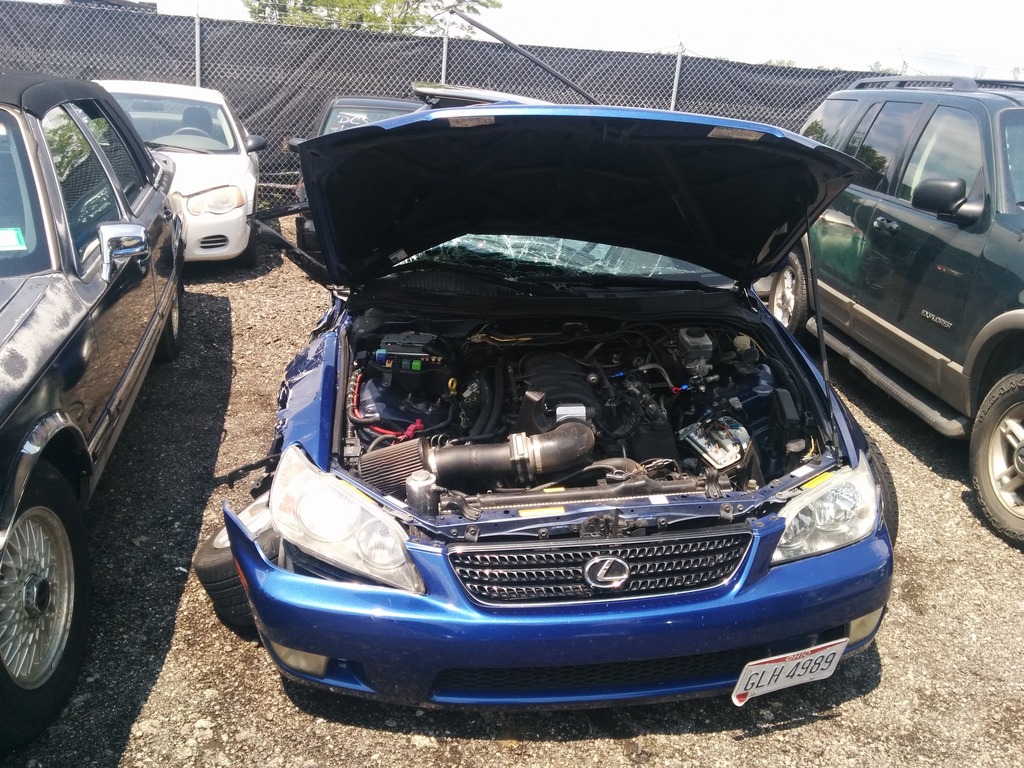 I bought back the wreck and and pulled the drivetrain. Now this is getting ready for a motor swap.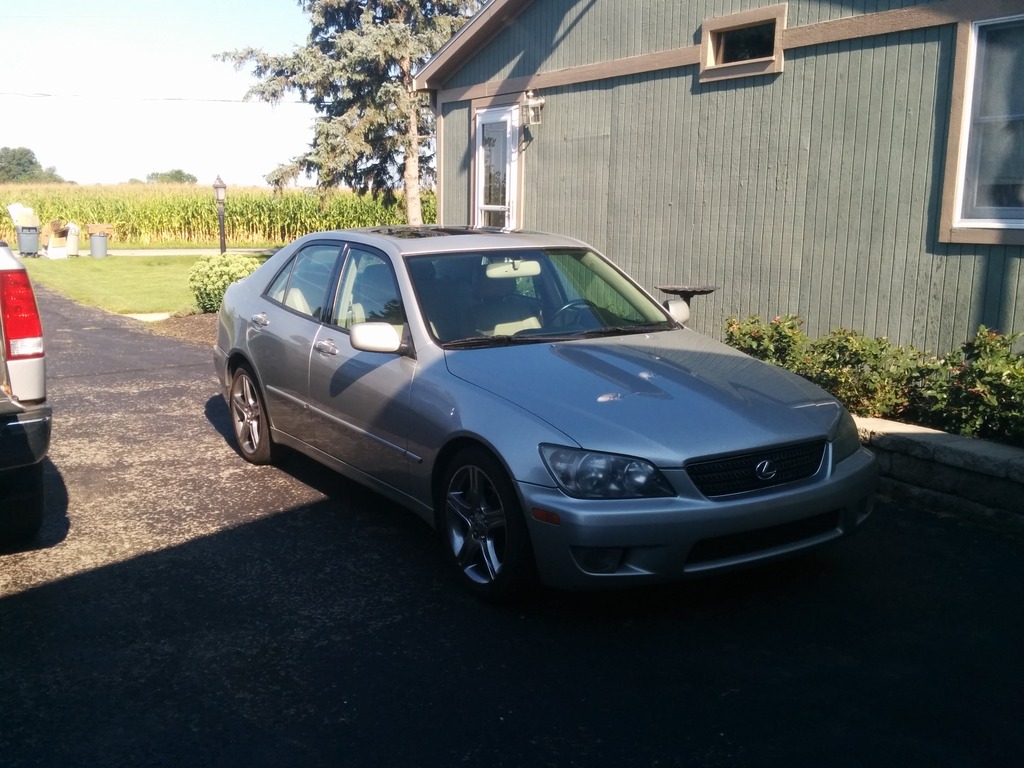 Here is some of the carnage from the wreck. I'm in the process of remaking them now.