Builds
JasonChang 2ISGFM Build Thread by JasonChang
By diyauto
You must be logged in to rate content!
3 minute(s) of a 11 minute read
JasonChang 2ISGFM Build Thread
Compliments of JasonChang @ clublexus.com
3-21-2013
It's been a year since I owned this car, this is 2008 IS250 w/ luxury package. Color is Glazier Frost Mica, one of the sickest factory paint ever invented, which I LOVE it soo much! At first I wasn't planning on doing too much about this car but then I found out ClubLexus! Then the story goes on!
Few of you know about some stuff I did to my car and here I'm gonna put them all in order.
Lets good at it when it's still "new".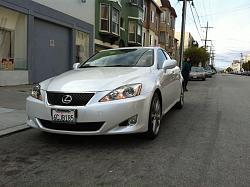 Not that impressive but stocky.
Here all the mods that I've done.
1. OEM truck spoiler, eBay, done By Jason
2. 15% tints on rear, SF DownTown somewhere
3. JDM Roof spoiler, eBay
4. Painted caliper + rims, done By Jason
5. H&R lowering spring, Exact MotorSport
6. iJDMtoy interior LED lights pakcages, iJDMtoy.com, done By Jason
7. 2012 F Sport Front end and 6000K Fog Lights, Body Shop
8. iJDMtoy LED DRL and parking light bulbs, iJDMtoy.com
9. Philip 6000K Low Beam, Nigel-JDM parts, done By Jason
10. MY 2012 LED Headlamps, Sewell Lexus, done By Jason
11. Junction Produce White Fusa and Tsuna, Black Neck Pads, online vendor, done By Jason
12. Rocky Mountain Tint Film, Front 35% Rear 5%, Rocky Mountain
13. F Sport Sway Bar, CL member, done By Jason
14. F Sport intake, CL member, done By Jason
15. F sport shift ****, CL member, done By Jason
16. IS-F outer taillights, CL member, done By Jason
17. iJDMtoy reverse lights, iJDMtoy.com, done By Jason
18. GrimmSpeed license plate, GrimmSpeed, done By Jason
19. Junction Produce Tissue Box, CL member
20. Vossen CV5, California Wheels
21. AirRunner Air suspension by Jason
Here is how she looks now: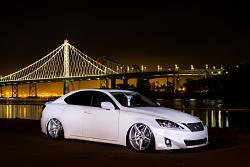 Future mods list:
- Body Kits, sides and rear
- Black Roof
- Exhaust
- Rotor, BBK
- Strut Bar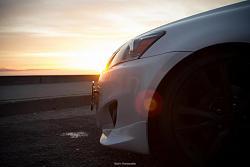 Yup im so in love with those wheels, only thing is if 20x10.5 could fit the front of the car, i will marry her