JDMSW20's Obsidian IS350 Build by jdmSW20
By diyauto
You must be logged in to rate content!
JDMSW20's Obsidian IS350 Build
Compliments of jdmSW20 @ clublexus.com
7-20-2013
Whats going on folks, been on the boards awhile so i figured i would start a build thread. I bought my 07 IS350 x-package, this past december when i sold my old 99 LS400. Ive really just been nesting parts for months now but the time has to come to share some pics and progress. Enjoy

I went from this(i lowkey miss her sometimes)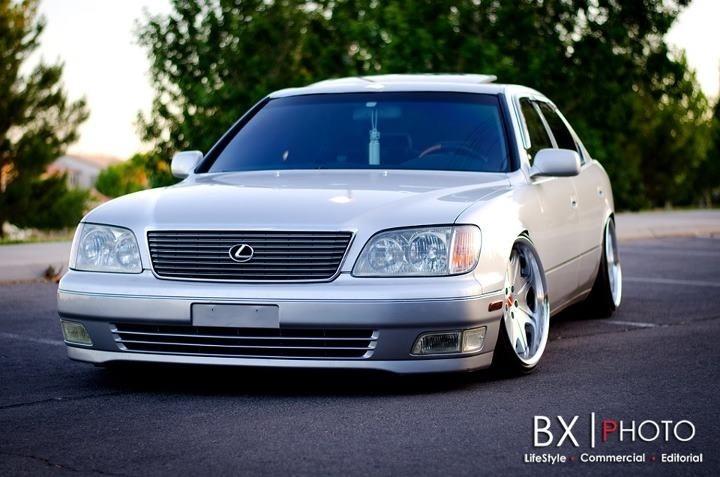 To this, when i first saw her on the lot. I flew to Cali just to scoop her up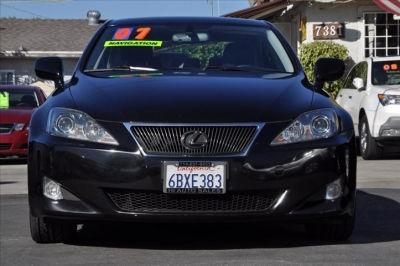 MODS LIST
Exterior:
Vertex front lip(authentic)
Vertex side skirts(authentic)
GFX rear lip
LX Mode grill(authentic)
2012 LED Headlights
OEM JDM window visors
vLED 5k flank bulbs
3k HID fog lights
Black chrome emblems
Password JDM fender tabs
Suspension:
BC coilovers
Megan camber arms
Interior:
Sewell LED interior lights
ISF perforated shift knob
Performance:
Joe Z intake pipe
F Sport exhaust(Gen 1)
Wheels:
SSR SP1 19x8.5/19x10(sold)
SSR SP3 19x10/19x11
I bought coilovers on the black friday group buy a week before I even owned the car lol. I was that sure I was going to get her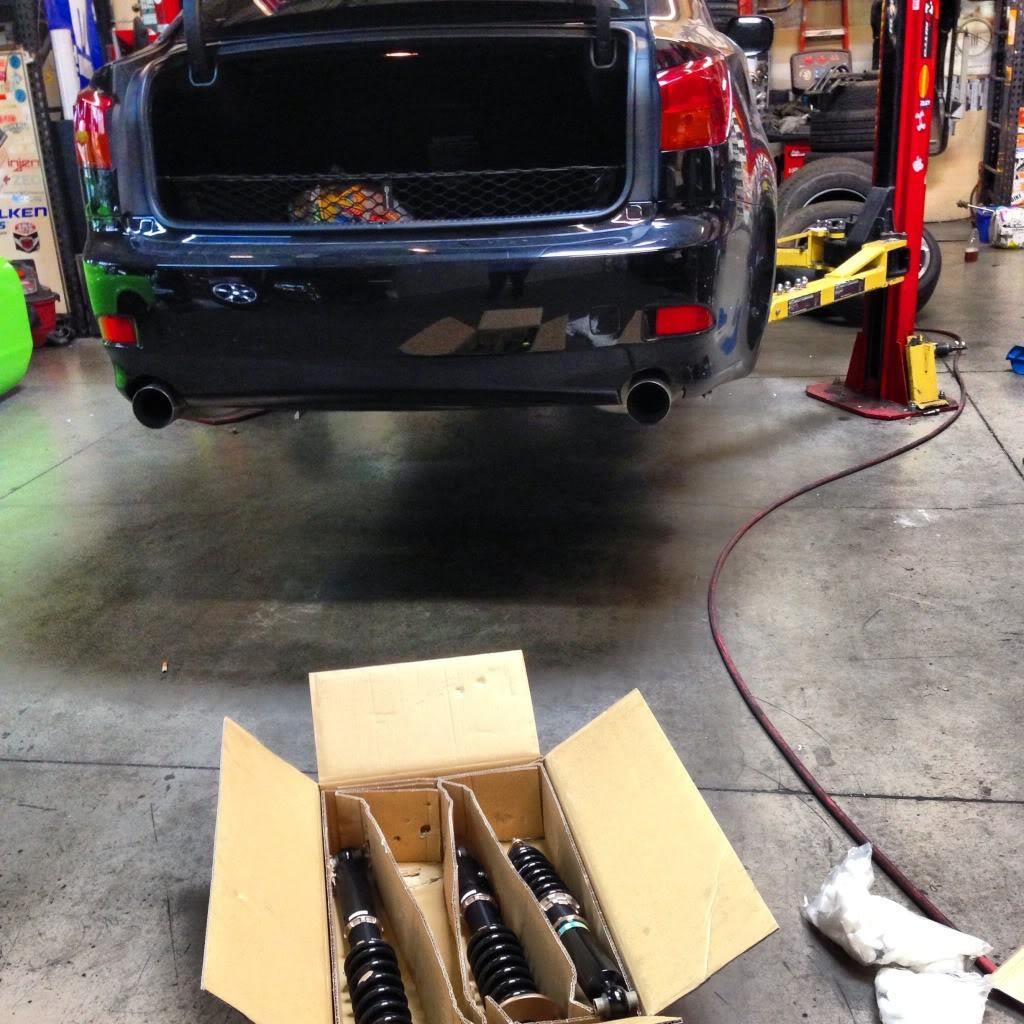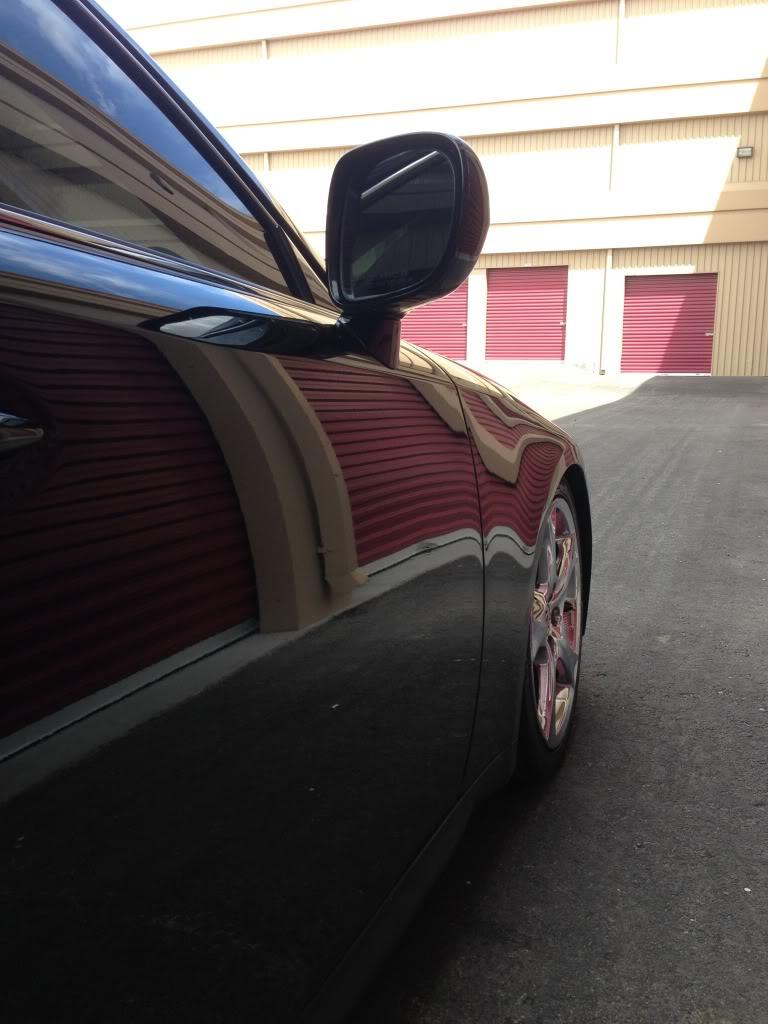 Been riding around lowered on the stock X-package wheels every since
From this point ive just been racking up parts, jumping on deals when i can. just a sample of whats too come. hopefully i can get everything on and painted within the next couple weeks
came up on a set of SSR Professor from a friend here thats huge lexus enthusiast as well. they needed some TLC but nothing that couldnt be handled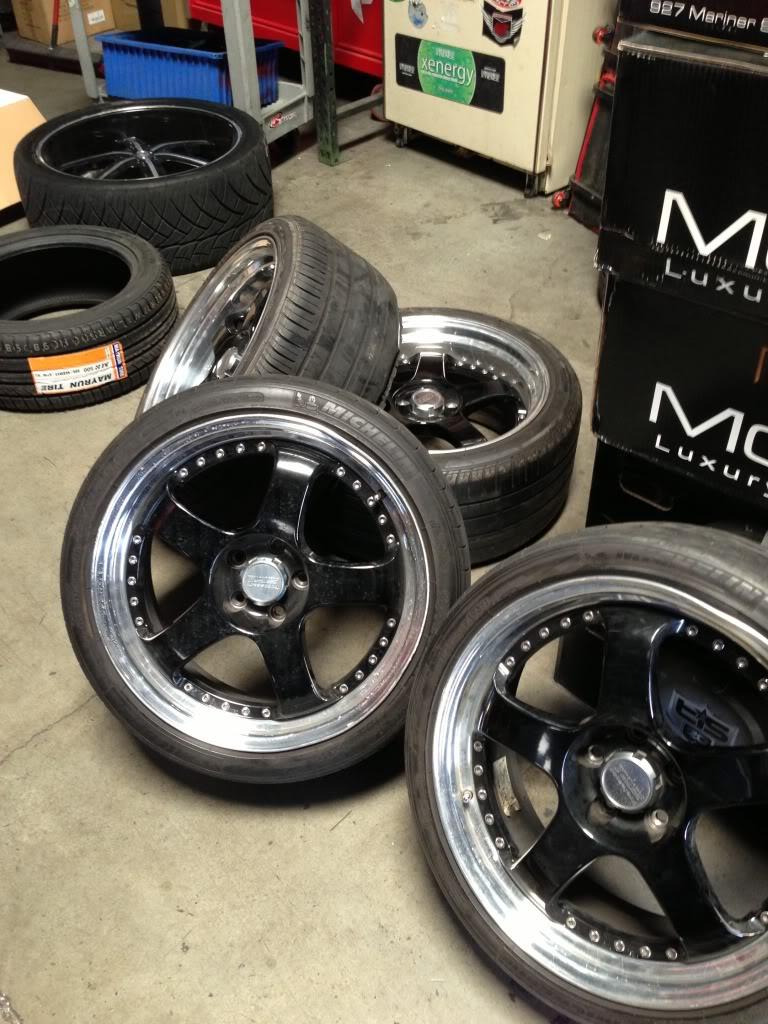 shortly after this is how they turned out, fully polished outer lips and faces, the inner barrels were brushed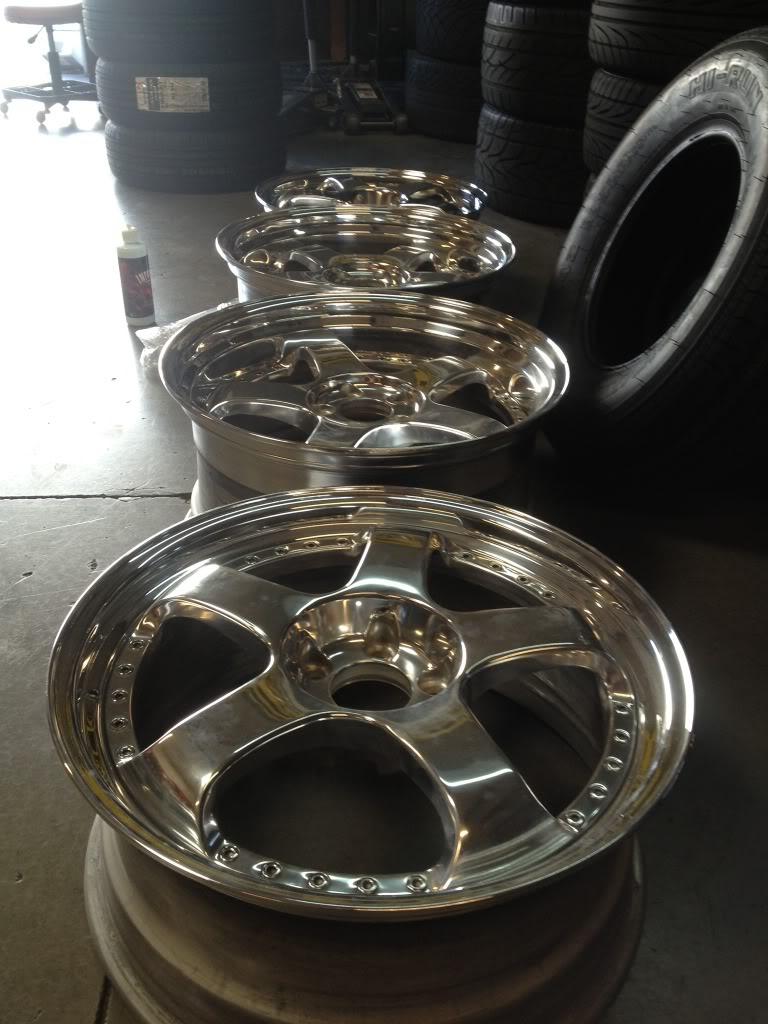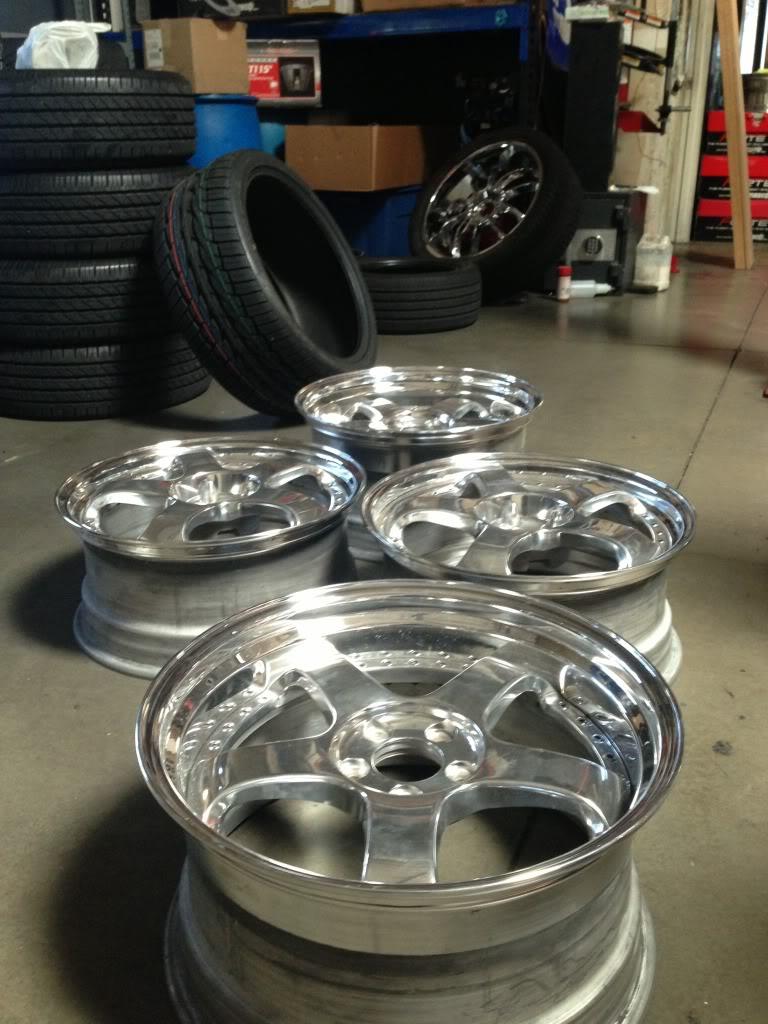 Was lucky enough to come up on an LX Mode grill from a CL member and an authentic Vertex front lip and side skirts from another(dont mind the bumper from my mr2 project and the spare 350 eng cover lol)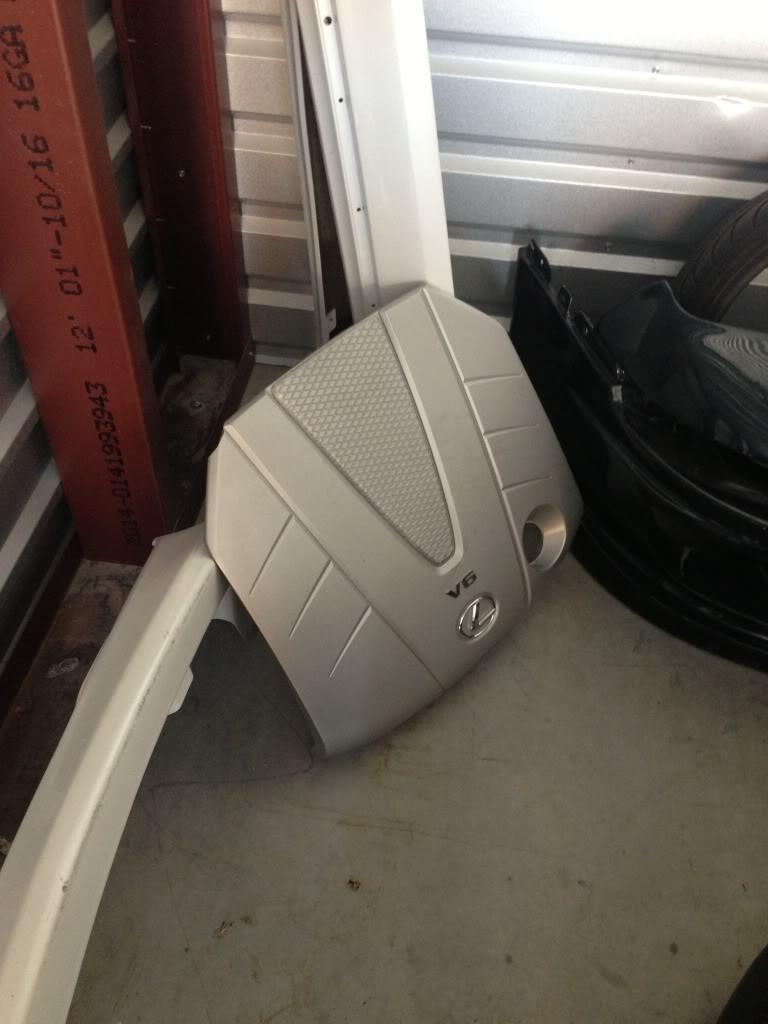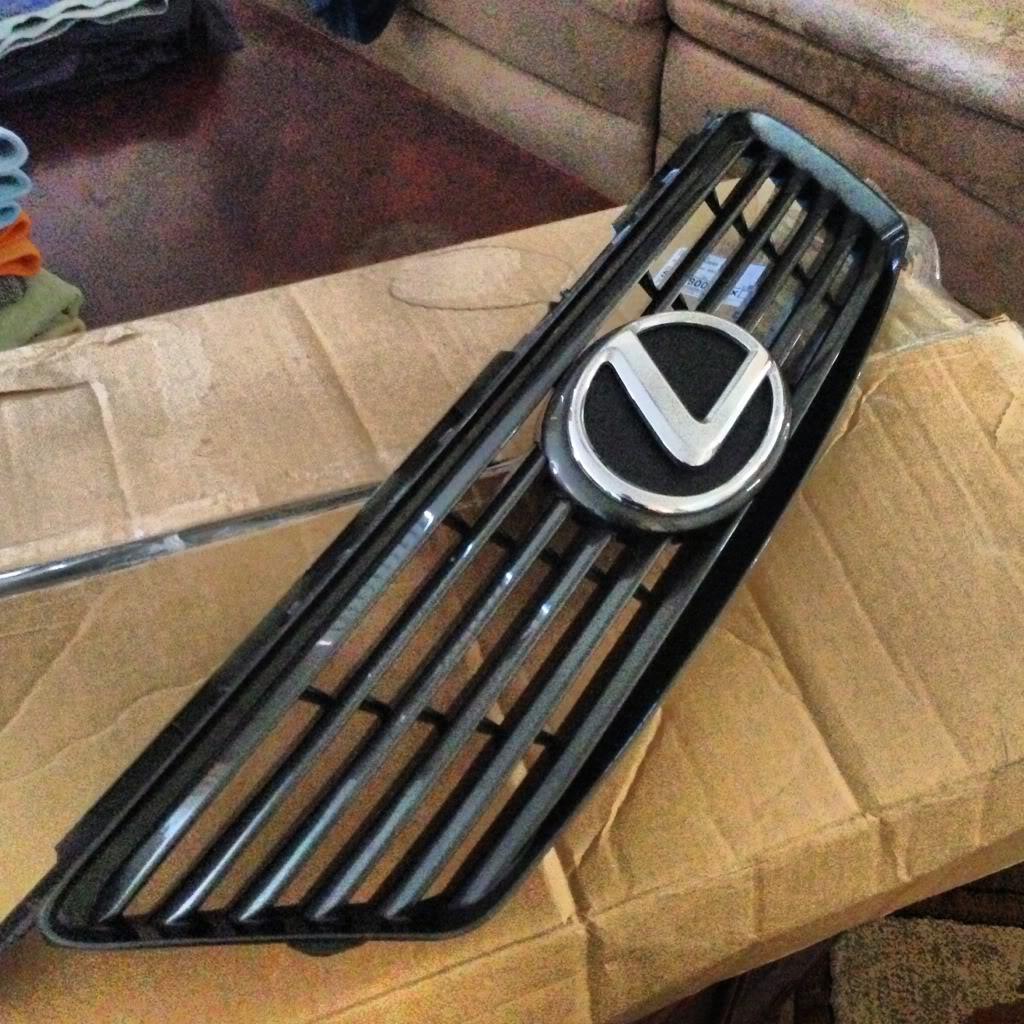 I also had ISF interior trim but had to learn the hard way that 09+ interior trim doesnt work in 06-08 IS's lol

the most recent pic as of last night one of the homies ray rolling the fenders and prepping to get the wheels on soon. he takes this seriously lol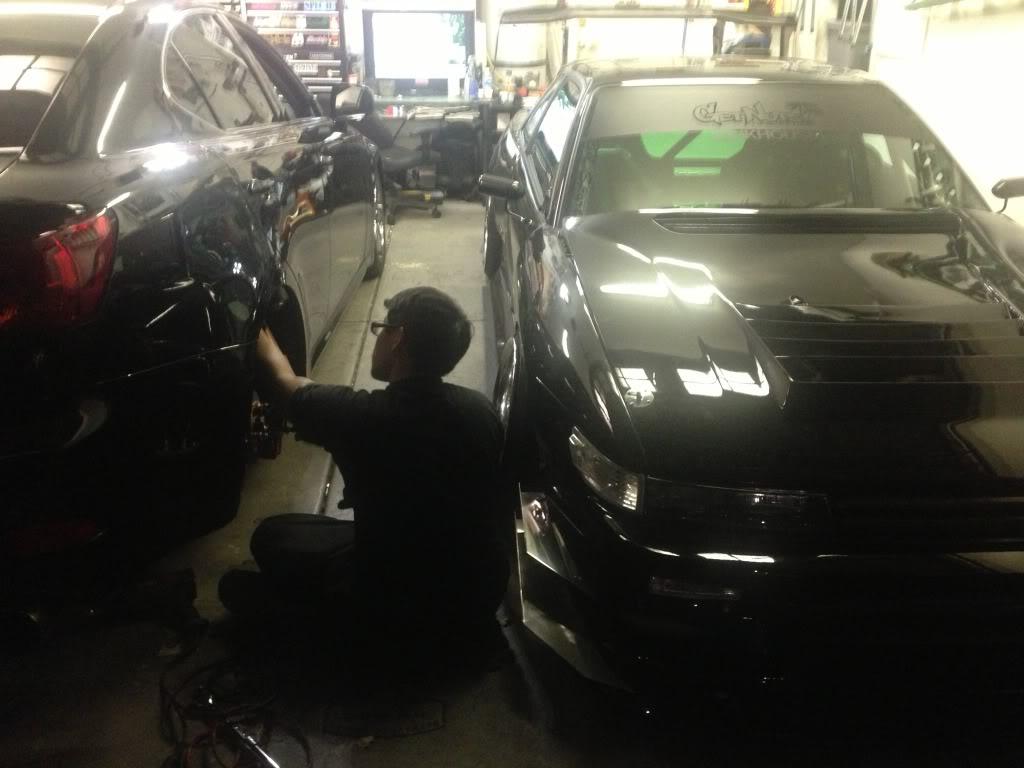 I tried to get his 240 in the shot too. i apologize for the iphone quality of the pics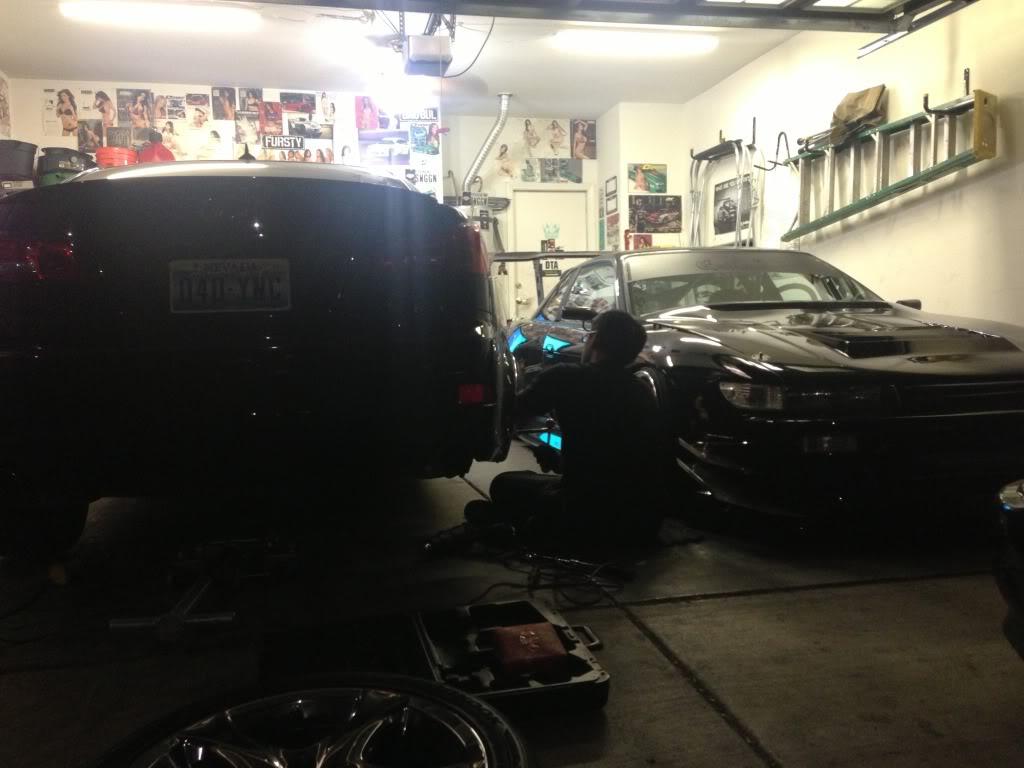 8-13-2013
trying to keep you guys updated as much as possible. just dropped off my Vertex parts for paint yesterday so it should be on next week i hope along with my GFX rear lip(dont mind my dirty ass MR2 trying to photo bomb lol)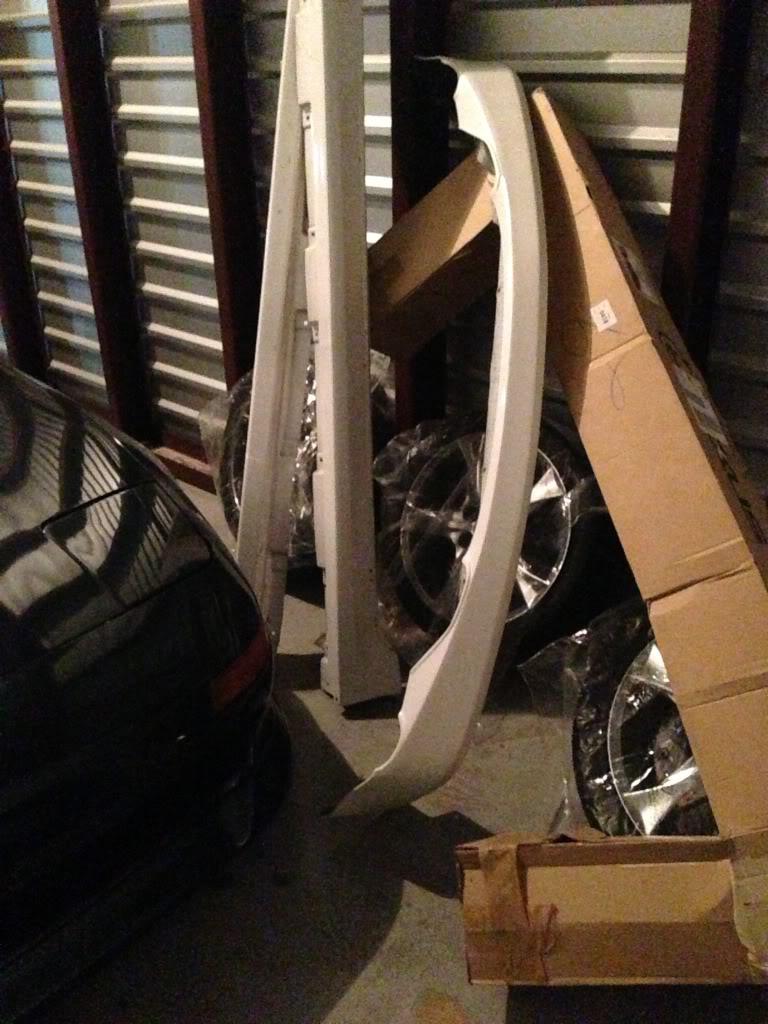 8-20-2013
i took this earlier at work. the front needs some help so i might be throwing on a spacer soon... hopefully next week the kit will be done in paint, then the front bumper repainted, then more updated pics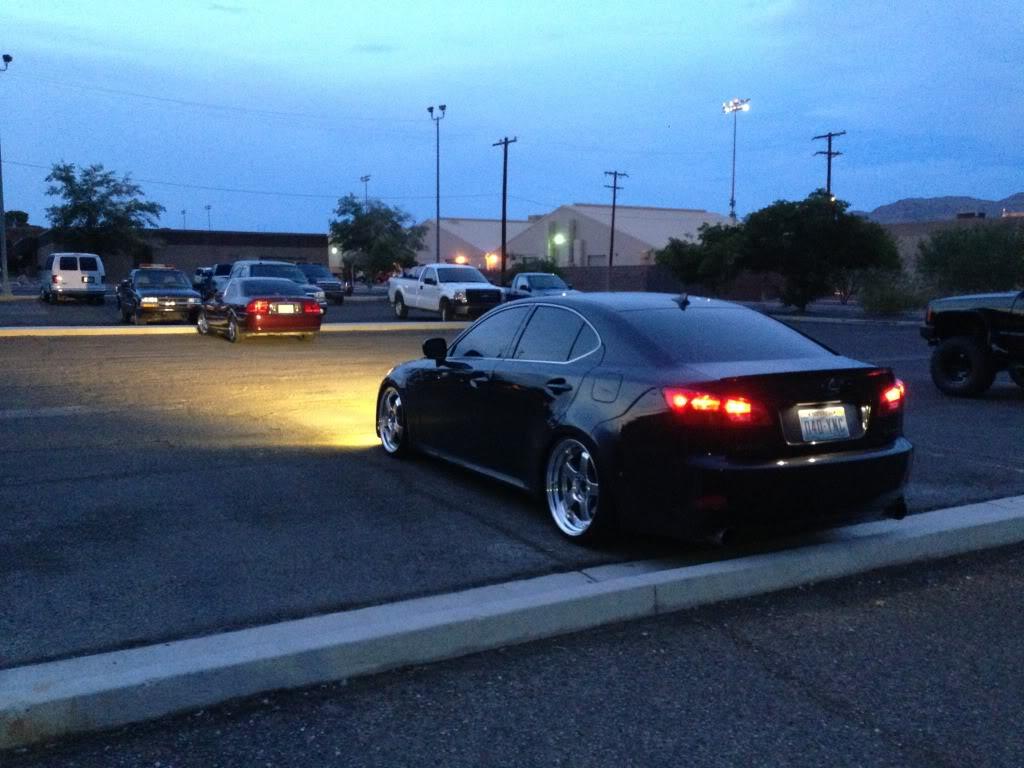 8-21-2013
New center caps came in today. Had to ditch the older "speed star racing' center caps these wheels came with back in the day. they are were super tall and stuck out a mile from the face lol. These new lower ones look alot more modern day
B Type Low: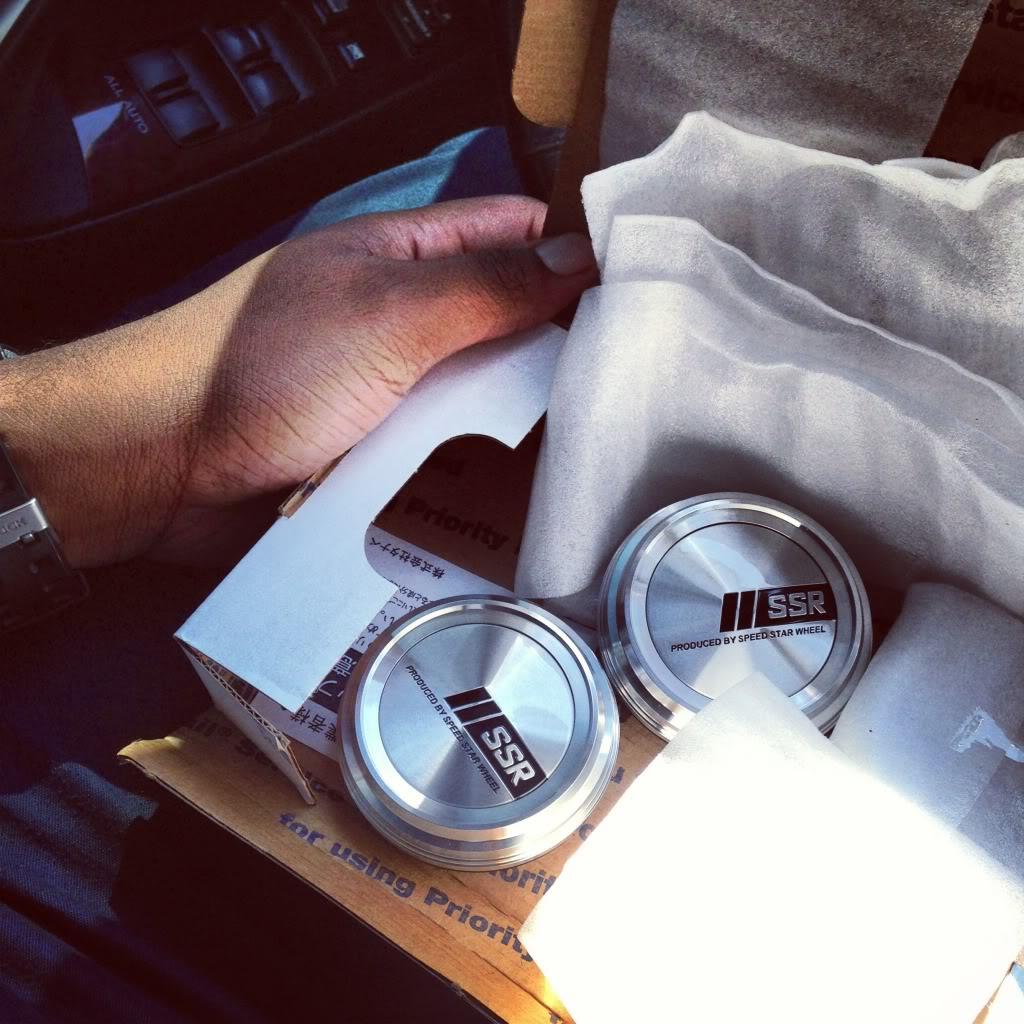 8-23-2013
everything has been falling into place lately kind of fast lol. the new OEM JDM visors came in yesterday courtesy of Nigel. got them in 2.5 weeks which has to be a record for a 2IS lol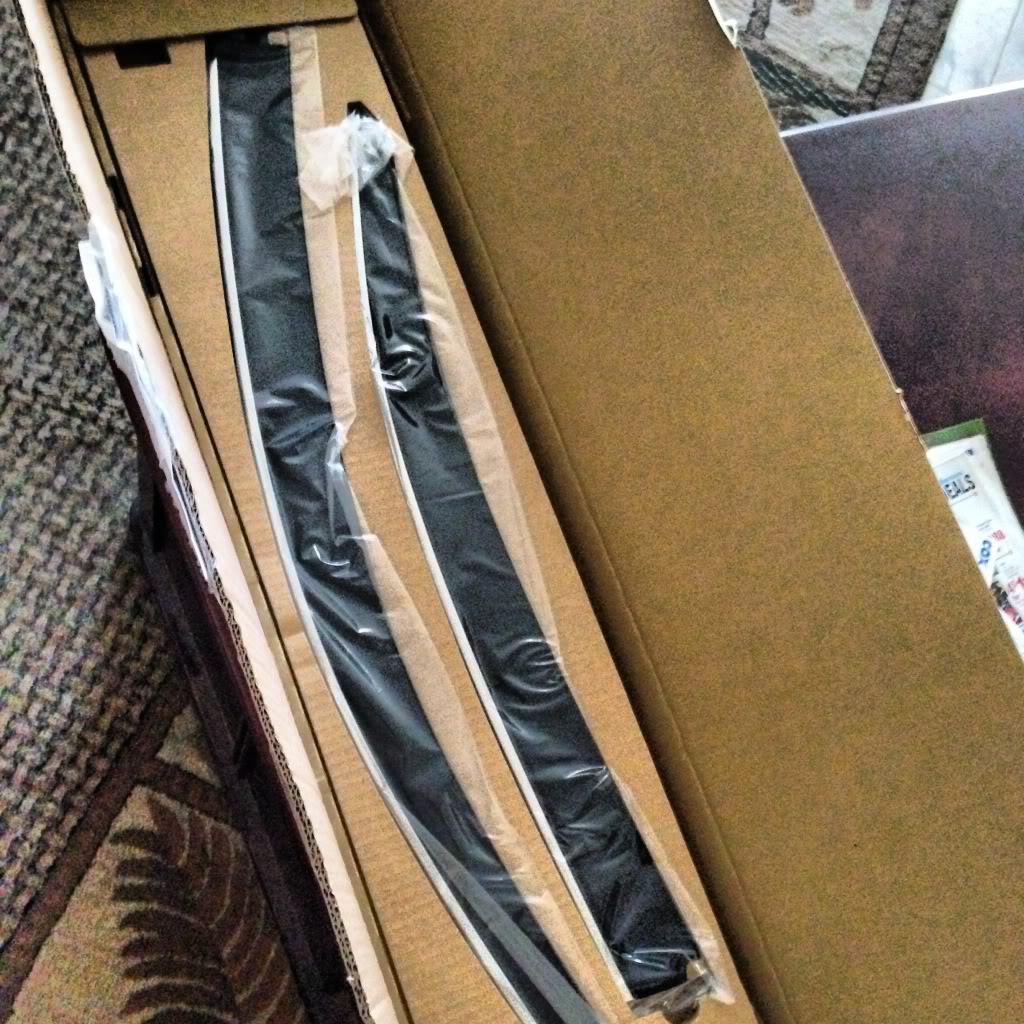 here is an installed pic i took today before leaving for work. the OEM ones might be a tad pricey but the fit and finish is 2nd to none. i felt the same for the ones i had on my old 2.5LS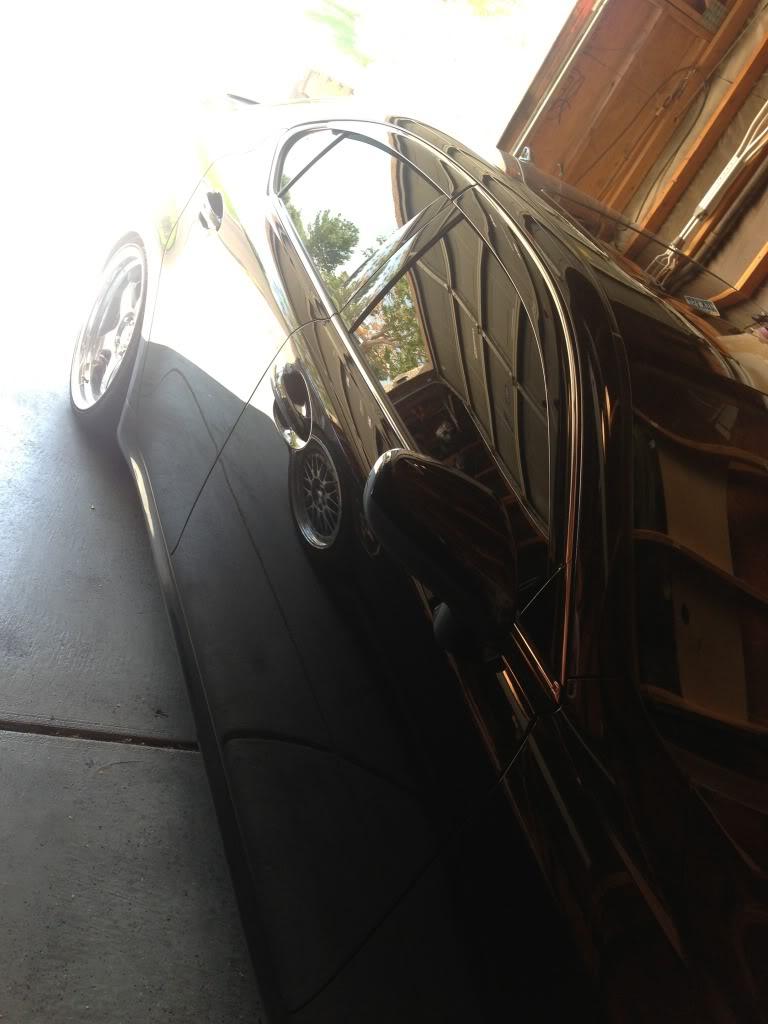 9-3-2013
been meaning to keep you guys updated but this last week has ben hectic. getting the lip kit sprayed then decided to get the whole front bumper resprayed becasue it was bad off. sand blasted from years of road time. so here are some updated pics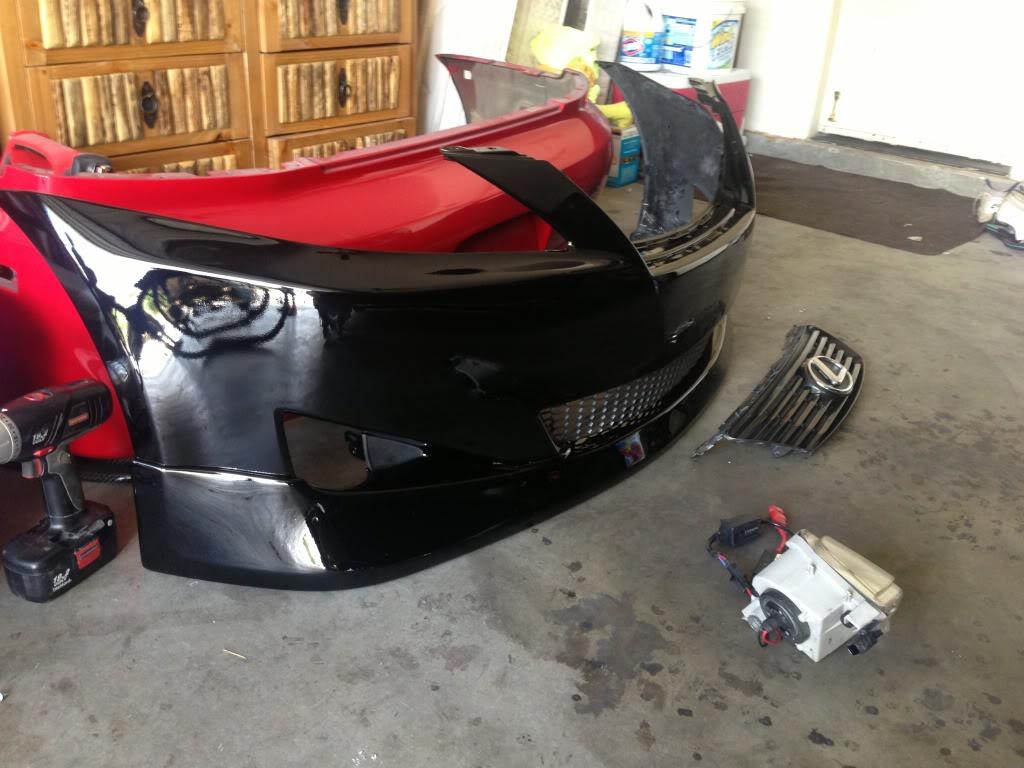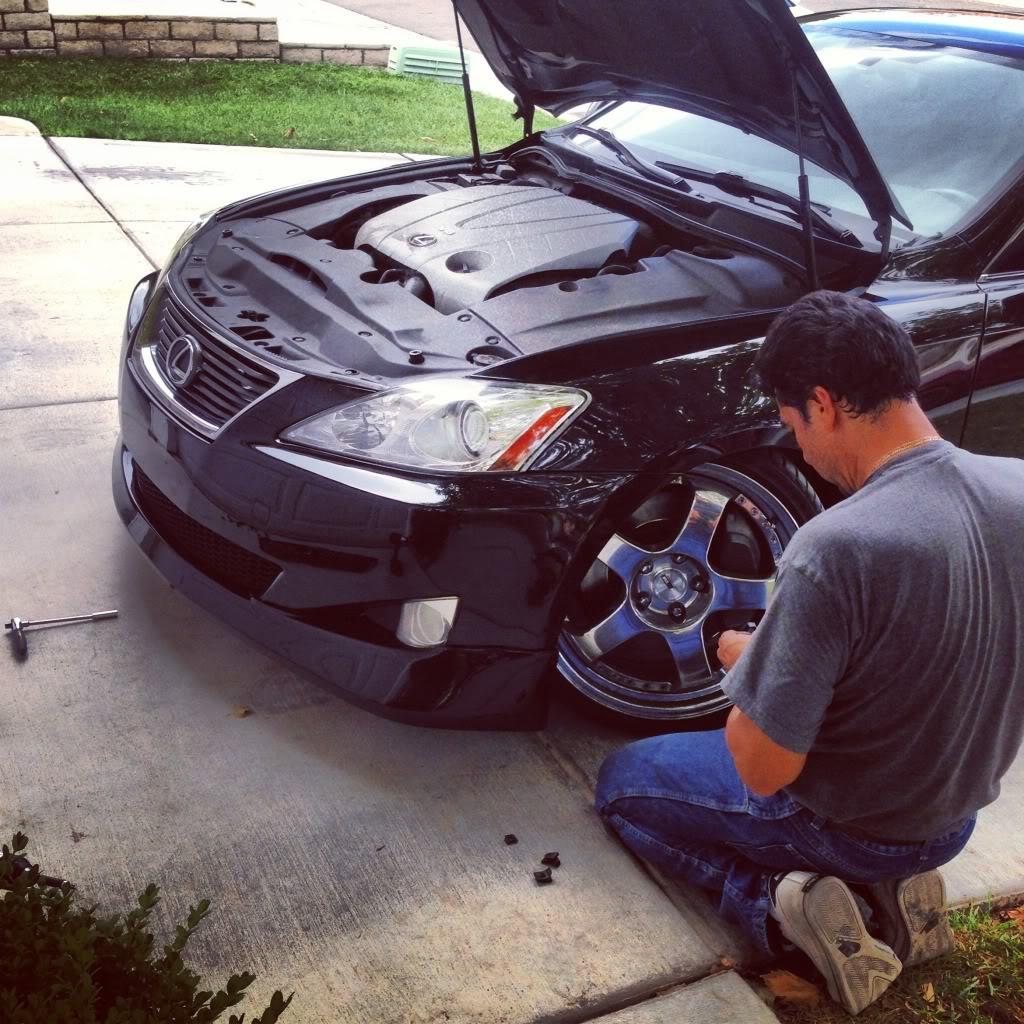 my body shop guy did a good job on the bumper and everything. got the grill installed too. he plays no games in the booth
The same day my puddle light LED from VLED came in so we got those installed before the trip. took them forever to restock but they made a MASSIVE difference. Very very happy with the turn out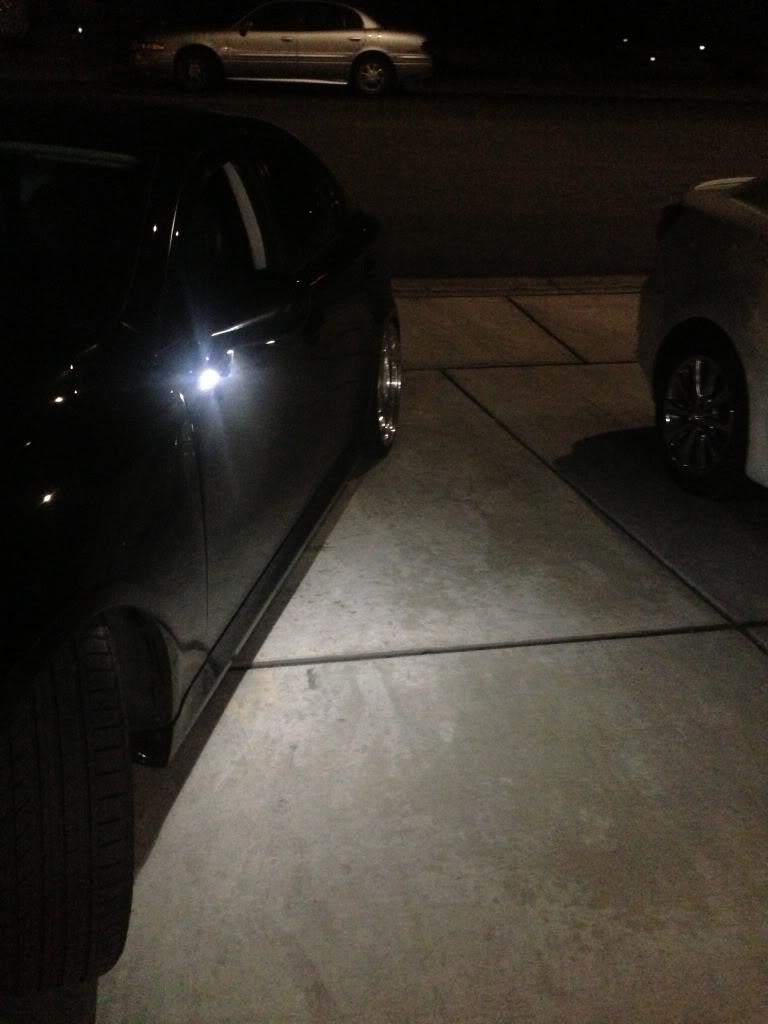 a couple more finished product pics and some pics from this past weekend in San Diego for WFCfest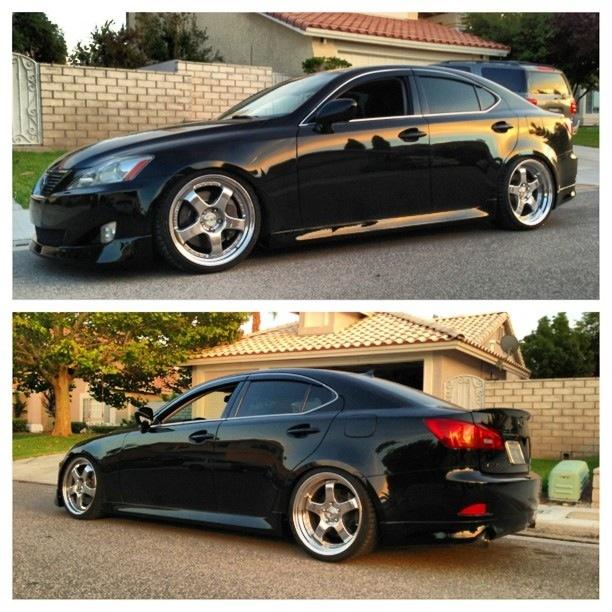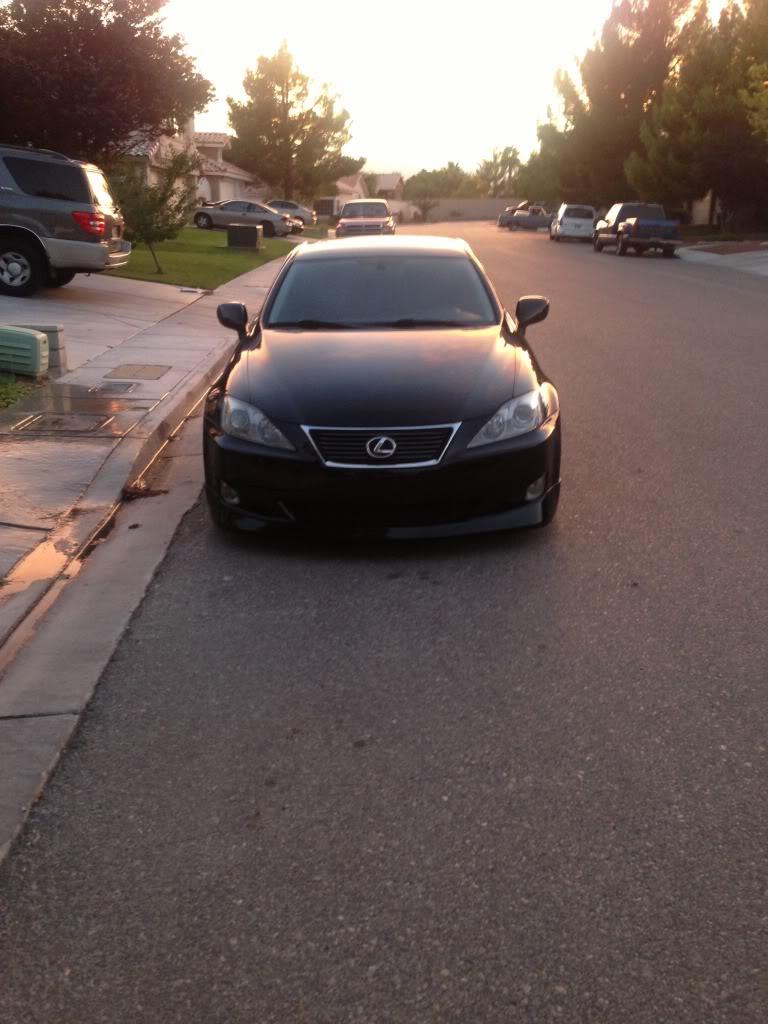 the crew was helping clean my disgusting car before the event started, since driving to SD we drove through 3 thunderstorms lol. much love to them for that. the white ISF next to my car is my boy Lance's(calitriboost)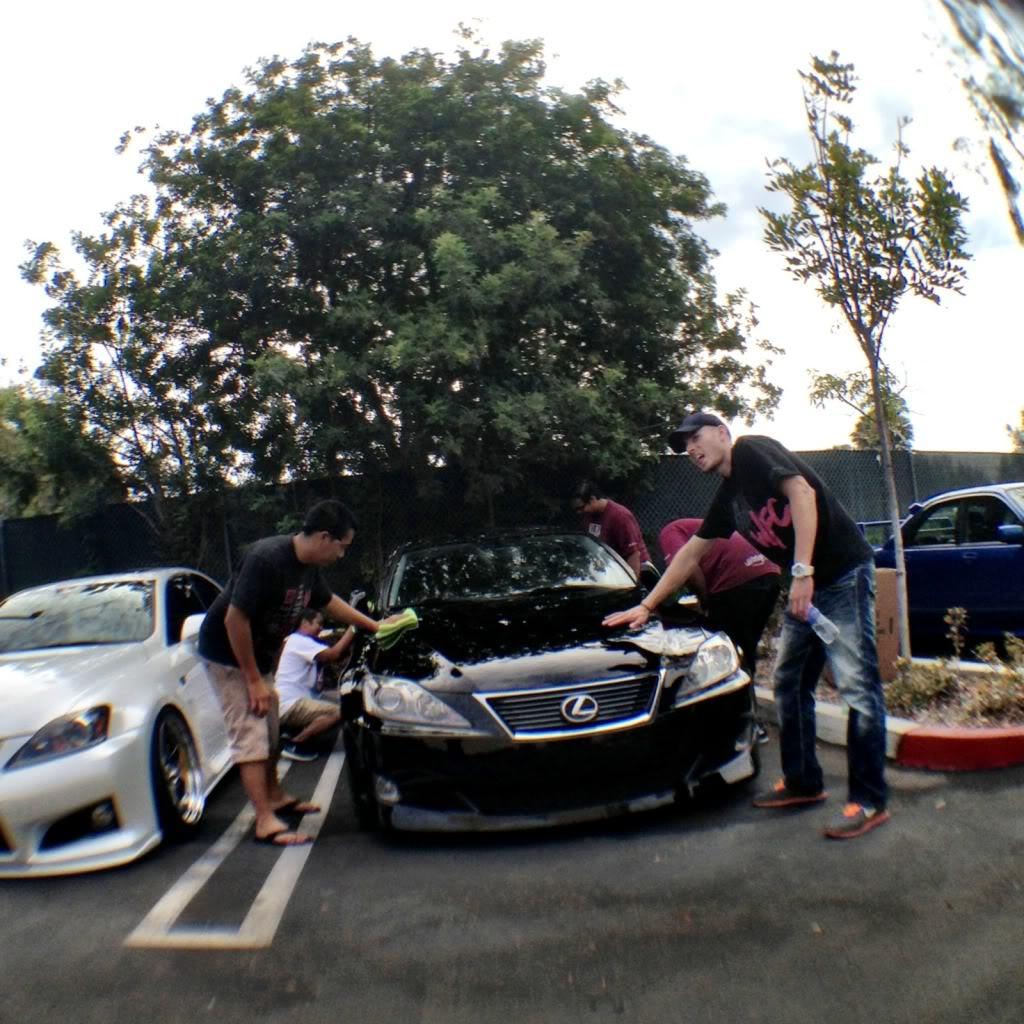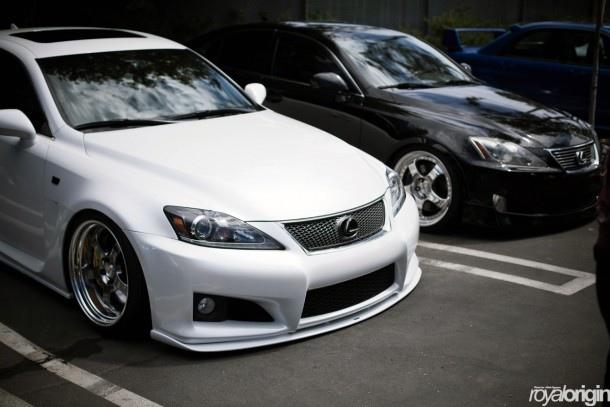 9-9-2013
This was the day after WFCfest about to hit the road back to Vegas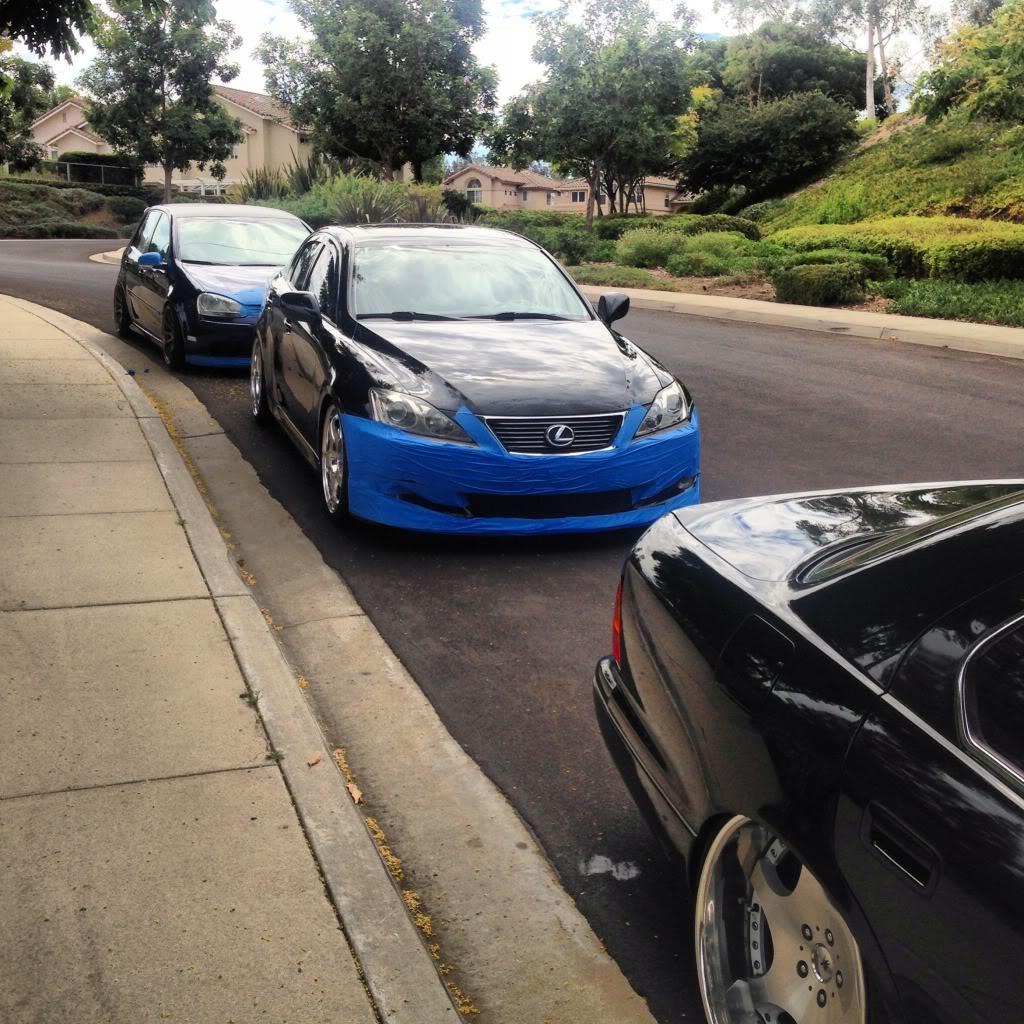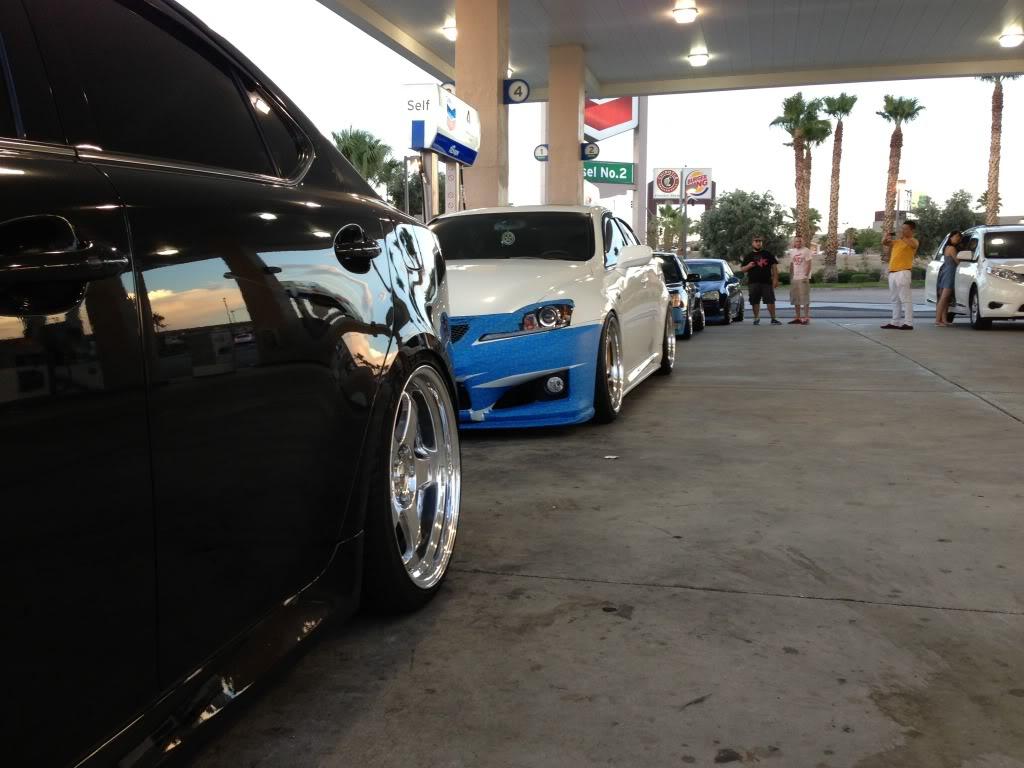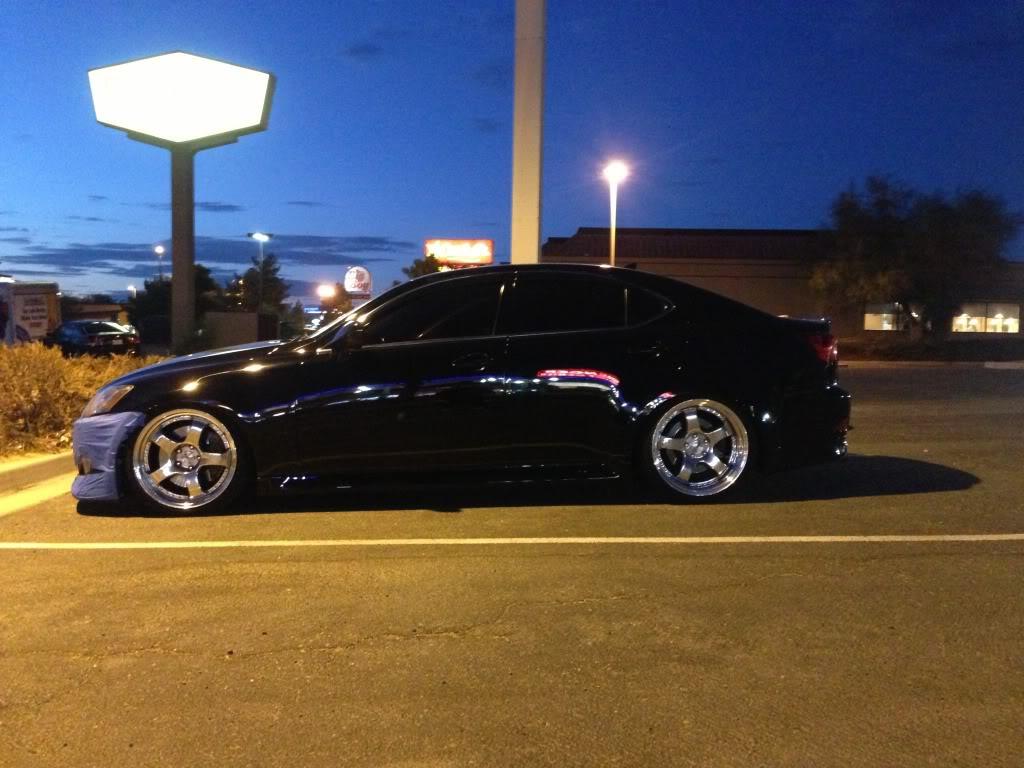 One more from the gas station in Barstow almost back to LV taken by my boy Andrew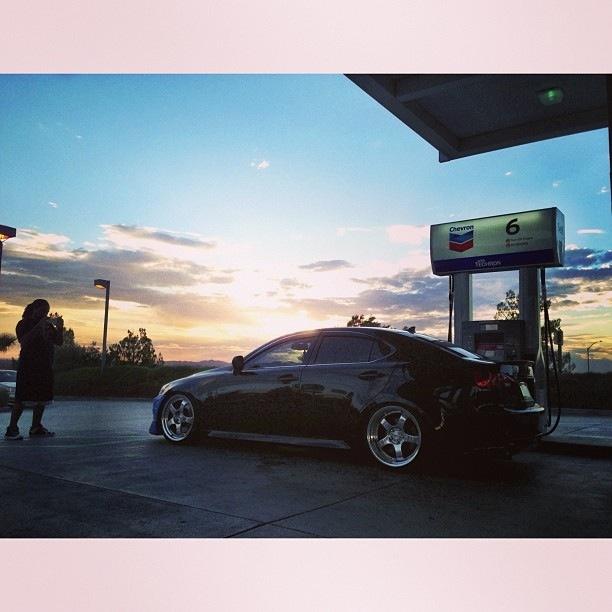 9-26-2013
Havent updated in awhile. i took a couple pics from Auto Gallery this past weekend at Huntington Beach.
the pre cleaning the night before the event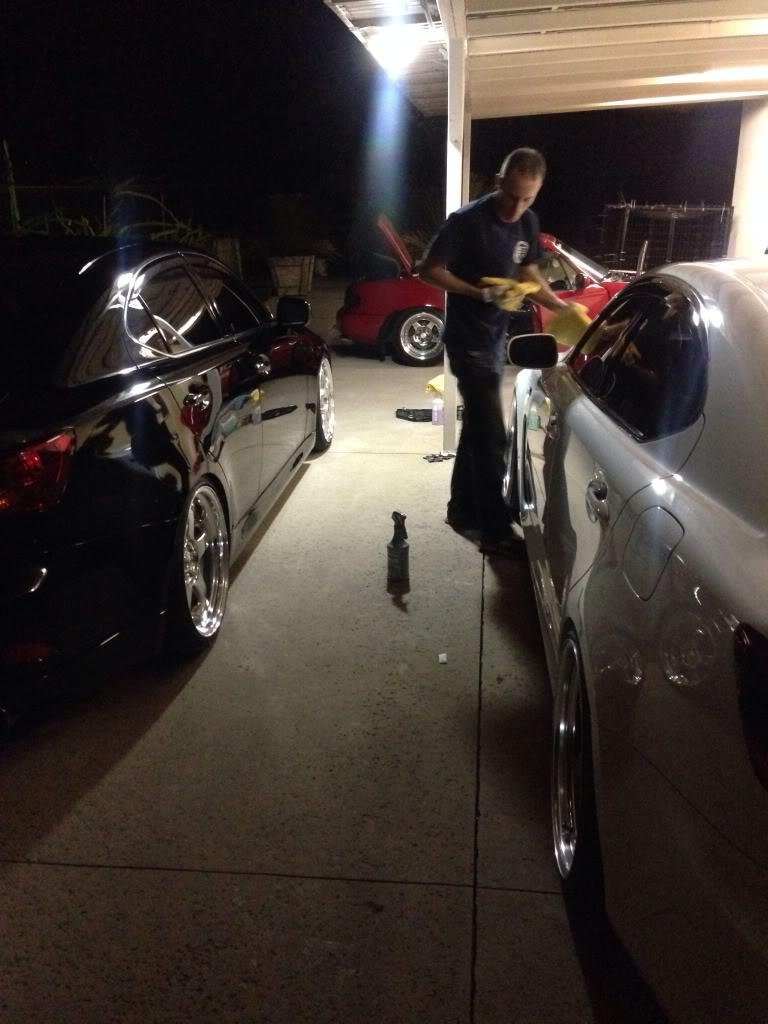 a pic during roll in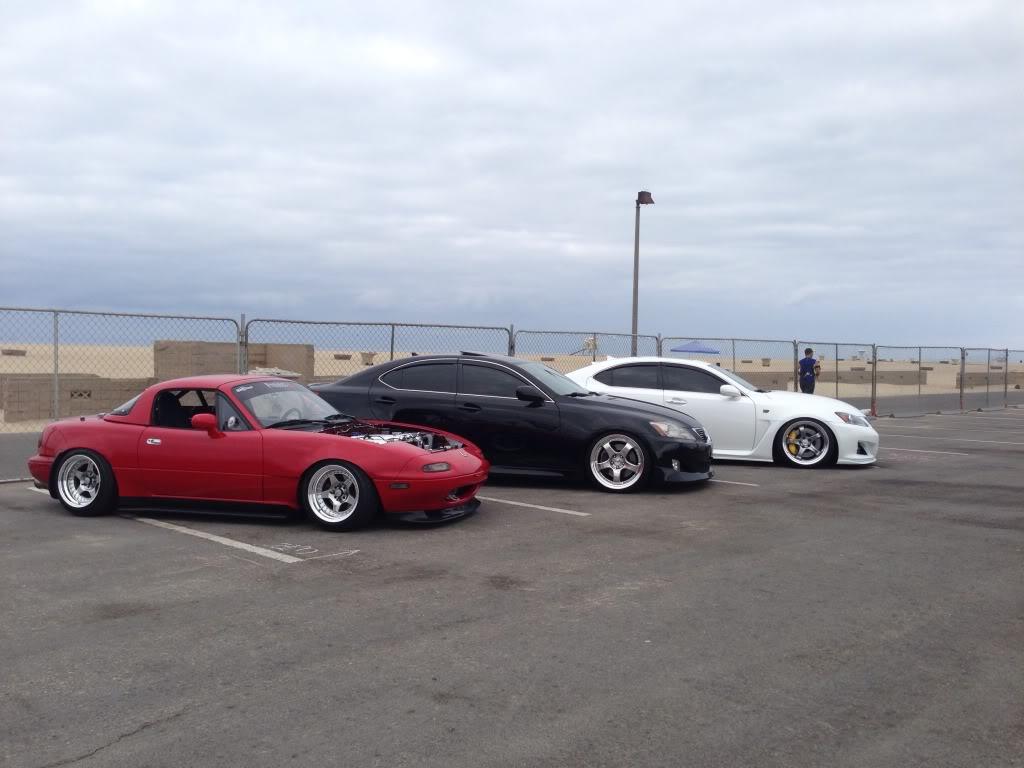 a random front shot i took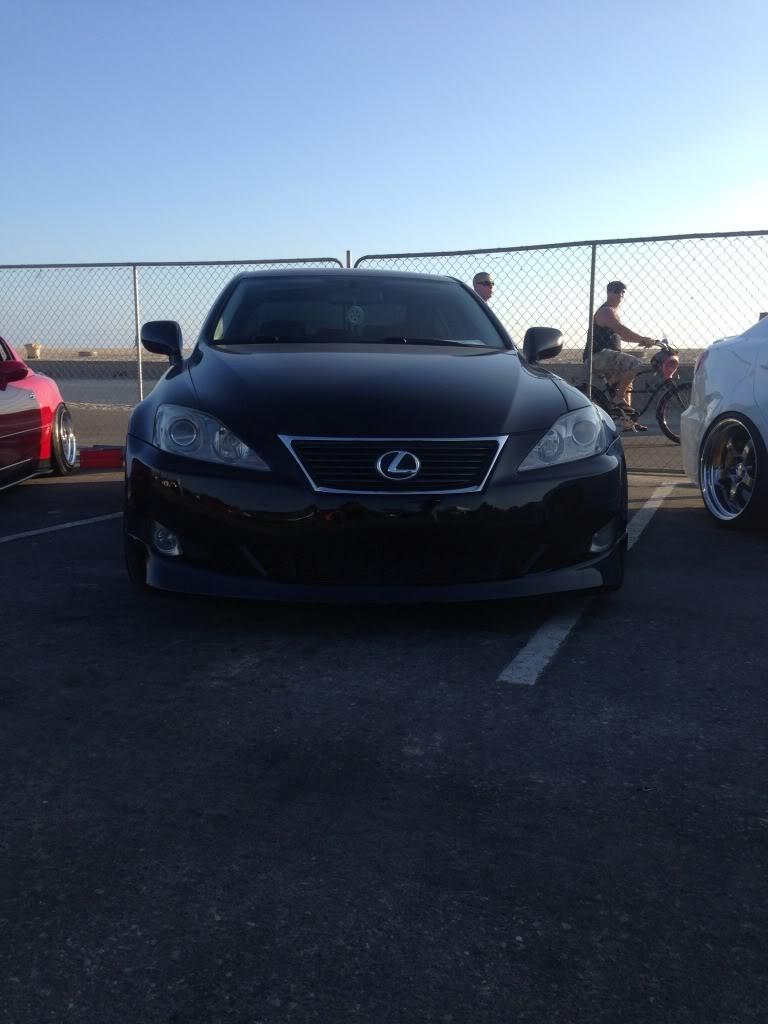 We got back to vegas and i couldnt take the bumper tab rubbing anymore so it was time for some small surgery. so the homie chivas helped get it all squared away and the tabs removed, and the new tabs installed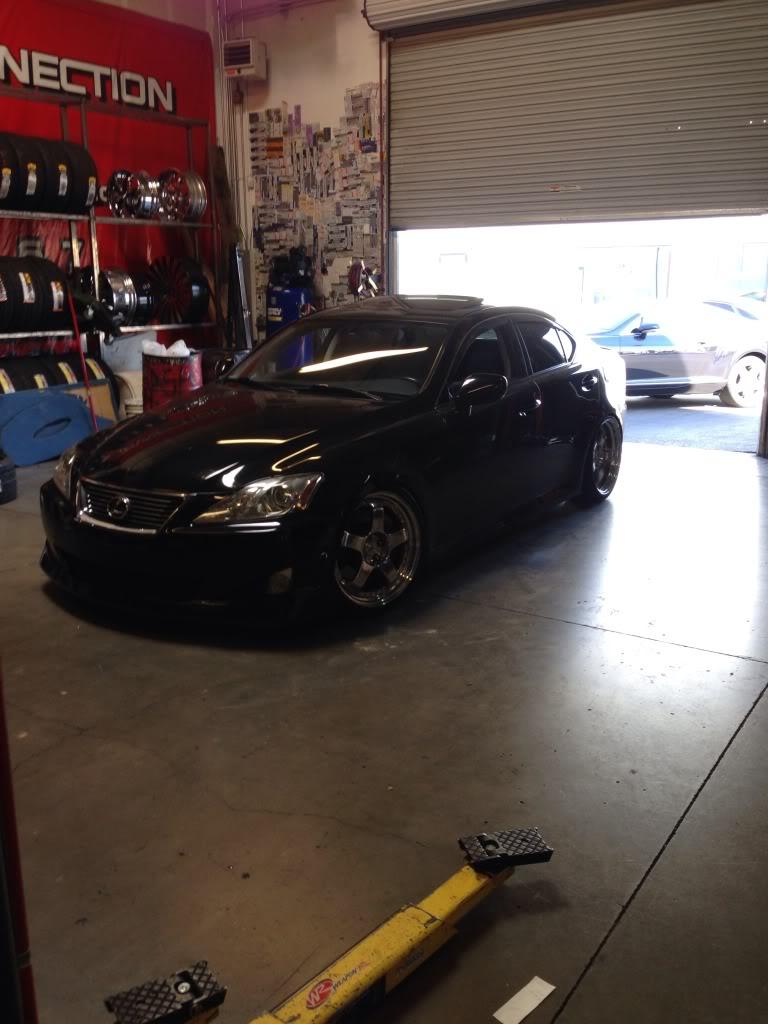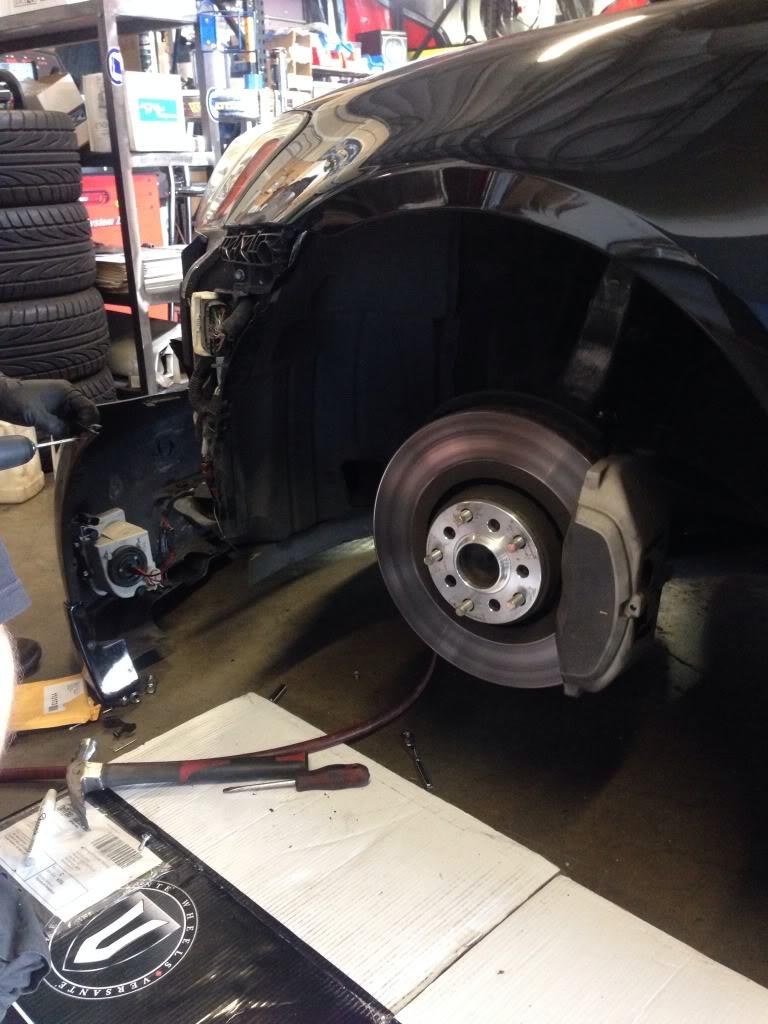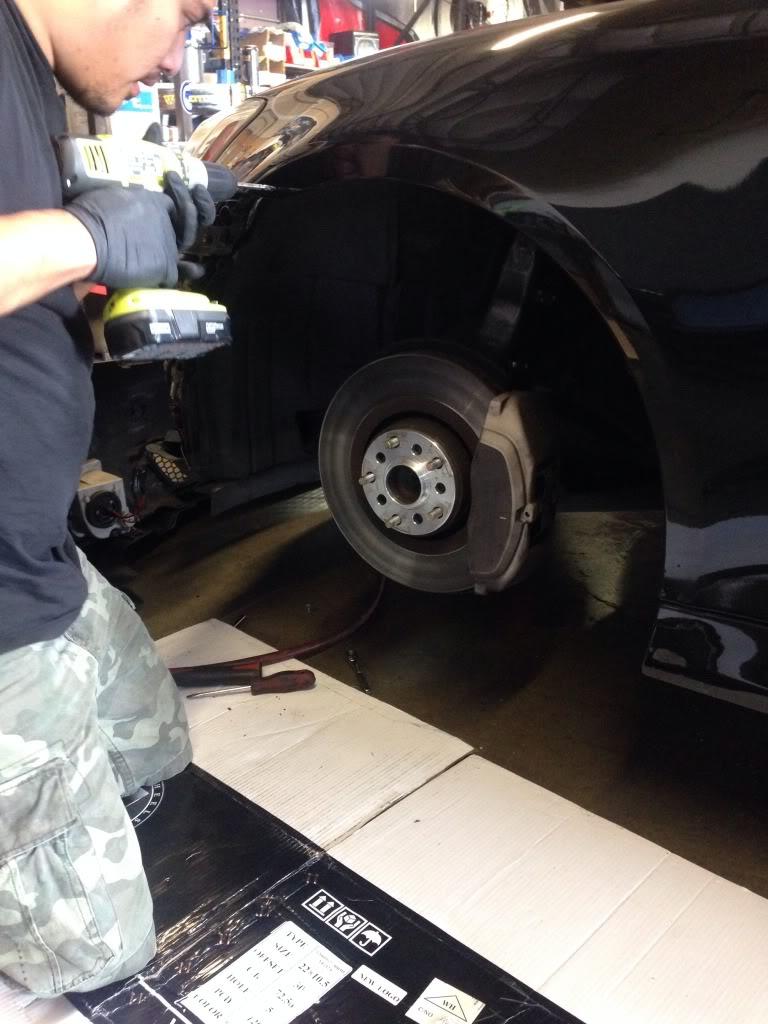 new quick release tabs installled from Password JDM
The icing on the cake, lucked up on these from another CL member. 2012 LED headlights, very amped about these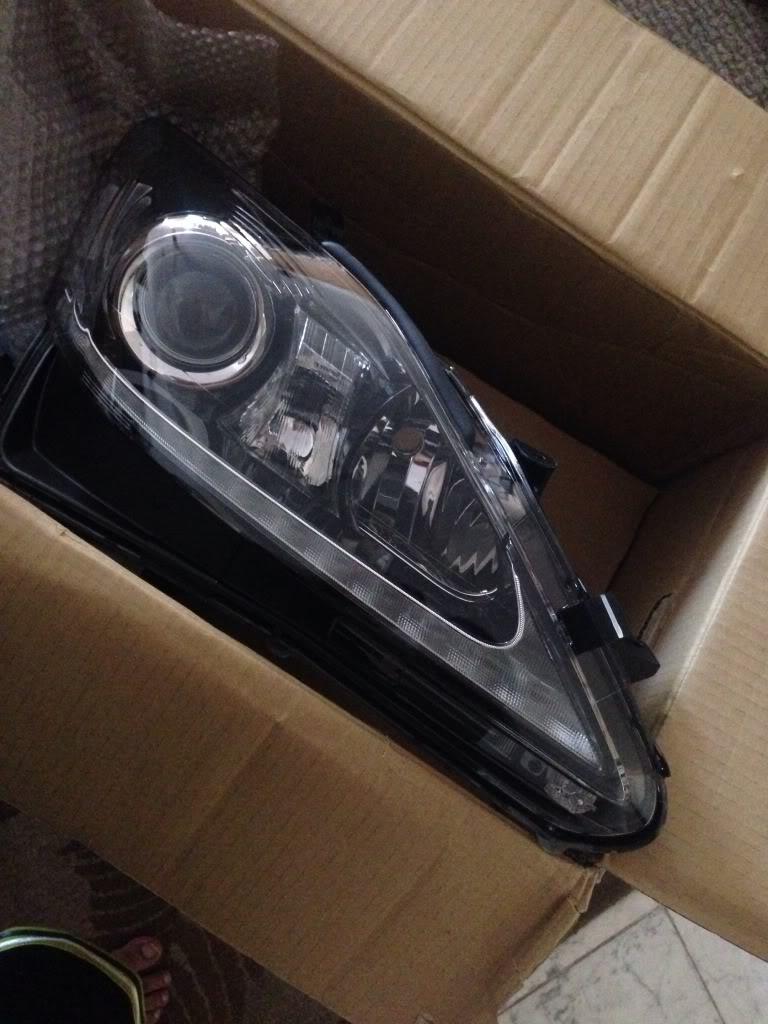 10-8-2013
Here is one of the pics from the completely random shoot the homie setup sunday night lol. had to quick detail the car in the parking lot last min after dinner lol. Ill post the others when i get home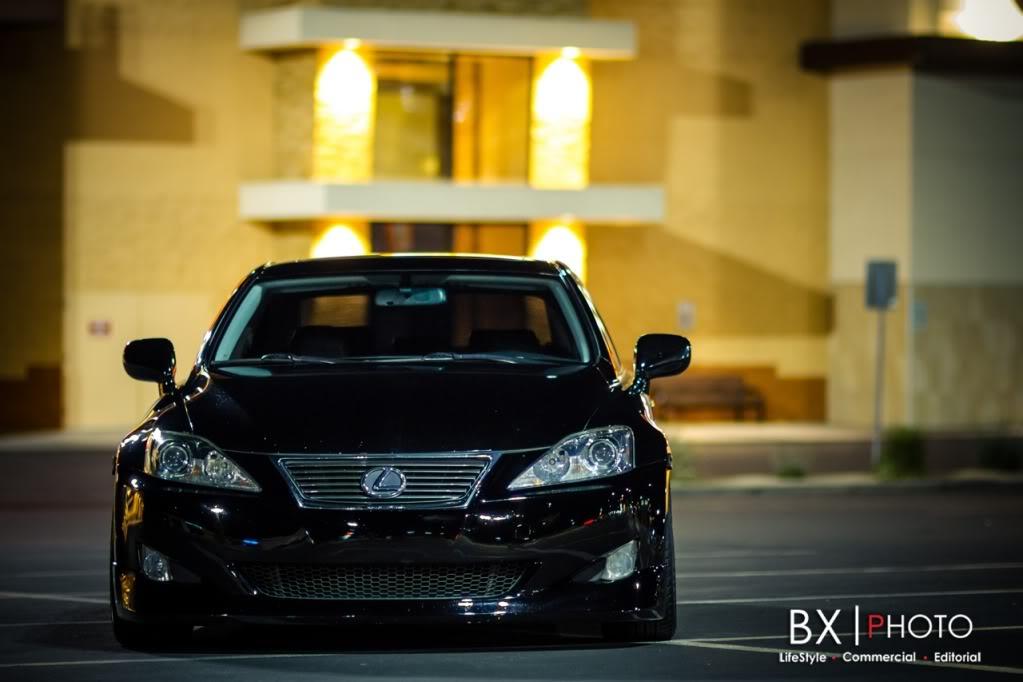 a couple more pics from sunday nights shoot. meant to post earlier but i forgot. big shoutout to the homie Andrew for the sick pics. enjoy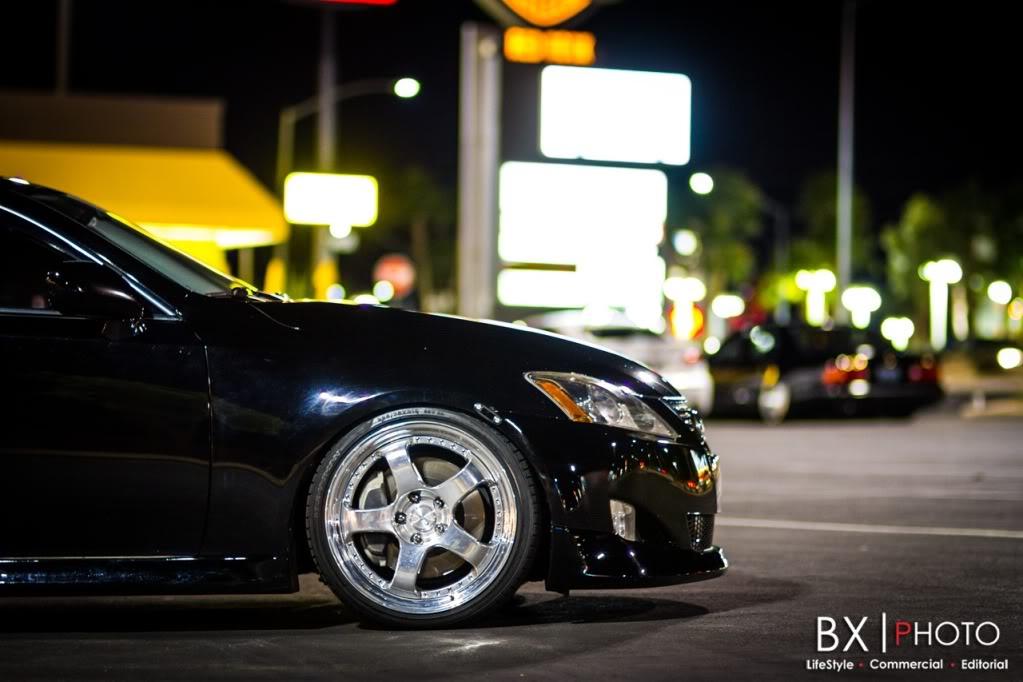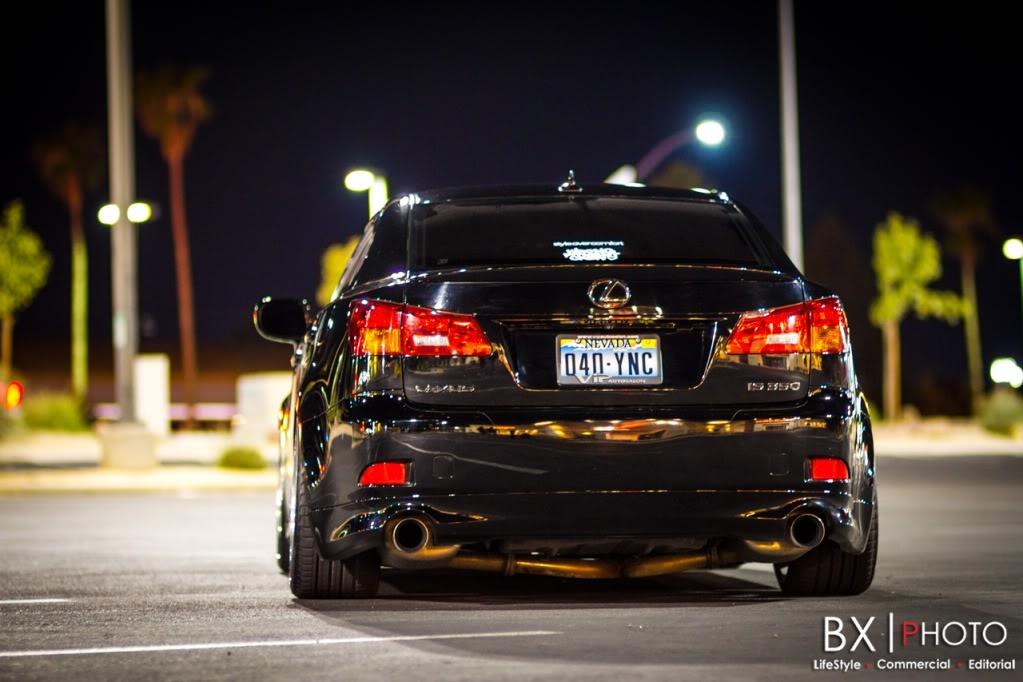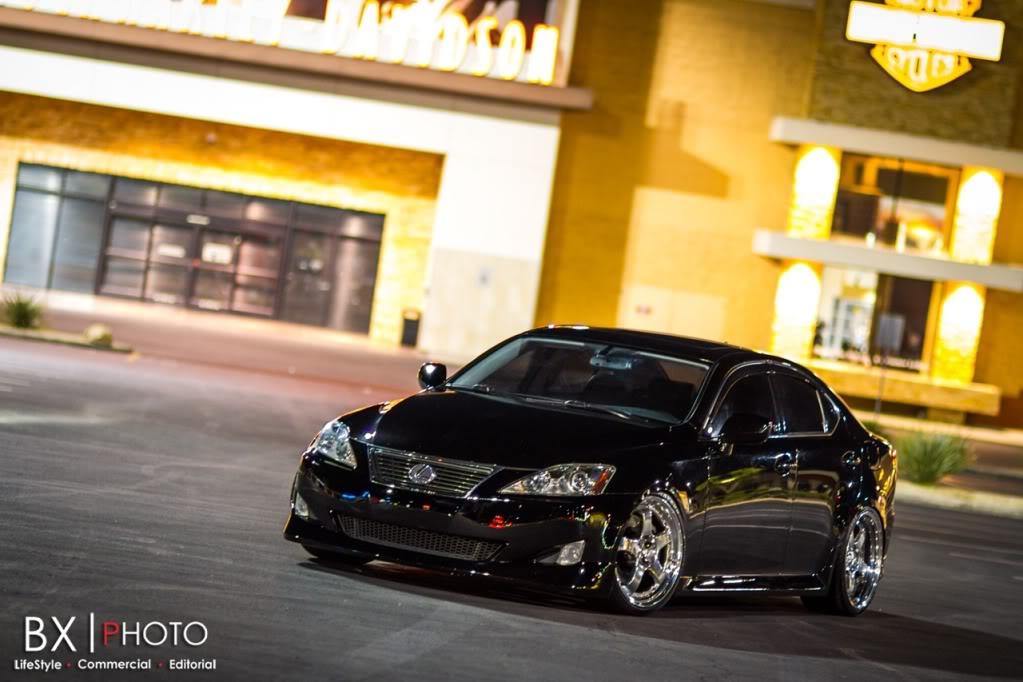 a behind the scenes, of the behind the scenes, of the behind the scenes at the shoot lol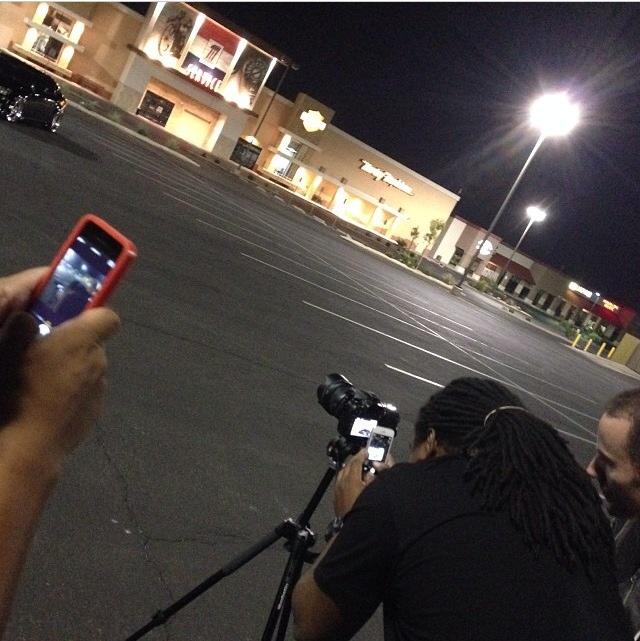 10-17-13
just when i thought i could stick with the SSR for awhile, the urge strikes again lol. These will arrive next week and rebuilt into something more aggressive and step lip. 9.5/10.5, 10/10.5, 10/11, who knows........ more pics too come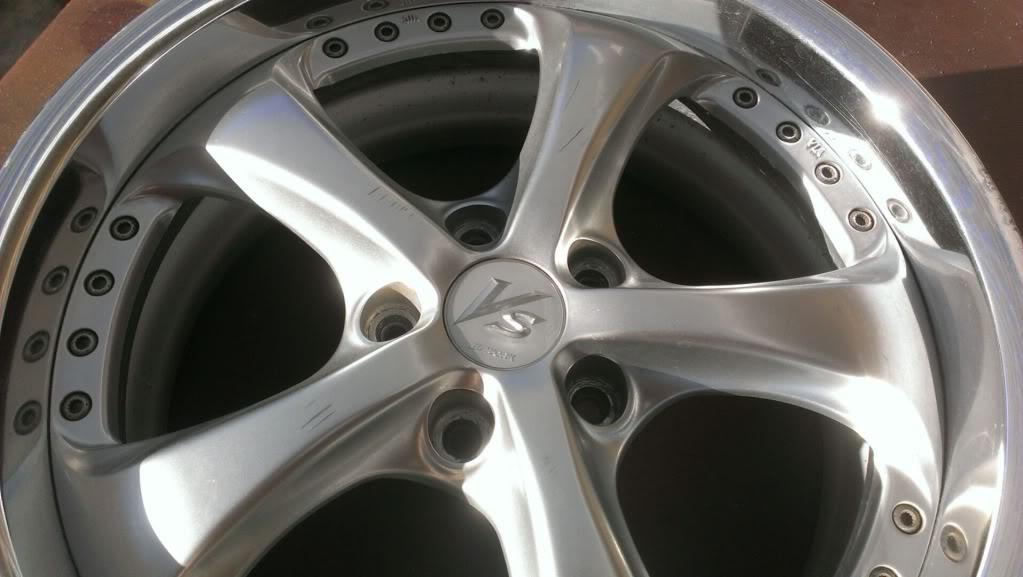 10-21-2013
Had another completely random photoshoot last night thanks to the homie Andrew for the dope shots. gotta love dope rolling shots
usually i would have the fogs on but the one blew out :-/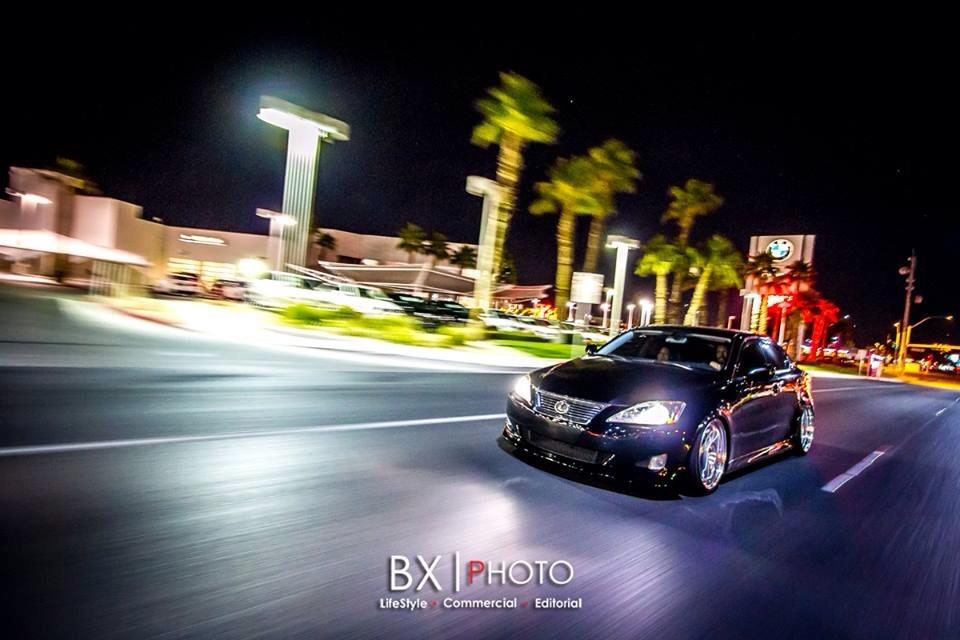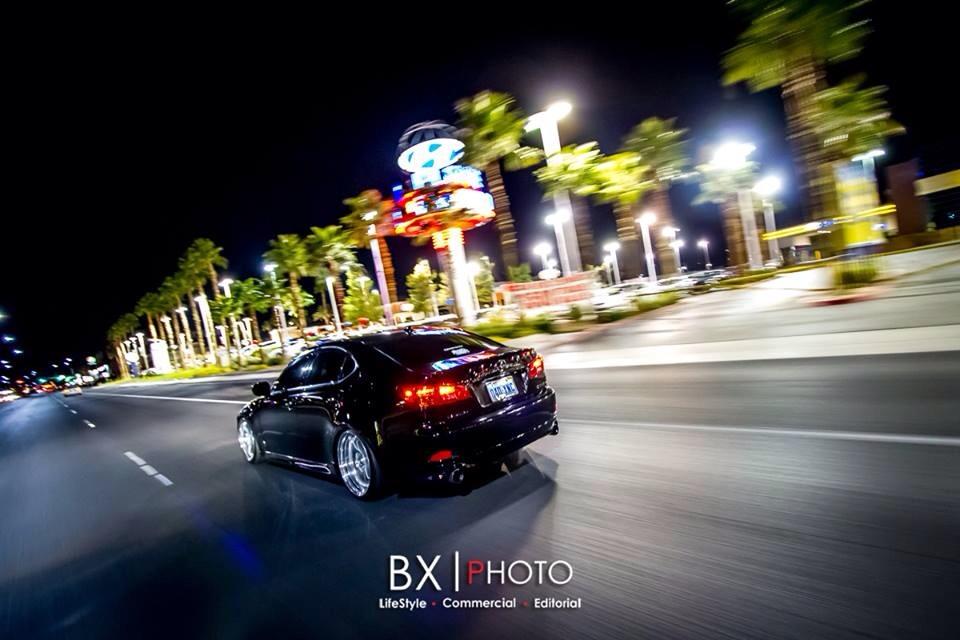 10-30-2013
since one of my 3k fogs blew out i figured i would just buy a whole new 3k HID kit. now im back in business. i never realized just how much light output i had until i had to drive for 2 weeks with just my headlights lol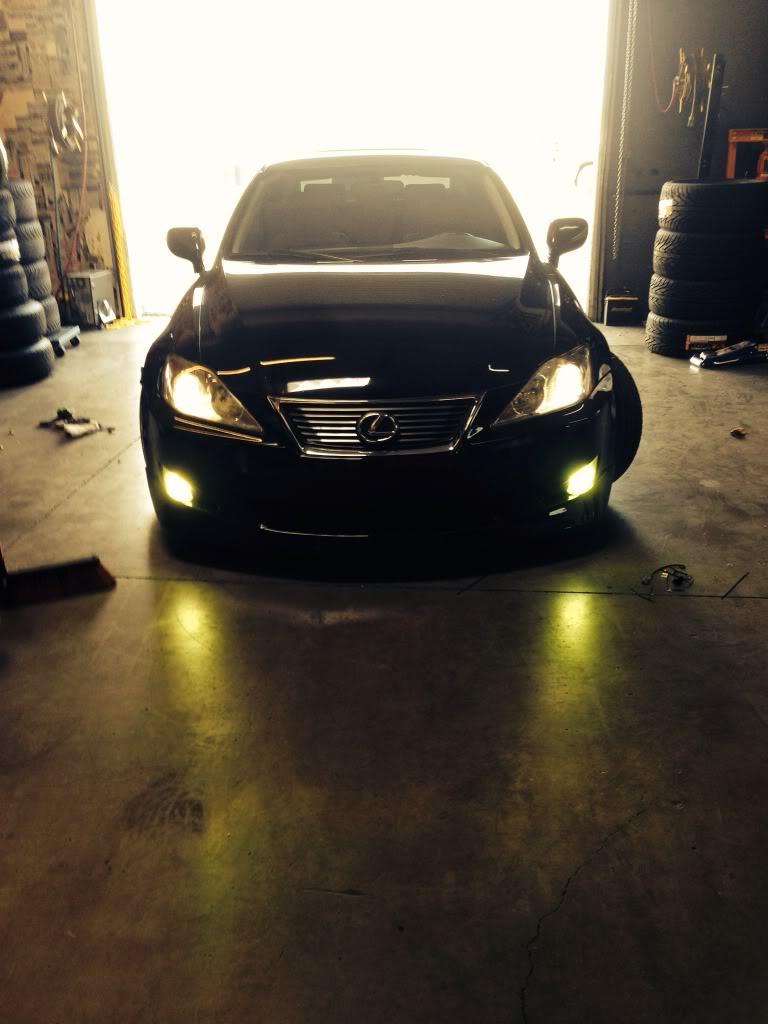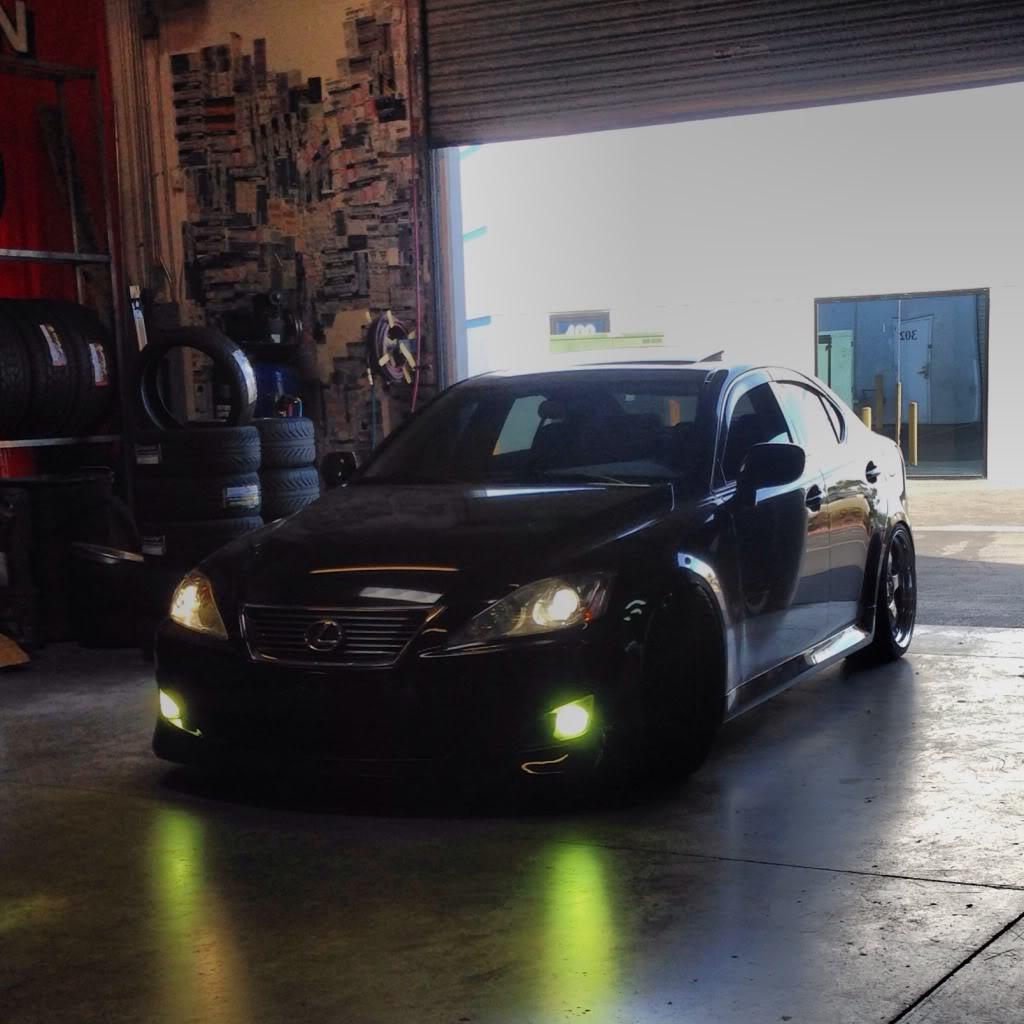 also got these apart today as well. i completely forgot the VSKF were 3pc welded. luckily they are becoming 19's and not staying 18's. more pics to come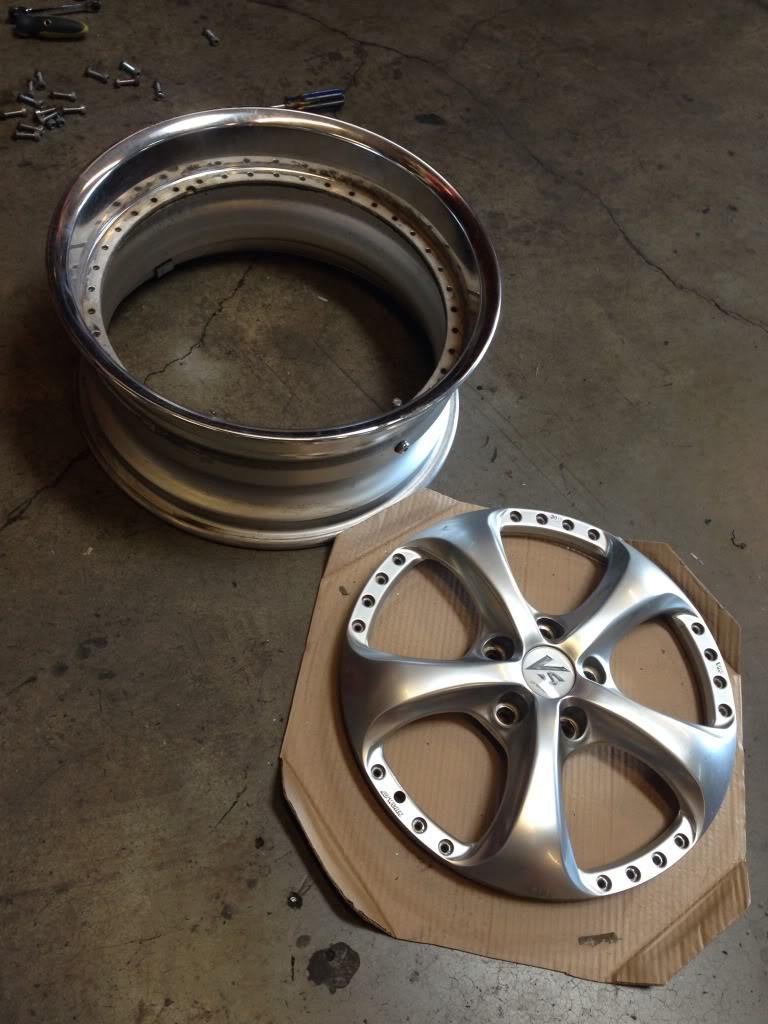 11-13-2013
finally took the time to get the 2012 headlights installed and get them out of my room. was time consuming but definitely worth the effort. had them wired for the LED to be 100% all the time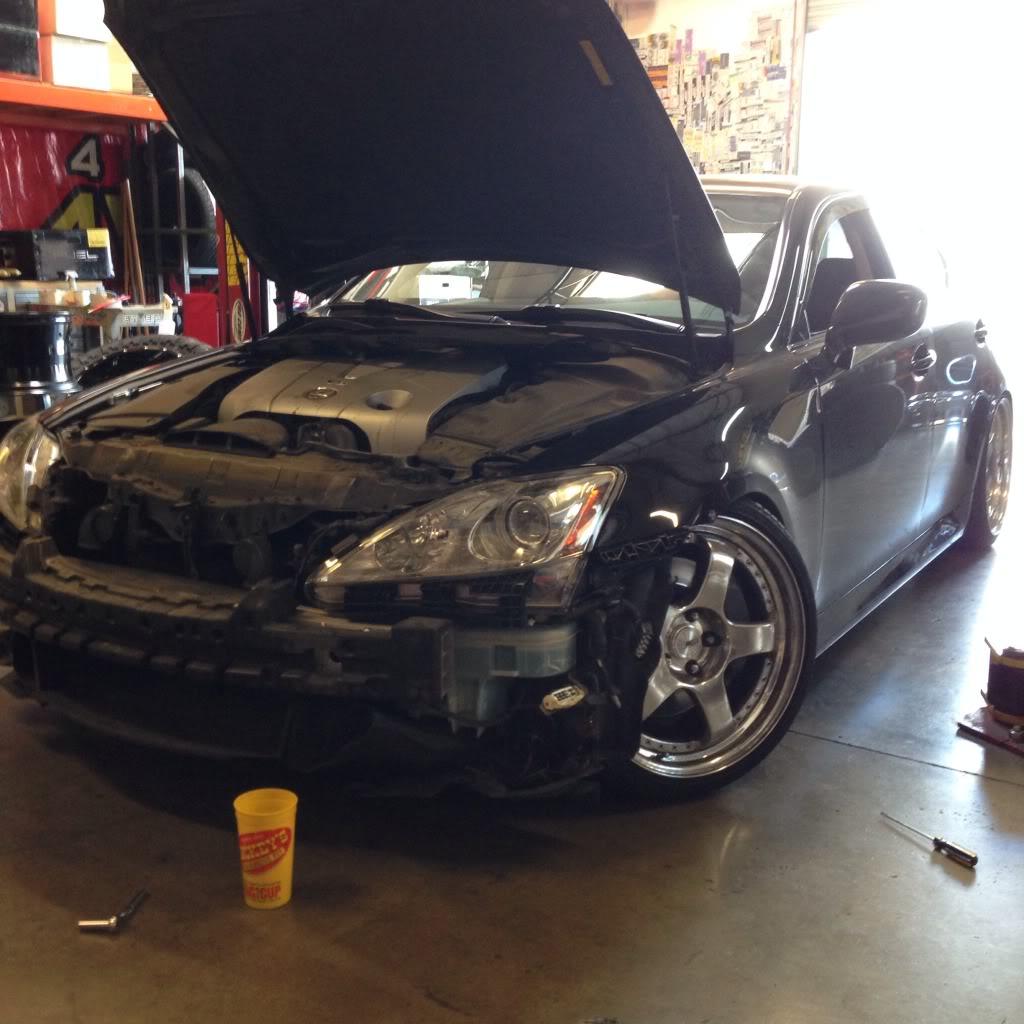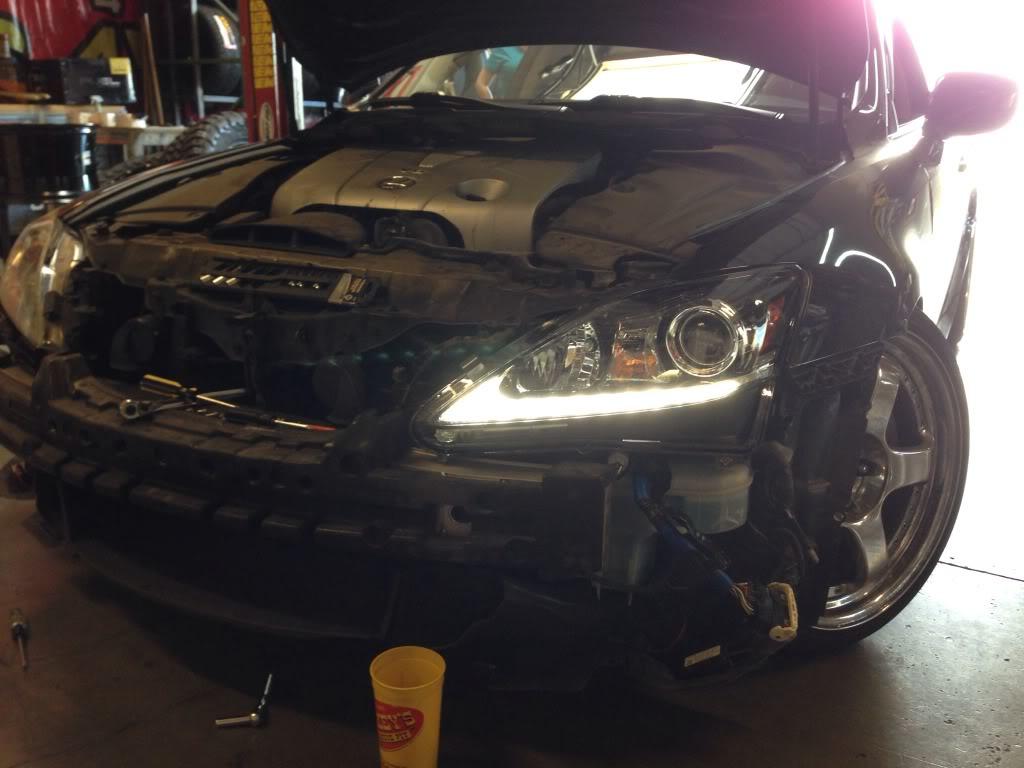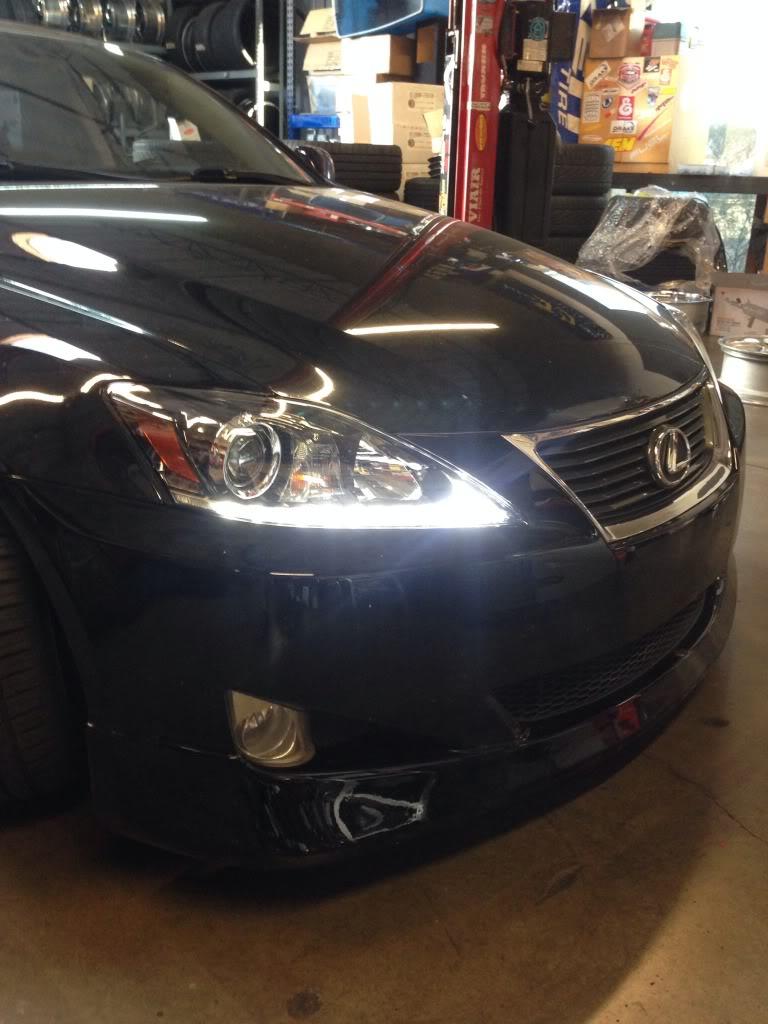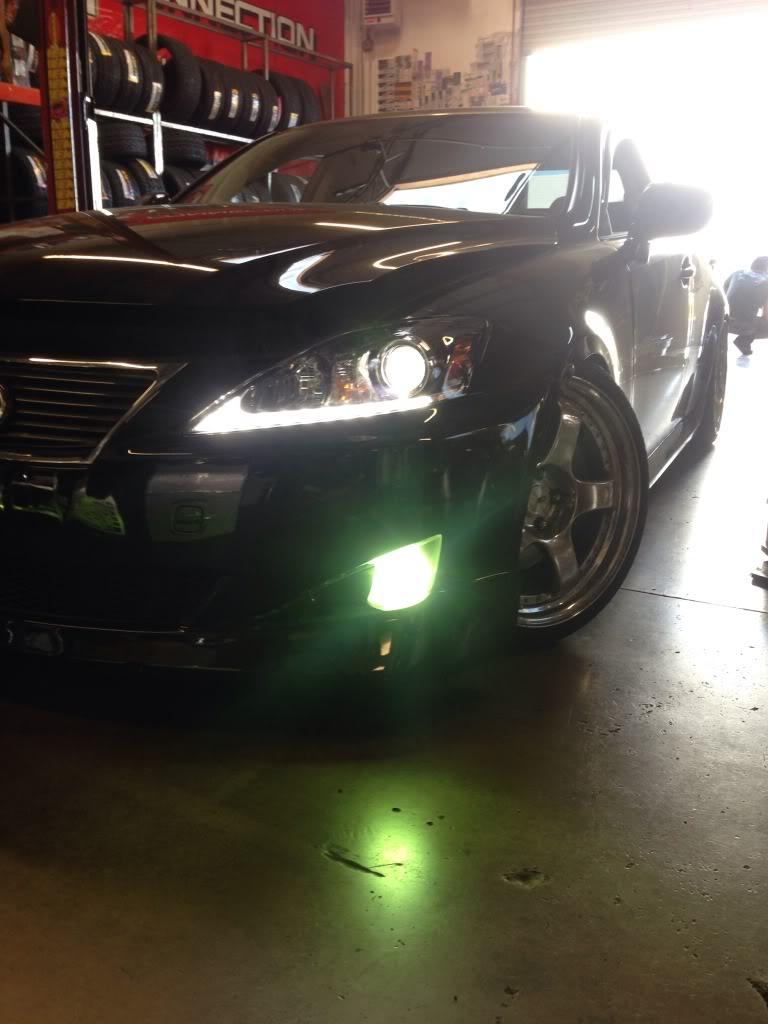 this past weekend on our way to VIPfest 2013 in San Diego, had a ball out there and saw a bunch of dope cars and met alot of good people. shout out to the homie for this rolling shot on the 15 south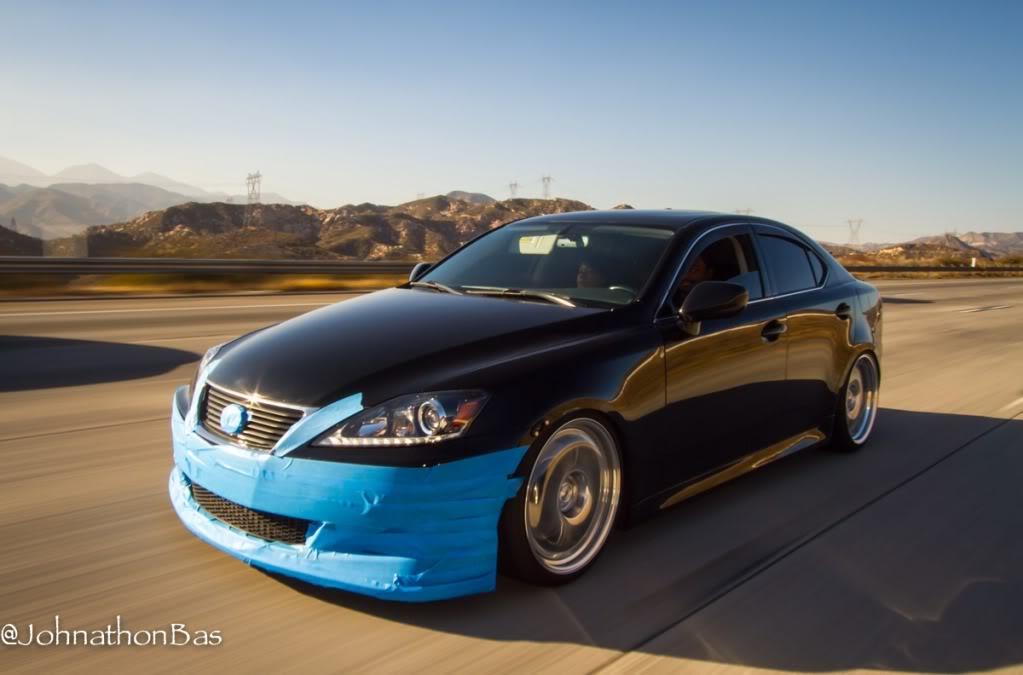 11-14-2013
one more roller on the way back to vegas the next afternoon after VIPfest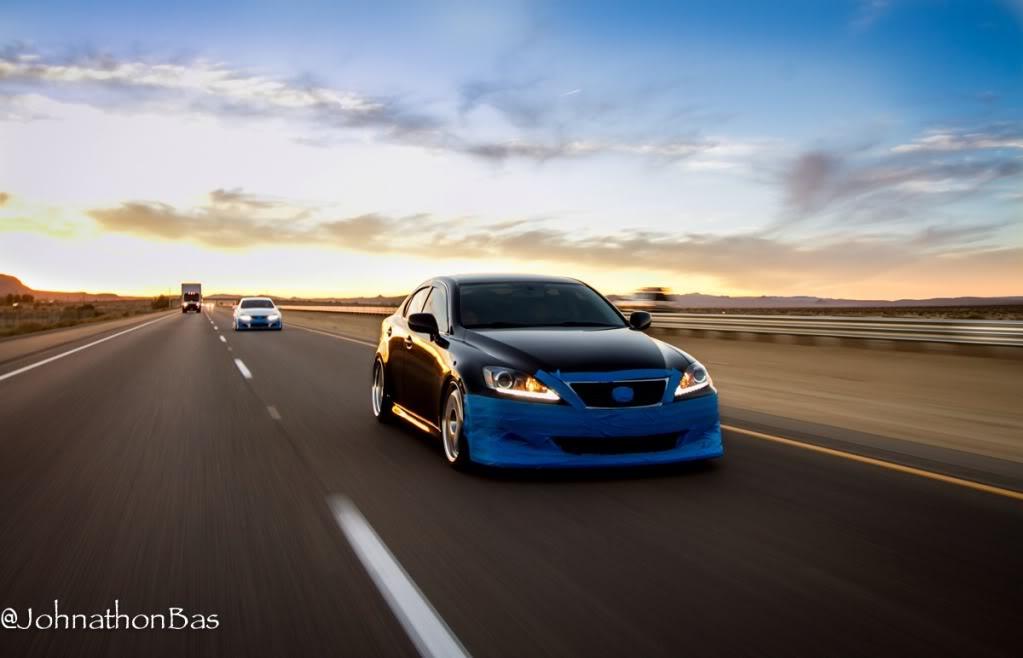 12-2-2013
this pic was just found by a homie of mine. was taken at VIPfest out in SD last month. didnt even know my car got any kind of coverage lol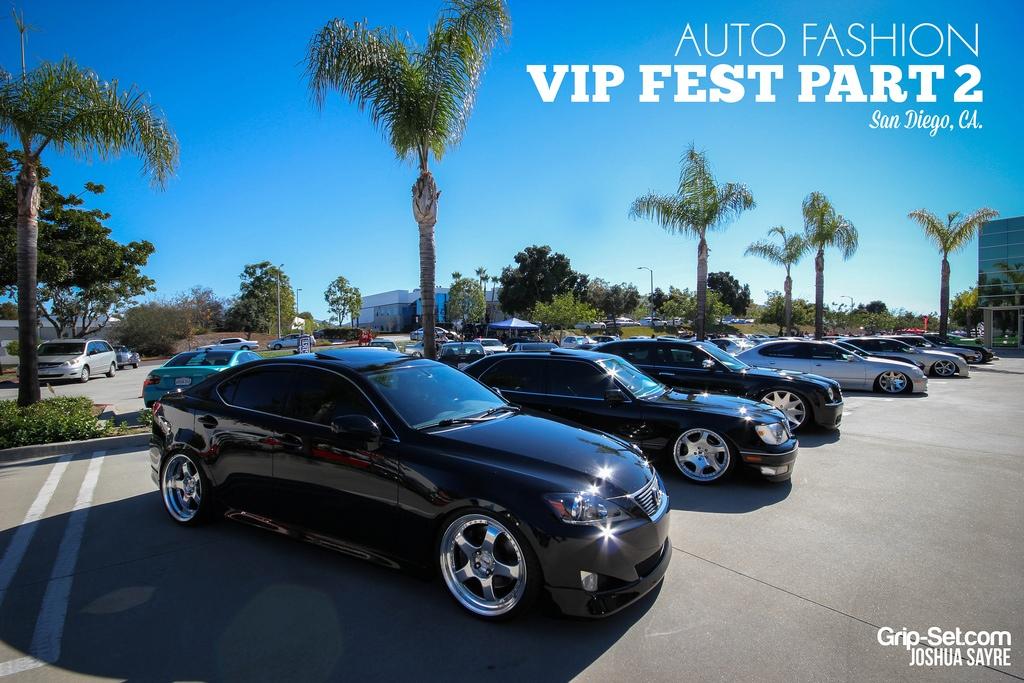 12-4-2013
I forgot to post this one, after VIPfest was said and done, the homie got all the homies together for a spur of the moment photo shoot around the corner from HRE wheels where the event was held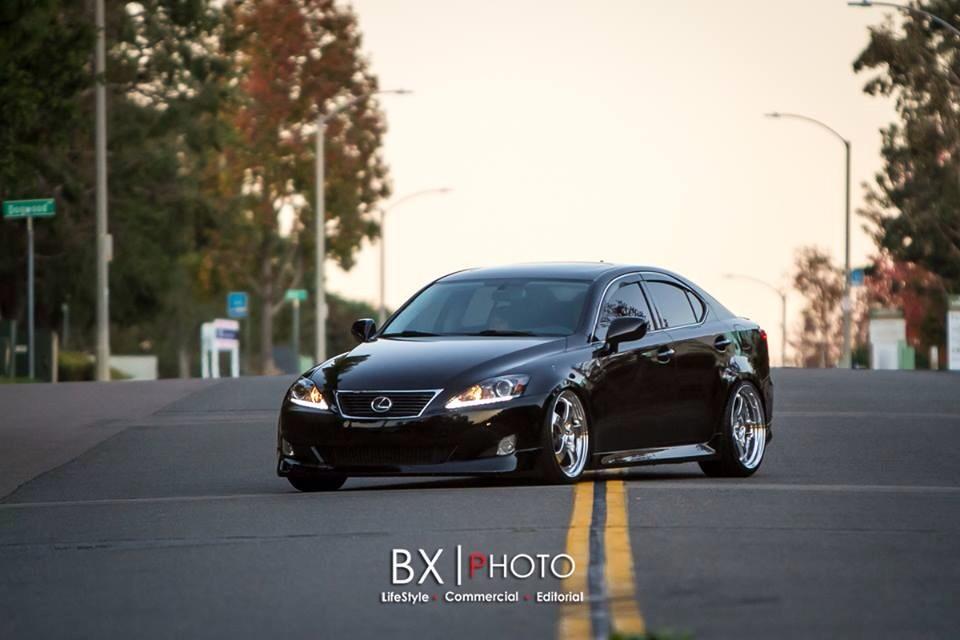 12-17-2013
These came in last week. Knew they were necessary for the new more aggressive wheel setup. pics of the new wheels when i get home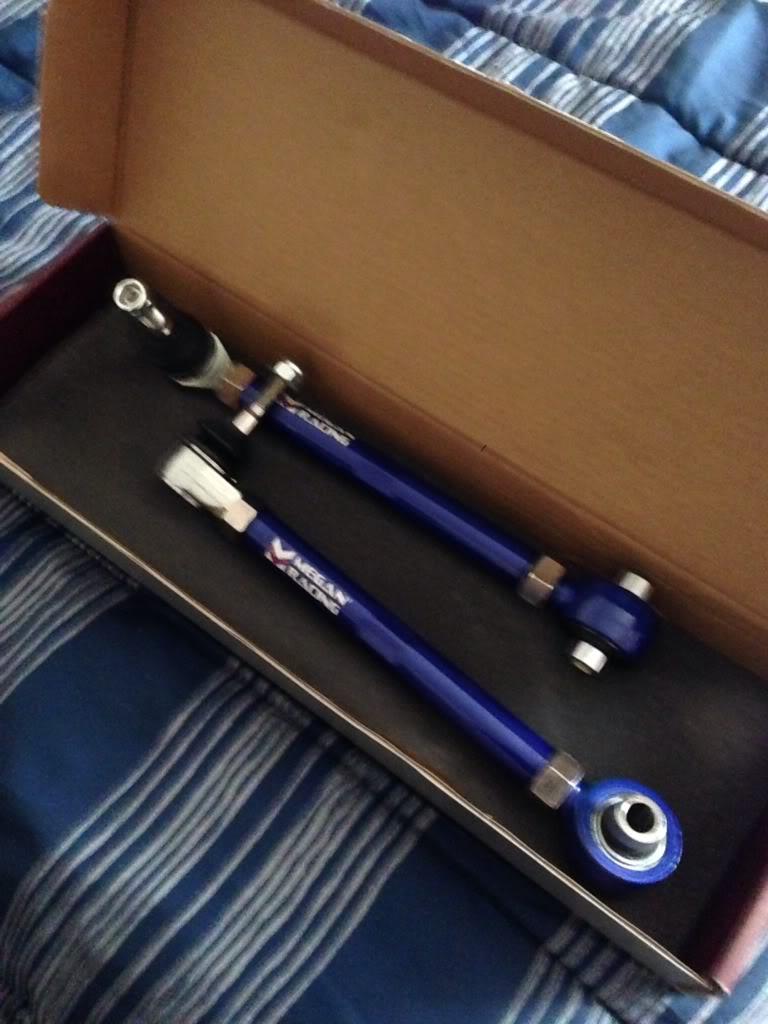 12-18-2013
New wheels showed up yesterday so i took a couple teaser pics. Cant wait to get these on this week hopefully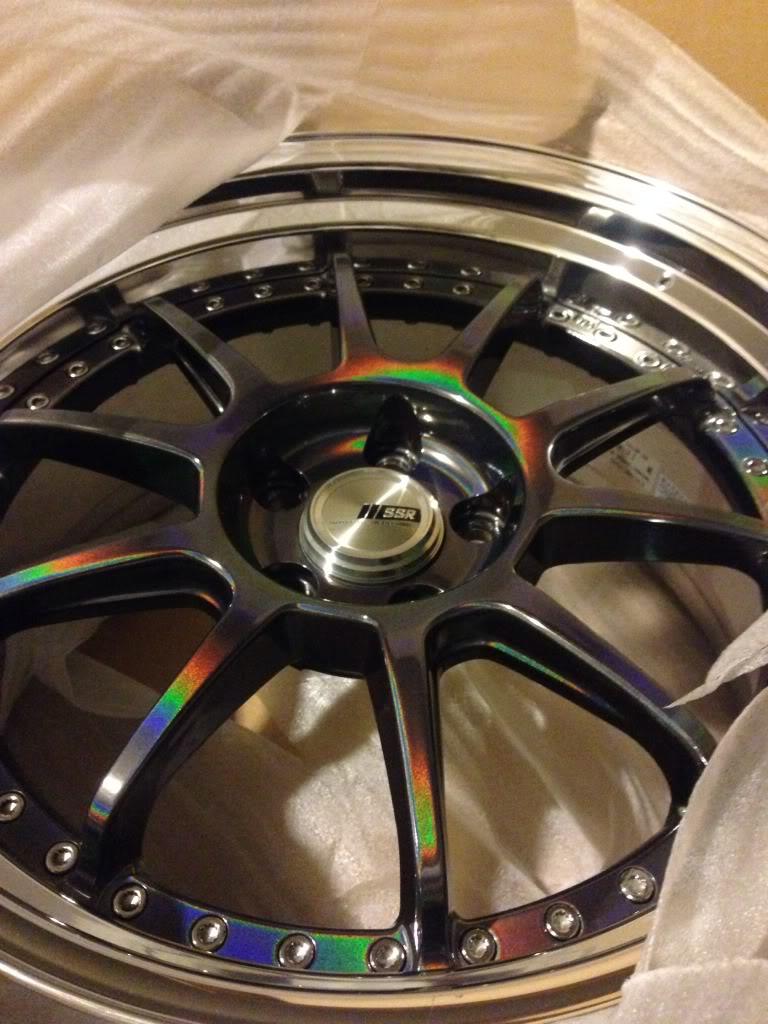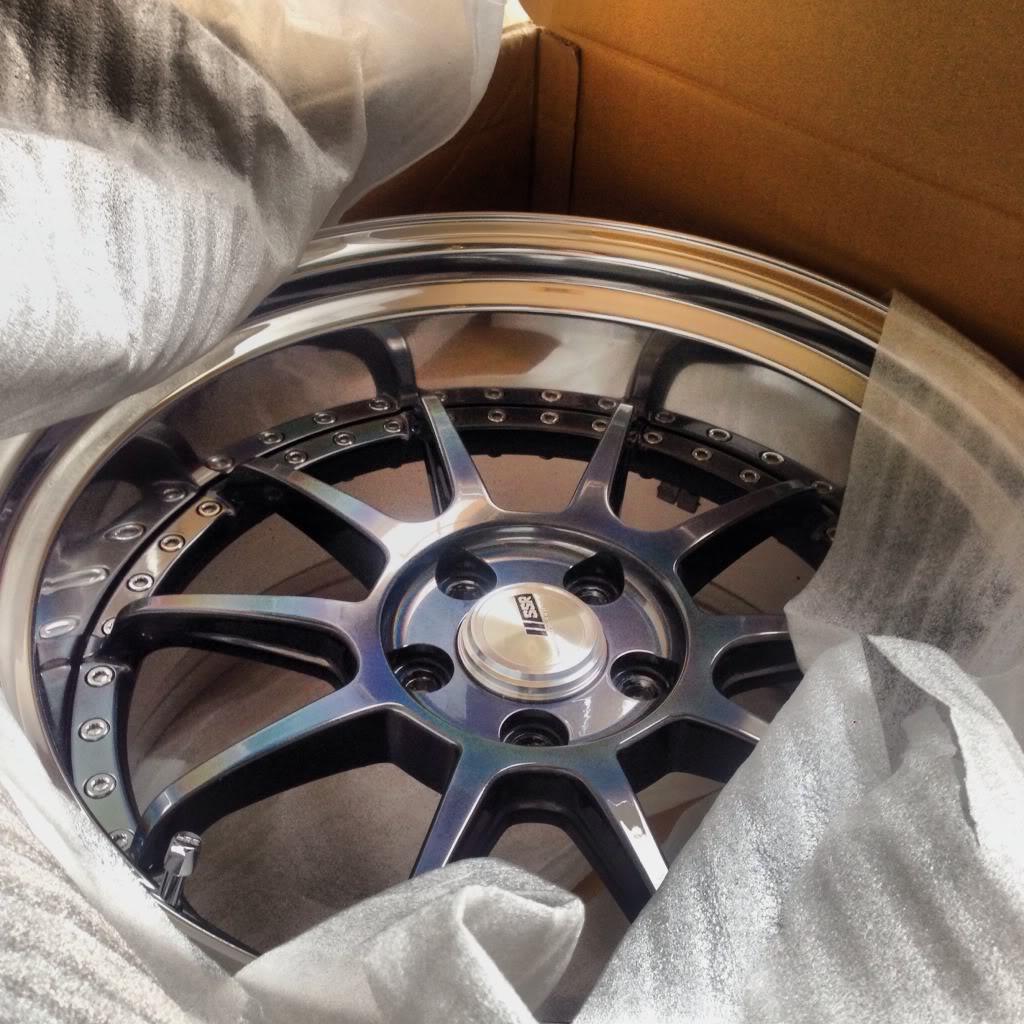 12-23-2013
Random pic parked back in the cut, i want to go a tad lower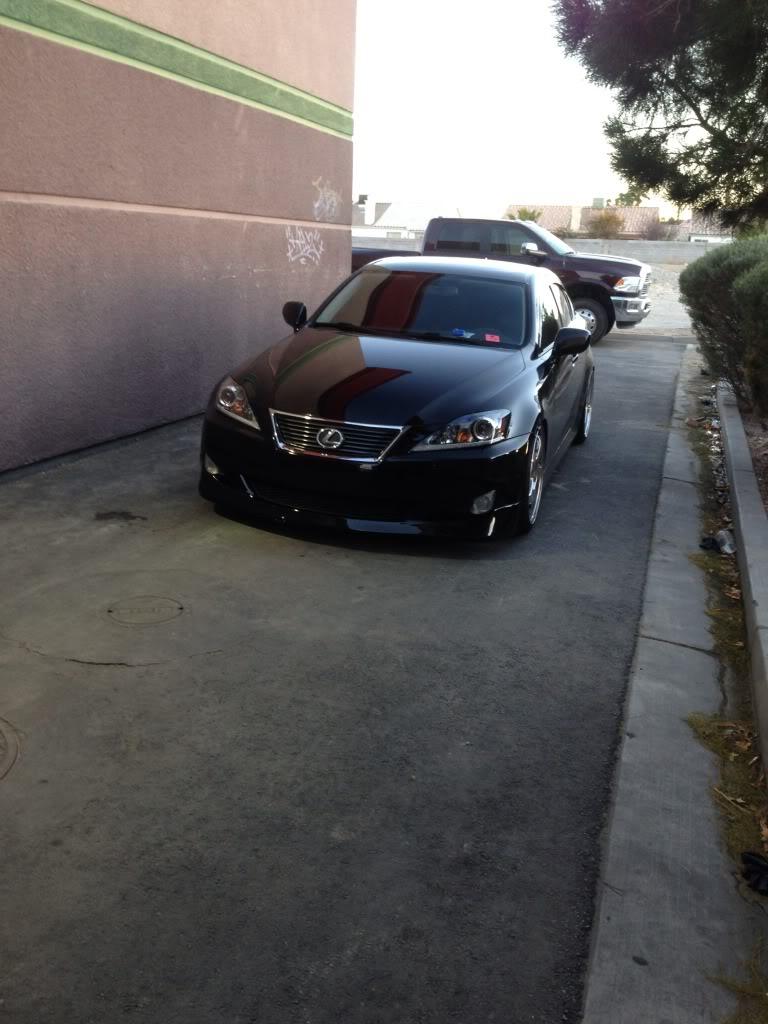 Later last night my homie Ray came over to pull the front fenders for me to make sure the new SSR fit perfect, he was in the midst of doing work and it came out perfect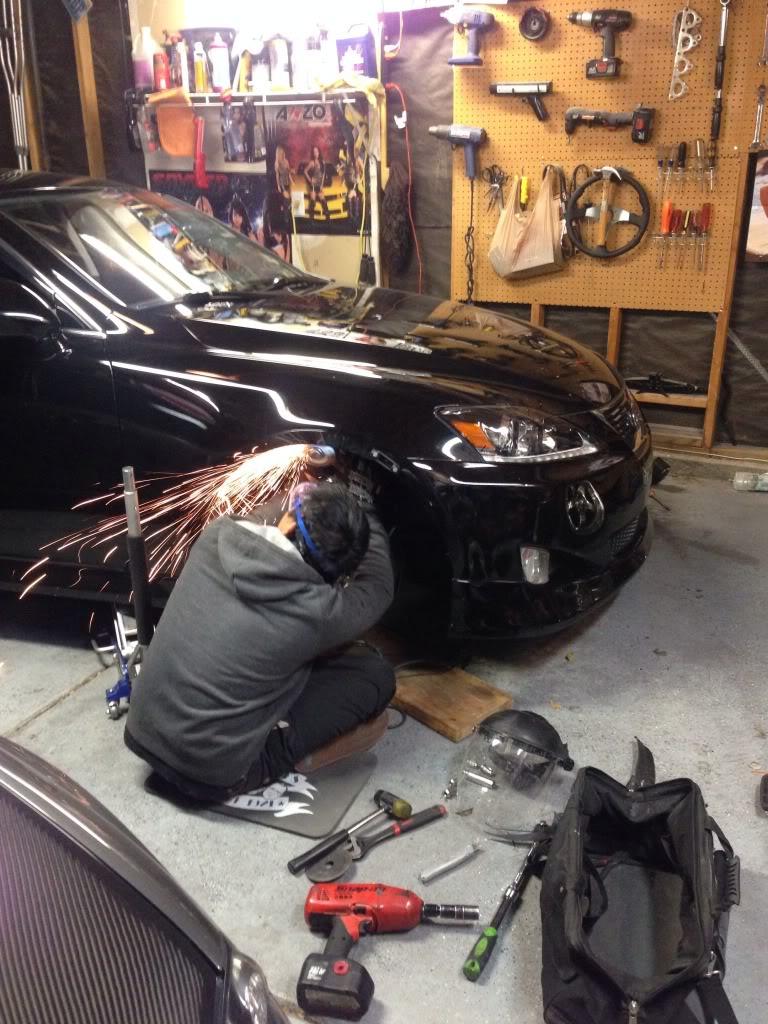 12-24-2013
amidst my boredom last night i figured i would get this baby on just for grins. figured i would chose the black one to keep it as lowkey as possible. i can only really hear it WOT nearing 4k rpm's and thats about it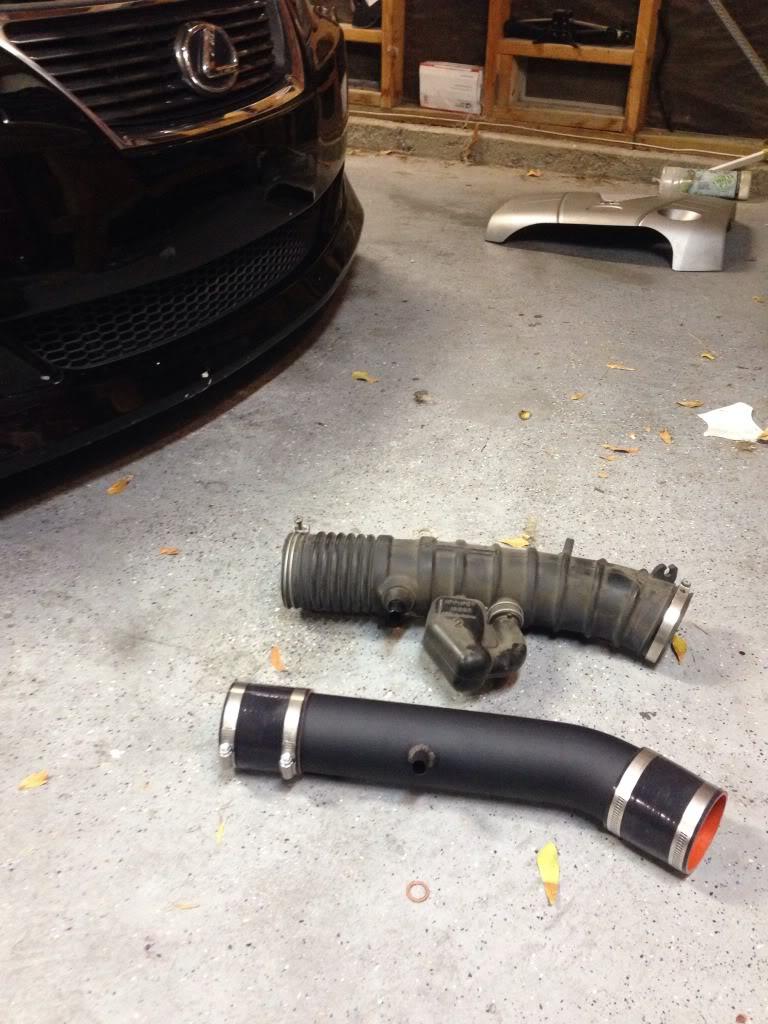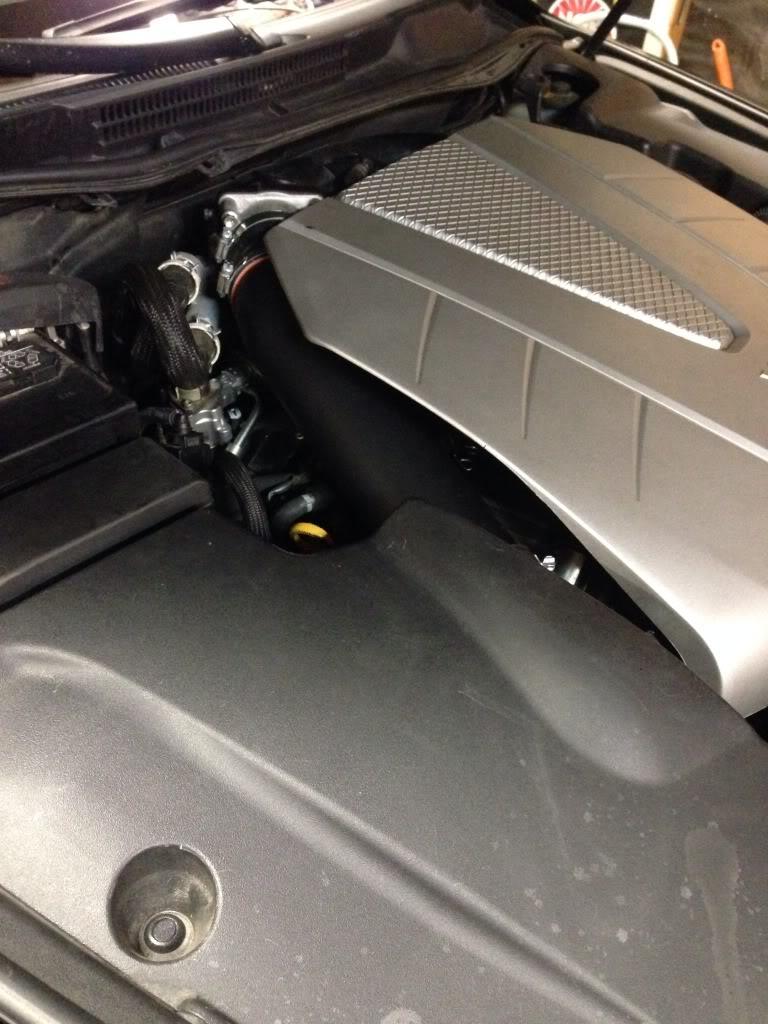 1-9-2014
seems like it took FOREVER for these to come in, but, they're here now. had to order a new valve stem from SSR so i figured why not have spares on deck just in case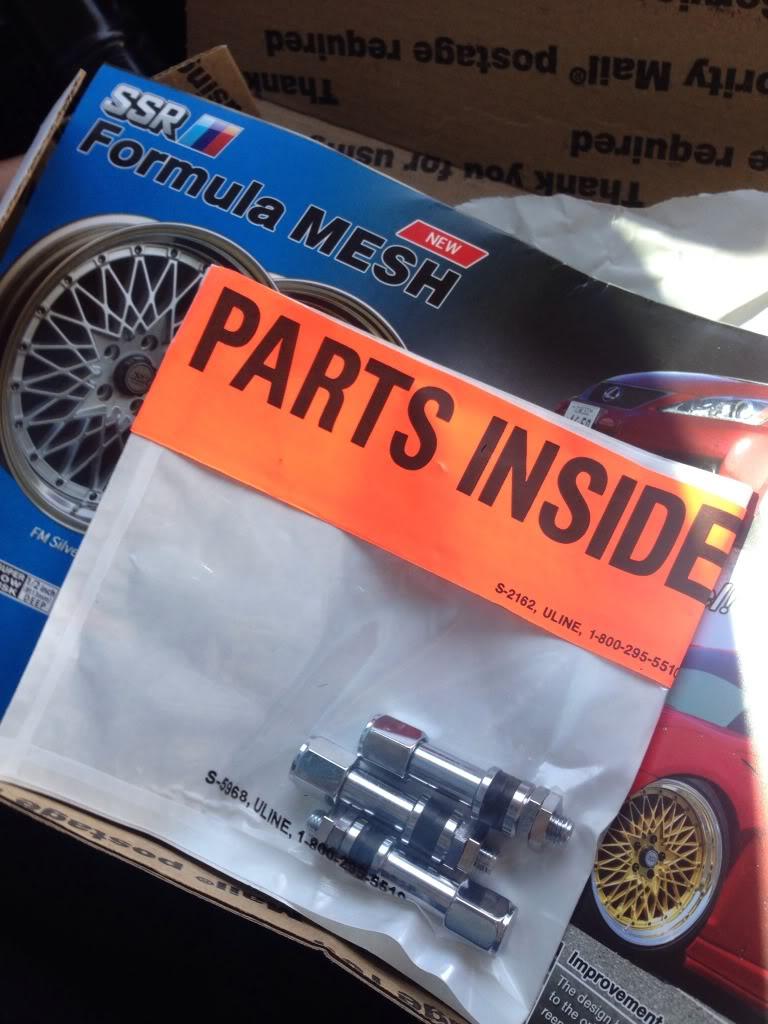 1-14-2014
some up to date pics as of yesterday. finally got the SP1 off the car, tires dismounted, and mounted on the new SP3. now i just want to get the height dialed in and i should be set for awhile.........i hope lol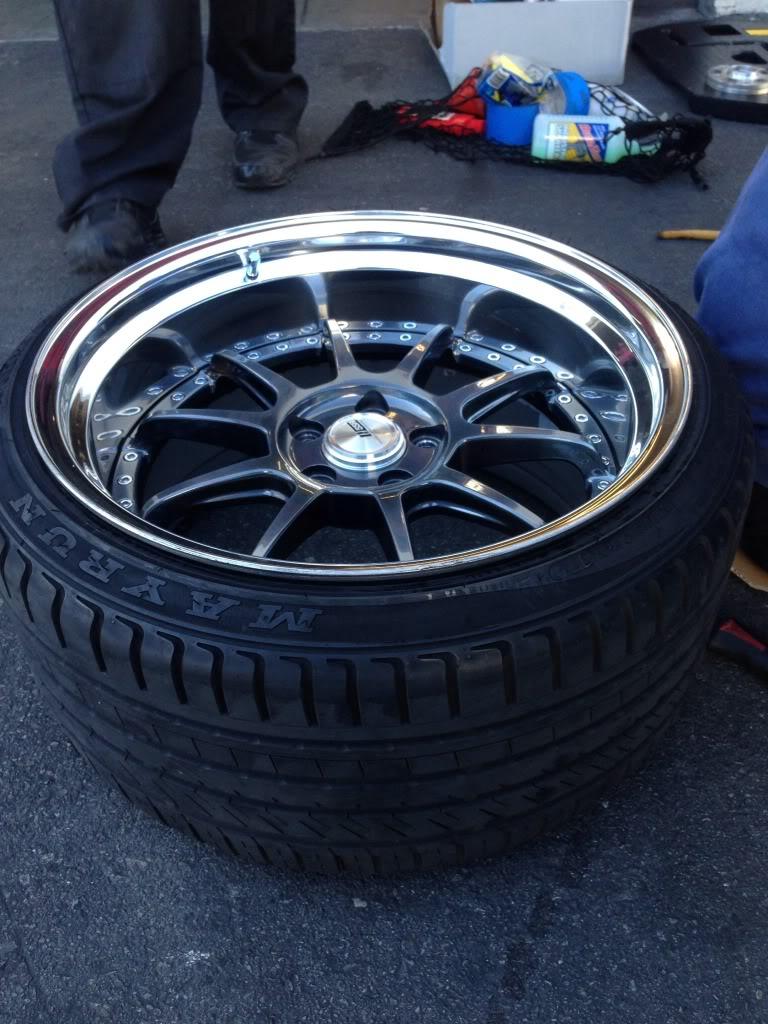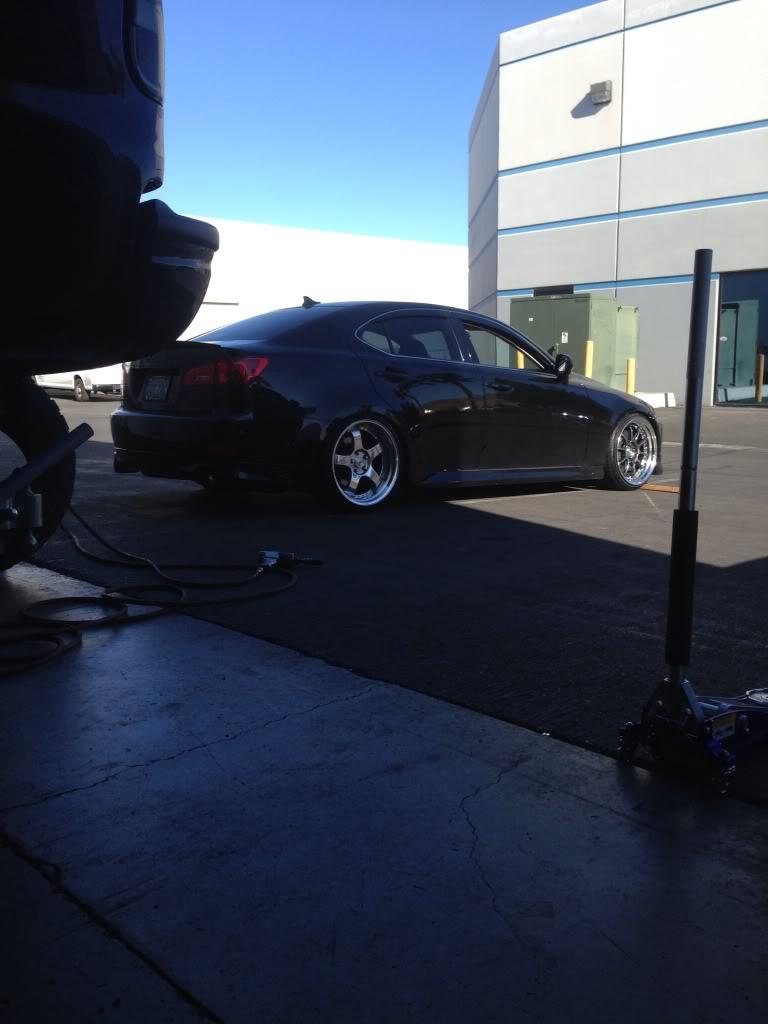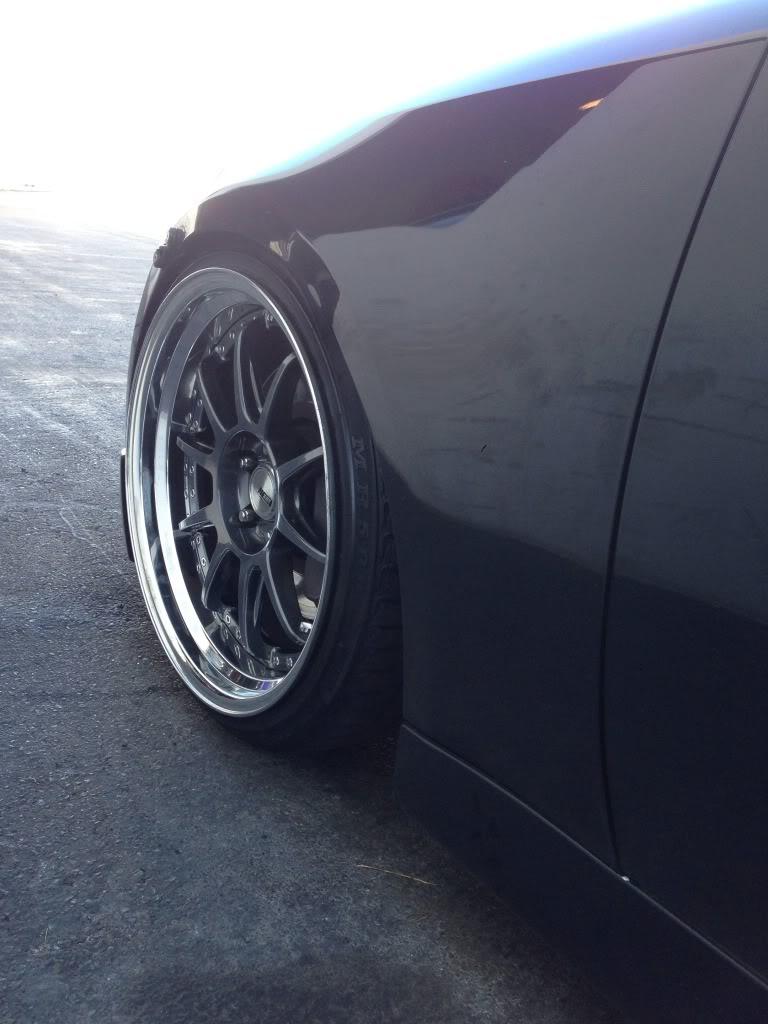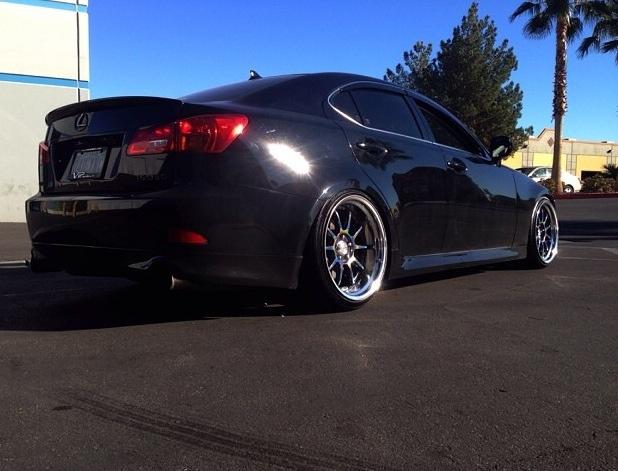 there were taken today since the car was dirty as hell in the yesterday pics. cant have new shoes on but still in dirty play clothes lol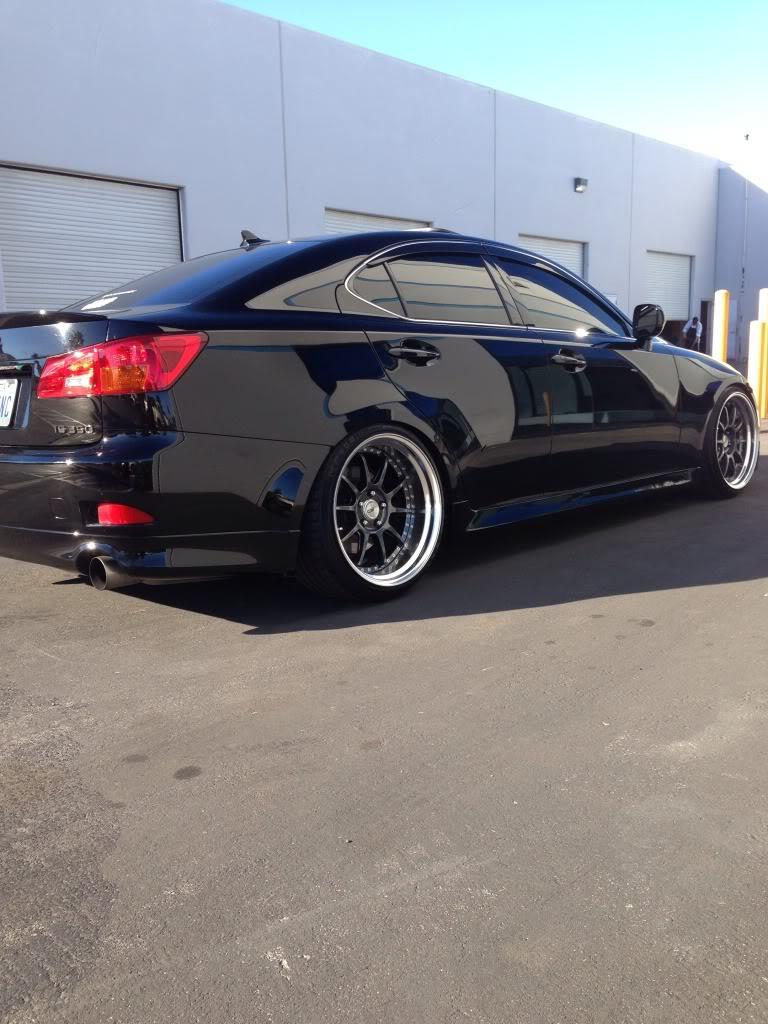 1-21-2014
a couple pics from the underground garage, just random pics, nothing fancy at all lol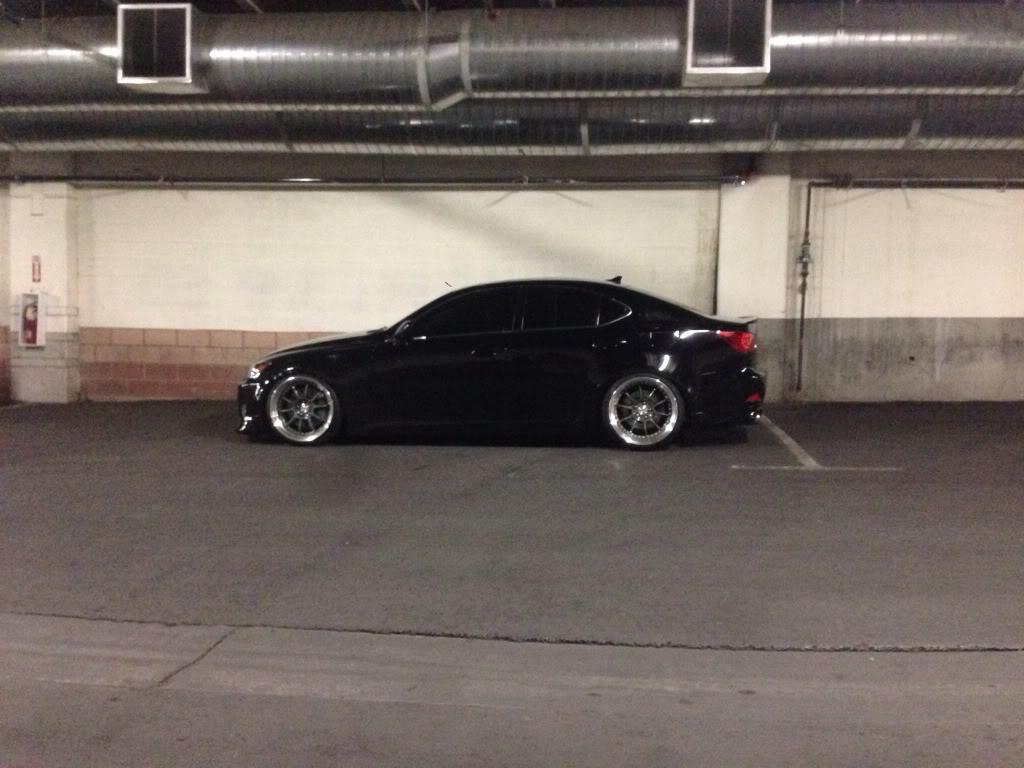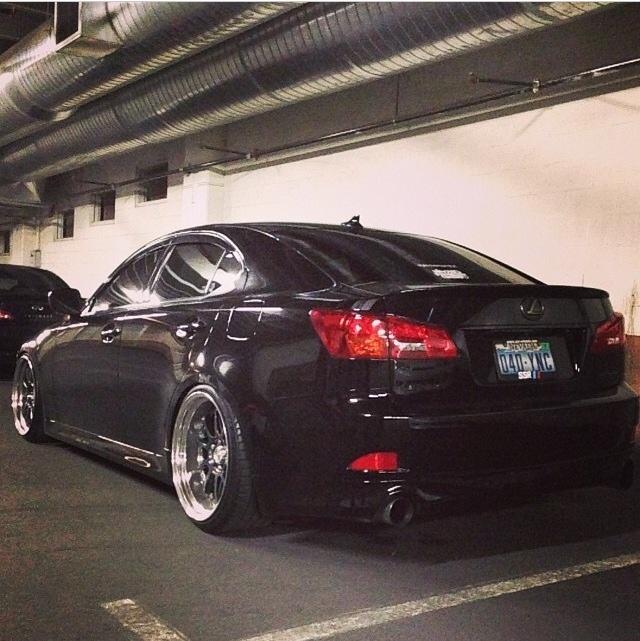 1-27-2014
Took some time this weekend and painted the calipers since in all the pics of my car, the calipers are all worn and dumb lookng behind nice wheels. so we just got some nice metallic silver and kept it real simple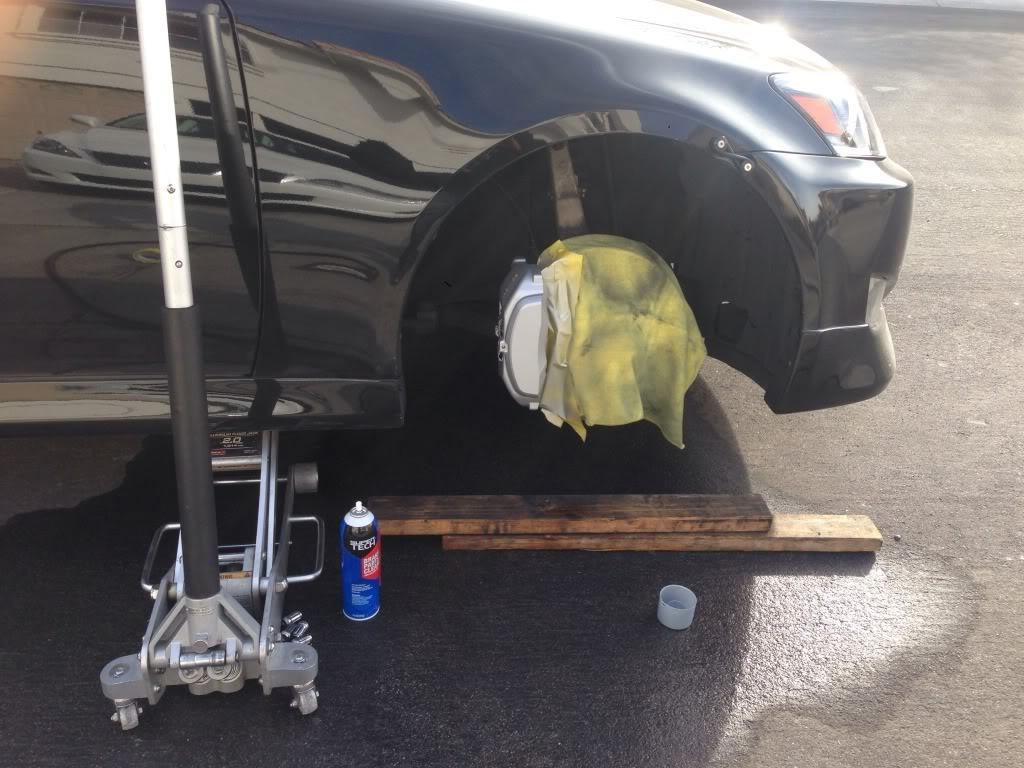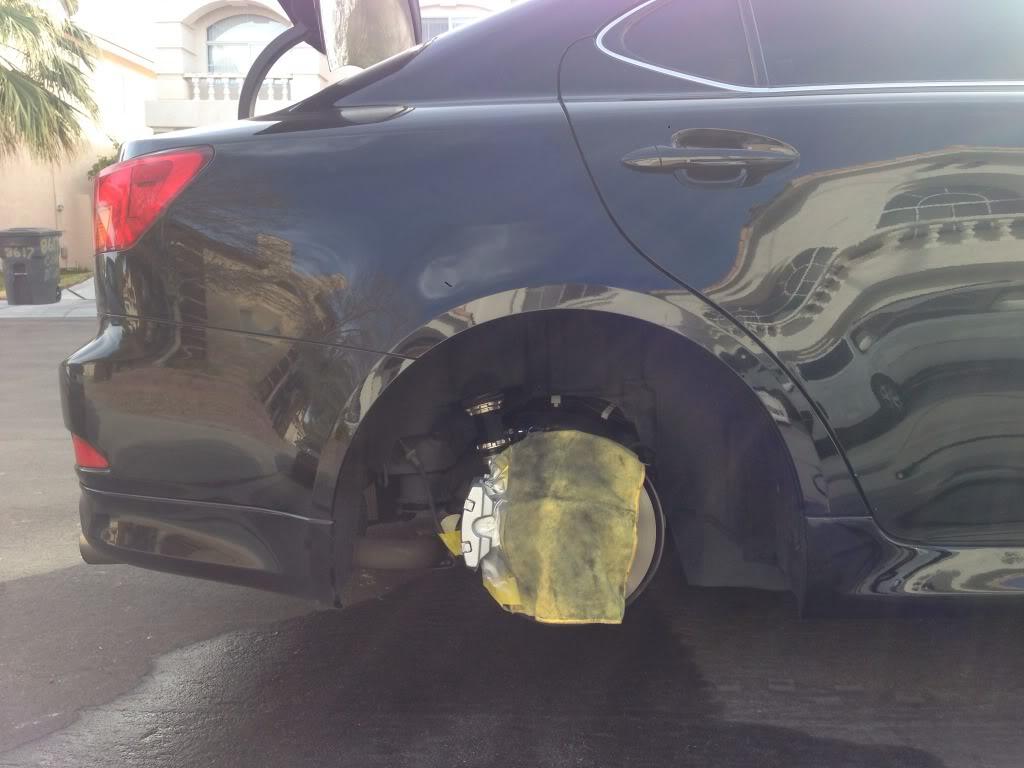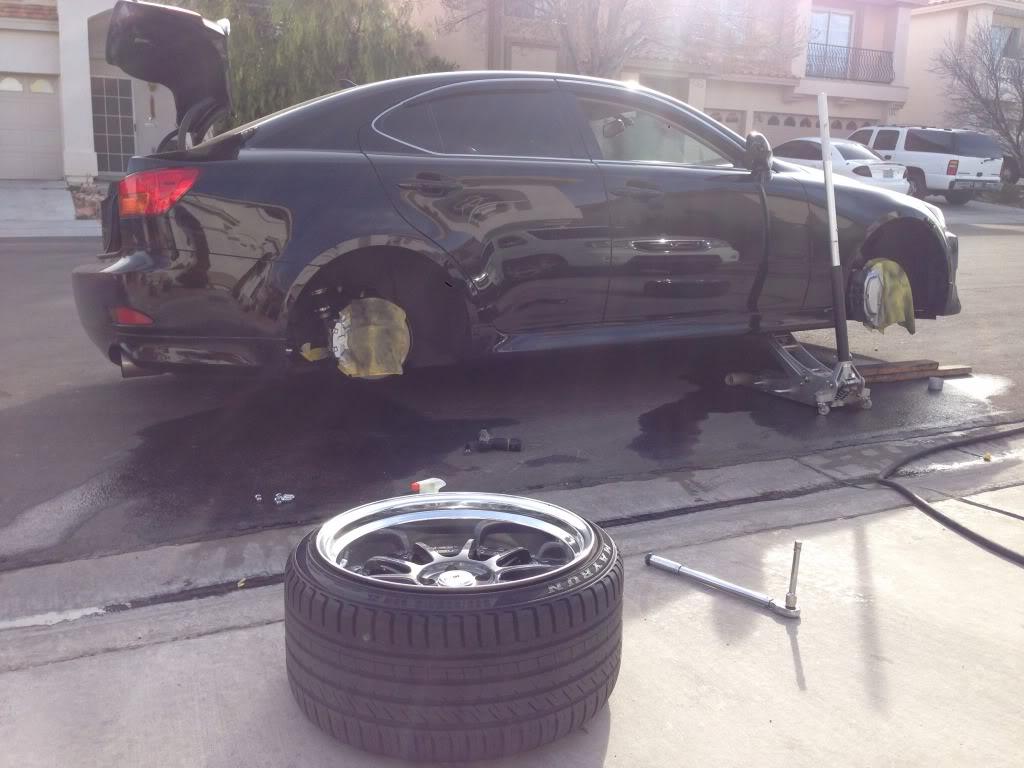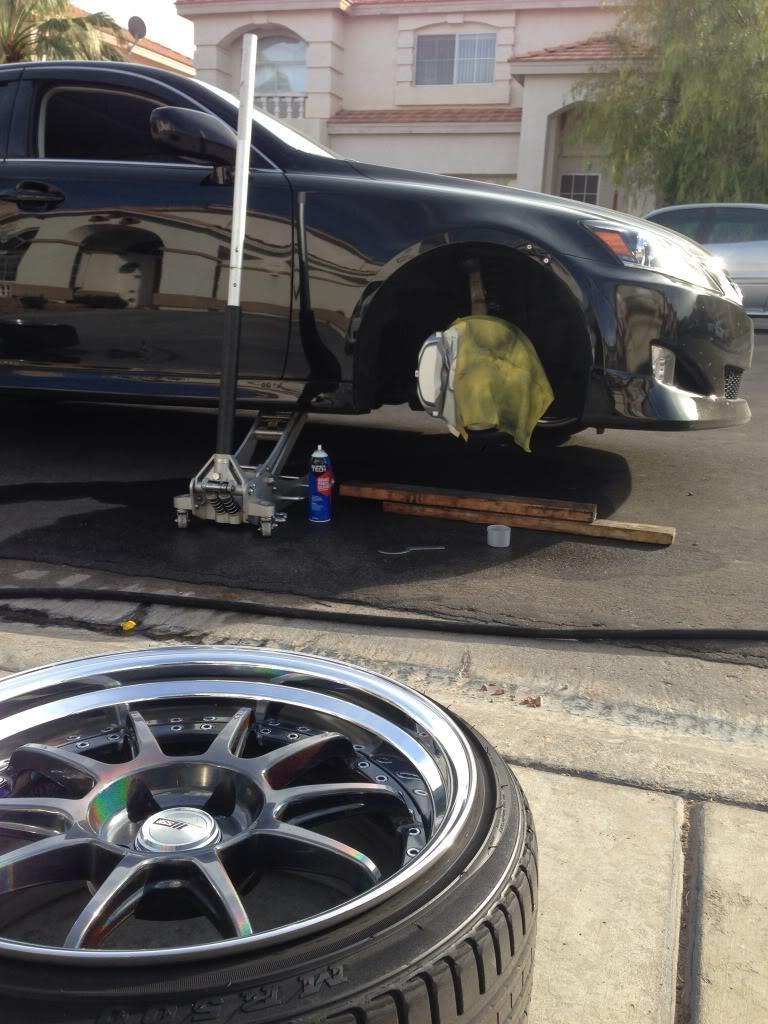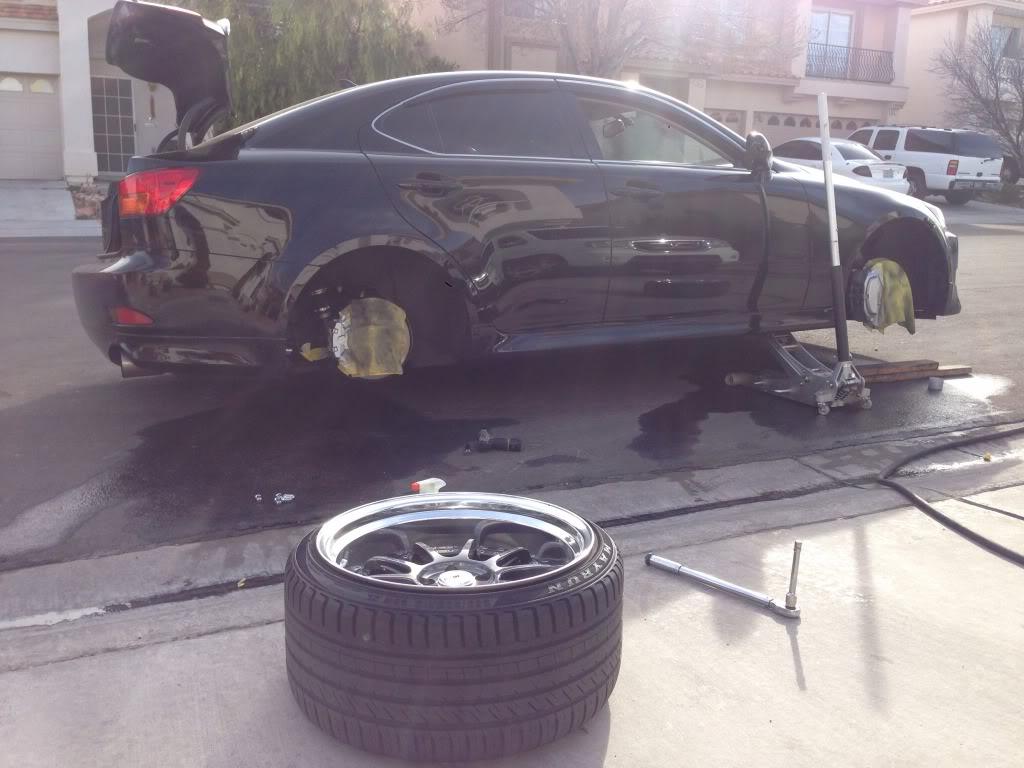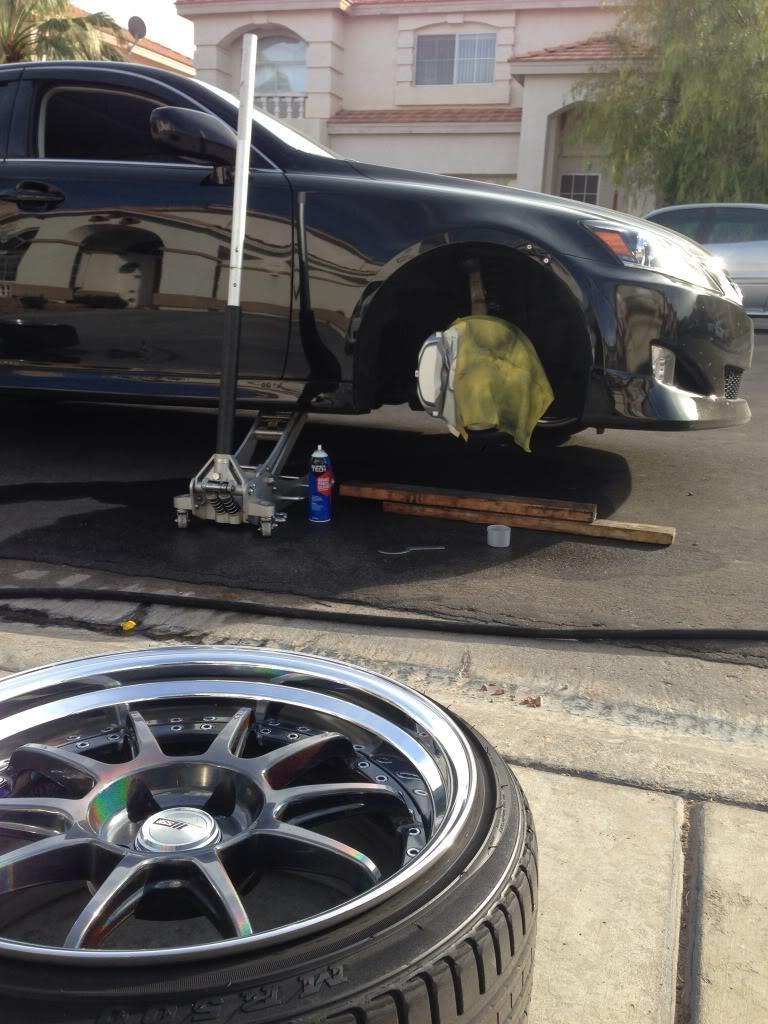 here is the finished product behind the wheels. looks ALOT better than before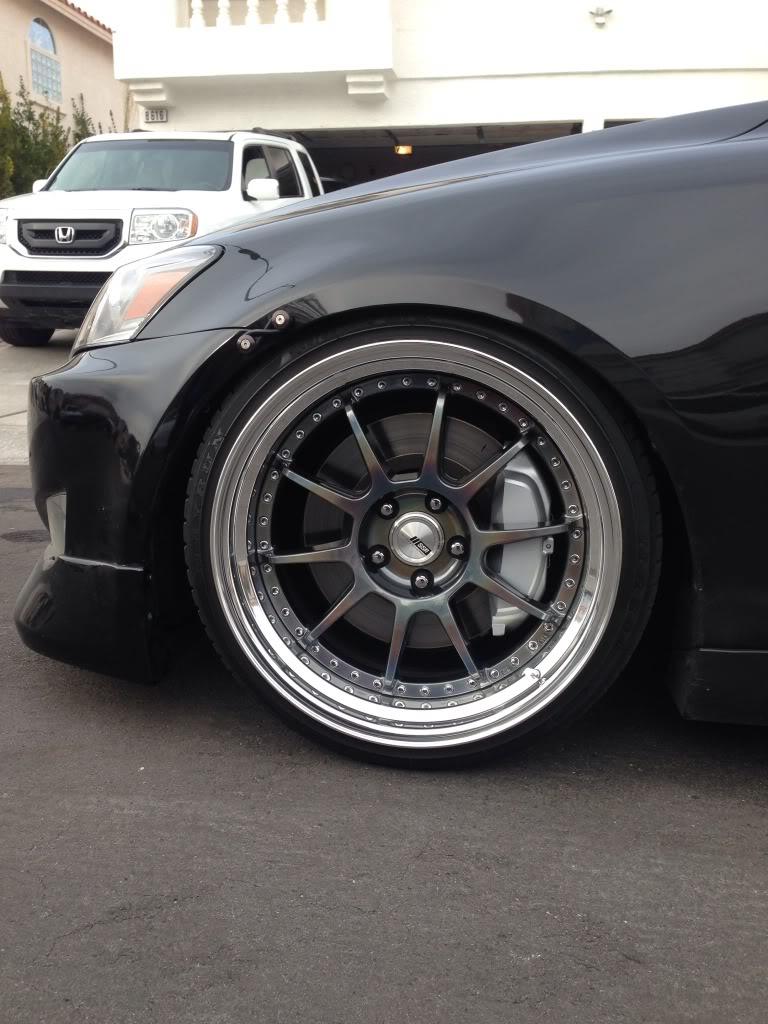 1-28-2014
no trimmed the fender liners. i prefer that over removing the fender liner all together cause ultimately that looks dumb. as far as pulling the fenders and fender rolling thats easy. just seach around the boards and im positive there are pics, or just youtube it.
no i dont get any rub mainly because i have a good amount of stretch. but i do rub on the rear wheels lol. but i need to get stiffer spring rate coilovers to help that so when i go lower it wont touch at all
2-3-2014
Asked the homie Andrew for some night time, garage shots and he was gracious enough to hook it up. here is some "behind the scenes" of him in action and the official shots after.... enjoy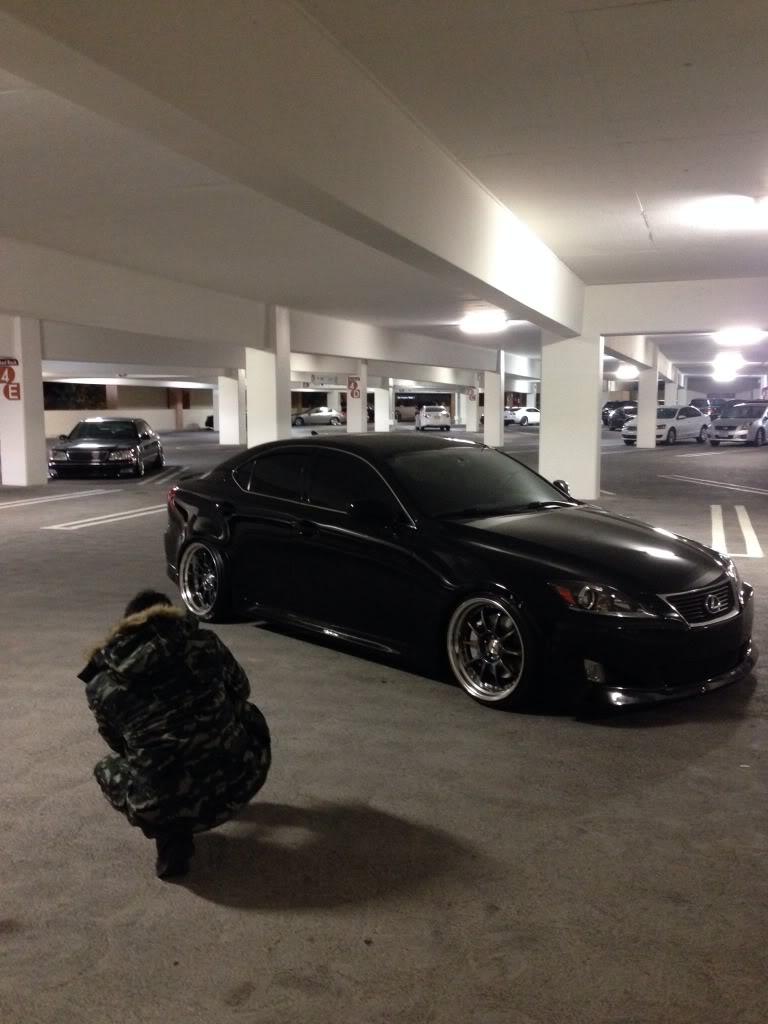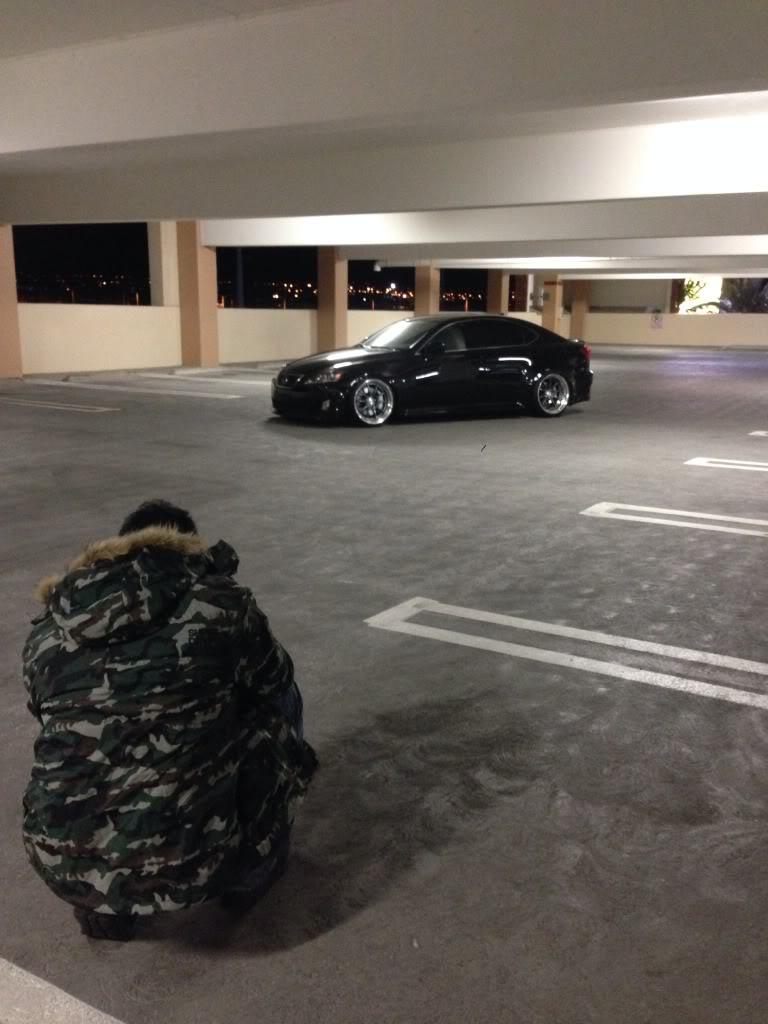 the offical edits: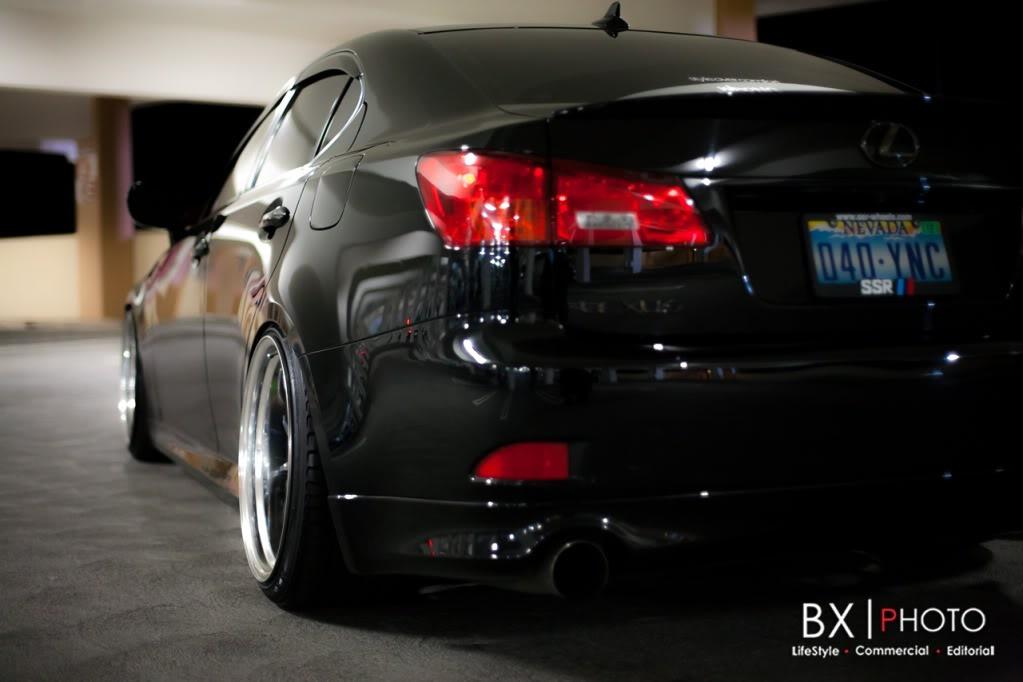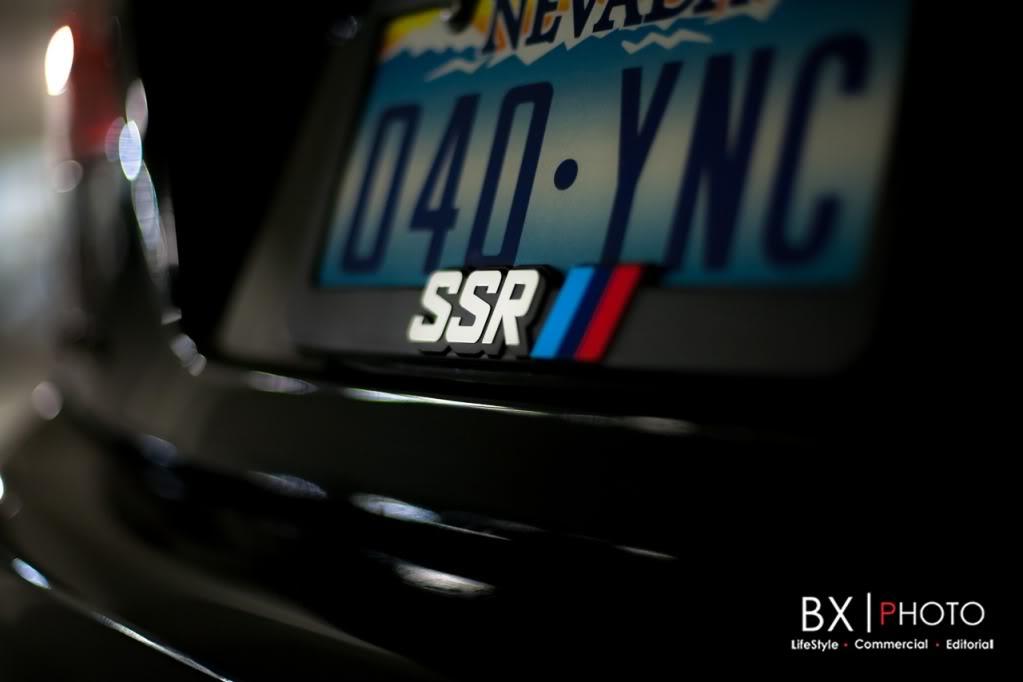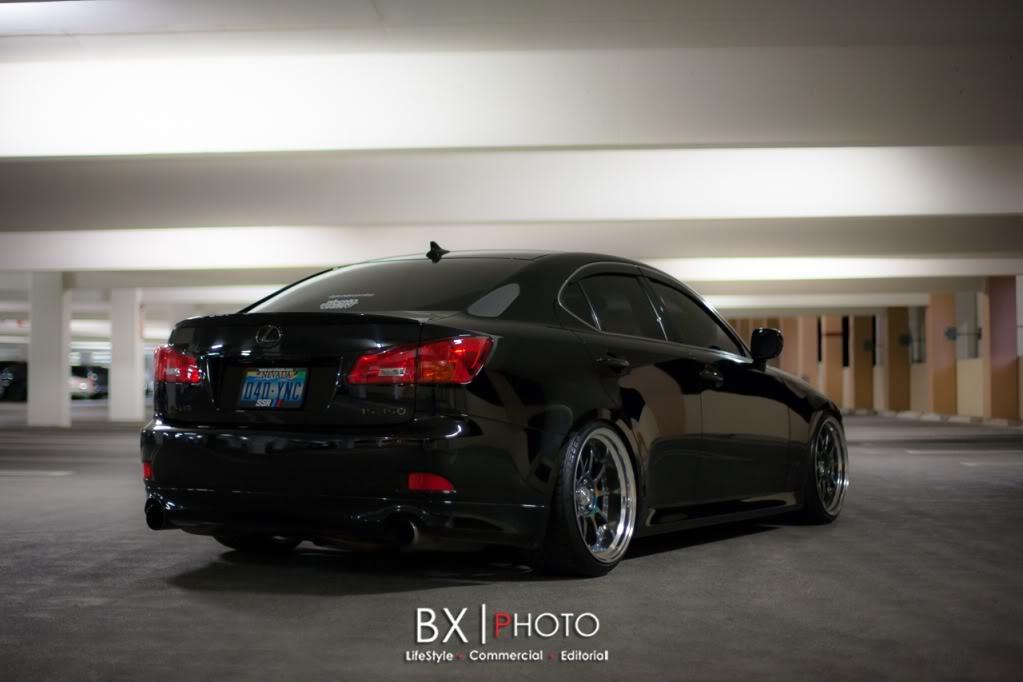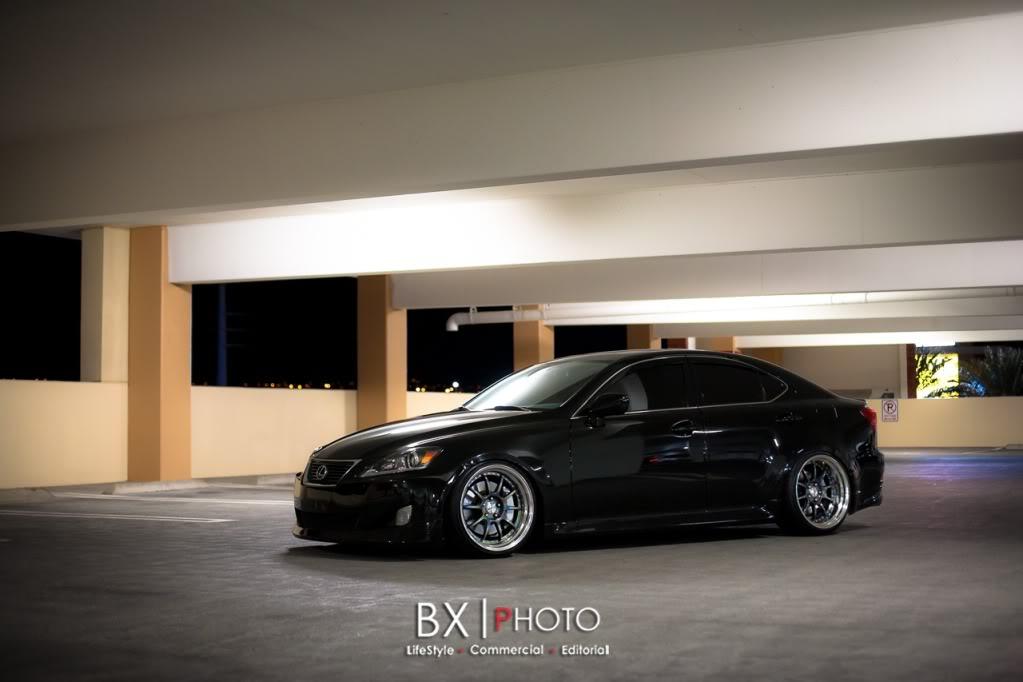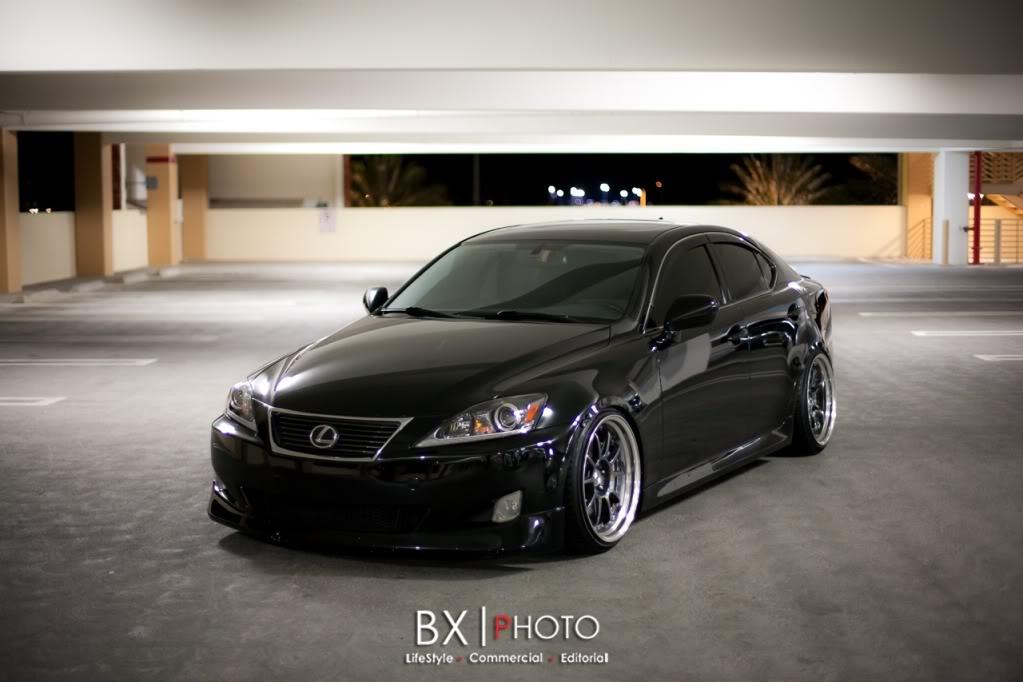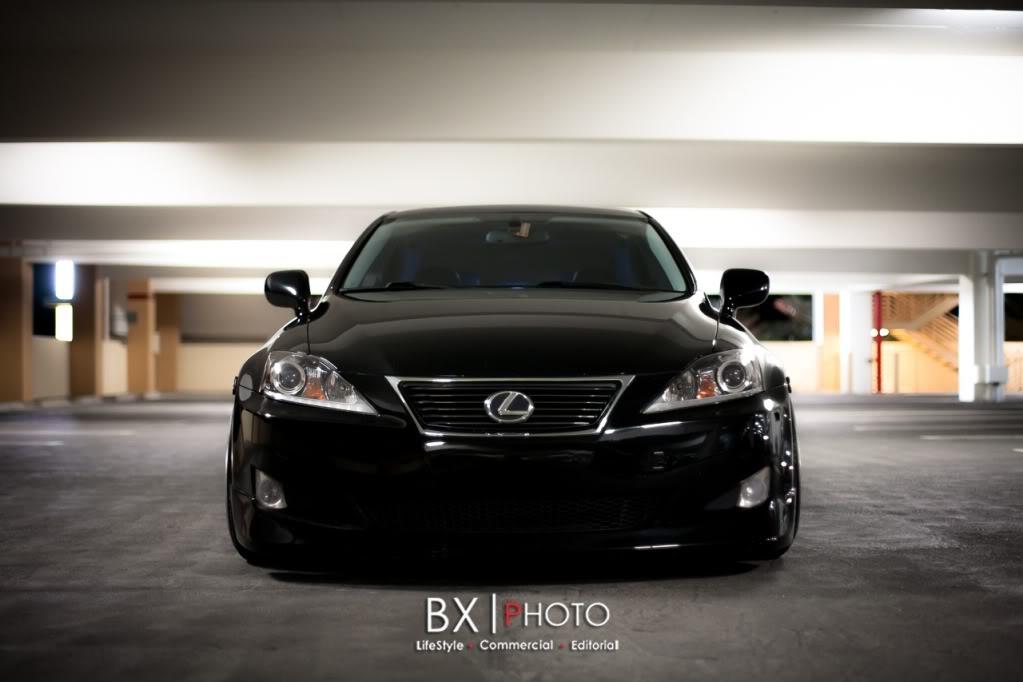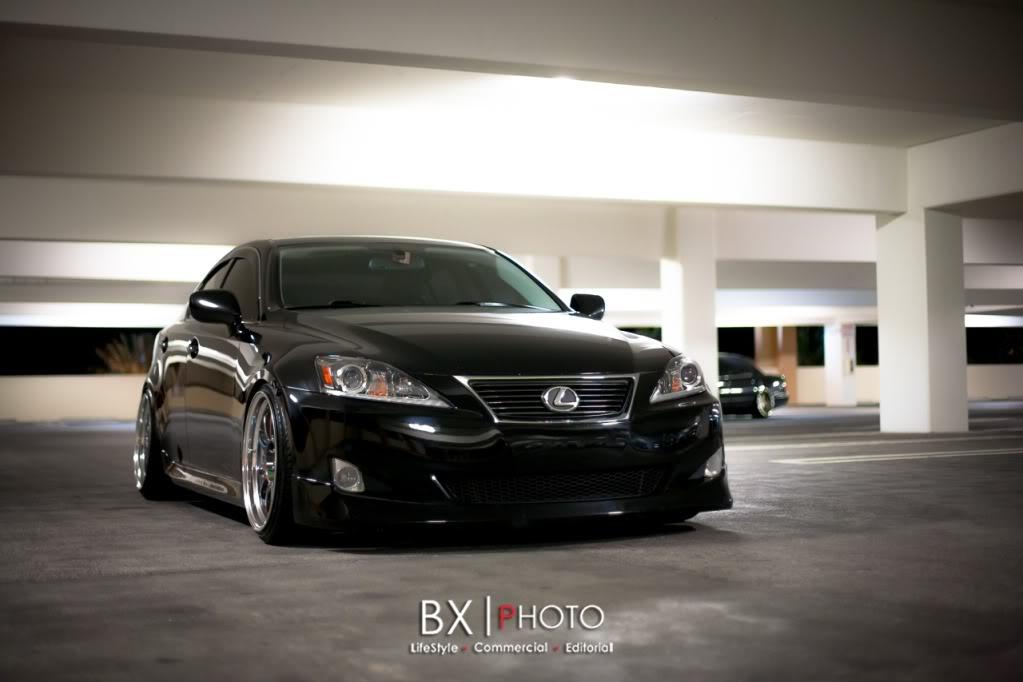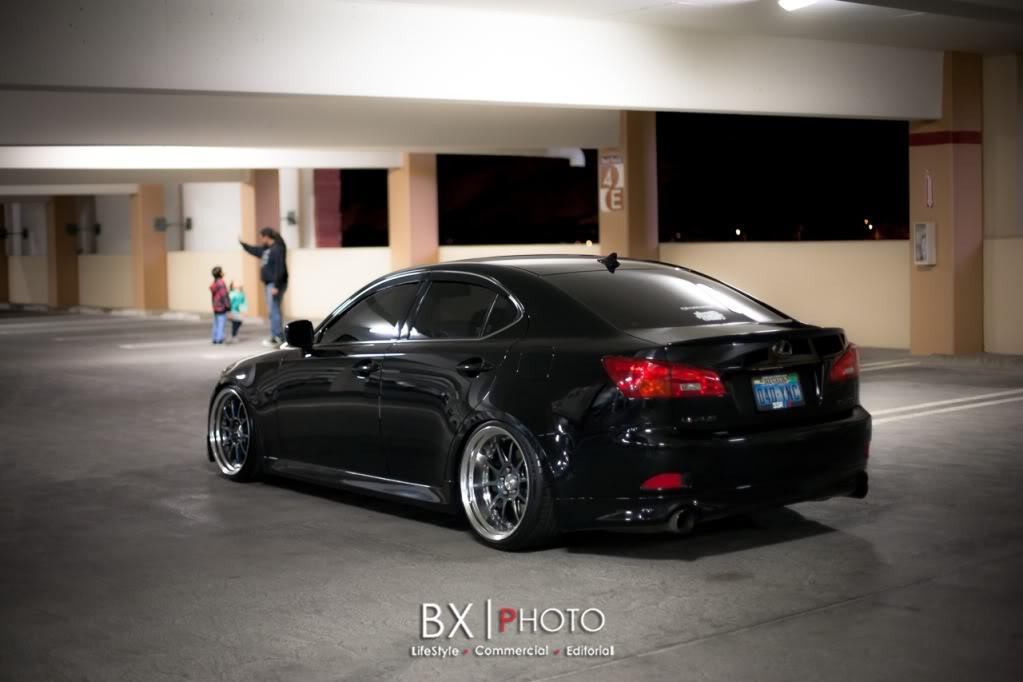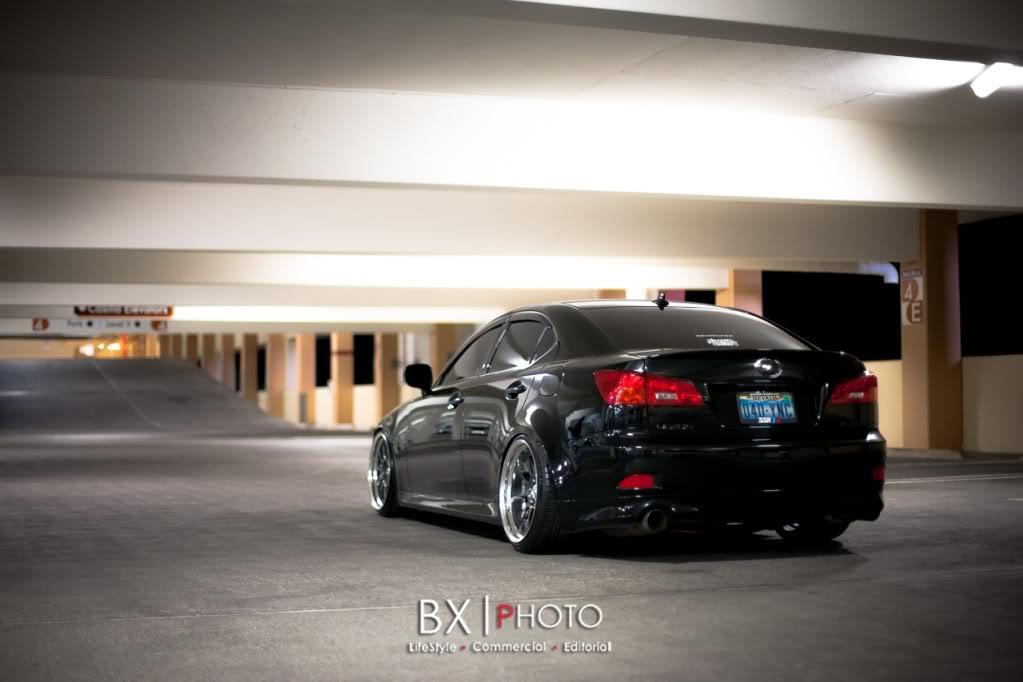 and my favorite shot he did, he got the full glory of the Spectrum Silver finish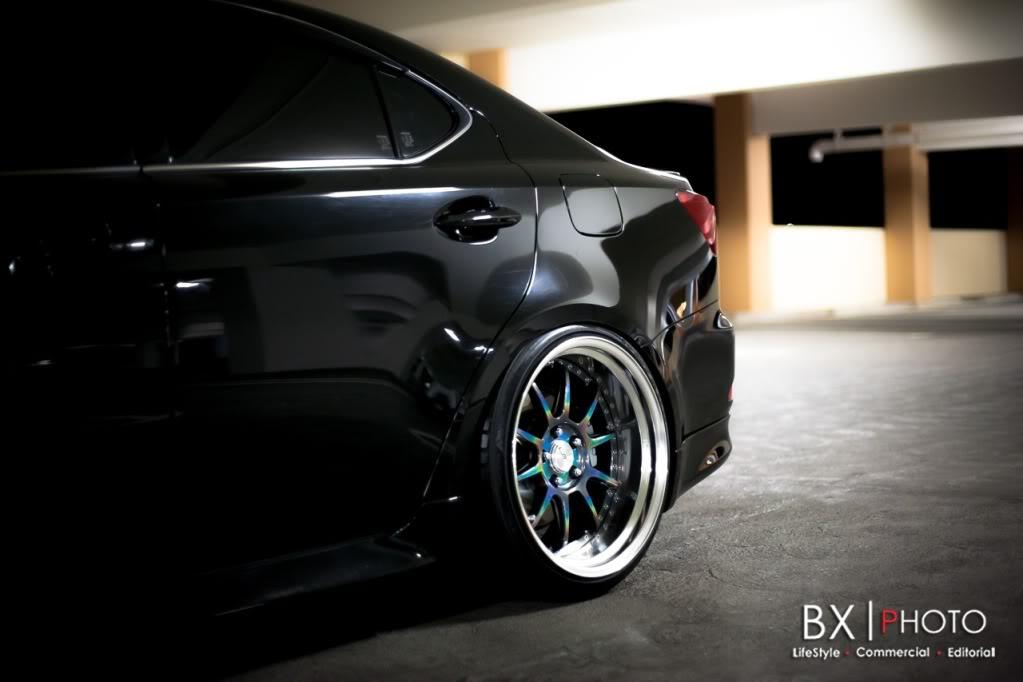 2-12-2014
I forgot i took this pic the day we did my calipers in silver. The homie James came by in his STI, just when i think im low enough, somebody makes me want to go lower lol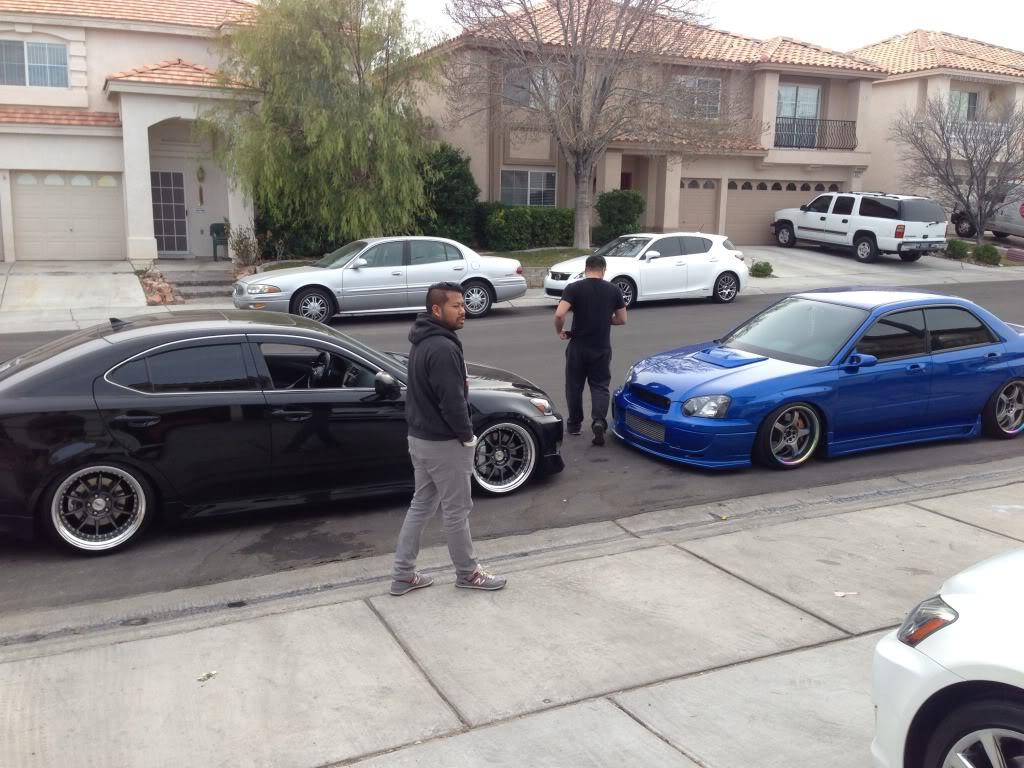 2-19-2014
yeah 18's can be pulled off nicely, i think a good example would be ccdan is350(when he was on ccw LM5) or itzheiu is250 fsport that is on Work Meisters. but both of their cars were slammed and very aggressive so they still looked good. but since i have a kit, 18's will look like the car is swallowing them up. thats why i think 18's look better on slammed stock body, 19's better for 2IS with a kit. just so you keep some balance

2-26-2014
havent seen these 2 together in a long time. been trying to get my mr2 back on the road for all of this years events and figured i would snap a quick pic of my "oldest and youngest daughters" lol........ probably coulve been done had i not been focusing on the IS so much in the last year lol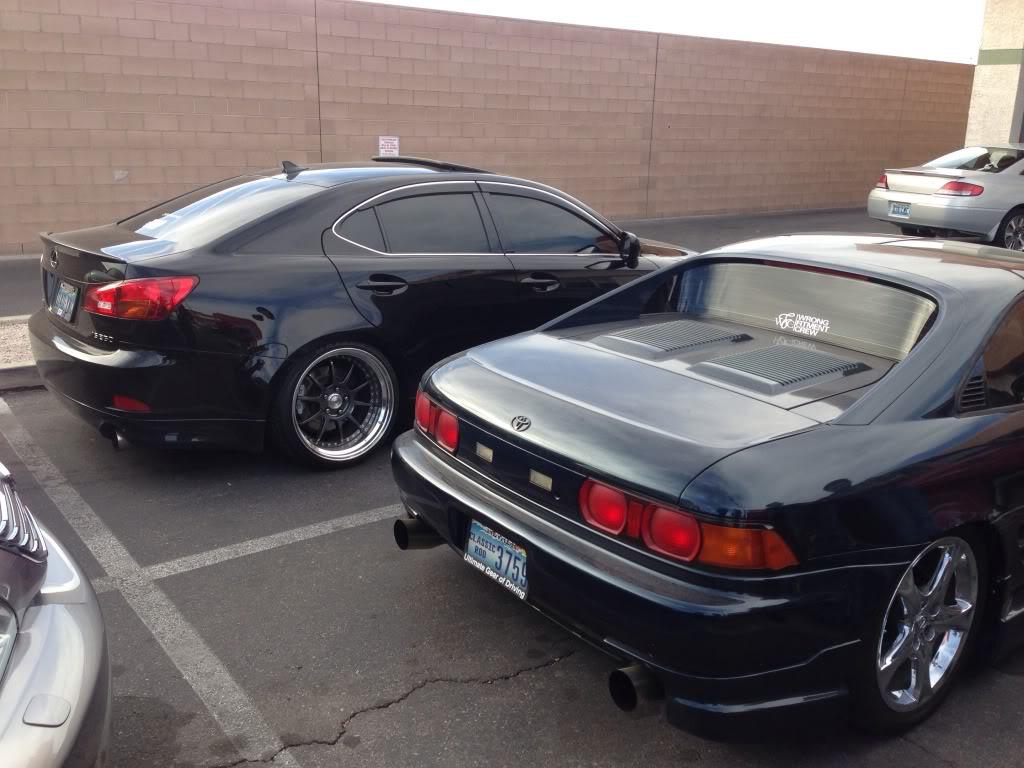 (yes those are my stock x-package IS wheels on the mr2 lol. couldnt put the new wheels on just yet)
3-3-2014
got bored at work last thursday and the rain was coming so i snapped a quick pic. needs a tad more low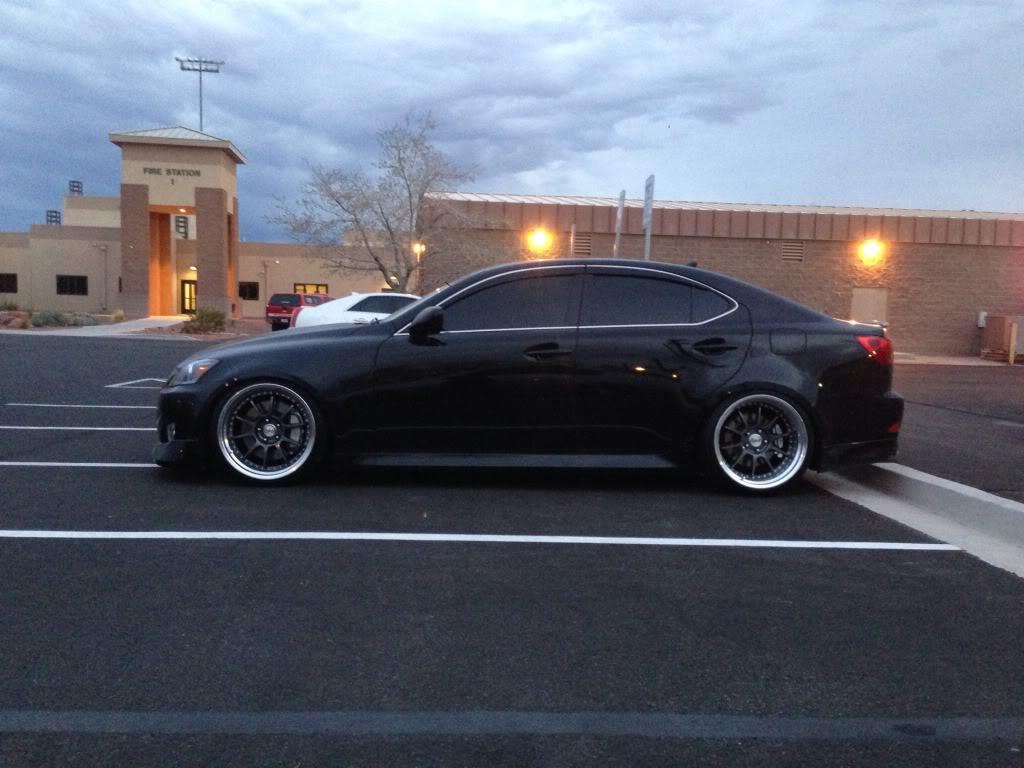 i took this last night, the obligatory "gas station pic" with my homie James in his STI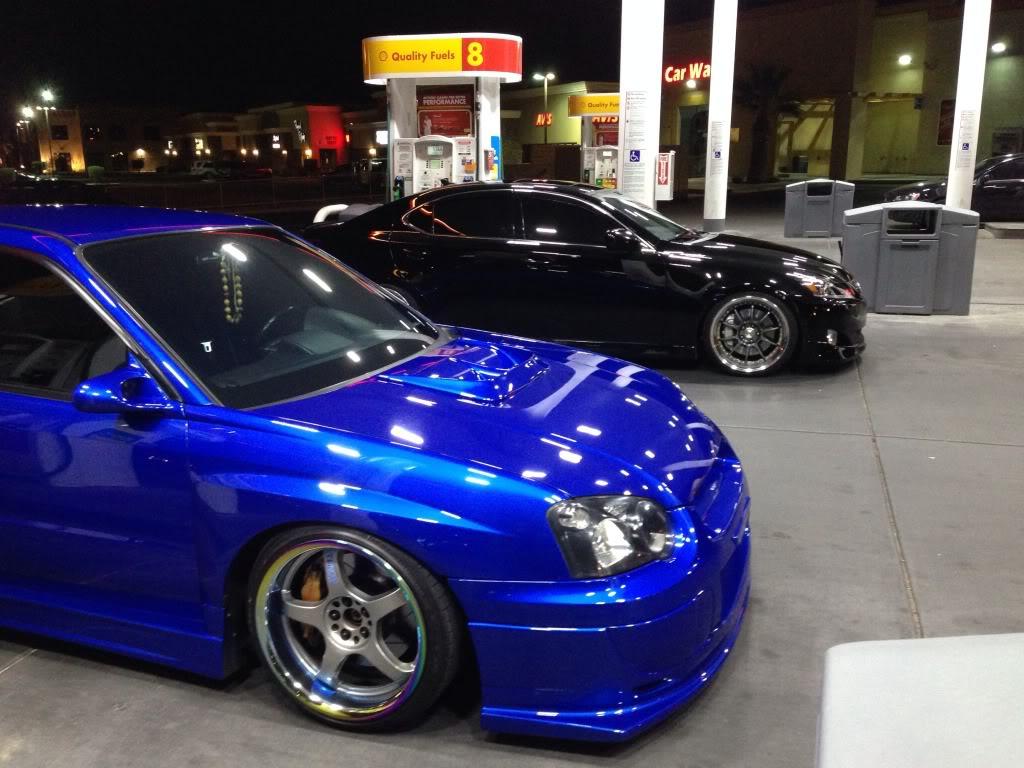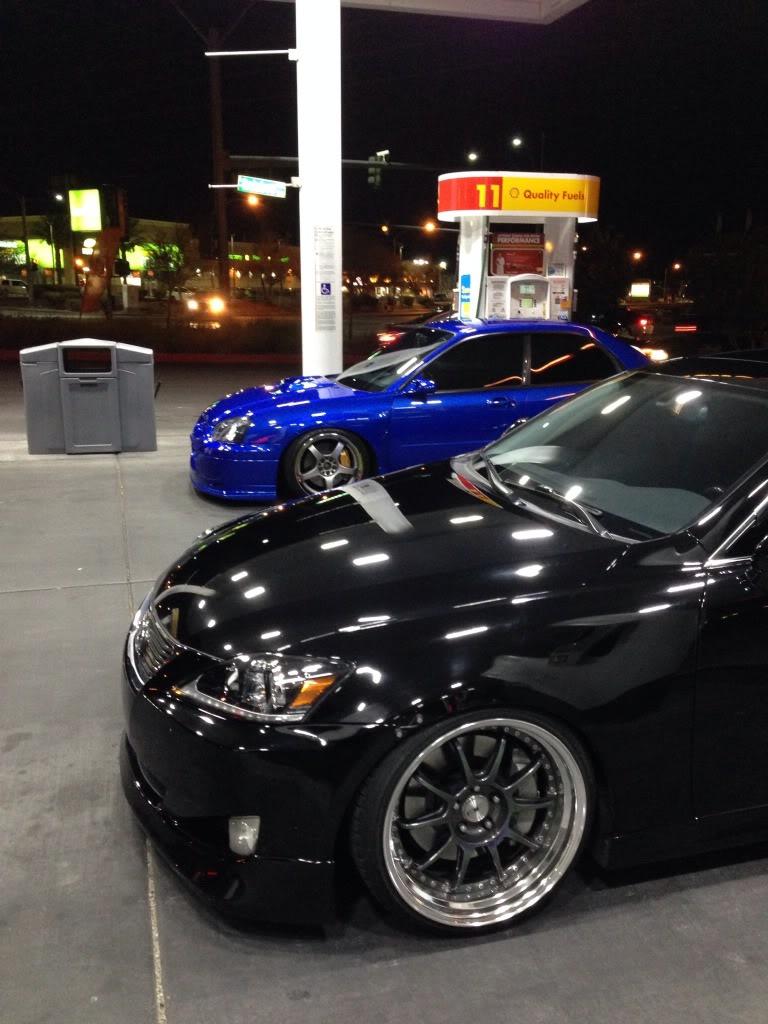 only right after this pic was taken my tire pressure was too low and air was leaking from the bead... luckily the 24hr tire shop in chinatown was able to re mount the tire for me. but i need new front tires anyway :-/
3-5-2014
Me and my boy Lance(calitriSC) in his SC300 at the homie shop today. i was checking on my mr2 and she is almost done. cant wait for 400+ whp in a 2700lbs car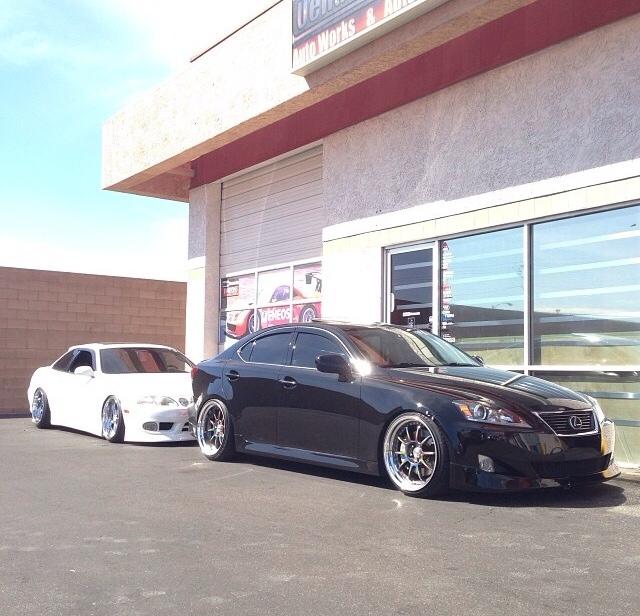 3-25-2014
got bored at work yesterday so i took a random pic... i can feel a Wald trunk spoiler coming soon, almost seems like the back end needs it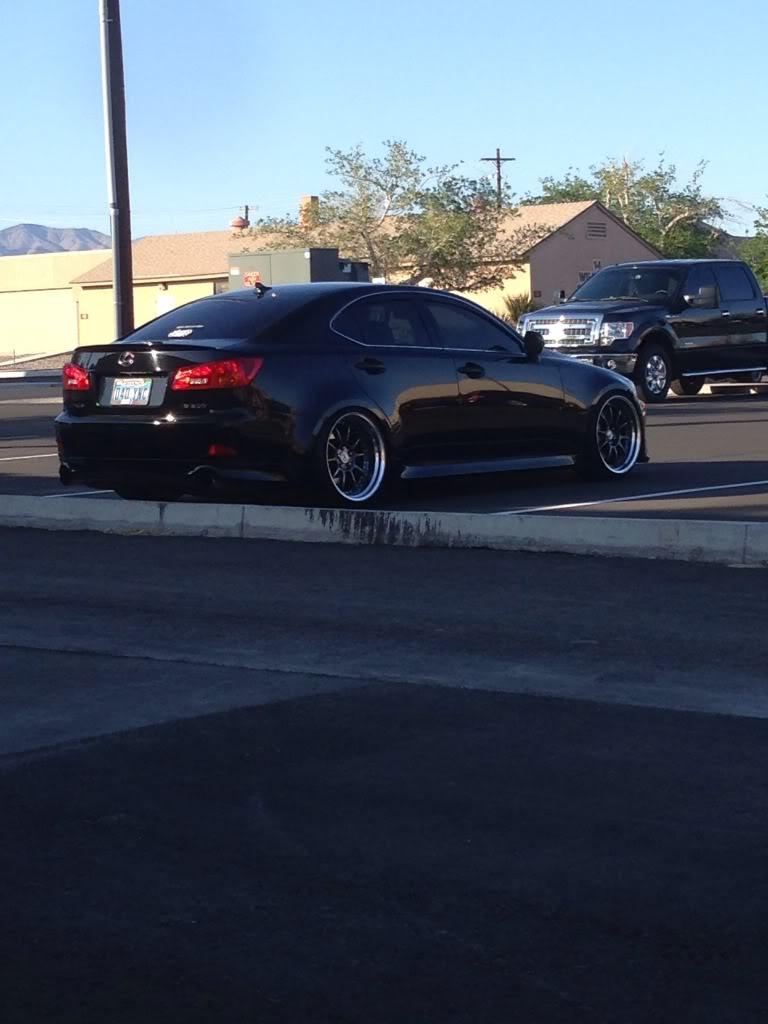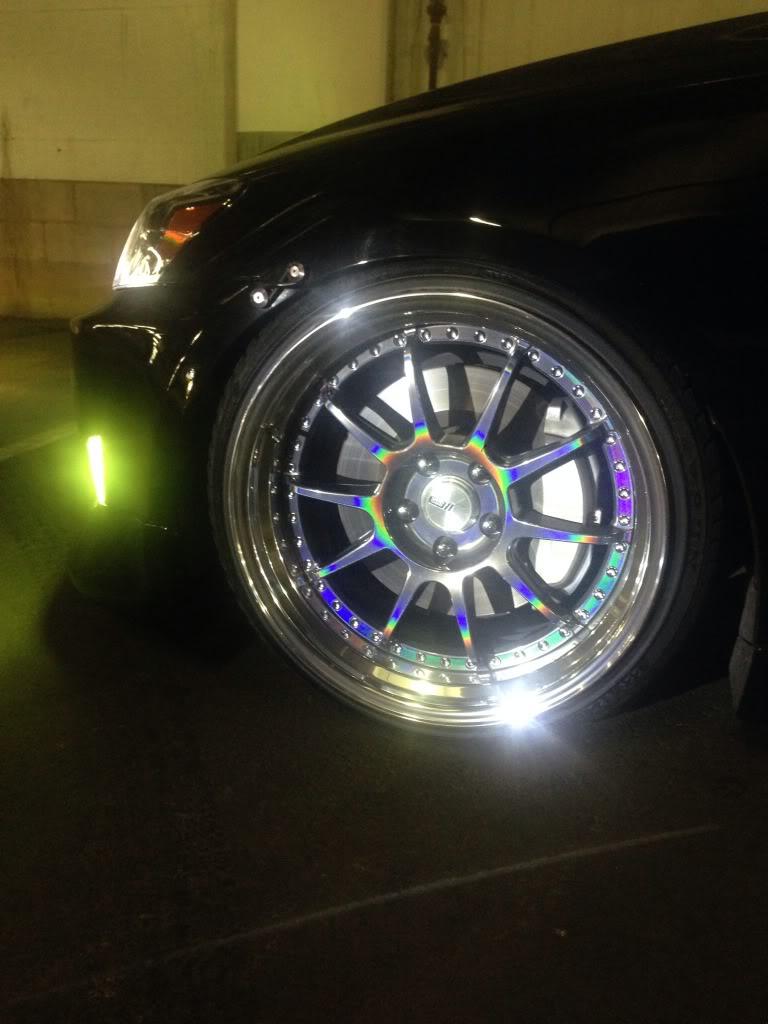 All the colors made me think of when there is chemical residue in water puddles lol
3-31-2014
Took this pic this past weekend at the "Sin City Affair" aka 2014 Royal Origin Anniversary Meet. Had a blast seeing all the homies from Royal Origin and Wrong Fitment Crew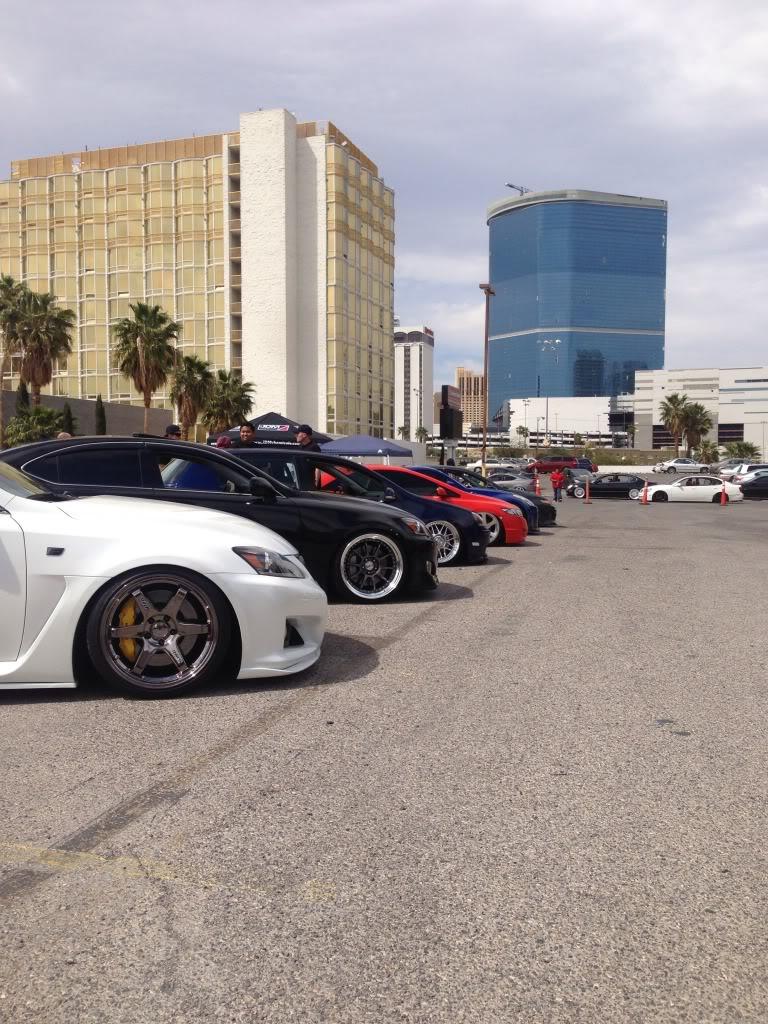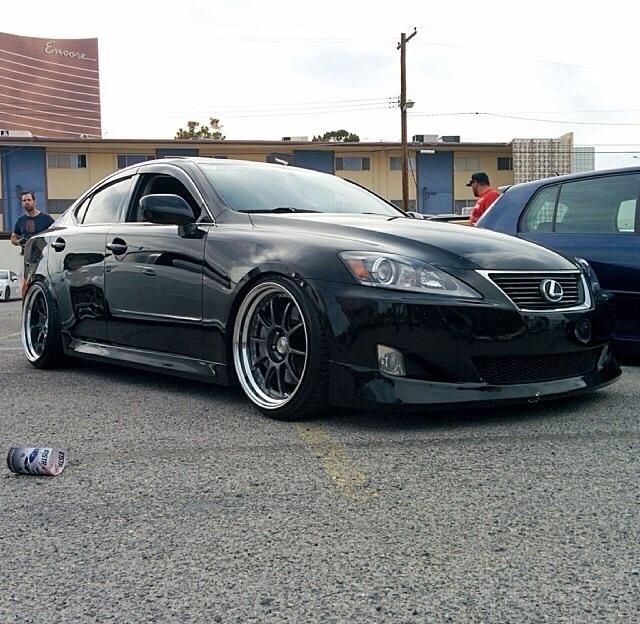 here is a couple more from the past weekends event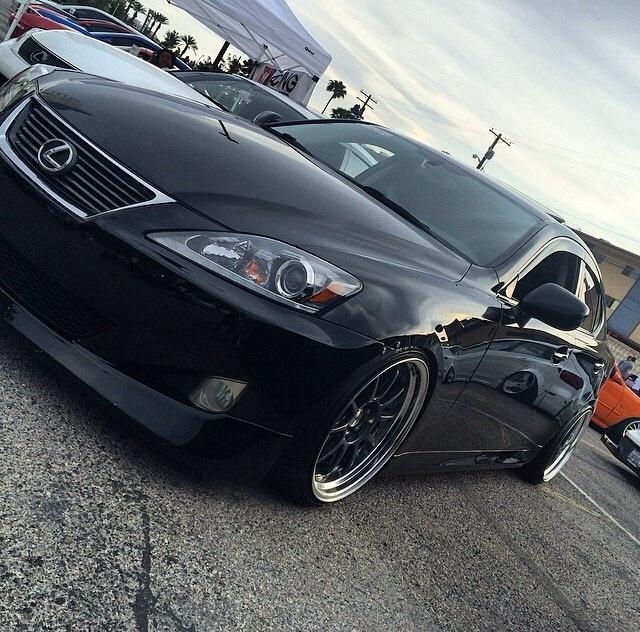 somebody put this together of my 350 and my boy lance(calitriSC) ISF on black gold TE37
and recent coverage pics courtesy of the homie Jay of LVracingscene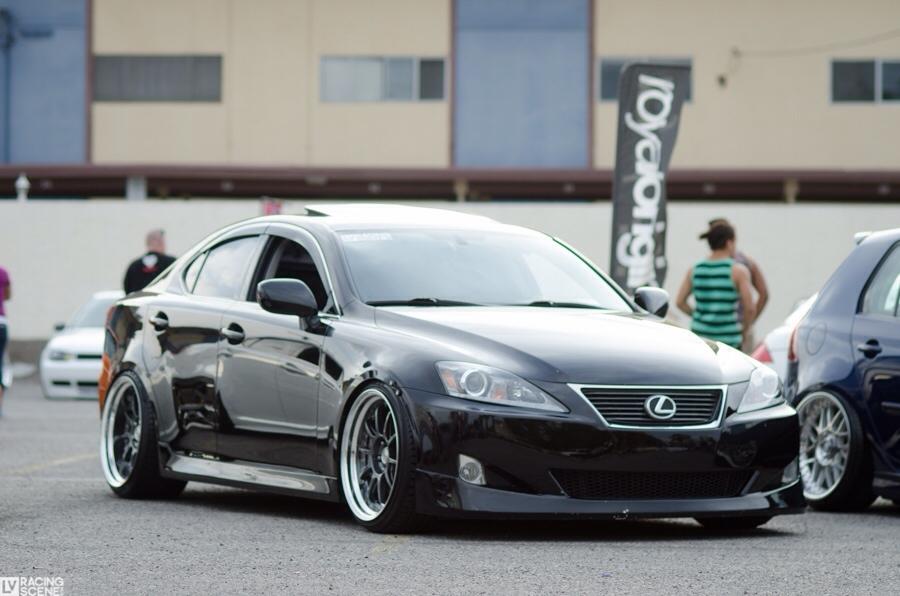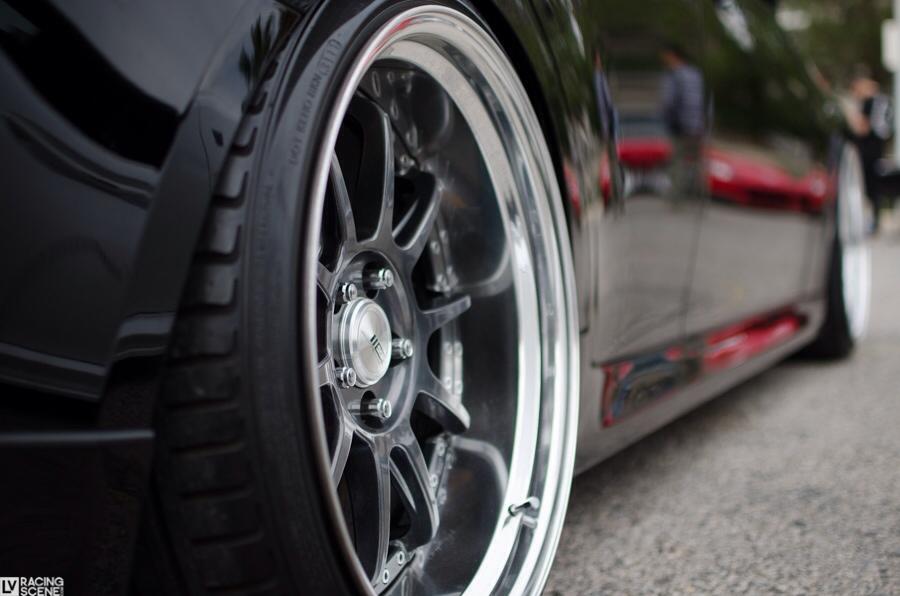 4-2-2014
found a couple more pics on LVracingscene of the event this past weekend so i figured i would share.. enjoy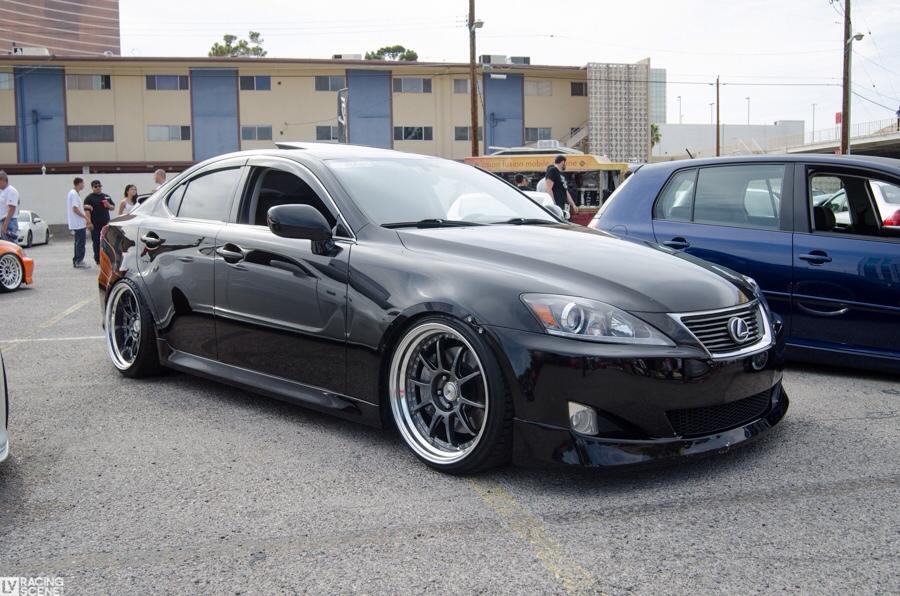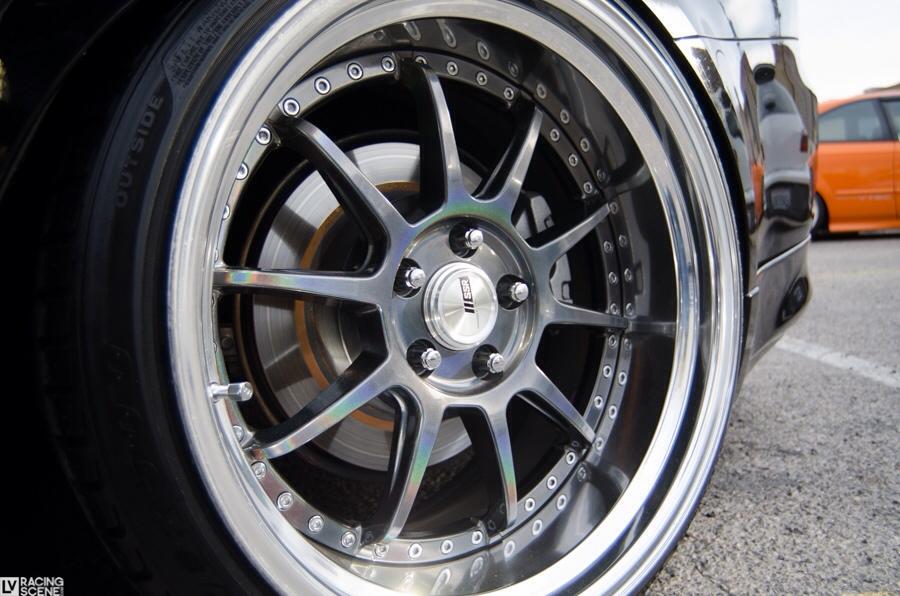 The homie Jay tried to catch the spectrum silver, but it was a cloudy day. so the first break of sunlight, he jumped on it lol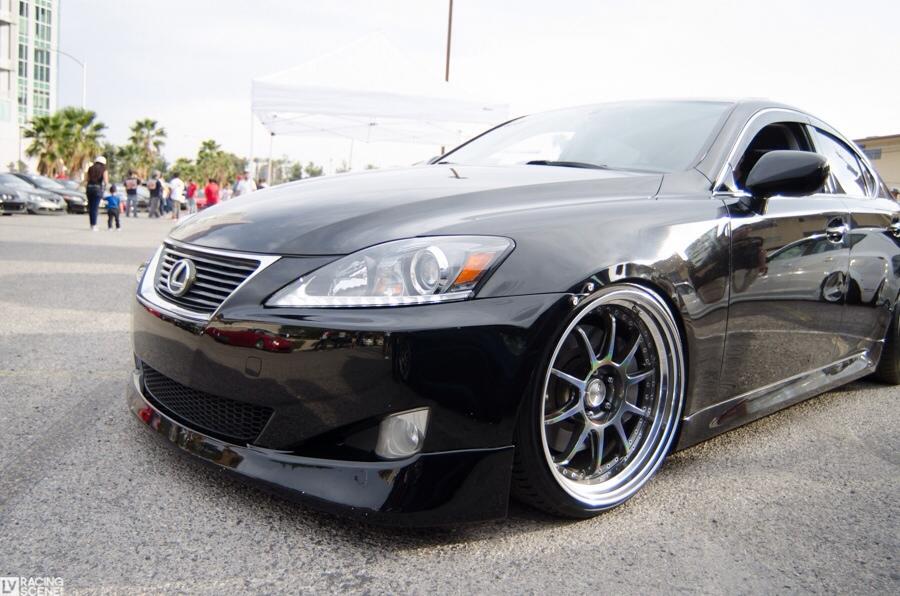 4-24-2014
havent posted in awhile, so here are a couple pics from the local lexus meet up last night. shoutout to a bunch of cool folks out there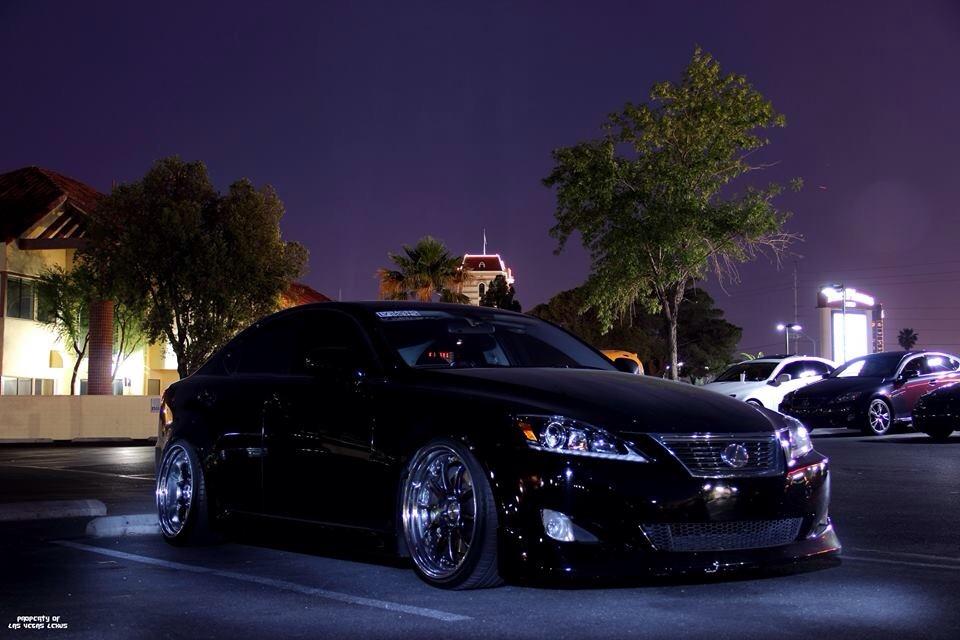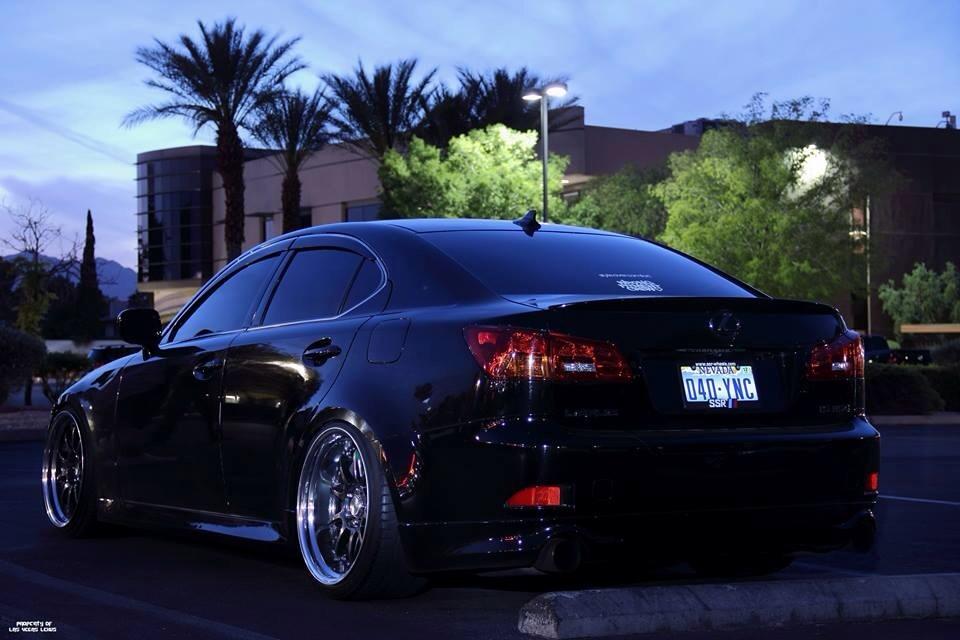 6-16-2014
Havent updated in awhile. been having car woes left and right(notorious is350 water pump problem and tires going bad) but im back in the game. here are a couple up to date pics
tires saw the end of their time but thank god i didnt have a blow out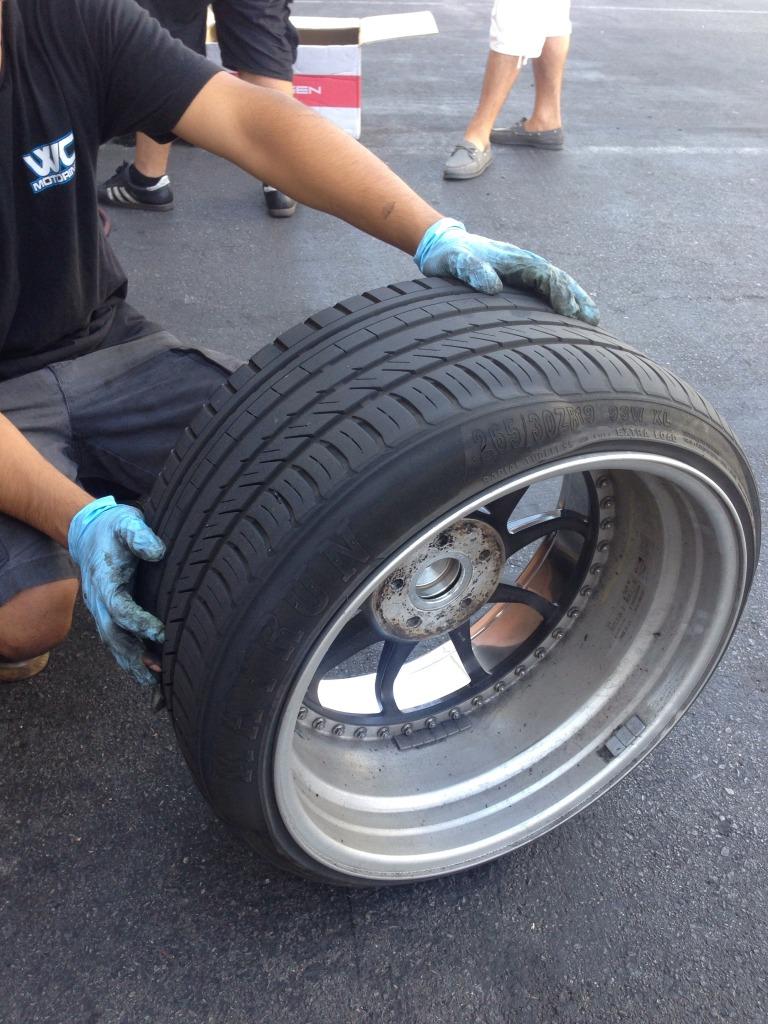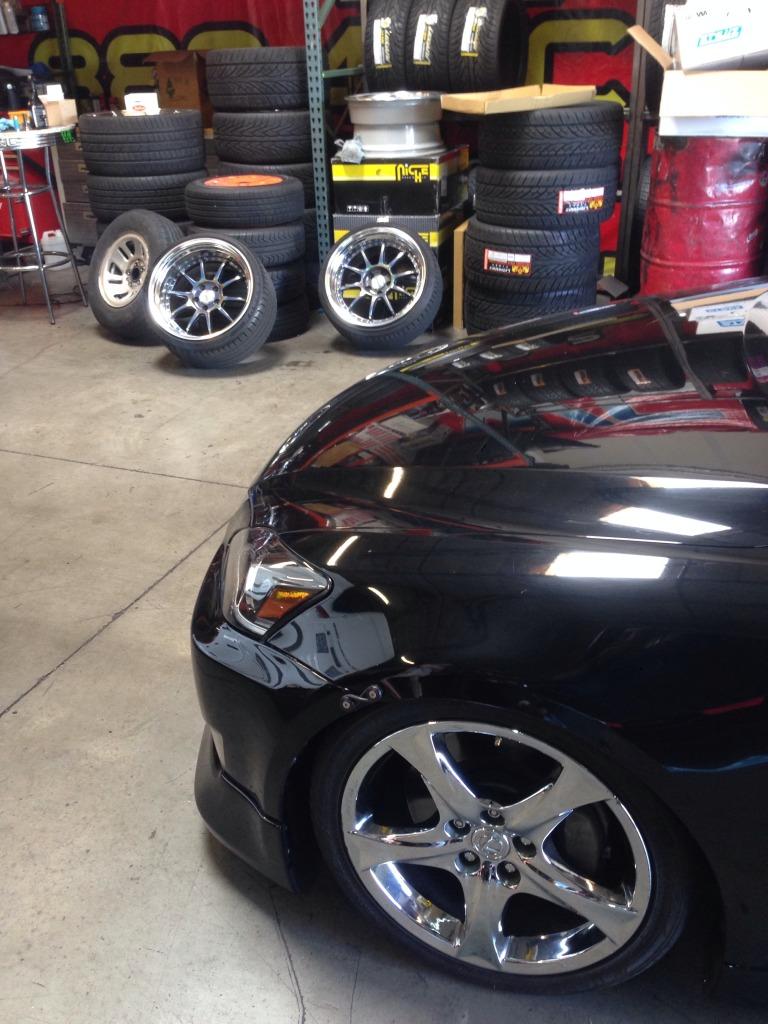 had to roll on the stocks for a couple days
got the new tires in thanks ot the homie and so im back on fresh rubber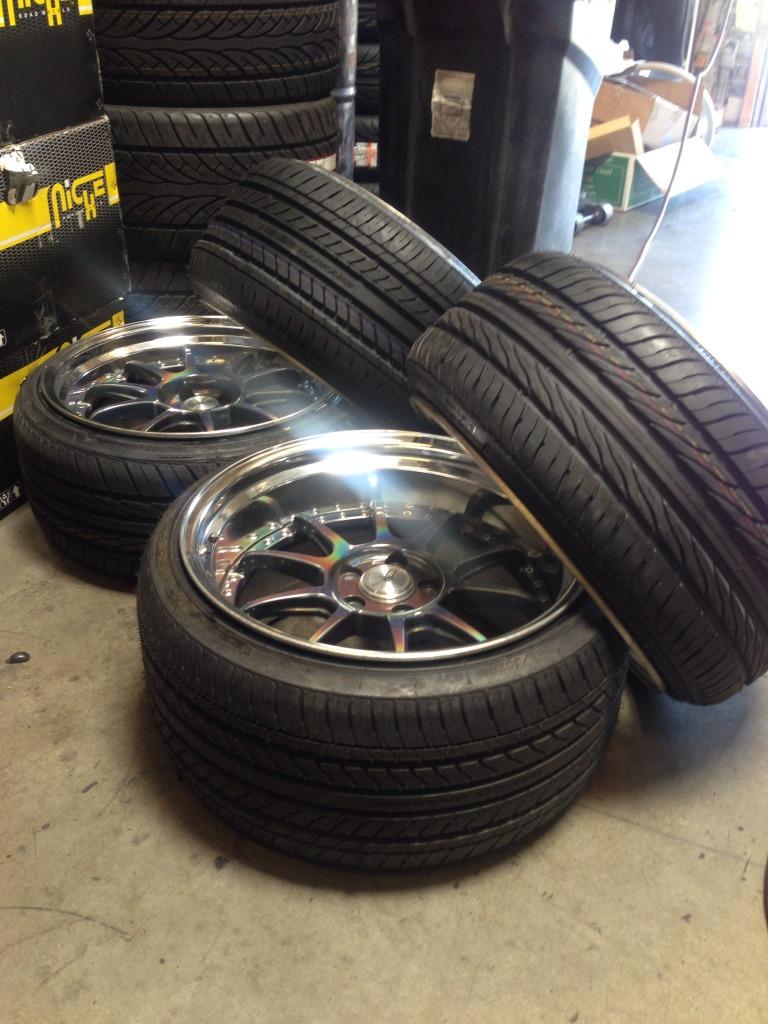 on the day of the trip we got the new tires on, lowered the car another 1/2" and maxed out the camber arms in the rear........ STILL had to make it to the alignment shop before we hit the road for San Diego for WFCfest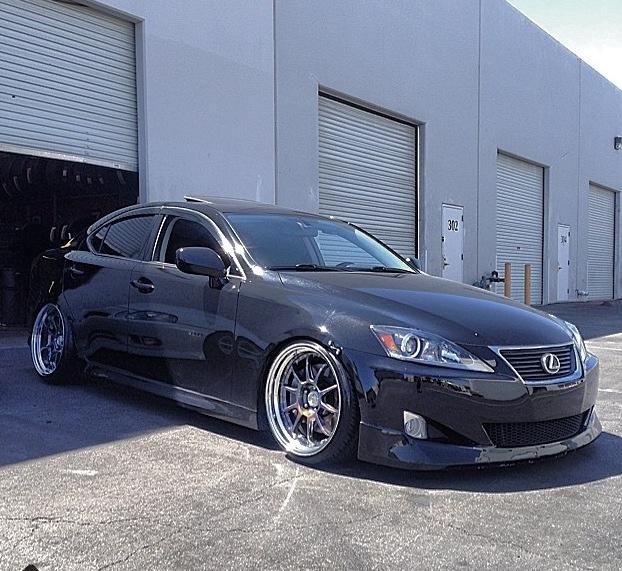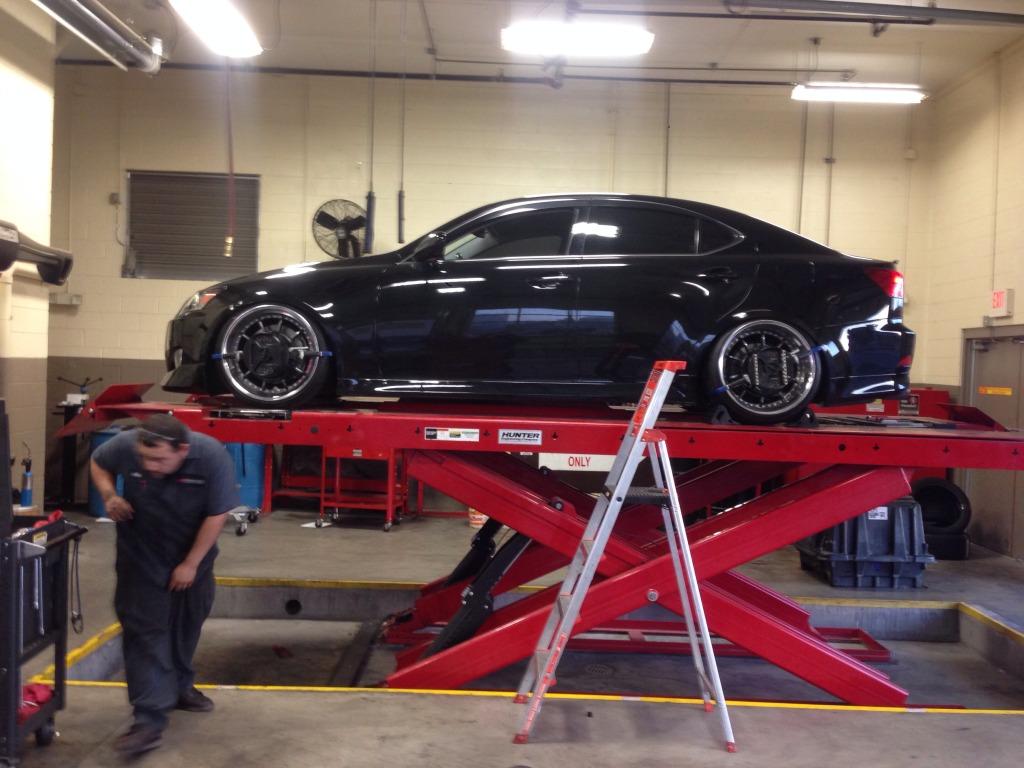 After we got to San Diego at about 2:30am i snapped a quick shot in front of the hotel of the newer lower stance. I love it alot better now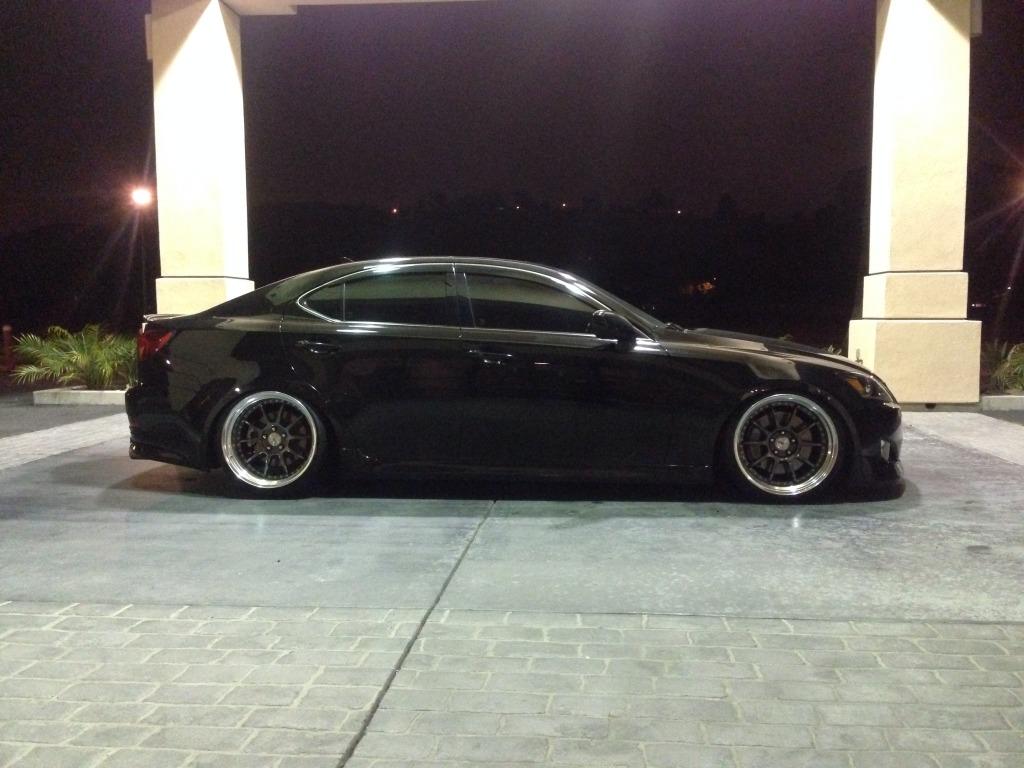 Then Sunday before we rolled out back to Vegas all blued taped up and ready to hit the freeway...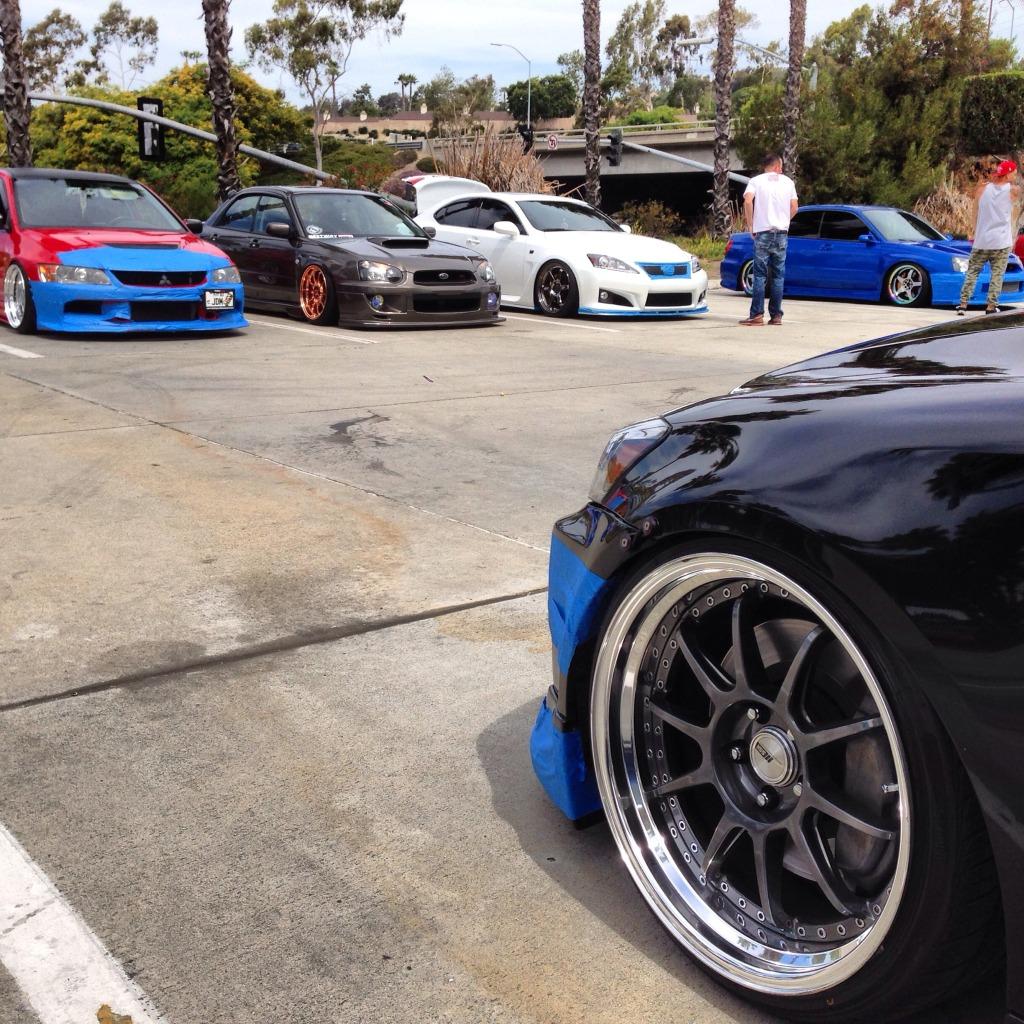 and who says the IS350 cant get good gas mileage LOLOLOLOL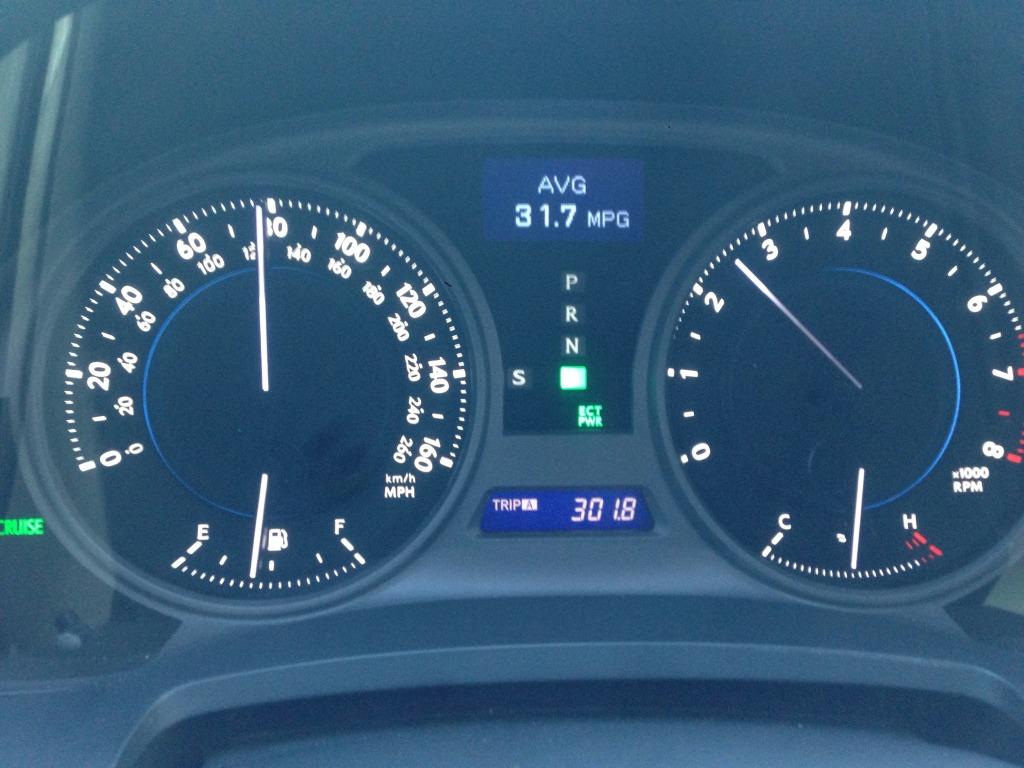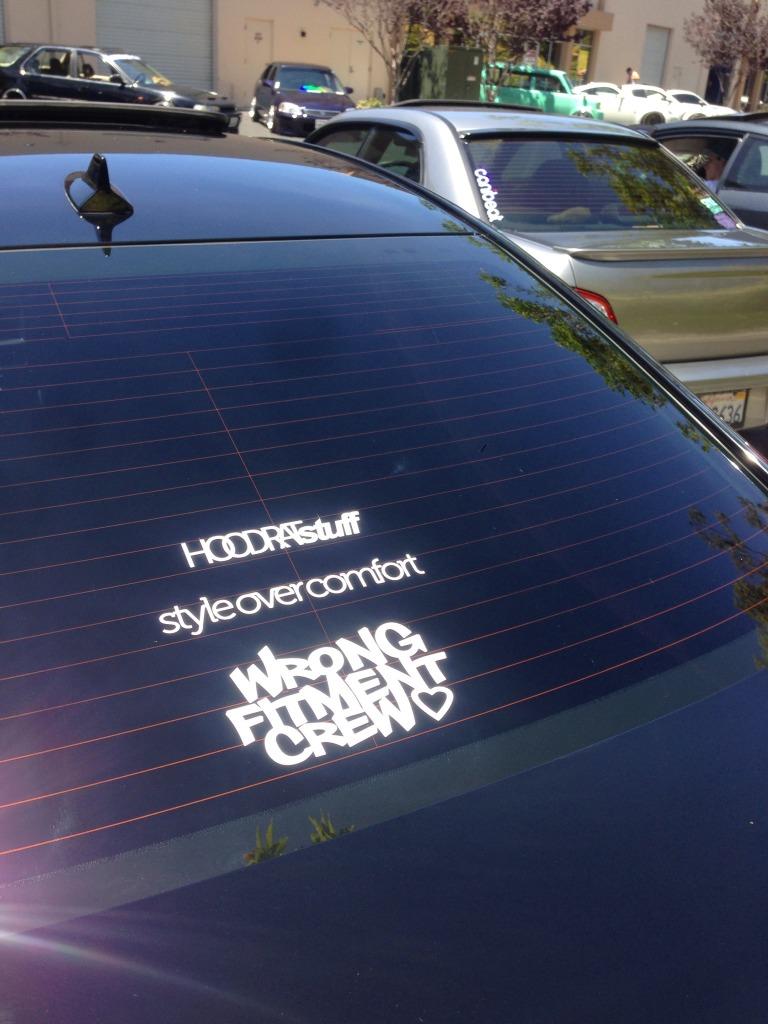 7-10-2014
Was bored at work and on this hot 110 degree day last week in the vegas desert decided to go out and take a pic lol.. static life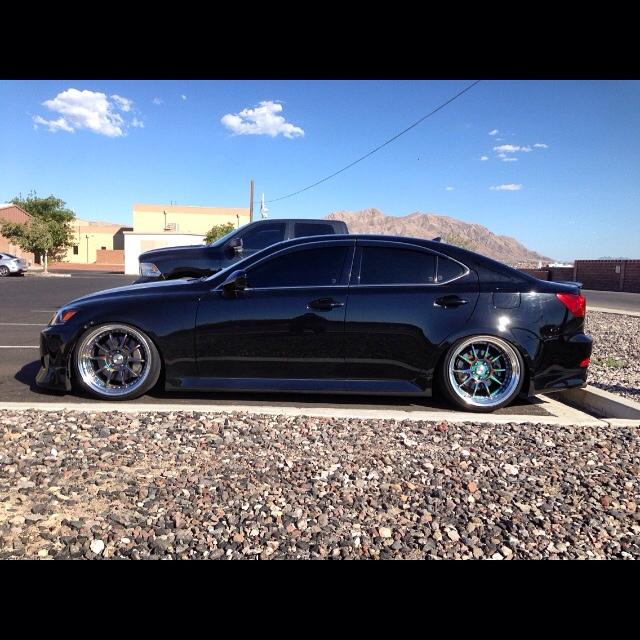 7-24-2014
Had the pleasure of having the homie TJ do some impromtu photoshoot about 2 sundays ago. i took some BTS shots while he was doing his thing...............then it rained >:-(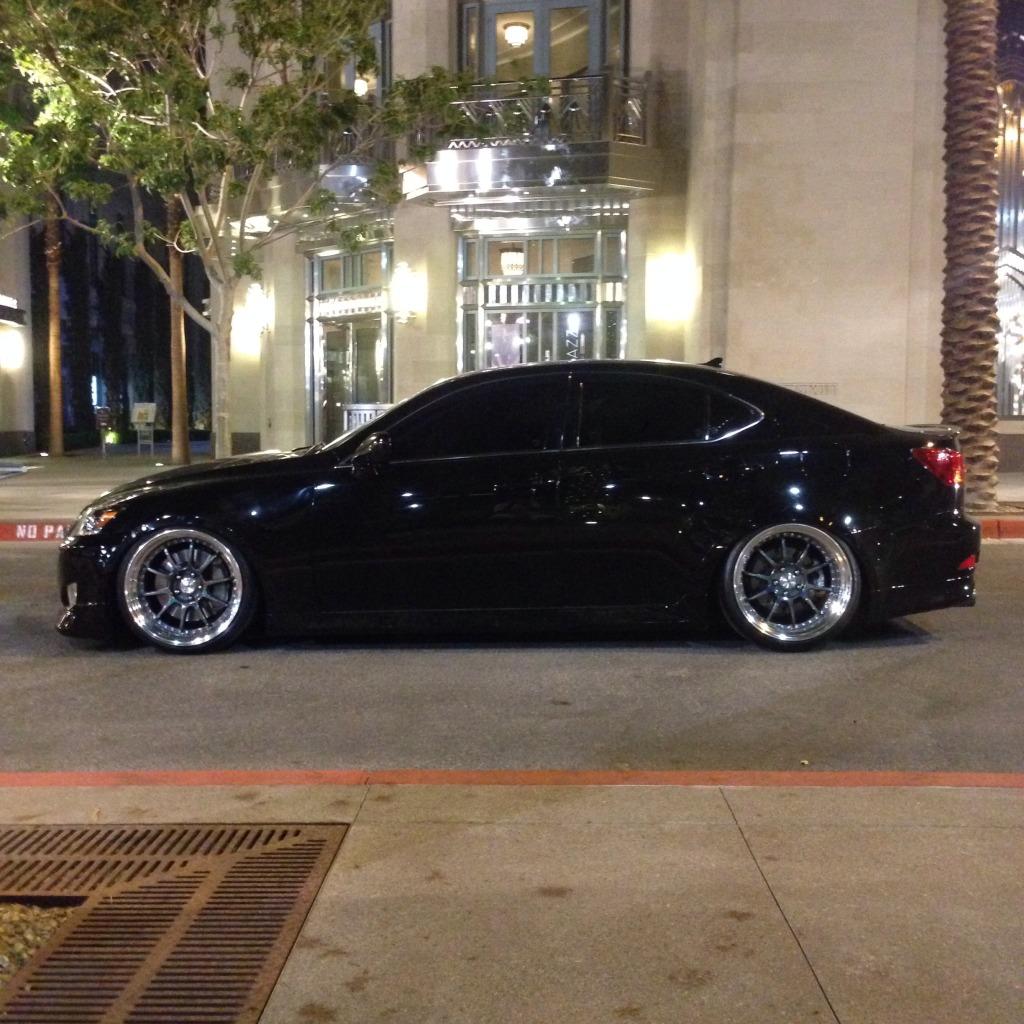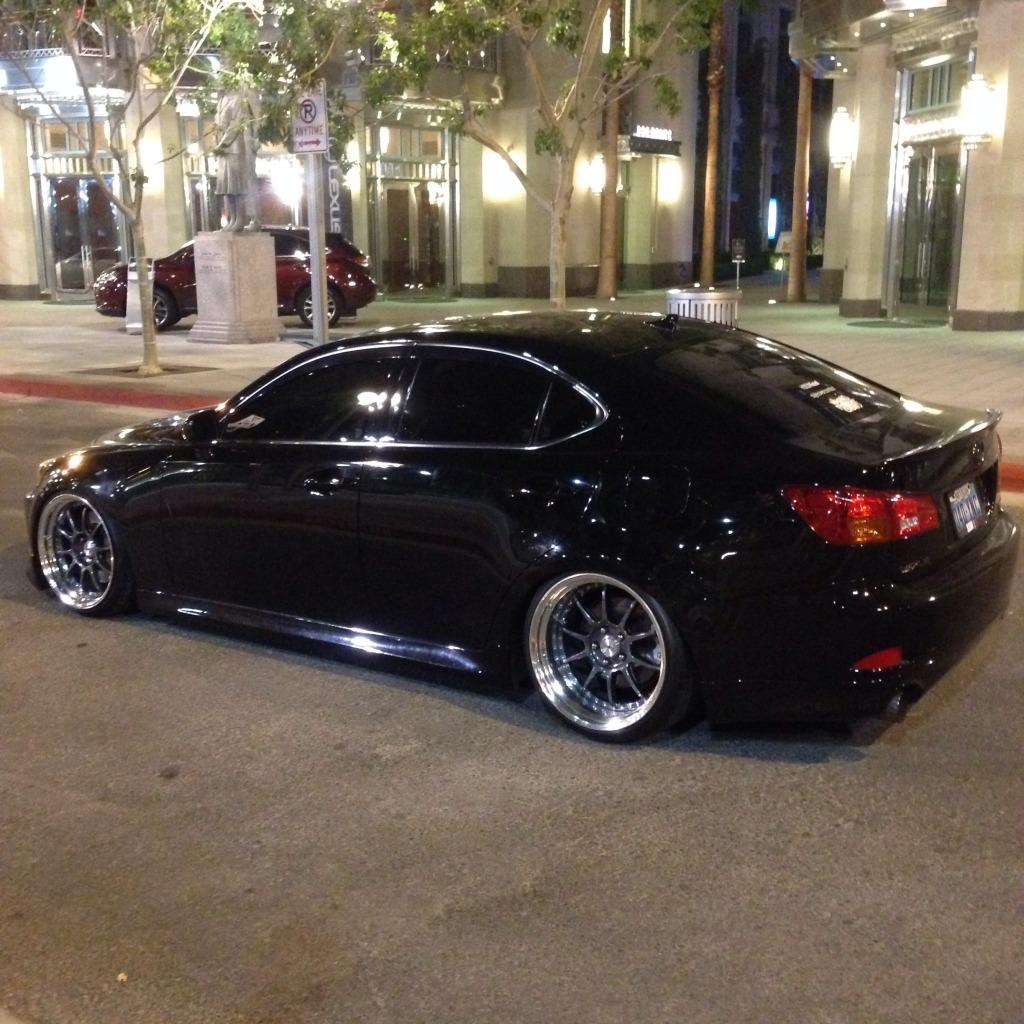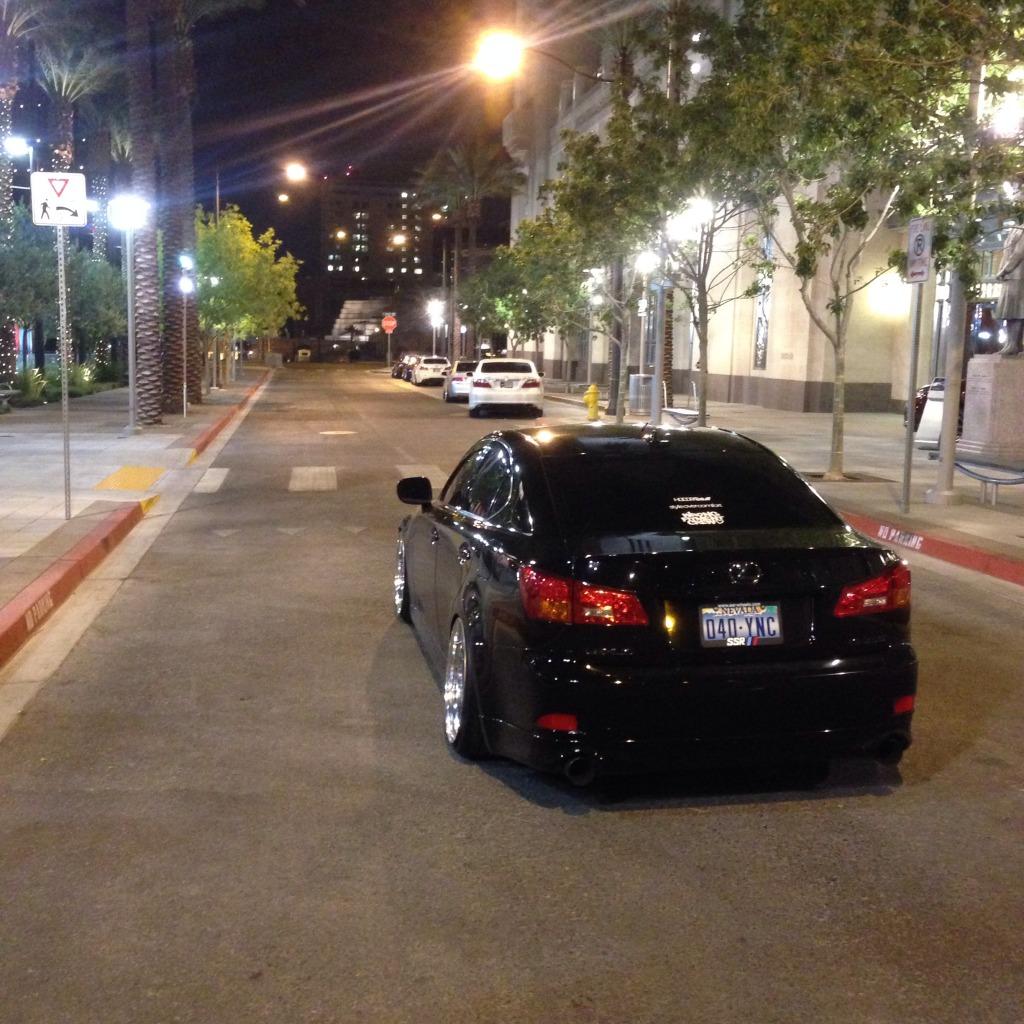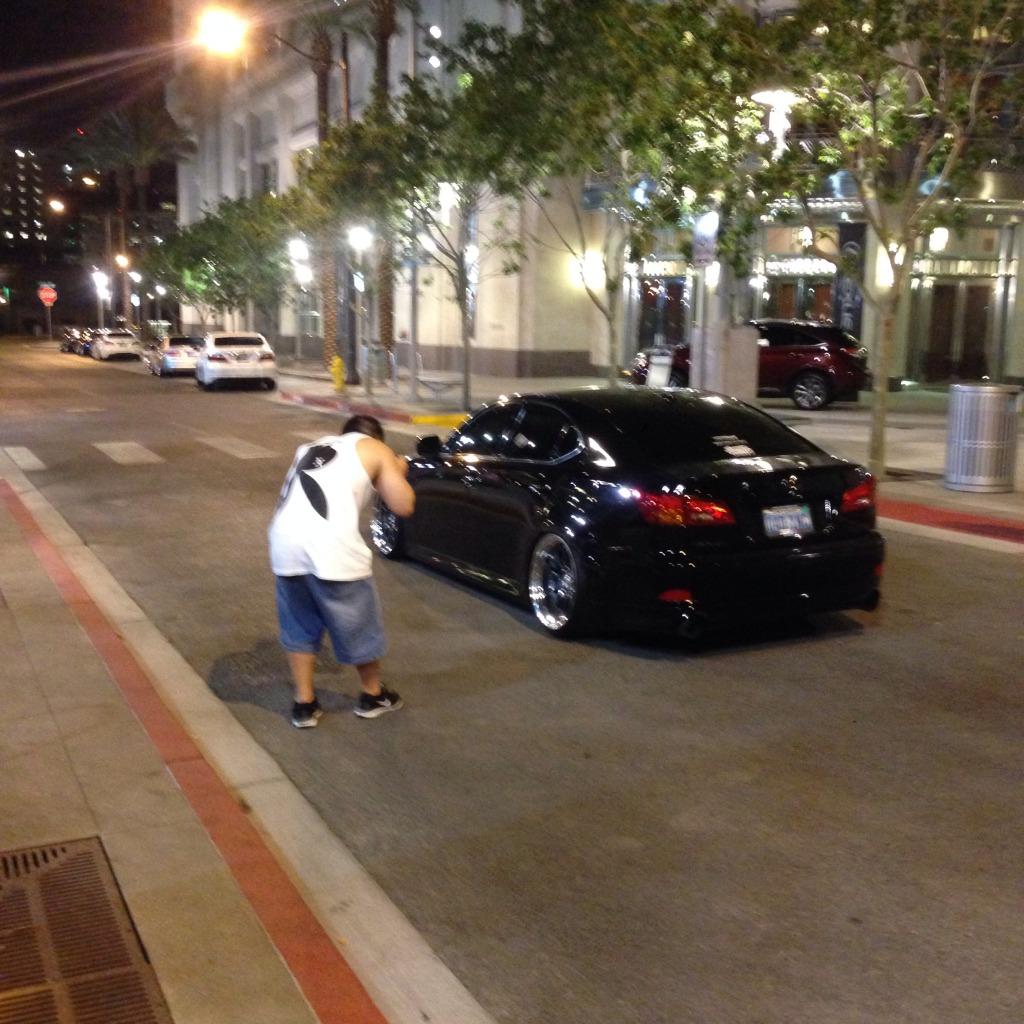 8-4-2014
saw this pic somebody took of my car about a month ago at a Vape meet here local. the shot came out pretty dope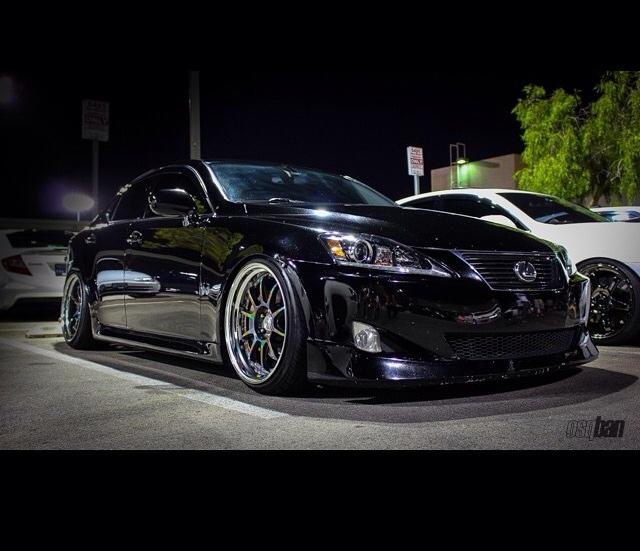 these are from yesterdays carshow EOS showcase. had a ball with everyone and it was far more packed than the year before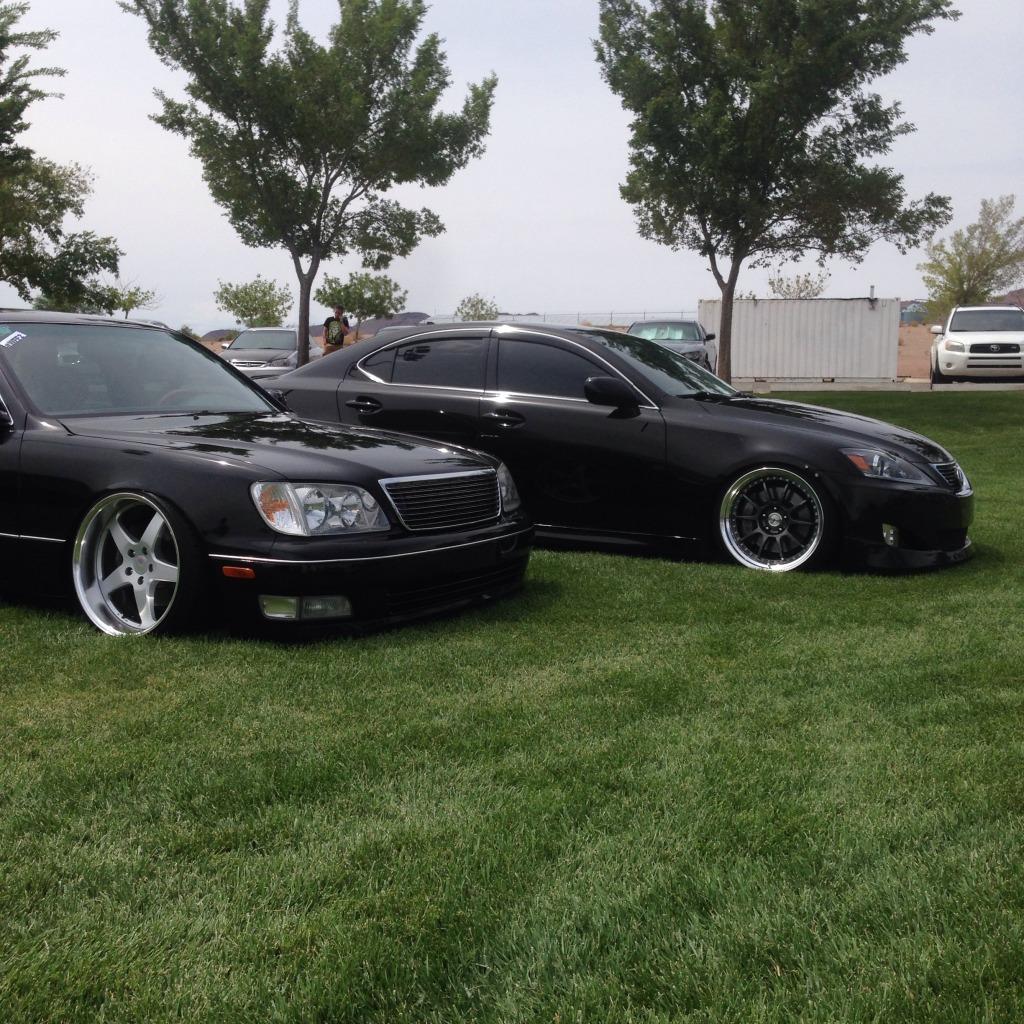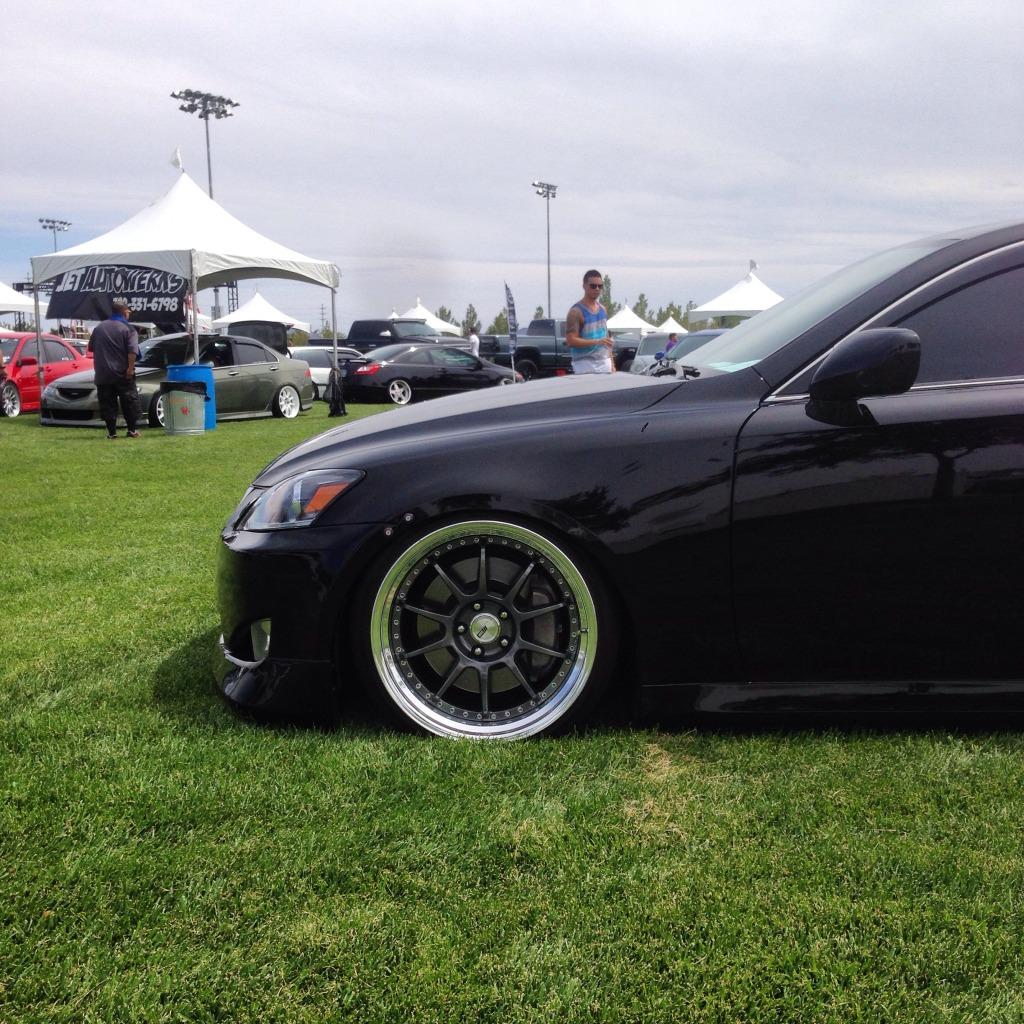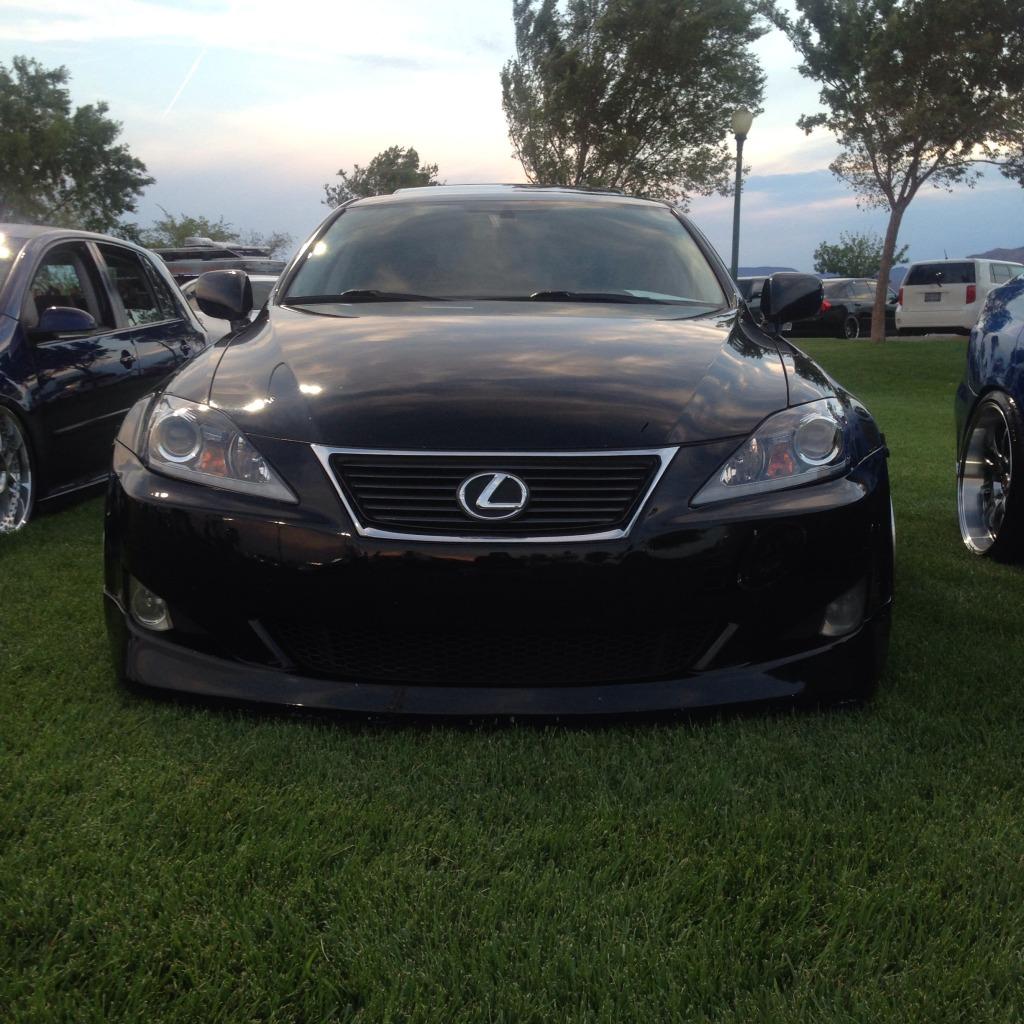 hese were taken by the homie Anthony, very dope shots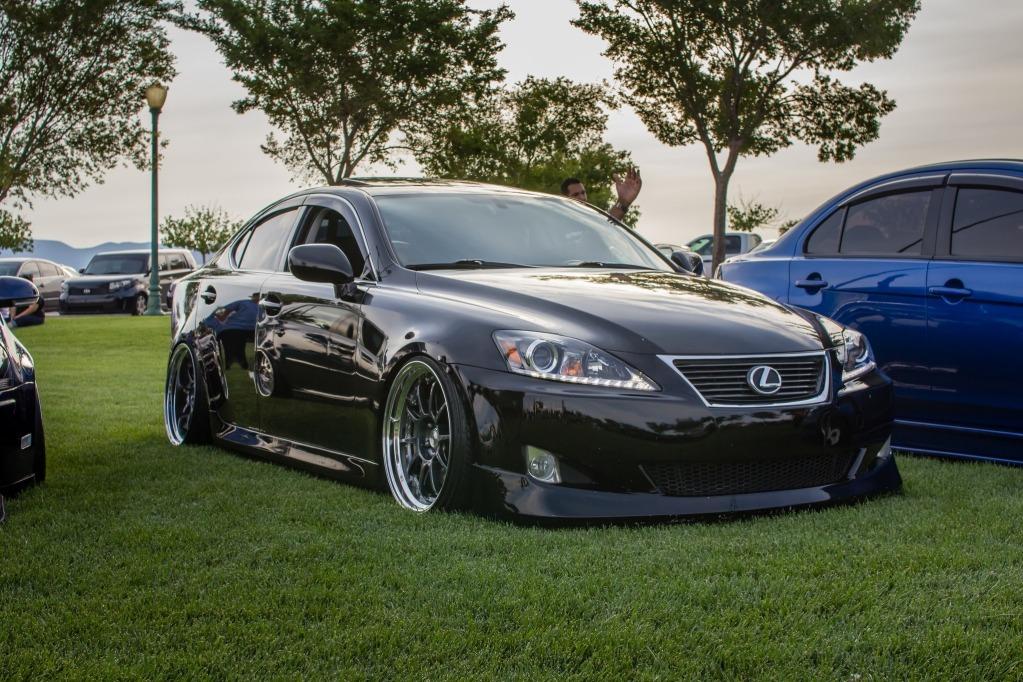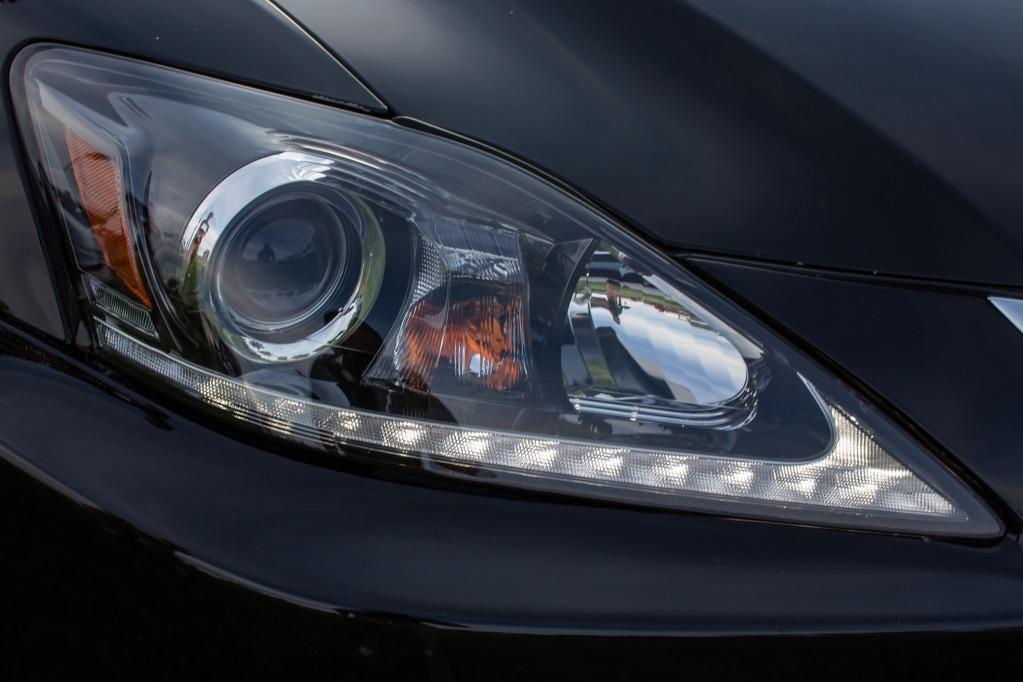 and this was taken by the lil homie Paulo, another great set of shots of WFC repping at the show yesterday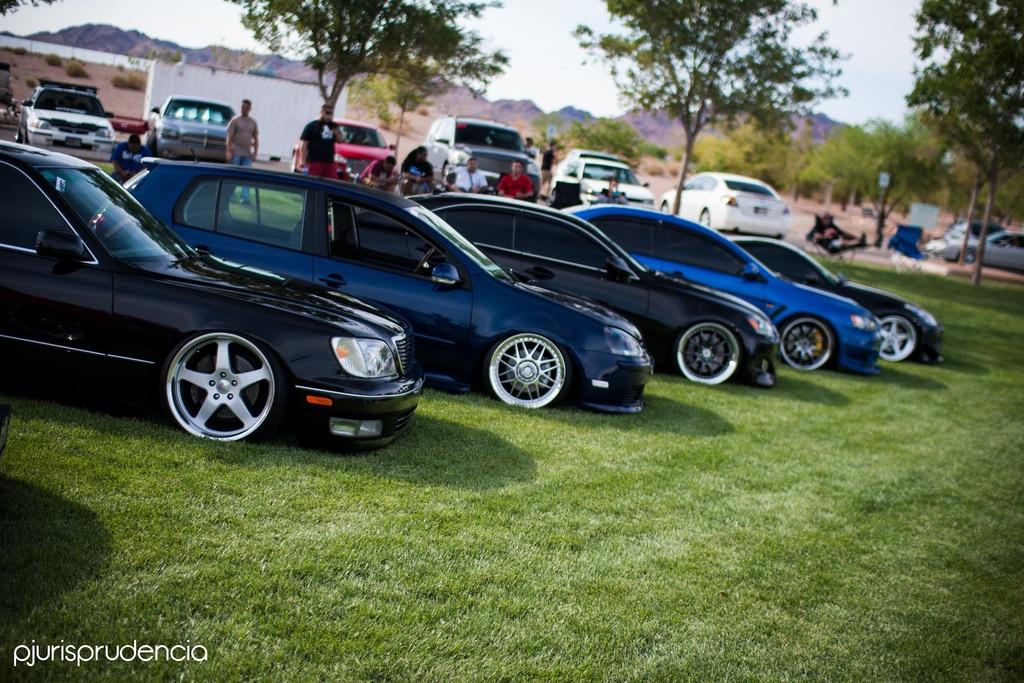 8-12-2014
thanks to my homie here Anthony i got some much needed rolling shots, havent had any since the car was lowered another 1\2" about 2 months ago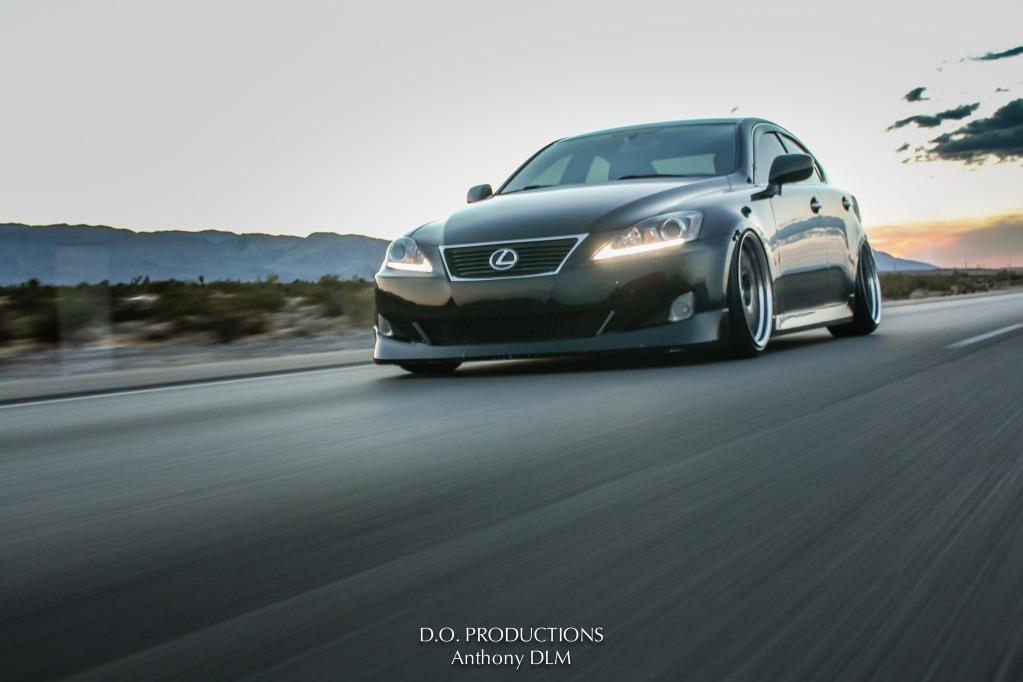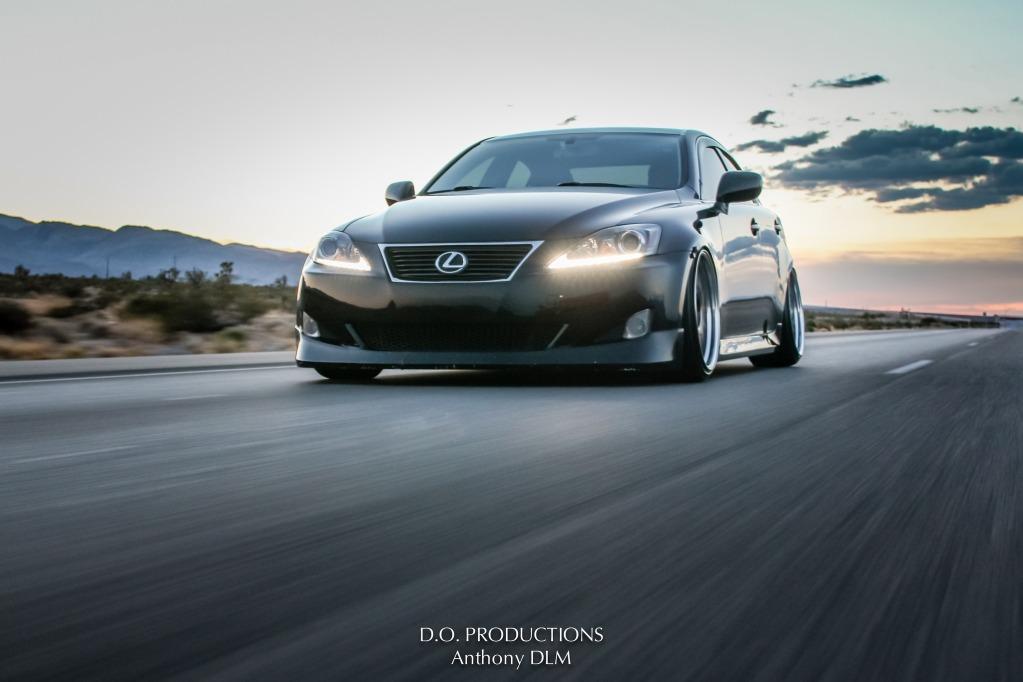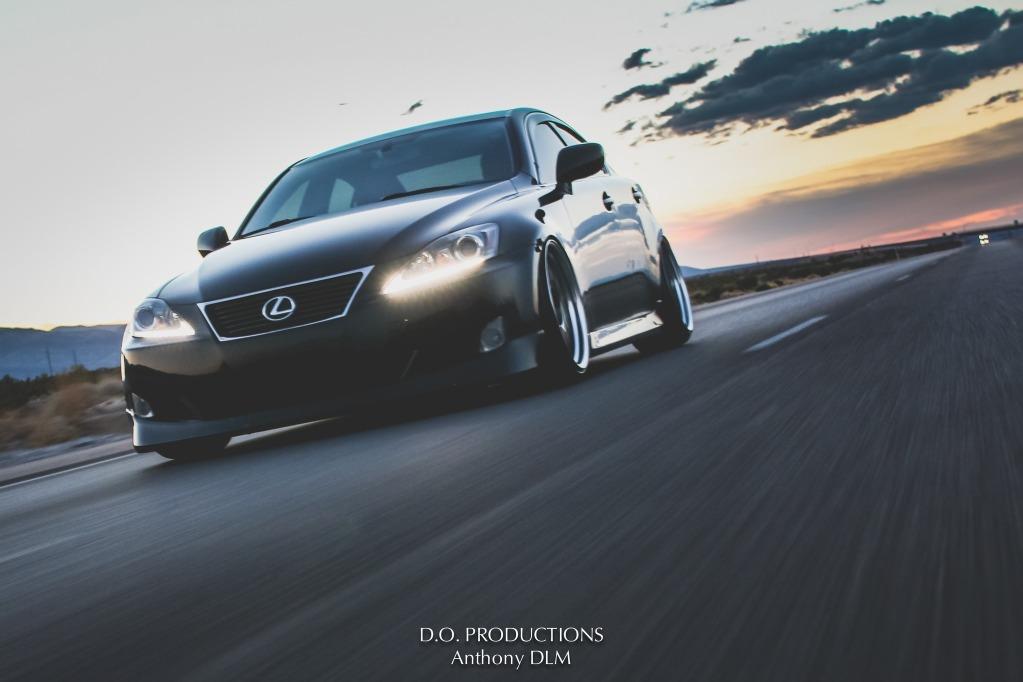 8-19-2014
random emo cellphone pic before it rained last night hahaha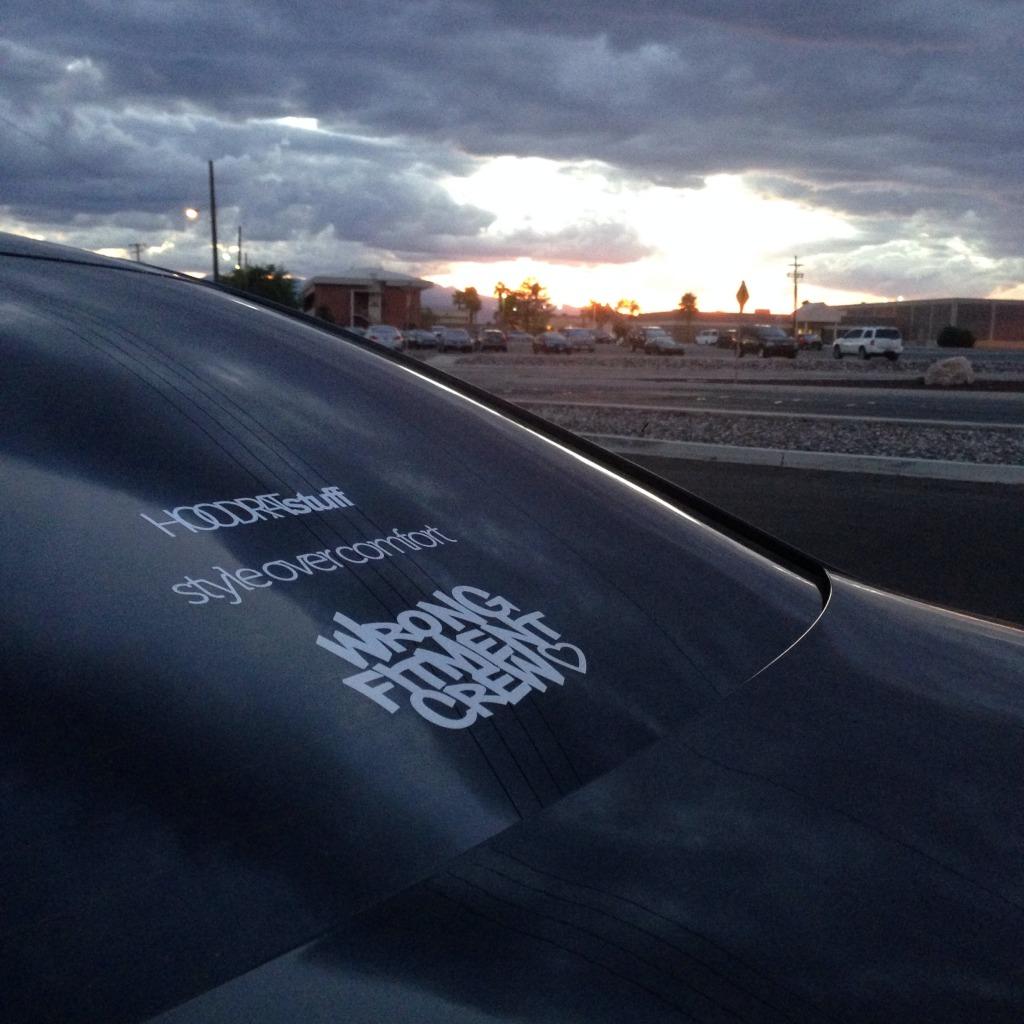 9-4-2014
a couple random shots i forgot to post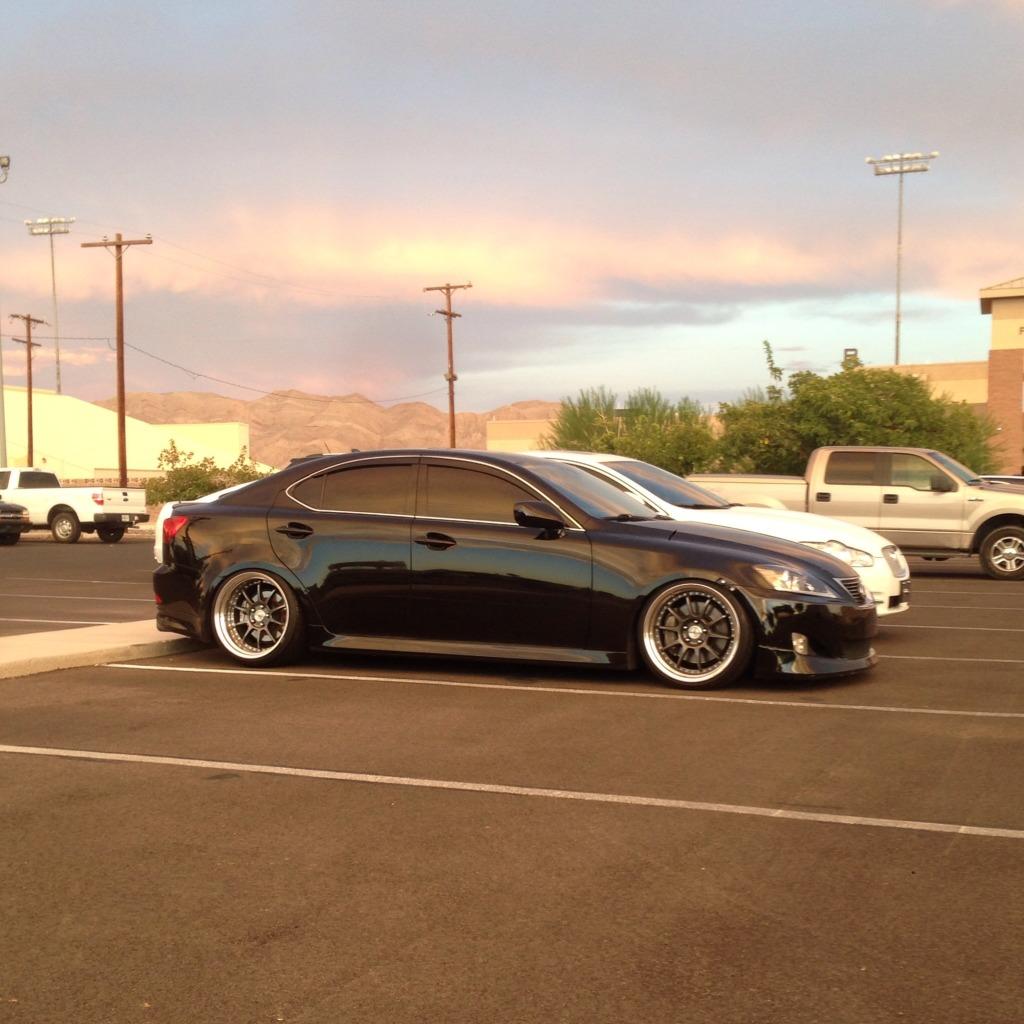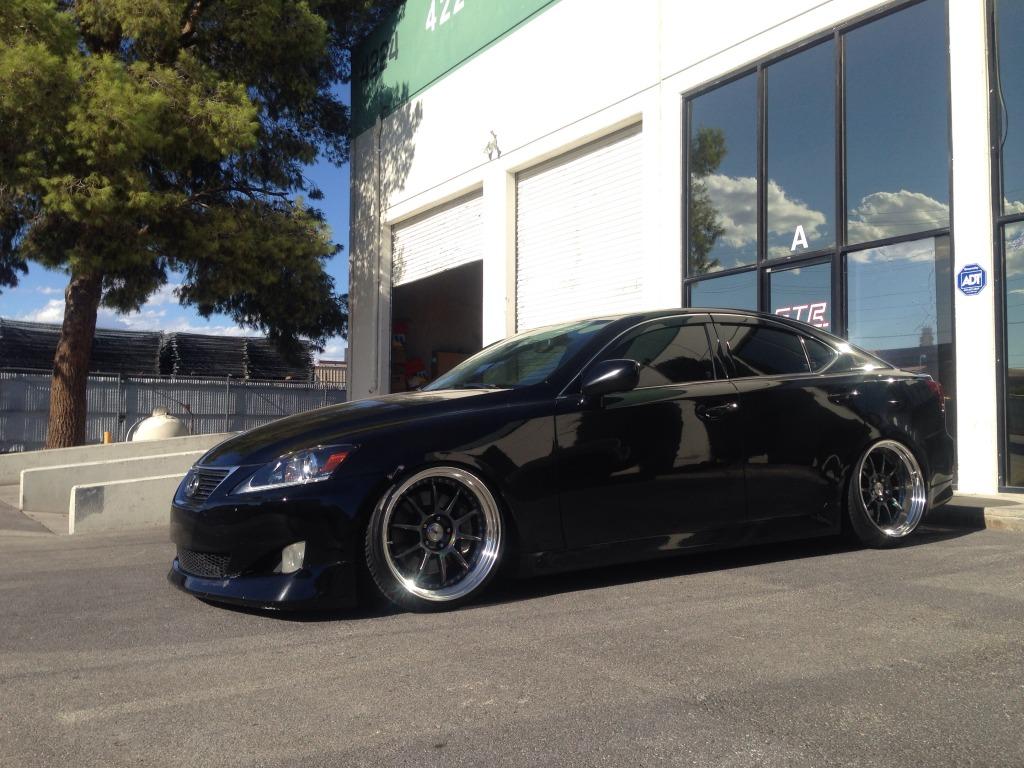 this was yesterday, when keeping it real goes wrong :-(
hit a printer electric motor in the middle of the road and it banged under the car pretty violently. car then wouldnt start anymore. got to my homies shop and luckily it wasnt major... it hit the gas tank so hard, it jarred the fuel pressure regulator loose from its clip. car was getting no fuel. we got it out, got it back together, and the car was fine thank god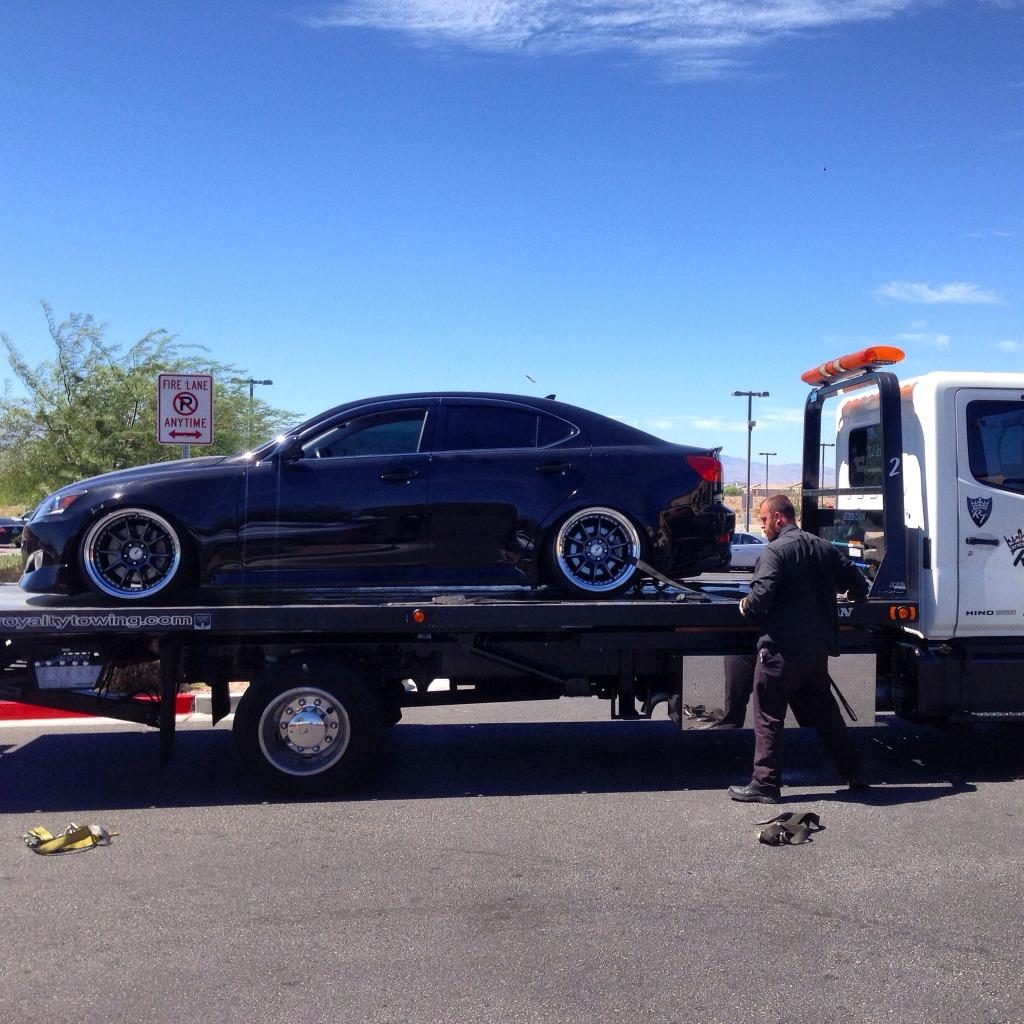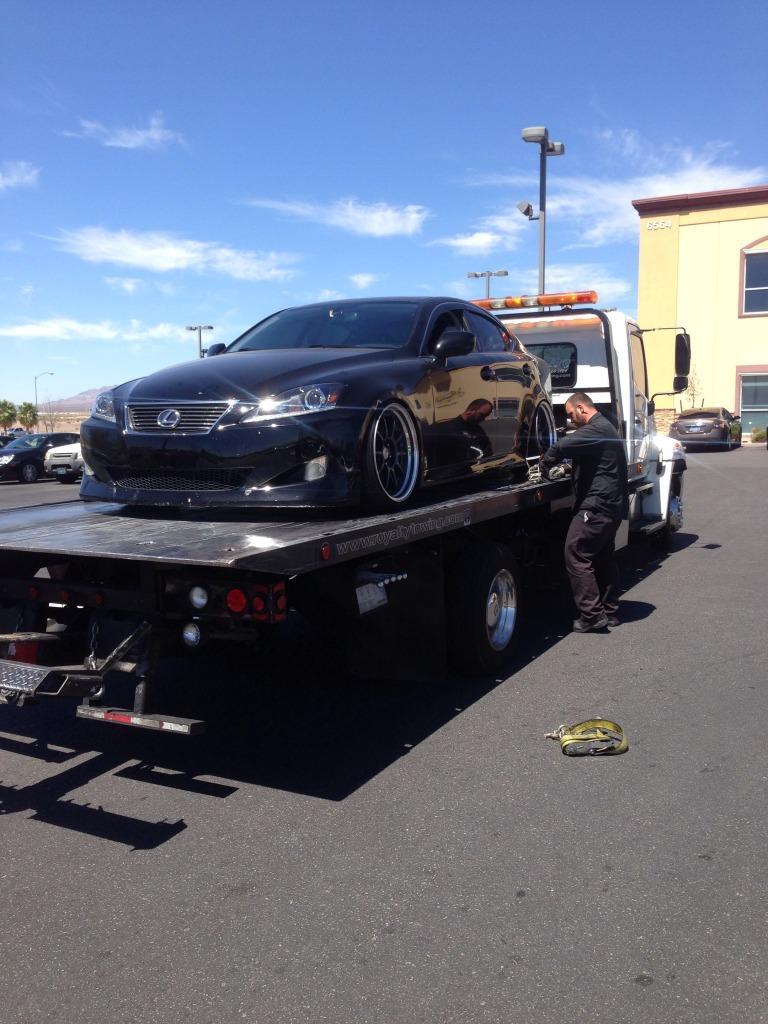 9-5-2014
man i thought for sure the front lip was done, but it didnt come out unscathed. its cracked and will have to be fixed. but it already had a crack and already needed to be resprayed anyway. now i just have a reason too lol.
but yeah it hit hard, like it was violent under the car before i saw it fly out, plus it was dragged for about 10-15 feet. i went back and picked it up... here it is what i hit and caused all that ruckus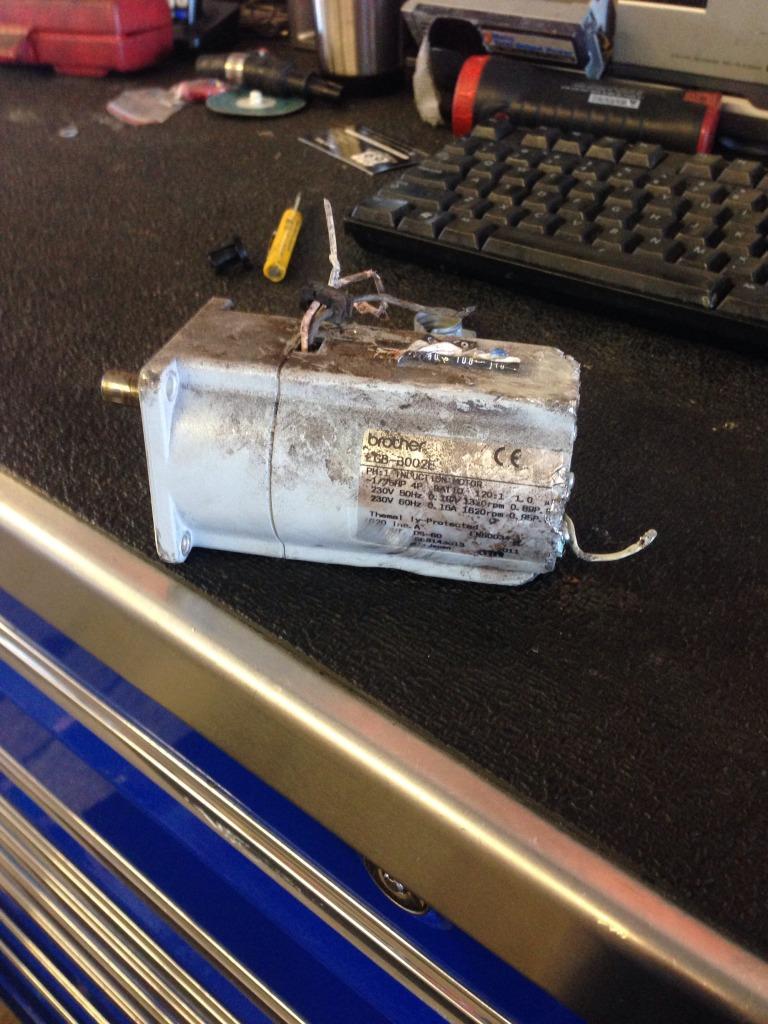 it was literally just in the middle of the road and by the time i knew what was happening, it was too late

10-1-2014
i ran 225/35 and 265/30. for as slammed as i am, 235/35 wouldve been rub city. 265/30 wasnt alot of stetch and not tall on my rear 11. i think 235/35 is alot of stretch on an 11, 245/35 wouldve been kind of tall too. so i chose 265/30 and its perfect
10-6-2014
was experimenting with this iPhone 6 Plus camera in the dark at work, pic came out kind of dope lol

Excuse the battle damage on my front lip........ STATIC LIFE, DAILY DRIVER LIFE