Builds
RCBs ISF build thread by RCB
By diyauto
You must be logged in to rate content!
8 minute(s) of a 24 minute read
RCBs ISF build thread
Compliments of RCB @ clublexus.com
9-12-2012
I wanted to share what I have done with my car since I purchased it back in March but just haven't had the time to get all the pics together and on to photobucket. I pick at it one section at a time and here we go......Here is a little history to start off.
After shopping around for a while and leaving a deposit on a SGM 08' in Florida I got in touch with a member here, (MikeFate) who was much closer to me then Florida. I was a little apprehensive about his car because it had already been modified and was in an area that sees winter weather. I am very particular about things and over the years I have seen some scary stuff that people do to cars so I prefer to start with a clean slate and do things my own way.
After a long phone conversation with Mike I decided to go see his car since it was one of few within driving distance of Boston. When I got there I was pretty happy to see that the car was very clean and had not spent its winters outside. Mike was a super nice guy and was very honest and fair with me. I can't say enough nice things about this guy. Needless to say I ended up buying the car and Mike was nice enough to let me drive it back to Boston the same day.
Well I was there Mike had showed me a set of BC wheels from Figs that he was working on fitting to the car. I again wasn't to sure about buying the car and rocking his rims but once I saw them with the 305s on the rear my thinking changed quick. We loaded those in the GFs car and headed home.
The car previously had the ISS Forged exhaust on the car but Mike had returned it to stock. I did however get a jump start with a few nice parts Mike left installed on the car.
iCode intake pipe w/aFe wet filter, Blitz throttle controller and JDM visors. It also already had the 3m UV filter film on the windshield and the windows tinted.
The F along with my IS250awd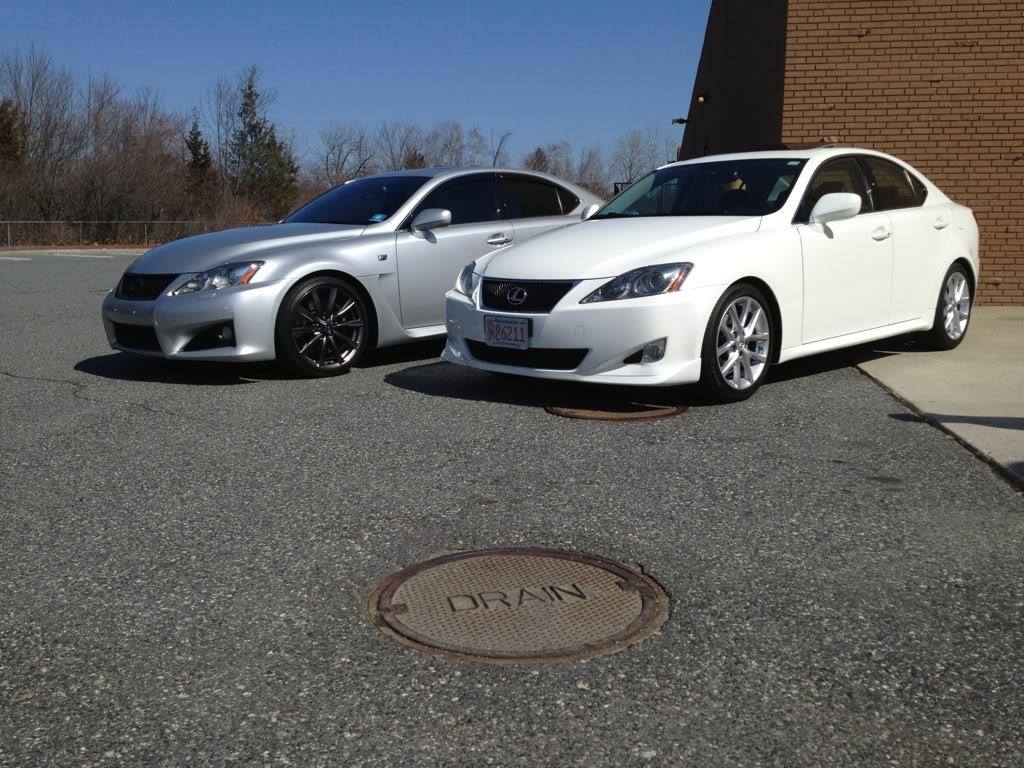 The first thing that I did was to get the car on the lift to fit the wheels back on the car. I love the look of the monster 305s on the rear and the stance you get with them.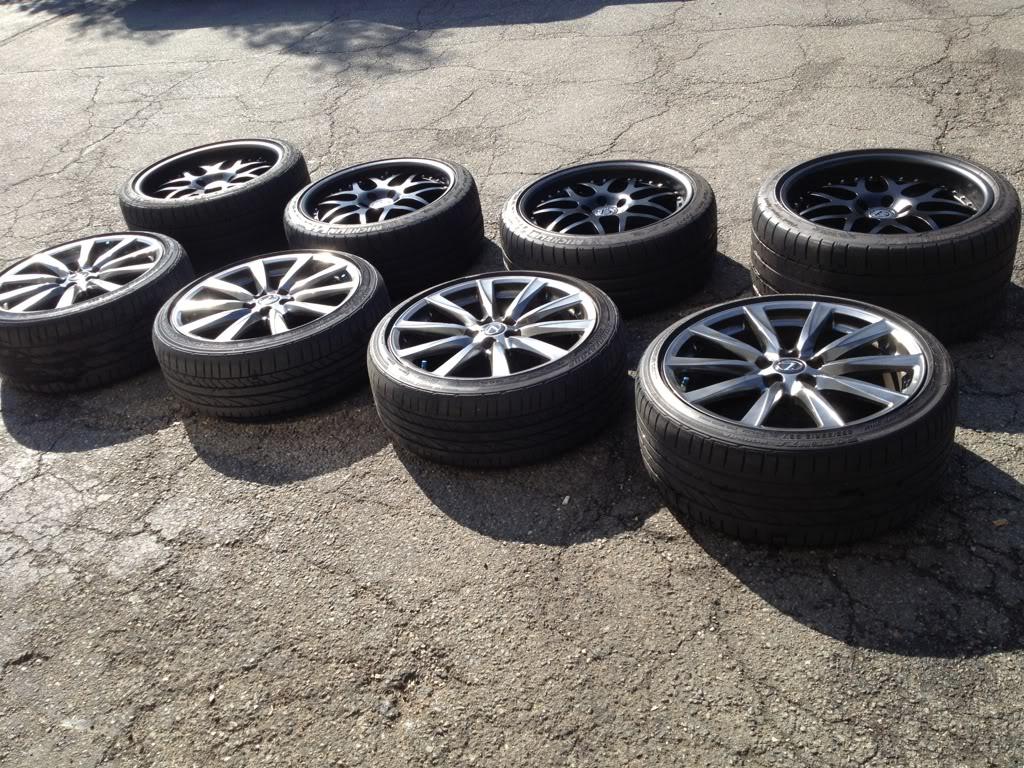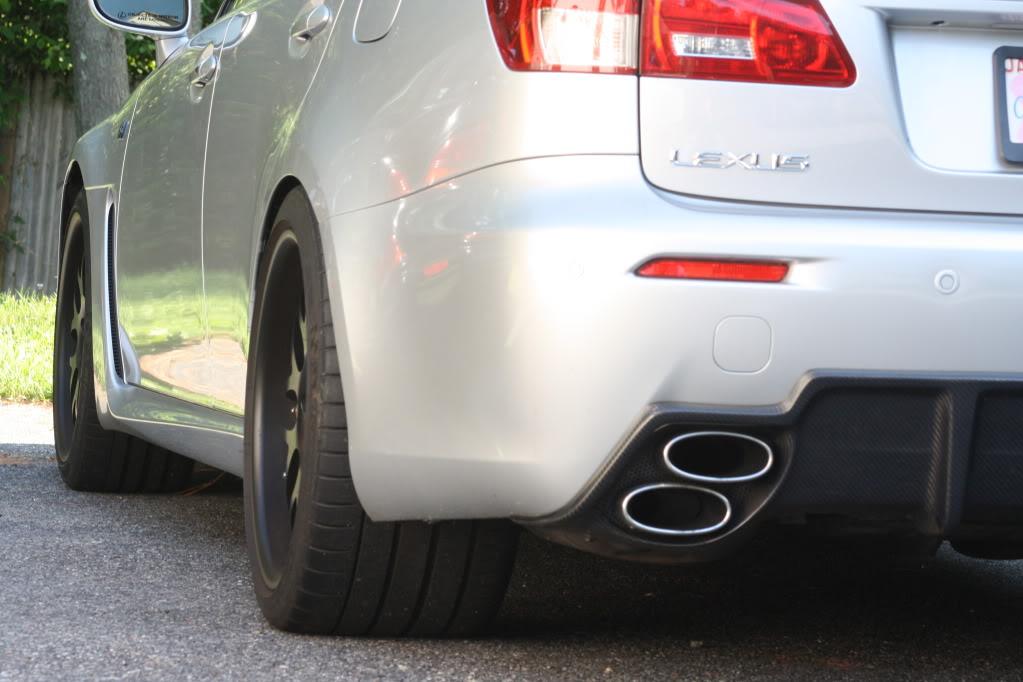 After one ride with them I had already heard rubbing in the rear so it was time to do some work on the fenders.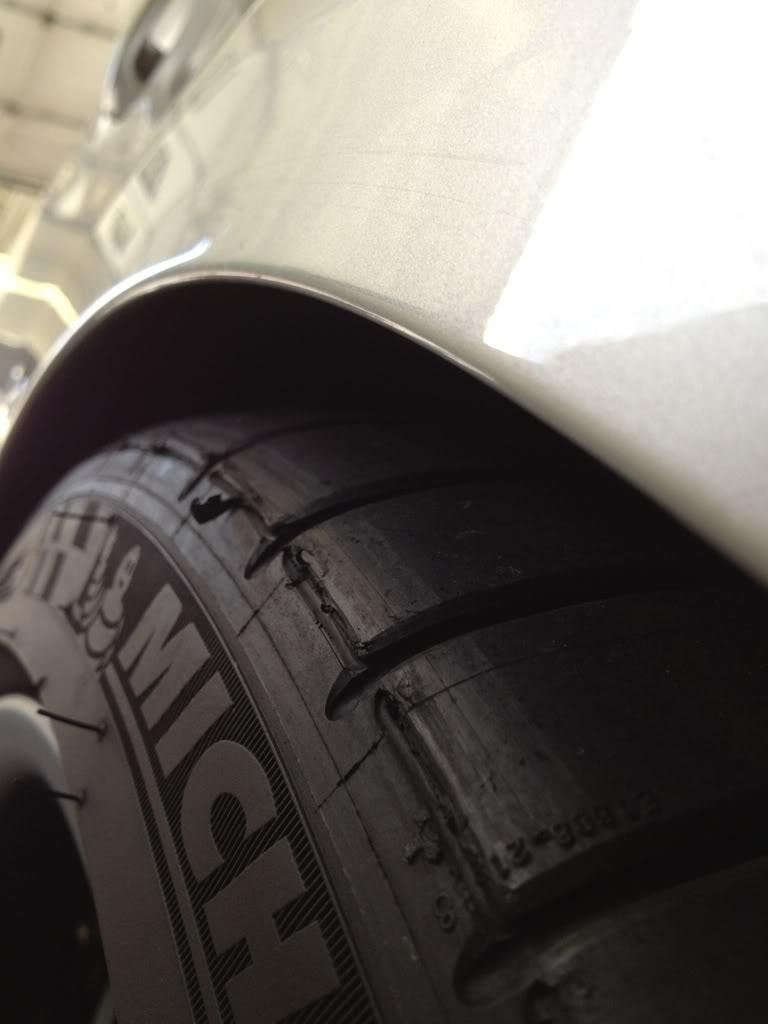 Mike had already done a full roll and I found that the bumper tabs seemed to be
rubbing. After consulting Figs that seemed like the logical place to start.
With a little metal work and some paint the rubbing seemed much better but still showed up over bumps in a turn (I.E. every time I turned on to my street).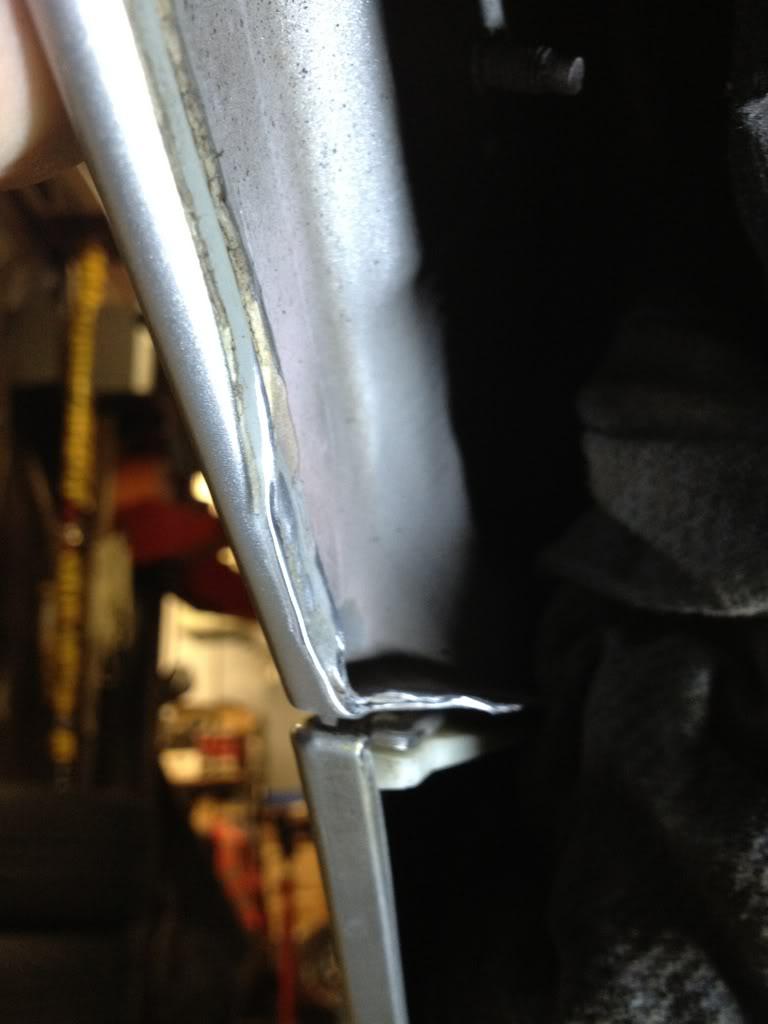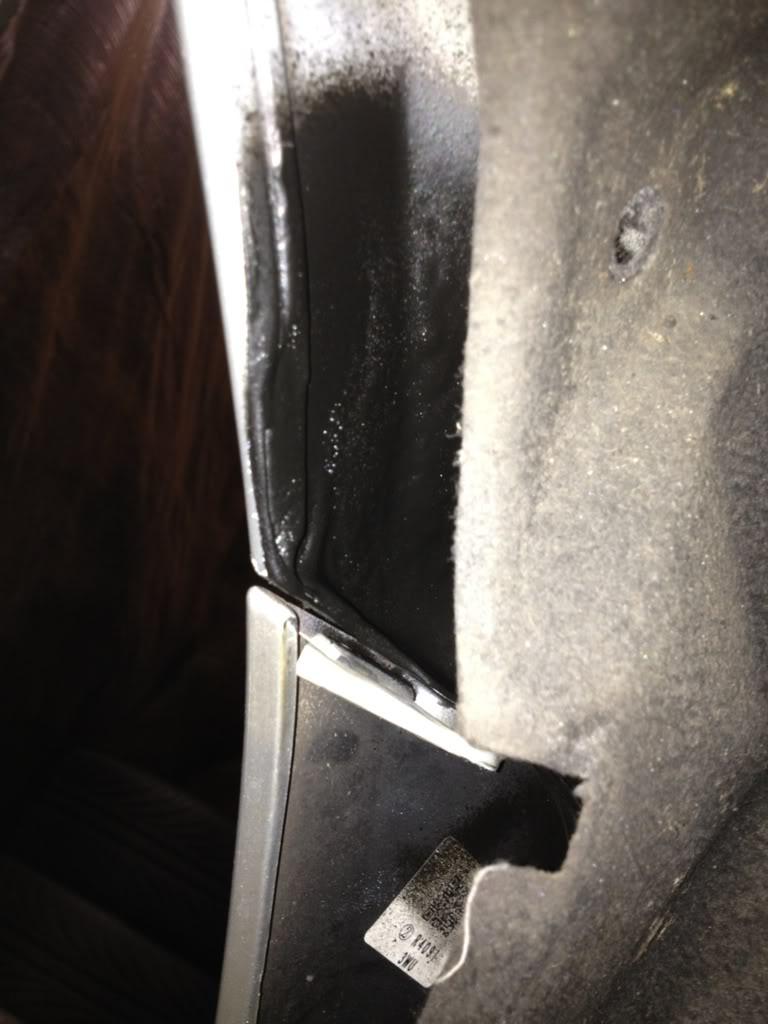 After another conversation with Figs I picked out some suspension parts. I placed an order for the Figs Mega Arms, Figs toe links and I also ordered an F Sport rear sway bar to help control the rubbing in the turns while waiting for my other parts.Figs had been hoping to get the BCR coilovers in the new ER series for the ISF so I decided I would wait to see if those got released before making a purchase of coilovers.
I had to wait for the Toe links to come back in stock because they where flying of the shelf fast then Figs could produce them. A few other parts where order around that time including an ARKYM rear diffuser and ISS forged air scoops during there preproduction group buys.
Well I waited for parts it was a good time to get some base line numbers for the car. The first stop was the Dyno. I went up to Granite State Dyno and Tune and did a few pulls trying stock vs Takada vs iCode/aFe intakes. The numbers seemed a little low ( maybe due to all the parts swapping) but I learned a little about the intakes in the process.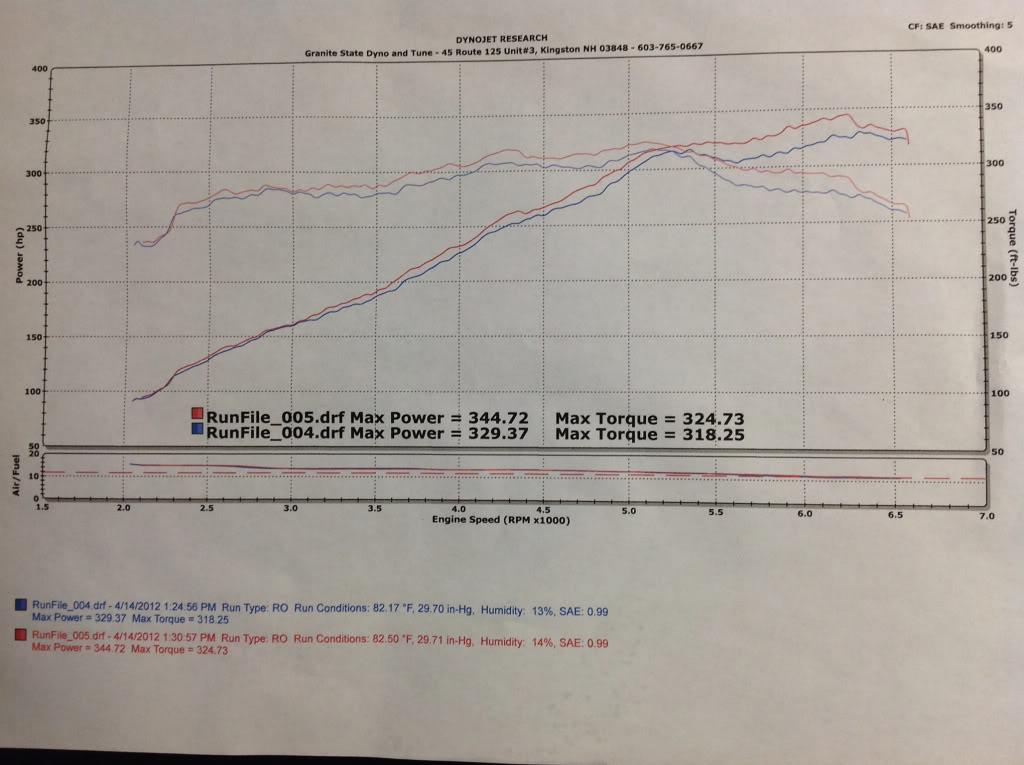 While I was there I stopped in next door to Wicked C.A.S. and test fitted an ISF Magic Box that they had been working on. It fit great and I loved it so Nas glued some black carpet on it, stuffed an JL 12w6 in it, took a few pics and I was on my way.
http://www.wickedcas.com/gallery/v/m...glass.JPG.html
Next stop was New England drag way where I ran a 13.134 @110mph on a 40 degree night with no traction. Not the best but it was fun to get it on the track and learn the shift points ect.
While I waited for parts to arrive I added Di Noc CF wrap to the rear seat tray, wired up some white Illuminated Door Sills and an Escort passport 9500ix with a Blend Mount.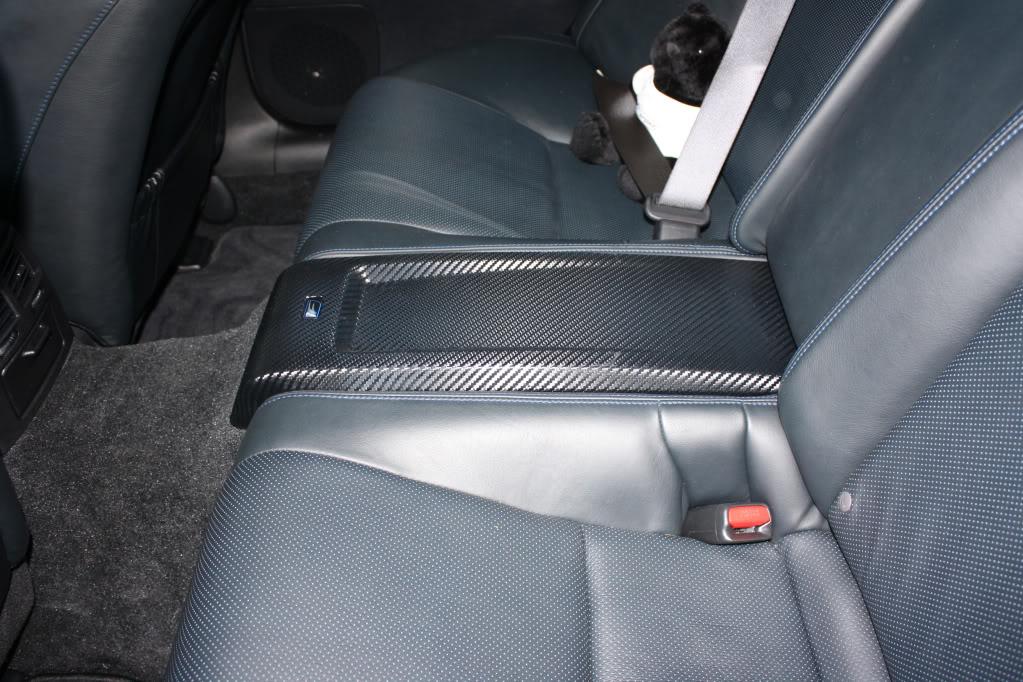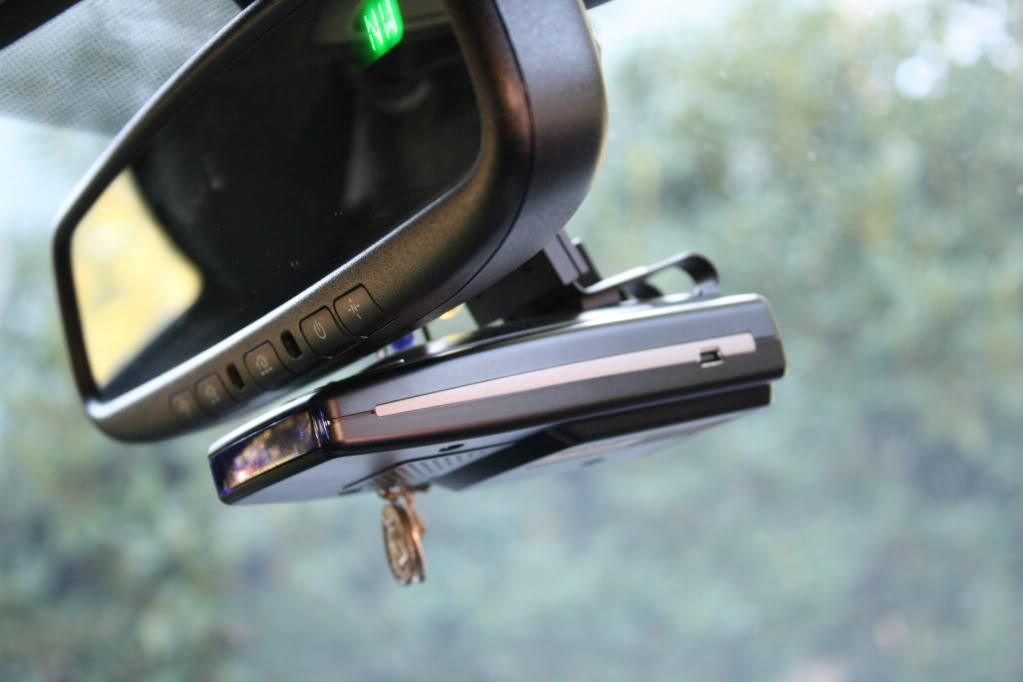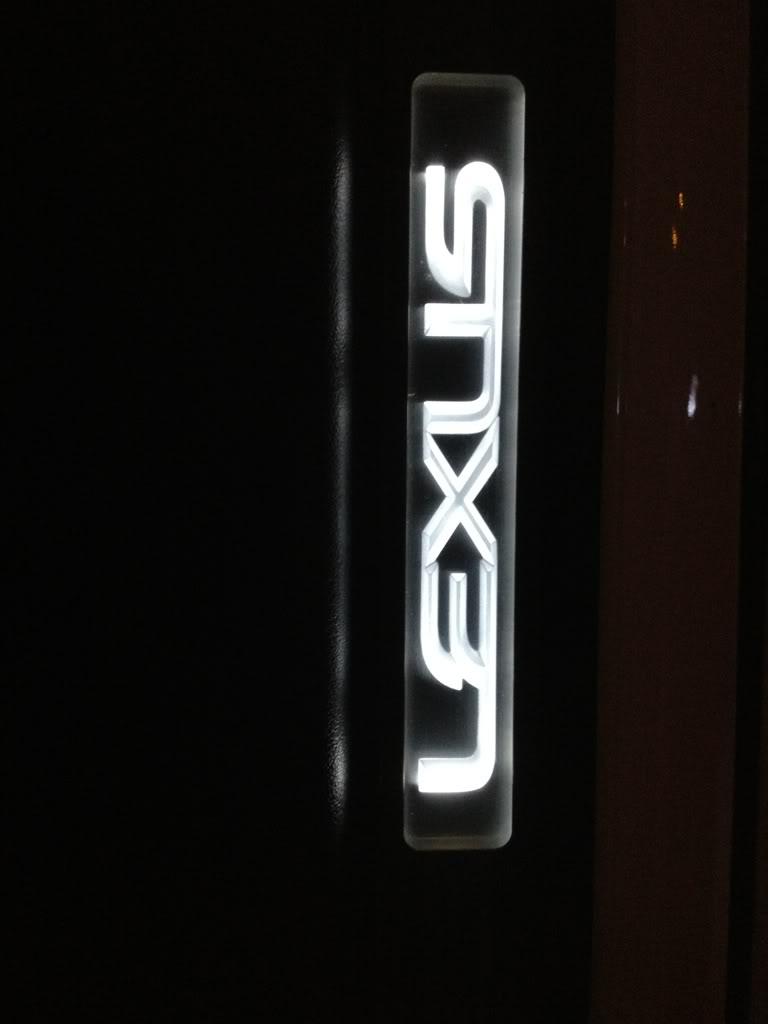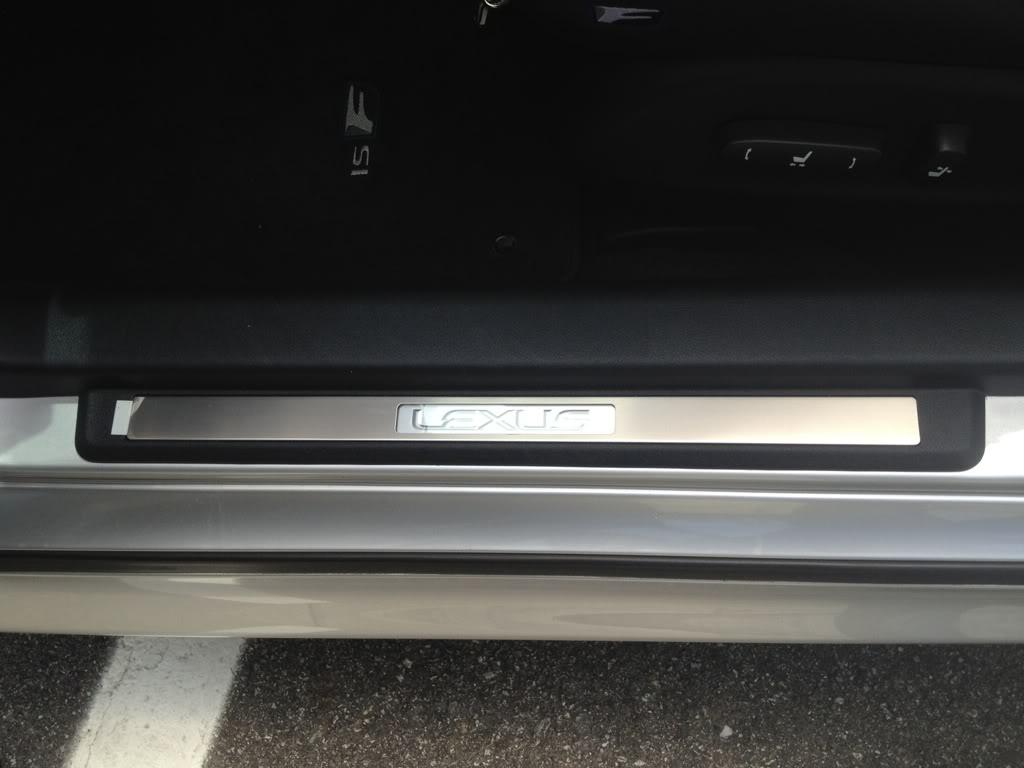 ARKYM Rear Diffuser *and ISS intake scoops showed up next!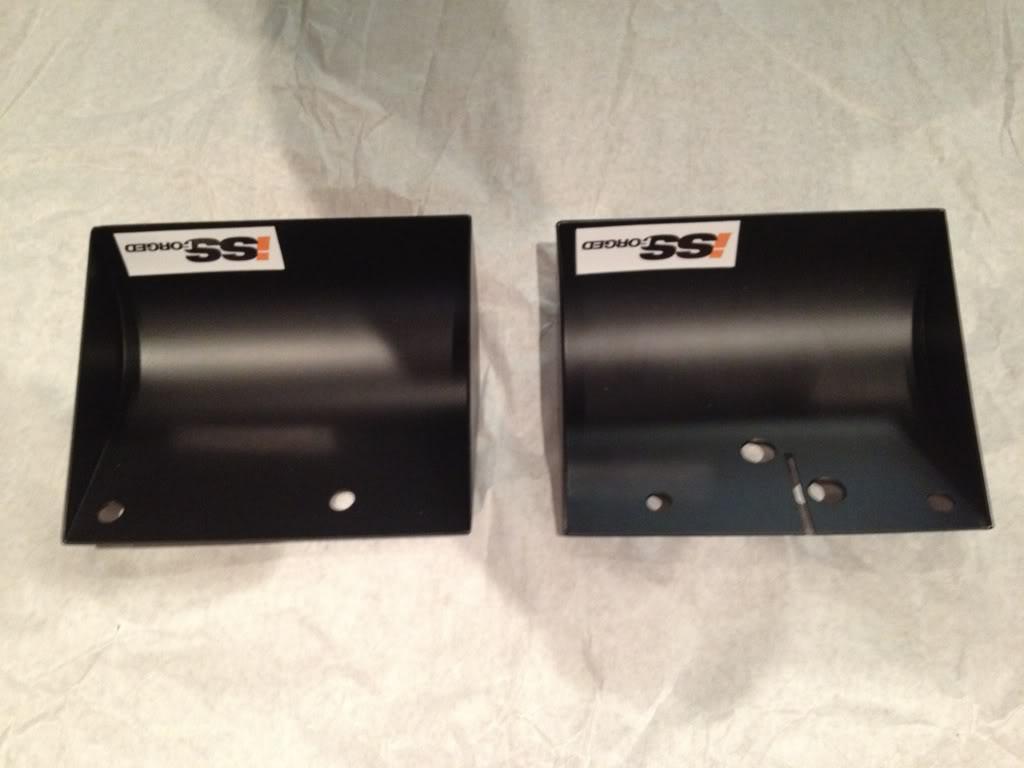 I painted a thin black edge where it meets the bumper cover to clean up the edge *of the CF.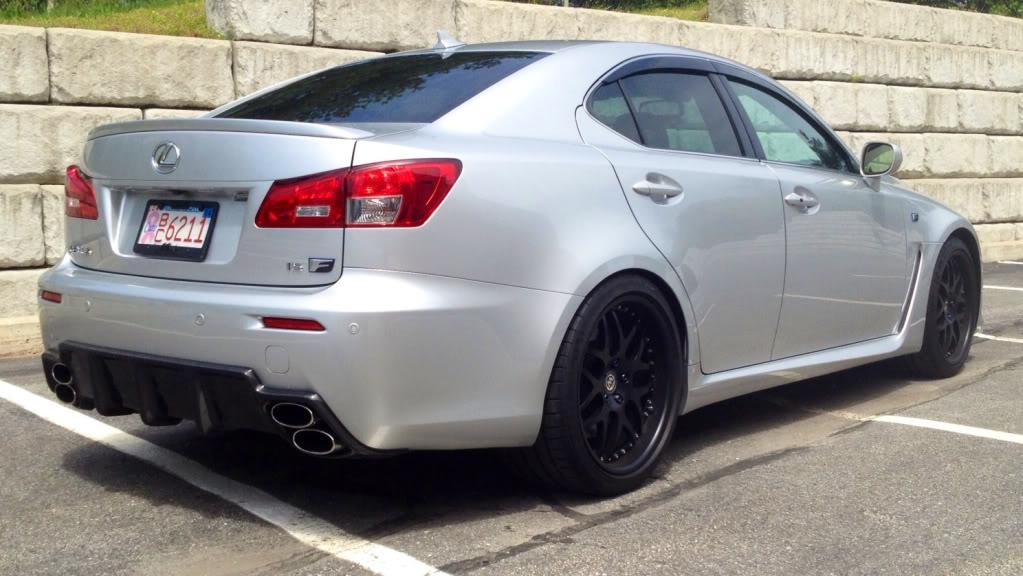 Next I found some time to install the audio upgrades.
Vaistech SL2ic that had been in my IS250 and the new Wicked C.A.S. Magic Box, JL Audio 12w6, JL Audio XD600/1, level controlled **** and Scosche SLC4.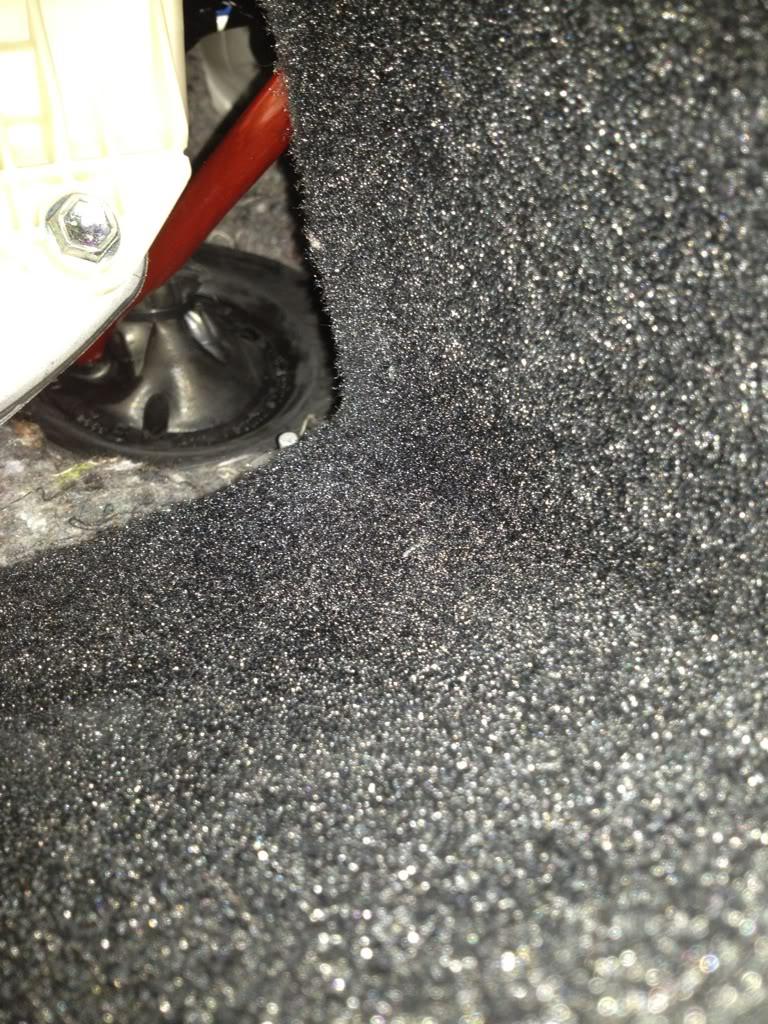 Fuse for power wire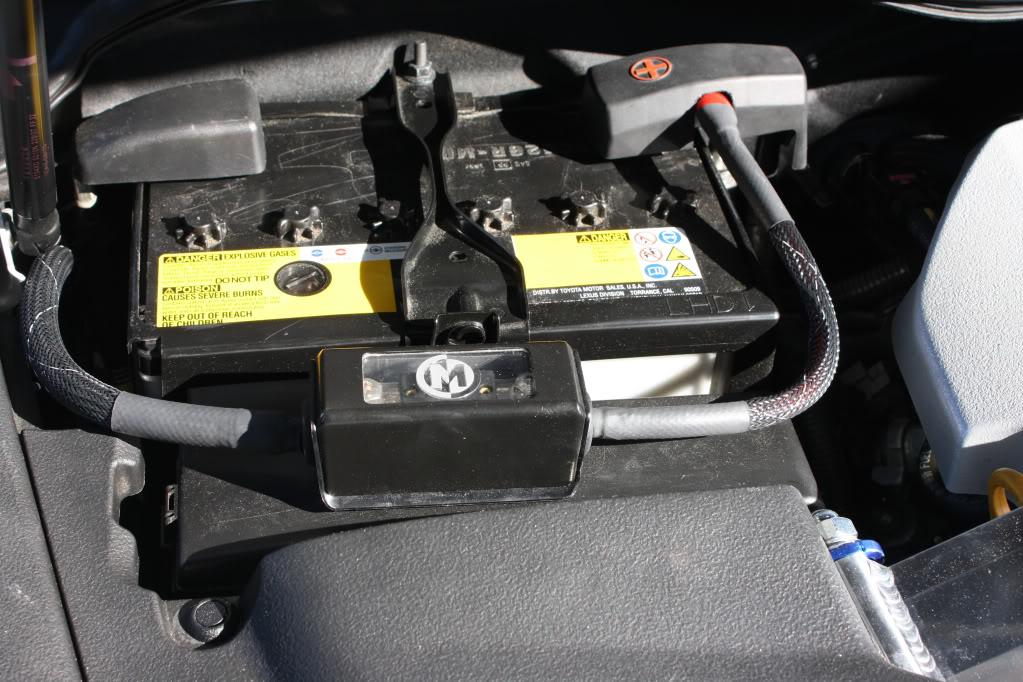 Level control ****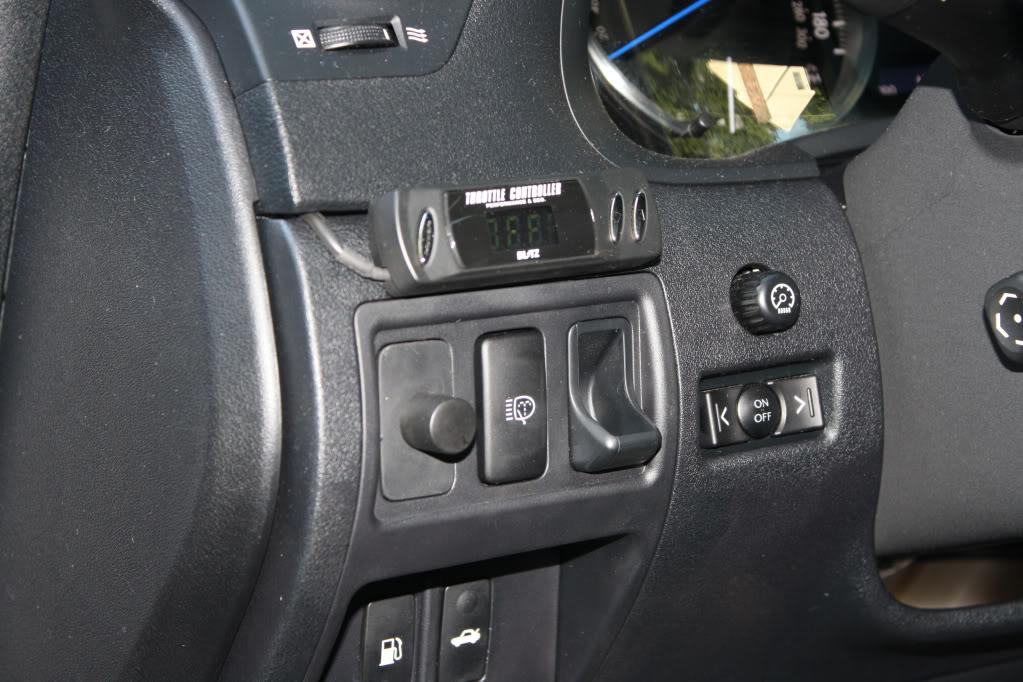 JL 12w6 in Wicked C.A.S. Majic Box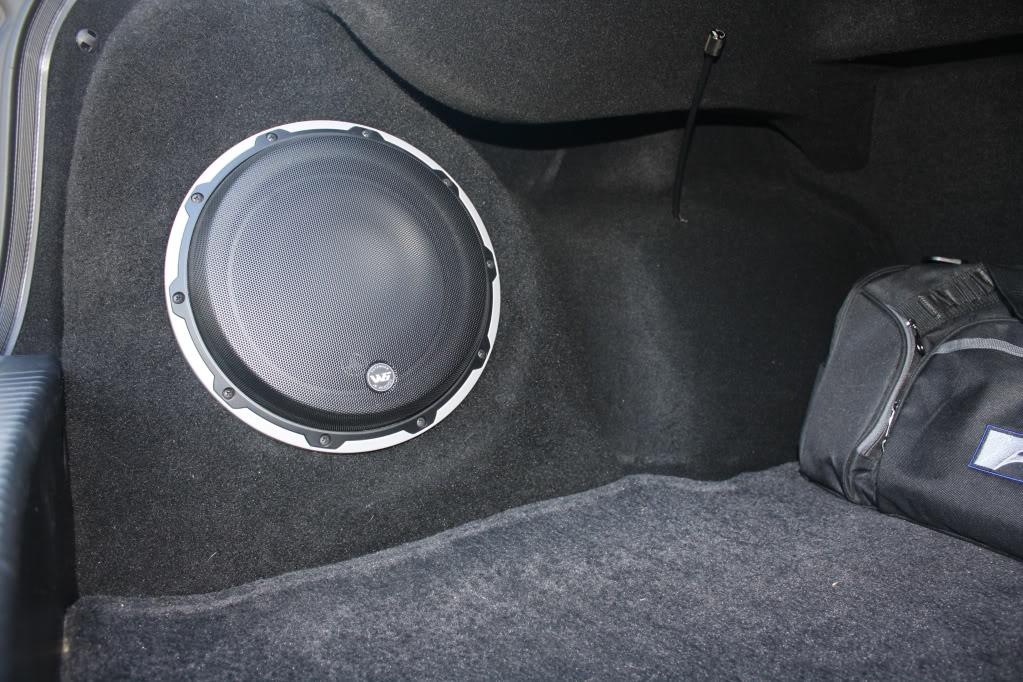 JL XD600/1 Amp mounted on the bottom of the rear deck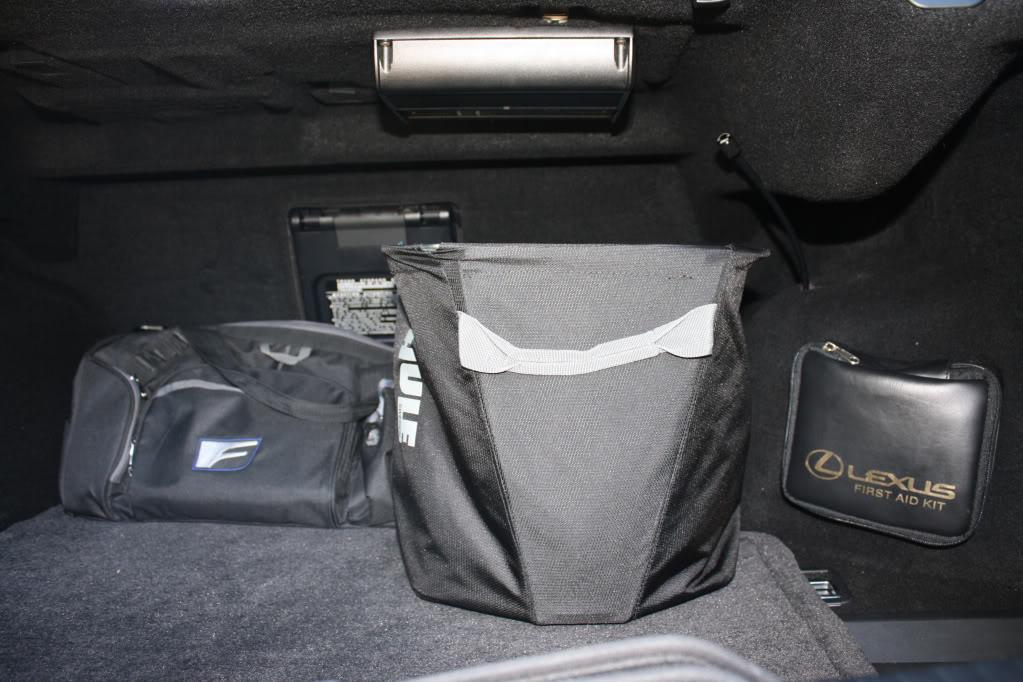 Vais Tech. iPod integration