Build thread - new paint and body for 220K mile SC400 by Asha'man
By diyauto
You must be logged in to rate content!
Build thread - new paint and body for 220K mile SC400
Compliments of Asha'man @ www.clublexus.com
3-27-2011
I guess I'll start a build thread to document the progress or lack thereof that I'm making with my car. I probably should have started this a couple years ago but all I've done since then was simple stuff like control arms and coilovers, so whatever.
When I did the coilovers and went in for an alignment, the guy called me and said he couldn't get the rear aligned as the camber bolts were all frozen in place with rust. The car spent the first six years of it's life on the salty roads of Minnesota, and it's been apparent on a lot of the undercarriage hardware. The body is fine but I've snapped two swaybar endlinks and several other bolts and screws due to rust. Anyway, I ended up having to source a rear subframe out of a '92 SC400 and swapped it in to get working camber bolts; side benefit was it also fixed my toasted wheel bearings.
Pics from the subframe swap: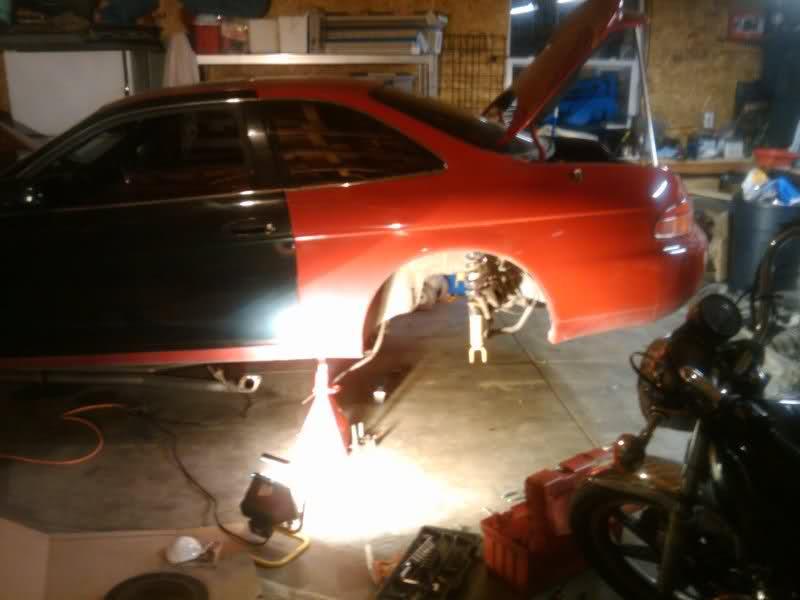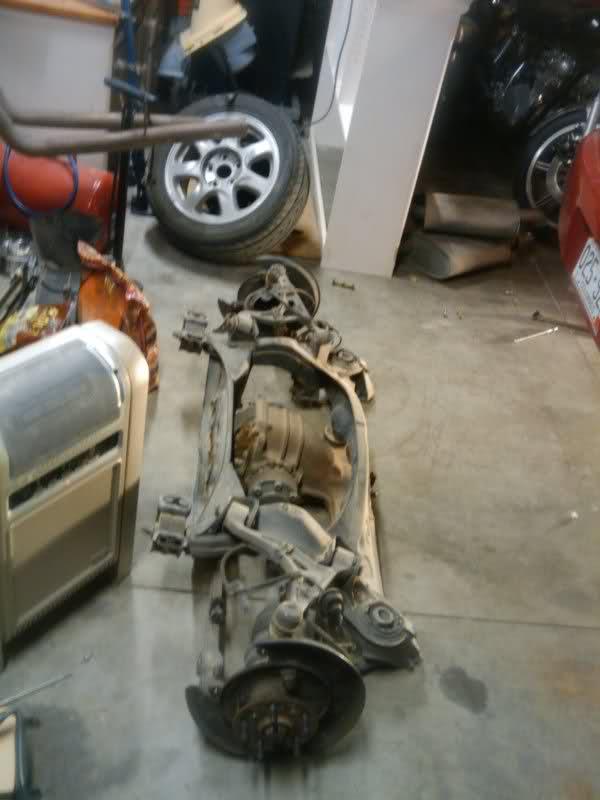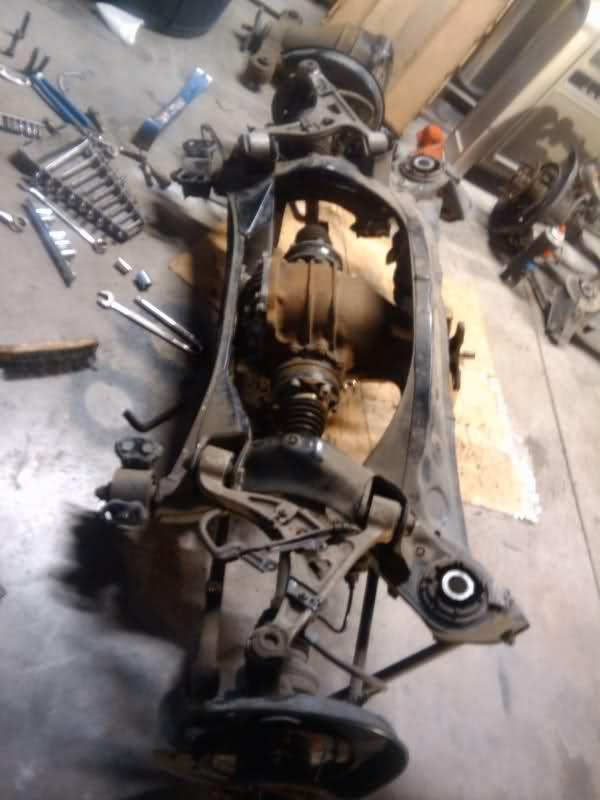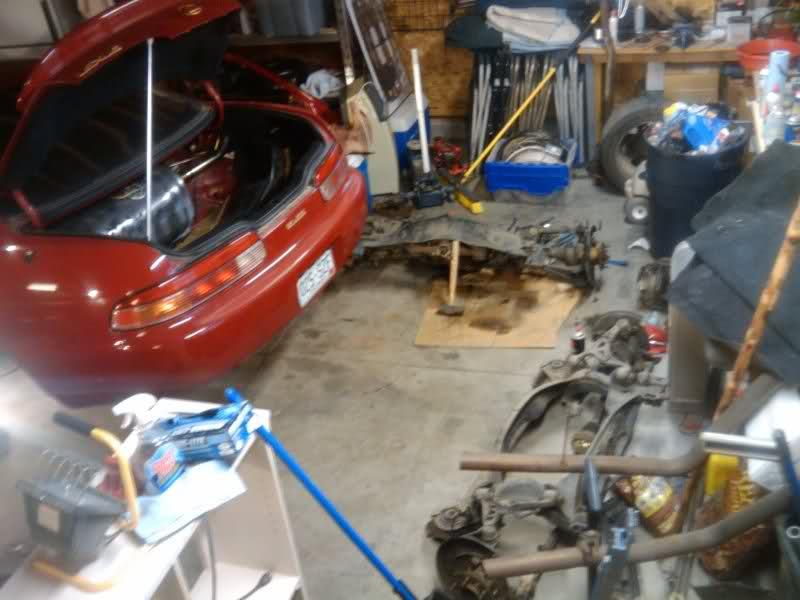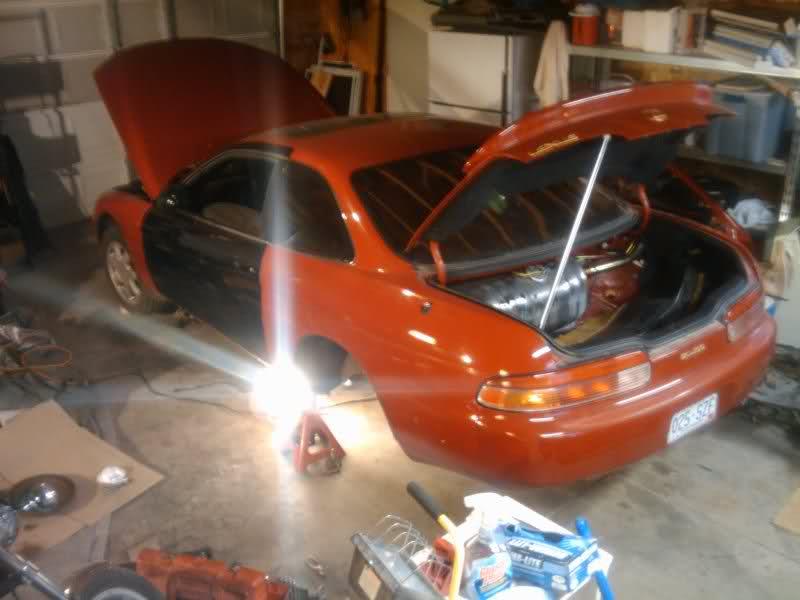 To get the subframe out, I had to drop the driveshaft off the pumpkin. To do that, I had to remove my exhaust (one piece, headers to mufflers) and I left it off as I knew it would get in the way for future work. When the subframe was done I had to jump the car so I could drive it out of the garage and nose it back in. Open headers on a 1UZ sound freakin' AWESOME.

Fast-forward to recently. I decided I definitely want to do the '97+ OEM body upgrade so I've been slowly gathering parts for that. All I have so far is the rear bumper and side extensions; working on sideskirts, fogs, grille and some interior stuff locally but the guy is a flake so I'm also looking elsewhere. Due to a solid hit on the driver's door and some horrible bondo work from the previous owner, I had to replace that door with a good one off a green '92-'94 SC300. Whoever did those repairs also left me with a lousy respray of that side of the car; that plus the fact that my paint isn't that great and I'll be adding multicolored '97+ parts anyway led me to decide to paint the car myself. I've got a couple of buddies who are good at paint and body, so I'm not that worried. My late father-in-law left us a big compressor; I just have to head to SE Colorado to get it. I'll clean up the garage (a lot lol) and try to seal it as best I can (I live on a dirt road) and make a paint booth out of it. I think that if I spend some solid time on prep work, remove everything I possibly can and mask the hell out of the rest, and use good basecoat/clearcoat paint, it'll turn out pretty well.
So the first part of that phase started last weekend with the removal of my stock rear bumper and side extensions. I didn't think I was going to have a build thread so I didn't take pics, but it's actually a fairly involved procedure to get to all the nuts and bolts and fasteners that hold everything to the body. While I was in the trunk, I ditched the stock CD changer and amp as well as the stock antenna. The black bumper and silver side extensions are just mocked up, not mounted.
Today I made it my mission to get as much extraneous trim and such out of the way of masking and paint. I found a tutorial page for the removal of the quarter window trim. Managed not to break my quarter windows, too.

I also figured out how to pull off the chrome trim from the doors. With the color change on the driver's door and the fact that I don't want masking lines along the trim, I did both sides.
Without further ado, here are some pics from today: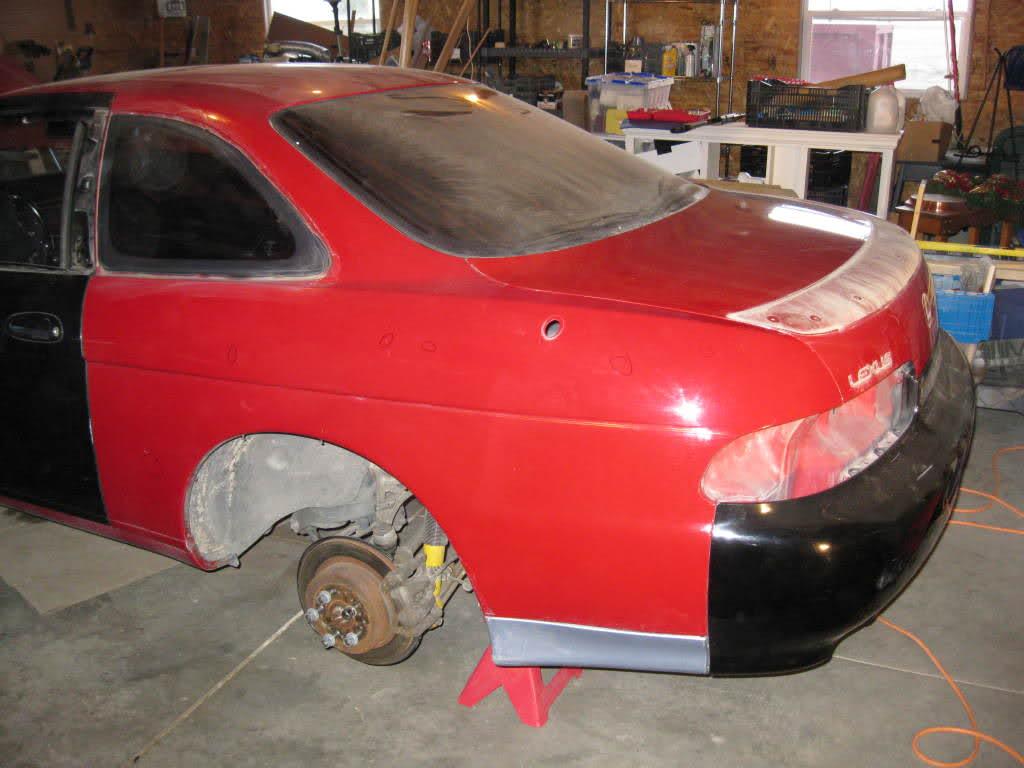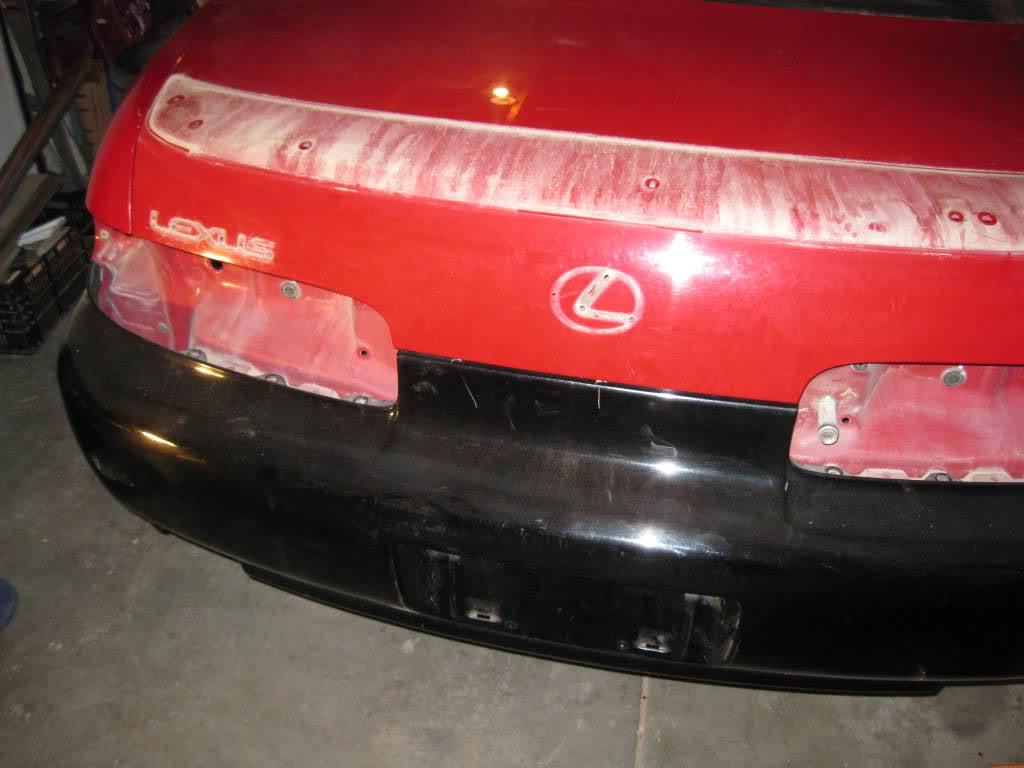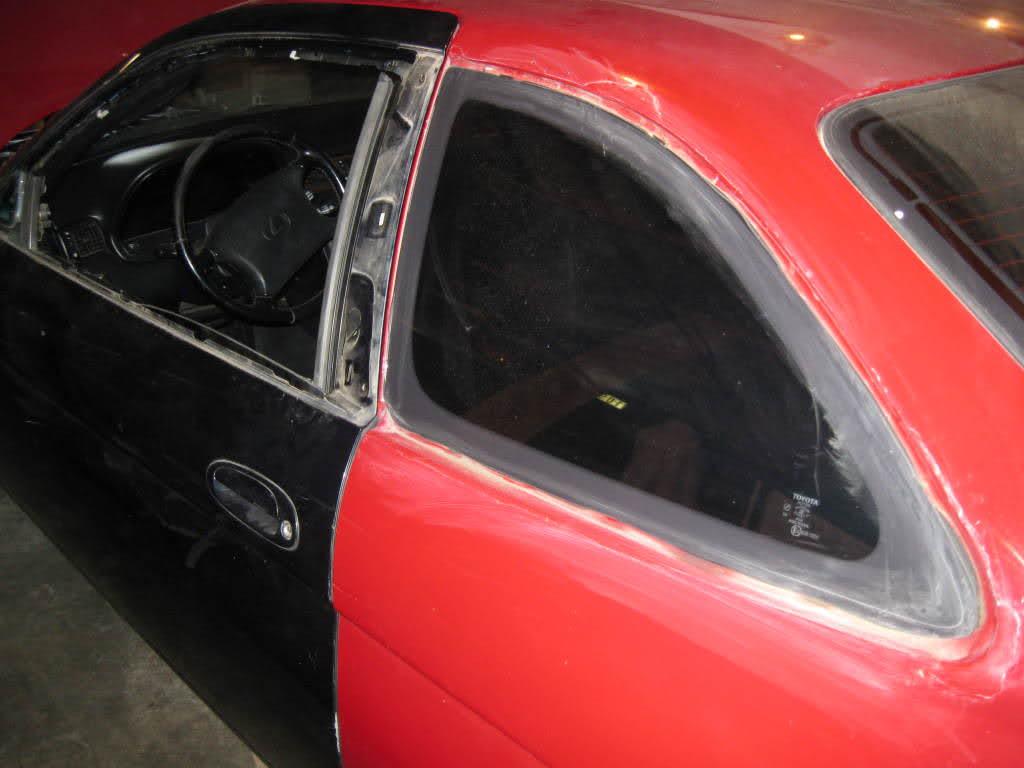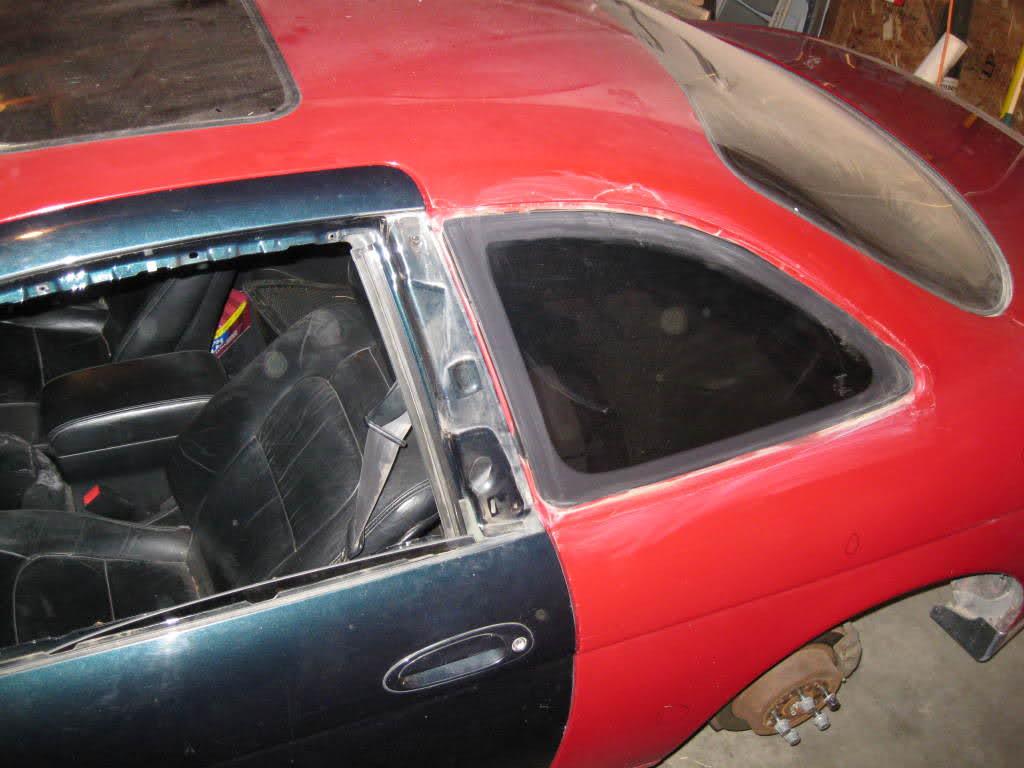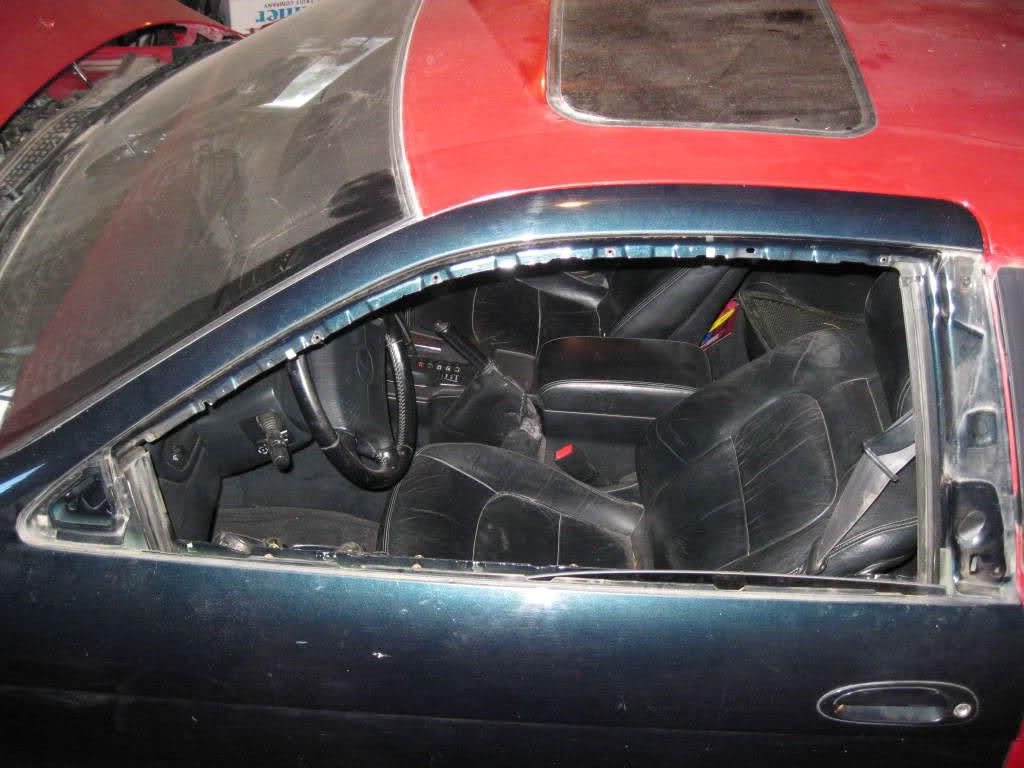 What door panels?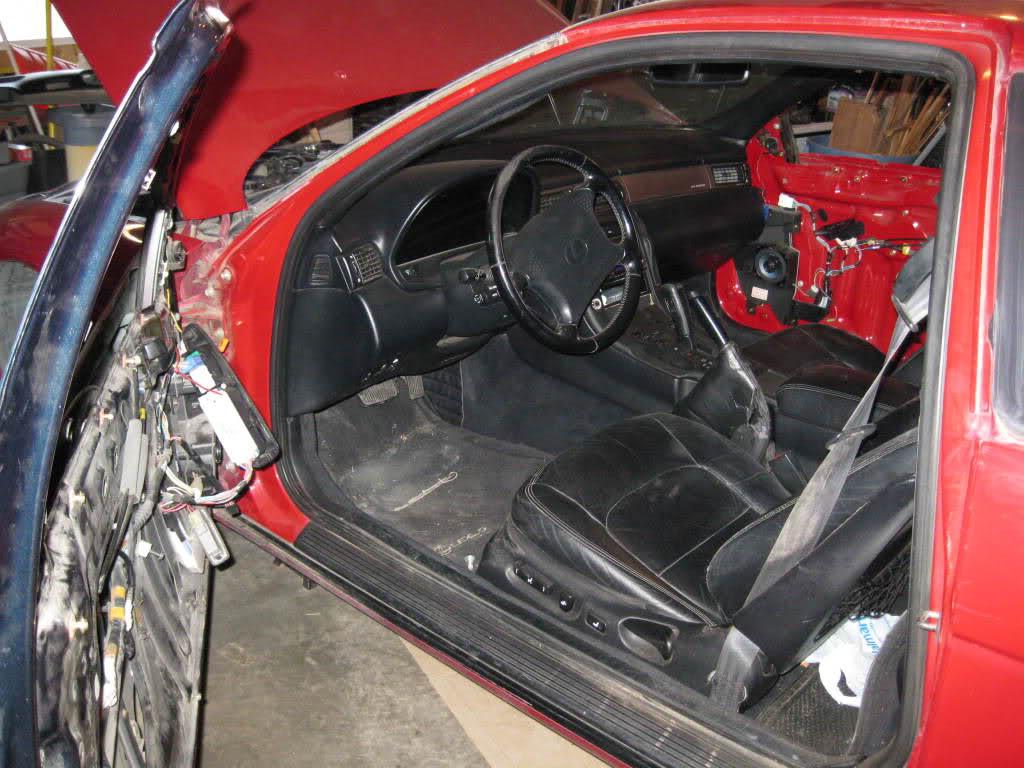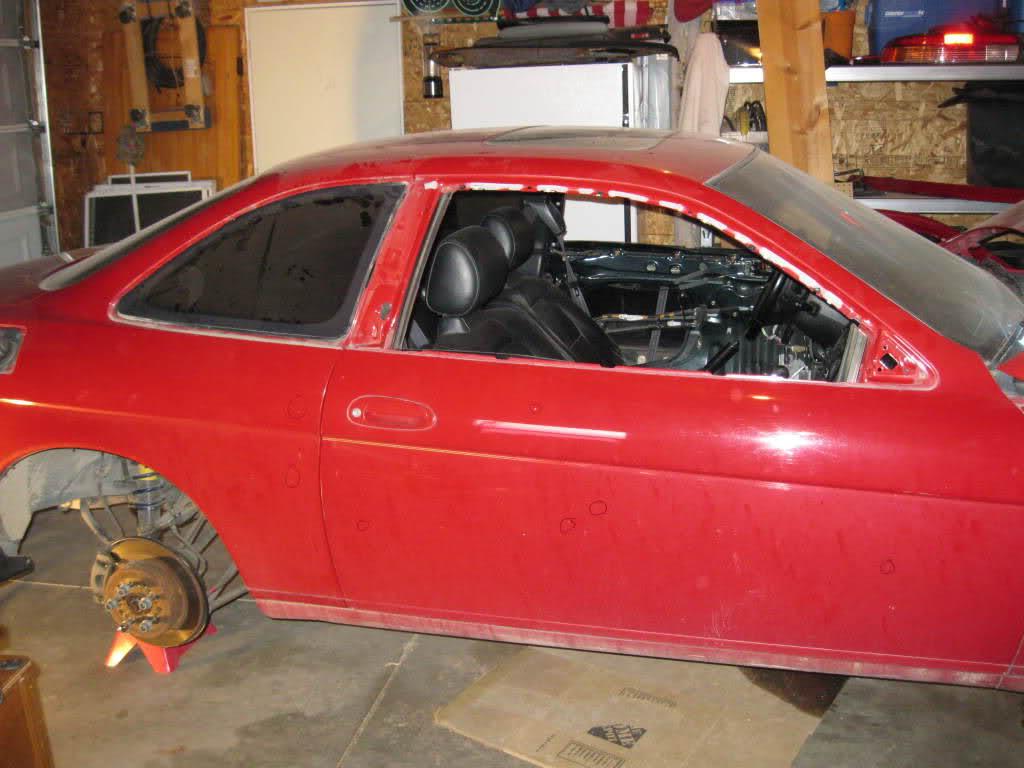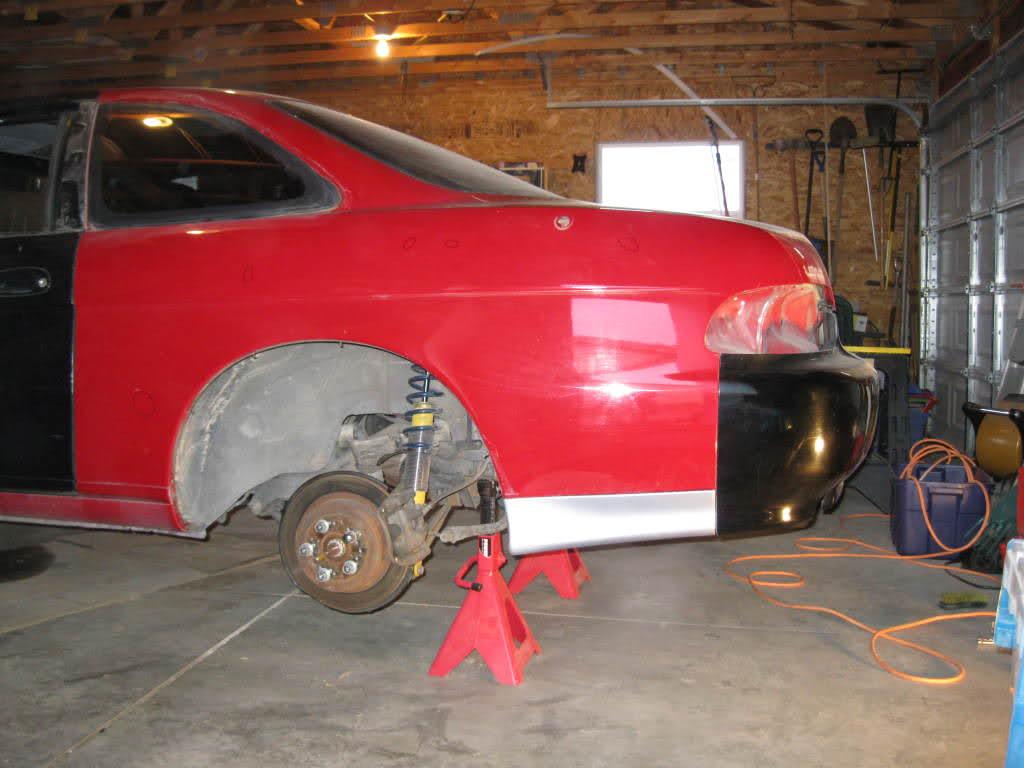 Factory black passenger door panel and in-process converted grey driver's side. Dip**** PO ruined the driver's door panel so I've gotta reconstruct something. Turns out '92-'94 are different from '95+ on the very bottom mounting holes, so I may have to paint the grey main panel instead of salvaging my factory black one. Pain in the ass. Note mandrel-bent custom X-pipe in the background.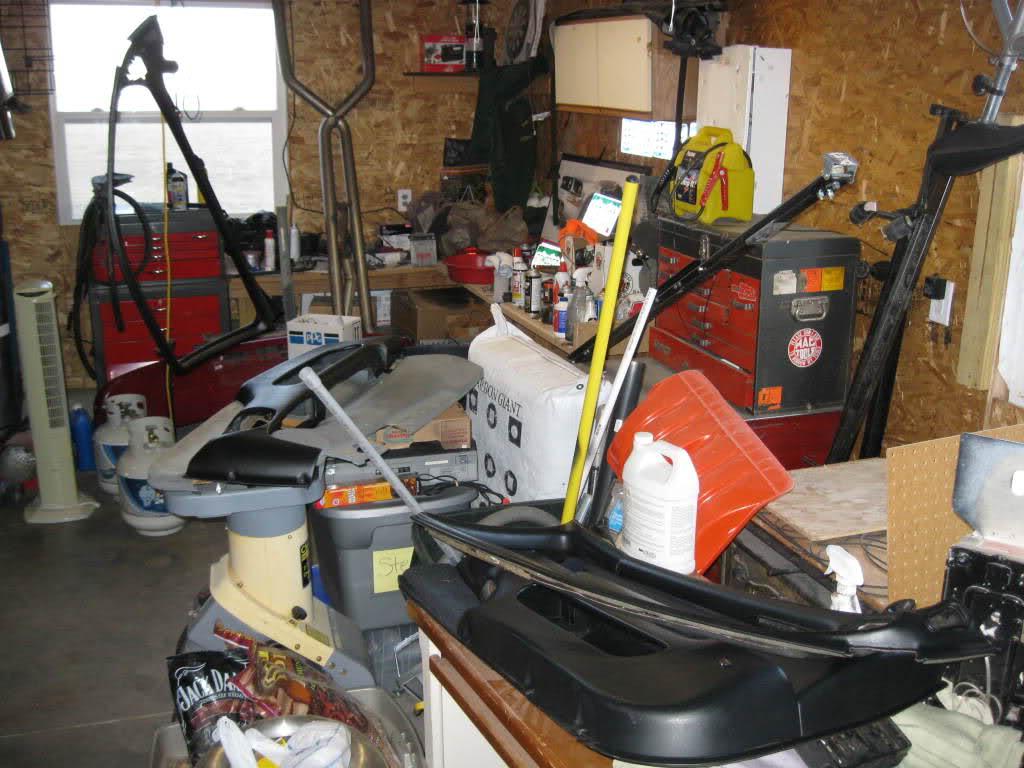 Started sanding today! I'll tell ya what, it was a weird feeling taking a block and sandpaper to what isn't really that bad a paint job. But I know it's all for the best so no big deal. Unfortunately, I don't have a shop vac at the moment so I didn't go very far sanding. I want to localize and collect as much toxic paint dust as possible as I go instead of sanding a bunch and having dust spread all over the garage in short order. Hopefully I can grab a shop vac here in the next couple days and make some more progress. When I'd gone as far as I wanted to go with that, I decided to pull the front bumper cover. Kind of a pain in the ass, actually, and I busted more than a few of the little fasteners, but got it off intact.
A lot of this stuff will be for sale, btw, if anyone wants to PM. Otherwise I'll post a FS ad once it's all said and done.
Pics:
Almost looks like an older WRX with the bugeye lights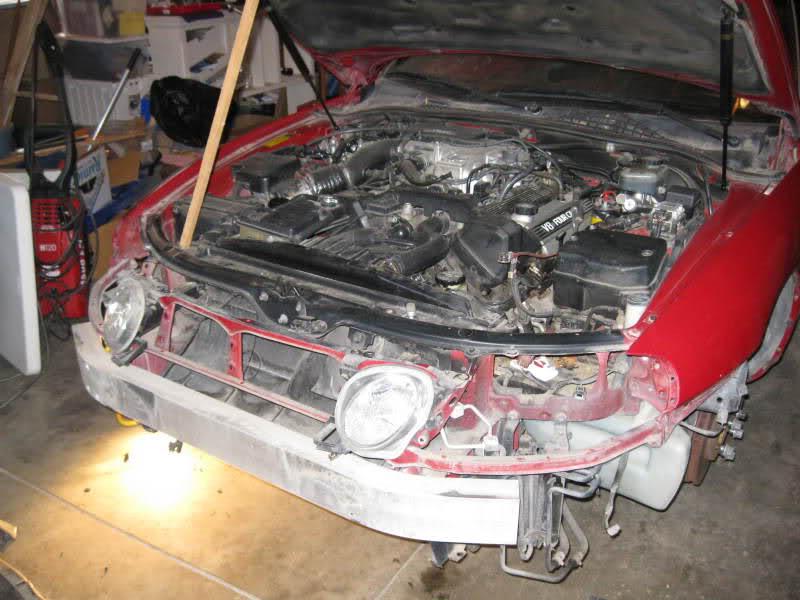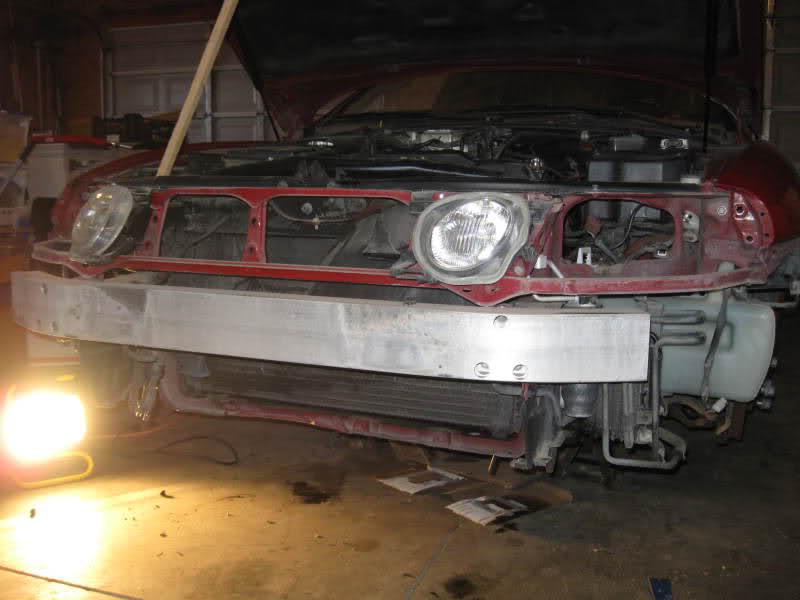 No turning back now!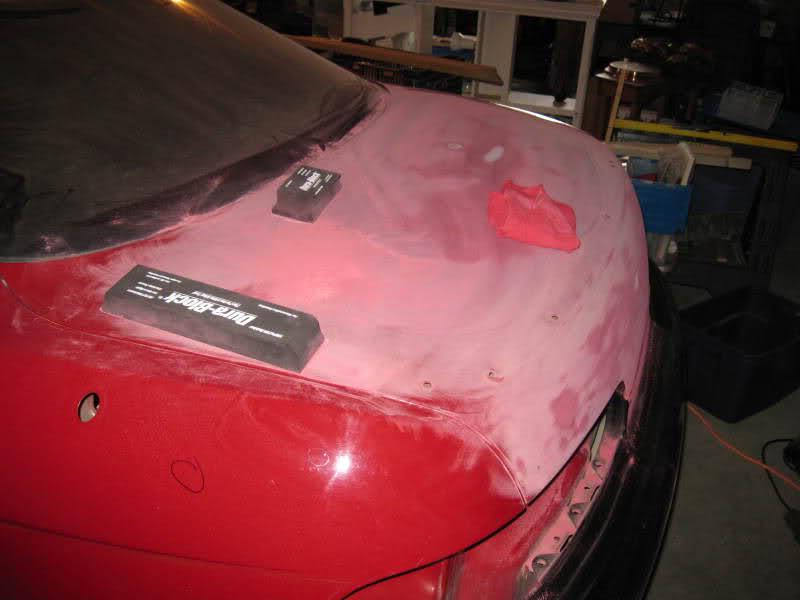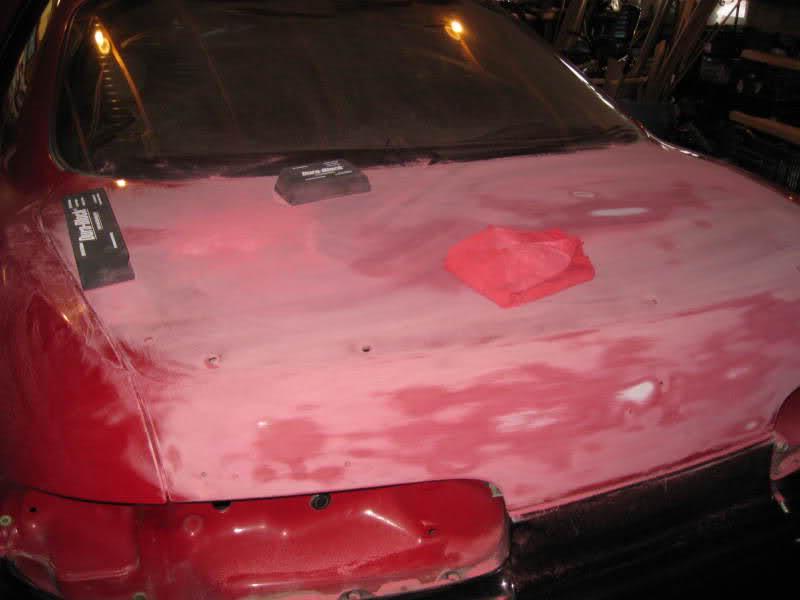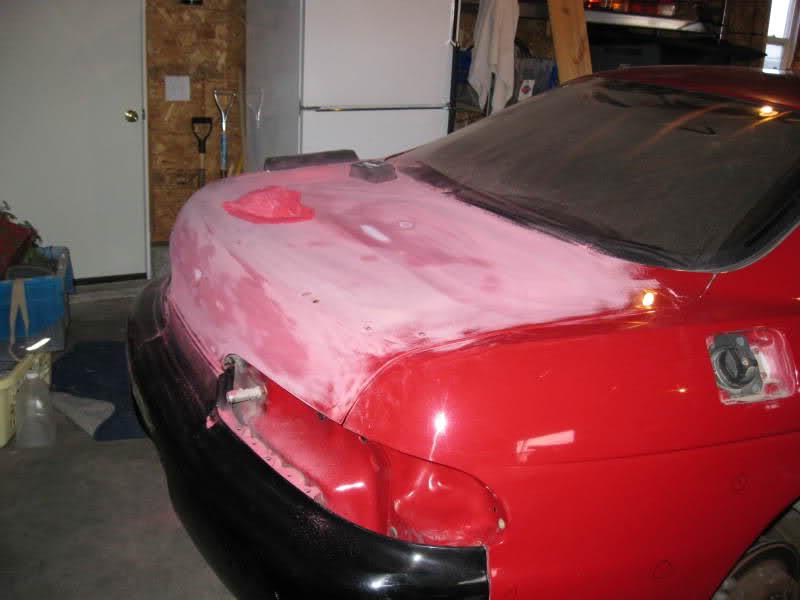 Not a bad day's work. I'm hoping that once I get a vacuum, I'll be able to put in half an hour to an hour of sanding each evening after work. Even if it's just half an hour, that's 2 to 2.5 hrs done each week toward the goal, which will add up quickly. We shall see.
BTW here's the accumulation of parts.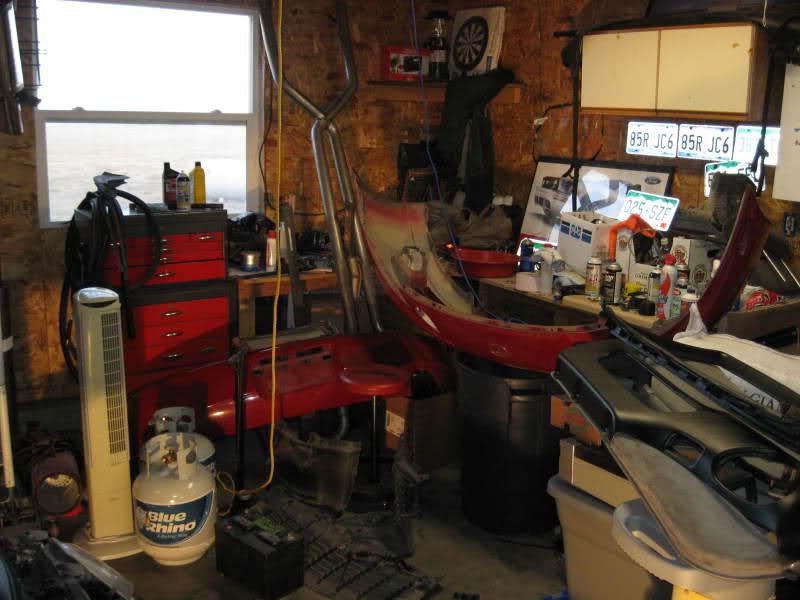 Yes, I know my garage is a pit of chaos. Look in the upper left corner of the pic, you can see one of the Magnaflows I got off the parts car that I got the subframe from. One of them needs the back end welded back onto the can but Hank @ Hanksville said he could do that for cheap, and they polish up nice. Free mufflers with purchase of subframe - not too bad.

5-27-2011
Well, progress has been made but it's not all on the car. It's toward the car, just not on it. Since my garage is such a ****show, I've had to do a ton of work on it to be able to make forward progress on the car. I've been insulating and painting the OSB walls in chunks as I go around, which means rearranging all the crap and then moving it back, etc.
Last weekend I pulled down a section of wall in order to wire in a 240v outlet. Here is the result.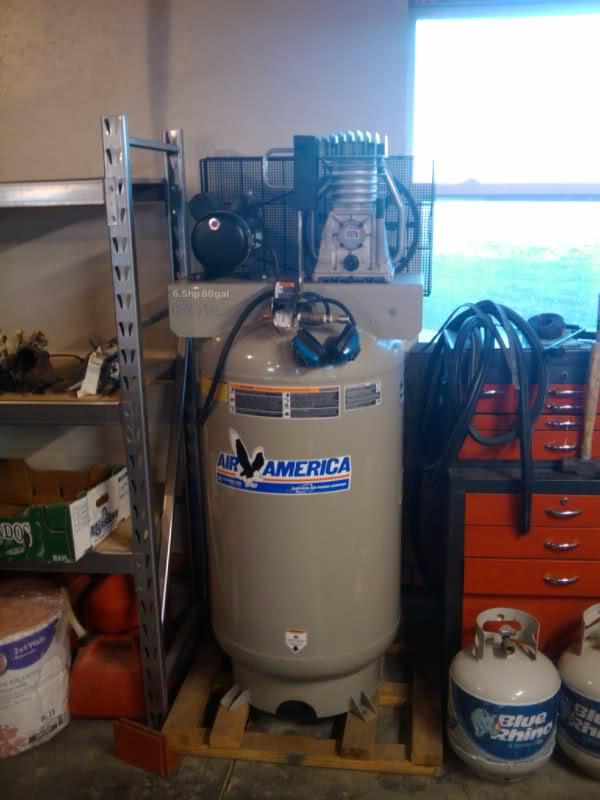 6.5hp, 2-stage, 80gal, flows 16.9 SCFM @ 90psi and 16.0 SCFM @ 175psi. My father in law passed away on Christmas Day last year so we've been slowly accumulating his lifetime's worth of tools, including this compressor. I'd rather have had him still around and bought my own compressor, but as that is not an option I'm still thankful for the tools. This thing will come in super handy for painting the car, as well as running air tools and all kinds of stuff around the place.
The only progress on the car itself is that it's been almost completely sanded with 80grit and I got a front bumper cover. Turns out that www.oemlexusparts.com is about fifteen minutes from my last jobsite, so I ordered it from them and only paid $433 after tax. All I need now is sideskirts and door moldings and I'll be set. Hoping to pick up a DA sander and some 220grit pads and start getting the car a little more ready for primer. I'd like to spray primer in a couple of weeks and then really start making progress.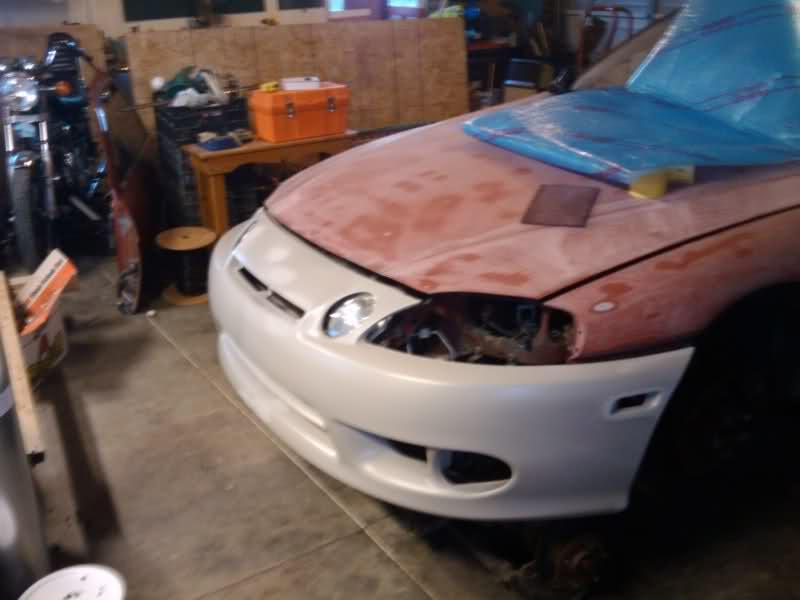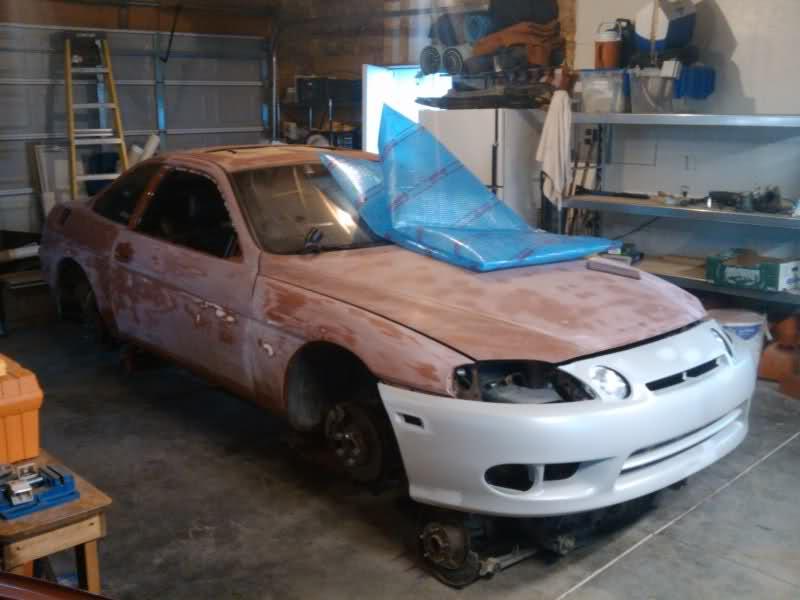 8-26-2011
Been a while since my last update. I have been making progress, but it's mostly just been sanding so no real visible changes. I've been focusing on getting an air drying system set up so I don't get moisture in my paint. Picked up a desiccant dryer off Craigslist, put a particulate filter after that, and I have a disposable inline dryer at the gun (borrowed Sharpe Titanium T1), and I live in dry Colorado, so I think I'll be okay. Once I got that setup dialed in, I shifted focus back to the car and devoted most of last weekend to making progress.
Wheels on for the first time in six months or more: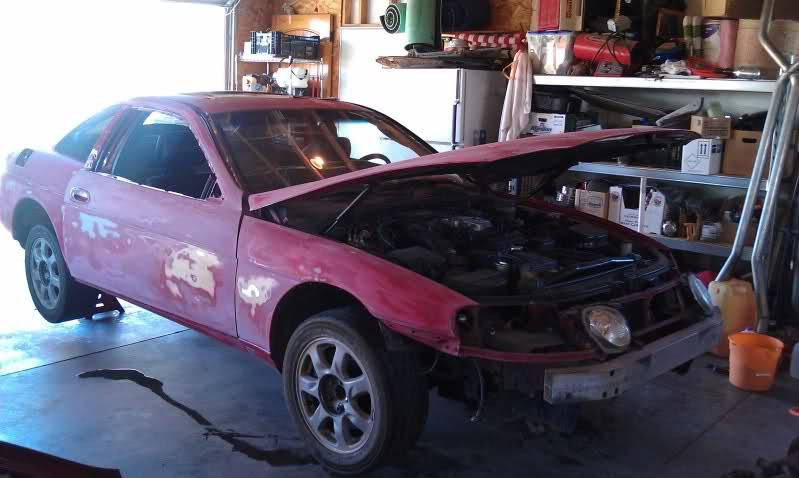 Pulled it outside for a little hose action to get residual road mud out of the wheelwells: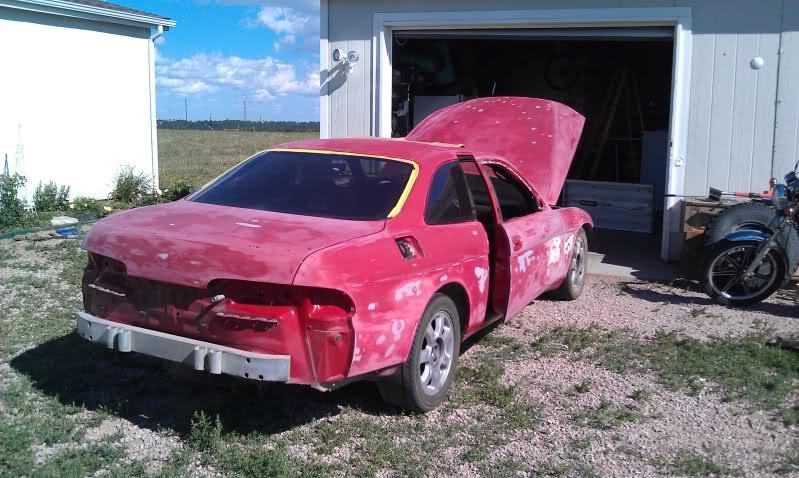 This floor hasn't been this empty and clean in a loooooong time:
Installed some lighting I got for free. Commercial lighting but 120v = awesome.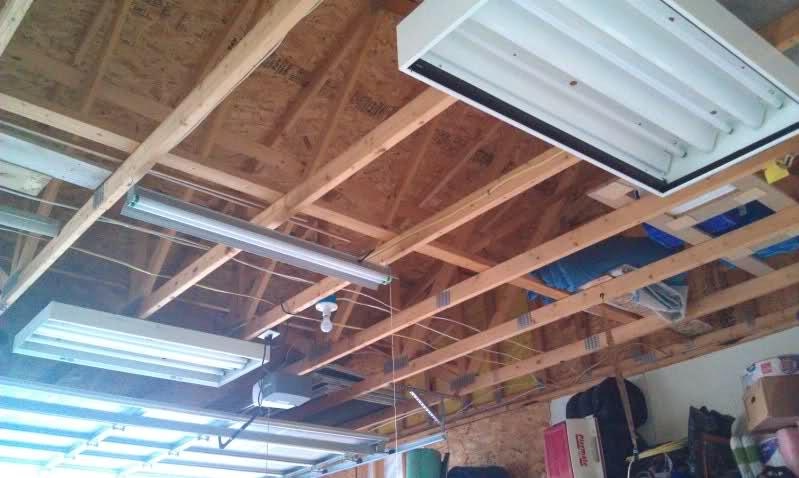 Had the ladder outside and couldn't resist a picture: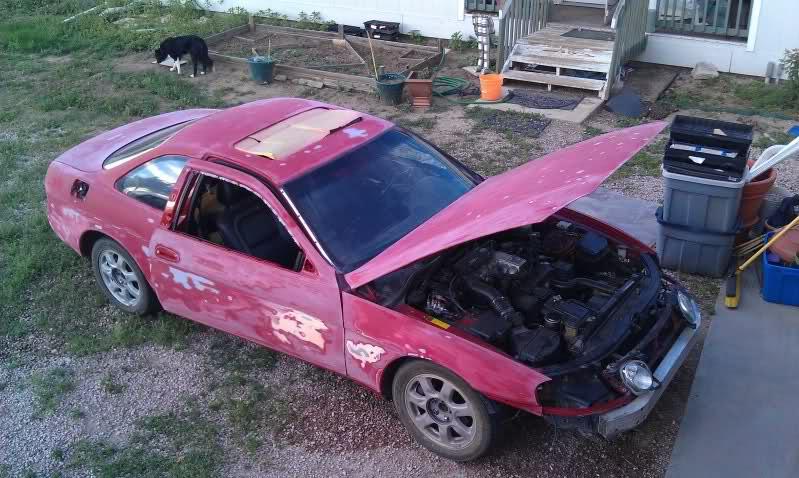 The results of the new lighting: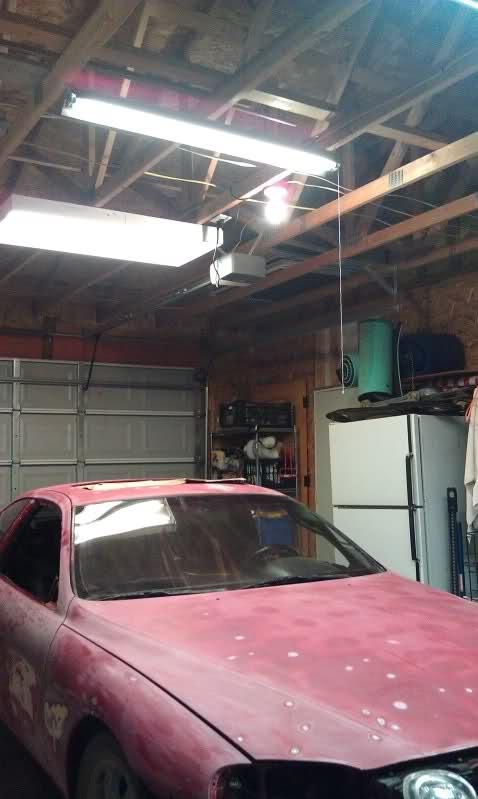 Even more stripped....
Bits and pieces: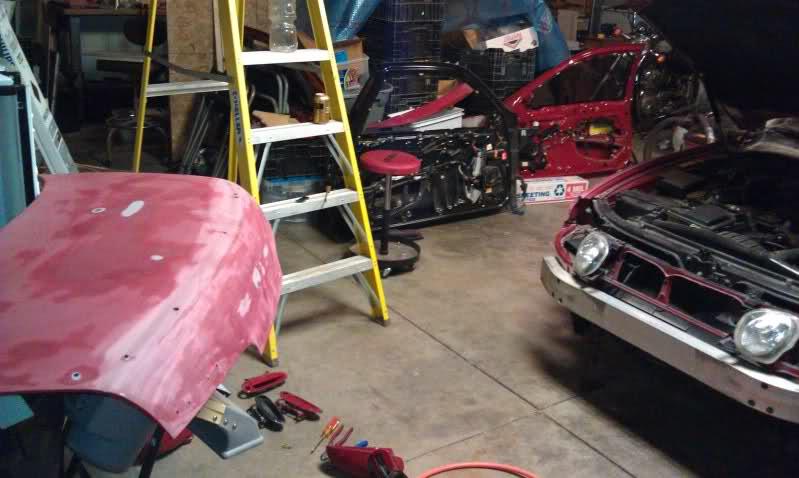 Masking begins: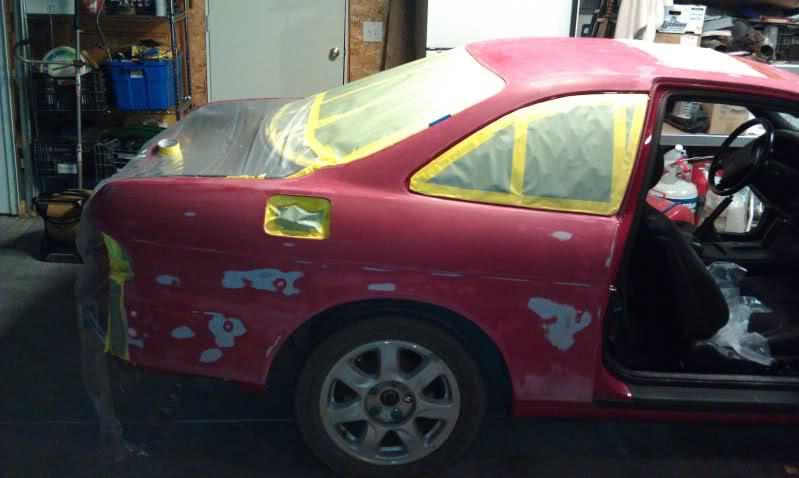 I think I'll pull the hood this weekend and strip it, either with a grinder or aircraft stripper. It just has too many little rock chips and dings to fix, and a lot of the paint has tiny cracks as well. Being that it's a couple acres of hood area that will show any mistakes like a neon sign, I think it's better to just strip it and start "fresh".
I'm also planning to shave my antenna hole and roll my fenders while I'm unpainted. I just know that as soon as I put the car back together, I'll really want to roll my fenders and get rid of that unsightly antenna, so I figure I'll do it now and just forget about it. Buddy of a buddy has a fender roller so I hope I can borrow it for a 12-pack and do that this weekend as well. If I can get plastic hung up in the garage and find suitable fans, I'm hoping to spray at least the SPI epoxy primer next weekend.
8-28-2011
So I decided to shave my antenna hole. I was hung over for the better part of today, but I got after it this afternoon and got it almost done.
The donor for the patch sheetmetal (my old driver door):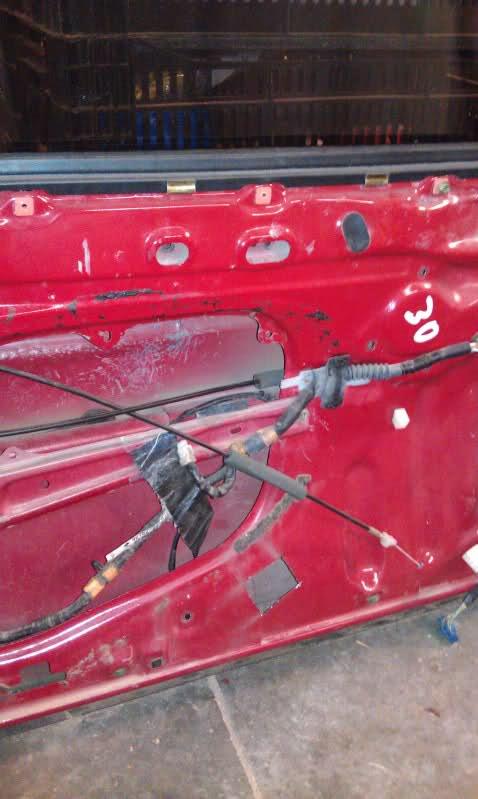 The patch: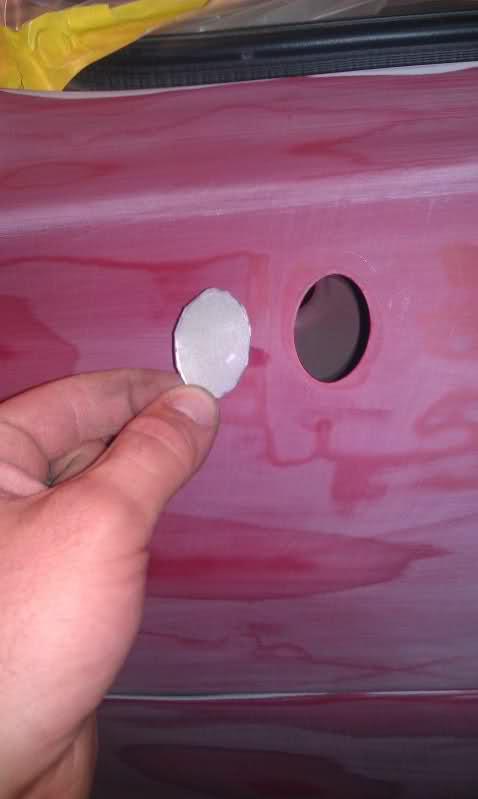 Holding itself in with tight fitment: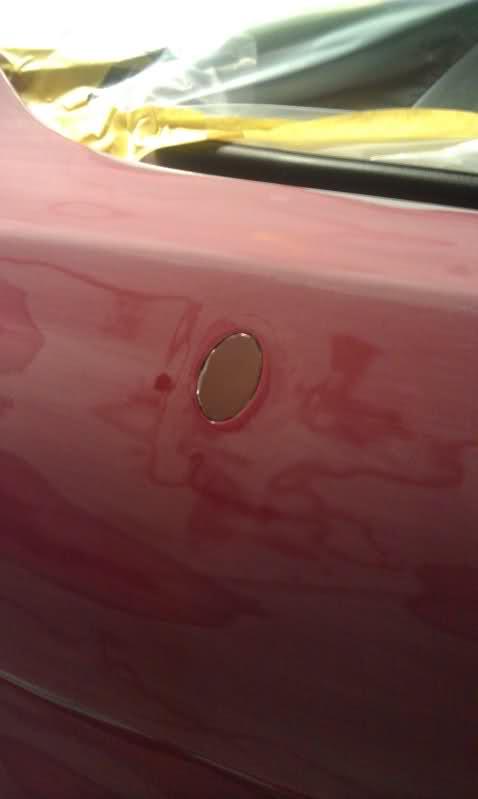 Paint ground/sanded off: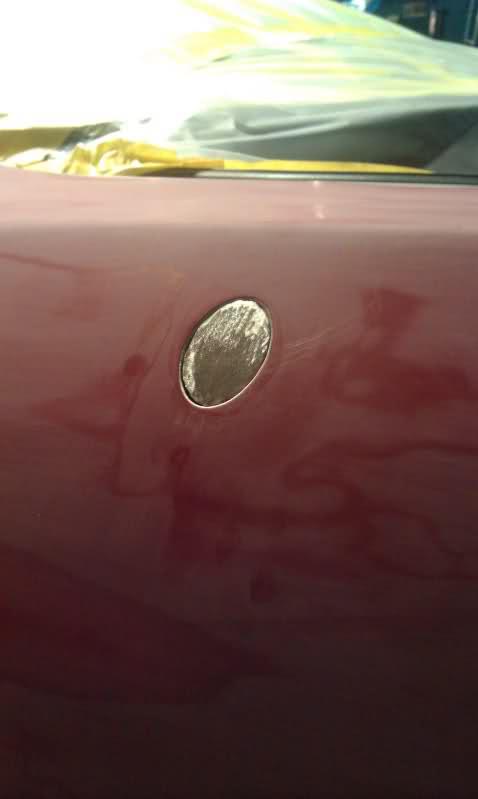 Masked so I didn't torch the rest of my quarter panel: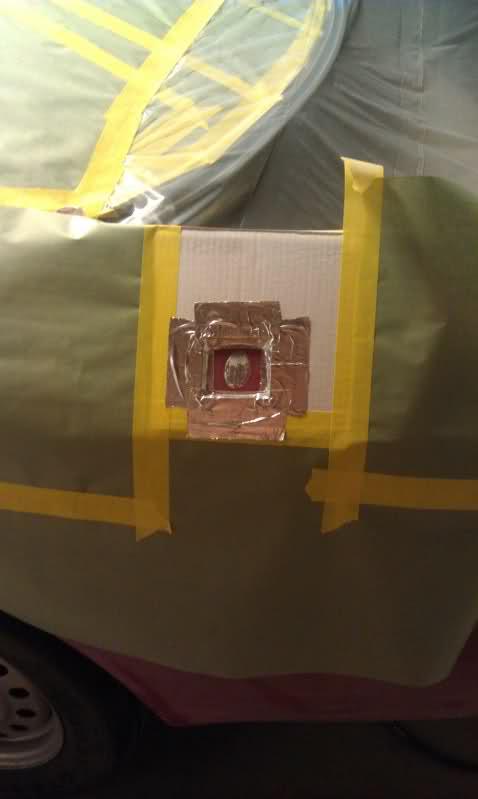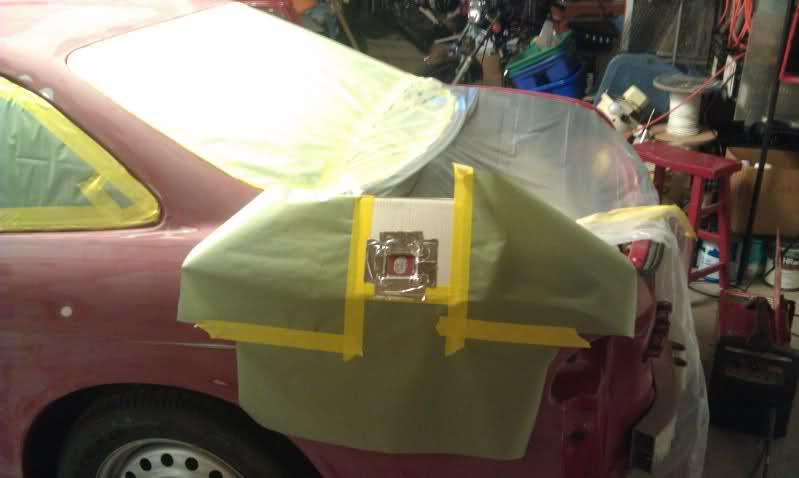 Tacked all around: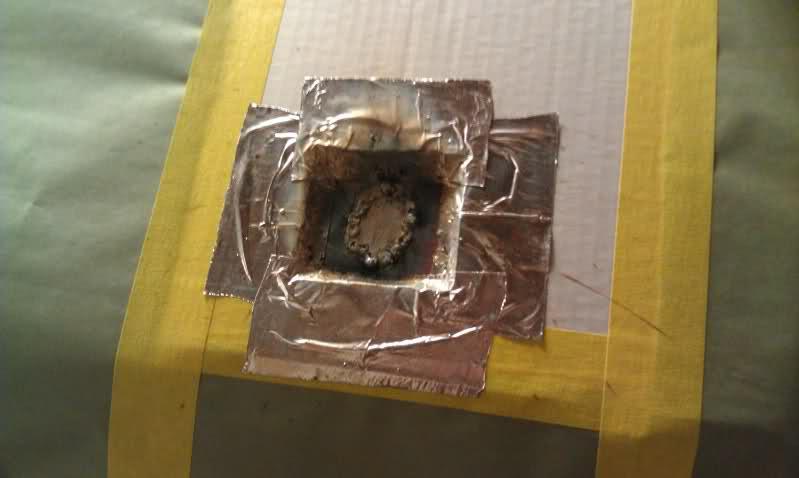 Quick video of a tack weld. It was raining hard outside when I shot this so that's the background noise.
Done up - no more hole!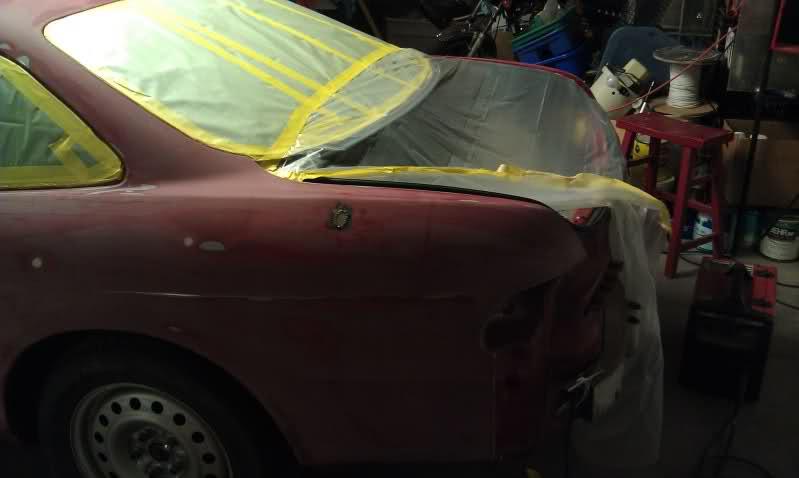 Ground down: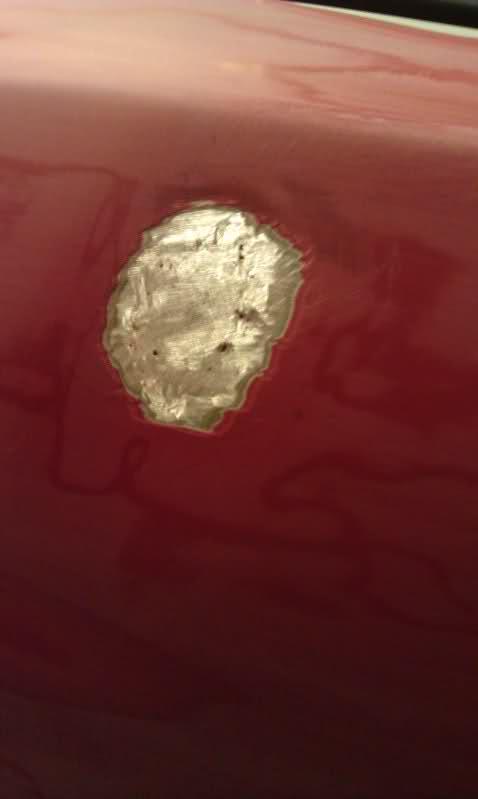 Dolphin Glaze: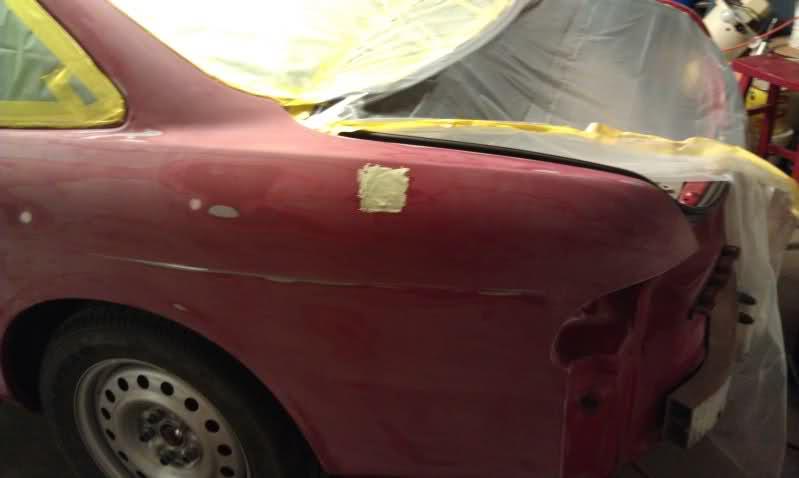 I know the welds look kinda lousy, but it's a 110v flux core welder so it off-gasses and spatters quite a bit. The foil tape actually helped a lot in keeping nastiness off the rest of the quarter, although it did leave some melted residue that I had to get off with rubbing alcohol. I kinda gooped on the filler with the full expectation that most of it will become dust tomorrow. Hopefully it's not too hard to keep the curvature of the panel - I think my long Durablock will make short work of it. I'll probably do a quick wipedown of the inside and slap a little seam sealer on it and forget about it, and I don't anticipate any future issues with it.

The other thing I got done today was the removal of the screws and inserts from the fender lips. I'm picking up my buddy's fender roller tomorrow morning and hoping to get that job done tomorrow so I can mask the wheelwells.
Lots of screws and inserts: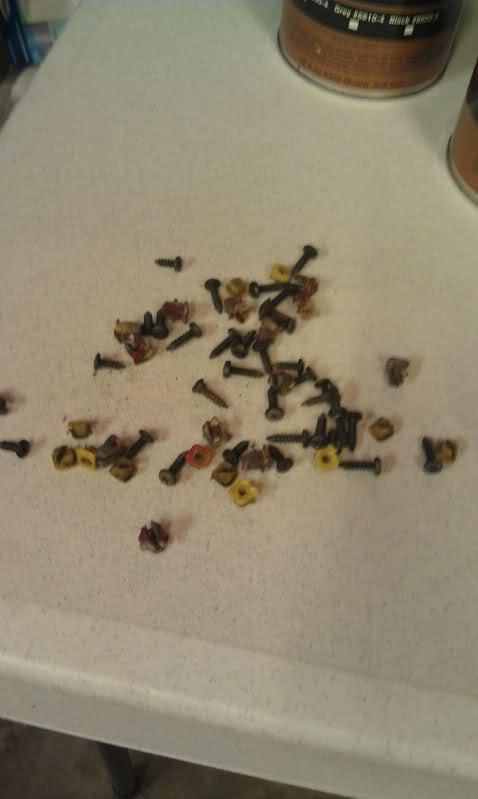 That solves the question of whether or not to keep the fender strips.

Hopefully more pics tomorrow, with bodywork results on the shave and some rolled fender action.
9-5-2011
Hood before: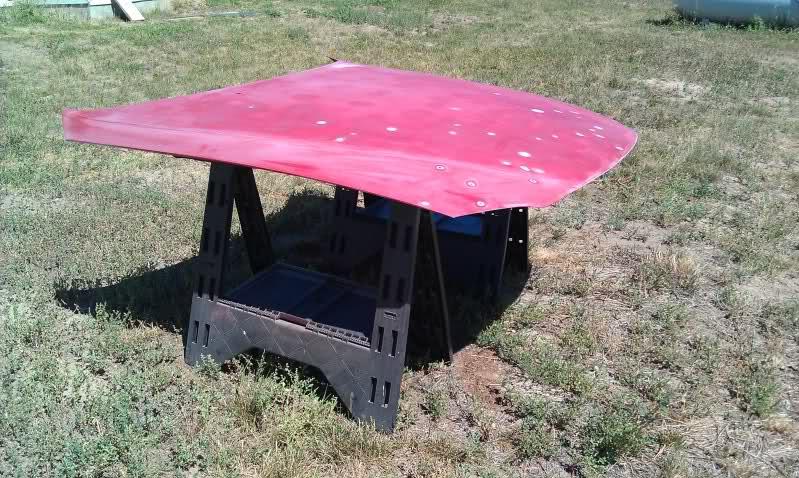 Hood after: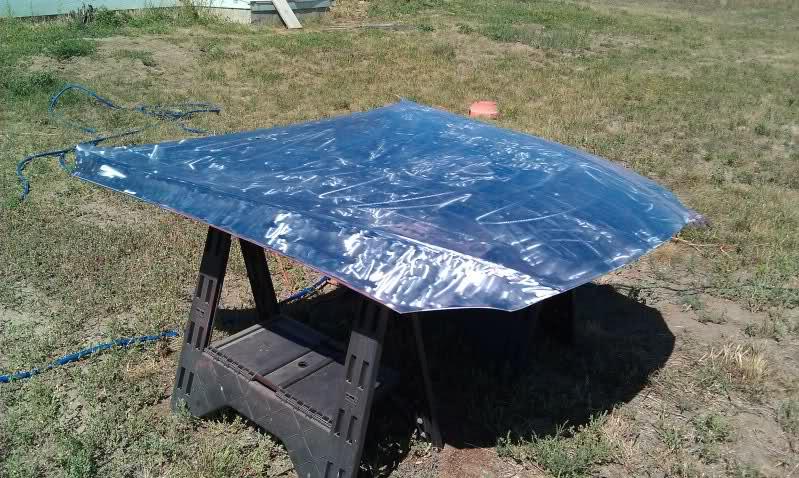 I used the blue Norton Rapid-Strip pads from Home Depot on my angle grinder. Takes the paint off right quick but doesn't harm the metal. I do have swirl marks all over as you can see, but I'm really hoping they're more visual than deep. Epoxy should tell me what the situation is and if I'll need to put some 2k primer over it.
Or I could just clear it and leave it like it is?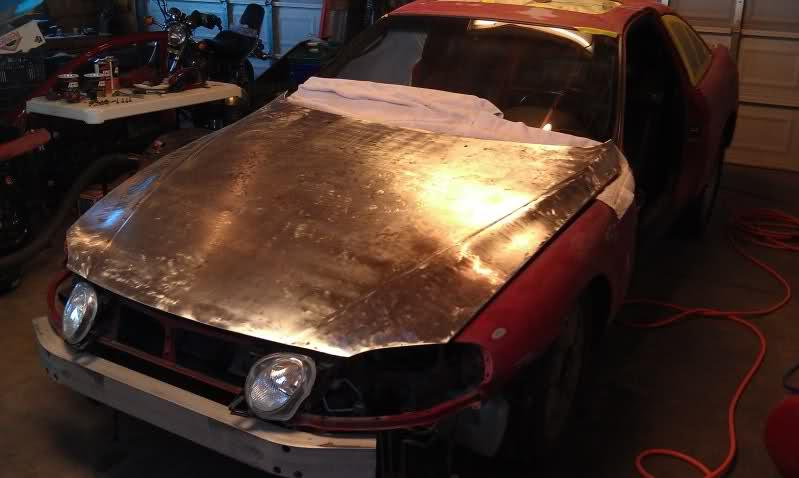 That was Saturday. Yesterday I built the paint booth in my garage with plastic sheeting, strips of cardboard from the box for my brand new water heater ($600 bucks I didn't want to spend last week), and a lot of duct tape and staples.
Outside: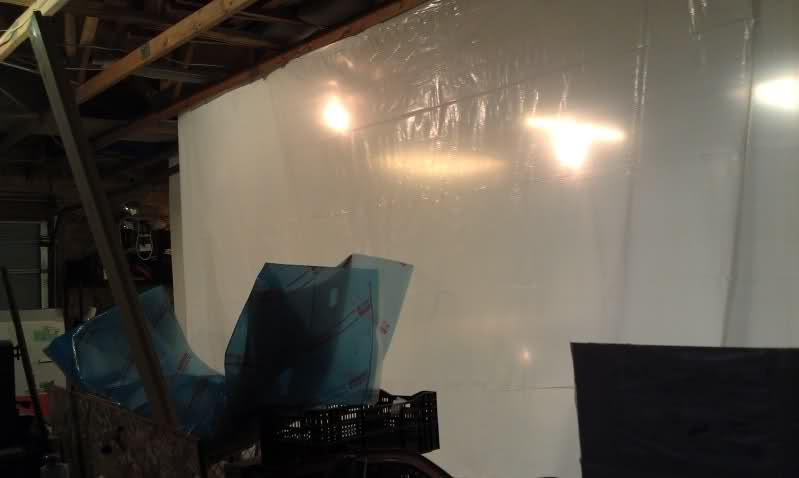 Inside: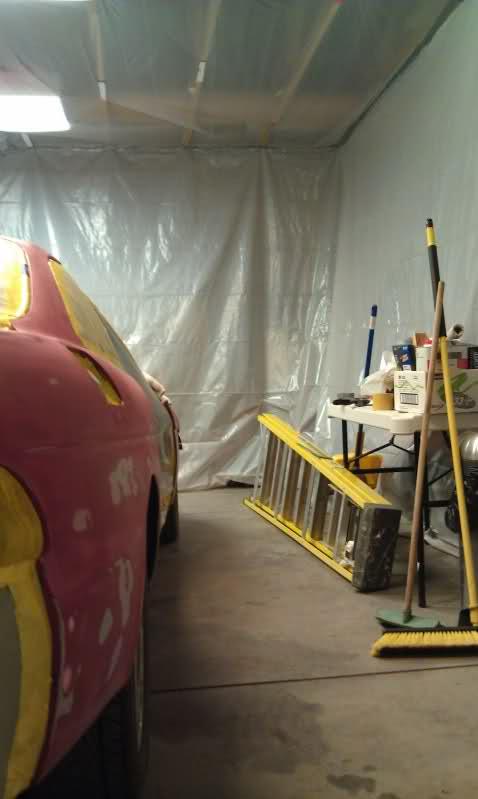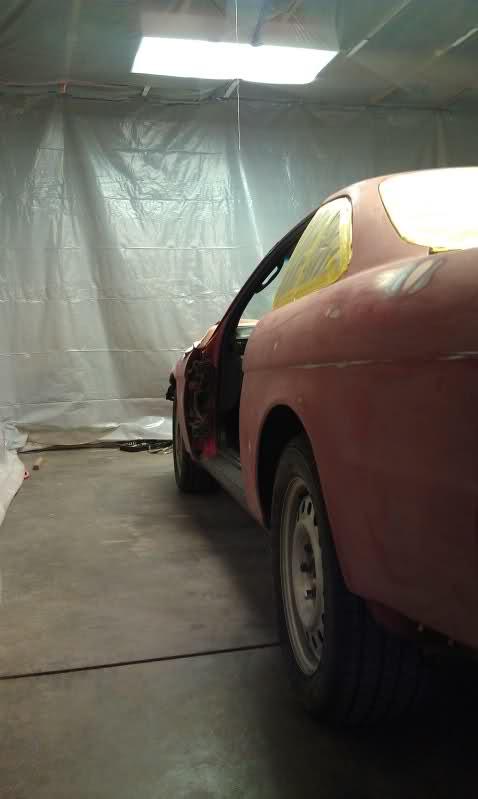 Results of shaved antenna: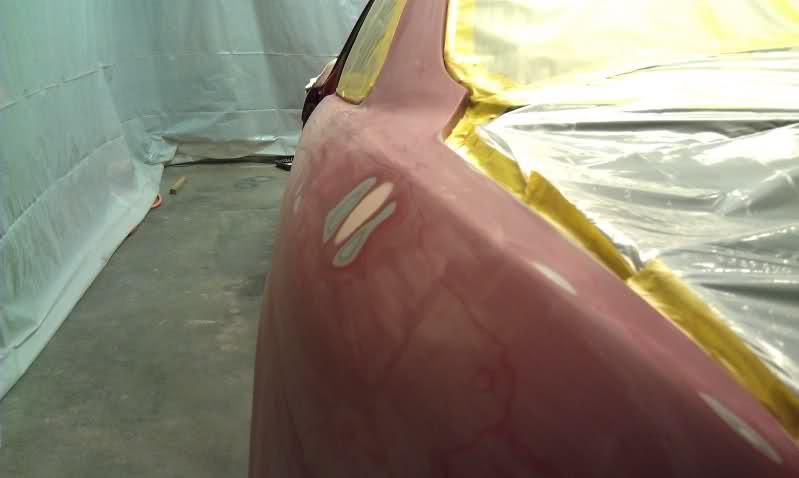 The first layer that will go on the car: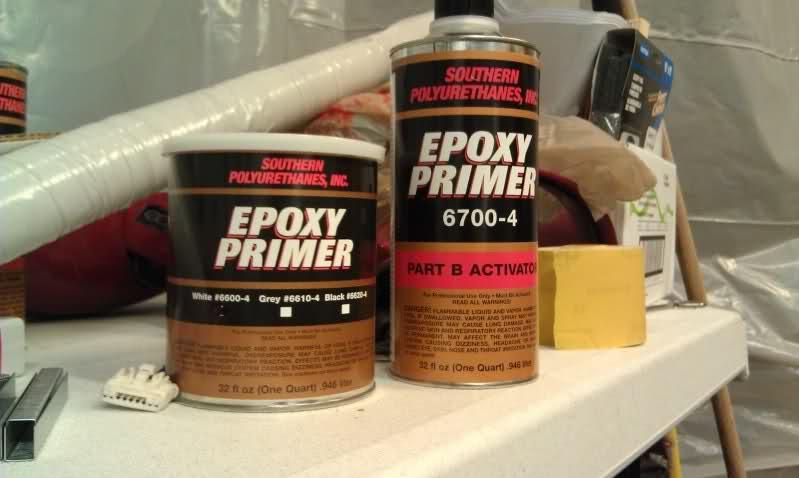 What I saw from my front yard when I finished up in the garage last night: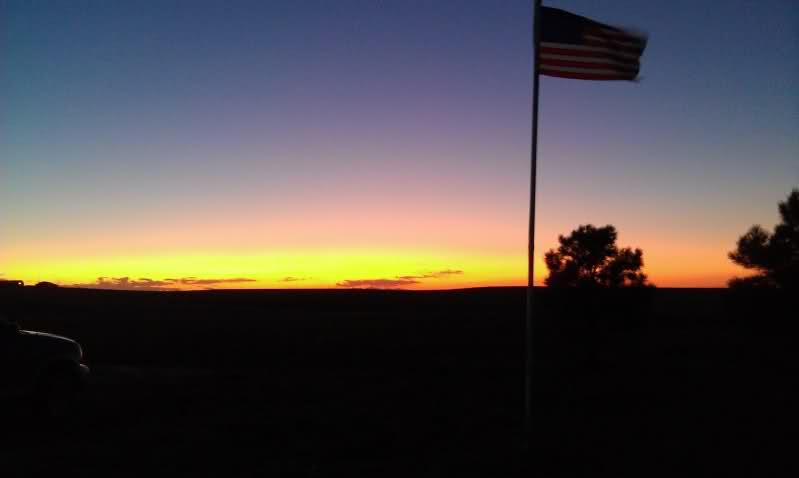 Yes, I live in the country.

Today the plan is to figure out what kind of ventilation I'm going to need. I have a box fan and a centrifugal style blower, and I'm hoping that the blower will outflow the box fan. If it does, it will be my intake and the box fan will be my exhaust, and I'll have a positive-pressure booth. This is what I'm going for because the positive pressure inside blows outward through any gaps or crevices, instead of a negative pressure setup which sucks dust and stuff in through those same gaps. We'll see what I have to work with and go from there. Once I've got that sorted out, all I'll really need is a respirator and a couple of zipper doors (and to finish masking) and I should actually be ready to spray for my first time ever.

9-13-2011
Finally got to bust out the spray gun over the weekend!

Ventilation for the booth: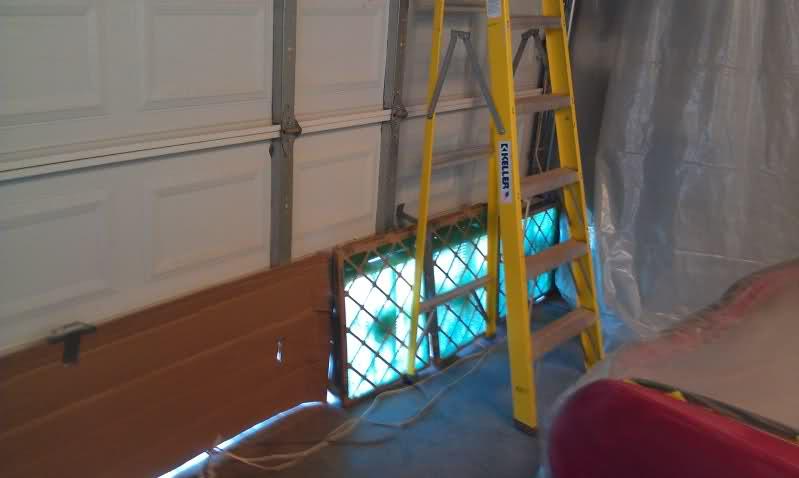 I only had two fans running on low and had negative pressure in the booth, as shown by the bellied-in walls here: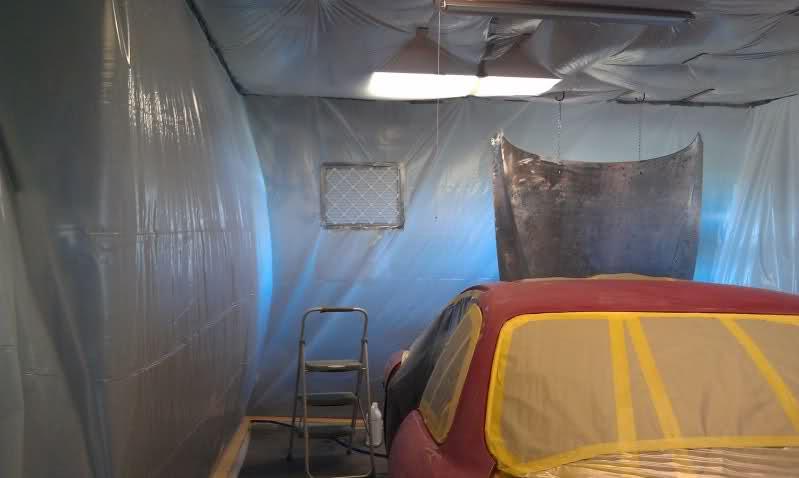 Masked windshield and engine bay: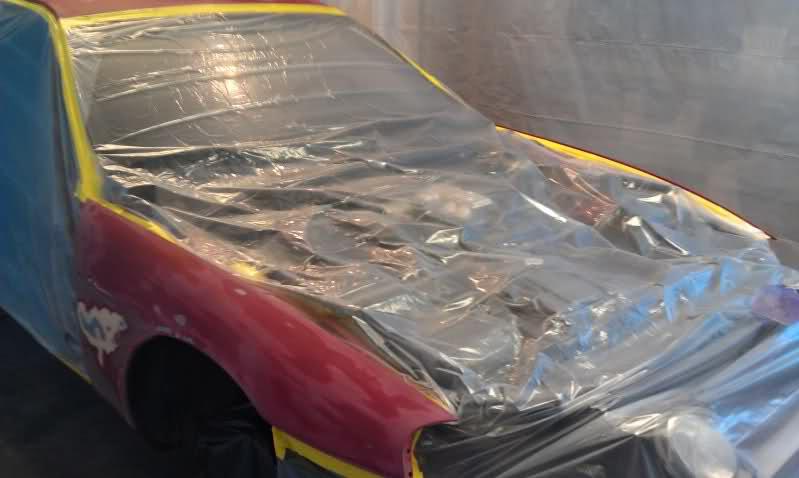 And we have primer!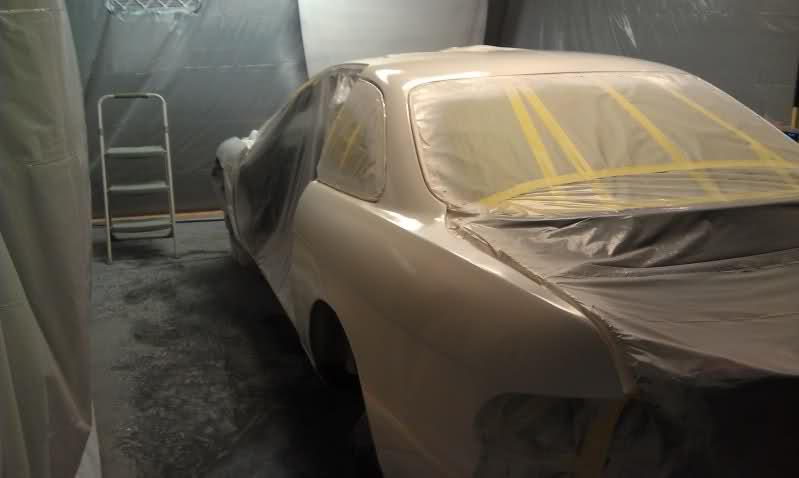 Didn't quite get even coverage on the roof, may put that on the "spot reprime" list: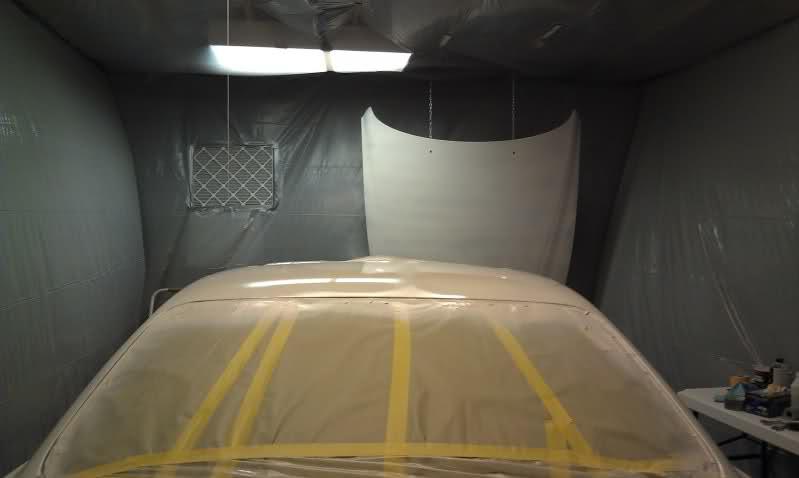 The hood had runs and orange peel like it was going out of style, as it was the first piece sprayed and I didn't have my gun dialed in yet. I had to take it outside the next day and block wetsand the living hell out of it to get it smooth again. It's getting recoated, hopefully a lot smoother this time.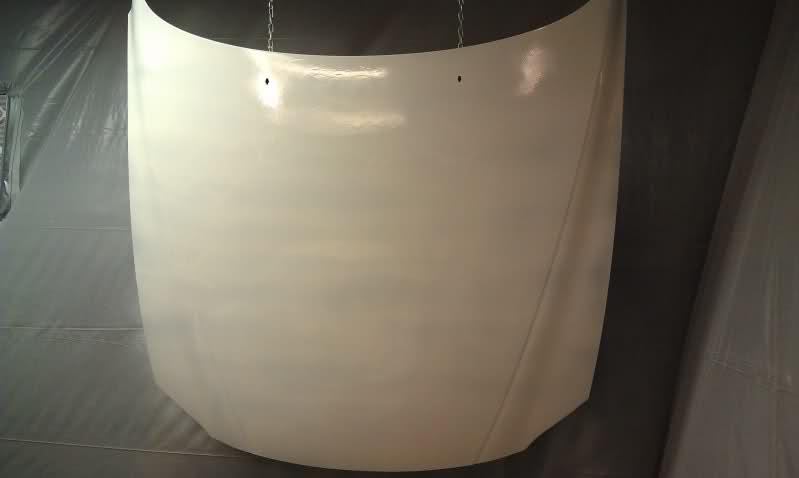 Passenger fender turned out the best of all, with only one tiny run near the bottom and no orange peel.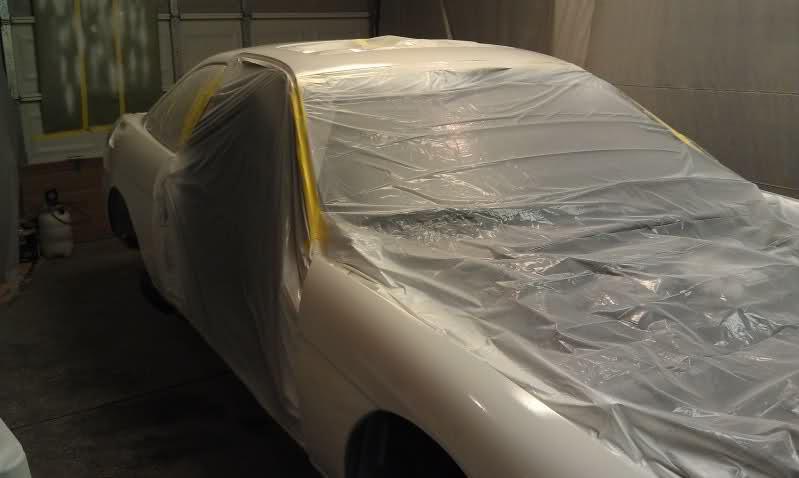 And the ever popular aerial shot, from the stepstool I was using to reach the roof and the top of the hanging hood: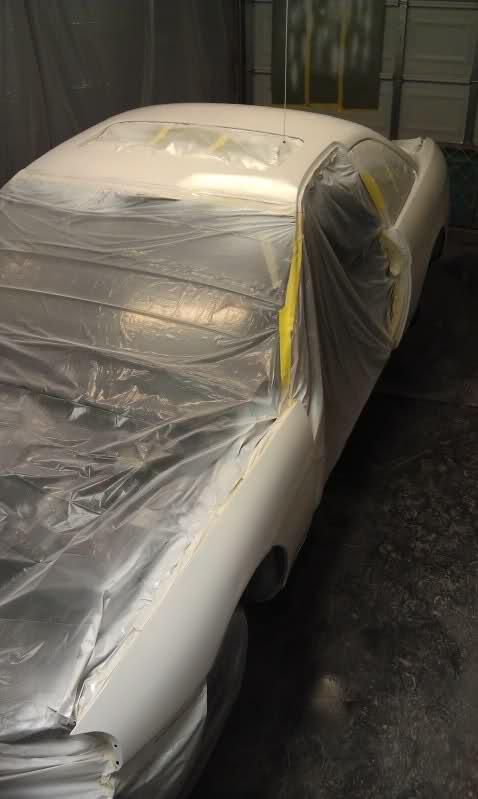 SPI's epoxy primer is pretty awesome stuff, in my "vast" experience. I've been wetsanding it and getting it glass-smooth with no problems. With a little spot respraying, I should be good to go on laying down base and clear and can skip the 2k primer step. My bodywork looks real good, just need to get the primer surface to match and I'll be in good shape. I'm hoping to order 1.5 gallons sprayable of 3L2 from Pro-Spray and a gallon or two of SPI Universal Clear tomorrow so I can lay them down this weekend. If all goes well, I should have the body and hood colored and cleared so I can drop the car and roll it out of the garage. That should give me room to hang the doors, decklid and maybe a couple of small parts. Once those are all done I'll hopefully have sideskirts and door moldings (still haven't acquired them) and I can spray all the plastics from primer to clear. Then, reassembly!
9-18-2011
Damn color didn't come until later yesterday afternoon, and it didn't include reducer like I thought it would. Made a wasted trip to the Springs in search of some, but was skunked and will have to try again today (Sunday). Hoping to find the right stuff, mix up some color, and at least lay a basecoat on. Friday night I resprayed primer on the hood and some of the spots that needed it on the car, and it turned out pretty well, although I need to wetsand some little nibs and bits of crap out before I spray color. Hopefully I can have some red pics to post up tomorrow.

Don't wanna know lol.

About $150 in primer, $290 in basecoat, have yet to find reducer so we'll see there, $125 in clear so far, and $35 for a Harbor Freight gun. $433 for the front bumper, $250 shipped for the rear and extensions, have yet to find sideskirts or door moldings. Probably $250 in sandpaper, blocks, glazing putty, masking supplies, mixing cups, paint suit, respirator, booth plastic, etc. I anticipate a grand in body parts and probably $800 in paint, with supplies, air filtration and the like eating up several hundred miscellaneous. Hoping to have a really top notch paint job with the only corners cut being ones that I'm okay with, plus the fun of doing a project like this and developing a skill set that I've always wanted but have never gotten to learn. Call it $2500 over eight months or so and that should probably about cover it.
9-20-2011
MY CAR IS RED AGAIN!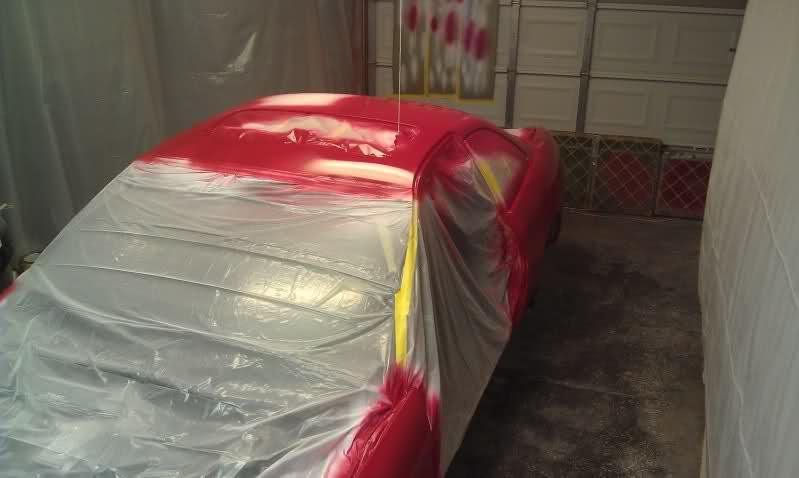 The white spot is where I lost air pressure and the gun spattered a little, then I ran out of paint. Had to wetsand the spatters out, as well as three runs on the rest of the car, and then I carried on with another coat: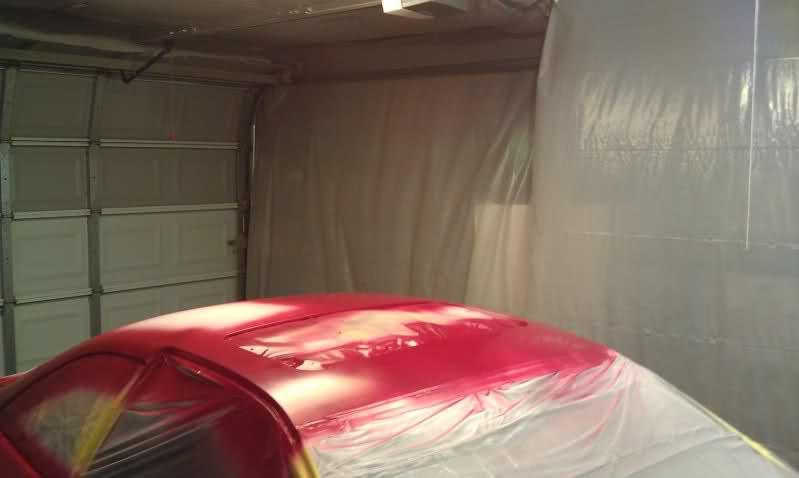 The reason the hood is still white is because I'm apparently dumb. I missed the leading edge of the hood with the couple coats of epoxy that I sprayed on the hood, so the one edge that will be out front bearing the brunt of dust and rocks doesn't have primer on it yet. No way in hell am I putting down color over that, so I'm just gonna wait until I pull the car out and hang the decklid and doors, and then prime those and that edge together. Annoying but not a disaster.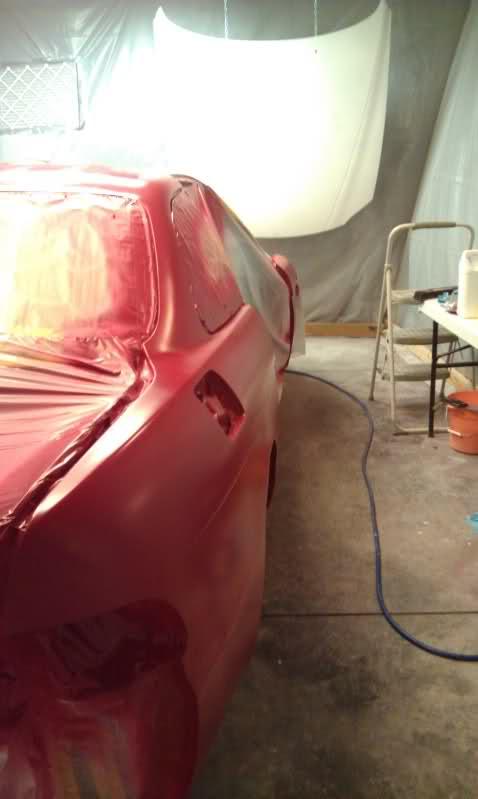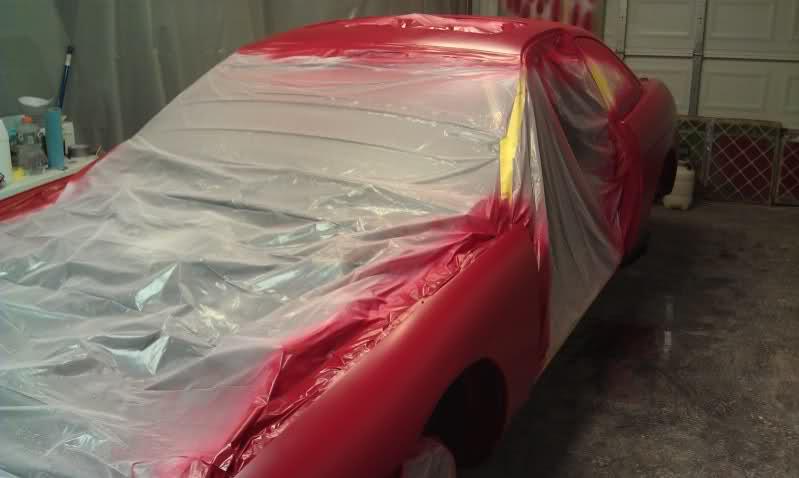 My filters are definitely picking up some airborne particulate: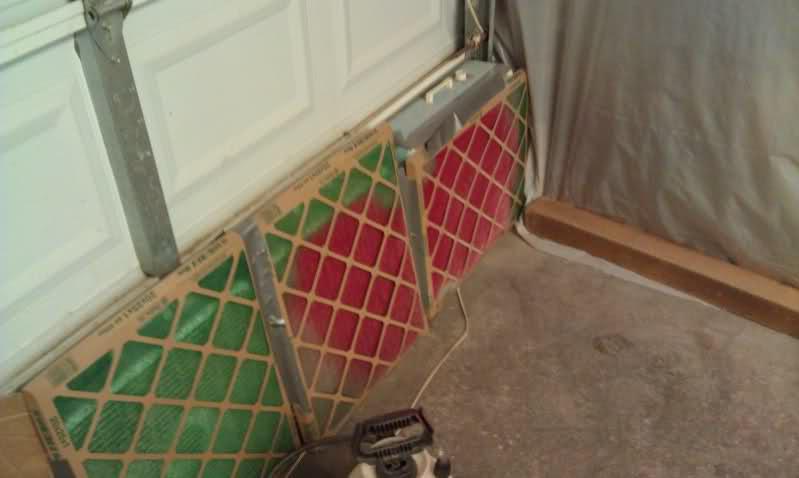 I'm in between my third and fourth coats of base as I type this. According to SPI's Perfect Paint Job, I plan to wait until tomorrow to clear the car with four coats, 30 minutes apart. By the time I get done with work on Wednesday, I should be able to put wheels on, drop it, and roll it out so I can hang other parts.

9-24-2011
So Tinypic wouldn't let me upload pics the other night, but I got the car cleared on Wednesday! Four coats, and it's definitely shiny. It's also orange-peely as all hell; the p-sheet said to lay it down slick, but when I adjusted the gun to lay it down that heavy on my test sheets, it ran like crazy. Hopefully I've got enough depth on there to wetsand the living crap out of it, because it's going to need it. Aside from the texture issues, I think it turned out pretty well. Not real happy with my masking lines in the jambs, but I guess that comes with practice. Those will need some touch-up in a big way.
Fender: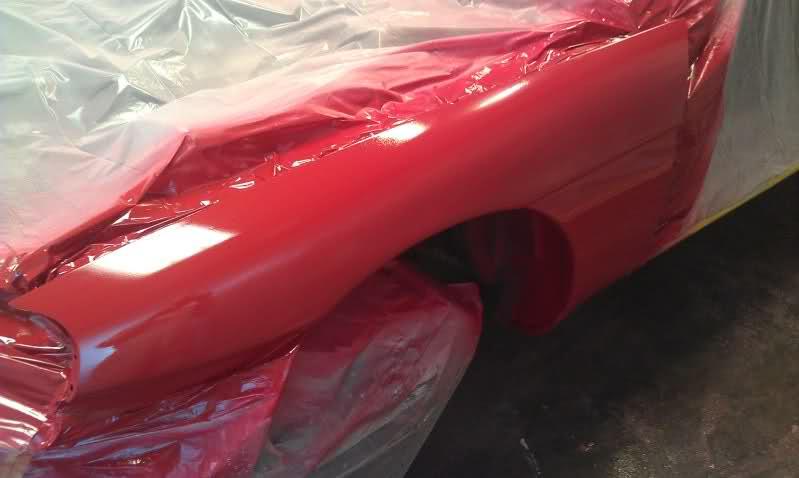 Aerial: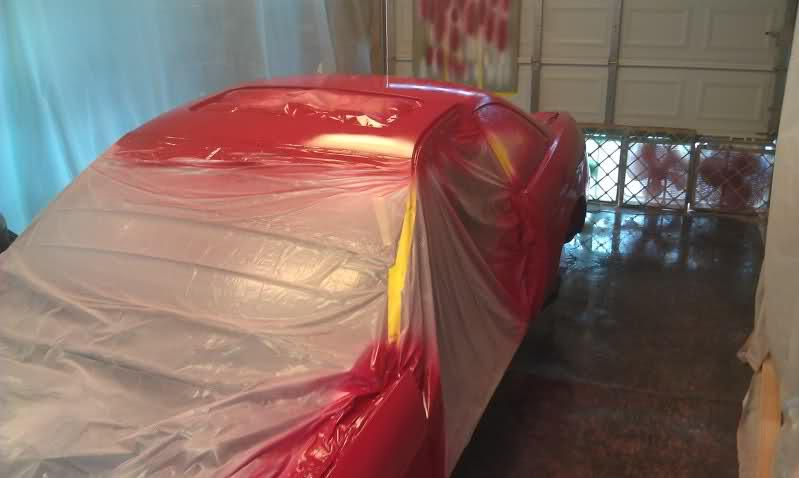 Had a little base left over last coat so it went on the hood: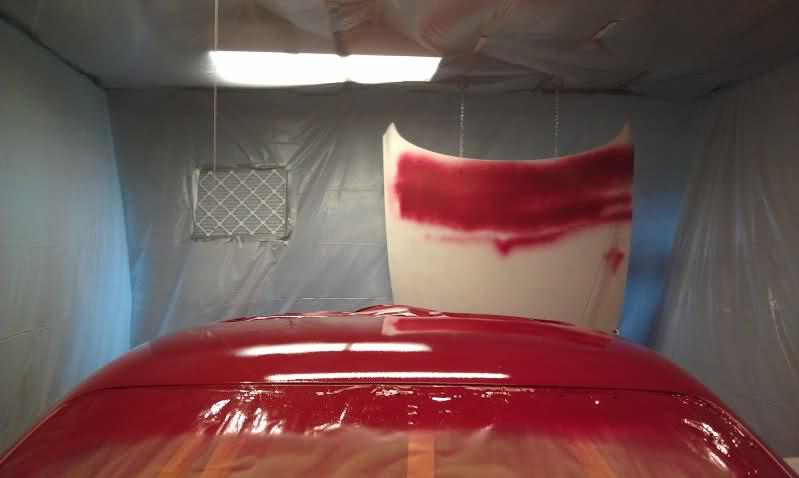 Shiny: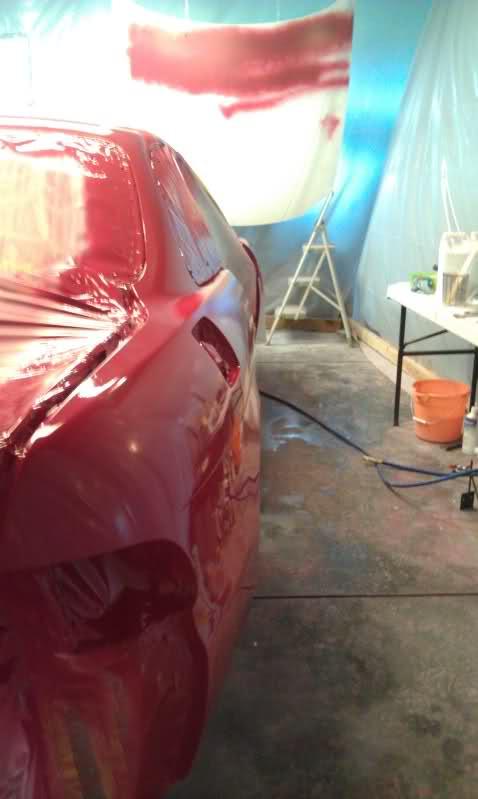 See?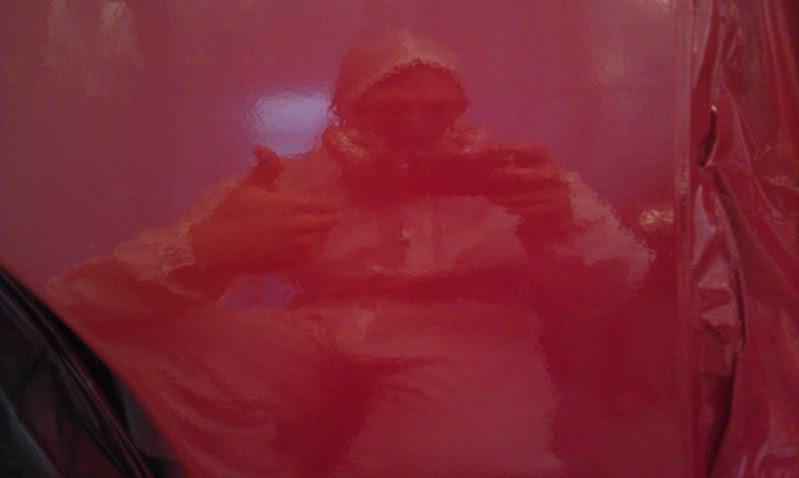 9-25-2011
Got some wheels on and dropped the car the other day, and rolled it out of the garage. Was pretty curious to see how it looks in the sun. The orange peel is driving me nuts but I think it'll be swell once I can get it all back together and start wetsanding.
Rolled out: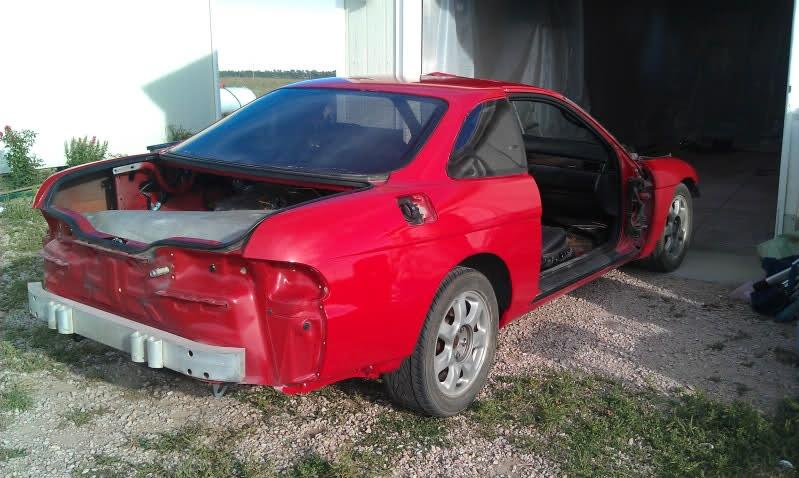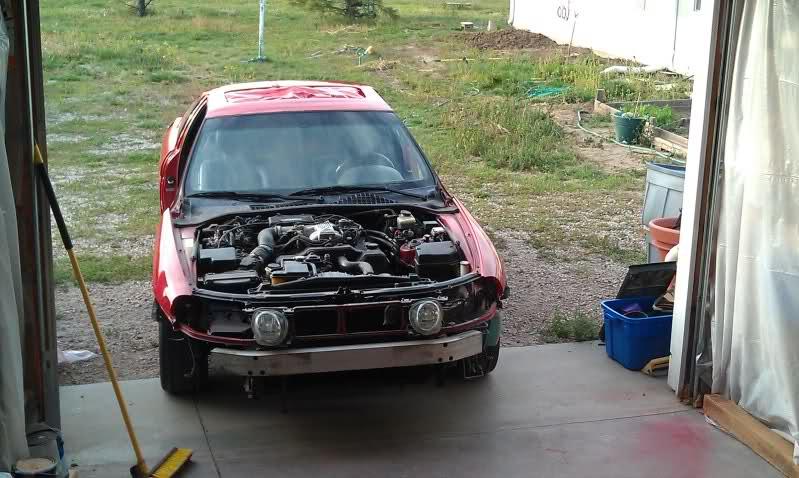 This cleared out some room for the second iteration of painting. I ended up setting the wing on a trash can for primer, and then ran out of primer before I could get it all done, so it's stashed for now and just the hood, deck and doors are up.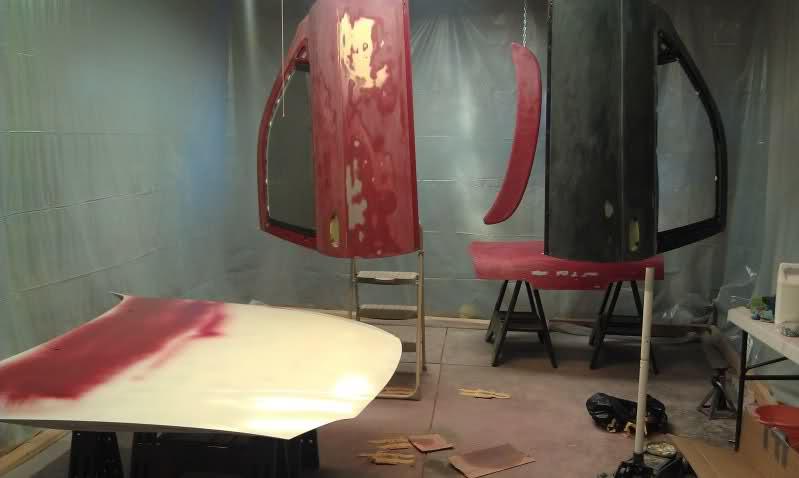 Primed - adios, green door: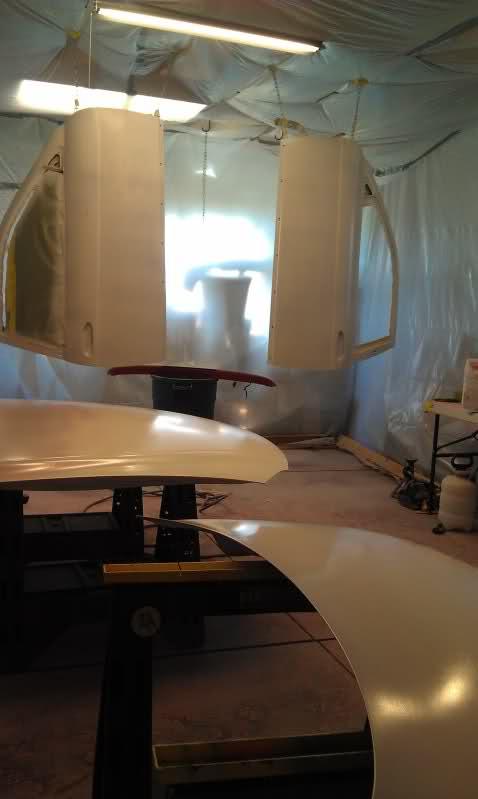 Green door? What are you talking about? These doors are red!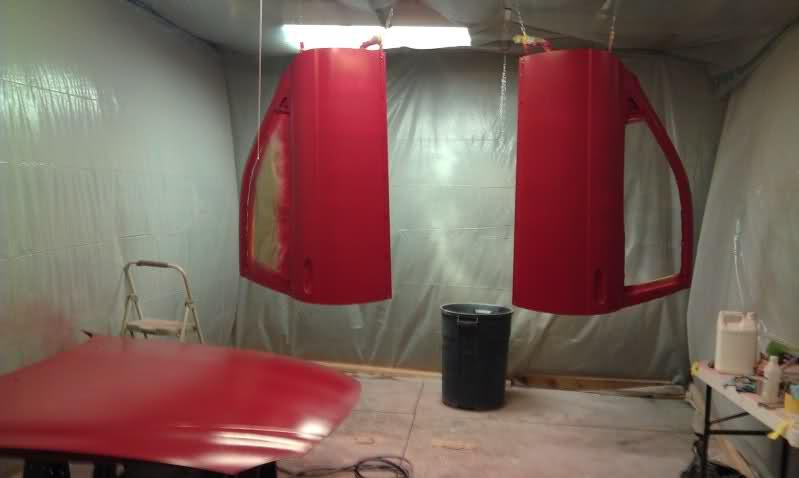 I put down my third and fourth coats of base this morning and am planning on spending a couple hours tonight and dropping four coats of clear. Hopefully I get time this week to bolt things back on, at least so everything isn't spread out so much and the car isn't sitting outside. It's a good thing there aren't many people around where I live, because the car has been sitting out with no doors or hood for several days.

10-2-2011
Made some progress over the last week, although I've been working a lot more so not much happened on weeknights. With the help of my lovely girlfriend, I got all the sheetmetal put back onto the car. Gotta appreciate Lexus engineering - if you've ever bolted a hood on a Fox Mustang, it's an hour job trying to line the damn thing up. This car has self-centering bolts - genius!
So this weekend, like the last several, has been devoted to car stuff. Yesterday I busted out the new bumper cover and got it all cleaned up with soapy water. This is the first step in getting all the mold release crap off/out so the paint can stick.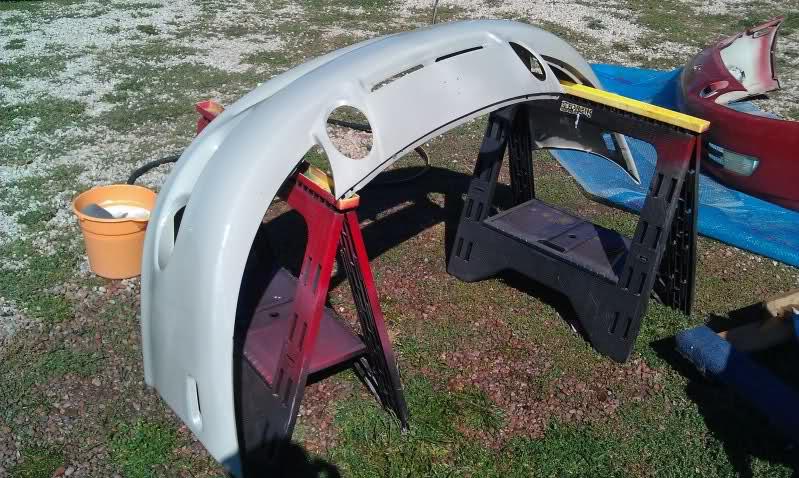 Brought it in, hit it with SPI Waterborne Wax and Grease Remover, then scuffed it with a grey Scotchbrite pad and did W&G again. Scuffed: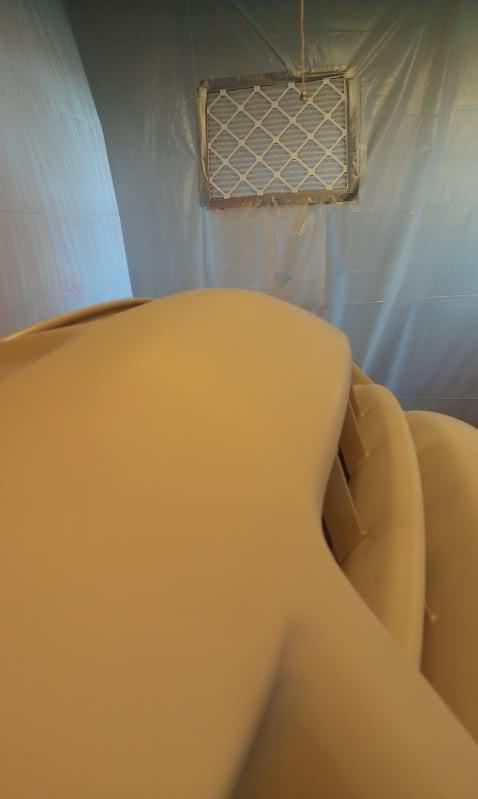 Sanded down the black rear bumper with 220 grit and a red Scotchbrite pad: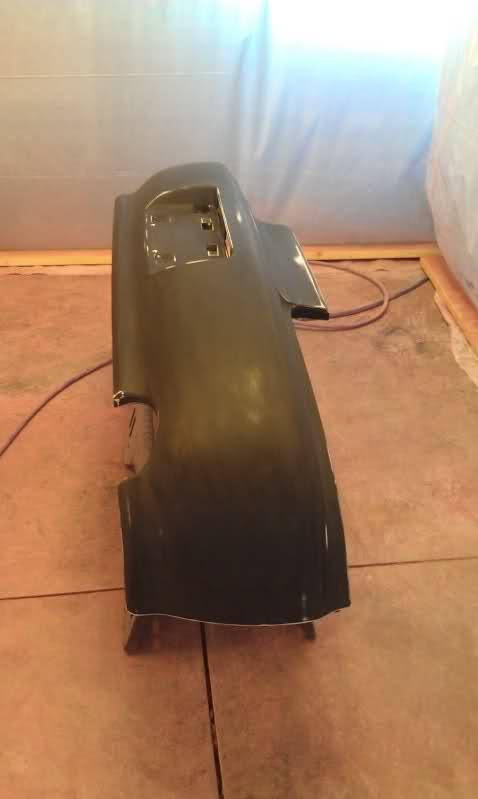 Sanded the side extensions and left the (mostly primed) wing alone: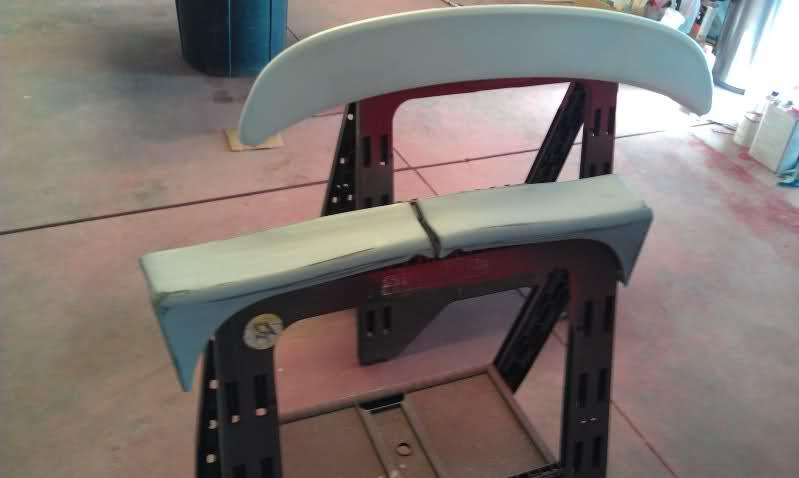 Everything ready: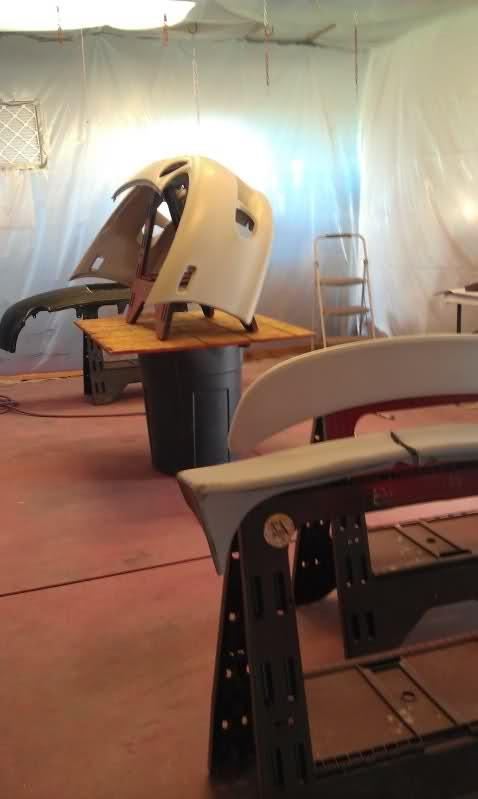 Note the ghetto front bumper rack. It actually puts it at just the right height and I can get almost everywhere I need to, plus it's very stable. Work with what you have, I say.
Car with sheetmetal!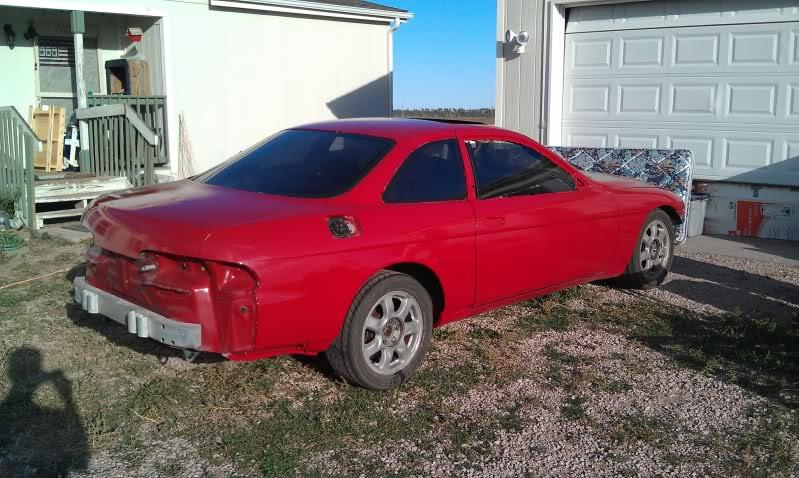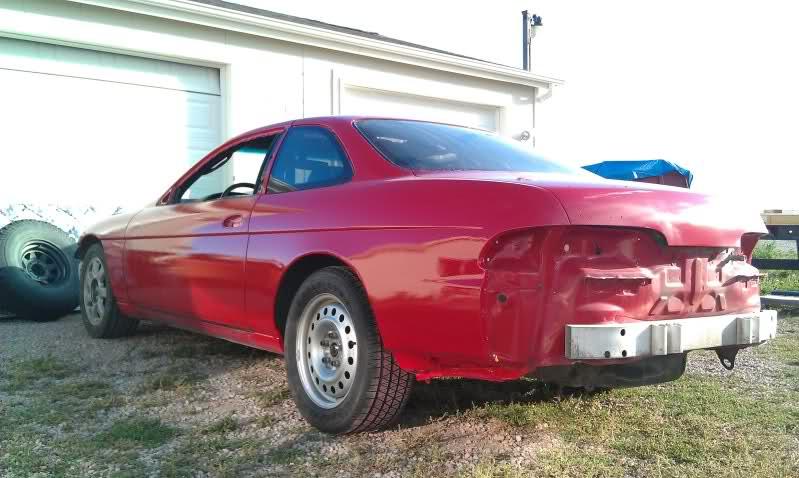 Parts in epoxy: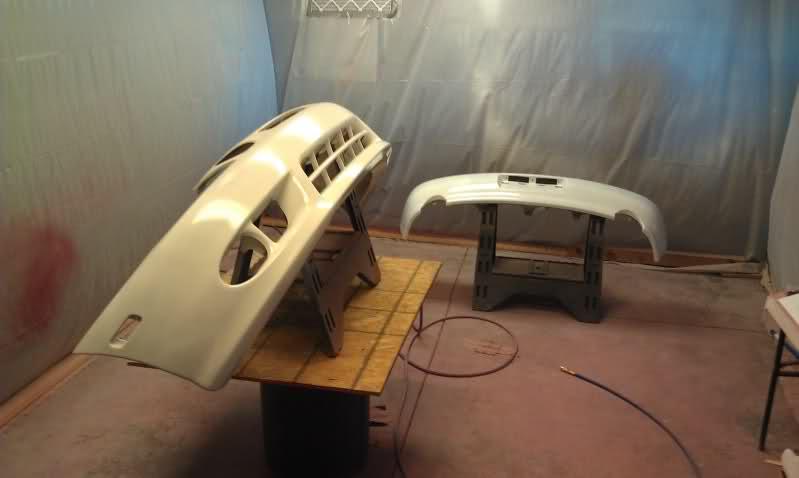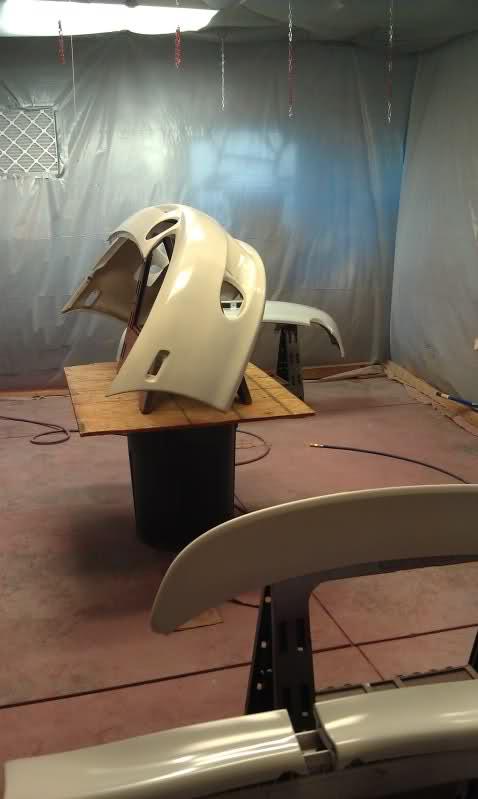 And first coat of base!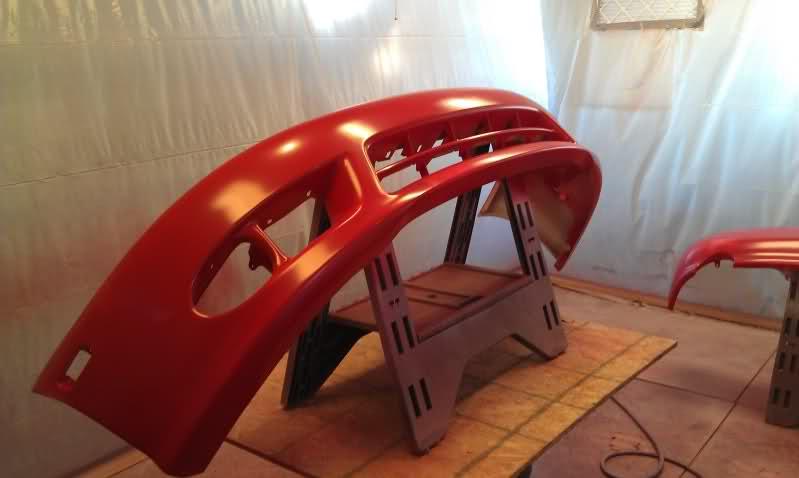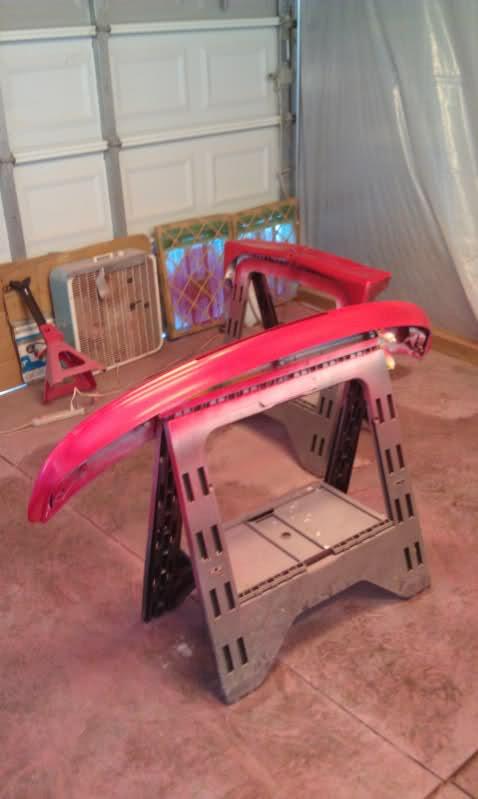 I've got two coats of base on there right now. Coverage is solid except for two tiny spots on the front bumper that are hard to reach. I'm running a little low on color so I'm not sure what my plan is going to be. I may mix up a tiny bit to spray those spots and then call it good so I can clear the parts tonight. Weather looks good for the first part of this week but it's supposed to rain Thurs/Fri and be kinda coolish next weekend so we'll see what happens.
10-3-2011
I ended up putting one more coat on this afternoon. Being a n00b, I forgot when I was spraying earlier that I can adjust the fan pattern on the gun. For the third coat, which required getting into some tight spots that I'd missed both times before, I adjusted the fan so that it was shooting just a round circle, basically the smallest fan pattern I could do. Tuned the fluid control to suit and away I went. It was kinda like shooting a little blast of paint into the one spot where I needed it, rather than fanning eight inches of paint all over the place. Definitely helped me get into the nooks and crannies of the front bumper's lower openings, where there was still exposed epoxy. I got a couple small bits on the rear bumper edges and the wing, then widened the fan out again and shot for general coverage until I was out of paint. I'm satisfied with the coverage it has now so I'm gonna go with it.
Worked out tonight so I'm cashed out, and it's getting late enough that I don't want to spend three hours laying down clear and then go to bed at midnight when I need to be up at 0530 tomorrow, so I'm going to plan on shooting clear tomorrow as soon as I get home. I also need to pick up a couple of the attachment pieces for the bumpers and extensions from the Lexus dealer. The front bumper has a little piece that's riveted in that has two studs on it; IIRC, they go into the fender and are nutted in there. Both of my old ones are rusty and have snapped studs, so I need new ones to rivet on before I can install the front cover. The extensions have similar deals that are nutted inside the trunk, and one that attaches the extension to the rear bumper cover, and I need those too. I also need to get the multitude of clips that hold both bumper covers on, since I busted most of mine when I pulled the original covers.

Here in a few days, I'm hoping to be reassembled completely with the exception of door moldings, sideskirts, mirrors and door handles, which will comprise my last batch of items to paint.
10-11-2011
Made some progress over the weekend.

Last week I went to the Lexus dealer nearest one of my jobsites and ordered up the bulk of what I thought I might need. This included pushpin clips, the metal studded retainers for the side extensions and the front bumper, etc. They came in on Friday so I went in and picked up what I foresaw needing this weekend. I held off on the front bumper retainers, at $30 each, to see if I could fix the broken stud on one of mine. Picked up the side extension stud bits and as many of the pushpins as possible. On the way home, I grabbed a multipack of pop rivets at Home Depot, and I knew I had a rivet gun at home somewhere. Most of the metal pieces with studs on them that retain body plastics to the sheetmetal are riveted onto the plastic piece, and many can be reused from the '92-'96 body to the '97+. I drilled out the rivets for the front bumper retainers and the old side extensions; I could have reused the ones from the rear bumper but my new rear bumper was used so it had them already. However, it was missing the lower retainer for the side extensions, so I had to buy those and rivet them on.
Re-riveted side extension: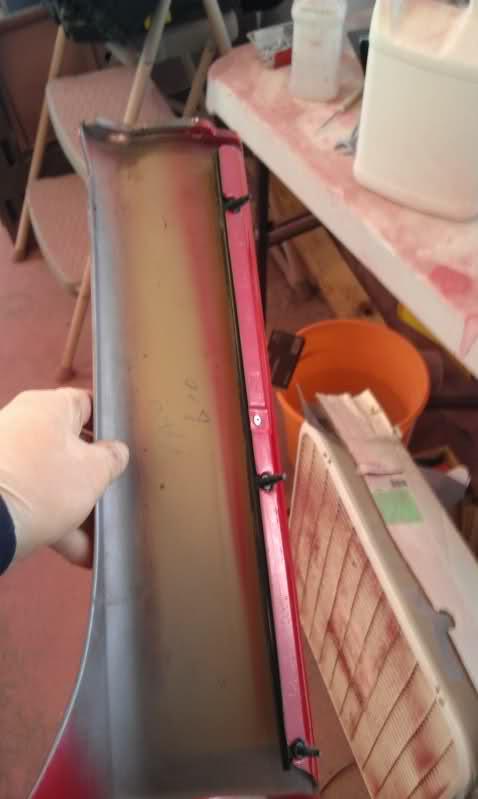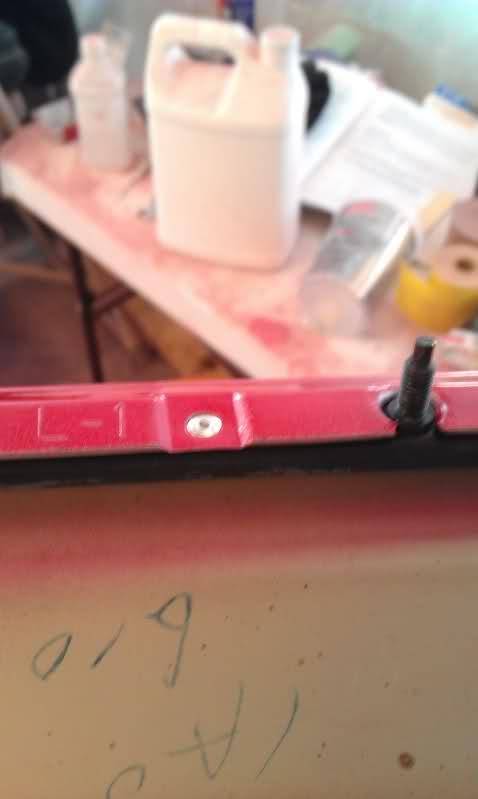 Rivets: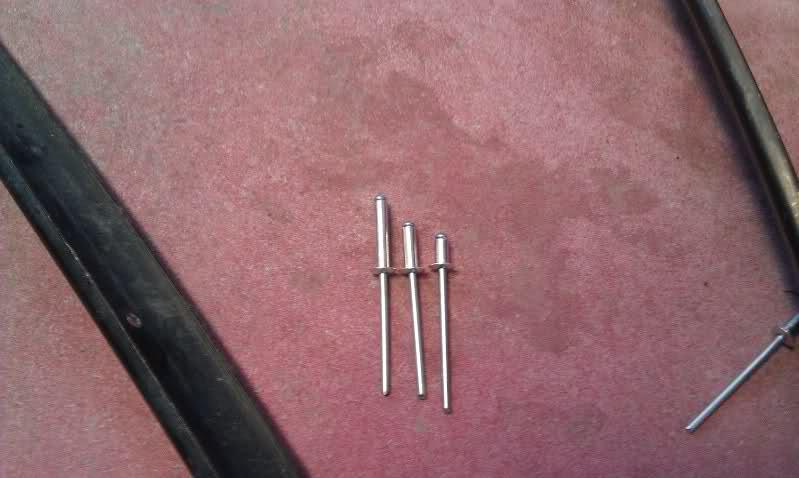 The variety pack I got had three lengths in both steel and aluminum. The short aluminum ones are the ones that work best for this application.
The last few times I drove the car, the "Lamp Out" light was lit and I couldn't figure out why. This is the plug from the passenger front marker light, the one in the front bumper.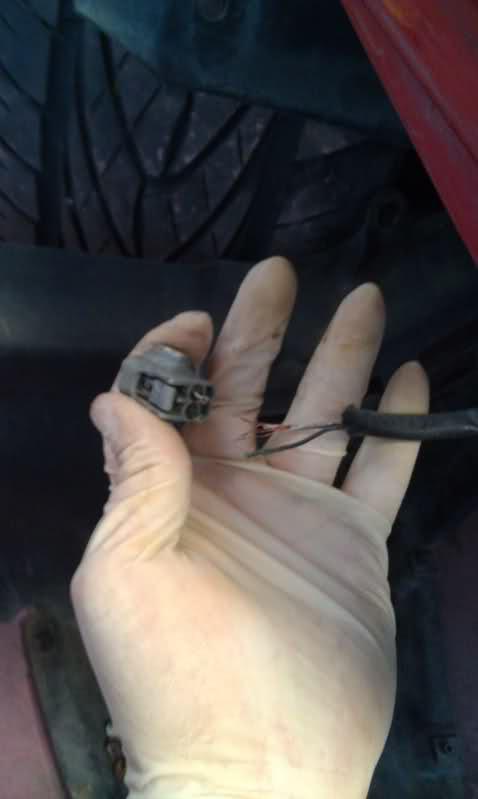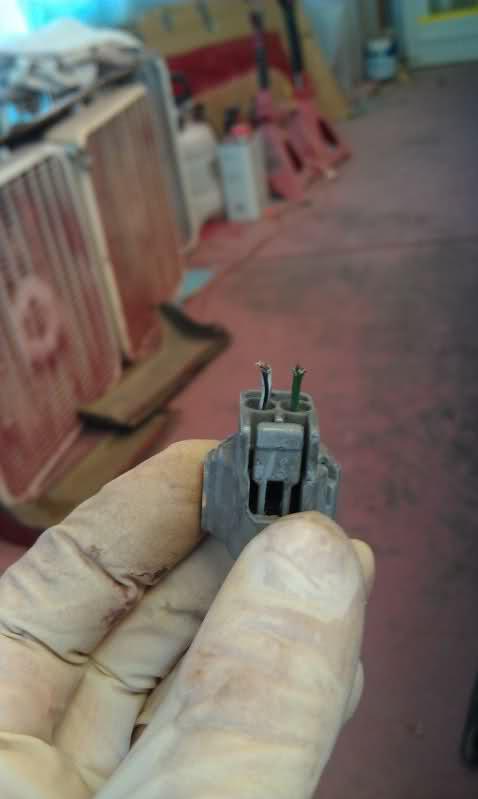 If anyone has that pigtail lying around, I could really use it. If the wires were longer I could solder them together no problem, but there's just not enough residual wire there.
Saturday afternoon, while it was snowing sideways outside, I was puttering around getting things mounted, and was getting closer to mounting the front bumper. I happened to get a glimpse of something white under the upper intake and when I looked closer, I discovered this: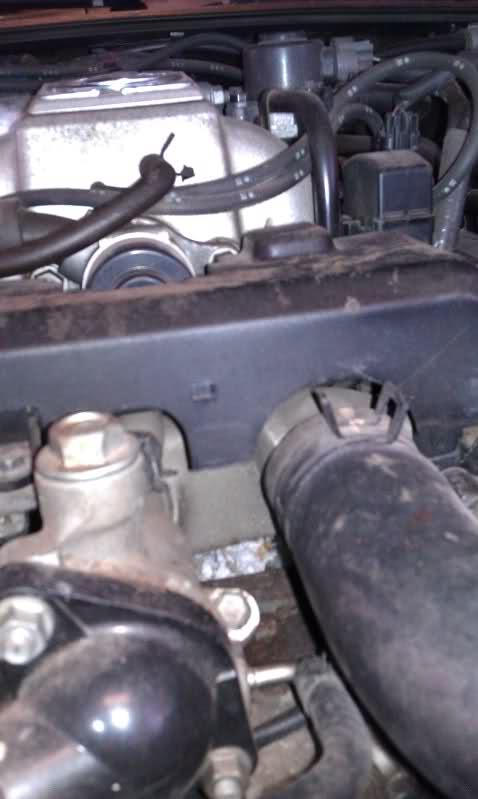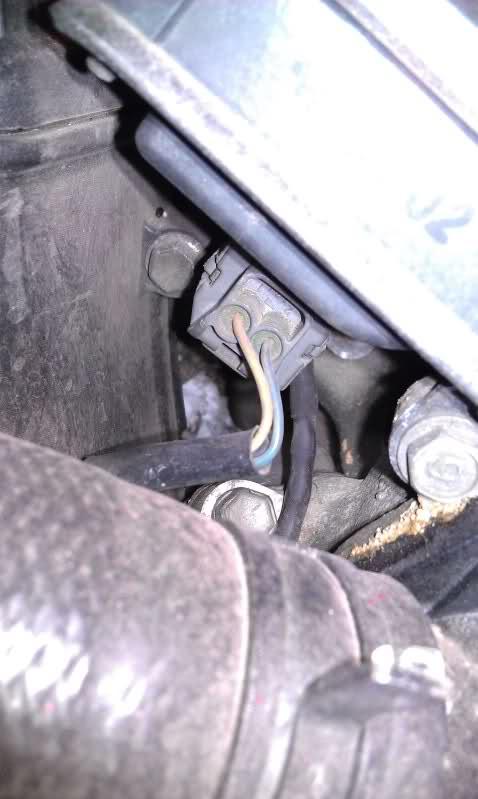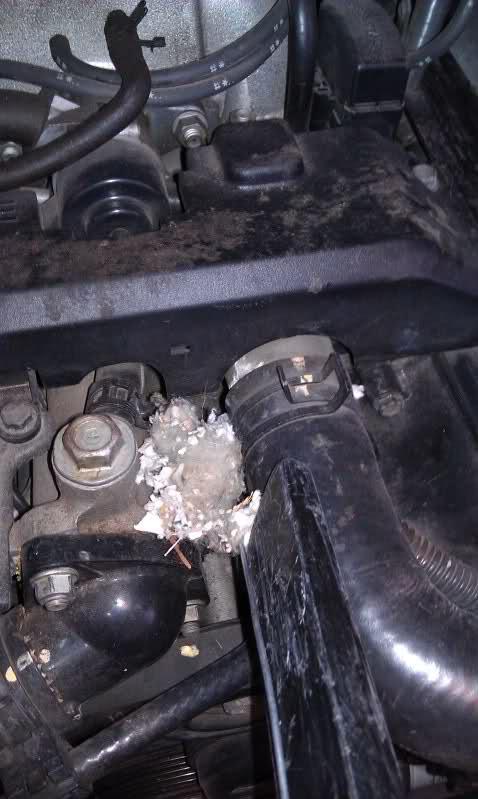 It's hard to see, but it's mouse bedding. When I calmed down I fashioned a hook out of a piece of stiff wire and jammed the shopvac in there and started raking. I'm not even kidding - I bet I pulled the equivalent of two shredded rolls of toilet paper out of there, if not more. There are still a few bits remaining, but I got it pretty good. Next, I had to prepare for the return of the "residents":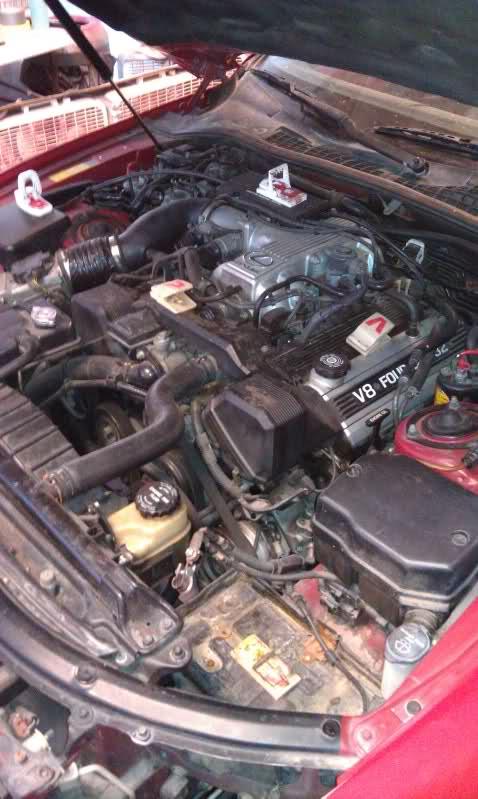 What I found when I got home around 2am: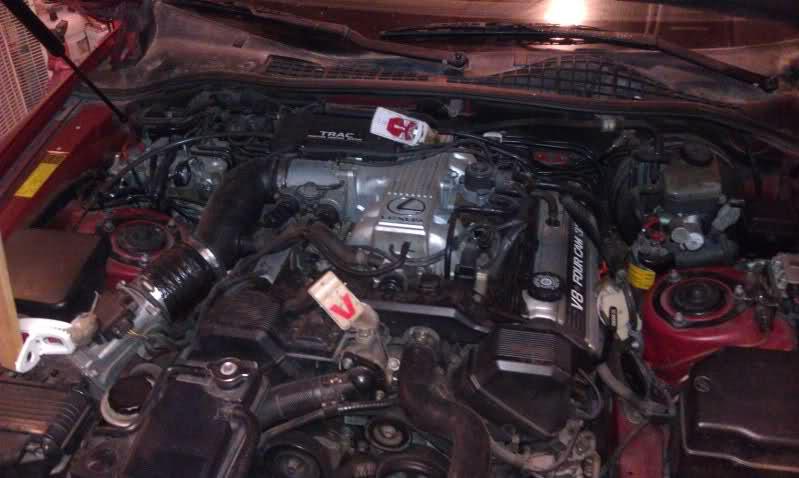 I've since gotten two more. Little ****ers. I guess the car really does need to be driven again.

The other damage I found: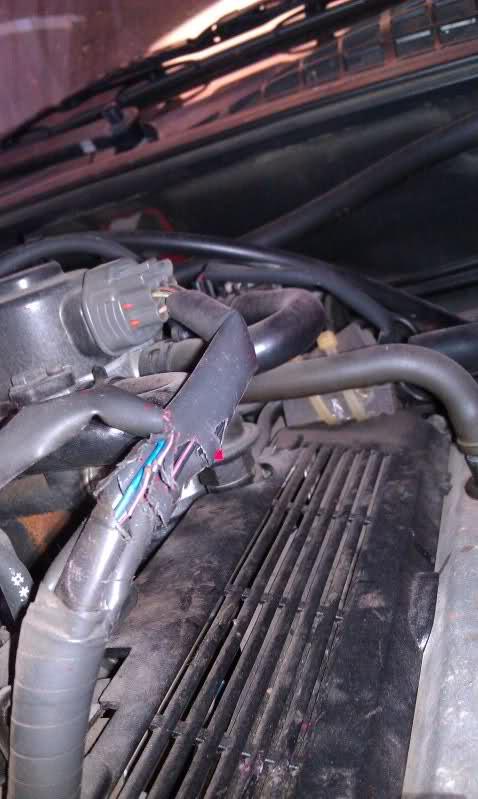 Not sure yet if I've got enough wire length to solder those ones or if I'll need a new plug pigtail for that one too.

Got up on Sunday and the weather was much nicer, so I headed out and started trying to sort out my retaining brackets.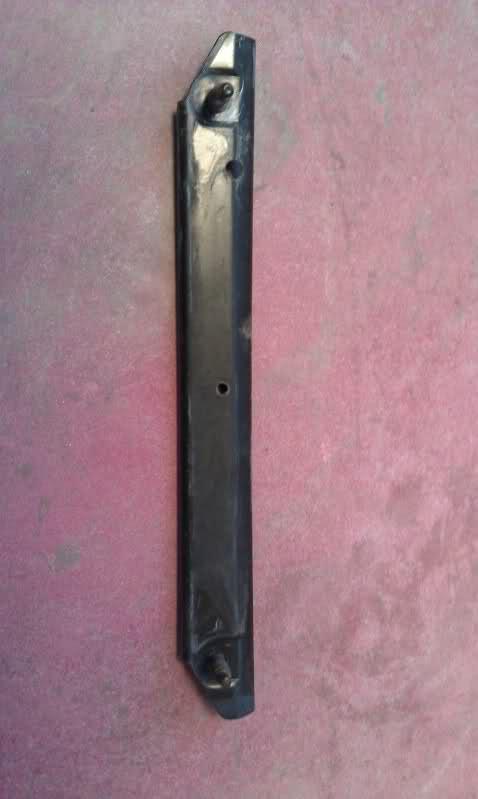 Really wanted to get the bumper on, and also avoid another trip to the dealer and another thirty bucks spent, so I focused on repairing the broken retainer. One of the studs had snapped off when I was pulling the old bumper, so I first tried beating it out. All this did was distort the hell out of the sheetmetal. Finally got it to the point where I could see the spotwelds holding it in, so I drilled them out and beat on it some more. It did not come out looking very pretty, but I figured I could still make it work.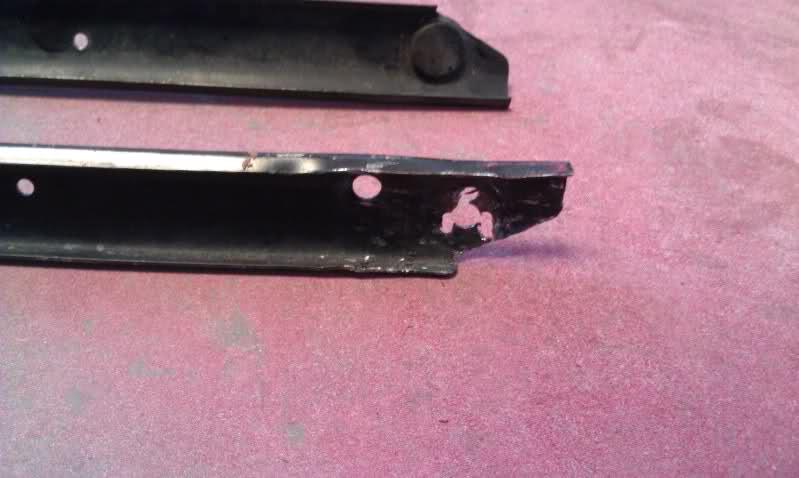 Are you thinking what I'm thinking?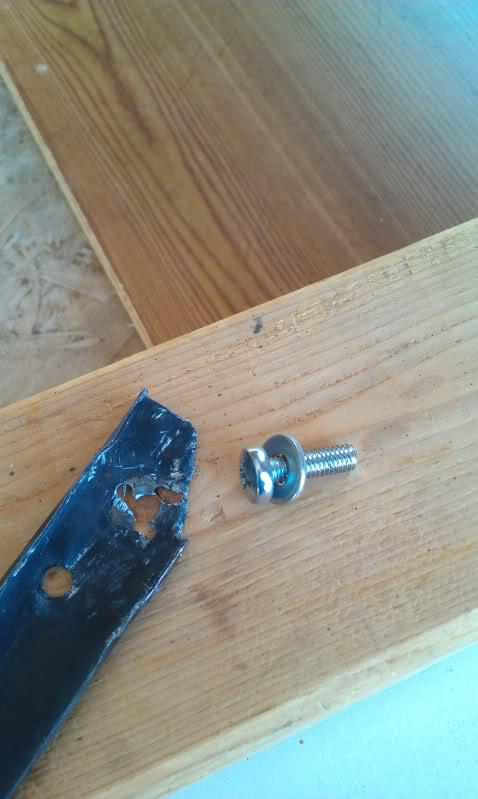 A little welding action, some angle grinder action, and some flat black spraypaint later: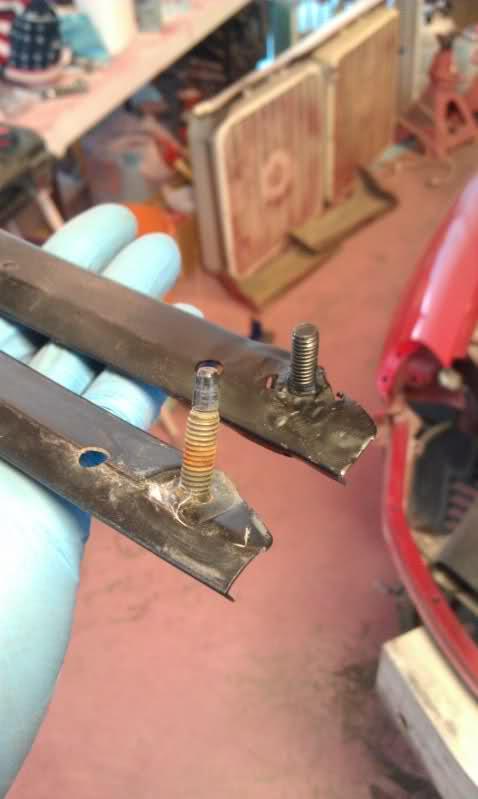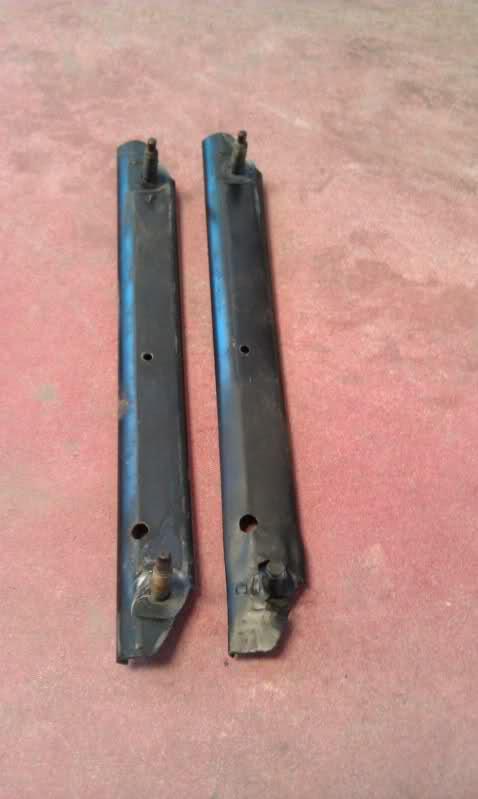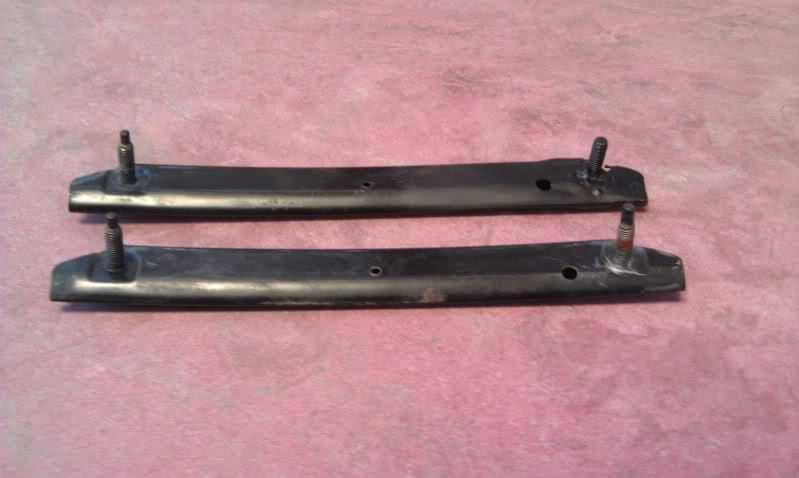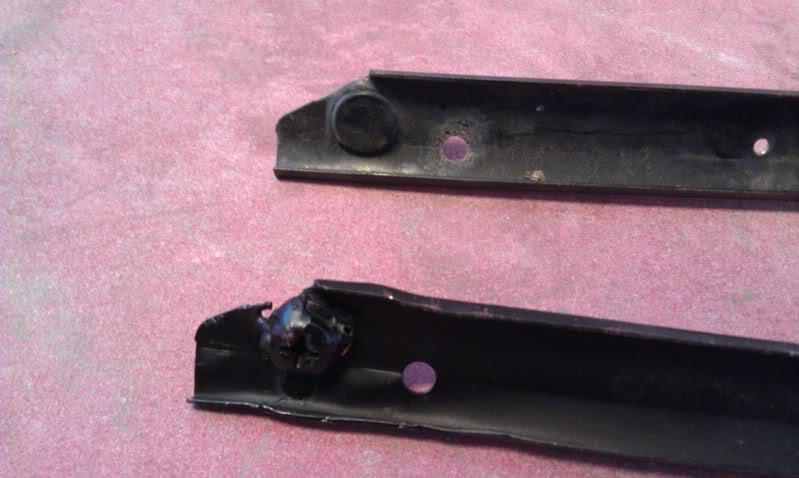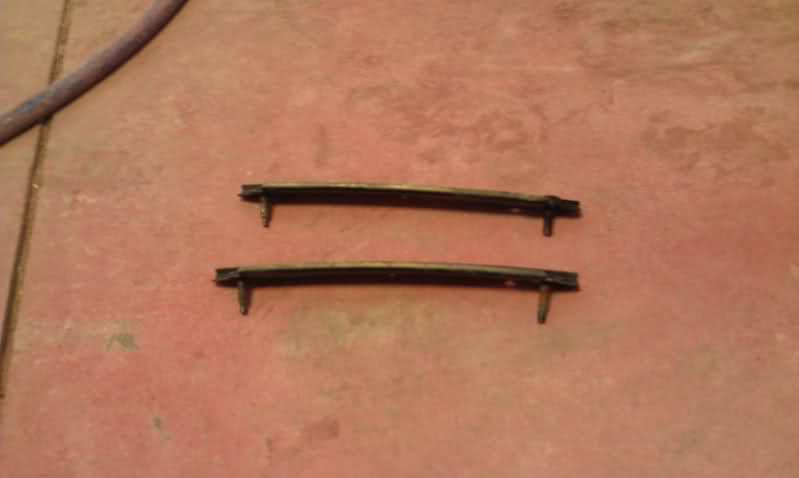 Can you tell I'm kinda proud of my handiwork there?

All of this nonsense was basically groundwork leading up to the piece de resistance, the focal point of the body swap, the main purpose of this entire venture - the front bumper.
*light shines down from heaven; angelic chorus in background*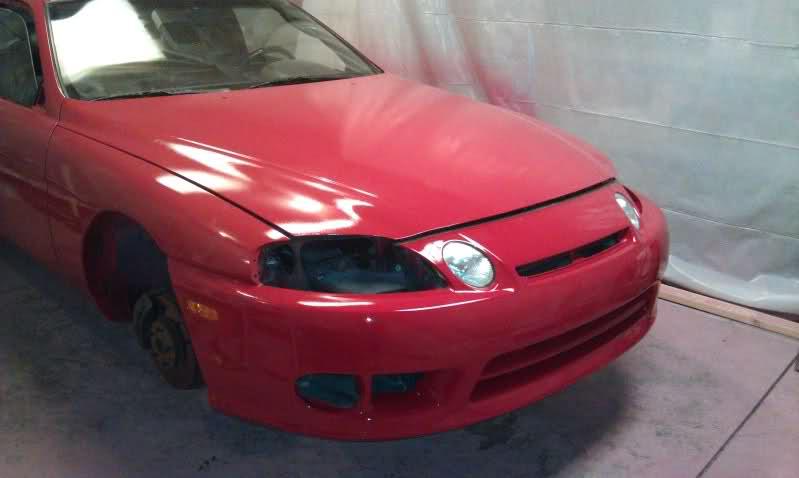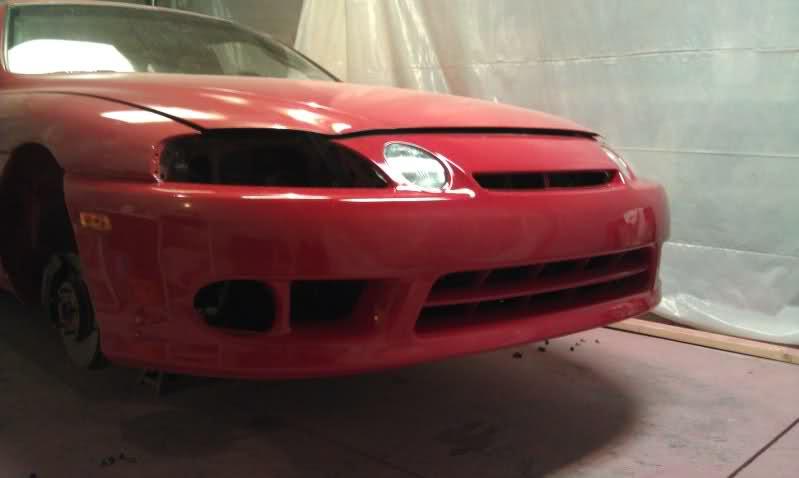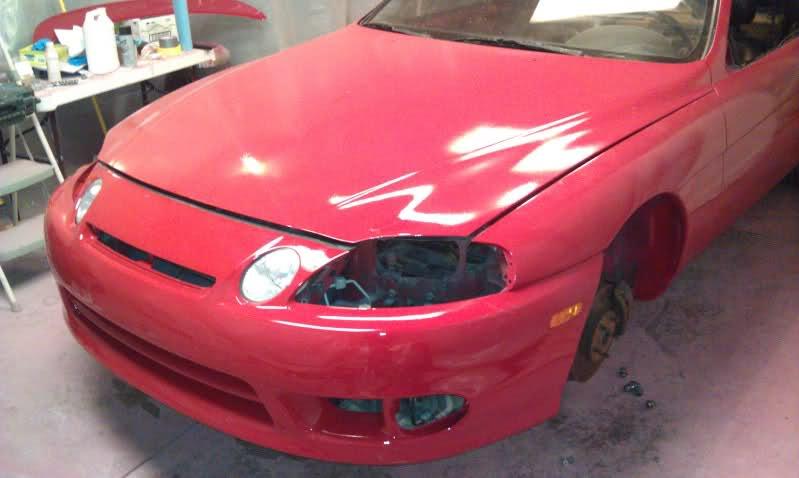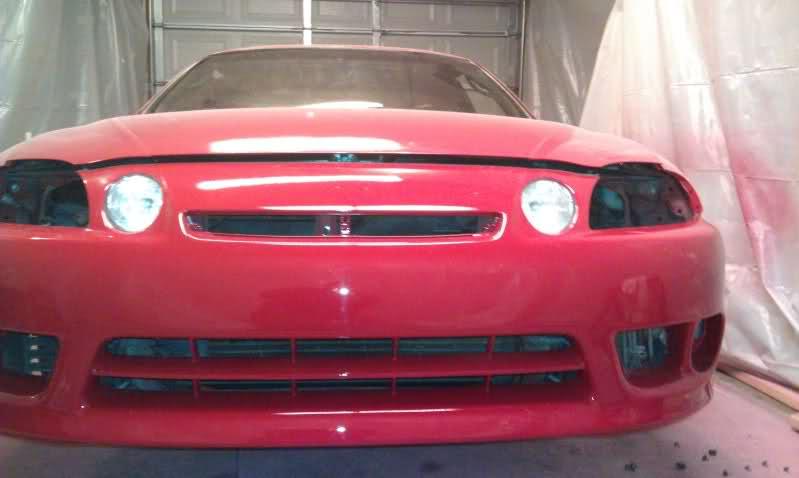 Rear bumper is on as well, but it's hard to get decent pics in the cramped, dark garage: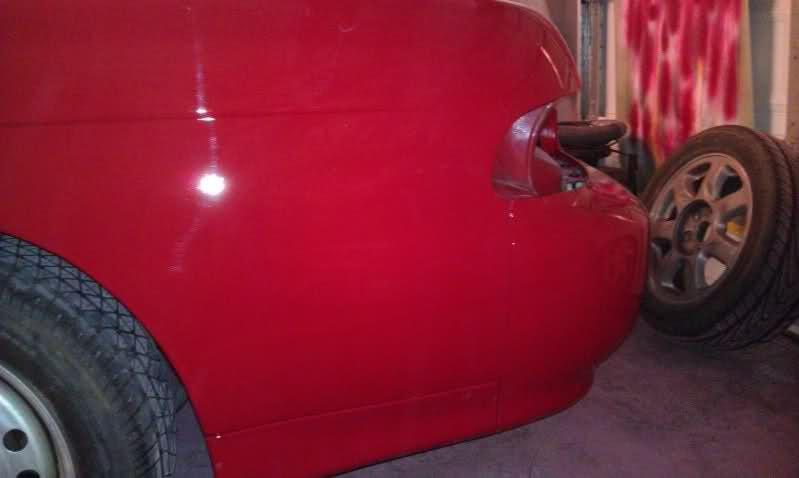 I have a couple of reassembly questions as far as the front bumper and inner fenders go, though. I don't remember from disassembly how this fits together.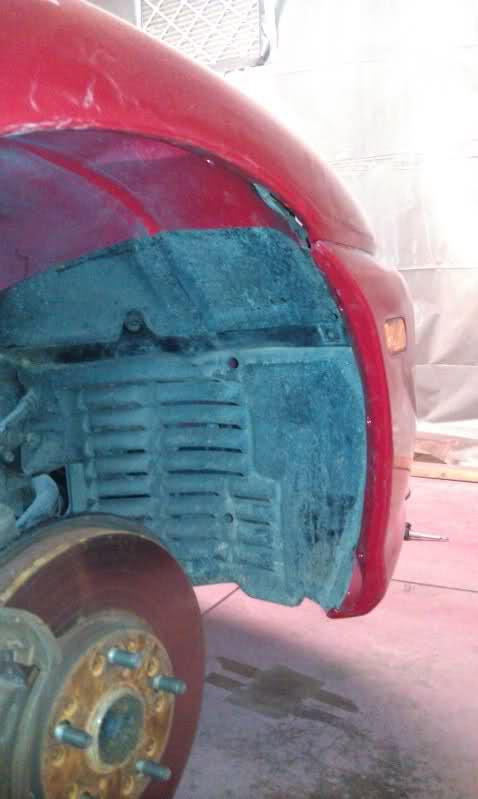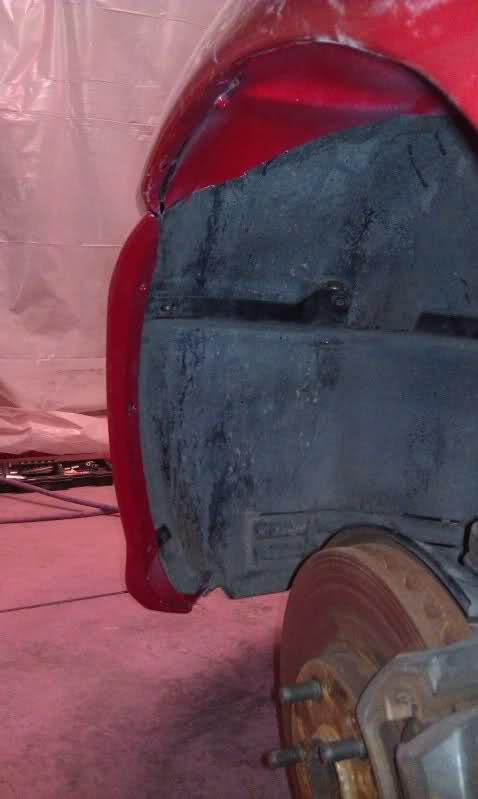 Does the lip of the bumper overlap the fender liner? If so, how do the plastic speednuts go on? Seems to me like the speednuts clip onto the fender liner, which then goes behind the bumper lip. The screws can then sandwich the bumper lip between their washers and the speednuts in the fender liner. The holes don't quite line up this way, though, and it doesn't feel like it's snapping together quite right.
Also, I don't have holes aligned under here for pushpins. All of the upper mounting holes are lined up perfectly, and the smaller plastic cover bolts up to the subframe and the bumper perfectly, so it seems to be spaced correctly. However, I can't get any pins through these tabs and into the bumper bar. Is this a vagary of the early body/late bumper combination or do I have something spaced out wrong?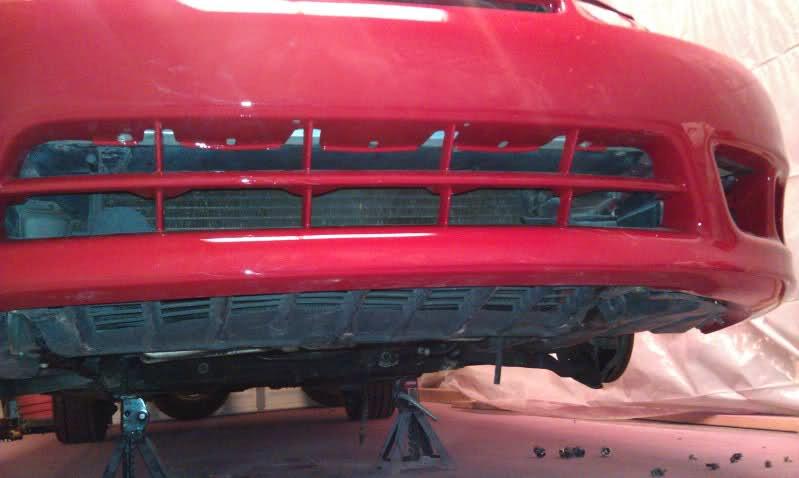 Any tips or wiring plugs/pigtails would be very handy.

9-2-2012
Back from the dead...
It's been a while since I've updated this; almost a year, in fact. Let's rejoin the tale.
I didn't get a whole lot of work done over the winter; winter is cold, and cold sucks.

Wasn't about to try to paint anything in that crap, even if I'd had the parts to paint, so I got a little bit of wetsanding done and tried to reassemble some stuff. Orange peel has been my nemesis on this whole project. I clearly (ha) need to practice some more on spare parts or something, because so far I haven't been very good at laying the clear down smoothly. I ended up with quite a lot of orange peel in the clearcoat on pretty much the entire car.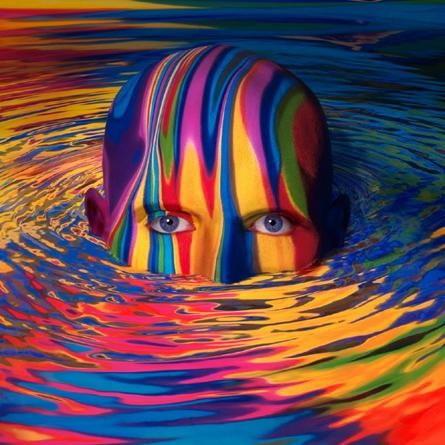 The only remedy to this is wetsanding, also called color sanding. A bucket of water with a few drops of dish soap mixed in, a squeegee, a sanding block and lots of sandpaper were my best friends and worst enemies for a good long while. The squeegee helps to get the water off so you can see the texture underneath; you don't want to sand too hard and burn through the clear into the color or primer. DAMHIK.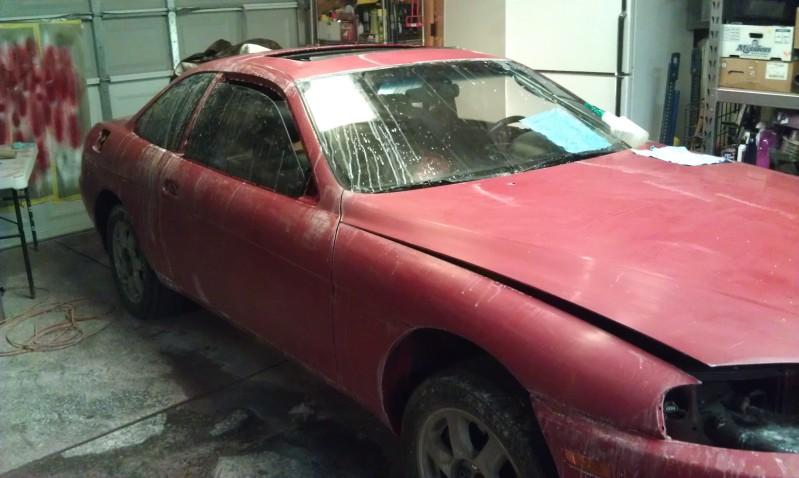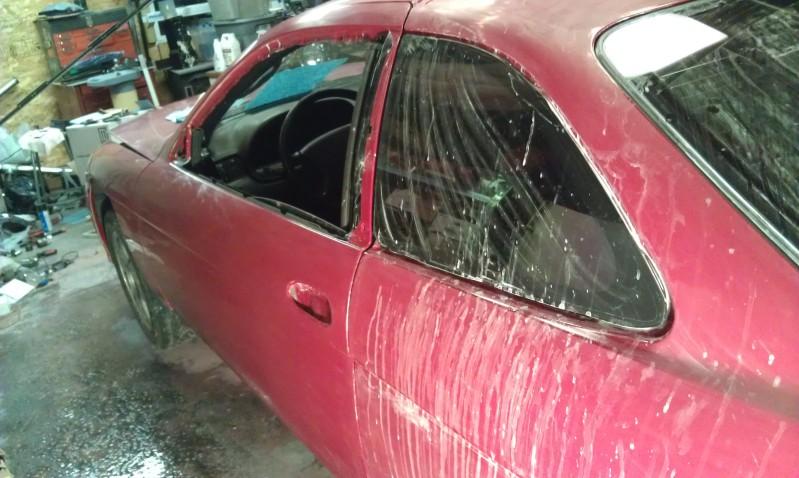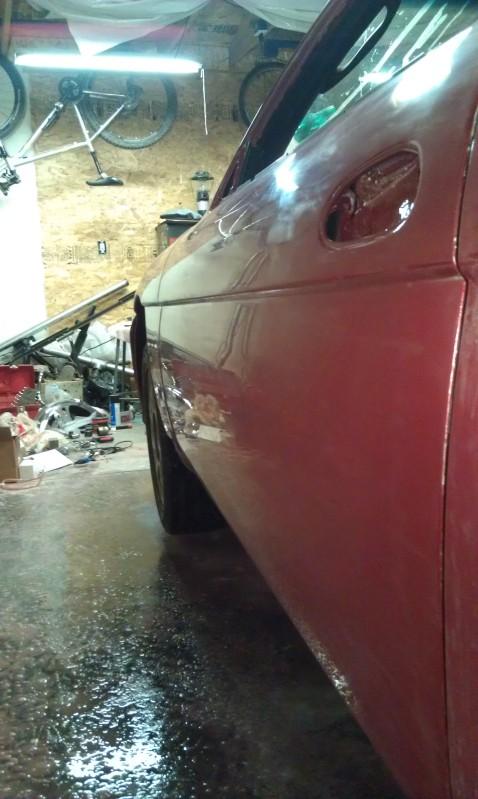 The wetsanded surfaces are smooth, but the clear still has a bunch of tiny scratches in it and these need to be buffed out.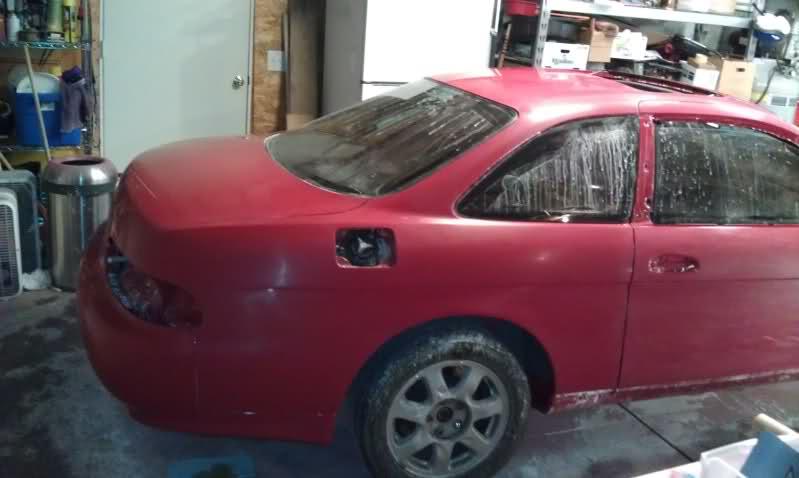 For this I borrowed a buddy's adjustable-speed Makita rotary buffer and got some foam pads for it. I used Meguiar's compounds in two stages to get the sanding scratches out and then polish the compound scratches out. When you've done all these steps, you realize why you ladled four coats of clear on there initially; you're taking what feels like a lot off the top.
Unfortunately it is easy to take just a little too much off and burn through to color or primer. I've got a few tiny spots where there's white primer showing through, and a couple where it's red but not cleared. Not too bad in the overall picture, but still. Using a rotary buffer can also be a dangerous task, like when you're going along and the edge of the foam pad decides to catch and dig, burning into the clear. I have a couple of those too.

This is not a show-quality car, but to the average observer it looks damned good and even I don't notice the flaws anymore (and that has taken some doing because I've been such a perfectionist on this project lol). Overall, though, it did turn out rather well.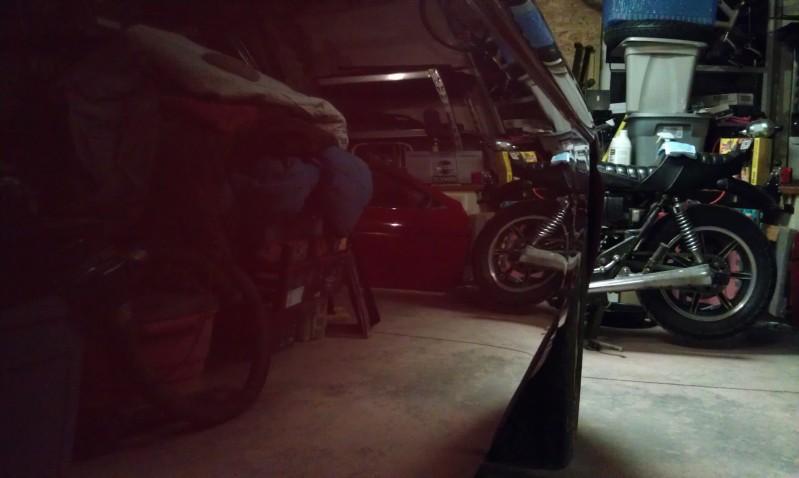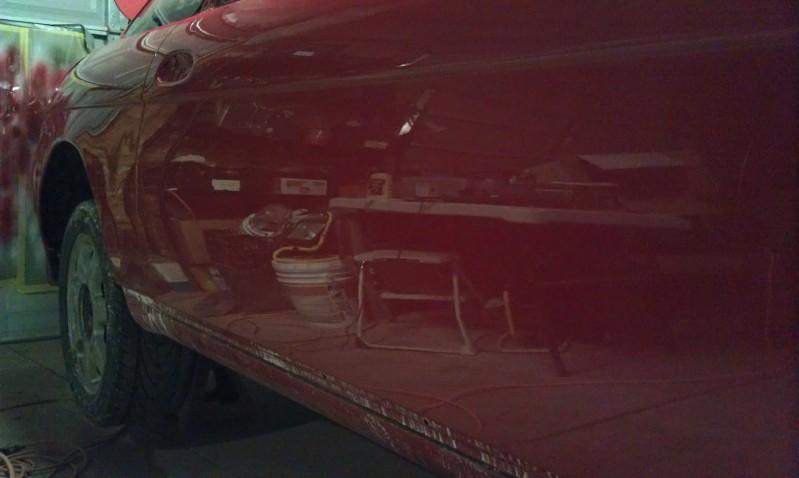 Anyway, after I got the car sanded and buffed, it was time to start reassembly of lights and trim. Those headlights are a ***** to get back in with a new, unstretched bumper cover! Quarter window trims are no easy task, either. But, with those in/on, it was starting to look like a car again.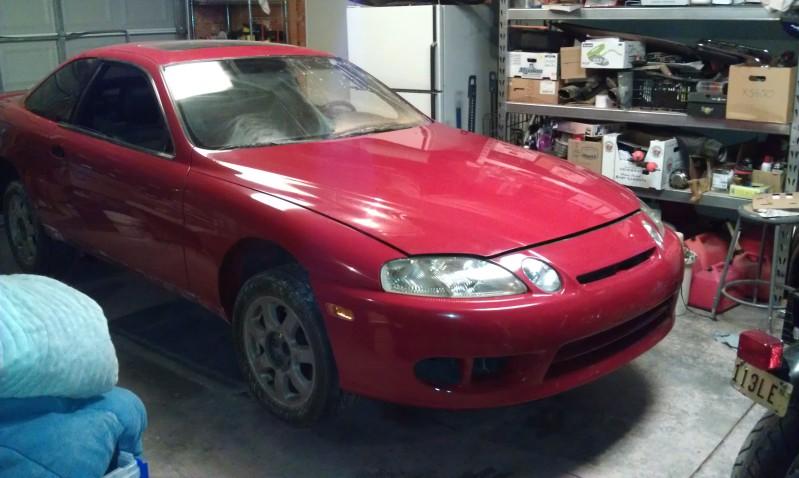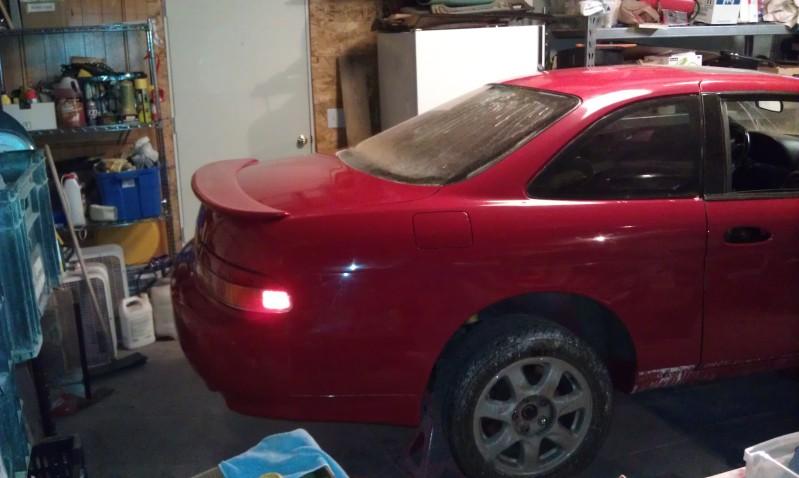 I had begun this project without even having all the body parts that I needed, and due to lost motivation and lack of funds over the winter, I had not made any further progress on that front. In order to finish the car, I needed to acquire and paint just a few more finishing touches. The new acquisitions were sideskirts and door moldings, and I had to paint the door handles, mirrors and gas door that I already had. I was running low on base coat at this point so I wanted to do all these in one batch so as not to waste paint.
Prepped and ready to go: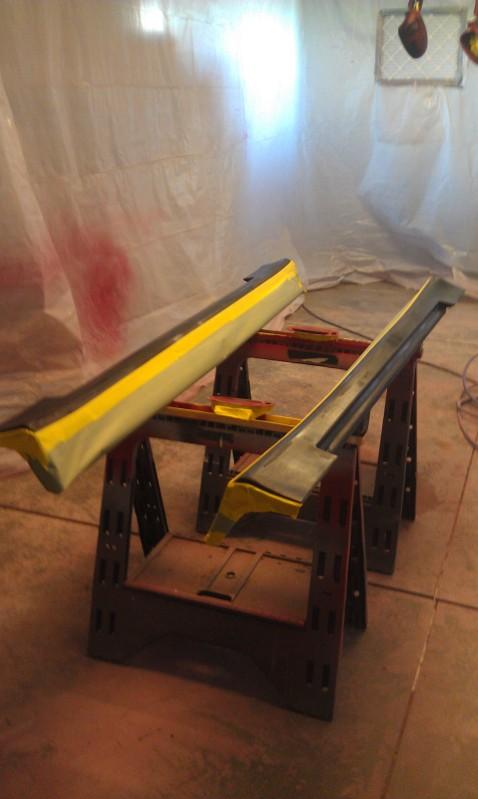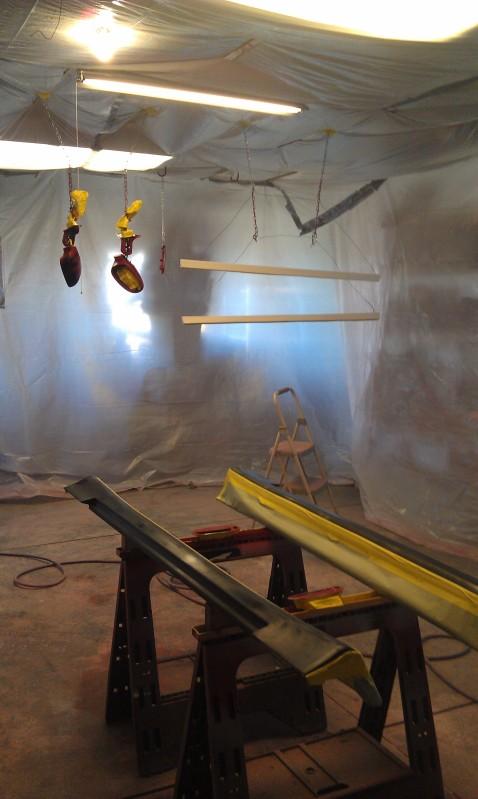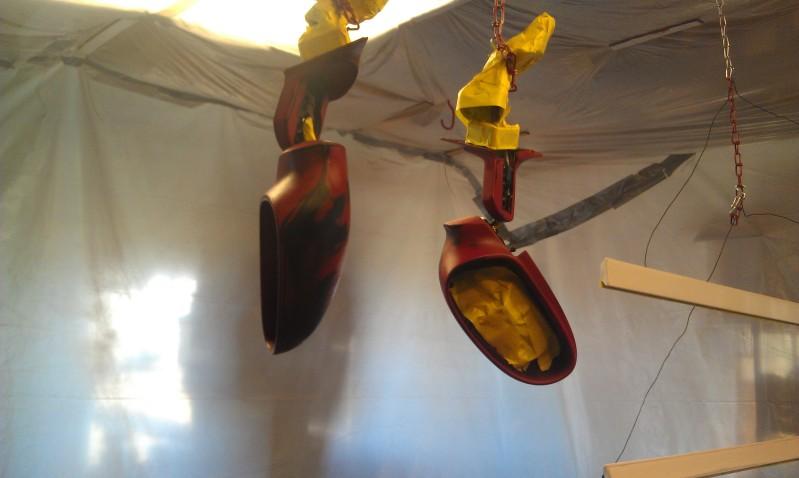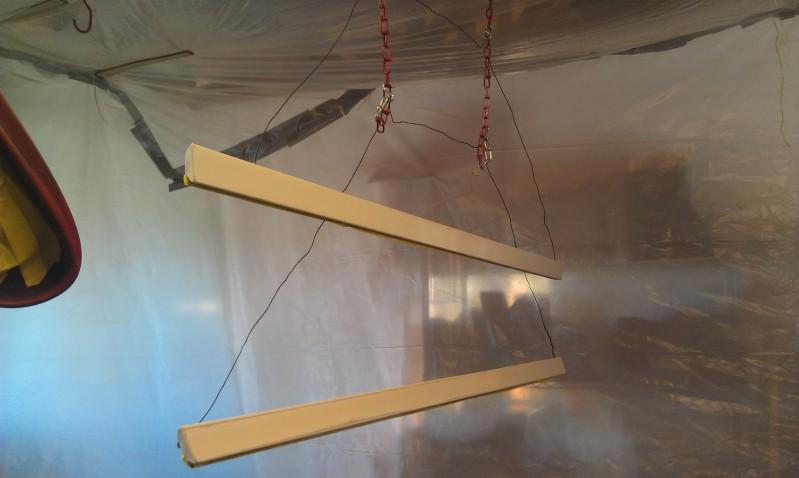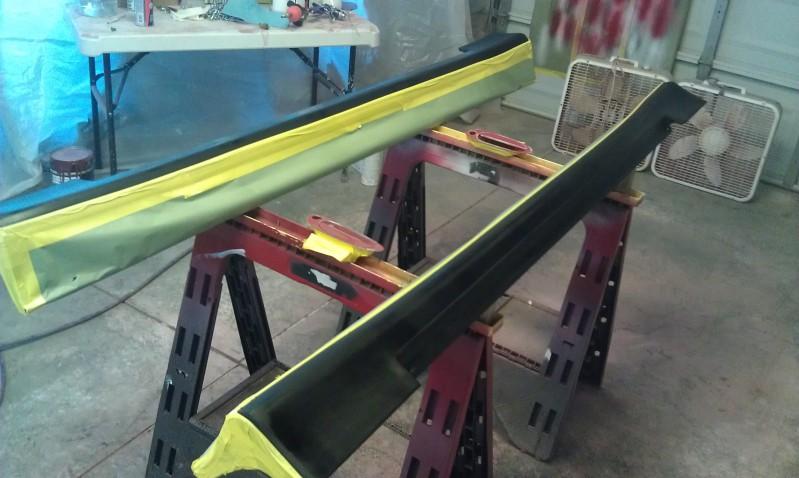 White: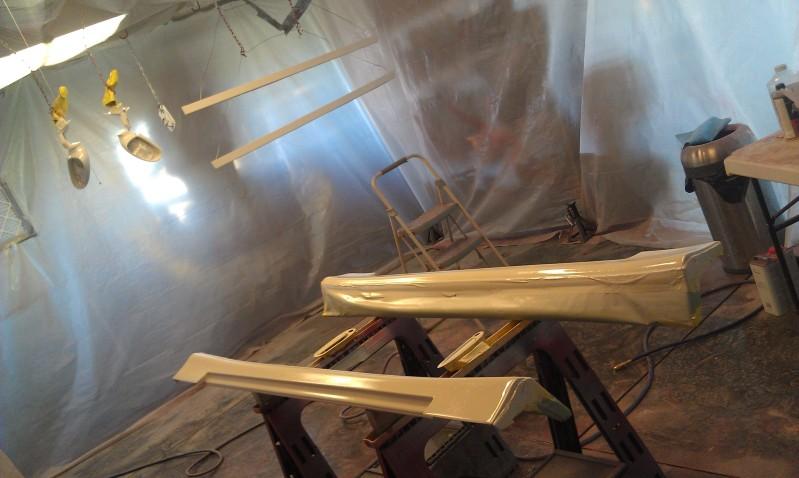 Red: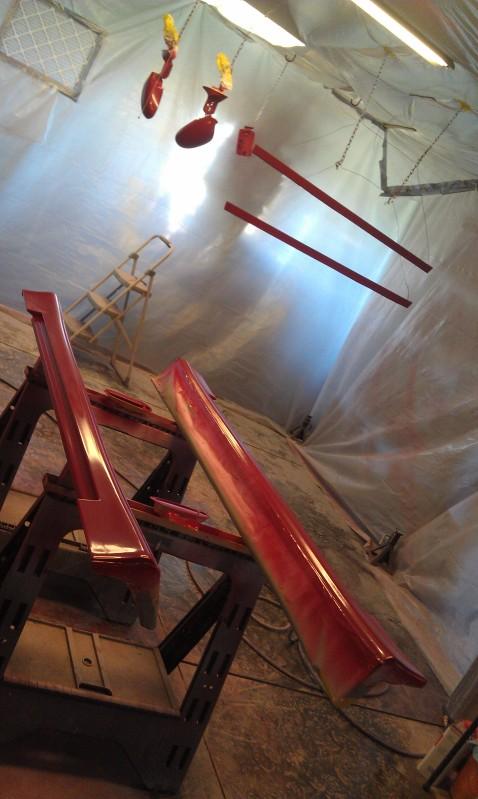 Bein' goofy (paint fumes getting through the respirator?)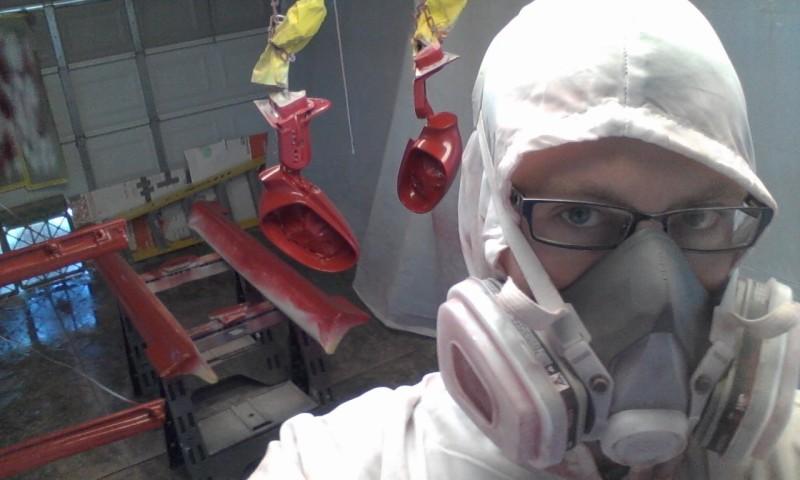 Finally, I managed to lay down some glassy-smooth clear, and on no better part than these!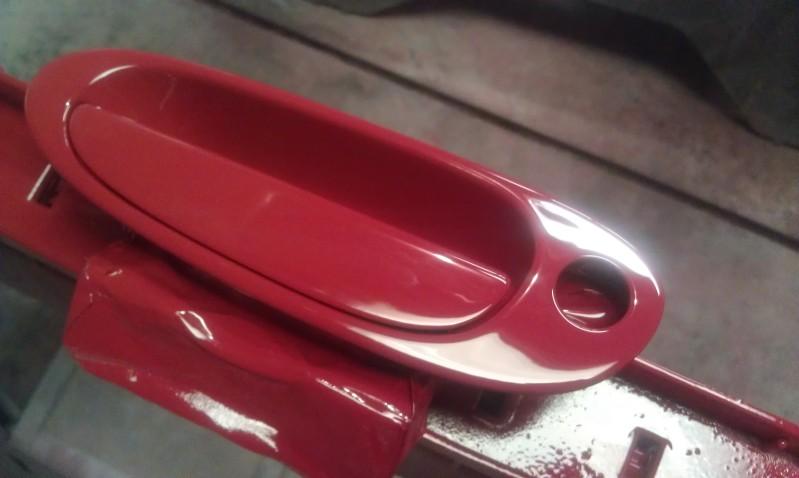 Time to start putting stuff back together. Had to pick up some bits and bobs from the dealer: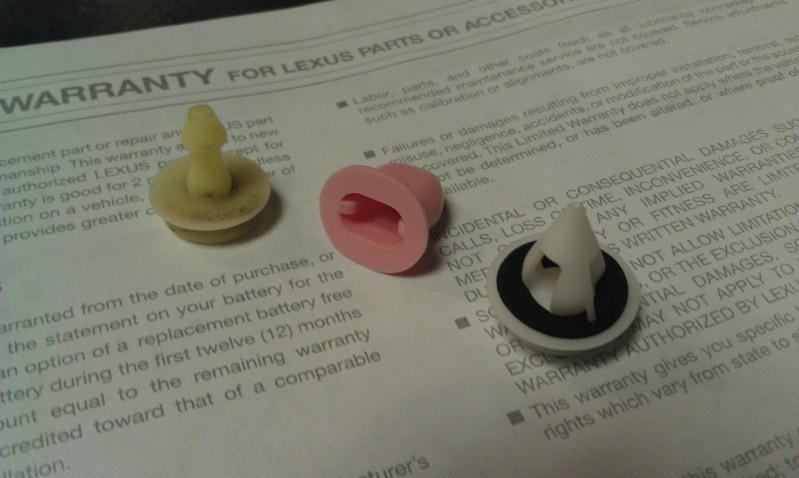 Some of the '95 pieces work, but there are a couple spots where you need the '97+ bits: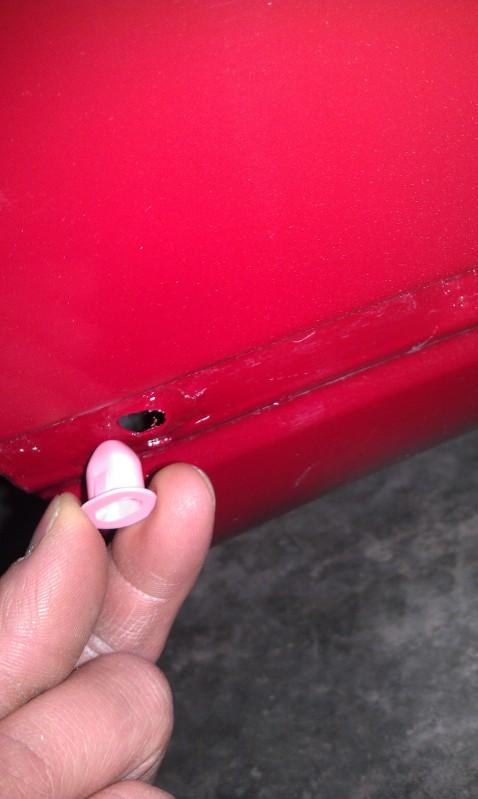 Side skirt with all clips/studs in place: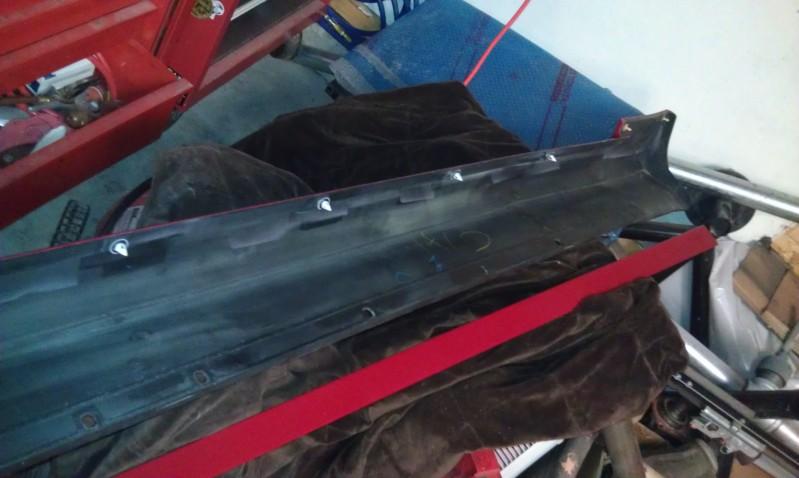 25 images per post......
Swapping clips between door moldings: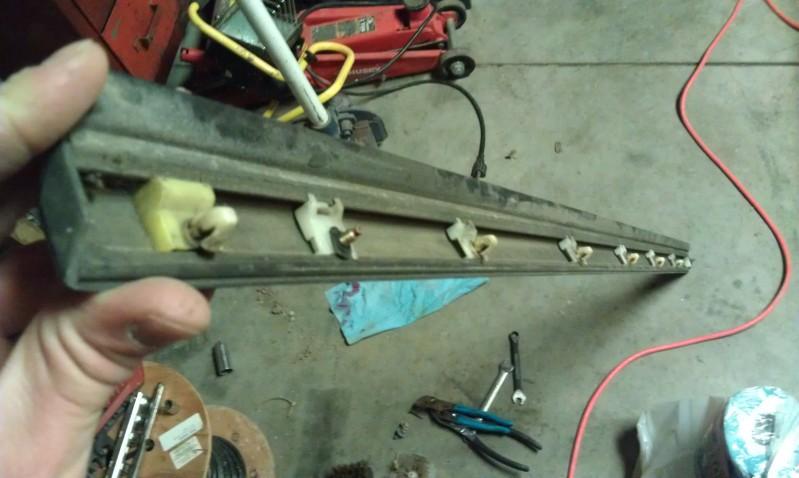 Done up and looking legit!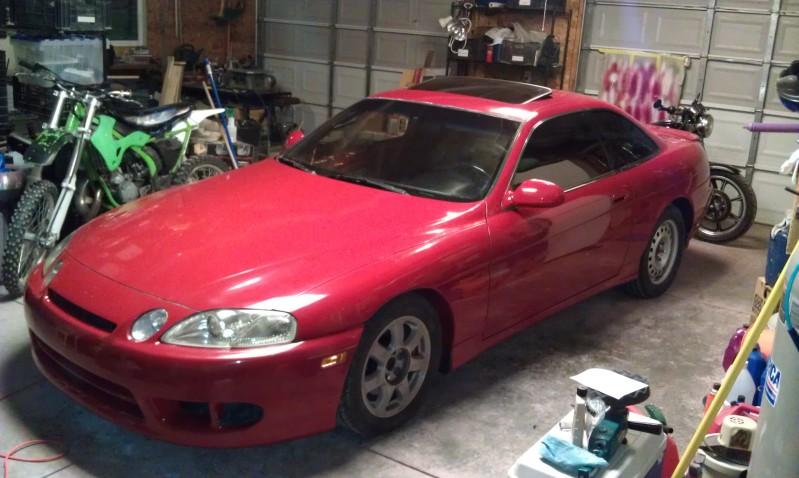 It was time to turn my attentions to the interior, so I cleaned up and fiberglassed the rest of my door panel and put it back in: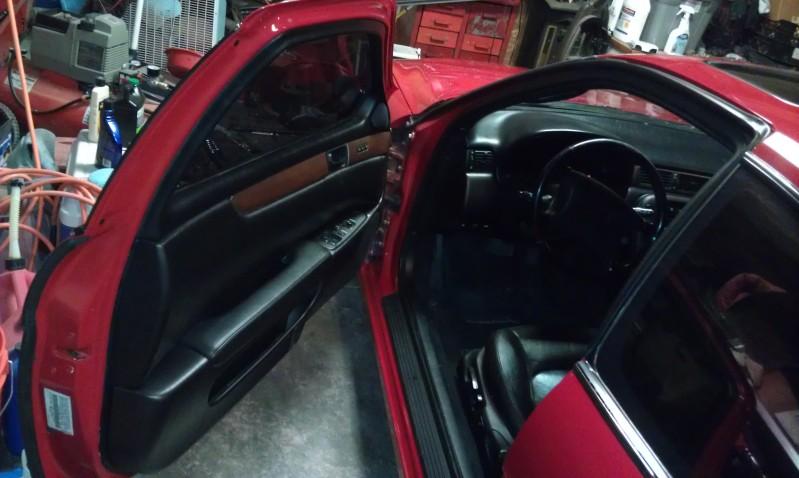 Turns out I forgot to plug in the seat position buttons so it's gonna have to come out again at some point

Painted my badges satin black - they're not plugged into the holes all the way yet here so they look like they're floating, but I like the overall look. Beats the hell out of gold.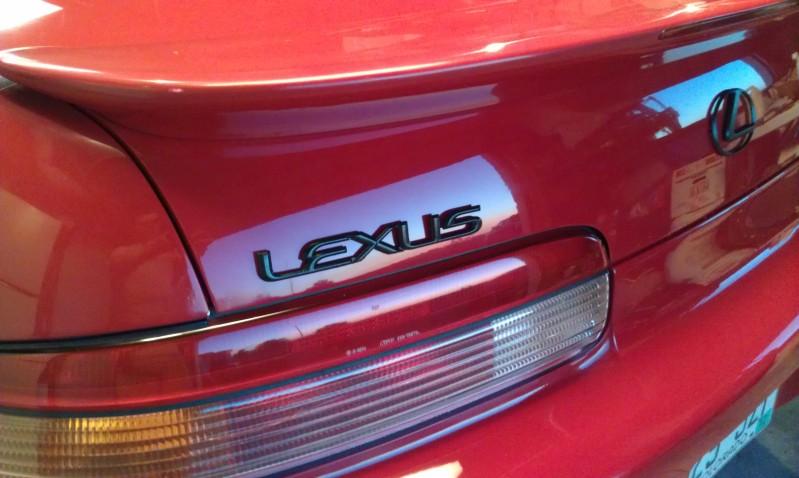 Now we get to a few months ago.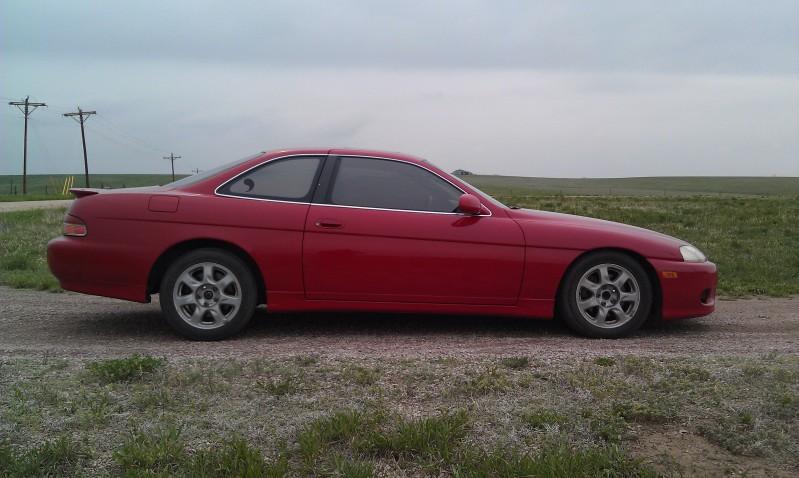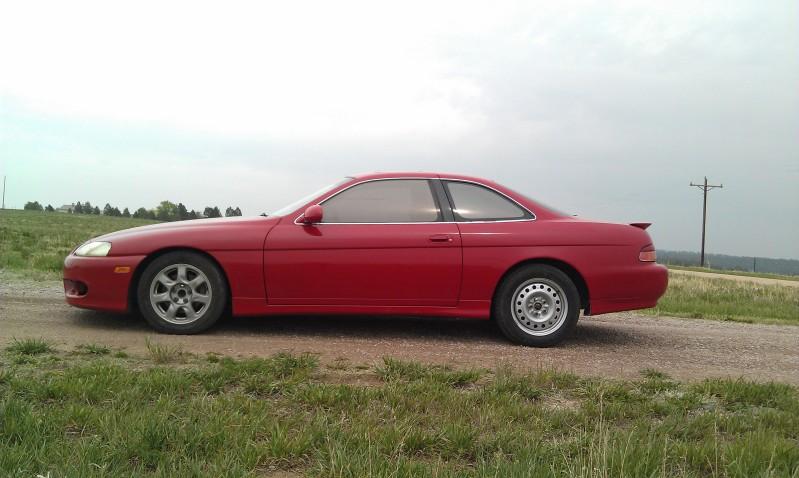 I took it out of the garage and drove it up the driveway, and realized that the power steering system was pretty fubar'd. Horrible feel and noise when turning, although quiet when stationary. Between that, the rear tires being all jacked up, an overheating issue, and wanting to sell it in favor of another motorcycle, not much happened on the car for a while. Last weekend I decided that I should figure out the power steering so I flushed the system - no difference. I pulled the solenoid and cleaned the (clogged and filthy) screen - big difference. That got me inspired enough to get two new rear tires mounted, the spare put back, ride height set, and a shakedown run planned. I did most of that yesterday morning and headed into town. Within a hundred yards down my dirt road, I figured out two things: one, the power steering wasn't as fixed as I'd hoped, and two, that the rear end was about to fall out from under the car. The whole ass end of the car was swaying and shimmying so badly that I had to actually countersteer to keep the car straight. Figured out quickly that it was massively misaligned from the subframe swap (*cough* two years ago *cough*) so I limped it in for an alignment. Due to my power steering rack being shot to hell they wouldn't align the front, but they got the rear toe (all two degrees each side of it) and negative camber dialed in so I won't wear out these new tires in 500 miles and can track straight down the road.
Getting gas in town for the first time in over two years. Did I mention I lived on a dirt road?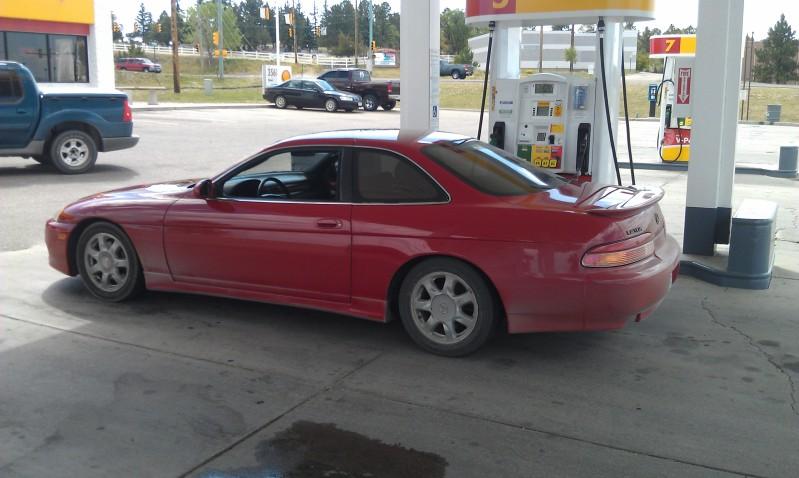 Headed to the car wash after gas and alignment. Sprayed down the engine bay and rinsed the dust off the car, shined up the tires and went across the road for some quick pics. It's been a long time since I've taken pictures of cars, so forgive me for the crappy composition and lousy phone pics. Plus, due to the steering being hard and loud as hell, I didn't exactly want to move the car a bunch of times.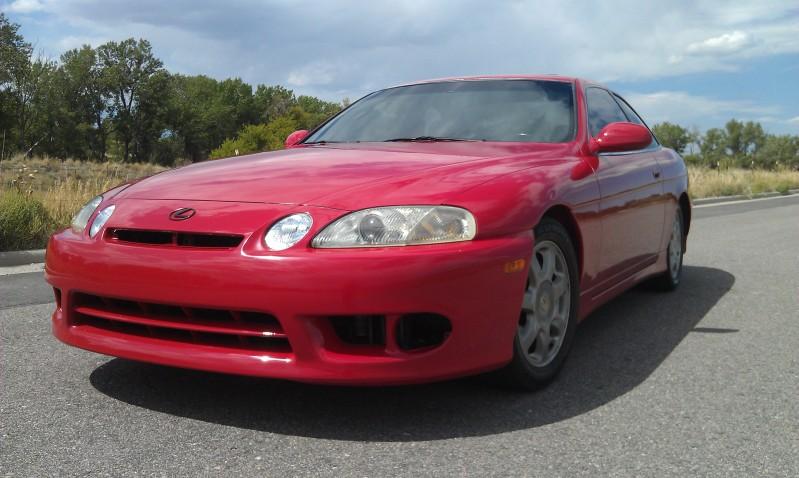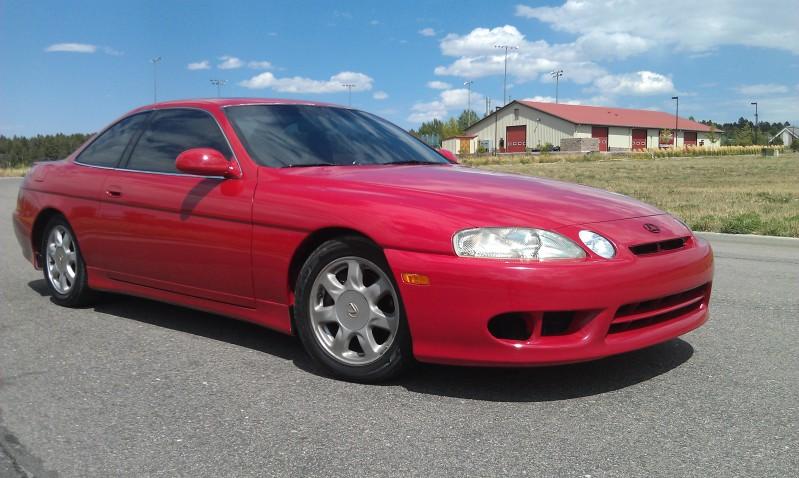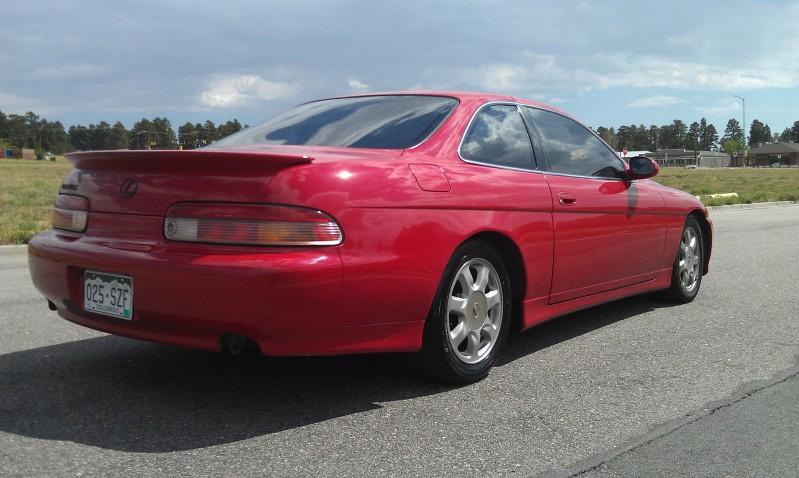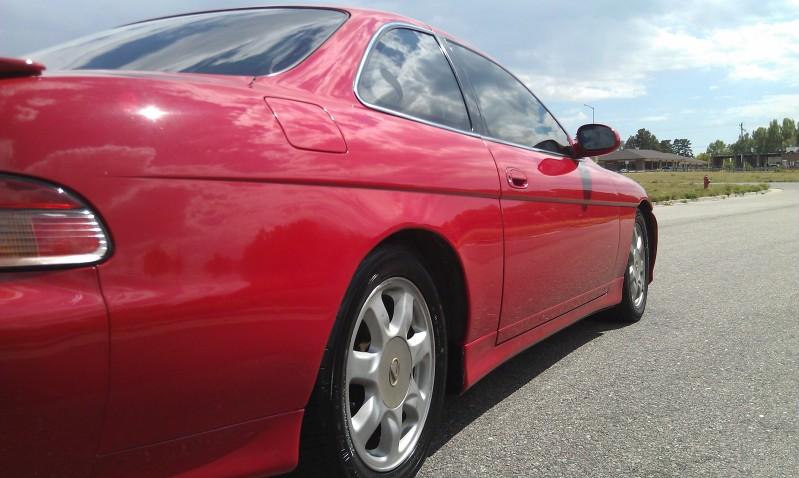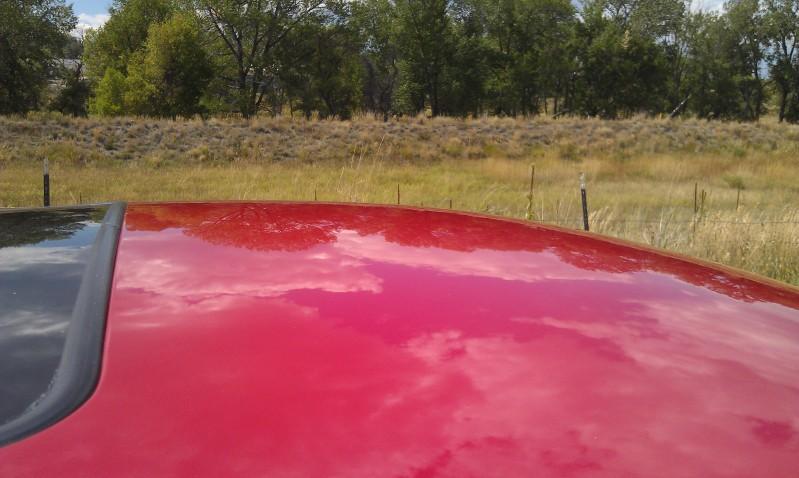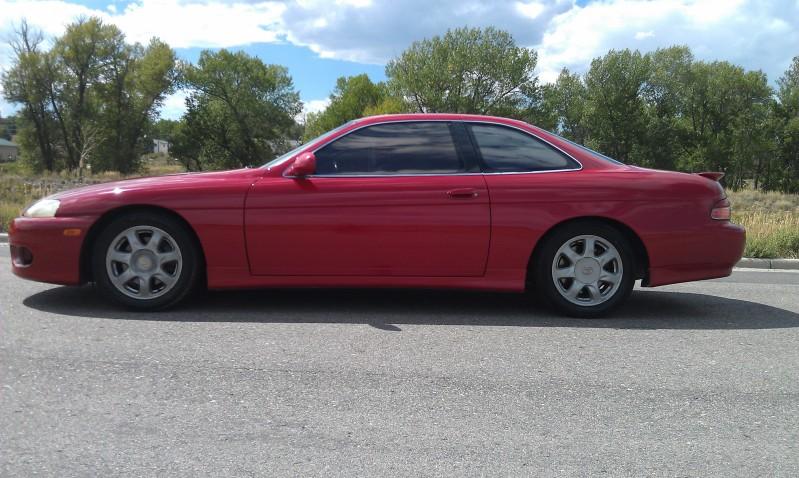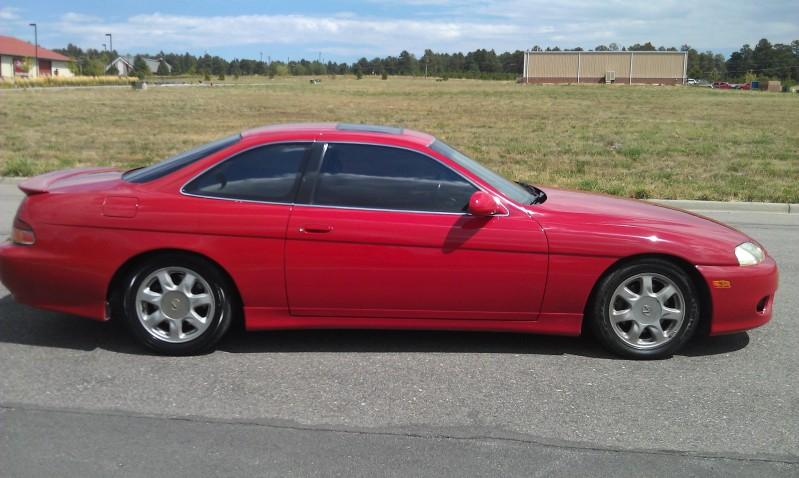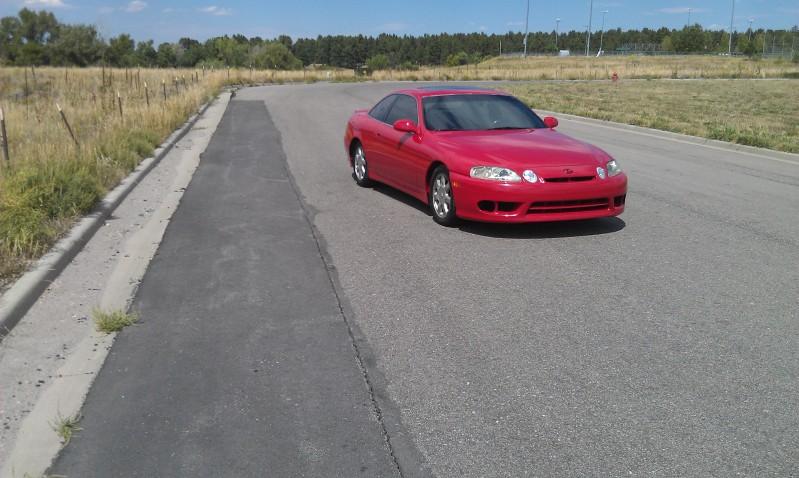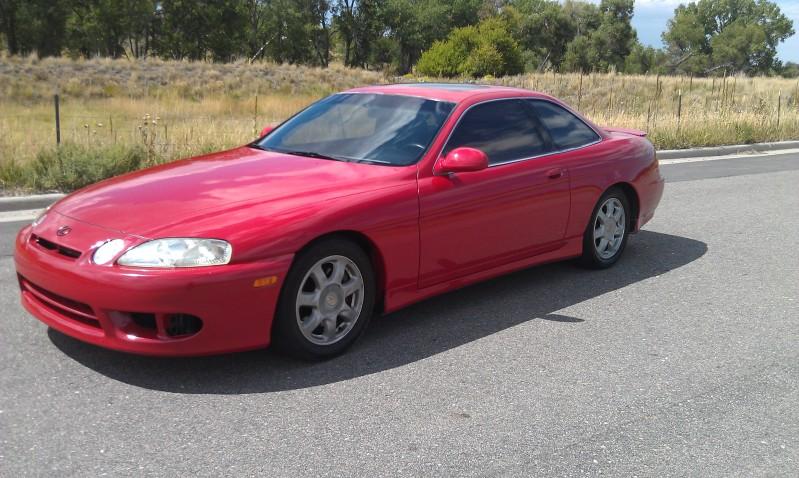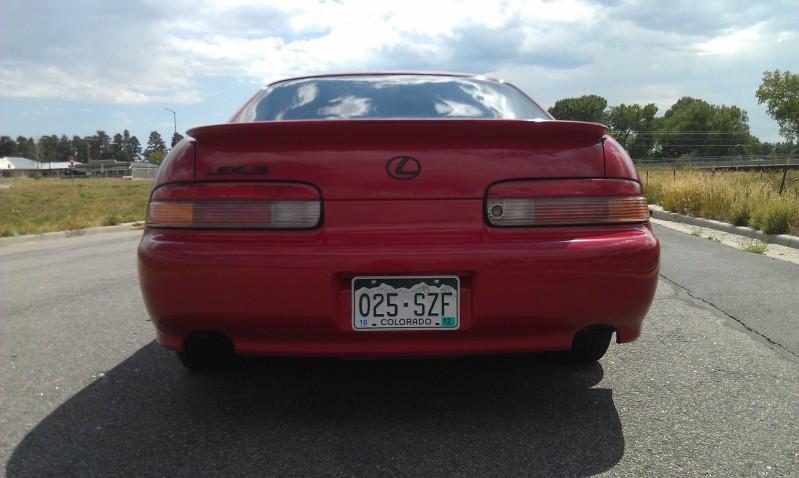 After that I headed into Denver to meet up with a guy for a couple of SC parts, got food, etc., and ended up doing about 140 miles total. Not bad for literally the first time the car has left my driveway in two years. The power steering is completely shot and the rack will definitely need to be replaced, and I'm going to put mufflers back on it due to the drone and redneck cackle of the open X-pipe, but aside from that it seems to be in fairly decent shape. I almost want to keep it now.

So now is the dilemma - keep it and do stuff to it now that I can actually drive it and it looks pretty, or sell it so I can buy another bike? I'm looking hard at the '08-'10 Buell XB12X Ulysses, which is essentially a sportbike with a comfy riding position that can handle mild offroad (like my road) and carry some luggage (which I need if I'm going to be able to commute or make useful errands from home). After yesterday I'm half tempted to slap a rack and pinion and a radiator (oh yeah, it gets hot at a standstill) in the car, drive it on weekends and occasionally to work, and look for some wheels, redo tint, maybe a mild system, etc. But, I'll have to wash it every time I even leave my house if I want it even halfway clean, and it doesn't get the kind of mileage I'm looking for from a bike, nor is it nearly as fun as being on two wheels. I think I'd use the bike a lot more than I will the car. Decisions, decisions.