Builds
Build thread - new paint and body for 220K mile SC400 by Asha'man
By diyauto
You must be logged in to rate content!
9 minute(s) of a 56 minute read
Build thread - new paint and body for 220K mile SC400
Compliments of Asha'man @ www.clublexus.com
3-27-2011
I guess I'll start a build thread to document the progress or lack thereof that I'm making with my car. I probably should have started this a couple years ago but all I've done since then was simple stuff like control arms and coilovers, so whatever.
When I did the coilovers and went in for an alignment, the guy called me and said he couldn't get the rear aligned as the camber bolts were all frozen in place with rust. The car spent the first six years of it's life on the salty roads of Minnesota, and it's been apparent on a lot of the undercarriage hardware. The body is fine but I've snapped two swaybar endlinks and several other bolts and screws due to rust. Anyway, I ended up having to source a rear subframe out of a '92 SC400 and swapped it in to get working camber bolts; side benefit was it also fixed my toasted wheel bearings.
Pics from the subframe swap: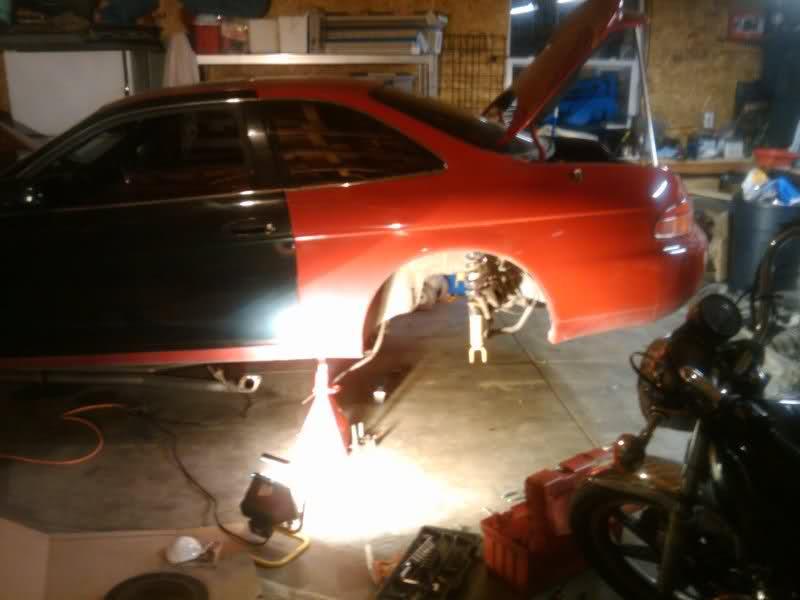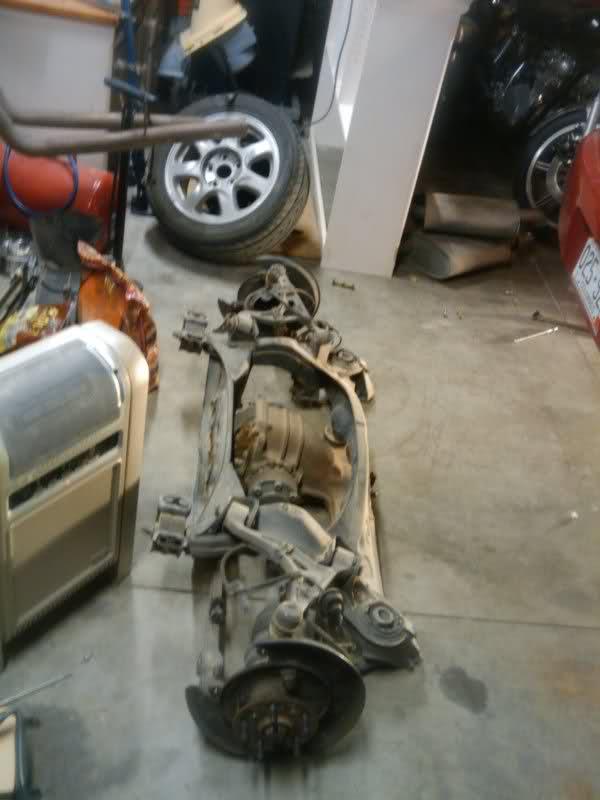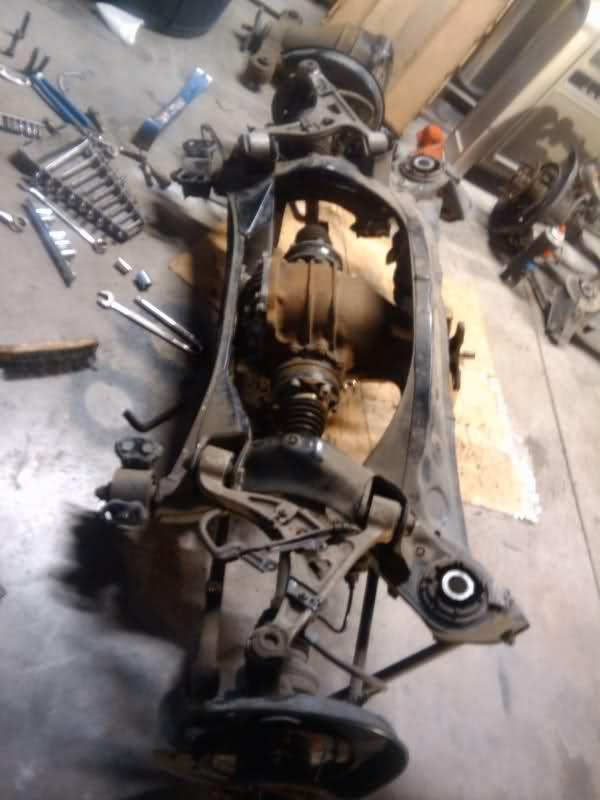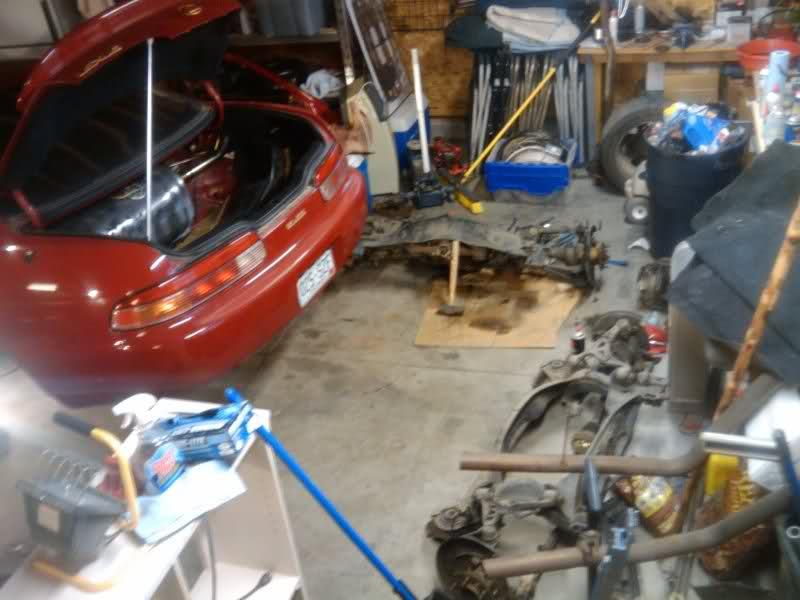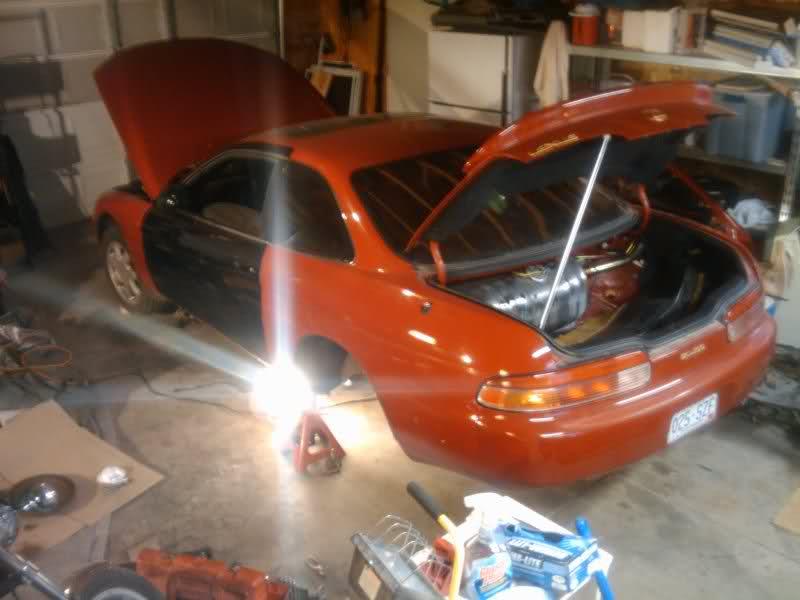 To get the subframe out, I had to drop the driveshaft off the pumpkin. To do that, I had to remove my exhaust (one piece, headers to mufflers) and I left it off as I knew it would get in the way for future work. When the subframe was done I had to jump the car so I could drive it out of the garage and nose it back in. Open headers on a 1UZ sound freakin' AWESOME.

Fast-forward to recently. I decided I definitely want to do the '97+ OEM body upgrade so I've been slowly gathering parts for that. All I have so far is the rear bumper and side extensions; working on sideskirts, fogs, grille and some interior stuff locally but the guy is a flake so I'm also looking elsewhere. Due to a solid hit on the driver's door and some horrible bondo work from the previous owner, I had to replace that door with a good one off a green '92-'94 SC300. Whoever did those repairs also left me with a lousy respray of that side of the car; that plus the fact that my paint isn't that great and I'll be adding multicolored '97+ parts anyway led me to decide to paint the car myself. I've got a couple of buddies who are good at paint and body, so I'm not that worried. My late father-in-law left us a big compressor; I just have to head to SE Colorado to get it. I'll clean up the garage (a lot lol) and try to seal it as best I can (I live on a dirt road) and make a paint booth out of it. I think that if I spend some solid time on prep work, remove everything I possibly can and mask the hell out of the rest, and use good basecoat/clearcoat paint, it'll turn out pretty well.
So the first part of that phase started last weekend with the removal of my stock rear bumper and side extensions. I didn't think I was going to have a build thread so I didn't take pics, but it's actually a fairly involved procedure to get to all the nuts and bolts and fasteners that hold everything to the body. While I was in the trunk, I ditched the stock CD changer and amp as well as the stock antenna. The black bumper and silver side extensions are just mocked up, not mounted.
Today I made it my mission to get as much extraneous trim and such out of the way of masking and paint. I found a tutorial page for the removal of the quarter window trim. Managed not to break my quarter windows, too.

I also figured out how to pull off the chrome trim from the doors. With the color change on the driver's door and the fact that I don't want masking lines along the trim, I did both sides.
Without further ado, here are some pics from today: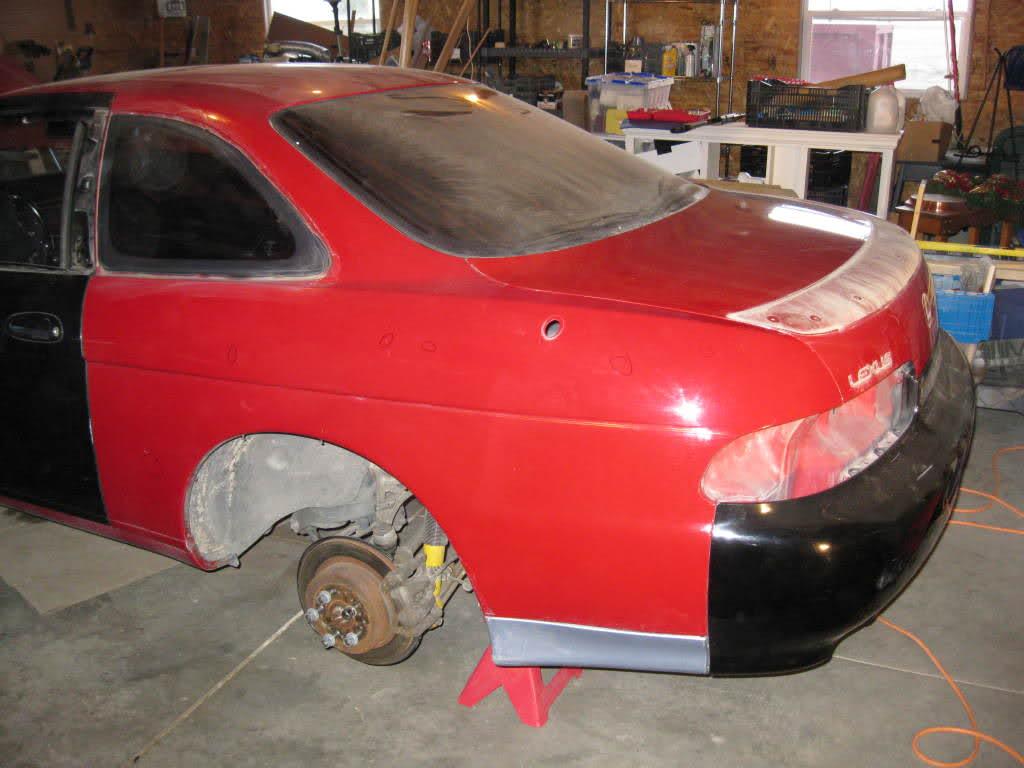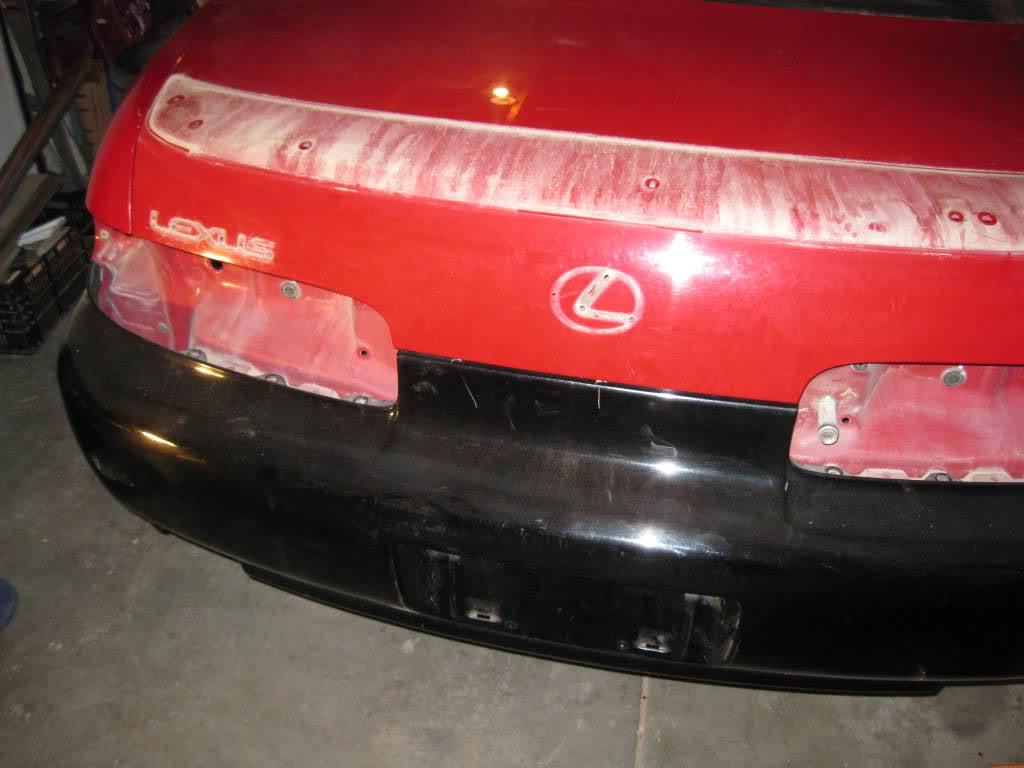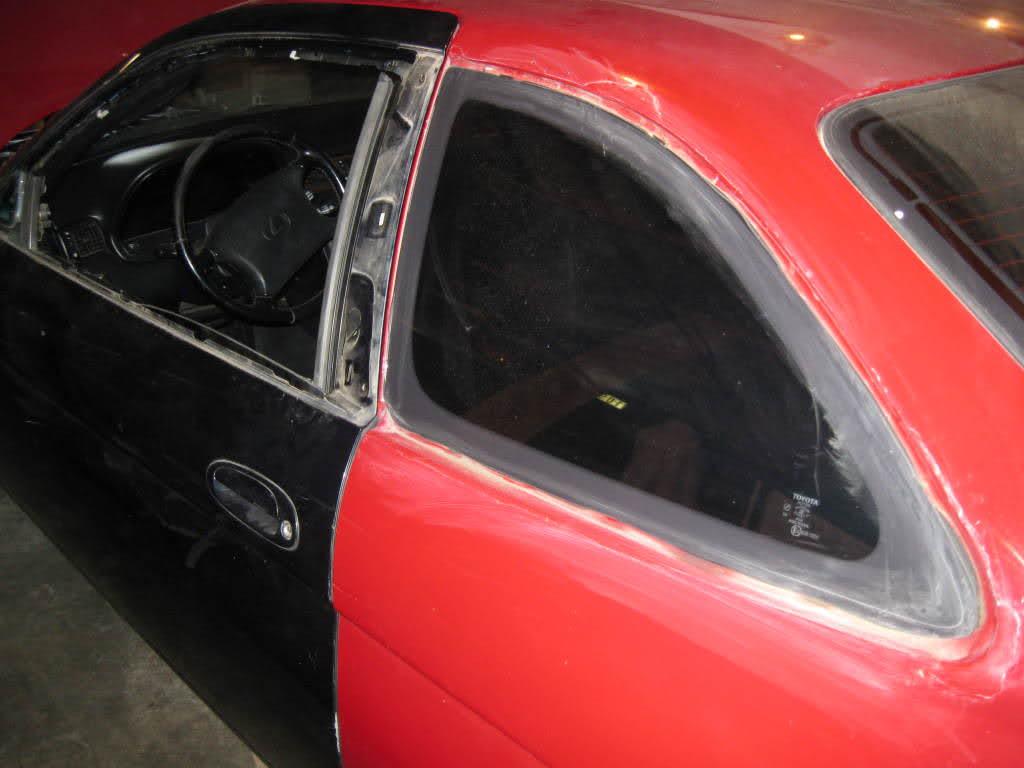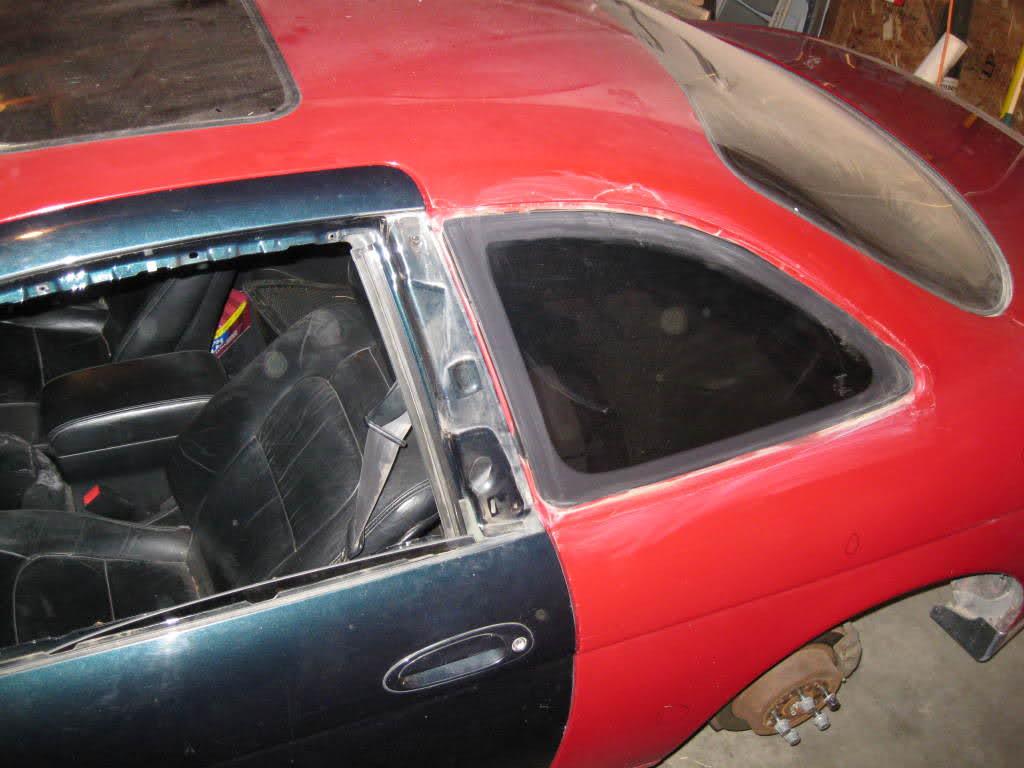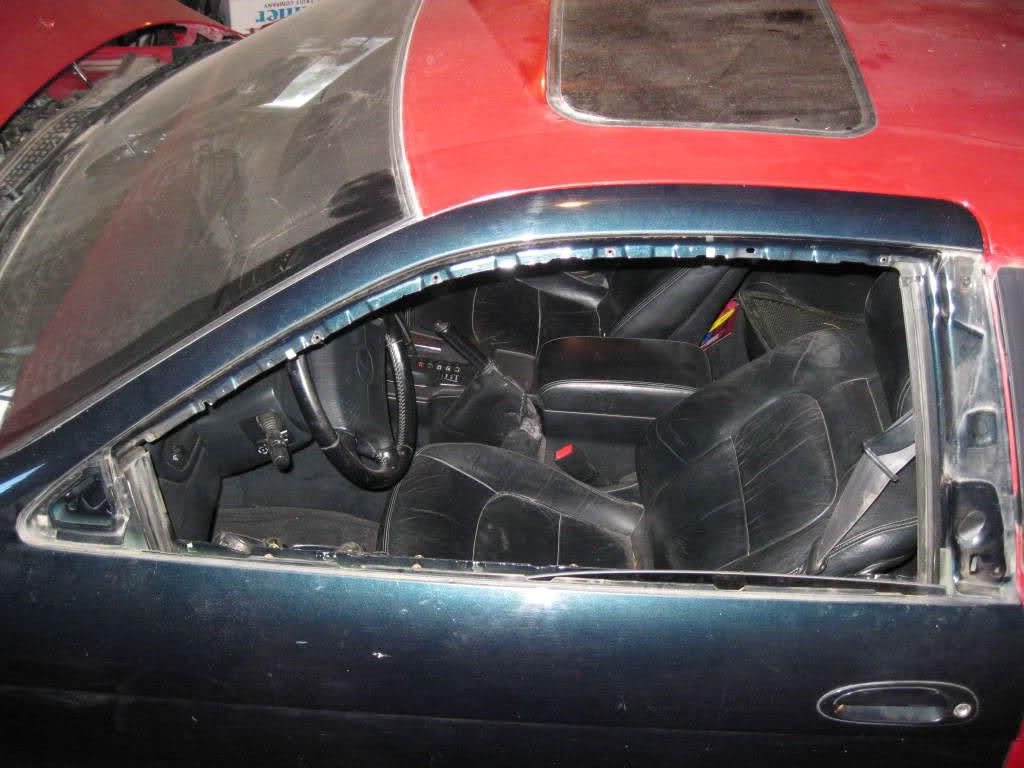 What door panels?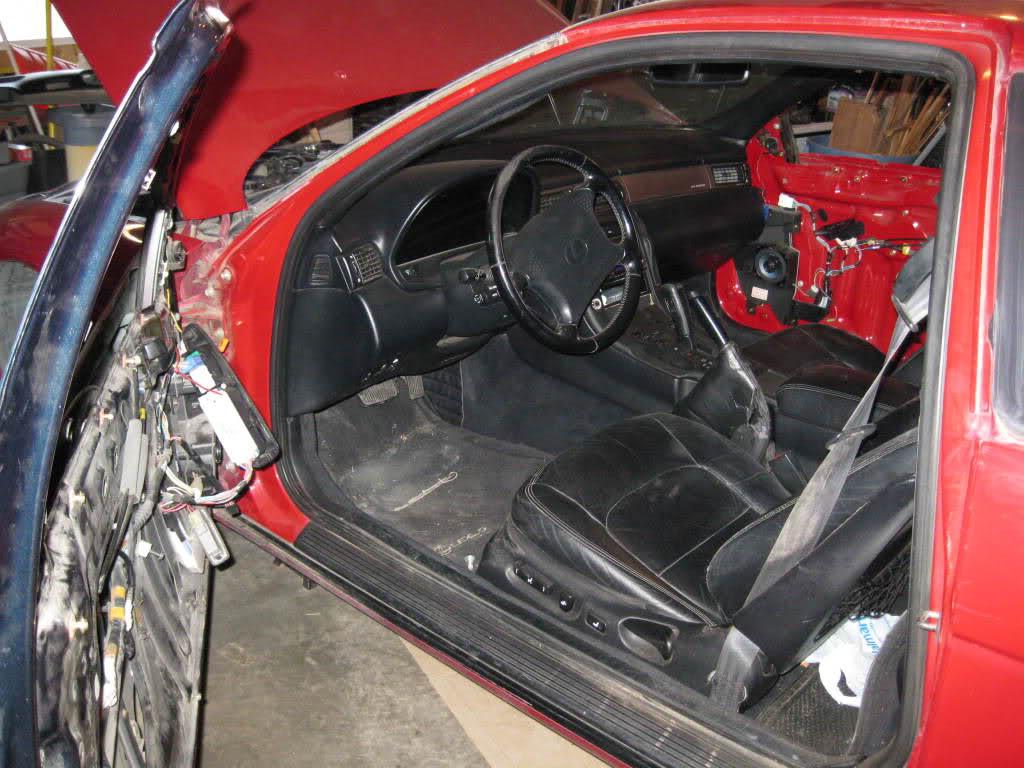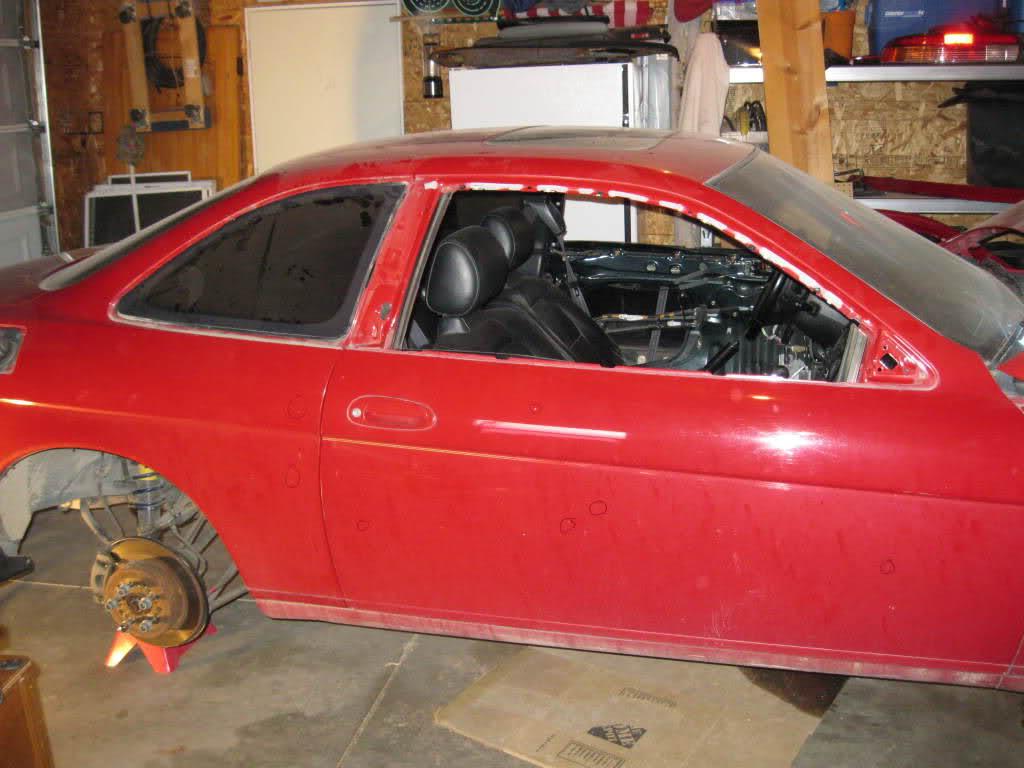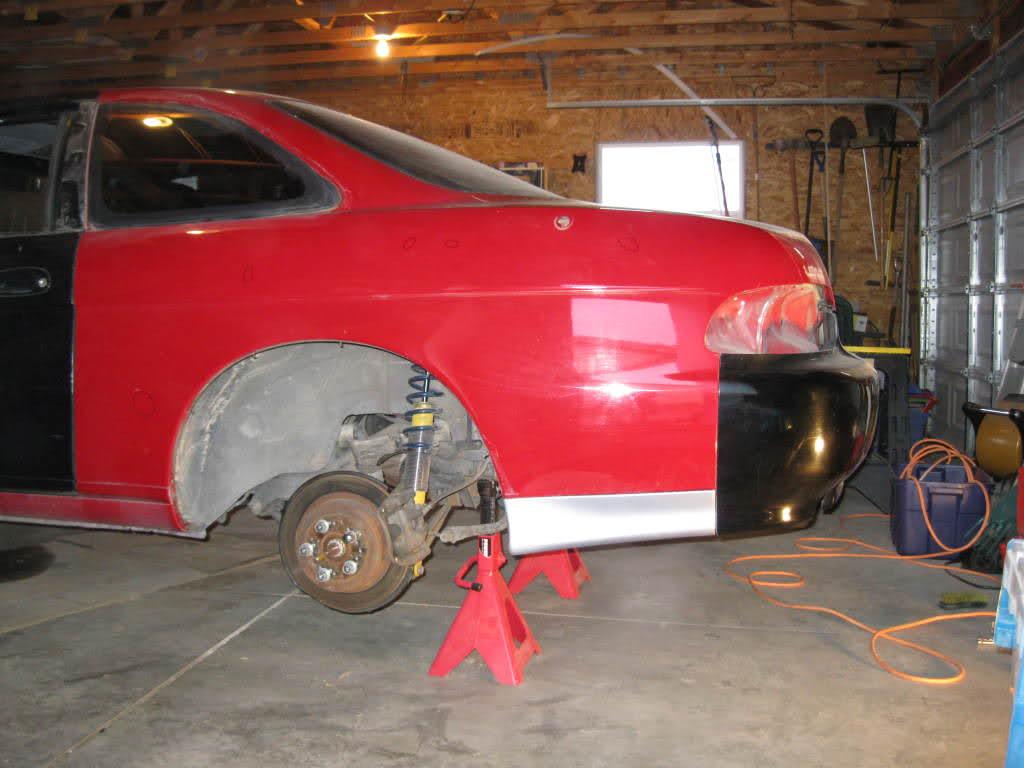 Factory black passenger door panel and in-process converted grey driver's side. Dip**** PO ruined the driver's door panel so I've gotta reconstruct something. Turns out '92-'94 are different from '95+ on the very bottom mounting holes, so I may have to paint the grey main panel instead of salvaging my factory black one. Pain in the ass. Note mandrel-bent custom X-pipe in the background.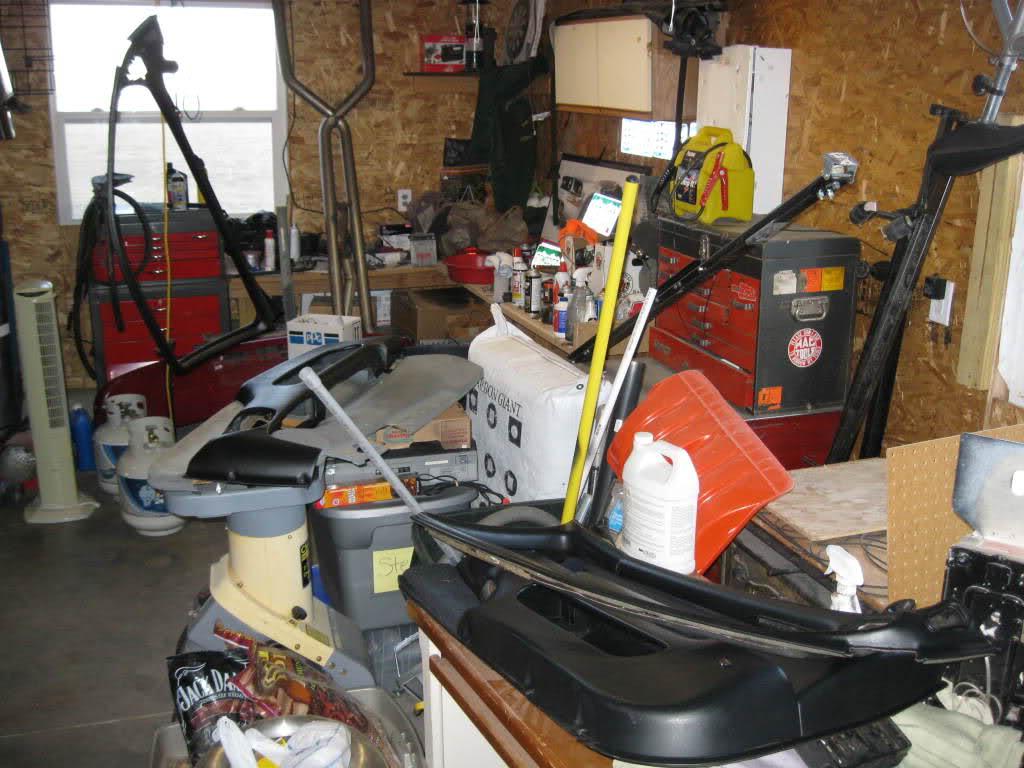 Started sanding today! I'll tell ya what, it was a weird feeling taking a block and sandpaper to what isn't really that bad a paint job. But I know it's all for the best so no big deal. Unfortunately, I don't have a shop vac at the moment so I didn't go very far sanding. I want to localize and collect as much toxic paint dust as possible as I go instead of sanding a bunch and having dust spread all over the garage in short order. Hopefully I can grab a shop vac here in the next couple days and make some more progress. When I'd gone as far as I wanted to go with that, I decided to pull the front bumper cover. Kind of a pain in the ass, actually, and I busted more than a few of the little fasteners, but got it off intact.
A lot of this stuff will be for sale, btw, if anyone wants to PM. Otherwise I'll post a FS ad once it's all said and done.
Pics:
Almost looks like an older WRX with the bugeye lights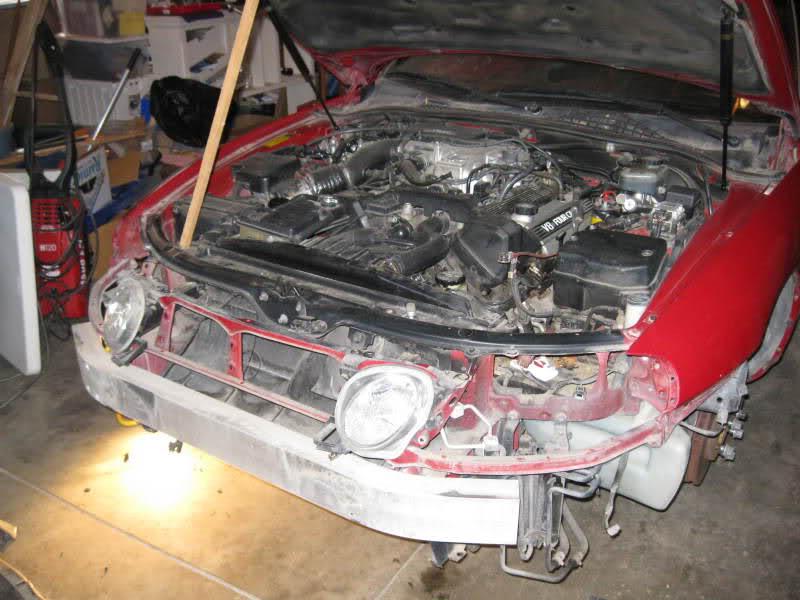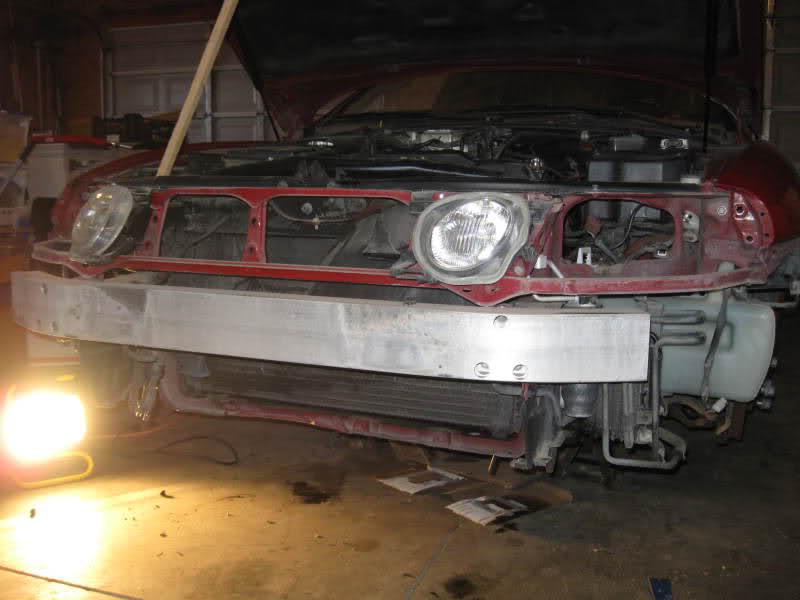 No turning back now!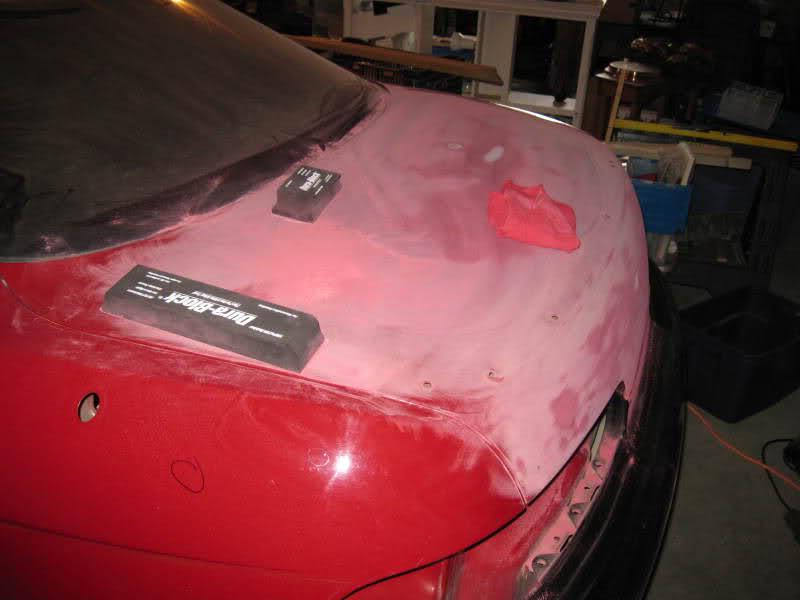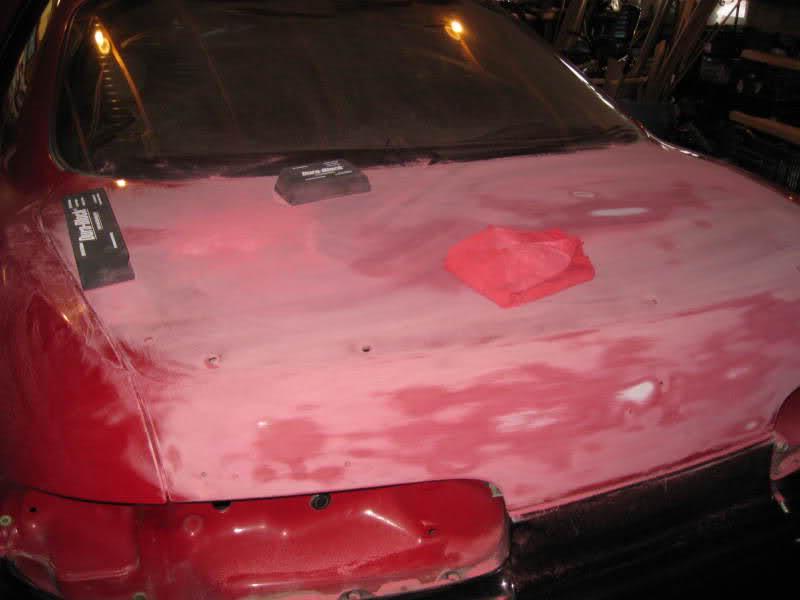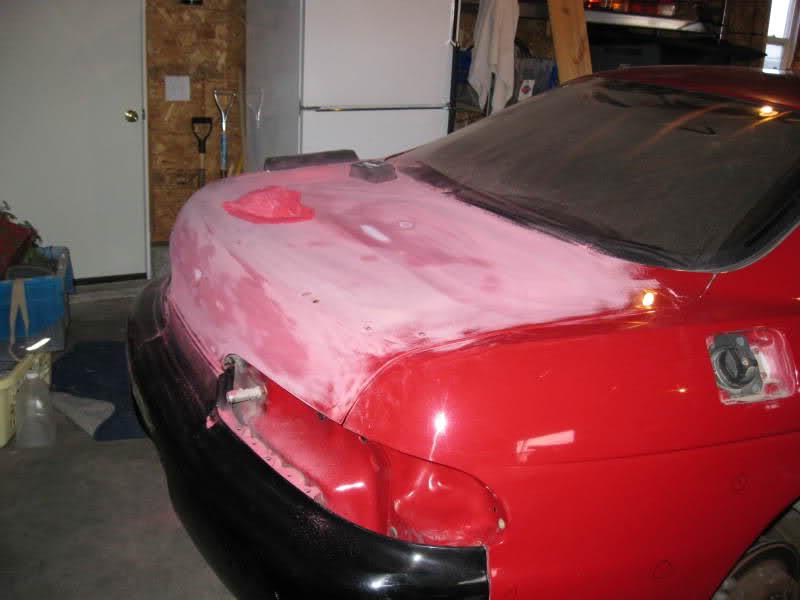 Not a bad day's work. I'm hoping that once I get a vacuum, I'll be able to put in half an hour to an hour of sanding each evening after work. Even if it's just half an hour, that's 2 to 2.5 hrs done each week toward the goal, which will add up quickly. We shall see.
BTW here's the accumulation of parts.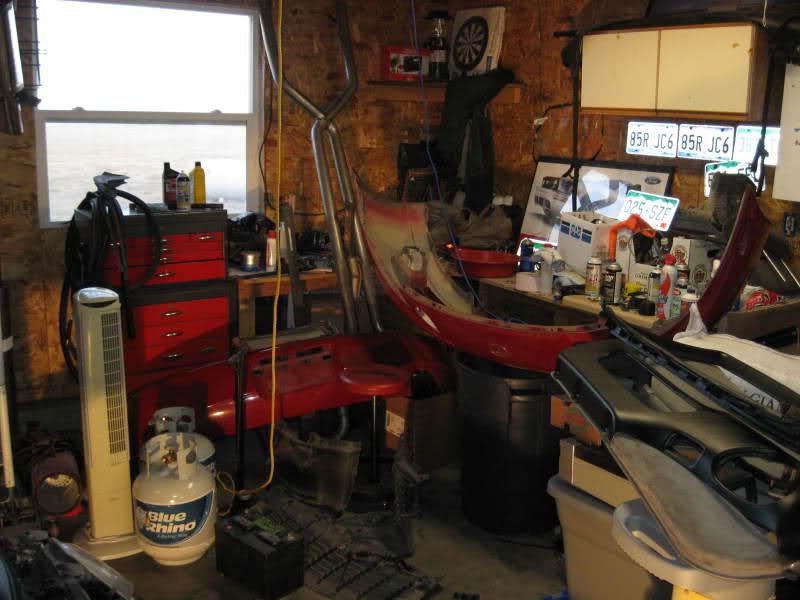 Yes, I know my garage is a pit of chaos. Look in the upper left corner of the pic, you can see one of the Magnaflows I got off the parts car that I got the subframe from. One of them needs the back end welded back onto the can but Hank @ Hanksville said he could do that for cheap, and they polish up nice. Free mufflers with purchase of subframe - not too bad.