My 97 sc300 build by jwin
By diyauto
You must be logged in to rate content!
My 97 sc300 build
Compliments of jwin @ www.clublexus.com
7-30-2012
I purchased a 97 sc300 with 190k miles a little over a year ago. Now with my wife pregnant I decided to do some mods before our newborn arrives.

First things first make her headlight clear again.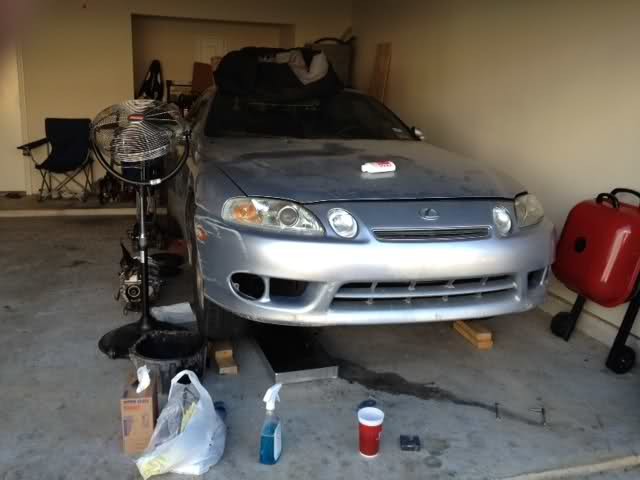 Before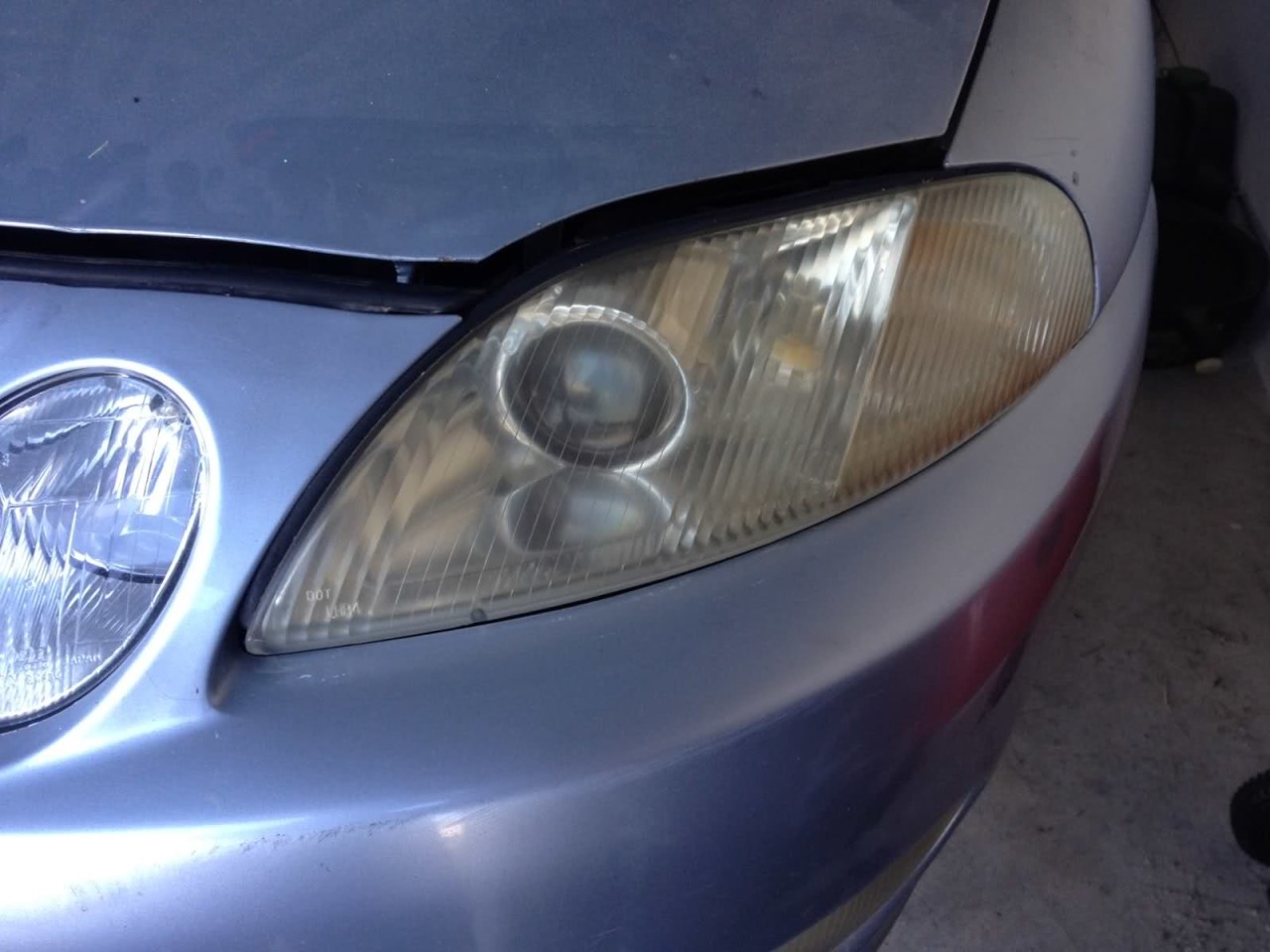 After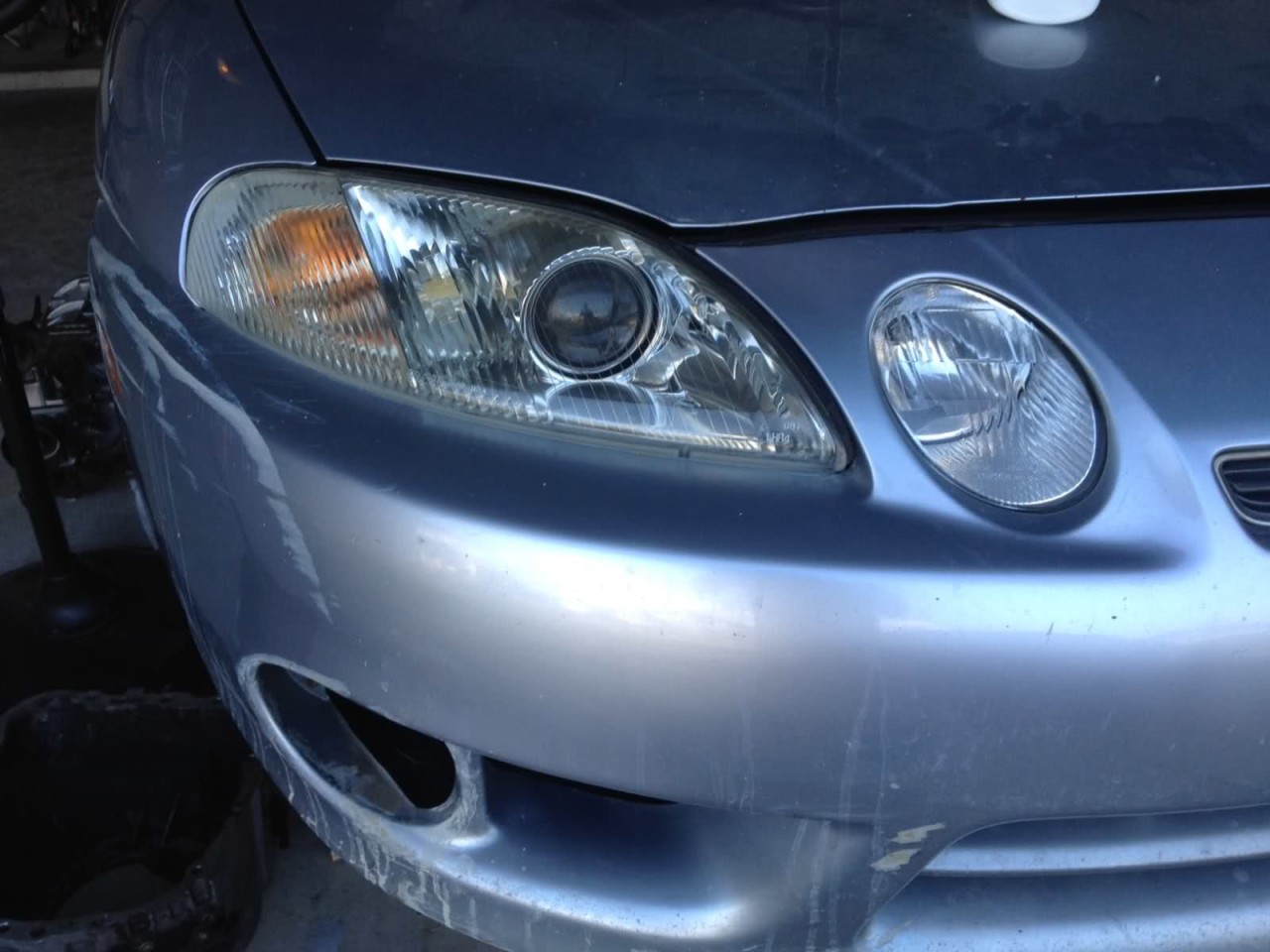 she does need to get her front and back bumper repainted and fix a little dent on the passenger quarter panel.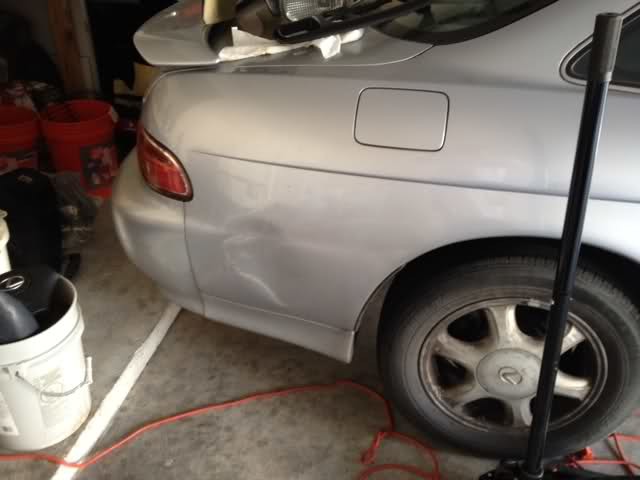 I sourced a 3 spoke steering wheel
Then a gated shifter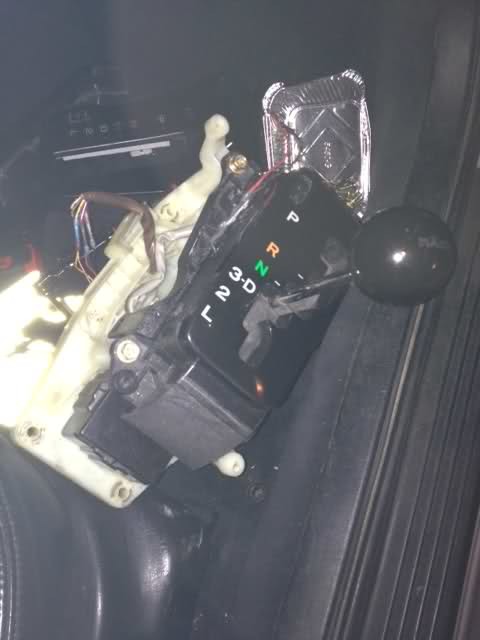 Then shorten the linkage by one inch. I decided to drill and tap the linkage and install a threaded rod 1/4-20 with two jam nuts. This way I could adjust it infinitely. i figure I would cut it about 2 inches and tap about a half inch on each side. Considering that the linkage is about .4 inches thick I could easily put the 1/4 threaded rod with enough meat on either side for it to be strong enough. I was thinking of welding the linkage but I didn't want the guy to weld it and the linakge wouldn't have the same bends as the original linkage.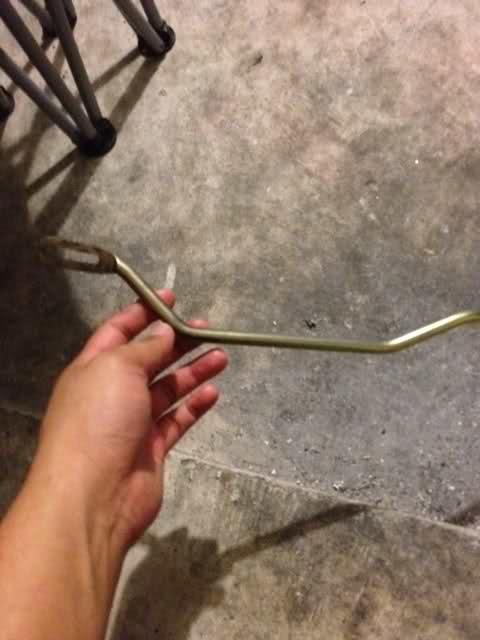 Threaded rod and jam nut from Lowe's $ 1.70.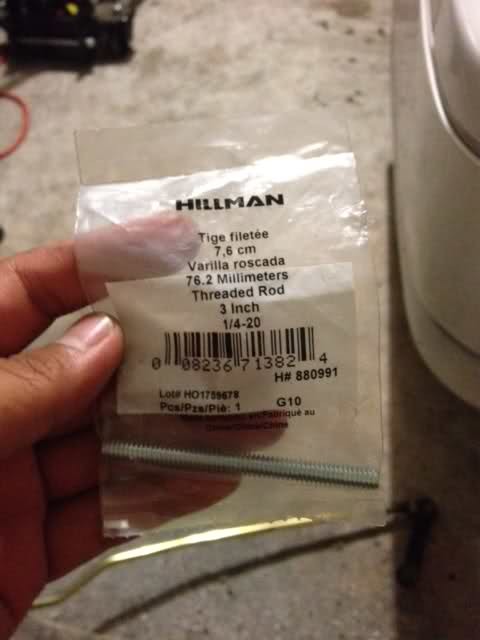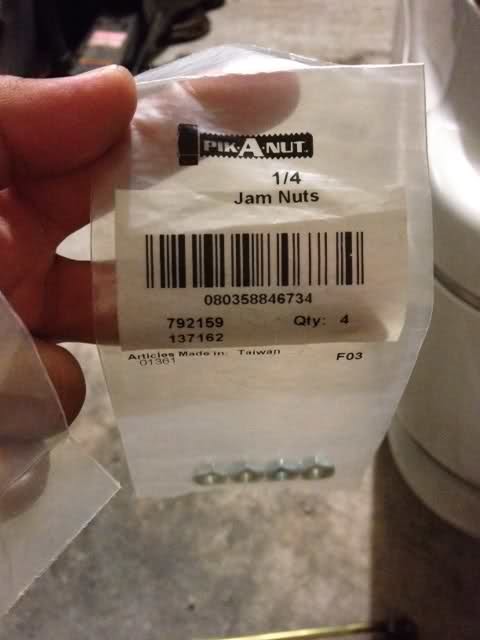 Found a mkIII r154. Needs a fork, bellhousing and other stuff for the swap. Might use that as a spare considering to get all of that stuff cost almost as much as getting a 1jzgte r154 swap. But for 240 I couldn't pass it up. It came with the 7m bellhousing and clutch with pressure plate.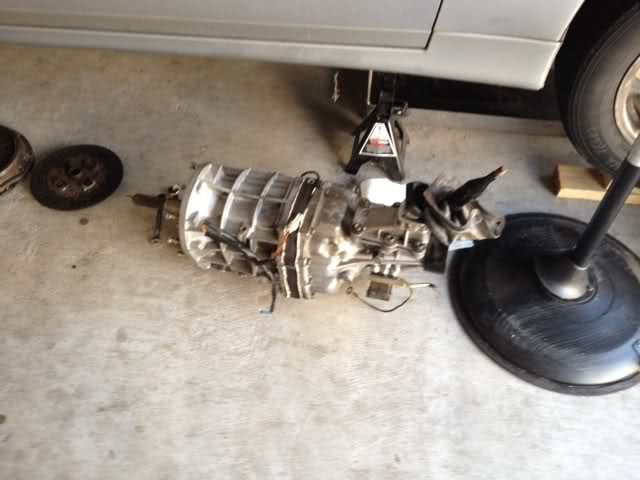 I am now in search of a 1jzgte r154 soarer swap, but the search is difficult. The only place i know where to look is ebay and they don't have any there that are reasonable priced. I'm looking to spend 2500 for the swap. I would have a spare 2jz block if anything should go wrong with the 1jz and also the 1jz is within my budget range for the swap. But until I find the swap I would be acquiring supporting parts for the car.
My goal is to make her faster than my 2006 gs430 and some other american v8 like mustangs and the slower corvettes. I know its not that hard to make it faster than a 300 hp v8 but I love the mid range power for the v8. Ultimate goal is to be faster than a c6 z06 corvettes as some of the guys I work with look at my car with laughter.
8-3-2012
shorten the linkage for the gated shifter.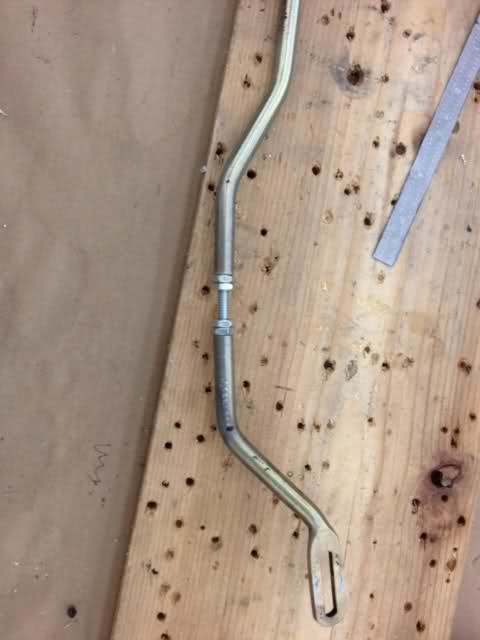 The funny thing is I won't have this gated shifter for that long before the r154 will be going in . Hopefully about next couple of weeks the 5 speed will be in.
Cant decide what motor set-up I want. I am having a hard time deciding whether I wanna go na-t or 1jzgte. I know the 2jz has quite a bit of miles on it, but I kinda see how long it will last on mild boost around 15psi
8-7-2012
shifter is done everything works beside the ECT. I still need to figure the wiring out on the ect but beside that its all smooth and works great. Still waiting on parts to come in for my r154 swap. hopefully I will get the driveshaft soon from a member here.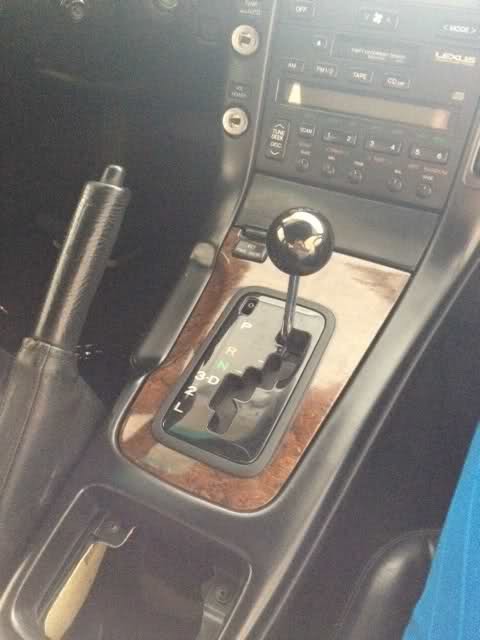 shifter is done everything works beside the ECT. I still need to figure the wiring out on the ect but beside that its all smooth and works great. Still waiting on parts to come in for my r154 swap. hopefully I will get the driveshaft soon from a member here.
almost done gathering all of the parts for the r154 swap. sadly I will be selling my 2006 gs430 and I will make this sc into my daily. With that being said I highly doubt the 1jz swap will come anytime soon. More concern with putting the r154 in my car. Just missing the flywheel. The a/c line in the front was rubbing on the frame. Just ordered that and she will be great at 215k miles to be my daily driver.
10-5-2012
The build has been on hold for a while now but it's slowly back on track. My wife gave birth to our first daughter everything has just been put on the back burner. I managed to get some time in between her naps to install the tranny and remove the back housing to gain access to the shifter linkage. Now I have to find someone to weld up the linkage.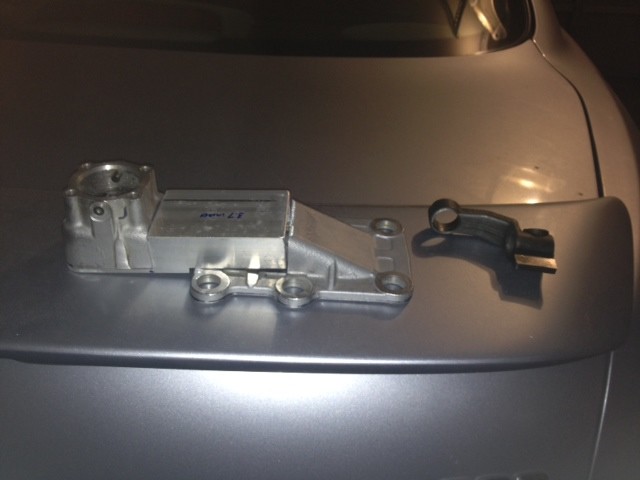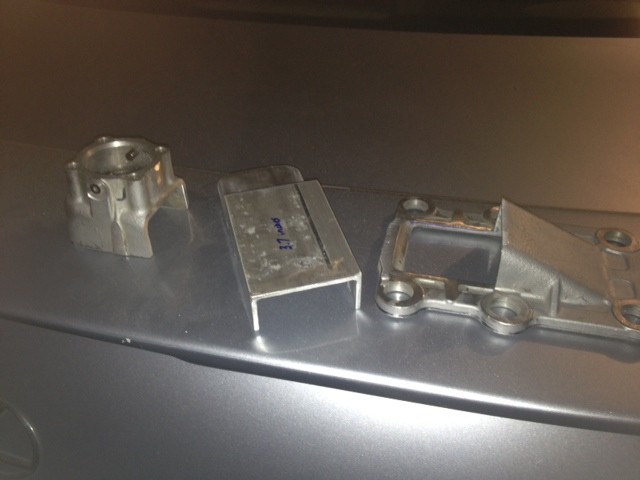 10-9-2012
Sent the shifter housing to get welded again on a jig. I recommend anyone that does the r154 swap to just cut your shifter and weld it back 4 inches. It's way easier and you don't risk messing up the shifter housing and lever. Those parts are discontinued from Toyota. If you weld it straight back with it being 90 degree at each end I don't think the throw distance will change. 97-sc300 did it on his sc and it seemed to work fine for him. Since I already cut mine up I will be going that route. Been kicking myself in the butt for cutting up the shifter housing. I could have save 225 and the car would have been done this weekend.
10-19-2012
Is this turbo good for a na-t setup with tt hg and arp head studs. What manifold would this turbo work with without hitting the shock tower.


Authentic Borg Warner S300SX3 (aka S366 or S300 91/79)

Compressor
Housing: 4.00" Ported Anti-Surge inlet with 3.00" charge pipe outlet
Inducer: 66mm
Exducer: 91.4mm (Extended Tip Technology)

Turbine
Housing: .88 A/R Open Scroll
Inducer: 73mm
Exducer: 80mm (Inconel)


Turbo comes with a 1 year (12 month) manufacturer warranty.
10-28-2012
Pretty excited maybe I can have time to finish stage 1 this week. Still waiting on brake lines and 96 5 speed ecu. Diff is in the car. Brakes are ready to go beside waiting for brake lines to come in.

Stage 1
98 steering wheel
New used driver seat
Auto to manual swap r154
Full tune up
Auto tt differential
Clear headlight
Tt wheels
Ls400 brakes
Ss brake lines
Fix body with new rear bumper.

Stage 2
Na-t
10-30-2012
Brakes lines are here. Just got to install them. Give a car a good wash and it will be time to play with this new toy. So excited.
Stainless steel brakes are in. Need to bleed them. Then off for a test drive with auto tt, r154 and better brakes.
11-1-2012
So yesterday I finish my car put my car back on the ground. Started it up and I couldn't disengage the clutch to put it into gear. So I put the car back on jacks took off the inspection cover and the slave cylinder rod could be pushed back with my hand and the pedal was really light. The slave cylinder rod moves with the pedal too but not enough force to move the hub. After some research this morning I believe that it cause I didn't bench bleed the new used clutch master. Has anyone else had this problem?
11-7-2012
Wasn't that bad to take the tranny out. Took me roughly an hour and a half. Waiting for a new OEM pressure plate and clutch disc. I put a used one when I first installed the tranny. Guess it a good idea to put a new one in since I'm already in there for the second time. I might be driving this car stock for awhile considering funds are low.
11-10-2012
Reinstalled the clutch disc the correct way. Only thing left is to install the exhaustand driveshaft. Hopefully this solves my clutch not disengaging. My friend has a set of iforged seneska off his g35 that he wants to sell. Do you guys think they will fit the sc? They are 19x9.5 and 19x10.5 offset unknown but they sit flush on the g35.
Clutch is fix. Will take it for the first drive in 3 months. Pretty excited to drive it but its getting late.
11-13-2012
Drove it to work today for the first time. Roughly a 45 minute drive mostly freeway. As I got to work I realize the overflow coolant tank was boiling water over. The car wasn't overheating but I never seen a car do that. Anyone have input. I'm thinking its either thermostat , air in the system, or radiator cap. My coolant tank is full. I need to empty it out.
11-20-2012
Changed out my thermostat and radiator cap and the overflow tank still boils. I will be getting a combustion gas sniffer to see if my headgasket is blown. It wasn't blown before my swap and after my swap the motor hasn't been rev pasted 3k. Could it be my waterpump? I don't see any leaking coolant on the floor. Hope its nothing major.
12-13-2012
I acquired at 96 manual sc300 Ecu and hopefully I have all of the pins that need to be moved around correct. Will let you guys know after I install the Ecu. Hopefully I won't have a check engine light anymore. Crossing my fingers.
1-23-2013
Rear license plate LEDs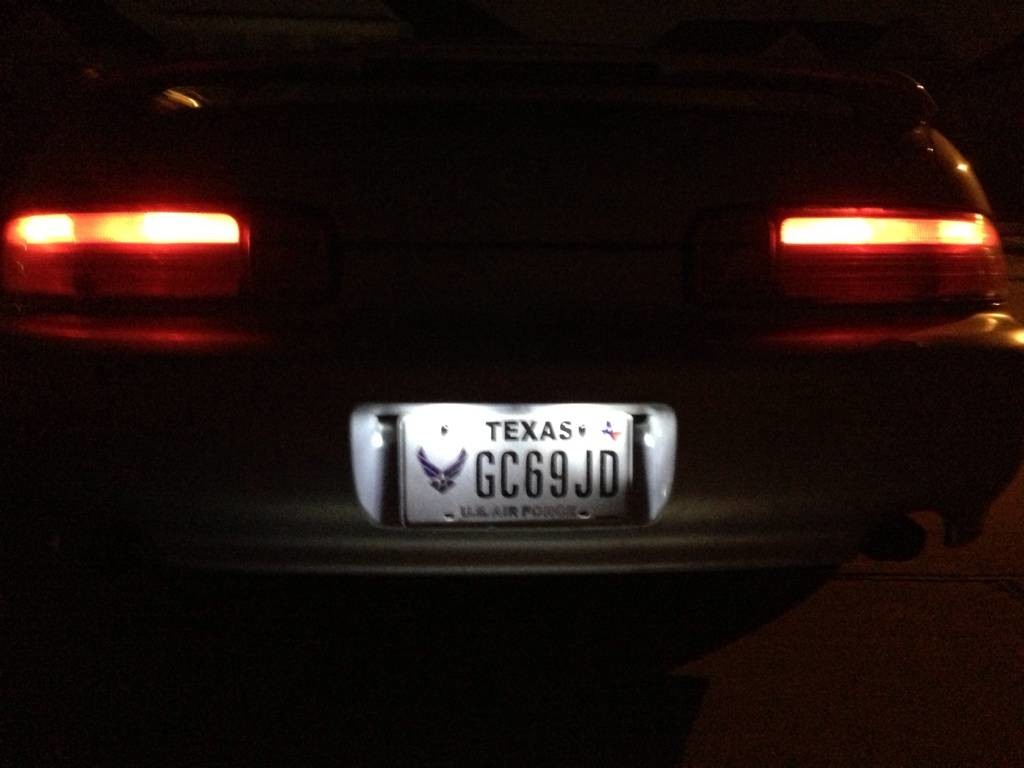 Engine on the stand getting rebuilt by me slowly.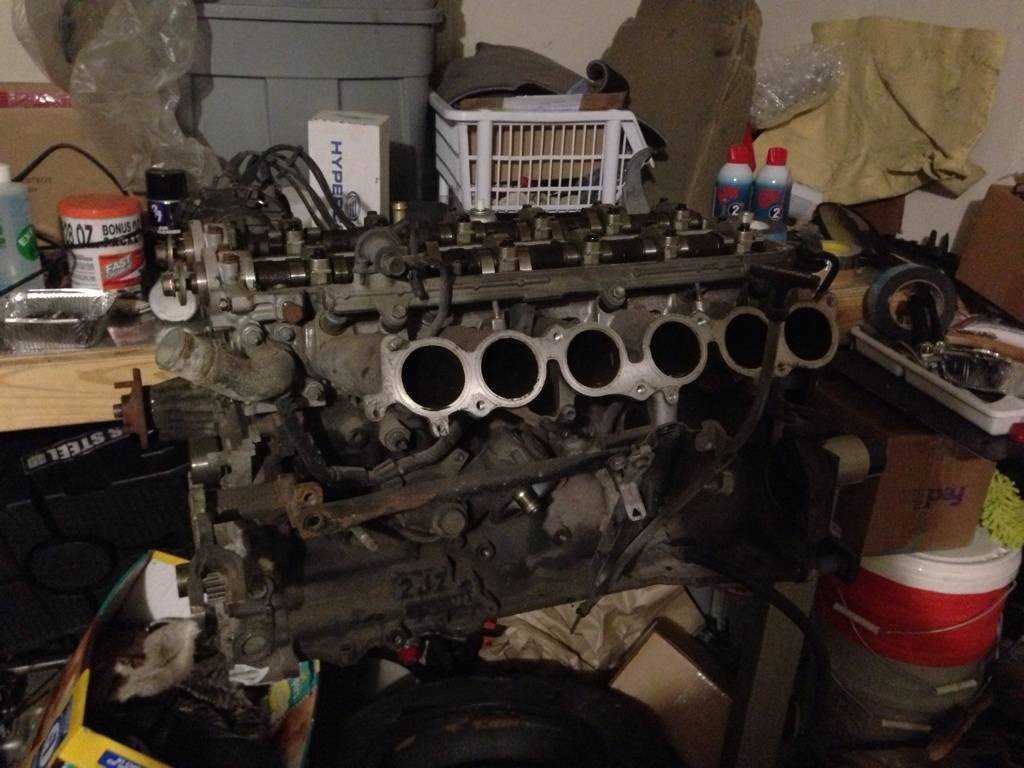 Pretty clean motor. The owner said it had 76k miles 94 n/a supra motor.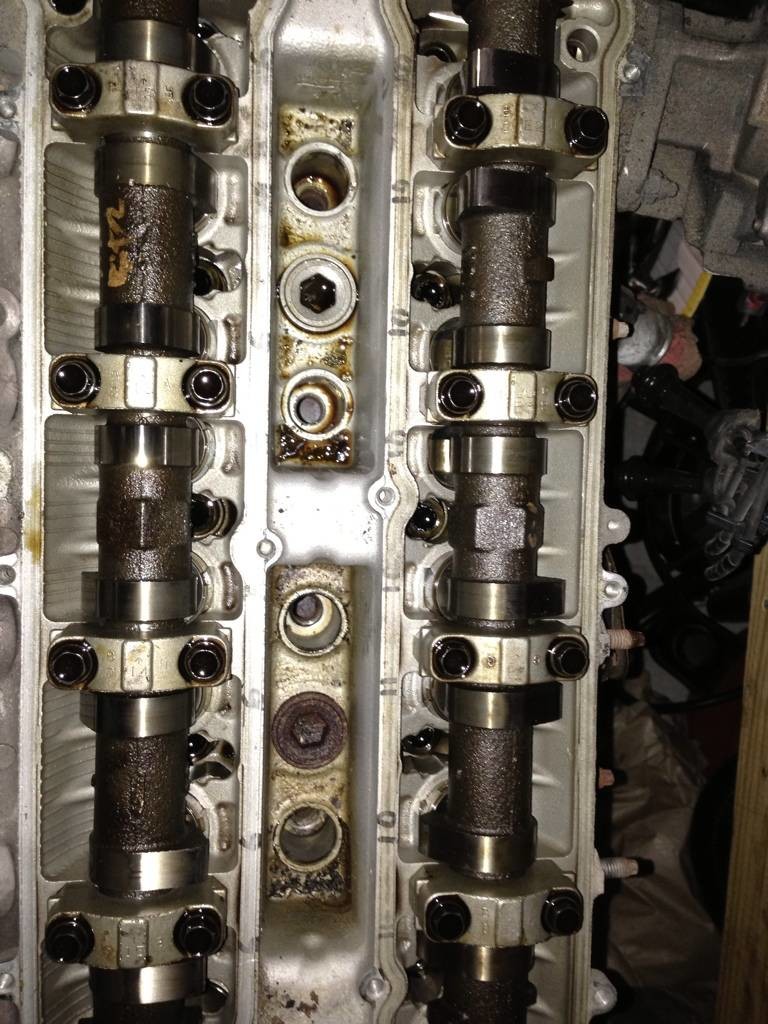 What is this vacuum canister thing.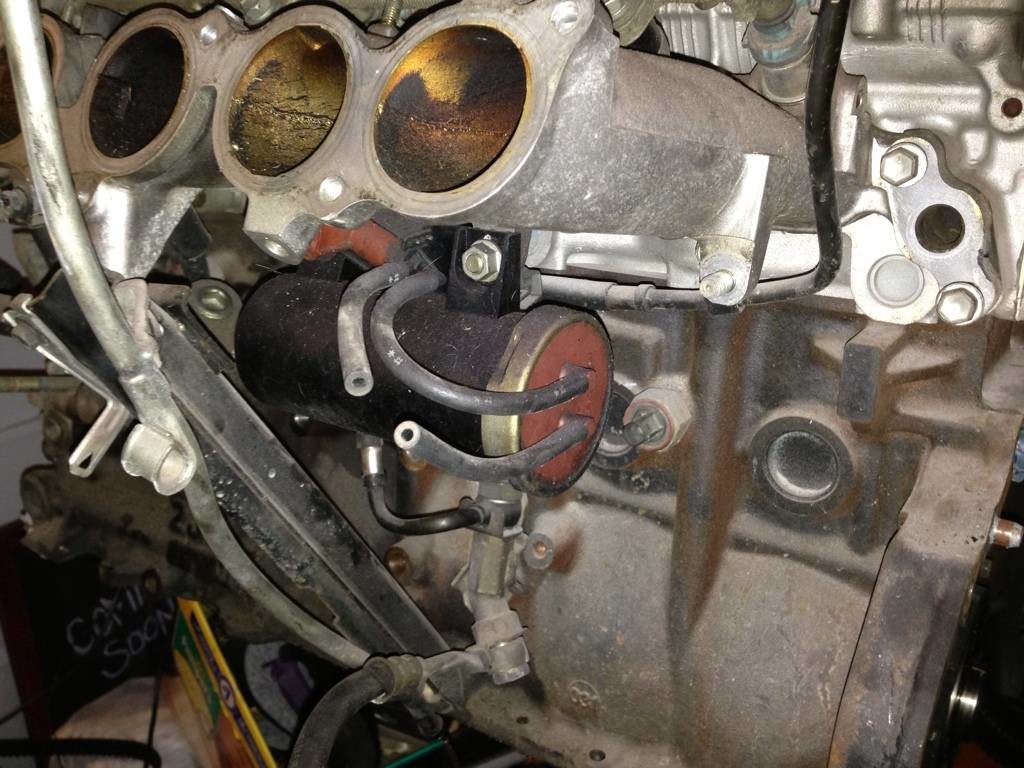 Turbo manifold modified (cxracing)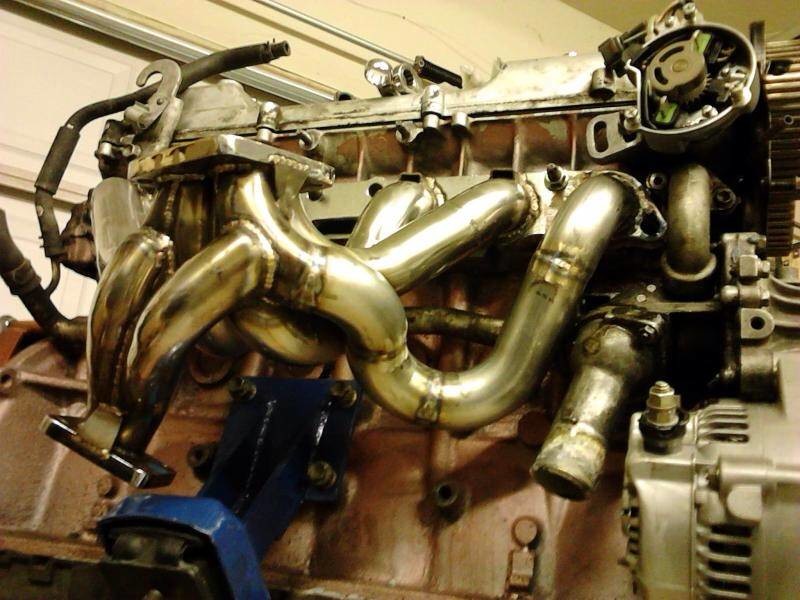 My black interior. I need to get rid of those lines in the seat. Probably a redye does anyone know what kind of dye will be best.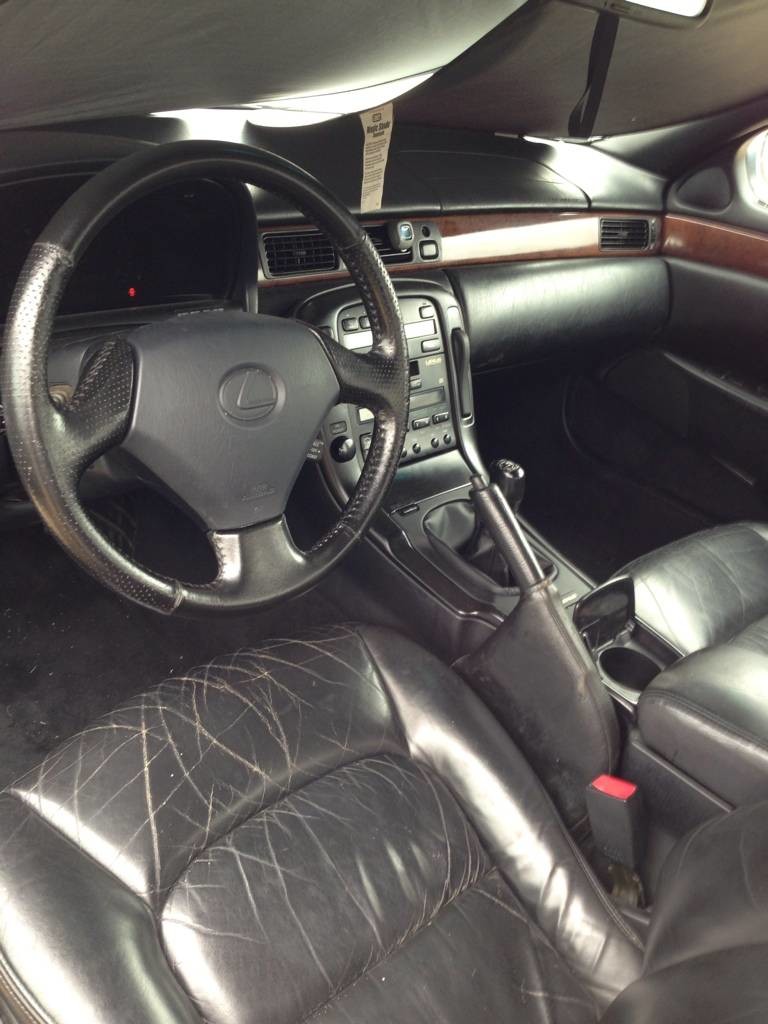 One of the TT wheels that I have polished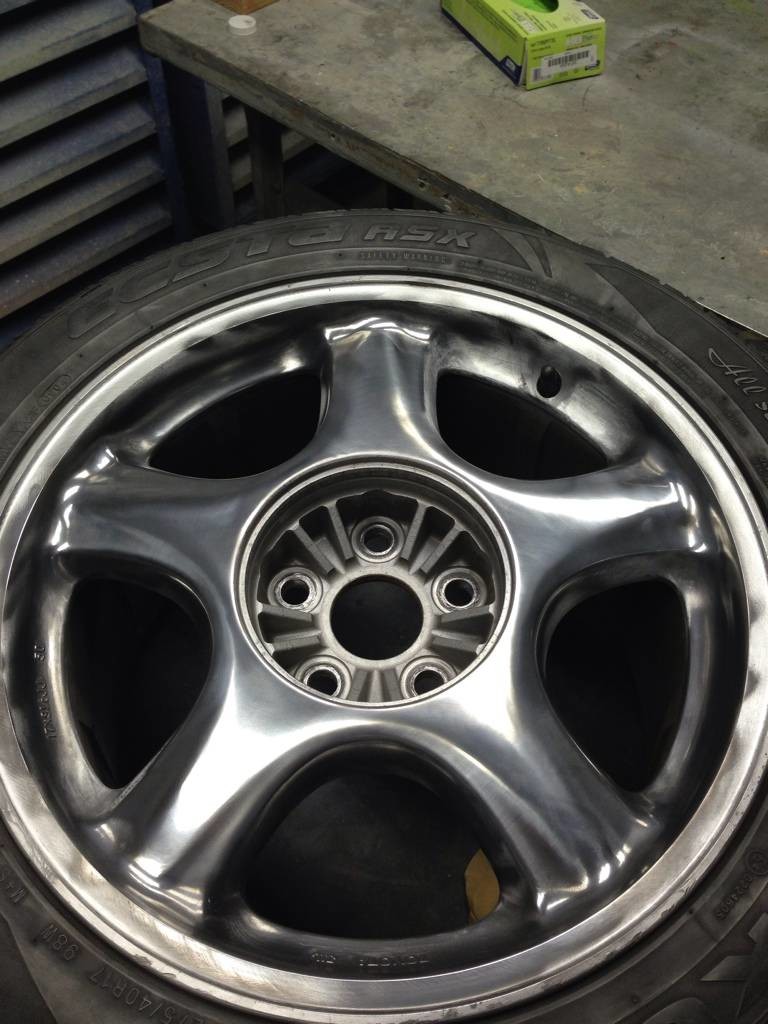 1-24-2013
Received wastegate and fuel pump today. I will be taking it apart and modifying it with some aircraft grade stuff to keep it reliable. I have a guy a work that has been using his for awhile.
2-13-2013
Well i am trying to gather parts. I basically have a spare of everything now. Spare motor Spare wiring harness. Just waiting on the ecu to come in from Aliga so i can make a patch harness then install my new engine with everything ready to go. Still need to figure out what to do about this intake manifold. I have all the parts to build one but it doesn't look like the 2jzge intake runner curve enough to clear the 5" D plenum. I didn't go with the half D 4" plenum because I didn't like the TB flange that RMR made for the 4". It looks like crap and not machined to fit the 4" D plenum. Since I went with the 1 inch bigger plenum I have having issues with it hitting the shock tower and the power steering.
I need to drop the back more and maybe raise the front up some more. I have the gixxer drew setup. I should have brought the 500/250 springs. Its a little bit too stiff for me with the 650/350 springs.
2-15-2013
I finally drove it for extended period of time today 50 miles to be exact and then another 50 miles back home. I think i should have gotten the 500/250 lbs springs for my gixxer drew setup instead of the 600/350. Stupid output shaft metal cover is hitting the driveshaft on the tranny. I tried to bend it so it wouldn't hit but the metal is so hard it won't bend. The sound is pretty annoying. Has anyone taken it off before?