SC400TT Project Car Stage II by SC400TT
By diyauto
201 minute read
You must be logged in to rate content!
SC400TT Project Car Stage II
Compliments of SC400TT @ www.clublexus.com
10-2-2006
Gang, my original thread has gotten so very long that I decided to break it up into Stage 1, and Stage II. Really, that is what I have done, and I noted that in the Stage I thread, but I never really separated them. I never expected Stage II to take as long as it did...I did learn a whole lot though, and you members have been great; cheering me on many, many times, even when it looked like total disaster at times...
So, this is the beginning of Stage II, which was when I added the BBK's,a and all the many other items that have gotten this project to where it is today. As I am now nearing the completion of Stage II, I will look to post up another video of the car driving, and hopefully the full tune and dyno by the end of this month (August 2010).
I will start a third thread known as Stage II, V2 with the actual Dyno video, and some burnout threads, assumong we have total success at the dyno. I will then reveal the car with all the new pics of it completed. The Stage II, V2 thread should be quite short in comparison. This should also help those of you in the future that stumble upon these threads to read what I did on each thread, instead of one, super long novel...
BTW, I will hyperlink the threads to each other.
OK, so, here we go...Stage II, which actually started on 10/2/2006.
Gang: Here are some more pics:
V8TT emblems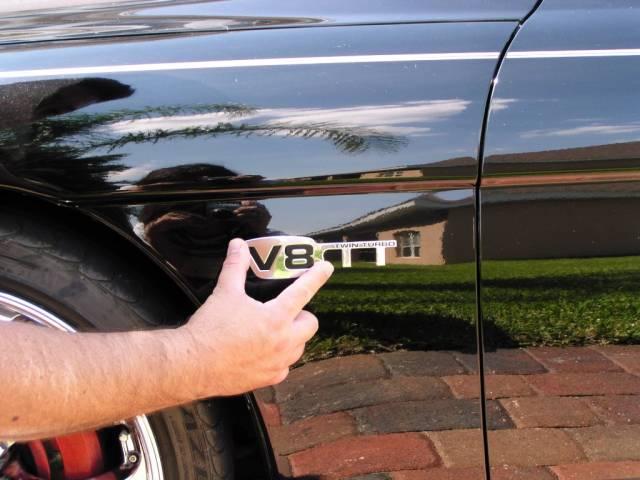 V8TT emblems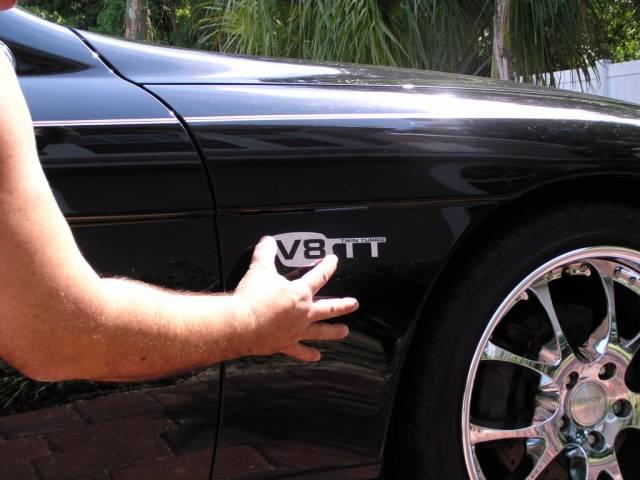 SC400TT Emblem
SC400TT Emblem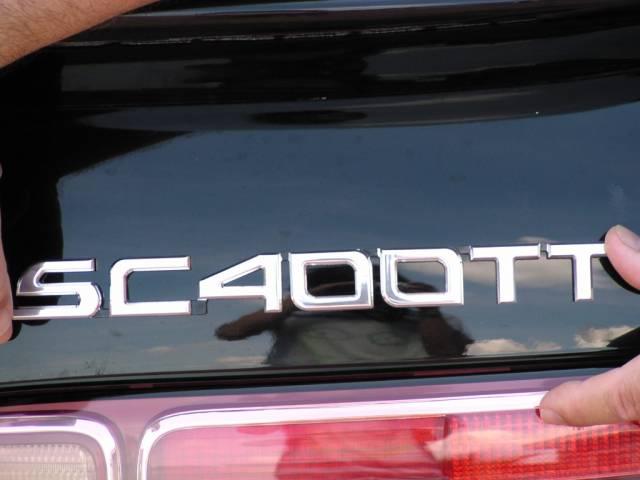 Billet Fuel Door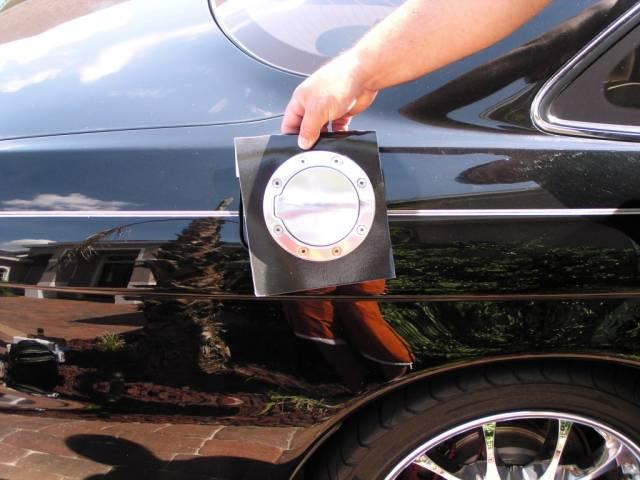 BTW, car is runnig n much better and stronger...But, still needs tuning...not pushing to hard until tuned well. That does not happen on my car until the built-engine swap.
Here are some more...
Methanol/water injection pump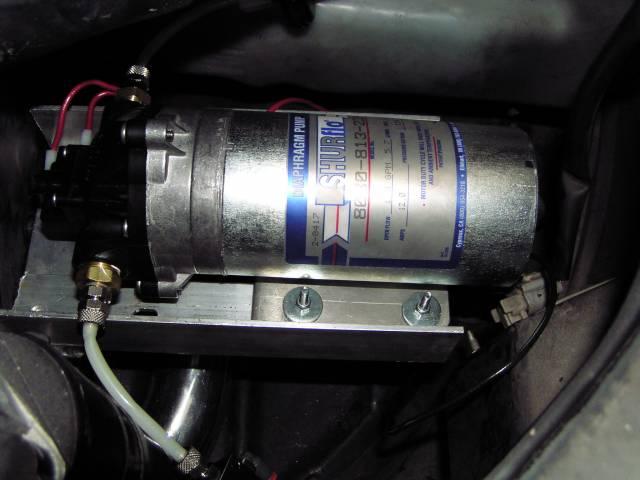 Wilwood BBK Caliper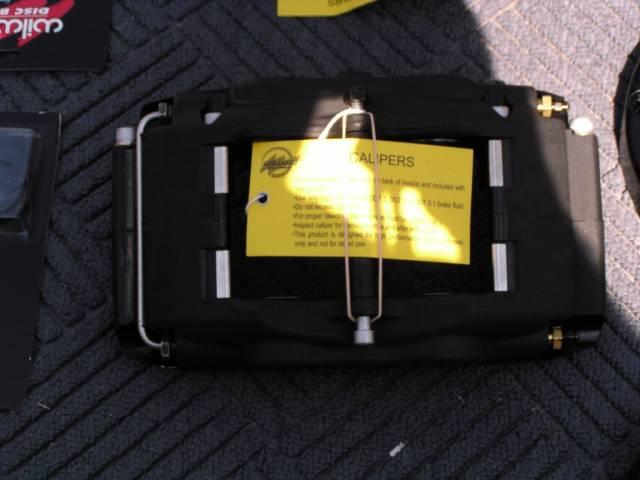 Wilwood BBK Caliper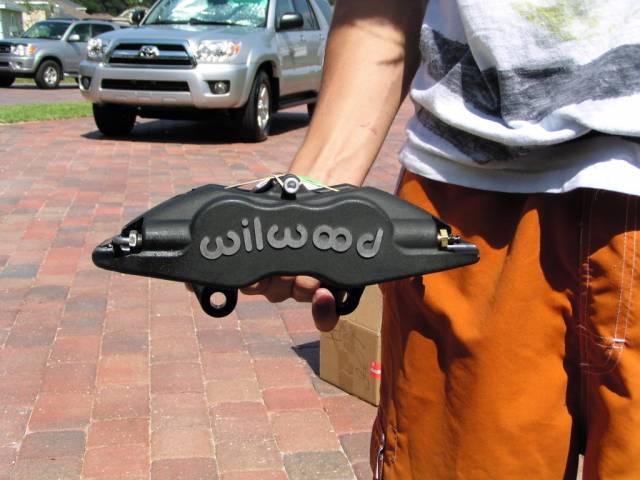 Wilwood Front wheel BBK Kit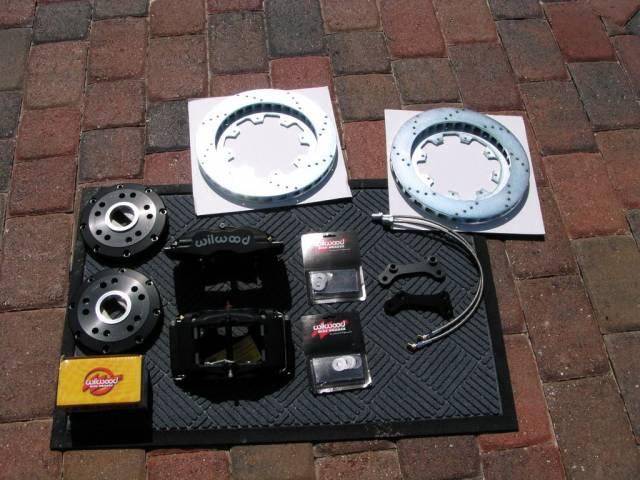 Still awaiting the rear BBK kit...
10-5-2006
Last night I was driving down 436 in Orlando to get to Titan Motorsports to meet up with Davew and Cowboy...An older Porsche Turbo with a wide body and pop up headlights drove up next to me and heard my turbo...He decided to race me...I really did not want to only because my car is not tuned, and I cannot hold boost for too long as my car will run a bit lean...So, I decided to let him know I had some power...I just kicked it a little while he was trying to pull away, and I caught right up to him...easily. Each time he downshifted and took off I just kept up with him to let him know he could not pull away...He finally realized he could not beat me, and turned off on Forsythe from University Blvd...

10-12-2006
The Pauter rods are in...Beauts!!! Extremely heavy duty, excellence in craftmanship and quality. I took pics and will post them up. I also got in the ARP Head Studs in as well. All is in now for the completion of the engine build...

I will do the swap after the Injection mod is installed, the second fuel system is completed, the Split Second is installed and tuned on the stock engine. I want to see how far the stock engine will go. I plan to dyno it for posterity as well. After that, the swap and serious boost and power come.
Right now, the car is at Ultimate Audio getting the gauge pod done, the Bel radar/laser detector installed, and the door pods redone...I decided I did not like the impracticality of the 6.5 speakers sticking out so far...They actually started hurting my leg as they were in the way for my leg to rest near the door while driving.
Lots to do...
10-14-2006
Here are a few pics of the Pauter Rods...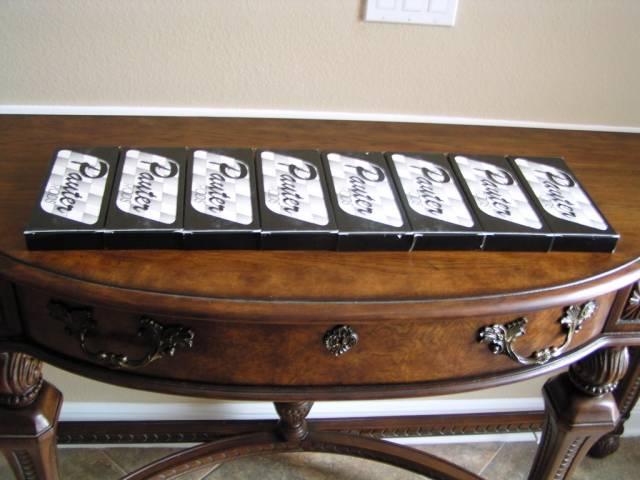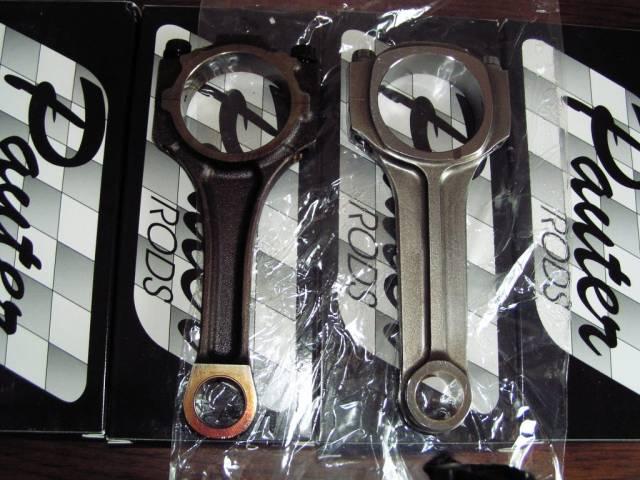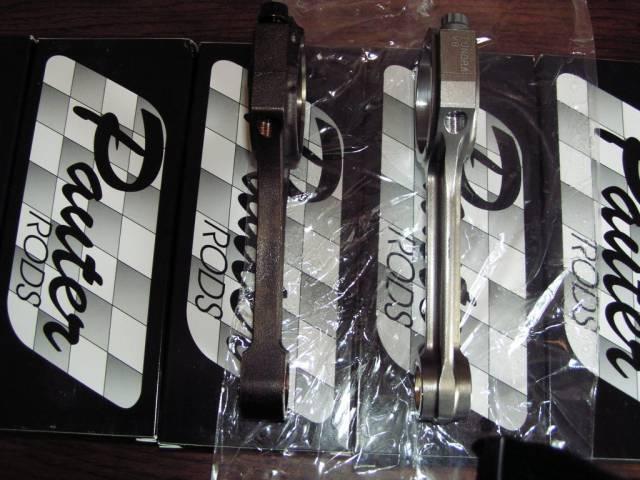 10-17-2006
Here are the specs of the rods:
Overall weight: 664 grams
Big end weight: 465 grams
Center to Center length: 5.748
Small end diameter: .8665
Big end diameter: 2.165
Big end width: .900
Small end width: .950
Material: E4340 Chrome-Moly rods manufactured as follows -
E4340 vacuum melt chrome moly forging – CNC machined
Heat-treated to Rockwell C36; full coverage shotpeened; end-to-end balanced in sets.
Pauter 220k psi tensile strength MSP220 steel, J-formed, rolled thread racing rod bolts (standard.)
Aluminum-bronze wrist pin bushings (standard.)
These rods are BadAss...
Here is an excerpt from their website discussing the benefits of their unique design:
"For starters, the simple beam design completely eliminates thin and non-uniform cross sections over the total length of the beam. This feature greatly improves resistance to crack-induced metal fatigue. In addition, the non-tapered profile of the beam helps to spread potentially harmful stress over a larger area, dispersing instead of concentrating these destructive loads. The design also efficiently places needed material in critical transitional areas, giving maximum support exactly where it is needed (such as directly under the wrist pin). The streamlined contour also provides subtle benefits in the form of windage reduction and breather/catch can function (so our customers tell us). The main beam rib itself continues around the wrist pin boss, perfectly integrating the beam to the pin boss, a small, but important contribution to overall structural unity. Pauter rods are indeed, different by design."
10-18-2006
Stopped by Ultimate Audio this afterenoon...Wow!! Those guys are damned good!!! They cleaned up my trunk install, and made it look much more integrated than before, they didn't change anything we did, they just improved it. Everything is still modular, and can be broken down in seconds to get to the spare or the jack...
The EDFC is now in a custom made and wrapped pod below the ignition, above where my right knee would be...It looks like it belongs there, and it is easily accessible for me to reach for those sudden, on-the-fly one-button adjustments I will want to make for different road conditions, such as great curves...

The Boost controller and the turbo timer are located in the glove box in a custom pod as well. Look great, and won't be moving around...
Last, but not least, the gauges in the center console...They look fantastic...The plate is beveled and custome formed to fit in the factory original 2 Din space. It holds the three gauges I need to monitor my turbos, and the single Din stereo head unit is underneath the gauges. The gauges are installed in a counter-sunk method, and look like they were built by Lexus. These kinds of things are important to me...Form, Function, Flow, Integration, Clean...As well as Performance, Speed, Quickness, reliability...
I never plan to sell this car, so, why not make it exactly as I want?
I am excited....


I will be posting up pics soon...
10-19-2006
OK Gang, here are a few more pics...They do not do the car justice, but they give you an idea...
Custom Gauge Pod and EDFC Pod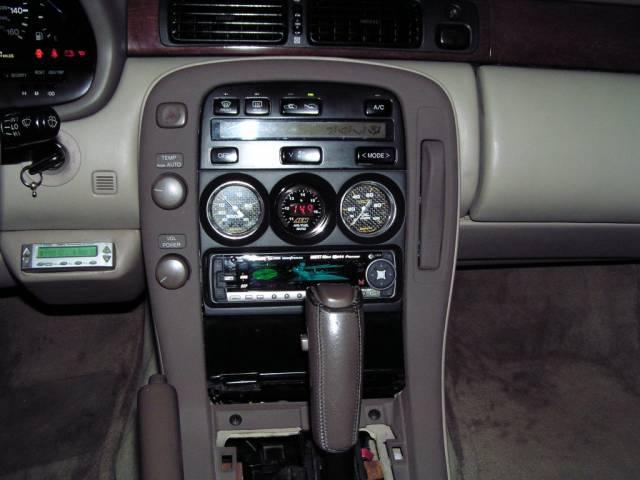 Custom Glove Box Pod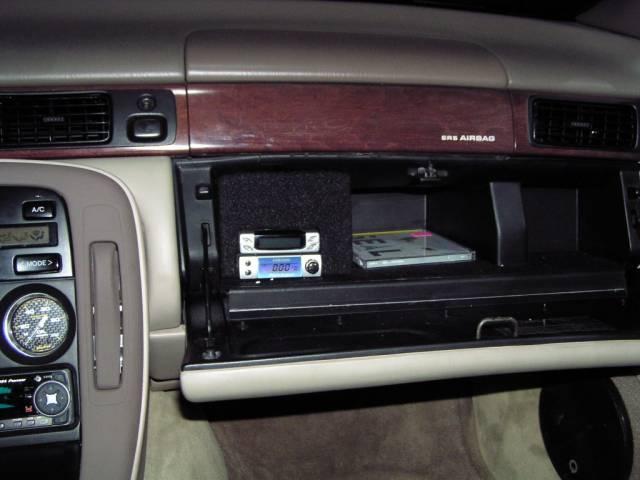 Revised trunk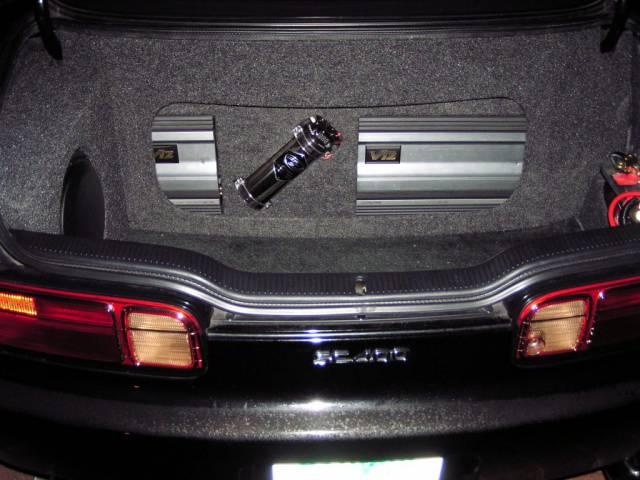 Moving right along...



10-20-2006
I knew someone would comment on that....The car was not even on...I only turned the key to accessory to turn on the lights, so the engine was not running, and at idle, one would expect to idle at somewhere around 14 A/F...

When driving a car, the A/F varies widely, think about it...When letting off on the acclerator and the engine is under no load, the A/F will go off the chart, but it is not a problem...
So, don't get your panties in a wedgie...

11-5-2006
FYI, Gang...My car is back in the shop with Frank, He is working on the exhausts, (raise them up a bit more), and we are still awaiting the 6 inch HQ Steel flex tube for the exhausts as well, apparently on backorder...

long wait from this supplier, but it is the best one available...
Frank is also tweaking the system so that it is right for the meet coming up in December...
We are awaiting the fuel mod so that I can install it and add the 8 additional JDM Supra TT 440 cc injectors, and install the piggy-back ECU. Until then, I cannot tune the car and dyno it, as it will naturally run lean very quickly and we do not want that...

I finally got a message from Wilwood...The rear BBK is finally complete, and will be shipping out to me this Monday, Nov 6th....So, I am planning a Big Brake install this coming weekend...
The shop doing my paint is phenomenal, and does Show Quality work...Only problem, he has so much insurance work in right now, that he may not be able to get to my car and paint it by the December Lexus meet and show...

SO, I will have to decide whether or not to take a chance and send it to him before the show, or wait until after the show and paint it...I haven't decided yet...Decisions, decisions...
11-15-2006
The car has definitely come along well...
Still awaiting the critical fuel injector mod, once in, I can install the piggy-back, tune and dyno

The tranny is being built right now for the swap

The engine block is being completed for the forged piston fitment

expect the built second engine to be complete within a few weeks. Looking forward to the swap.

Paint will probably happen in mid December, if not in January...
Still keeping it going...
11-16-2006
Mike and I spoke...I drop off the car tomorrow. They will complete the catch can installation and plug off part of the PCV system, along with the rerouting of this system to allow it to fuction properly but stop the oil leak. They are installing the 6" flex tube in my exhausts, and finishing the raising and adjustment of the exhausts. The rear cam seal that blew out and is the cause of the oil leak will be resealed as well...therefore stopping my oil leak.
Tis is on the schedule for tomorrow...
The Rear BBK's came in. I now can install the big brakes this weekend...Excited about that.

I had to replace my AC compressor today...

The cost of a brand new compressor...

But, I now have a totally new and updated AC system...From new AC lines, dryer, and compressor, to conversion of the system to R134A.
I am really glad the oil leak is getting fixed...
Damn, by the time I swap the new and built tranny, swap the new and built engine, with all of the mods I had made during the last few years, this car will be a brand new car again, only better....

Kinda like having a 2007 SC400....

11-18-2006

It's in the thread...but here is one, and I will take a few of it this weekend, since there have been a few changes since this pic...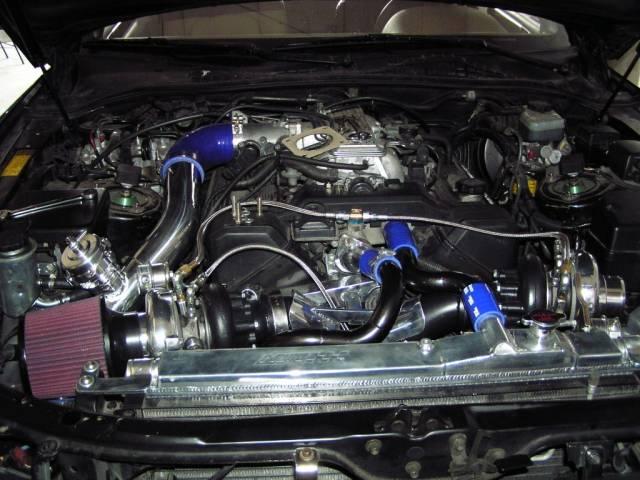 11-19-2006
That engine is being balanced and blue-printed as I write this reply...If time permits, and the fuel mod comes in for the eight additional injectors, then sometime in late December...If not, then in January 2007. Along with the new tranny...
12-1-2006
Well guys, haven't had time to post much lately...Been real busy...
The engine should be done any day, the transmission should be done any day, and the paint will commence after the Lexus meet next weekend.
I was going back and forth on what to do about the excessive heat being produced in my engine compartment...When you turbo in the engine bay, the heat created is tremendous, so it needs to be vented...But, I have not seen one vented, CF hood that I really like. Nor, am I excited about installing a CF hood...They require hood pins to be safe, they are too light for the stock hood struts, and they tend to yellow and crack from the heat...I know I could paint the CF black, but I am still not excited...So, I searched and searched, and I found two vents that are a perfect match for my project...They will be integrated right into the stock hood...Man, are they gorgeous...Wish I could have this all done by the Lexus meet...But I tell you this, my goal to make a SuperCar Luxury Exotic SC400 is panning out!!! These vents are awesome...And there is no other Lexus out there that will look like mine...




Damn, this is exciting!! Black, chrome and polished billet for the exterior of this car...The Black Knight...

Soon to be tuned...Unique...One-of-a Kind...
Yeah!!!!
12-10-2006
Updated pics of the engine bay from the show: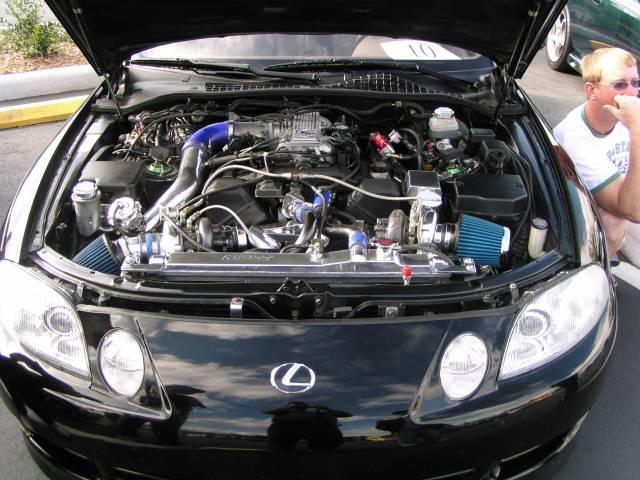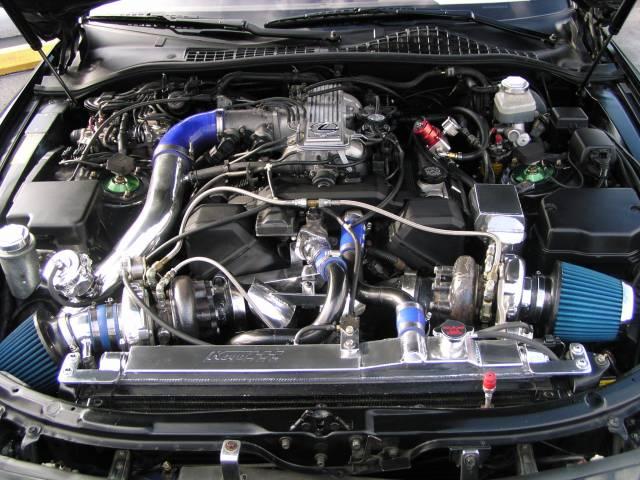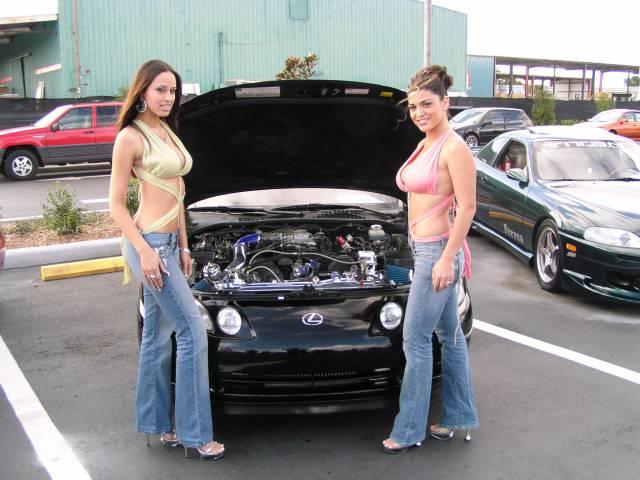 I will post them up when they are installed on the car...I will not know exactly how they will look until then...I Want to help you out, but not wanting to help you to have the same thing as me, since I am going for custom and exclusivity...Plus, this will probably cost quite a bit to have the hood cut and the vents installed. Plus, the exact placement of the vents in the hood has not been established, since we need to avoid the structural sections of the hood so that it will remain rigid...So, I am reluctant to state wheree I got them...Let's wait until they are installed...you may not like them...
Thanks man...

Still a work in progress...So much to do...:
Big Brakes

Assemble and swap built 1UZFE engine

Install BoostLogic Transmission

Complete interior mods

Complete Stereo mods

Install the 2000 refresh

Strip and paint the whole car
Then comes the dyno...
12-18-2006
Thanks Bill....Yeah, I was determined to get this project done with the AC completely intact. In fact, the only modification to the AC is that I converted it to R134a refrigerant from R12. I was quite confident this could be done, I just needed to select the proper talent to get it "right". They are absolutely awesome at fabrication over at XtremeBoost....My hat is off again to you, Frank...You sure can fabricate and weld...

Bill, this TT project has awakened the beast within...and it is not even tuned yet, or running at any boost worth mentioning....I can hardly keep my gonads intact, waiting for this beast to be truly unleashed...

12-23-2006
I haven't had time to stop by the shop lately...Too busy with life and work. Also, Frank has been to busy to get to work on it either, so, haven't stopped by...
The BL tranny is completed, and will ship out to me next week. The engine is done. I will pick it up next week. The fuel system is being worked on...I hope to have a resolution within the next 3 weeks, or so...I can then install the Engine management, and TUNE this baby....

I picked up a second oil pan from Lextreme...This one will be chemically cleaned, and then prepared and welded correctly for the motor swap.
Nothing else for now...Looking forward to getting this baby done....

1-2-2007
No...

Gotta fix a coolant leak first...I have found it, no big deal to repair...
Also found an additional electrical problem in the wiring harness connected to the alternator....Will fix that as well...
1-9-2007
Well gang, an update for ya...
1) I have finalized the payment to BoostLogic, and they are shipping out the tranny to me...I will have it next week sometime.
2) I have seen the completed heads for my built motor, along with the balanced crank, honed block, etc...looks fantastic!! One more delay...After much debate, I decided to add the Lexus oil squirters from the 2UZ into the 1UZ oil galley...Thanks to the research done by Bob, I decided this was a great added failsafe, and not an expensive mod to add since the engine is apart right now anyway...Engine should be ready for me to pick up from the shop within 2 weeks. I will assemble it along with a buddy of mine. Getting ready for the swap


3) I fixed the two coolant leaks...cut and added a longer silicon tube for the upper water pipe, and that fixed that problem...I took off the old cap on the small overflow feeder tube, and recapped it...Leaks now sealed...
4) I found out that my second aftermarket alternator was dying, and finally went kaput totally...along with my Optima red top...only 4 volts...each one was feeding the other problem until the car would not run. I got rid of the red top, and bought a yellow top...much better battery for my application. I also drove to Melbourne FL, and got a genuine Lexus Alternator from the dealer...Don't want to mess with the aftermarket ones anymore.
5) I am in the process of completing the installation of the new alternator right now...What a pain in the **** to replace, especially with the turbo plumbing...Thank goodness we made the pipes modular, or this would be an unbelieveable nightmare to replace...As it is, I had to give my back a break for a moment, and decide to post up my progress...Want to go to the local meet tomorrow...So, I worked late, came home, ate dinner, and jumped on it about 9 or so this evening...I have going strong for over 3 hours now...I had to remove the heat shields, the y pipe, and the water pipe to get the alternator out...Sure hope this one lasts a great long while...Anyway, jumping back on it now...
1-10-2007
Alternator is installed....Took me until 4:45 am to complete...Ran into some snags...

But alll is well now...

I gotta tell you all...I don't want to have to repeat that again...What a serious pain.
No sleep today...

1-20-2007
What Shop???


Frank, who???


It has been so long since I have been in the shop, I have nearly forgotten about it...

Just kiddin...
Yeah, I heard about those damned thieves...I certainly hope they get what is coming to them...and soon. Hate thieves...
Yeah, the motor swap is coming soon, very, very soon. Sorry guys for not being able to post up a dyno on the stock engine, but I do suspect it is capable of 500 RWHP or so, if properly tuned...I have what appears to be an oil pump failure. As soon as the engine warms up, I start losing oil pressure. So, it is not worth putting in a new pump, for only a week or two, especially when I would take it out almost immediately, because then the car goes back under the knife, and the engine gets mock assembled, clearance checked, final assembly, and then installed. I am installing all new internal parts on the built engine, even though my water pump has less than 10,000 miles on it, as well as the timing belt. Of course the oil pump is the original one, and that will not see its way into the new engine. Man, it's really expensive doing all of this, but, I will truly have a new engine. And a new transmission.
I will take pics of the final build, and post them up as we go....
Yeah, I am looking forward to seeing their jaws drop in horror and disgust too..


They most certainly be a bit schocked...I figure I need about 510 RWHP to stay with the new Vette Z06, since I have about 500 more lbs than he does, and I figure that he has about 440 to the rear wheels...Of course, I will have alot more than 510 to the rear wheels, so my biggest challenge will be in feathering the throttle properly so I can beat him and not just sit there and burn off all the rubber on a new set of tires...

It is going to be fun....I will post up the dynos, videos, and the lot...
2-2-2007
Well:
I finally ordered the DSpeeds from Takakaira...They cost me approximately $155 US with shipping. I expect them in within a few weeks. I will let you know what I think of them once I receive them.Decided not to mess with attempting to clear the amber ones...Too much work and time for such little gain, IMHO.
I expect to be receiving the infamous fuel mod next week sometime...The secondary fuel rail setup for the 8 additional injectors. Really looking forward to this, I can finally put in some basic fuel mapping, and somewhat tune the car until all is installed and swapped out.
I will be glad to be done with this project....
Need to kickin ass and takin names....

2-11-2007
Guys, a little news...
My built transmission has arrived, my built engine is finished complete with 2UZ oil squirtes, I am picking it up next week. My fuel mod is shipping out to me next week.
We will be performing the mock assembly to test all clearances at home, and then complete the final assembly of the engine. Then the swap gets done.
BTW, my D-Speeds came in to...Excellent service in Japan, and nice looking.
Oh yeah, Frank is welding up a new set of headers for me out of high grade stainless, these will be replacing the mild steel ones I have now...Frank removed them from my car today...What fantastic fabbing...To remove them, simply jack up the front of the car, put on jack stands, and remove them from the bottom. Everything else stays in place. BTW, the headers looked as good as the day he put them in...no cracks, no visible damage...
3-1-2007
Gang, here are some pics of the block and heads, post machine shop, pre-assembly...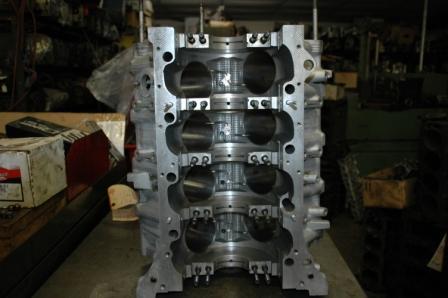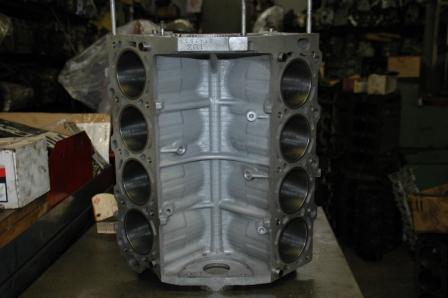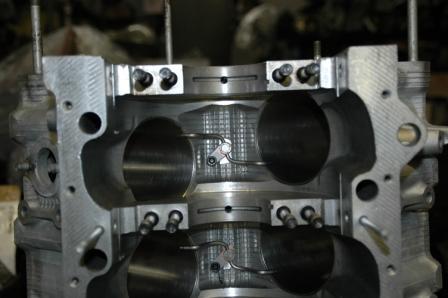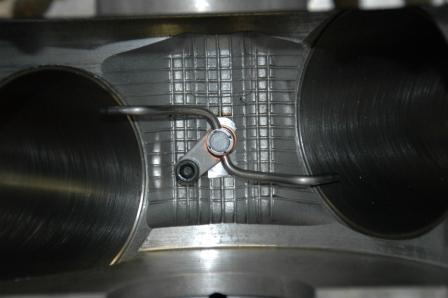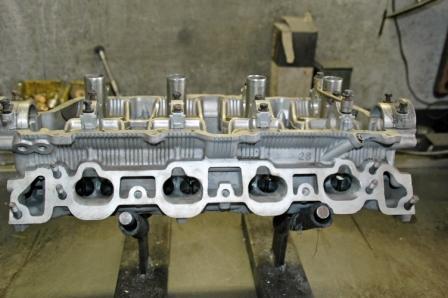 More of the engine...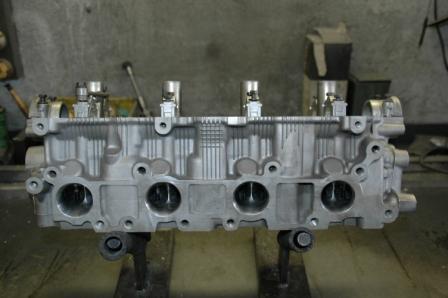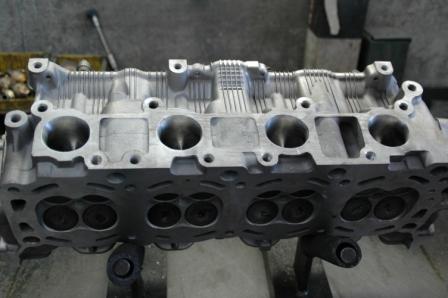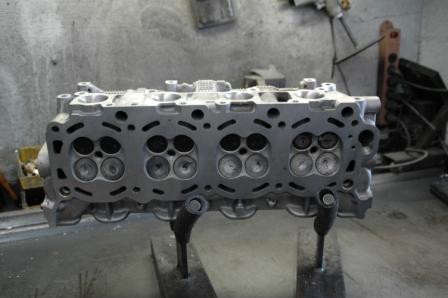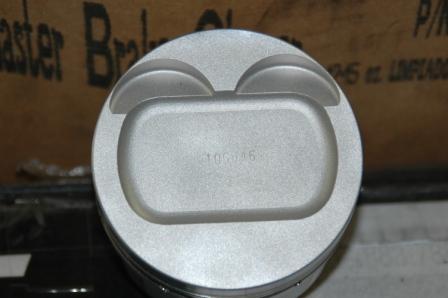 3-31-2007
Well Gang, it has been a little while since I posted up anything...I want to update you on where we are...
I trailered my car over to my friends house where he has lots more room than I do, and no HOA to complain....

The engine and transmission are now out. The process to reassemble the new motor, and swap the almost new parts from the stock engine to the new engine begins next week Monday. I hope to have the engine and tranny swap completed by mid April, then the car goes off to paint, then the reveal...If all goes well, May will be the reveal...It has been over 2 years.
4-25-2007
Guys, I just paid the Machine shop. I will be picking up my built engine any day, and we will be performing the swap...

Finally...Stage II is about upon us...
Pics are coming...
4-26-2007
Thanks, Scott. I will. Only thing I am disappointed in is that we never dynoed Stage I. But it was just not convenient to do so, I could neverf get the retroed intake back from the fabricator in time so I could dyno it.
In Stage II, I am adding the fuel enhancements even iof someone else has to make them, so, I have a question for all you tech guys out there regarding the Stock ECU.
Gang, I have been pondering this just for the last day now, and have not found anyone that is sure of the answer, so I want to post up here to see if anyone can provide the correct information.
I will be keeping the stock ECU on my SC400 Project Car even after I install the built engine which I am just now picking up from the machine shop. I will be adding a piggy back with an external Delco MAP to the system. So, I will have 2 Walbro 255 pumps, and 2 separate fuel systems in the car. The stock one stays in place, and the secondary includes 8 440 cc injectors run by the piggy nack that will connect to the stock ECU, and will adjust fuel on the secondary fuel system, and will change timing as necessary.
MY question is does anybody know what the Stock ECU is doing when we hit the Rev limiter past 6500 rpm? Is it an ignition cut, a fuel cut, a timing change, or a combination of the above? My reason for asking is this:
I am adding the BoostLogic built A340 4 speed trans and Precision trany to the equation, and I have no experience on how the car will shift until I get it on the road. They did adjust line pressures and make several modifications to the stock valve body so that the tranny will shift much quicker, but it will still be civil during normal driving. I am sure there will still be a delay between gears, although shorter. If I shift the gears manually, and miss the sift point and cause the rpm to hit the rev limiter, if this is a fuel cut, will this not caus ea temporary lean condition? If I am in high boost when this occurs, I am concerned about the danger to my engine...
I can adjust the piggy back to change the pulse cycle of the secondary injectors in the map and adjust the timing when past 6500 rpm as a safety factor, if needed, or I can tune in a fuel cut as well. But, I will need to know what the stock ECU is doing...
4-29-2007
Hey gang, I have a few pics for ya. I assembled the BBKs, preparing them for install. Remember, I have picked up the engine from the machine shop...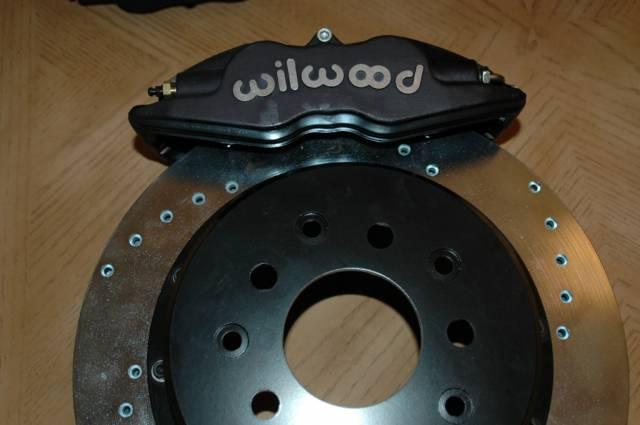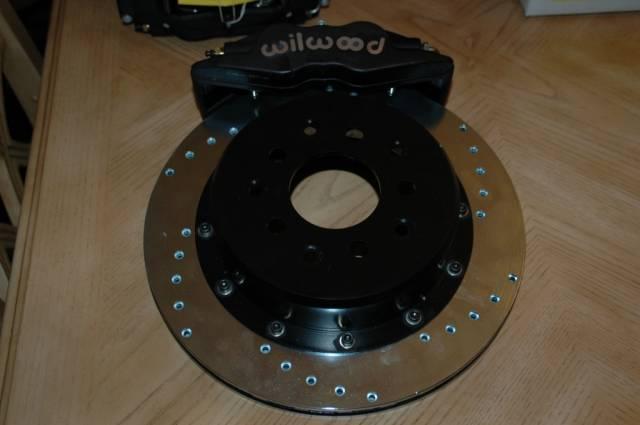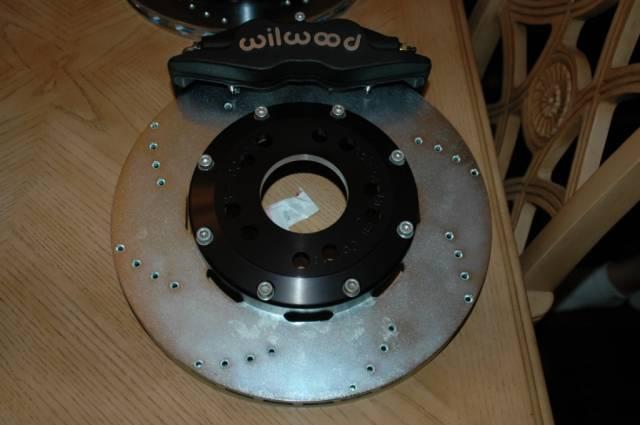 The Brake kit ncomes from Revolution brakes, formerly known as Precision brakes, the calipers are genuine Wilwood. Wilwood does not make a kit for the SC, but Revolution does.
Nice stuff, well machined.
4-29-2007
Here is a pic of the BoostLogic built 4 speed Auto Tranny with the Custom billet forward clutch inside. Also, as a part of this kit from BL , a Precision TQ Converter is included.
I also got my Walbro FP hanger for the SC from MVP...
Ryan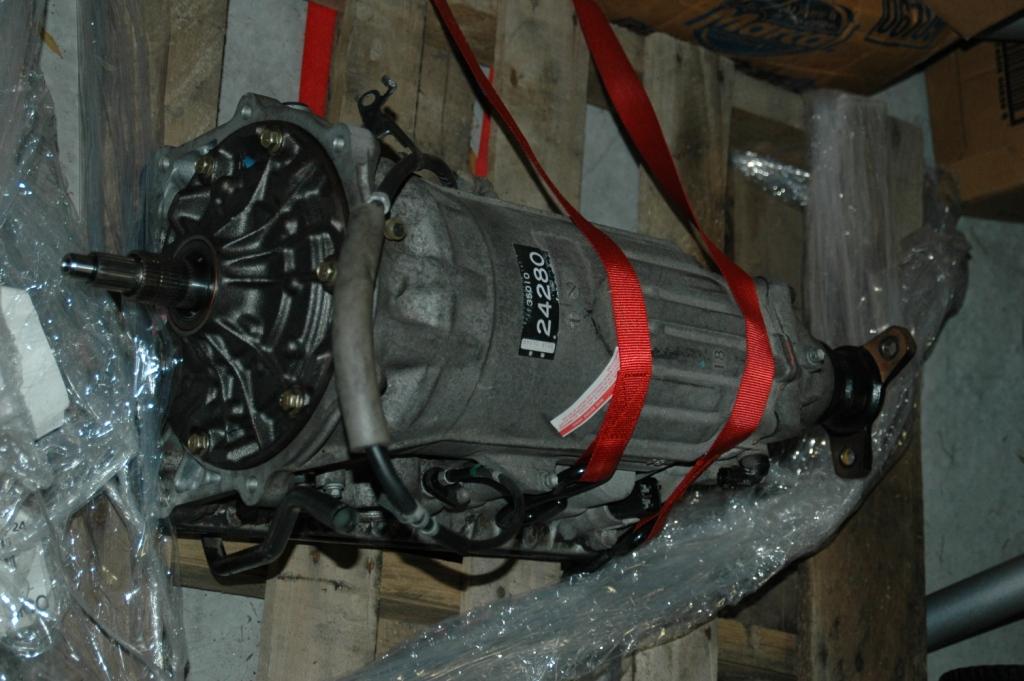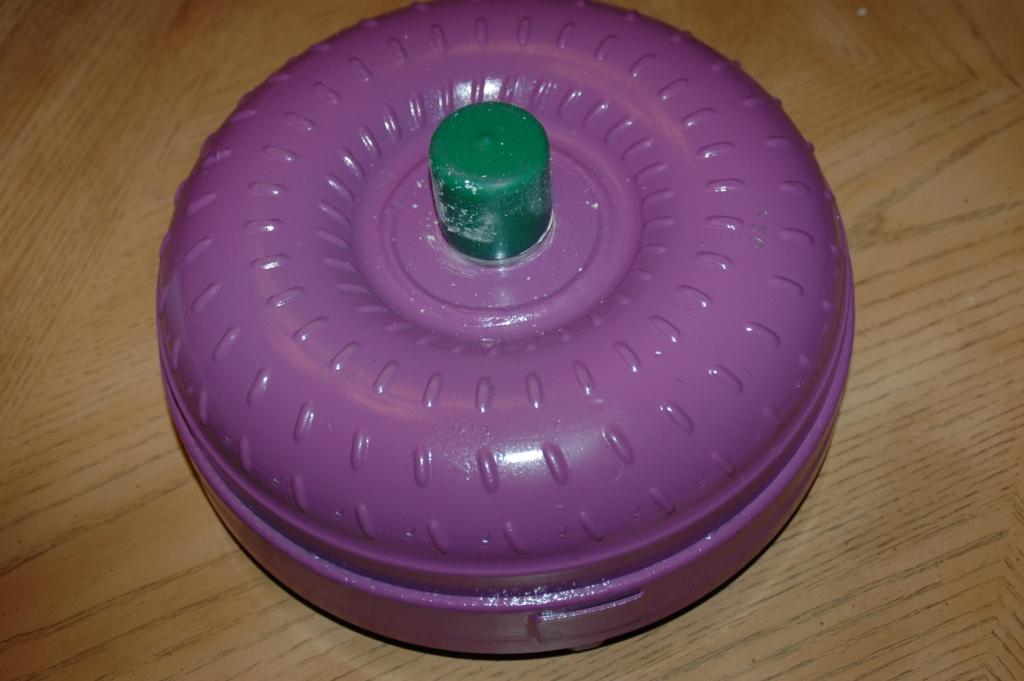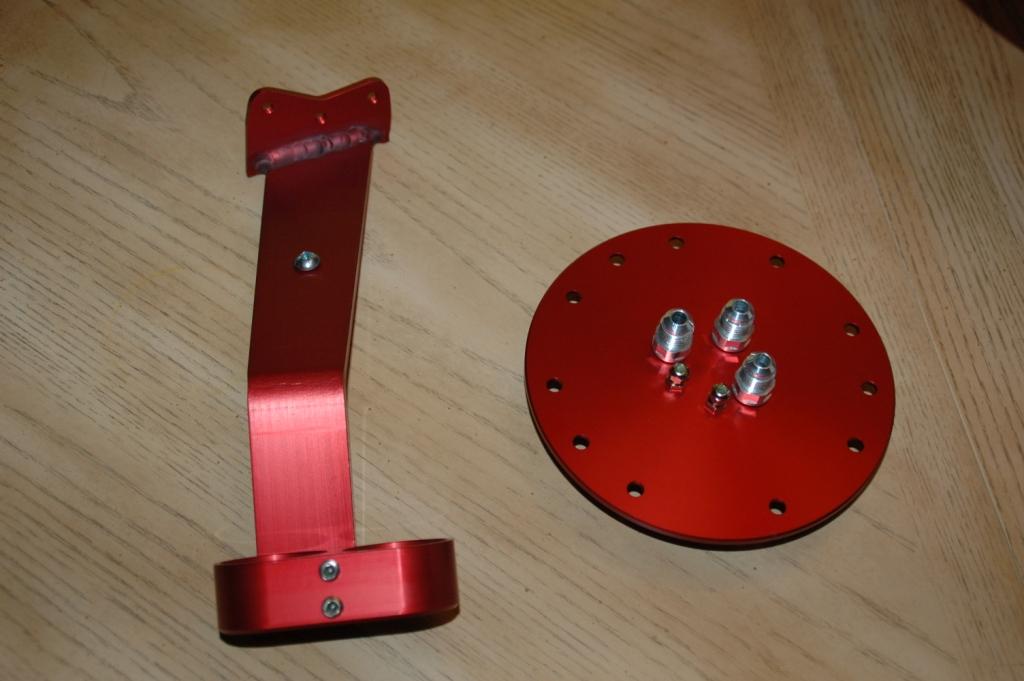 6-10-2007
Gang: I haven't been able to get these installed because one of the drilled holes in one of the rotors cracked upon torquing the bolt to secure the hat onto the rotor. I just got the replacement rotor in, the one that cracked was a freak..it had a mild factory defect in the rotor. That is very rare for them and they replaced it free of charge

BBK's going on today...Pics to accompany.
6-11-2007
OK, Gang...We got the front BBK's installed, but did not have time to complete the rears, so that will be done tomorrow, and we will bleed the brakes at that time. I gotta tell you, these guys at Revolution Brakes (formerly Precision Brakes) make a quality kit. Everything was machined extremely precisely, and abviously, the Willwood calipers are awesome, and extremely lightlweight...

Even the SS braided brake lines were made precisely...The ends were made exactly to fit into the Lexus mounting bracket and be held in place by the stock C clip, and the larger rectangular mounting clip. The fit was spot on exact...



I was extremely pleased. Thw center rings that they machined to extend the hub center were also spot on perfect...
From brackets to bolts to washers to calipers to hats to rotors, this kit was well thought out and engineered to work on my car, and provide increased braking capability utilizing the stock master cylinder...

Here are a few pics...
BBK Installed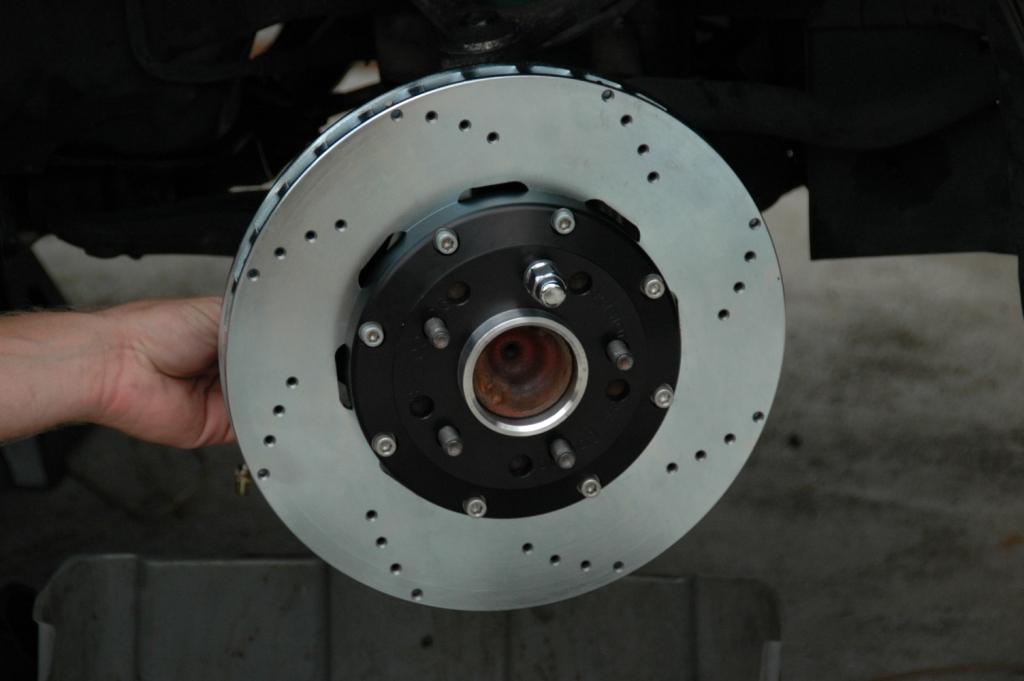 Another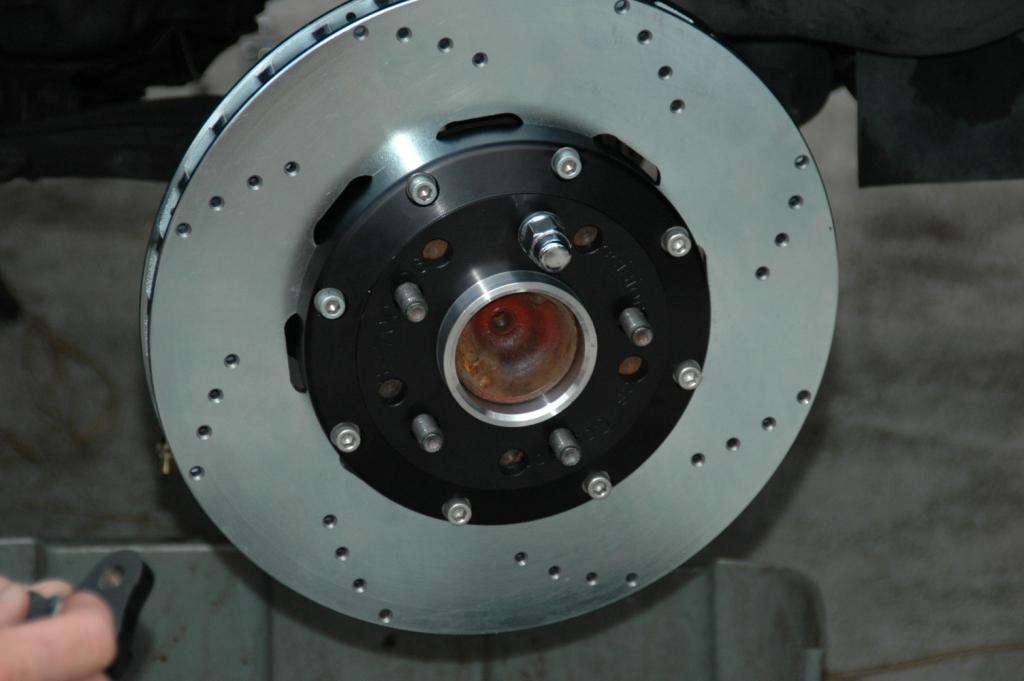 Another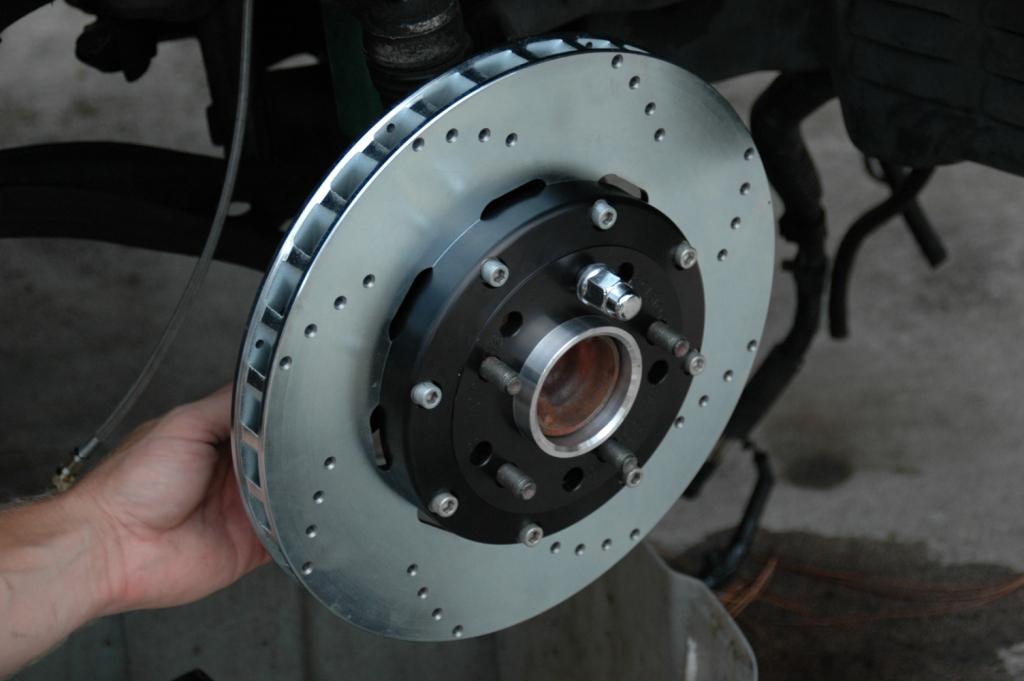 Comparison of size of old one-piece rotor to new two-piece rotor.
Here are the rest of the pics of the front BBK's before installing the rears and putting the wheels back on...More to come tomorrow...
With Caliper installed...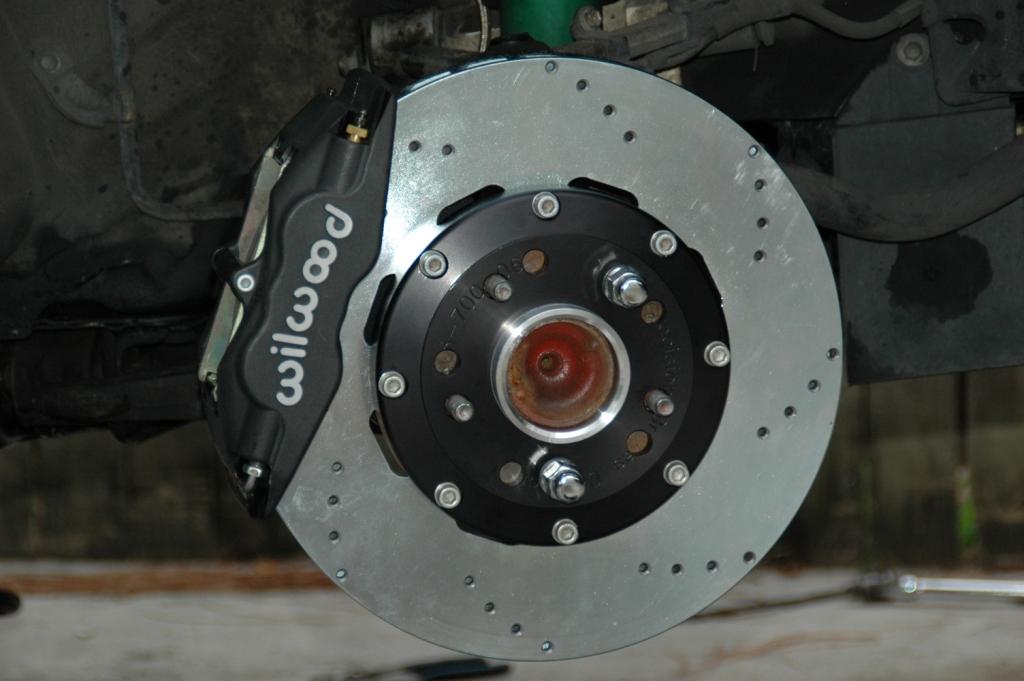 With Pads and SS Line installed...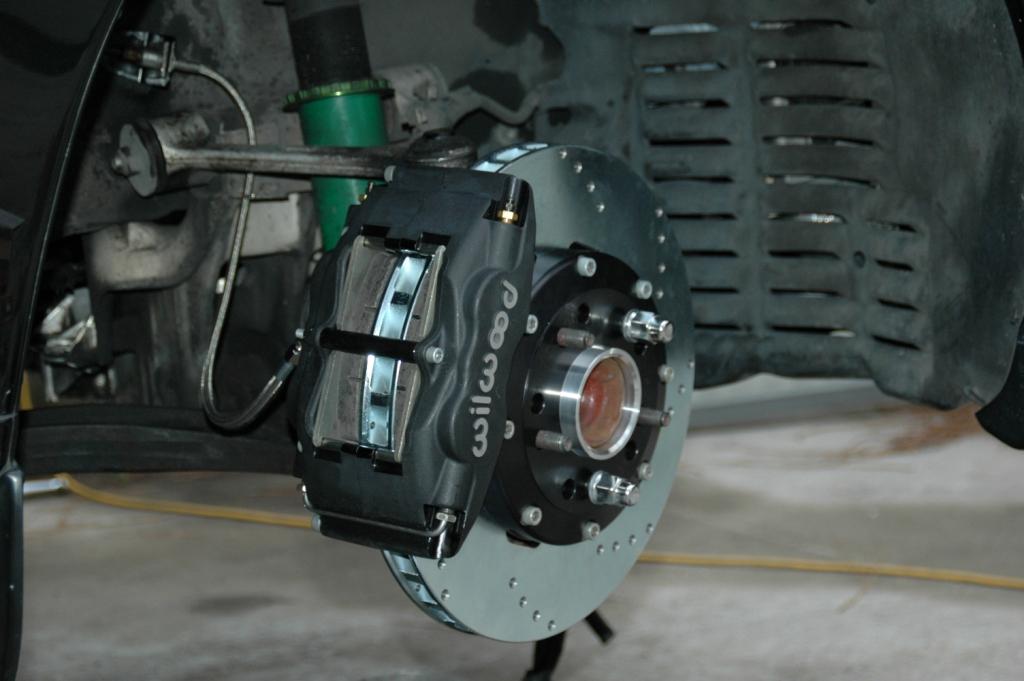 Close up of Wilwood pads...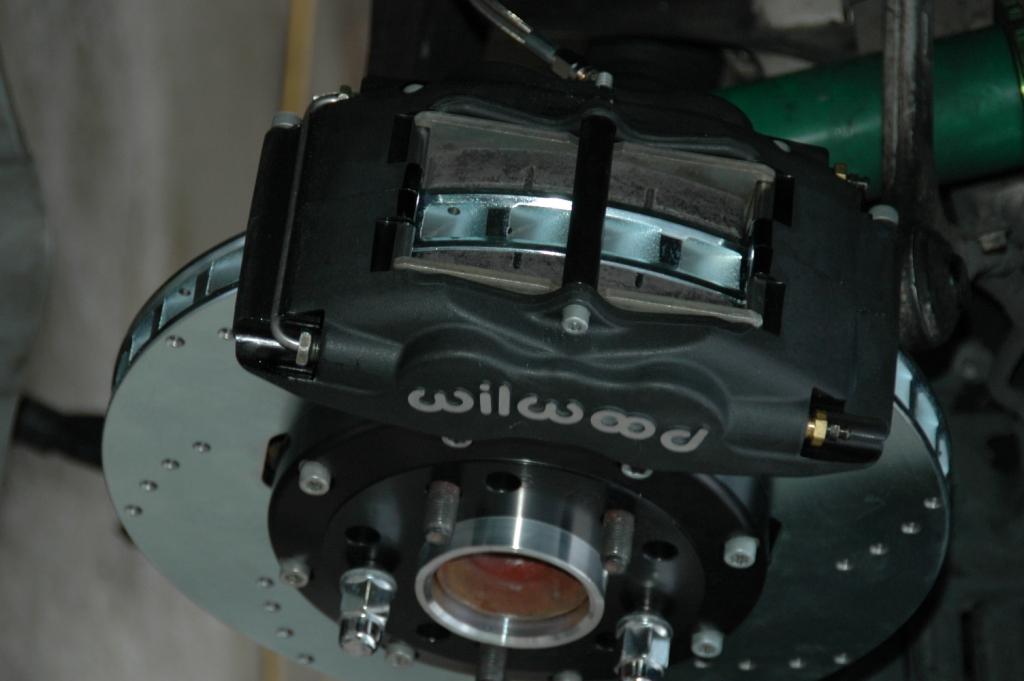 Removed the Dust shield, decided not to reuse, won't fit anyway...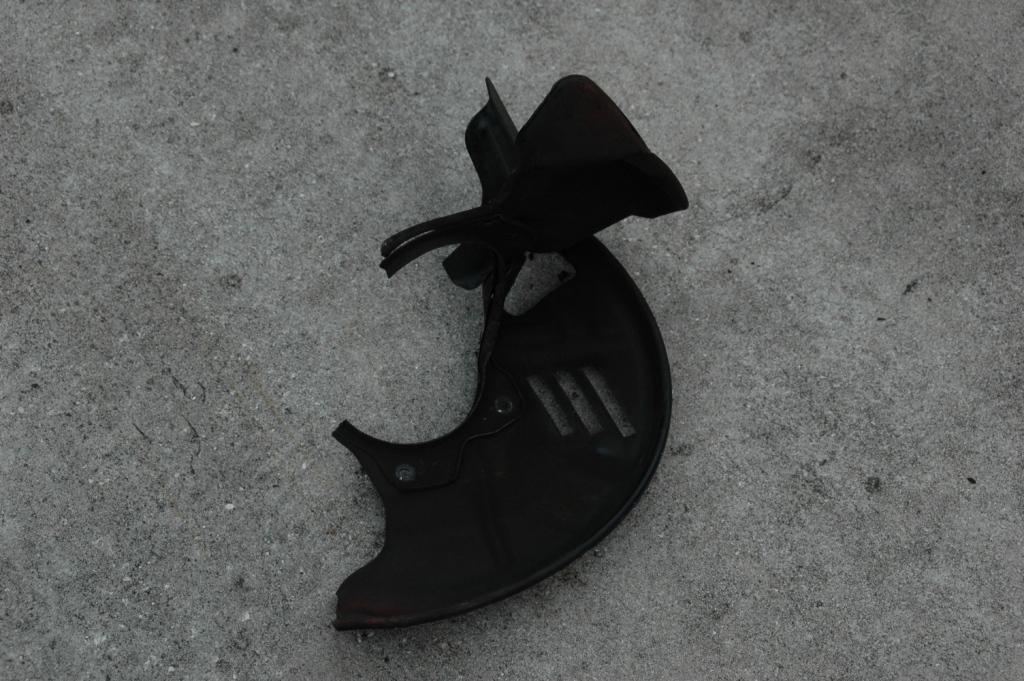 More to come...
6-17-2007
I fully had plans to do so, just had not gotten to it yet: Cleaned, rust removed, painted, and still very wet...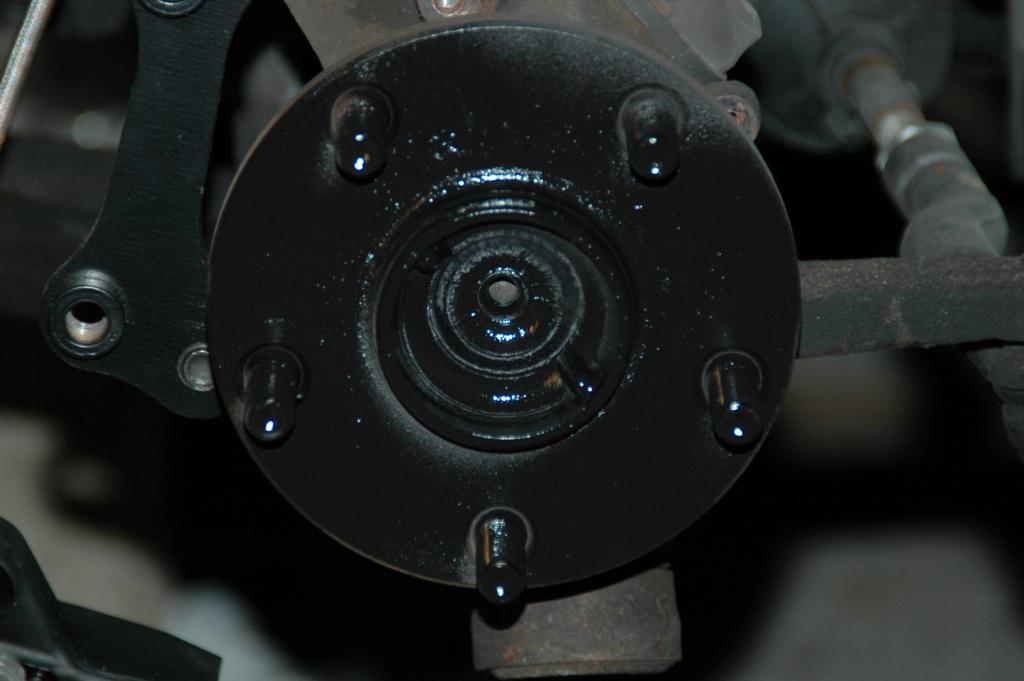 Here are a few pics from the Long block build and blueprinting I was doing the other night:
Laying out the new internals...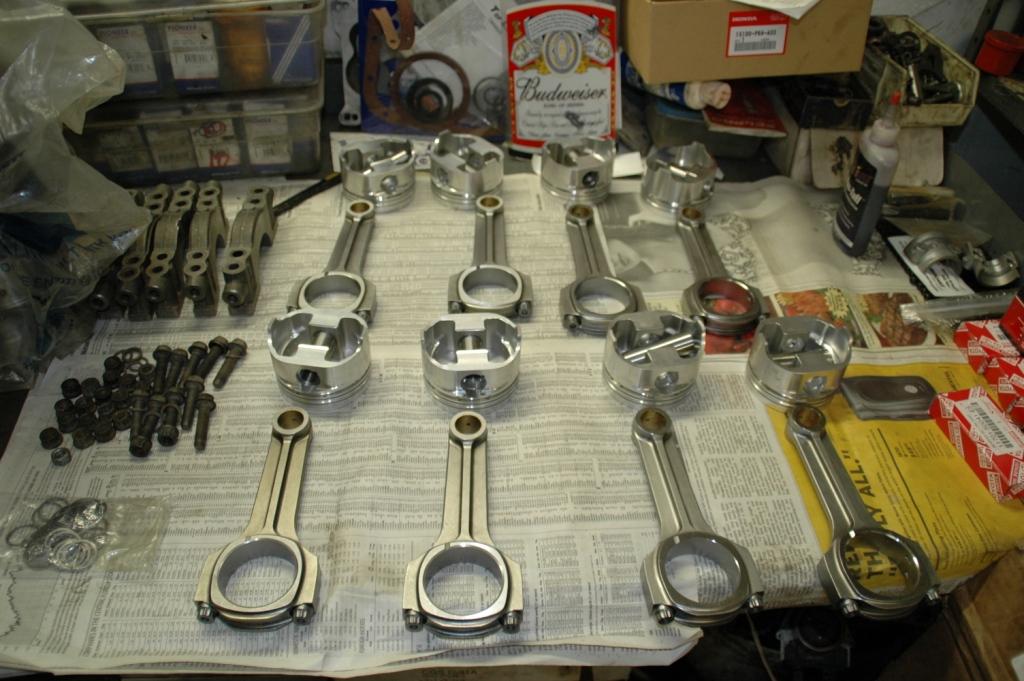 Pre-assembly and measurement of main caps...6 Bolt Mains Baby...Yeah!!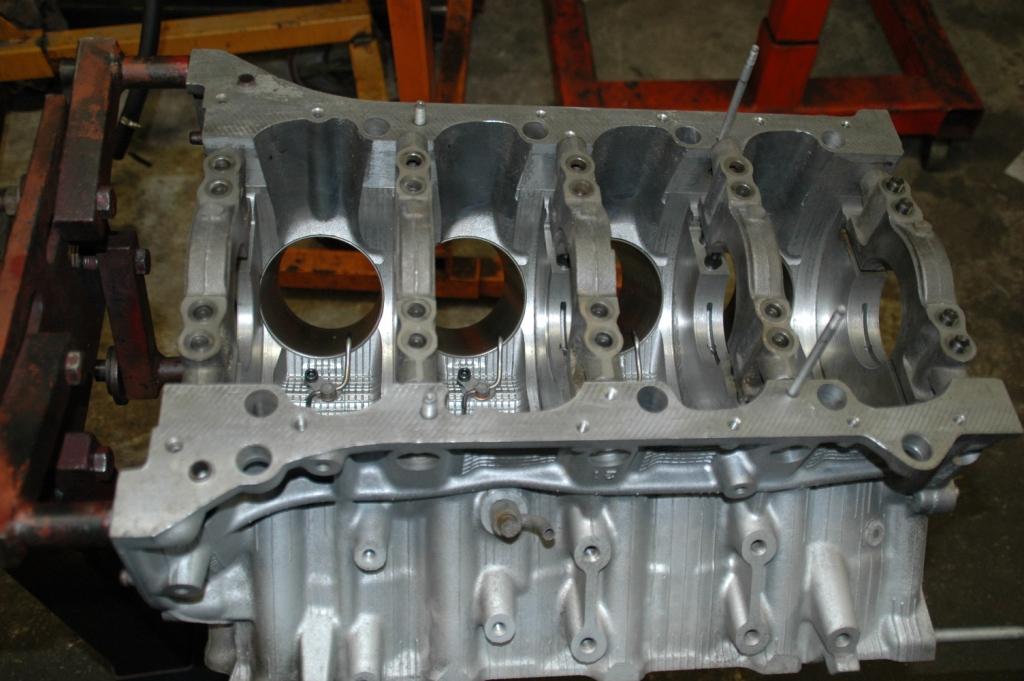 Much more to come...
7-7-2007
Gang, I am happy to state that I have made great progress over this July 4th Holiday. I got together with Jeff, the owner of CW Pence, the machine shop that machined my motor. We continued the build, and have about an hour left to complete the Long Block.



Here are a few pics for you to view:
Pauter Forged Rods and Ross Forged Pistons connected: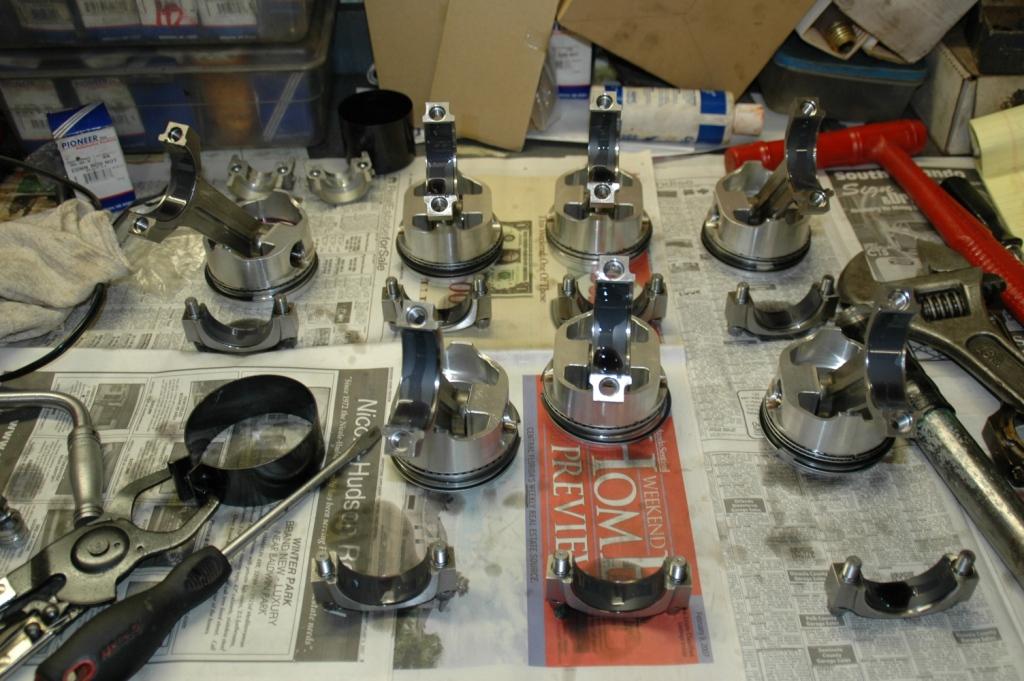 Graphite Bearing: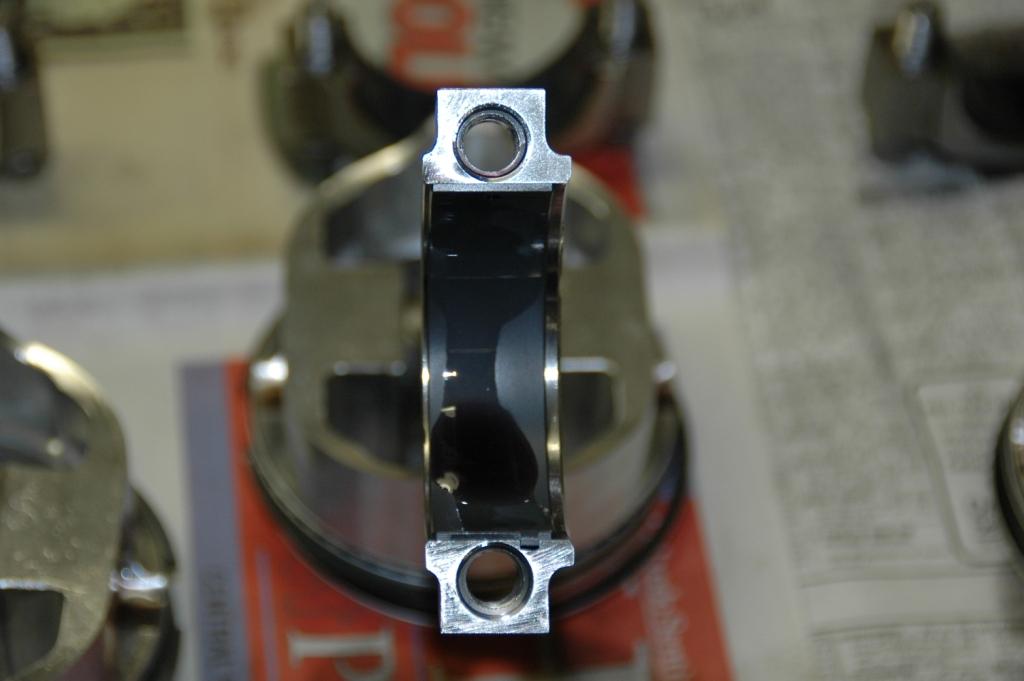 Crank Installed: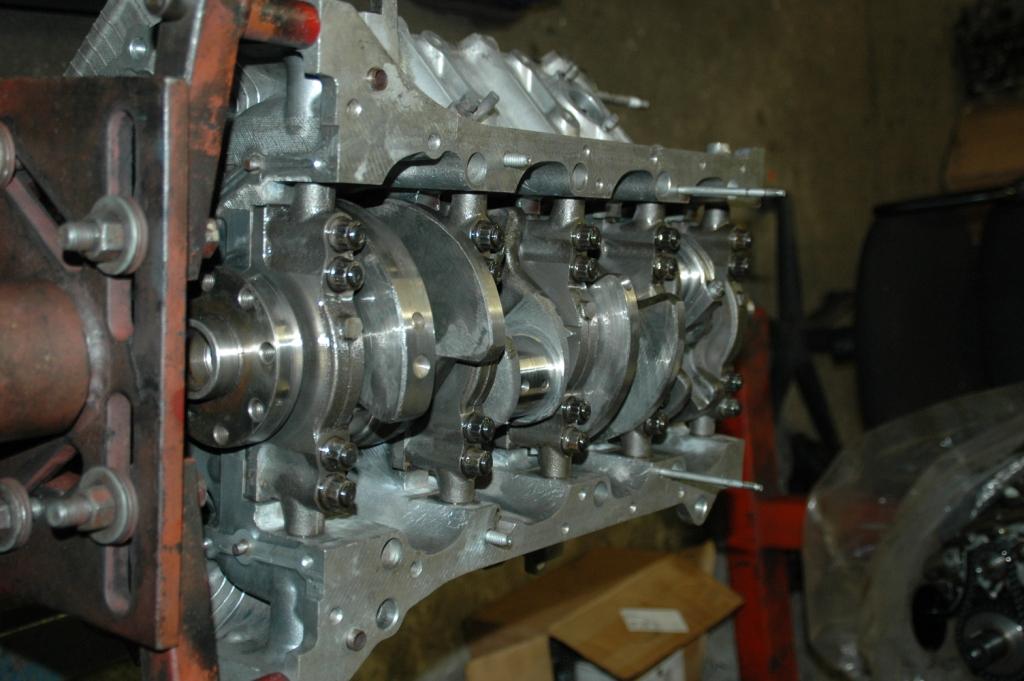 Oil Injector clears rod and piston: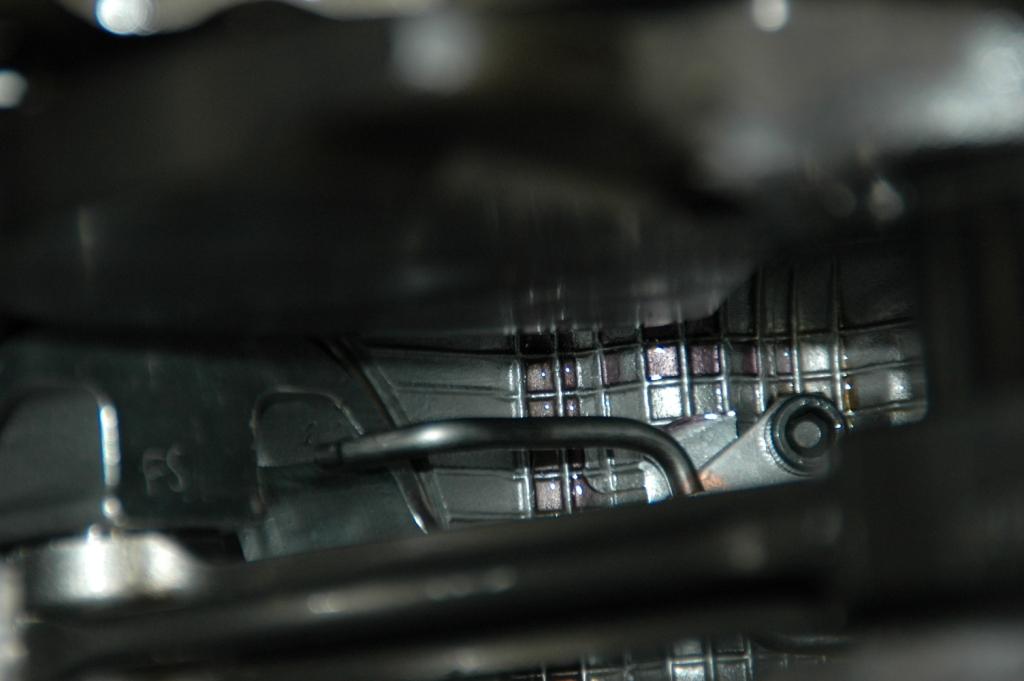 Piston Installed: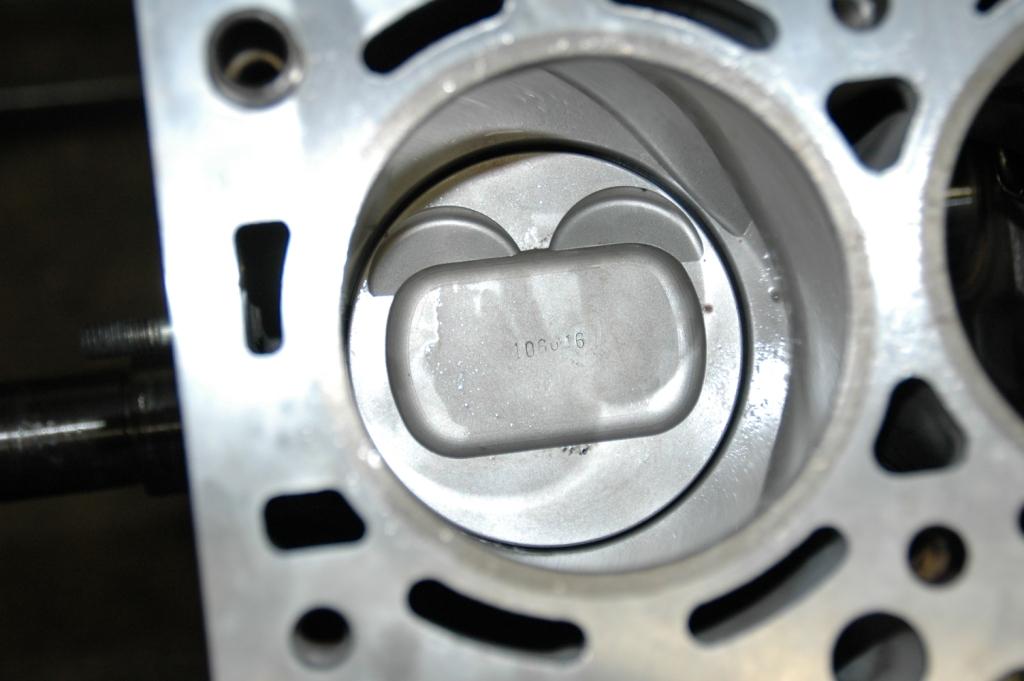 More coming...
Here are some more:
Forged internals Installed: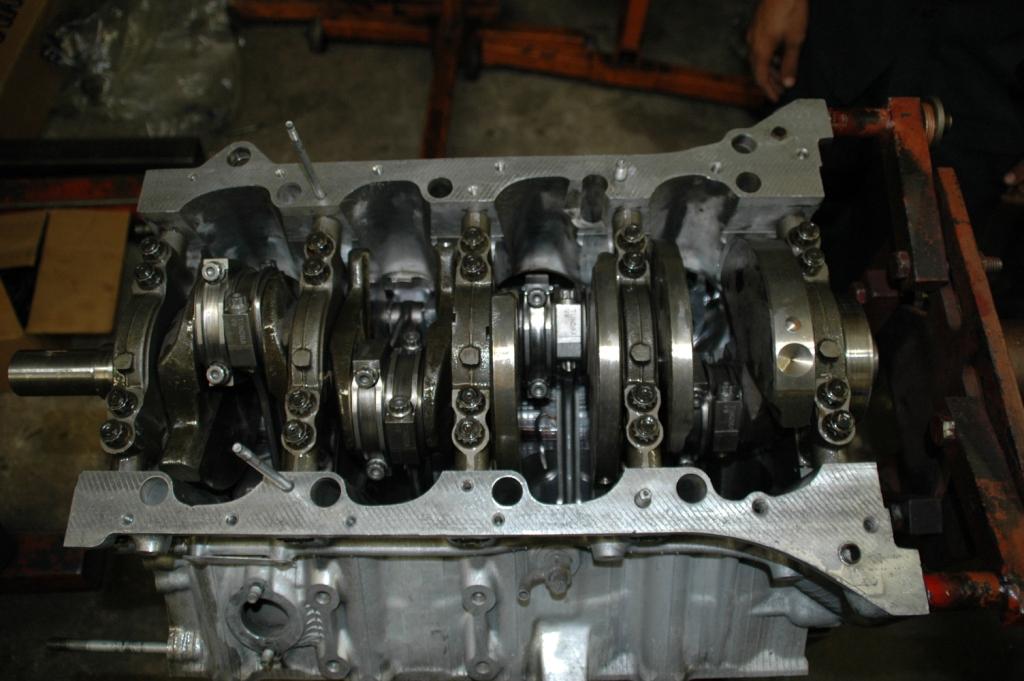 What a beautiful site: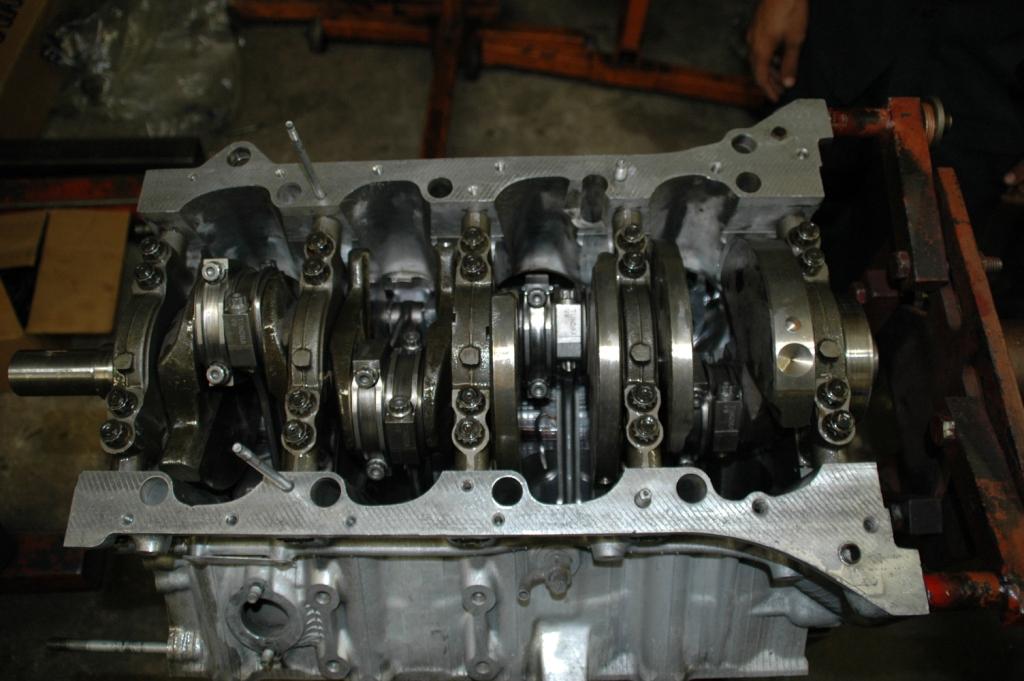 Close up of Rods: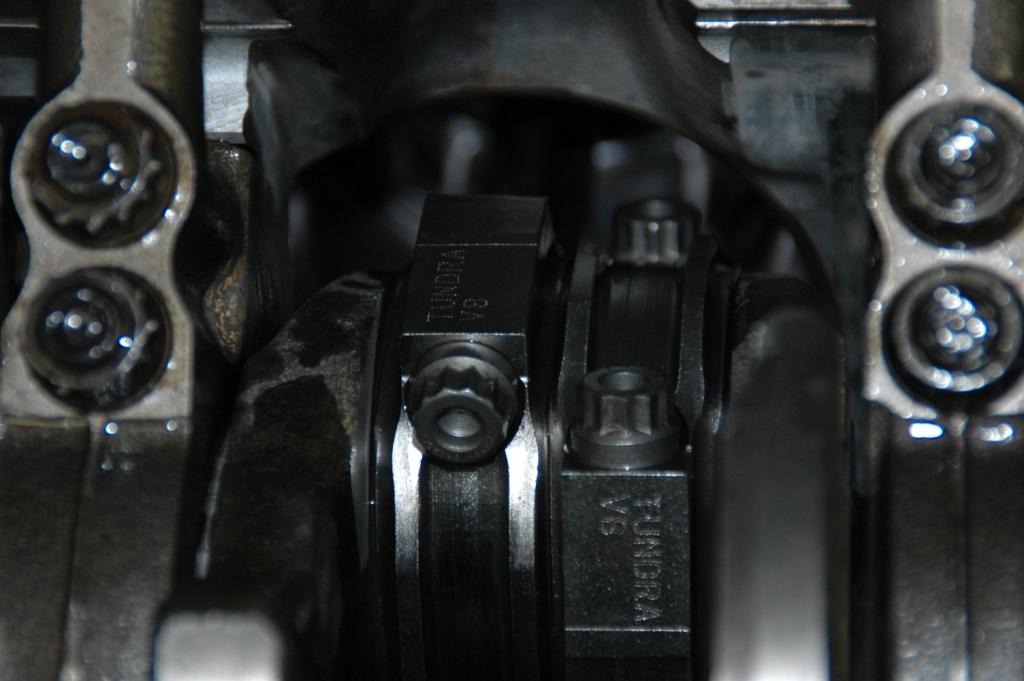 Pistons 1,3,5,7: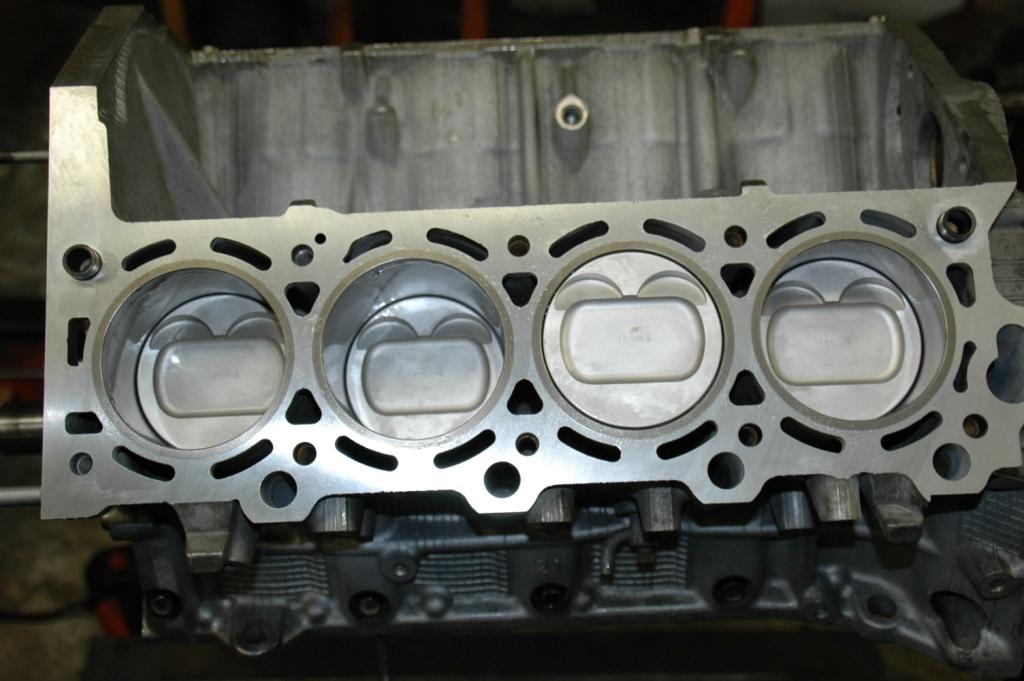 Pistons 2,4,6,8: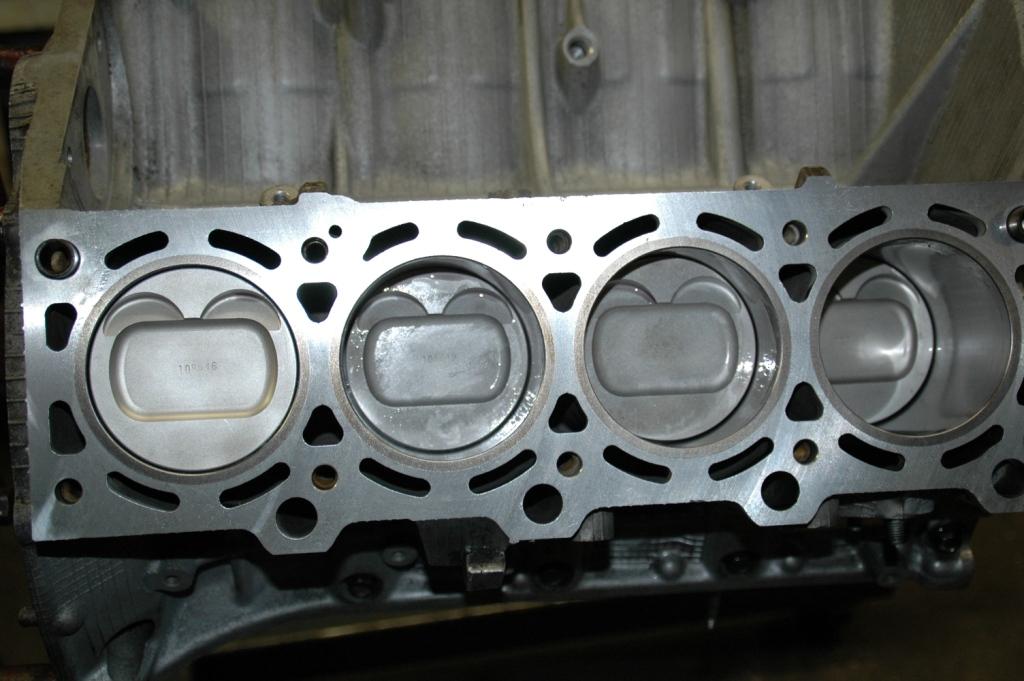 Here are some more:
Built 1UZFE Baby...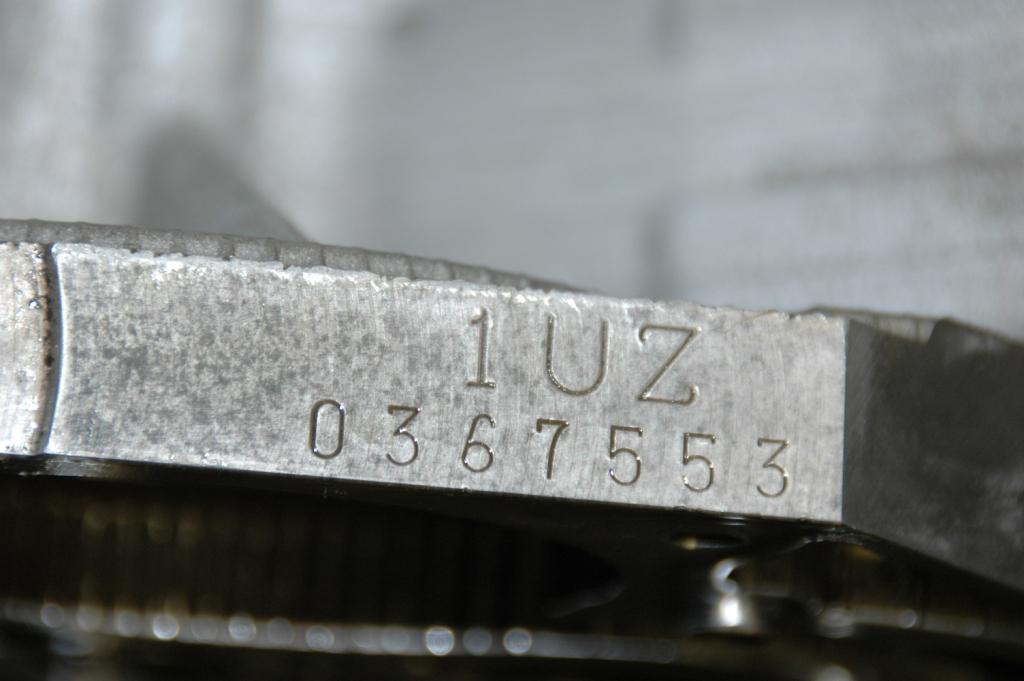 ARP Head Studs installed, courtesy of Lextreme: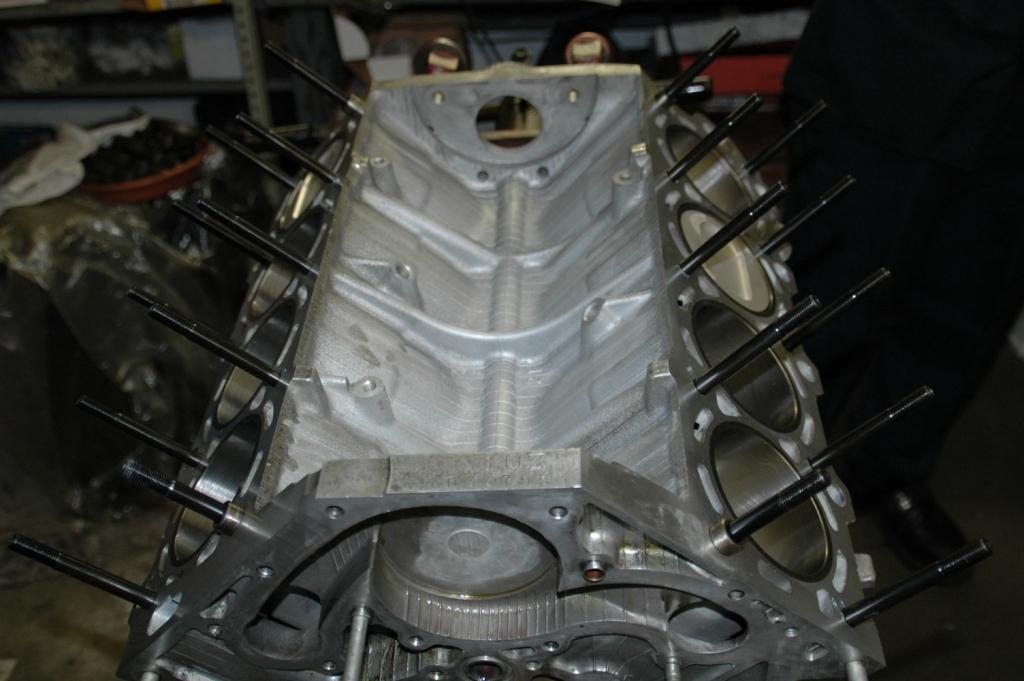 Passenger Side Head installed: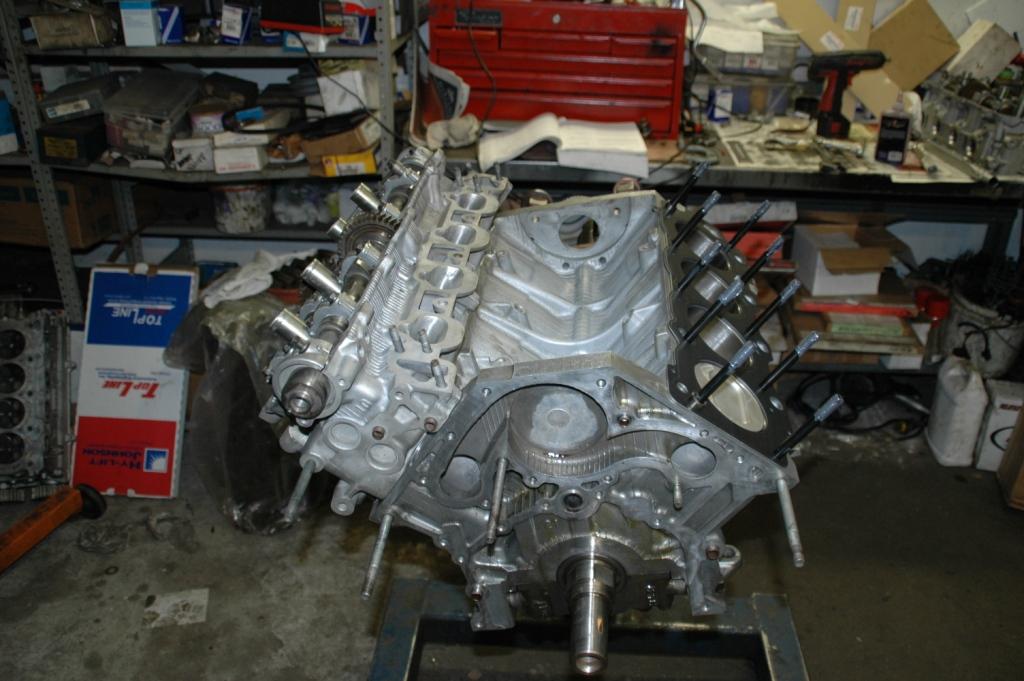 Cams installed: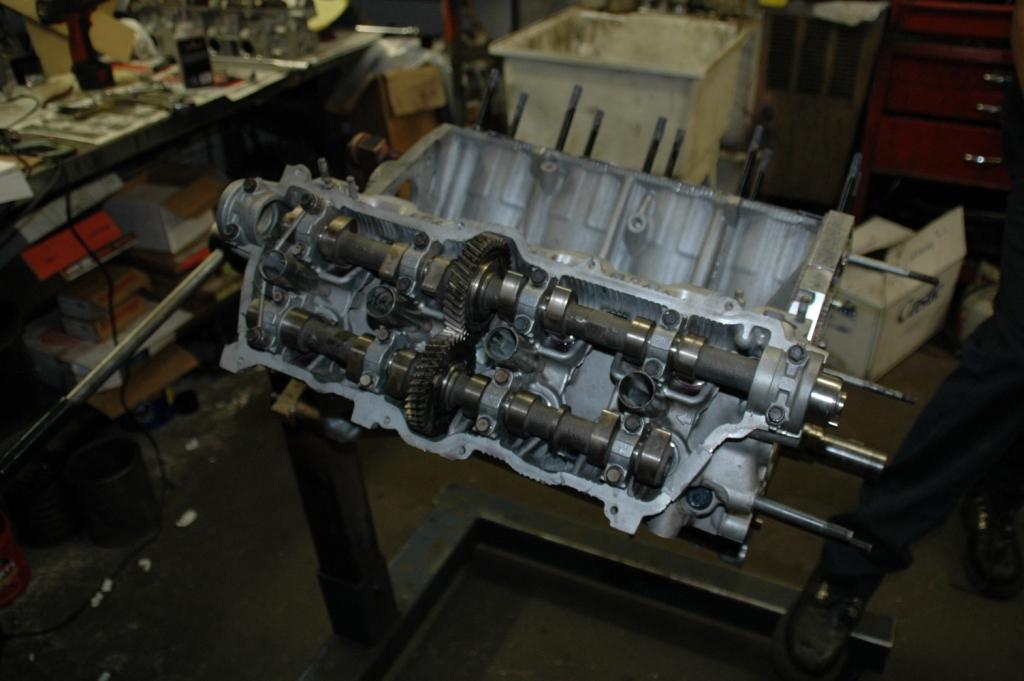 Another Cam Pic: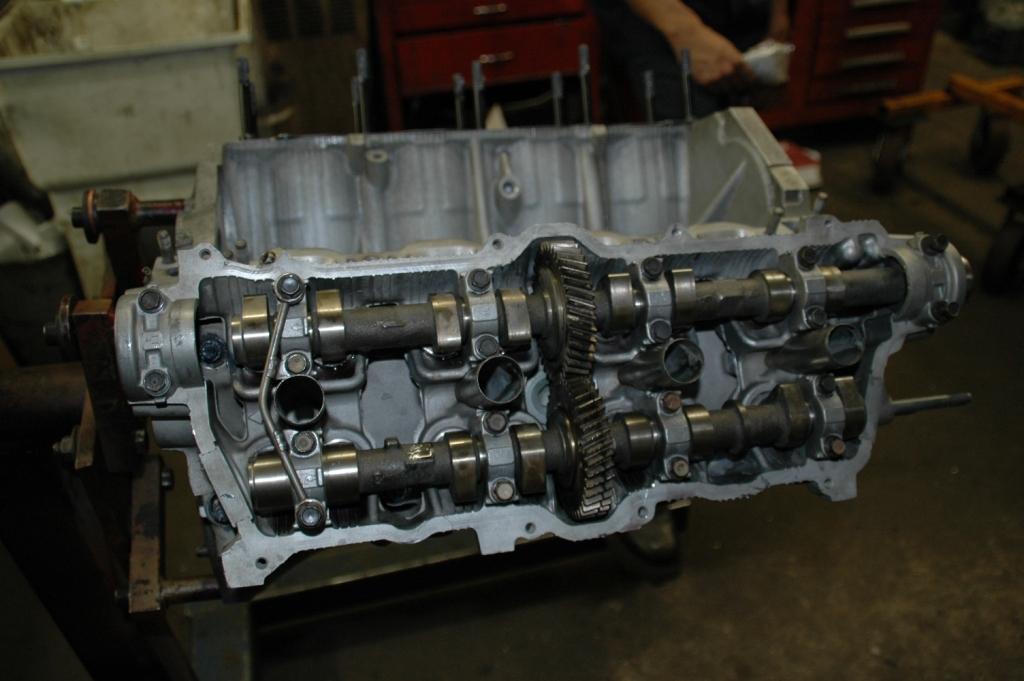 More to come soon....

7-9-2007
About 30 days...Scott is just being his normal smart-aleck self...

He never posts on my thread anymore with positive comments, only sarcastic ones that he thinks are still funny, and that he has already beaten to death. Now only he finds them funny...


Ha Ha Ha, Scott, got you back...


BTW, Scott, all in fun...but you really are beating up the same joke a bit much...Come up with some new material, and post it up on your thread...

7-10-2007
Another note:
To any of you others looking to follow my lead and build your engine for boost, if you elect the Pauter rods, be sure to pay attention to the Offset on the rods. This is very important because if you install them backwards, you will acheive improper spacing on the crank journal, and cause binding. Look at this pic here, and notice the protruding offset on the right side: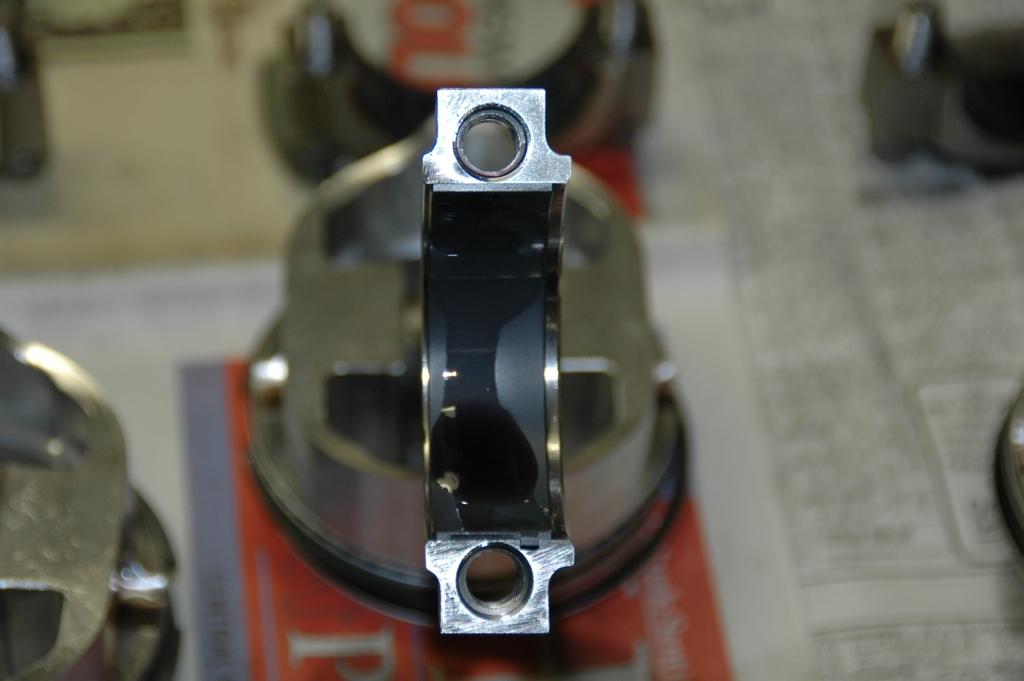 When looking at the rods, if you aren't looking for the offset, you will miss it. The Stock Lexus rod is chamfered on only one side of the big end for oiling, while the Pauter is chamfered (notched) on both sides. Besides the offset, both sides of the Pauter rod look identical. Make sure to install the offset facing the front on the drivers side, chambers 1,3,5,7, and face the offset towards the rear of the engine on the passenger side, chambers 2,4,6,8. Then you will be good to go...
7-12-2007
Guys, I actually think the stock 1UZ can handle a max of around 500 HP, if tuned properly. My motor should handle up to perhaps 1,000 HP if tuned properly. I no longer have aspirations to hit that high, as thinking about it over the past several months seems ludicrous to me for a street car. I am more shooting for 750 to 800 HP, and a normal street set up of approximately 500 to 550 HP at the wheels. Even that is wild to drive a street car on in day to day traffic...the torque will be pretty much equal to the HP, and that much power on street tires with rear wheel drive should prove to be fun and quite exhiliarating to drive in...I remember speaking to Bob(RDM20FAN), the other TT Lexus SC400 that Chrisman built. They got to 517 WHP, and Bob said the car was crazy fast, and had so much torque that it easily broke the tires loose on just about any gear...
If any of you have read some of the recent information coming out about the Corvette being supercharged or TT'd, the test drivers pretty much could not get faster times, but slower 1/4 mile runs because of the amazing amount of wheelspin from the sheer torque produced, so more power equaled less speed. Again, this was on street cars with street tires. If one puts on racing slicks, and is a most excellent driver who has practiced driving the car, I am sure they will greatly improve their ET's.
Anyway, those are my thoughts...
7-14-2007
Just an update Gang...The long block is done...Complete and ready for the next steps, motor assembly. Oh, but I have to send out a few pieces for chroming...
8-19-2007
Gang:
Attached are the polished valve covers...Look like mirrors...

Many more cool things to come...

1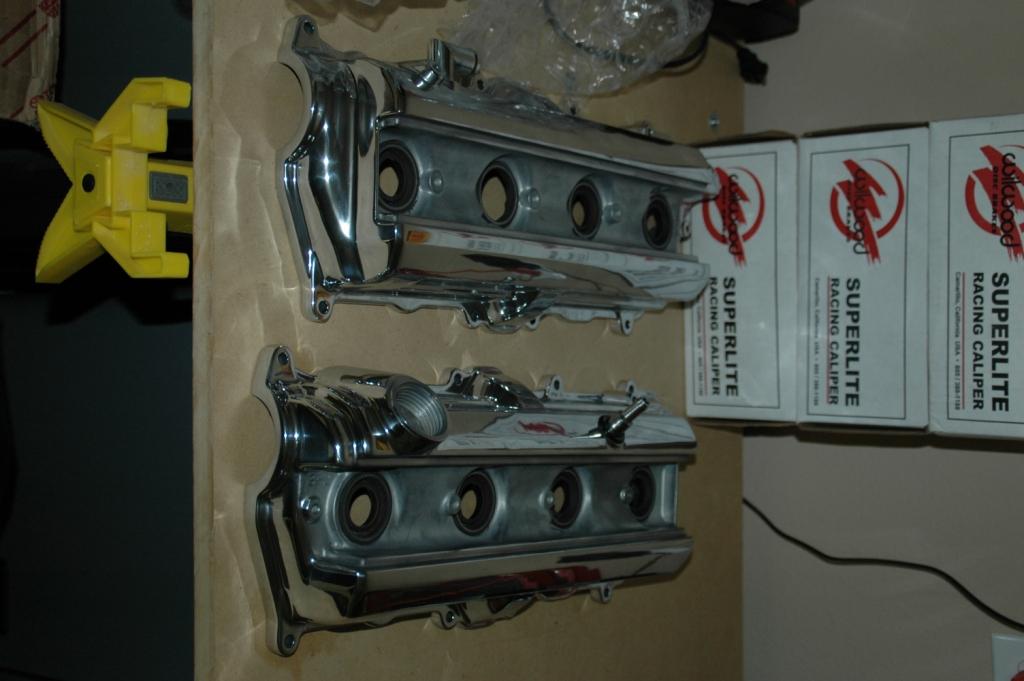 2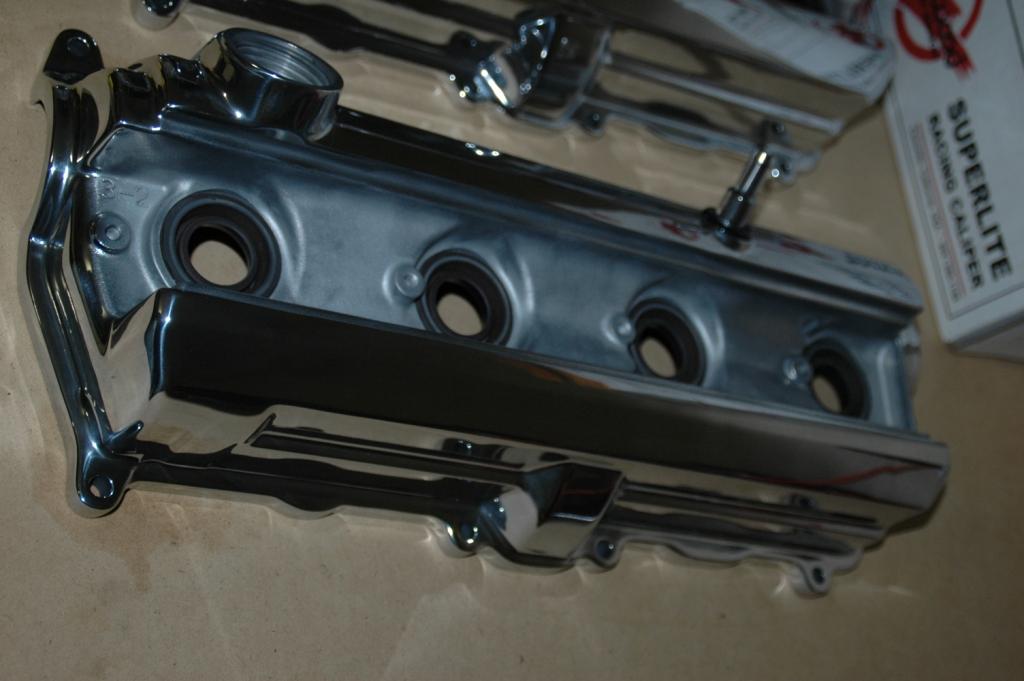 3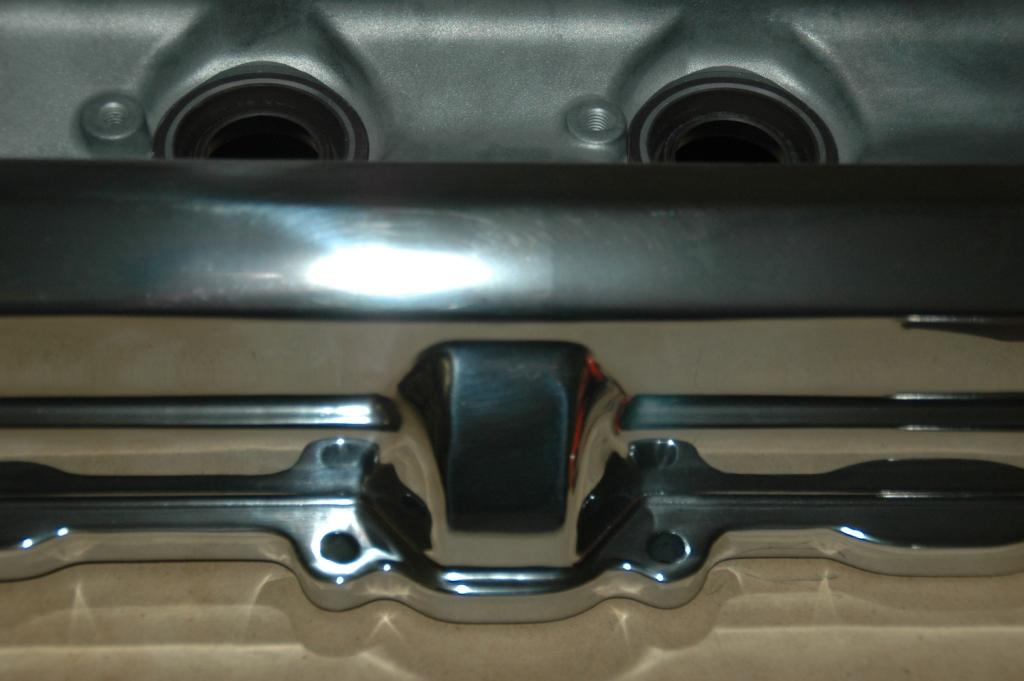 4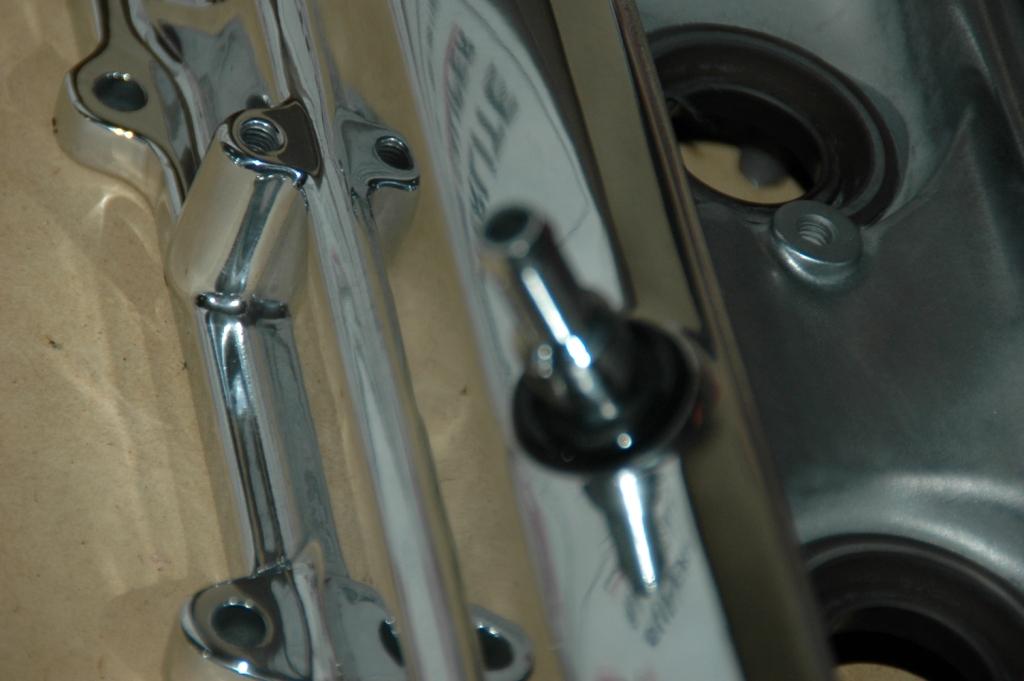 5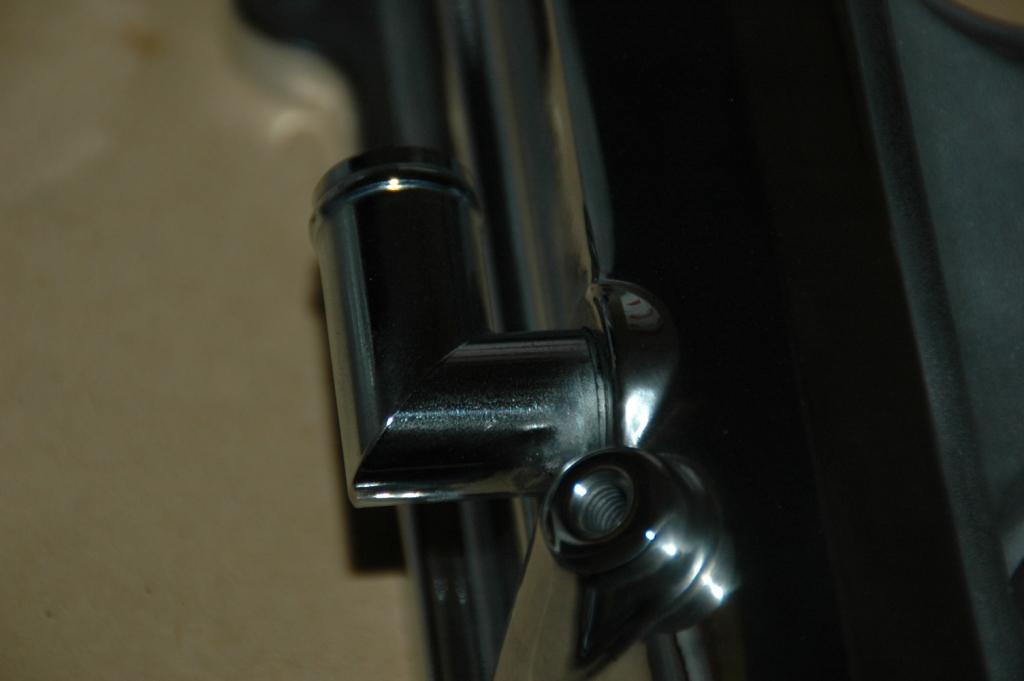 9-12-2007
Decided to pull out the stops on the gauges...Installing all DEFI gauges except for the AEM Wideband. Total of 4 Defi's and 1 AEM. Custom place for the other two locations...Watch and see...

Defi Link Control Unit II and EGT Gauge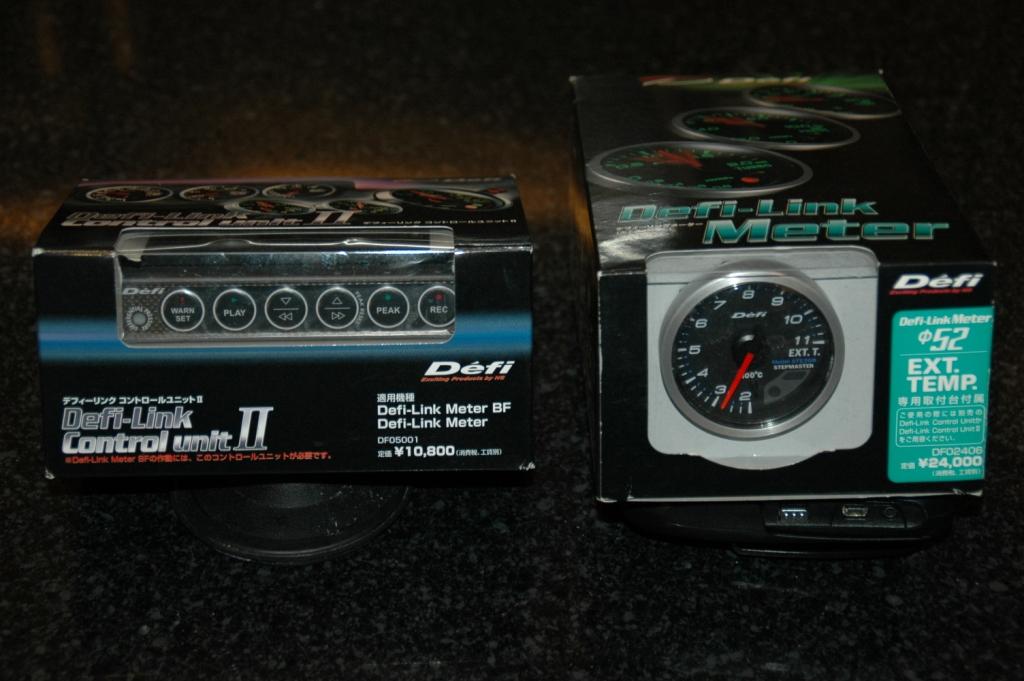 EGT Gauge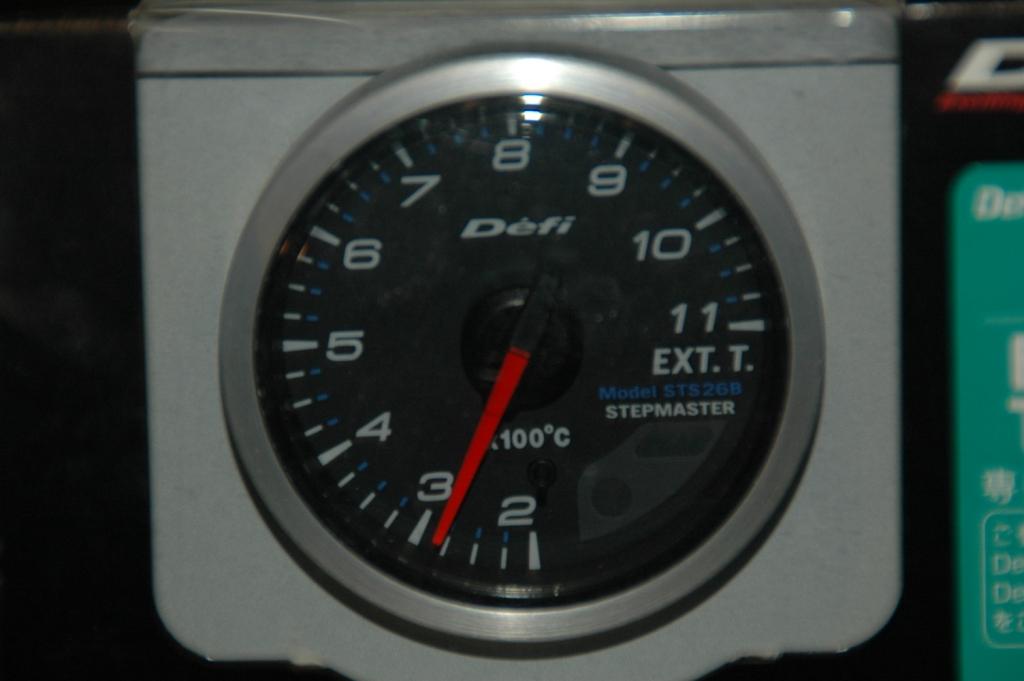 Wait until you see the paint...The company that is painting my car specializes in tuning all aspects of the car...They paint immaculately!! Their attention to detail is phenomenal, and they are in Florida...They will be doing some very special work on my car, and will also be coming out with some very unique offerings as well...

...You want to know who they are? Subscribe to this thread and follow closely...You will see after it is complete...
Also, I am working on the Control of the BL Built auto transmission, and I have found what I want to use to control the shift points along with the control of diffferent shift harshness dependant upon load and boost...This will be pulg-n-play along with my Stand-Alone ECU too.

As this thread progresses into the cataloguing of the final steps of my project completion, I will reveal the many names of the masterful companies and manufacturers that have worked closely with me to bring this project to successful completion. There really are some great guys and companies out there.
More pics to come...
9-12-2007
Thanks, Blizzy...I have been watching your awesome write up as well. My motor is in the fnal stages of asssembly...I am awaiting a new water pump, that is all.

After much research, I am going with the Autronic SM4. I have been in touch with several Autronic dealers and users, including the founder of Autronic, Ray Hall. They have all been extremely helpful in providing me with the knowledge I needed to make an informed decision. The SM4 is the closes thing to a MOTEC that is on the market, and it does things the MOTEC does not do, at a much better price, I might add...The SM4 is also extremely well made, and is known for its reliability. It has a litany of features that really set it apart from the crowd, IMHO.
I have also been speaking with Dr. Tweak, of Phoenix Tuning...An awesome master at wiring up virtually any ECU and harness anyone could want. He especially has lots of experience with wiring up different Toyota wiring harnesses. Dr. Tweak is making a Plug-N-Play, military spec wiring harness for the SM4...he is also adding the extra plug for the Auto Transmission ECU I am adding...Kudos to Dr. Tweak...Just send him your harness, he will either direct wire it and send it back to you within a few weeks, or he can make a plug-n-play harness for you. His prices are also very reasonable...

The Auto Transmission ECU I am using is from Powertrain Control Solutions, the TCM-2000, is a universal, fully mappable and tuneable ECU that controls all aspects of the electronic shifting of the A340 that I sent off to be built by BoostLogic. It not only allows me to adjust and set the individual shift points (PCS will provide the base Maps for this), but it allows me to set the force of the shift in accordance with the amount of engine load and boost I am at on any particular moment. This means no harsh shifts when driving easy in the city and loping around, but instant shifts on the fly when I stomp on it...


This unit also allows paddle type shifting if I decide to add that feature to my set-up...I am seriously considering this too...

Special work is being done by Driven Concepts out of Tampa...Ian (DC Mango on CL), is a master craftsman at customizing cars. If any of you SC guys lurk on the GS forums on CL, you can find his GS Thread detailing his gorgeous, Two-Tone, TT GS300 Project Car. These guys know how to customize a car...

These are the kinds of things I am doing to make this my Ultimate driving machine...Can't hardly wait to drive it...

Johnny, I am indeed having a Pod made for the gauges...If you refer back in my thread, you will see that I already had a custom Plate/Pod made for 3 52mm gauges to be fit into the center console...
Current Gauges(AutoMeters will be coming out)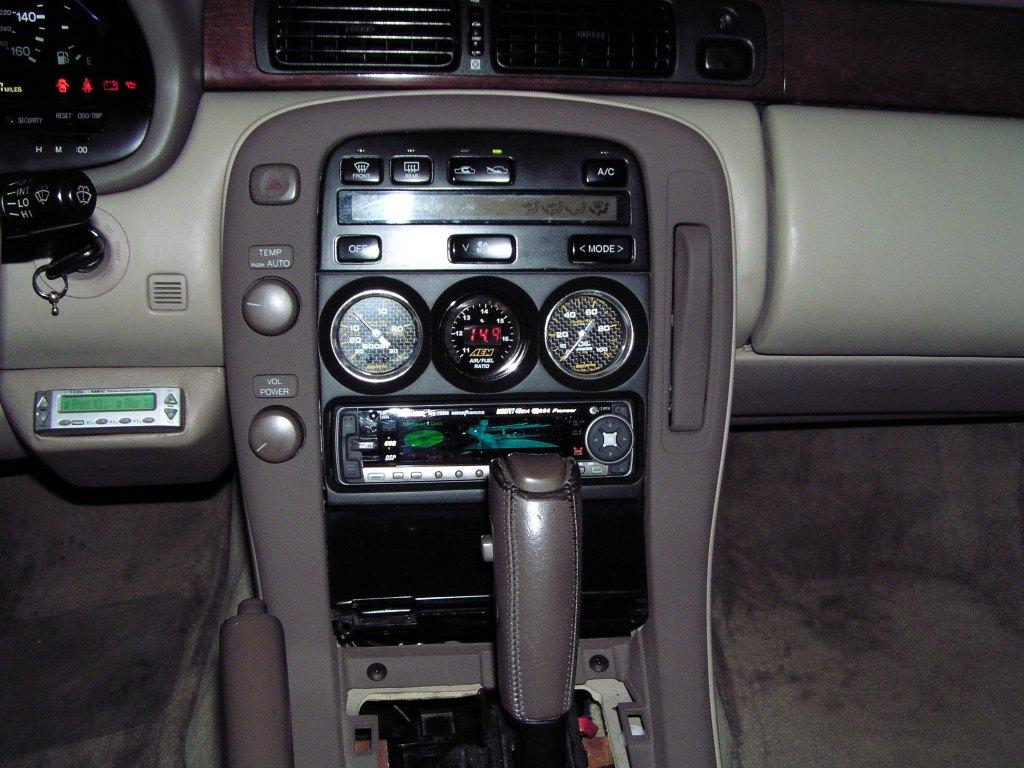 I do not intend to change that, I like the plate quite a bit, and it really looks OEM, which is an important thing to me...I am probably going to change the arrangement of the pods and place 3 Defi gauges in the center console, and place the AEM and 1 Defi gauge in that separate POD. The location of that Pod is hush, hush for now, but when it is done, I think you will like it. Keep in mind that I like everything to look as close to OEM as possible, especially in the interior, so, it should look quite good.
keep watching, you will see it...

9-13-2007
Ian, nice stuff!! I believe a member has this installed in his dash, I believe it is Gadget...I like it, but it is not for me...I prefer the stock cluster...I like the Defi look better as well...

Thanks for the suggestion....
As anyone reading this thread knows, I have driven this car very little during the last 3 years due to the inordinate time it has taken to get to this point... I got up extra early this morning, and decided to take the Defi EGT gauge and mock place it in different areas of my car to get an idea of where I want the additional gauges placed. I made up my mind, Ian, and I will tell you when we deliver you my car.
While I was sitting in my car, it felt absolutely awesome...

I mean just to sit in it gave me a great thrill...The smell of the new leather, the look of the pristine interior, the feel of the high quality interior, the solid thud from shutting the door...Man, I love this car!!!


Toyota/Lexus built a winner when they designed and made this model...I can hardly wait to get it on the road...The time is coming...Soon...
10-12-2007
Gang: I received the Transmission ECU...

Powertrain Control Solutions builds the best Automatic Transmission ECU on the market!! I am excited to add this to my project car. I am now even more convinced that this is the way to go instead of a 6 speed swap...A BL built A340 transmission and a PCS controller...


Enjoy the pics, much more to come. Car is in the paint shop right now...

Controller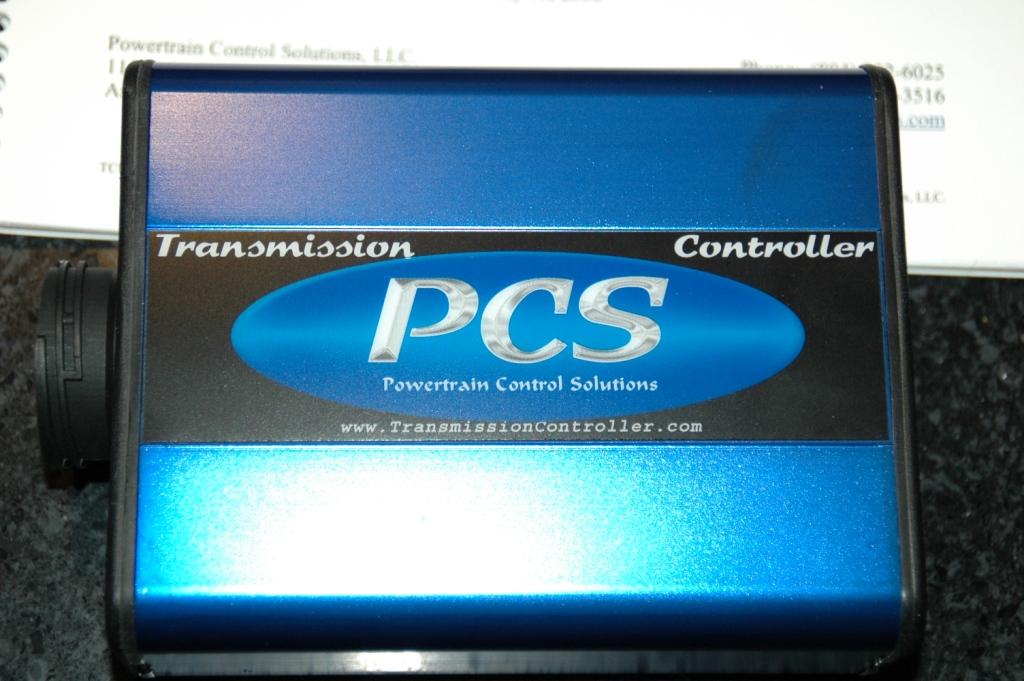 Controller and manual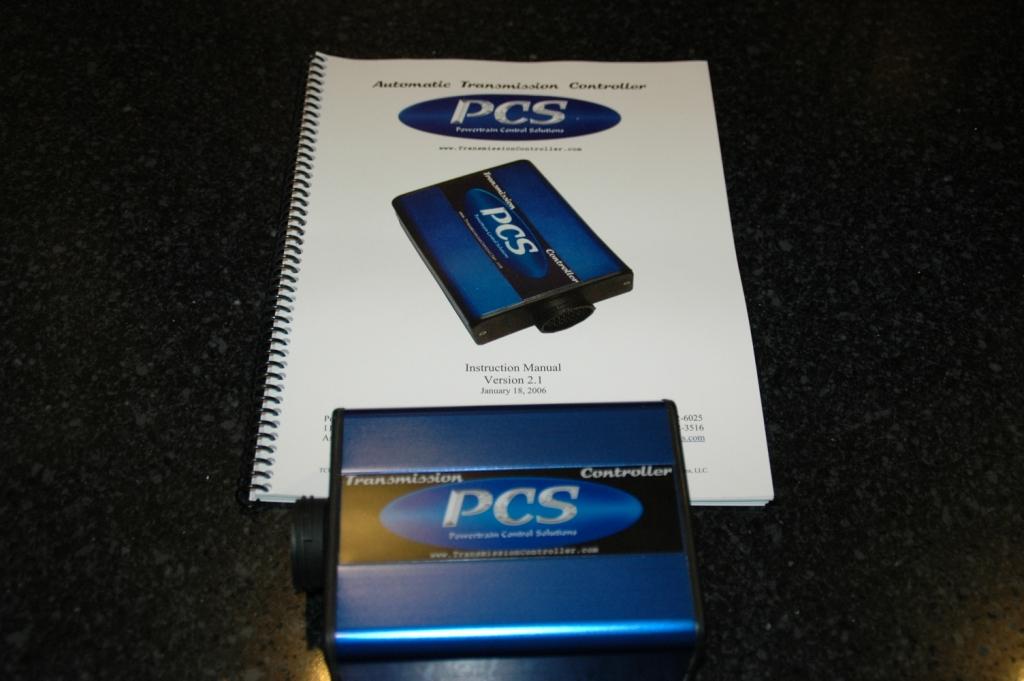 For size comparison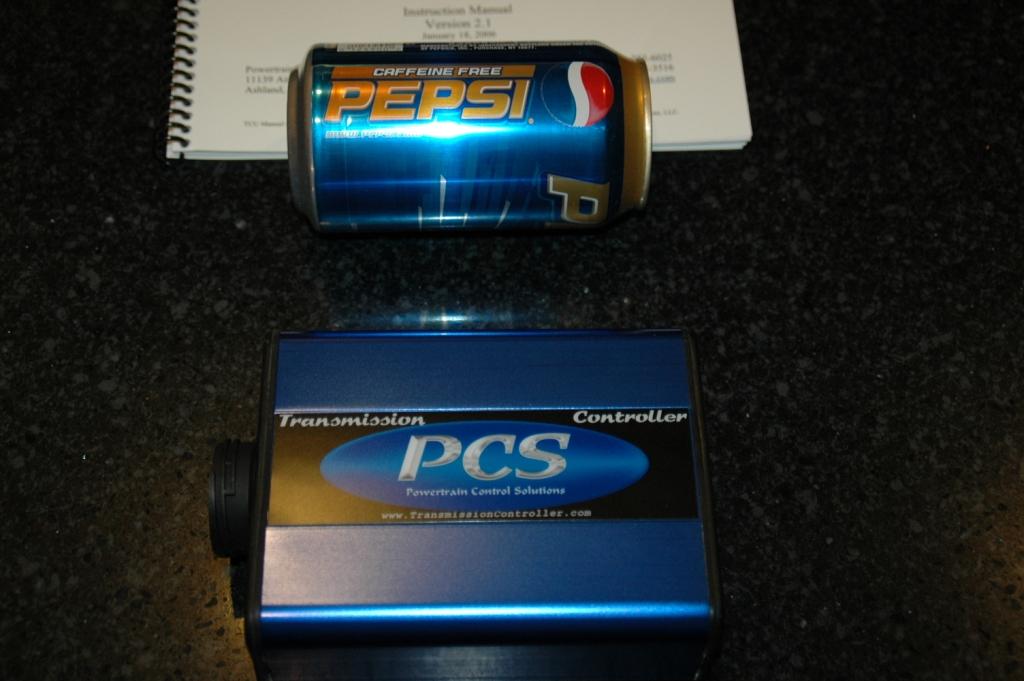 10-30-2007
Gang, the Autronic SM4 is arriving at the dealer tomorrow, and will be shipping out to me, right away. They will ship the harness to Dr. Tweak of Phoenix Tuning, and he will work his magic on the Plug-N-Play harness for both the PCS and the SM4. I had Dave Frost of East Orange Customs weld an enclosure of matching sheet metal in the baffle area where the air box was. I did not like the way it was cut out to fit the 3" IC return to the Intake...The hole was gaping, and it would allow large amounts of water, sand, dirt, bugs, etc to pour into my engine bay. So, David welded it shut, and welded a 3" tube into the baffle repair, and now the structural integrity is as good as new in that area, and the steel pipe he welded will be primered with a special priner, and then painted with the same PPG paint. I will post pics up when completed. I know it seems like a little thing, but I am a detail oriented man, and I like doing the "little" things right just as much as the big things...
The engine bay should be painted this week, then I can install my engine and tranny back into place. I am looking forward to it. Then, my car ships to Driven Concepts in Tampa...I can't wait to see their completed work.
So am I...I have read up a lot on it, and it is amazing. I will post up it's capabilities in a near future reply...When I have a few more minutes to type it up. I t mainly gives much greater control of shift points, power at each point, flexibility to base it upon load, boost, etc, in each gear...E-Shift...that will make driving the auto much more like a manual...
I am looking forward to it, Richie...
11-3-2007
Gang, one of the most important parts of my build has come in...The infamous Autronic SM4...I got it from TNT Motorsports in California, an authorized dealer for Autronic. The SM4 is not cheap, but it is by far, one of the very best in quality, features, flexibility, and reliability of any stand-alone engine management on the market...That is why I bought it.
It will work with the stock ignition system, or convert to CDI, if I want to. It will work with variable valve timing, and it offers traction control. It has a built in MAP sensor, so no MAF to deal with, and it has probably the best and easiest Auto-Tune feature of any ECU on the market. It offers very precise control of injectors and ignition angle at very low or high rpm or manifold pressures. This unit ensures excellence in how the engine operates at low or high rpm, so idle is also very smooth, even with the 96 lbs injectors I am installing...I could go on, but go their website if you want to know more...I am not selling the unit, I am just telling you a few of the many reasons why I "bit the bullet", and bought this ECU for the V8. Plus, several Aussies have used this very unit to control their Forced Induction Lexus 4.0 liter V8's, with great success...So that means there are several Fuel and Timing MAPs already in existance to start off with a Base Tune, before fine tuning. I will be able to literally upload the MAPs to the SM4 after installing it, and start the car and drive away within less than an hour of doing so. The car should start up, idle, and drive smoothly on the street. For boosting, I will still put the car on the dyno, to review the Fuel MAPs and to fine tune the Timing MAPs.
TNT drop shipped the manual, the sensors, and the harness to Joshua at Phoenix Tuning so he can work his "wizardry"...He now has both harnesses for the PCS ECU which controls the transmission, and the SM4. Plug-N-Play Baby!!!!!!!!!!!!!!



BTW, I saw my baby today...The engine bay is painted...Sweet!!!!!!!


No more dings and scratches from the poor quality workmanship of the previous shops who did not take the pride in their workmanship to be more careful about how they worked under my hood...Deep, dark, gloss Black

I did not have my camera, but pics to come soon...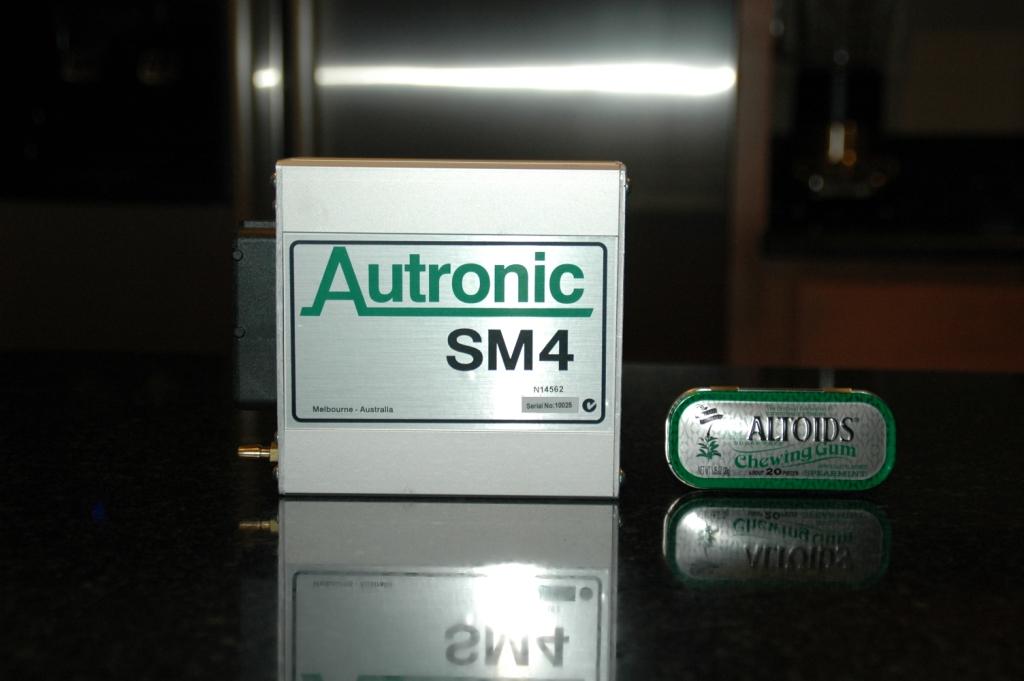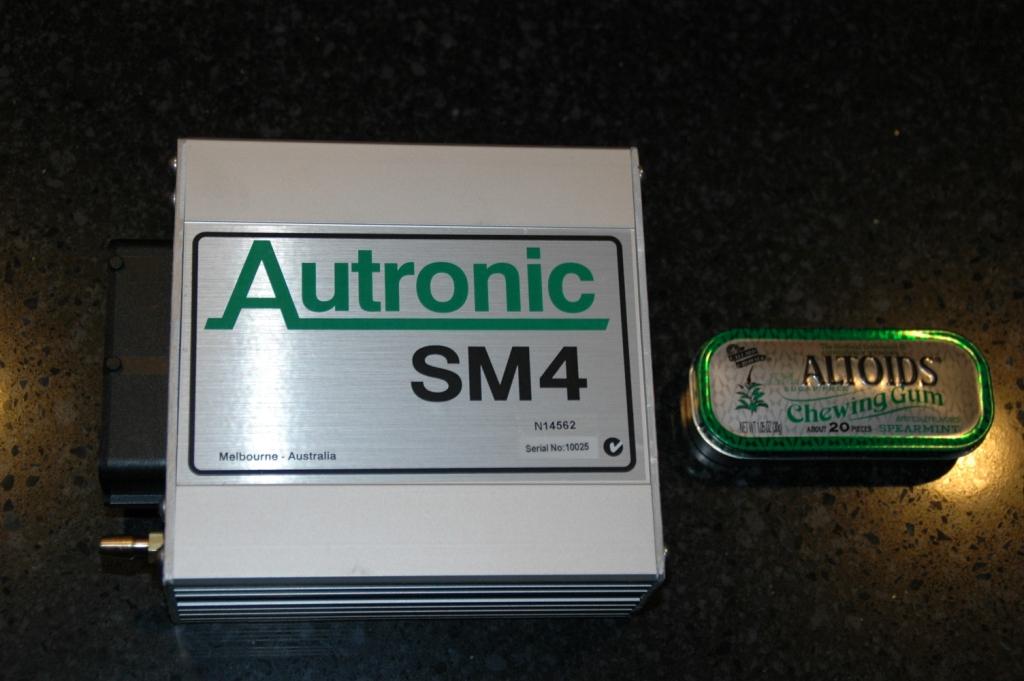 More to come...

Gang: I picked up some of the chromed, polished and sand-blasted parts for my engine today...I have some pics for you. Keep in mind that I haven't learned yet how to set my lighting on my Nikon SLR, so the pics are only average...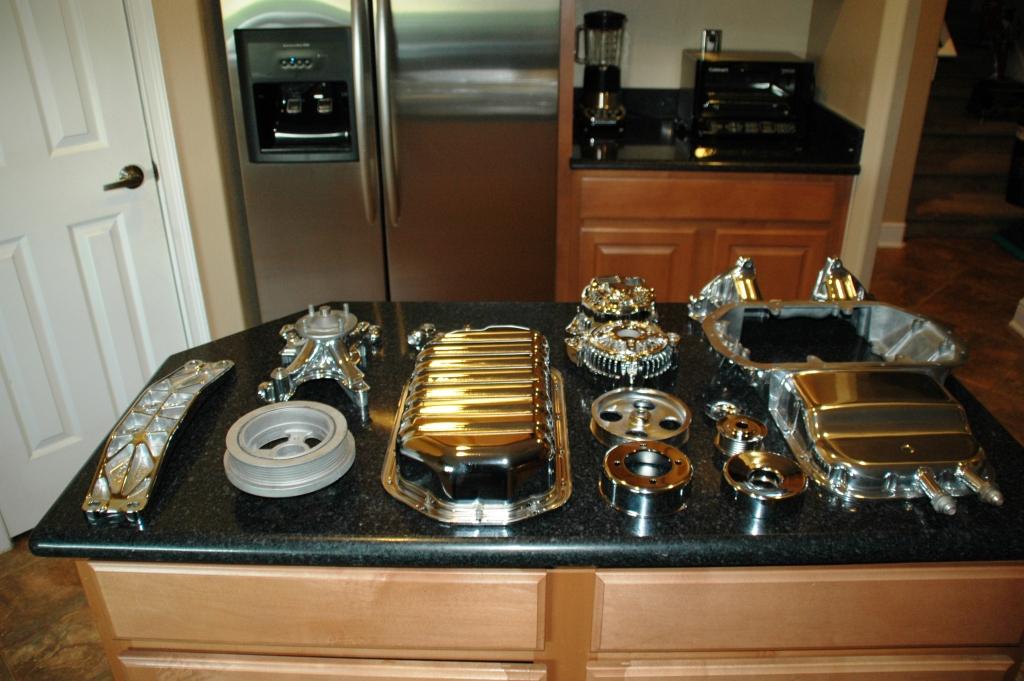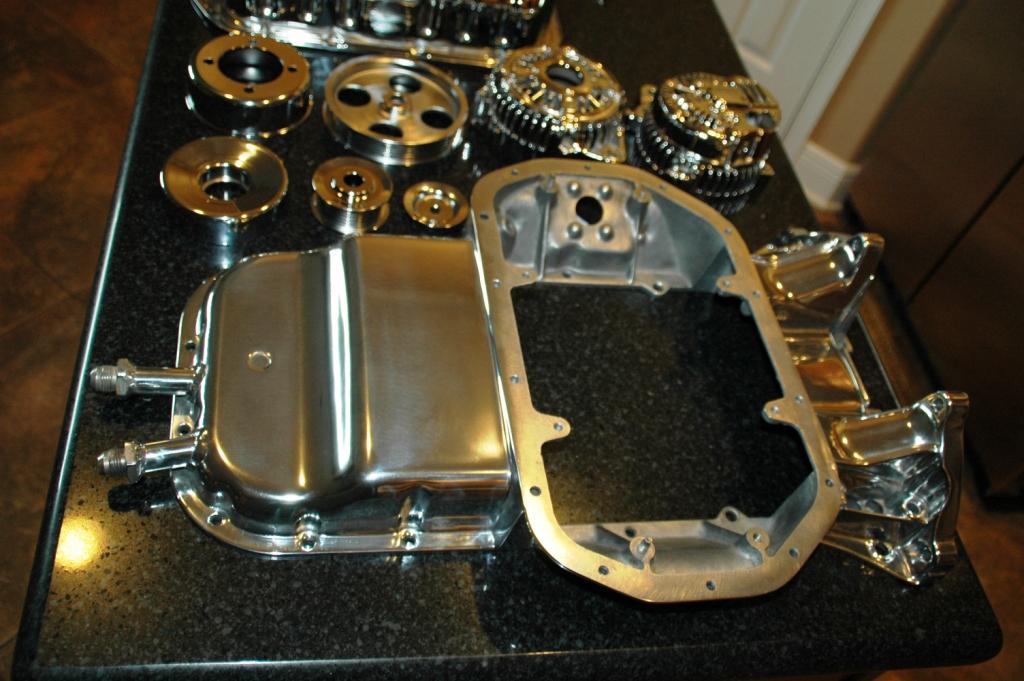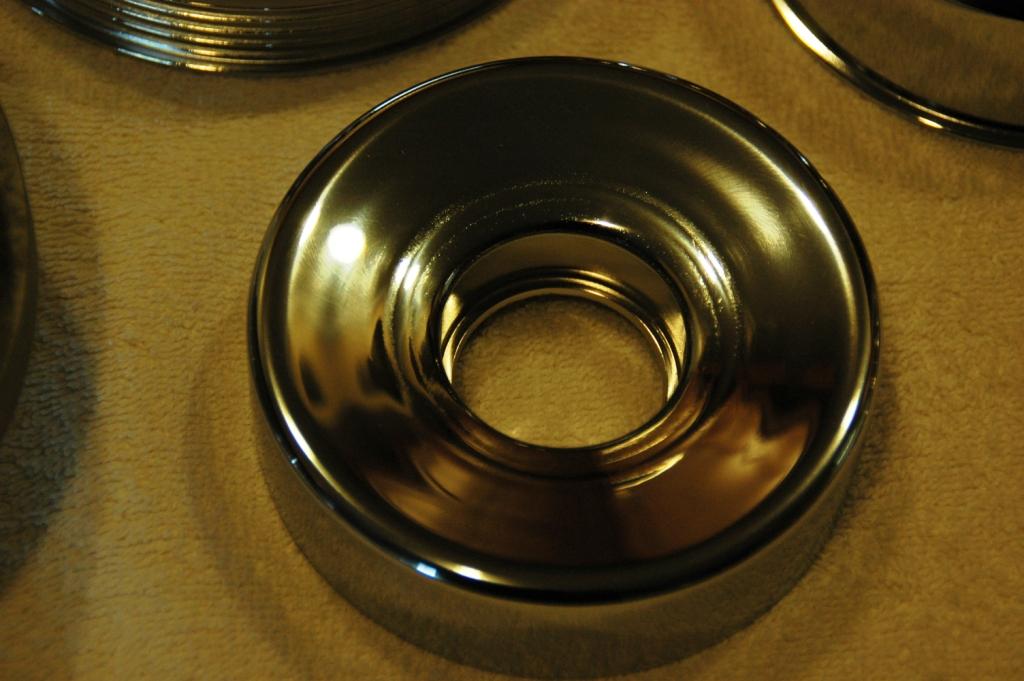 This is the harmonic balancer...It cannot be chromed or anodized, or powder coated due to the rubber ring built into it. I had it sandblasted, and it will be painted.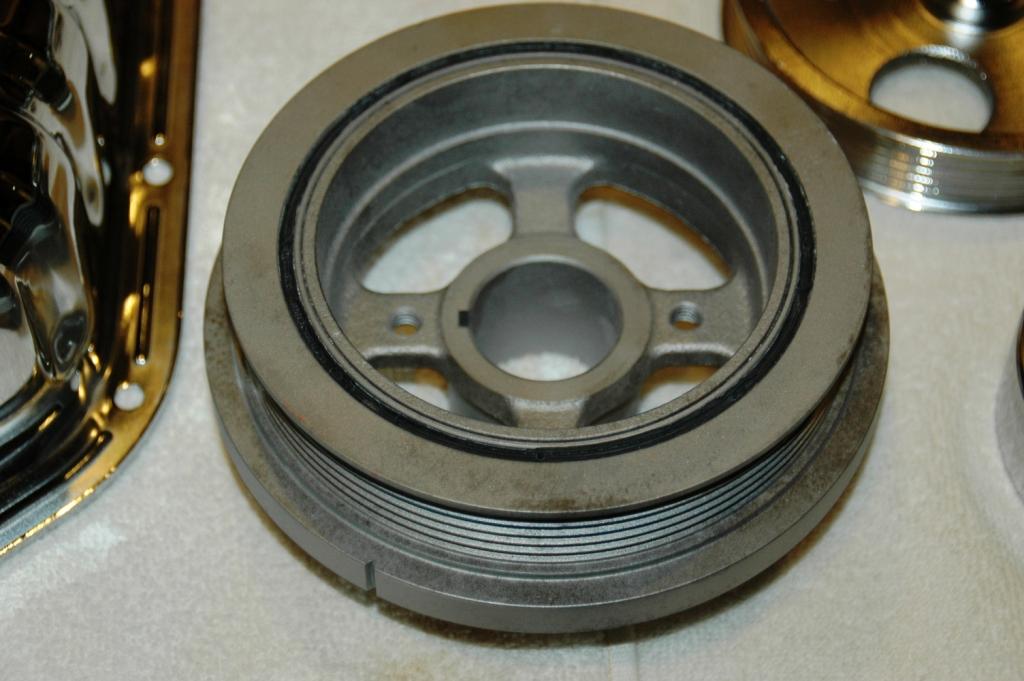 Here are the rest of the pics: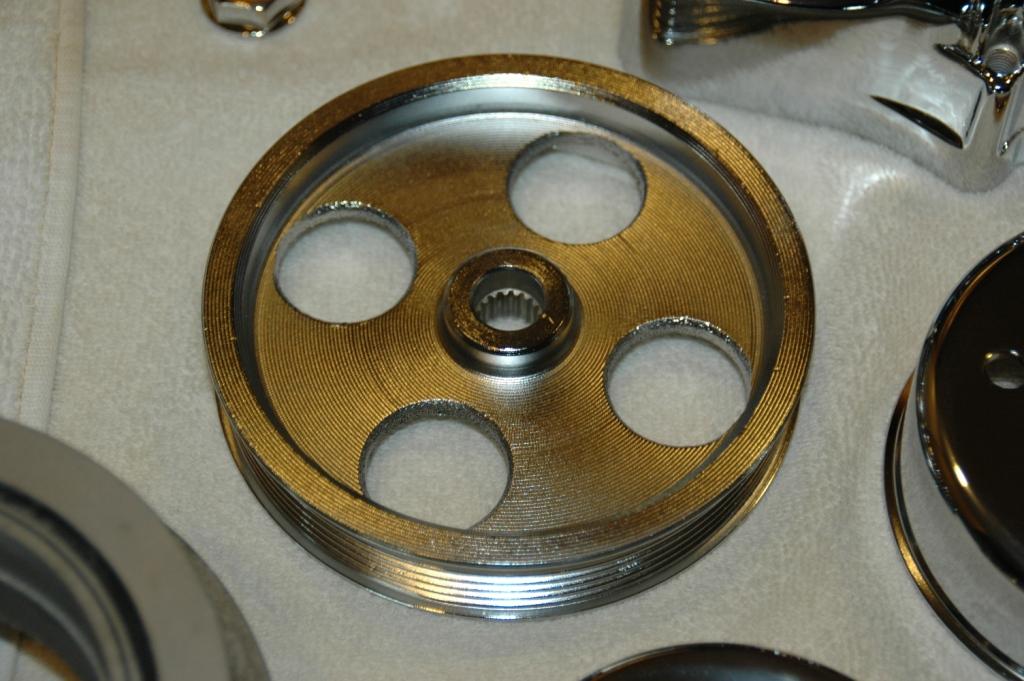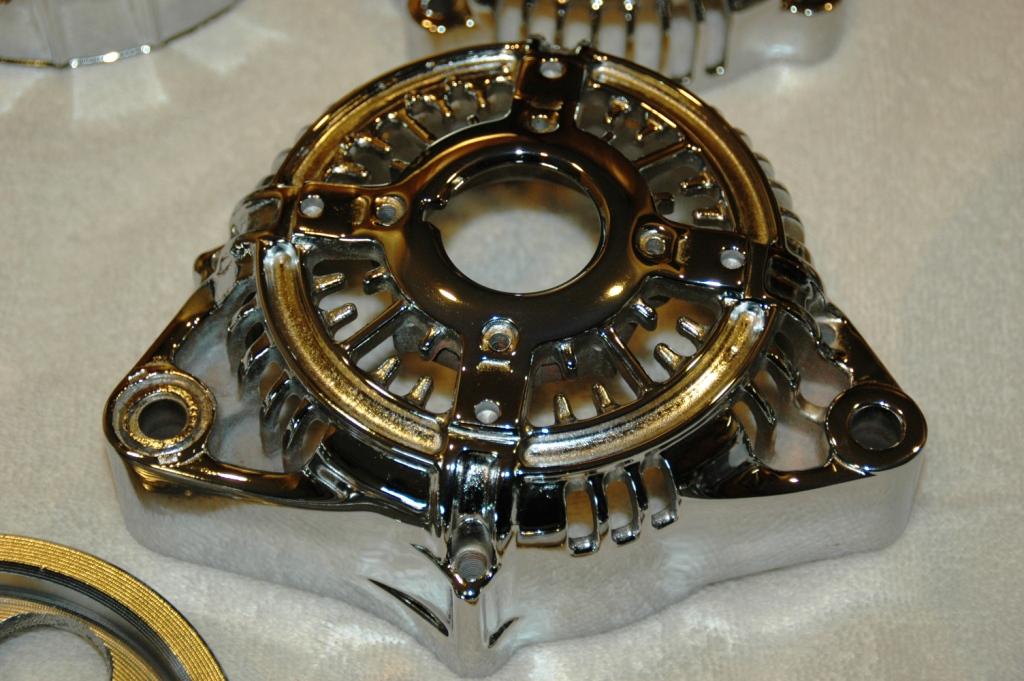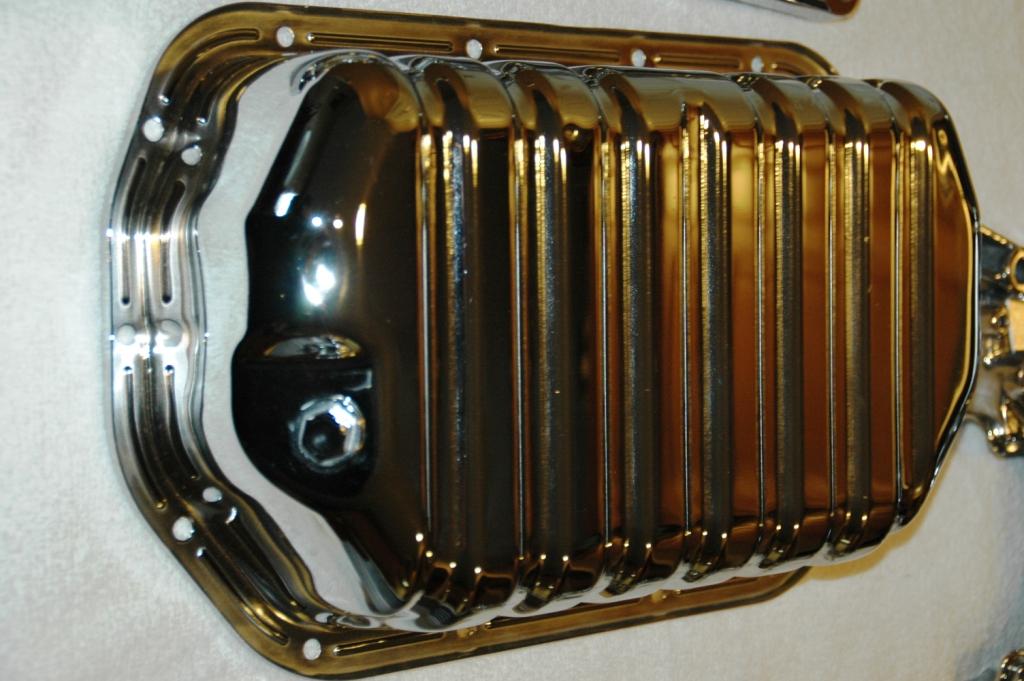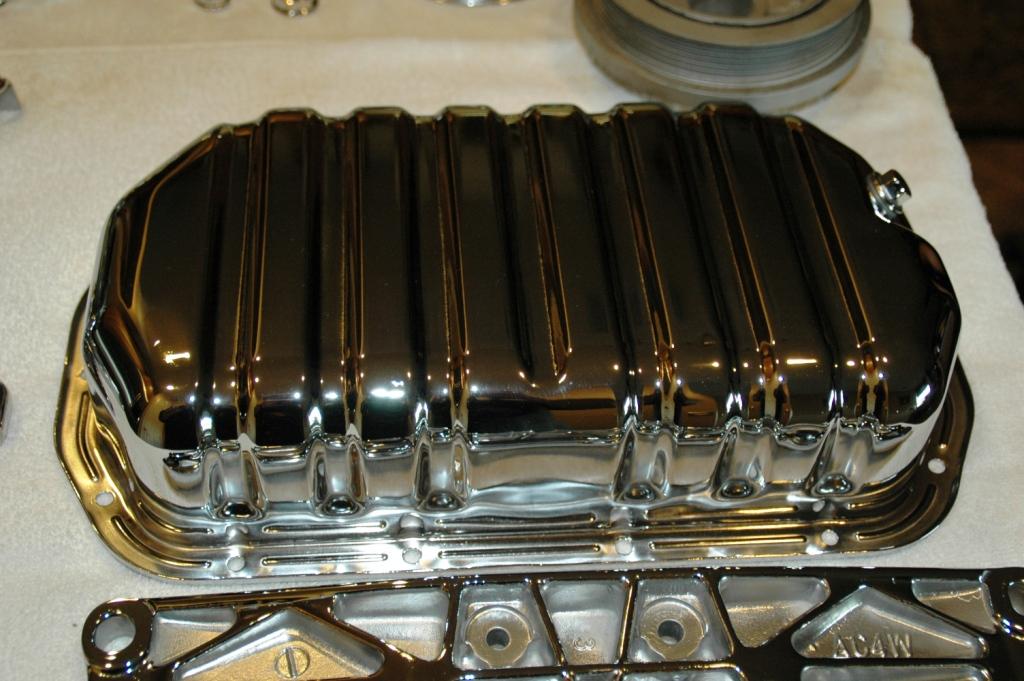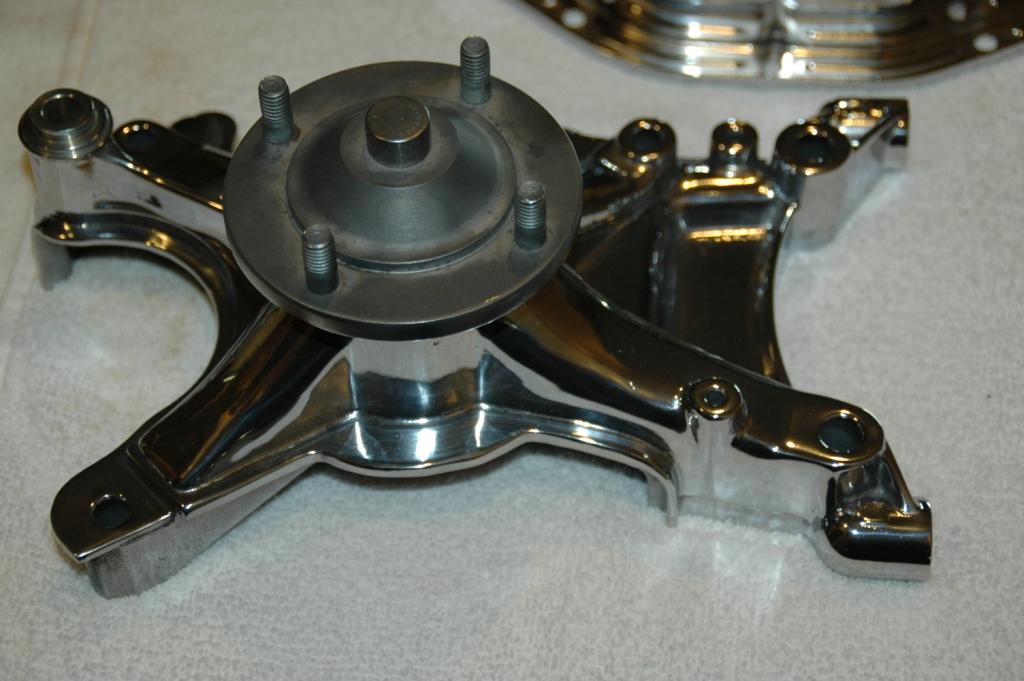 Getting closer...
12-2-2007
The ARP Wheel studs came in...I am only waiting for the rear Hub Centric Spacers to come in so that I can complete the install of the Big Brakes.
Got the Loom sent out to Dr. Tweak to renew and check for any anomalies or issues and to repair if so. He is shipping it and the plug-n-play harness back to me next week.
I have to port the upper intake, polish and chrome it, should be done next week. I am powdercoating nsome various bolts and engine pieces to dress up the engine. Again, should get them back late next week.
Once these parts are in, I will ship my car out to Driven Concepts in Tampa for their custom work. Can't wait.
Doing a lot of interior work next weekend...I will be posting up pics when complete. The interior is getting a swap to a full black conversion, real black, not dyed, and it will have some custom pieces inside as well.
I will be installing the DEFI gauges, and looking to move the AEM AFR Gauge.
Lots of work....
12-10-2007
Well: We spent the whole weekend stripping 2 SC's, and putting the interior back into my project car...Yeah, I found a Black on Black 2000 SC300, wrecked so I bought the whole car. I am parting it out, and will have several parts to list in a separate thread. I will also be parting out my very clean Tan interior.
Here is a pic of my 2000 front bumper on my car: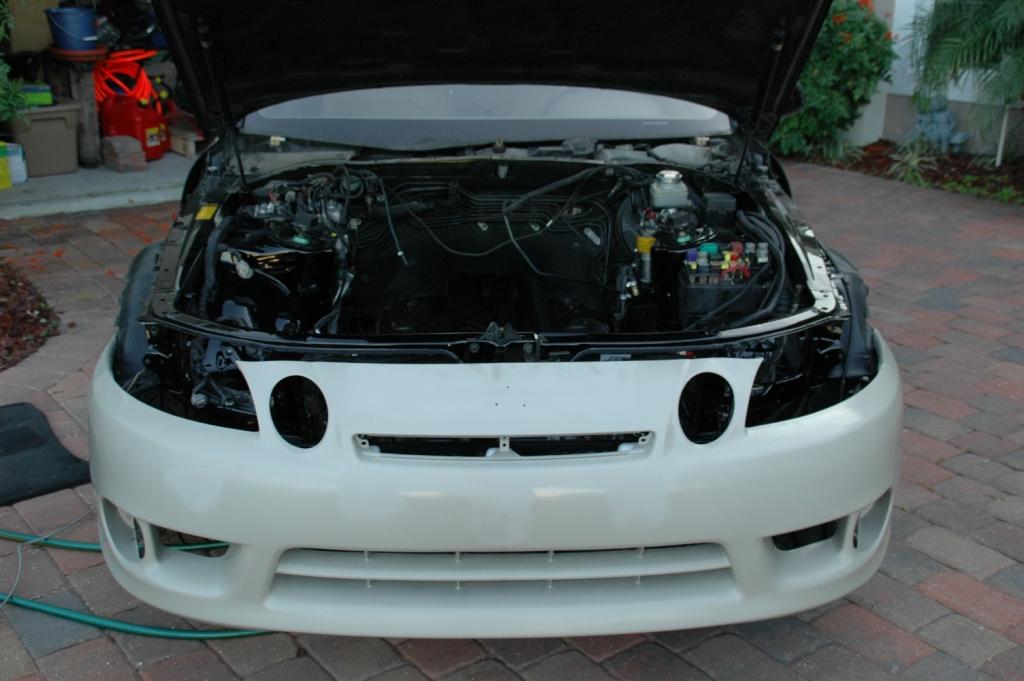 Here is the repair I did to the gaping whole that was cut into my engine bay for the Intercooler intake tube, this is far stronger and cleaner: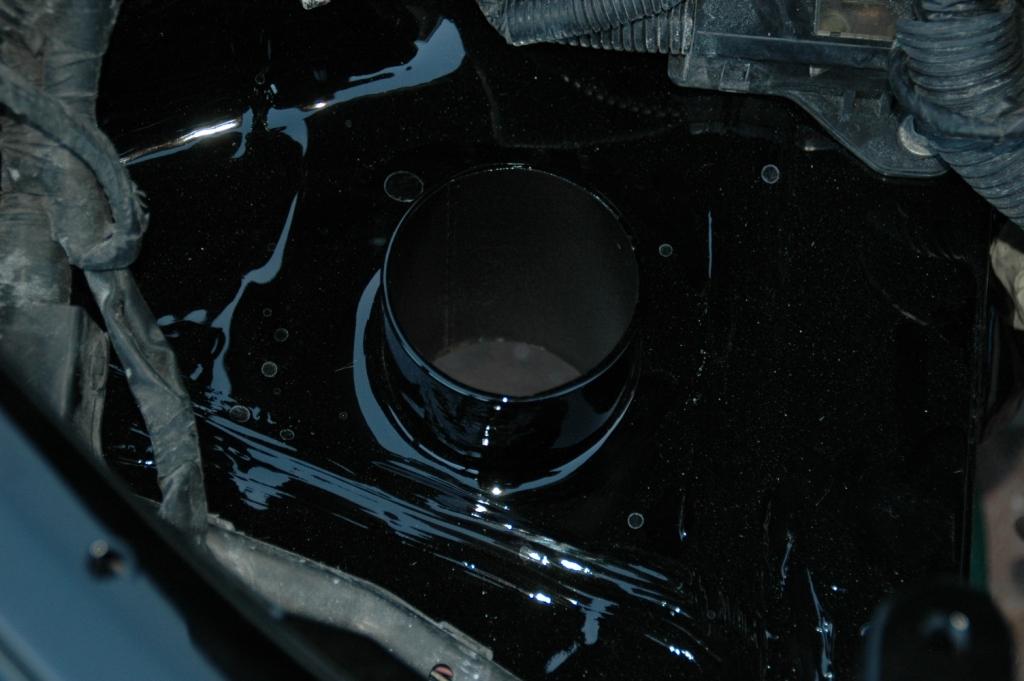 Here is a pic of the painted engine bay: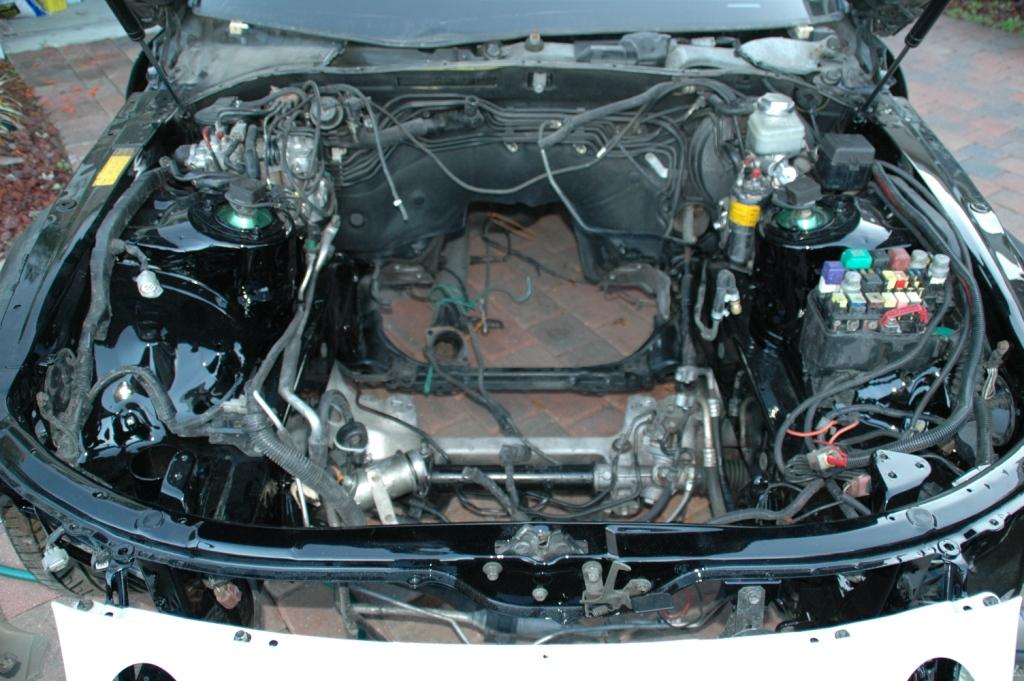 Here is a pic of the carpet going into the car. I shampooed and vacuumed the carpet. It looked brand new: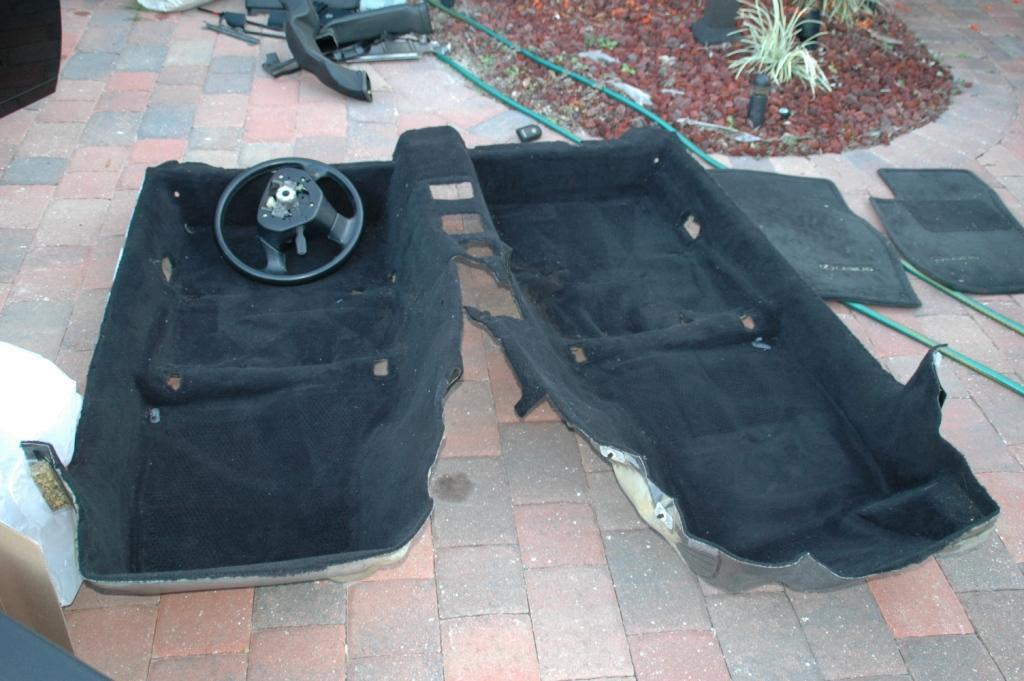 More to come, and thanks to Scott Gray!!!


The black interior is very clean and in practically new condition.
12-12-2007
Here is a pic of a few of the Black interior parts going into the car:
Seats: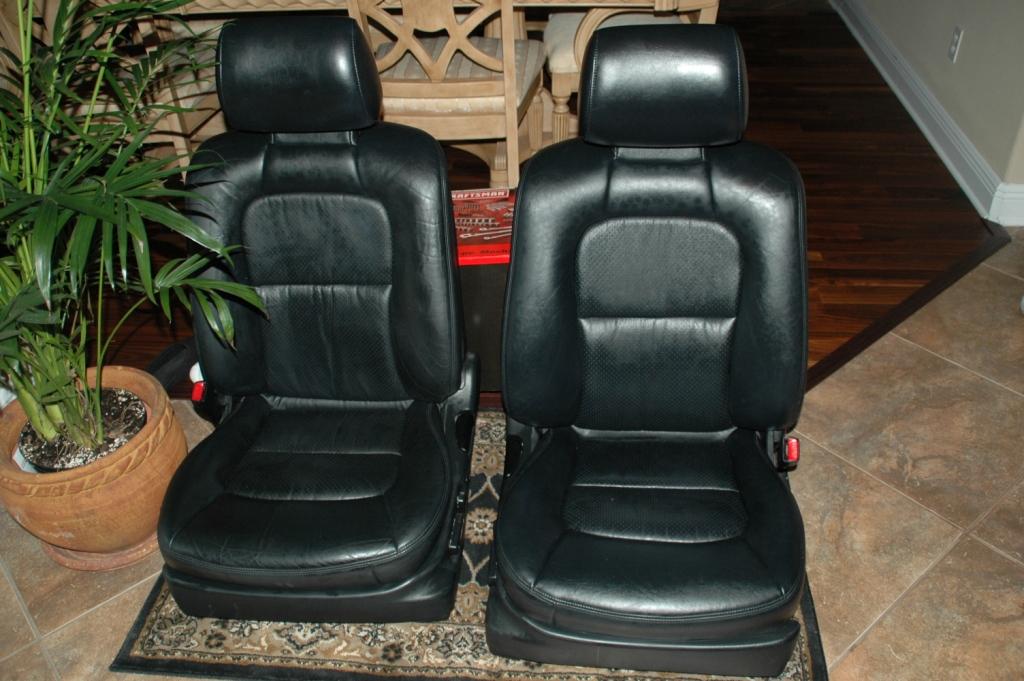 Console: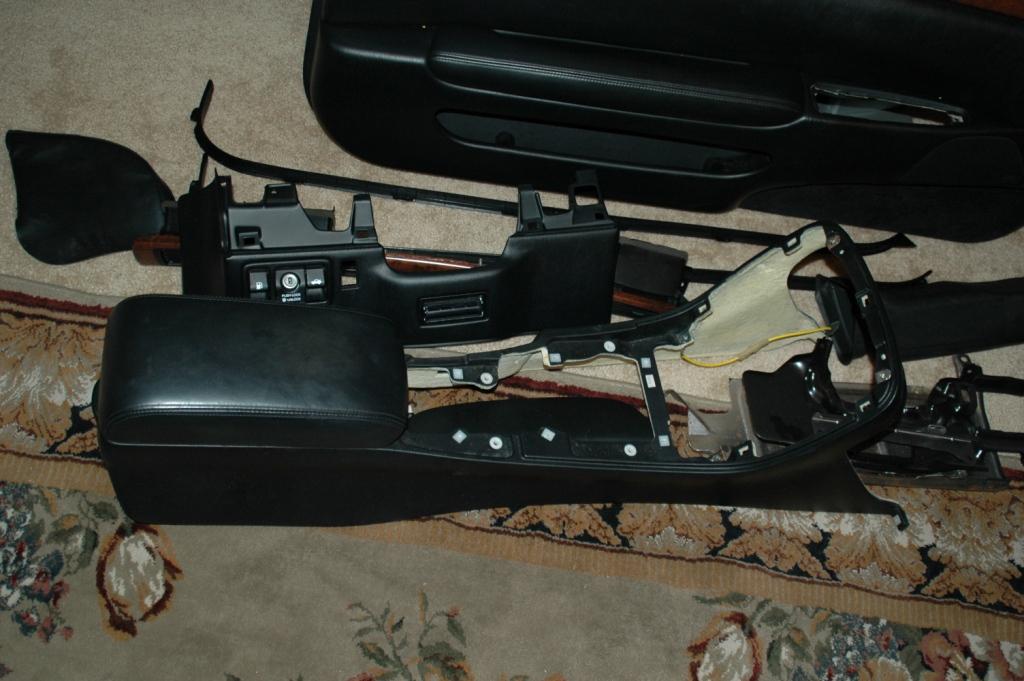 Driver door panel: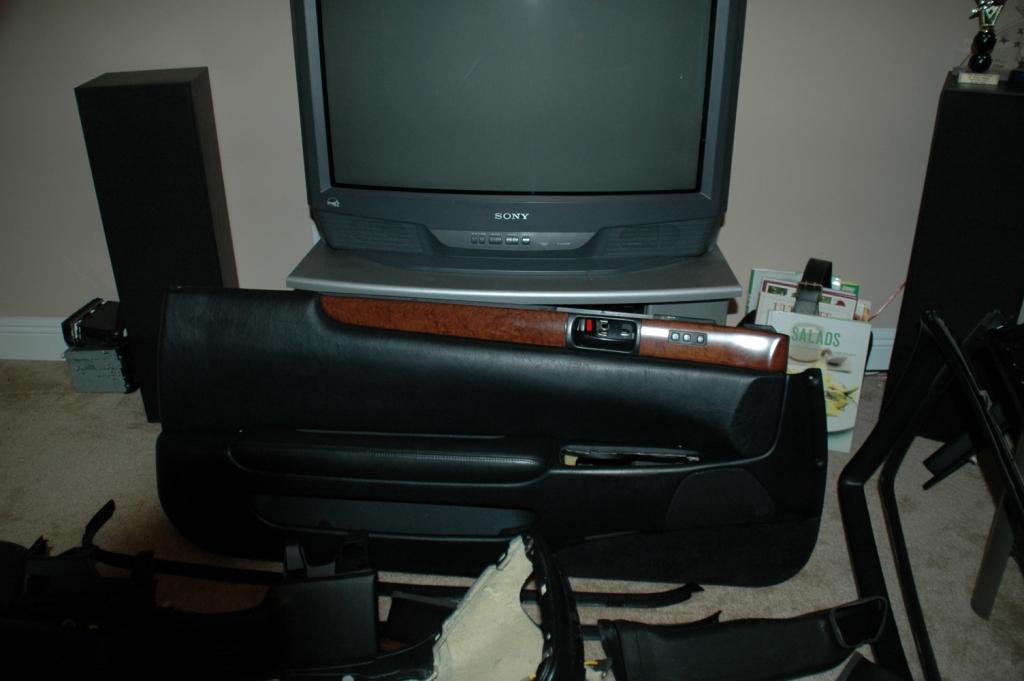 Passenger door panel: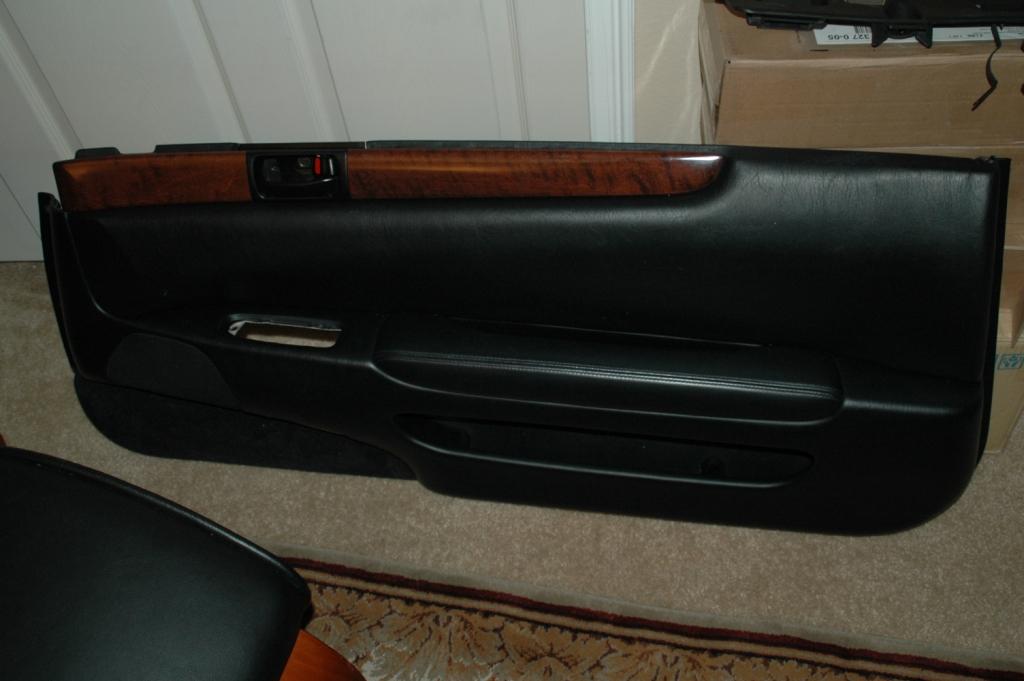 More to come...

12-22-2007
Rewired Engine loom from Dr. Tweak of Phoenix Tuning. What a job...Plug-n-play for both stand alones, 20 new stock Toyota clips, wired in the new Delphi injector clips as well.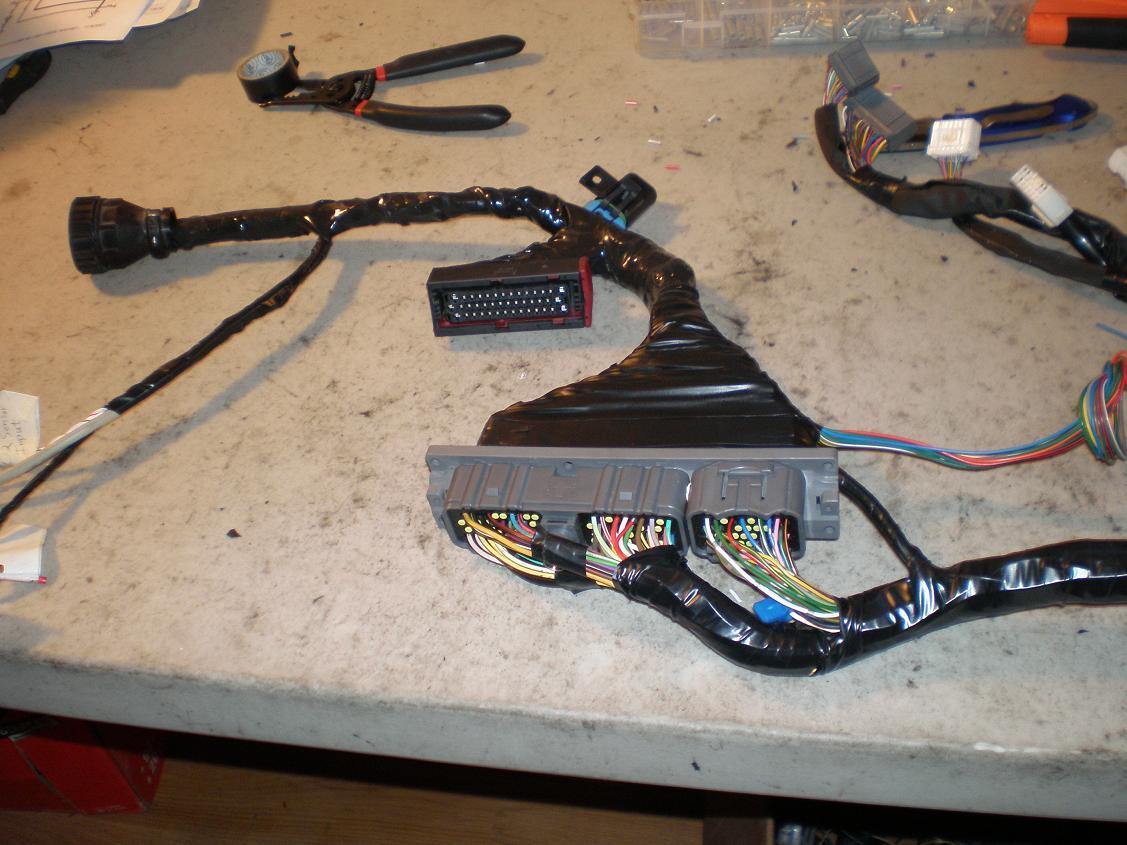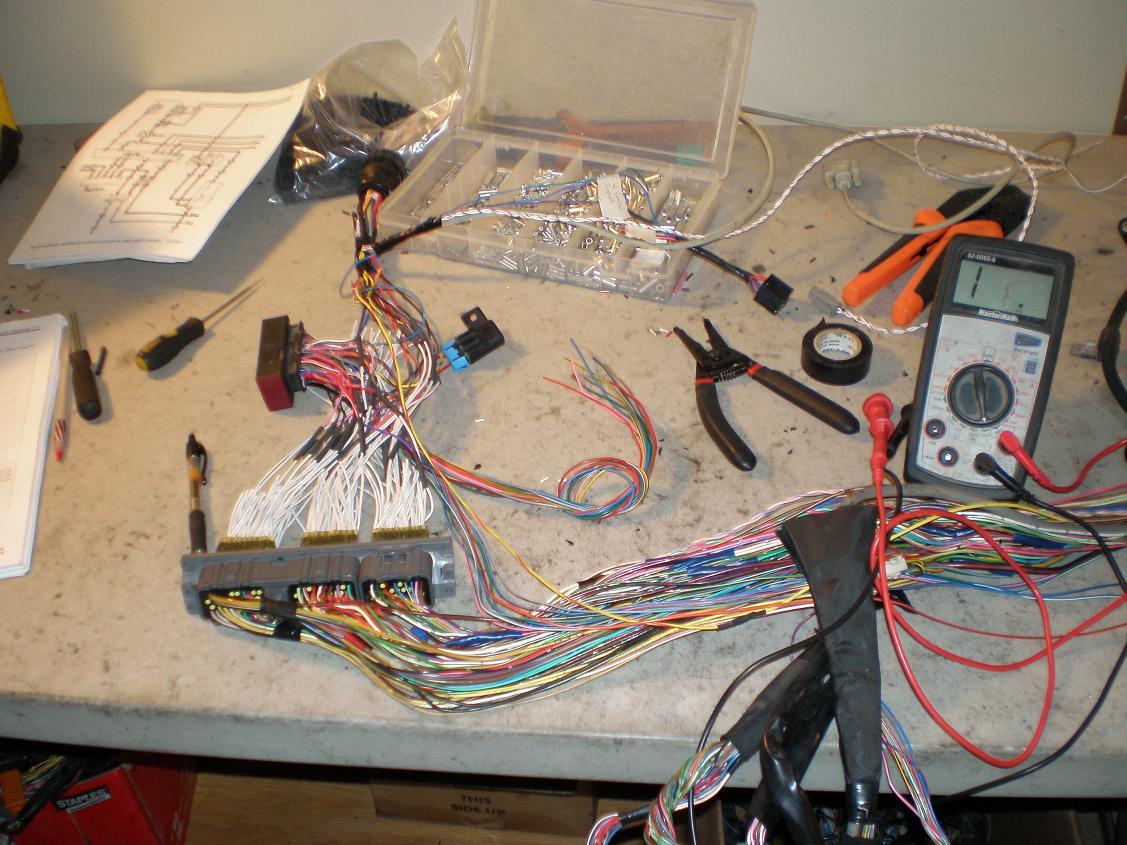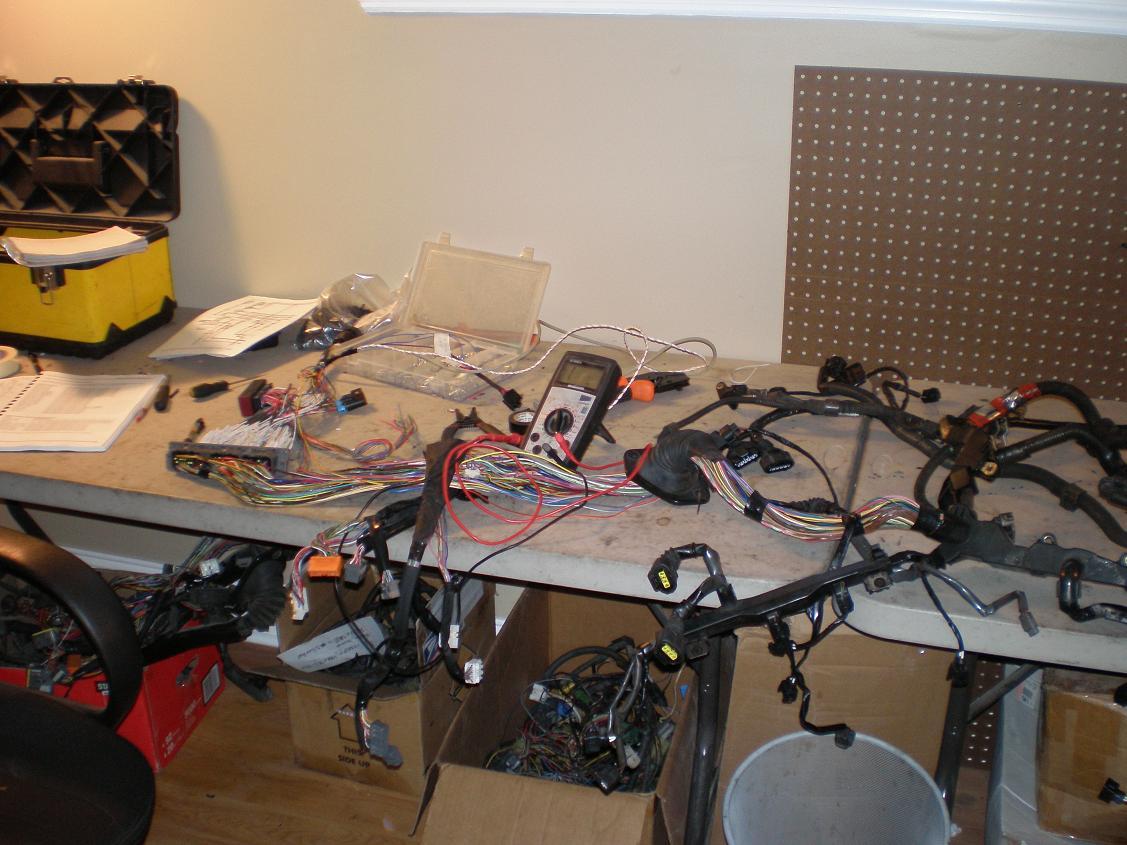 More to come...


12-23-2007
Here are pics of my CF Hood from Seibon...Wow!!! Super nice quality!! This hood is OEM quality, on the edges, top, underside, all. It comes with the latch in place, and the CF is absolutely gorgeous. Can't wait to get it on the painted car!!



They pack this box extremely well too. No damage. They seem to take great pride in what they build...

Here are some pics: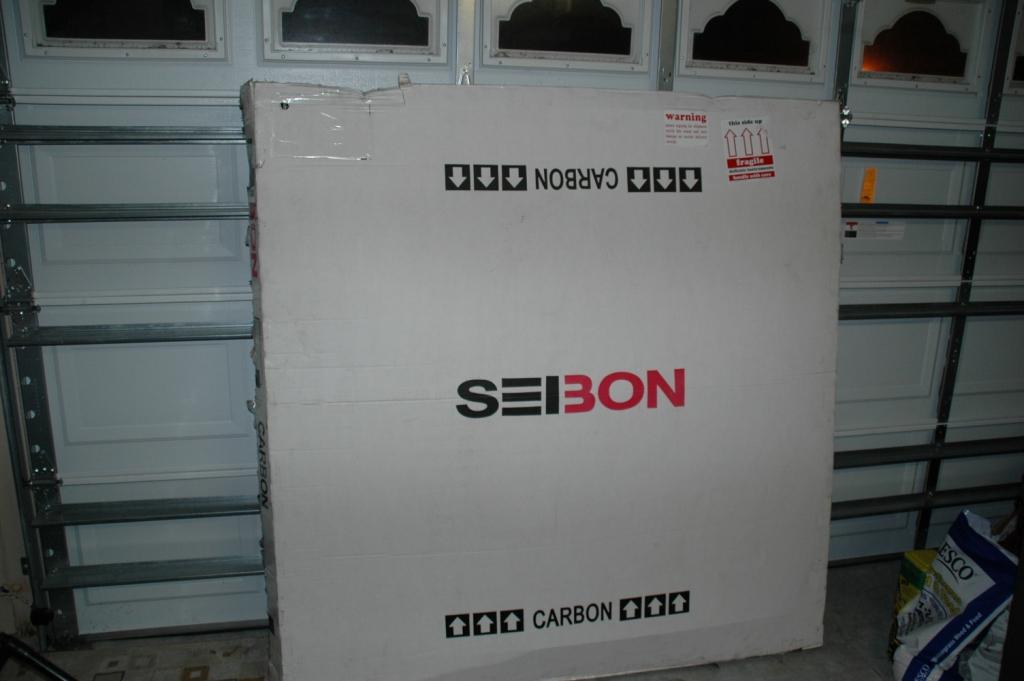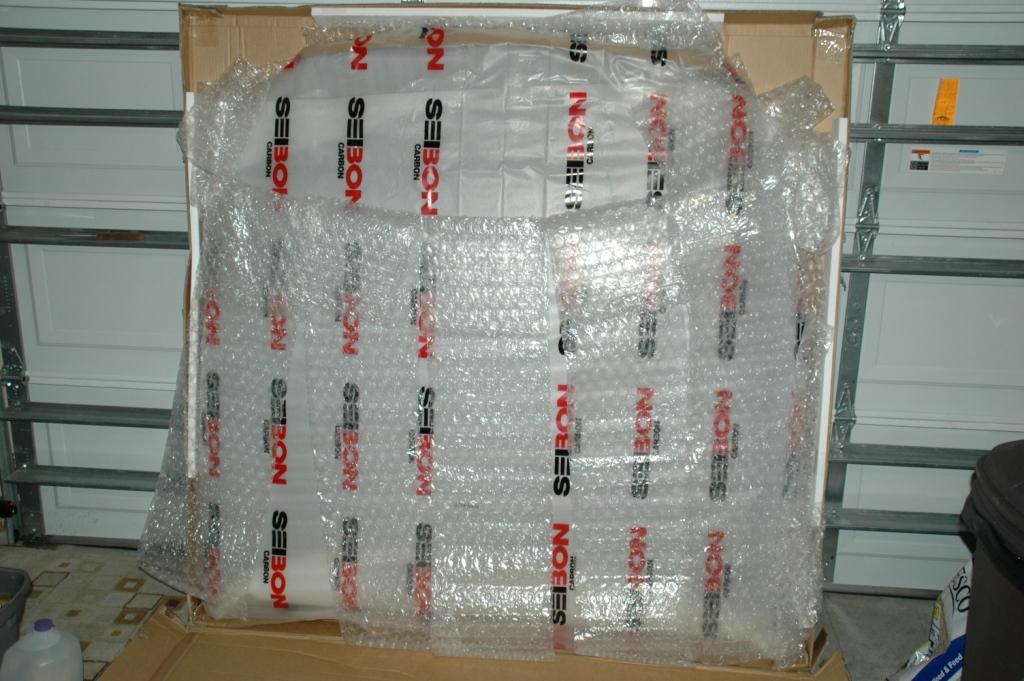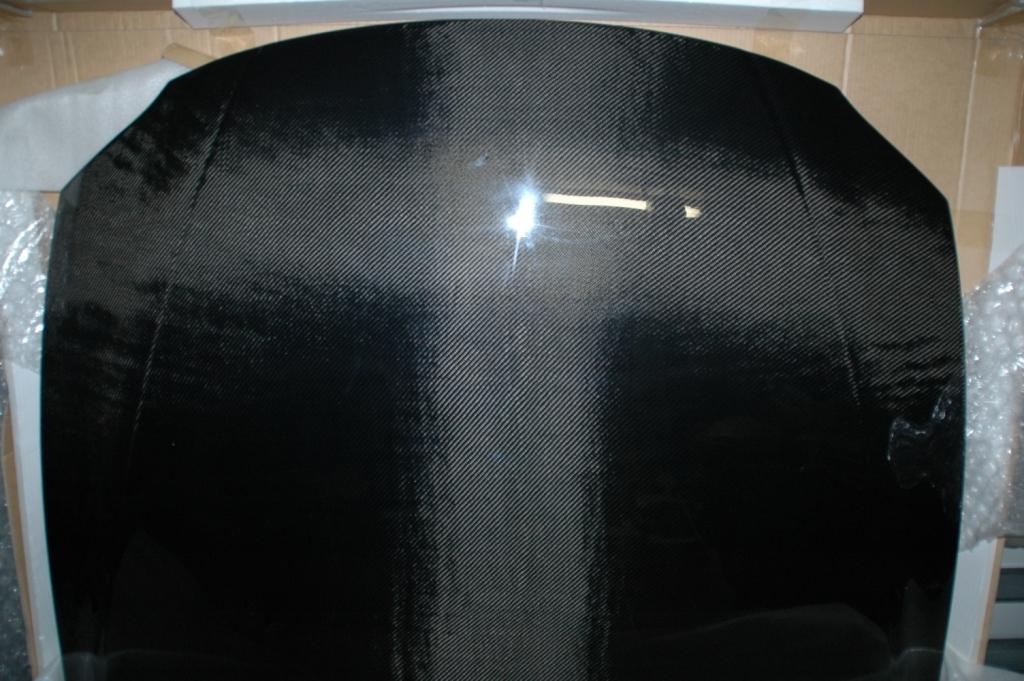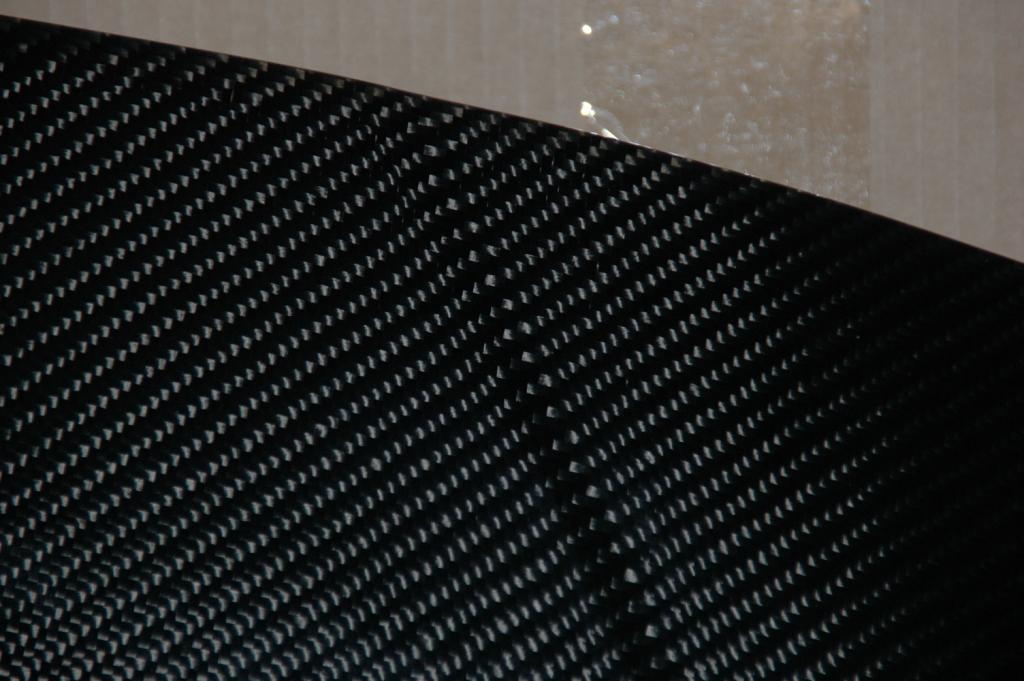 Notice how nice the weave is...Glad I made the investment..
BTW, thanks to Marshall W of MARS Audio in Orlando FL for providing the SEIBON Hood. He is an excellent man to deal with. And a great friend!!!
12-26-2007
Hey gang, I wanted to take a moment to thank Gazi for supplying me with the black interior swap...What a fantastic deal he set up for me. He stayed in touch with me for months, and each time a black interior came up for bid, he called me and informed me, so I kept bidding, and got real lucky on the last one...To win on a 2000 model black on black was phenomenal!!!!!!!!!
Thanks Gazi, and I want to make sure all who read this thread know that you are a great seller, and add tremendous value to the Lexus community!!!!!!



Merry Christmas Gazi, and all.
12-31-2007
Gang, my loom is back. I now have all the pieces I need to put this engine back together. I expect to start working on it this Wednesday evening. It is about time...

I will post up pics of the motor. I will still need the fuel sytem, but that will come while the car is in Tampa at Driven Concepts.
1-8-2008
When a project gets to this point, it can be painfully slow...Here is a close up of the Gen II Tri-spoke steering wheel I found with e-shift. It is mint...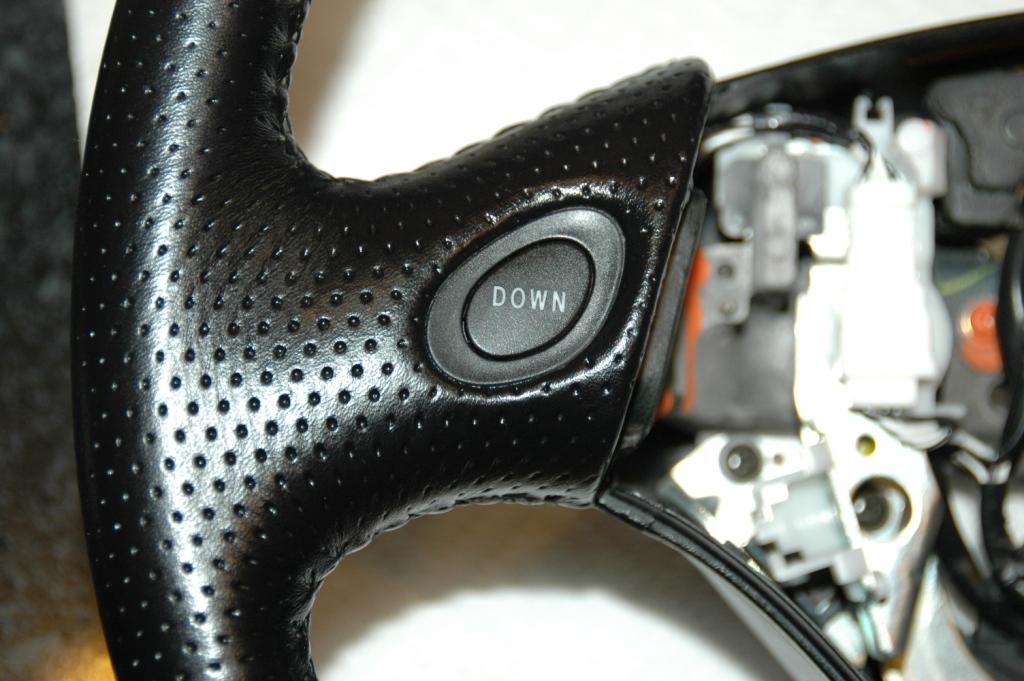 Still awaitiing the baffle for the oil pan...Back-ordered from Lexus. Here are a few pics of the new and improved upper oil pan and oil pick up in place...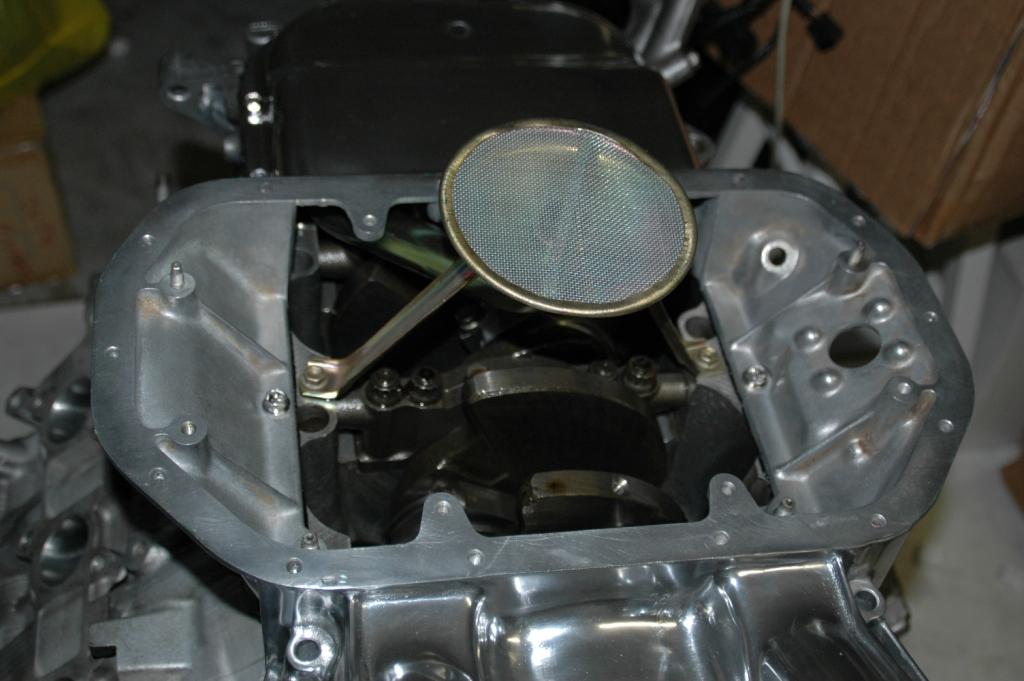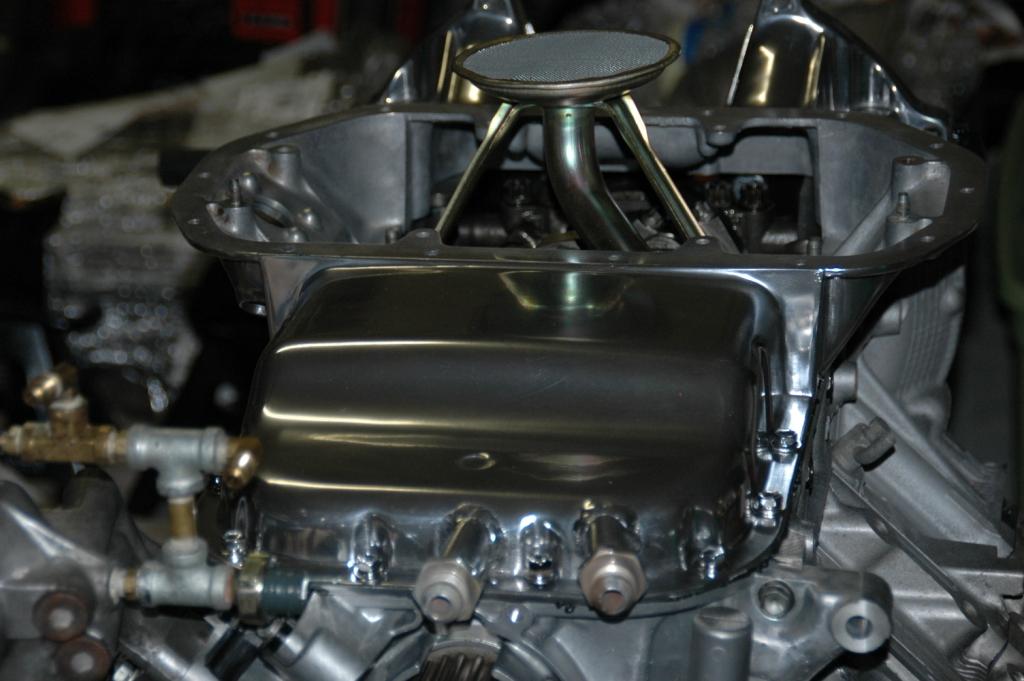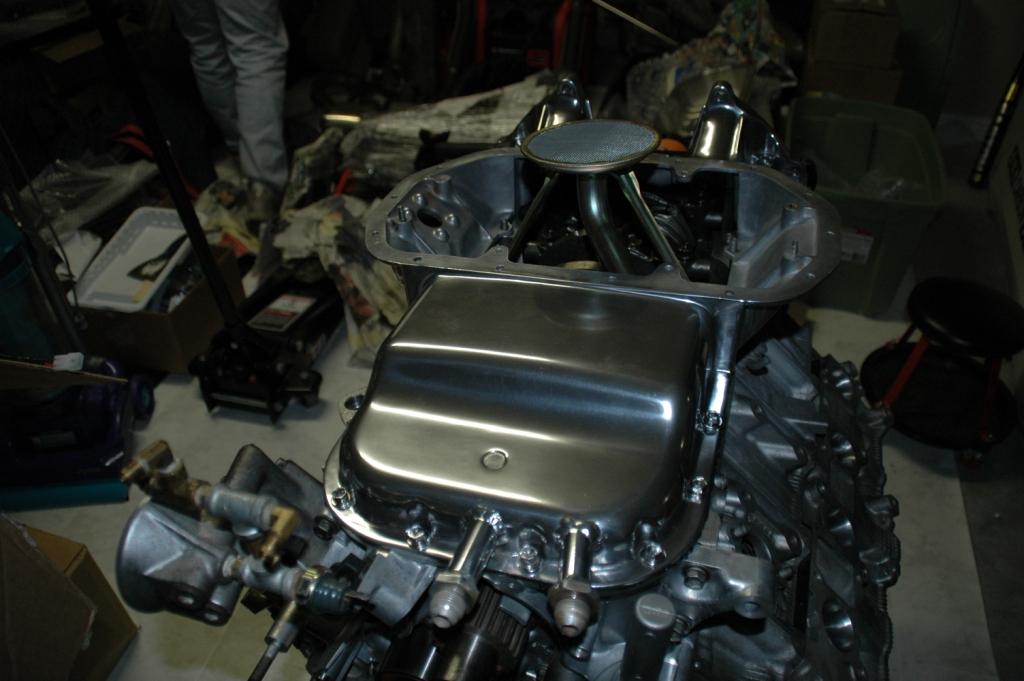 1-10-2008
Gang, I am tired...Just finished wrenching on the car, and it is past midnight. I am going to bed. Got a lot more done.
The baffle is installed, the lower oil pan is installed, the whole bottom end is sealed up and complete.
We also got the Timing belt installed, the lower intake, the loom is attached, the valve covers are installed, just about done with the top of the motor. Then the tranny and accessories get installed, turbos and plumbing get installed, and the car ships to Tampa...
Pics to come...Got a lot done last night and tonight...
1-12-2008
Here are a few more pics of the install:
Installed the Baffle: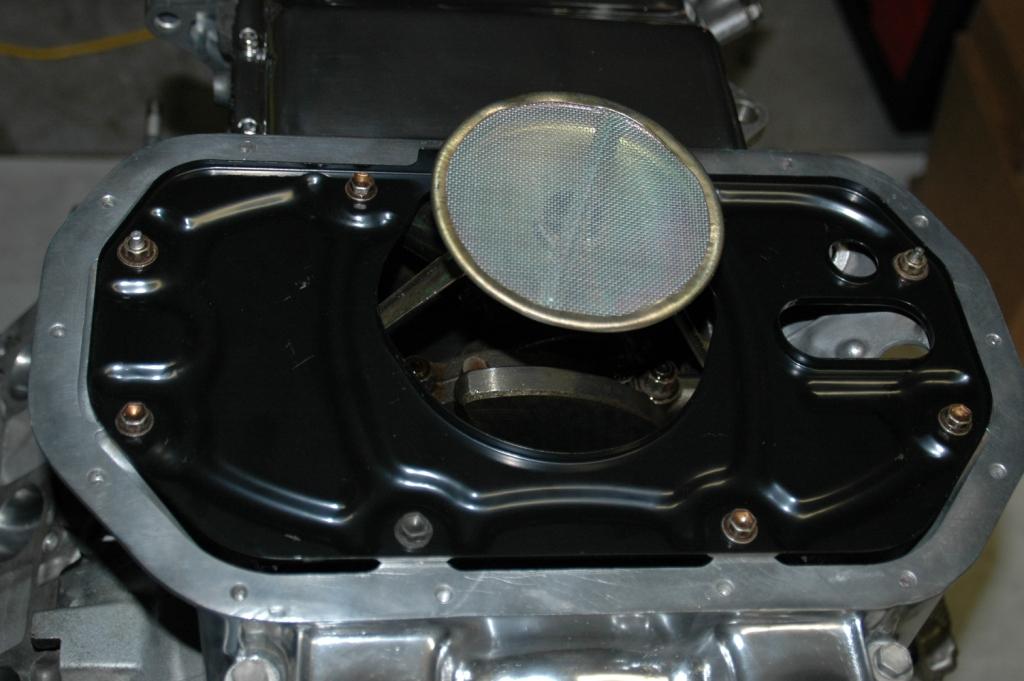 Installed the lower oil pan: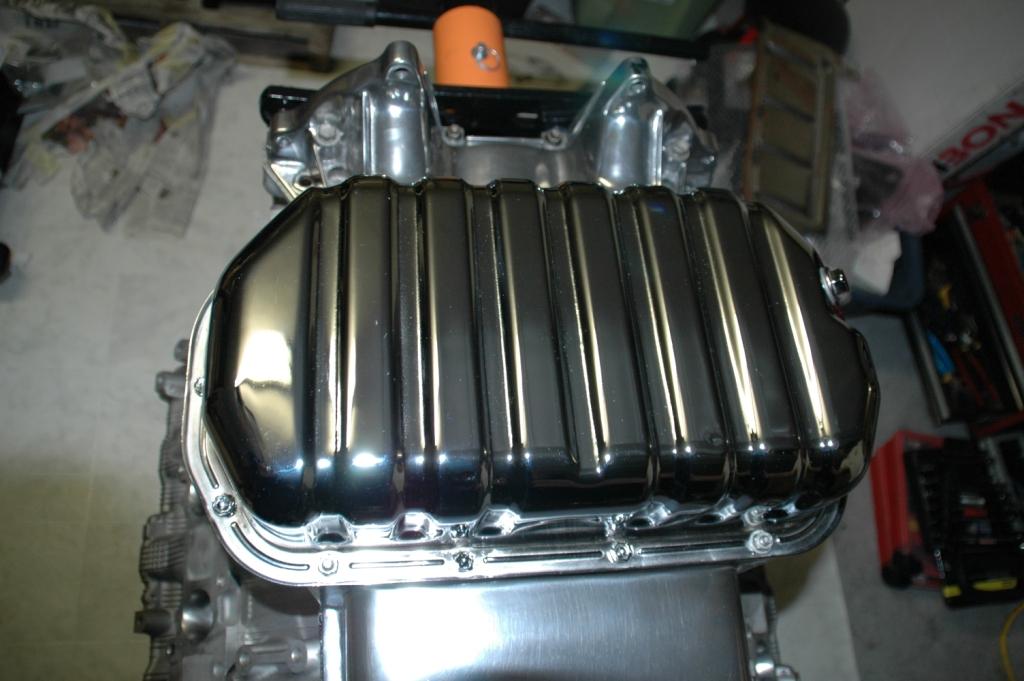 Another: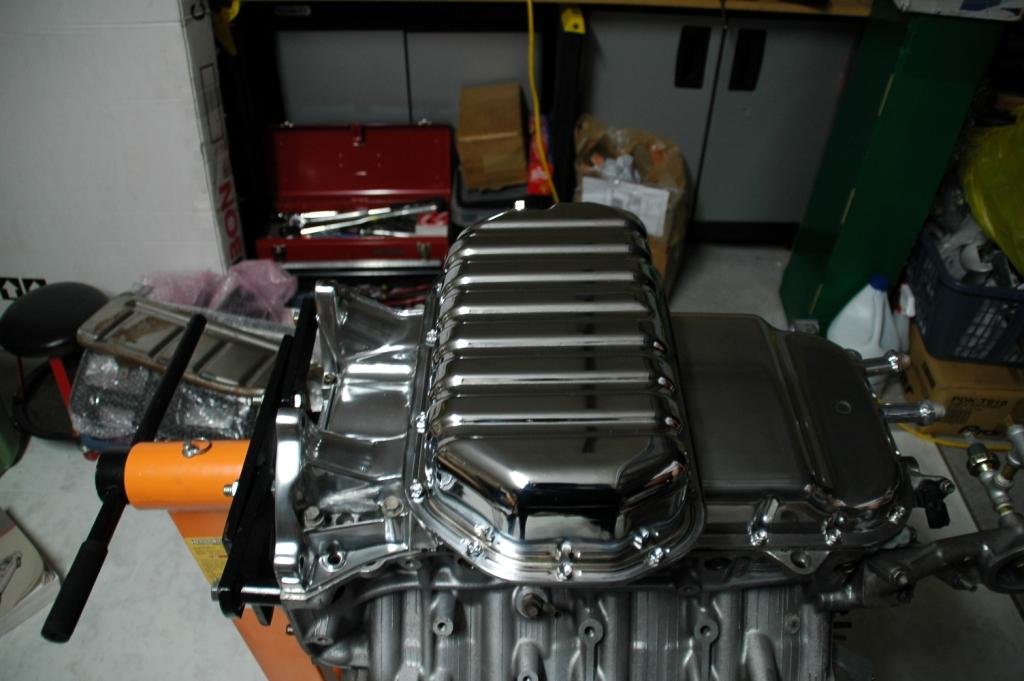 Here are a few more pics of the install:
Installed the Baffle: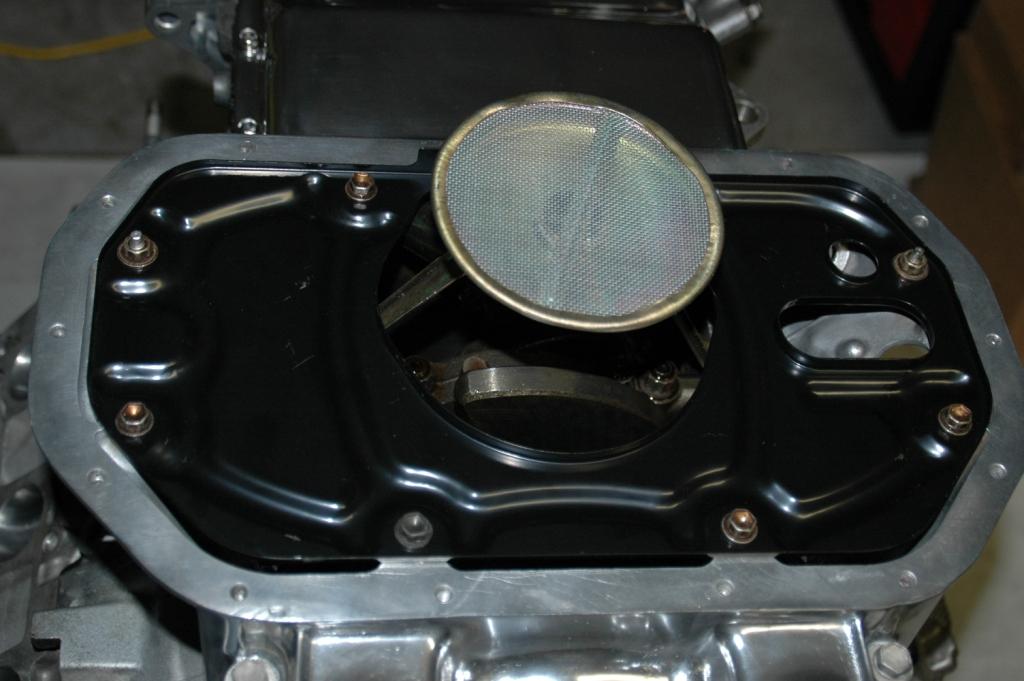 Installed the lower oil pan: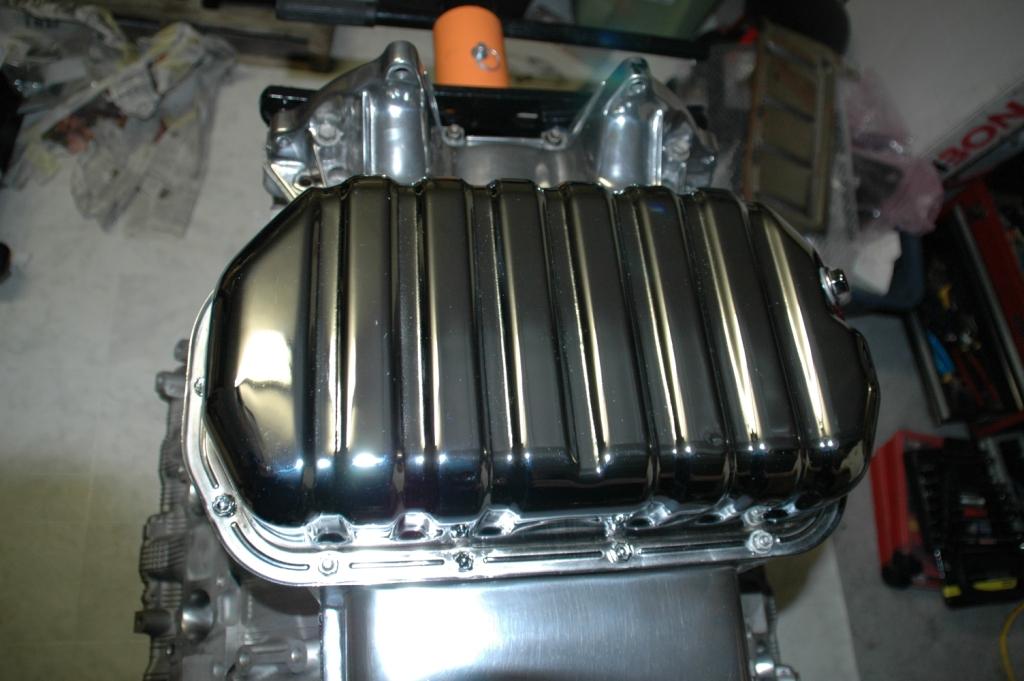 Another: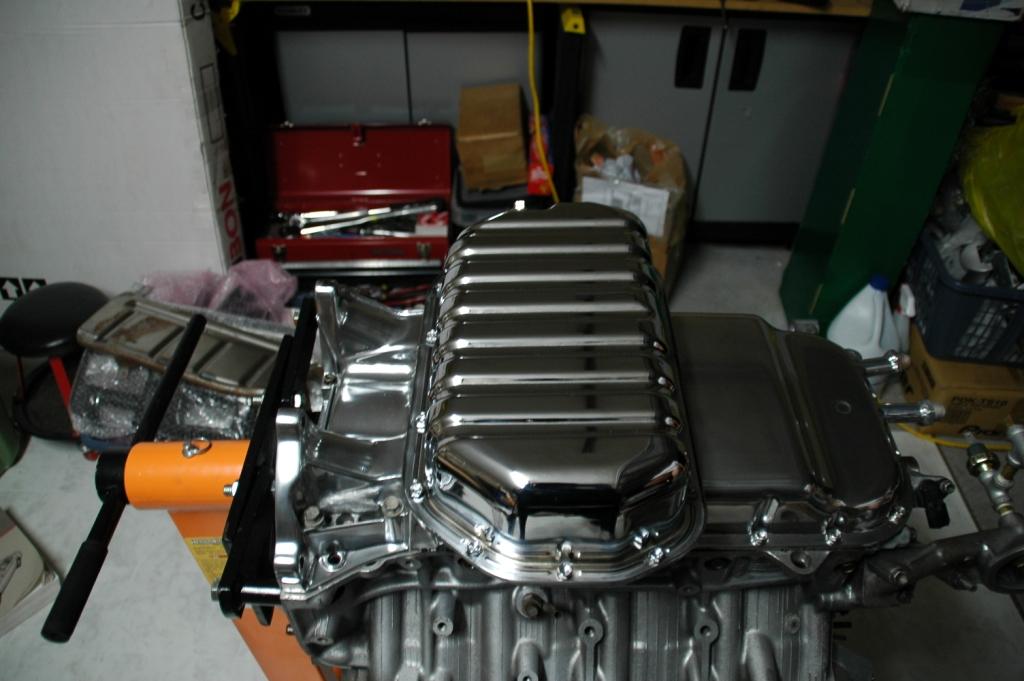 Installed the Black Powder coated Lower Intake: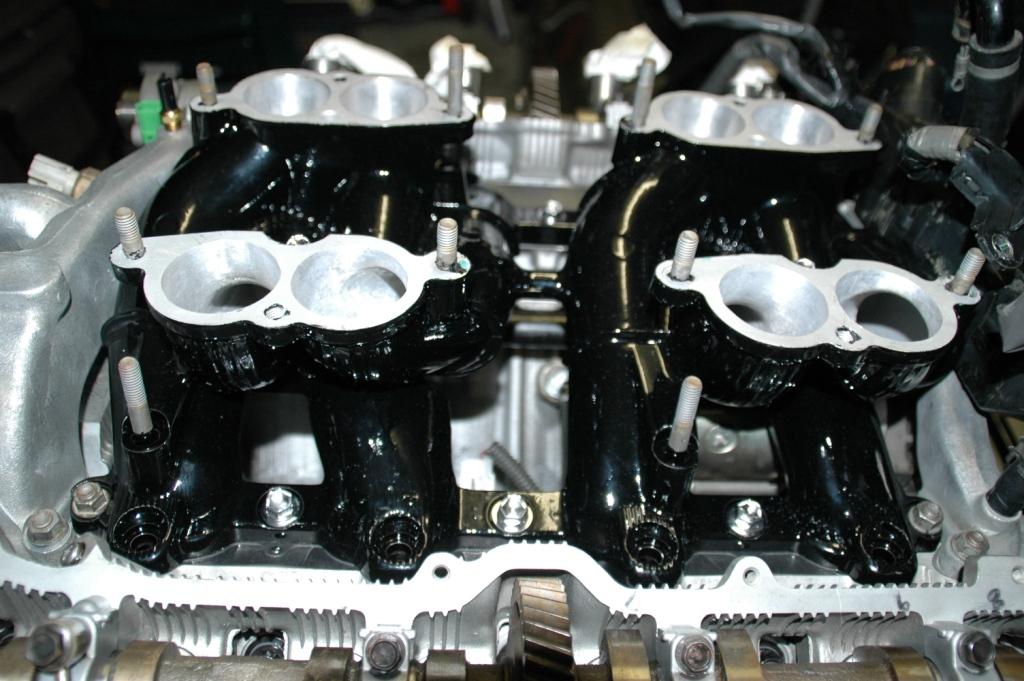 Another: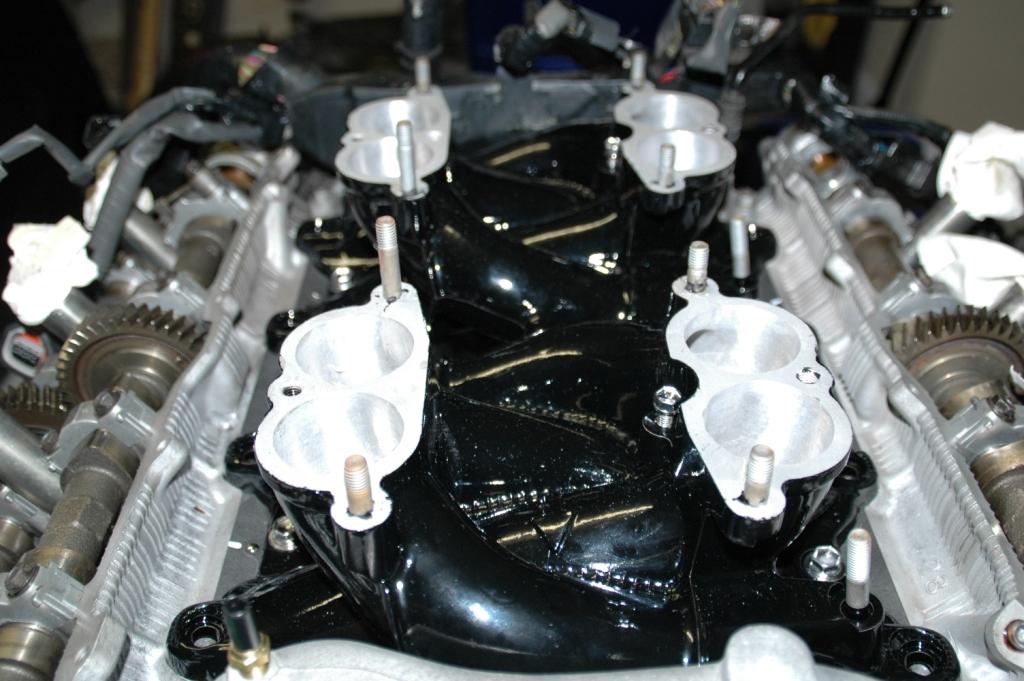 More to come...
1-14-2008
Gang: We wrenched all afternoon today and got a whole heck of a lot done. It is beginning to look like a motor again.
Here are a few pics for you.
Motor 1: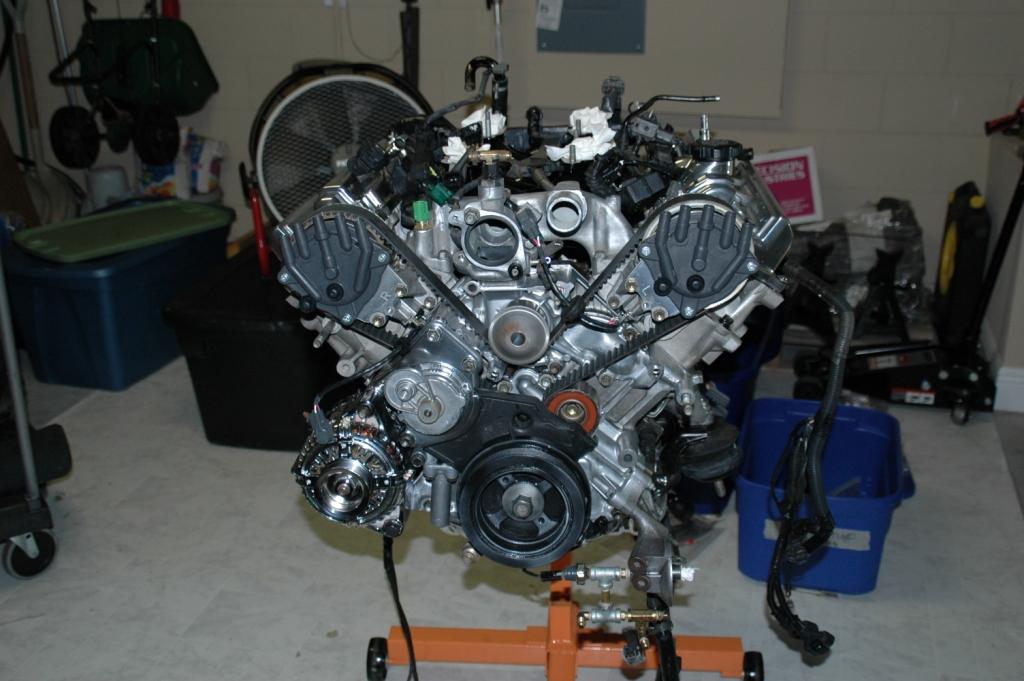 Motor 2: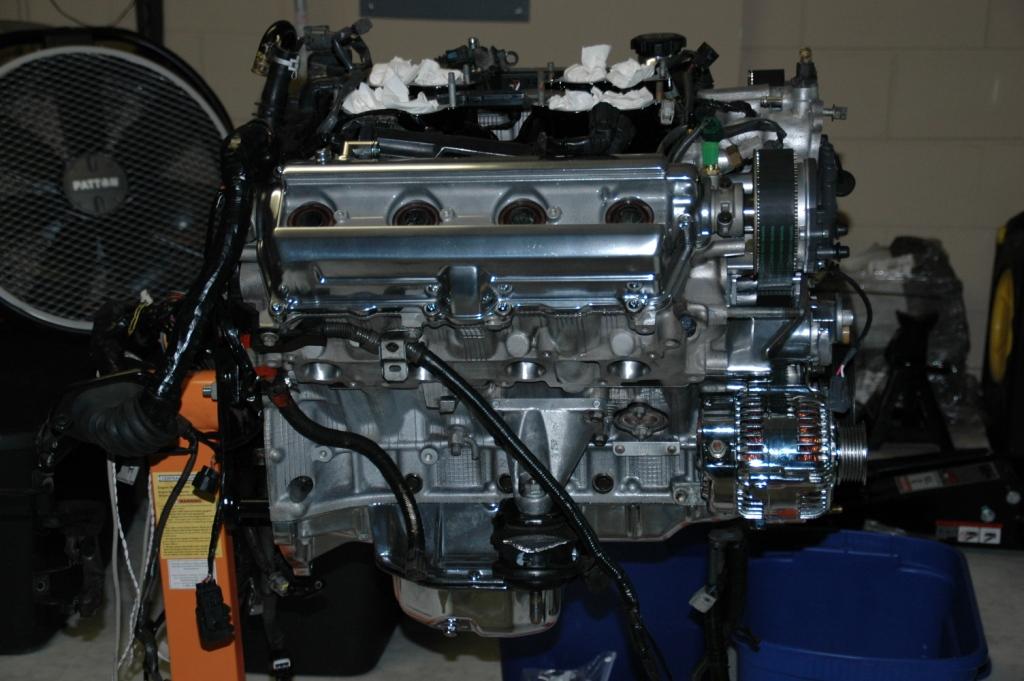 Since this is the 1000th post, I thought I would take the honors...We expect to receive the injectors and the fuel rails this week, and I will pick up the upper intake this Monday. Hope to have the engine completed this week.
I am beginning to feel like this is finally going to get done , snd soon. What a long, long road...
I thank you all for your patience and well widhes along the way..
1-16-2008
Gang:
Here is a pic of the Custom rails: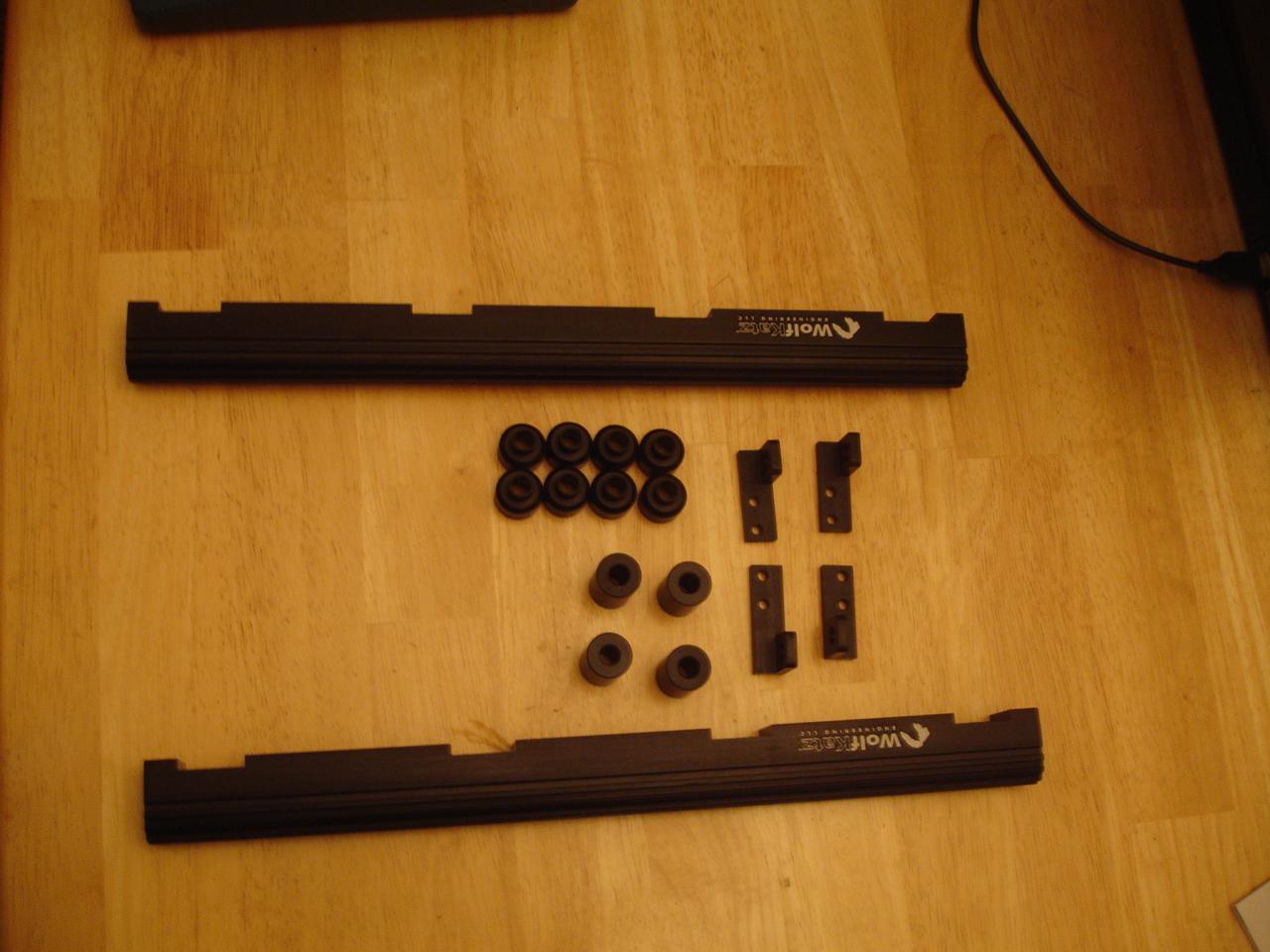 Gorgeous, aren't they? It is really coming together...

Twizted, good question. I am not offended, but I disagree. Yes the stock rails will flow some fuel, but I do not like them for my set up. Plus, I do not believe they will support my HP requirements. But, I was never planning to use them, so the issue was moot to me. This is not just going to be a fast car, but a show piece of what can be done to this car and platform. I am going for a cover with this car...That requires a lot. I do not plan on selling the car. It is my toy....A very special one. In the same venue of questions as to why, how about a few of the questions below?
And why Twin turbo a SC400, instead of a single turbo?
In fact, why go through all the trouble and expense of custom fabbing a TT SC400, when one can buy bolt on parts to TT a SC300?
Why add a carbon fiber hood?
Why fab custom hood vents for heat release?
Why upgrade the body to the 2000 refresh?
Why add an 11 stereo MB Quart speaker system?
Why replace all the necessary stock sensors that are still working with brand new ones?
Why put in a gated shifter instead of using the stock non-gated one?
Why chrome and polish all the engine parts that I have done?
Why use DEFI gauges?
Why swap in a black interior?
Why spend $50k on modding a SC400?
Why add 2 stand alones?
Why add e-shift?
Why add a Dragon TQ Converter?
Why shoot for 900 to 1,000 HP?
Why add expensive Catch cans from Greddy, instead of cheap homemade ones, like the many that are out on the web?
Get the point?
Why, why, why??? Was any of this necessary? No. But why do it? Because I do things right, and all the way, and because I want to, and because I can...Kind of like why climb a mountain? Because it's there...
1-24-2008
Gang:
I received my Big Win Lip from Carson the other day. Here are some pics with it on the 2000 bumper unpainted. It is a spot on fit, and finish is excellent. It is a little flexible, so when installed and painted it will need to be reinforced and braced, which all Fiberglass pieces should be installed this way. Nice lip, I like it.
No Lip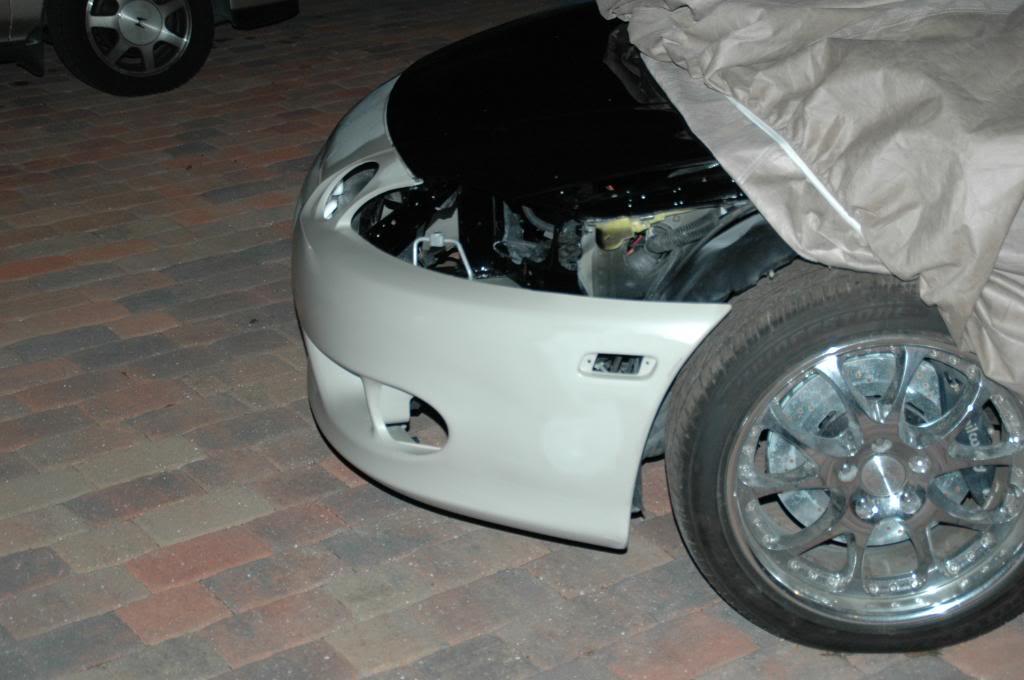 No Lip 2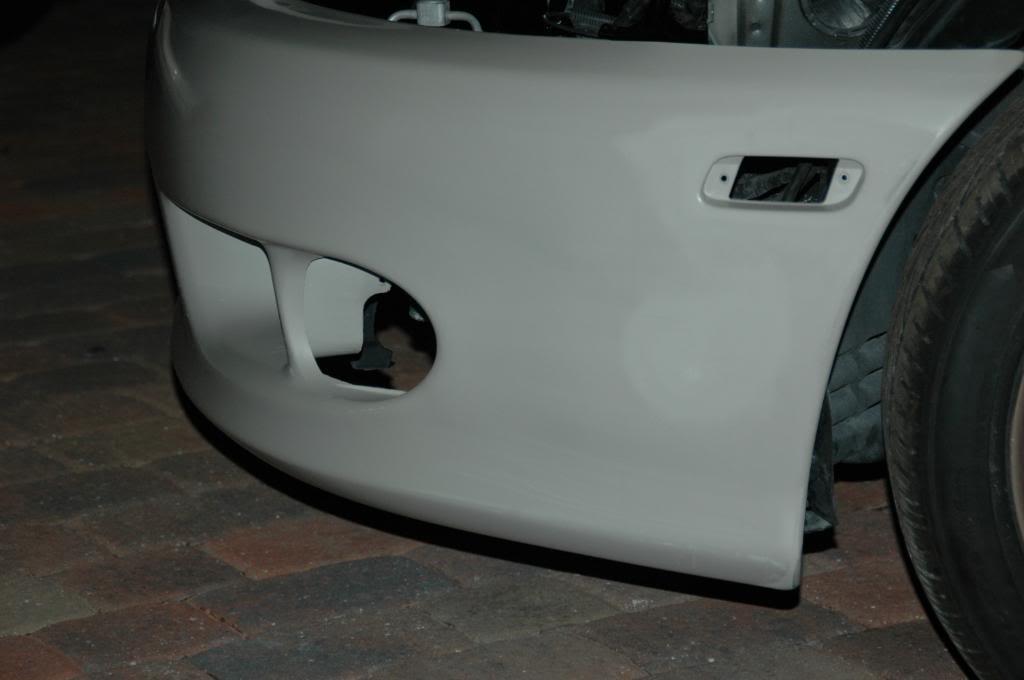 No Lip 3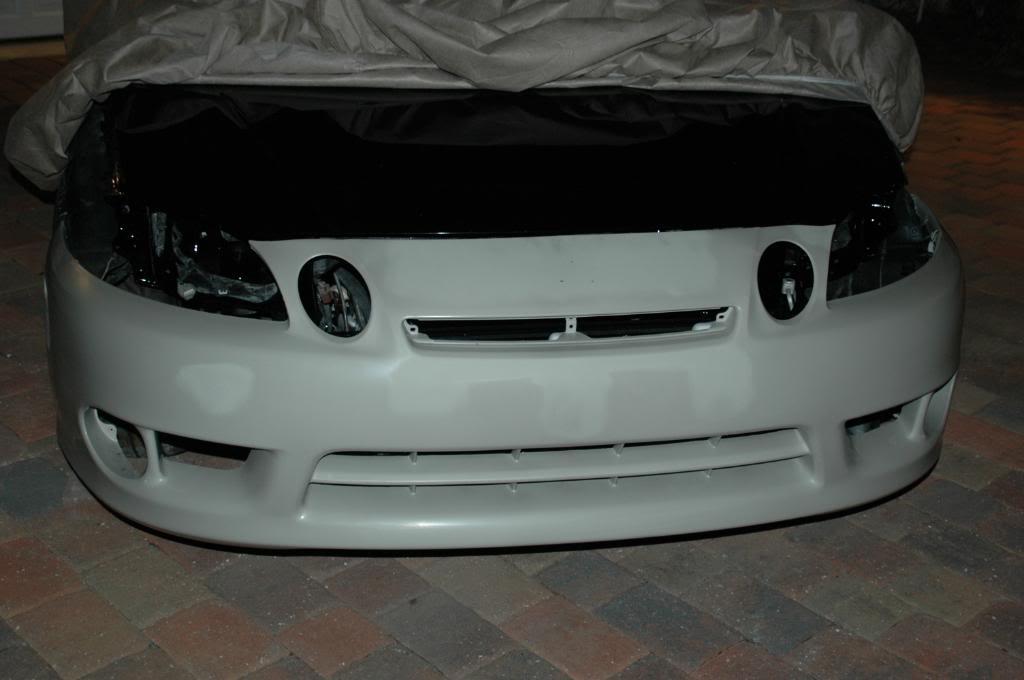 Lip 1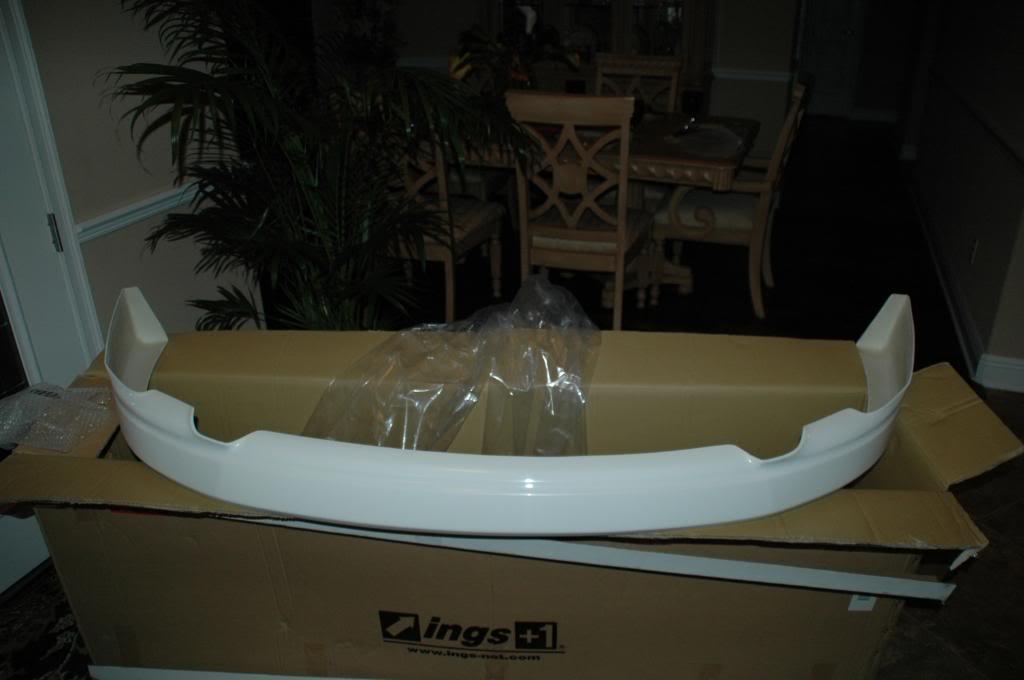 Lip 2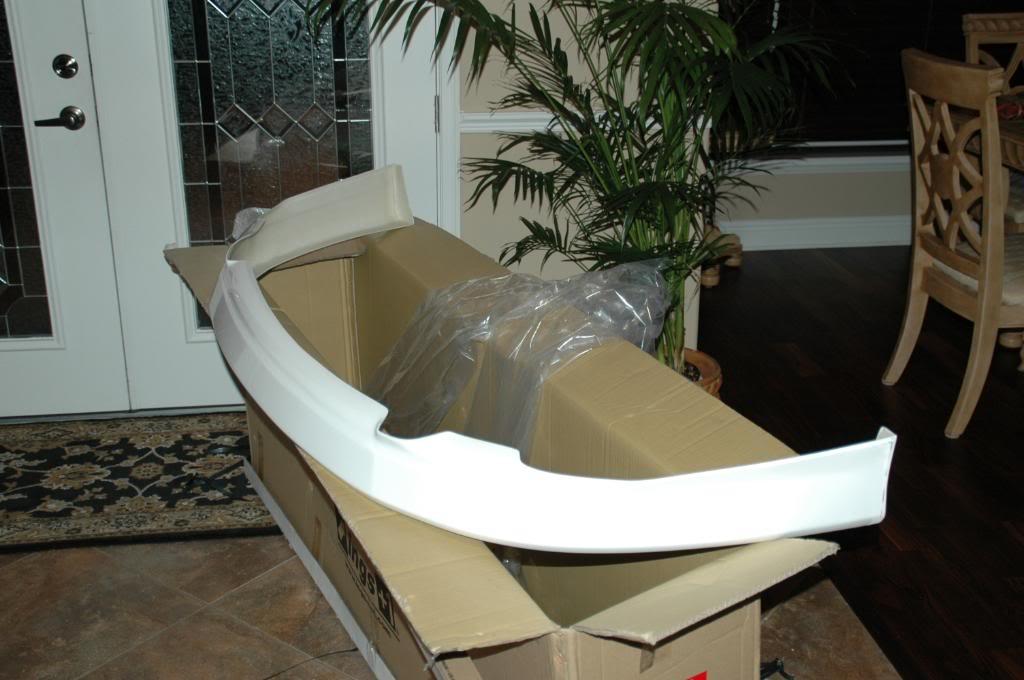 Lip 3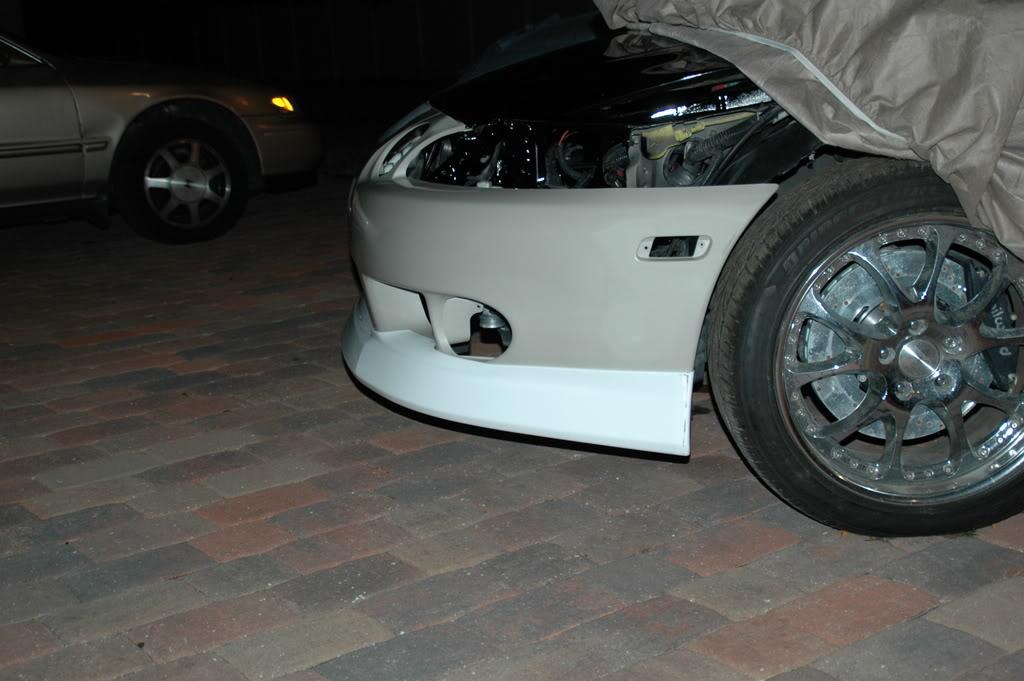 Lip 4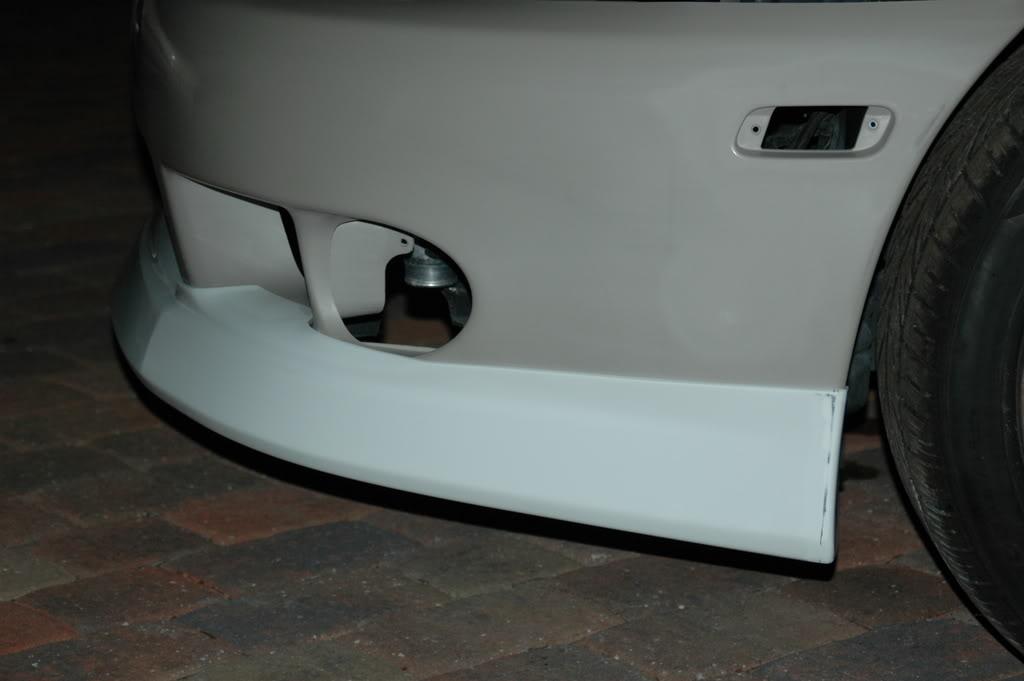 Lip 5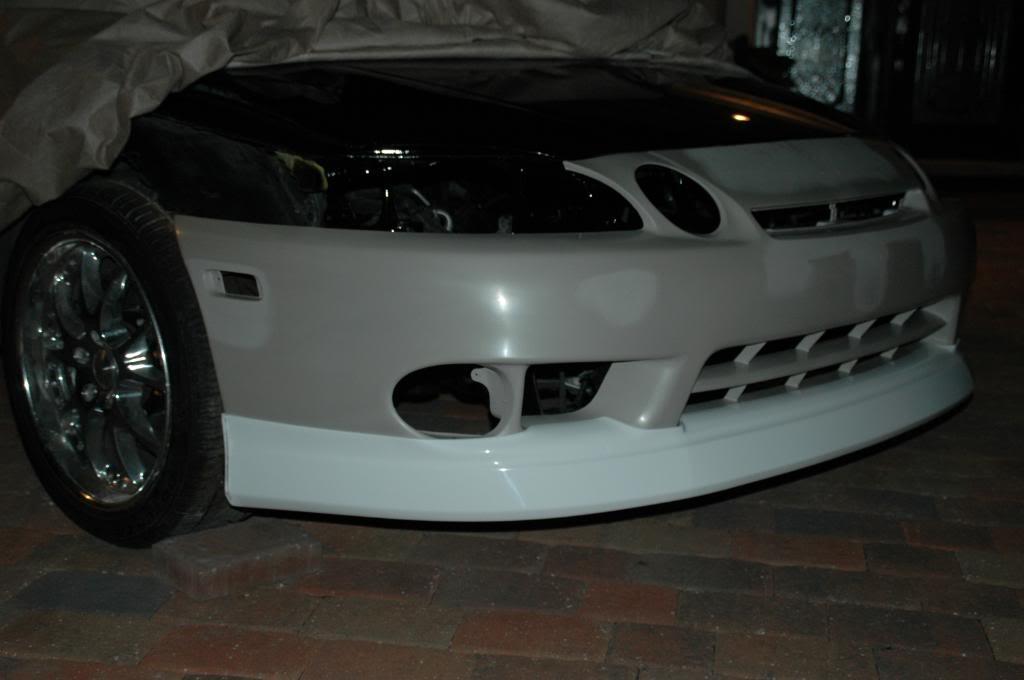 Continuation of the Big Win Lip:
Lip 6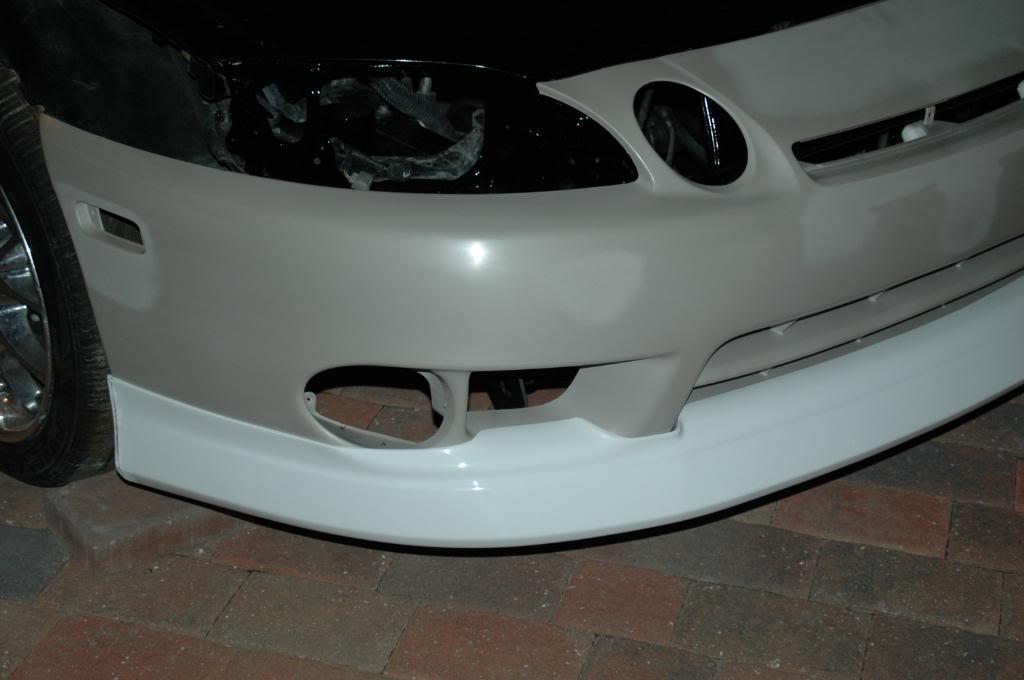 Lip 7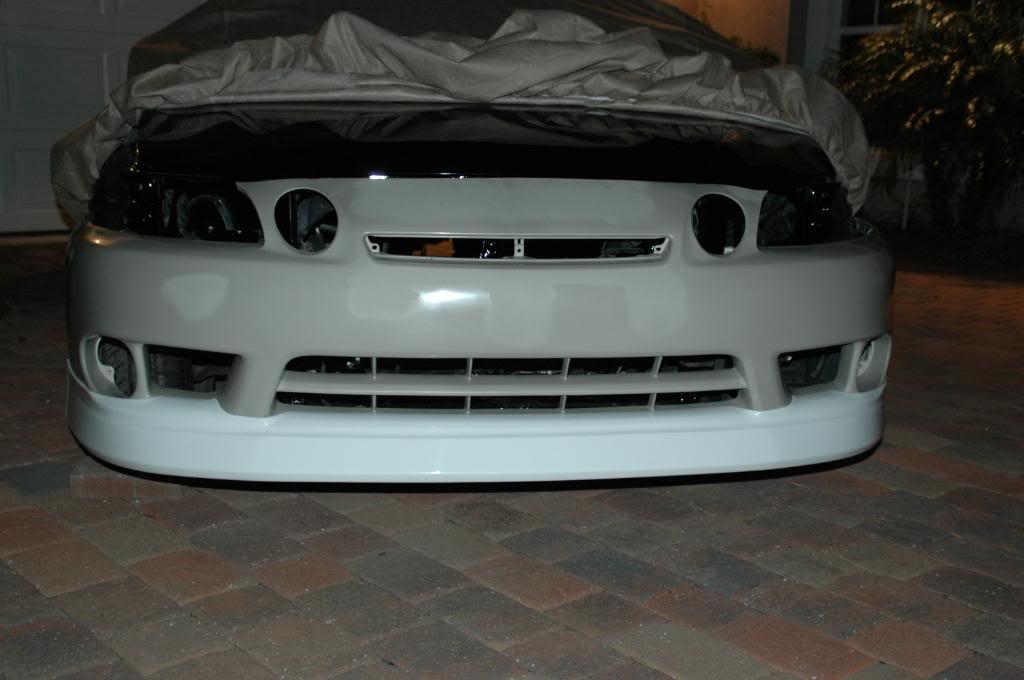 Lip 8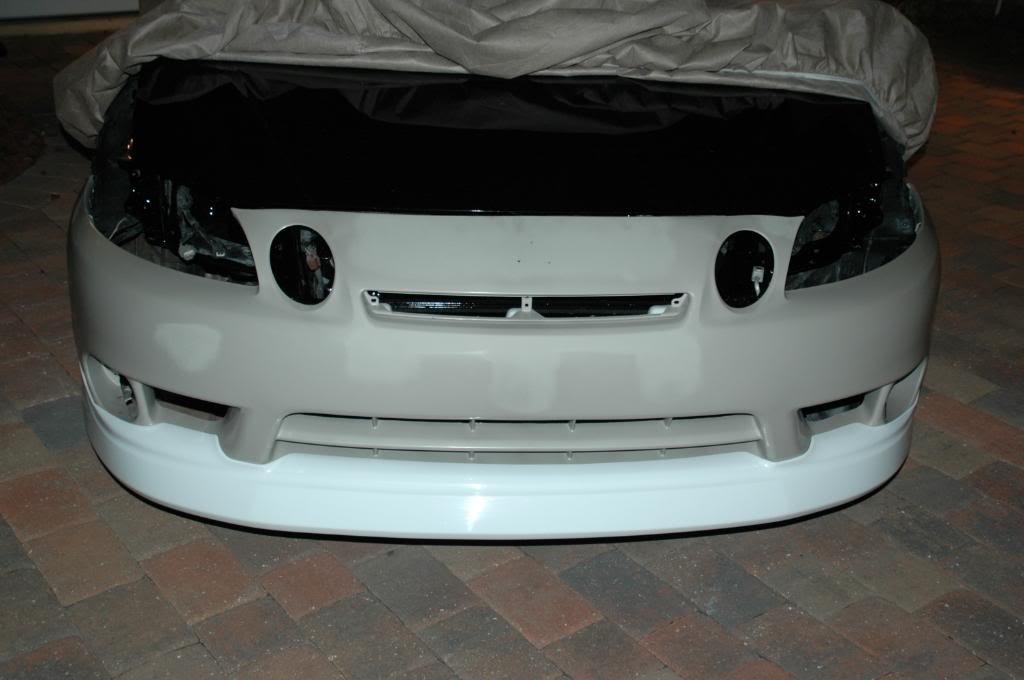 Gang, My rails have shipped along with my injectors, and will be here tomorrow. Here are a couple of higher res pics of the complete bolt on Kit from WolfKatz:
Rail Kit 1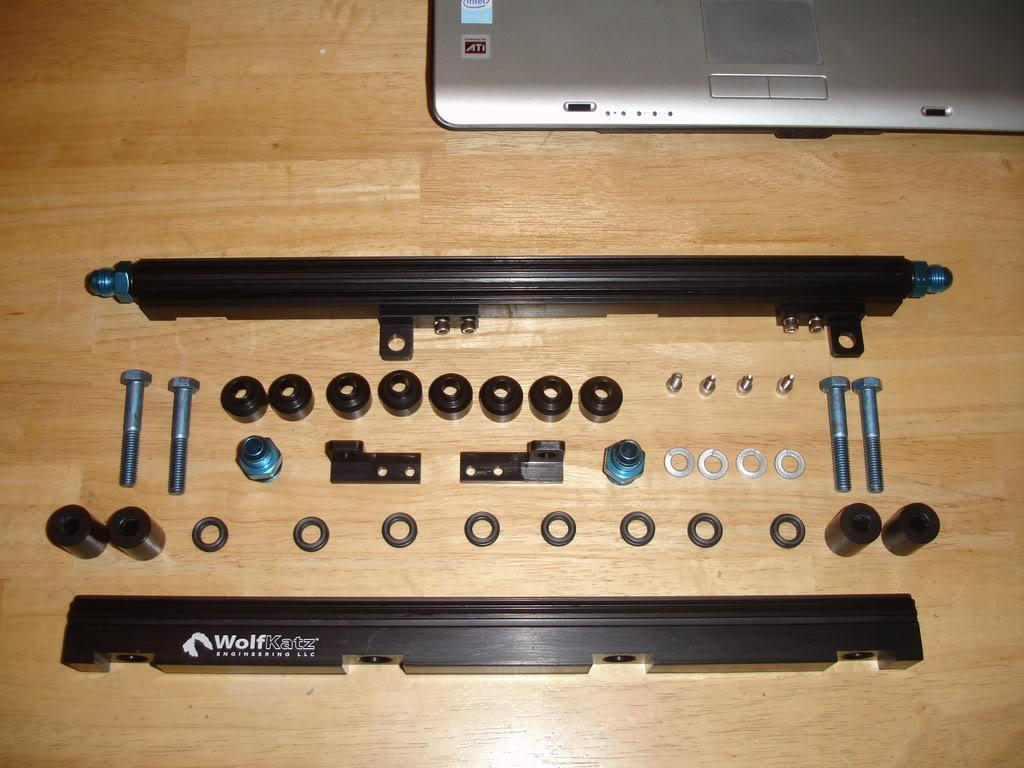 Rail Kit 2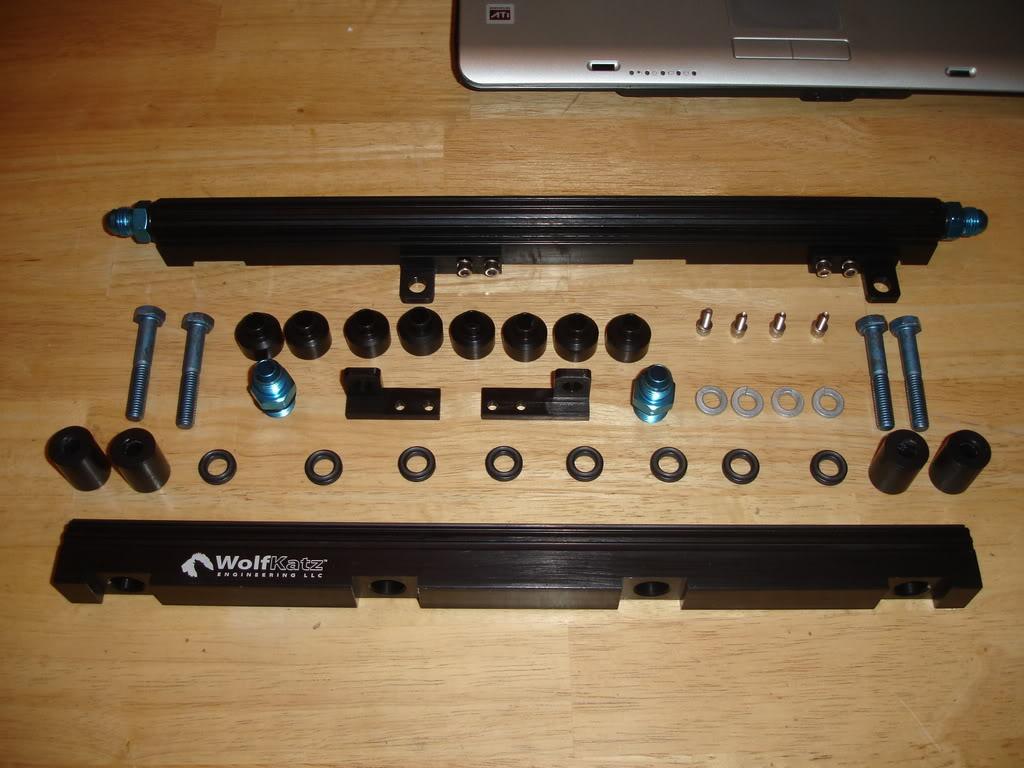 I am stoked!!!



1-27-2008
Hello Fellas, I planned to do some wrenching on the SC today, but did not get too much done due to the need to change out the drivers side door on the Honda after getting side swiped by a Semi truck. So, Scott KISoarer come over to wrench with me, but we spent thee time on the door. Good thing is the Honda is back in good shape, used door (same color) in place, used mirror in place, swapped out the glass, and all other parts needed to complete the task.
I did do a mock fit of the rails and the upper intake, so I thought I would post them up for you to see. They look Badass...I also am posting pics up of the new Delphi injectors, 84 lbs. They are much bigger than stock, and the pintile design is far superior to stock as well. The clips for the injectors were already installed by Dr. Tweak of Phoenix Tuning, so these are now Plu-n-Play baby...

The injectors are more than enough to get to my power goals, and they are still very tunable for a solid idle as well...Almost there...

8 new Injectors fro WolfKatz: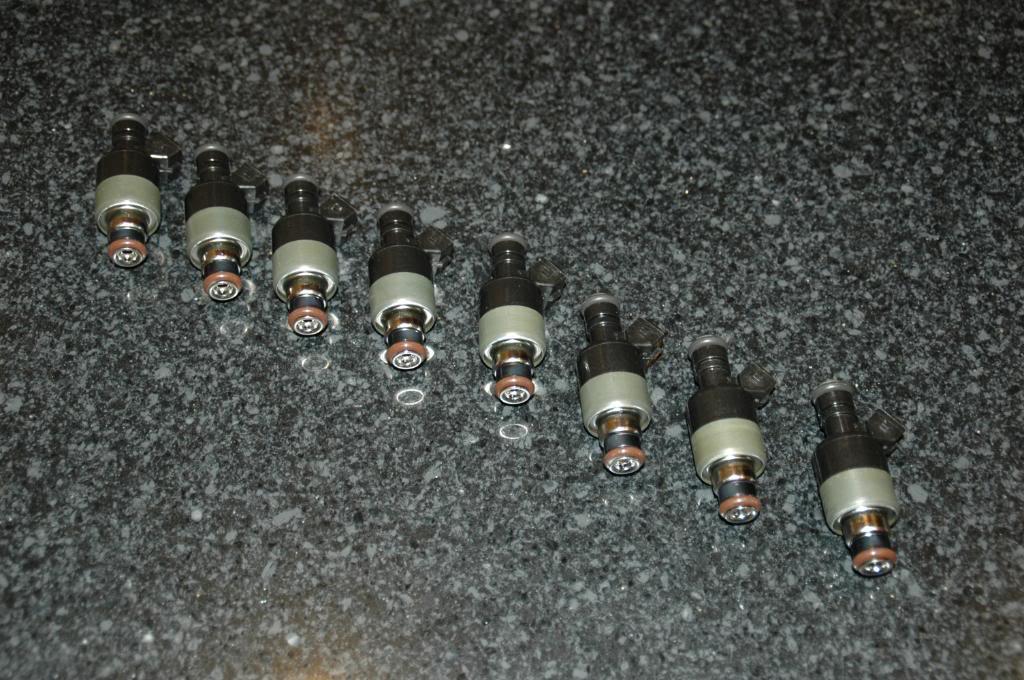 Injector close up: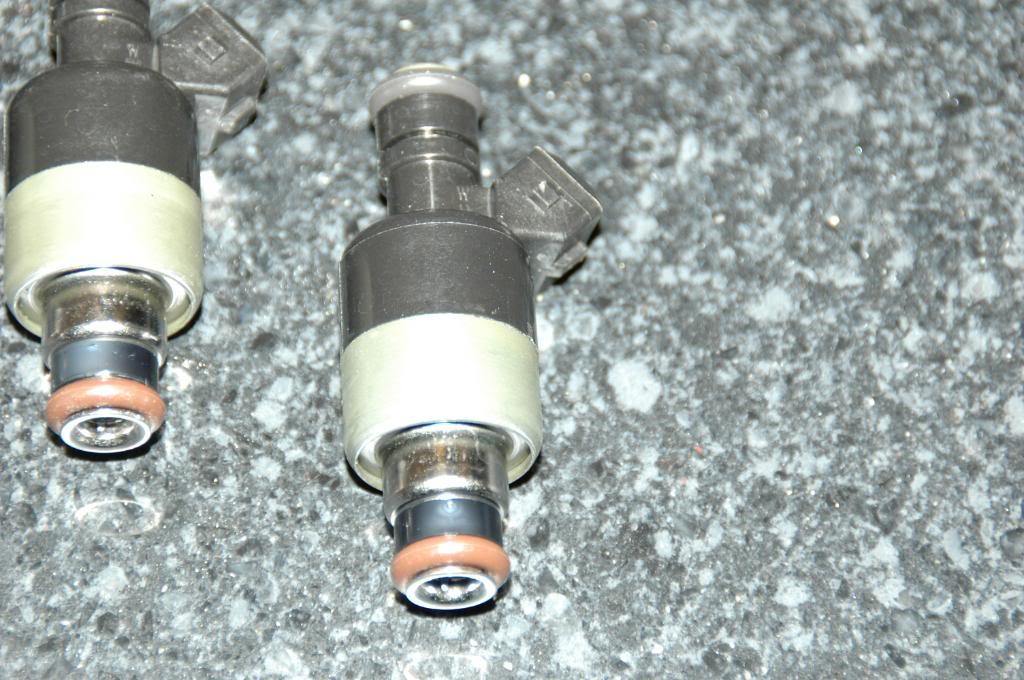 Comparison to stock injector: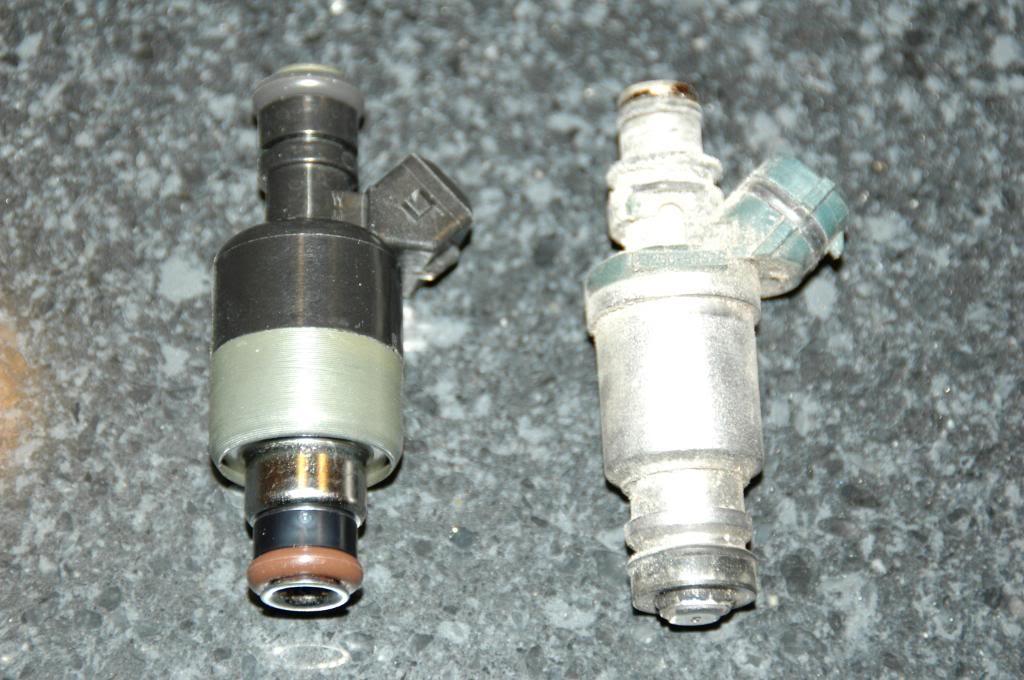 Pintile comparison: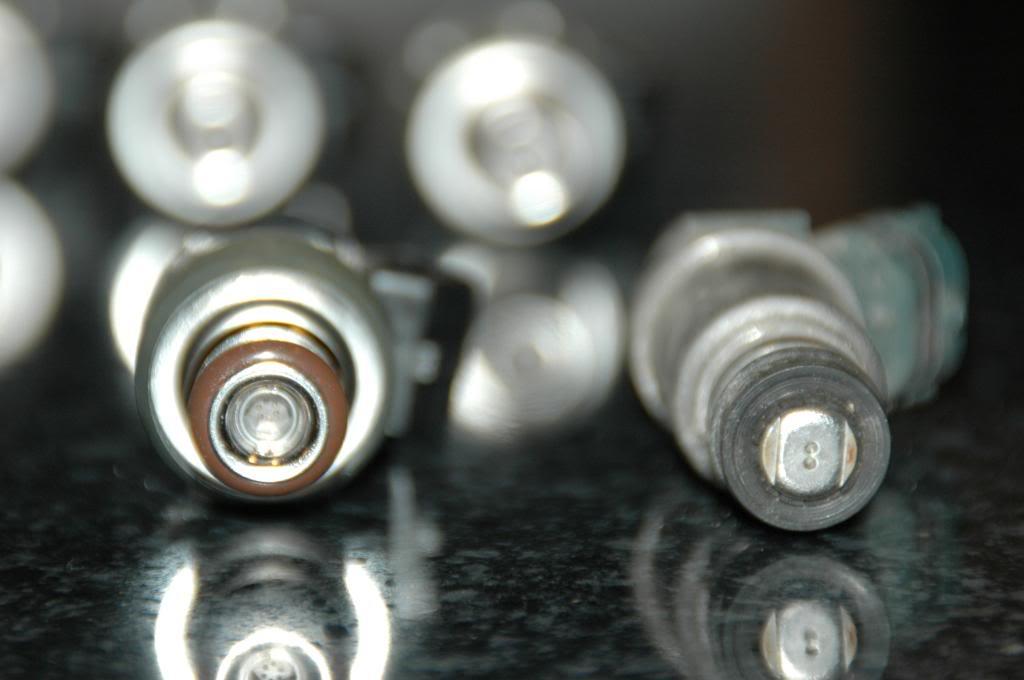 Mock fit of rails and intake 1: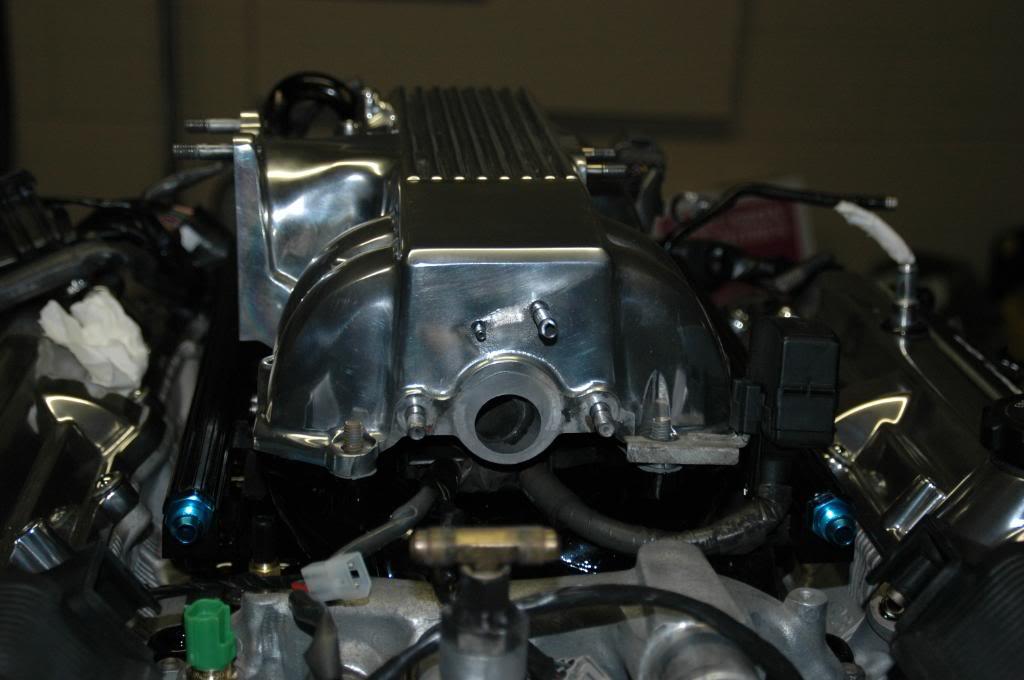 Mock fit 2: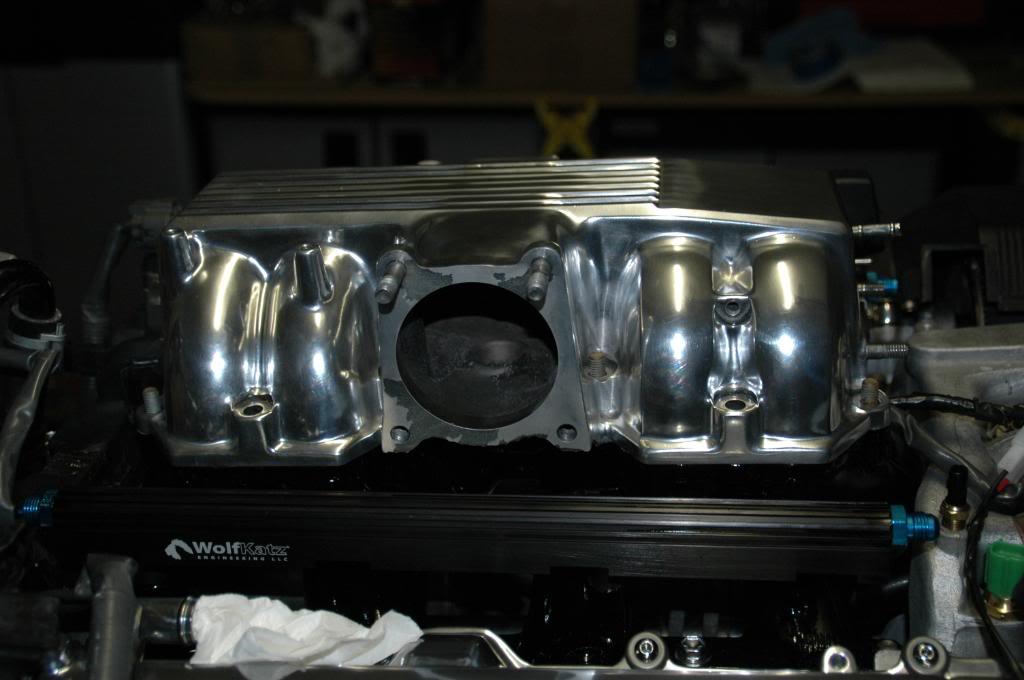 Mock fit 3: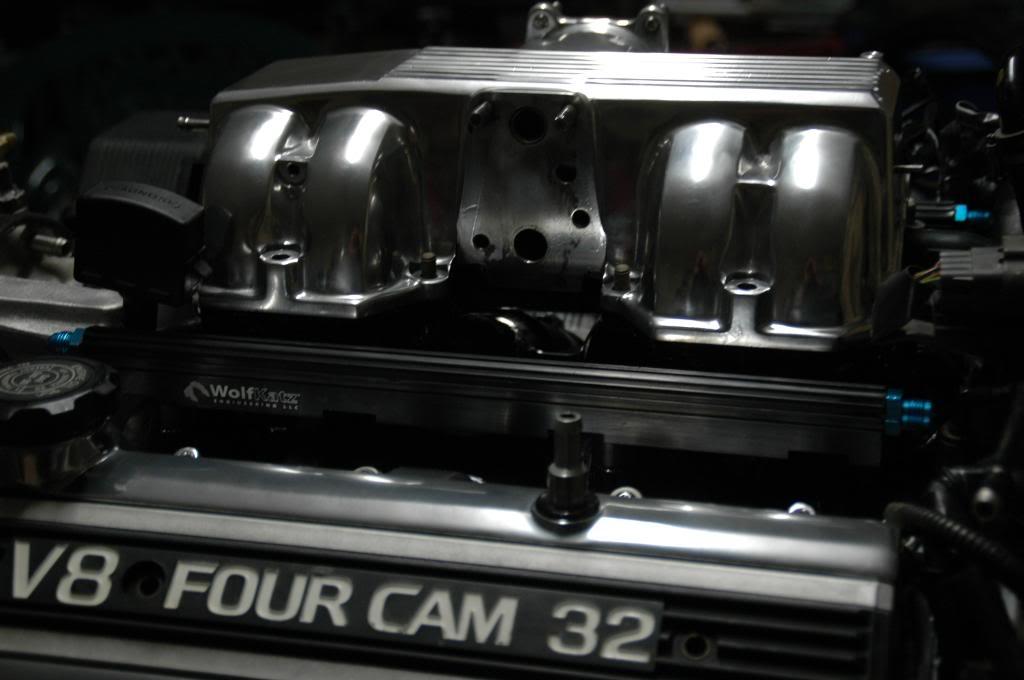 2-3-2008
Well fellas, we just completed a marathon session of wrenching on the engine...Worked all night on it, qand am going to get some shut eye for now...It is basically done. Got all the wires separated on the loom and recovered them in black flexible loom tubing, then taped over them with high temp electrical tape. We assembled the front of the motor, and installed all the accessories. Need to regap the plugs and install the plug wires and covers. A few moe cosmetic things to complete as well. The rails are installed as well as the injectors, and it does look hot!! Still need to connect the SS braided hose and the fuel system, but made fantastic progress.
Pics to come,


2-4-2008
I have the complete 97-2000 refresh being installed. One of the nice things about the BW Lip is that it onl sits approximately 1/2 to 3/4 inches further down fro the stock 97-2000 lip, so it flows very well with the 2000 refresh. No need for any other kit pieces to add to the car. Yet the lip really adds to the agreesive stance of the car. I really like it...
Thanks, Richie. Pics coming up tonight.
Hello Gang:
I promised updated pics of the build, so here we are. I know my car is not running yet, but it should be very soon. Making excelent progress, and I look forward to finally getting this car on the road. The rails and injectors installed very nicely, as well as the Lexus Logo that I "Chiseled" off the stock intake and then attached to my polished and ported intake. The wiring loom was time consuming, and we re-routed much of the wiring, we even had it set up for hidden wirning, but the rails were made such that we could not turn the injectors in and therefor, we had to show the injector wires. We installed most all the accessories, and bity do they look good, that polished and chromed metal sure has the right "Bling".

Take a look:
Injectors installed: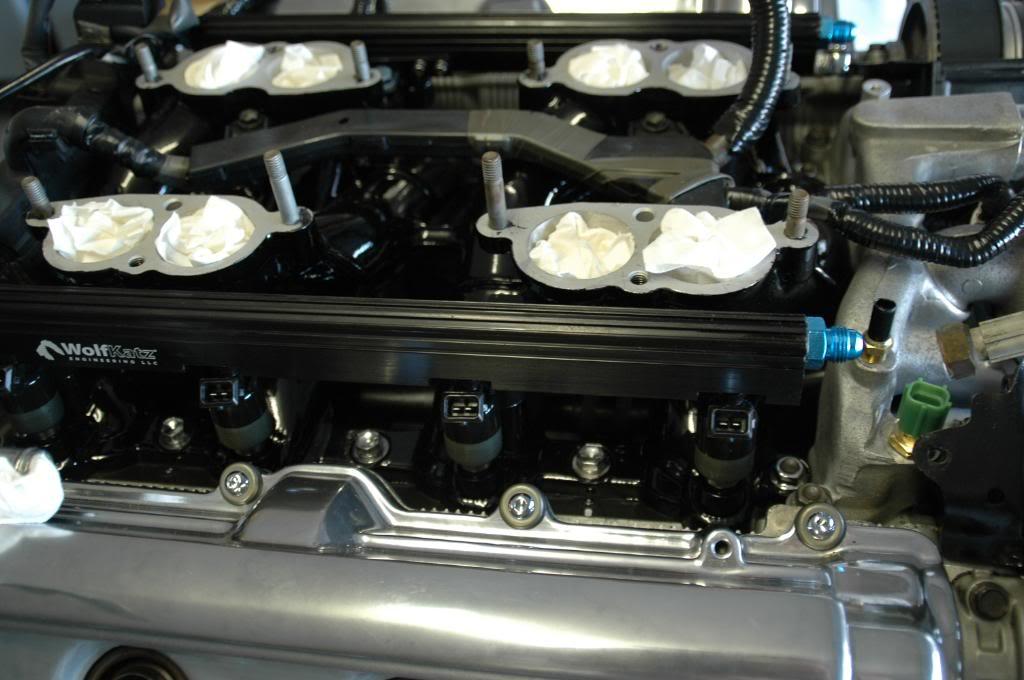 A close up injector shot: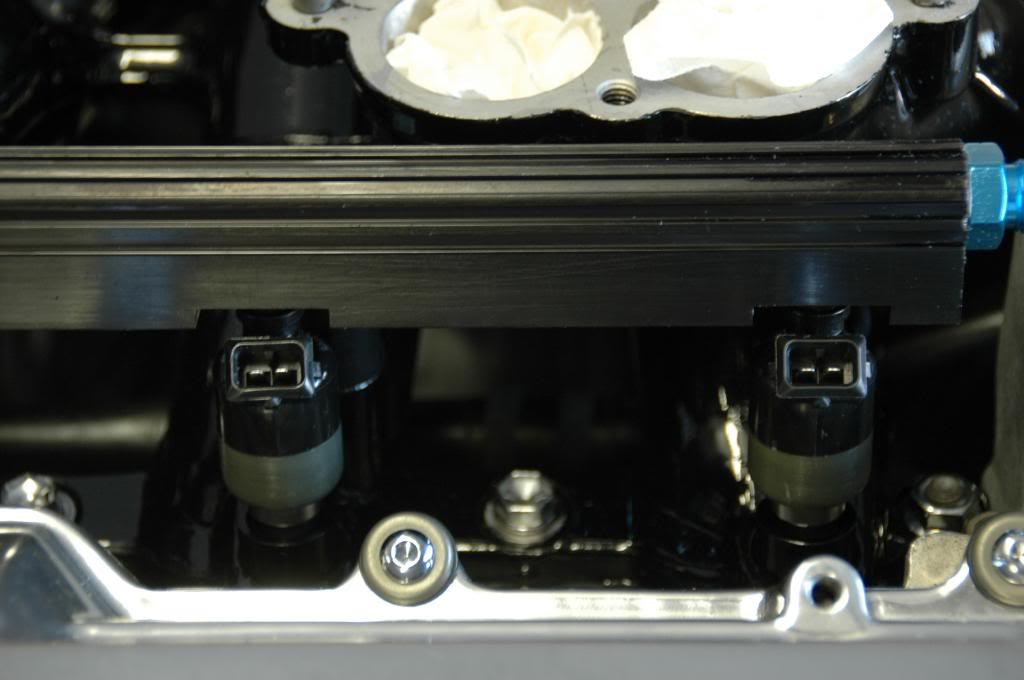 Rail shot 1: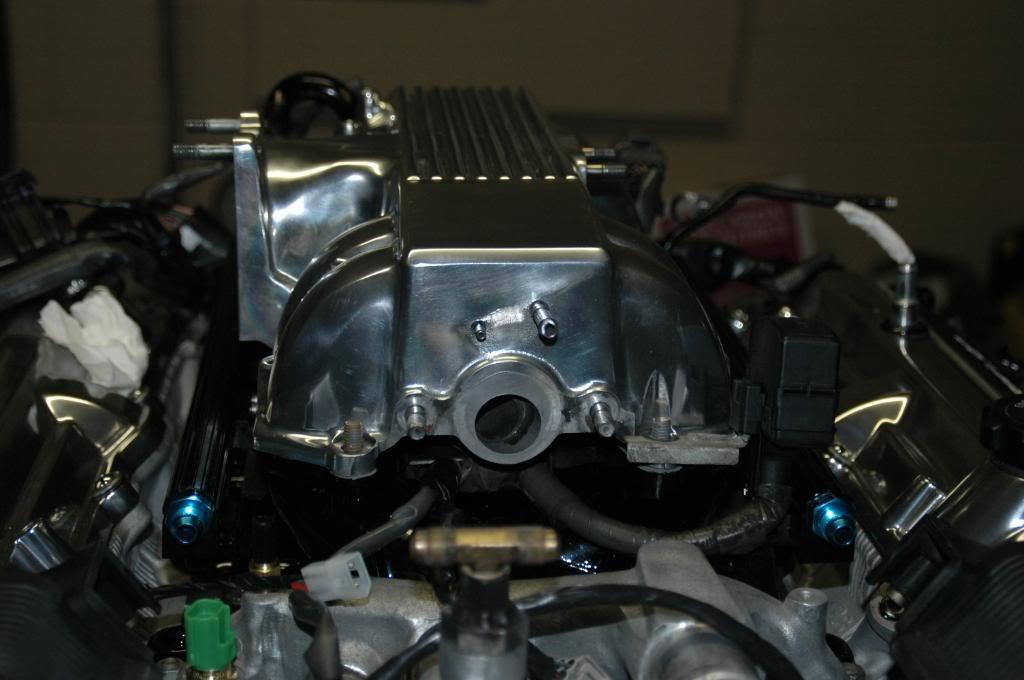 Rail Shot 2: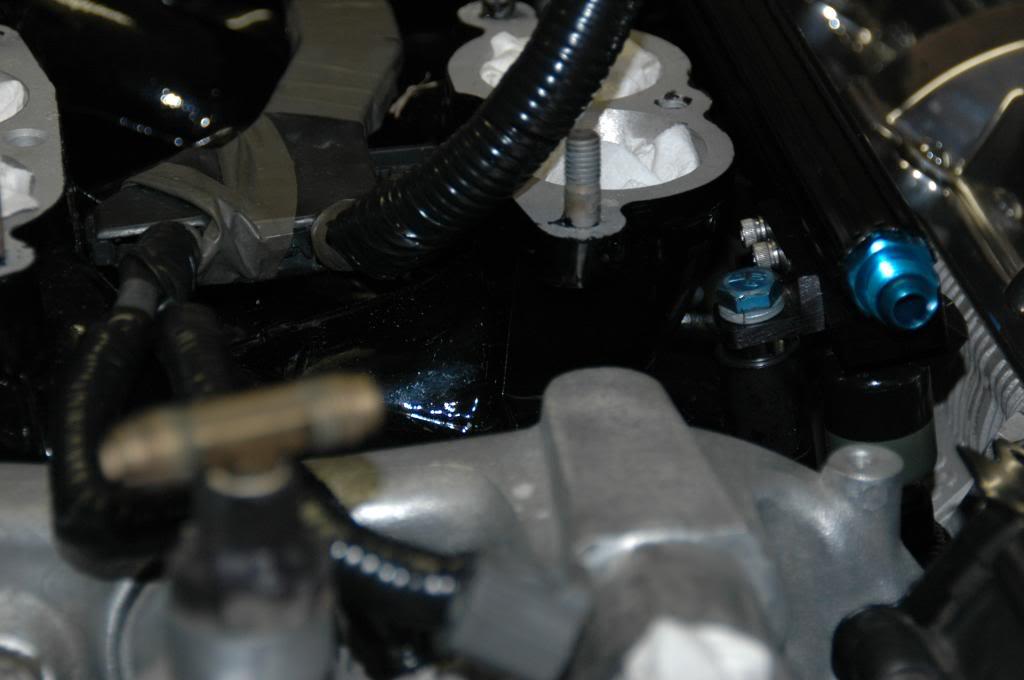 Rail Shot 3: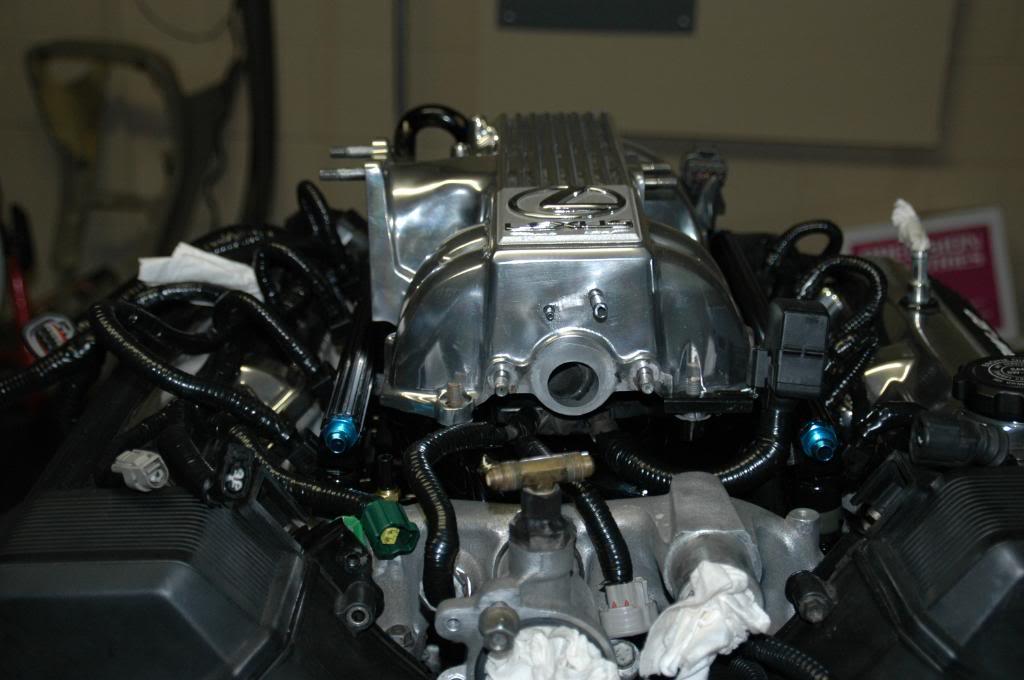 Intake and Injector wiring shot 1: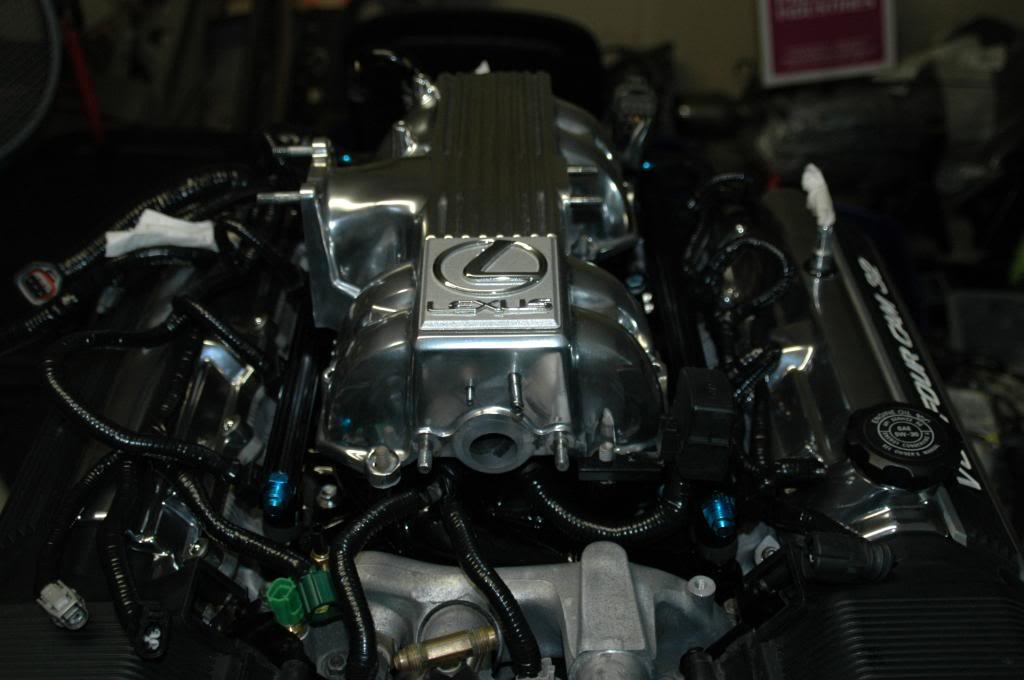 Intake and Injector wiring 2: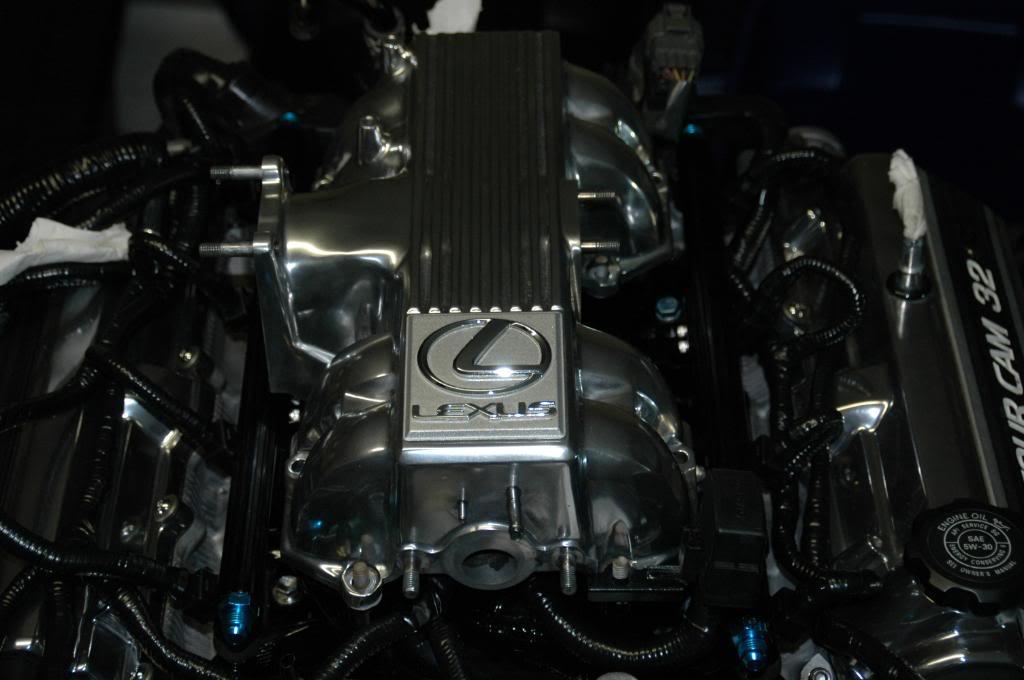 More to come.
Continuation:
Intake and injector wiring shot 3: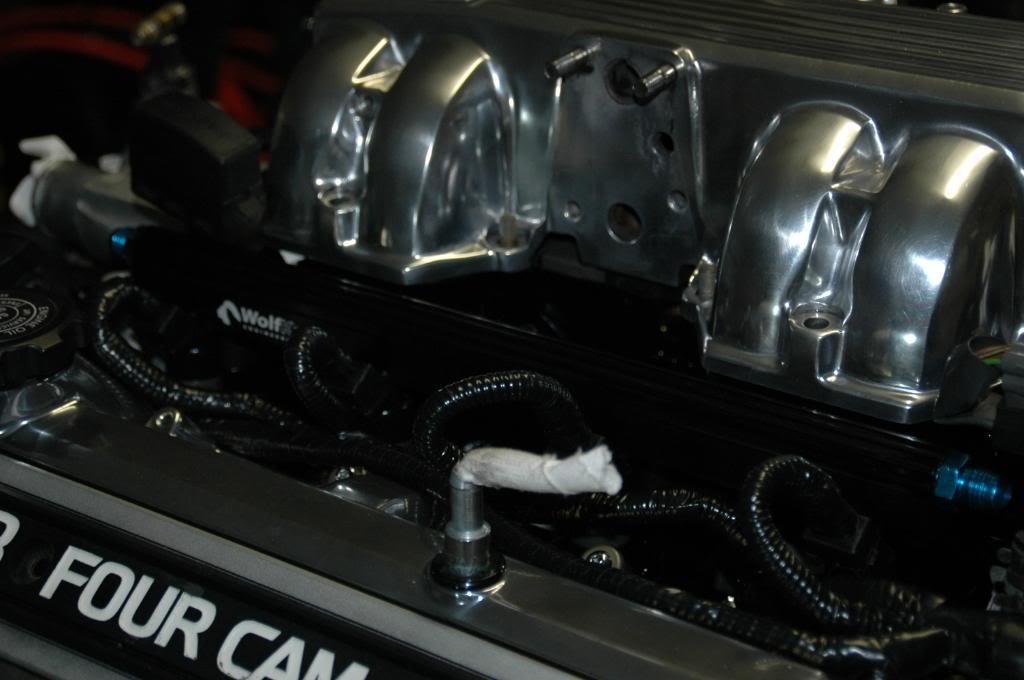 Intake and injector wiring shot 4:
Intake and injector wiring shot 5: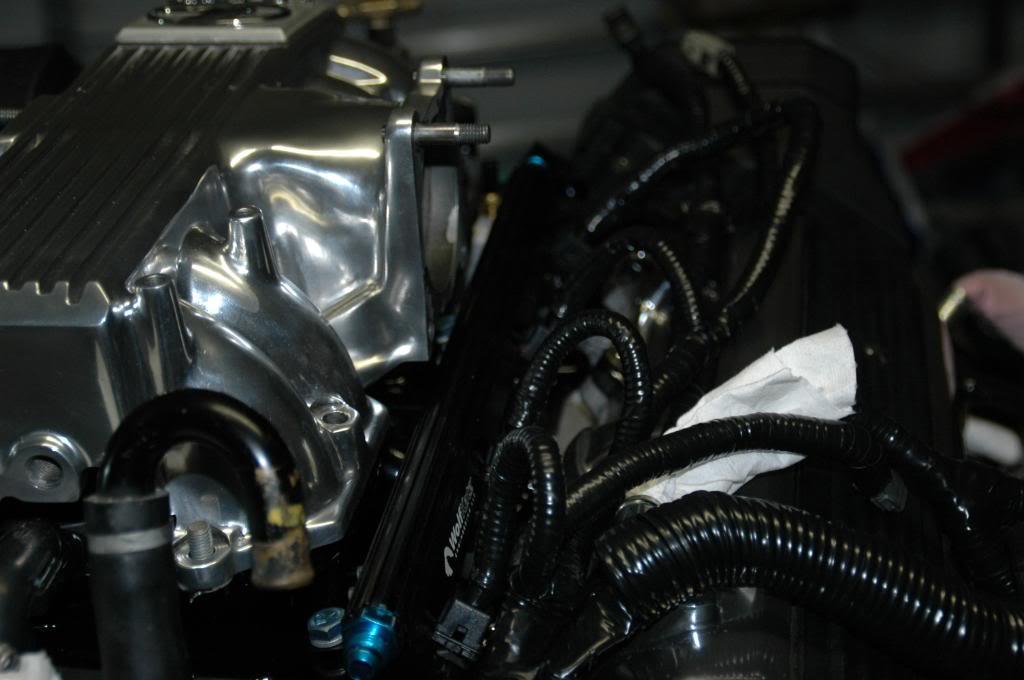 Motor shot 1: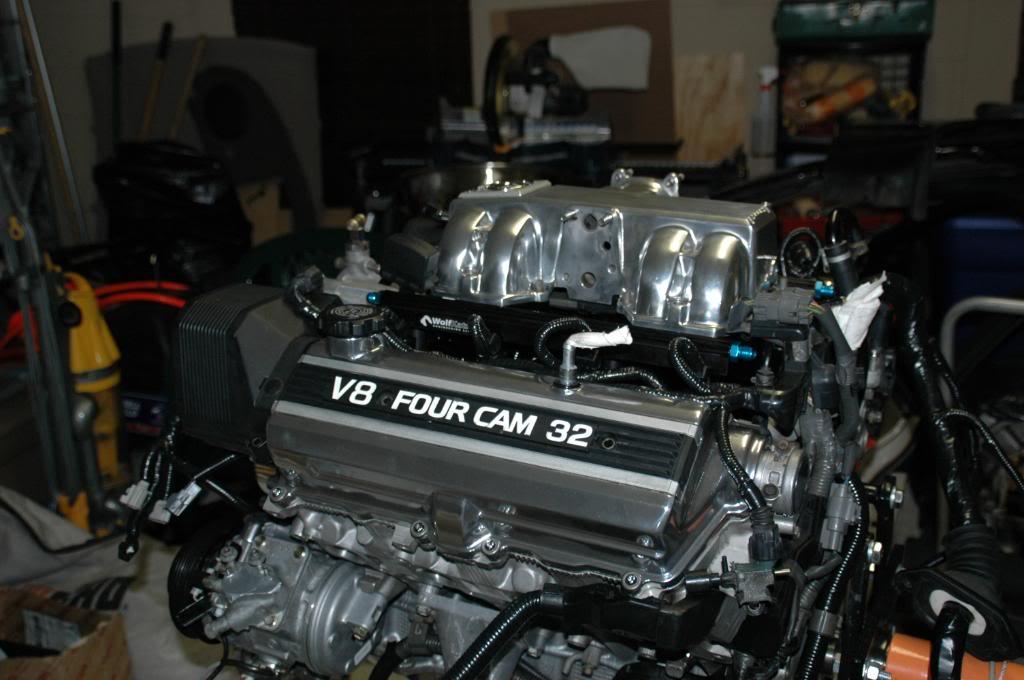 Motor shot 2: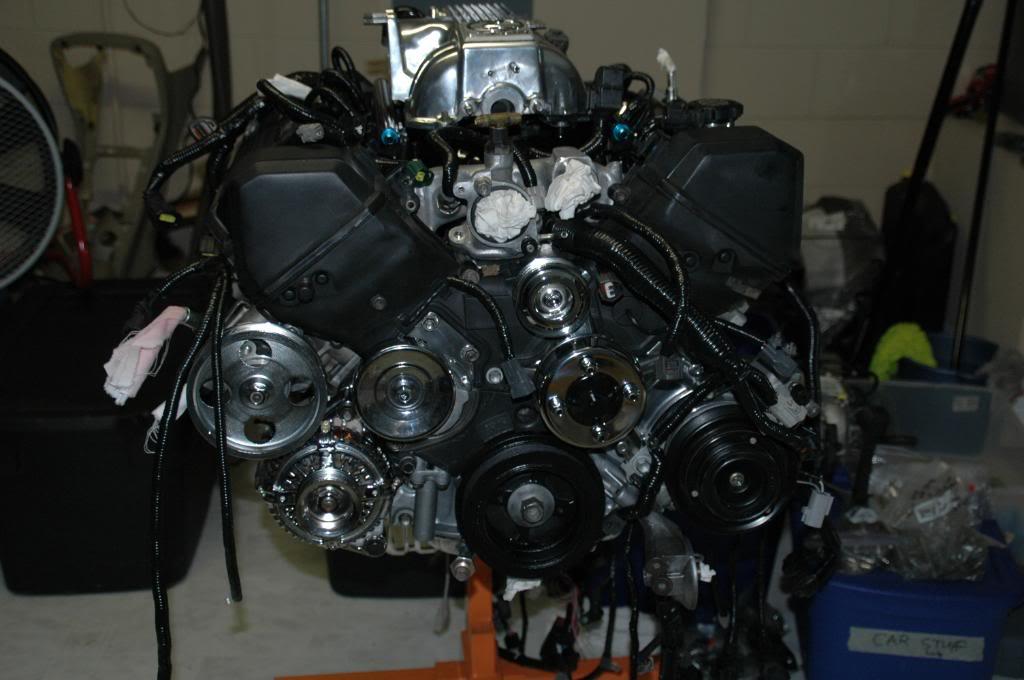 Motor shot 3: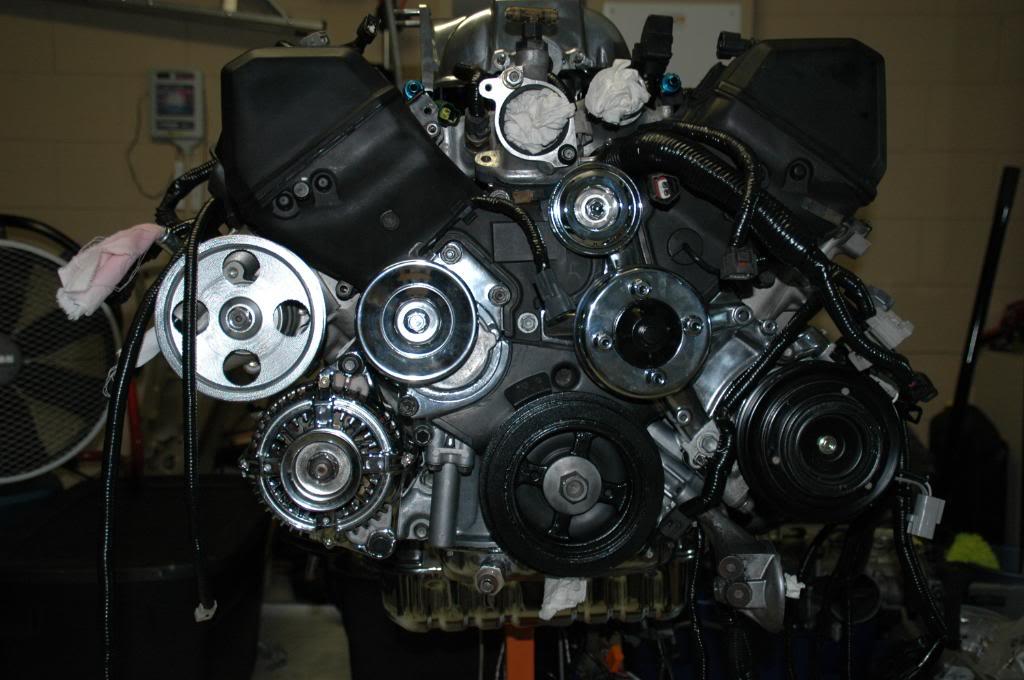 Removed Xtremeboost "BS" Home Depot "Special" High pressure oil feed: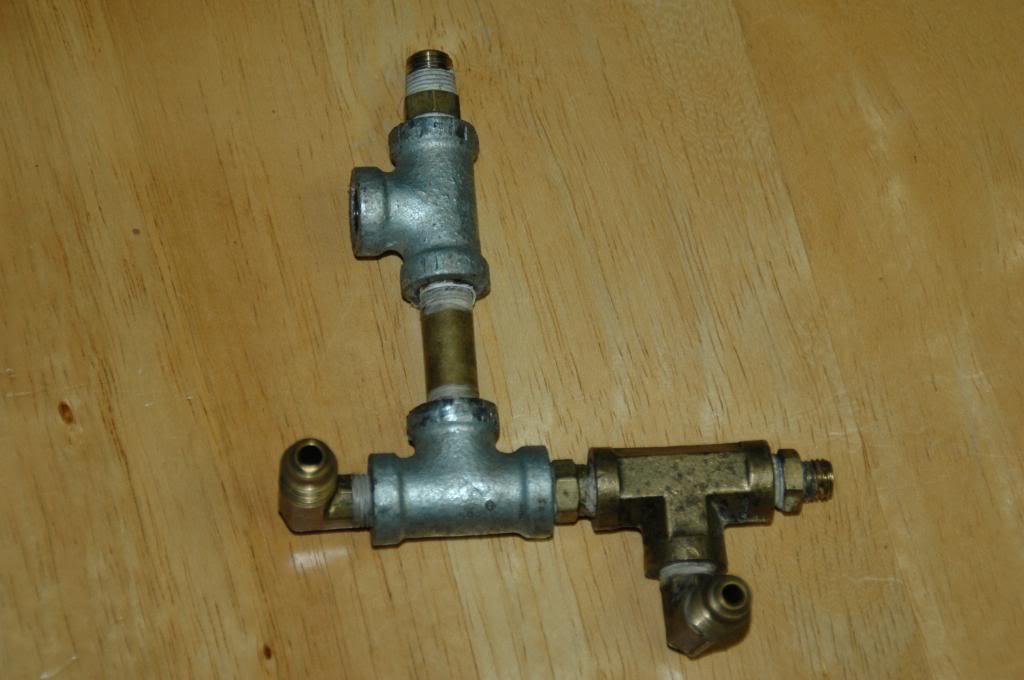 Replacing Bull**** oil feed with this High quality Billet one: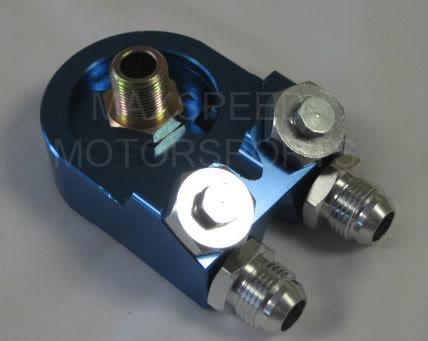 I am excited, I am excited!!!!!!
2-20-2008
Here are a few pics while I am getting the upper oil pan repaired...Once that is done, I will install the engine and trans back into the car...
These are the latest style of the Defi gauges I am installing. These were hard to get...
All three Defi Gauges: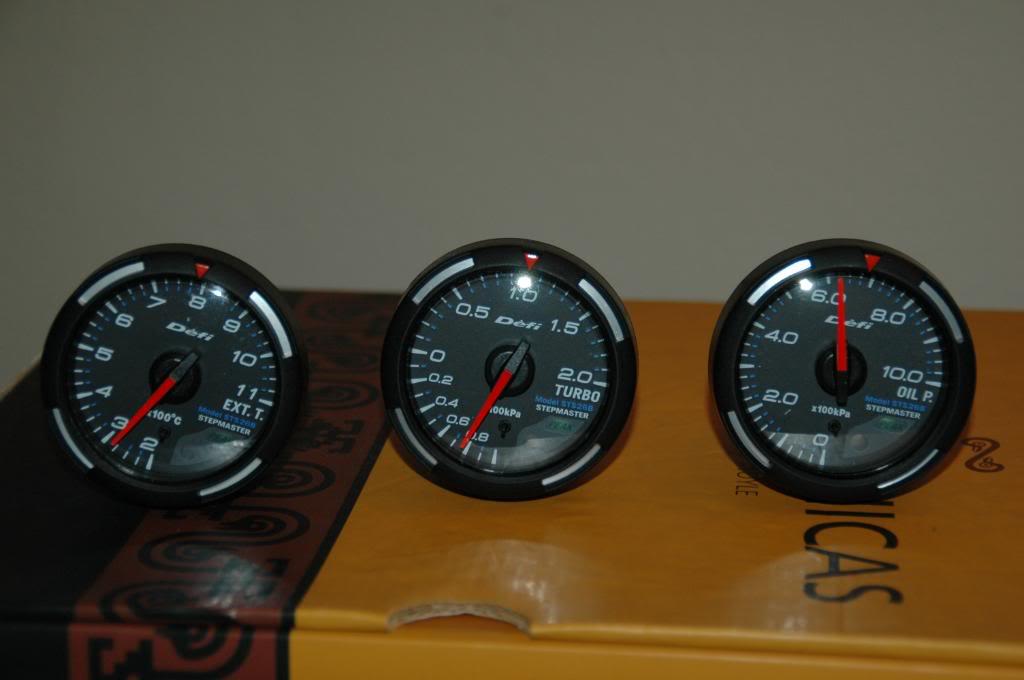 EGT: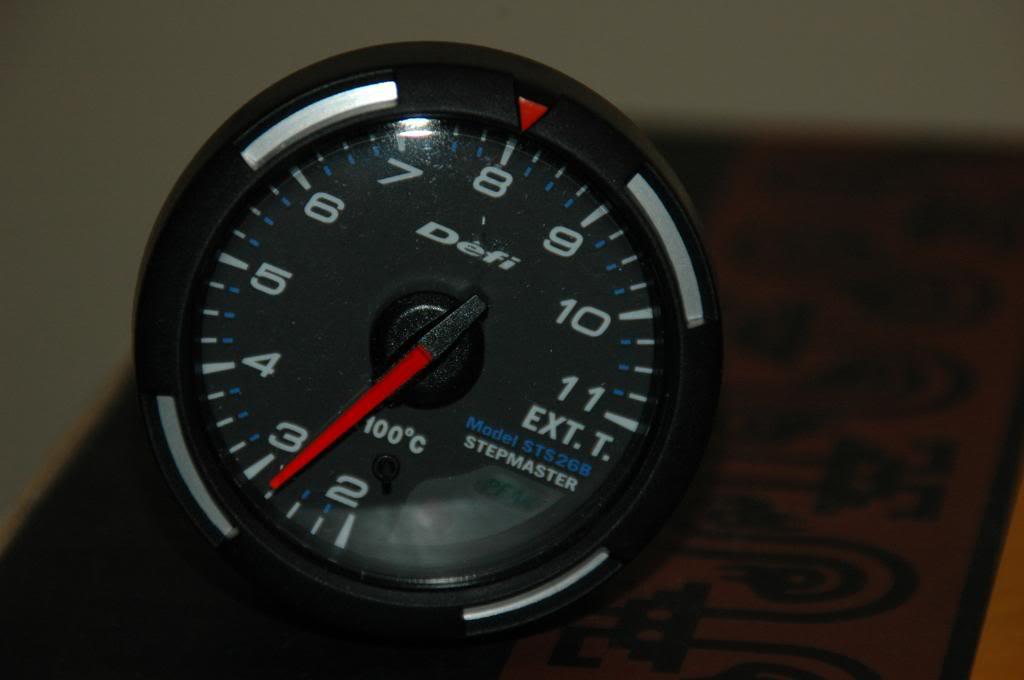 Boost: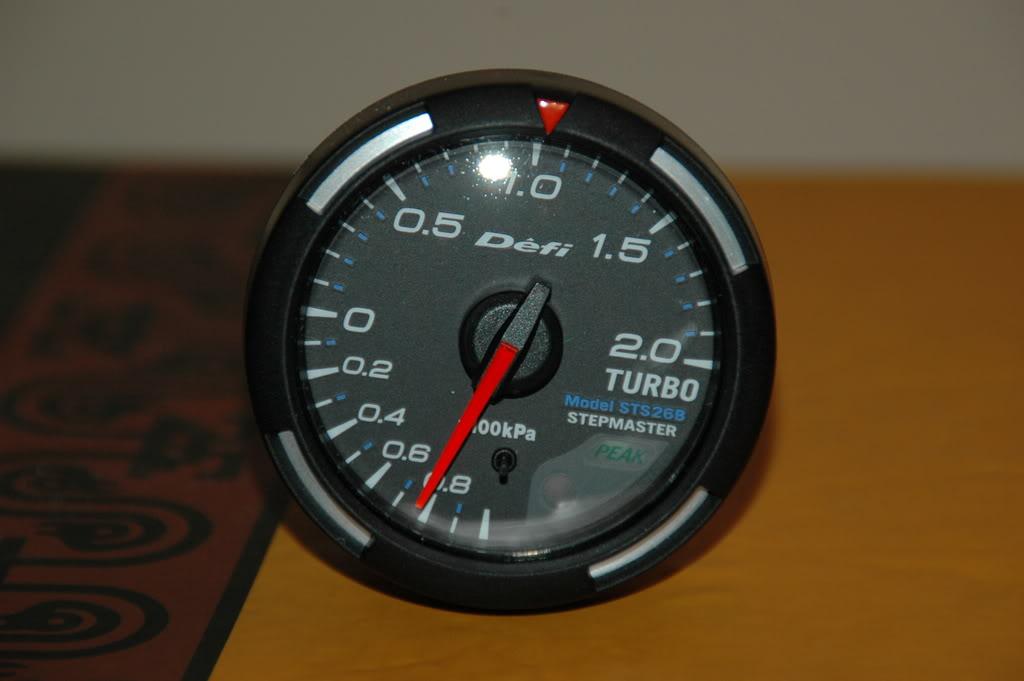 Oil Pressure: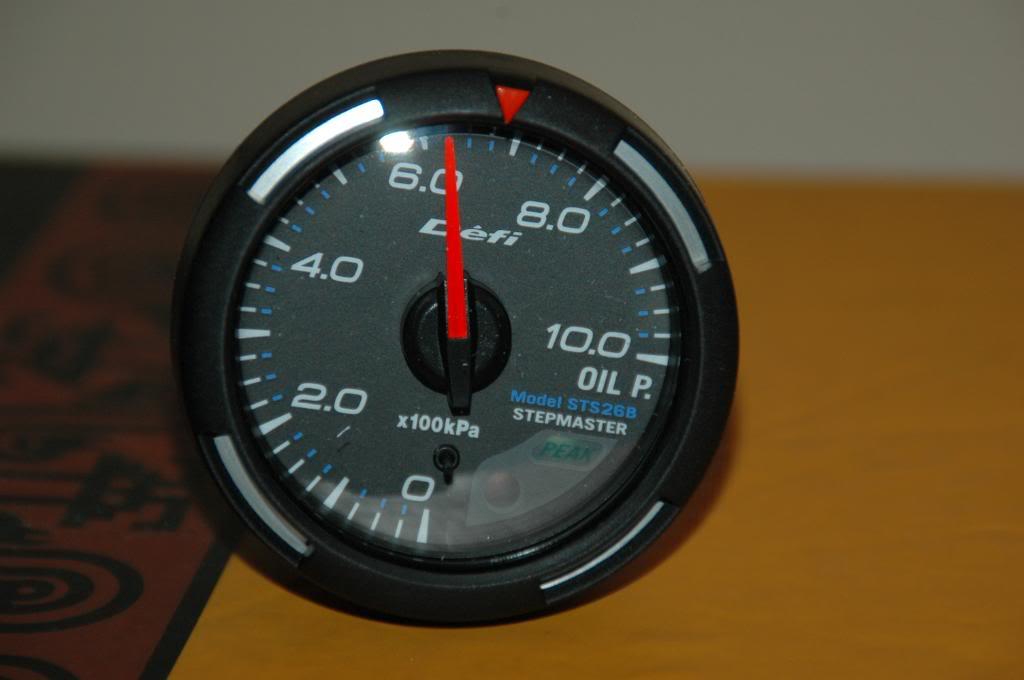 I Love the updated Bezels...
These AN fittings are what I decided to use to repair the upper oil pan debacle. I like the way this fits and the flow back into the engine...
Y Block and 90 degree swivel: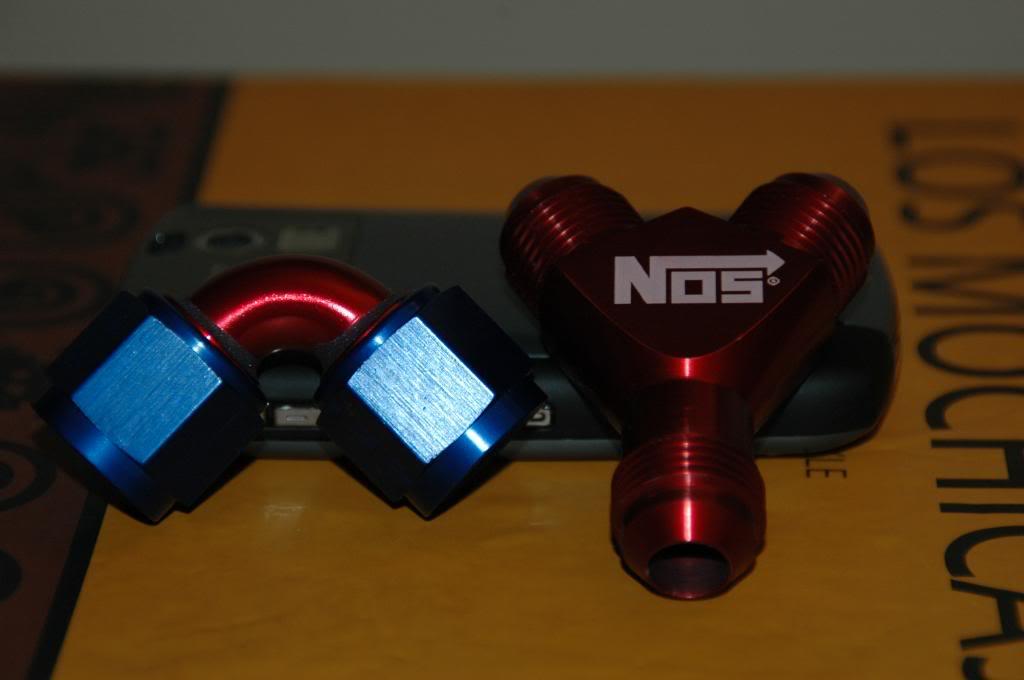 2nd pic: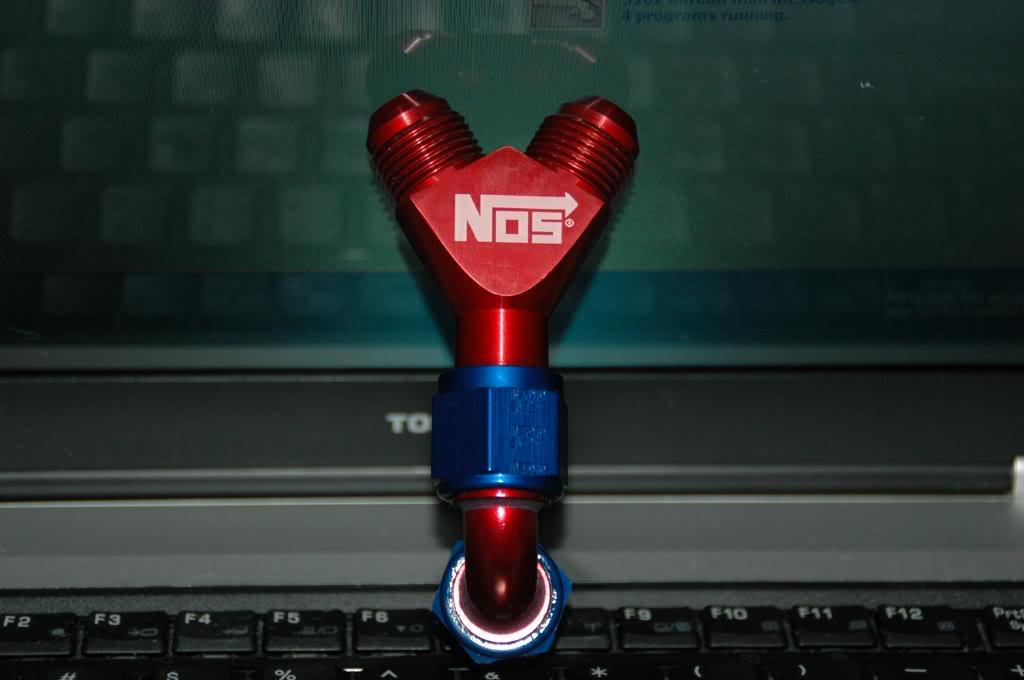 3rd pic: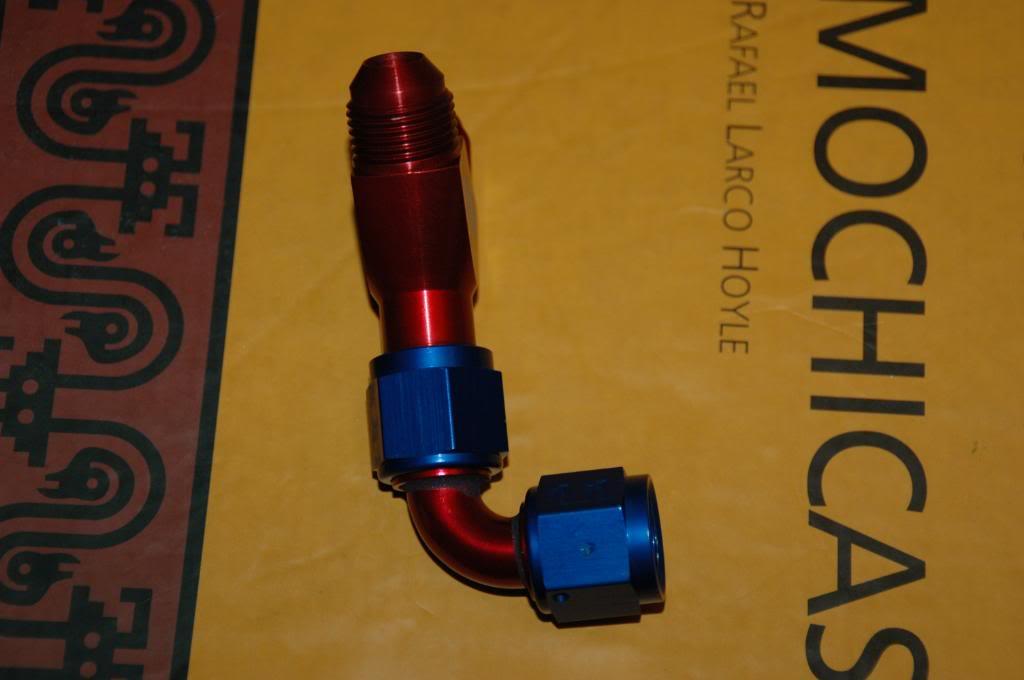 This should work real well, and keep the oil return flowing well into the sump.
2-22-2008
Gang, while I am waiting for the redo on the oil pan to be completed, I am working on a few detail items...Here is 1 small example, but an important one. This is a clear example of how some shops cut corners when they do work for you, even though you specify the right types of parts, a shop that is owned and operated by people that do not care to put out the quality work that they have been paid to perform, and instead cut corners in order to save a few bucks...One more reason why I will never let the previous shop touch my car again, nor can I in good conscience, recommend that shop for anything...I have had too many issues that I have had to go back and redo completely, many of which the shop owner totally denies culpability.
The BS Water supply T flare that XB installed to feed water to my turbos, Cost, I do not know, perhaps a couple of dollars: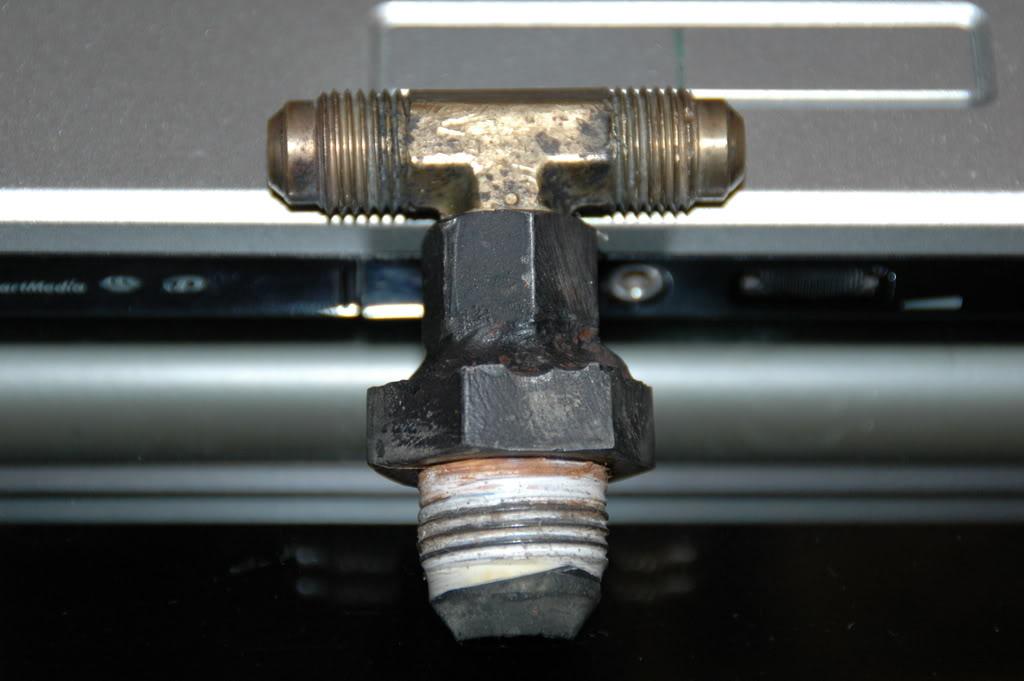 The T flare I am replacing it with...Cost to me, $17.00: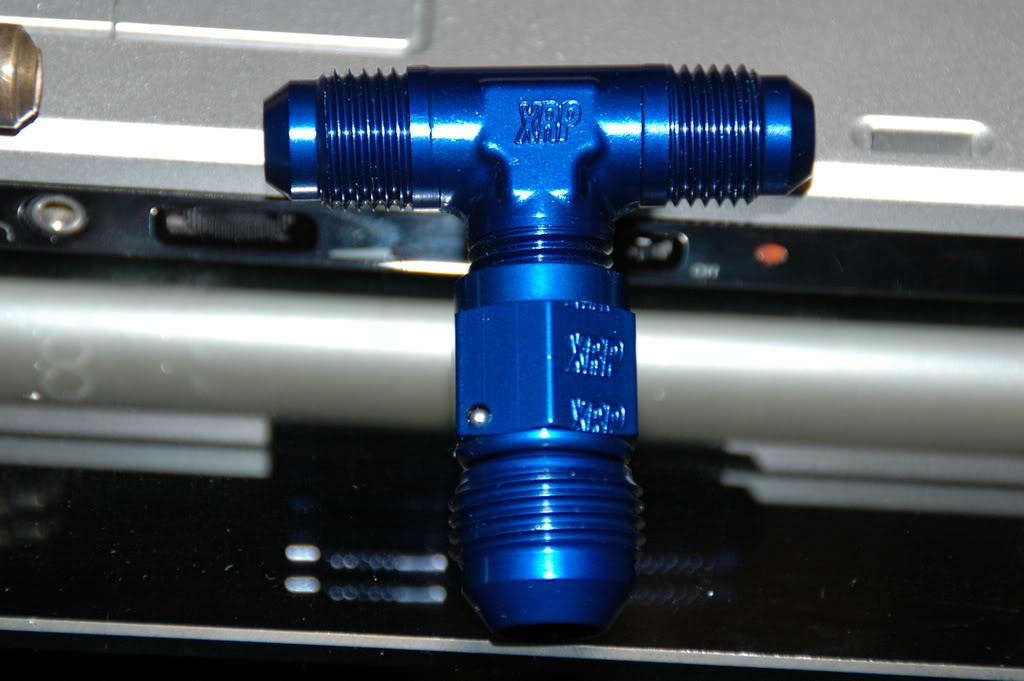 Again, this is just one of many examples of poor quality work, and a total lack of commitment to excellence, even though I paid this shop many thousands of dollars in cash...



Finding a good shop with a commitment to excellence is worth its weight in gold...
2-29-2008
Here is the front, upper Water Bridge...It has been chromed, along with the two engine hoist hooks. I wasn't going to mod these, but they did not look well enough to fit with the rest of the engine, so I did. I also did this due to a change I am making to the front of the engine, and I will not be covering the bridge with the plastic covering that was there....Test fitted that anodized T Flare on top of it, and it looks very good...


No ASS looking stuff now...

I should have the re-welded upper oil pan back tomorrow afternoon, along with the oil filter bracket, both polished and clear powder-coated....
Water bridge: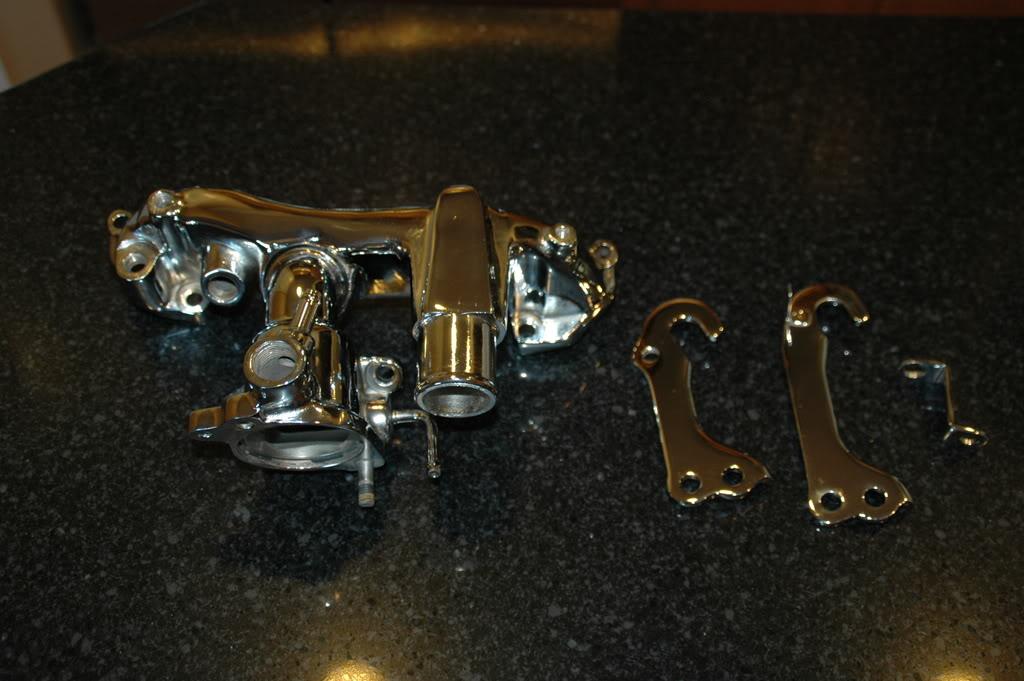 Assembling this motor, installing the tranny and the rest of the drive train, and sending this car to Tampa...
3-1-2008
I tapped the whole, and threaded the anodized pipe and T Flare into the top of the bridge. Unfortunately, the upper oil pan was not completed yesterday, so it will not be ready until Monday. I am working on the rear BBK tomorrow, and the Supra TT sway bars.I should have the engine back in the car next week sometime...I wheeled the motor out into the late afternoon sun to take a few pics...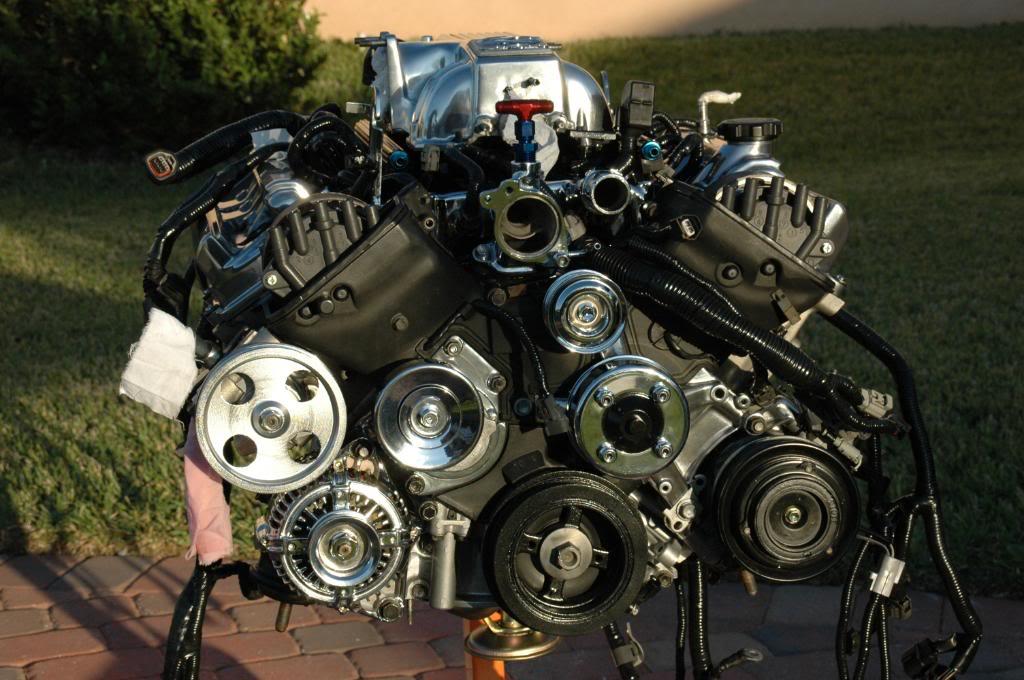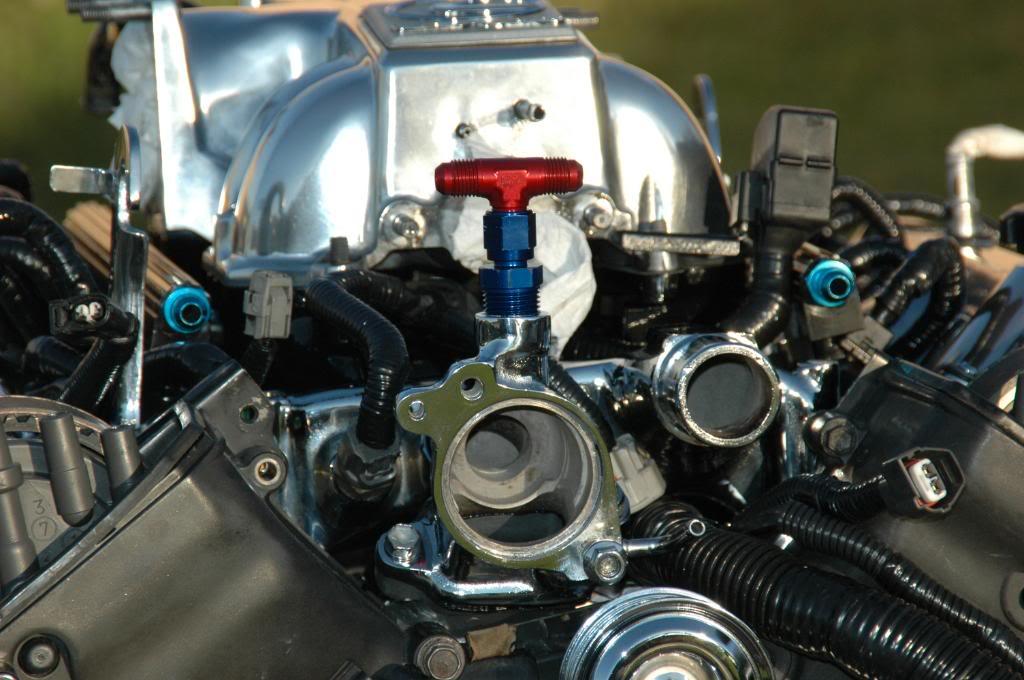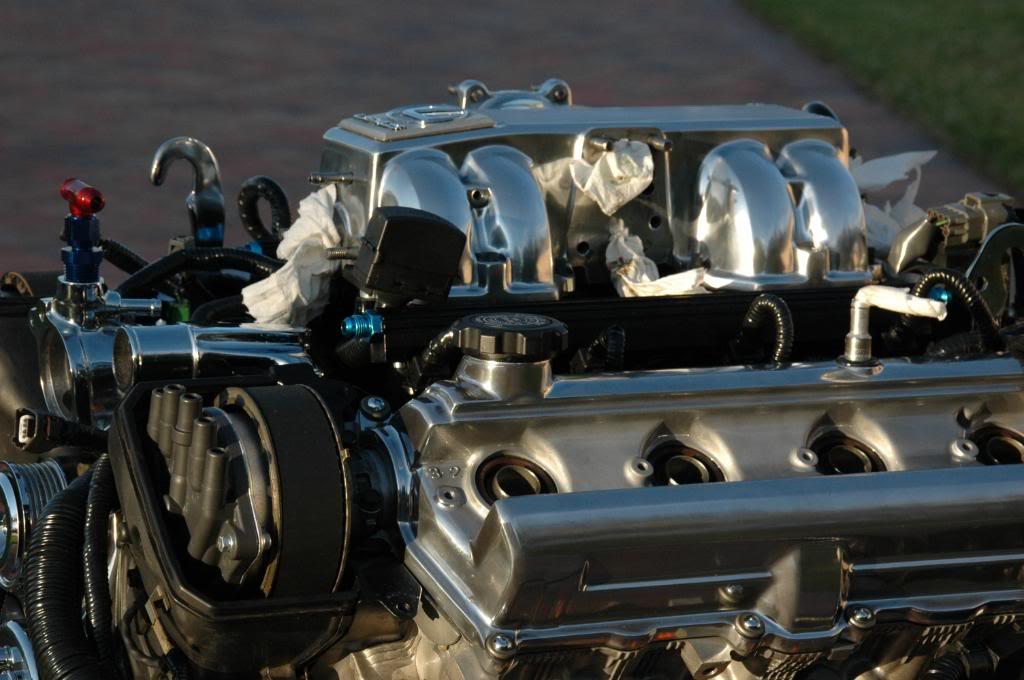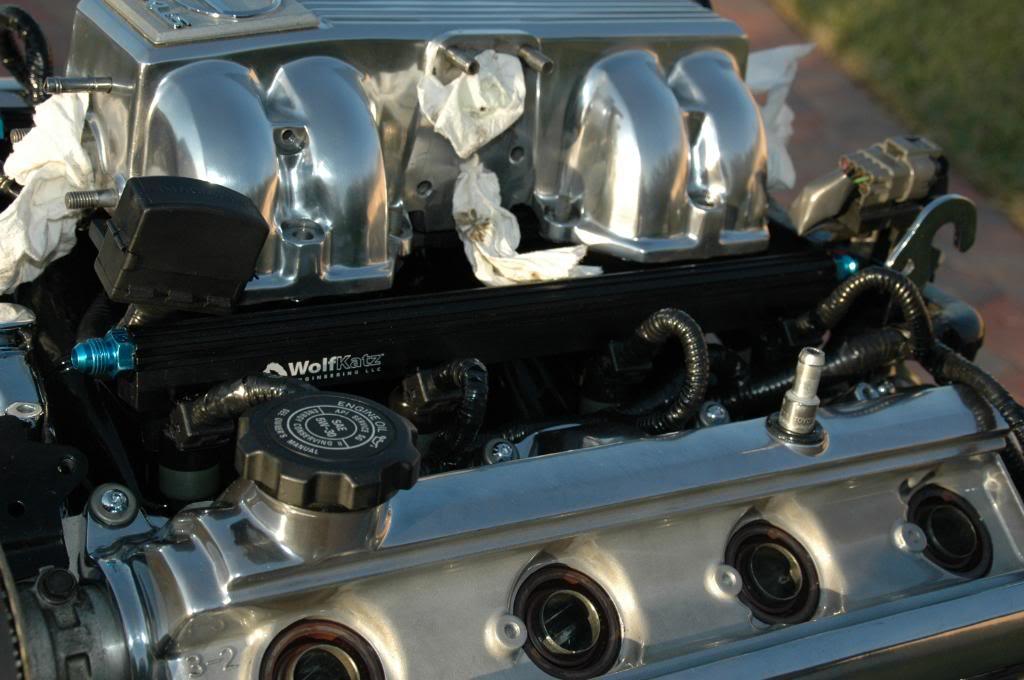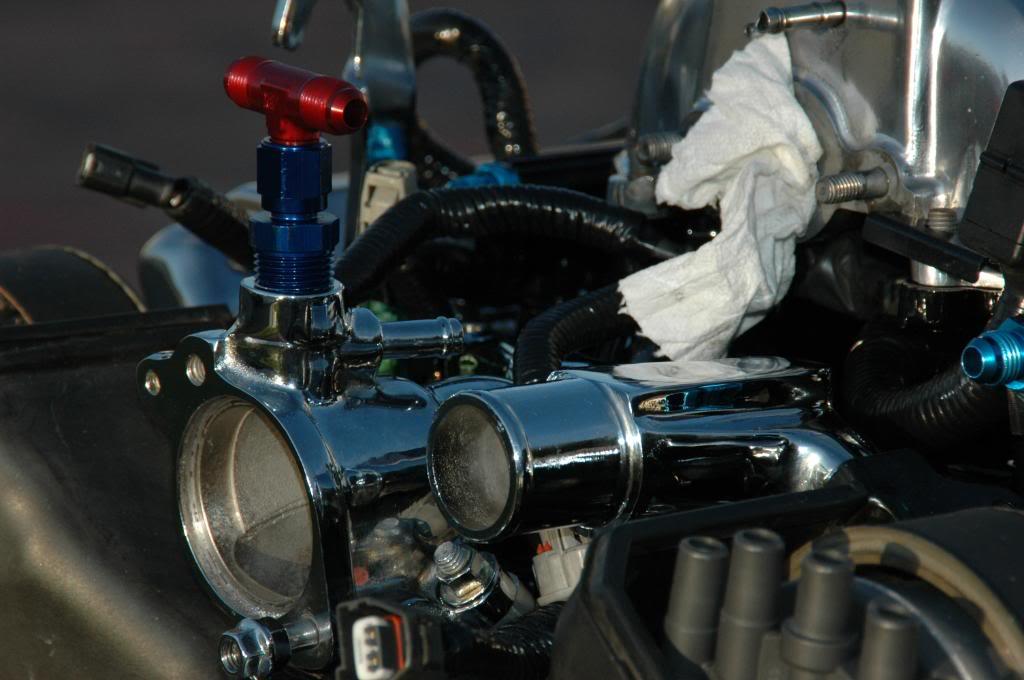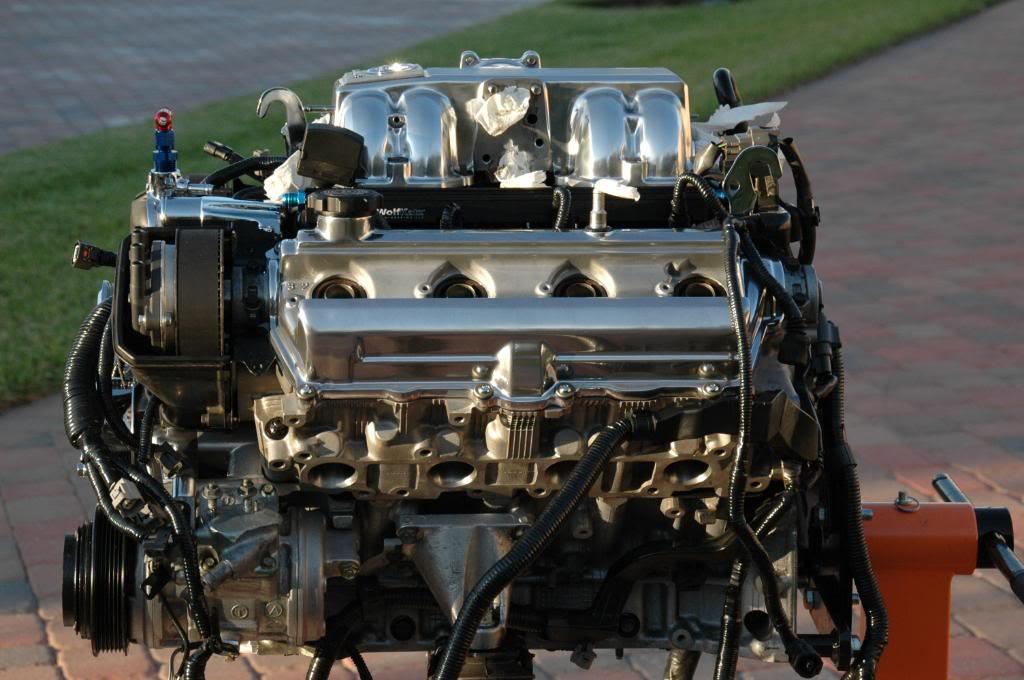 3-8-2008
I got the oil pan and the oil filter bracket back form the powder coater...Looks good

They are installed on the motor, and the bottom end is closed up once again...

I have installed the upper intake and bolted it on to Factory torque specs, and am focusing on the rest of the chromed parts, and brackets and screws that we need to finish up the motor to prep for re-installing back into the engine bay. We have some work to do on the engine bay as well. Lots to do...I had the ARP wheel studs cut down 1/2" to fit my BBK/Wheel application, so I need to install those into the spindles so I can complete the BBK install.
When we went to install the Turbo manifolds that Frank installed, we found yet another surprise that just keeps on showing me how Frank just is not the guy or shop to work on this kind of project...His fabrication, I like...His welding is average at best, the rest of his work is unacceptable...He did not have the proper metric bolts for the Turbo manifolds to be bolted back onto the heads, so he decided to re-thread the bolt holes on the head with a SAE thread, and install SAE bolts in place rather than contacting me, or Lexus, and getting the proper bolts...Unbelieveable!!!! Every time I look at Frank's work, I keep finding something else that is not correct!!! And to think that he wanted to build my motor!!! I knew better than that. When he asked me to build my motor, I siad I would let him know, but I was thinking to myself, "No way in hell I would let him touch my motor". I am glad I cut ties with him...I am sorry to complain on the open forum about this guy and his work, but I honestly believe he would do everyone a favor by finding another line of work for himself...He is careless, wreckless, cuts corners, and difficult to deal with....
3-9-2008
Gang:
I do not believe I posted this up here before, so here it is...Another example of his "Quality workmanship...NOT!!!
I ran into an interesting situation...When I stripped my project car recently to sell all the tan interior parts and to prepare for the black interior swap, I found this, much to my horror: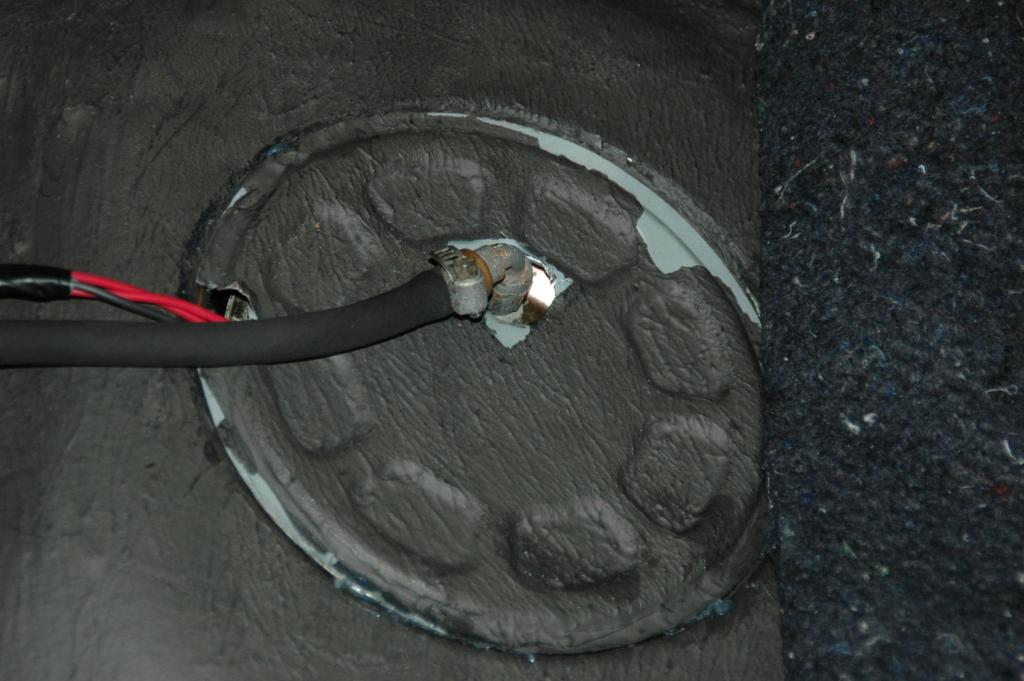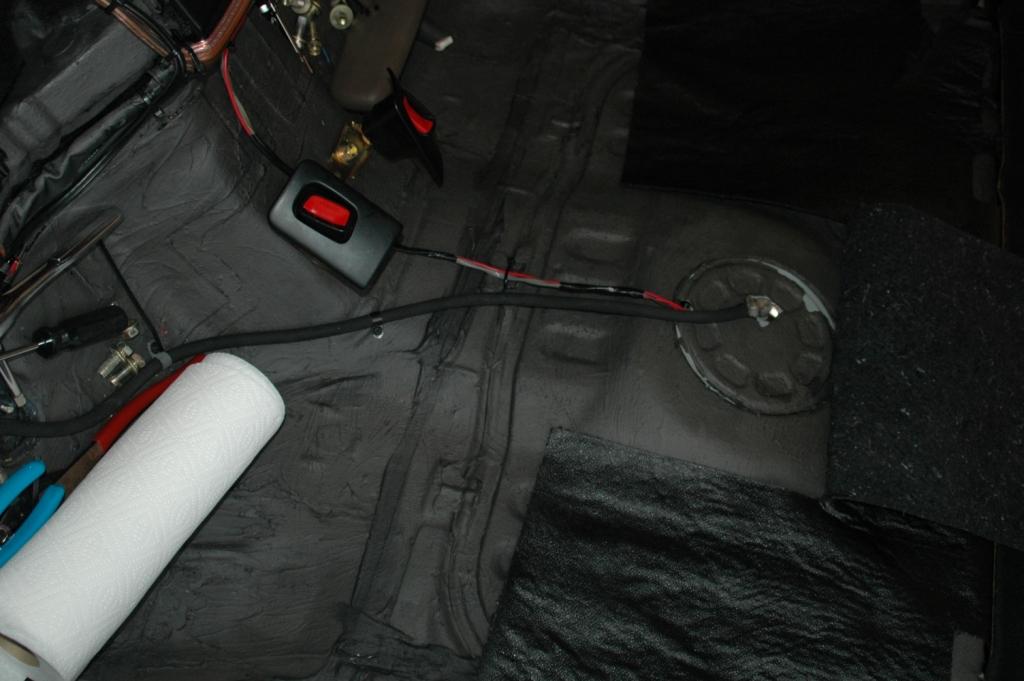 I was flabbergasted to see that this was the way XtremeBoost decided to install this fuel line...Instead of going to the rear corner of the fuel tank and connecting up from there, he crossed the firewall into the rear cabin and did not even use AN fittings and Teflon coated SS Braided hose... Personally, I think this is extremely dangerous, haphazard, stupid, and outright outlandish. I was extremely disappointed that he took so little care in safety or quality.
I can make a list of mistakes, poor workmanship and overall crap he has put out...That is why I am reviewing and or redoing almost everything that he did...
3-10-2008
I know progress has been slow, and that you want to see more...But the main accomplishment is that the motor has been buttined up, and is in the final stages of assembly completion. The upper oil pan debacle has been repaired, and we have apparently triumphed over ****ty previous work. I am awaiting the Throttle body from the powder coater, as well as several chromed brackets that attach to it, and the bolts...All are being chromed. I should nhave them back by Tueaday...
I went to Lexus of Orlando and picked up the studs for the exhaust manifolds and some rubber seals, plus the new oil dipstick. I installed all of the correct studs in the new heads, thank goodness that these were not touched by Frank...and then I bolted up the original turbo manifolds onto the block with chromed nuts. Keep in mind that these manifolds will be replaced with the new ones that DC is making for me while painting my car...I will assemble the rest of the motor, and prep the engine bay for re-installation of the built motor...
Here's a few pics...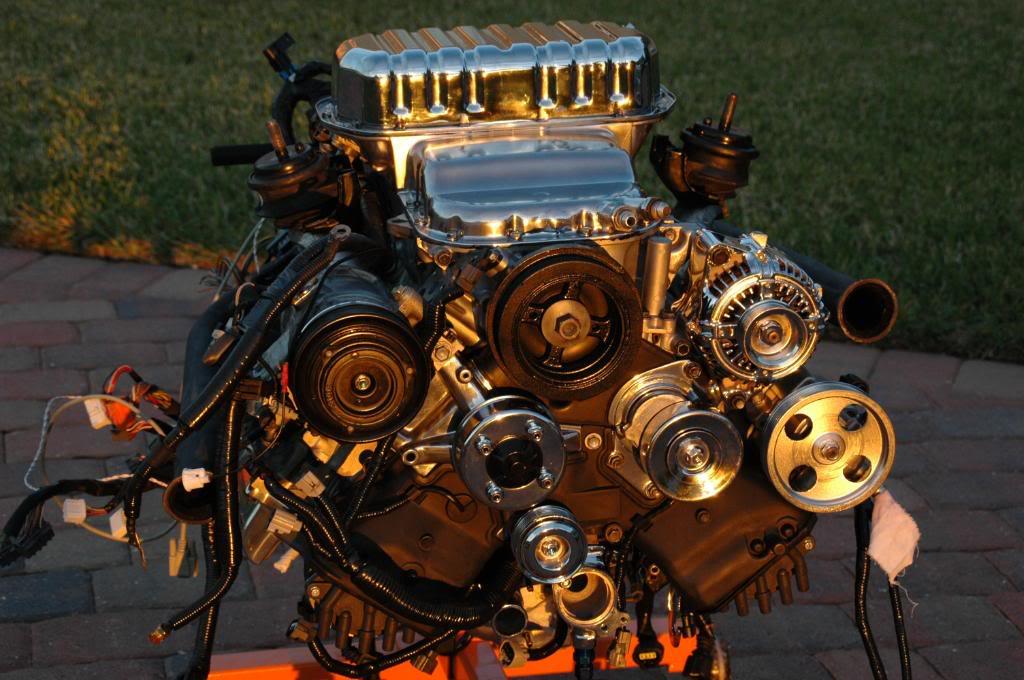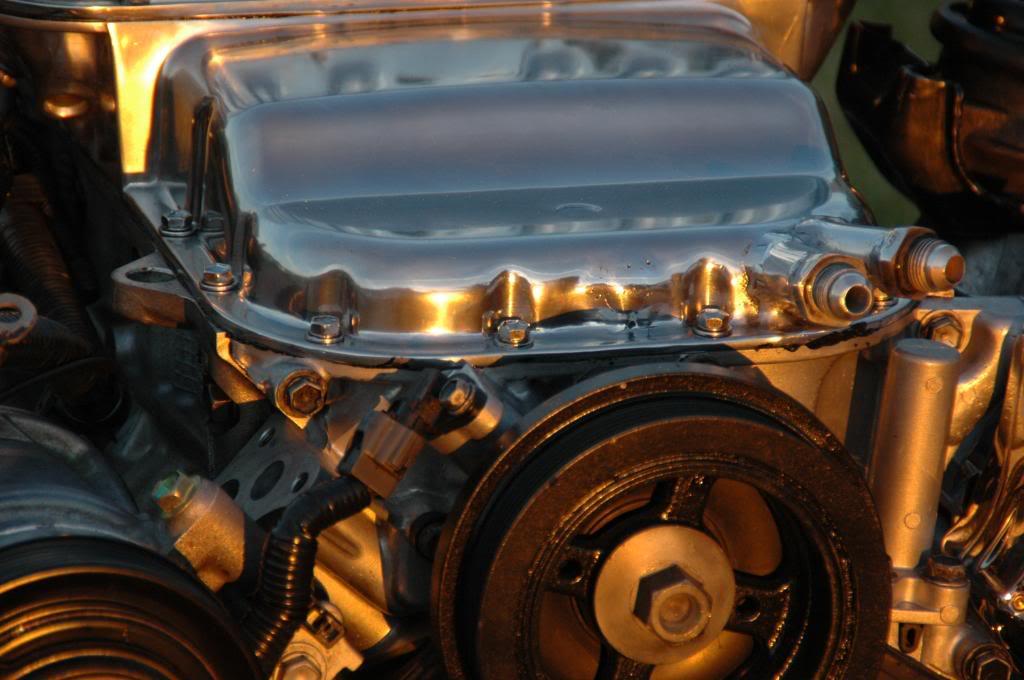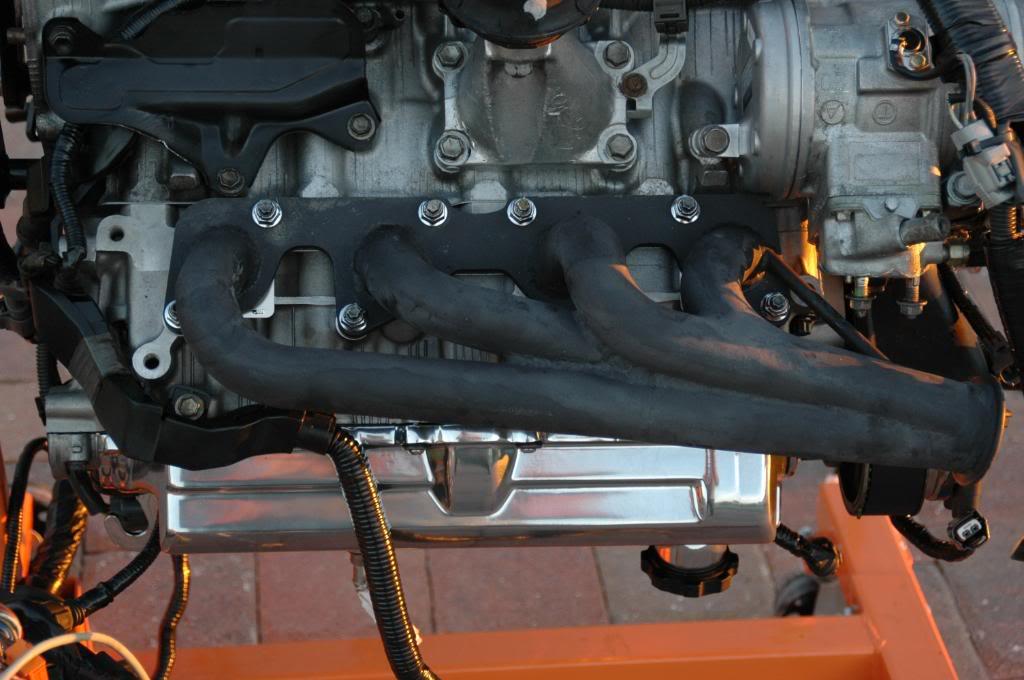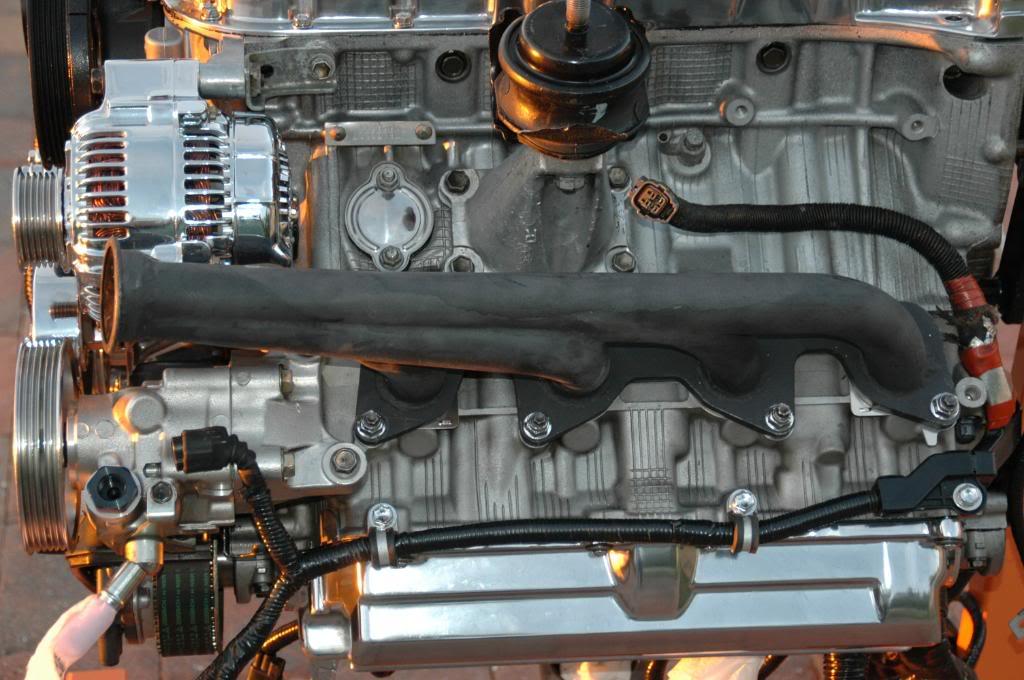 Much more progress to come shortly...
3-11-2008
OK. I got some additional parts in...This is the bracket that mounts to the Upper intake, and houses the IAC valve, right in front of the intake. I had this powder coated in gloss black. Pictures do not do it justice...
IAC Valve Bracket: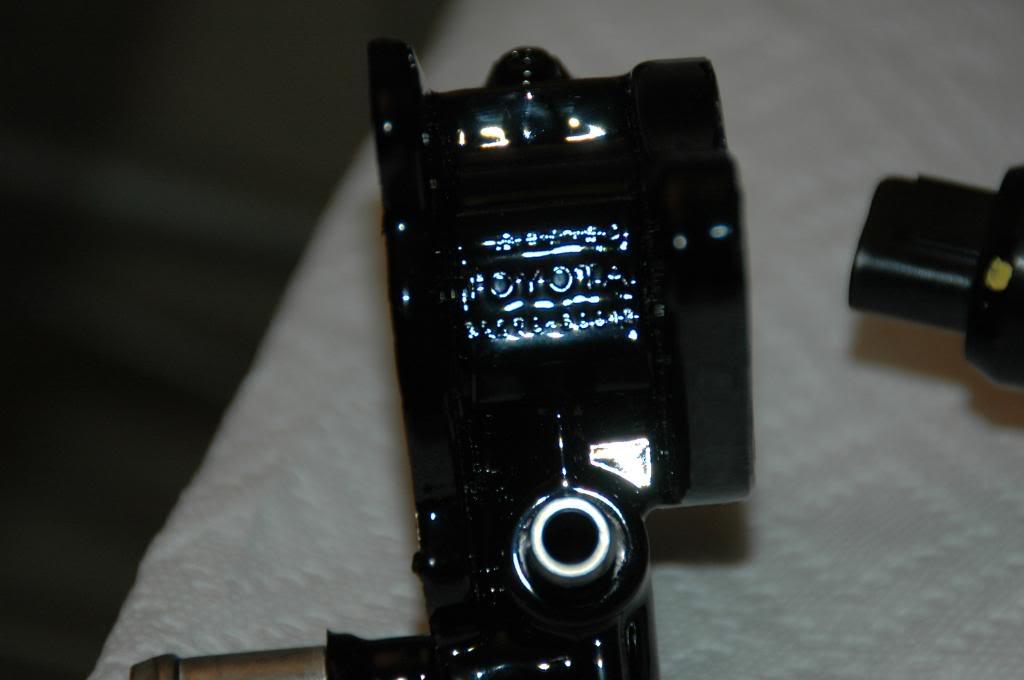 Another: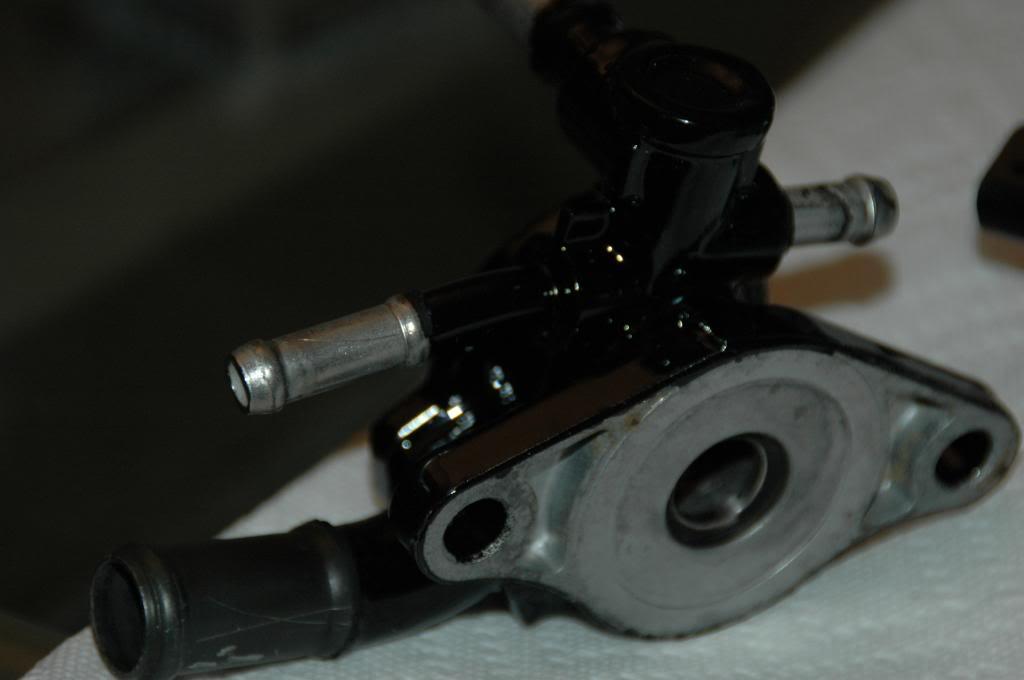 Remember this? BEFORE (XtremeBoost):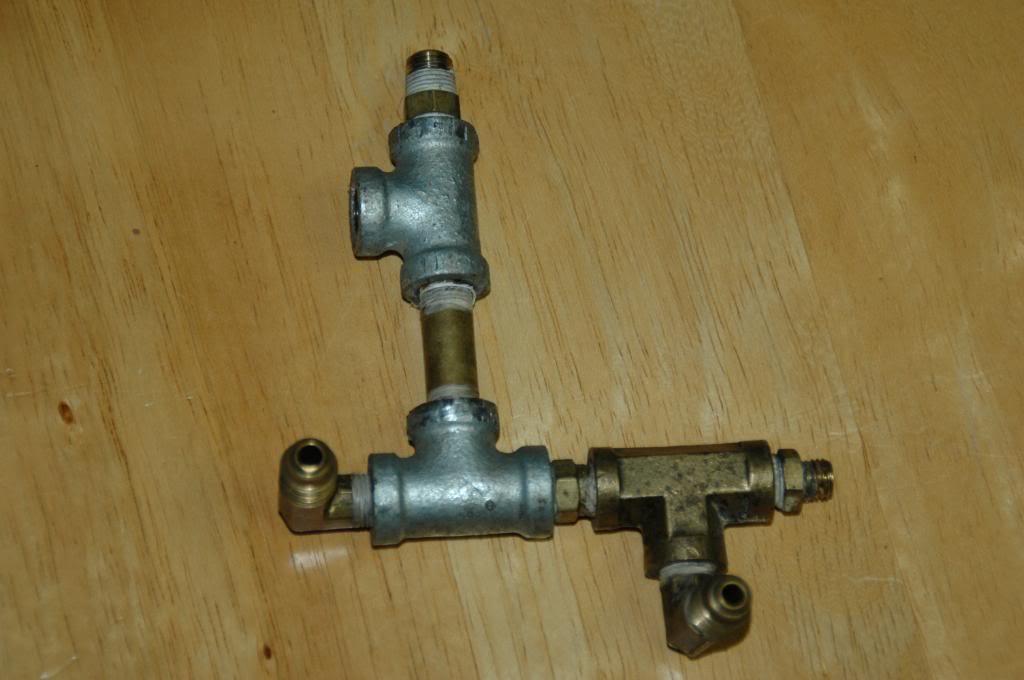 AFTER. Due Dilligence: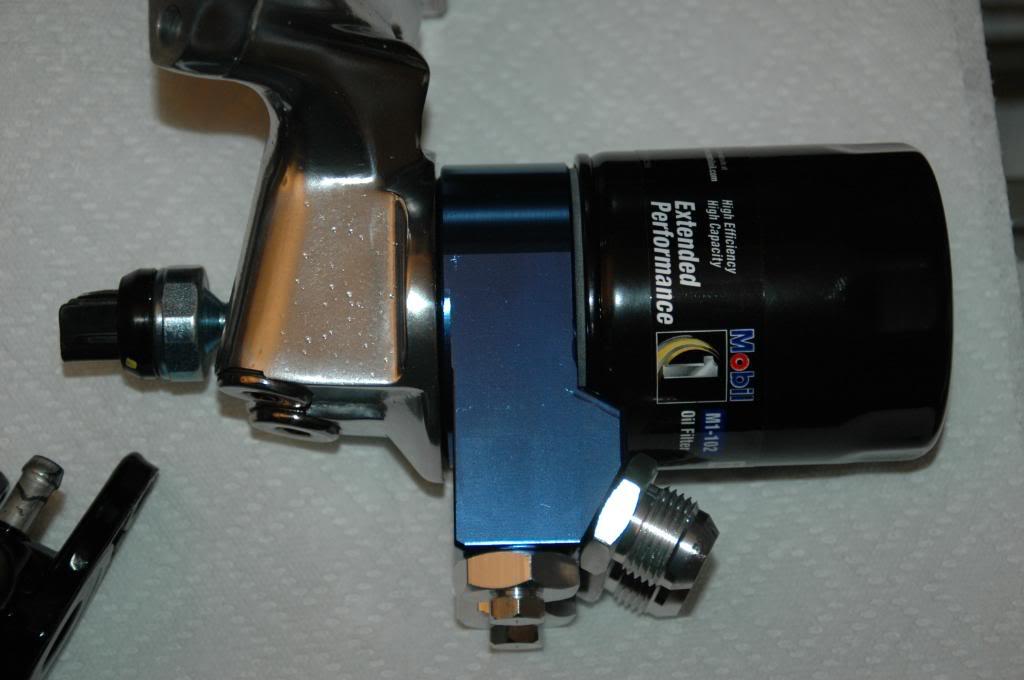 Another: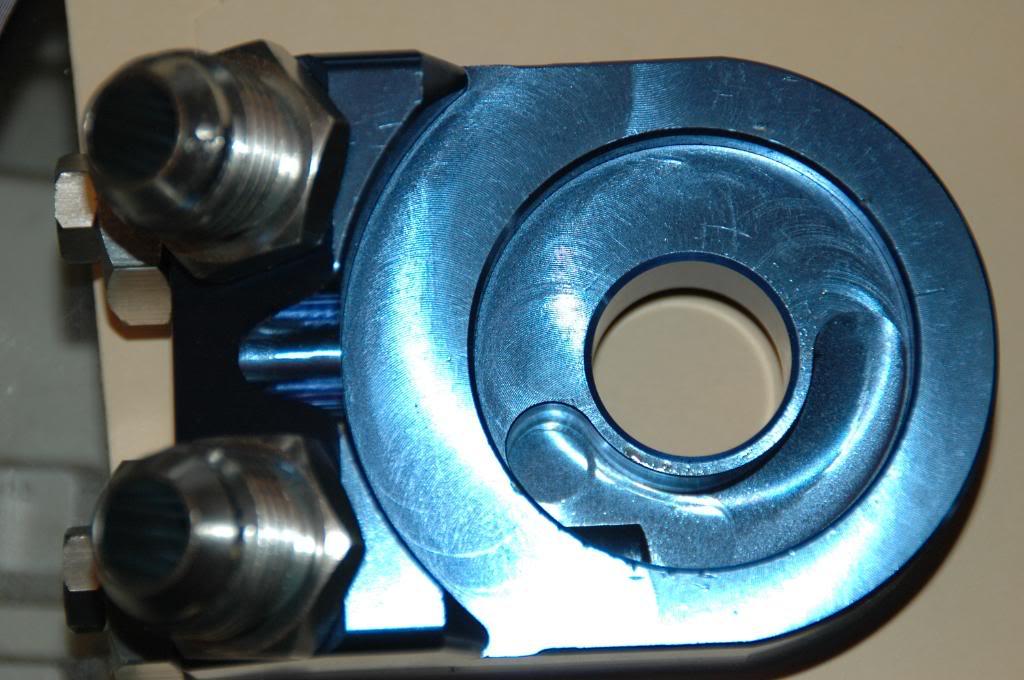 Another: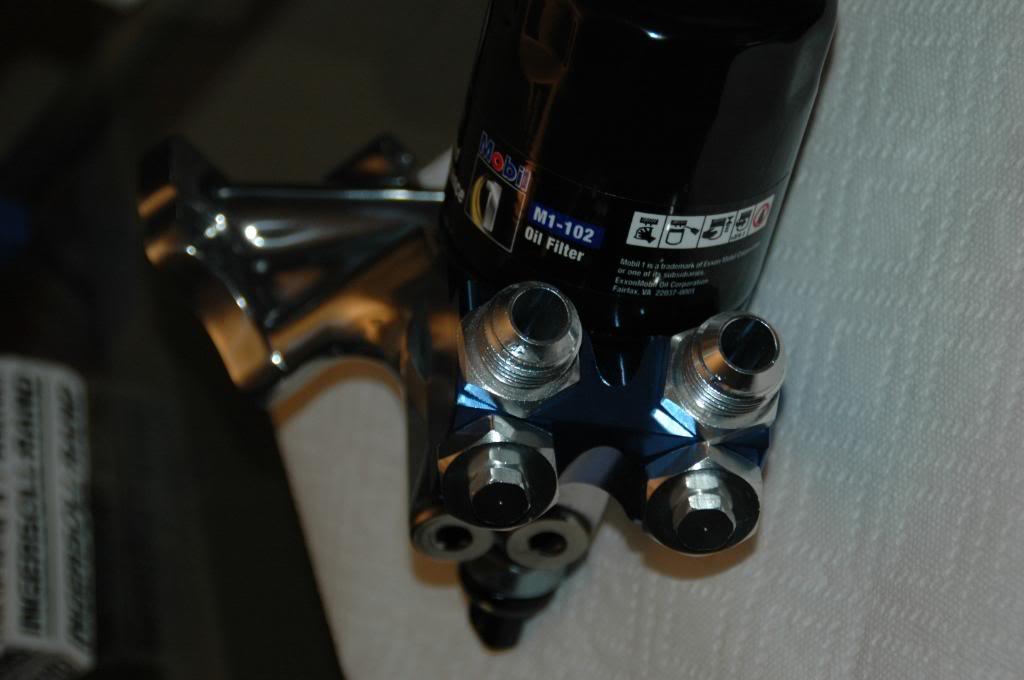 3-14-2008
Here is the powder coated throtle body with chrome brackets: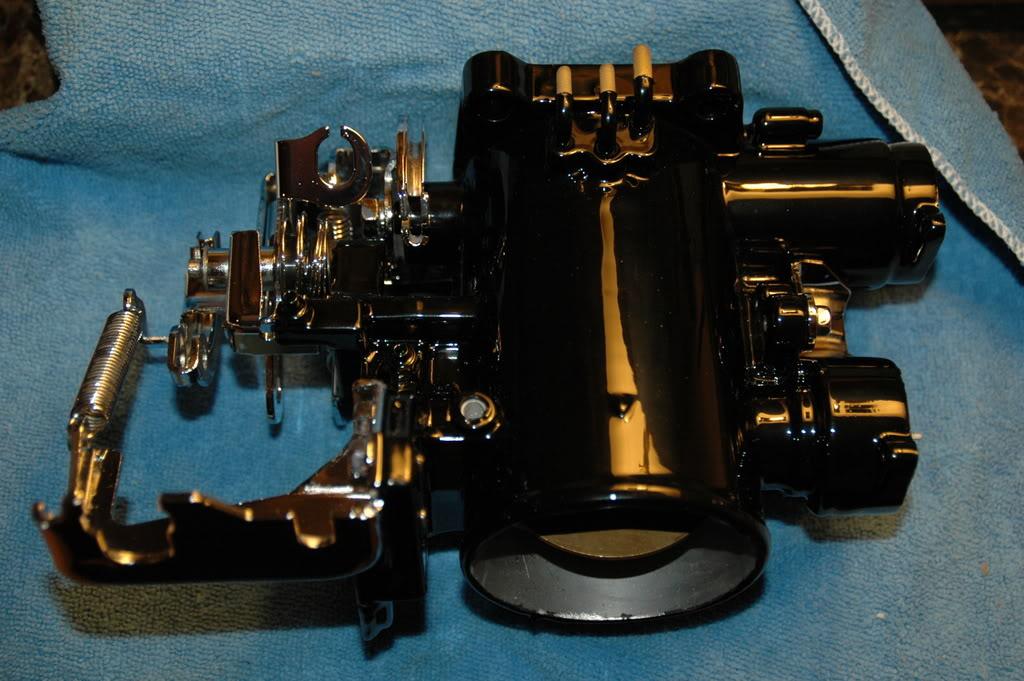 Another: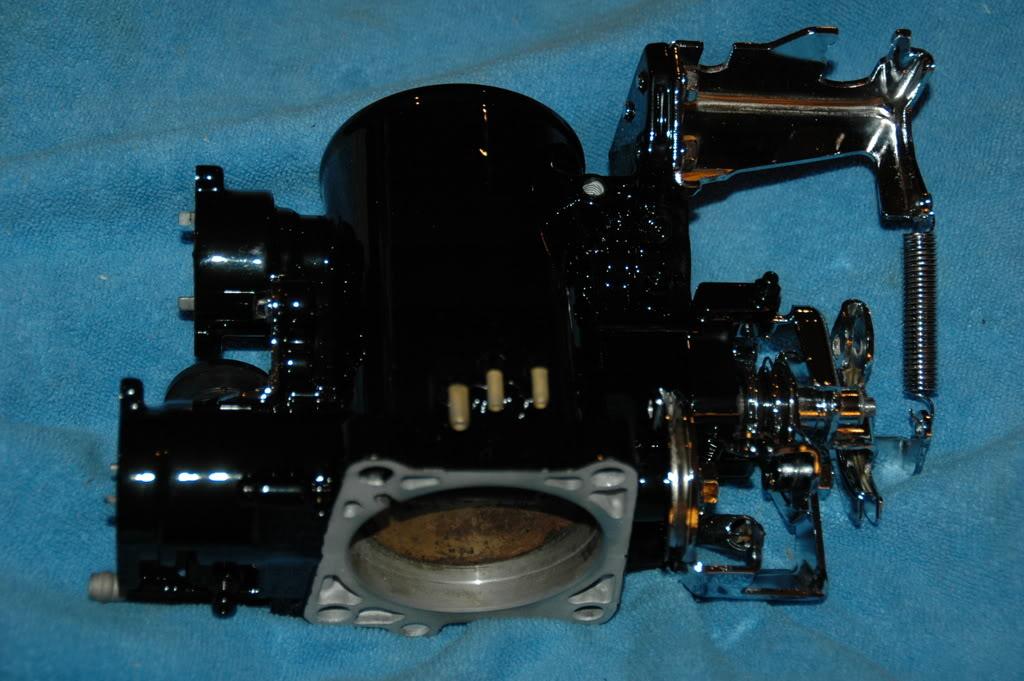 And....Here is some ***** on my bed...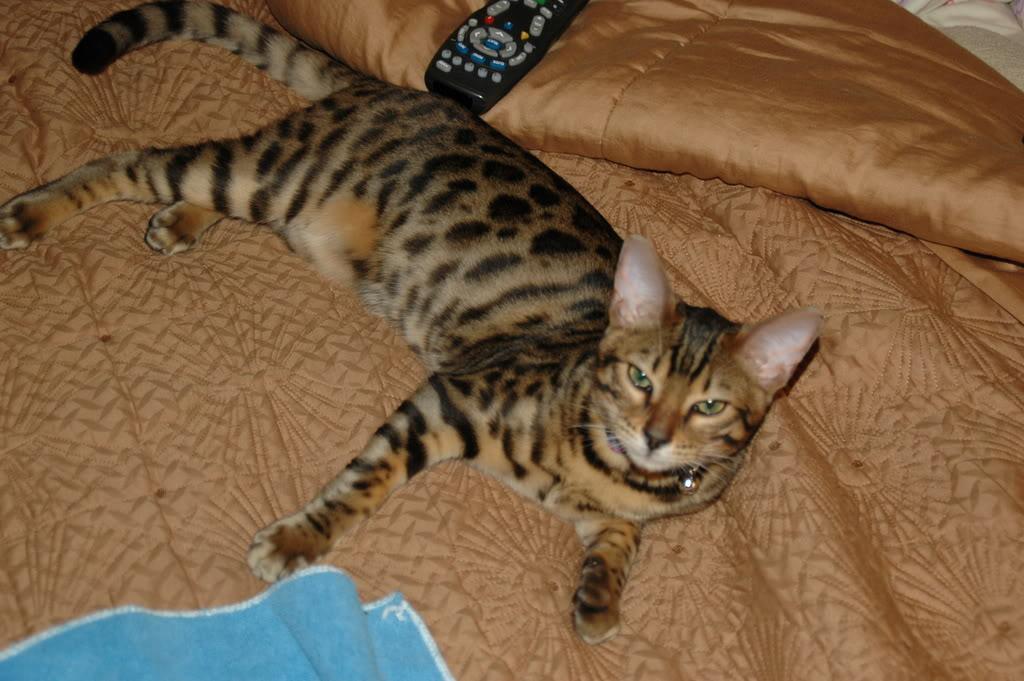 3-15-2008
Here is a better pic of the Throttle Body, and a pic of the stainless steel block off plate for the intake.
TB: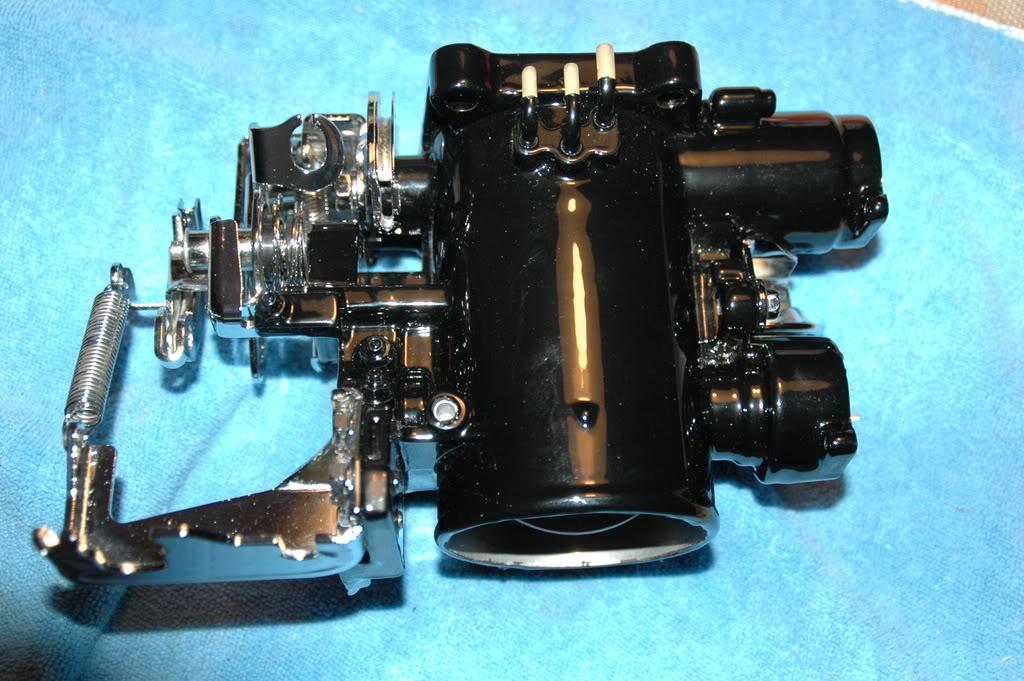 Block Off Plate: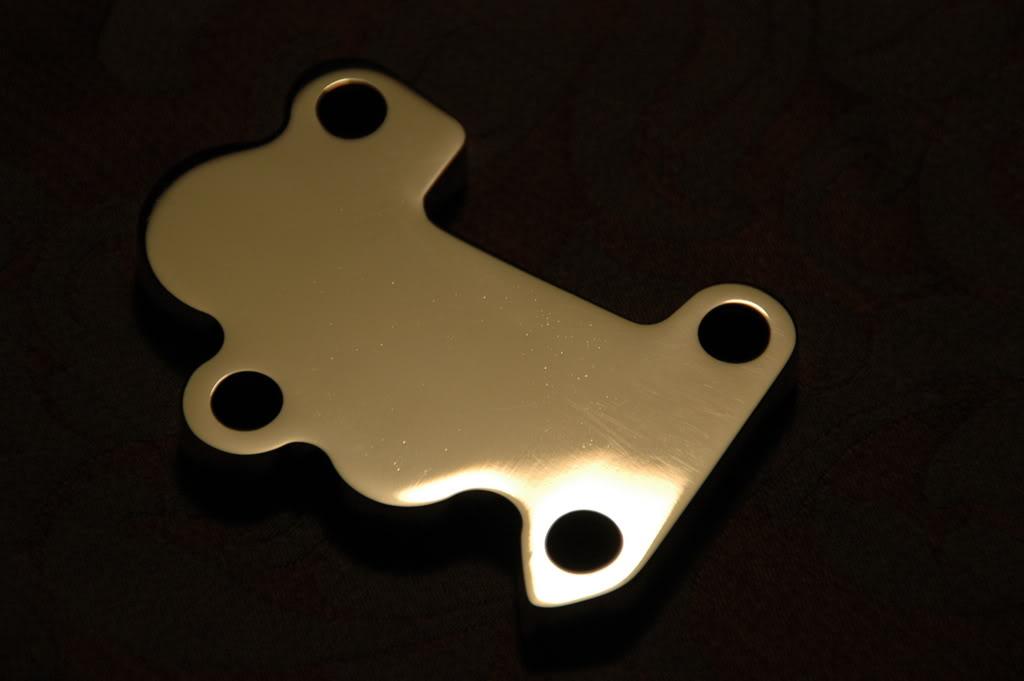 3-16-2008
We have been working on the car all day...Tweaking the BBK's, prepping the engine bay for the engine, rebuilding the main power harness that attaches to the alternator (We inspected it because we were suspicious this was the source of my intermittant power issues). The Power section of the harness was indeed bad...The previous owner had some kind of problem, and it was repaired...badly. It was spliced in three different places, and the wires had partially melted together, so that involved a lot of running around to find the right parts to completely rebuild it, ad we did, all new wires and connectors. Looks fantastic.
Anyway, the motor is in!!
For the first time in about 1.5 years, the motor is in the car...More to do...
SC700: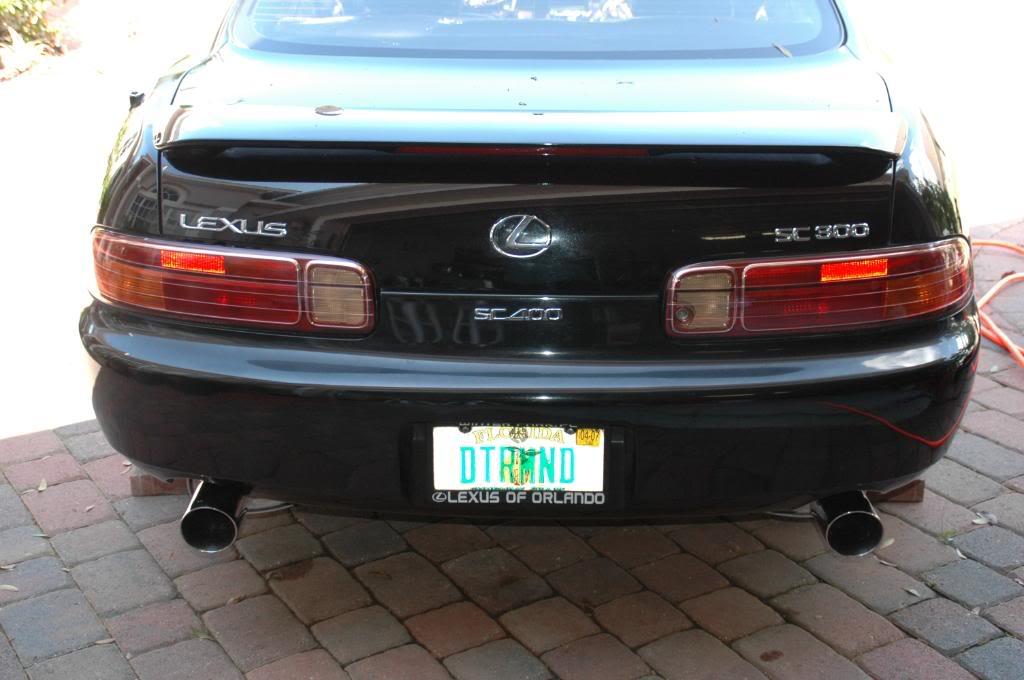 Installation Pics: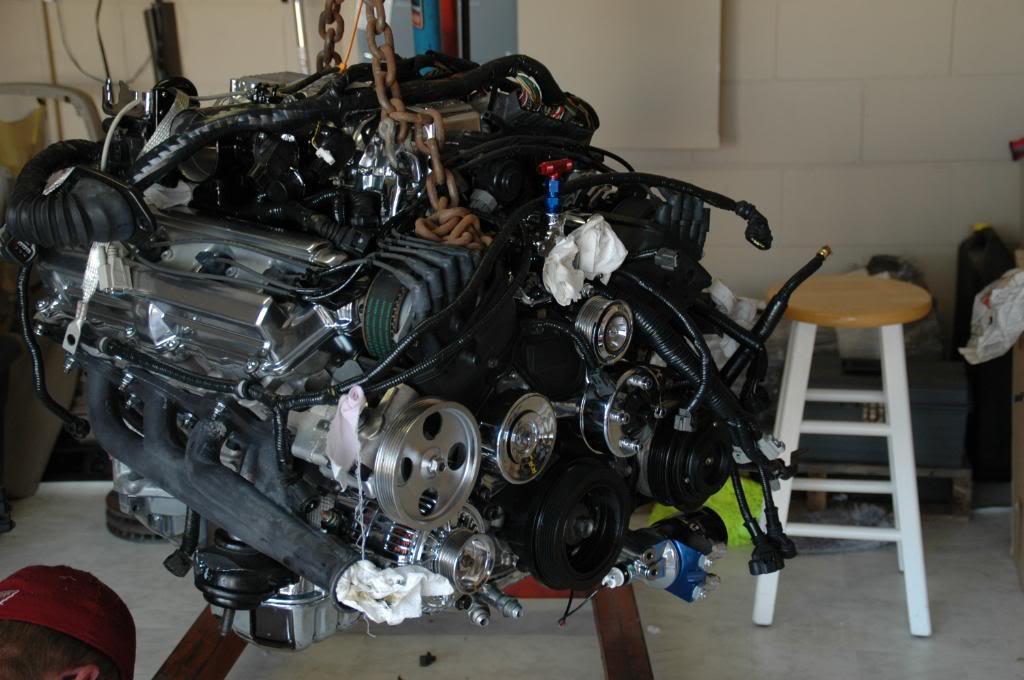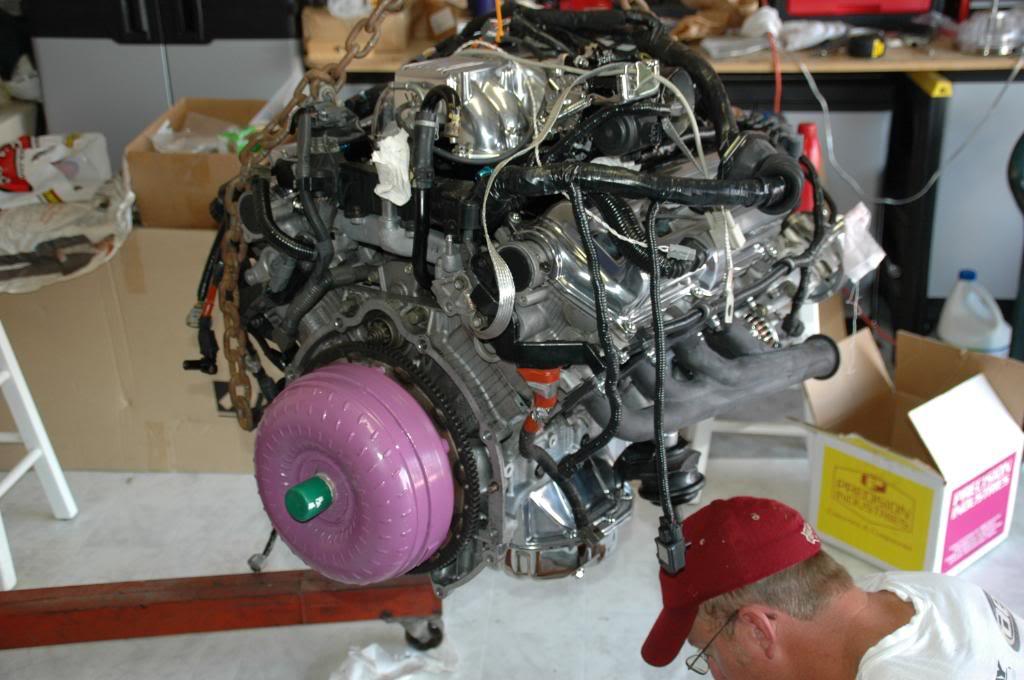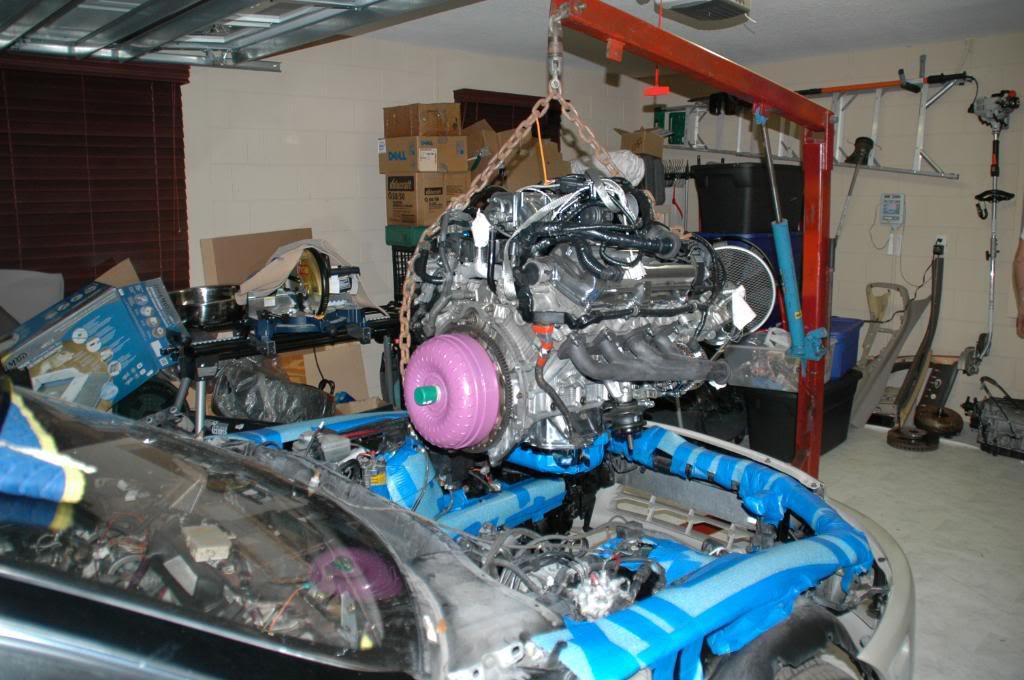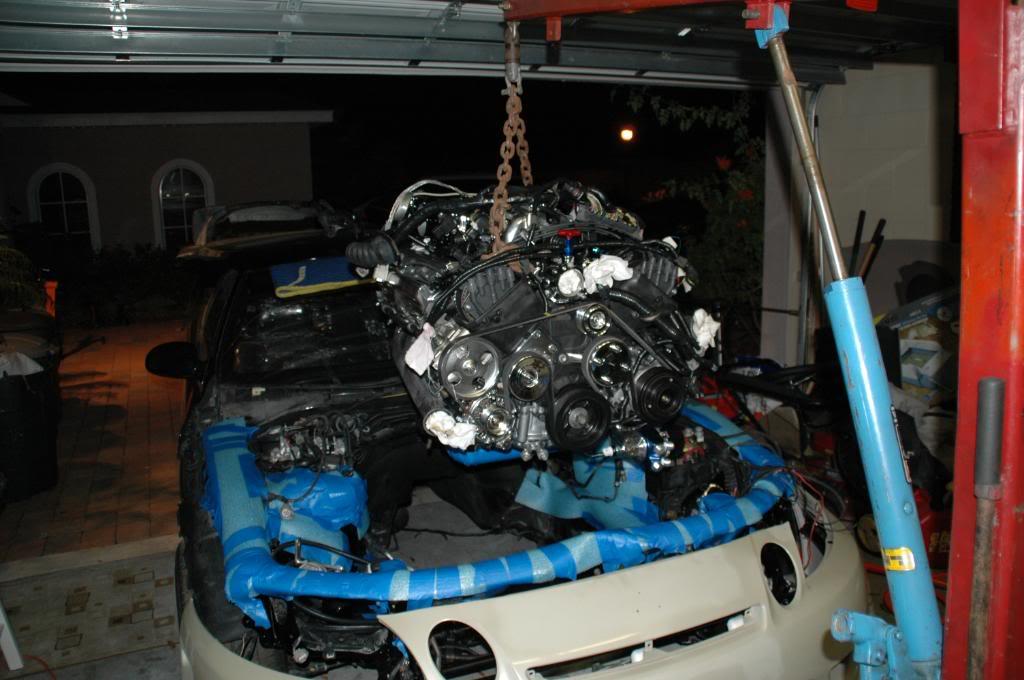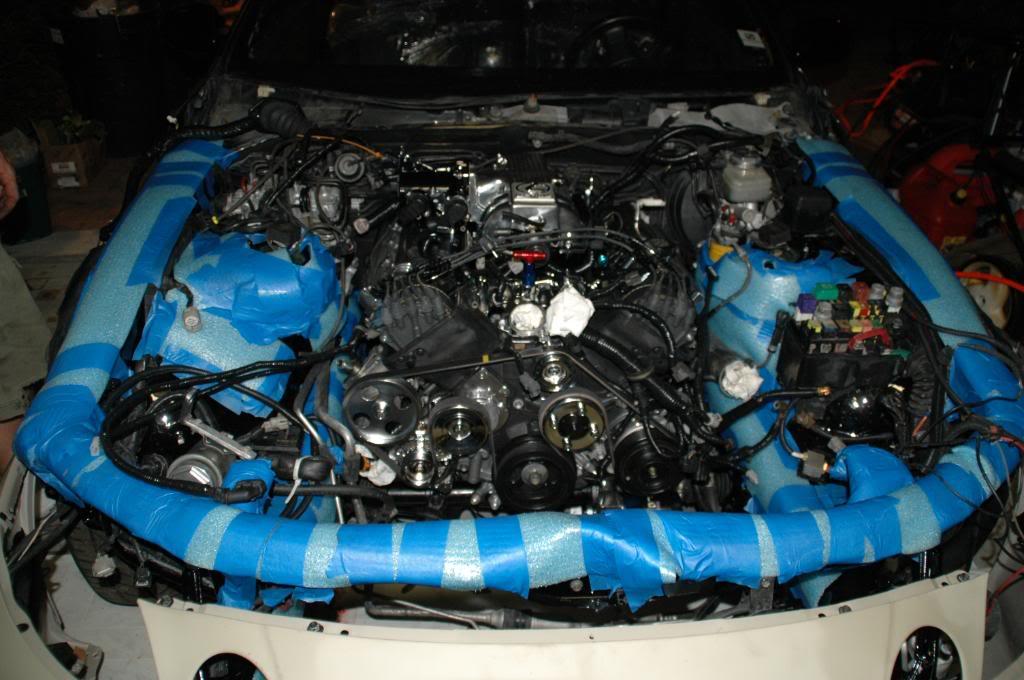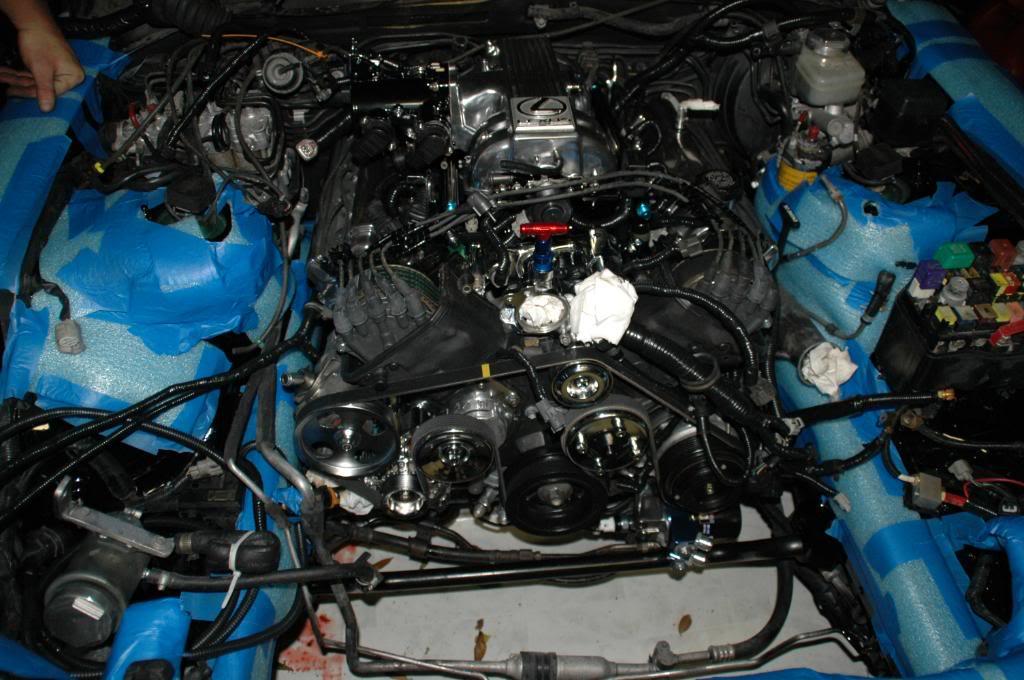 This is a great night!!!
3-19-2008
Well, getting the final touches done over the next few days so that I can send my car to Driven Concepts in Tampa...
Found more issues with the previous work done by Xtremeboost...It never seems to stop. Now, I found that the AEM Widwband harness had apparently been jerked through the hole in the floor of the car, and stripped the insulation off every wire that connected to the plug. More bare wires...

I also took the exhaust apart, and something was clanging in the pipe, I turned it upside down, and a 14 mm wrench fell out...


More "stuff"
I am certainly glad we are checking everything that was done by them...
3-20-2008
Hey Bob...I was thinking about your question with the smaller TQ Converter from Precision, and I remembered that I had researched this a very long time ago, and that the info I found convinced me that Precision (Dragon) was the way to go for a TQ Converter. I knew Precision made them smaller for a reason, but I could not remember why, so I looked up some articles on their website, and found my answer. Here is an excerpt from them explaining why their TQ's are smaller than a stock one.
"The Truth About The 9-12 and 9-11 Spaceship Type Converters
All late model transmissions regardless of make have a clutch in the torque converter. Precision Industries was the first performance torque converter company to design and successfully manufacture a small diameter clutch assembly that would survive the abuses of high performance late model vehicles. We had to manufacture a special front cover, clutch plate and develop a clutch lining that would handle pulse width modulation. This is the reason we use a special billet front cover not just for the good looks! Our competitors in the performance industry do not have the technical ability or the capability and are just too cheap to follow our lead. They are using all stock front cover and clutch parts designed and built for 4 and 6 cylinder vehicles to compete with Precision Industries. When OBDII appeared they suddenly found out that using these inferior 4 and 6 cylinder front cover and clutch parts was not going to work so they started using 15 year old technology, the so called 9-12 or 9-11 spaceship type of torque converter. What these torque converters consist of are parts from 1- $10.00 and 1- $35.00 wrecking yard torque converter core along with a steel ring to mate the 2 converters together. Using these parts equates to a value for this type of torque converter to no more than $300.00. While this type of torque converter seemed to solve the torque converter clutch problem it instantly created more serious problems. One advantage to using a small diameter torque converter is that it has a lot less rotating mass than the stock 12â€Â torque converter and with the thick steel plate to mount the 2 stock torque converter halves together to make the 9-12 you end up with more rotating mass than the stock 12â€Â torque converter. A more critical problem with the 9-12 spaceship type torque converter is the turbine wash over of this design. The turbine wash over is so strong that the large diameter torque converter clutch is pushed up against the front cover and drags during stall and acceleration. This action kills acceleration and causes undue stress to the torque converter clutch. What this means is this style of torque converter will never accelerate as well as the small diameter torque converter meaning slower 60 ft. and ET times. This style of torque converter would probably work satisfactorily in Grandma's car but is not something you would want for a performance torque converter. Our competitors must be laughing all the way to the bank selling this inferior product for the price they are asking!"
Also, on their Website, they show several major differences that they do versus what many other "rebuilders" do. It is a significant difference. You can find that info here: http://www.converter.com/competition.htm
I am planning to post this up on that other thread with the Rebuild question. It should answer that question as well.
Thanks for your input, Bob...
4-10-2008
Hello gang:
Just an update for you all that are following this thread. DC (Driven Concepts) and I have discussed and worked out the preliminary design of the new manifolds they are building to fit my ported heads. I relied heavily upon Mike Young's experience and expertise in the matter., but certainly put in my two cents worth. I also decided to go bigger on several things, so I am having them remake most all of the plumbing for the turbo kit. This being the case, my current set up is intact, and I am thinking about selling it as a package deal. I have not made a final decision on that, but I am considering it. Hmmmm a fully bolt on kit that has been proven to fit and work. Oh well, it's certainly a thought.
As DC cpmpletes work, pics will be posted up on some of it. So, stay tuned...And the paint, well, that will be flawless...



5-5-2008
Nothing new to report...I am doing various custom things on my own, but the major stuff is still in progresss at DC. I guess I am in the hurry up and wait stage...

5-10-2008
Here are a few pics of the new collectors designed by Driven Concepts for the new SS Headers they are fabricating: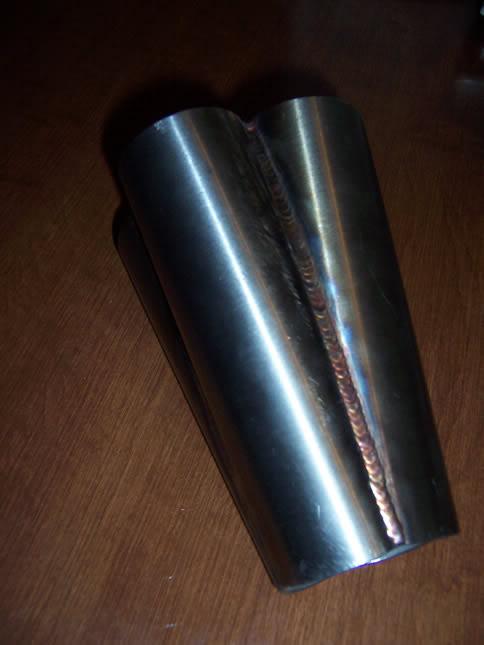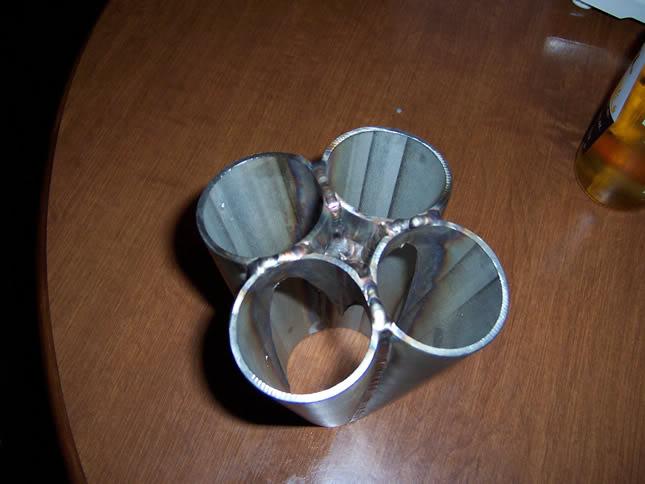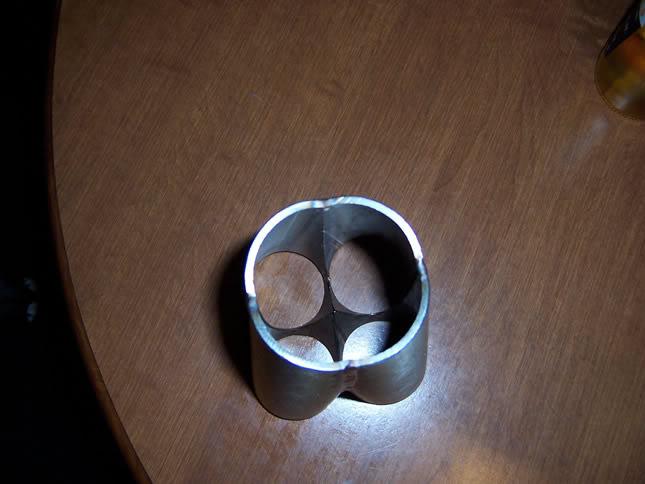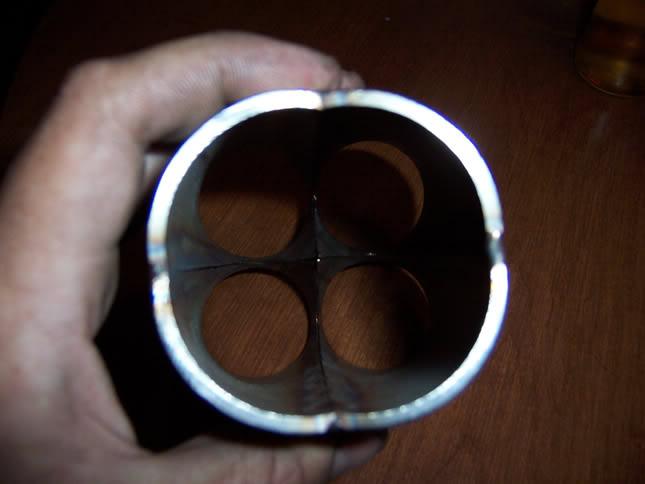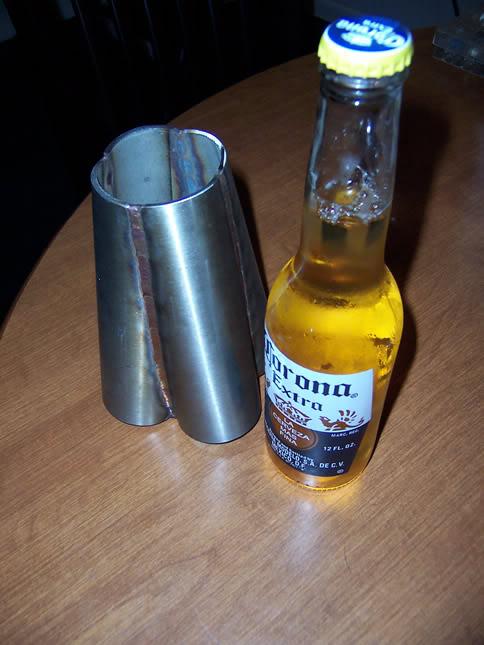 More to come...
6-4-2008
It has been awhile since I posted up any news on my car and my progress, so here are some pics and some news. As you know, DC has my car, and Mike Young is making all of my plumbing out of stainless, and larger to handle the extra boost. I have also changed my turbos to larger Twin Borg Warner S256's with polished stainless steel turbines and polished aluminum compressors. These will flow 58 lbs per minute. They are still small turbos, but they are the largest of the small turbos that BW makes. I got these through Bullseye power. Dave is a great guy to work with there. These use a different flange than the Garrett GT's I had on my car.
Anyway, here are a few pics of the collectors and the drivers side header. Mike was unable to make the 4 into 1 header fit, so he built a 4-2-1 design, and these fit perfectly.
Here they are: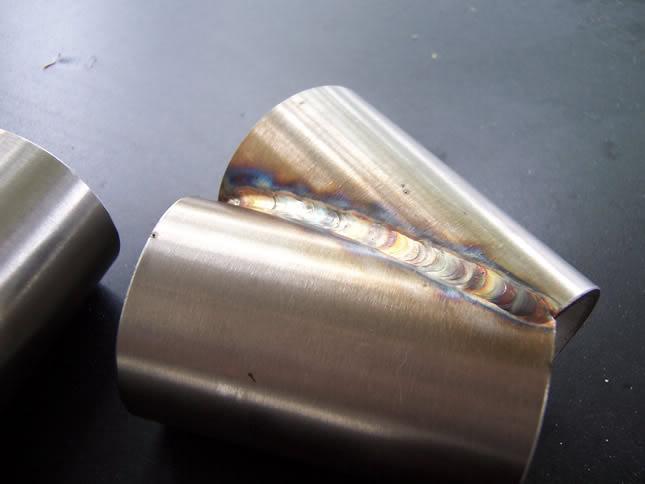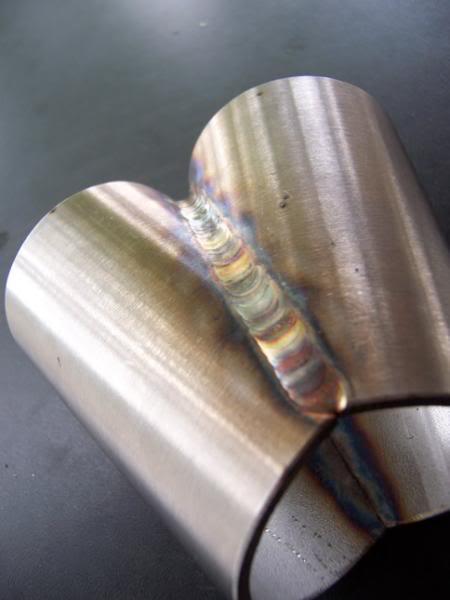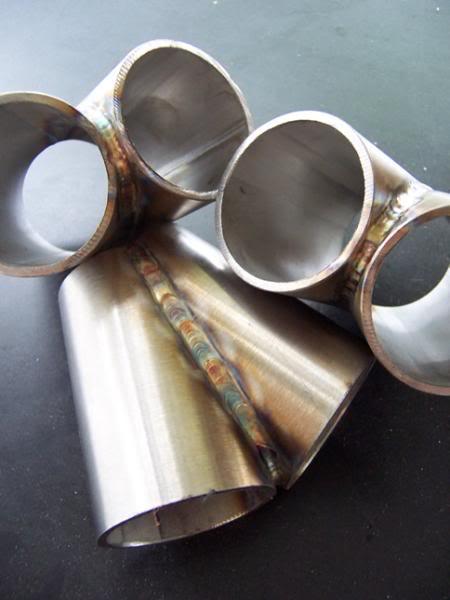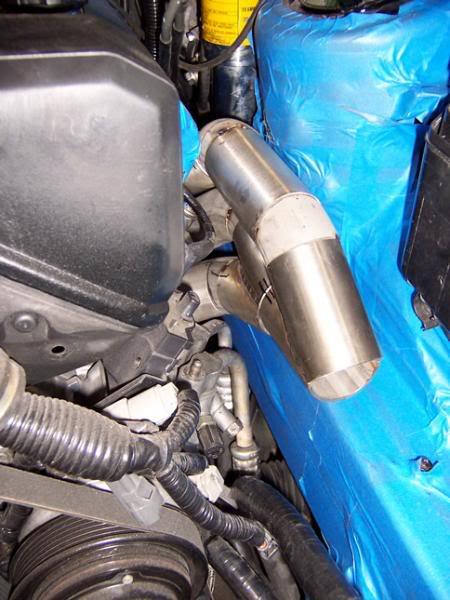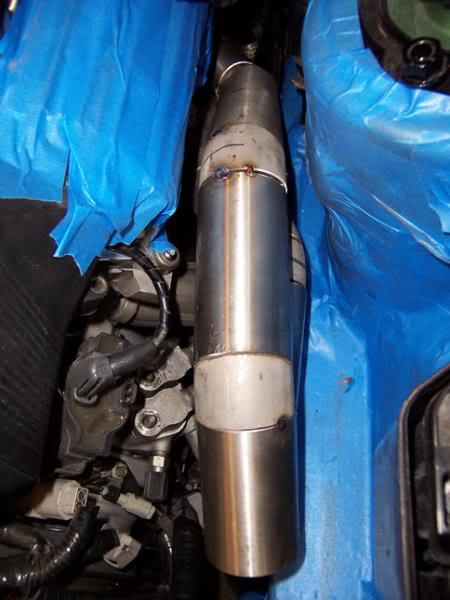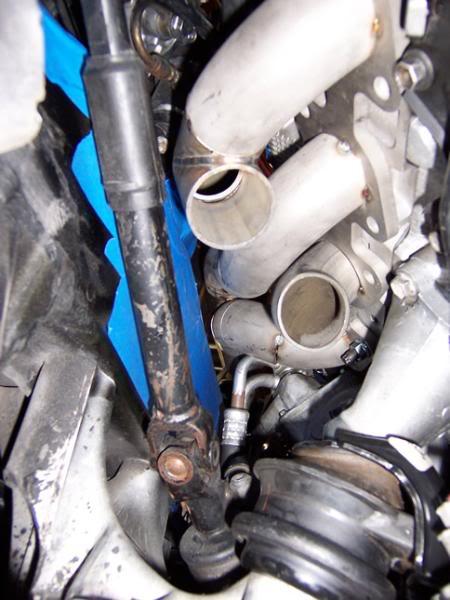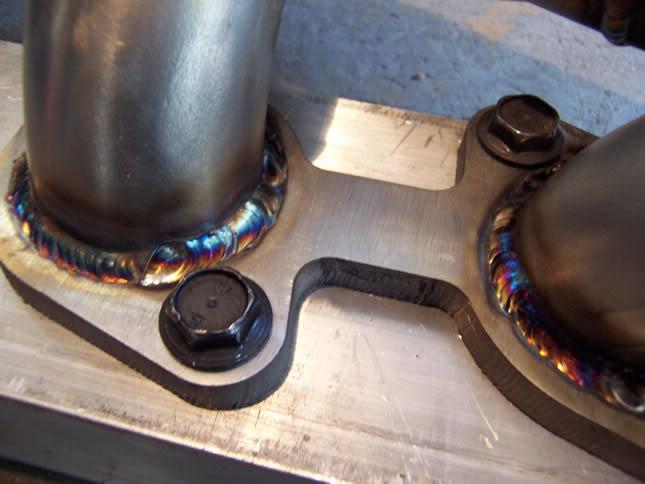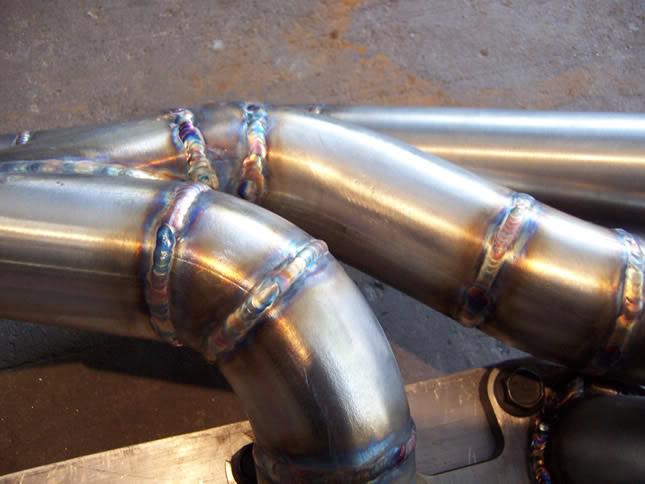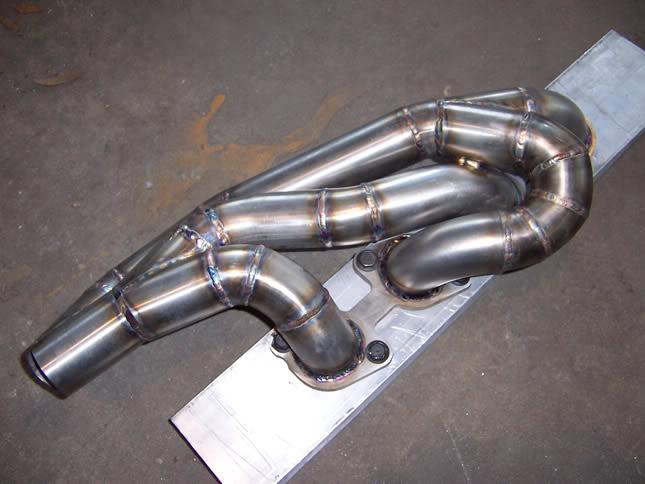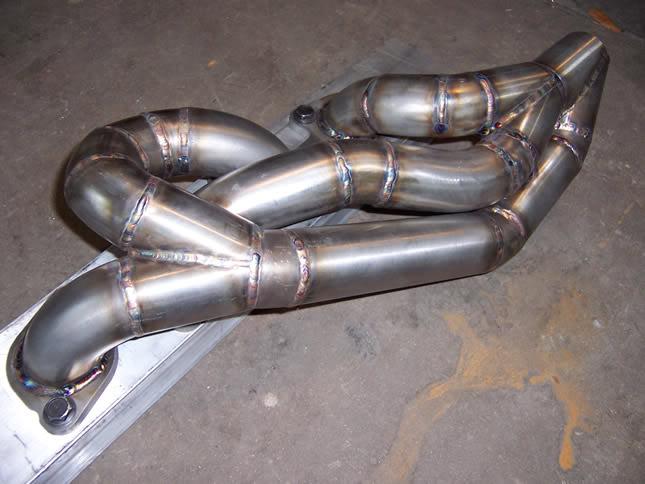 6-18-2008
Gang, here are pics of the passenger side manifold, it is tacked and almost completed. I also have pics of the new Borg Warner S256 Stainless Steel Turbos, polished. Making good progress.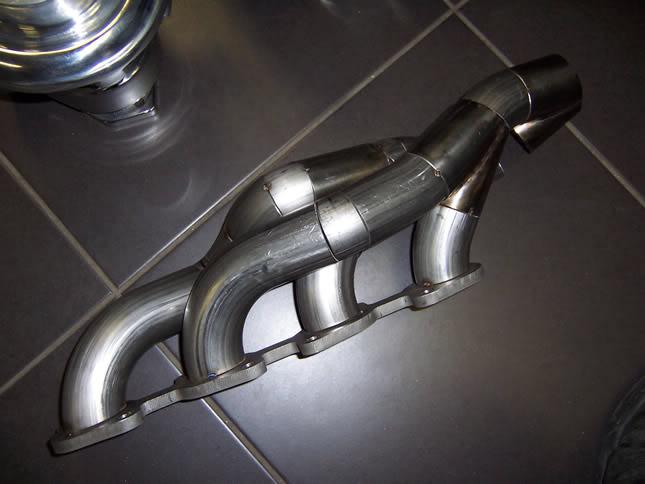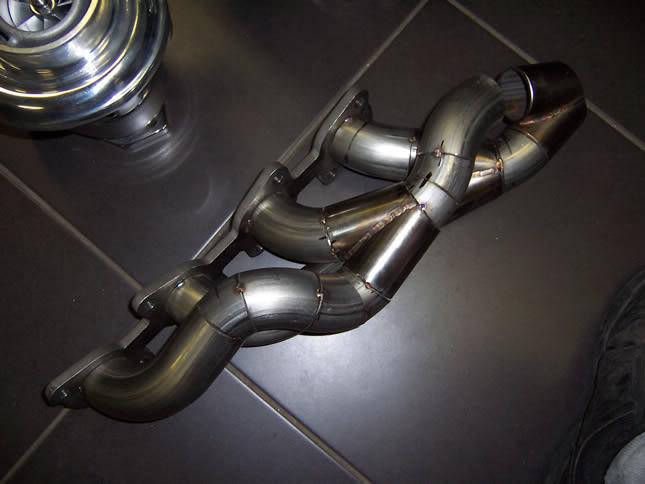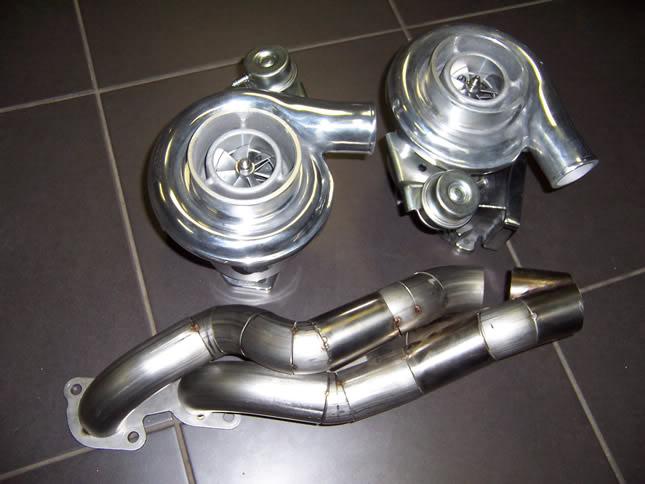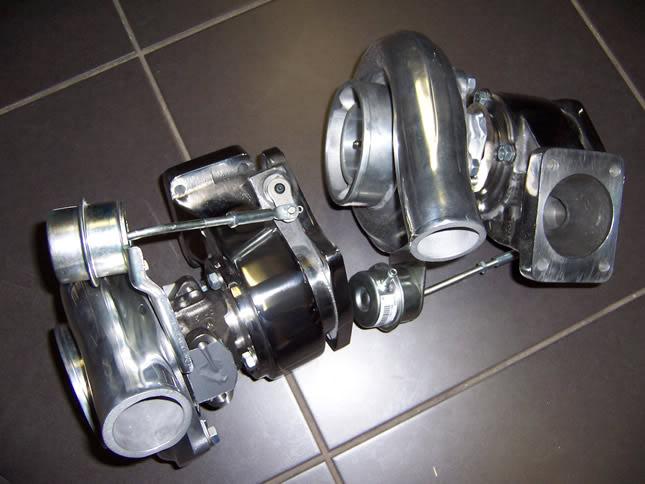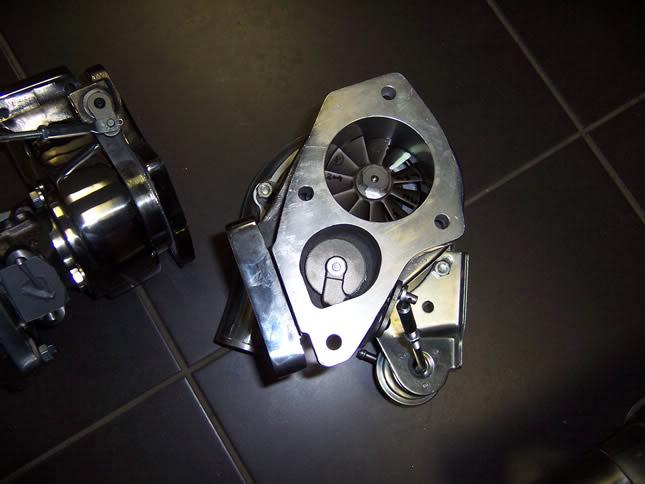 Hopefully, this project will be running by the end of July, 2008....
I am very pleased with DC's work...
Just bought this set up new...This is going into my project car as well...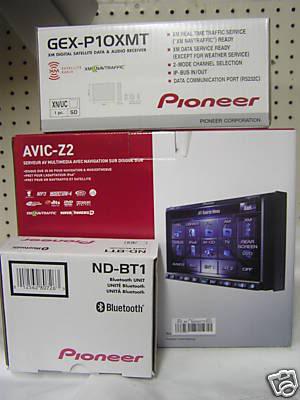 I am going to be enjoying the NAV, stereo, and the DVD's I can watch...
7-3-2008
Gang:
Here is a further update. Finally, we are making some serious progress. I actually am beginning to think that this car will be complete and running soon...It is exciting. I apologize that you have to see some of it being rebuilt, almost like watching the same movie twice, but some are worth it, you know? DC does some awesome work...
More pics of the passenger side header: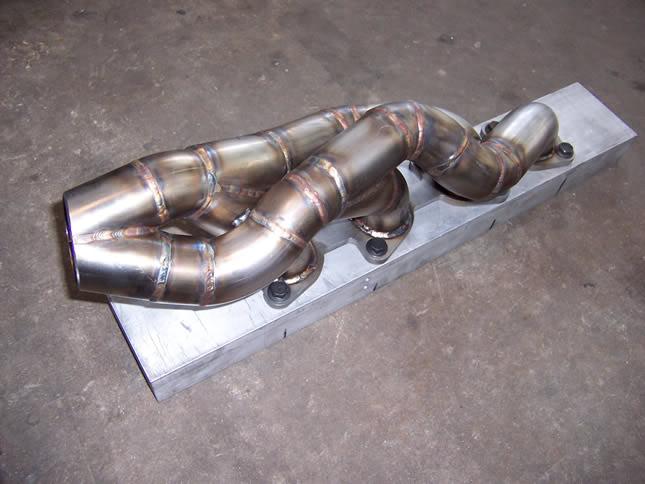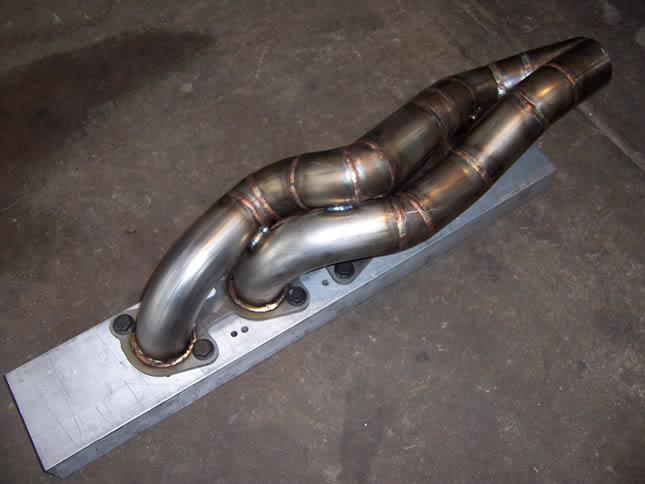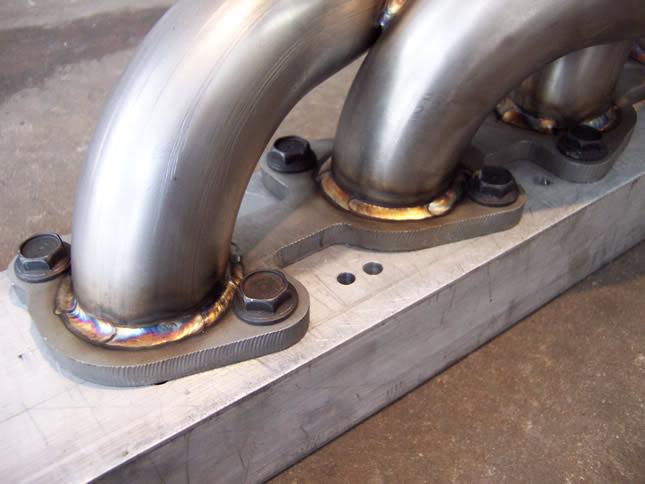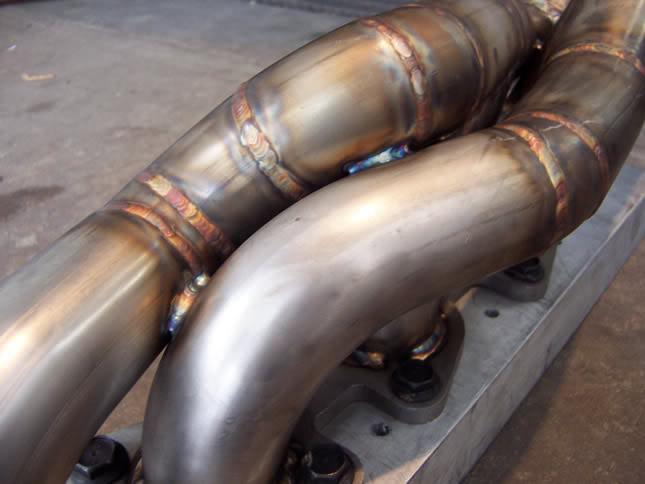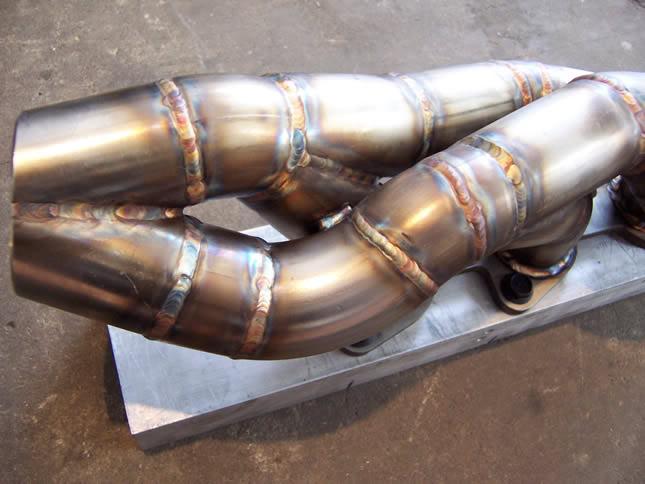 Notice the quality welds and beads that Mike lays down...sweetness, pure sweetness

More coming...
More of the header: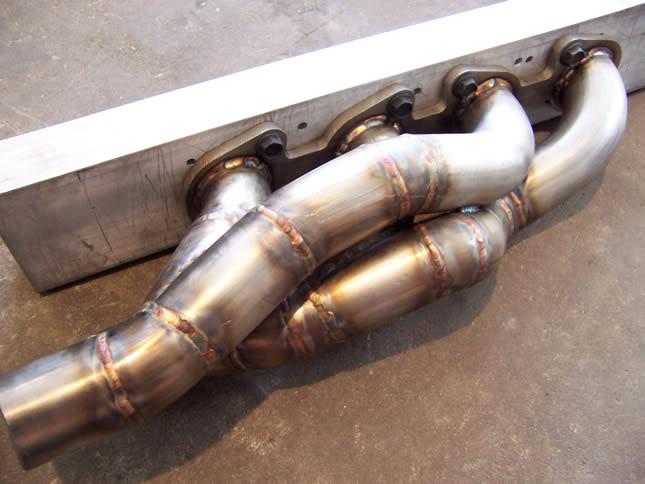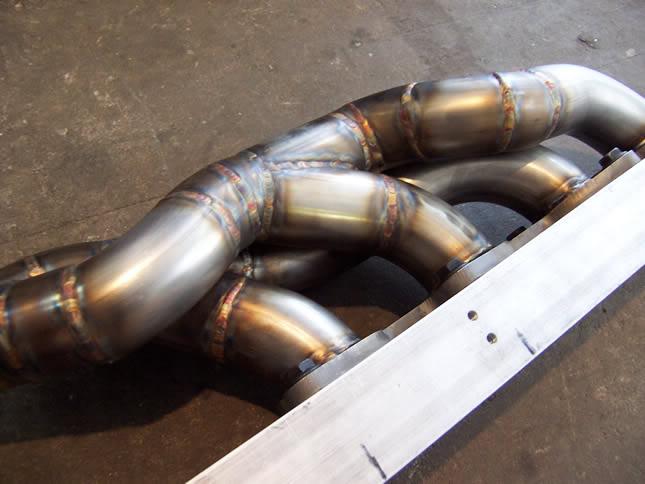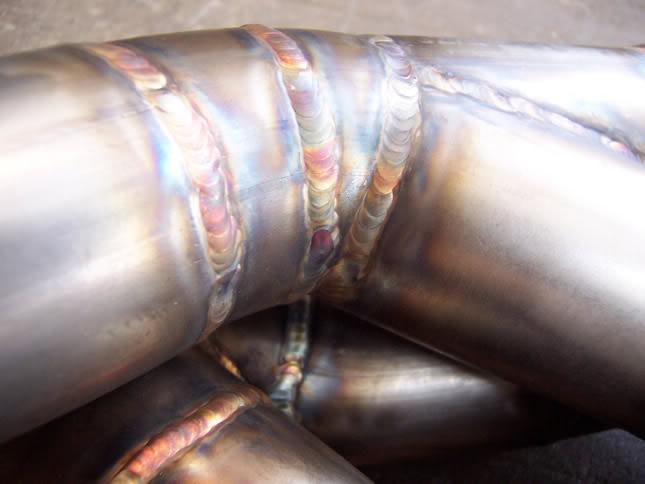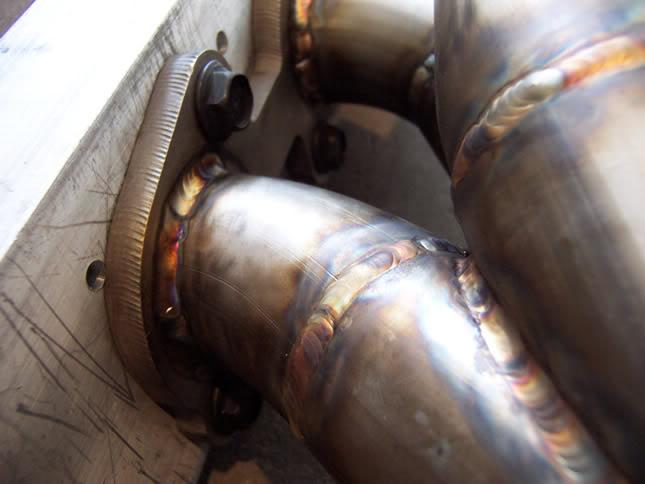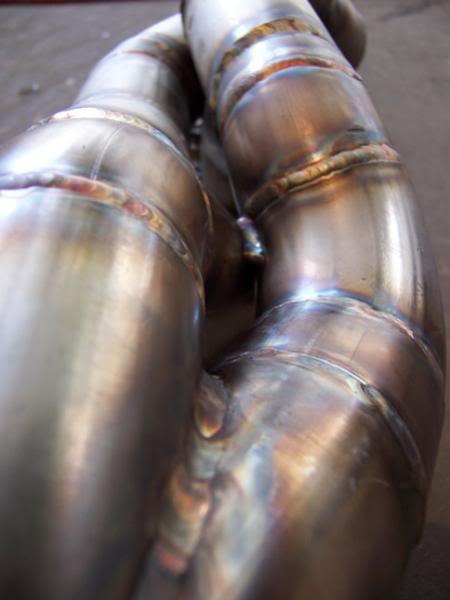 Still more...
Even more: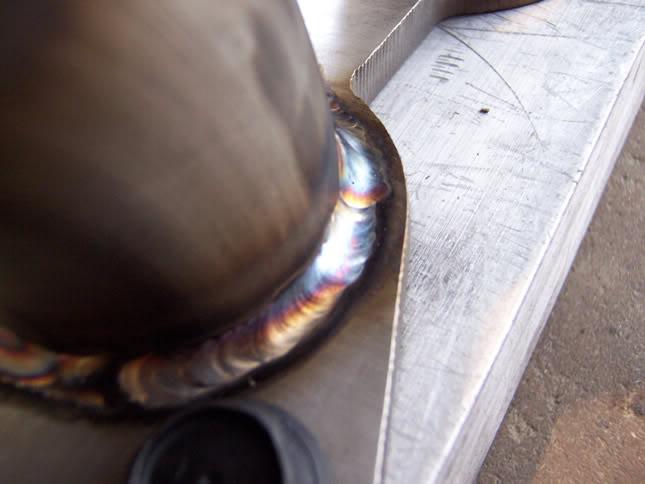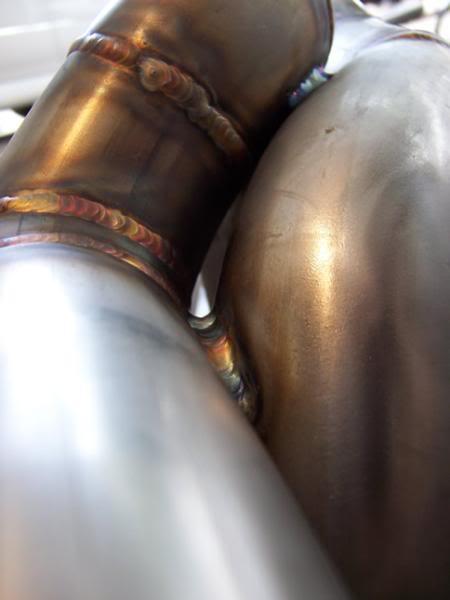 Here is the new BOV going in: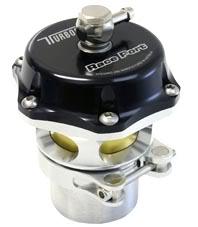 Here are some pics of the paint and body process: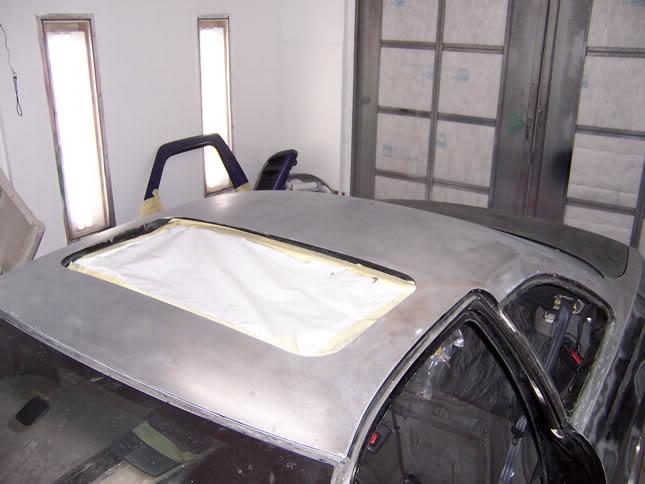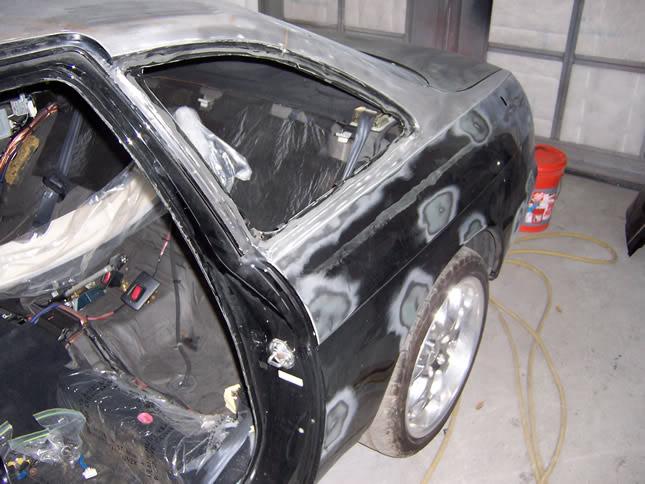 More coming...

Keeping it coming...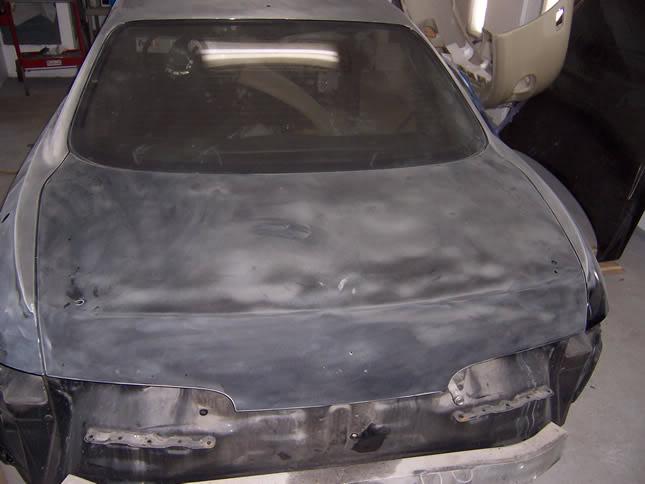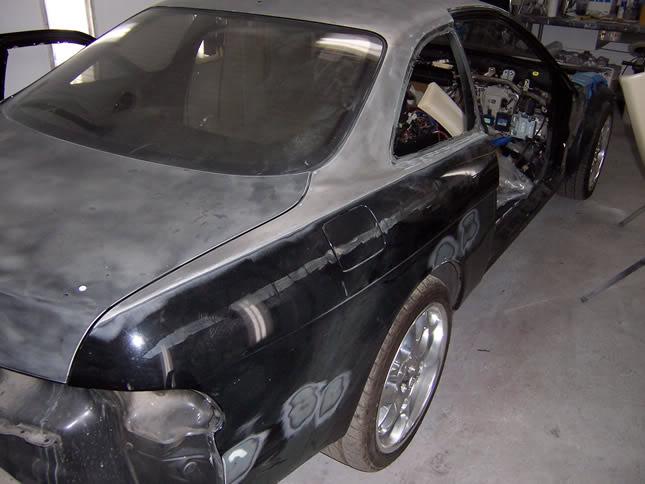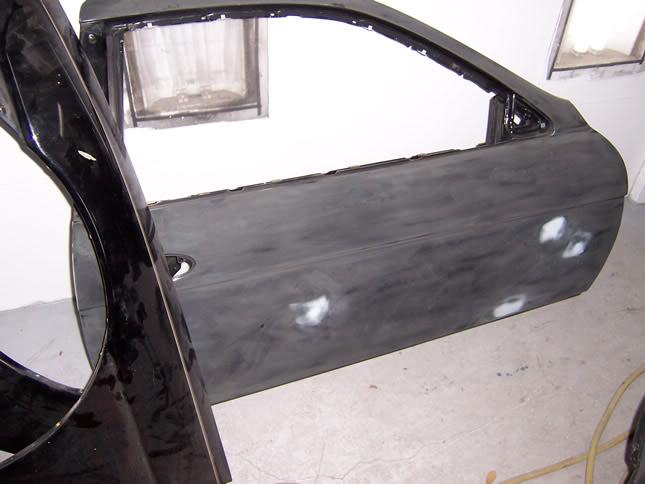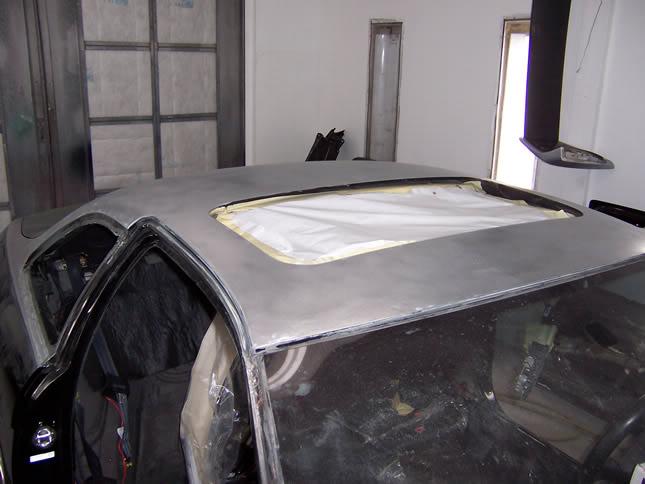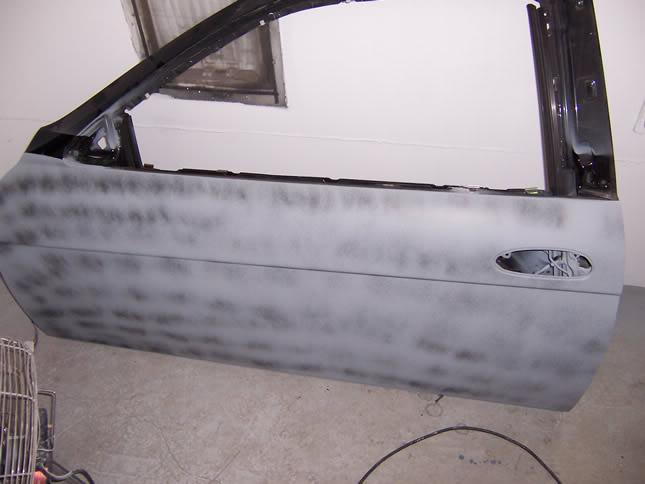 A little bit more coming...
Last of it for now...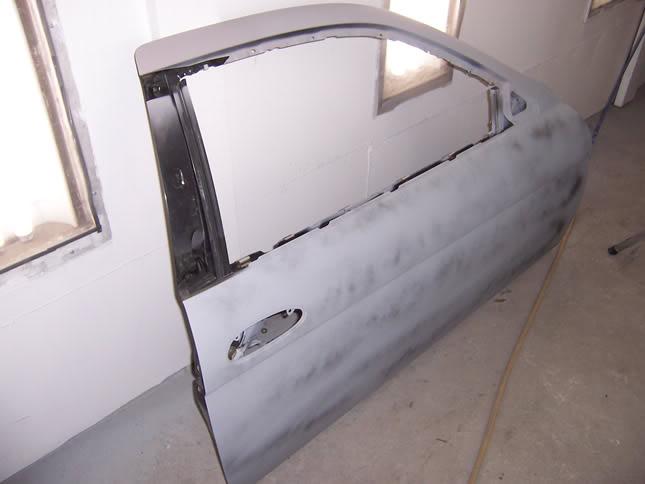 Here is the Seibon CF Hood, thanks to Mars Audio, care of Mr. Marshall Woolford. I decided to buy the OEM matched hood and custom vent it, instead of buying the Seibon vented hood which was not to my taste. These are genuing Aston Martin Vents from the DB9 that I bought brand new, and powder coated them in gloss black. The hood really needs to be vented to keep the heat flowing out so that I do not melt all the plastic and rubber under the hood. Thanks again to DC for their patience in working with me and my perfectionism in getting the placement of these just right. Also, thanks to Pedro at Powder Coating Specialties for getting the coating just perfect, and turning them around quickly with very little notice.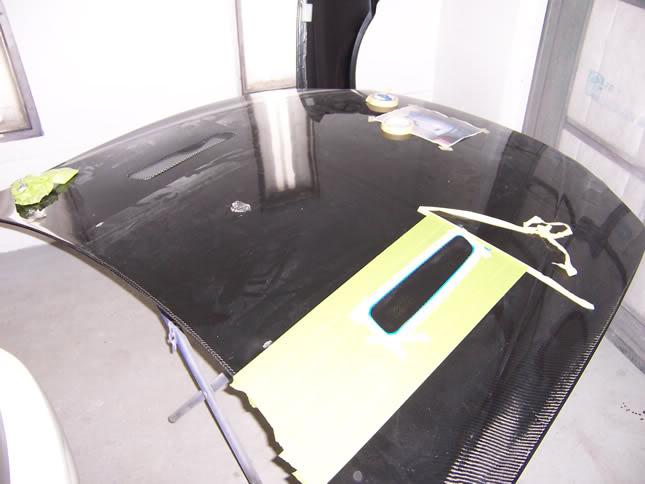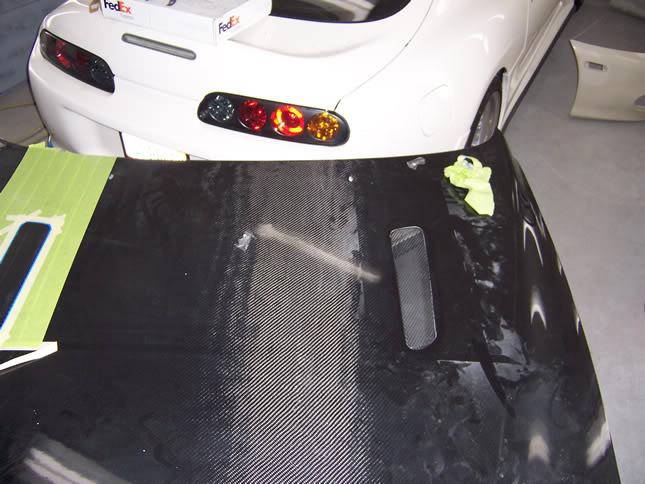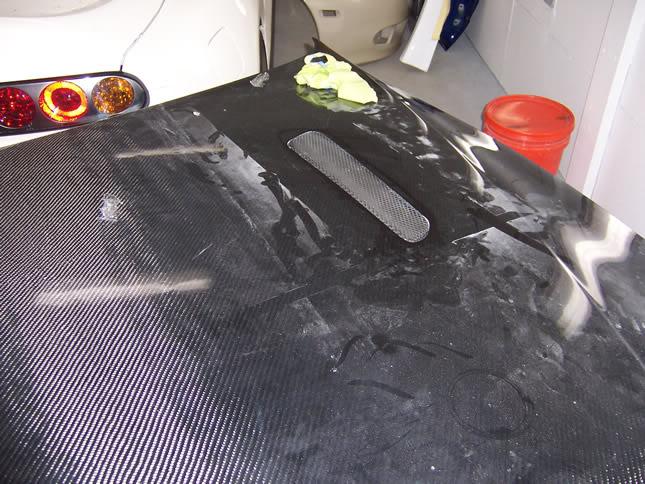 Enjoy, caus I am...Stay tuned, you haven't seen anything yet...
7-28-2008
Here is the new custome built FMIC. The core is 12x24x3.5", and it is a Garrett core.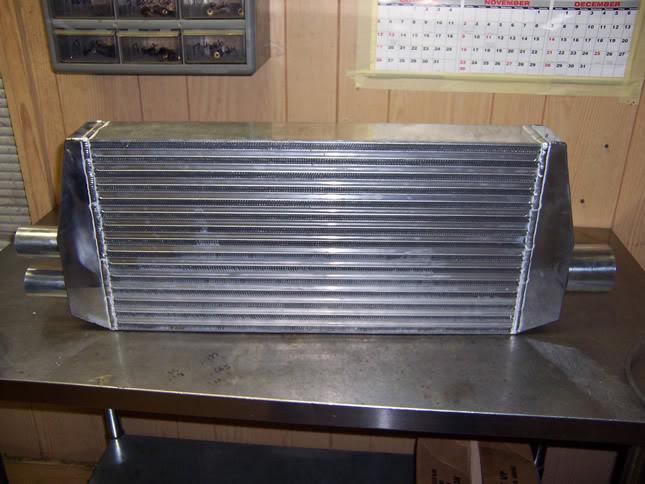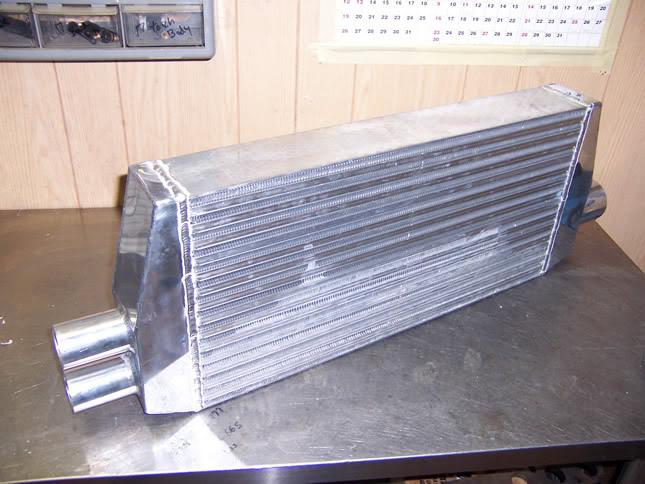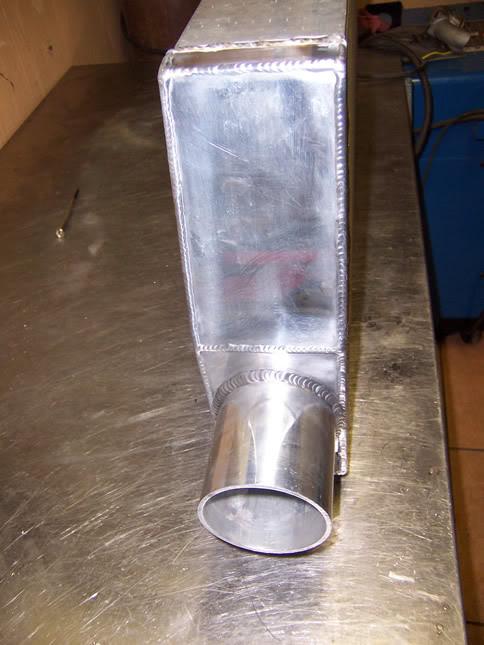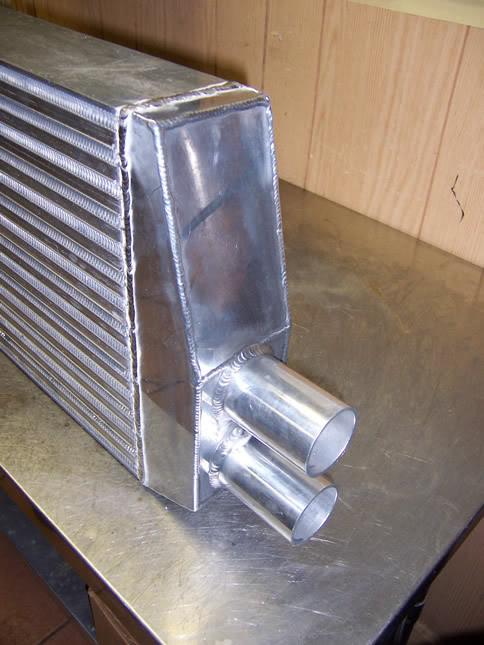 8-1-2008
Hello Gang: DC has made much progress in the last many days, and I am posting up their progress on my project. They are actually farther along, but expect more pics next week. We are getting near the completion.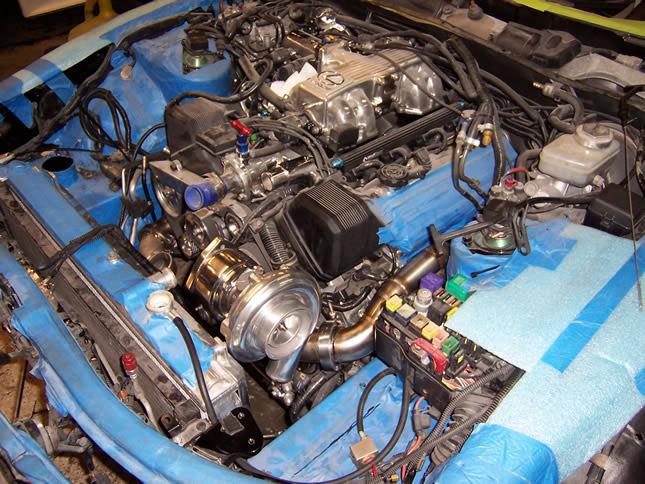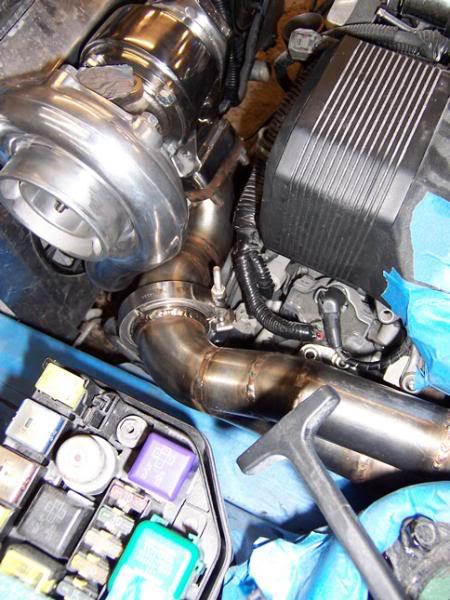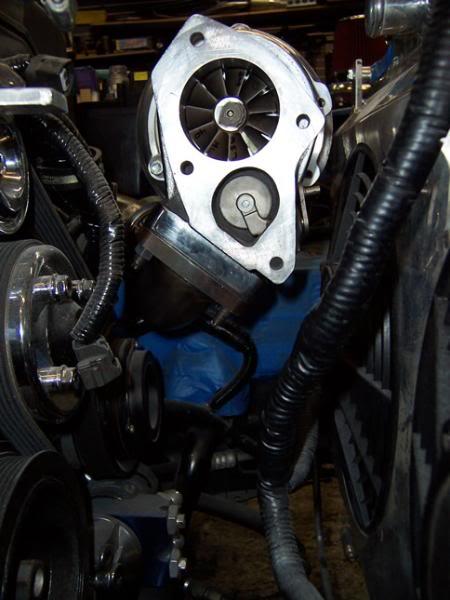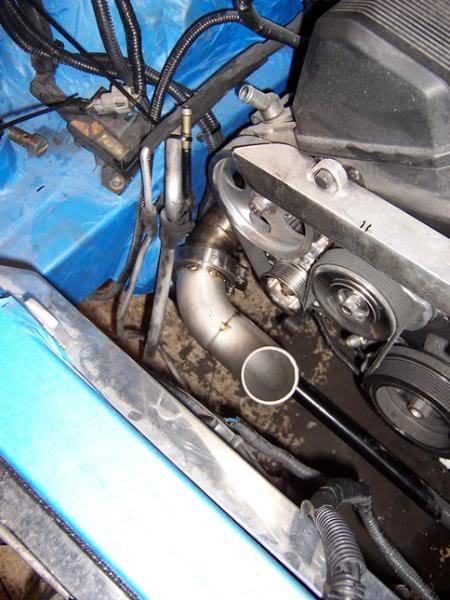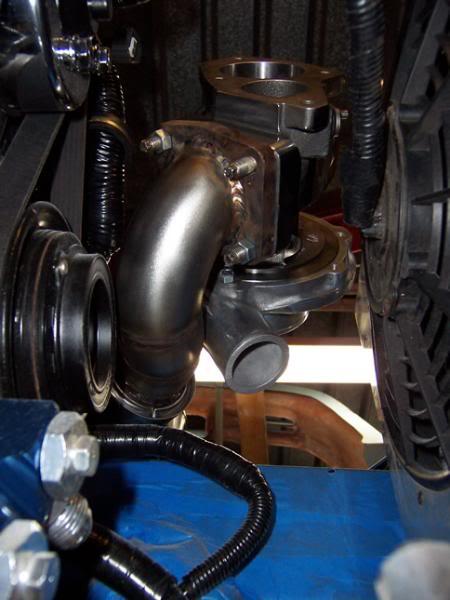 More: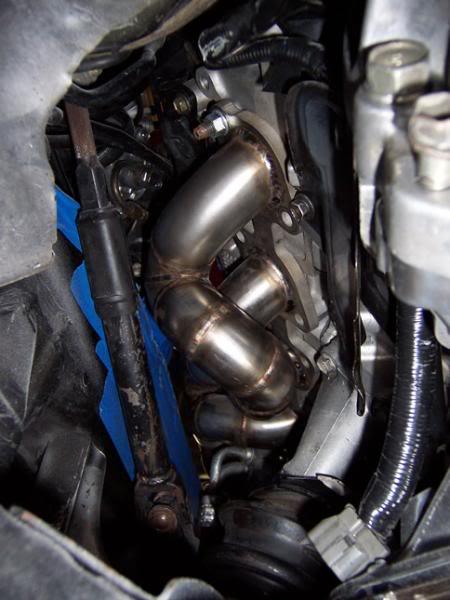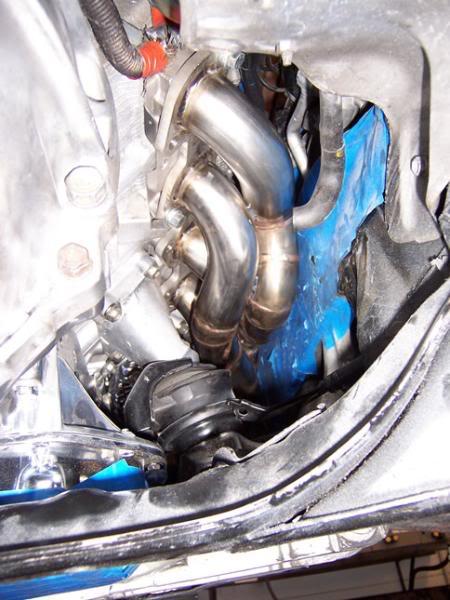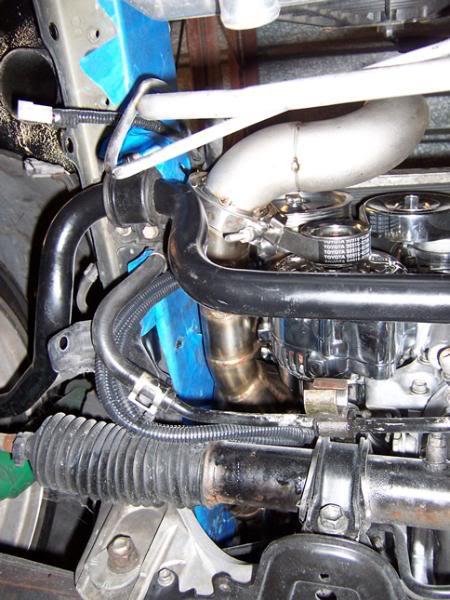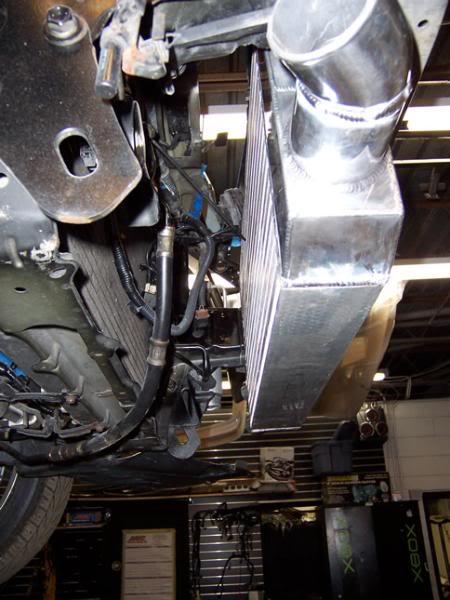 Last for now, FMIC mounted: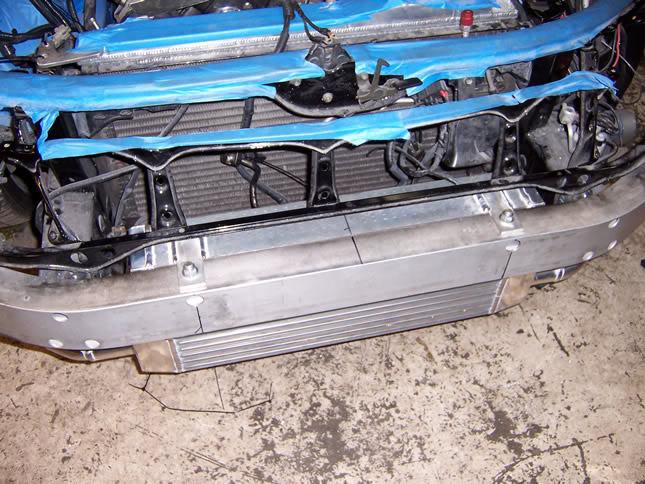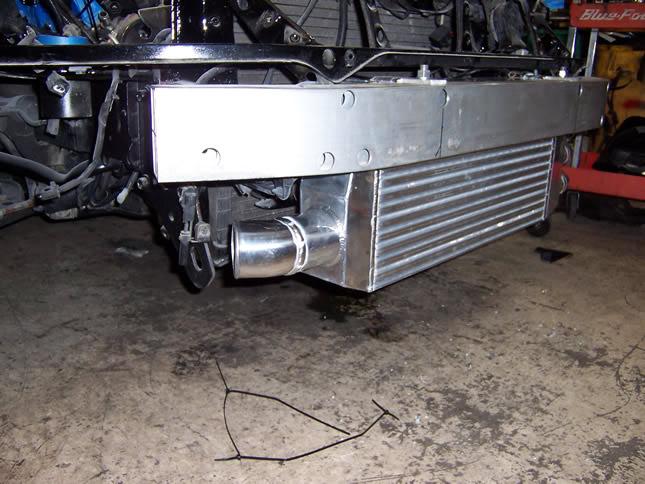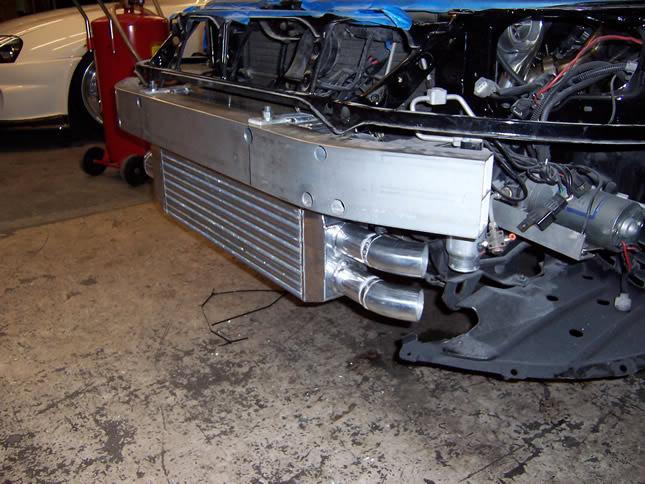 8-29-2008
Well guys, I know some of you have been wondering what is happening. I did have to remove my car from the last shop. But let us not talk about that for now. My project is continuing, and I will get it done, God willing...

Here is one pic to let you know that it is continuing: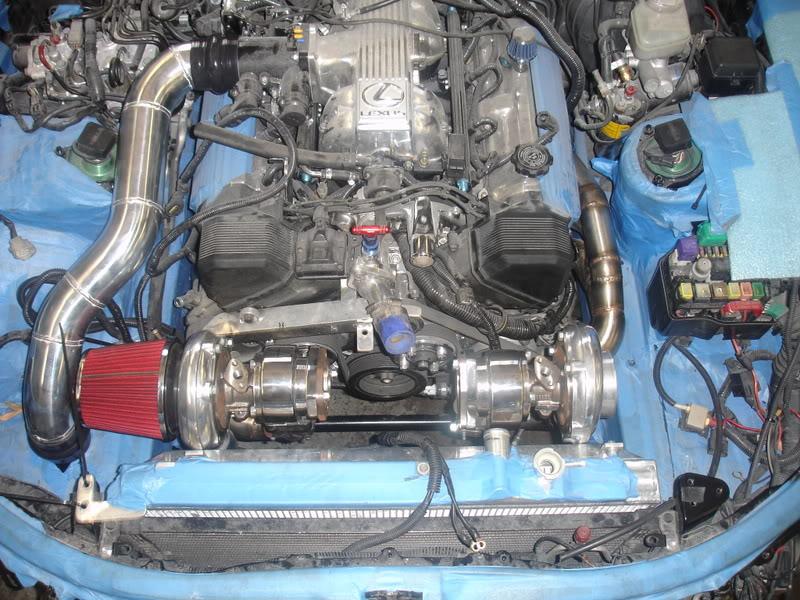 Much more to come, soon. I will keep you updated. Mike did a phenomenal job up to this point on my car. Once it is finished, I will let you all know who the fabricator is that is finishing my car, as well as the painter. Both are absolutely top notch.
9-2-2008
Here are a few more pics just to confirm that the project is moving on...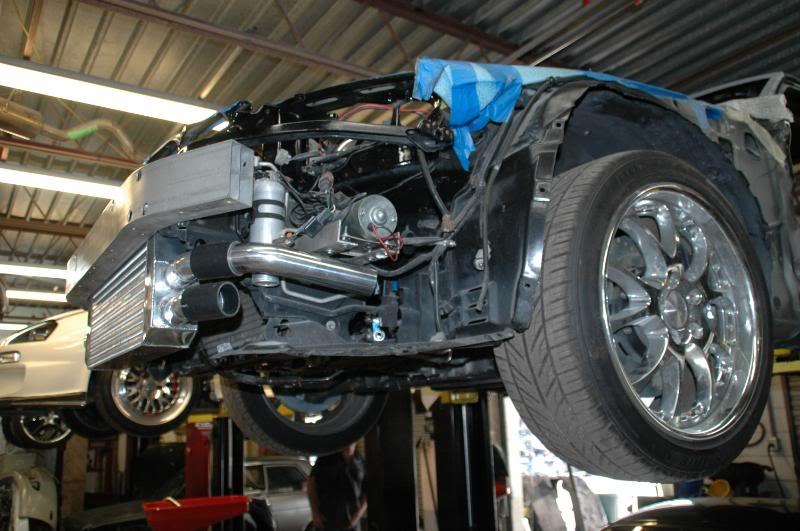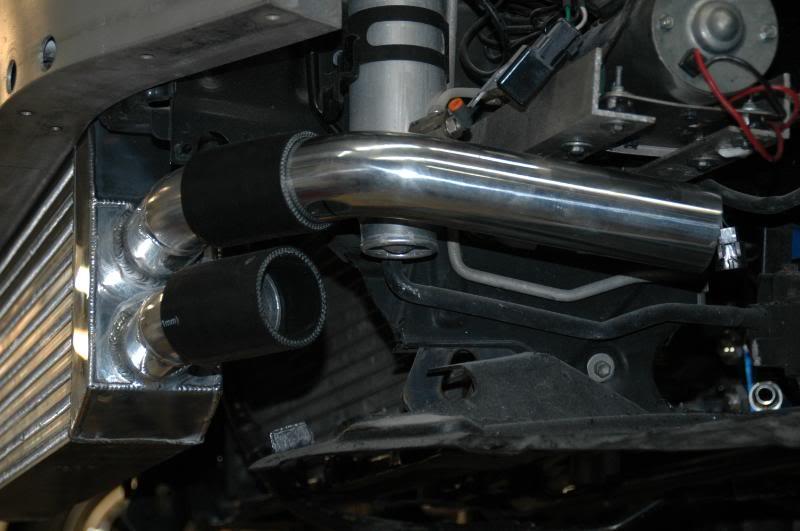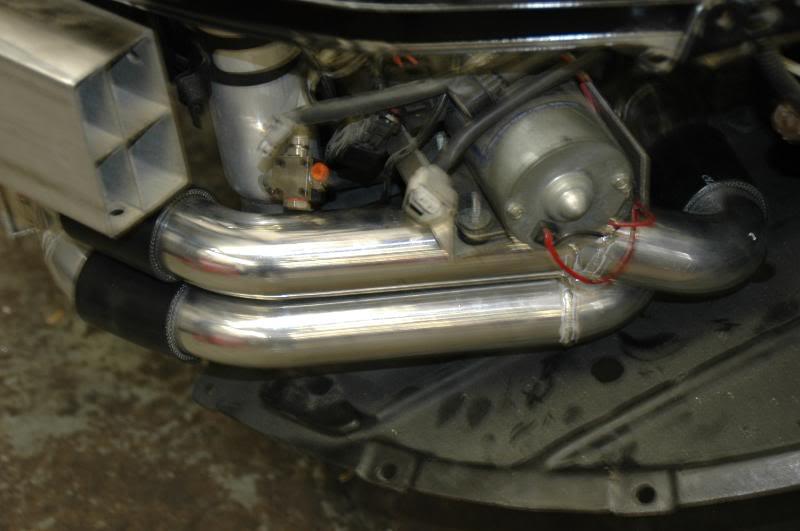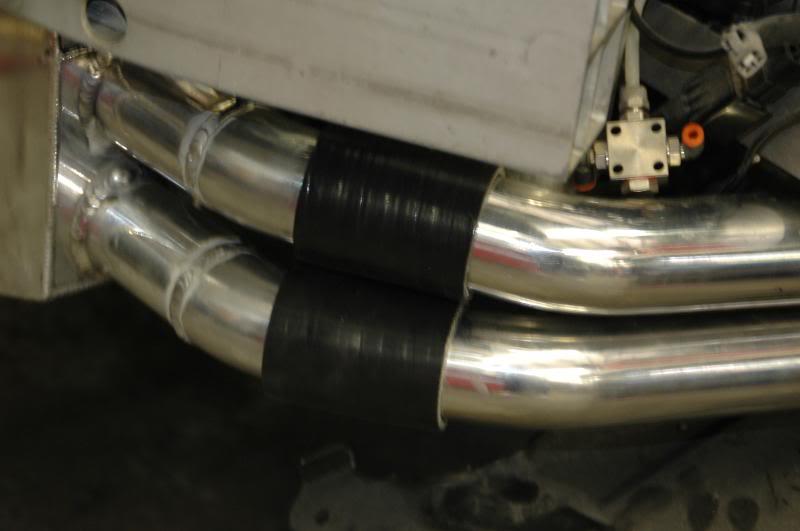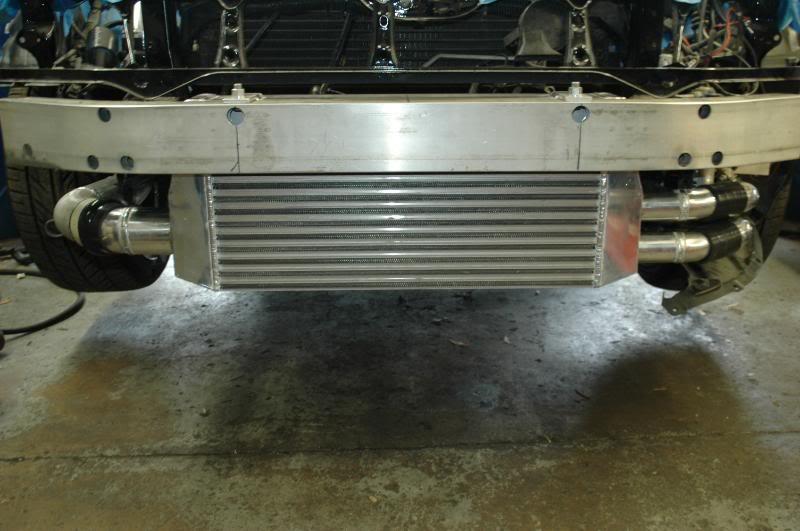 Some of the pics in these last few posts were at DC, others are after: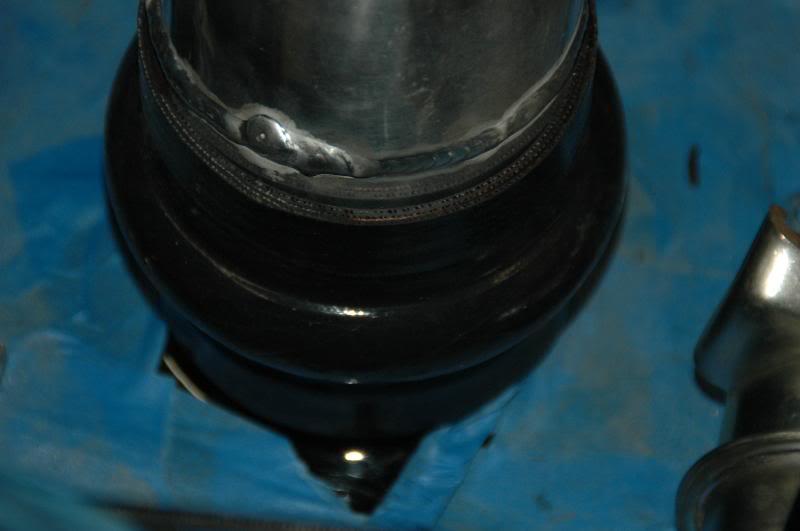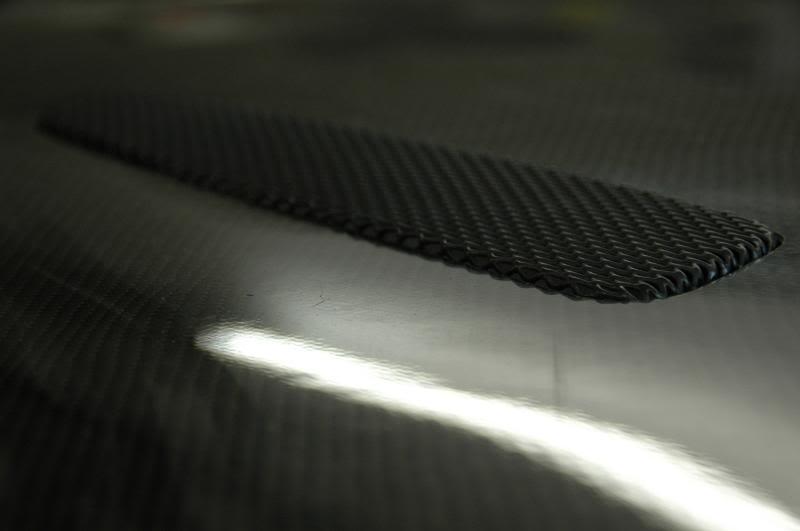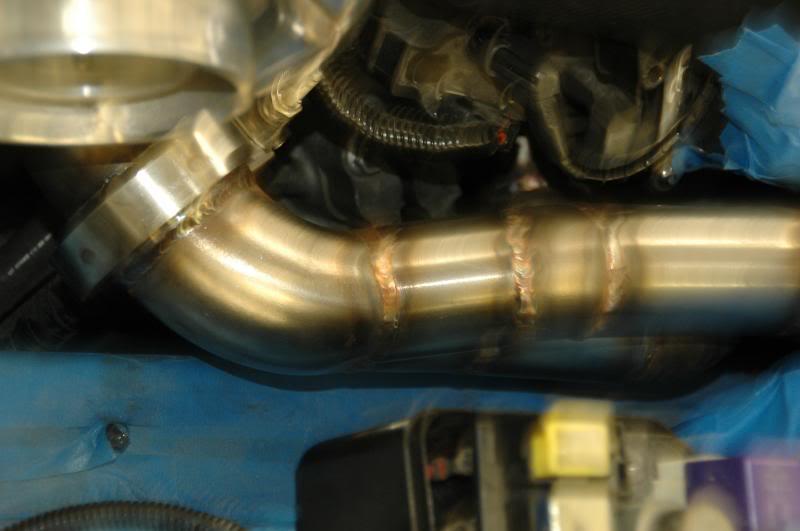 A few more: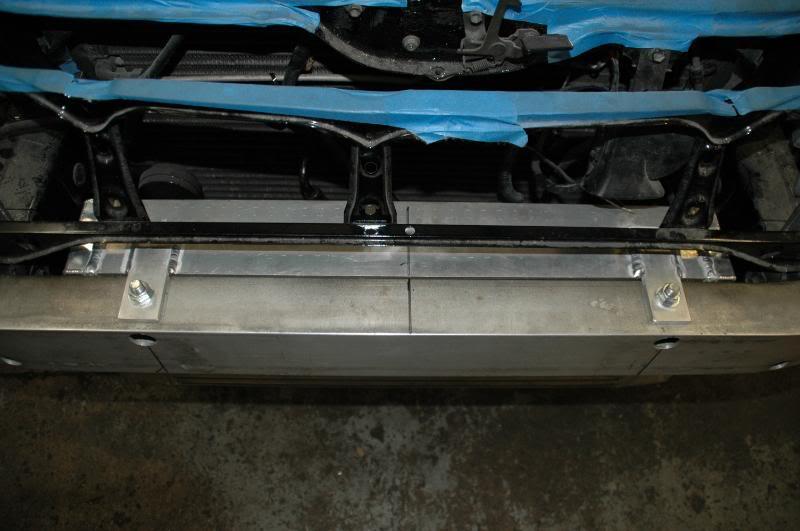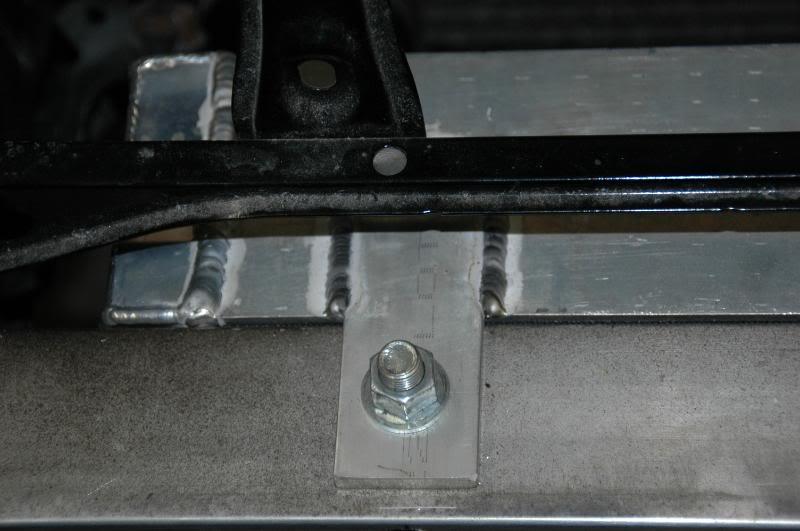 Bullseye Power BW Turbo close up, polished SS Turbine housing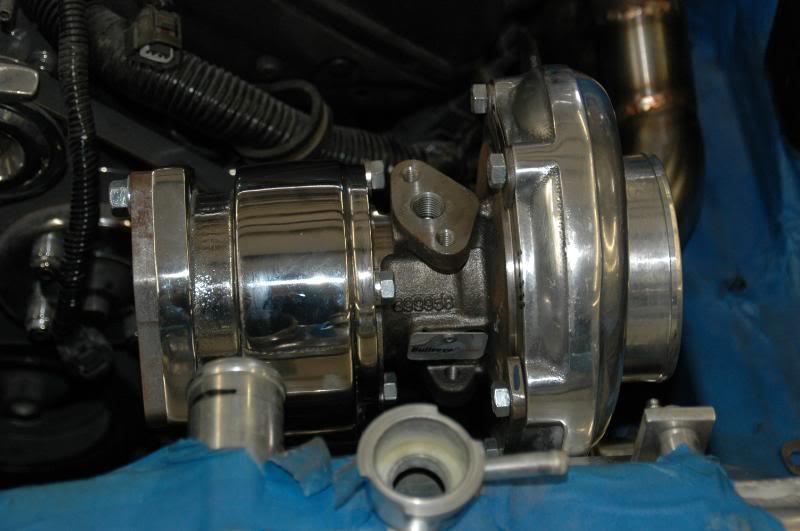 Relocated the actuator and the arm to fit in the limited space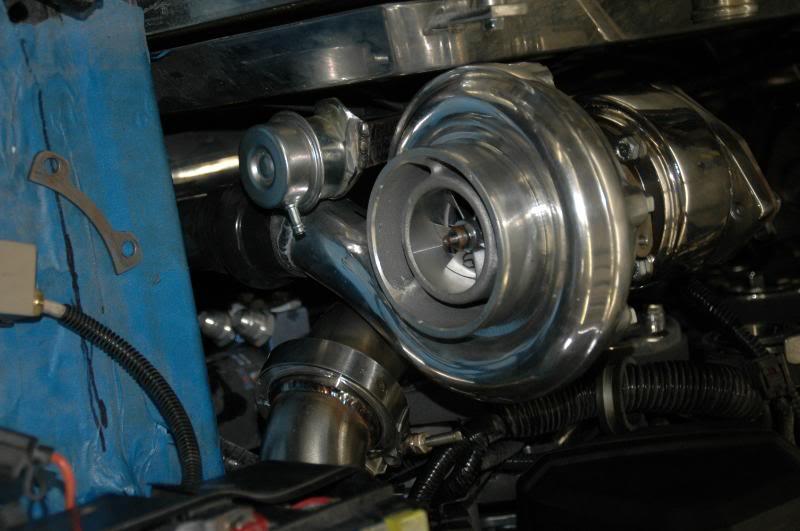 9-10-2008
Continued progress, I expect to have all the plumbing completed by the end of this week...For real...

Downpipe completed: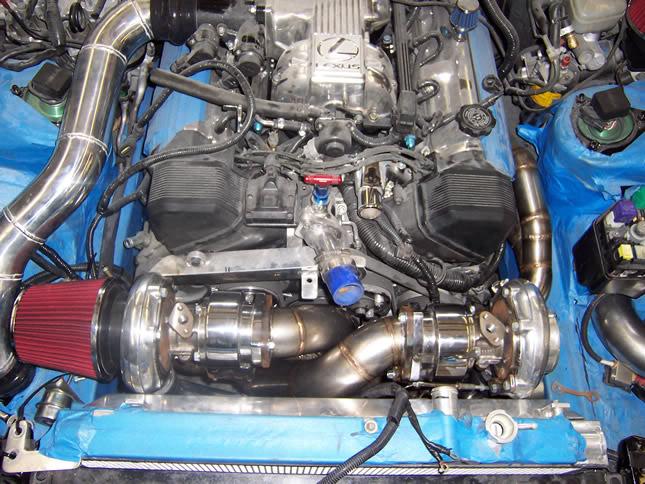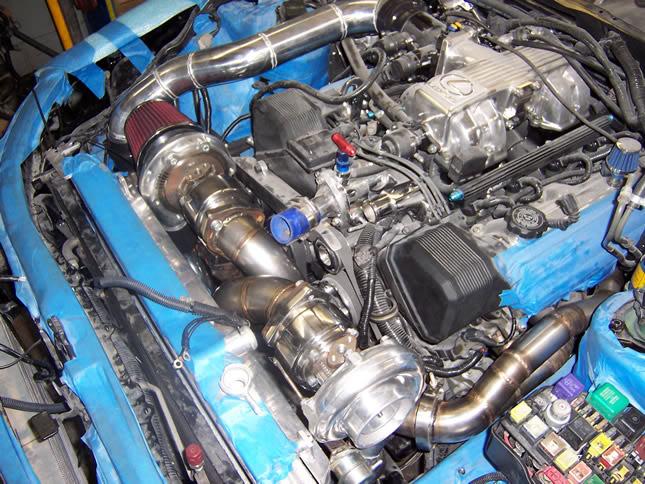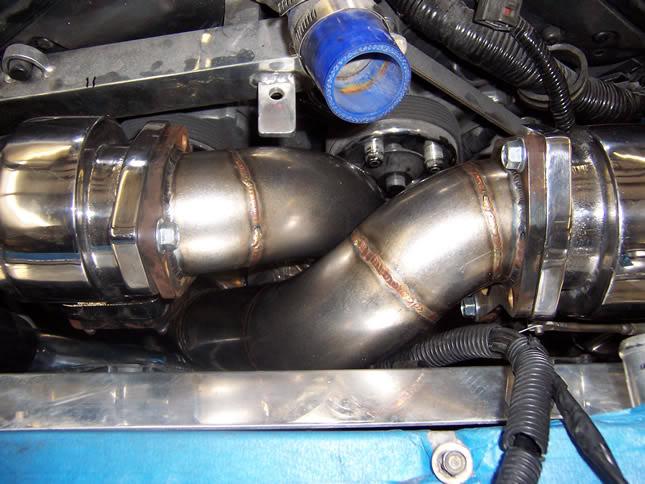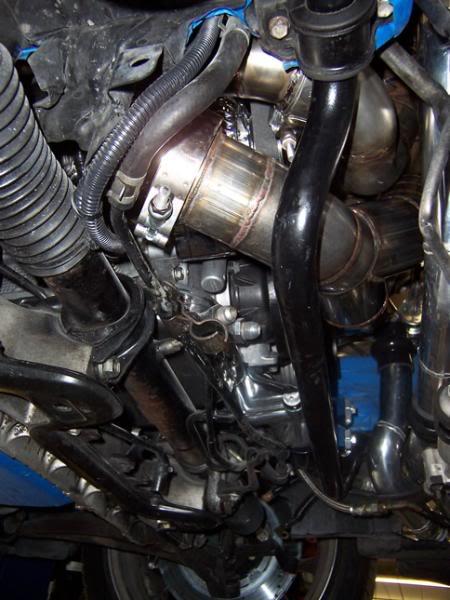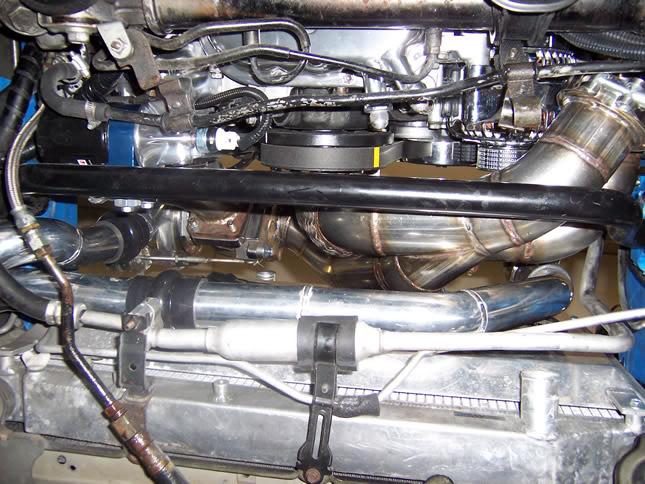 More to come...
9-14-2008
Hello gang. A major milestone has been accomplished...The plumbing is now completed!! There are a few tweaks that need to be done in about two weeks, but, I repeat, the plumbing is done. Except for the FMIC and intercooler tubing, all tubing from the heads to the mufflers is stainless.
I want to offer up special thanks to Mike Young, who I had finish what he started. Also, special thanks to VIctor and F&H Performance for taking over my unfinished project from DC and joining with Mike to finish my plumbing fabrication!! Without their dedication and commitment, I would most certainly have lost many thousands of dollars due to the sudden closing of DC, not to mention having to take a partially completed project to yet another fabricator...I am in your debt guys...take a bow, you deserve it!! F&H is an excellent shop!!
All that is left before my car parks back in my garage for final completion is paint. That is where it is now, and I do expect it will come back looking better than it did when it came off of the showroom floor. I have decided to post up some pics of the work...Mike, you sure can fab and weld...
For anybody that wondered if Mike's integrity was in question because he worked for and stood up for Ian Hannigan, well, I will tell you that Mike assured me he would finish my project when DC first went down, and I believed him. He has proven himself to me that he is a man of his word. During this most frustrating several weeks since DC went under, I was constantly assured by Mike that he would not let me down, and he did not. It is because of Mike, Victor and Billy Herndon (the landlord of DC) that I never really worried about my car, and that is why I also left my car there for 3 weeks to see if DC and Billy could work it out. I had faith that Mike would keep me whole. He and Victor did indeed do so. For those of you that suggested that Mike should have left town, you owe him a large apology.
Here are some more pics of Mike's fine work: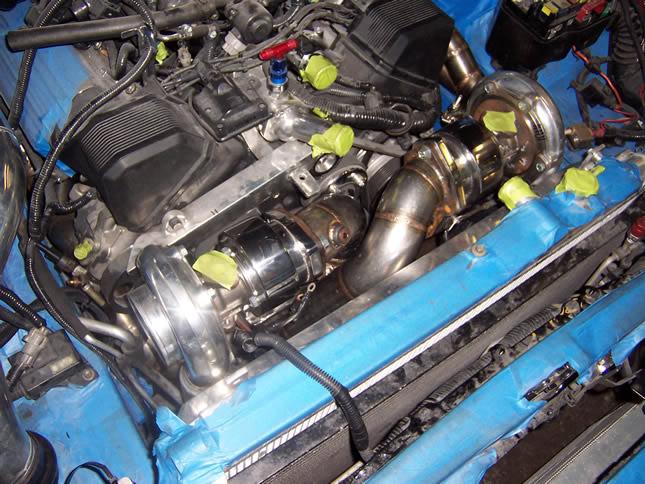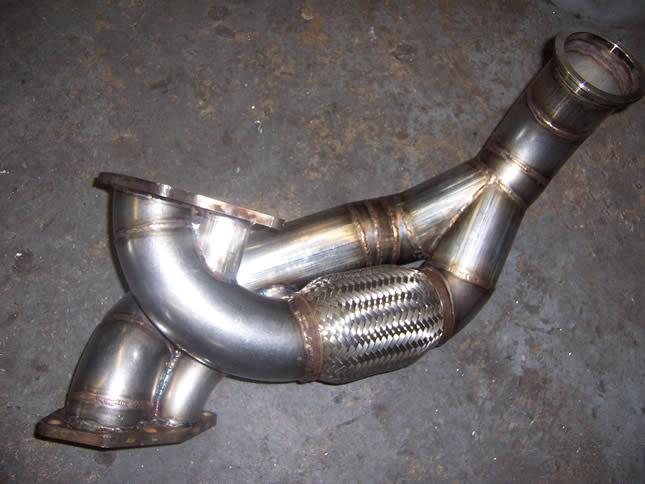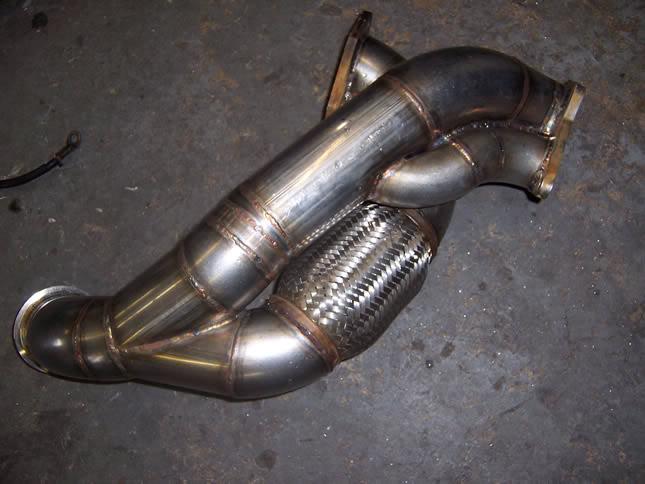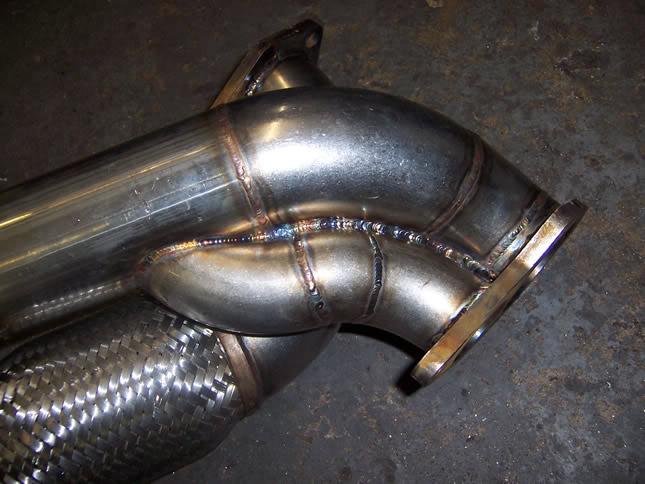 More to come...
More...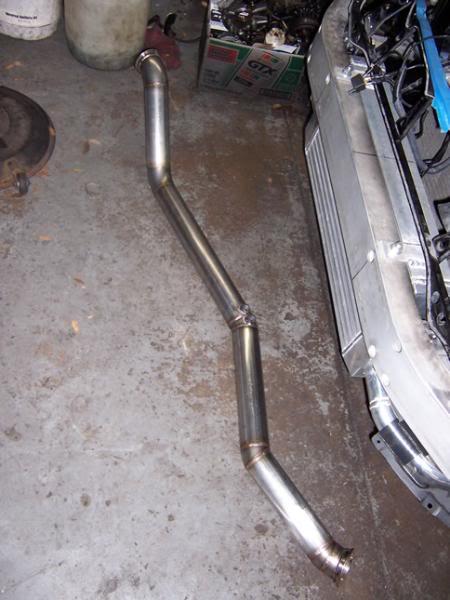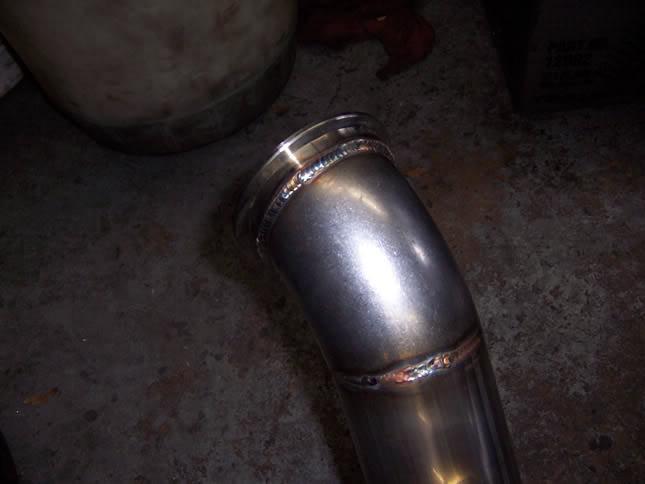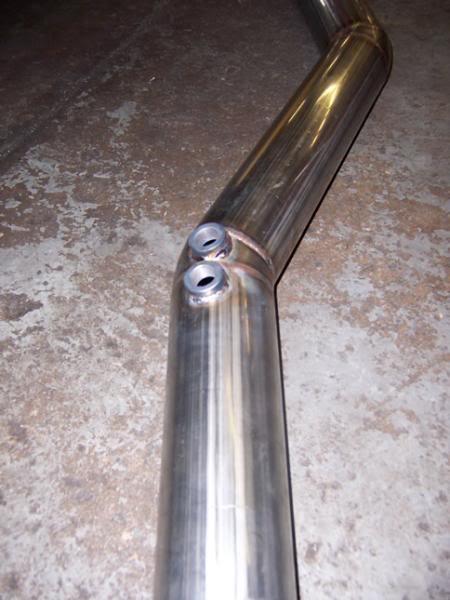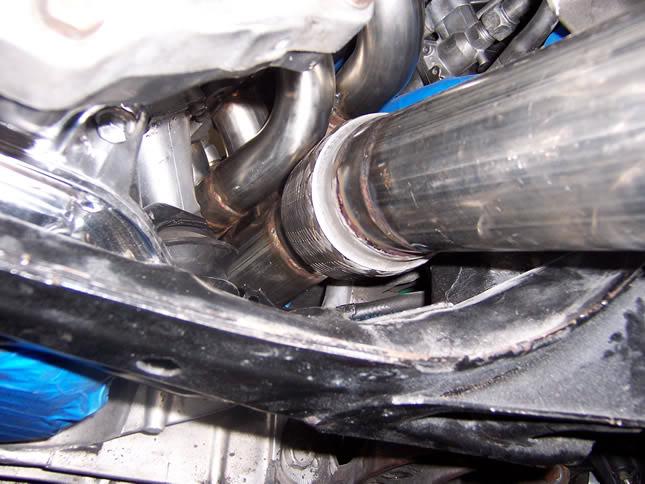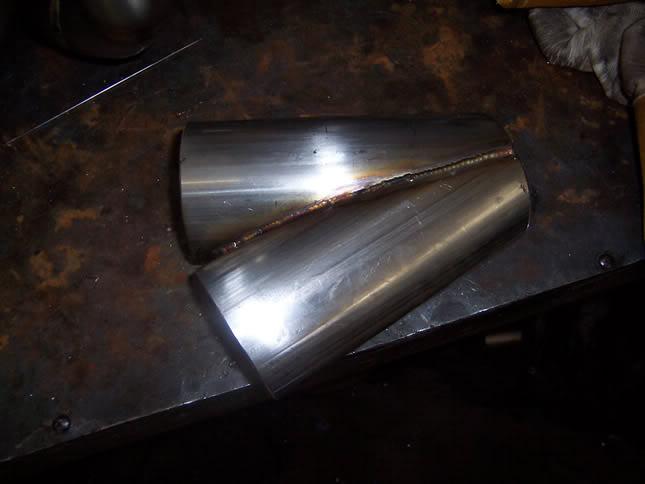 Exhausts look great don't they?
Still more....
Even more, look at how clean his welds are, both inside and out: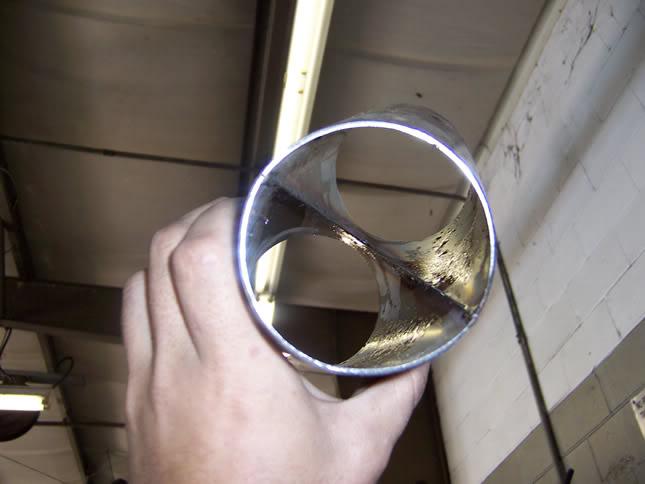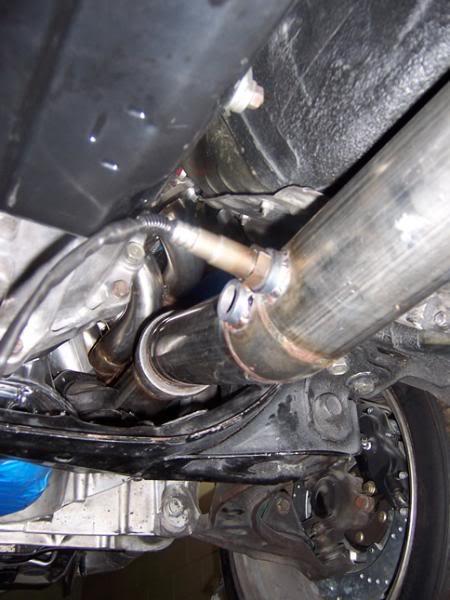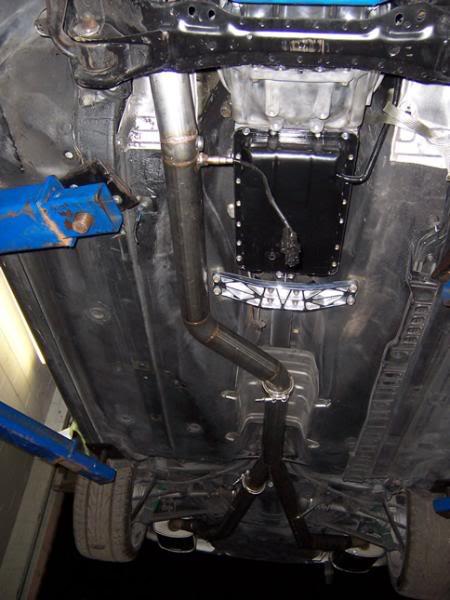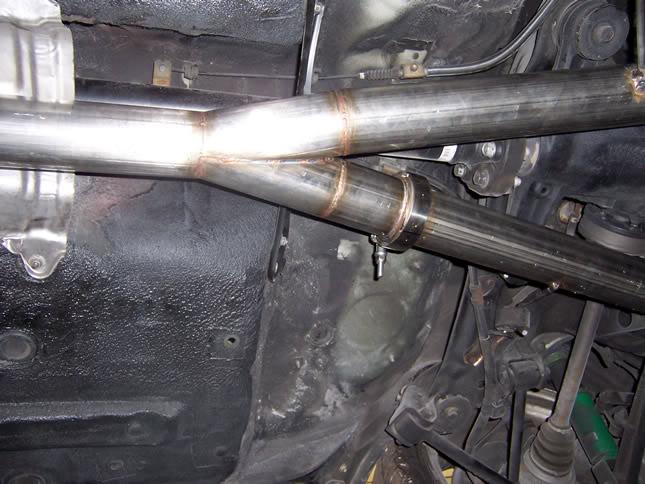 Still more to come...
Last for now, paint pics coming up soon: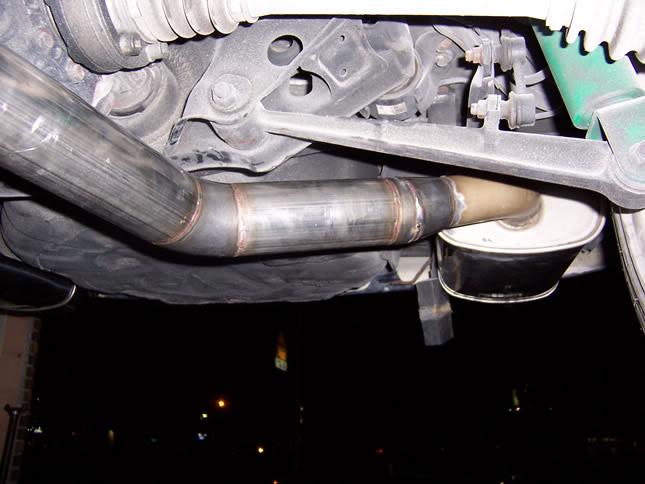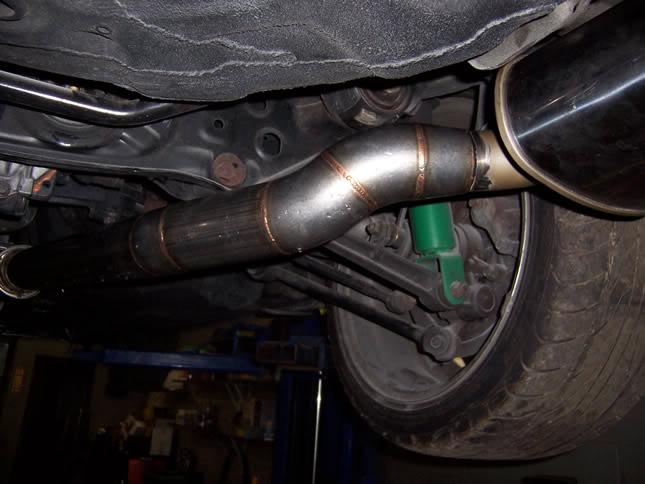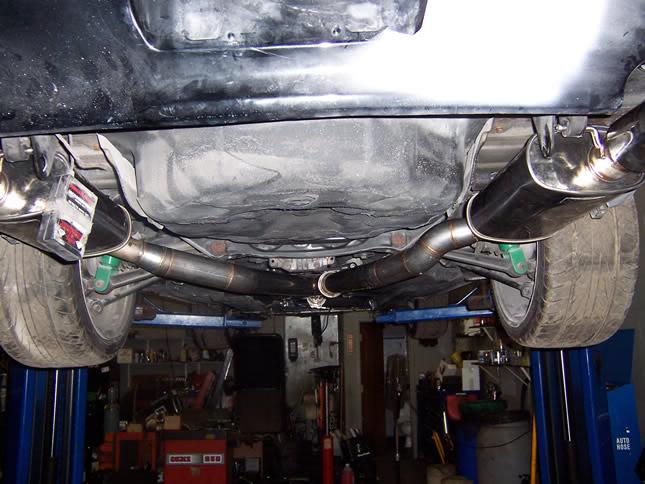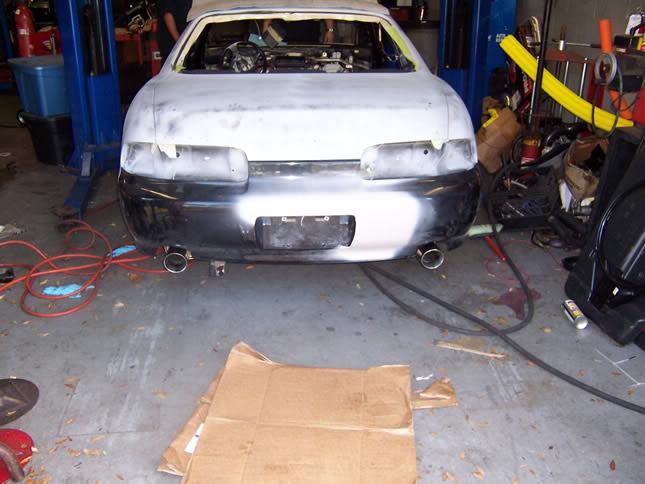 Thant's all for now...
10-2-2008
Hey gang. I was going to go over to the shop and take some pics, but ran out of time this afternoon. So, I asked them to send me a few phone pics. They are poor res pics, but the work is obviously well done. Looks like the bumper is a single unit...Awesome work. Can't wait to see it in person and take the high res pics tomorrow. Enjoy: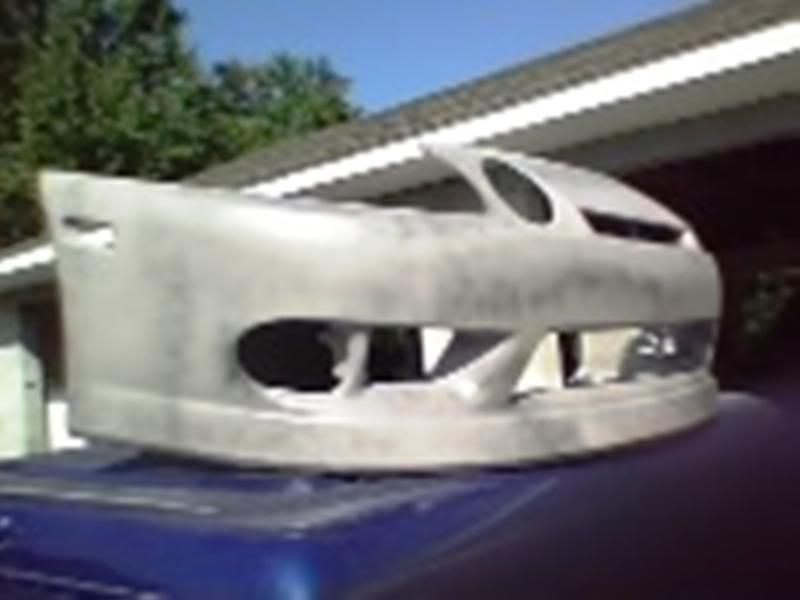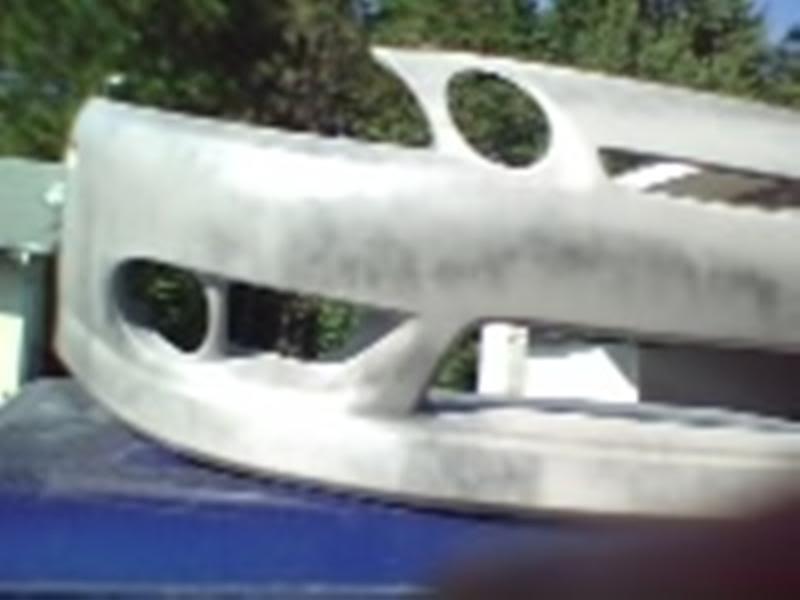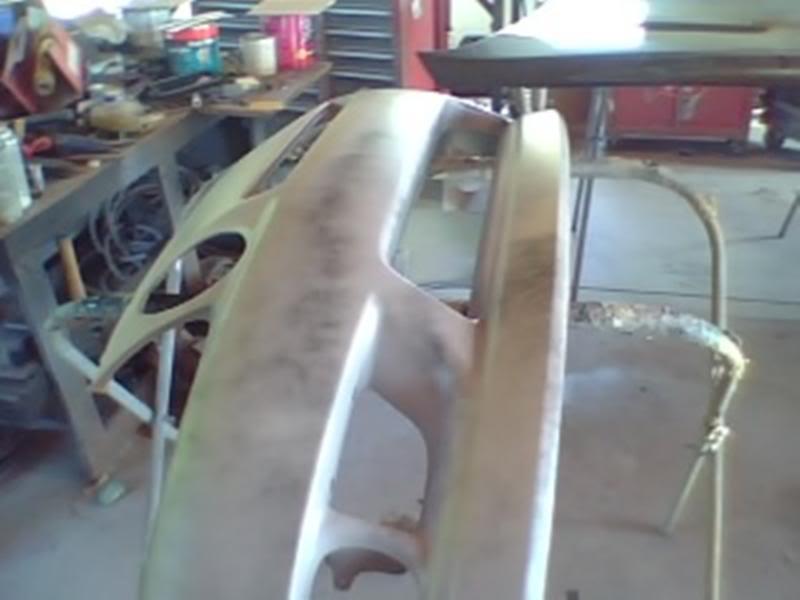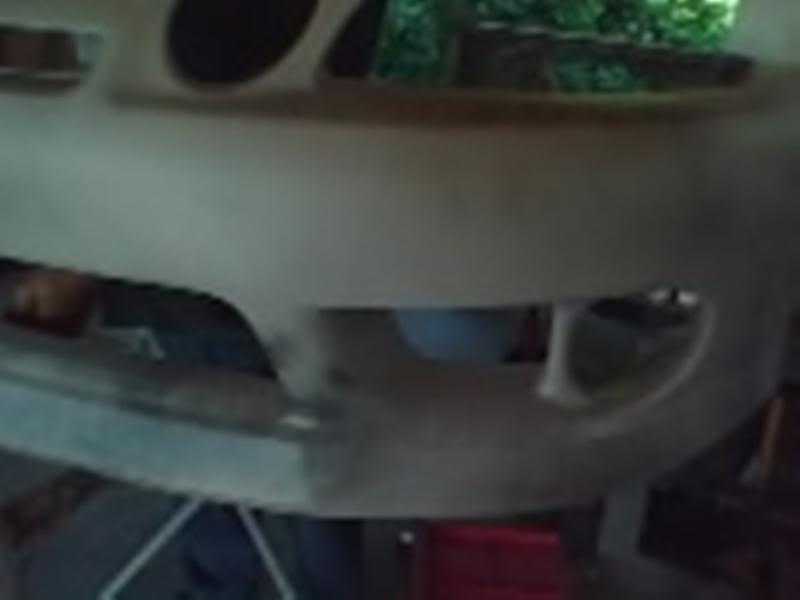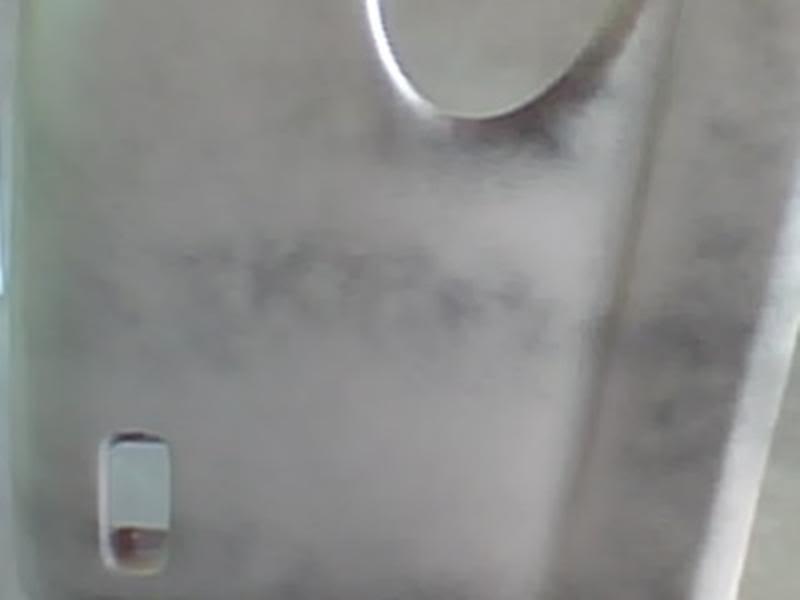 More to come...
Here are a few of the hood: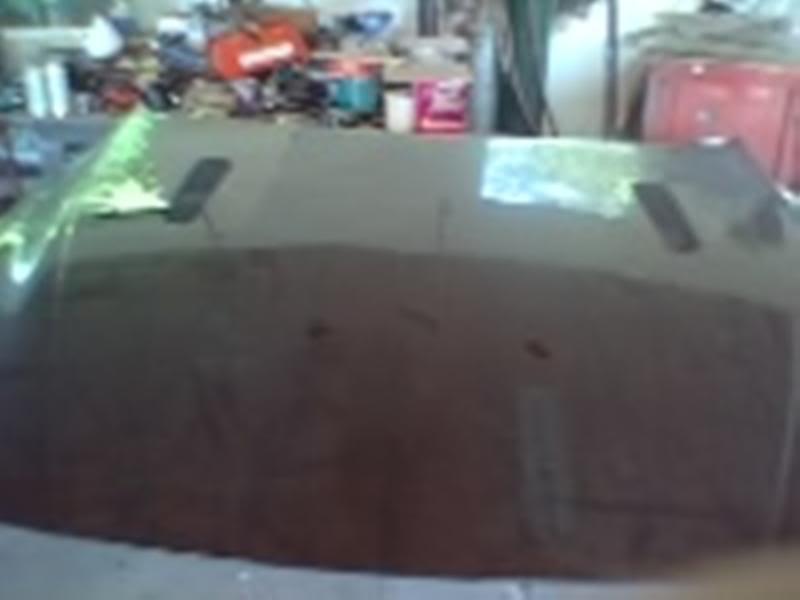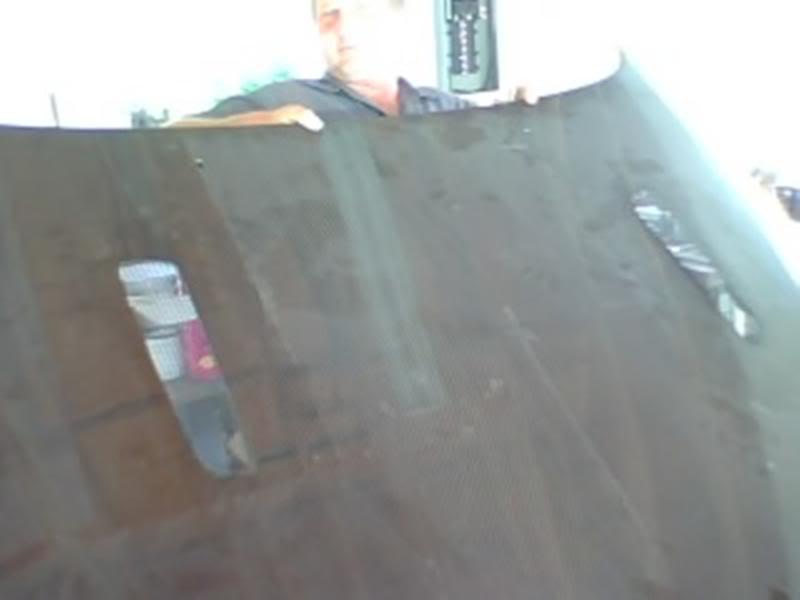 I will post the high res pics tomorrow...
10-3-2008
Sorry, forgot to post up the pic with the TurboSmart BOV: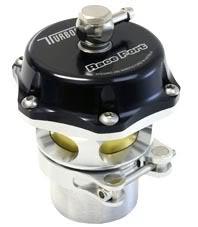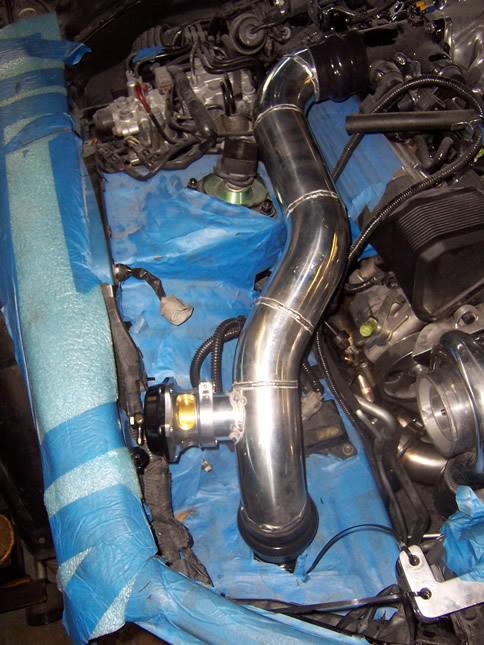 10-4-2008
Parts of the car have now been painted...The chassis will be painted tomorrow, and the assembly and wetsand and buff will be completed next week.
The hood has been cut for both AM Vents, but the molded edge liner has not been done yet. The front bumper and Big Win Lip Mold have been nearly completed. The rear stock antenna has been shaved. The rear wheel wells have been rolled, but not curved out. Everything is coming along very well. Here are some high res pics: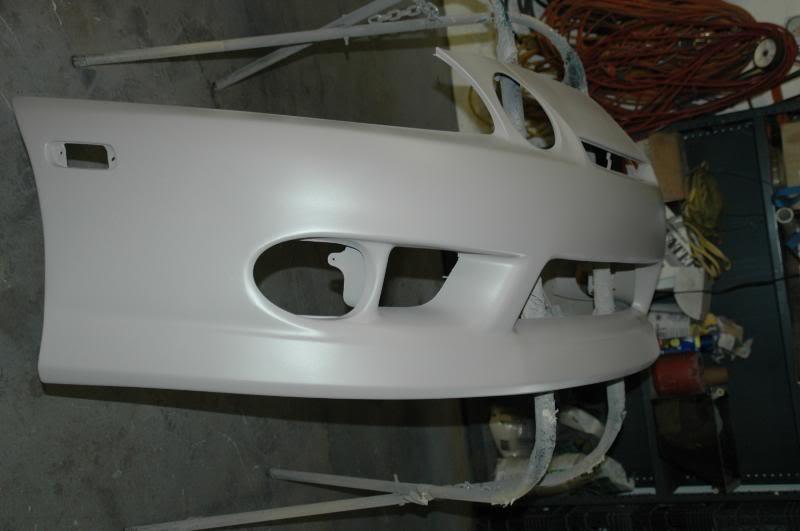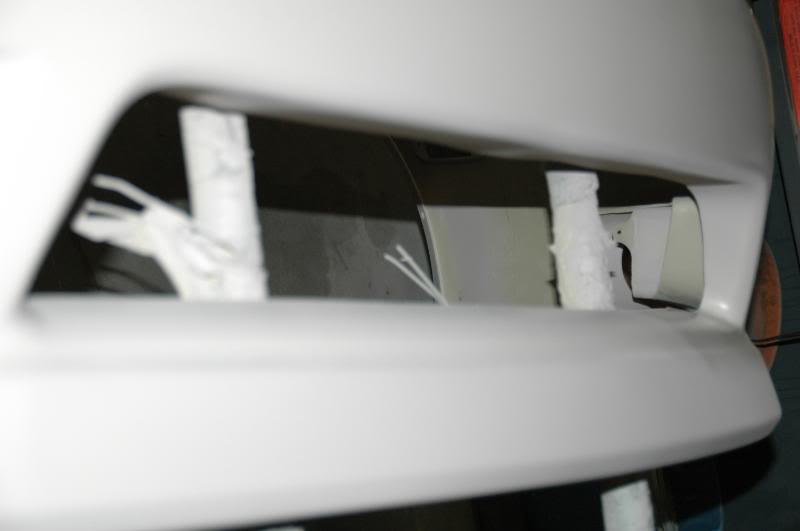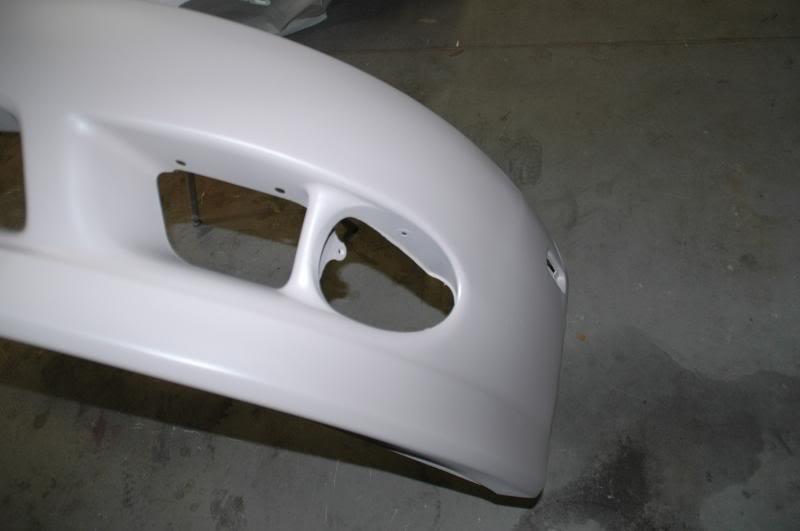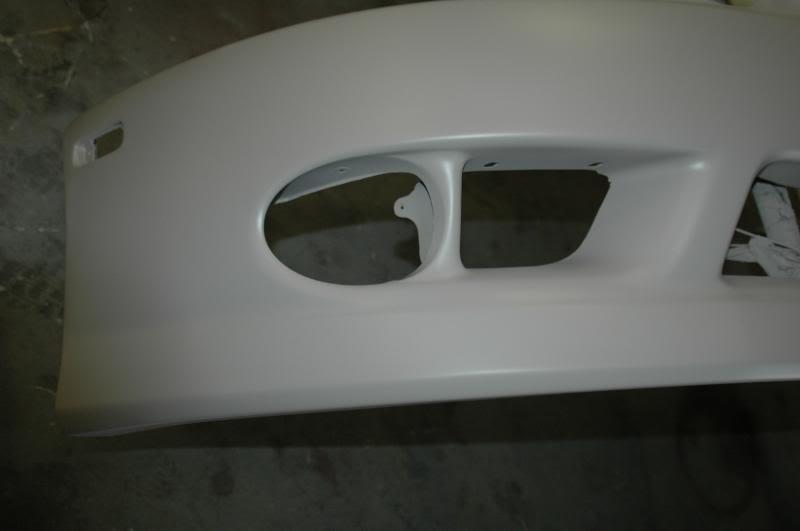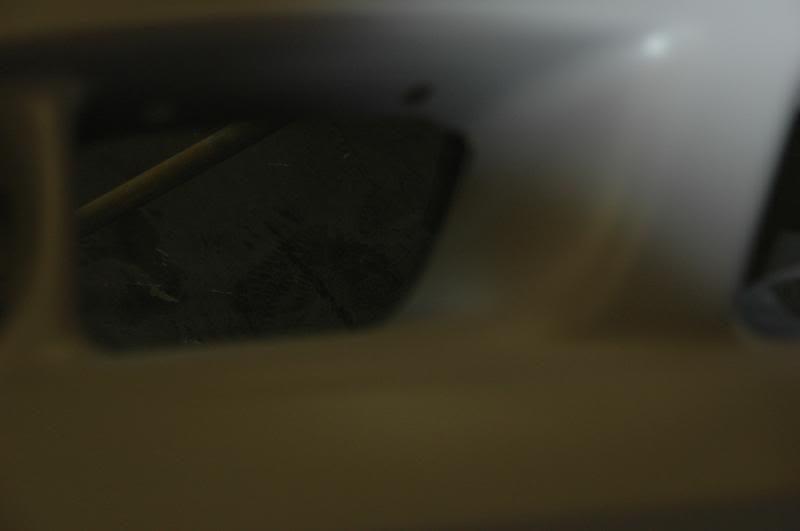 More to come...
Scott, I will warm up the grill...

More: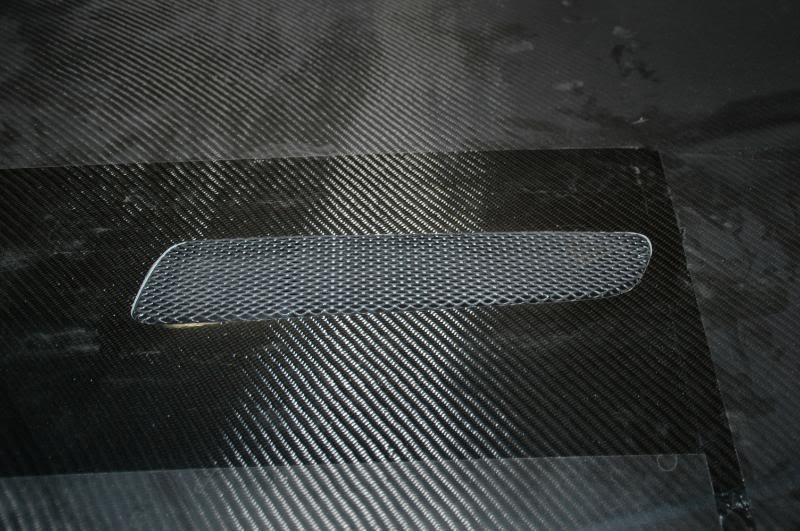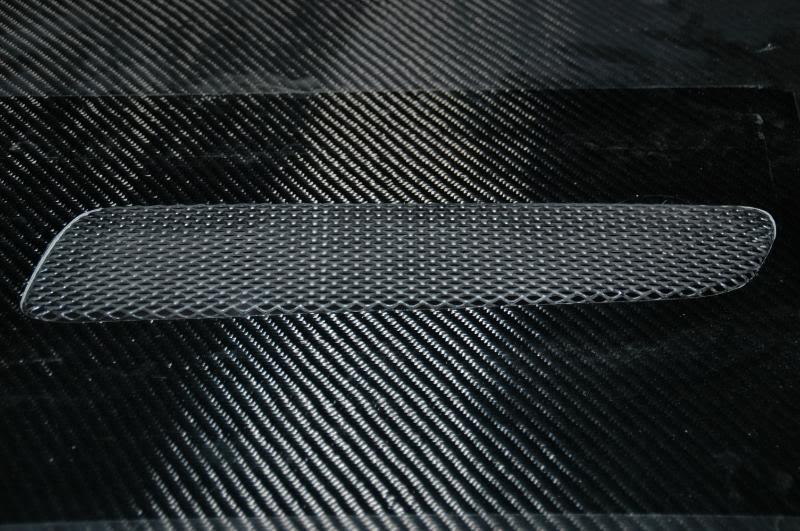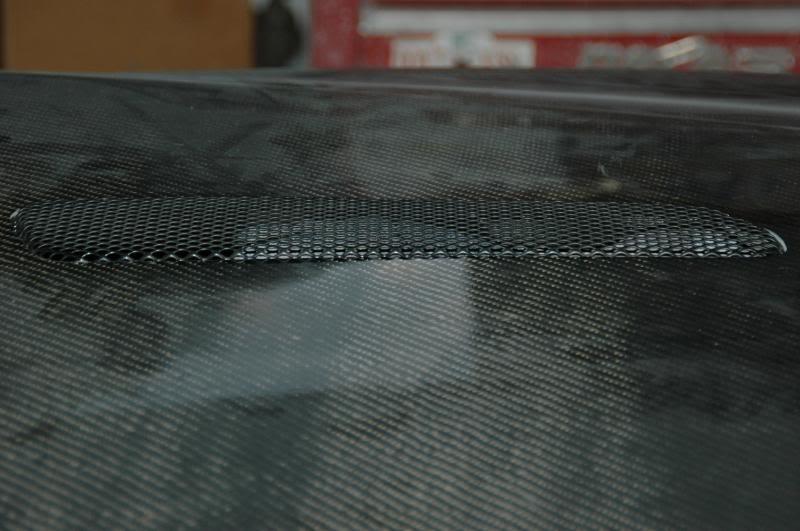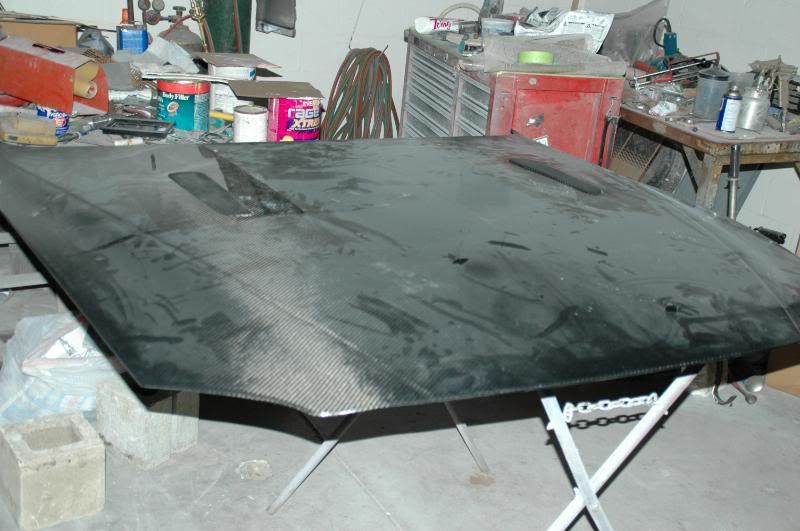 More: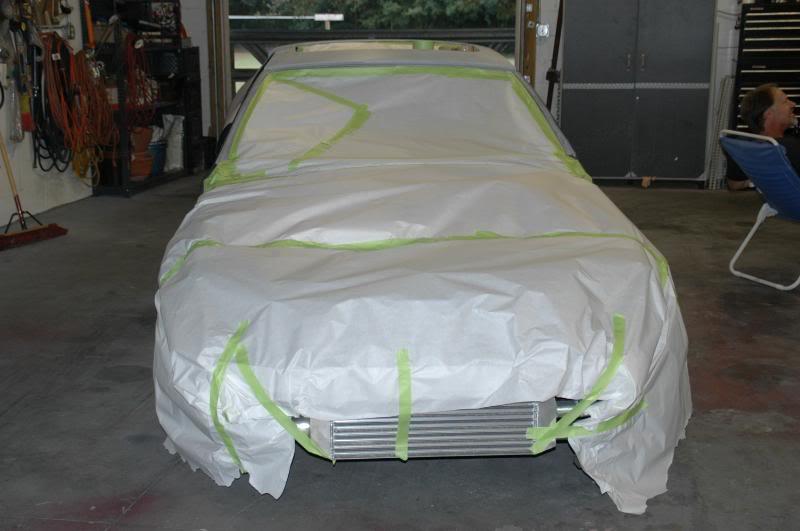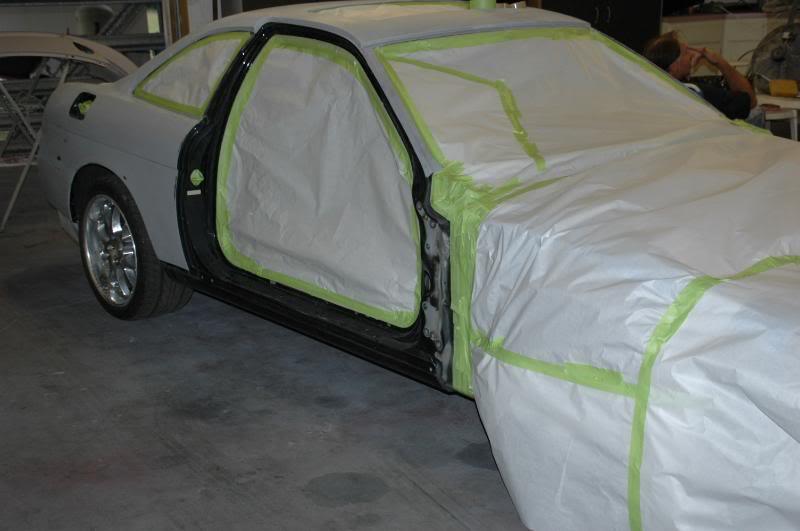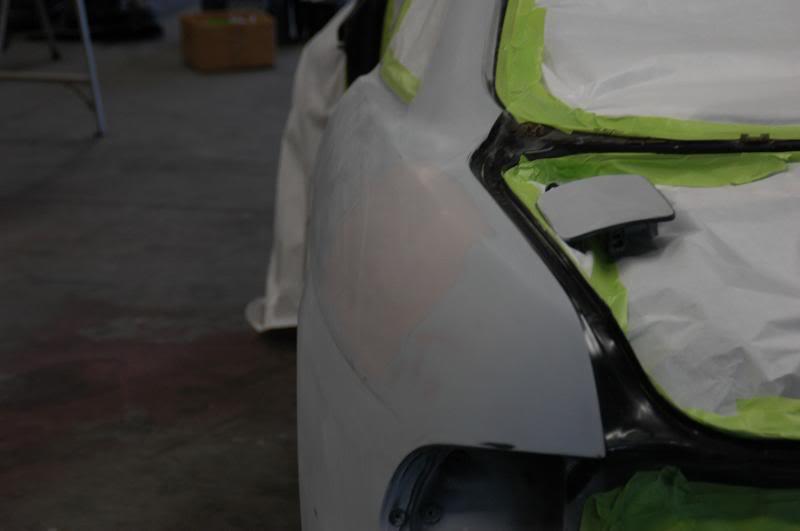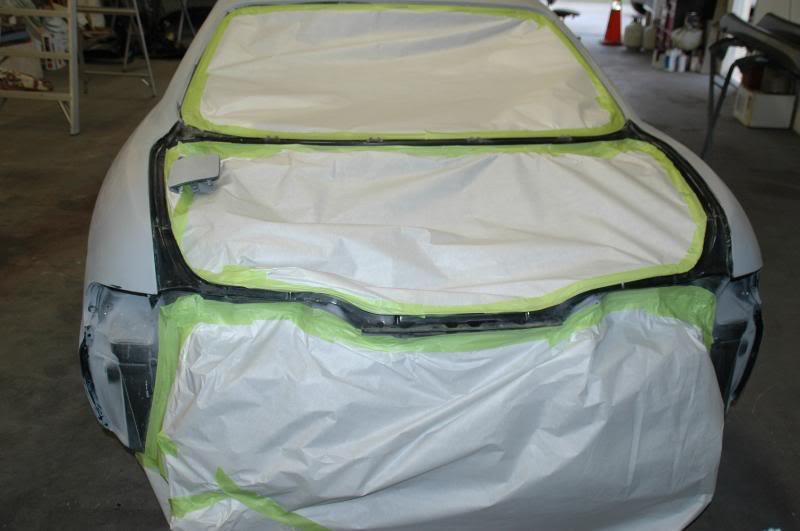 More: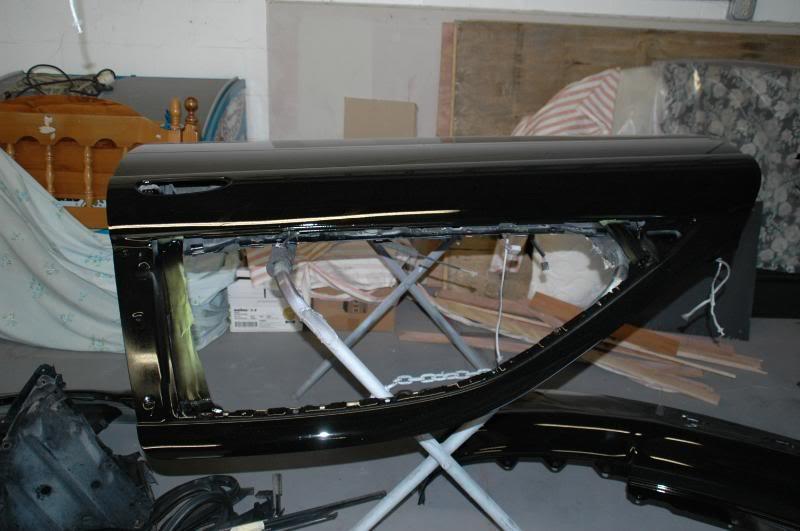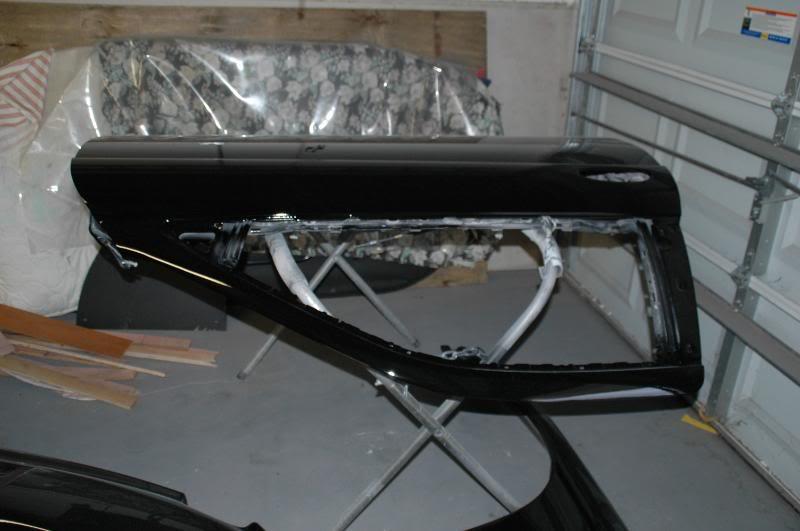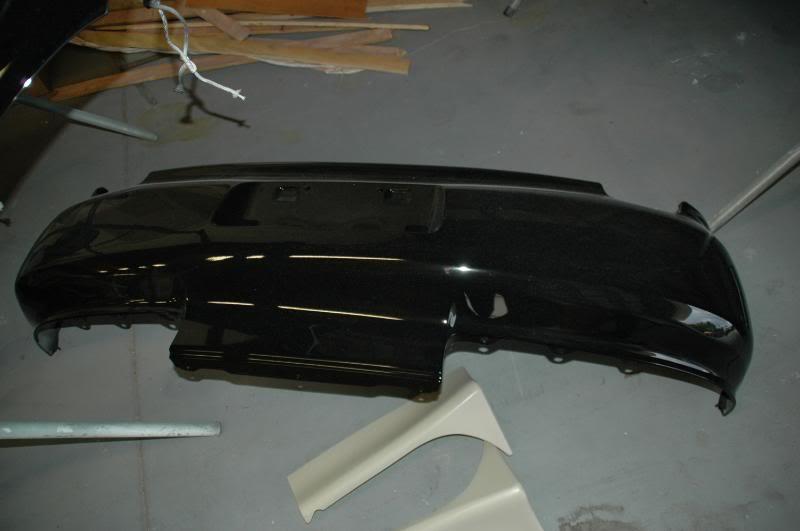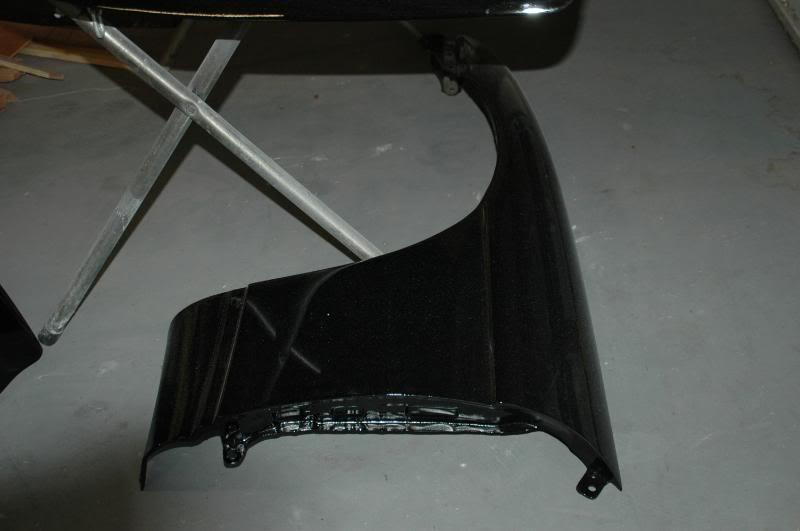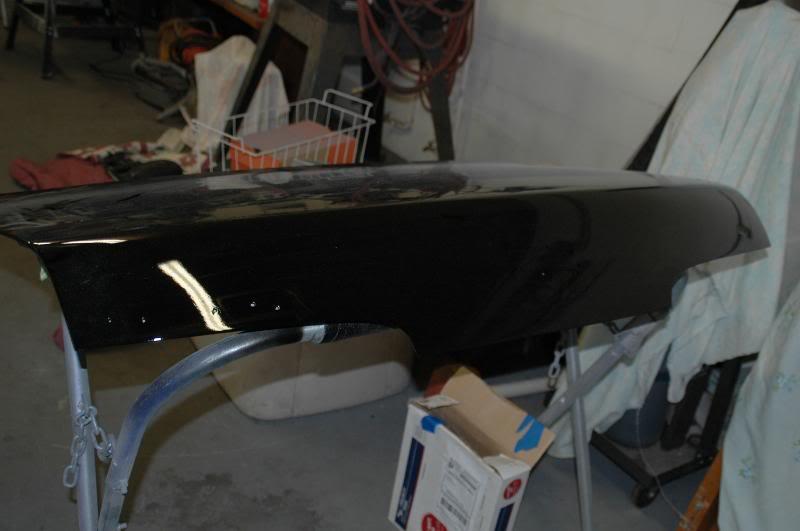 10-13-2008
Hey gang. I went over to the paint shop to look at the progress on my car today...I have got to say that the paint is looking extremely fine...


. I looked down both sides of the car and paid particular attention to the meeting point between each panel...It is perfectly straight. No wobbles, no dips, no blurred spots, no waves...No orange peel. Deep black, like a mirror...


.
The hood and front bumper are still being completed. But, I gotta tell you...Looking at that engine bay and that turbo set-up is absolutely astonishing!! The pics just do not do it justice, nor do they even begin to show how mean that damned set-up looks!! As some of you say: "Pure Sex"!!! It is rather stunning to look at. In fact, "menacing" is a good description of how it looks...I simply cannot wait to hear it and feel it run...



10-20-2008
Well gang, I just got back from the paint shop, and I took a few pics. The paint looks phenomenal...Just a few more days, and I will pick up my car and take it home. It is mostly assemble, the rear fenders are cut and rolled, the brand new OEM front windshield and the brand new rear glass are installed, brand new moldings, etc. It is coming together...What a looooong project...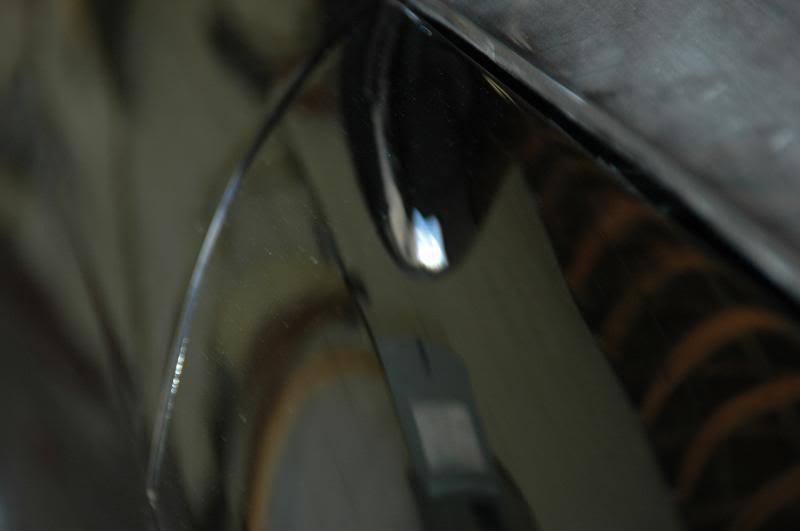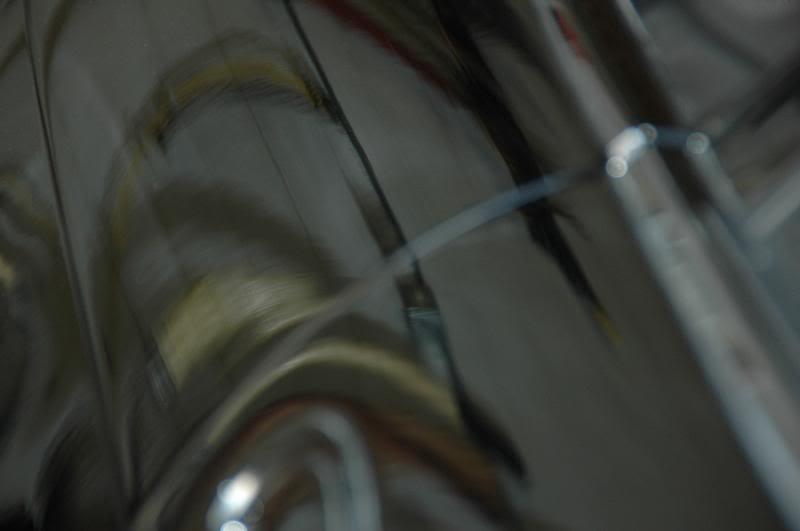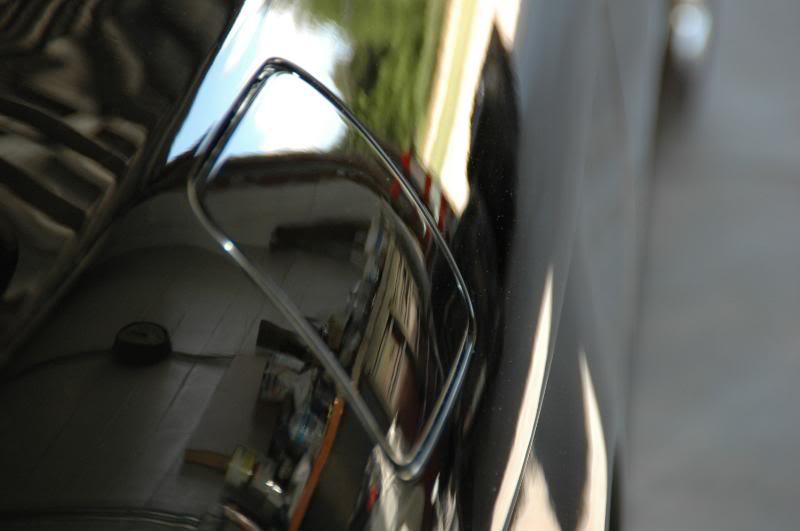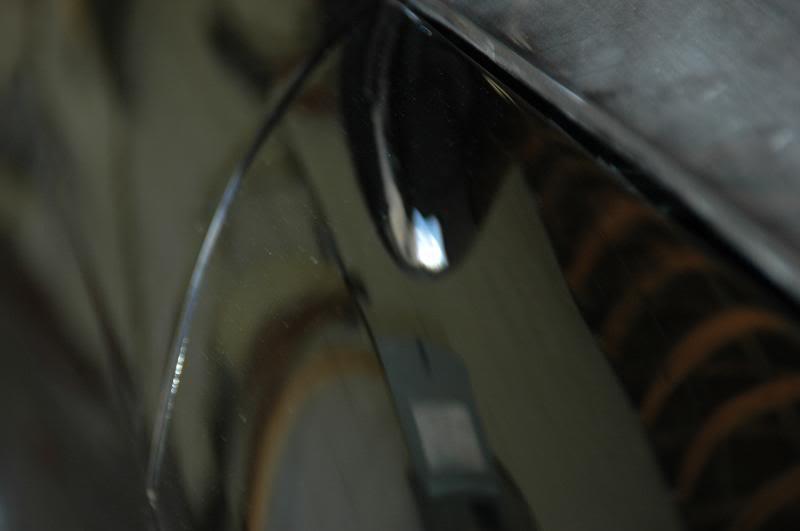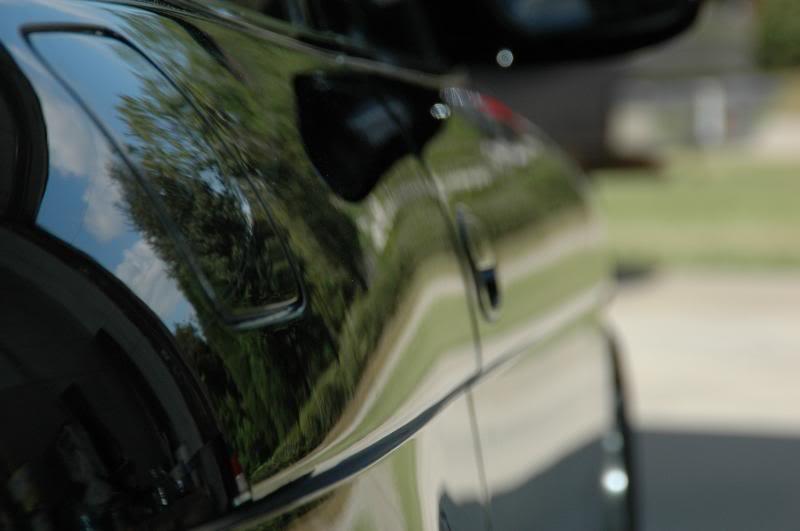 More to come...
Here are some more pics: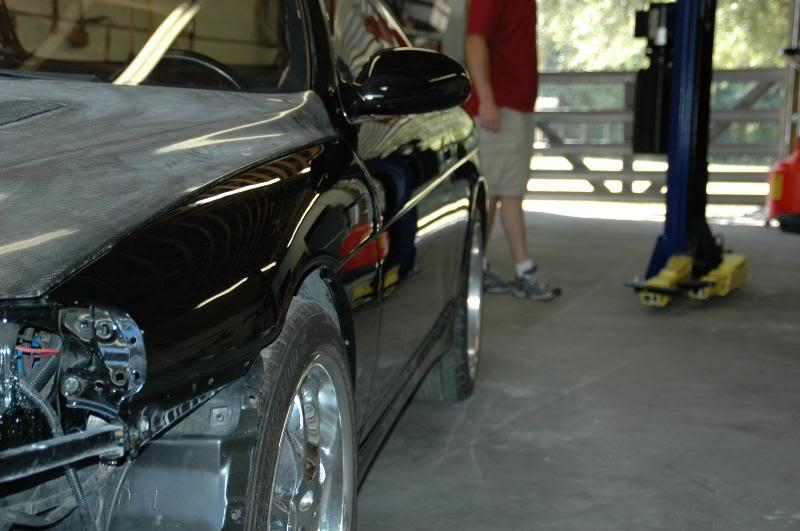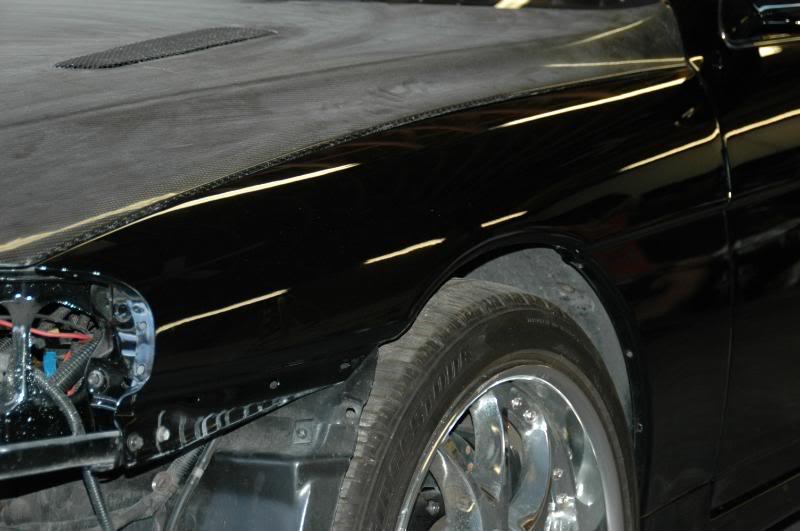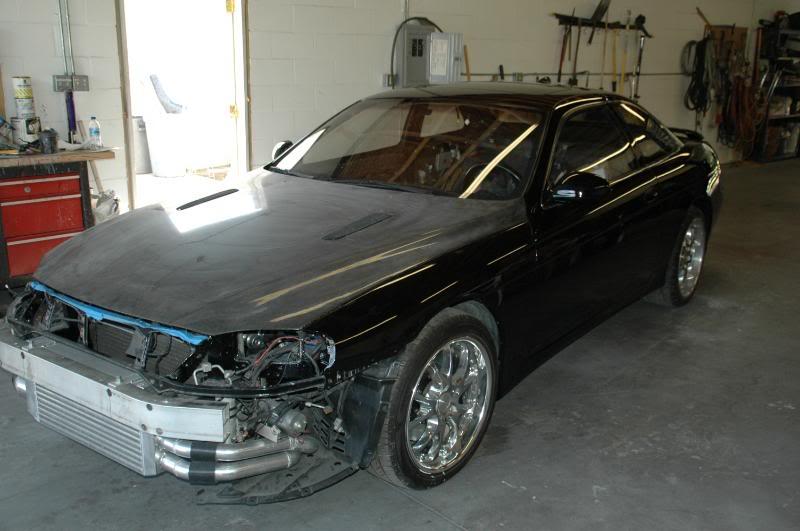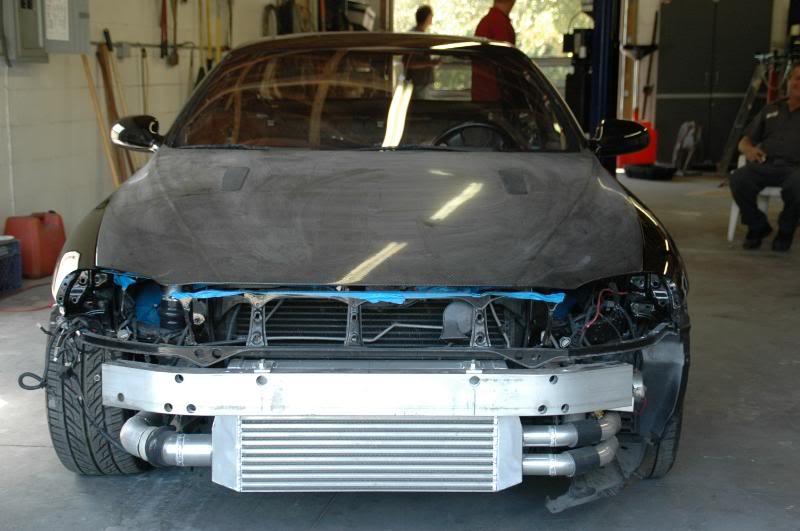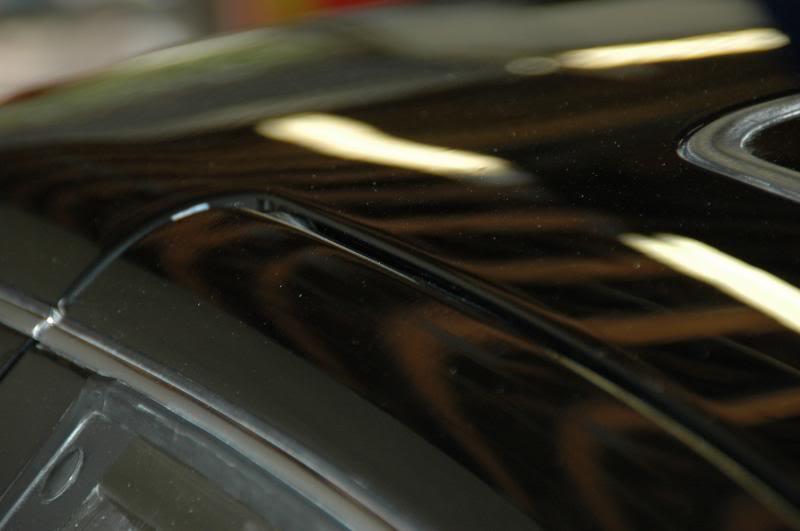 More...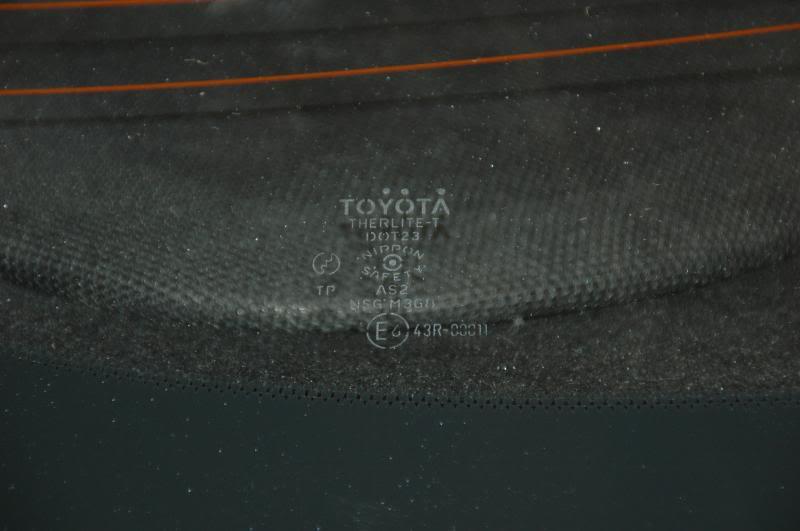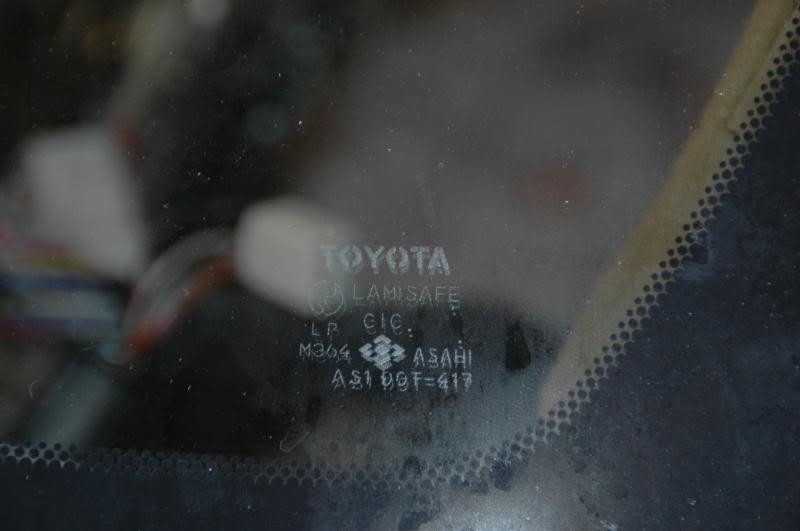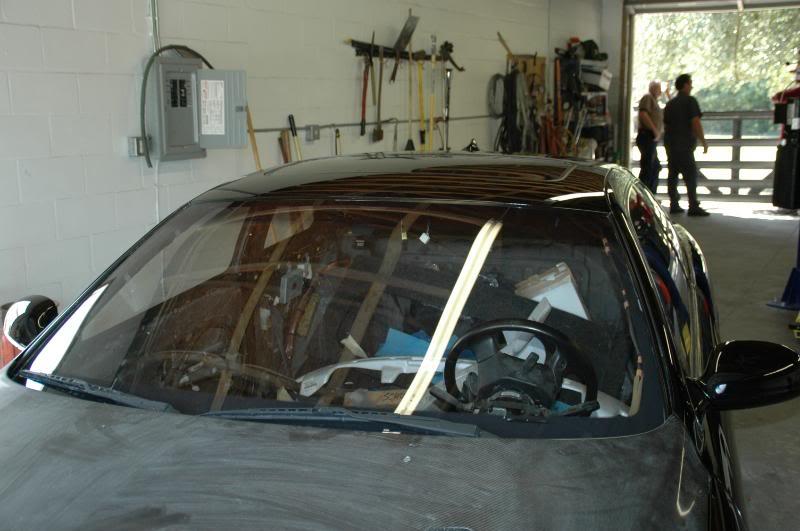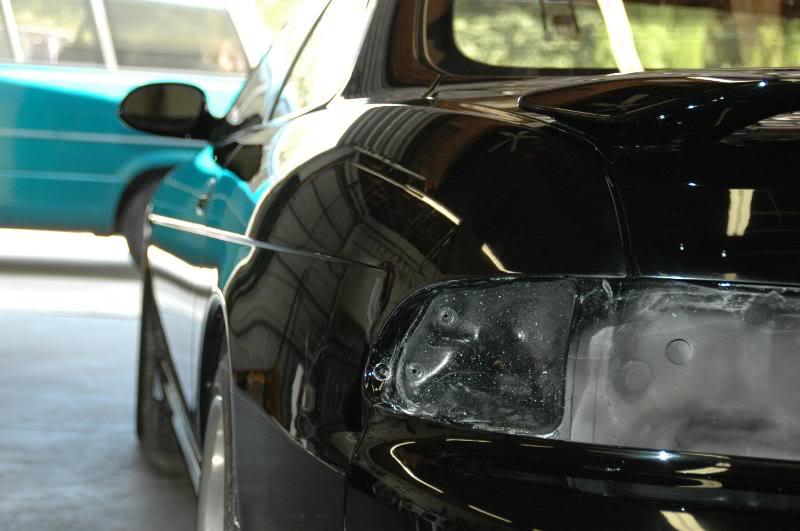 Last ones for now...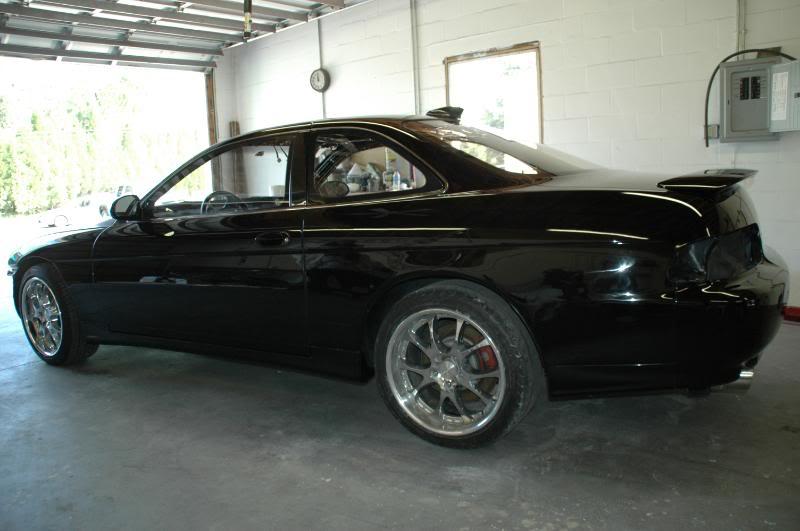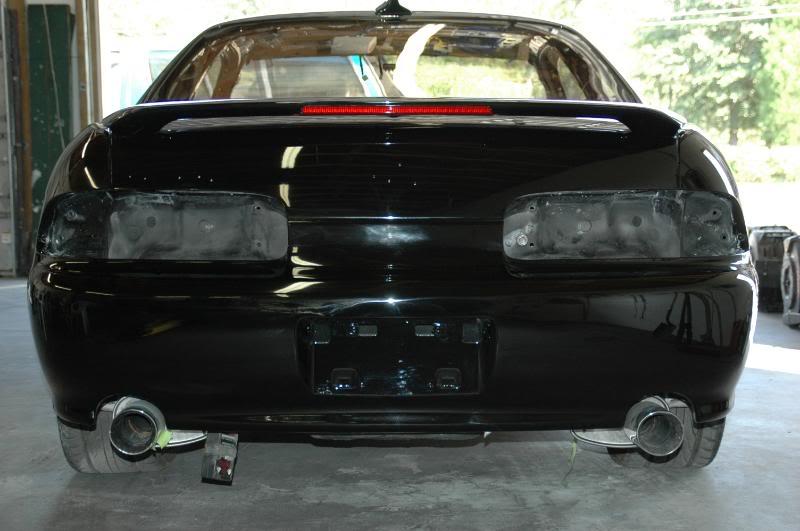 All for now...
10-23-2008
Well gang, I want to let you all know that another milestone has happened with my project...The fabrication is completed, and so is the paint, which means that my car is back at my home, parked in my garage once again!! It was a long wait, but it is here. A special thanks to 2jznat and his wife for taking their time and supplying their personal trailer and truck to haul my baby back home. They went all the way to Tampa, picked up my car, and hauled it back to Heathrow to drop it off at my house!! Talk about taking one for the community!!



it was great to get together with them, haul my baby, and break some bread together.
Well, I awoke, had to post the update, and now am going back to bed. Now it is up to me to finish it off.
Gonna be BOOSTIN real soon!!!!!!!!!!!!
11-30-2008
Thanks for the well wishes guys. I am working on the interior right now, and the routing and installation of the oil catch cans. I am also checking for leaks in the new sunroof today, as well as the newly installed roof mount antenna and shark fin. I am sealing the factory sub mount hole today, and applyinf some sound proofing material in the rear firewall area, as the stock material got torn to shreds when the car was towed with no glass in it. I am running the new GPS NAV antenna and working on the under dash wire harnesses, making sure are are secured and taped properly so that I can install the dash back into the car. I am also looking into re-wiring a mcouple of the crossovers for the front stereo system, and possibly converting it to a two-way set up instead of a three-way set up in front. Alot to do today...
1-25-2009
I have not posted up for awhile on this thread...I have been very busy fighting off the ravages of the stock market and the economic meltdown...So, I put the projrct on the backburner for about a month now. Well, it is time to complete it, so I wanted to show you most of the parts of the fuel and oil systems I will be installing tomorrow. Pretty straight forward, but gee whiz, Fuel Grade SS Braided Hoses and AN Fittings and AN Fuel Filters are EXPENSIVE!!


Here are some pics: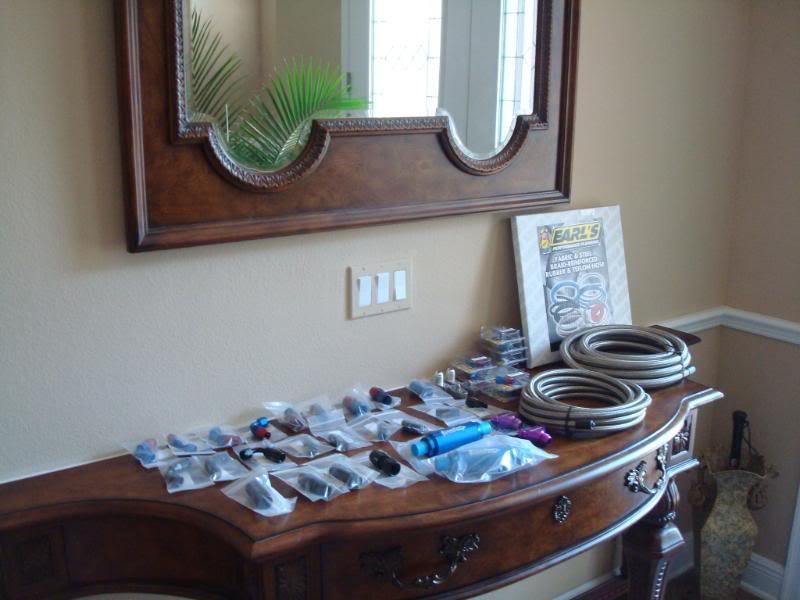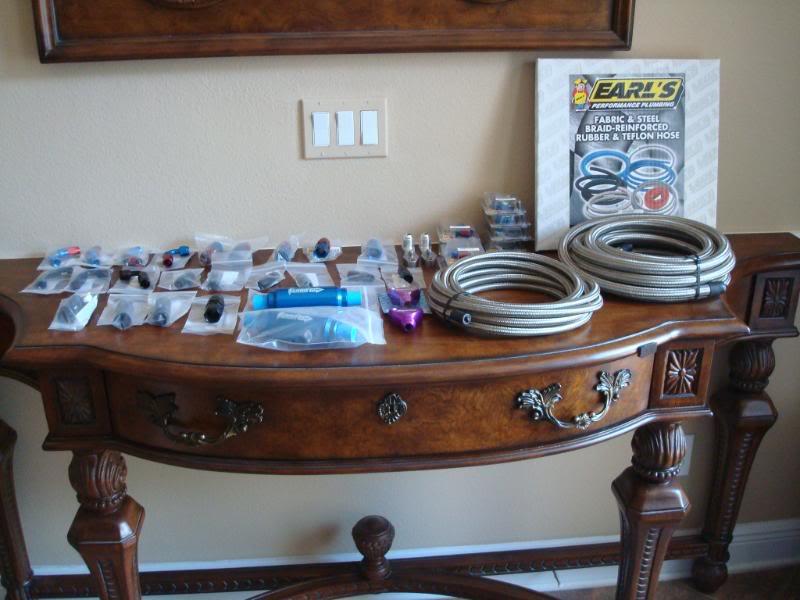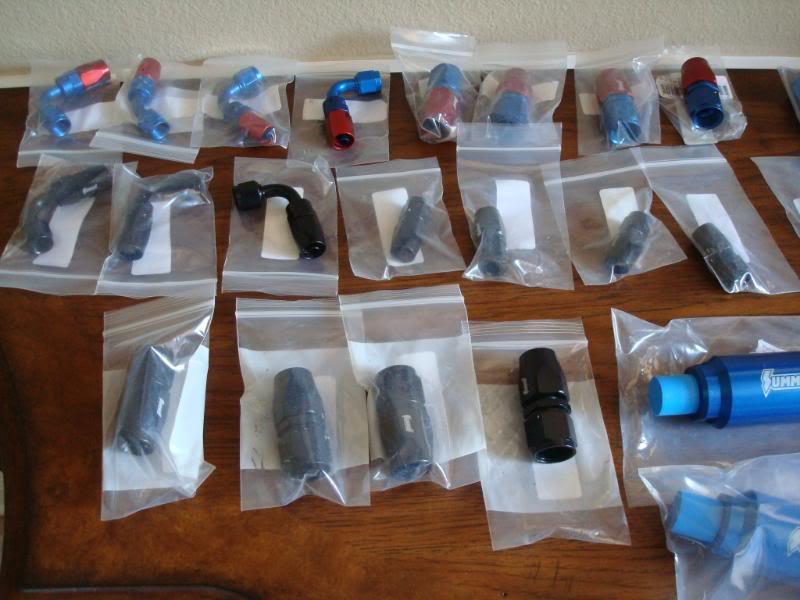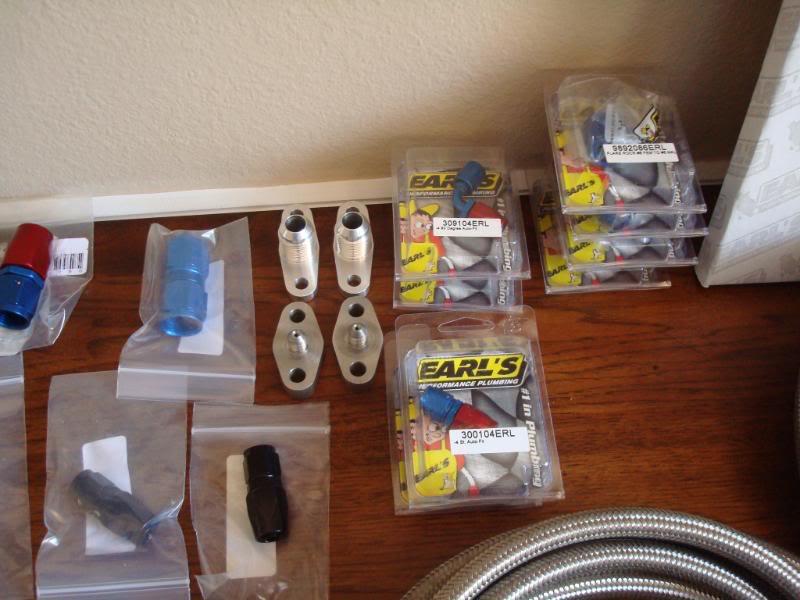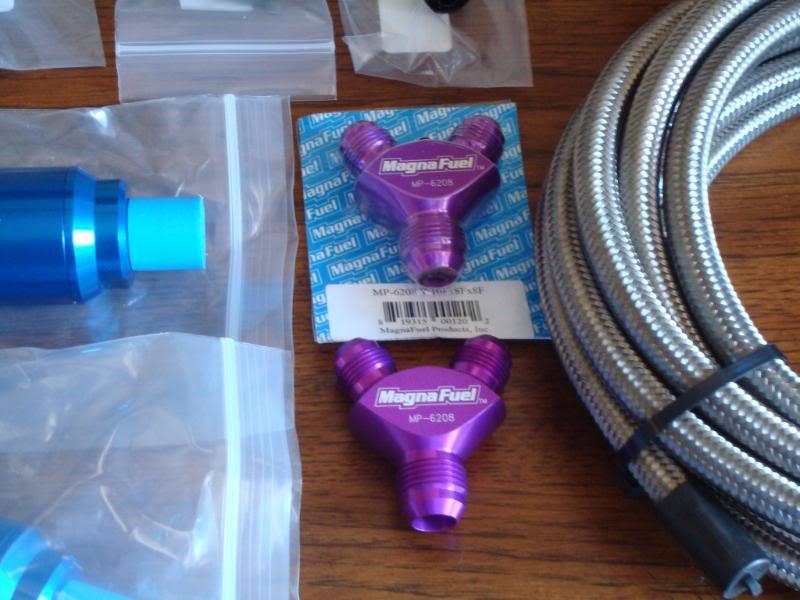 I do love the two Billet AN Fuel Filters. Nice thing is they are serviceable, and will be easy to get to.
I am staging the two Walbros, and running them in-tank with Eric's Billet Fuel Hanger. I will take more pics during the installation.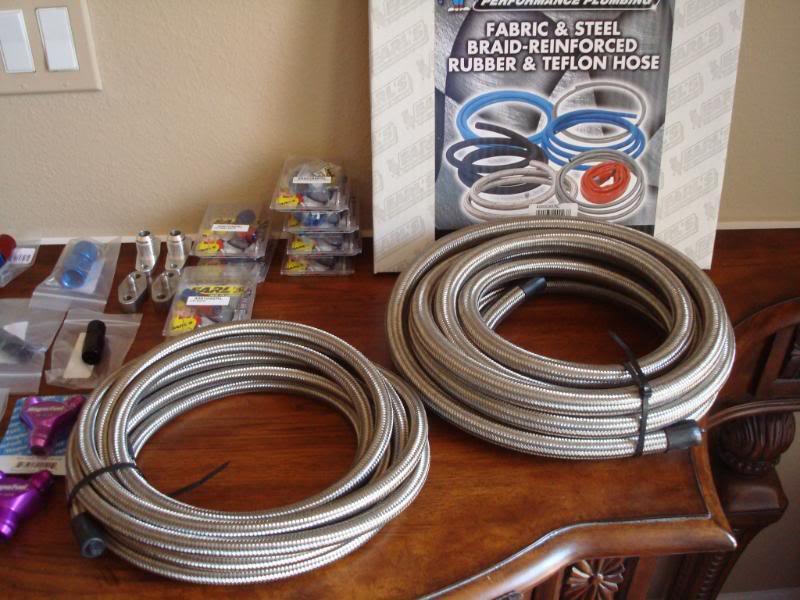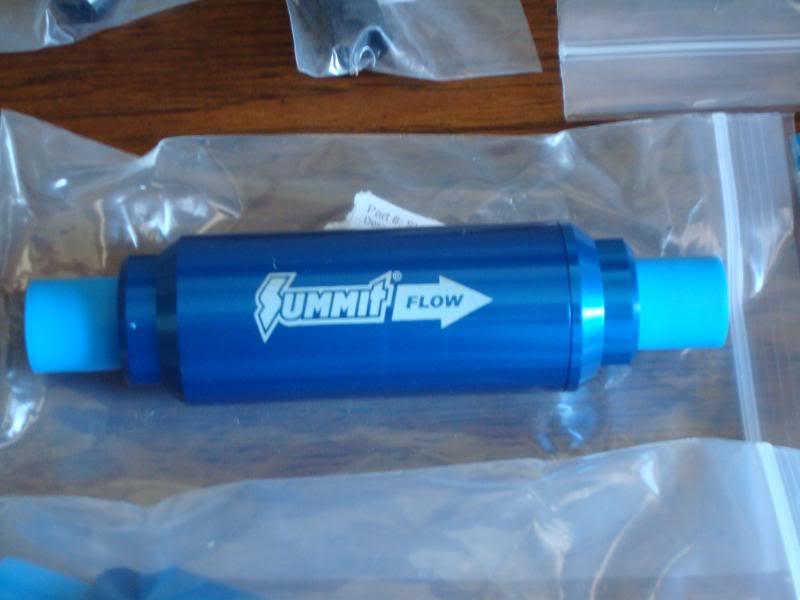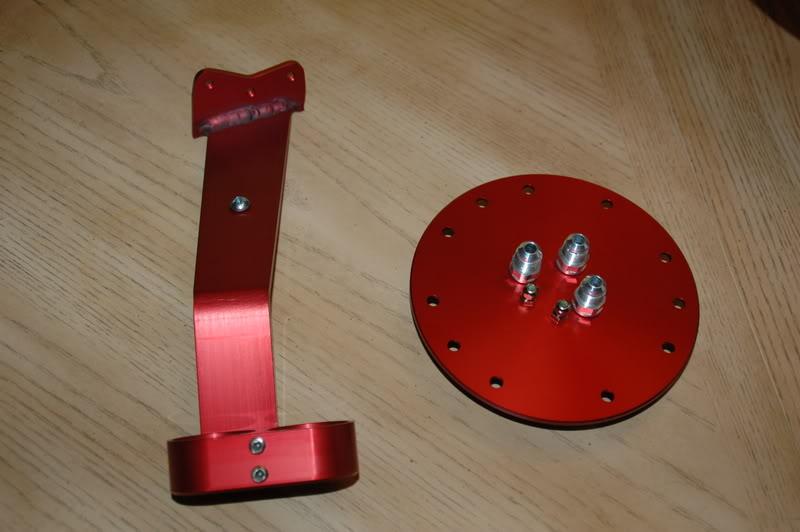 1-26-2009
Well, got a lot done today, but did not finish. No matter how well planned you set up for your fuel system, if you have not done the specific car, some trial and error will be there. I will be back on it tomorrow after work. Here are a few pics of the install: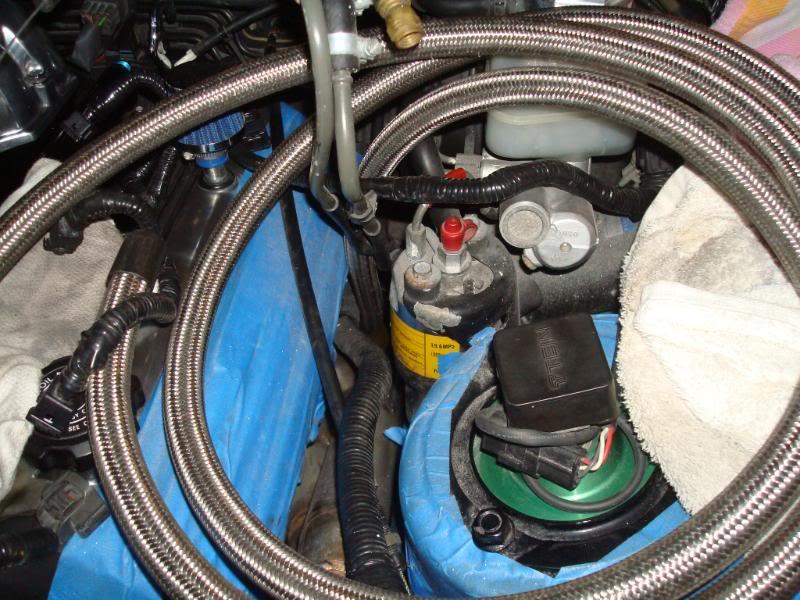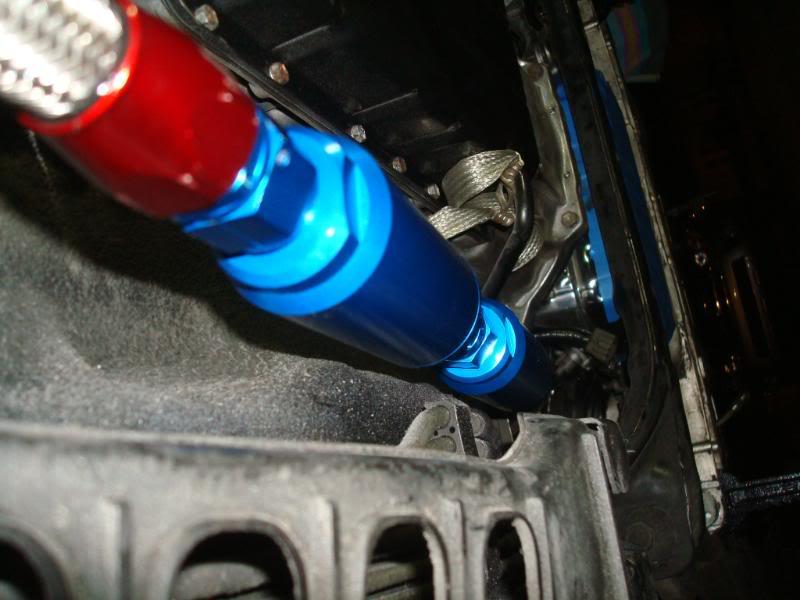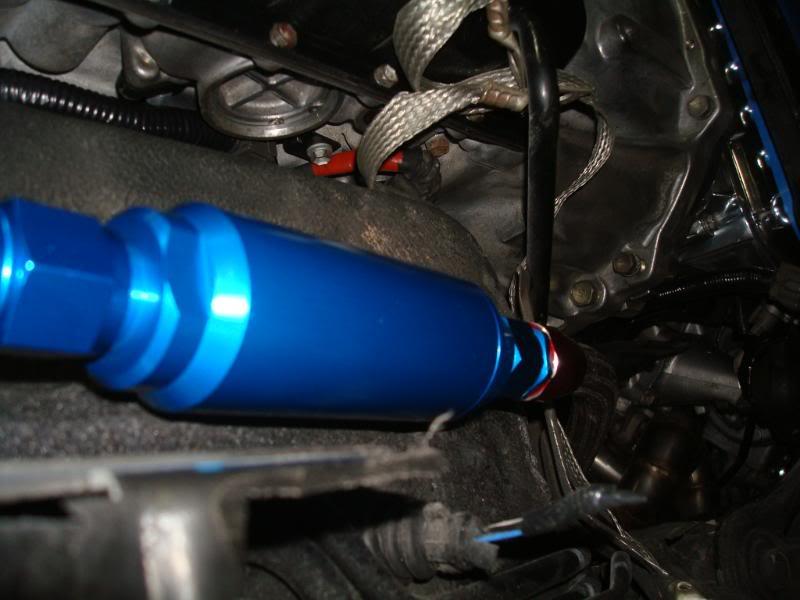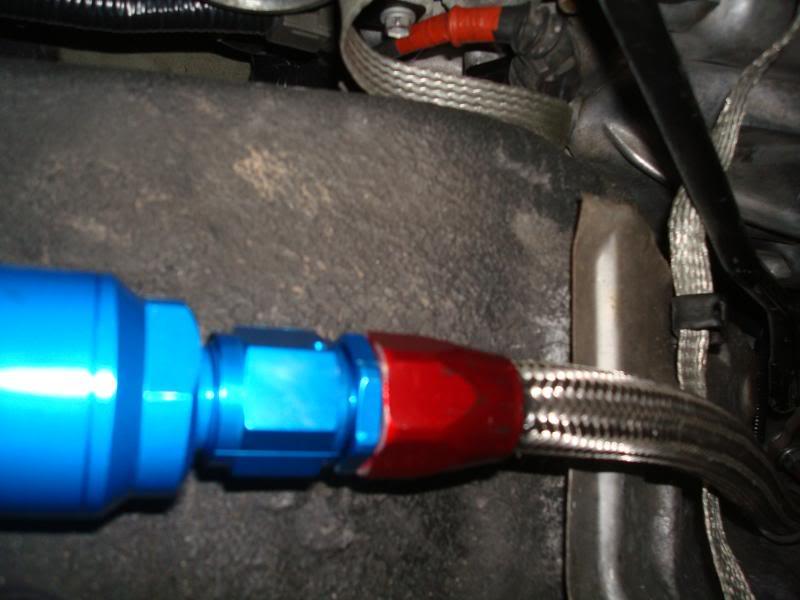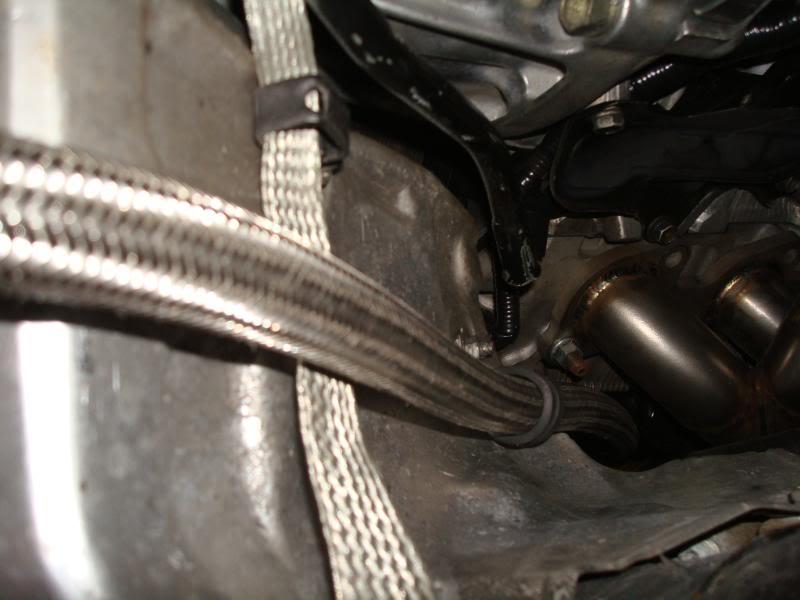 Here are the rest for now. More to come tomorrow. Plan to have this car running and tuned by first week of March 2009...For Real!!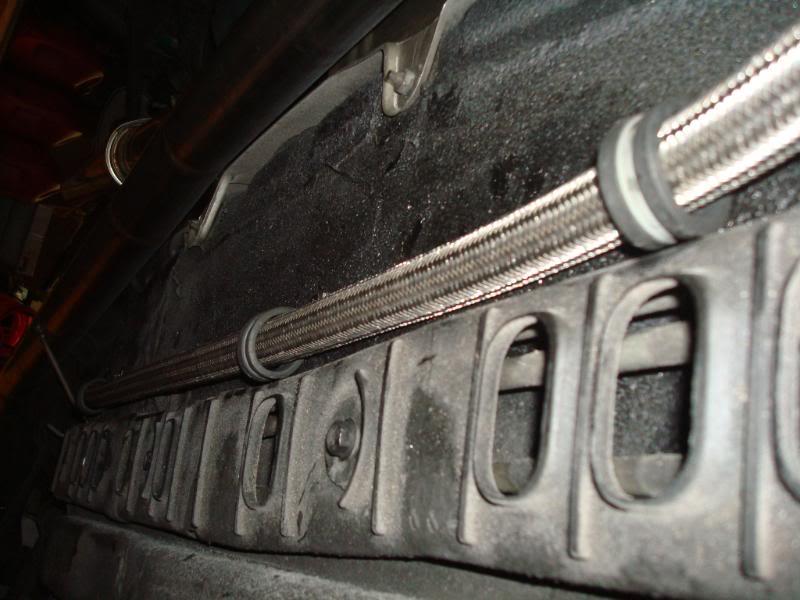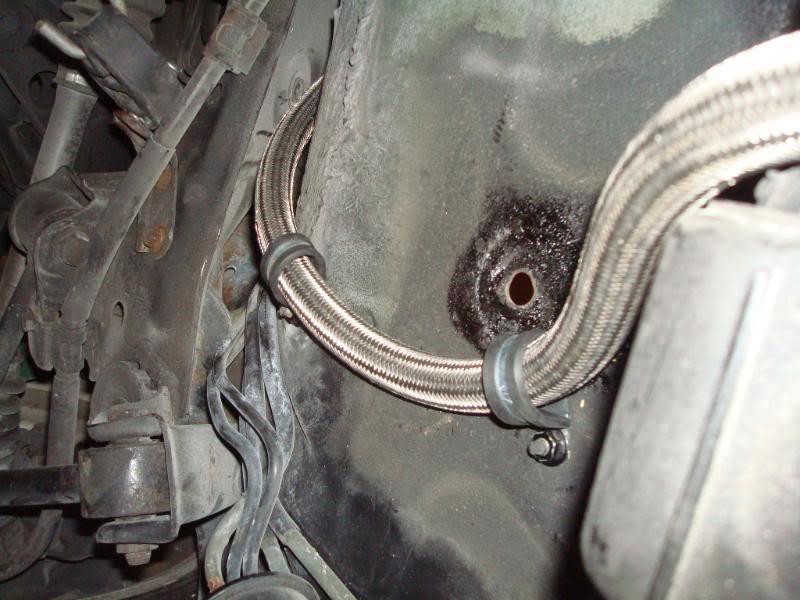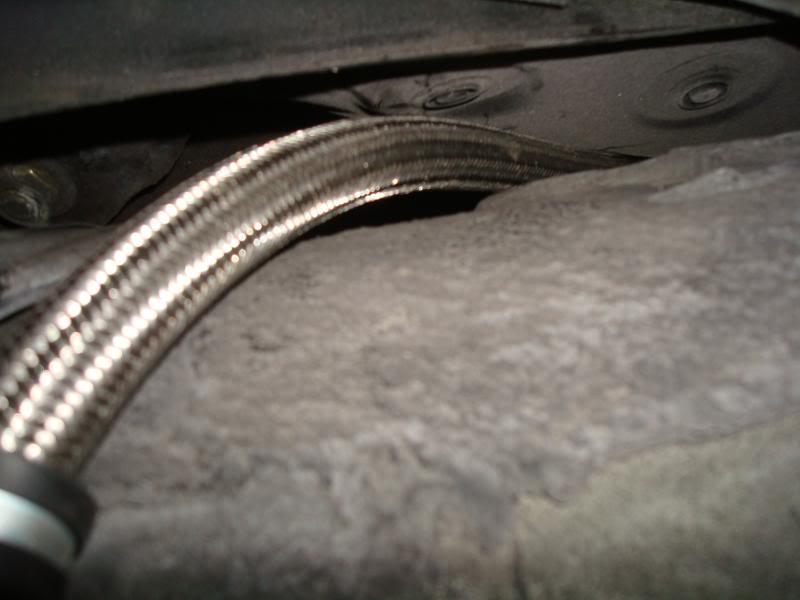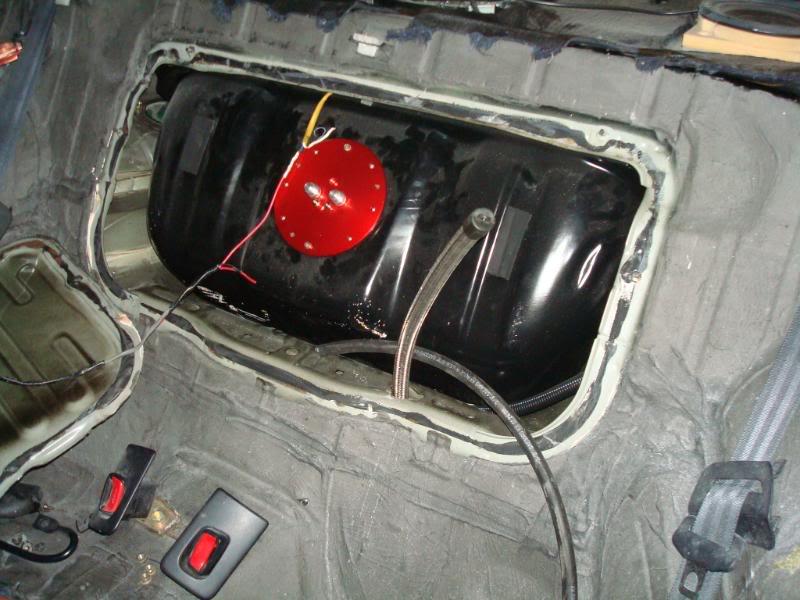 1-27-2009
Well gang, still making progress. Got back out there tonight, and continued on the fuel system. As my good friend Scott D says, "putting your fuel system together is kind of a little trial and error". The best laid out plans still will require some revisions due to lack of space, especially in these Lexus vehicles. Chaz and I got the rest of the fuel line installed up the firewall and connected to the back of the rails. Can't fit the Aeromotive in the front of the engine, too little space. So, it goes on the drivers side valve cover, right were it was before by Frank. Good job on that Frank.
Some mock fitting showed that the passenger requires a 45 degree -6, and the drivers side gets a 90 degree. The hose is then routed to the Aeromotive. It is almost completed. Also secured the fuel filters to the bottom of the car. All looks good. I have posted a few pics for you to review.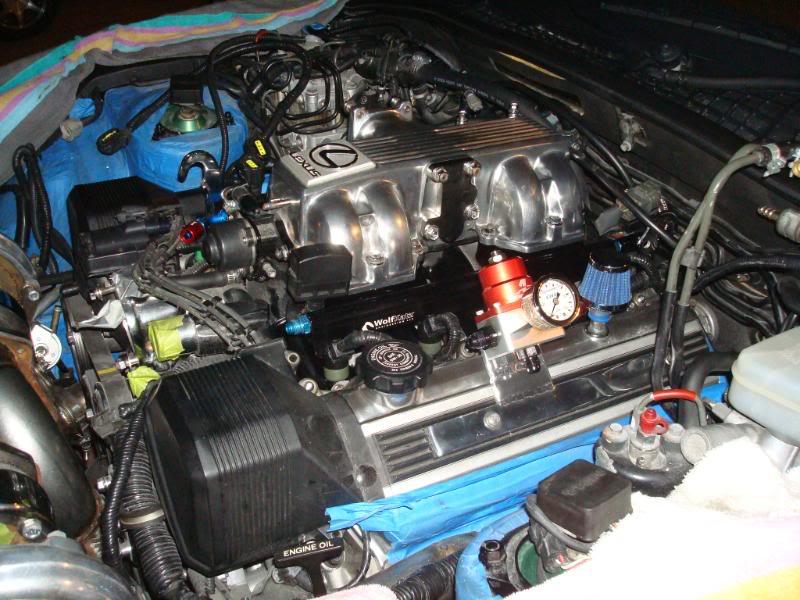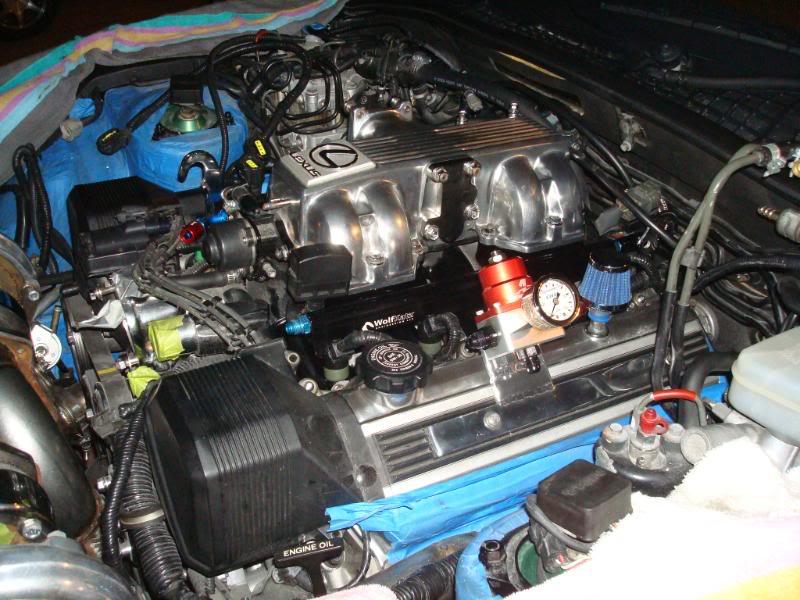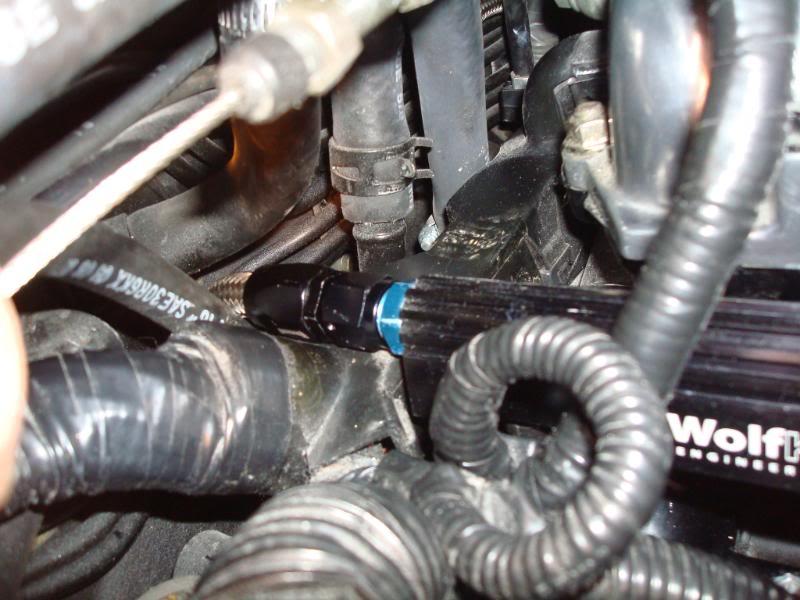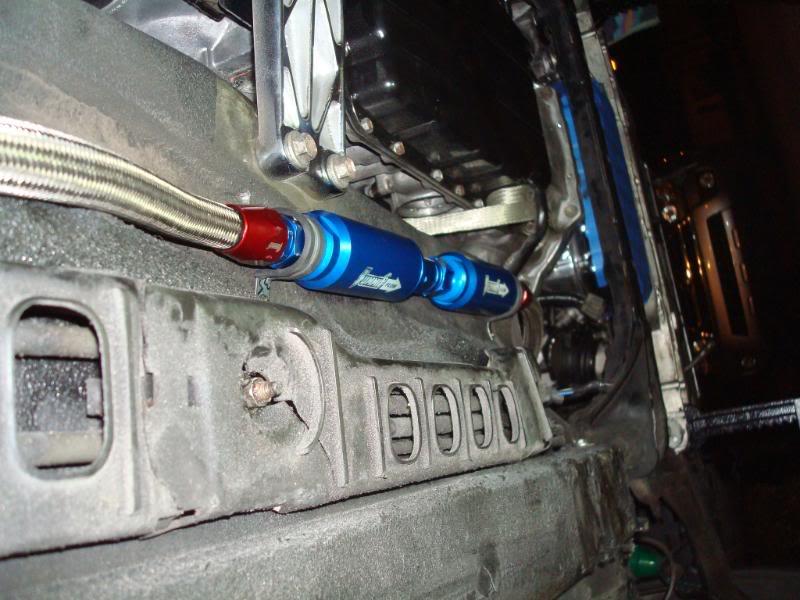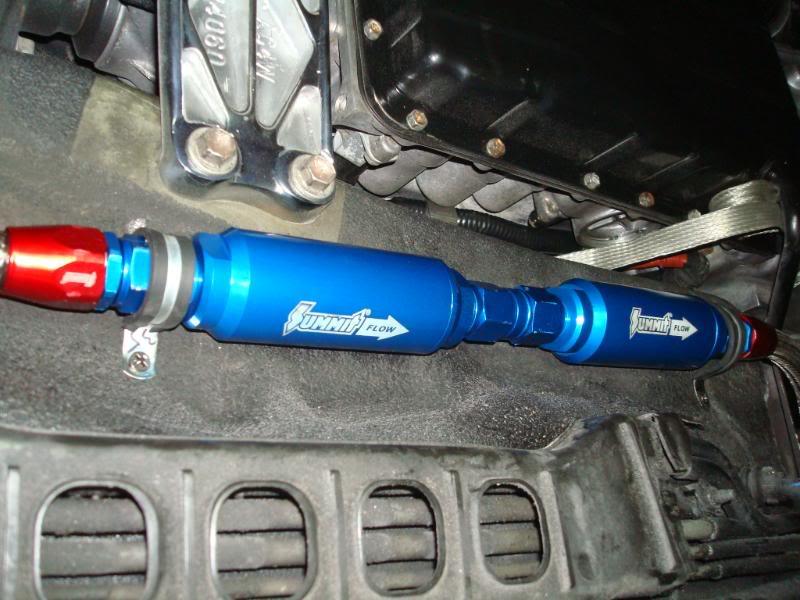 All for tonight...
1-28-2009
Thanks Bob. I plan to put a black interior in from a wrecked 2000 SC300 I bought, and I will add a custom mounted Pioneer AVIC Z2, a Clifford alarm, add perf black suede to the roof and 3 visors, and the inserts of the center section of the doors. A custom gauge cowl will be added to the top of the dash for the DEFI's, it will match the factory black dash. I may change the wood, but I am undecided as to the color and type of wood. I may stick with the stock burl, or go with a black burl. If so, it will be real wood, not the wet film process that some of the guys are doing...
I also deleted those speaker pods, and dumped them, not right for the design and shape of the door...I am having a custom fiberglass box built that will replace the stock door speaker box, and will house 2 speakers. This will be a stealth mount behind the stock door speaker grill. No shiny fiberglass in view, which I do not like.
Don't want to go with racing seats...I like the stock seats, though I do not like the weight of them, but the creature comforts are worth it for now.
No roll cage...This is first a street car, then a show car, then a race car. I still plan for most of the Lexus comforts, still...
I prefer the clean, plush sleeper look...

BTW Bob, your car is looking awesome, and very unique. Massive FMIC...

Chris is a great fabricator...Look forward to seeing it roast those rear tires...
1-31-2009
Just about finished up the fuel system today. Just a little more to go, Here's a few pics: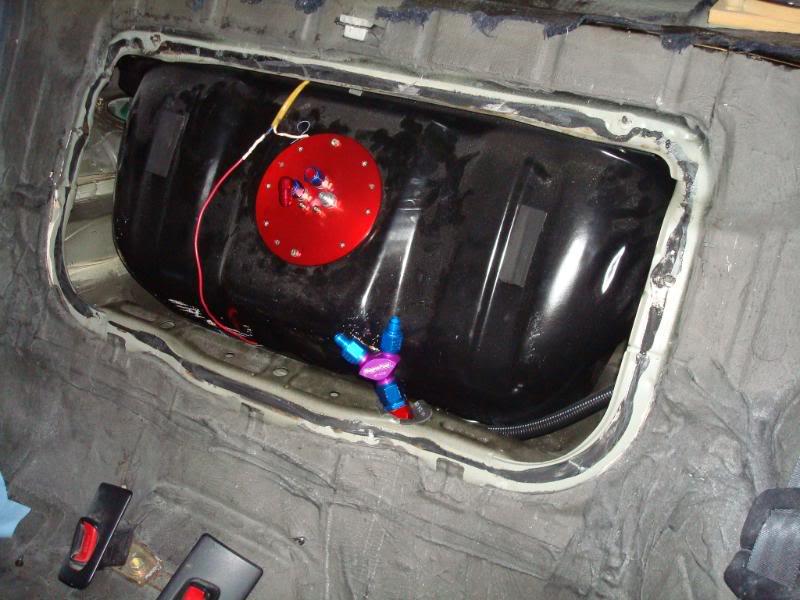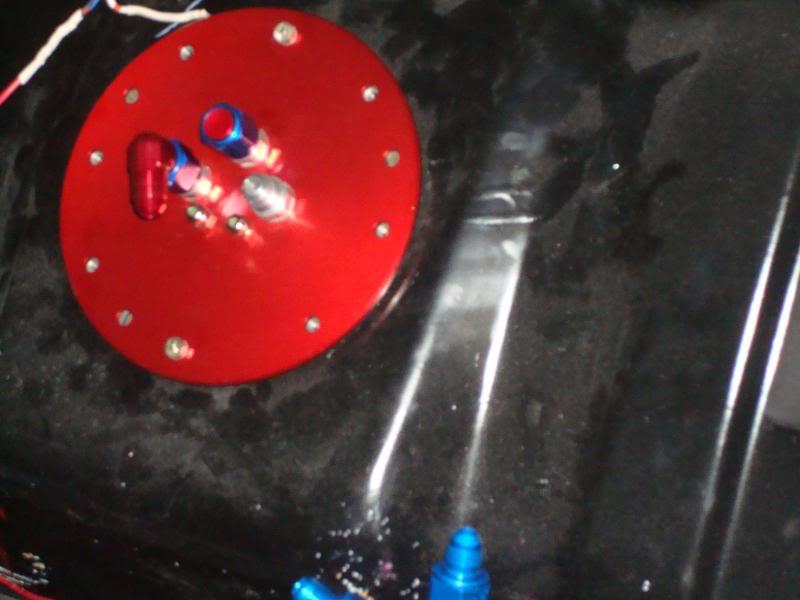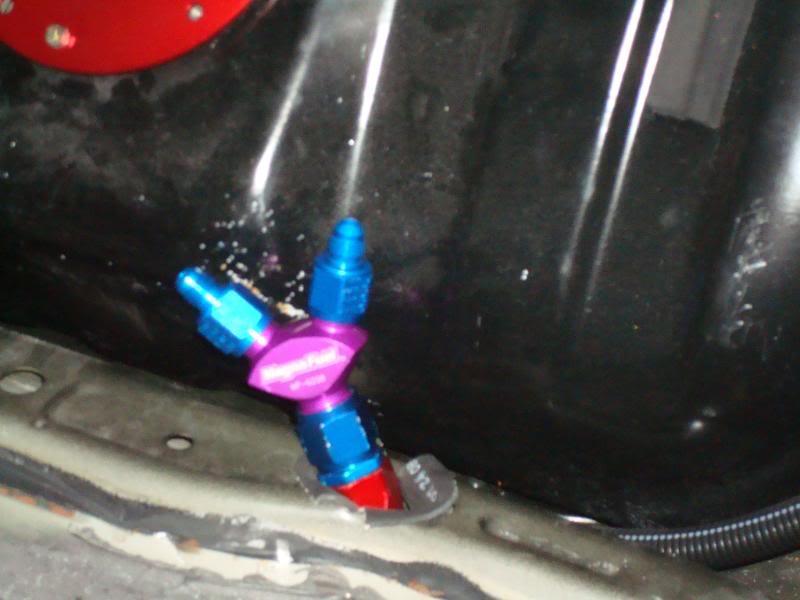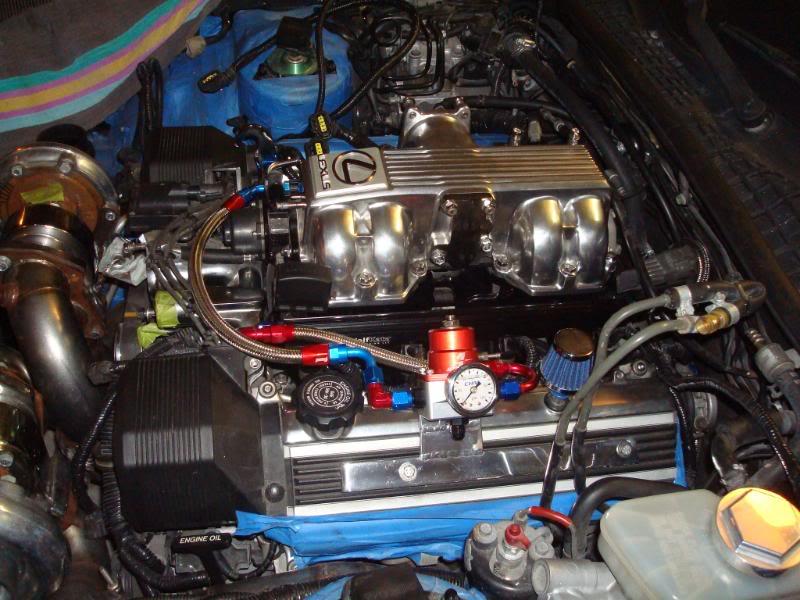 More to come...
A few more oics...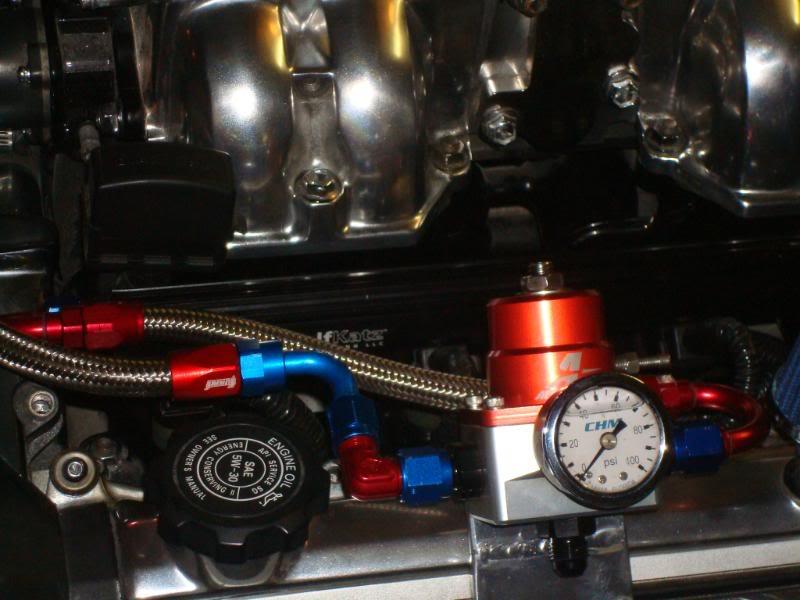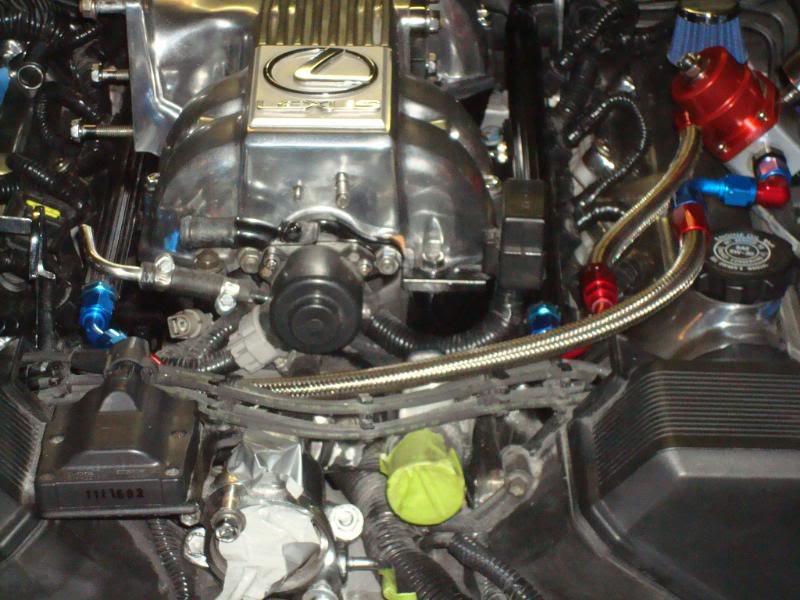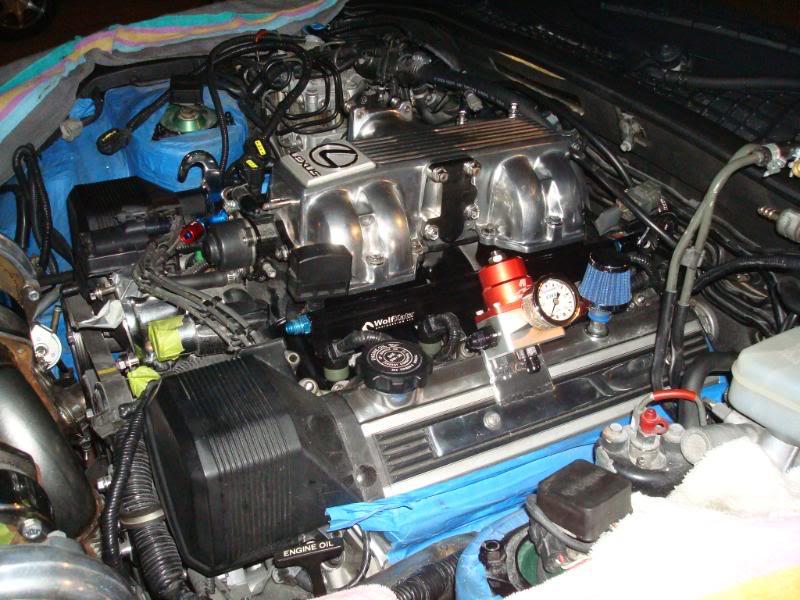 2-4-2009
Hey gang, I mentioned a while back that my headlights would go through a major special conversion, and get the Supermade clear lens cover. Here they are with the stock lens removed, and the new Supermade lens placed over the light for mock up purposes. Remember that I already converted my headlights to true HID projectors from the Audi TT, added the BMW Xenon Ring to fill the gap in the Lexus housing and keep an OEM appearance, plus manage to keep the lights fully adjustable. These should really update the appearance of my SC. I will post more as this goes along.
Driver Side:
Passenger Side: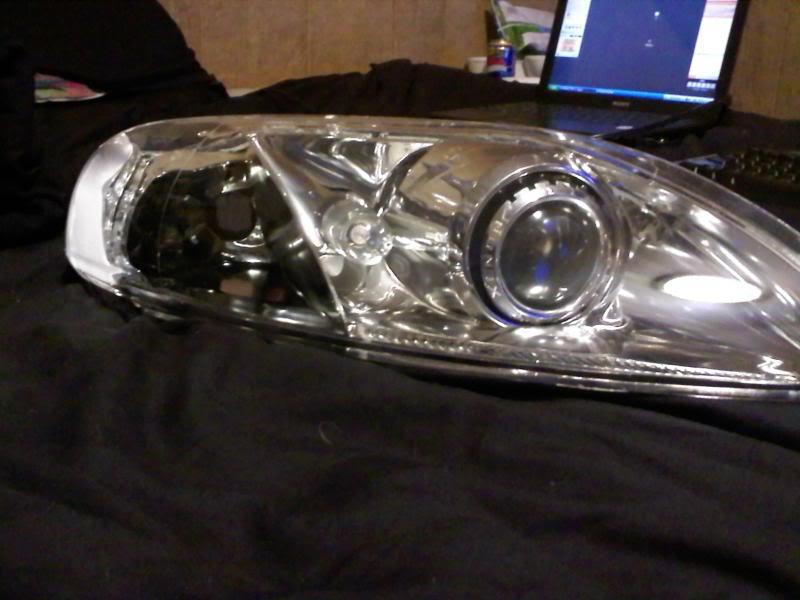 I am real excited about this custom mod...Modernizing the look of the car while maintaining much of its original look from the 2000 model year vehicle has been an important goal to me. Can't wait to see the final project.
BTW, wait until you see the revised 2000 tails that are being planned out right now too!! I know I can't wait...
2-8-2009
Here are a few pics of the oiling system...
Frontal view: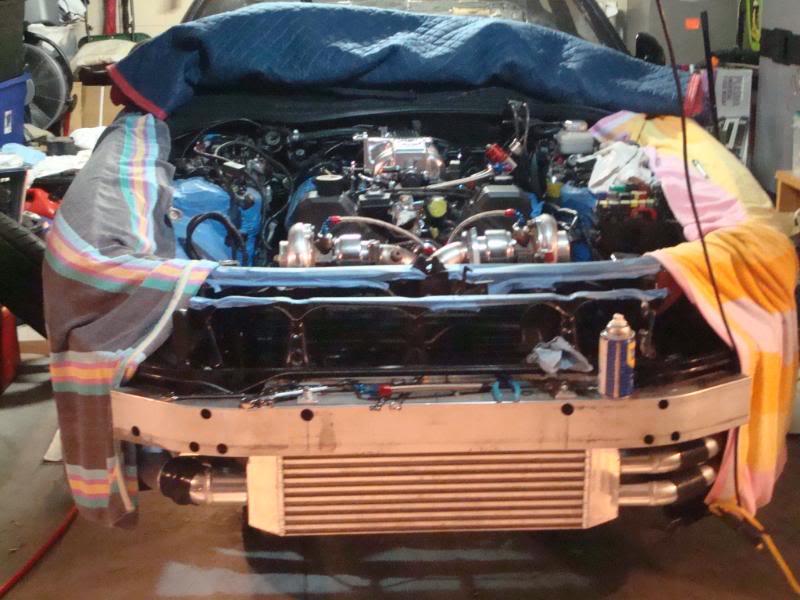 Closer: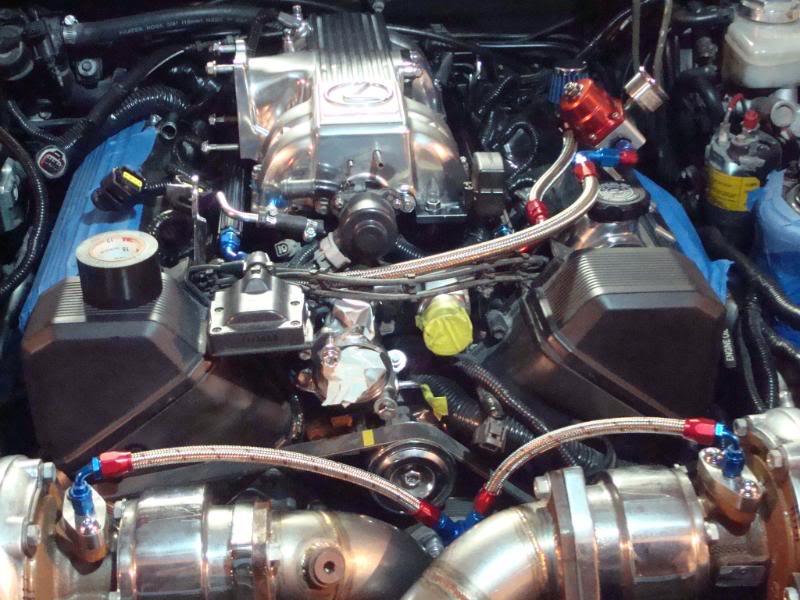 Oil feed off the sandwich plate: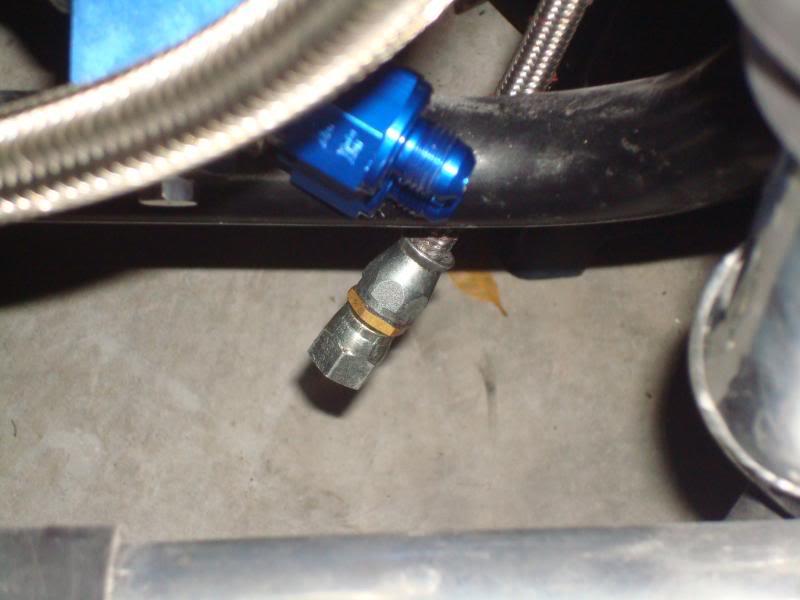 Another of the feed: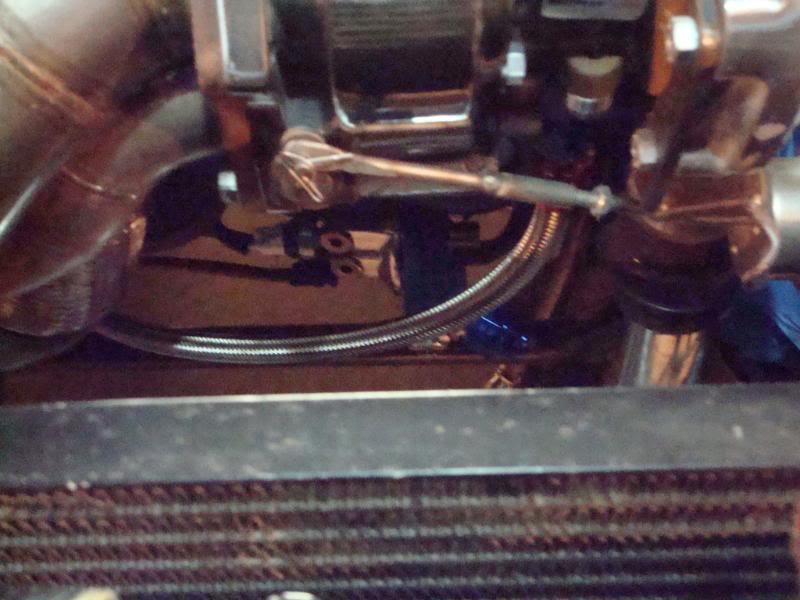 Return at Y on upper oil pan: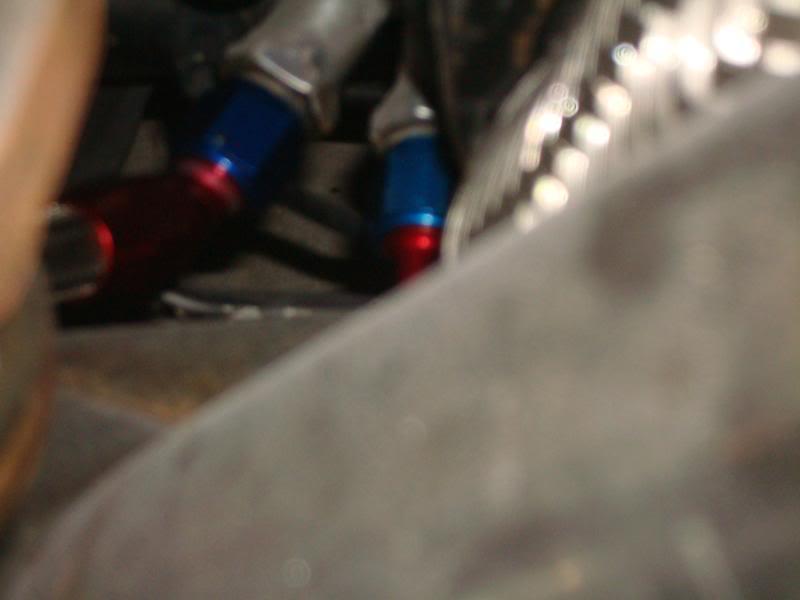 The big brake swap on the rears is a pain...Removing the dust covers so the larger rotors can fit and replacing the studs is a lot of work...
2-9-2009
Well gang, my car is definitely coming together...
The rear Wilwood BBKs are almost installed.
The Custom wiring harness from Phoenix Tuning that we had to cut to getthrough the firewall has been reconnected by Motorheaddown.
The Custom molded 2000 Front Bumper has been painted.
The Custom Hood Vents have been filled and painted.
Much more to get done this week...They still need to be wet sanded and buffed...
Here are a few pics of the Bumper and the Hood...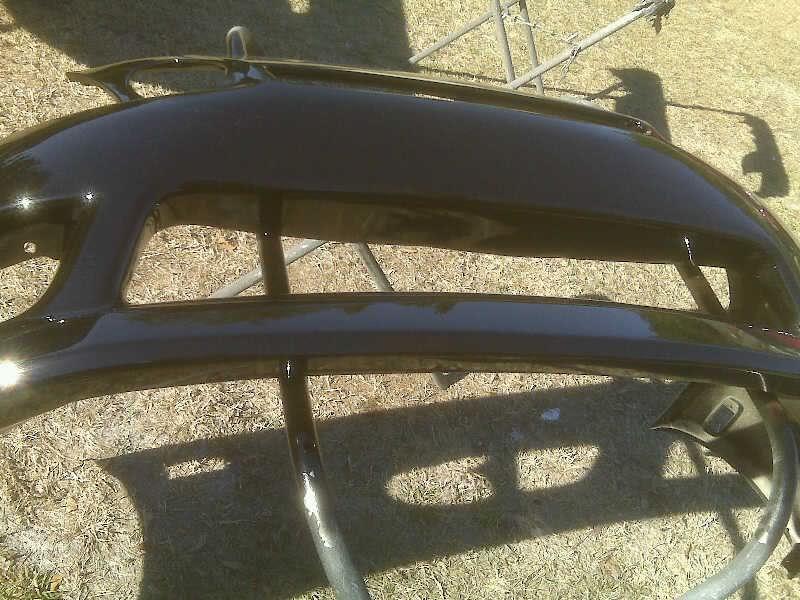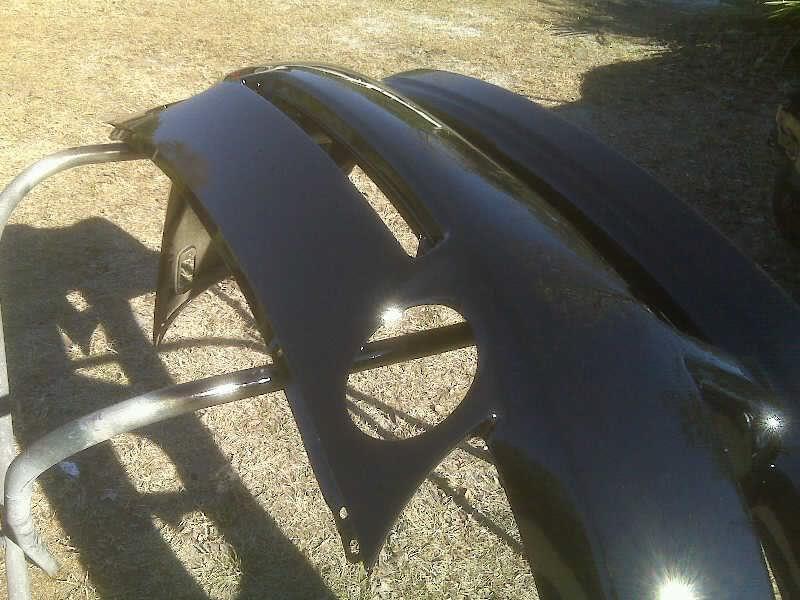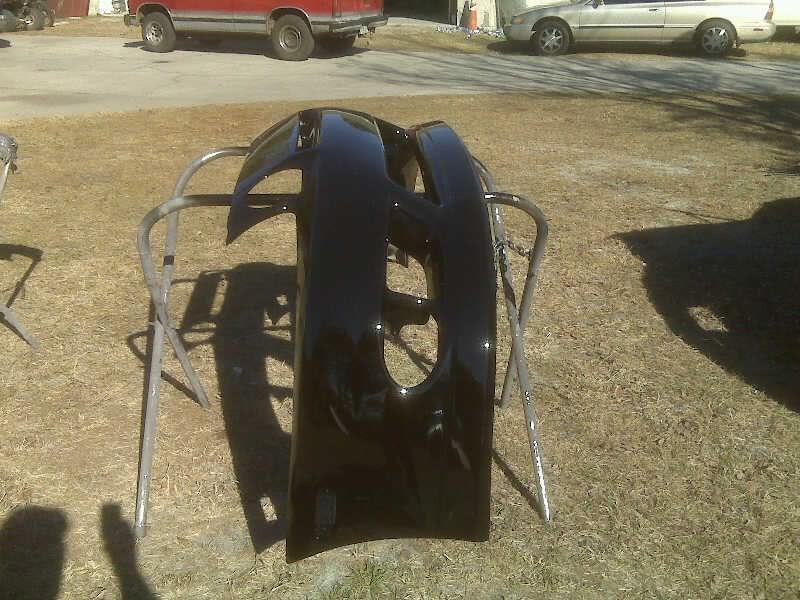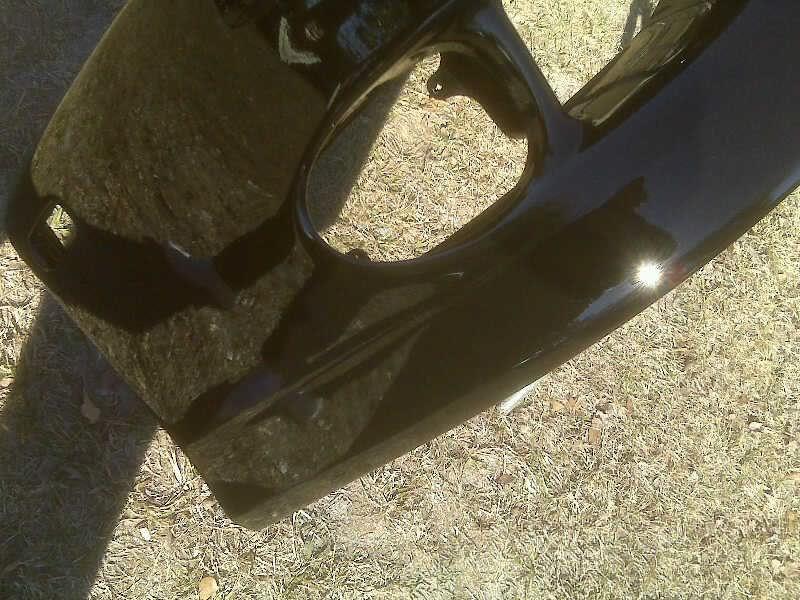 More coming...
Pics of the underside of the hood...When the slots were cut out of the hood, the the reinforcement frame was cut in some areas as well. It caused the frame to separate from the hood in a few areas, as well as left gaping holes in the frame. They had to be filled and re-attached to the hood, as well as have the appearance of an OEM look (my anal-retentiveness...:sadance: ). It was important for these holes to sanded and filled properly. The painter, Jack Gonzalez, went well beyond my expectations...Great job Jack!!
Here are some pics of the hood (just the underside):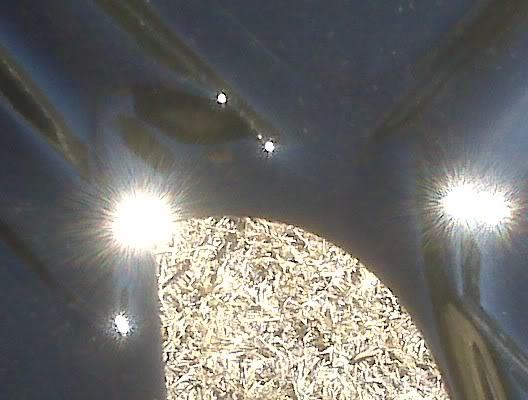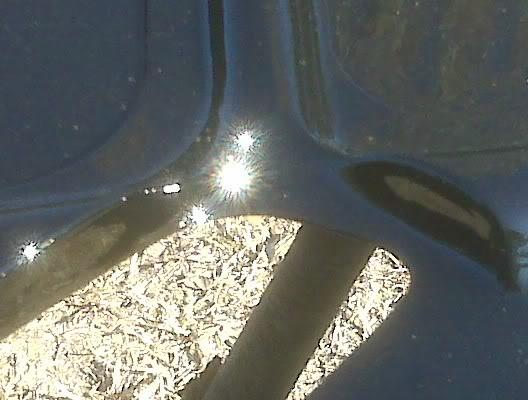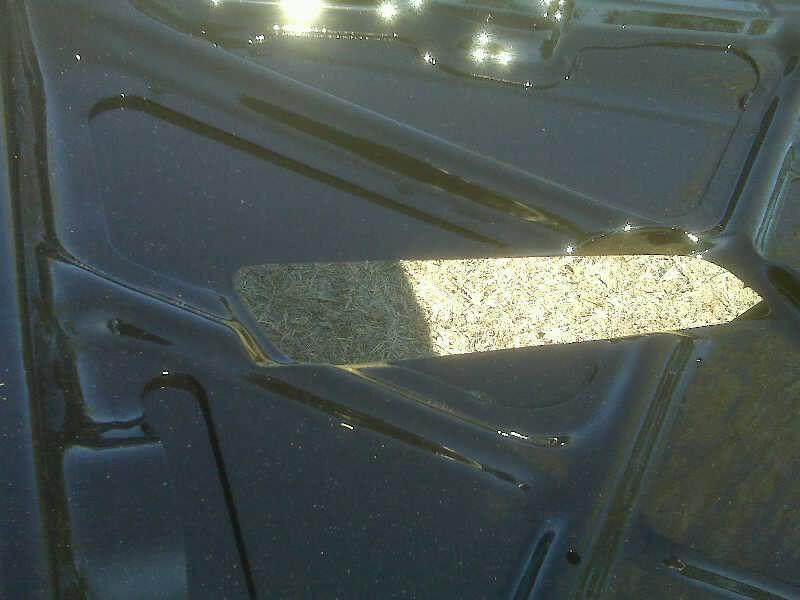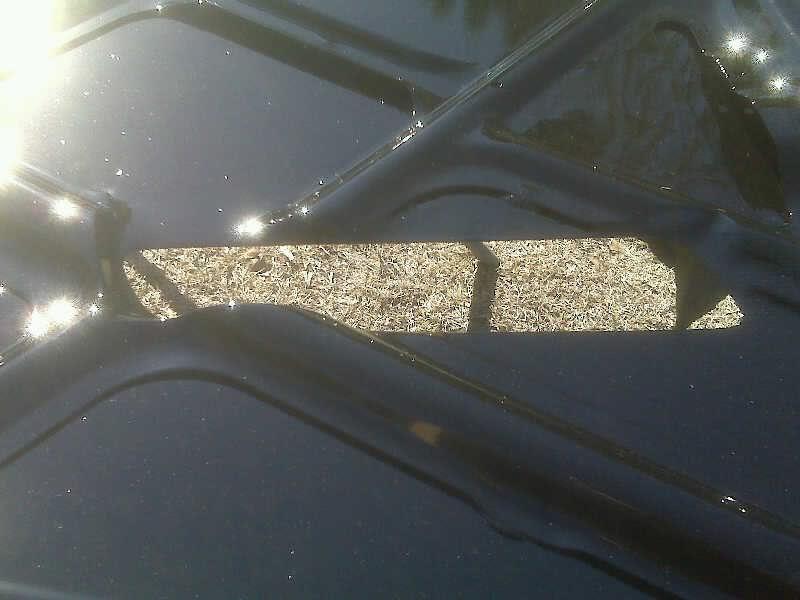 Here are a few more: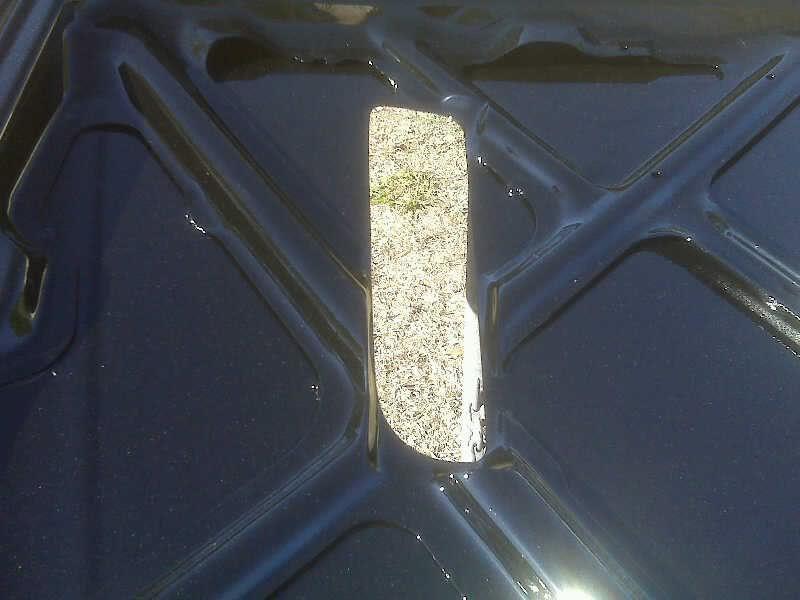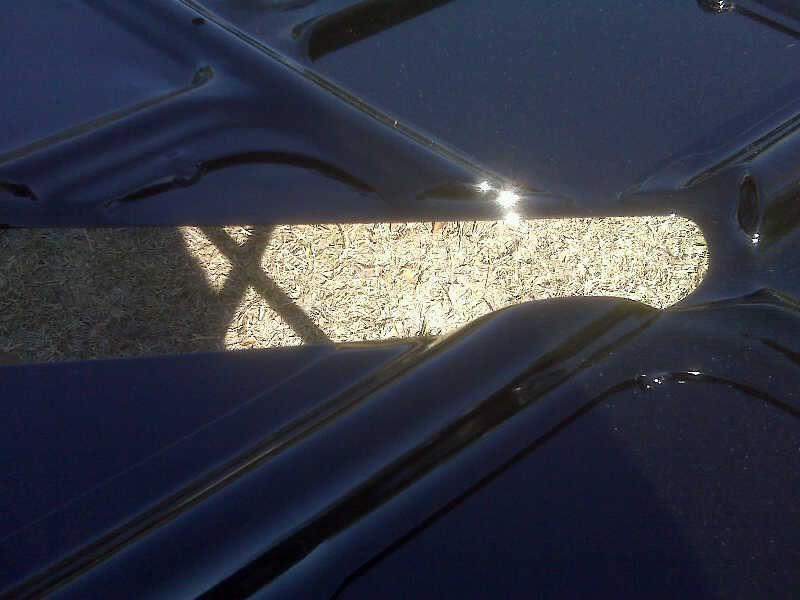 Last ones...I cannot wait to complete this project...Sorry for the poor camera pics...My cell phone took the pics...
2-14-2009
I want to post up a progress report on how my car is doing. As I have stated recently, when building a car at the level I am with SC400TT, it is really a massive undertaking...I underestimated several things when I started the planning of this project. The number one item was time. Now that I really do not have any more "shops" to deal with except for the fabrication of my hard water pipes for the radiator, I have had time to work on the car myself, and with my partner, Charles Stuart, aka, Chaz. Without his dedication, I would be significantly farther behind, and this project may have only been a dream. I cannot thank Chaz enough for all he has sacrificed and done. He has literally built a major part of my car. My hat is off to you, my close friend

. I also want to thank Scott Davidson, aka, motorheaddown, who has assisted me dearly in some of the wiring and electronics of this project...


. I also want to thank Scott, aka, Ki soarer who has spent countless hours on helping in pulling out and installing the different versions of my interior...


. I also want to thank Dave Penton, aka 2jznat, for all the humor in my looooong build thread and for the towing of my car to Orlando from Tampa


. I also want to thank Justin Baloh, who is currently building my headlights. I mentioned several posts back that I have "very special" headlights being built for this project...They are...I have seen the pics, and they are not yhet done, but will be soon. They are so special that I will not post a pic up of them until the whole car is complete. I will post a few teaser shots though...If you want a hint of how they are turning out, keep thinking Audi...and OEM...There is no other SC light like them...

. Thanks also to the venerable Zach Culver, aka, UZZ TT, who provided the Super made clear lenses that I so needed to create these lights...

. Major thanks goes to Shane Ligon, who builds these kinds of project cars from scratch (Even V8 MR2's), he has been a great technical help, and has also machined several custom parts for this project. A special thanks to David Phan, aka, LEXTREME, who is the impetus for my whole project...David's website is the first I found about 6 years ago when I was searching for more ways to add power to this beautiful SC. If David had not been there (His website, parts, tech articles, own experiences, and his friendship) I may not have ever taken this direction to build such a project. Thanks, David. You are the Man and the Myth...

. Lastly, but not least, thanks to Scott Marshall, aka, ScottURnot, who provided several key components (Some of which were custom) for this project at very special rates, and the hours of phone calls discussing build theories and practicalities of this project and his beast of a project. There is a great bond of friendship and comraderie that develops when a project like this is undertaken...I thank each of you...
OK, so here is the progress, and I will post up some pics in some future posts.
The Turbo oil feed has been completed

The Turbo Oil return has been completed

The External Oil Cooler has been installed

The External Transmisssion Cooler has been installed

The high Pressure Oil Sandwich Plate configuration has been designed, built and installed (Whew, what a pain)

The Fuel Return Line has been completed
There is still much to do...I will keep you updated...
I want to thank a few more people here..
Deron Golding, aka, nextlevelcoupe, you have become a good friend. I appreciate your attention to detail and look forward to seeing your latest version of your car complete. A good friend, too.

Jose, aka, CleanSC, whose WHite turbo SC is one of the cleanest I have ever seen, what an inspiration you have been. A good friend too.

Gazi, aka, Aliga. You have provided me with dozens of critical parts for this project, as well as the best deal on a black interior that anyone has ever gotten...What a great resource you are to the Lexus community!!

Eric, aka, Cowboy. Thanks for your commitment to building quality custom parts for the SC. You have certainly made our projects easier and more custom with your hard work...
ANybody else I am missing, please forgive me, and please speak up. I certainly want to thank you and list your name publicly, because this project, which is near completion, is a compilation of work and ideas from several people...I love the Lexus community!!! My Hat's off to you all!!
2-15-2009
Removed the turbos, the manifolds and the downpipes so they can be ceramic coated. What a PITA!! Had to loosen the motor mounts and jack up the engine to remove them. They go on Monday.
Here are some pics of the recent work.
This is the reconnected Autronic harness: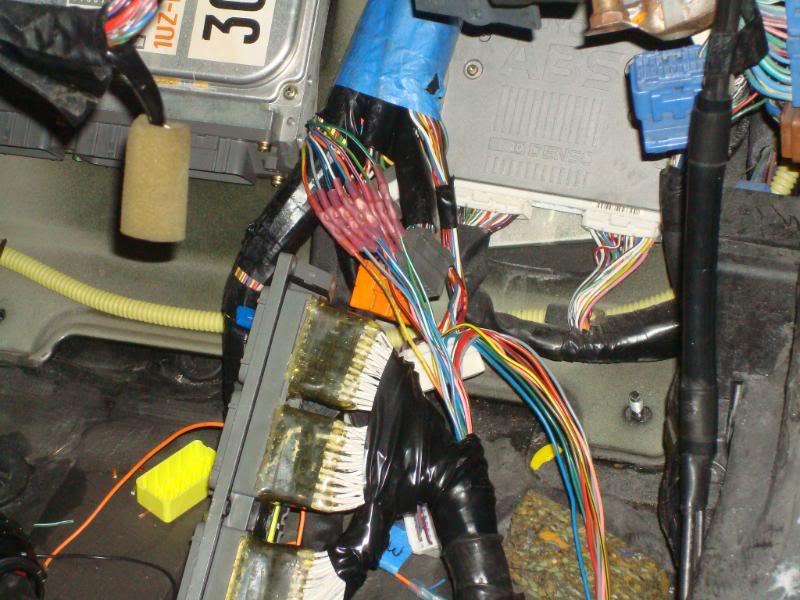 Here are the two external coolers connected: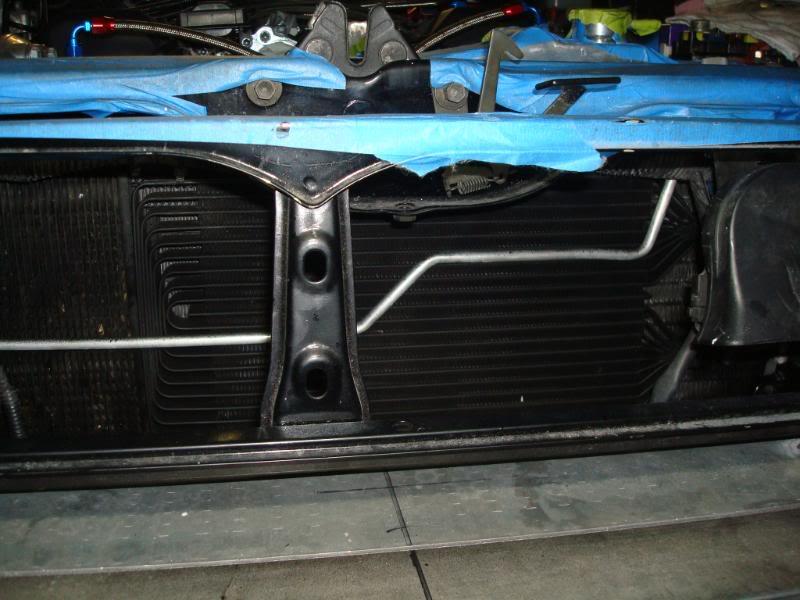 The oil cooler: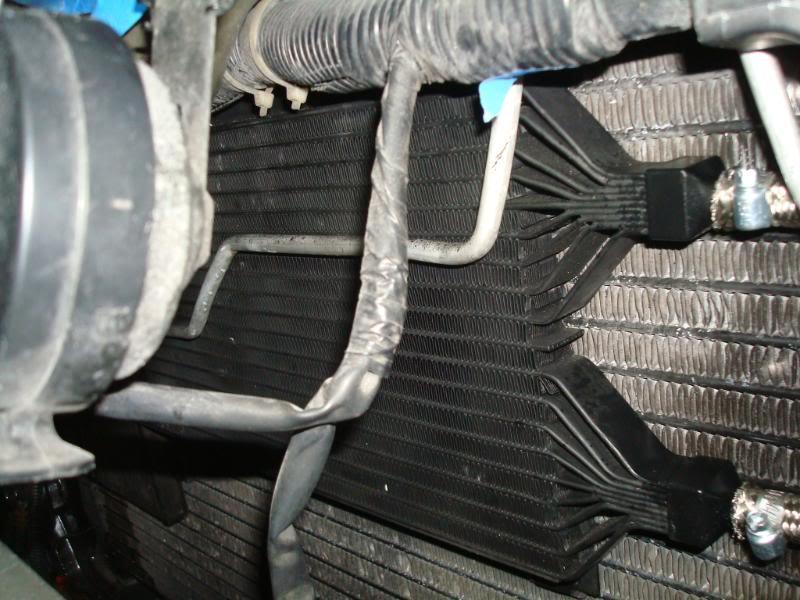 The tranny cooler: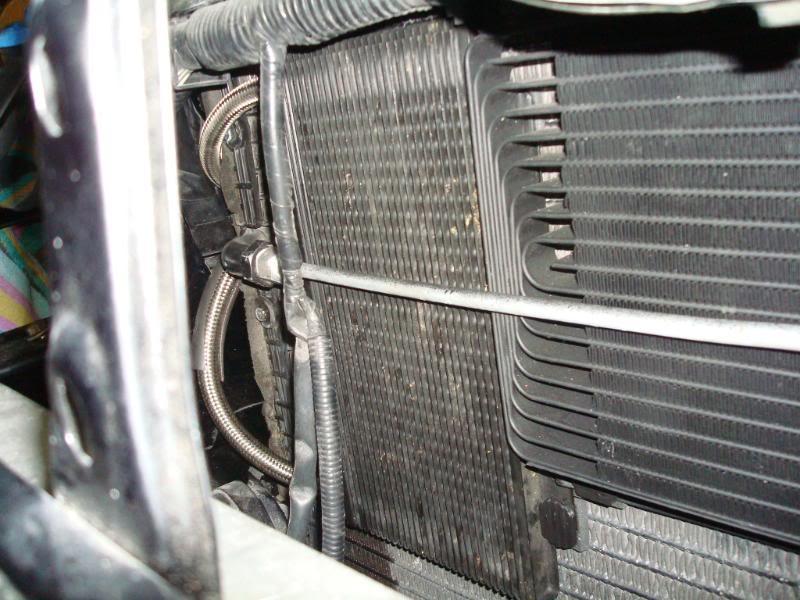 Oil cooler feed and return lines: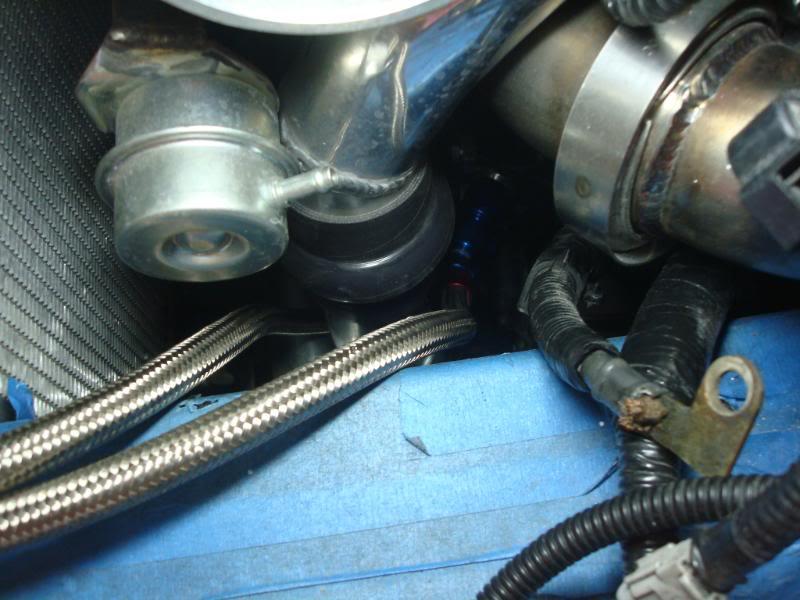 Top view of the oil cooler: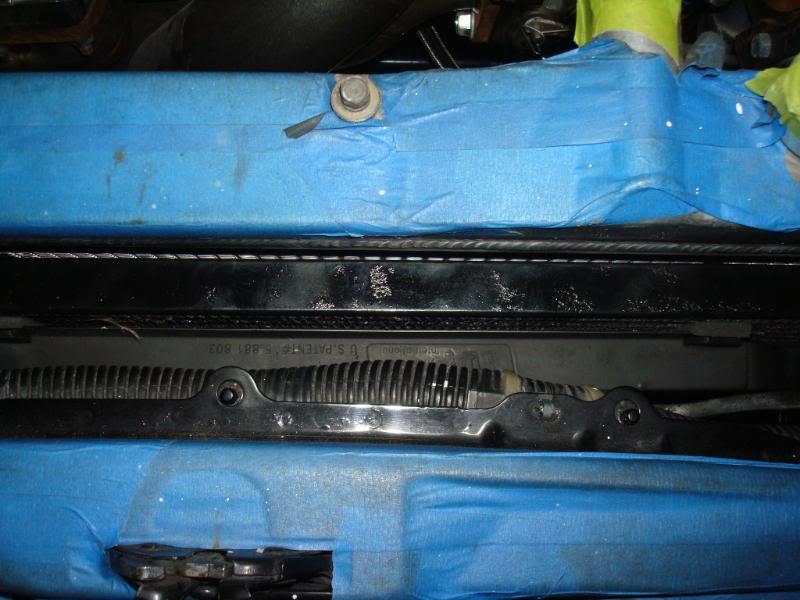 Top view of the tranny cooler: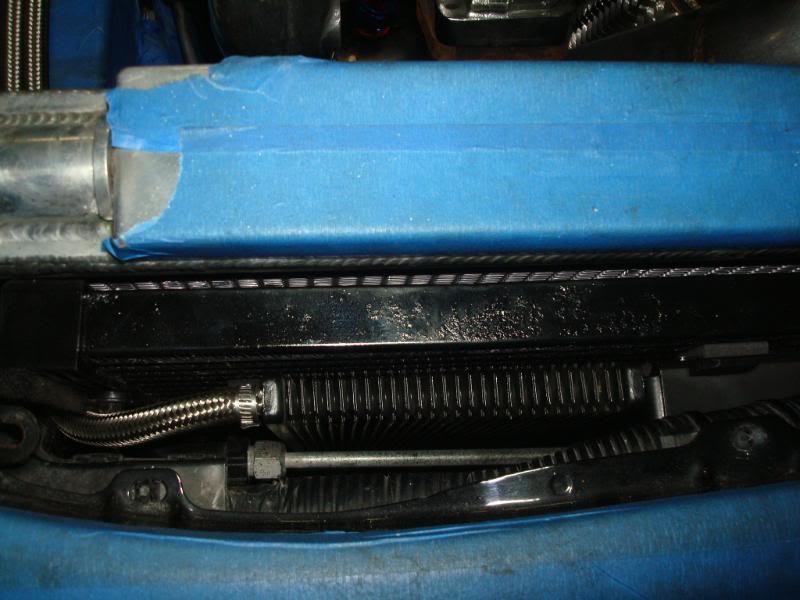 Oil cooer feed and return line on the sandwich plate: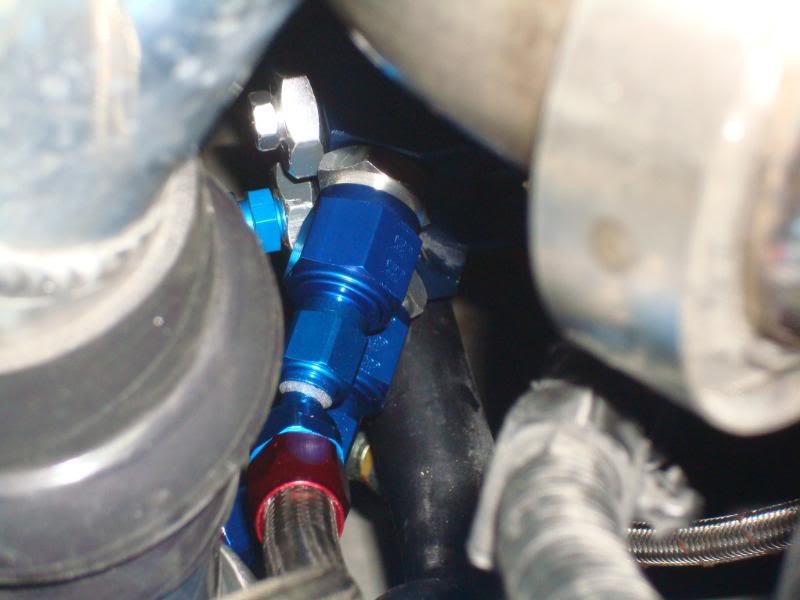 The whole high pressure set up showing the sandwich plate, the oil cooler feed and return connections and SS Braided hose: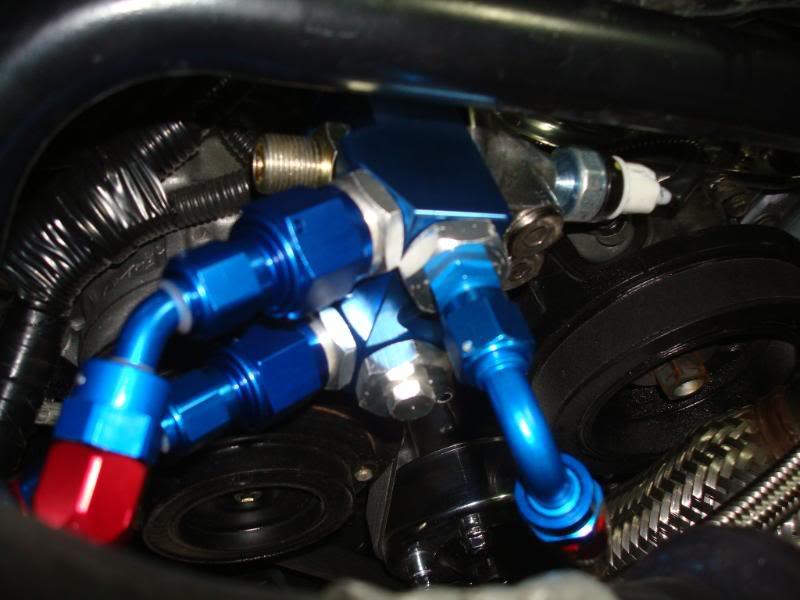 The transmission cooler feed and return lines: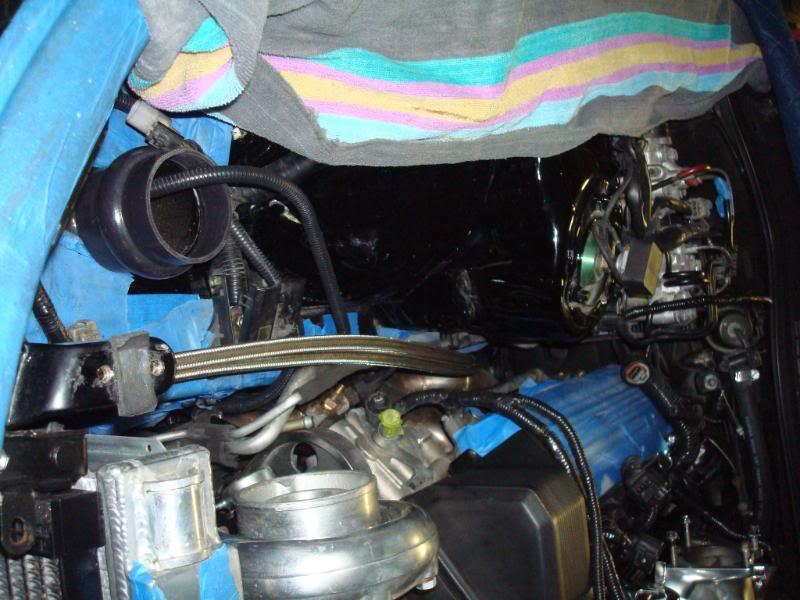 Oil return lines from the turbos: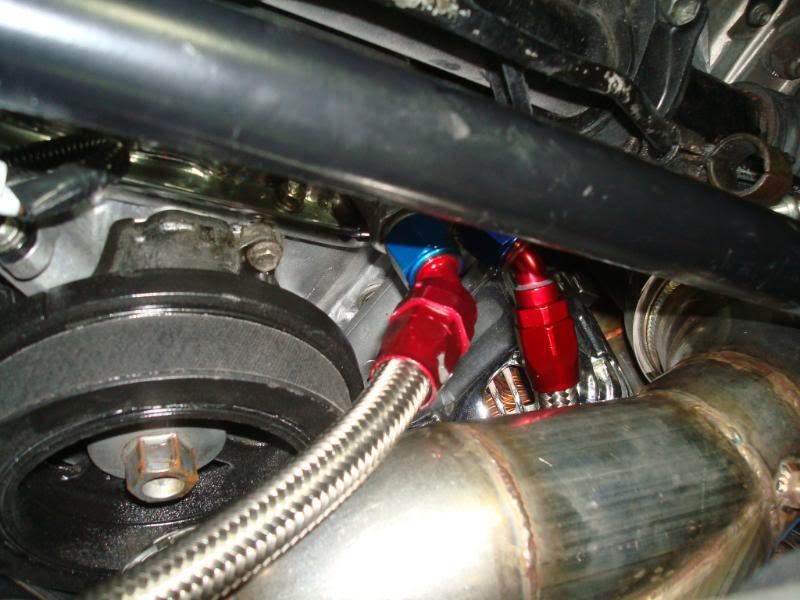 Another pic of the oil return: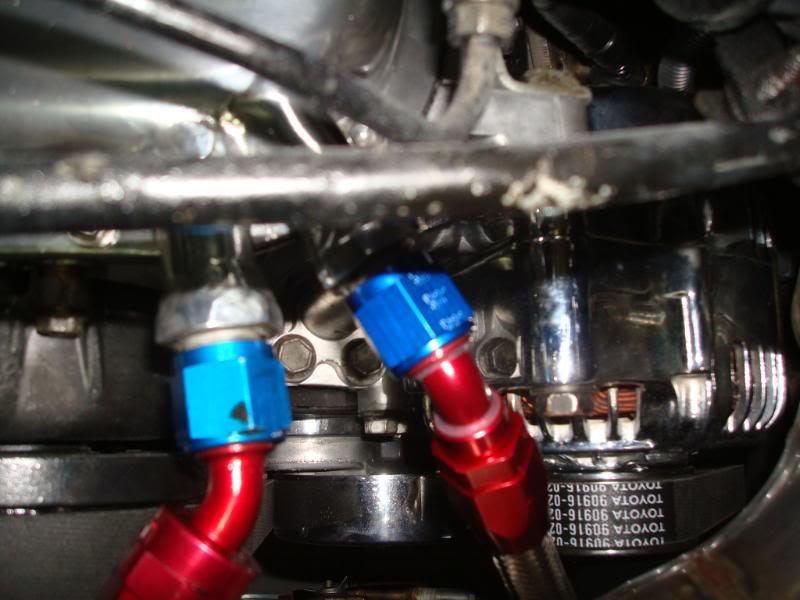 Return coming out of the turbo, nice straight flow: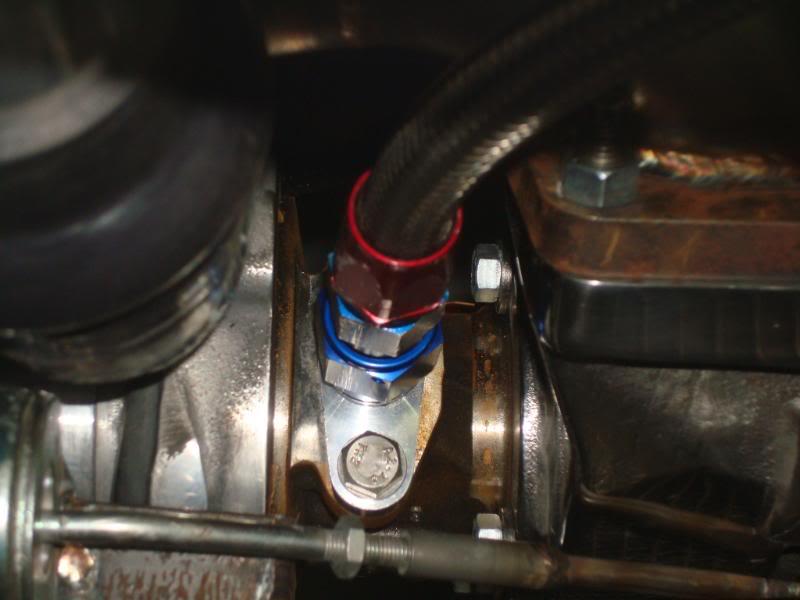 Fuel return Line: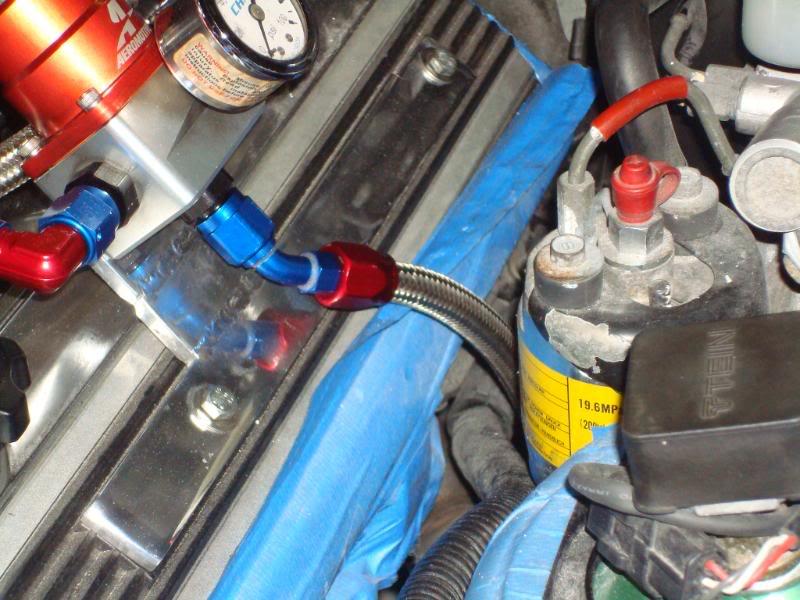 2-28-2009
Well, the fuel system is now buttoned up. We completed the braided hose and connected them from the 2 Walbros to the TTC Fuel pump hanger access cap.We had to wait a week for the access cap to be modified because the nipples on the inside were not long enough, nor did they have a bead welded on the ends of them to help keep the fuel hose in place properly, once connected. The nipples were also far too short for my taste, so I had -6 weld on An's welded onto the short nipples. For added strength and security, the nipples were also threaded so the weld on's could be screwed down on them first and then welded. They will never come off. Kudos to Eric at TTC Performance for making the whole unit as it was a first quality item in spite of the miss on the short nipples. It fit in the slosh tank perfectly, and the cup he machined for those two Walbros was a spot on fit. He did tell me about them after I bought the unit, so I new I had to make this small correction before installing it.
We also had to modify the firewall access port so that the braided hose would fit under them, so we cut out two small sections for clearance. The adges were then sanded and painted to smooth the edges and keep them from rusting.
We also added Toyota FIPG sealant on the fire wall access panel to reseal it all around. We also added some neoprene to cushion the fittings and to dampen any potential rattles. So there is no metal to metal contact. It turned out well...
Also got the parking brake shoes reinstalled, as well as those very painful tensioners...Unbelieveable to reinstall those tensioners until I made up my own tool to re-secure them. Then it only took a minute or less to reconnect them. I also installed the longer ARP wheel studs that are made ffor the Lexus IS. We cut off the excess so they would fit my application.
All in all, it was a good day working on the car. I will receive the ceramic coated headers and downpipes next week so I can re-install and get this car ready for starting.
I plan to fill the car with fluids and start it for the first time next weekend...Hallelujah!!
Jack Gonzales, the painter, is bringing over the newly painted hood and front bumper tomorrow. Should look real good on the car.
Here's some pics of the work just completed:
Firewall access panel after cutting, sanding and welding.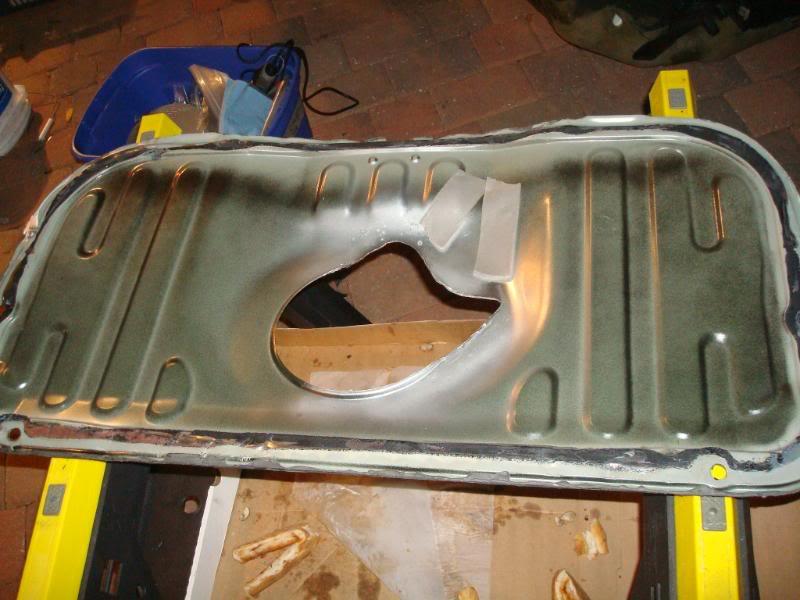 TTC Dual Walbro fuel pump hanger installed.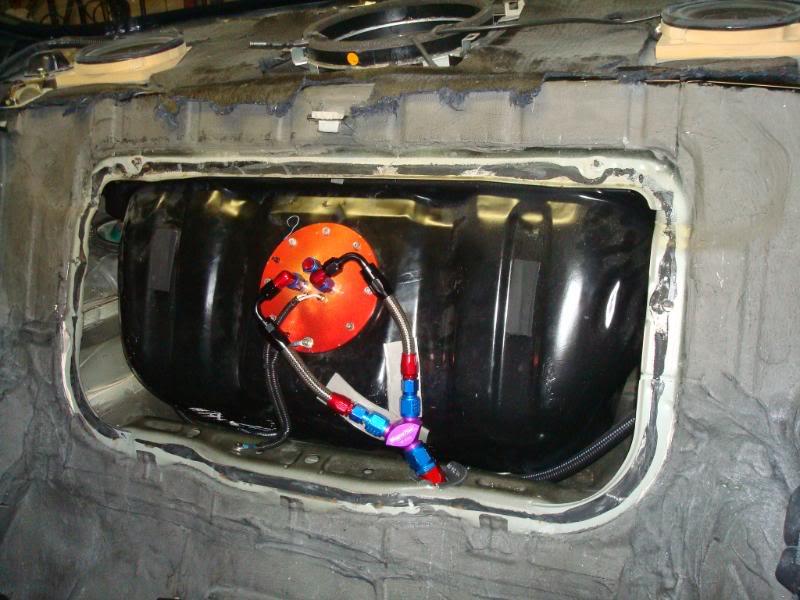 Fuel lines installed and system closed.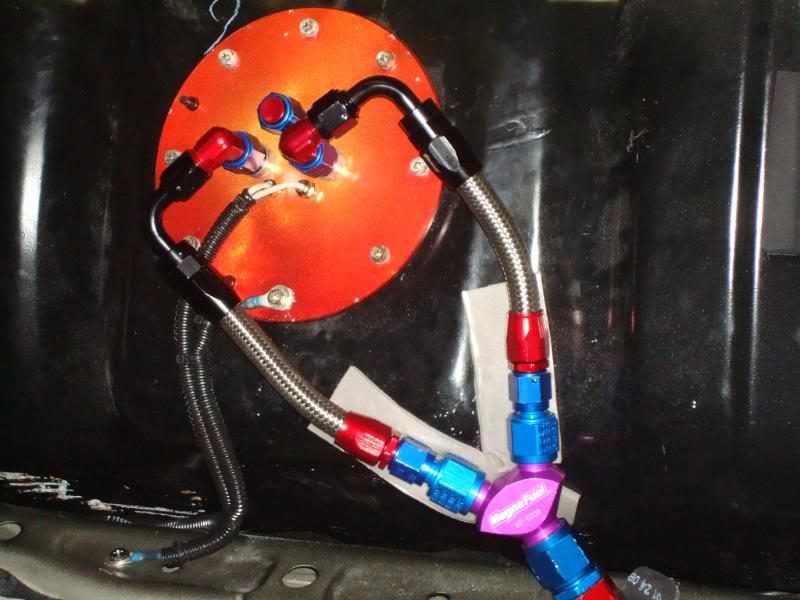 Close up.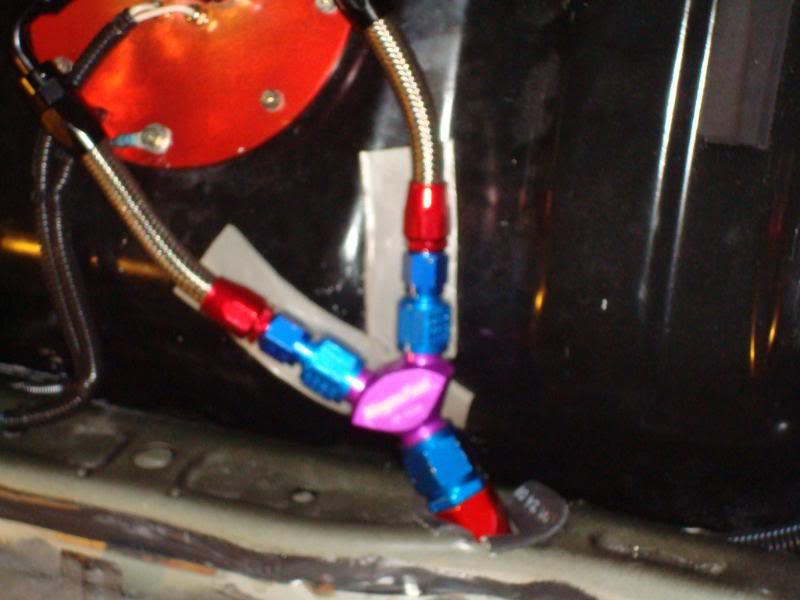 More coming...
Here, the access panel is re-installed and FIPGed back.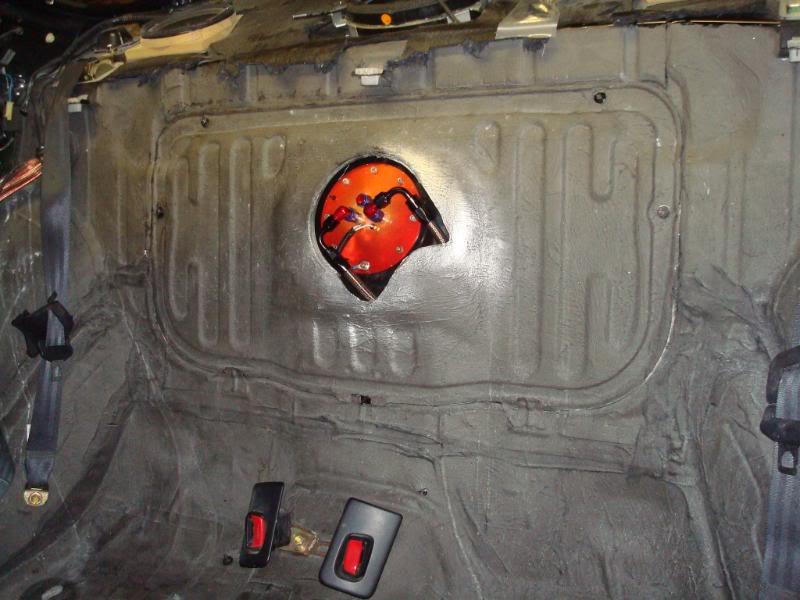 Close up.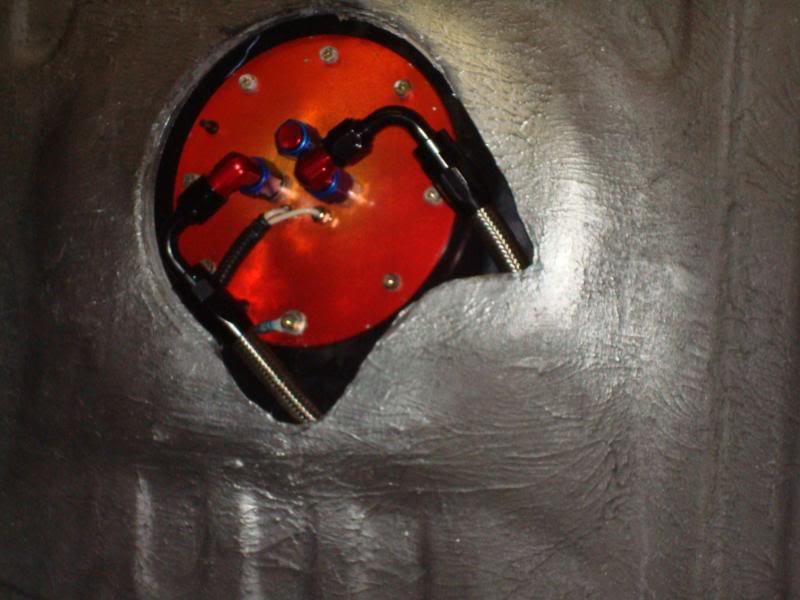 ARP IS Wheel studs installed and shortened.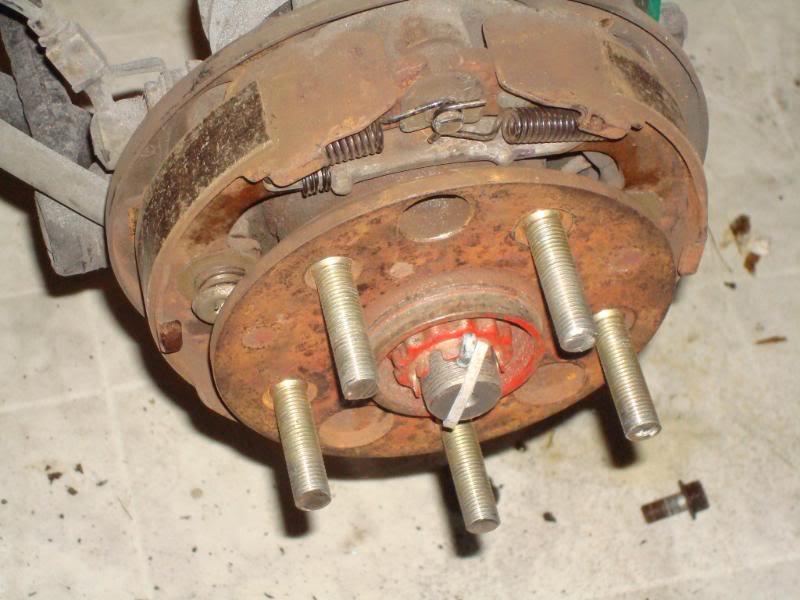 More pics tomorrow.
The hood and bumper are here!! I am very pleased with the work. Since I still have a little bit to do, and to fabricate the water pipes, I decided not to install them just yet. I did place thom on the car to take a few pics and to show you all the craftsmanship of the paint and body guy. The slots in the hood for the Aston vents are simply sick!! IMHO!! I hope I am not interpreted as bragging when I post up with excitement. It has been a long haul, and at times I wondered if I would ever get this project done. Almost there, and very elated with the results so far. I hope you enjoy...
Don't mind my garage...It is a disaster...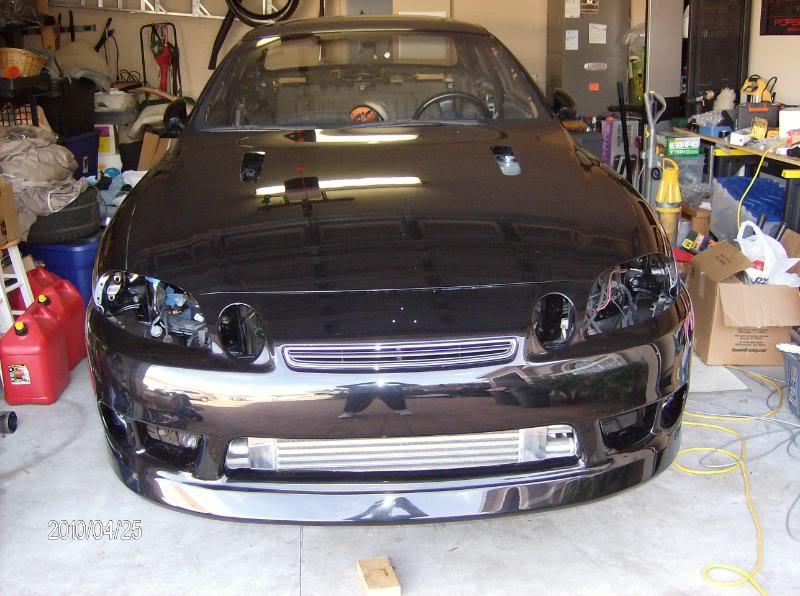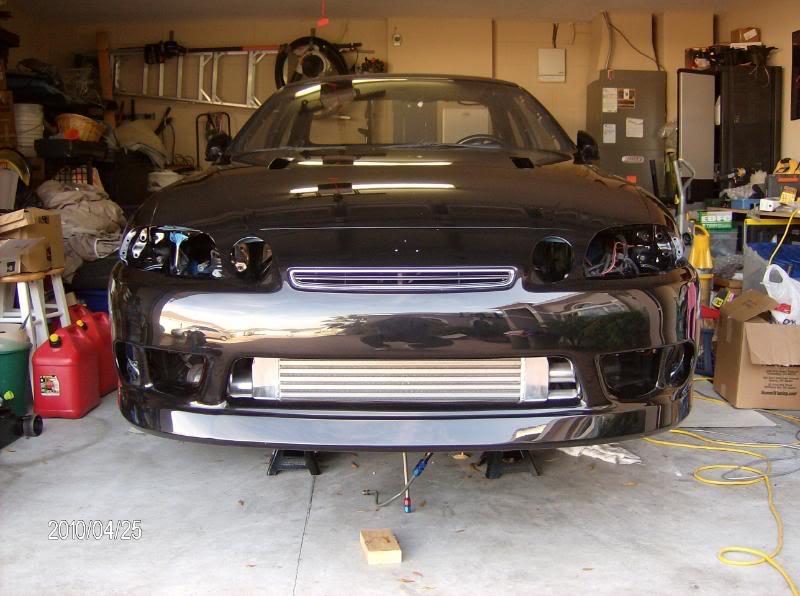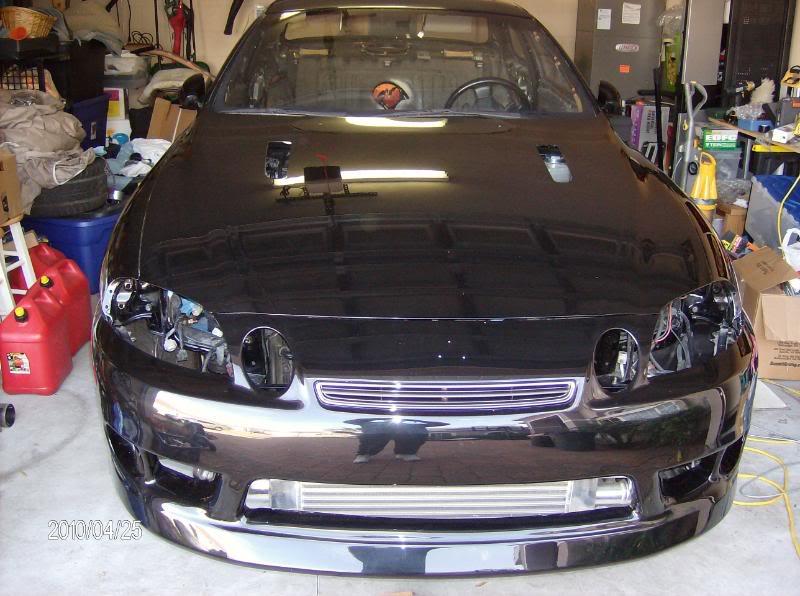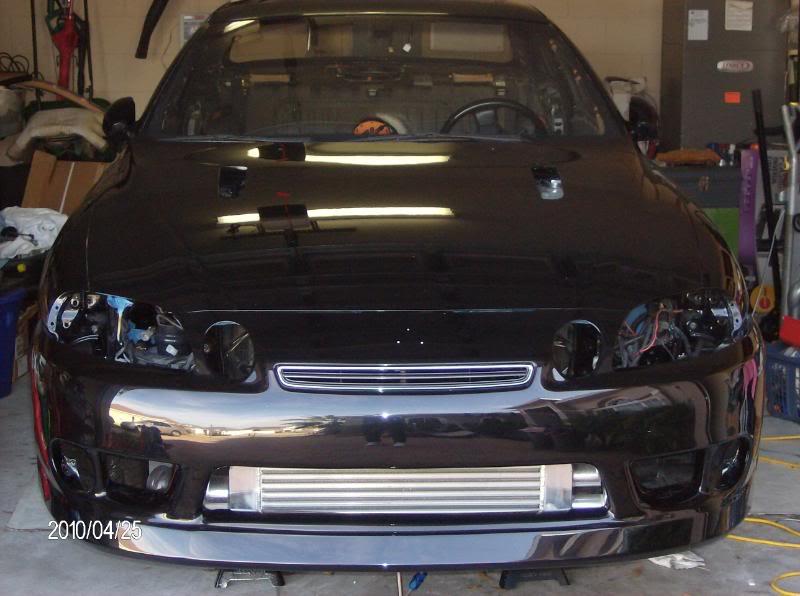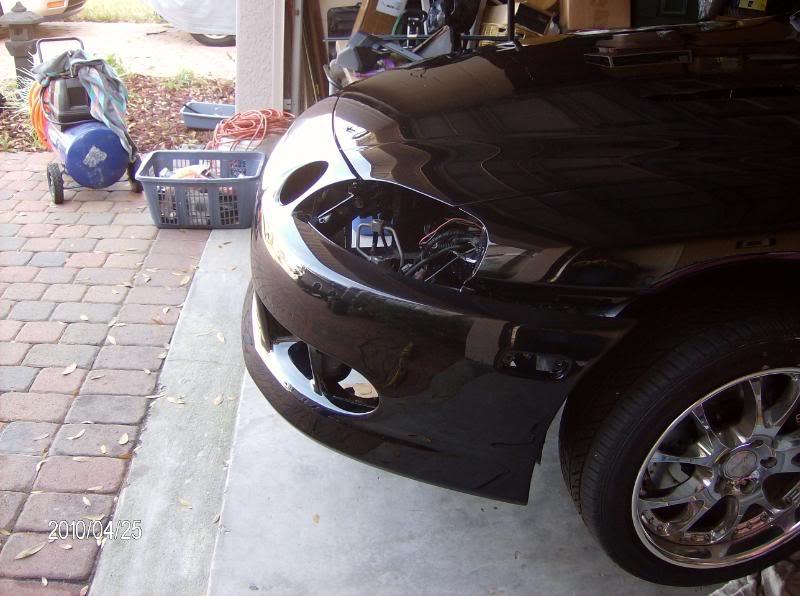 Here's the rest...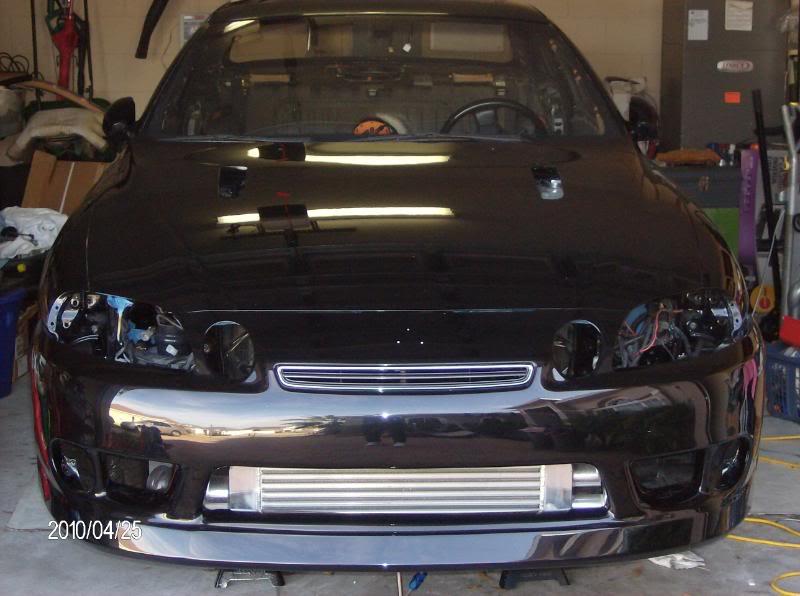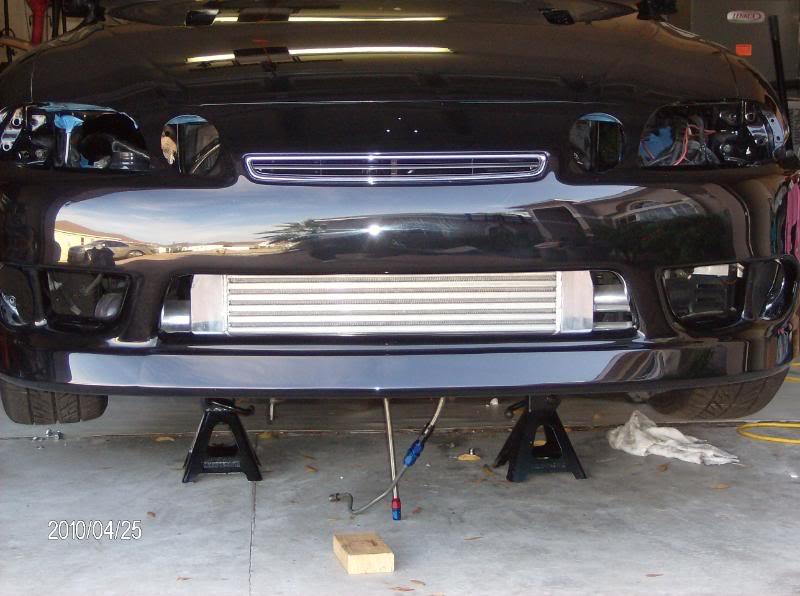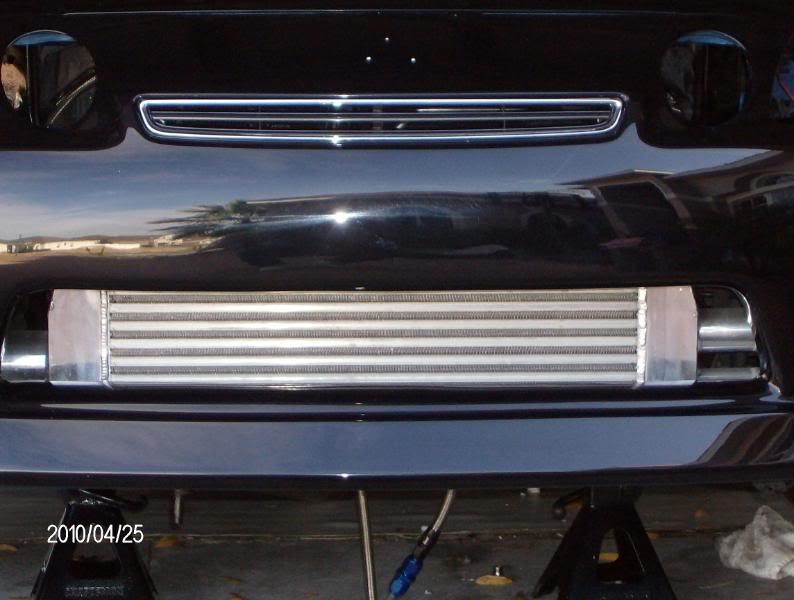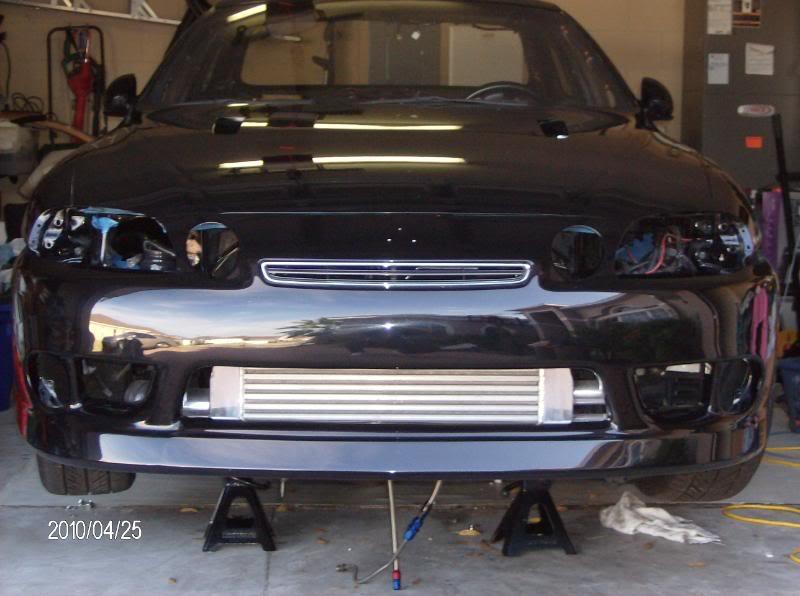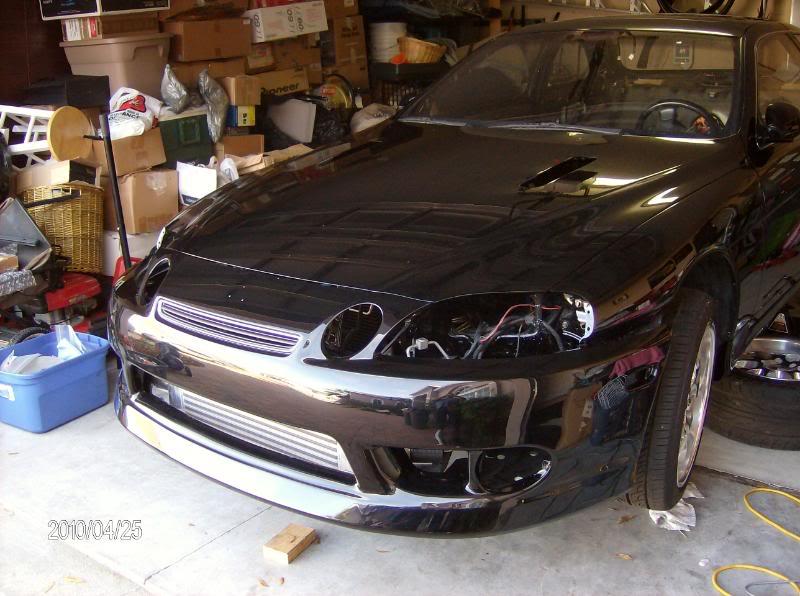 Well, gotta go and finish up the rest of the car...
3-4-2009
I know I said I would not post up a pic of the modified lights until the project is done, which is very soon now, but I want to post up a teaser for you so you can get a little bit of a taste of what is to come...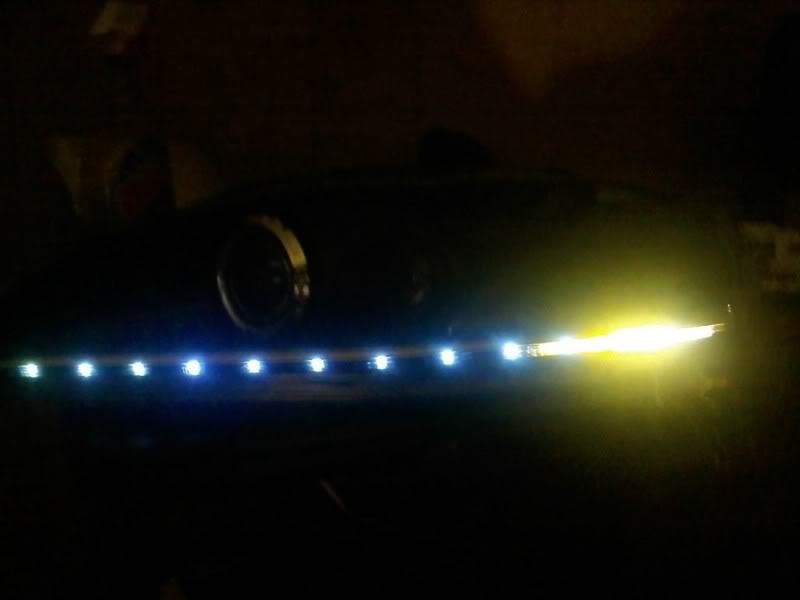 4-1-2009
Hey gang, just a quick update....I worked late last night, and am still energzed, so want to post p a little on my thread....

Re-installed the up pipes, turbos and downpipe. Even though we marked them, still a bit painful, but not anywhere near the manifolds. Looking good. I will post up pics over the weekend.

Polished the radiator and the cooling fan shroud. Ready fro re-install.

Received my final 2 gauges, a DEFI Link Fuel Pressure Gauge

A new AFR from Innovate is replacing my AEM Uego. Innovate makes some of the most accurate gauges around.

Got back the recovered headliner with the black perforated suede installed on it, as well as the Sunroof slider. Kick a$$ look!!

Cleaned and repaired the carpet, every staple is in place, carpet is mint

New Modded Headlights are complete and shipping back to me
A note about my interior guy....He is the BOMB!! Phenomenal work. Wiat till you see the interior and the new gauge pod!! This man is the best interior man I have run across. Worth every penny he charges, and yet he is very reasonably priced. He has come up with a much better way to install the 2 6.5 inch MB Quart Woofers in the doors. I got rid of the pods. Much better look and finish!! My hat is off to WIlson Figueroa, the total BOMB and SHYTE of interior work!!!!!!!!!!
4-4-2009
Hey gang. Another update. We replaced the sheet metal screws that bwere holding the fuel lines in place with rivets last night. Much cleaner install.
We also hooked up the battery to the car and tested the fuel pumps and pressurized the whole fuel system. No leaks or fumes at all, both pumps fired right up and pumped the fuel. We adjusted fuel pressure to 43.5 lbs for now, and let it run for several minutes. Everything worked like a charm! Onw more thing completed.
Also getting the pieces of the interior completed. Both airbags are dyed black, as I could not locate them in black to match the black interior I am fitting into the car, and they look great. I am changing the chrome logo on the steering wheel airbag to gloss black to match up with the theme in the interior.
The 6.5 inch speakers are custom installed in the doors, the grommets, insulation, baffling and padding is al installed and it looks great. Also not in the way like my previous experiment with the fiberglass pods installed in the front bottom carpet section of the doors. This is so much cleaner, and kind of stealthy. I am very pleased.
Here are some pics of the various pieces. All the suede is black perf:
Rear Deck: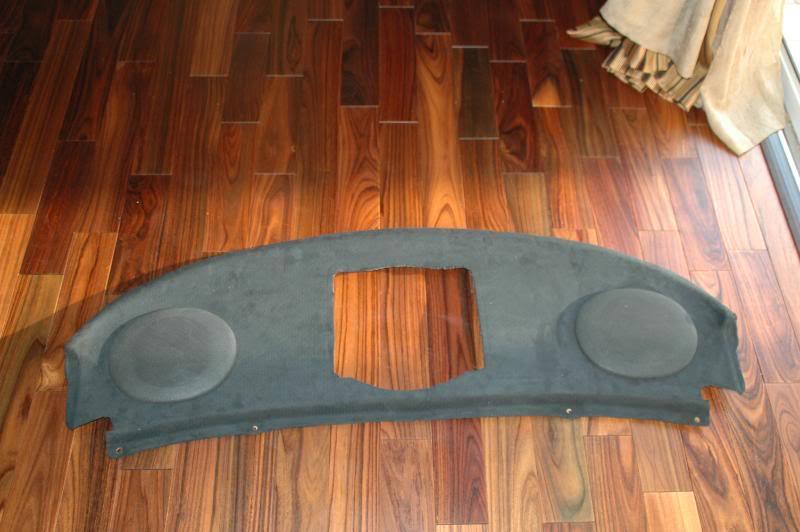 Headliner: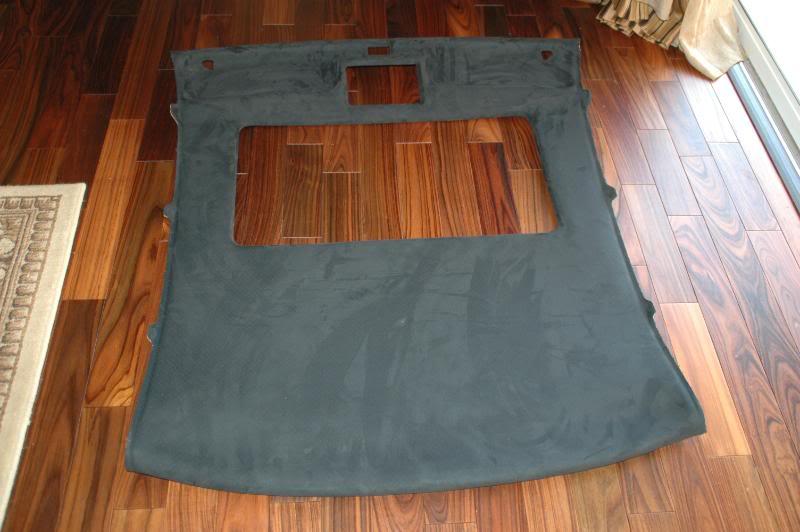 Sunroof Slider: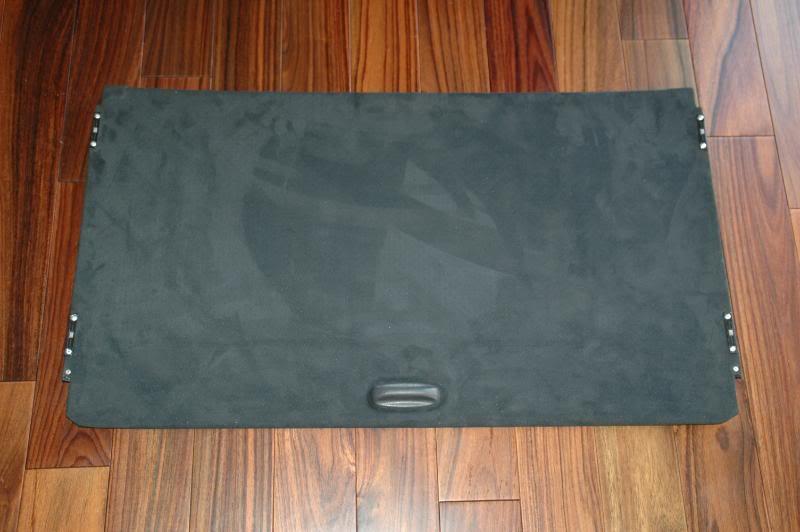 Close up detail of headliner: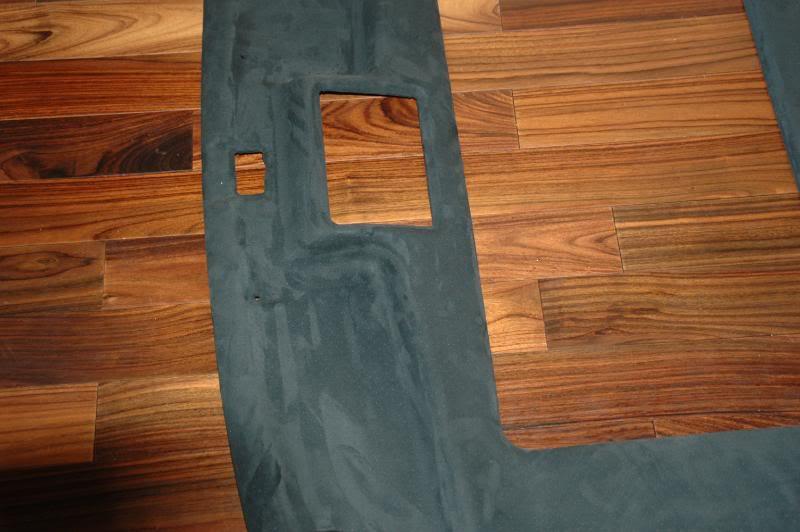 Detail of perf pattern: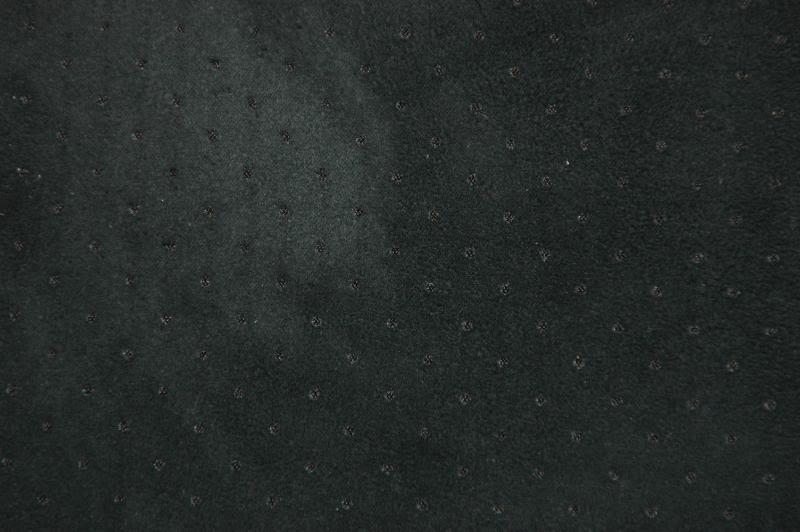 Here are some pics of the passenger airbag cover and the 2 6.5" speakers re-mounted in a much better place on the door. The front is a 3-way MB Quart, the rear is a 2-way MB Quart.
Airbag now in black: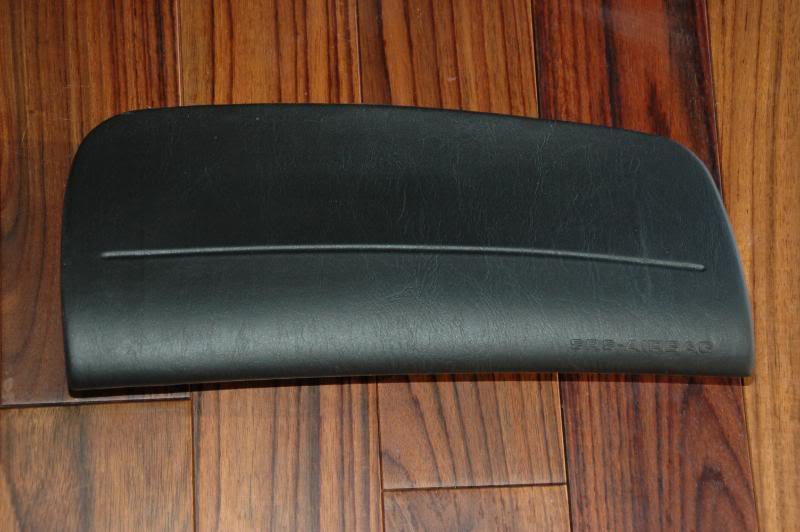 Various speaker mount pics: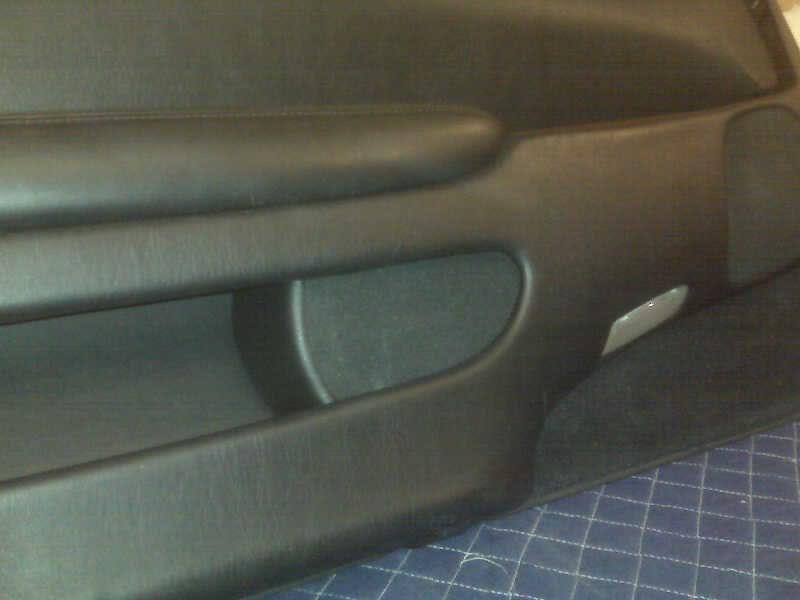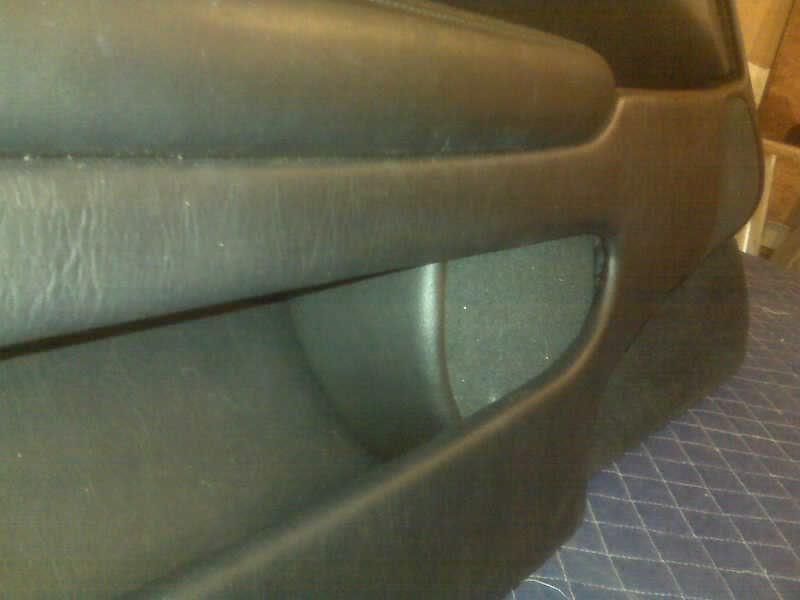 Sorry for the phone quality pics of the speakers. I did not have my good camera with me.
4-14-2009
Thanks Guys!!
Another update:
Awaiting the second set of turbo gaskets, on backorder. Expecting them in this week.

Had a problem deciding how to route and what materials to make the radiator pipes out of. Came up with a solution that should work excellent and not cost a pure fortune. More to come on that.

The interior parts are mostly complete. The gauge pod is almost done and it is sharp. Matches the theme I have tried to maintain. I have some pics from my camera phone, poor quality, but enough to see the quality of the workmanship on this custom unit. Should look almost OEM when completed. Keep in mind that the face plate is not yet finished. there will be no uneven areas or seams to show when completed. Also, the gaues will all be angled towards me.

The lights are being modified a little more, and may end up with a touch of real carbon fiber in the inner housing....just a touch as an accent, not too much.
More to come....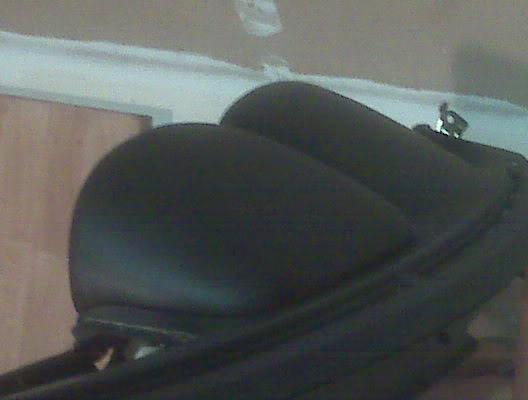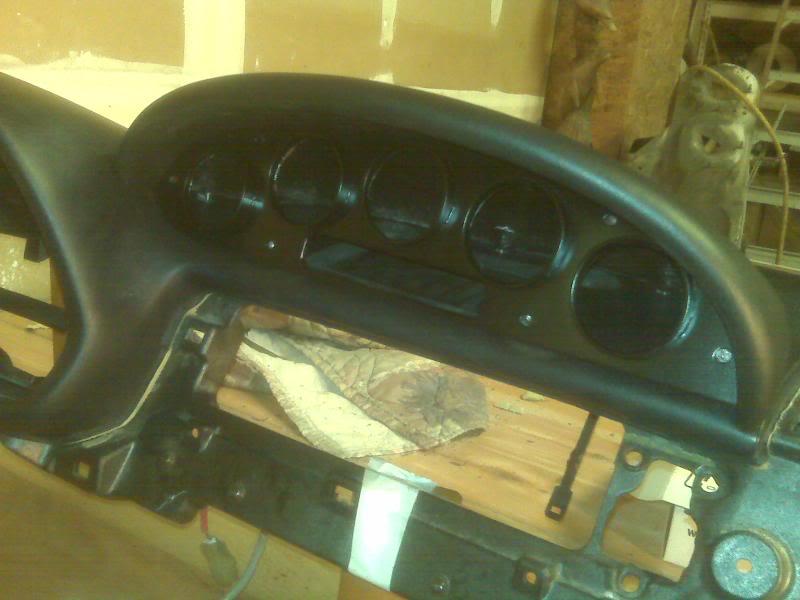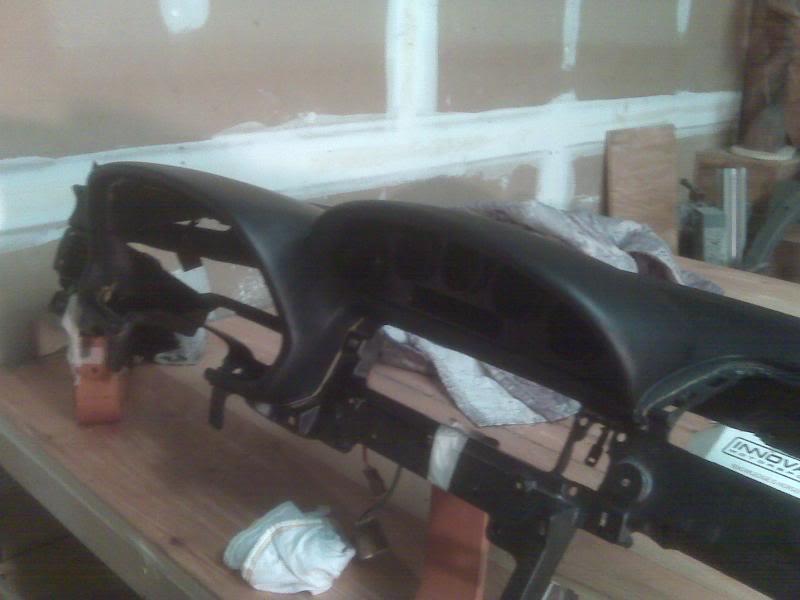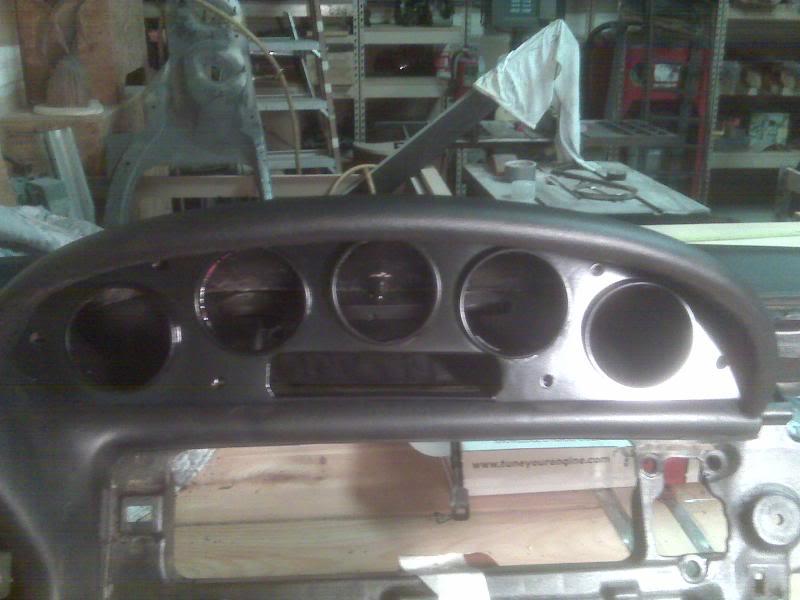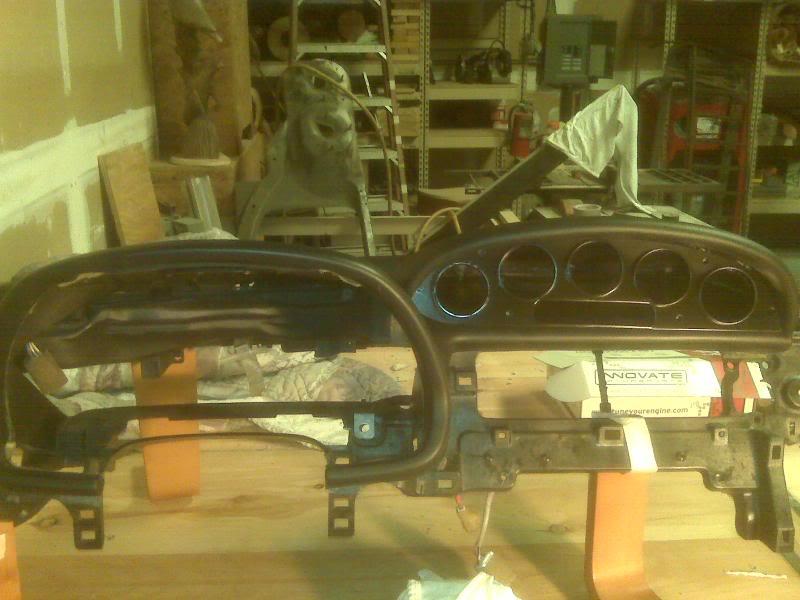 4-18-2009
Here is a test fit of the dash back in the car. The unit is not done, but this is a good facsimile of what it will look like. The backface still needs to be finished, and the screws you see will not be the final ones on the unit. The dash is also just layng in the car, so it is not properly installed, the harness is in the way, and I am not going to pull it back out so no need to move all the wires out of the way yet.
I like the look, and except for the cosmetic finishes yet to be done, I am moving forward with it. It is also not obstructing my view of the highway at all.
I am looking forward to seeing everything installed in the car.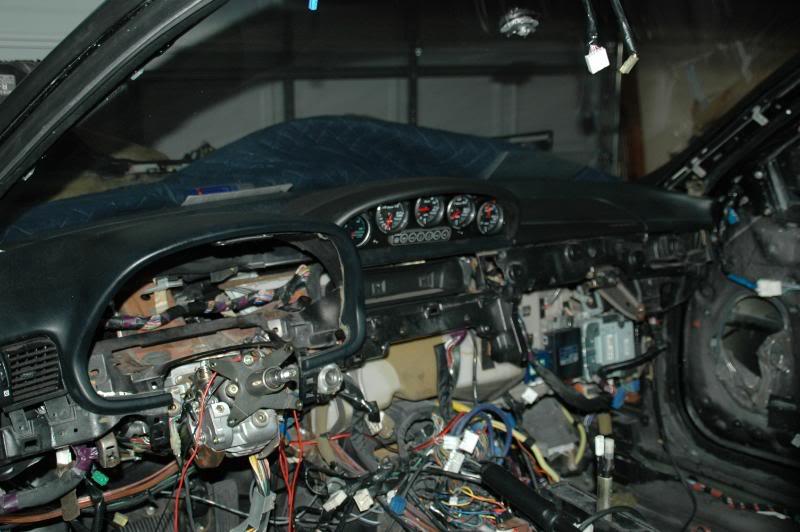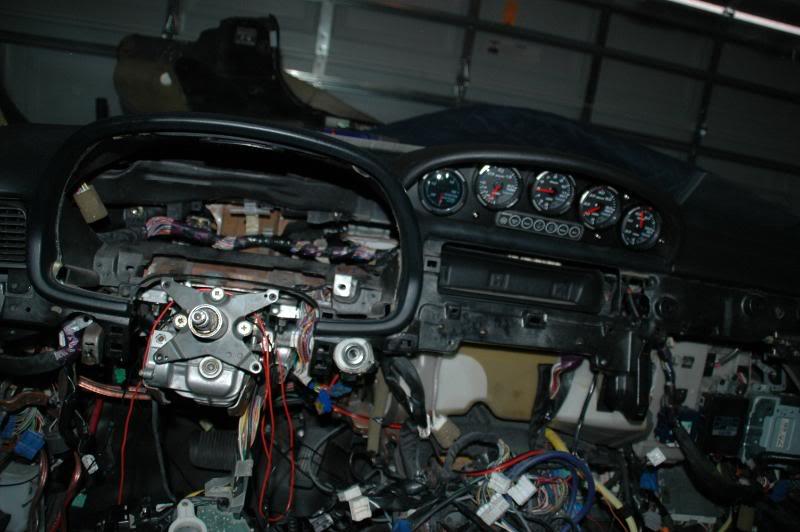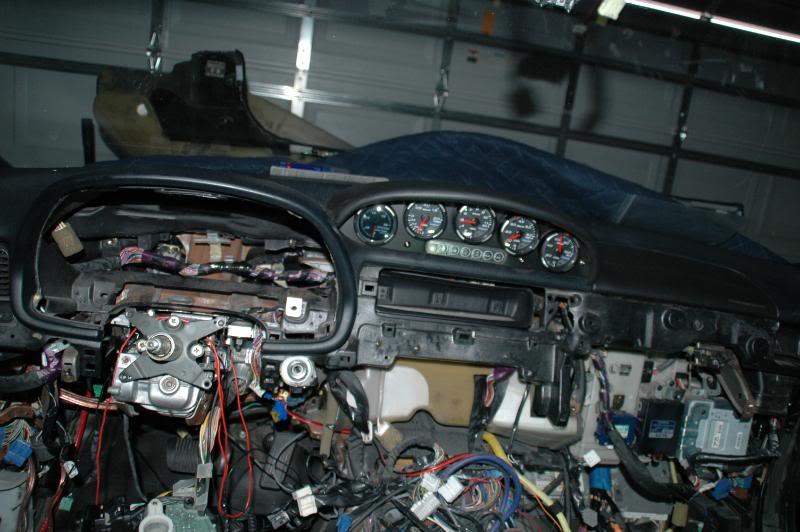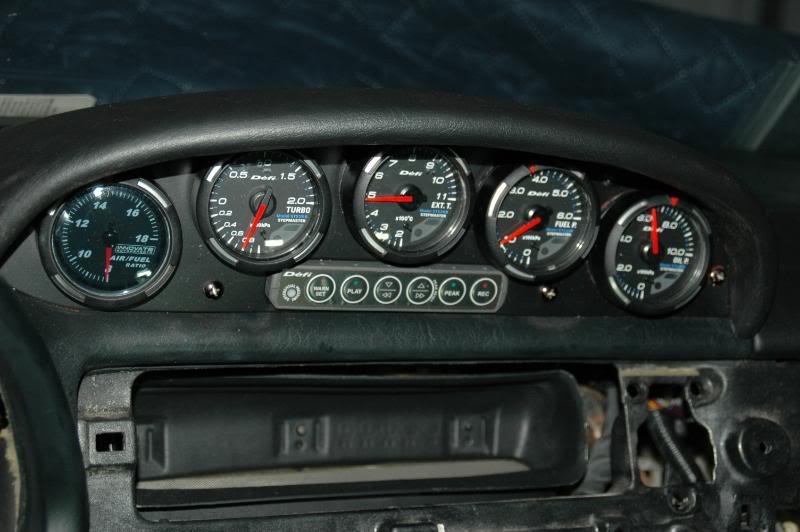 4-19-2009
Both turbos and the newly ceramic coated Downpipes are now permanently installed. The oiling system is now completed and tightened up. I expect to be starting up the car within the next week. I can haedly wait!!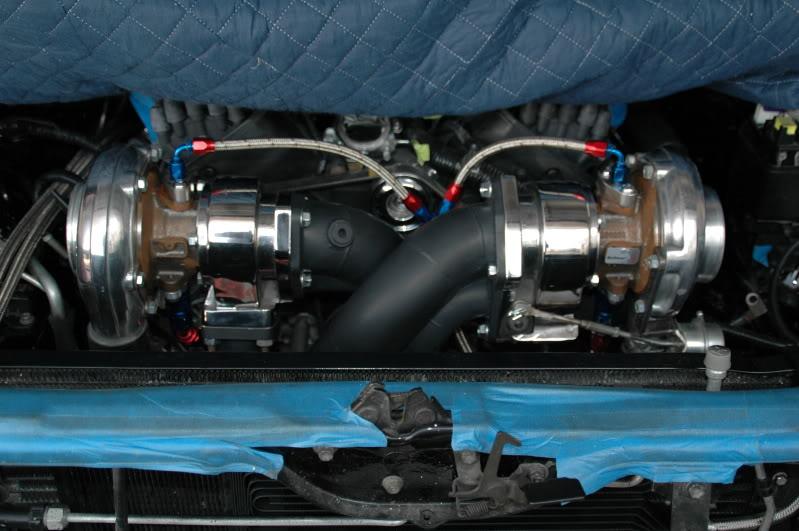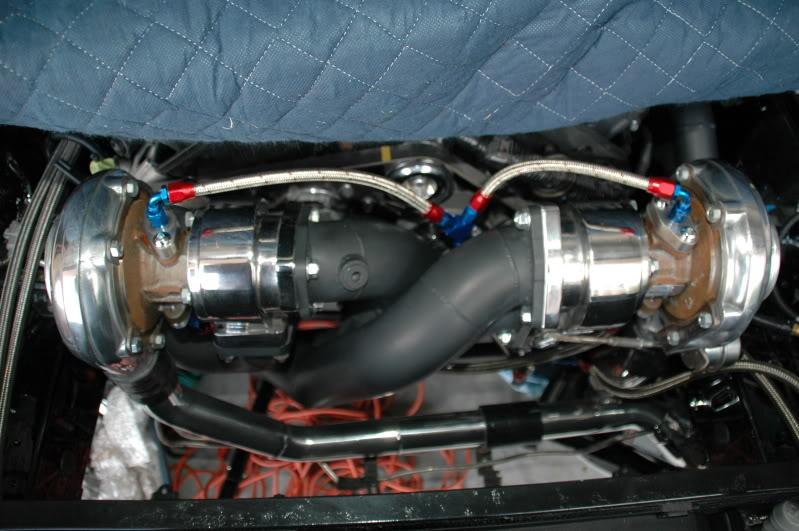 5-2-2009
Got some time to work on the car last yesterday. Got several things done:
Connected all the Catchcan lines and secured the catchcan

Relocated the Water/Meth pump from the drives side to the passenger's side

got the new SS braided hose made up from Amazon to connect the high pressure side of the power steering

Installed the new thermostat and water neck

made up the new SS braided lines for the transmission snd connected it up to the external cooler

Mounted the twin Zirgo fans

Mounted the radiator

Started working with the water tubing for the radiator, that will need some fabrication....
Much more to do this weekend....Almost there, but damn sometimes it seems to take forever....


Here are a few pics of some of the work and the Carbing radiator cooling plate that I bought and had polished.
Carbing Plate: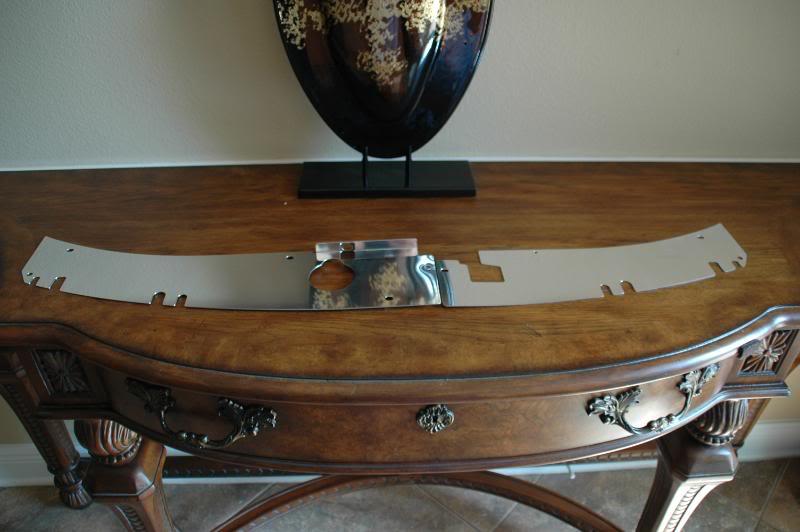 Greddy Catchcan mounted: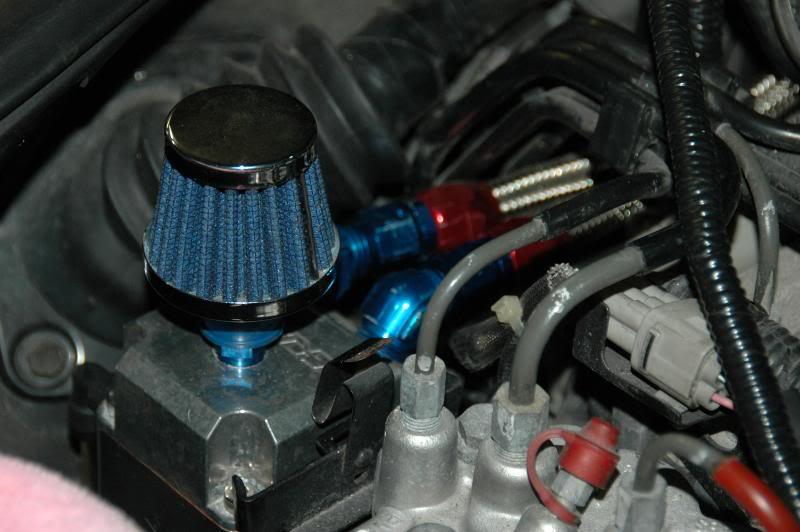 Twin Zirgo's mounted: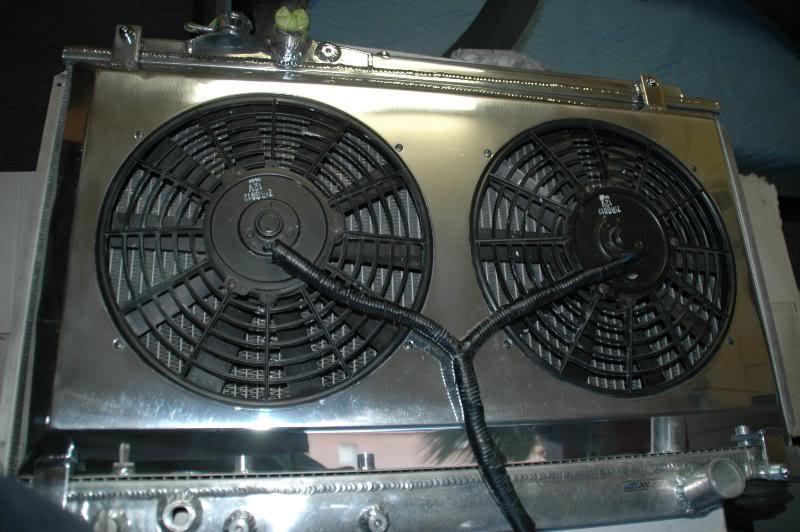 Tranny lines made and connected: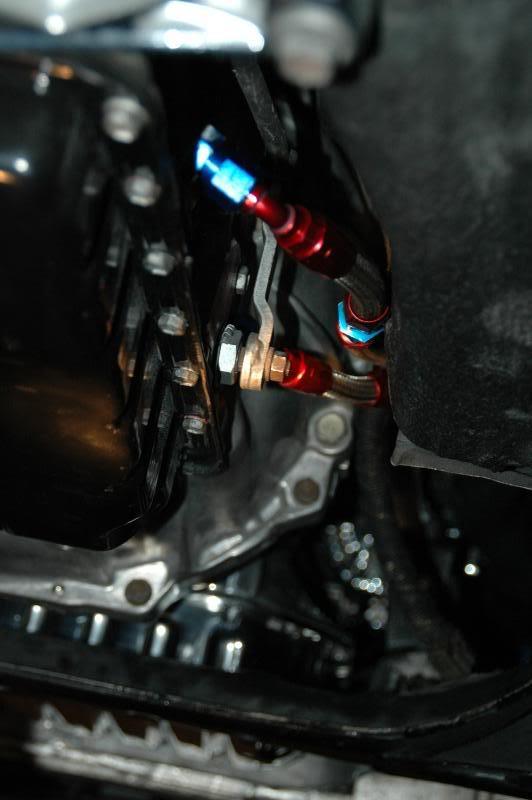 Relocated Water/Meth Pump: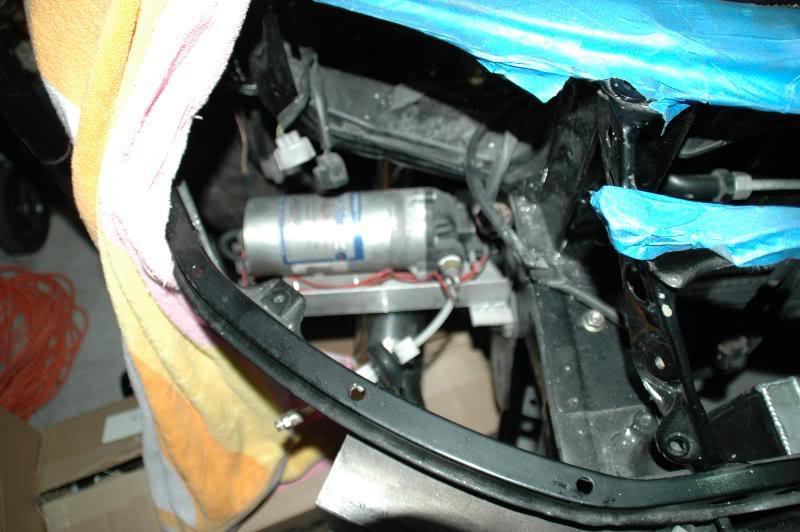 5-11-2009
Well, the car is really at the point where it is near completed, but little things that don't quite fit right, or little, but critical changes need to be made, mainly with fitment, or size of tubes or fittings, or clamps, etc, require me to trial and error, and order, or search high and low for the right fitment or custom part. This is time consuming, but it is worth it to get it right.
Also, if you all have noticed, my garage has been a wreck. My wife did not want to pay for the storage unit anymore, several months ago, so we had to move it all home. The garage was not prepared for all that stuff, so we piled it in there, and over the next few months, it got dismally unorganized, as well as became rather maddening having to make room to work on the car each time....Moving things out, then moving them in....What a true pain in the a$$ that was. The ritual got old....So, I have spent the last 2.5 days working on the garage and shelving, and re-rganizing with my wife's tremendous help, and although not yet done, a massive improvement. The trash man will probably curse me out a few times tomorrow.
Any way, I was quite disappointed that I did not get time to turn any wrenches this weekend. So, tonight, after we finished up the garage, I had to test fit the second of the Cool-Flex tubes I had bought for the radiator tubing. If you recall, I had mentioned in a recent, previous post that I was still going to have to fabricate (Pay a welder) to cut up and weld on some special tubing for me to fit my radiator tubes. This was indeed a disappointing thought, not to mention even more time and hassle to find the right welder, plus the extra expense....So I worked on the long tube tonight, and trial and errored the best route to run the tube, and it worked out absolutely perfect!! The long tube (the one that routes from the bottom of the radiator to the water neck/thermostat housing), clears and fits beautifully!!
As with anything we do in life, along with practice comes experience, then comes practical knowledge, then added success....So, I decided to give it a go with the upper tube again. This is the one that I was sure I had to fabricate and weld up a special pipe for du to the tight corners. Well, I had previously connected both ends onto the Cool-Flex Tubes, and left it that way in despair froma few nights ago.
So, I decided to just start turing and re-positioning that tube to see if I could get a better fitment, and much to my delight, I realized that all I had to do was adjust a bend from one direction to another by facing the curve straight up, instead of to the side. This took the tube off the turbo, still allowed plenty of clearance for the hood, and took off the pressure to try to make an almost impossible and extremely short radius 90 degree bend plus it cleared the other tube. Hallelujah!! Success!! It clears, and looks beautiful. The only issue I have is that the upper feed tube is slightly short, so I will replace it with a longer one, and voila!! I will be done with ALL tubing, hoses, and pipes.
A major milestone with this project.
I love all the extra room in the garage now....


Here are a few pics of the Cool-Flex radiator tubes....Well worth the money, and absolutely gorgeous, IMHO.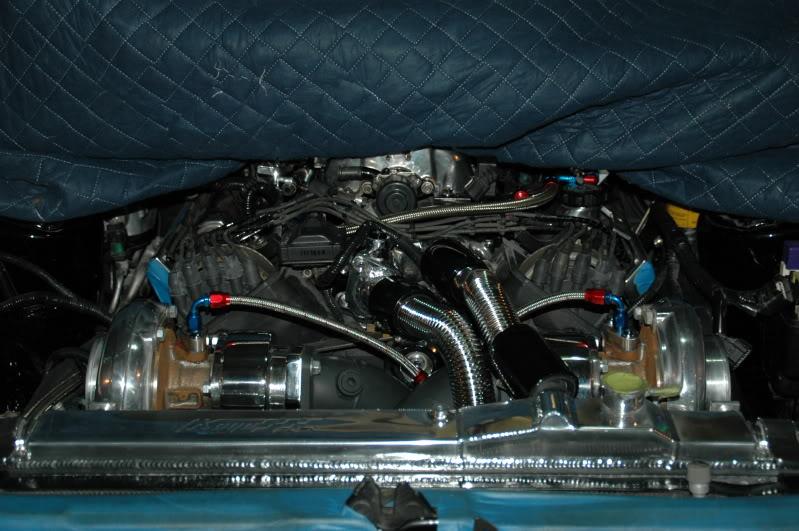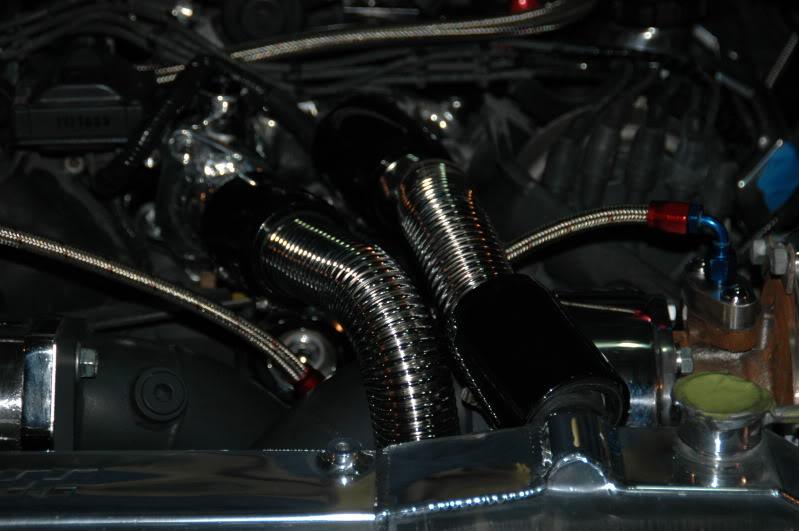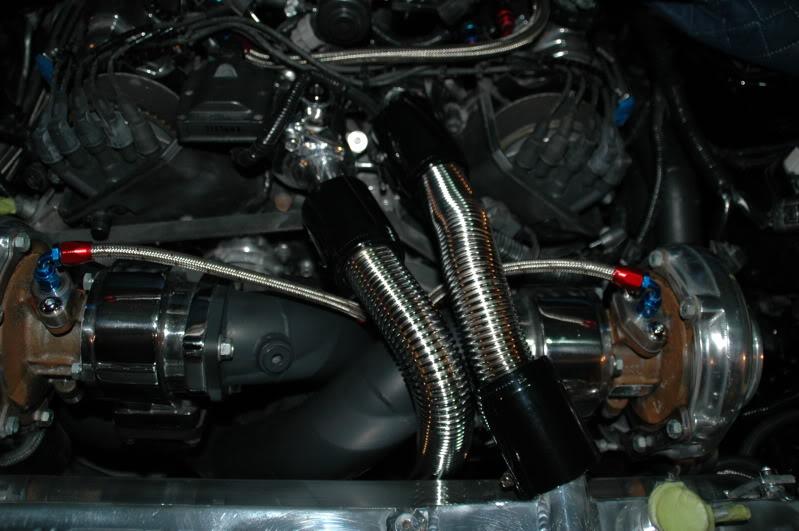 6-15-2009
Hey gang, thanks for the inquiries. I have been really busy with life, eg; lots of work, putting in 65 to 80 hours a week lately. Good thing is business is far better than last year. Secondly, I have been preparing for my MBA, so I am studying for the GMAT. Also, just living life....But that does not mean the car has stopped....Quite the contrary. Here is a list of the progress:
I installed the 4 speed gated shifter from the 2000 SC300 today. I had bought the shifter many months ago. It fits like a charm. I also bought the shifter linkage rod and new bols and bushings, and installed them all today. Shifts great, although I need to make a small adjustment to get 1st gear perfect. I still need to rewire the shifter to work properly.
The steering wheel is done, so is the airbag. I had the chrome logo done in gloss black. Here is a pic: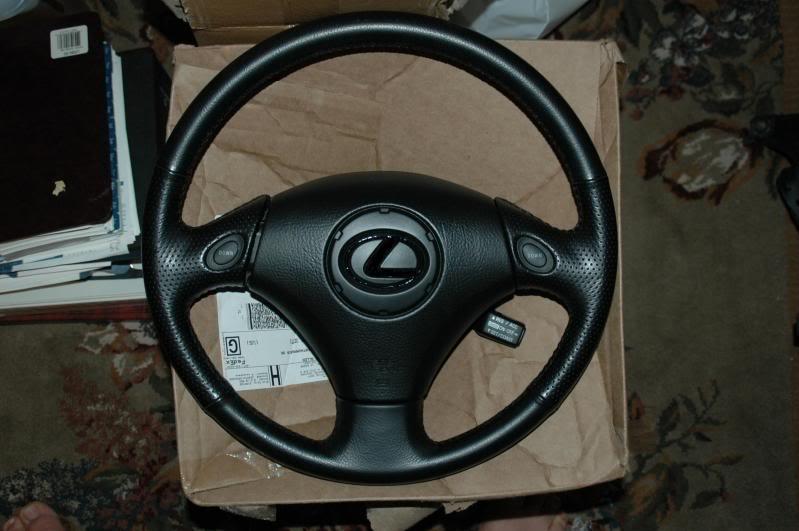 I am almost done with the installation of the sound insulation matting and foam from edead.
The plate for the double DIN AVIC Z2 DVD NAV is almost completed, and will be installed with the interior this week.
The custom headlights are almost completed. Here is a partial pic to show you the housing. I am staying true to my word and not showing the whole light until they are done and installed on the car. You can see that they look very little like the original SC lights anymore. They look very modernized, and they are being done in partial Black Carbon Fiber: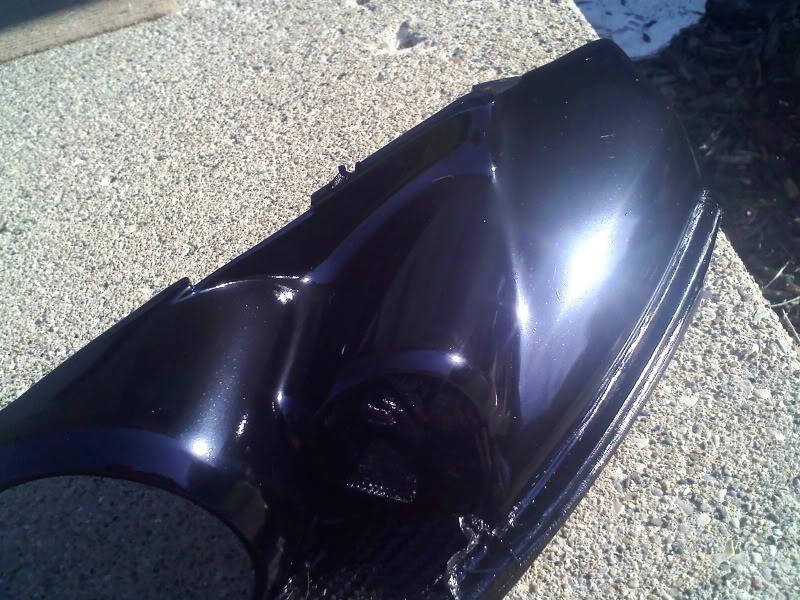 The whole engine and all the systems are buttoned up, the oiling system is done, the transmission is done, the fuel is done, the cooling system is done. I still need to refill the AC.
I need to complete some wiring, and complete the additional stereo mods.
I took the used 20" i forged wheels I bought and had the curb rash fixed on all 4 wheels. I test fit them and they looked great, perfect fitment too. I sent them out for polishing, and I need to decide which tires to run on, but I am leaning towards Falkens, they are very quiet, handle well, and are priced competitively.
More to come this week. Things should progress quickly now.
6-23-2009
Hello Gang. Since this is first a Luxury Sport Coupe, and a Race Car second, I call it a Super Coupe.
Anyway, here are a few pics of the sound proofing mat material that I bought from eDead. Great stuff. But as with all matting, somewhat painful to work on due to the tediousness of the work, but well worth it. Should really assist with the muting of the hum the Walbros put out. As well as a better drive. Nice thing about this eDead product is that it is thinner and lighter than the standard matting, but is still as dense, so should be very effective. I am also adding a secondary mat called V Comp which is a neoprene matting.
Here are a few pics of the butyl matting: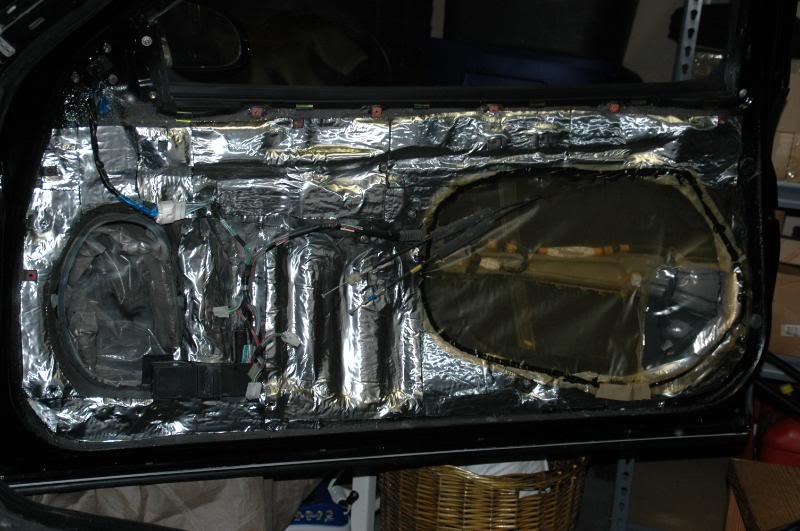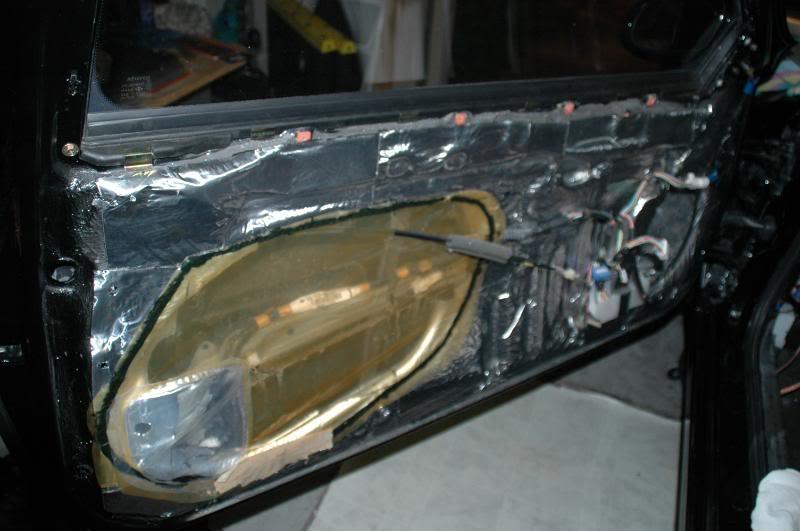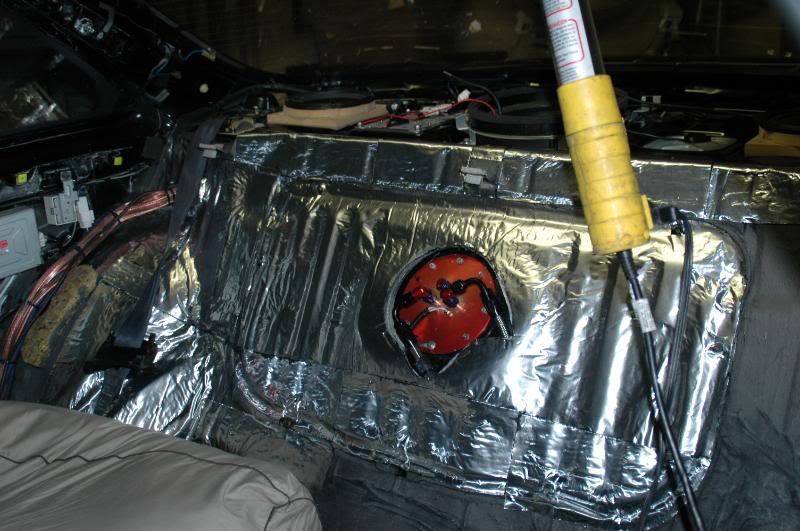 6-26-2009
Quick update:
The Sunroof Slider is installed

The headliner is installed

The Sound proofing matting is 95% installed

The Wiring for the two aftermarket ECU's was checked out by my buddy motorheaddown, and was found to be GOOD

The Custom Plate for the new Pioneer AVIC Z2 has been made, and is completed

The Dash is installed back in the car (Thanks Shane)

The rest of the interior will go in this weekend

I will start putting fluids in the car, prepping it for initial start up
Can't wait!!

6-29-2009
OK Gang. Another weekend spent mostly working on the project....:beer: I completed the soundproofingwith the butyl matting, and I took the Lexus rear soundproof mat, and added the neoprene matting to it to further dampen the potential hum I may get from the Walbros. I am glad I did this, but it is very tedious, as I said before, and virtually backbreaking work at times....I spent several hours on this over several weekends, but I believe it will be well worth the effort, I also only added approximately 30 lbs to the car by doing it.
I also worked on the installation of my two computers....I first connected them to the new wiring harness so I could look at the best layout. Fitment was perfect from Phoenix Tning. Both the Autronic SM4 and PCS will not fit in the stock floor position. I will have to mount the PCS nearby, probably on the front tranny tunnel., under the carpet.
I still have to install the rest of the push pins in the headliner. Battery goes in this week, and I plan to reinstall the speakers and disconnected stereo gear as well.
We kind of live out in the country, so I have not only posted pics of the progress of the car, but also of some deer that were no more than 10 feet from my back door. I have actually seen a 65 lb Florida Panther in my back yard once, as well as Eagles, hawks, and owls regularly. Pretty cool.
Soundproofing: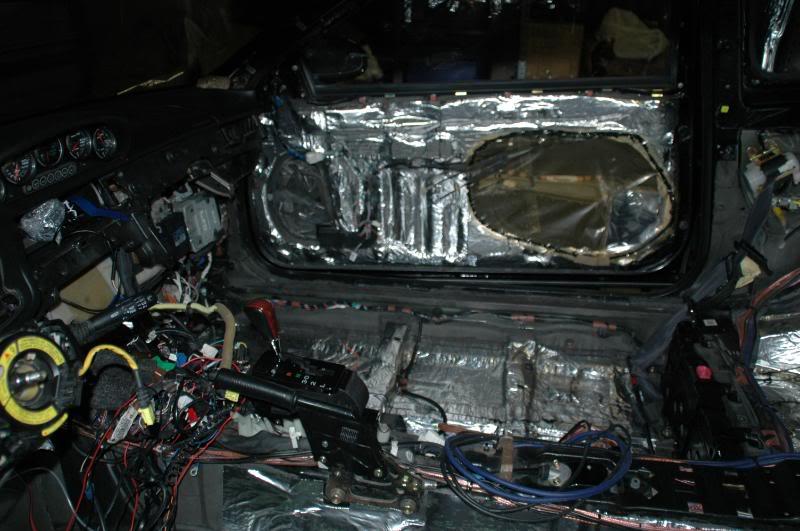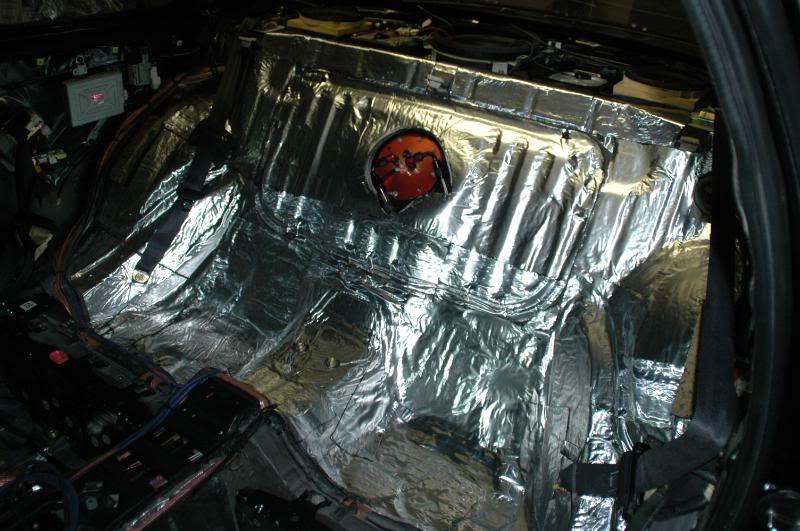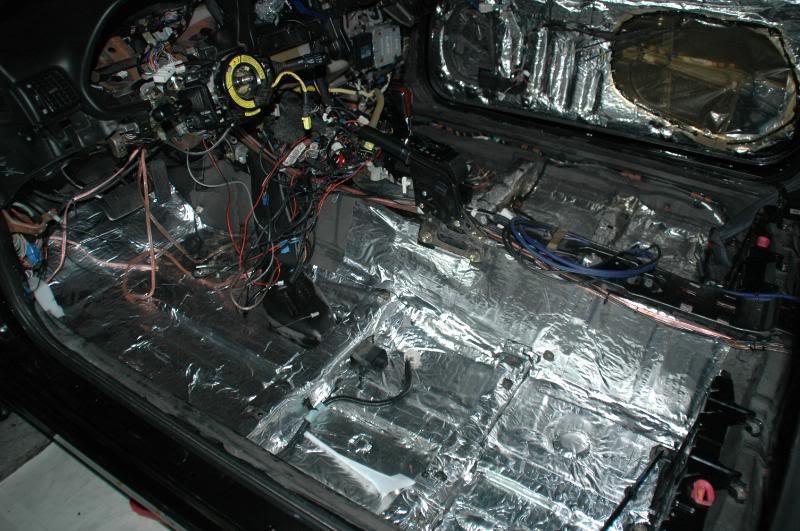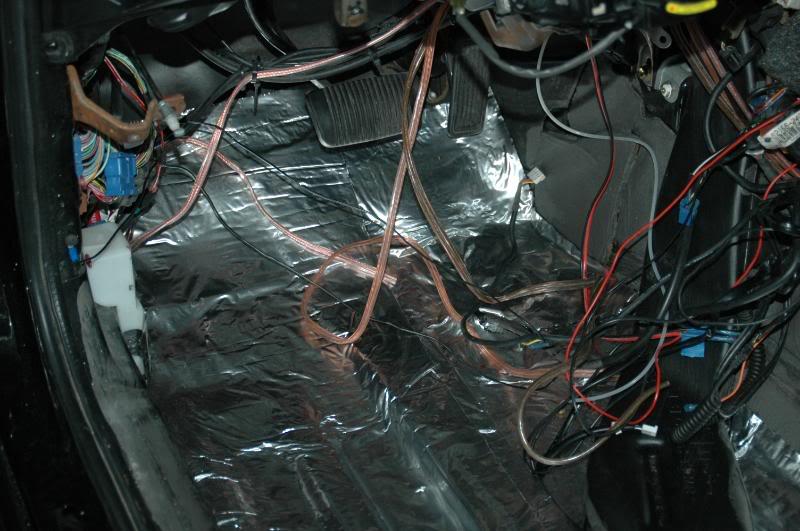 Ryoku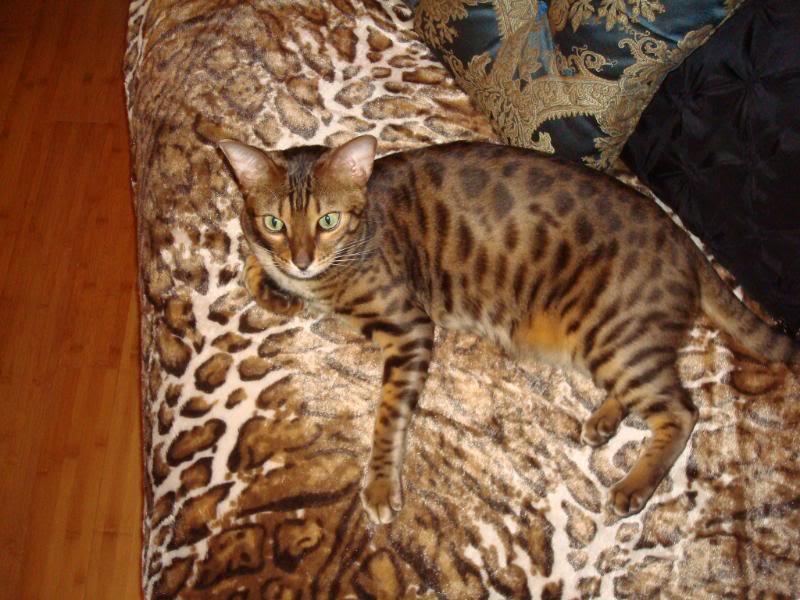 I know I posted up pics of the dash before, but it was just laying in the car at the incorrect angle. These pics show the dash actually installed properly and bolted down. I really like the angle of the gauges from the driver's position.
Dash Installed: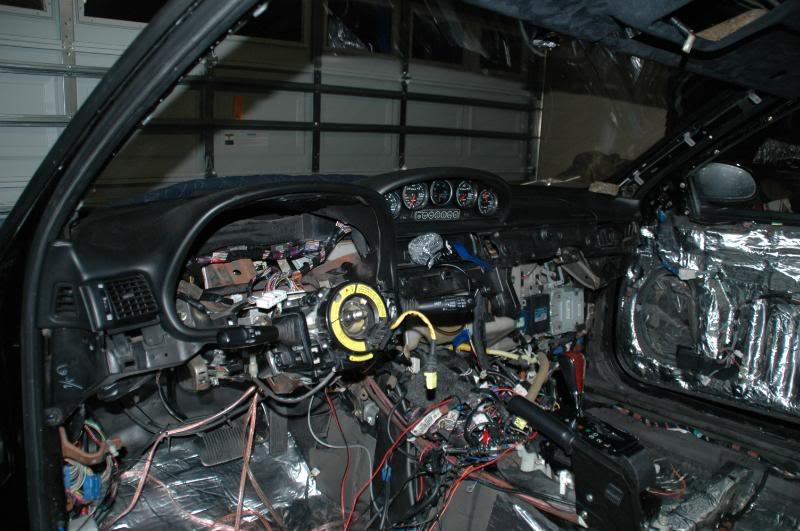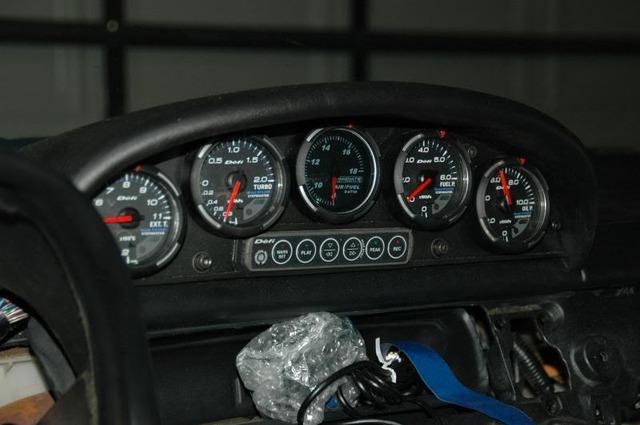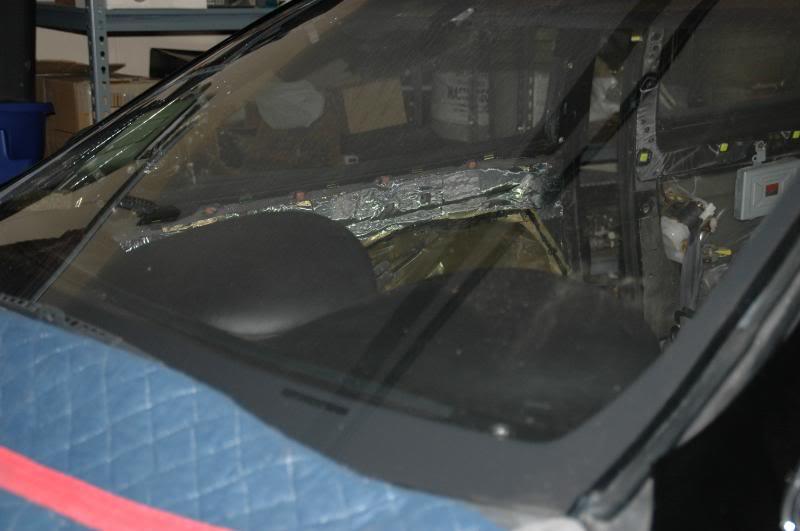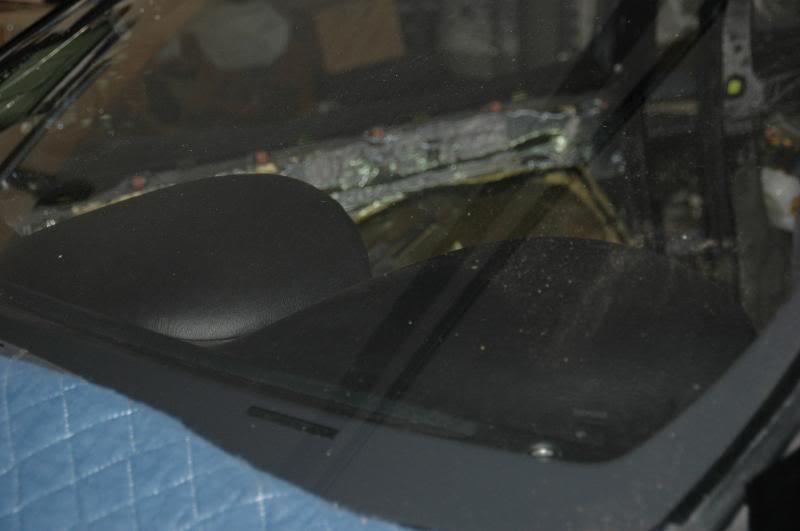 Ryoku's favorite past time: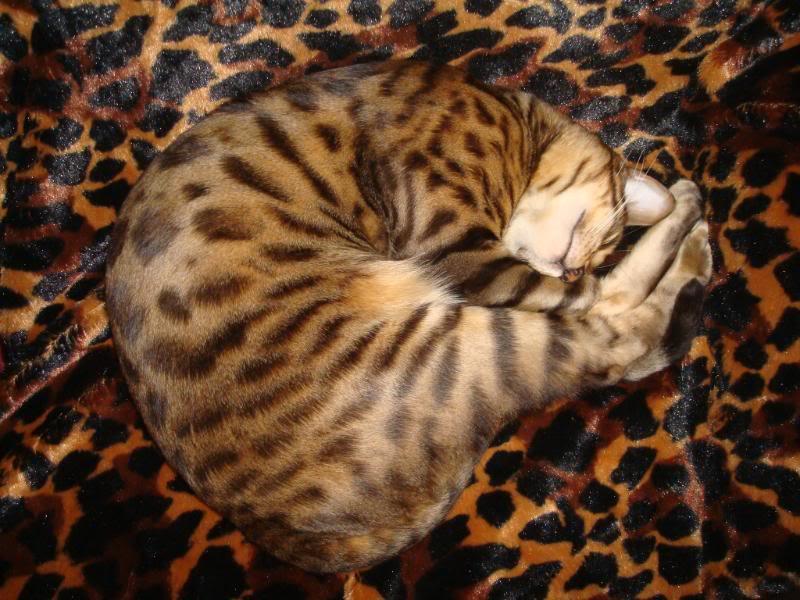 Here is the headliner. I need to brush it, but I absolutely love the perf black suede!!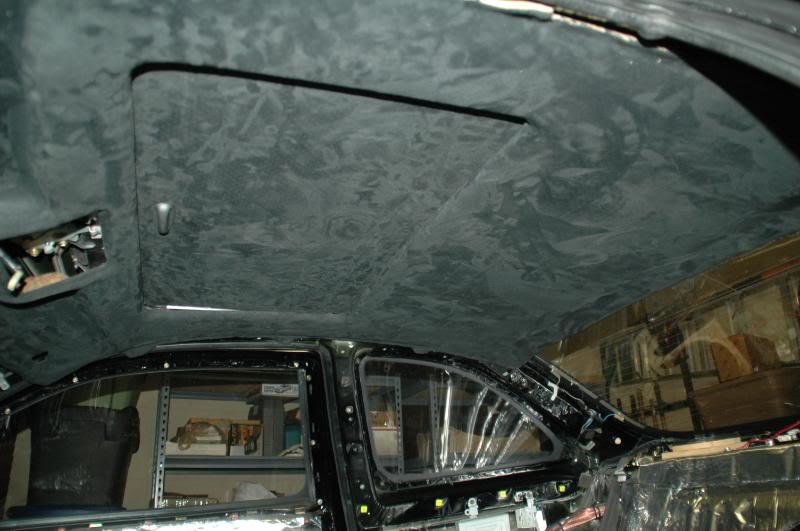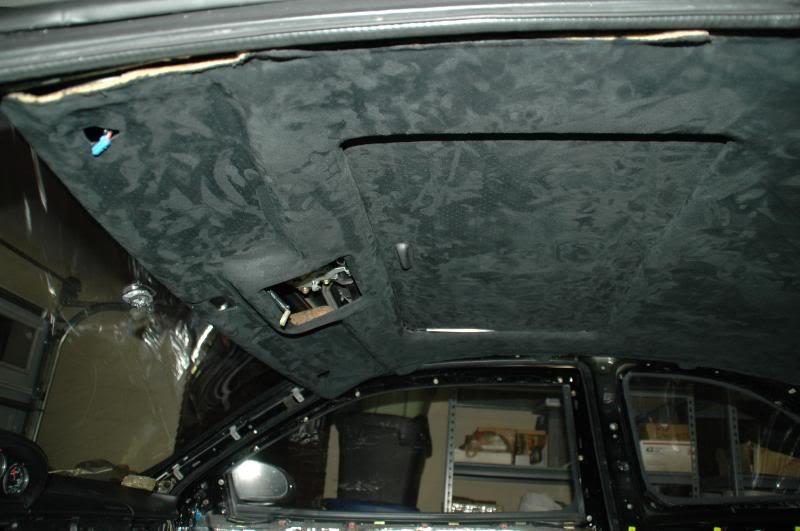 Here is a pic of the Lexus rear sound proofing mat with the added eDead Neoprene matting added to it: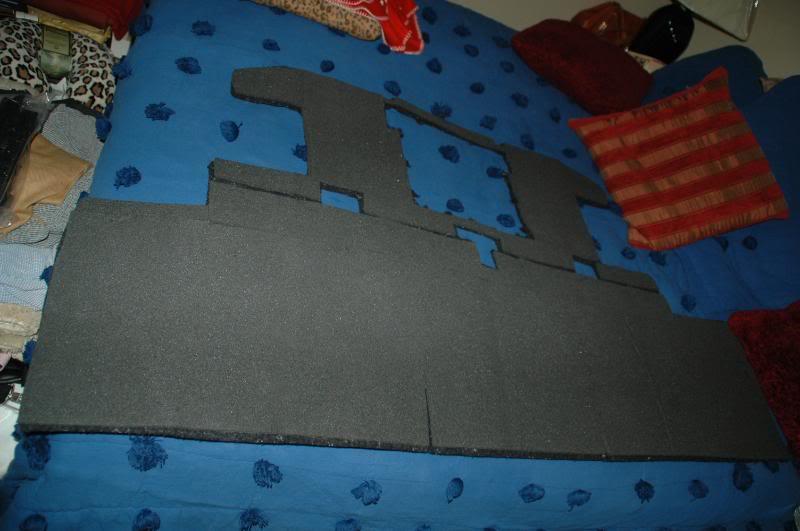 Pioneer AVIC Z2 installed in the custom plate made from the original Lexus stock radio face plate. This is installed in the tan center console, but will be permanently installed in the black interior when I place it in my car: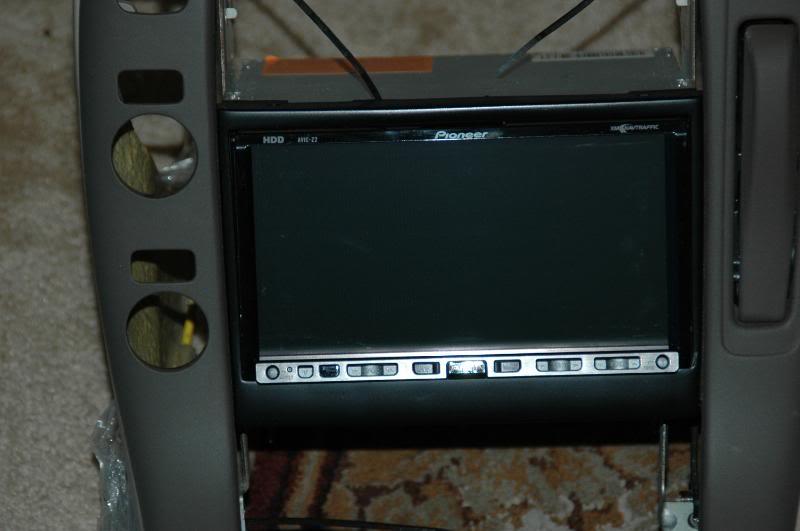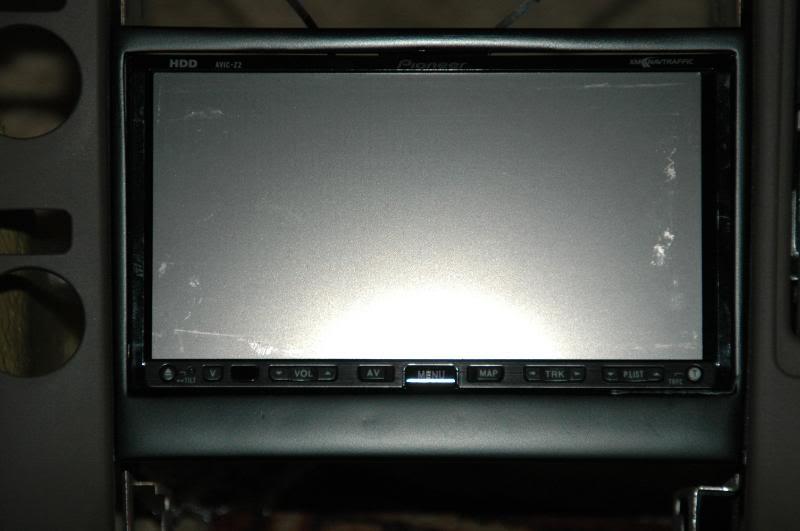 Here is a pic of the deer: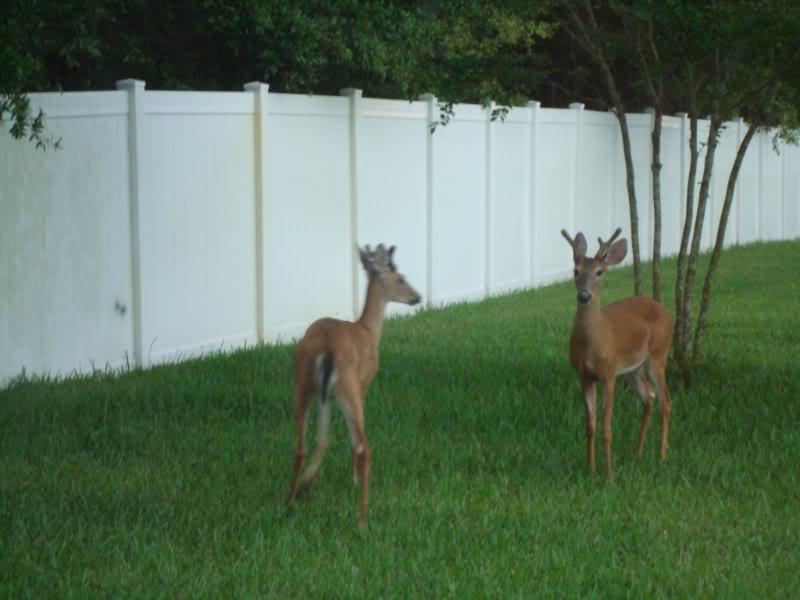 Another of Ryoku, he can really jump high....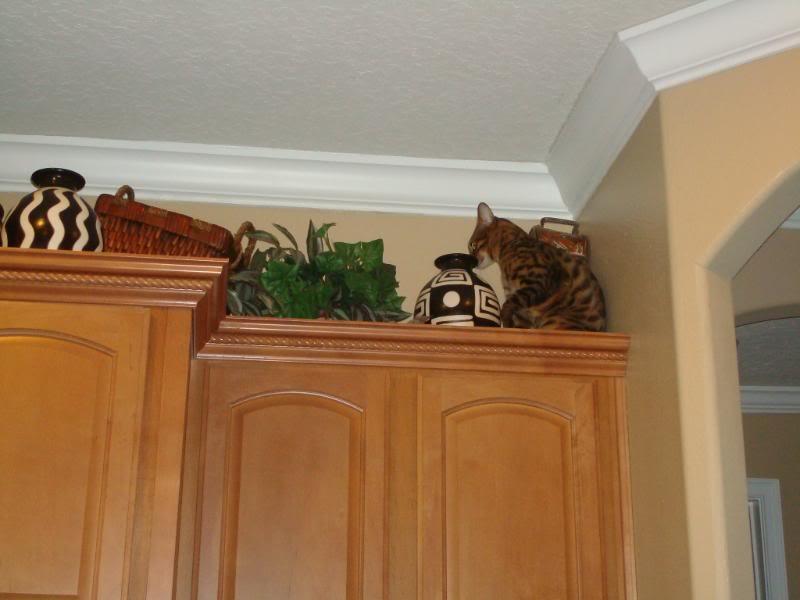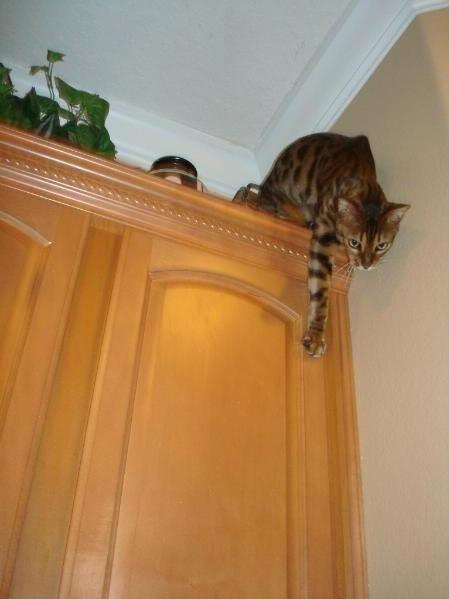 7-1-2009
Here is another teaser pic of the headlights:
CF is a major part of the re-design: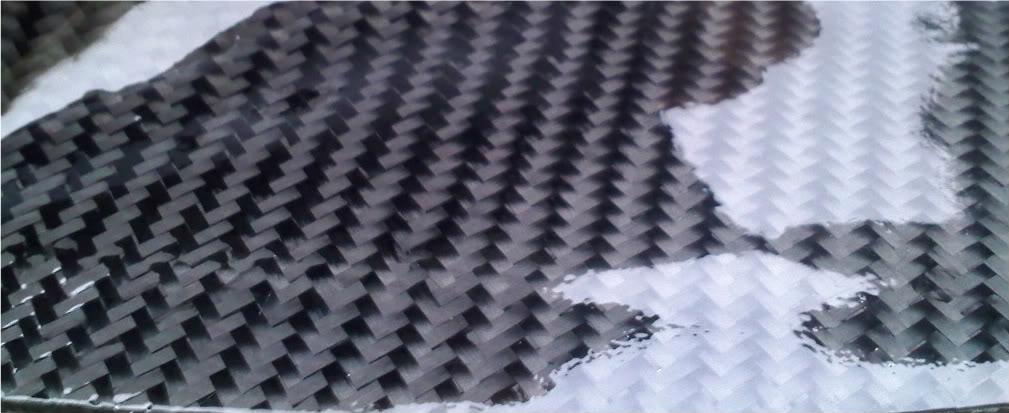 Custom Secondary Projector: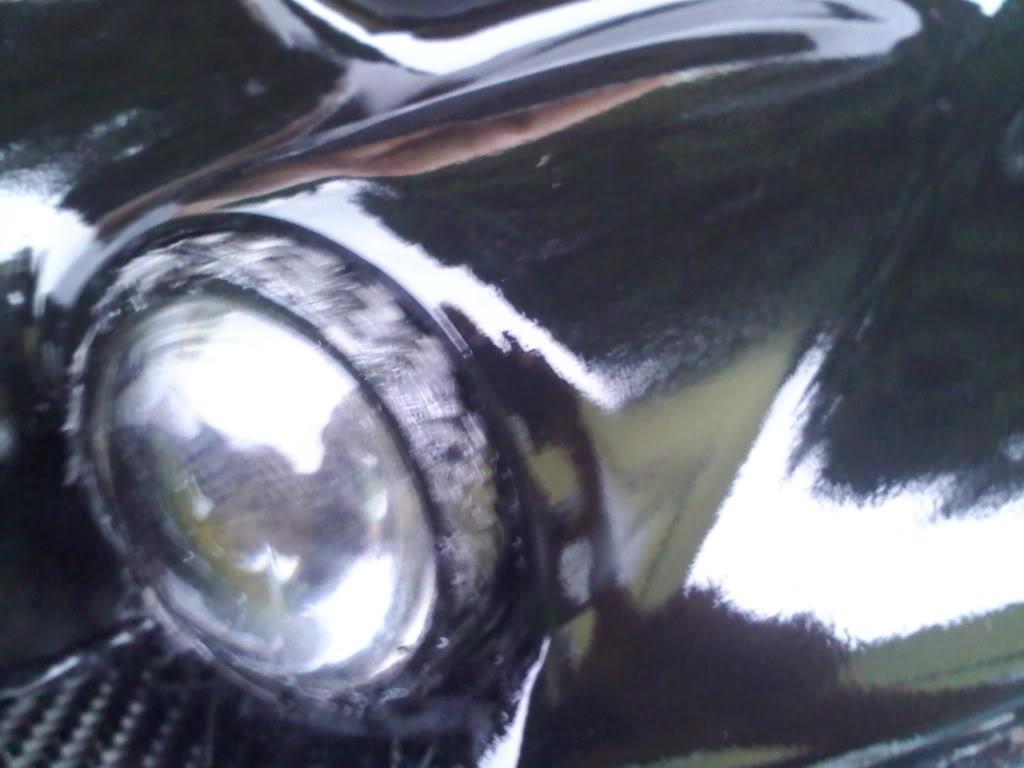 More to come.
One more teaser shot....A little more of the light and design: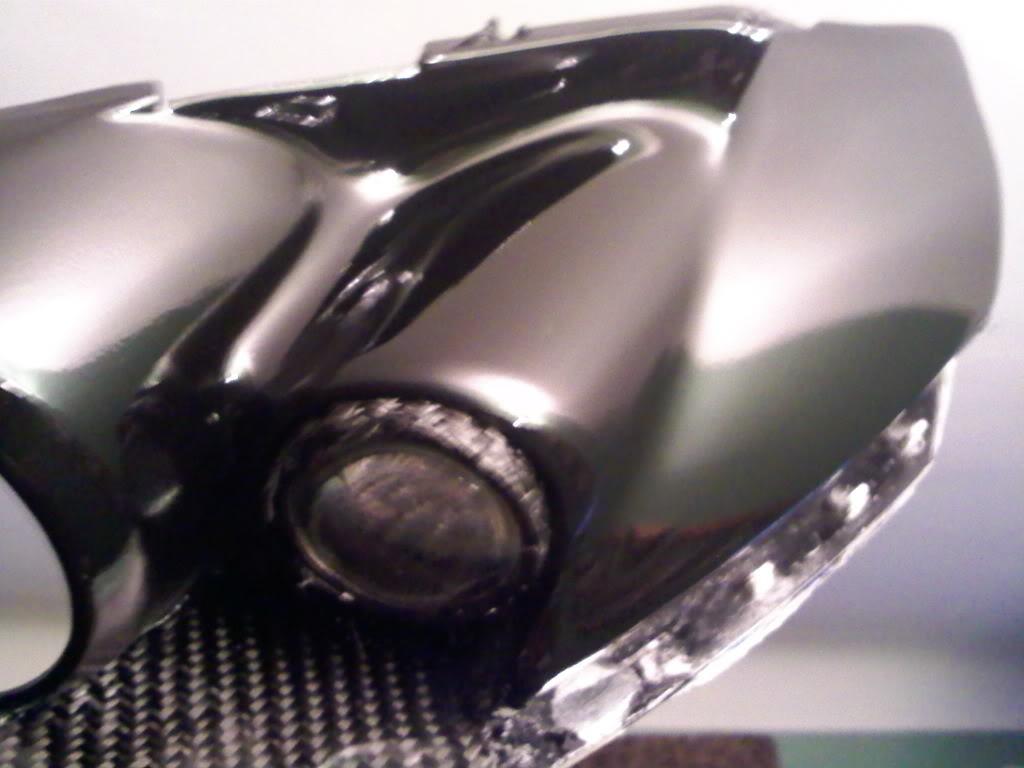 7-5-2009
Quick update:
Happy Fourth of July everybody!!!!!
The Sound proofing is finally complete. I have measured out and installed the neoprene matting on top of the butyl matting. The neoprene matting is as light as a feather. The combination with the Lexus sound proofing should make for a solid and quiet ride. I should not hear the Walbros now. The stereo should sound even better, and long trips should be even more comfortable. Lots of work, but worth it. Here are a few pics:
Firewall 1: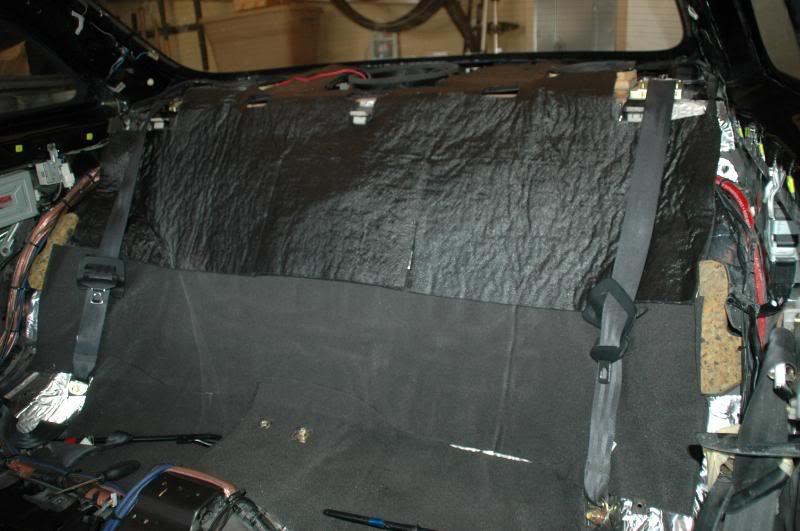 Firewall 2: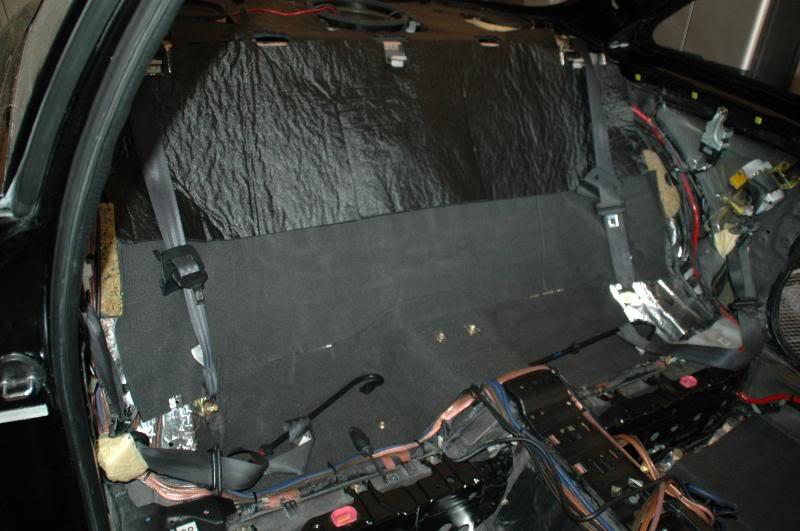 Driver's side: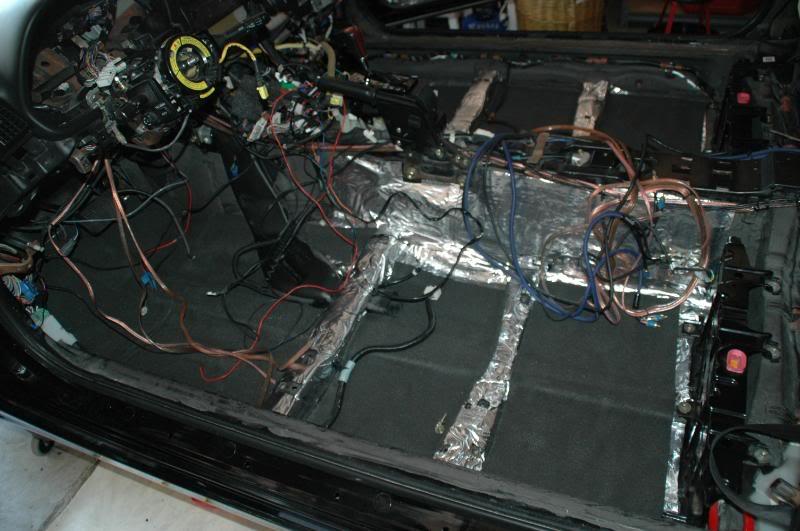 Passenger side: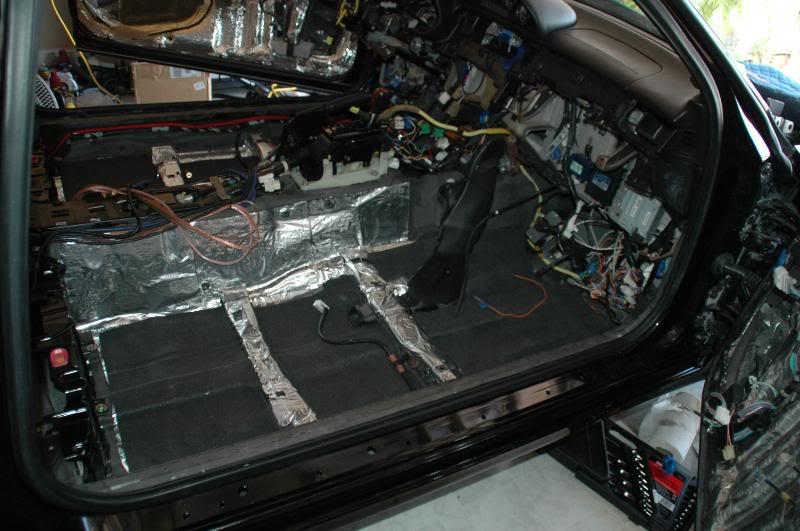 Hey guys, I found another present from one of the previous companies that worked on my car....As I stated in the past, every time I go behind them, I find wiring or something else that is just unacceptable and not to the standard of quality I paid for. Although this wiring is not a fire hazard, it is just a quick "hack job", IMO, done to get it finished and out of the way. Even the electrical tape used was the poor quality stuff that oozes all the black glue within a short time from the interior heat in the car and makes your fingers black and dirty just touching it. In all fairness, they did solder the wires together, and they did wrap them, so, I am not accusing them of doing something wrong, just not doing what I aksed and paid for. My Dad said a long time ago that "If you want something done right, you frequently have to do it yourself". Very true words.
I would have wired up the gauges to the switch that dims my interior lights so that I can adjust the brightness of the lights to match with the rest of the interior dash lighting. The other two Autometer gauge bulbs were wired into the power and and ground of the AEM UEGO harness. Down and dirty, quick and easy. Oh well, I am redoing it the better way, and using the high end 3M electrical tape that holds up to heat much better.
I have attached a pic of the wiring: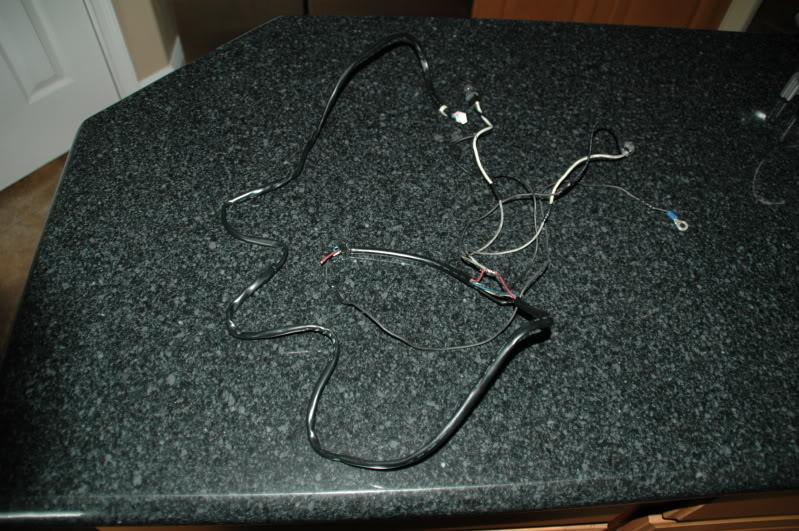 8-13-2009
Well I know it has been a while since I have given much of an update....
I have been in Peru for 3 weeks on vacation and business.
I have been super busy with work.
I have been under the weather from eating salad in Peru and getting an intestinal infection, to then developing a rather sever case of Bronchitis.
I have just started to really feeling well again, and so I got to work on the car a little tonight. My good friend Dan Osypian, a former Lexus Tech, came over to assist me with installing some of the interior and the installation of the rear speakers back into the car. I love his work and his attention to detail....Hard to find today.
Anyway, we installed the rear MB Quart Tweets (we had to cut holes in the rear deck and install the Tweets as a flush mount, and then install the rear deck, the rear upper and lower quarter panels. We would have installed the rear seats, but I need to take the rear lower bench and have one minor repair done to the leather. It just needs a little stretc and it should be good to go.
Dan is coming over on Saturday, and we will be working all day to get the engine bay buttoned up so that the car is ready to start up.
We also plan to complete the DEFI gauge install this week.
Here are a couple of pics. The car is beginning to look like an actual car again....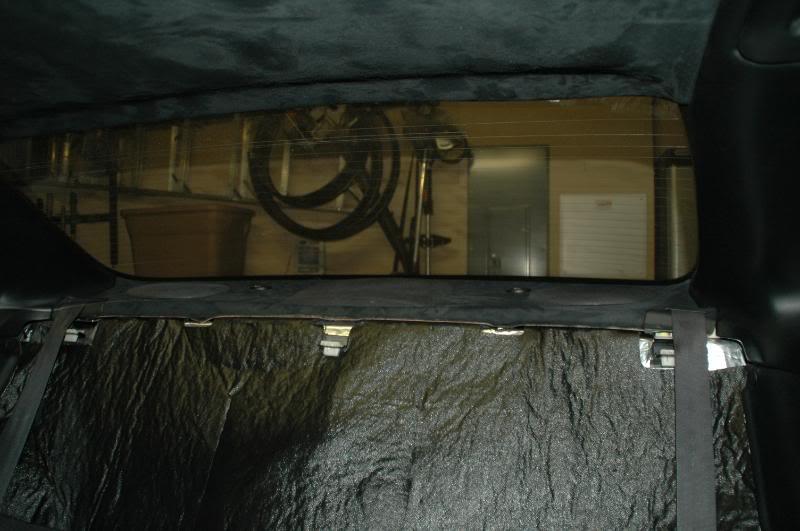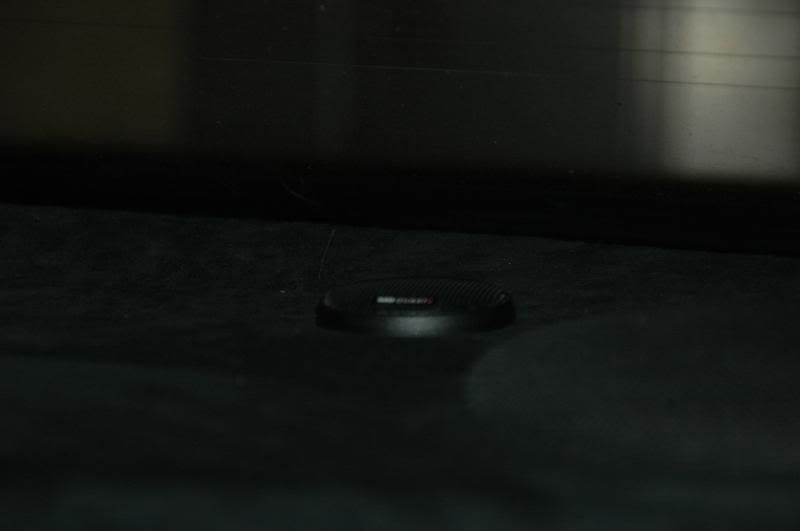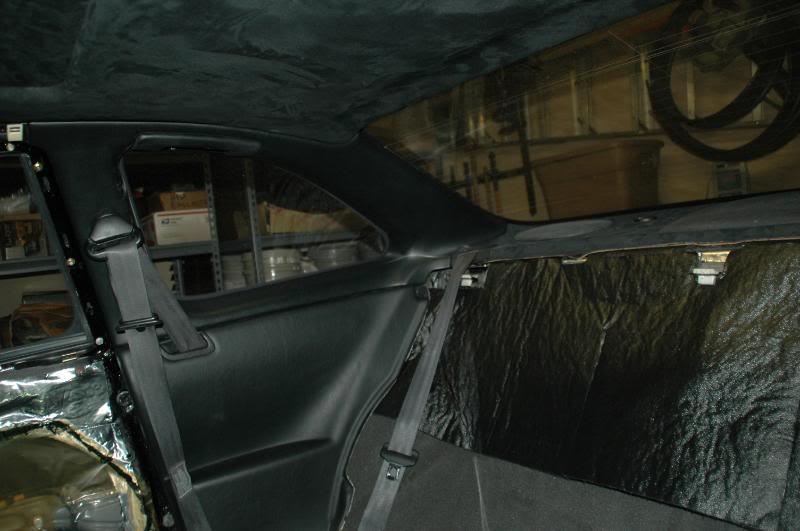 Beginning to rev up the work on this beast so we can get to the finish line by the end of this month.
8-23-2009
The project keeps progressing well. Pics of the updates to come soon. Here are a few pics of the 20" iforged wheels I bought used, repaired the lips, and polished up and cleaned. I plan to run them and my 18" wheels as well. The 20's are probably just for the shows. I may even sell the 20's soon. I have not decided.
Rear wheel: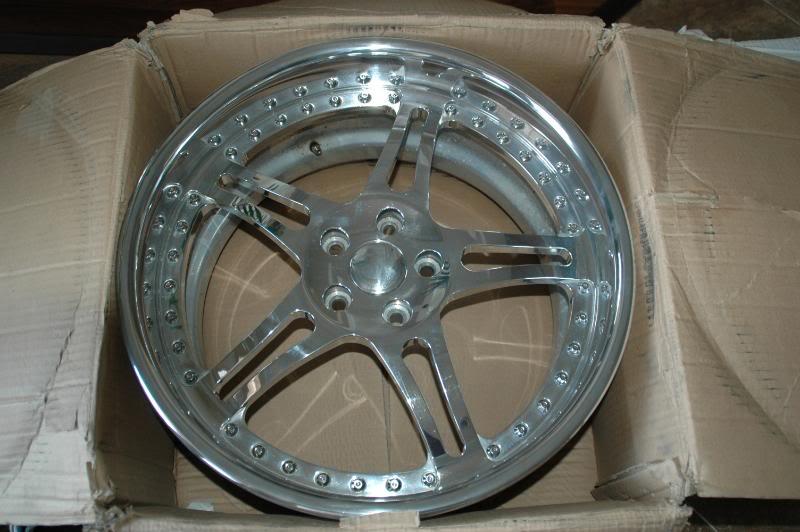 Front wheel: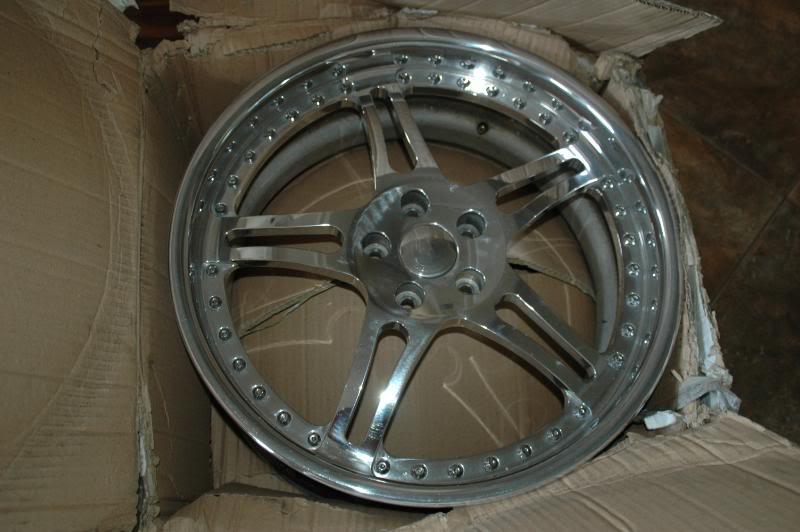 8-28-2009
Well, another late night on the project. Dan and I worked on it like crazy, and got much done.
The DEFI's all fired up, look gorgeous!

My newly revamped Cluster from O. L. T. fired up and looed awesome as well.

The revamped AC control module done in brilliant white fired up. Again, awesome!!

Installed the Greddy Profec B Valve control unit in the car, and ran vacuum hose from the turbos

Wired up the Power/ECT/Snow button for the E-Shift Poewer on switch. It lights up the dash and shows ECT when on, and in manual mode.

Wired up the SC300 Gated shifter....Still have one problem, can't get the shifter out of shift lock, (even when pressing the brakes). It will come out of park and shift to all gears. It gets stuck at Neutral. I searched everything on the forum regarding this, and cannot yet find the aswer. I can only shift to park by engaging the shift lock release button. Anybody know the fix I appreciate it much.

Wired up the relay for the fans, wired the ground, and fired up the twin Zirgos!! Awesome fas.

Re-routed many wires and harnesses....Very time consuming.

Repaired the damage from the previous shop to the custom billet battery tray....Lots of' time again

Put power to the car.
I have attached a pic or two of O. L. T.'s dash magic!!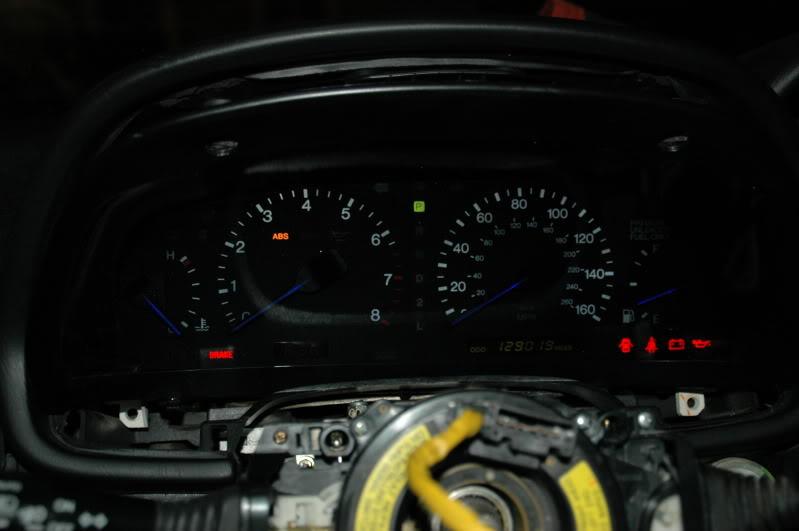 I decided to go ahead and assemble the center console, and install all the switched back. Here is what it will look like when installed back in the car: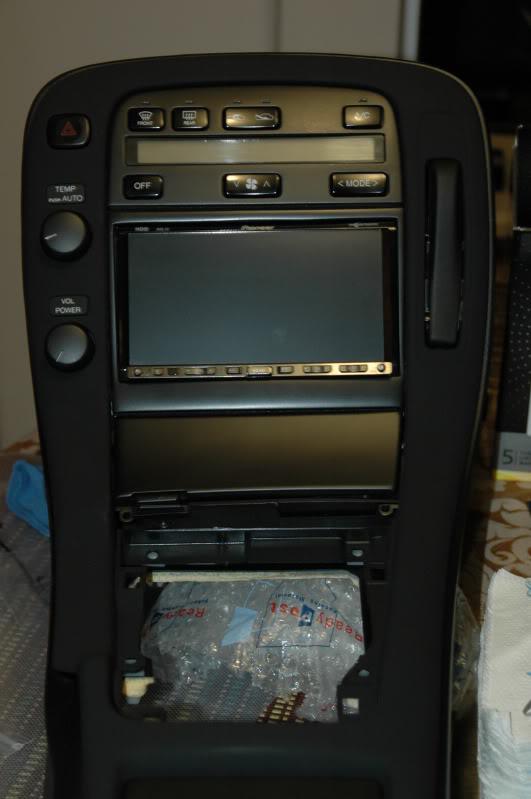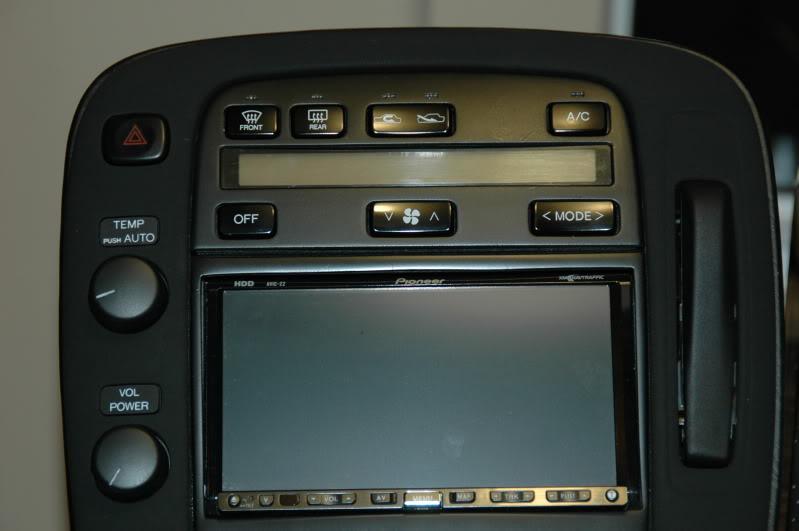 9-1-2009
I planned to start up the car this past weekend, but I had to work out a few unexpected relocations first:
1)I had to relocate the EGT bung on the DP as it was too close to the lower radiator tube to get around with the sensor attached. I moved it six inches further down the exhaust, on the other side of the V-Band where there is no ceramic coating. That was welded on by Jarrett at SlowBoy Performance on Monday, August 31st. Problem fixed.
2)The bung for the IAC valve was never welded onto the Charge air tube, so Jarrett welded that too.
3)When I went to connect up the Air Intake Temp sensor, I found that the bung that was welded on was drilled and tapped for a different sensor, so the size of the hole was way to big. Jarrett fixed that up for me as well. Great guy, Jarett. He welds a damned fine bead.....
4)I have to work out the relocation of the PS pump reservoir, the location of the Water/Meth reservoir, as well as selecting a new fill reservoir for the windshield washer.
As mentioned above, I picked up those parts from Slow Boys today, and I installed them tonight. Damned V Bands are sometimes a pain to connect up. Anyway, the exhaust is all buttoned up, I installed the Innovate O2 sensor and tightened that up.
I connected up the Intake Air Temp Sensor, as well as installed the EGT sensor.
I still have to finish up a few minor stereo parts in the trunk, and install the visors and headliner trim tomorrow night. I also plan to pull the wires back through the rubber grommets in the doors and reinstall the 4.5" midrange speakers. I am holding off installing the rest of the interior until Dan Osypian gets back from being out of town, as his wiring is par excellance, and he has a few items left to button up, as well as installing my Clifford alarm with remote start system.
There is not much left to do before I start up this car.....Finally!!
9-5-2009
I was hoping to get enough done last night so that I could start up the motor, but I ran into a few show stoppers, just temporarily.
I was running around town getting the remaining parts I needed to finish up and start up the motor. That always takes too long.

The radiator cap I bought was the wrong size....I will have to take it back and replace it.

The Lexus dealer was supposed to set aside a case of Toyota Type IV tranny fluid for me to pick up since I could not make it by the time parts closed....I got there, no case. So, I had to leave without fluid.

Tore the O-ring for the Transmission dip stick, have to get a new one on Saturday.

Did not complete the installation of the Water Temp Sensor for the cooling fans last night, and will have to do so today.
That was the bad news, the good news is I can remedy that all today. I will keep you posted.
9-9-2009
Well gang, there has been massive progress. But I gotta tell ya, when you get down to this point on your your project, especially a custom ONE-OFF, it seems that everytime I complete one task, two come up in its place. The good news is that the car is basically ready to start.
BTW, much of the custom wiring in this project has been done by Mr. Dan Osypian, take a bow Dan. You deserve it!!



Also a big thanks to Justin for coming by and helping out today also. And as always, thanks to Chaz for working the project from the very beginning, even when it was merely a thought on paper!!



This has been accomplished recently:
The Innovate wideband and gauge are installed and fired up.

The e-shift in the steering wheel is completed.

The AEM external MAP sensor has been installed. What a pain to drill and tap the block off plate where I mounted it on the back of the upper intake plenum. The plates are made of stainless. Enough said....

The MAP sensor has been wired into the PCS ECU.

I managed to finally determine the size of the bung hole in the bottom of the Koyo Aluminum radiator. It is a 16m, 150 thread pitch! I found a plug, of all places, at Advanced Discount Auto parts.

The Greddy Radiator cap was the incorrect fit, so I ordered the correct one, and bought a $5 Stant for the start up.

I connected the lower Cool Flex radiator tube. The radiator is buttoned up and ready to be filled.

I found that there exists such a thing as Flexible SS Braided Oil Dipsticks. Lokar is the manufacturer. I ordered that to take care of the fact that there is no way the original will fit around the driver side manifold.

I removed the old XM unit, harnesses and antenna, and installed the new XM/Traffic unit with its harnesses and the new XM antenna.

I installed the GPS antenna.

I installed the Fuba antenna and wiring.

I cleaned up the disasterous mess in the trunk left by Driven Concepts. Including remounting the Billet Optima battery Tray. Temporarily mounted the battery. Remounted the amp backboard.

Ran a new SS braided hose for the low presure side of the Power steering pump.

Connected the relay for the fuel pumps.

Ompleted the installation of the vacuum lines, power and ground for the Greddy Profec B.

Installed the new -10 AN SS line for the IAC valve connection to the Charge air tube.

Learned of a fantastic fix for relocating the Power Steering pump. Thank you ScottURnot and Lextreme!!
I think that's it.....

I don't remember anything else. I am about to load the Base Maps into the ECU's.
I did pick up my case of Toyota Type IV. My case of Brad Penn Start up motor oil.
It's late, and I am tired....Many late nights on this car the past week.
I absolutely expect to start the car this week. I will post up the video....
Here are a few pics of the progress:
IAC: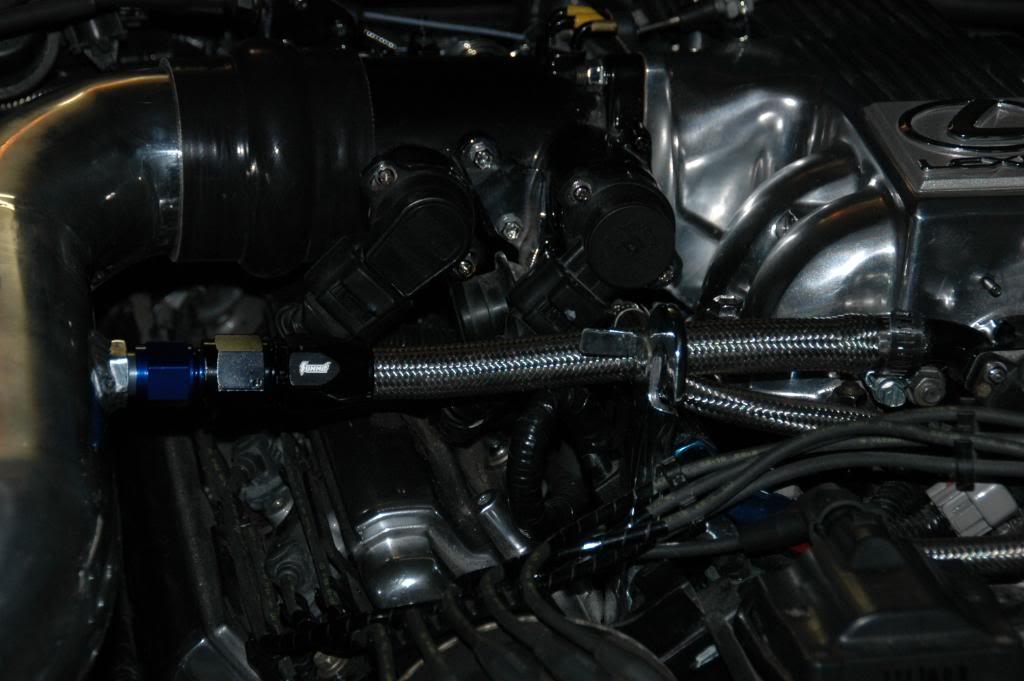 Profec B: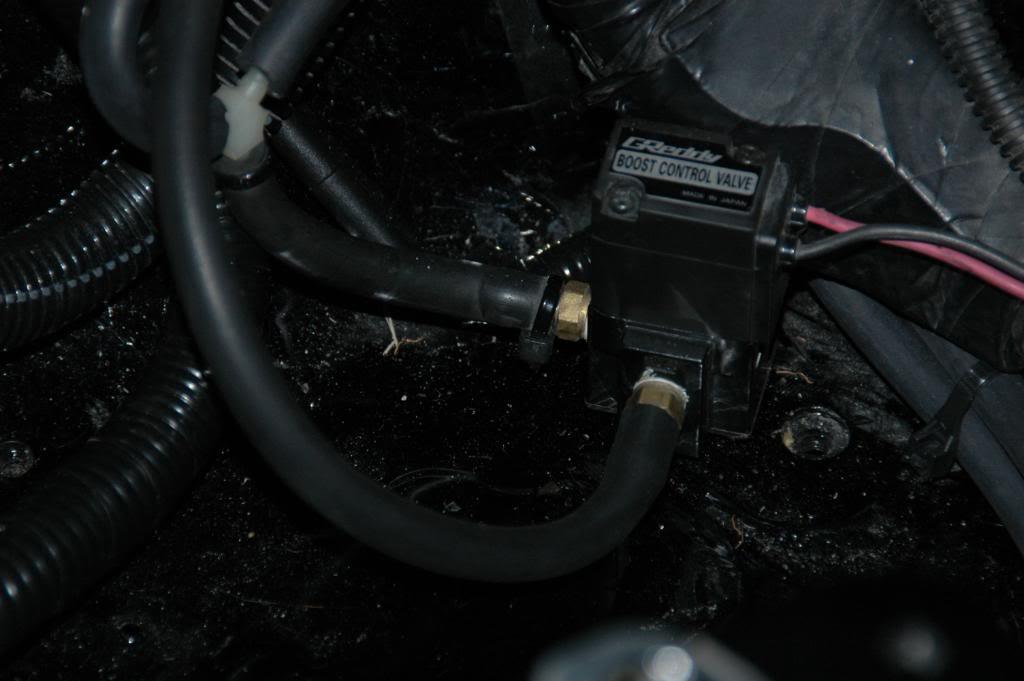 External MAP: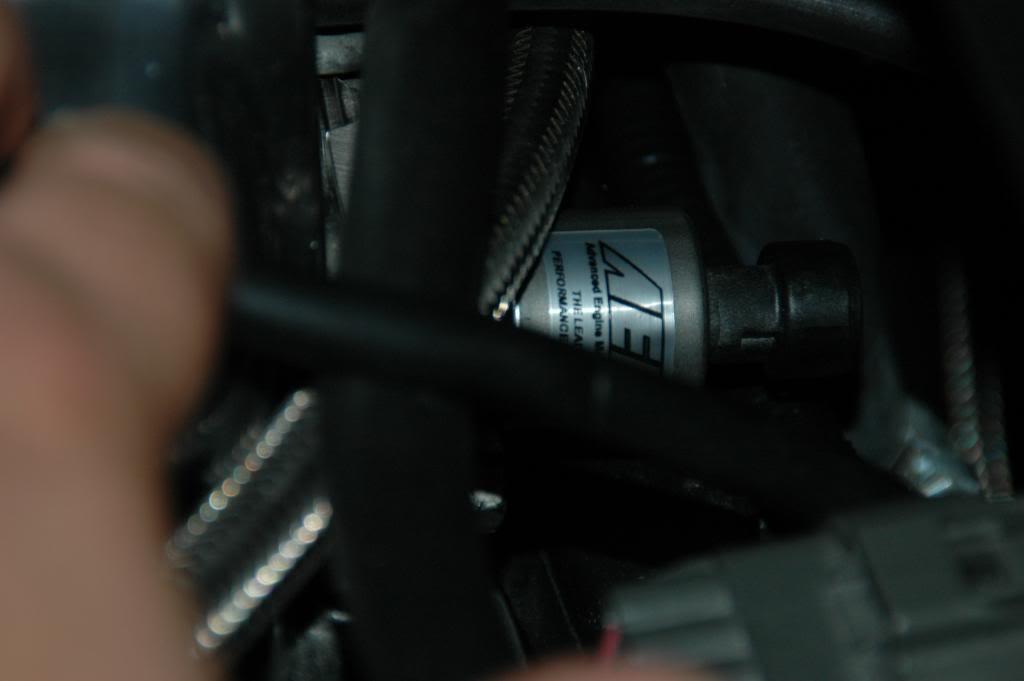 XM install attached behind bracket: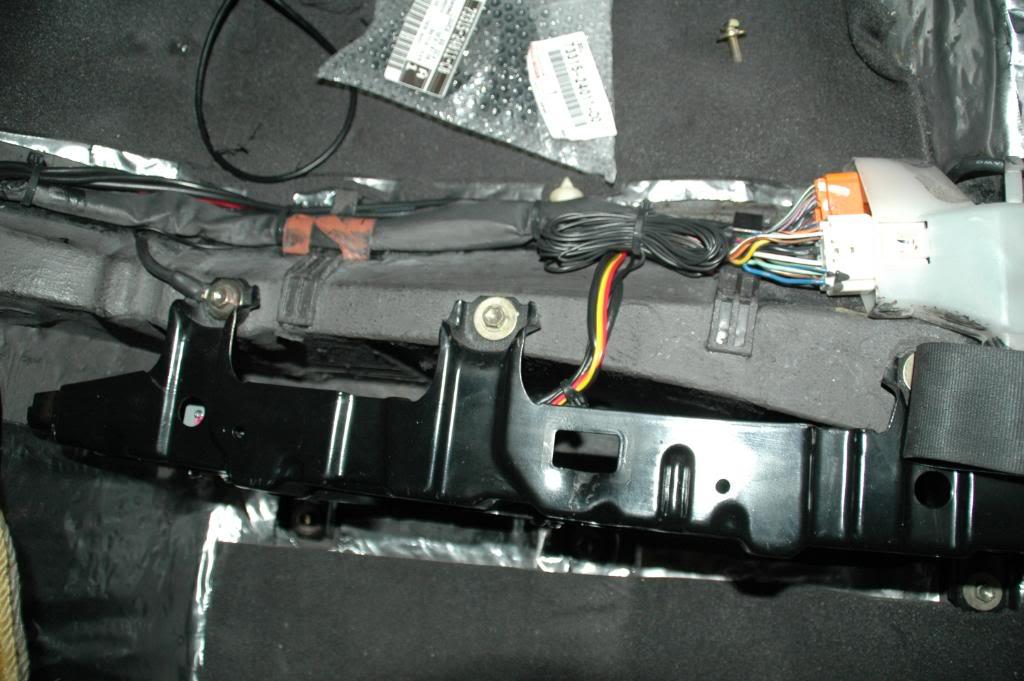 Cleaned up trunk, much more customizing to come here: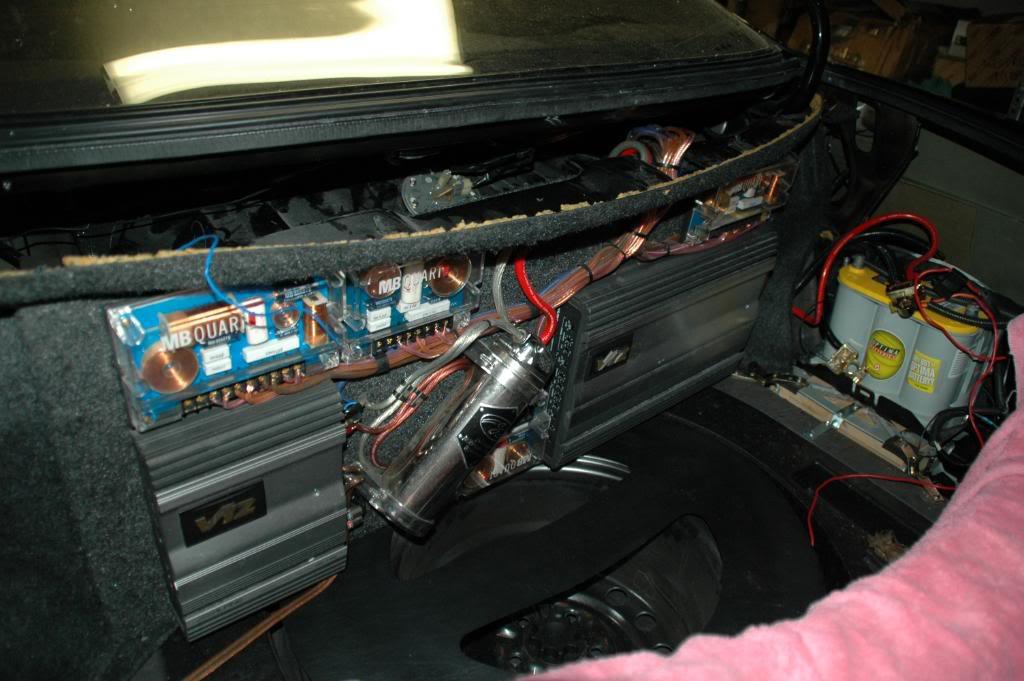 Here are the rest:
E-Shift steering wheel completed: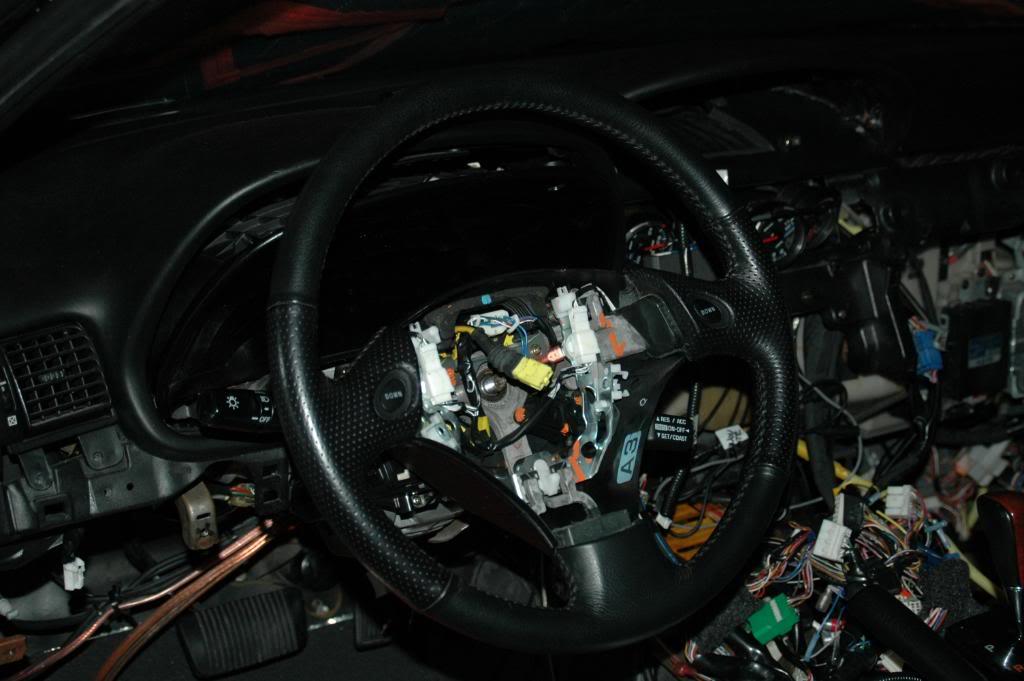 Gauges 1: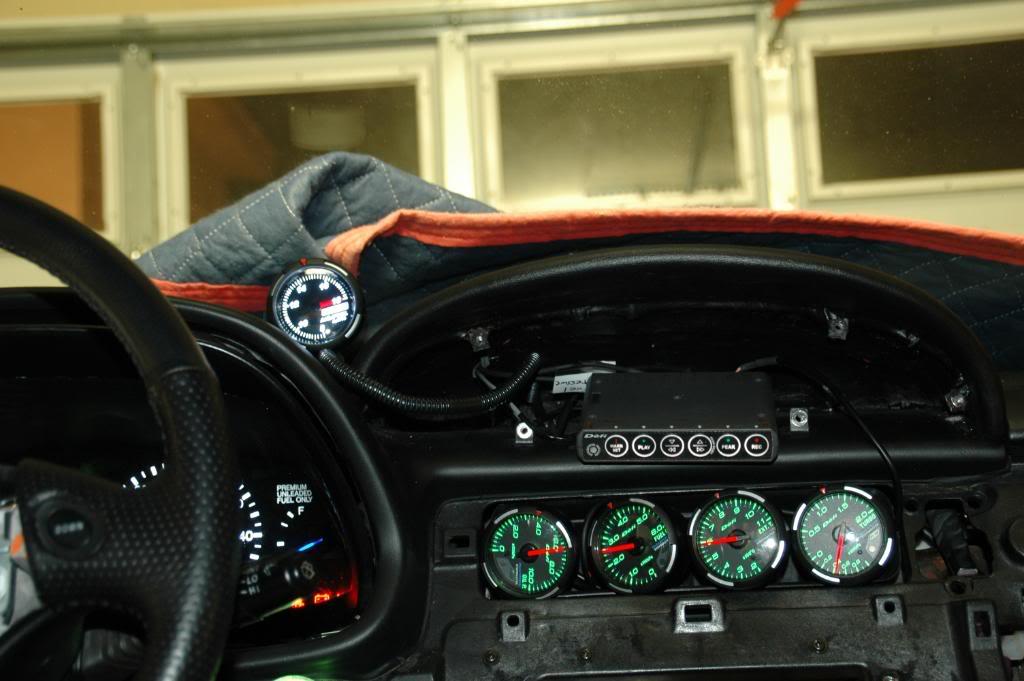 Gauges 2: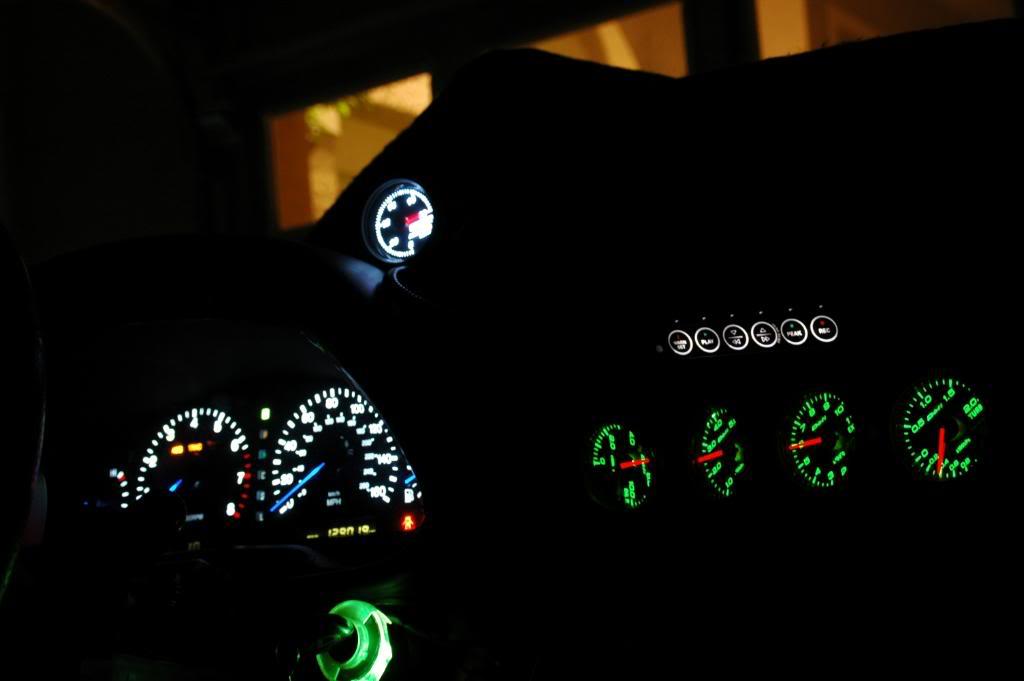 Updated engine bay: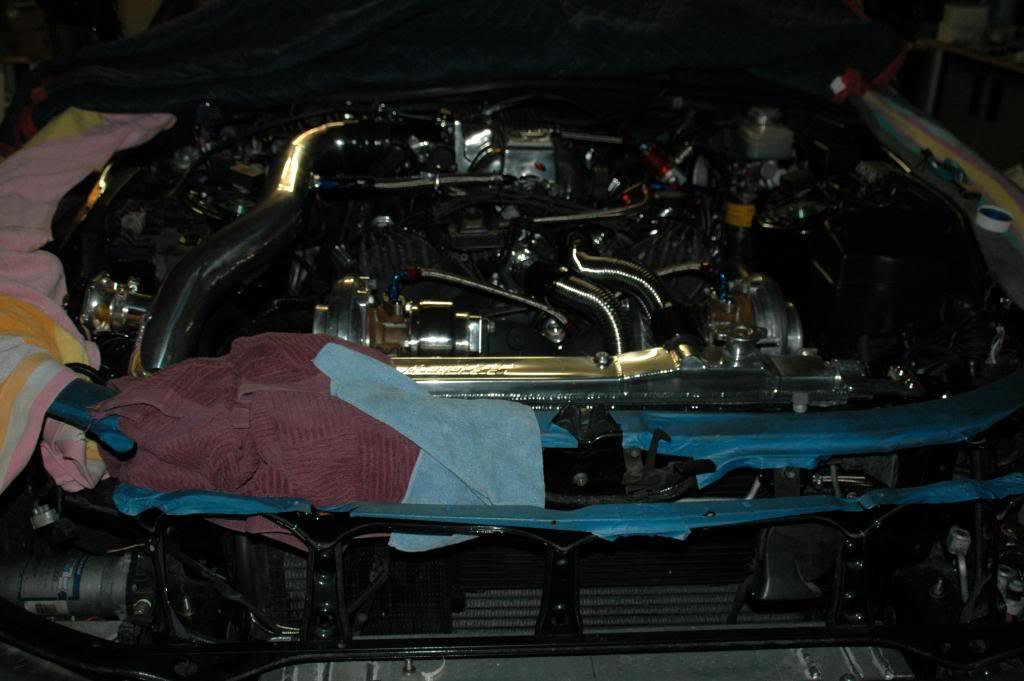 Radiator Bung Plug: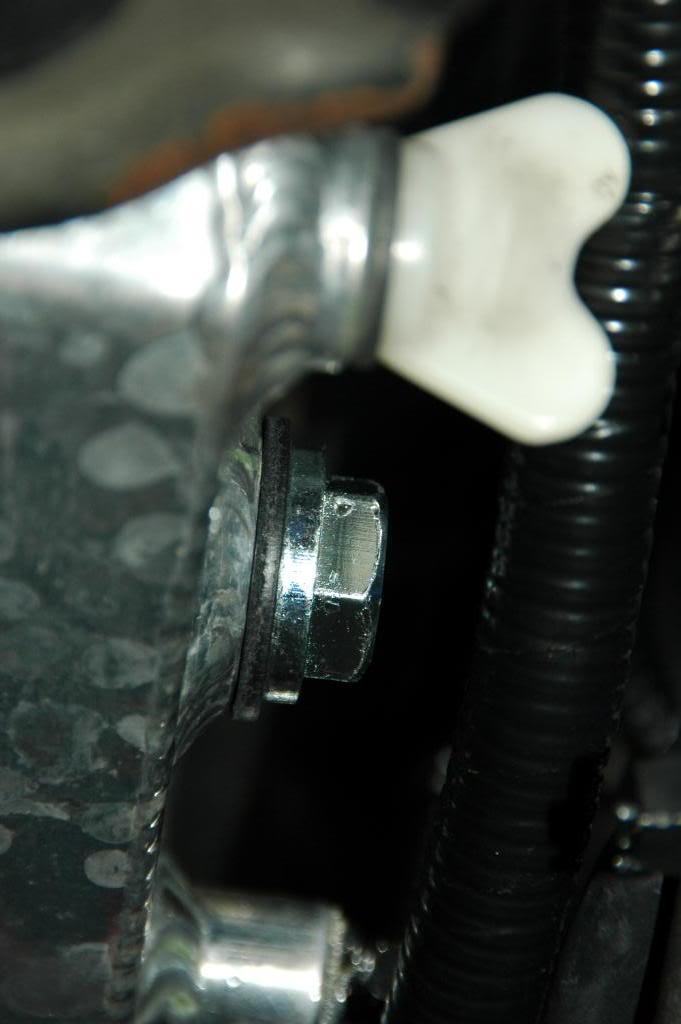 Last for now...
EGT Bung plugged: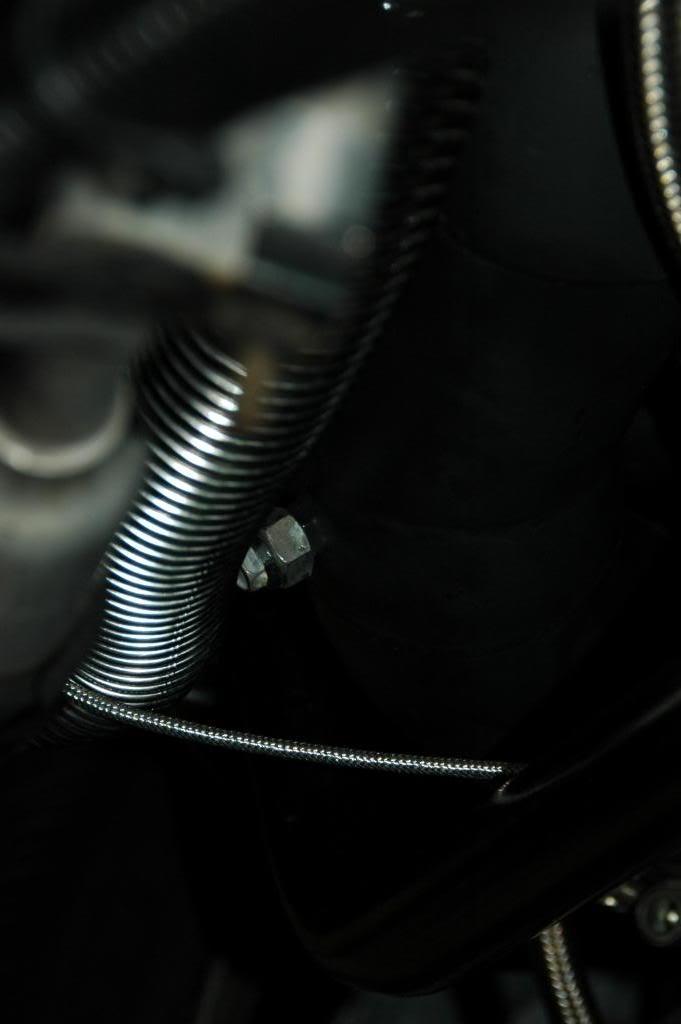 EGT Sensor Relocated: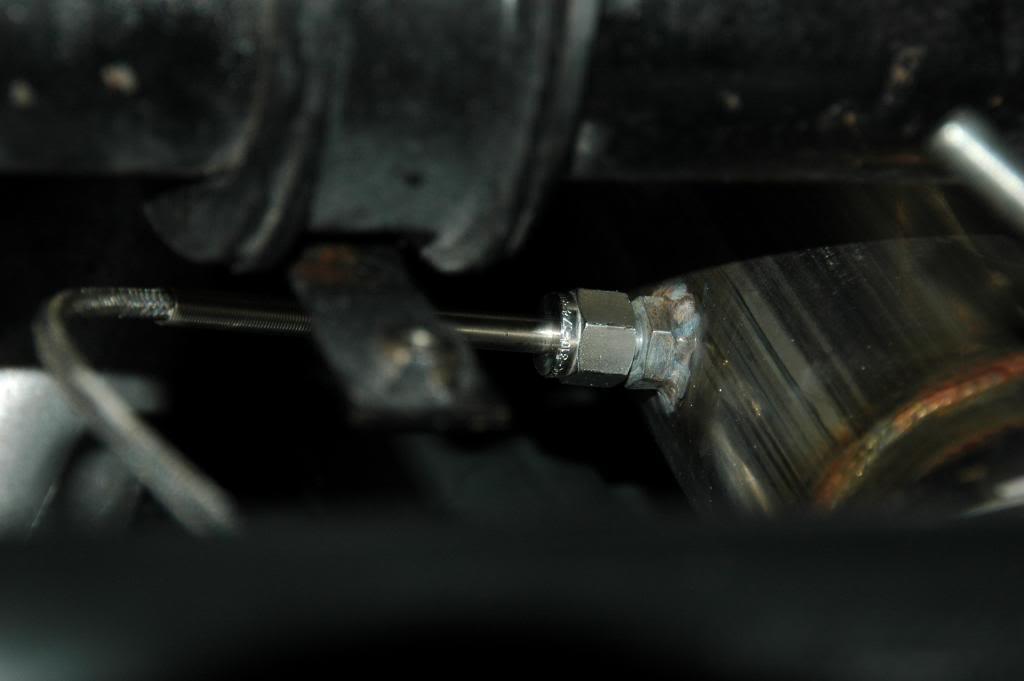 Innovate O2 Sensor Installed: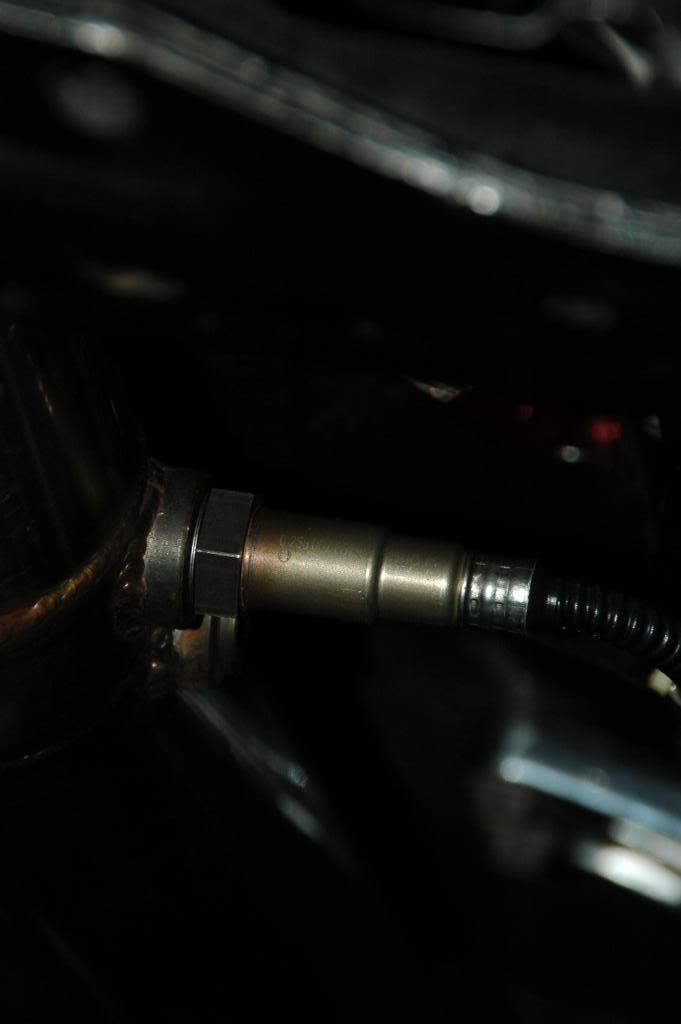 9-11-2009
Scott, maybe now we are ready.

I actually had to call up Autronic in Australia last night for assistance as the Cal file firmware Autronic had sent over a year ago did not match the ECU firmware and had to be converted. I had actually attached a copy and emailed it to them earlier yesterday evening. So he and I discussed a few details of my set up, made sure of the cam sensor connections, as well as the injector brand and size, and Autronic made the adjustments and sent it back to me.
I loaded it up and saved it to the ECU. I also had read the manual and knew to disconnect the coils before uploading the maps as the coils could get damaged, and all went well. I checked some of the maps and the cells were filled. so I am ready to put fluids in and start up.

BTW, I am still shooting for the Mile Marker 1 race in October down in Miami this year. It's an aggressive schedule, but if all goes well with start up and then tuning, I gotta go and see how fast I can get this car up to....

9-13-2009
The rear Big Brakes kicked my butt!! They were a bear to install! I had to do a bit of grinding to fit them due to the size of the mounting areas of the stock spindle and the calipers. I got them done, but it took several hours per side. I was burnt out, so rather than start up the car, I took a break and went out to dinner and a movie with my wife and some friends last night. I saved start up for today. I awoke rather early, but I am going back to sleep for a few more hours and then start up.....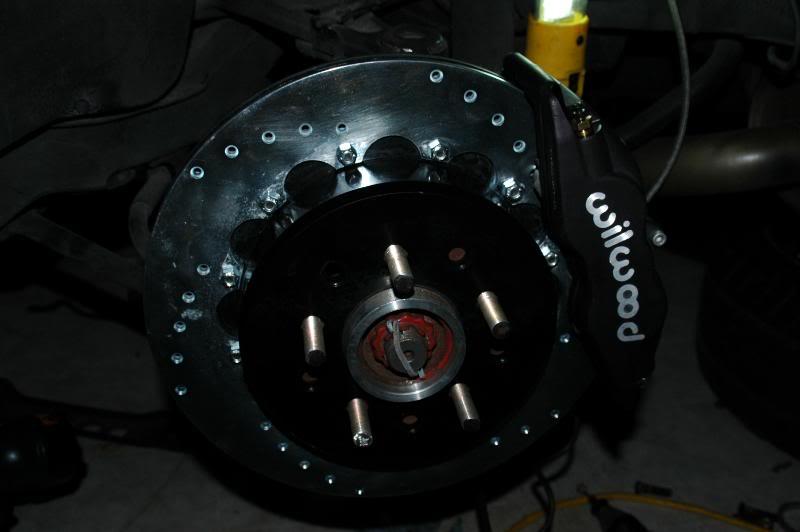 9-15-2009
Hey gang, I thought I would update you on my progress. As mentioned previously, I spent the weekend completing the installation of the Big Brakes, and then prepping the car for start up. We filled the car with fluids, and rechecked everything one more time.
Then we disconnected the coils and cranked the engine to build oil pressure and be sure that the break in oil was well spread throughout the engine. Then we connected the coils and attempted start up.
The car would not start. We checked over everything and found a few issues that I will be addressing over the next few days, and then I should be good.
The injector feeding the number 2 cylinder got very hot during start up, so we disconnected it and tested the lead with a Noid tester, it showed constant light, so that indicates a problem either in the wiring or in the injector programming. I tested the lead and got a constant twelve volts which should not happen.

I also checked the injector, and it ohmed out fine, 2.2 ohms constant. I ordered another injector to replace it just as I am uncomfortable with it since it overheated so much.

I need to check and verify the Cam sensor set up in the SM4.
So, hopefully everything will be completed out and we can reattempt start-up on the car this weekend.
I will keep you updated.
9-16-2009
Well, after a few hours of trouble shooting the harness, as well as over an hour on the phone with Autronic (Most excellent customer support from Autronic), Scott and I determined that the batch-fire wiring for injector #2 was inadvertantly tied to ground instead of the ECU, and the +12v switched source that powers all the injectors was tied into injector #2 on the SM4. This resulted in frying injector #2 because there was a short circuit to ground due (through the injector) when power was applied with the key "on".
Luckily, the motor was not hydrolocked, and there was not any conrod damage. The injector most definitely needs to be replaced, as the plastic casing is partially melted, with clear burn marks on it. Plus, I found fuel in the connector receptacle when I unplugged the clip from the injector, and the only way that could have gotten there was for the injector to crack internally and fuel to be forced up into that area. I have ordered another one.
This was a most unfortunate event. We are now going to go through the entire loom to make sure everything is correct. To note, the wiring was thoroughly checked after getting the loom back, but only at the ECU. Should have checked each injector lead as well.
The good news is that this does not appear to be a huge set back, and it should be corrected this week. Perhaps she can start up this weekend.....

9-19-2009
Checked all the wiring, corrected the hard ground on the number 2 injector lead, and installed the new injector along with the fuel rail. Scott D and I spent all day on the car. Learned a few interesting points, and all I have to do is reconnect the front fuel line to the rail, tighten up both fuel lines on that side, reinstall the Throttle Body, and charge tube, and I should be ready to attempt start up once again. Wish me luck....
9-21-2009
I stopped by the interior shop and got to see the revised Gauge Pod Faceplate. I wanted a richer more OEM matching look, so I had it made out of real Burl wood to match the stock Burl interior, since I decided to stay with that for my black interior. Also, I got rid of the screw holes. These are just cell phone pics, but as you can see, it is turning out real nice. It just needs to be wet sanded and polished. It is a spot on match!!
Close up: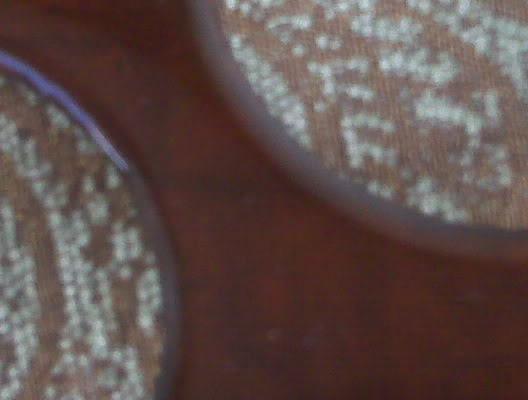 Whole plate: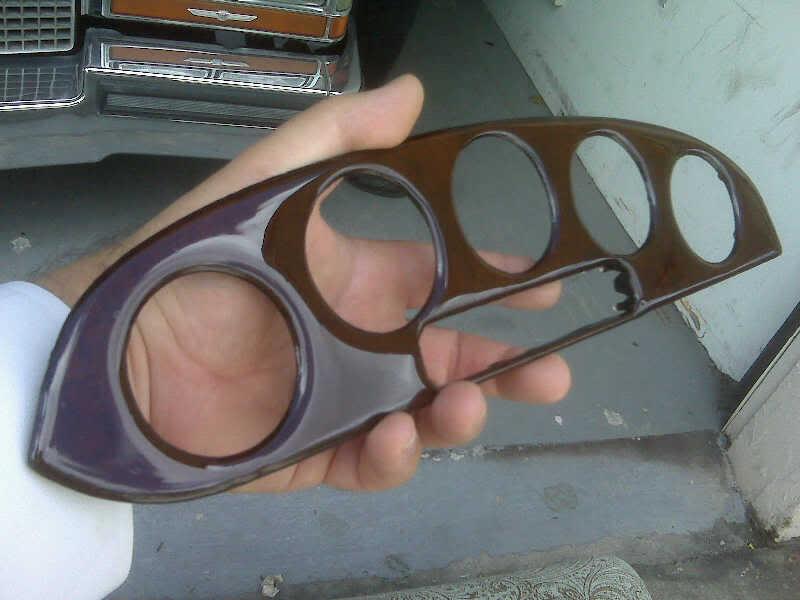 10-9-2009
Gang, the beast started tonight!! It sounded good too!!

I still have to work out the stepper motor settings so I can get it to idle on it's own, but it is awesome. I made a video, and I called Shane so he can testify that he heard it.
If anybody knows how to save the mini cam disc to a file in their computer, please tell me how so I can post this up on Photobucket or YouTube. I can play the disc on my computer but I could not figure how to save it to file.
We're almost on the road!!
10-11-2009
I'm going to try to get a video posted up today fo the start up. Wish me luck.
I titled this post "What can go wrong?". I did that because I have learned that when taking on a project as immense as this one has turned out to be, anything and many things may go wrong. Sometimes it's the complex things, other times it is the most simple of things that may be overlooked. This does not mean a person should not take on their dream project, it just means that Murphy is bound to come and take a visit.
This is where true friends that are knowledgeable, helpful and humble are a godsend. Most of us don't know everything there is to know, and I most certainly fall into that category. What I did know was that I could pay professionals for certain work, put into use what I did know, learn the things I did not know, and ask for help from my knowledgable friends that are willing to put in a helping hand ot two.
Just know that anything can go wrong, so pool your resources and prepare as much as you can, then move forward. I think that is one of the most important strengths to draw from: Be willing to keep moving forward, no matter what the obstacle.
Once we got to the point of starting, the car would not start. There were two issues:
Faulty wiring with one of the injector leads and the external MAP sensor for the transmission standalone computer.

Mechanical timing was off
Motorheaddown (Scott) was invaluable is helping me track down the problems, and repairng the faulty wiring, and replacing the fried injector. Once again, thanks to Scott for his time and help. He drove over to my house several times to help out.

The timing was a simple but big mistake. I should have gone over the timing once it was done to make sure the motor was in time, and I just assumed it was done right, one of the few things I did not go over after it was done. In fact, the faulty wiring on the injector lead was another item I did not check after having the wiring loom re-wired and the External MAP installed.
A huge lesson learned here: "ALWAYS GO OVER ALL WORK PERFORMED BY YOURSELF AND OTHERS TO ENSURE MISTAKES WERE NOT MADE". No matter how significant or insignificant the task completed was. When I built the motor, I went over each and every step 4 times. I am not stating to review every move 4 times, but review everything at least once.
The timing was another example of this. The person that installed it is highly competent and very careful. But, he had never set the timing on a 1UZ, and the Lexus manual was rather confusing on the timing marks. So, the timing was set to the cam trigger teeth which are located on the back of the timing gears instead of the very small, correct timing marks which are located on the front of the cam gears. I am revealing this so any of you that decide to replace your timing belt are sure to set it to the marks on the front of the gears.
Once the timing was set properly, the car fired right up.
Here's looking forward to driving the car soon.
10-13-2009
Pretty much Steve. I have a few re-wiring items to complete:
Repair faulty wiring for the External MAP for Tranny

Re-wire the Fuel pumps to the Autronic

remove, clean and re-install the plugs as they are pretty fouled up due to such a rich fuel mixture right now

Install the rest of the interior

Attach the hood

Attach the bumper

Final buff on the new paint

Attach the emblems

Bleed the Big Brake set up

Order the 20" tires for the i-Forged rims

Take to tuner for dyno tune and road tune
Drive car and enjoy
11-3-2009
Gang, I finally figured out how to save this video to file on my computer. I downloaded HandBrake and that program allowed it. I have now uploaded this video to YouTube.
Keep in mind this is the first ever start of this newly built motor, and that the base MAP is barely sufficient to run the motor. It was also suffering from some vacuum leaks, plus I initially ran a T between the Autronic SM4 internal MAP vacuum line with the vacuum line on the Aeromotive Fuel Pressure Regulator....A big no no for the Autronic. So it is idling quite rough in this video. I have since adjusted the MAP, and have corrected most of the vacuum leaks, especially being sure to dedicate the SM4 MAP to its own vacuum line. The car then idled significantly better and allowed me to run three heat cycles to seat up the internals a bit. I did not get a recording of that because I accidentally had the cam corder on standby....

. Anyway, the mix was still way too rich, and fouled the plugs a bit. I will be making a few more adjustments this week, and installing a colder plug with a heat range of 8, which should be just right for my set up.
Here is the video....
11-4-2009
Having to have someone else finish off the headlights as the original guy became less and less reliable. He got to the point that I had to threaten him with a lawsuit just to get him to respond, plus send a very nice CL Member over there 4 times to finally get my unfinished parts back. He did a portion of the headlights correctly. If he had paid attention to detail, and finished them up with quality work, they would have looked fantastic. They still will look fantastic, but I had the Carbon Fiber he laid on the inner housing removed, it just was not laid properly. The LED's were a mess, the wiring was horrendous as well. That is all removed and cleaned up. Going a different way with the LED's now, much cleaner, and should be more reliable. Also much less wiring.
Anyway, I have posted up a pic of the inner housings so you can see how the lights will look like. They are in primer grey right now, but will be in a matching automotive grade high gloss black paint when completed.
As you can see, the massive blinker has been done away with, a small amber strip has been installed for the blinker (but you cannot see that strip in the pic) with individual LED's installed behind the amber strip.
The dividing section that separated the blinker from the inside of the headlight has also been removed so that the light will only have one complete compartment filling the whole chamber of the light, instead of creating 2 separate chambers as the OEM light was designed.
A secondary projector has been custom fabricated to house the city light. It will consist of 1 PIAA Super White LED bulb to fit the stock housing mount. The front of the projector will have a projector lens to match and compliment the primary HID lens.
Everything will be closed up with a clear lens cover to completely modernize the look of the light. Should turn out pretty good when completed.
Driver side with the HID retrofit in place: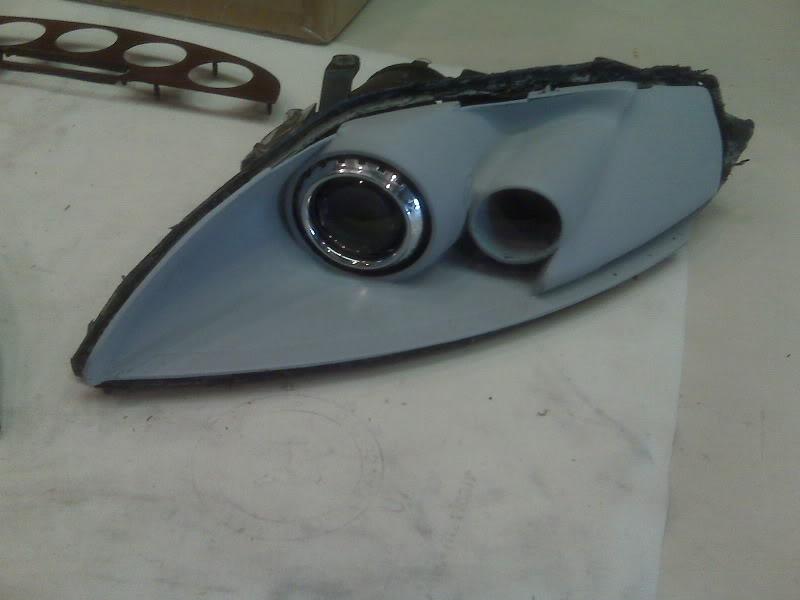 Passenger side: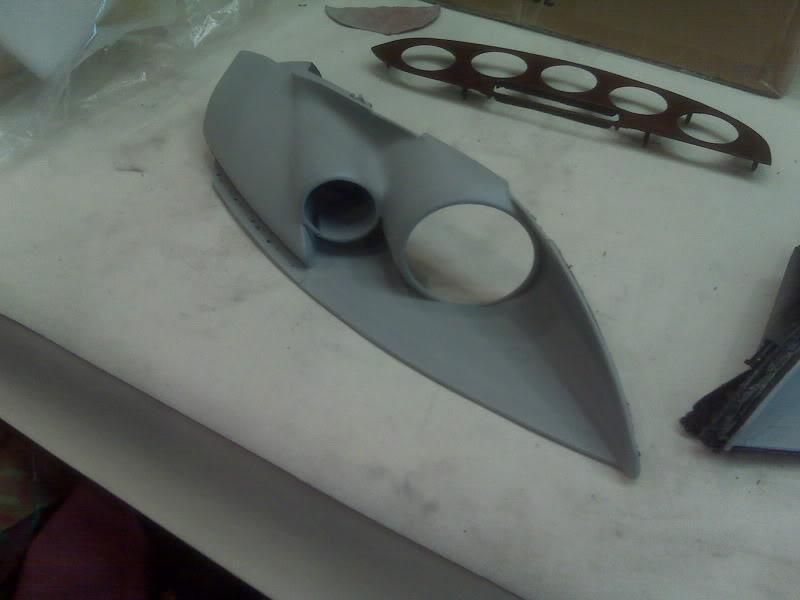 Keep in mind these are cell phone pics, so they are not the best quality or lighting, but you get the idea....
1-9-2010
OK, making progress.
The brakes are now bled and there are no leaks.

The Iridium plugs are gapped and installed.

The Base fule setting has been adjusted to lean it out a bit as the car idled at 8 on the gauge.

I have the 20" iForged wheels test fit on the car and they clear the big brakes and look fantastic. Lips come right to the edges of the wheel wells.

Tires are being ordered (Falkens), fantastic tires.

The fuel pumps have been rewired to the Autronic SM4 so it will control them. Each one is on a separate pin, so I have set 1 up as a primary, and the second to come on at 10 lbs of boost.

I will finish up rewiring the Innovate Lambda unit into the Autronic SM4 for accurate tuning this weekend.

The faceplate for the gauge pod was redone in matching burlwood, and is being reinstalled this weekend back into the car.

Just about ready to put the interior back in the car.
I will keep you posted.
1-11-2010
Scott, here's the pics you requested:
Face plate made of real Burlwood: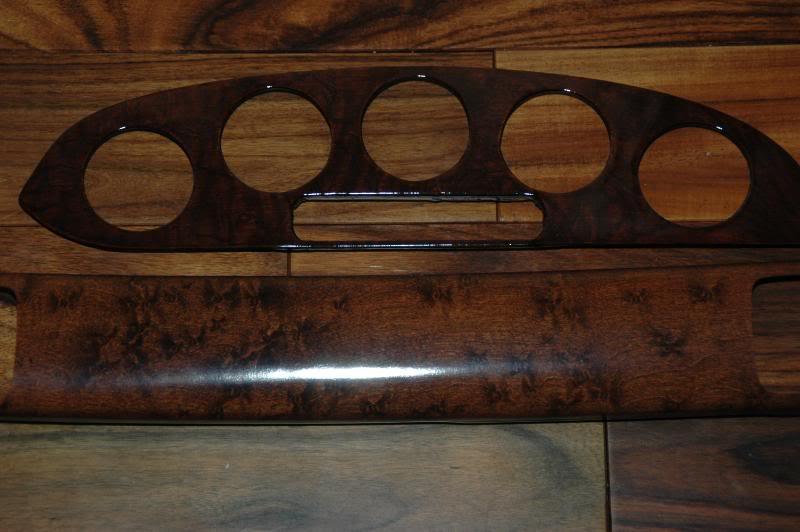 iForged Classic 20"x8.5" with Willwood custom Big Brake Front Wheel: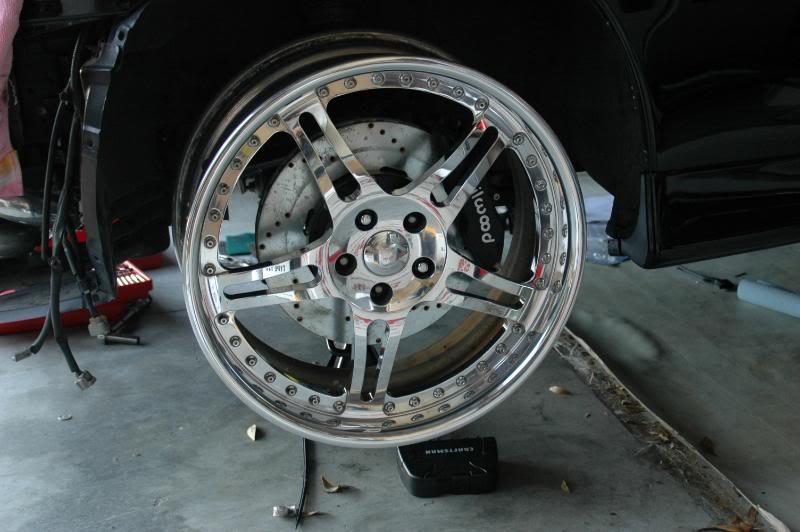 iForged Classic 20"x10" with Willwood custom Big Brake Rear Wheel: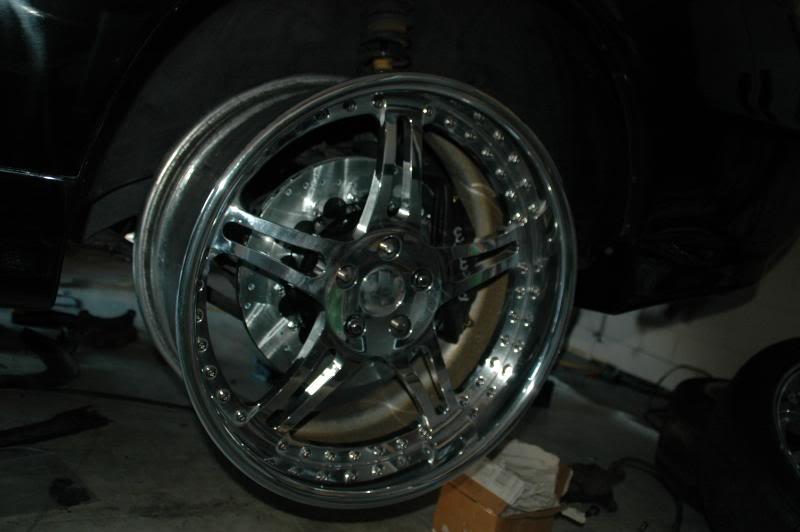 Close up of iForged Classic with Willwood custom Big Brake Rear Wheel: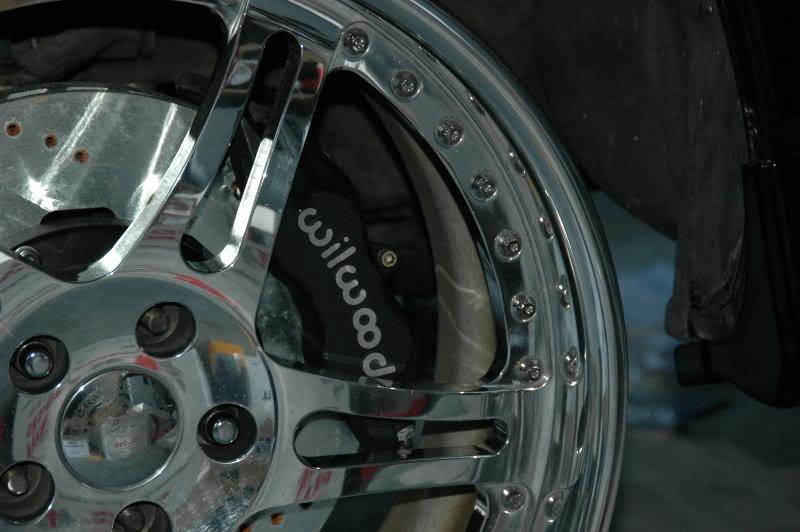 Perfect flush fitment to the edge of the rear wheel well: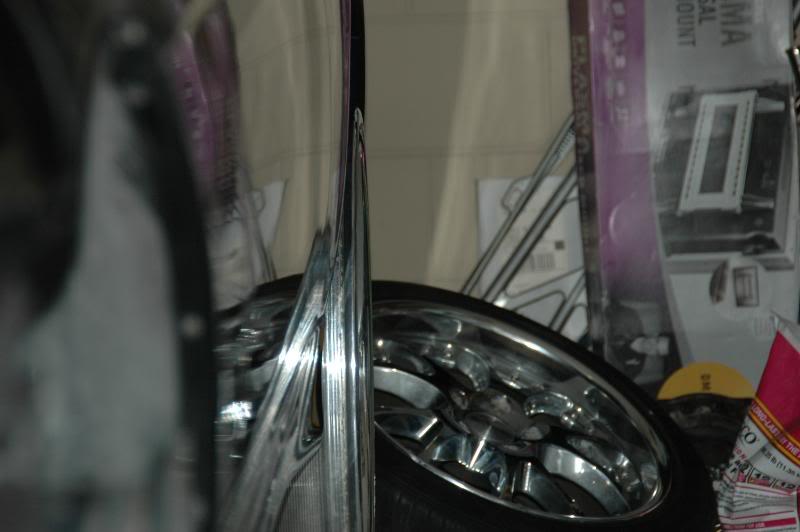 I bought these two-piece iForged wheels used, and with various curb rash and they were very dirty. I was told they were high polished, that was incorrect. They were chromed on both the face and the lips. I sent them out to be refurbished, I had the curb rash repaired, the chrome removed from the lips only, and the rest of each wheel was thoroughly cleaned and the lips professionally polished. Thanks to David from Like Chrome Polishing in Orlando for cleaning and polishing the wheels, he restored them to almost new again. Thanks also to Olympits for repairing the curb rash on the wheels.
Notice the fitment of the wheels. The front and rear wheels fit to the edge of the wheel wells. Perfect flush fitment.

They also clear the Wilwood Big Brakes with no spacers needed.
1-21-2010
I found a used falken FK 452 size 285x30x20 at Rubens Tire in Orlando. They were kind enough to loan it to me for test fitment only, and they only charged me for mounting the tire to my wheel. Here are a few pics of how it looks on the car with the wheel in approximately the stance and position I will run it.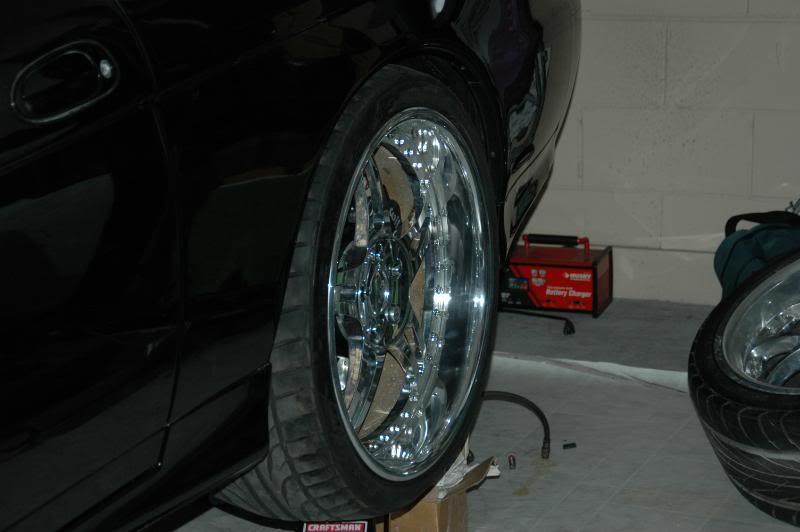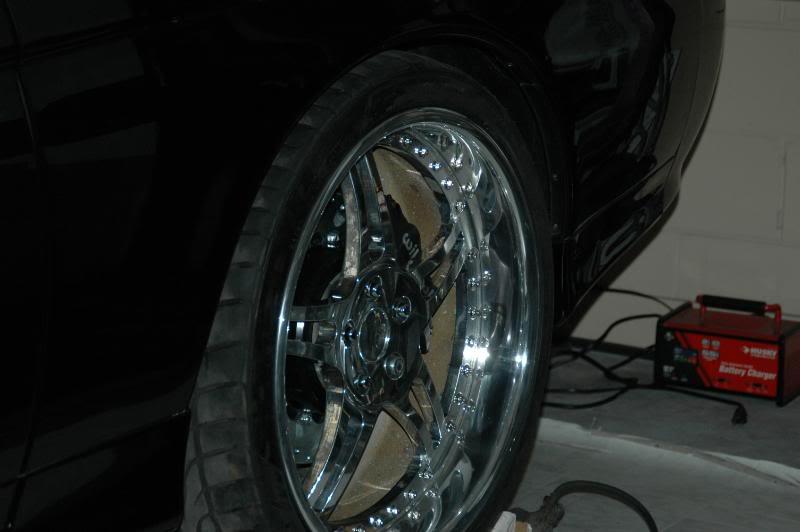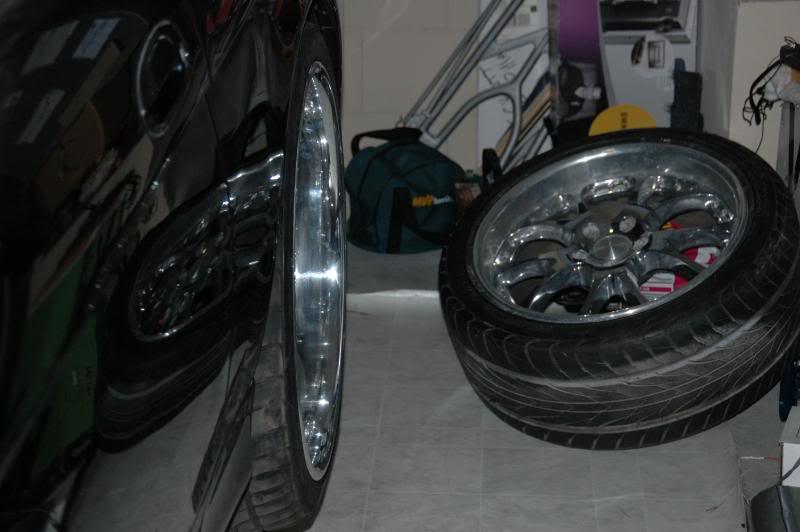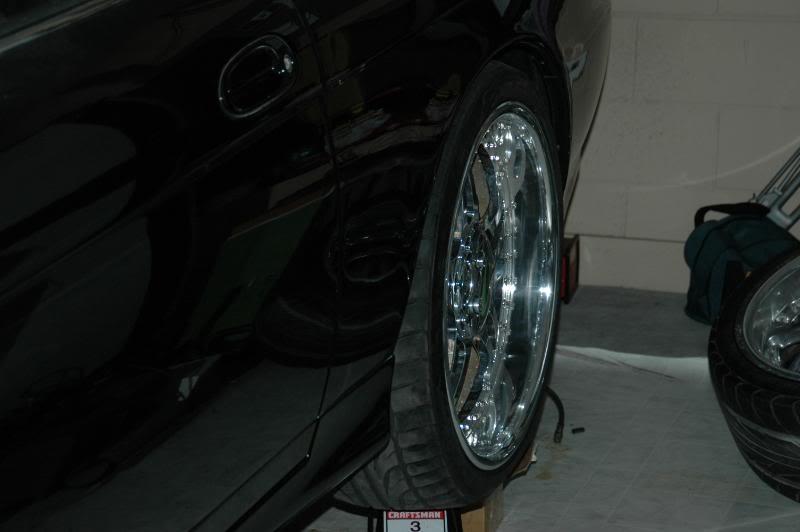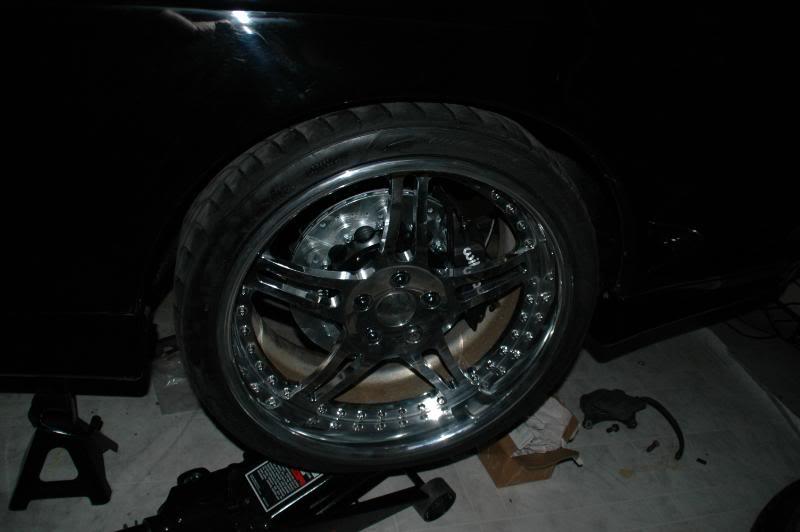 Much more to come in the next many days....

2-4-2010
Gang, I traced the vacuum leak tonight, and ran a temporary test to determine if it was indeed the culprit, and it was. The SM4 has its own built in MAP sensor, and it strongly recommends the hose from the sensor on the SM4 be dedicated only to the SM4, and connected to the intake. It was not hooked up that way. The Defi Boost gauge and the Greddy Prefec B were T connected to the same hose....an absolute problem set up like this. The reason I knew I had a vacuum leak was that my pressure readings never changed when I started and ran the car....It stayed at 100 kpa. So, I ran a temporary test hose from the SM4 to the intake, then plugged the hose to the gauge so it would not leak either, and then started the car. Sure enough, the kpa dropped down to 58-60 while the engine was running. So, that was the problem. Idle is still rich at 11.4, but I am in contact with Ian Hamwood from Autronic, and Enzo from New York. Phenomenal support from these guys!! We will get this adjusted more when we tune. Motor sounds much, much better now, and the throttle response is instant.
Transnission shifts in all gears. getting closer....

I have more of the engine put together, so I thought I would post a few pics of the engine bay, as this is a little closer to what it will look like when I have it completed. I also took a few pics of the iForged wheel again. a little better lighting.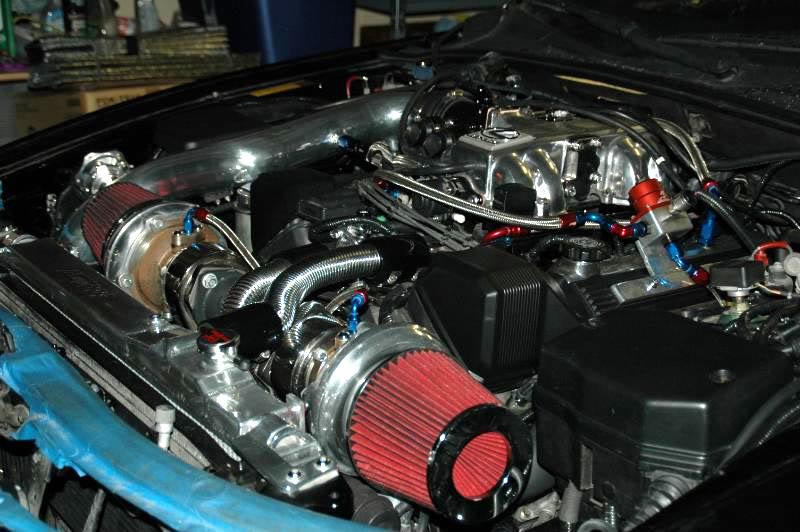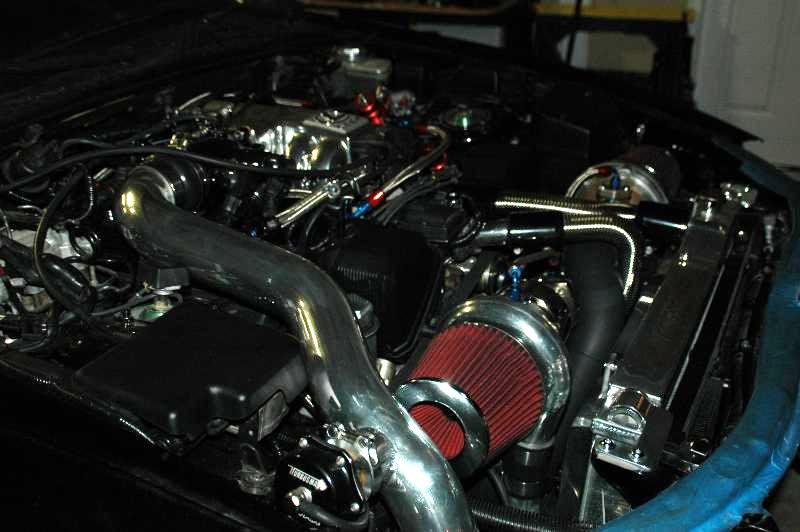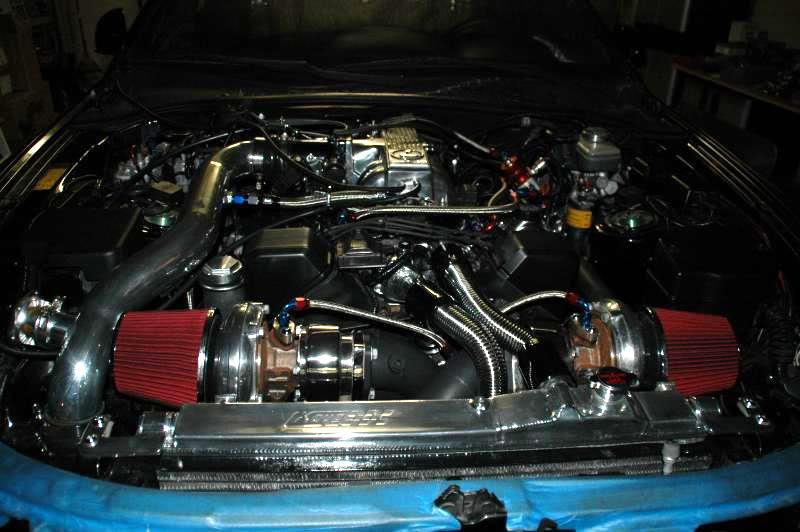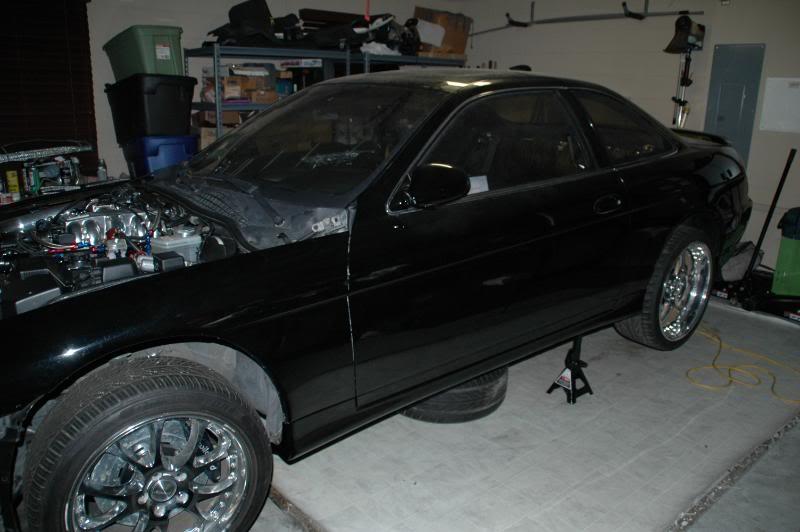 3-2-2010
My SM4 stand alone is currently in New York at Enzo Racing being reflashed for all the latest updates, software and features from Autronic. Enzo has also been an Autronic Dealer for the last 10 years or so, and knows the unit like the back of his hand. he loves it, and highly recommends it for many reasons. He also tunes and bubilds custom fabricated performance set ups. Anyway, he is tweaking my SM4, and after this I will have the all important speed sensor based traction control, like what Race Logic builds and sells for about $1400. I sure saved a ton of money on this one!!

Here are a few pics of my headlights which are near completion. These are only mocked up and held in place with some double-sided masking tape, so do not be concerned about the unevenness of the LED's. Everything will be in it's place upon completion.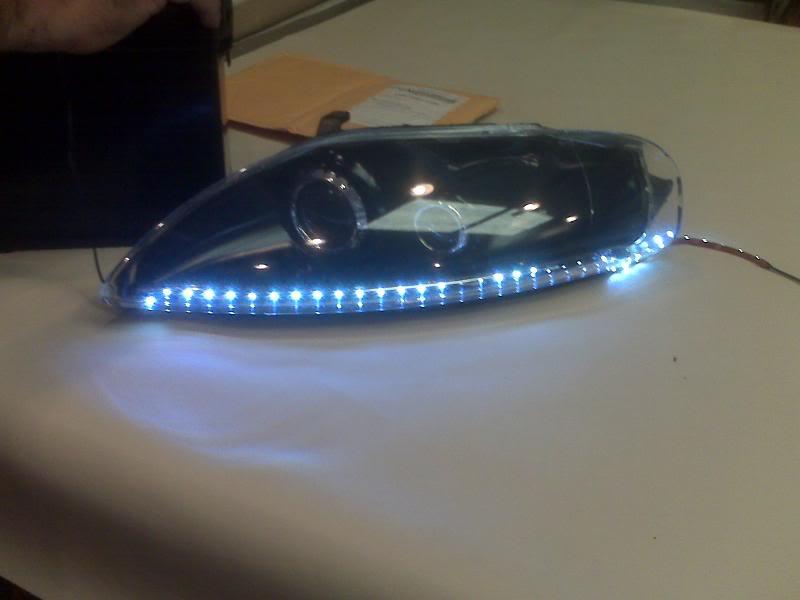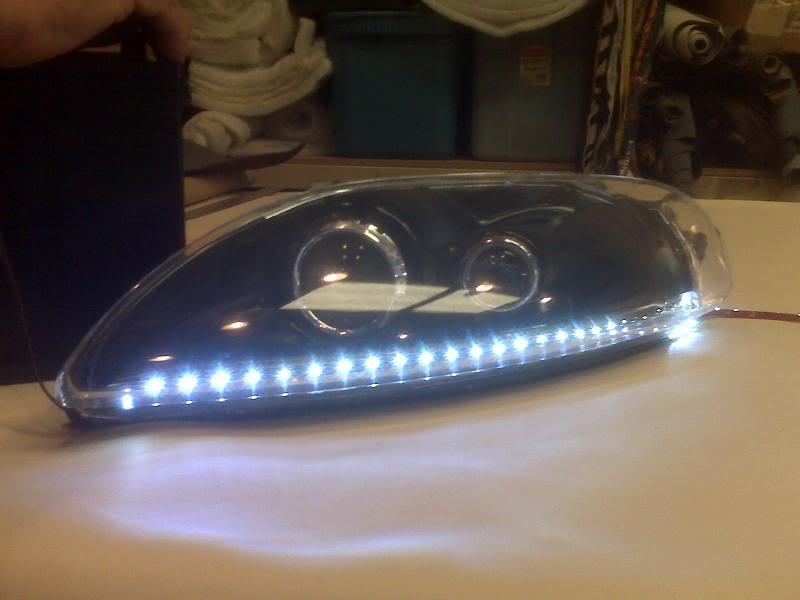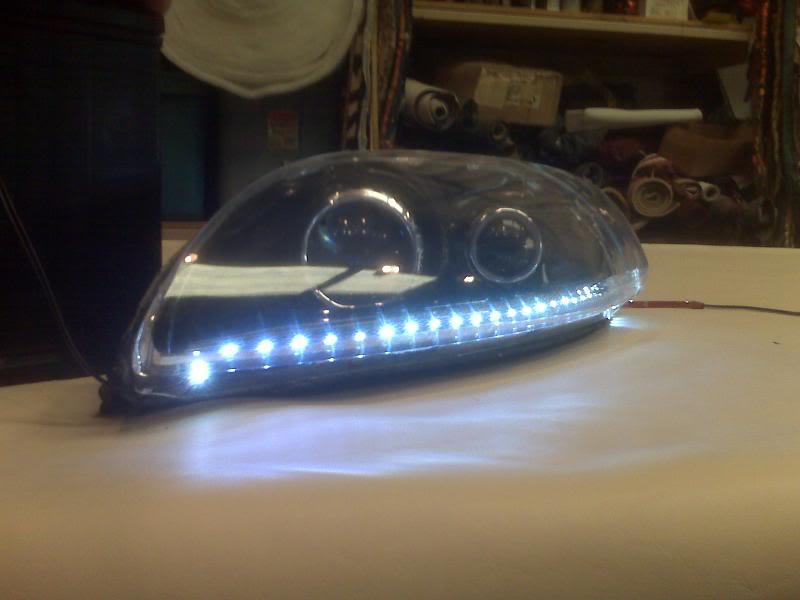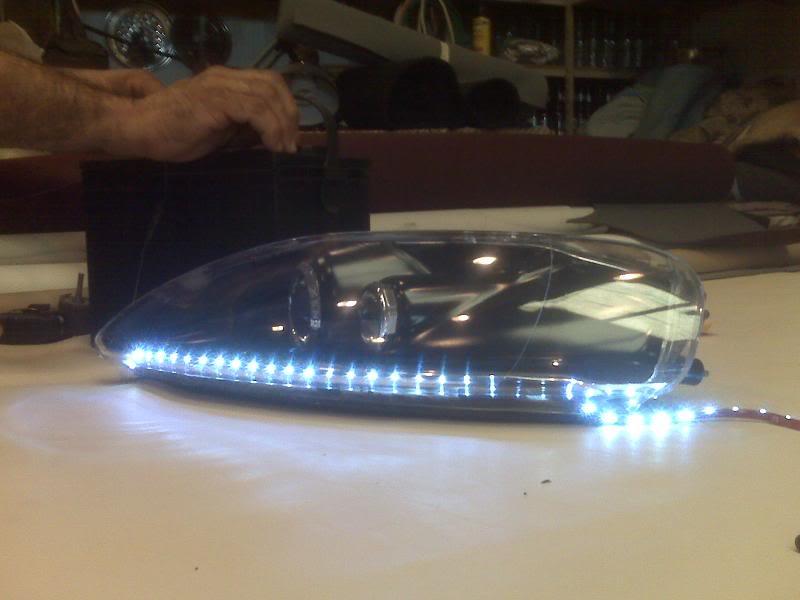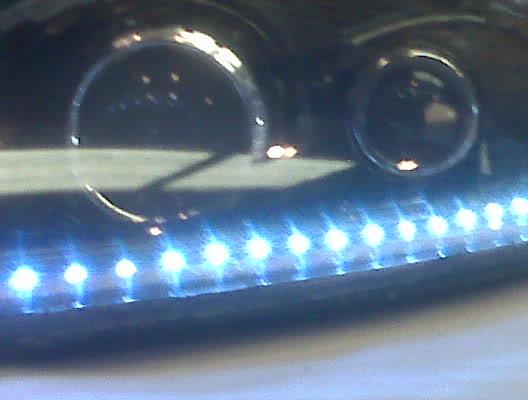 3-21-2010
Autronic SM4 is finally back

. It was delayed for almost three weeks while the eprom was being changed and reflashed

. Unfortunately, I had to cancel tuning more than once because of this, and now my tuner will be out of town for the next two weekends, so I am 3 to 4 weeks before the car is tuned. This set me back about 7 weeks....
Part of the deal when it comes to customizing a performance car. If nothing else delays, I will be driving it this April.
3-29-2010
Here is a link to the second start up with the V109 software from Autronic and a modified Cal File. It sounds pretty good now, especially after warming up. It is still running rich, but not nearly as bad as before. It is ready for the pro tune next. Probably within a few weeks, as I have to coordinate with my "Tuner".

4-12-2010
Here is another update on the project.
We have had two non dyno tuning sessions so far, and it is coming along well. We have faced a few challenges as well, which seems to be the norm when a project such as this one is built:
Engine temp went up to approximately 200 degrees farenheit, and determined no water was flowing between radiator and block. I have since remedied this, but still need to start up and run the motor to be sure.

I can't start up again until tonight as my Optima yellow top crapped out and dropped to 8.6 volts a couple of days ago, even though I had the battery on a tender. Dropped it off at Batteries Plus for a thorough charge and check, which takes 3 days. If bad they will replace it under warranty today.

DEFI gauges are not functioning properly, but after intense research earlier today and trouble shooting with the dealer, I believe it is user error. When I hook up the battery, I will try a few steps and I believe this will resolve this issue as well.

Idle tuning right now, and so far, car cold starts right up, and idles at 750 rpm very snoothly. Still working on tweaking this and with the stepper motor settings to force the IAC valve to go to it's lowest settings and function properly with accel and decel of the throttle. Thank goodness for Scott Davidson and his knowledge of tuning, as he is tuning my car. Also Autronic has been an absolute wonder and extremely helpful on the phone several times to assist us. Thanks Ian Hamwood from Autronic.

Not going to tune any further until I am sure DEFI gauges are functioning properly, as I need to know EGT's and oil pressure. Fuel pressure is set to 43.5 PSI.
I will hopefully be able to drive this car on the road this month.
Defi gauges are now functioning properly. It was the freaking fuse. It was not pushed in all the way.

Unbelievealbe that I missed that. Anyway, all is well there.
The water is now flowing through the radiator. But found the weld around the water neck attached to the thermostat housing is leaking so I will have to have that re-welded.
I will now clean up the wiring inside the cabin, mount the two stand alones permanently, and then install the interior back into the car next weekend. Car is ready to finish tuning and start driving. Finally! I think I am really seeing light at the end of the tunnel.
4-23-2010
New Custom Clifford Alarm Remote Key and Fob. Got this idea from CleanSC (Jose):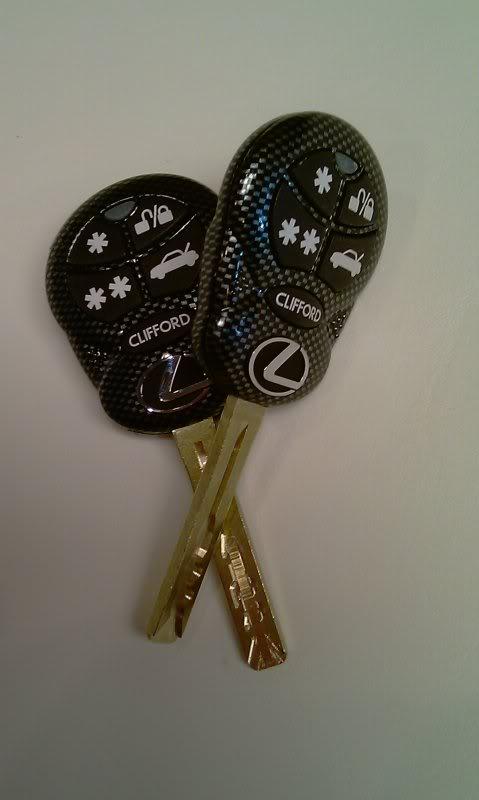 All gauges are functioning perfectly and I have installed them back into the burl faceplate. I am organizing and soundproofing the wires and the plate will be installed into the pod in a few minutes. Here is a pic of the plate with the gauges:
Here is the unit installed in the car and a link to YouTube with them functioning.
Pic: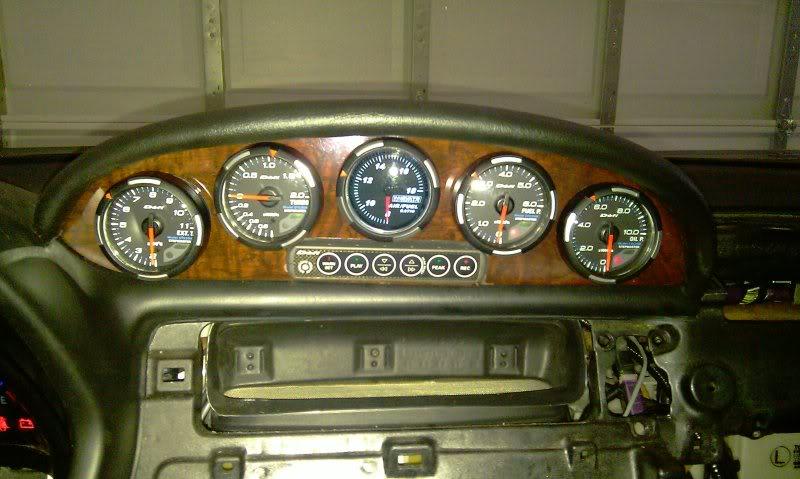 Video:
5-7-2010
Hello gang. Scott (MotorHeaddown/Gearheaddown),came by this morning to continue with tuning and he knocked it out of the park today!! He had been on a plane last week, and had some time to really RTFM the manual, so he got a very clear handle on the Autronic SM4, and was able to understand the previous challenges we had while he was tuning. He showed me the graphs that the SM4 displays, and he was able to map one out much like his curves on his AEM. So, by playing with the mapping on the graphs, and adding the tighter resolution where it is most needed before even getting on the car, he was able to upload it to the SM4, and it was heaven to our ears.
He got the idle down to 660 rpm, and it was perfectly stable. But since the car likes 750 rpm, which is stock, he bumped it up to that and it was beautiful music. The car hummmed and idled as if it just came off the show room floor. Not only that, but accleration was fantastic. the engine sounds strong, very strong. I also noticed the BOV was functioning perfectly.
We could not go any further only due to the shimming of the BBK's. They are slightly scrubbing, so I have to tweak them yet again. Also, more importantly, the AFR stopped displaying, I think I may have a loose connection with the wiring to the 02 sensor, which I will rectify this week. At this point, while there is much to tune before getting on the dyno, it is exciting and promising.
My hat is off to Scott Davidson, who knows what he is doing.
Ryan
5-26-2010
Just a quick update....The Innovate Lamda unit or the wideband sensor has failed for some reason. I am getting an error code 3. Innovate has been great at support so far, and the LC1 is on its way to them for troubleshooting and/or repair. I am losing an extra 2 weeks due to this. I still can do other things, though.
If I have learned anything during this project, it is that when building such a major project, and actually, one that has never really been done, it takes a very long time. There is not that much that has not been modified or down right replaced in this car. Much oif the major components are also one-offs, adding to complexity, expense and time.
But, it has been worth it. The journey has been long, but I have learned much. I am beginning to get a bit impatient, though....


6-26-2010
Hey all, this update is long overdue...I last posted up after Scott Davidson's awesome idle tune...Unfortunately, since then, we have not been able to hook up since due to both of our schedules. Scott is certainly more than capable of tuning my car, but he can generally only provide a few hours at a time. When adding the learning curve of the SM4 software, this greatly extends the time it takes to tune. So, after discussing this in detail, Scott will continue to focus on his monumental tasks at work, and so will I, as we are both working on major projects for our companies. I have engaged Enzo from Enzo-Racing to tune my car. Enzo has 10 years experience the Autronic, and he is their top US dealer/tuner. I will fl him down in the month of July from New York, and he will complete the tune.
In the mean time, Shane is coming by tomorrow to take me for a ride in his newly completed SC300 Turbo, and to work with me on my car. We are cleaning up the wiring, installing the interior, and a few other items.
Here are some pics of my headlights, with a couple of coats of Black paint. This is the final design, they just need completion now. They should be done within a week or so.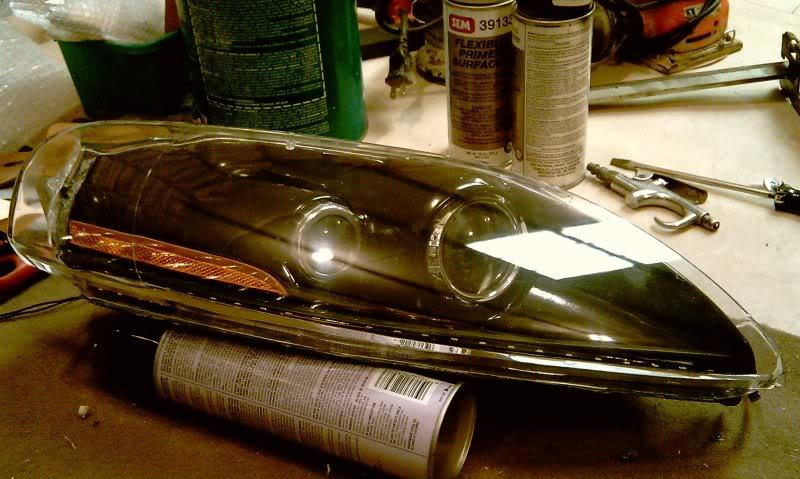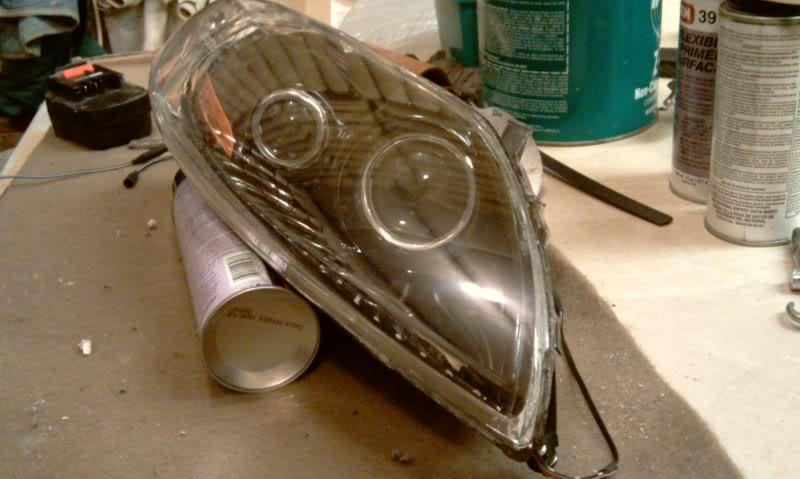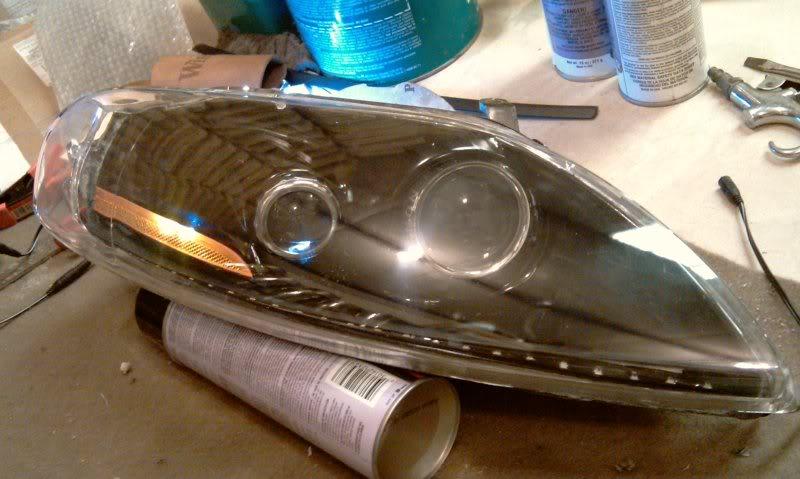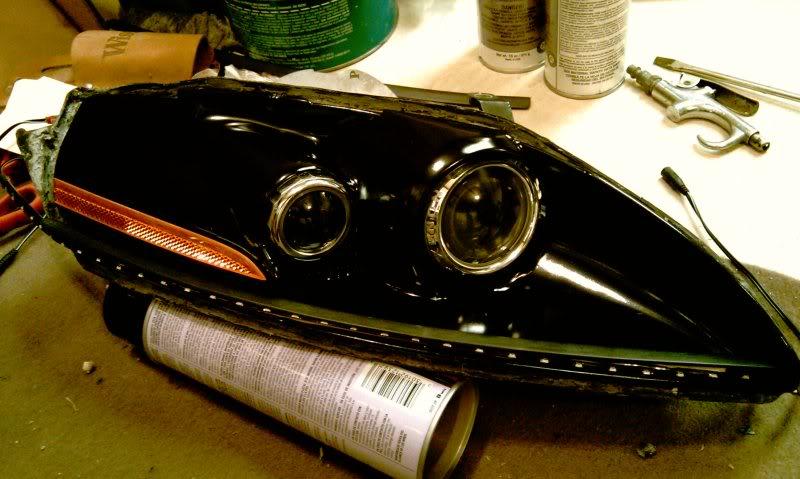 7-16-2010
Gang, it has been several weeks since I updated you on the mechanical aspects of my project…So here's an update of my progress… I have resolved the fuel pump wiring. Instead of running two separate fuel pump outputs and leads from the SM4, I decided that I would only use the main default output to run both pumps simultaneously. The default fuel pump output on the SM4 is now connected to both pumps and I split the trigger wire to both relays (one to each pump), and it is working perfectly. Both pumps stay off until I turn on the key, then the ECU primes both pumps and shuts them off until I start the motor. I think the secondary output that was reprogrammed lost its programming, perhaps after the ECU was re-flashed. Anyway, I will always run both pumps instead off staging them. Probably safer anyway. Now I have only to complete the installation of the water/meth injection, and connect the boost gauge. Btw, the base map is running well, and should be good for non-boosted driving. It is still a bit rich, but I will lean it out am little this weekend. I adjusted the idle set screw because the idle was very low (450 rpm), once I did that, it stopped idle hunting. I'm planning to drive the car this weekend. Final tune should be within a few more weeks. If the drive goes well this weekend, I will drive it over to Tampa for the final wet sand, buff, and repaint of the front fender.
BTW, most of the interior is back in the car...Carpet, upper dash, passenger side airbag, headliner, visors, dome lights, rear deck, rear seat. Some of the speaker wire I ran (non-Monster) corroded badly, and I had to run new Monster to replace it. I plan to install the center console, stereo, AC control module, AC vents, lower dash, dash pocket and front seats this weekend.
I tested the sound of the Walbros bleeding into the cabin with the doors shut, and they are almost imperceptible. When the engine was idling, I could not hear them at all. I was sitting on the back seat too, so, no issue with the pumps.
Just about there...
7-23-2010
The AquaMist Water/Meth System is installed, tested, and working.


A huge thanks to Dan Osypian!! Great job, my friend.
We had a few snags with the wiring, but all is well, and I am finished with wiring, except for the Autronic Reluctor that converts the analog speed sensor signal to a Hall signal so that the Autronic Traction Control can function.
The reluctor is on its way to me, and I am almost ready for the tuner.
I did not drive the car last weekend, but I do plan to drive it this weekend. I will keep you all posted!!
I saw the headlights today...Wow! They look good. They are painted, wet sanded, buffed and cleared. The LED strips are attached, and the lights are being cleaned up, and then assembled within the next few days. They look absolutely BADA$$, IMO.
Leaving work now to go and work on the car. Gotta drive it this weekend....



7-30-2010
I got sick over the weekend with a damned intestinal infection. Took me out for several days. I ended up not getting as much done. Anway, I am beginning to feel a little better today, so I hope I can work on my car a lot this weekend.
My lights got delayed...My fabricator was assembling them back together and decided to sand the back edges of the BMW plastic Xenon shrouds a bit to smooth them out and to clean them up a bit. Unfortunately, the chrome is so fragile on the shrouds that the chrome wiped right off on one of them. So, he had to stop and wait for me to find another set. I did, and just got them in the mail today. So, they will be trimmed up tomorrow, and then assembled and completed. Set backs...something always happens...
In fact, I had not mentioned it yet, but when Dan and I were working on the water/meth installation, we had to contact the Aquamist distributor because we had a few questions about the wiring diagram. The distributor (KC Saab), asked me the impedance of my injectors, and while I thought they were low impedance, I was not 100% sure from memory. So I went to contact the owner of WolfKatz Engineering, the company that designed my rails and provided me with my injectors. I was unable to reach him so I remembered that he had an injector drop shipped directly to me from his supplier when I had the wiring mishap that burned up one of my injectors. When I contacted them, I asked some additional questions and found that they had sent me the wrong injector...It was 110 cc less flow than it was supposed to be. This would have been a big potential problem when I went to tune WOT on the dyno. Luckily, I found out the problem, and ordered the correct injector, and they shipped it out to me immediately. So, I like to say that the "Car gods" were watching over me...

. Anyway, I plan to change that injector this weekend before I drive my car on the road.
8-7-2010
Gang, my original thread has gotten so very long that I decided to break it up into Stage 1, and Stage II. Really, that is what I have done, and I noted that in the Stage I thread, but I never really separated them. I never expected Stage II to take as long as it did...I did learn a whole lot though, and you members have been great; cheering me on many, many times, even when it looked like total disaster at times...
So, this is the beginning of Stage II, which was when I added the BBK's,a and all the many other items that have gotten this project to where it is today. As I am now nearing the completion of Stage II, I will look to post up another video of the car driving, and hopefully the full tune and dyno by the end of this month (August 2010).
I will start a third thread known as Stage II, V2 with the actual Dyno video, and some burnout threads, assuming we have total success at the dyno. I will then reveal the car with all the new pics of it completed. The Stage II V2 thread should be quite short in comparison. This should also help those of you in the future that stumble upon these threads to read what I did on each thread, instead of one, super long novel...



BTW, I will hyperlink the threads to each other.
OK, so, here we go...Stage II, which actually started on 10/2/2006.
8-8-2010
Just finished up several hours on my car...door panels and window trim is installed. Unfortunately, the windows are only going down partially, which means my paint and body guys did not install the windows correctly, so I will have to take the body panels back off...Damn!! Oh well, I should have checked that first, chalk up another lesson learned...re-check not only the serious performance items, but also the basic items too.
I may or may not work on that tomorrow. I will be completing a couple of minor items in the engine bay so I can drive my car tomorrow, or should I say today?
Car looks great, and of course, the black interior is the best, IMHO. Really looks like a car again.
As you may have seen, I am splitting this thread up...ScottURnot is being nice enough to assist me in doing so. I have informed him of the end of Stage I in this thread, and the beginning of Stage II, so Scott should have this done soon. In the mean time, I have started Stage II, but Scott had to lock it so no one would post until after he separates the two threads. This thread will pretty much end with me driving the car on the road with the partial tune, and then Stage II, V2 will commence on the day of my successful full tune and dyno. V2 will be the thread that merely shows the completed version of this project. Stage III will be next year, if I decide it is necessary to add more agressive cams. But I will probably be quite content for a while, especially since I am searching for the right deal on a Black/Black LS460 for a daily driver. The SC has too much in it to drive every day...So I want a bad ass LS for work and daily tooling around town...plus, they move well, and are serious comfort and luxury...
8-10-2010

Hey gang, first test drive...Success!! Kind of...There was air in the power steering system, and it was almost 10 pm, plus the damned parking brakes need adjusting because they are semi locking onto the rear wheels. So, I only drove it down the driveway and back. Short distance, but I have a very long driveway...Ask Dave Penton, and he will confirm it.
The motor started right up and idled down perfectly, it did not stutter, strain, or skip a beat. It sounded great. The transmission shifted well, I was quite pleased. I will adjust the parking brakes this week, and bleed the power steering system, and then I will do a drive down the highway. I will make a video of that. If all goes well, I will mount the hood and the front bumper cover.
I am excited...finally, the car moved beyond the confines of my garage, and it has gotten off the stilts (jack stands) that it has sat on for approximately 2 years now.
The big tune and dyno...Hopefully, the end of this month.
Here is a pic of the way Lexus should have built the car...zip ties and all, plus mickey mousing the fog lights for headlights...joke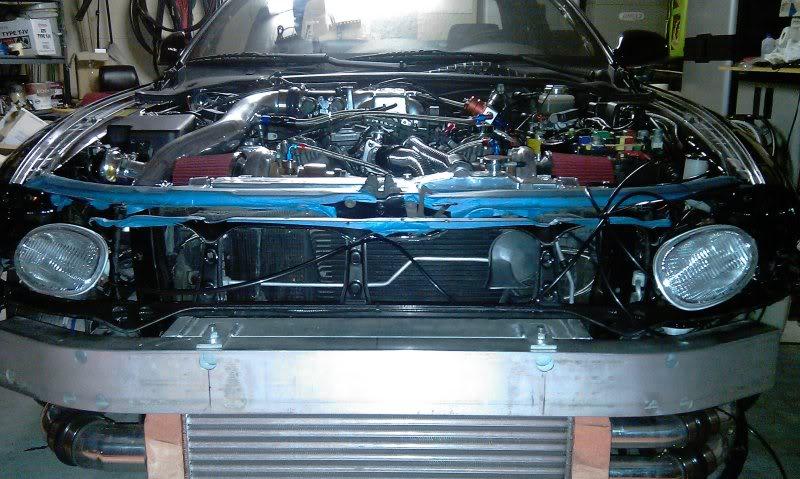 8-17-2010
Well, I only had last Saturday to work on the car...And not all day due to family commitments. So, I did manage to replace the wrong injector with the correct one, but it took many hours, as I had to remove the throttle body, charge tube, and several other items to do so. I will replace the O-Ring on the Power Steering reservoir this week, and finish up on the e-brake adjustment and get this thing on the road.
I stopped by and saw my headlights today...They are completed. They look Badass. I am quite pleased with them. The goal was to make a light that looked OEM, incorporated high quality HID, and still remainered OEM compliant...I managed to do so. Lety me know your thoughts...I will take better quality pics later, and soon some pics with them on the car. But not before the reveal.
No lens cover Passenger side: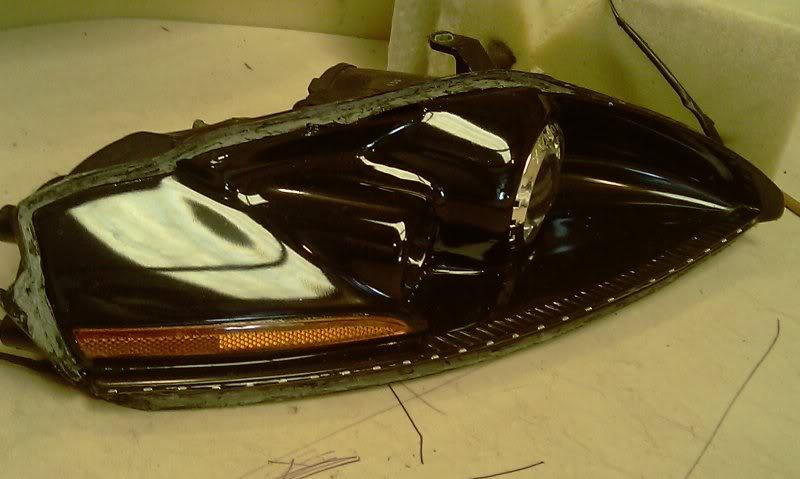 No lens cover Driver side: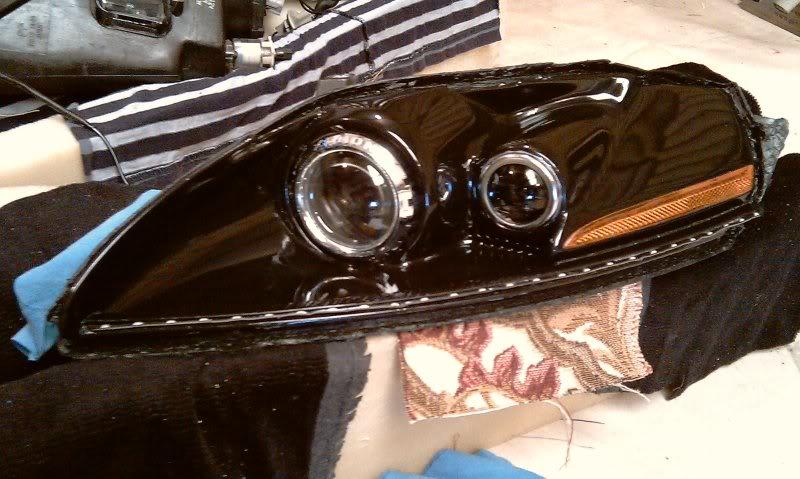 With clear Supermade lens cover Passenger side: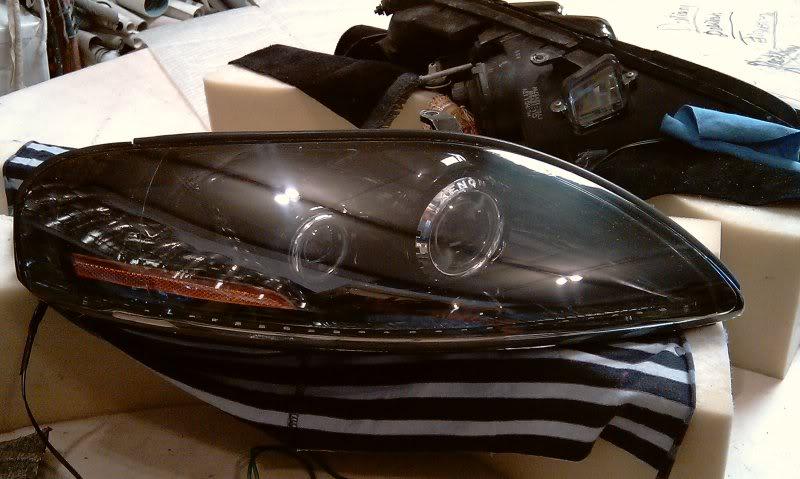 With clear Supermade lens cover and LED's on Driver side: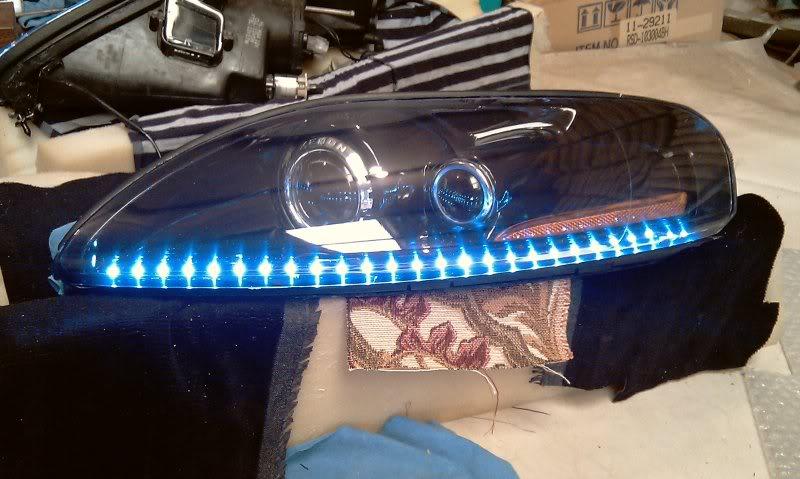 9-4-2010
Great news! I did a real test drive today. I drove the car for a few miles while Scott did some base tuning. He got into the heart of the MAP, and accomplished some great tuning. We made some good progress today. I did not make a video, but trust me, one will be made soon.
I will be working a lot on the car this weekend.
I do have some pics to post so you can see that my car was indeed out of the garage.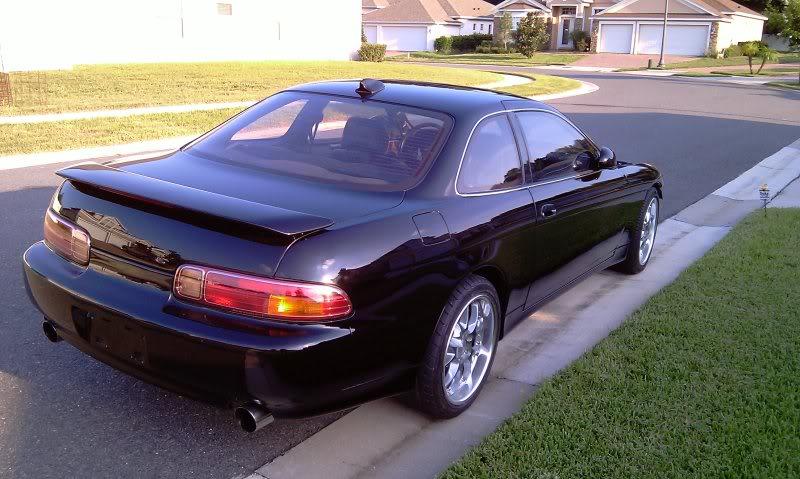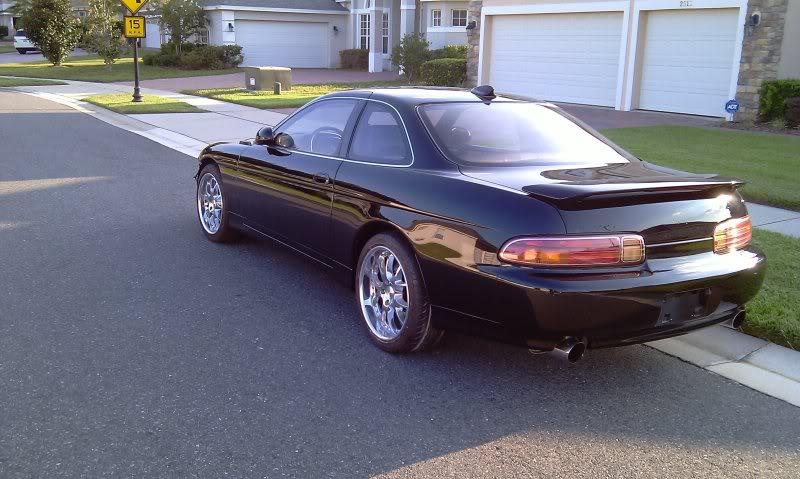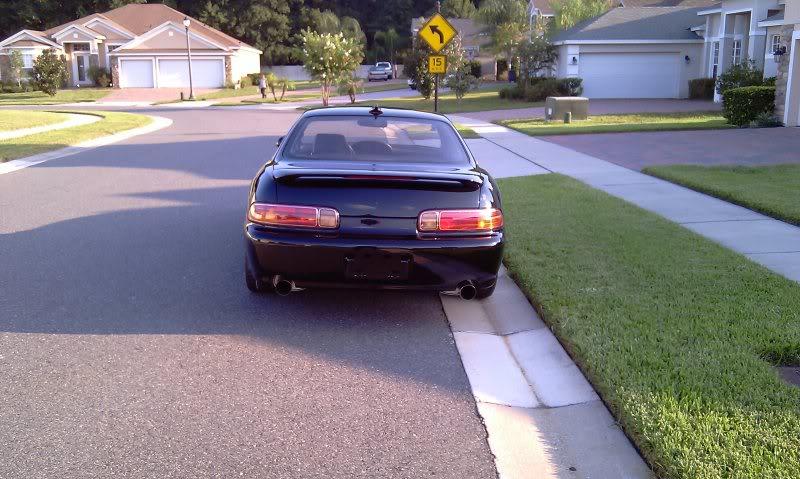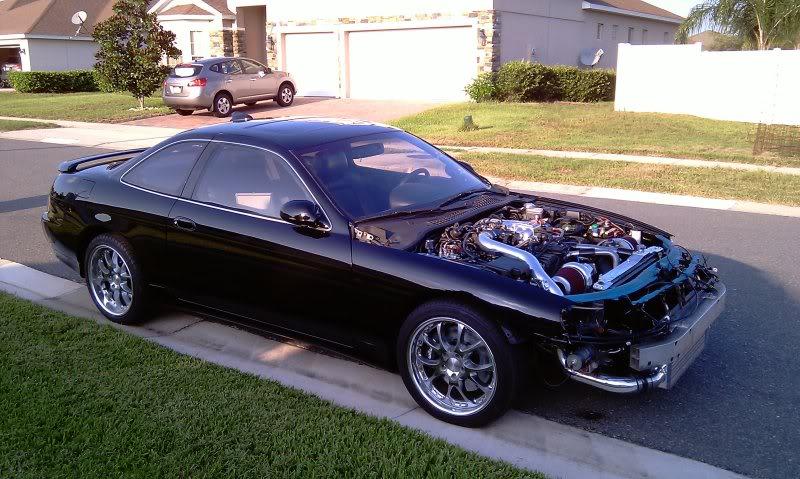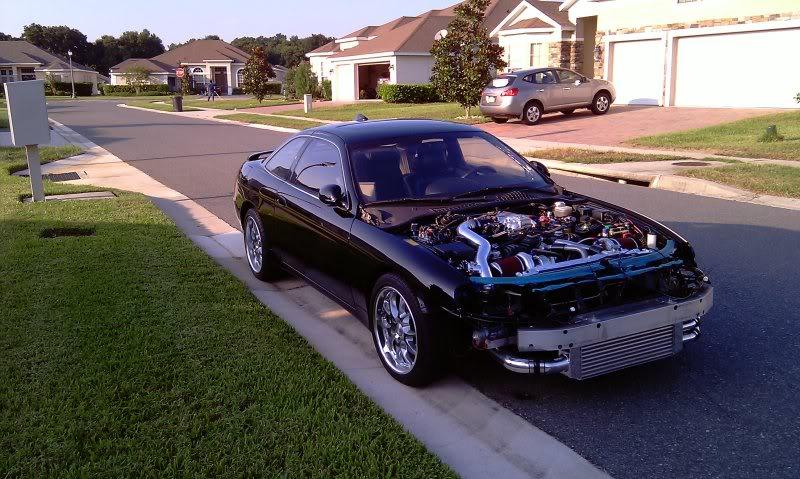 9-13-2010
Here are a few crappy cell phone pics of my headlights installed with my hood, and bumper cover. Please note that I did not permamently install the hood, bumper cover, ot my lights. this is just to get an accurate look at the whole set up before we finalize the lights and glue them together. I like the way they look. They make my car look like it is all business...I like that. I will try to get a few better pics up tomorrow, with more sun light.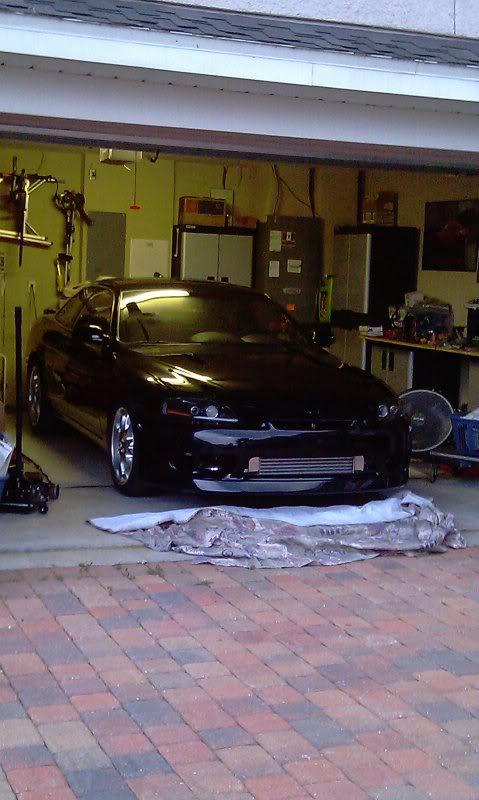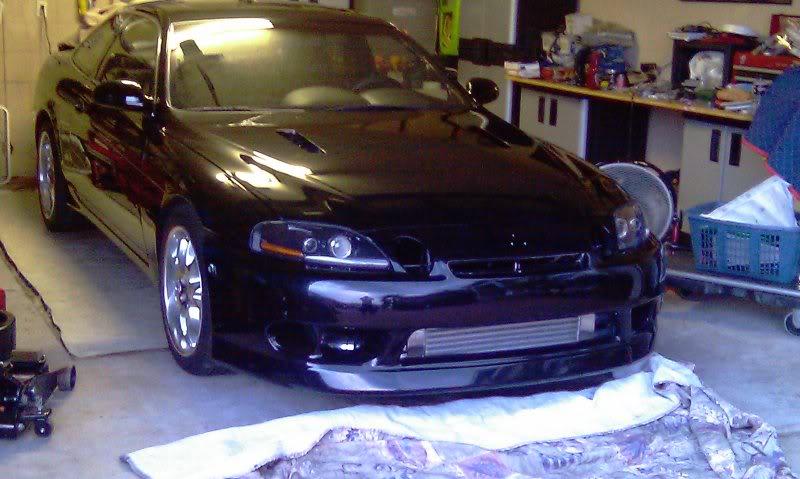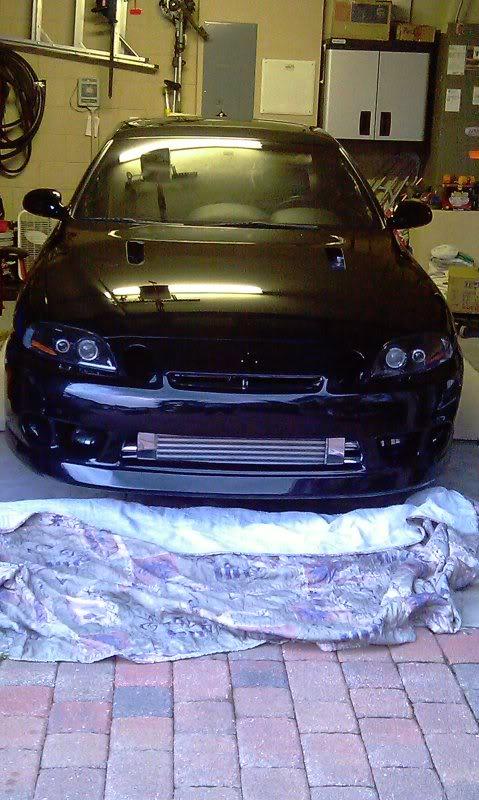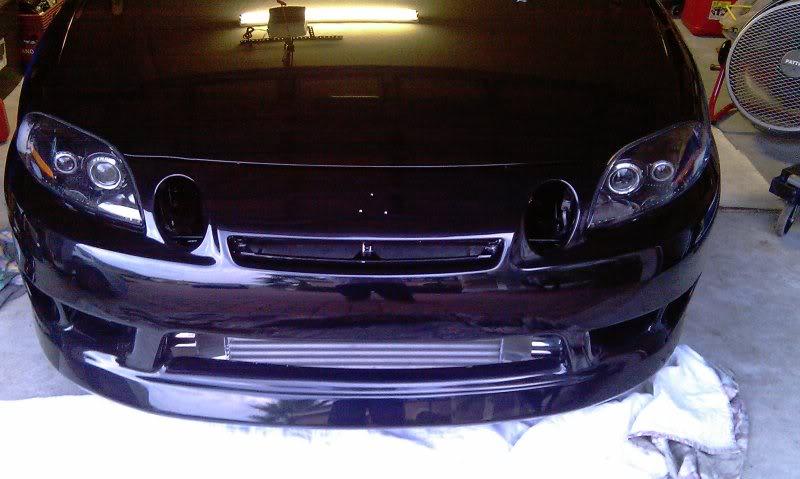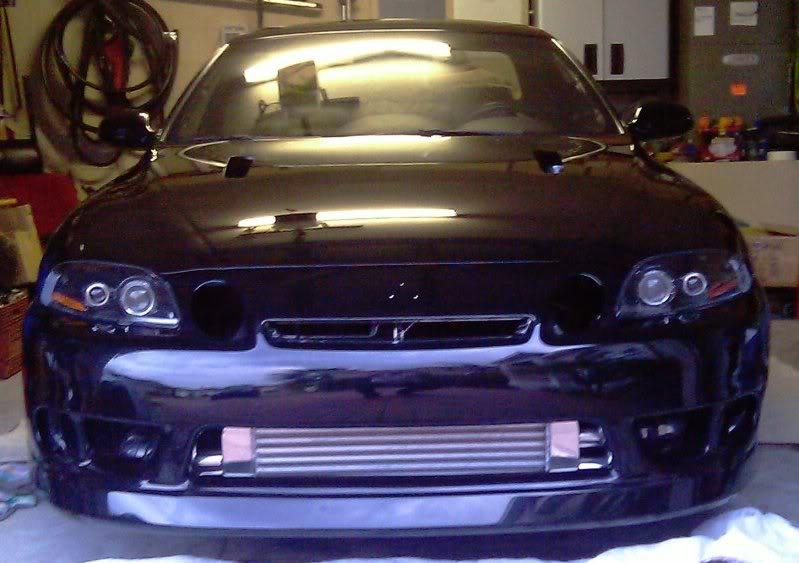 11-20-2010
Hey gang. I apologize that I have not posted up any replies in a while...I have continued to be very focused and busy at work. With the economy being the way it has been lately, I have found it necessary to work a lot lately. So, I have not been working on my car

.
The tuner from NY has been so busy with things up there, that he has been unable to come here to tune my car.
So, I have had to search for another tuner once again. I have fortunately found one of the best tuners around, and he happens to live right here in Orlando. Plus, he has tuned Autronic, so that is a major plus.
I have also been awaiting the Autronic Reluctor interface module so that I can connect that to my stock ABS system for traction control to work on my Autronic SM4. I ordered it over a month ago and it is finally on its way to me. So I will hopefully have it by Thanksgiving. If so, I will install it next weekend, and I sould then be able to do a final review of everything to make sure I am ready to tune the car. So, luckily, I live in Florida, where it does not snow, and the winters are awesome so that I can tune my car in December and drive it around in the brisk cool air...

.
I also had a leak from the crappy water neck that has been welded and re-welded and just is not repairable, so I had Shane (SCUPRA) make one up for me. He went way beyond the call of duty here...It is machined from a single piece of stainless, and it is gorgeous. Shane always does things right...Take a look. I may install this tomorrow, depending upon how I feel, as I am under the weather with a very sore throat right now, and have been trying to take it easy this weekend...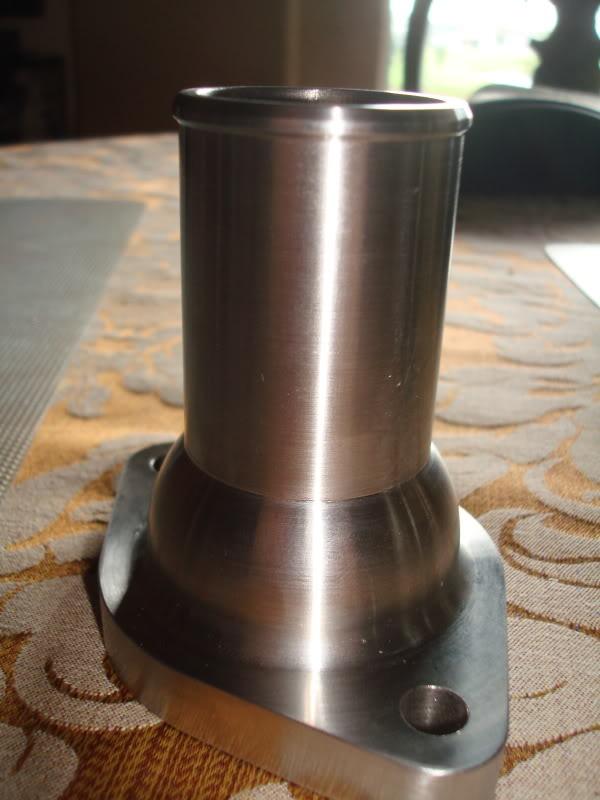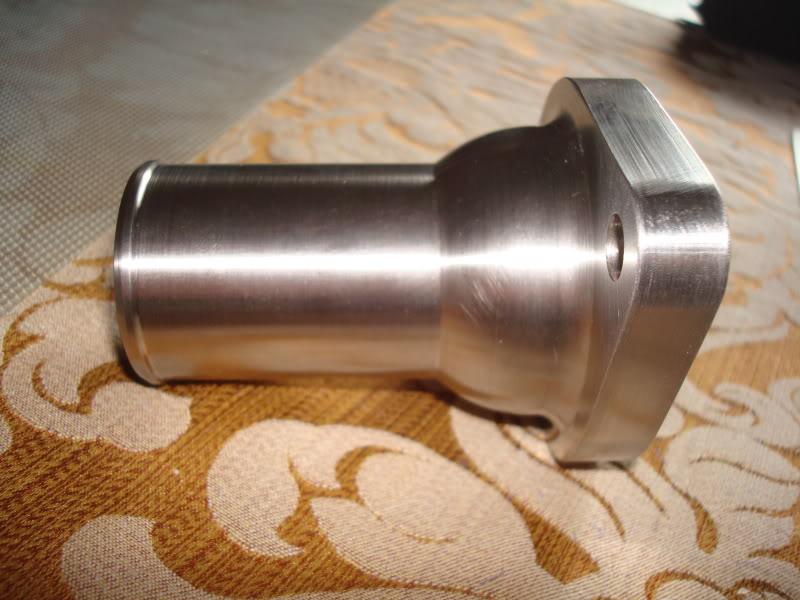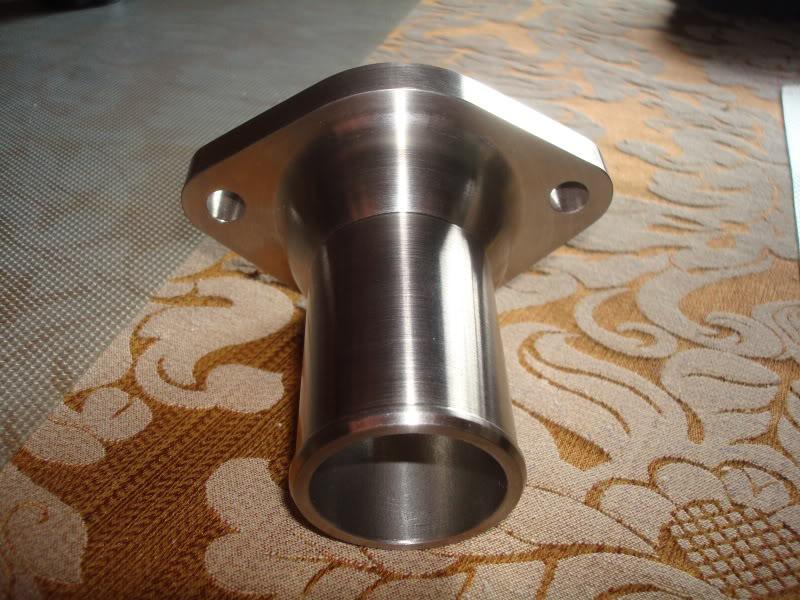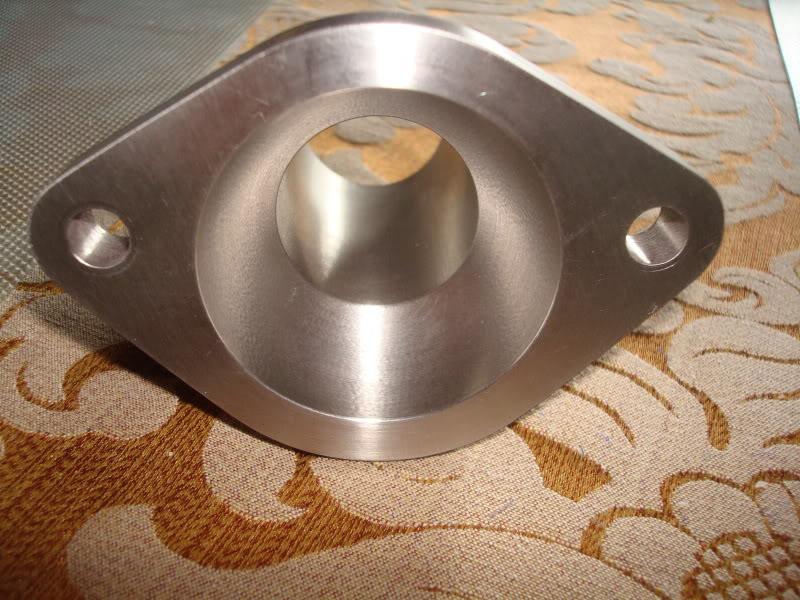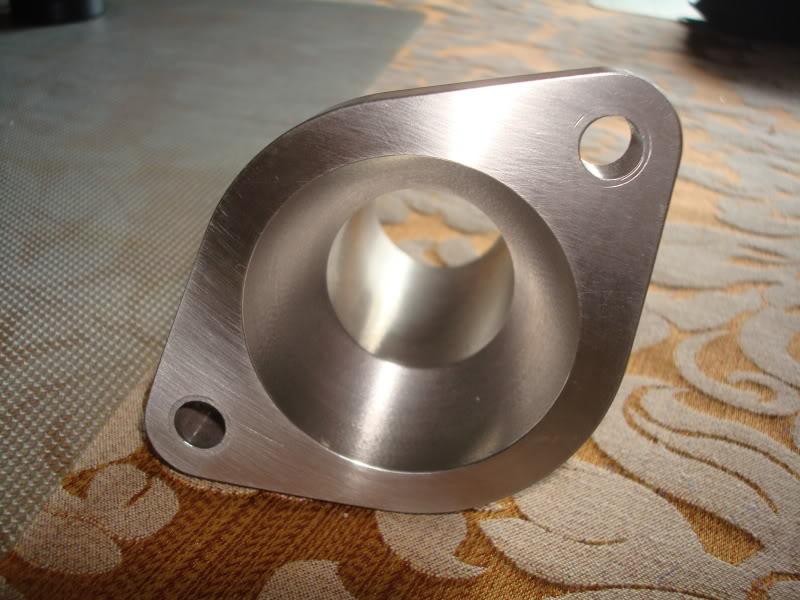 3-2-2011
Well I know it has been a little while longer...I will tell you that taking on a project like this is simply mind boggling at times...When blazing a new trail and going where "No man has gone before" is your project, anything and everything can become a challenge...Especially seemingly simple and small items.
I hinted in my most recent posts that I had tuned my car...And indeed, I did have it tuned, and Darin the owner of Double D Race and Tuning (The awesome tuner who formerly built and tuned Titan Motorsport's monster Supras) street tuned my car. We did not dyno tune it due to an unforseen power steering leak at the modified banjo fitting. It was leaking copious amounts of power steering fluid onto the passenger side manifold. Plus, the fuel map in the car was a bit too rich, and even though it was hardly run, the brand new plugs were fouled, so I got a small amount of misfire.
Correcting the plugs was easy, buy a new set and gap them to .025, and install them.
Repairing the leak was much more challenging, and took up several weeks of time, research and trial and error to remedy. For those of you that ever need to replace your high pressure side of your power steering, you know that Lexus wants your right arm for a new one...Well over $600.00. As well, if you modify your car like I have mine, there is not sufficient room for the inflexible hard line either. So, I modified the fitment on the rack, as well as to the power steering pump with AN fittings, and I had Amazon Hose and Rubber make a hydraulic, high pressure Steel braided line for me to replace the factory OEM hard line. The cost was about $65 for that line with prefessional machine grade crimping on the fittings. All went well. Then came the connecting of the modified banjo fitting that mounts to the underside of the pump...That became the bane of my existance.
Here is a pic of the original modified one: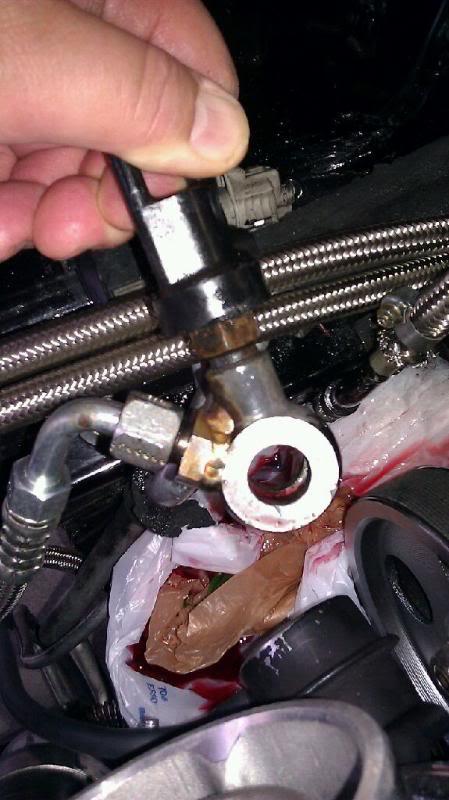 As you can see, it has a few deep nicks in the mounting surface from a wrench...This cannot be sealed with the Copper crush gasket because it is too deep, so that leaked at the time of the dyno.
I took it off and looked at the nicks and decided it would be a great idea to put on a bench grinder to smooth out...WRONG! That smoothed out the surface, but it was no longer parallel to each side, nor was the center axis of the fitting perpendicular to the floor, so this caused it to leak much worse.
I then took it to a maching shop that machined it, and they stopped mid way stating that since there was no "square" surface left anymore because I had bench ground both sides of the banjo fitting, they did not feel it could be remedied.
I went to a second shop that specialized it making small parts and had them machine it. They got it right, but a new issue was now apparent...Not only was the banjo fitting no longer even close to its original width, but the machining also removed enough of the weld that it unknowingly opened up a seam that would leak once agian on me.
The narrower banjo would also present a problem with the way it lined up with the banjo bolt. This proved to be a significant problem, because the banjo fitting not only has an entrance for fluid from the pump and an exit for fluid to the rack, but it is routed inside the fitting all the way around the complete circumference of the fitting for proper pressure and flow of the fluid. Narrowing the banjo fitting threw this completely off. But, there was another issue with this that I was not even aware of until I, by chance, decided to order a new banjo bolt fromLexus because the head of the bolt I had was beginning to round out a little, and I did not want to have trouble in removing and tightening that bolt...Especialy since I was having to install and remove it so many times.
When I went to Lexus to get some additional crush washers, I had previously ordered a new banjo bolt...When Brian Burns (Lexus Parts Extraordinaire) looked at my bolt, he asked where I got that from? I replied that it was the one I thought belonged to the fitting...Come to find out that it was not...I had inadvertantly used the wrong banjo bolt and it was impossible to align it to the banjo fitting so that the correct alignment and pressures would flow inside and through the banjo fitting. This was perhaps the worst part of the whole modified banjo fitting and bolt as not enough fluid would flow through it and into the rack...Hence the major difficulty in turning the steering wheel.
Here is a picture showing the incorrect and the correct banjo bolts...The correct one is the longer one: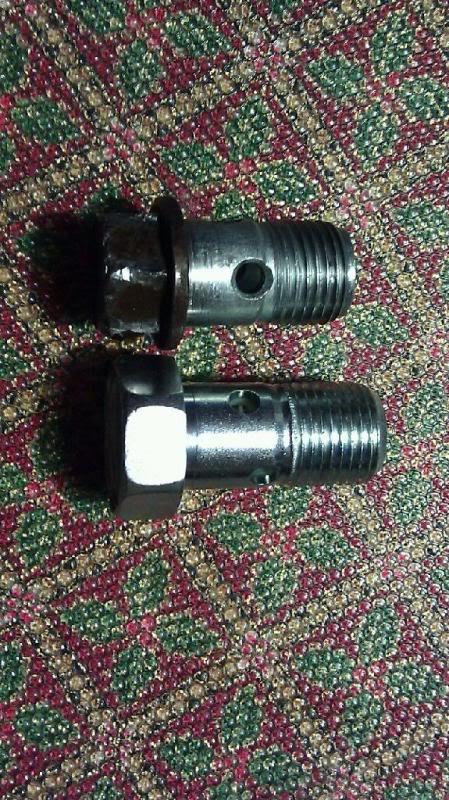 While all of this was going on during the lasat several weeks

, I contacted David Phan (Mr. Lextreme extraordinaire), and he graciously sent me a very nice and like new, but used power steering hose with banjo fitting intact. He refused to accept payment from me, not even for shipping! He would not even accept a donation to his site! Kudos to David, as he saved me a huge chunk of change, and saved the day as I could not have remedied this leak with out that part! David, YOU DA MAN!!
Once I received the banjo from David, I located an awesome welder/fabricator, Kevin over in Longwood Fl, and he welded a new AN onto the fitting I received from David. Here is a pic of the new one, properly welded, properly sized, and with a brand new pressure switch attached: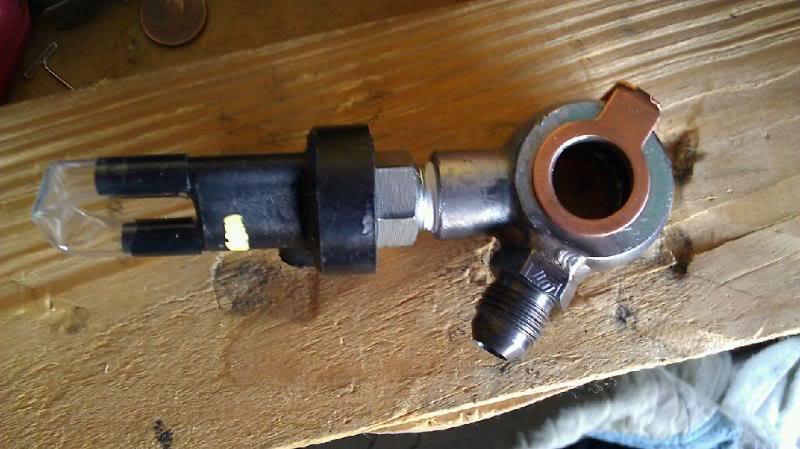 As you can see, there are no nicks in the surface, nor are there any open seams in the weld to leak power steering fluid. Here is a pic of the new crush washer, correct banjo bolt, and the properly welded banjo fitting...What a lesson this one was: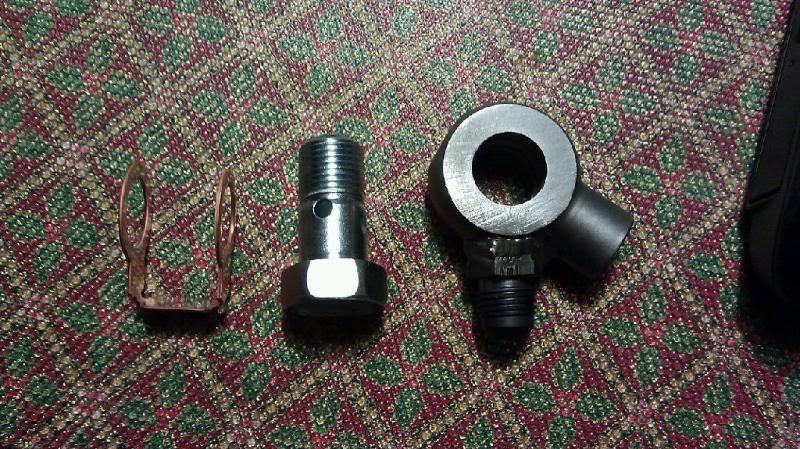 BTW, the steering wheel immediately turned with ease when the correct bolt was used along with the correct and original sized banjo fitting, plus no leaks at all. The shortend bolt was actully causing a big part of the leak as the pump was pressurizing the system, but not enough of the fluid was transferring from the pump to the power steering hose through the banjo because of the incorrect and mis-aligned bolt. Again, a lesson learned...
Here is a pic of the water nect that Shane Ligon made from billet stainless, modified and angled it, as well as polished it for me. It also works quite well and remedied the coolant leak from the previously welded and poorly fabricated water neck from another guy: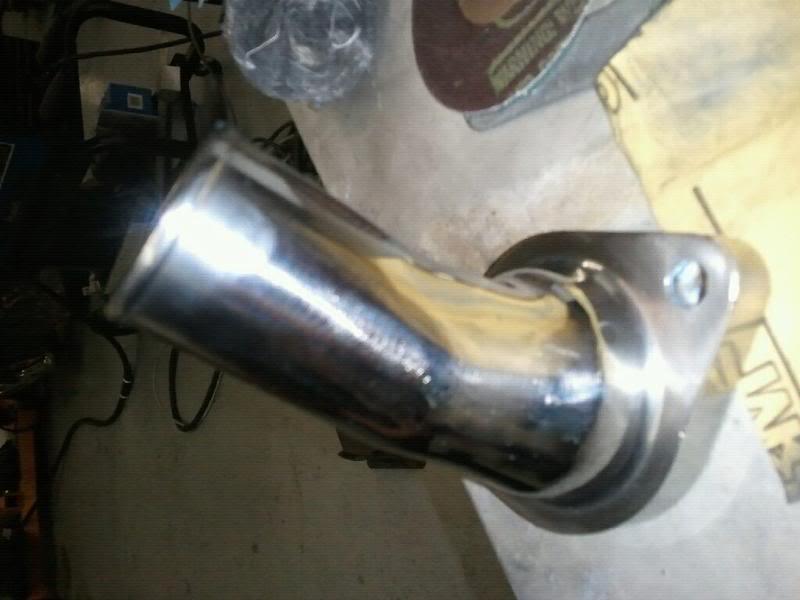 So, next: Dyno Tune, here we come!!
3-19-2011
Hey gang, I have been tweaking the car here and there, and there is more tweaking to do, but it is coming along very well.
Here is a video I made tonight from my phone cam, and this is the way a properly tuned Autronic SM4 sounds


The SM4 is the BOMB!! Car is running exceptionally well. Thank you Darin Dichiara, Master Tuner!! Dyno Tune is at the end of this month.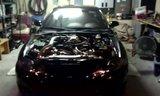 I am stoked guys and gals!
6-6-2011
Well guys,
I finished up everything today...
I completed fabbing up all the parts that I needed to modify...I measured, dremeled and fit the side panels in place, I mounted up the underside panels and added 2 more spacers so that the louvered front underside panel would clear the whole length of the intercooler.
I barely had time to test drive my car (headlights are still not connected up), but I got the car up to temp, and it only once hit 50%. It never went above that, and it only got near it once while pushing the car a bit...

. I am cautiously optimistic that I have resolved the issue by simply bringing my car back to OEM form regarding the underside body panels. What a significant difference. I will test the car more thoroughly tomorrow, and if all is well, I will work on tHe transmission set up and tune, and I will reschedule the dyno tune for a date real soon...
Lesson to all...tough to beat the stock, OEM engineering, and keep it intact whenever possible for most systems in the car...
It is amazing how critical the stock set up is to ensuring proper cooling of the drivetrain of the SC...Especially the SC400. When I first started examining this issue, I looked closely at every aspect that Lexus had engineered...and removing the stock fan and radiator would mean that anything I modded would require me to pay close attention to the efficiency of those mods...I did not do so enough, I thought I had, but I had not. So overheating become an issue as soon as I placed the bumper cover on my car. The nose of the SC is not very conducive to proper airflow...Look at most cars, and you will notice 2 distinct similarities almost immediately...They all have a lower air dam section to vent air into the radiator, plus in most cases, they have a large grill that covers an area very close to the overall size of the upper half of the radiator compartment. These 2 components ensure proper air flow to the cooling system of the vehicles.
The SC does not have an upper grill, so directing sufficient volume of air into the cooling system is critical by other means...That is why the underbody panels are crucial to proper functioning of the cooling system. This becomes even more essential with the addition of
turbos into the front of the engine bay...the additional plumbing, removal of OEM heat shields, lack of room, etc, add to the need for sufficient air flow. Turbos add a whole lot of heat...even when ceramic coated and wrapped...be sure your (2) plastic side underbody panels are completely intact, and that they are installed and custom fitted around the
additional intercooler plumbing. Be sure the louvered and flat tray underside panels are installed and attached properly too as they all work together to create a very effective air compartment that not only catches the necessary volume of air needed to cool the system, but also to force and direct the air to flow through the engine compartment and out so that there is no heatsoak.
Use your underbody panels guys and gals...
The stock set up seems to handle the lack of that panel better than my set up. You may be ok, but if you ran a comparison of actual temps and not just eyeballing the OEM temp gauge, I bet you would see that your car runs hotter without the panels than with. The temp gauge allows for a range of temps, not a specific temp, so it may not appear to be overheating...
6-14-2011
Sorry guys...I have been real busy lately...Here are some of the pics...If you have not modified your front end or added a FMIC, you should not have to do what I did.
Stock front underbody louvered panel. This panel directs air up into the air chamber behind the front air duct and air dam, but directly towards the lower half of the AC Condensor and Radiator.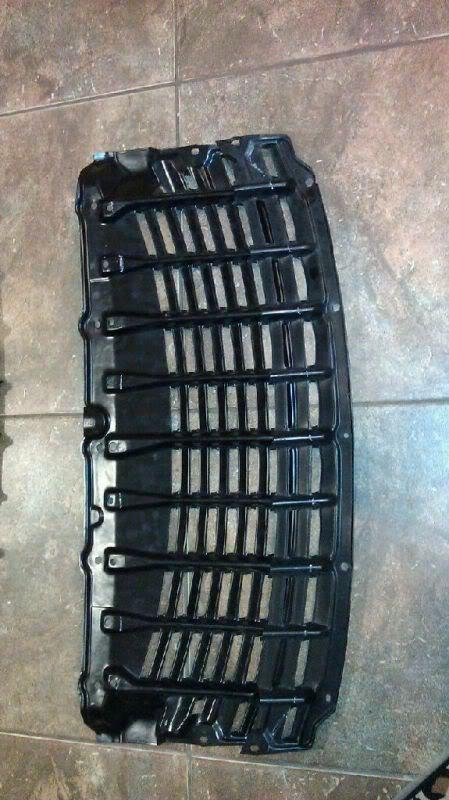 Side by Side comparison of the cut one, which I used to add to the stock one for the added length needed to attach this due to the FMIC protruding below the level of the front bumper cover.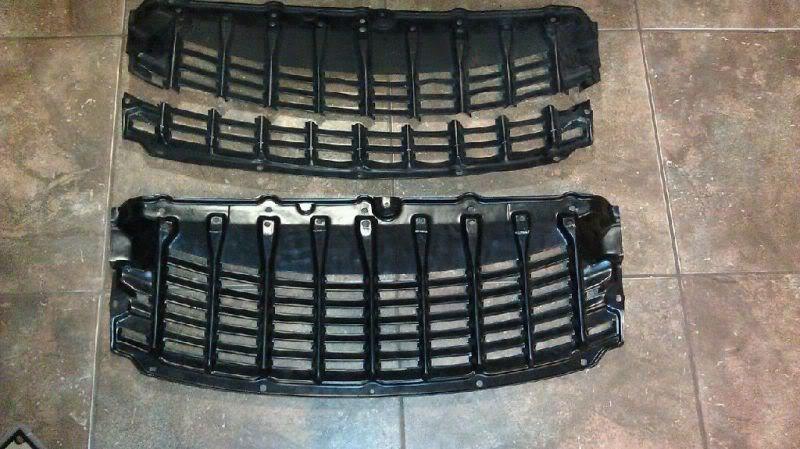 Modified panel after riveting the 2 pieces together. perfect fit, and it works! Plus, the rivets ensure it will stay together...Do it right the first time!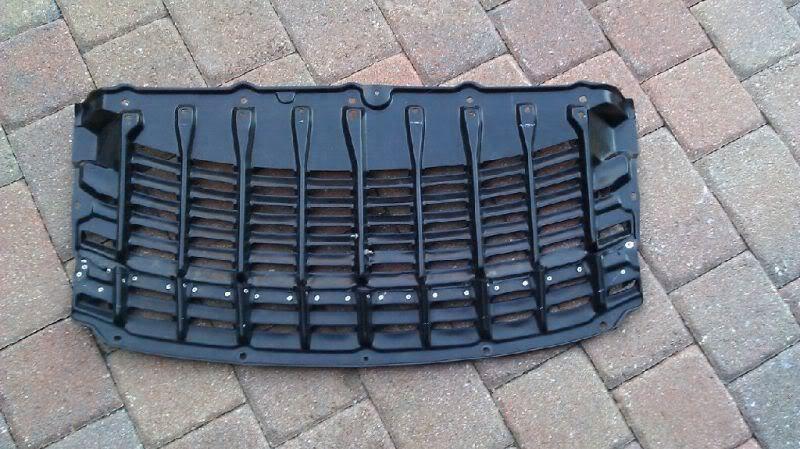 Spacers added...After test fitting this, I added 2 more on either side of this one located in the center...These actually rest against the bottom of my FMIC, and keep the bottom of the panel off the FMIC, and the louvers are fully functional this way, so that they not only direct air up befind the center air duct, but they also direct air up to the lower front area of the intercooler too!!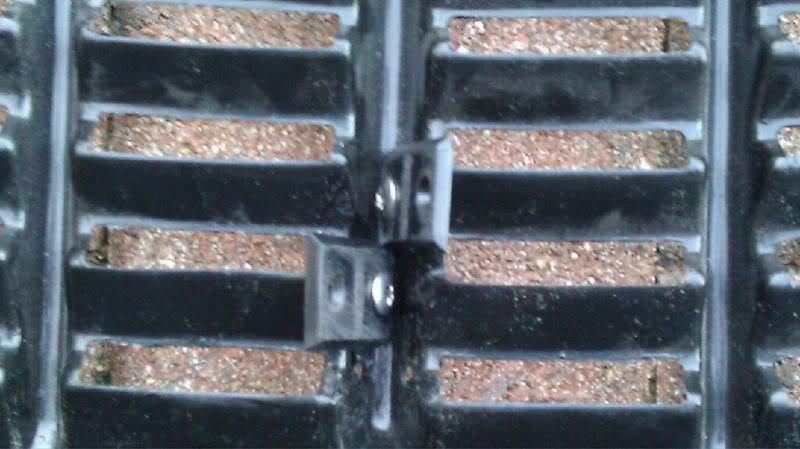 The other panel is the flat one that covers the whole underside of the engine, and has the fold out section to fold down when changing your oil filter, and works in conjunction with the front louvered panel.
Here are a few pics from my most recent test drive: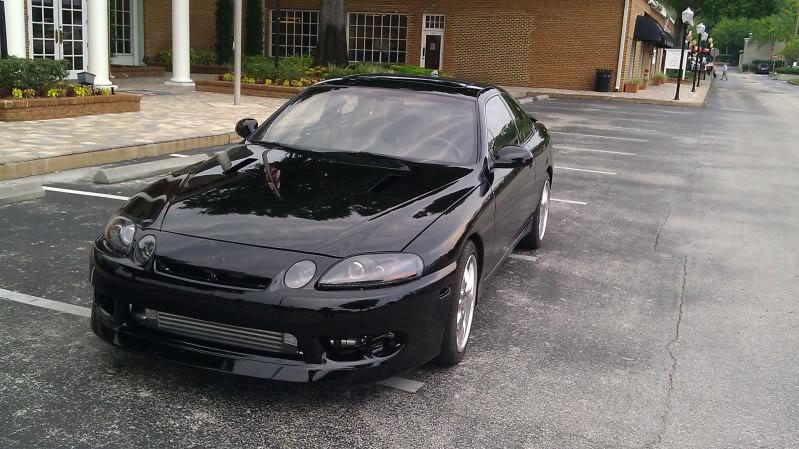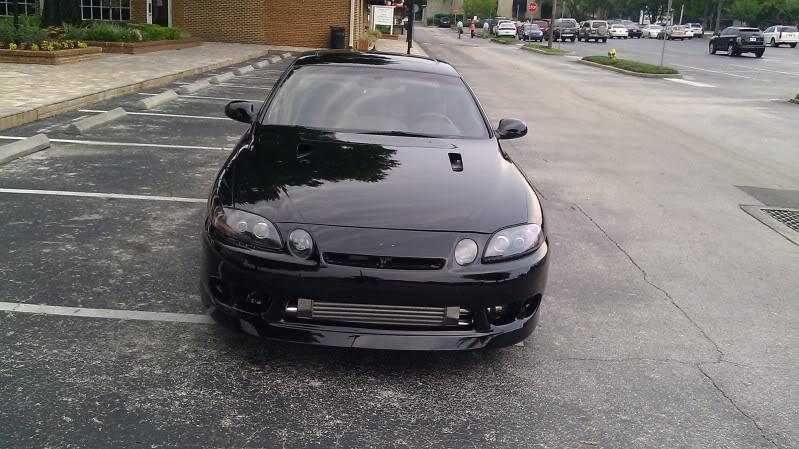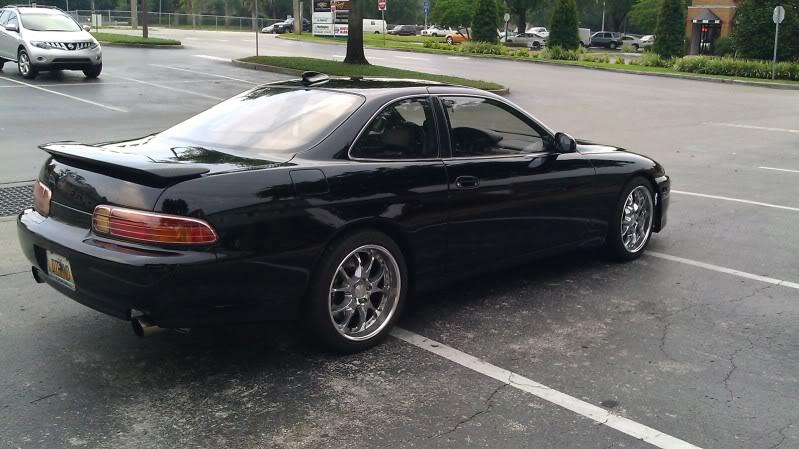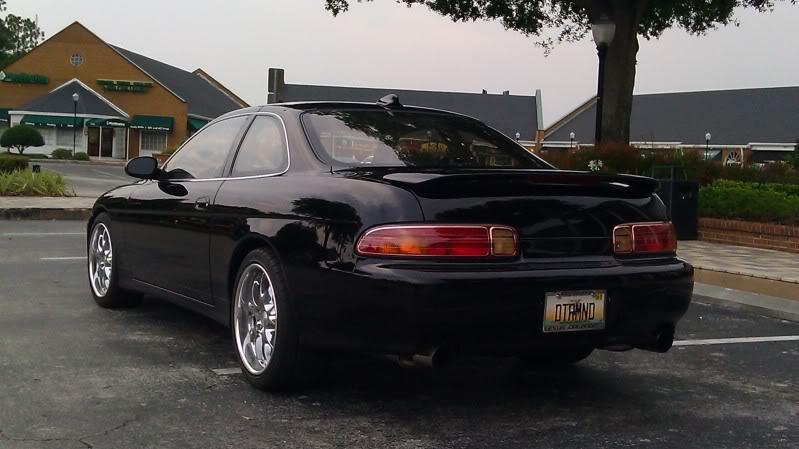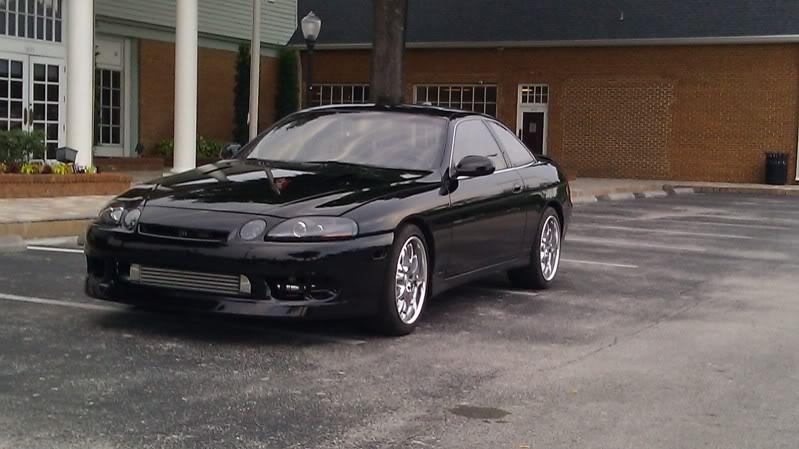 8-8-2011
Thanks Guys...Damned lights cost me a small fortune though...


Hey gang...
Sorry for the delay getting back on here...I have barely been on the forums at all lately...With the US economy being the way it is, I work harder to keep my income up, fortunately, I am with a most solid and financially conservative company which has always spent our money wisely, and invested back in our business wisely...so, we are actually doing quite well, and we continue to grow through the attrition of dissatisfied customers from our competitors, who continue to buy and merge their companies in a haphazard manner...This creates havoc with integrating cultures, product lines and in particular, billing systems, which results in poor customer experiences and frequently, a lack of cash flow. We also grow our company, but we do it much more carefully, and we are quite picky about buying hurting competitors, therefore, we are able to manage ourselves much more effectively, and we are able to provide excellence in customer service...Anyway, as I mentioned, due to my position, I can still control my income because I am on commission, but it means more time working than before...No worries...I like what I do.

Anyway, enough on that...My car, updates. I have not had much time to work on it lately...plus I had to fix the only oil leak I have really experienced...I traced it to the oil level sensor, as I believe I mentioned elsewhere...I decided to order a used one because since I was going there, I wanted to take no chances that it might be the sensor, and not the more common culprit...The inner gasket. I thought I would buy a new one until I nearly crapped in my pants when I asked the dealer for a price...$500 for a new one...Ouch...Just to tell me when my oil level is too low...Very important though...So, I searcehd until I found a used one, and bought it for $40. A new gasket was less than $2. I changed it out today...drained the oil, and it looked most excellent, I could determine no filings in the oil either...Color was still dark green, as I am using the Brad Penn Green Break in motor oil right now...I want to point out a few things I noticed...
My oil sensor and the used one I bought were identical...But, mine was exceptionally clean, with virtually no residue build up on it because I am the second owner, and I have always changed my oil at 3,000 miles with Mobil 1. The previous owner had also maintained the car well.

The used sensor was in very good shape, but it had a lot of build up on it...This tells me the owner of that car did not change out his motor oil nearly as often as he probably should. I cleaned it up, oiled it up, installed the new rubber gasket, and installed it.

Another note was that I was able to twist the top pf my oil sensor back and forth in the aluminum housing a little bit...This is why I searched for another sensor, as I wondered if this would be a source for a small leak, as my oil leak was small, but defintiely a leak. I was unable to twist the top of the used sensor I bought, so this may indeed have been a factor.

I noticed the gasket on my sensor was a bit hard and brittle along the edges...I do not recall, bit this may have been the only gasket I neglected to change...most likely due to an oversight... Oh well, done now.

The car has new oil in it, and it is lubed up.

I had thought I had a partially stripped bolt hold for one of the bolts on the oil sensor, but, not so...All tightened up well.
I also had removed the rear upper plenum EGR block off plate that I use to house my external AEM 3.5 BAR MAP sensor to check that everything was correct there as the transmission was not shifting properly...I found that I had not initialized the MAP sensor in the new PCS ECM...Once I did that, the transmission shifted correctly. Only thing was one of the damned bolt holes stripped out...Luckily, I wqs able to find a slightly longer bolt and it torqued down properly...If not, I would have had to take the whole damn upper plenum off and Heli-Coil it...Whew! Fortune prevailed. So, I completed that as well.
Tomorrow, I will drain the coolant once again, remove the radiator, and add the new fan, as one of the new 14" cooling fans died on me...If this happens again, I will order SPAL's and install them.
I will post up another update when I get a moment this week. That should get me ready for the Dyno tune. We shall see.
8-30-2011
Good news, I have been able to carve out enough time to finally build the harnesses. They are completed. I simply need to connect them and install the fans. I will be working on it tonight when I get home for a little while. I will update you all how it turns out.
The harnesses look good. I used 10 gauge wire for both power and ground. I also installed a couple of quick disconnects:
At the fans, I used weatherproof bullet connectors.

near the relays, I used insulated dual bullet connectors which allow me to disconnet the power and ground quickly and easily.

I installed the fuses on the fan side of the quick disconnects, utilizing screw down glass tube fuse receptacles with 30 amp fuses.

Each fan is on it's own dedicated harness and relay, power and ground.

I created a "Y" connection for the signal wire from the ECU to signal each relay.
Should work perfectly..."knock on wood". Sorry for the delay, but personal things took priority, and I just did not have the time to get to this until last weekend...
I am excited about using the Spals...Best fans out there. Let's see how they perform.
9-7-2011
Well, I found I had a mess with the wires connected to the relays for the fans...I do not know how they got connected that way as I do not understand how the fans would have even fired up...Anyway, I pulled up a fan diagrams off the web and figured it all out. The harnesses are all correct on the relay side now as well. So, I drained the fluid, removed the radiator and the "other" electric fans, and looked closely at the brackets the guy sent me to mount the Spals, and I noticed that these brackets will not work well at all...Here is a pic of them:
So, I decided not to even attempt to make these work...I contacted the Spal dealer and ordered these instead:
These brackets include the foot bracket and a metal strap. I decided that I am tired of pulling the radiator out and reinstalling it again and again, so I made an executive decision to make a custom mounting strap that will mount horizontally across the radiator at the top and the bottom. Then, I will mount the fans and the mounting brackets pictured above, to the metal straps. Much cleaner, much more secure and I do not have to worry about ever damaging the core with tie straps pushed through the radiator. Plus, Spal recommends that the fans are mounted 1/4" off of the surface of the radiator to allow for any potential "fan flex" due to accleration and such while driving. These straps will accomplish just that distance. Of course, I will not receive the brackets until this Friday, but at least, just in time for the weekend to complete.
Also, I plan to fabricate an aluminum shroud...I will design it with rubber flaps covering additional holes in the shroud or with some sort of venting so that I get the efficiency of the shroud at idle, but the air flow through the shroud when driving at cruising or higher speed. I do not wish to experience any further shroud "deadheading" like I did with the previous fans/shroud set up that I sold. We wil see how it works. I have already drawn the design for the shroud.
Unfortunately, this will delay me a little, but at this point, cooling is critical, and I do not wish to blow my motor by shortcutting anything.
Another addition, I decided to not utilize the Autronic traction control as it requires me to add additional ABS wheel sensors that it is compatible with...So, I am purchasing a Race Logic traction control system, installing it and having Darin tune that too. Did I talk about blowing the budget on this project some time ago??? What budget???




I will keep you updated.
9-12-2011
Ok,
Another update. I definitely decided not to mount the fans direct to the radiator, or even try it that way...I am not willing to go another try at "might it work without the shroud?"
I made a couple of mock up cardboard fan shrouds after talking to a company that specializes in fabricating custom aluminum shrounds and fan/shroud kits. Everything about them seems straight on, and integritous (I think I made up a new word...

). It seems apparent that there is no question as to the greatly increased efficiency of a shroud, so as I always say, if I am going to do it, do it right the first time (or in this case, after trial and error), so I will not have to do it again. BTW, the name of the company that I have selected to make my shroud is TCP, Inc., located in Idaho...They recommended a shroud that only needed to be 1/2 inch to 3/4 inch deep to do the trick. I can only afford 1/2 inch, so, I am going that rout. The fans will mount on top of the shroud, instead of inside of the shroud like the previous MVP set up I had. My hope is this added efficiency will keep me from having to add a third "pusher" fan for the AC, when sitting in high noon traffic and having the air blasting on ice cold...We will see.
BTW, due to the fact that I can only afford 1/2 inch for the depth of the shroud, I am sending them my radiator, and my Spal Fans so that they can get a perfect fitment, as this is critical to everything clearing the tight tolerances. BTW, they only recommend Spal fans on their website, as they make it clear that experince has proven Spal to far superior to any other electric fan manufacturer.
Approximate cost for making the aluminum shroud is $200 plus shipping...Not bad, and I could not make one myself for less than that since I do not weld... I will keep you updated, but this adds about 2 weeks to my timeline...
10-3-2011
I got it in guys. Looks good. Gonna install it this week, and hopefully the overheating will become a distant memory and valuable learning lesson only.
Thanks TCP Performance for making these!
Here are a couple of pics: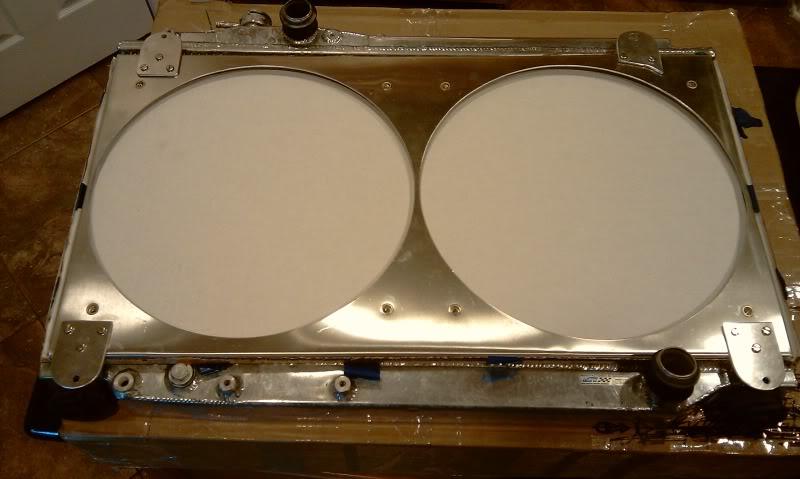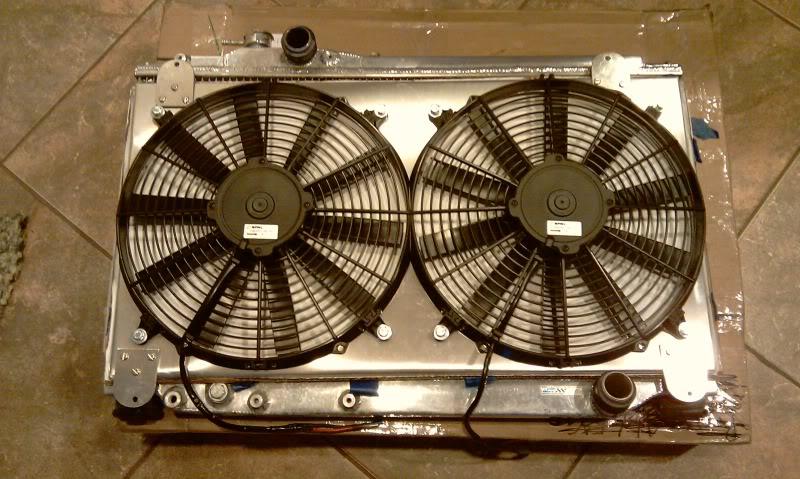 11-2-2011
As the caption headlines, it appears that I have resolved the overheating issue. Combining the (2) SPAL 14" fans along with the Custom Shroud from TCP Performance is a winning combination!

They have worked like a champ since I have installed the Combo. No overheating issues at all...As mentioned earlier, I have not seen it above 40% on the OEM temp gauge. Not even once...No matter what the conditions were. So far, so good....Great not to be overheating...But, I keep my eye on the temp gauge regularly, to be safe...

I have been working on the transmission set up and software with the TCU. It is now all set up and with the correct parameters for e-shift and normal auto shifting. It still needs tuning now. But the car is coming together. As soon as Darin tunes the transmission, then he can tune it on the dyno. Almost there.....Finally....After 6 looooooooong years!!!!!
12-18-2011
Well, time for a new post...Since I last posted, the toughest thing I was facing was hooking up with Darin...With him being constantly in demand for both tuning and building people's rides, plus with me being in a bike accident, going through rehab, and working, it was near impossible to even connect, much less schedule a tuning session. Previously, Darin and I had discussed him tuning my BL built auto transmission, and he said he would consider it. When we finally hooked up, he decided that since he had not tuned my Transmission controller, and his tight schedule, he declined tuning my tranny. This, of course, was a huge let down for me, but I did understand. So, now, I was in a pickle...I could not really drive the car very much, nor dyno it until I worked out the transmission issues and tuned it. I started searching for someone to tune it, and I could find no one in Central Florida that was interested, not even remotely...So, once again, my project was stalled.
I decided to at least get the transmission set up and wired correctly so that I could be prepared to fly in a tuner. So, first, I checked all wiring and connections to make sure they were correct, or determine what issues still needed attention. Since I was having a problem with the shifter linkage, I took my car into Lexus of Orlando, and had them perform a thorough review of everything, and to repair the linkage issue, and they did a most excellent job, as they always do. I have always had nothing short of excellent service and support from Lexus of Orlando, and Alan Sandberg at the dealership, and once again, they delivered. I even got a free Loaner...

Then, I called PCS, and spoke to them about my dilemma. They truly have the best customer service and support of any after market, performance manufacturer that I have ever met or dealt with. They spent hours with me getting the transmission programmed correctly so that all the shift indicators on the shifter and the E-shift were functioning properly. They also sent me a base map and helped me to get the car running a little better. They also said that if I could get my car to them, they would tune it (transmission) for me. So, I started to look at when and how I would get my SC up to Virginia, where they were located.
They mentioned to me that it was unfortunate that I had not contacted them afew weeks earlier, as they were in Orlando at the PRI show, and they would have gladly met up with me to tune my transmission then...Ughhhhhhh

if only I had known...
But, as fortune would have it, PCS called me back and let me know that the owner and founder of PCS, Russ Taylor, was driving down to Florida to pick up his nely rebuilt Mazda 3 pure race car from a custom fabricator in Davenport FL, and that he wanted to hook up with me and tune my transmission. Now get this...Russ, wrote the code that is in the TCU, he is a mechanical engineer, a master transmission mechanic, and much more...There was no better person to train my transmission than Russ. We hooked up yesterday, December 17th, 2011, in the evening on his drive back to Virginia, and he spent the the next 2 hours tuning and tweaking and repairing everything about my BL tranny...Needless to say, the ride is phenomenal, and the transmission is so close to stock in normal driving that I was flabbergasted...In performance, my car absolutely came ALIVE! It shifts perfectly! E-Shift is instantaneous, and flawless. I am now able to get the power to the road. I roasted the rear tires in first gear from a dead stop to redline...Something this car has never, ever done before...The car easily burns rubber shifting into second, and at WOT continues to roast the tires until I let off...I can be driving done the road at 40 mph, step on it, and it rips the tires loose from the pavement with ease...All this and mre, and I am at LOW BOOST. Wait until Darin gets ahold of this car on the Dyno...I can hardly stand the anticipation!! The car is wicked fast on the Interstate, simply pressing the throttle partially and it downshifts immediately, and the turbos wine, and the car surges forward, with ease...And of course, when I let off, that most beautiful sound of the BOV expelling extra air is magical to listen...It has been worth all that I have gone through to get here. I am looking forward to January, when Darin can out his finishing touches on the Dyno Tune!
Stay tuned guys...Got to go make some carbon fiber pieces made, and somplete the interior...
WOO HOO!!!!!!!!!!!!


4-16-2012
I should be dyno tuning the car within the next few weeks, then I can decide if I need to modify some of the tubing. 1,000 WHP is still my goal. So I need to get a baseline and determine then whether I need more fuel, bigger exhausts, more aggressive cams, or a combo of the aforementioned.
I just got the car back from the Orlando Lexus Dealer, and I must say that they did a great job...the previous painters disassembled the doors to properly paint them, but then they reassembled them incorrectly by not using the factory screws and instead using sheet metal screws that screwed into the rear door tracks and interfered with the windows rolling down...the driver side would lower 50%, and the passenger would not roll down at all!!! Unbelievable! And since the economy killed that shop, I could not go back to them to fix it...so, I had Lexus do it, and they did it right. I had them fix th door lock clip and align the car too. Drives like a dream...
I took it out for a spin this afternoon down Markham Woods road...a winding road that has lots of high end sports cars driving on it...I drove up behind an Audi R8 Spyder...gorgeous car, and one I plan on buying within the next few years (non-Spyder). When he first saw me come up behind him, I could tell he wanted some, but then he heard my V8 rumble along with the Turbos...he backed off...when we came to the intersection, he was turning left into Alaqua Lakes, I was going straight...So I gave him a little taste...took off quickly, but only a chirp (didn't push to hard), but shifting into second while on manual mode at that rpm broke both rear tires loose and left some serious sound and black streaks...I was grinning from ear to ear...
I can't wait for the dyno tune...
4-17-2012
Thought about that Zach. But, I do not think it will be a problem at what we do on Friday. I will actually be happy to hit 650 WHP on Friday. Once I get a baseline, then I will know better what I want to do next. I am going over to Titan tomorrow to pick up a new Innovate sensor, as mine went bad, and it is needed for the dyno. So, I will see what Titan has in stock. Perhaps I will buy one and have them install it...

4-22-2012
The Dyno went ok...Meaning, Darin did well, but my wastegates did not cooperate well. The Actuators had to be moved and custom mounted when the plumbing was fabricated and everything fitted so they did not function properly, and the result was we could not control boost, so the ECU kept on boost cutting before my car could even get to 5000 rpm's and Darin was never able to get a good run. We called it a day after about an hour and a half of working on it. Managed to see 439 WHP at somewhat less than 4900 rpm...I believe that was at around 4600 rpm...Darin said not to even pay attention to that number as it was a lousy run. So, I have to replace the actuators and hook back up with Darin in the next week or too. We will get there...I have posted up 2 videos from the day...It was not a total loss as Darin got the idle very stable, and he tuned in exceptional driveability...The car is absolutely fun to drive, it is very quick, easily breaks the tires loose at partial throttle when using E-Shift in 1st, 2nd and 3rd. I can't wait for the next tuning session. BTW, the built V8 sounds absolutely awesome!!
Ryan
Video 1: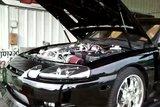 Video 2: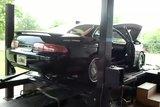 5-9-2012
Hey gang,
The boost has been adjusted on the wastegates. MInimum boost now set at 10 lbs.

The Profec B is being removed, and boost will be controlled by the Autronic ECU, as it is a much better way to do...Anybody need a Profec B? .

I had to order the Serial Port connector and terminator plug from Innovate so I can re-program the second analog output connected to the AFR Gauge. That will fix the gauge, and I can then read boost from the cabin without having to connect my computer to my car just to see AFR readings when driving around.

Completing the wire trace so I can stop having to press the manual release every time I want to move the gated shifter into reverse or park from drive....Currently, that is a serious pain in the rear...
If all goes well, I should have the car back on the dyno next week with Darin. I will keep you posted.
Thanks to Dan Osypian for all of his help.
5-23-2012
Just want tp give all of you an update. As I mentioned recently, I needed to get the boost controller sorted out, along with the Innovate Air/Fuel gauge reading the mix coming from the wideband, fix the gated shifter auto shift lock issue, and button up the car. This is all completed now.
The Innovate is a pain...great unit, accurate, quality, but, the LC1 is a bit painful and very complex to set up and program. The wideband has to frequently be "free air" calibrated because any anomaly in the wiring resets it. It also cannot share power and ground with other devices because of it's stringent tolerances for voltage. But it is working well now...
My interior is mostly buttoned up now, and that makes my car feel much more complete. No more tons of wires hanging out everywhere. You can see from the pics that it now looks like a car again...

Just finalizing a few more items and back to the dyno...hopefully within the next few weeks at most. Car drives well...
The customizing of my interior will be after the dyno, and then the buttoning up of the exterior. Wow, it has been a very long time...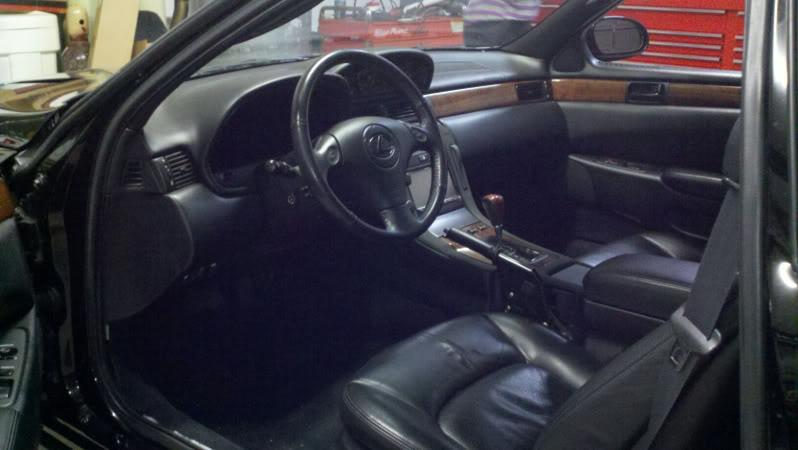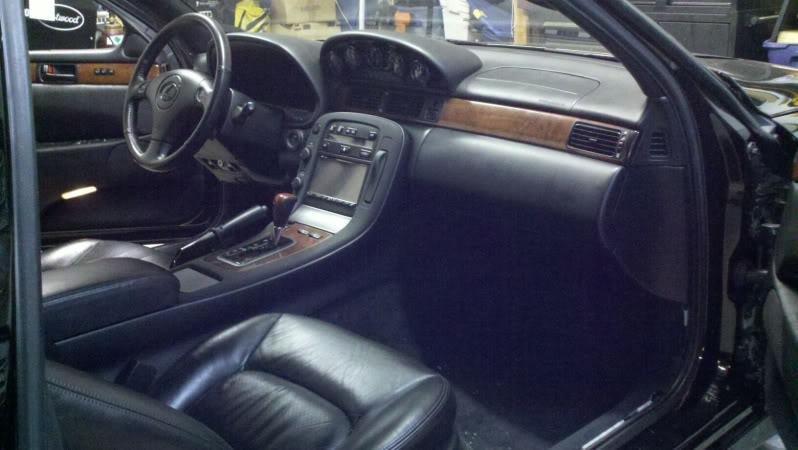 More to come soon.


I want to be sure to give credit where it is due...Dan Osypian has been doing all of this most recent work for me...I simply do not have the time due to work demands on my time, so Dan stepped up and did it for me...He is one of the very few I have ever trusted to work on this project, especially with the complex wiring that is required for a project such as this one. Dan's work is excellent due to his meticulous nature, and he treats my car as if it's his own...Many props to Dan!!!

This project would be stalled so very much longer if he did not work on it.
Many bows to you Dan

5-31-2012
Remember, the Dyno is scheduled for this Friday at 2pm. Wish me well...
So, I lucked out as my wonderful wife, who is most frugal, decided she did not want me to buy her a brand new SUV, but she wants me to pay off her Forerunner, and mod it a little...Namely, the stereo system. She wants an in-dash DVD/NAV, Bluetooth, backup camera, XM/Sirius, upgraded speakers and apms, and tinit added to her windows. I said sure! In fact, I am providing her with a brand new Head Unit (Soundstream), and transferring my whole system (sans the Pioneer AVIC Z3) over to her car...She gets the component 2-way/3-way Mb Quart speakers, the JL 10" Sub, and the 2 Alpine V-12 Amps (5 channel, and mono for the Sub). She is stoked, and so am I!
I get to buy new stuff for the Lexus sound system. I am keeping the Pioneer AVIC Z2, Bluetooth, and Backup camera. I am adding the following to the car, and having it customized in the trunk:
Amps: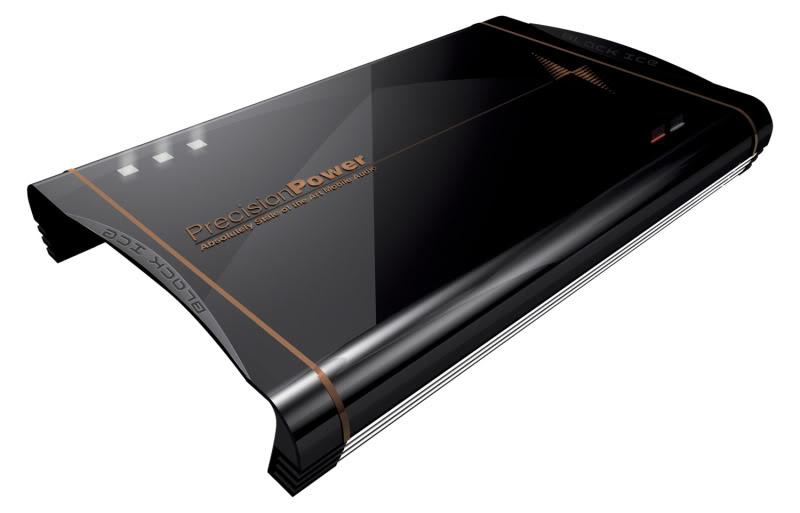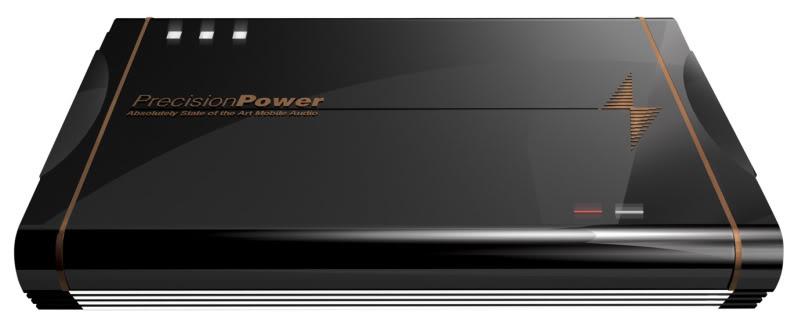 Subs: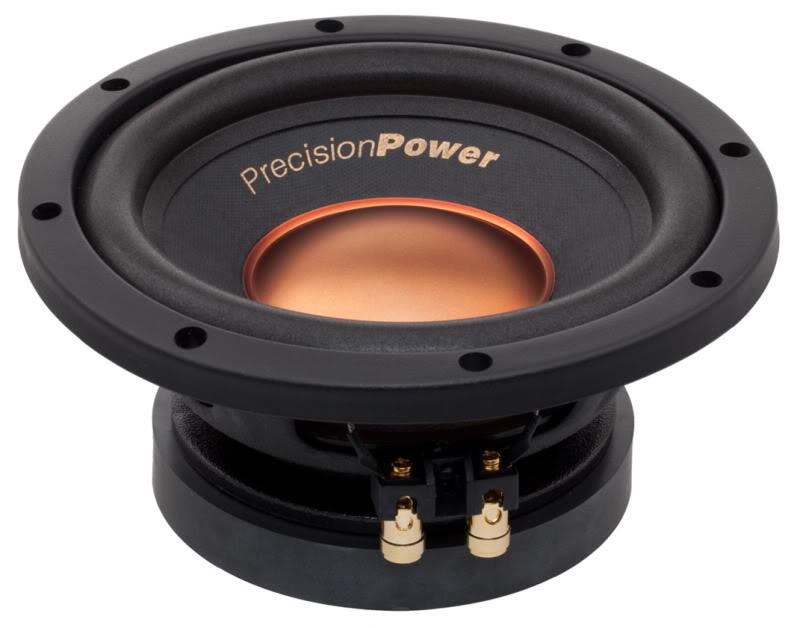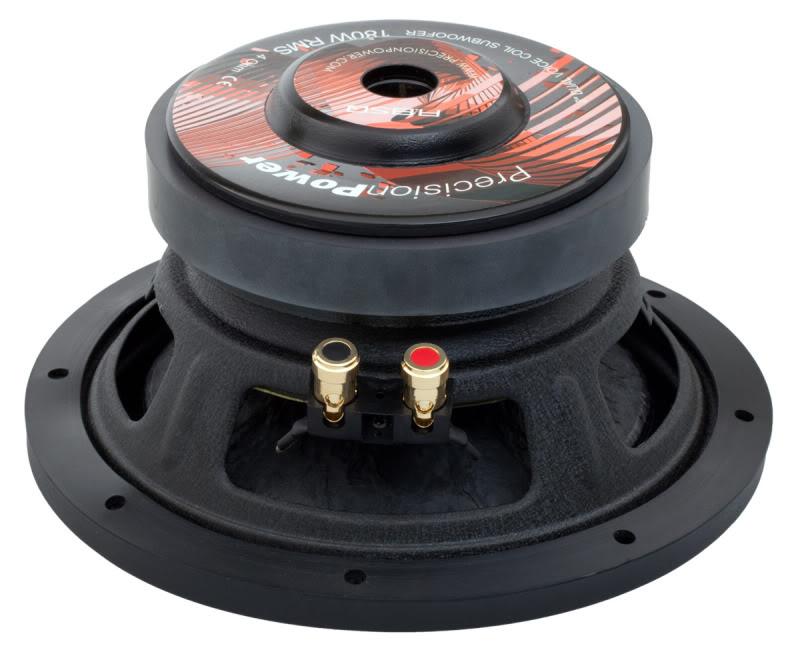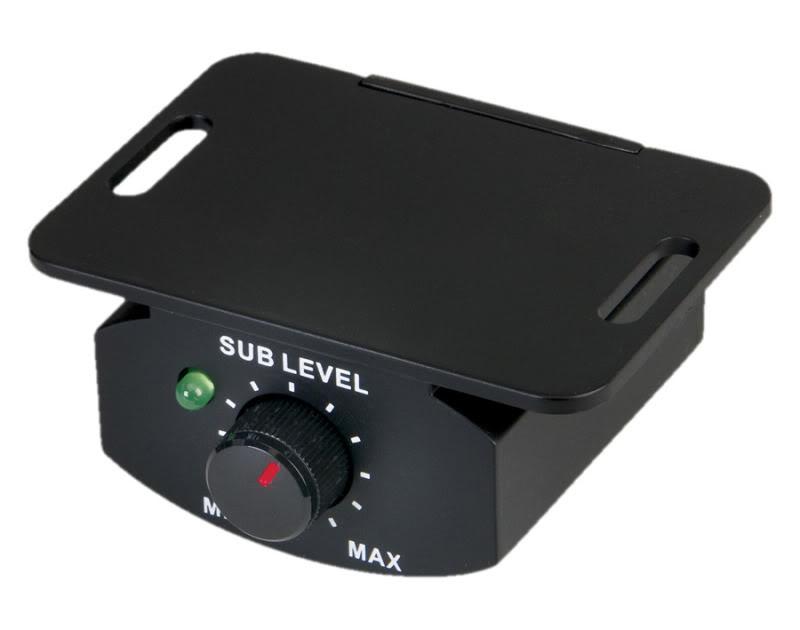 Component Speakers (3-Way & 2-Way):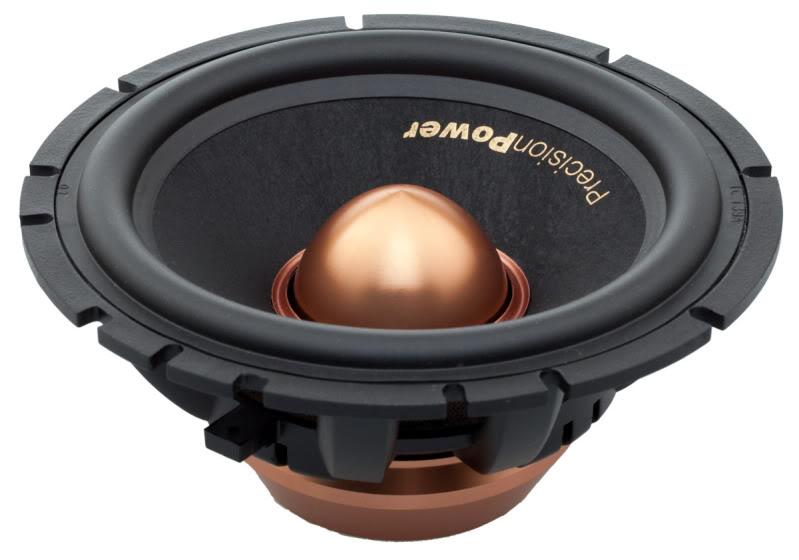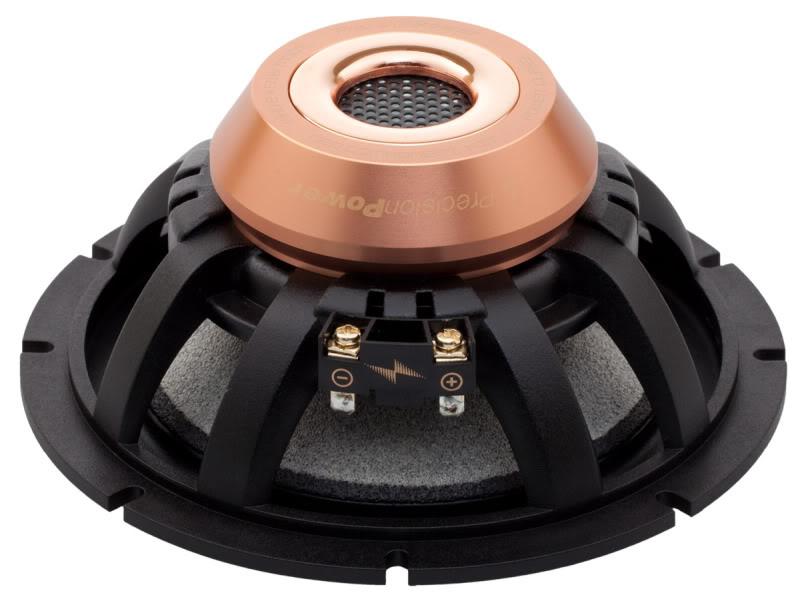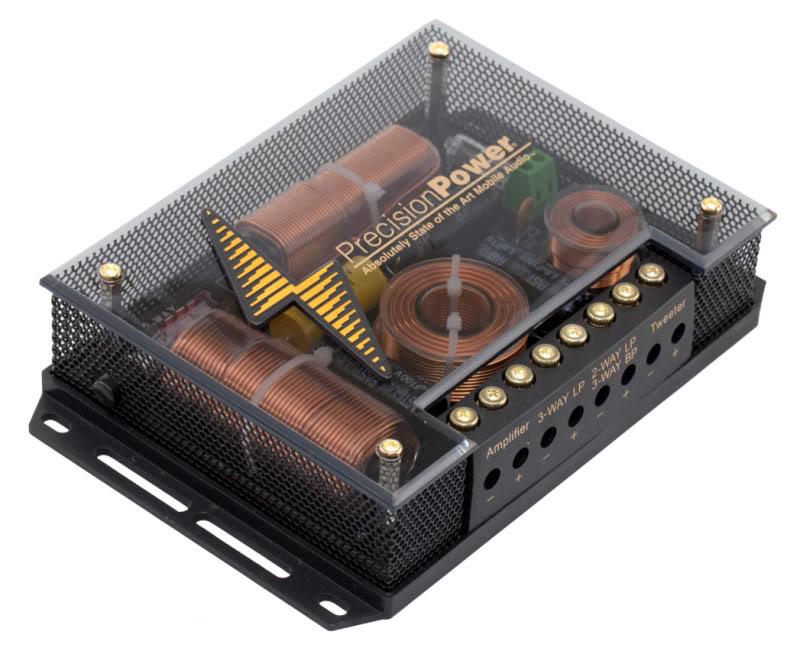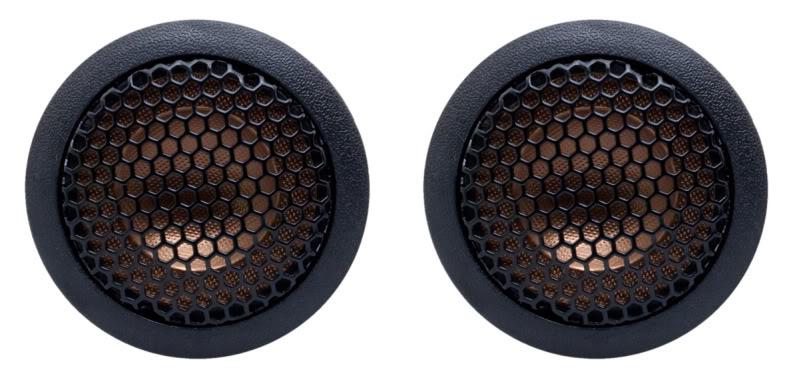 This happens in July.
6-5-2012


Yep, sometimes, the best laid plans of Mice and Men still does not come together...
1) So, we were rained out on Friday due to heavy rain much of the day...Impossible to dyno.
2) We rescheduled for 2 pm this past Saturday, June 2nd, and unfortunately, the owner of the Dyno forgot to leave the keys for Darin to get in, so, no Dyno on Saturday, a beautiful day for it...

3) So, I have the car in the dealer getting the AC charged, and fixing the outside felted, chromed rubber window swipes...What a trip! There are 5 tabs per side that hold the window swipe in place...They tend to rust and break off over time...Reattaching the tabs is a nightmare, and by not doing so, the swipes do not fit properly. So, working on that in between attempts to dyno the car...The Lexus dealer knows I needed to dyno on both Friday and Saturday, so they were always ready for me to pick up the car ans take it to the dyno...If only the dyno was available!
4) I had swapped over the later model AC Condensor from the 2000 SC300 part out car I had bought. So, I had to go to an industrial hose shop to retrofit one of the ends from my earlier condensor so that it will work...So, got that done while working today. Good news is that I should have cold air blowing tomorrow! In the Florida Summer heat, a welcome relief...
5) The dyno is scheduled for this Wednesday afternoon at 2 pm...Weather permitting...So, if all goes well, then We shall finally have several good pulls and a Dyno Sheet to prove it.
6-12-2012
Addressing electrical issue before Darin tunes it again. I noticed a big power drop off in the electrical system. Making sure the battery is not an issue as it is an Optima, and they tend to die easily after a while and fail to hold a charge well. Also, I appear to have not enough alternator output to handle the fans and additional electrical itmes I added...I expected this would become an issue, so I just ordered a high outout alternator from Lextreme. It puts out 202 amps, which is over twice the stock alternator, and it is the same unit as stock, only rebuilt for higher output. Too many systems depend upon the voltage being consistent, and I am having issues with that right now. I should have this straightened out by the weekend. So, I expect a dyno next week with Darin.
Now is the tweaking of my build, so that takes a little while to resolve, but it is close.
6-22-2012
Here is a pic for you. This is the manufacturer's personal one...I elected not to powdercoat mine as it will never be seen, and being aluminum, it will not corrode. What I love about this one is it is light weight, and very sturdy. He welded gussets into the corners of mine for even more rigidity.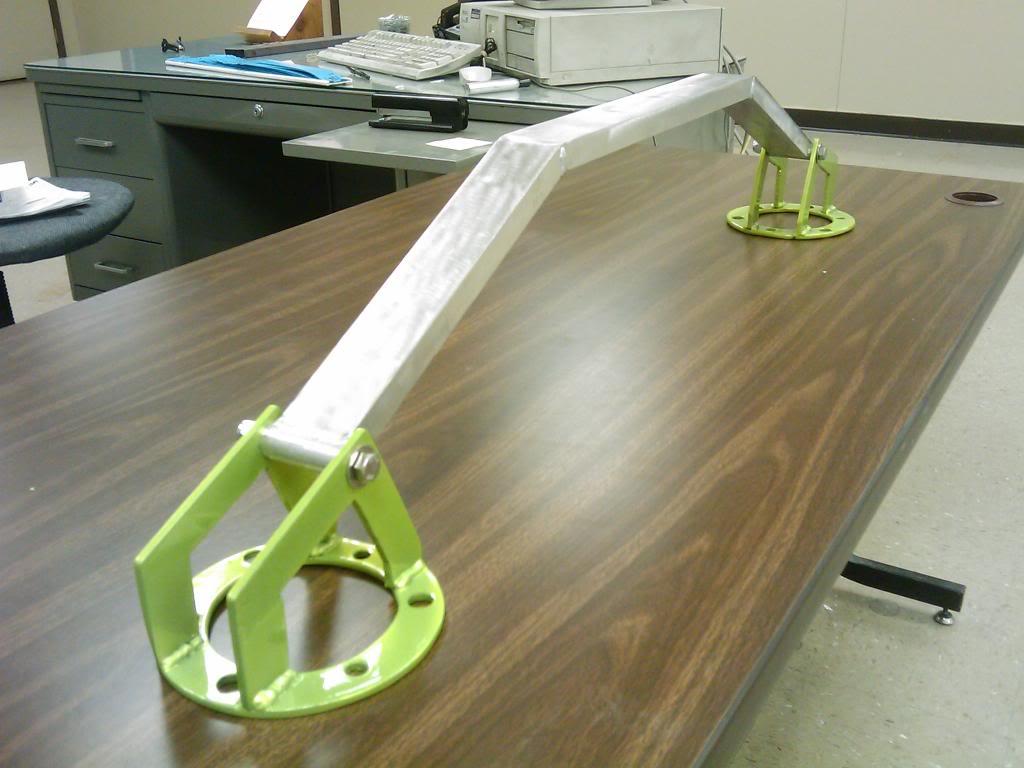 Installed, notice it clears the EDFC?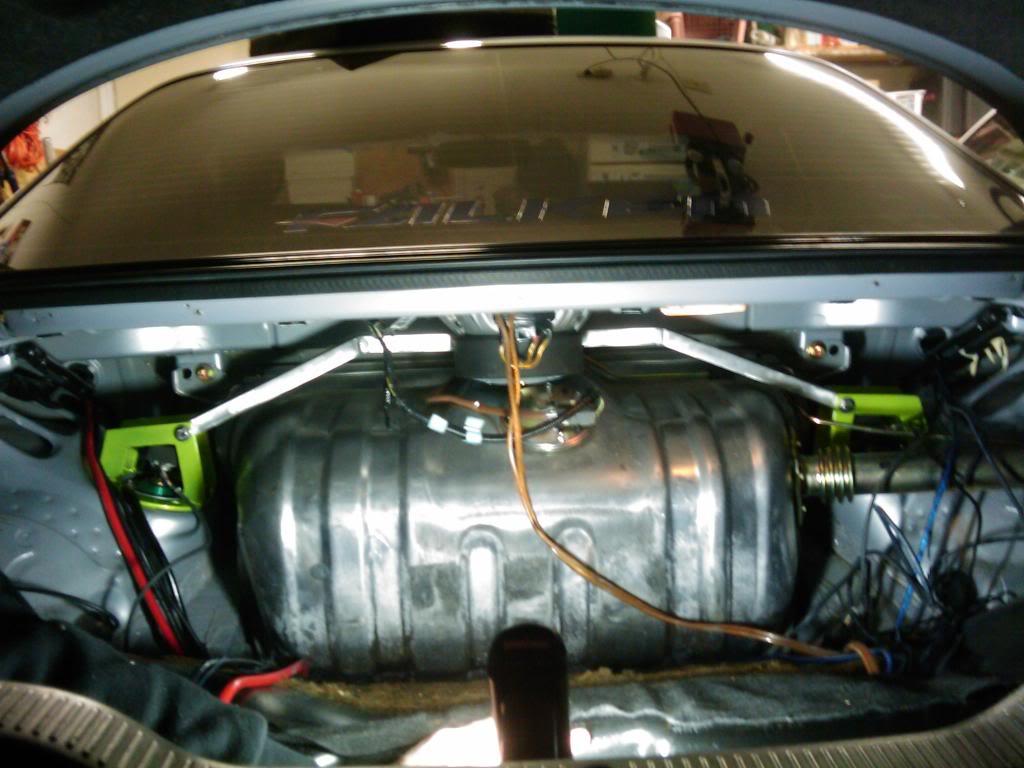 Mine:
Mine: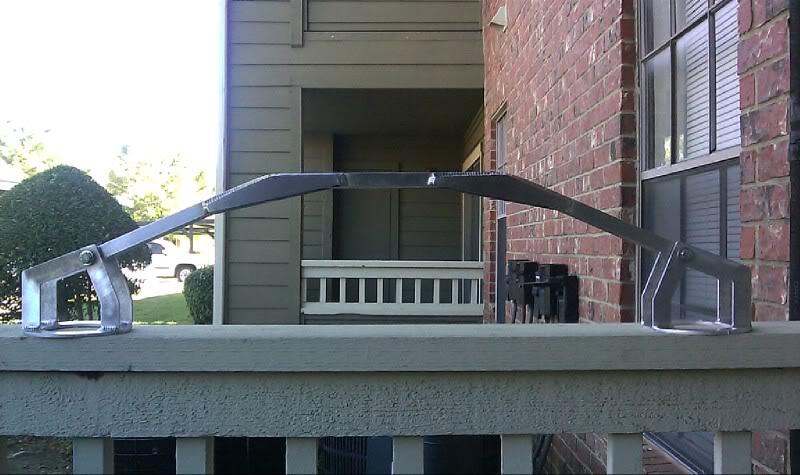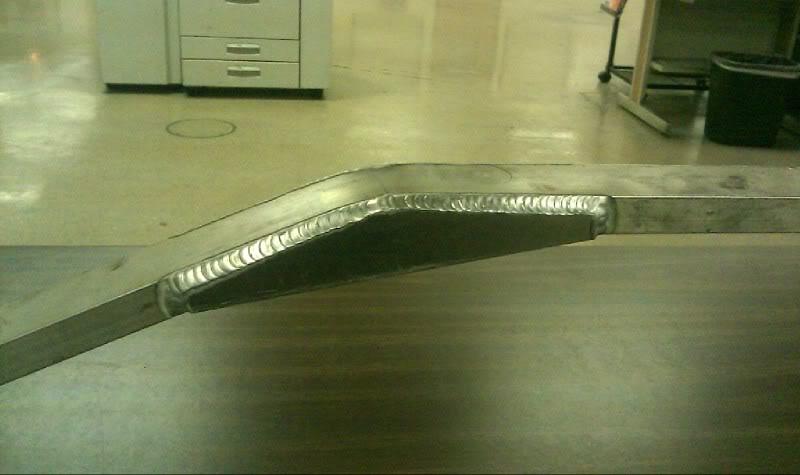 I drove the car again...in the curves, and it did stifffen it up noticably...I cant wait to put the front one on too...(Cusco).
9-19-2012
Well,
I finally have an update for you all. Once again, thanks for your well wishes with my wrist/arm. I am healing well, and quickly, but it is challenging with the Physical Therapy.
I finally got a chance to get back on the car this past Sunday, and it was an eye-opener. The easiest way to get the alternator replaced was to dismantle the passenger side turbo, and remove the cold side only. All the plumbing stayed intact, and I only had to remove the Belt, and the Power Steering Pump to get to the alternator. Dan had to do a lot of it as I am still operating with a gimp hand, and I am only allowed to lift 5 pounds right now. Hard to wrench much one-handed...

. When the alternator came out, saw additional issues that made me quite happy that this was done with not a whole lot of driving...The wireharness to the alternator was melted, and the (3) wires were fused together mainly in the melted shielding. The main power connector was also melting. This was due to the forward positioned manifold being real close to the alternator, and because I did not wrap the manifolds prior to installing them, but after, there was a runner that could not be reached and wrapped, and that sent to much radiant heat to those wires. So, rebuilt the harness, and replaced the power cable with a (1) gauge, shielded them, wrapped that section of header with DEI Titanium wrap, and re-routed the power cable and harness away from the manifold. Should never be an issue again. Lextreme's HO alternator is now installed, and preliminary tests were excellent.
Installed the Boost-A-Spark, and it was fairly straight forward. Just cut the power to each coil, spliced in the BAS, wired them in series per direction, and the car fired right up. Still have to drill the firewall and run the cable through for the potentiometer, and it will be complete. Once I get that done, I will drive it around and see if the charging system functions at 100%, if so, it goes to the shop for a thorough look over, and then gets the big tune. Gee whiz this project has dragged. But I do expect soon. AT this popint, I just want results...
I figure those melted wires were actualy having a profound effect on several issues with the car beyond charging as Darin could not understand why the car started breaking up at higher revs, and I suspect unstable voltage was an issue, as well as possible being the battery drain I got from parking the car. We will see.
9-23-2012
Overall, the test went well. It was a very hot day today...90 degrees and fairly high humidity. Anyway, drove the Lexus around town and on the Interstate, and it drove quite well. Now that the voltage is correct and stable, not only did the car drive and idle better, but it also corrected the AFR readings on the Gauge. The Gauge has always showed around 11 at idle, no matter what, yet Darin stated he tuned it closer to stoich than that. Anyway, the gauge read consistently around 14.7 to 15 at idle during the 3 hours I drove the car around today. So that is great. As I drove at different agressive throttle positions and load conditions, I consistently saw between 10.5 to 12.5 AFR's on the gauge, so, again, it looked good. Car still needs more tuning, but I am beginning to believe there may be a light at the end of the tunnel this time...

I also believe my starter is crapping out on me, and I will probably have to change it. Pain in the arse for that one...
Perhaps the big tune will be able to be done soon.
10-26-2012
Update to the starting issues! The starter does not need to be replaced at this time, as the starting problem turned out to be the POS Optima Yellow Top battery. Even though the Auto Store showed the battery as good, it was not. i could not get the car to start so i simply took out the plain jane Interstate battery out of the Escape, connected it up and the car started right up. i drove it over to the audio shop with no further issues...Go figure!!

I am replacing the Optima with a Kinetix. I am through with Optima as this is the 4th or 5th one I have had go bad on the SC, and I have hardly driven the car over the last 7 years. And, I kept it on a Battery Tender trickle charger, too, so forget Optima!!
I will keep you updated...
10-28-2012
The good news is the Lexus is being prepped to represent in the Spring Break Nationals this coming May, 2013. I am looking forward to finally getting this car done and completed.
All the MB Quart components and the Alpine V12 amps came out of the Lexus this weekend and were installed in the 4Runner. The head unit is a Pioneer Avic Z2, and it stayed in the Lexus. The 4Runner got a new Soundstream DVD/NAV installed with a back up camera. Looks damned good, sounds damned better!! I seriously enjoyed the drive home tonight in the 4Runner.
I also bought a new DD as the 4Runner is going back to my wife, and she can hardly wait. I am seriously trying not to get the mod bug for the new DD.
I will keep you posted on the Lexus...I really want to get it finished...
11-3-2012
The PPI build is really progressing nicely. I have attached a few teaser shots as well as the custom STB that Barron Millet built for me...
STB: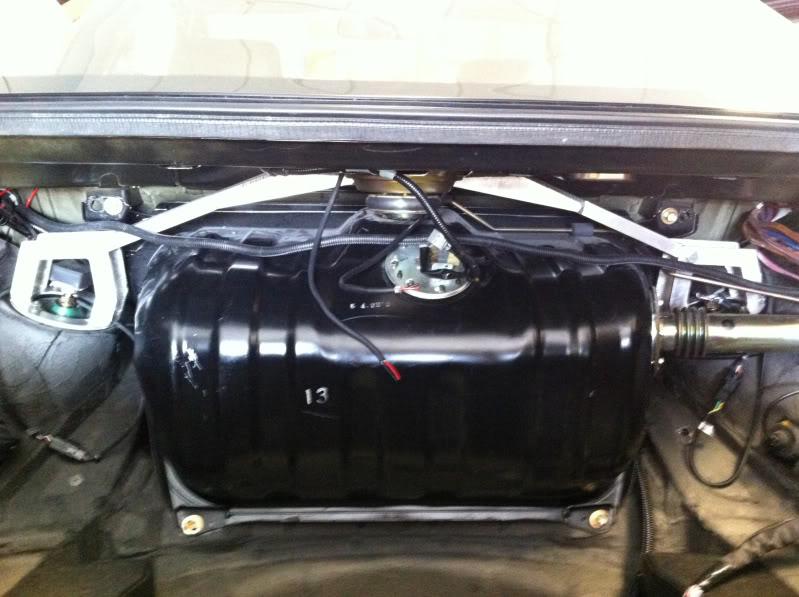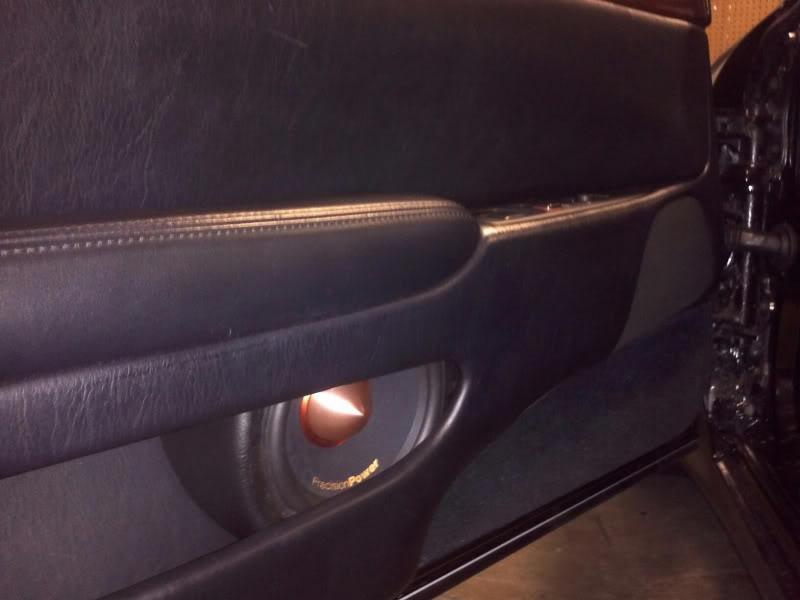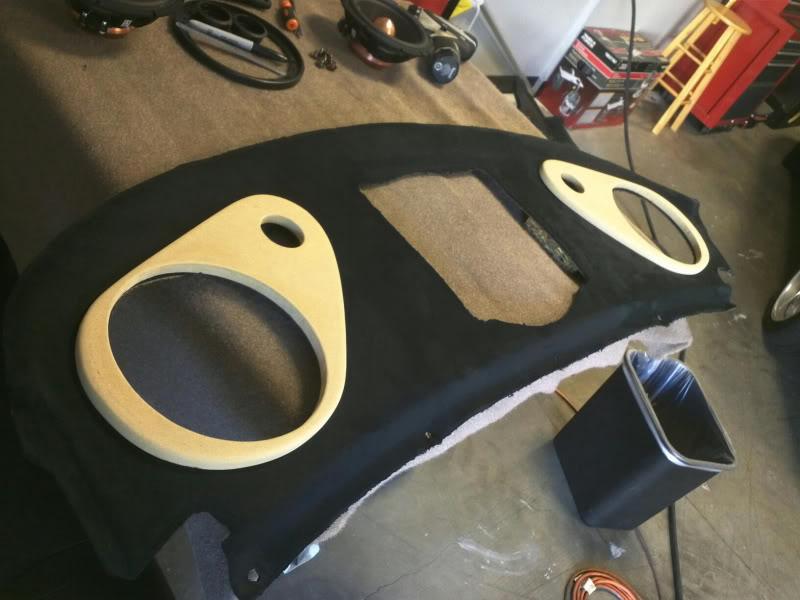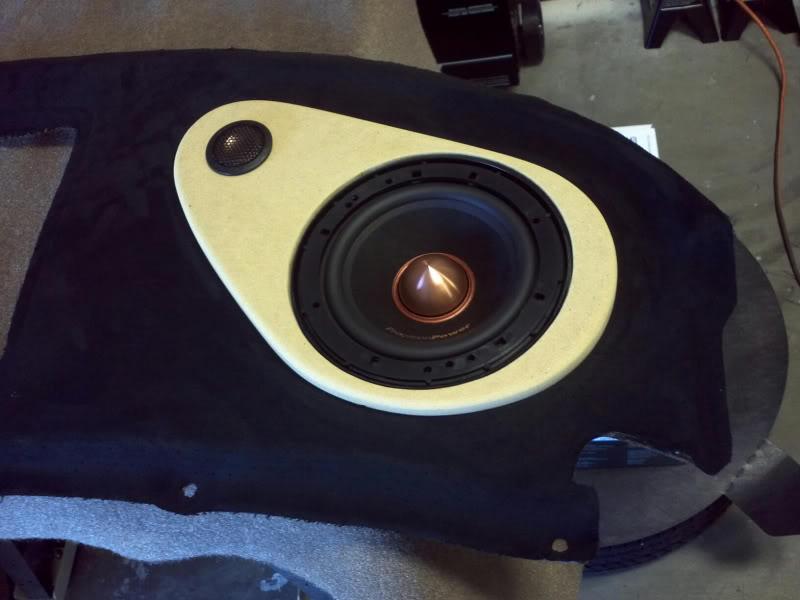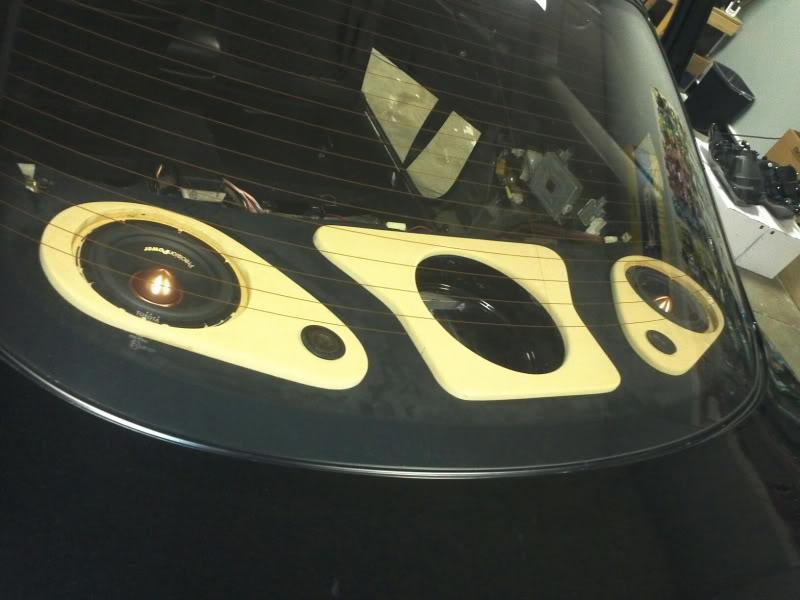 More to come...
A few more pics...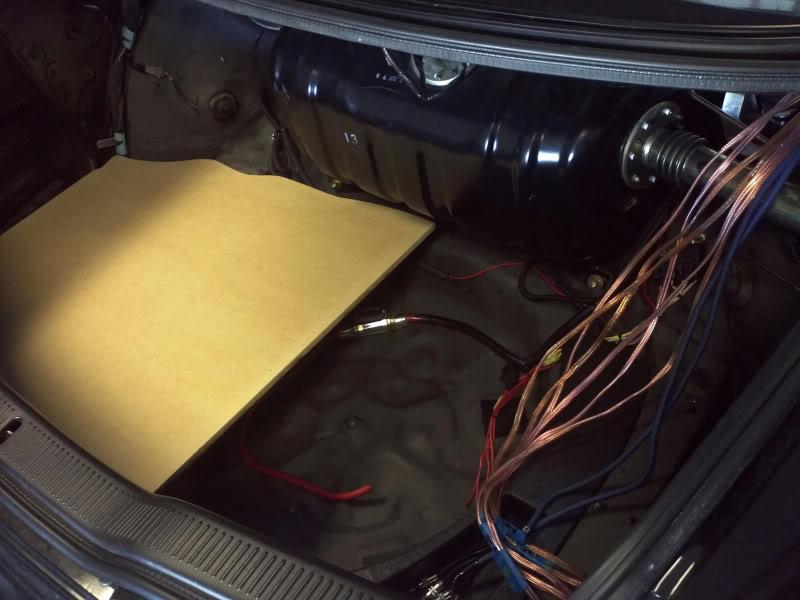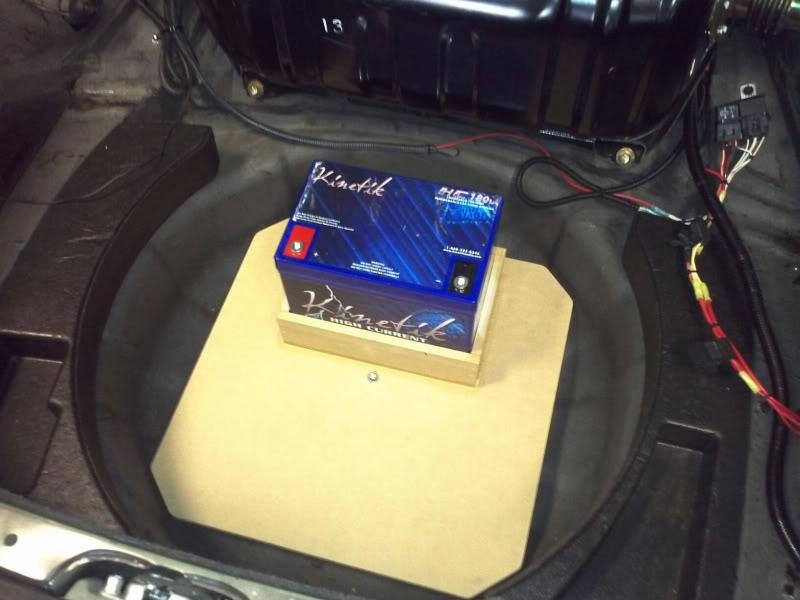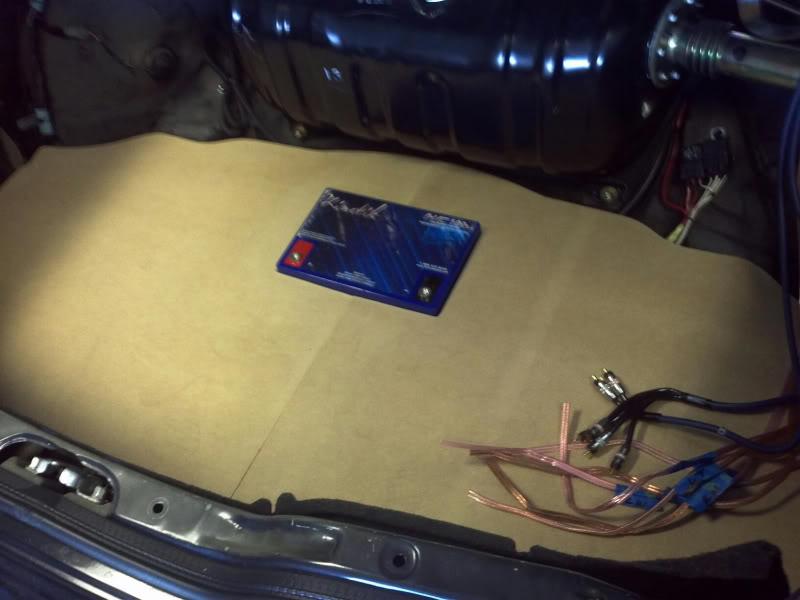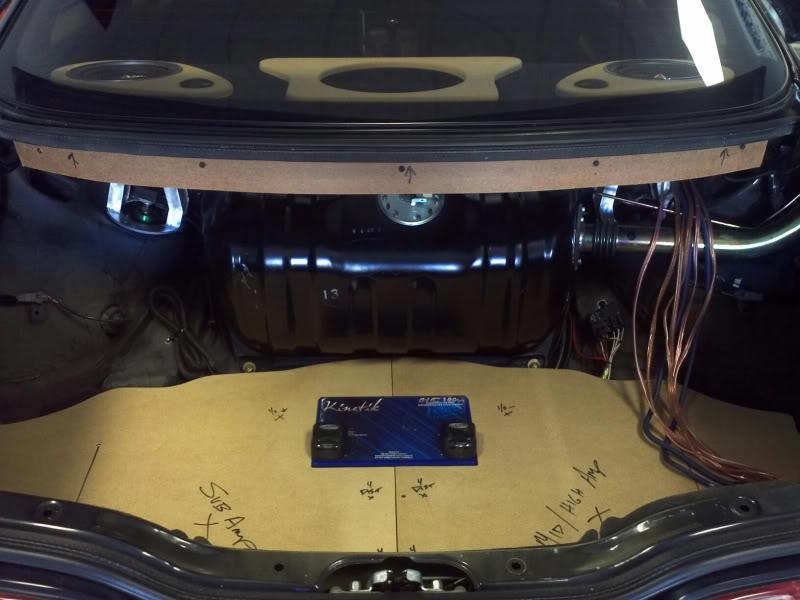 11-4-2012
Last teasers until finished...Mars will not let me see anymore until it is finished...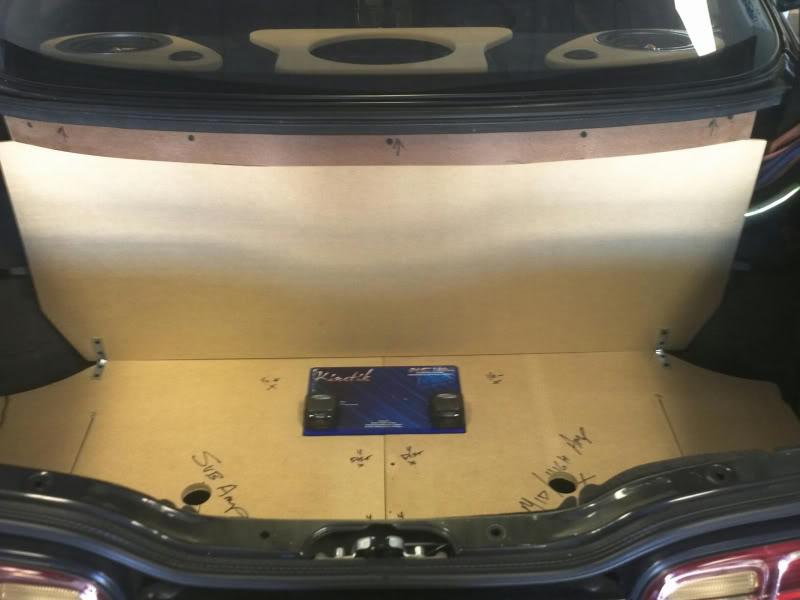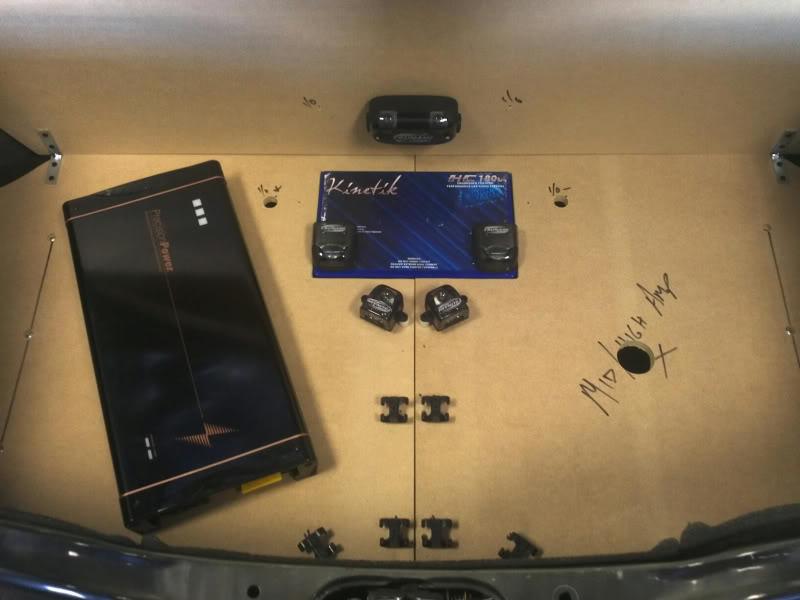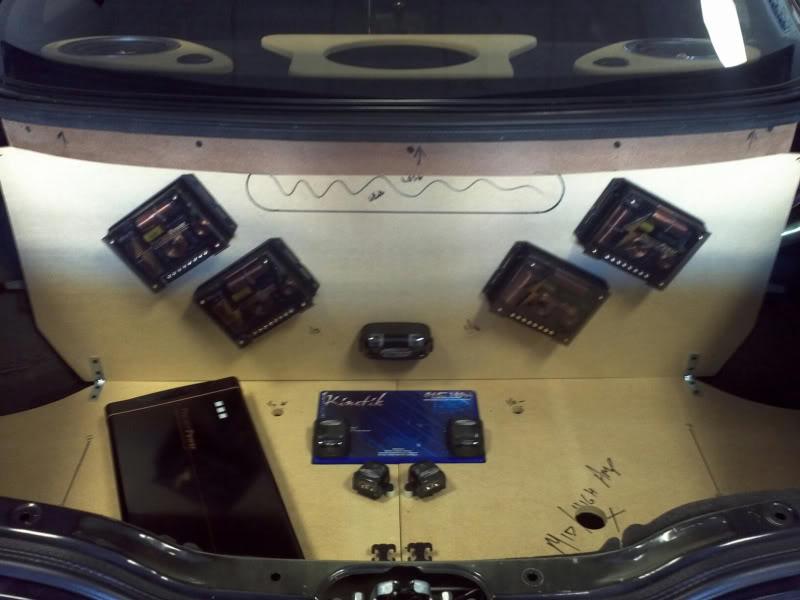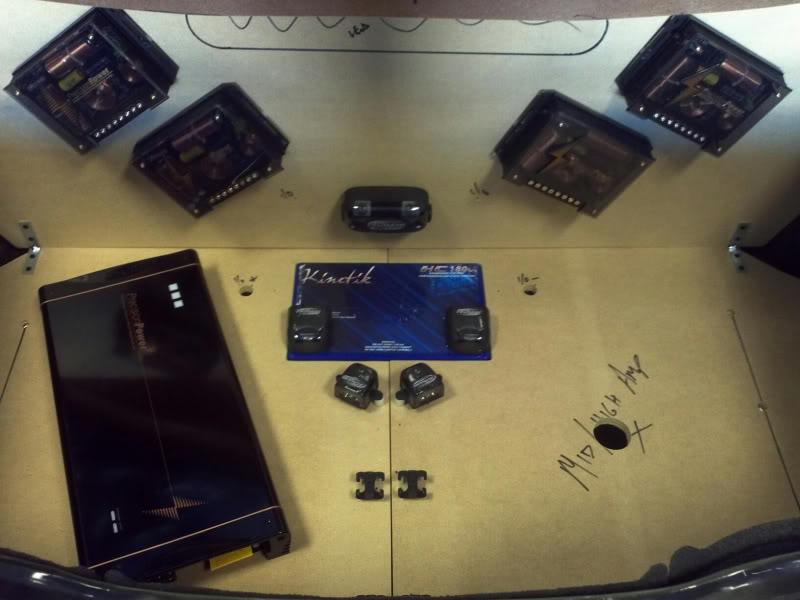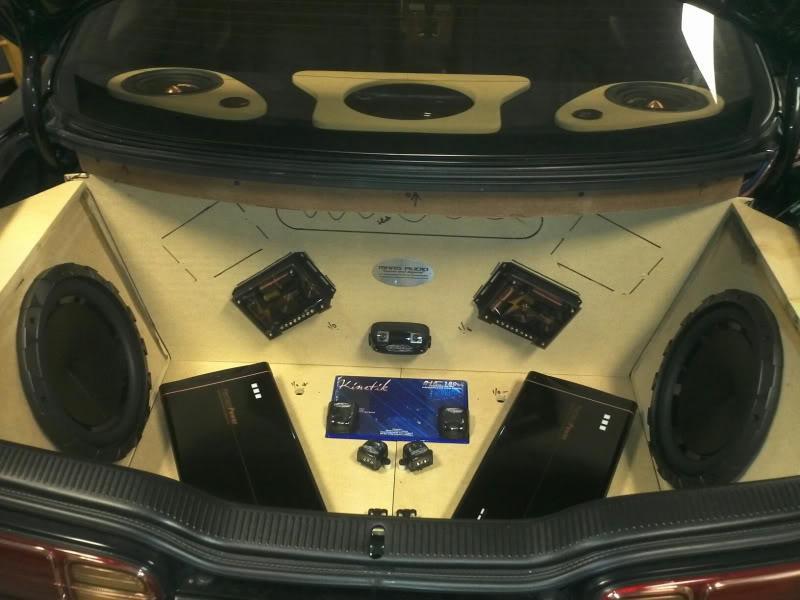 12-12-2012
The stereo build is done and it is freaking awesome!!! I hope a few members like Deron and Scooter will post up their thoughts on it. I am not posting pics up right now though...Because it is premature...My car has been selected by Epsilon to be one of the two featured PPI builds in their booth this March at the Spring Break Nationals in Daytona Beach. Because of that, I am not unveiling the car until then. Afterwards, I will post up pics of it and I will start a reveal thread with the dyno, the stereo build, the interior build, the engine build completion, the wheel selection, etc.
If you want to see the car live, make plans to see the build at the SBN.
I will post up a few more things on this build here, but just updates as I know you guys have grown weary of the very, very long wait. Just 90 more days and all will be revealed. We are currently working on a magazine cover as well. Stay tuned. I will post up a listing of the stereo build here and a link to a video on Facebook of the builder's video filming the competed stereo build. Watch for it!
A couple of Teaser Photos: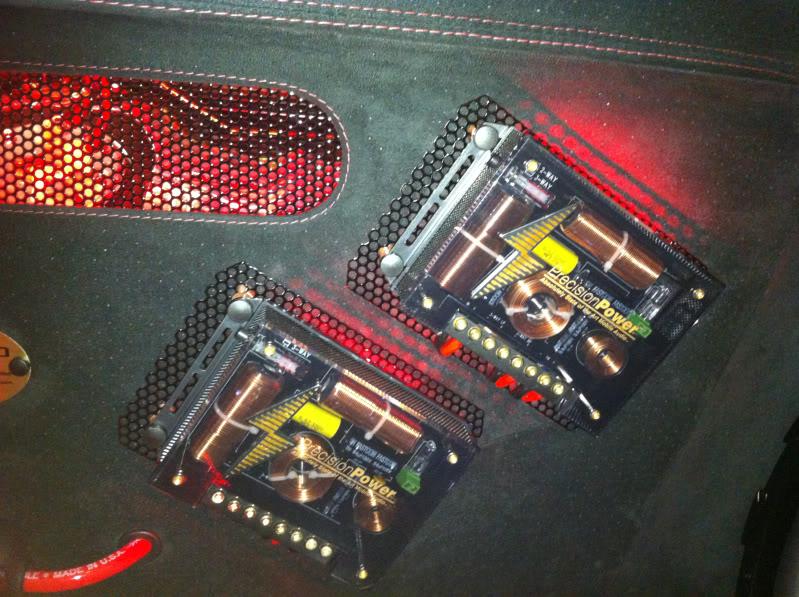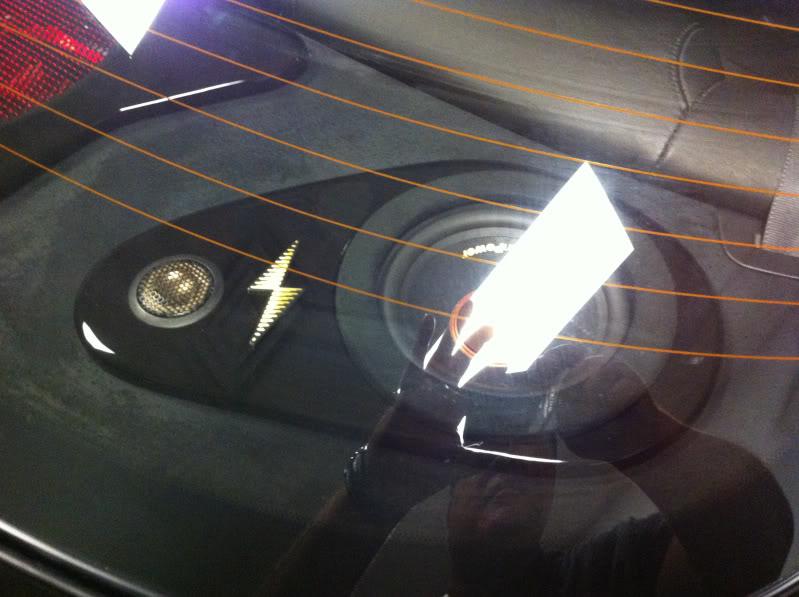 The Link to the video:
http://www.facebook.com/MARSAUDIOSoundandBeyond
Btw, my Son is now a proud SC owner! He has a 93 SC400 with a new Shine kit and Meagan coilovers. White with a beautiful pearl. Welcome to the family son!
My son's SC that I just bought for him: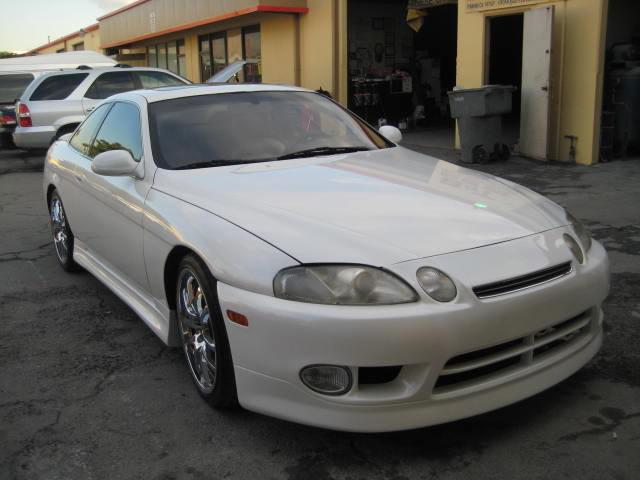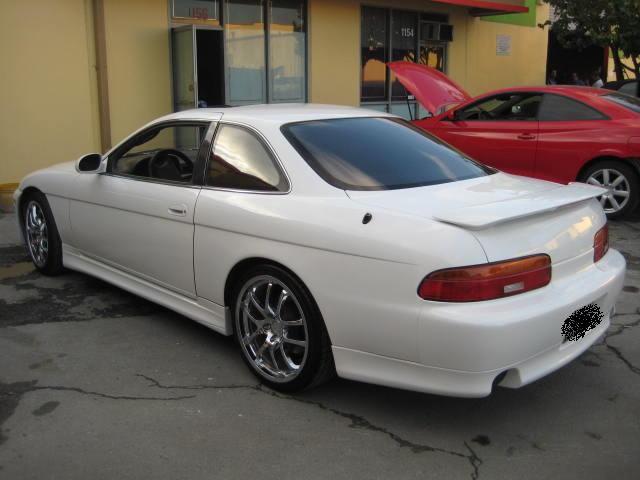 The ClearCorners Custom tails are about to ship out to me. I had them slightly change the 97-2000 tail from their previous version, and it is gorgeous, as they sent me a pic of the light. I looks OEM, but modern and current. Nothing dated now, IMHO. While they are expensive, they cannot be beat in quality and craftsmanship. Sweet lights!!!
The actual light: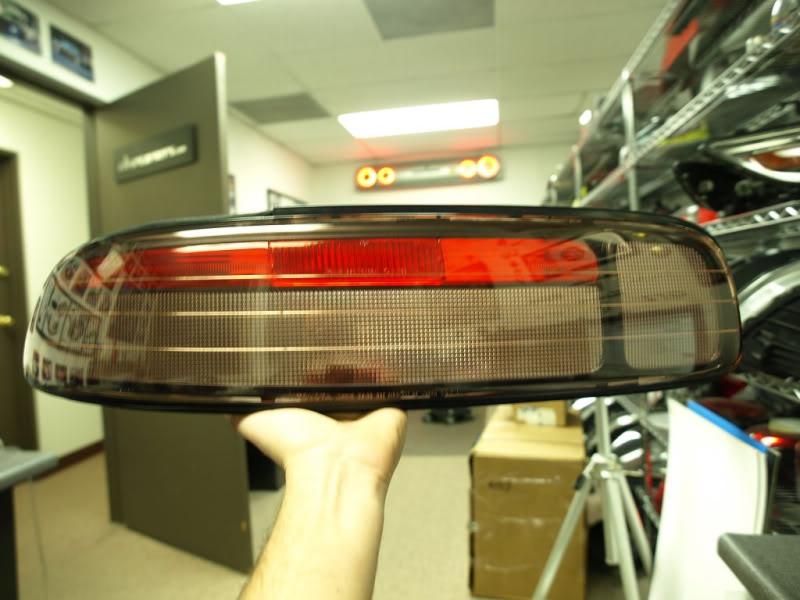 12-14-2012
The ClearCorners lights are completed. They look awesome! Take a look at the stock 97-2000 tail and the modified ClearCorners light. Notice the pink hue in the outer clear lens cover? The factory Chrome actually accentuates this pink overtone and dates the tail light a little. By removing the chrome trim and matting it black, the pink hue becomes virtually unnoticeable, the tail light becomes much more current in its general appearance. What a major difference and improvement.
Stock tail light: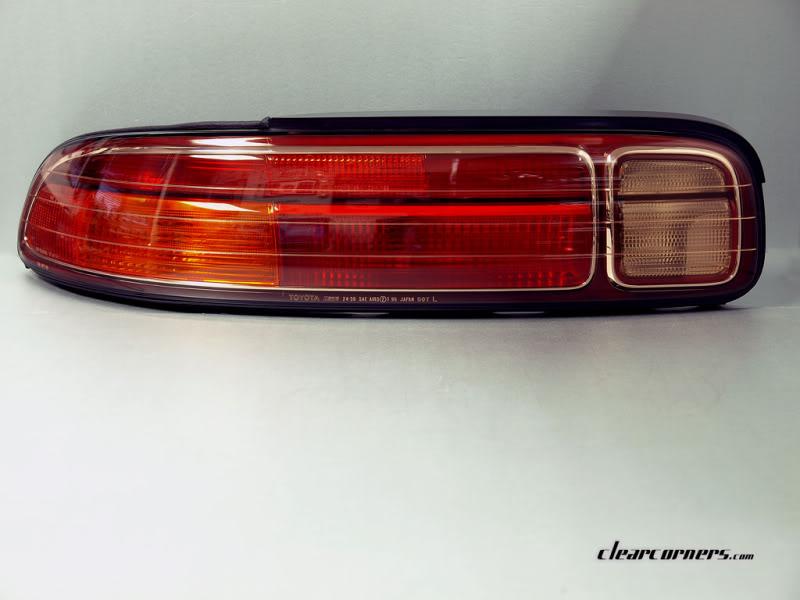 ClearCorners: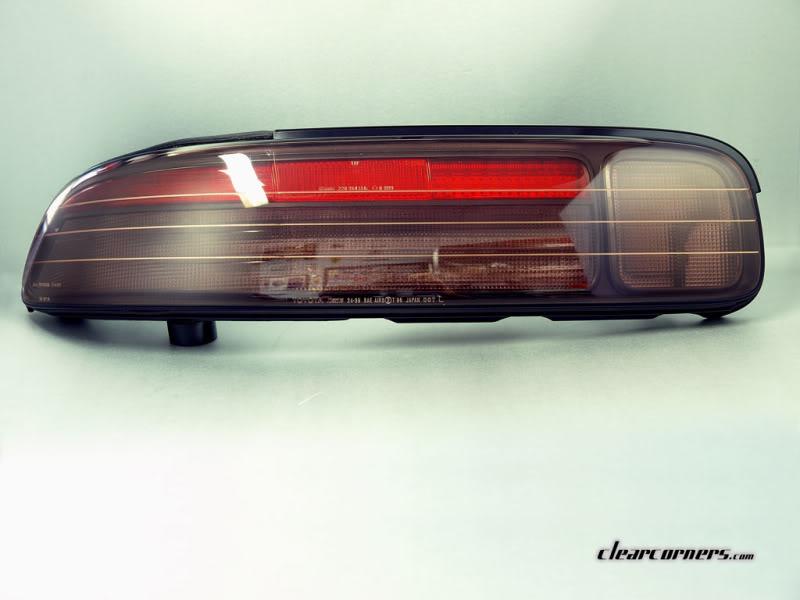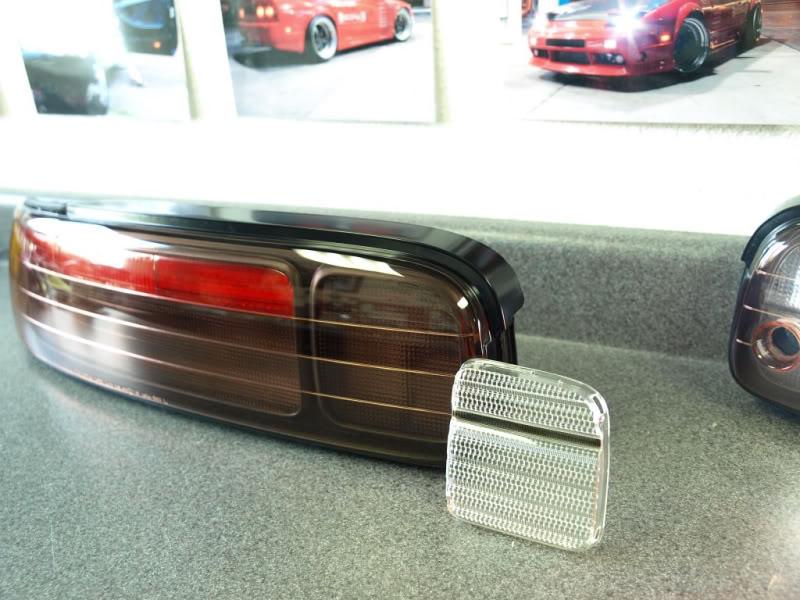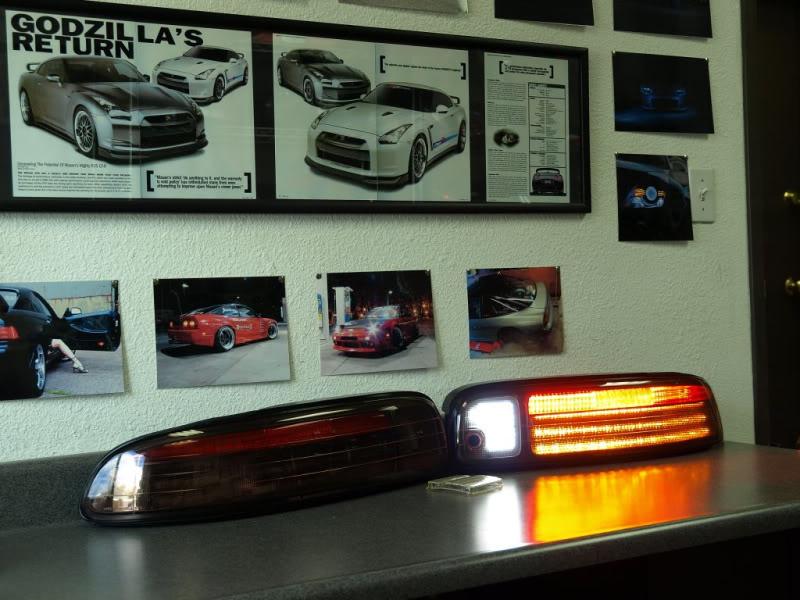 OEM Reverse: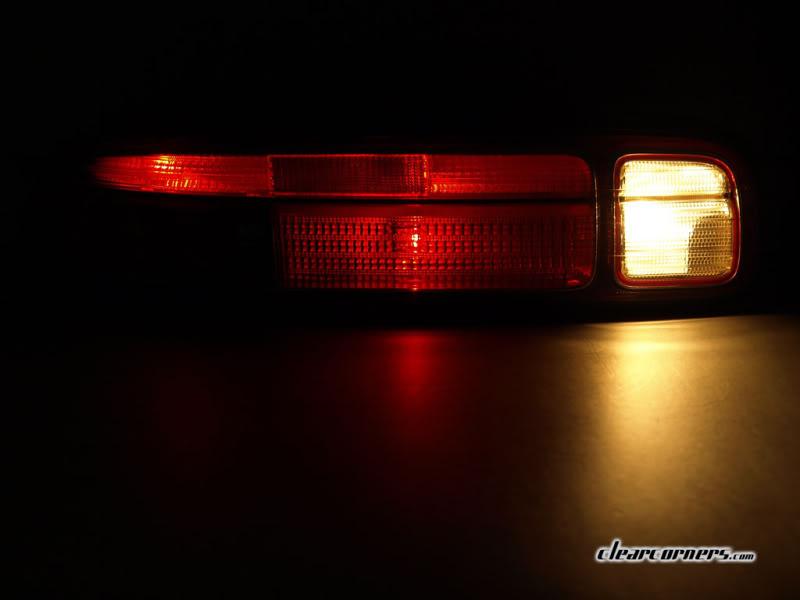 ClearCorners Reverse: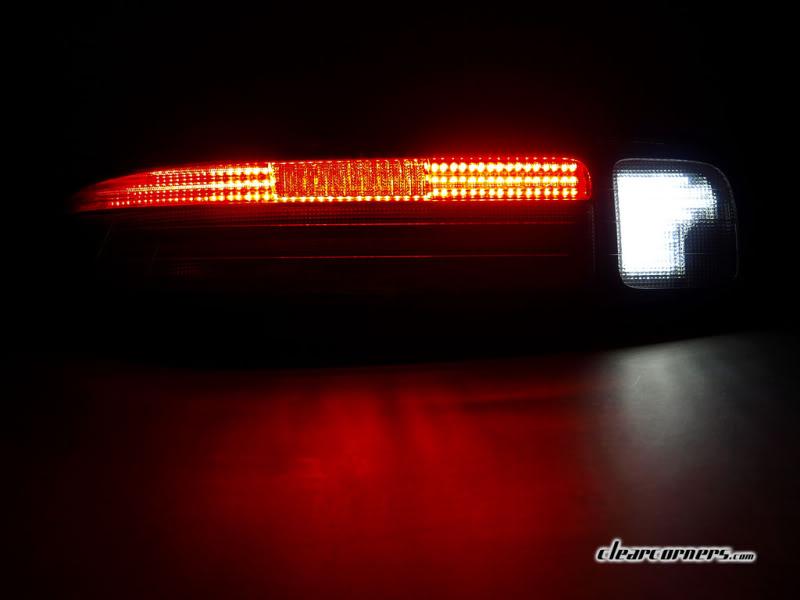 OEM Brake: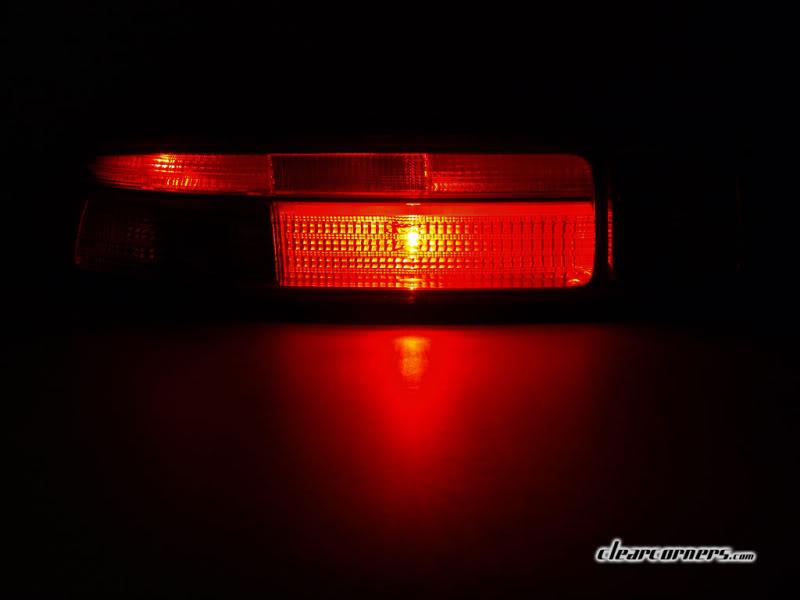 ClearCorners Brake: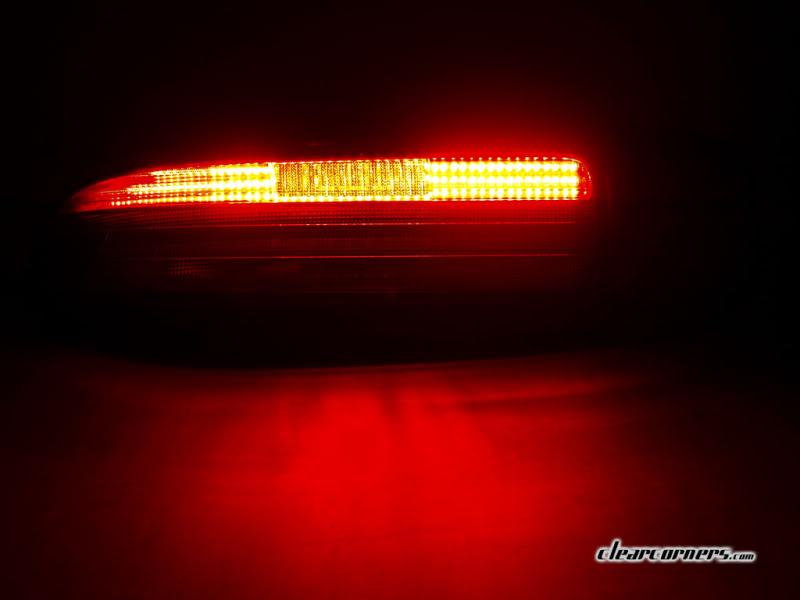 OEM Parking Light: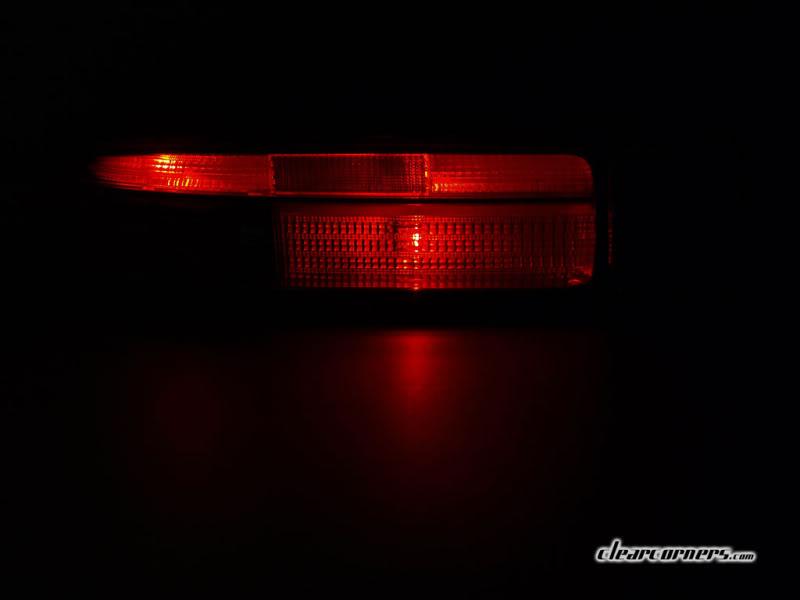 ClearCorners Parking Light: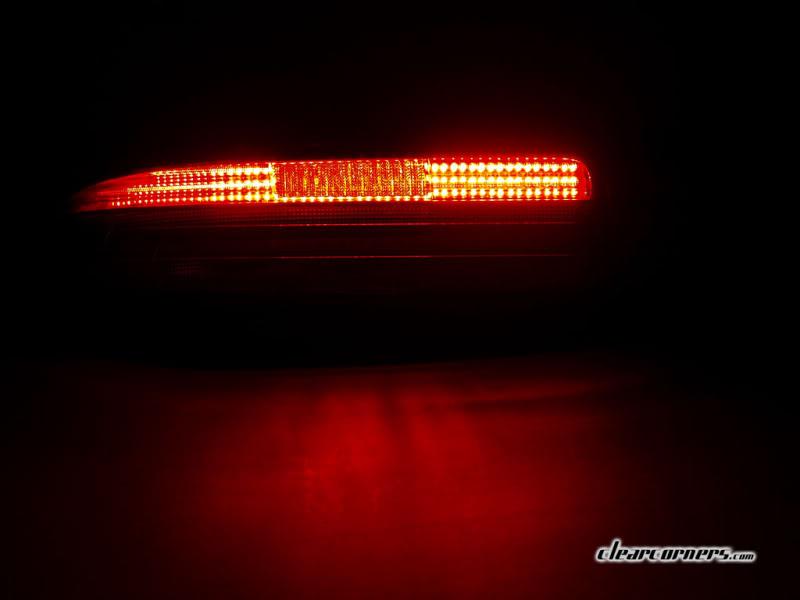 OEM Signal Light: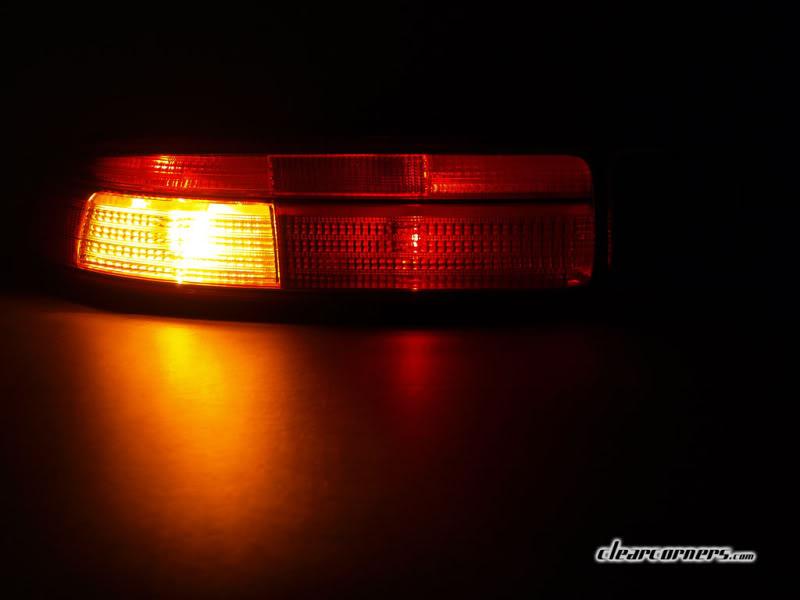 ClearCorners Signal Light: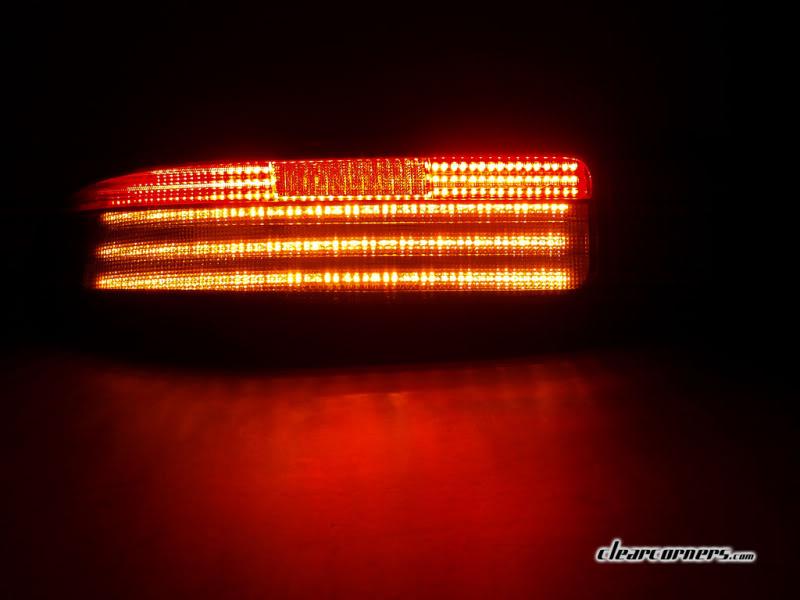 I am not attempting to sell you SC owners here...I am merely showing you the differences, and they are exceptional, and to explain why these lights are worth the money to anyone who decides to ante up for a pair of them. They are worth the money if you want this level of look and craftsmanship. No one does these tails better...Period!!!


2-3-2013
Lots of progress on the project...
1) Leather hides have come in, and they are very nice. The ones I had originally ordered were defective (harder and thinner than they should have been) and the manufacturer was great and took care of me very professionally. These black leather hides are a fine grain, soft and supple to the touch and are perfect for my planned reupholstery design for the car.
2) Finally decided on wheel sizes, Front: 20x9", ET 37 with a 2.5" lip, Rear: 20x10.5", ET 42 with a 3.5" lip. Tires will be 245/30/20 in front, and 295/25/20 in rear.
3) Remaking the gauge pod front plate. It will be thicker, and more contoured in design. It will no longer be in a burl finish either.
4) Organizing the vacuum tubing and the wiring so that much of it is hidden or very clean to view.
5) Modified the stock engine bay covers to fit around the SS braided hose and AN fittings. making custom fabbed engine bay covers to cover up a lot of the accessories under the hood to give it a clean appearance.
6) Replaced all the cheap air filters with K&N.
7) Replaced the Innovate LC1/analog gauge with updated Innovate Digital set up.
8) Modified Cowboy's billet dual Walbro pump hanger to fit dual Denso Supra TT pumps.
9) Selected Car O Van to glaze, buff, wet sand and buff the paint. they will also repair slight damage and nicks to paint and paint my rear Fujin Lip, front bumper and mount my emblems and hood vent grills. The reason I chose them is they are located in central Florida area, and they painted all of the custom stereo parts in my car,o I know their quality of work.
Pics to come soon.
This is without the stock covers, and with DEI high heat wrap over the spark plug wires. Notice the injector leads on both sides as well as the area around the IACV.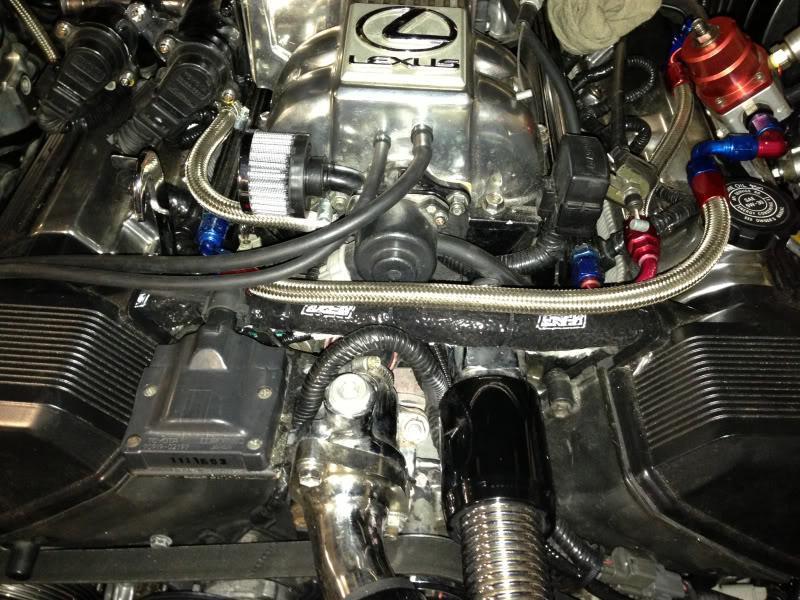 now with trimmed engine mounts which will be coated for final product.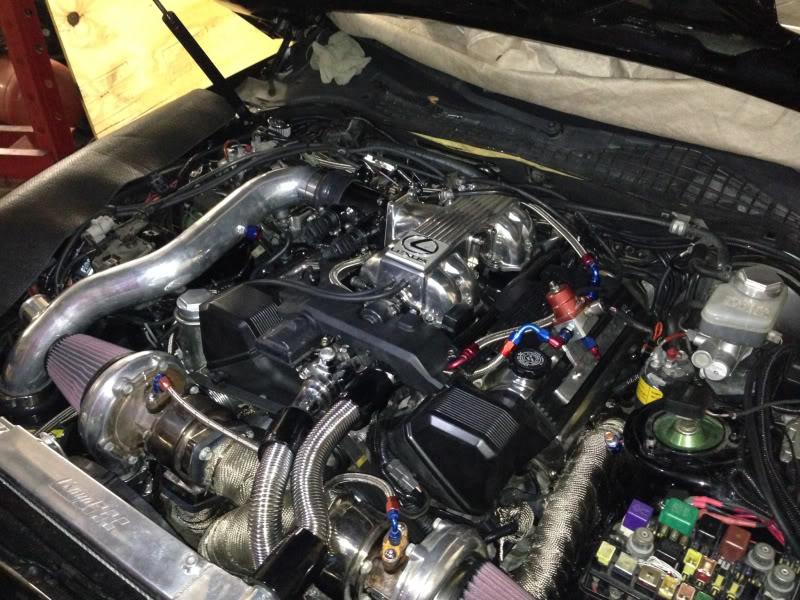 New billet cup being machined for dual Denso Supra TT fuel pumps.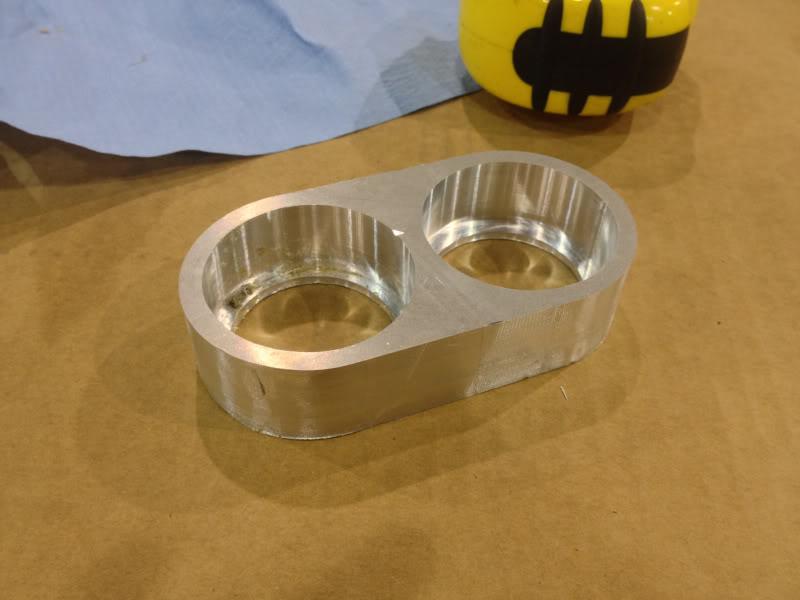 New K&N filter for IACV. Notice the unwrapped and uncovered spark plug wires.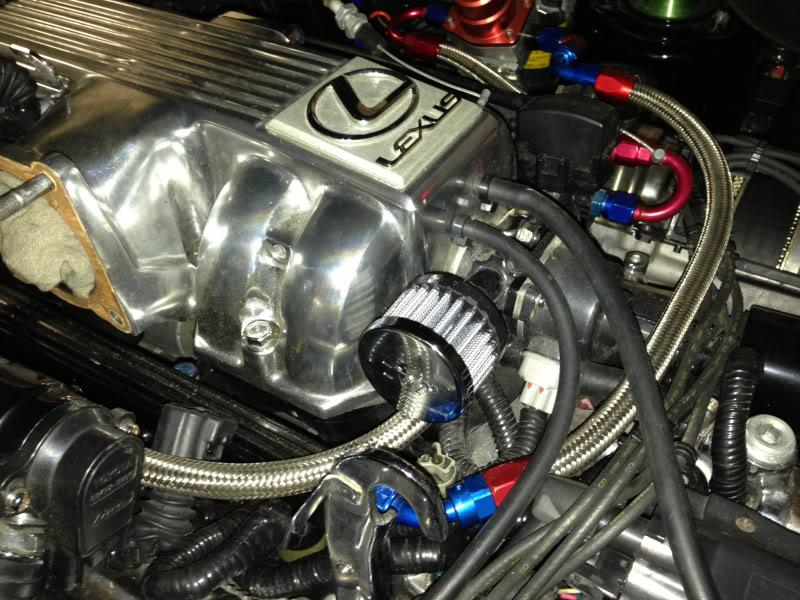 Notice the whole area in front of the IACV with the covers in place.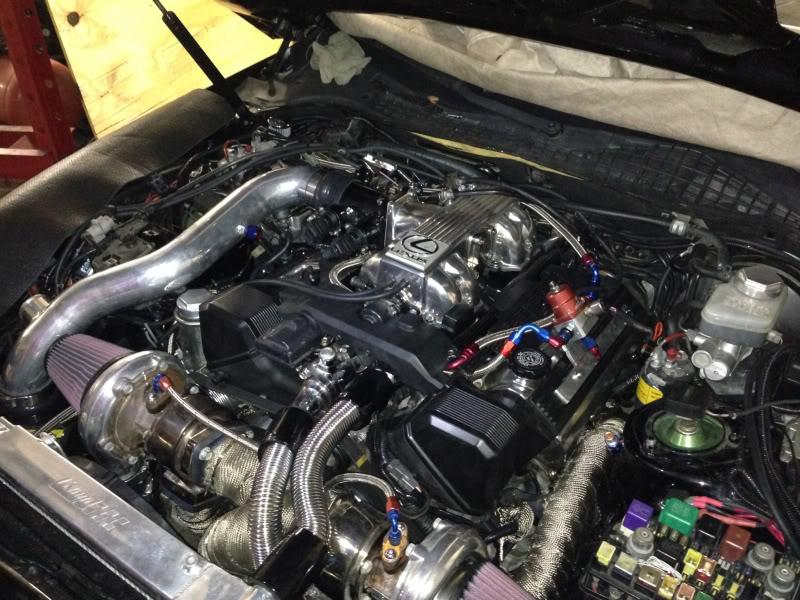 Notice K&N filter in far back for oil catch can.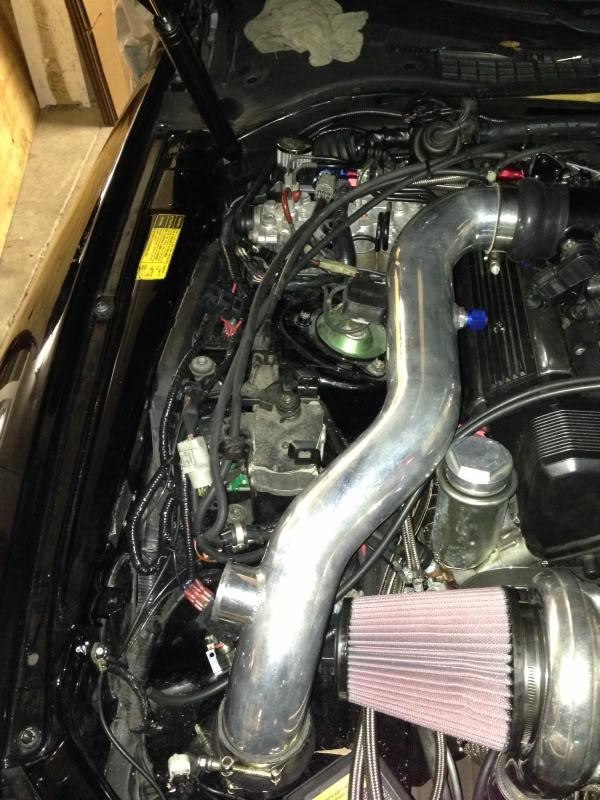 First cover being fabricated.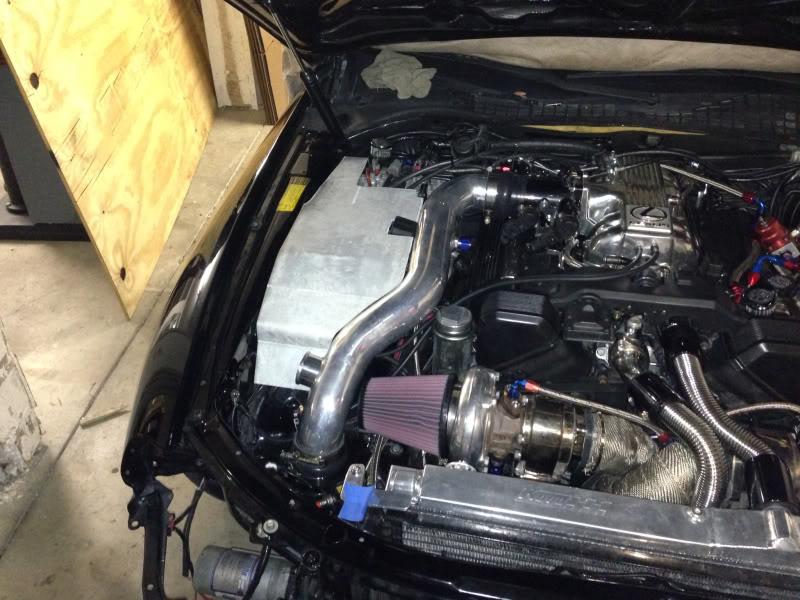 2 more covers now fabricated. Almost completed with engine covers.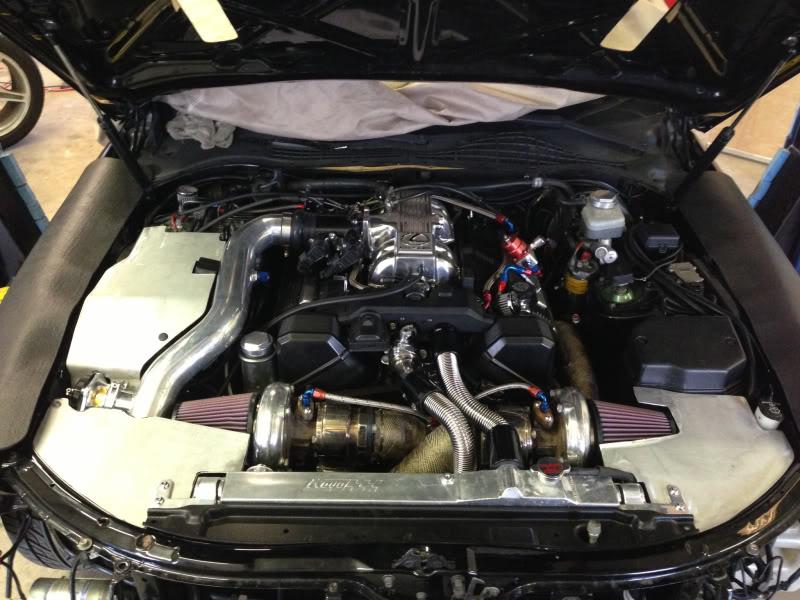 The car has been being worked on for a while now...All parts will be cleaned and detailed. covers polished and coated. just showing you some progress.
Another set of new and gapped plugs have been installed. This is so Darin can do final tune.
Stay tuned...
2-15-2013
A few more updates (Pics), cutting to the wire for the show...
All 4 engine covers now fabricated and test fitted:
Powder Coated (Bad lighting and some shadows showing):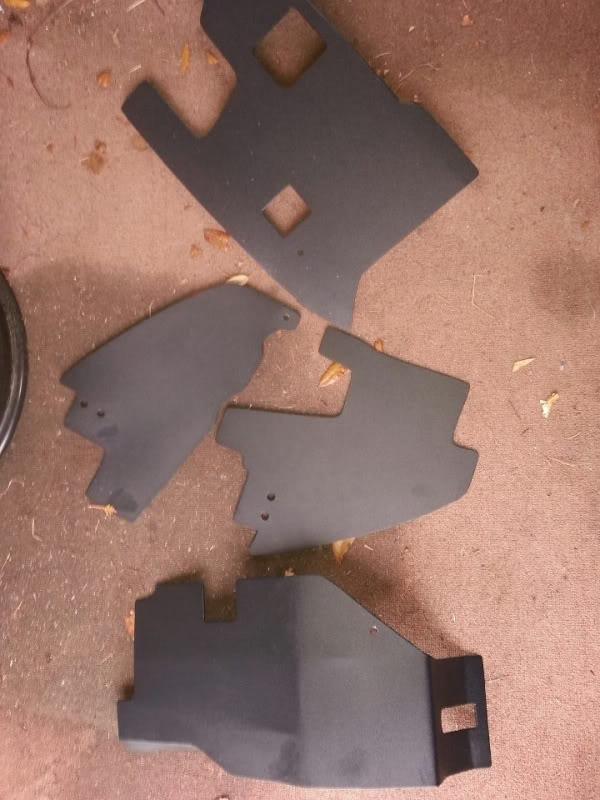 DEI High Temp Heat shielding: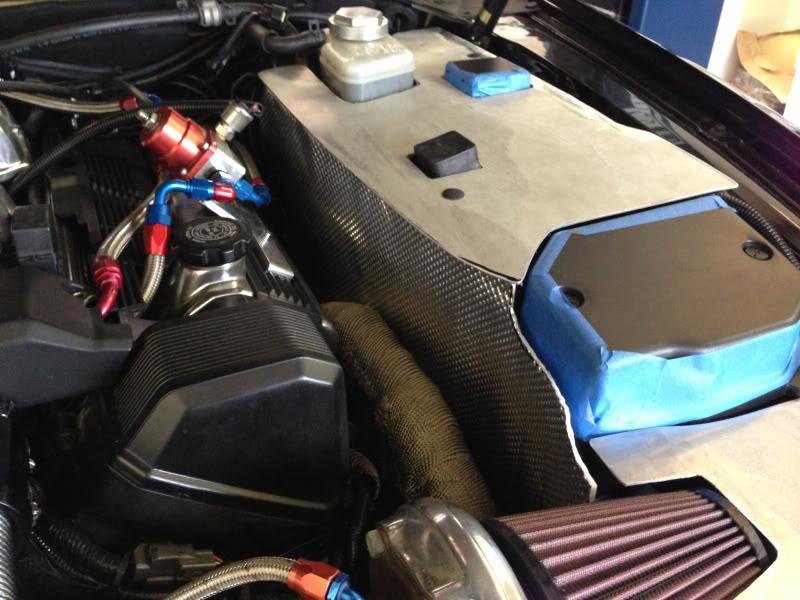 Turbo shields as SS and will be polished: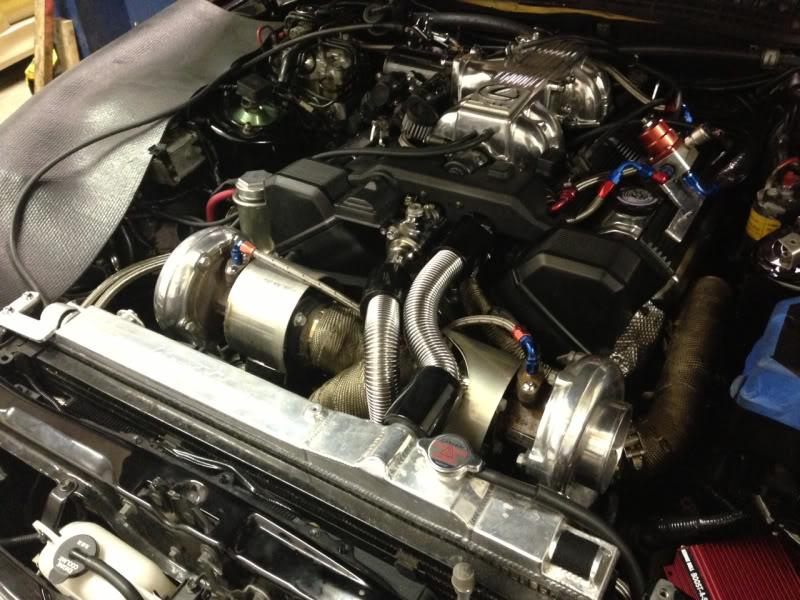 Coil Pack and leads shielded: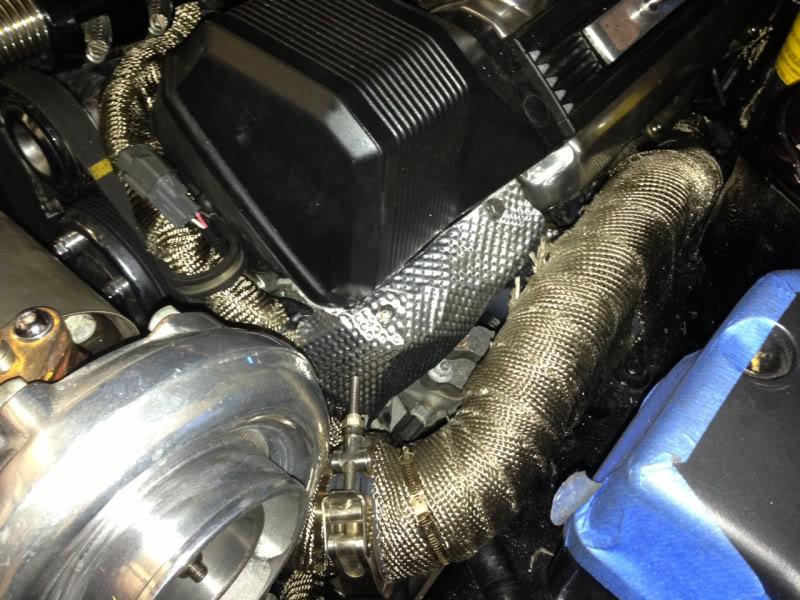 Here are a few pics of the new leather and pattern, SC430 seat cushions being modded and gauge pod being reworked. Note the grain and quality of the leather...I will have enough left over to do another SC. Side bolsters on SC430 seats will be one piece, not two, as in original design from Lexus...
Pattern: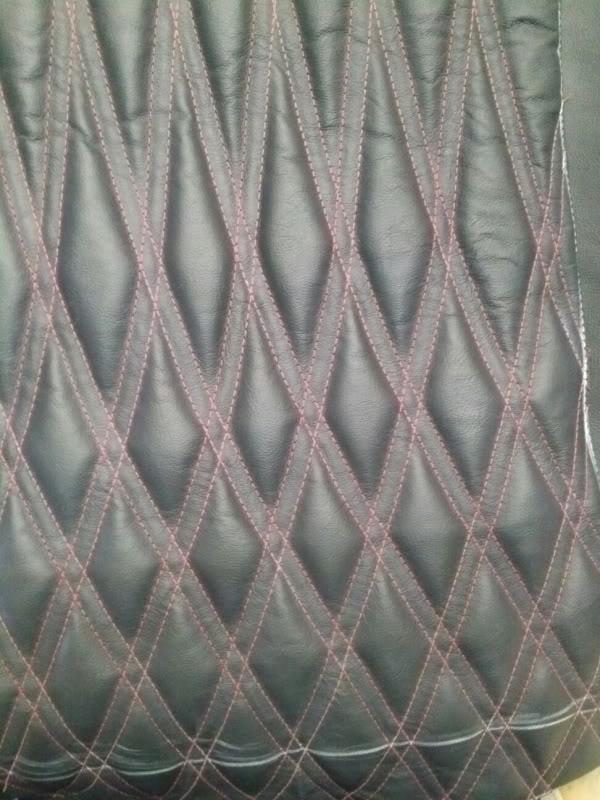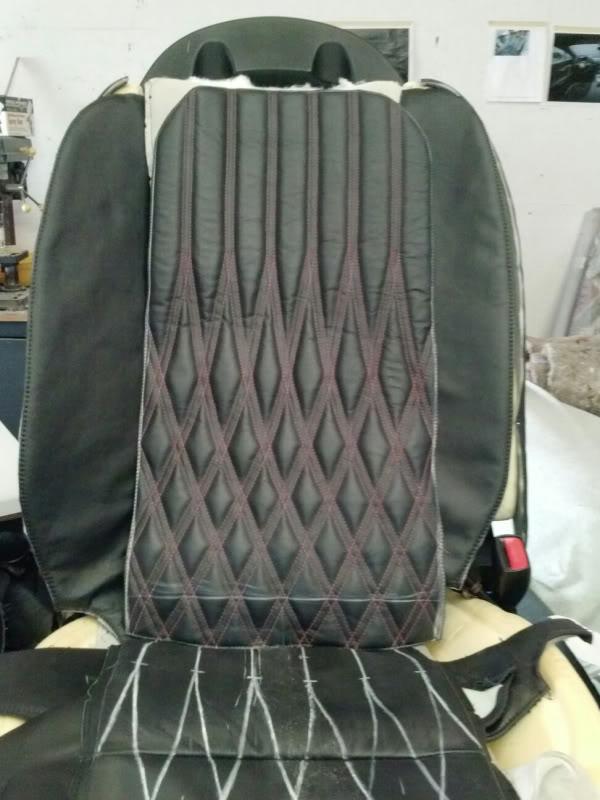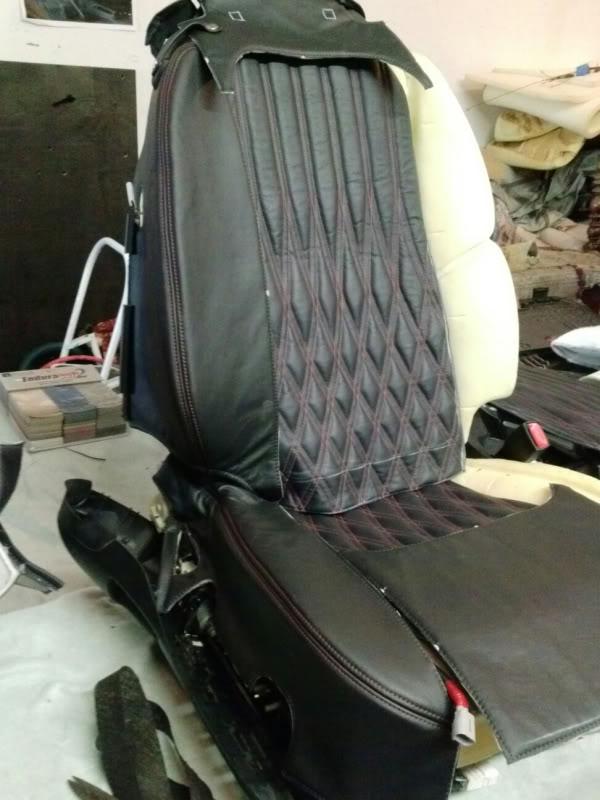 Pod faceplate will be 3 dimensional and not flat. No wood, Satin Black finish. This is the base, the sides of each aluminum ring are being built up and contoured: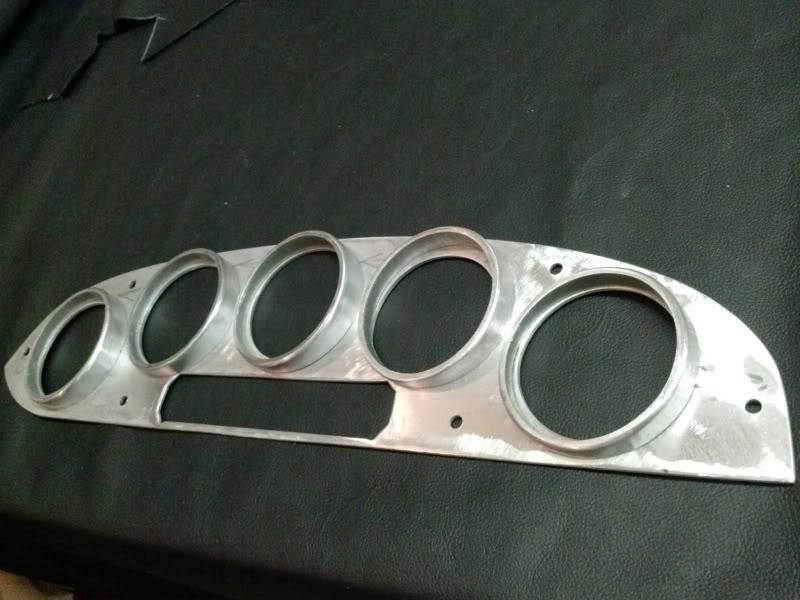 Welded on the rings: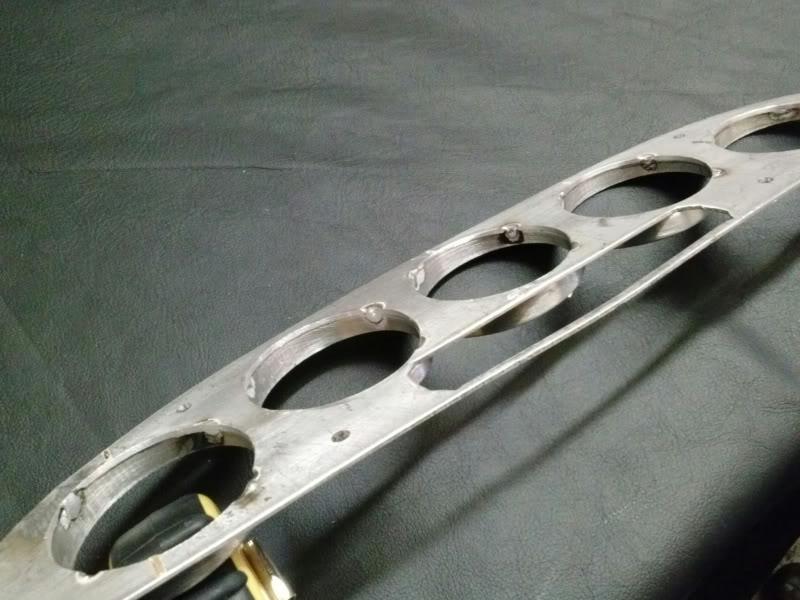 2-16-2013
More heat shielding...The front mounted turbos create massive heat, so the car has been carefully gone through and had the SS braided hoses to the transmission and the fuel return replaced with new ones, re-routed and wrapped and shielded for added protection. Should be no issues at all now...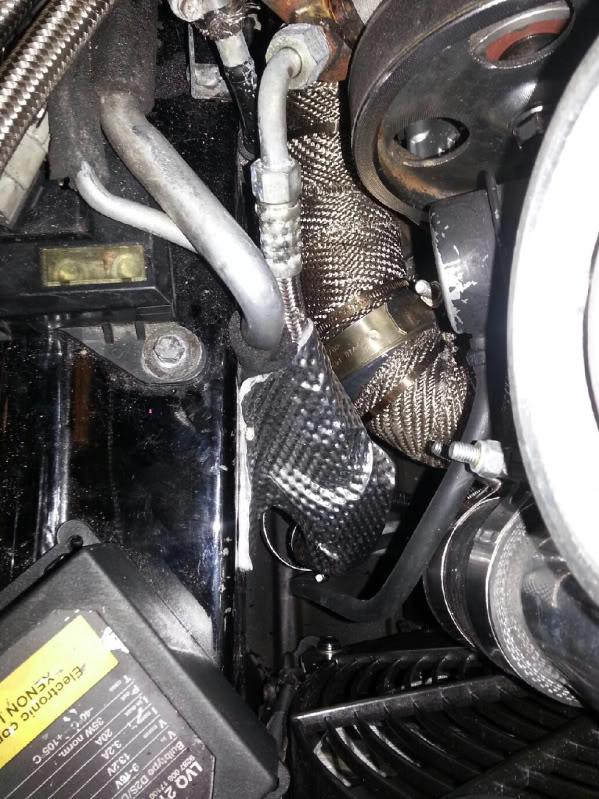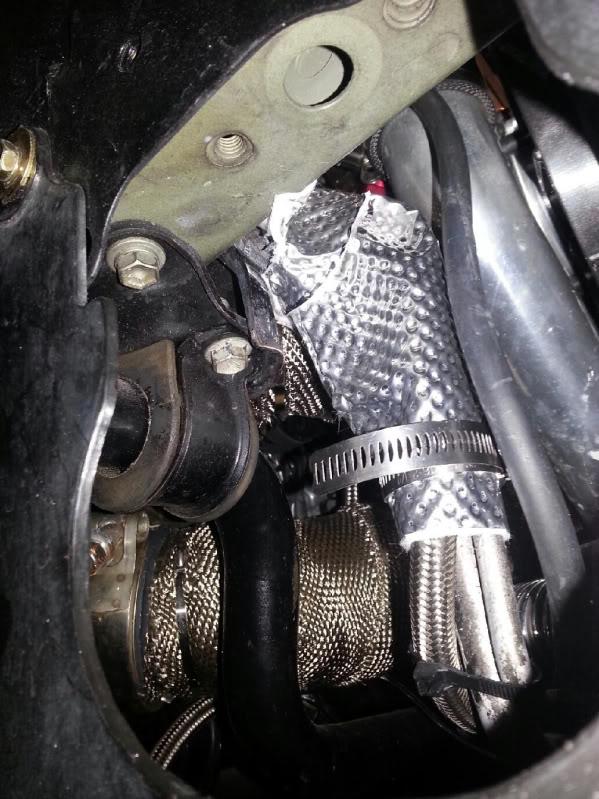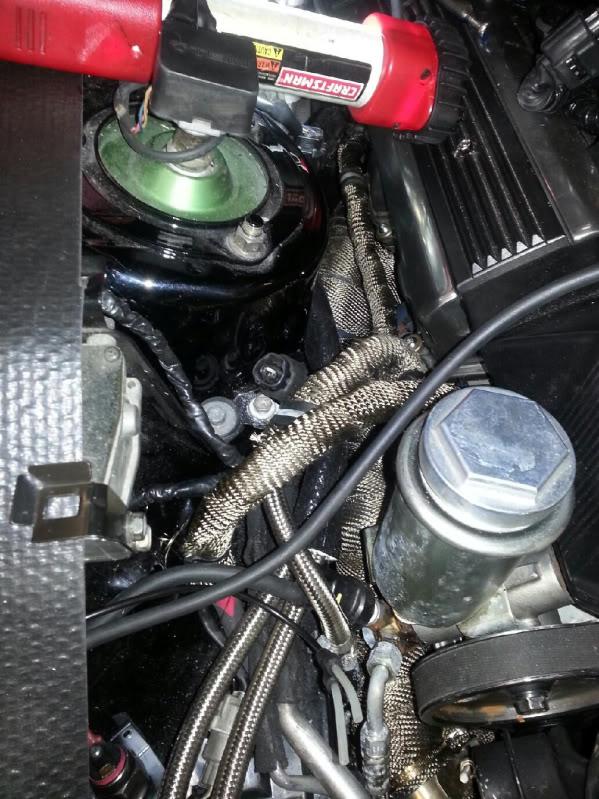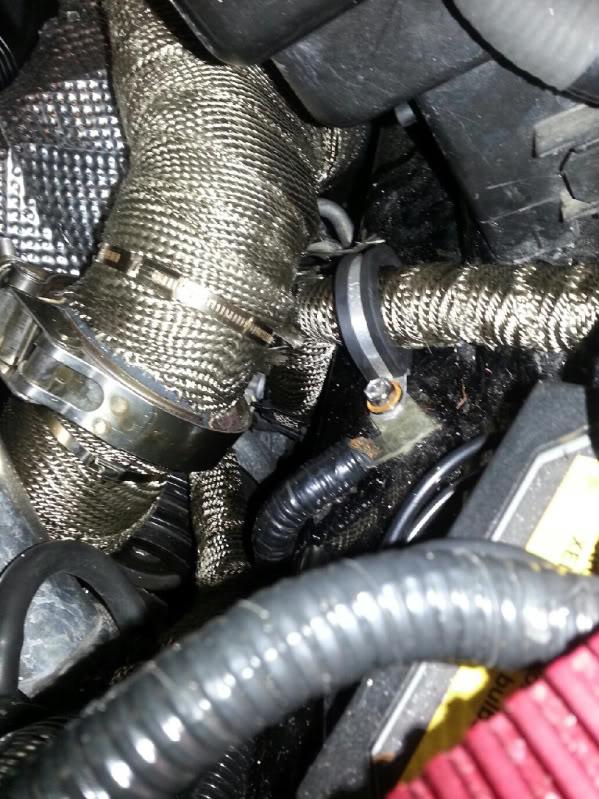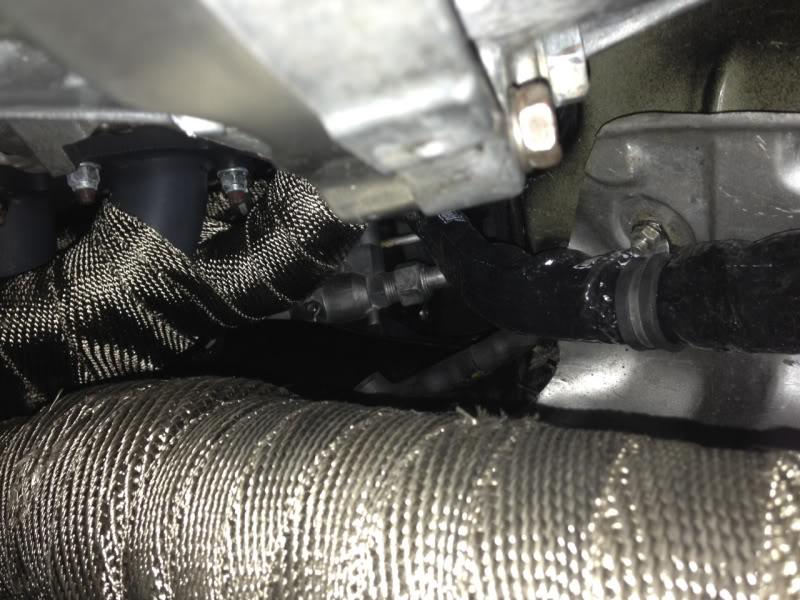 2-26-2013
The SBN (Spring Break Nationals) are nearly upon us...This Saturday. I have to roll the car in between 1 pm and 6 pm. A lot to finish...it will go down to the wire. Late nights coming up, especially this Thursday evening. The front seats should be complete as they were being final fitted yesterday afternoon...They were getting the wrinkles out. The rear set covers were already cut, stitched and ready for installation. They also were working on the front and rear door panels and the center console...the whole thing should come together nicely and flow well...
Front seats (Wrinkles still have to be removed: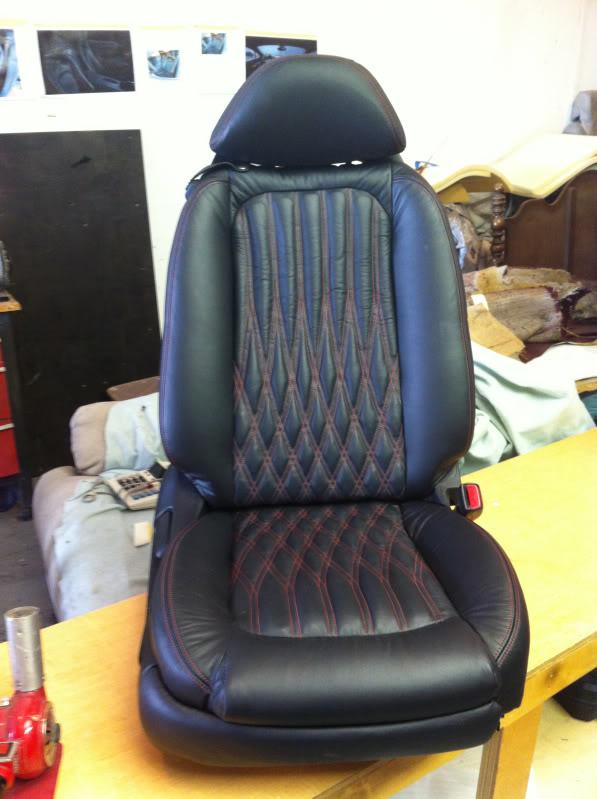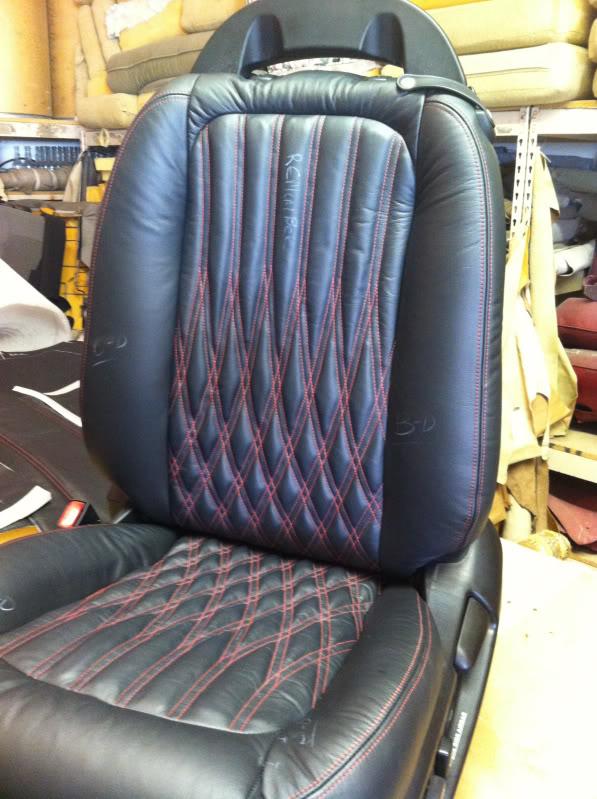 The car was in the paint booth yesterday for final paint repair to it. Final sand, buff and glaze to be done on Tuesday and Wednesday.
In booth: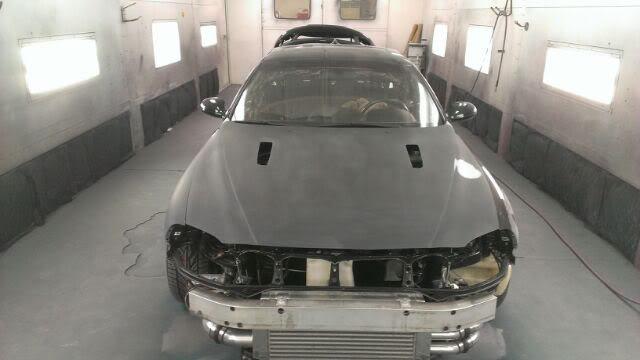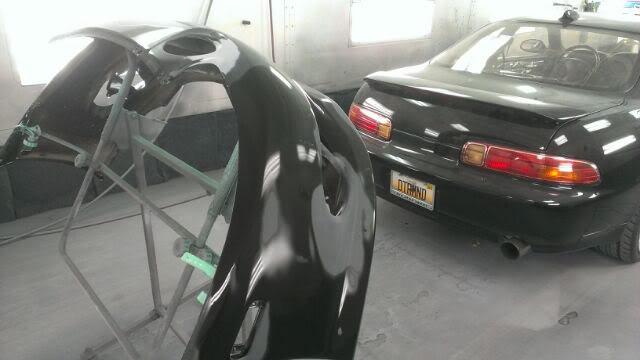 Once completed with the paint shop, back to Raw Brokerage on Wednesday afternoon for final mechanical and engine bay work...The final and Big Tune by Darin will have to come after the SBN as there is no time to get it done before.
Much, much more to come...
Paint completed.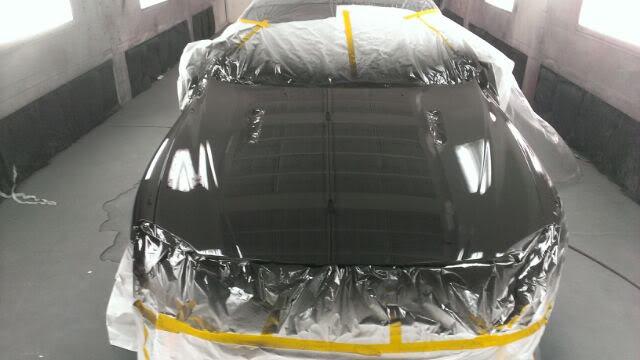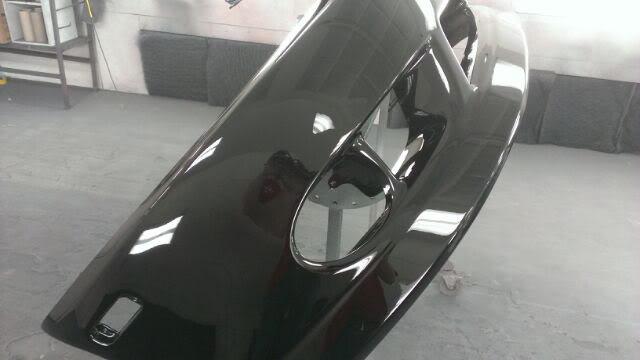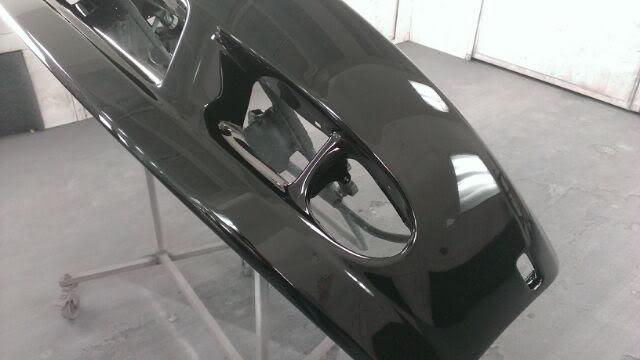 Much more to come.
2-27-2013
Wheels are made and shipping out tomorrow...Here are some low res pics...
20x11 rear: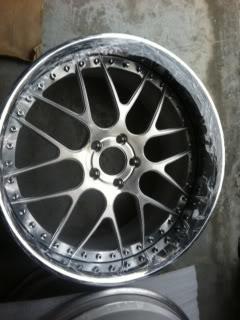 20x9 Front: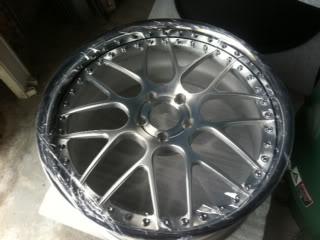 3-5-2013
Here you go...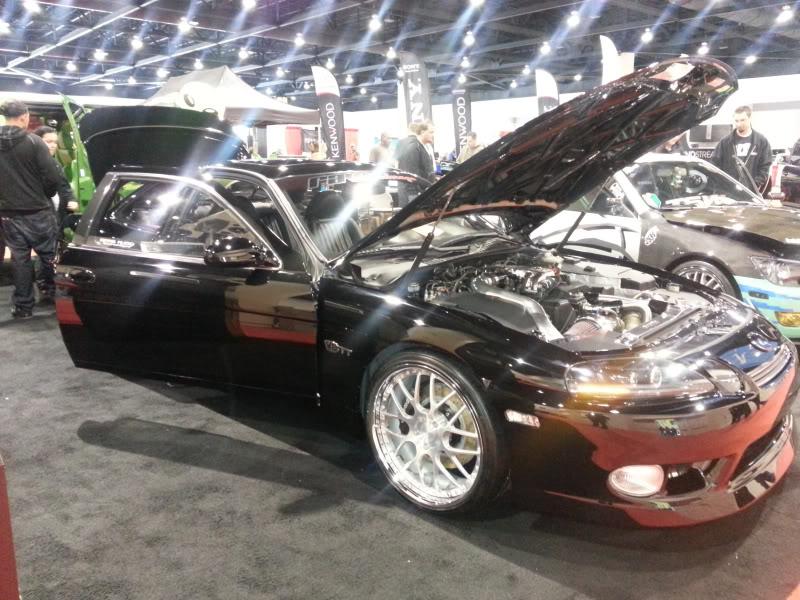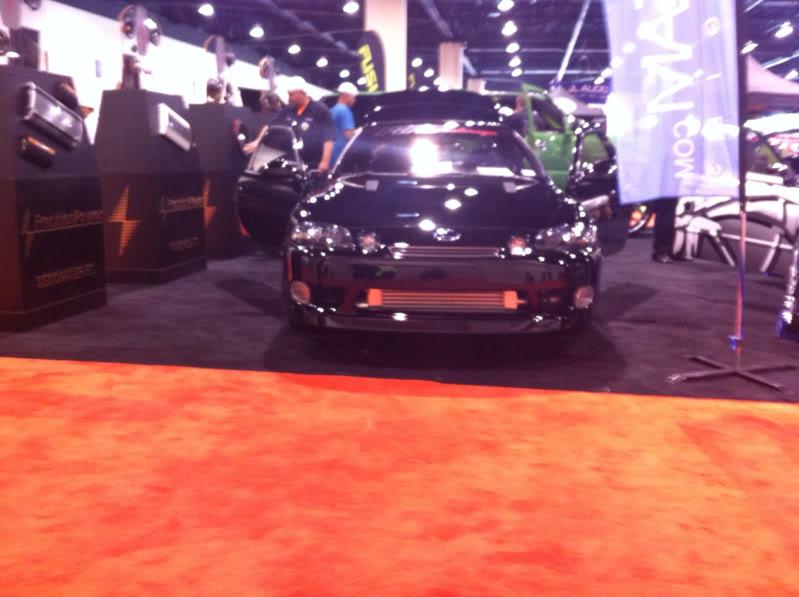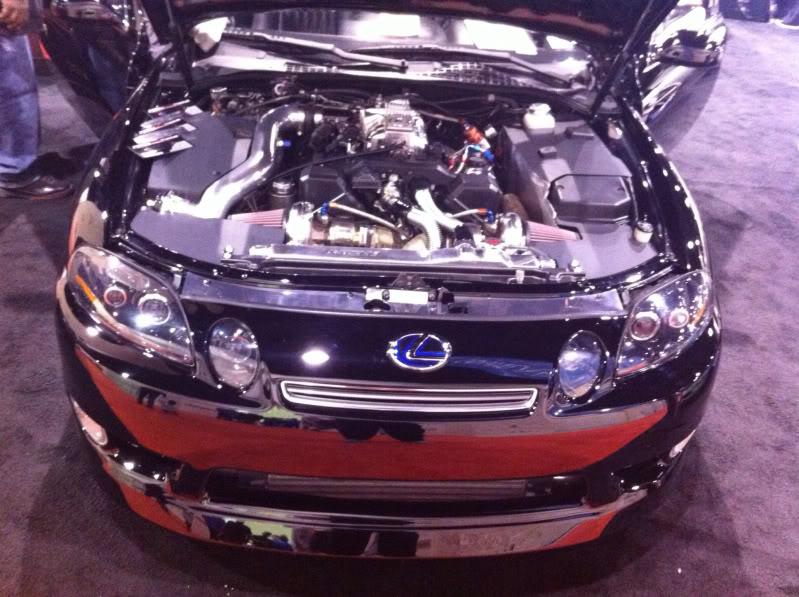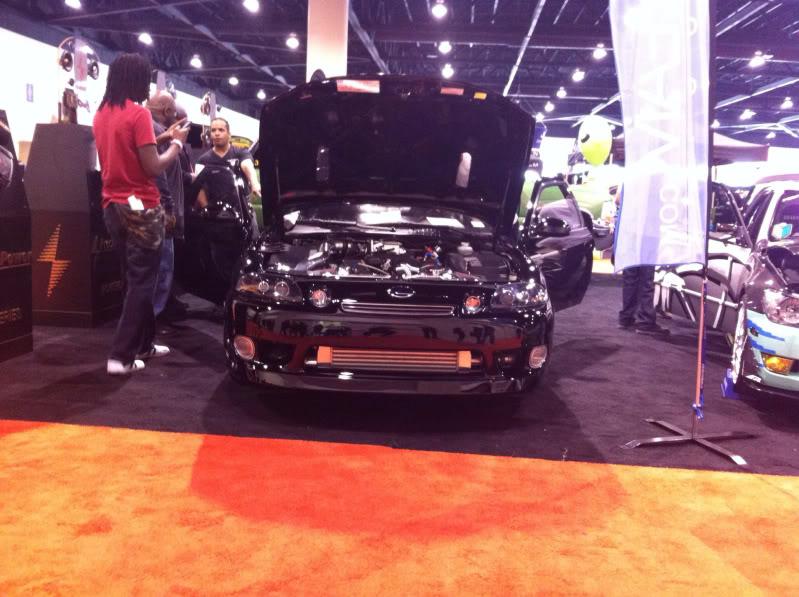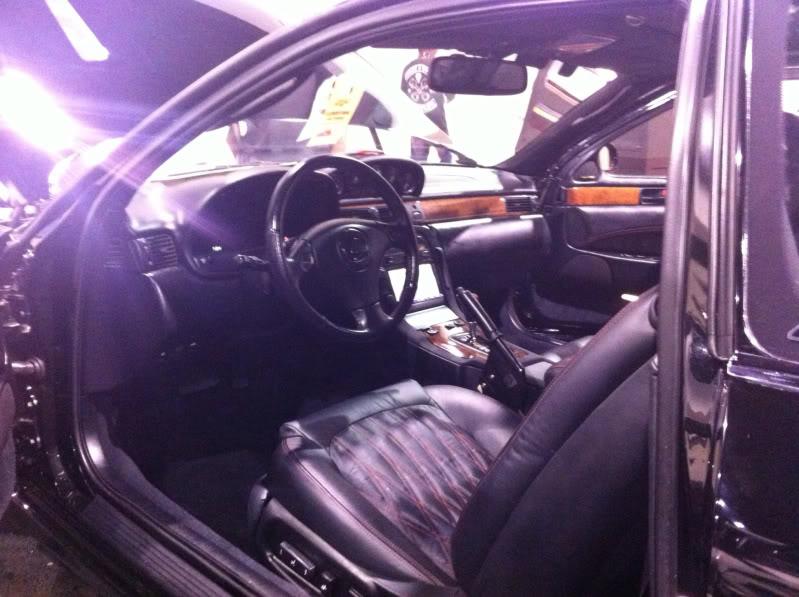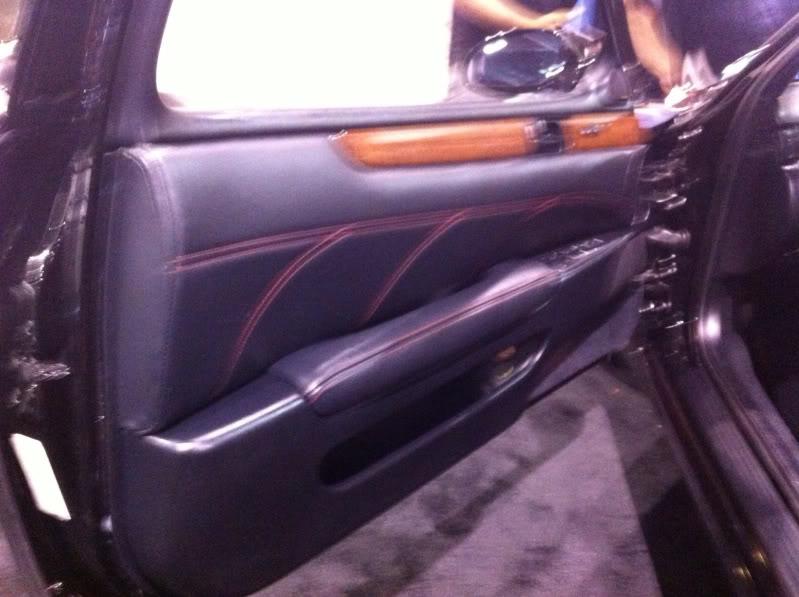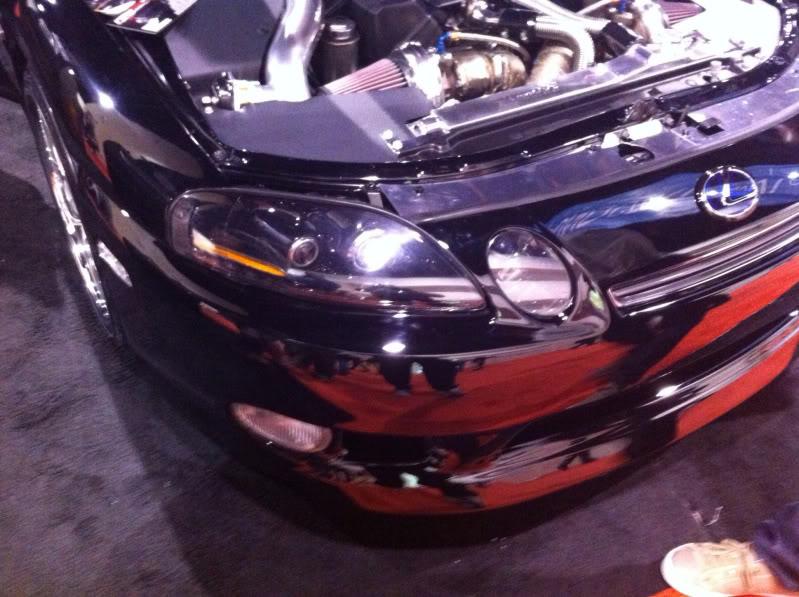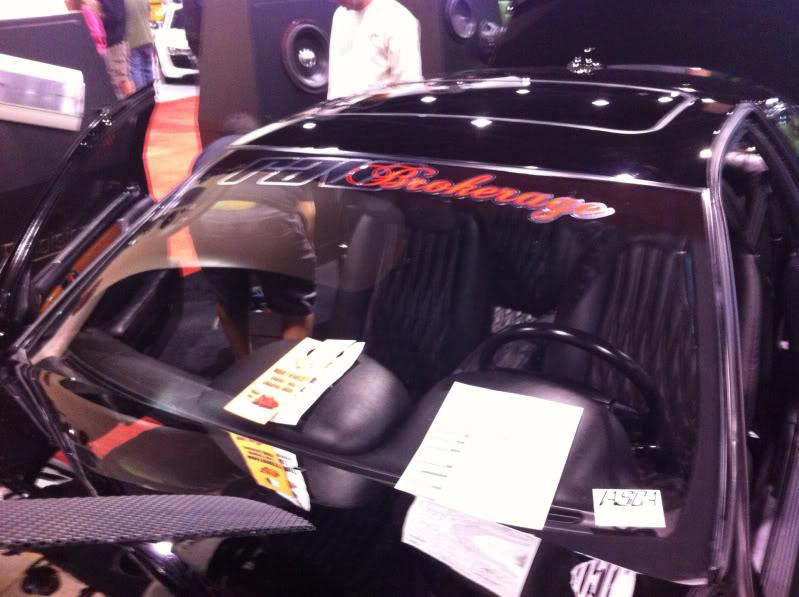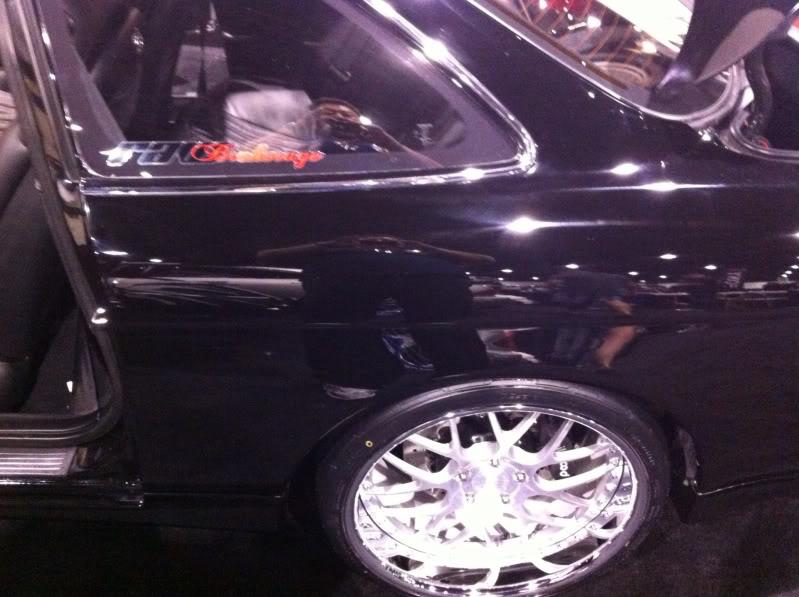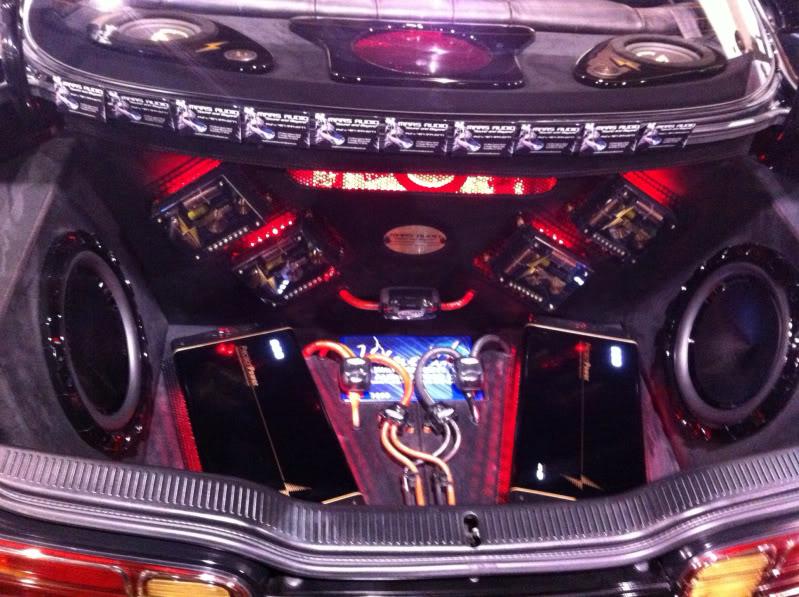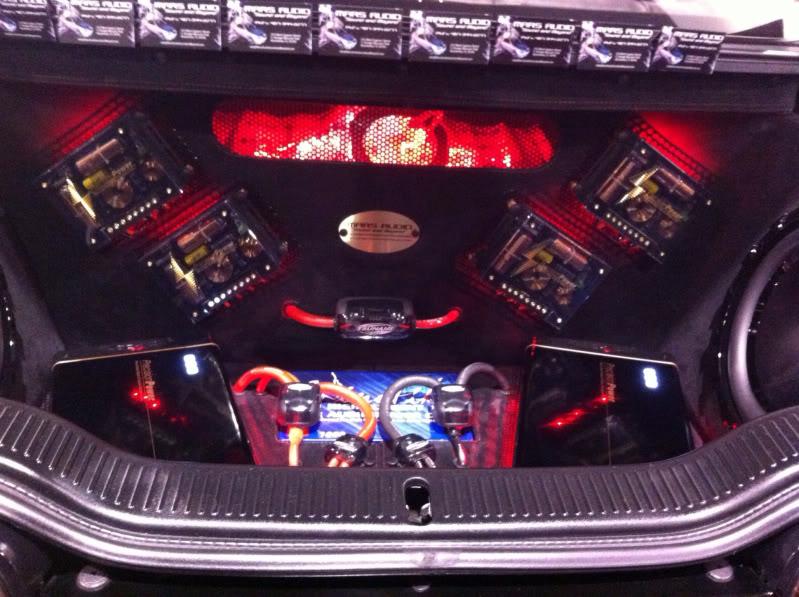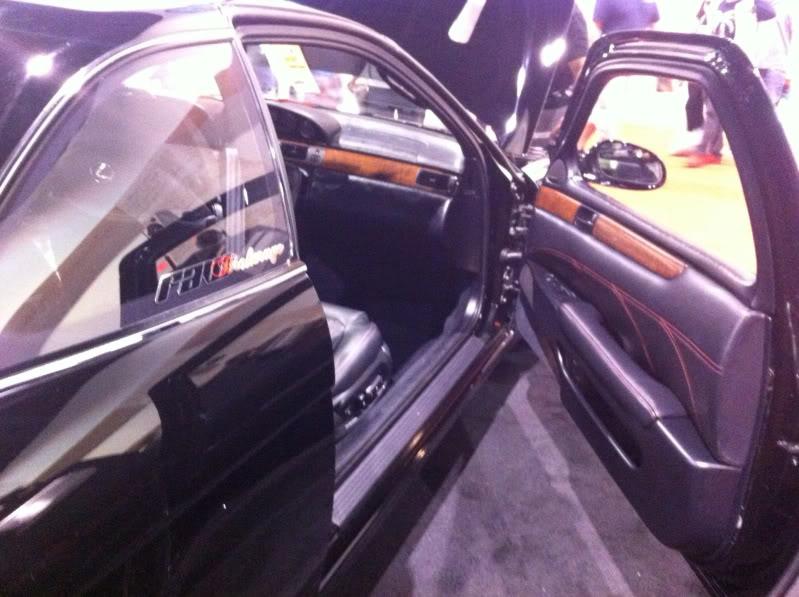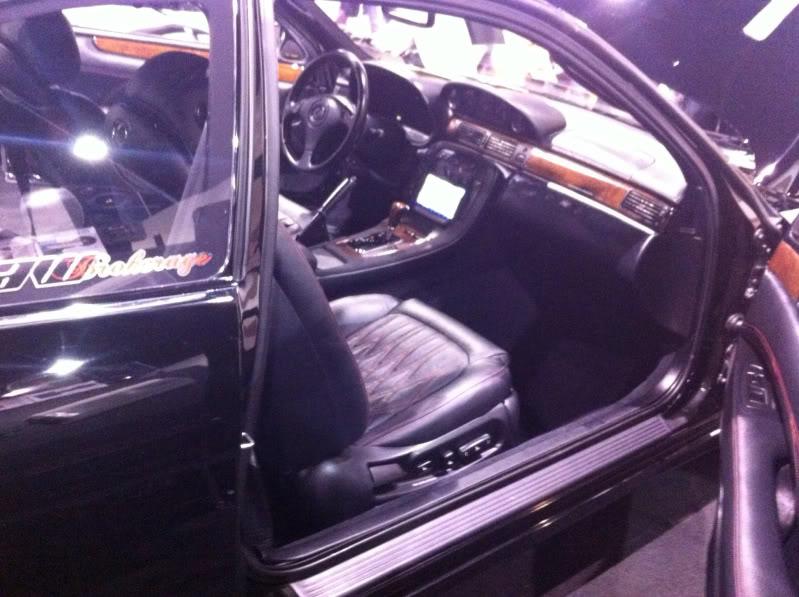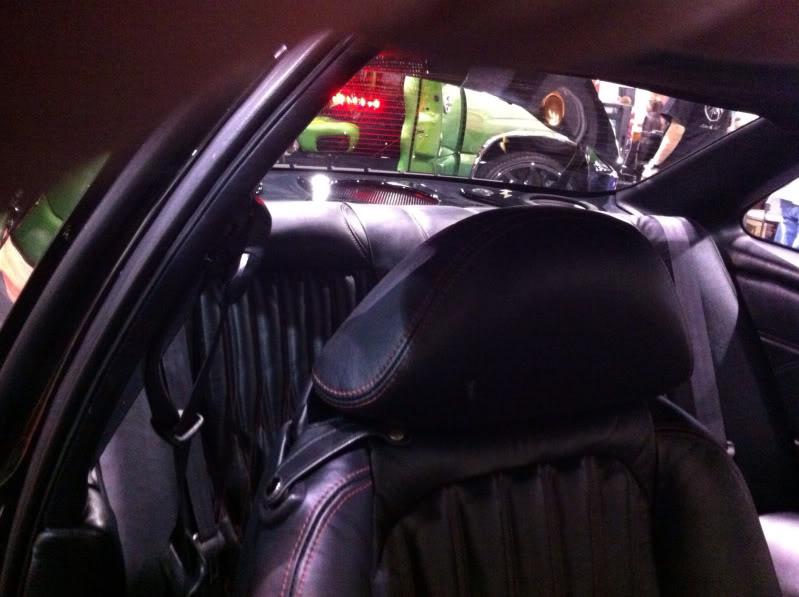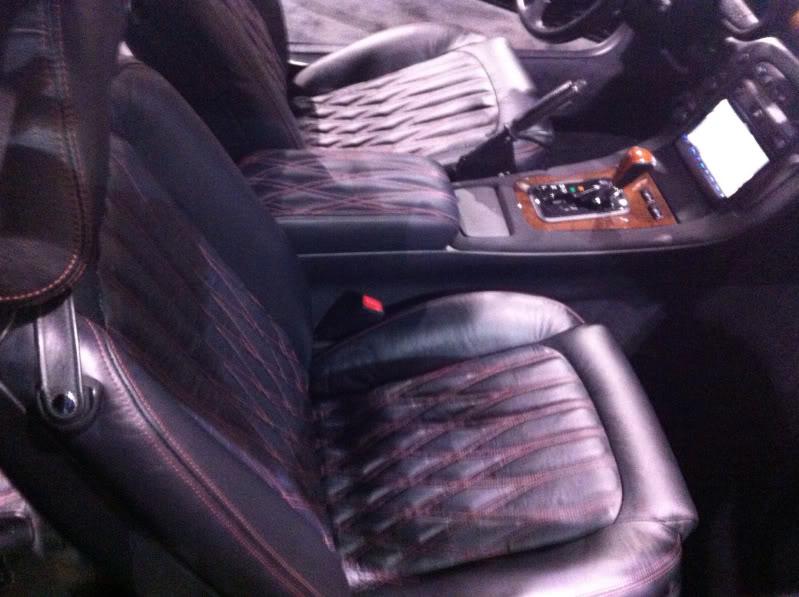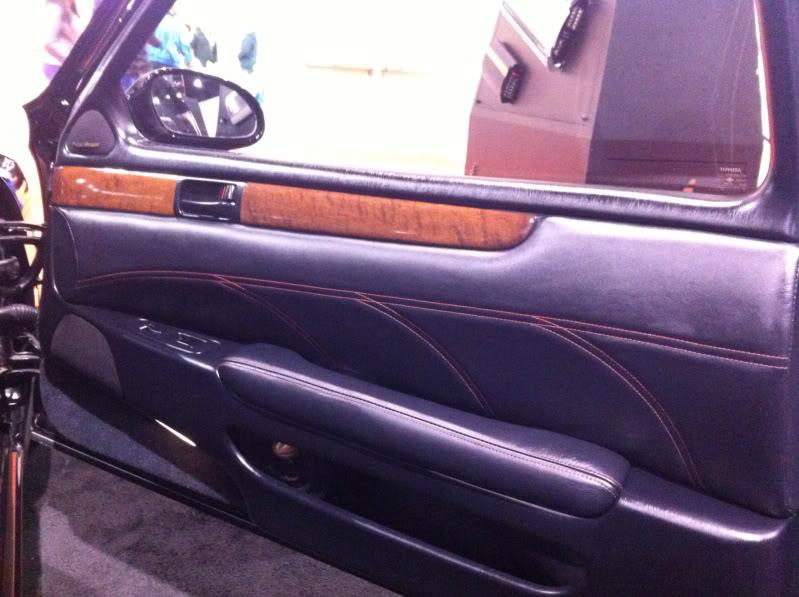 Before I post the results, I want to comment on a couple of things...I know a lot of you have followed my build for years! I know it took a very long time, but to me, it was a journey well with traveling. I know you all want the dyno sheet. I promise you wil get it. But not today. I changed out the fuel pumps from dual Walbro 255's to dual Denso Supra TT's. car needs a good time to tweak her up. Should be done in the next week or two.
I will start a new thread that will be the official reveal thread with high res pics, and finish it off with a video and the dyno sheet.
For now, as Forrest Gump said, " I'm tired". So I am going to retire for the night. Here's the rest of the pics for now...
BTW, the SBN was my first car show, and it is a National event. I attended with the hope of winning a trophy f some kind. When the judges first came by and asked me about my car, they informed me I would compete ith the "Big Boys ". The Ultimate Class right off the bat. I thought, " Gee whiz", the toughest class in the show! I decided to just take t in stride and put my best foot forward. I did not get judged until Sunday morning. When they reviewed my car, they were tough, and checked for the minutest specks of dust and dirt. My spirits dropped...Then, late Sunday afternoon, all the judges came back to my car and reviewed my car again...Here are the results:
1) SC400TT placed 1st place in the Ultimate Asian Class!
2) SC400TT WON BEST OF SHOW!
I was totally stoked! What a weekend!!!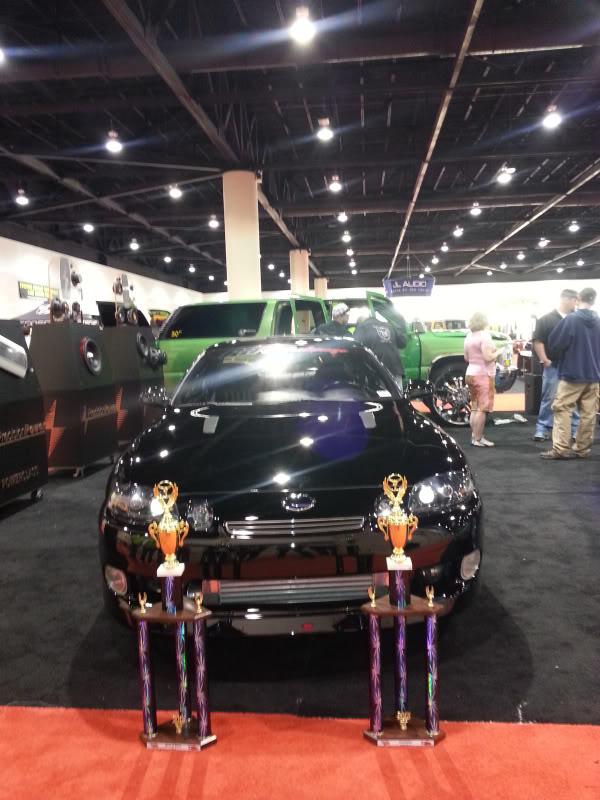 Just to finish off this post, a great "Rear" shot to leave you all with...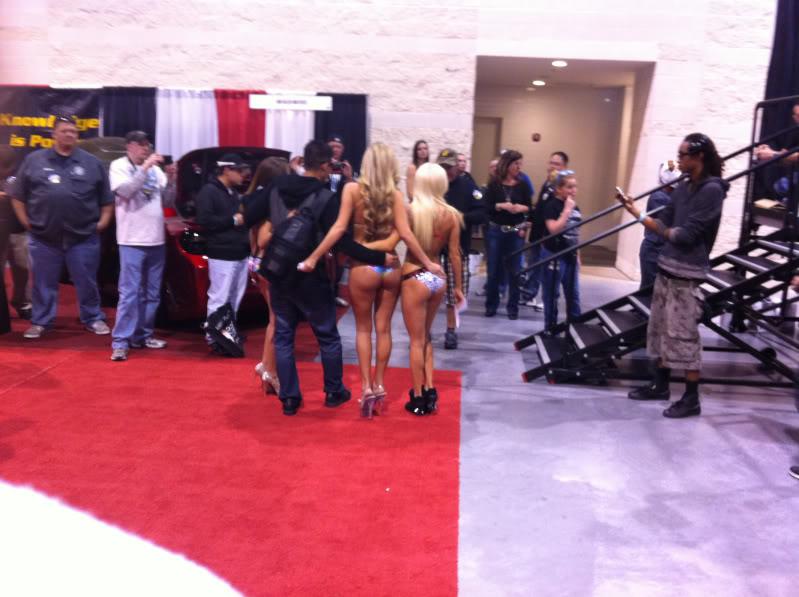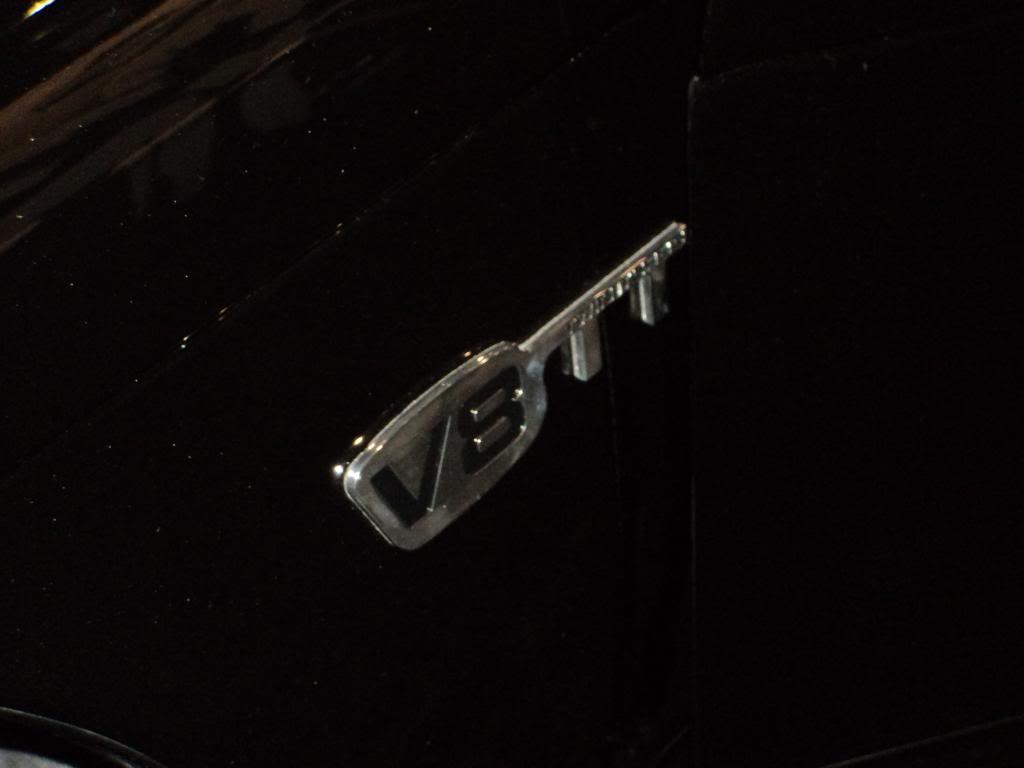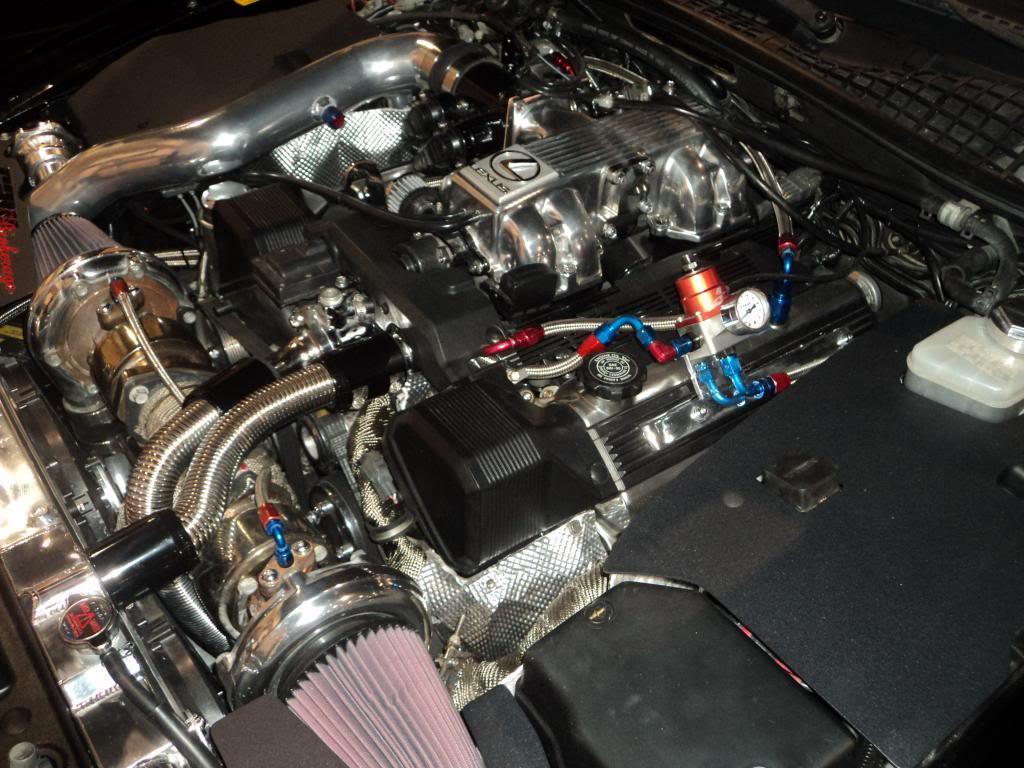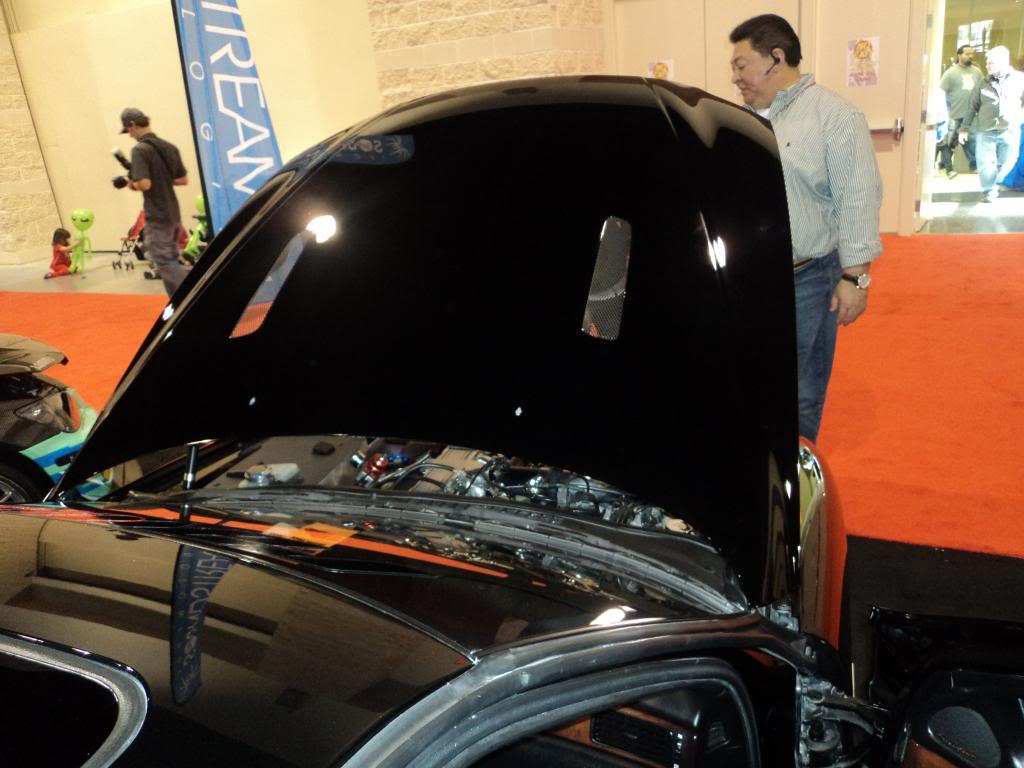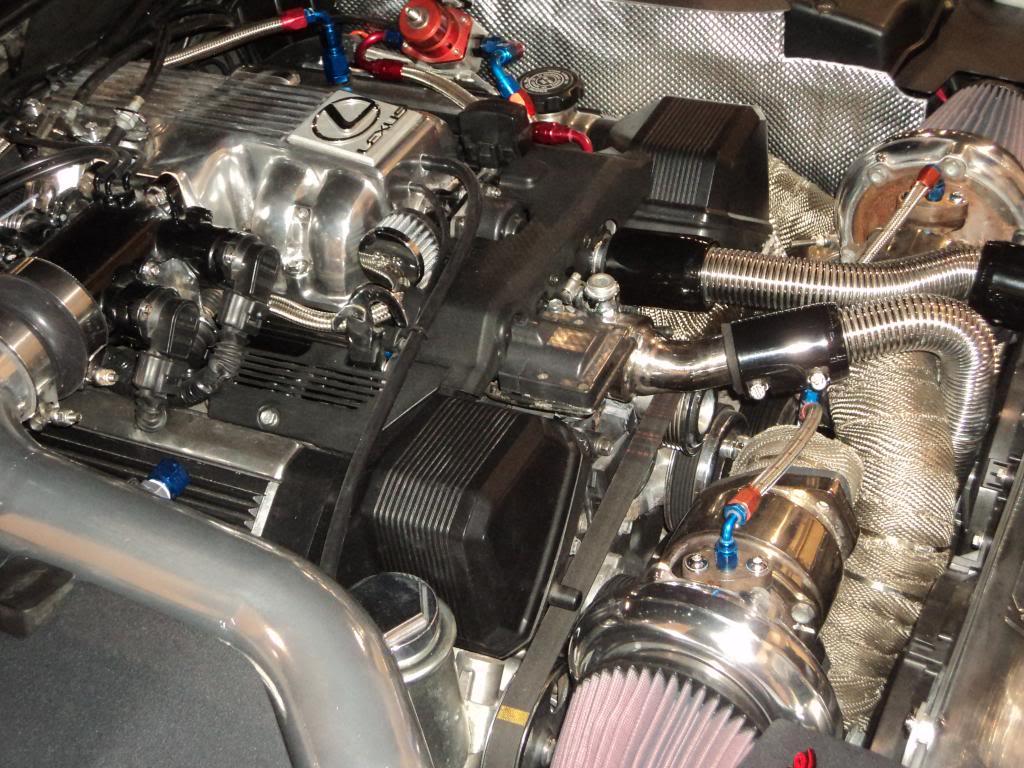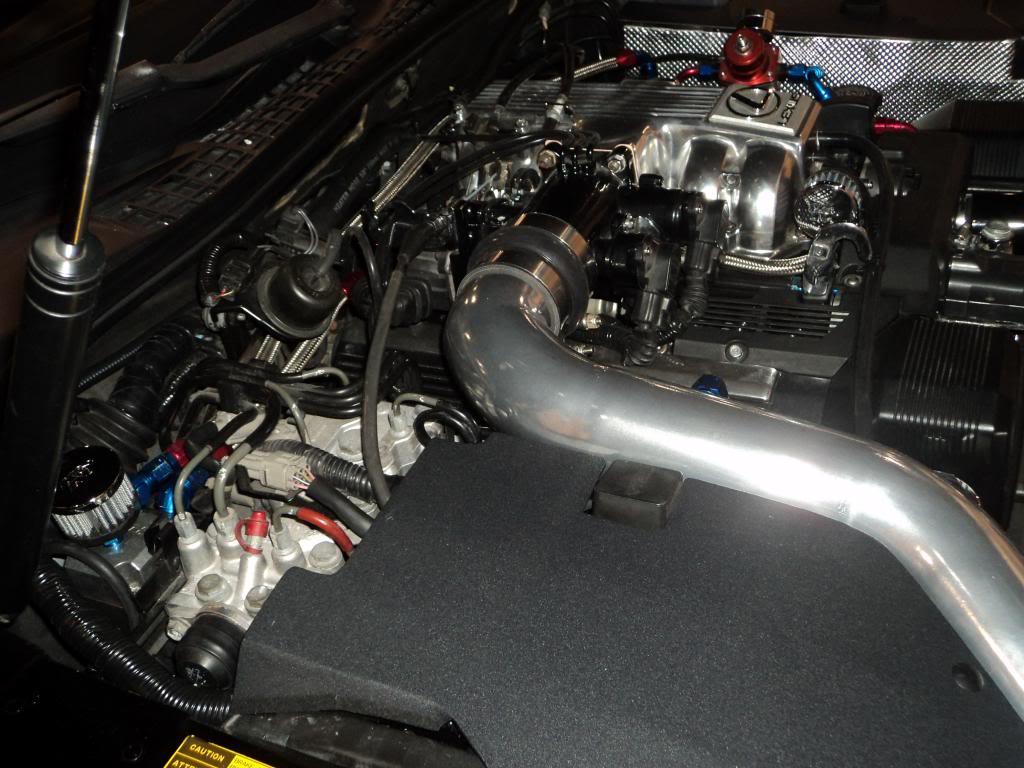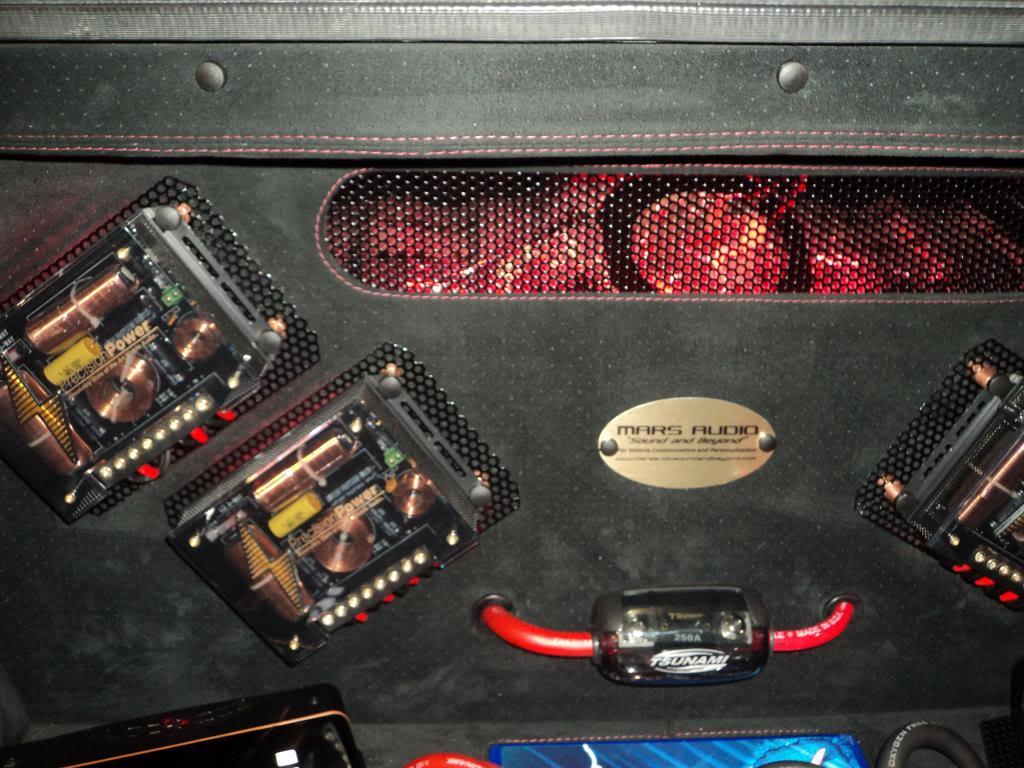 4-2-2013
Delayed progress as I was on a cruise in the Bahamas and just returned.Had a lot of fun. Met great people, ate and drank a lot...

I will be entering the car back into another show this weekend. Wish me luck. I will start the new thread, but not until I have the dyno numbers, the video and the Professional photos. I saw a few of the pro pics and they are awesome!
In the meantime, I took a few pics of the car while at Raw Brokerage today...Enjoy, I certainly did!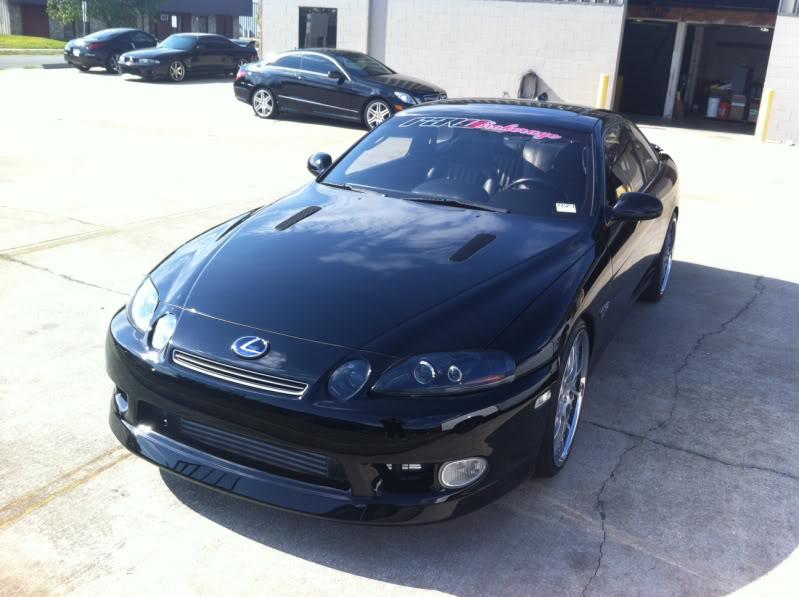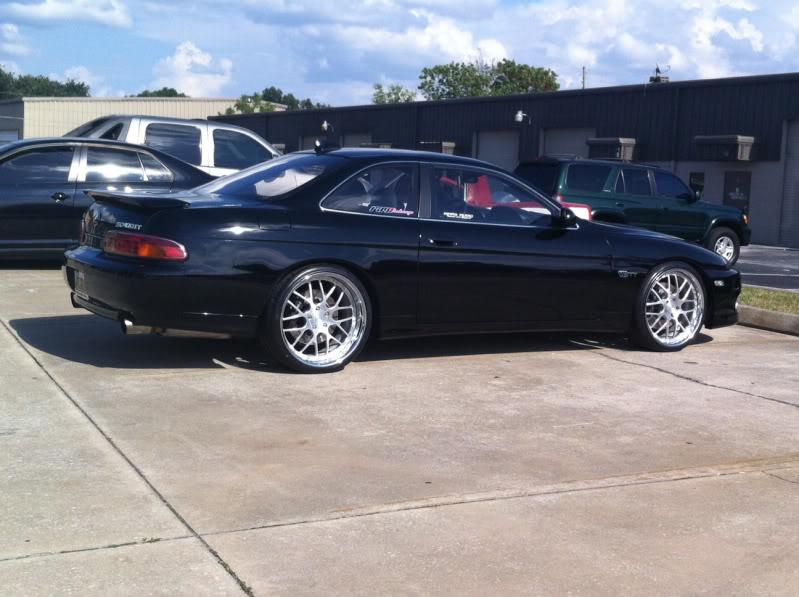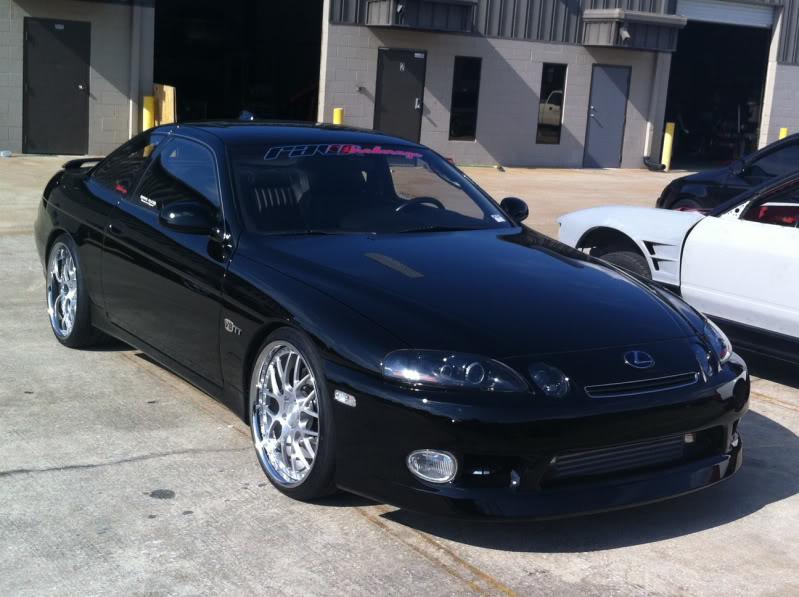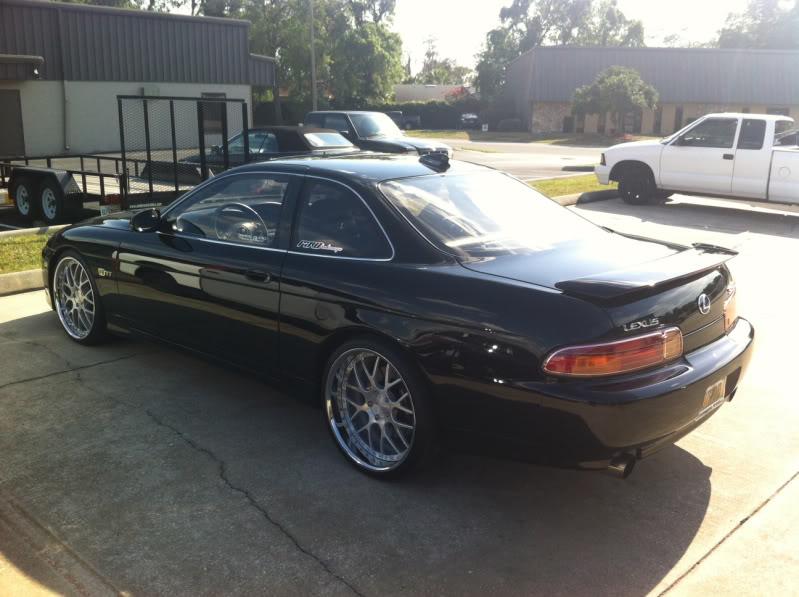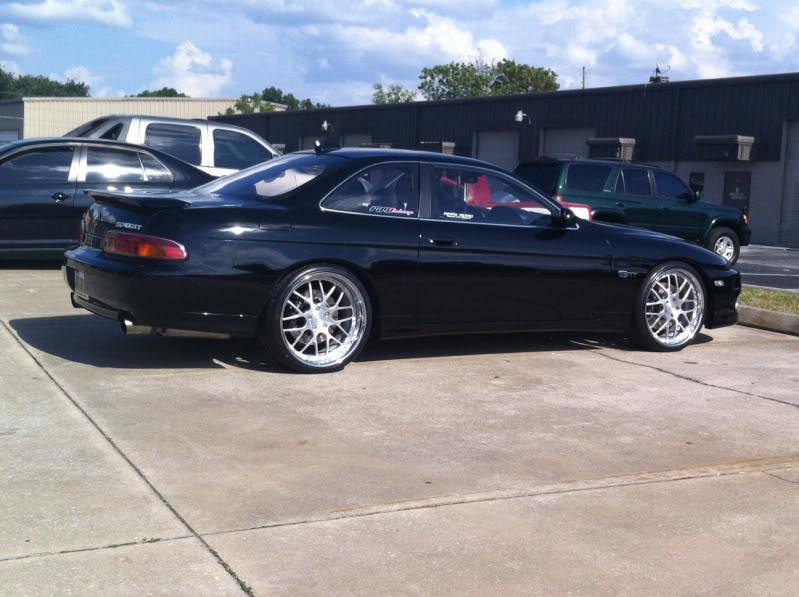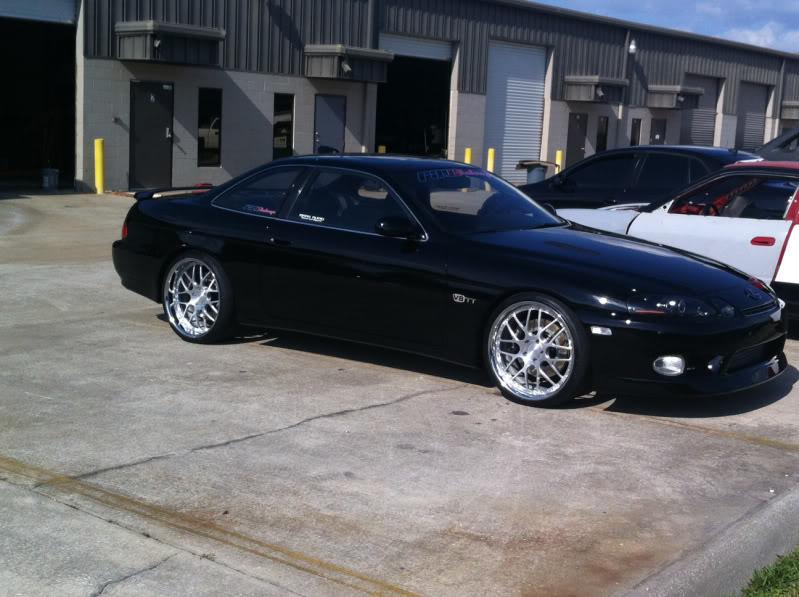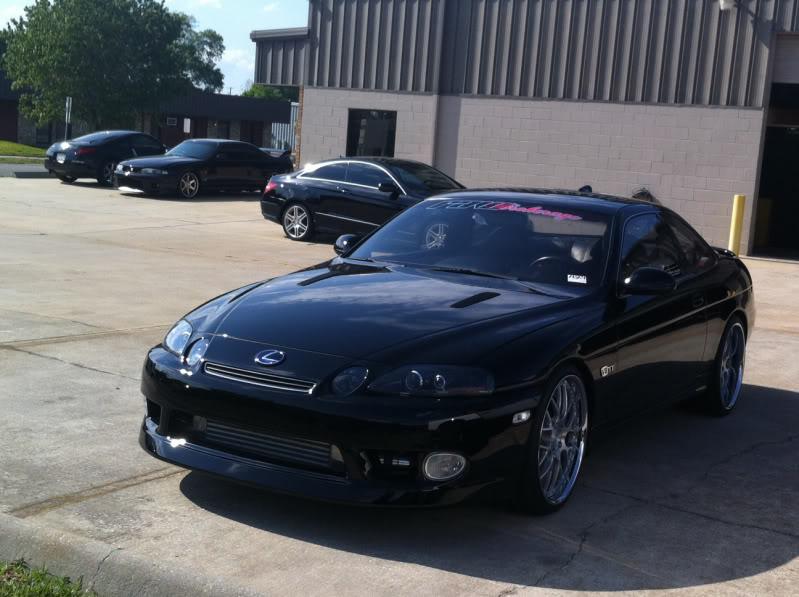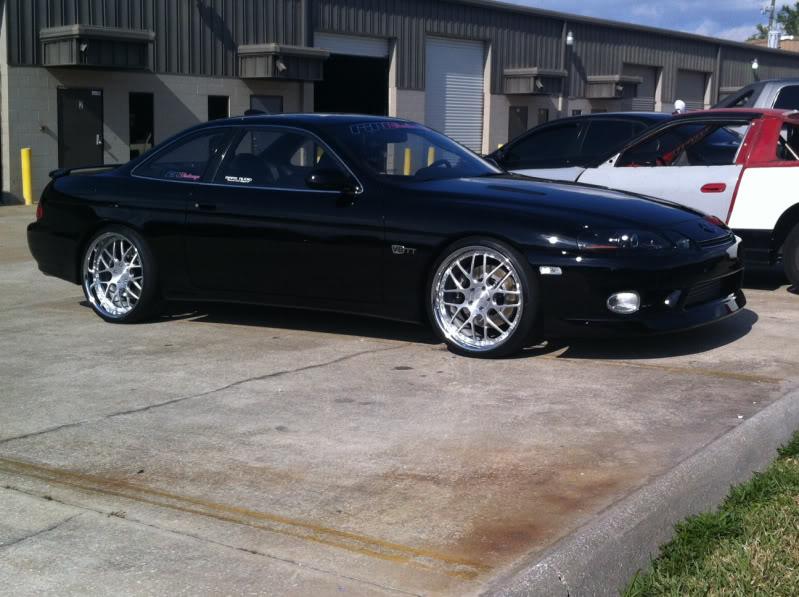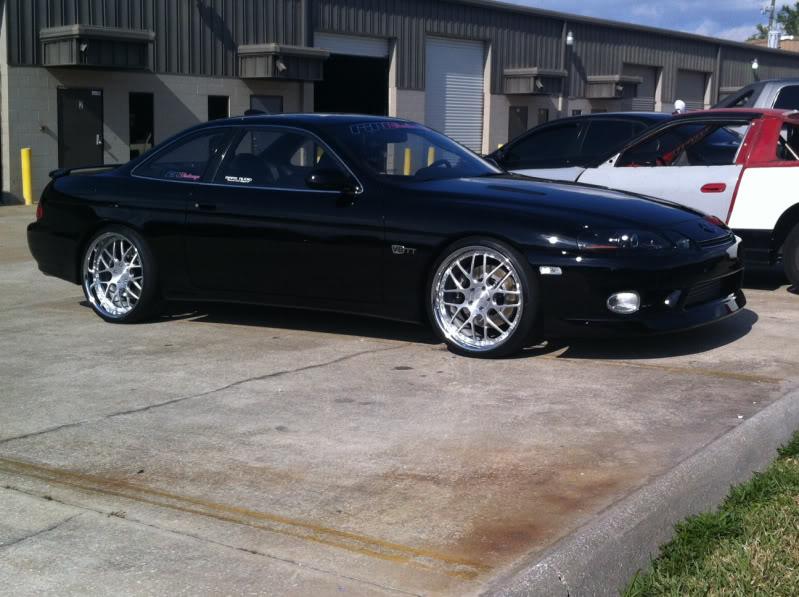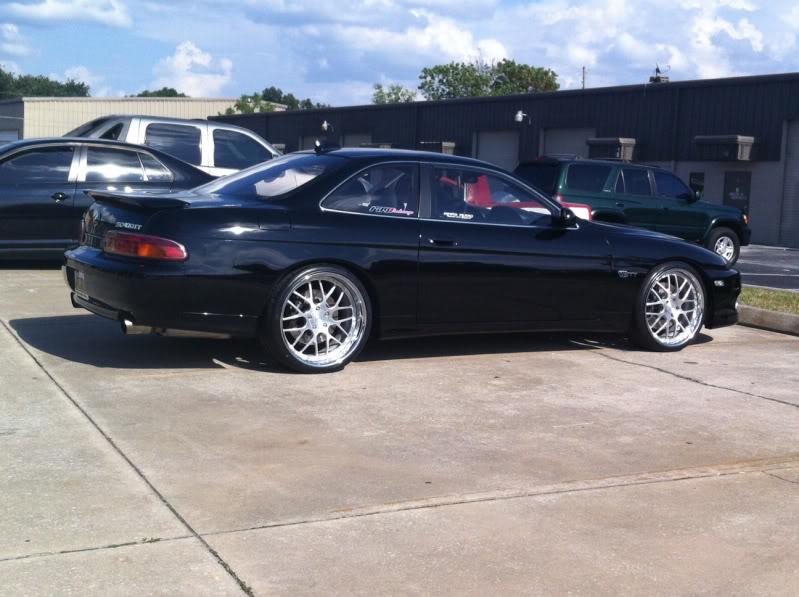 6-10-2013
Some additional pics of the car...High Res coming soon...

The next two posts are for those that don't follow the local Florida club meet threads...These are already posted up there...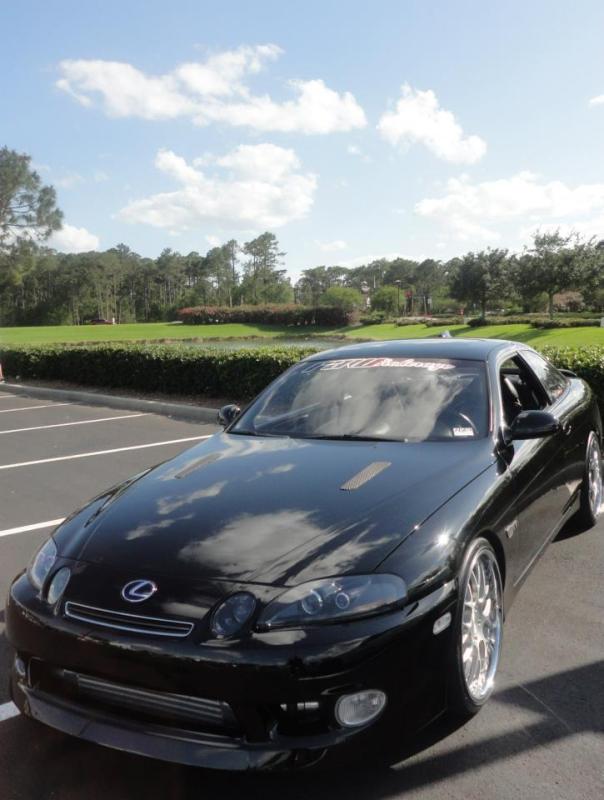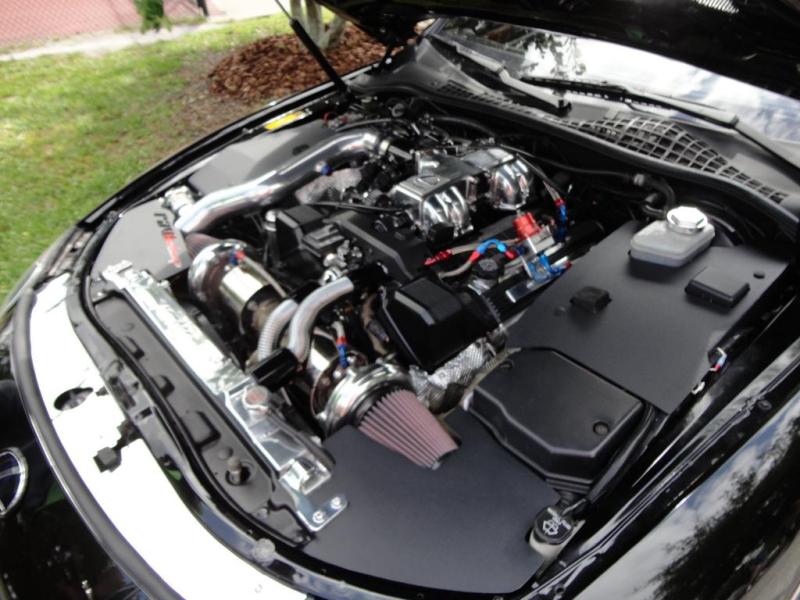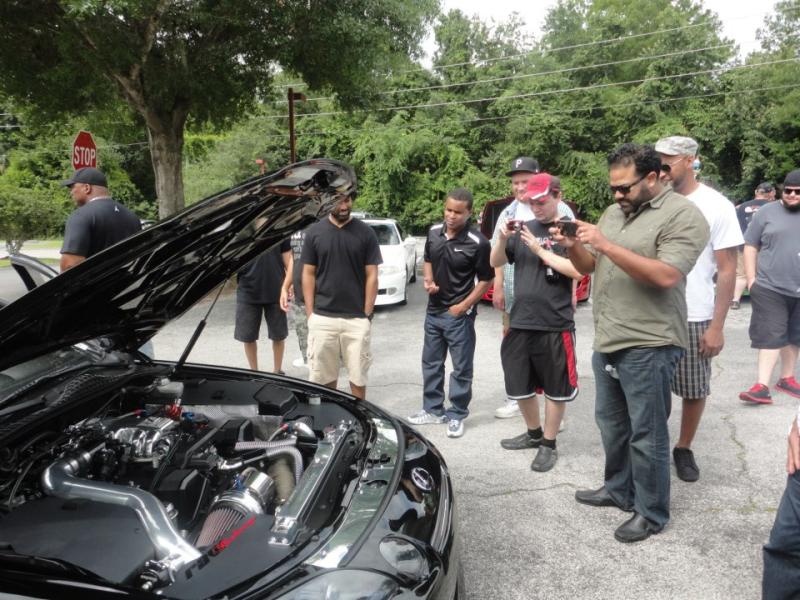 A few more: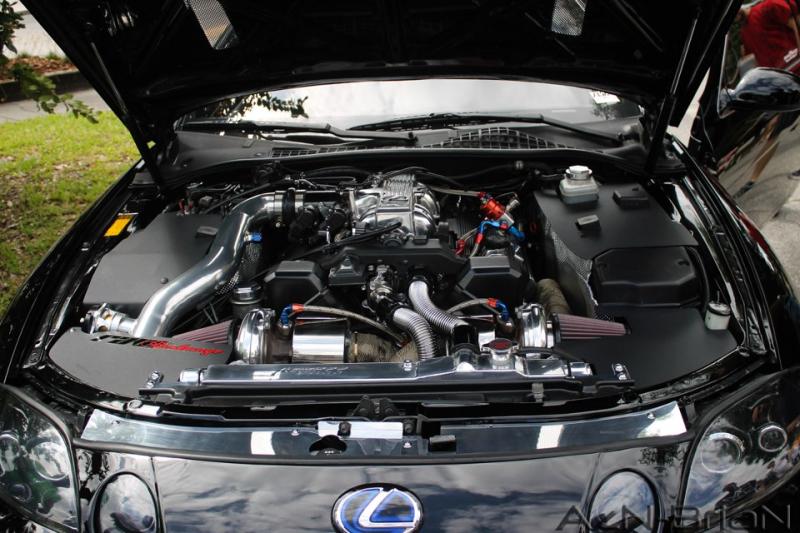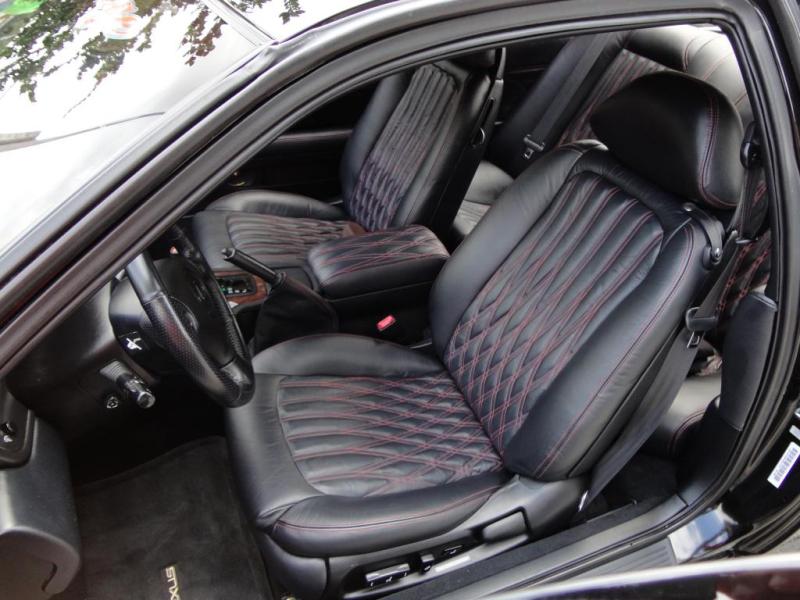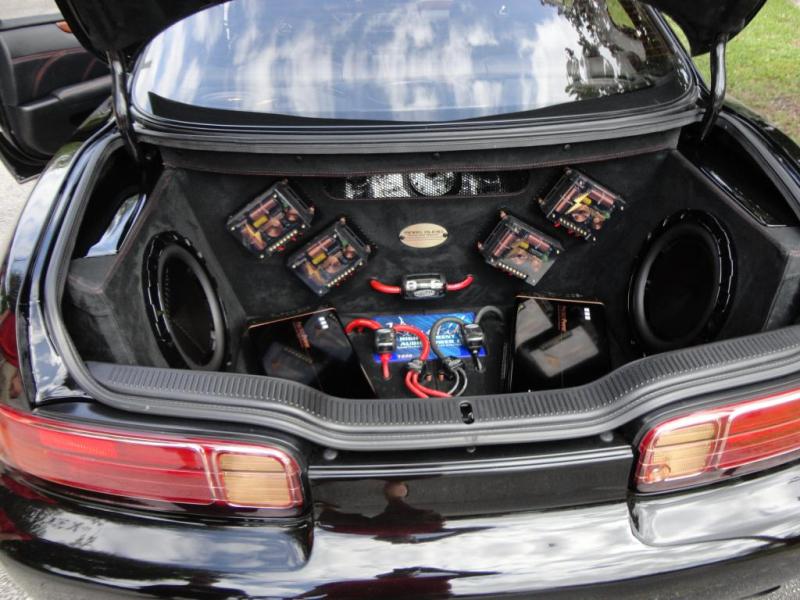 8-4-2013
Ok, I want to finally post up an update...The regulator on the alternator went bad so when I replaced the used and dead Kinetic battery with a brand new one, I noticed the battery light on so I checkd the voltage while the car was shut off and while it was running...While the car was off, I saw 13.2 volts...Perfect. While it was running, it read 18.5 volts. Yikes! So, I immediately shut iff the car and disconnected the main fuse to the battery so no connection was to the alternator and the new battery would not be drained.
I tell you, the new stereo is stunning, but I knew that changng out the stock 97 tails to the ClearCorners 97 Tails would be a bear...And it was. In order to get to the tails, I had to remove and disconnect the rear 12" subs, as well as loosen and unbolt the Sub boxes. Plus in order to get the sub boxes moved enough to provide me enough clearance, I had to unbolt the amps and move them out of the way as well...It took me 10 hours to get that completed. But it is done and the Clearcorners are installed!! I will have pics soon and post up.
9-22-2013
So, a lot of time has passed since I went to Anguilla,

. What a beautiful vacation resort. I recommend it all looking for a nice spot in the Caribbean to to vacation.
First, let me post up the YouTube video of the Gauge start up, which also allows you to hear the smoothness and ease of start up now, as well as the beautiful idle Darin tuned in.
As you can see, the car runs quite nicely now. You will notice a slight whine, especially when I increase the throttle. This is due to needing a better ground for the stereo system. That will be addressed soon.
More on my next post.
9-23-2013
So, the high output alternator that I had bought failed after only a few hours of use...That was disappointing. I did receive a partial refund, and I had Raw Brokerage send it out for repair and install. They did rebuild it with the highest quality parts and I have had no further alternator isssues. Kudos to Raw Brokerage and Dan for taking care of it.
Innovate: I decided to swap out the Innovate LC1 for the new all in one Innovate MTX Gauge. It uses the same Bosch O2 sensor, but it does not require the frequent recalibrations that the LC1 did, and I am happy for that. I also like the digital gauge. Easier to read and to follow.
Kinetik: The first battery I bought was used and from the dealer that built my stereo. it never quite worked well...I noticed a drag on th starter everytime I started the car. Since I installed the new Kinetik, no issues at all. Start up is nearly instantantaneous, and I have not had to put the batteery on a charger at all. Sweet! Great battery, and Innovate took care of me on the second battery. I bought it direct from them under a special warranty price.
DEI: Awesome stuff! I use copious amount of their different types of Wrap and Shielding throughout the car. Expensive and worth the price. It greatly reduced the temps to my Air Temp Sensor bung housing on the charge tube, which is important for accurate readings of the charge air enteering the intake. It also greatly reduced heat from the Stainless Heat Sheilds over the turbos as I have it attached on the underside of them. It also protect the Coil and the AC compressor from excessive radiant heat on the drivers side. I also use it on the transmission feed and return lines and especially on the fuel lines and the alternator harness. I will be adding the corrugated shielding to the underside of the hood too.
Here is a pic of the new alternator harness: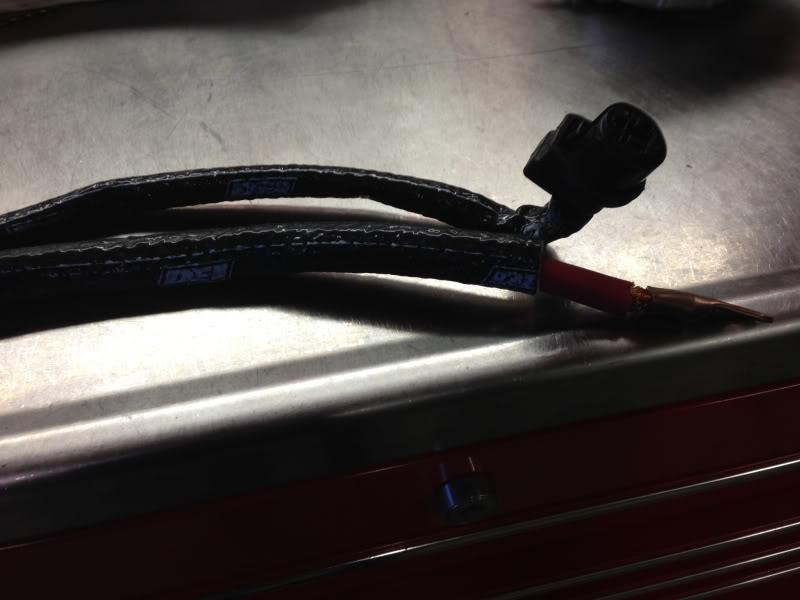 A few pics of the ClearCorners tails. Excuse the low quality iphone pics.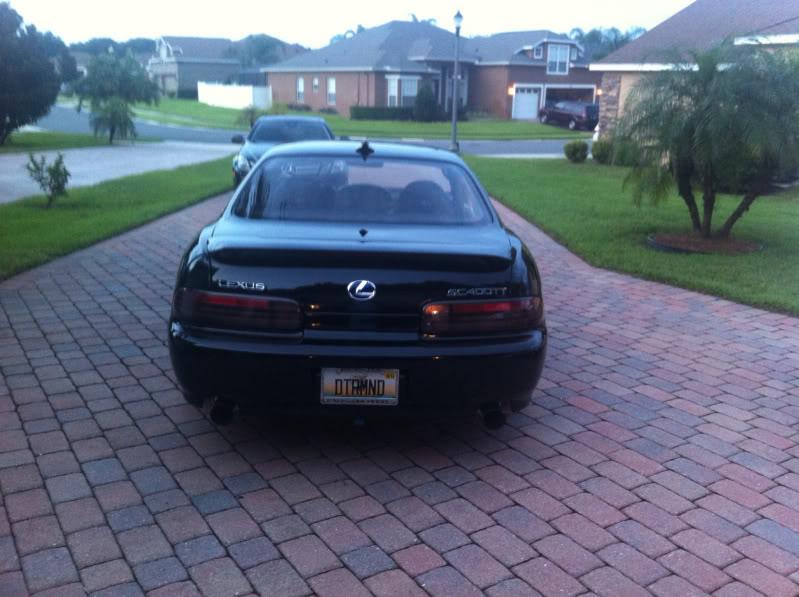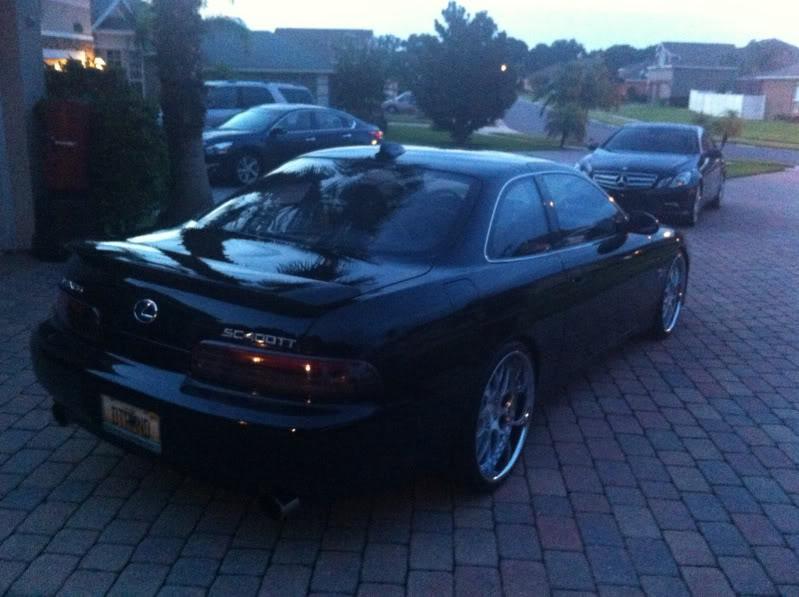 Brake lights: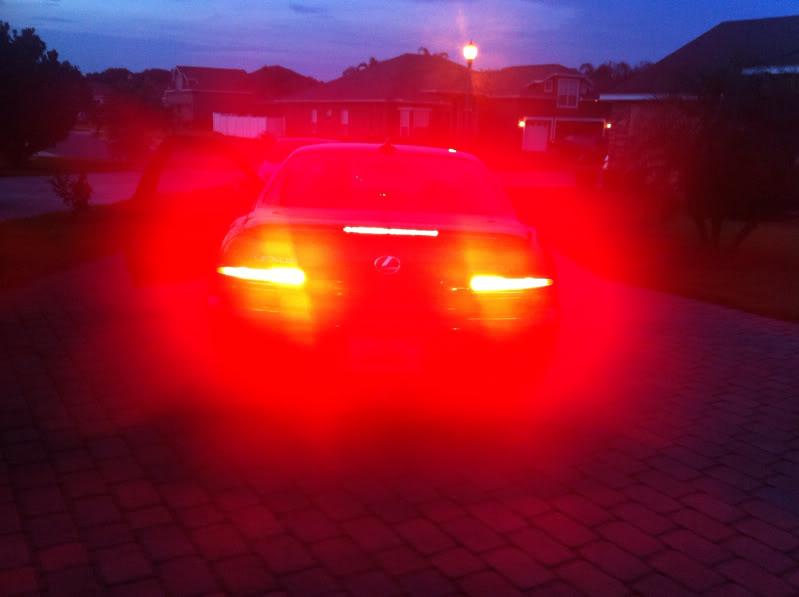 2-9-2015
Want to post up an update. Lots happening on the project...Now, not only continuing to build mine, but also started on my Son's SC. Weekends are just about cars lately...All day, every day!
So, my car is back in the shop as I mentioned because I had a minor accident in late 2013. I took to the shop and had them take their time and get everything I was not happy with before on the exterior changed and improved...The front bumper was tweaked for a better and more integrated look.
The rear wheel wells were pulled slightly for a mild wide body treatment so that my wider rims and tires would completely clear.
The paint was stripped and the whole car repainted black again.
Some genuine Carbon Fiber is going in key places on the car.
The headlights are being tweaked.
The interior is being tweaked.
The engine bay is being tweaked.
The stock rack is being replaced.
The Steering bushings are being replaced.
The control arms are being replaced...Front and rear.
More surprises to come.
Can't stop modding the car....
4-5-2015
Here is the car in the paint booth a week ago: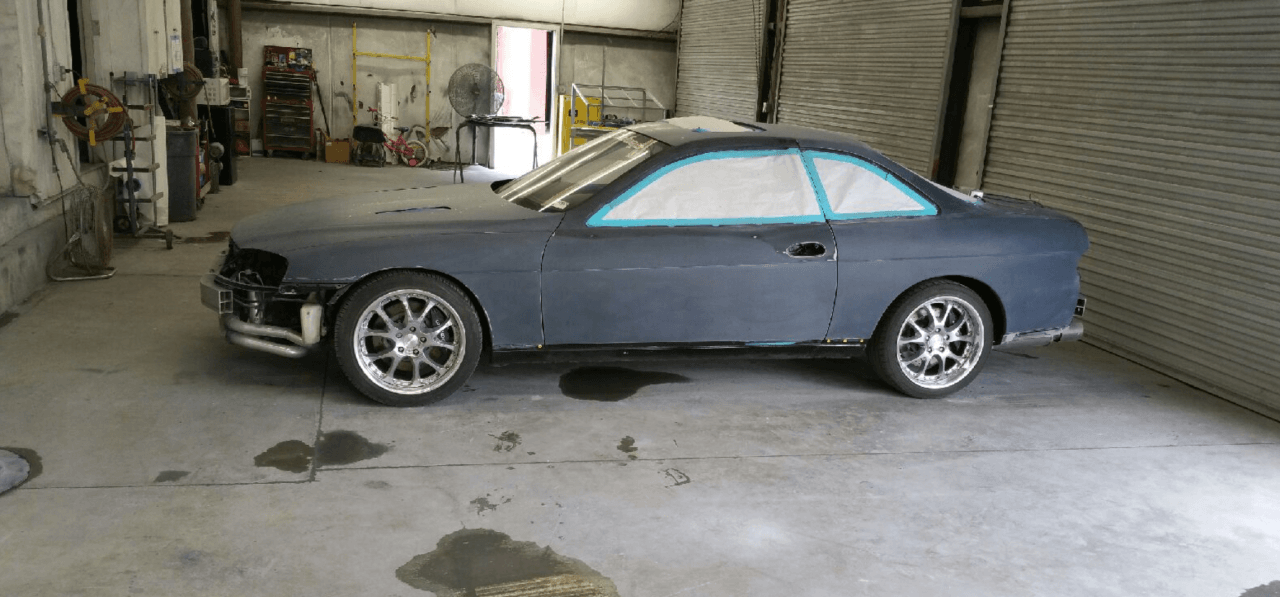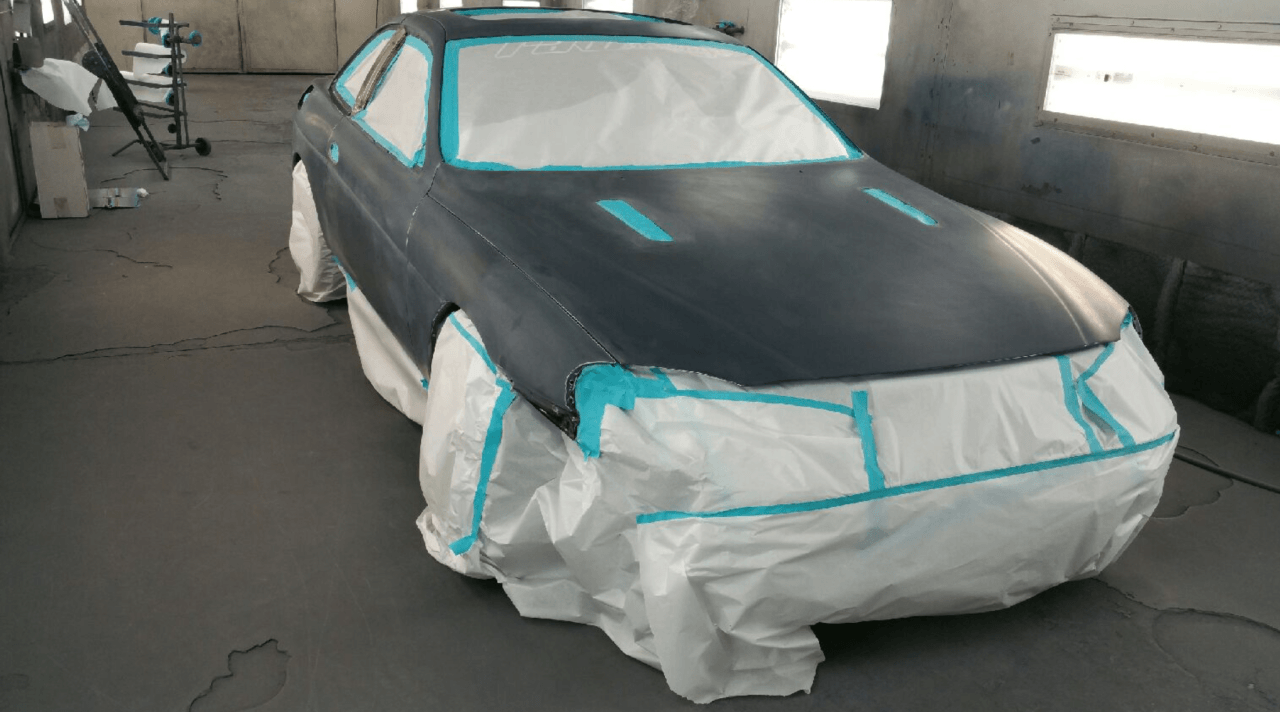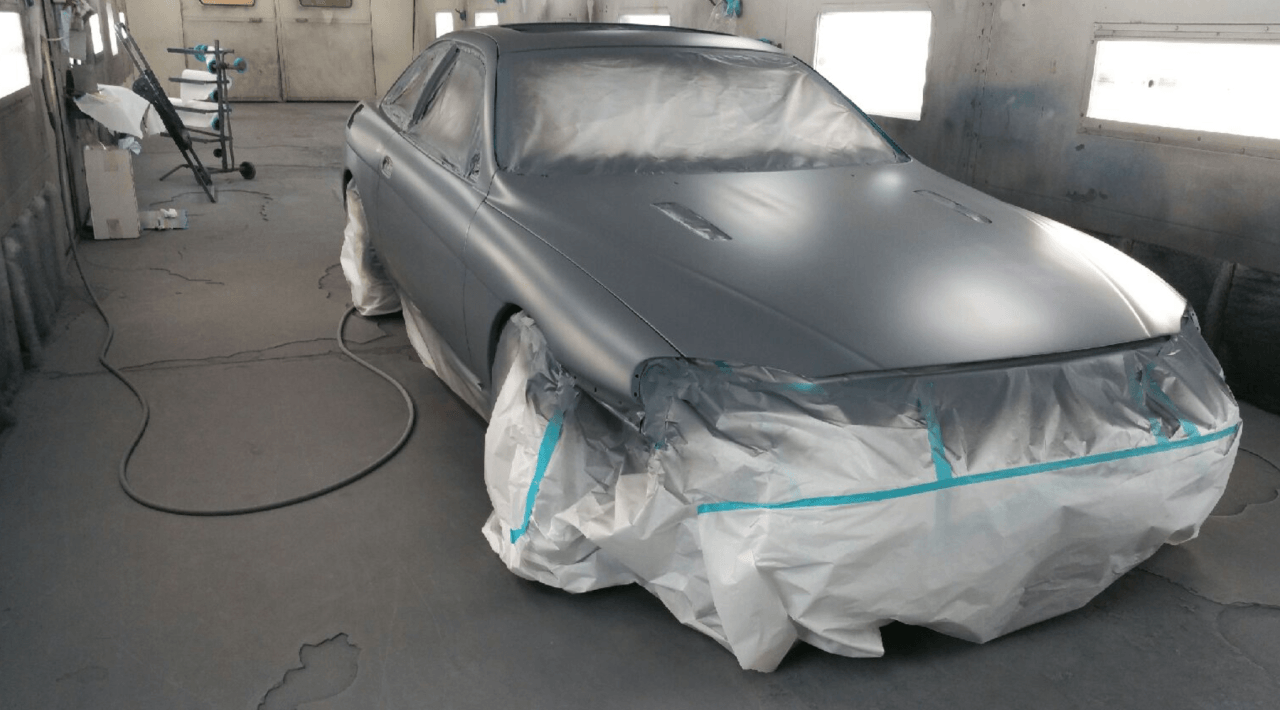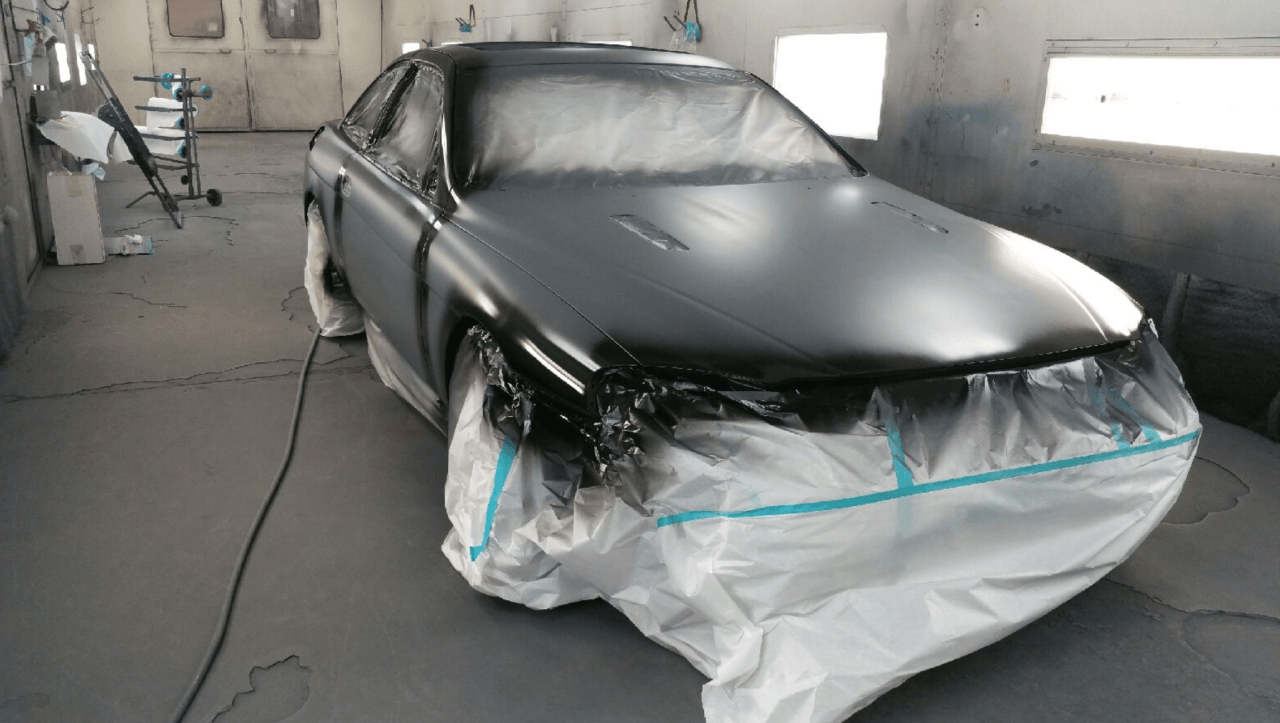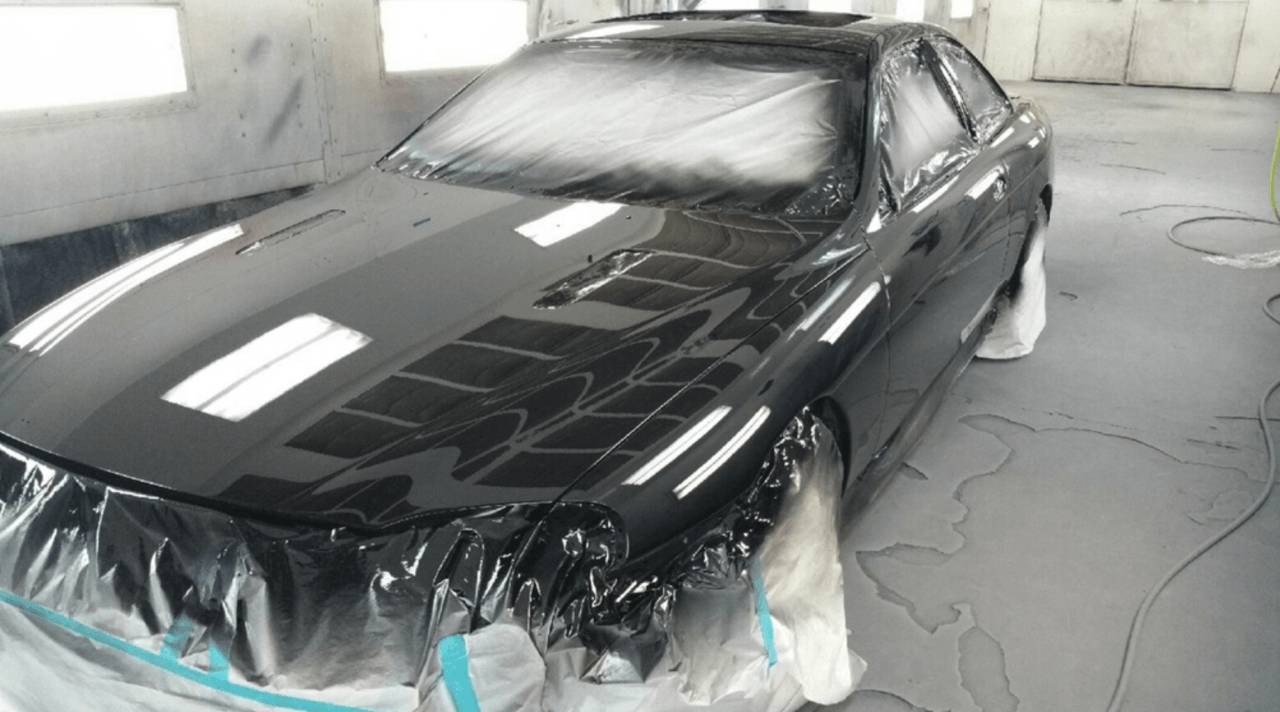 4-12-2015
Here are a few more. I expect it to be back home in about 4 weeks.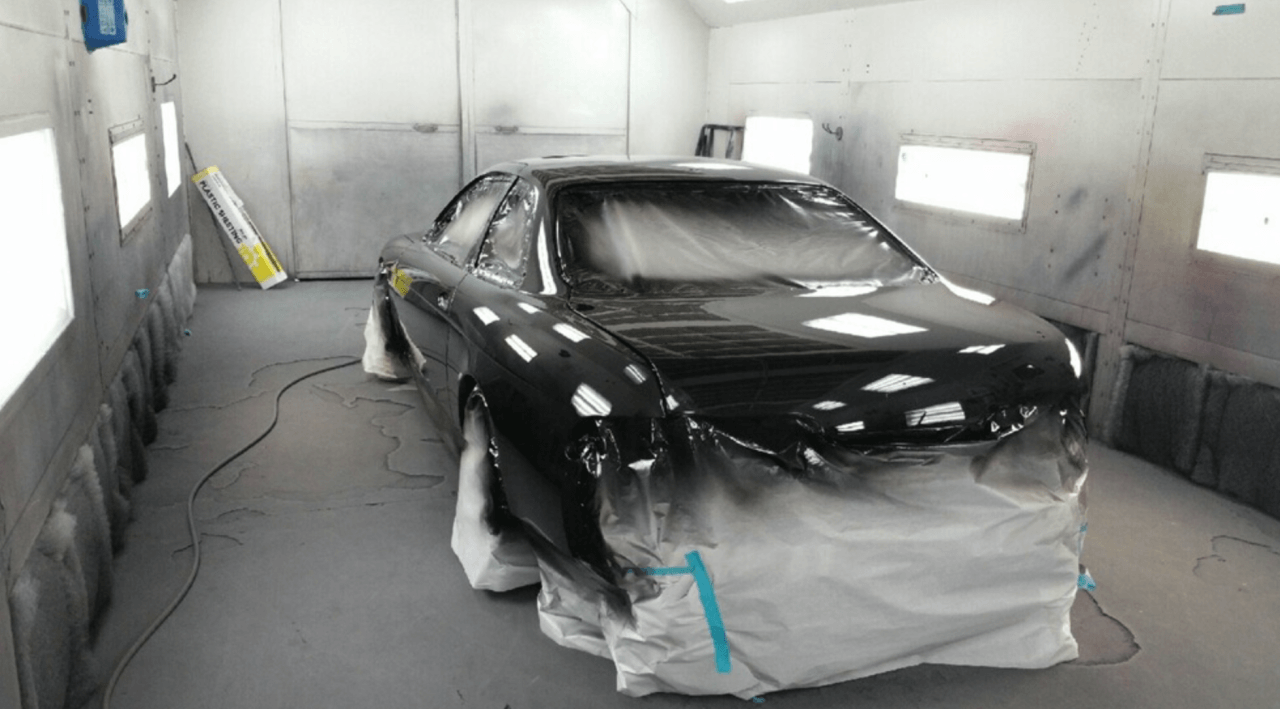 Here is another...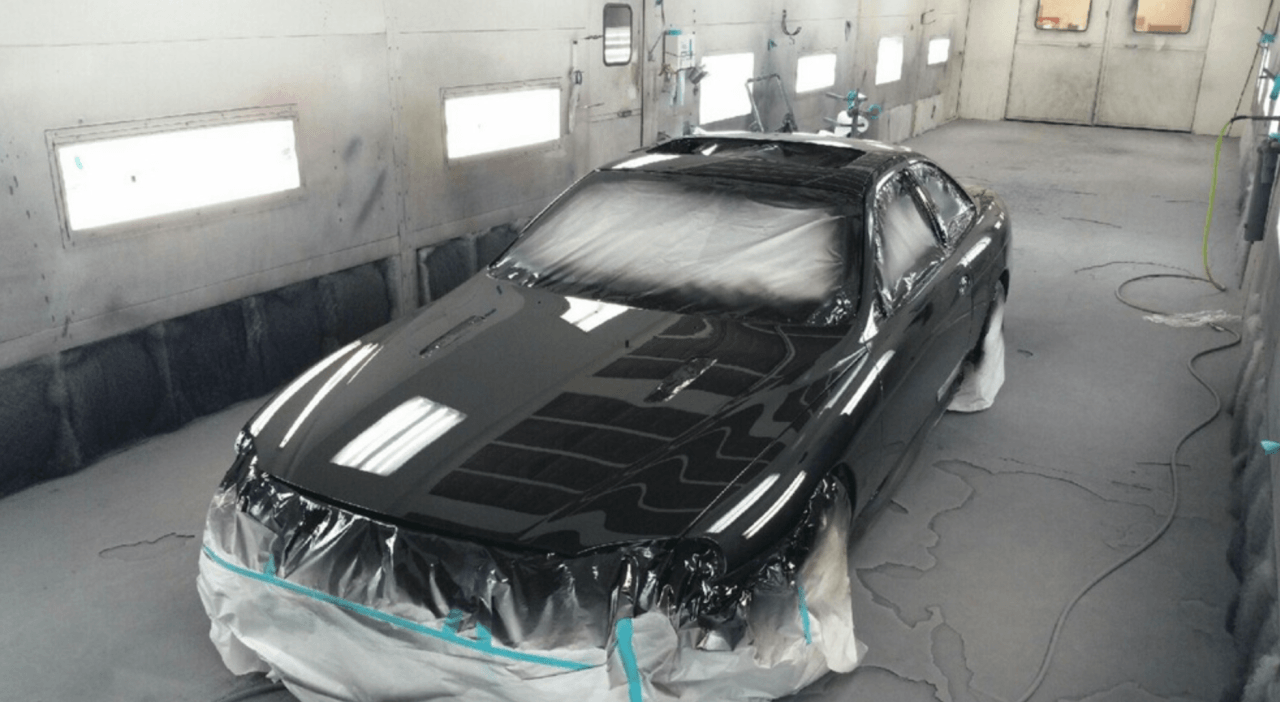 Last one...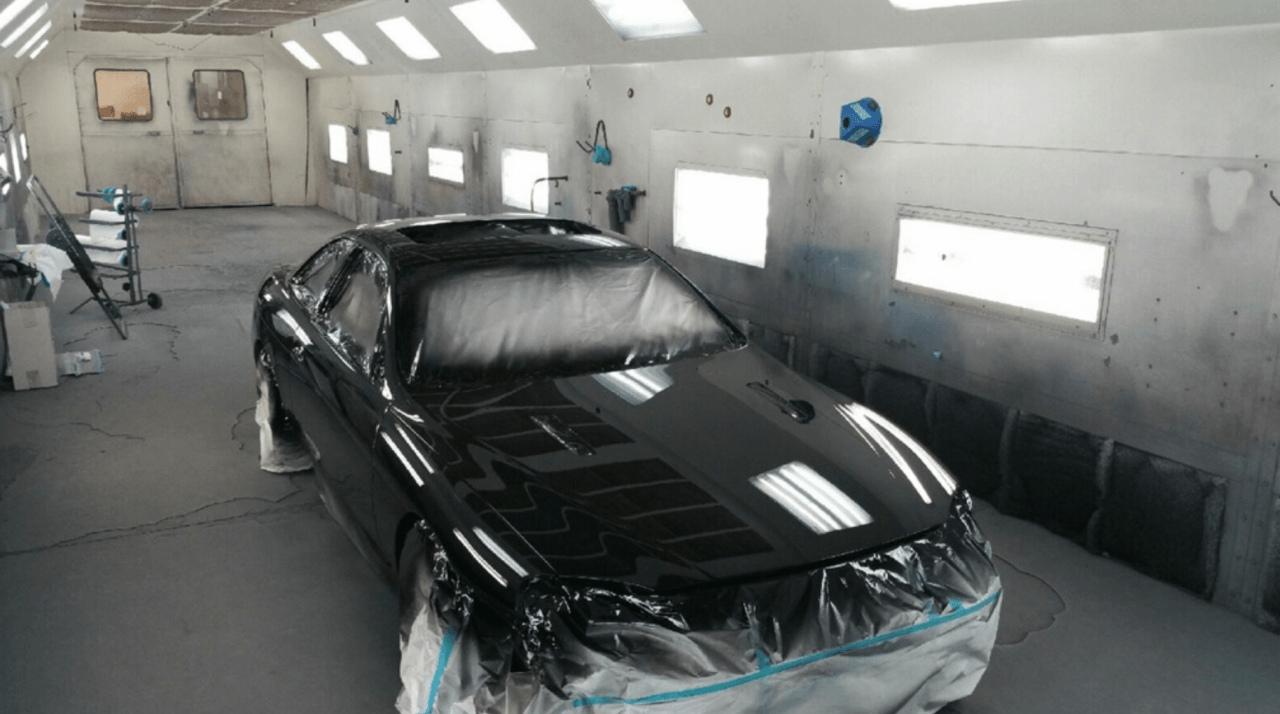 9-7-2016
Daniel and I just spoke, plus he was able to show me (for my eyes only), the updates on my headlights. They are simply bad to the bone!! I'm very excited. Can't wait to get them back soon and installed on my car. I guarantee you they will be stunning! Simply fantastic work and top notch quality on his remake and totally new build of my lights! He's doing my lows, highs and fogs! They will all finally match! No outdated fluted lens covers anywhere!

My wheels have been completed too! So the car will be done soon. Can't wait to drive it again!!
9-17-2016
Picking up my repaired wheels next week! I am going down south for some work and they will have them ready! Car is finally coming together again.

OG Status is near finished with my lights, I had to send them a second set of lights as my original outer housings for the low beams were too damaged from being taken apart so many times by the previous people that worked on them that they could not be used again. What OG is doing is not only phenomenal, but one of a kind, and trailblazing...Several of the mods he is making have not been done to the front lighting on the SC. I'm quite excited about it.

Also, I found a tuner! In Florida! They can tune my car exactly to what I need. They also know and have lots of experience with my aftermarket ECU's. That is really exciting. So, finally, I will be getting to the power I always planned to. Going to be great to finally get it back on the road again.
10-3-2016
Pic of the front wheel: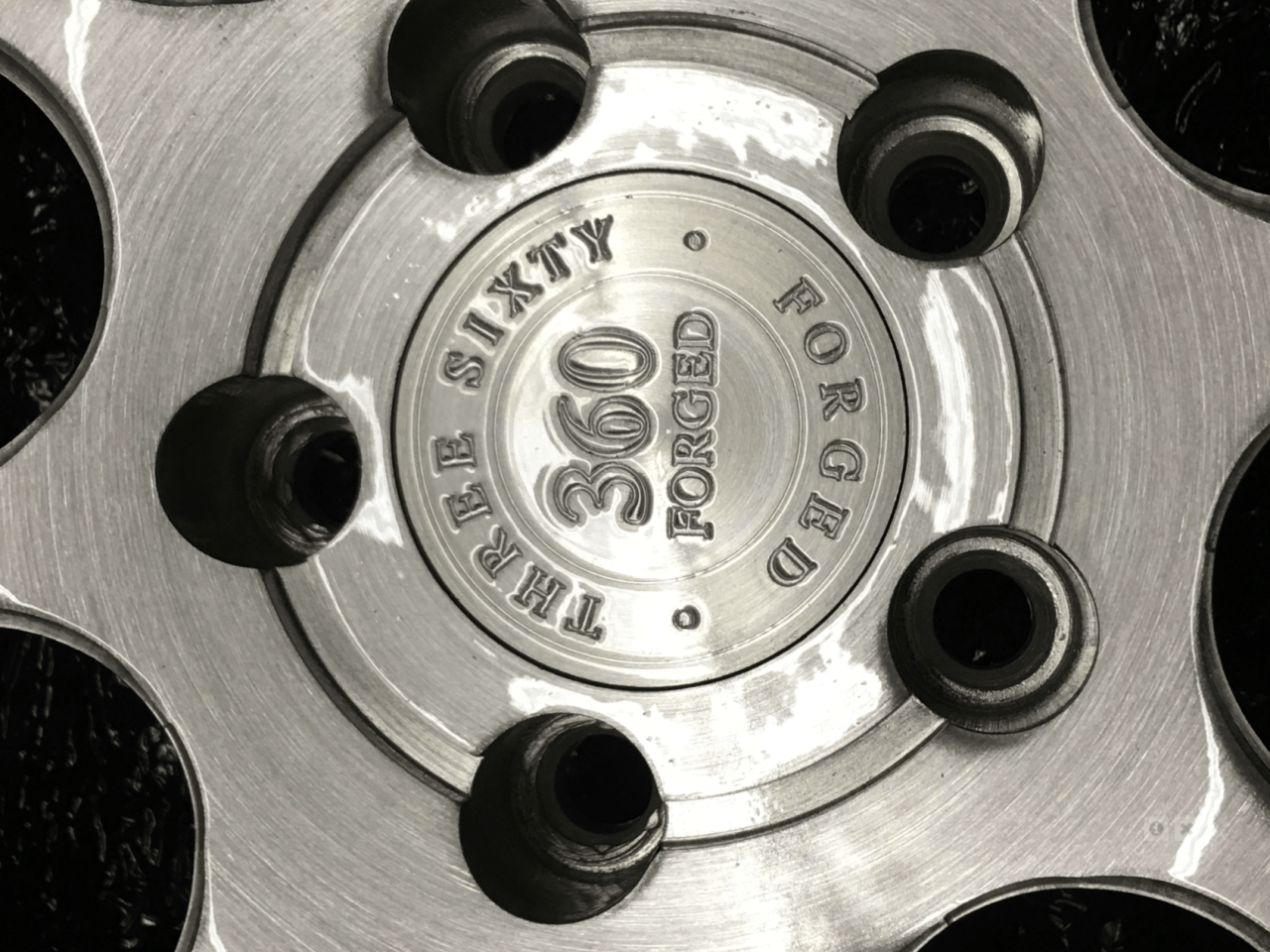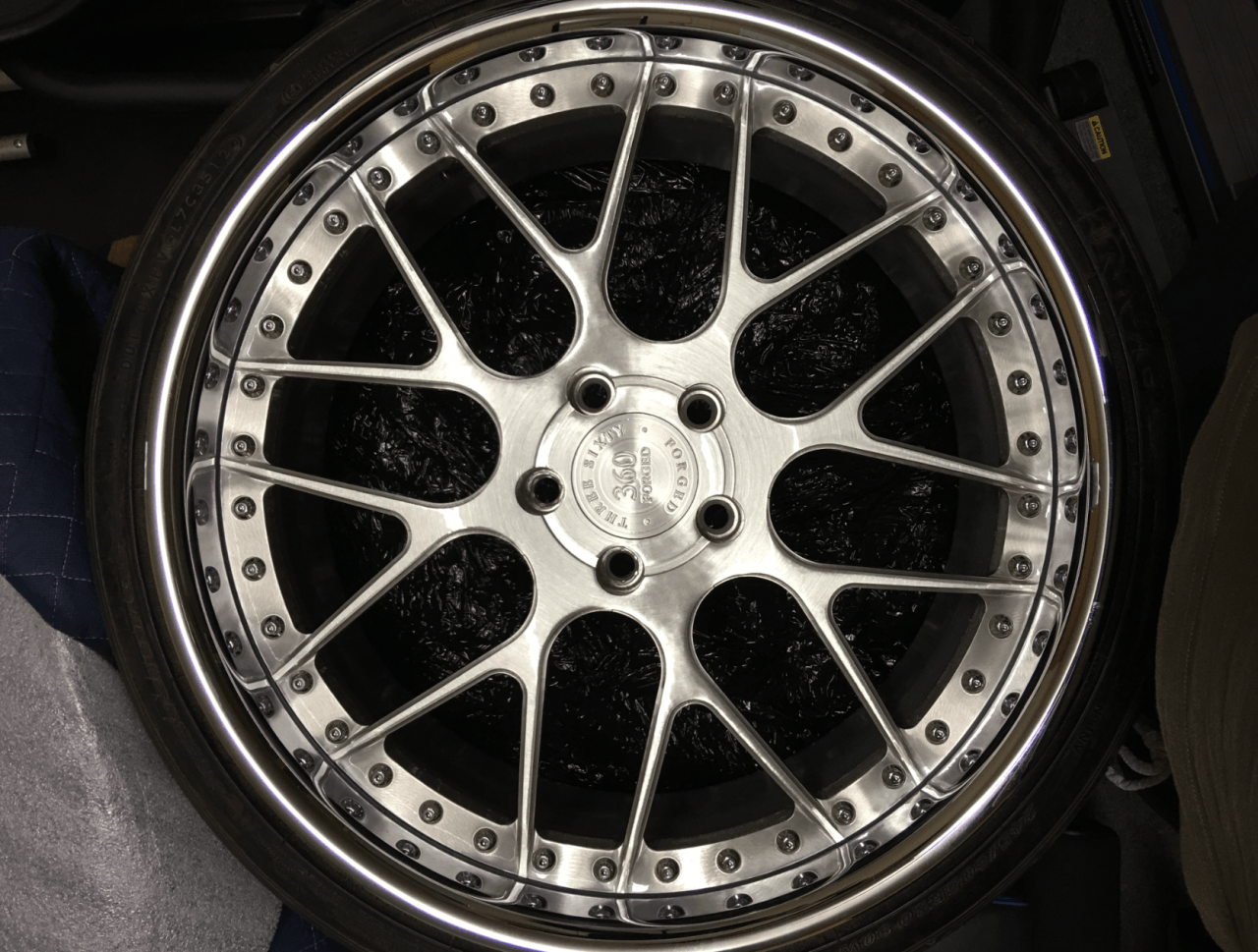 12-17-2016
So I received the lighting from OGS, and they look amazing!! My hat's off to Organized Garage Status and Daniel!! My car is near completion at the shop, and so I went to the shop and I installed them to see how they will look on the car. I still need to do a little wiring of the new harness, and install the new battery, so no powering on yet. Also, the car needs to be finished putting together the small details, cleaned and glazed before coming home.

Here are a few pics. Daniel's work completed the front appearance of the car!!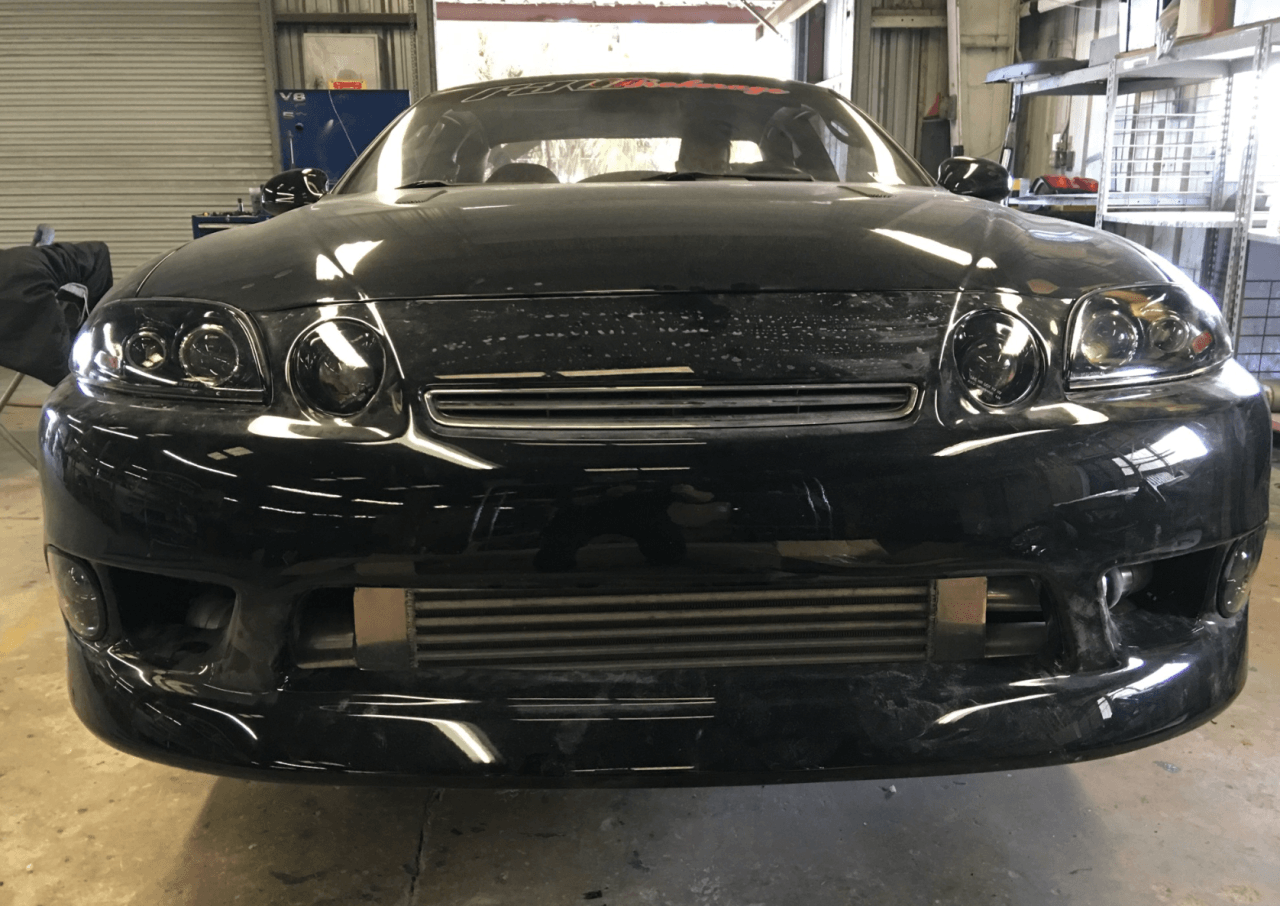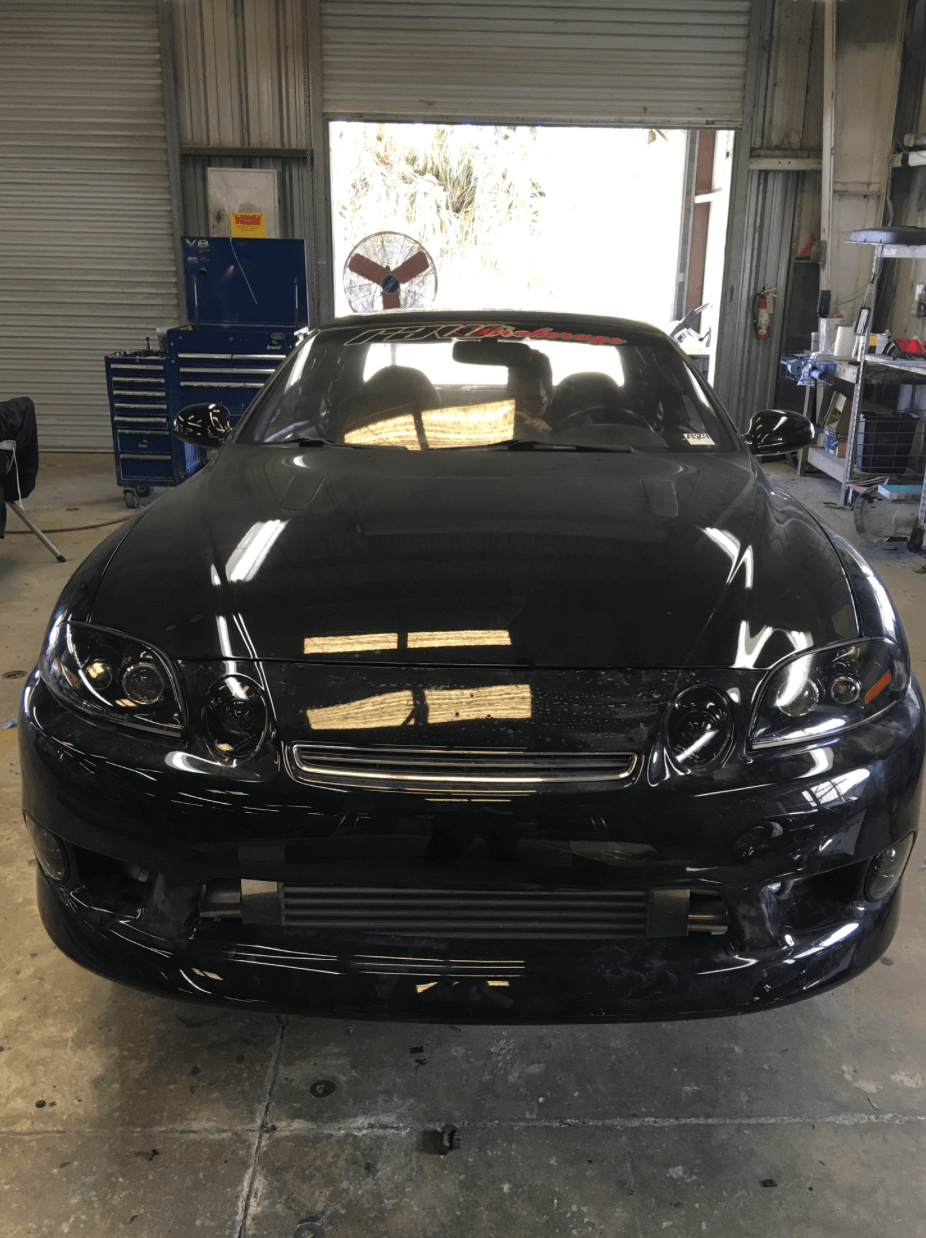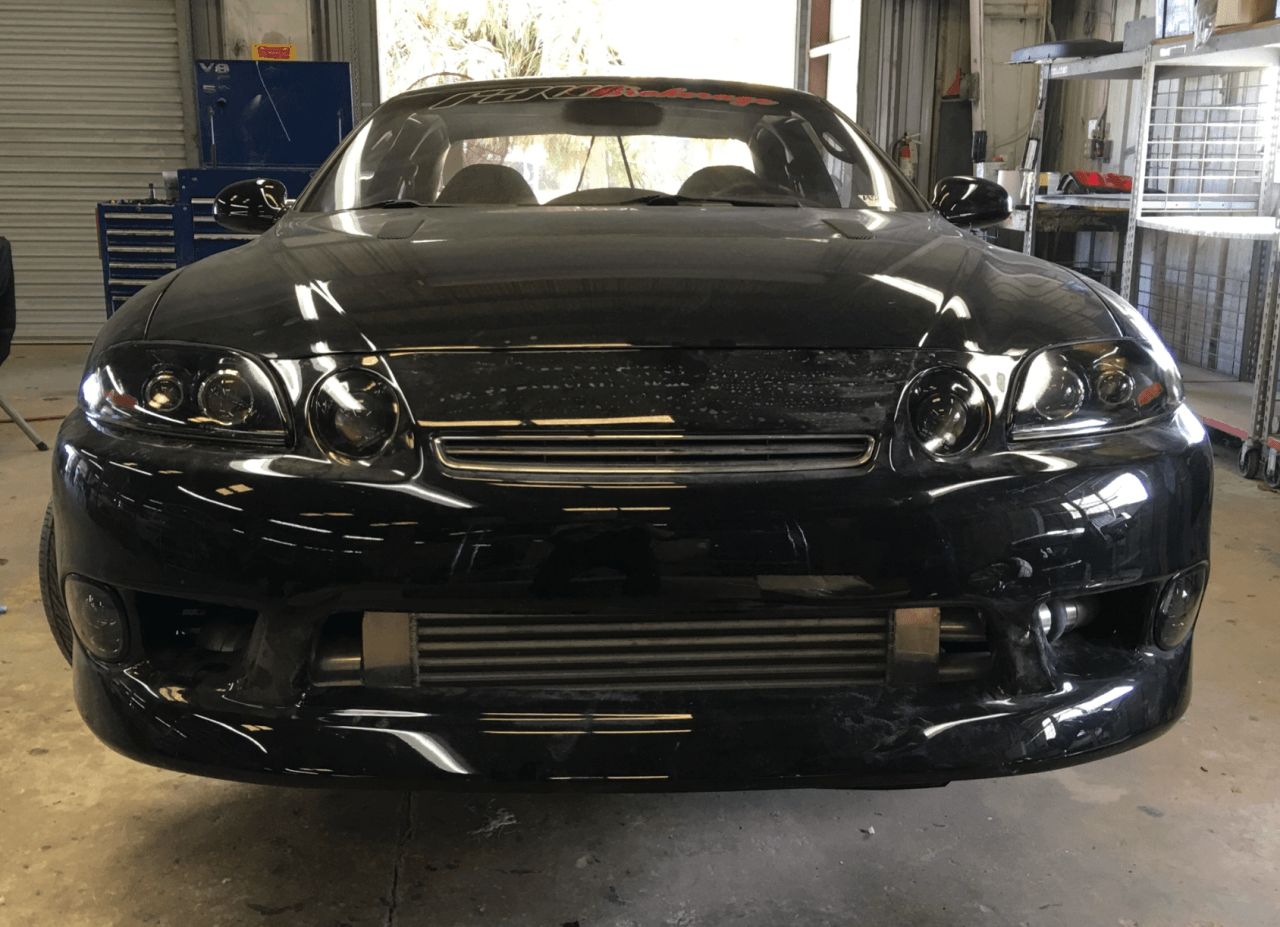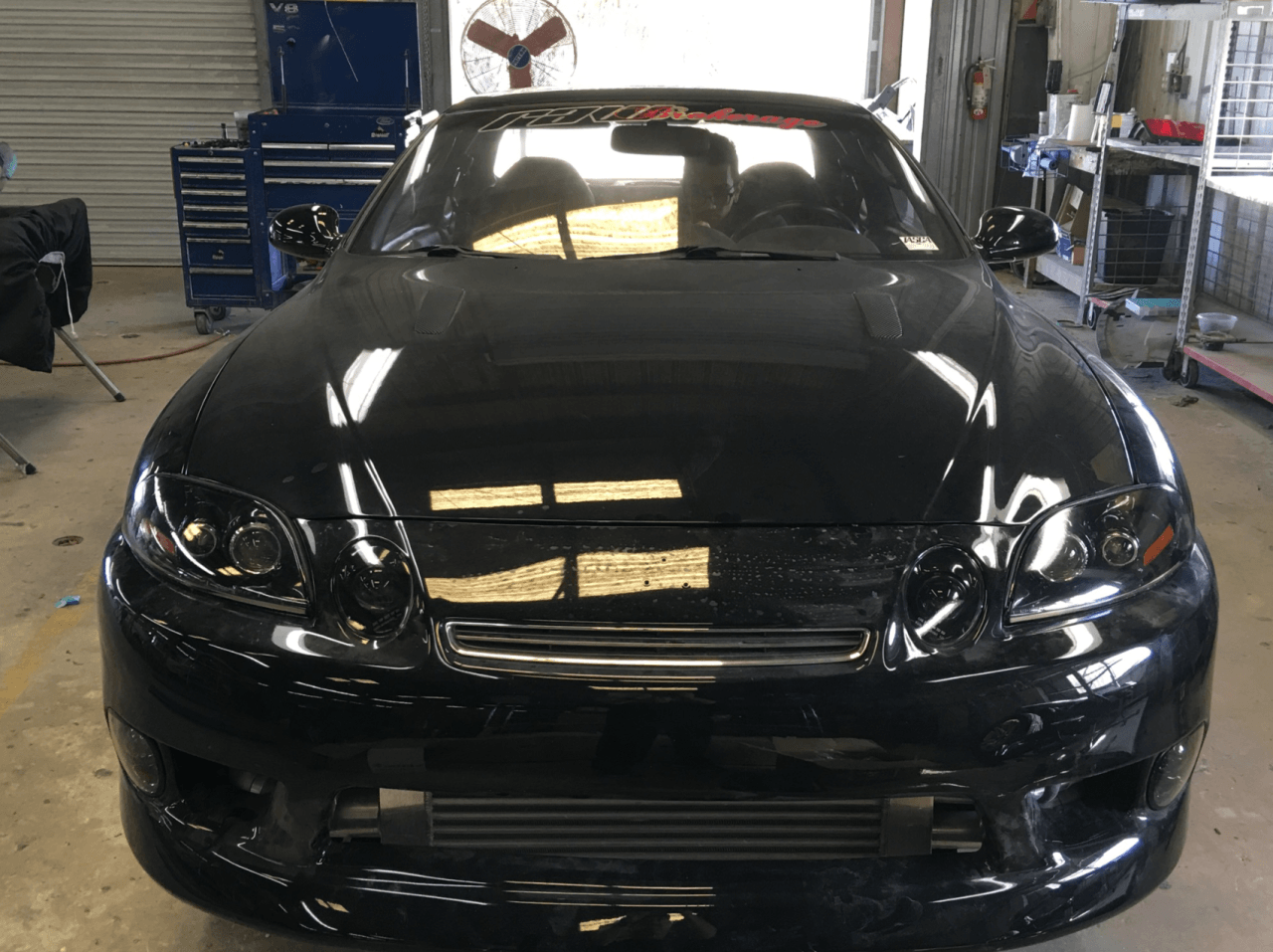 12-28-2016
Fogs installed, left these out the other day...Car still dirty in shop at time of pics and test fitting. Those are old wheelsjust to protect the new ones in case anybody wonders...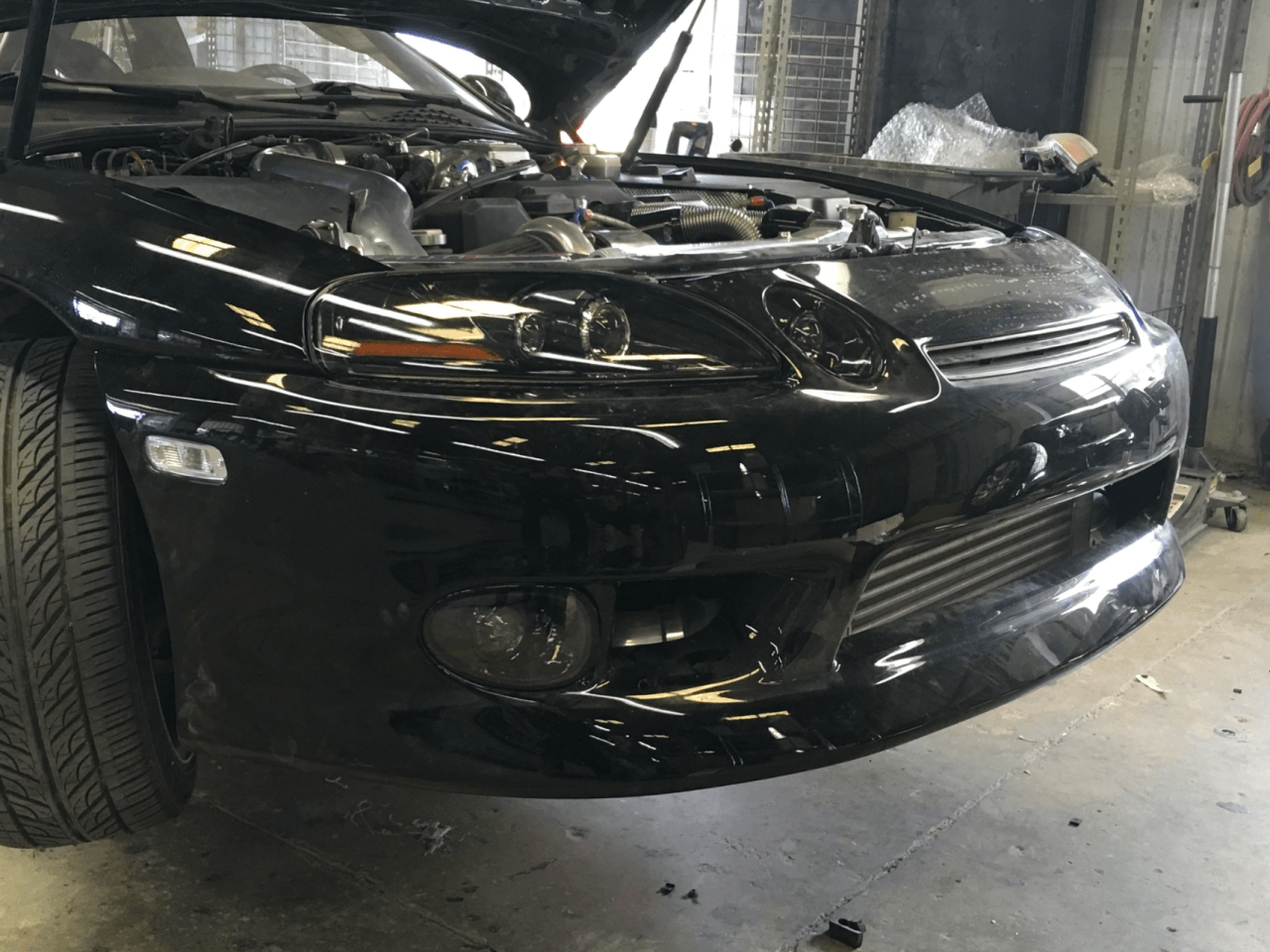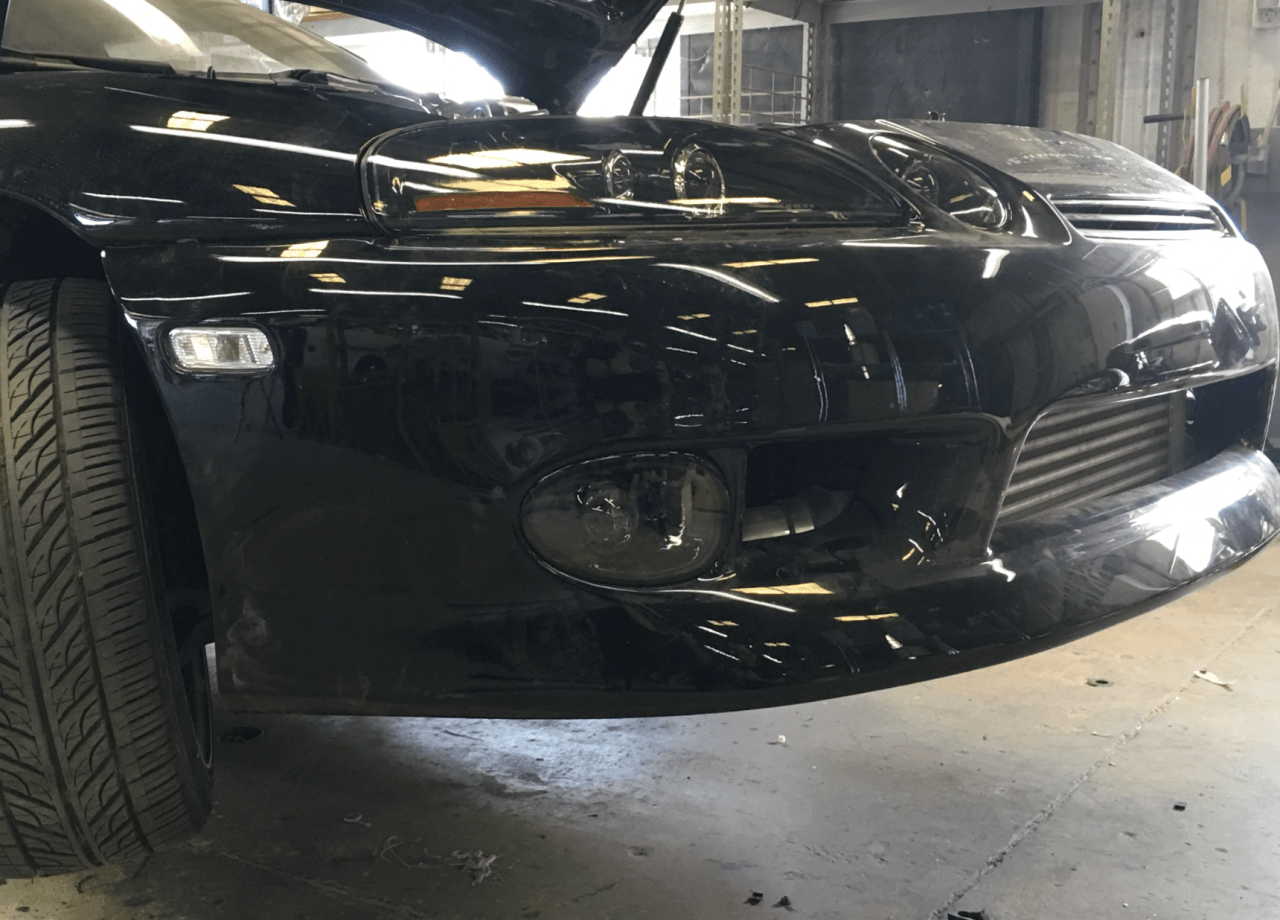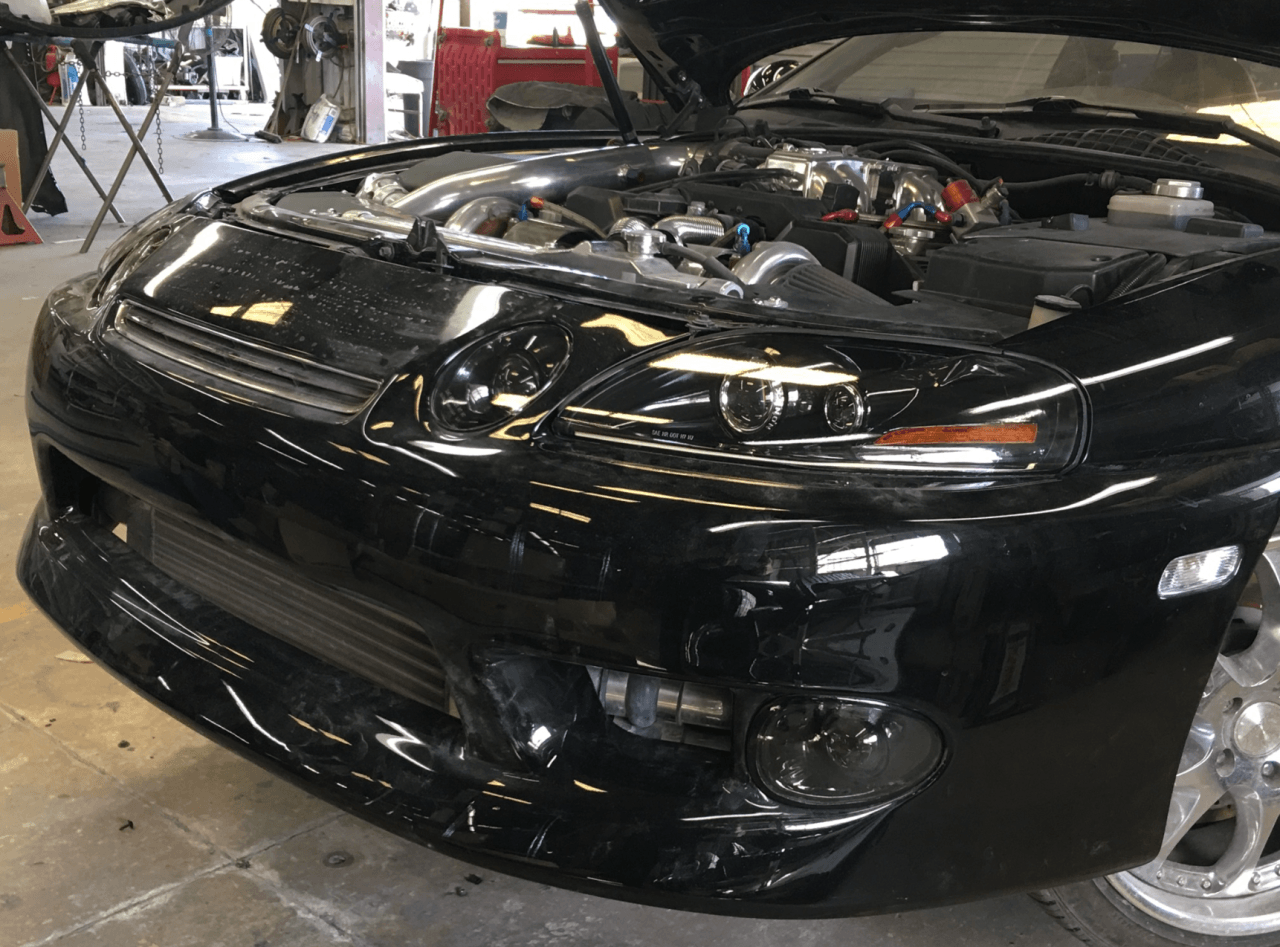 9-2-2017
I have the car...I've had it for a few months now. As always, adding additional items and tuning and specialties to it. I have posted up on FB, and so those of you that follow there in those closed groups can or have seen it there.

I had to have the billet emblems restored...So they are not on the car right now. But several improvements have been made and I will update you more in a few weeks as I will be very tied up.

Heres a few...Enjoy...Dyno will be done as soon as tune in the next 30 days or so...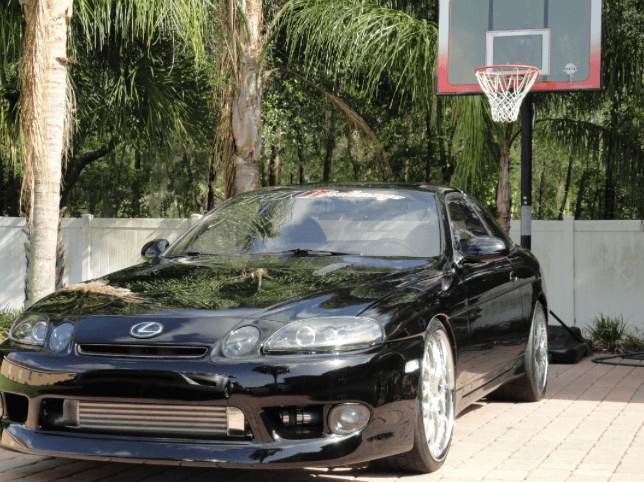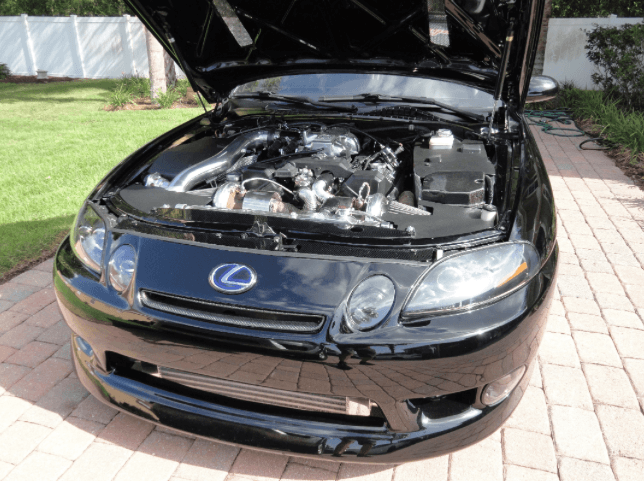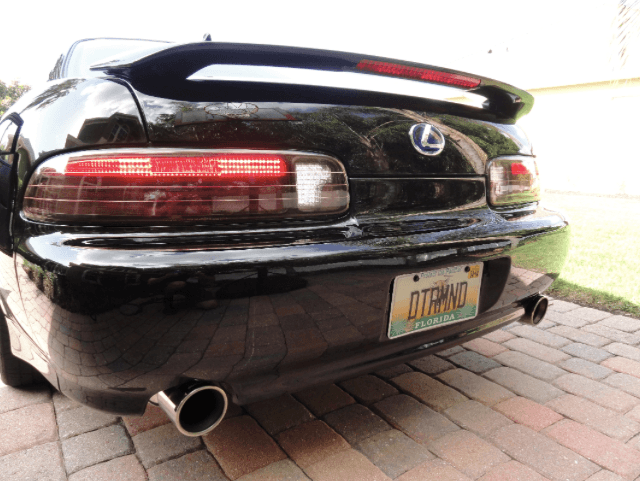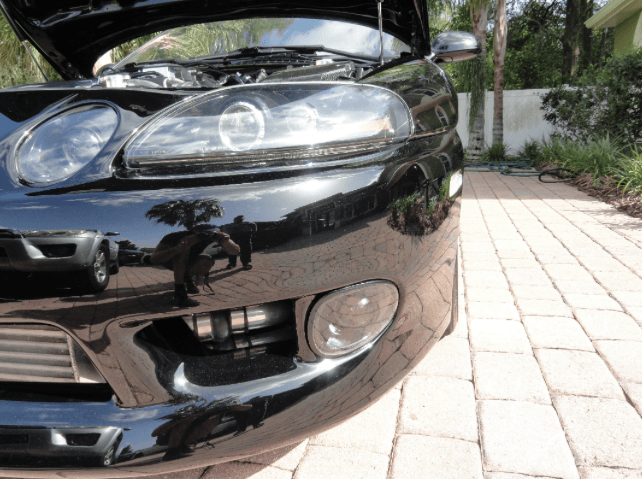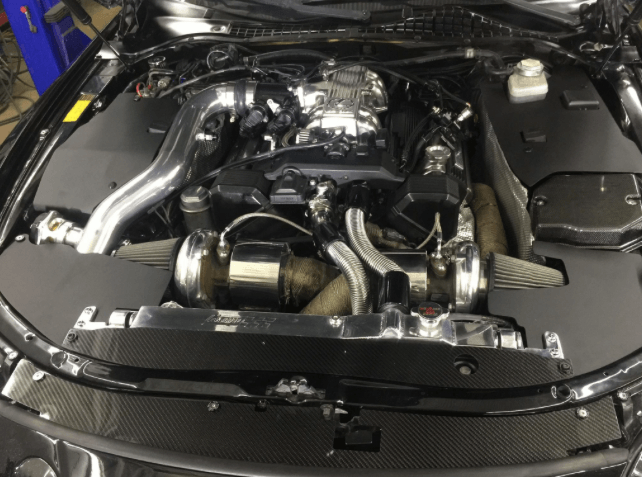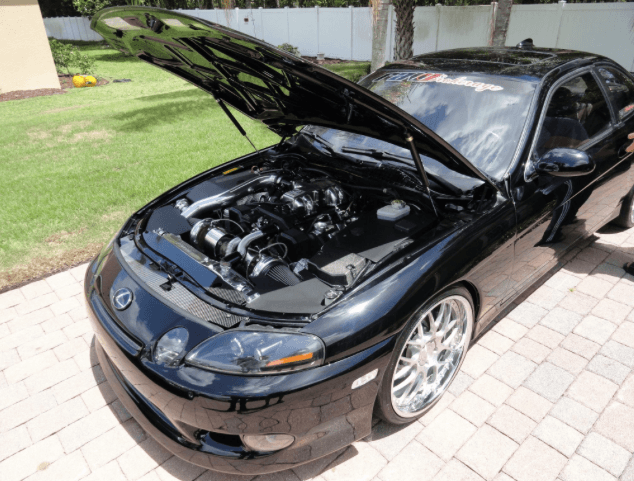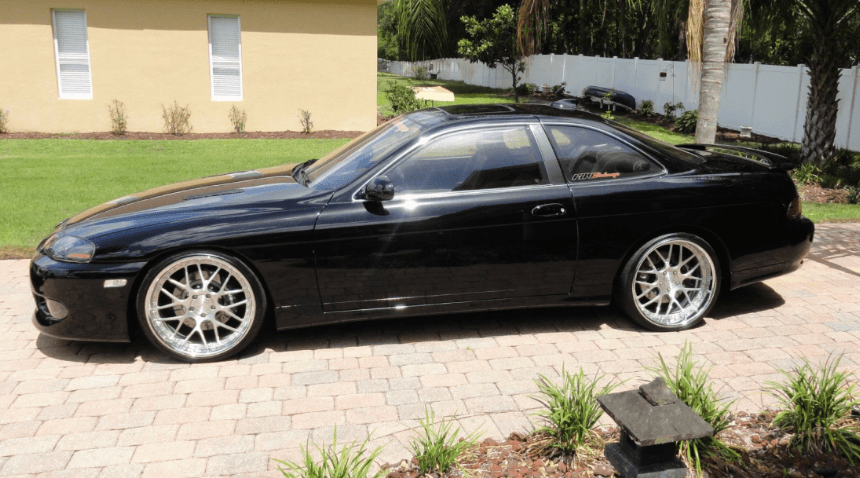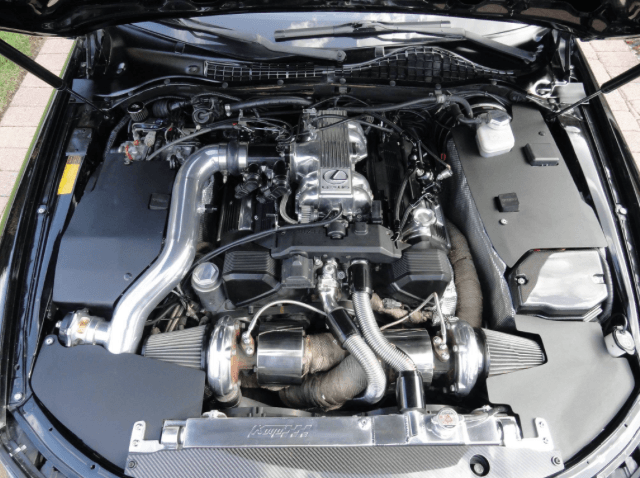 Here are a few more...Much more to come...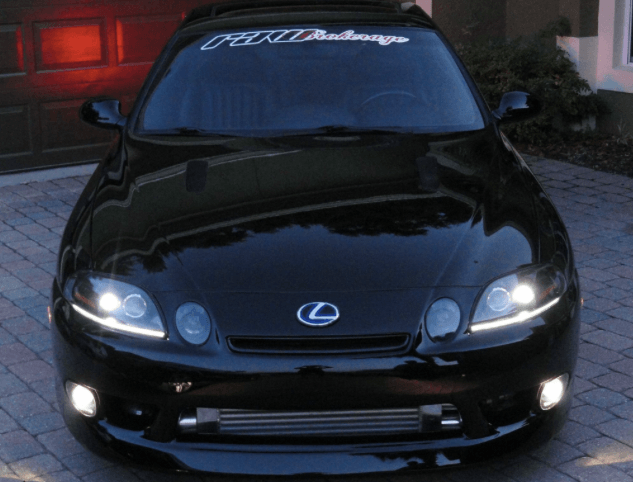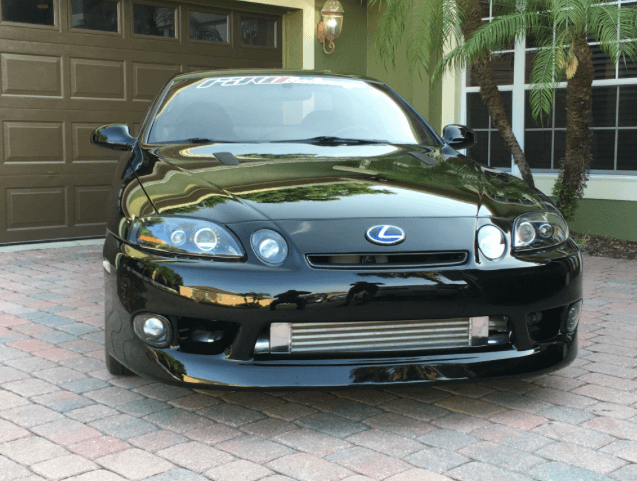 11-10-2017
Now fixing the tune and the fueling...Fixed the slight overheating problem. Just moved the whole radio support forward. More space now between the fans and the DP. Really worked out! Plus, got rid of the metal corrugated hot rod water tubing and added black braided hose and -20 AN's. Now the routing is proper too!

Added black CF, more CF coming...inside and out.

Rebuilt the steering wheel out of carbon and flattened the bottom. Added thumb grips too. Redid the stick shift **** to match.

More to come.