Stick's Daily/Drift SC300 build by BigSticks
By diyauto
You must be logged in to rate content!
Stick's Daily/Drift SC300 build
Compliments of BigSticks @ clublexus.com
1-11-2011
Ok i have put off a build thread untill i actually started getting parts that way it's not a "hey look at my stock car i wish i could do this" thread. So here we go....


Car is '94 5spd sc3 i picked up for $2980 body is dent free and clean cept for some clear coat sun burn spots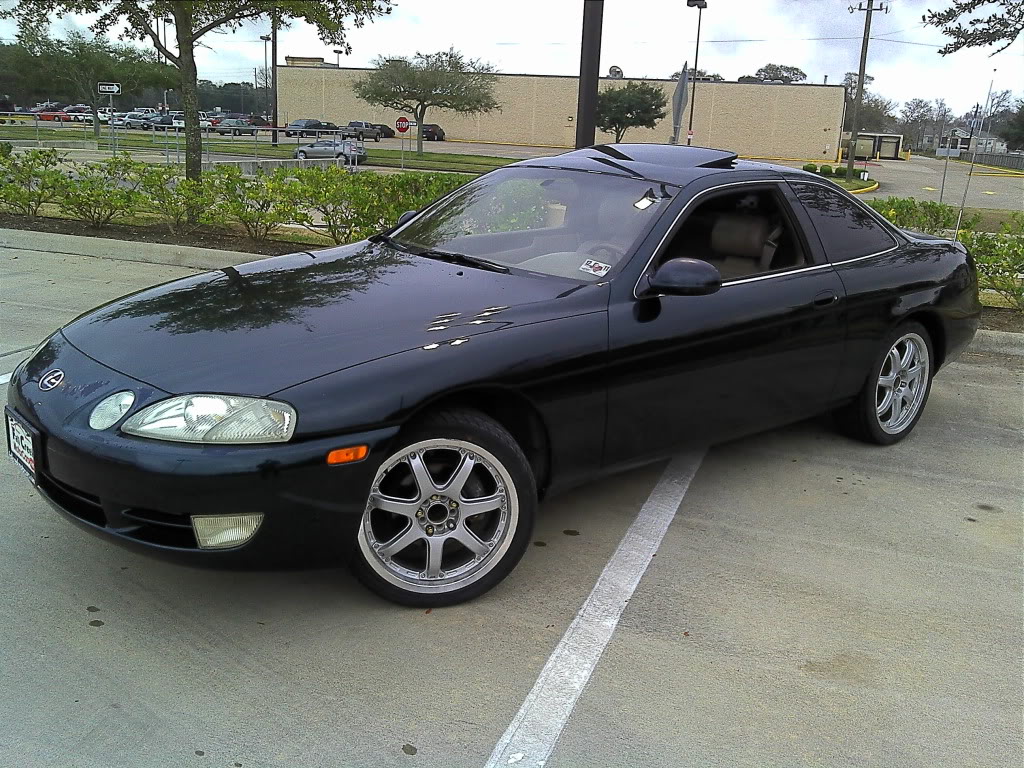 It has its flaws 210k on the odo right now and the front seat, door panels, carpet, headliner are all in need of help... but none of that really mattered to me for what i am going to be using it for so no pic's of that mes till a lil latter.

I ordered a set of BC coils yesterday they will be in on friday, (got them from one of BC'S sponsored driver's Chelsea DeNofa) in the mean time i will be stripping the car down on prolly wed. and dry iceing the entire car to prep it for cage work this weekend (i will post pic's of removal of everything and cage progress along the way). I plan on dailying the car but using it mainly for the tx drift series.

As for power, i'm not a fan of the ge motor so i have a deal in the works to get a nice 1j setup for my old v8 240sx swap (details mid late this week) , looking to make roughly 400-450 out of the motor also, car will be on a standalone most likely a haltech but if the funds line up right it will be PROEFI for shure...

sorry for more words than pic's but i got to get back to work so i will update on wed.......fluffy bunnies aint down....
1-12-2011
car goes on a awesomtown diet tomorrow, i will post pics of the tear down, and try and paintshop a few pics of the end project hopes...
ok so i guess this can be the actual start of the build... this was nothing special and its not done, tomorrow is the frontal area and dry icing, friday is coils (bc racing) and sunday is cage...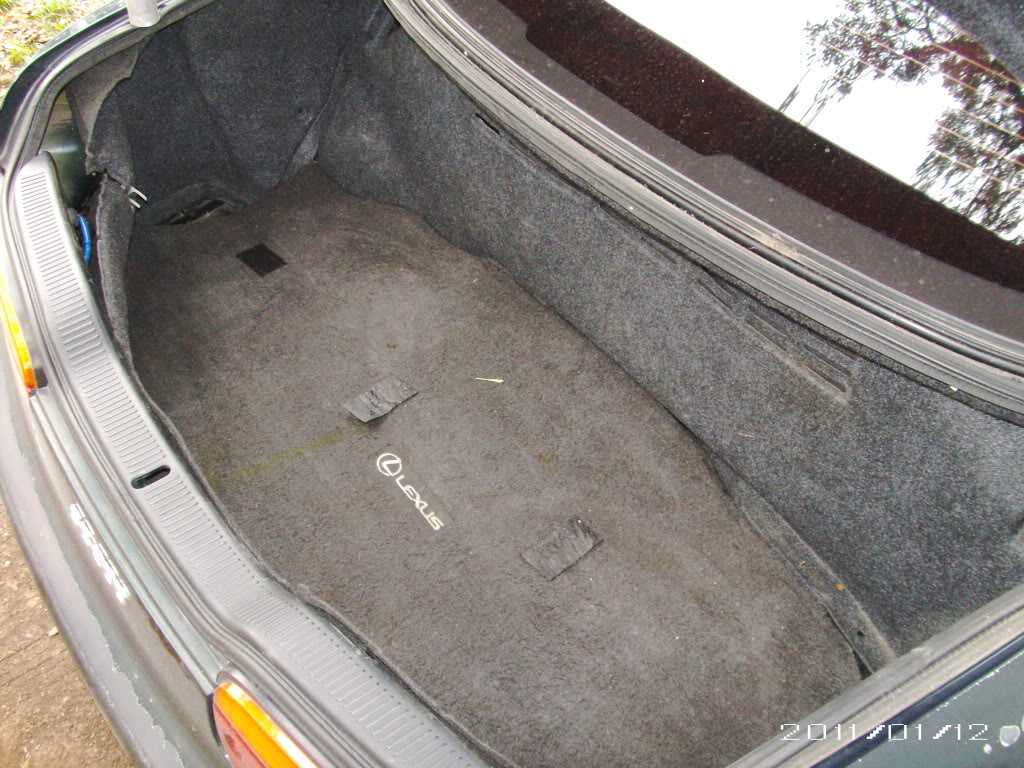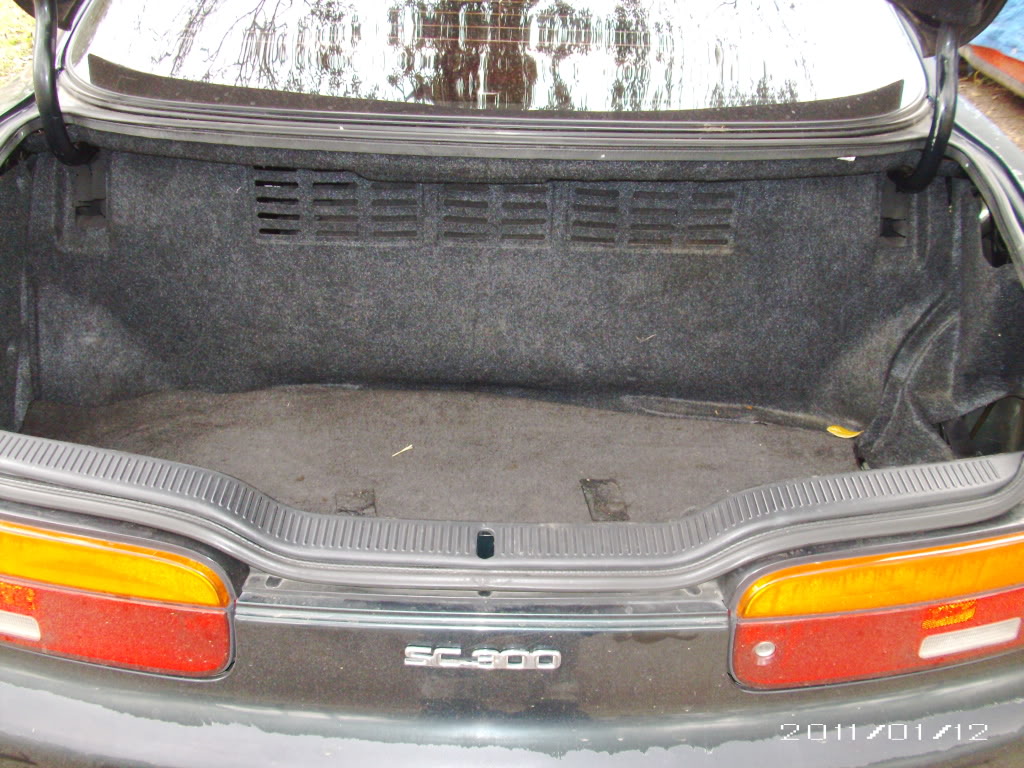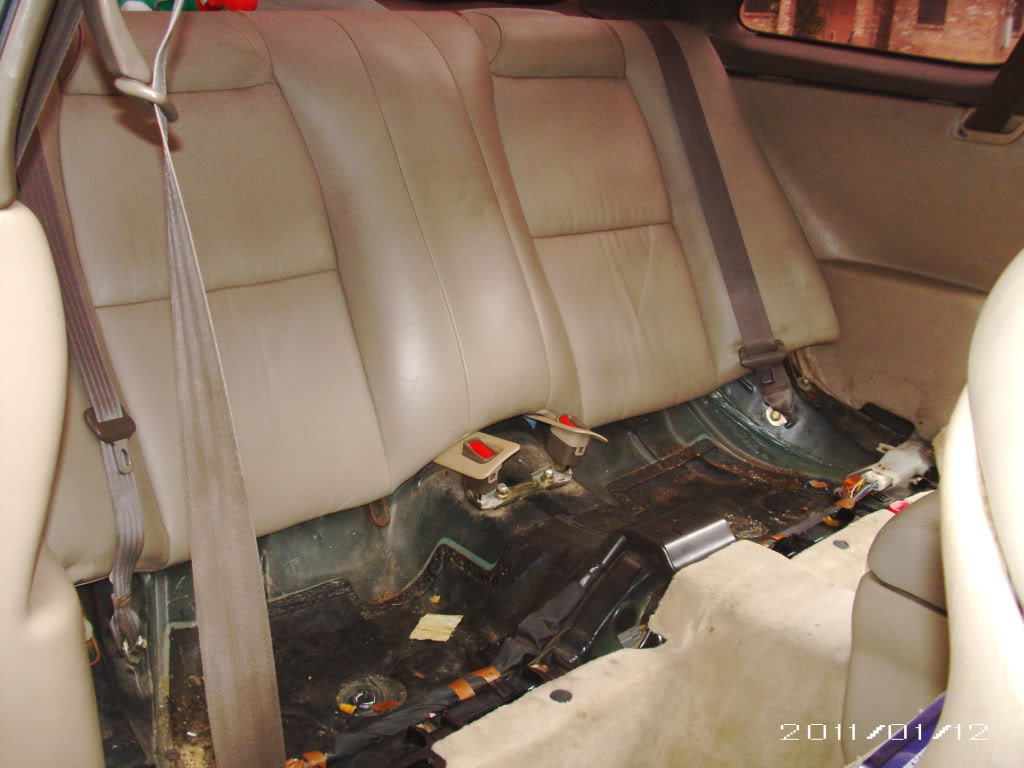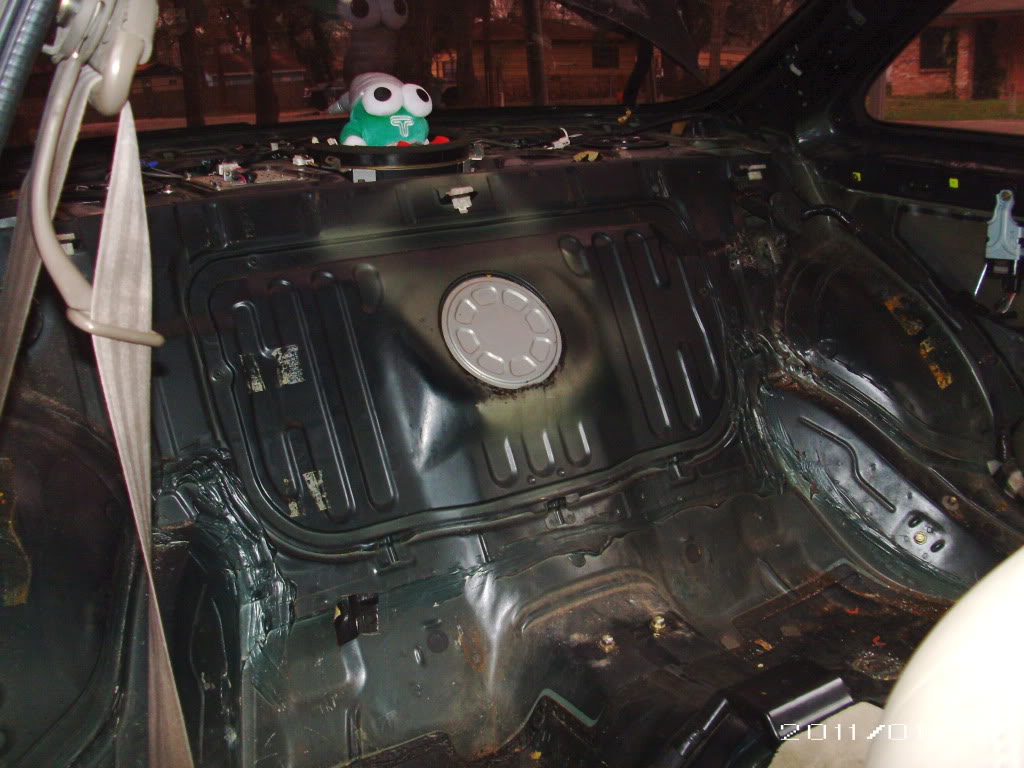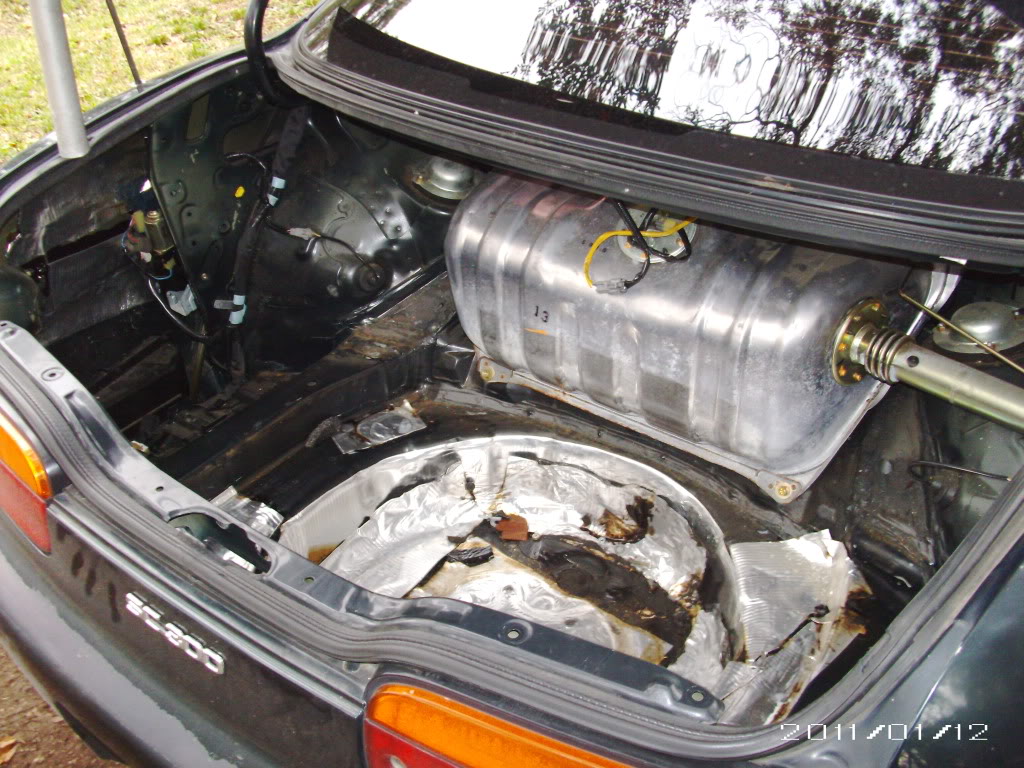 all of the pice i took out are fs, id perfer local i.e. houston area for pick up/delivery
1-14-2011
Its a single rapper setup up for top mount it does have a turbo, but it was just sent off today for a warrenty check up its a precision 6265 billet wheel bb turbo.... motor is getting torn down and a full rebuild is goin down, power goals are 450-500ish (i emphasize the ISH) car will be my daily and be used for the texas series...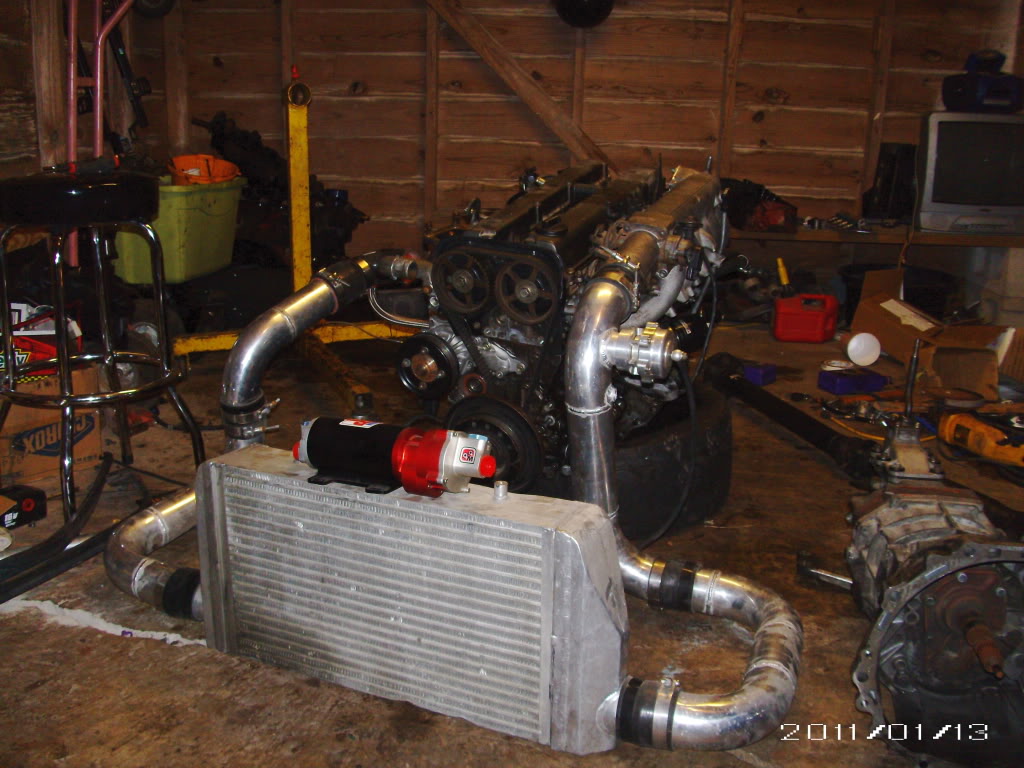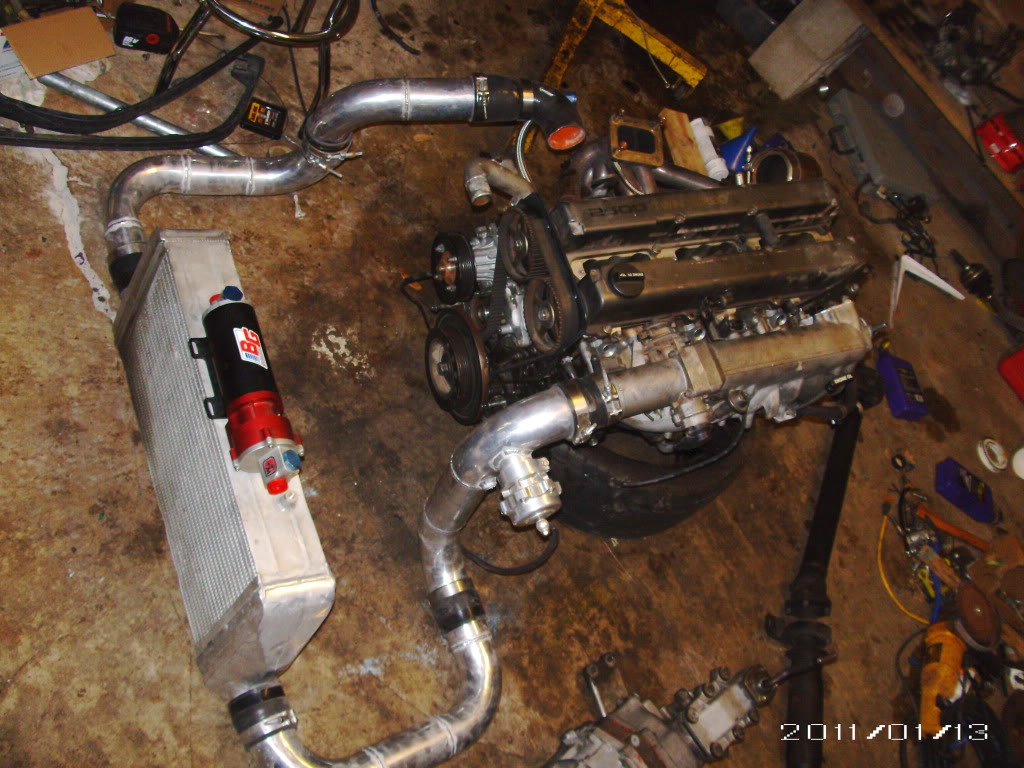 got a r154 and the ds to fit the sc also...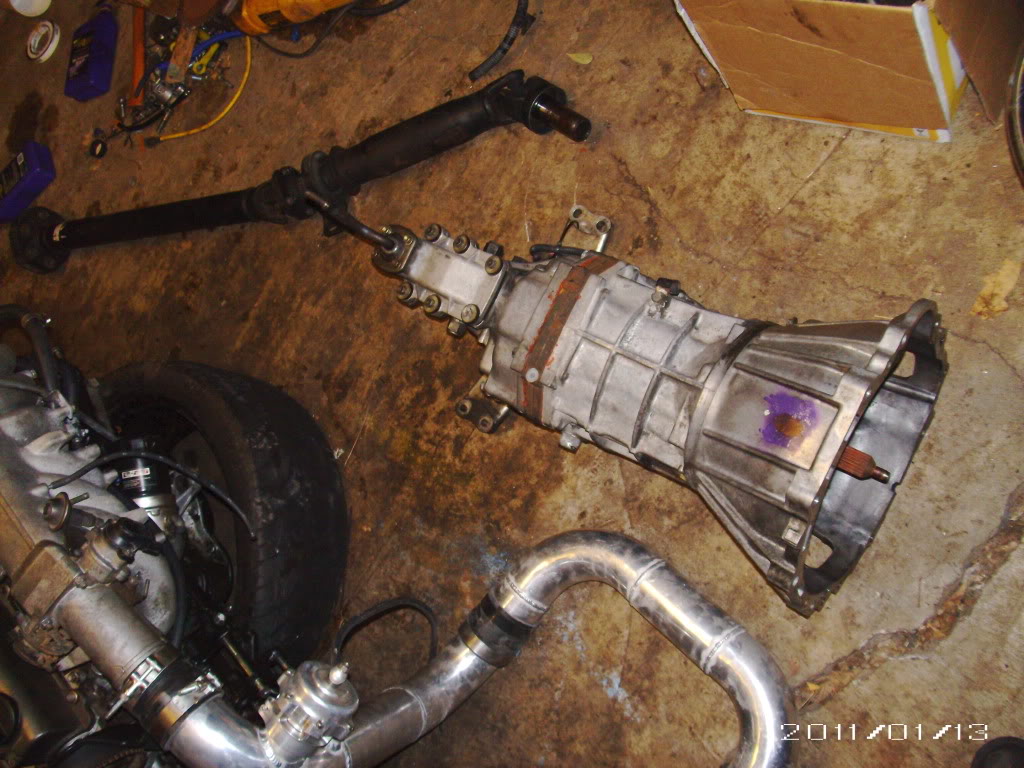 also came with a 4'' dp and alum 4'' exhaust (need to make pick up still) and i picked up a clutch and fw from the awesome guy also.... amazing deal he gave me also.... thanks alot...
1-19-2011
not gonna post up pics till the cage is done but... here a lil teaser of the back half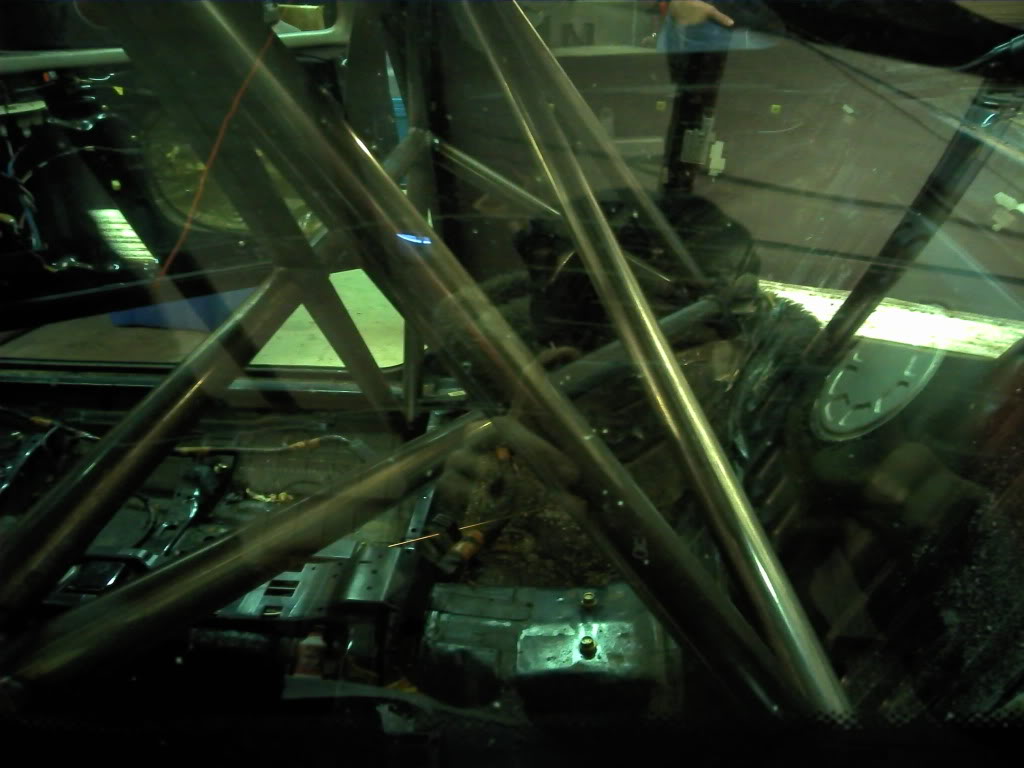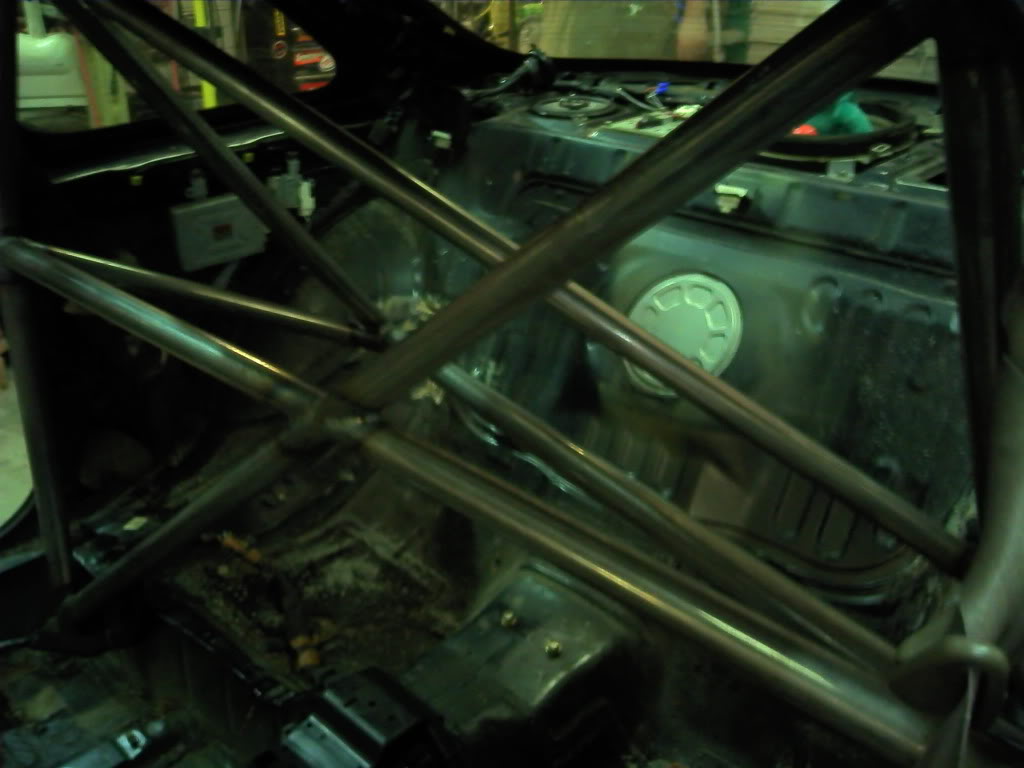 the awesomness level i am getting from this whole build is making me go


1-21-2011
well i torn down my 1j that was locked up and turned out it was a winner when it locked up....

here it is on the stand pre tear down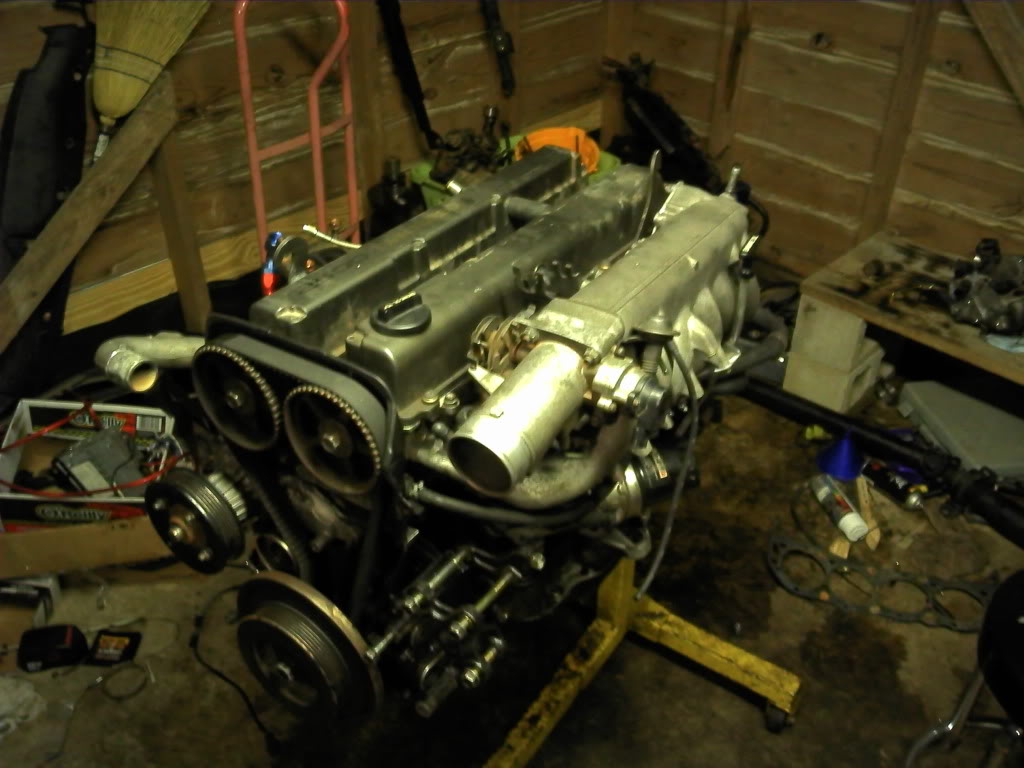 this came out of rod #2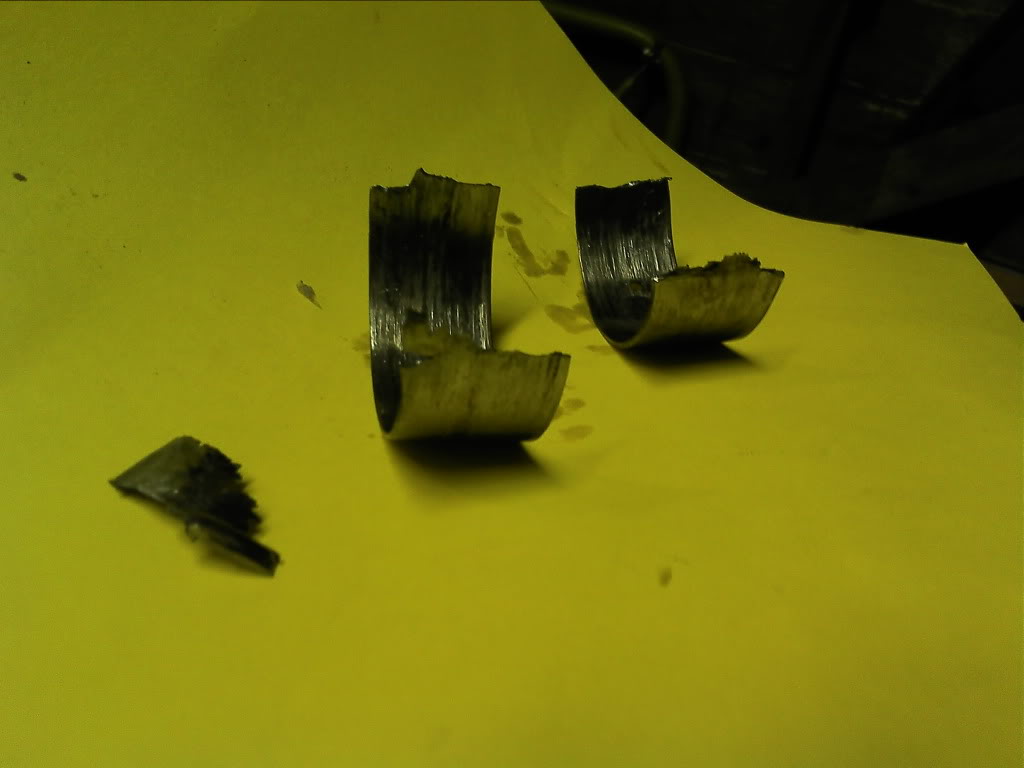 all in all there was 5 spun mains and 4 spun rods and a small bit of detination on #6 piston... getting a spare short block so its all good, ready to start building...
one more teaser pic of cage in progress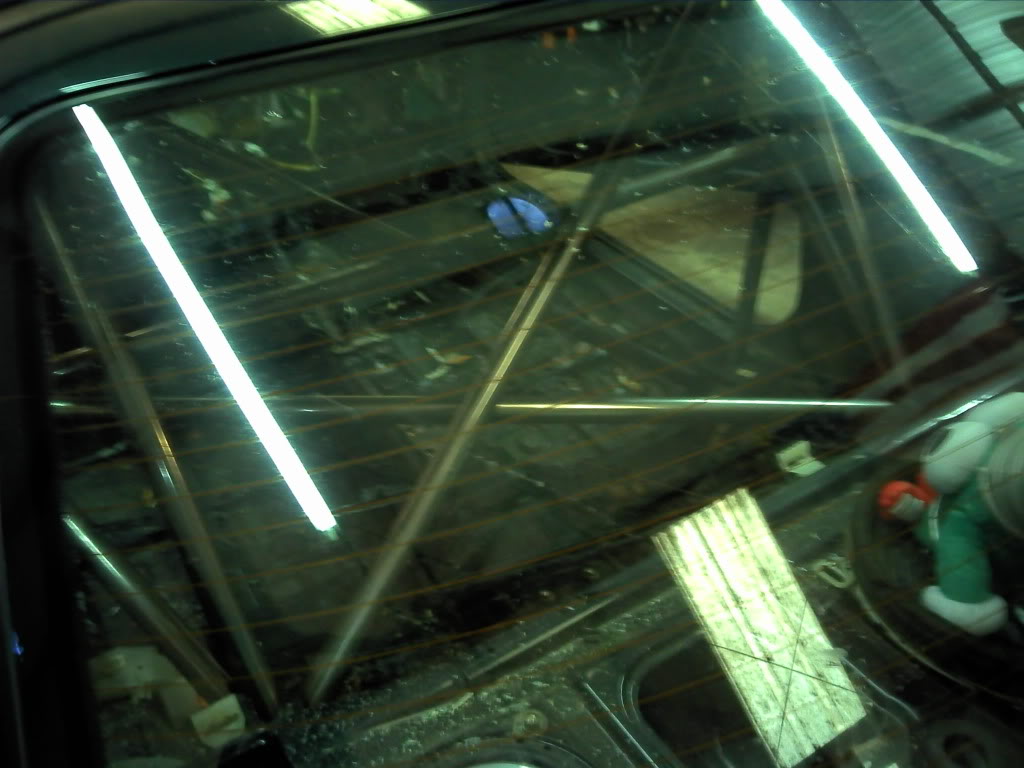 __________________

1-24-2011
LOOK WHAT CAME IN TODAY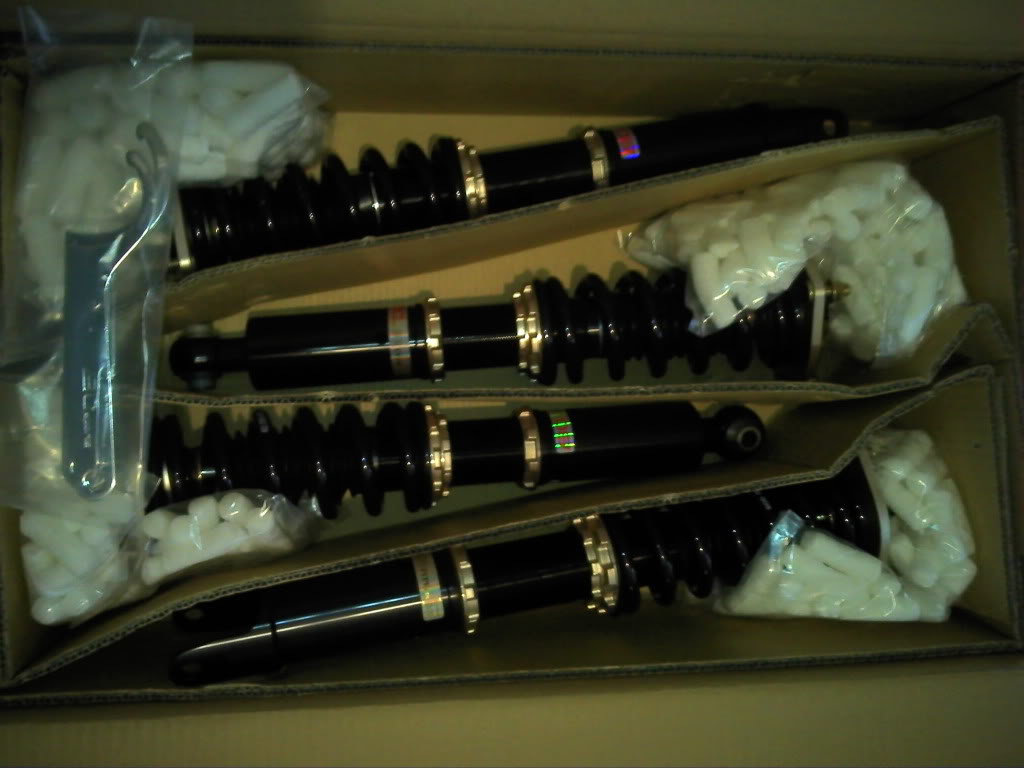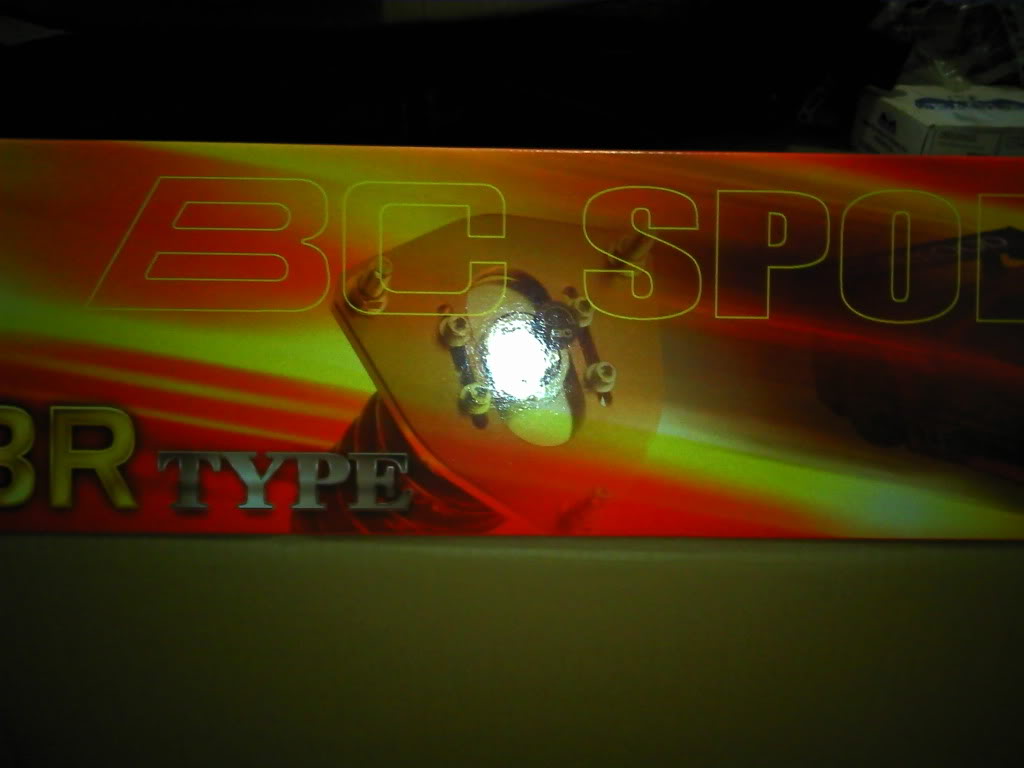 __________________


1-25-2011
Tada!!!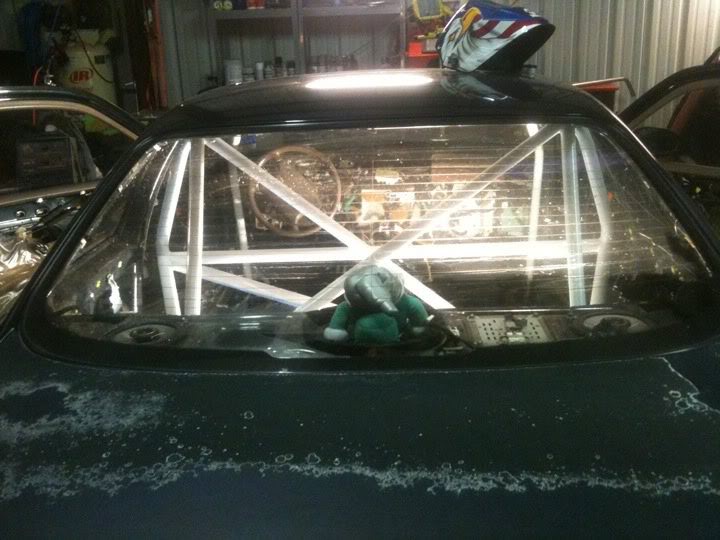 1-27-2011
Awesome train still a chugging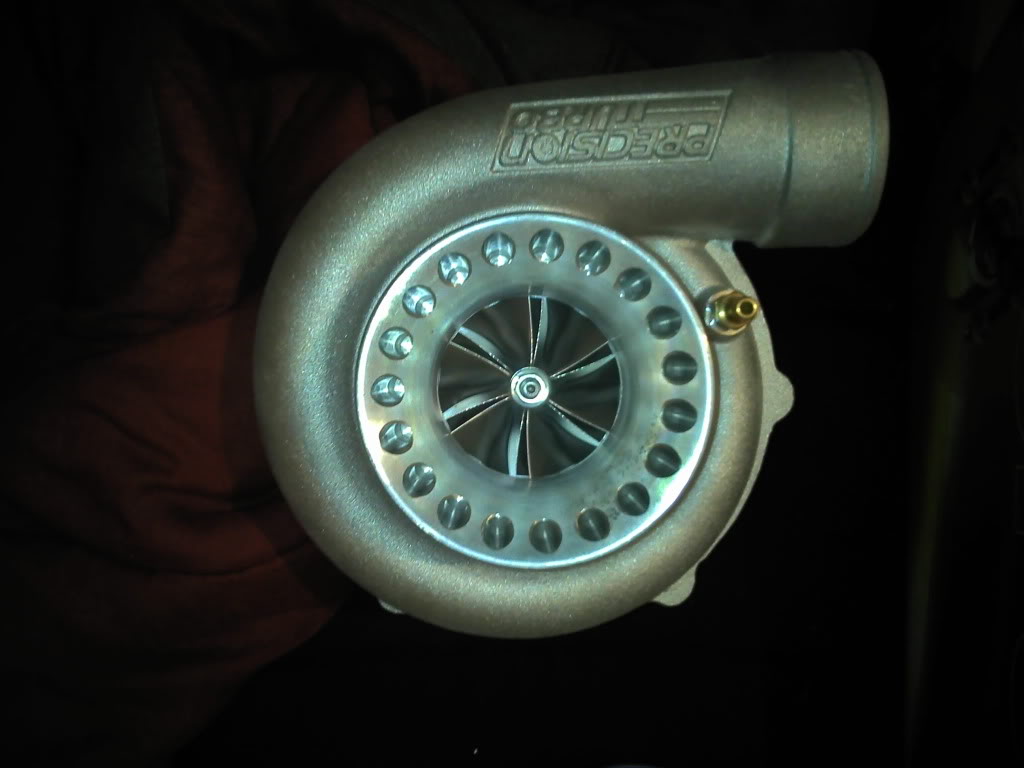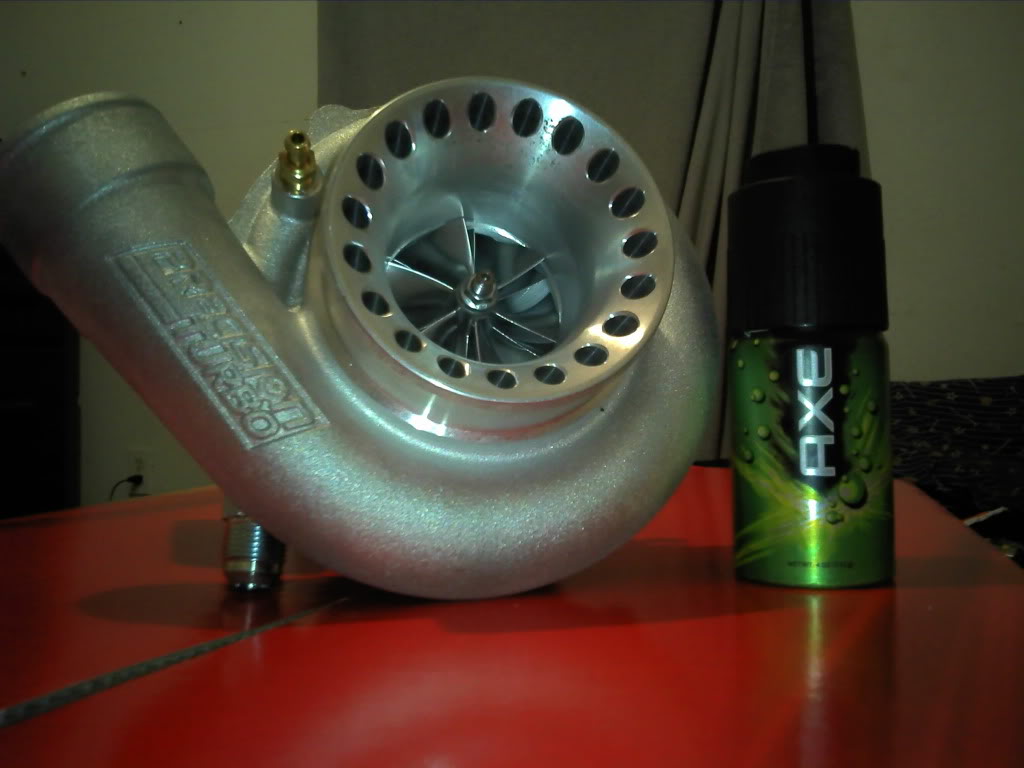 all i will say is...

Thank you to who made this happen they know who they are, Thank you.

1-28-2011
credit card+battleversion.com= happy time



now on to driftmotion
1-31-2011
MOAR PIKTURES

Battle Version steering rack bushings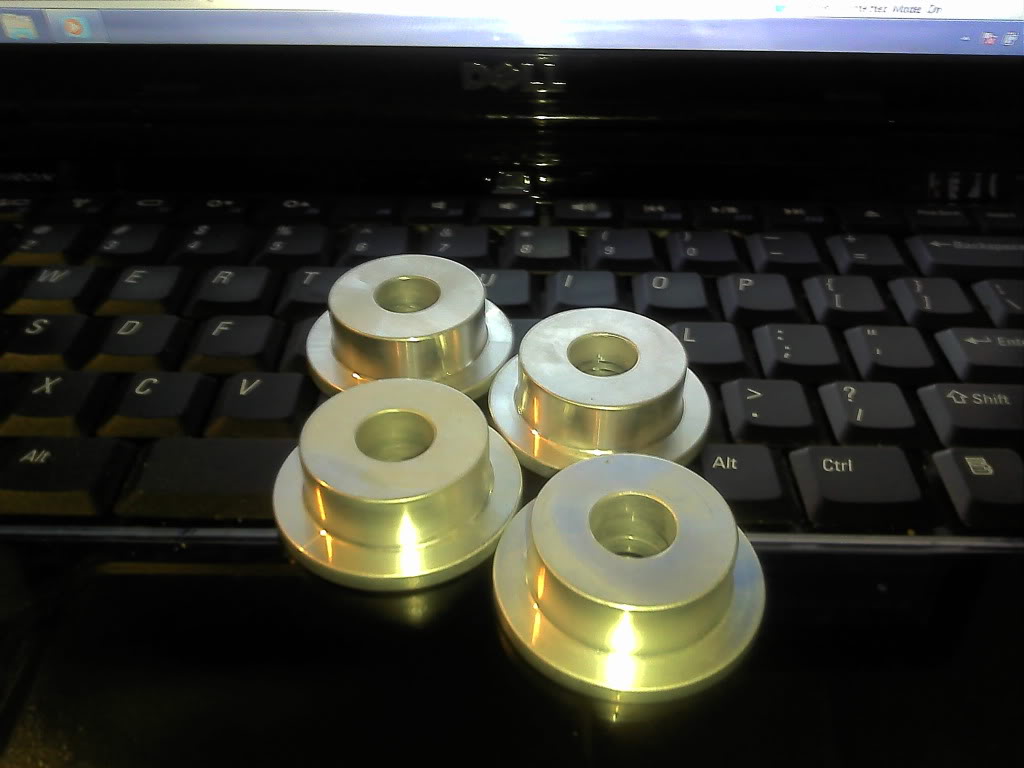 and heres another teaser pic of the cage, car got put back just a lil but its all good super secret spy stuffz needed to be done



__________________


2-1-2011
went parts gathering today...

SSA all day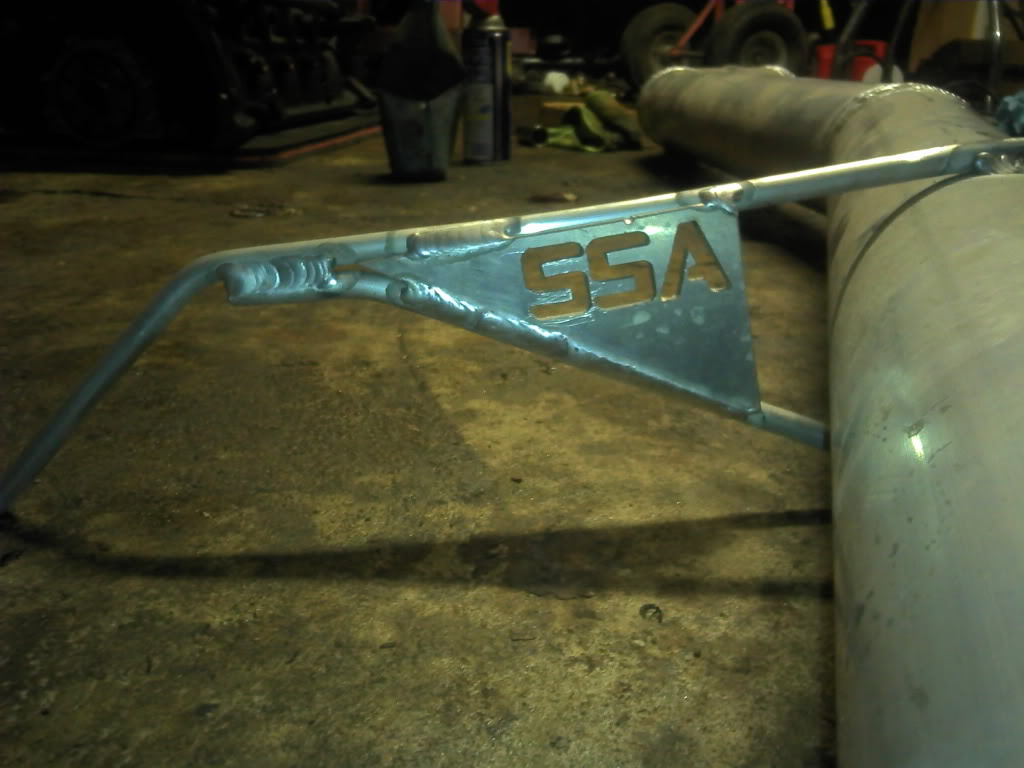 4'' aluminum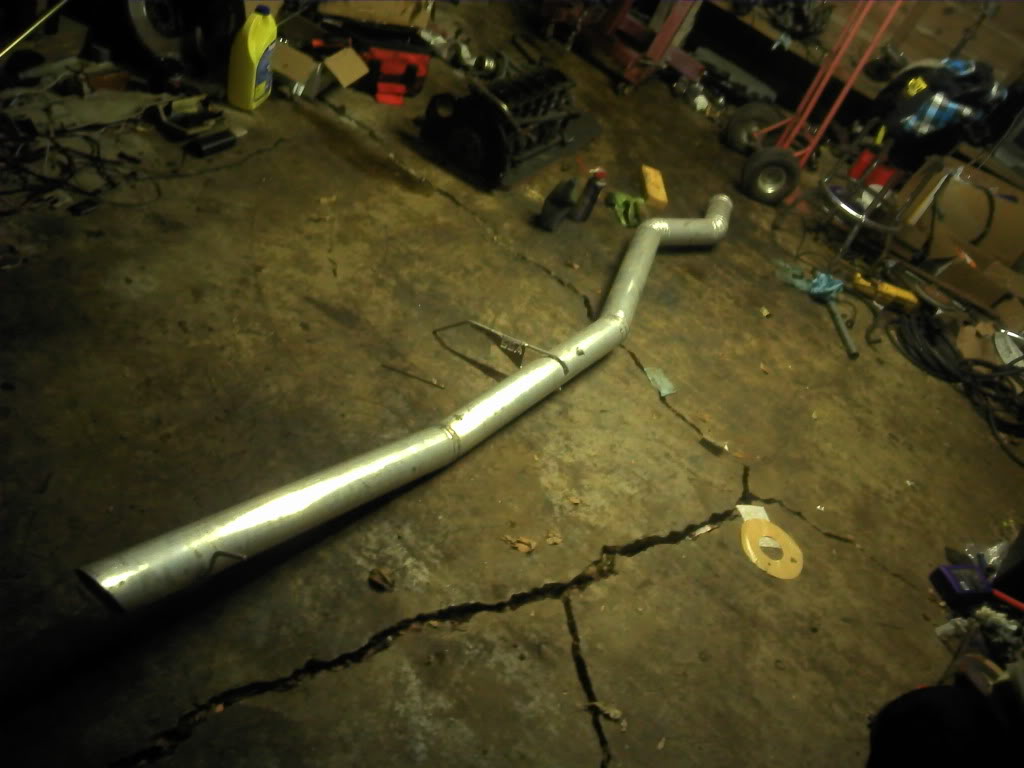 act stage good enuff to get rowdy clutch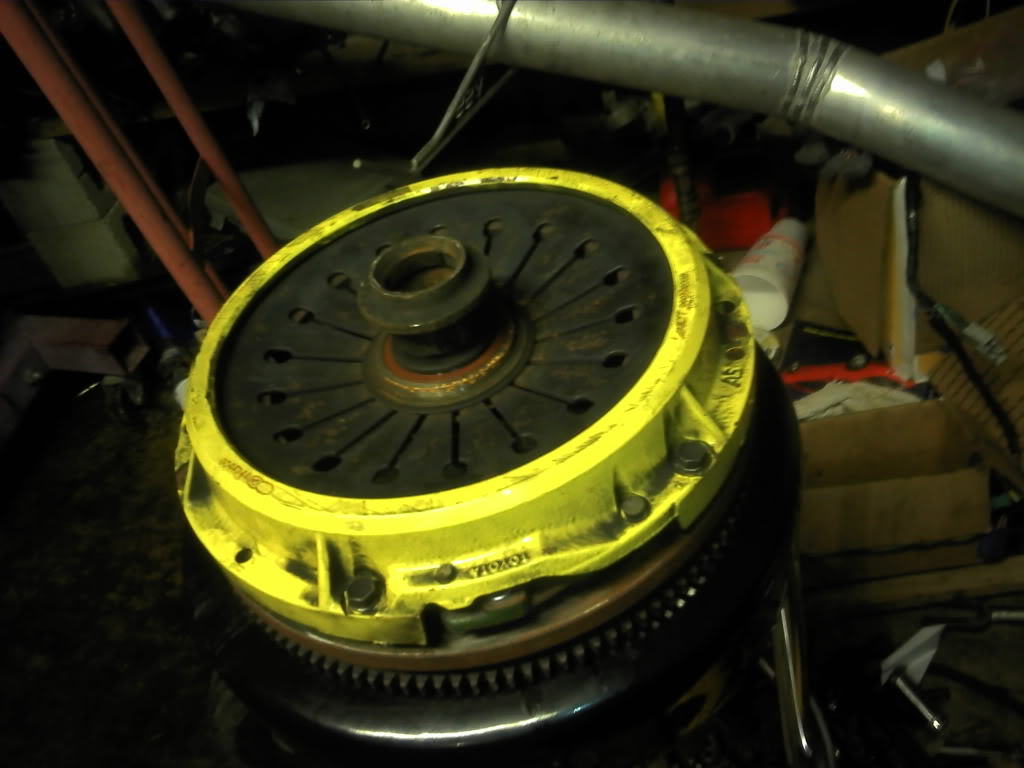 newer short block thats not toasted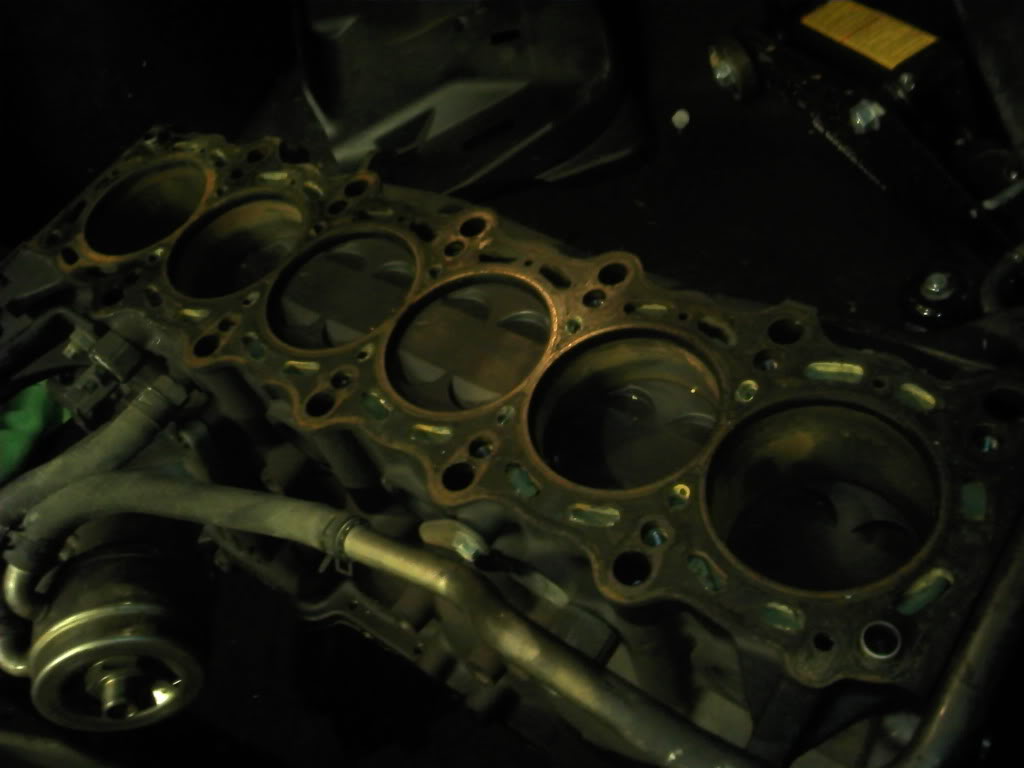 next is gaskets and rebuild parts (i.e. bearings, rings, etc.), the injectors, ecu and she is ready...
2-3-2011





AWESOME CAR IS AWESOME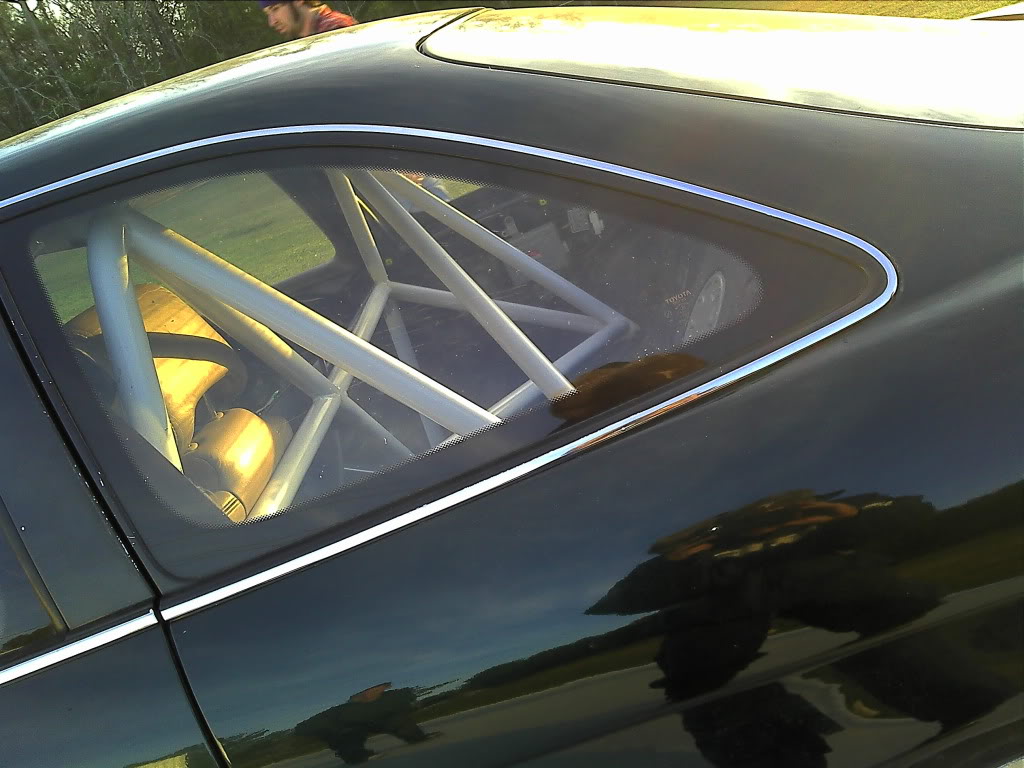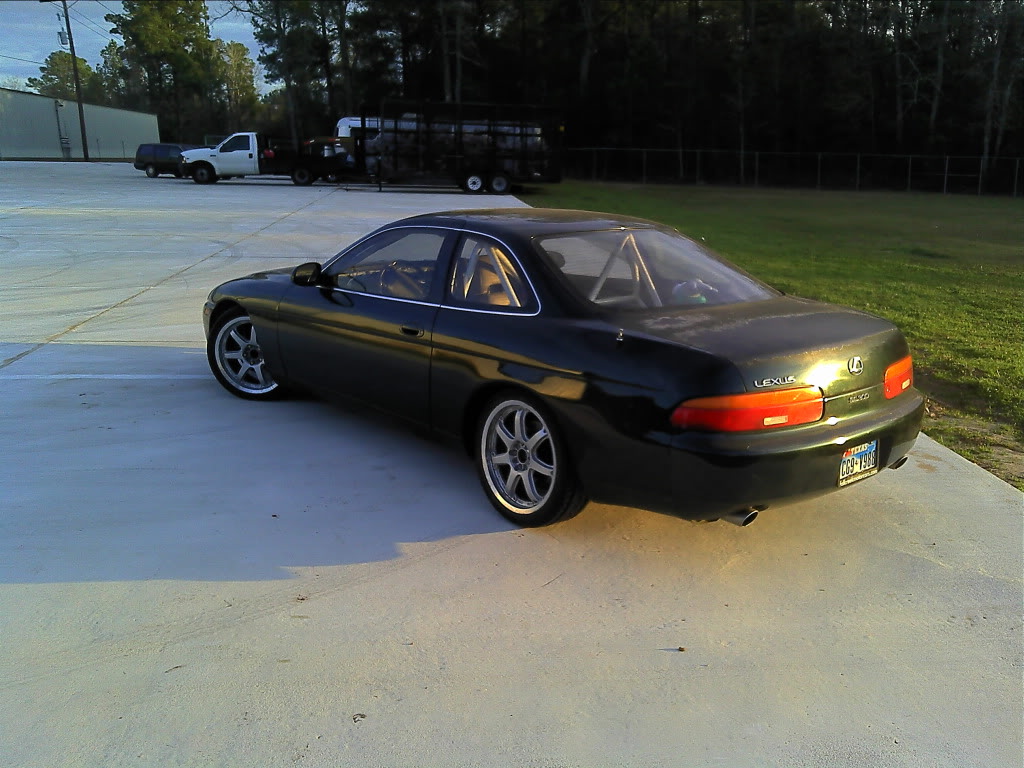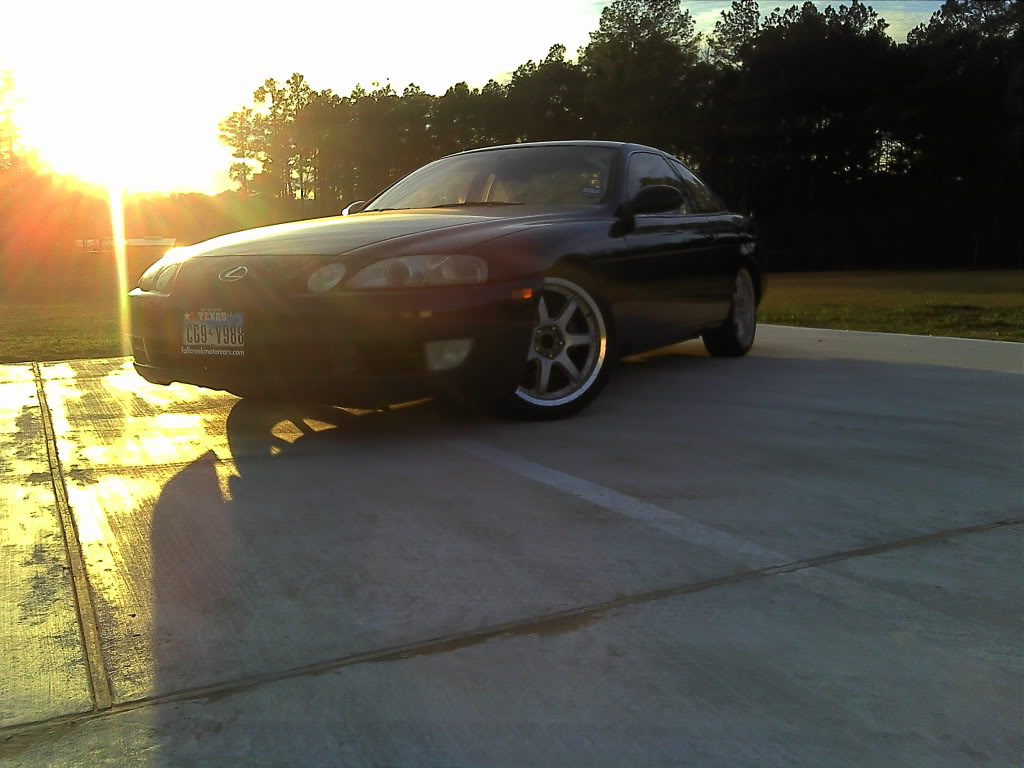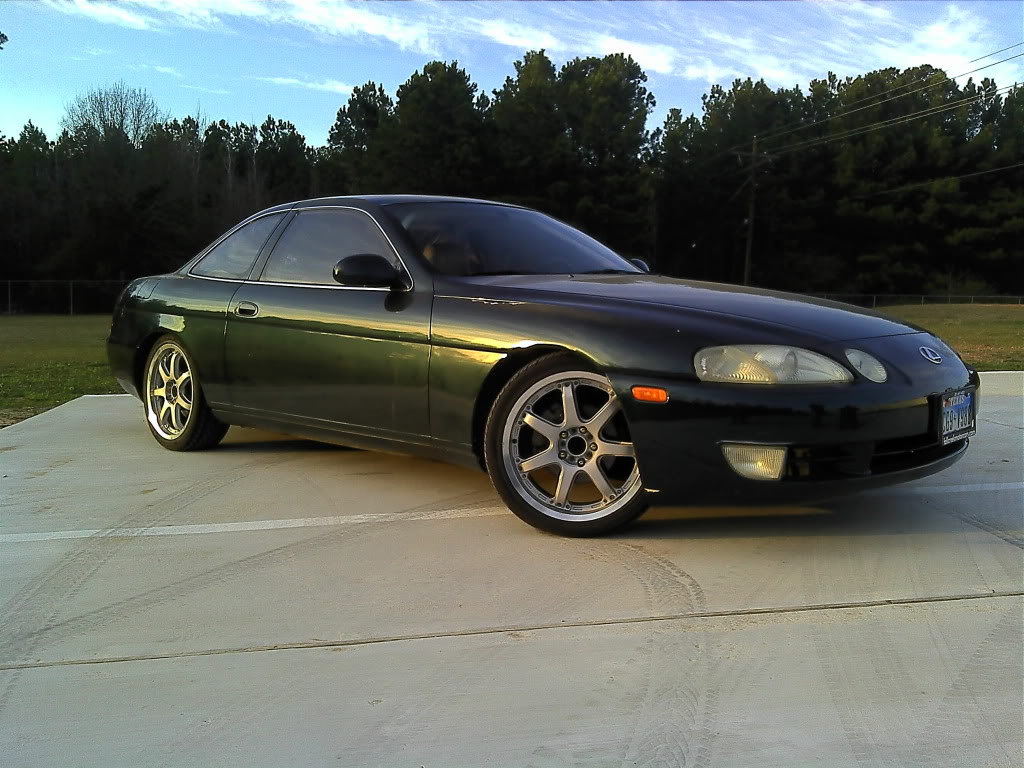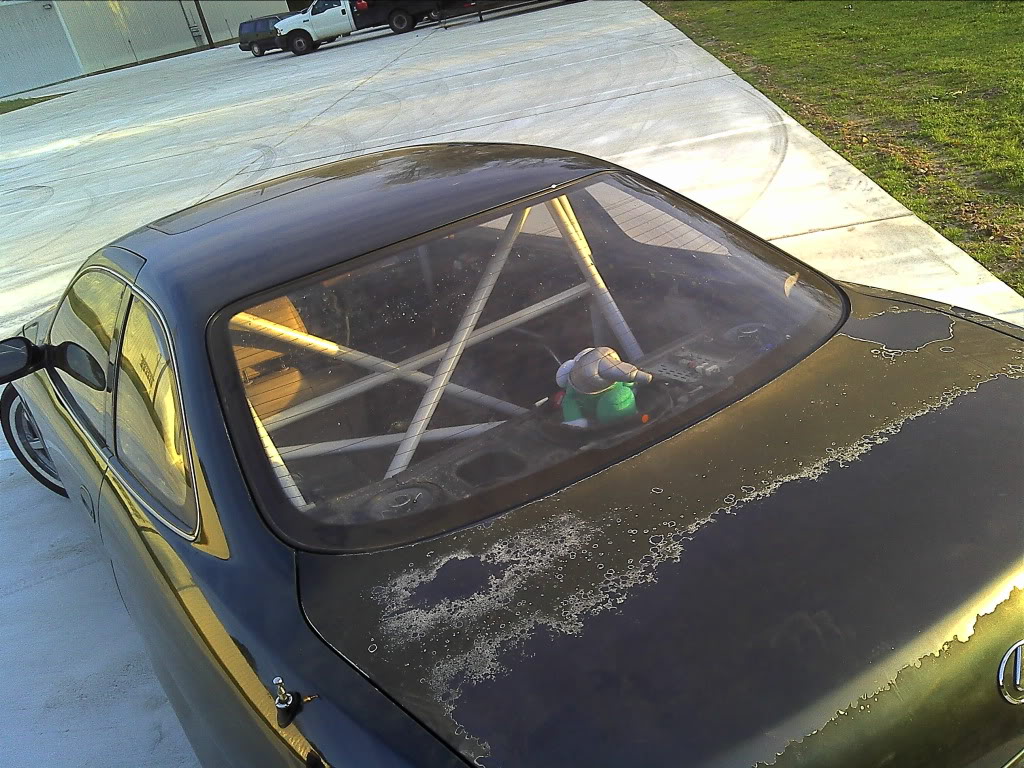 knuckles now help me get a rough 50-52* of angle compaired to 32* stock....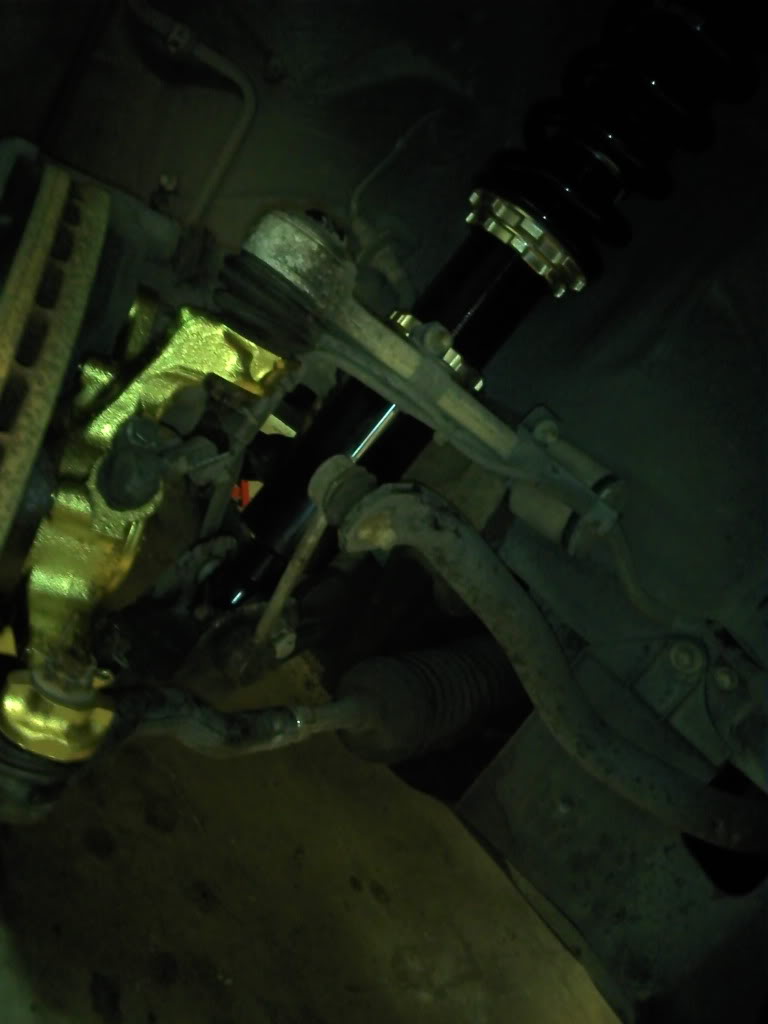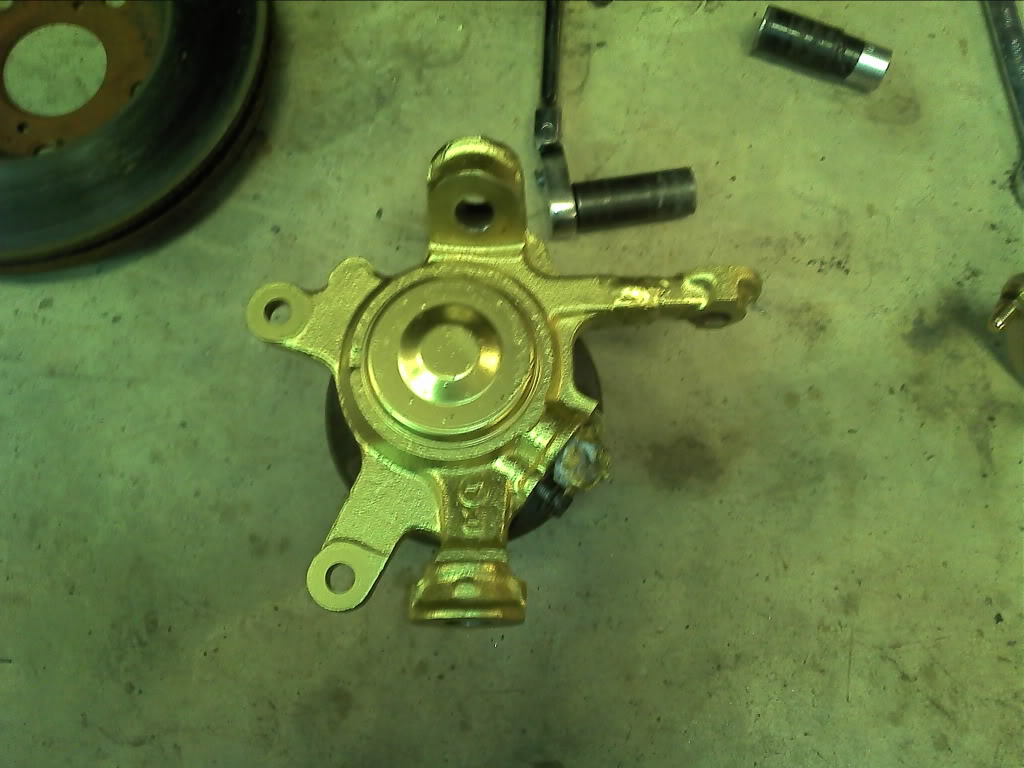 car was ooohhhhh soooo smooth on the drive home cept for being freezing balls with no heater...
2-7-2011
Well i did my rack bushings today... heres the old ones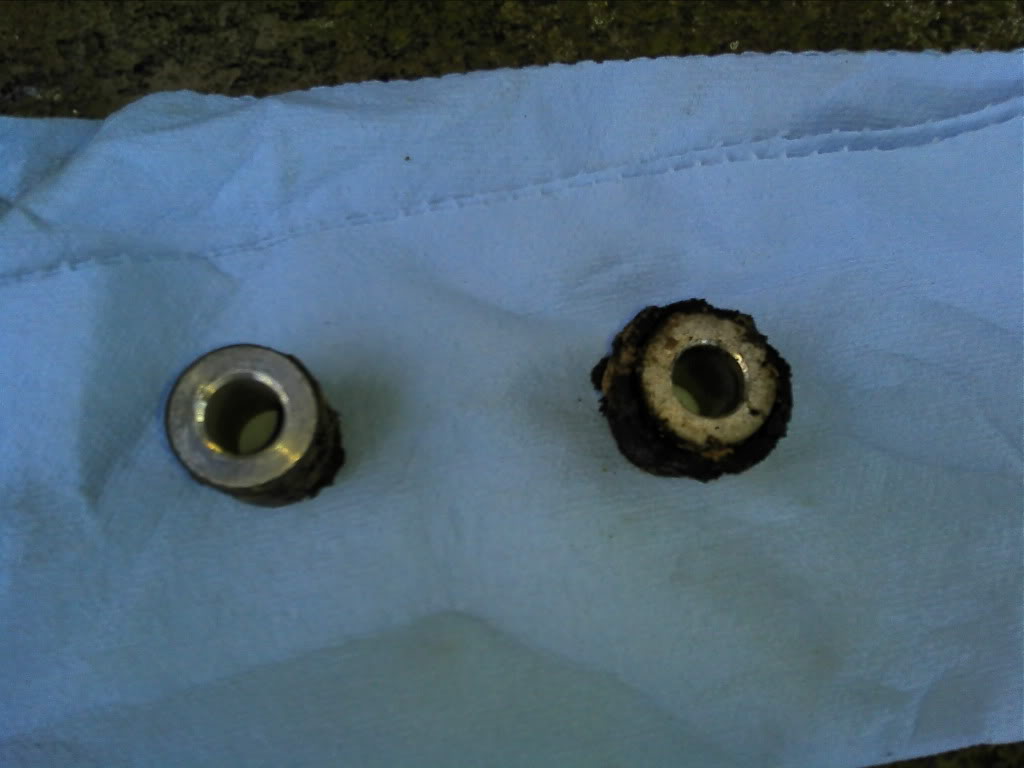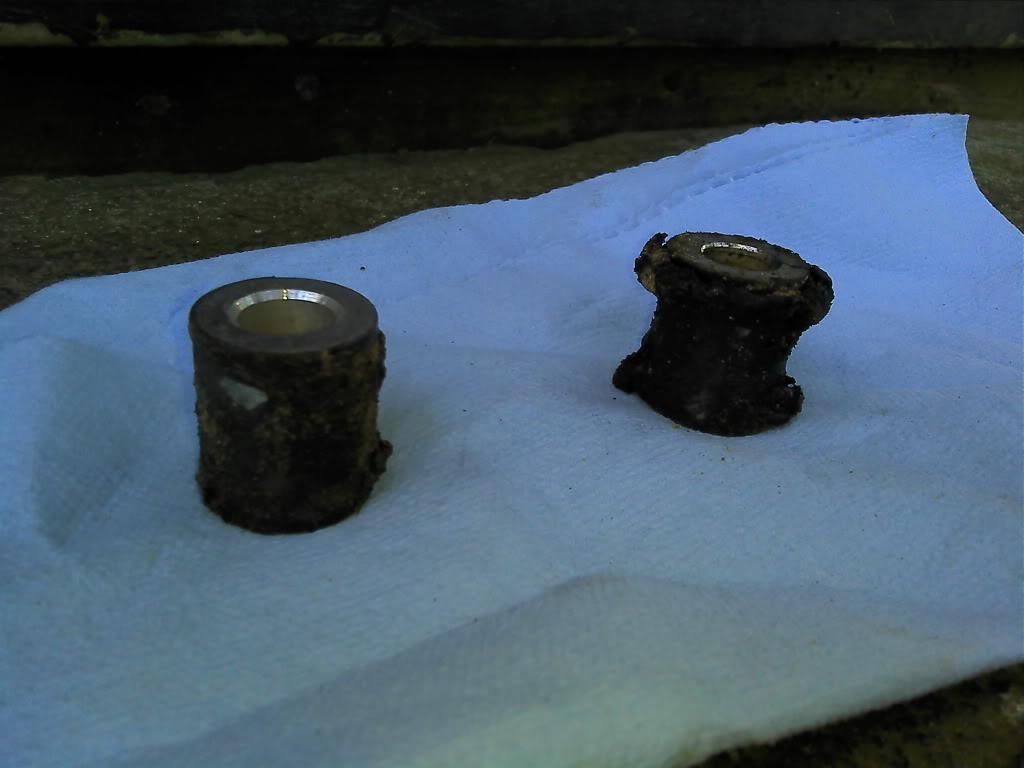 car is night and day now with coils, cage, knuckles, and bushings...

speaking of cage heres the rest of the pics...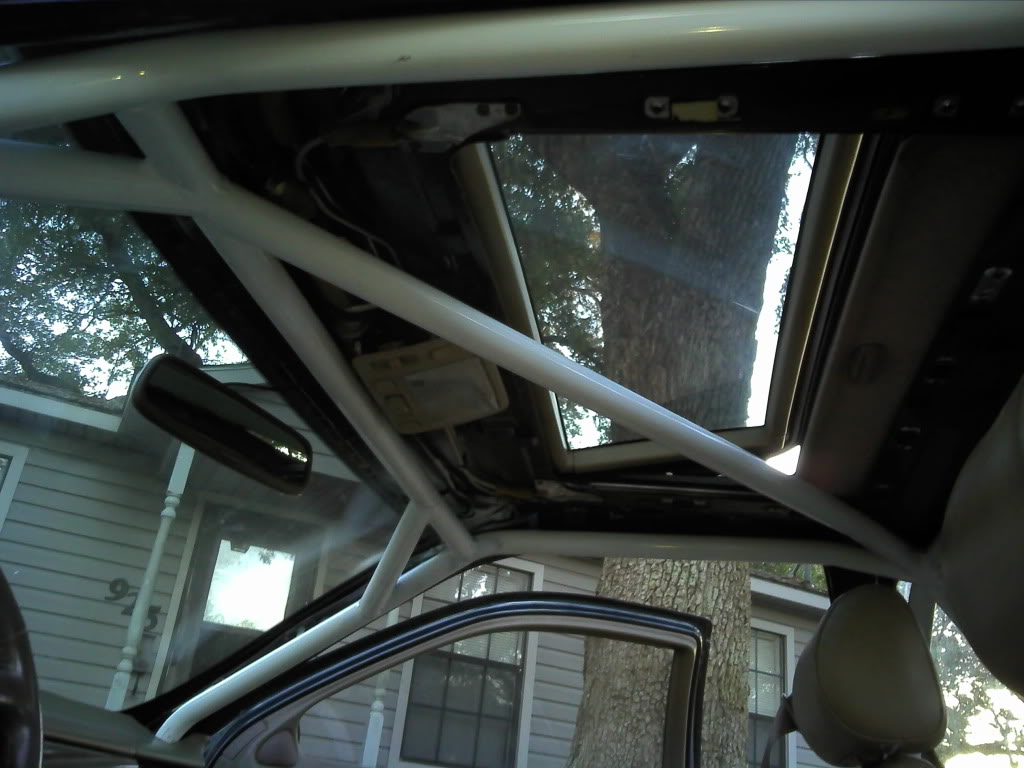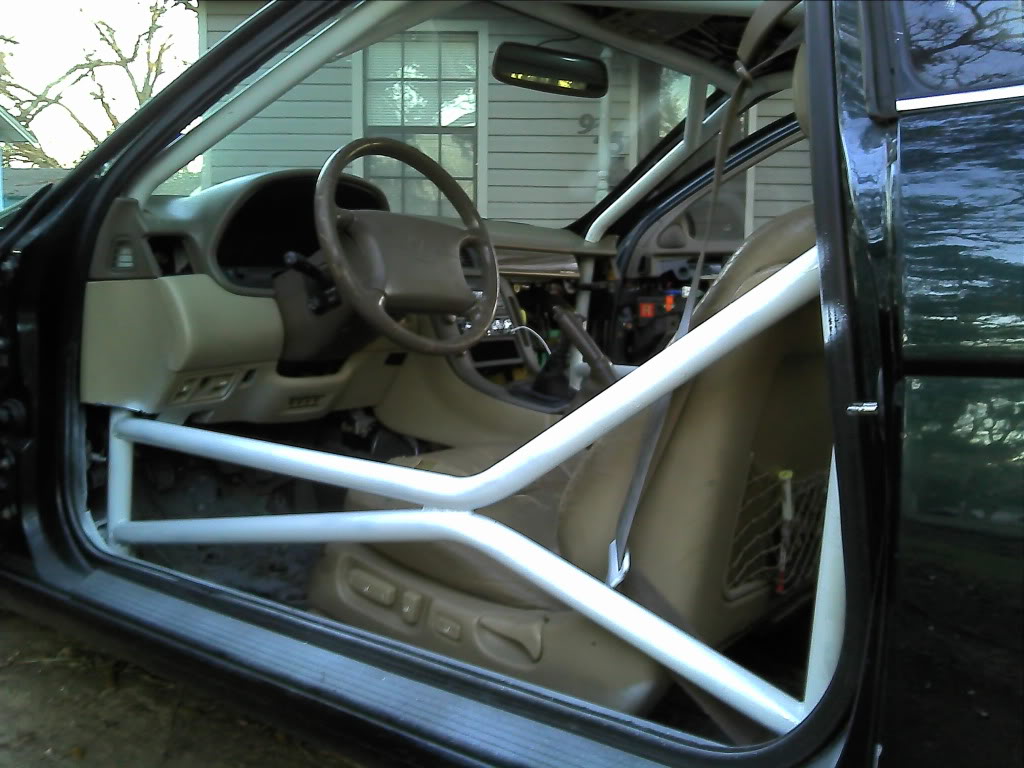 yup yup gasket set of 1j to be ordered thursday/friday maybe rings also...
2-14-2011


rings came in for the single rapper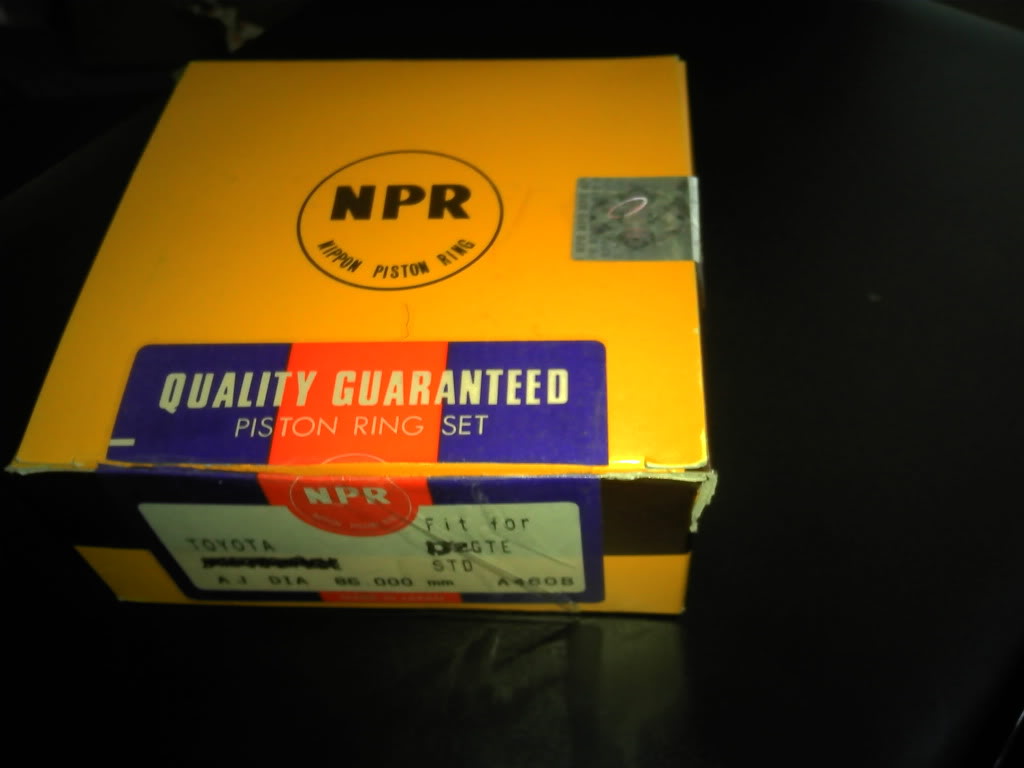 2-17-2011
OHHHHHHHHH WEEEE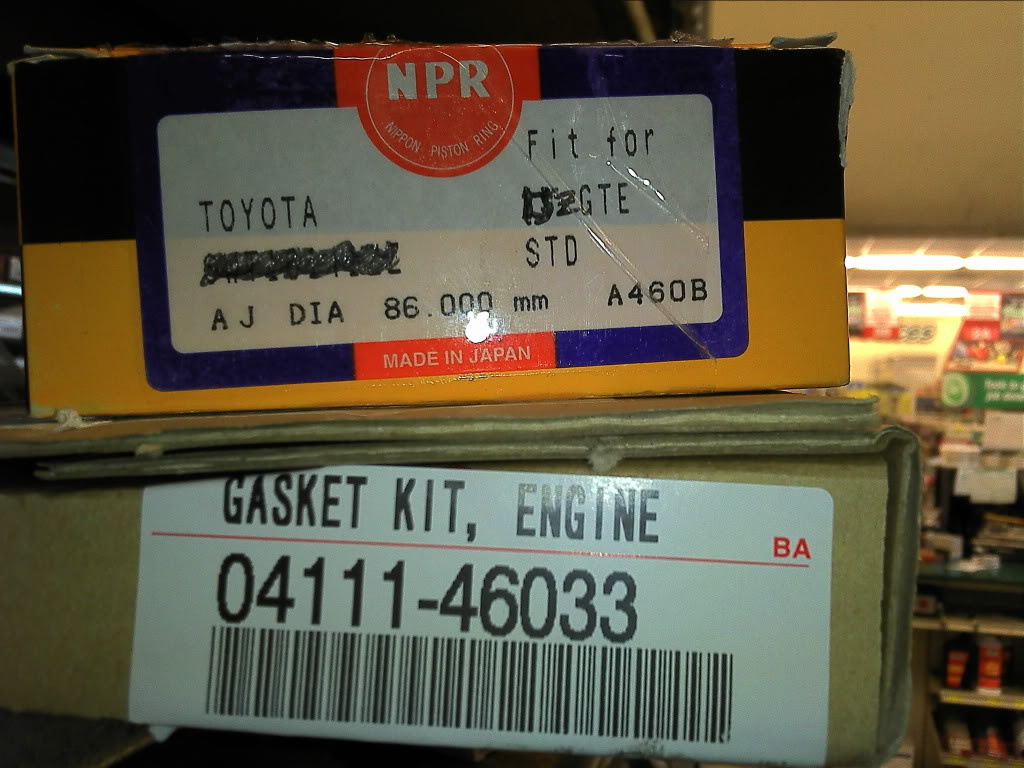 rollin rollin rollin keep this build a rollin ohhh yeahhh
3-1-2011
for the viewing pleasures...

no no no its not done but who says it cant look good while waiting?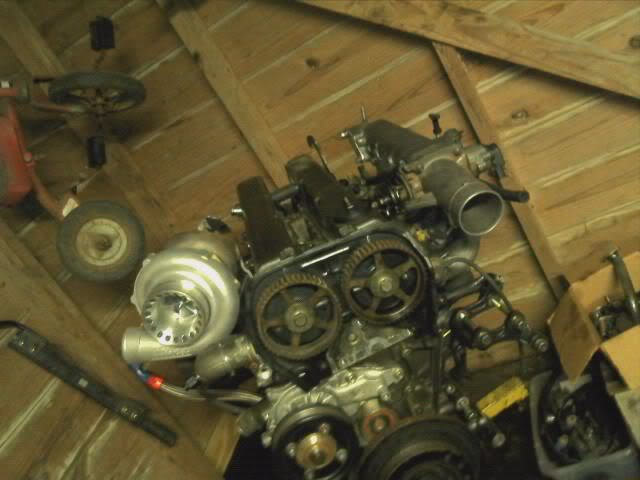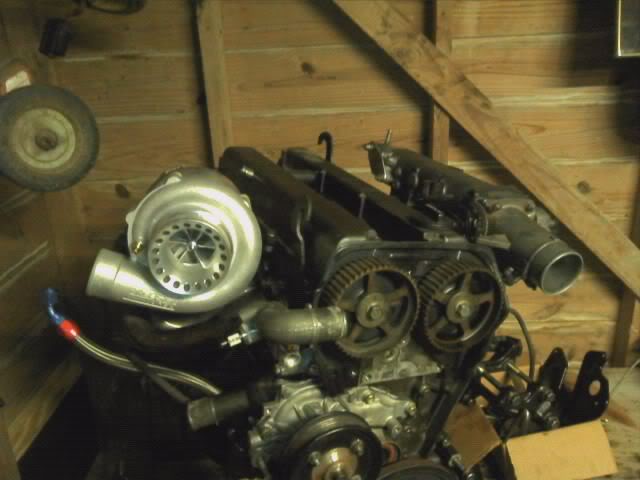 then i got bord and wired in my tt out of the 240 for the fun and joy of pretty color's... keeps the local ricers on there toes to ya know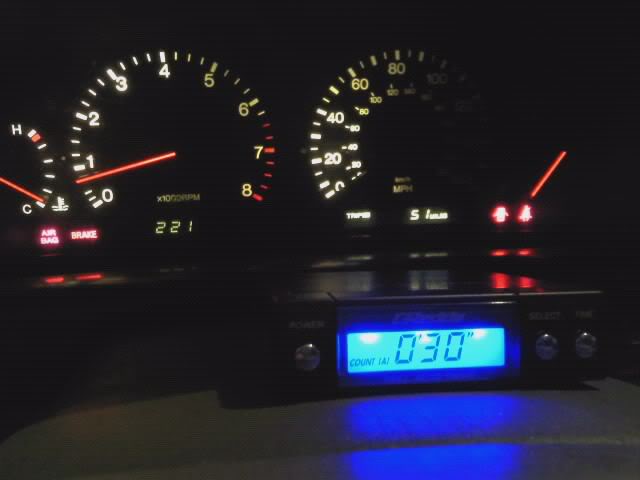 3-2-2011
1j #2 tore down....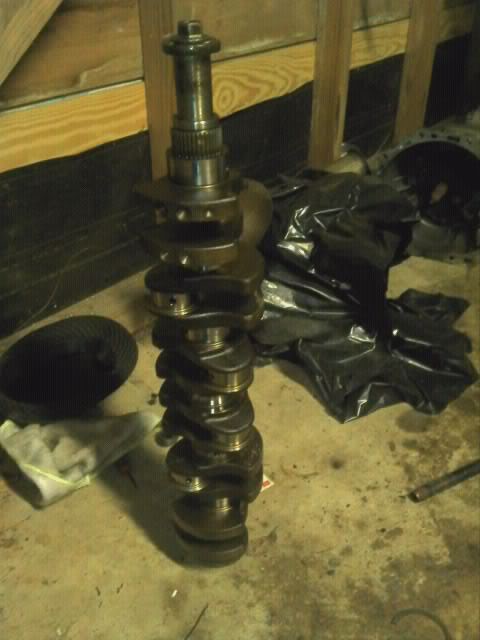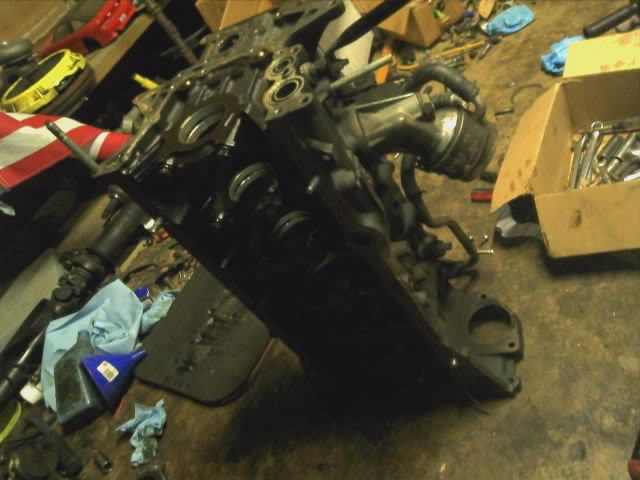 this one is like 64205764014654x cleaner and better rod and main wise... super pleased with it
3-6-2011
i haz moar goddies now... moar are still in z snail mail system...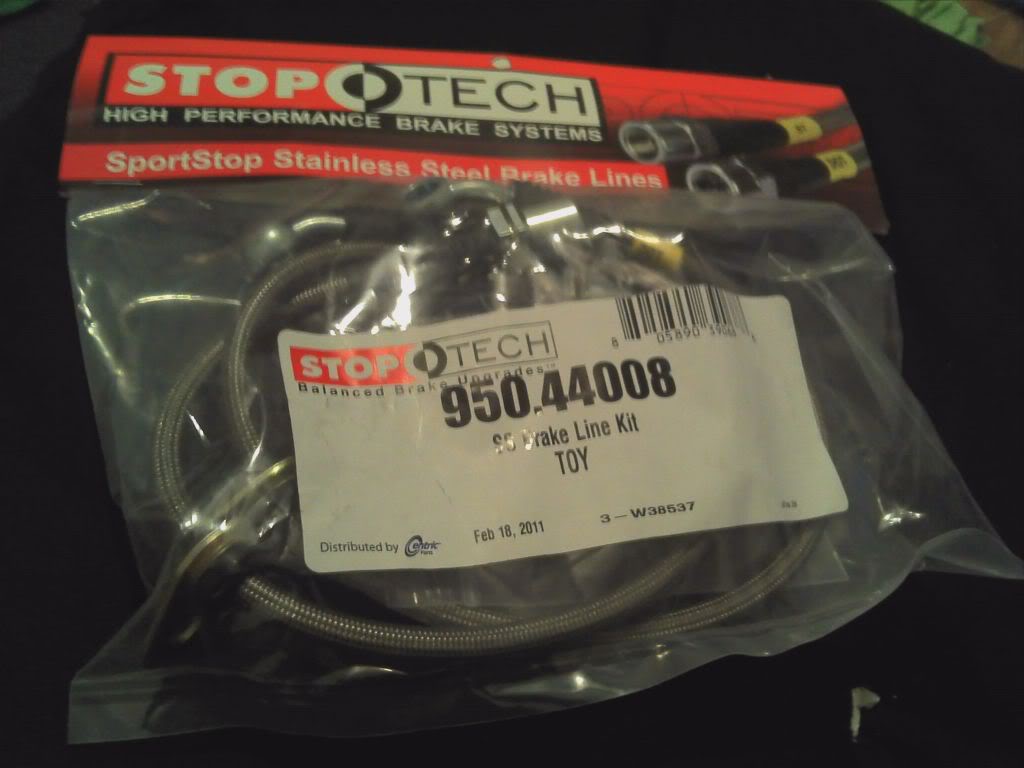 3-8-2011
ohh the joy's of working at oreilly... under 200$ for a complete with warrenty ls400 bbk for the sc ohh yeah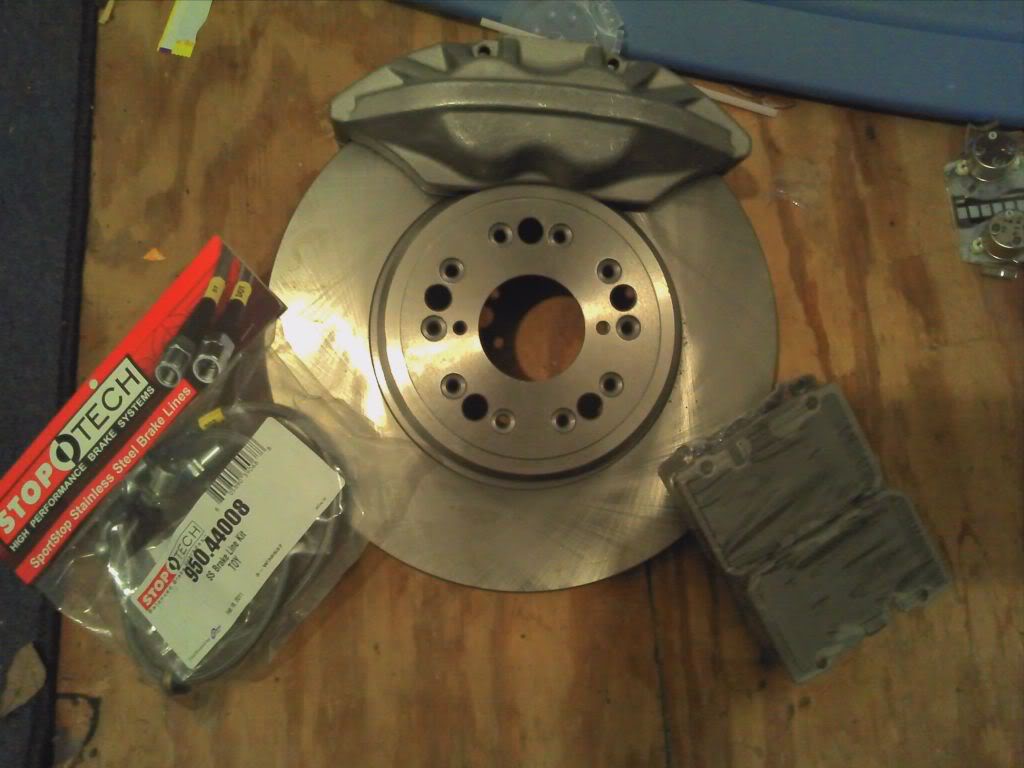 3-12-2011
woot... just got my lap top back... and boy have y'all missed some stuff...

goin safety orange... car gets painted super secret spy stuff on sunday...


wise rep spoiler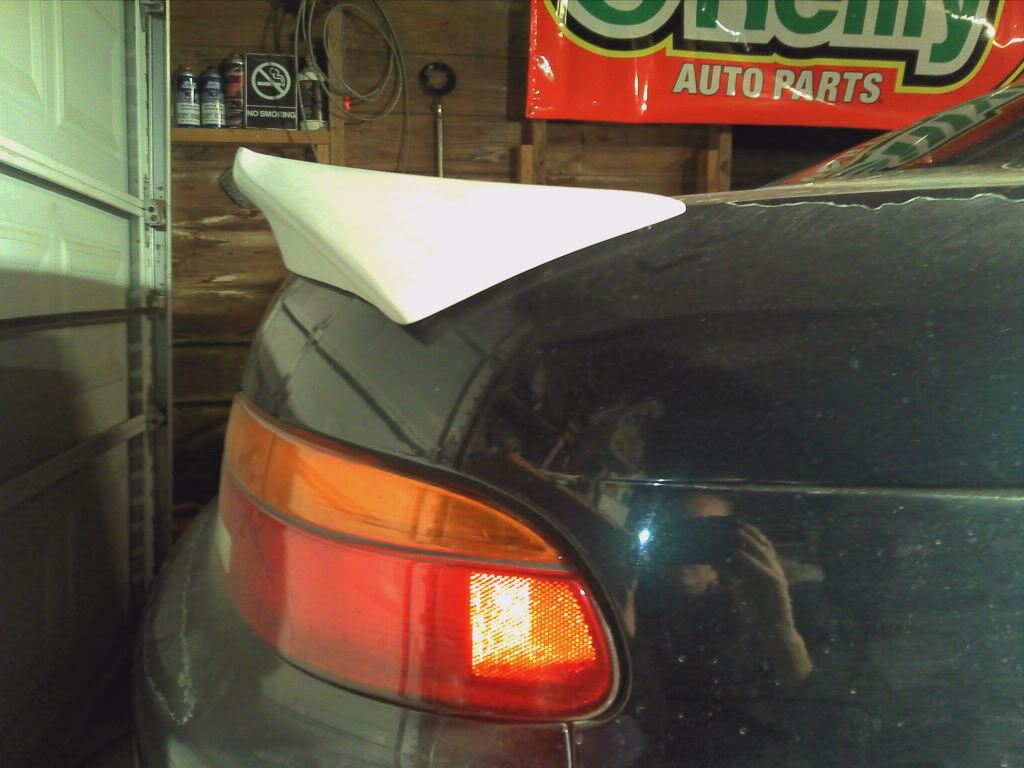 spacers on, 25mm all around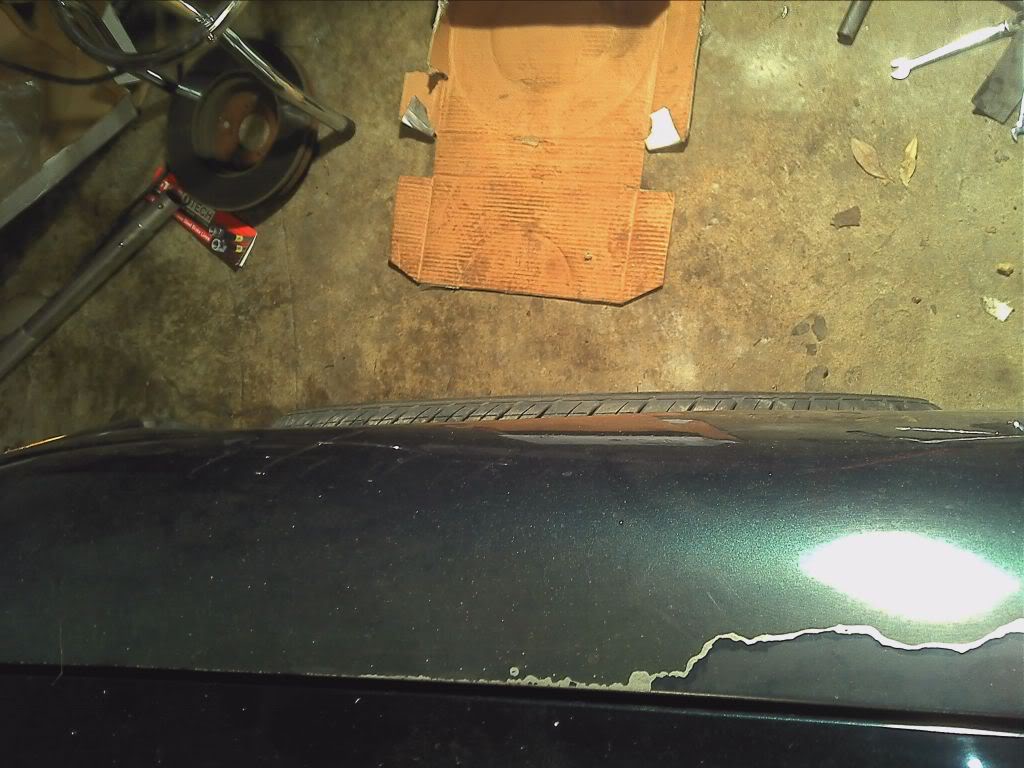 ls4 bbk...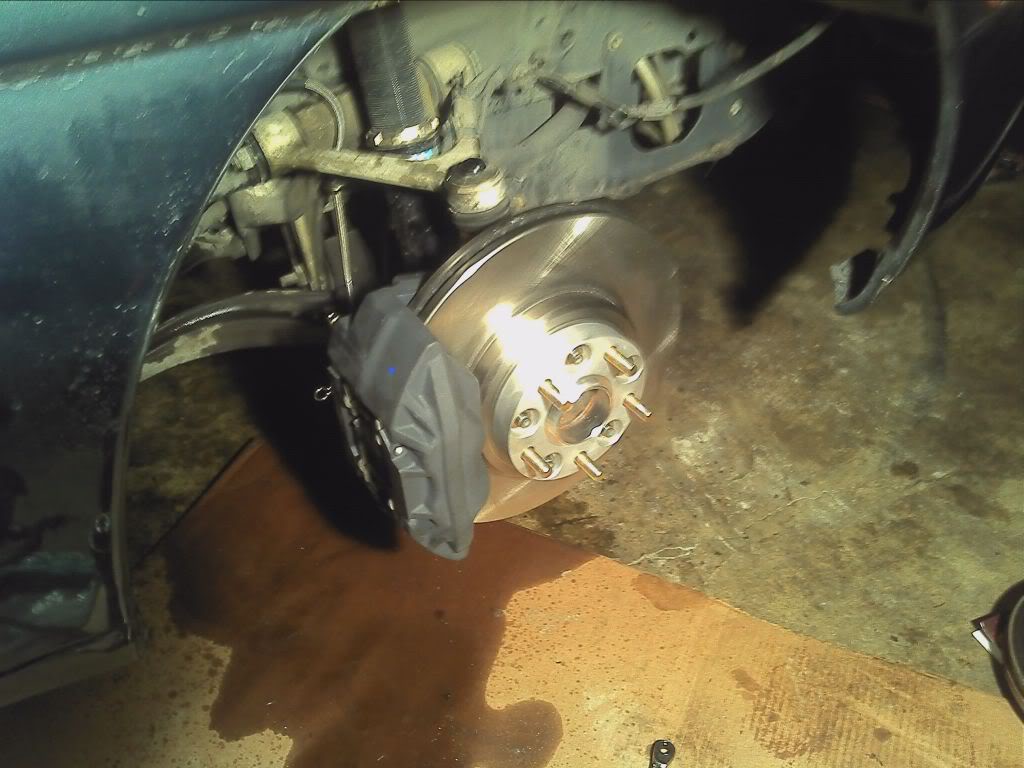 need i say more?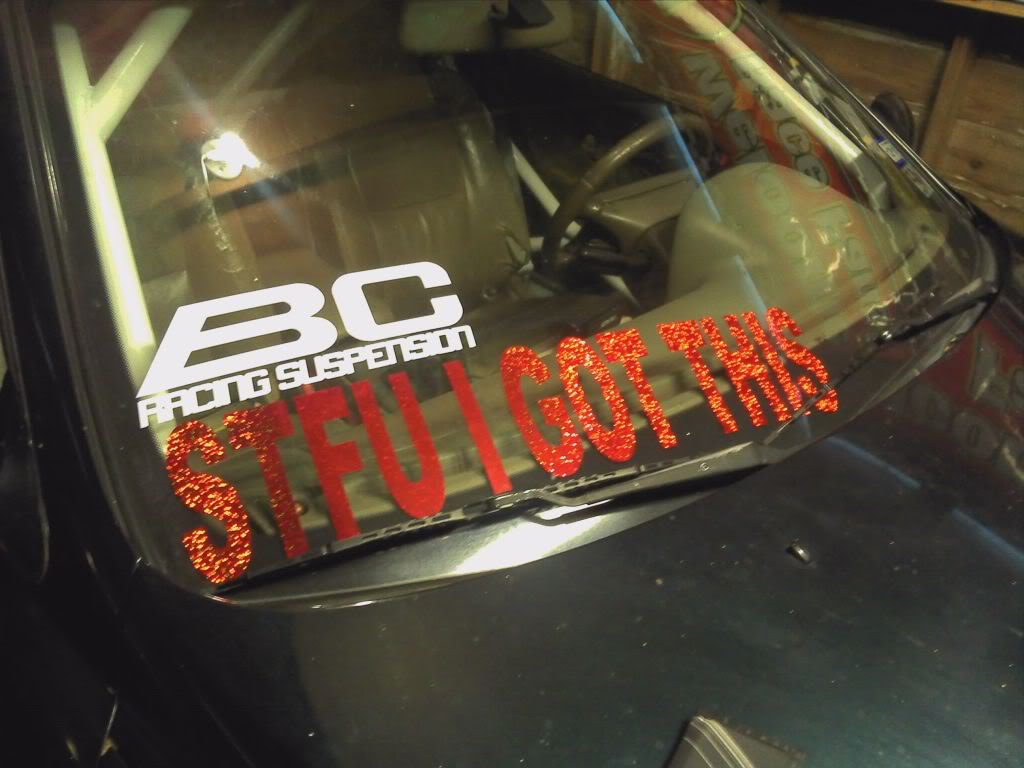 ohh so true...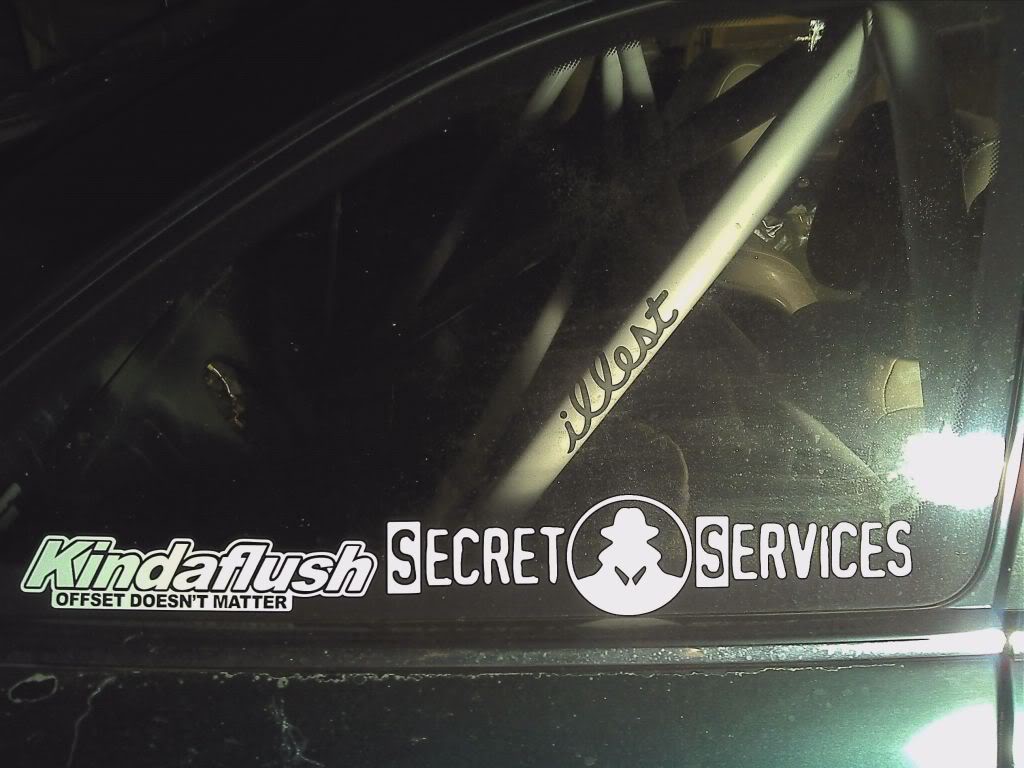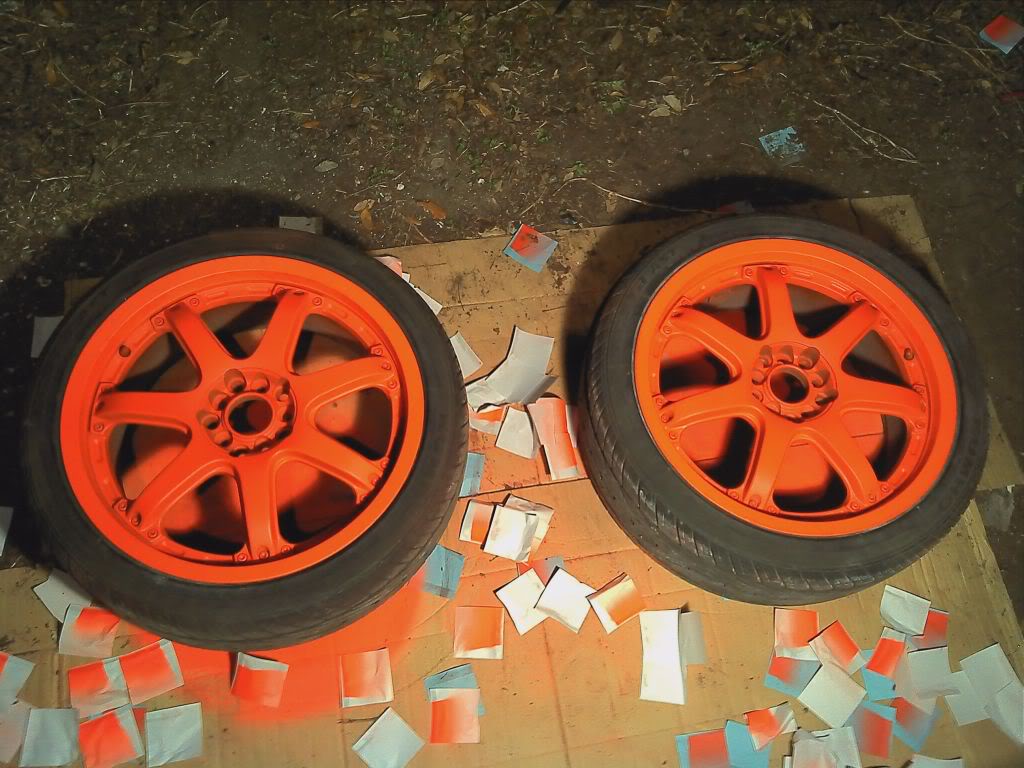 after murdering 2 stacks of post it's....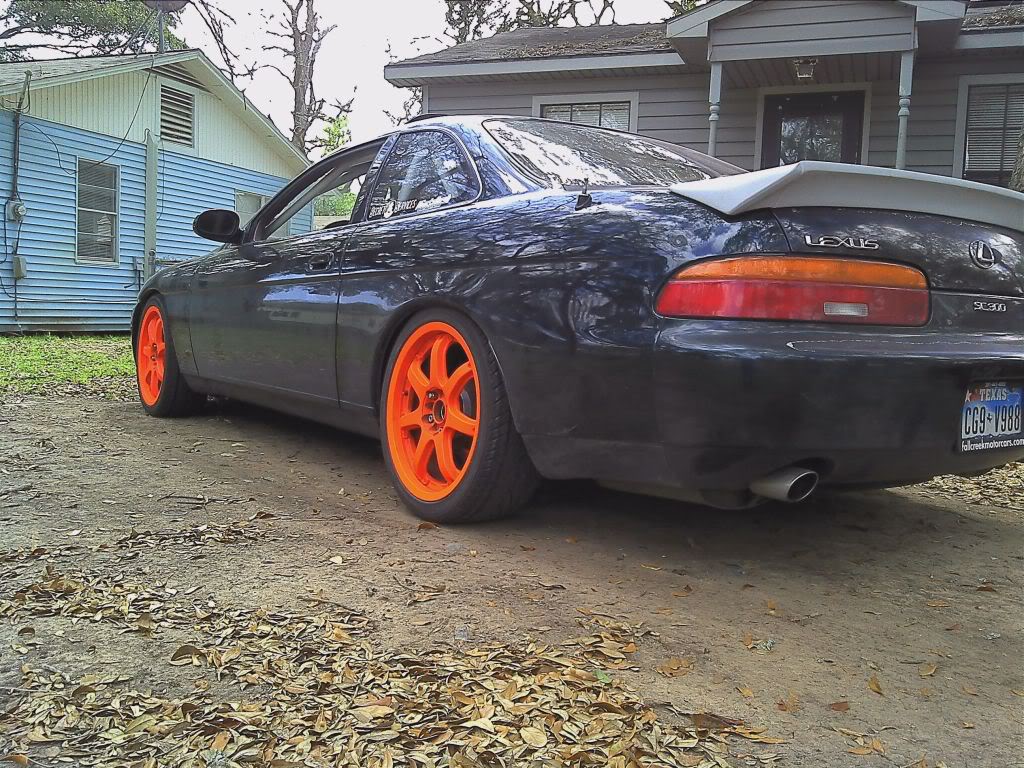 painting car tonight....
3-14-2011
woot i'll get jay to take some DOPE.. pics tomorrow, but here y'all go...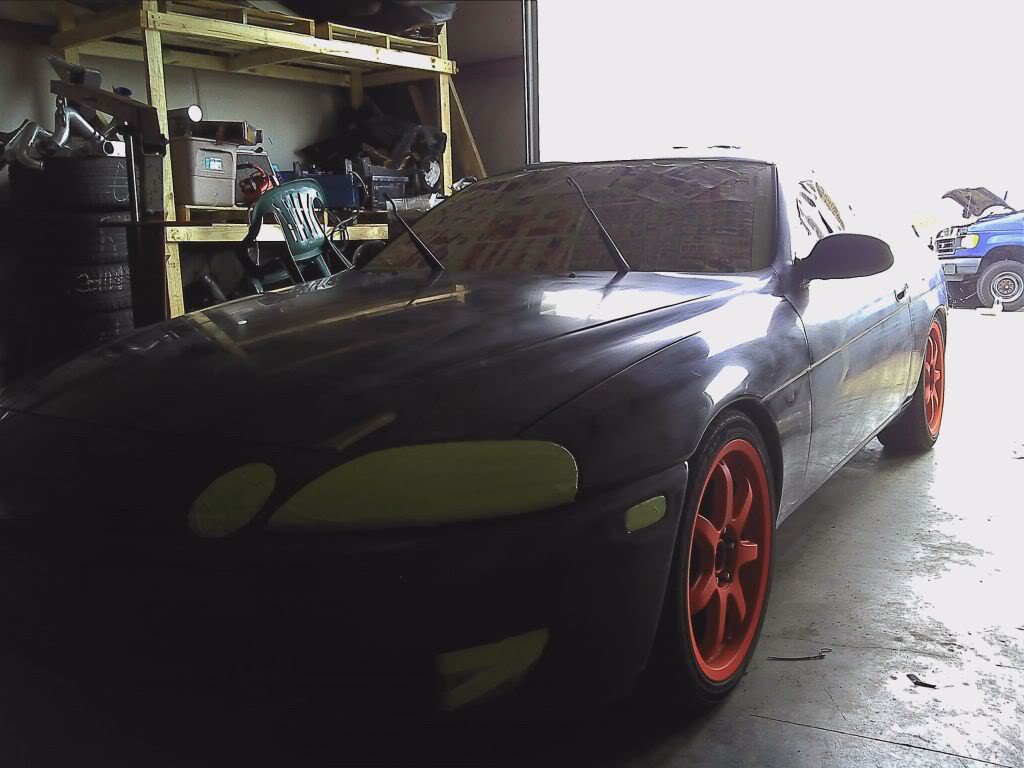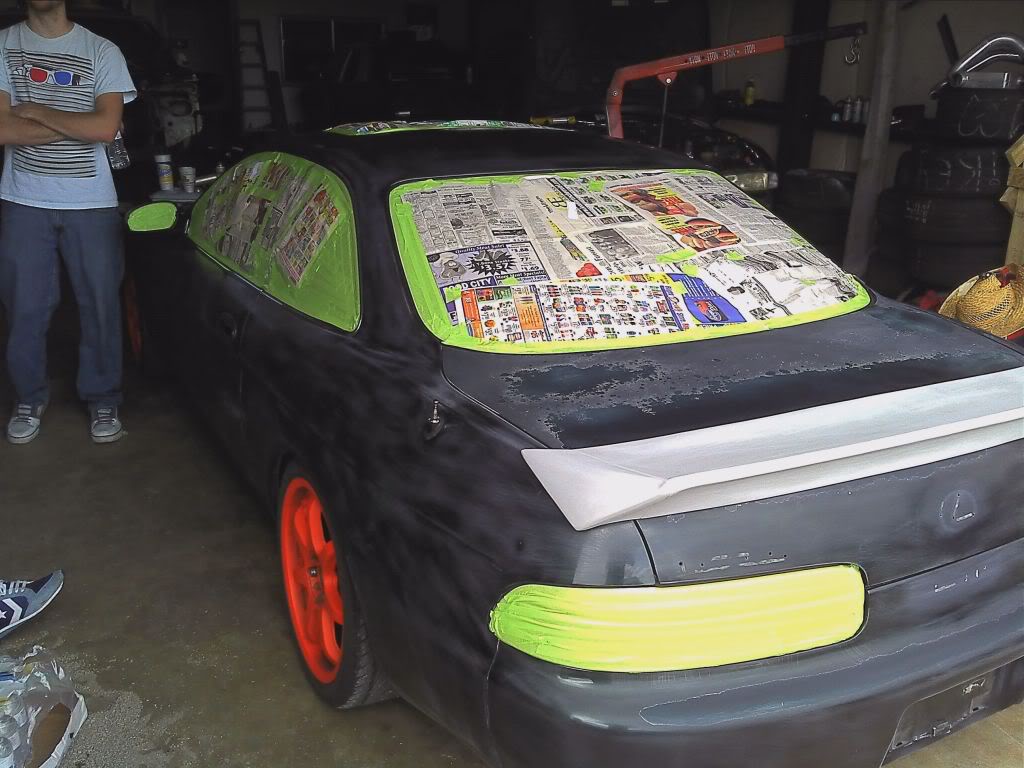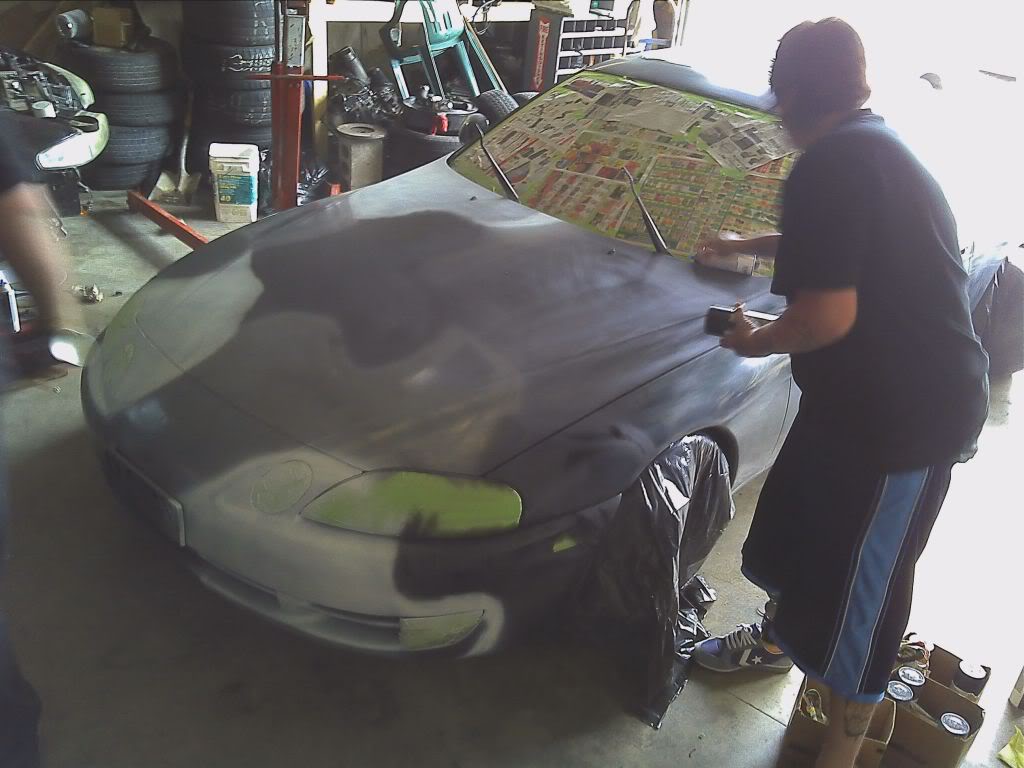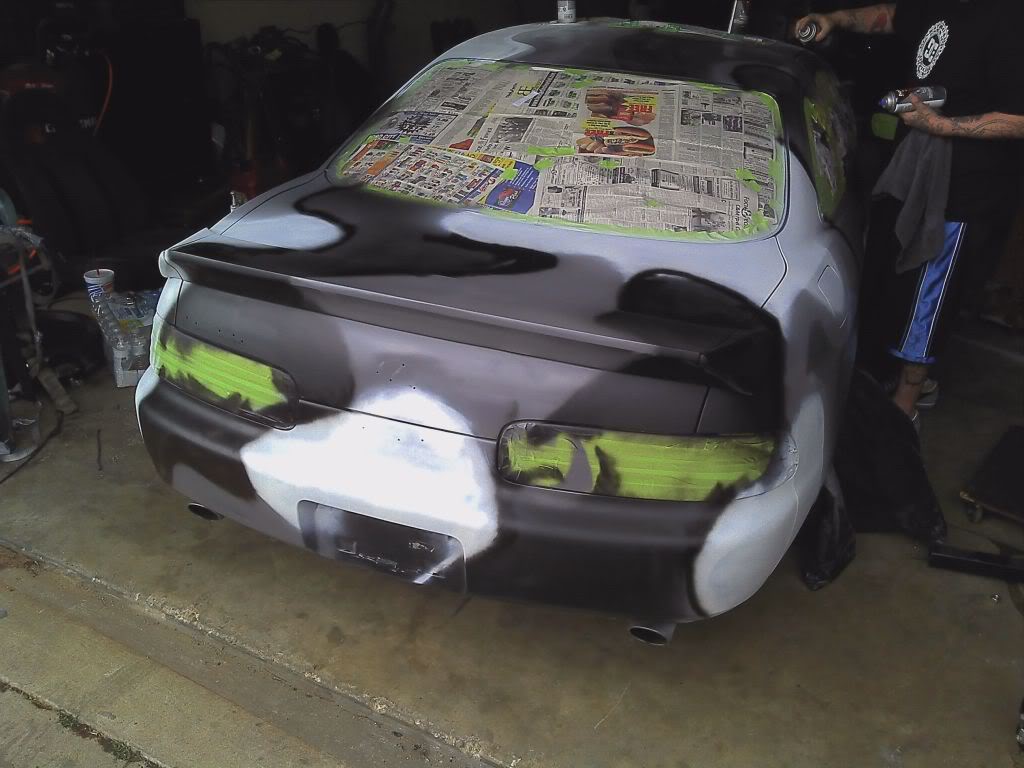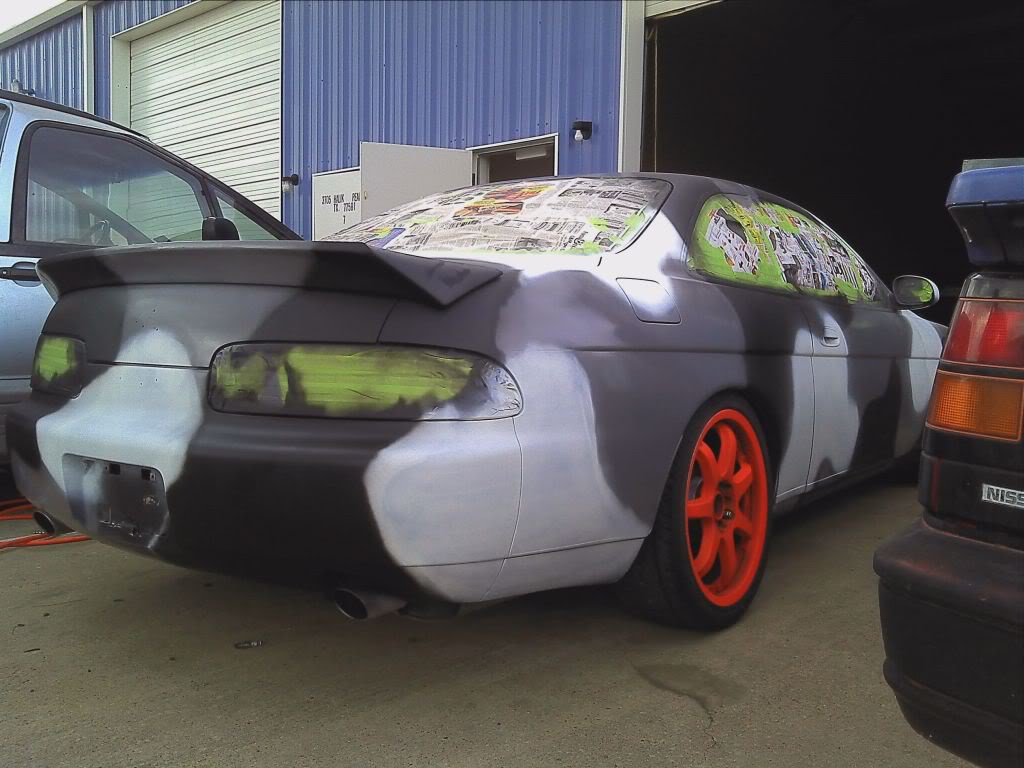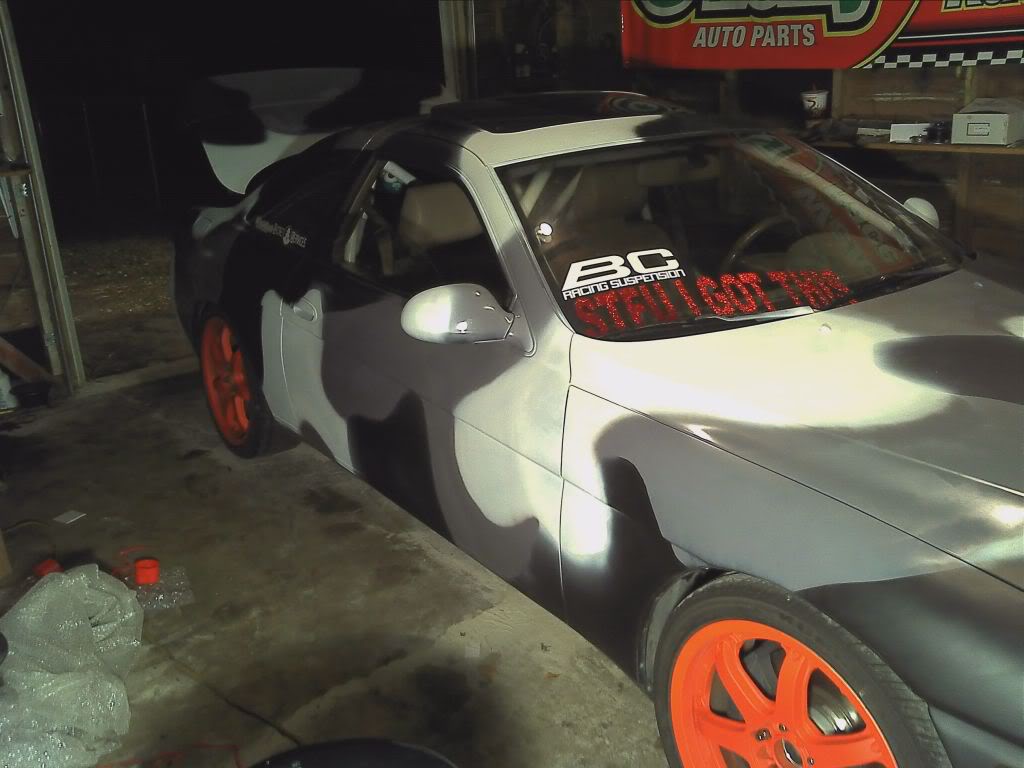 Big thanks to jr and erik for letting me your da chop shop and to oneleg, kevin, madman, random dude idk your name? and anyone else that was there!!!
3-16-2011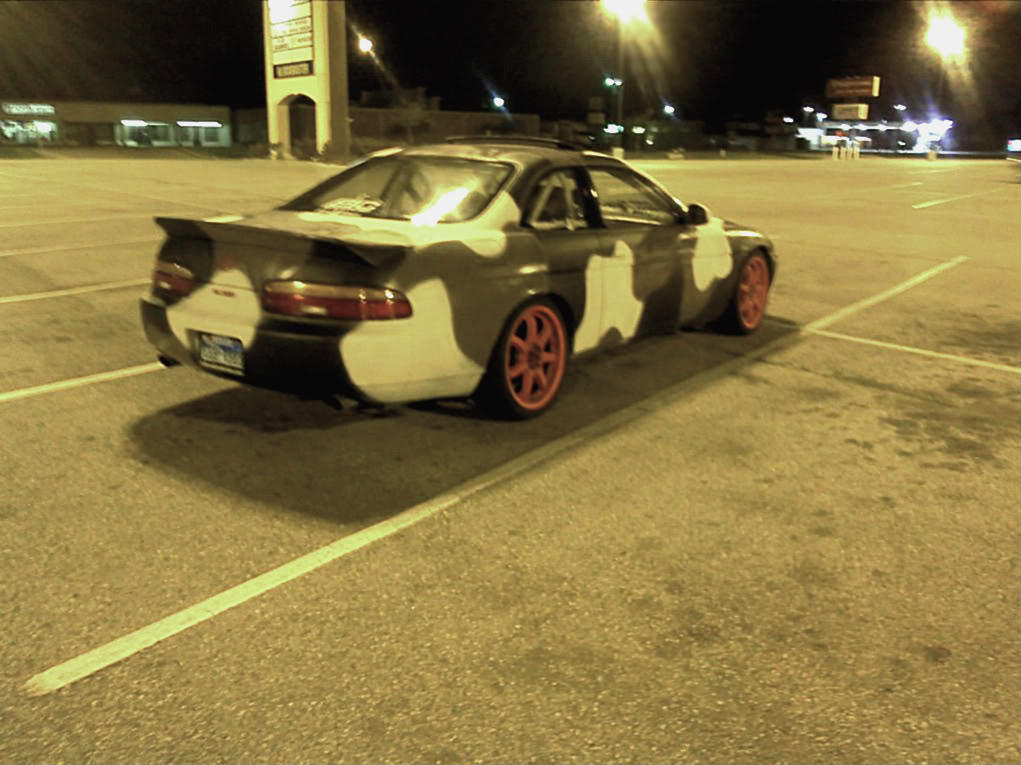 5-16-2011
update since i haz no internets at home....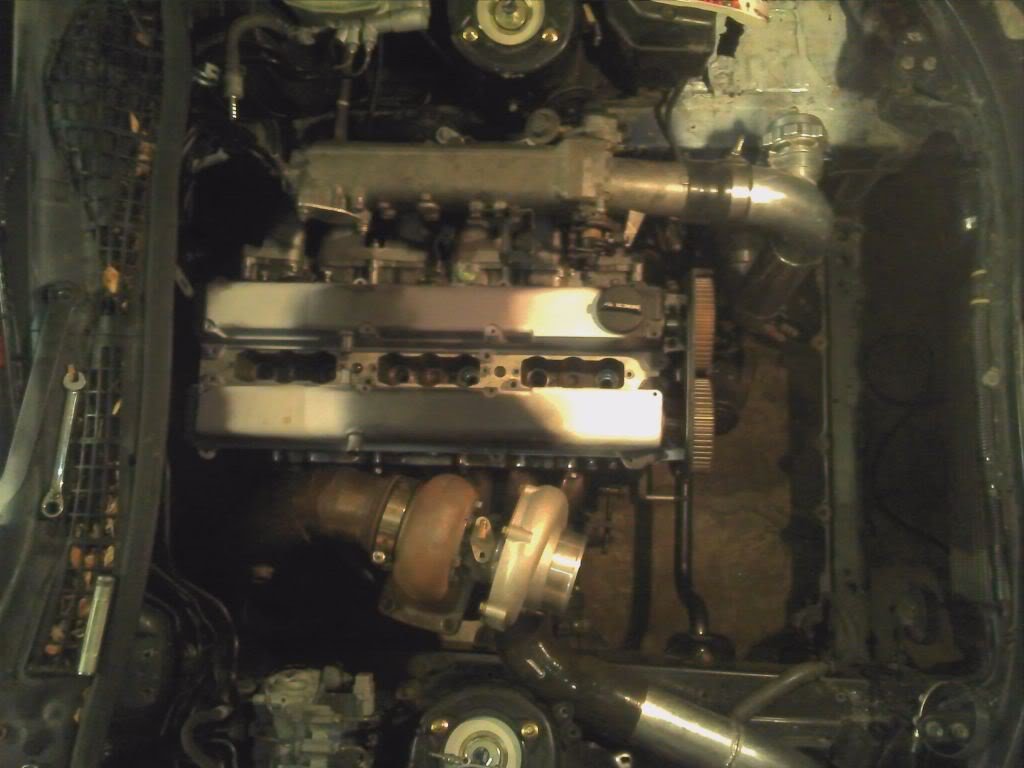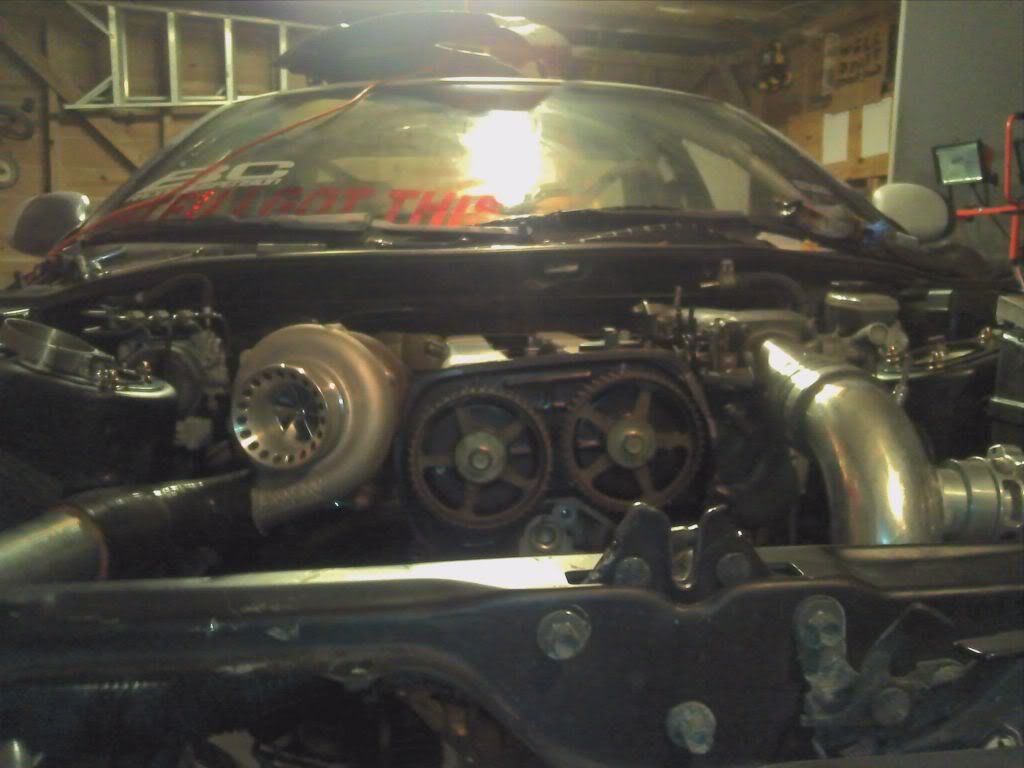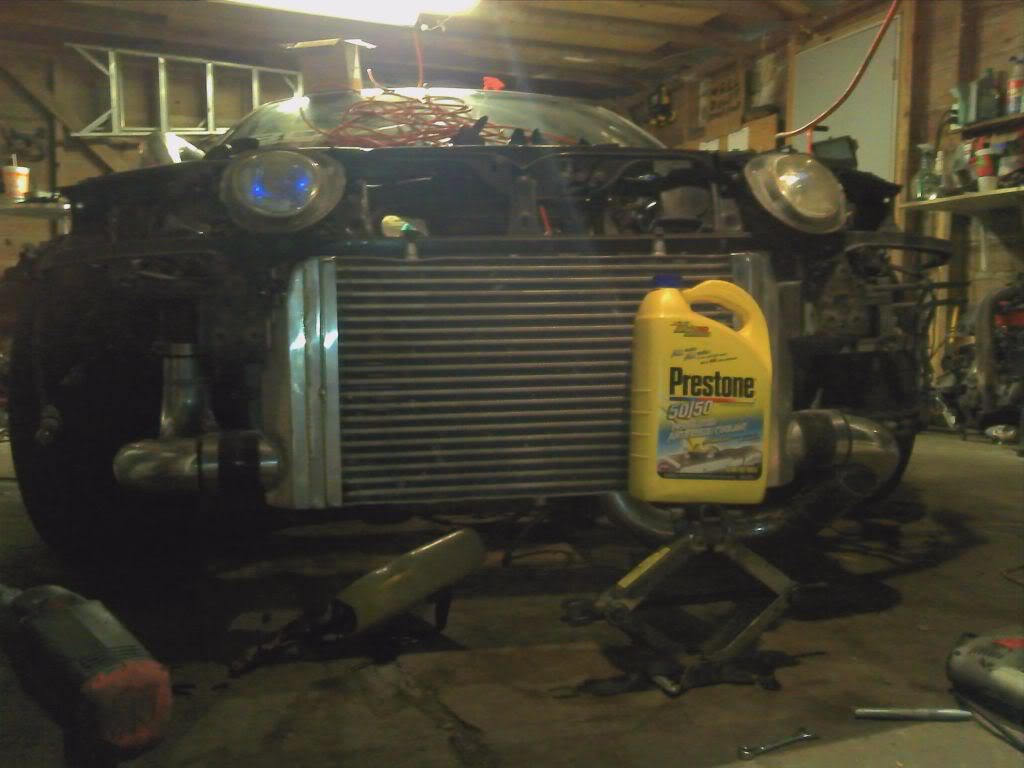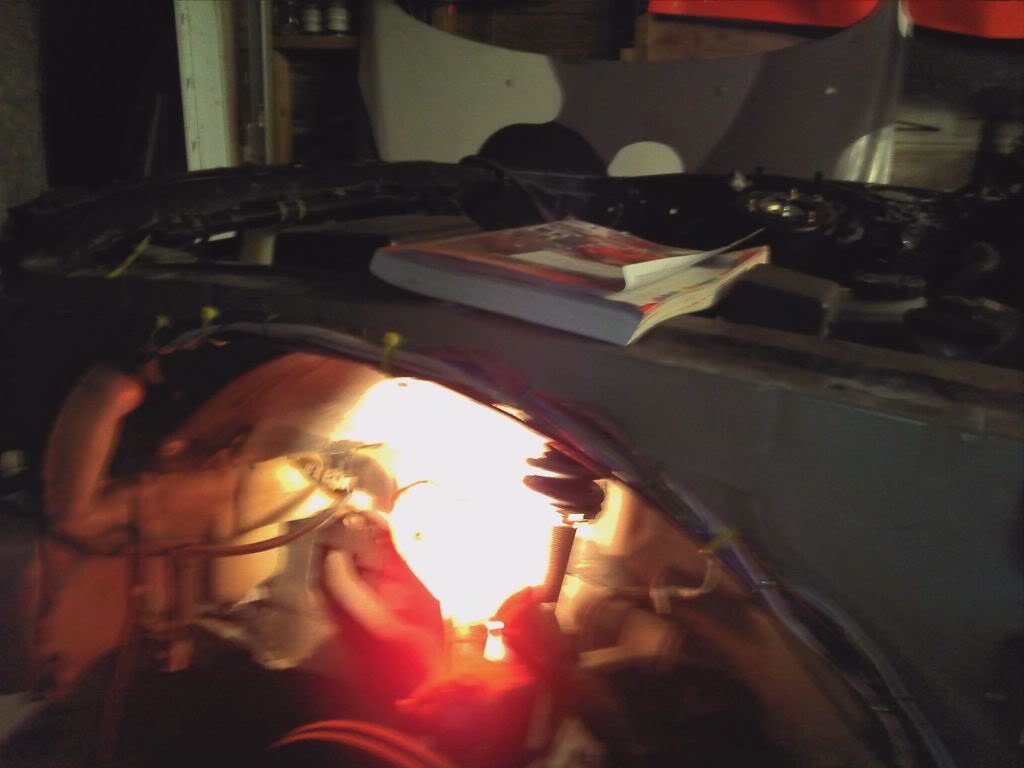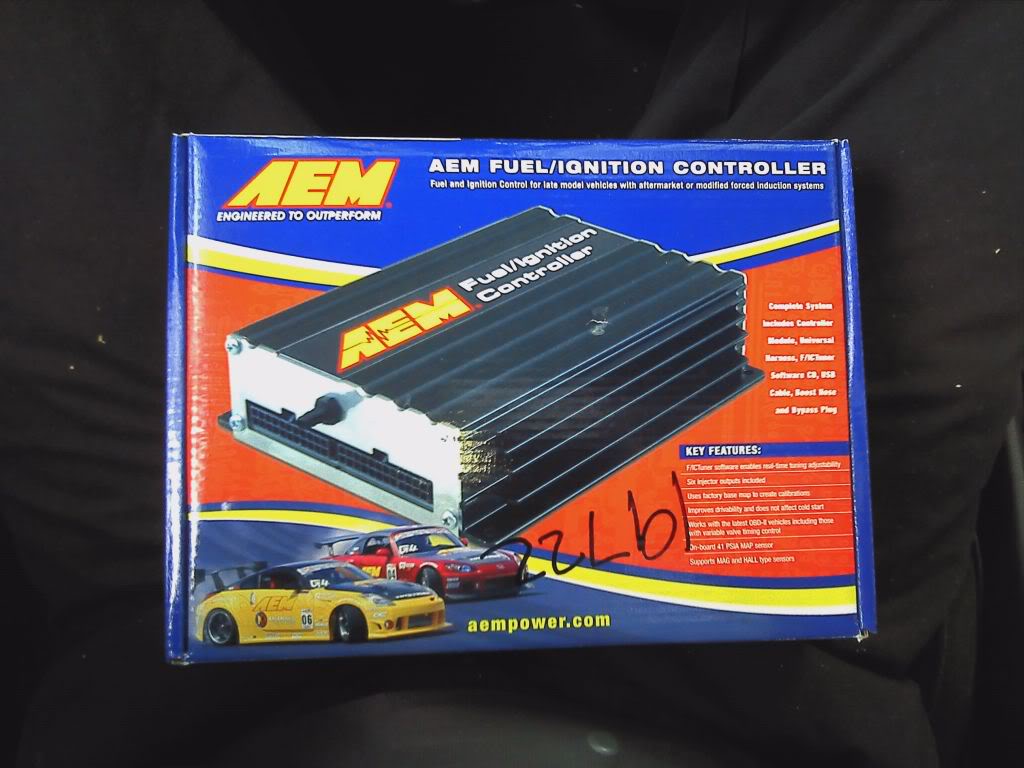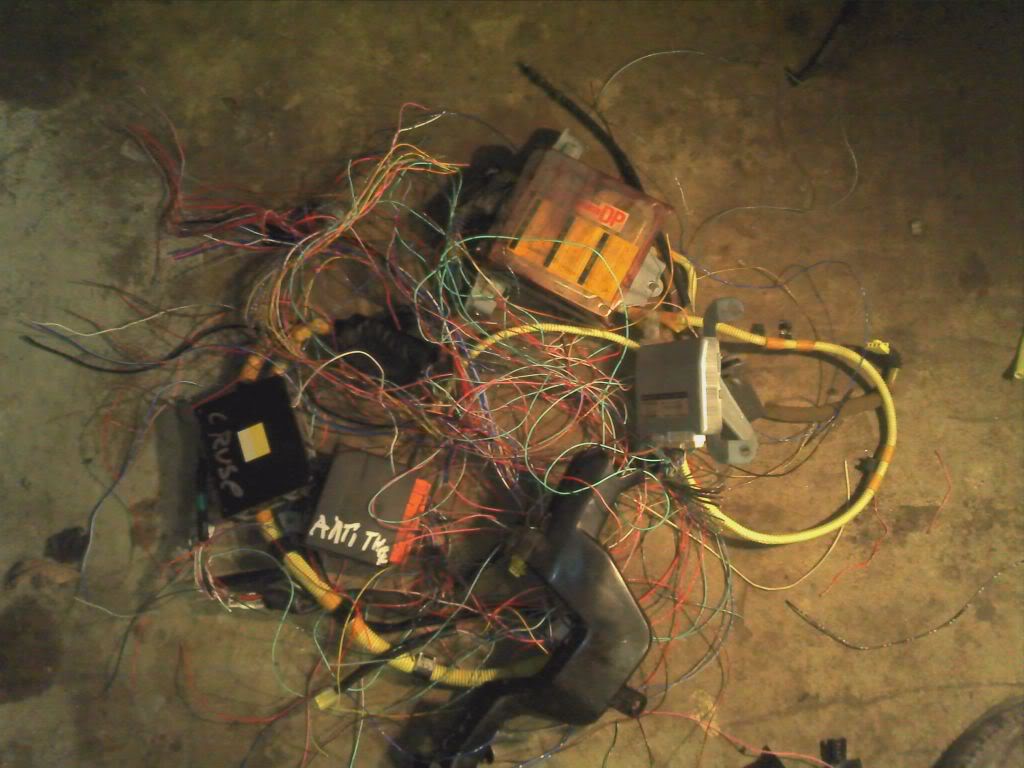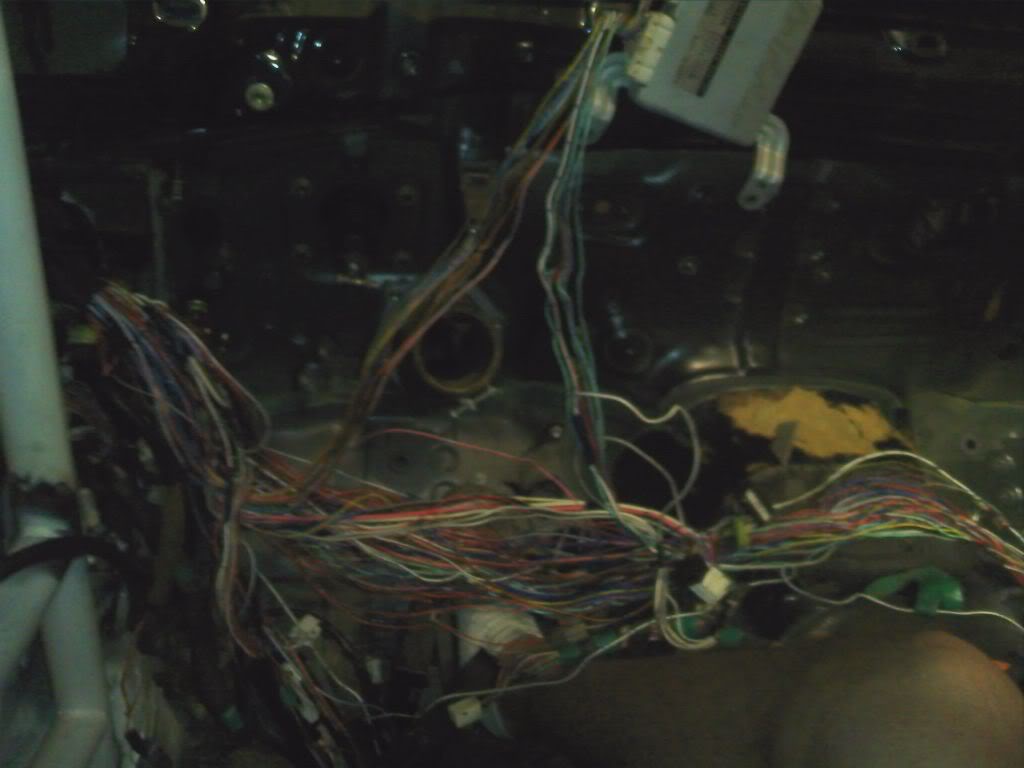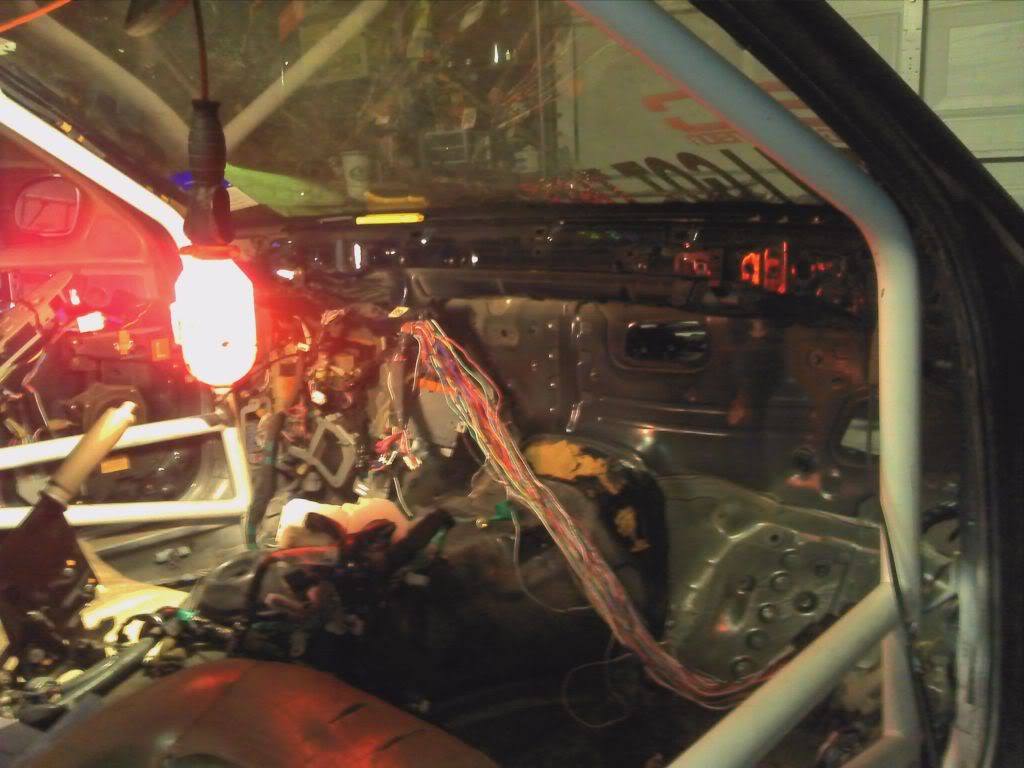 5-23-2011
here's you go...

1600ish hp worth of fuel pump... Bosch 044 and a barry grant...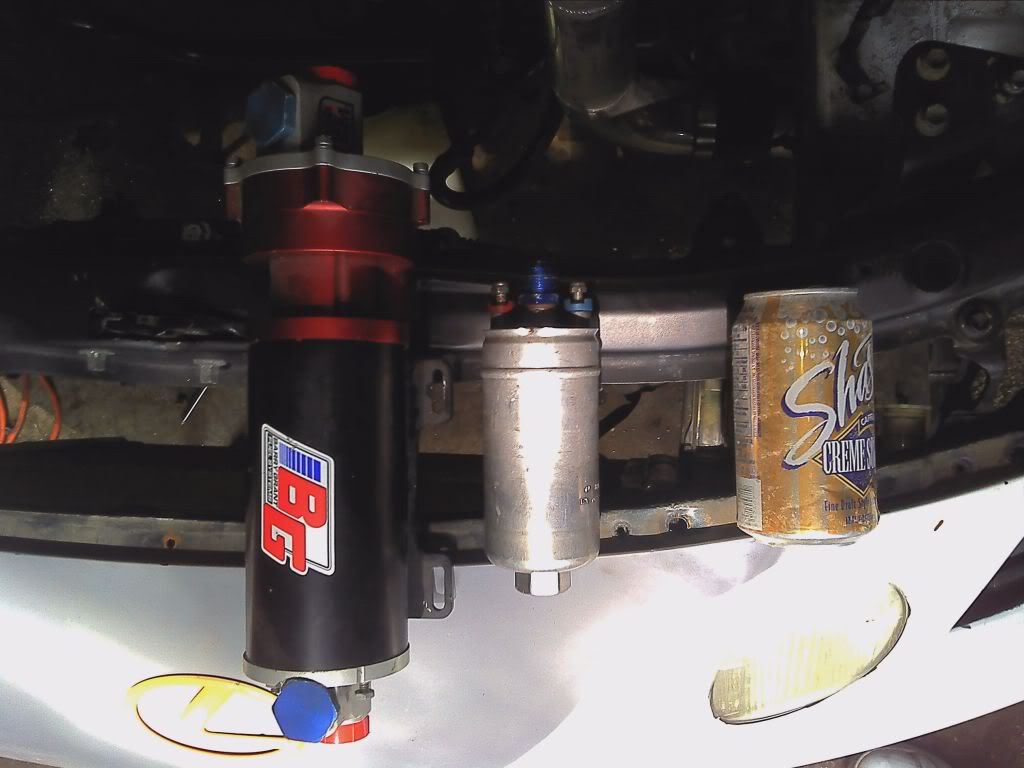 snazzy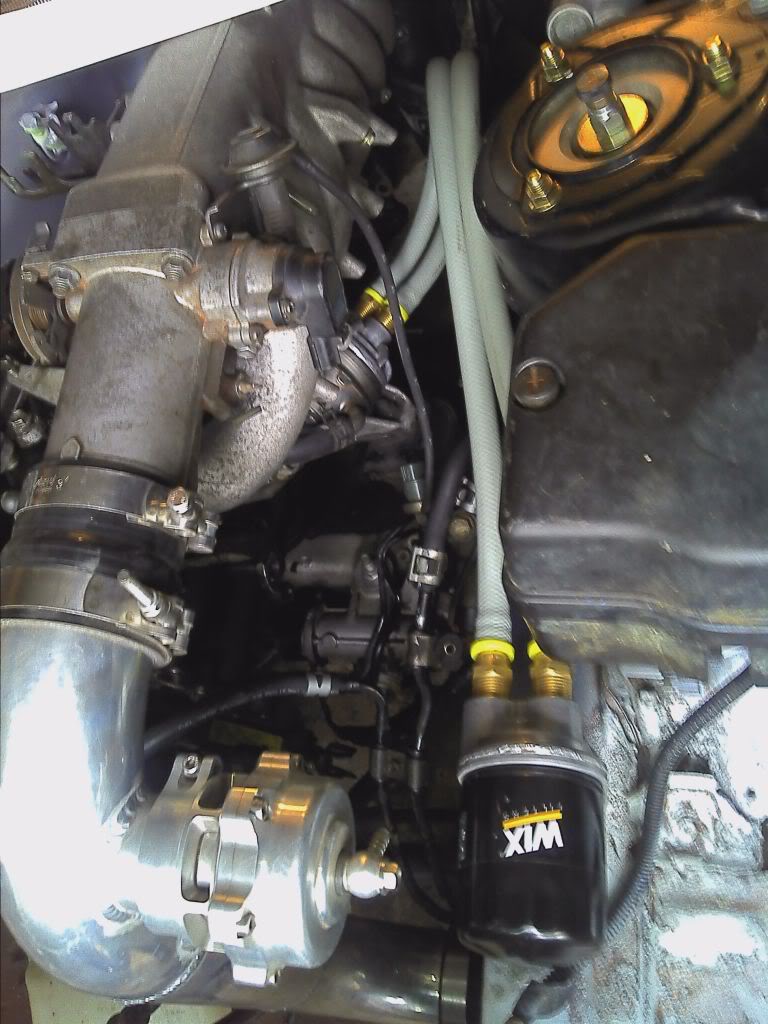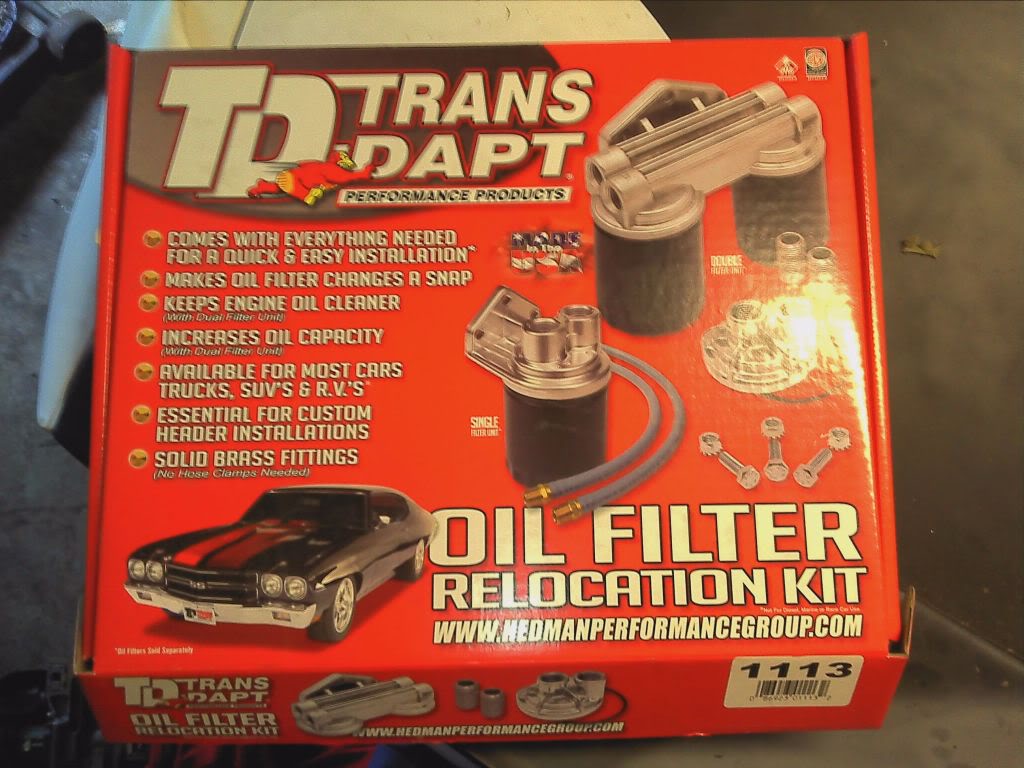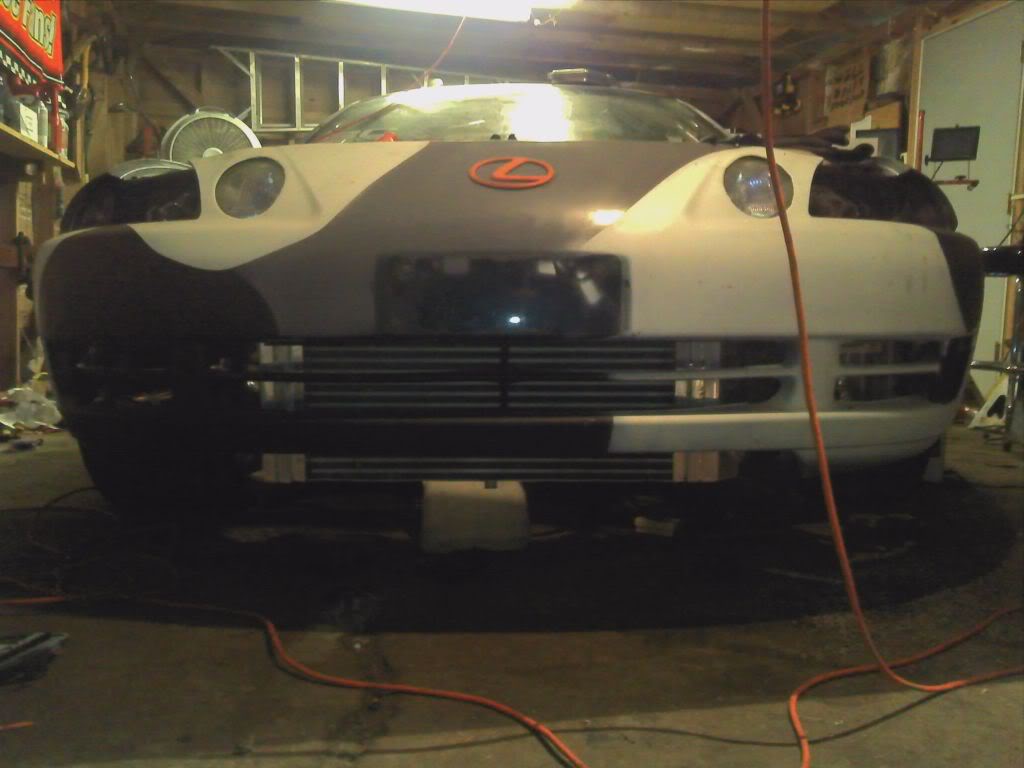 i also bought myself a small mig welder, so i will be making random sticks style awesome stuff...
5-27-2011
hah yeah i didn't read your whole post and i was thinking its on the box?, thanks man



It has been a steady battle of buying shop supply's and car parts, but its still goin...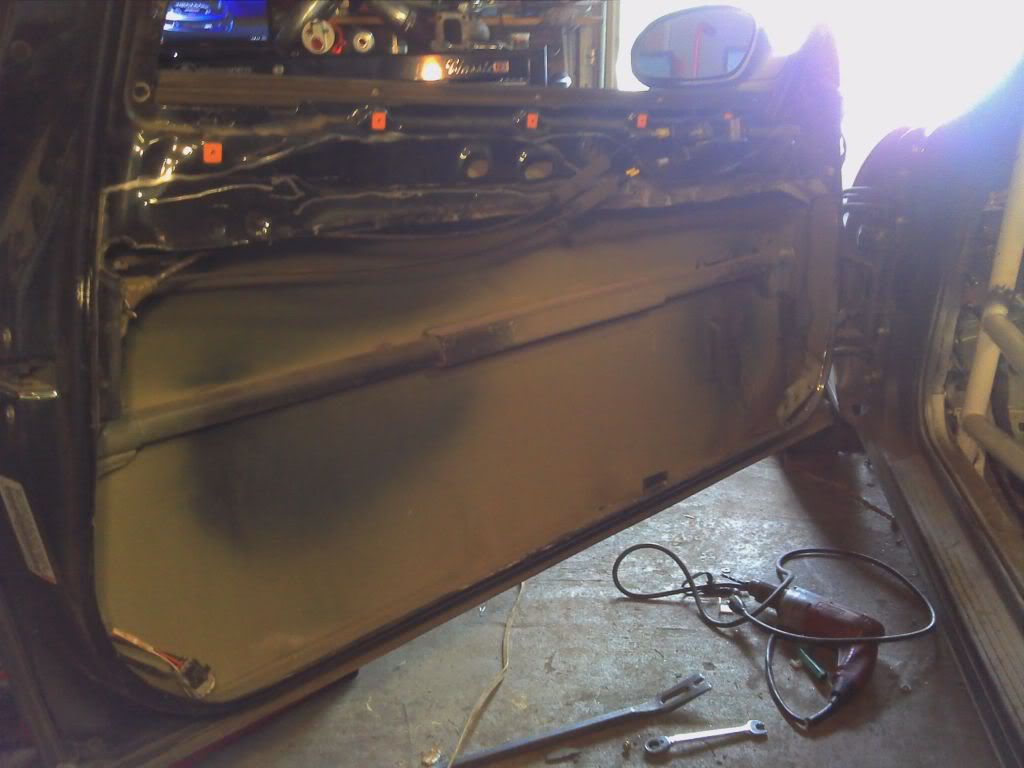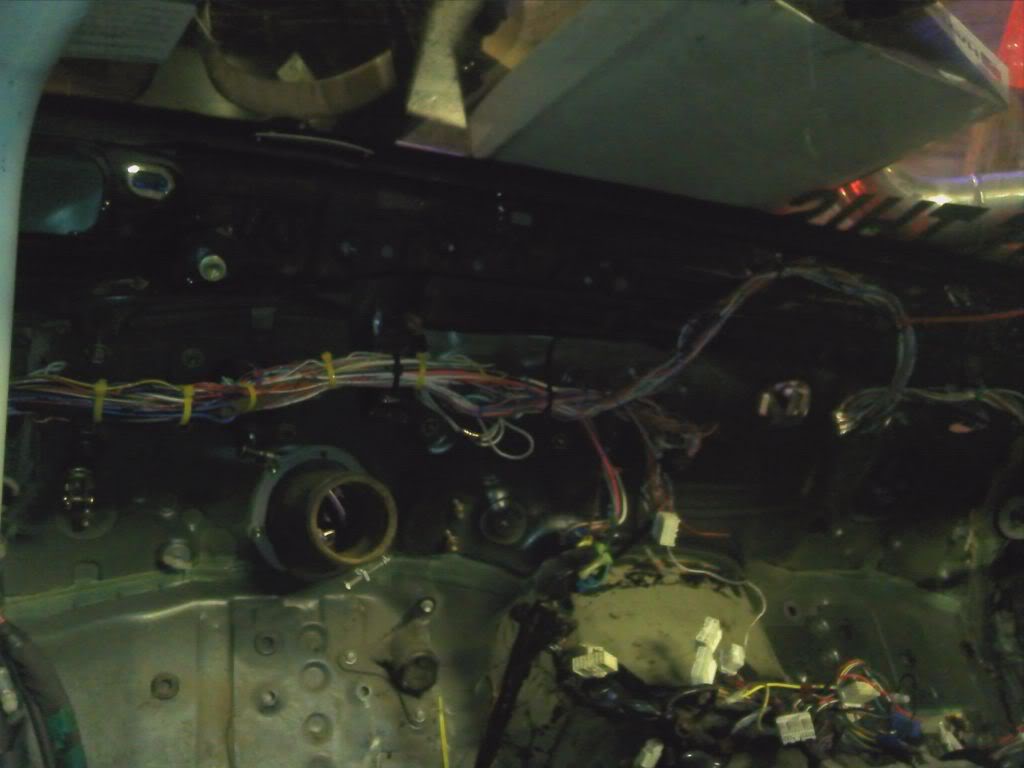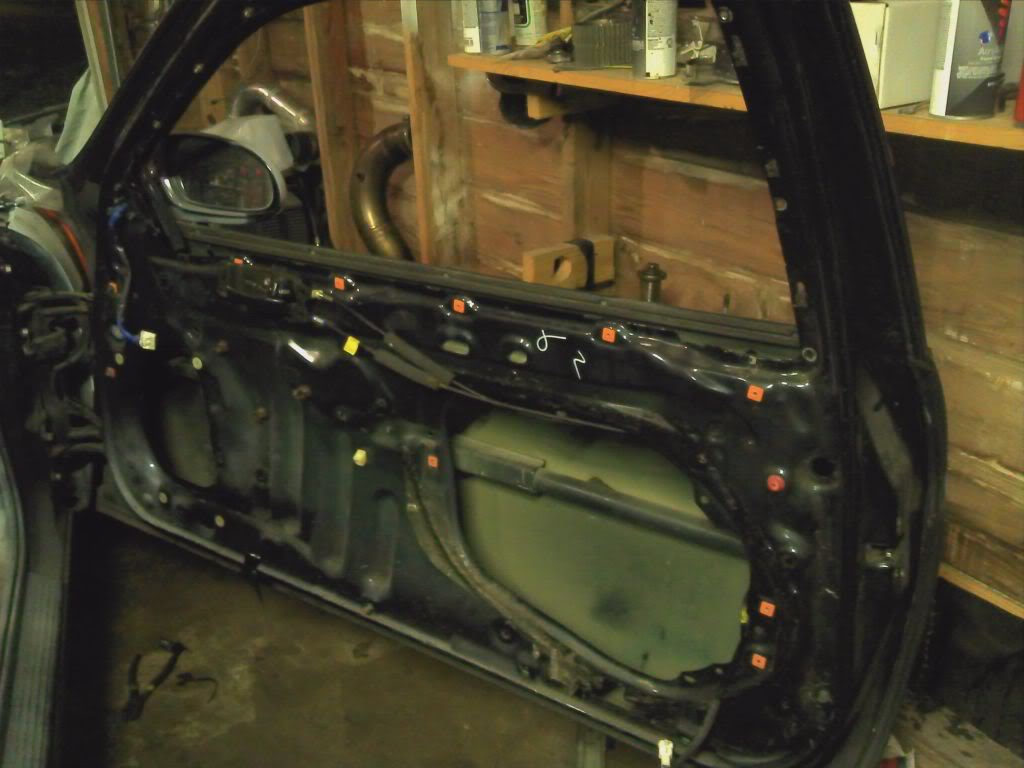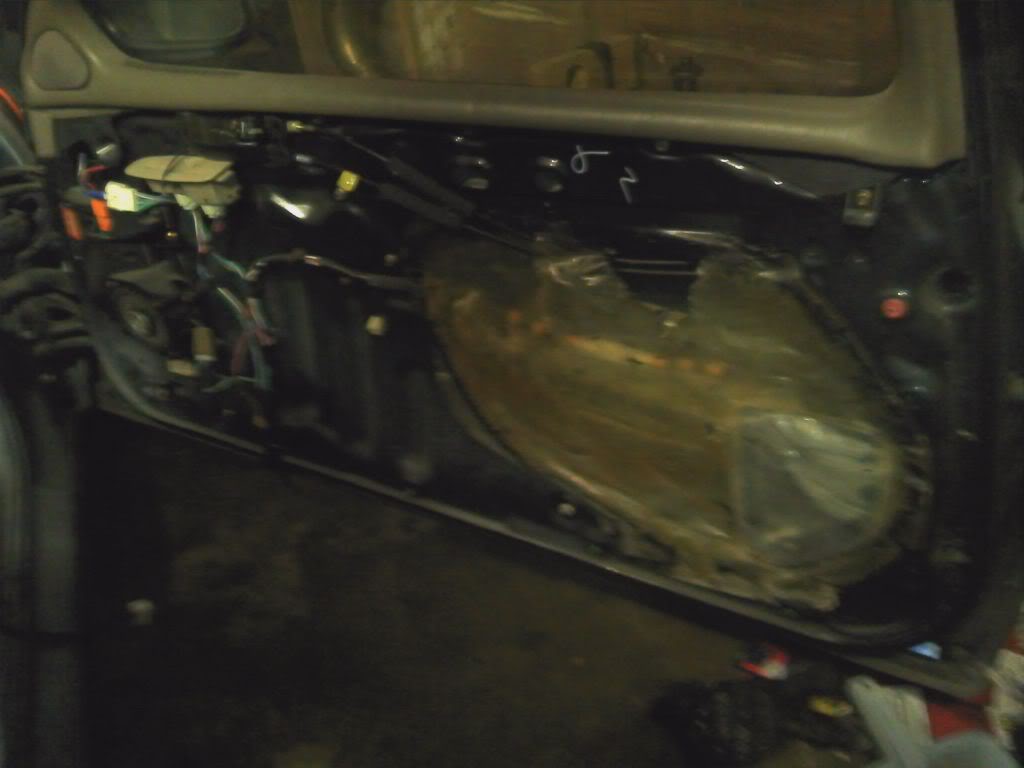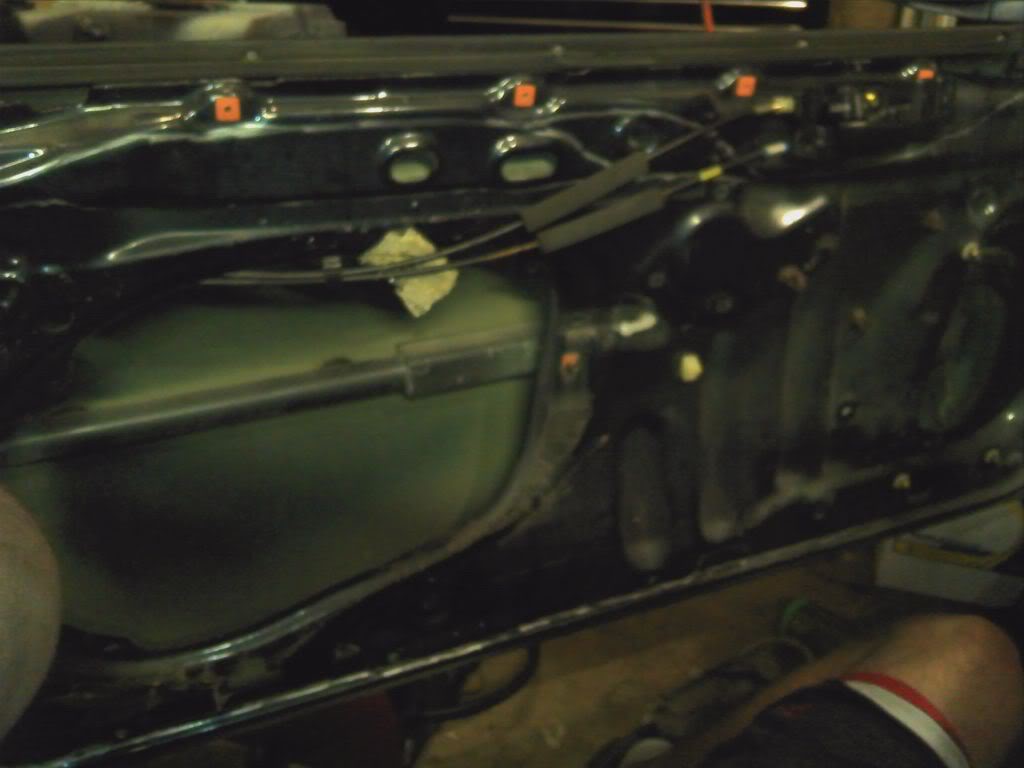 6-10-2011
TADA!!!!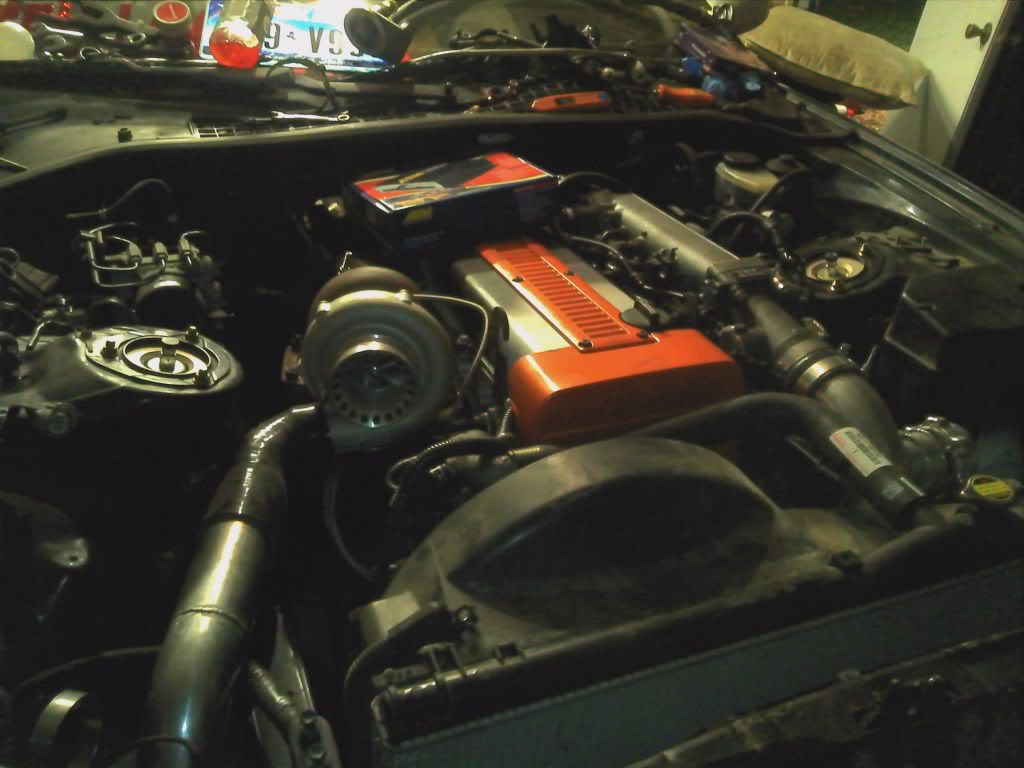 handicap mafia rollin hard yo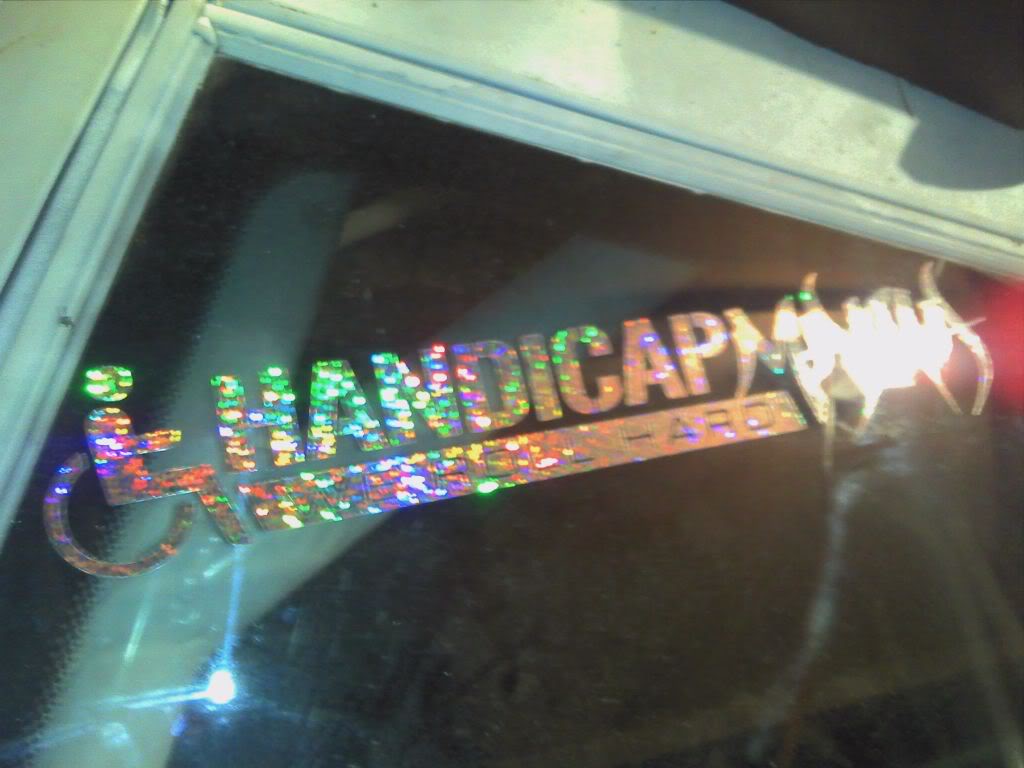 the other sticks helping out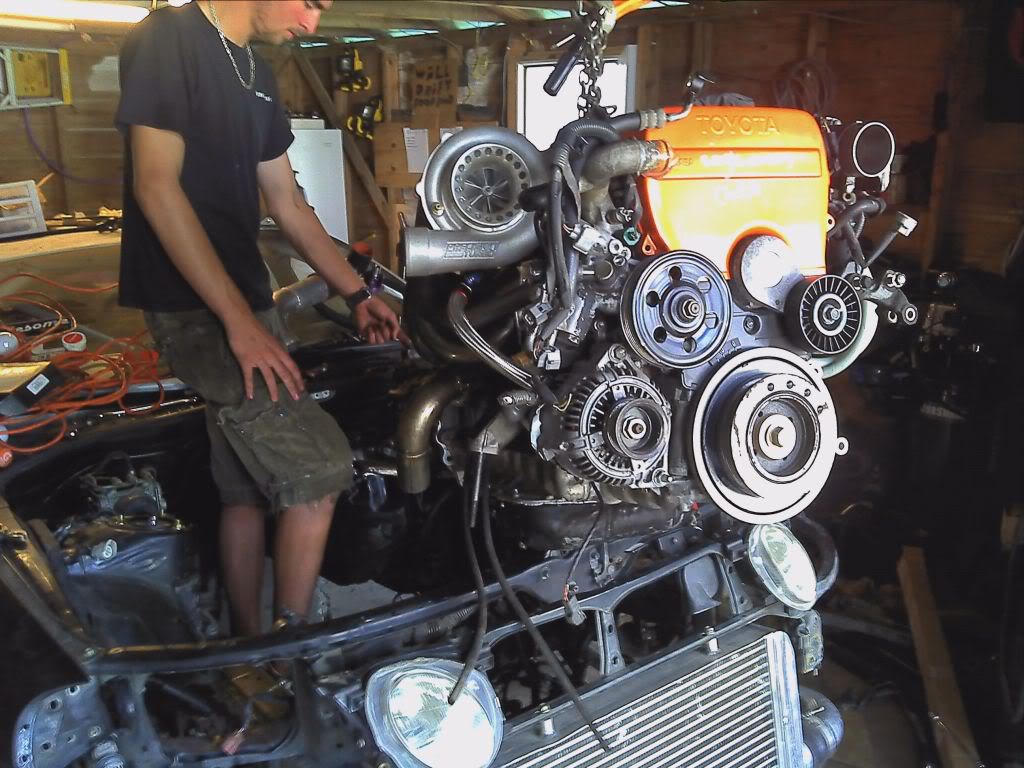 well after buying lots of parts its in, just a bit of wiring to be done, make shure it fires the change the timing belt and wp... then she is set...
6-13-2011
My friend ONELEG came by and wanted to take pics of everything so here's a few pics he took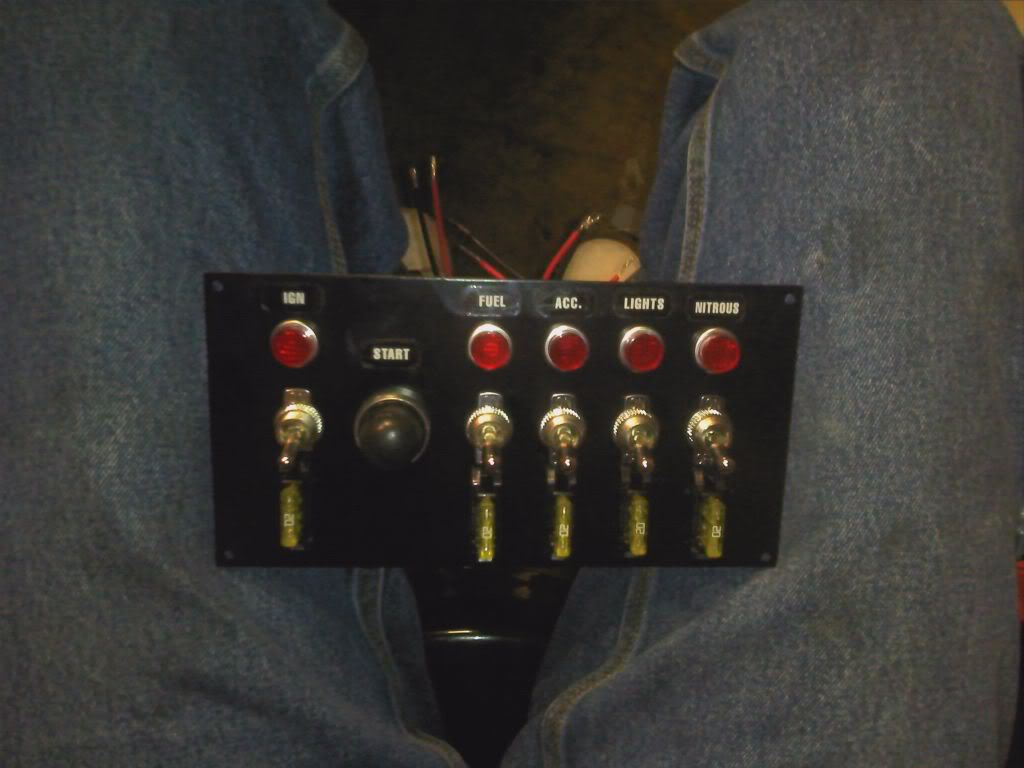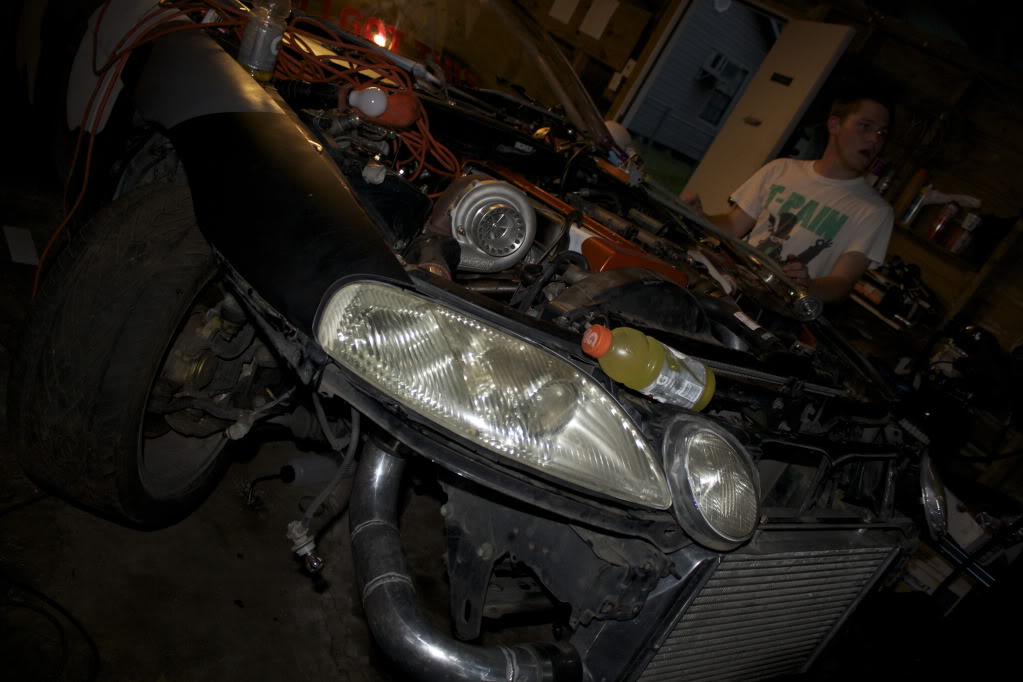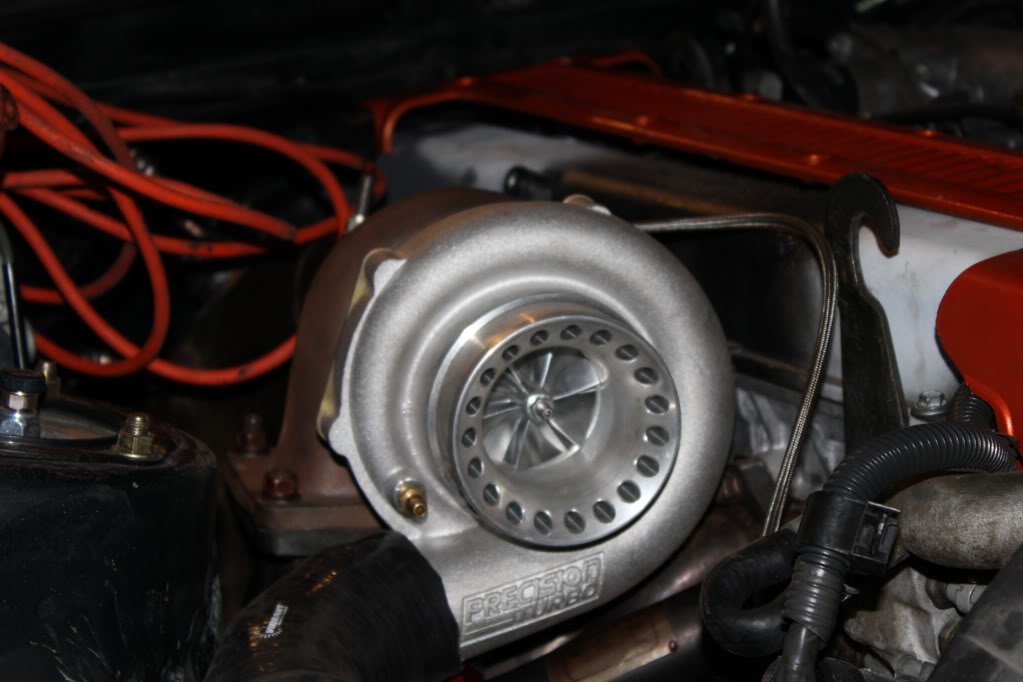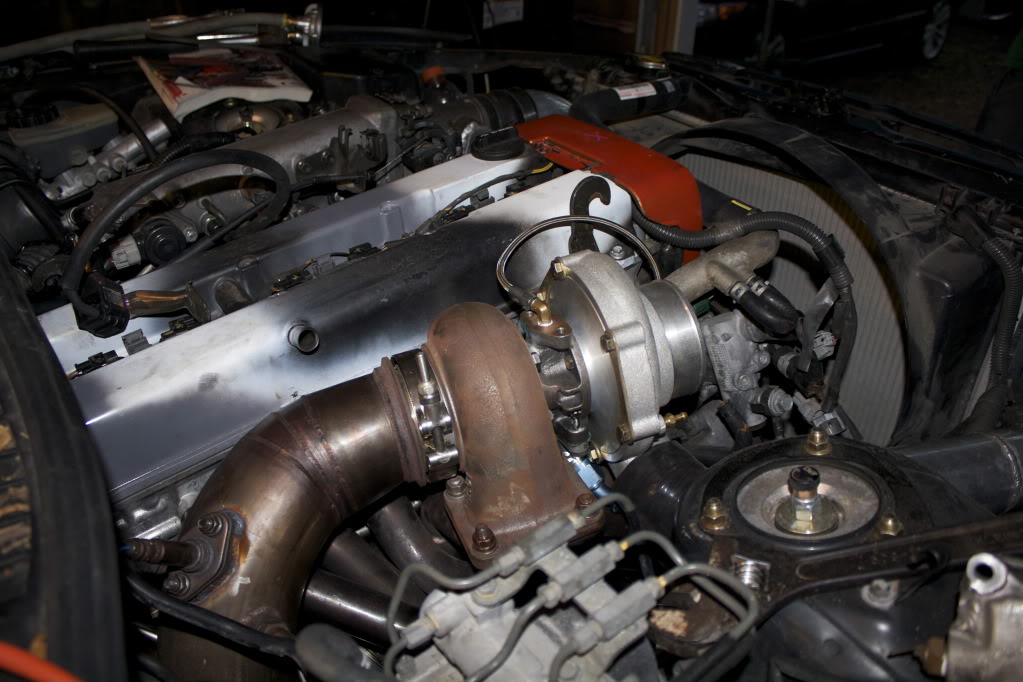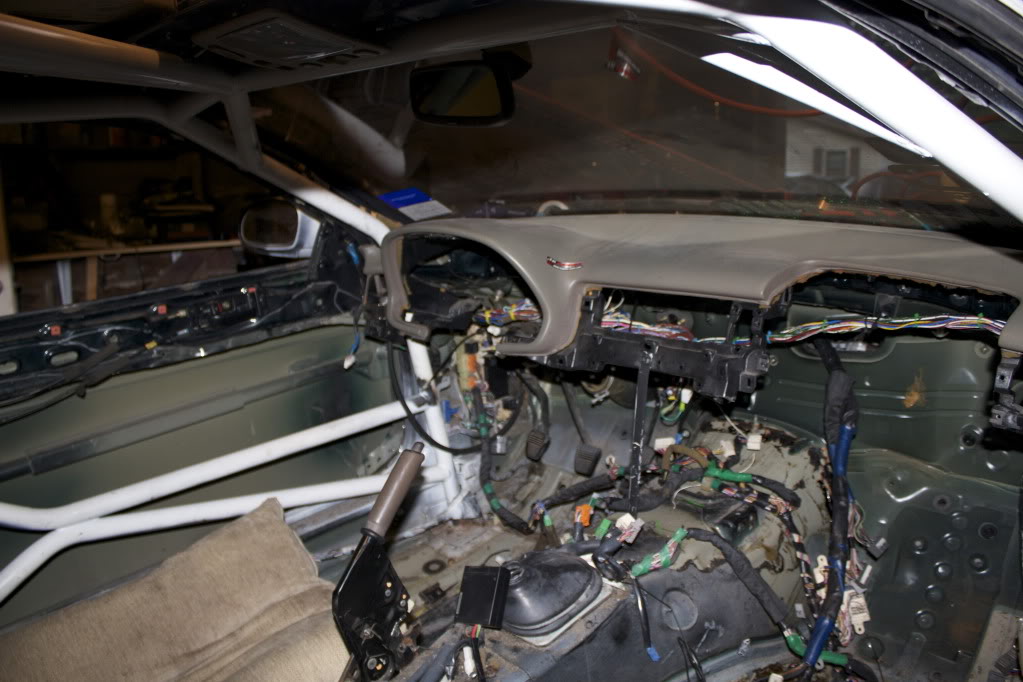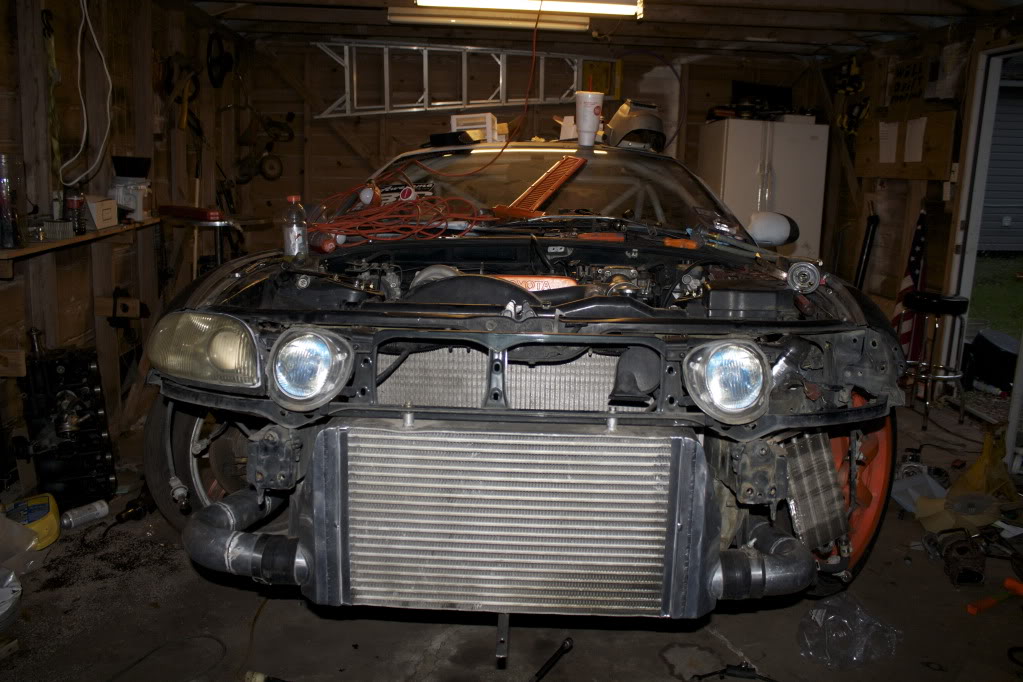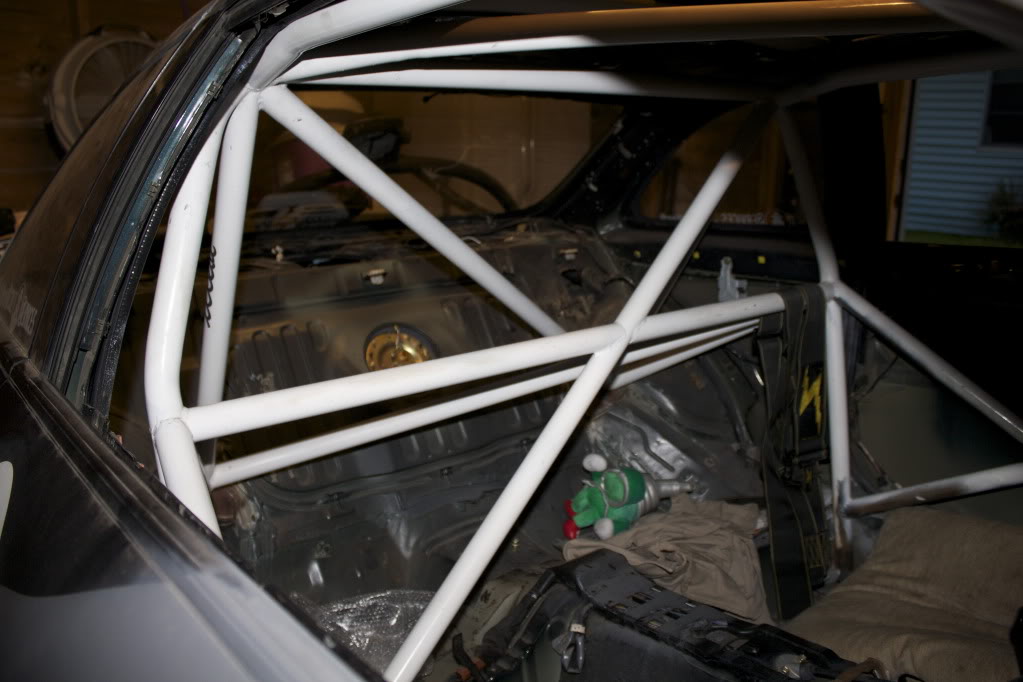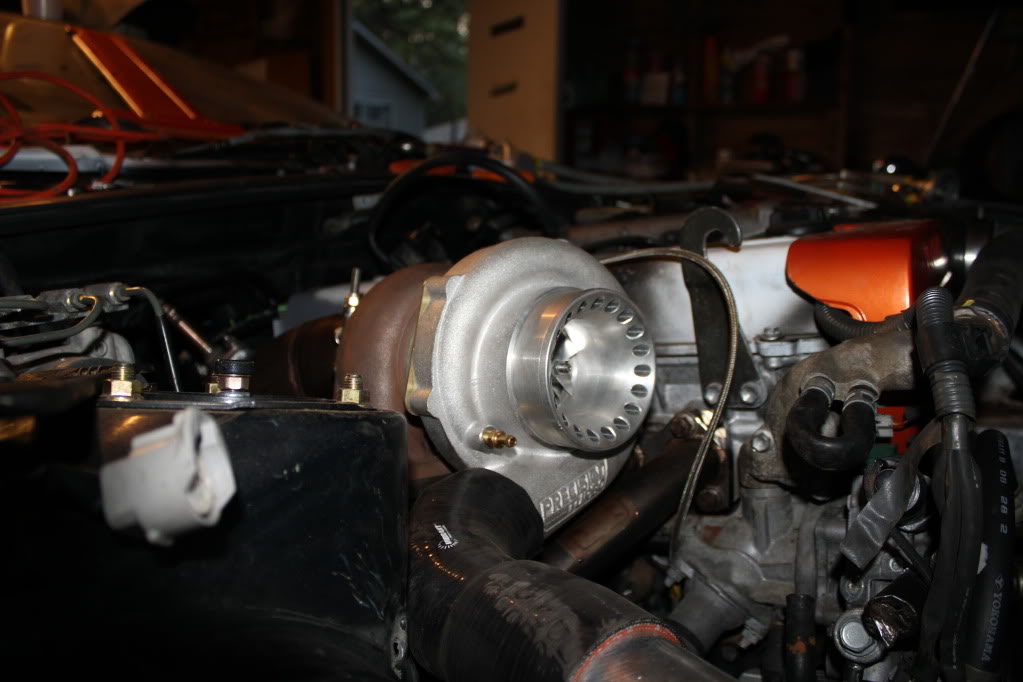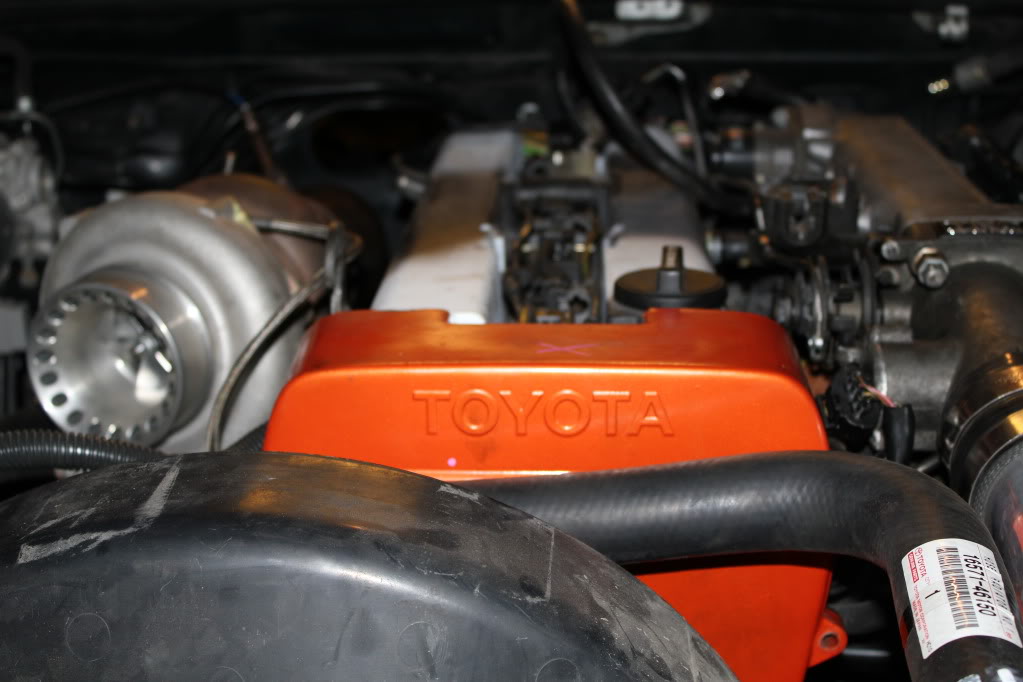 6-20-2011
yay....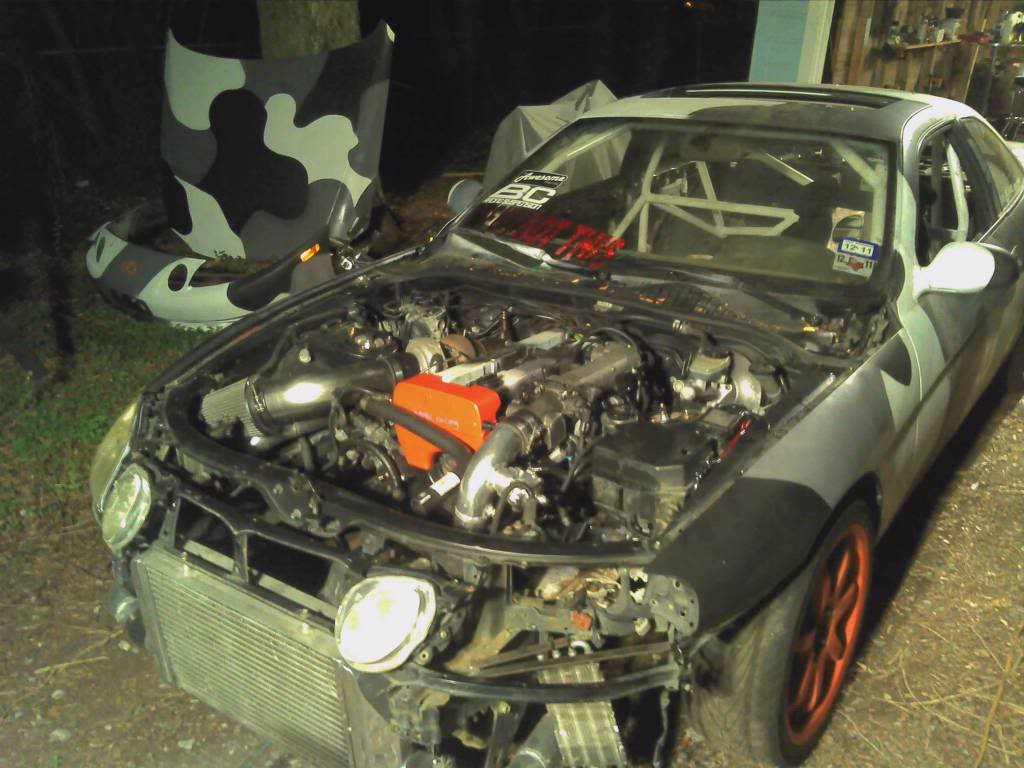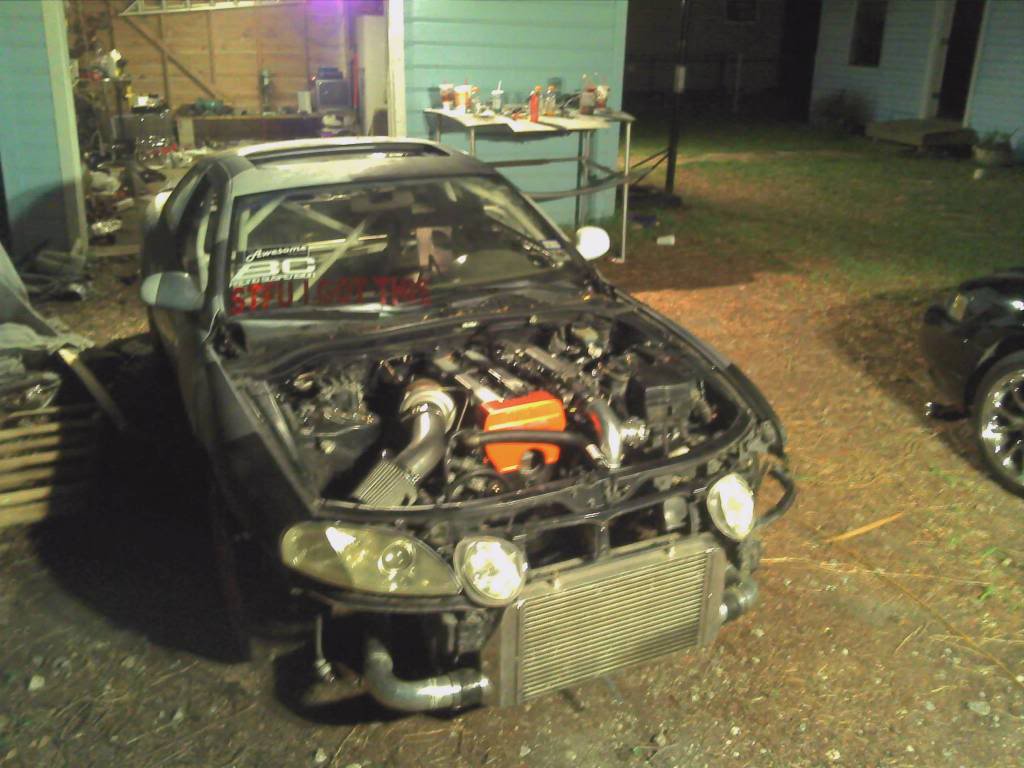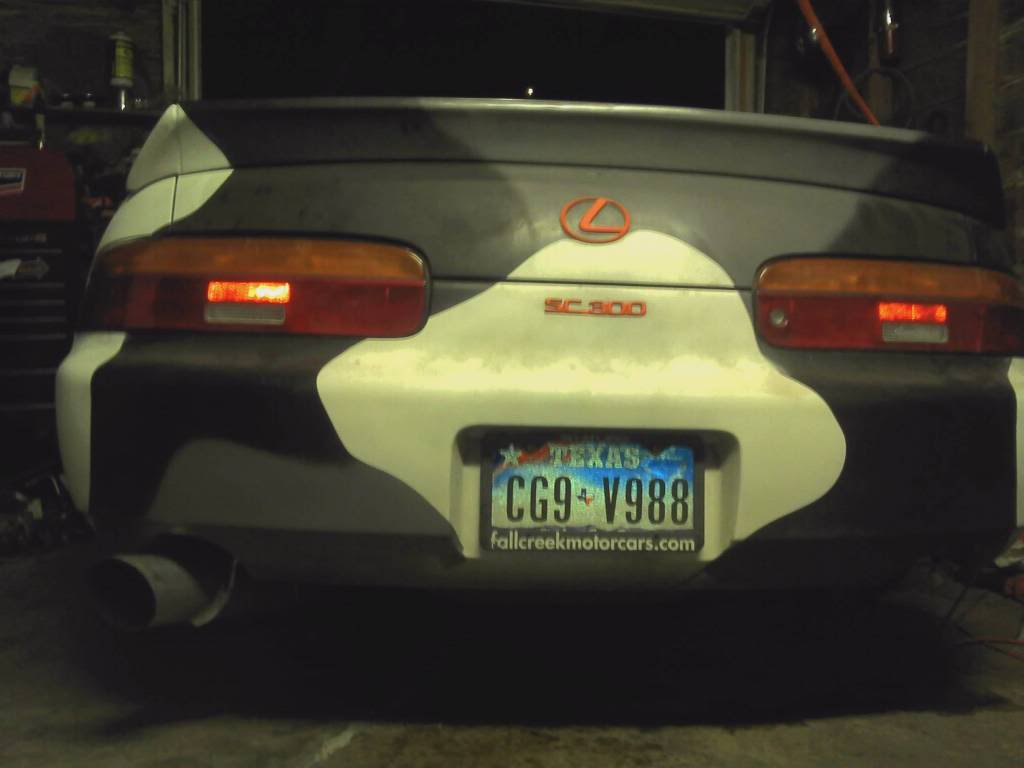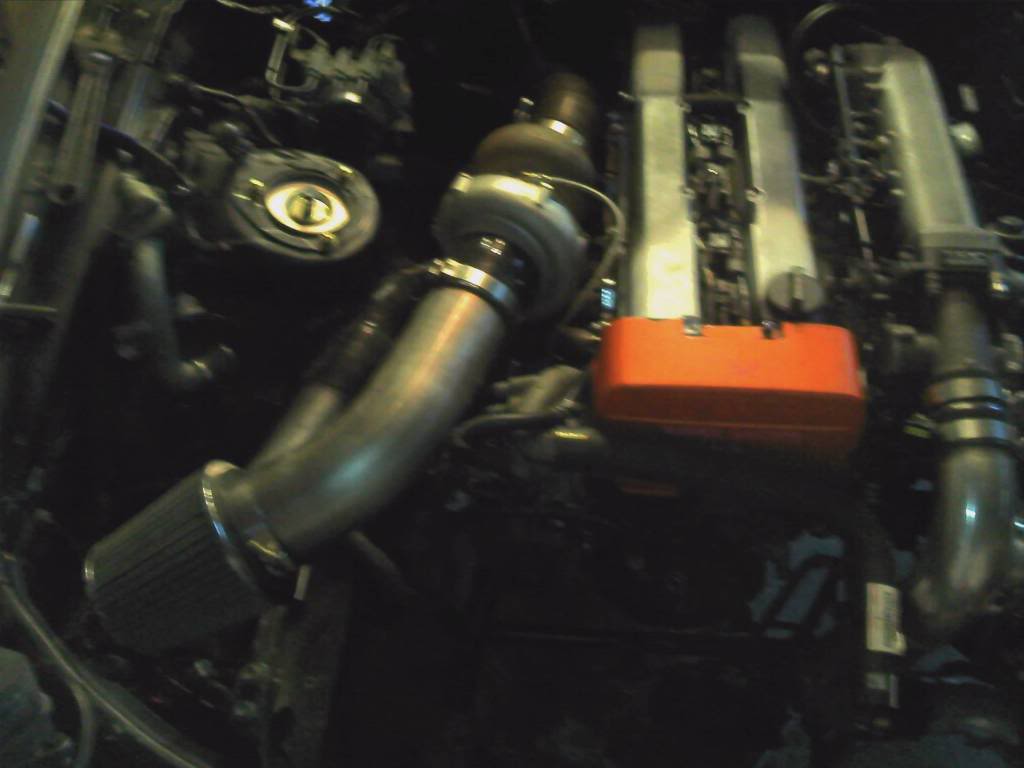 and on a side note got somthing kool for my helmet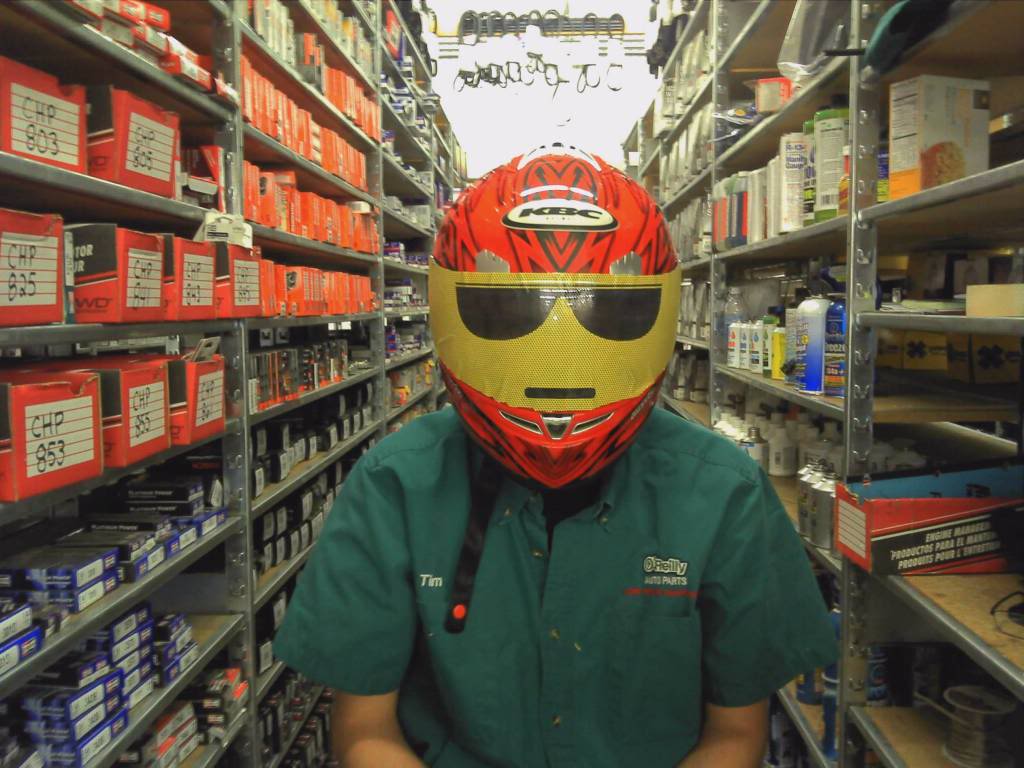 7-11-2011
got the green light to take the car to houston... papa branch tagged along...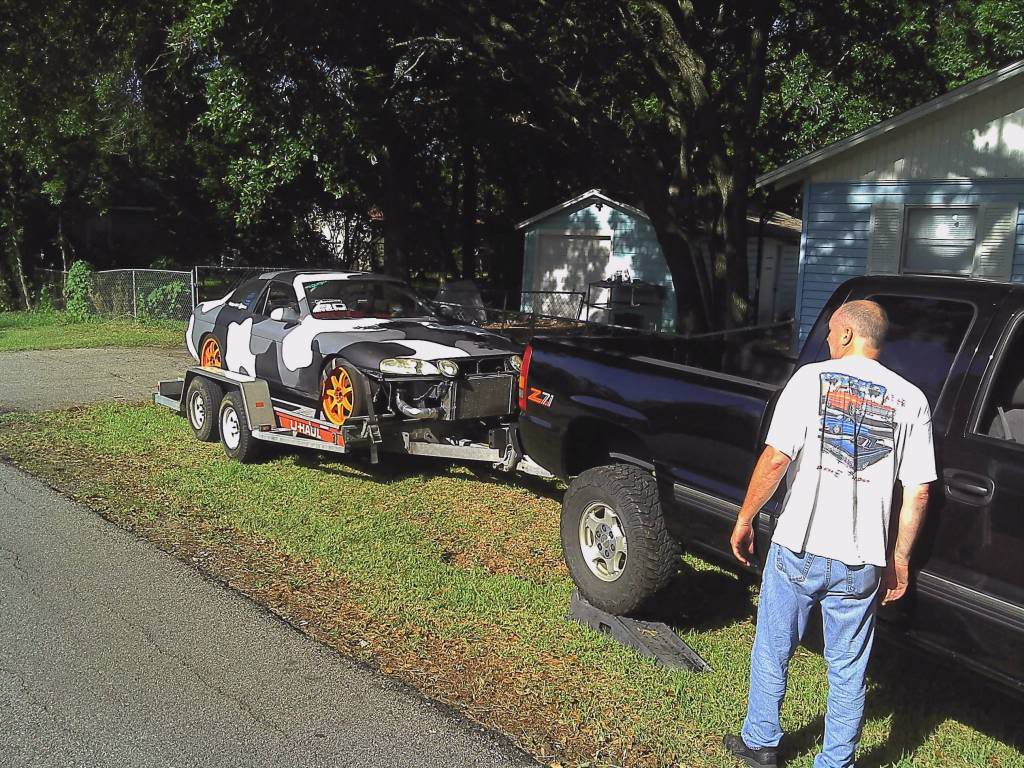 got the car to a undisclosed location to get my wiring finished, aem fic wired in, and a few other kool stuffs done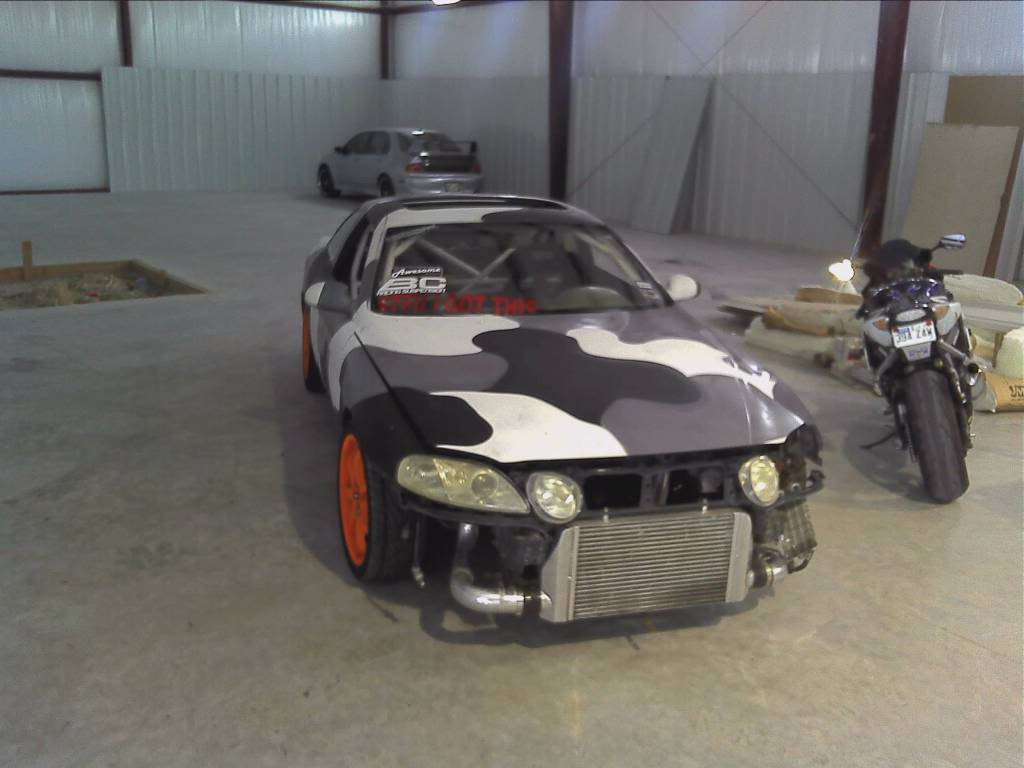 timing belt came in, along with stuffs for one of my r/c cars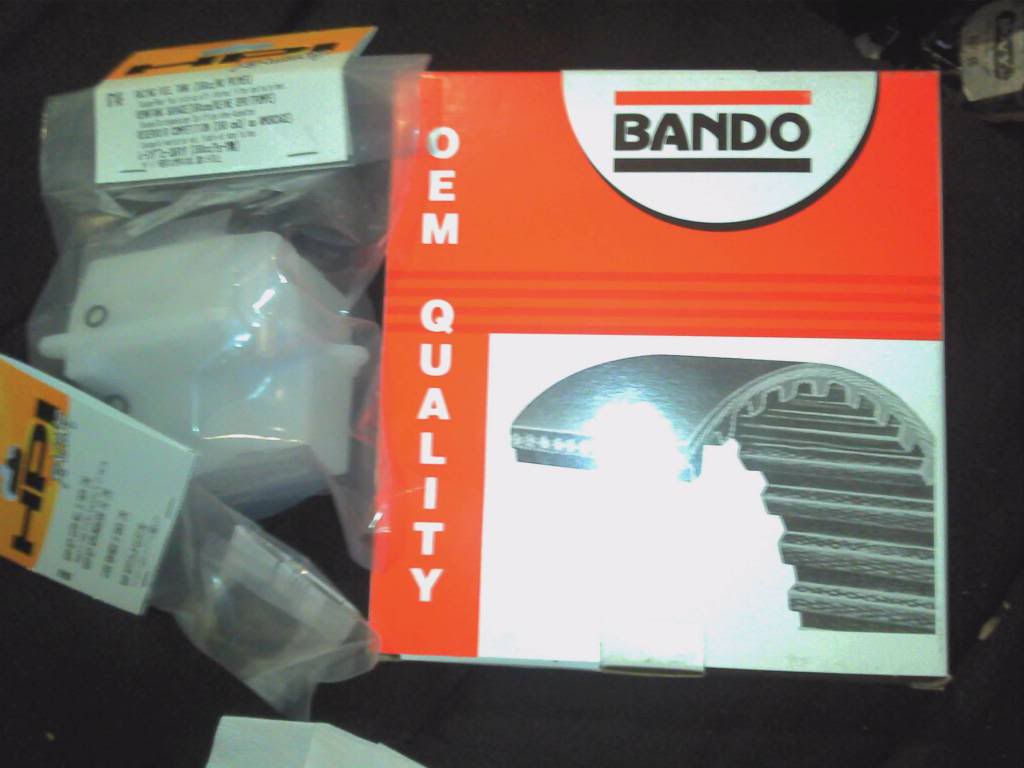 7-15-2011
Fyi if anyone didnt know, turbodreamz is a really kool guy...

Lookie what he gave me..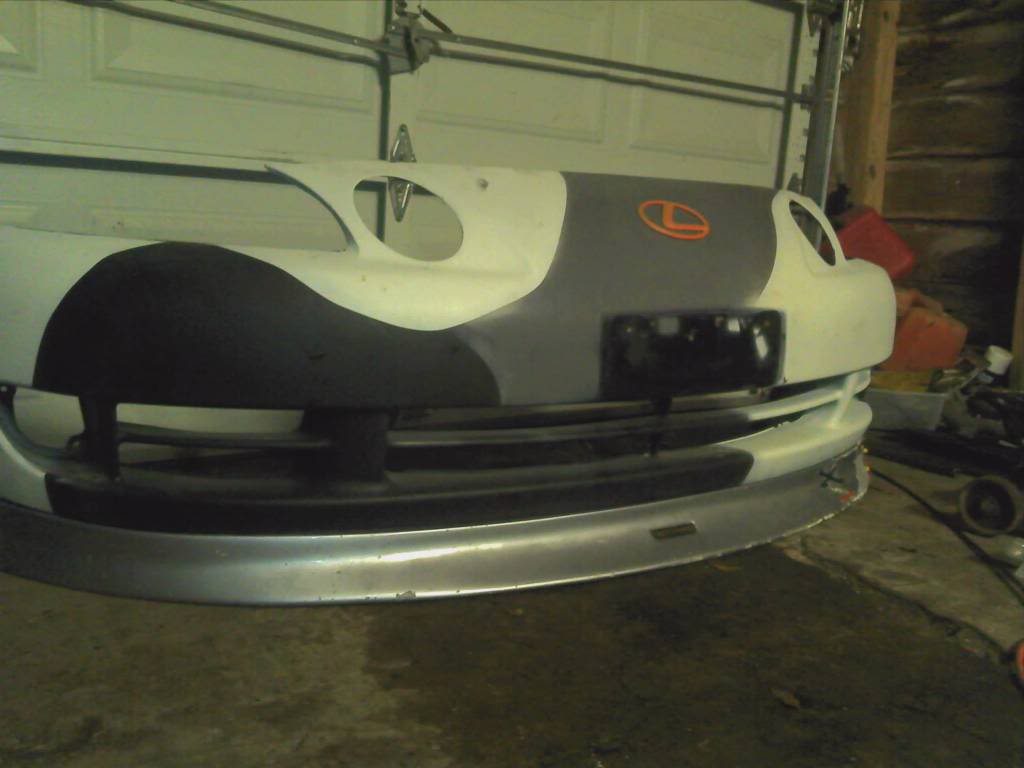 And now I just need my car back...
7-27-2011
car has been moved to a non-disclosed awesome place... so awesome indeed that it is actually the shops name, The Awesome Shop in Huntsville, Tx. same hop that did my cage and knuckles.

car is undergoing a new drastic i'm broke weight savings program, got a new spiffy dash bars made, streeing setup is now 95% done, and fabbing up a few odds ends and trick things.

prolly gonna bring'er back home tomorrow and knock out the water pump and t-belt, drain the gas and put aircraft fuel in it and see if she makes wonderful neighbors annoying noises

8-13-2011
OK now... car is back home (has been for a couple weeks) after a small vaca...

I'm starting to think that it knows its going to live a very VERY hard life when it runs, i have had small gremlin after small gremlin, latest one is i only get injector fore on fire ecu power up it will fire up no prob for maybe 4-5 revolutions then dies, when you try and restart it and all it does is spin over no injector fire (car runs like a beast on starter fluid) but if you kill power to ecu it will fire over again...

cam sensors are good and pulsing crank sensor is good (i have 3 good ones and a friend let me try his off his running chaser) also, i just got no injector pulse.

The ecu is good also cause we try'd it on a friends 1j s14 and it ran awesomely... One crazy thing tho while testing power and ground and pulse we touched one of the wires on the crank pig tail with only the ecu powered up and the injector started clicking as if the car was idling even tho the car was not turning over????

I am very very lost on it all never had a car be such a p.i.t.a. like this before, any ideas ????
9-12-2011
Ok update time!!!

Ok I got a new map sensor from I guy in cali (if I knew his name or screen name id give made props but idk who he is, either way super legit guy part worked great) got it on the car fires up and idles way better part throttle drive ability is alot better also BUT.... This cock tease of a car has done it again, it will now start to make boost but right about say 8psi it sputters out and wont go any farther, and I meam the just starts to squat and you get the feeling somthing awesome about to go down, then bam sputter dutter let down, this car has been a cheap asian hooker with no happy ending just infomercials... Iv promissed it the american dream of endless rolling burn outs as far as the eye can see but I get the feeling its just sitting around watching oprah... End rant on to tekicall stuffz...

I have pulled the plugs they look great not lean decent burn could use a lil timing thow (still on stock ecu dont know how to wire 1jz to sequintial fire injectors for aem fic any help id love it, come do it and ohh boy skys the limit) coloration seems to show a slight miss fire, id say thats the sputter, but its at 8psi and im going off the reason that I have seen people say 12-14psi is boost cut so idk im a lil lost, im fairly good at deciferin stuffz if im nudged in the general direction...
10-9-2011
ok took the car to get tuned yesterday and my car has a random legit limiter at 5k not boost cut as we are at 15-16psi at that point and have the map clamped via the fic... 5k is righ at the start of my power band so its like being onn a roller coaster that gets stuck right at the top of the hill and get you all excited for nothing

i need any and all ideas my next event is exactly 1 week away so i need this figured out quick... i searched alil bit but only similar stuff i see is people using emang (emang=booboo lol srry) i am stumped so was my tuner.

we did get a hellauva tune up to 5k tho for being under the power band and not making shiz for power yet she still catches a 3rd gear cherp and rols out... if i dont get this fixed i am going to the event either way and gonna see what i can do as far as drifting @ 5k...
10-15-2011
pay paled entry for ggp... about to put the diff back in the ole gal and hope for the best... still have a random 5k rpm limiter but i have 16psi soooooo we shall see if it blows it blows...

im a lil rim poor...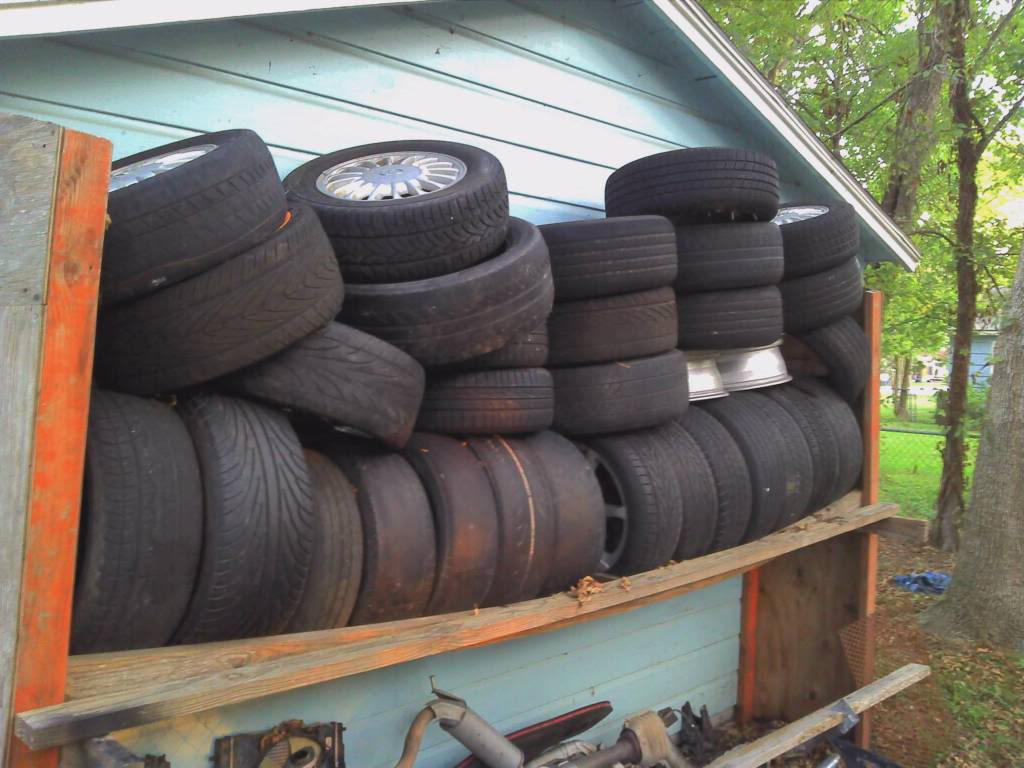 not counting the ones outa the pic i have 40ish...
11-23-2011
OHHH BTW.....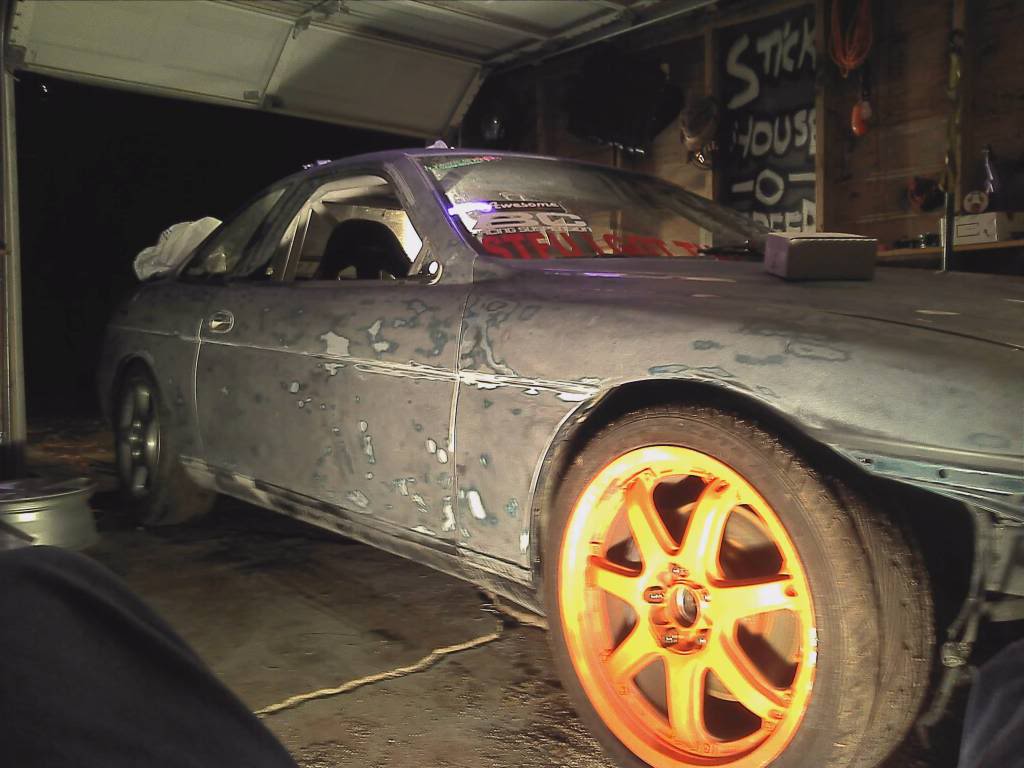 ANNNNDDDD...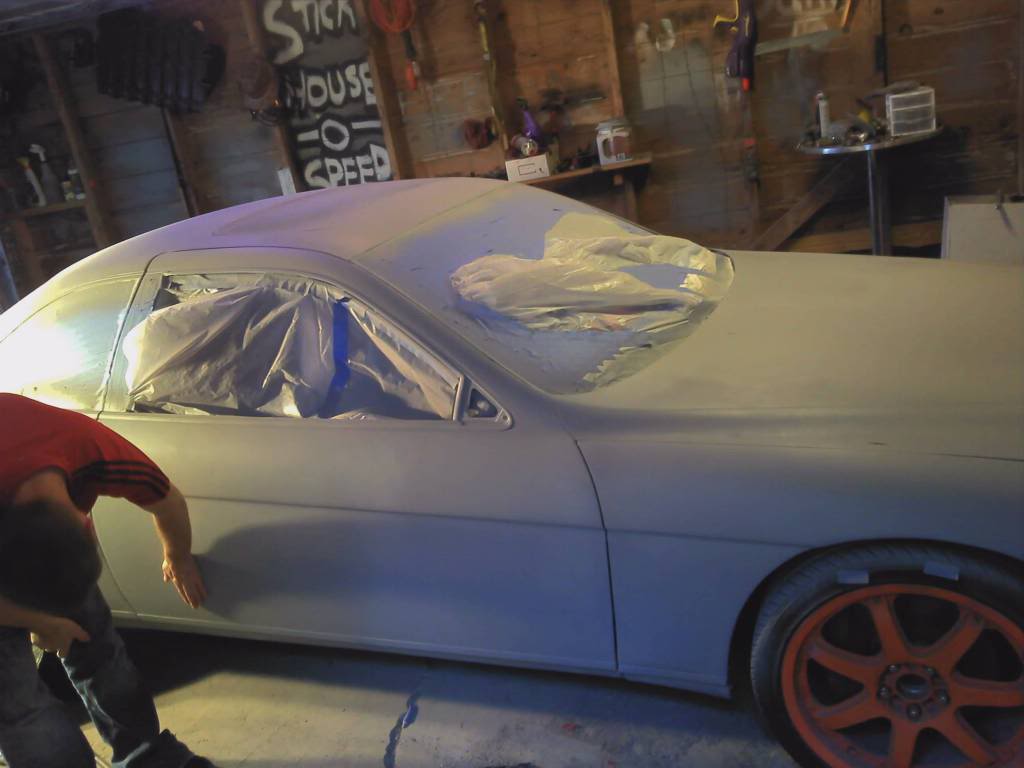 moar stuff this weekend ran outa monies last weekend lol, but i am using real paint with real guns in a real ghetto area (i.e. my garage lol) we shall see how this goes lol
12-21-2011
ohh yeah lookie what i done did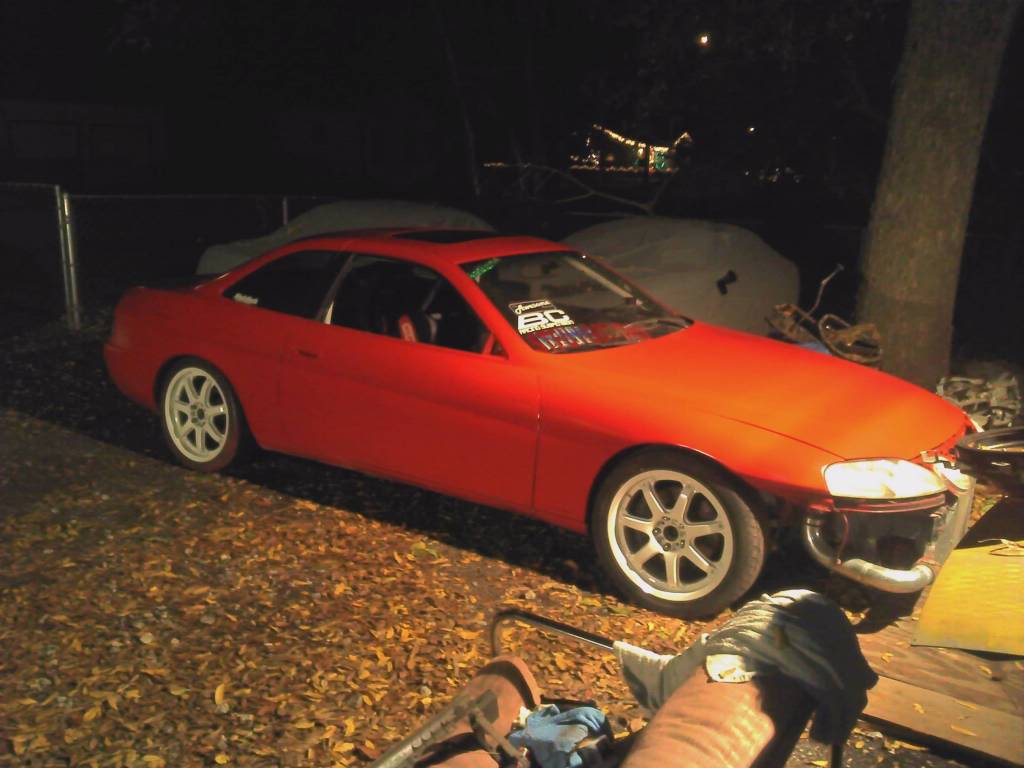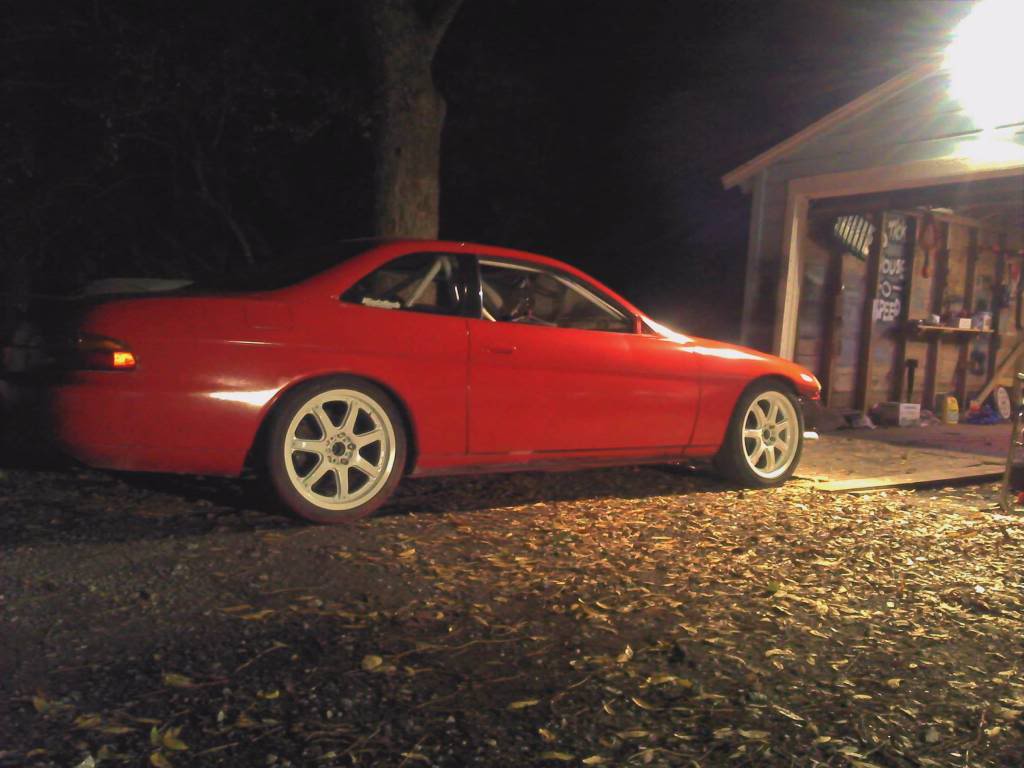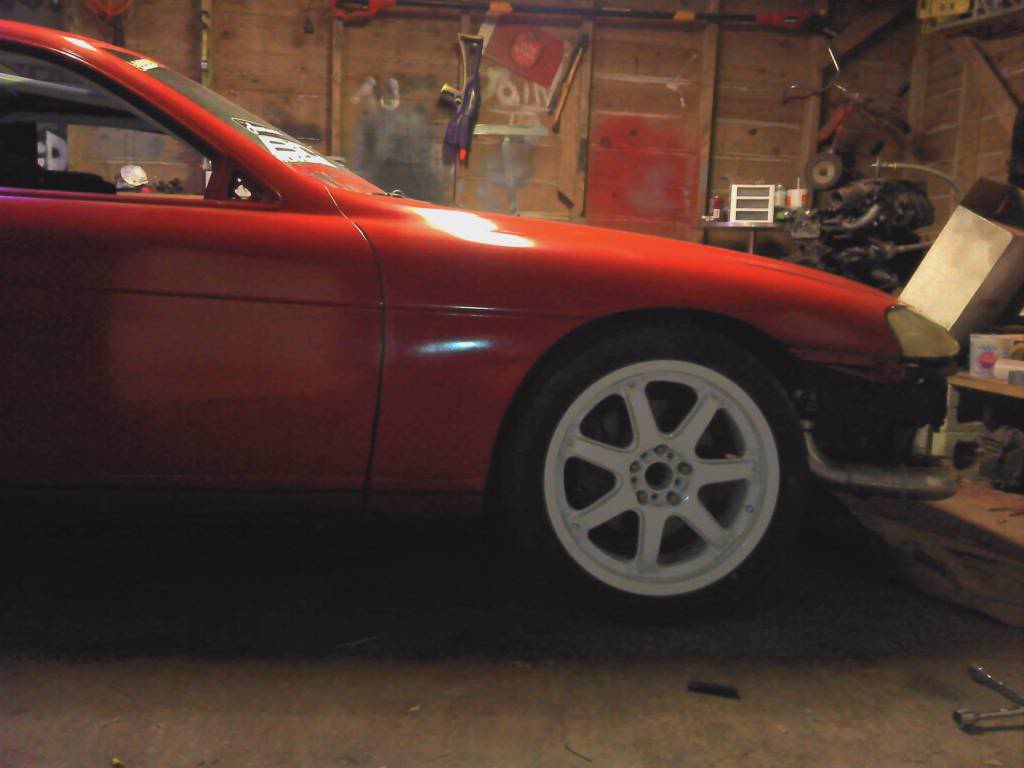 12-24-2011
Going to do a lot to the car today, got to wet sand and polish it, take the dash out do some more mods to it, take both seats out re spray the cage, wrap the cage so i can paint all the inside black, paint my bumper and mirrors, fix the lip and then exterior will be done... for meow...
1-6-2012
welp all done cept for a good ole fashon waxin...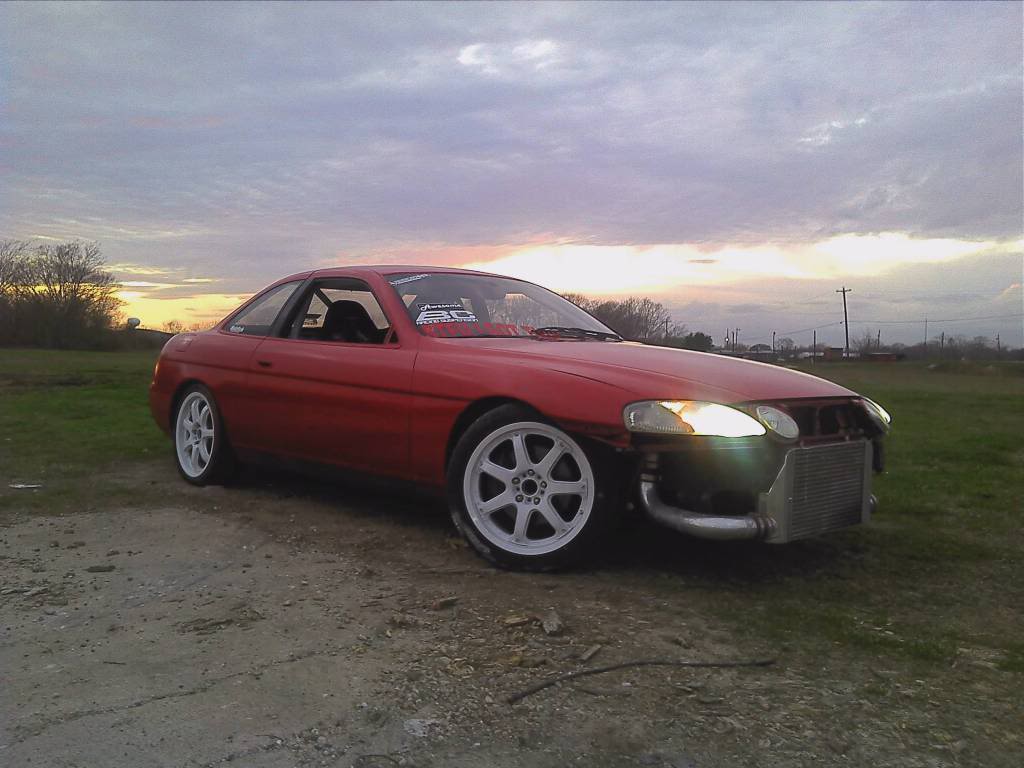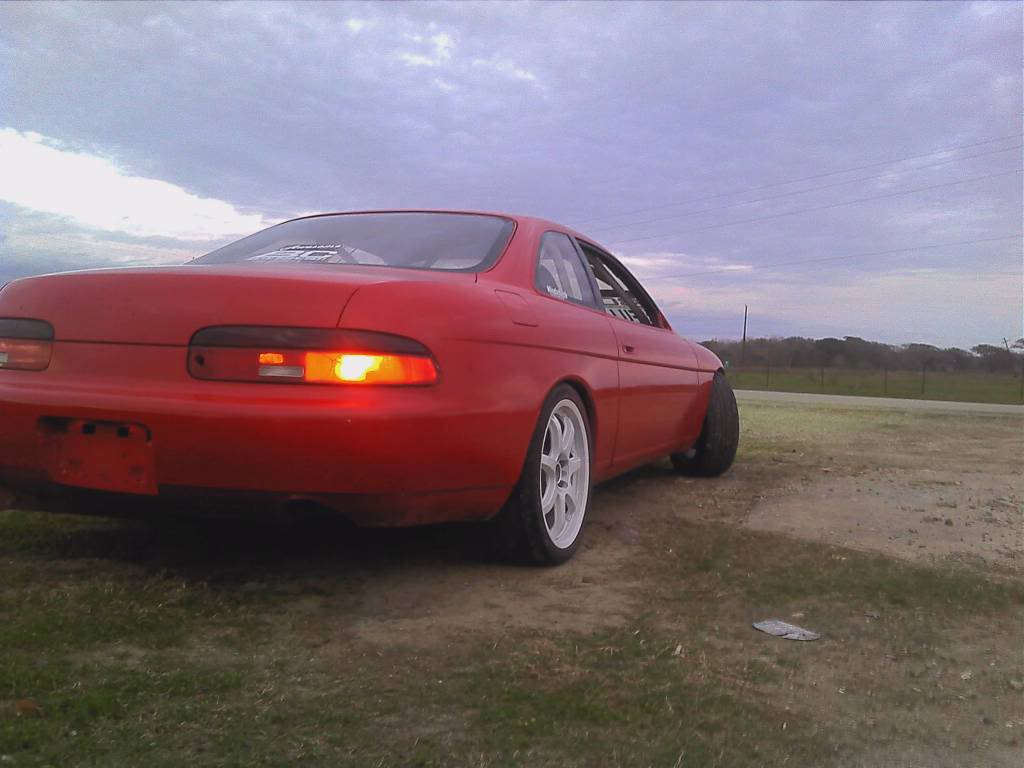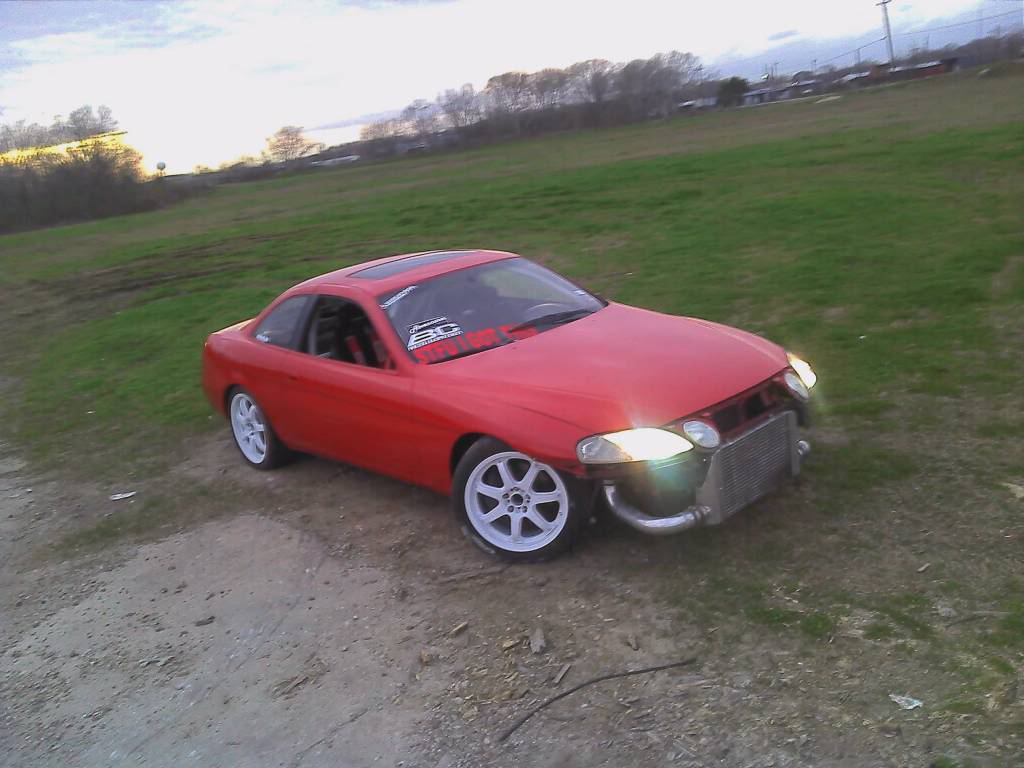 1-15-2012
As far as i know they do.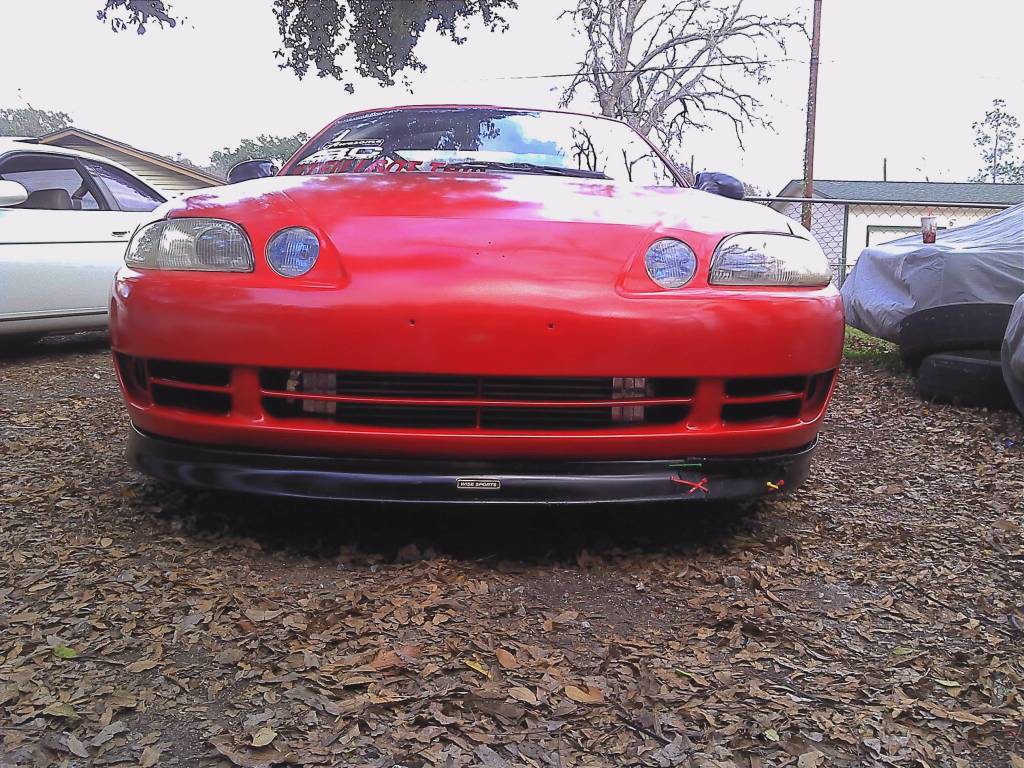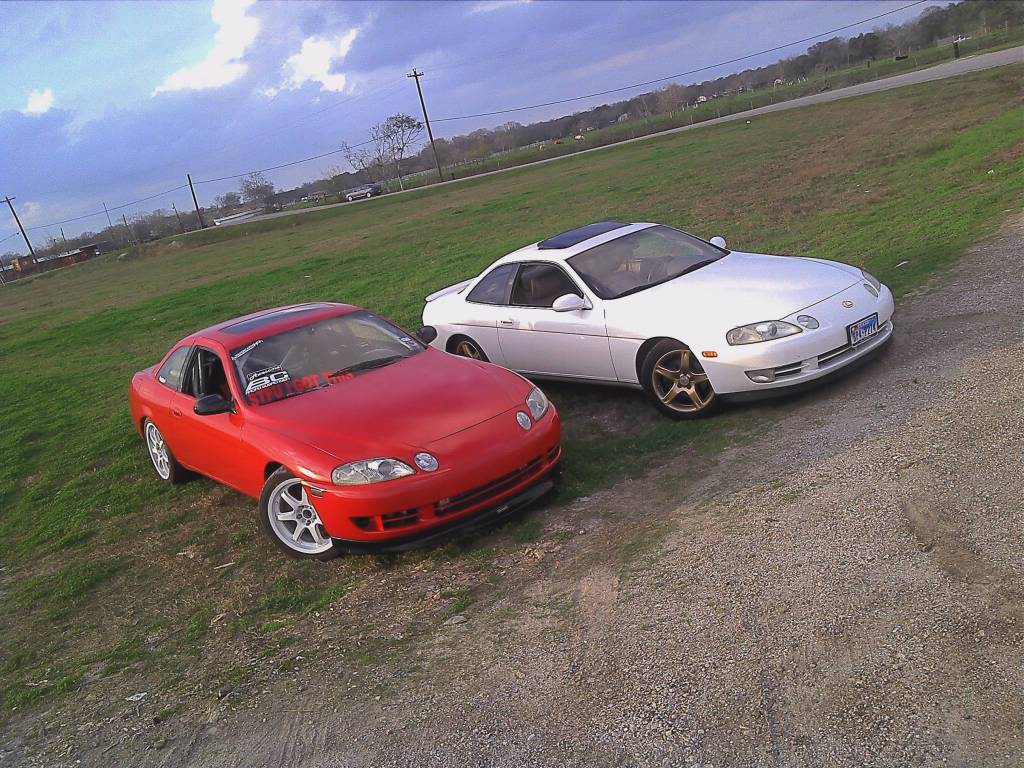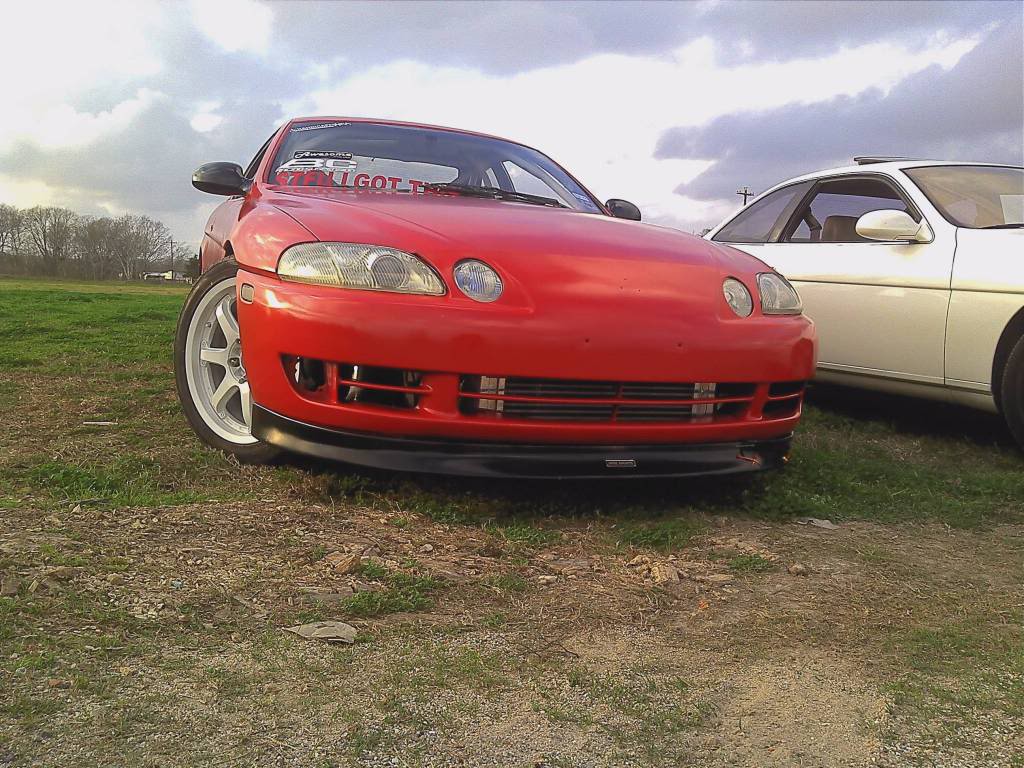 painted the interior all black and started covering random holes in and out of the cabin.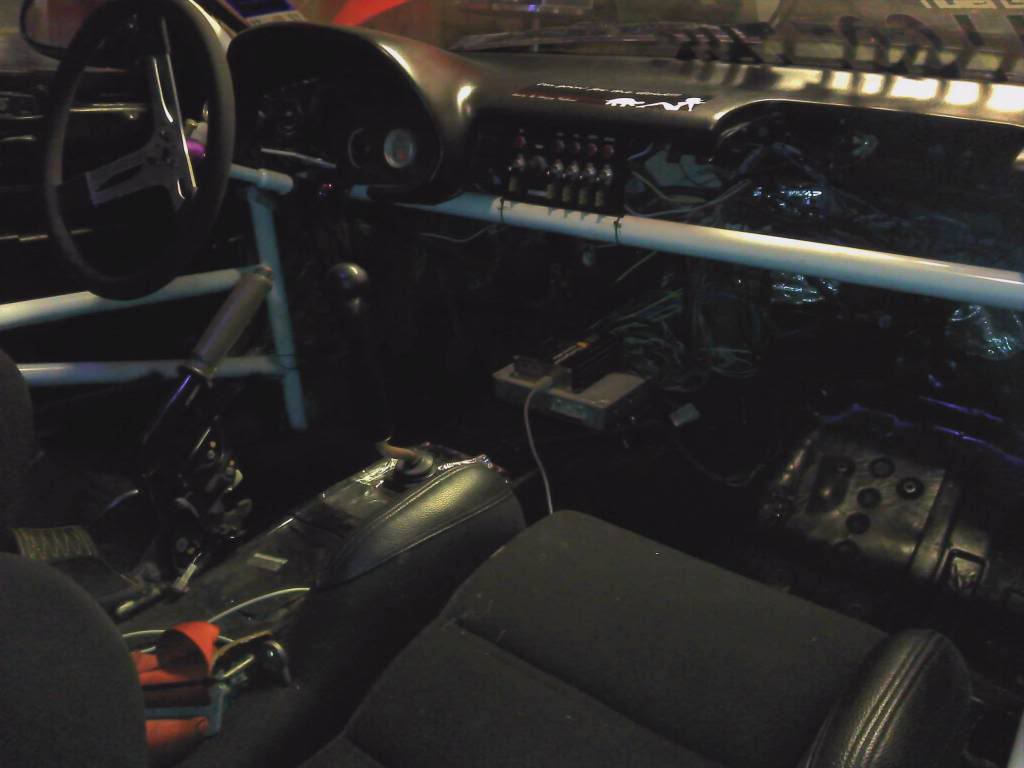 As for my rev issue i got a few parts comming in wed to try and fix that issue. also rd.1 of the tx drift series starts on march 17th so trying to have the car 100% by then...
1-21-2012
Sooooo the build is kinda on a halt right now... Gf is in the army and is moving to ny this week and I causaly said whouldnt it be kool If I just left work jumped on a plane and meet you there?.... 30minutes latter she called and said be at the air port at 7am theres a ticket waiting... so now im moving to ny this weekend, just packed up in one night and now im gone lol so car is still in south tx at pops house... So untill im on my feet up there car is garage decor....

With that said wheres all the NY ppl around west point academy at???
3-13-2012
woot been hard at it lookie here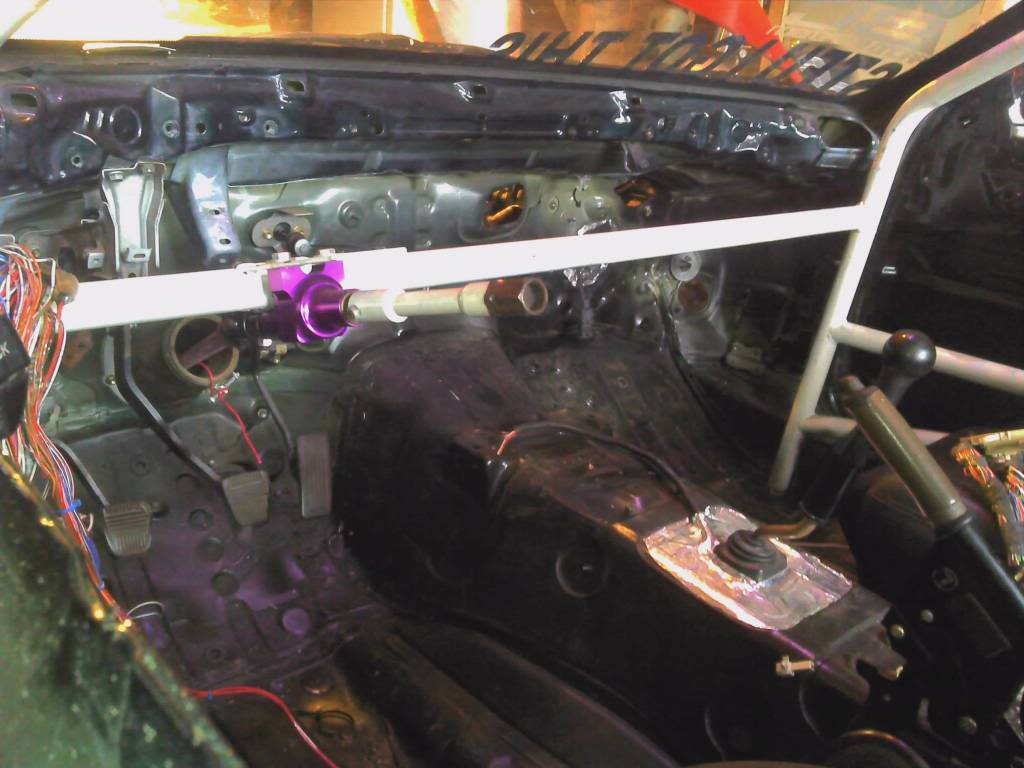 that's just half of it...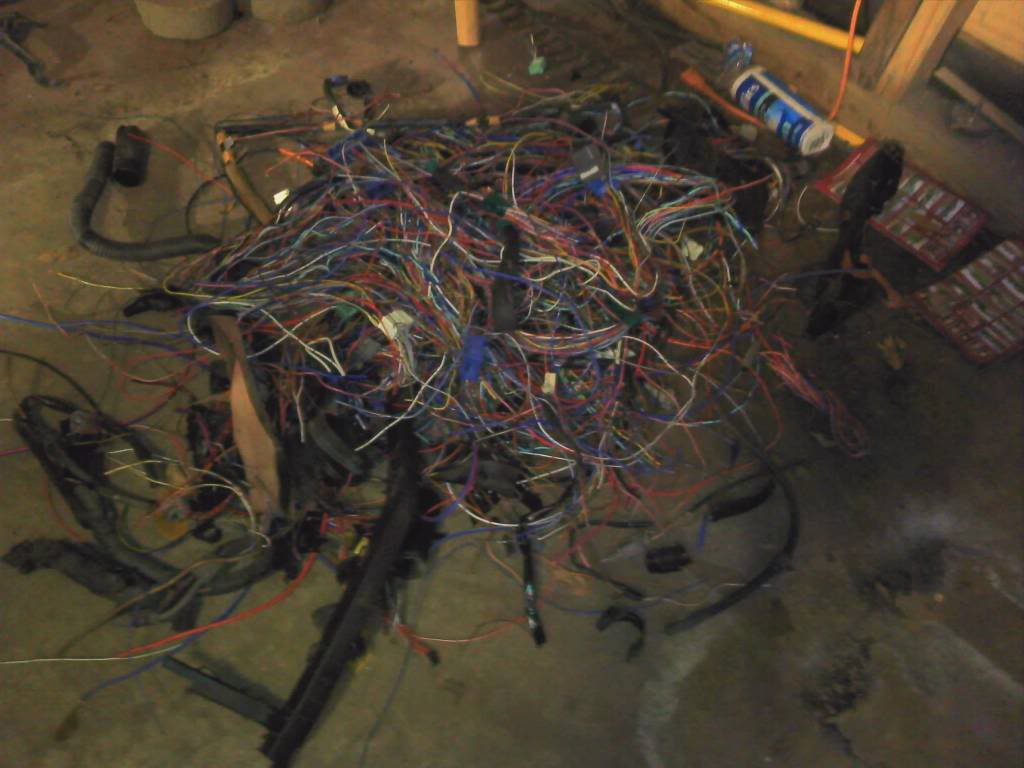 AND look what i picked up tonight...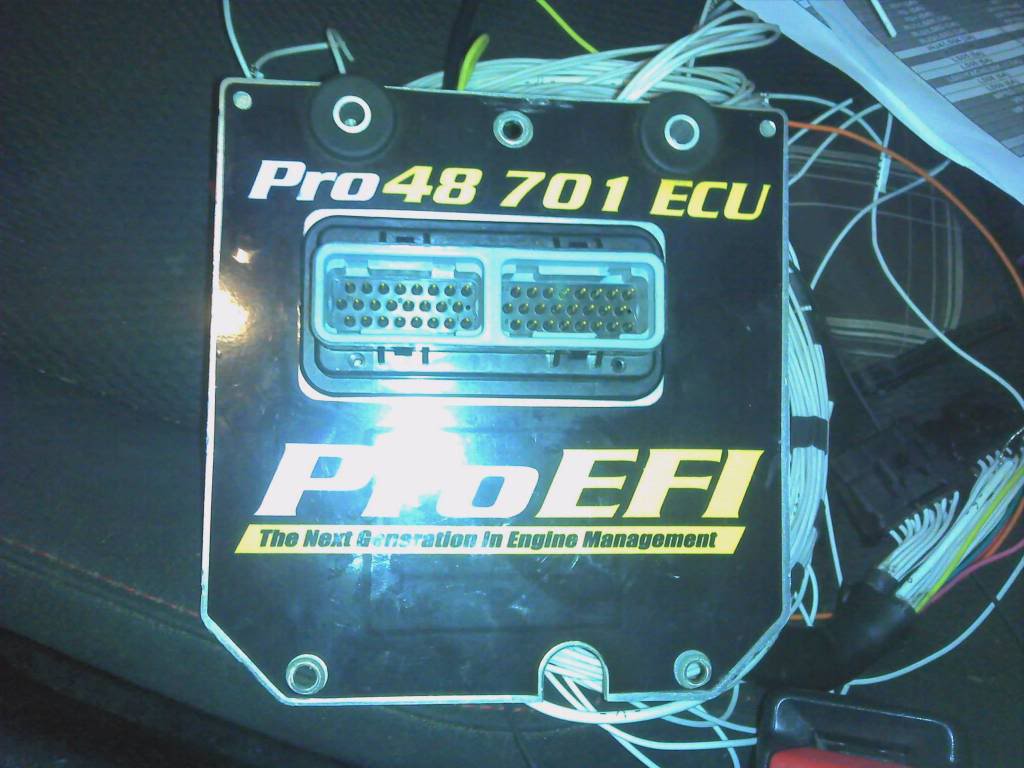 ProEFI Pro48 box with plug and pin harness... snagged it for 600$... so that means my 1j ecu and AEM FIC6 are up fs no 1j harness i need to hack it for clips...
4-3-2012
ok so its been a lil while since i updated this so here it is...

new group stickers on the side also


fuse block in the front now down to only needed stuff, making a bracket to get rid of the box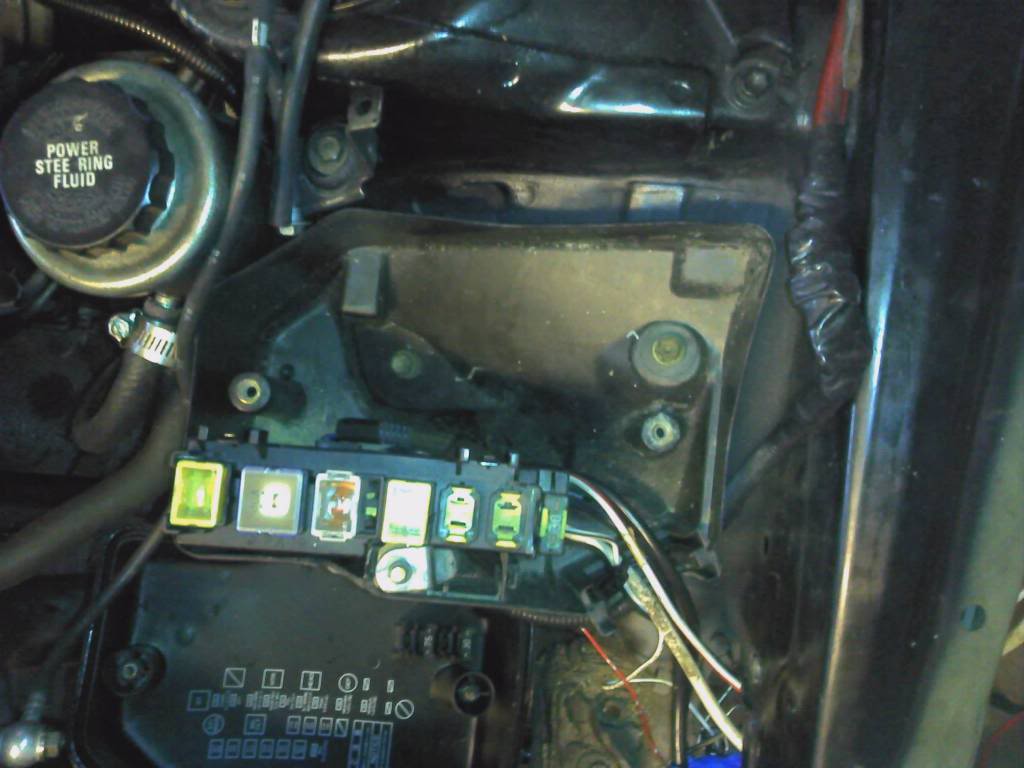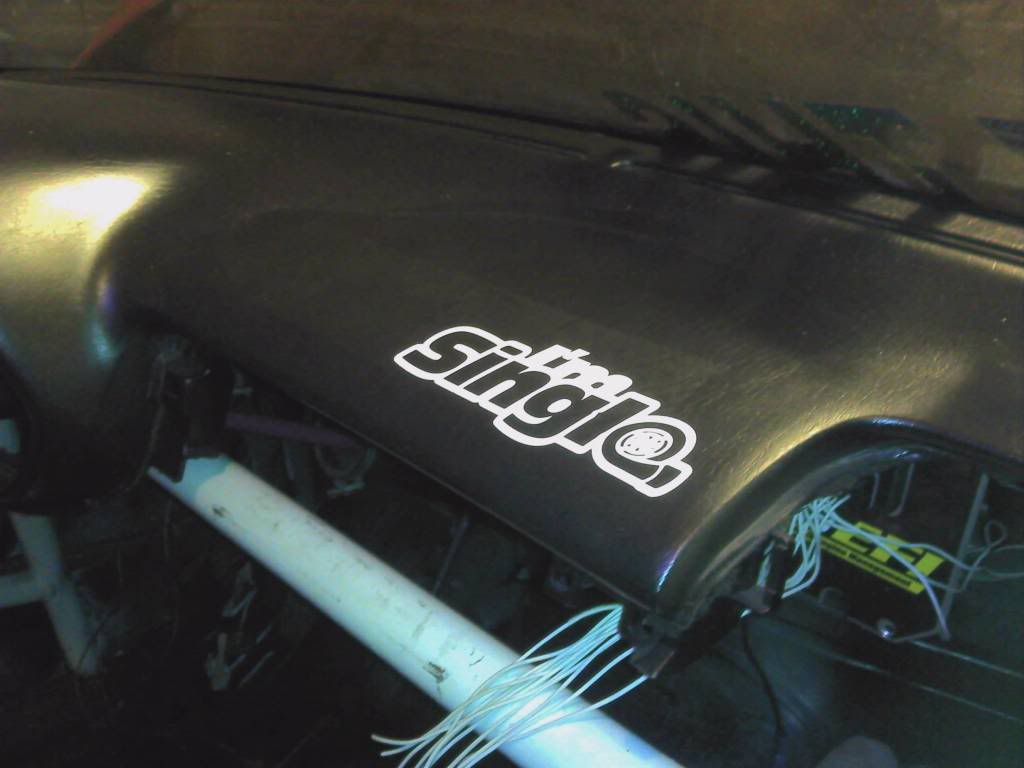 came up with a lil car group idea down here for the locals its a sc based group but open for what ever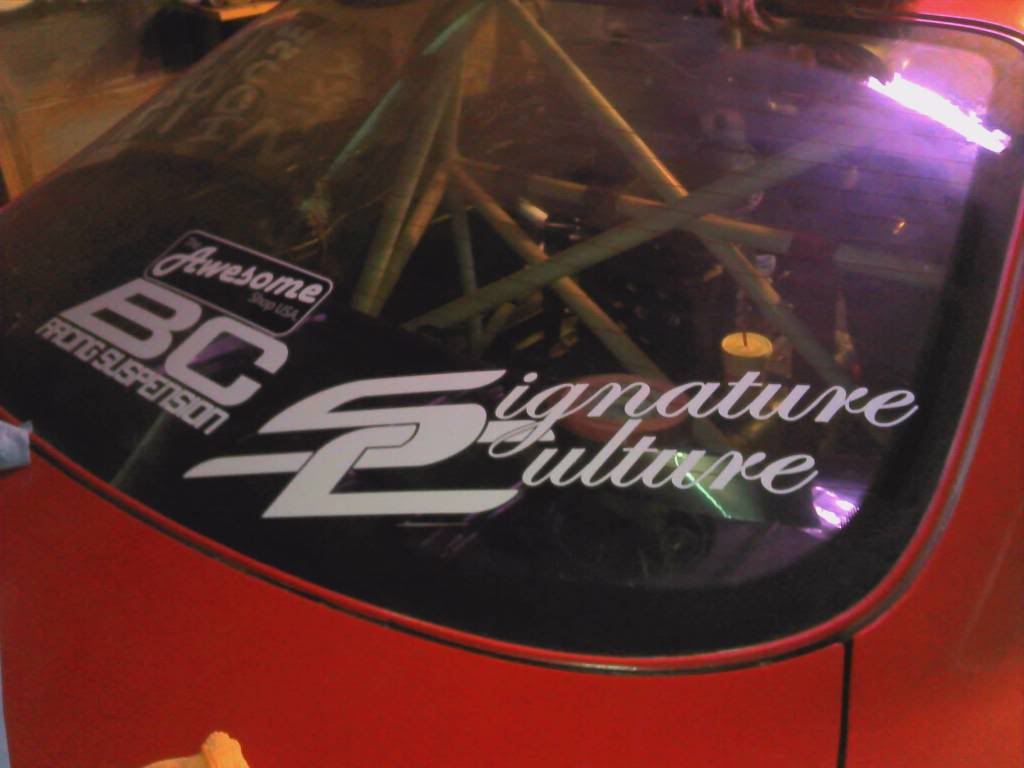 front chassis harness from power block to fire wall is now only 5 wires.... no rub'd harness here..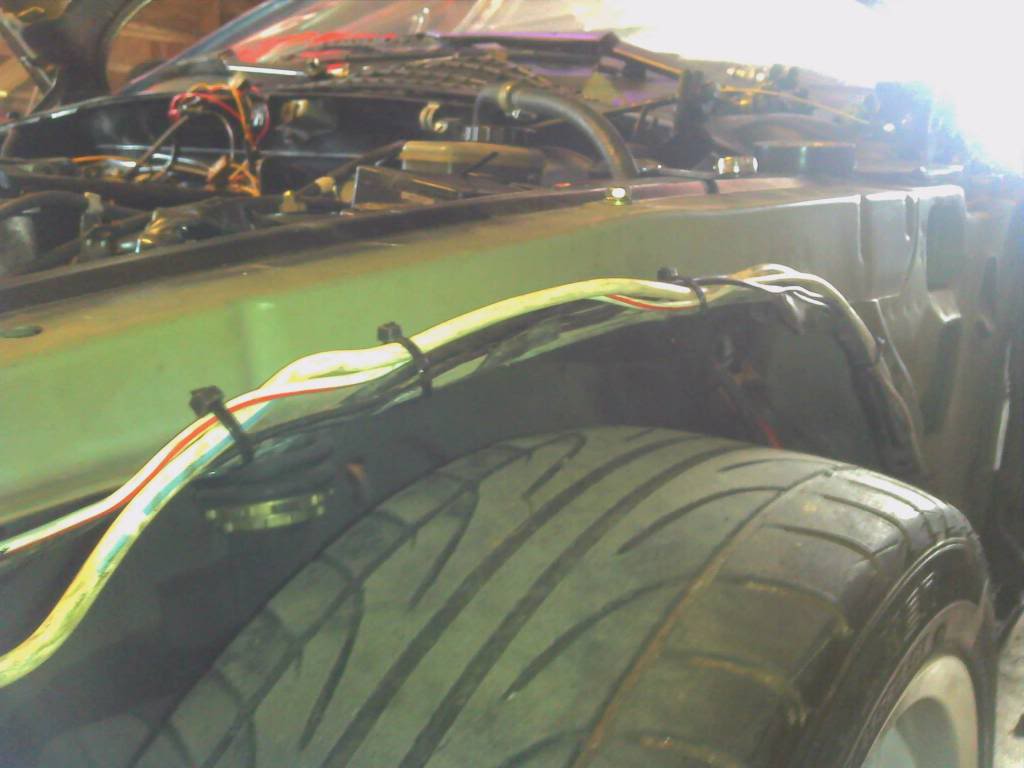 managed to cut all but 51 wires out of the car, yes 51 from bumper to bumper thats everything to run the motor and the lights in the car...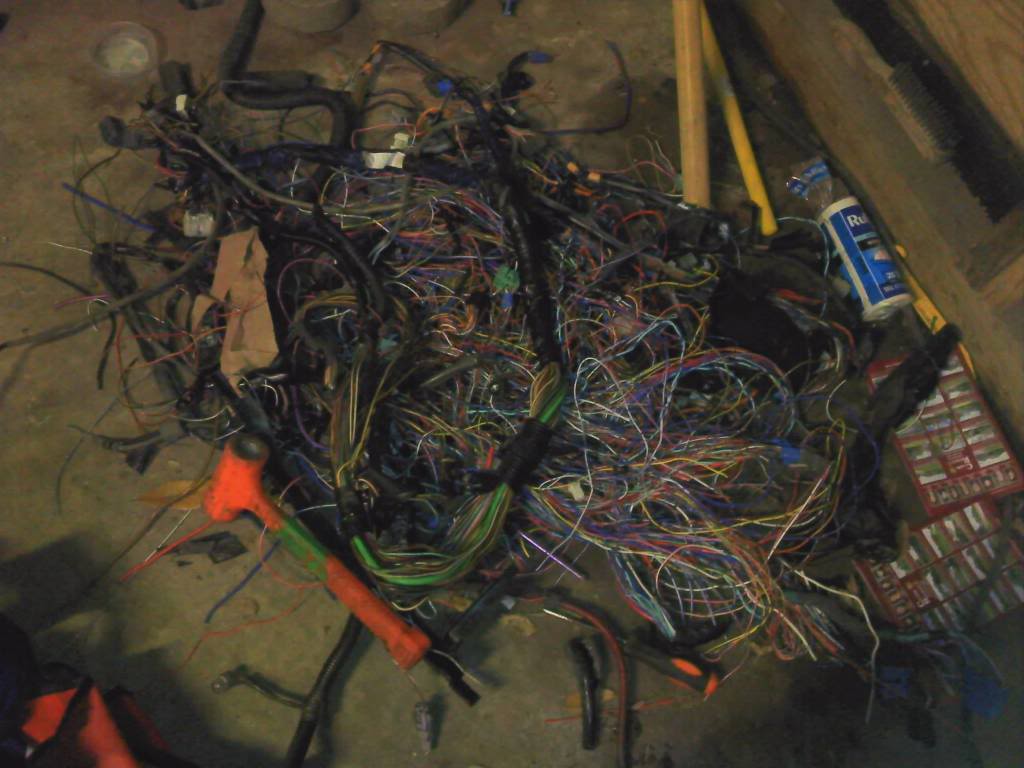 4-10-2012
Ok I have the chassis about 90% wired remember there less that 55 wires total running the entire car

http://static.photobucket.com/player...409_222901.mp4

Also got some 15mm spacer to add to my 25mm I have not and ended up with this...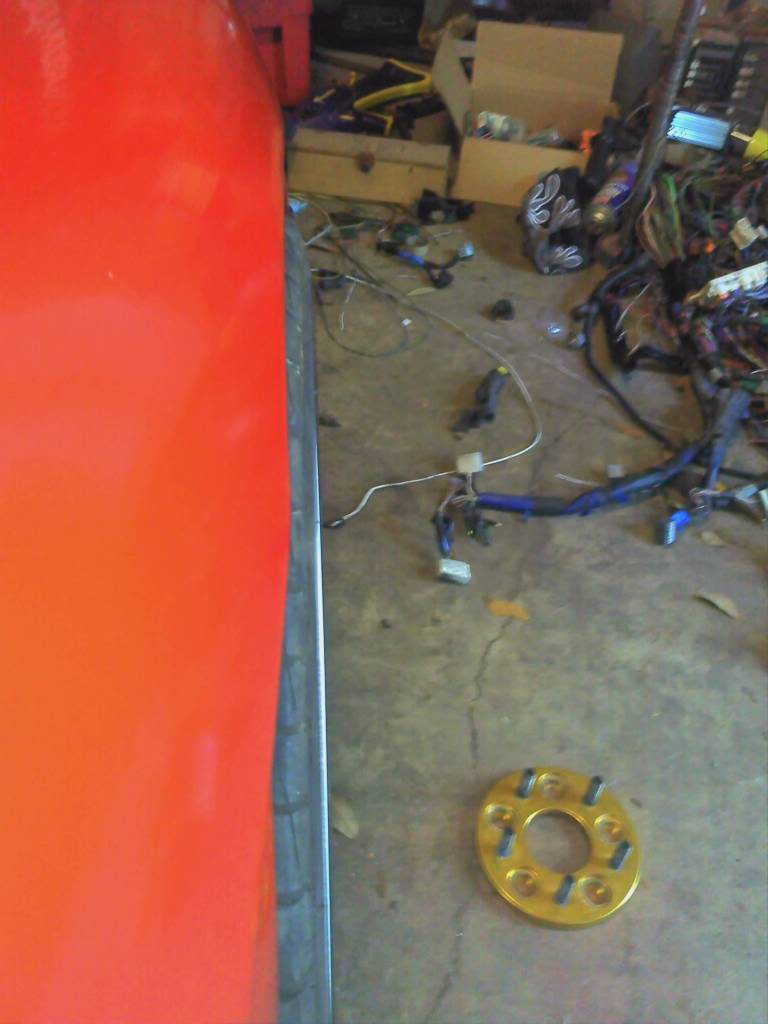 And that gave me a lil bit more angle with my knuckles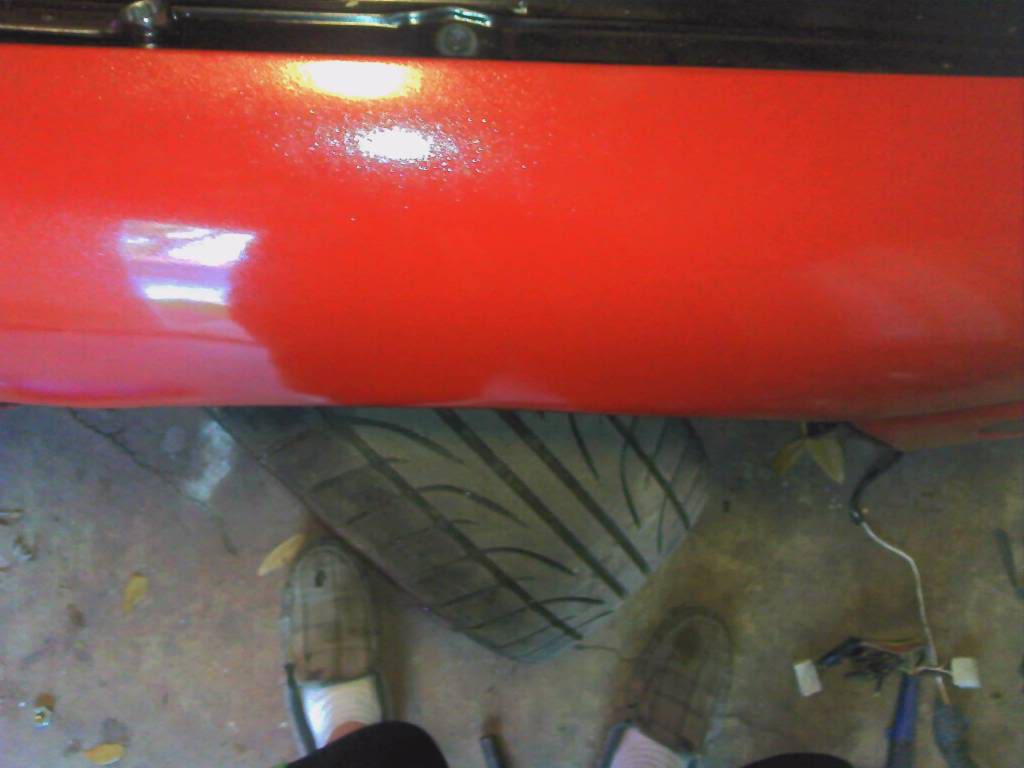 Also my super awesome cat lelu tryd helping wire a lil bit (she named after lelu in the fifth element corban has a cat just like her in the move but no name so I named her after milla jovavics character)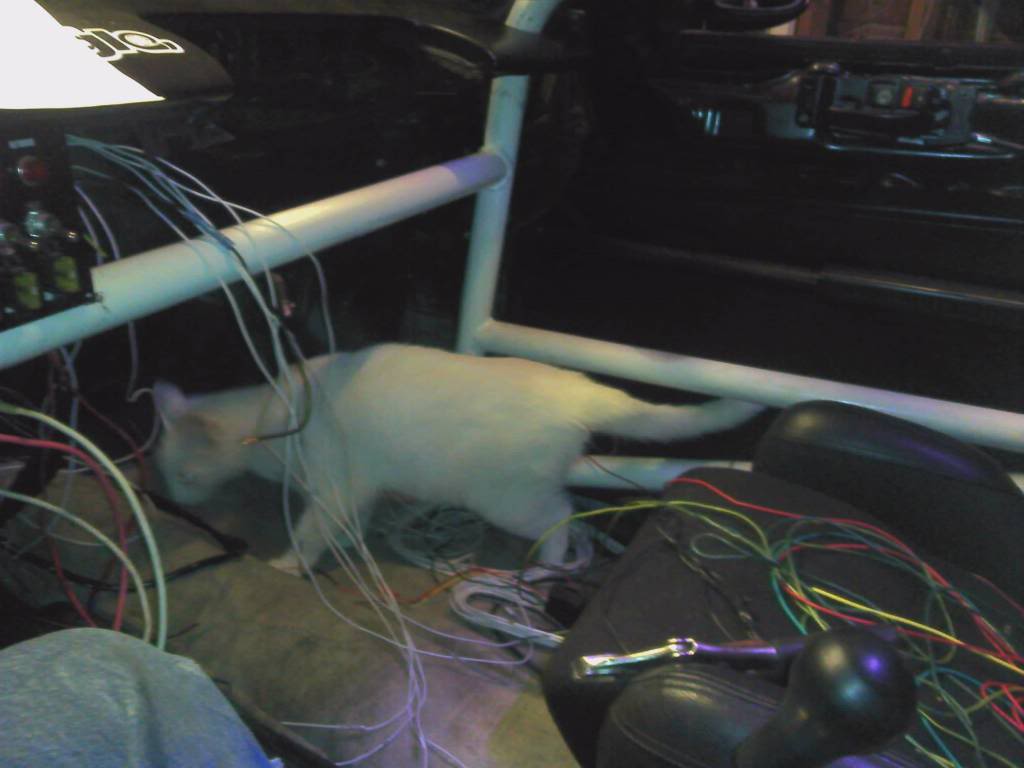 Thats all for this report guys and gals...
4-23-2012
Update times...

Ok car is now running on a full standalone... Sorta lol its the ProEFI Pro48 box wired as flying lead, car has 51 wires total for EVERYTHING BUMPER TO BUMPER... Only issue I have is the firmwear on the ecu only picks up a 2jzgte crank trigger wheel not a 1j, so I have a custom firmwear being made and base map being emailed to me start of this week, the car will start as is only thing is it thinks it a 2500cc 6cyl turbo Yamaha R1 untill I get the firm wear.

I will have the car at Houstons All Team Bash supporting my friends charity fundraising team Handicap mafia he is a amputee and all the money raised is donated to charitys for amputees and such. All team bash is may 6th, more info on Handicap Mafia @ http://www.facebook.com/HandicapMafia?ref=ts

I did clean up the car a bit so heres some pics (wires under dash will be tucked up better once the car runs)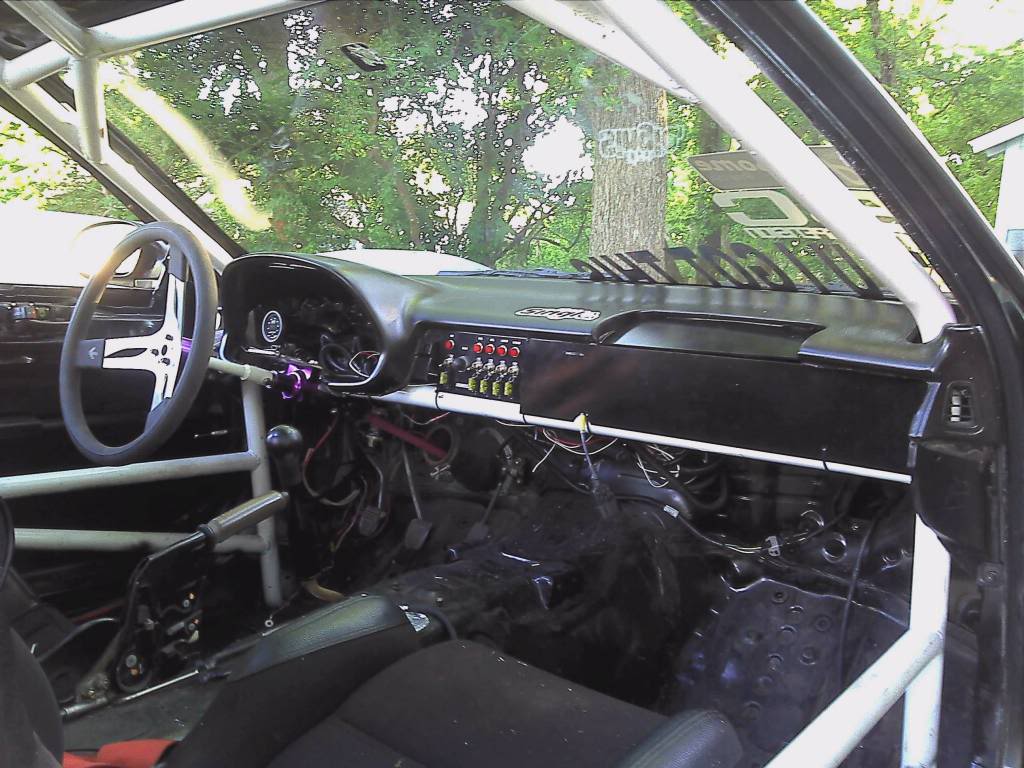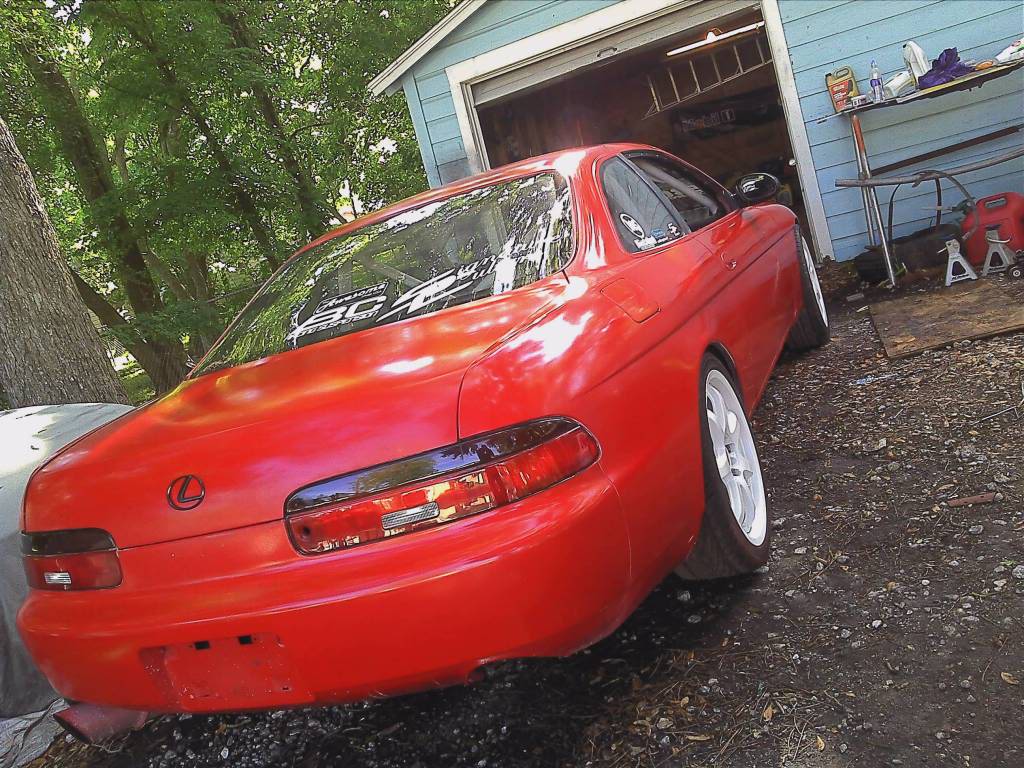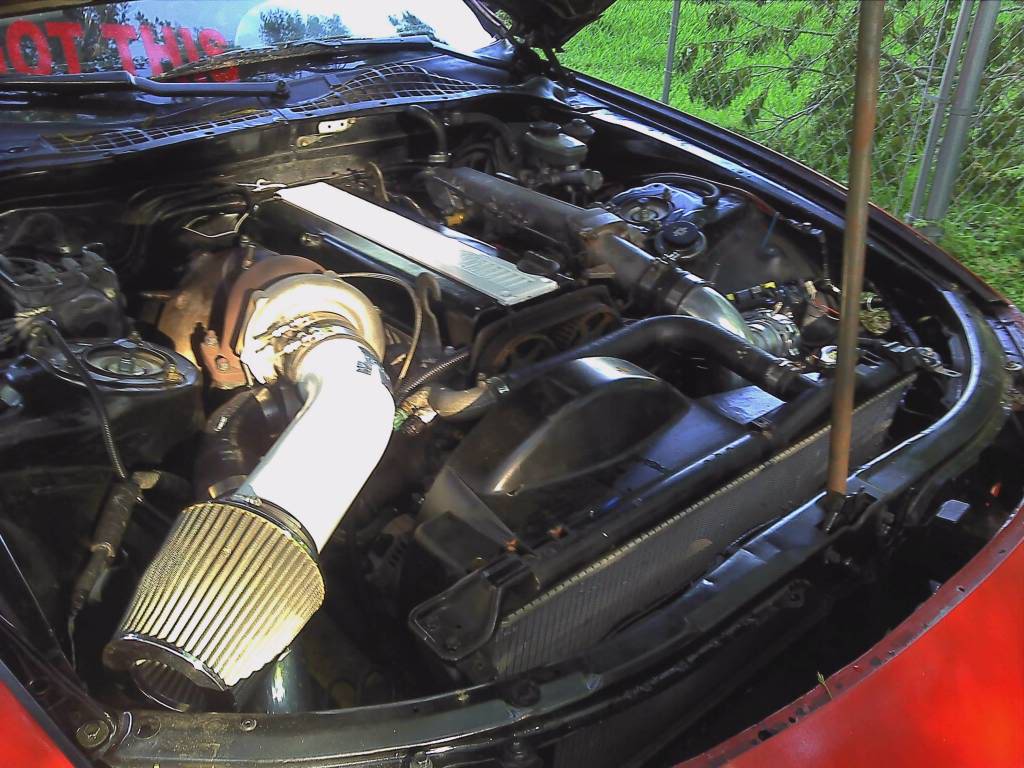 Also tore down the ps pump and resealed it so now I will actually have ps to drift on.
5-10-2012
Lil update... Nothings chaged lol, after 2 new base maps and a fully custom firmwear from ProEFI cause apparently I am the only 1j car on a 48-701 box ever so far, I have yet to get the right setup, now the car thinks its a 2500cc 8cyl... Long story, all that matters is that a trailer is showing up, and she is going bye bye im done dealing with it....



Cause shes going to SHP, Serious Horsepower in houston to have a spa retreat with a couple good friends of mine, she will be running she will be dyno tuned finally, aaannnnddd we have a really trick idea we are going to try on the car if we can get it to work right hehe
7-3-2012
Update on this turd....

It is finally at a shop to play on the tred mill, droped it off weekend before last and took some parts up this past week, with the work load they had and the schd of the tuner, car should hit the rollers late this week start next week to get tuned finally. Car is at Serious HP in houston, they do stuff like this


and the guy who tuned this


is the guy tuning my car. Known the guy a few years know he is more tha qualified to put 1's and 0's in my lil turd haha
8-13-2012
check this out....
it was really rich in the vid.. but its been tuned now and makes [email protected]@6800 and the means yes it finnaly revs out.... car is awesomely quick, first shakedown is at this
http://www.houston240sx.com/showthread.php?t=61362
9-9-2012
Ordered some schweet parts this weekend, ASD 16" long 3/4 master hydro ebrake and battle version inner tie rods... And changing up my turbo setup got a pte billet 6262bb on the way to replace my 6265 billet journal, trying to get a bit more response outta the car. Also about to go on a metal cutting spree to shave weight also lol soooo I'll see how this turns out... Pics when parts are in and work is done
9-16-2012
I got some new parts in and got them on....


I got the B-ver inner tie rods with sopacers and with my Awesome Shop knuckles it helped out with angle ALOT had to back the off a bit cause i was hitting the lca and sway bar....Also had to cut out my inner fender well to clear also (but Iphone/photobucket are being cranky and wont upload those pics)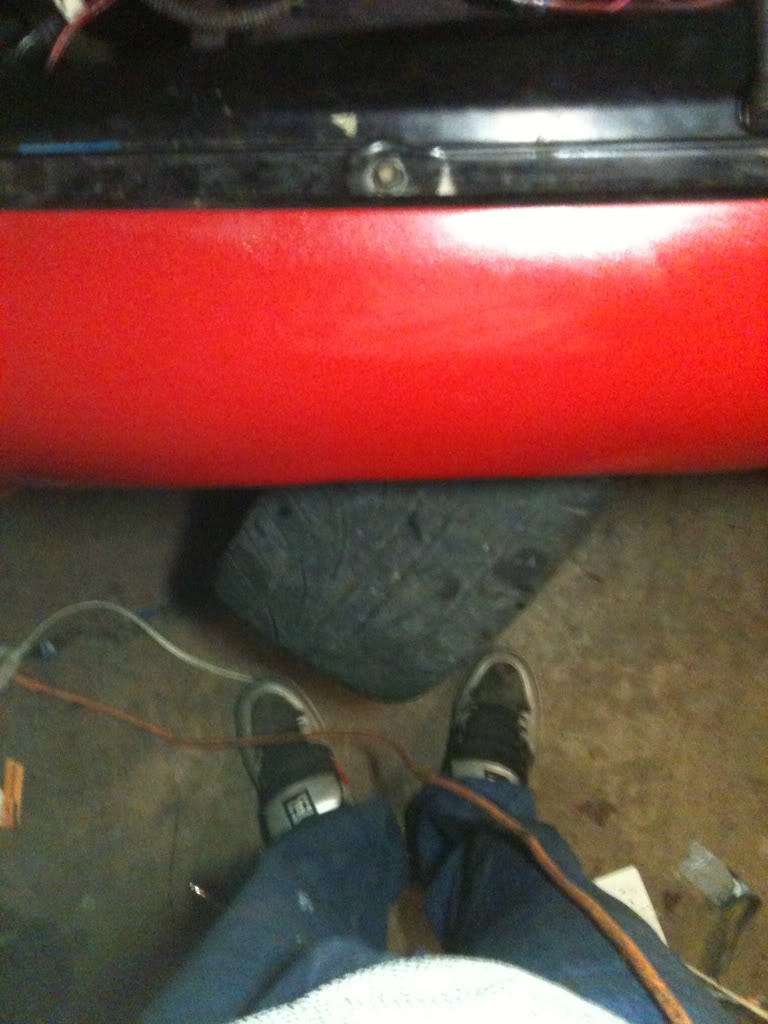 Also got a ASD hydro ebrake, This thing is the Bee's Knees its super light weight really great pull and all around just Awesome...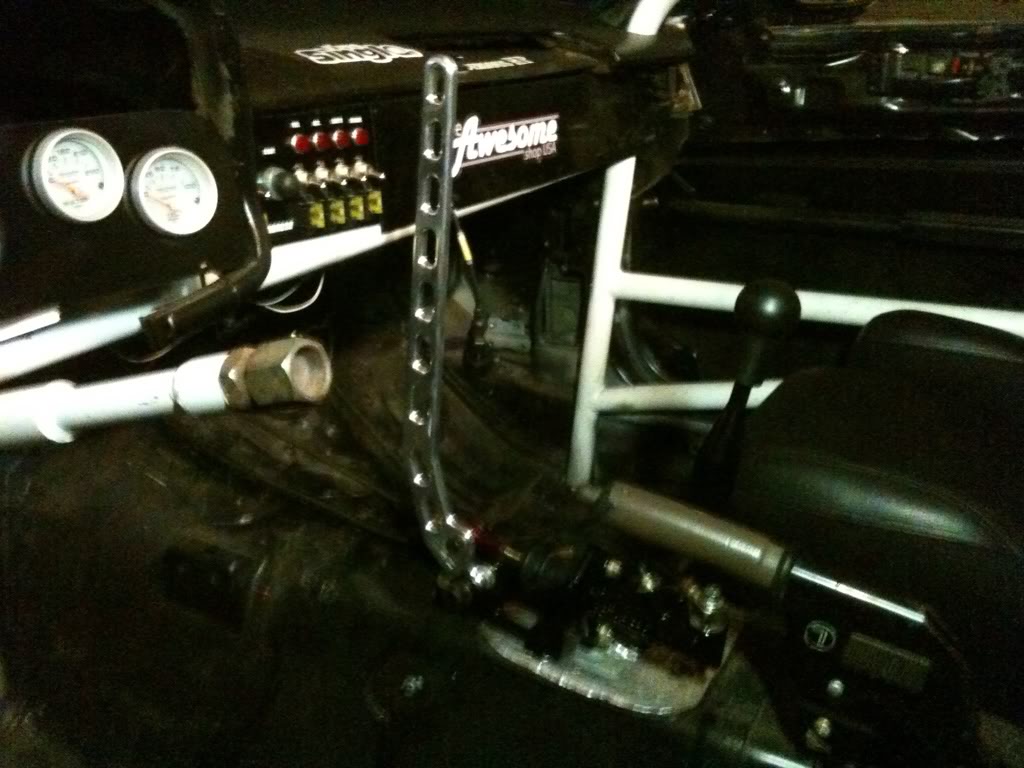 And here are a few pic's from the last event i was at before the tie rods and ebrake...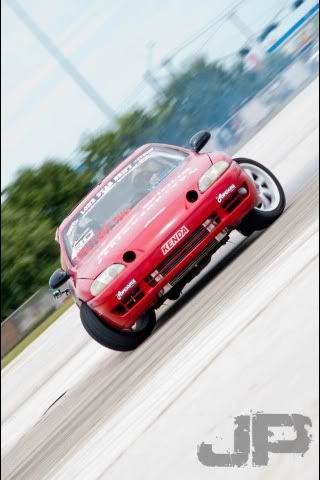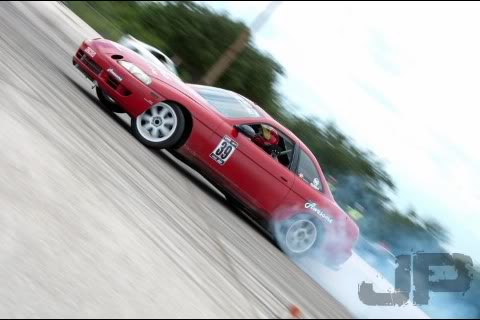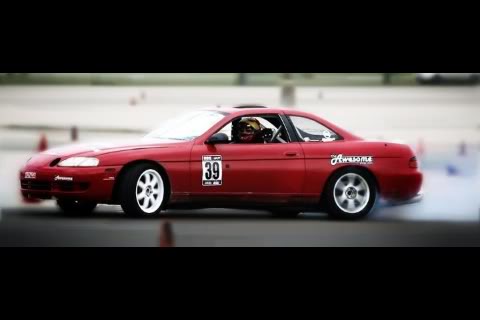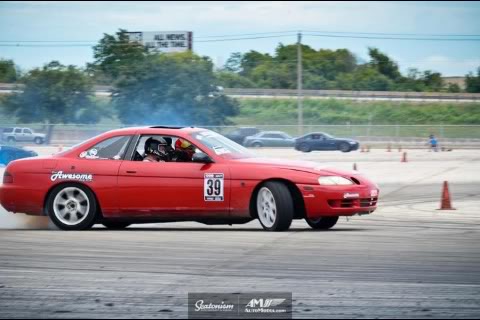 11-1-2012
Whelp got the car actually tuned....

431/[email protected] on 93pump (but cut is at 25psi just incase i need it ;-) lol )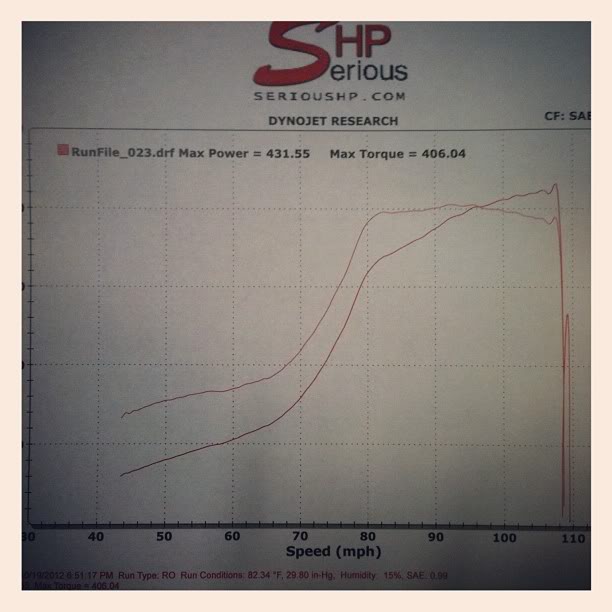 Then pulling the car on the trailer the clutch release hub snaped along with the snap ring on the clutch and caused a very bad night and me missing a out on a of town event lol...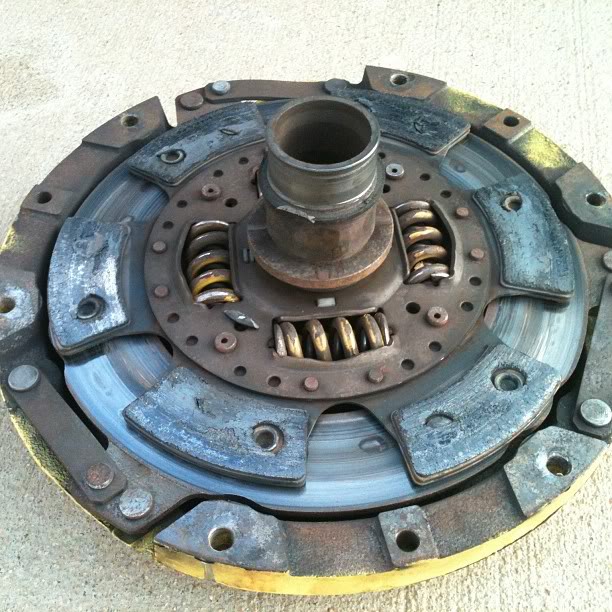 But SHP is a BAD A shop and help me out, and got me a clutch ordered in quick fast and in a hurry so i can get back to partying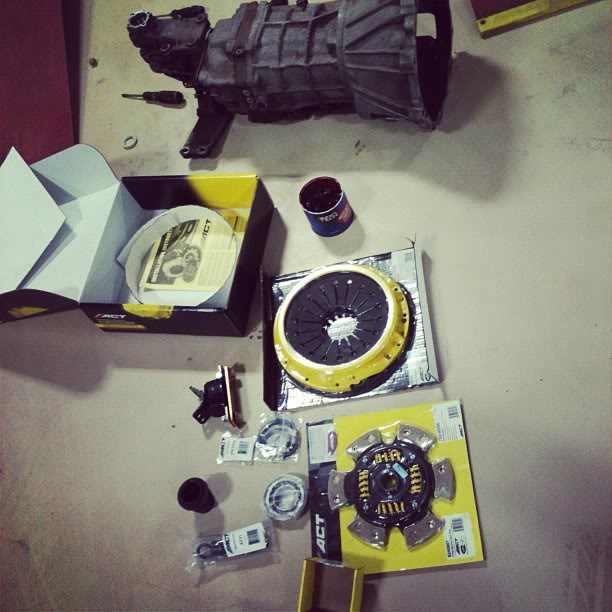 Shortly after, the car was doing 4th gear rollies down the road in front of the shop as all 500 mile clutch brake in's sould be....

Car will be at the last event of the year on the 11th here in the south side of tx http://www.facebook.com/?ref=logo#!/...9294824157811/
11-12-2012
Well last event of the year was sunday.... And WOW car is crazy stupid awesome!!!!



im in this one also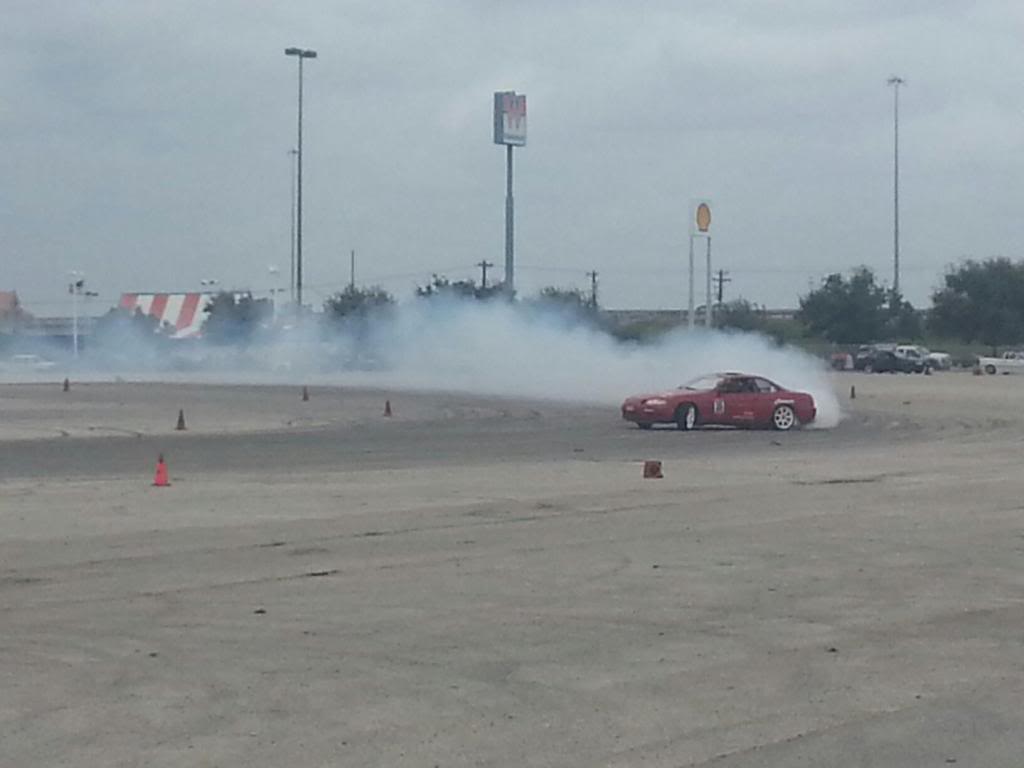 This is from the tech day the day before the event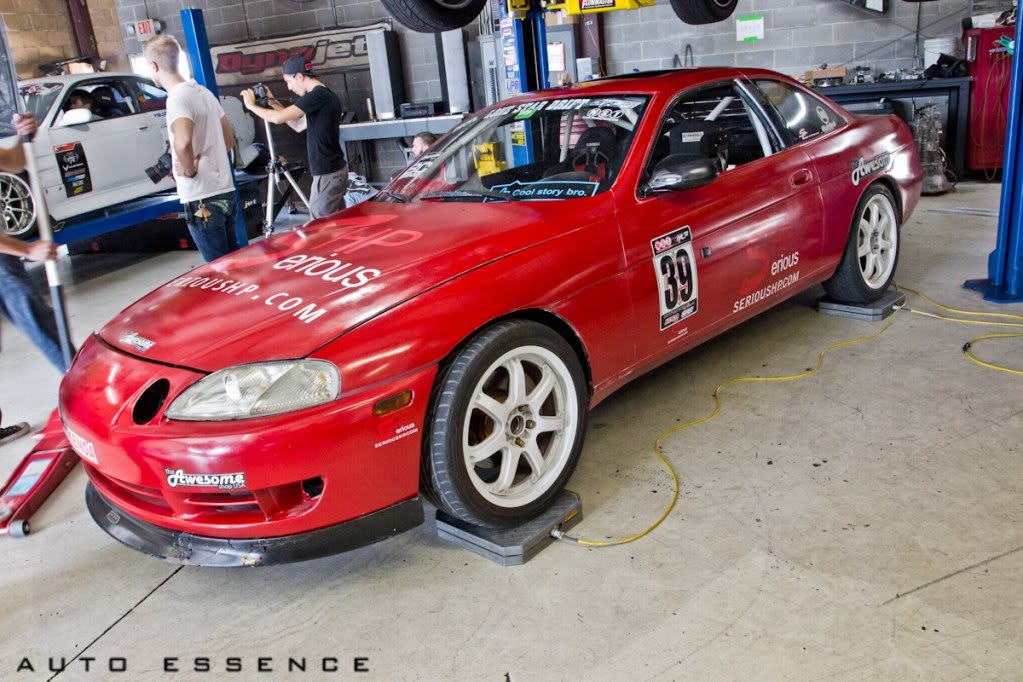 car weighted 2946 with 55% front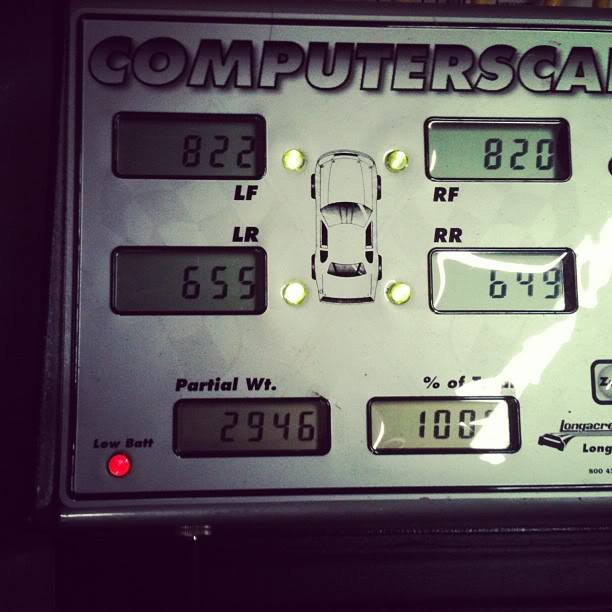 Not to bad for eyeballing it all in a unlevel garage
11-13-2012
11-25-2012
3-10-2013
Teaser shot... 98% done back there but you get the idea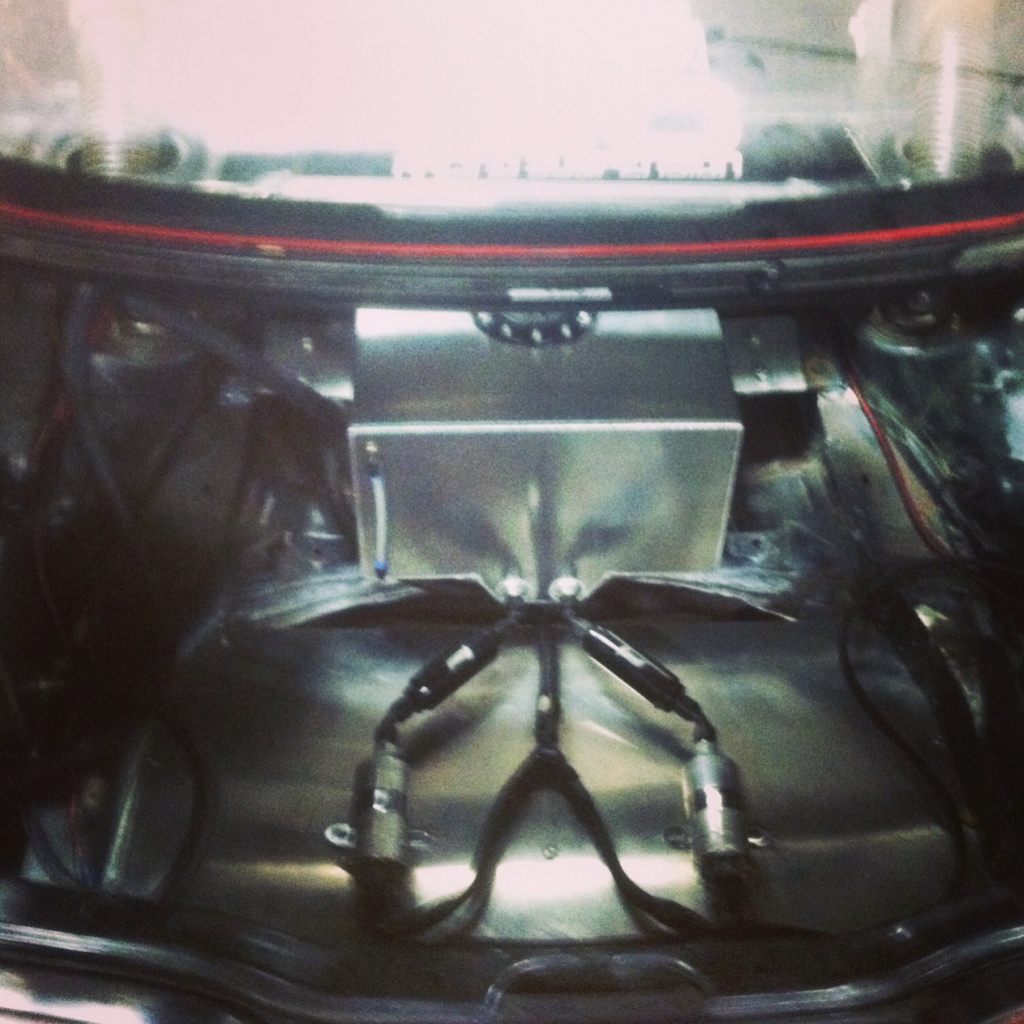 3-14-2013
Got the car running with the new setup but it ate 1 of the 2 fuel pumps after the first pull on the dyno... sooo no numbers yet but this thing spools like crazy fast now, but heres some pics for now.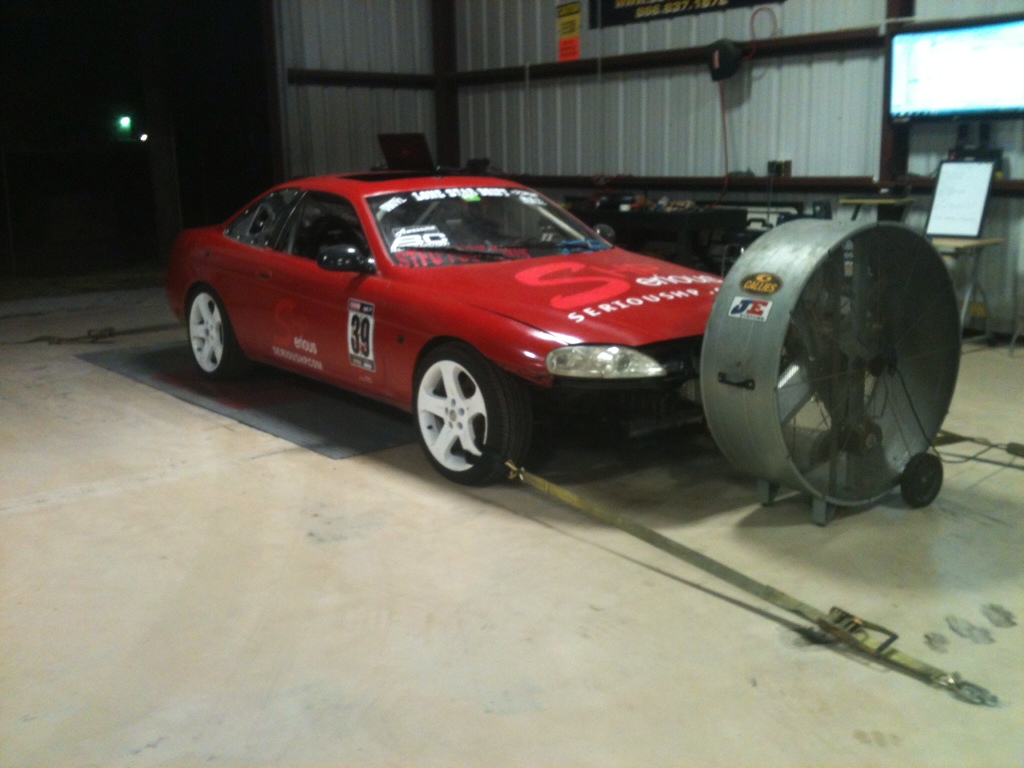 Air to Water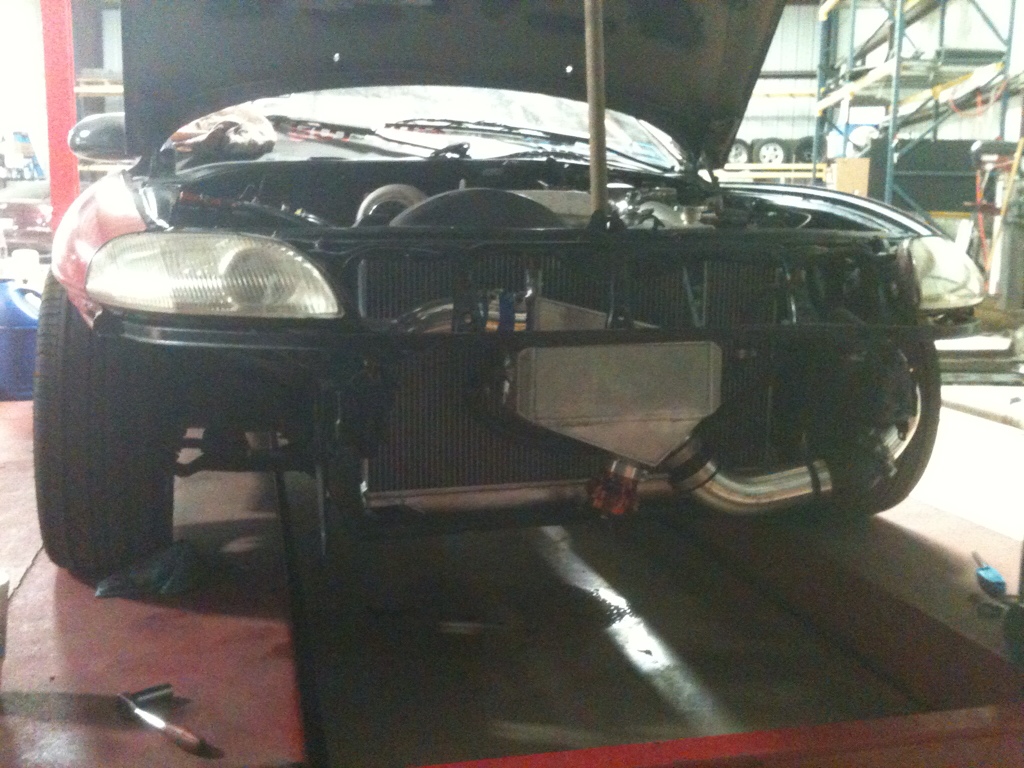 Heat exchanger setup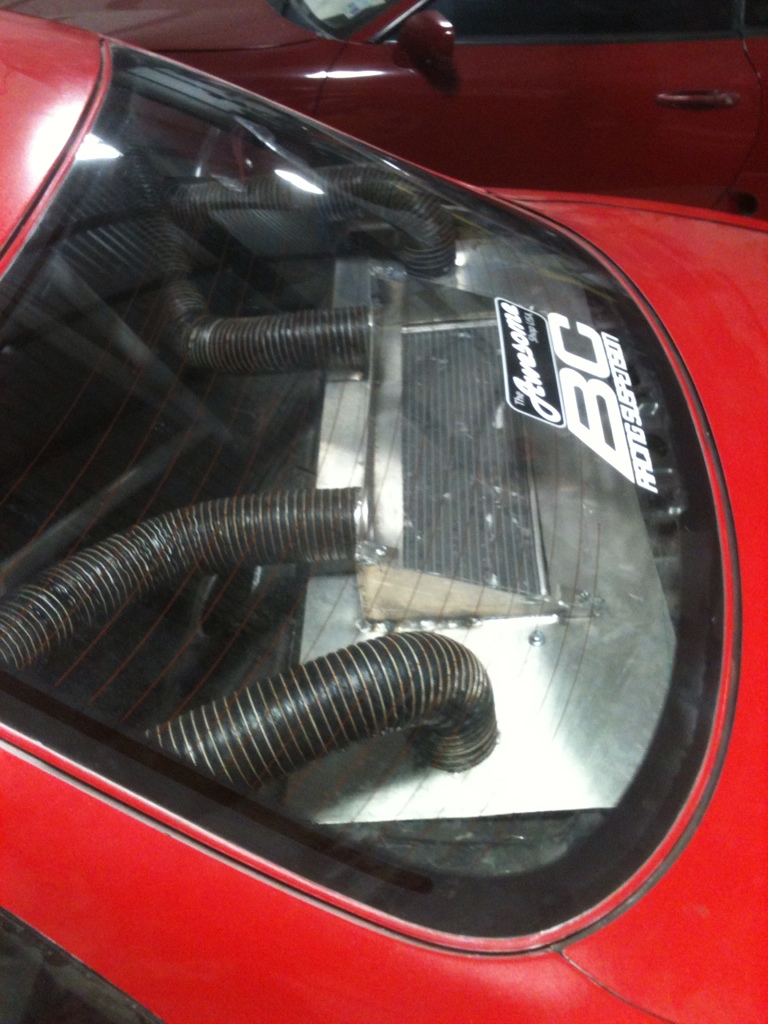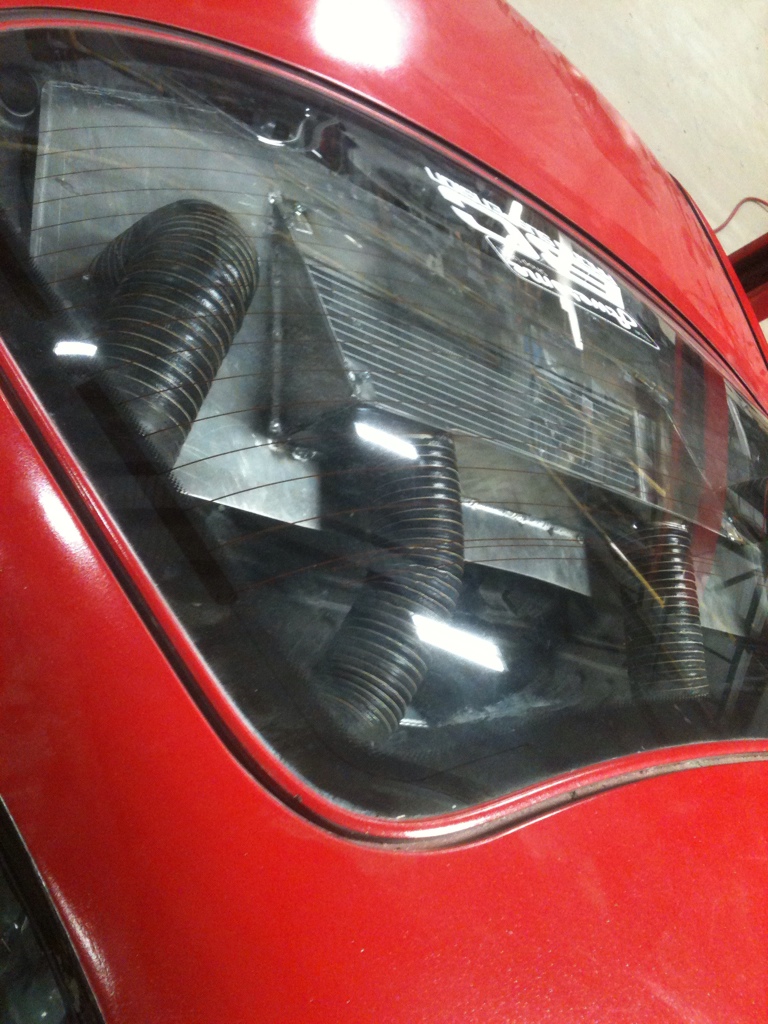 A2W tucked away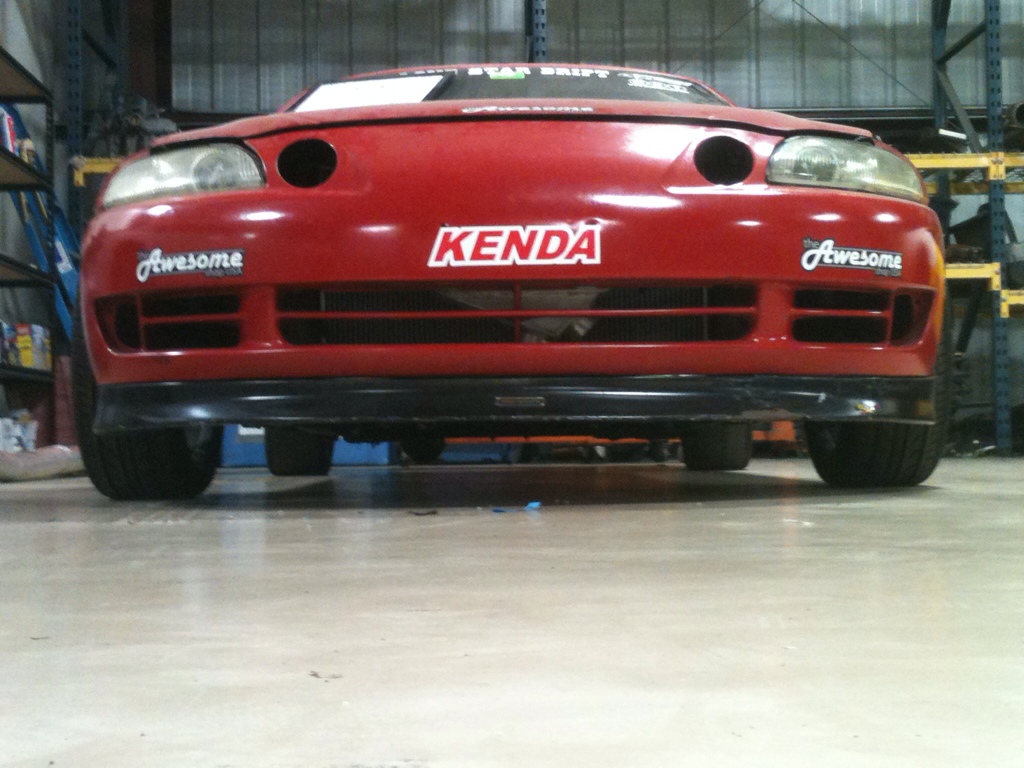 Eco race car...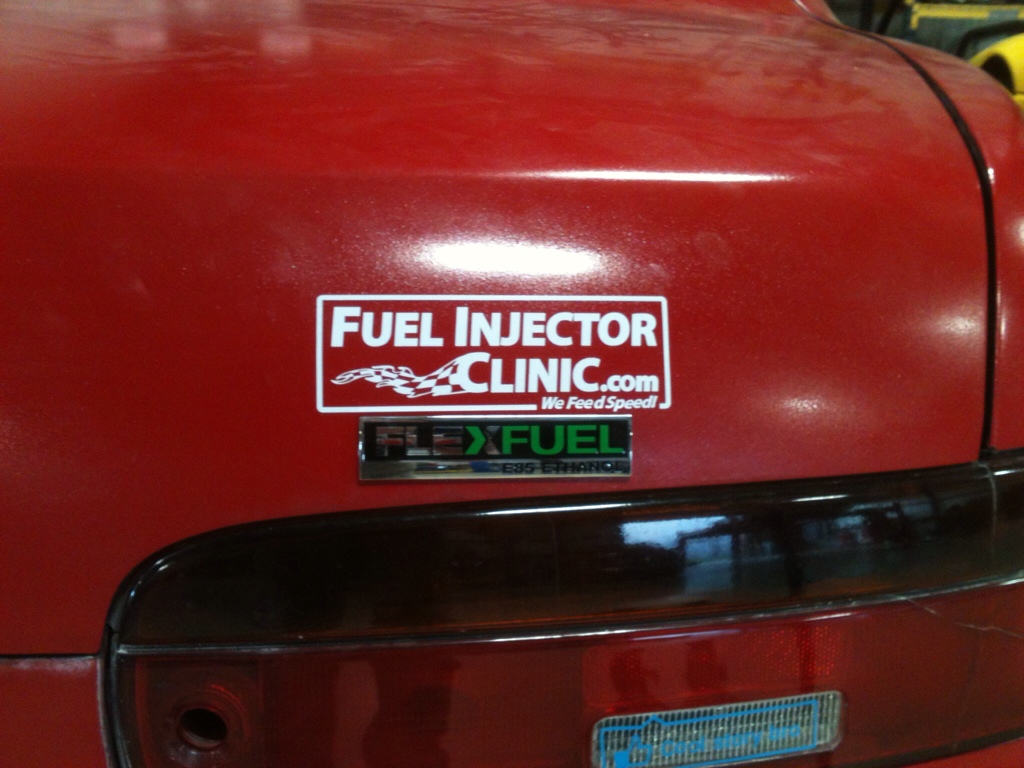 New fuel pump is already at the shop so car will be done for opening rd of lone star drift series

Changes this year are

FIC 1650cc injectors
Drift Motion top feed fuel rail
2x 044 pumps
-10 feed lines
-8 return line
10gal alum tank
E85
Air to water intercooler setup with rear deck mounted heat exchanger and 1 gal reserve tank

As soon as I get up to the shop again I'll get sweet dyno info and stuffs...

Also I'd like to add I really can not thank Zach, Nick and Stephan at Serious HP for all the help with everything, it has just been fantastic, thanks guys
4-2-2013
One of the best pics from round 1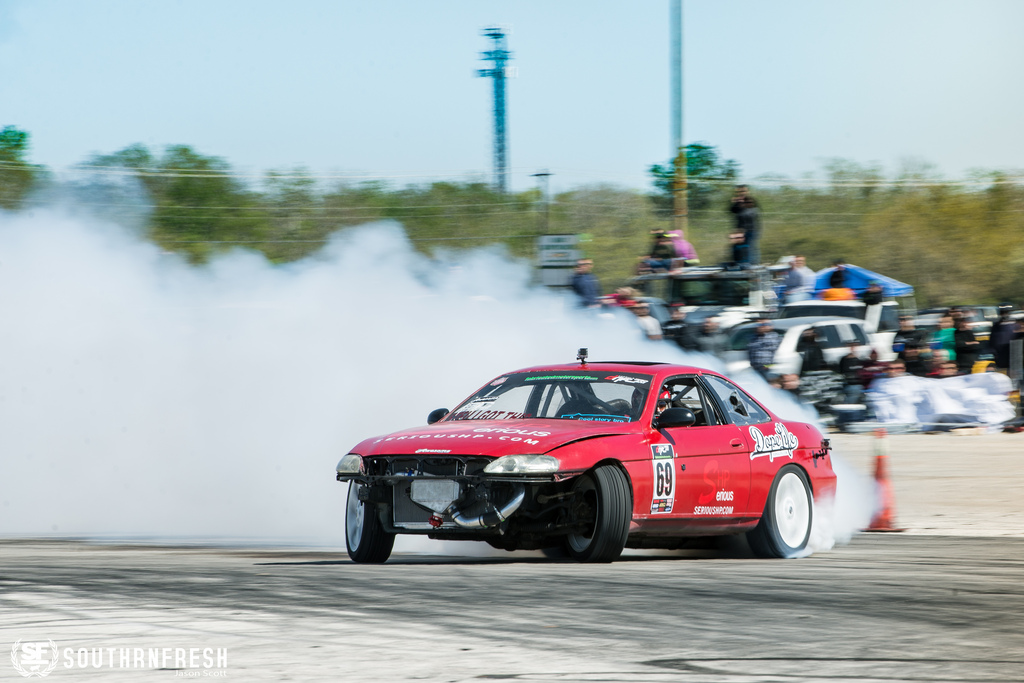 heres a link to more

http://southrnfresh.com/wordpress/fo...959#f2b1325d08
4-4-2013
Here is a boat load of awesome... and More to come
4-6-2013
Updatezzzzzzz!!!!! Tore down the r154 and found all this cool stuff...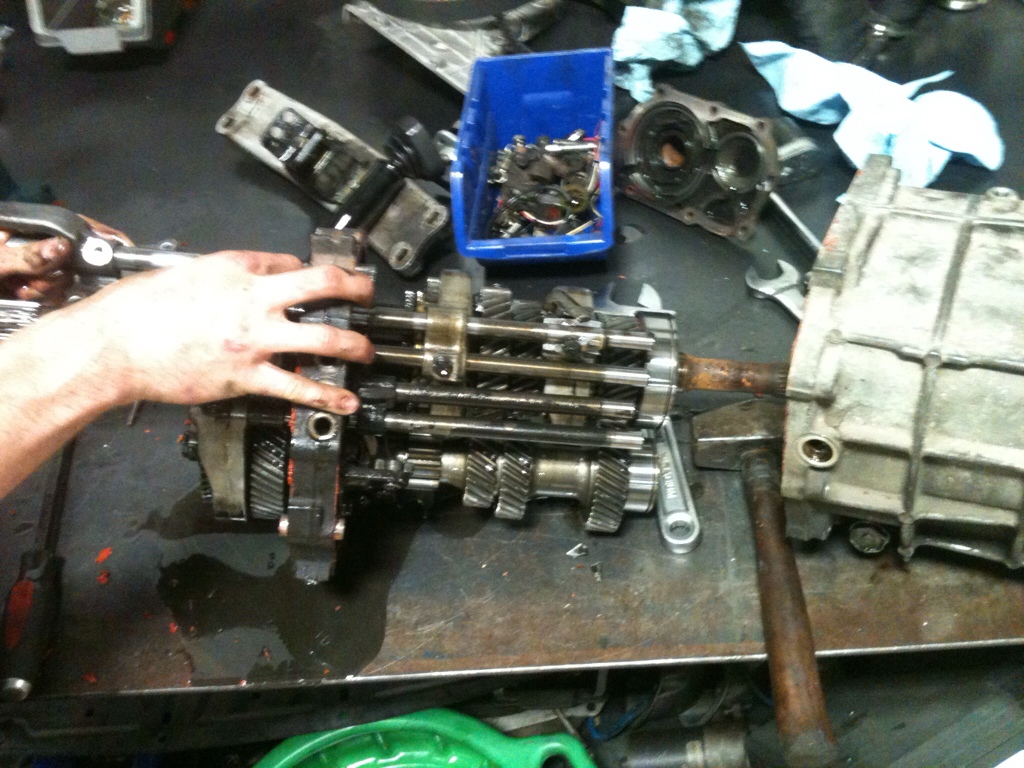 Broke the 3/4 shift fork and the Thrust washer was toast, the gears looked super clean so only a full reBUILD wilhappen any way lol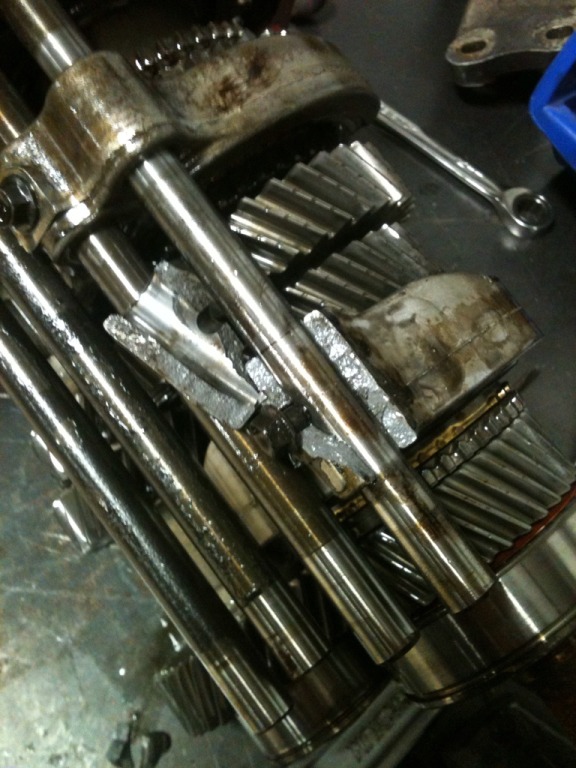 Snagged my old wise rep spoiler back from the owner of my white car...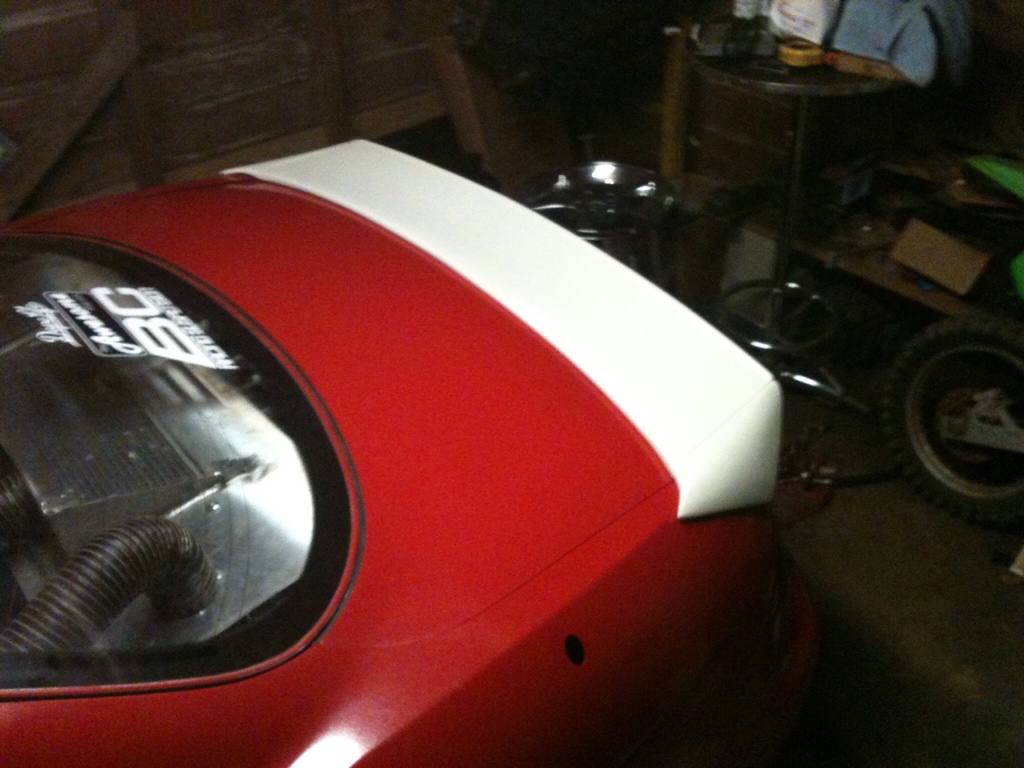 And heres all my goodies for the r154 build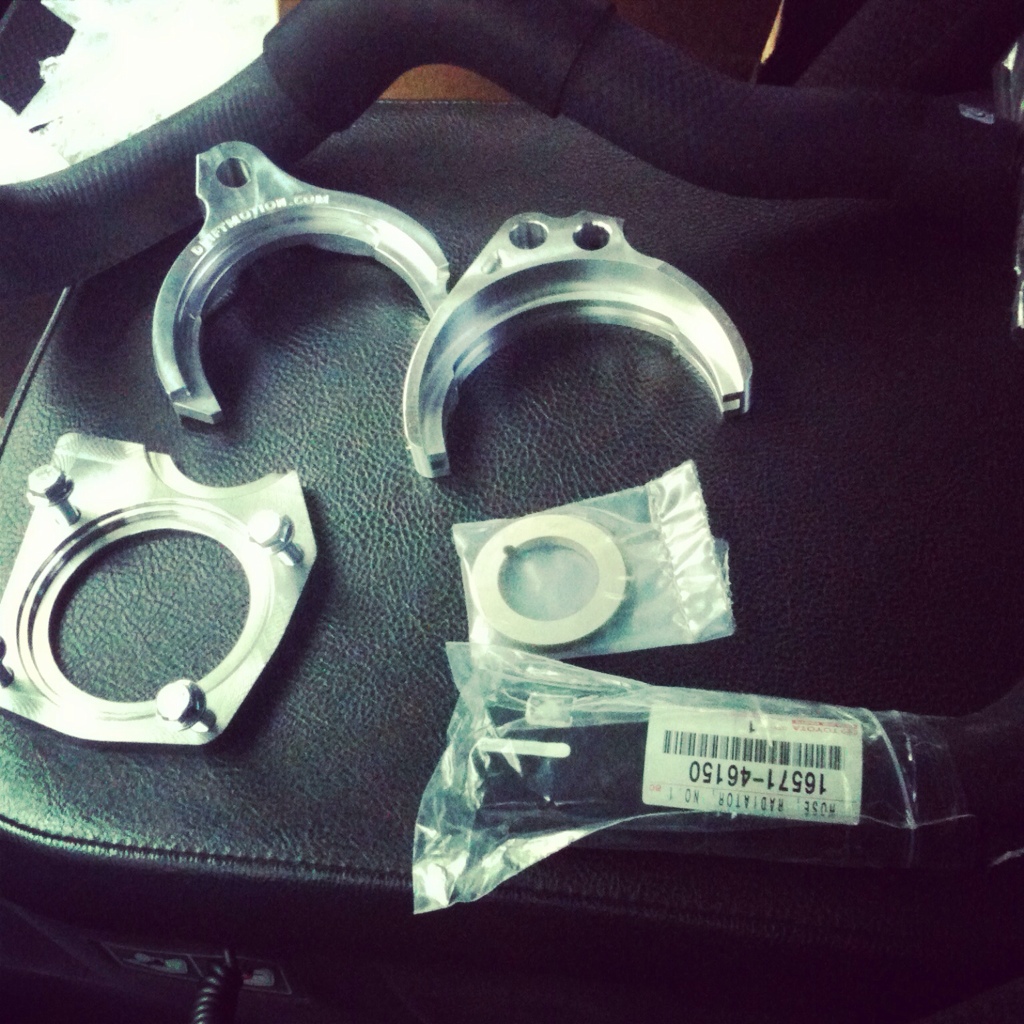 Super excited about it all and driving the car again at RD.2 on the 28th
5-25-2013
Update
Video from round one with a busted trans running 2nd gear from the start and during the entire runs we ended up with a 4th place finsh and a great start to the year... after the event I picked up 2 auto 4.2x ratio diffs and they have made a world of difference in the response of the car

As for round to at Texas Motor Speedway with 80mph entries... we won... and are now sitting 1st in points very jazzed about that...

Round 3 is local again at Gulf Greyhound Park on june 9th and sould be very epic...
5-26-2013
That rd2 entry was 80ish for cars with power, I finished first thanks to help from DopeLife clothing SeriousHP Prestine Custom Paint and a amazing crew that just killed it all weekend...

I show up later in that video but its a good video regardless
8-6-2013

Here's a few pic's from the Mexican standoff Rd 4 of the lone star drift series. I am the current points leader and have been since Rd 2

photo creds to Jason Scott of Southern Fresh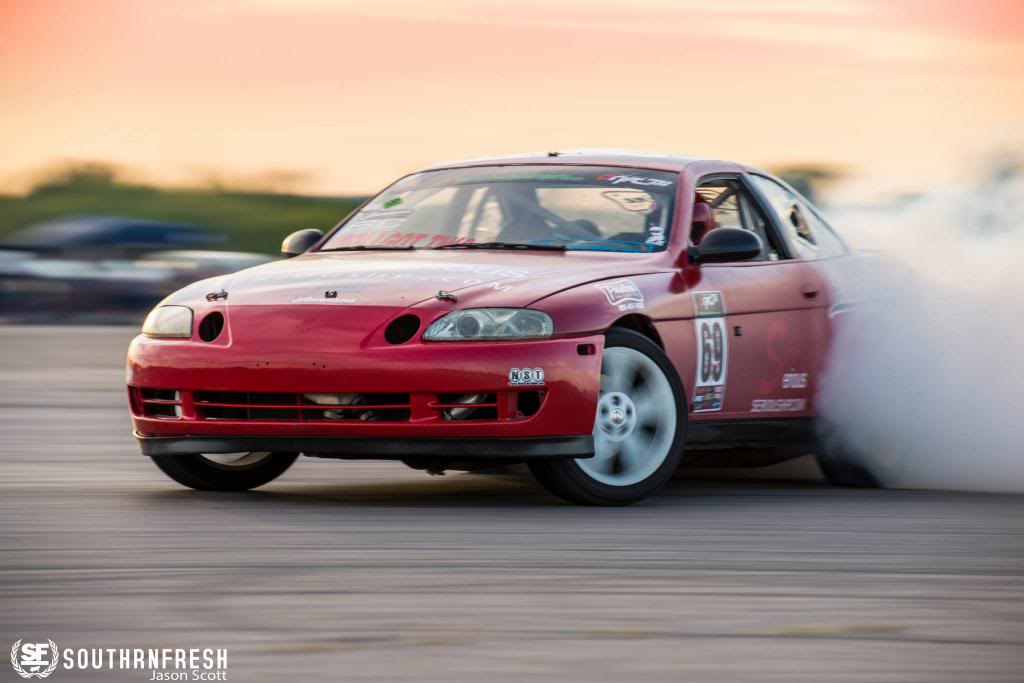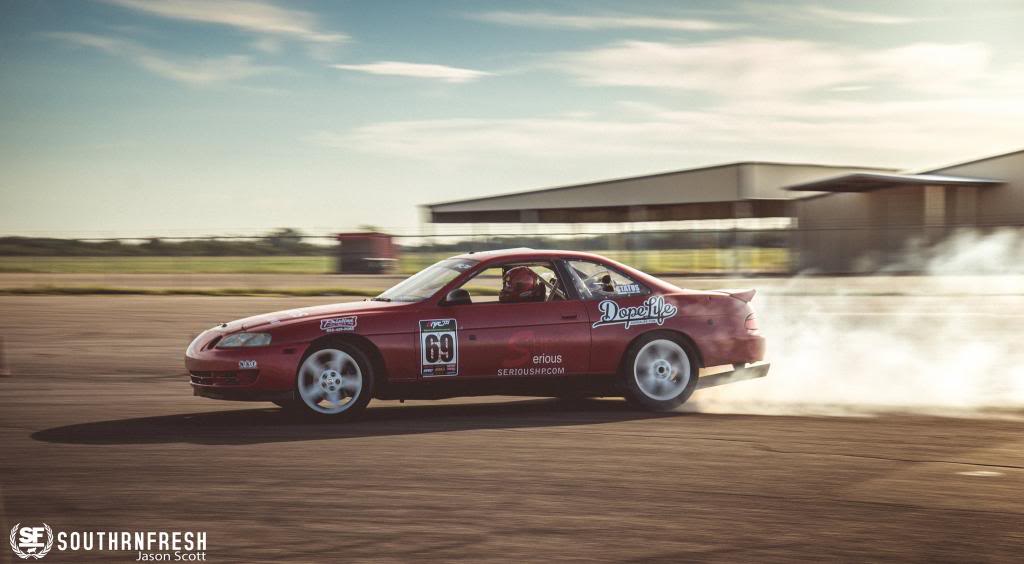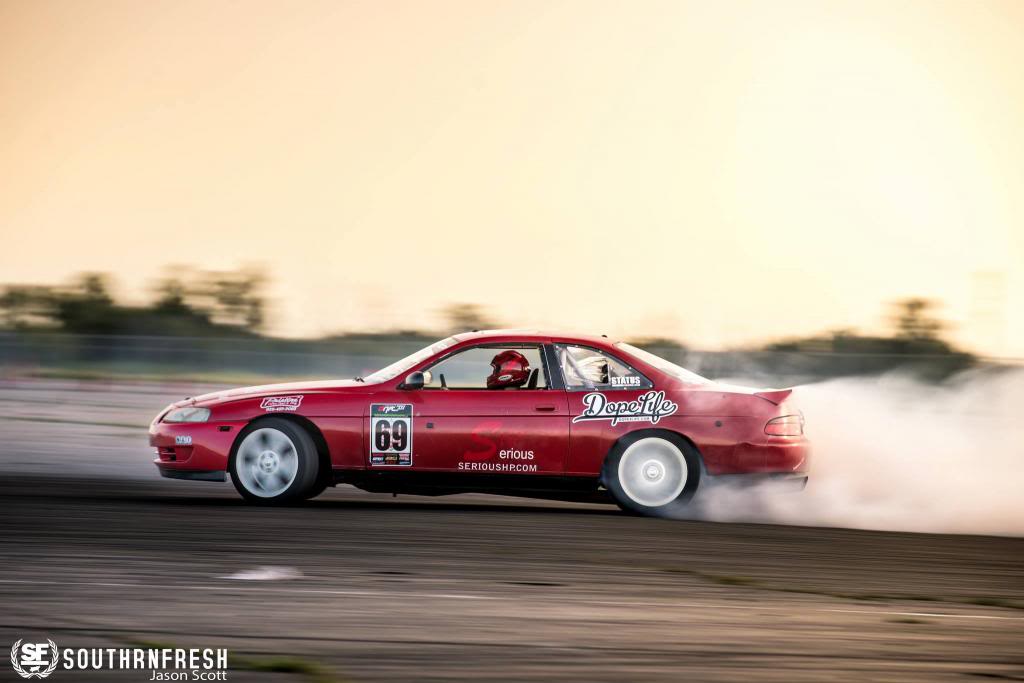 4-23-2014
wow it's been a while... pics speak for themselves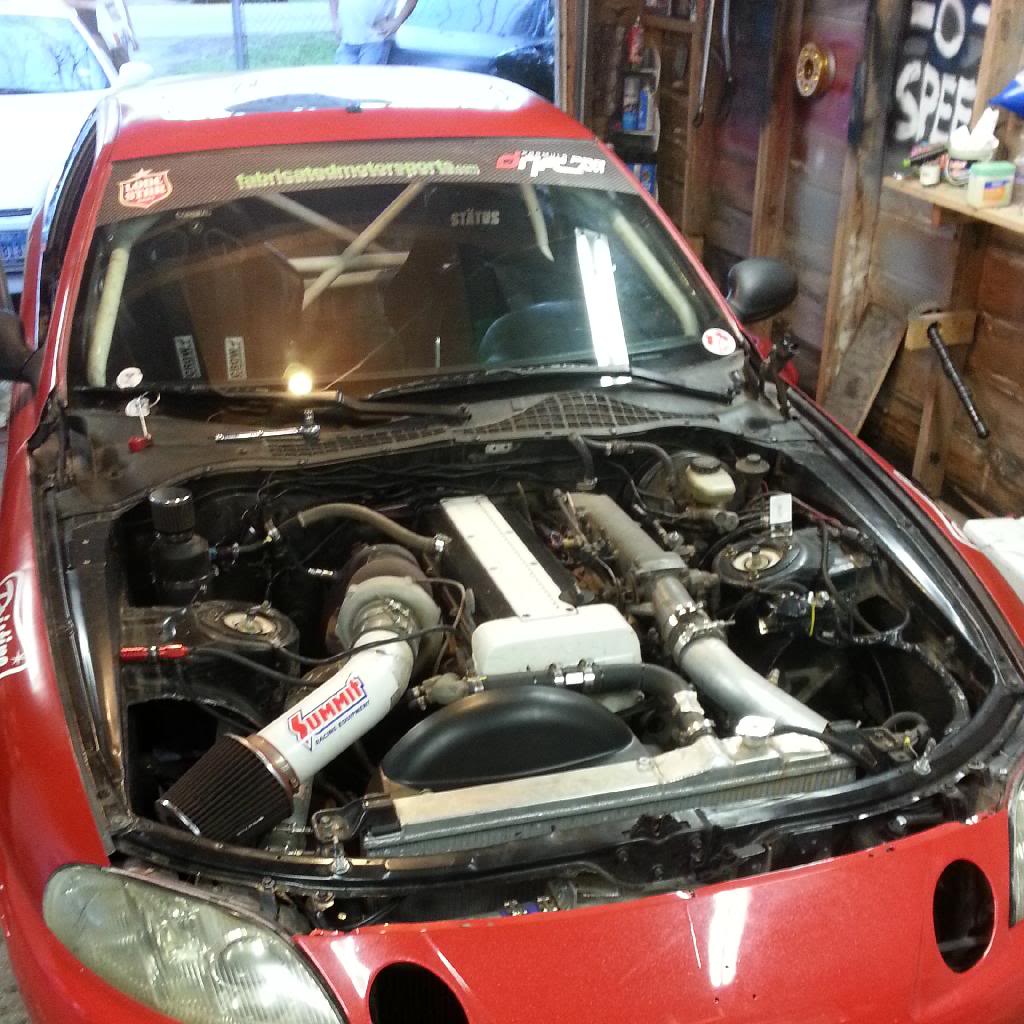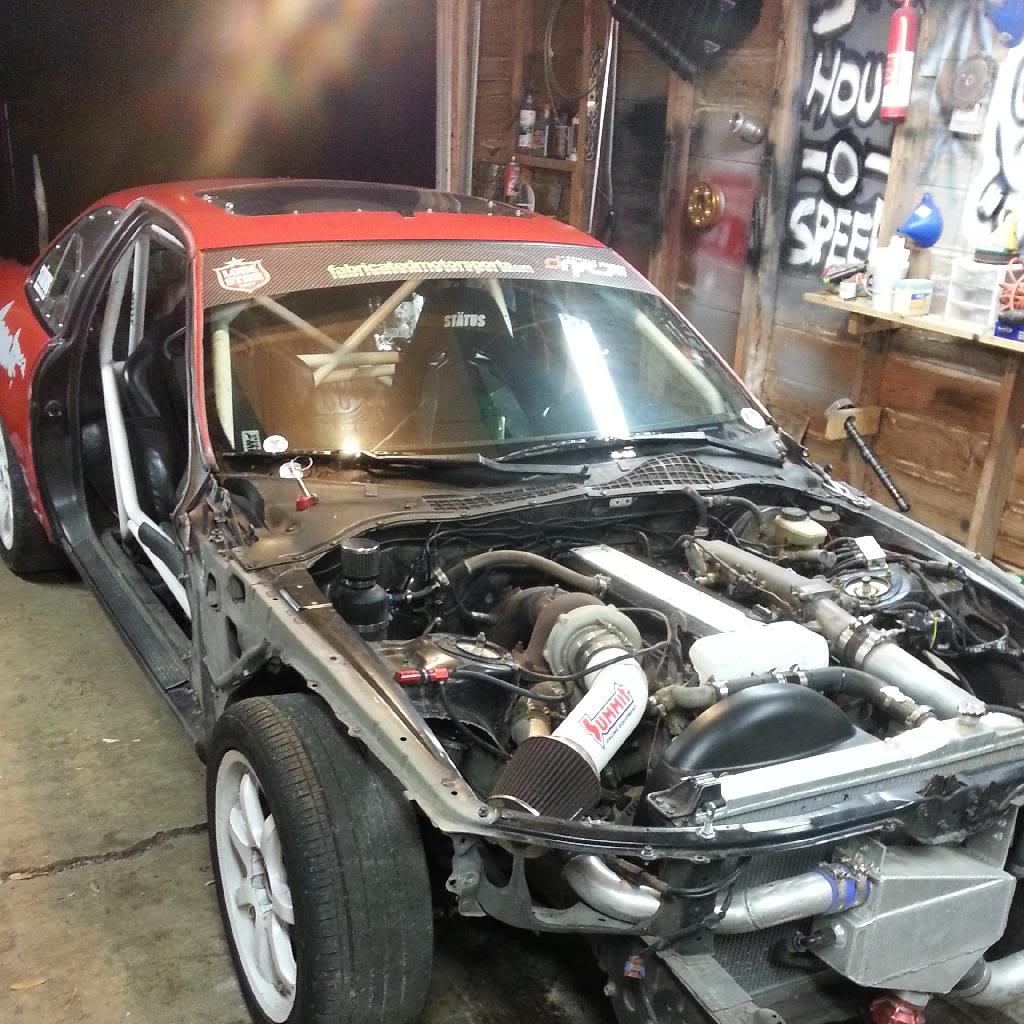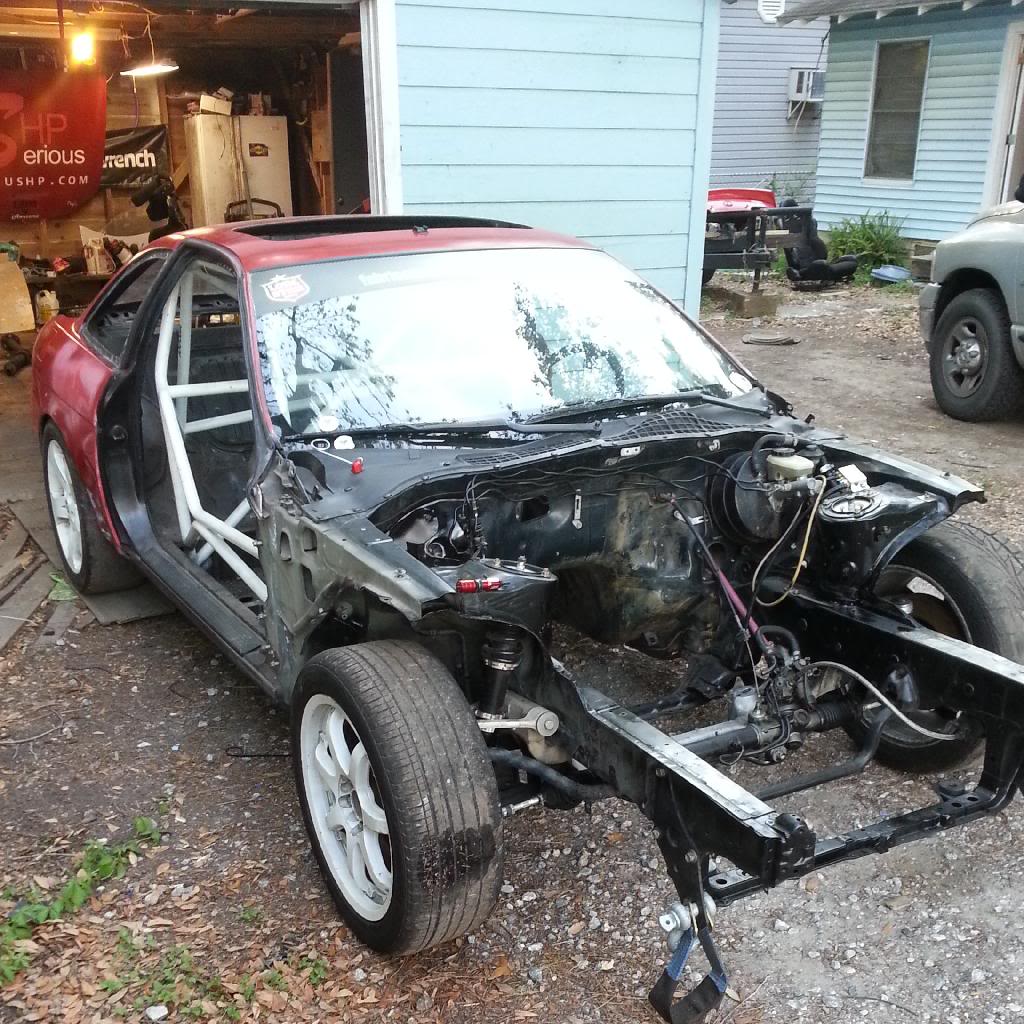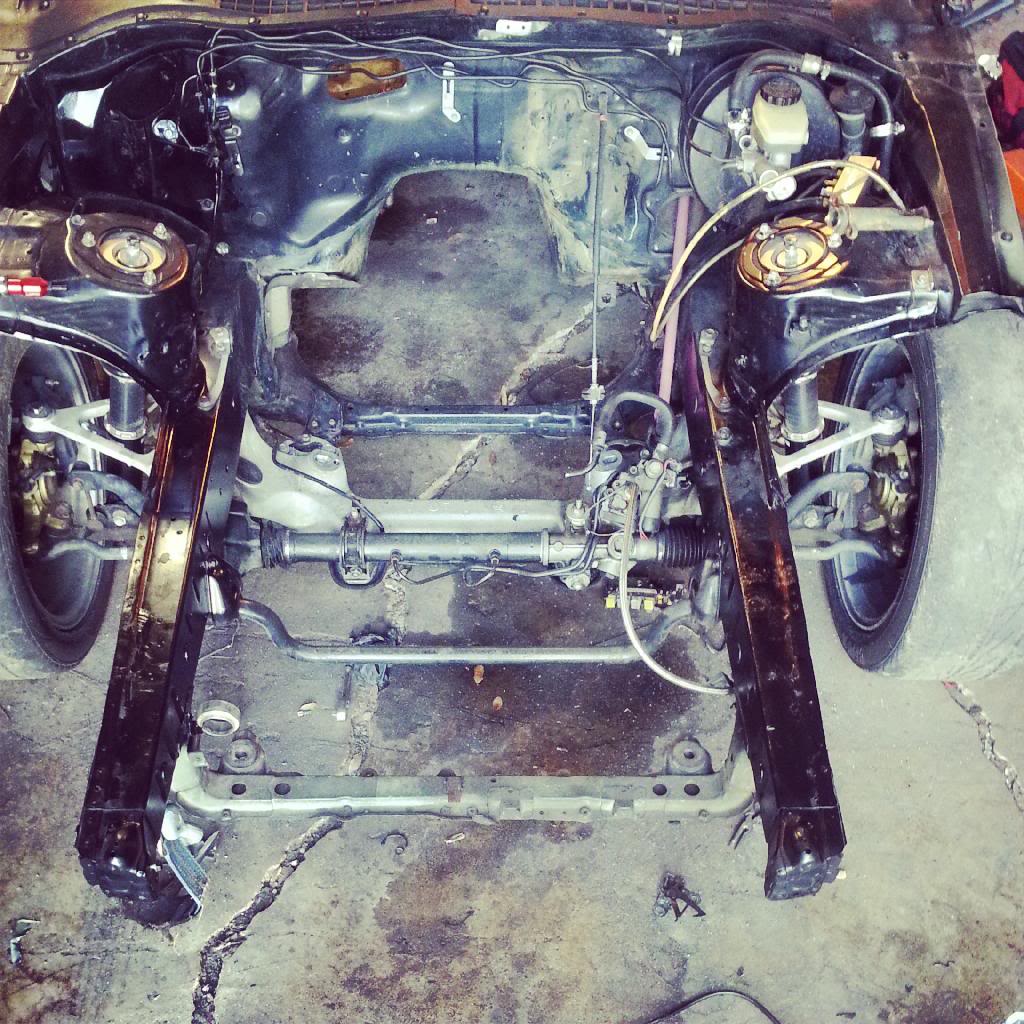 4-28-2014