Hot Rod Lincoln '67 Coupe by Buddy67Lincoln
By diyauto
You must be logged in to rate content!
Hot Rod Lincoln '67 Coupe
Compliments of Buddy67Lincoln @ thelincolnforum.net
9-19-2008
I just wanted to share some things I am going to do on my '67 coupe project. I have had the thing since I was 14, now 23 and out of college...time to get building again! You don't have much money when your 14 and none when you are in college so I was just waiting and waiting. If you feel at any time that you might have advice on something you have experienced similar to my plans...jump on in and give me guidance! I will need it.
Just bought a '67 parts car 4 door that was someones old parts car. It has everything but the seats, doors and rear window. Hardly a parts car but the previous owners used a forklift to move it so the underbody and front suspension parts are mangled. Other than that..pretty much a rust free car with the drive train in tact! Car was 10 years old when I was parked with 70 or 80,000 miles on it! Engine still turns..anyways here are the plans so now I have a parts car for sheet metal and parts to sell, I am full force back into this project. If I sell my old '84 GMC K1500 4x4, thats all the better! Here it goes:
-462 with roller cam (mild), headers custom made by Brian Estrada, gear drive, rockers, lifters, port and polished heads, ceramic coated pistons, and a nice balance and blue print job on the whole thing, aluminum 3x2 super marauder intake with 2800 carbs and might get it port matched to the heads, and thats my plans so far for the mighty 462 which should get around 440hp or so and over 520 on the torque! Not to bad and might even run in the 14s with 3.25 gears on the back, 2000 stall converter, shift kit and heavy duty parts for the trans (not there yet), heavy duty universal joints, and a spare 5 gallon gas tank in the trunk!
-Simply just lowering it 3" in the back and 2" in the front might help to get that 60's feel.
-Medium blue flat metallic paint for that suede look! Rechromed bumpers, removed all handles and emblems with auto loc hardware, semi-pointed top of the fenders where the original moldings were which will be one with the body and of course painted, wide whites, steel wheels for now, maybe a flaked roof in a shade of silver or darker blue, exhaust in the rear back up lights maybe (get a license plate frame with the back up lights in it or make one), rolled rocker panels with the chrome strip removed (already done), possibly a raised hood like you see on the early to mid 50's Packard Caribbeans with the 3/4" slit across the front edge of the hood where it is already raised!!! (thats to help fit the 3x2 carbs, but might not need to do this) If i do end up needed to raise the hood a little, I will keep it off and let the 3 deuces stick out. A hoodless Continental would be sweet! If the 3x2 set up never happens, will need to look into 460 intake adapters and get a dual quad set up on there!!! That would be nasty looking!
-stock interior for now, but the I want buckets and then have them in white tuck n roll naugahyde or vinyl, blue carpet, custom center console with as much class as the Lincoln has (nothing modern), CD and speakers will be hidden for sure, maybe a nice big old tach in the console but with a nice elegant look. Has to be way oversized to fit the scale of this Lincoln.
-2 1/2 inch exhaust with not sure what sound yet but it must end in Bellflower tips if I do not end up putting the tips in the old back light housings.
Let me know what you think and share some of your plans on your ride and any experiences you have had doing any of the mentioned or anything at all even if it was not mentioned! I enjoy reading and sharing so read up and leave something behind! Oh yeah, I bought a 460 to slap in there but its a pain to do and will require a lot of new stuff and fabbing so I found a MEL performance guy and thats where I am getting the parts from. 440hp in MEL powered Lincoln...now thats classy and a rare oportunity so if you have one...do it now while there are parts available! In 20 years, there will be nothing left but stock rebuild kits for the MELs. If I ever get some drawings done, I will try to post them. Here is an old one I made a while back when my plans were slightly different than today. Good luck on your projects and thanks for reading!
Added some photos of a model car I bought at a swap meet. A '66 coupe with that suede look and I placed the wide whites on it so see how it looked! Something like this is in line for my '67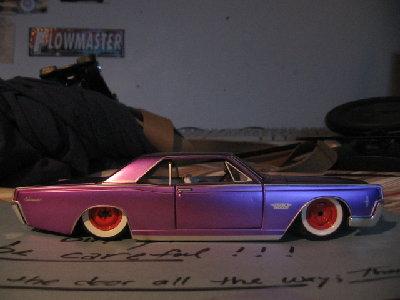 10-2-2008
Well I can check the 3x2 Super Marauder set up off the wish list because now I got one! Just about complete with 2300 Hollys and intake!!! Thing looks kinda tall, might have to ride hoodless for a while! Next, rebuild the motor and get 3.50 posi rear end, tranny shift kit, heavy duty u-joints, etc..the whole drive train. Still a long way off after that but least I got part #2! Here is a pic from an email and some of my own. Just got it today (October 8th 2008). Also have in the photos the roller cam I bought from Brian Estrada.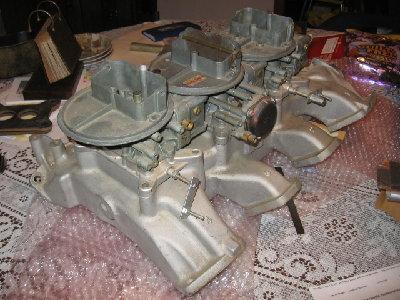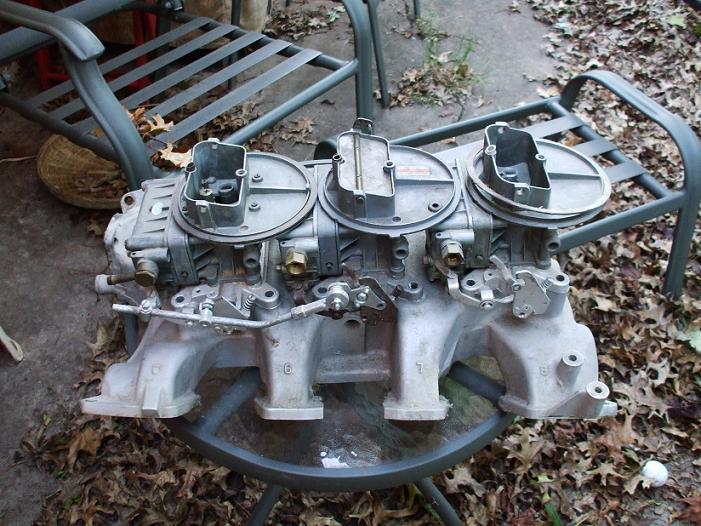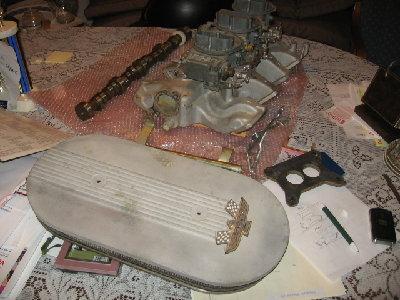 11-10-2008
Just got my 2nd parts car. This one is a sad story though. 30,600 original miles and no title. I have the keys, the cars complete and entirely rust free. Its a base model with only an 8 way power bench seat and absolutely nothing else! Just like my coupe though only has an AM/FM radio and thats it. Anyways this ones aqua on aqua and may end up a really nice parts car. If it does end up a parts donor, it will serve my 67 coupe very well. This will speed the restoration process up by many many many man hours of hard bodywork! The rest is up for grabs to fund the engine rebuild. I keep telling myself that the Lincoln will be on the road within a year or two but I want to do it right so I will just take my time and hope I do not get ahead of myself. I'm off for 3 months in the winter so we will see what happens!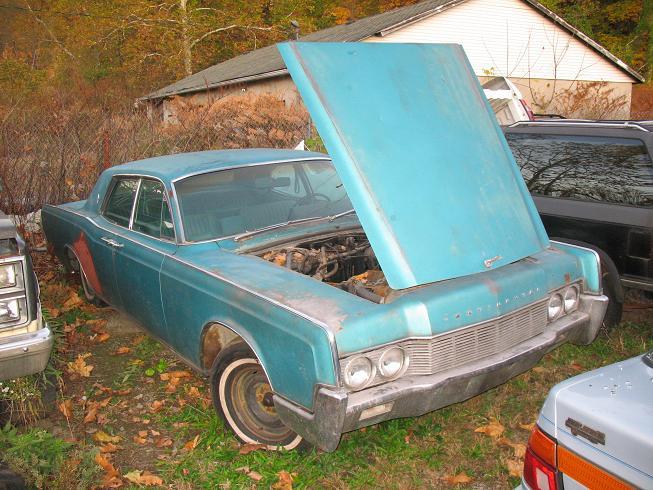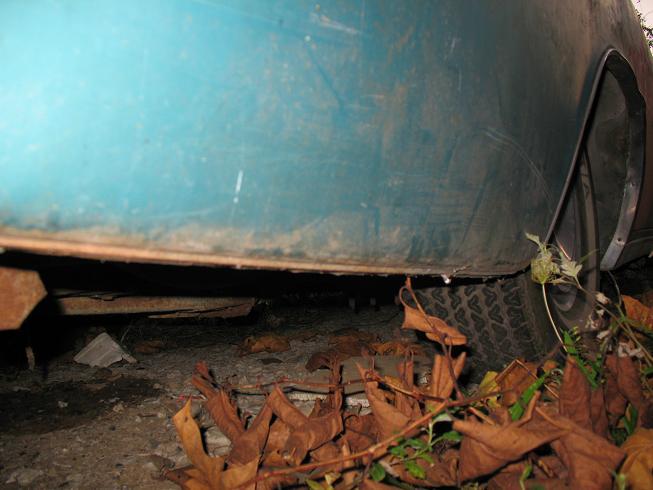 11-12-2008
Here is the mock up of my tripower on my parts car. It happened to have the intake off along with most of the hardware but its all in the trunk. Anyways just to answer anyone who ever wondered if the intake and carbs fit under the hood with air cleaners....they do! Thats good for me so I do not have to fabricate a custom hood (i would never use a hood scoop). I think its going to look pretty sweet. I want individual air cleaners so I found 2 smaller ones at a swap meet 2 or 3 weeks ago and picked them up for $8 so it helped me get a visual. I need a middle one and hope to find finned lids and from there I need to do some cutting to the center cleaner and it should look nice. Let me know what you think. Hope I can get this tri power to work well. Still looking for a set of 58-59 cylinder heads since they are the ones to use for this intake. Thanks for looking.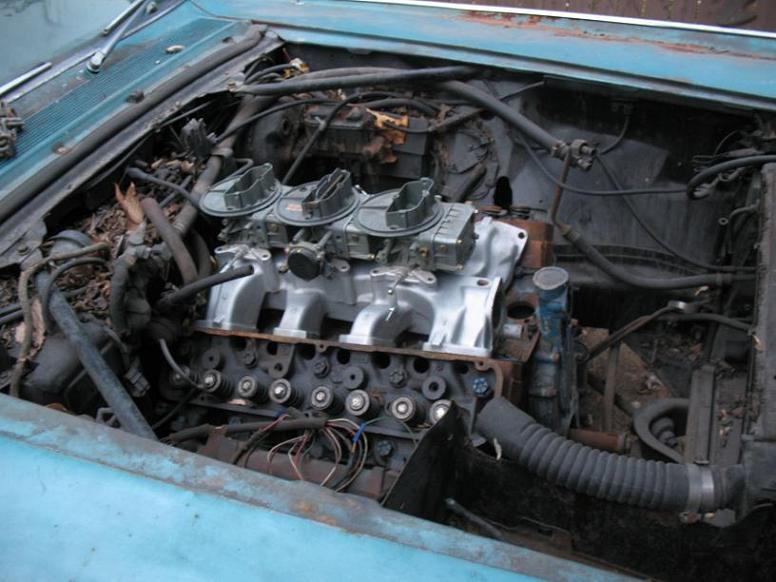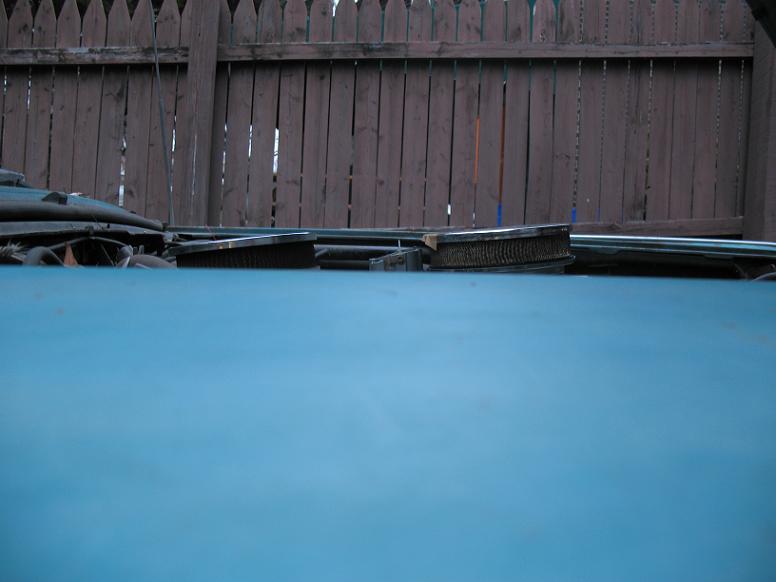 11-13-2008
Thanks a lot Brian! Well luckily it clears the hood so I do not have to worry about chopping up my hood just yet if I do decide to go with a custom hood. I had planned on these carbs since they came with the set up and are rebuilt but I should go with the D shapped carbs like on mopars. Haven't decided yet but I have a long way to go so these might have to work for now. I should be getting a hold of you once the motor comes out and I hope thats sometime this winter. Also, I have seen the cobra scoop on a slab side LIncoln and I think it was a 64 and that owner put the tri power on his 430 so he needed to cut a hold in the hood. It actually did not look to bad. I talked to the guy about 6 months ago but the car has since been sold, it now black with wire rims. I think it looked good stock with the trips on it!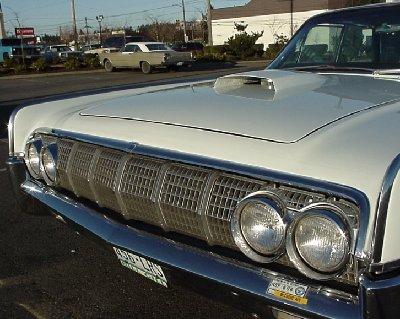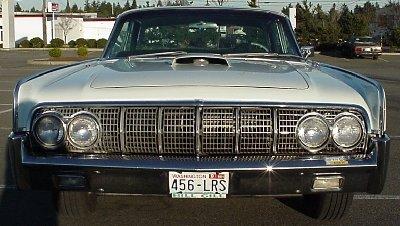 1-14-2009
Brian, ever get that photo yet of the scoop???
Here is a complete 462 with the tri power! I was under the car at the same time and came across some more cancer on both sides rear floors right in front of the rear wheel well openings. Its getting old...dang rust. Anyways I got a little upset so I unwound and tore down my spare 462 to take a closer look and then yanked the intake and distributor and slapped on the 3x2s. I am working on getting the motor running and then I will do some tests on compression and see what I've got. I came across some 1959 430 cylinder heads and I am putting them on to take care of the intake port issue. The 462 intake ports are significantly shorter than the 430 intake so I bought heads so the ports match. Might lose some low end torque but I will have plenty to haul with when I am done!
2-20-2009
I do like the sleeper idea! Something to think about. Here are some scanned photos from my throw away camera probably back in 1999-2001. I got the brakes done so it must have been 2000-2001 or so. I was still in high school. I went to the store and bought valor blankets and a set of small sheets all in Navy blue. I wrapped the seats up and tucked the blanket behind the seat trim and put extra Lincoln stars on the backs of each seat (they fell off!) and wrapped the arm rest pads and rear shelf with sheet material. I also started turning the aluminum on the arm rest sides around and sanded lightly to get a brushed aluminum look..I guess it really was brushed aluminum after I did that! Thats all I got, finally got them on the computer!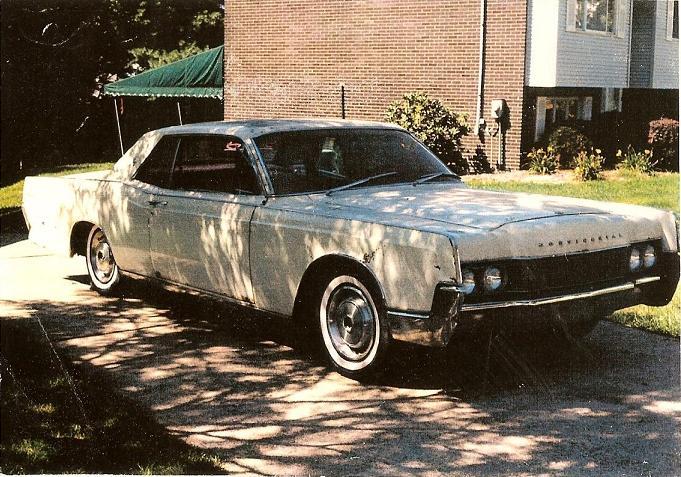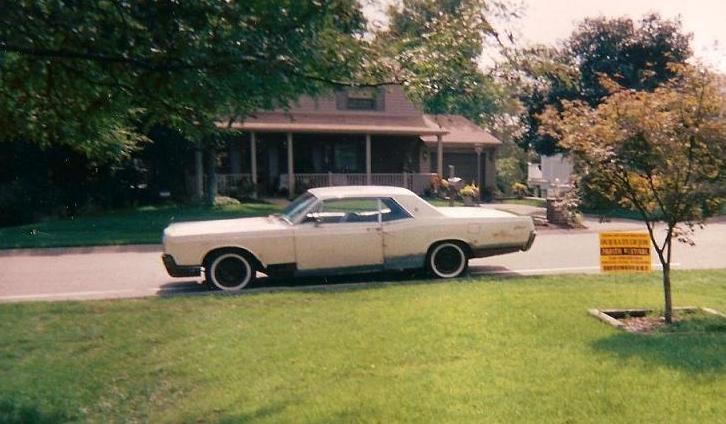 3-6-2009
I just received my 1959-60 cylinder heads from a 430 so the intake ports will match the Super Marauder intake. The 462 cylinder heads have short ports. Can't wait till I get the motor built...but it will have to wait unless I hit the lottery.
4-27-2009
Mooneyes valve covers! 30 sets were made to date from my knowledge just this Month! Not sure how many they will pump out after the first run of 30 is up..depends on demand I guess. They sure looooook gooooood!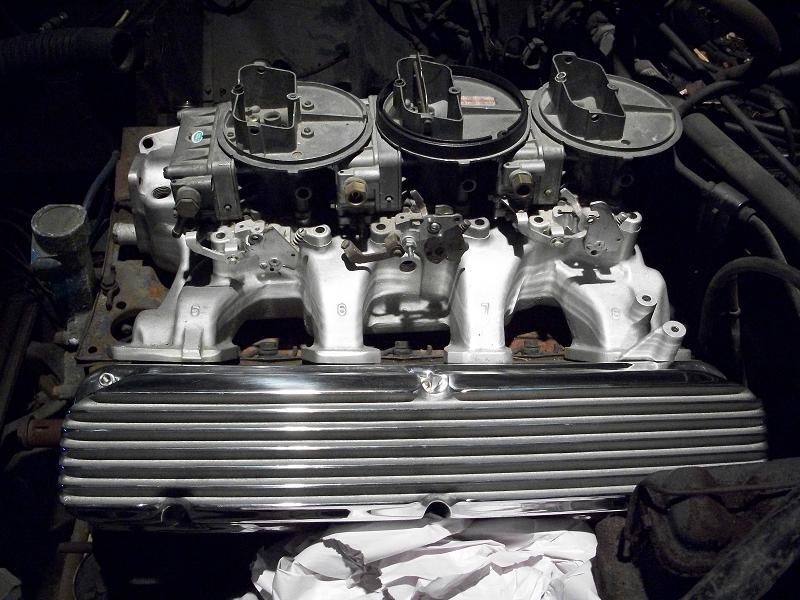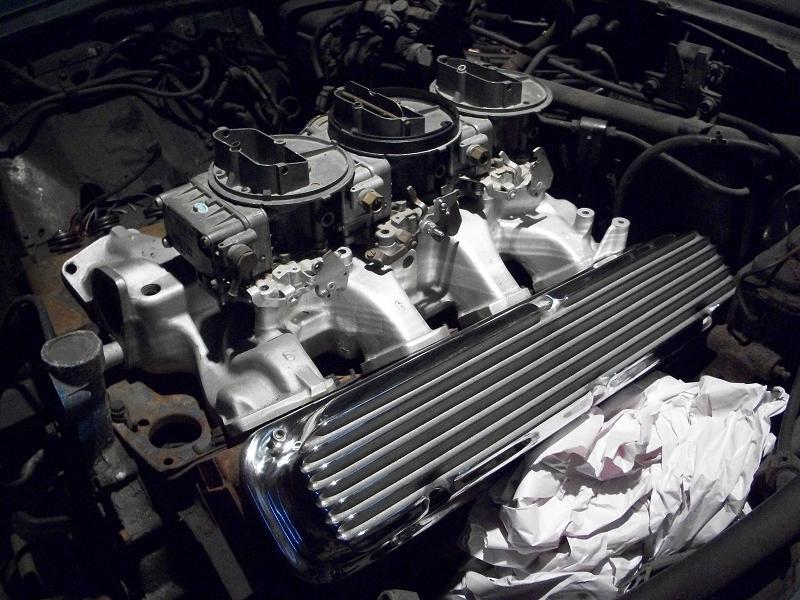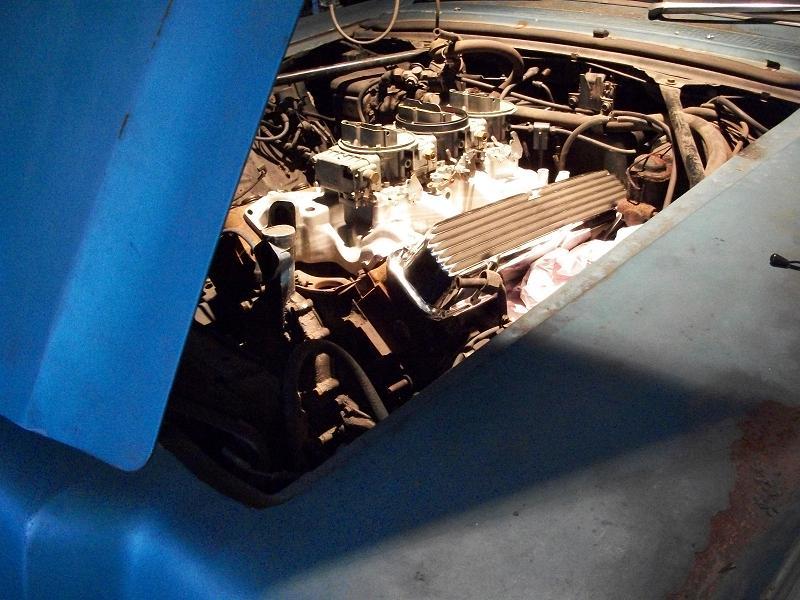 7-28-2014
The Aqua 67 Lincoln Sedan is going to be parted out asap or sold as a whole; would rather see it sold whole and be used as a great rust free shell for someone else's rusty but better optioned 67 sedan. I will post a link in the for sale forum for it soon. The same goes for the white 67 coupe but that will be parted out for sure; this car is swiss cheese the whole way through so not worth the restoration. I have tons and tons of parts for 66-66 Lincolns. I eventually will sell or part my 66 coupe as well but its has valuable options to might be worth more in pieces. Thanks for all the help on ideas for the Lincolns but its time to downsize and work on the 64 convertible and put some money away for retirement!