UPDATE ENGINE INSTALLED: Mk III Engine Overhaul big thread by 2sasilverbullet
By diyauto
You must be logged in to rate content!
UPDATE ENGINE INSTALLED: Mk III Engine Overhaul big thread
Compliments of 2sasilverbullet @ thelincolnforum.net
1-19-2014
Started the long process of a complete overhaul of my stock 460. The plan is get everything ready for the day the engine gets pulled. I'll do that in my neighbors fully featured 6 gar garage with everything a gear head could dream of! Got quite a bit done in 2 hours today in my driveway. Pulled the fan, radiator, A/C, power steering and alternator off. Will continue next Saturday with all the hoses, wires and carb. Engine pull day should be 2 hours and it's out.
Right now the plan is to bring it to a guy that's been building engines since '69. He has a complete machine shop in his building - crank/cam grinding, magna flux, you name it, he has it. He does all the work himself and comes highly recommended. I've talked to him and he's going completely stock with good forged pistons and probably a cam that's not totally stock. Engine will be completely stock when finished.
Oh how I wish I could take a month off work and be there with him rebuilding my engine every step of the way! I did 5 V-8's back in the early 70's in auto mechanics in high school. I love doing the exacting work of engine rebuilding.
Here's the first installment of MANY pics! Enjoy!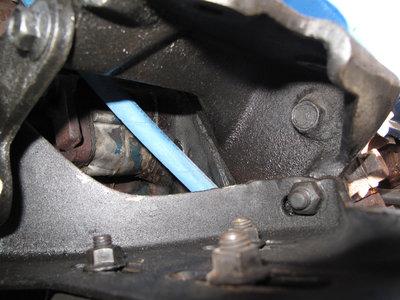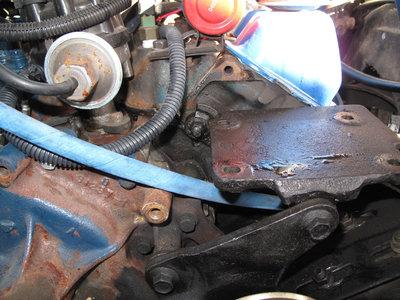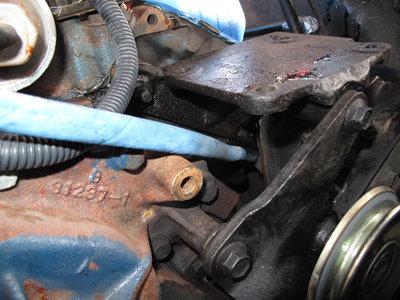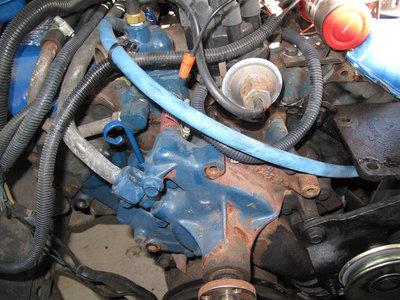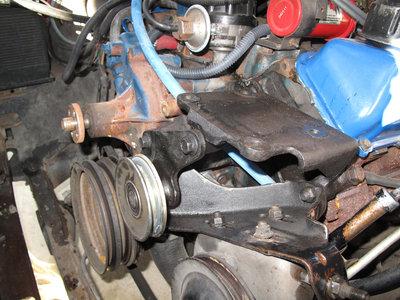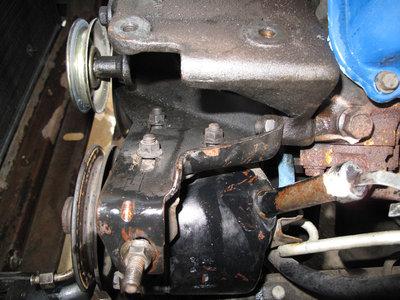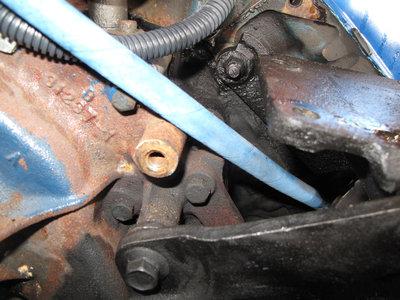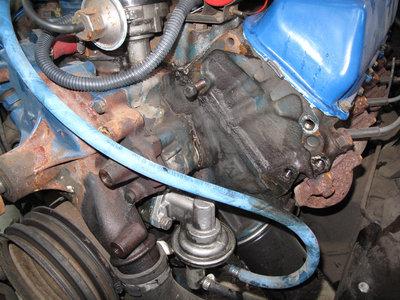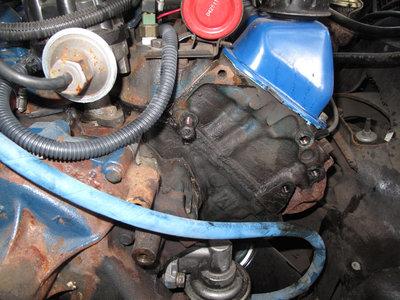 Yes, I know the bottom radiator hose wasn't on right - will make sure it goes back on correctly!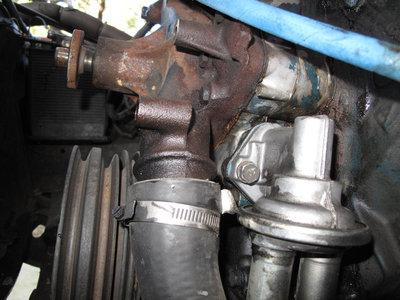 1-22-2014
I've had a lot of work done to my 70 MK III by Certified Auto in San Antonio. They're on San Pedro right next to the Carlisle Auto Air. Ask for Tony and tell him Michael Sorbera sent you. They do a lot of work there on old cars. Tony doesn't shy away from them, he embraces them and fixes them for a reasonable fee! I had a oil leak I couldn't figure out. Tony steam cleaned the engine and then put a little leak detector (won't harm the oil) in, drove it for a while, then put it on the lift and used a special light and found the leak - it was the intake manifold. (I thought it was the oil pan or rear main seal) I had him remove/replace it and now no more leaks!
1-23-2014
Main reason is because of all the work I want to do in the engine bay and on the accessories/brackets. It's labor intensive and would cost a lot. Plus the engine shop Certified Auto uses is just a normal place and I wanted my engine rebuilt by a old-school guru, not someone making minimum wage and is right out of high school. The engine rebuild he estimates will be around $4K. I'm having the engine rebuilt buy the owner, Ronnie Groff. He's been building engines since '69. He has a complete machine shop, doesn't have to have anything done off site. His address is: 1433 Bandera Rd, San Antonio, TX 78228 (210) 433-0627. If you call him tell him I sent you. He's real personable, if you stop by his shop he'll show you around and talk your ear off.
1-27-2014
With projects this big, plans change...
I'm going to rebuild the engine myself instead of sending it off complete. Still plan on pulling it on Feb 1st - but now there will be LOTS of detailed pics of the breakdown/rebuild of the engine.
Stay tuned...
1-31-2014
UPDATE - neighbor's garage is busy this weekend - will do the engine pull on Sat Feb 8th in the afternoon. I will be spending some time this Sat in my driveway doing some more prep work for the engine pull.
2-1-2014
2nd day of prep work over. Engine is now ready to pull next Saturday afternoon. Gorgeous day - 76 degrees!!!
Here's some shots at the beginning of today: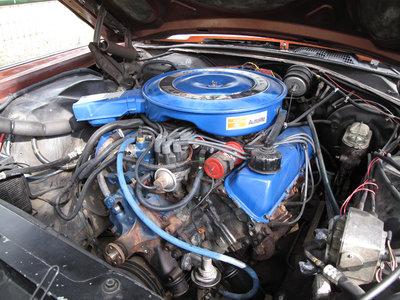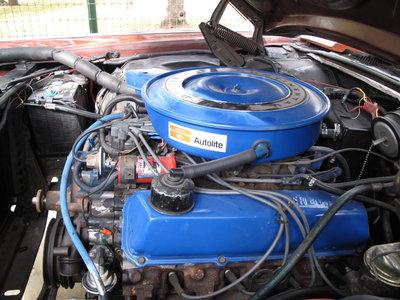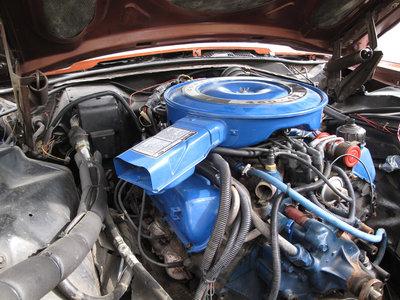 Now starting the tear down: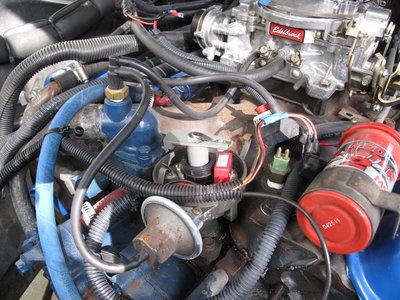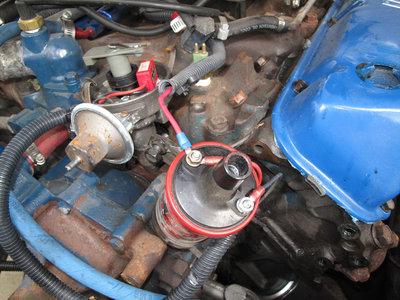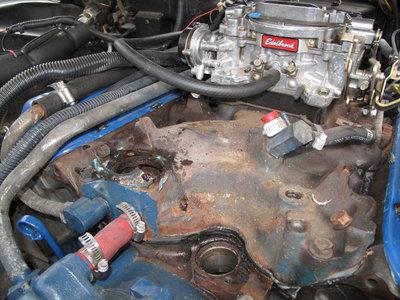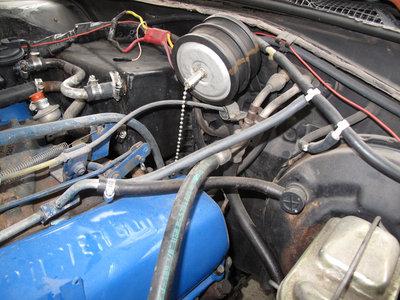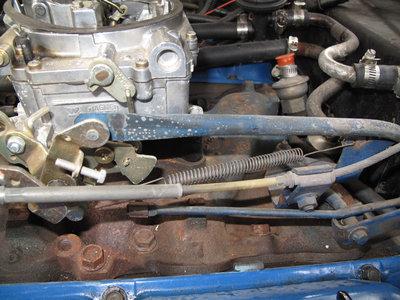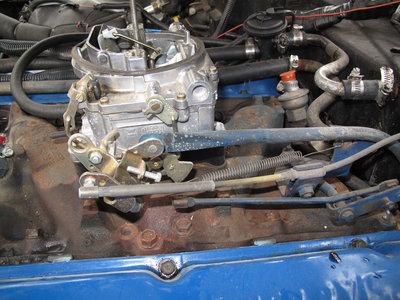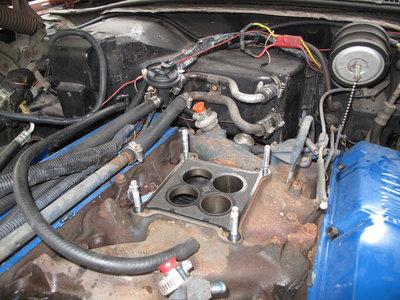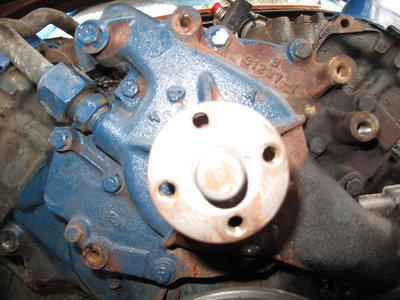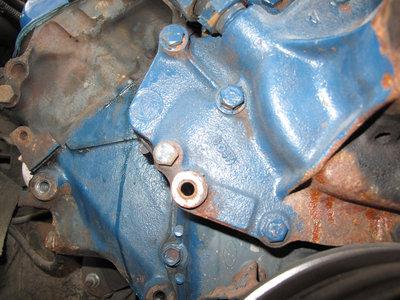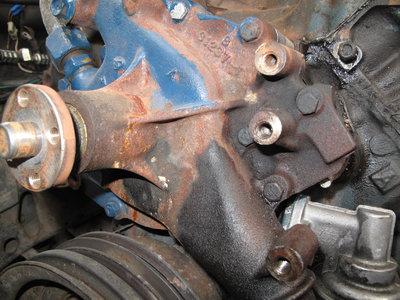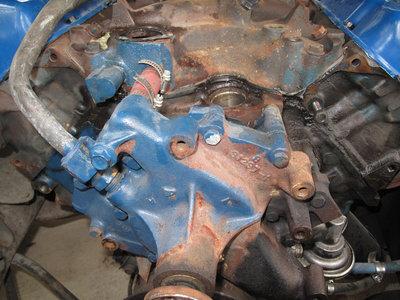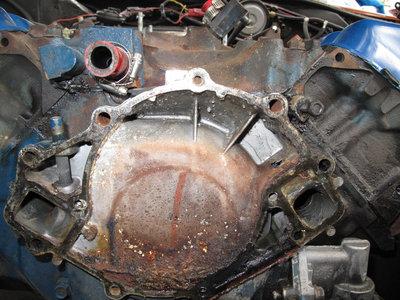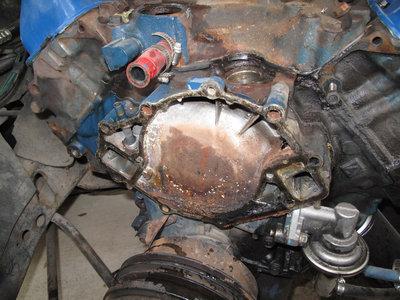 Wasn't going to remove the water pump, but decided to because I couldn't get the huge nut holding the coolant line off. Definitely getting a new water pump!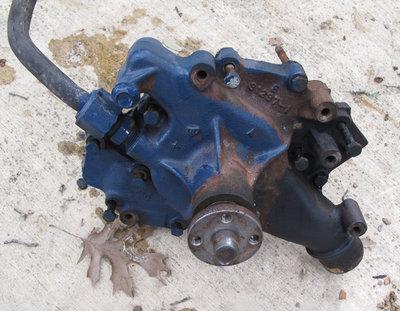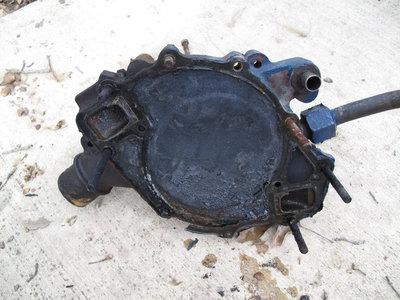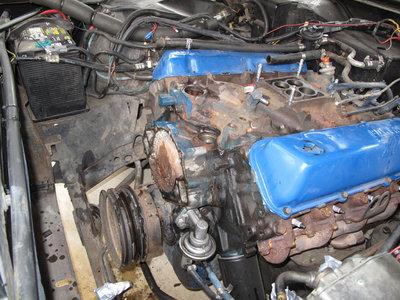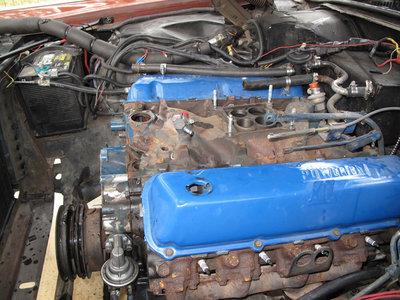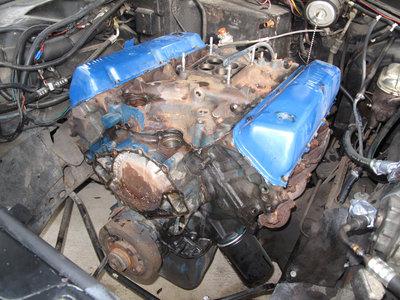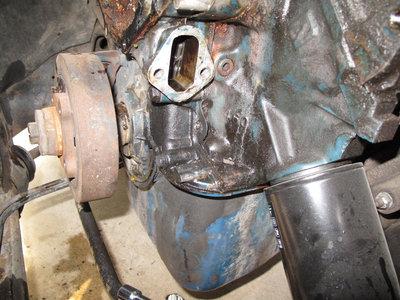 Done for the day - ready to pull next week: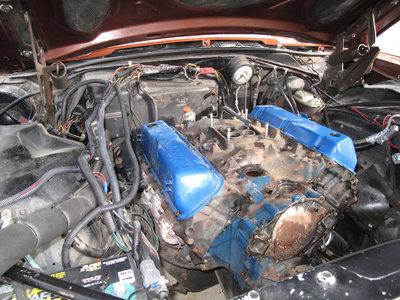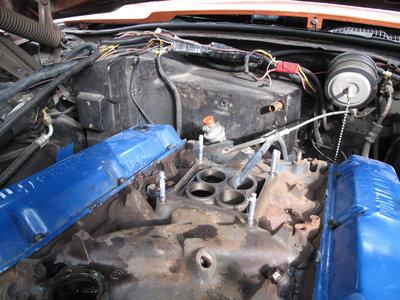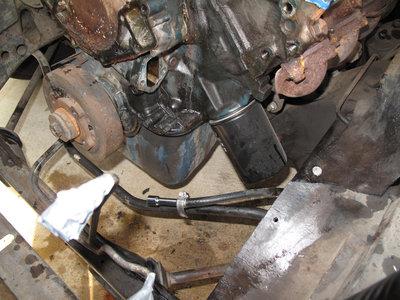 Pics of where I'm keeping all the parts: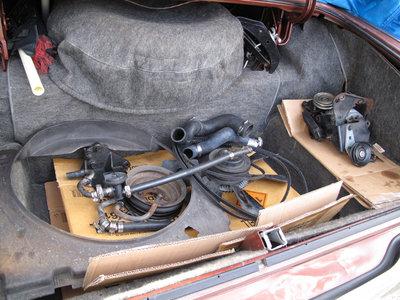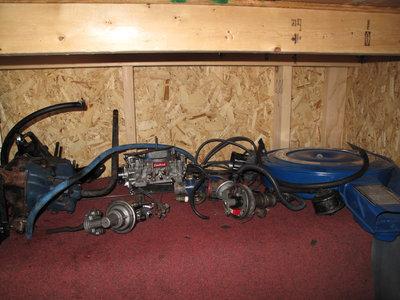 2-4-2014
Just found out the local Lincoln club pres is having engine work done on his Mk III. Here's a pic of them pulling his engine...
2-8-2014
It's 1:30 - taking a lunch break. Car is over in the garage ready for the engine pull! Excited! Can't wait for my neighbor to get back from an errand so we can pull the engine. I bought a 1-ton engine stand cuz he has an engine on his. I plan on breaking the engine down later today to see what condition it's in.
I'll be posting pics either this evening or tomorrow - takes about an hour to process all the pics and post them.
Stay tuned...
First set of pics are the car on the lift. Second set is removing all the underneath pieces/parts in prep for the engine pull. Unfortunately due to a communication problem with the guy that owned the shed, I wasn't there for the actual pulling of the engine.
He and a friend did it in about 20 minutes. I then showed up and mounted it on the engine stand.
Overall, I'll have to say that my car looks a lot worse than I thought it was. The engine is disgusting and there's a lot of surfaces that will have to get refurbished while I have the engine out. I'll also try to permanently remove the sure-track braking unit. Won't be easy, I'll have to splice the brake line or replace the whole thing.
I'll be tearing the engine down now - will be taking a lot more pics! Stay tuned...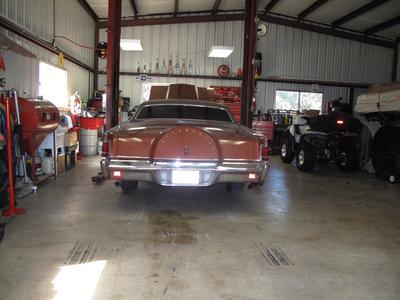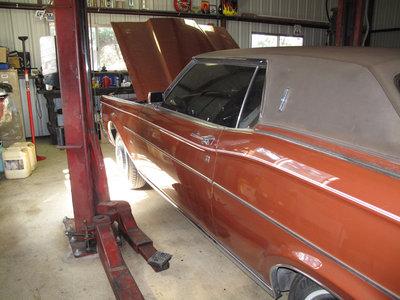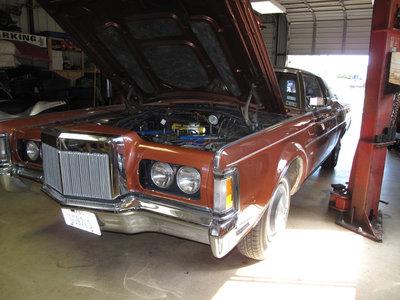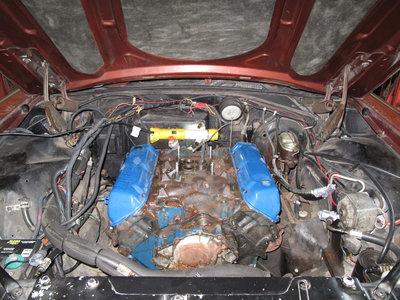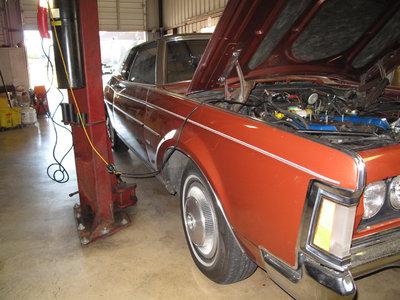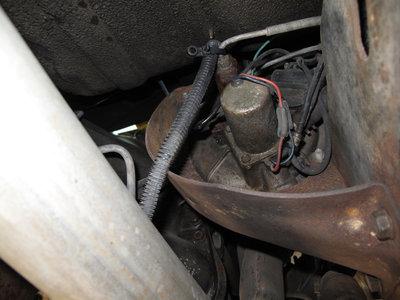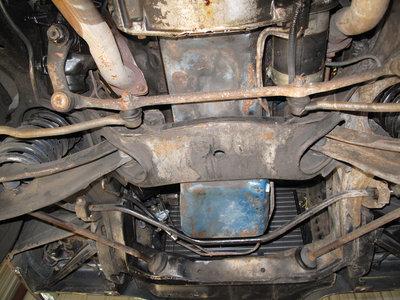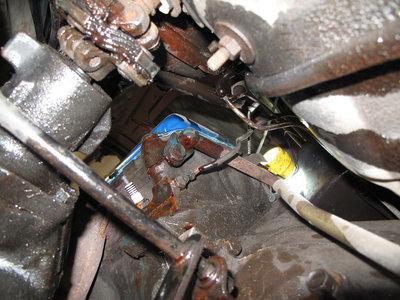 I'm going to replace the piece circled in red: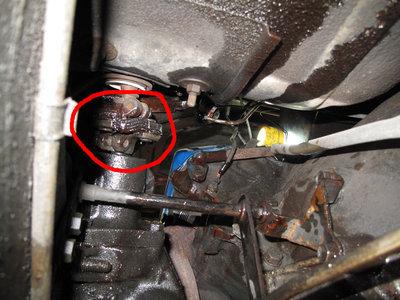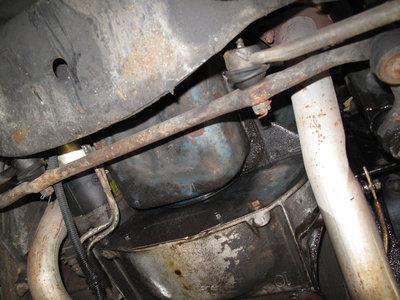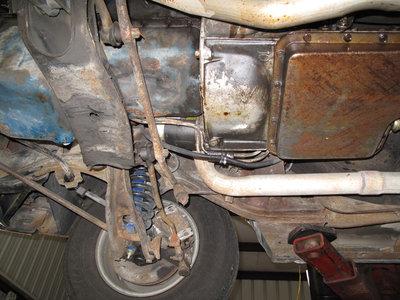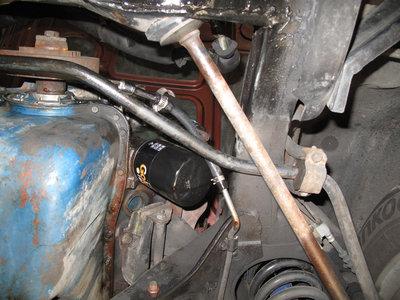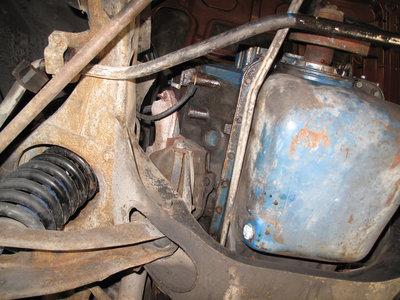 I have no idea how one of the stabilizer bushings got this way! Will fix it of course: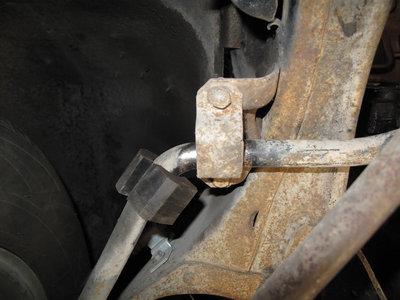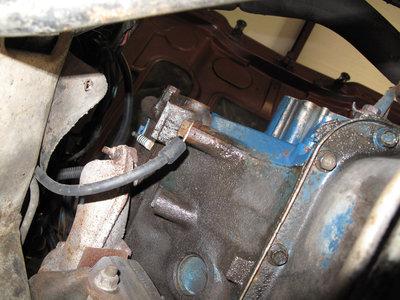 Bolt circled in red is one of the torque converter bolts - blue is the one torque converter drain plug.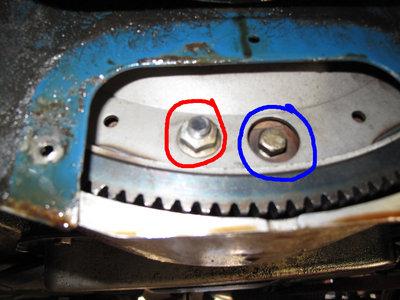 I will be removing and plugging this piece: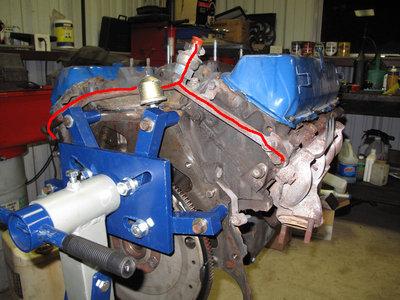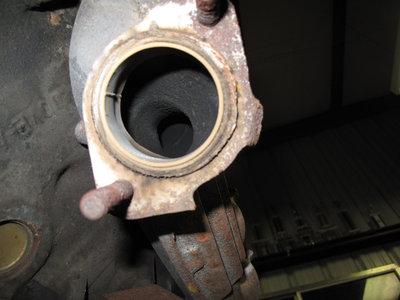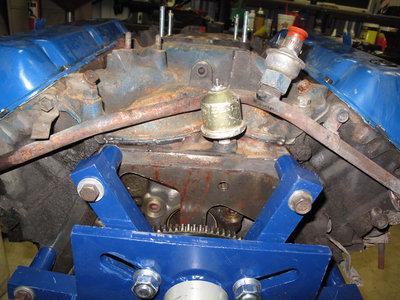 Will have to replace the Timing chain cover - it's corroded through: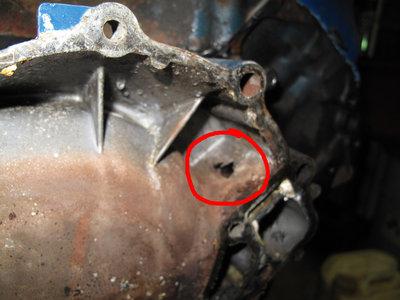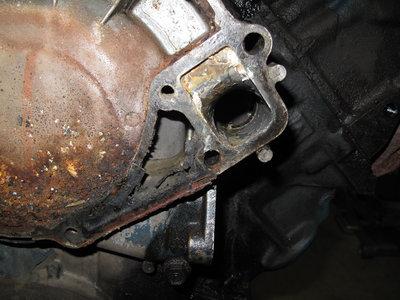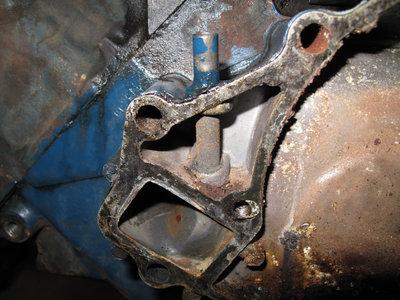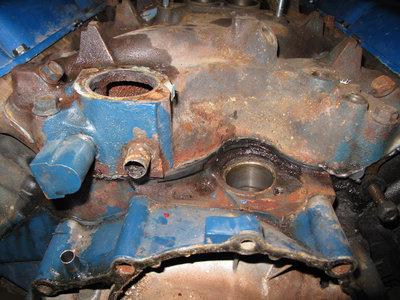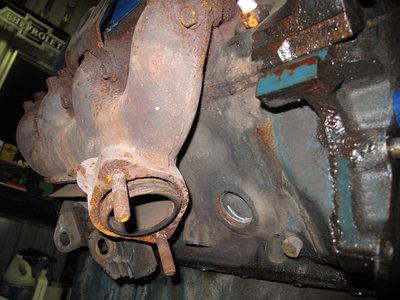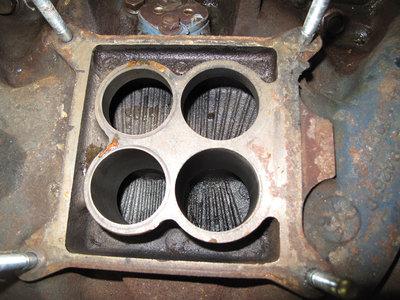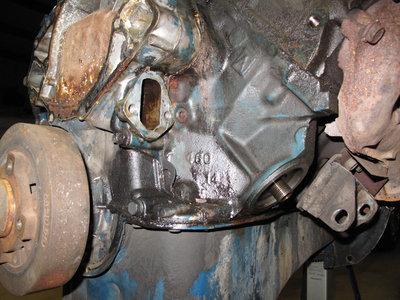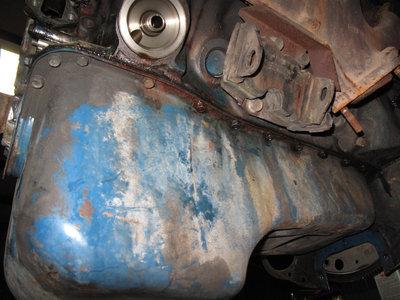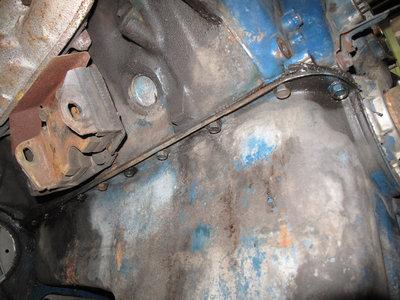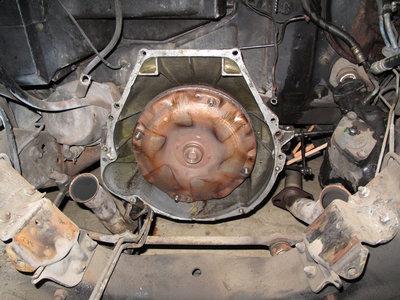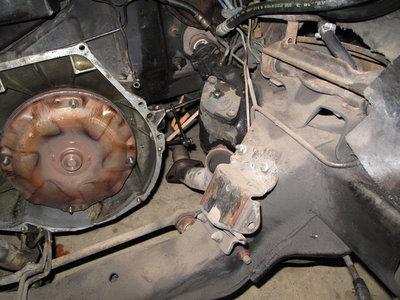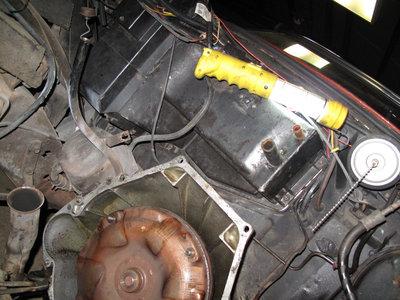 Final pics of the engine on my new 1-ton capacity AC/Delco stand. It was only $200 at O'Reilly's.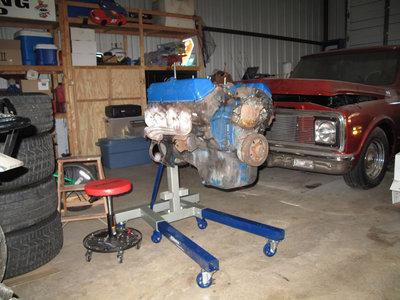 One of my sons: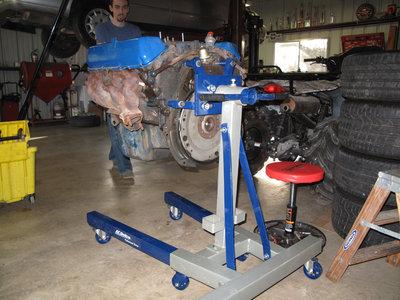 2-14-2014
Got the intake manifold, ex manifolds and heads off today. All in all, I'm very pleased with what I found. Obvious the head gaskets were leaking coolant - or the intake manifold - somehow water was getting in the cylinders. I thought it was pretty clean for a 43 yr old engine with almost 100K miles on it.
I think I might be able to re-use the pistons. (that will save me $600) They look great and the cylinder walls all were smooth. Almost no lip at the top of they cylinder walls. I'll mic them and the cylinder walls to check the condition.
Not bad for 1.5 hours work!
One of the holes I need to plug somehow.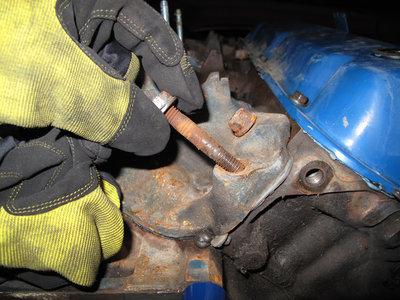 Anyone know what the numbers stamped on the rocker arms mean?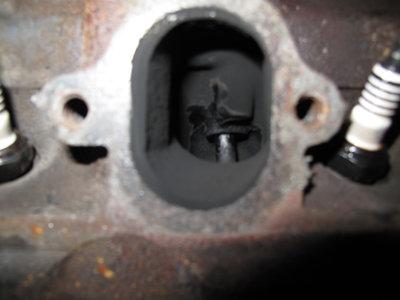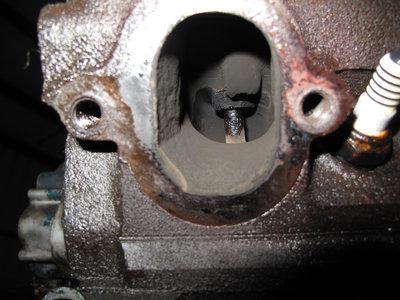 No 3 cylinder - had lots of oil and gunk, all the rest were clean.
Here's the no 3 plug. All the rest were clean.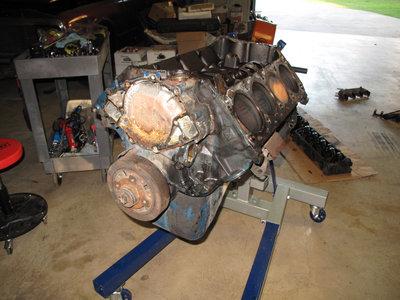 2-16-2014
Going to divide up the replies - too many pics for one.
Spent 3 hours Saturday tearing the whole engine down. It's ready for the block, heads and crank to go to the machine shop.
Here's the general engine pics: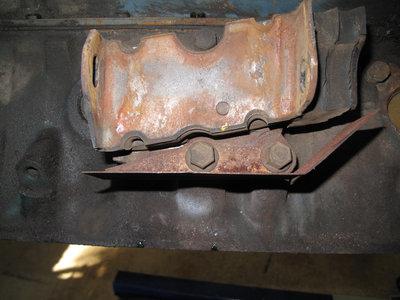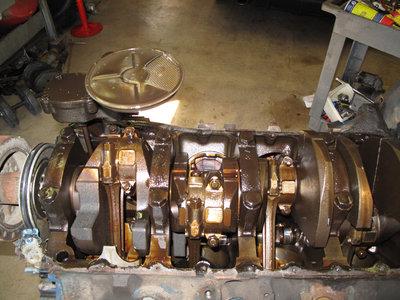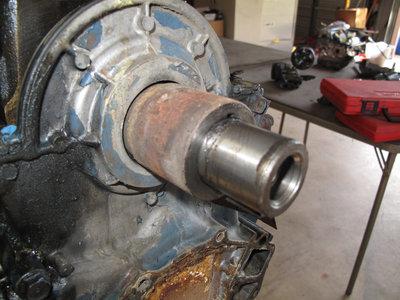 Here's the camshaft and bearings pics. I hope that pulling the camshaft out broke those bearings!
Oh, and yes, I plan on replacing the camshaft. Haven't decided exactly which one yet.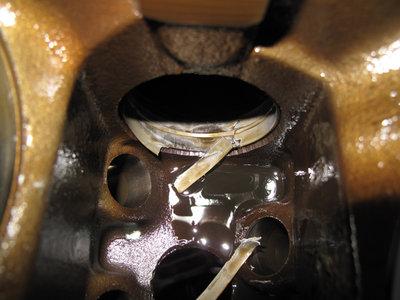 ATTACHMENTS
Crankshaft looks in terrific shape. If they have to grind it that will surprise me. Hopefully just a polish.
What are the best set of main bearings I can buy?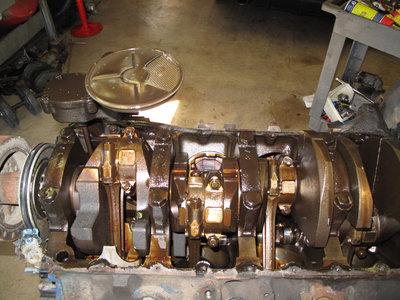 Main bearings are starting to show some wear, not to bad though.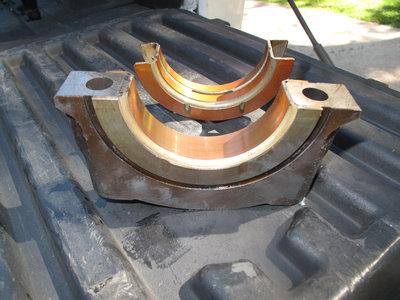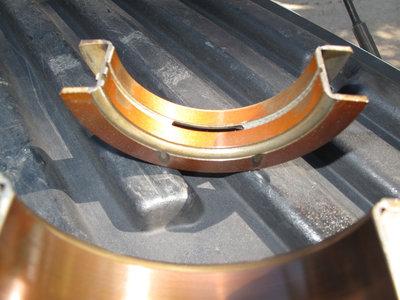 Piston 1: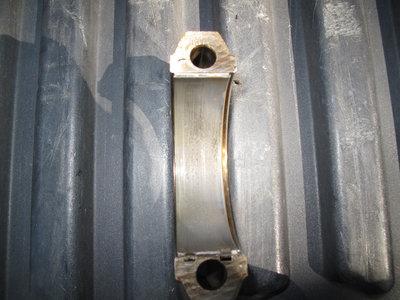 Piston 1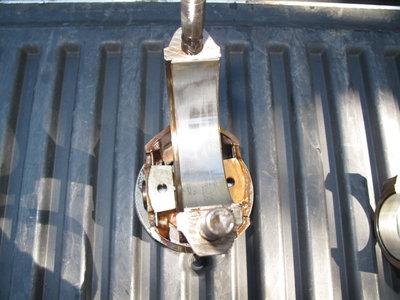 Piston 1
Piston 1
Piston 1
Piston 1
Piston 1
Piston 2: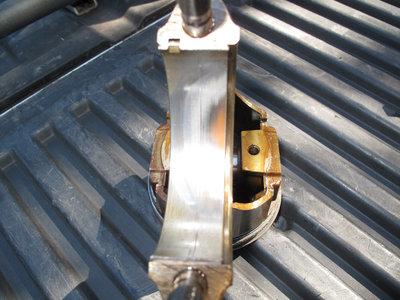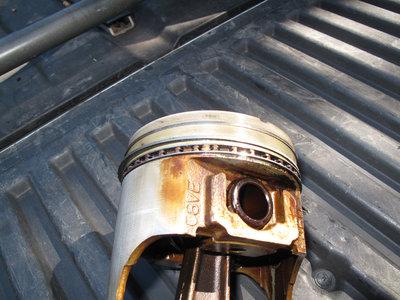 Piston 3: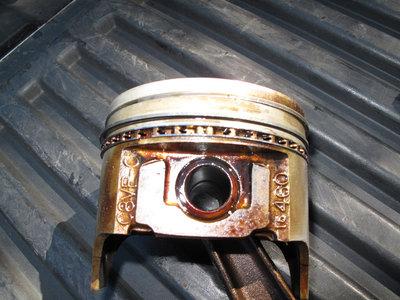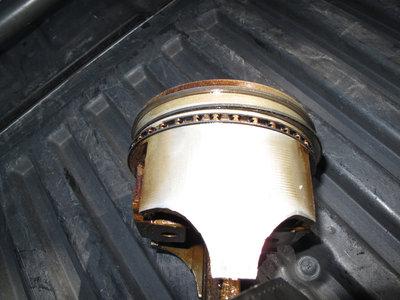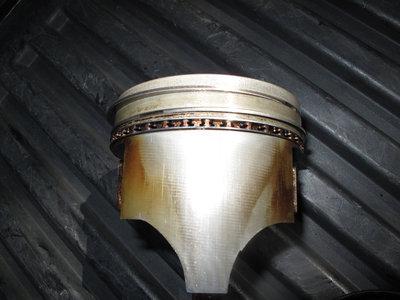 Piston 4: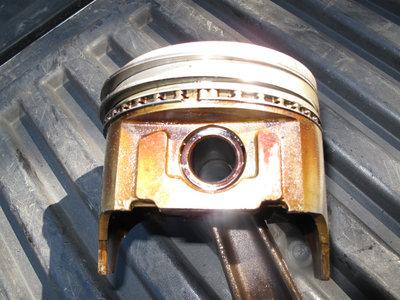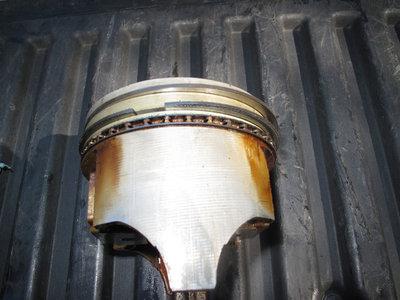 Piston 5: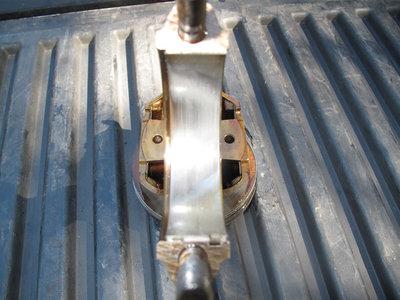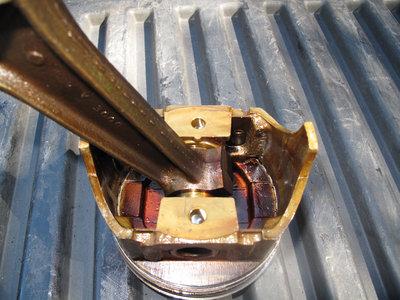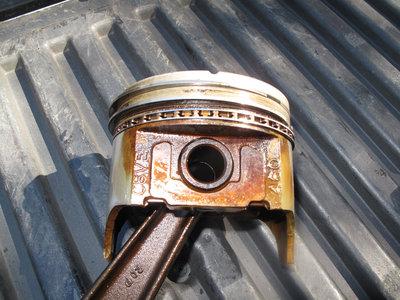 Piston 6: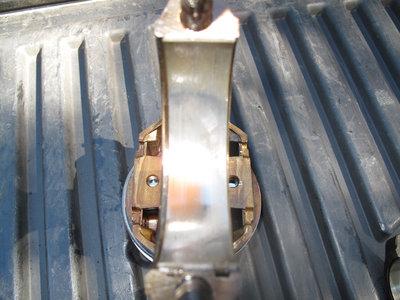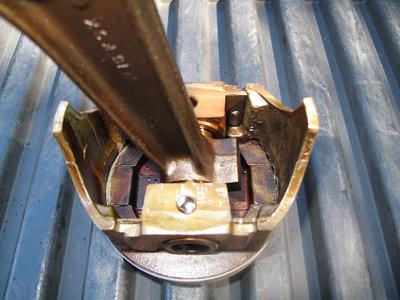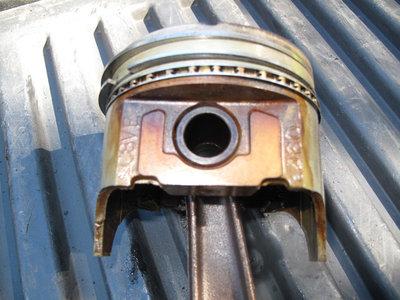 Piston 7: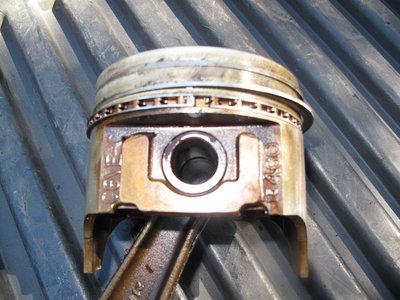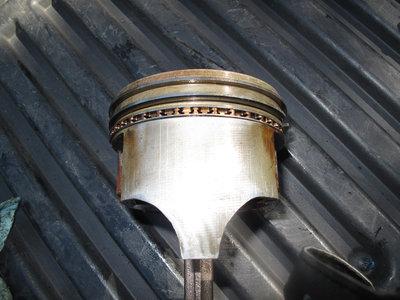 Piston 8:
2-18-2014
I think the low oil pressure was because of the wear on the two main bearings that looked scored. There was also evidence on the exhaust port pics of heavy leakage from the valve stem seals. Right now the plan is I'm going to purchase the pistons that have the 22ml dip in them. According to the website they will drop the compression from 10.5:1 to 9.7:1. Not too expensive, and they're forged, not cast. On the intake manifold I'm leaning toward replacing it with the Edelbrock peformer 460 and a Edelbrock perform plus camshaft that's rated at 15" of vacuum @ 1000 rpm. (it comes with the lifters)
I think the manifold/cam will offset the lower compression and hopefully it won't ping on straight premium gas. That's the goal!
Just dropped my engine off at a local machine shop called Kotzur Engines.
According to owner engine was definitely rebuilt once before - it still had the original from the factory FOMOCO bottom end bearings! Also the tops of the piston bores where chamfered, which is not factory.
They will be:
Block and head boiled and checked for cracks
Line bore crankshaft mains
Line bore camshaft bearings
All bearings will be tri-metal
after check of piston sleeve shape, maybe bore over, maybe not, we'll see
might replace the pistons, they are original
non stock RV type cam
Heads:
new hardened seats if needed
new brass valve guides
new valves if needed
springs are original, will be checked
exhaust manifolds trued to head so don't need gaskets
He'll call me back with a estimate later this week - then I have to shell out 50% right away, rest on delivery.
I'll keep you'all informed!
In the meantime, I'll be working on the engine bay.
2-21-2014
Stopped by the Machine Shop today to approve the estimate. First one they showed me was $4742.00. I took a few items off and told them I'd build it up, got it down to $3792.00. I paid 50%, rest on delivery.
Good news is that there are no cracks in the block or heads.
I'll be getting all new pistons, valves, springs, lifters, cam. Crank will need to be turned, they said there was a bad scratch on No.3 main bearing area.
Plan is to put the engine all together with the original intake and carb and run it on the dyno. If it pings we'll put a bigger carb on to test. If no pinging, I'll stay with the stock manifold. If we have to, we'll replace the manifold and carb. Either way they assured me it won't ping.
I took out the porting because it was pretty expensive. I may grind the exhaust towers myself, still debating.
Here's the pics of the estimates: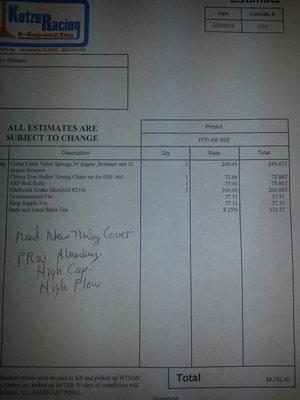 They had dismantled the heads and they were in the vat for a second time. Here's some pics of the valves and block.
Check out the intake valves!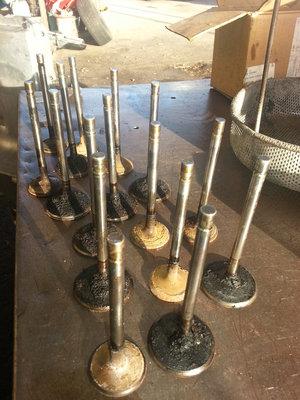 2-22-2014
Did some clean up work and pulled the master cylinder and brake booster. I have rebuilt ones coming from Rock Auto.
Starter Cable, yep, it's getting replaced: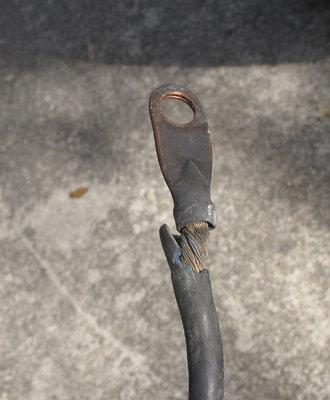 This thing was leaking:
I'm sure the brake fluid got inside it:
These will be replaced with 1/16" nitrile rubber:
I have a new one I'll replace this with:
Some pics of the engine bay. I'll be brushing on something satin black, I haven't decided exactly what yet.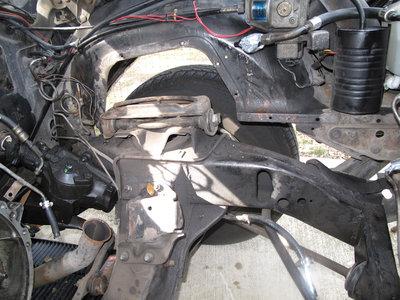 2-27-2014
Just got in my rebuilt brake booster and master cylinder from RockAuto. Seems good quality for $104.
I want to paint the booster and the master cylinder. I bought some POR 15 semi-gloss and gloss black. Should I paint it with that? Recommendations? Thoughts?
Here's some pics of the booster/cylinder and POR 15: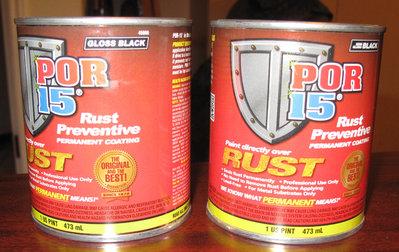 3-2-2014
UPDATE: Replaced the Steering coupling.
See thread: l viewtopic.php?f=1&t=44908&p=339875#p339875
3-5-2014
Stopped by the machine shop today. Engine is looking real nice!

Block: Has been bored .30 over, cam boring done, head decking done, crank is turned. Still needs the crank line bored and then everything installed.
Heads: New valve guides and new exhaust seats are all in. Still need to machine the area where the valve stem seals will go because they are putting some advanced kind of guide seal in. (good!) New valves need to be lapped in and then installed. Also need to plug the EGR holes in the head.
Should be ready for me to pickup mid next week!

Sweet!!!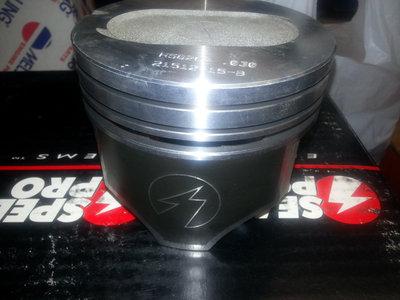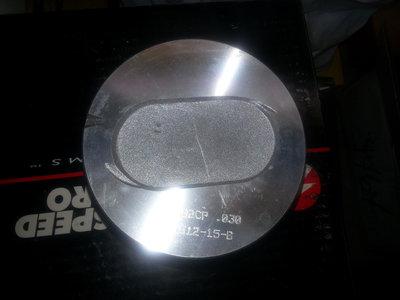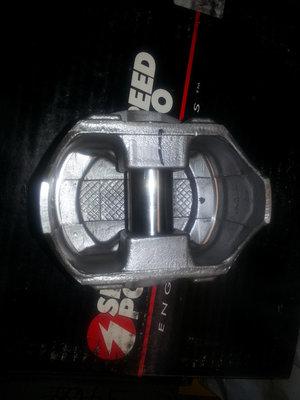 3-24-2014
Status as of 03/24:
Lots of drama this last week, some caused by my lack of knowledge, some caused by the machine shop forgetting to give me pieces parts and correctly placed advice.
Got the engine back from the machine shop and the goal was to build it up and then install it in my car, with the first run of the engine being in the car, well...
I get the engine home and checked all the rocker arms and pushrods for damage. Yep, many of the rocker arms were not reuseable, mostly flattened too much on the end that contacts the valve. My bad, should have checked them way earlier.
So I called comp cams, since the cam and lifters were from them, and they said to order rocker arms, 1232-16 and pushrods 7834-16. So I ordered them fast shipping. When they came in I saw there was no way those rocker arms would work and the pushrods were too short.
So I called the machine shop and asked them what was up - they said "oh, those will never work, you need the 1411-16 and you'll need to install special rails and guides and custom length push rods". I'll leave out what I said to them at this point, wasn't very nice...
After much discussing with the machine shop, I'm bringing them the engine sans the intake manifold, rocker arms and pushrods. Now I have to bring the engine back to them and they will install the CORRECT rocker arms (1411-16), pushrods and all special hardware needed.
At this point I decided to have the engine dyno'd by the machine shop. No way I'm going to put the engine in the car and then find out that something they engineered didn't work correctly.
Fine, we press on...
Friday night I started and first I get to remove the oil dipstick tube from the old timing cover and put it in the new one - what a fiasco! Finally after my friend and his father in law helped me hone the size of the dipstick tube down we finally got it in, whew!
Next it's try and get the good studs off the cracked exhaust manifold and on to the one from the junk yard. Oh, did I mention that after the machine shop sand blasted the drivers side manifold they found a crack in it? Fun fun...finally after a while had the studs in.
Time to sleep...
So Saturday morning I start building the engine up and my friend noticed the head guides weren't in the block, great, now I can't install the heads either. No problem, the machine shop gets to install them for free since they didn't give me the guides.
Installing the water pump realized the new timing cover didn't have the holes tapped as far as the old one, so I had to get a few shorter bolts from the parts store.
Went pretty smooth from there as you can see from the pics. No, I didn't forget to install the oil pump, I just forgot to take a pic of it in before I put the oil pan on. And by the way, getting the old pickup off the oil pump and on the new one wasn't easy either.
Finally got everything all together around 5 pm...
So right now the engine, heads, exhaust manifolds, intake manifold, carb and other assorted pieces are in the truck waiting for me to drop them all off at the machine shop.
Hopefully, they'll be able to dyno it this week and this Saturday I should be picking up a perfectly running engine.
I still need to prep and paint it before I install it.
Money? I think I'll easily be over $5k after this week...
Stay tuned...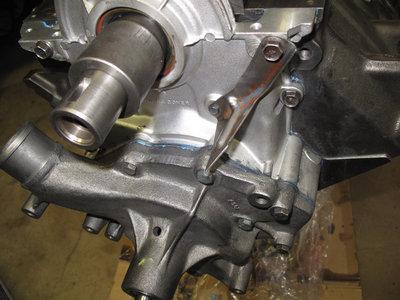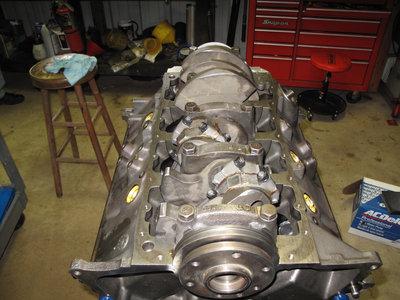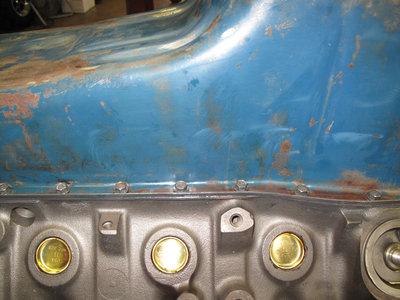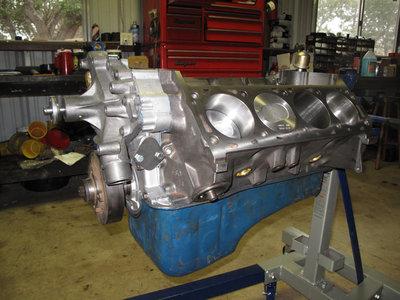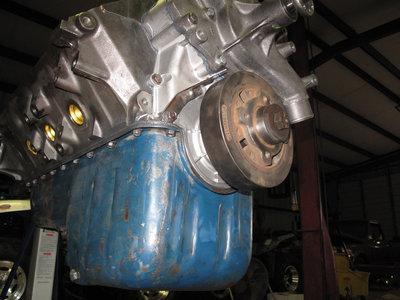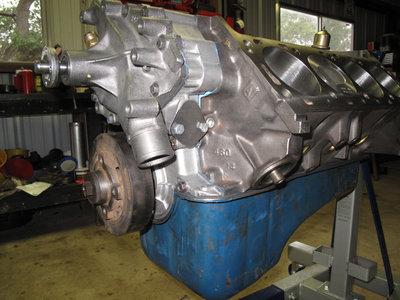 4-3-2014
Thought I fell off the earth? Me too, I started a new job and I can't check the forum during the day.
Update on the engine:
I picked it up yesterday from Kotzur Racing Engines and delivered it to another engine shop, Janke Engines. Kotzur's dyno broke, so they never could start it. No way I'm putting that beast in the car without dyno'ing it first. Too many non-stock components in there. I'm at $4500 now, $5000 after the dyno at Janke.
Most all the rocker arms needed to be replaced. The stock ones are pretty pricey so they solutioned out comp cams best roller arms. That led to many other things needed that wasn't originally spec'd out. New things = more time needed.
They also had a bit of a fiasco with the Edelbrock manifold. They had to order a ford stock valley tray for it. I don't have a picture of what that looks like.
So now the engine sits at Janke waiting for a run on the dyno.
Stay tuned...
Here's some pics of the new roller rocker arms: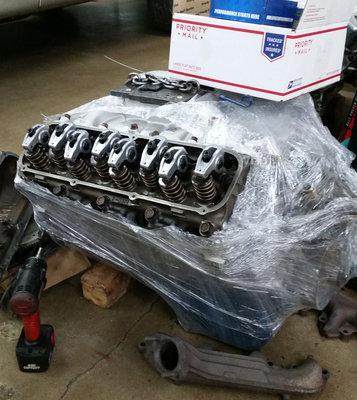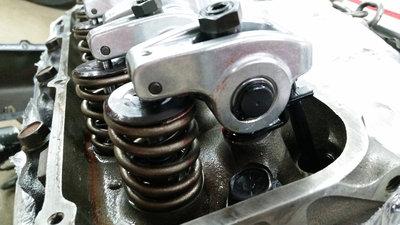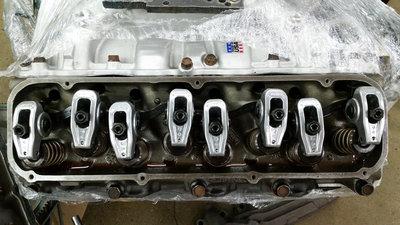 5-10-2014
Holy schmoly Batman!!! These dyno results are IMPRESSIVE!! Way beyond what I imagined! I may have to name the car my "hot rod Lincloln!" Oh, I'm going to have fun driving this baby...

4100 RPM - 497 HP, 636 Ft lbs torque
5500 RPM - 569 HP, 543 Ft lbs torque
(see pics below for all the numbers)
This was with premium fuel only, no boosters.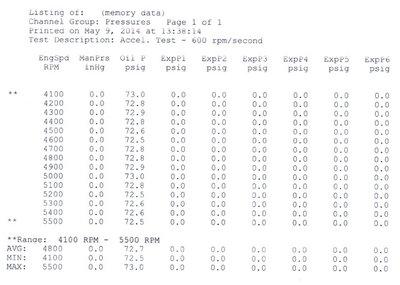 Sorry for the grainy pics, I was using my cell phone and the lighting sucked.
Hopefully today I'll be putting a good coat of paint on it and then next weekend putting the engine in, then the next weekend putting on all the accessories and starting it up. Should be running on Saturday, May 24th.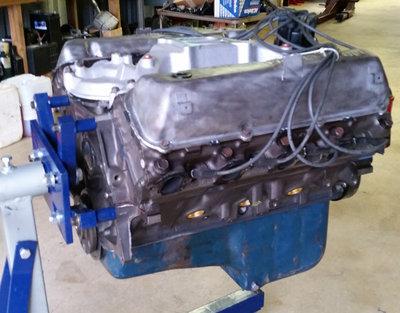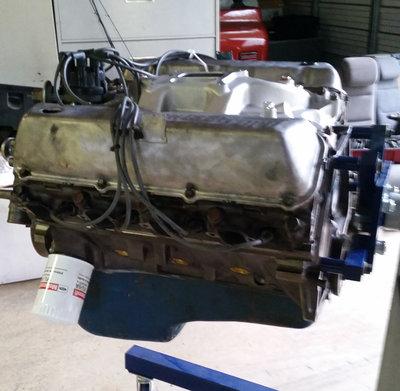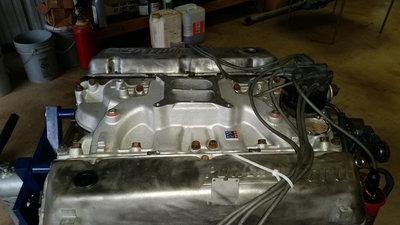 5-11-2014
Some pics of the engine fresh from the machine shop:
Here's the "after painting" pics. I hand brushed the Por 15 Engine Enamel Ford Corporate Blue. Yes, there's a few runs/drips. But that paint is on thick and there to stay!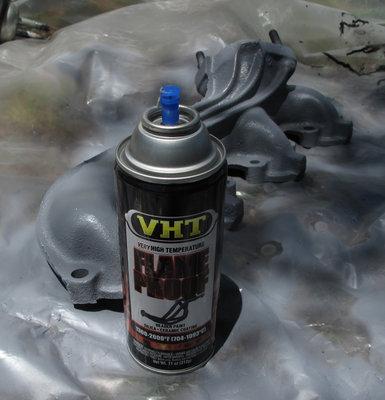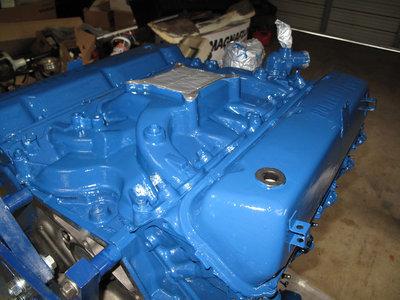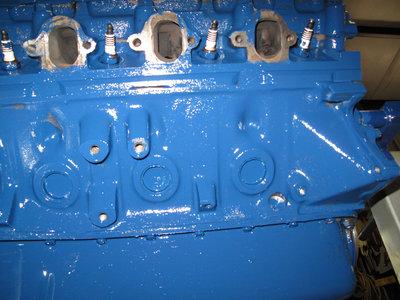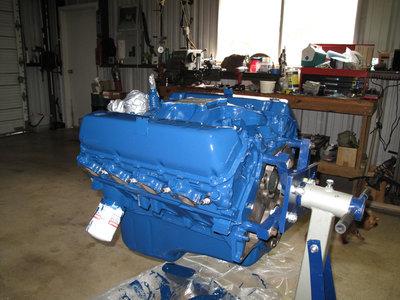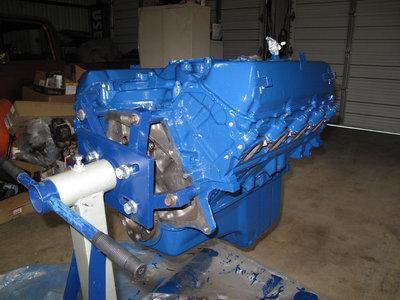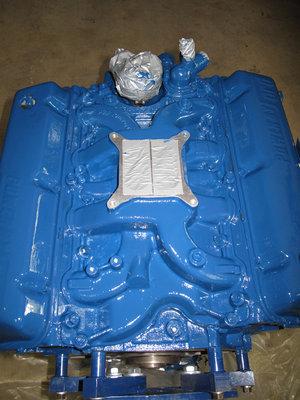 5-19-2014
Last minute preparations before putting it in the car.
Decided to leave the valve covers and oil pressure sending unit off to provide more clearance.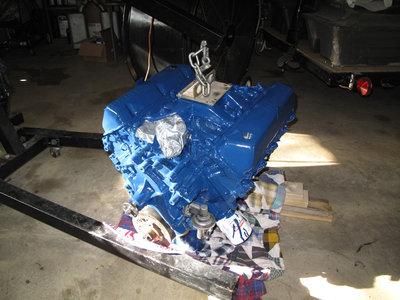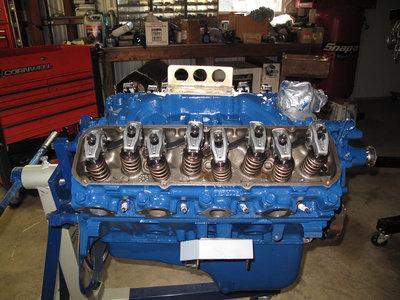 Here's the pics of the engine going in. First pic was about 9 am, last pic around 5 pm.
I'm the guy with the yellow gloves on, the guy in the red shirt is my neighbor that owns the shop. It was very helpful to have three bodies, four if you count my son taking the pictures.
Leaving the exhaust manifolds off was a good thing, left us lots of clearance to get the engine in. But getting the passenger side manifold bolted up was a chore.
I should be able to get it running this week. Will keep everyone updated as to the progress.
Oh yeah, worst bolt to remove/install was the bolt that holds the transmission dip stick tube to the engine! You need to be a contortionist and have small hands to get it on.
This was the smoothest engine install I've ever done! Much prayer went into the planning for this day!
SCARIEST picture ever! $5K engine hovering over my car...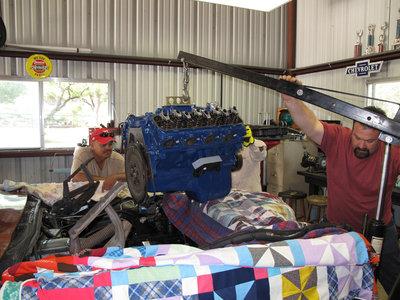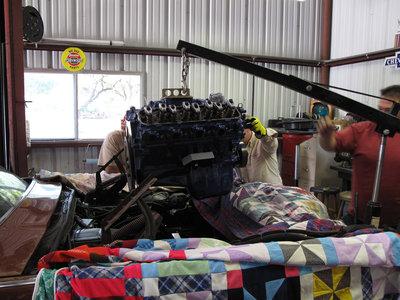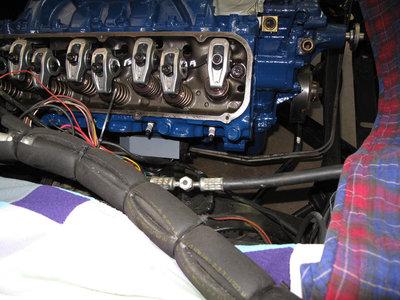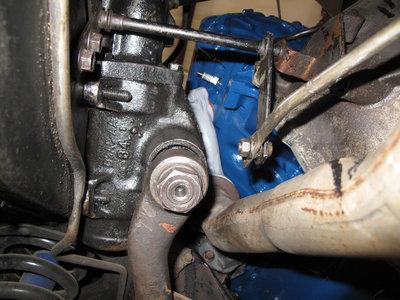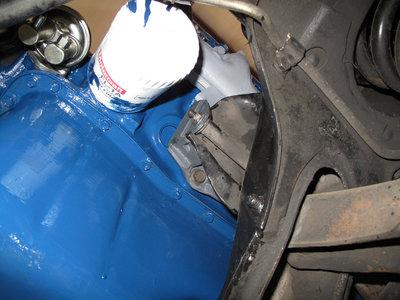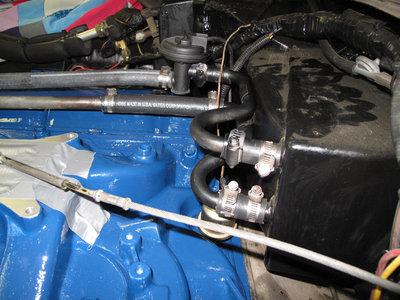 5-21-2014
The dilemma - Edelbrock manifold is higher than the stock one, I was afraid of this.
Two questions:
1. Can I mount the carb directly to the manifold without a phenolic spacer?
2. Anyone know of a "low profile" air cleaner? The stock one won't work, and the Edelbrock air cleaner in the pictures is too high also.
5-26-2014
Last night, started it up, wife and I backed out the drive way and then it wouldn't go into gear and the selector was sloppy. So I limped it into my neighbors garage, trans was about 1.5 qts low on fluid and I put it on the lift and adjusted the trans linkage. Fixed that and realized that I could turn left real well, but I only had about 30% of my right turning radius. Parked it. This morning I put it up on the neighbors lift and popped the main arm off the steering box and centered the steering correctly. (I had popped it off a few months ago and didn't center it right)
So now the steering is fixed. First drive as soon as the weather clears will be to the gas station, I'm about out of fuel.
I'm working on editing/posting the videos my wife took last night, they're pretty cool!
Stay tuned...
A little explanation before you watch. After the initial start the plastic heater control valve started pouring out coolant. Made a run to O'Reilly's and picked up another one, leak fixed.
After the last scene, I tried to take it for a drive. The transmission wouldn't cooperate, it was low on fluid and the trans linkage wasn't adjusted right.
Parked it for the night. This morning I put it on the lift in my neighbors garage and fixed the linkage/fluid levels. Drove it around the block and all seems okay.
Will be taking it for a ride to the gas station when the weather clears up.
Stay tuned...
5-27-2014
According to Kotzur Engine Shop, yes, they estimate around 14mpg. Of course that's cruising at 65 for a long time. I'm hoping they're right!
5-28-2014
I ended up using a 1/4" fiber spacer made by Edelbrock, along with a 2" high by 14" round air cleaner. Lots of clearance now! Only issue was I had to raise the throttle linkage mounting plate to the manifold by about 2". The manifold itself is higher than the stock one. I'll post some detailed shots later.