94 Build... GT35R, RE Vmount and a whole lot more............ NOW WITH PISTONS!! by XLR8
By diyauto
You must be logged in to rate content!
94 Build... GT35R, RE Vmount and a whole lot more............ NOW WITH PISTONS!!
Compliments of XLR8 @ www.rx7club.com
11-24-2010
The time has finally come to post my build thread as it comes to a relative end. I have been holding off as I wanted to post my dyno'd numbers at the same time. I pulled the engine and transmission in June to start a single turbo project. I had completely finished the chassis preparation a few months before.
With the chassis prepped & ready to rock, it was time to start buying parts & disassembling everything for the big swap. Below is partial list of everything that went into it. I'll label the pictures with what parts were used & what was done. It's been one hell of a project, but I am nothing short of ecstatic with the results. The car is an absolute blast with room to grow.
Vendors
Rotary Extreme - Ben from RE provided such an amazing service. Helpful, tentative, and an overall joy to work with. His Vmount kit is absolutely beautiful and it was a real joy doing business with such a caring vendor. If you are considering his kit or any part he sells, buy with confidence people. The guy is just awesome to work with.
SpeedOne - Dave tuned my car and did a GREAT job doing it. I can not say enough good things about him, his shop, and his service. He literally talked me through setting my car up over the phone enough to safely drive it to him for the tune. He took his time, did it right, and was very professional. I plan to take it back to him when the meth kit goes on. I have nothing but GREAT things to say about the entire experience!
The day before I pulled it...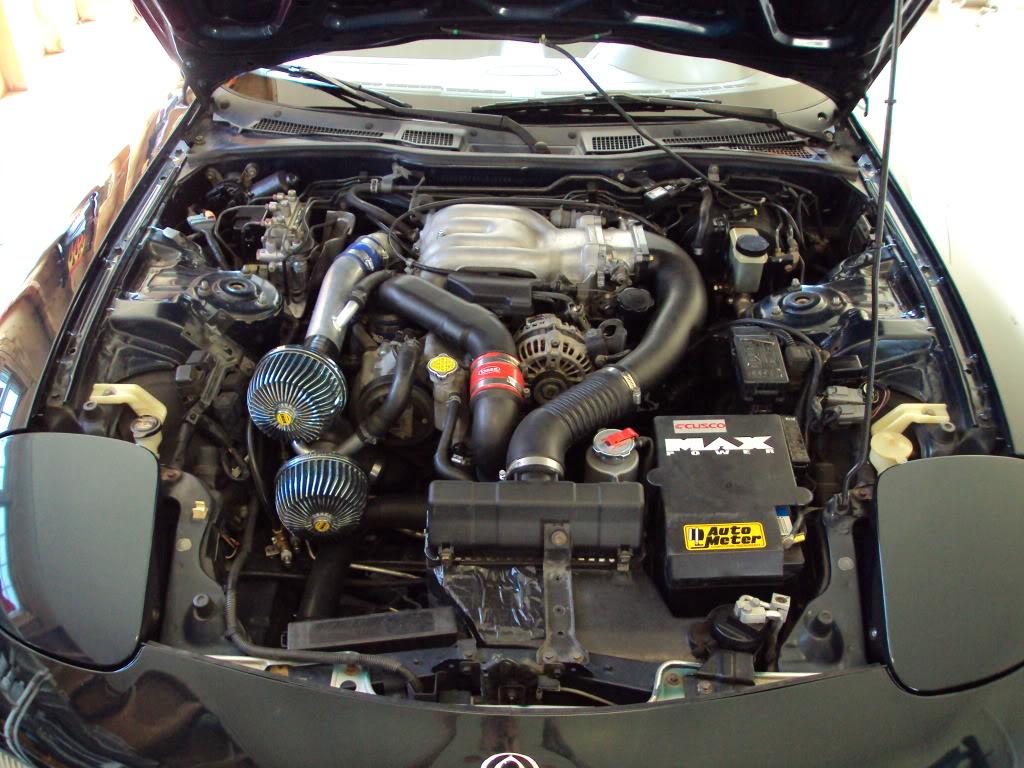 Pulling the engine & transmission.....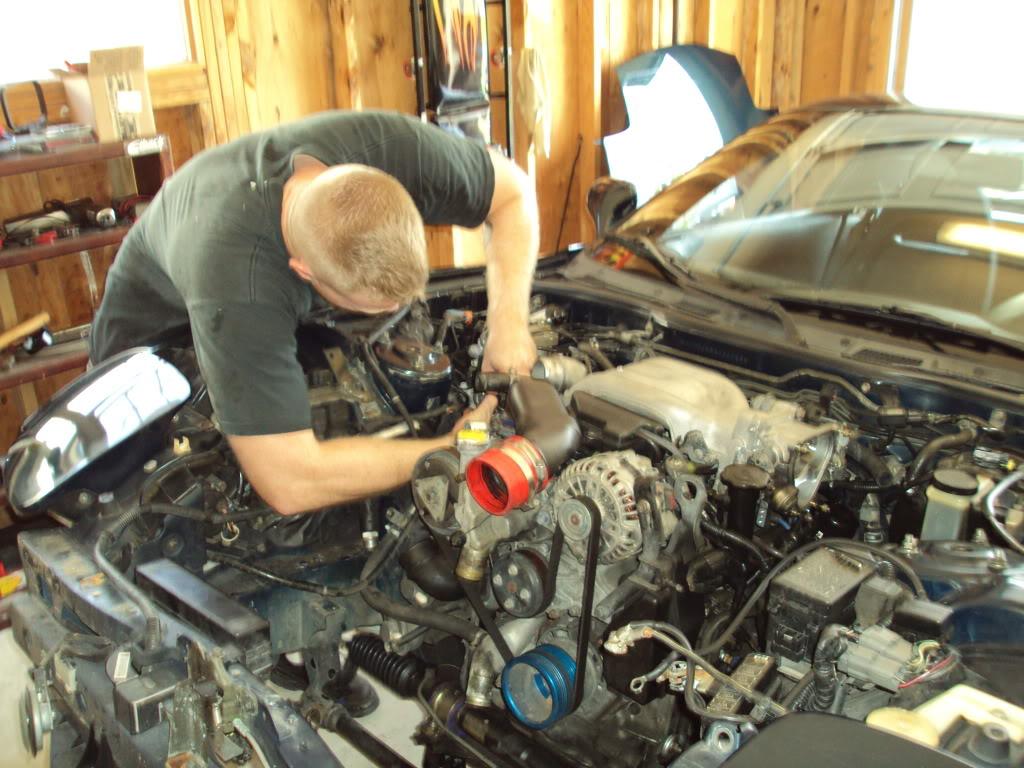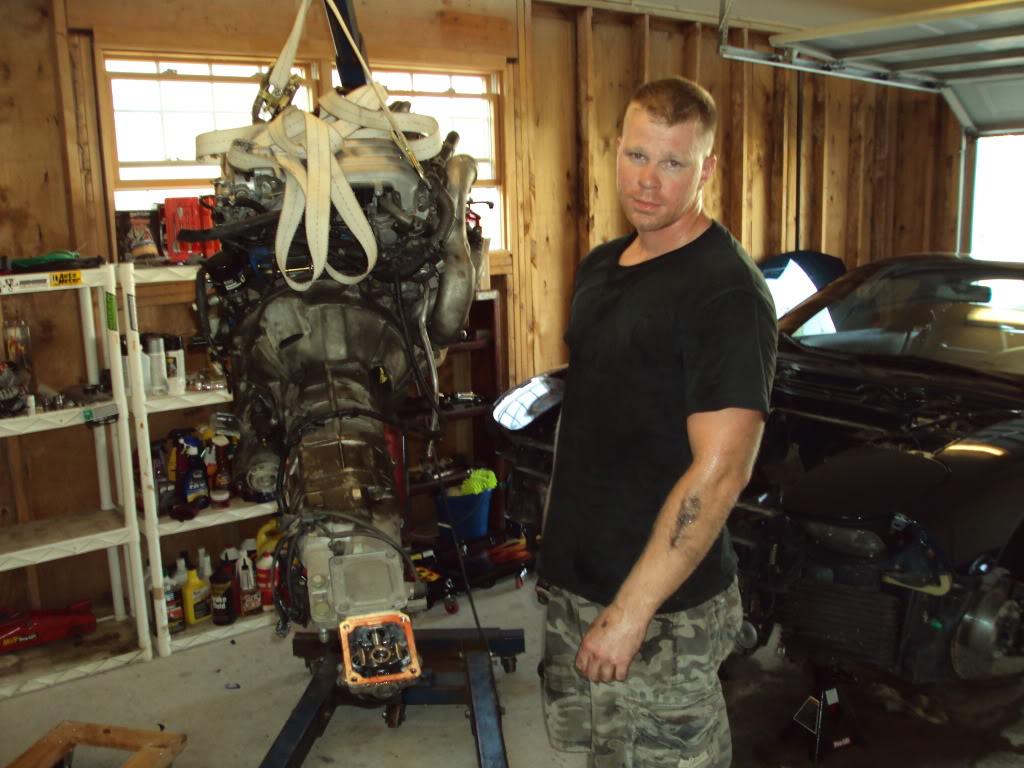 Stripping everything down....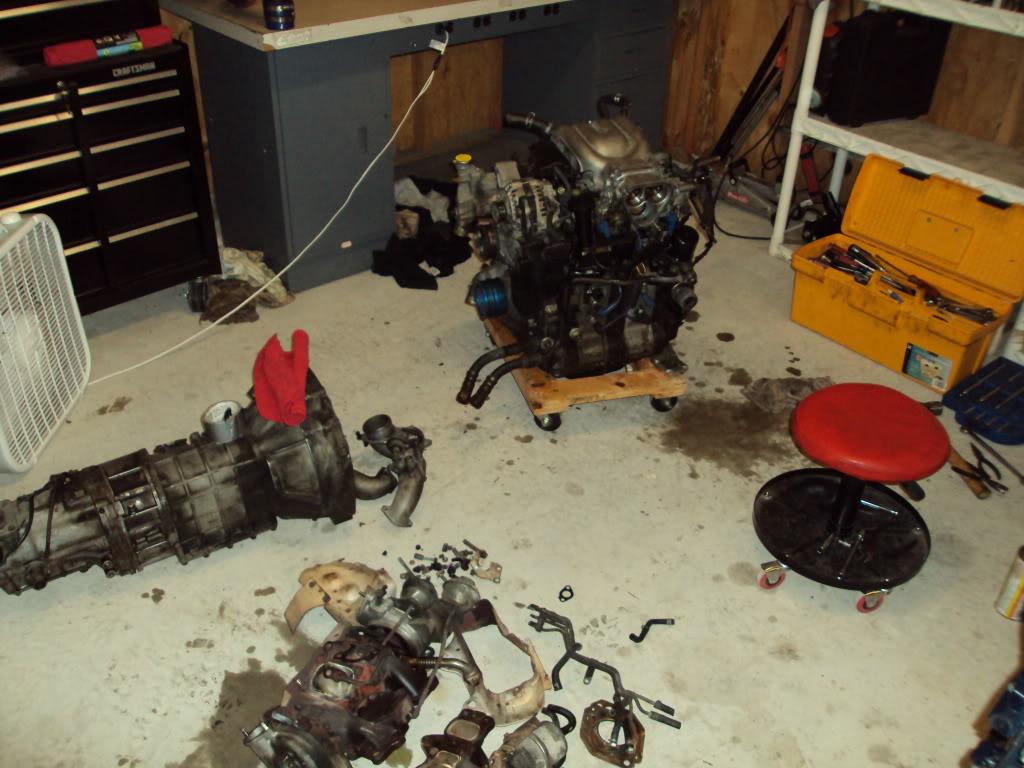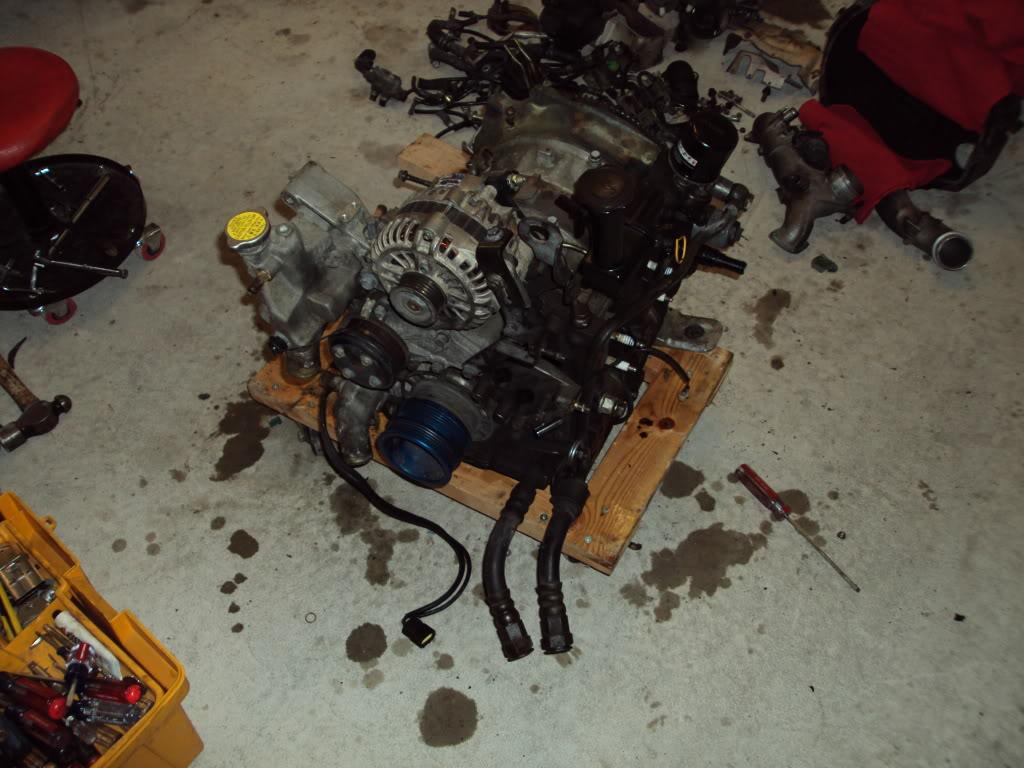 Single turbo wiring harness conversion...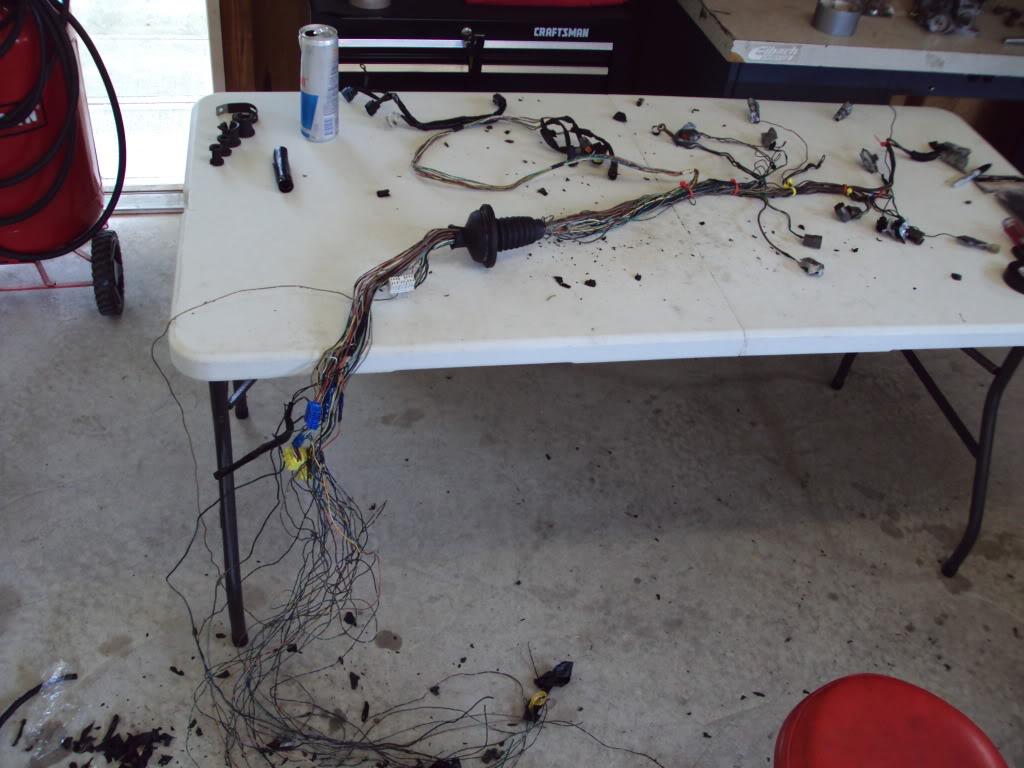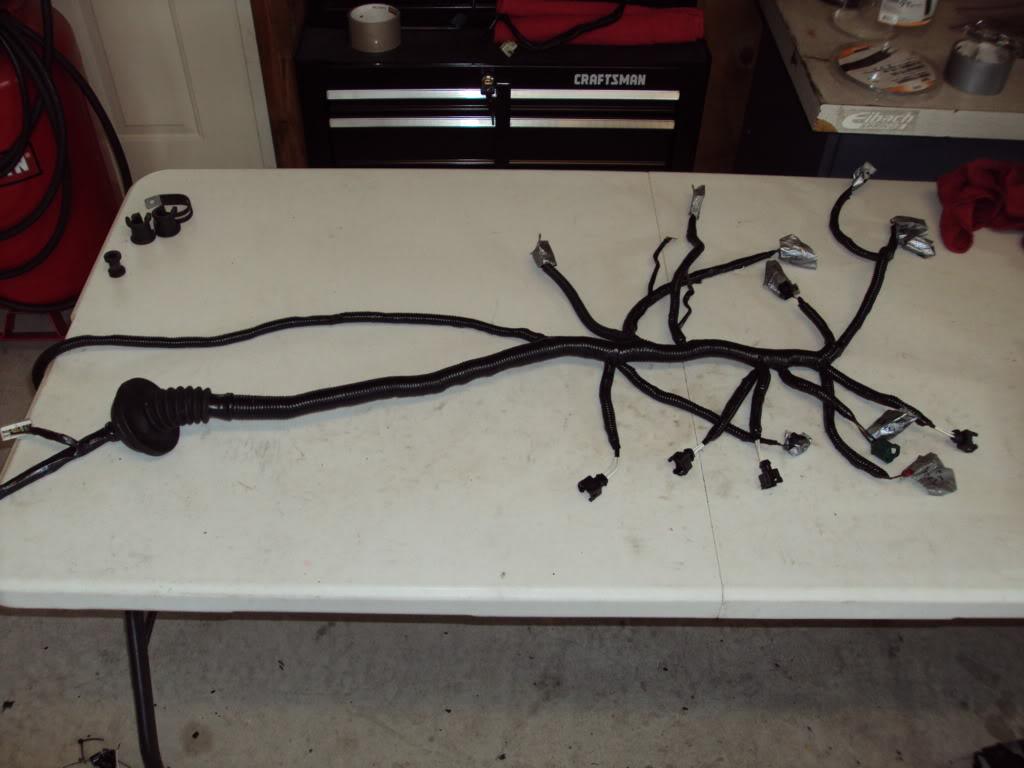 Battery Relocation & gauge install....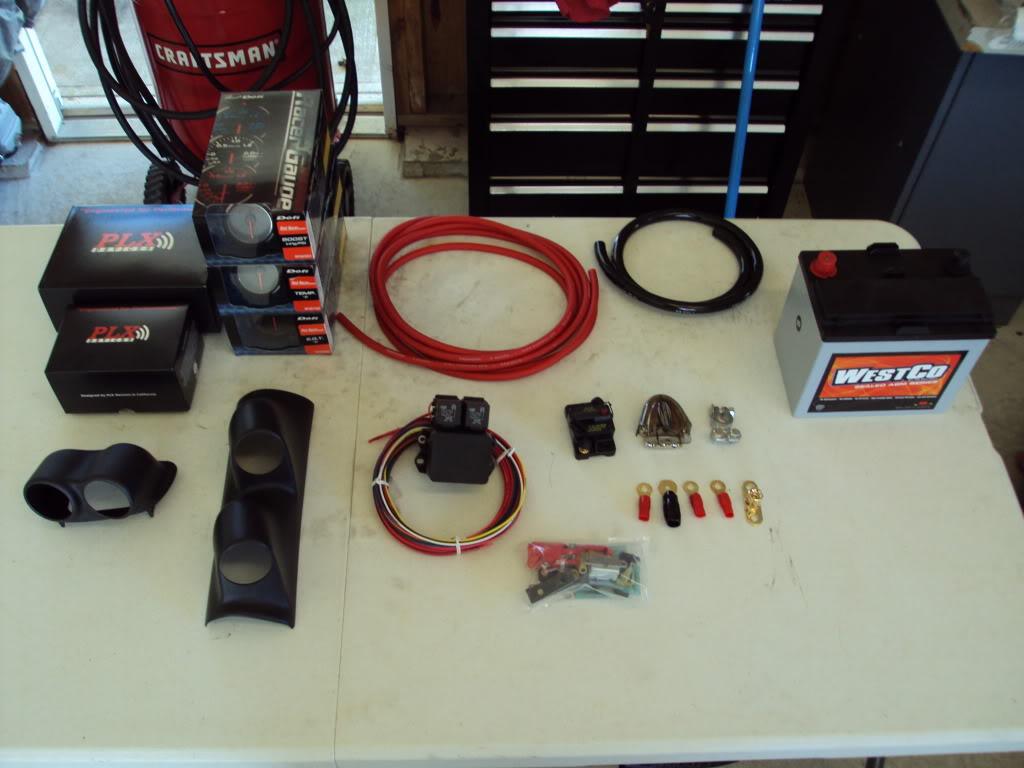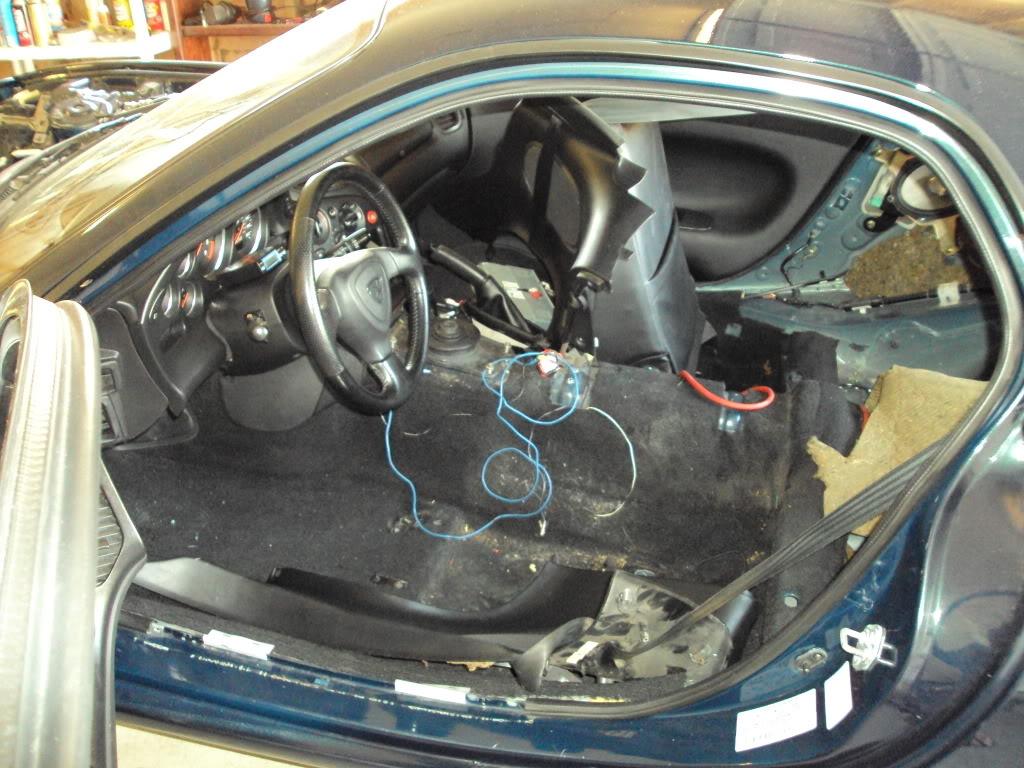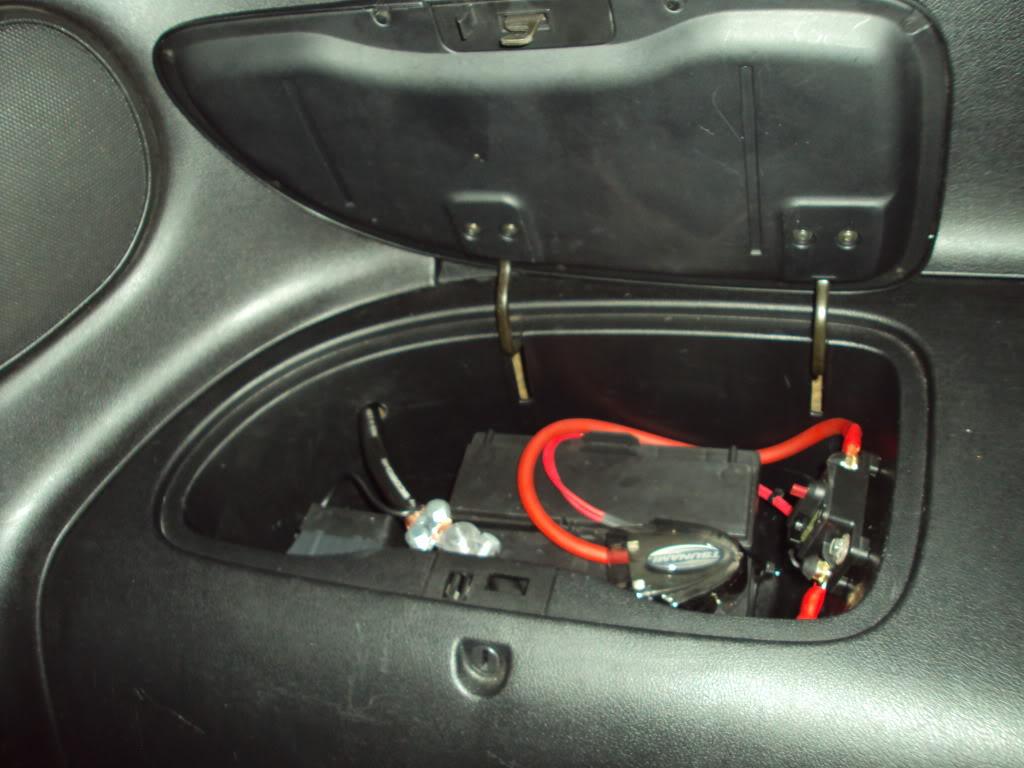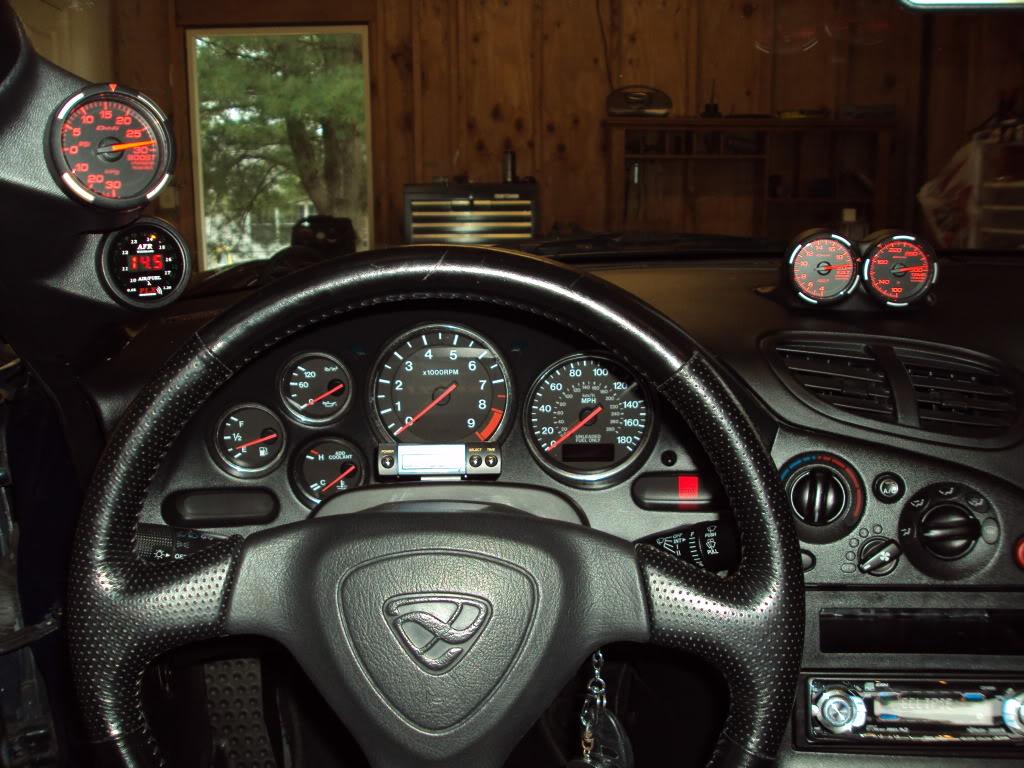 Fuel pump rewire....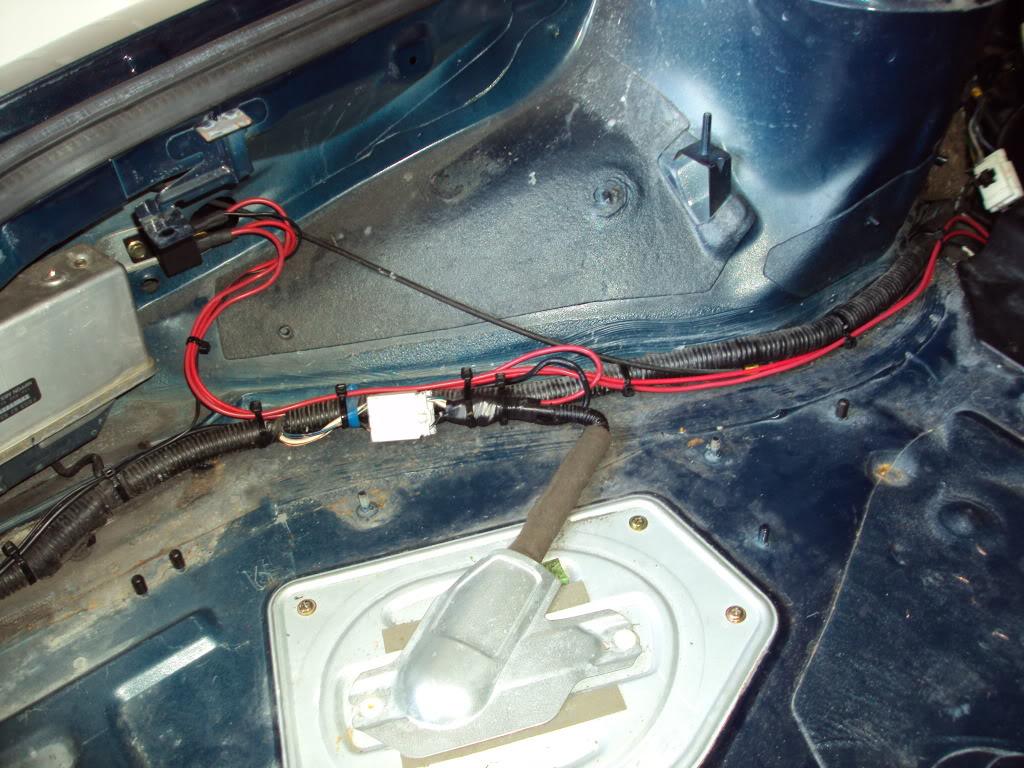 Supra pump install & removing the Walbro....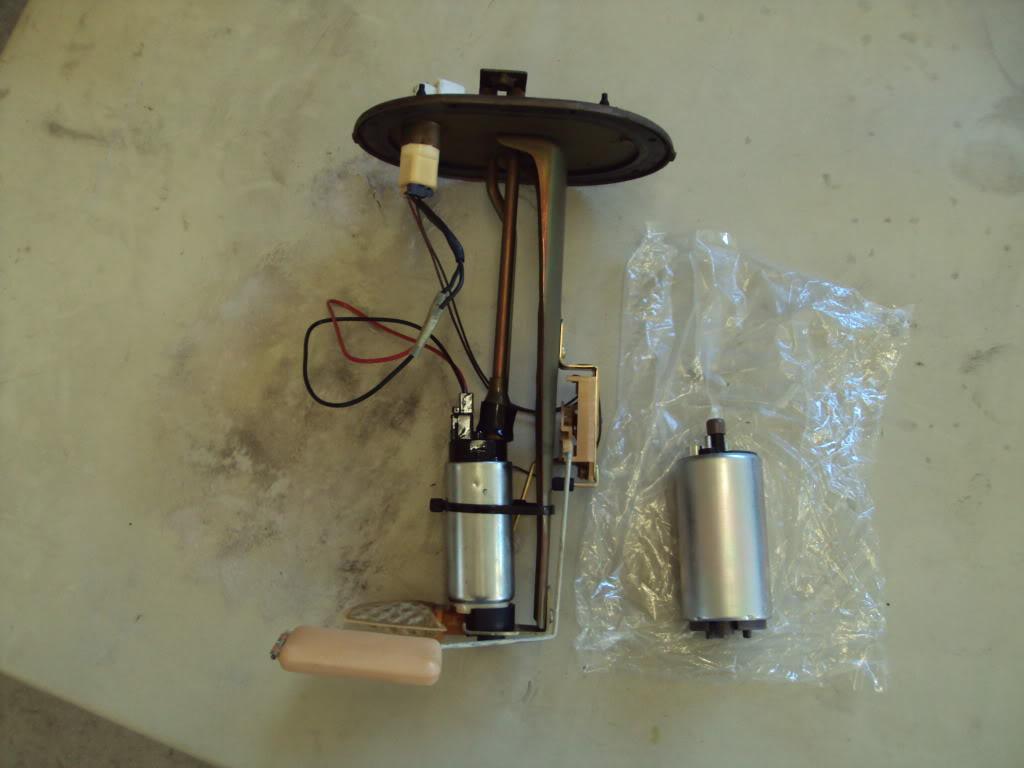 Cleaning engine bay and painting lower rails....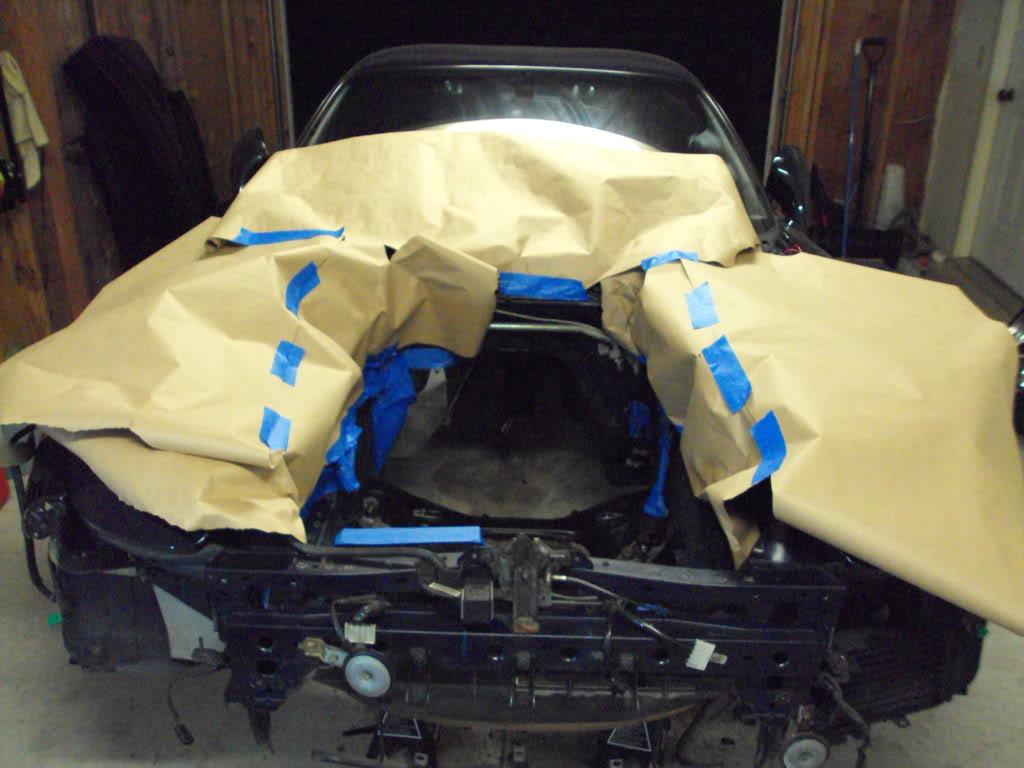 Fuel System Parts.... - 850 pri, 1680 sec, Aeromotive FPR, AN fittings & braided lines...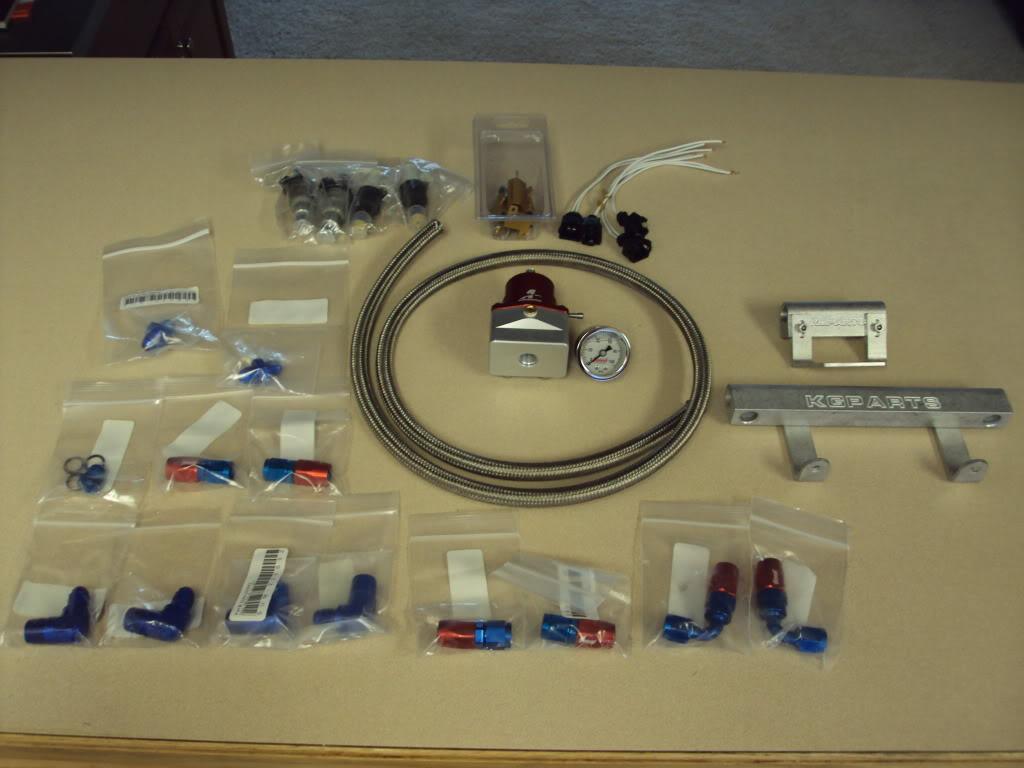 Block cleaned & fuel system fitted. Manifolds were ceramichromed by IR Performance. I was very pleased with the results.....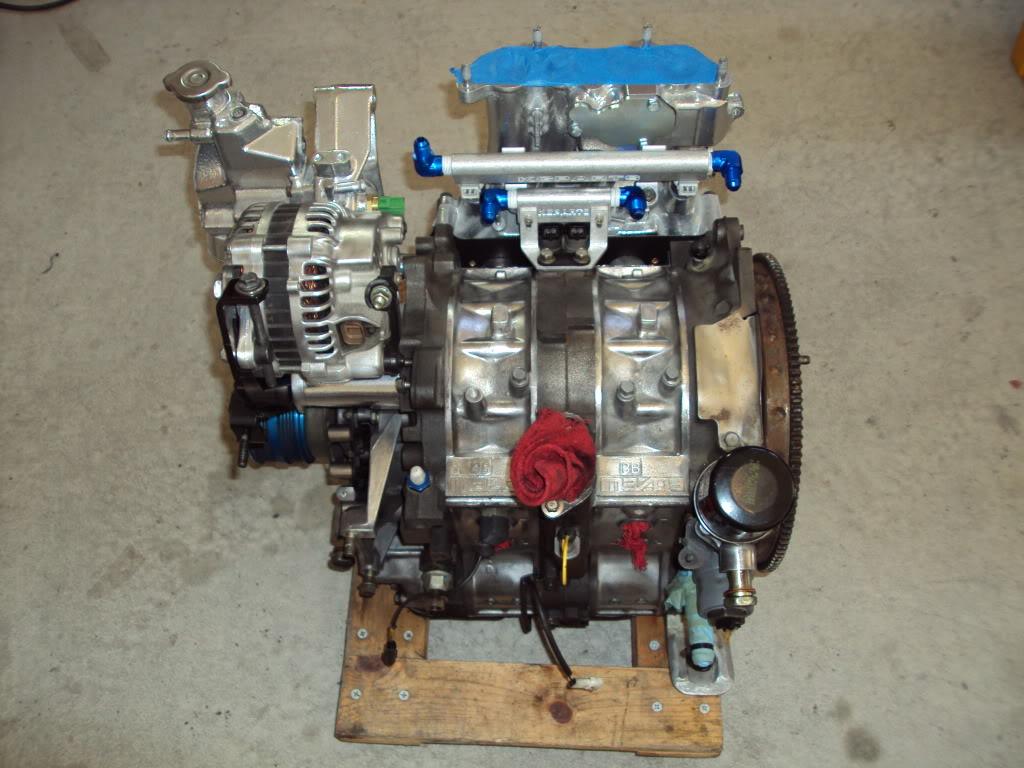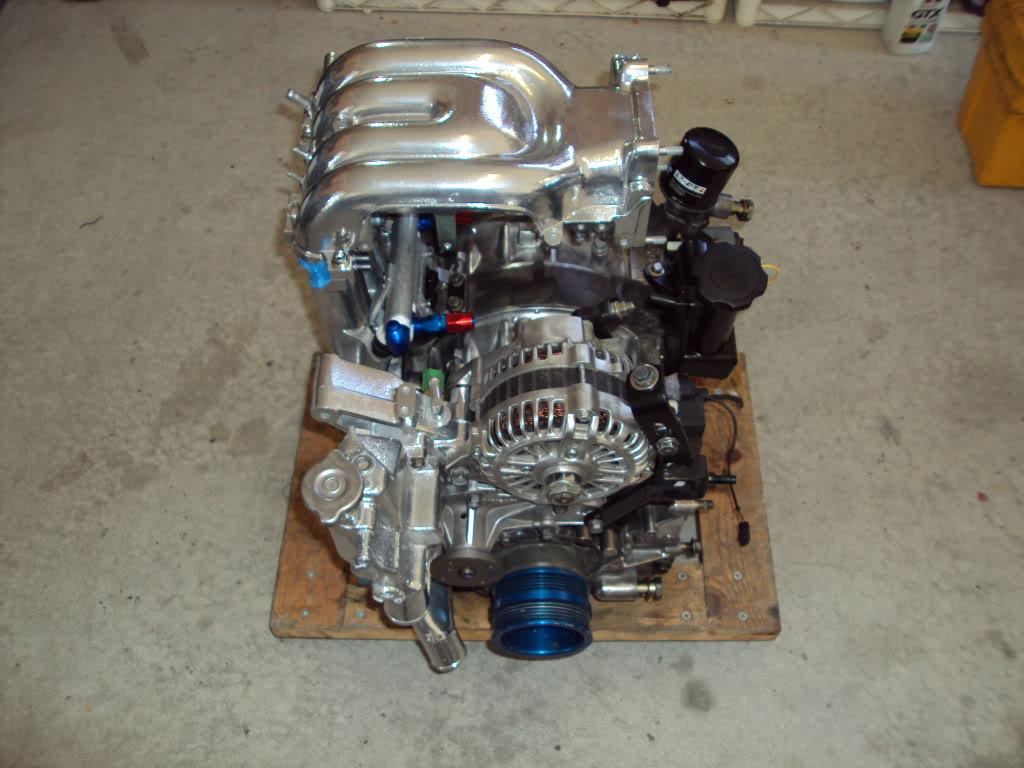 Engine & rebuilt transmission back in the car. Turbo test fitted....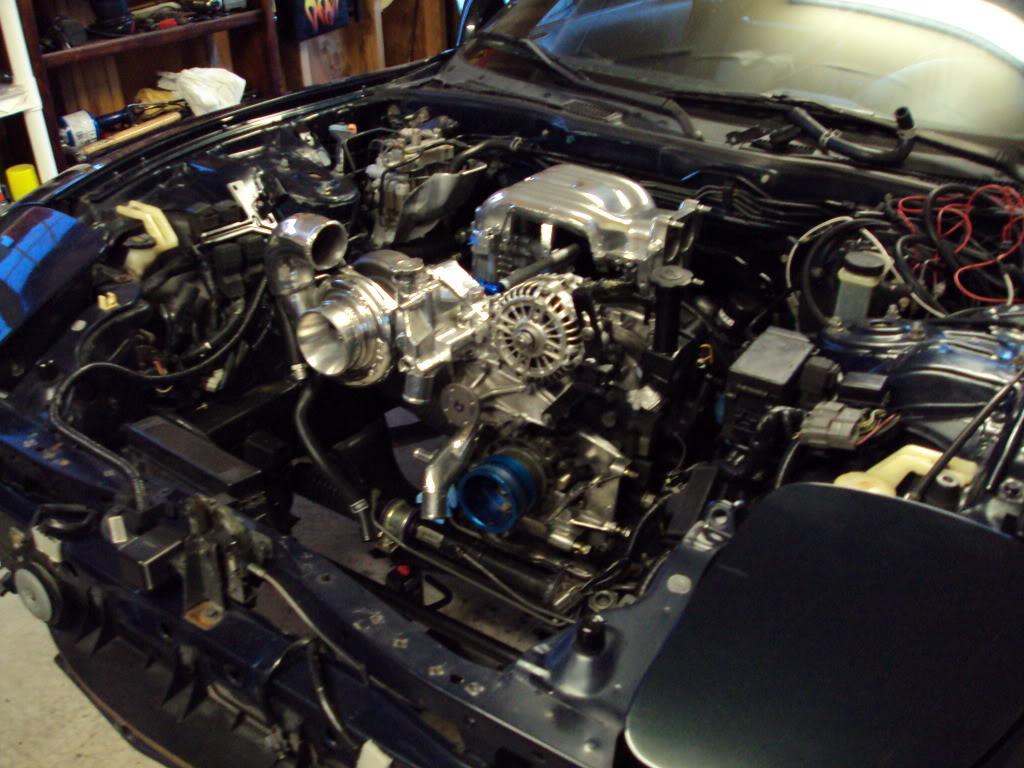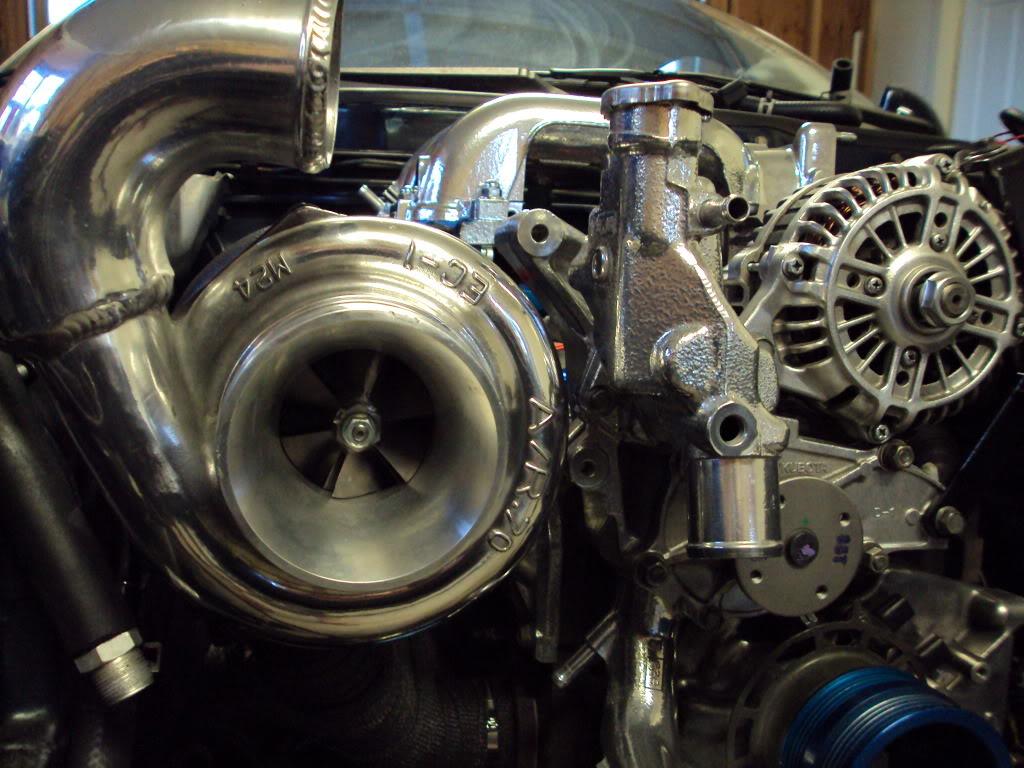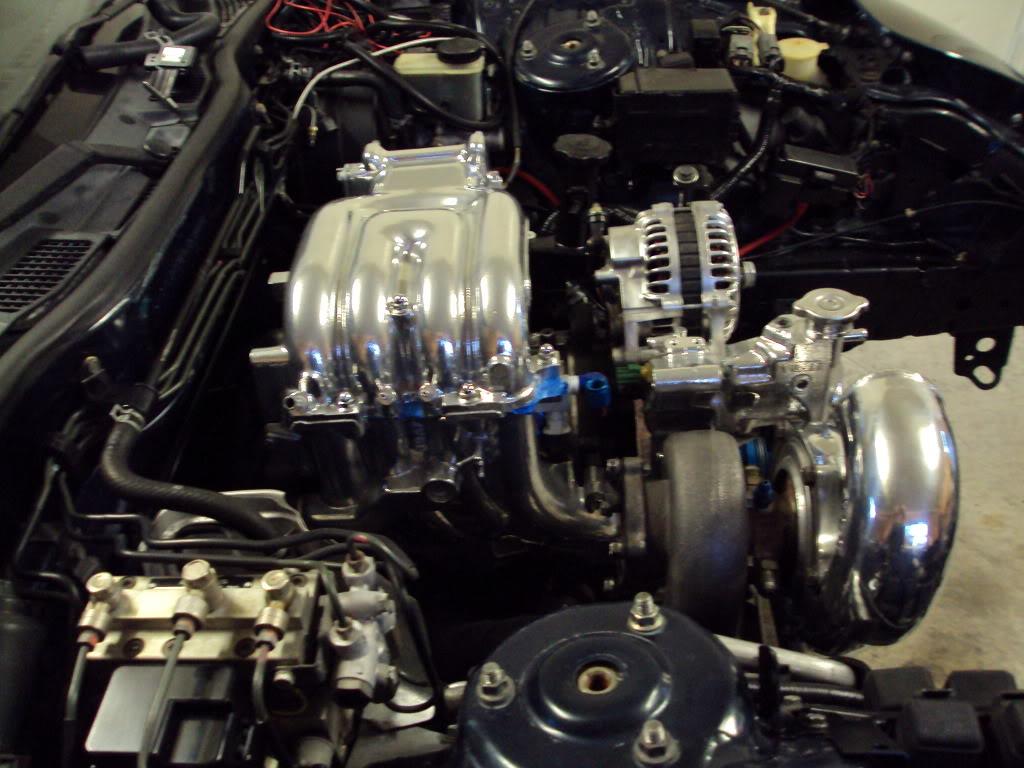 More test fitting with manifold & turbo elbow welding.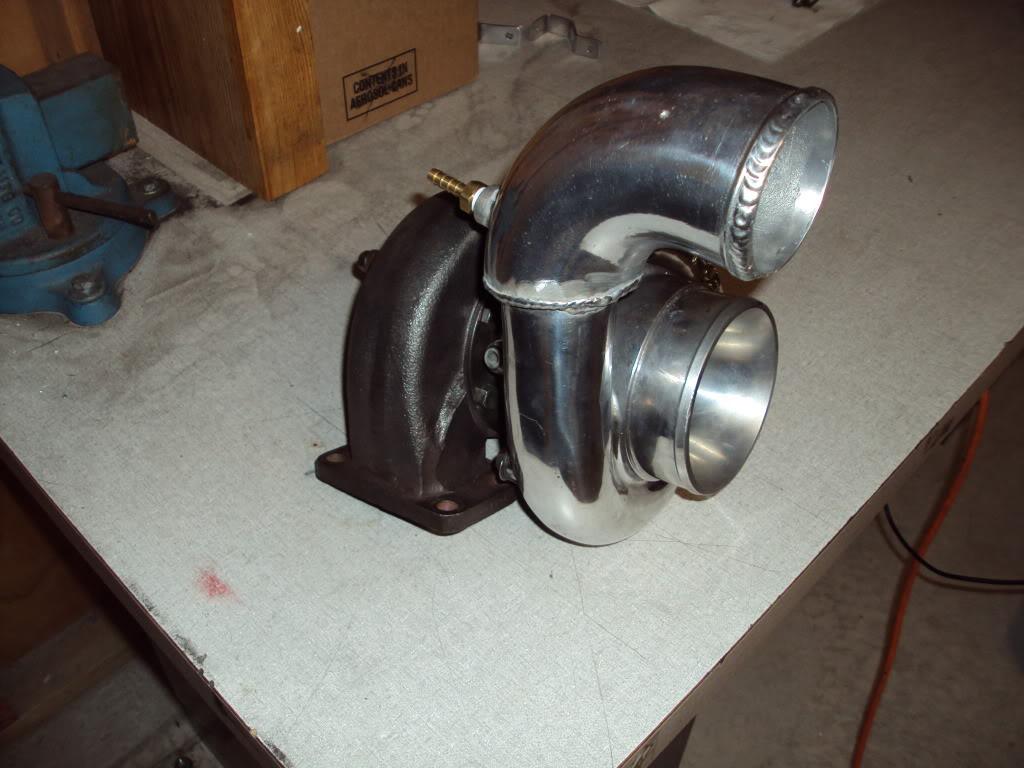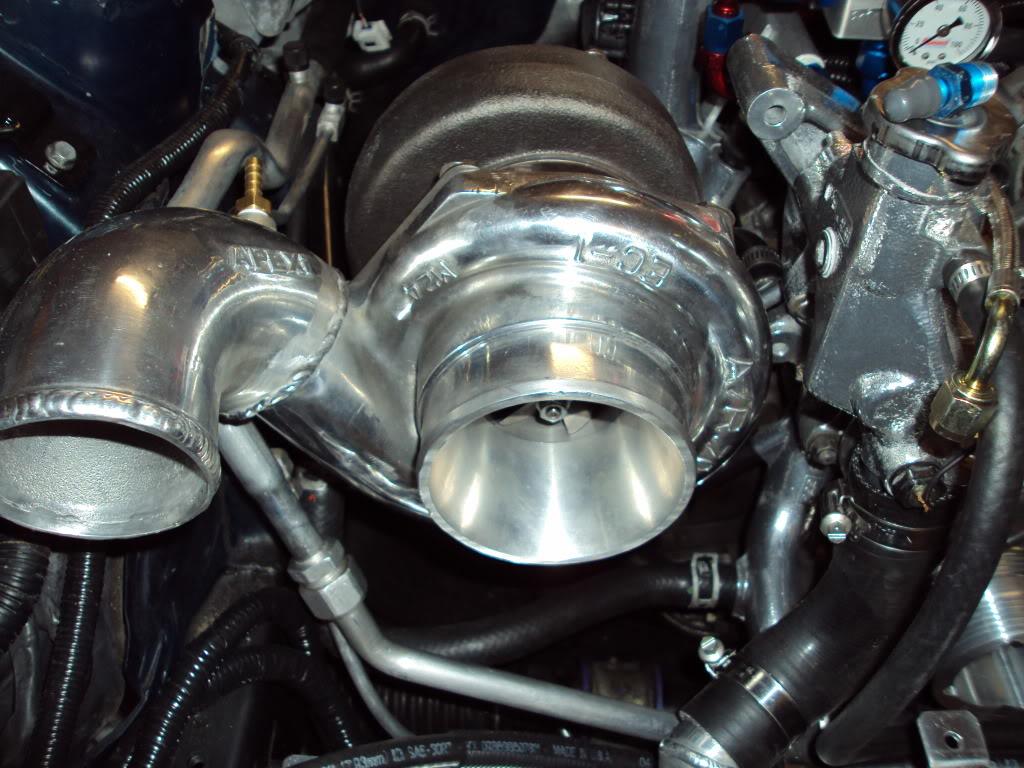 Rotary Extreme Track Vmount kit, pulley kit, & hood dampeners....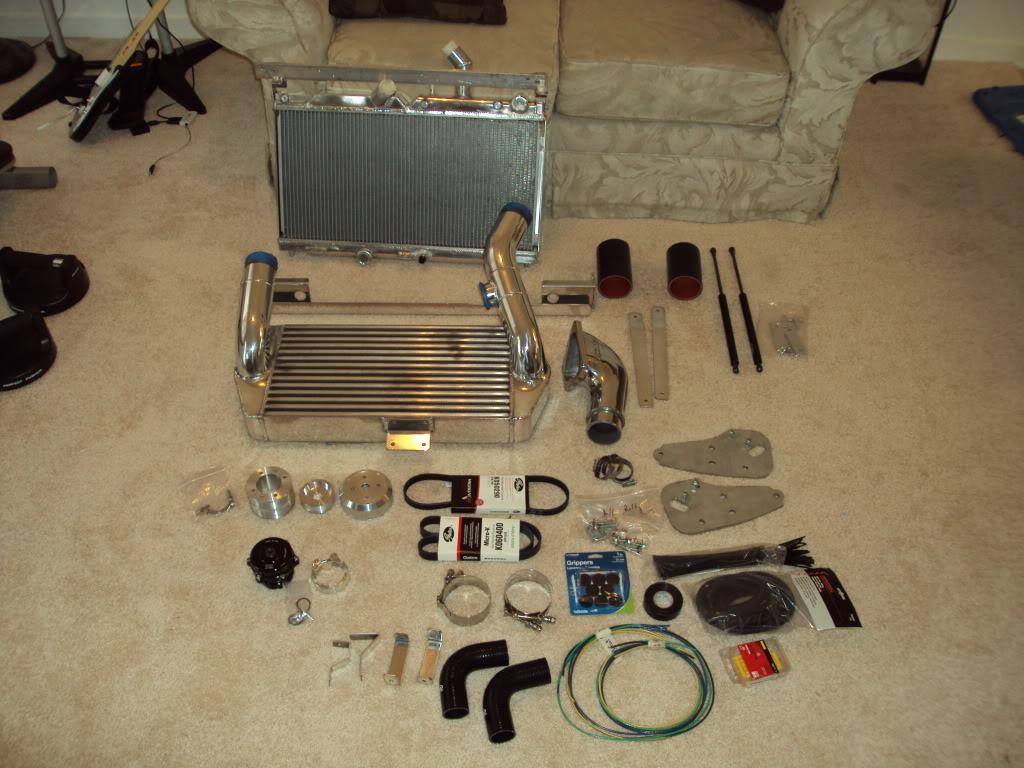 Vmount Installation....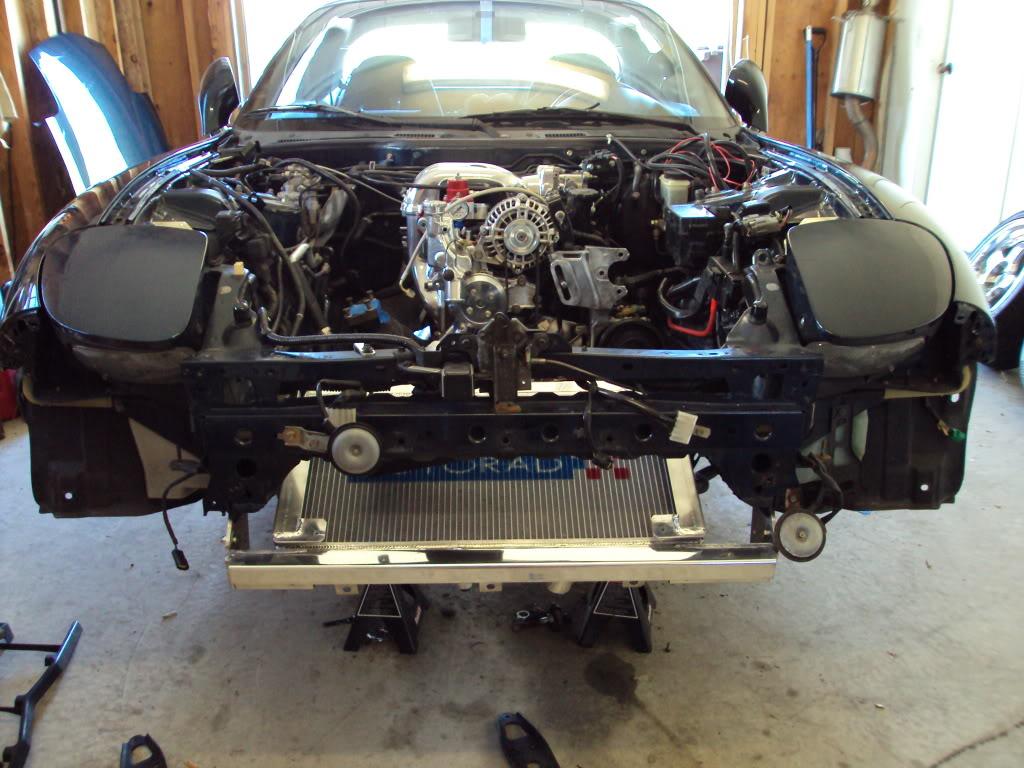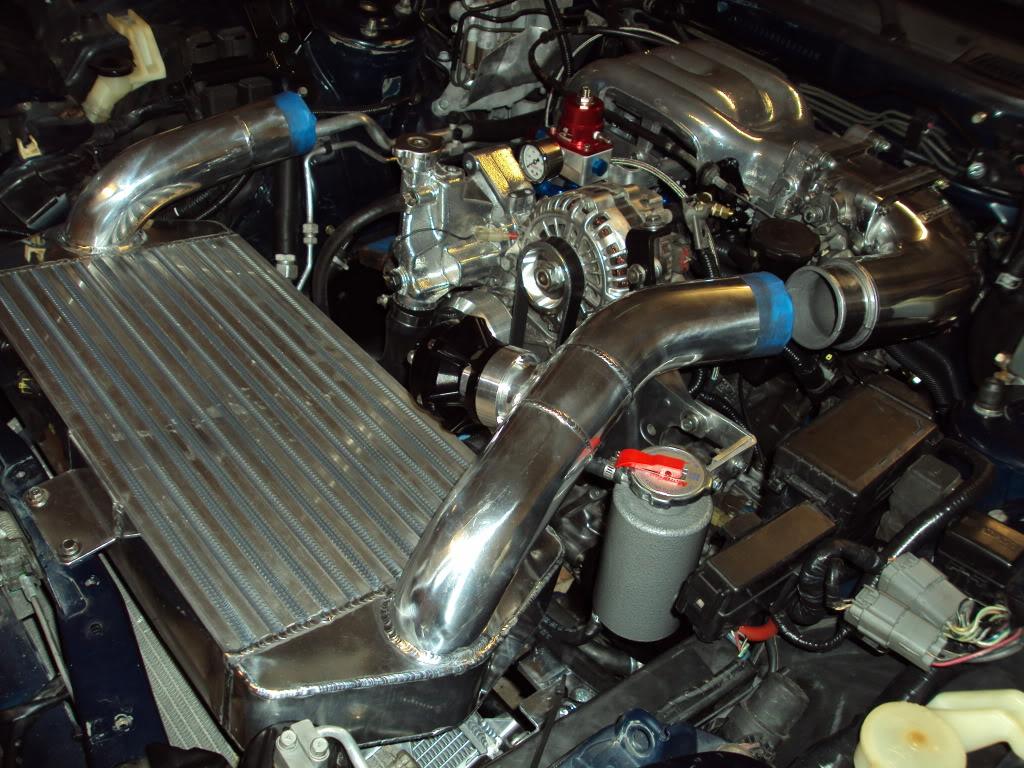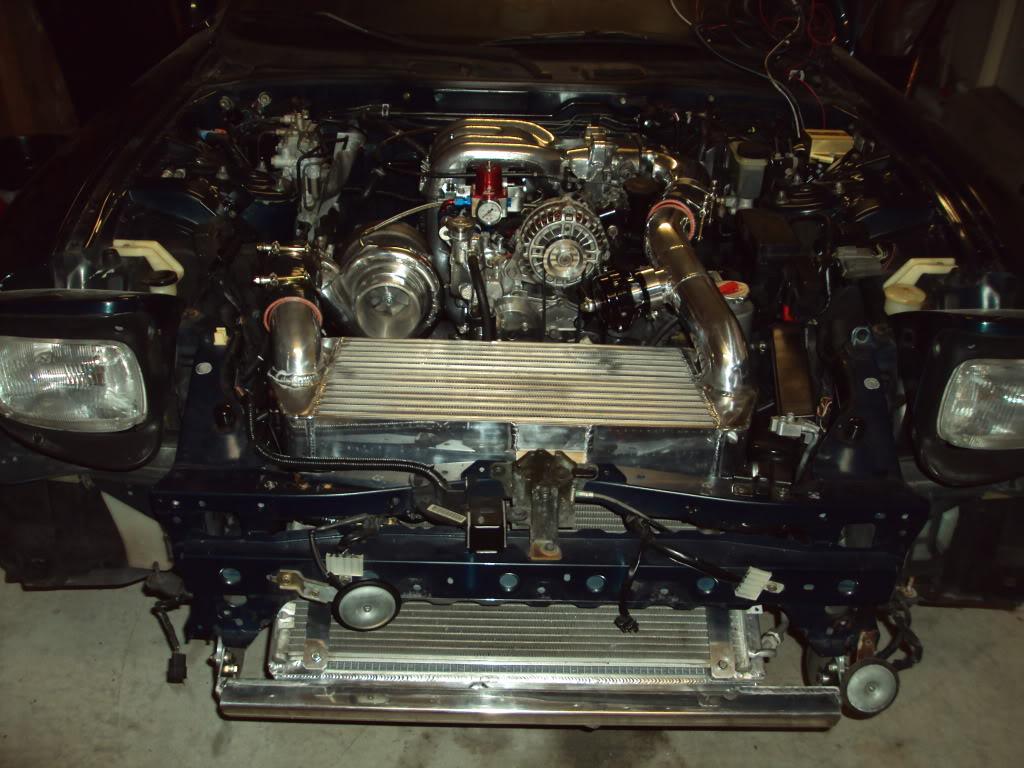 R1 dual oil coolers with AN fittings & stainless lines. PM me for a complete part list....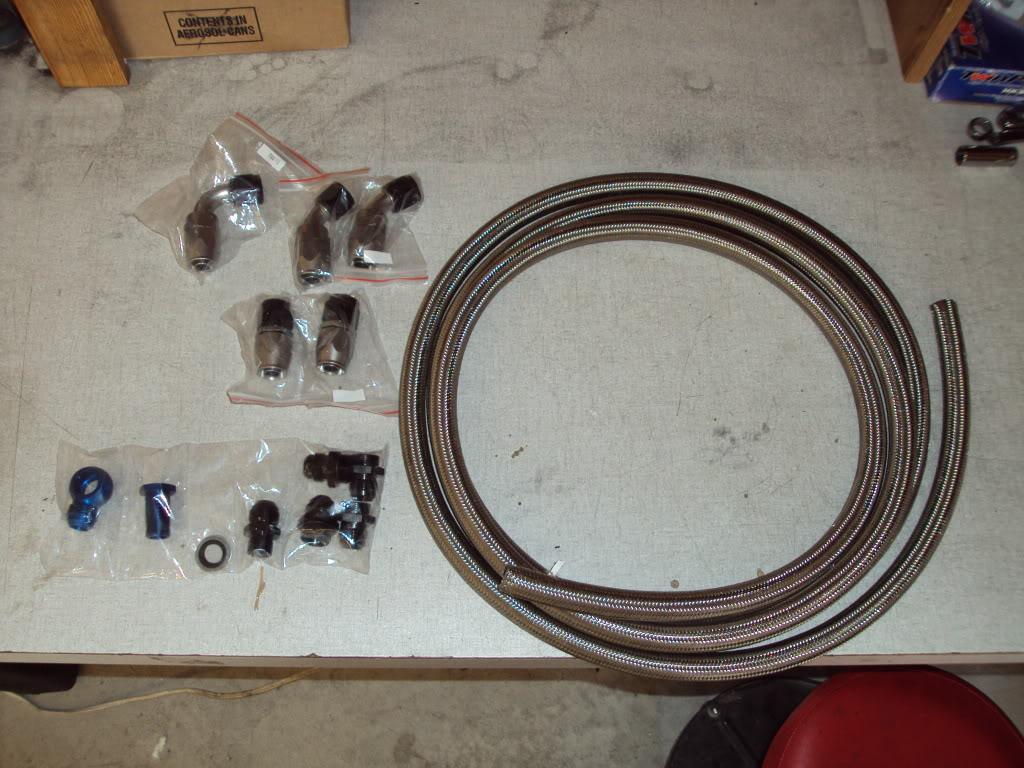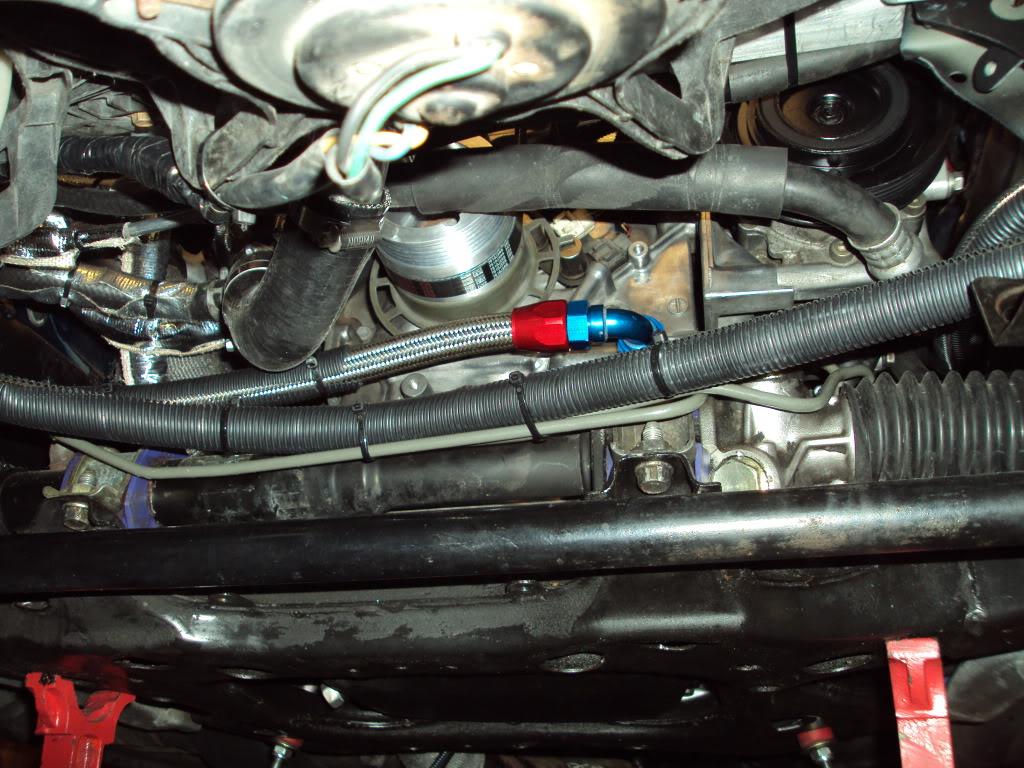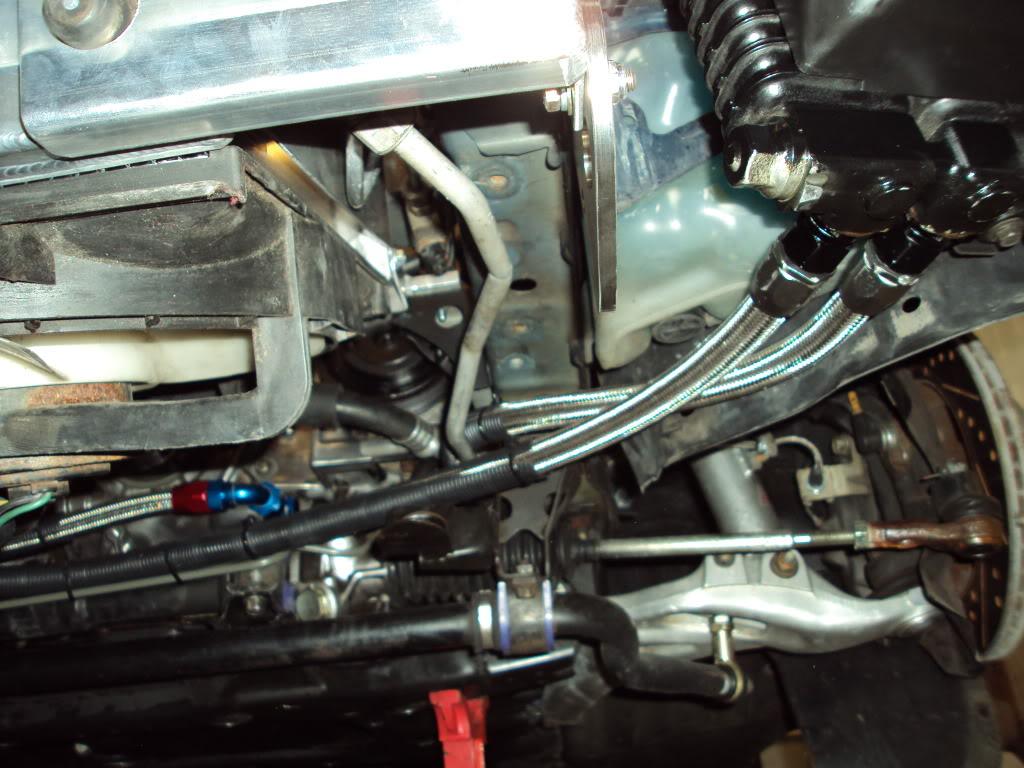 ASSEMBLED & COMPLETE!!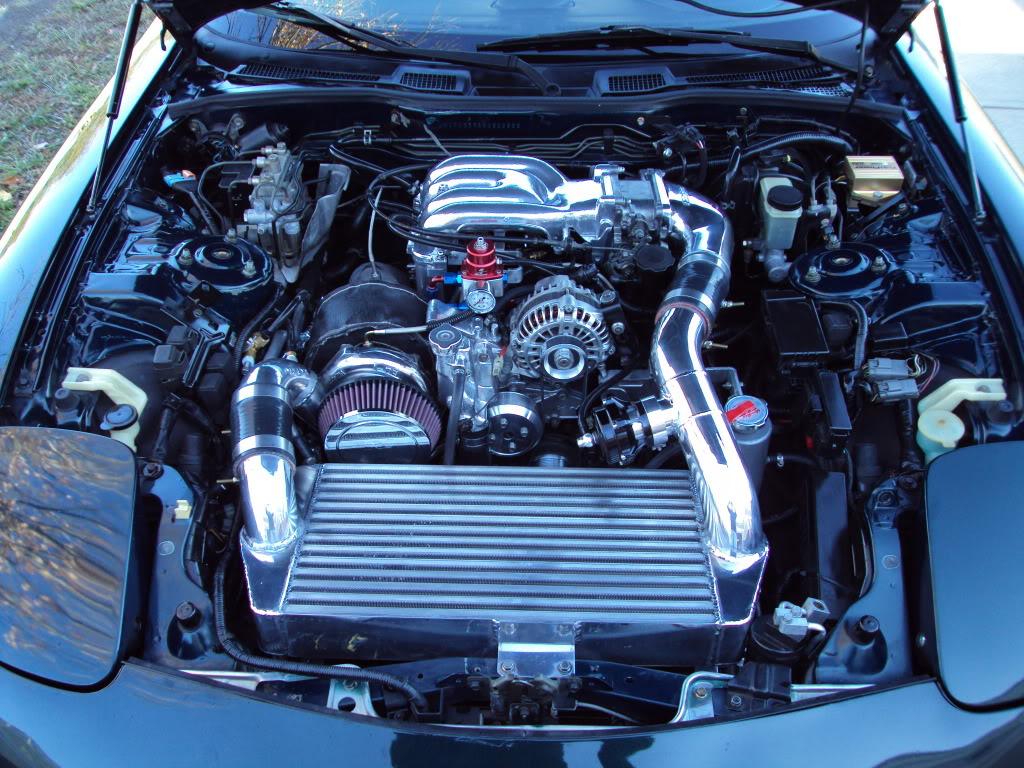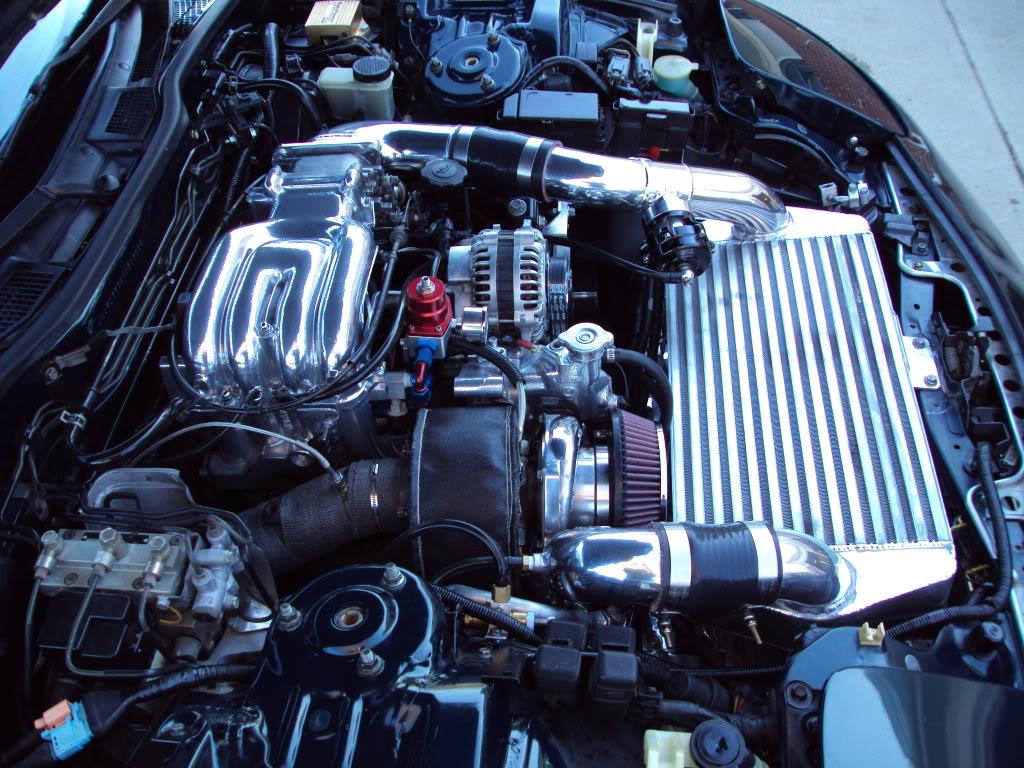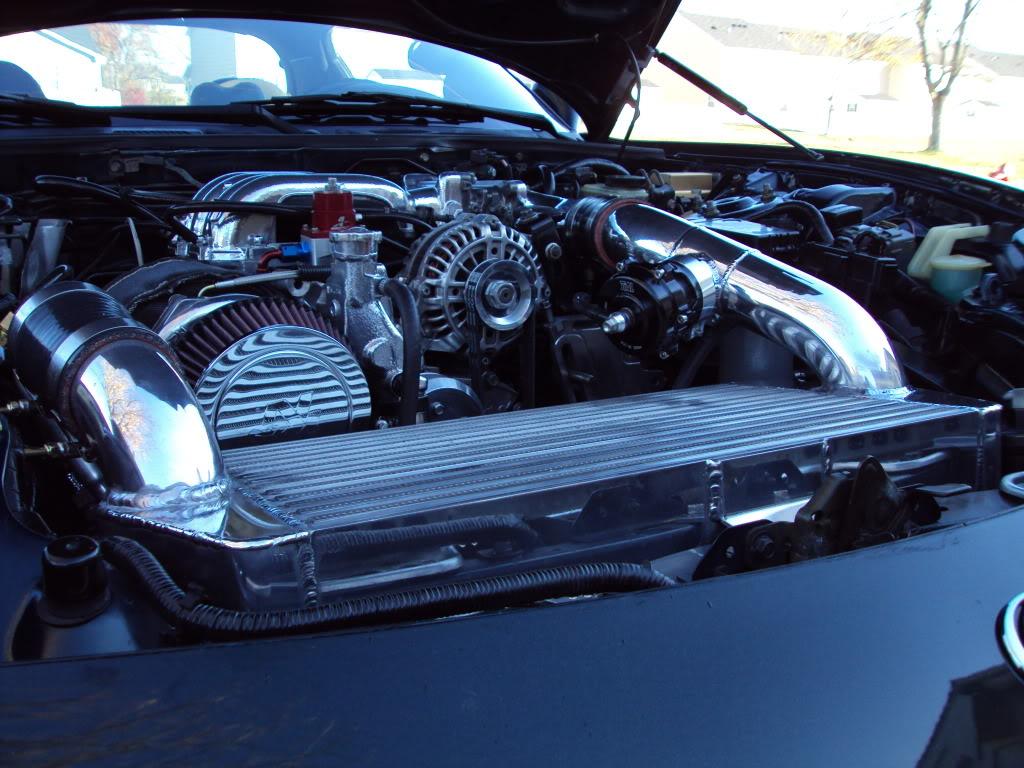 DYNO Day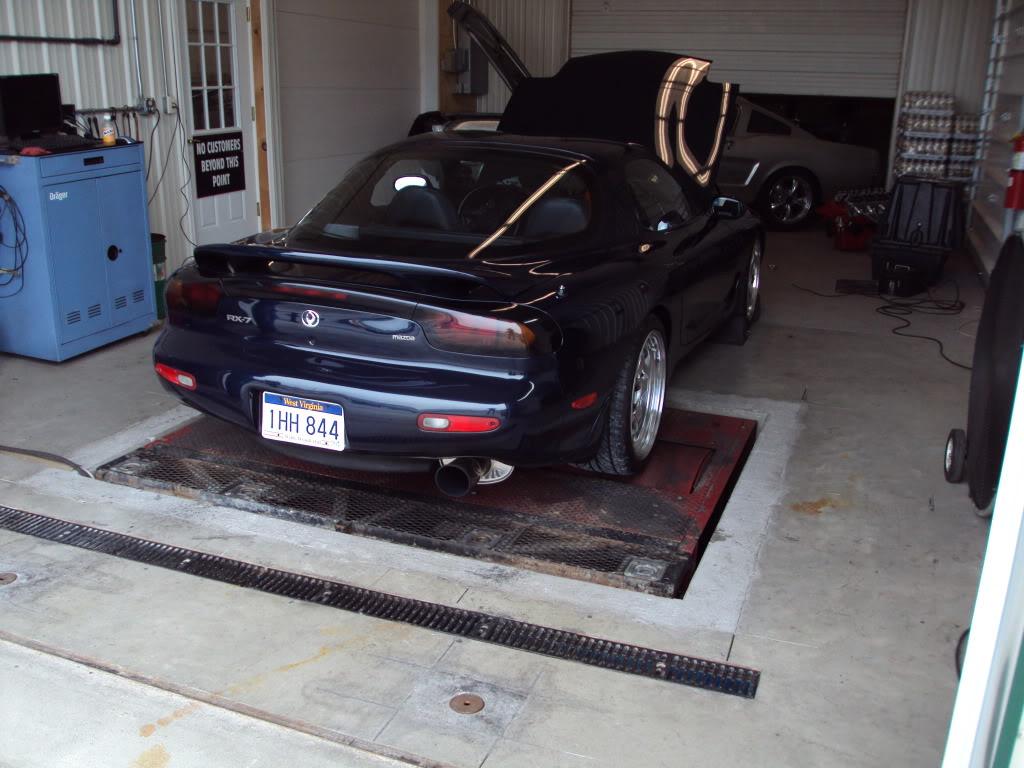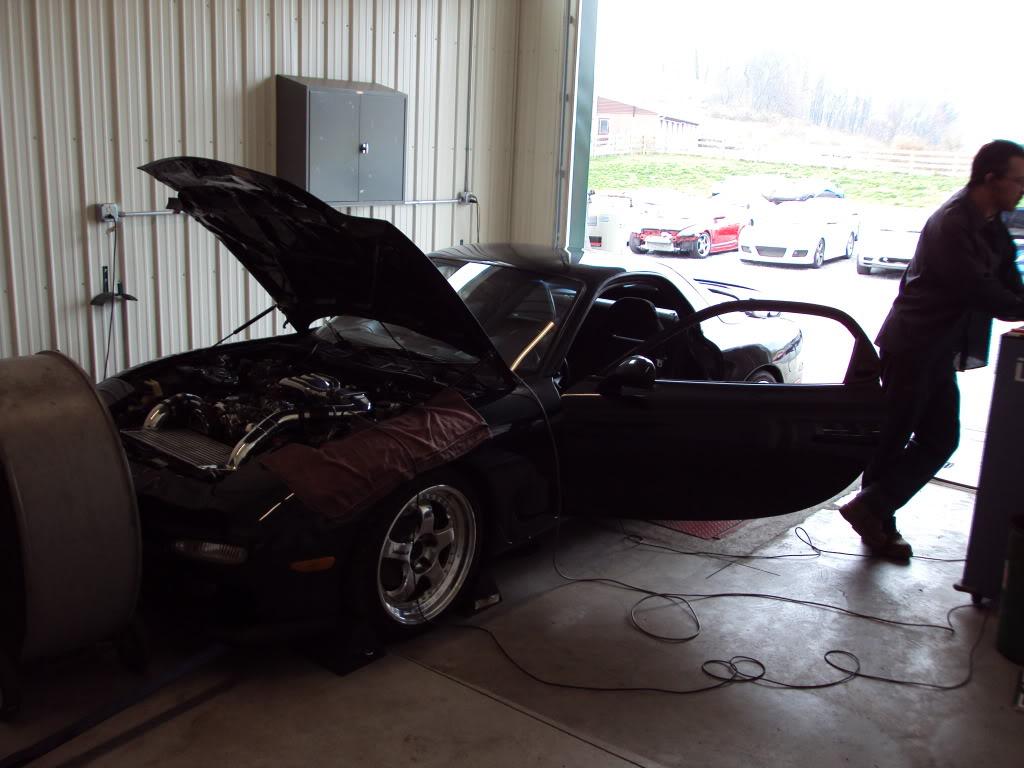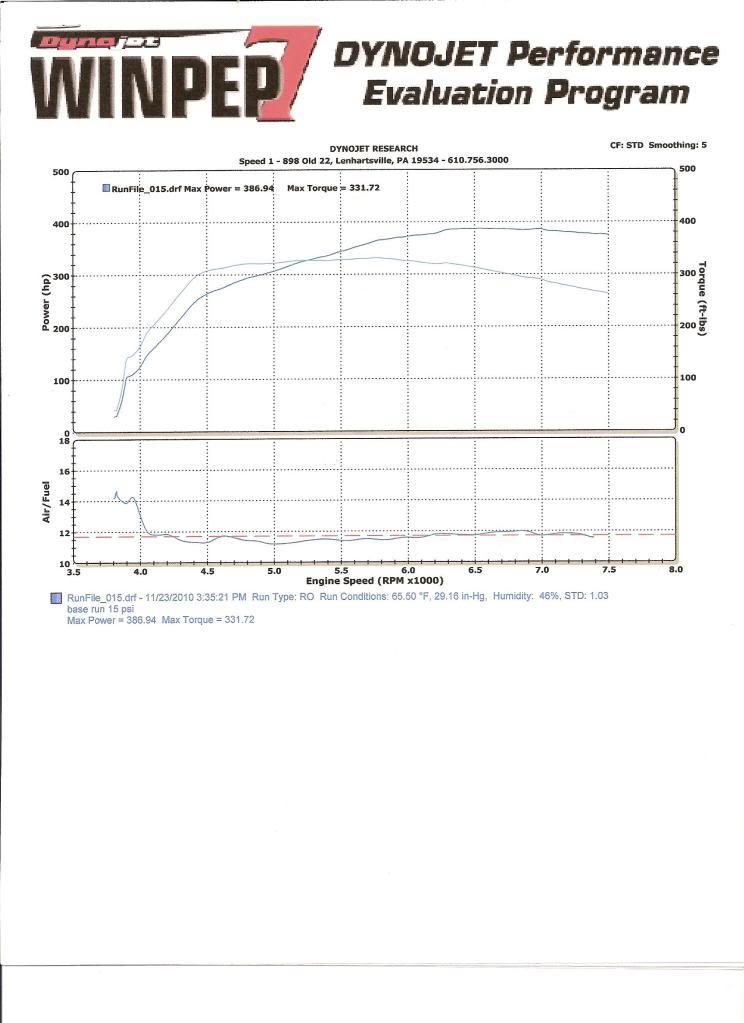 386whp & 331ftq at 15psi
Dyno Video
Final Thoughts....
I couldn't be happier with the results. My power levels for a stock port engine are quite good. The car is VERY quick but controllable. It lights up my 285's 1st through 3rd, but the spool is so fast & smooth that it's very drivable. I do plan to run 50/50 meth with a retune. I'm not shooting for the stars but would like a nice cushion with pump gas.
I am now focusing on having the car repainted, & finishing some aesthetics that are long overdue.
1-30-2011
I should have posted to this thread awhile ago but didn't have all the info together. Now that I've PM'd it out, here it is.
This will completely replace all OEM lines with SS line & AN fittings using the OEM oil coolers. No fitment issues with A/C. Be sure to cover the SS lines with plastic loom at possible rub points.
QTY....OIL COOLER FITTINGS…………………………………..........................PART#............PRICE
4.... Male 22 MM X1.5 MM metric concave seat -10 AN aluminum...AM22AN10...............12.95--- 51.80
13 ft -10 aeroquip line.............................................. .................FC3-10.....................6.50---84.50
2.... 45 degree alu -10 hose end............................................... ....T45-10..................18.75---37.50
2.... straight alu -10 hose end............................................... ........TS-10......................8.95---17.90
1.... male 18 MM X 1.5 Metric concave seat to -10 AN steel...........AM18AN10.................9.85
2.... 90 degree alum -10 hose end............................................... .T90-10...................37.50
1.... "Metric Banjo -AN Male"............................................. .............BJ1810M...............30.15
1.... banjo bolt.............................................. .................................BJBM18...............11.90
2.... seals............................................. ..........................................DS-M18................0.80--- 1.60
$282.70
12-23-2011
Some of this will change as I'll be rebuilding for 500whp with AI. Same essential components just a new drive-train and turning up the boost

. We'll see what the little T3 35R will do. Though it is rumored this turbo was an older 500R from A-Spec with a modified compressor.....
Suspension
Work Meister Wheels .....Work
Eibach Pro-kit springs .....Used
Apexi 7-way Shocks .....Apexi
Front Sway bar endlinks .....Improved Racing
Power Flex Poly Kit .....PowerFlex USA
Pillowballs .....Malloy Mazda
Motor Mounts .....IR Performance
Steering
Efini Wheel .....fdnewbieimports.com
Tie Rod Ends .....Rockauto
Tie Rod Boots .....Rockauto
Brakes
Goodridge SS brake lines..... Rx7store
Hawk HPS Pads Front .....Rx7store
Hawk HPS Pads Rear .....Rx7store
Caliper Rebuild Kit Front .....Malloy Mazda
Caliper Rebuild Kit Rear .....Malloy Mazda
PlastiKote Ceramic Paint .....Carquest
929 Master Cylinder .....Rockauto
Engine
Block Off plates .....Banzai Racing
Coil Relocation Plate .....Design Engineering Works
Ceramichrome manifolds .....IR Performance
Aluminum Pulley set .....Rotary Extreme
Greddy Elbow .....Rx7store
Forced Induction
GT35R Kit .....A-Spec Tuning
V-Mount Kit .....Rotary Extreme
Tial 50mm BOV .....Rotary Extreme
Manual Boost Controller .....J-K Tuning
Turbo Blanket .....APT Turbo
K&N Filter .....K&N
Inline BB turbo filter .....Forced Performance
Fuel
Ultimate Fuel System .....Rx7 Store
SaRD 280lph pump .....Rotary Extreme
Misc. Fittings
FJO Injector Driver .....FJO
Cooling
Aluminum AST .....Rx7Store
New Water Pump .....Malloy Mazda
New Thermostat
Ignition
HKS Twin Power .....Rx7 Store
Magnacore wires .....Rx7 Store
All 4 with BUR9EQ .....RockAuto
Electrical
Defi Water Temp gauge
Defi Exhaust Temp gauge
Defi Boost gauge
PLX Wideband .....PLX
Tripower Gauge Pillar
Dual A-pillar
Battery Relocation Parts
Interior
Accumat Sound deadening
JDM Arm rest .....Rx7.com
Rotor Shift **** .....Rx7.com
Exterior
R1 Front Spoiler .....Malloy Mazda
4-9-2012
My wife took some pics of the FD today while on our Easter Sunday drive. She is using her new digital SLR camera.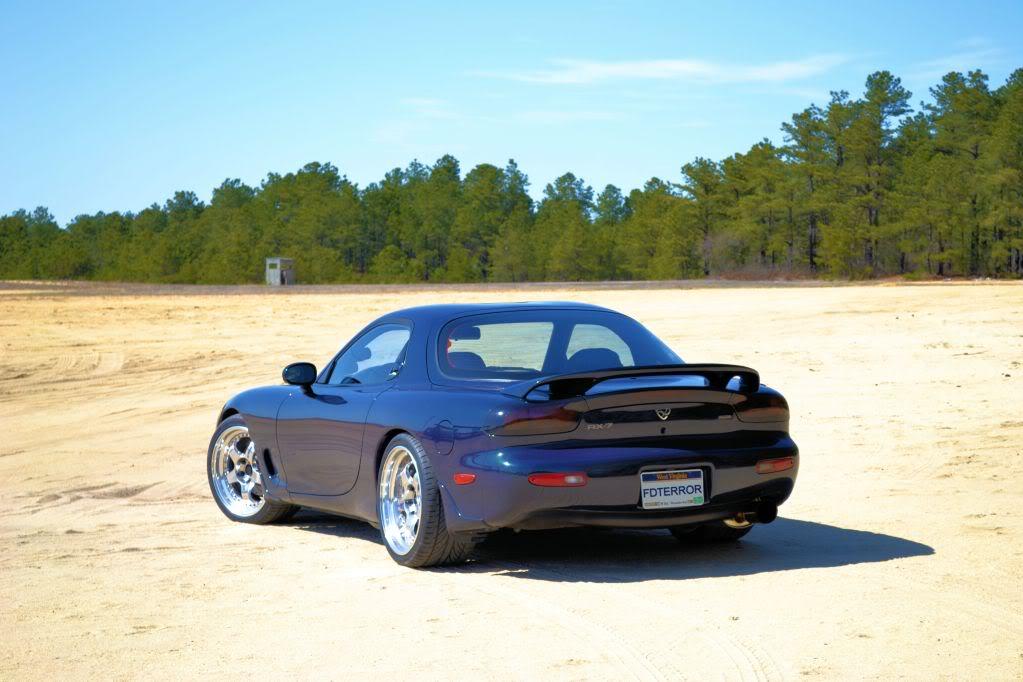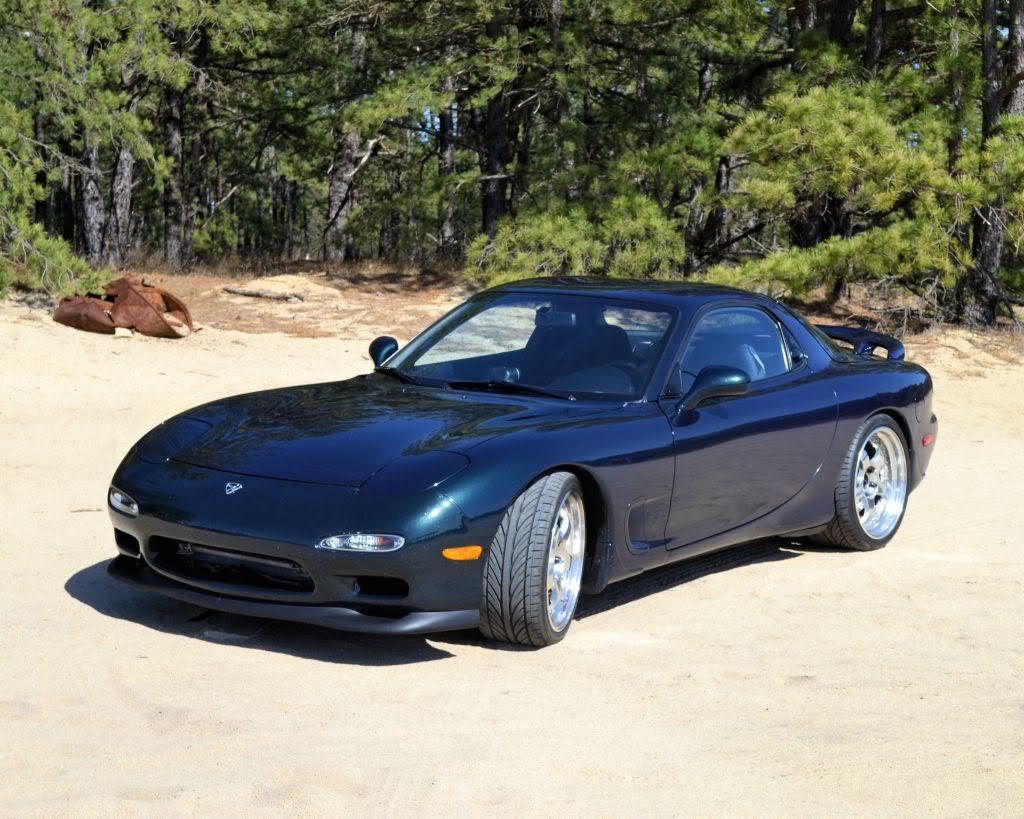 6-5-2012
Slowly getting things sorted.....
Getting the water injection squared away before I swap my engine. I purchased a fresh ported Pineapple Racing engine that is standing by.
Tank fitting is close. Boost switch & solenoid are mounted and awaiting lines installed. I had K&N make me a custom size filter and it should be here at the end of this week. Once it arrives I will be mounting everything up and testing the system. 4 gallons of 50/50 standing by.

A few things will change when I swap the engine. More shiny stuff and more cleaning up. Mostly aesthetics really. I will be fabricating the V-mount ducting finally and getting it sealed off. Also getting a Ronnin Speed Works MazdaSpeed carbon hood.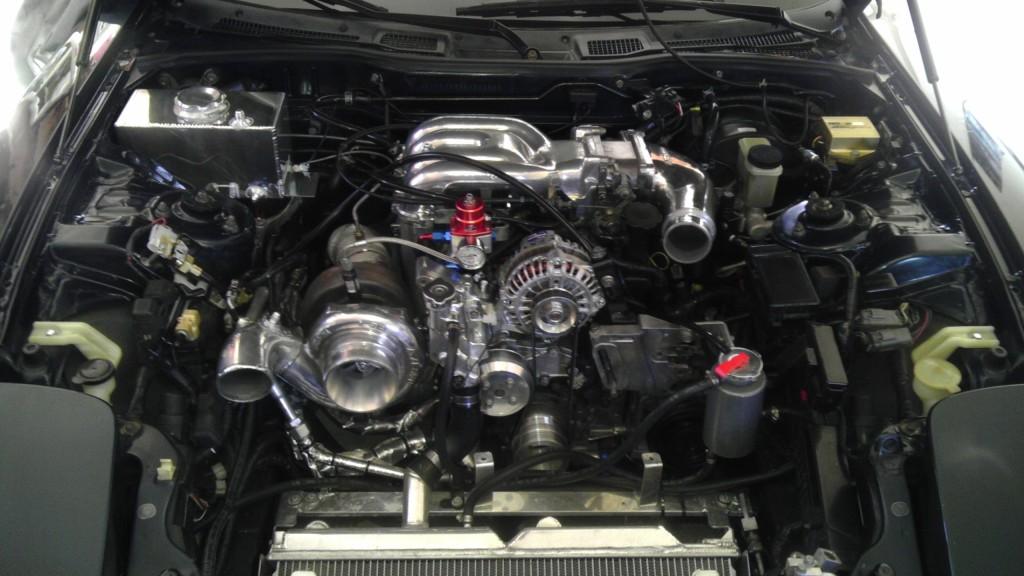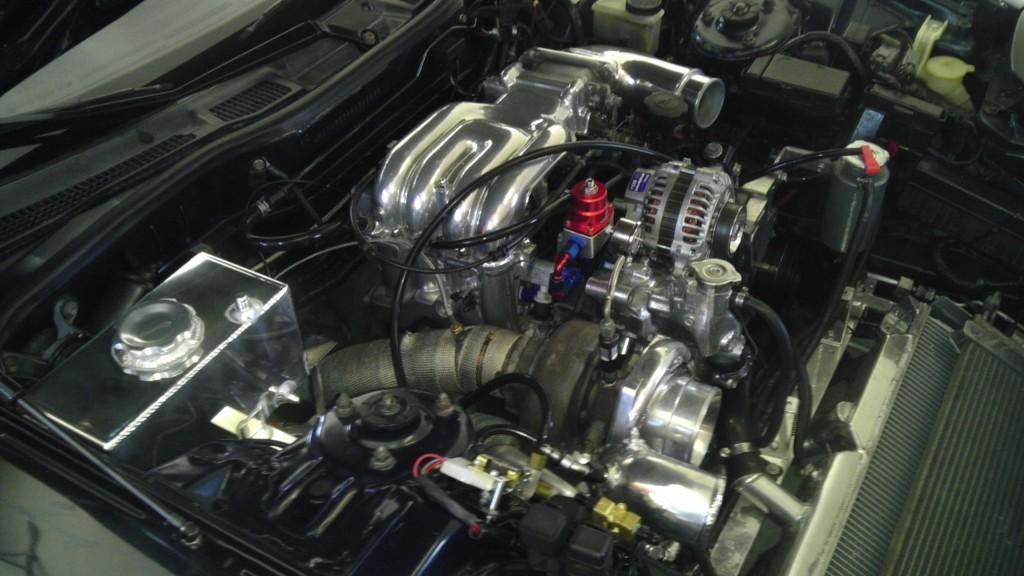 6-16-2012
Water Injection installed and working flawlessly. I am utilizing the nozzle and solenoid from WannaSpeed.com. Brent hooked me up since I didn't want to play with plastic tanks and lines. All AN fittings with Teflon push locks. Using a Gemlock optic level sensor to keep water levels in check. A Nason boost switch was also preferred over the plastic units. Devils Own uses these with great success.
My polished tank was made by Dad's Custom Intercoolers. They did an amazing job and I have nothing but great things to say about their customer service and quality piece. Donny has some serious skills.
I will add, I contacted K&N and had them make me a custom size filter. Since space has been extremely limited from the beginning, I wanted a solution that will have no problem hitting 500whp. The dimensions as calculated flow a few CFM more then other setups I have seen hitting my projected goals. Goodfella's FD was running a shorty filter with no issues. Mine actually flows a little more than his old so I should have no issues. K&N was ON POINT with their customer service. All I can say is that they are one hell of an American company. Hoooraahhh.
Currently only spraying water at 15psi with an 8psi engagement point. I have 4 gallons of 50/50 standing by for when the new engine goes in

. I will be swapping within a few weeks. A Pineapple built large SP running 25 psi should get it done.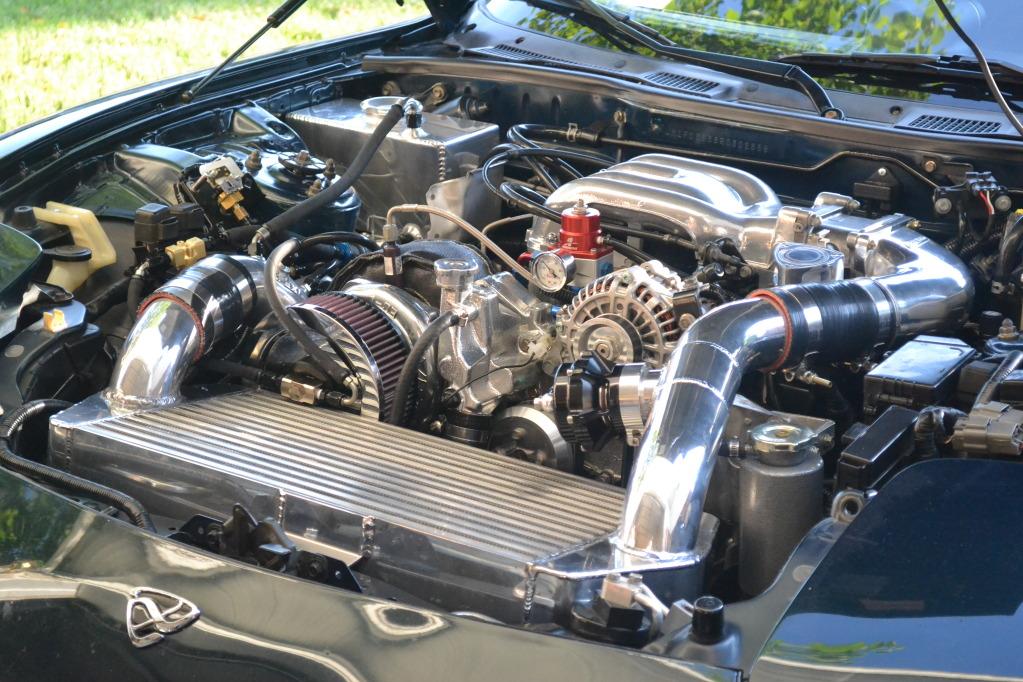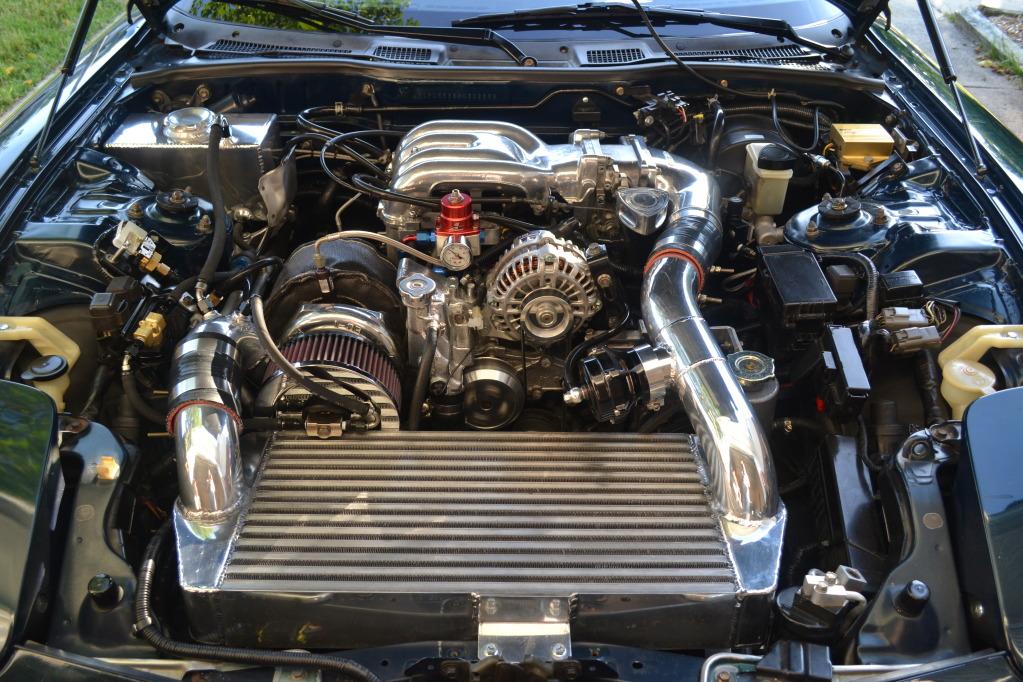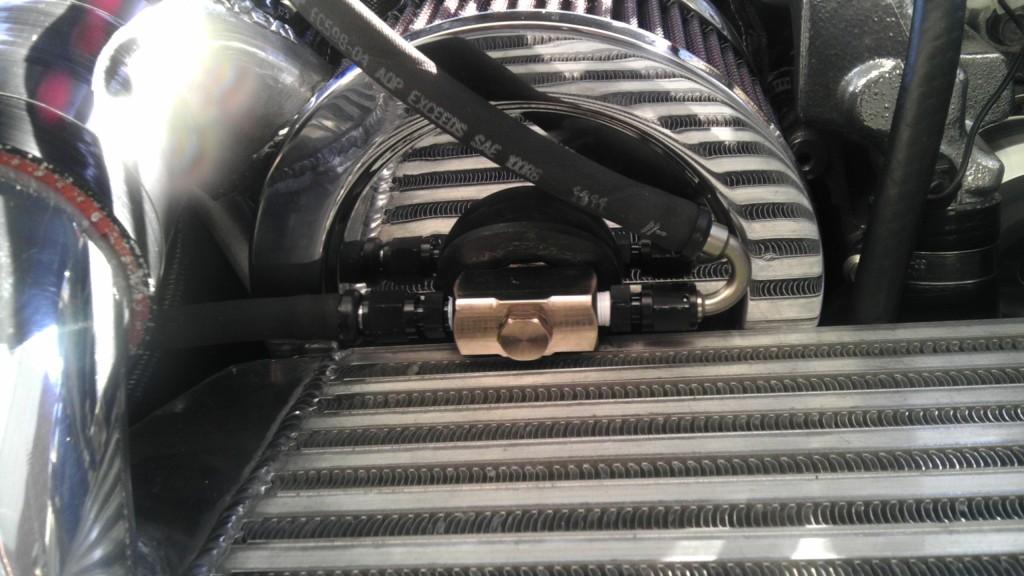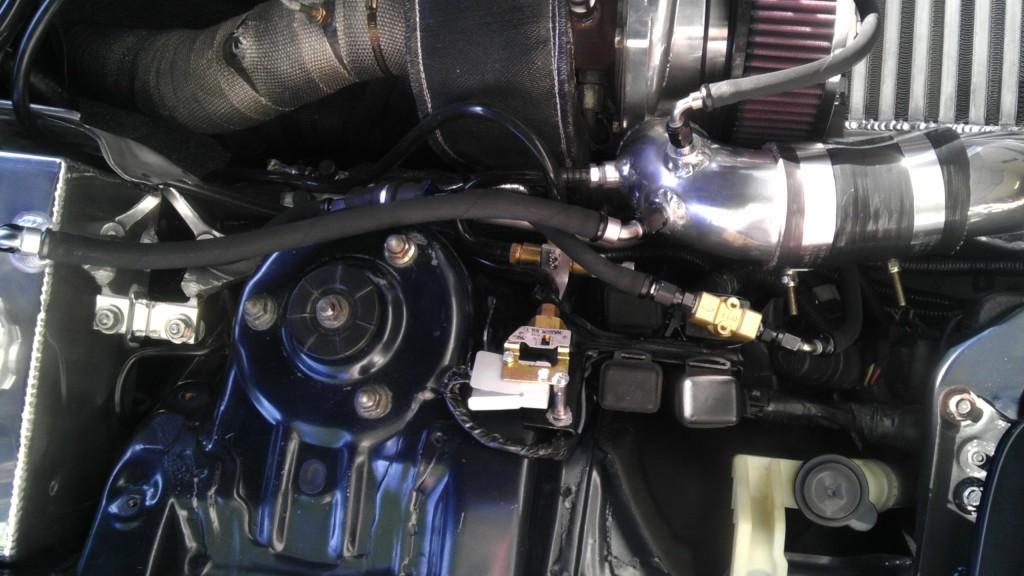 7-9-2012
Well, the time has finally come to get this party started. I am off work all weak with possible hopes to get the car tuned on Friday. This will all depend on my speed of work and if I get the clutch broke-in in time.
My garage prep included additional drop lighting and two 5,000 btu window air conditioners. I am picking up another 10,000 btu floor unit tomorrow evening. It may seem like overkill but my garage is not insilated. The two window units barely keep up, but if we have any more 95 deg days, it will begin to get stuffy. I am a firm beleiver in quality work comes from a clean, comfortable work environment. The pics don't do the lighting justice either.

I began pulling the engine and tranny today. Got quite a bit accomplished. I'm ready to swap all the parts over to the new core tomorrow. Engine bay prep should be relatively light with just a little cleaning. I should be ready to drop it back in tomorrow evening, if not get it back in. We shall see.....
Pardon the cell pics.... I will start using my Sony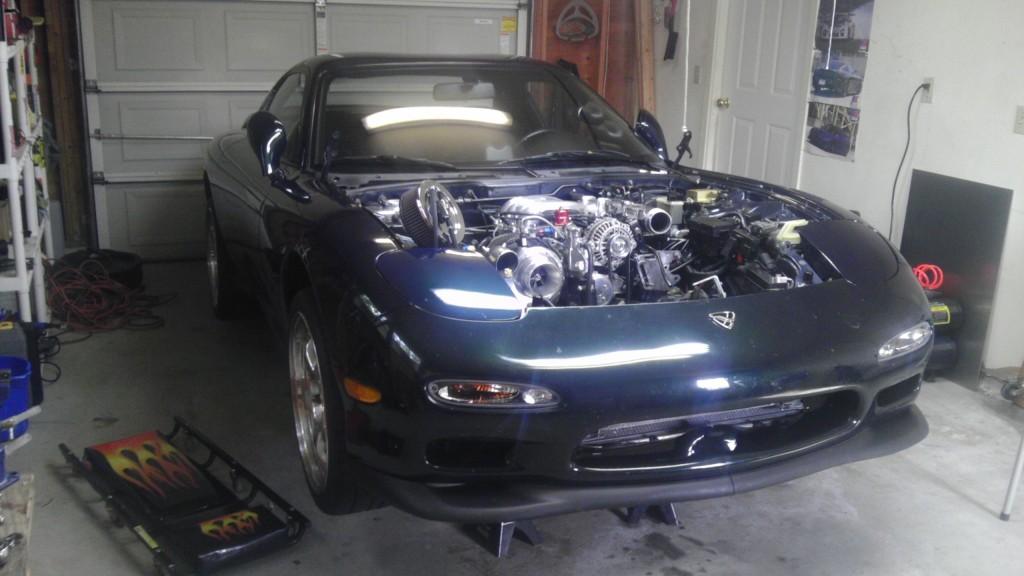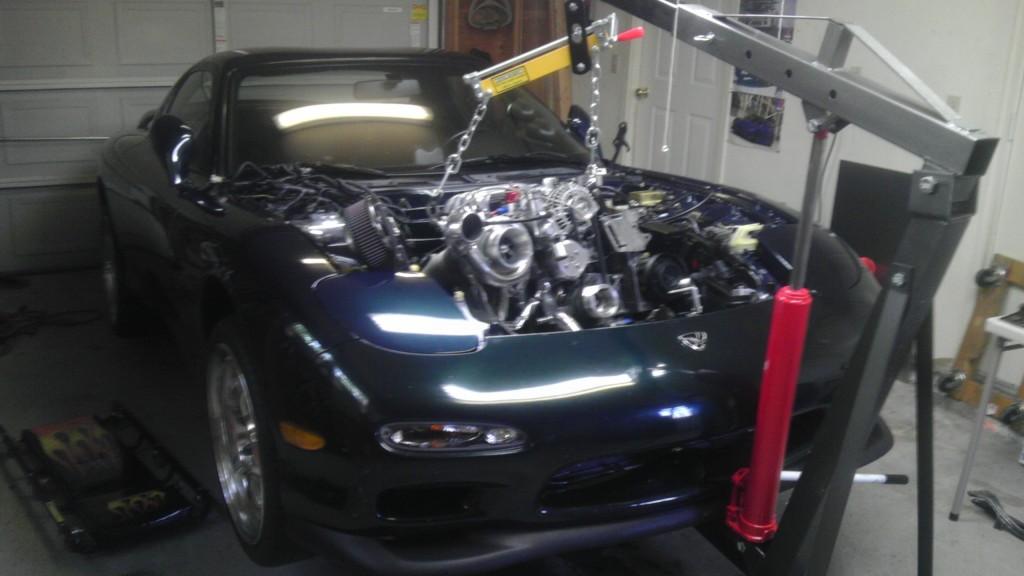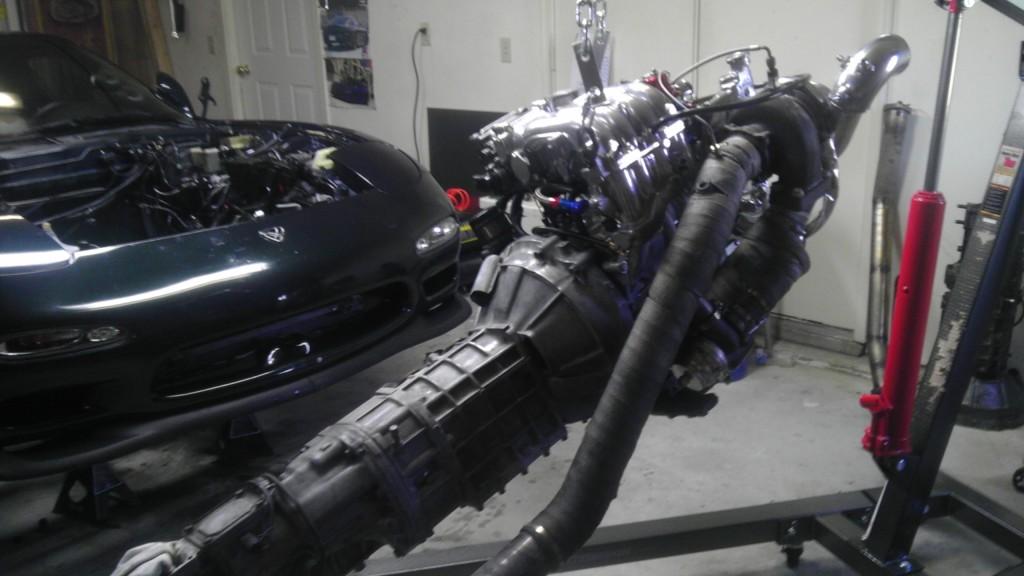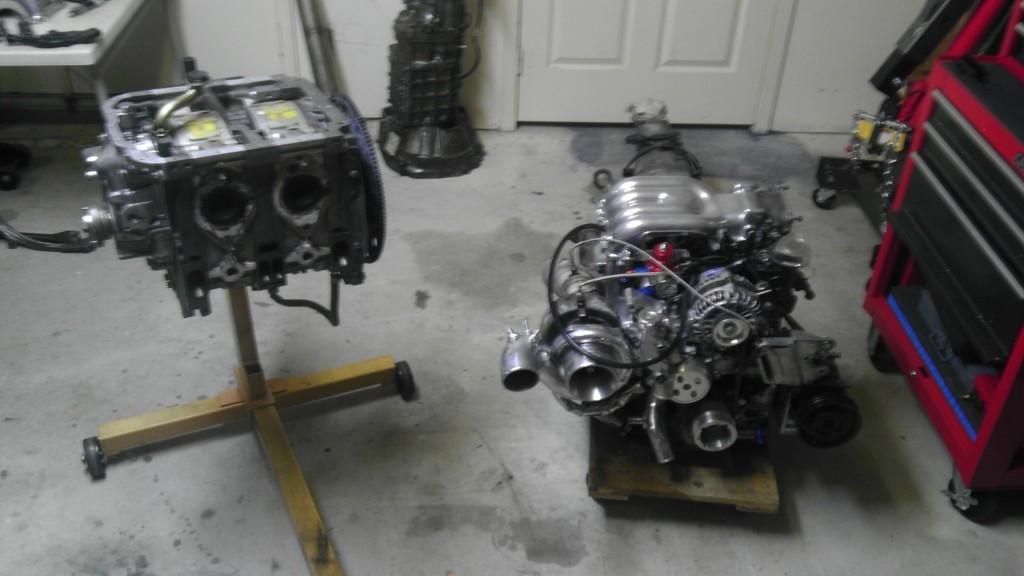 7-11-2012
Some more great progress today!! Fired it up. I still have quite a few things to finish up before it's dyno ready. As such, I'm not going to make my Friday dyno day. Nonetheless, I will spend the rest of this week finishing up the small things, driving the car, and ensuring everything is rock solid for high boost.

Still on the list....
Coolant buzzer - looks like my harness plug broke off on the connector. That will be fun.
Exhaust - Kind of sounds like I have a leak. I need to investigate farther.
FJO - Need to remove the injector driver. No need for it with the new EV14's. They work great thus far.
Fuel pump - Need to swap in my new Stealth
Clutch - Break in that new 6 puck properly. I want around 500 miles before the power goes down.
CLEAN - All my shiny parts got lots of finger prints. I want to detail the ENTIRE car once things get squared away.
My hood should be here Monday!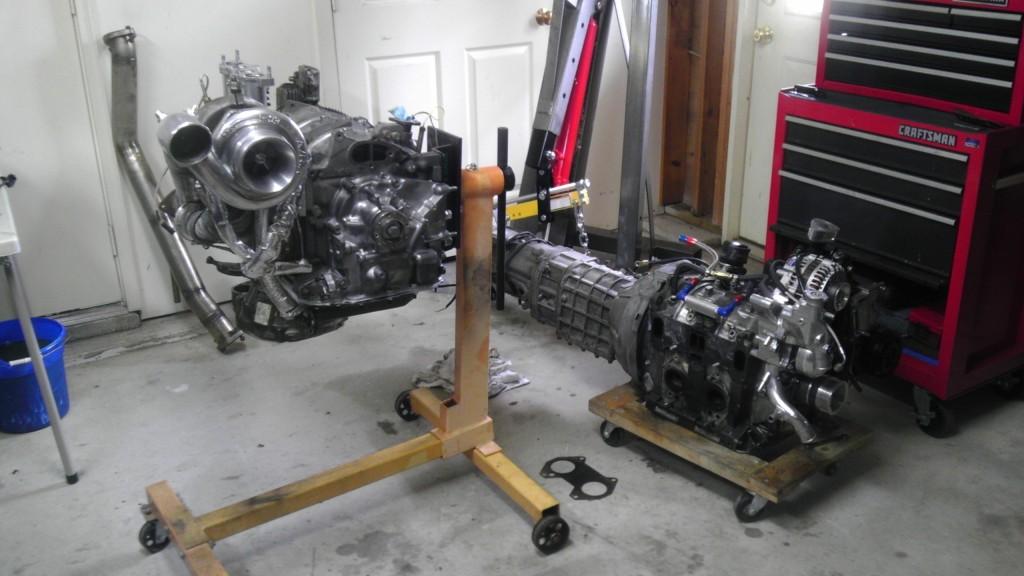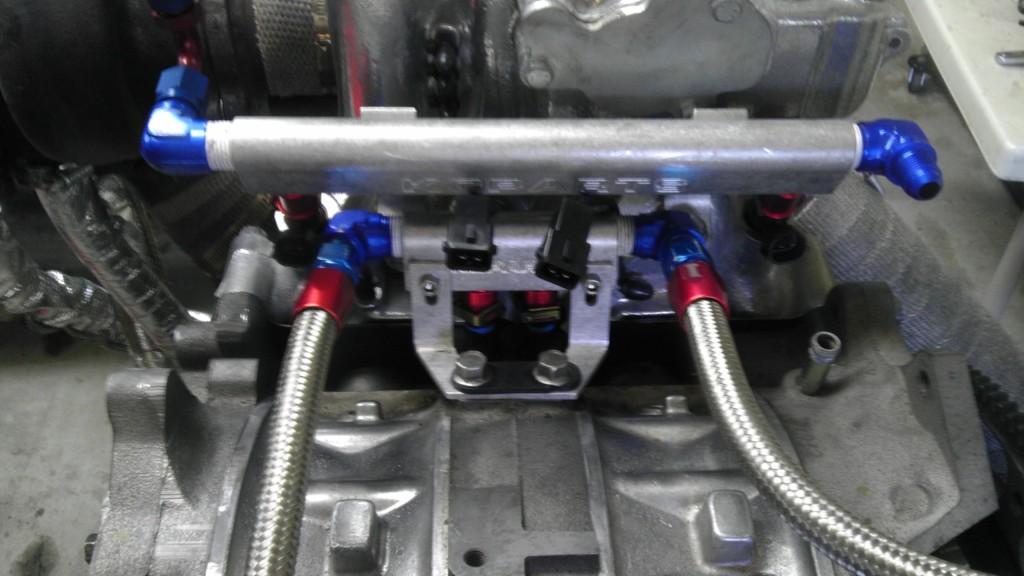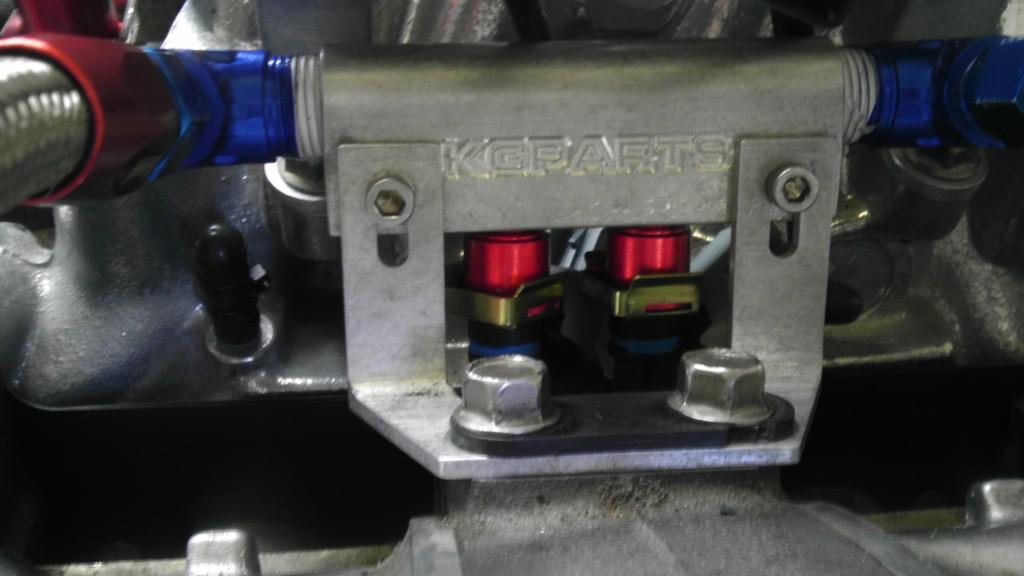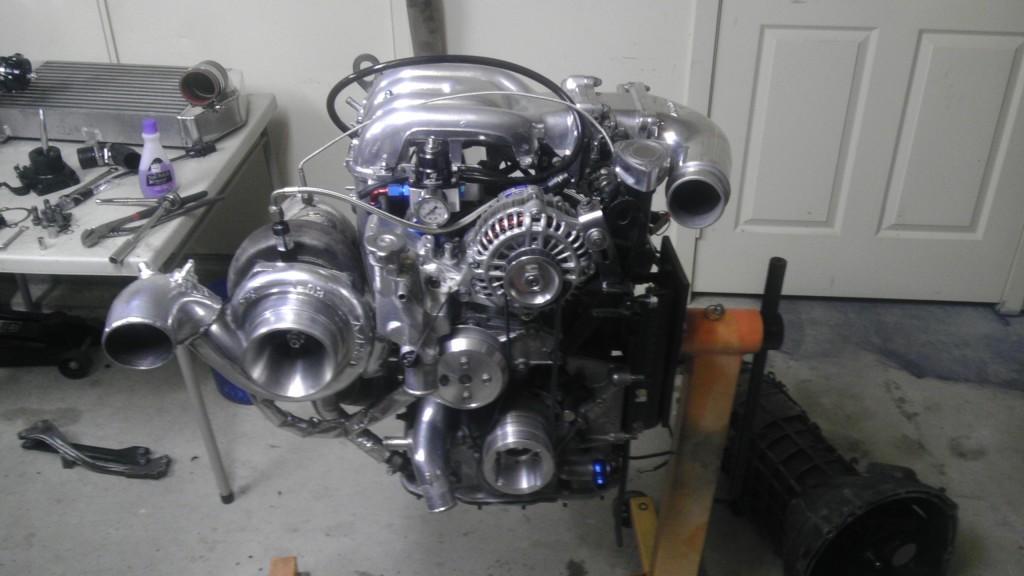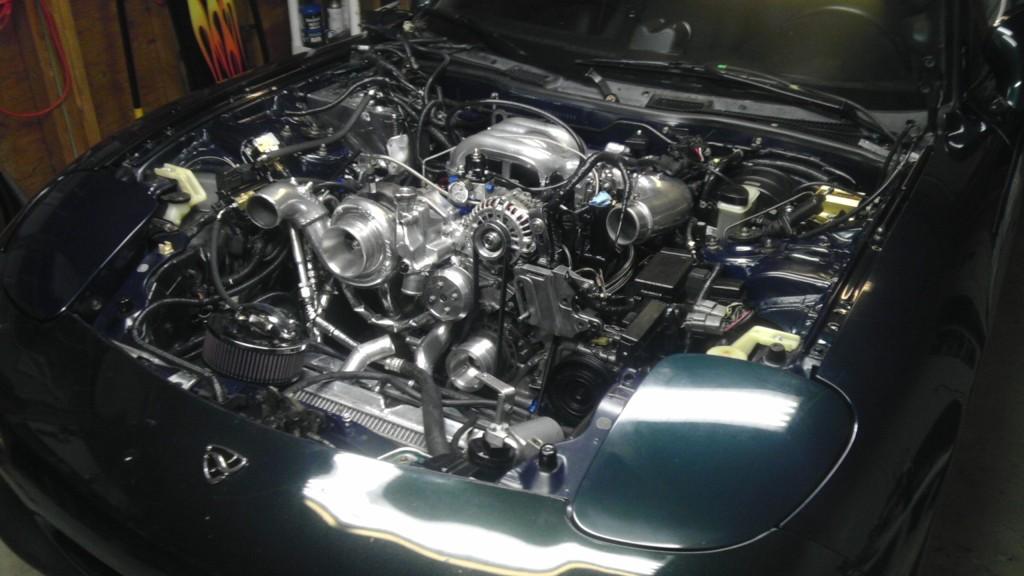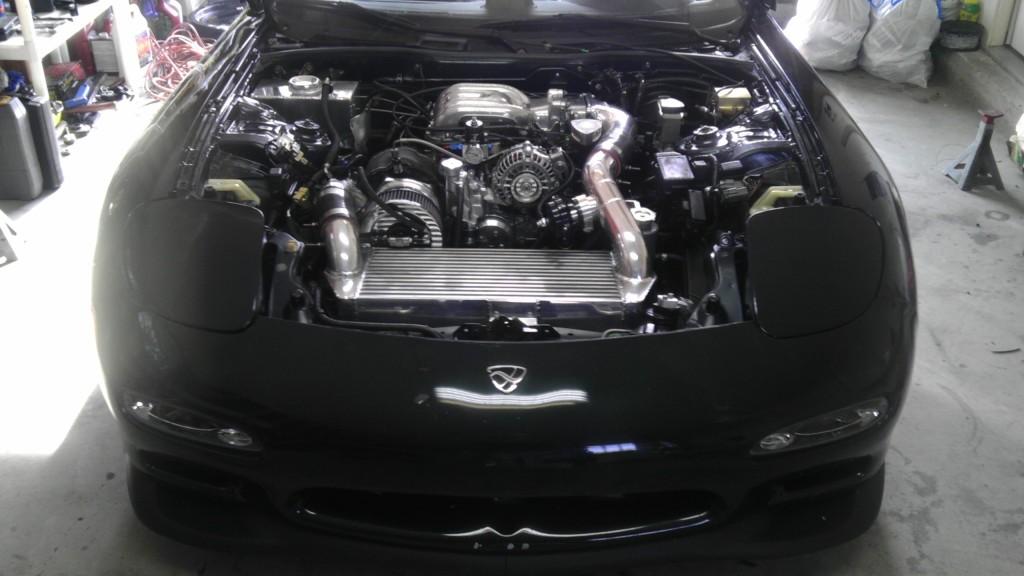 7-15-2012
Runs rough, but drives. My tune is definitely on the lean side, as Dave told me it would be. A few tweaks and it runs good enough to drive. New tranny and clutch feels great. The 6 puck is a little grabby but not really that bad. The stealth is in, and the FJO is removed. My exhaust leak has been isolated to where the mid-pipe meets the downpipe. I'm very glad the engine, downpipe, and wastegate are all leak free.
Leaving the OEM hood off as my Mazdaspeed hood should be here in a few days. Very stoked to get everything square and tuned.

7-30-2012
Car is doing well. Exhaust leak fixed. Made a better mount for the water injection solenoid. Cleaned the bay, detailed the car and looked everything over again. Clutch is feeling much better. Not really seeing what the gripes are all about.
Tuning session on Aug 10th. I'll be monitoring the car, continuing to break in the clutch and tentatively waiting to put down some power.

Mazdaspeed hood will be here Wednesday. They made it twice due to a flaw in the finish. Ronnin is on point people, they don't mess around with quality.
Also bought a set of Ganador mirrors..... Paint is coming....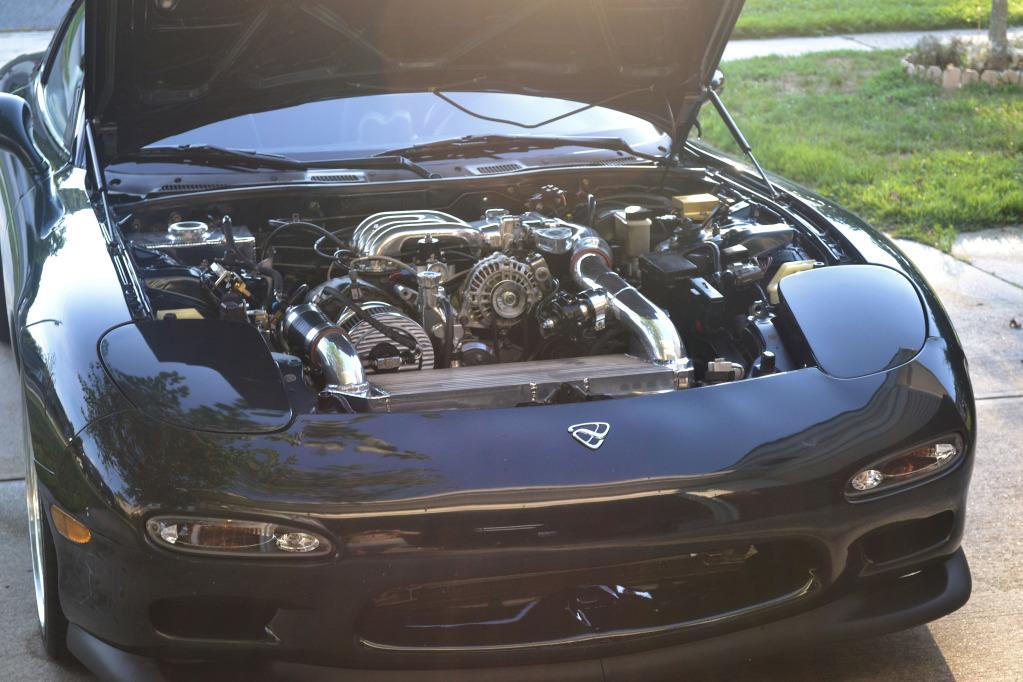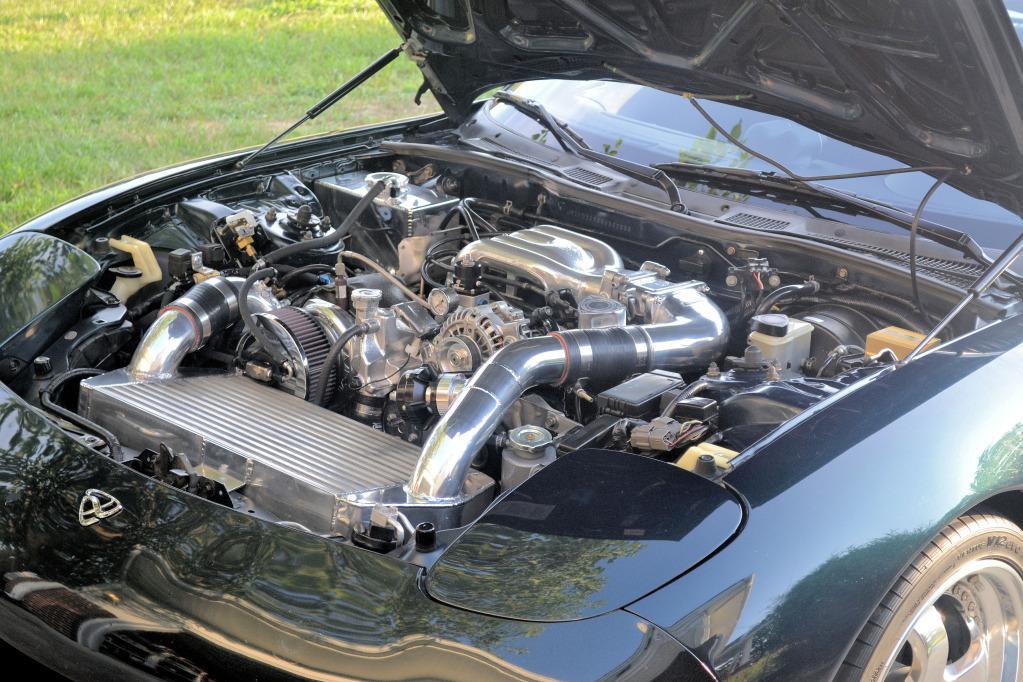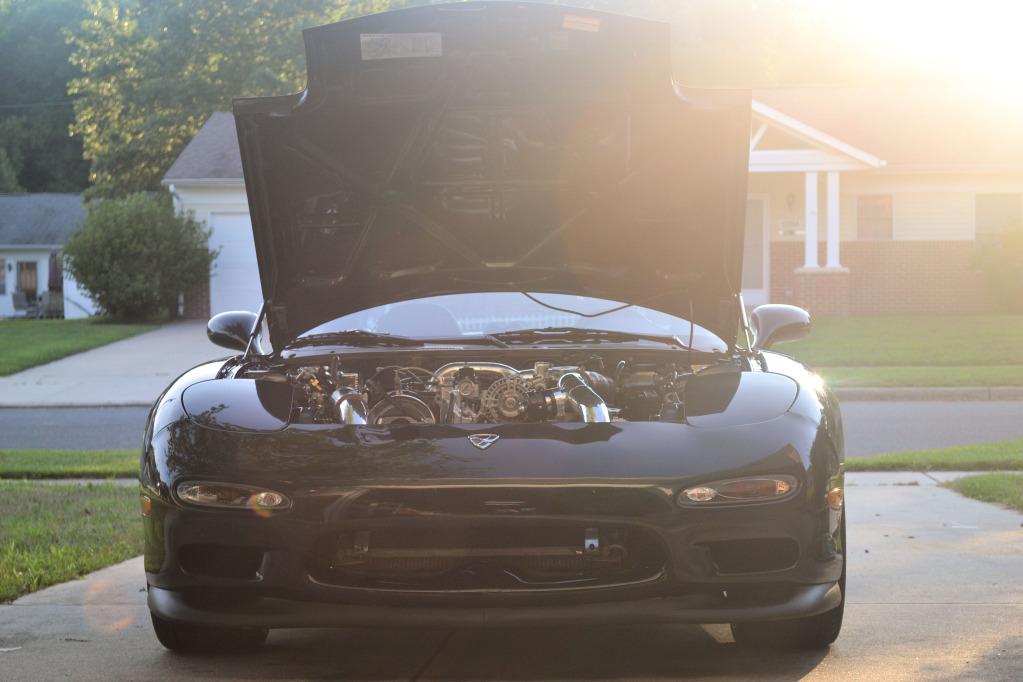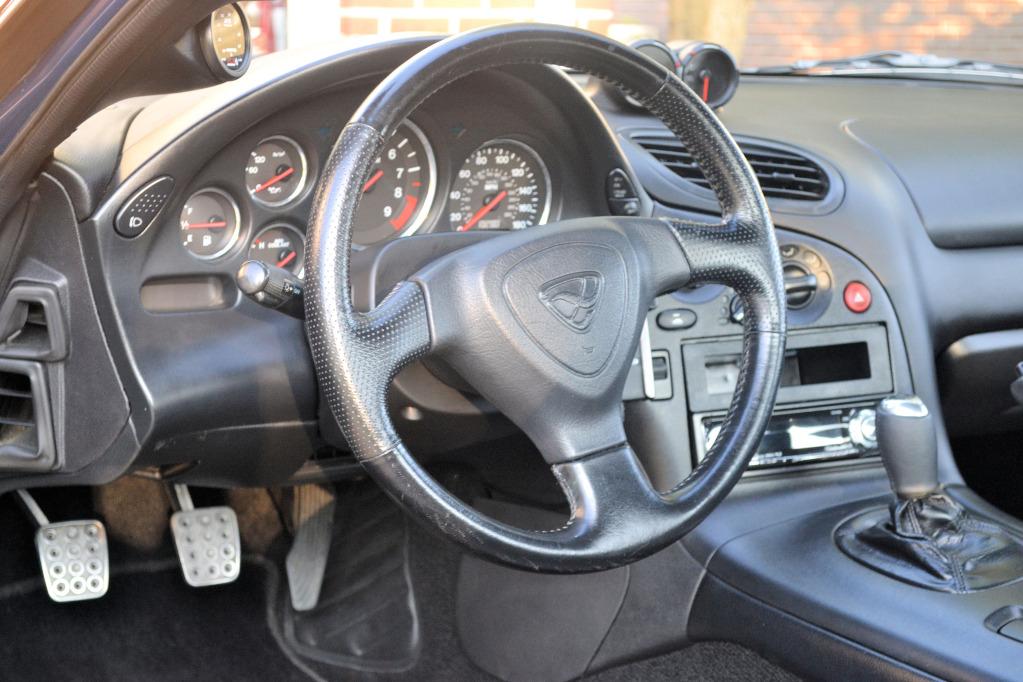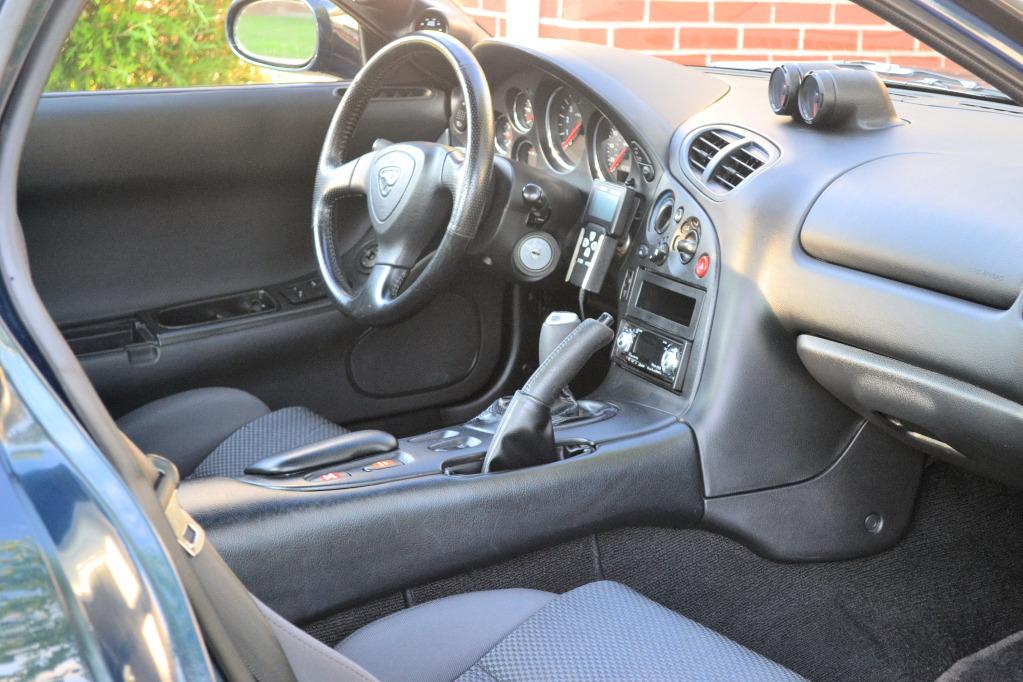 8-1-2012
Mazdaspeed hood came today. Fitment is fantastic, quality is on point. I don't like posting pics that are mediocre quality, but I couldn't resist snapping a few with my phone. The hood will be painted of course. Hi Res pics in a few weeks.
Heading to Disney World for a week, then the FD it gets tuned the day after my return!
Next update should be a dyno chart.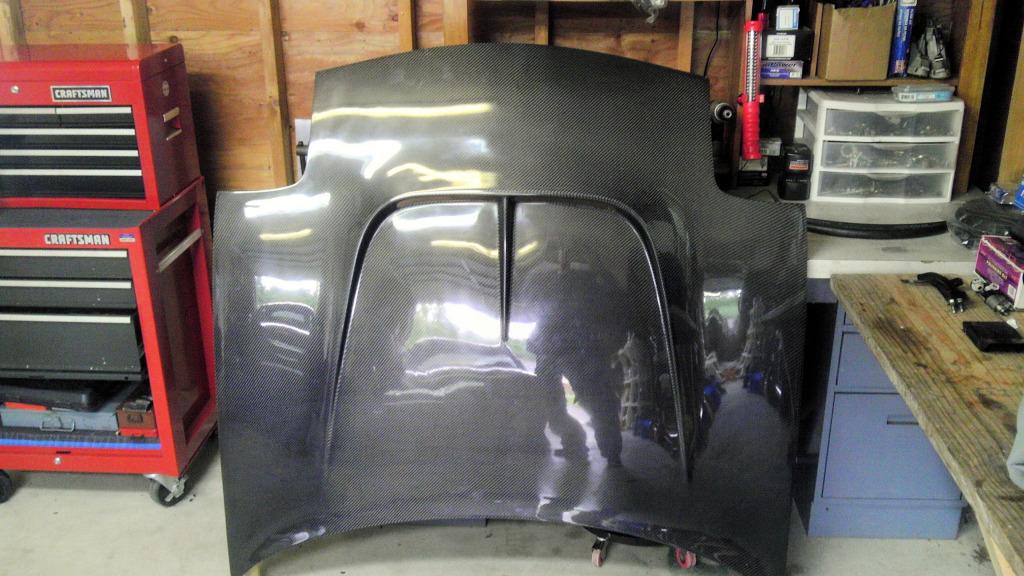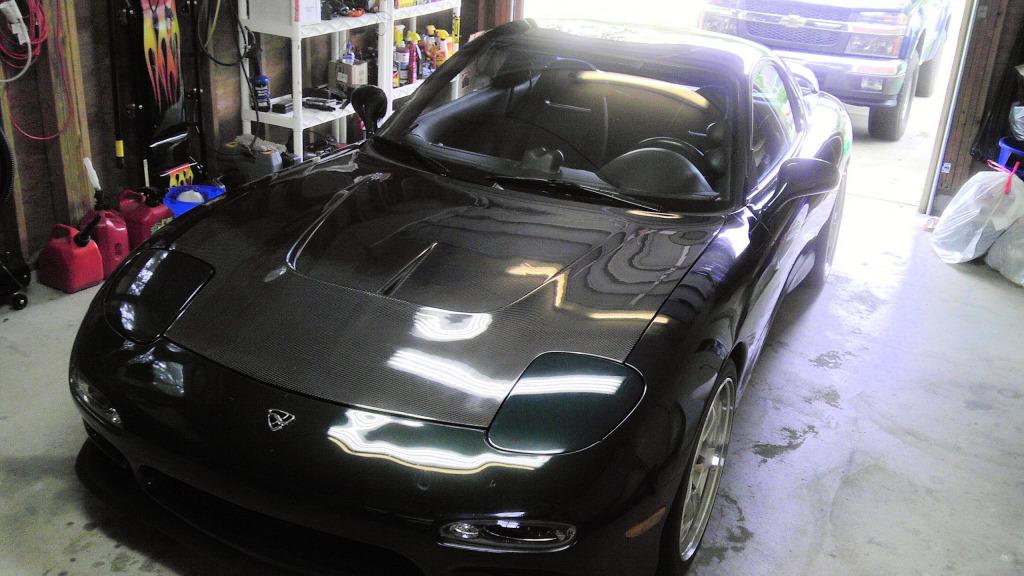 8-11-2012
Well guys..... the numbers are in and they are pretty disappointing.
401whp/ 326 ftlbs at 19psi. Yes.... that is right.
After looking at all the variables, we had a few issues. First, my intake temps were climbing a bit higher than they should. After only 1 pull, they would jump to 55C. Definitely not what should be happening spraying 500cc of 50/50. We suspected the WI system wasn't spraying as it should, but we were seeing the mixture shoot out the BOV during release. It didn't make sense. The cool side pipe should have been nice and cold, but they were still too hot to touch after only one pull.....
Dave & Brian are really sharp. We talked a bit about why the numbers are low. So it came down to three things... Engine compression, turbo issue, water injection.
So I did some poking around today.
1. Compression - Tested it today with a piston engine tester. Both rotors were identical. With release pin held I saw 60psi on all bounces. Pin not held, it built to 100psi. So the engine is healthy. Not amazing, but it is healthy. At this point, I will likely press forward with it.
2. Water Injection - I pulled the filter today and fully tested the system with my air compressor. A beautiful mist with no weirdness. Tested 8-20psi with no problems.
3. Turbo - Well boys... its toast. Compressor blades show no wear from the water injection. It spins freely, but the shaft play is sloppier than a **** star who just broke the gangbang record. I can almost get the wheel to touch the housing when moving it with my fingers. In fact, I noticed tiny metal shavings on the inside of the housing with a very slight scratch ring consistent with the wheel placement. Looks like it's a new CHRA for me.
I have another tuning session on the 25th. If I get my new CHRA in, I should see better numbers.
As it sits, I won't drive the car until it's replaced.
I did drive the car today before all of my testing. I flogged it around at 19psi and it felt strong. Another sign the engine is solid. But while driving I had a stutter at 5k during a 3rd gear pull. It got my attention so I started watching my gauges closely as I got back into it slowly. I immediately noticed my intake temps were around 35C and the AFR's seemed richer at around 10-10.4. In fact, temps NEVER climbed over 38C. Even after consecutive 3rd to 4th gear WOT runs, it stayed rock solid. This is definitely a far cry from what we were seeing on the dyno at 50-55C. There may be a slight air flow factor, but not that much. I don't have ducting on my Vmount yet either. Not to mention that the temps would climb on the dyno on the very first pull...
So my theory.... When I installed my nozzle I used a few drops of red Loctite on the nozzle ring. This ring holds the atomizer nozzle to the body. I used it to also mount the nozzle. With a rubber O-ring it keeps the nozzle tight on the filter body, and keeps me from having to weld studs on the body to mount it to the filter (Brent's method). So it's possible some Loctite seeped into the nozzle causing a blockage. I used washer fluid before I swapped engines so the system never saw the meth until yesterday. With this, it's possible that blockage was deteriorated by the methanol and broke through.
It would explain my instantly cold intake temps, and richer AFR's. With a new CHRA and some more time on the dyno, we should know immediately.

8-12-2012
Definitely. Once I get this thing sorted, I will be going back to them. Brian and I talked quite a bit. Dude knows his stuff. It's nice to have someone explain things as we go.
As it sits, I'm looking at 3 options.
1. Replace my CHRA with a 35R
2. Replace my CHRA with a GTX35R
3. Buy one of Turblown's TD61 or TDX61's and weld a T4 flange on my manifold.
Obviously, 1 & 2 are easiest. I can do it all myself and likely head back next weekend as scheduled. 3 is definitely the more desirable and definitely more power yielding. Welding the T4 flange on my manifold while still using the rest of my kit will require more skill than I posses. That means dropping my car off at Daves, and letting them fab it up.
#2 seems like it would be an upgrade, but I don't know how the small turbine and T3 will do with an upgraded compressor. I have yet to see a lot of results from the GTX setups on a T3.
I'm really torn... I PM'd Turblown for some insight. We shall see.
8-13-2012
I'm feeling pretty retarded right now.

I looked at my core and piping and everything is clear and clean. So after reading Ben's post, I decided to pull the waste-gate and look it over. BINGO!! After disassembling the waste-gate it was apparent that it easily stuck open. Carbon was badly built up around the upper part of the shaft making it stick in the open position. The shaft slid but it wasn't smooth at all. I cleaned it with carb cleaner and scrubbed it down. It glides like butter now! I also noticed a large gash in my diaphragm on the sealing side.
Tomorrow I will be calling Tial to get a new diaphragm, and swap my 12lb spring for a 15lb spring. I am pretty convinced that this was my problem the whole time. There is no telling how long it's been like this. It may have been working extra hard for the 15lbs when I originally installed it. I feel pretty stupid for not checking its operation and diaphragm condition during the new engine swap. I guess I overlooked it due to no apparent issues and only having a few days to get everything swapped over. Live and learn I guess.
As far as my turbo, I am still on the fence. Turblown mentioned, like my advice here, that there is nothing majorly wrong, but a new CHRA will be in the cards. I'm not sure if my overspooling damaged it or it will live on for awhile. I have yet to decide. Either way, his price on a replacement was unbeatable.

I am calling Tial tomorrow
8-16-2012
Yep, even 60psi on every bounce of both rotors. I suppose it depends on the compression tester. If some push valves vented more then others, it would leak more during a cycle. Just guessing of course. I also remembered that I didn't do the test right after driving. The car sit for about 3-4 hours and cooled down quite a bit. From my readings, this can make a big difference in pressure.
Hot & cold starts are excellent. No issues at all. Idles smooth and pulls around 15inches of vacuum.
According to Kevin Landers, it's good...
Rotary Resurrection home of the budget rebuild.
8) observe the needle bounces. You should see 3 in succession without skips, even bounces, in roughly the 30-35psi range.
9)let out on the valve now, and let the tester reach an overall compression value for all 3 faces(highest of 3 will be displayed). 115+ is like new, 100-115 is healthy, 90-100 is getting weak(1 year or less in most cases) below 90 could blow at any moment.
Hot & cold starts are excellent. No issues at all. Idles smooth and pulls around 15inches of vacuum.
8-24-2012
Tuning scheduled for the 1st. Car is running strong with ICE cold intake temps. Saw continual mid 30's temps with an occasional 28C.
I actually had a nice surprise while driving the other day. 100 ft from my driveway I press the clutch to shift and hear a loud pop as the pedal goes to the floor. In classic FD style I figured my clutch arm snapped and I would be pulling the tranny this weekend with parts overnighted from Ray. Well, turns out my Advance Auto slave cylinder's piston end does not quite fit in its place. It slipped out and popped like Vanilla Ice. No parts injured. Just a simple swap to an OEM part.
Paint coming soon, and 25psi on the horizon.
I also want to thank Ben from Rotary Extreme. He recently sent me the ducting patterns for my vmount. Another great example of a vendor taking care of customers over 2 years after purchase. Lovin it bro.
9-1-2012
Good results today. 454whp 390ft/lbs at 23psi. Car feels awesome. Not bad for 90F ambient temps

A new CHRA may be in the cards still. Bearings may be dragging a little. I plan to keep checking everything and run it as is for now. Overall, I am pleased.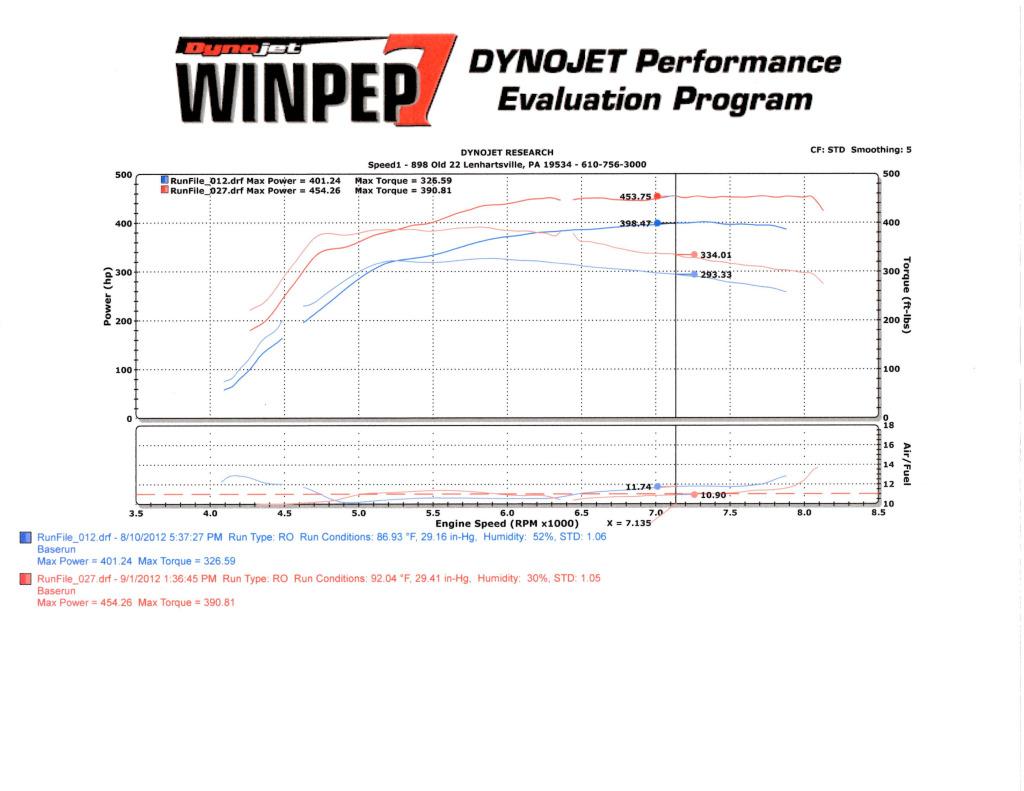 9-10-2012
Just picked up a HKS EVC-S. I noticed about 1psi of creep from 20F cooler temps last night. I've been putting off getting a proper EBC for awhile. I like the simplicity of a manual setup, but it just can't compete. Should help my already lightning quick spool and control things proper through the seasons.
With this, I also plan to revamp my gauge setup. I'll be removing a few and keeping the essentials. Eventually, I'll shift towards the PLX digitals.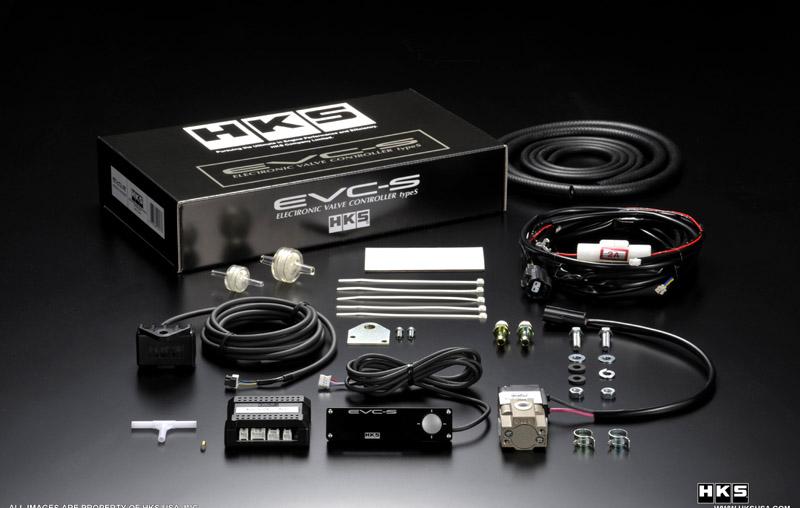 9-12-2012
Another goodie awaiting paint...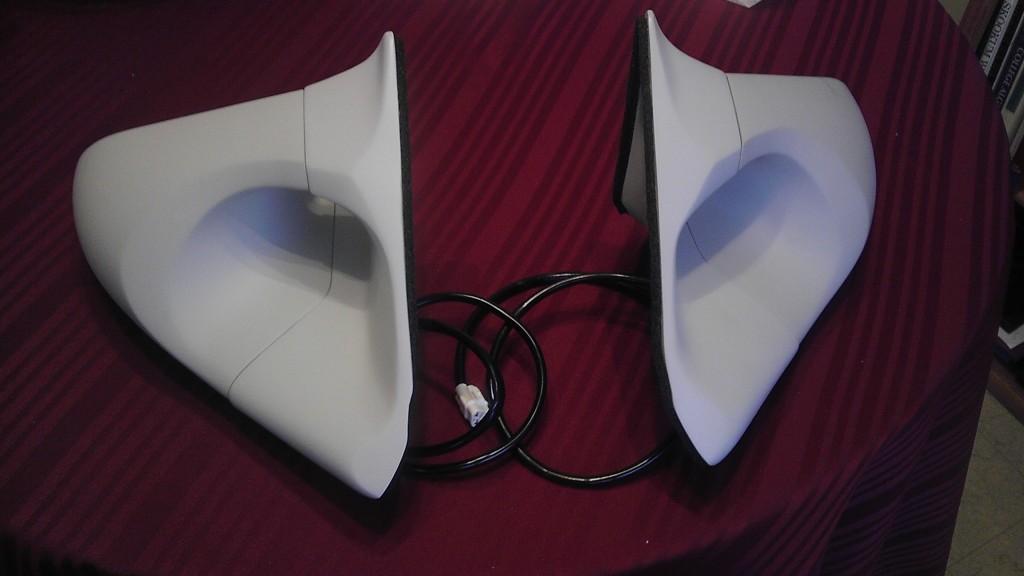 10-3-2012
Operation Detail
As the winter approaches, I have some big plans for the FD. Paint will be happening this coming Spring with the addition of my new body pieces. With this, I am going to finally finish my engine bay. The list will likely grow, but I have a relative idea of what needs to happen before the exterior is painted.
- Engine bay being painted
- Full wire tuck with Ryewire
- More Ceramichrome!
- Complete engine bay detail work. (painting, polishing, tucking, and cleaning EVERYTHING)
- 35R getting inspected and possible new CHRA
- Full ducting for my Vmount
- Quality security system
- Oled Commander
- All white lit LED gauges including OEM cluster.
- Getting my EGT probe in the manifold where it belongs.... duh.
- Datalogit so I can start fine tuning and DATALOGGING!
10-14-2012
UPDATE:
Started pulling the engine bay apart today. It should be ready to head to the paint shop by next week. Pulling everything off the bay walls and firewall for fresh paint.
Very excited to see my new body pieces installed with a proper base coat clear coat!!

As far as the bay goes, as mentioned I will be changing things up a bit. Not only am I trying to make everything as clean as possible, but more functional. With this, the intercooler is getting positioned for a more filter friendly setup.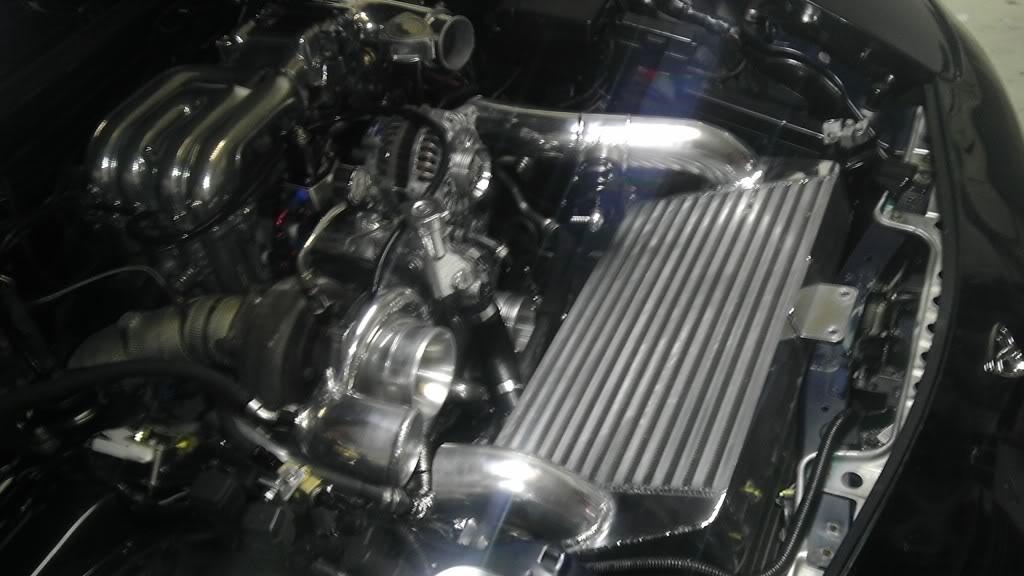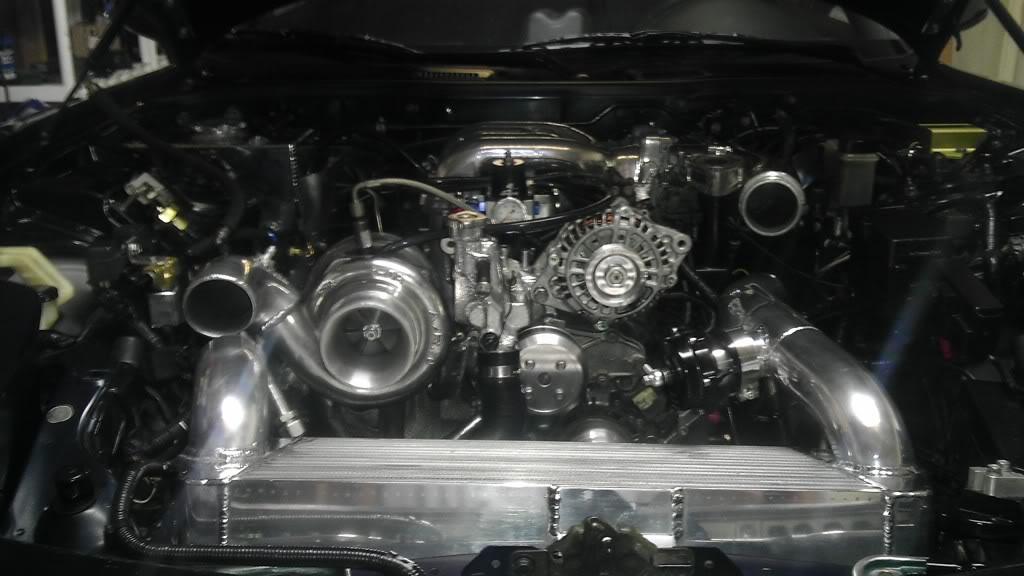 10-20-2012
Car is ready to head to paint. Stripped and ready to get a fresh coat

Lots of work ahead!!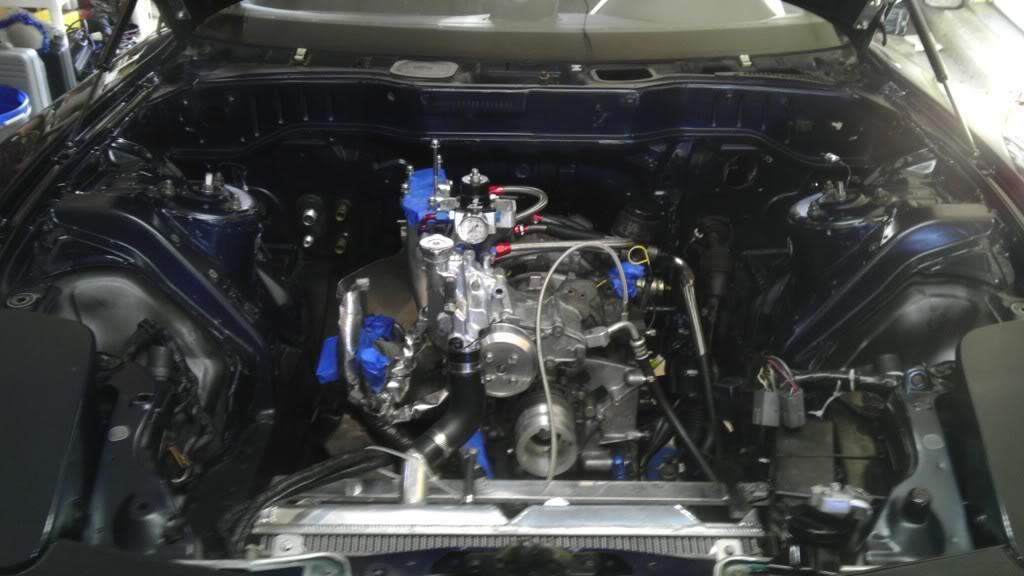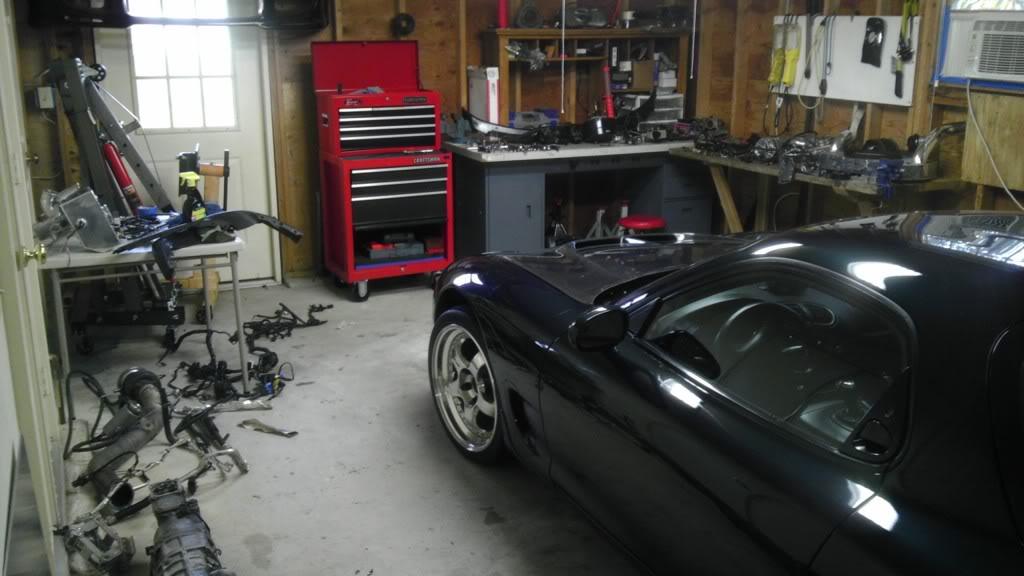 10-25-2012
Thanks guys!
It's at the paint shop as we speak. A few details of what is being done.
- Complete repaint of exterior, door jams, and engine bay in Montego Blue
- Anti-chip lower strip smoothed and removed
- Feed Type I bumper fitted
- Ganador mirrors fitted
- Antenna hole shaved
- Badges removed except Efini emblems
- New headlight lids
- New vent on driver side (missing the little grill. Pricey at $140 each!)
- New windshield
- Fenders rolled
From there I will be going to work!!
- New Rywire harness with integrated water injection wiring
- Wire tuck
- Vmount repositioning and add ducting
- Ceramichrome as much as possible (bolt heads, brackets, alternator, fuel rails, fittings, WI tank and coolant piping)
- New ported shroud for my 35R (should get at least 5lbs of air)
- Turbo inspected & possible CHRA replace
- Relocate EGT probe to manifold
- Rewrap header, and DP then paint with DEI 1500deg silicone paint
I'm sure there is more.....
Come Spring, it should be ROCKING!!
11-24-2012
Some updates...
Spoke with the body shop a few days ago. The FD is painted and it's being buffed and assembled. I will be picking it up next Saturday. I'm ecstatic to say the least.
My new turbo and manifold arrived a few days ago. I put my polished housing on it and snapped a few pictures. I ordered Rx7store's downpipe and plan to have a local shop plumb in the wastegate once I get an idea of how it will all go together. I also picked up a new T4 blanket on the club. All blue fittings will be replaced with black once and for all.
My T3 35R kit will be going up for sale soon.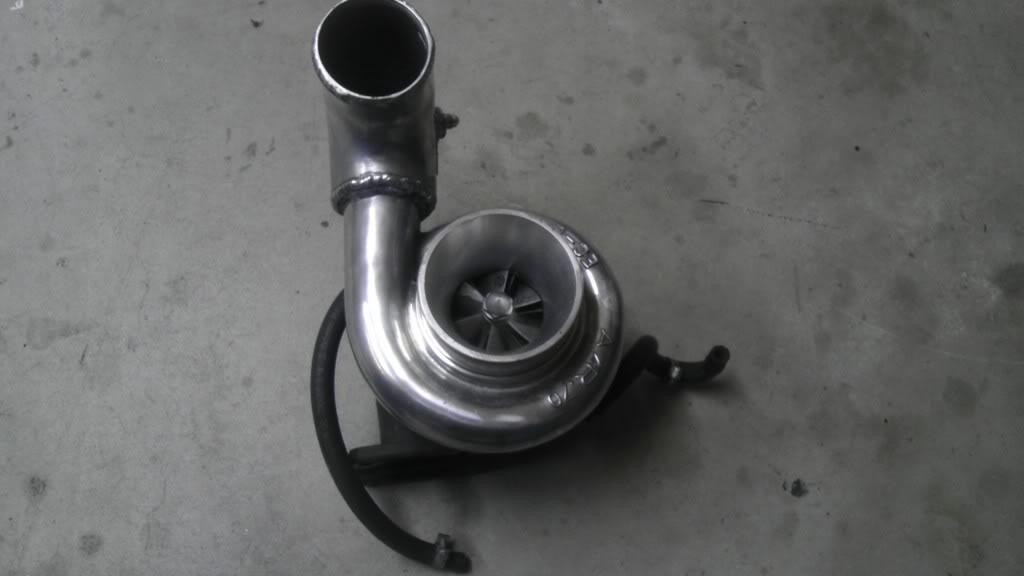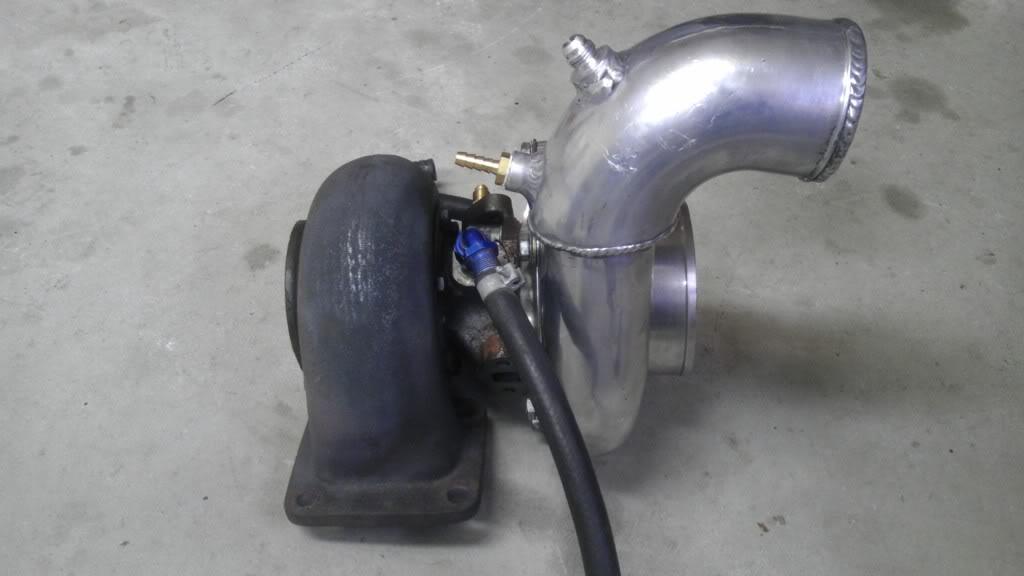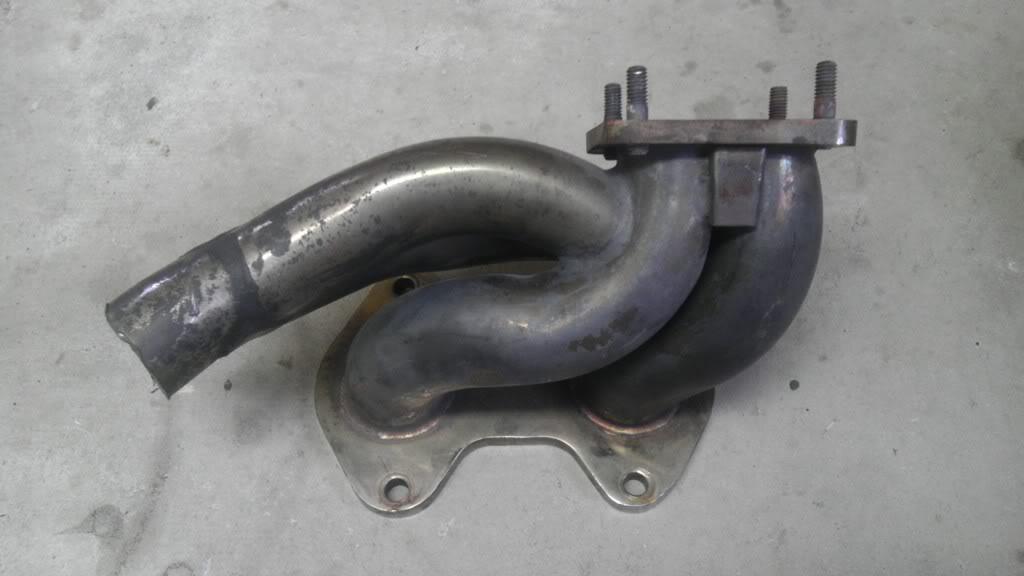 Also got my early Christmas present. Datalogit is on its way.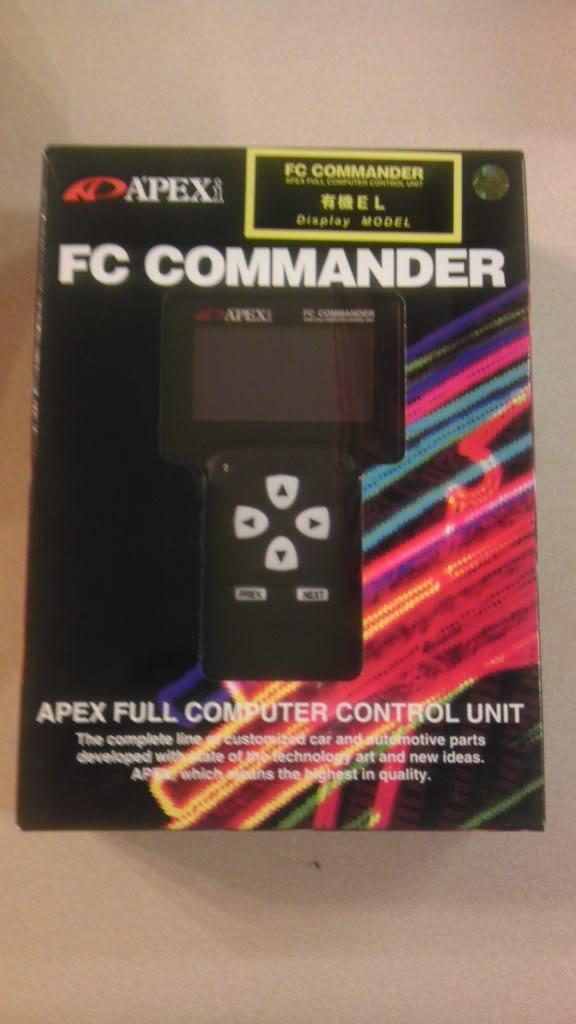 12-3-2012
Back from paint today. I am very pleased with the work that was done. A few touch-ups here and there. Need to lower my Vmount a little, and relocate my horn. The work was top notch. The front is a little high since the bay is gutted. Now my work begins...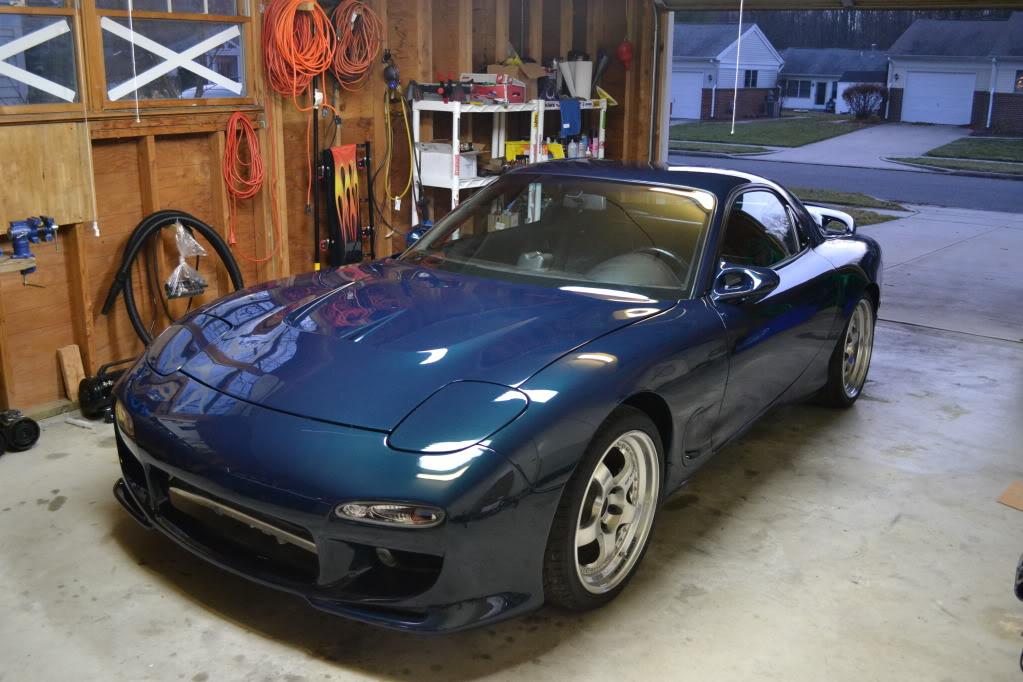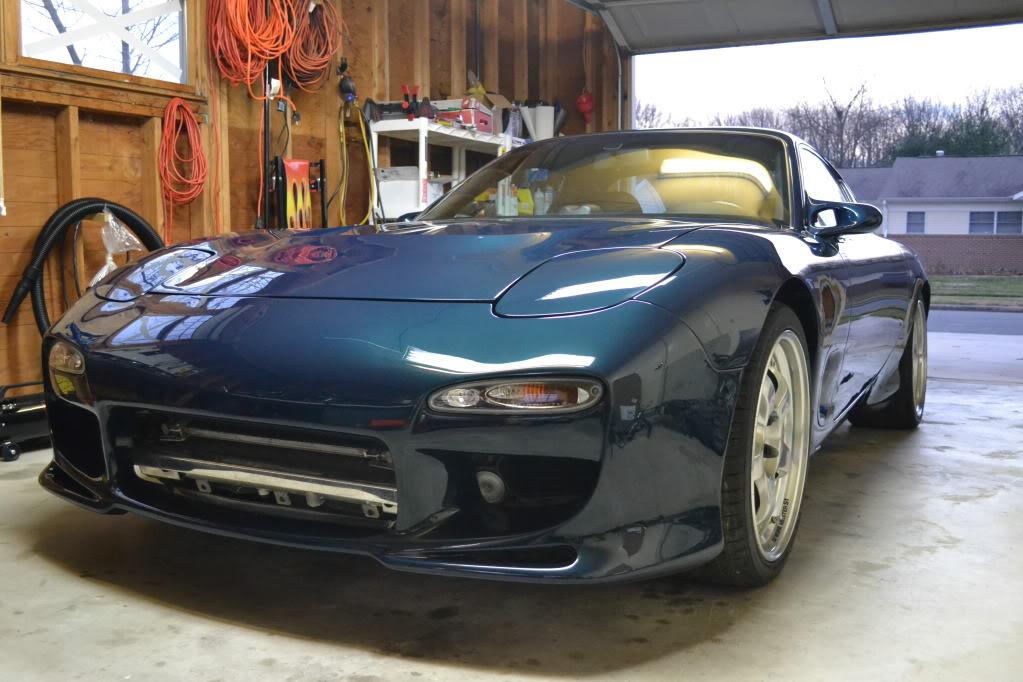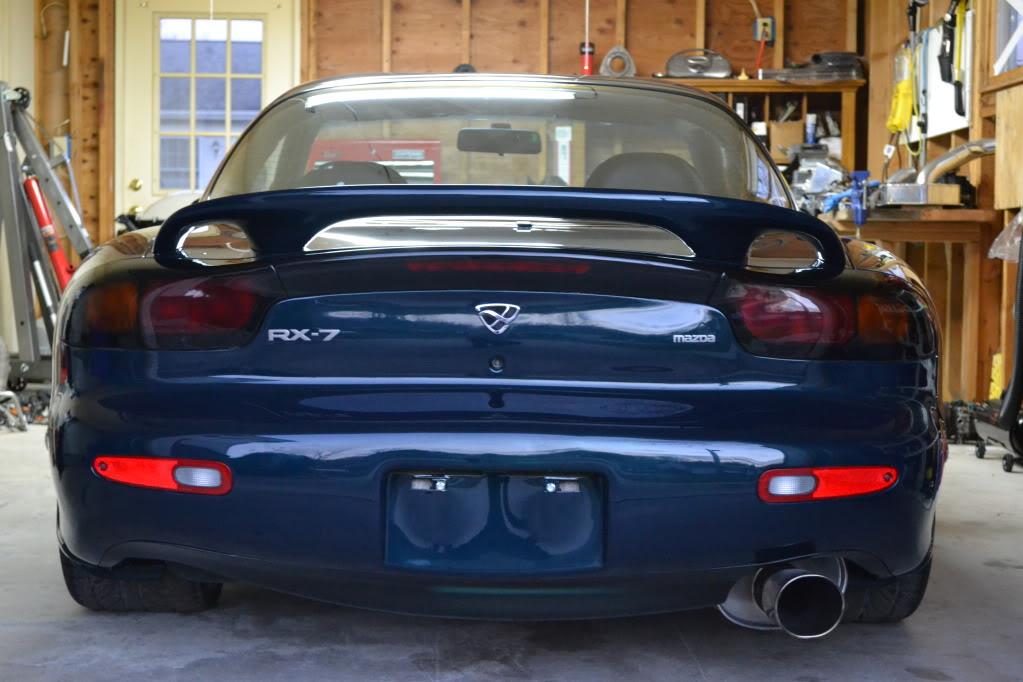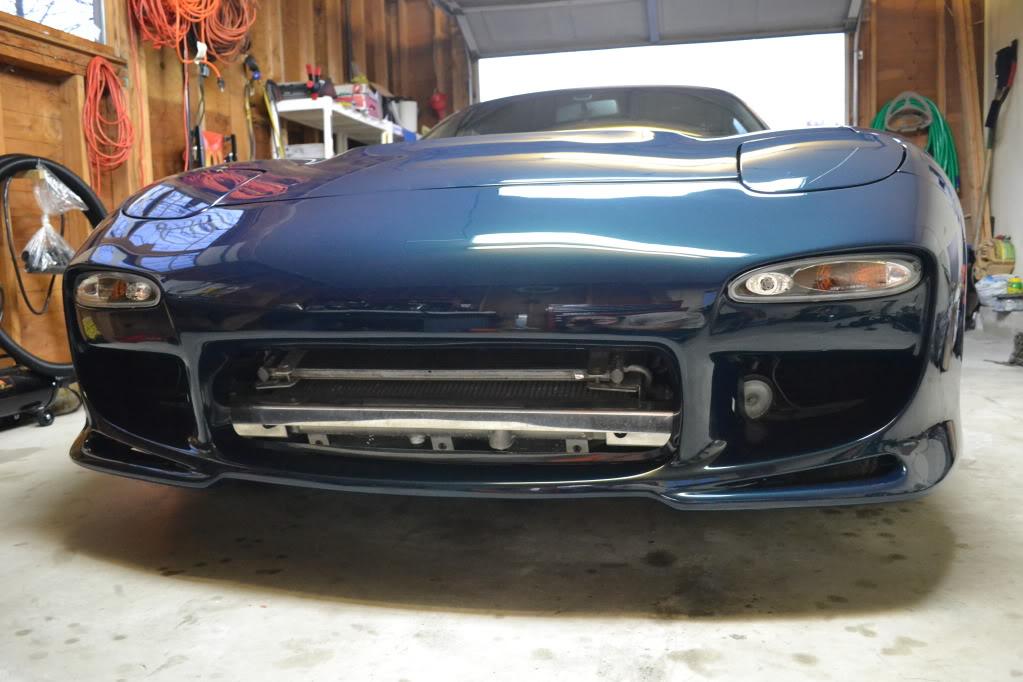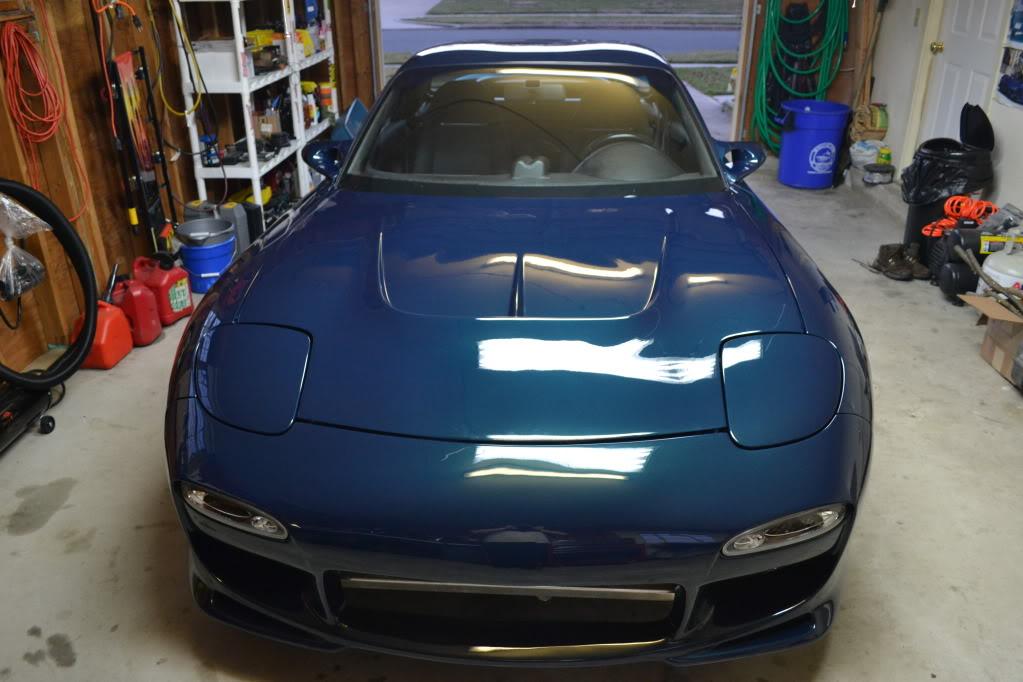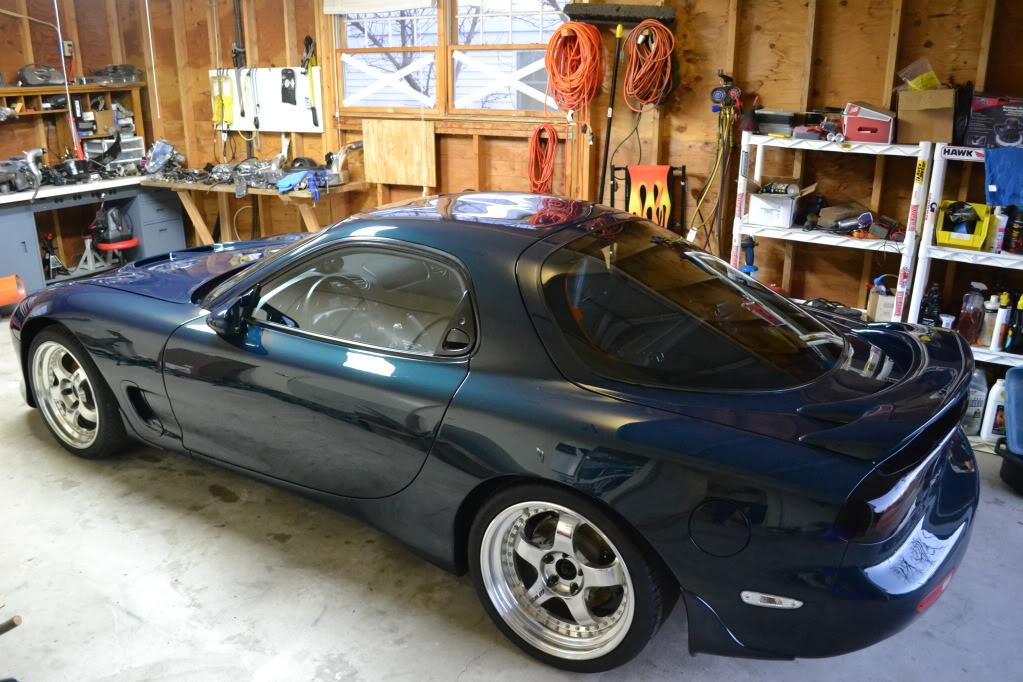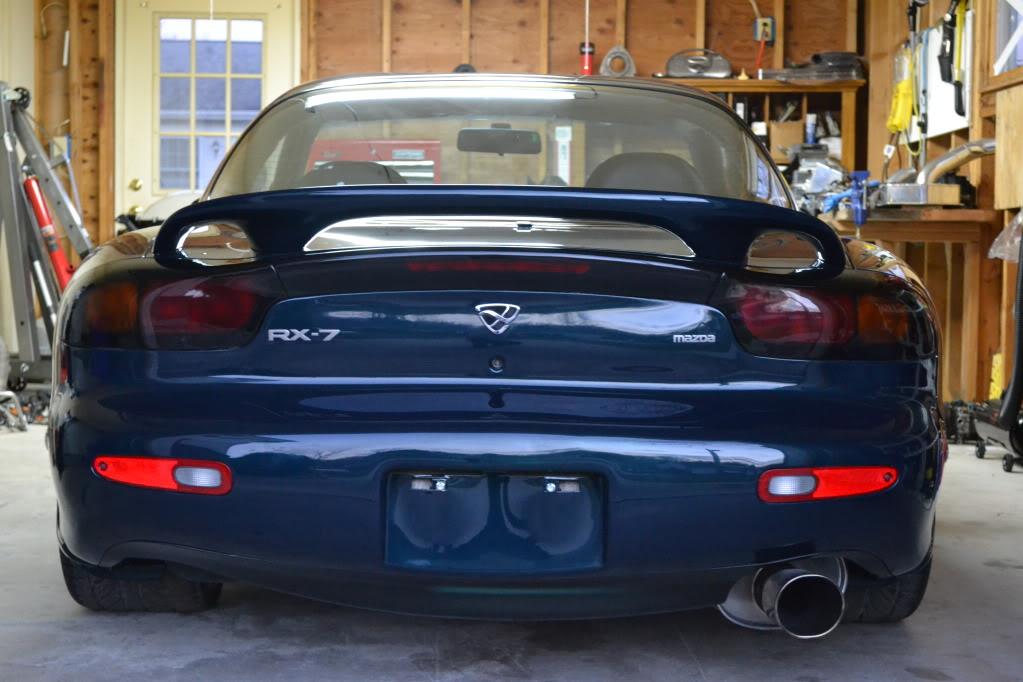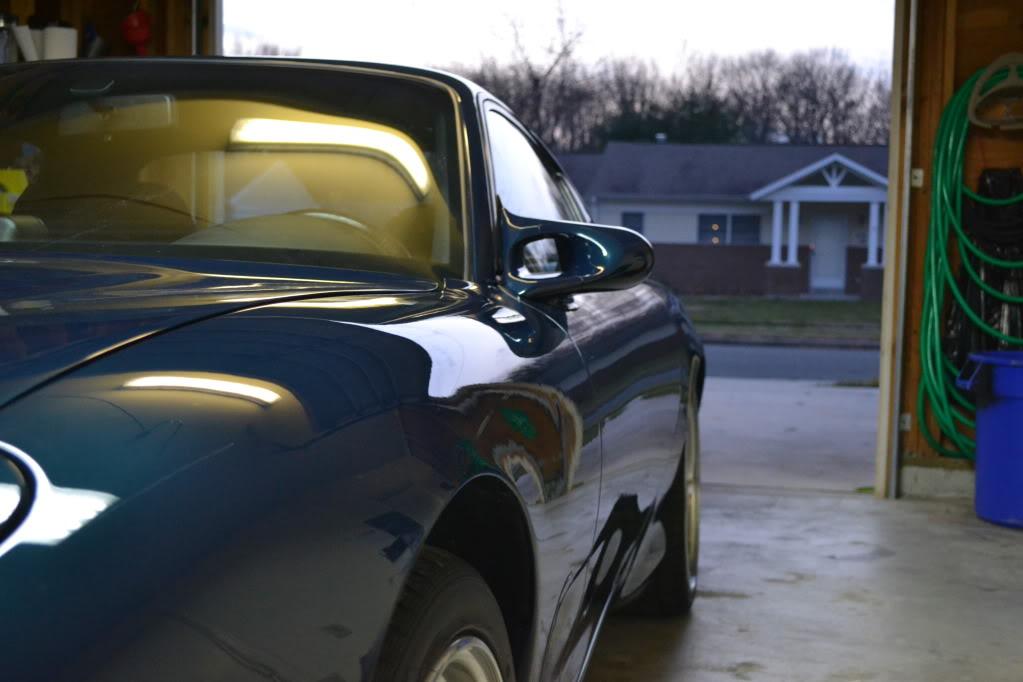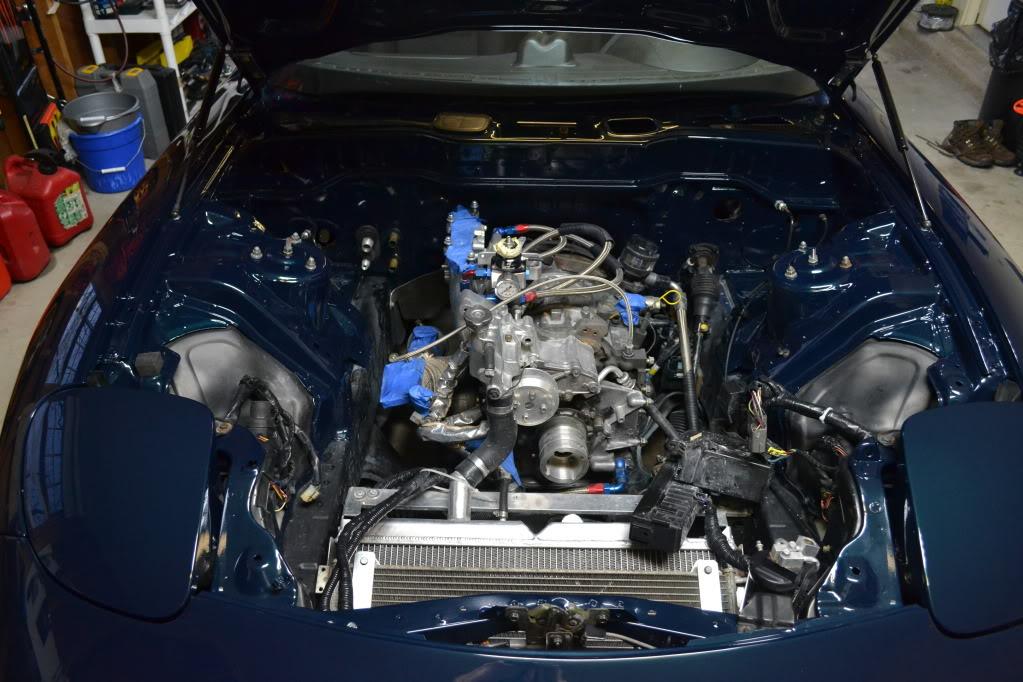 12-26-2012
I have been doing a few small things as I have been planning for the larger. Updates will come slow over the next few months as I will be in CA for all of January.
Painted Irons
With the bay and block cleaned back up from body dust, I wanted to take the time to paint my irons. I should have done this during the last engine swap, but I was on a time crunch. I definitely didn't want to spray inside the bay and masking everything back off just seemed like an unnecessary amount of work. So I used a cool little kit that I have seen on the shelf; the Dupicolor Ceramic Paint kit for Calipers. The paint from the kit just brushes on so it was pretty straight forward and easy to use.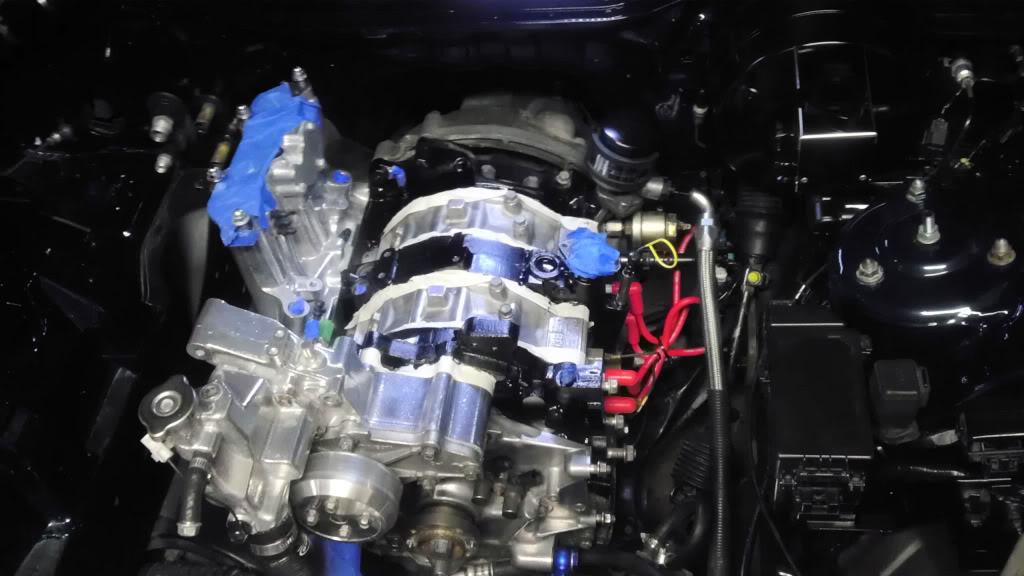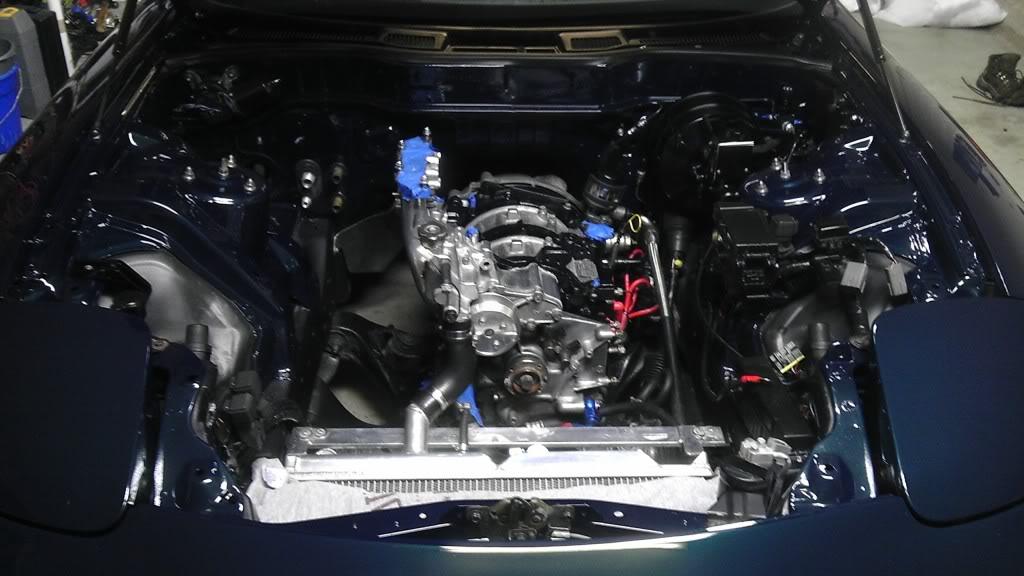 Relay Relocation
Well, I chickened out. After looking everything over, and doing some research, I began to realize a complete wire tuck was just beyond the scope of what I wanted to do. Many of hours of work to hide a few box's just didn't seem worth it. After all, I'm not really building a show car, but rather a car I like to enjoy and show off a little. On the passenger side however, the relays were easy to move down to a cleaner location. This will also give me more options as my water injection components are mounted on that side. Overall, I thought it turned out nice.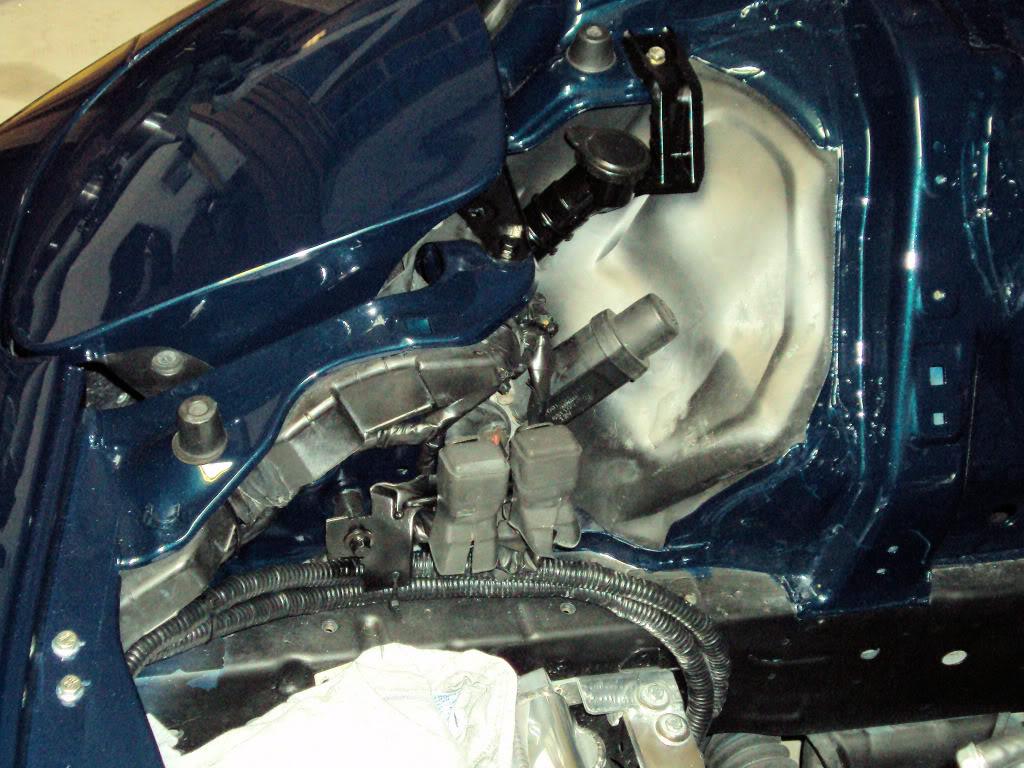 Engine Harness
I decided to strip the engine harness down and re-wrap it with proper heat tape. This also gave me the chance to shorten or extend certain pieces based on how I want to run it. It had a few wires left that I didn't need such as the power steering pressure sensor and the large ground that runs through it. I still need to finish it up.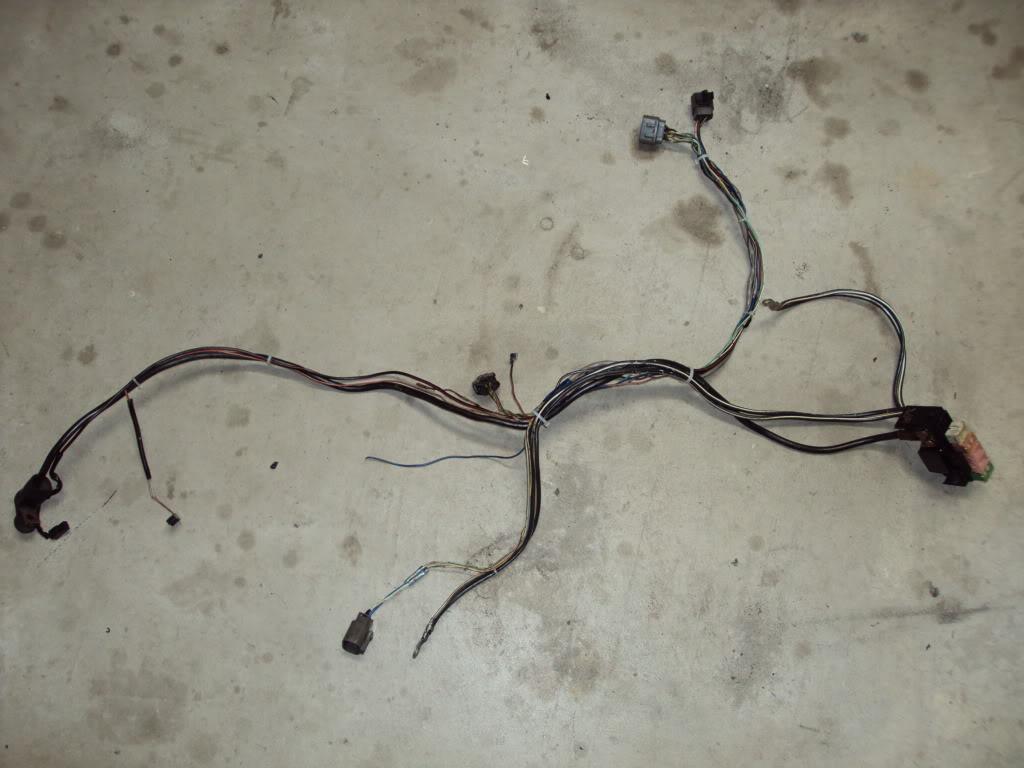 Black, Bling, and Brakes
I wanted to create a more complete color scheme this time around. My "polished & black" theme needed some work. As I started to assemble the brake and clutch components, I took the time to give them a nice coat of satin black engine enamel. I also found a nice place to tuck the Twin Power. You can also see my brake booster cover I picked up. I thought it was something neat and different.
With the brakes, I never liked my previous mounting location of the SBC Bias. It will now sit where it does in the pictures with steel fittings of course. I have yet to get it mounted up because I needed to have some more braided line made. This is Alex Rodriguez's ABS delete kit. Instead of running the long line across the firewall, I will be installing some bulk head fittings on each side of the firewall and putting the line through the interior. Again, trying to keep it clean. The rest of my fittings are on order, so I may get this done before I leave for CA.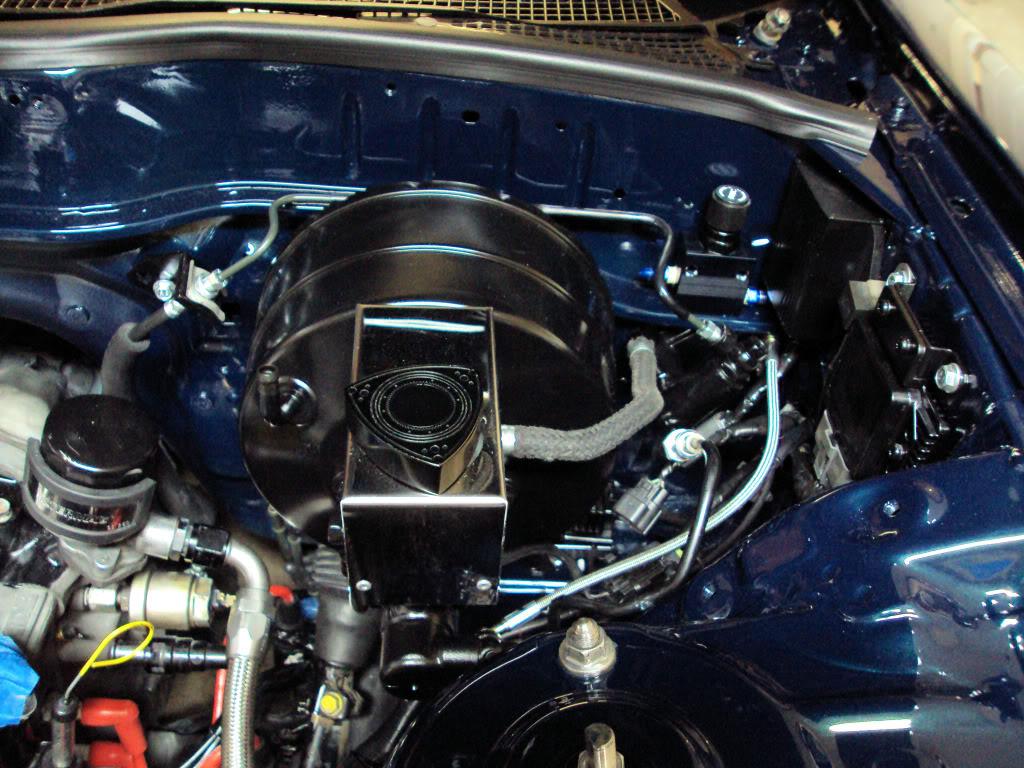 New Fuel System
I hopped the Full Function band wagon and got a set of their rails. I never had an issue with my KG rails, but I couldn't pass up such a great product. This also gave me a chance to use teflon braided line with Pushloc fittings. These are the same type of fittings I used with my water injection and I really like them. I will be utilizing Otiker clamps on the fuel lines. Again, still waiting for a few fittings to make it complete.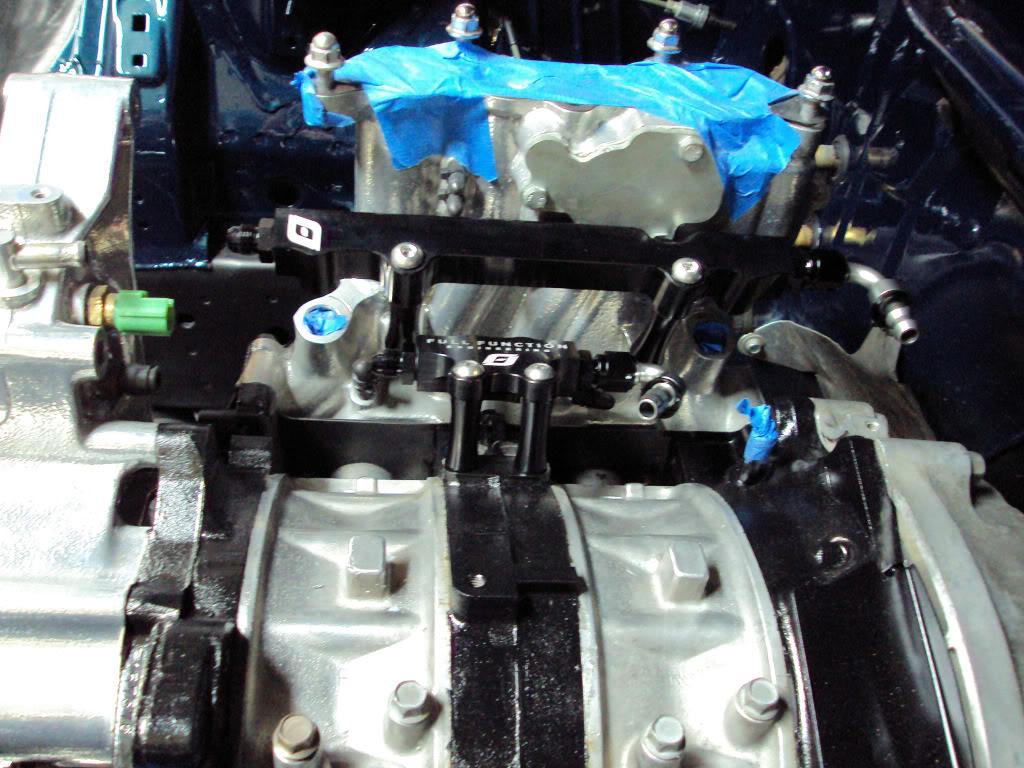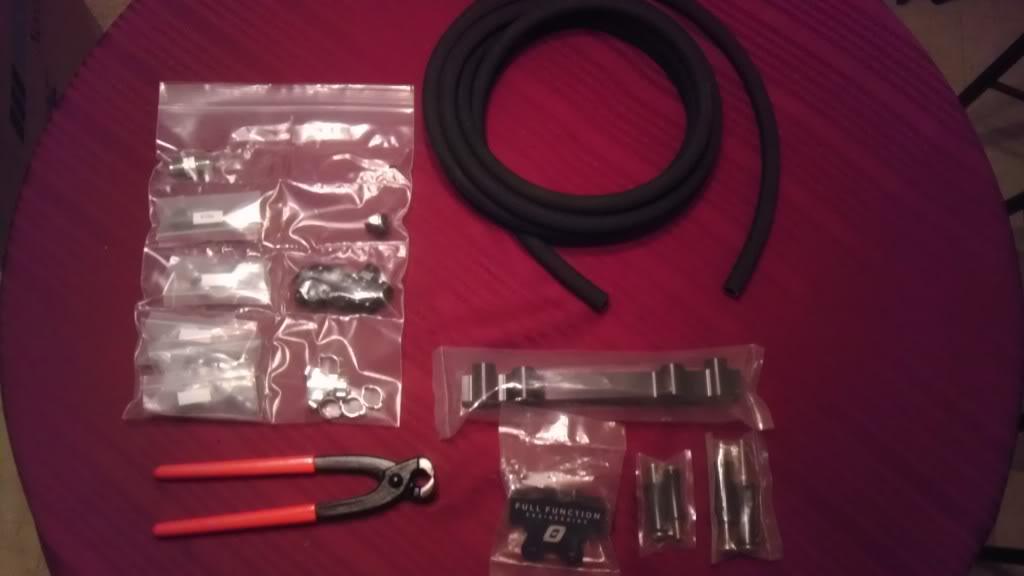 Rywire Milspec Harness
Once I spotted this harness from the thread started back in August, I knew I would be getting it. Whether I stay with the PFC or move to a Haltech, having a fresh harness is always a good thing. The fact that this harness is milspec wire is just icing on the cake. Ryan was really nice to work with and he tailored the harness for my needs. No more pigtails for my EV14 injectors or fast reacting IAT. It also included extra wires built into the harness that will be used for my water injection. It's a very well done harness!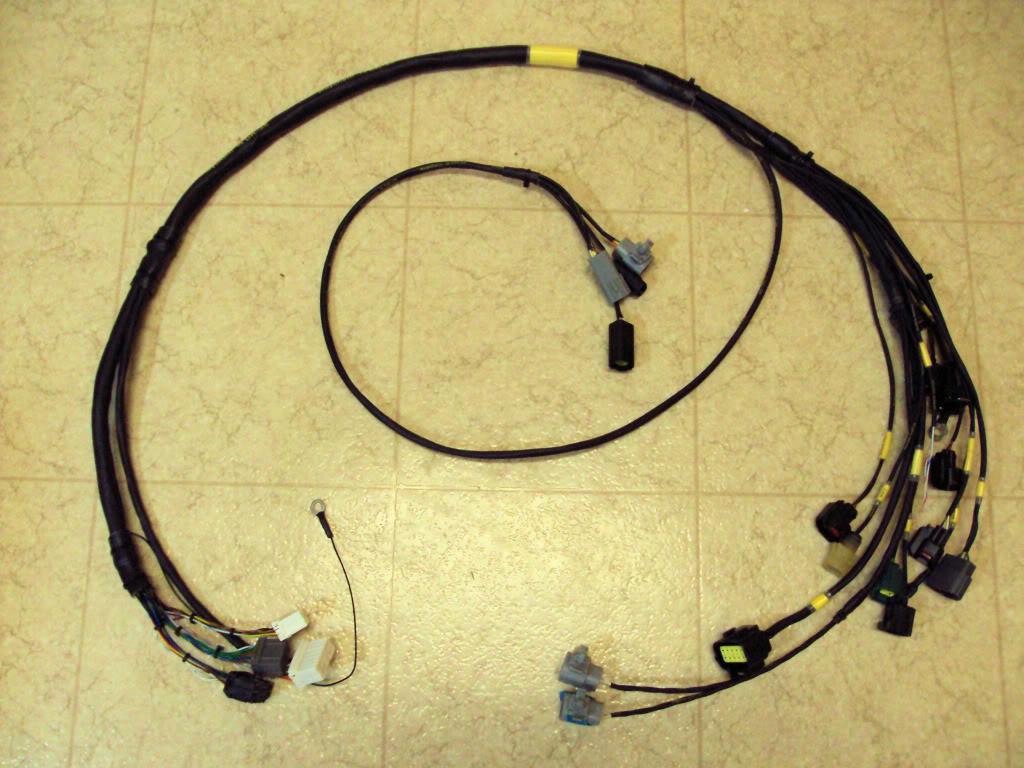 That's it for now.... Much more coming soon! I pretty much have everything already planned out. Just keep chipping away.
1-28-2013
I've been in Fairfield, CA all this month so there are no real physical updates to the car. However, my temporary relocation did bring a nice surprise. I got to spend some time down at Rotary Extreme in Union City to observe and even participate in some of Ben's recent R&D for his newest designed Vmount kit.
Being a relative long time customer, when he told me he had some great ideas for what is to be his final redesign of the Vmount kit, I was all ears. My initial reaction was that the more slanted angle of the intercooler would help my obvious space issues. But, there was more sweetness that I didn't know. He has relocated the condenser to the backside of the radiator allowing the radiator to get full blast fresh air, while the condenser still gets pulled flow from the fans while the AC is on.
I got a chance to see the setup work on his R&D car, and I I gotta say, I was impressed. Overall fitment looked great. As our condensers get pretty grubby from use, it was nice to finally see those red and blue Koyo lettering, and the signature polished radiator core that RE provides. The condenser now remains completely hidden on the backside. Custom spacers allow the fans to mount in the OEM position. The overall drop of the system was no lower than the sway bar. Overall, a very slick design.
I even got a chance to drive his FD to feel the A/C efficiency. While driving, the change was invisible as the system was very efficient. The system only began to slightly heat soak as he let it sit and idle for 15+ minutes. Though still cool, it wasn't "as" cold. Granted, this is pretty much the nature of all AC systems. Additionally, his car is a 95 with the wonderful 134a we all love. I look forward to giving my system a charge of the renowned champ ES-12 with this design.
There were quite a few other upgrades including a powdercoated intercooler mounting frame, and included ducting. I'm sure Ben will chime in with more details as the kit comes to fruition.
Overall, it was a really cool experience getting to see the company first hand, and meeting the owner. I look forward to bolting on my new shiny parts

.
5-12-2013
Finally time to post up some updates....
WIRING
Just when you think you're done... there are more things to wire up! My "tuck" turned into a combination of fuse box relocation and some wire tucking. Overall, I am pleased with the result. As I mentioned, I was debating on moving the box to the rear, or bin, or the roof

. Somewhere other than its ugly stock location. What I decided was hopefully the best of both form and function. I relocated the boxes to the lower frame rail. I then routed all engine side wiring through the fender and back under the brake booster. It turned out pretty clean, and didn't unnecessarily extend wiring through the car. With my Vmount, and upper custom shroud, they will be quite hidden.
The Rywire harness turned out great! clean and easy to install!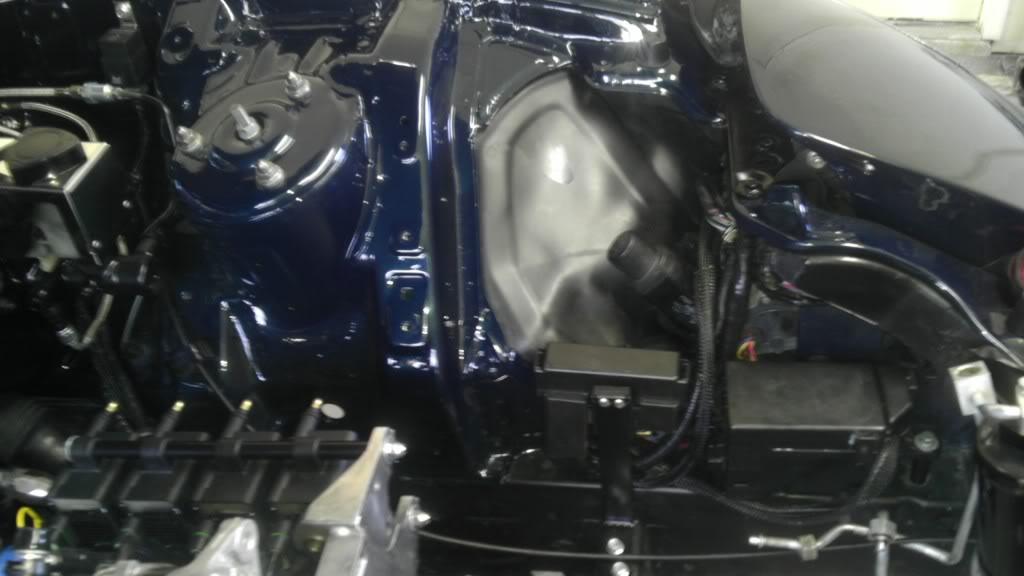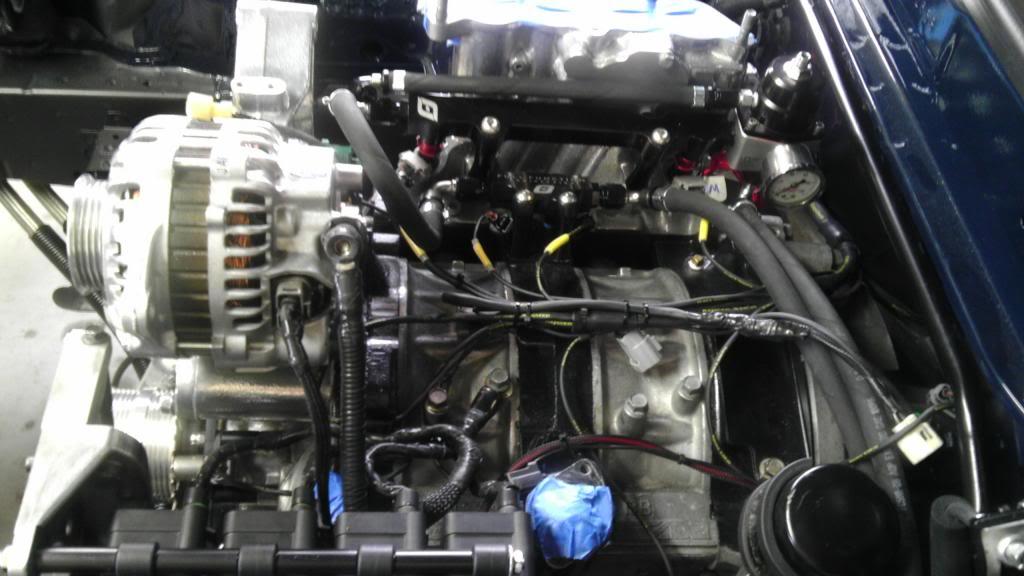 FUEL
The fuel system is pretty much complete. I used Pushloc fittings with Otiker clamps and they turned out well. I have tested the system up to 75psi without a single leak. It's amazing how much easier it is to work with those FFE Rails. On the pump side, I do plan to replace the factory plug with a higher amp aftermarket. I have yet to have issues, but I have seen some of them melt causing nasty effects.
I decided to mount the FPR to the secondary rail. A trick I picked up from the Sake Bomb boys

. It worked out very well and clearance was not an issue with the factory manifolds and FFE rails. I did have to use a 120 fitting on the return, but everything turned out great. Thanks Dan & John for the idea. I am still running a series system as you can see, but I have no doubts that it will perform to my expected power level. Yes, the little blue injector spacer is black now

.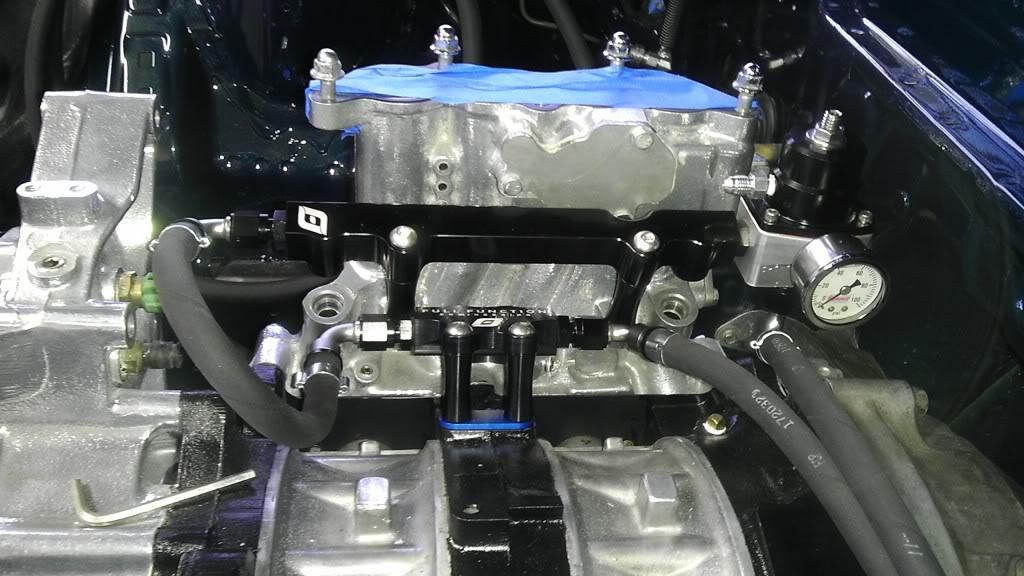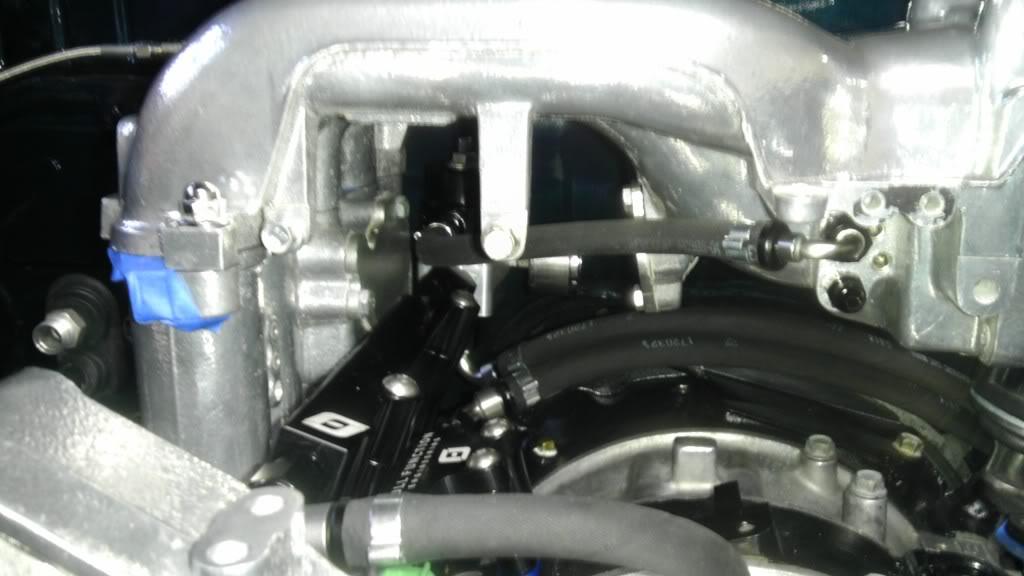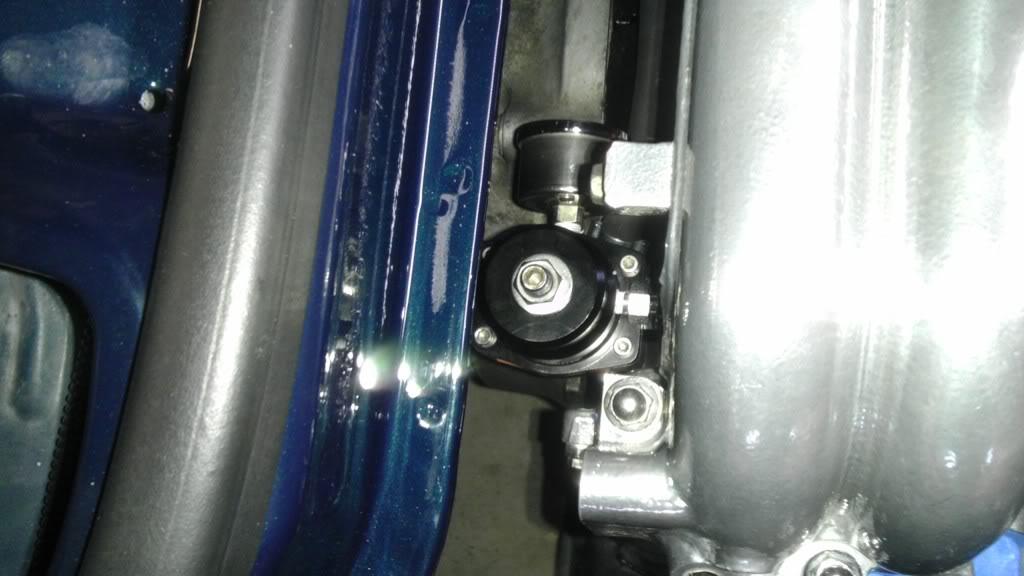 ECU
I received my new Adaptronic Select ECU and started playing with it right away. As I have probably mentioned, I am not a tuner. Thus far, I like the ECU. The features and setup are pretty straightforward. With the Adaptronic I wanted to do a few things differently.
- Dual EGT logging and a new wideband: The Adaptronic has Serial input/outputs and workes very well with the Innovative wideband. During closed loop tuning and adaptive learning, the wideband self checks the sensor for accuracy and reports to the ECU if things are off. This triggers open loop before the map is edited wrong, or bad things happen. Innovative also has an EGT thermocoupler module called the TC-4. Like most serial devices you can piggyback them into the ECU for logging or viewing.
- AI control, boost by gear, direct fire, and traction control:....OH MY! A few of the features of the Adaptronic are pretty sweet for a plug-in ECU. I setup the ECU to control boost via a MAC solenoid, as well as controlling my water injection solenoid. The boost by gear will take some time to setup, but will likely prove useful considering my power level and traction issues. I also switched to AEM coils with direct fire that I will outline below. As far as traction control goes, I'm not there yet. This will likely be a coming winter project as I start to get the car sorted out, tuned, and laying down rubber. Nonetheless, pretty exciting to see this feature.
- Adaptive Tuner: This is a pretty cool feature. Essentially an Android App developed by a savvy enthusiast. It interfaces with the serial connection of the ECU via Bluetooth, and displays engine metrics, and adaptive learning flags. As updates have been released, we can now edit the fuel map via smart phone.... Pretty neat.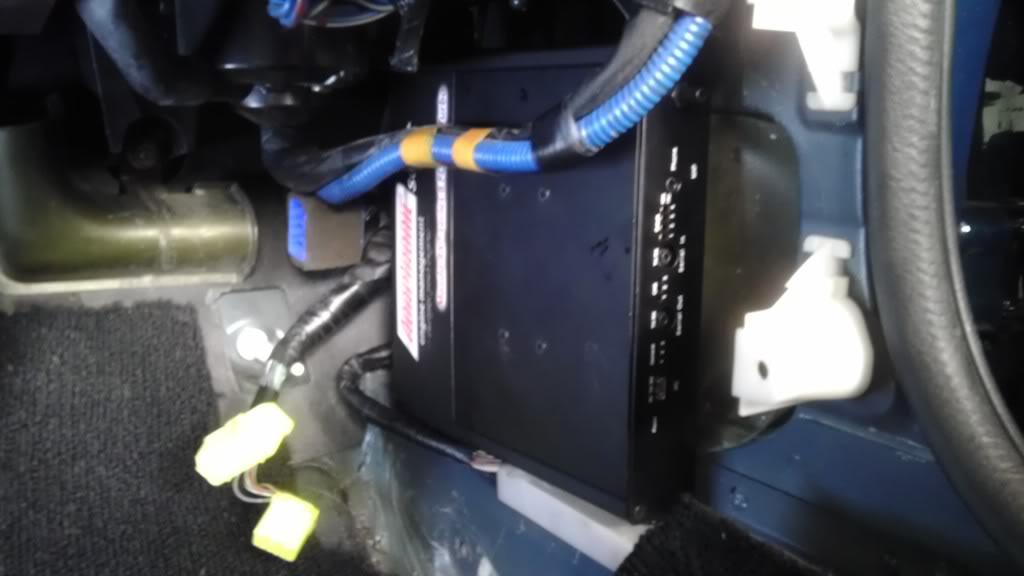 The bluetooth dongle requires 5v for power. How ironic the TC-4 has a 5v output for sensors.

GALAXY PAD
As I once again began to look at my gauge options and knowing I would be putting a better stereo in, it really fell into place. I had a decent array of Defi gauges that worked well. But with all of the sensors and added interior affect I was looking for a cleaner solution. I have been following Adaptronic's updates on their PLX gauge integration. Not to say I will not put a single column PLX DM100 gauge in later, but we will see how it works out.
The Pad install has been going well, though not quite finished. My video below outlines the updates..
DIRECT FIRE, FFE, and AEM COILS
Like others, I made the move to AEM coils. The Adaptronic has the ability to utilize the FFE trigger kit, and direct fire ignition. My previous coil setup performed well with the HKS Twin Power, but I wanted to upgrade anyway. My mounting solution turned out pretty well I think. The coil bracket holes are spaced identical to the power steering brackets....go figure. With some spacers from McMasters, and a set of custom wires from Magnecor, I am in business. I do plan to add a support bracket to the rear of the coils. As you can see, they are counter hung from the bolts. Though very solid, I think a support bracket is in order.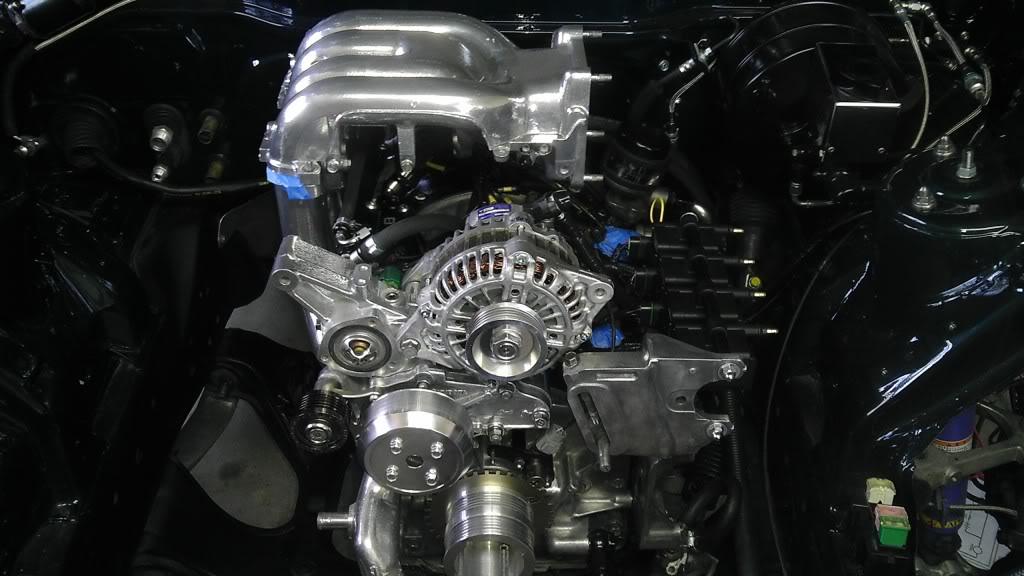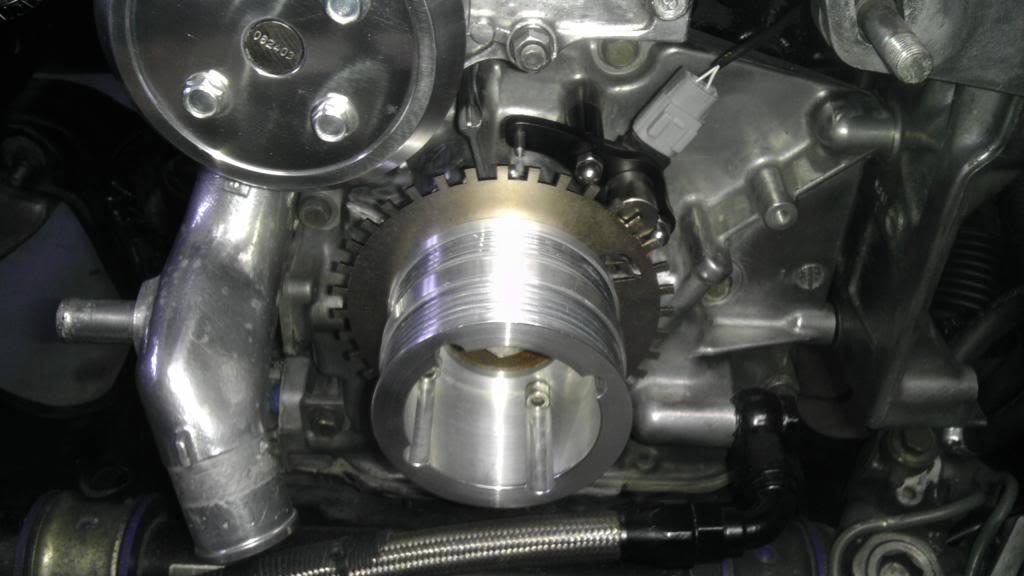 BETTER FLOW!
With my new power goals, I had to get the entire hotside sorted out. The T4 Ptrim 1.15ar 35R was a step in the right direction. So I bit the bullet on a proper manifold setup. I am awaiting my dual wastegate Turblown manifold and 4" downpipe. Pics coming soon. My plan has been to go with a full 4" exhaust. Of course, this represents a problem with actually having it made, making it myself, towing the car to and from a shop, and all the problems that present themselves with a custom piece. I recently stumbled onto a 3.75" Greddy Race exhaust and I didn't think twice on clicking the "Buy from Goodfella" button. For those that don't know, this exhaust was discontinued quite some time ago. The mid section has even been modified to fit a 4" vband downpipe. Magical...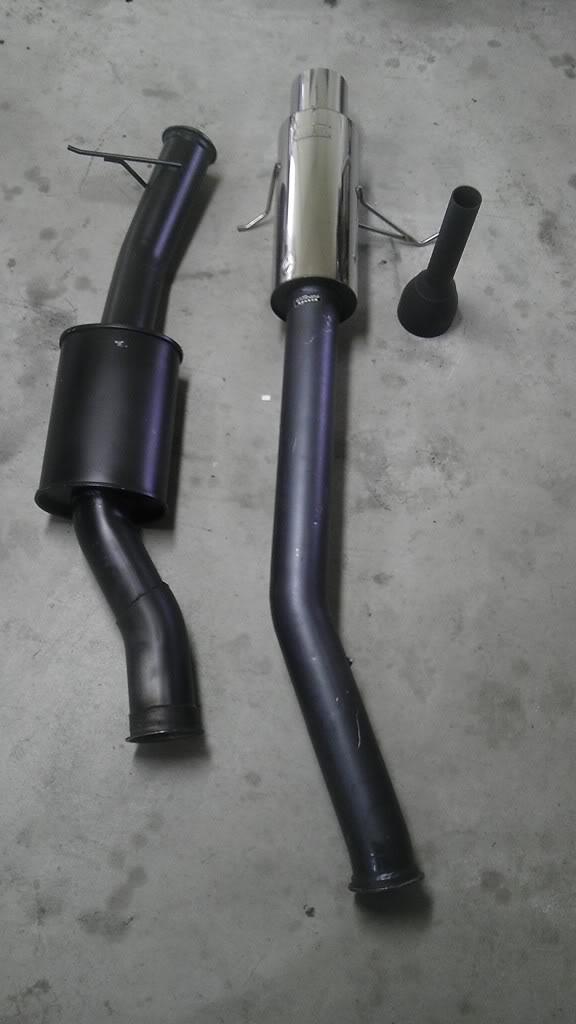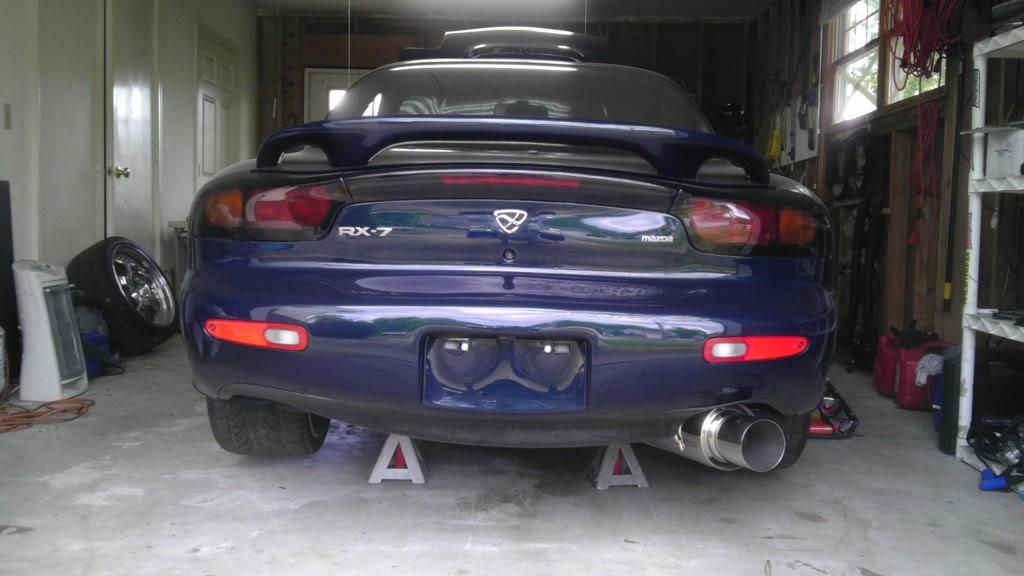 More updates on the way.....
- More ceramichromed parts
- More wiring
- No more silicone vacuum lines... ever.
- Rotary Extreme's NEW Vmount design!!
- WI revisions
Thanks everyone!!!
5-18-2013
5-24-2013
Throttle Body
I decided to keep the stock throttle body. With my power goals and the majority of driving on the street, I felt no reason to upgrade. However, a little beatification was in order. I re-polished as much of the body as I could reach. Then, based on a recommendation used Testers enamel paint to carefully paint the linkage. No contact or pivot points were coated, so the operation will remain smooth. I think it turned out pretty good.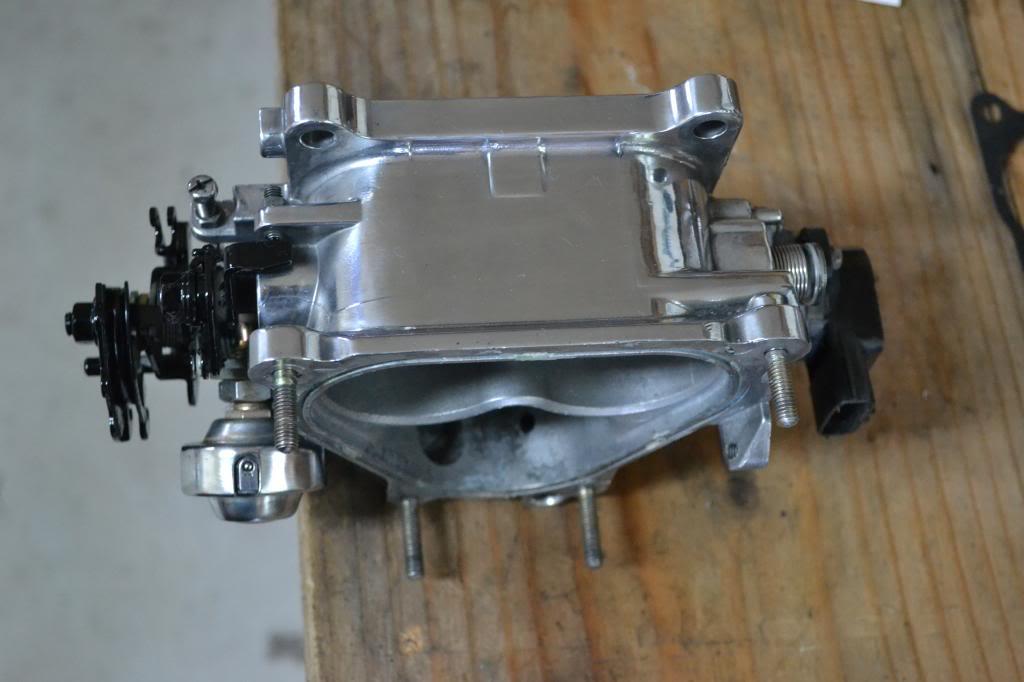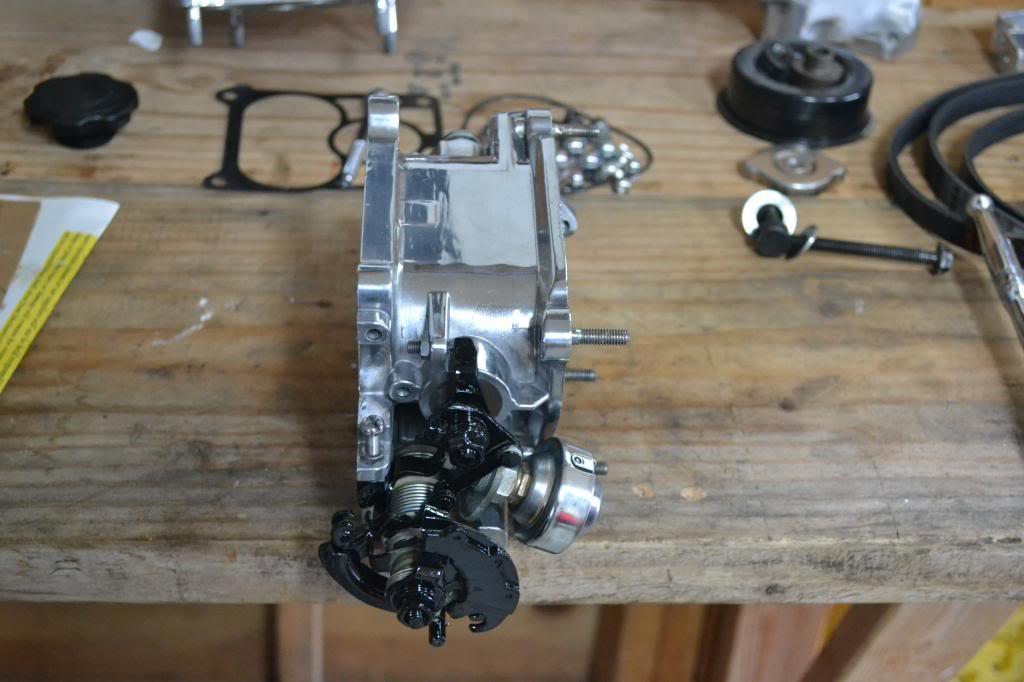 Misc
Intake manifold is almost ready to be bolted up permanently. I have one more AN/Pushloc line to run. I am using the Adaptronics internal MAP sensor, so I need to run a line through the firewall. Holding true to my "NO more silicone vacuum lines", it is the last -4 line to run.
I have also chosen to run Aeromotive Stealth dual pumps. It may be overkill, but that is fine. After calculating flow, I feel the Stealth just barely handles 500whp. A second will keep everything happy, and should satisfy a switch to E85 if I ever choose. Fittings, wiring bulkhead, and spare pump are on their way.
Lol... I don't know about "above all others", but not bad for this WV boy.

The Testers paint seems to work out pretty well. There are plenty of small things in the bay I will touch up with it. It was used on advice by a man that powder and ceramic coats for a living.
With the dual pumps, I thought it was extra insurance. My original plan was to incorporate a check valve on each branch of the Y-block. This way if one of the pumps failed, it would carry the other. However, I have had a hard time finding a compact enough unit to fit with the assembly. With an open Y-block if one pump failed it would bleed off the pressure from the other. How much, I do not know. A single Stealth has been proven to around 530whp, so I wanted to use a dual pump setup as insurance really. I will likely do further research and see how everything fits when I start to mock it up.
6-1-2013
Ceramichrome
I have to say that I love this stuff. The engine is coming together as my parts are starting to come back from being coated. Getting very close to just needing my exhaust manifold and Vmount. My fuel pump components are in and I plan to tackle that tomorrow.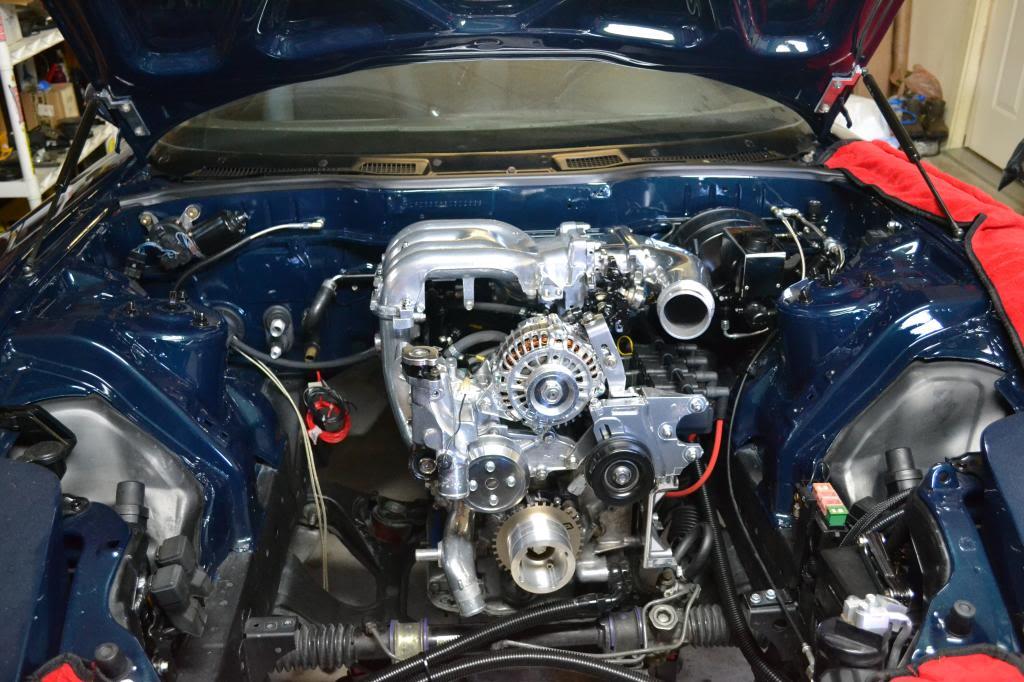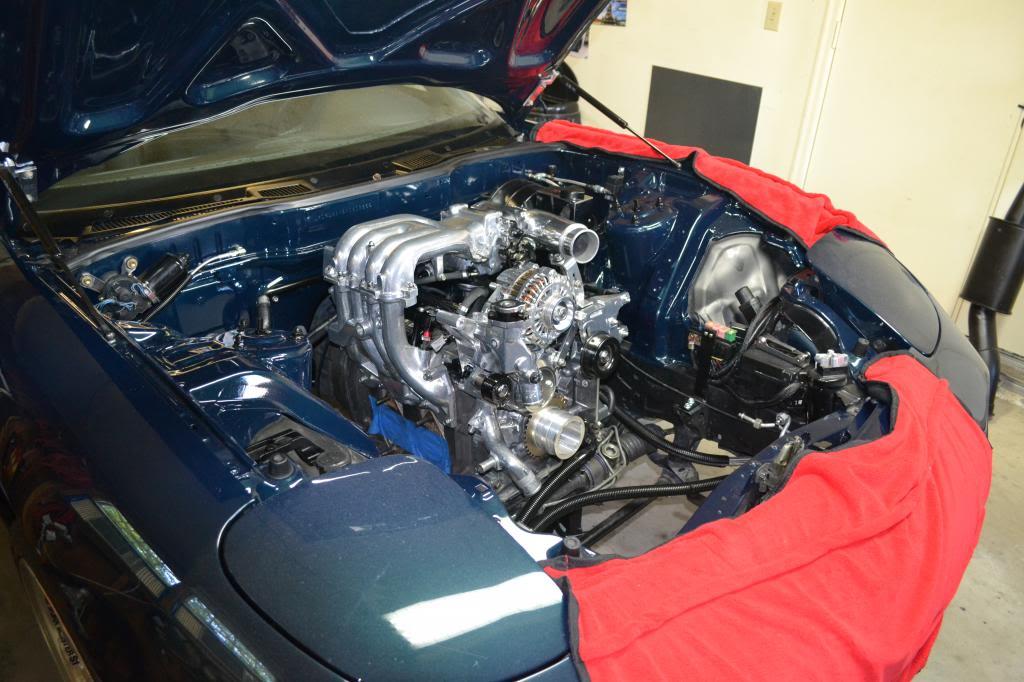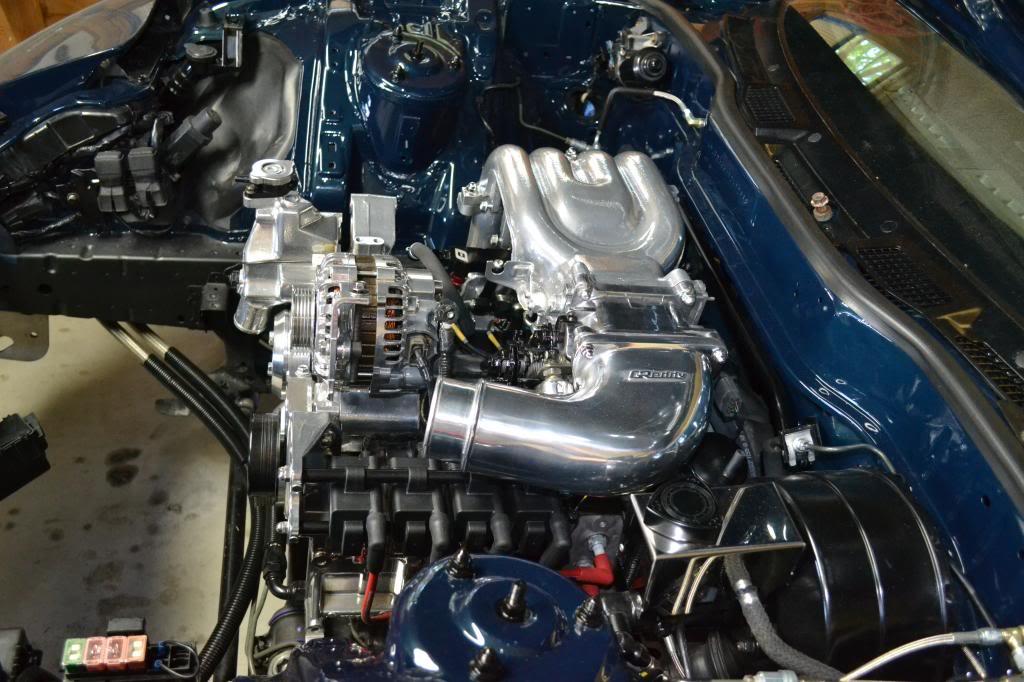 6-2-2013
Dual Pumps
Dual pumps are together and installed. I will go over a few of the parts I selected and why I chose what I did.
I did plan to utilize dual check valves inline with the pumps. I ordered two Aeromotive check valves in hopes that I could squeeze them in the assembly. Unfortunately, they are too large. The only way I could get them to work is with an aftermarket assembly, and dual output lines being Y'd external to the tank.
The install is pretty much like every other dual pump setup out there. However, when searching of a way to supply voltage to the dual Stealths, I was having a hard time finding a solid solution. I found a great universal bulkhead from Racetronix.
Racetronix - Universal Bulkhead Wiring System, 4-Way
Everything else went in well.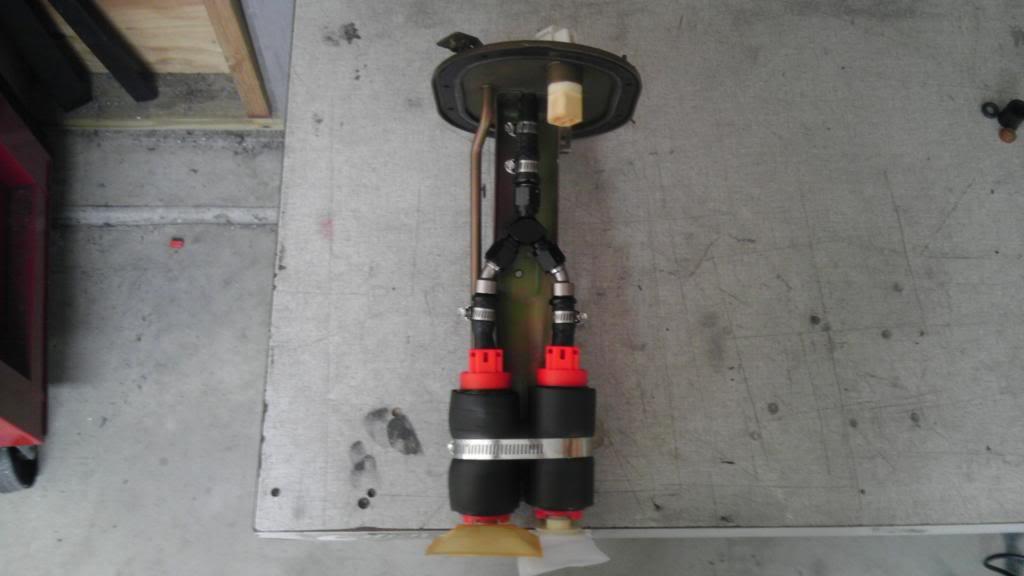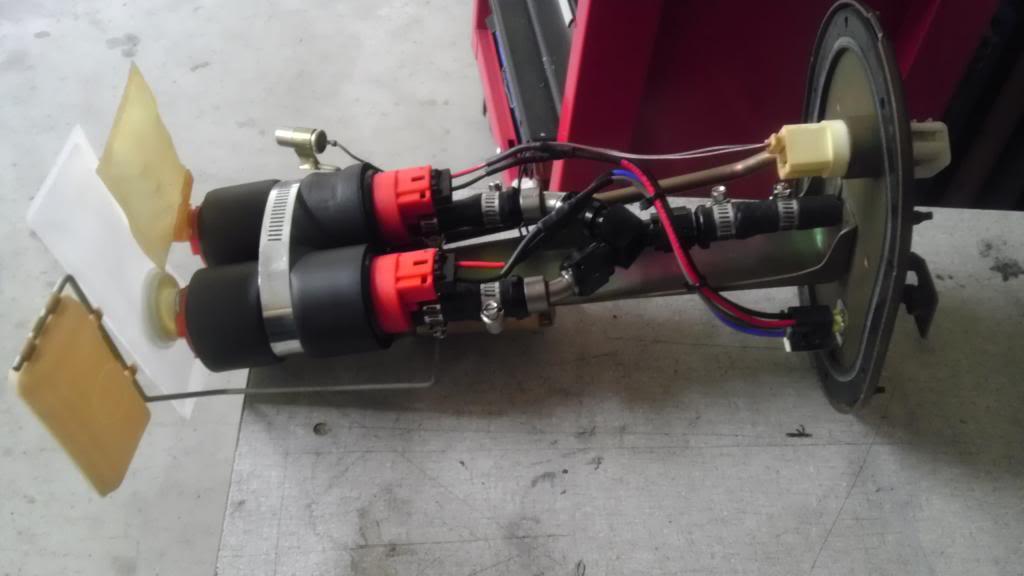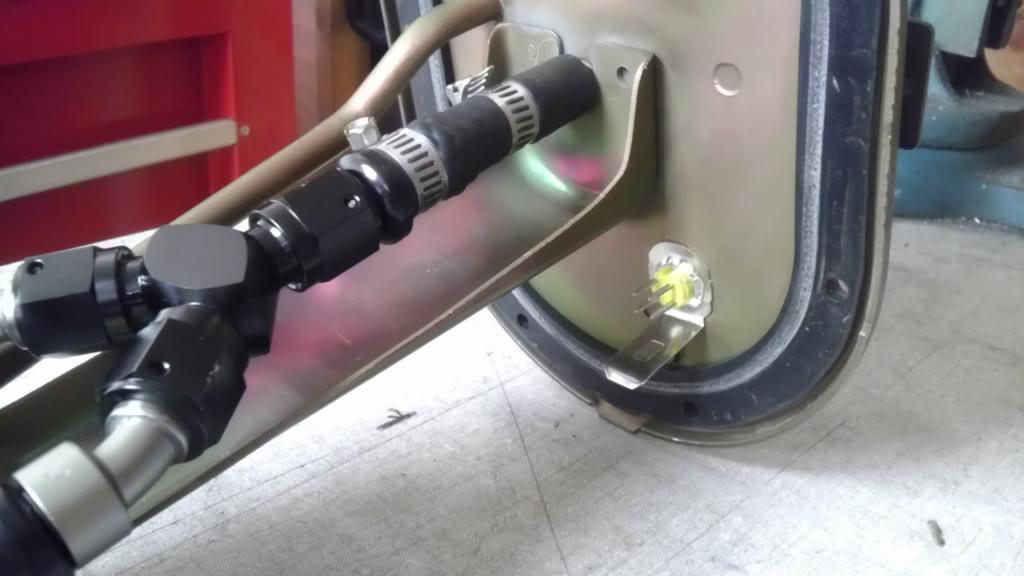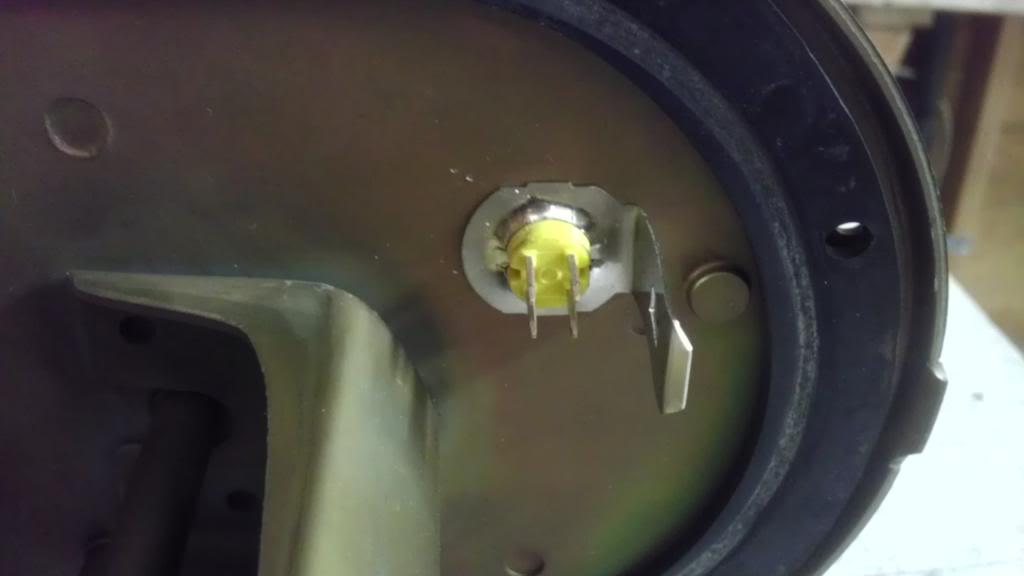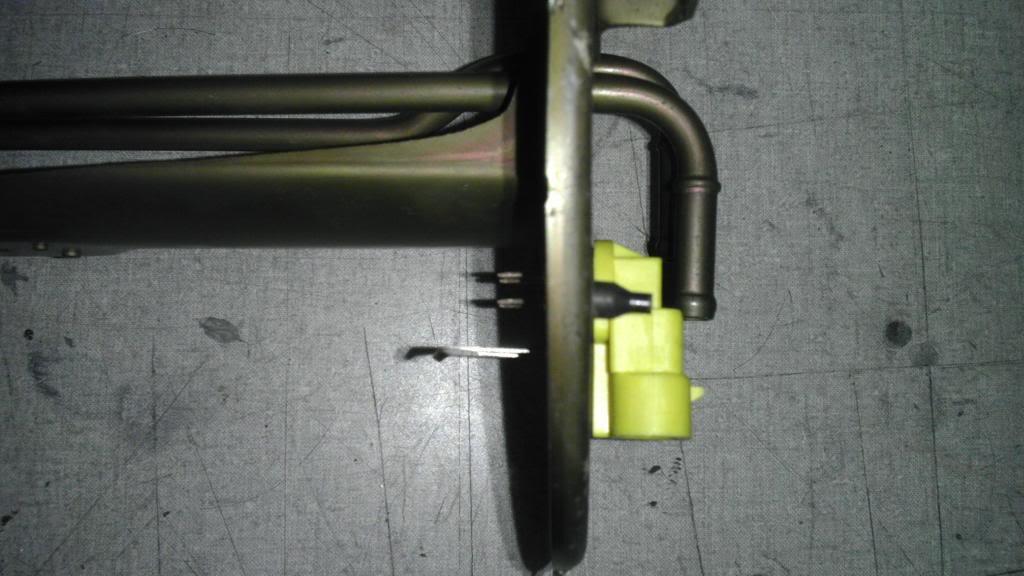 6-13-2013
A few small parts arrived, and more on the way. Still waiting for the two big ones, exhaust manifold and Vmount...
I started getting all of my A/C components in order. I picked up a complete O-ring kit, rebuilt compressor, expansion valve and a new dryer. Spent some time cleaning up the A/C lines. They polish quite easily. Should be ready for a fresh charge of ES-12a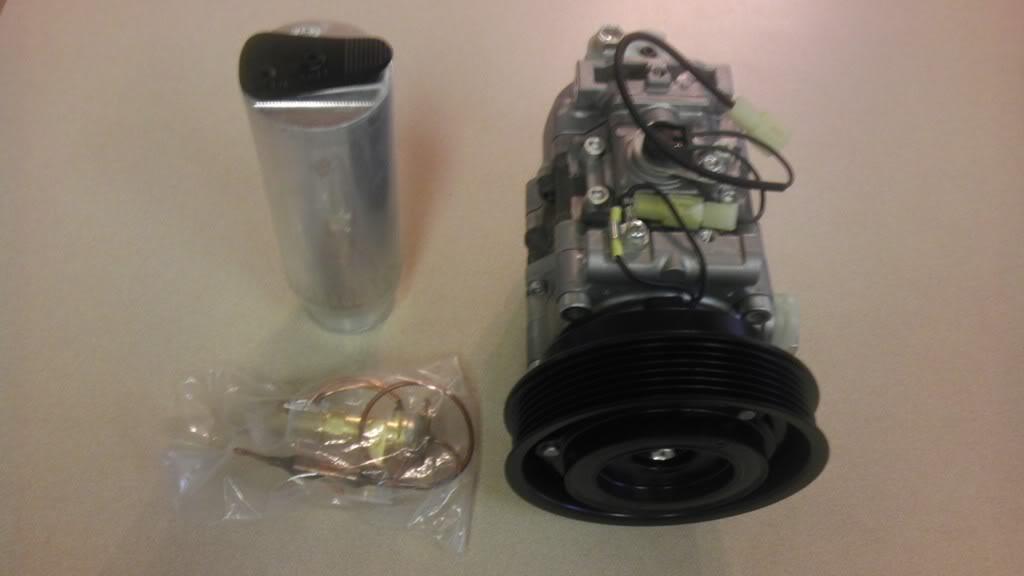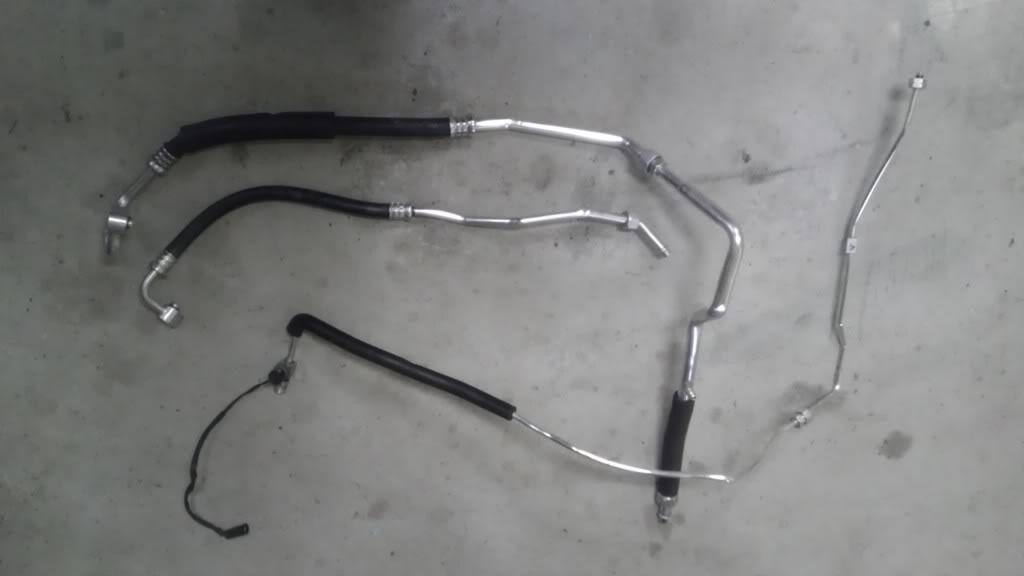 6-16-2013
A/C components installed. The expansion valve wasn't as bad as I thought it would be. Much of this was from my stripped bay so the outer connections were all ready separated. I used a write-up that was done by a member and it made it a breeze. Gotta love the club!
Compressor and lines are pretty much in place. Of course, I'm waiting for the condensor side to get connected when I install the Vmount. Really looking forward to icey vent temps.

To address my idler pulley, I have had questions about running the idler this way. As you can see, I have essentially bypassed the PS pump and run the belt "rib" down to a flat idler. I have had ZERO issues with this for 6k miles and 3 years. I actually got the tip from another member when searching for a solution. He had ran it that way for a few years as well. The belt has shown no adverse wear.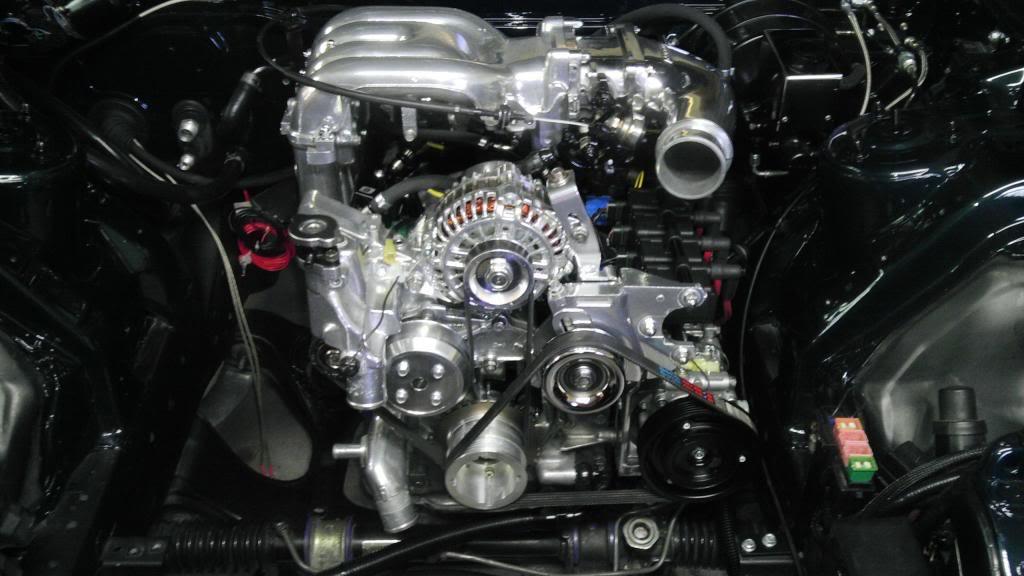 6-21-2013
My Turblown goodies arrived today and I am very pleased! My project just got the shot it needed.

Turblown Twin Scroll Manifold
Dual TurboSmart Comp 40 wastegates (14psi springs)
4" downpipe w/ wastegates routed
Ceramic coating
Dual EGT bungs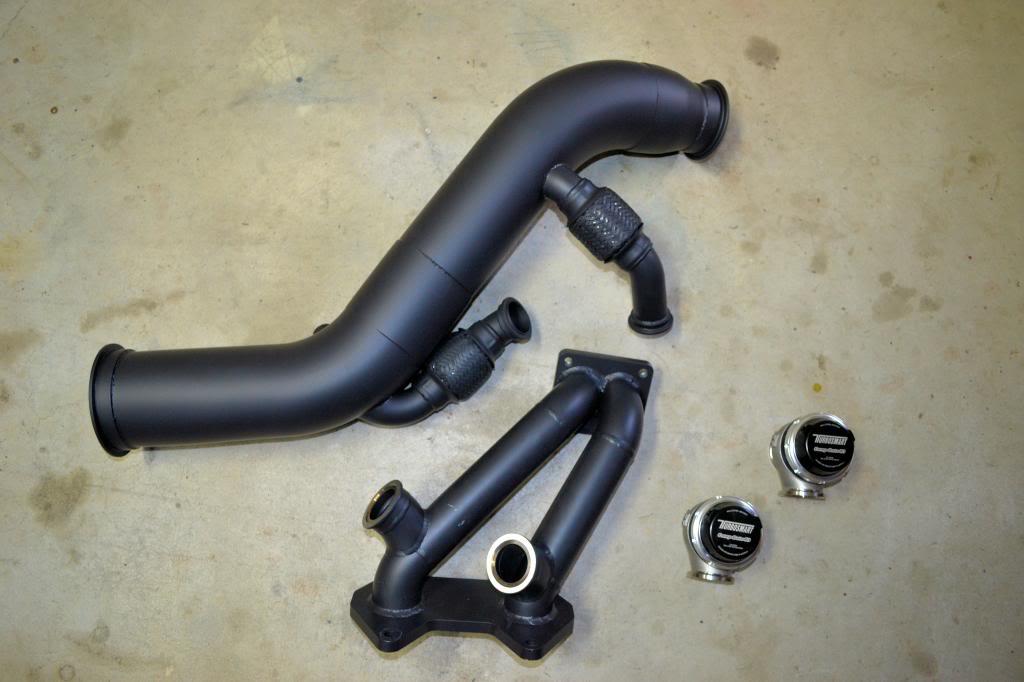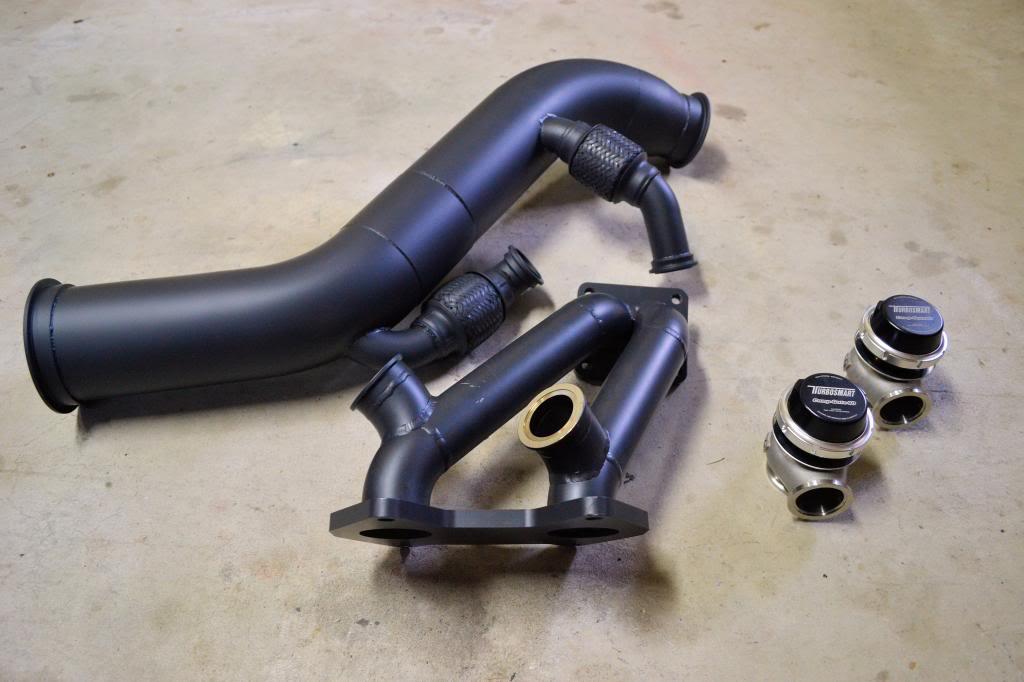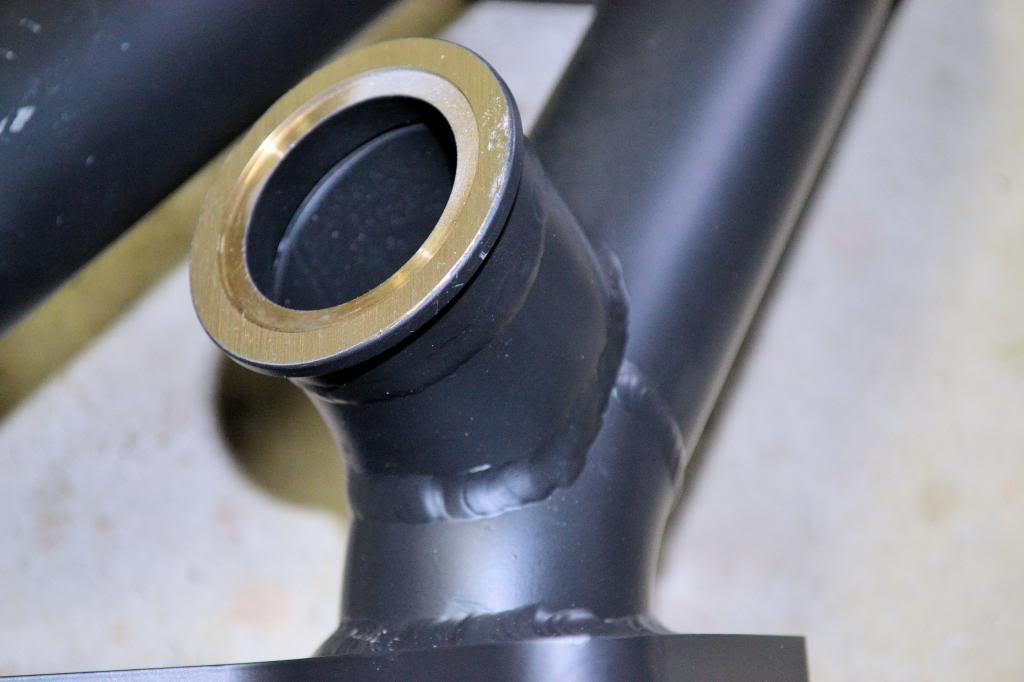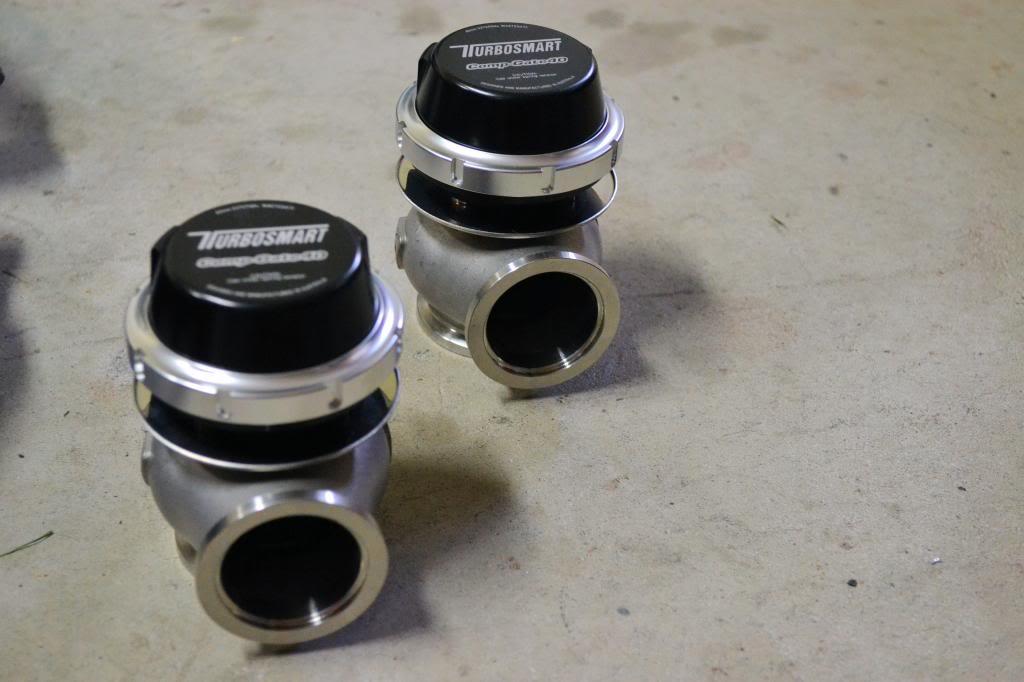 6-21-2013
I couldn't resist.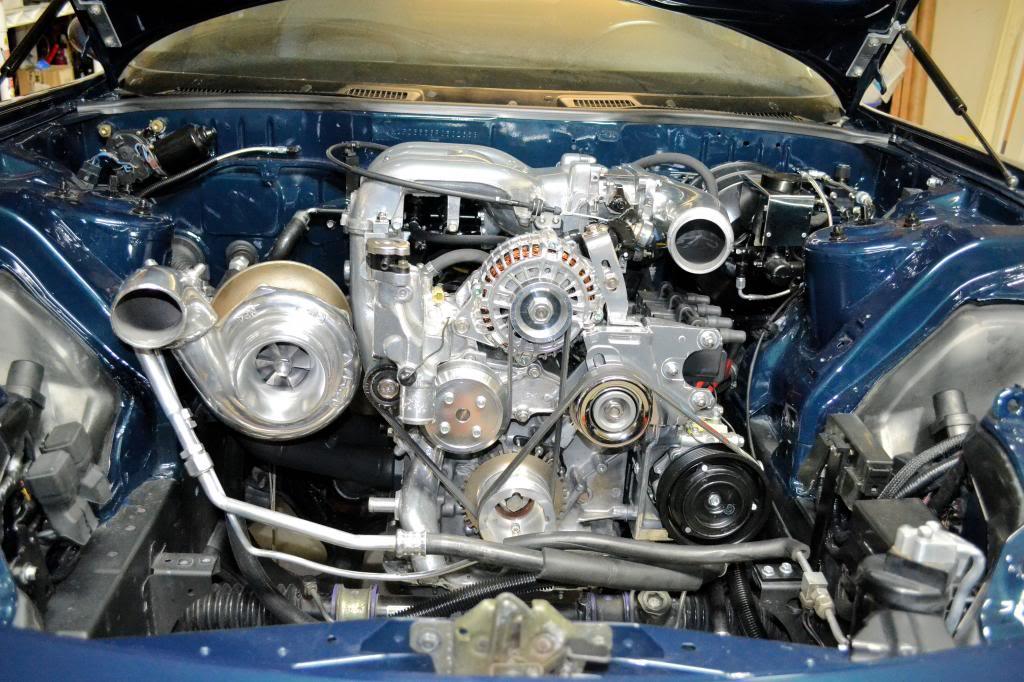 6-22-2013
Turbo is mounted up, and my silicone heater hose is rerouted. One thing about Turblown's manifolds is that you can not retain the OEM heater core hardline because of positioning. No bother, I purchased a 4ft section of silicone line from HPS. It is quality and will withstand the heat. Good thing, because I am "shoe-horning" that 4" DP with routed wastegates in there.
Mounting everything up proved to be a beast. Even with the flex pieces on the tubes, everything needs to be lined up perfect. I originally thought I had an issue as the downpipe end flange kept hitting the transmisison. Come to find it was just clocked a little off. I re-adjusted but a little too far. Clears the tranny fine, but now the flanges don't line up. Need to bring it back about a 1/4" the other way. Plan to tackle it first thing in the morning.
Mine isn't a DD either. It stays in the garage until I want to take it out and enjoy. But on a hot day, I like that ice cold A/C

. Something about having an extremely capable street car while still retaining a few things that keep it civil.
Below is the exact hose I purchased, by 4ft. I wanted a little extra incase I ran into issues. I installed it today and it fits both the heater pipe, and the neck fittings perfectly. I even used the factory clamps. It's quite flexible and seems like it could be used for the other two hard pipe ends that run across the firewall. I purchased new rubber from Mazda so they are still in new condition.
HPS 5/8" inch 16mm 1-Ply Reinforced Silicone Heater Hose Black x 1 Foot Coolant Silicon Hoses
I used some hose clasps and self tapping screws to keep it tucked to the frame rail. Overall, a clean install.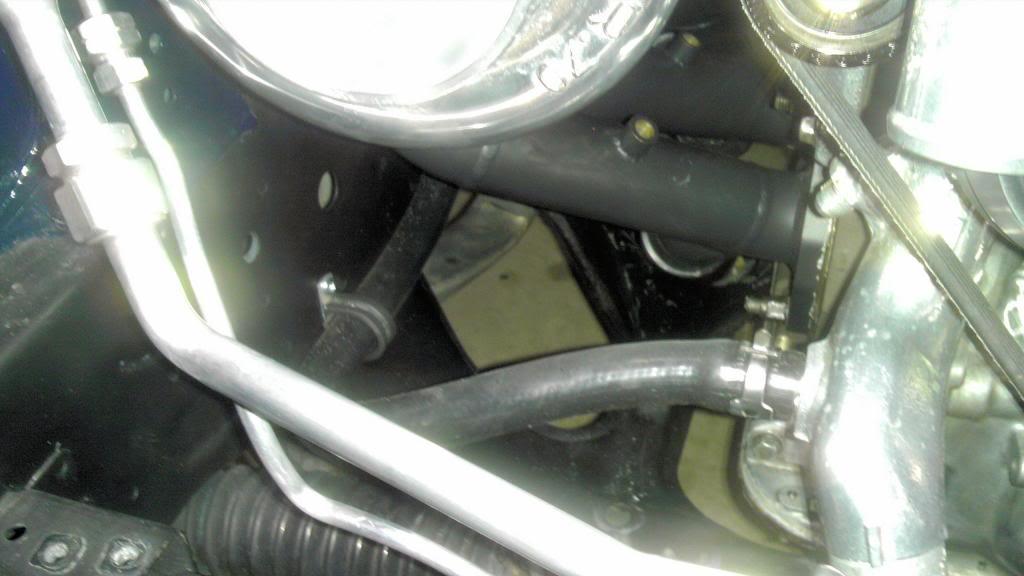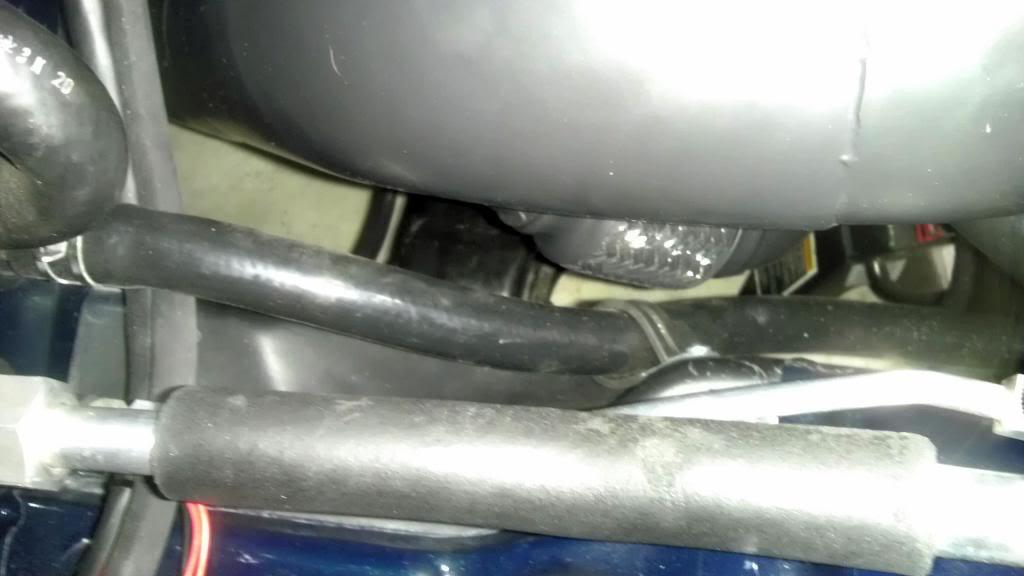 7-14-2013
A few small updates. Completed the wastegate plumbing and my MAC solenoid. Plumbing turned out good and solid. The pushloc hose will take the heat. My aluminum coolant lines for the turbo are shaped and awaiting the end fittings. The internal sleeves are on back-order from Earl's so I must wait for them.
I broke down and bought a few "flash" parts. I have been holding out on JDM Tails for a few years with no real need to switch over. Biding my time I found a set in excellent condition. I'll post pics soon, but as you can imagine, they look like any other set of JDM tails.
I also picked up a set of polished door sills. I imagine they will compliment my wheels and overall polished scheme very well. I'll post pics of those soon.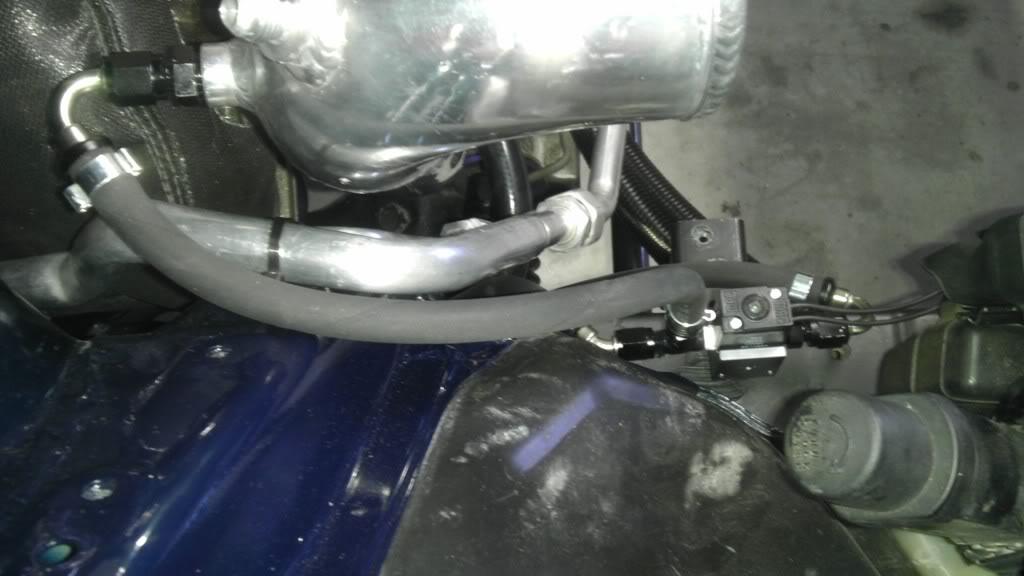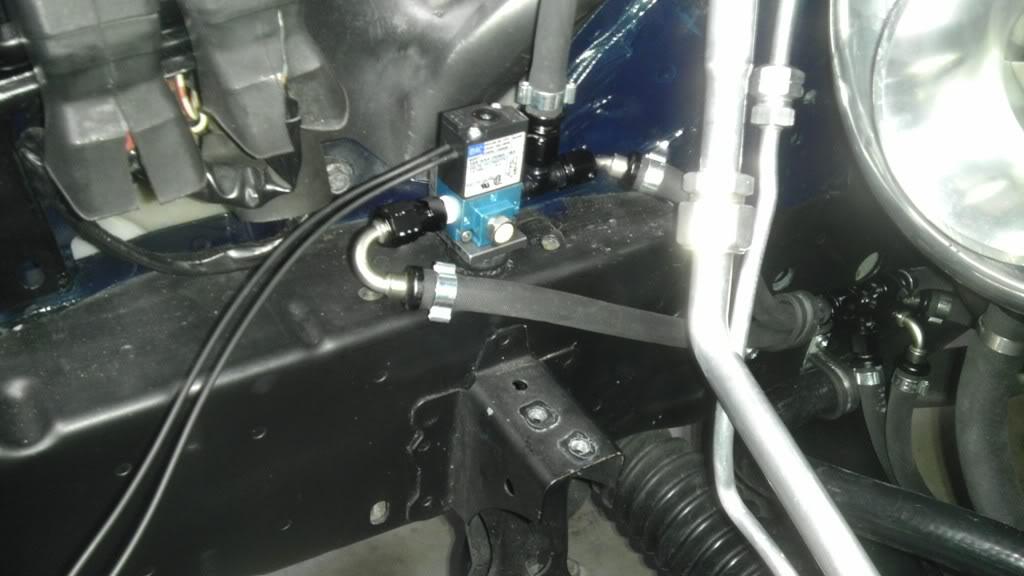 7-17-2013
I have also decided to ditch the dual Stealth setup. I just love the pump, but its supply capability with a single pump at around 530whp is a little close for my comfort. I expect to make close to 500whp, and that doesn't leave much lead way. Furthermore, the Stealth flows so well that in dual form, it apparently causes starvation issues with the stock tank baffle. After a bit of research and considerations by you all, I am moving to the Walbro E85 pump. Flowing enough for 600whp, and in single form, I feel that this is what I should have went with initially. Nonetheless, I can sell my one new, and other low mileage Stealths with ease.
7-18-2013
PLX Integration
As some of you may know, Andy from Adaptronic recently devised a way for the PLX oled gauges to read ECU metrics directly from the Adaptronic ECU. Using his "circuit board", I will have the gauge display my AFR, Boost, EGT1, and EGT2. The DM-100 is versatile and allows complete customization of the display. Color changing, wallpapers, and digital/analog toggle are a few neat features. Another great feature of the DM-100 is warning triggers set by a particular threshold. Coupled with Adaptive Tuner running on my pad, I feel I am covered in the gauge department. This setup is MUCH cleaner than my previous as I wanted to keep my interior simple, and functional. I have always liked the column gauge pod as it is directly below my line of sight when driving. No more looking around the cabin. I will post install pics this weekend.
Leave approved! Bring on the 3-day weekend!!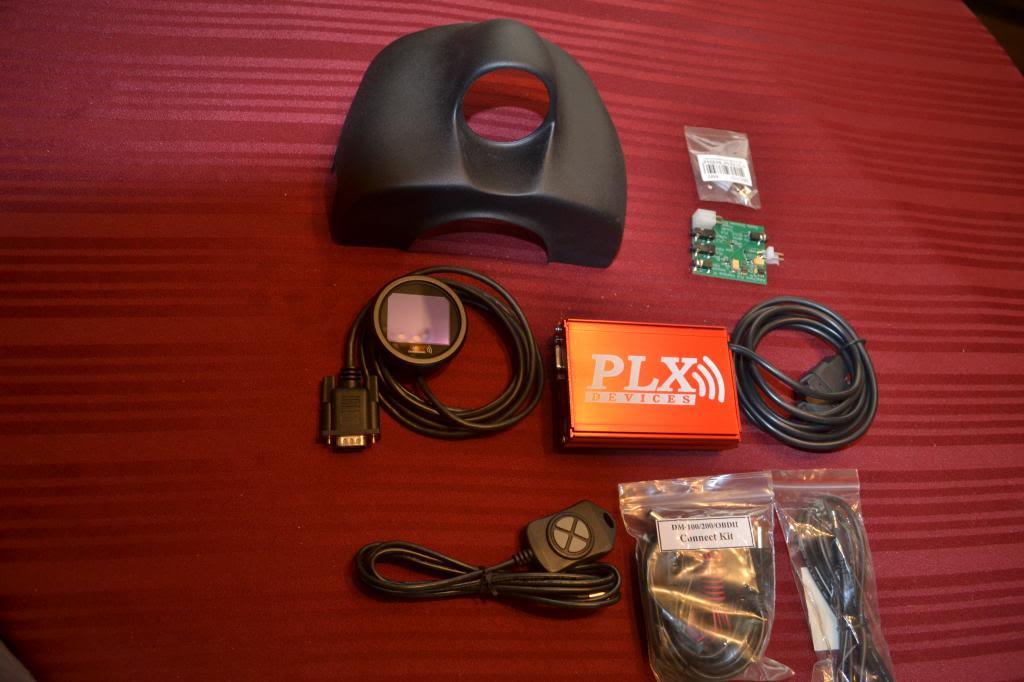 7-22-2013
UPDATE TIME

I got a good bid done this weekend.
Fire Sleeve
I used DEI fire sleeve on the harness as it goes over the downpipe. A no-brainer really. As suggested, I also coated the wastegate vacuum lines with Fire Flex hose to keep things happy in the oven.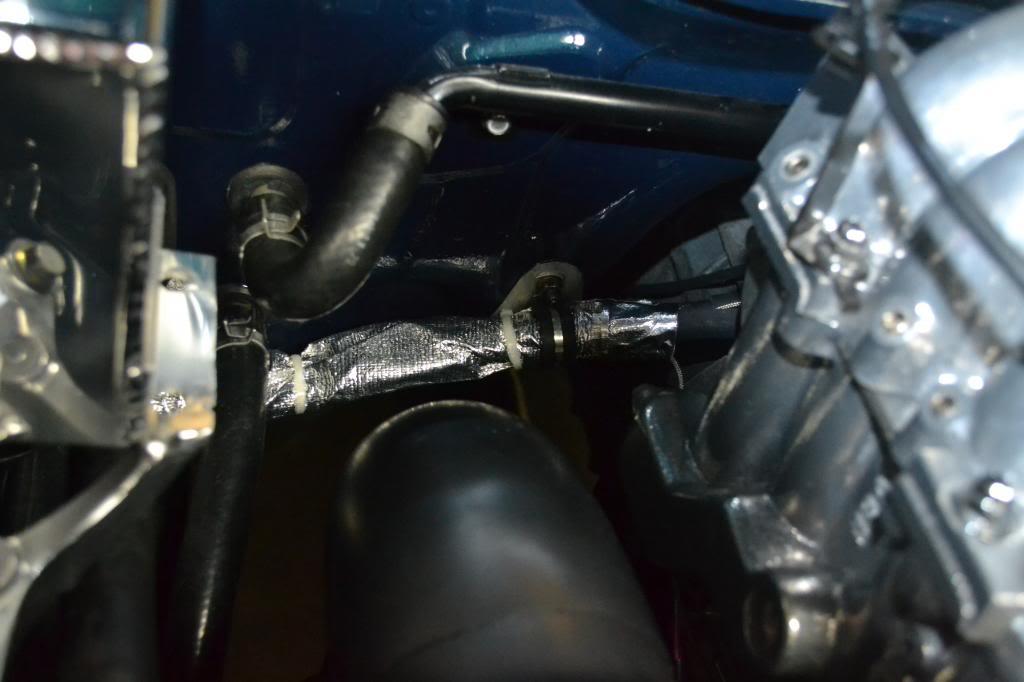 Hard Lines
I decided awhile ago to utilize hard lines for the turbo coolant. After removing my standard coolant lines from my last setup, they were really crispy. Even while being covered with DEI sleeve, they just didn't like it. With this, I got my first go with flaring and installing hard lines. A little trial and error, but it turned out well.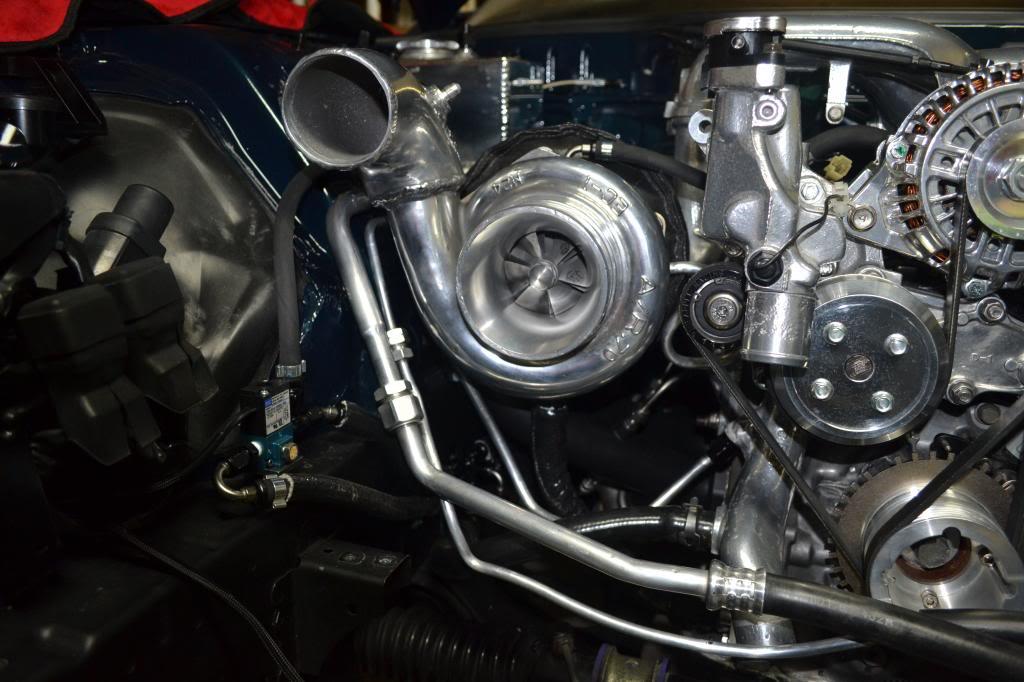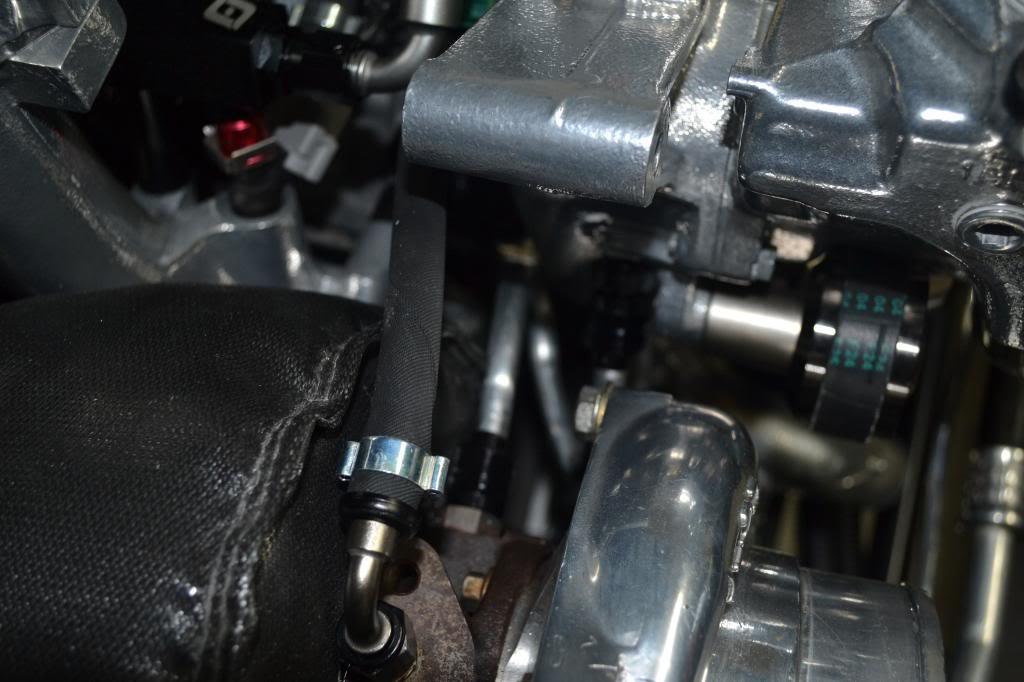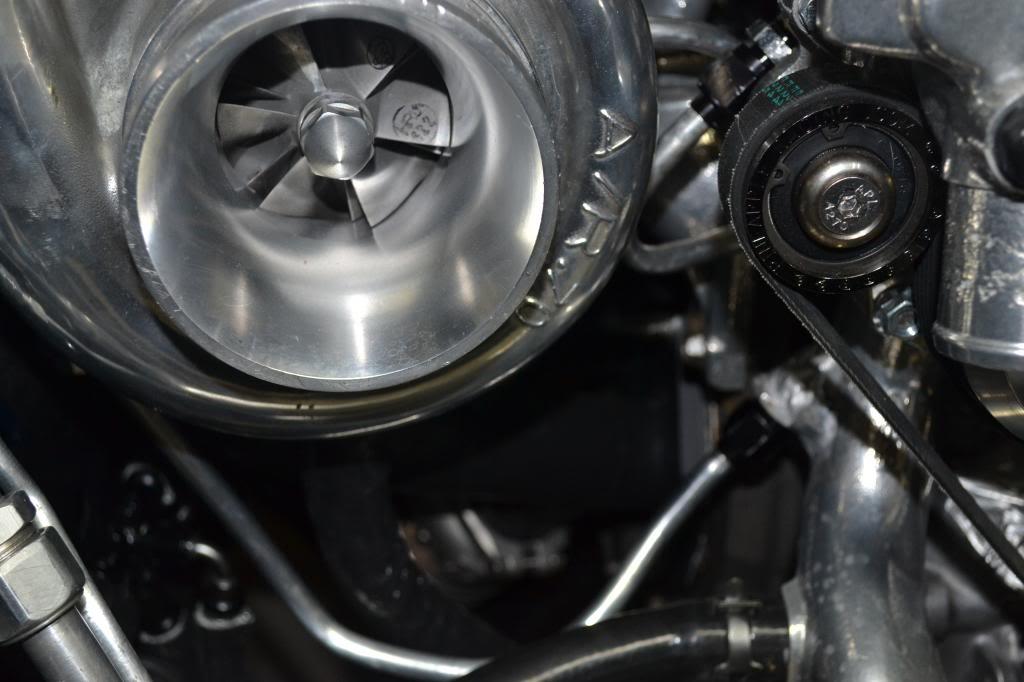 Tank Installed, WI and MAC solenoid wiring tucked!!
Using the same method, I put the wiring through the fenderwell and kept everything hidden. I repolished my tank, and got it bolted up. Looking sharp.
With the installation of my tank, I also rewired my level sensor LED. When the tank gets to 1/3, the LED shines bright and lets me know. I obviously check the tank periodically, but it's nice insurance.
I also incorporated a boost switch. By killing power to the MAC solenoid, I run wastegate pressure, which will be 14lbs. Otherwise, it should push hard at 25lbs. I used the OEM fog light switch I ordered from Ray. I plan to get a small circular sticker in black and white. A little smiley face should do it.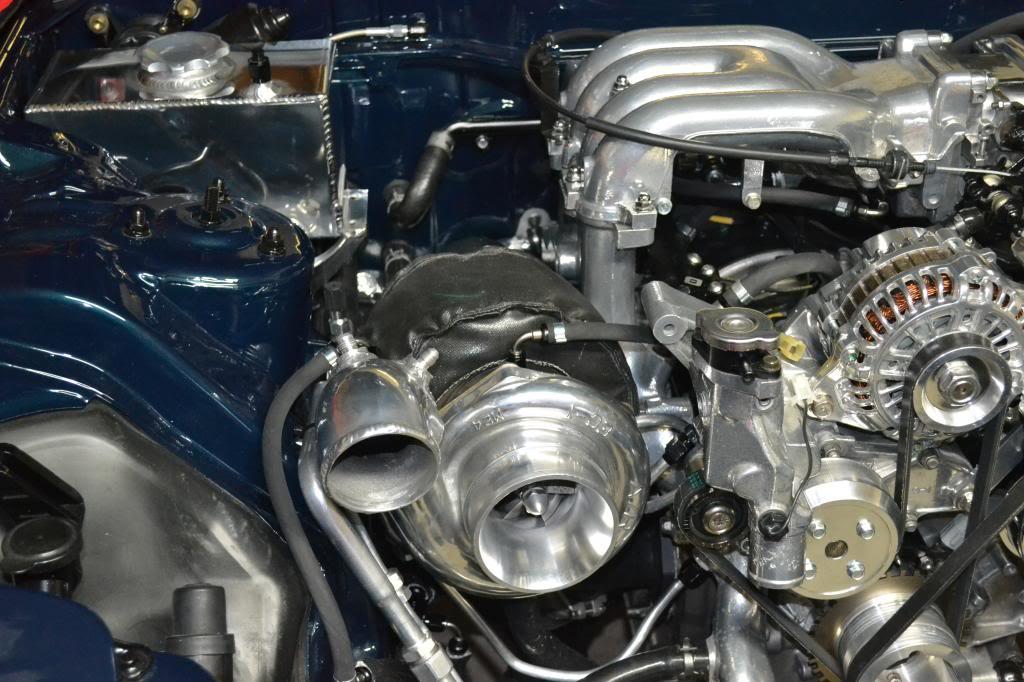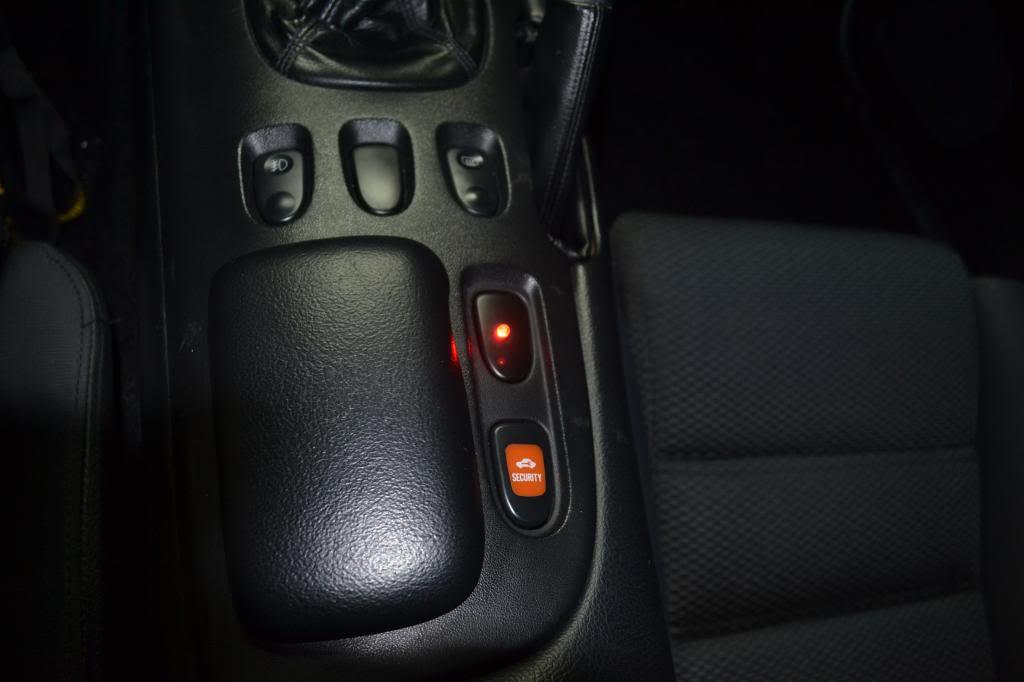 PLX Integration
I got the gauge, pod, and integration board installed and rocking. I LOVE IT! The DM100 allows me to edit so much. Colors, backgrounds, and pretty much any useable metric the ECU sees. As the ECU pulls my EGTs, and AFRs from the Innovative products, it slaps it up for me to view. Very pleased with it. The Adaptronic integration board is pretty raw. With no actual case, I gave it a good wrap with packing tape. This allowed me to mount it to the PLX module, and run my serial data cables to the ECU. I admit, the ECU pocked is getting REALLY busy, but its all solid.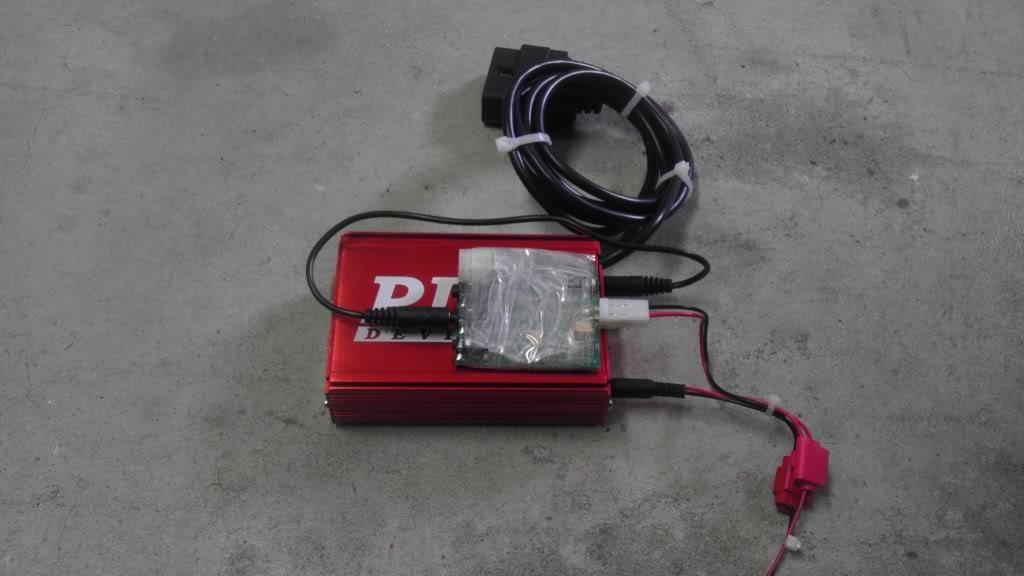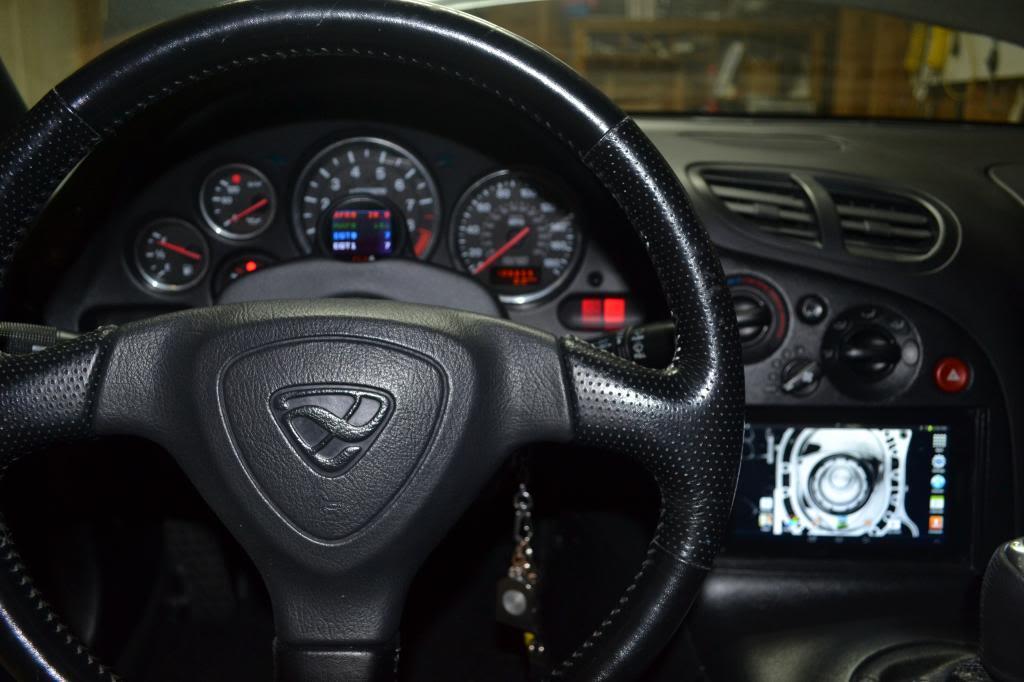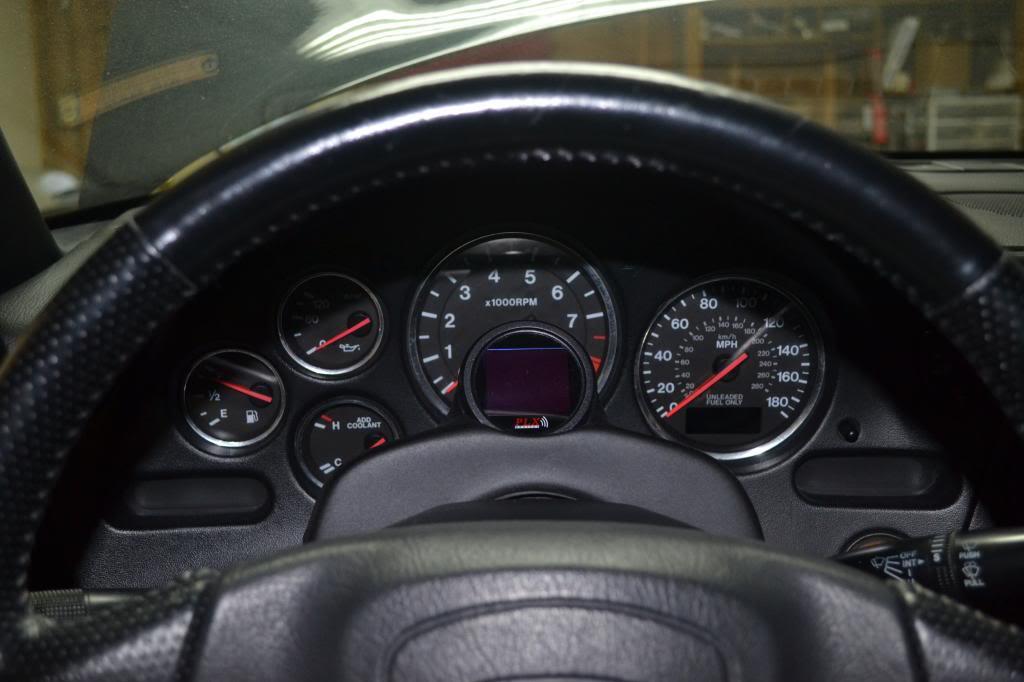 BLING BLING
I've been biding my time on a few "looks" parts. So I bit the bullet and picked up some polished door sills and JDM Tails. Very pleased with both!!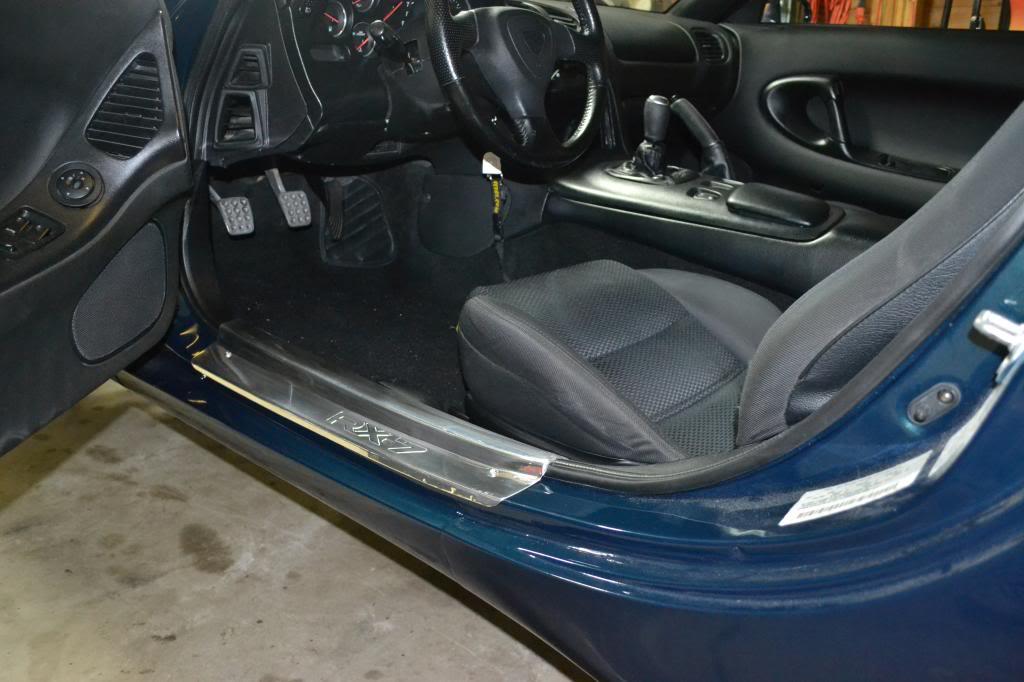 Walbro E85 Pump
Feeling that the dual Stealth setup might be overkill, I opted for the Walbro E85 pump. Flowing more than the 400, it should supply my needs perfectly. I am on the interest list for the TNT baffle Group Buy, so it will be a nice compliment to the setup. It is noticeably louder than the Stealths, but the 4" exhaust will probably drown it out.
Tablet Mods
I ended up taking EVERYTHING apart and notching the rear frame of the double din. This allows me to access the power button with a small pin if the tablet dies. I don't drive the car a whole lot, so this will come in handy. The notch is barely noticeable and it really turned out better than I anticipated. I now just need to find or make a trim piece to fill in the gap with the outer skin and the screen. It works great!!
7-27-2013
Just a few small things today.
- Reclocking midpipe flange. The big Greddy almost bolted up to the downpipe. The angle is about 1 1/8" off on one side. Instead of messing with the downpipe, I just had the midpipe modified. I should have it back in a few days. Then the exhaust will be completely done.
- Refitted oil cooler fittings to eliminate small oil drips. Added new washers and teflon tape. Not sure why I didn't use teflon the first time, but it is all good now.
- Changed the oil
- Added finishing tape to fire sleeve on wastegate lines
- Tightened turbo coolant lines down more. I was a little apprehensive, but after looking at the tube nut, sleeve, and flares, I can see that the fittings are meant to lock down completely. No weirdness, just nice and snug.
- Tested ECU Aux outputs
I ran into an issue with Aux 4. It is setup to activate my water injection solenoid. As of now, it doesn't do anything. Every other aux port works perfectly. My "spring pressure" switch I setup works perfect. Idle valve snaps, and fan relays snap.
I posted up a thread on the Adaptronic Forum on troubleshooting the Aux 4. Not a big deal. Worst case scenario is something is fried in the ECU.
7-29-2013
Thanks all. Trying to be as clean and methodical as possible.
A mock-up of the new blanket and downpipe cover.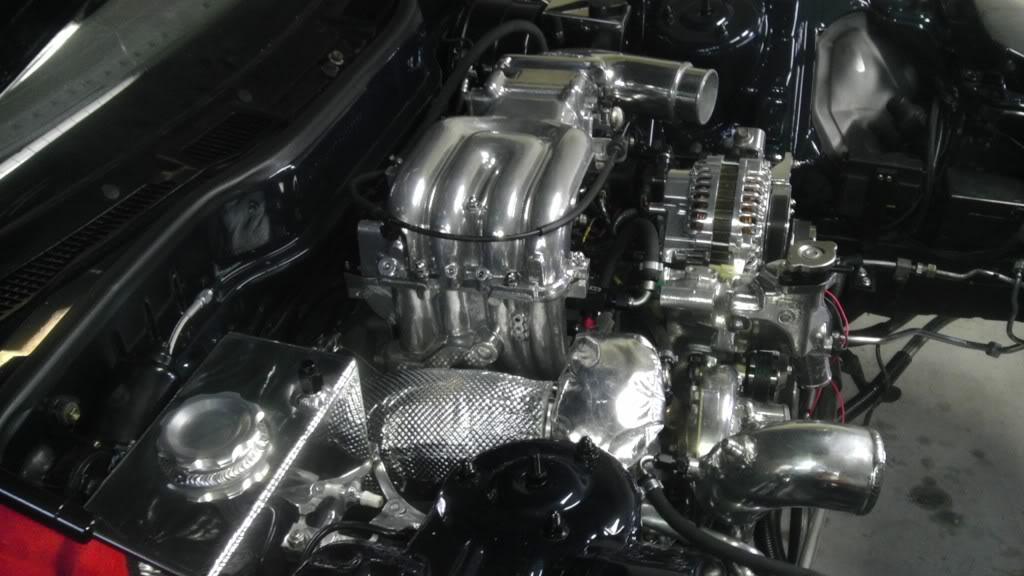 Mock-up of the 6" x 14" heat shield in place. Just need to fabricate a mounting bar. That factory coolant hose will also get a Fire Flex sleeve.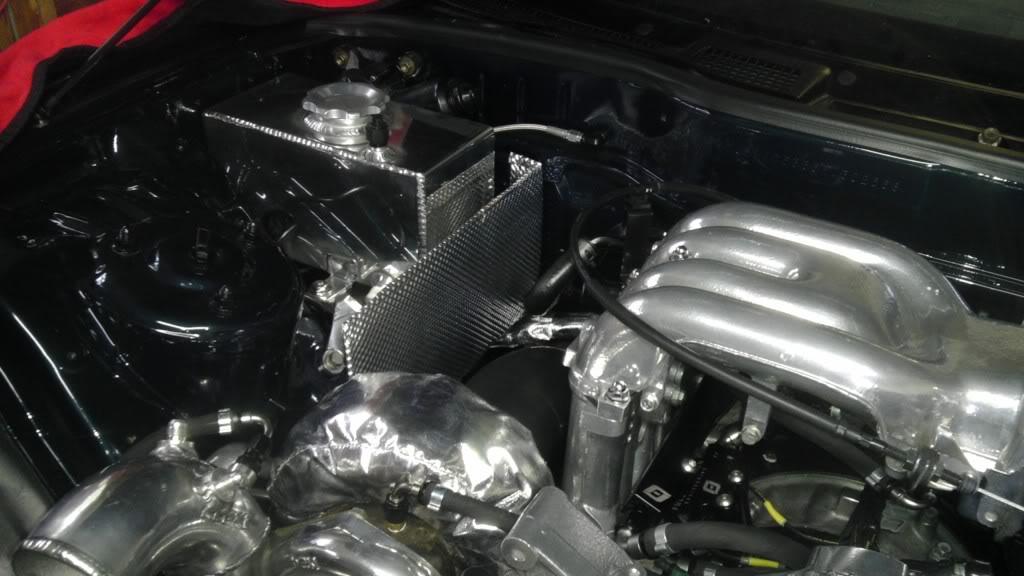 8-2-2013
I'm pretty excited about a recent part I purchased in the GB Section. Awaiting delivery, which should be pretty soon. I will fit it and then take it to be painted MB by the same shop that painted my car. It should fit up against the vmount perfectly.
The long section is being cut off, as indicated....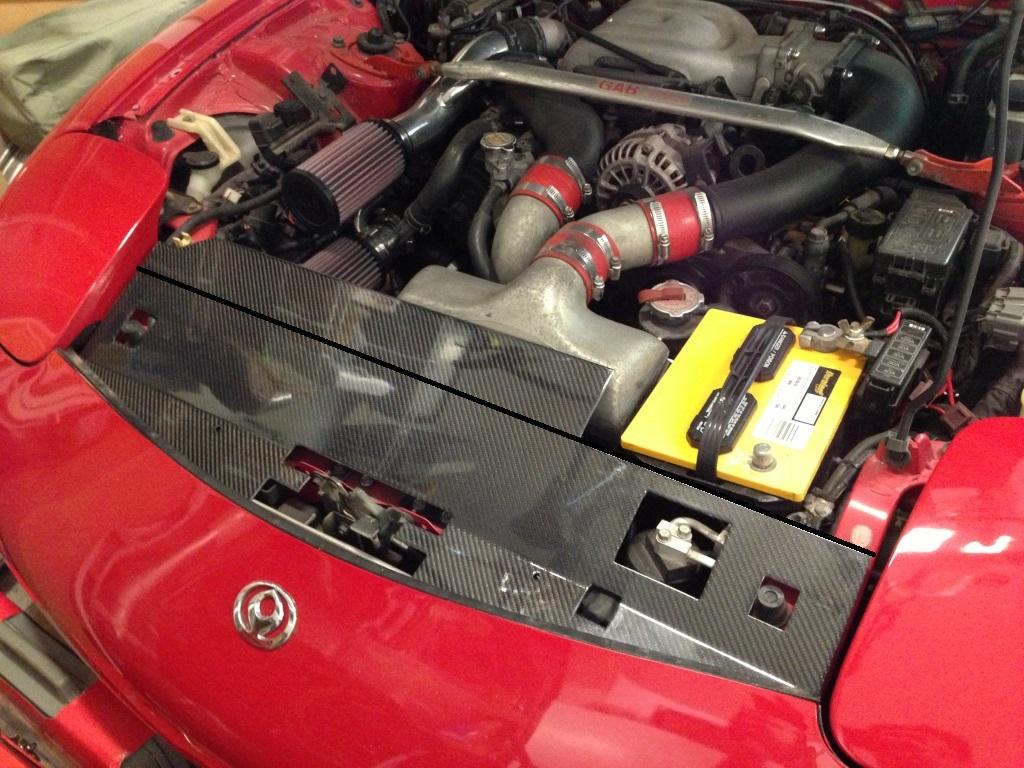 8-3-2013
Heat Management
I finished up the shielding and sleeving. I feel that it turned out pretty good. The downpipe cover took some massaging but I got it fitted. I sleeved the HPS silicone coolant line, as well as the OEM hose coming from the heater core.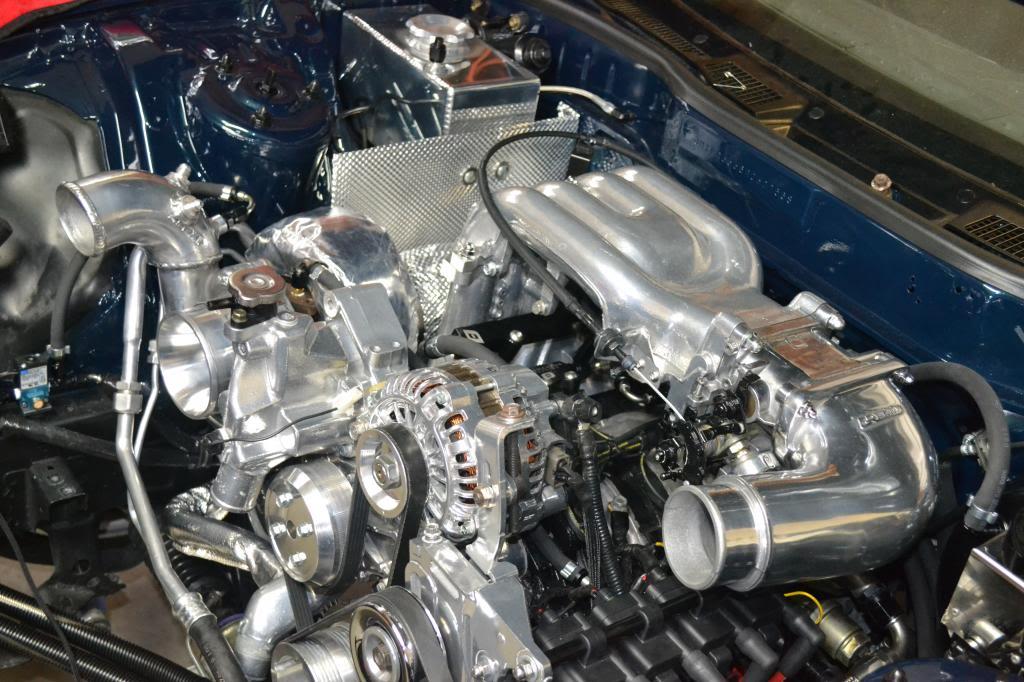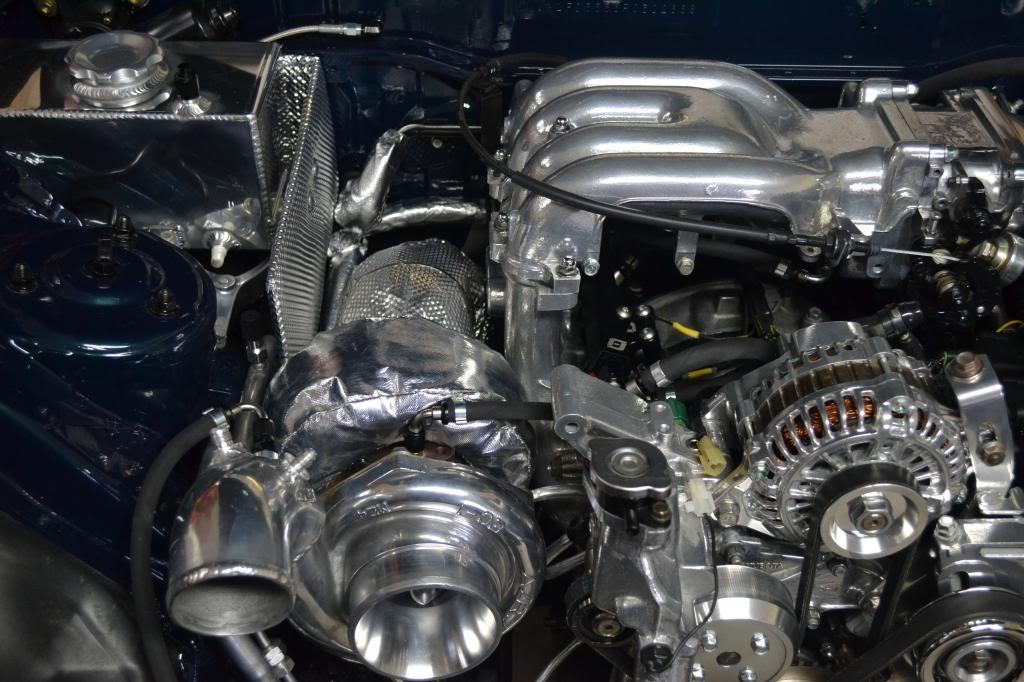 8-9-2013
One possibility for the intake pipe and filter. The Mazdaspeed hood actually gives me a little more top clearance. I have another bigger filter that I may try to fit. I also have a few different pipes, as well as a 90/22 "S" bend pipe. I will see what kind of room I have once the vmount is installed. With most larger core vmounts, there isn't a lot of room for "cold air" intake. I personally think it doesn't matters much with a turbo setup as the compressed air gets heated instantly. I'll be spraying plenty of meth in there to get things cool regardless.

8-10-2013
And now with the nozzle mounted....
I do want to thank M-W-I Systems for sending me the nozzle mount. I saw it in their kit and contacted them. They were happy to help me out and were very generous. Thanks guys.
http://www.mechanical-water-injection.com/
I plan to contact K&N on having a custom filter made. They have a black synthetic oil-free material that will match my engine bay scheme perfectly. They just don't make very many sizes. Their custom shop will be able to make the same one I have now in that material. What can I say... I like things to match.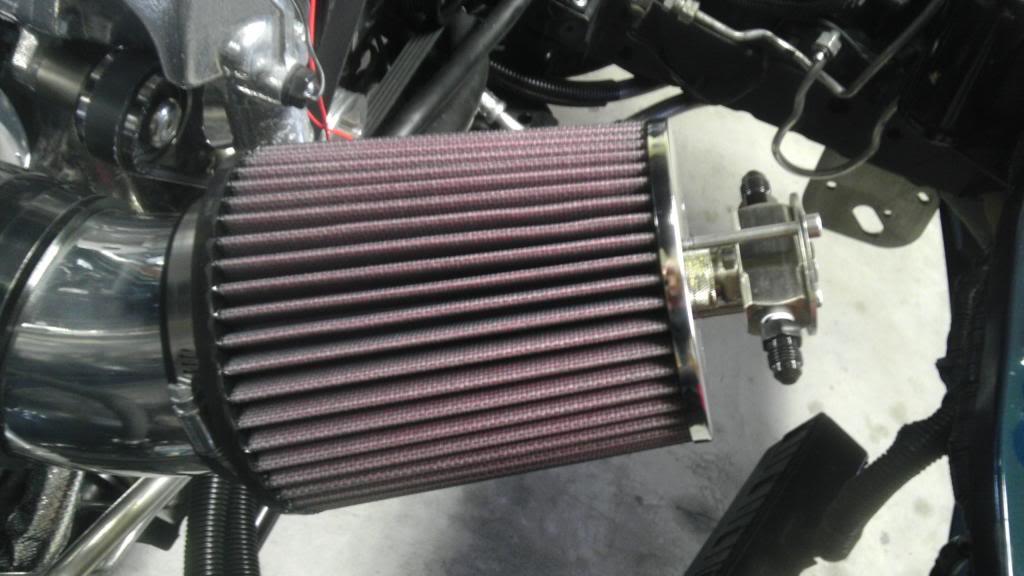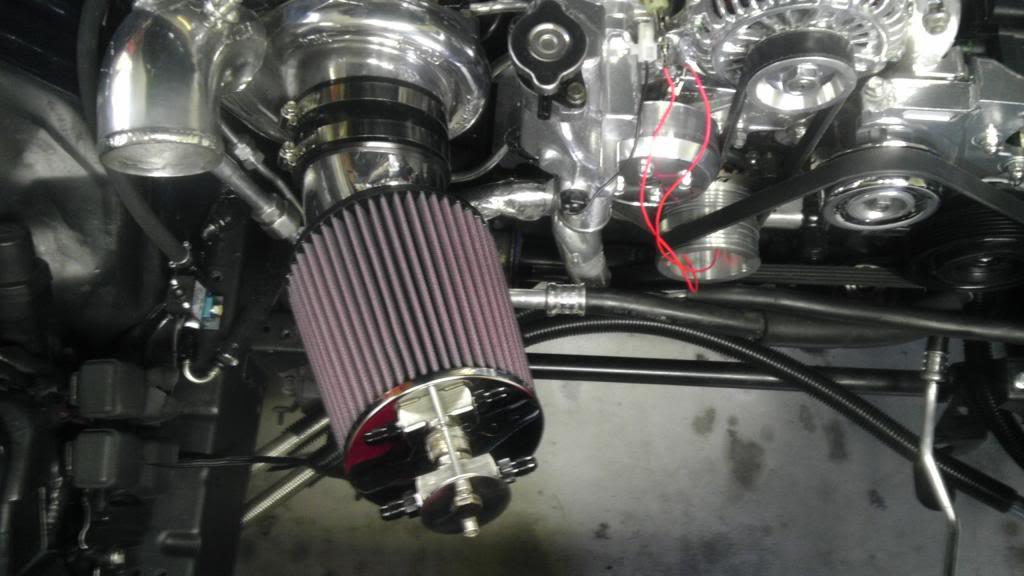 8-11-2013
Well folks, I am officially ready for my vmount. Button'd up a few things today and I will continue when the new kit arrives.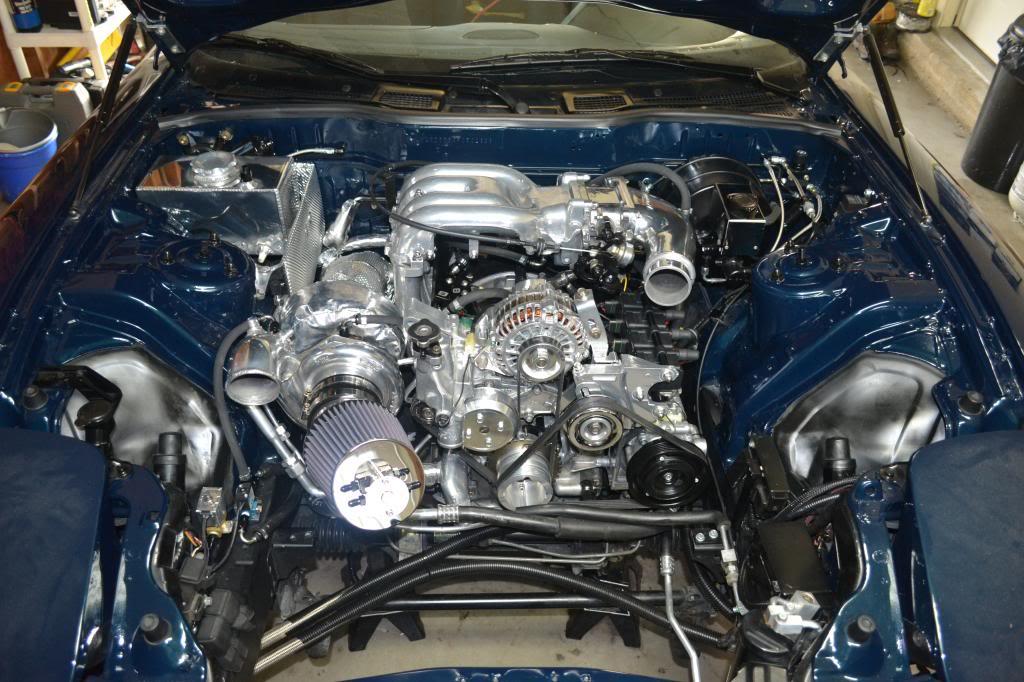 8-14-2013
One last order of business before the vmount comes.

As planned my horns came in today, so I tackled my upgrade. Like most, I think the factory horn is beyond weak. So a quick search and the 90's Nissan Quest horn mod was revealed. I ordered a new set from RockAuto Parts Catalog at $18 each. These came with the bracket and the grounding lead for the one terminal. I found this much better than scouring a junk yard for a 15 year old rusty set, that "should" work.
I had a fun time troubleshooting why my horn wasn't working. After a few hours of following the diagram, testing continuity, and scratching my head, I found that the airbag harness carry's the signal wire. During my recent expansion valve replacement, I had to pull the passenger air bag. Since both are now disabled anyways, I left the blue/orange key connector to the harness unplugged when putting everything back together. This put a brake in the signal wire, and caused some troubleshooting.
In the end, they are working as they should and they sound GREAT! A nice stern honk has replaced the tiny beep of the stock horns.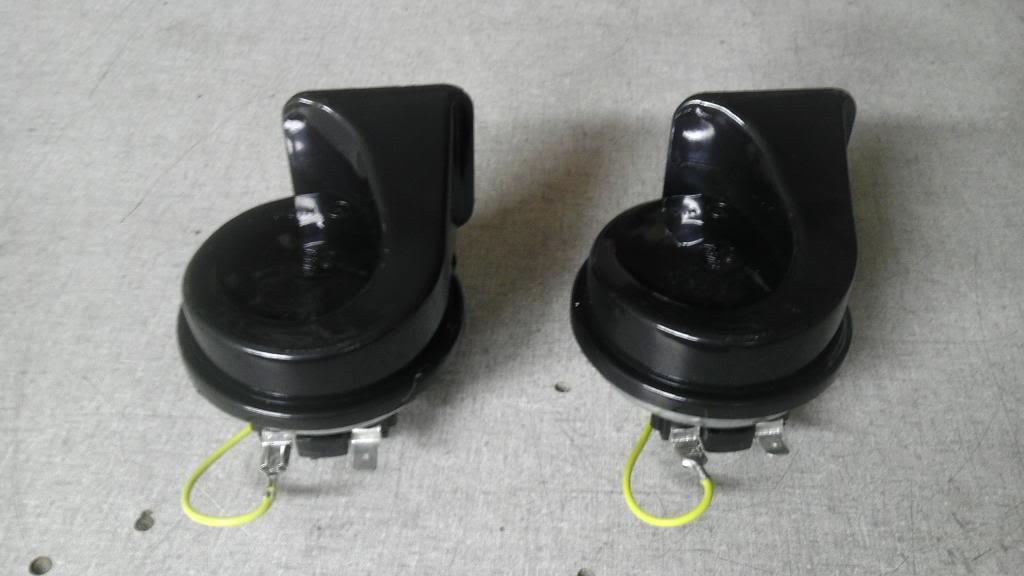 8-17-2013
Vmount
Rotary Extreme's newest Track Vmount arrived a few days ago and everything looked awesome! Ben will likely create a thread on his newest design explaining it in whole, but I suppose I will debut it here. With a new design came a new steel powder coated frame, more angle, ducting, and relocation of the A/C condenser to the bottom. Personally, I love it. It has maximum cooling in mind, with the provision to still run A/C. The steel frame is very solid and a better mounting solution. As always, everything is polished to a brilliant luster.
I unpackaged the kit and took a picture as a whole. I liked that he let me cut my own elbows as it provided the flexibility in length and fitment.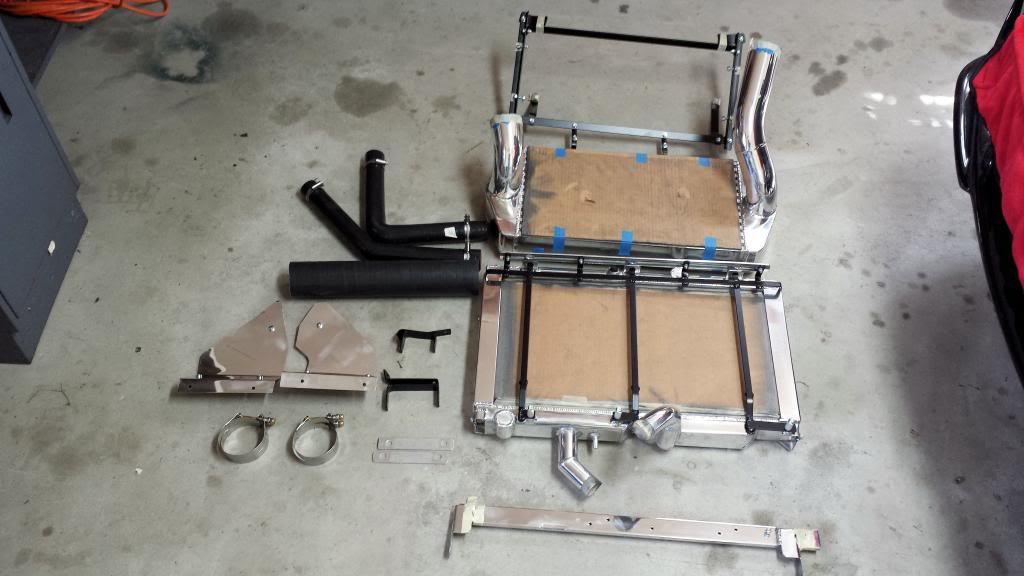 The placement and new ducting fits perfectly. Mouth view..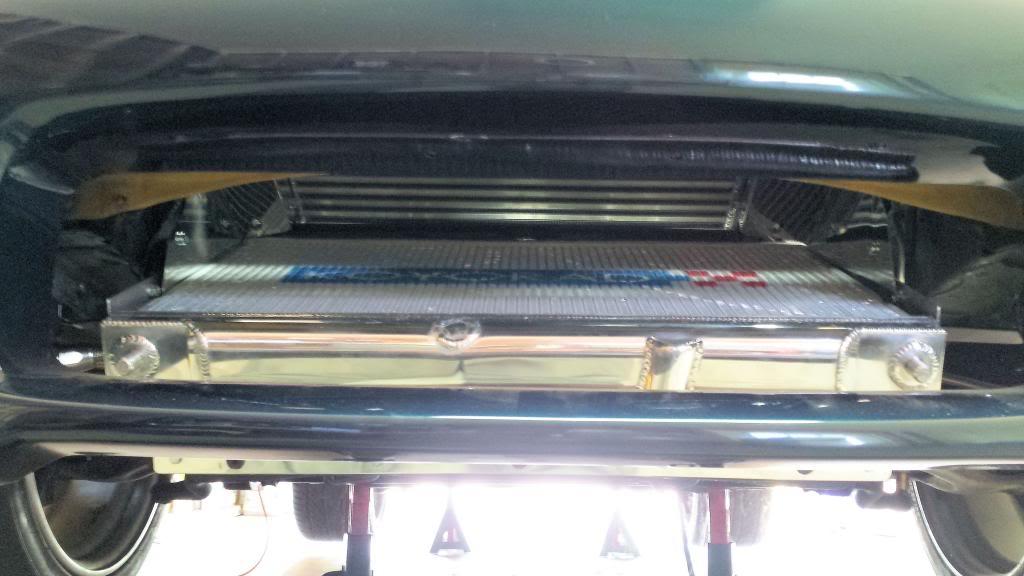 Finally, it was all installed. Everything lined up great. I gave Ben my hotside pipe measurements and he was spot on! The new frame allows for alot of adjustability and it mounts up very solid.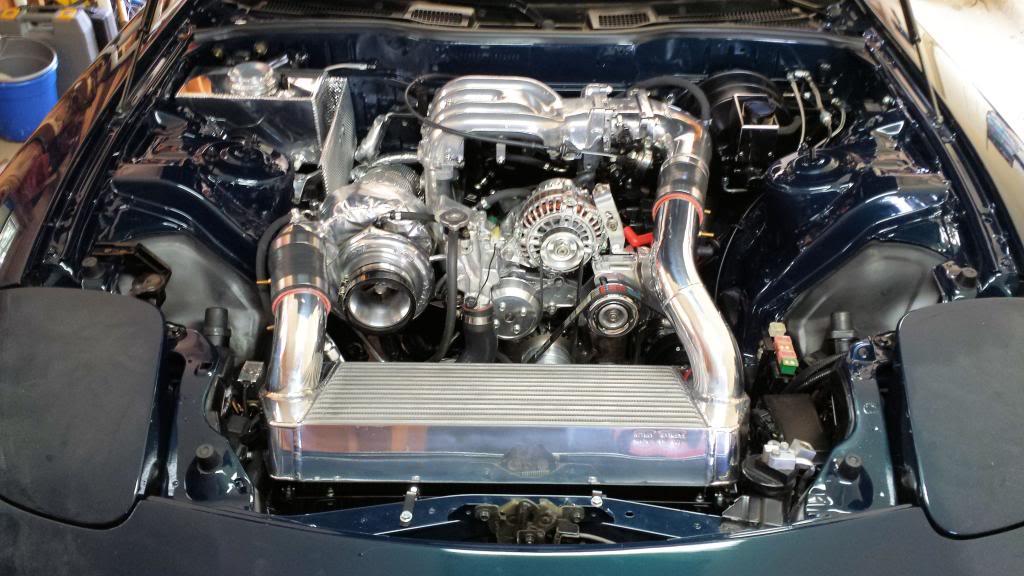 It's ALIVE
After 2 days of troubleshooting, I got the car fired up. I fixed a few ignition errors on my part in the ECU, and all is good. It starts like a champ every time.
Now on to fixing a few coolant leaks, getting it to idle/drive, and give it a much needed bath!! Tomorrow is a busy day, as I am out of pocket until next Friday. The tune will be rapidly approaching so its "game-on" with getting this thing road worthy, and giving it some dyno abuse!

I was never so happy when it fired up!

Today went pretty good.
-I discovered my heater core is leaking at the internal pipe. Looks like I'll be shopping for a new one.... I bypassed it for now, but will tackle that when everything is squared away.
-I had to ditch both of my turbo coolant hard lines. An issue with flaring made two of the four fittings leak, so I went with push locks covered in fire flex hose. I will likely have my hand at the hard lines again, but because of time, these will work fine for now.
-I didn't get a chance to play with the idle or even drive it much. Its running pretty lean and the idle oscilates. No worries, I will have plenty of time next weekend.
-After looking everything over, I'm going to run an intake pipe. There still isn't a lot of room for a filter, but more than before. With long tube manifolds on a vmount, you gotta get creative, and I will do just that. Once the filter is in place, my water injection lines will be finished up, and it will be in full form.
-I FINALLY got to wash it and see it in the sun. Man I couldn't be happier with the paint and body. Overall, I am very psyched!!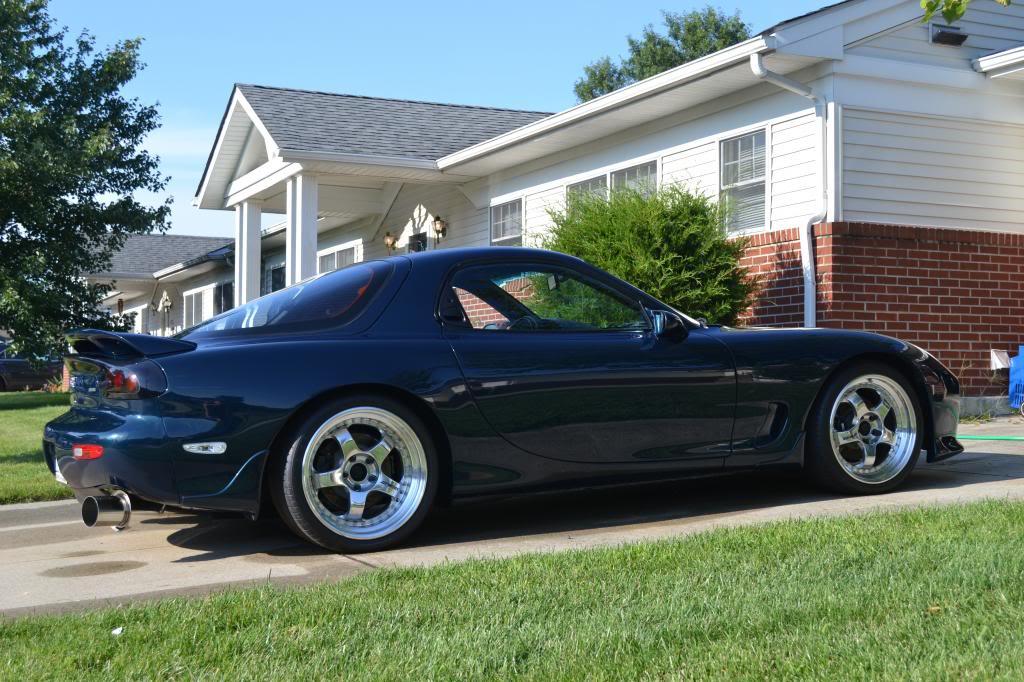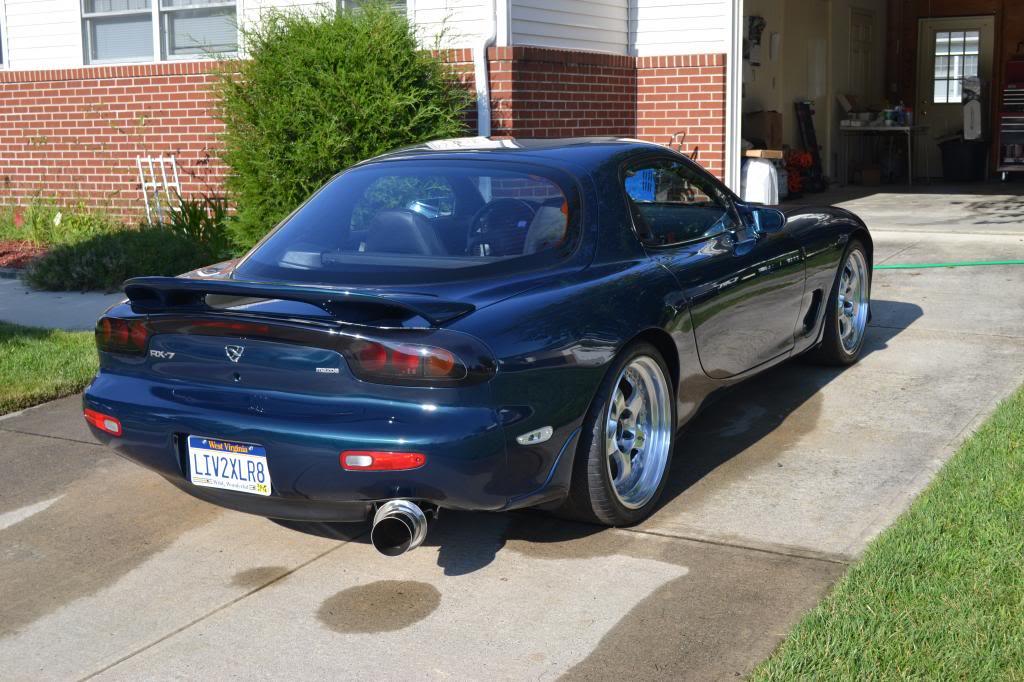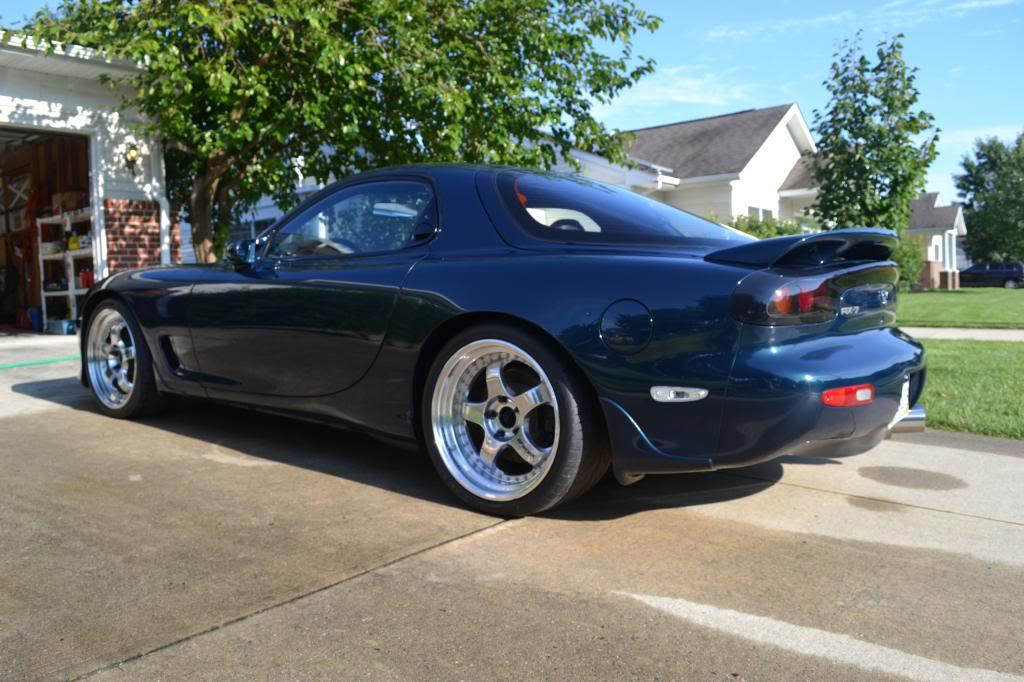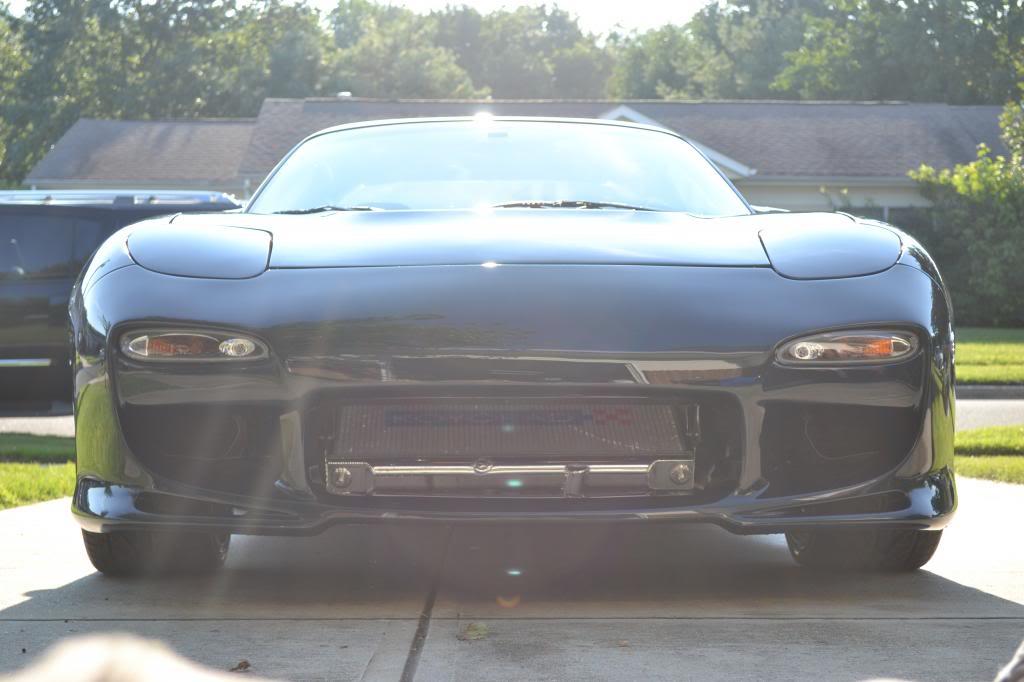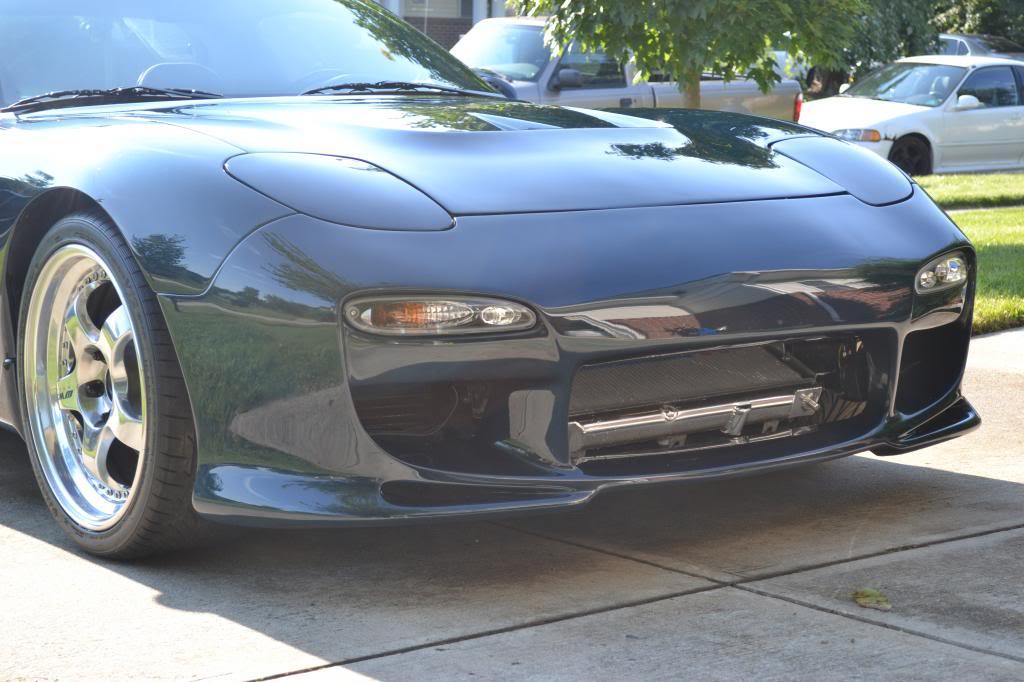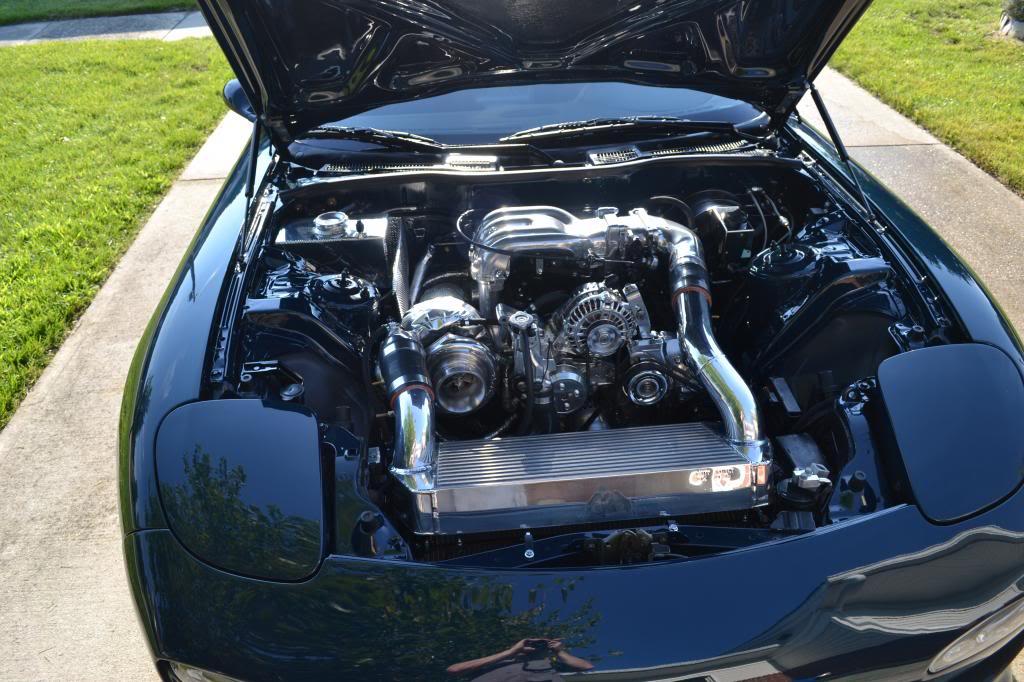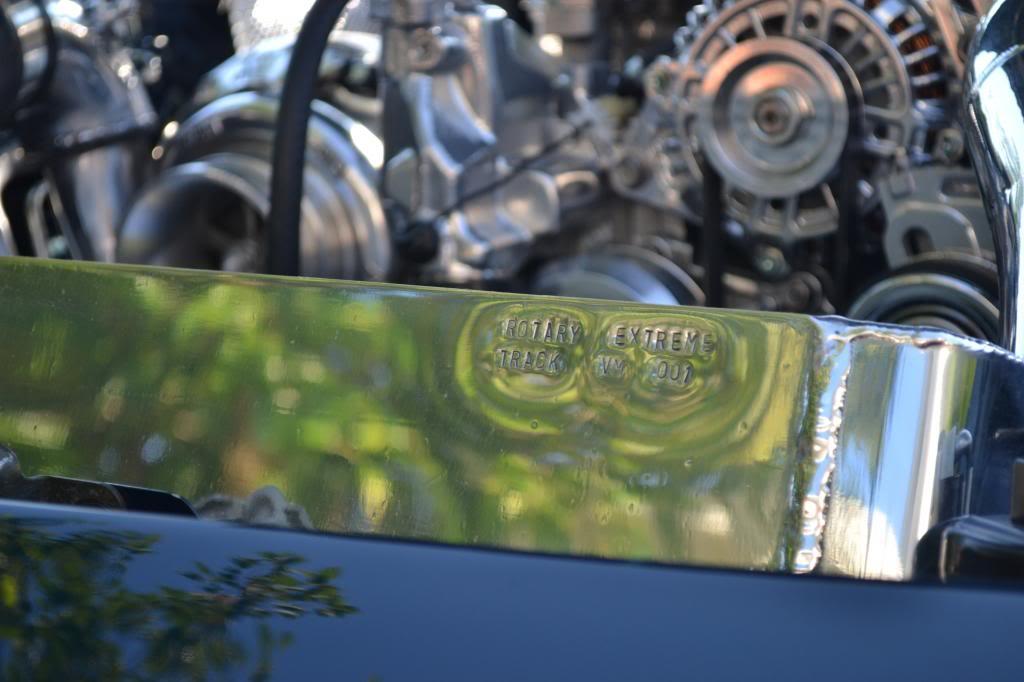 8-19-2013
Thank you. Magazine?... maybe one day. I would be pretty giddy at that thought.

I had the work done at Louis Auto Body. They are here in Burlington, NJ. My car stayed inside the entire time. They took great care with it and returned it looking magnificent. Louis came highly recommended after doing some research. He also did some work on my friends S2000 and it turned out great! Took around a month to complete, but I told him I was in no hurry.
Work done...
Full base coat/clear coat with PPG factory MB color
Painted engine bay/jams/and inside hatch
Fenders rolled and rear widened
Lower rough strip sanded smooth
Fitted Feed bumper, Mazdaspeed carbon hood and Gandor mirrors
Shaved antenna hole
New windshield
New door lock
Misc push pins and OEM parts
$6500 out the door with taxes
I can't find a bit of orange peel on the car. It is virtually flawless. I haven't even buffed it with my 3M SRC finisher or waxed it yet. Looking forward to those results as well...
8-24-2013
Intake Pipe & Nozzle lines
Today went great! I finished my water injection lines last night, and got the intake pipe mounted up. I played with a few configurations and ended up with the below. I think it worked out well. Its solid, and the filter isn't resting on the intercooler. I have plenty of fittings and line to play with other configurations in the future. I have also considered welding a brace to the pipe for added stability. Since I am injecting pre-turbo, the reliability of the intake setup is paramount.
I also tested my WI system with my compressor and everything is on point. A beautiful mist activated at 8psi.
Initial Tuning
Today's tuning was easy as pie. Starting with a map that Turblown had posted on the Adaptronic forum made it really easy. I did spend a few hours scratching my head as to why my EGT's war warm, and not wanting to smooth out. I then realized my timing was still locked at 0 degrees....*doh*. Once that was sorted, it only took a few minutes to get open loop idling and driving well. I pretty much added fuel to the entire map as the tune was done on a mild port. With my big streetport, adding the fuel brought it right where it needed to be.
It's pretty much tuned to around 6psi. I'm personally not going any farther on my own. Rotorfest is tomorrow, and I will likely take it for an extended drive. I will continue to drive it, and double check everything over and over. I want to get a few hundred miles on the engine before I start slapping big boost to it. However, it looks like I am on point for Thursday's tune!!
Overall, very happy!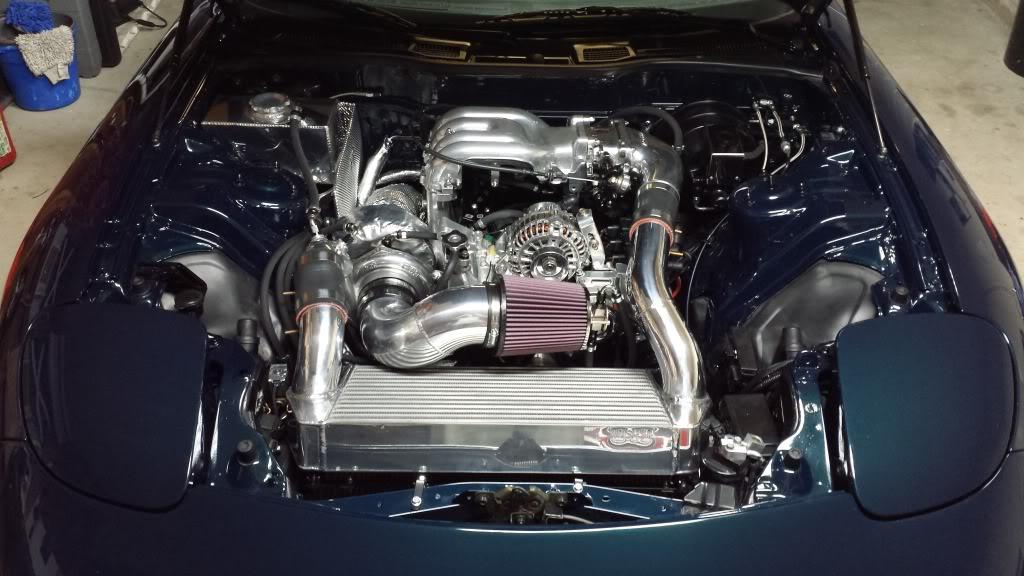 8-25-2013
Rotorfest 2013
Alrighty... I didn't get a video today. I will make one this week, and of course, video during the tuning session.
I drove the car to Atco Raceway for Rotorfest. It's about 45 minutes each way and the car did very well. I did some tuning on the drive back and I got it running really smooth to around 6psi. The Adaptronic ECU is SO SLICK! Once the map was close, I setup Slow Convergance Adaptive Tuning and let the ECU go. Once flags were locked in, the ECU perfected the fuel map to match my target AFRs.
Not a drop of coolant or oil. Everything is looking on point for Thursday. Just need to keep checking everything and swap in my NGK 10 race plugs.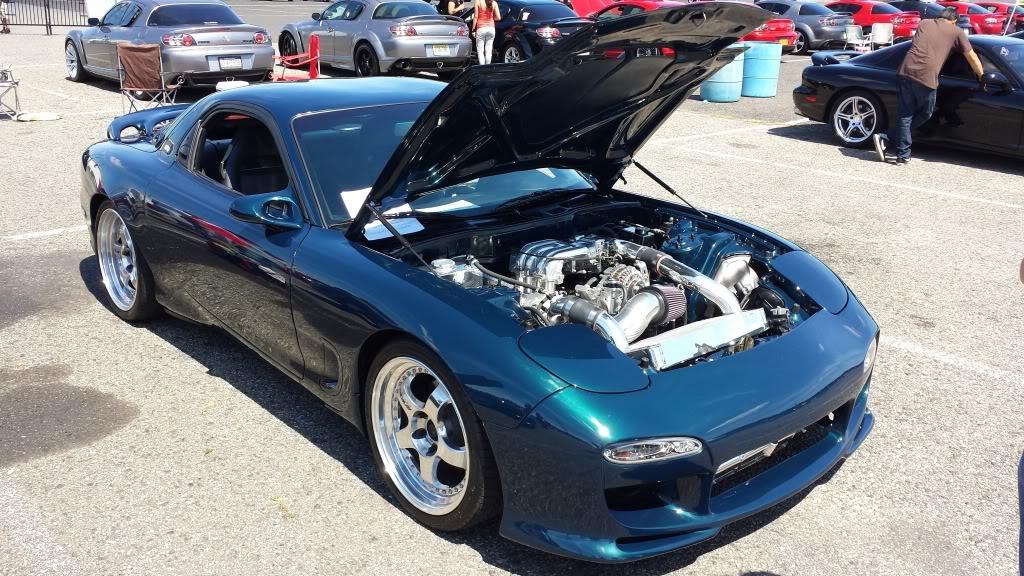 8-27-2013
Future Projects
Thanks everyone!! Below are a few things I have outlined for the future.
- Security system - I will be going all out on my security system. Having a nicely built Honda hatch a few years ago (extremely prone to theft), I learned quite a bit on how to properly add layers of security to a vehicle. This setup will be my masterpiece.
- RZ Seats - After much debate and looking at my options, I feel that RZ seats will fit my car, and my needs perfectly. It's a pretty big purchase, but I do plan to get a pair. As far as mint vs. having them recovered is still up in the air. Nonetheless, I will have RZ's with the tilt rail.
- Ducting & Cowls - As you may be able to tell from the pics, my oil coolers, and vmount need some finishing work to mate to my new bumper. I do plan to properly build the ducts for each, as well as a full underside cowl with an opening for the radiator.
- Upper panel - As I posted before, my carbon "radiator panel" came in and I am anxious to get it fitted. This project will probably happen the soonest as I just need to trim the piece to fit, and then have it painted. I think it will turn out nice.
- Wider rear wheels - With the new rear fender space created by the fender roll, I have more than enough room to widen the rear wheels. I will have my Meister 10" re-drummed to 11s and fit 315s. I have already contacted WorkUSA with pricing. This too will probably be later though.
- Upgraded Diff - It is inevitable with the power I will be making, so it will happen. Likely a Kaaz.
8-29-2013
Dyno Day
Well fella's, the results are in, and I am quite happy. The car did very well all day. Everything was solid with not one hick-up, leak, or issue. Ambient temps were almost 90 degrees today so I am right where I figured I would be. The Adaptronic controls everything very well and the secondary engagement is seamless. Boost comes on very fast.
The car is an absolute BLAST!! 3rd gear lights them up on demand. 4th gear highway pulls are too much fun.
And I enjoyed my cold A/C on the way home.

The chart has both my low (14psi) and high (24psi) boost settings. As mentioned earlier, its activated by the factory fog light switch.
504whp 419ft/lbs @ 24psi
412whp 335ft/lbs @ 14psi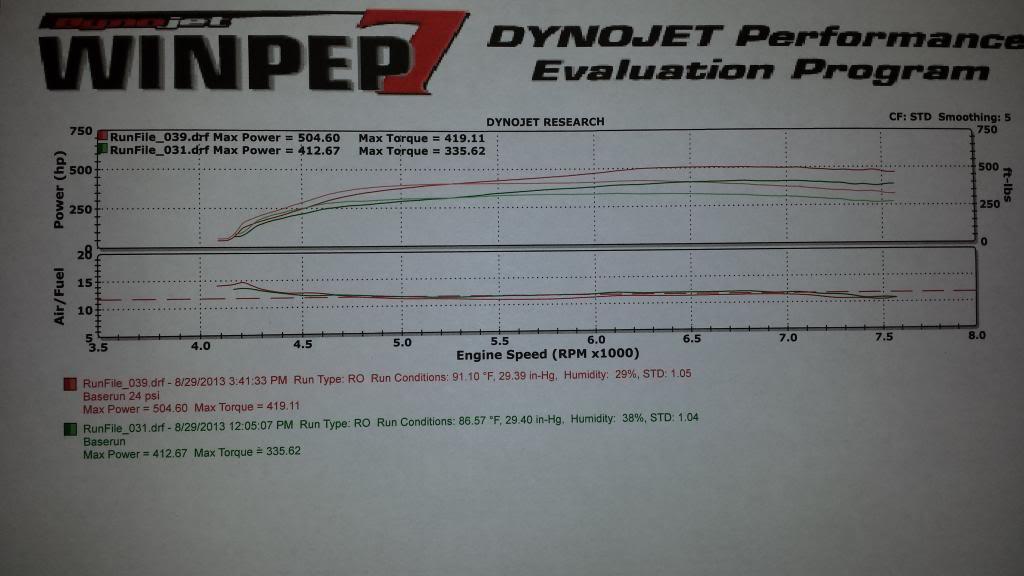 8-30-2013
Thanks all!
Elliot, yes my previous sheets are in the thread. I will post all 3 with all three setups when I get a chance.
Ben, as requested....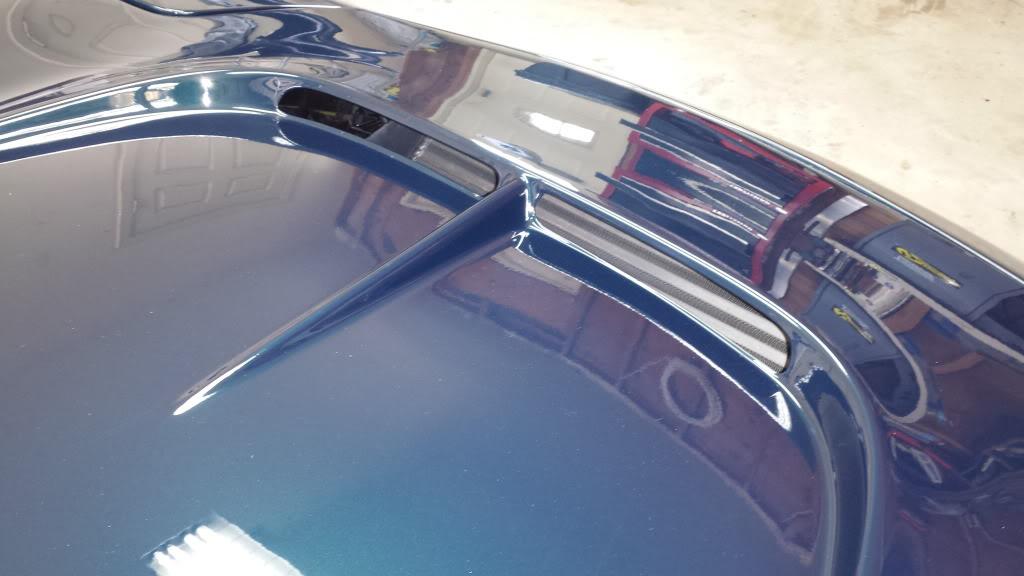 9-1-2013
Just the beginning
Thanks so much everyone!! I got back from the Chris Carlisi Memorial today and I had an awesome time!! My FD got a lot of attention which was so flattering. I'm just really glad that I have had the opportunity to bring my car to this level. Still lots to do, and more tweaks. This really is the beginning because now the car is running and making great power, I get to address all of the little things that I have put off, and even some of the areas that aren't quite up to par for my power level.
So some of you asked for a video, and here it is. Just going over some the new challenges and things to fix, as well as doing a 4th gear highway pull.
Thanks again guys!
A few shots of my FD at the BBQ...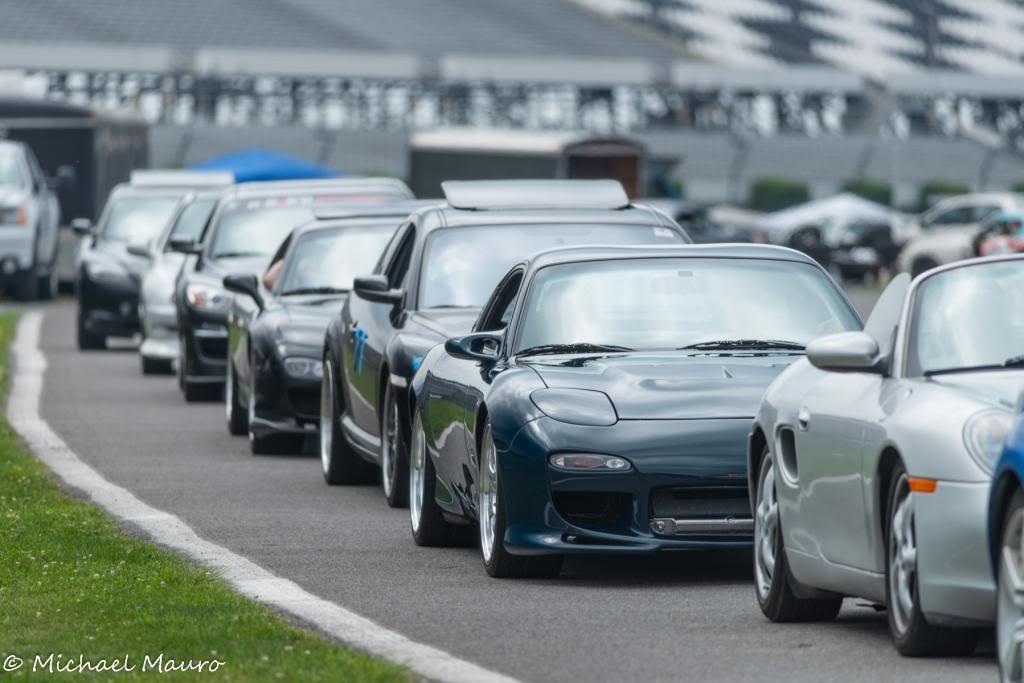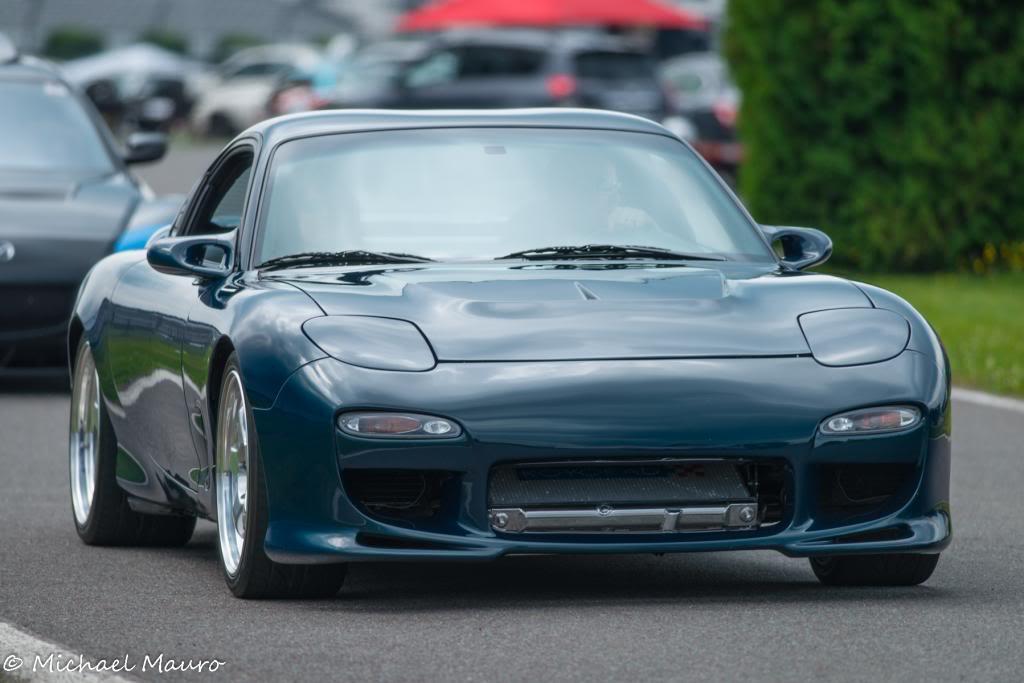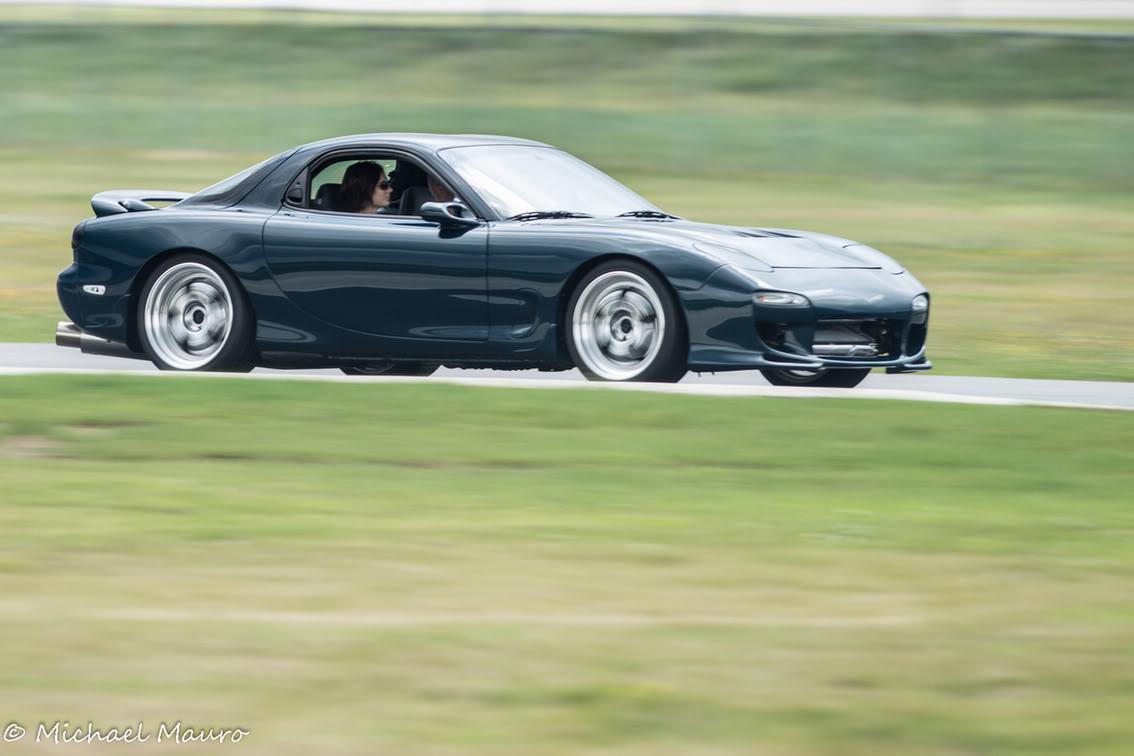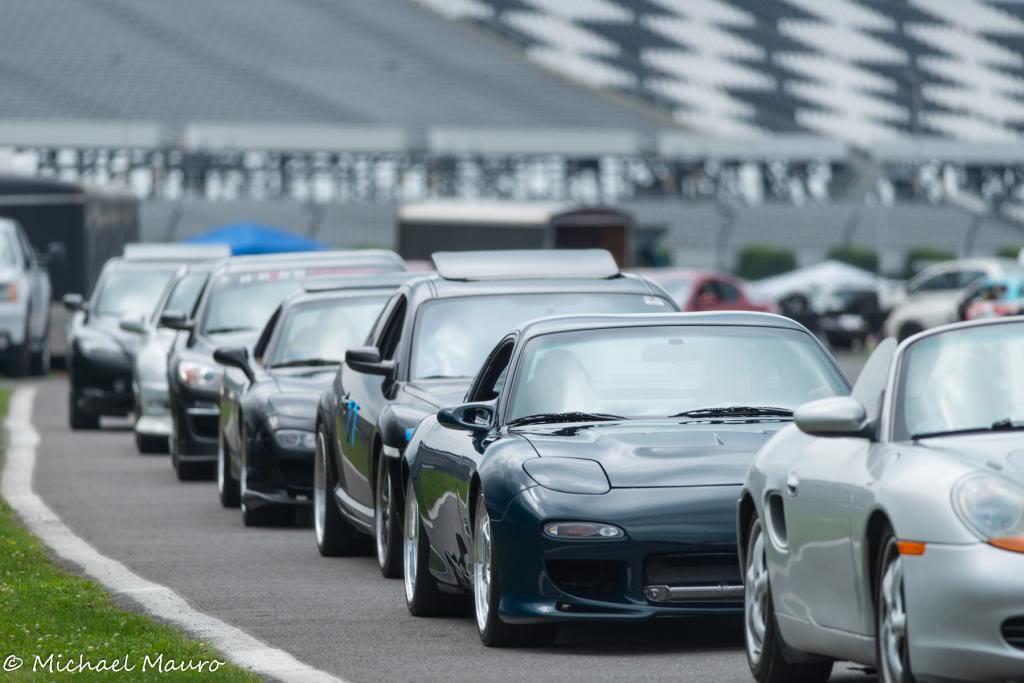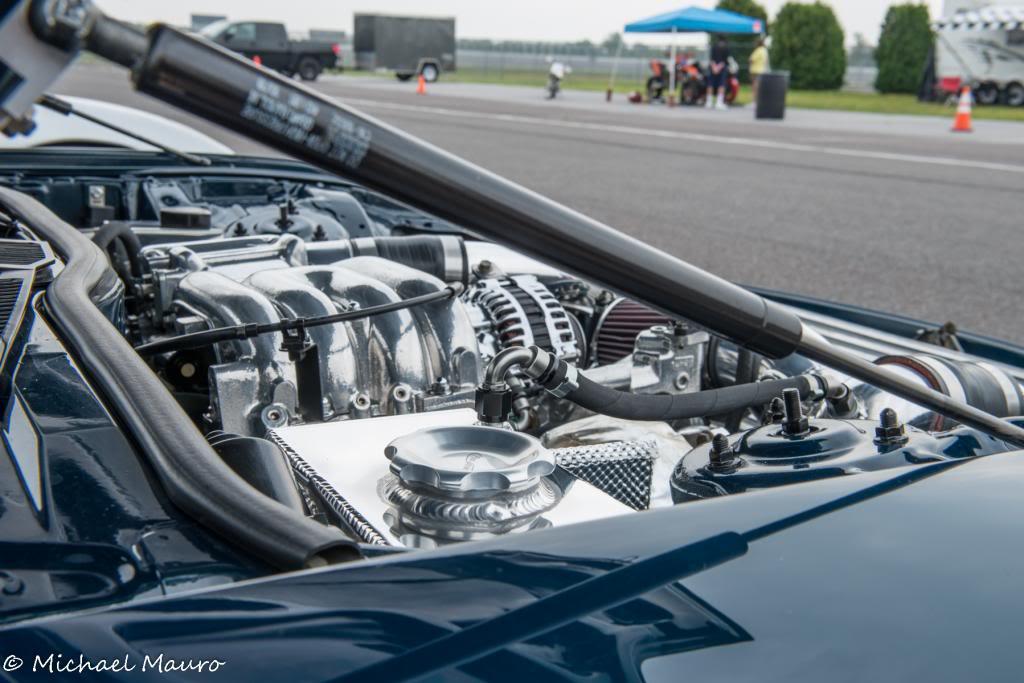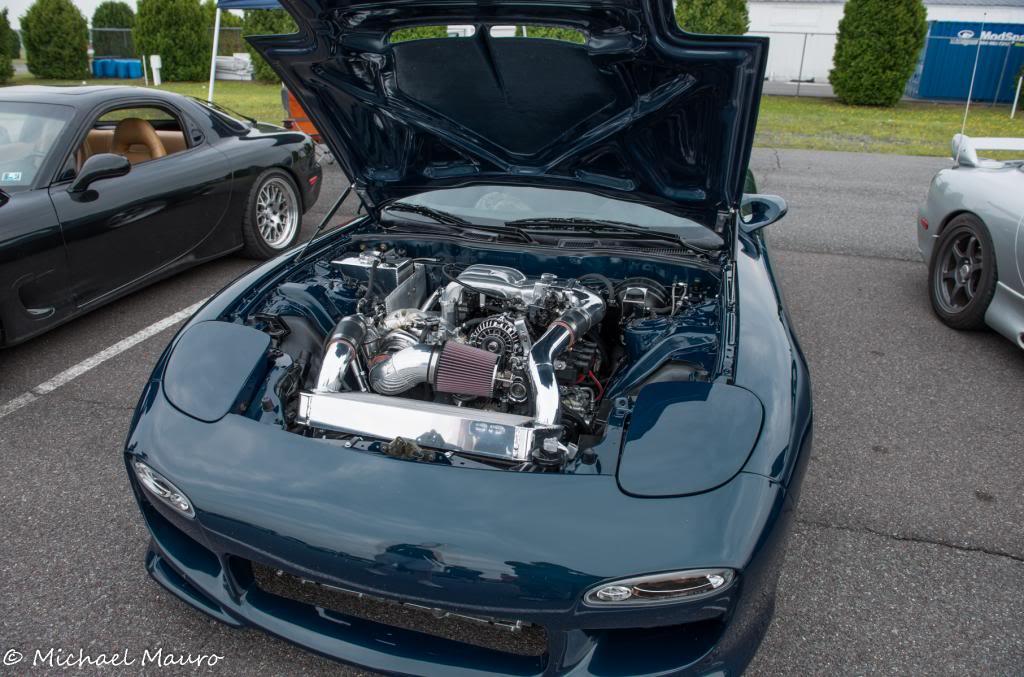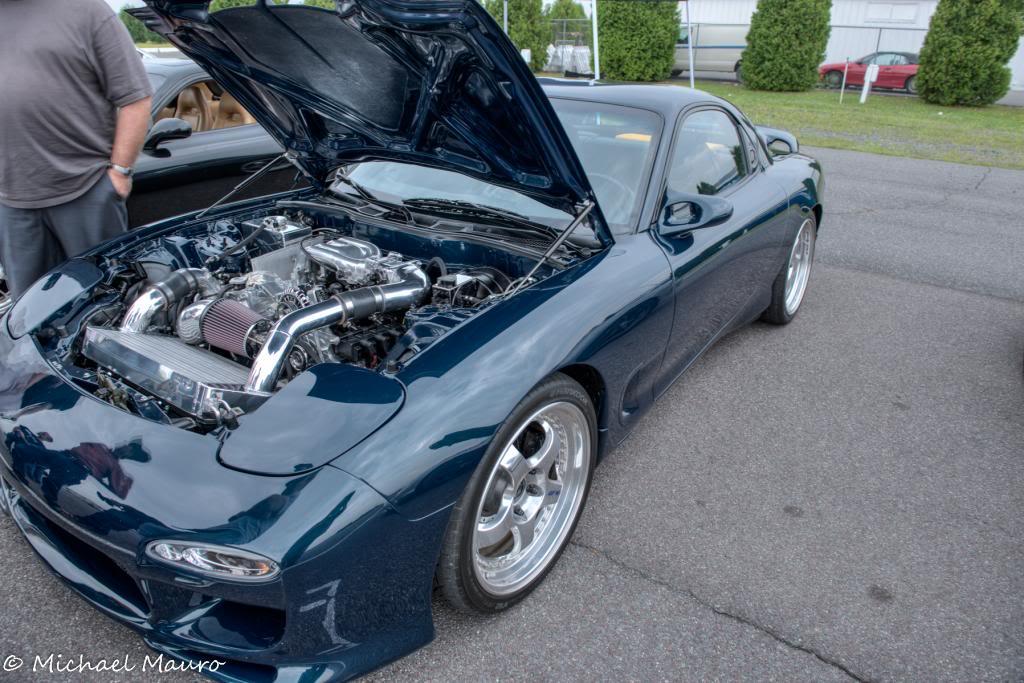 9-3-2013
Turbo Death....
Well, after an awesome weekend and 3 days of driving my car, I pulled into the garage and heard a nice chatter after I shut it down... Pulled the intake pipe and yep, turbo is is hitting...
Some facts...
The turbo is used. I bought it from Logan at Defined and everything looked awesome when I received it. Shaft play was on point and the compressor and turbine were perfect. I did notice smoke during startup from the beginning. I am running a .030 restrictor as per Garrett. I asked my tuner about it during the dyno, and he said it could be 3 things... my premix, turbo, or side seals. He said it looked like turbo and I agree. It has consistently smoked during startup with this turbo. My engine didn't do it with the old turbo. I am in no way saying Logan sold me a bum product. But with any used part, you never really know exactly where it stands, or can predict failure even if you're the seller.
The turbo performed perfectly during the dyno session with no weird noises during shutdown or pulls.
I did notice that it spins freely when everything is cold. You can't tell there is anything wrong apart from some shaft play. The shaft play is there, but nothing hits when spinning it or moving it to each side trying to make it hit. Start it up and let it idle and I can definitely hear it as I put my ear to the compressor. Shut off the engine and it chatters during spin down, and chatters when spinning by hand. Once it cools, nothing....
I haven't taken it apart yet but I have ZERO visible compressor wear from my pre-turbo WI. I'm really not suspicious of the WI affecting it. The wear I would see would be erosion of the blades themselves, not the degradation of the bearings and added shaft play that I am experiencing.
So what killed it???
1. Used turbo - The turbo was on its last leg, and taking it to 24psi for a dyno day, and 2 days of driving it.
2. No BOV - I am not running a BOV, and the surge killed it in 3 days.
3. A combination of both. A used turbo, coupled with the added stress of no BOV sent it to its grave.
The Fix
First order of business is that I am installing a damn BOV...lol. Whether the debate is true or not, it can't hurt. My Tial 50mm worked great in the past and never had a leak. I'll be putting it back on and don't plan to visit the grey area that is "no BOV"
I'm sending my P-trim 35R to Turblown for assessment. From here, we will look at options.
1. Rebuild and continue with what I have.
2. Upgrade to a TDX61, retune, and see how she does
3. Switch to a BW S366
All have their benefits and drawback, so we will see what happens.
I'm still very happy with the car. We live and learn of what works and what doesn't. I'm a little frustrated, but it comes with the territory. My car still did great, and every other system that affects power did awesome. Just a slight setback.

9-20-2013
UPDATE
Turblown received my turbo and gave me the news. Essentially, heat killed it. The turbine shield behind the turbine is deformed. The bearings are toast and the turbine was touching the housing. If the housing is okay, it looks like a new CHRA is all that's needed. Still waiting on the final word though.
As soon as he told me this, I knew what had happened. When I first got the car running I took it for a 20 minute drive around my local neighborhood to see how it would do, and I then noticed something wasn't right. I had some pretty high EGT's and idle wasn't smooth. Upon return, my DP flange was glowing from just that quick drive and the heat was radiating bigtime. After a quick ponder, I had a HUGE lightbulb go off. I realized that I never unchecked the timing lock from zeroing it... All 4 plugs locked at 0.
Of course, I let it cool, made the fix and I went about driving it. It obviously didn't show any issues immediately as it dyno'd well and drove fine all weekend. But that it seems really was the beginning of the end.
As I said before, I trusted Logan with the turbo's condition as he seemed to be a stand up businessman. After chatting at Rotorfest before my tune, I had even more reinforcement that he was a stand-up guy. This is why I don't jump to conclusions when something goes wrong. It is apparent that I alone took a perfectly good working turbo, and killed it in about 20 minutes. Live and learn...
Turblown is rebuilding it, and I will hopefully have it back soon. From there, it's getting bolted back up and away I go. Considering the turbo did well on the dyno, I don't feel a need to retune high boost. But I do plan to run some logs as I get into boost again gradually with the new turbo. Just to be sure...
I have seriously considered a billet wheel upgrade as now would be the time. But I just don't see the necessity. My achieved power is more than enough for my street car. At the cost of another trip to the dyno and retune, I may get the same power at a couple less psi. Tempting, but I am pretty happy with my results.
I also still plan to press forward with no BOV. With a fresh turbo, I plan to clock the miles and frequently check shaft play. I really feel like I need personal closure on this debate. So we will see where it goes.
10-4-2013
Carbon Panel
While I have had some down time, I figured I would tackle a job that I hadn't made time for, the carbon radiator panel. I ordered it in a group buy a few months ago by CarbonRXX. As it was designed to fit the factory car, I knew it would need some modification. With this, I requested he cut the large section off of the original design and make it flush across. He was happy to help and didn't charge many any extra. It was packaged nicely and came looking like this...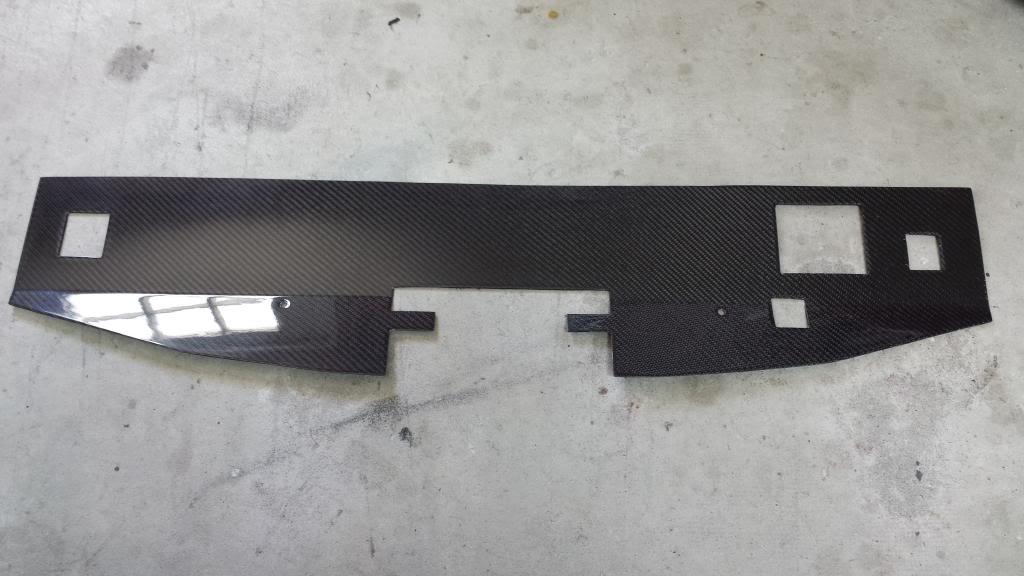 With some advice from FCinWV, I took some measurements and went to work with my Dremel. I used Dremel's "plastic cutoff wheel" and it worked very well. After mowing through it like butter, I went back and ran a "sanding" tip across the edge to take away any small flaring. I had to cut it a few times as I got closer to the shape I wanted.
I feel the end result turned out pretty well... I ensured the Rotary Extreme SN stamp remained visible as I like it. The panel will be painted Montego Blue, but for now it will remain bare carbon fiber as I get other things up to speed...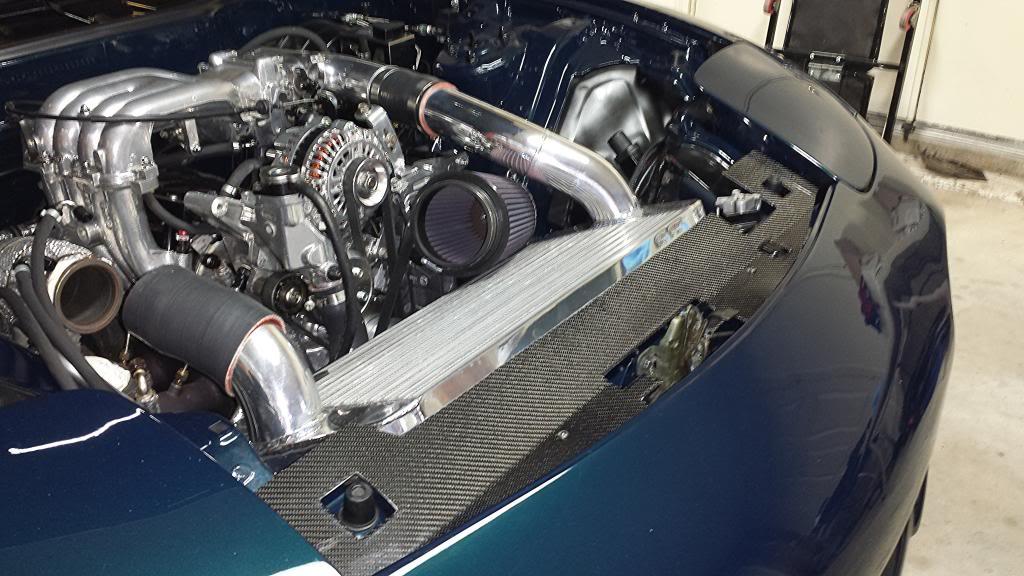 Turbo TIME!!
After a few weeks of waiting and discussing my options with Turblown, I finally received my FRESH turbo. It is now sporting their 35R replacement billet compressor wheel. I am ecstatic over the continued EXCELLENT customer service, and products I have received from them!
My decision to go with a billet wheel ultimately came down to a "might as well". With a total limited investment to upgrade and a nod from the wife, it was an easy decision. Looks like the little voices won, and my rational side was once again bound and gagged.....

. I'm headed back to the dyno on Oct 19th, and looking to wring this sucker out! With much cooler ambient temps, billet wheel, and fresh CHRA, I am very anxious to see what it will do.
All that needs to be done is have my elbow re-welded, and bolt her on. Turblown wanted to machine my compressor housing as the billet wheel is slightly larger. With needing it to fit on the lathe, the elbow needed to be cut off. I will once again be doing some test driving before dyno day, and ensuring everything is solid.
Overall, very pleased, and excited!!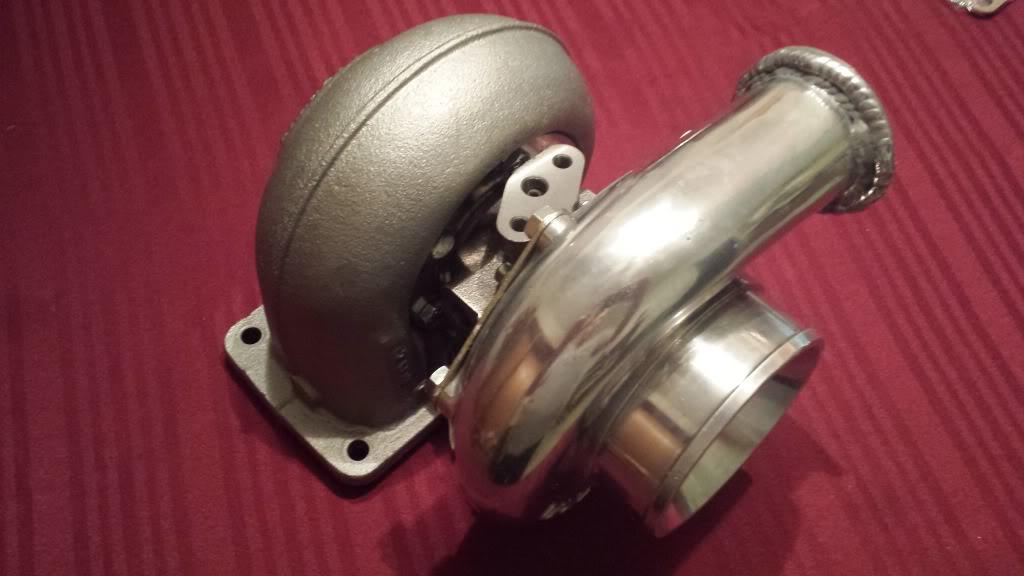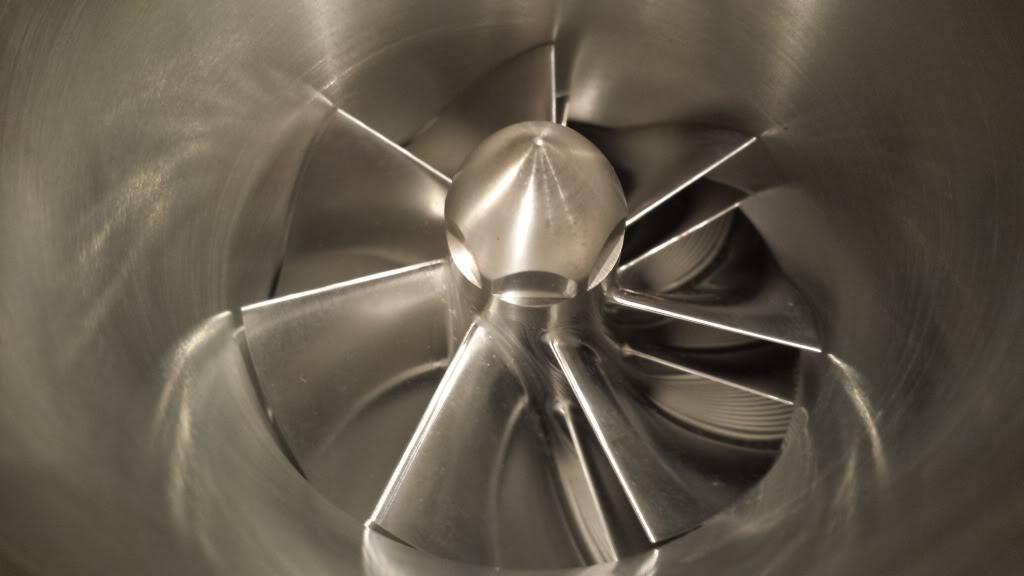 10-20-2013
Dyno Day!...Thrills and Chills...
Well folks, the results are in, and the setup performed very well. We saw a bit of extra flow from the addition of the billet wheel. Our last run was at 24psi, and it LAID IT DOWN! In the process, the rear rotor let go. As the official results of the failure are yet to be discovered, my tuner is pretty confident it is a warped apex seal. As the engine is using OEM Mazda 2 piece seals, it is rare for them to warp. Whatever the real damage is, it will be known when we tear it down. Whether the seal cracked or warped, we will see. I am confident that my turbo didn't take any damage. It will definitely be inspected though.
AFR's were solid and it never ran lean. EGT's were also solid as each rotor was within 10 degrees F of each other.
My plans are obviously to rebuild the engine better than before. It will be studded and running a performance apex seal. I want to really set it up this time around.
As I pushed the envelope of my engine, I knew there were risks. Those risks caught up with me. As more time and money is ahead of me, the only real consolation I have is that I made big power for the first time, and I will be BACK!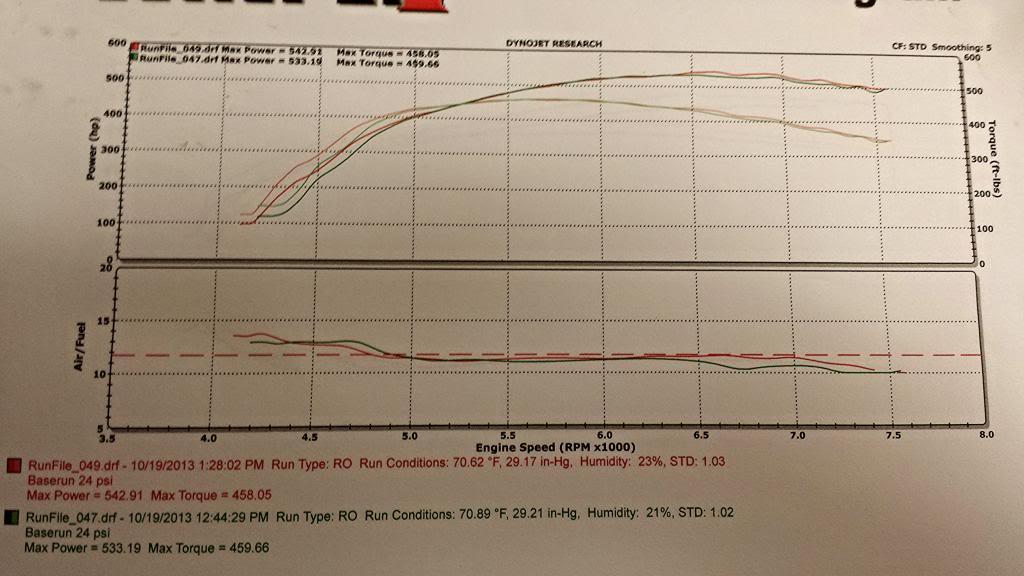 10-22-2013
10-23-2013
My tuner said he could feel it let go up top at the very end of the pull.
I have been racking my brain trying to think of what could have caused it. Once the engine is apart, we will know more. I just want to make sure it wasn't something in the setup. I don't think it was, as AFR's and EGT's were solid.... but I want to absolutely make sure. My hopes are that it was an engine build issue.
540whp is a lot of hooche. I'm still using the OEM lower manifold. I considered it being an issue, but my EGT's were within 10 degrees of each other under full boost. The same could be said for my injectors and pump. If I was running out of fuel, the AFR's would have jumped. They were solid, and even dipped into the 10's one run.
Same for my WI system. I'm going to test it, but if I would have drastically lost meth, my AFR's would have leaned out.
We don't want history repeating itself with my new wicked engine!
10-27-2013
Yes, 427whp actually. It is good! I was pretty impressed with the entire setup really. As I learned, the hotside makes such a huge difference.
This is a graph of 14psi with the billet wheel, and 14psi with the cast wheel. No other changes... I will post a comparison of the high boost run with both wheels as well. In all the confusion, I forgot to get that one.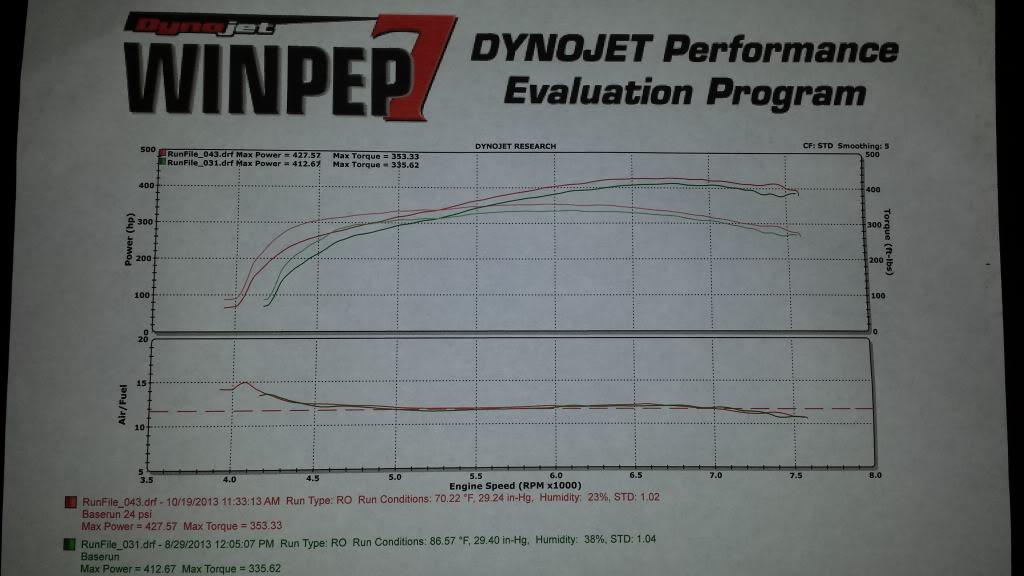 11-14-2013
Choices
Well folks, I have thought about this long and hard. I definitely do not take this decision lightly. Honestly, I am surprised that I even considered putting a V8 in my beloved FD.
After tossing it around for a few weeks, and weighing the pro's and cons over and over again; it really came to me while discussing it with a friend. He knows me very well and asked how I could turn my back on the rotary. As some of you know, and as he eluded, I have a few tattoo's that are rotary powered in nature. I explained with this...
"I have owned 9 Rx7's in my life. I got this tattoo 15 years ago. I was 18 years old and beating the **** out of NA 1st Gen's on the back roads of WV. It was pretty much the beginning of my passion for cars, Rx7's and rotaries. I never had a single engine problem. Sure I would have an ignitor go bad, from time to time, but I never lost an engine. Fun, care free, rock solid reliability in a mid 80's sports car."
In saying this I really realized something I already knew, and quite possibly what most of us know. Rotaries aren't reliable making big power. To say that rotaries aren't reliable is just silly. Many Rx7, and even FD owners have had their original engines over 100k. But I would venture to say not many have done so making 500whp. 1.3 liters of a very awesome design, but I can't pretend it will be as reliable as I would want it at the power levels that I now desire.
I have decided to switch to an LS engine. As many of you know me, you know it will be a well sorted swap. I have some cool stuff planned and it will definitely be on the level. There are many ups and downs, chills and thrills of discussing the choice of going with an LS. For me, the answer is simple... At this point in my life, the LS is the right choice for good reliable power. That's really all there is to it.
I want to thank all the people that have helped me with the HUGE amount of helpful information. This forum is so awesome, and because of you all, my knowledge has grown exponentially.
I also REALLY want to thank Turblown, and Rotary Extreme for providing great parts, amazing service, and a good price. Elliot and Ben were extremely helpful and courteous.
I will ALWAYS be an active member on this forum. I love helping others and giving back to the community in every way I can. I have said it many times, anyone can PM me any time with a question, and I will do my best to give good, valid knowledge.
Though the FD is going to the dark side, I have been promising my wife a MG sports car for a few years, and it will likely get an Adaptronic powered S5 NA engine.
I still love those triangles...
Thanks guys!!
11-15-2013
Thanks for the input and comments guys. The replies went just about how I imagined. Some concur, some do not, and some are indifferent. Just know that I didn't take this decision lightly. I discussed it with my wife a lot and I feel it is the best choice. She will be retiring from the AF soon, and I will be following eventually. We both agreed that we need something a little more stable under the hood, that would still wet my apatite. As far as getting boring or selling? I just don't see it happening. In fact, I will be more inclined to take trips, and enjoy it.
I will have a pretty big For Sale thread once I get to MS. I will post here when I get it together. As of now, my vmount, turbo kit, water injection and exhaust are being sold to a good friend of mine, so they won't be on the list. However, pretty much everything else will be. From ceramichromed manifolds to dual oil coolers.... Everything
I saw my thread title got changed. I don't really mind because it reflects the future. However, I don't want it to turn people off from my thread as I do feel it has a good bit of info to help others. Either way, Mods can do as they wish. You guys have always been cool and I respect your judgement. Maybe we can change it once I find out what particular LS engine is actually going in...
As far as the LS build engine selection, I am on the fence. I've been looking at an LS3 crate engine for an easy swap. No it will not get boost, nitrous or any other power adder. I want strong, reliable NA power and mid/high 400's is very achievable without sacrificing a drop of reliability or driveability. I have also been looking at building a stroker motor and go for the throat but there is a substantial amount of initial cost involved. Also, I would be building my first engine so there is a lot to learn if I chose that route. I have also looked at an LS7 crate engine, but they are functionally a bit more than what I need. Perfect for power, but the dry sump and overall factory cost is up there. They sure are nasty though.
The overall fit and finish of the new setup will reflect my current. The wire tuck will continue of course and, I will carry over the black and polished color scheme.
11-17-2013
Thank you all for the wicked cool support, words, and.... banter

To even consider donating parts is just too awesome. Elliott, you make it hard my man. You have given me a lot of support and it's tough to say "no" to this. The community is lucky to have a great vendor that supplies excellent parts and continued innovation.
I am putting a V8 in my car. I have already started disassembling for partout. As much as it may hurt to see my car get the treatment, I can assure you it will be a quality build and it's not going to get sold out in a few years from boredom.
Regardless of what propels it down the road, I assure you my Rx7 will be doing what all sports cars are intended; to supply the most important aspect of motoring...FUN!
11-21-2013
UPDATE
So it took me a little bit to read the discussions on my thread...lol. I guess that's what I get for slinging out ideas of a swap. None the less, I know the V8/rotary debate definitely raises alot of tension. I don't really sweat it.
In any case, I can answer a few questions with an actual update. I have started parting my car out as most of you have seen. Parts are slinging out the door as fast as I can sell them. I will admit it was kind of tough to turn the first bolt, but it has gotten easier as I see my Paypal account growing. The real reason it has gotten easier is because of two letters and a number....
LS7
I just put a deposit down on a built LS7 long block. I should be picking it up in a few weeks. A little info on it...
Block has been tanked, checked & honed(4.125bore) shortblock has never been installed or run
-Manley forged 4" lightweight crank, standard snout (non-dry sump)
-Manley 6.125 H-beam rods
-Manley 2618 forged pistons and rings
-clevite h-series bearings
-COMP CAMS 227/243 6traysLS7@113 cam
-LS7 lifters & trays
-LS7 timing gears, Katech timing chain
-Melling HP oil pump
WCCH stage 2 heads are used & have about 1300 miles. they are assembled with bronze valve guides, Stage 2 CNC port program, competition valve job, surface milling(just to ensure its flat) and stainless steel exhaust valves and polished titanium intake valves.
ARP head bolts
GM head gaskets.
COMP CAMS pushrods
New GM rocker arms & bolts.
Should put down around 550whp with good street manors. It was built by a local shop and they are offering me a warranty as well. I'm getting a pretty damn good deal.
So as some of you eluded.... it will be to the standard of my last setup.
I will continue to update THIS thread and my new build thread over at NoRotors.
11-29-2013
Well folks, basically all of my parts are either sold or spoken for. I should pick up the LS7 by the end of next week. The oil pan is being modified and bolted up. I chose the wet sump out of simplicity really. I will be using the Improved Racing baffle, and that should be more than enough to keep things happy on spirited back road drives.
For the ratings.. hey... it is what it is. As some have commented, my thread has helped give them ideas. If it helps people on what, or even what not to do, then that makes me happy.
The Real Beginning...
Well, my engine bay is now completely empty. I have a few parts going out here and there, but they are pretty much gone. I have started my Excel spreadsheet once again of the parts needed. It's going to be another long road, but I have high hopes that this will be the last one. I am using ZERO used parts in this build. Everything will be new. Progress will be slow, as my $14k in rotary parts essentially only bought the LS7 long block, new T56 Magnum transmission, and the Samberg components. As the game got stepped up, obviously the cost did as well. Another $6k should get it done, so it won't be that bad.
I'm sure some of you are shedding a few tears seeing my engine bay like this. Don't worry, it will be as shiney and epic as ever soon.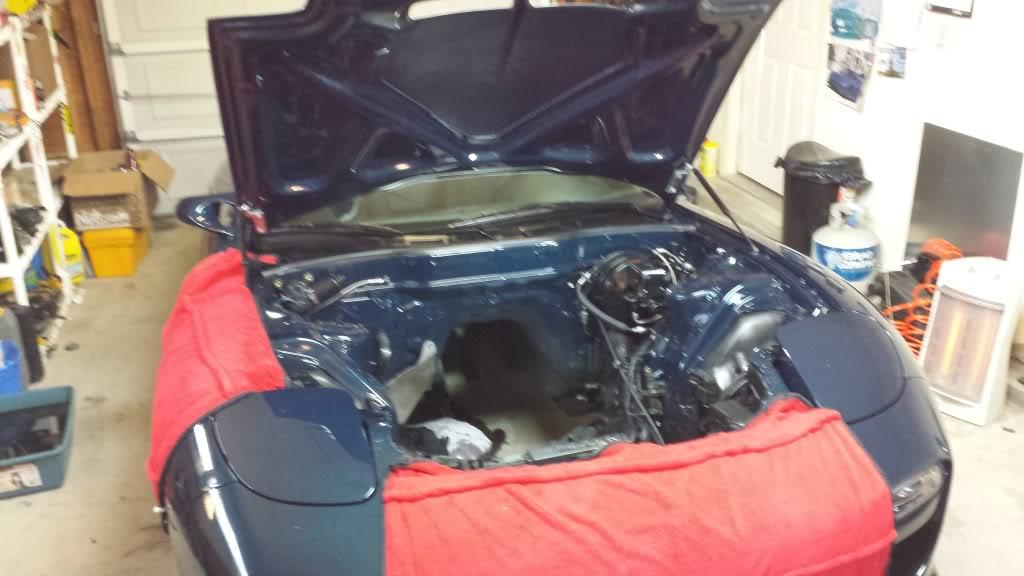 12-3-2013
Engine Time!!
Here are some pics of the engine, before assembly. I went over to his house to check out the action. I am sourcing quite a few parts from the builder. Getting things pieced together before I move to MS in January. There will still be lots to do, but it's definitely a start...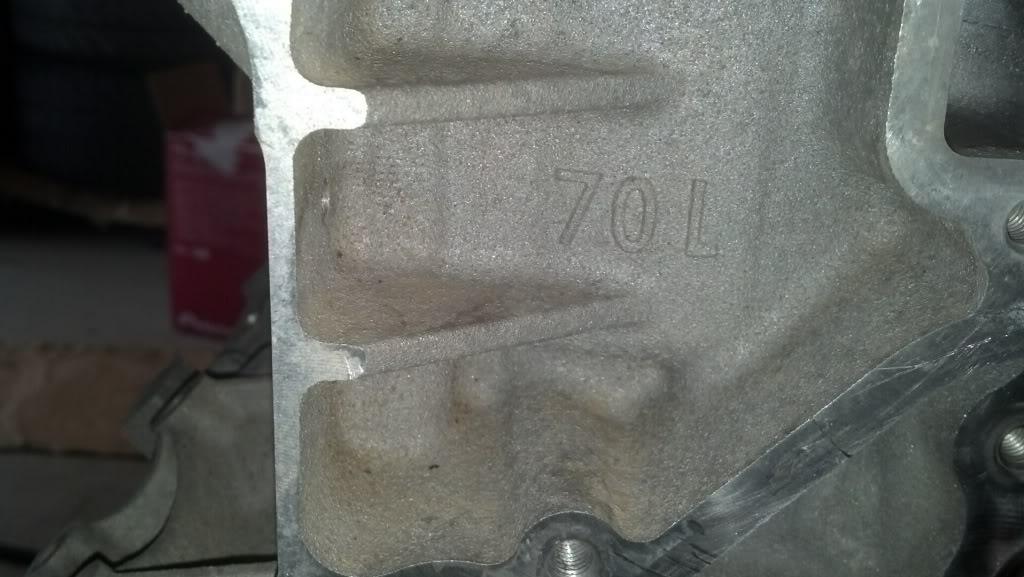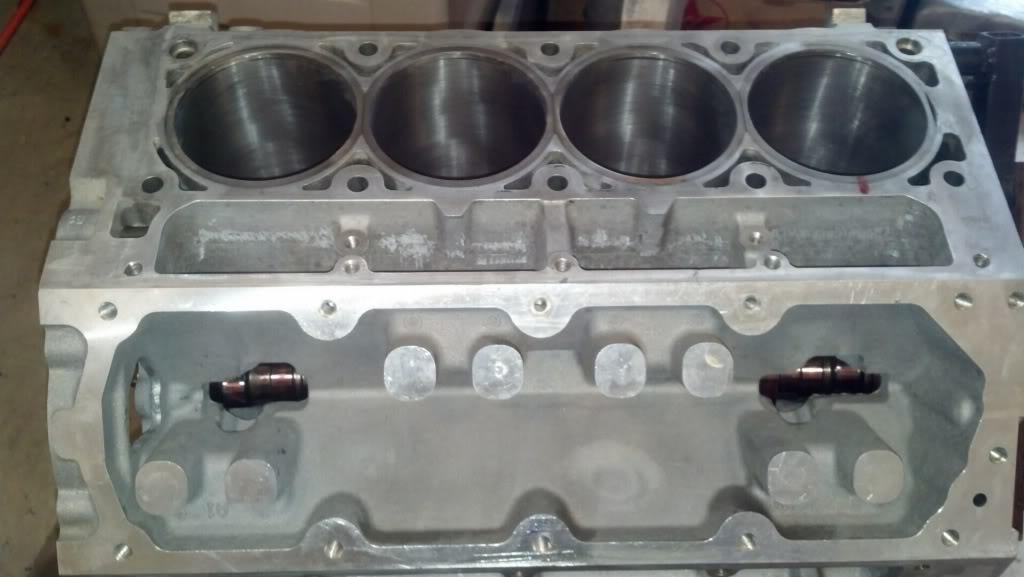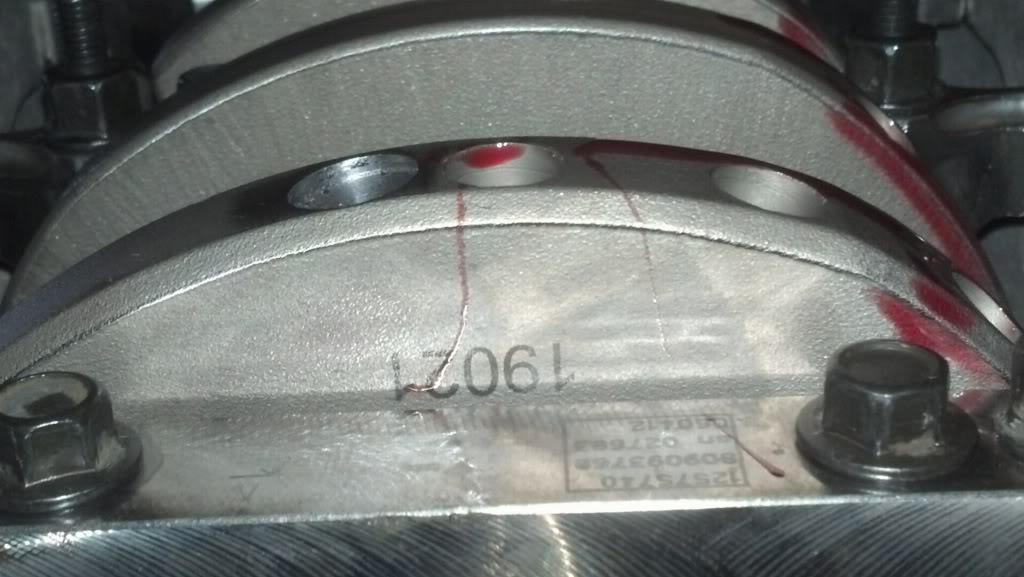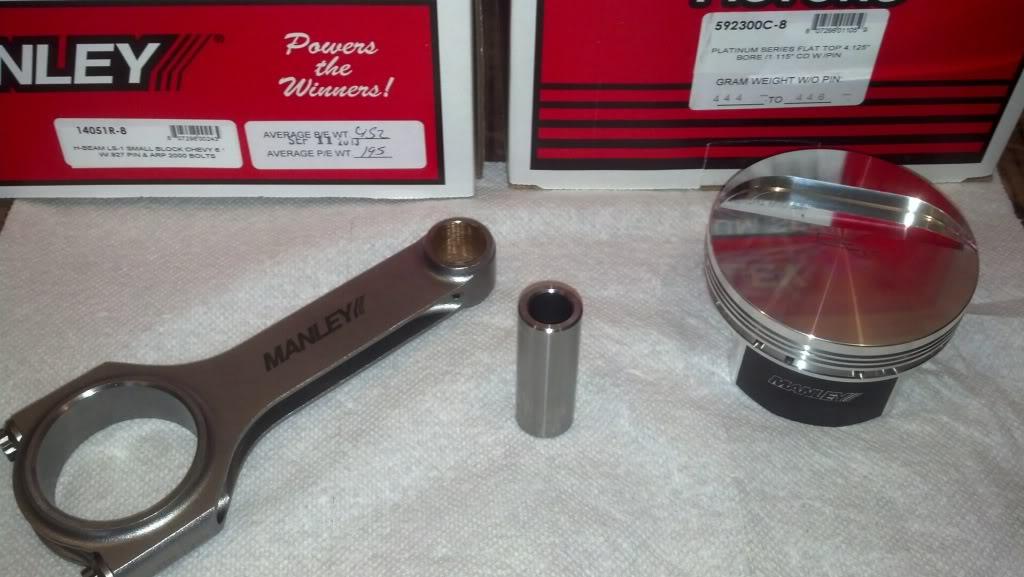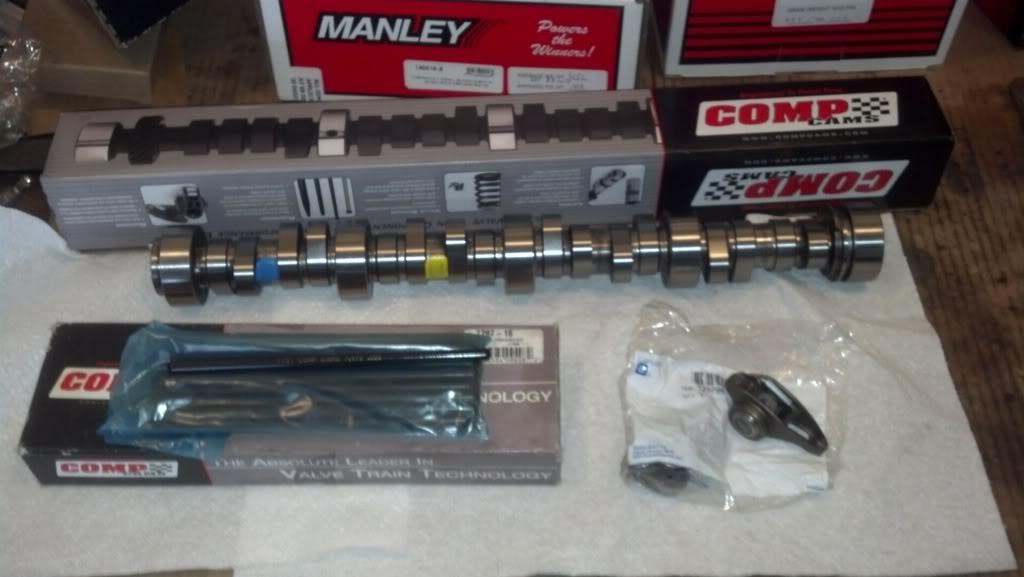 12-17-2013
UPDATE
2 weeks and the engine will arrive. I went ahead and ordered most of the other engine parts through the builder. He gets parts at cost with most vendors so it was a viable option. The LS7 will essentially be a crate engine with harness, ECU, fuel, and intake. I may have DigitalSolo modify the harness, or I will try my hand at it. I'm pretty decent with wiring, so I may just do it myself. I'm using a Fbody ECU and EFI Live. This also allows me to do some cool OBD stuff.
At this point I will need to get the accessories. I am likely going with March Performance accessories. I'm still debating on keeping PS or not. My rack is still in tact, but I am considering pulling it apart during the swap to properly "de-power" it. I personally love the looped line so it can only get better.
I am in on the next group buy for Samberg's radiator/intake kit.
I have also put my deposit down on Spoolin's 1 7/8 Premium merge Headers. Very great quality.
I will be ordering the mount kit from Ronnin as I like their powder coating and poly mounts they add to the Samberg kit. Overall, I think it's a great deal for what they do.
I will post pictures of the engine in 2 weeks. Until then, it's pretty much a waiting game.
12-18-2013
Stock for now, but that won't last. I'm still deciding on a full Cobra 8.8 setup, or sticking with a standard aftermarket like Kaaz or Carbonetic. Even the S4 rear swap would show some benefit. I will likely be running some good sticky street tires on a 315 so an upgrade will be in order. However, since it really will just be a street car, I have no plans of launching it hard in a drag setting.
What I really need with the added strength is lower gearing. The stock diff is geared pretty high for all that torque. I have been reading that a 3.70 is nice. I will be using a T56 Magnum so I will have some added flexibility there as well.
12-19-2013
I currently run a 18x10.0 +43 (O Disk) on my Meisters. I will have them re-drummed to a 8x11.0 +30 (O Disk). This effectively keeps the placement the same, but pulls the outer lip out 1". I easily have 1" of room after having my finders rolled and smoothed.
Below is a few pictures of my current fitment. As you can see, there is definitely room to grow. As far as putting a 315, it may be too close with the tire and I might have to to go with a 305 and a little stretch instead. I will definitely be doing much more measuring before I pull the trigger on anything, as this is just preliminary planning.
Thanks guys!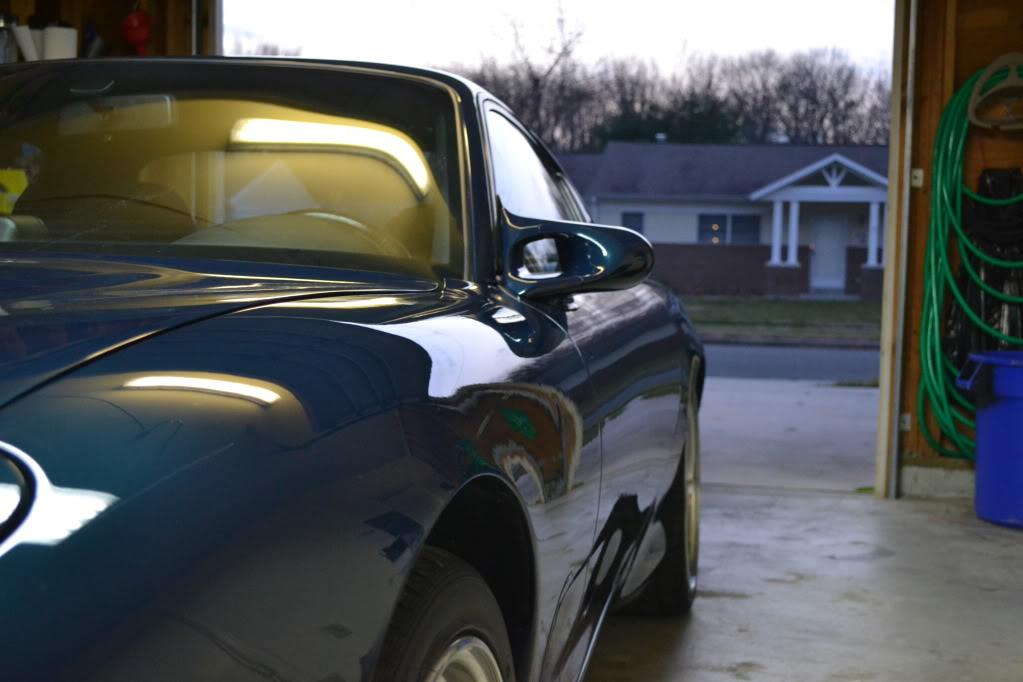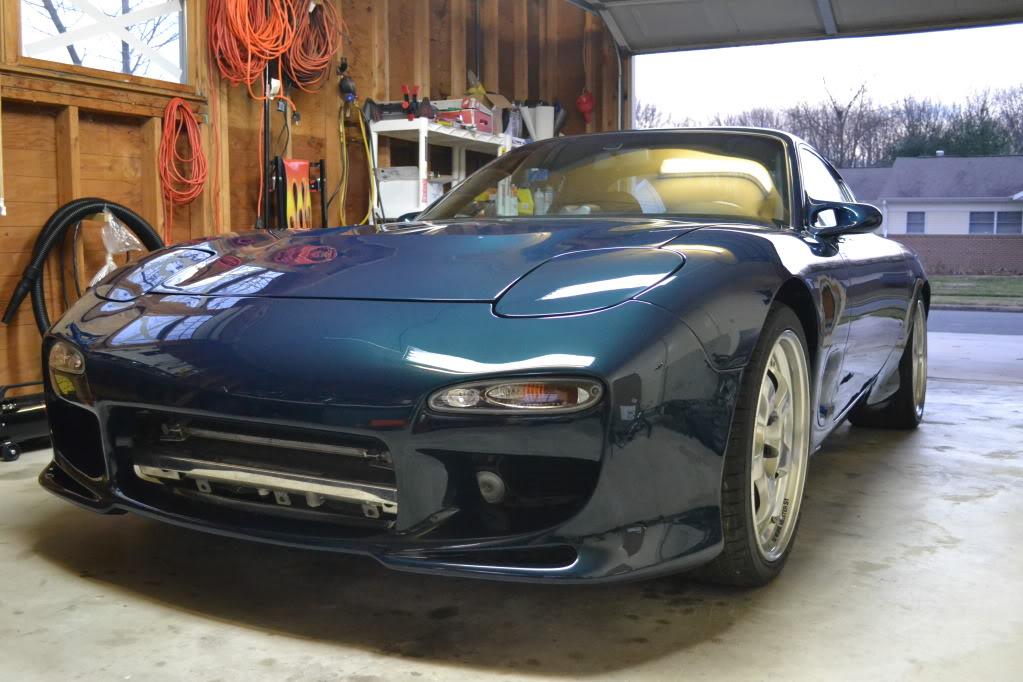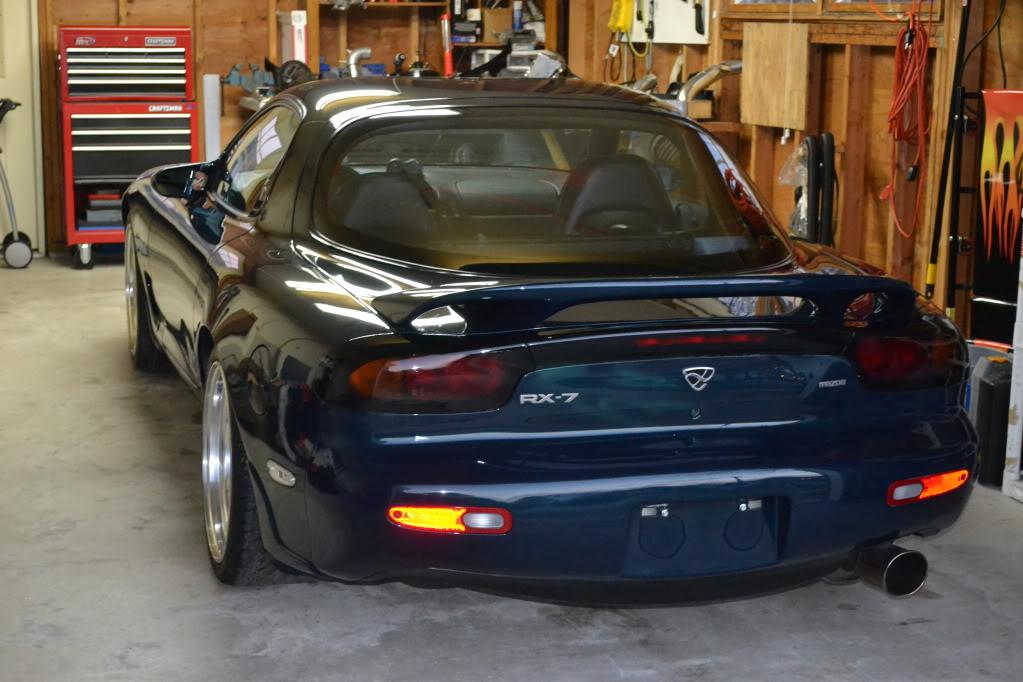 5-1-2014
It has been quite awhile.
The update really is that there isn't any updates. I am STILL waiting on my engine to be finished. The builder is definitely moving slower than anticipated. He also, ran into an issue with the block being off, so it had to go back to get decked. The good news is that even though he is taking so long, it's getting done right.
I have all the money together to order my Magnum T56, and plan to order soon. However, until the engine arrives I am holding off. Still saving my pennies, and planning for things to go together well. Ultimately, things are going slow for now.
I am in Halfspec's recent group buy for A/C lines, and I am researching a few other small things to continue to compile my list. I picked up a clean Cobra rear with 40k miles and a nice set of stock inner snubs. I will be sending my FD outers and the Cobra inners to DSS for them to assemble.
Pics of all the cool parts and REAL updates will come when the engine arrives. Until my engine arrives, everything is kind of on hold.
Thanks
5-11-2014
UPDATE
Well, with everything starting to slowly come together I figured I better get to work. I am still saving for a large chunk of parts that need purchasing, but I'm not really too far off. After all, once the engine arrives, I want to work on getting it in, instead of all the things I should have had done already.
I got the car up on 6 stands and stabilized really well. It was a little tricky getting it up where it felt really secure, and I felt comfortable yanking on stuff underneath. I wanted to be able to drop either front or rear subframes without having to move things around.
Go time!....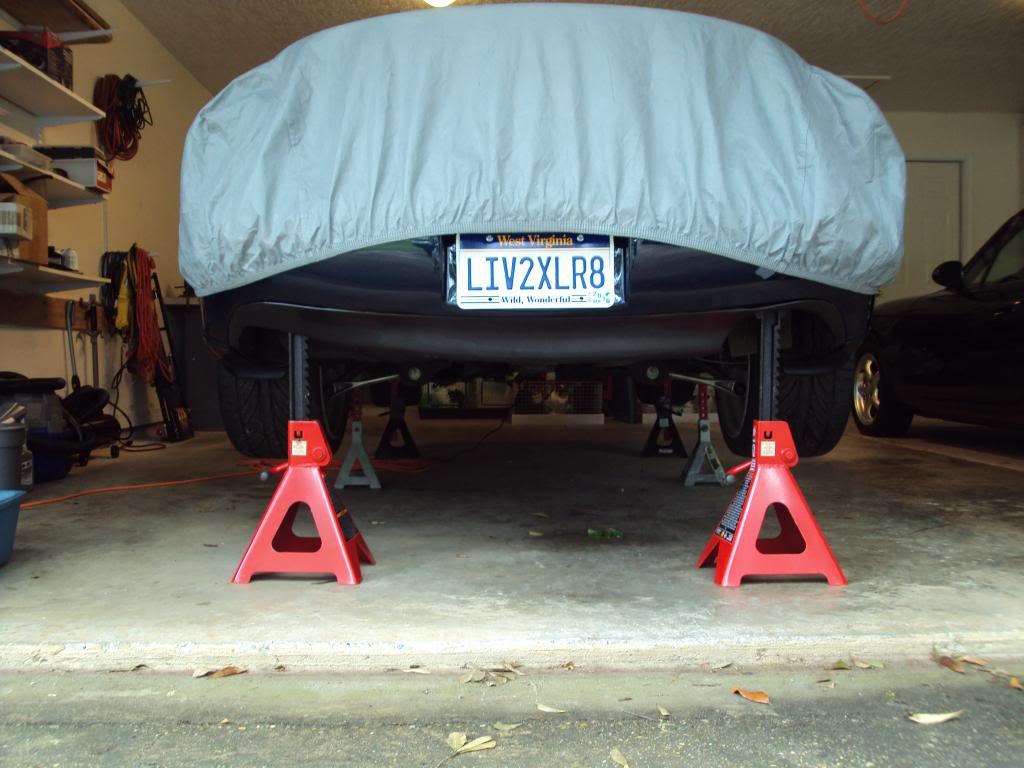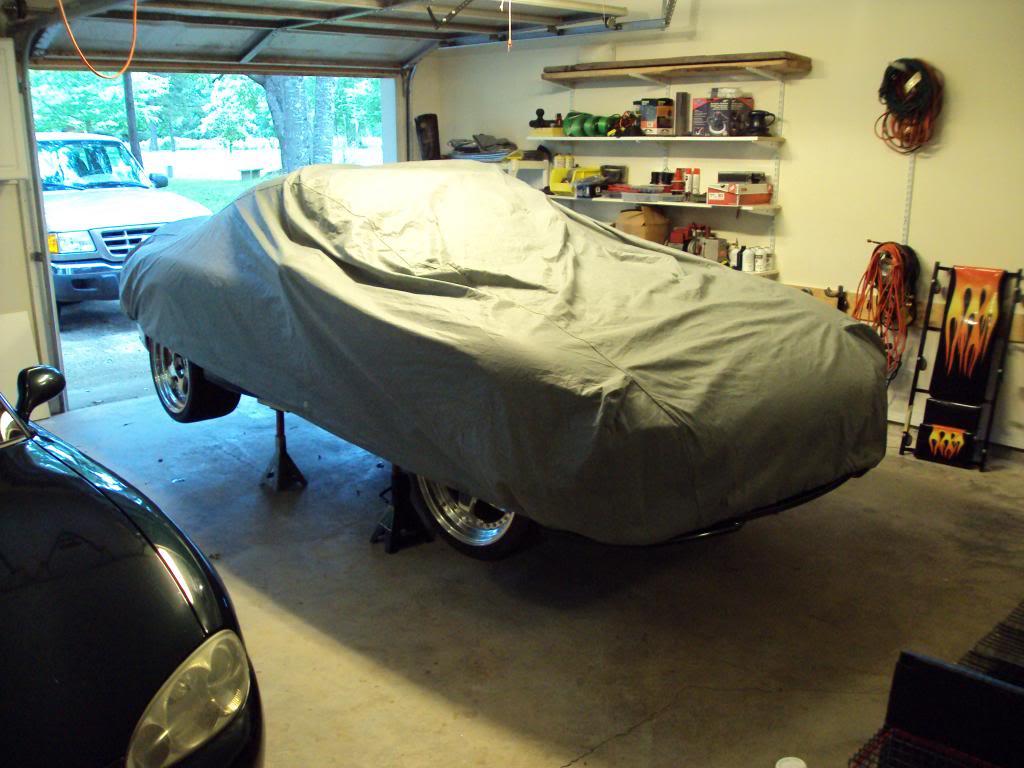 Cobra IRS 8.8
As I have mentioned I decided on the Cobra 8.8 for two main reasons, strength and gearing. As many of you helped sway me, I really think it was the best choice. I am sticking with the factory 3.55 gearing and OEM LSD. For my needs, I think it will work well. I purchased a 04 differential with 39k on it. After inspection, everything looked in order. I cleaned it inside and out thoroughly in preparation for its final home.
I installed new axle seals. Though the originals looked fine, I figured it couldn't hurt, and they are pretty cheap. I picked up a modified cover, and installed it on there as well. I had a few folks say that I should paint the diff, but I don't plan to. I like the raw aluminum look. In any case, it's cleaned up and ready to go in.
I painted the Samberg 8.8 cradle with Dupicolor 500 deg engine primer, and paint. I have always had great luck with this paint. It's pretty darn tough and I think it turned out well. Should I have went powdercoat, maybe. But I think it will look great for a long time....
I ordered the Energy Suspension bushings for the front ears, and they will be here this week. This is the only thing I am missing to "physically" mount up the diff and cradle. However, I need to rework my fuel system and get my axles together before it goes in.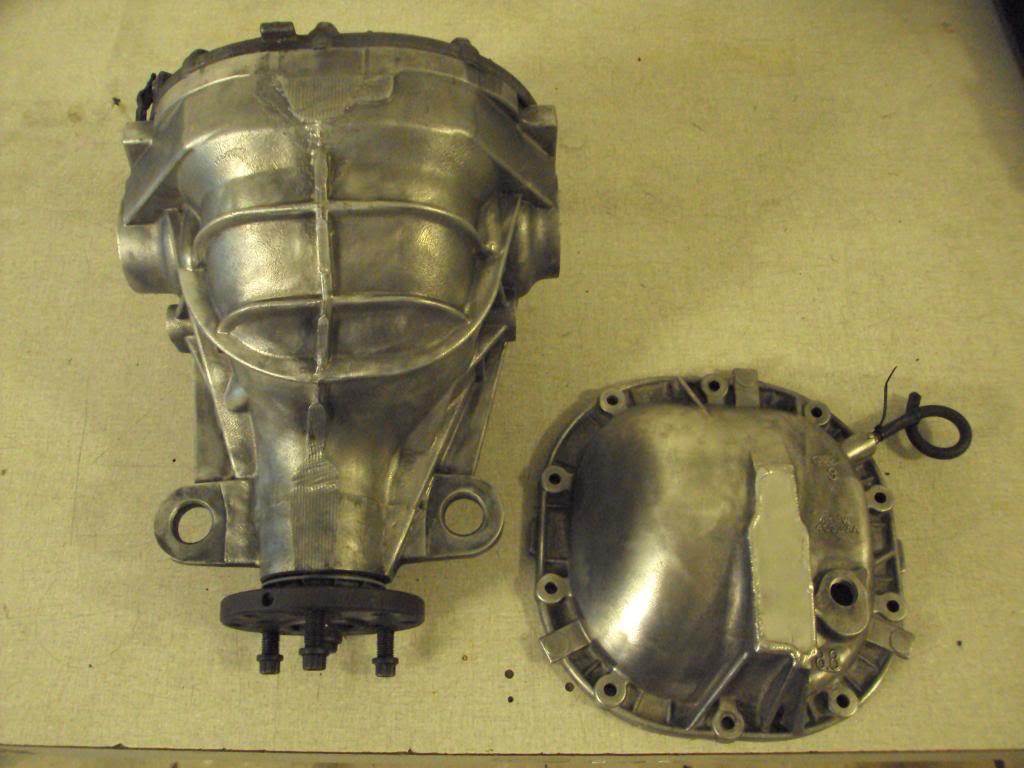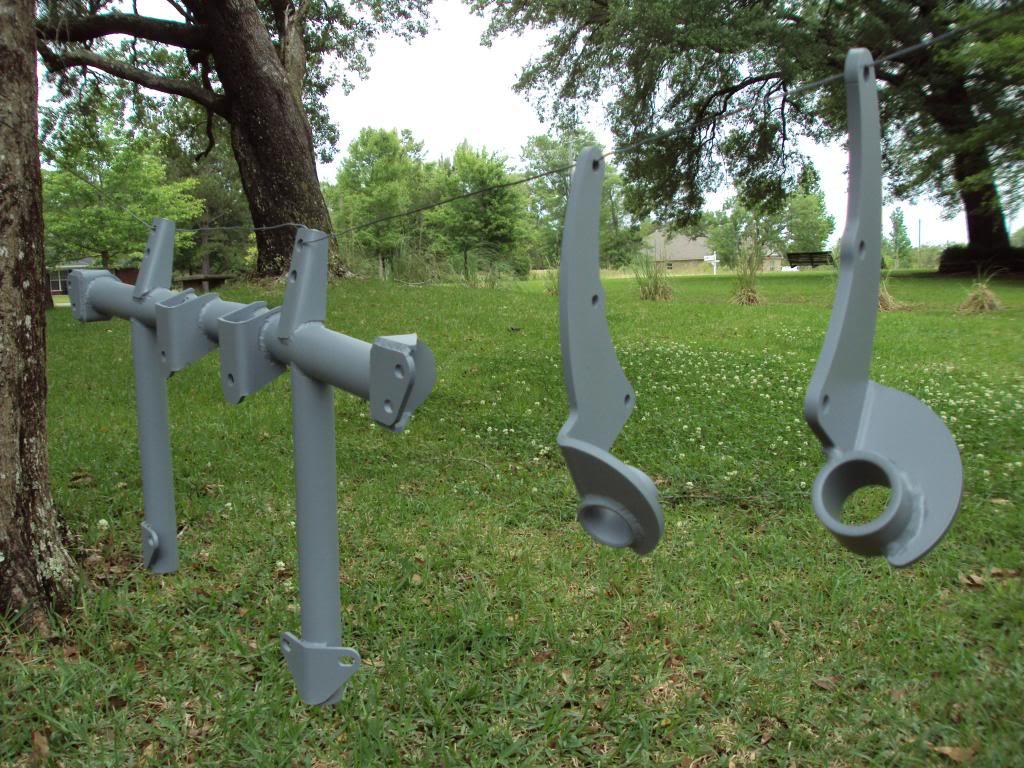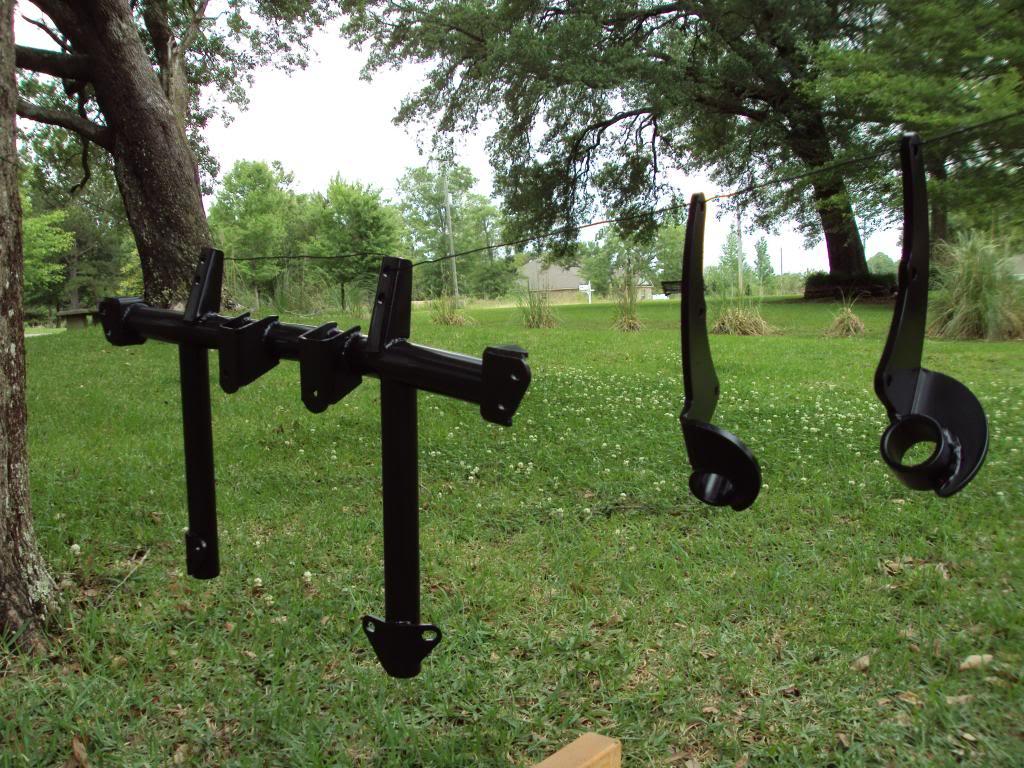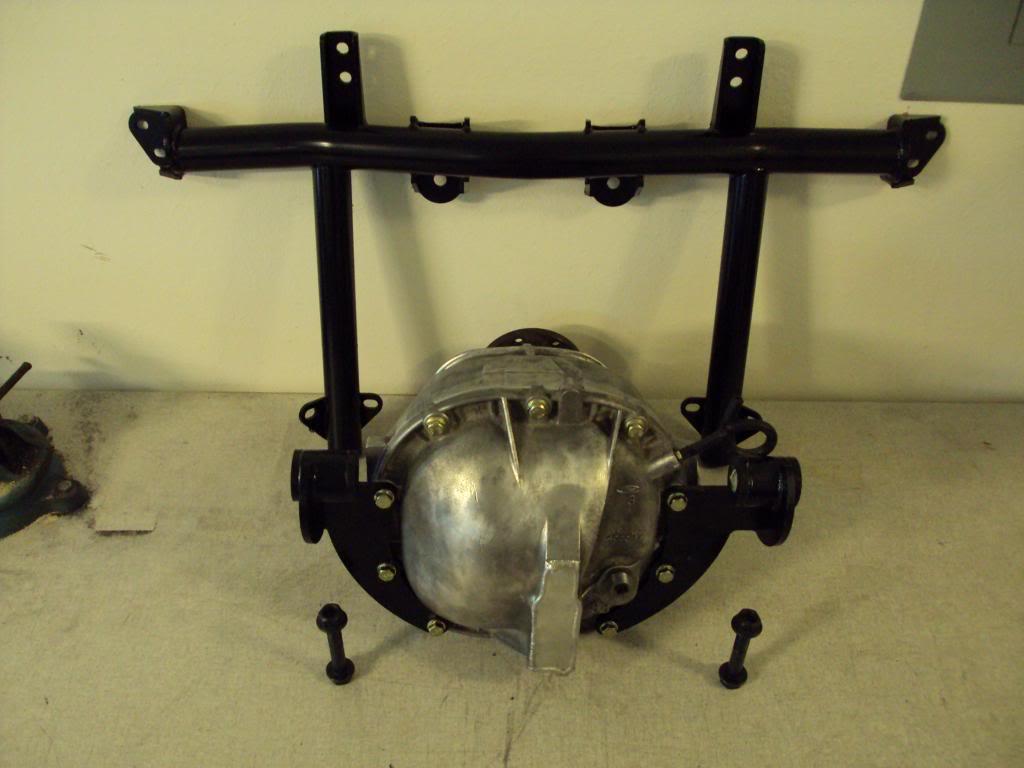 Out with the old!
Well, the factory stuff is out, and the new stuff is going in!! Next update will include my very minimal fuel system upgrade and getting everything mounted up. Since I already have a solid pump and good wiring I really just need to get the Corvette filter/regulator mounted up. Nothing fancy. Just some OEM style lines likely in the OEM filter location. My current configuration supported 540whp rotary, so I don't see a need to get too crazy.
I am disassembling my axles now. Still deciding if I'm going to have Drive Shaft Shop assemble the new ones, or to just do it myself. Gnx7 advised me to have them do it, but we will see. I got a good set of Cobra inner snubs and my outers are in good shape.
I purchased a 1" socket set from Tractor Supply during an outing with my wife. I have been needing a large set for awhile and saw this one on sale. It has worked great for popping axle nuts and using the large sockets for the press. Overall a handy set that I definitely needed.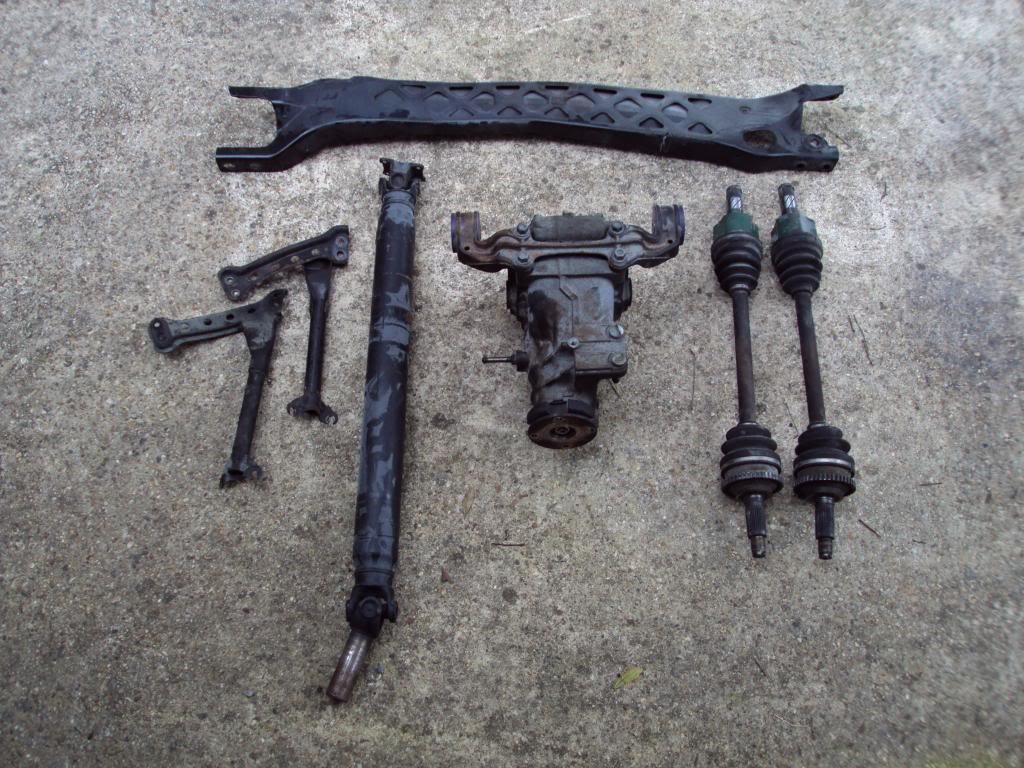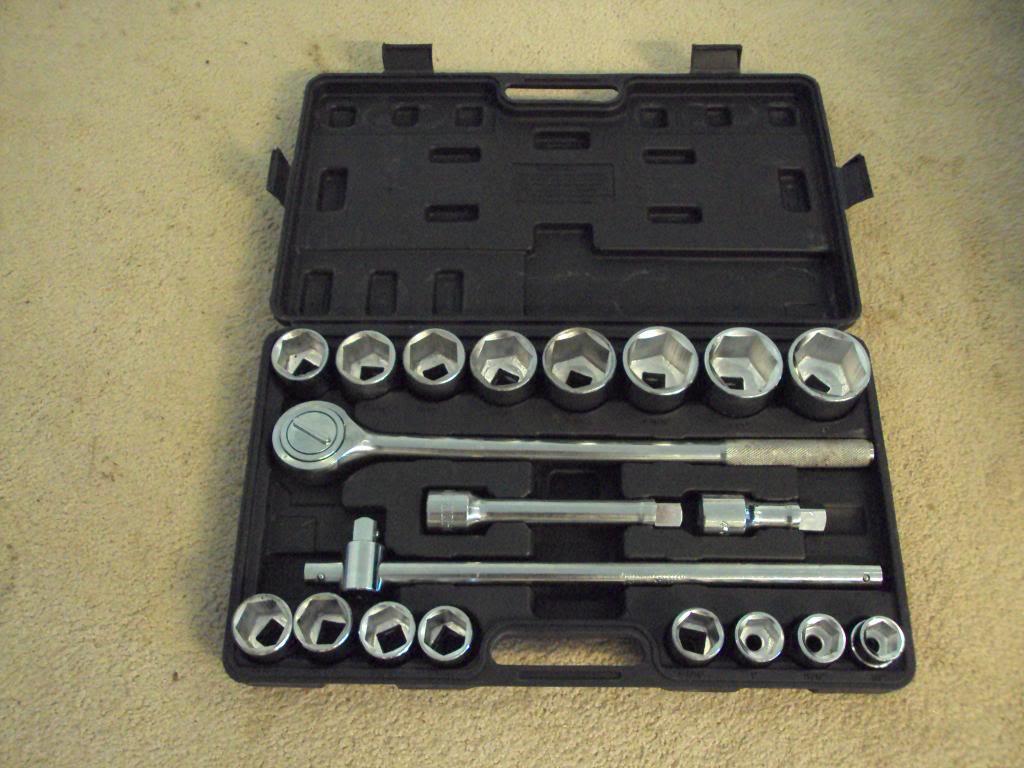 5-18-2014
UPDATE
I installed a WIX filter/fpr from a Vette and pretty much wrapped up the fuel system on the tank side. As I mentioned before, I didn't have a whole lot to do. I decided this route because it was pretty easy and simple. Apparently that fpr has been proven to my power goals, and supposedly 800whp. If I was running E85 or making more power, I would definitely rework the entire system. But for now, I think this will do the trick. There was a write-up on here that I got alot of the basic info from. I moved the filter to the passenger side more, so it should be relatively easy to reach up and replace. I will be logging fuel pressure on the backside of my fuel rail as well. I am going to replace the 3 lines that go from the hanger to the hard line above the tank with fresh rubber. Ironically the Mazda lines are all still in great shape with no cracks and still very pliable, but as I decided to replace them anyway.
YES, I agree its still a little dirty under there. I started scrubbing with rags and degreaser and realized I was wasting my time. I am a stickler for cleanliness, so I swallowed my pride, and kept working. I am going after a pressure washer today, and plan to blast the entire underbody. I was meaning to do it before I got started.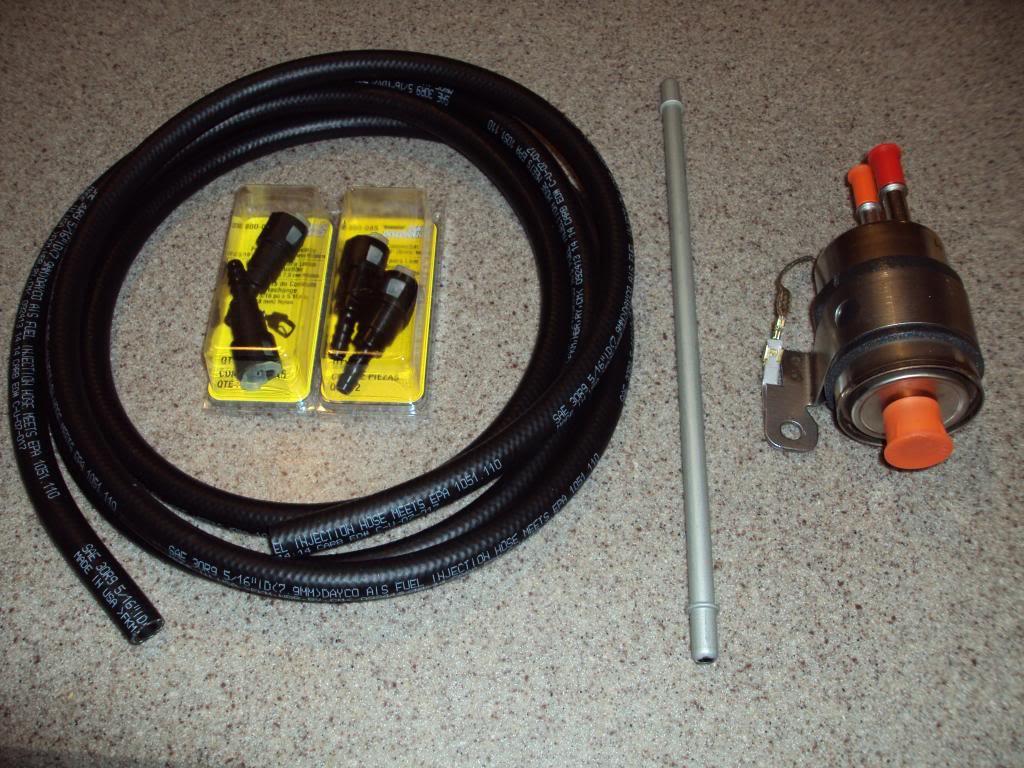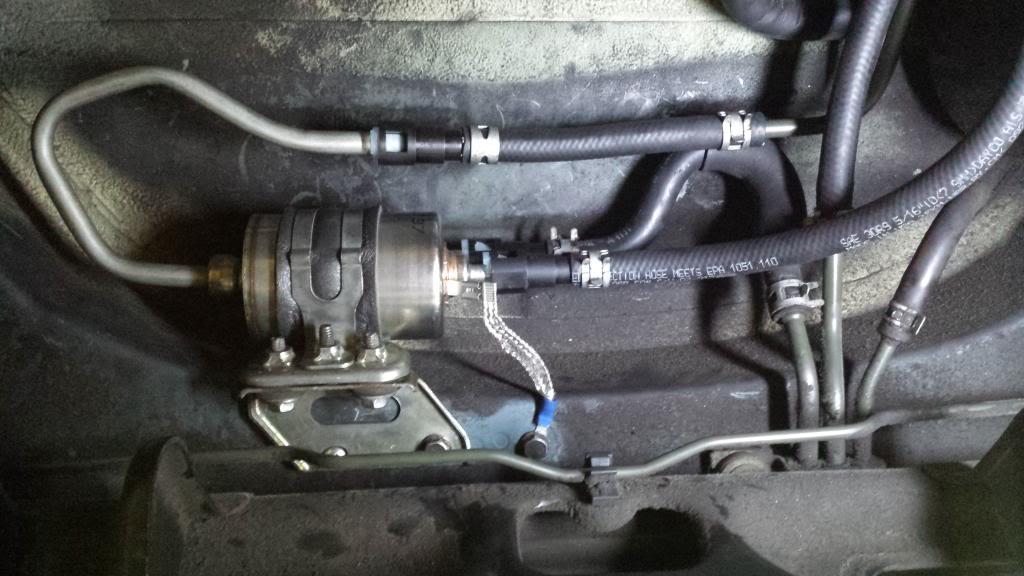 The Cobra 8.8 is all mounted up. The Samberg kit was made very well and fit perfectly. 1point3liter sold me the cover that he modified and it also fit well. Cheers bro! I also spent about 2 hours beating the living **** out of my stock axles to get the outer CV off. In the end, I won. My Drive Shaft Shop axle kit should be here soon and I can get them assembled to start putting the rear suspension all back together.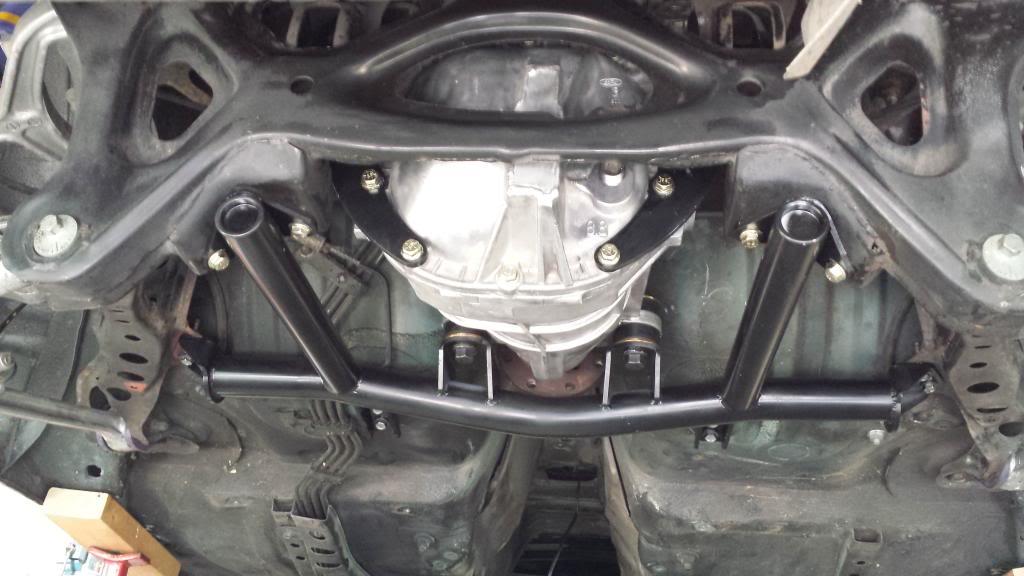 From here, my list is starting to get a little thin. I will go ahead and mount up my Wilwood clutch master and give it the usual paint. My bay also really needs cleaned as it hasn't been touched since I towed the car to MS. I may repaint the lower rails with black since it's been a few years. I'm not completely sure if I will trim the rear firewall lip or not. If I can get away without doing it, I just may leave it since my bay is already painted and fancy. I do have some wiring to clean up from the last setup as well. I plan to pressure test my heater core. During my last rotary revision, I couldn't get the pipe on the firewall to stop leaking. I'm pretty sure I tweaked the line like a dumby and cracked the metal. I'm not 100% sure so now that I have easy access, I will test it to see if I am in for a dash pull....yay.
My Spoolin 1 7/8" premium merge headers...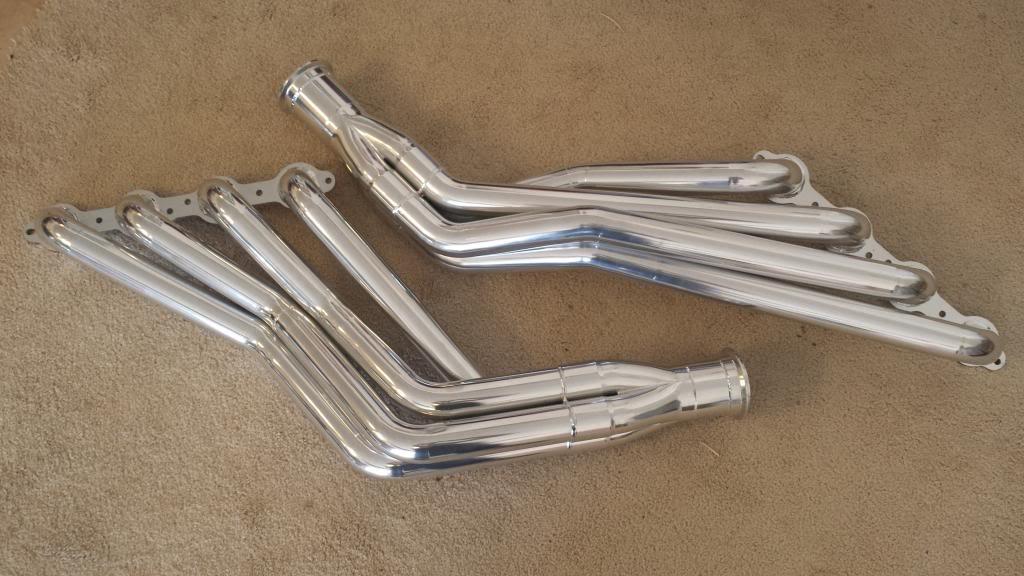 Hinson modified clutch master....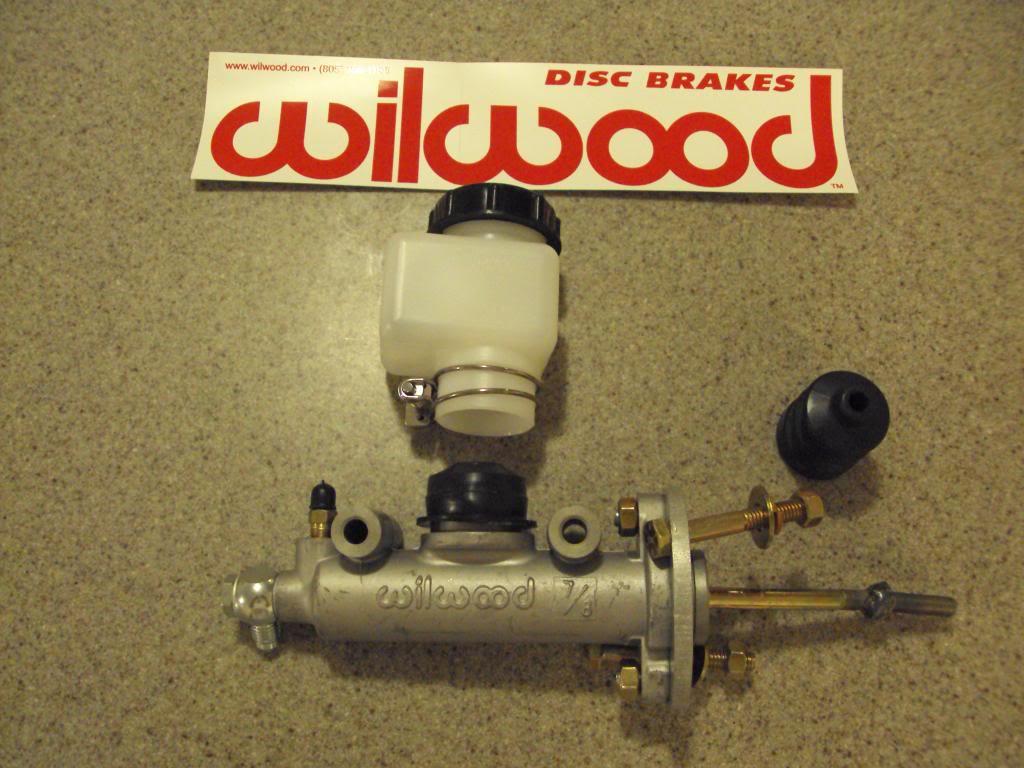 Halfspec custom A/C line kit...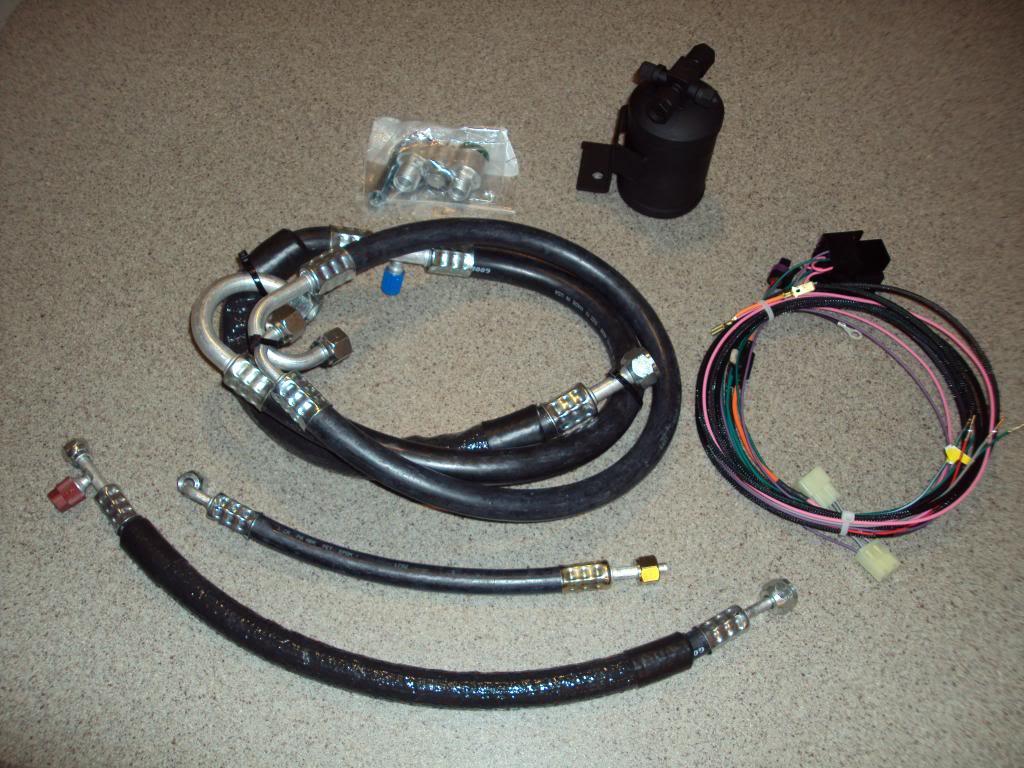 5-18-2014
A few months ago I picked up a new daily driver. Honestly, it absorbed some of my FD project money. At first I was pretty apprehensive to that fact, but I am glad I did it. I have to say that my Miata is the funnest "not serious" car I have ever owned. Handles like a champ, decent power, and an overall awesome daily driver. It has really kept me sane as I work on the FD again. I was driving a little Ford Ranger to work everyday, and it was getting frustrating. I guess it wouldn't be so bad if it wasn't a 30 minute drive down some nice twisty roads. I figured it was time to upgrade.
I am a little snug at 6'1" 220lbs, but not terrible. It's a 2002 with 80k miles and in really good condition. Who knows, I may decide it needs an L33 one day.

6-2-2014
The Magnum
Well gents, my Tremec T56 Magnum, Fbody bell housing, and shifter arrived today. I gotta say that I am pretty ecstatic! It arrived with the factory Tremec box pretty beat up as UPS once again likes to sling stuff around. I looked everything over, got some advice from Mark and its all good.
I want to thank GNX7 for helping me. I ordered through him and couldn't be happier with the service! Thanks a bunch Mark.
On to the Porrrrnnnnnnn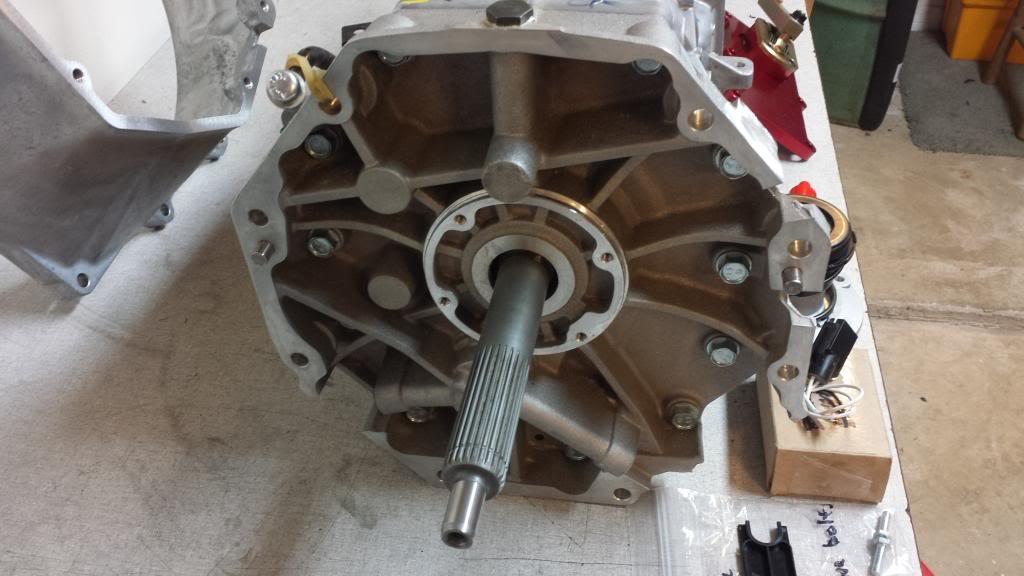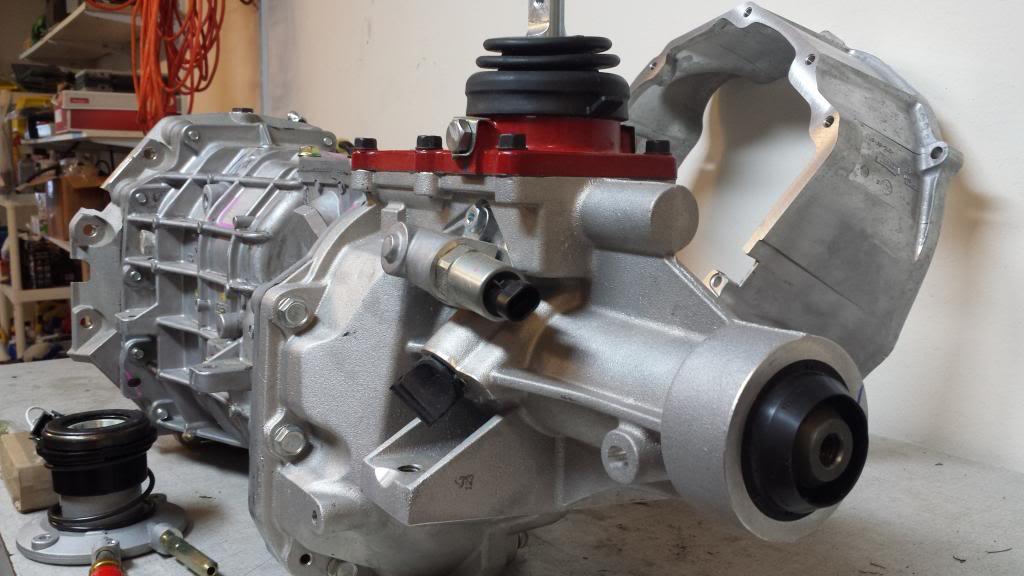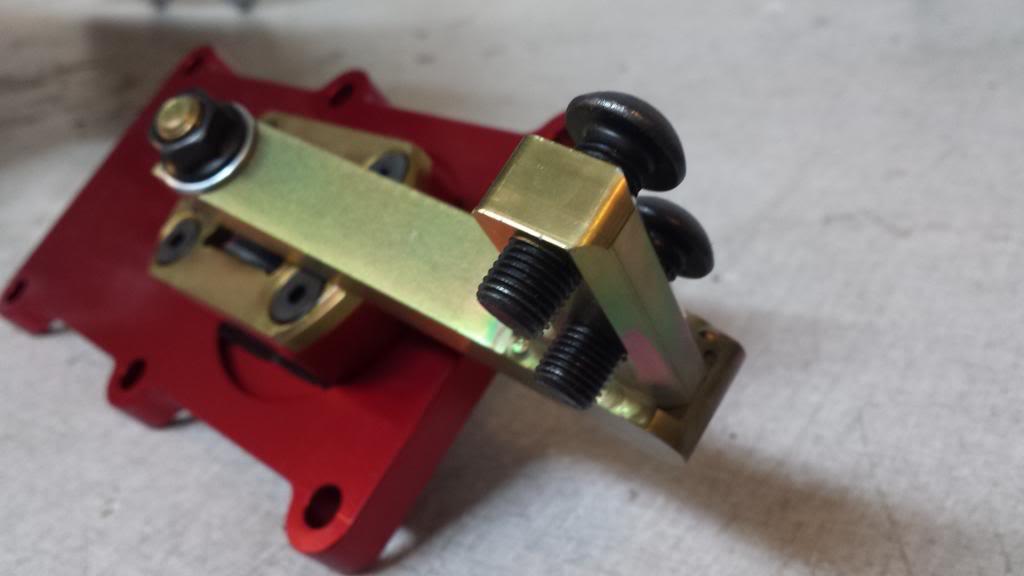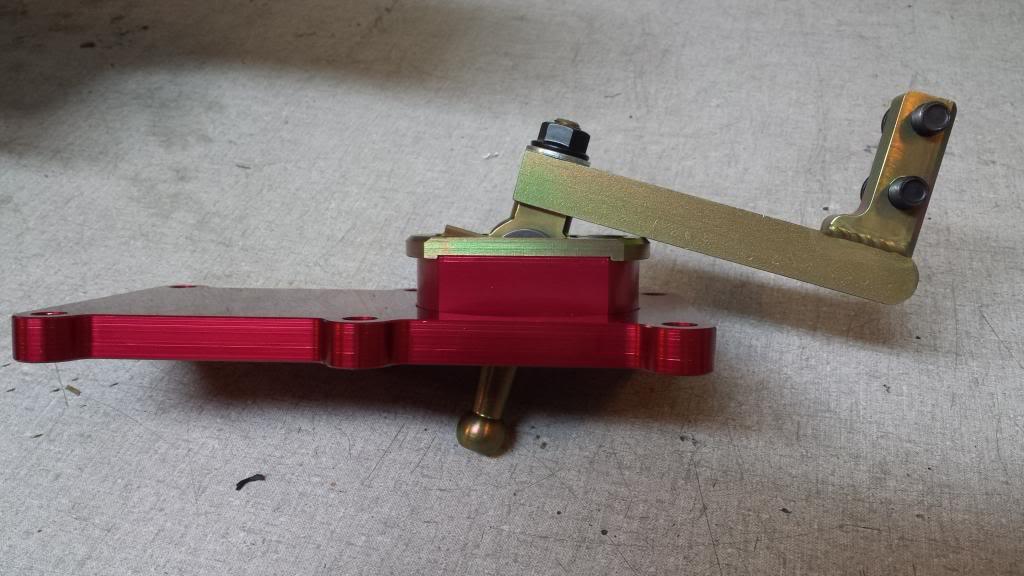 6-20-2014
Cobra 8.8
The differential and subframe are finally assembled. I had to wait on a snap ring to come in. One of my inners was missing its snap ring and I definitely didn't want to install it without it. I scoured and searched until I found one. I also took the time to paint the bare metal on my axles, since they will just get rusty again. I ordered 2 quarts of Royal Purple 75w 140 and 4 oz of Ford Friction Modifier. I decided to go all Royal Purple this time around so we will see how it does. I have to admit, I am pretty proud to see the rear come together. One portion of the car is finally complete. Now lets get these other piggies wiggling.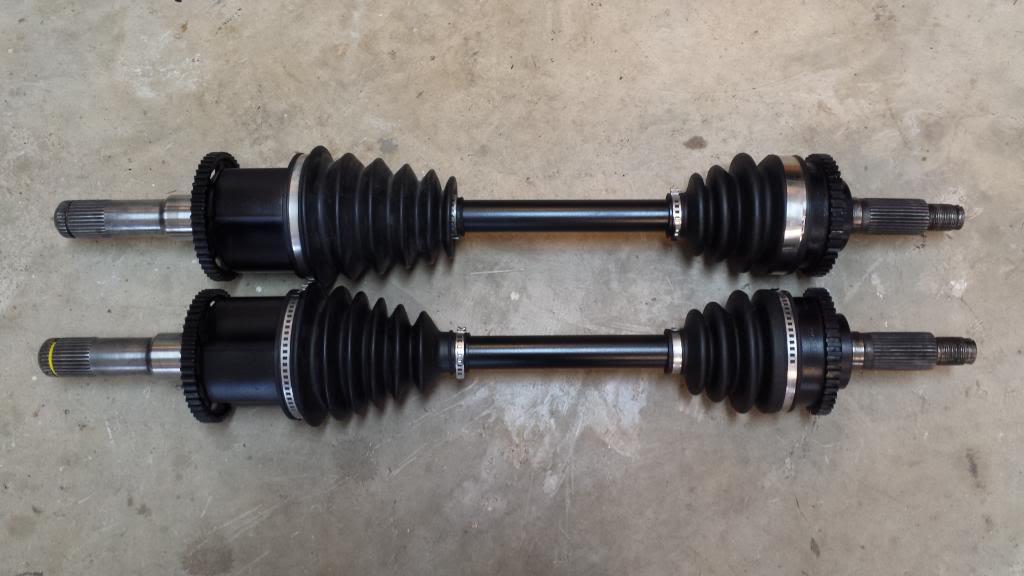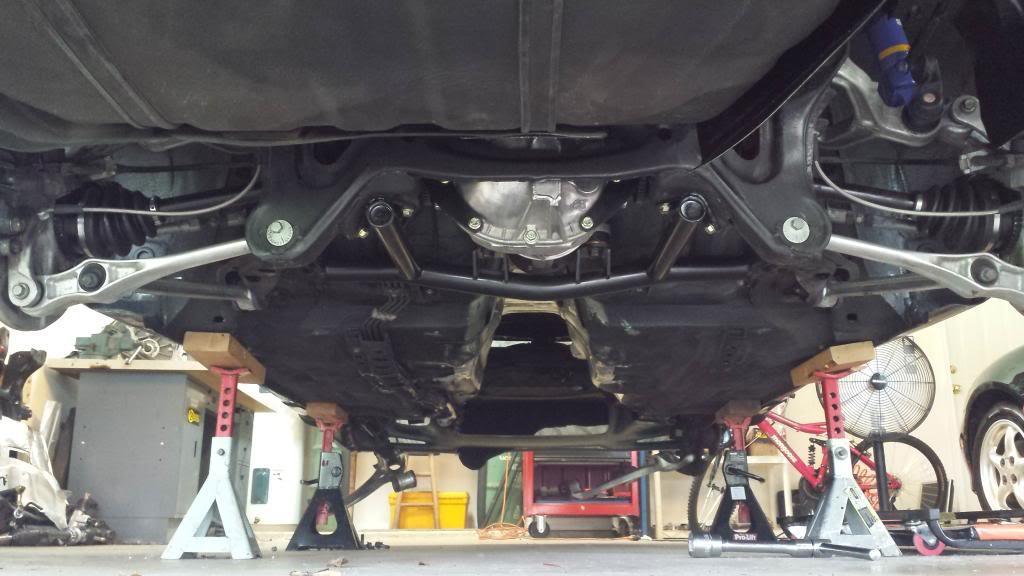 The ****
Well, I decided on a Cobra ****. It looked like it would match and it has a leather wrapped OEM feel to it, which I like. If it starts to feel too bulky, it will likely get swapped for the one Lane posted up earlier. I still really like that one...lol. I think the Cobra **** should match the interior well. I also had to order a different shifter rod considering the threads are different. Good old Ebay strikes again.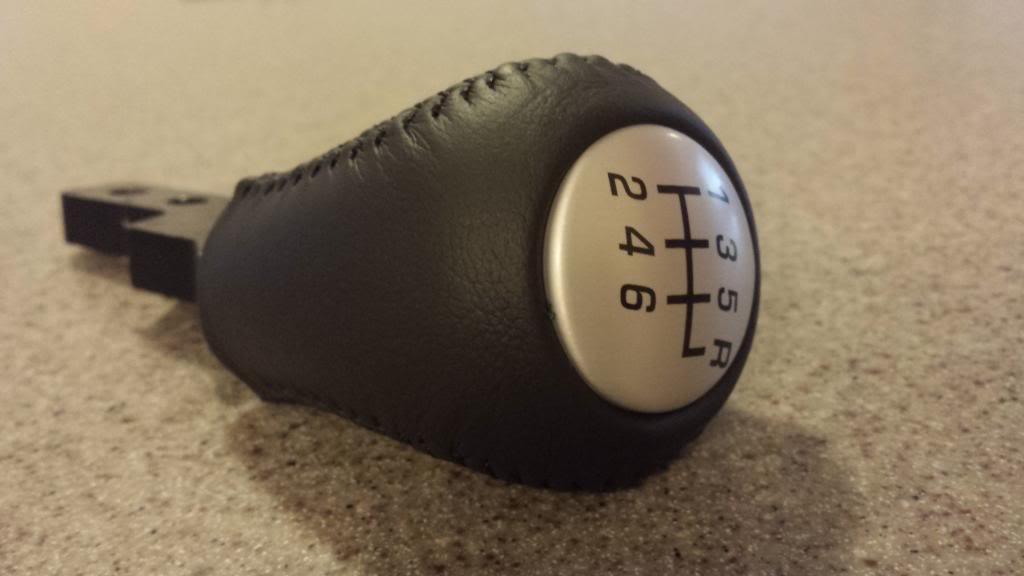 In my down time I decided to give my slotted rotors some love. They were slowly corroding on the hub portion so I decided to give them a shot of ceramic paint. I'm actually surprised they looked as good as they did for so long. The rears are mounted up and the fronts are still hanging out until my subframe comes in and I can assemble. I will torque and paint the axle nuts once I can drop the rear.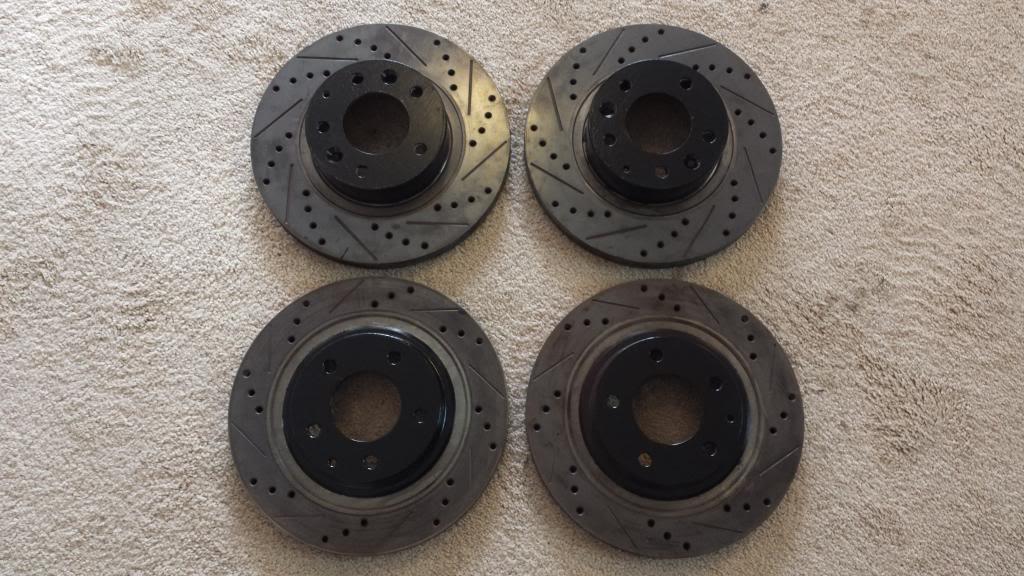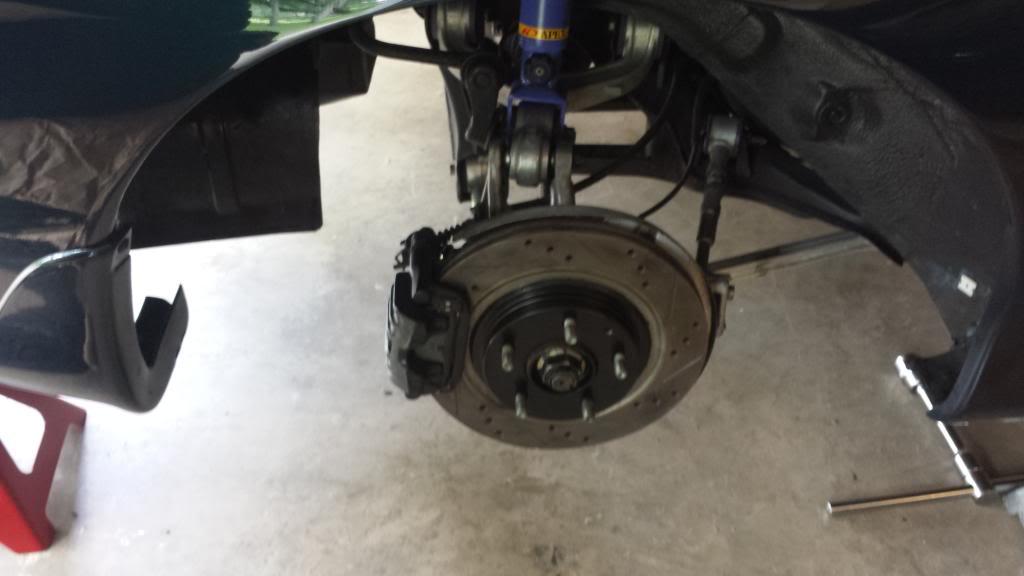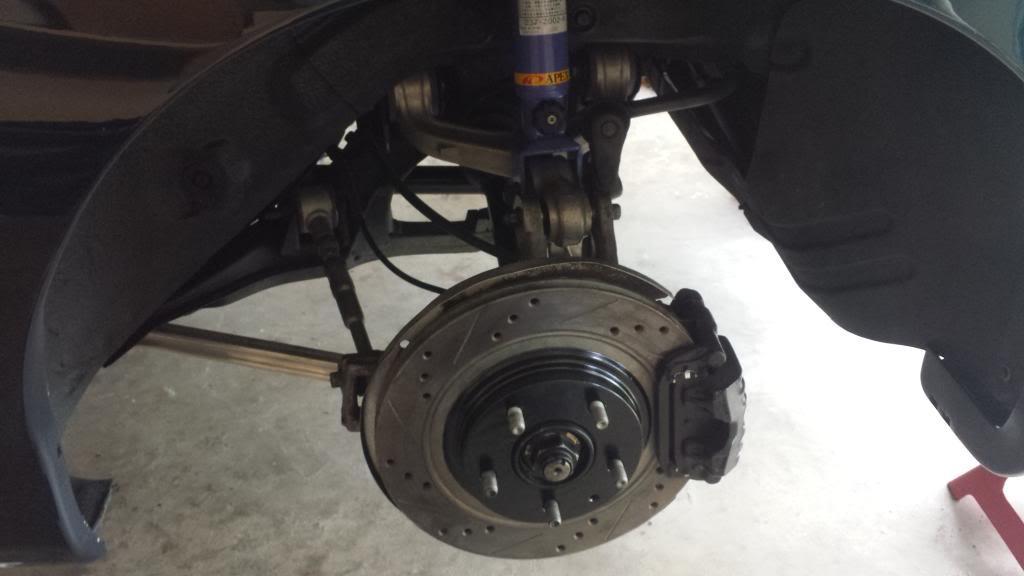 I got a few things done this weekend. It has really been heating up down here so it slows me down a bit. I haven't got my garage A/C setup yet, but I am working on it. I will be adding 4x4 banks of florescent lighting, foam insulating my garage doors, and a 15,000 btu A/C unit. It's hard to do quality work when I am soaked in sweat all day....lol
I lined the tranny tunnel with Thermatec heat material. It's good stuff, easy to work with and does a good job.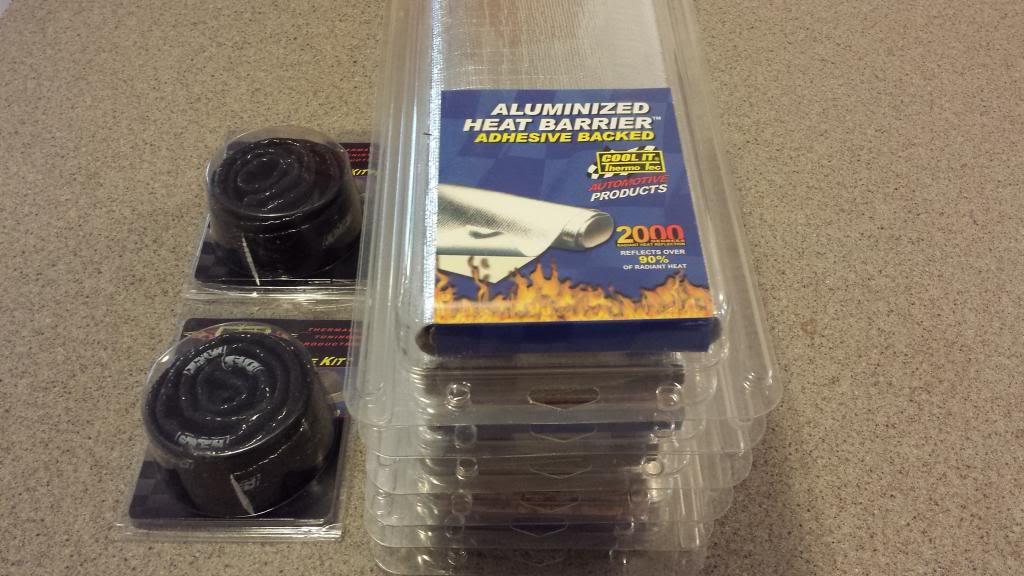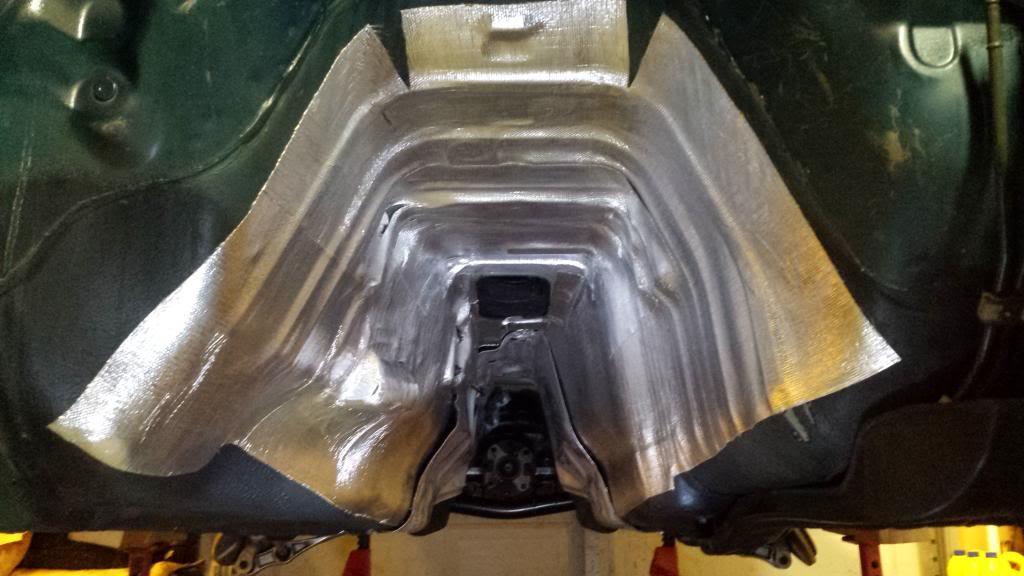 I got my Wilwood master cylinder mounted up as well. I had to manipulate my custom brake line configuration in that corner a little bit, but it was pretty straight forward. I may have to rebleed the brakes as I had to crack a few fittings open. No biggy though.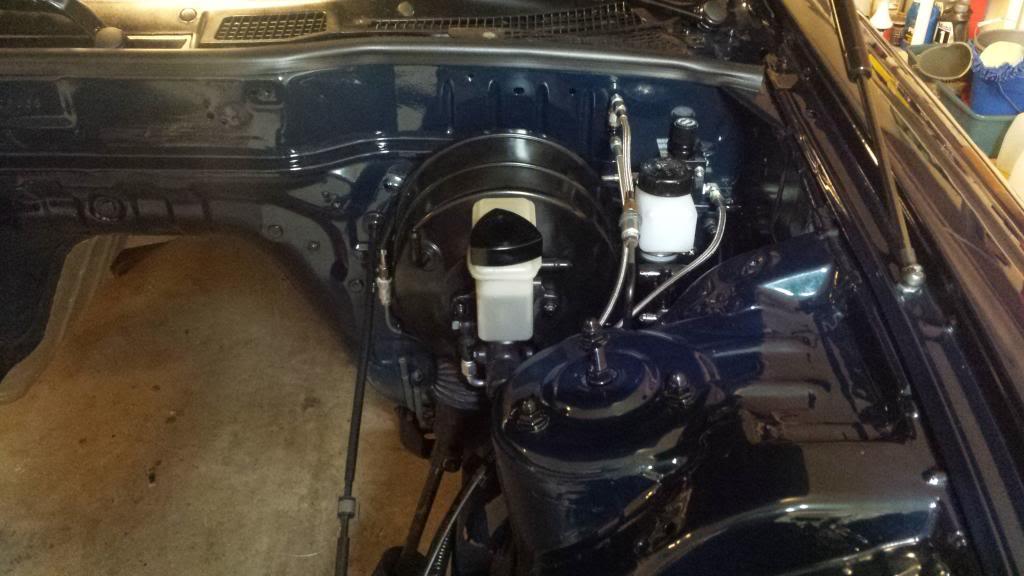 I de-powered my rack. I went back and fourth on whether to keep power steering. I finally decided I would press with the depowered rack. I have been driving the car with looped lines for 4 years and really do like the feel. I have heard that a proper de-powered rack is even better. We shall see.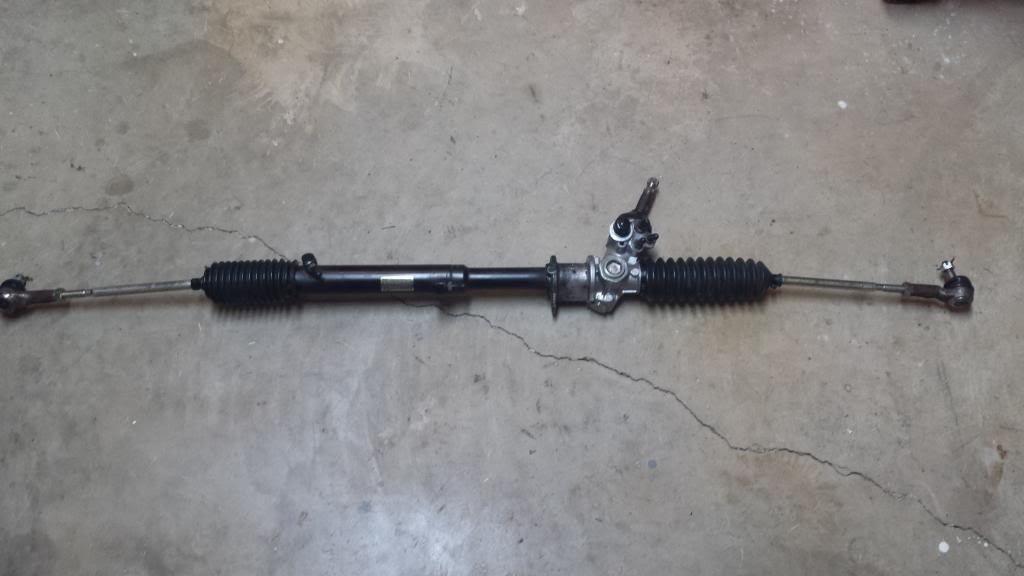 11-18-2014
Hey guys. Updates are coming! I will carry over some of the small updates from the other forum. My engine will be here soon and everything is falling in to place. I will back fill my new 416 stroker choice and where everything is at. But as of now, she is still on jack stands but getting closer.

Why the engine blew. I think this is speculative, but a combination of not enough meth, factory seals, and leanish AFRs (mid 11s). I definitely was pushing the setup by using a stock lower as well. The setup likely would have performed perfect if I had stayed at or below 500whp. It detonated for sure. 2 rear apex seals were in fact broken and the rear housing trashed.
Why I chose the V8? I have said it a few times but I guess I can reiterate. I have loved rotaries for many years and still do. I have owned 10 Rx7s in a 17 year period. But I have chose to move forward for a few very simple reasons: Time, money, reliability. Despite what any camp you belong to an NA large displacement engine will be more reliable than a turbo small displacement engine at the same power level, regaurdless of the design (piston vs rotary). It will make power with less stress, and more consistently on pump gas. Of course there are anomolies, but relatively speaking there is no replacement for displacement. As many have said, everything has to be just right with a high HP rotary. Some of the issues are builder induced, and some simply are not.
The rotary is a unique niche engine. ANY engine can make power with enough engineering and dedication. Many rotor heads look at other people as ignorant because their own setup has worked consistently or they have a large amount of experience with the engine, so they are somehow superior by their own learned mistakes. Either way, there is a reason why rotaries aren't in every major production sports car on the planet.
I am at a point in my life where I want to build a setup and have it last for 10 years, not always looking over my shoulder of the next possible blown engine. Take a poll of how many people are on their 4th, 5th, or whatever number rebuild. Despite the cause, it still happens. There is always a reason, and there is always a fix. Thus, propetuating the viscious cycle. This just isnt common place in other V8 communities.
As mentioned, I am still a big rotary fan. I love Rx7s and turbo brap. Much of the reason I couldn't transition to a Vette was the love for the car and how far it has come. Every person makes life choices for their own wants and life situations. Swapping in a V8 was mine.
Proper update:
Well guys, after 10 months of waiting for the LS7, I pulled the plug. In fact, I would have pulled the plug before that, but the "builder" didn't have the funds to pay me back. After that, he agreed on a refund and over a month later, still no money. So after being patient, and hoping that it wouldn't turn legal, I sent him a notarized letter formally requesting the refund and boom, I got $10,900 wired to my bank account.
So after everything, I was totally done. Ready to click the buy button on a GM 480hp LS3 crate from Jegs. But after a little more thought, I knew I wouldn't be satisfied. It is a killer engine and a good choice, of course. But part of this decision to go with a V8 was to make big power reliably, and 450whp felt like I would be compromising. I spoke with a few people I trust and I was once again recommended to Redline Motorsports (west).
Redline Motorsports | High Performance Fuel Injection Specialists | 3223 Guilderland Ave. Schenectady, NY 12306
With a solid reputation, and a seal of approval from a person I call a friend, I gave them a call to see what we would do. We came out with a solid game plan for a 416ci LS3 stroker. With a good street cam, it should make around 550whp. Which truly has been my goal all along. With a 4-6 week build time, a deposit down, and a bank account full of money, it was time to get started.....
My Samber kit and DSS drive shaft arrived so it was time to do something with them!...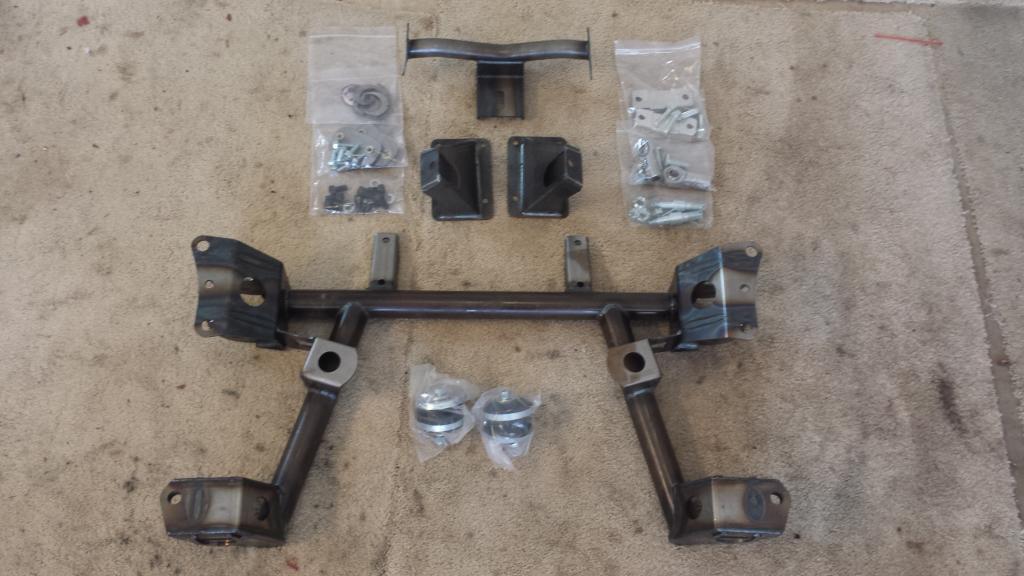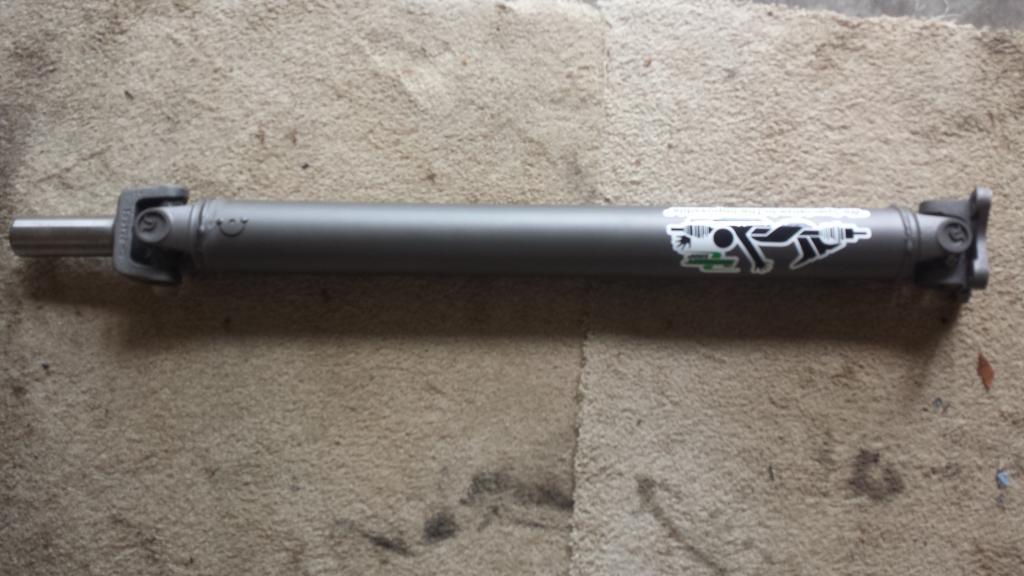 I finally man'd up and bought a welder. I have been borrowing friend's and farming out little jobs for far too long. With my upcoming exhaust modifications, and needing to get the camber bolts welded, I knew it was time to pick one up. Weld shop was closed so I had to use flux core on the below. I will have argon for the exhaust work, and I will be backpurging.

.
Samberg cradle is in, front suspension is assembled and everything bolted up well.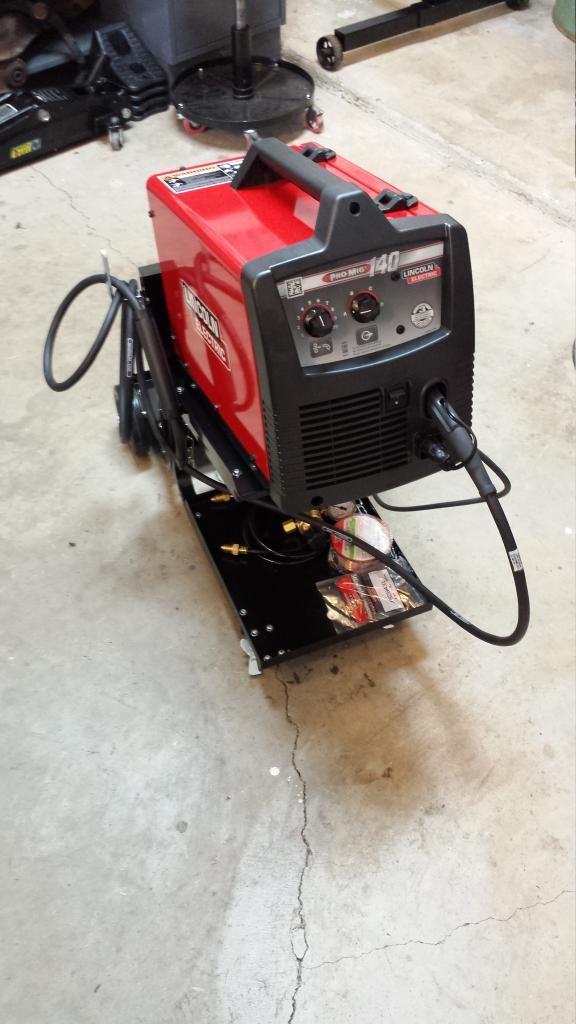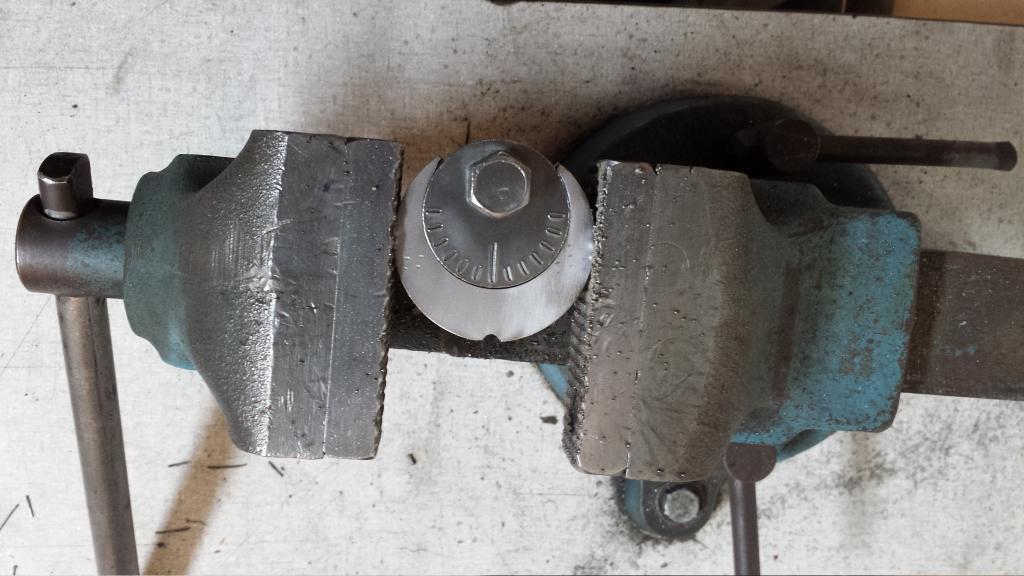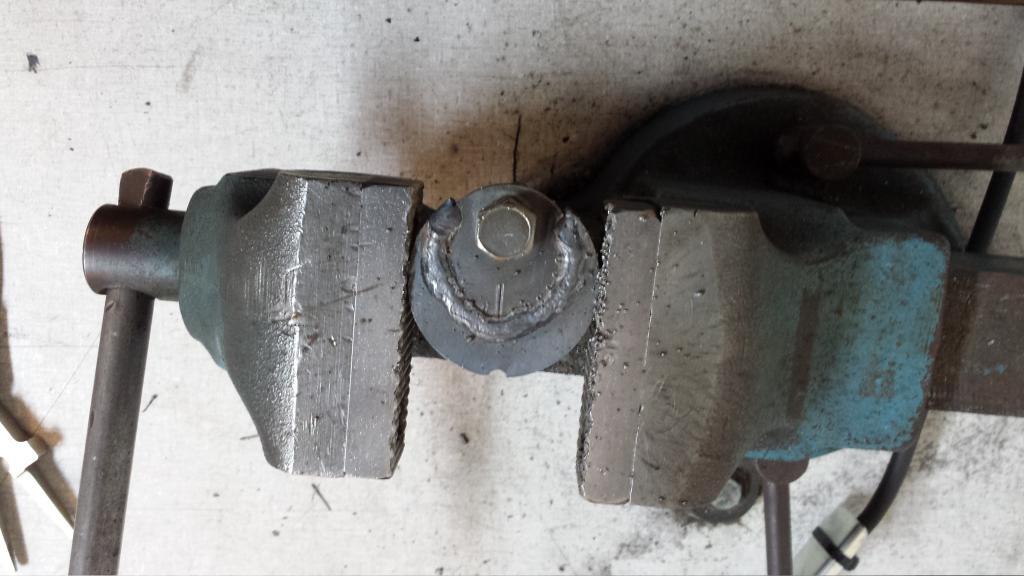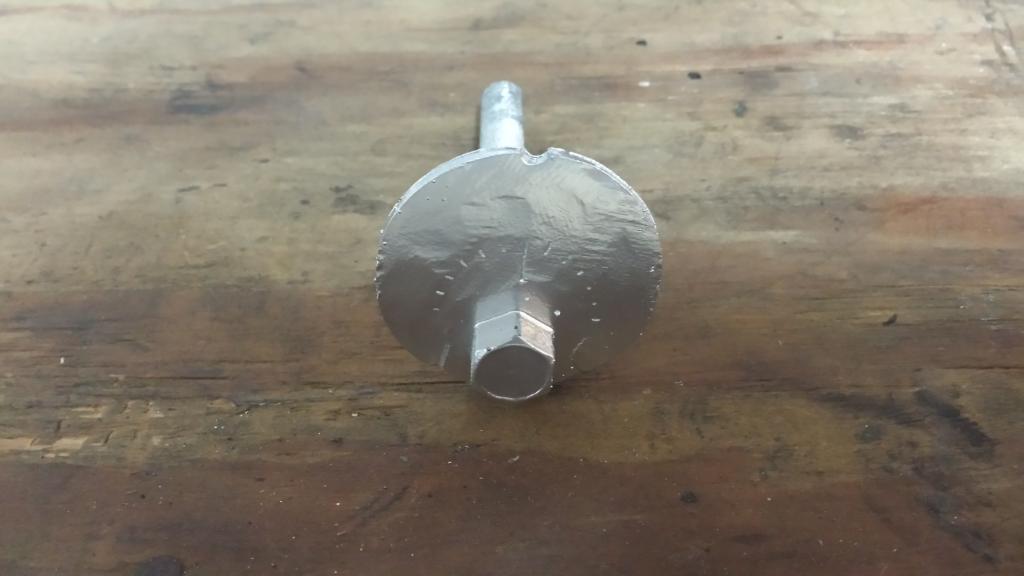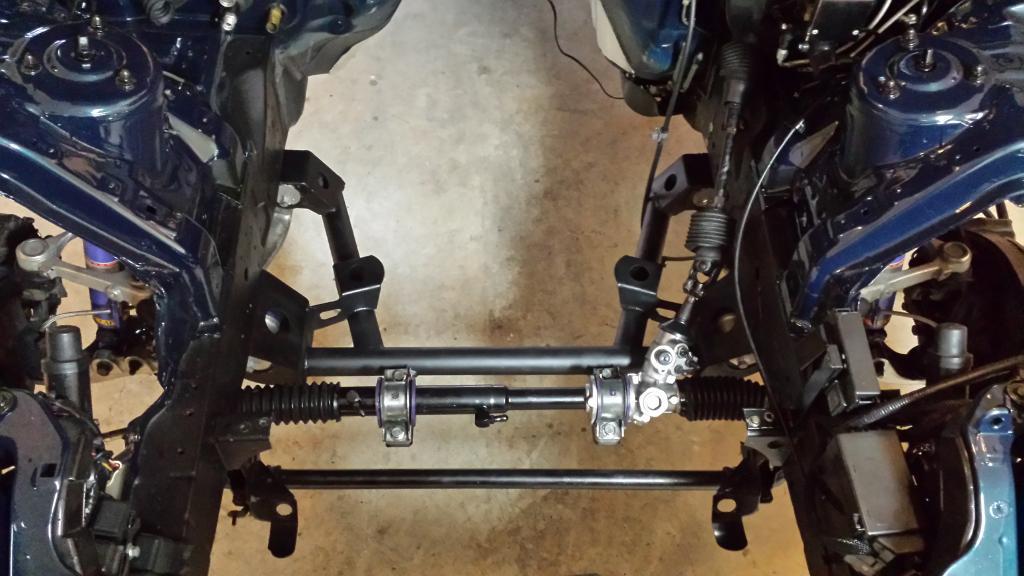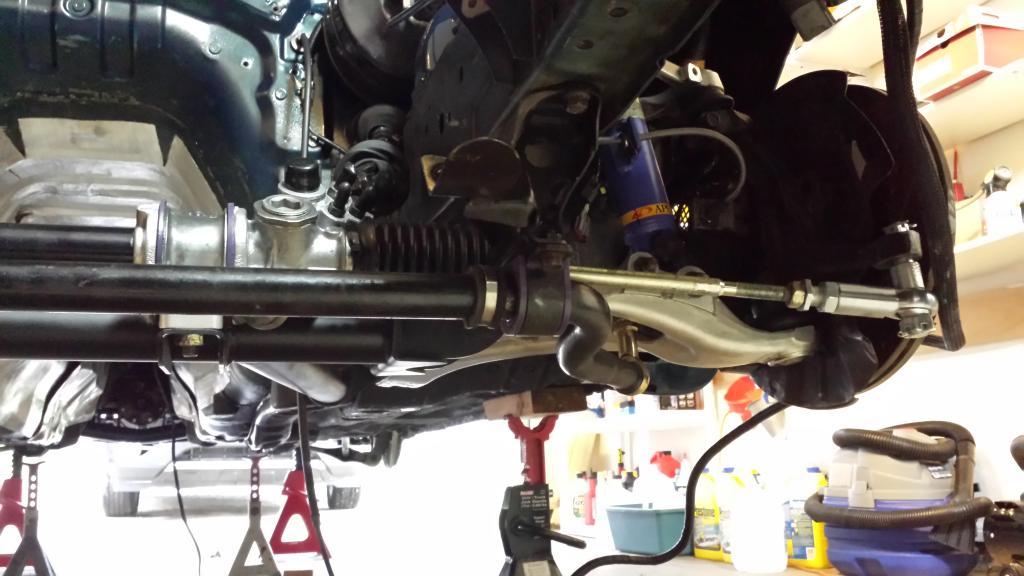 Holley HP EFI, Holley 95mm throttle body, Holley anodized black fuel rails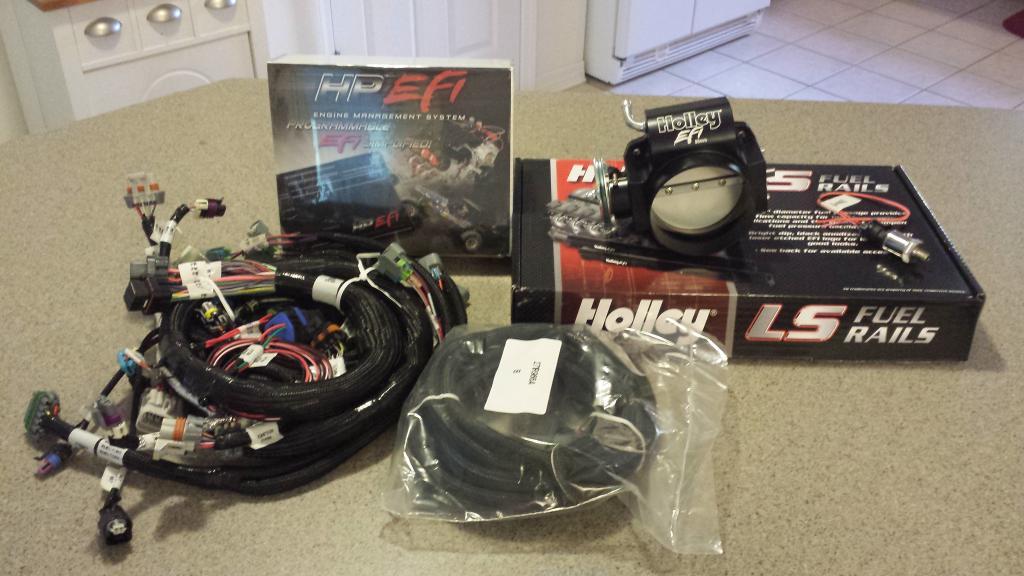 Some details on my engine.. I have opted to have the builder dyno the engine before shipping it. We discussed the option and I think it's worth it. This does a few things for me. First, it ensures the engine is broke in with no ring washing and, it will get broke in on the dyno. Next, I am shipping all of my injectors, rails, TB, ECU, harness, etc; so I am getting a very nice base map with my parts. Finally, it ensures everything on the engine is solid when I receive it. Though an issue isn't likely, it would be a pretty big hassle finding out after the swap IF there was an internal issue. This way, I receive the engine with dyno sheet, ready to rock. I think it's $500 well spent.
416ci LS3 Stroker being built at Redline Motorsports
New 6.2L LS3 Block and covers
Crank Callies 4340 Forged 4" w/58x reluctor
Rods Callies 4340 Forged I Beam with ARP bolts
Pistons w/ Pins and Rings 4032 Forged
Bearings(Main,Rod) King Extreme Rod and Mains
Pushrods - 4130 3/8"
Camshaft w/ Cam Plate Custom Grind
Lifters GM LS7 with trays
Lifter Trays/bolts - GM
Heads LS3 CNC Ported by WCCH, Stainless Valves
BTR Spring kit w/ titanium retainers
Comp Cam roller rockers
GM Head Gaskets
ARP Head studs
ARP Main Studs
Oil Pump Mellings
Timing Chain Set Billet Single Roller with Damper
Balanced rotating assembly
I will be running a BER ported factory LS3 intake with the Holley 95mm TB as well.
LS9 Injectors on the Holley rails
Mcleoud RXT twin disc
ATI balancer
PWR high flow water pump
Polished LS1 accessories
I chose a vertical surge tank and mounted it where my WI tank was. Samberg uses the horizontal tank in his kit, which works great. But for me, it was visually not what I wanted to achieve. Overflow line routed through the fender.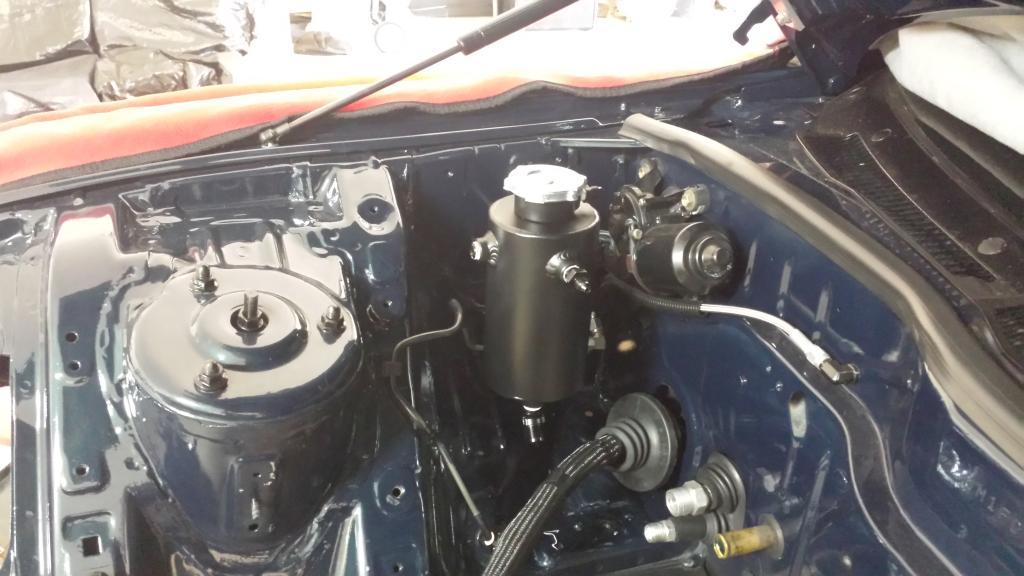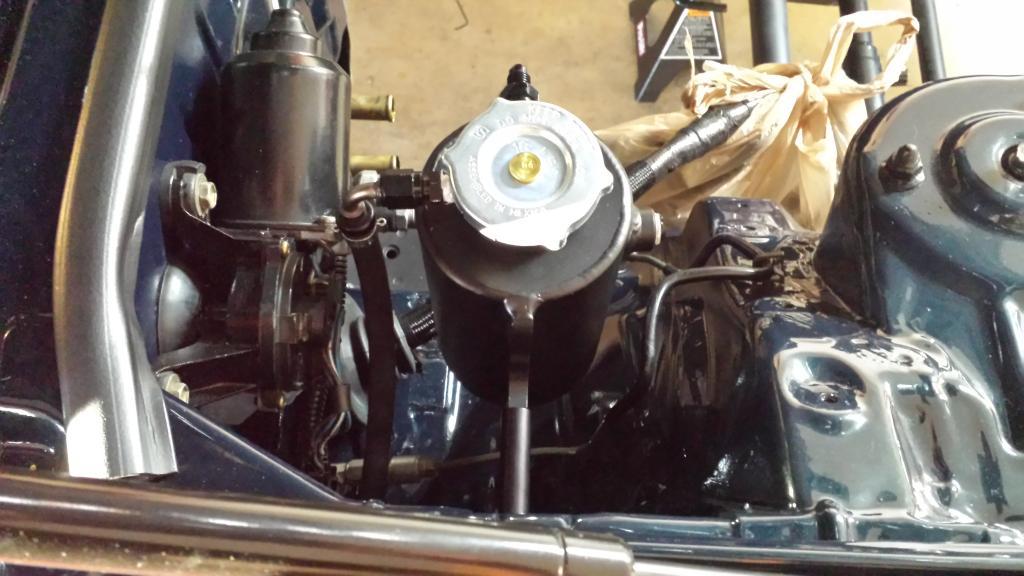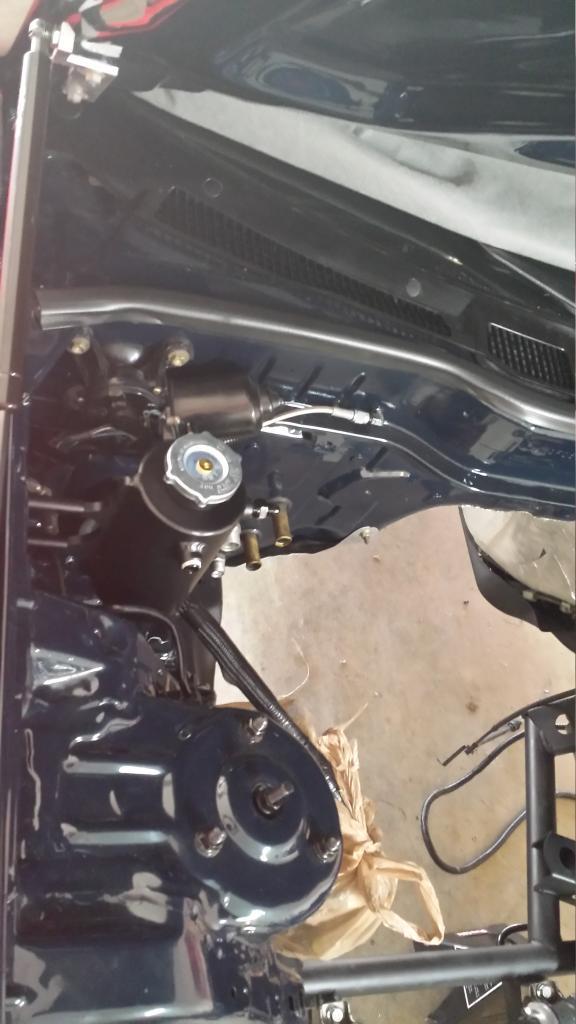 I had to make some modifications to the Holley harness. Though I am shipping everything to the builder for the dyno day, I did some pre-fitting to move things along. I also wanted it to be modular. There are about 6 loose wires that come off the harness to be wired to the chassis. I added weatherpak connectors and loom so it can be easily removed from the car if needed.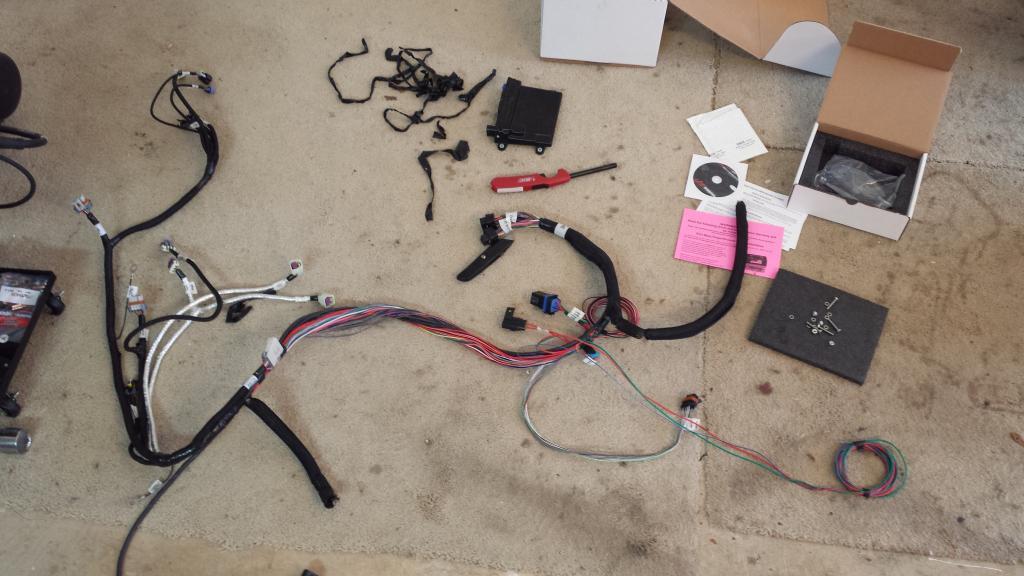 Below is my Racetronix dual fan relay harness. I could have made one but I just love supporting these guys. They have some great wiring solutions. All excellent quality. The Holley will stage each fan by temp while also dedicating one for independent A/C control.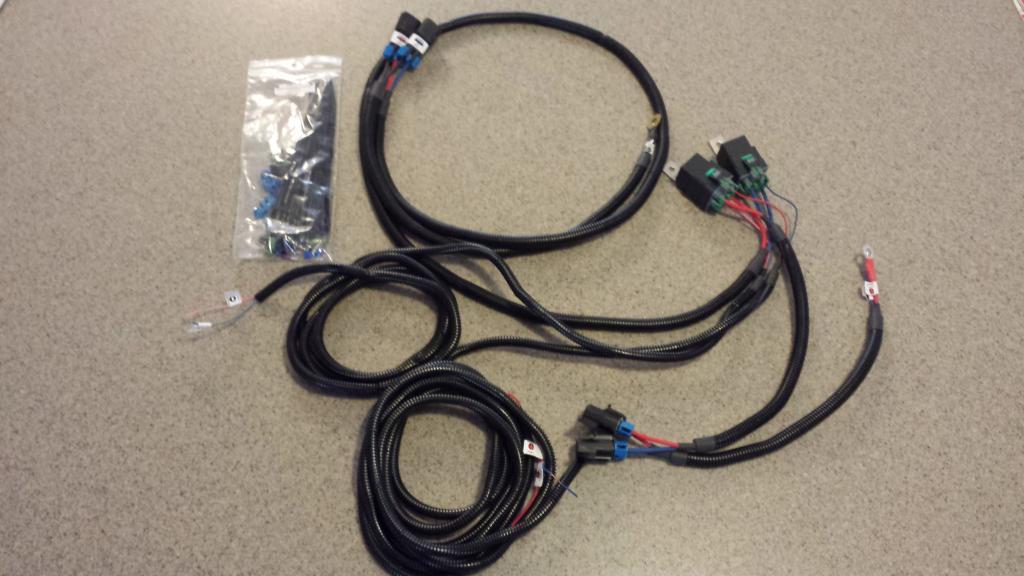 We decided on the following specs with an all around good street cam in mind.
231/247 .617/.624 113
I will post up some more pics soon. Getting close!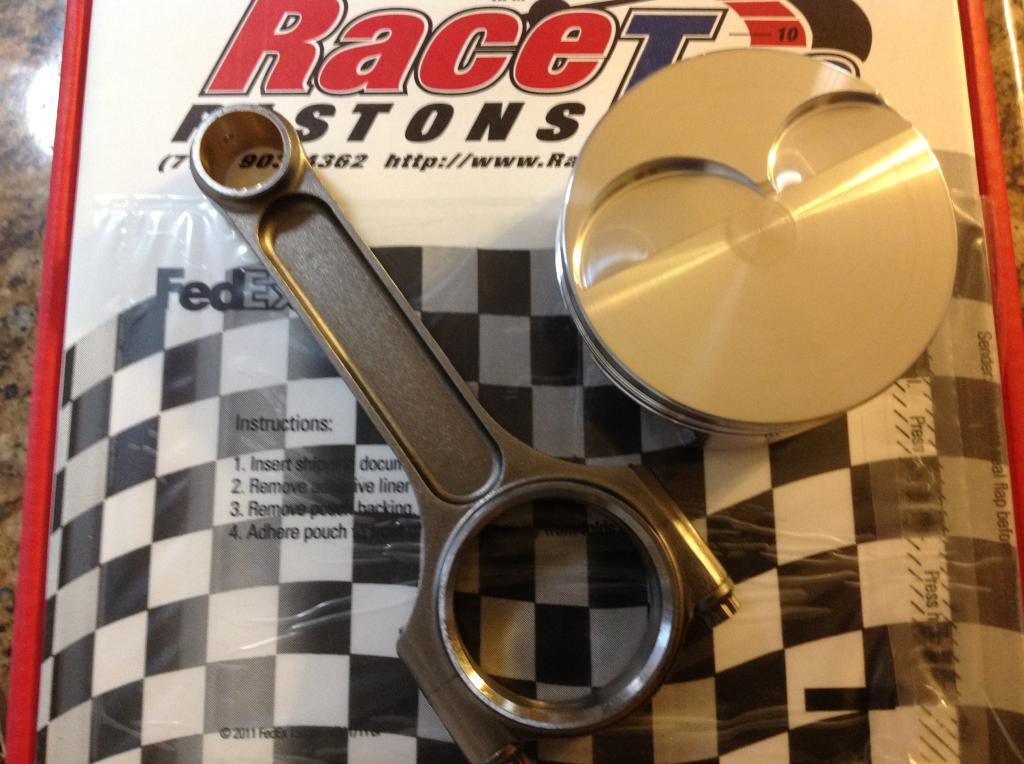 I figured I would do a little sound deadening work while I had the time. I have some foam on order to help fill some of the space behind the plastics. The mat I used is "FatMat". It got good reviews and it is WAY cheaper then Dynomat. I know I know, it isn't Lizard Skin but I think it will do well. IF I have to pull the dash I will do the entire front of the car. I definitely plan to line the doors when I pull them apart for my alarm system and keyless install.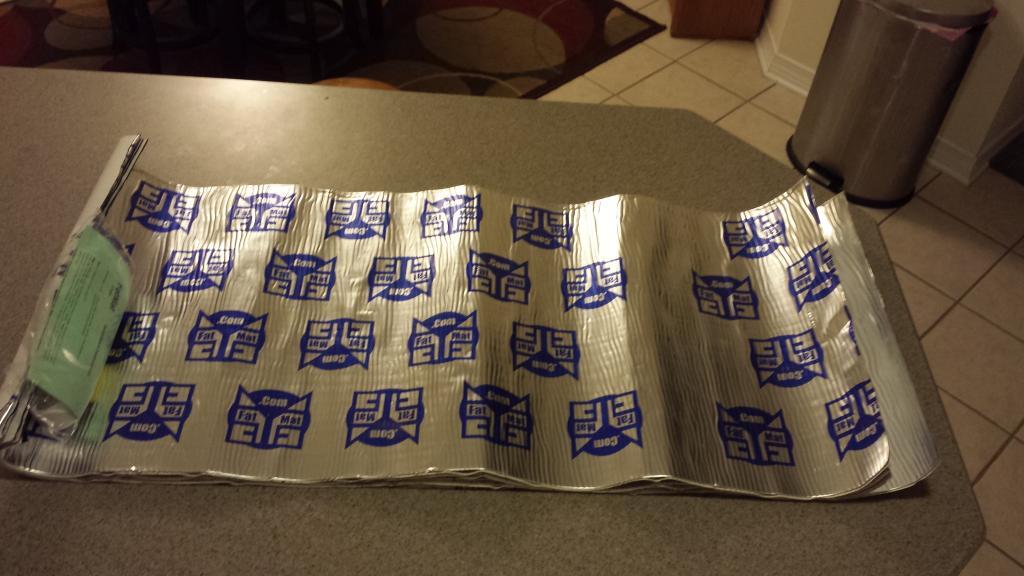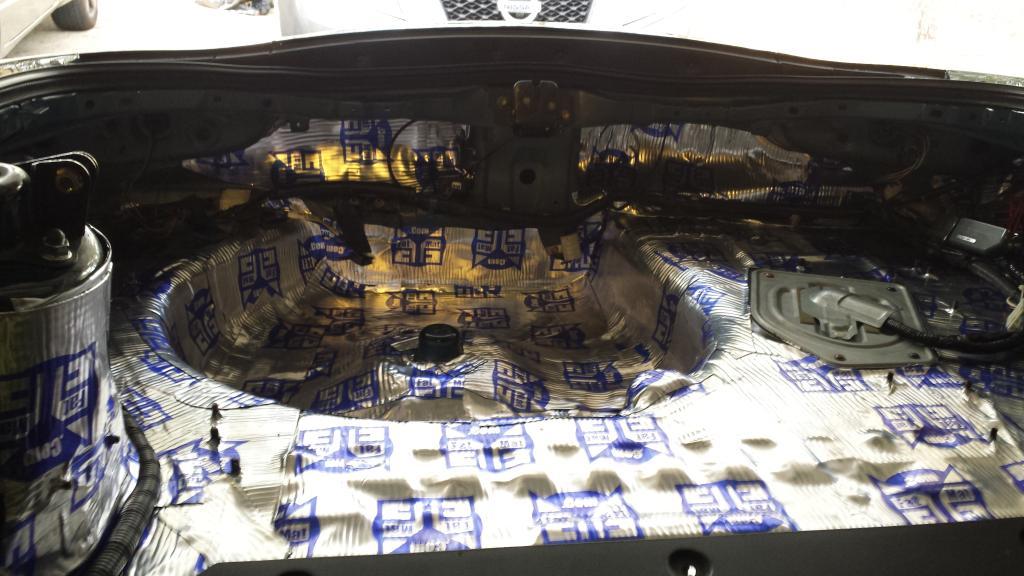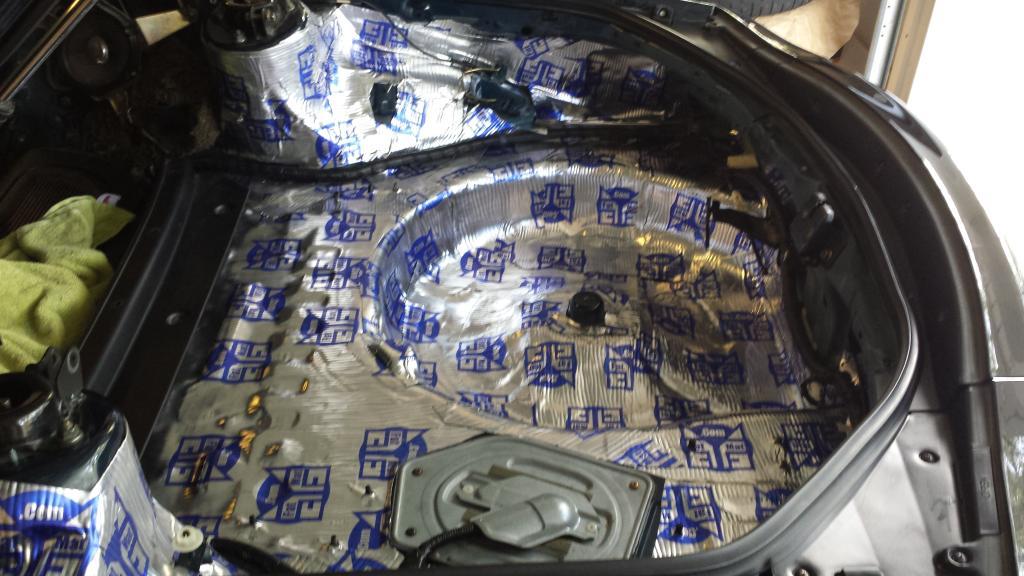 I got my relay boxes relocated to my liking. They are close to where they were but I had to move some of the mounting around.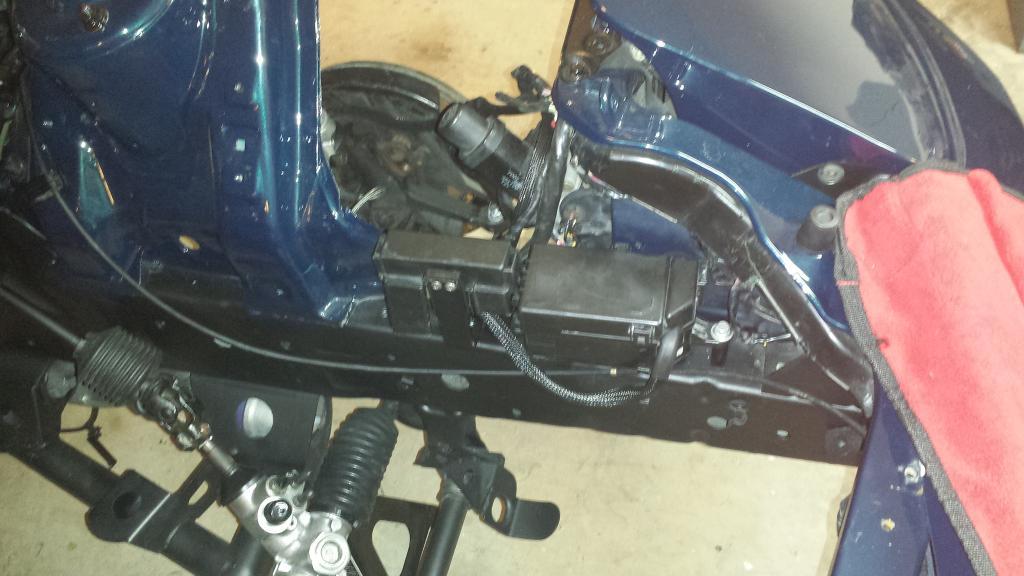 The Samberg radiator kit didn't mount up around the bumper due to my Feed Type I wickedness. As such, some trimming was in order. Steady hand and a cutoff wheel got it done.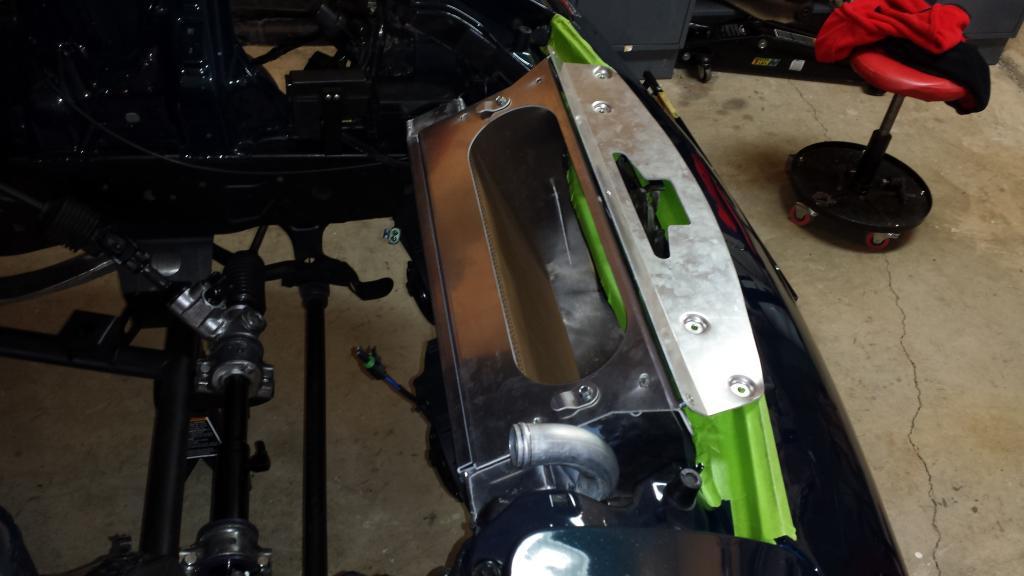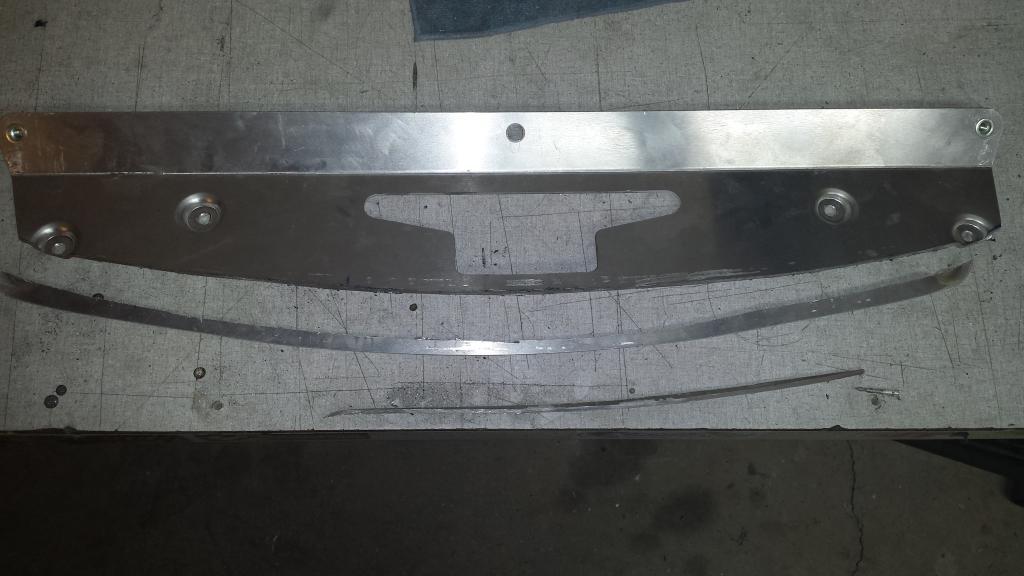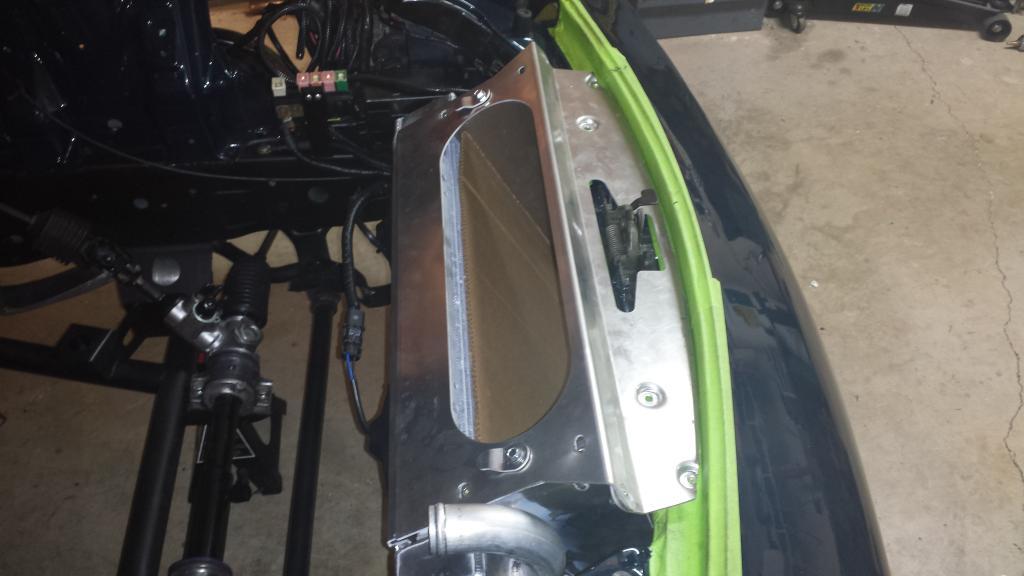 The lower lip lined up perfectly. I will be doing some more duct work.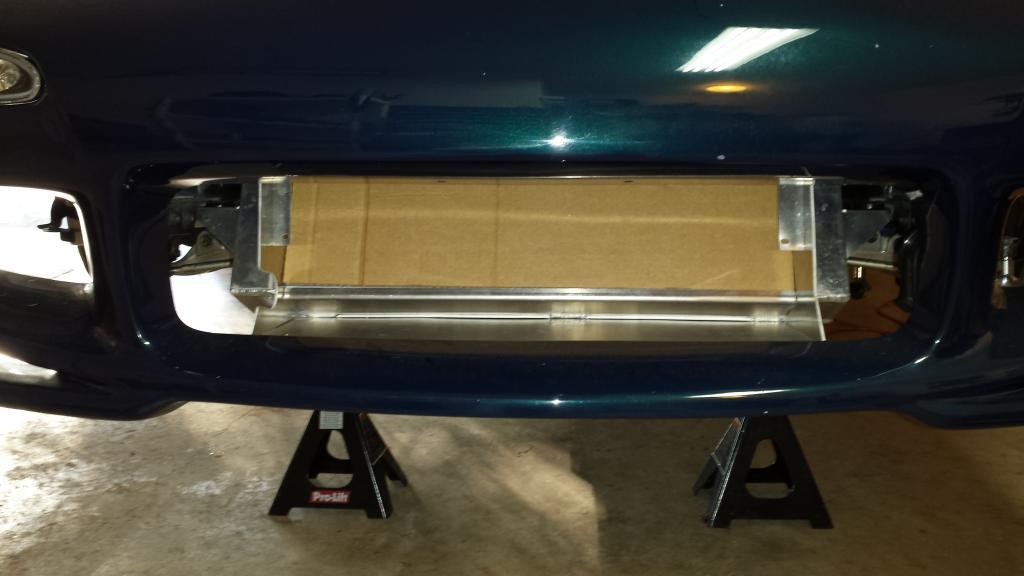 I mocked up the Samberg radiator kit completely today. I had to tweek the positioning a little because of the way my bumper mounts on the top side. After getting it to my satisfaction, it was time to lay down some satin black. The fan wiring is also complete with independent control routed to the ECU. It is now ready for final assembly once the engine is in.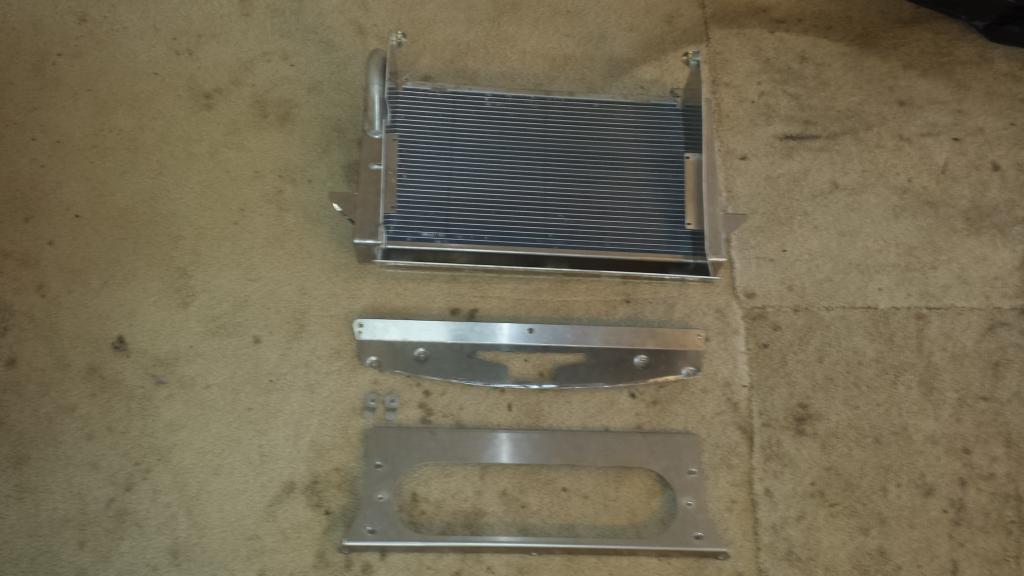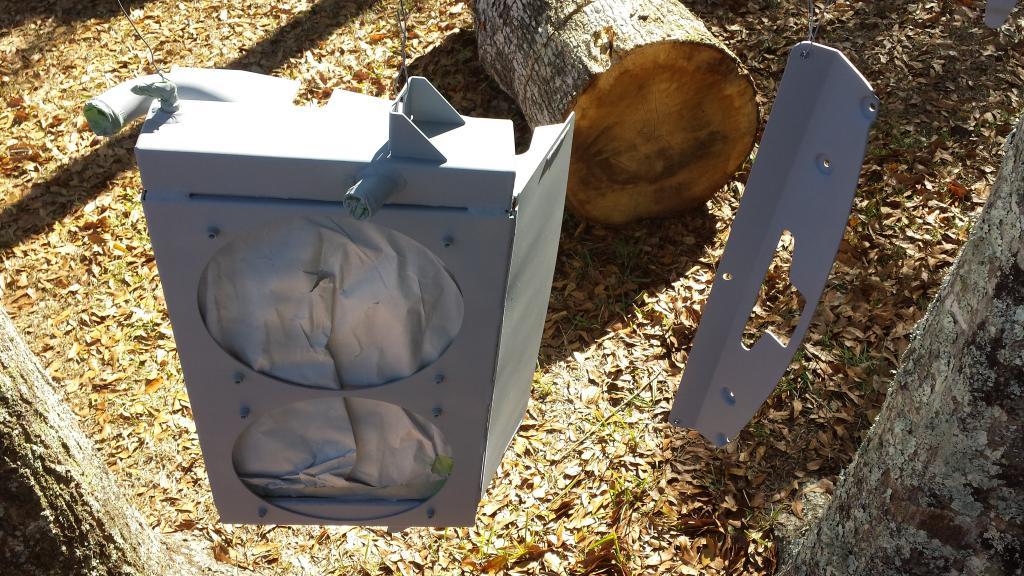 The car as it sits. Lots to do yet. I am taking a week of leave when my engine arrives. My last class for the year ends at around the same time so it's perfect. No students until January. It's game on!




11-21-2014
Thanks guys. I'm getting very excited.
Below are some pictures of how I mounted the main fuse box. The larger box uses a single bolt, and a 2" spacer. It attaches on the end of the box through the boss. I just bolted it to a prexisting threaded hole on the frame rail. It can be seen from the previous pic posted. I had the exact issue a few years ago when I first relocated it to the lower rail, so I had to get clever. My solution is quite sturdy and I have had no issues.
If you look at the side of the main plastic fuse box you see a slotted tab that slightly raises above where the fuses begin. The slot fits a 1" wide strip of aluminum perfectly. Of course, it slides in perfect but there is no natural way to mount it. I drilled 2 small holes through the plastic at the very top of the slot. There is just enough room to drill the holes in the plastic, and clear where the fuse plugs in on the other side. Beyond that, drill matching holes in the aluminum strip, use some short screws with thin nuts...boom. I bent the bottom of the aluminum strip to make an "L". From there, you can mount it virtually anwhere. For the cover, I had to slot it to clear the screws. After that, it snaps into place as normal. The slots are completely hidden. Hope this helps.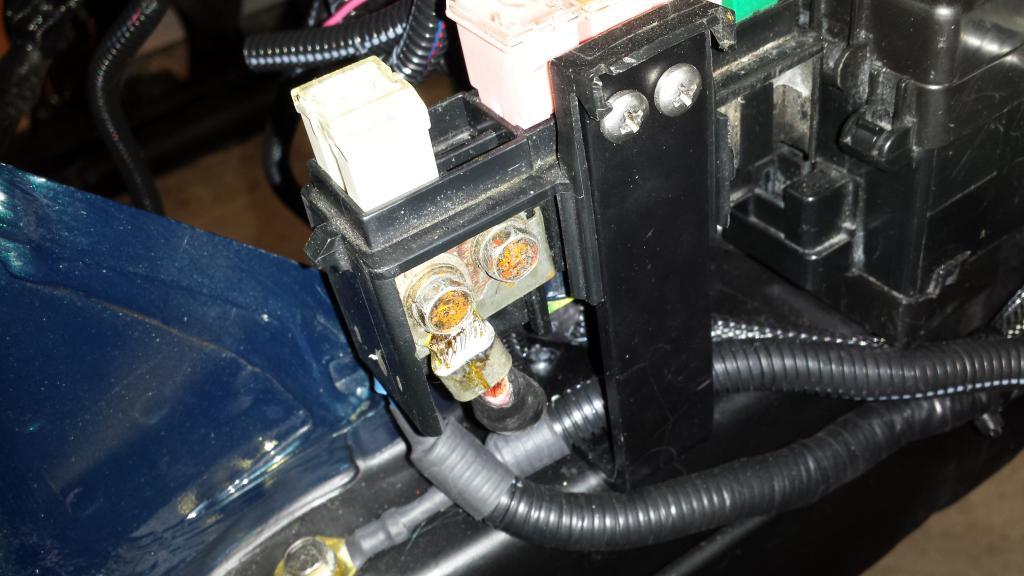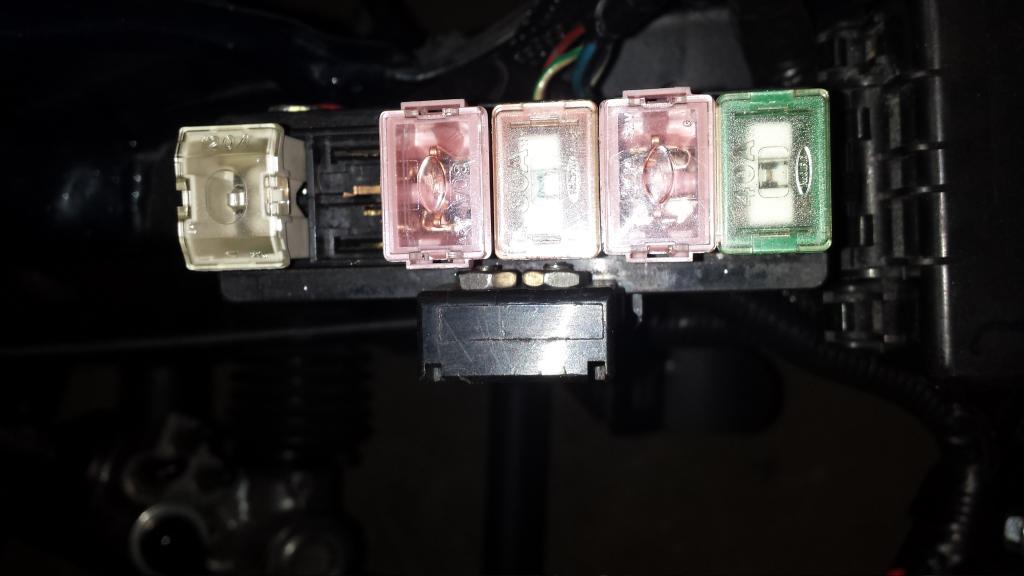 12-20-2014
Well gents, I can say that I am very pleased!
I should have a video soon, and she should be shipping soon.
Peak numbers...
637hp @ 6300rpm
587tq @ 5300rpm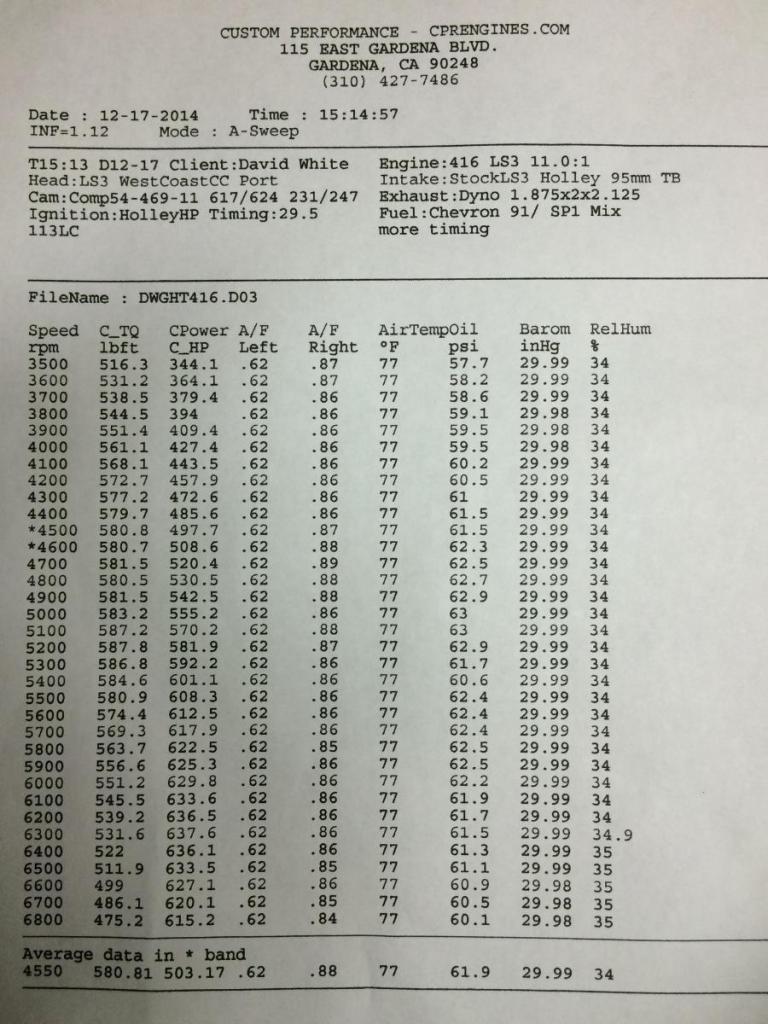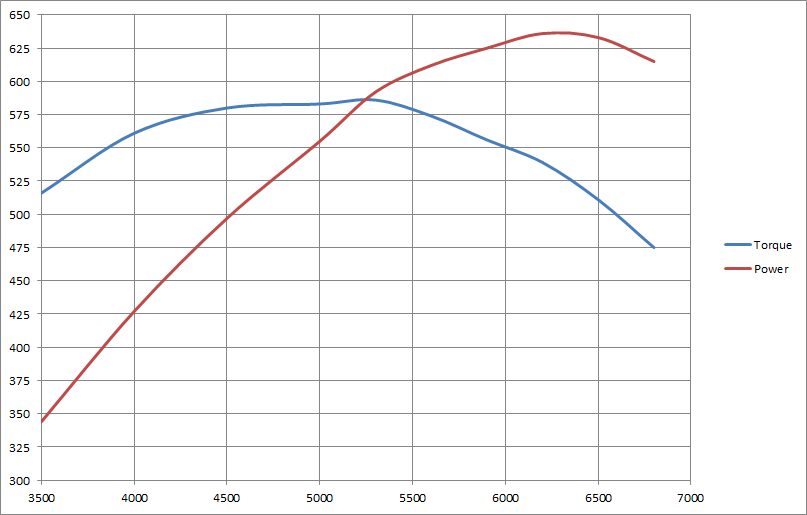 A few days before the dyno session.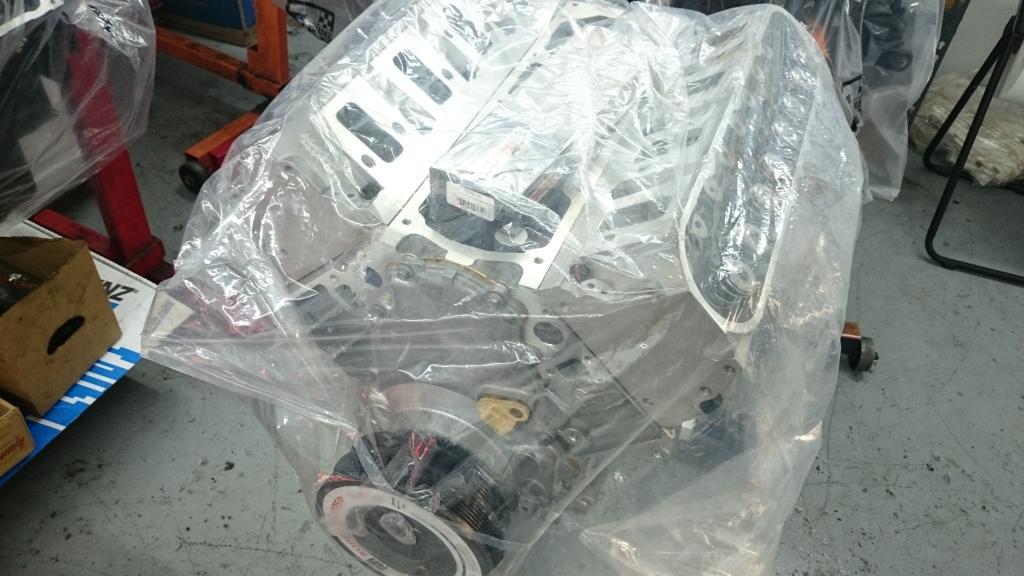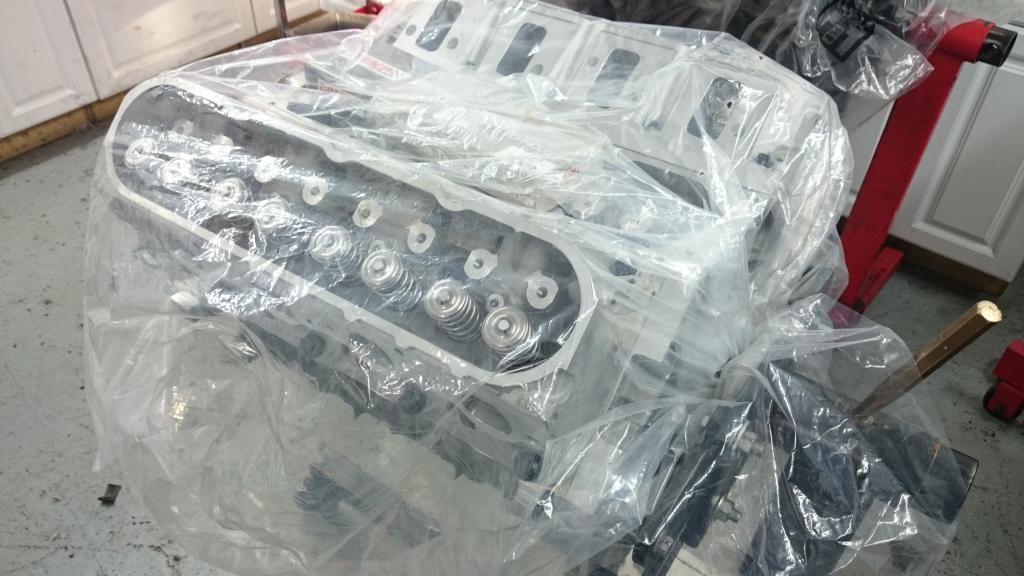 12-23-2014
Mcleod RXT twin disc with aluminum flywheel. Rated for 1,000ftlbs.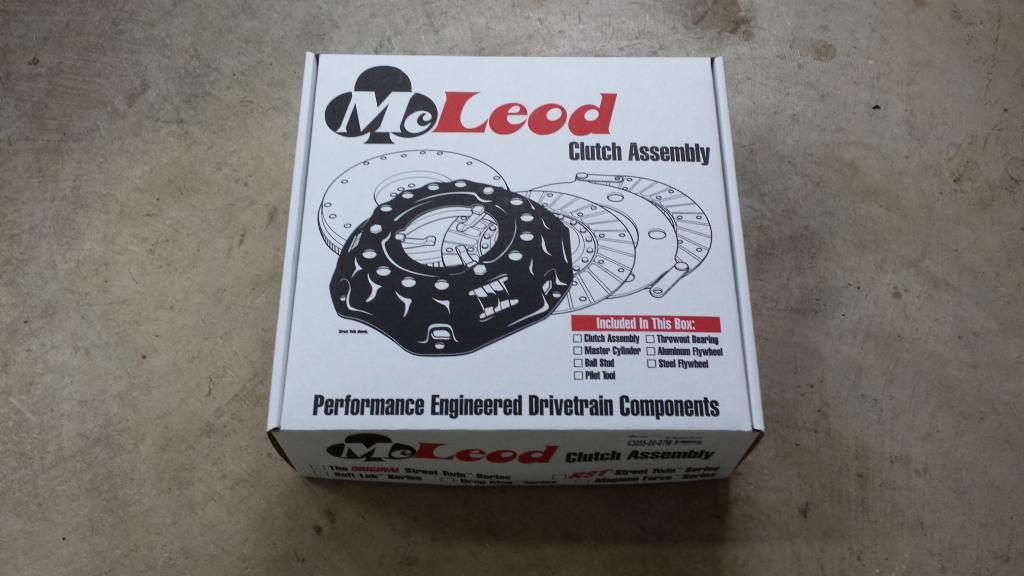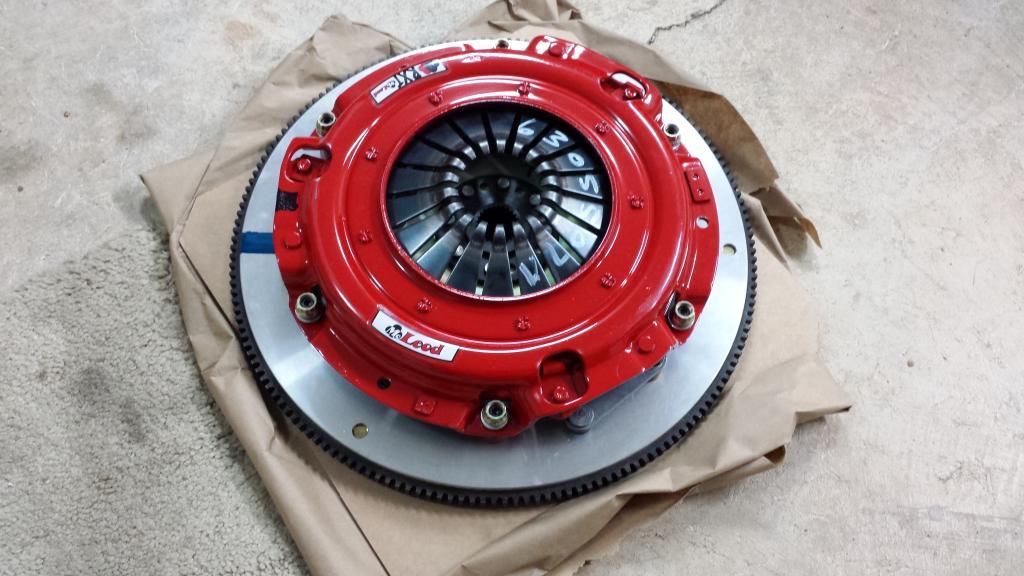 12-27-2014
3-14-2015
Go time!!
To continue my master plan I masked everything off and laid down a coat of satin black on the entire engine. I'm sure many folks think I'm crazy for painting an all aluminum engine, but I have a specific vision in mind. It's going to look very unique, clean, and sharp when finished. Should be pretty quick too.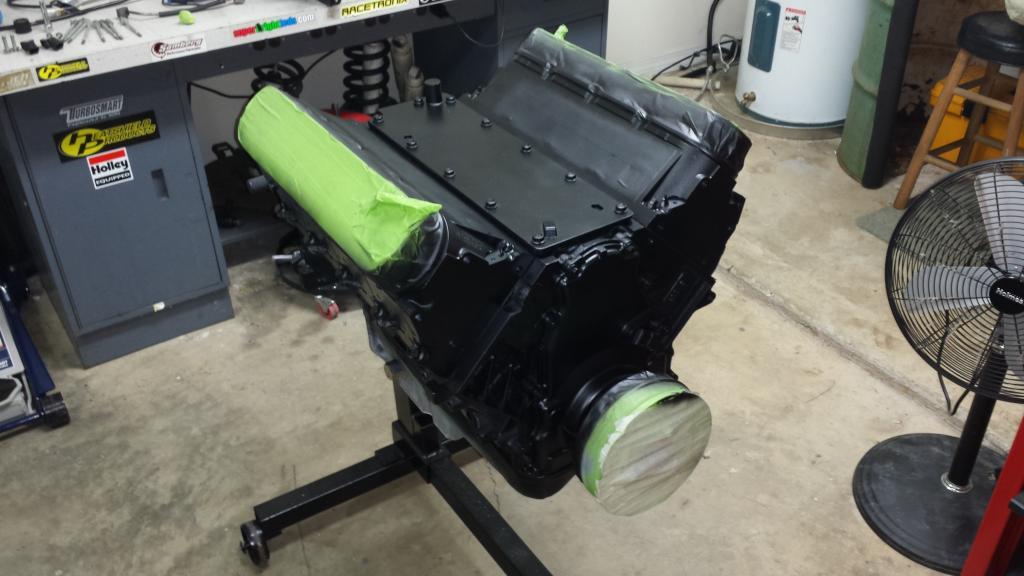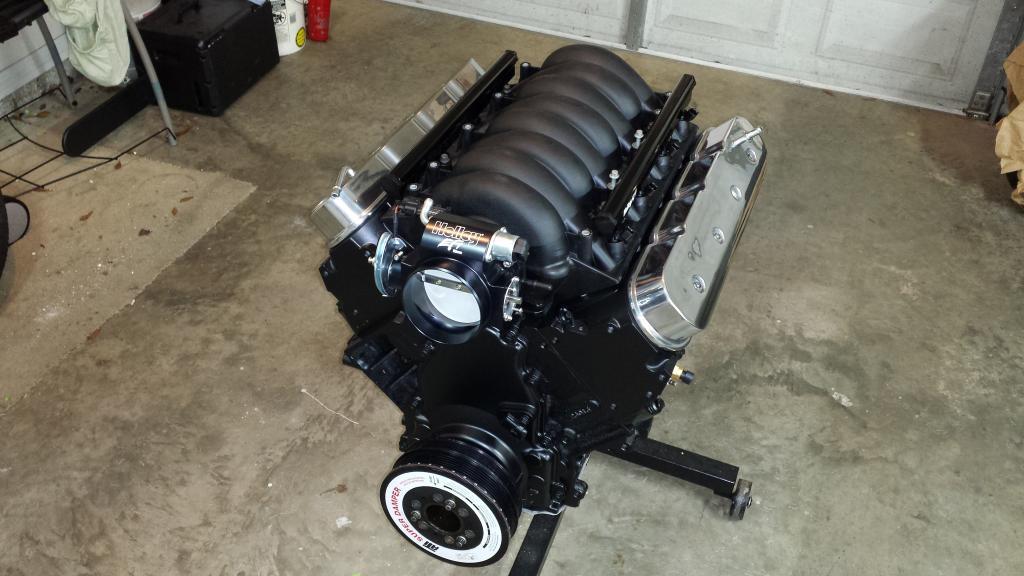 The Mcleod RXT install went smoothly.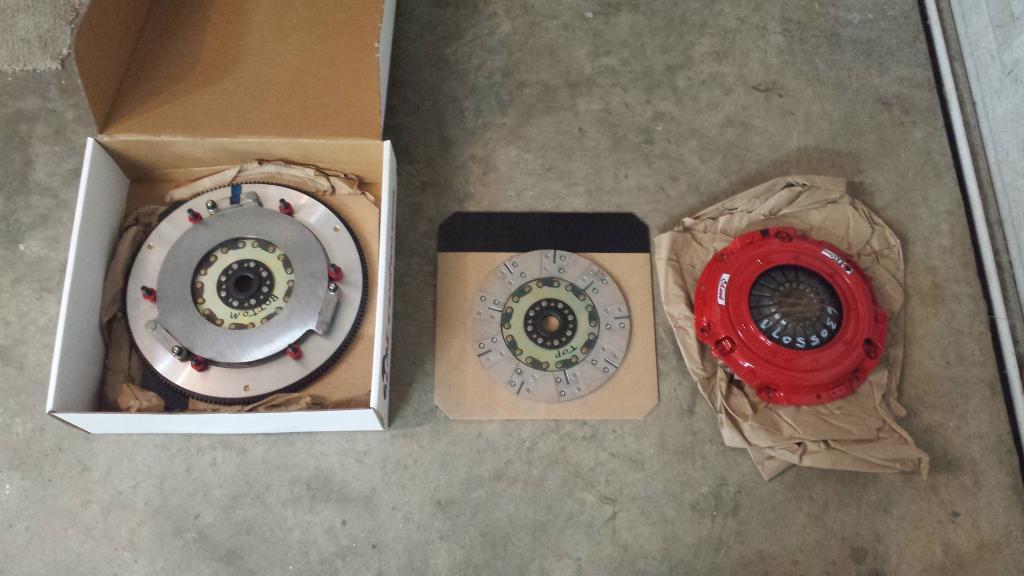 Pilot bearing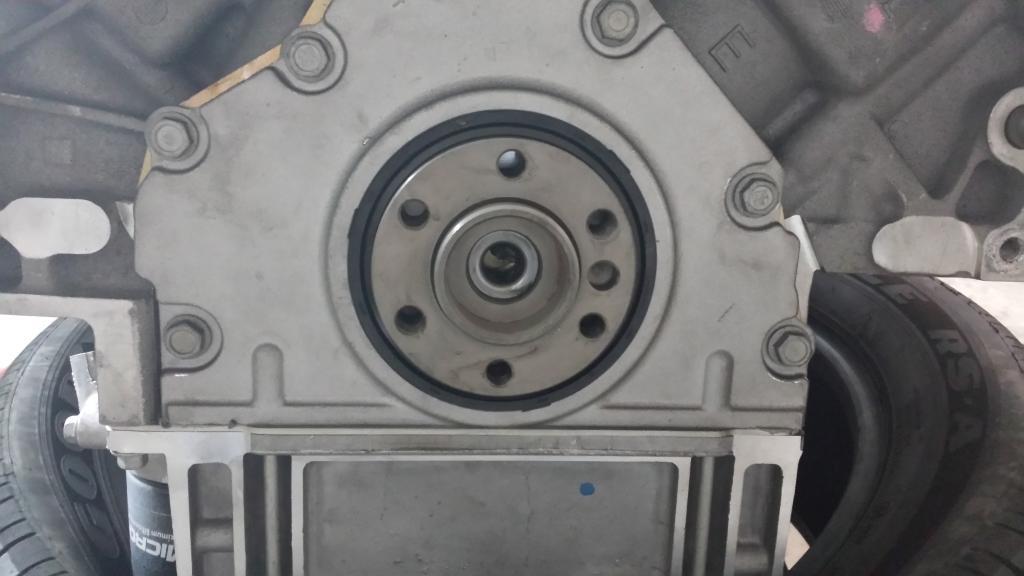 I did go with the aluminum flywheel. Using ARP hardware as well.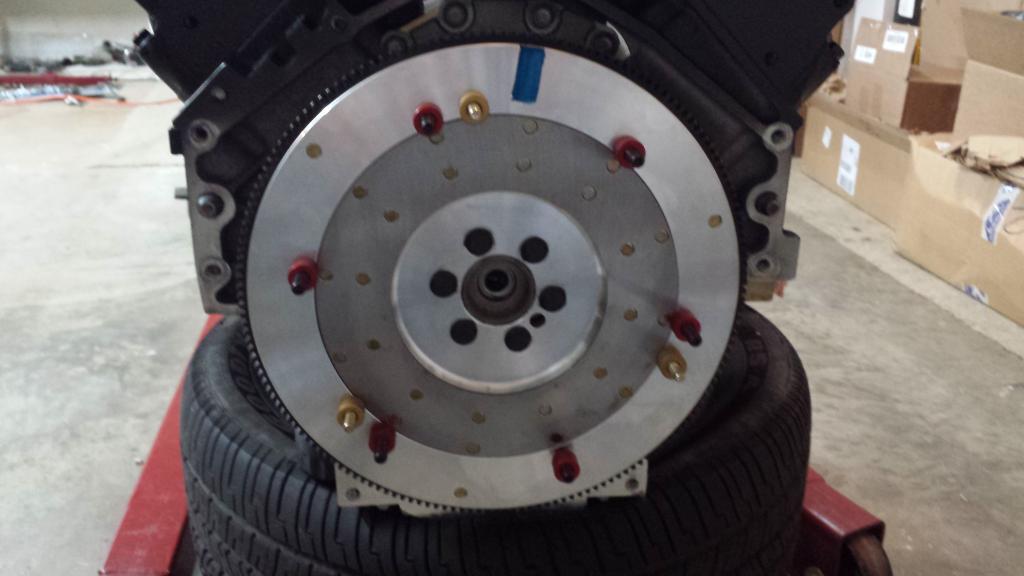 Disc one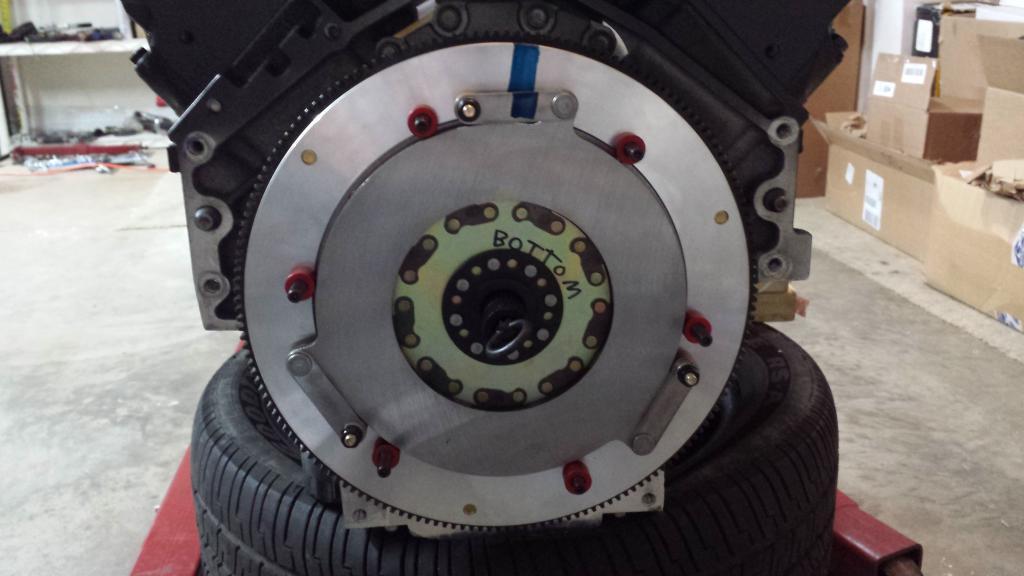 Disc Two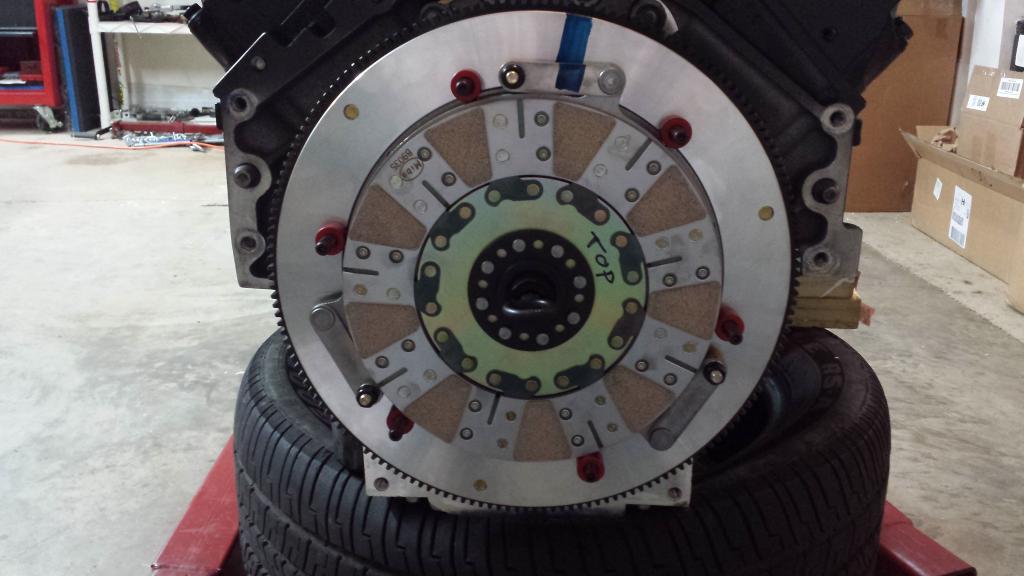 Buttoned up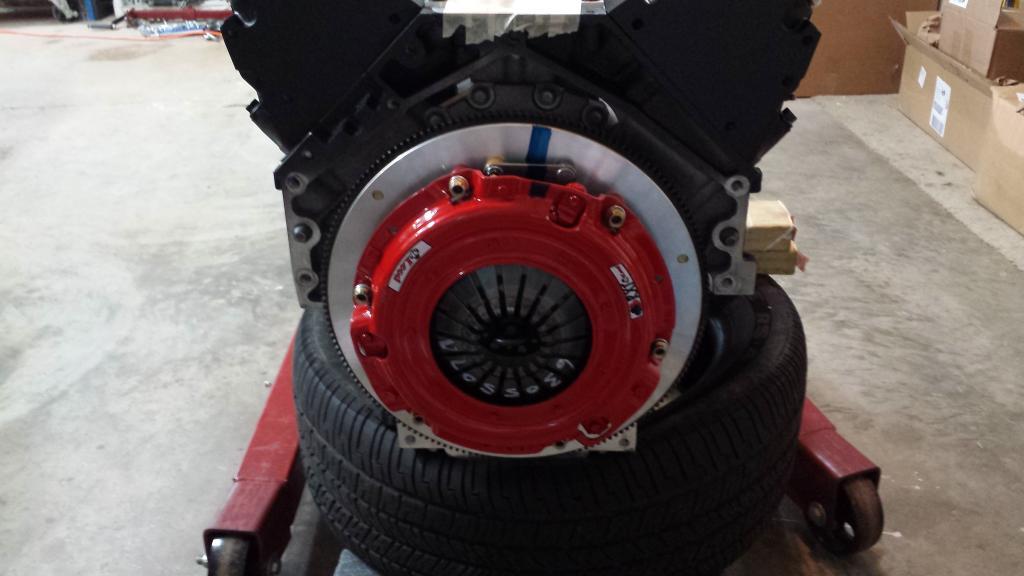 Joining the tranny and engine was easy with no frills. I called it a night and had it set up for dropping it in first thing in the morning.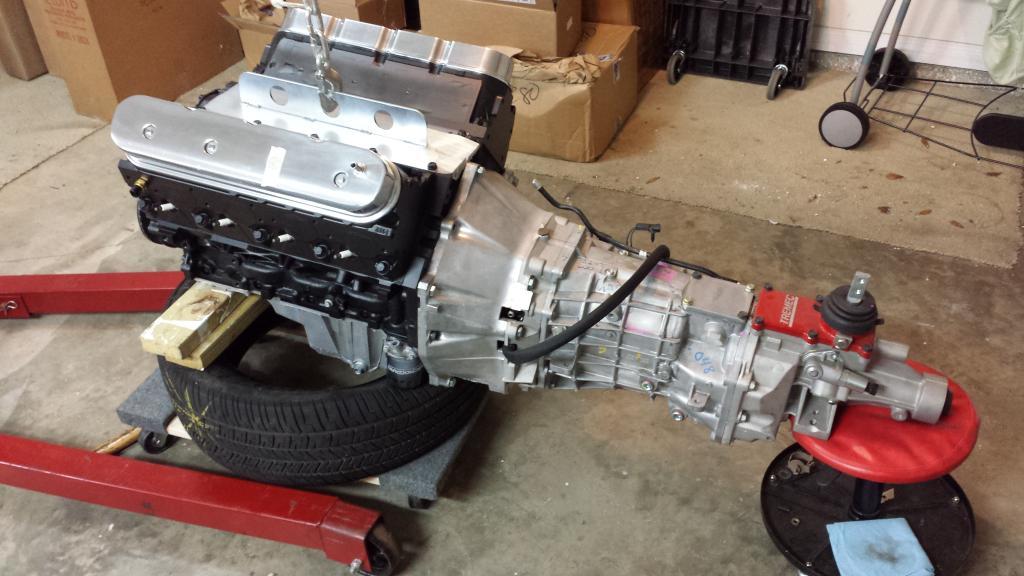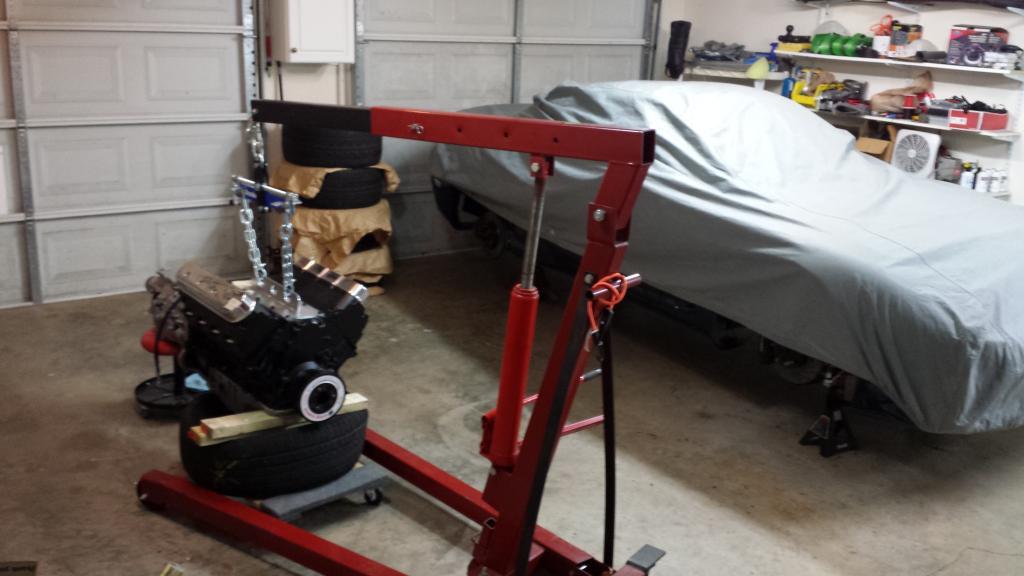 3-14-2015
The install went really smooth. I had help from a few friends so plenty of eyes and hands to help guide things. Easy.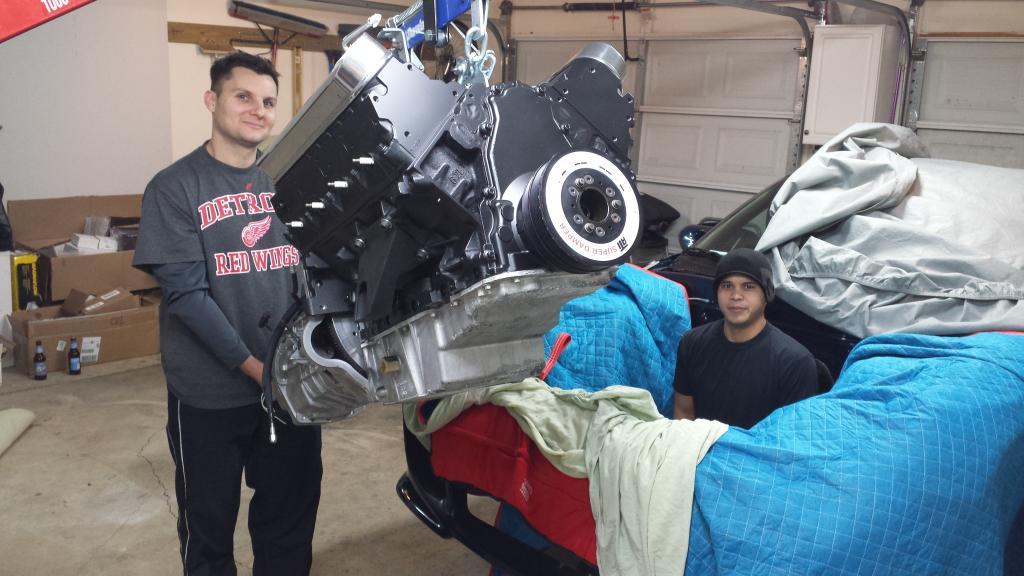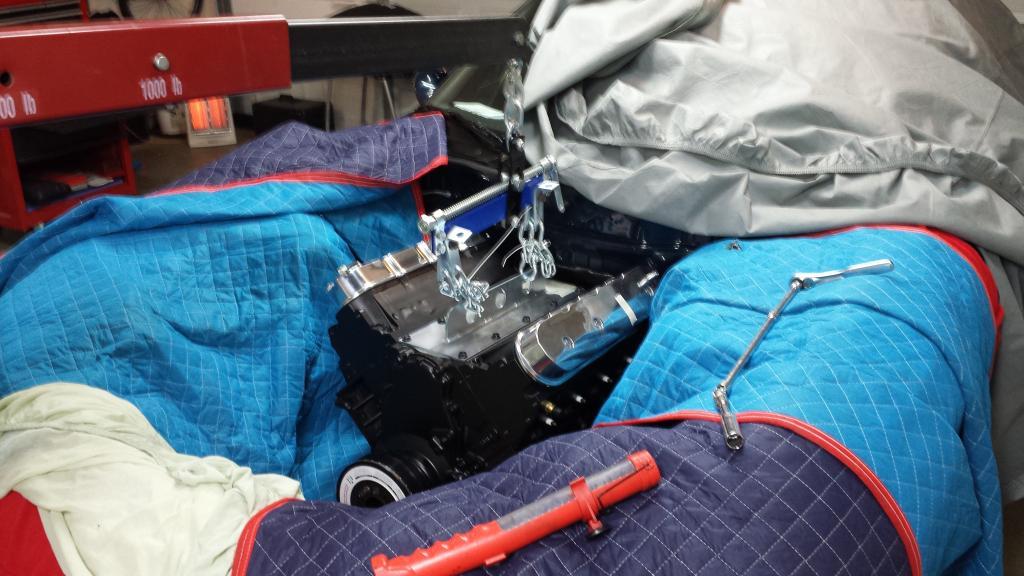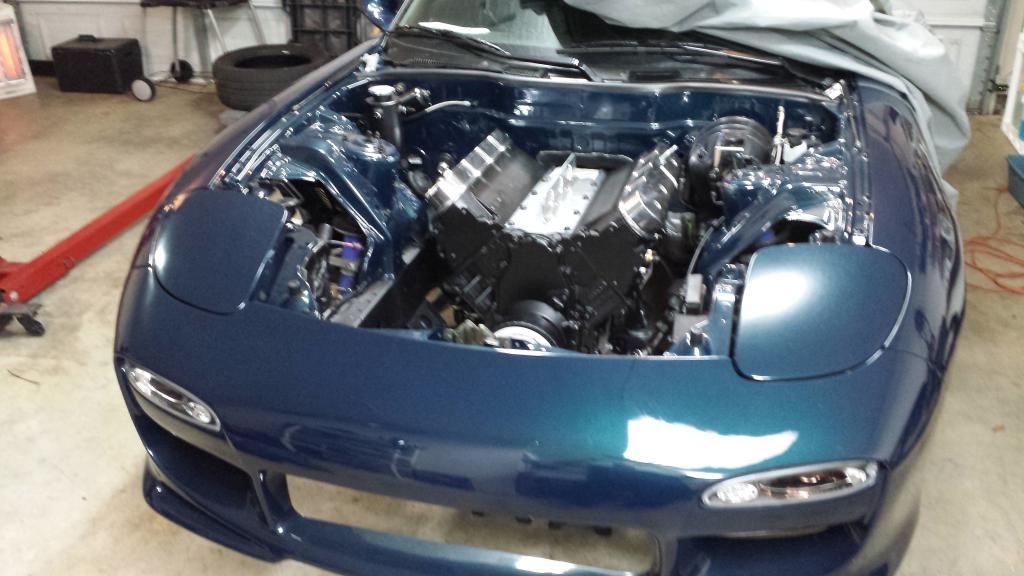 The crossmember was a bear since I was once again by myself. I got it done, but it took awhile. All lined up and everything looks good. I ended up with about a 6" measurement from the top tranny tunnel, which is not out of the norm apparently. I do think I am going to weld the backside flanges just for insurance and added support. Gnx7 gave me a "top tip" with using a 2x4 to prop up the carpet. It worked great and I wasn't fighting it the entire time.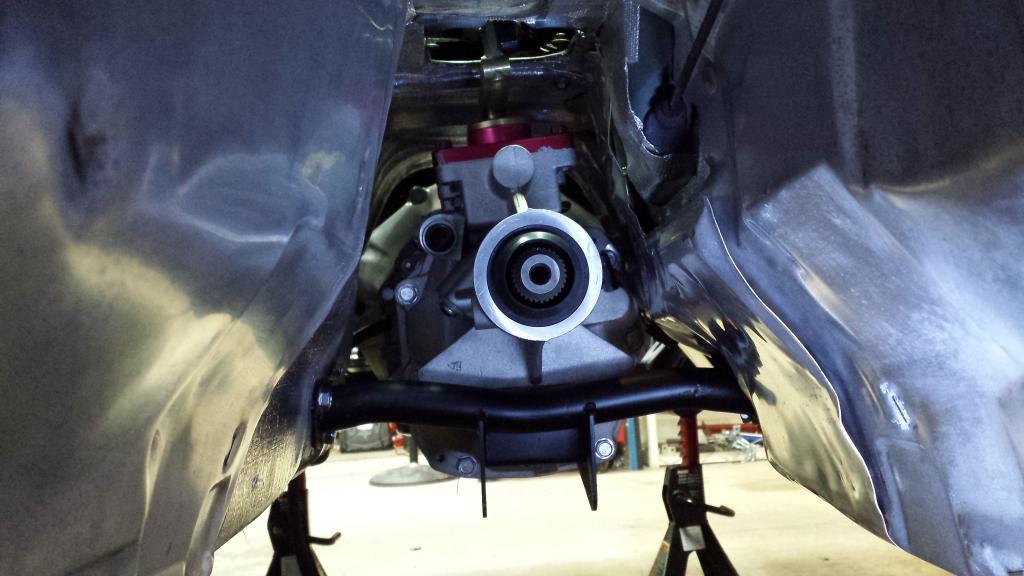 The drivetrain is installed!!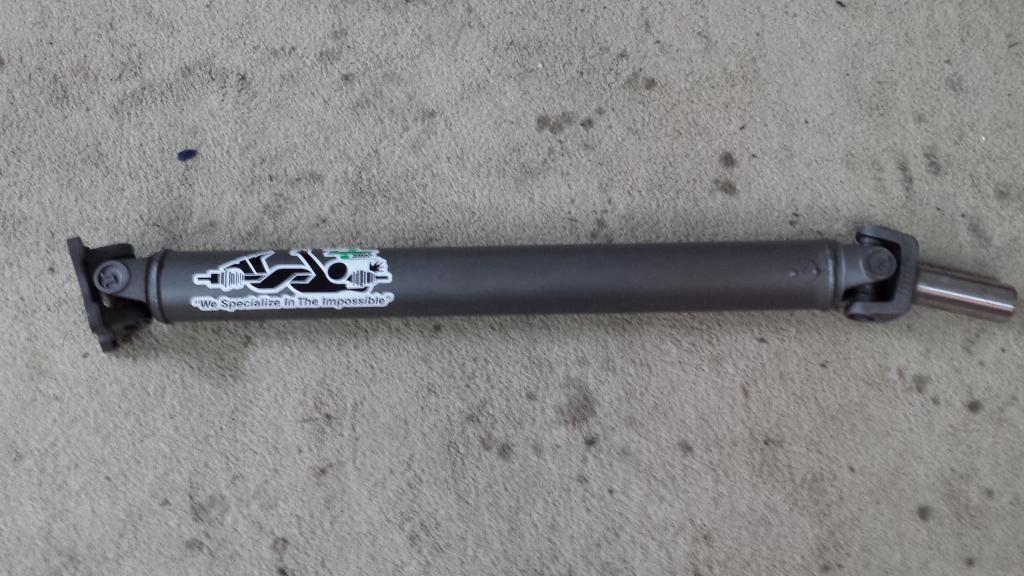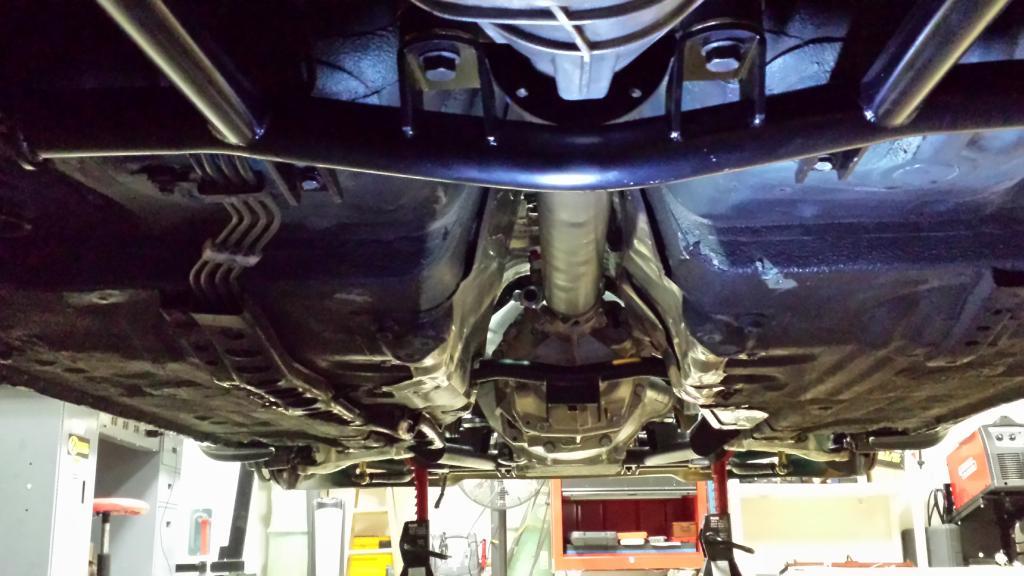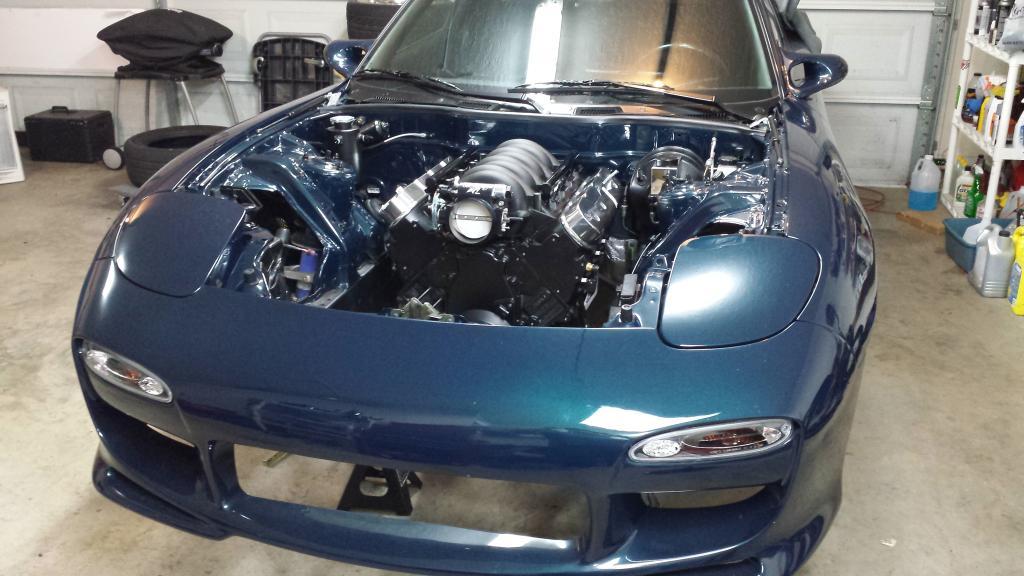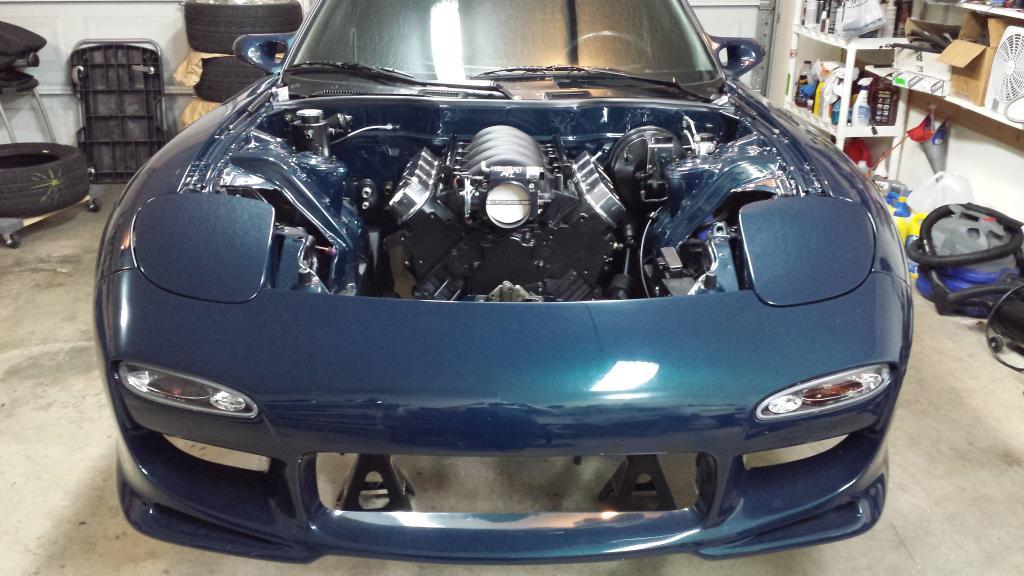 Headers
The headers wen't in very smoothly. These are Spoolin's 1 7/8" "premium" merge headers that I bought during a group buy many months ago. I was very pleased how they looked when I received them but after installing them, I can say that I am extremely pleased with the fitment as well. I didn't even have to bend a heat shield!! These things truly fit perfect with the Samberg subframe! They compliment my valve covers exactly how I planned.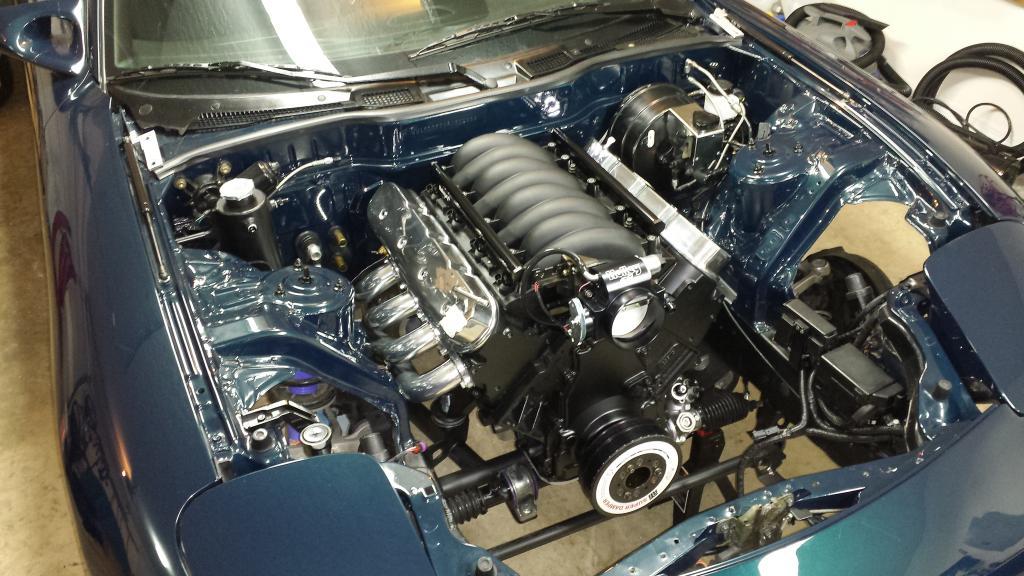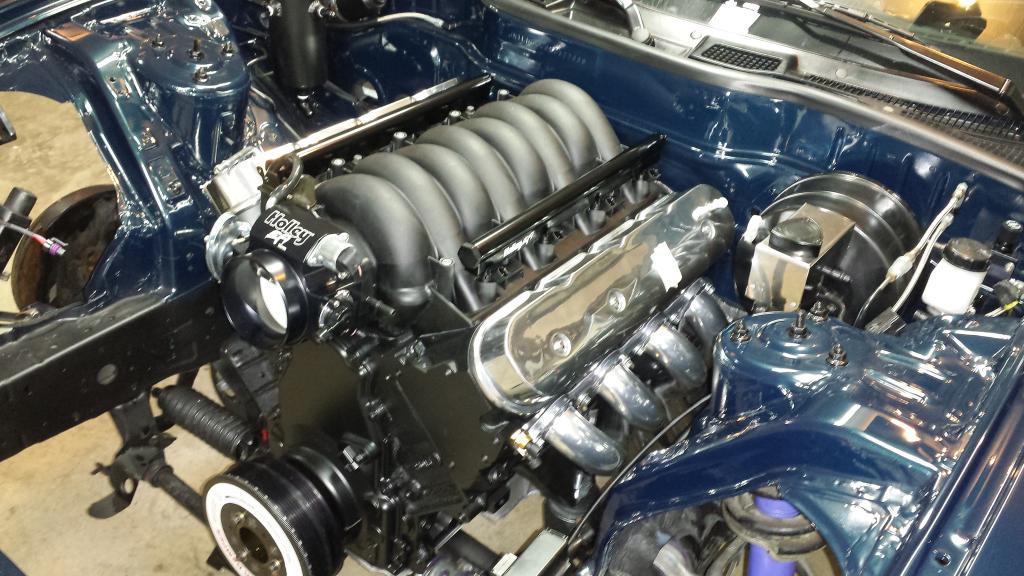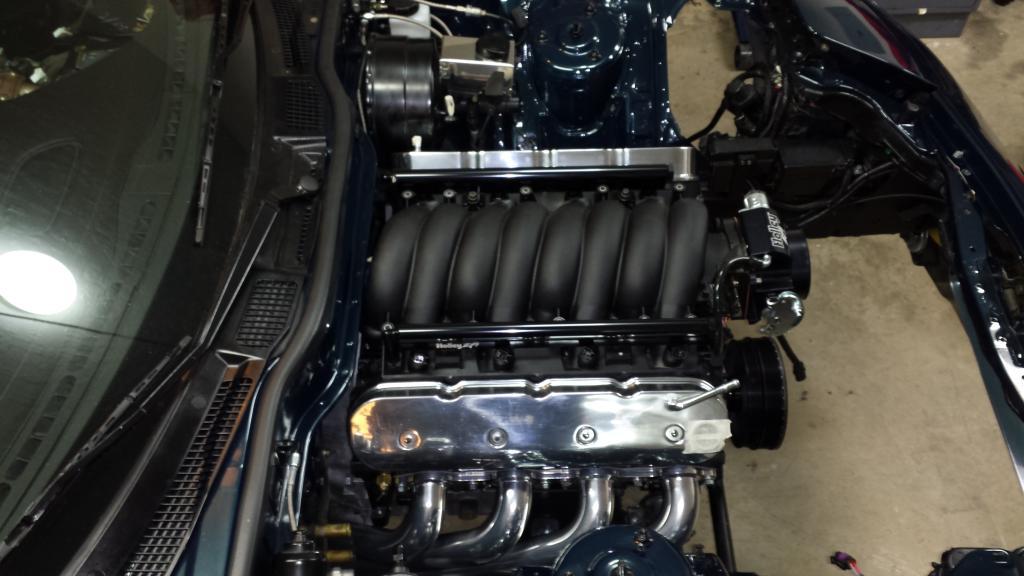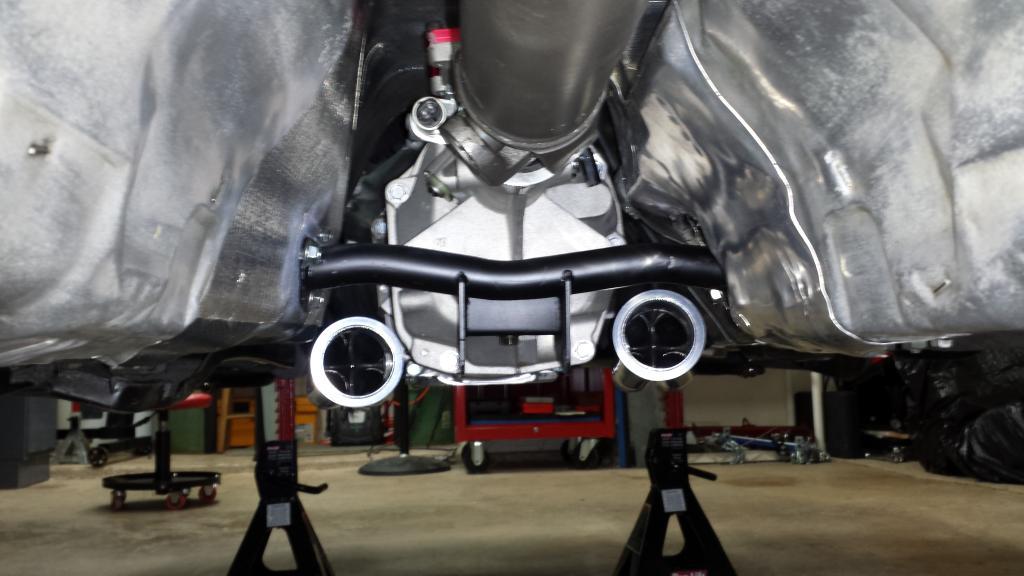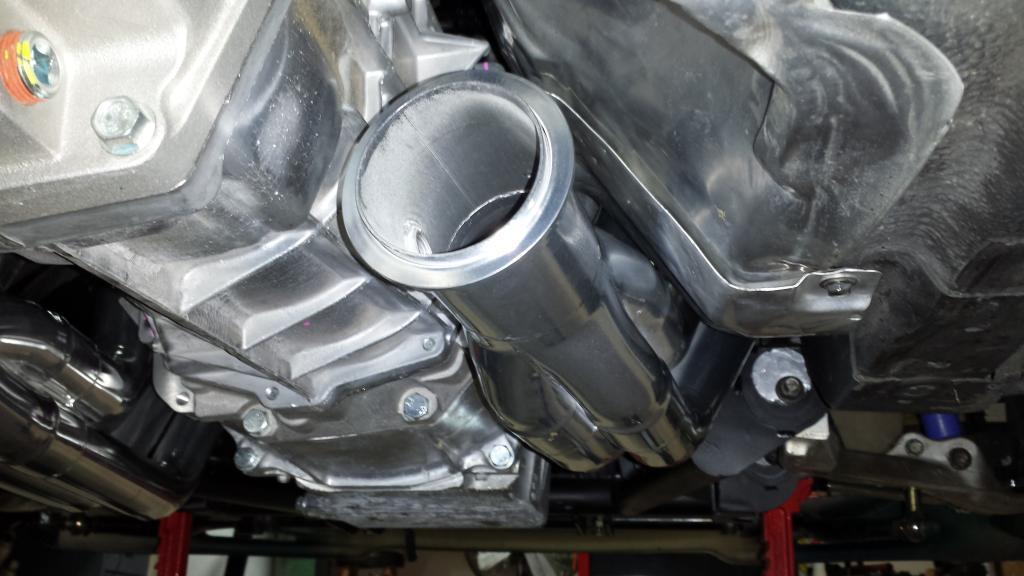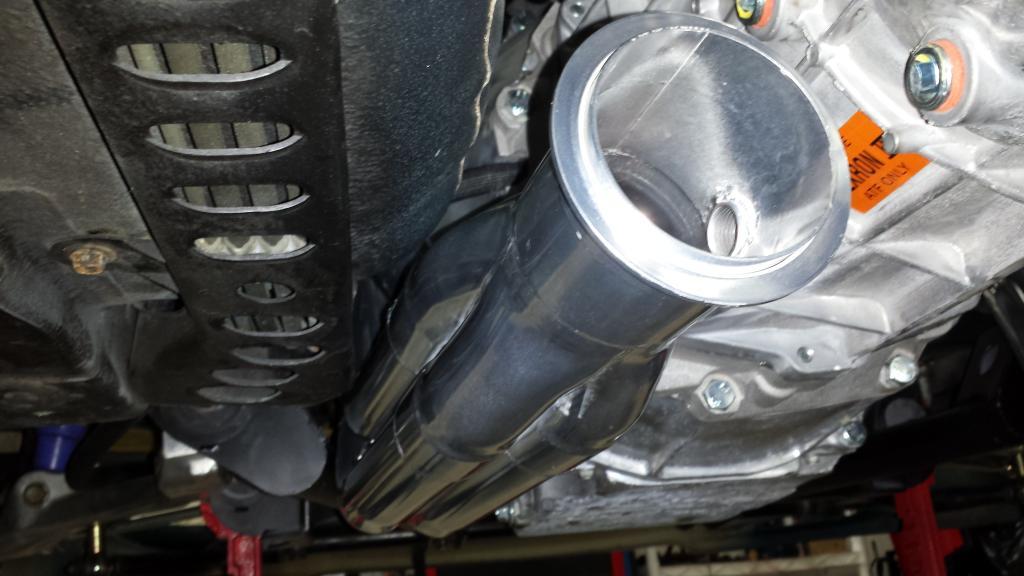 FUEL Lines
I finished up my lines this weekend with basically no issues. I had to experiment a little to get the fitment right simply because everything is so tight back there. I also have a lot going on back there with wanting the Holley to view both oil and fuel pressure, as well as my steam vent lines making their way. I have been determined from day 1 not to cut the firewall lip off my car, so I had to get a little creative. Another complication was to not use a front cross line on the rails. Below is my solution..
Aeromotive makes this little gem and it worked PERFECTLY. -8AN to -6AN banjo bolt.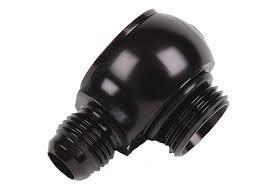 I also added heat sleeving all the way down past the OEM firewall hardline. I can definitely see the need now the headers are in place.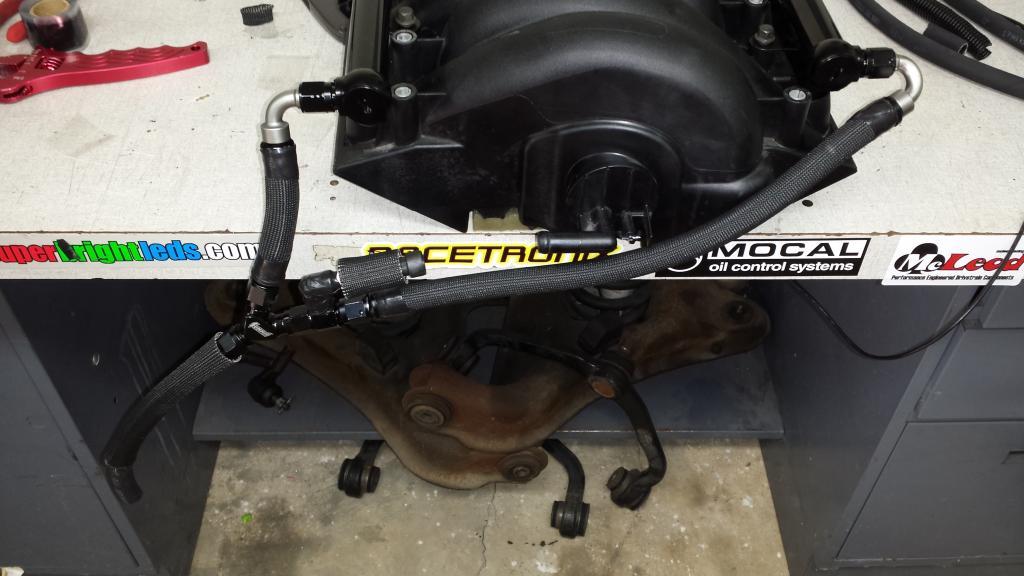 Holley oil pressure sensor.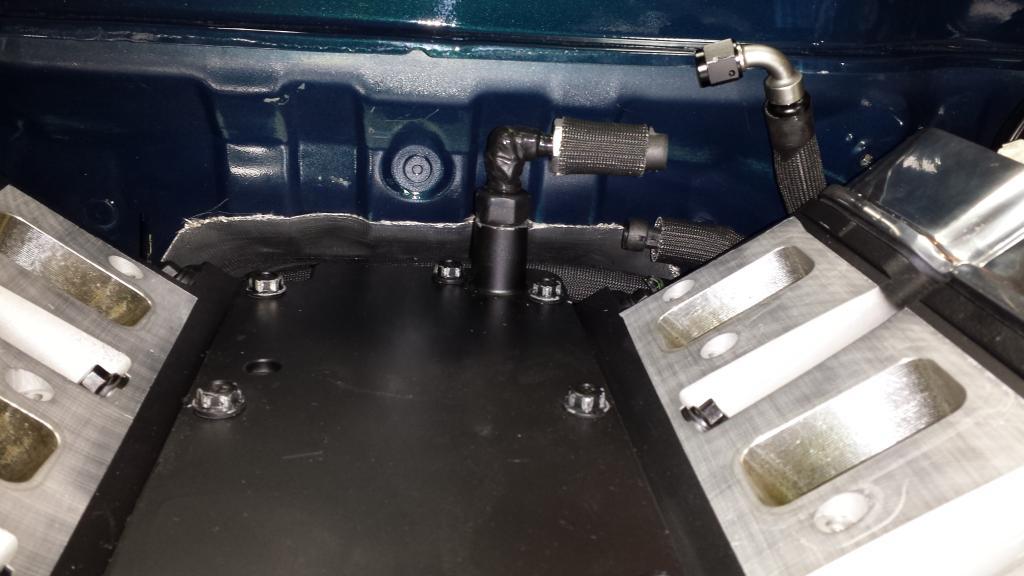 ACCESORIES
I am using all Fbody accessories. I purchased everything from Rockauto and used solely AC Delco, and Gates parts (cooling). I will update my build file as I was originally going to use polished OEM components from Tuff Stuff. I think everything turned out well. I used a factory tensioner but added DigitalSolo's pulley mod. We shall see how it does.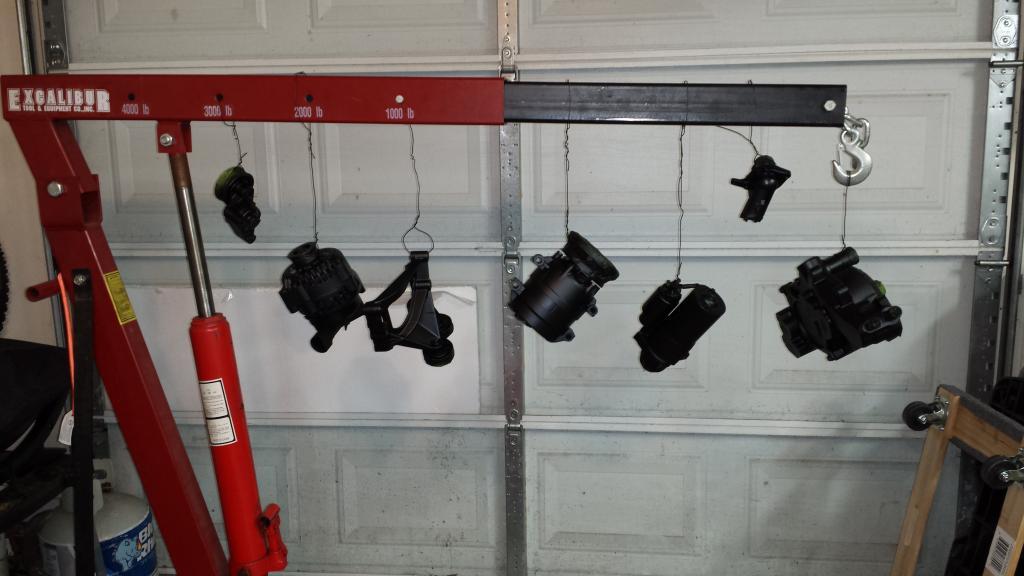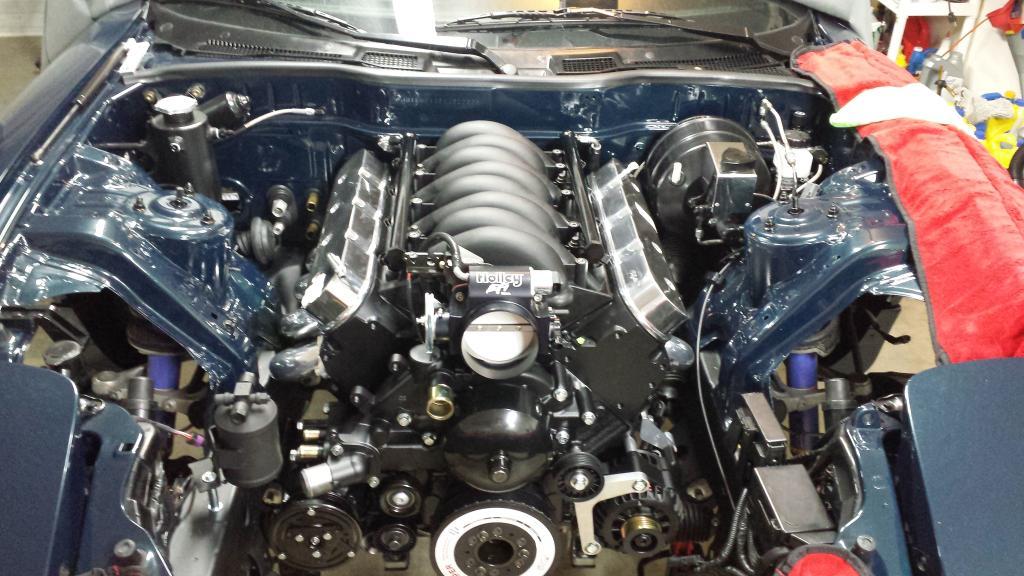 Steam Ports...Take 2.
Well, I completed my steam port lines today and I am happy with how they turned out. One last line to run to the surge tank but it will be SS braided. I want to keep the play of a flexible line from the engine to the body for vibration. It should be here soon.
I am pretty pleased with how it turned out. I can even take the intake on and off without disconnecting them.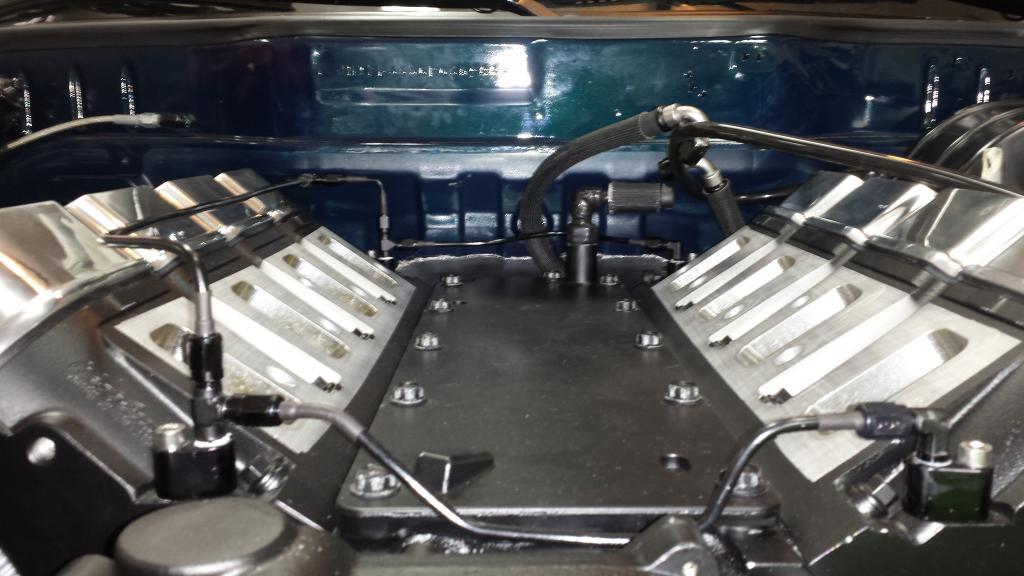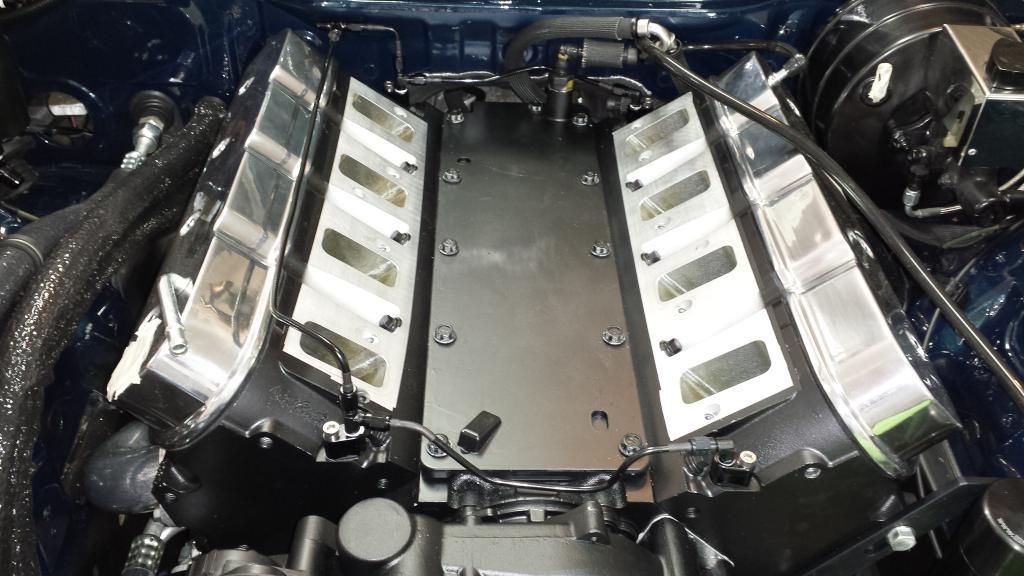 A/C and Coolant Lines
I got Halfspec's A/C line kit installed as well. The wiring portion has been in place for awhile, as I was pre-wiring it with my Holley ECU. The relay is mounted down where it's designed to go in the ECU pocket on the passenger footwell. The lines went in easily with pretty much no issues. Halfspec's instructions are easy to follow and spot on. I did deviate a little from his drier mounting. I made a bracket and moved it a few inches closer to the wheel. This made the lines align a little nicer for running them back to that cluster on the firewall.
For the heater core I used the standard Gates coolant lines that most folks use. I put the DEI sleeving on them to help keep the protection up. If I were building a car from the ground up, I would definitely relocate those firewall outputs for the heater core. It all sits very close to the exhaust and there just isn't a need for it. In any case, what I did should work well.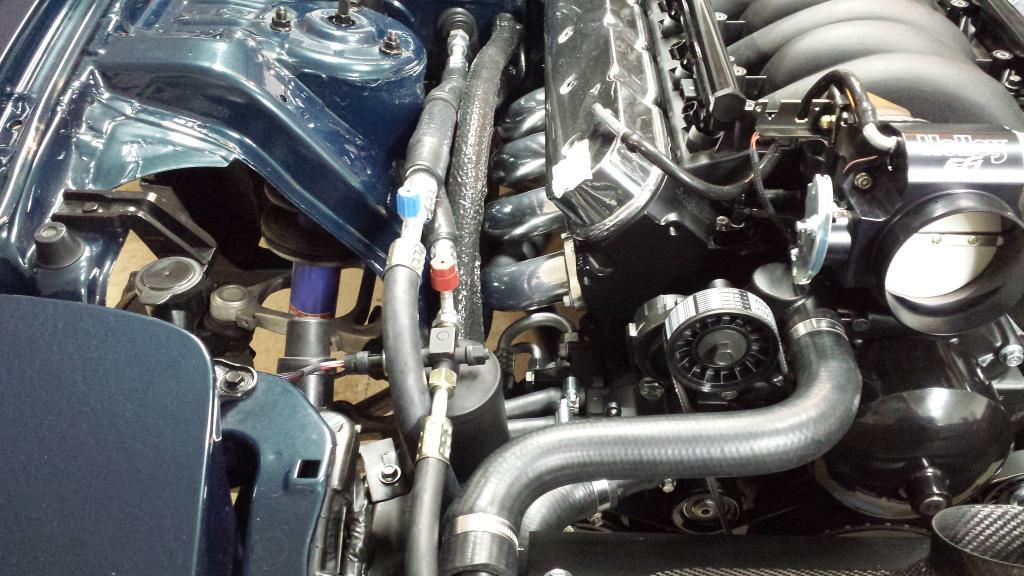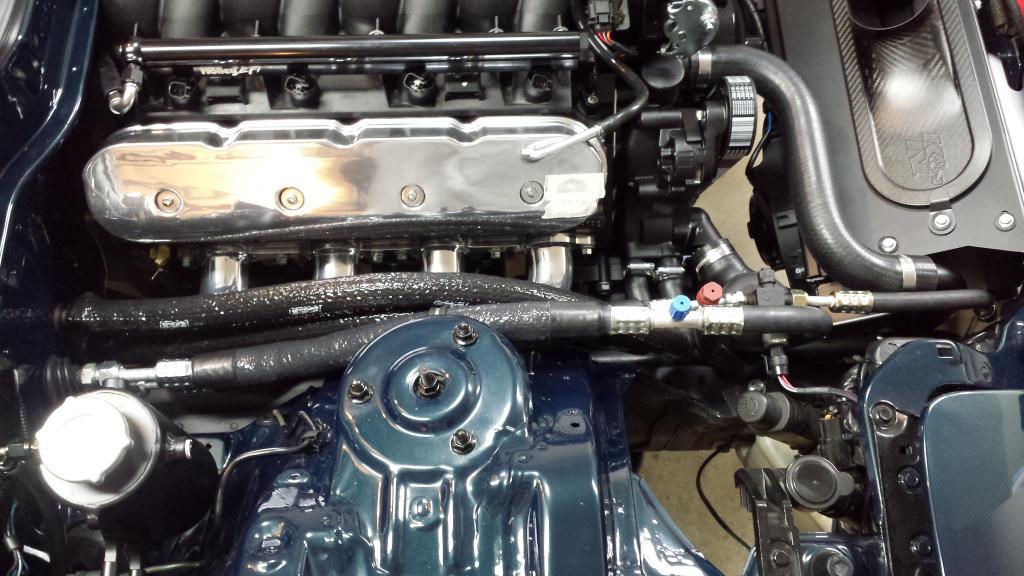 Elite Engineering Catch Can
After some searching I read nothing but great things about these cans. Their customer service is also excellent! I asked for a spare spacer and bolt (that I didn't end up using) and they didn't hesitate to send it to me. I chose to mount it on the passenger head. I am not completely satisfied with the "mounting" I have in place. I will likely change it and bring it closer to the center of the head. I think it will look cleaner and make the hose runs more straightforward. But for now, it's in place. I used silicone hose because it's easy to work with. I had some spare -4AN pushlocks from my dual wastegate rotary madness setup so I figured I better use them. I am feeding fresh air using the throttle body feed on the passenger side. Dirty air feed from the rear port on the drivers cover, and fresh air is fed back into the manifold on that side as well. The passenger side port is capped for now, but it is likely getting clipped, drilled and tapped to put my IAT sensor in that very place.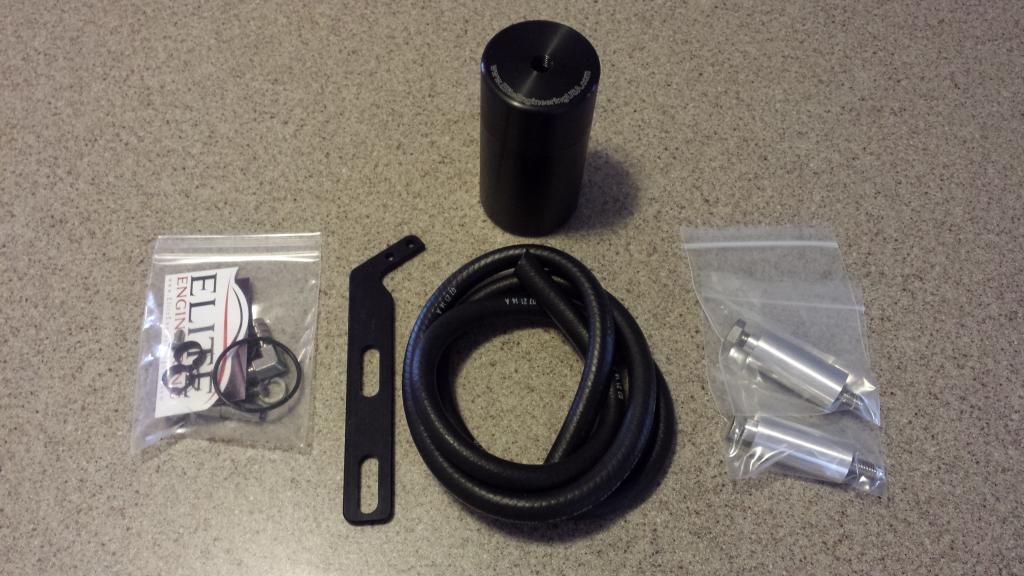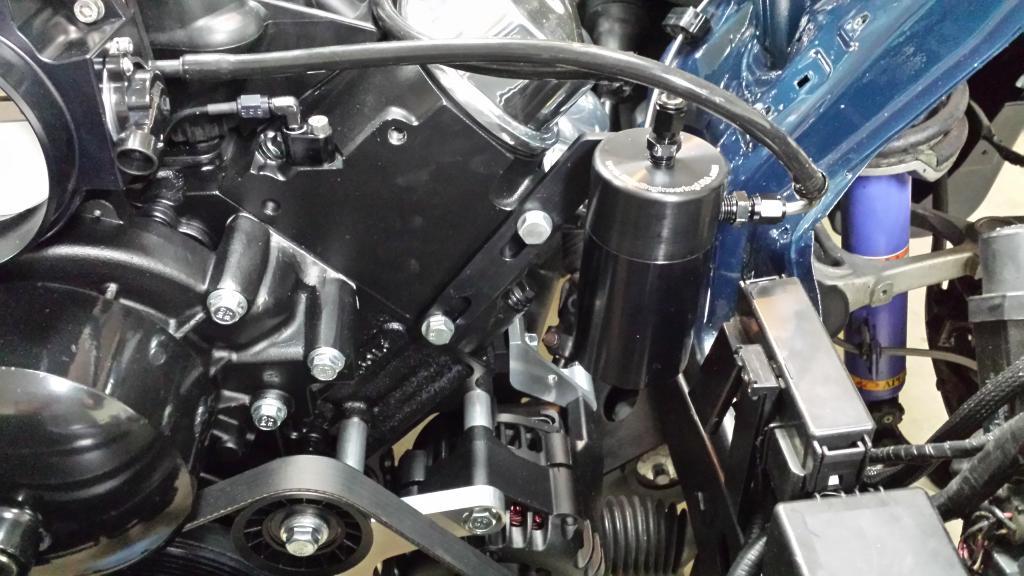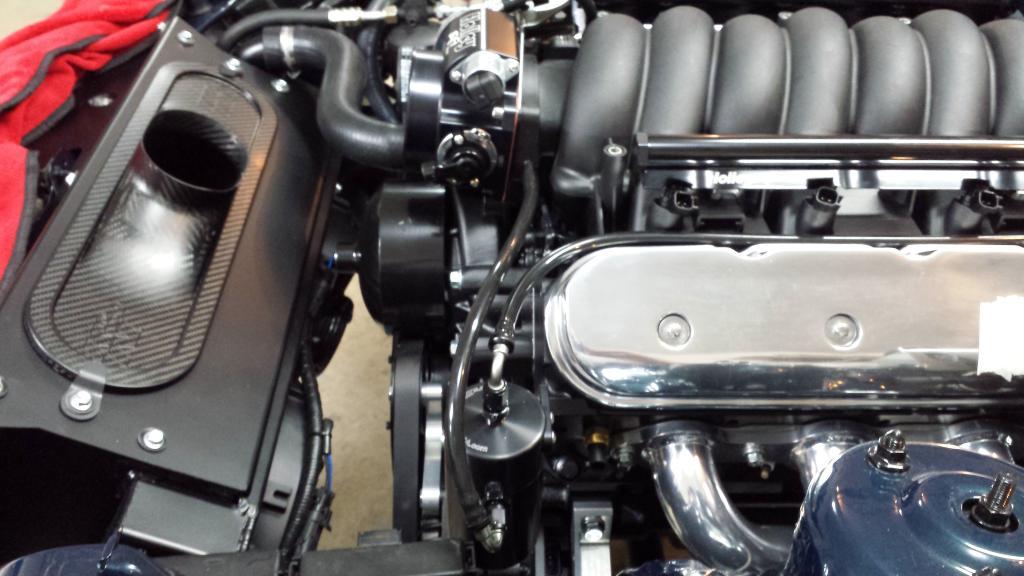 Coil Madness!!
Well, I looked everything over really well and I don't have a lot of options. I was really hoping the coils would fit on the bottom passenger frame rail but there is just too much going on down there. It's mostly the radiator hose that is getting me. The drivers side is money. I have been flirting with the idea below. Some may think it's a "dangerous" location but I don't think it's too bad, especially for what I use my car for.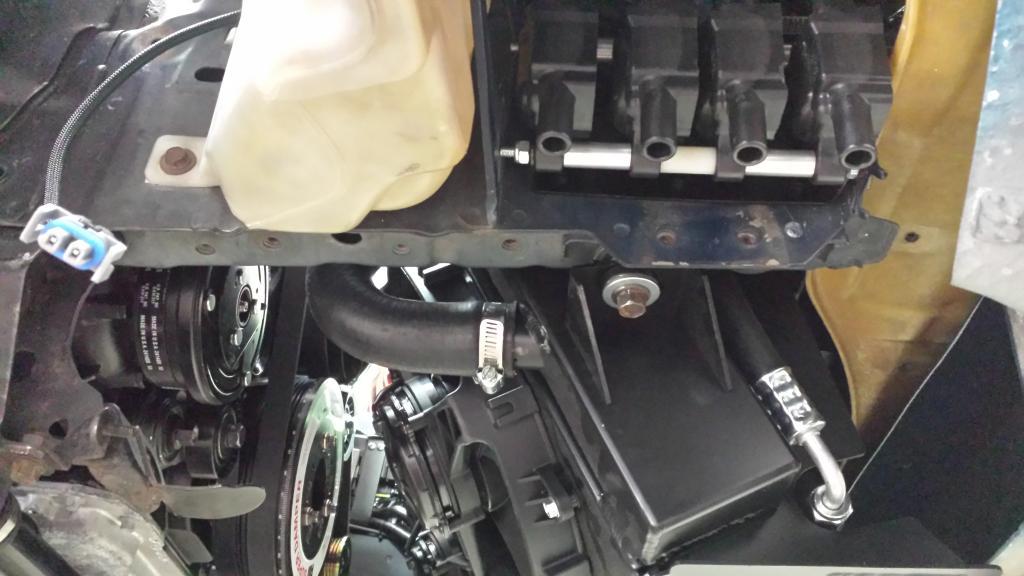 The bracket is just mocked up and not permanent. There are some obvious issues with putting them here and I have thought about each one. I gladly will take input from you gentlemen.
- Wire length - Pretty much a non-issue in my mind. The added resistance of the length doesn't seem to be a problem on high HP setups.
- Water - Well, I don't daily drive my car, or drive it in the rain. BUT, there are those occasions when I may of course get got in a down poor. Deep standing water or whatnot could pose an issue. For the most part, coils are water proof. They have a weather pack connector on the backside and the plug wire is sealed quite well with a quality boot and dielectric grease. The only real issue would be if the coil was submerged. If water is that high, I have bigger problems.
- Road debris - I plan to build a sheet metal plate that surrounds the coil on both the front and bottom sides to protect the coils from road debris. Honestly, I don't see alot of debris really getting to them, but they would be protected nonetheless. This plate will also have a second piece run the length of the rail guiding my wires past the A/C compressor and then up to the plugs under the header. One picture I didn't take was how the coils are exposed from the front bumper opening. You can see them on the two smaller inlets at the very edge of the hole. This is where the front plate will come in.
- Permanence - It isn't. If this just doesn't work the way I want than it's a easy to change. I can slap on a set of Holley valve covers, mount the coils on there, and be done.
Coil Relocation
The coil relocation went well. The wires were a pain to work with at first, but I got it squared away. Most of it really was dealing with the boots. The wires ran really clean and overall I am very pleased with it. I made a little video on how to build the wires for those who may do it in the future. I haven't made the coil shields yet, but it's on the list.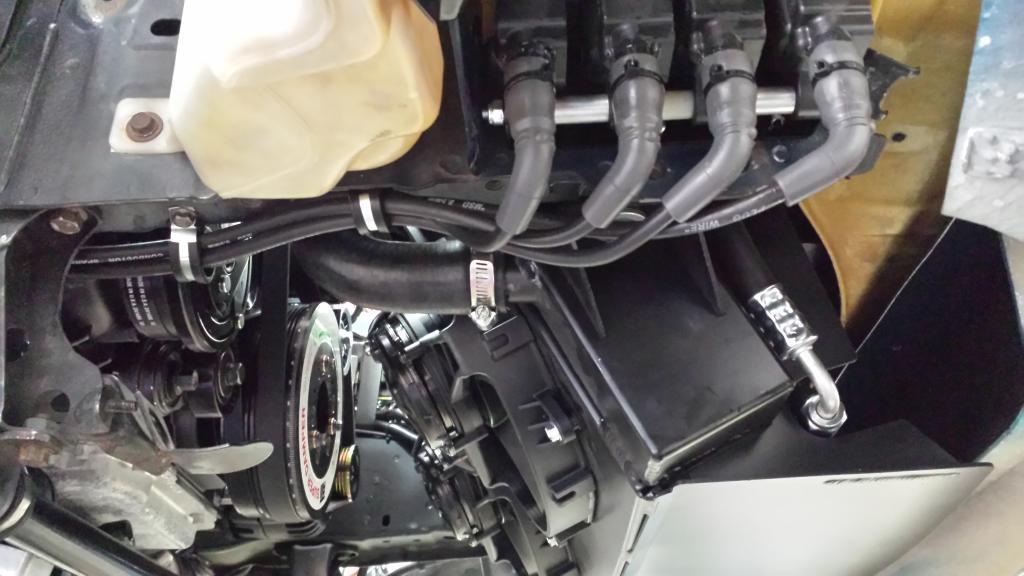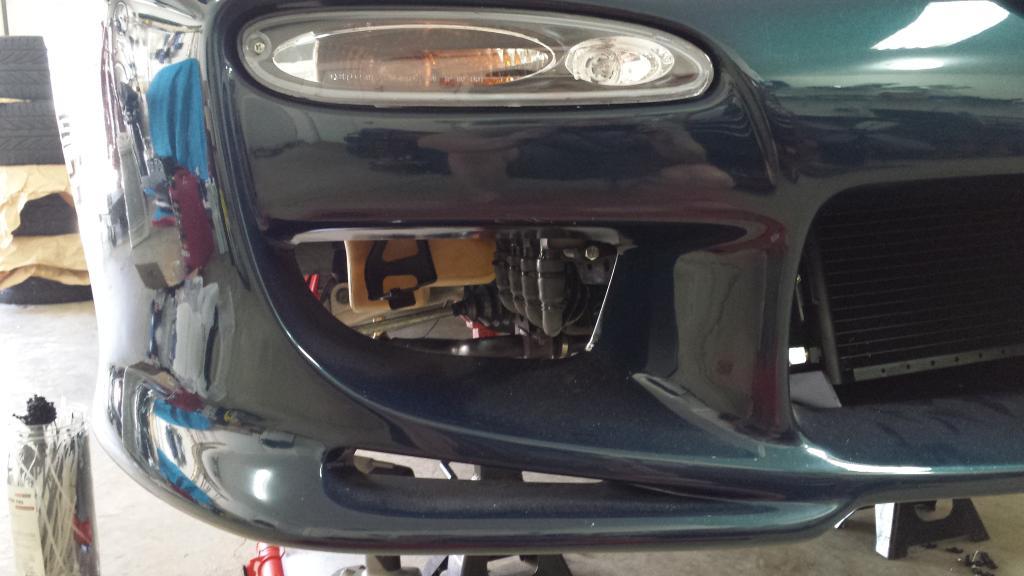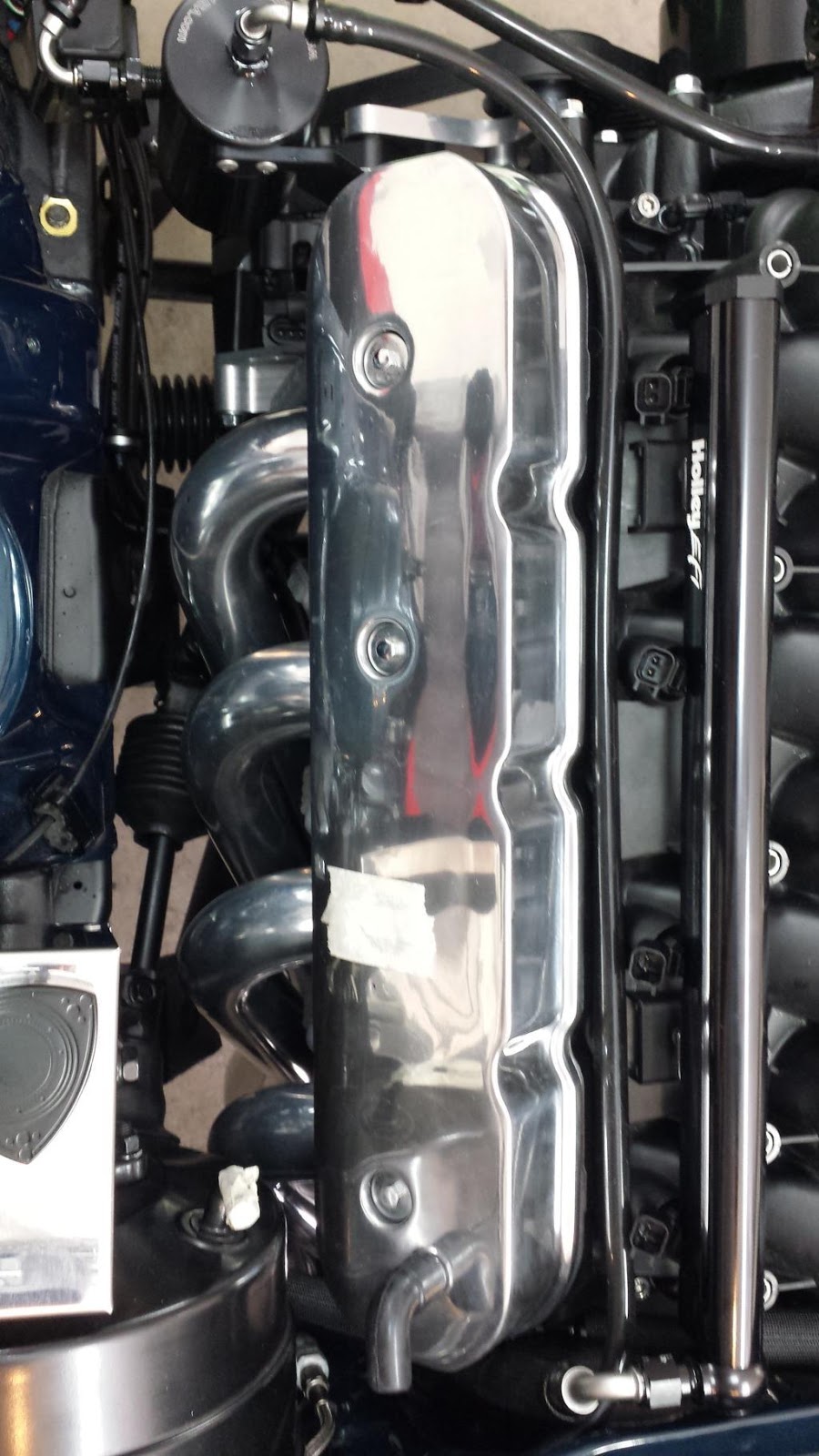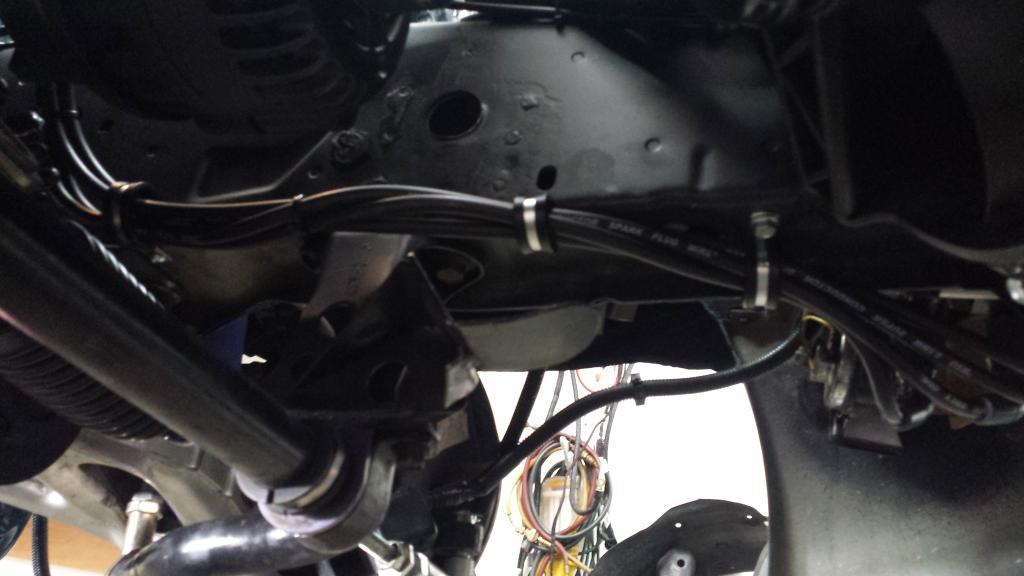 How To: MSD custom wires
Mazda Oil Pressure
I tapped the OFAC above the oil filter for my Mazda oil pressure sensor. I used a remote SS braided line to move it forward away from the headers. It's all very tight in there. The fitting taps to a 1/8npt perfectly. I literally just had to drill past the closed end. Easy.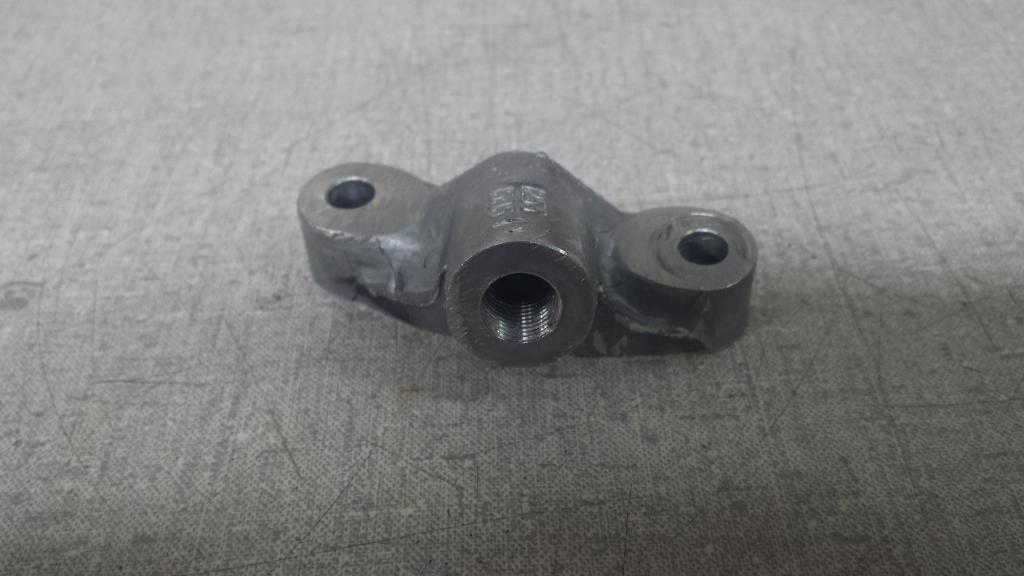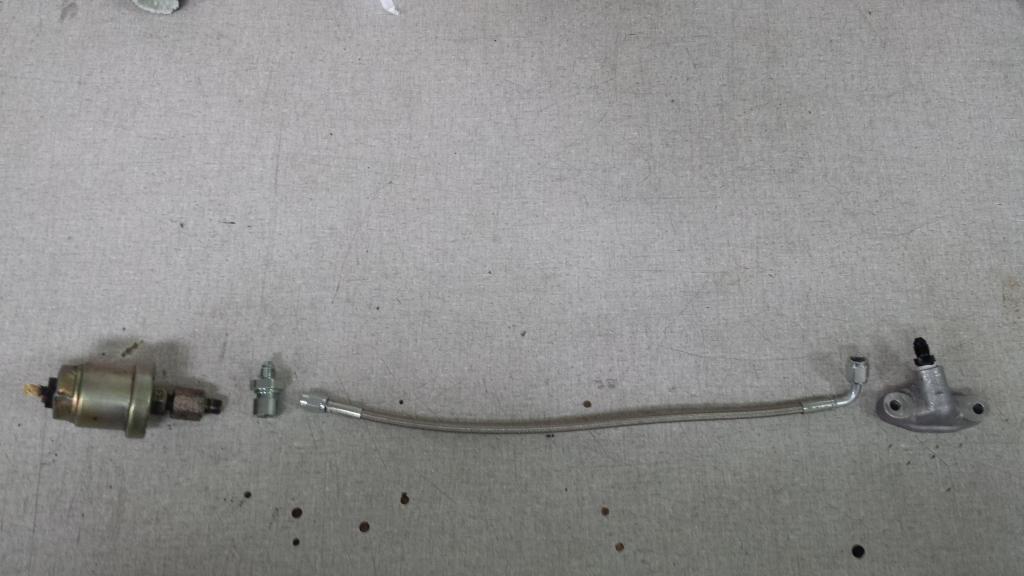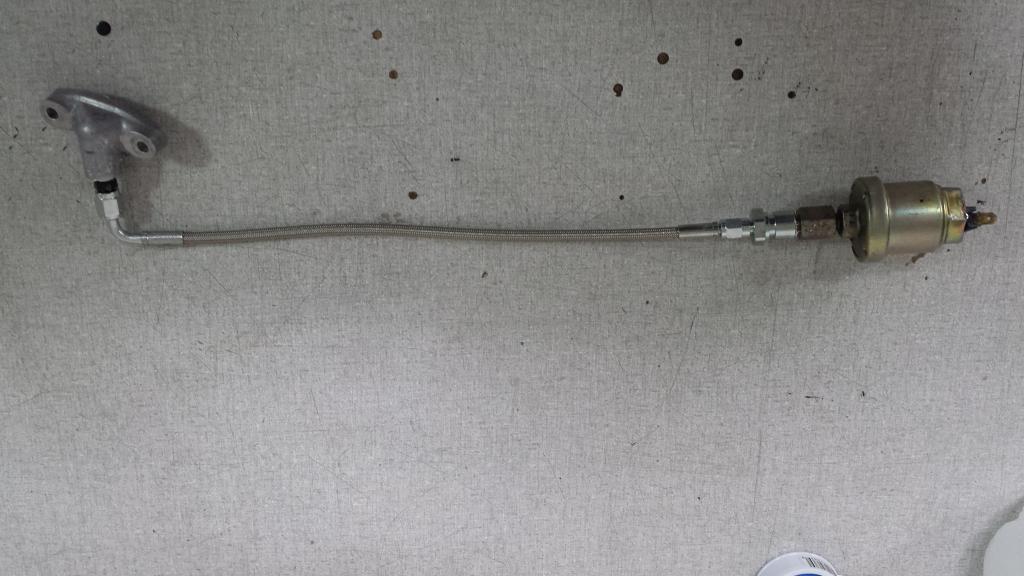 Clutch Bleed
Gotta admit I was a little nervous about this one. If anything was weird, dropping the tranny would be needed and I just wasn't looking forward to that possibility. BUT, it bled like a champ. I used Blake's method with the MightyVac and it worked like a charm! I didn't open a bleeder once!! Again, I made a video of the process, the link that DigitalSolo explains his method is also below.
http://www.norotors.com/index.php?topic=17322.0
Shift Panel
I jumped on this band wagon! I had to modify it slightly since my shifter throws back so far, but after a little cutting disc work, it fit perfectly!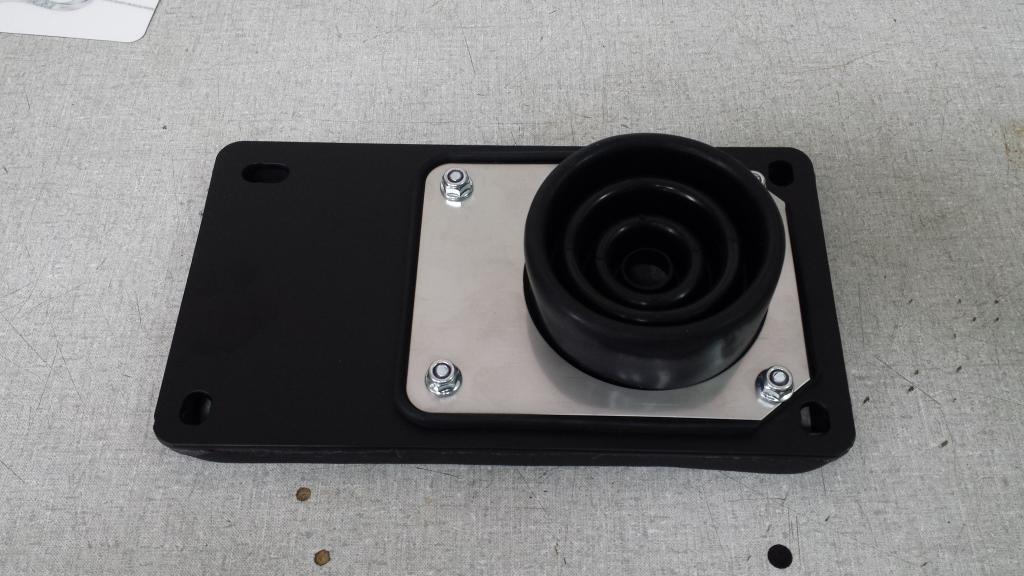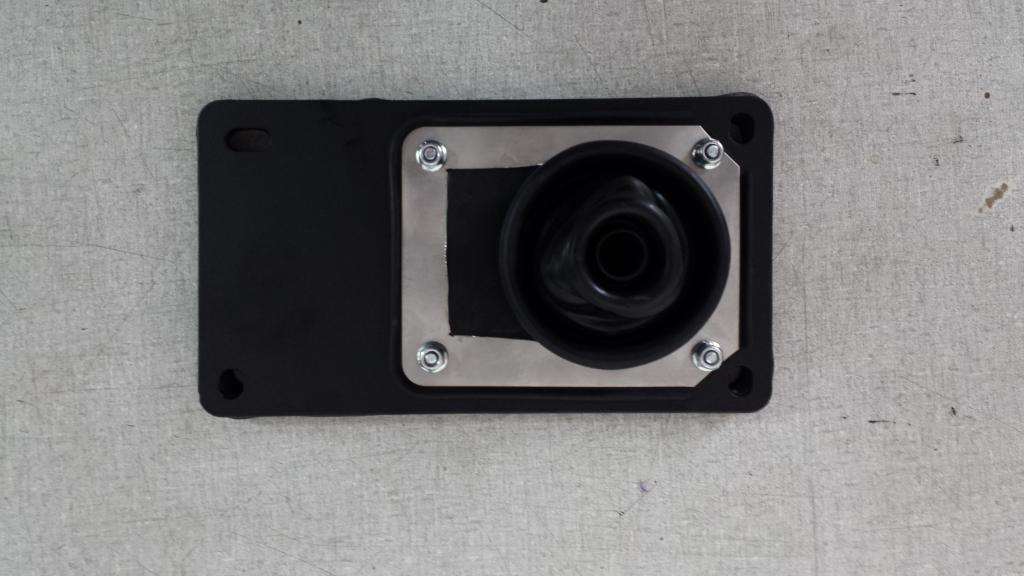 IAT Relocation
I decided to go with the IAT in the manifold. I drilled the whole, and it essentially tapped itself. I used some teflon and she is snug as a bug.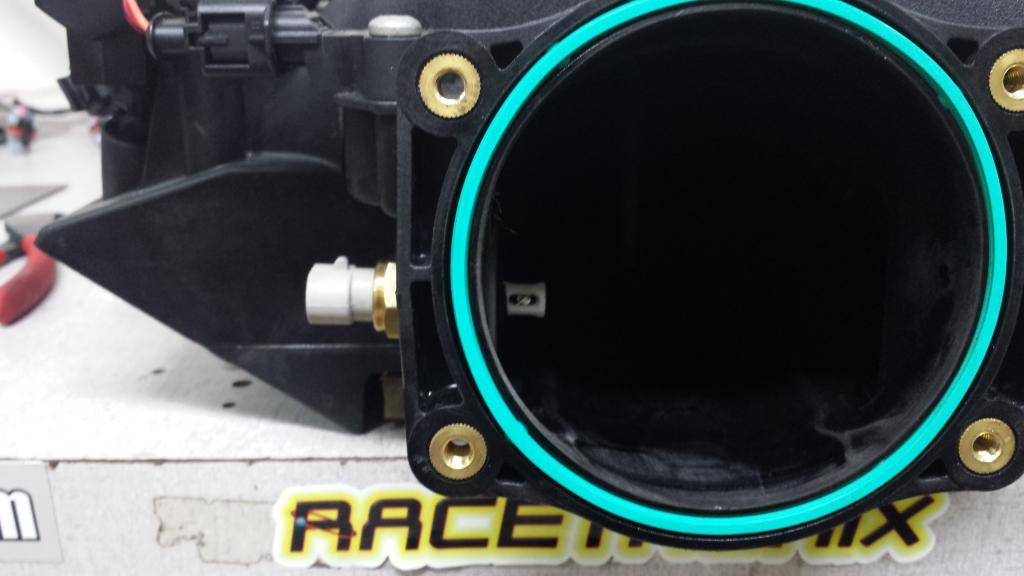 Bay Wiring
Wiring up the Holley harness on the engine side went pretty well. Holley gives you plenty of meat to work with so overall I spent most of my time figuring out what to do with the extra length. I did have to modify the harness in a few places. I added heat sleeving under the black sleeve in a few places where the harness would cross the header's path. Coil relocation caused me to separate the plug from the main harness and bring it back. Remember, it's designed for a factory car so the plugs sit where the top of the heads would be. I also had to tap into the 5v power and ground for the GM pressure switch I am using in my A/C system. Holley specifically says their sensors have no issues sharing so that was straight forward. It mostly just took time to route everything cleanly. I was covering everything up, and I masked my valve covers just to be safe. One thing about shiny stuff, it scratches easy. Oh, and the intake came off again, likely 30 times since I started...lol.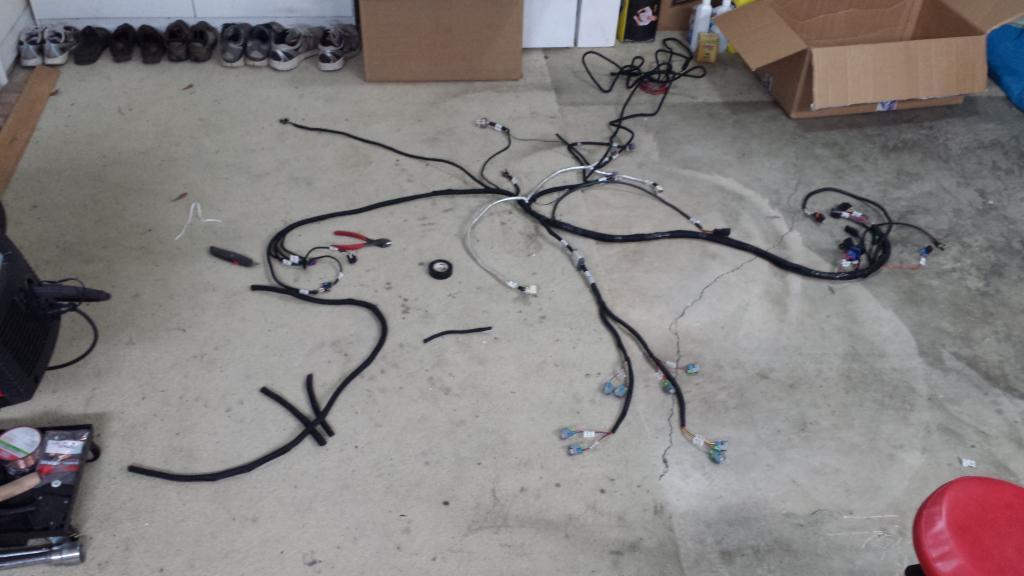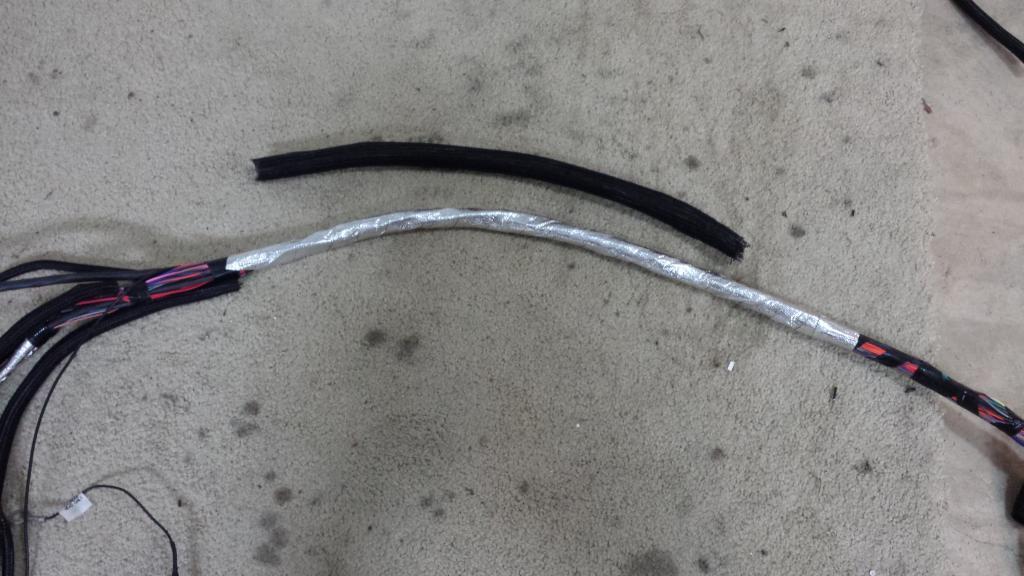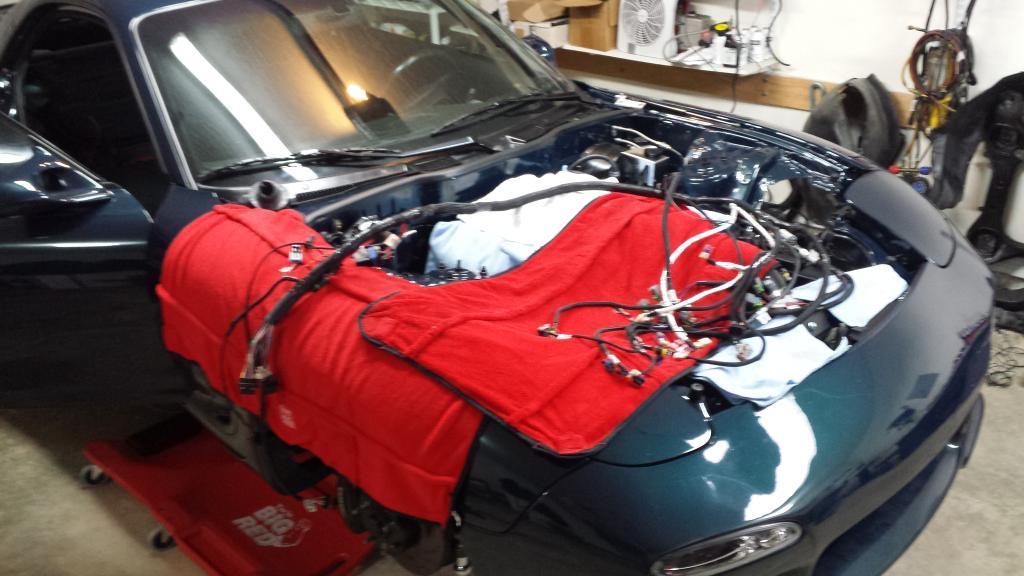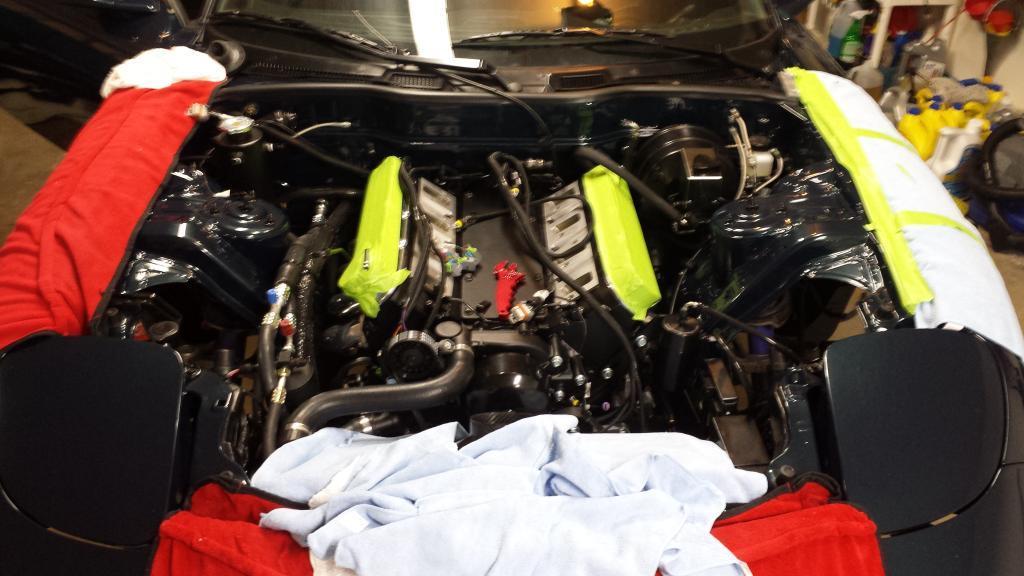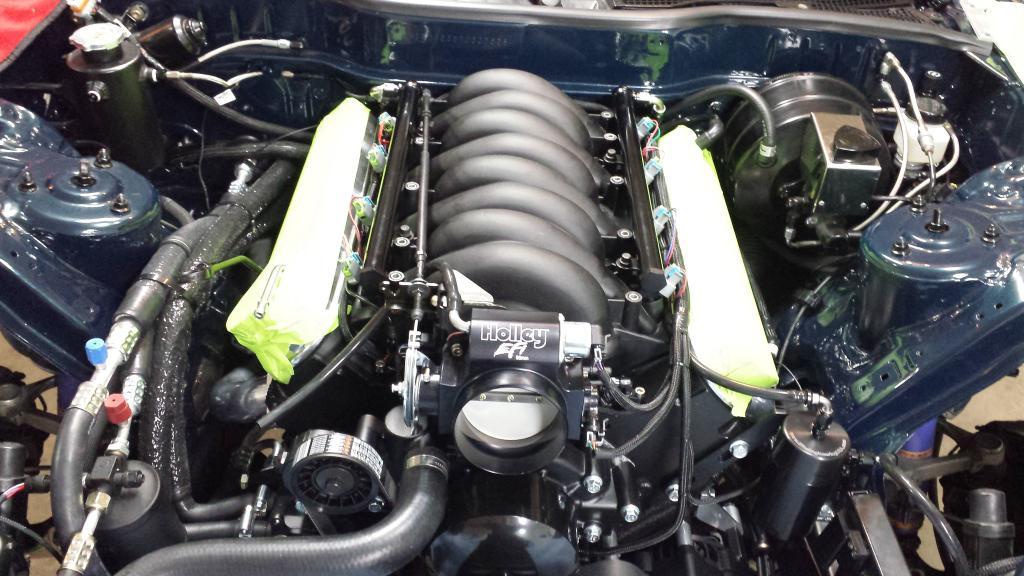 Ready to START!?!?!?
Actually, it is. The ECU has power, the engine wiring is complete, and all fluids are full. I filled her up with 5 gallons of 93 in there, and tested the fuel system; not a single leak. I have to admit, I was impressed. All of the plumbing from rear to front was solid. There are still a few things to wrap up such as all the wiring from the "X-14" connector (reverse lights, Mazda temp sensor, Digital Dakota), but that will have to wait until I get the pigtail. All of the wiring for the ECU is hanging out. The interior is still apart but the carpet is back in place. I need to power up the ECU, and go through the map adding my custom I/O's.
Next weekend I will fire this thing up!! And start my exhaust fabrication.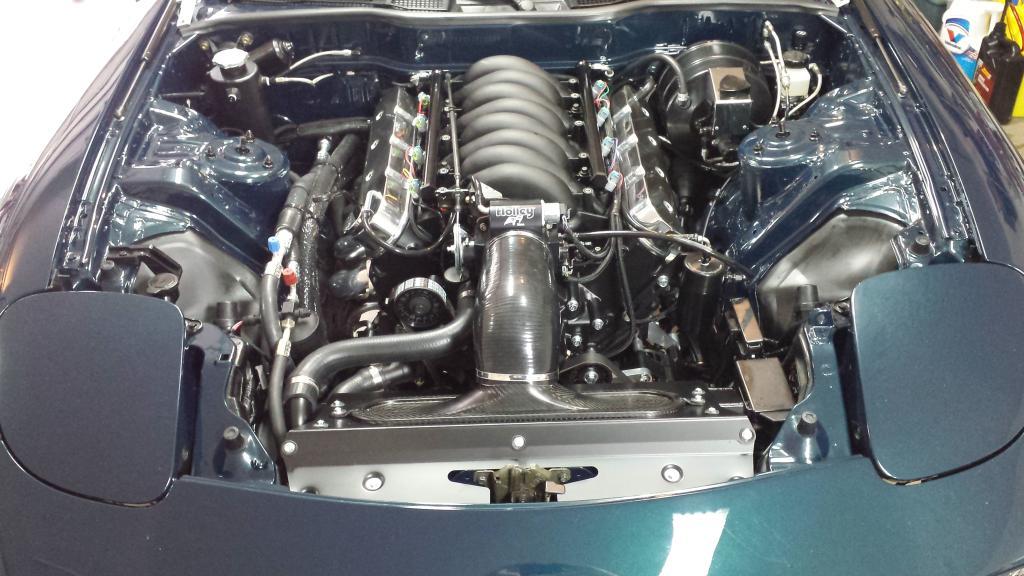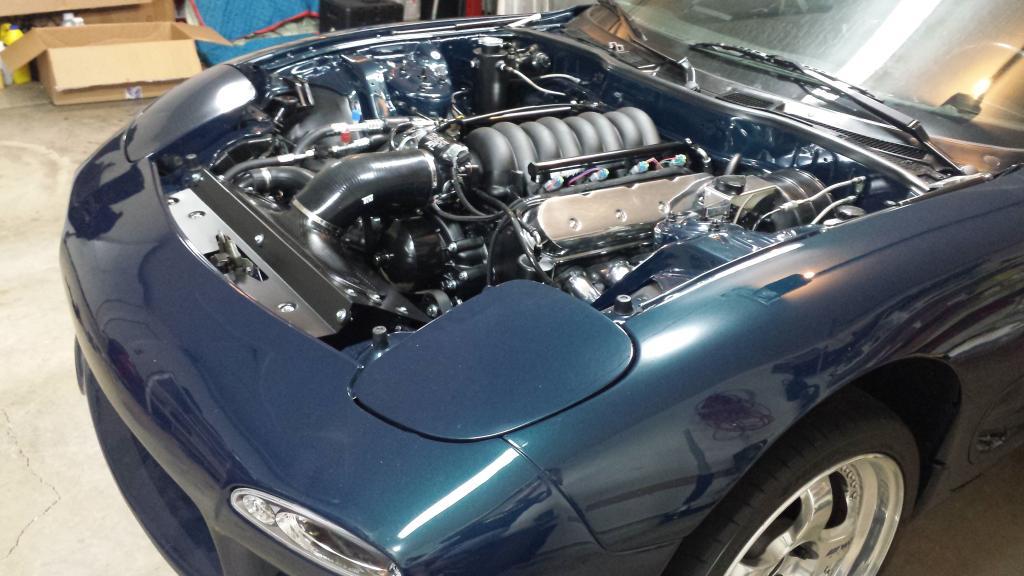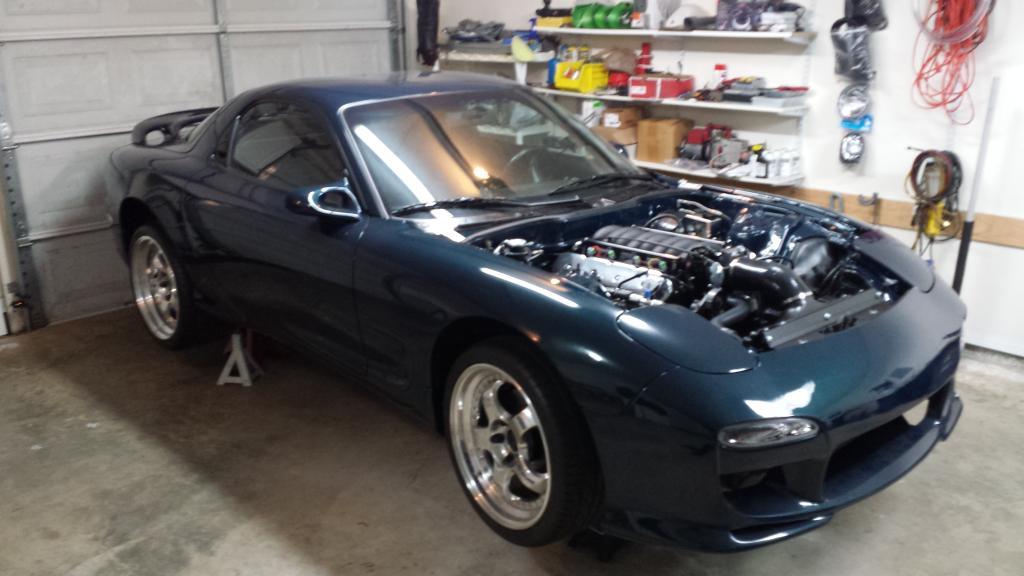 Exhaust
I figured I would need to tackle this sooner or later, so I opted for sooner. With the first startup right around the corner, I thought it would be nice to hear the sweet sound of my actual exhaust as opposed to open headers. Especially waiting for the thermostat to open, and confirm my fans are doing what they should be.
As many of you know, I have had the pleasure of starting with Kevin Doe's dual exhaust, purchased from Mr. Halfspec himself.

Below is the modification and fitment of the process.
Firstly, this is what I was starting with.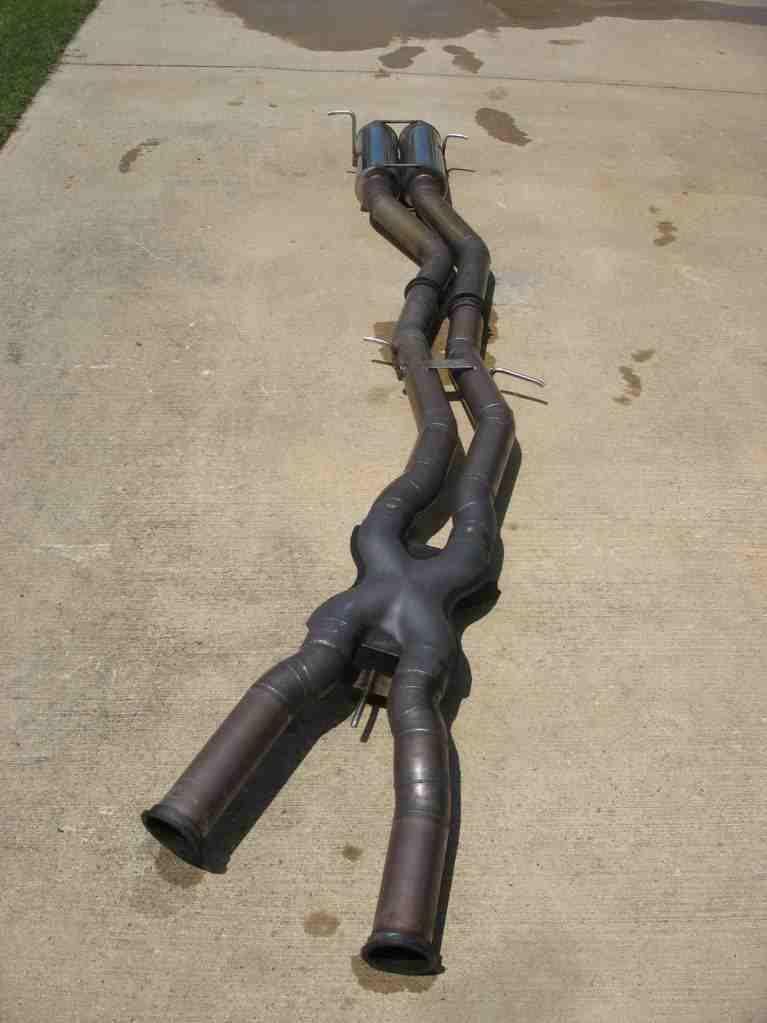 As Lane mentioned, and I previously stated, this bad boy is loud. With the true-X in place and barely any muffling coming from the straight through rear mufflers, it just wasn't going to be enough for a "semi-civil" street car. I opted to add a Magnaflow X-flow muffler 3" in/out in hopes that it would tame it down a little. I also had to modify the front section for it to mate to my Spoolin headers. But first, I need to chop off the old X and put in the manifold. Manifold fitted in place.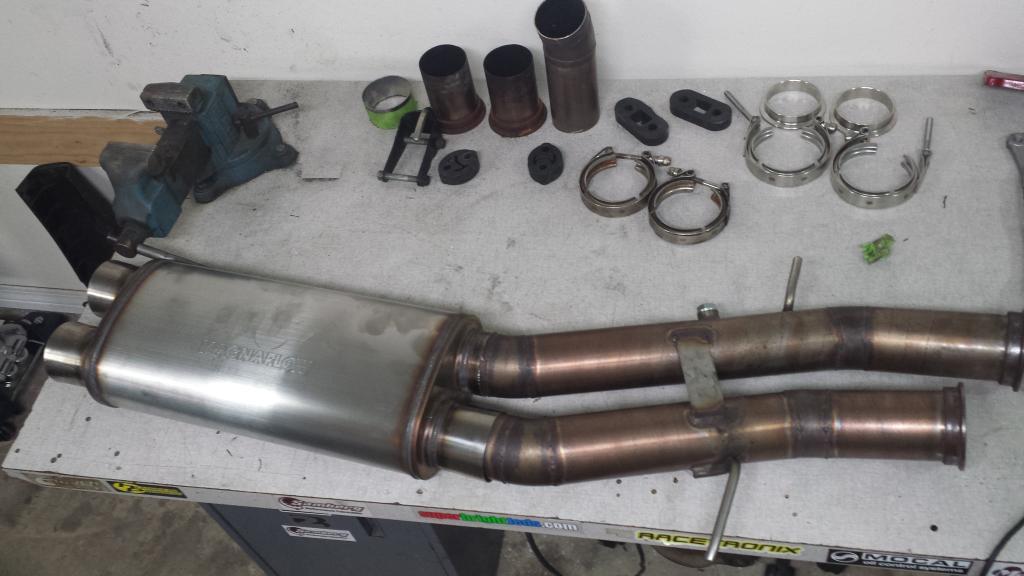 From there, it was a series of test fitting mandrel angles and tacking them into place. I had to duck the Samberg transmission mount with my angles so that is why it swoops a little. I also had to drop the center section (muffler) enough to clear the driveshaft.
I realize my welding skills aren't amazing. The welds weren't pretty by any means, but they are strong. I opted to use 309ss flux wire. I chose this as it eliminated the need for back purging and it was easy to order up and get moving.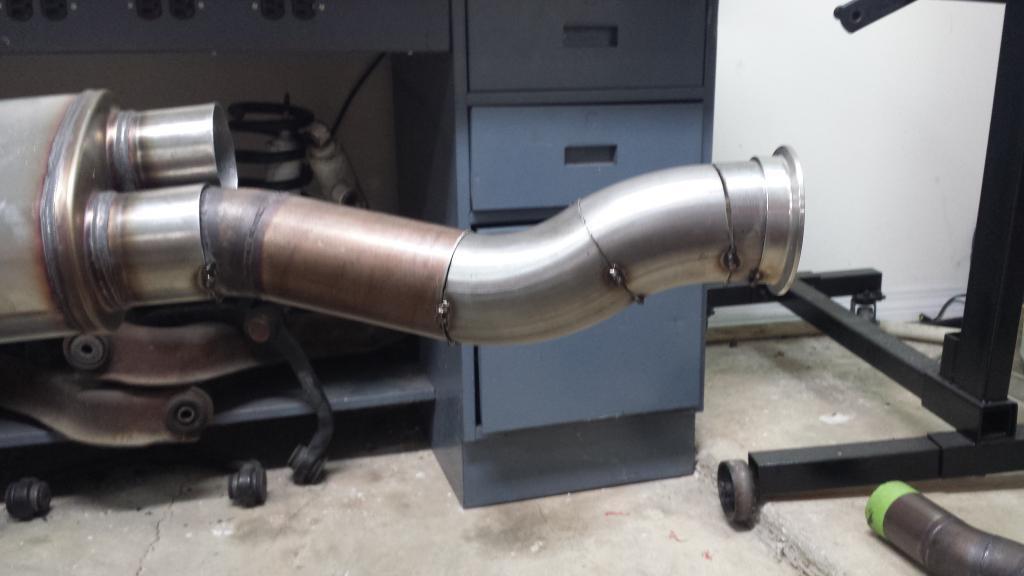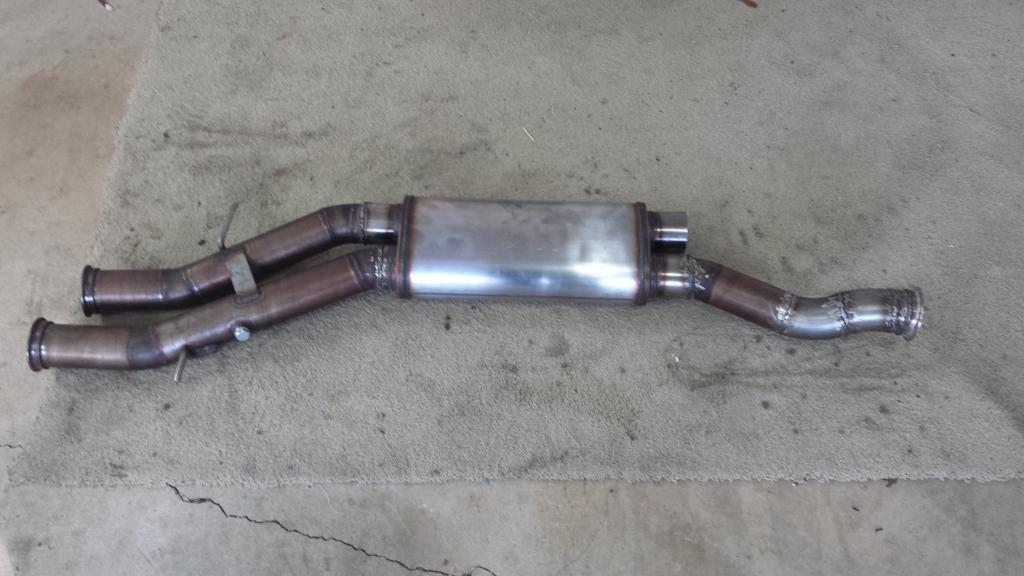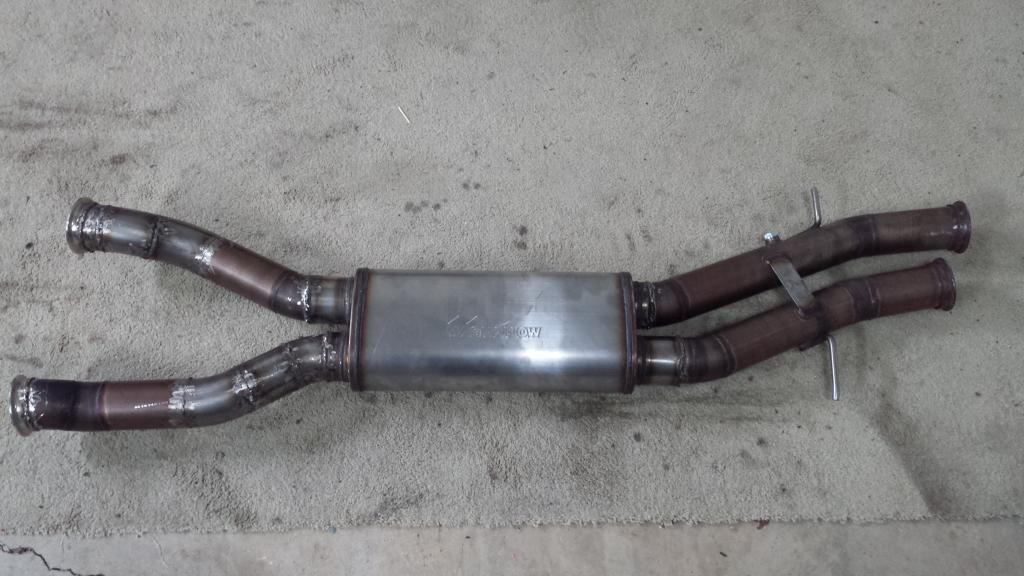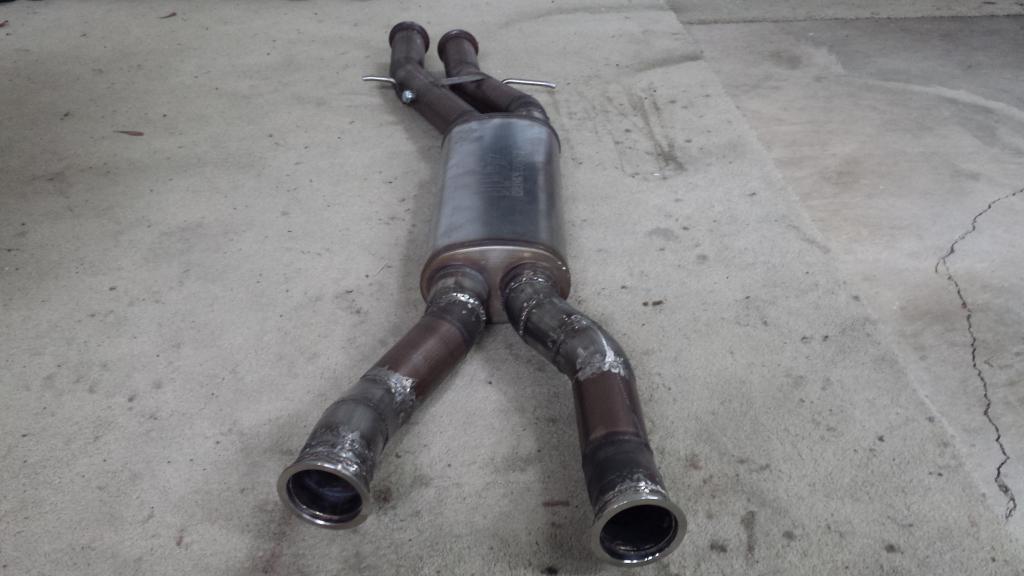 Bolted into place, and ready to rock. The middle hangers will be added to the Samberg cradle next weekend when I get some material. Overall, I am happy with it. It seems a little low but camera angles play tricks. I will see how it looks once it's on the ground. I got it as tight as possible around the rear subframe without it constantly banging against anything from movement. I have a few extra inches above the muffler before it hits the driveshaft, but again, I didn't want it to be too close. Overall, I am pleased with it.
If it is too low or needs modified, then I will drop her down and fix it. Gives me a reason to play with my welder some more.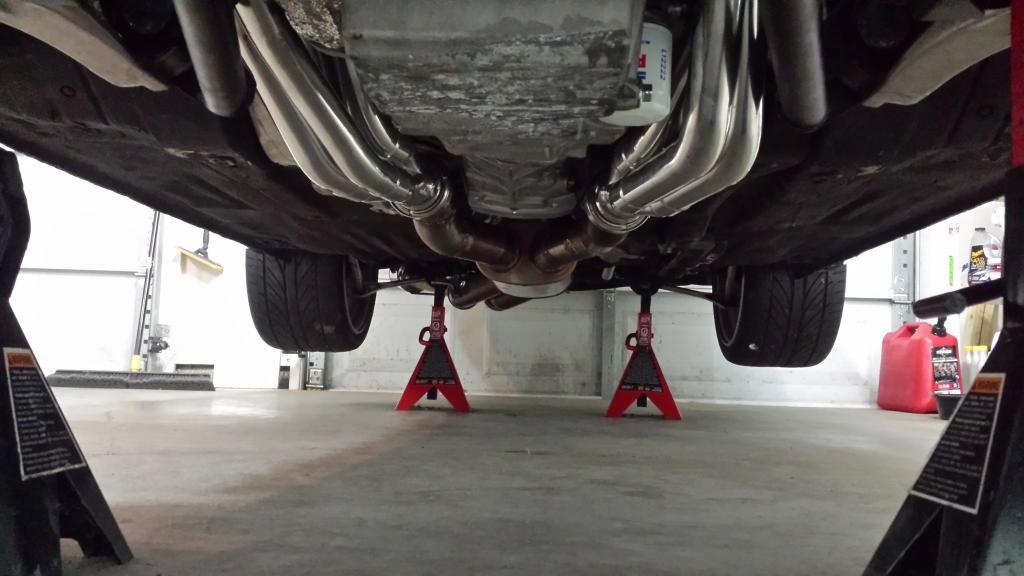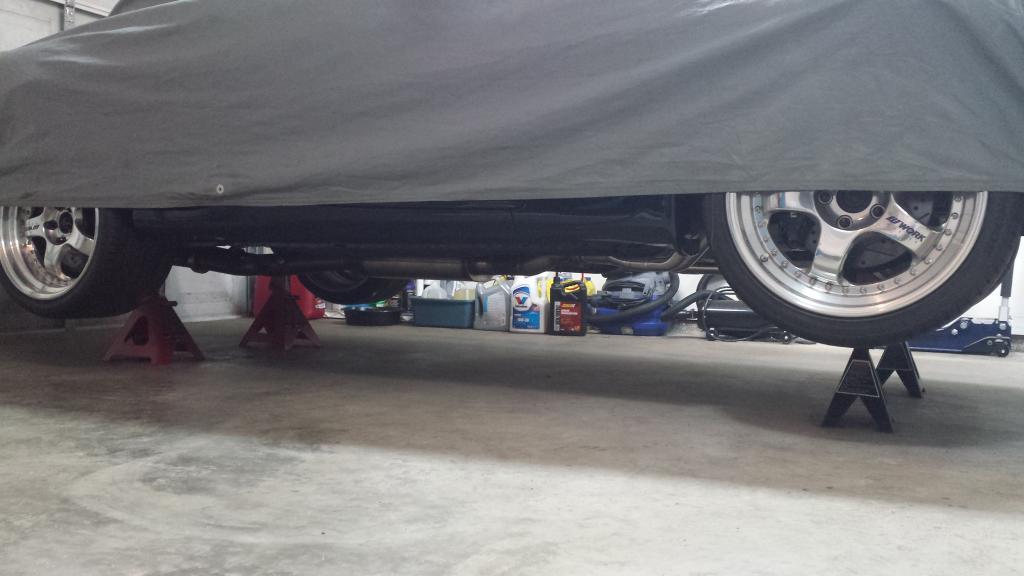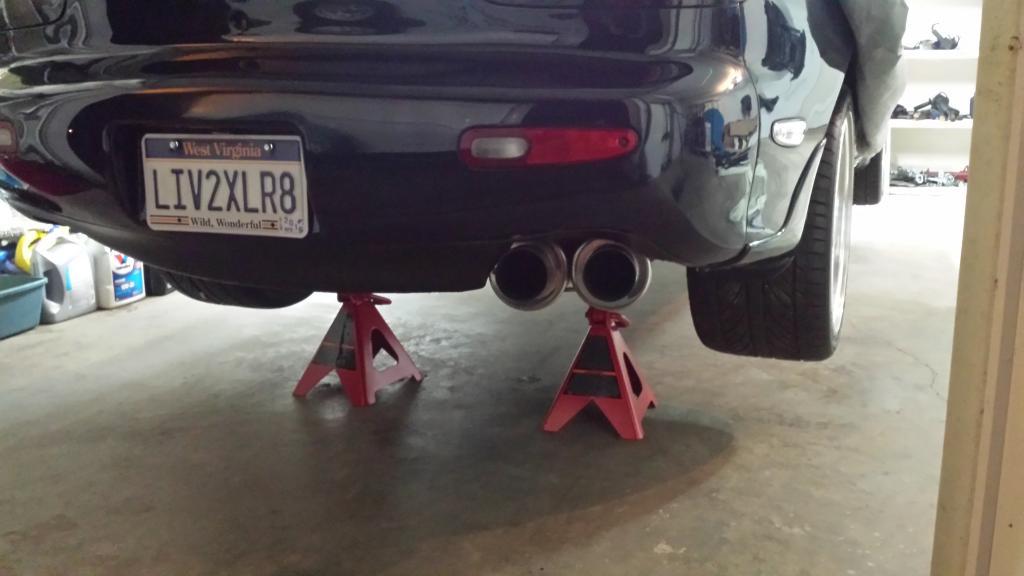 The Real Beginning...
Well gentlemen, it starts, runs, and drives. We are working to get it idling lower than 1100rpm without surging and dying. BUT, it's getting there. First and foremost, I want to thank ZBrown for his time and effort. After chasing my tail for a day and a half, he looked over my map and saw that she was mega rich down low. No wonder it seamed like it was missing, it was drowning in fuel. The only issue I had with my setup was the coil harness was backwards on the even bank. I identified that in my search for answers. After quite a bit of sending logs, modifying, sending logs, modifying, we got it really close. I took the maiden voyage today and it felt great. Quite a few things still need addressed, but I can say that it runs, drives, and we are moving forward. :cheers: :bacon: :bacon:
When I first started troubleshooting, I immediately noticed I needed a bigger battery. The Wesco Miata battery I have been using for the past 5 years just wasn't cutting it. It became apparent when I was cranking it for 4-5 tries, and it would die. I went and bought a new Optima Red Top with 800cca. She did the trick! Nice to have a battery that just keeps going! Of course, it wasn't going to fit in the storage bin so I had to "modify" it.
She was just getting me by in the first picture...lol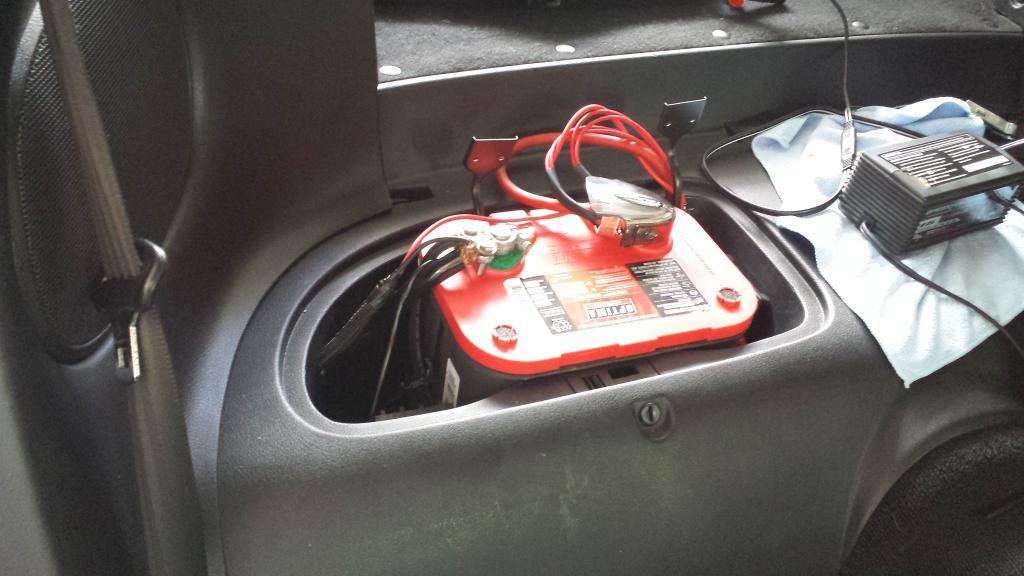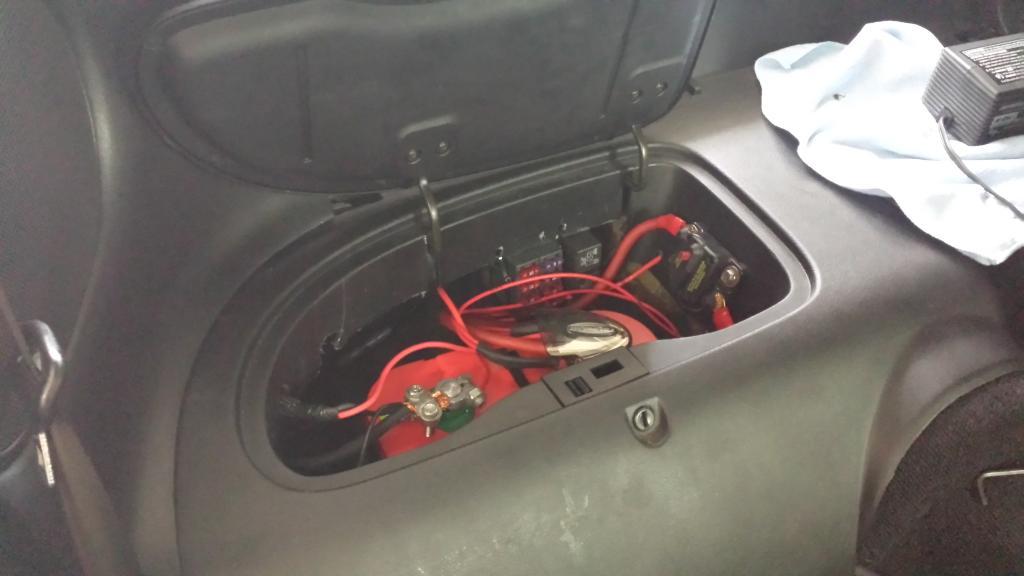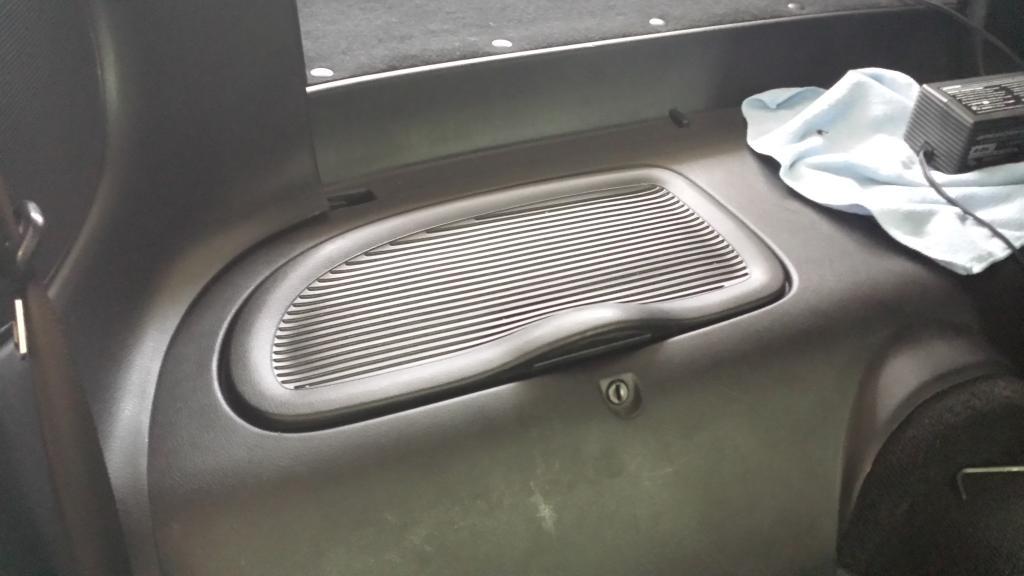 Once we got it started it was nice to see that I had ZERO leaks of any kind. I was pretty surprised. I was especially worried about the heater core pipes that I had issues sealing last time. Turns out, it was just the dents in the pipes. This time around I added Indian Head shellac to all coolant hoses. Worked like a champ. After we got the tune headed in the right direction and started trying to get it to idle, I figured it was time to assemble and clean the interior. I was working at it between sending ZBrown logs, trying his map, and sending more logs...lol. Holy crap it was nice to put the seats back in. The only thing I left out was the glovebox. My Dakota Digital is mounted back there so I will need to set it up yet.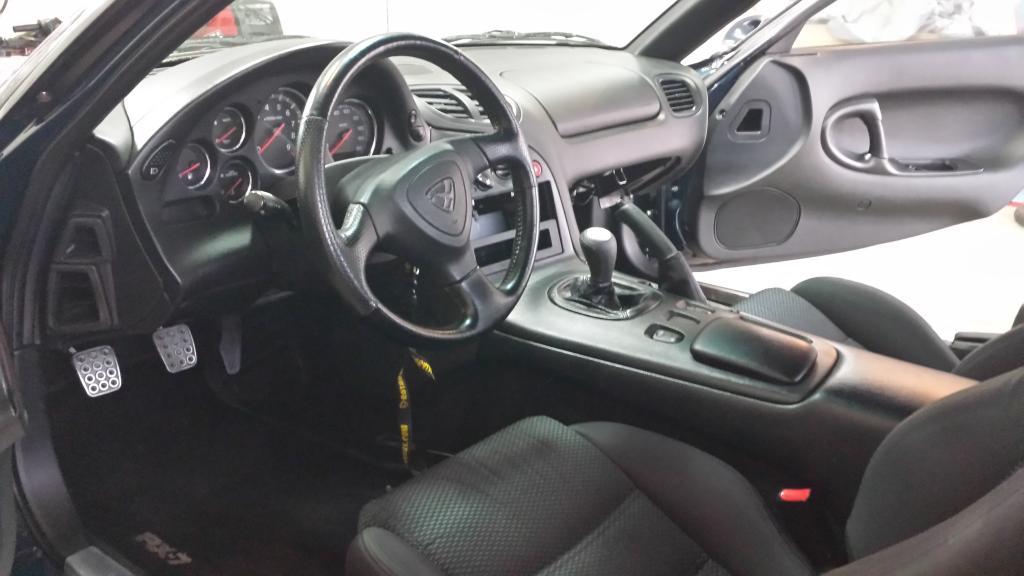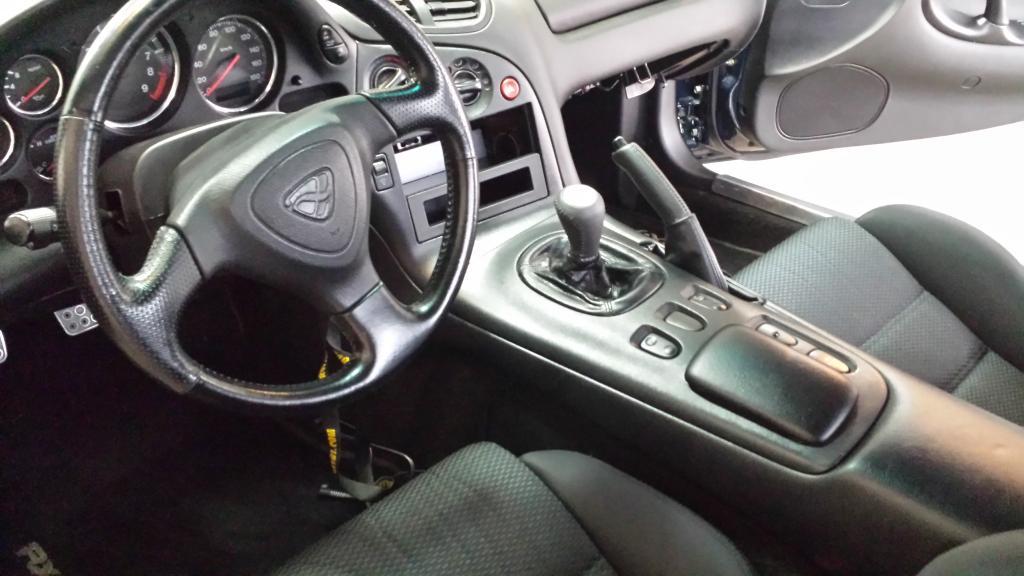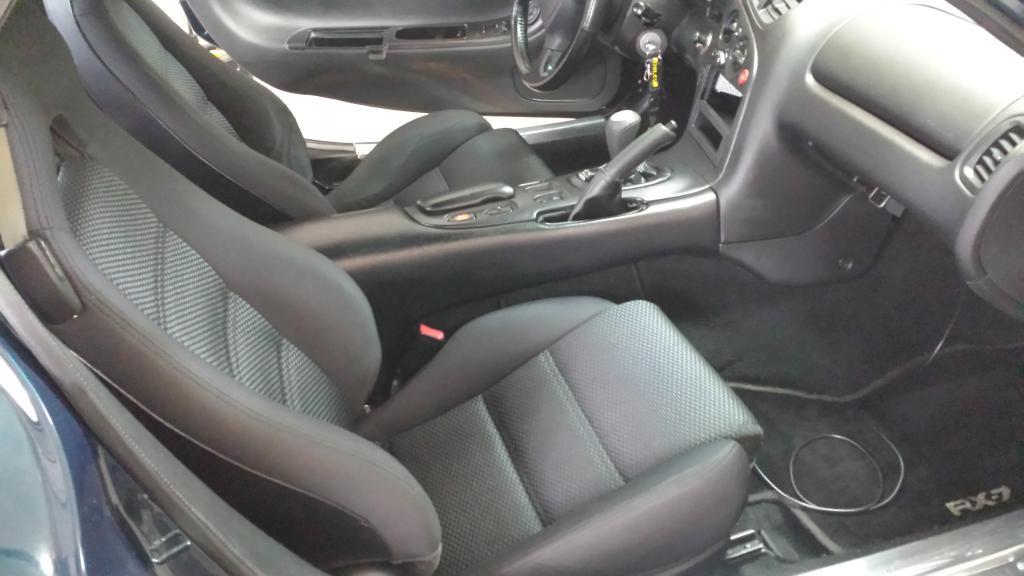 Maiden Voyage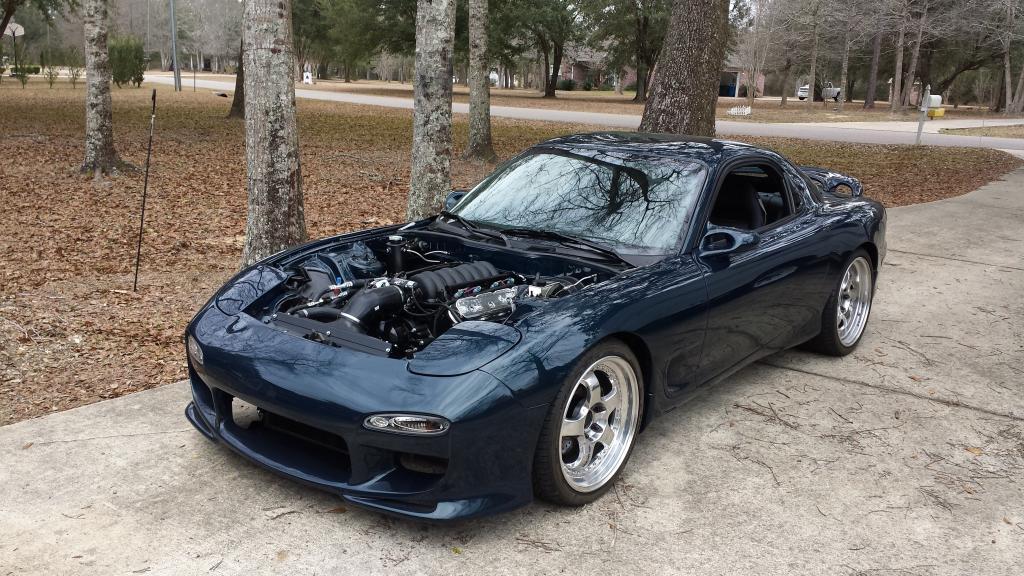 I snapped this picture and took this video right after I returned. I took it a few miles down the road to a local corner store. I was really low on gas so I figured it would be cool to go put a few gallons in it. No leaks or weirdness. The Holley was changing the low end transitions very well. I could feel some slight hesitations during shifting and then they would disappear and it would clear up. My learn table populated a fair amount even from the short drive. I am really happy with the progress. But there is still some things to work out.
1. Exhaust needs redone. My center muffler sits about 2" off the ground. An obvious oversight in my first exhaust modification attempt. That is the first order of business.
2. Get the idle sorted. Obviously it's a pain to drive around with it surging and dying so once we get it steady, more driving can happen.
3. Oil change and plug change. After a day of many very rich attempts, I think it would be good to get fresh oil in there and start with another set of fresh plugs.
4. Check differential. My Cobra diff is a stocker with 39k out of a known good car. I noticed at around 40mph and above it started humming pretty good. I want to get under it to make sure everything looks good. When I was filling it, most of my friction modifier came out. Oversight on my part with the fill tube. I will probably add another pint and keep an eye on it. Everything looked good when I had the cover off, but we will see.
5. Alignment. It needs one...bad. Rear and front are both out.
6. Dakota Digital programming.
7. Hood fitment. Still not sure if the Mazdaspeed hood will fit, but I am about to find out.
Oh, did I mention that life is good. :drive: :halo: :drive:
Getting There!
I figured I would give some updates on progress. I knocked out a few things off of my list, but I still have some to go.
1. I ordered 2 more full U bends, and a 4ft section of pipe. I was definitely going in with a little more foresight this time around. I dropped the exhaust and raised the center muffler as far as she will go. It sits about 1" from the driveshaft with excellent fitment all through. It's WAY better than it was before. I have yet to drag driving around.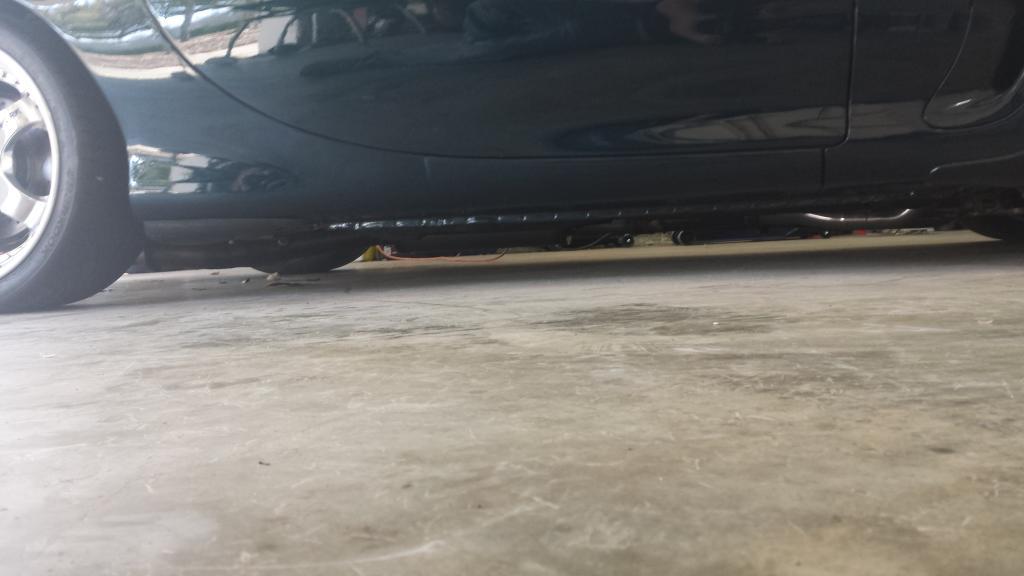 2. I got the idle settled in perfectly at 900rpm. Still working on cold starts. It also still wants to die if I free rev it too high. Zack has been helping me and I can't thank him enough for his time and knowledge.
3. Both oil and tranny fluid are fresh. That oil was black as night and smelly.
4. Added more modifier and it's WAY quieter. Still making noise, but from what I am reading, it's at an acceptable level. Going to drive it and see how it plays out.
5. The alignment went well and everything straightened out nicely. I debated where to take it, but after talking to a few folks locally, the Firestone on base turned out to be the pick. Now I have never been a big fan of Firestone but the guys on base are pretty cool. I stopped in the day before to chat with them and get a feel for what was feasible. They definitely let me get involved with the process, which is what I wanted. They also aligned the car with me sitting in the drivers seat, which was great. It was a very nerving experience getting in on the rack and back off without scraping or messing anything up... but we made it unscathed, and she drives excellent!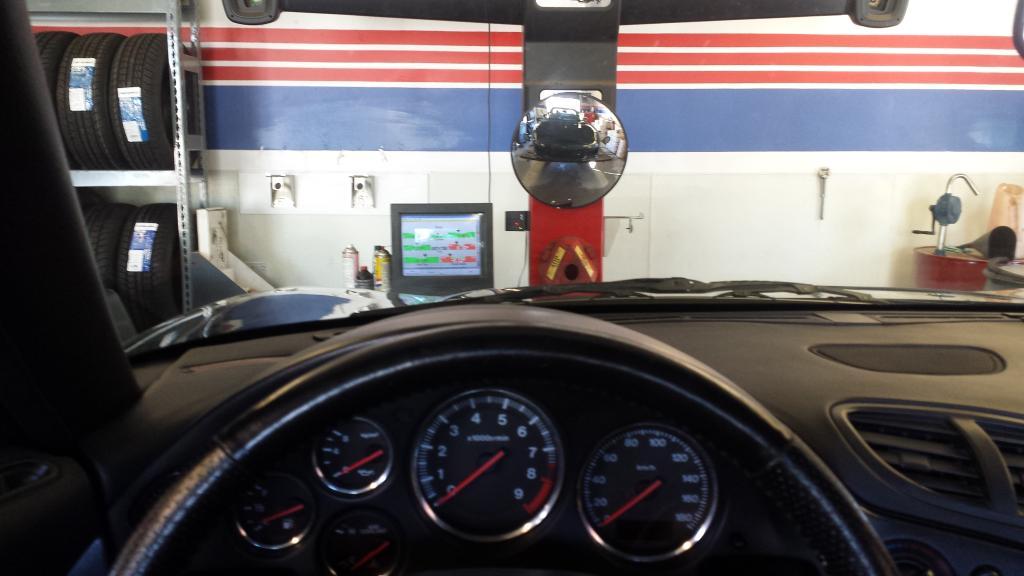 6. Dakota Digital programming........Still gotta do this. I also need to order a box for my tach.
7. The hood, it fits!! It rubs the silicone coupler slightly but it causes no issues from what I have seen. Another reason I like the all silicone intake pipe is that there isn't alot of tension on it. In the place where the hood does hit, it's soft and doesn't seem like it will cause an issue. It actually fits better than the pic below, as I adjusted my latch a little to get the hood gaps and height perfect. Nonetheless, she is on with no issues.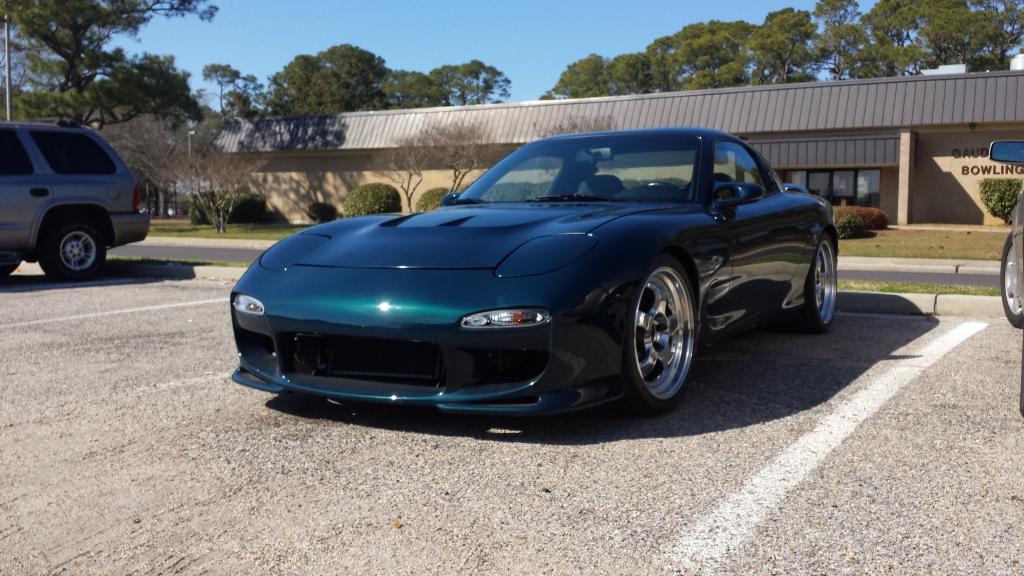 I also spent some time eliminating the biggest eye sore on the entire project!! I depinned each bright colorful injector wire and sheeth'd it with black shrink tube. I also removed both blue and bright green clip locks from each of the injector plugs. Ahhh...much cleaner.

On the Road!
I have put about 100 miles on the car and I am loving every minute of driving it. My first impressions are that I absolutely love this setup. Lag?...it doesn't know the meaning. It makes the rotary feel like a lazy bum. All of my "power pulls" have been partial throttle to about 4000rpm max. Everything is still settling in of course so I can't romp on it yet. The Magnum is shifting better and better with smooth effortless precision. I also really like the 3.55 rear end gearing and I'm glad I stayed there. It feels perfect for a street cruiser.
More videos coming soon, but here is a quick one.
Catching the Crap
With about 100 miles on the setup I was curious to see if there was anything collected in my catch can. I'm glad I'm using this unit.
And finally, I took the time to give her a much deserved detail. :drive: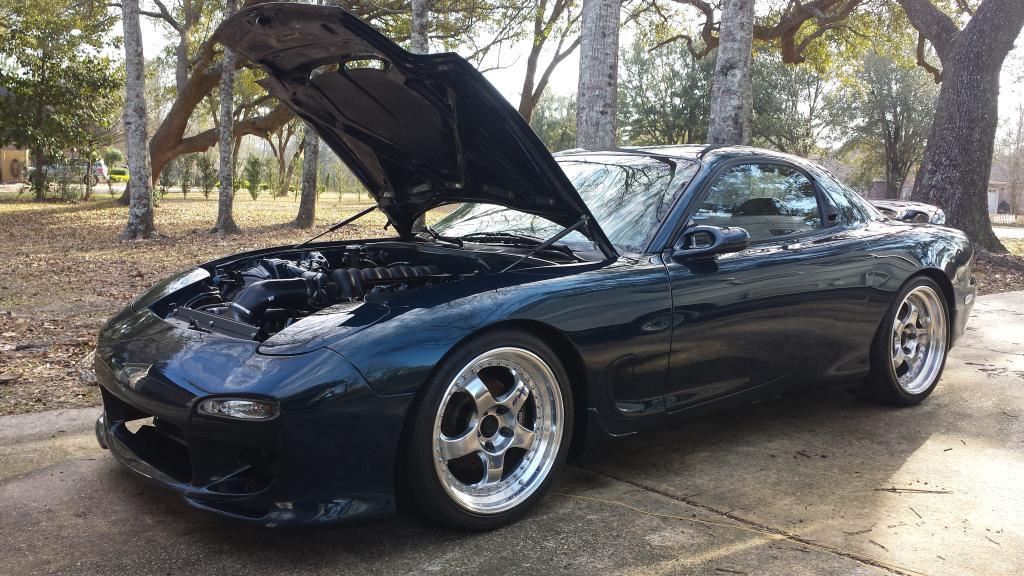 This build thread is now current. I am still working on some small stuff but I will be updating it as I go. I have been trying to do more driving and breaking everything in, but the weather doesn't want to cooperate. Nonetheless, I'm on the down hill slide.




More updates coming soon!




Including: WOT pulls, Dyno day, Holley Digitial dash install, and Davis Traction Control




2/21/16
Well gents, it's been awhile and I have definitely had some developments in how the car has been running and driving.

Vibration
I have had a vibration issue since the swap was first driven. It took me some time to really address it as I spent some time reworking the exhaust, and doing some initial tuning to get the car driveable. But once I started actually looking at the vibration, it was a bit worse then I originally thought. Under 40mph it was pretty much nonexistent but once speed increased it slowly got worse. Any pull beyond 80mph would vibrate the car badly. The vibration had a very high frequency, which pretty much dismissed tire vibration or bent axle. Nonetheless, looked them over with no avail. So I knew it had to be in the drivetrain portion that spins faster. At first, I dismissed it as a likely a bad pinion bearing since the differential was howling pretty loud. As previously stated, in my build thread, it was a low mileage unit from a good seller. After a rebuild, the bearings were found to be fine, BUT the spider gears were chipped, so it wasn't a complete waste of time. Of course, when I bolt up the new differential, nothing changed and the vibration was still present.

- Working Angles



So I started looking closer at my u-joint working angles. They were definitely out of whack. The rules dictate that u-joint angles for the front and rear of my driveshaft must be equal and opposite, less than 3 degrees but not 0 degrees. The closer to 0 the better. Samberg instructions dictate a 5.5" distance from center of the transmission output shaft, to the tranny tunnel surface. After things were mounted, wedged and bolted in, I was sitting at about 6.25". After a little inspection, this was a problem. By changing the pitch of the transmission, it ultimately was changing the front working angle. Furthermore, the pitch of the pinion on the diff was not right either. So it was an easy fix. Added some shims (washers) to each side and got them right where they needed to be. My front and rear working angles now sit perfectly at .5 degrees. Unfortunately, this didn't change a thing....

- Axle ABS Ring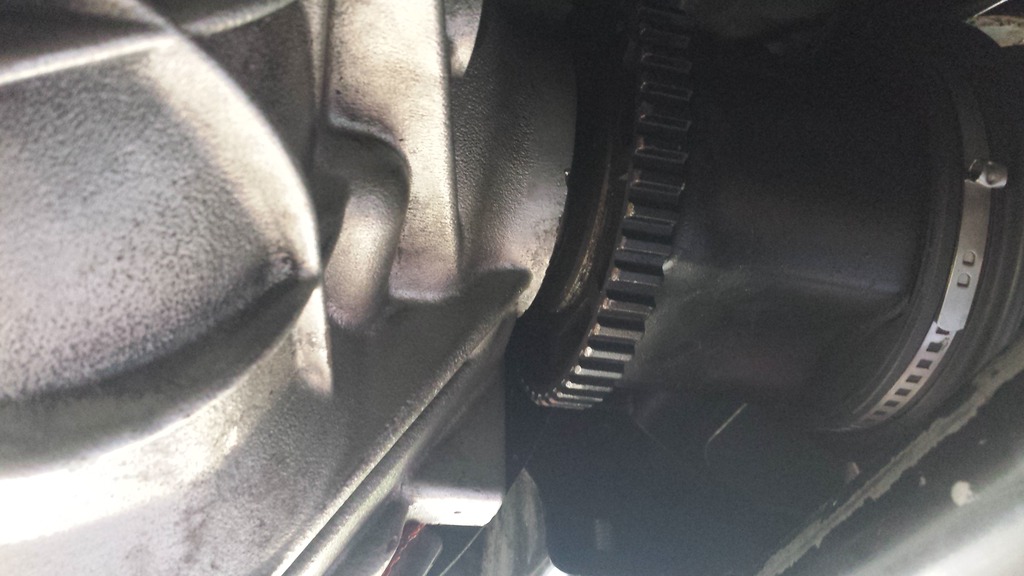 Totally stumped I took an air gun to my pinion bolt while the rear was in the air. I just wanted to see it all move so if anything presented itself. Sure enough, when spinning the diff and the subsequent axles, I could see the inner cobra ABS ring wobbling like crazy. After looking closer, it seemed the ring was pressed on crooked. Why I didn't remove these damn things when I built the axles, I don't know. But, I pulled the axles, removed the ring on both side and took it for a drive!! I was pretty excited and thought for certain I had found the vibration source. Unfortunately, this didn't change a thing....

So I was stumped. The transmission is a new Magnum, driveshaft is new from Drive Shaft Shop, diff was freshly rebuilt, axles had no play in the CV, and the rear tires were checked for runout and flat spots just to be sure. So what the F.... Well... I figured I would have the driveshaft balance checked just in case...

- Drive Shaft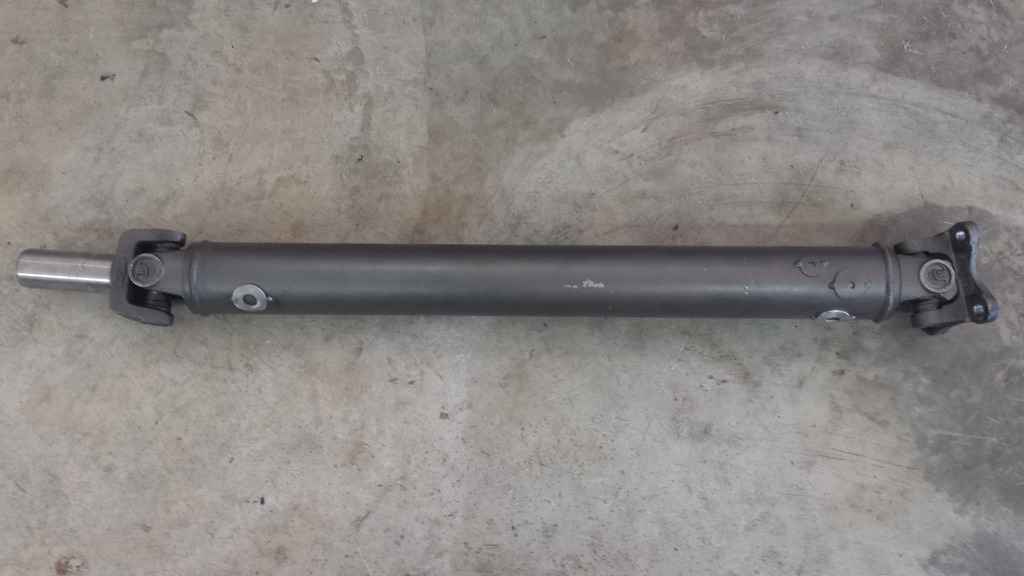 Boom! My brand new DSS driveshaft was out of balance, by a good bit. I was pretty pissed, but also relieved. I had a local shop look it over and they got it sorted. I've had it up to 110mph and it's smooth as silk. I truly couldn't be more happy. You can see from the picture above, the silver washers are the weight the local shop added. FINALLY the car is smooth and drives like it should. Chasing a vibration is one of the most frustrating things I have done. Very happy to have it sorted out.

Showtime!

After getting some things sorted, I got a chance to take it out and drive it more! I even got a chance to win a local car show for Best Import. Felt pretty good to get the attention in the sea of muscle cars.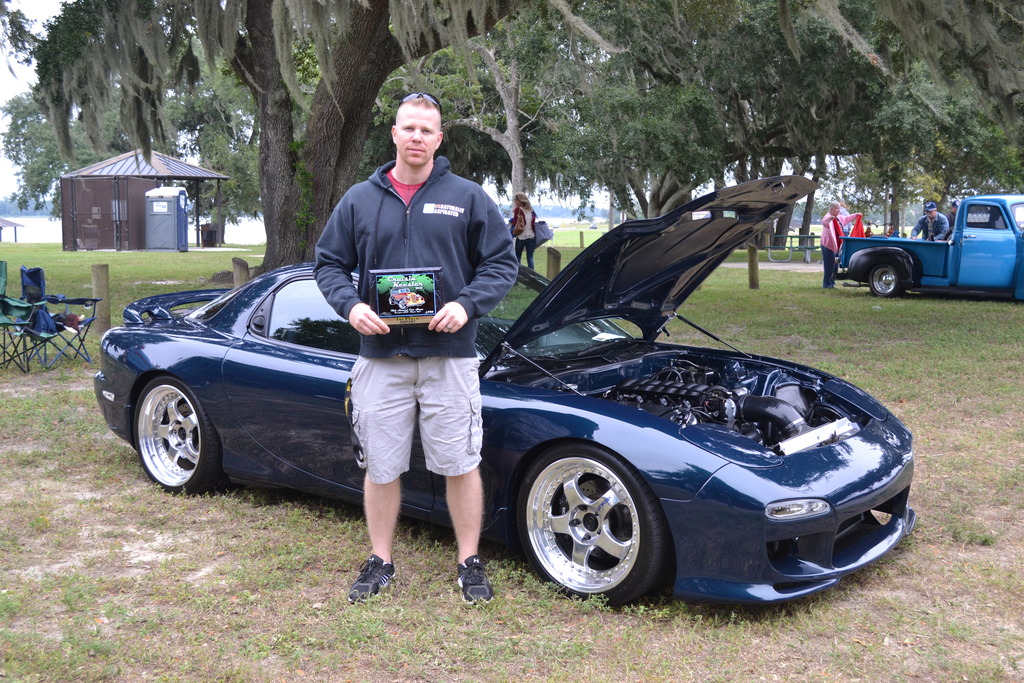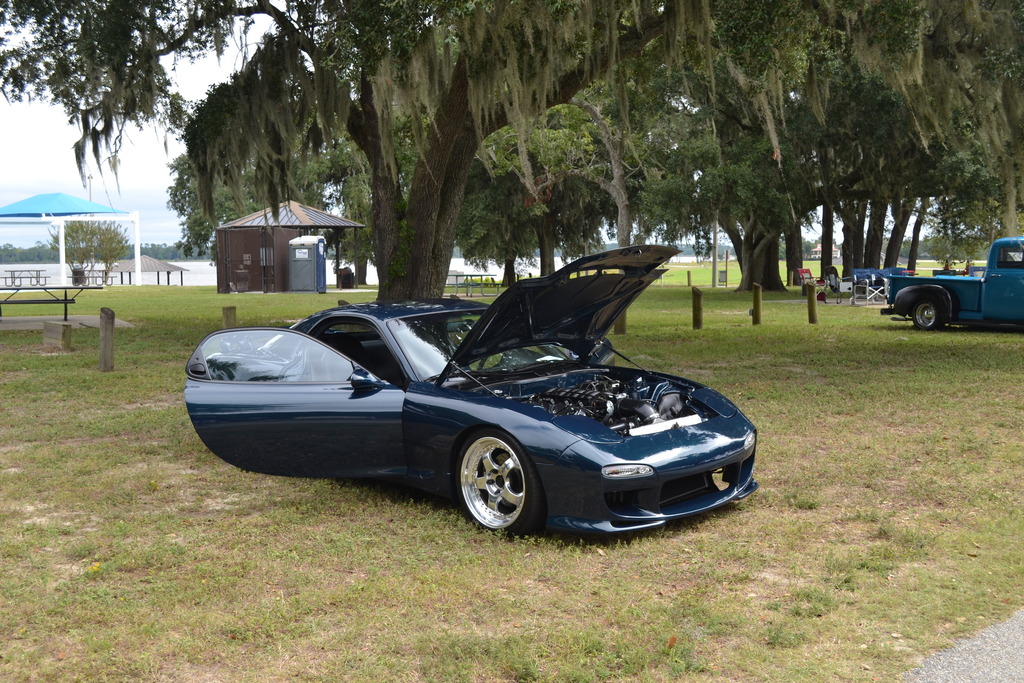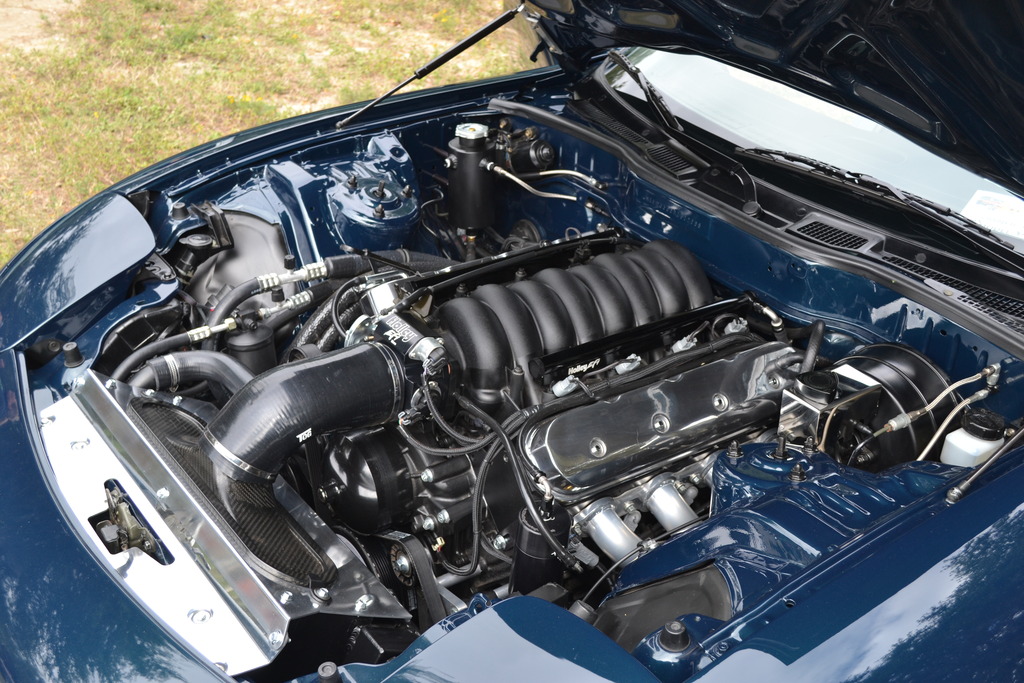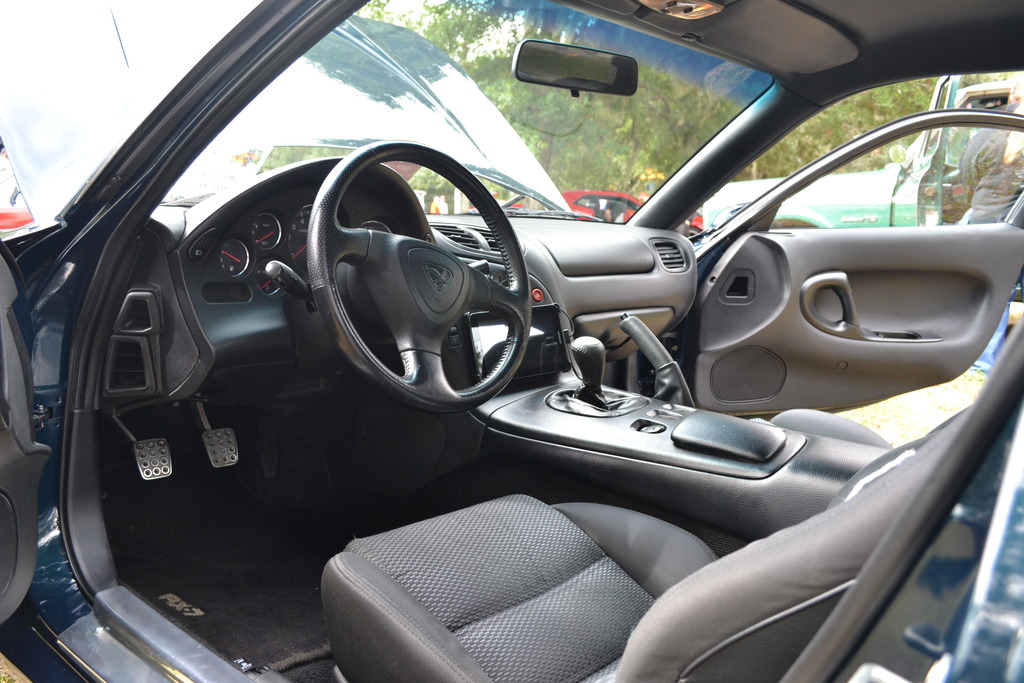 This brings it all up to day fellas. Life is on hold for awhile as I knock out another deployment. Plans for the car when I return...

- Change output shaft seal on Magnum. Pretty sure my driveshaft got it leaking

- TUNE!! My street tuning has been going well as I learn the Holley and more about tuning. The car pulls hard safely, but it needs a professional's touch, and of course dyno pulls. There are some great options down south for Holley Tuners. I will likely take it to these guys..
Home

- Under tray and front cowling. My bumper has large openings and leaves a lot of space throughout. I plan to build an under shield and side vents to protect my coils, direct air to the radiator, and keep you from seeing through the bumper to the ground.

- Holley 3.5" LCD. It's going to be the perfect add for what I need. It's very similar to a Power Commander. Supplies basic tuning functions, a gauge display, stylus, and data logging straight to an SD card. Pretty trick.

- Standard stereo receiver - With the LCD I will have access to all the ecu data and gauges I need. With that, I will install a nice clean stereo. Nothing crazy, just something that is quality.
8/12/16
More Holley
Hood Pins
Magnum Leaks and the Fix

Well I am knocking out projects and getting the car closer to full form. It's very close to me scheduling a dyno day. The one thing I have been battling since day 1 istransmission fluid leaks. Once I started driving the car more I realized I had a few leaks. They have all been fixed and the car's shakedown continues. Dangerously close to seeing some chassis numbers and the full tune!! :yay: Details below...

1. Output shaft seal - Apparently Tremec ships some of their transmissions with an old design seal as some of their stock is still floating around out there. I assumed my seal bit the dust due to my out of balance drive shaft. However, after a little searching it's an apparent issue with many people. Once they got the new seal, it was good to go. Well, I was the perfect candidate because my seal was the old design and leaking all over my exhaust. Not terrible, but any leak is bad news. A call to GNX7 at Norcal Autogroup (where I purchased my Magnum) and he got Tremec to send me the new design. Once received, it was apparent the new design was a winner. It had a steel shell as opposed to the all plastic design of the old one.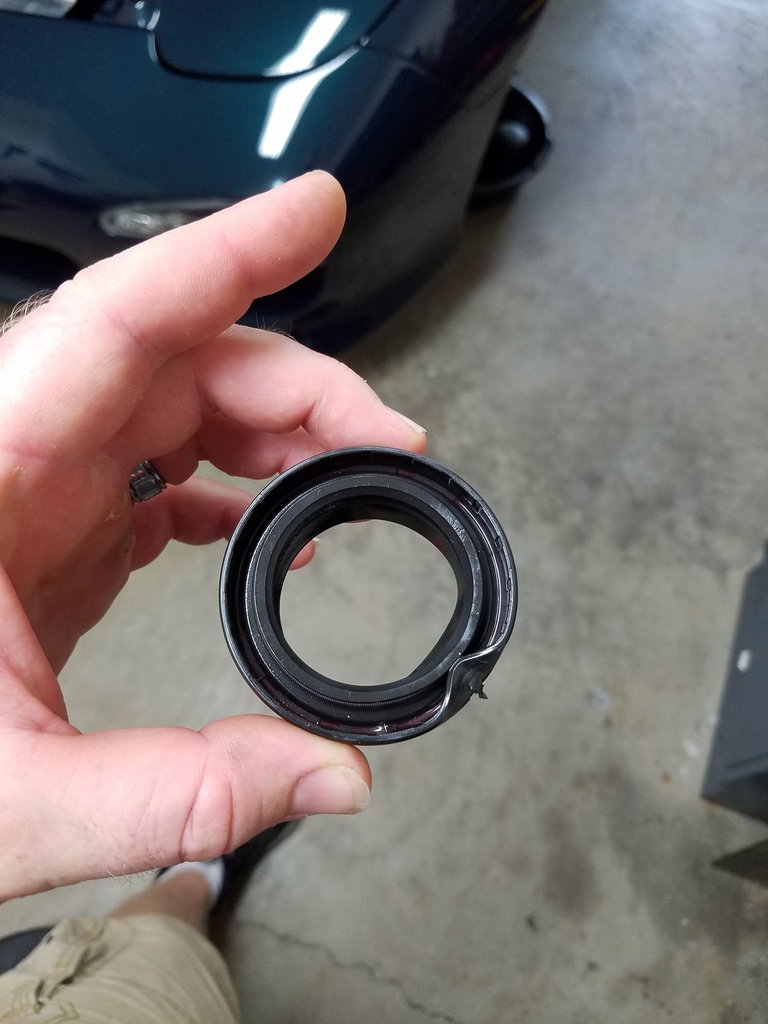 2. Mechanical Speedo Plug - Mark warned me about this little guy. He said to add RTV to the plug when I installed it and I did. Still leaked. Removed and added a 2nd O-ring and RTV... Still leaked. I was at wits end. I tried one last time to clean the hole thoroughly, add black oil resistant RTV and see if that fixed the issue. In the process, I found an aluminum machined piece from Bowling Performance Transmissions and I believed it would do a better job than the plastic plug design. Once I started looking closer, I found my shifter was leaking as well. The shifter was leaking and dropping fluid down that left rear side of the trans since the Magnum sits slightly tilted when mounted up. What appeared to be a leaking plug was likely the fluid running down and surrounding the plug giving it the illusion it was the source of the leak. Once the shifter was fixed, I left the plastic plug in place, but I plan to re-inspect and see if thealuminum plug will be used next.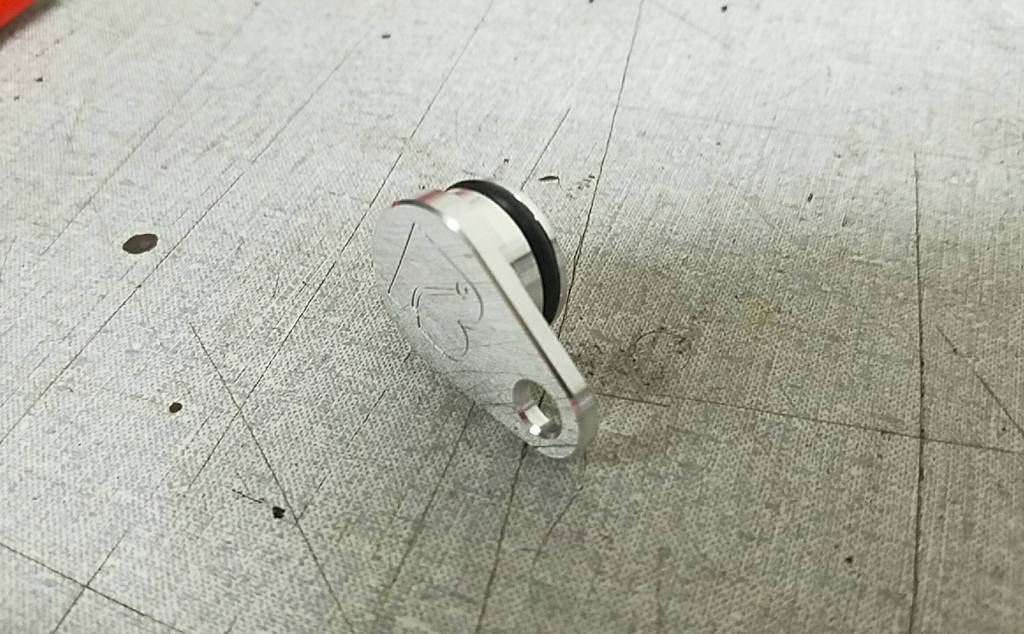 3. Shifter - Yep, it leaked. It was the source of the majority of my leaks. Once removed it was apparent there was a rip in the inner boot. From what I have learned this is critical for the Tremec Magnum. There is a gear that sits up towards the shifter housing that sprays fluid much more than a standard T56. As such, lots of companies have had issues with leaking shifters because of either the lack of a boot or a poorboot design. I looked at this as an opportunity to try a new shifter on the market so I ordered American Powertrain's White Lightning shifter. I am nothing short of impressed. First, the piece is machined perfectly and the quality is on point. Next, thespring tension is adjustable via Alan key! Finally, the shifting action is excellent. I found shifts to be more exact and smoother. I gave them a call and got it for $347 shipped which was considerably cheaper than their website. Just ask for the 4" extension as we need it for the FD applicaiton.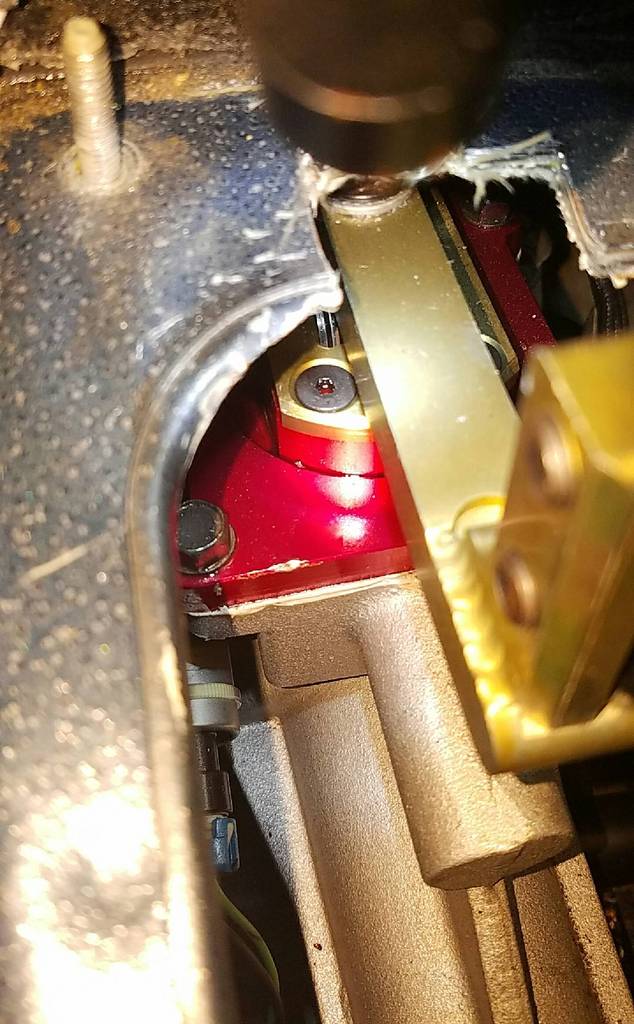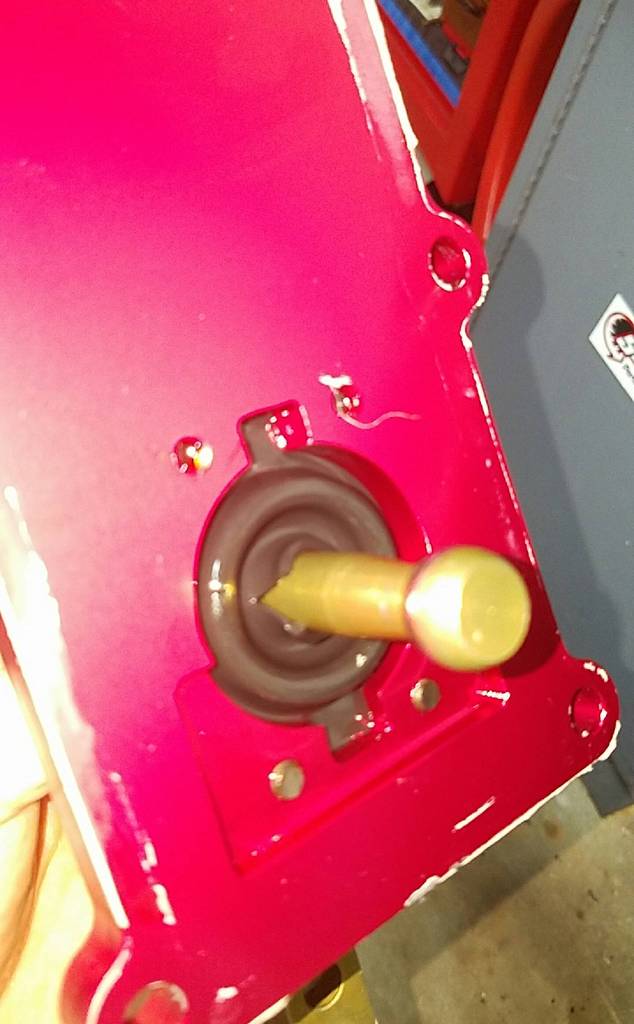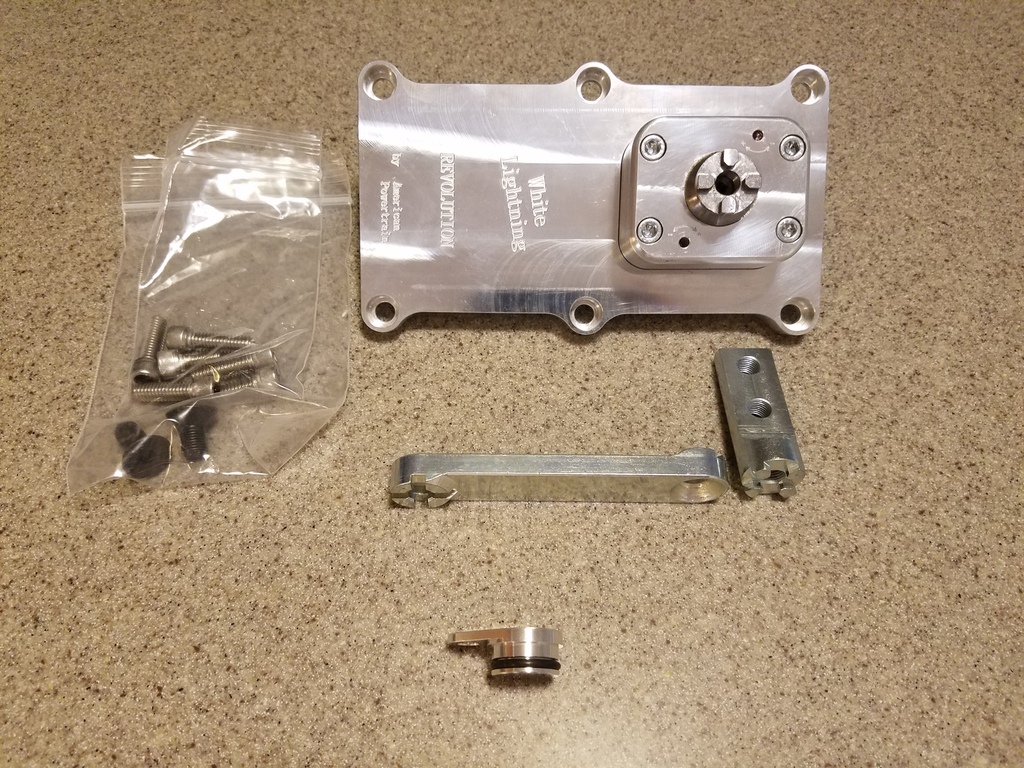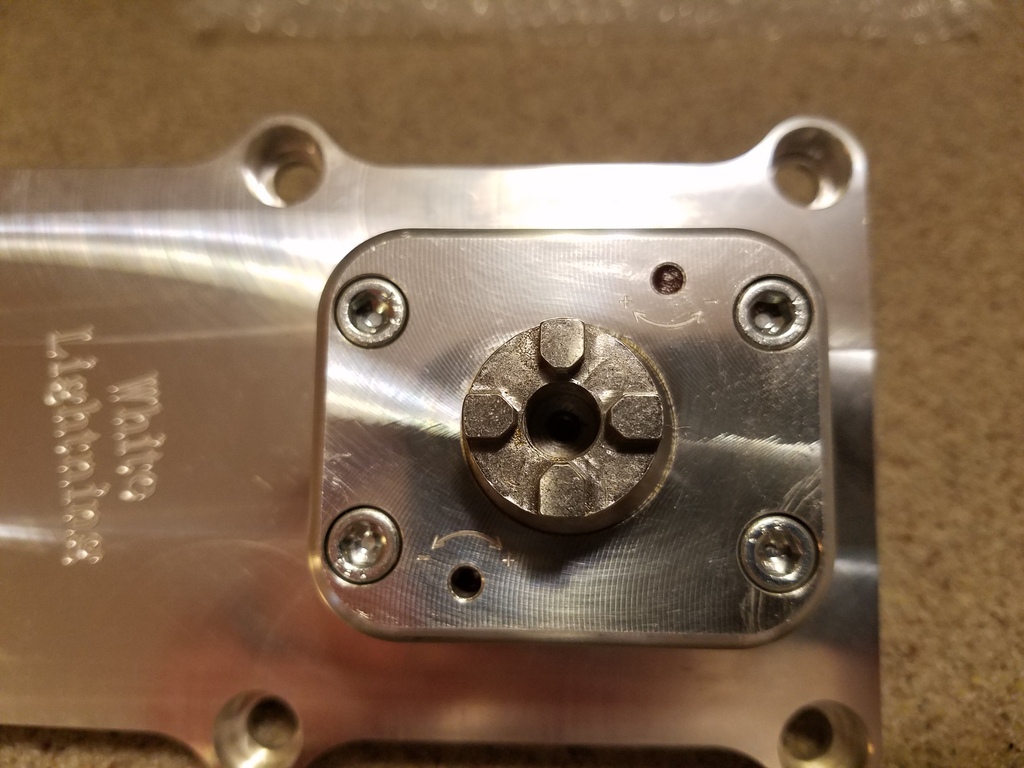 Detail and Some Driving

I got a chance to detail the car and do a little driving! My buddy will be by next weekend and we will do some tuning and videos!! He is bringing his GoPro.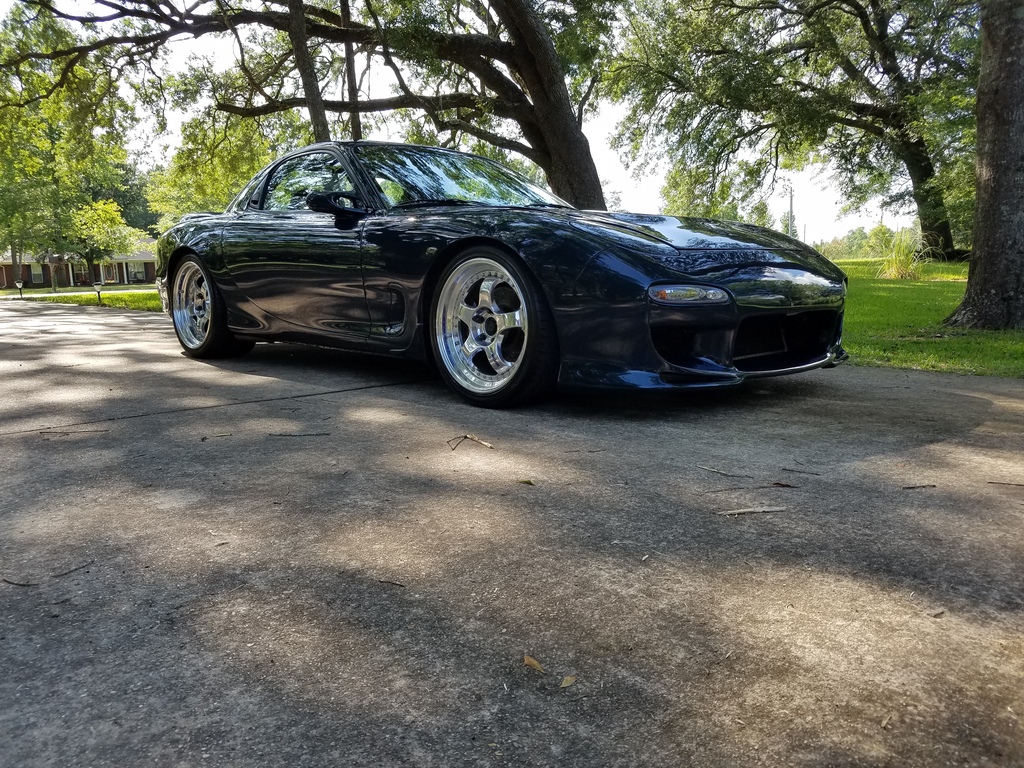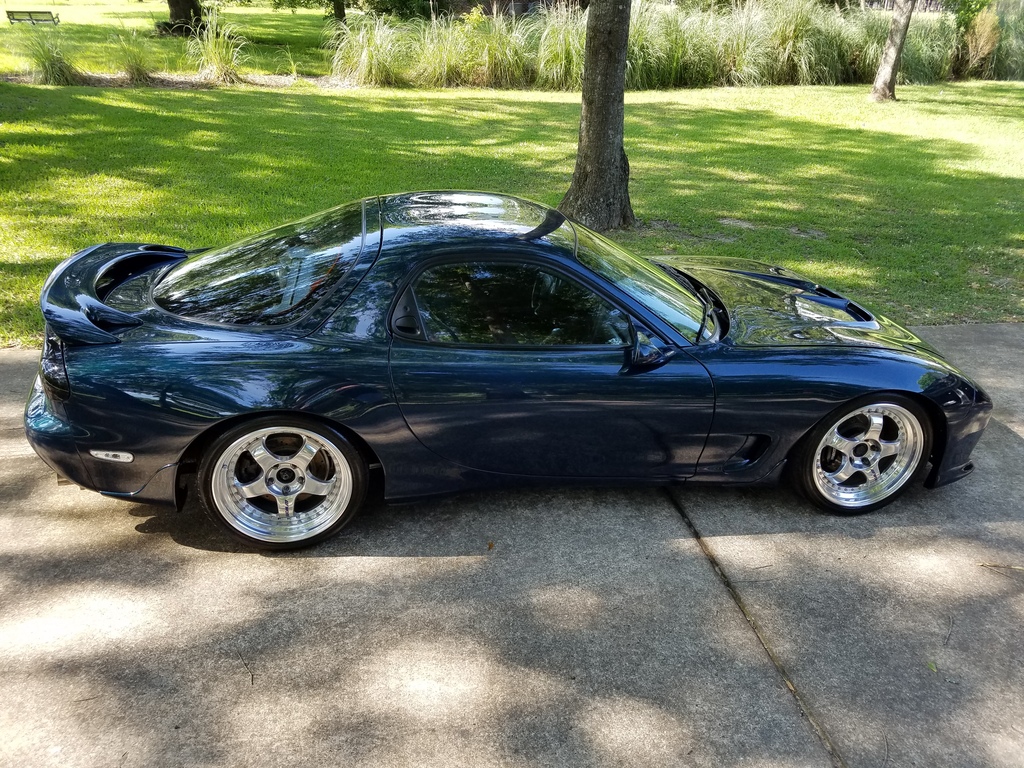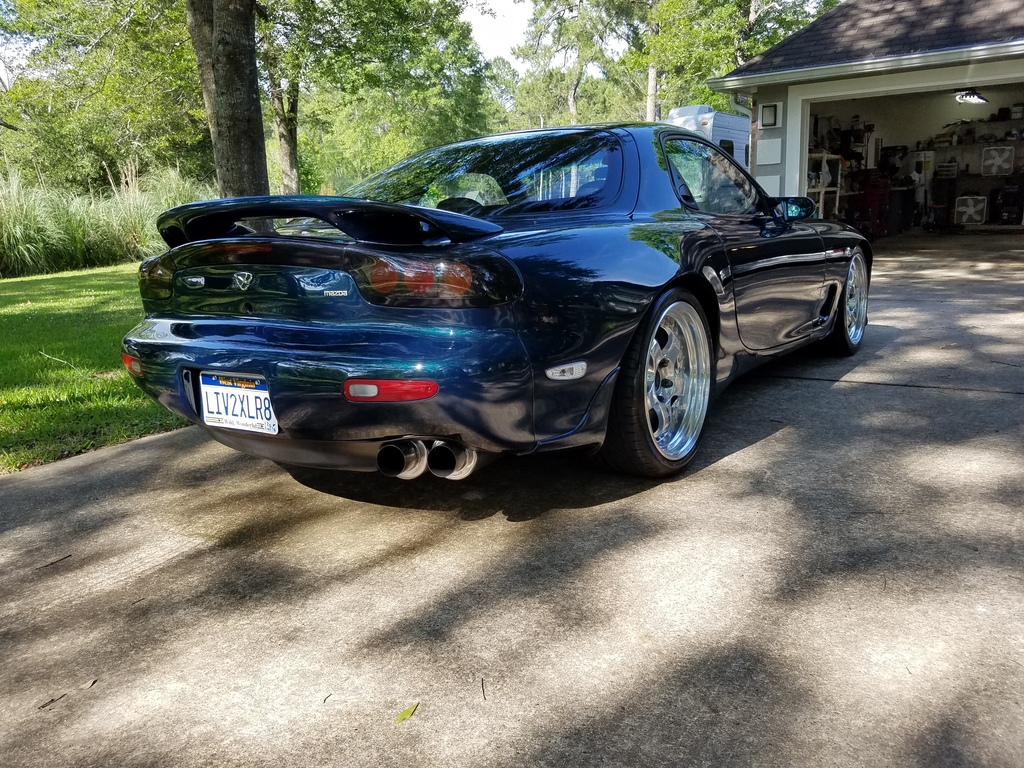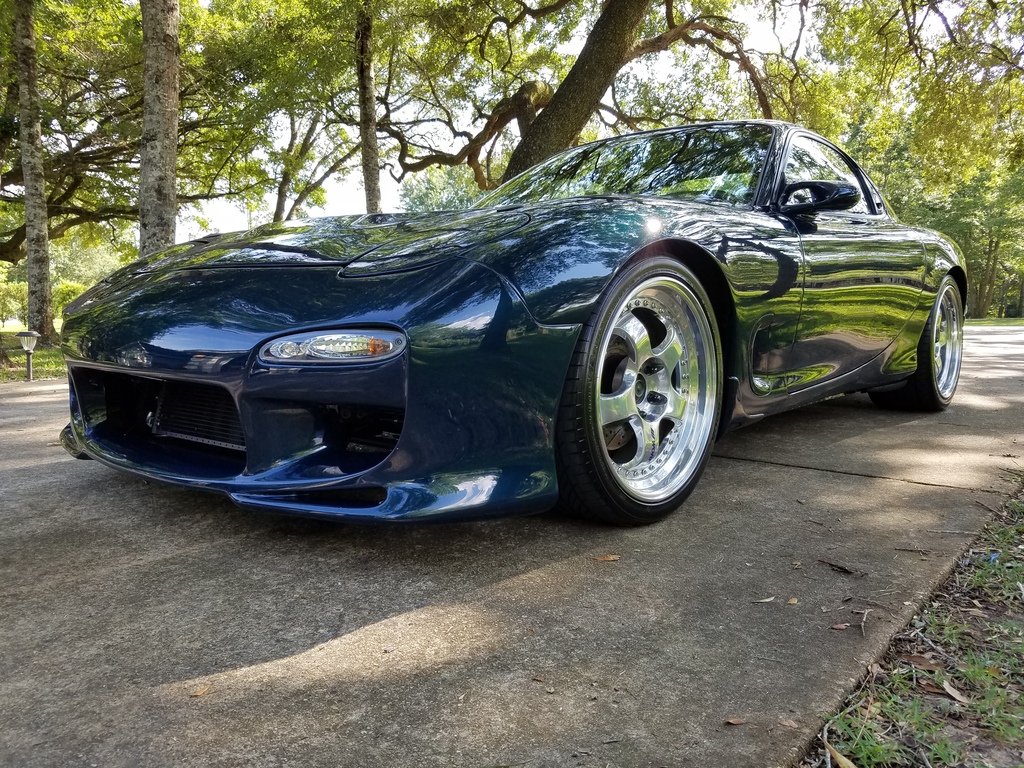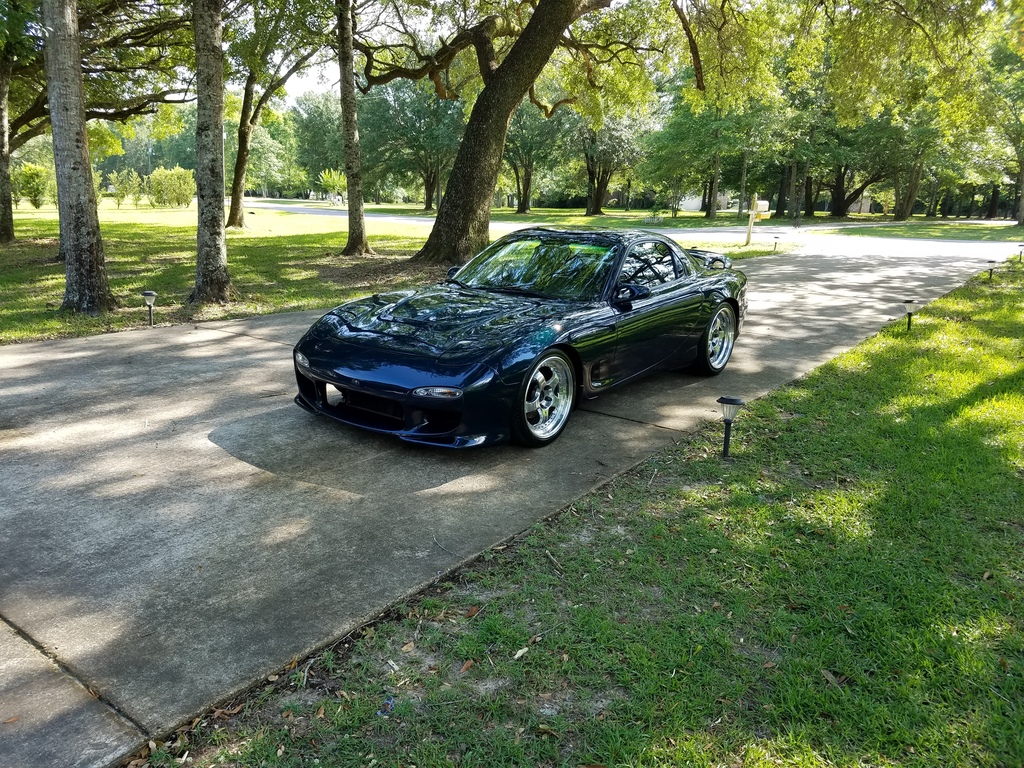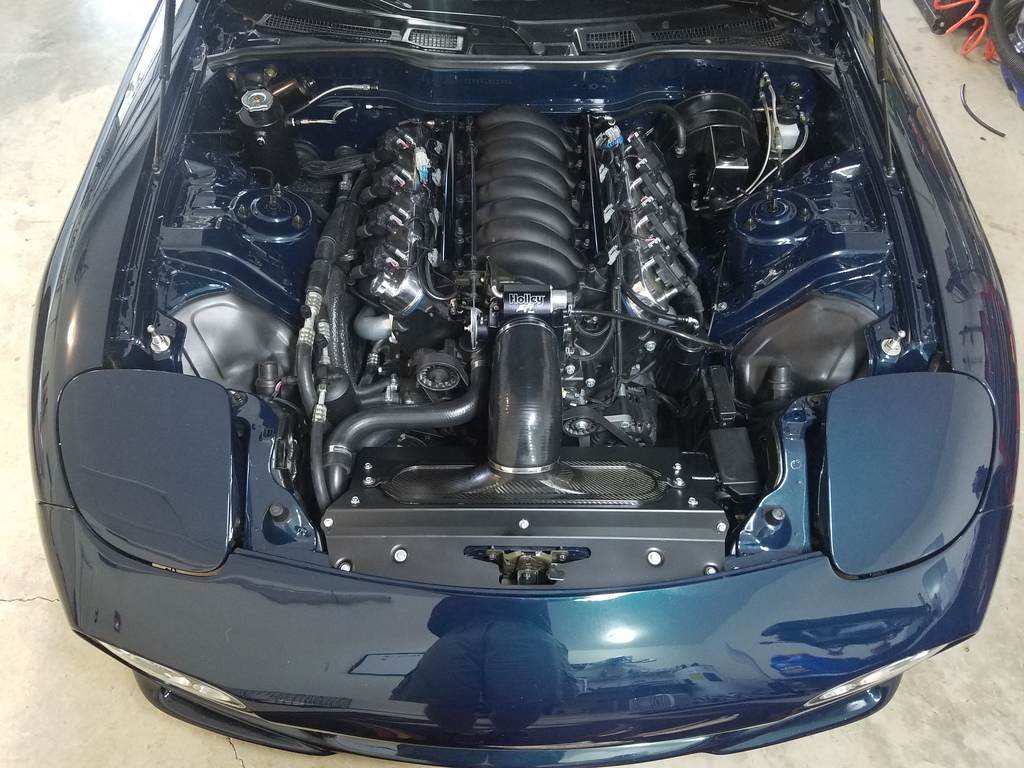 Road Shakedown!

All pulls were done with approximately 1/2 to 3/4 throttle, max of 5500rpm and using my current engine dyno break-in tune. The Holley handled everything well without a hint of knock or funny business. My idle currently sits at 1k and rests there pretty well.

I switched my plugs from a TR6 gapped at .040 to a TR55 gapped at .050. That seemed to smooth out my cruising surge quite a bit.

It pulls VERY strong right now with more power than I will ever need for the street. I'm looking forward to opening it up on some drag radials.

Dyno

Well, the deed is done. I decided to take the FD to my original choice of Schexnayder Racing, and I'm glad I did.

www.Shexnayder Racing.com

Earl, the owner did a great job with the car. The reason ultimately was because their tuner Scott Evans is a Holley senior member over on their forum. They use the Holley on all of their track cars and their experience with it shows. After reading a few of Scott's posts awhile back, I was convinced my car would be in the right hands. Much of the deviation in choice and considering B&B stemmed from them being half the distance. 1.5 hour drive, instead of 3.5 hours. Nonetheless, I made the further trek to Earl's shop.

They had the car for 3 full days. Because of my work schedule I only had time to drop it off on a Tuesday, and come pick it back up that Saturday. I did miss out on a lot of the face to face discussions and seeing the car make pulls in person while taking video, but it is what it is. The results were still excellent.

So, the NUMBERS.... they aren't impressive. In fact, when Earl messaged me and told me what it made, I literally laughed out loud. Why? Because I know it's just a number and the infamous Mustang dyno is what they used. When I dropped my car off we sat down and went over everything I wanted them to do, which was basically tune the car in every area: WOT, cruise, idle w/AC, and cold starts. He warned me they use a Mustang load bearing dyno and their numbers read notoriously lower then pretty much everyone else's. How much lower, I didn't really know. But as he said, "it will be done right and how it runs is the most important".

So my 416ci LS3 didn't even break 400whp...LMAO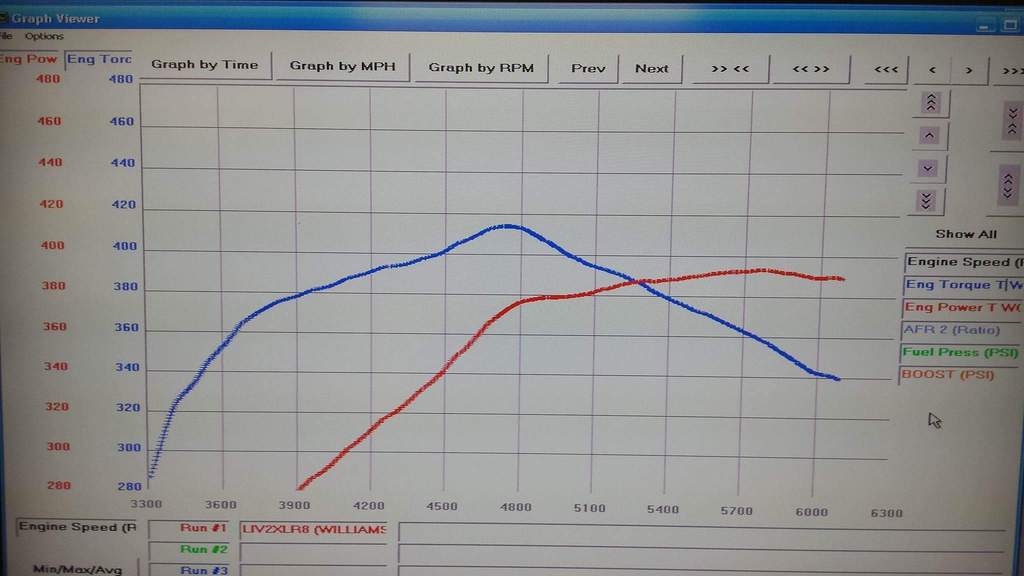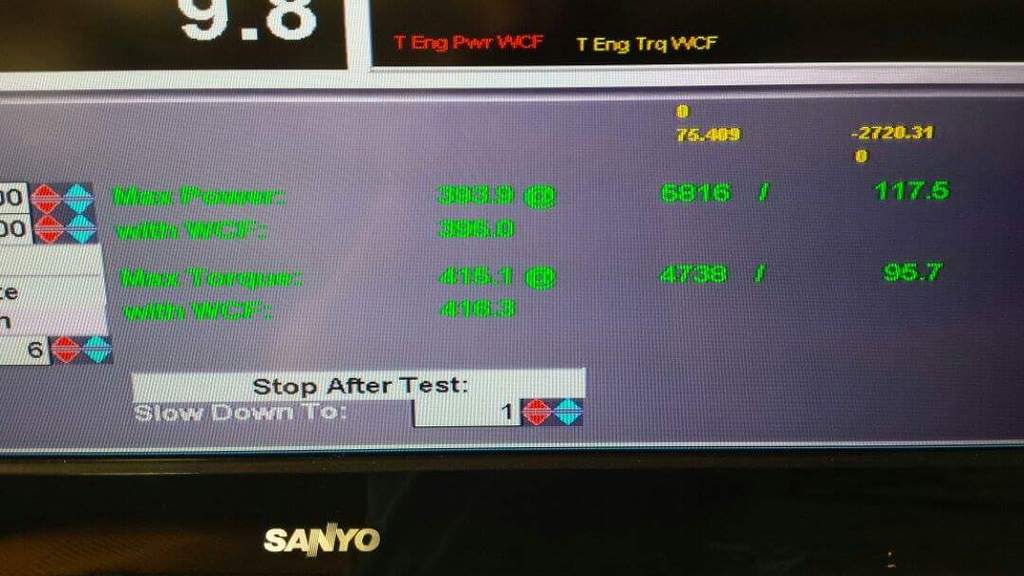 So the question is, what are the REAL numbers??? I don't know, and frankly I don't care. The car starts, and drives amazing. I enjoyed cold A/C the entire way home and still breaking them loose in 3rd on a whim. I fired it up from dead cold and holy **** it idled. In fact, it drove!! No surge at light throttle, no stalling. It drove like I always knew it would once it was sorted out. I think my cheeks were sore from smiling so much.

I did do a little research on the inertia vs load dyno's and some say the disparity is as high as 140whp difference. Either way, the car absolutely rips!! It has gobs of power everywhere and it definitely feels like a 500whp+ Rx7. Based on feel, I estimate the difference of 140whp to be pretty close to correct.

Dyno Confusion FINALLY Cleared Up

Scott did some very tricky stuff to get the idle solid with A/C. The combination of my lightweight flywheel, cam, A/C and light rotating assembly gave them a hell of a time making things consistent. BUT, they got it done. Using Holley's version 4 advanced section gave him the flexibility to make quite a few custom maps to get things right. When I picked the car up, we sat down for a good 30 min going through everything he did and what it needed. I was impressed, and I'm also glad I have been doing my own research/tuning to where I could follow the conversation intelligently. As he said, with a normal flywheel it would settle in at around an 850rpm idle. As it sits, it idles solid at 1k, and 1200rpm with A/C engaged. I don't foresee myself pulling the tranny any time soon to swap flywheels, but if the occasion arises, I will do just that. It's pretty much a non-issue but for the purpose of the car, I think a heavier flywheel would be more fitting.

So one more thing down..... time for phase III.... otherwise known as "Project Refinement"



I am extremely happy with the tune. They put in the time to make it right.

I too had the car running pretty good. My main issues were cold starts, and idle with AC. I thought cruise was pretty smooth but they made it even smoother. I had a hint of surge before but now it's completely gone. All smiles.

PROJECT REFINEMENT:

This phase is going to focus on truly making the car modernized, and dialed-in across the board. Refining the experience of driving the car around turns, in a straight line, and even around town. I have said many times that what makes a car feel old is the little things. The inconveniences, dings, rattling interior, little annoyances, and random things that just haven't been tended to.

I have been very focused on the swap and getting the car running reliably. My goal from the beginning was 3 fold: run 10's, win car shows, and do it all very reliably. But we all have those last order items that are in the back of our minds, but they are at the bottom of the priority list because of the vast undertaking of building a reliable running car. I could literally not do another thing to the car if I chose; drive, wash, wax, repeat. But we all know the hobby never ends. So the short list is as follows:

- Steering- Either electric, OEM Mazda pump, or Turn One. I want tight precisesteering with the right feedback and effort. It can easily be speed sensitive and ECU controlled. In fact, one of my goals is to incorporate the Holley V4 ECU.

- Sound deadening- I want more. I will likely pull the entire interior to add either lizard skin or fat mat. The doors and headliner as well. Road noise makes a car feel cheap. If it costs 50lbs then so be it.

- Sound system- This has been on the list for awhile. Nothing crazy, but a nice head unit, component speakers, and self powered sub. I am debating using a GPS double din.

- Security- A quality Viper or Howard system is going in. It will be top notch with a few nice tricks. I will incorporate GPS tracking and independant power. The Holley will also likely play a role here.

-Interior Love- This is going to be a fun one. It really is just bringing the interior up to the level with the exterior. Of course nothing crazy but it includes all the nice touches that make a car feel premium.
* New floor mats
* Momo Champion steering wheel
* Shift ****
* New boots
* Padded map pocket cover
* USB socket
* Sakebomb fire extinguisher mount

- Seats- OEM in alcantara or factory Recaros. I am still deciding.

- Gauges- All Holley. ECU driven. It will be epic.

- Traction Control- Davis Technologies unit will likely go in but I want to see how it grabs with proper tires first. With a good tire, it may not be needed.

- Roll bar- Likely the Samberg but I'm not certain yet. The bar is being added for my and my wifes safety, and not really to be able to run a number at the track. Time will tell but the Samberg piece is just so convenient looking to install.

- Tires- Proper tires are needed with the power I am making. I am debating on a drag radial vs an autocross tire. I am looking for balance and more research is needed.

- Etc...- I can see the list growing but this is a good start.