Build Or DIE Trying! a 1993 FD story by Tem120
By diyauto
You must be logged in to rate content!
Build Or DIE Trying! a 1993 FD story.
Compliments of Tem120 @ www.rx7club.com
10-15-2011
So last Tuesday I sold My 99 Mazda Miata .. was a great faithful , fun car .. we had many crazy roadtrips , and auto-x days . in the 1.2 years i owned it.. I loved it somuch.. I gotta admit it was a little hard to let go .
But I always had it in for the FD... Thanks to some encouragement from A few good friends I decided .. well you only live once .. right?
Sold my miata bought this shell the same day .. and I'm dedicated on getting it running asaP!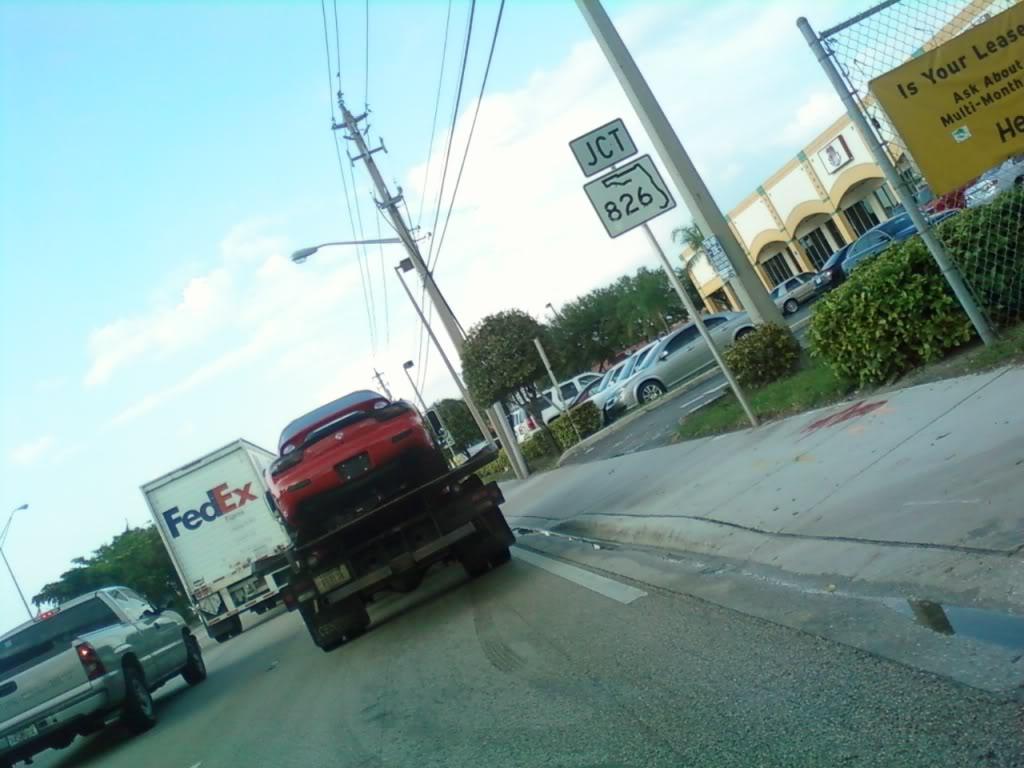 a picture from the Chase car! first bit of fresh air she's gotten in a while!
Thanks and well there are just somany LOL
here is one of it saying goodbye to its new buddy which I paid to give it a piggy back to its new home..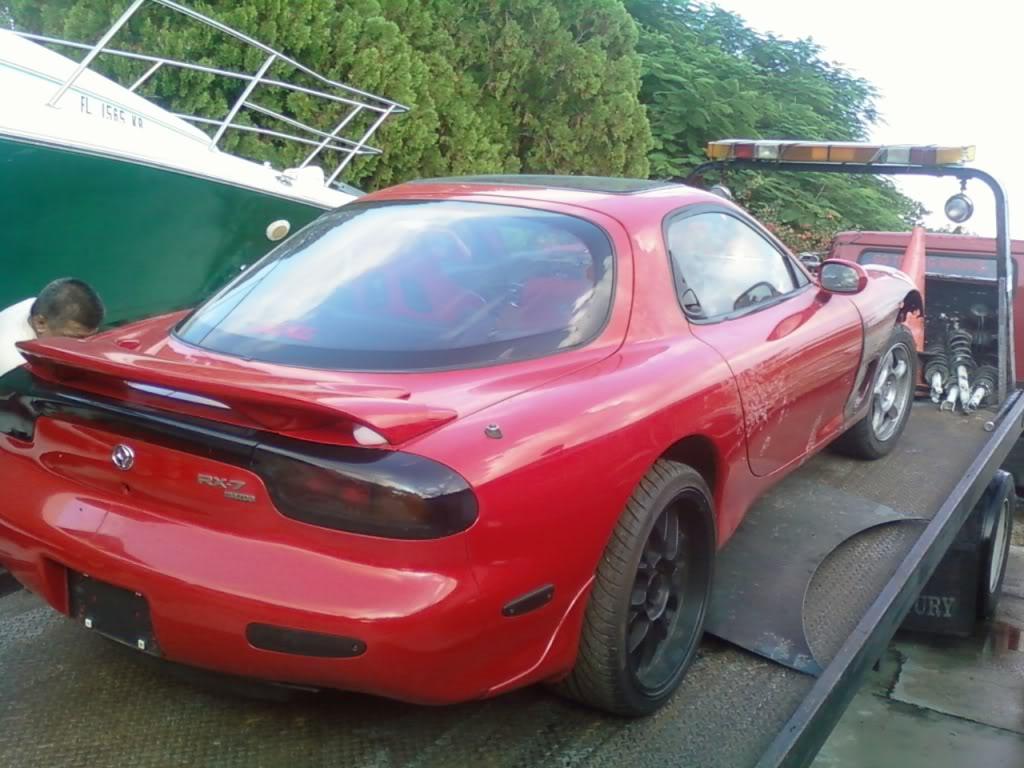 A walkaround of the Car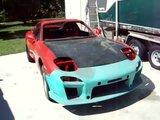 http://s233.photobucket.com/albums/e...t=MOV01801.mp4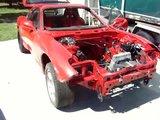 http://s233.photobucket.com/albums/e...t=MOV01802.mp4
I started By Replacing My current broken Ignition / steering column , with the spare that came. with the car . the Spare happened to be an Eifini steering column With the OEM eifini steering wheel .. looks better then the OEM american wheel but itsn ot in the greatest shape .. to bad .. otherwise I'd throw it at the JDM wolves . ..
I cleaned off the rust from the shaft and gave it a galvanized coat . *didn't have rust paint *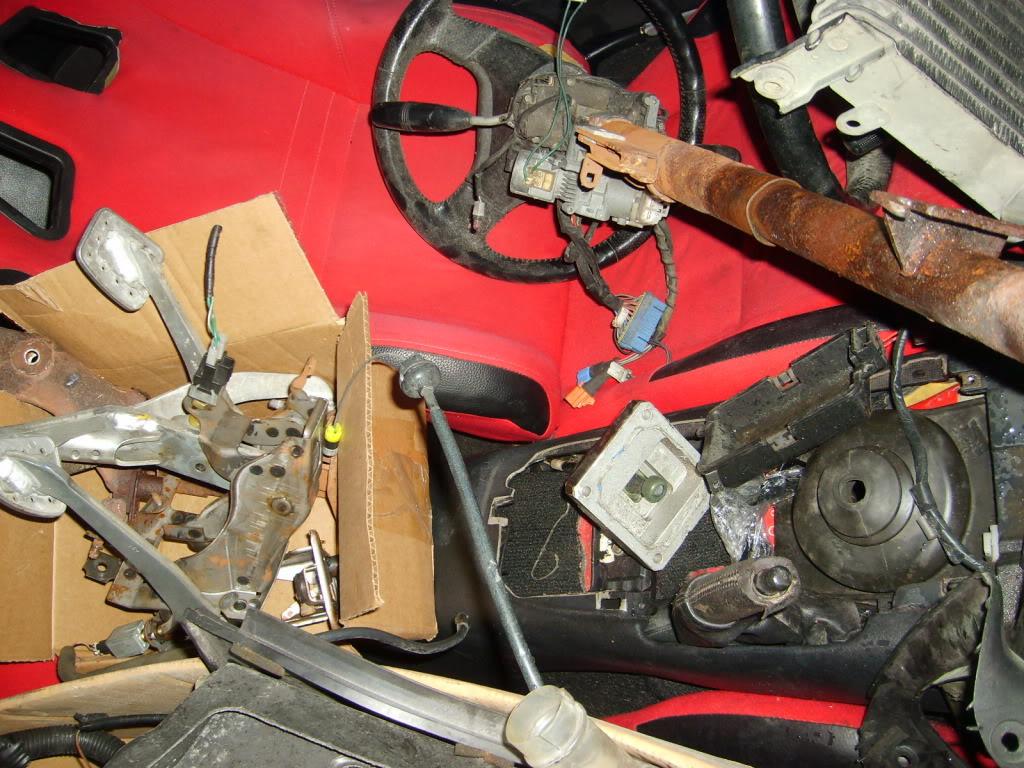 but when I tried to put it I realized I had 2 sets of pedals , brand new RHD pedals , and old rusty LHD pedals ... So I had to clean and repair and transfer all the parts from the RHD pedals onto the LHD .. Pictures when I get some sunlight ..
while I did that I got some JB weld to fix some cracks on the pedals , and some new rust paint . while hte paint dried .. I decided to work on changing my rear suspension from the stock , to Tokiko illuminas + eibach springs .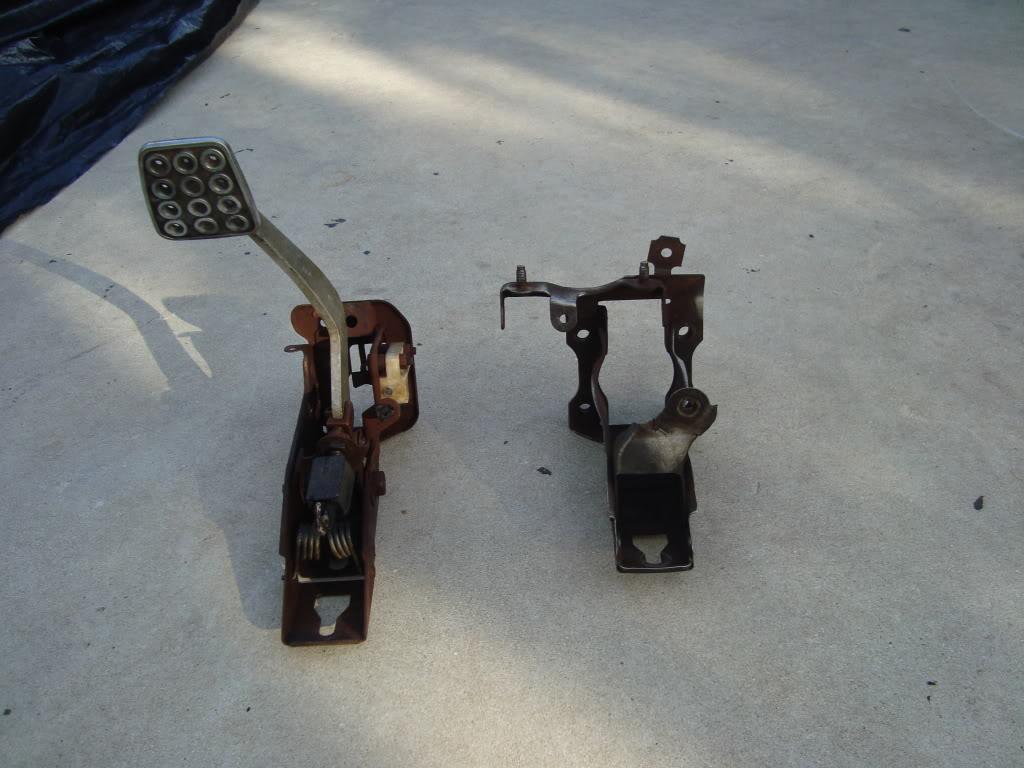 rusty pedals after a little wirebrush to the brake pedal .. compare! LOL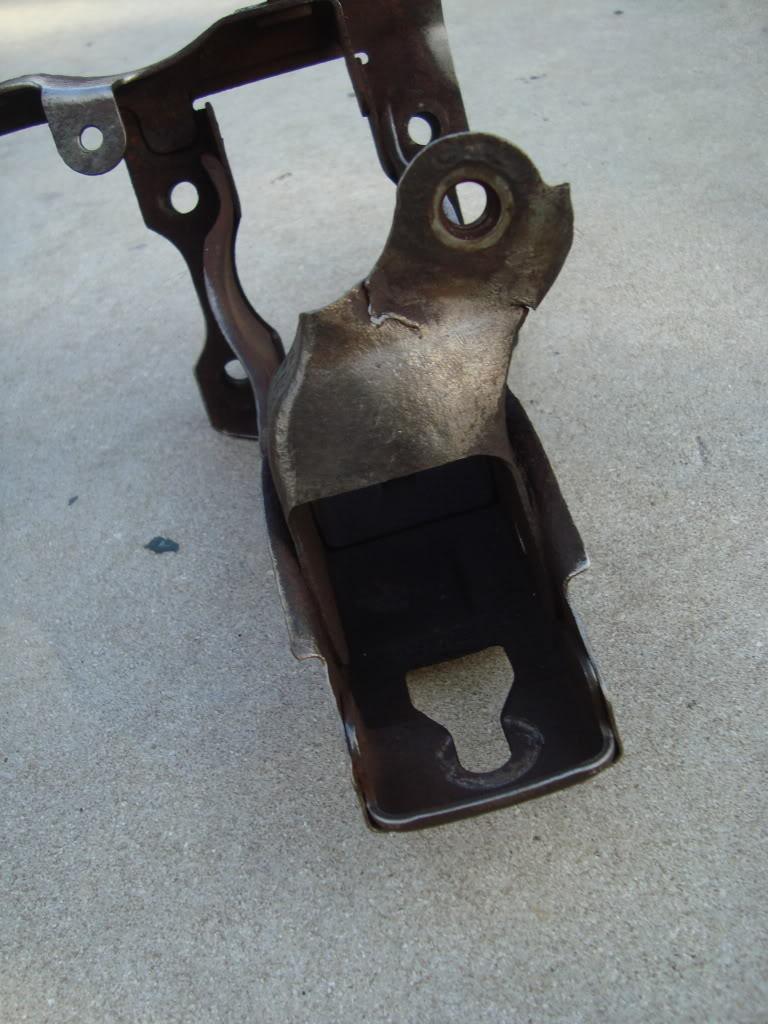 Cleaned the pedals welded them with JB weld to reinforce and Painted them ..
since i was already dooing it I ddid the drive shaft as well no more rust for it!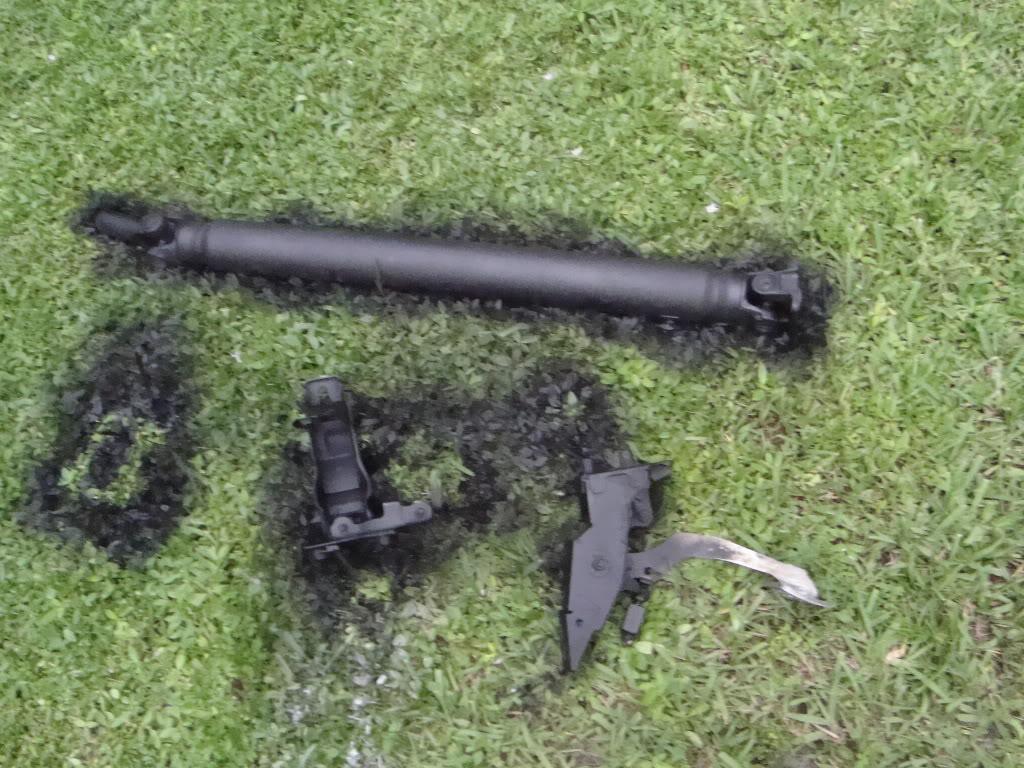 10-17-2011
The rain has really put a damper on my build.. but I decided to do some small stuff that I could do inside..
today I Did some weight reduction!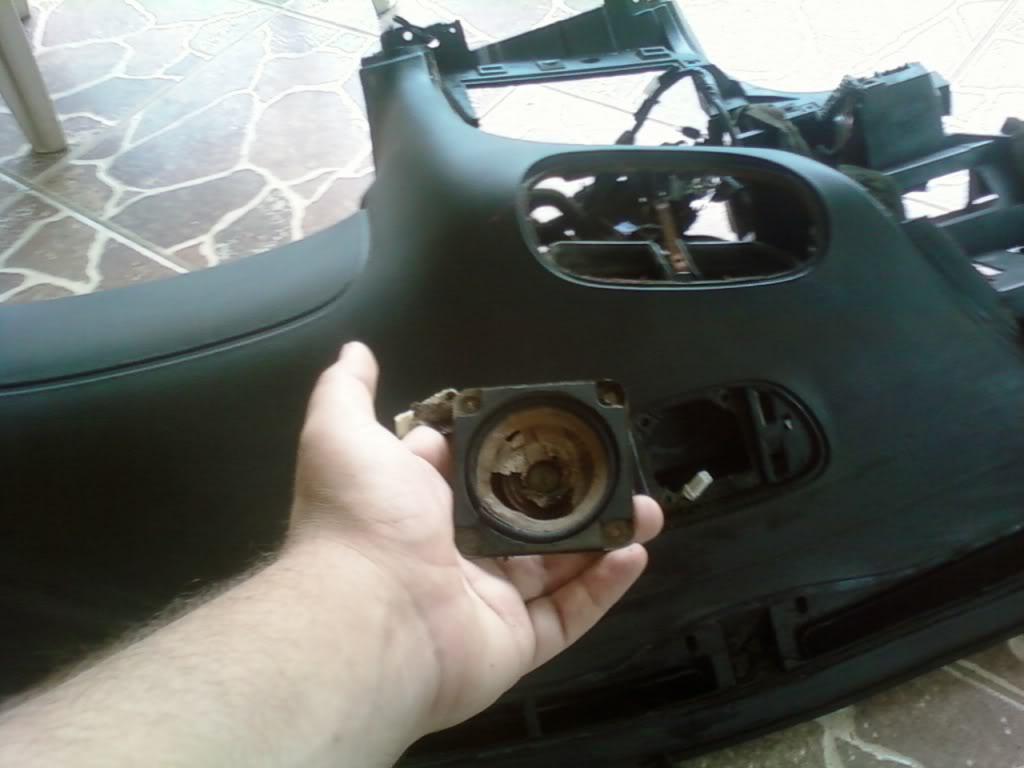 I found this blown speaker..I wont get angry at yet another thing to add to the Tobuy list instead! extra weight I dont need right??

11-17-2011
Its been a long time since I updated .. But well I've been busy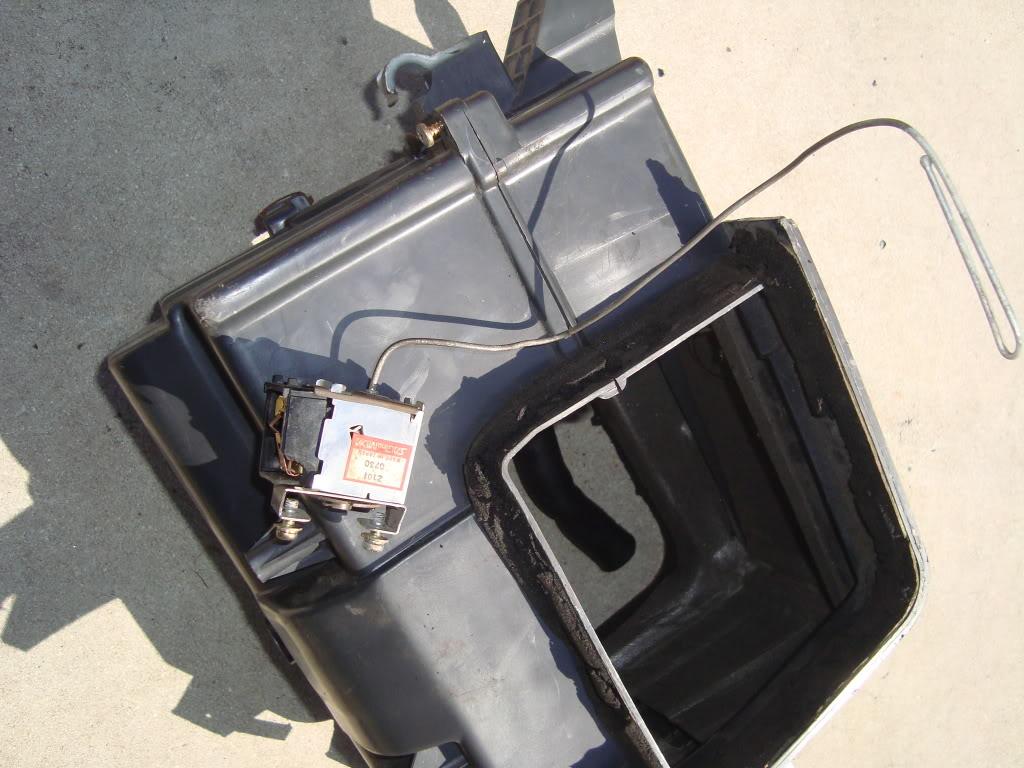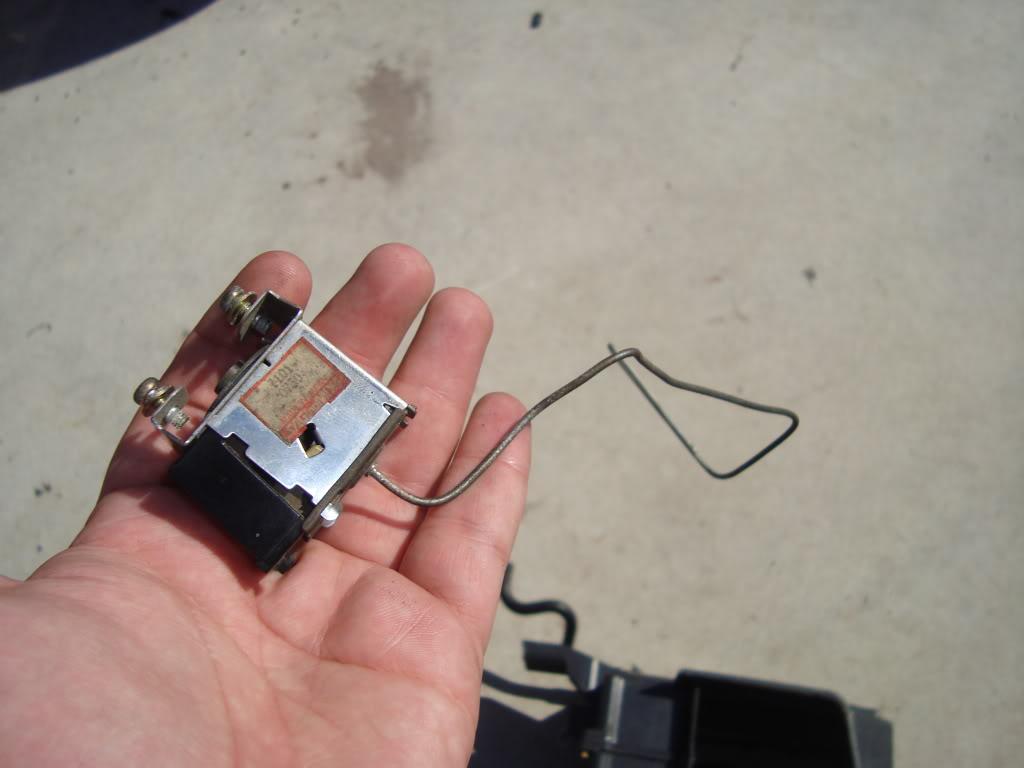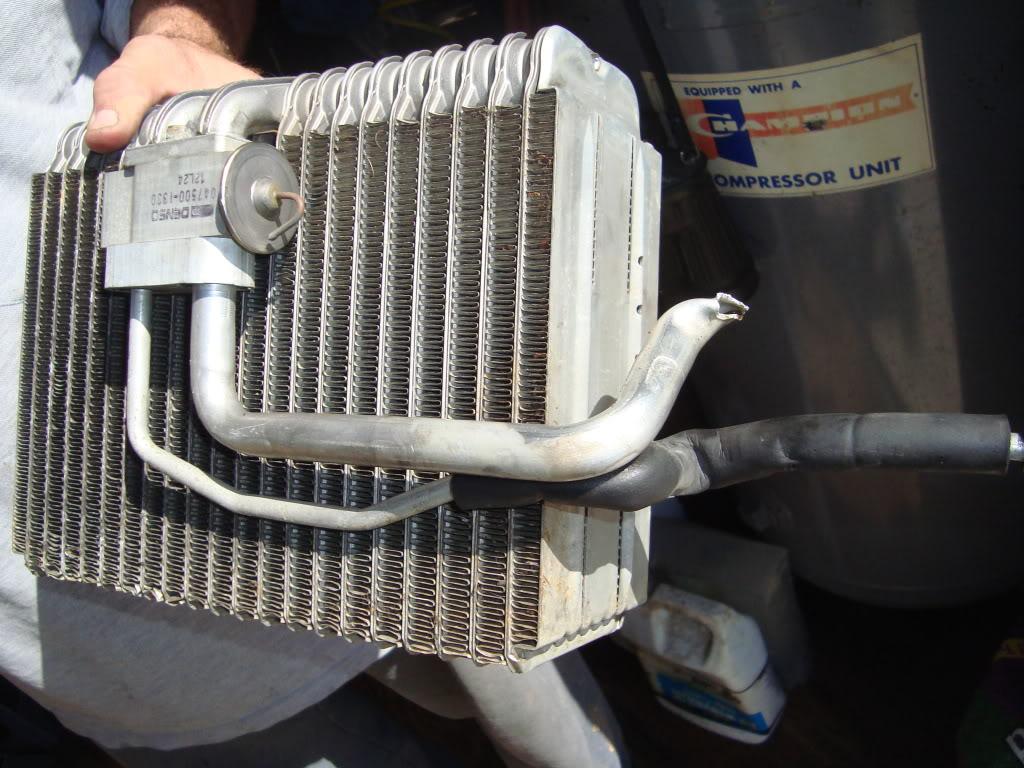 This week a huge order of parts came in including hte replacement for all that ..
I'll take pictures of the new arrivals when I get home from work ..
But I picked up the engine as well this morning ..
I put some oil in the spark plug holes .. since well there was no spark plugs in there anyways ..
and turned it .. it turned extremely easy .. should I be worried ? lol
I've been taking things apart and looking for anything broken in order to replace them .. now the replacements finally arrived so I can work on updating this thing
11-24-2011
Also here is a small update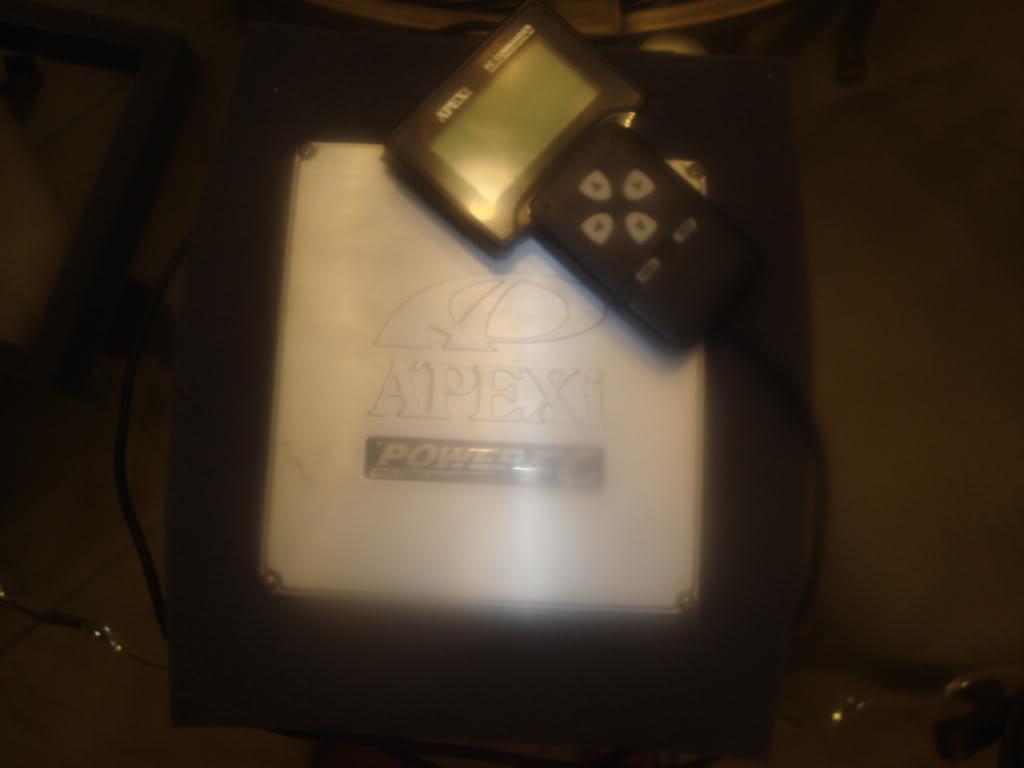 well not really small money wise , and essentially this is a big part of the car.. LoL ..
I have spent the better part of 5 hours reading up on power FC tuning thanks to arghx and his many power FC related threads!
Electronic Boost Controller Comparison Chart < -- just one of them
1-26-2011
yeah .. I'm not a fan of red.. so. here is the first coat of primer for my car .my painting export friend , did my fenders / hlood / bumper as those were the easier to access parts . next week we may finish the whole car.
yeahh I went with the trend , flat black primer =P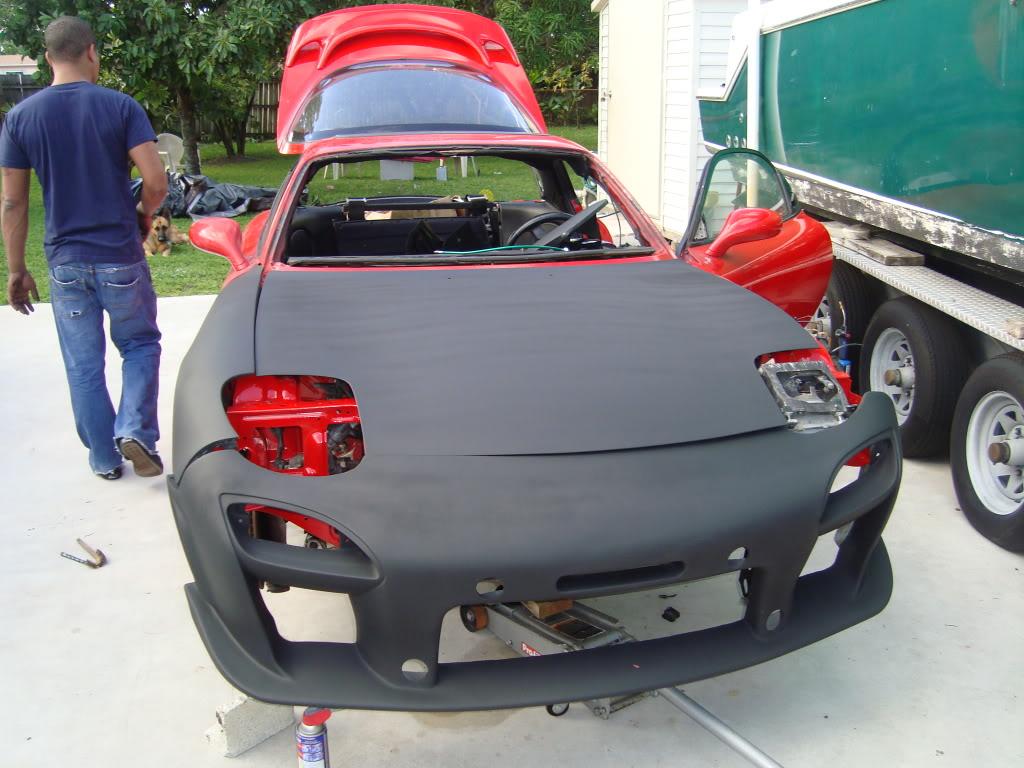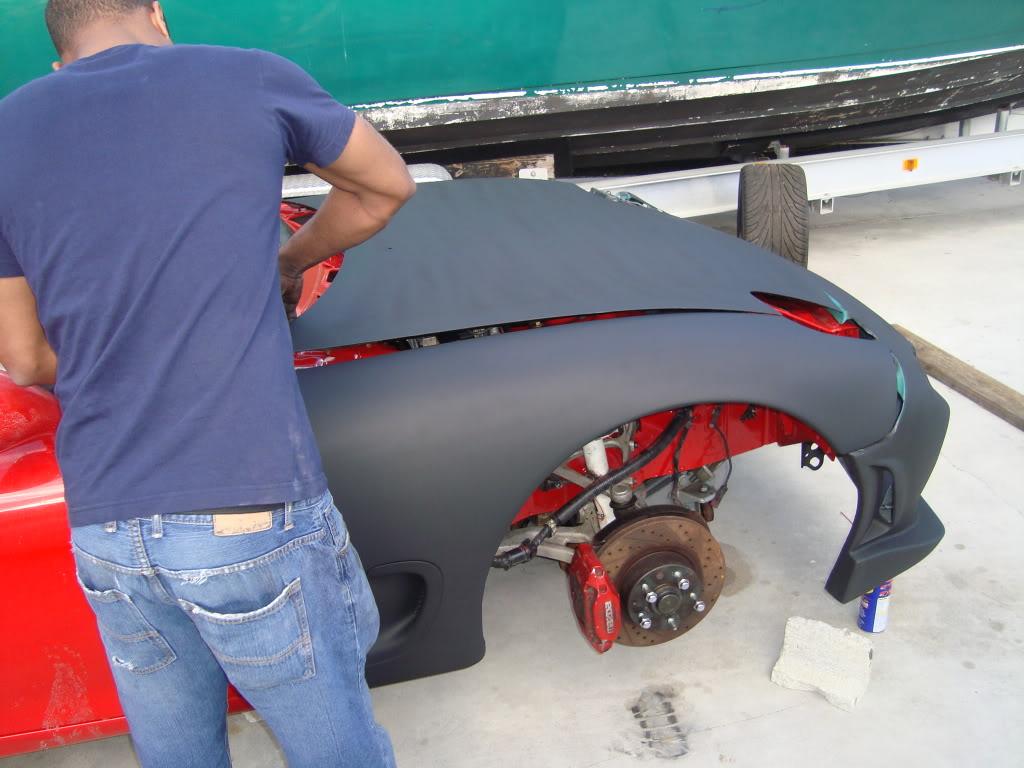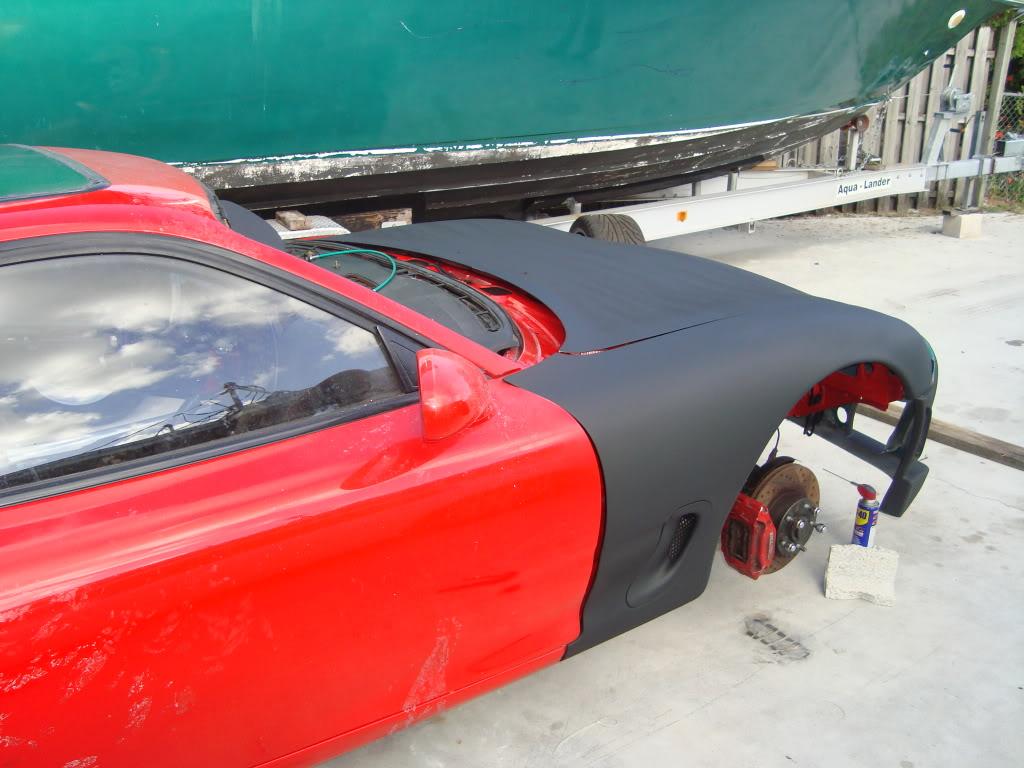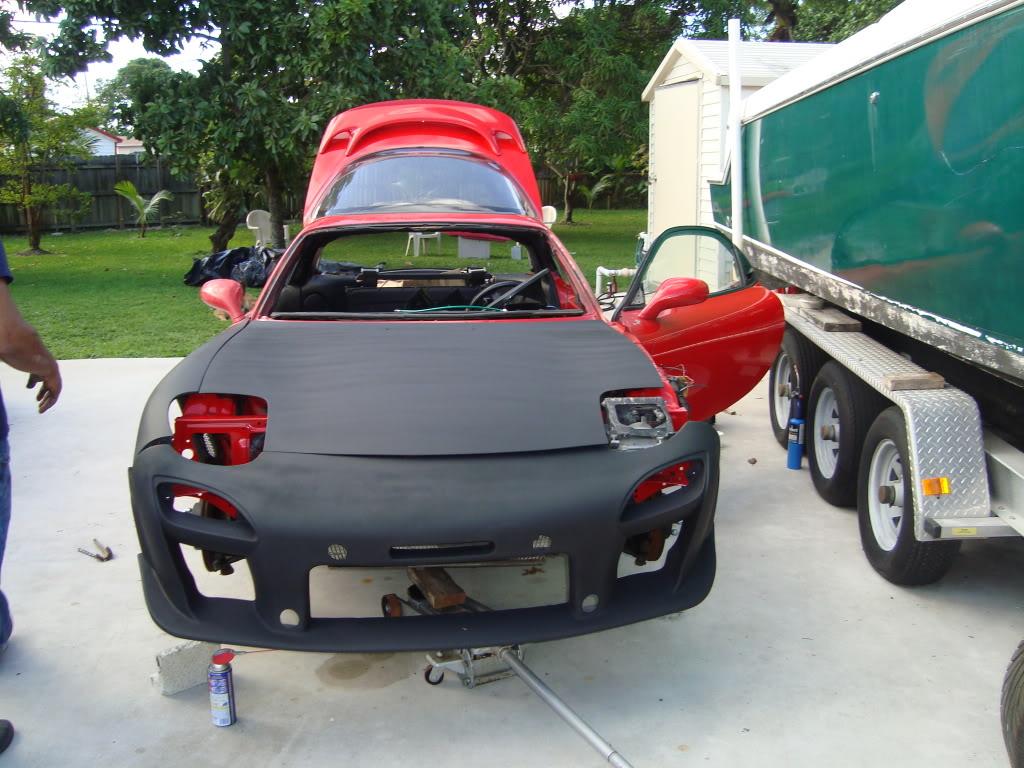 YESS I know that its crooked.. remember its only being held on by abrasion , no bolts or anything just a trial fitting to see how the color looked.
12-30-2012
ok so after that did the rest of the prepwork to primer the car down .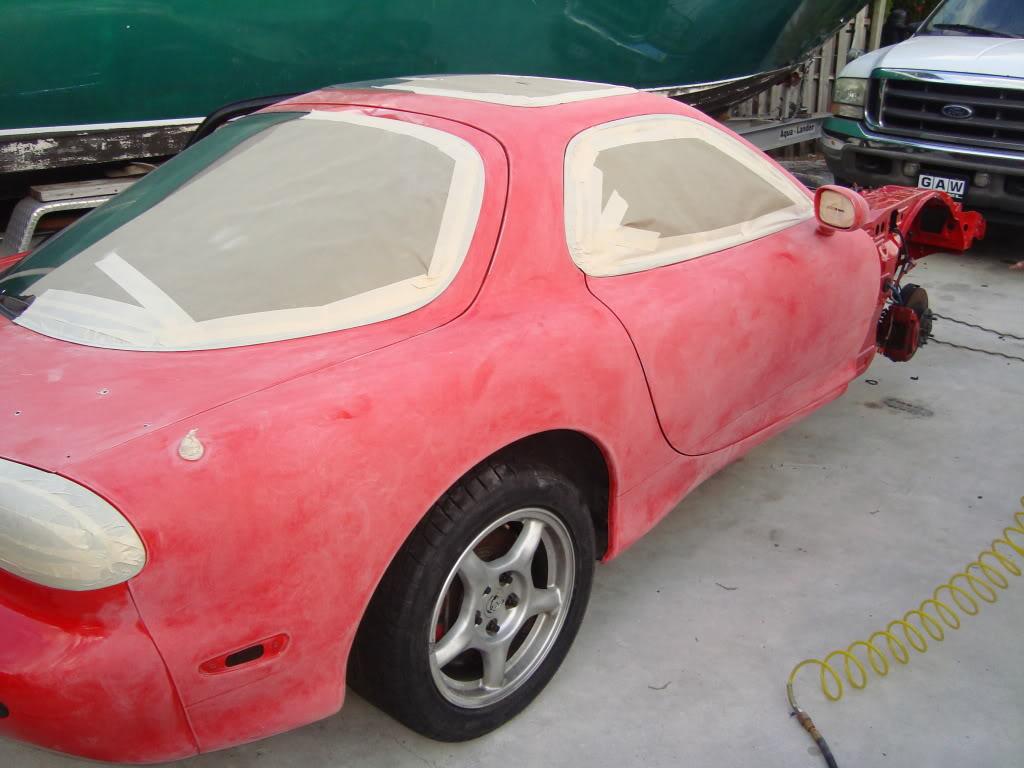 even though the paint didnt look bad and was insfact new it was stained in certain areas and those stains wouldnt come off so I just said hell with it .. I'm building hte car from scratch i might as well paint it a color I truly love....
Welll when I can that is ..
and here it is after primer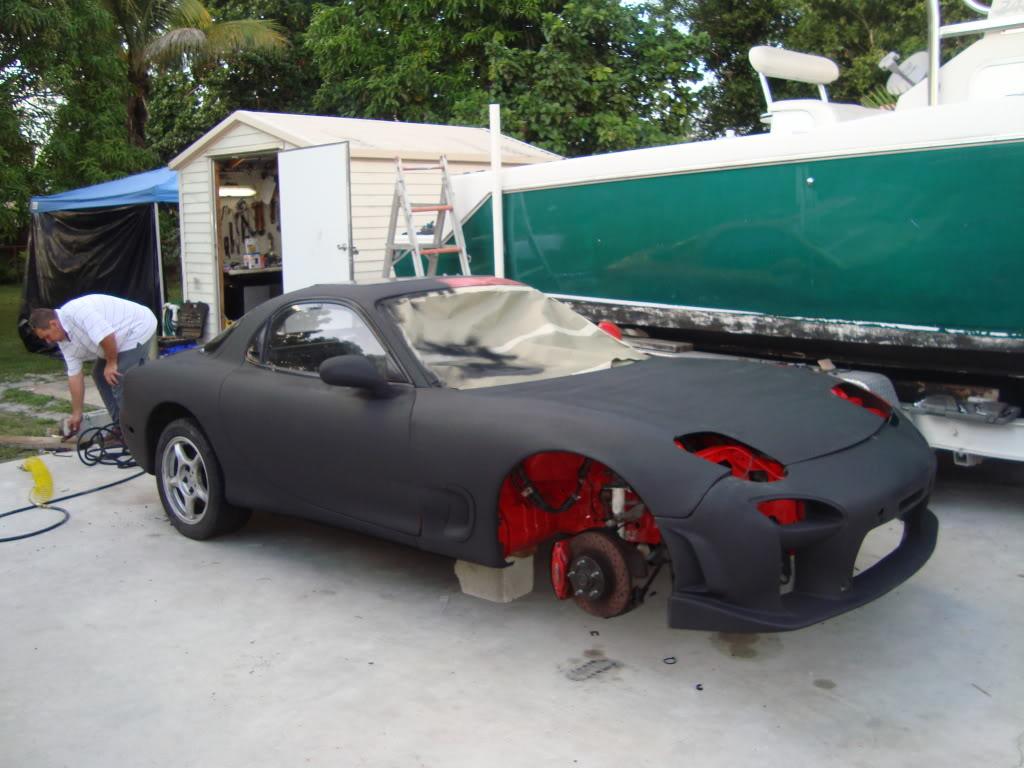 everything is held together with nothing really not even a bolt hahI just wanted to dream about what my car would look like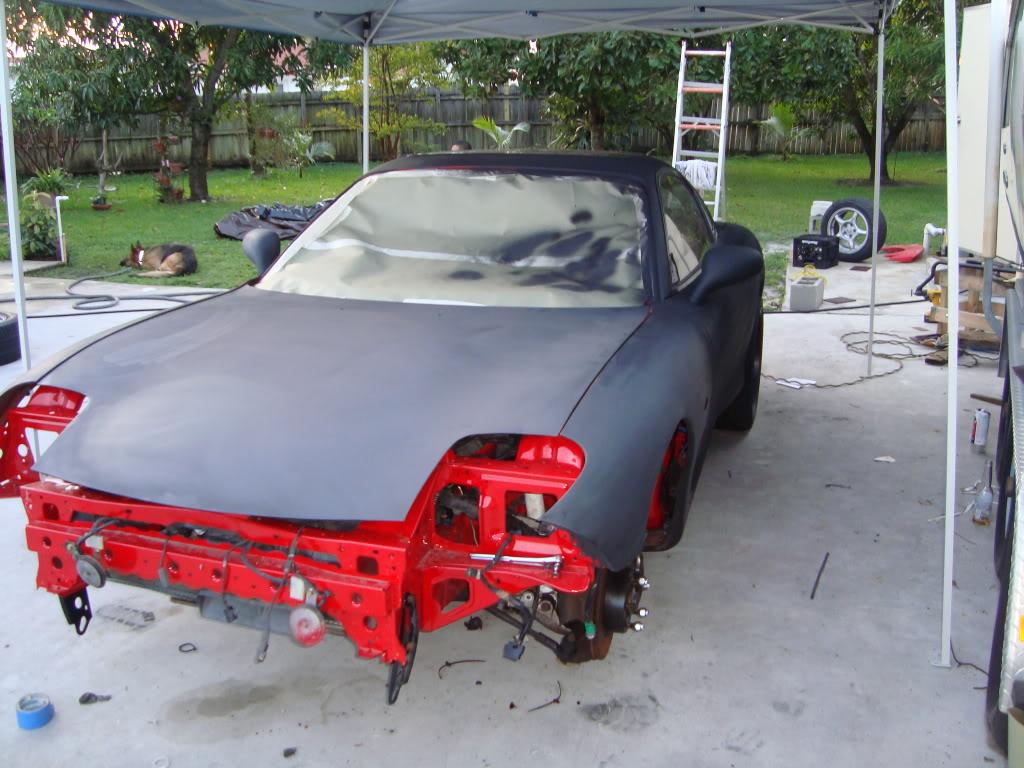 Emptying out the fuel tank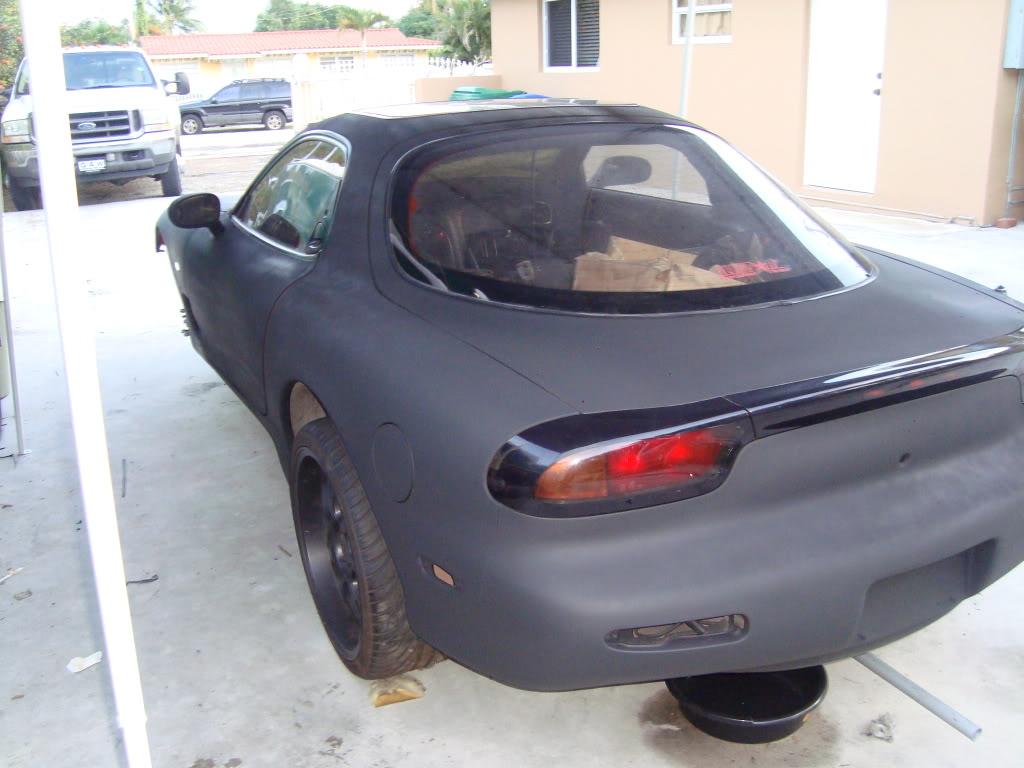 the gauge said it was at empty but I wanted to clean it anyways . So I emptied it , put some fresh gas in ,
Replaced the Fuel filter.. Something i am dreading ... from the bottom of my heart doing again .
and put some new Fuel in , took it out again , and a bit of new gas in again just to keep something in there keep water from collecting .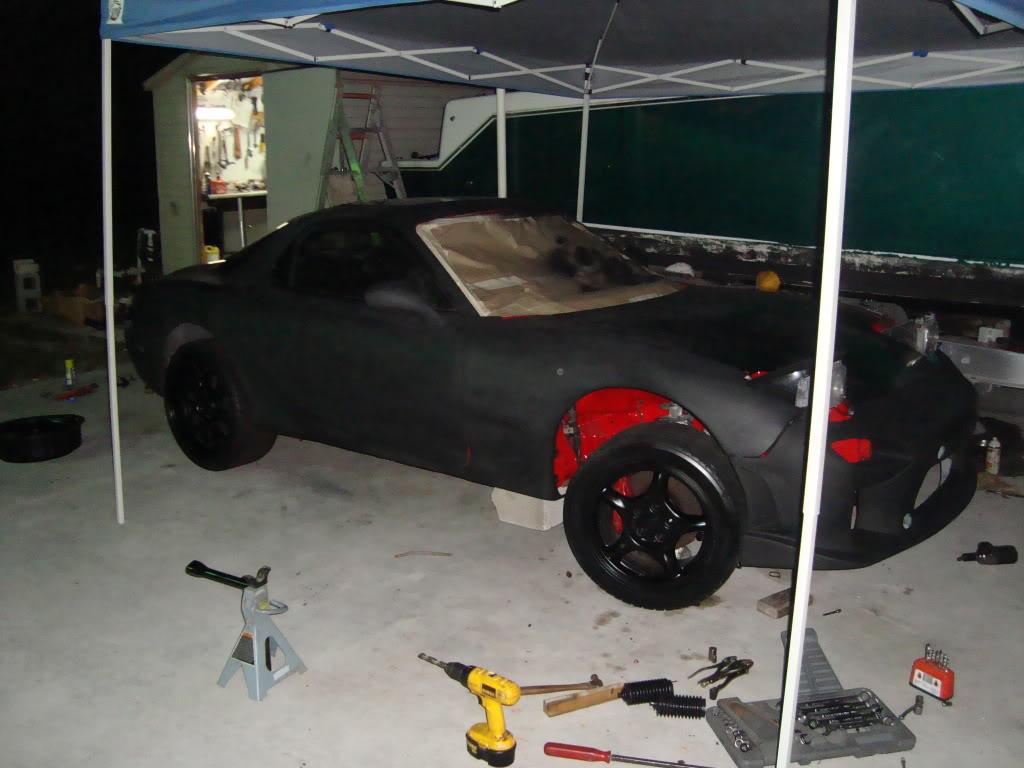 OEM wheels in the front , 19's in the back .. damn I hated this LOL , But my friend painted them so they atleast looked the same color
Also replaced all the boots for the steering rack and other rubbery misc stuff
4-10-2013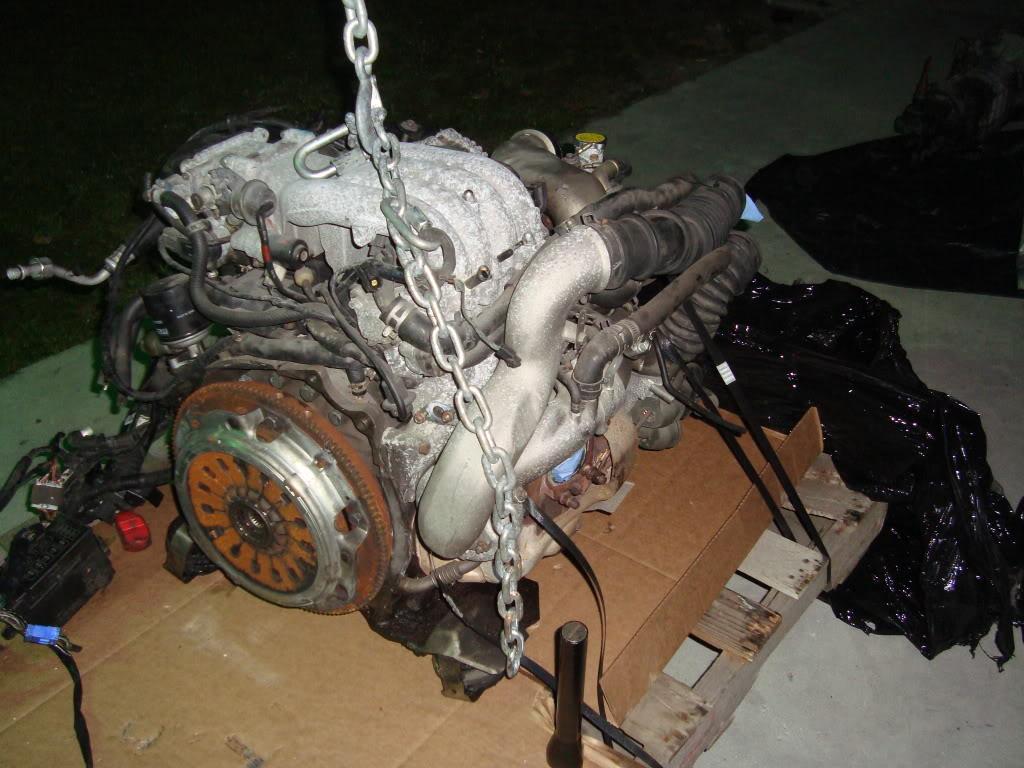 engine number 2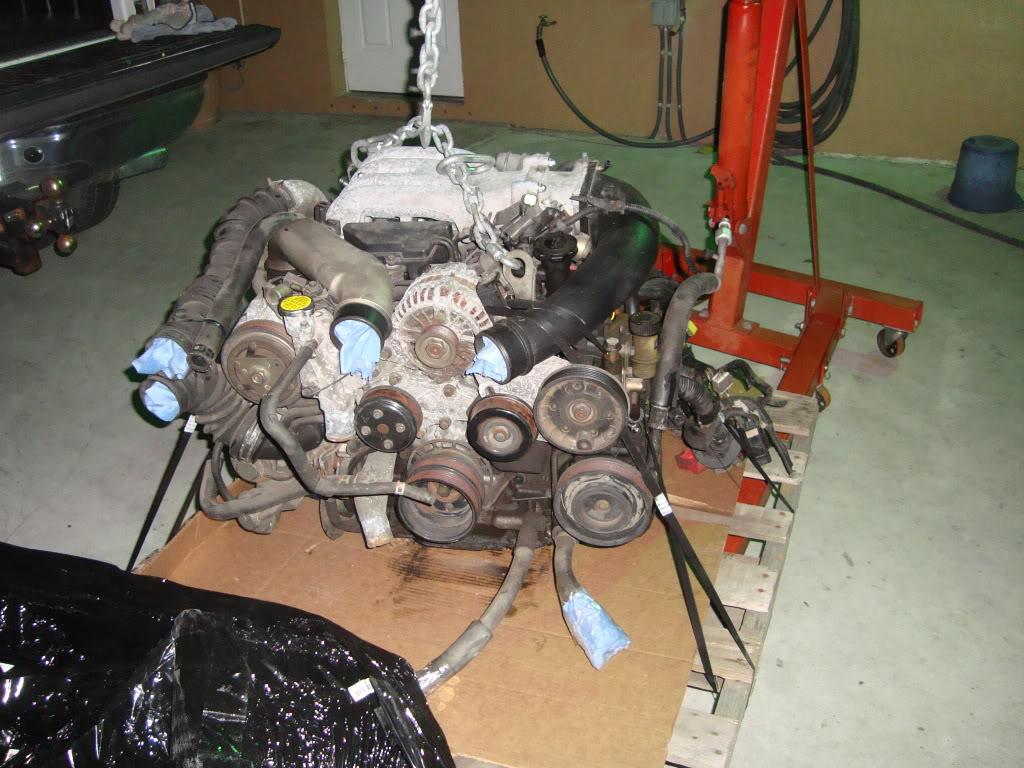 Removing THe turbos For waste gate porting ,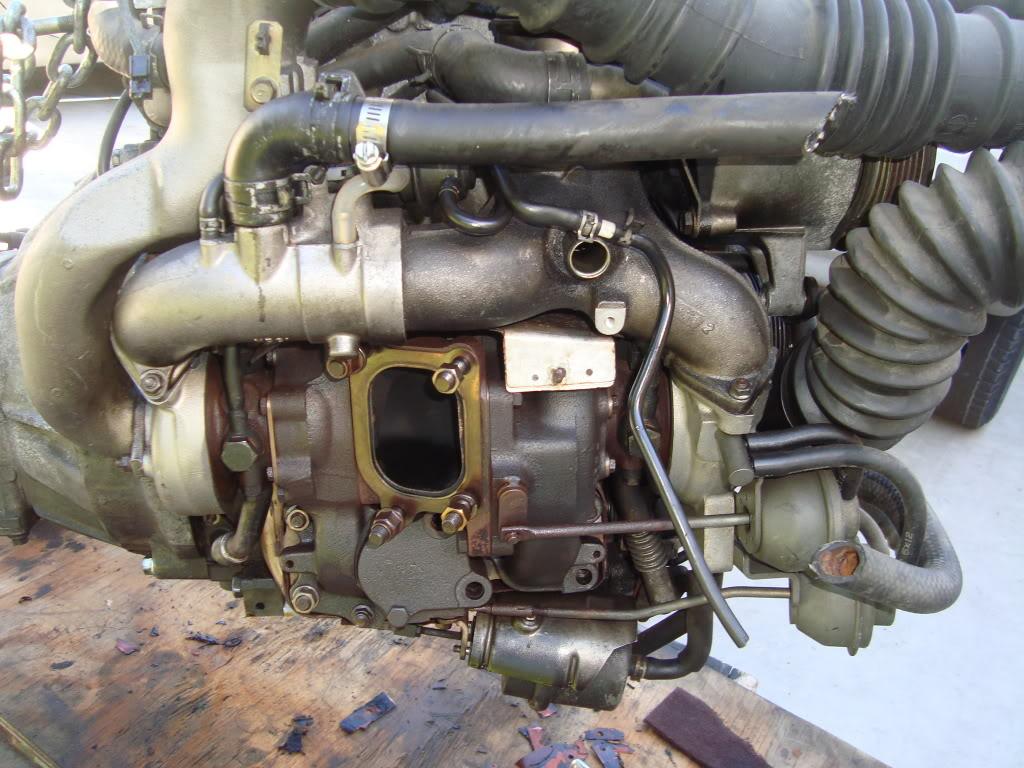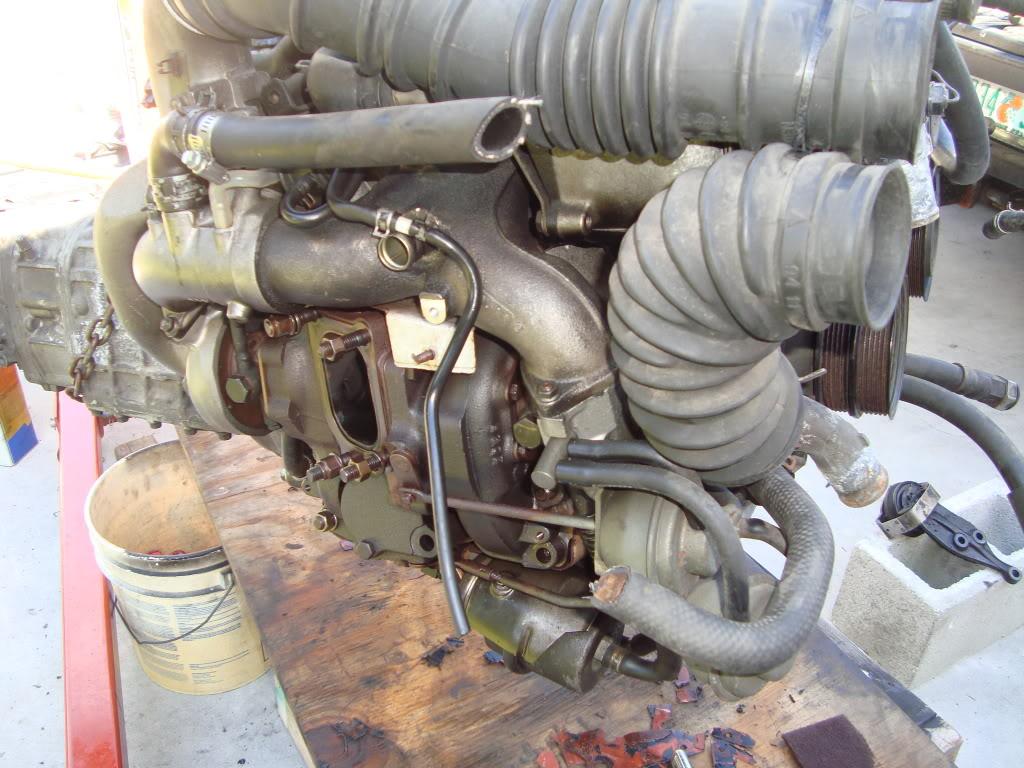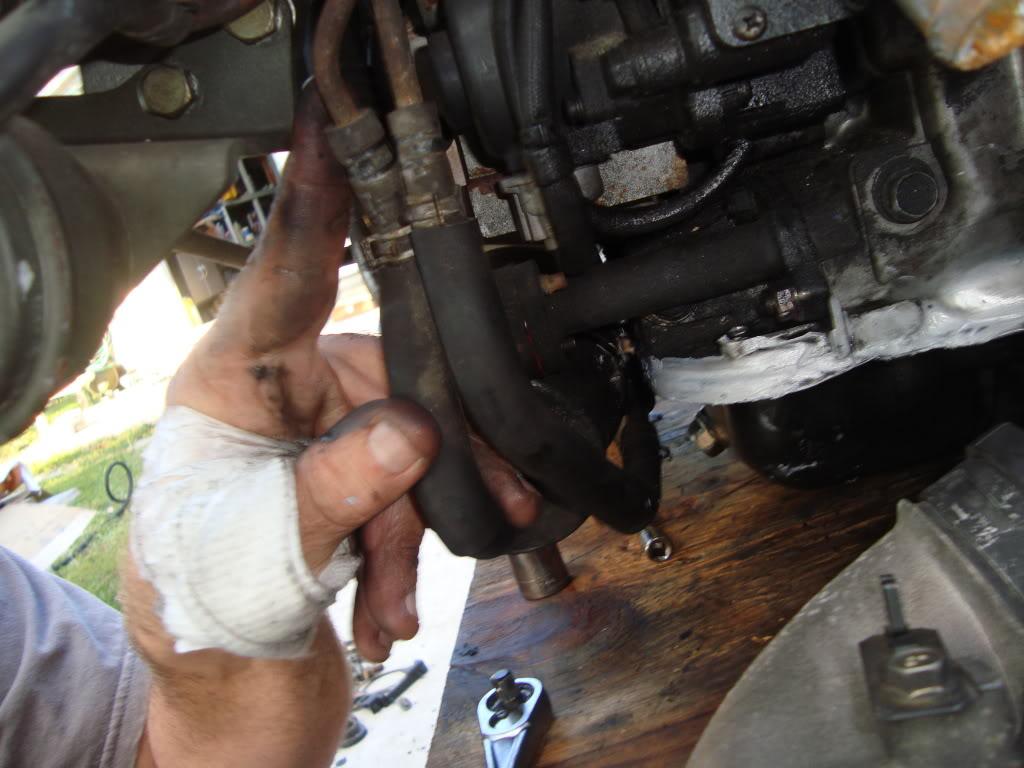 I took alot of pictures to make sure i knew where to put everything back .
Dad giving me a hand literally
Off they go!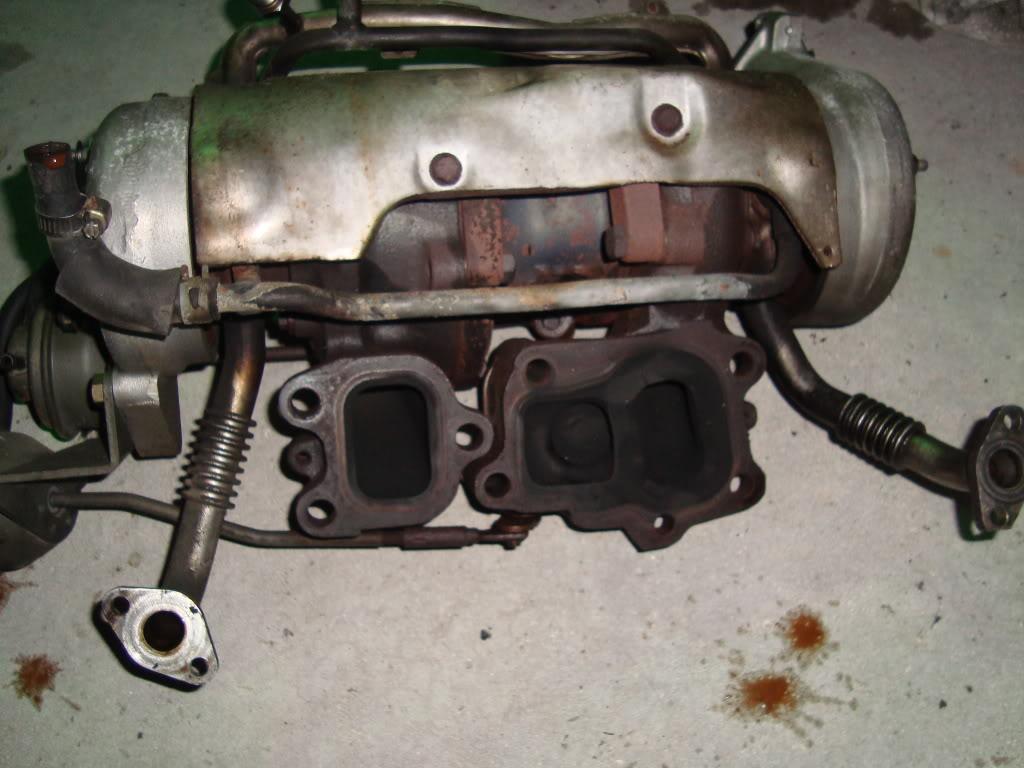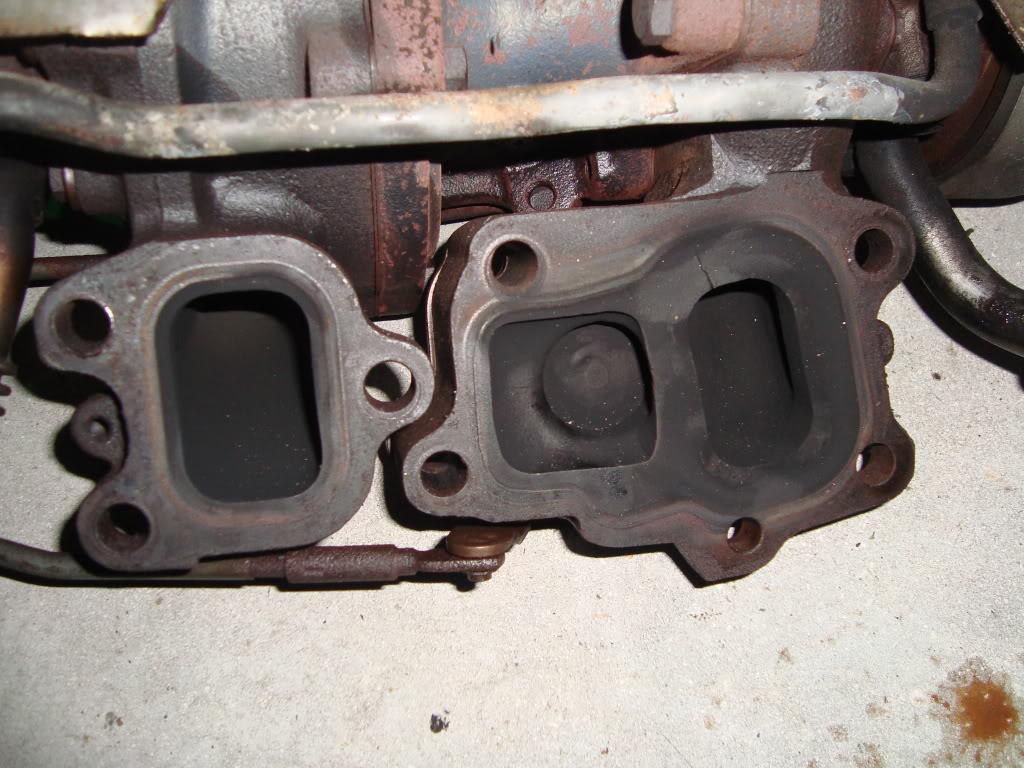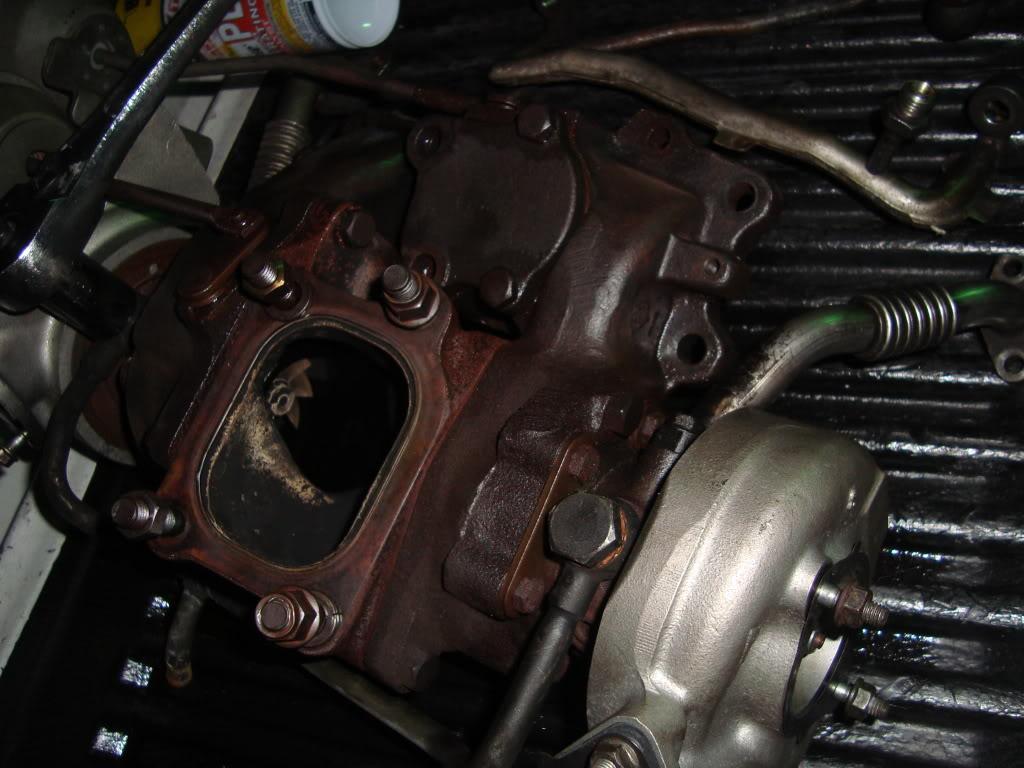 PB blaster attack .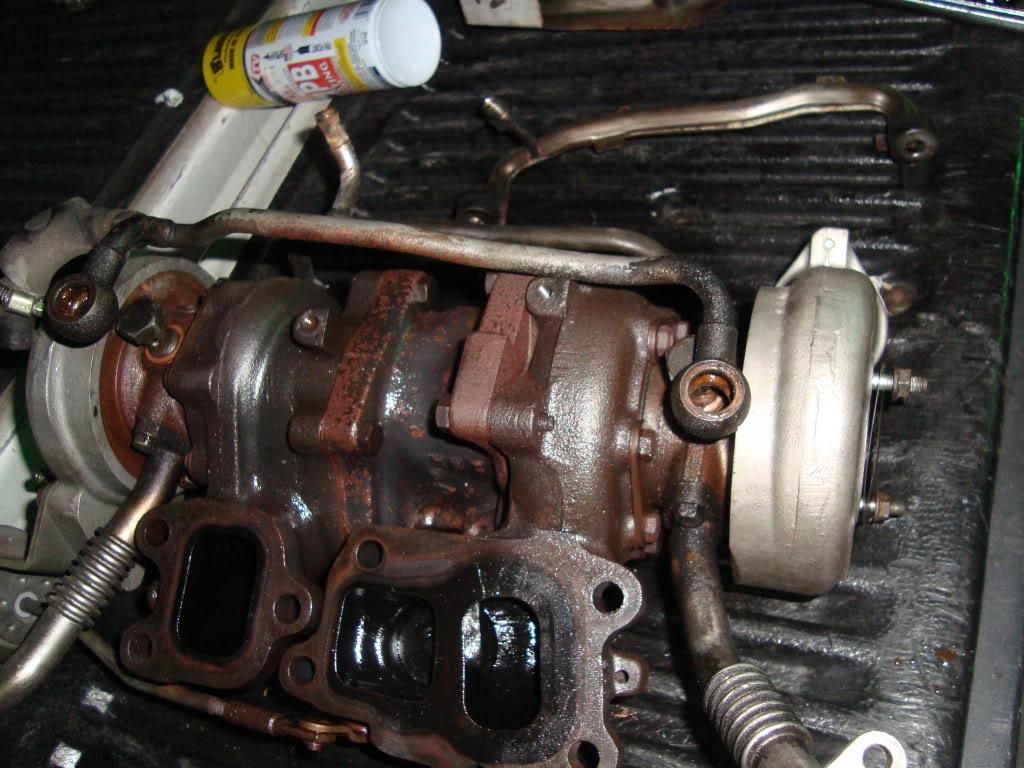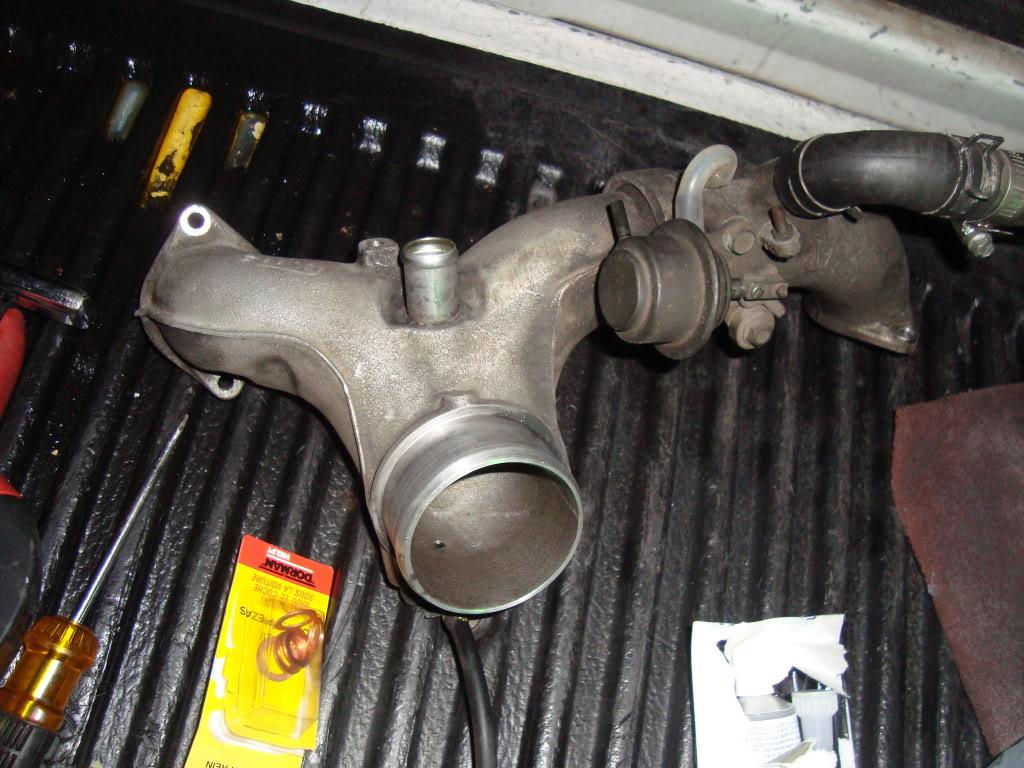 the Y pipe cleaning it a bit
First peek of the rats nest ..
Engine fitting snug in its new home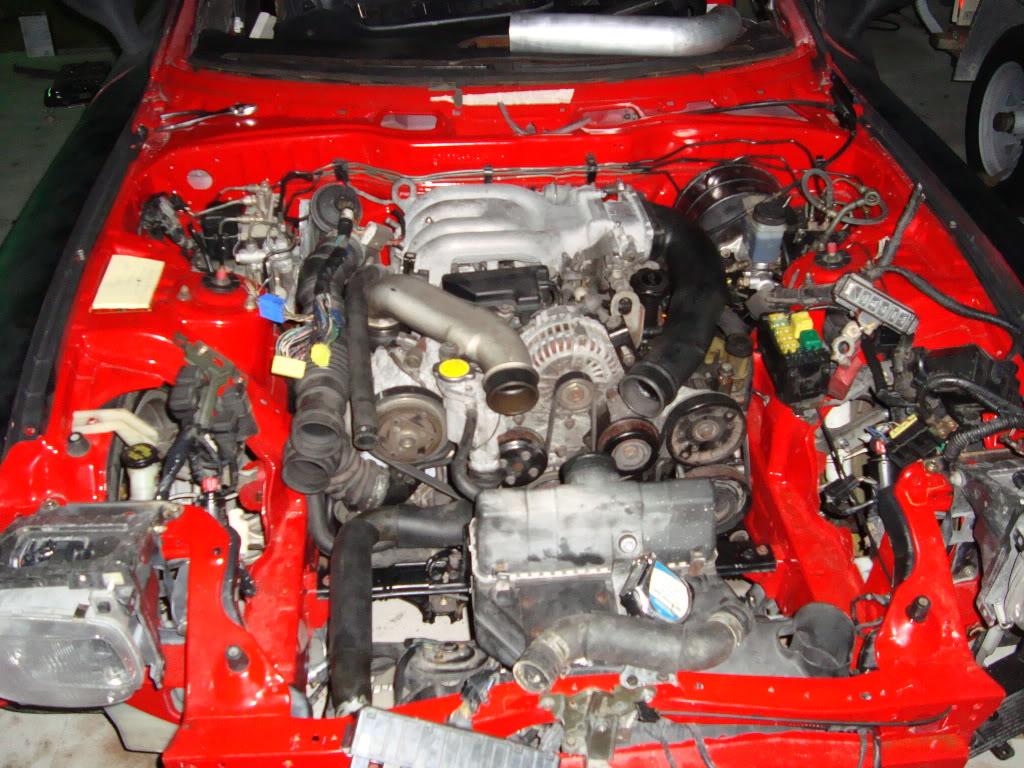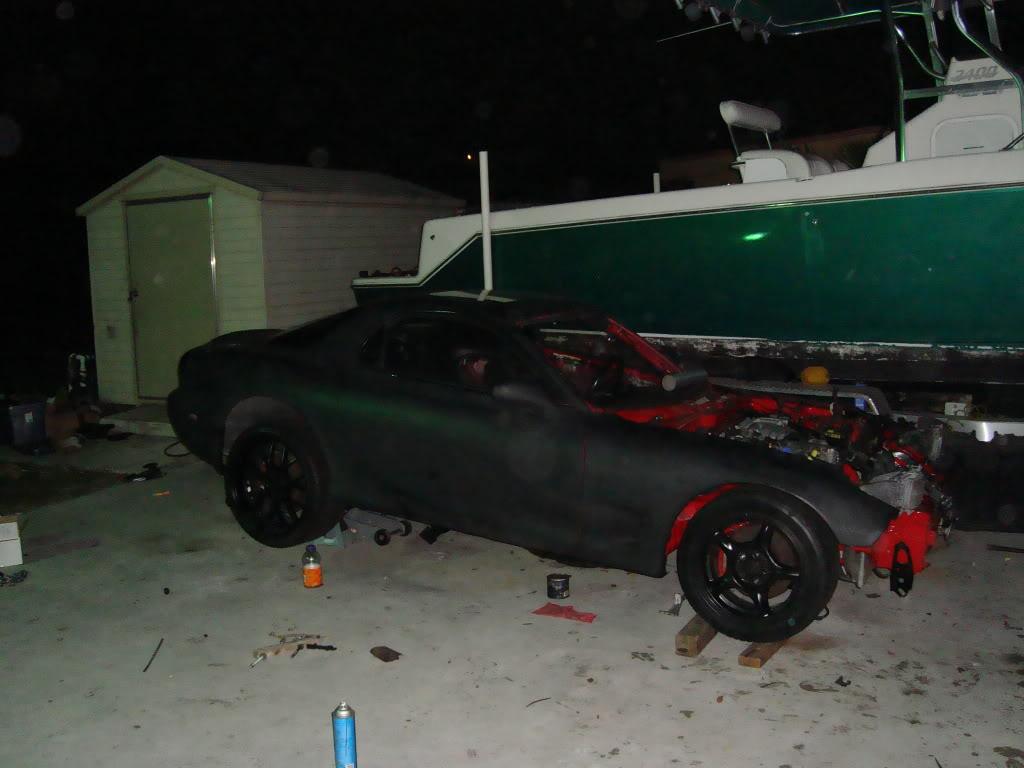 And first night with the engine in its home .
I couple videos LOL I dont remember what I was saying as my speakers are broken
http://s233.photobucket.com/user/Tem...02066.mp4.html
http://s233.photobucket.com/user/Tem...02067.mp4.html
http://s233.photobucket.com/user/Tem...02070.mp4.html
addition of hte wideband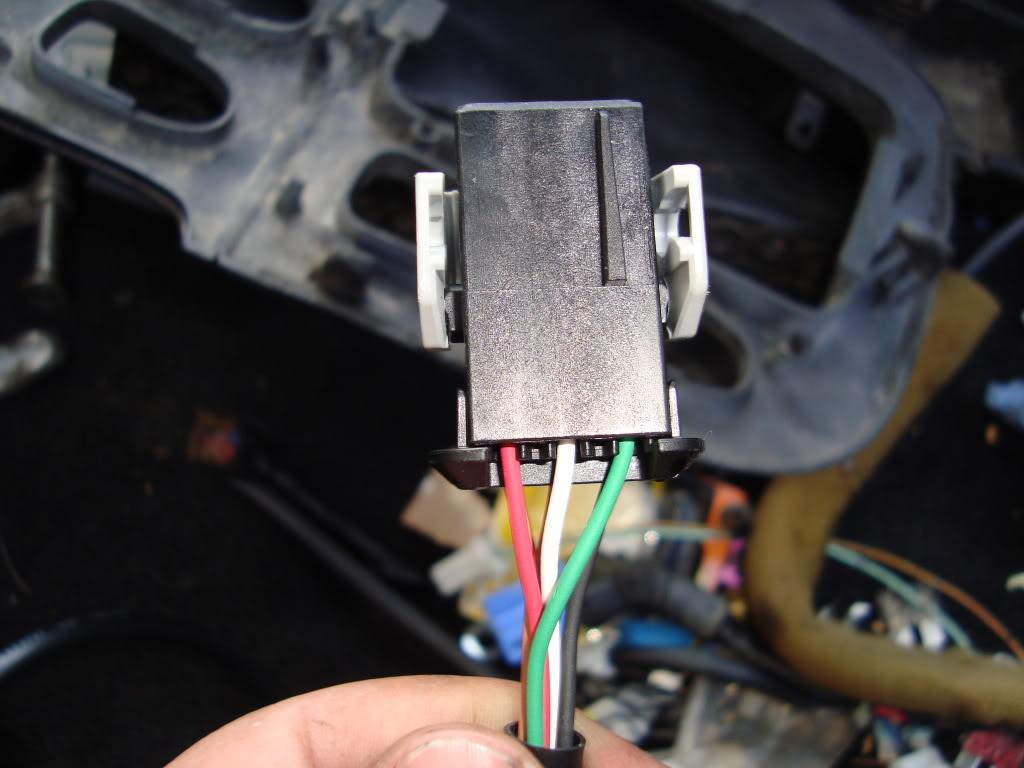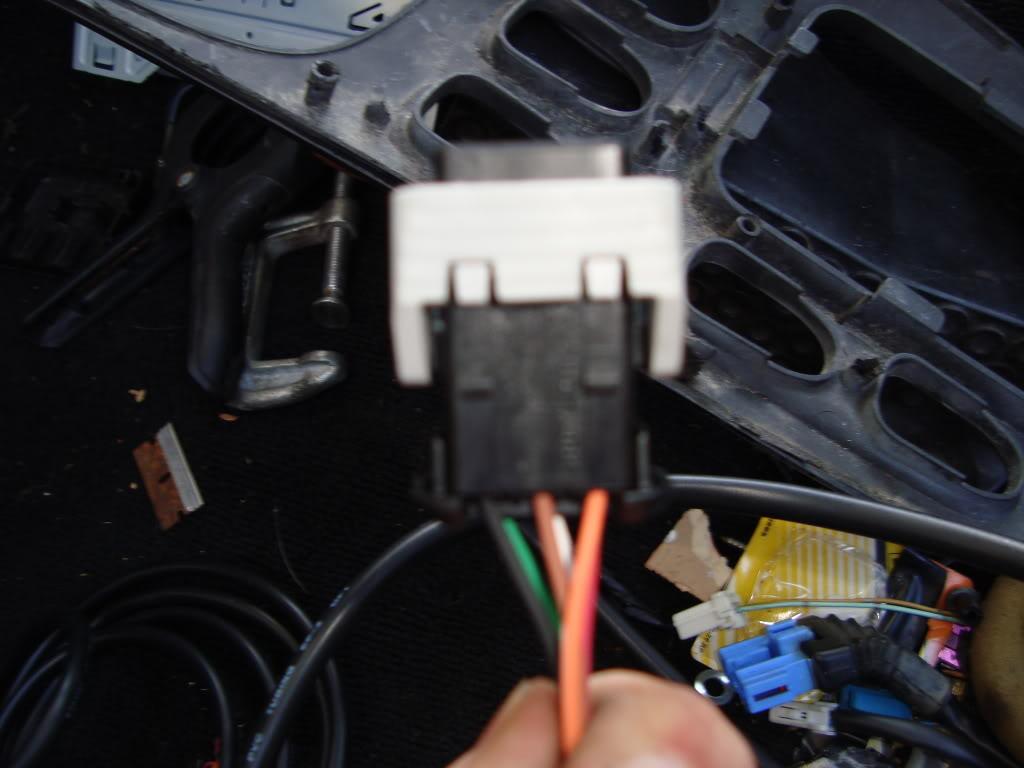 and adding the meth injection kit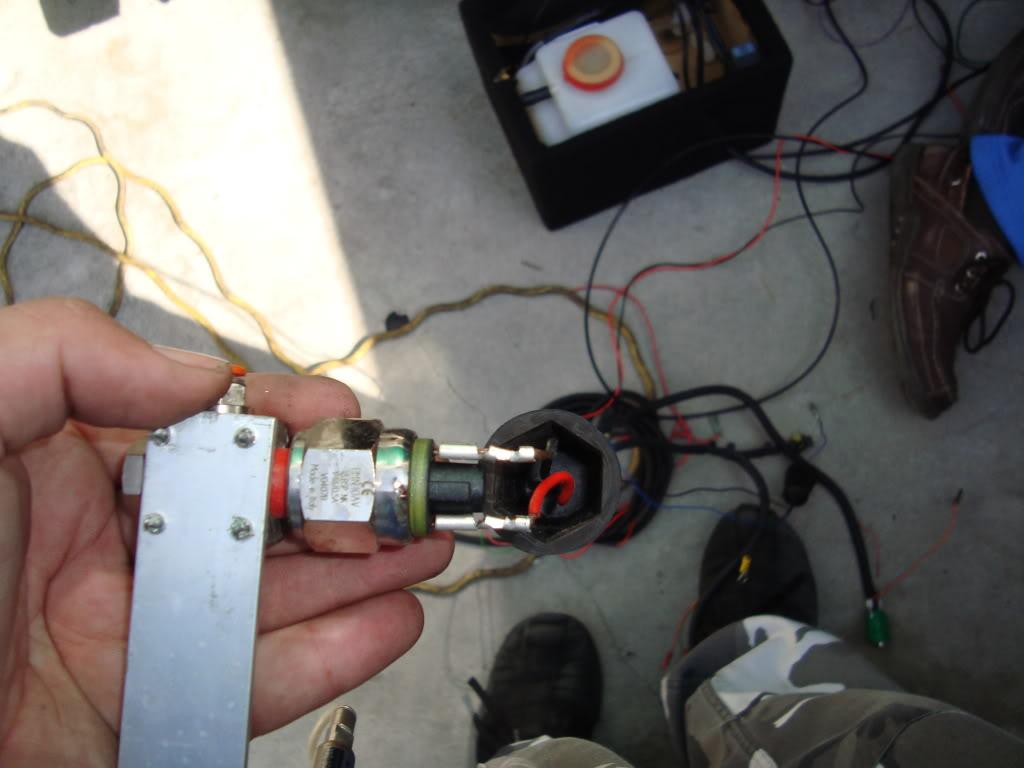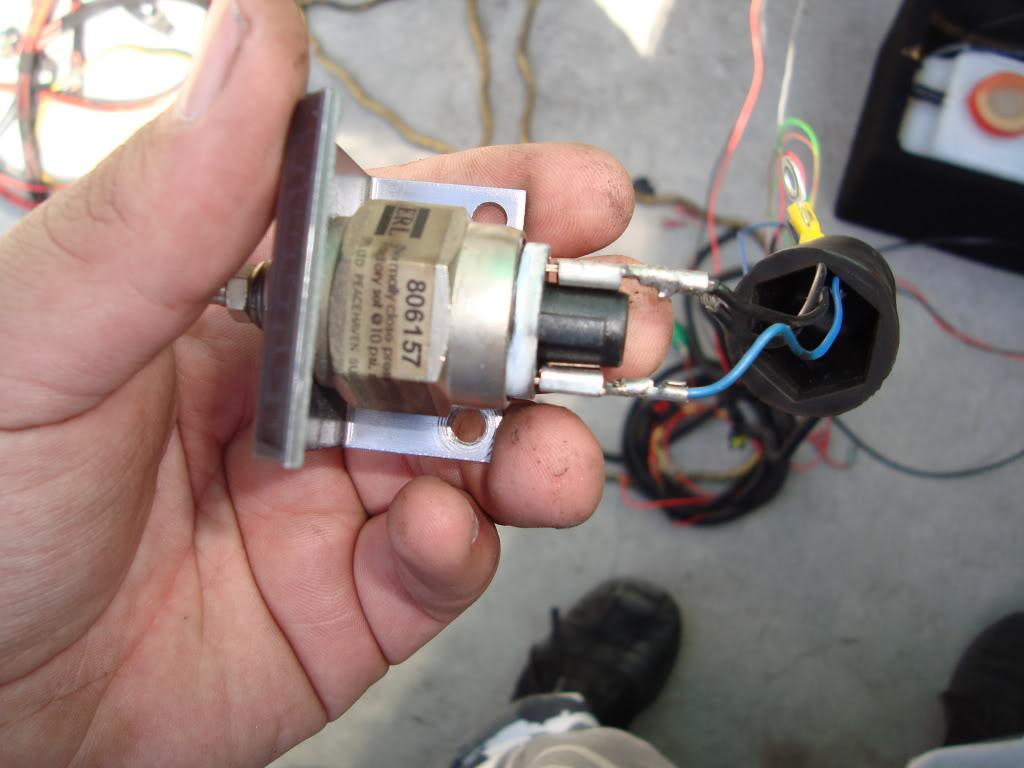 Installing the apexi intakes .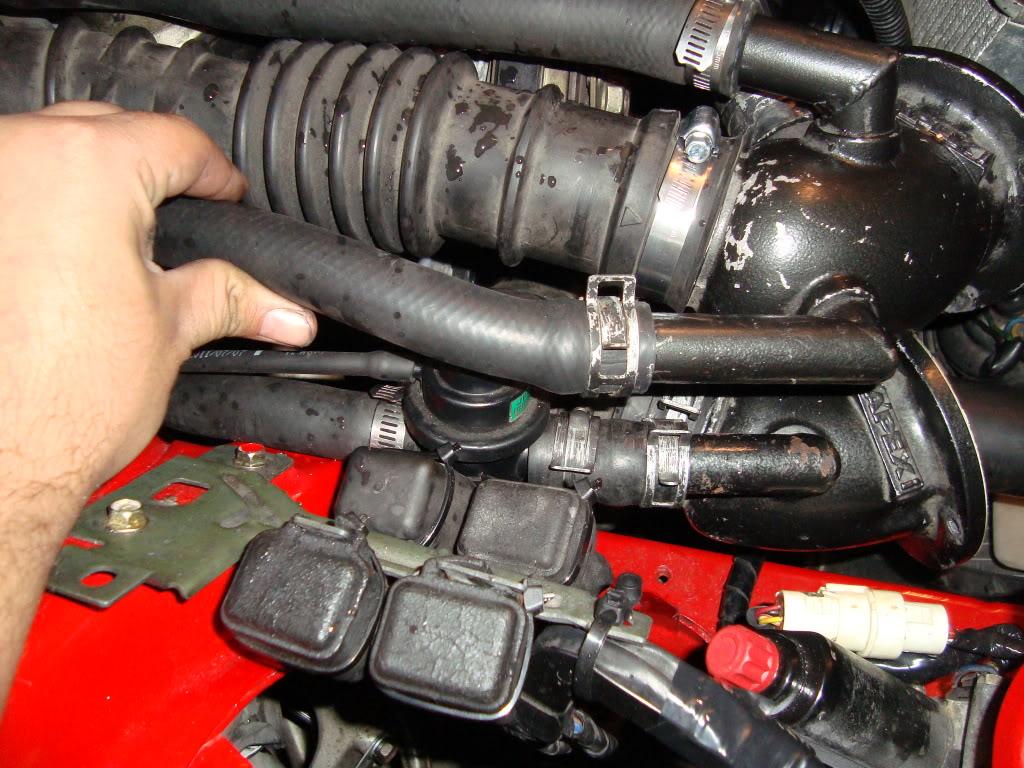 First start up MOV02114.mp4 Video by Tem120 | Photobucket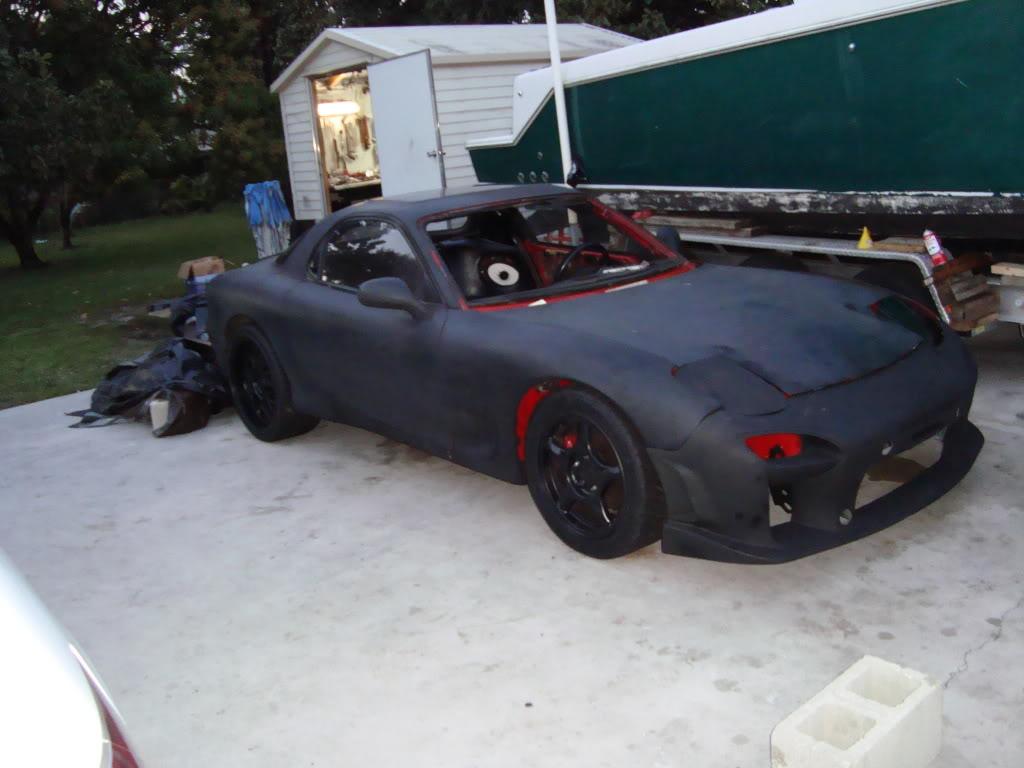 progress kind of
engine bay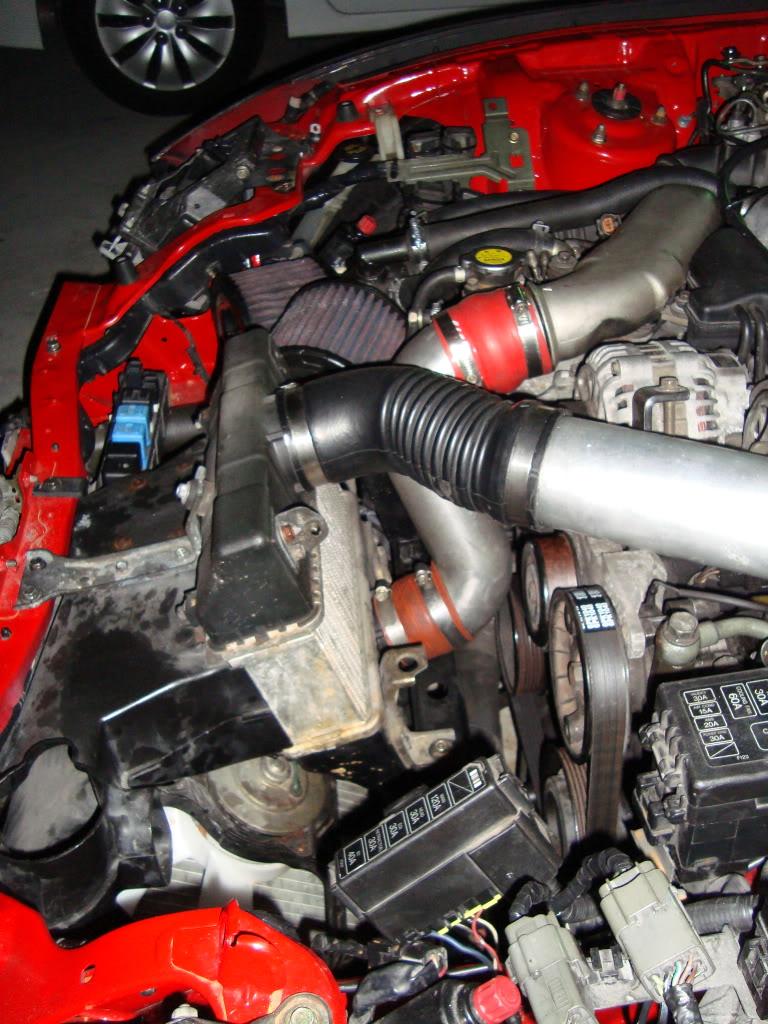 ok so a few things are missing I forget ot take pictures , Hah ..
If you noticed on some of the earlier videos / pictures
I had 1 JDM fender , and 1 USDM fender
So we measured and well cut the USDM fender to fit the JDM side marker lights .
Look at hte picture above . and Now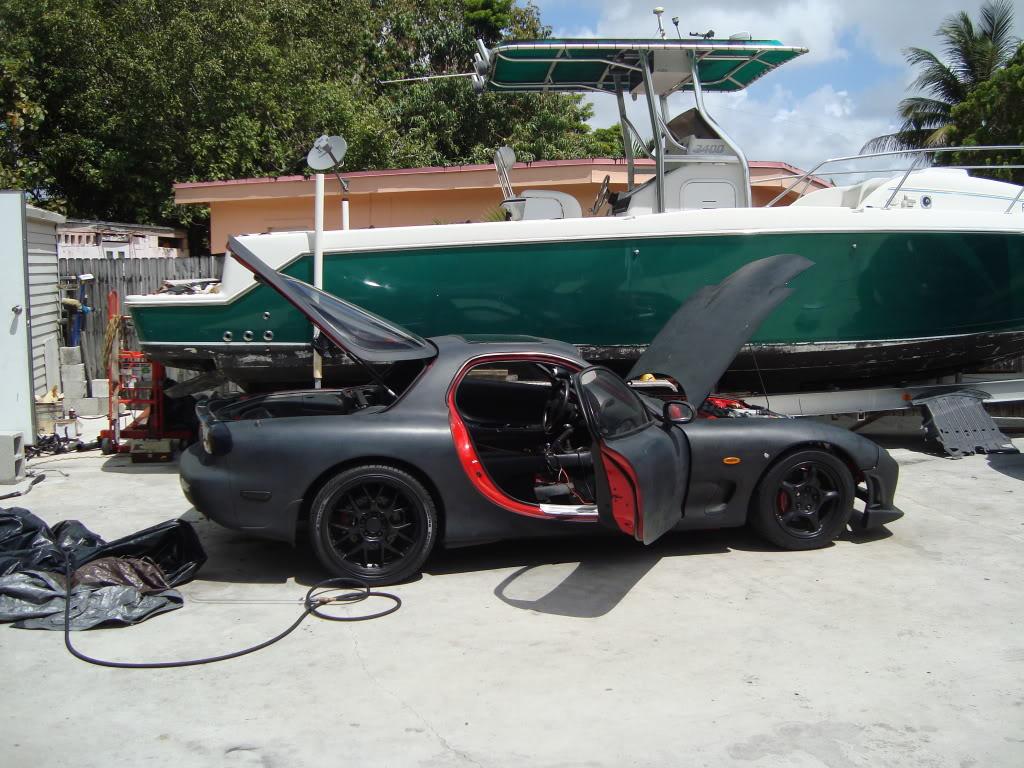 Also ... OH WINDSHIELD when did you get there..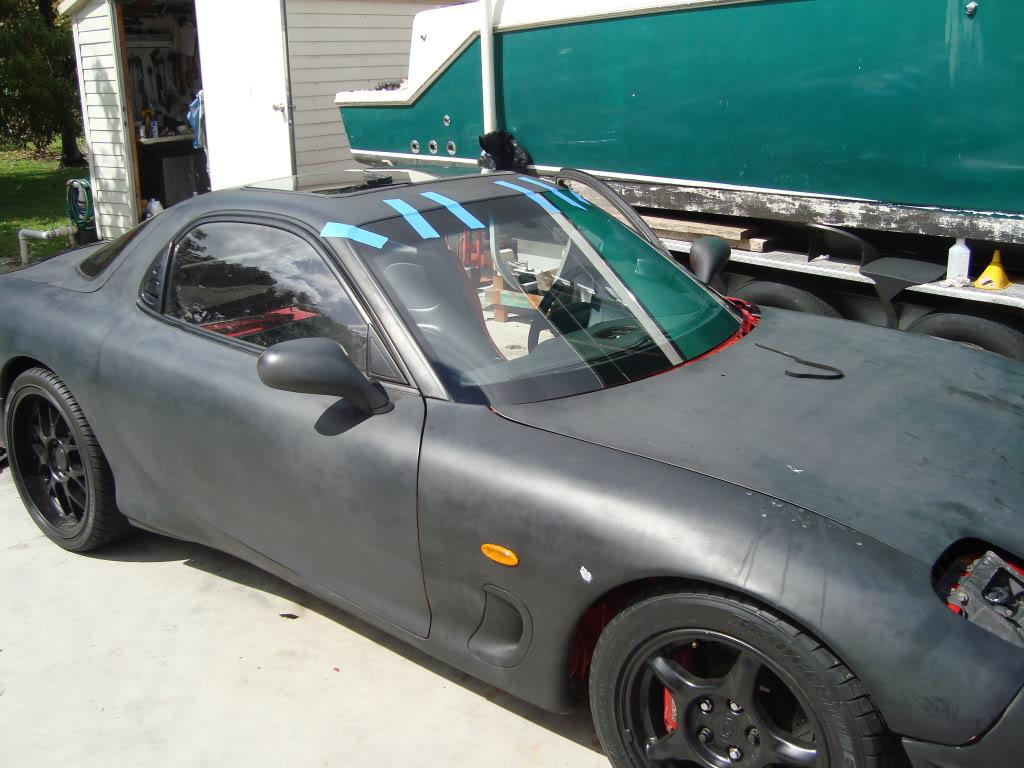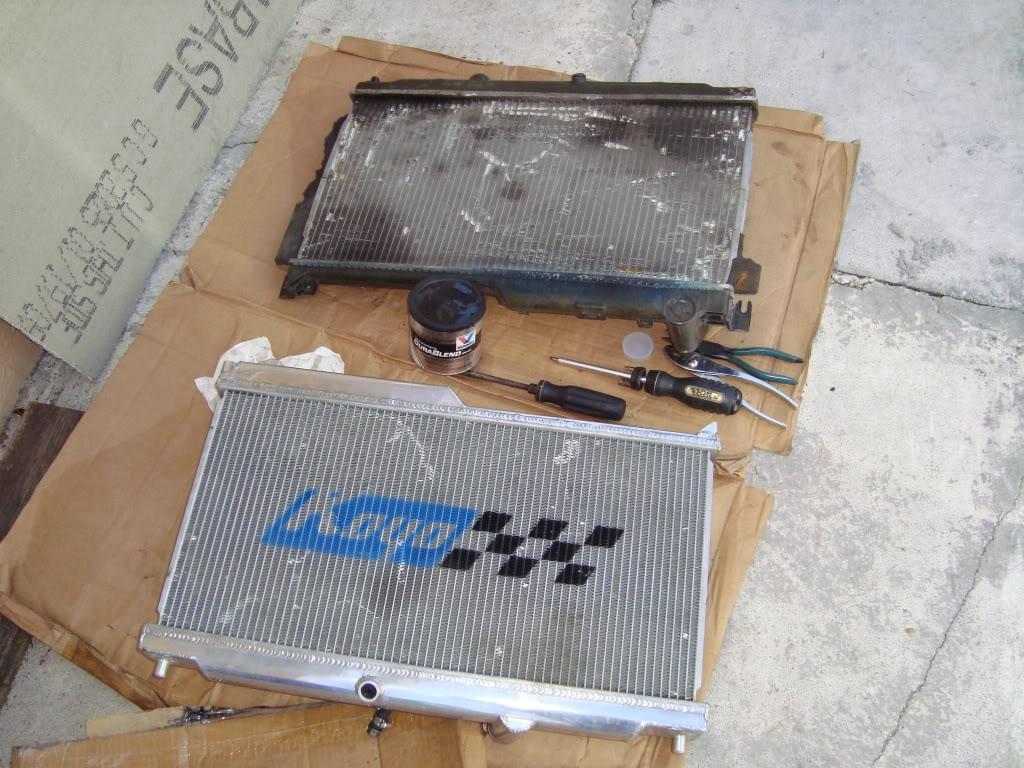 after breaking my radiator .. thankfully a friend of a friend of a friend had a used koyo , which he sold me
subtle things... 1 doing a foamectomy on my seat and washing the seat covers .
and 2 painting the front wiper cover thing .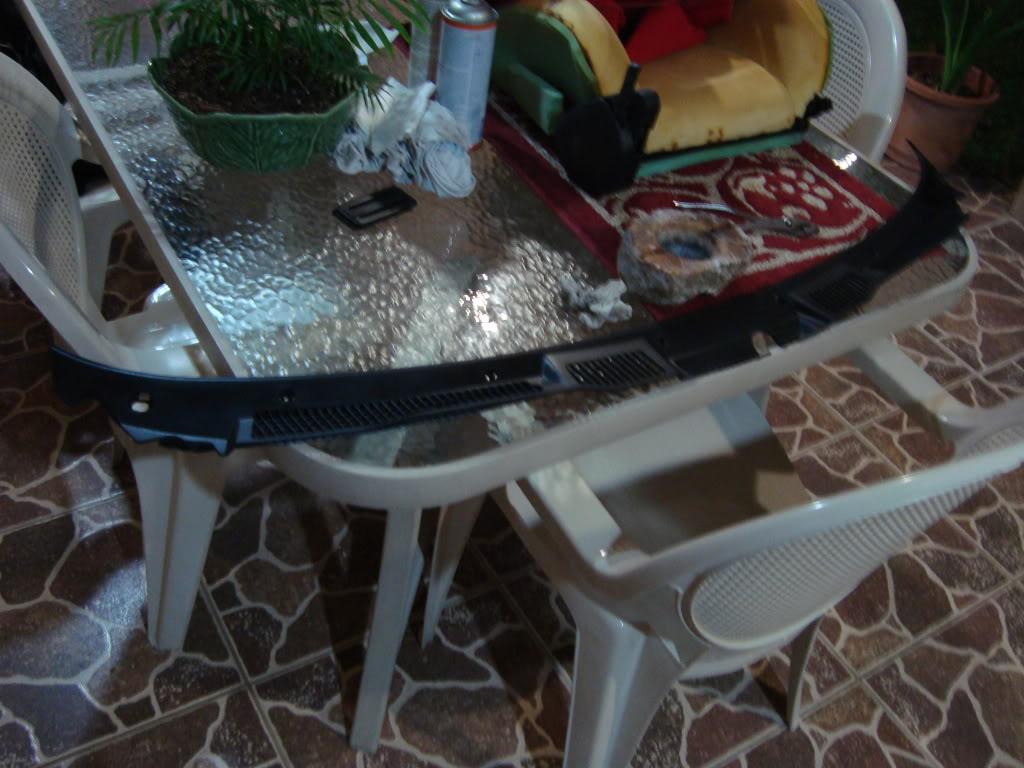 some interrior pictures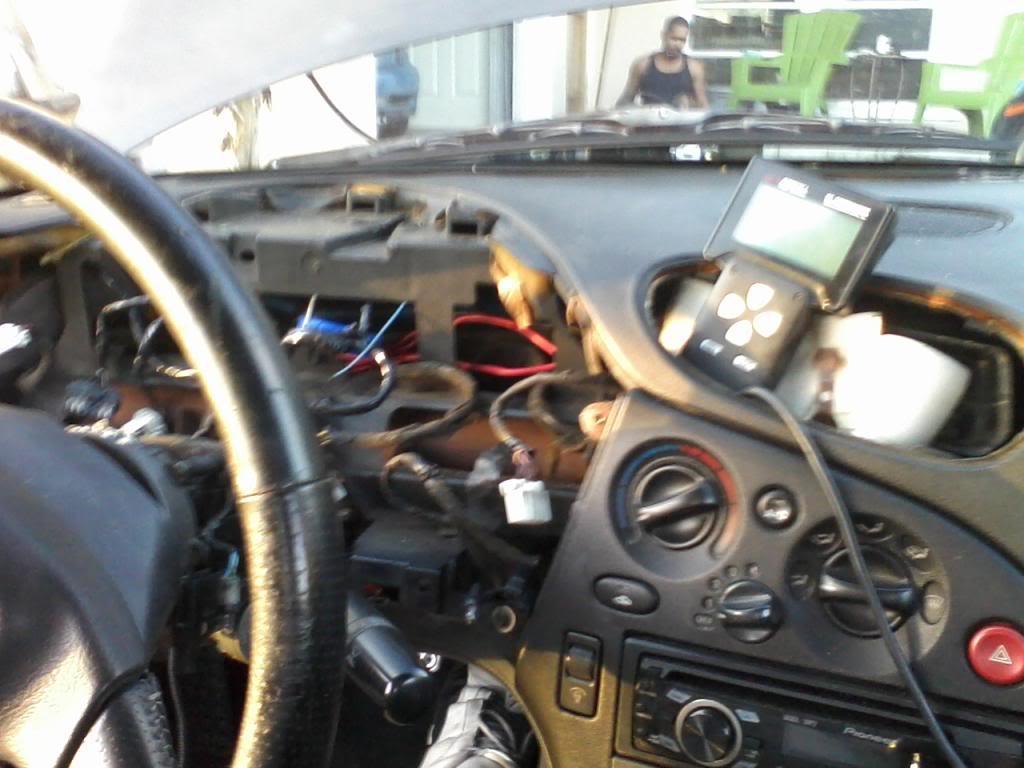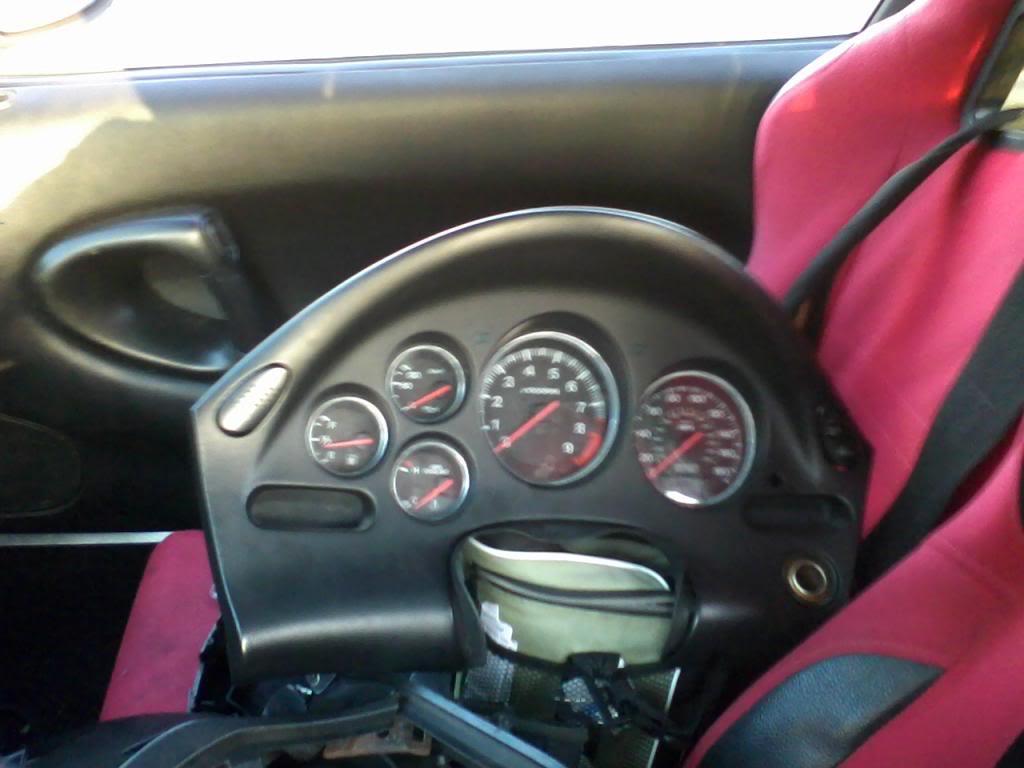 from the start I had a friend who works at a muffler shop . and he had wanted to do my exhaust since I started the car . I figured hey . what the hell if I dont like it I can always change it later.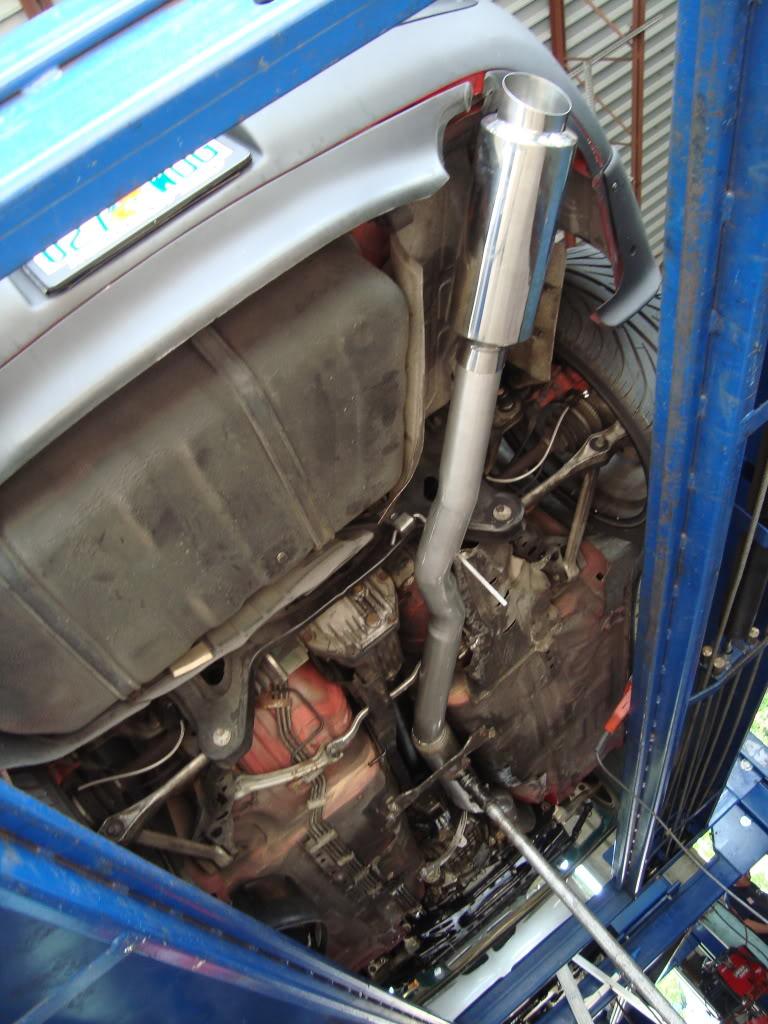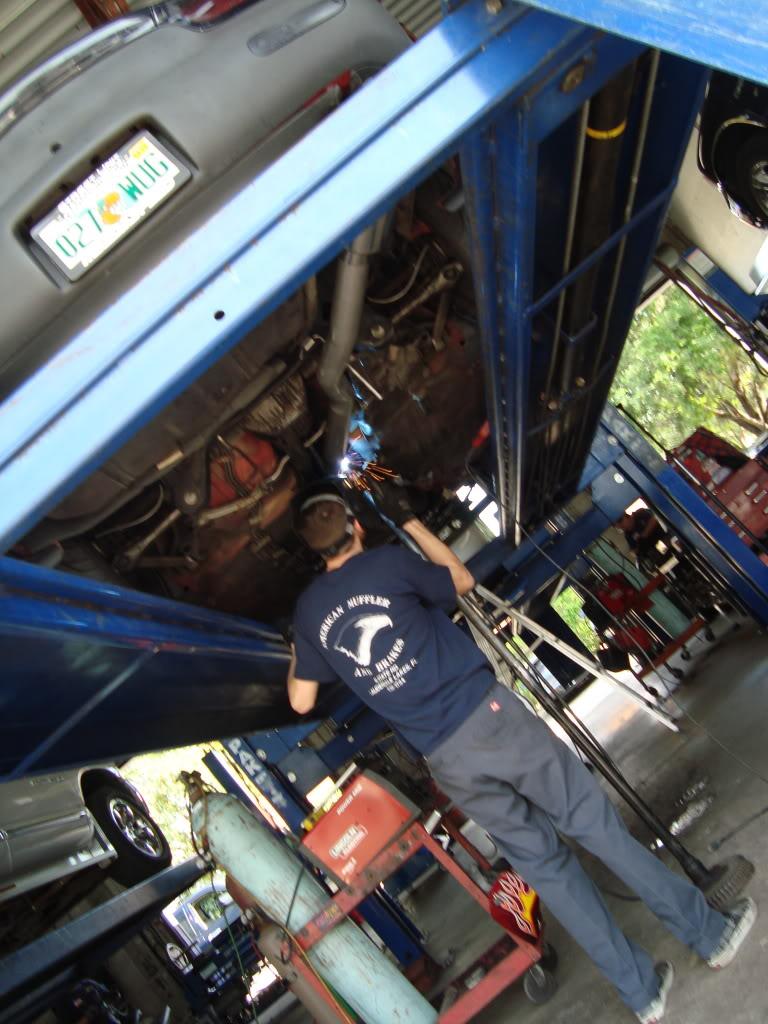 But honestly It came out great.. sounds great I have no regrets doing a custom exhaust .
ok well maybe they didnt have a big selection of 3 inch mufflers ...
But the car sounds so damn good I'm afraid to touch anything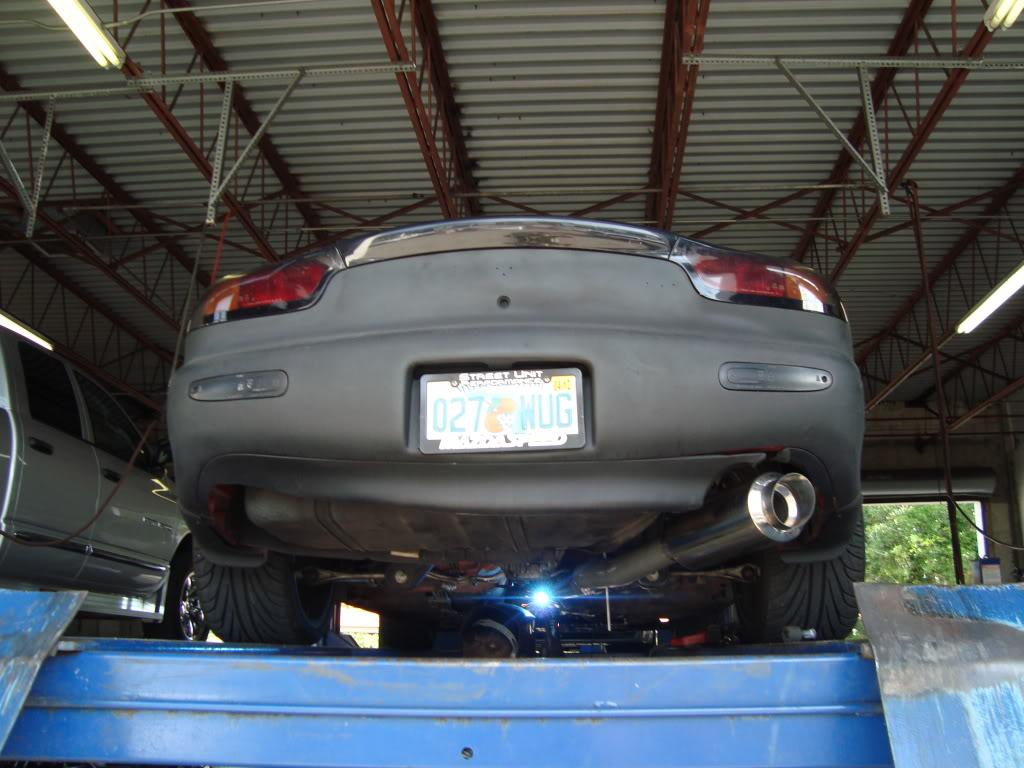 Thanks alot to nick @ American mufflers in Hollywood Florida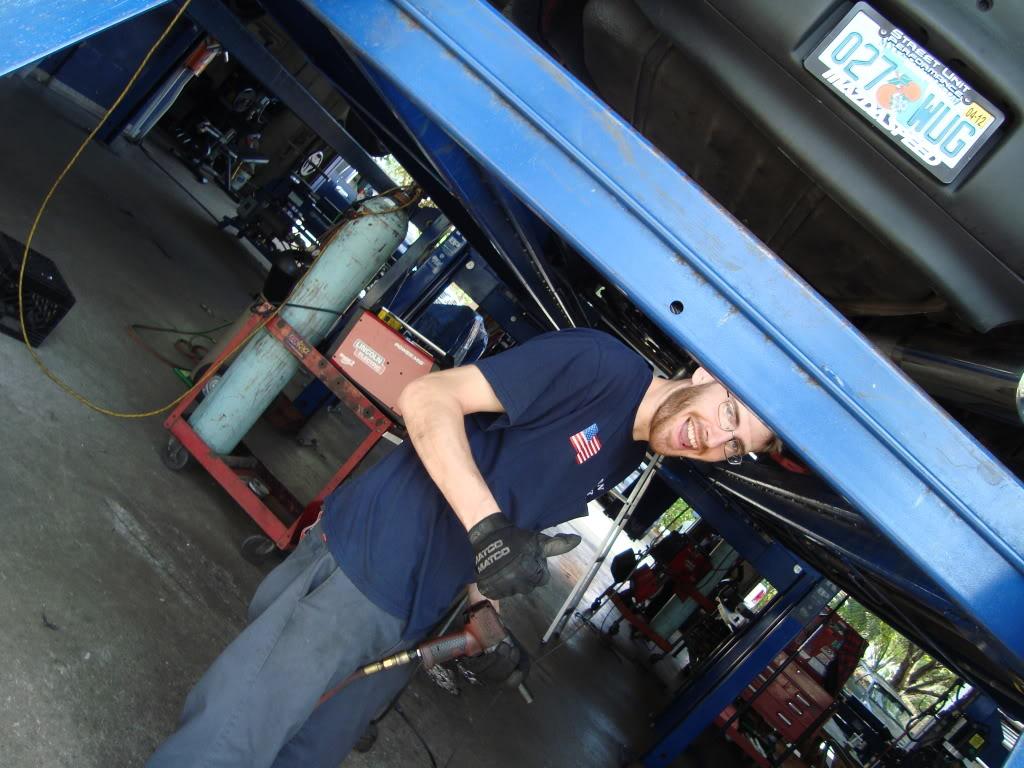 The big day.. So this is the day I'd been waiting for .. the day The car goes in to get its inspection for hte road.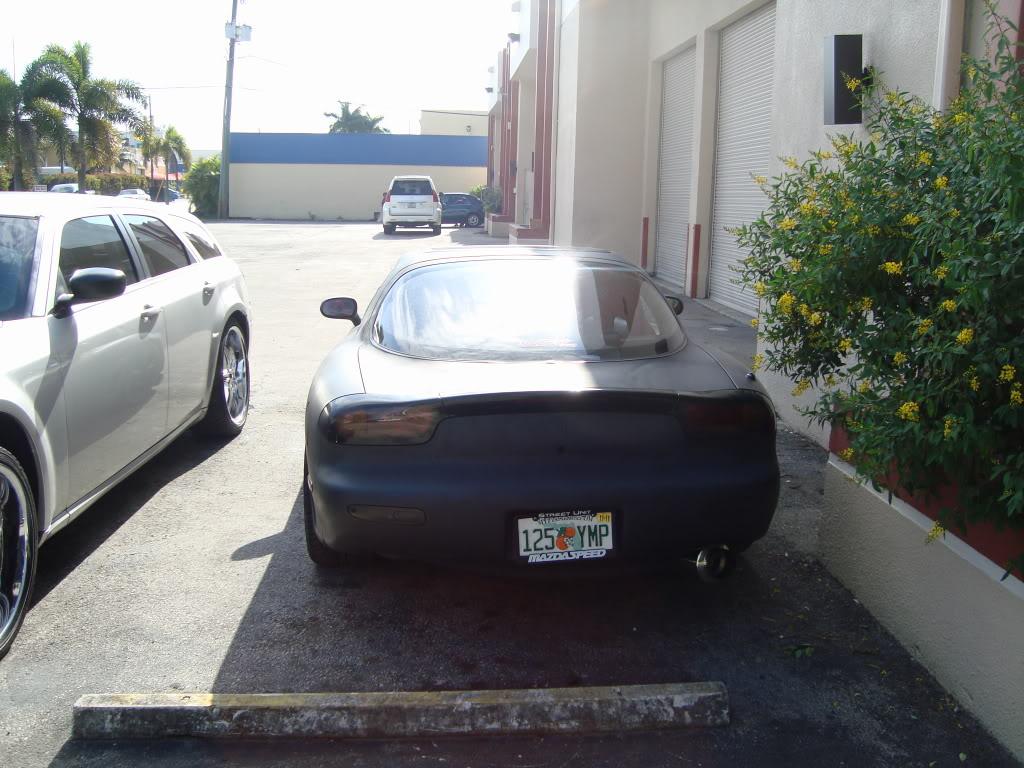 As the car was pretty crispy it was totaled , and now it was its day to be legal again .
or not...
I actually failed the inspection ...... BECAUSE..... I needed more chicken wire .....
so off to homedepot I went and chicken wire .. I found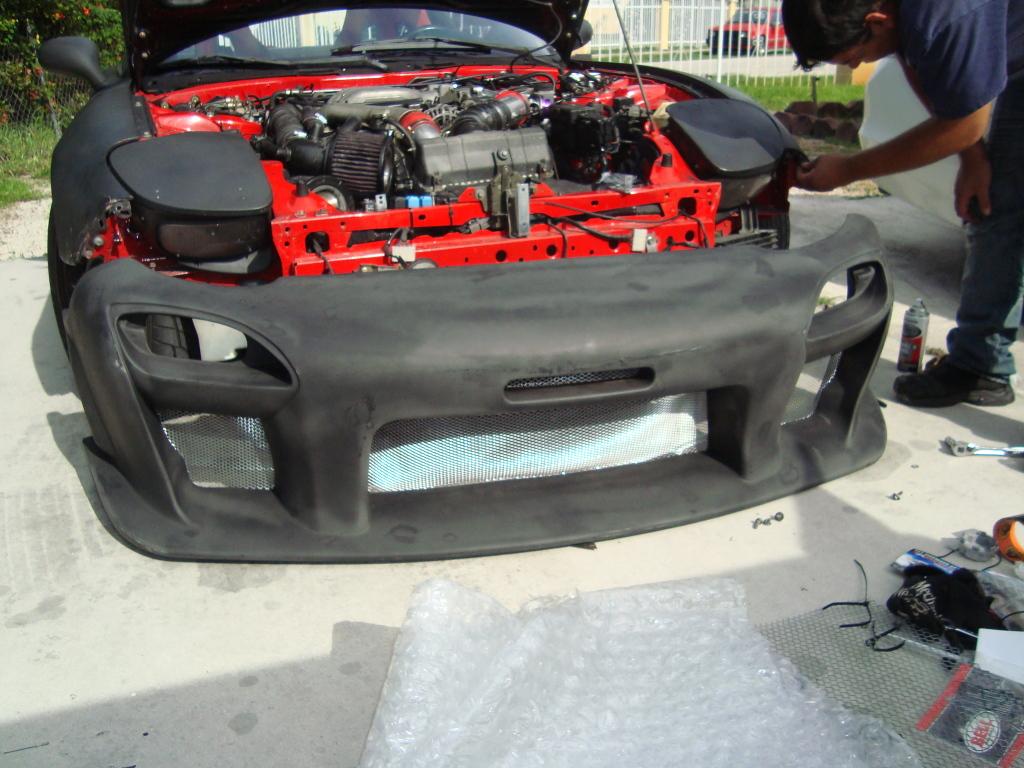 and I passed ..
P.S. different bumpers I know Haha
I had to replace the old fiberglass one after it cracked.. alot .
FINALLY NEW WHEEELLSS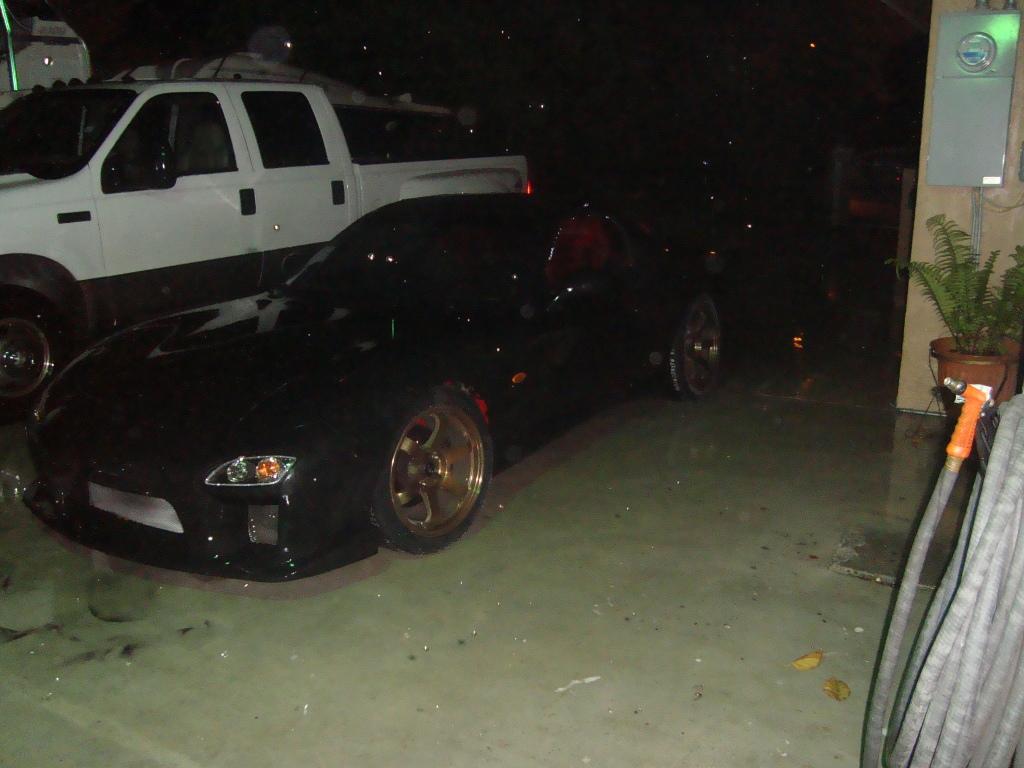 Yeah it was getting tiring having mis matched wheels .. and I was Dailying it by then so . i got some cheapo rotas , with Hankook R-S3 's in 17x9 , 17x9.5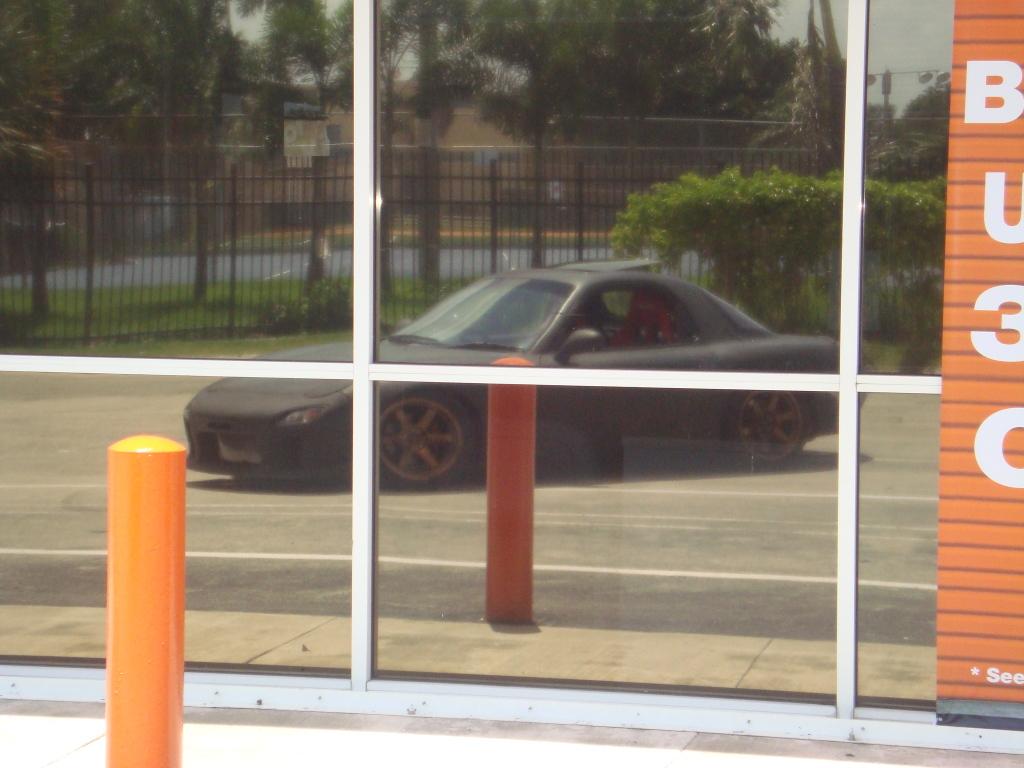 on the way to get an alignment the next day.. I couldnt resist.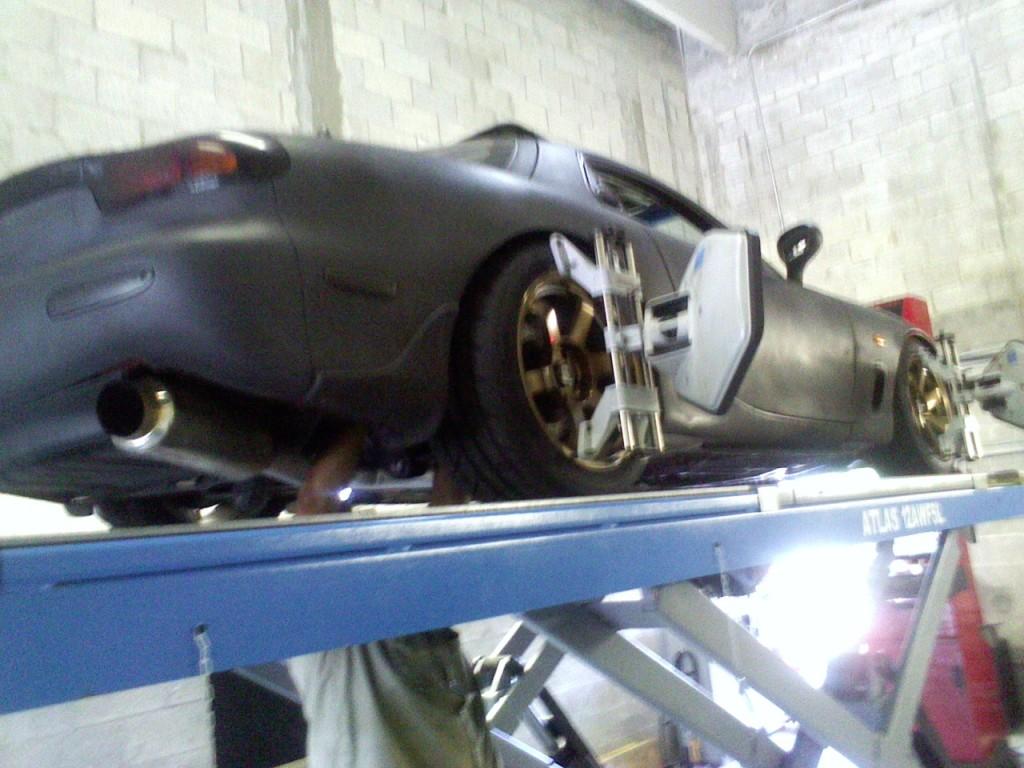 there's frank getting aligned last alignment was poop ..
Apex Alignment in Homestead . Best alignments in south FL .
after This I had some fuel issues .. My walbro 255 wasnt doing enough ..
I redid my fuel pump wiring .. it worked fine for one day , But the next it was doing hte same thing ...
I replaced the injectors with 1300's ...
replaced my fuel pump with a sard 290
Nothing added an aftermarket fuel pressure regulator .. Nothing .. still going lean
One day out of random curiosity I decide to check the wiring again maybe something's loose . and I found a melted fuse... it was a 20 amp fuse . the fuse holder had melted as well but it hadn't blown .. so Idecided to redo the whole wiring . this time I put hte fuse in a more accesible location.. 20 amp fuse I took the car for a quick drive .. and stranded...
replaced it with a 25 amp .. as thats all I had at the time.. drove it back home. and I start to think .. MAYBE Just maybe the fuse... Was what was restricting the power. . so I went to radio shack bought a 40 amp fuse and holder put it in .. and
IT WORKED . after months of not being able to go into boost because the car would go lean .. the car finally had fuel.. and lots .... of it ... Retuned the car all over.
And frank was alive again ...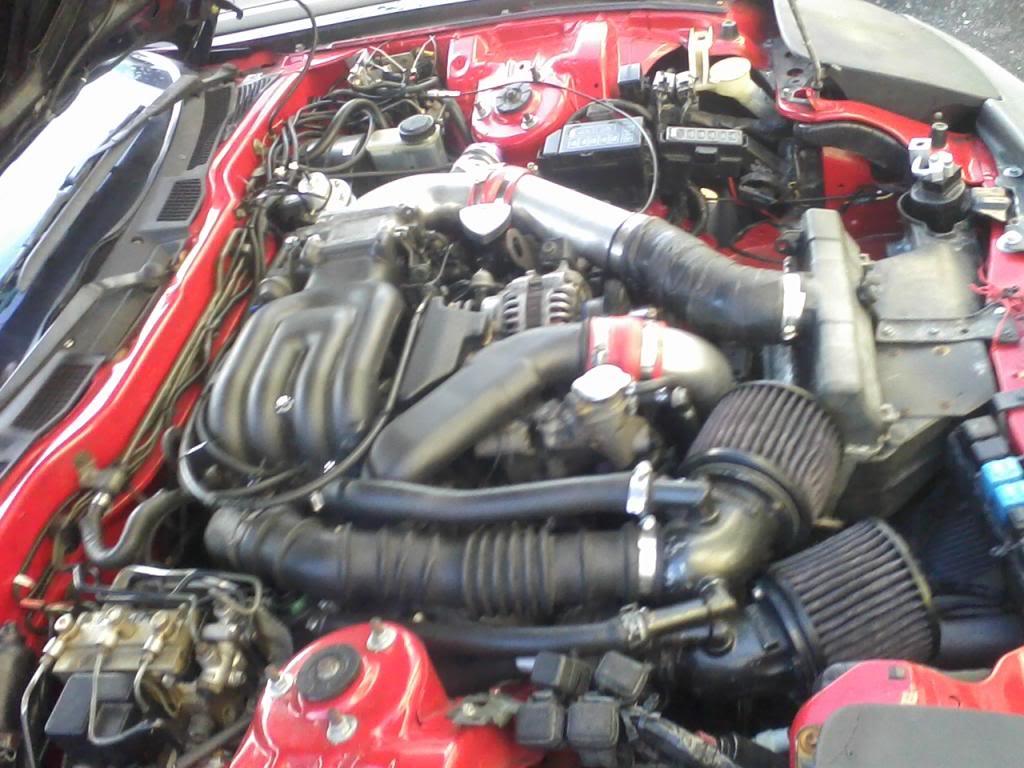 frank's enginebay sure it wasnt exactly pretty but it worked...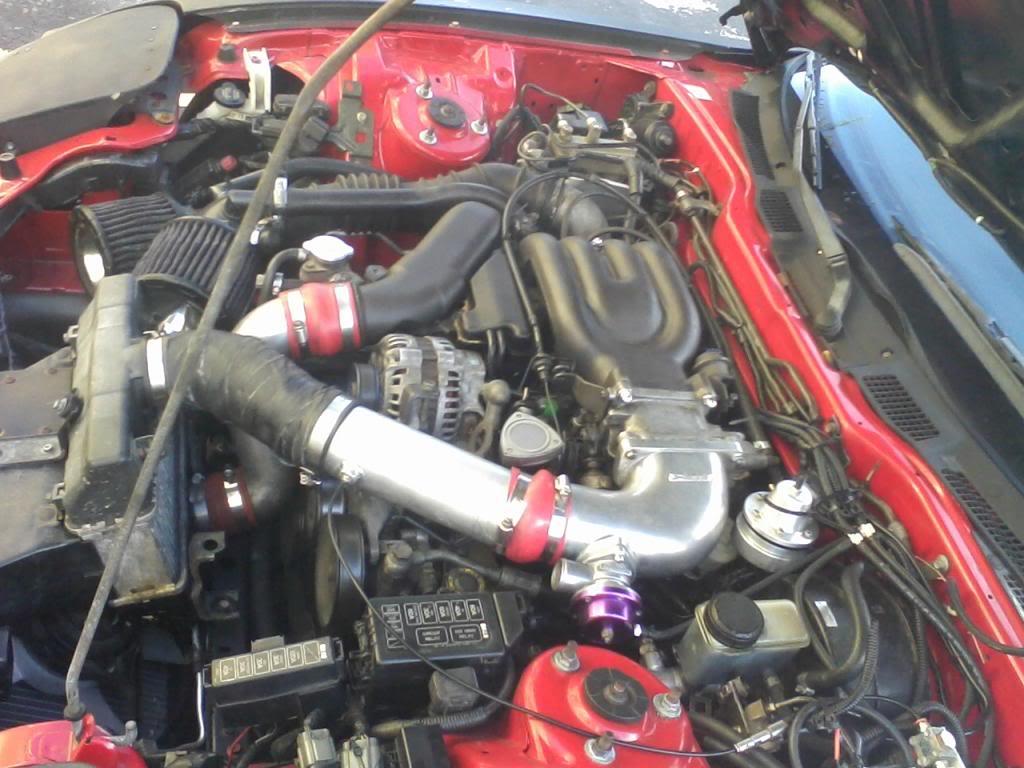 Frank Finally Gets a SHINY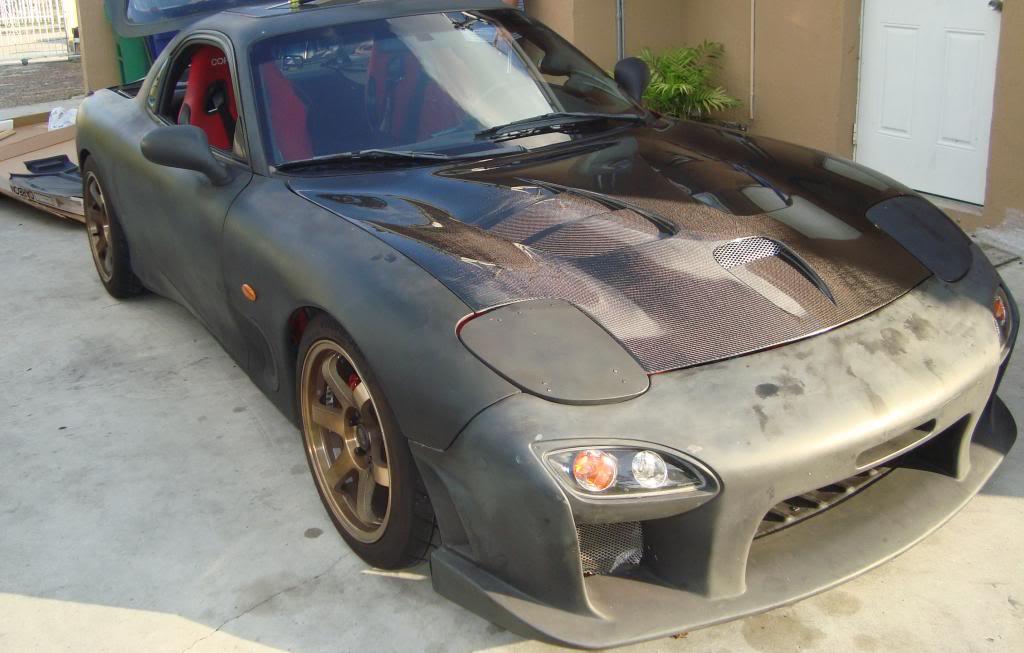 Abusing of frank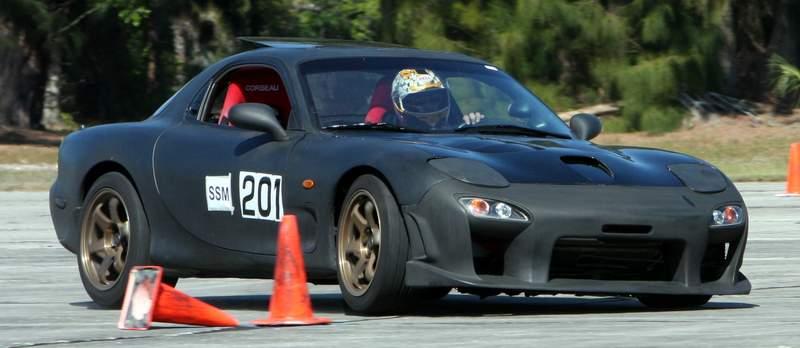 New Steering wheel quick release Hub .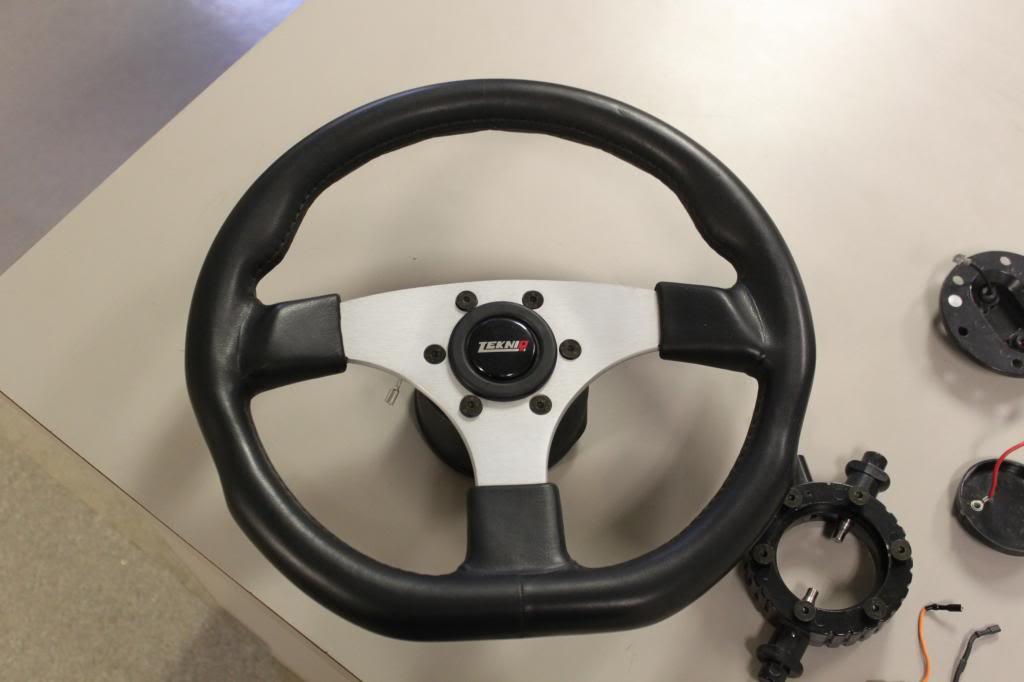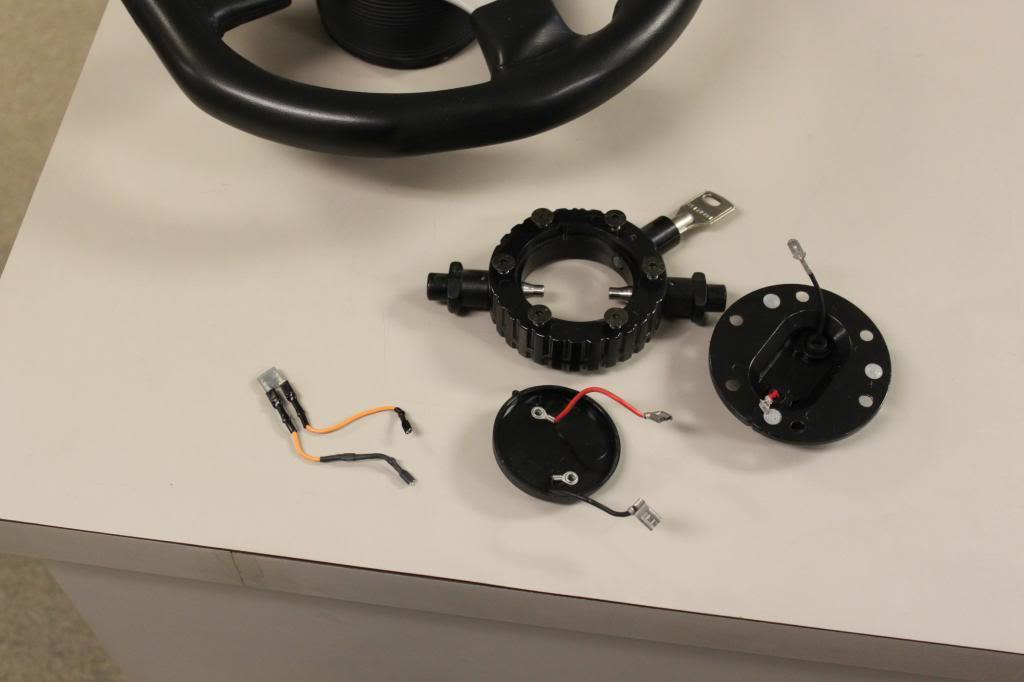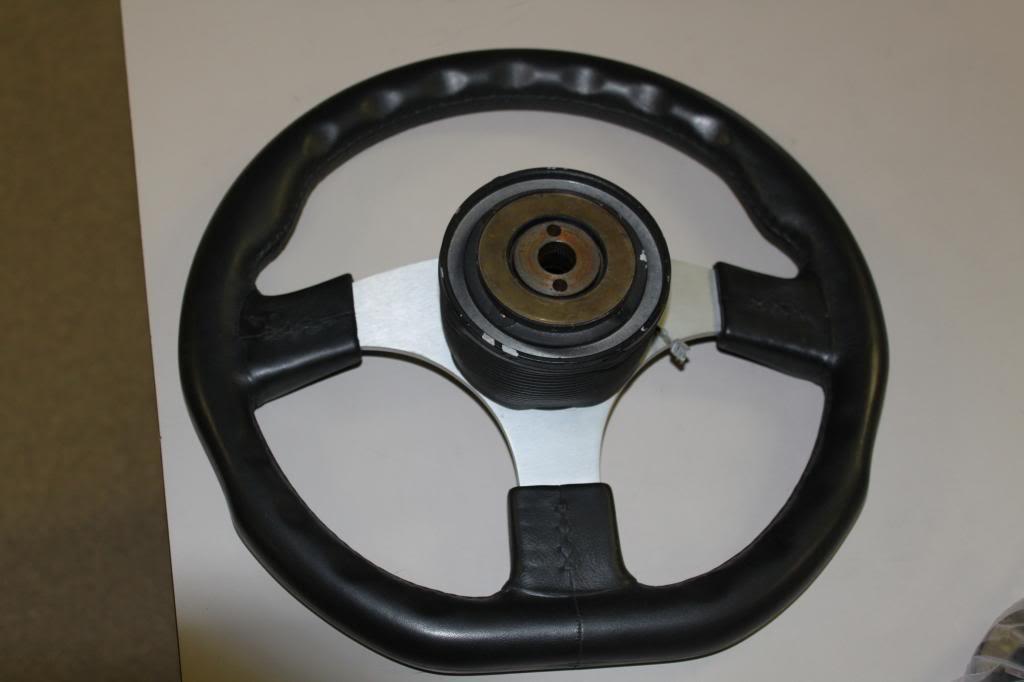 so after a few auto-x events I realized my intake temps get pretty high after a couple runs . and being stopped in grid .
and a friend of mine gave me an intercooler as a present .. so.. I decided to go for it ...
the reason I got hte vented hood was for extra cooling for the FMIC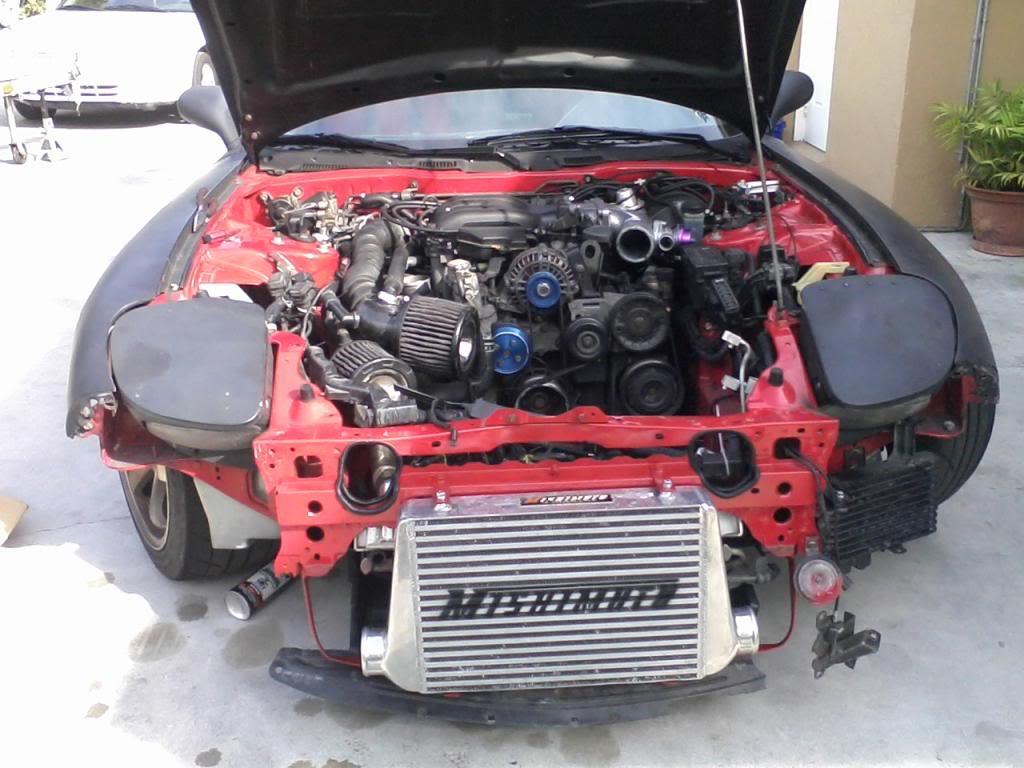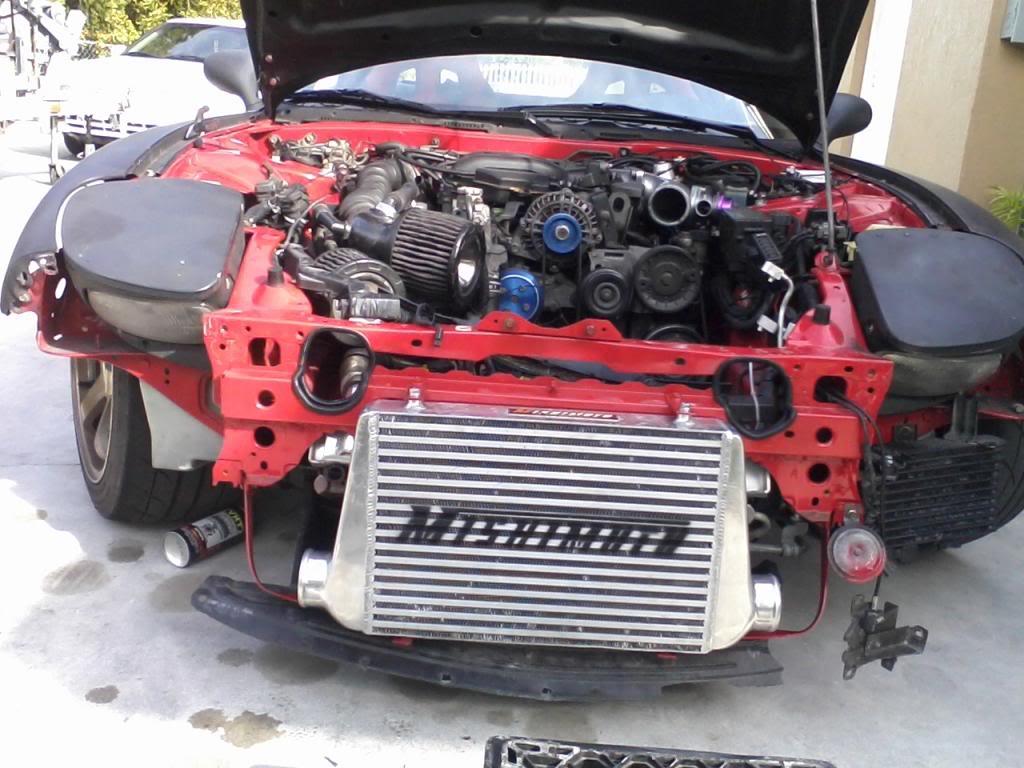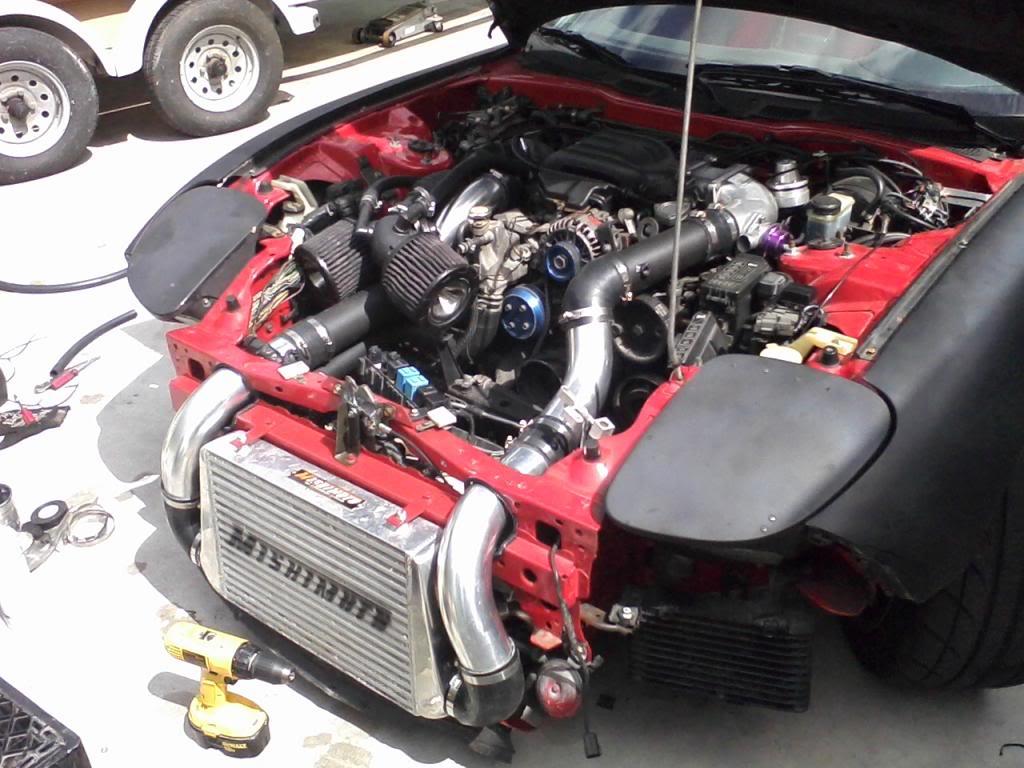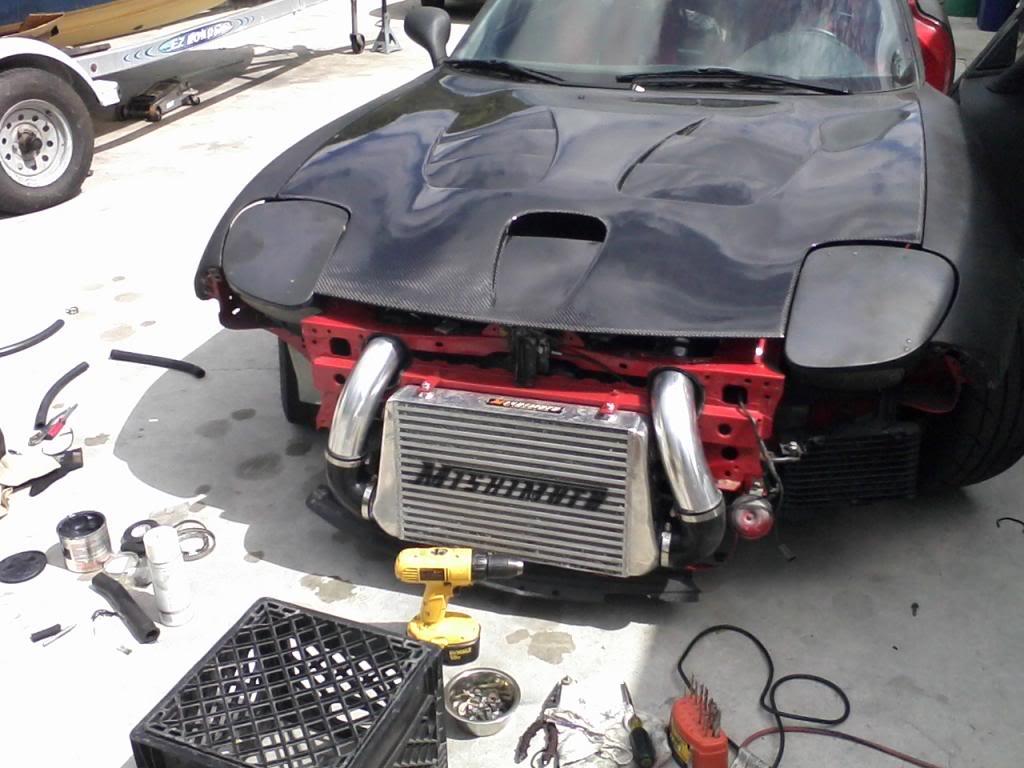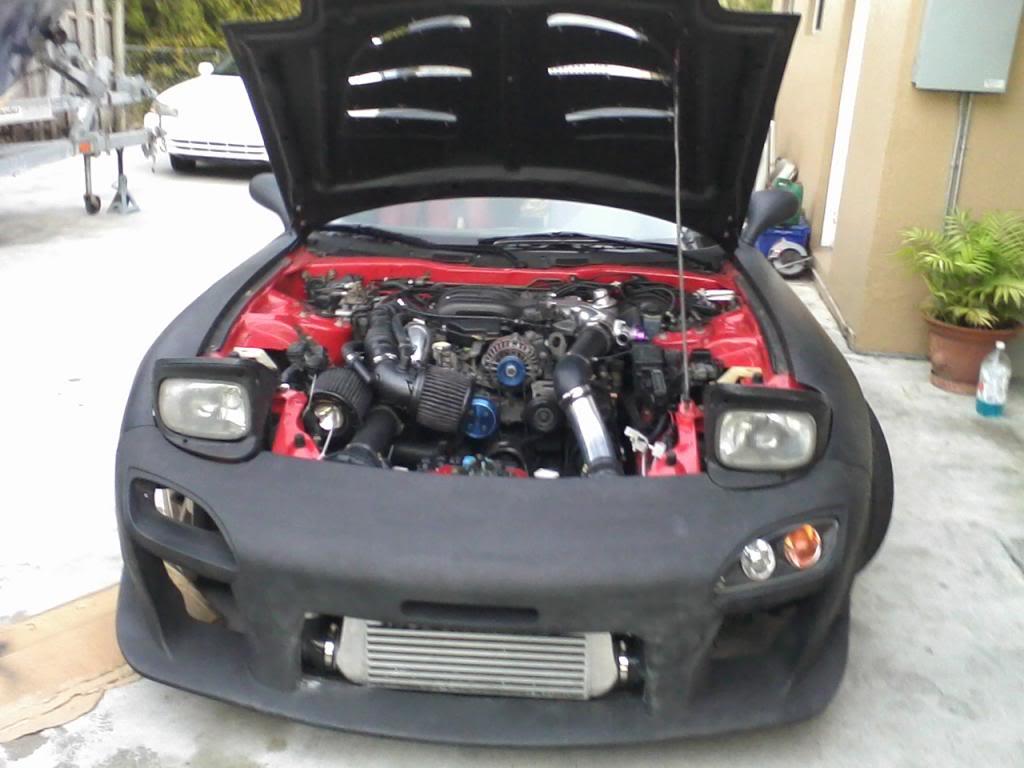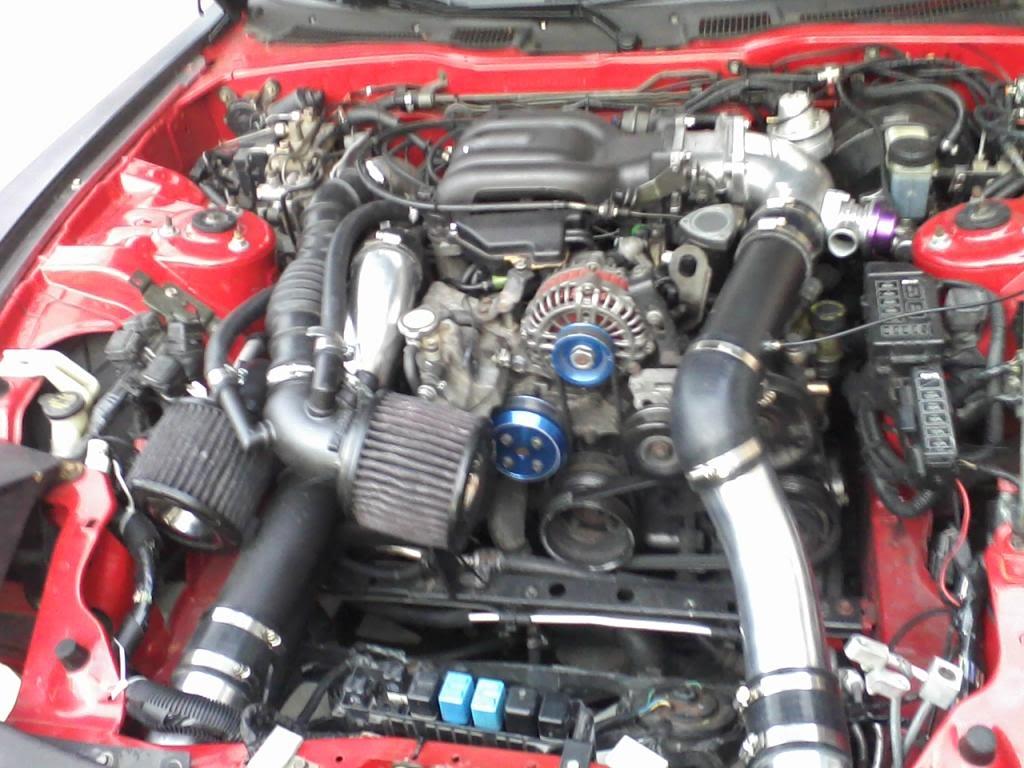 A couple of pictures of the last auto-x event putting hte new interfooler to good use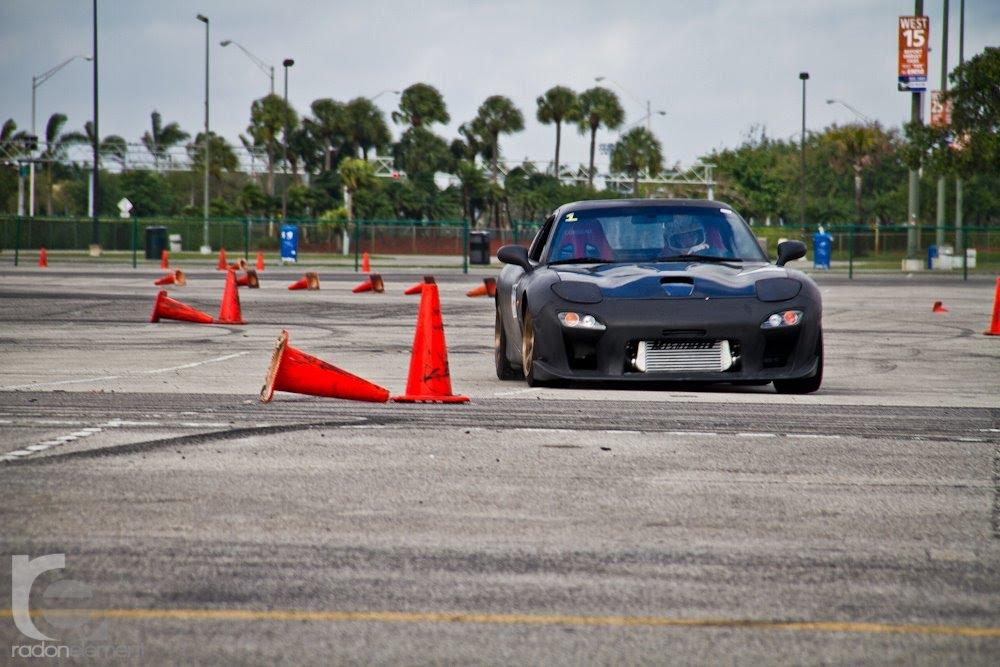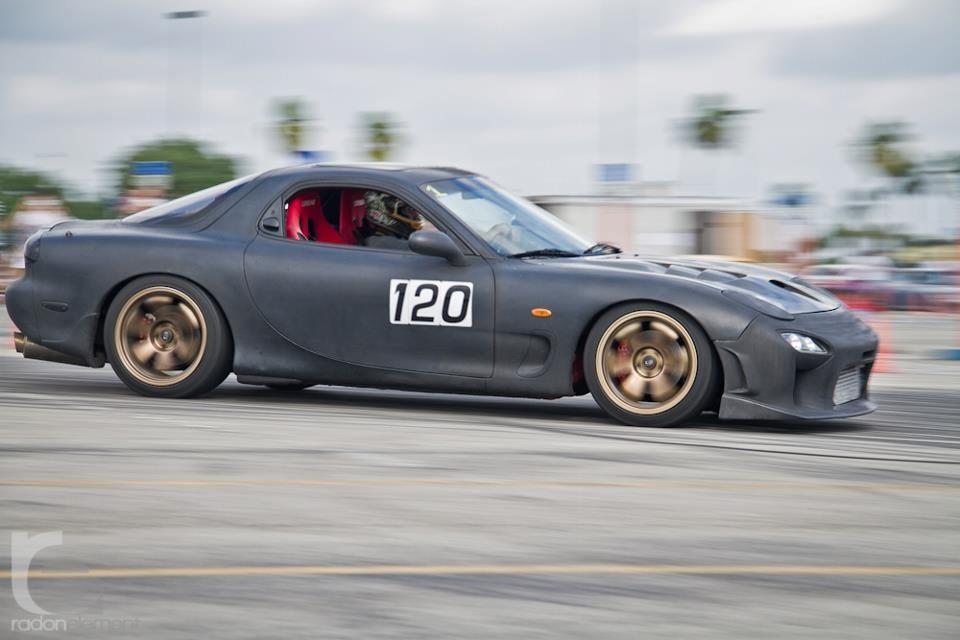 4-15-2013
So , I missed alot of stuff it wasnt as easy as I made it seem haha
but I wanted to make a thankyou post to everyonewho helped out
My Dad for helping me build the thing , and lending me his tools & driveway for the 6months
it took to get it on the road
Chibi for encouraging me to make the plunge onto something better and convincing me it would be worth the wait.
Kiba for all the advice and encouragement and making me jealous of your car ofcourse ...
Deliverence on the forums for all the help i've gotten from you in the past , present , and probably the future to hah . Thanks man
Fritz Flynn Half my car came from your parts garage man , great customer service and one of the most knowledgable people on these forums plus one hell of a driver that well lets face it . every time I see your videos man It makes me want to get the car on track.
ARGHX if it wasnt for this guy car would not be running i'd of probably blown it up by now no doubt Thanks for all the tunning advice .
And ofcourse everyone else who lent a hand , specially in no small part to this forum When I jumped into this project I had no knowledge of the rotary well no real knowledge of it.
nor the FD thanks alot to this forum The car is running
Ofcourse ... This isn't the end I still got a lot to do to it.
But just decided I needed to say some thanks
So this weekend , getting hte car ready for the rotary Rally did some minor bodywork . ground down some bondo that was on a fender and re sprayed it..
Primer is awesome..
hah , and fixed my wipers and adding my wiper fluid system onto the car so I have some defence agaisnt the bugs on the 800 mile trip .
4-30-2013
Ok a little update ! I blew my motor on the way back from the roto rally .. Ironic it happened just cruising on the highway .. seems like a spun bearing as the motor still starts and has 17 inches of vacume . But its making a very nasty noise .
7-26-2013
A little update . I think I'll have some updates thsi weekend . But well motor is out of the car ,and taken apart . it wasnt pretty in there. I should have pictures later today .
looks like It will get rebuilt . started ordering parts from all over . I've got all of 97 cents to my name currently HAH!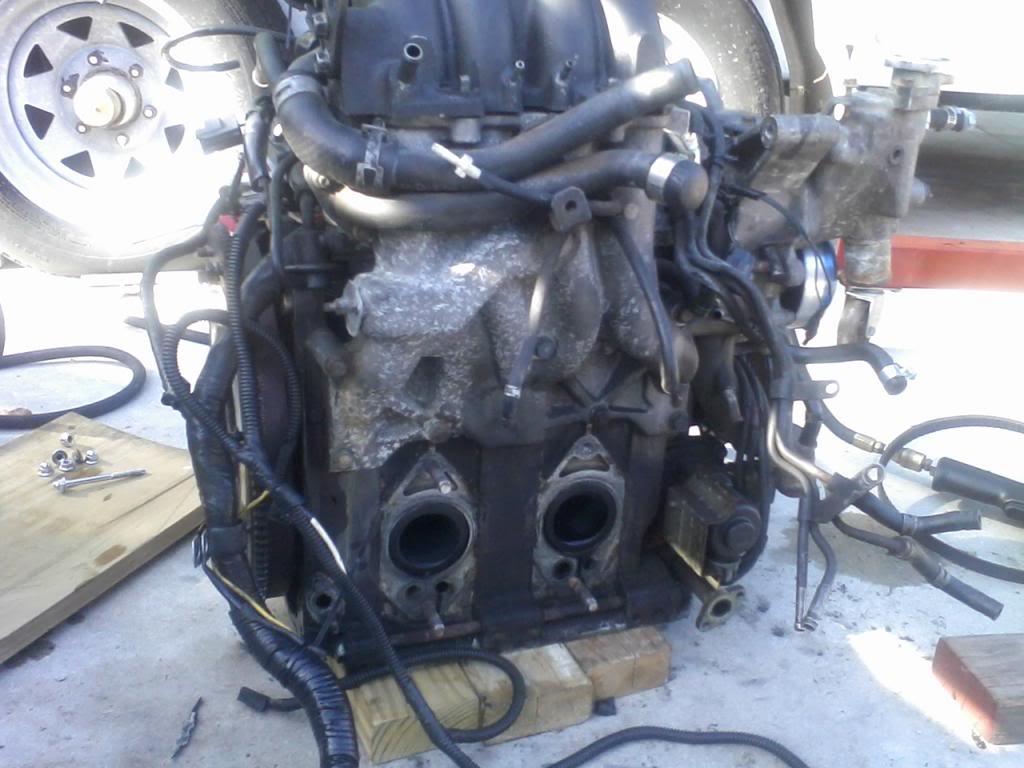 engine Pulled, started taking things apart .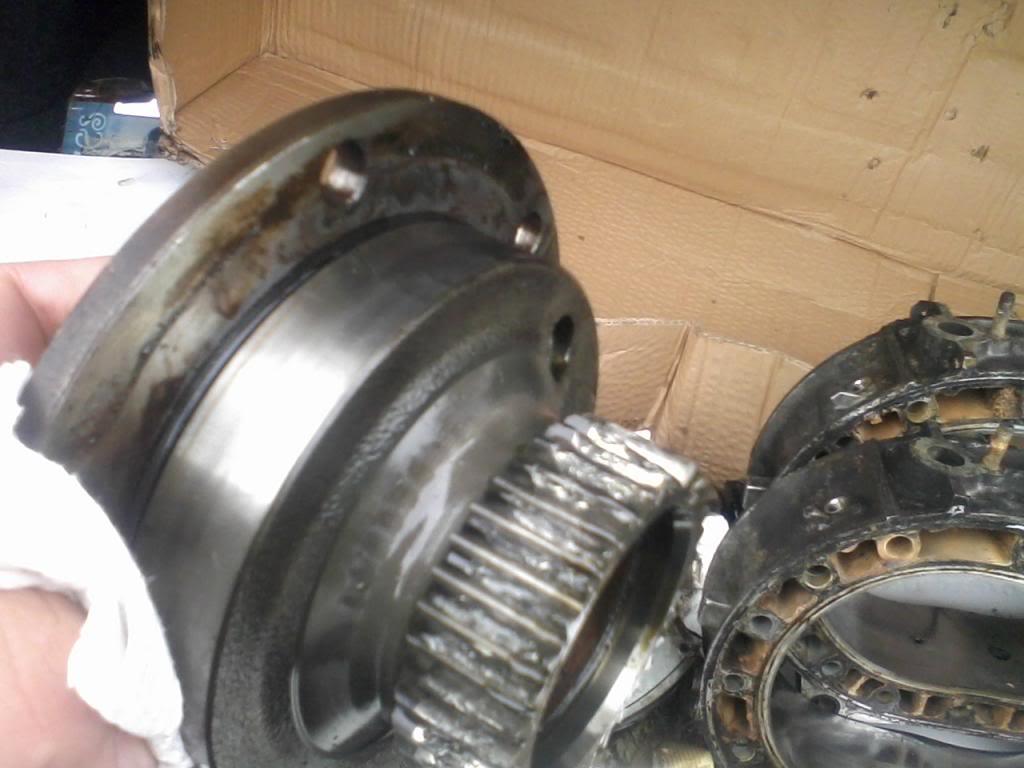 stationary gear. gone both look like this front and rear done .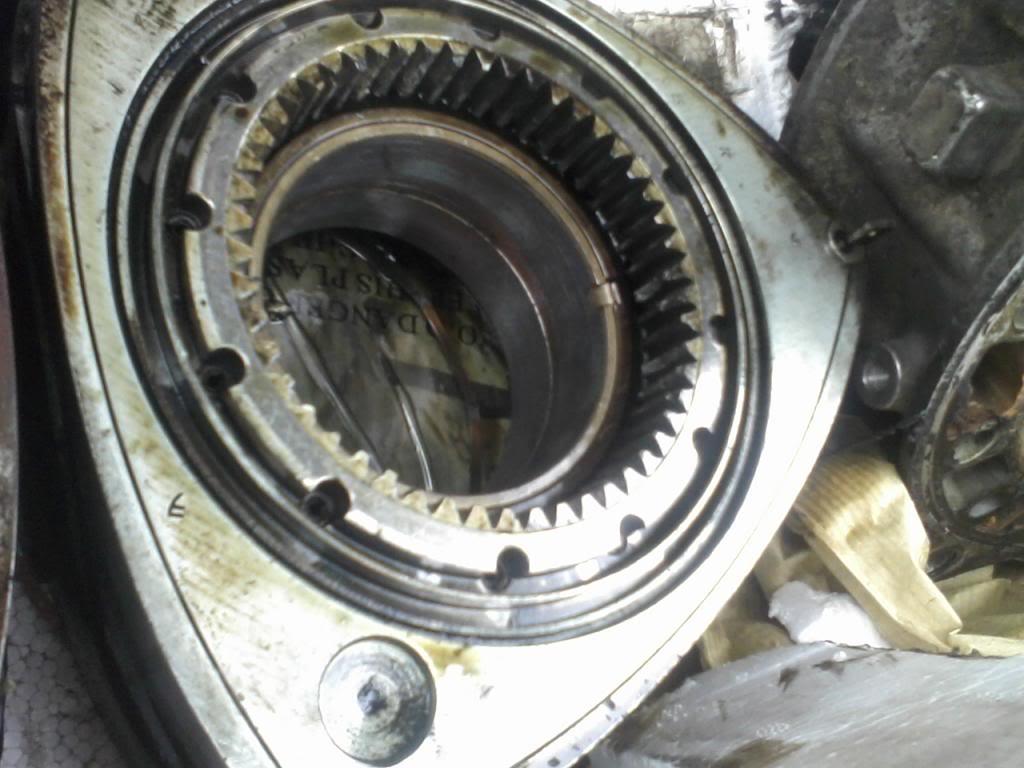 Rotor Gear Gone as well .. Both like this
and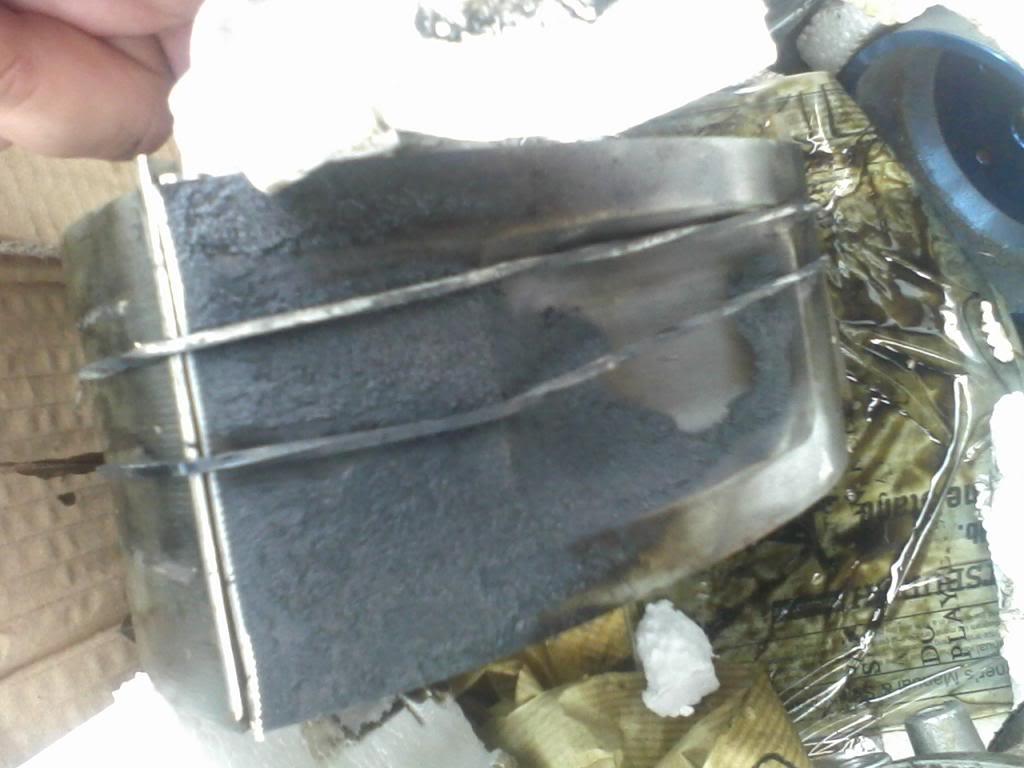 Quite a bit of carbon on the rotors as well I only had the engine for a year..
1 of the housings had some chatter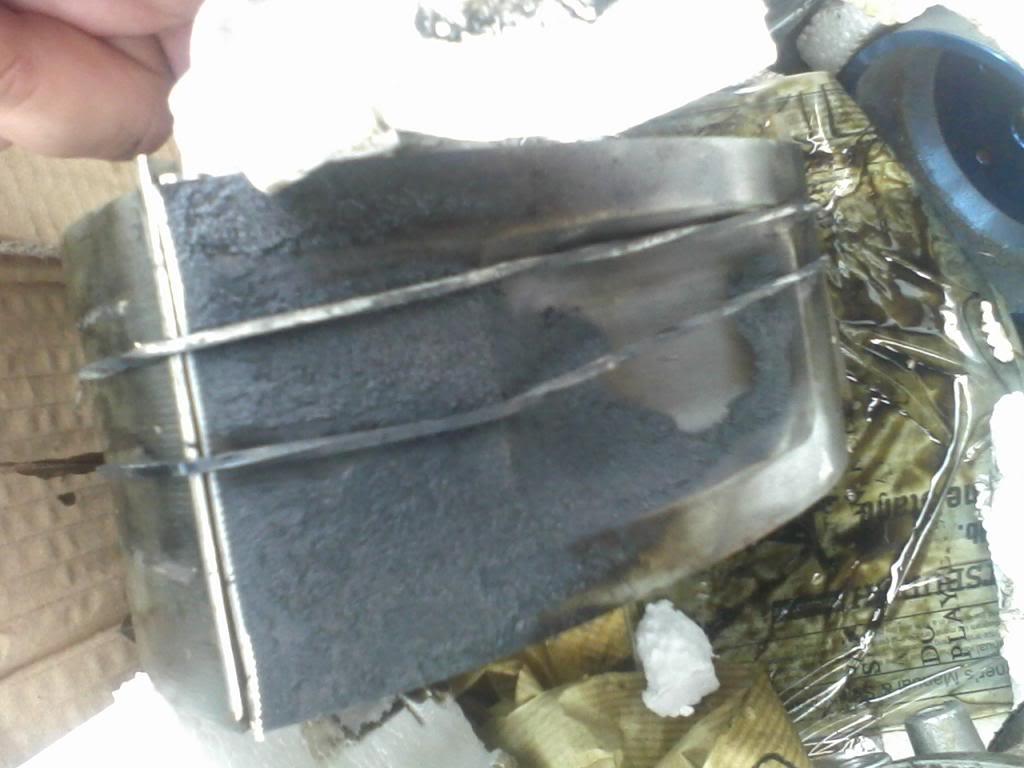 and a spark plug crack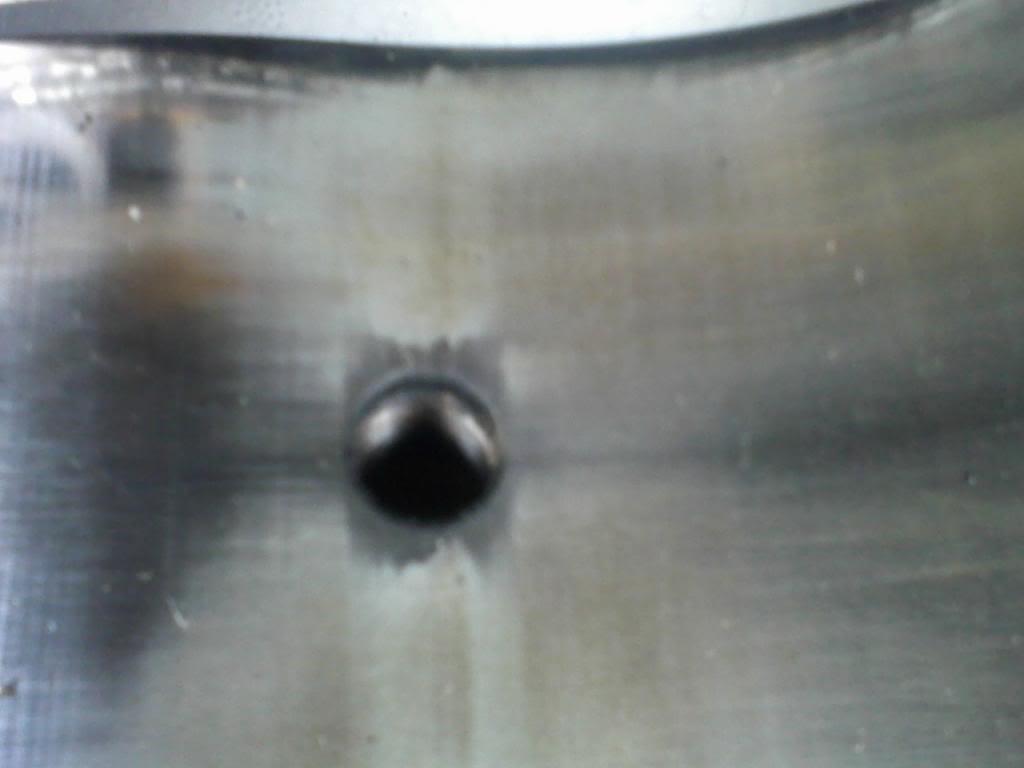 the oil pump was completely Gone forgot ot take pictures of it , and the Eshaft was bad to from where the bearing originally spun
P.S. I never ran this car low on oil .. it had low Oil pressure form the first day I put it in the car. I figured it was a bad oil pressure sensor. but I guess someone did run the car low on oil beforehand , and that messed up the oilpump which in turn caused this ...
catastrophic damage could of been avoided had I rebuilt the engine back then ..
But now We start the build up.
I got this Lightweight flywheel for a great deal .. it needs ot have the friction plate replaced . but for the price it was hard to pass on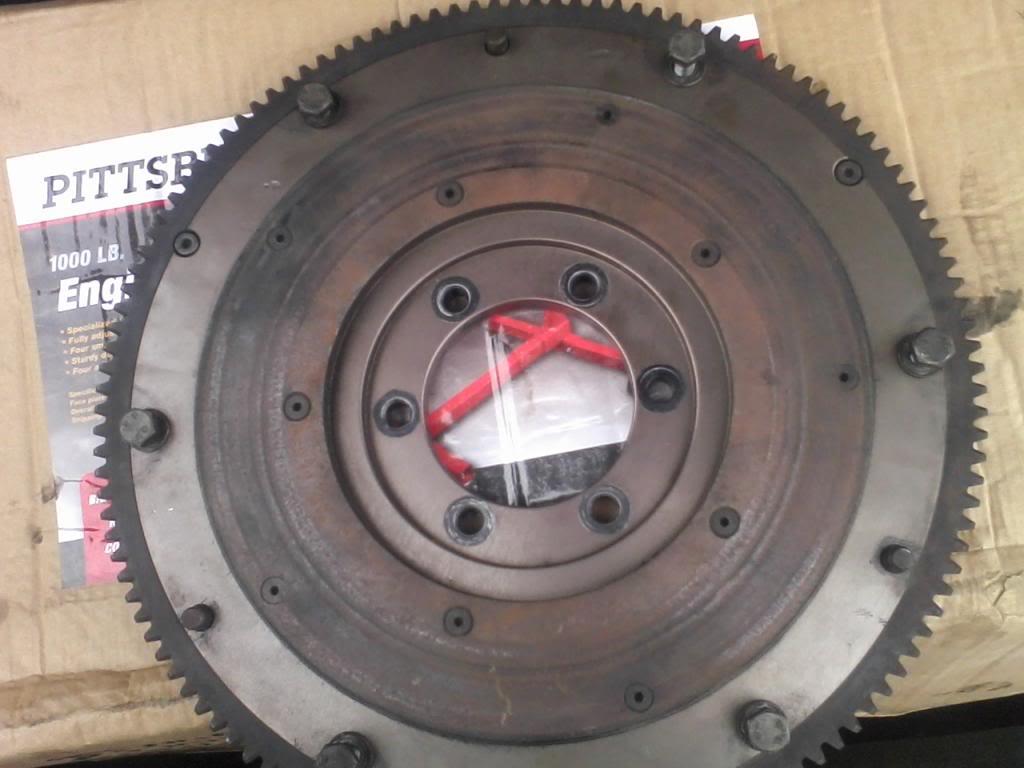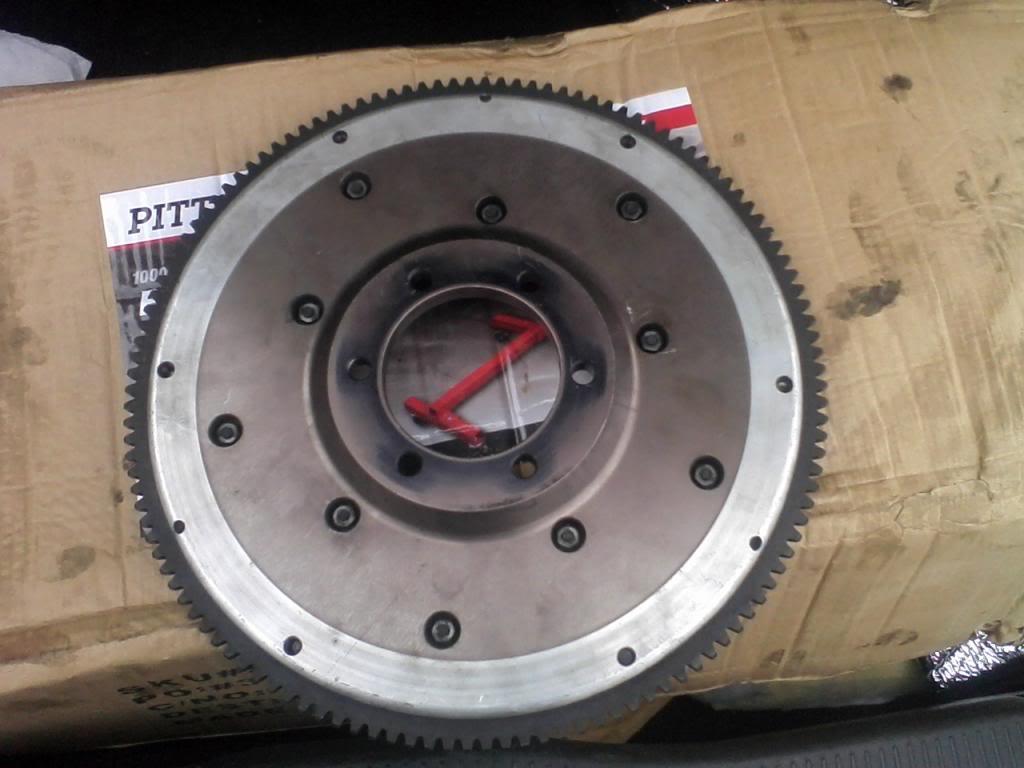 I have a thing against sidegrading , when ever I can I try to upgrade . since hte flywheel is out why not!! ,
8-9-2013
OK so scratch that flywheel .. Got a racing beat one ..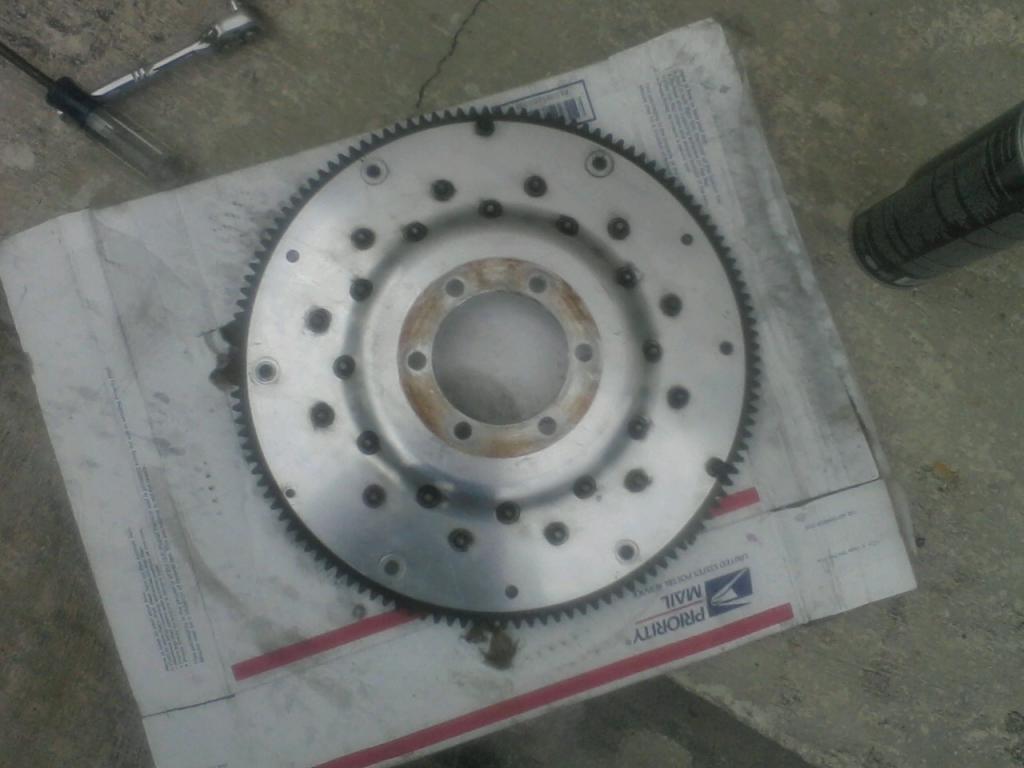 8-21-2013
damn I dont even remember how long its been ,
WELL updates I finally Completed my rotating assembly and sent it off to get balanced .
exedy HP pressure plate , ACT unsprung 4 puck cltuch , Racing beat light weight flywheel , stock rotors , and E shaft .
everything is ready
Also ordered some Housings from a forum member they come with racing beat exhaust ports .
Just waiting for them to arrive haha . after that all thats left is the... apex seals / gasket set.
8-26-2013
A little update , I was cleaning out the turbos and painting the exhaust when i noticed that the primary turbo had quite a bit of shaftplay compared to the secondary . looked like the fins were just about to graze the turbo housings ... so another setback , but maybe its a blessing in disguise . may be a couple more weeks . but I'm gonna try and find a set of N3G1 turbos I hate sidegrading . and the 99 spec N3G1 turbo's have been my goal since I first got the car.
so if anyone happens to have one they wanna sell hah let me know!
9-11-2013
Alright , so a small update.. Got new turbos .. thanks to SMG Racing !
And housings are on the way both should be here tomorrow infact.
Also CR7684 My engine builder sent the rotating assembly for my motor to get balanced .
no pictures yet. But small update!
9-13-2013
Rotating assembly is READY FOR pick up! Turbos arrived , housings arrived . everything is finally coming together . even got that fuse I blew!
9-14-2013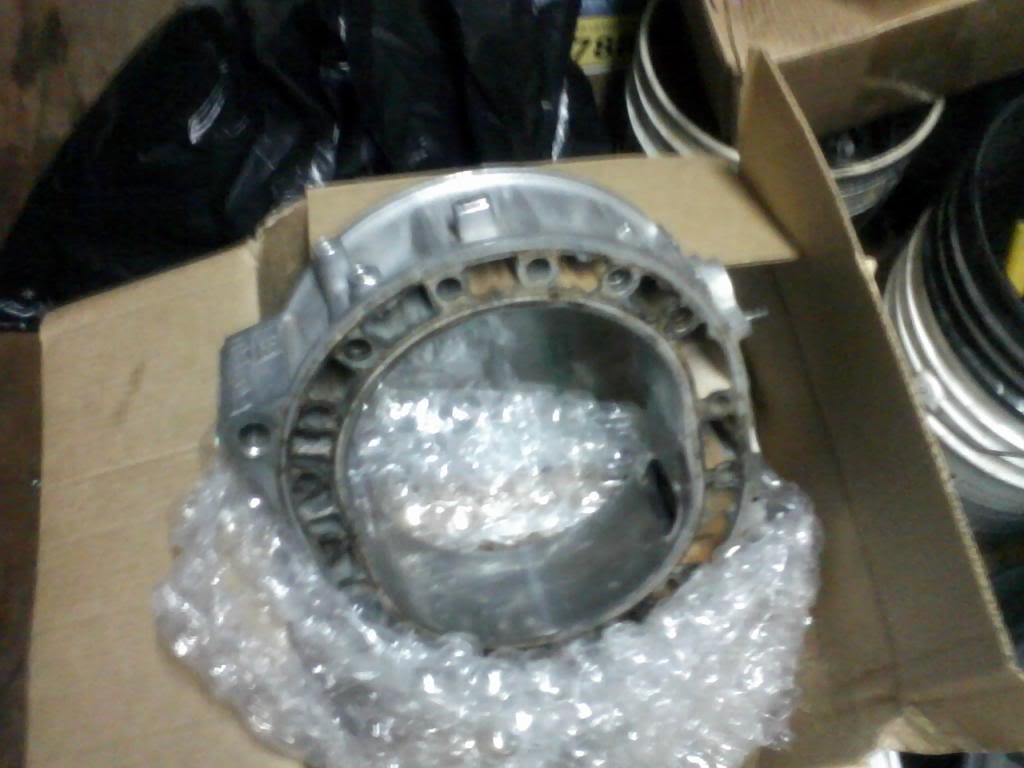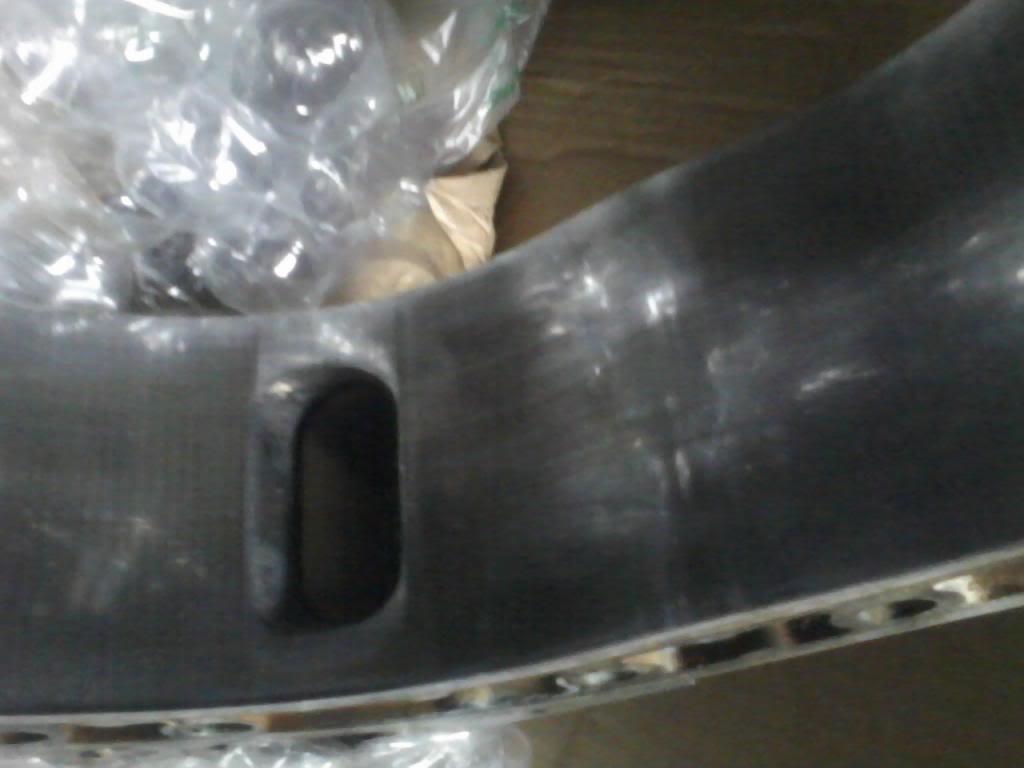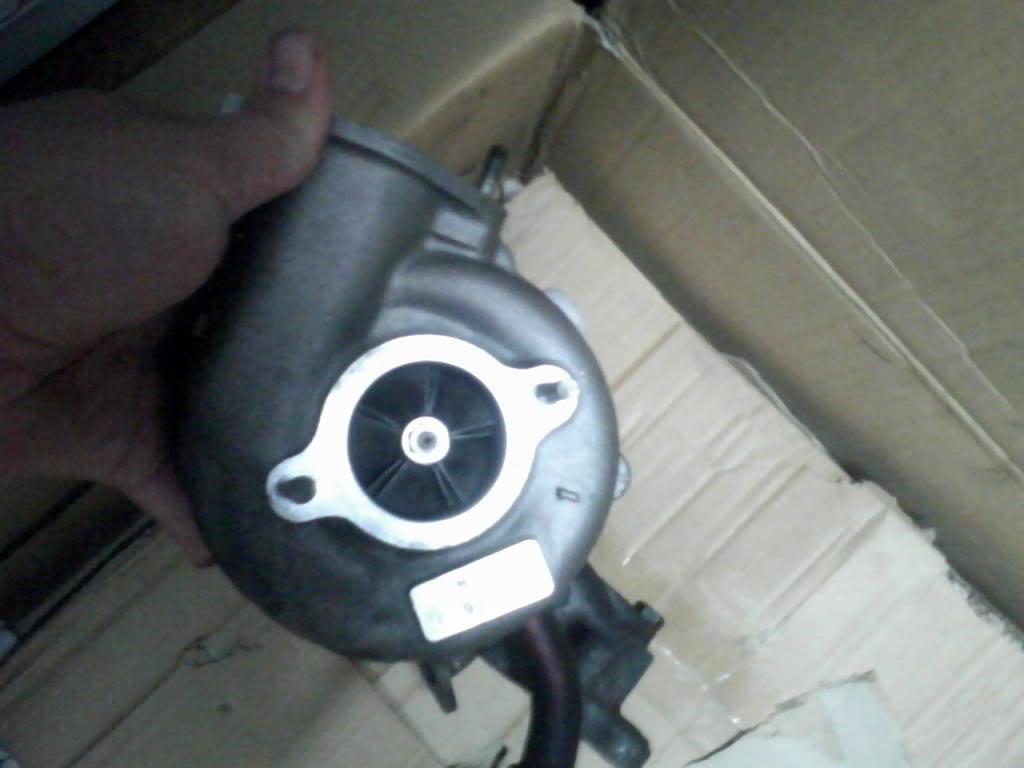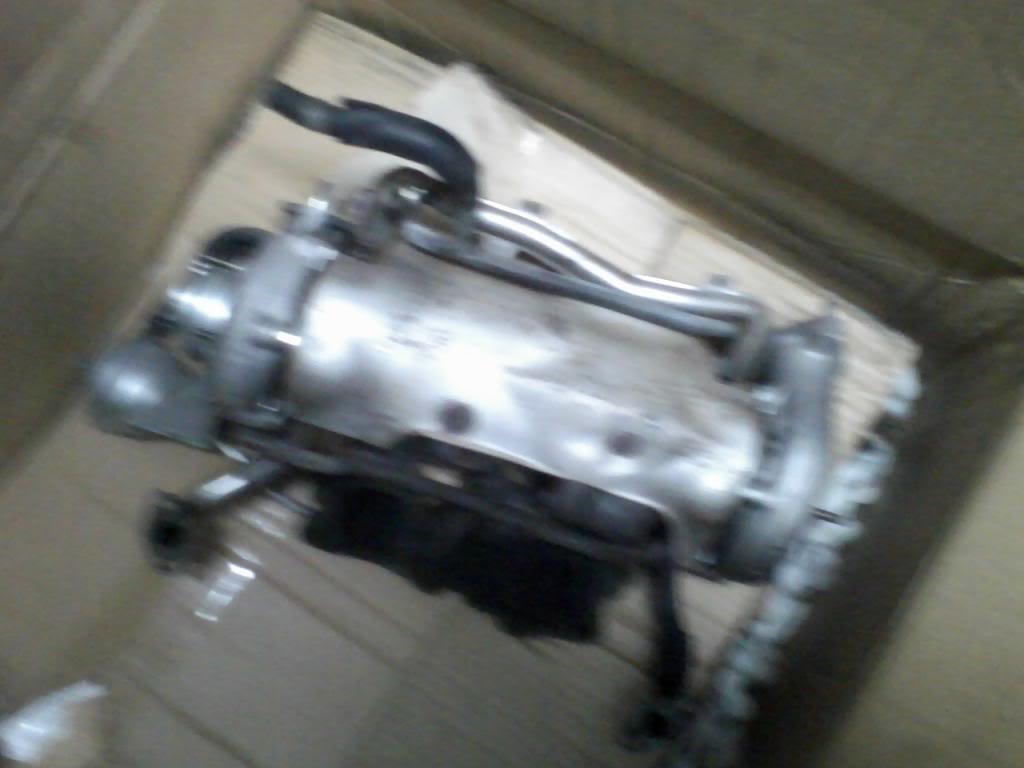 last one came out really blurry , But well I'm gonna port them today . so I should have some better pics
Well Got to work porting the waste gates on the new turbos
finally you can see the N3G1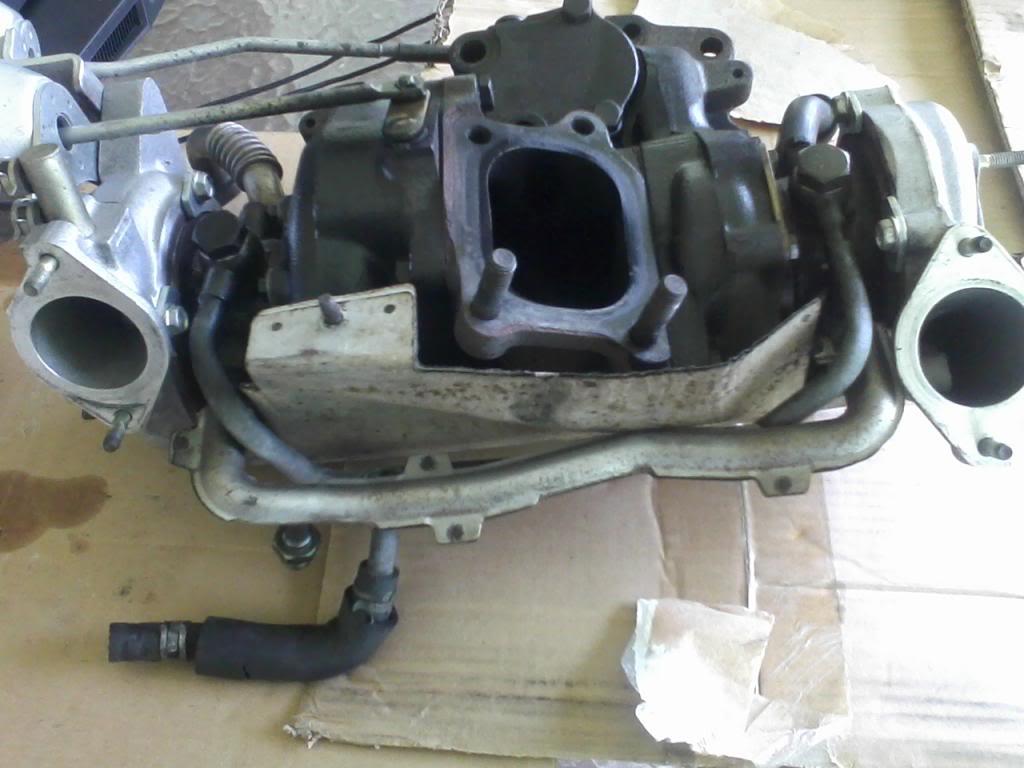 on the table ready to disassemble
Unhooking the bra..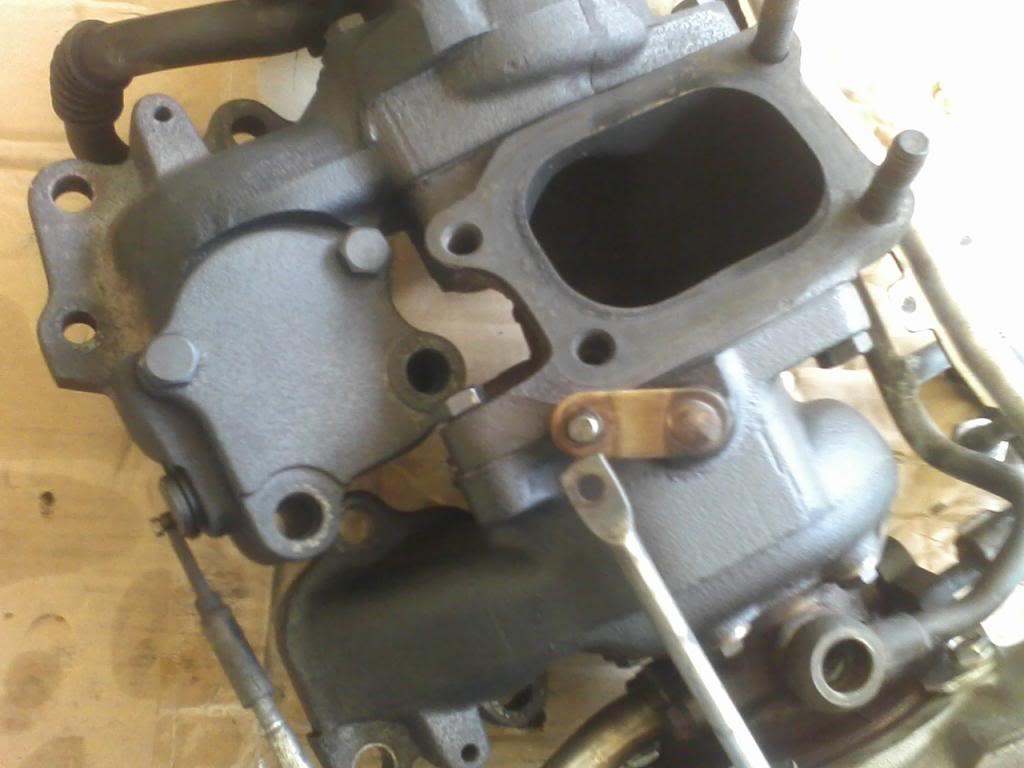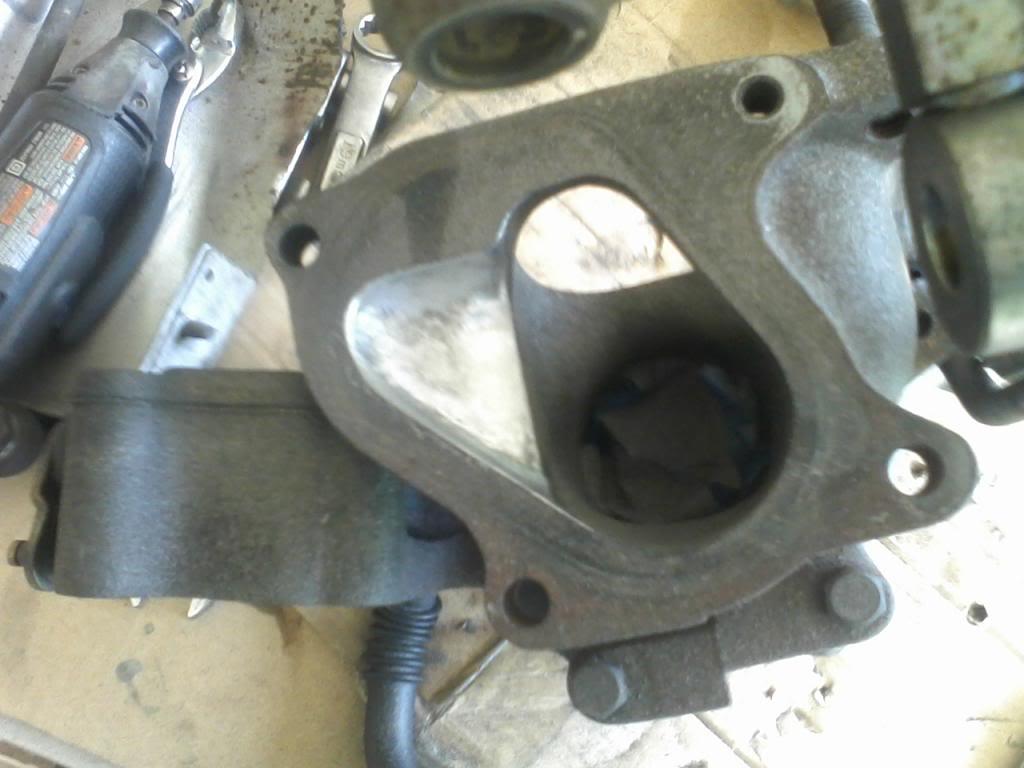 I'm upset I forgot ot take a picture of this side when it was finished .ported it upwards so the flap opens up more .
And here is the ported waste gate to 1.25 inches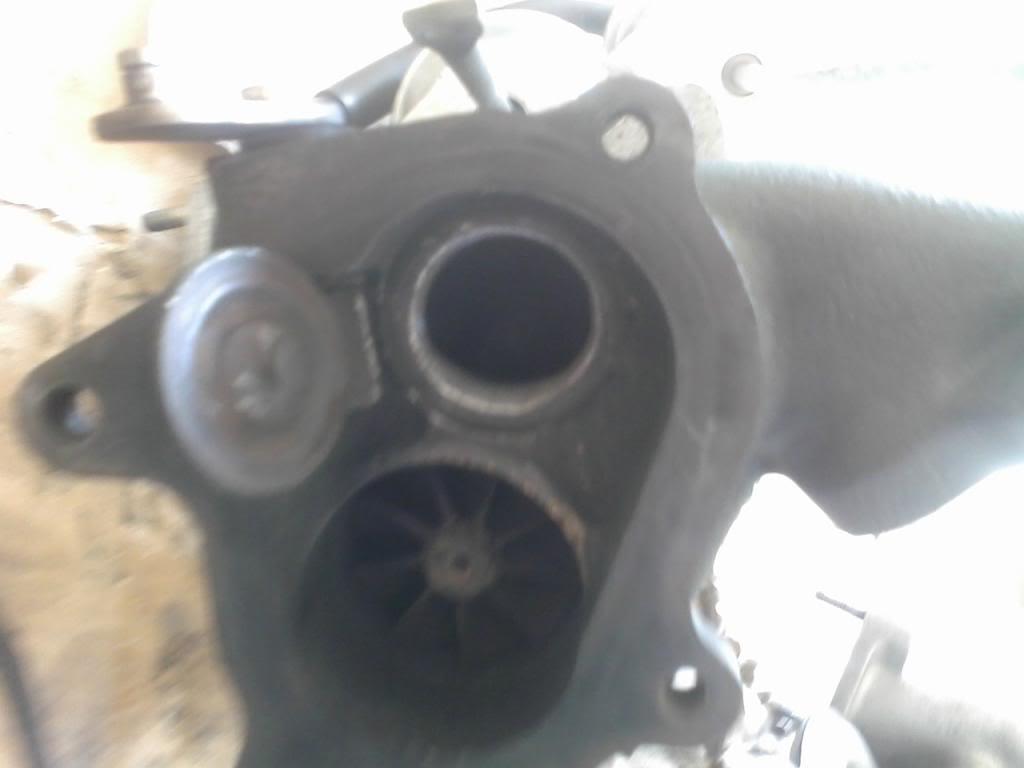 and back together goes humpty this is my second time porting waste gates I think this one came out alot better I spent alot more time and made sure everything came out well .. so we'll see in a couple of weeks what the results are like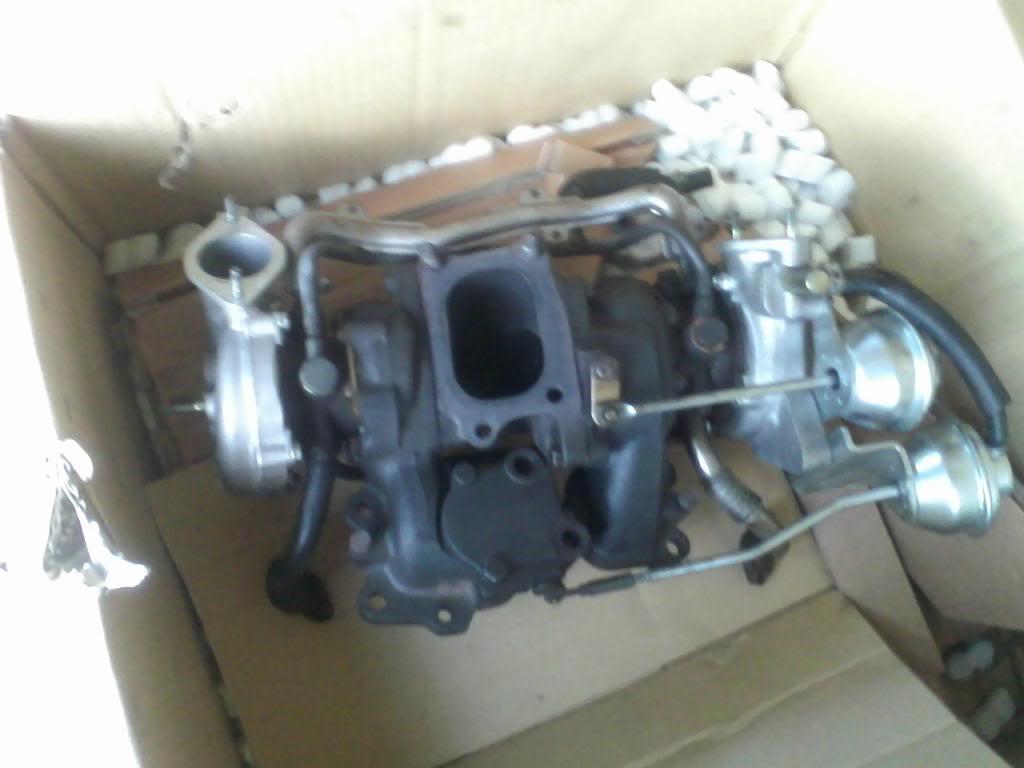 9-25-2013
GREAT NEWS EVERYBODY! , all the parts have been ordered for the build!! just waiting for them to get here and then !! time to put it all together! no updates lately PC died .. so no way to upload stuff . apart from using work pC hah
my FD is sad ..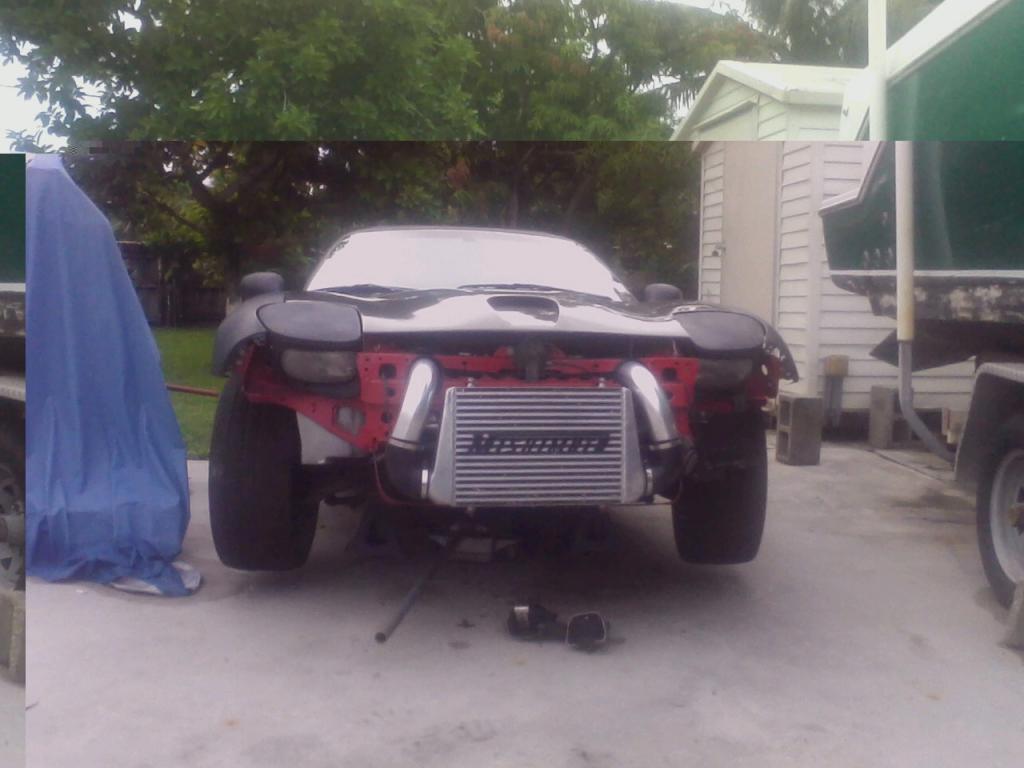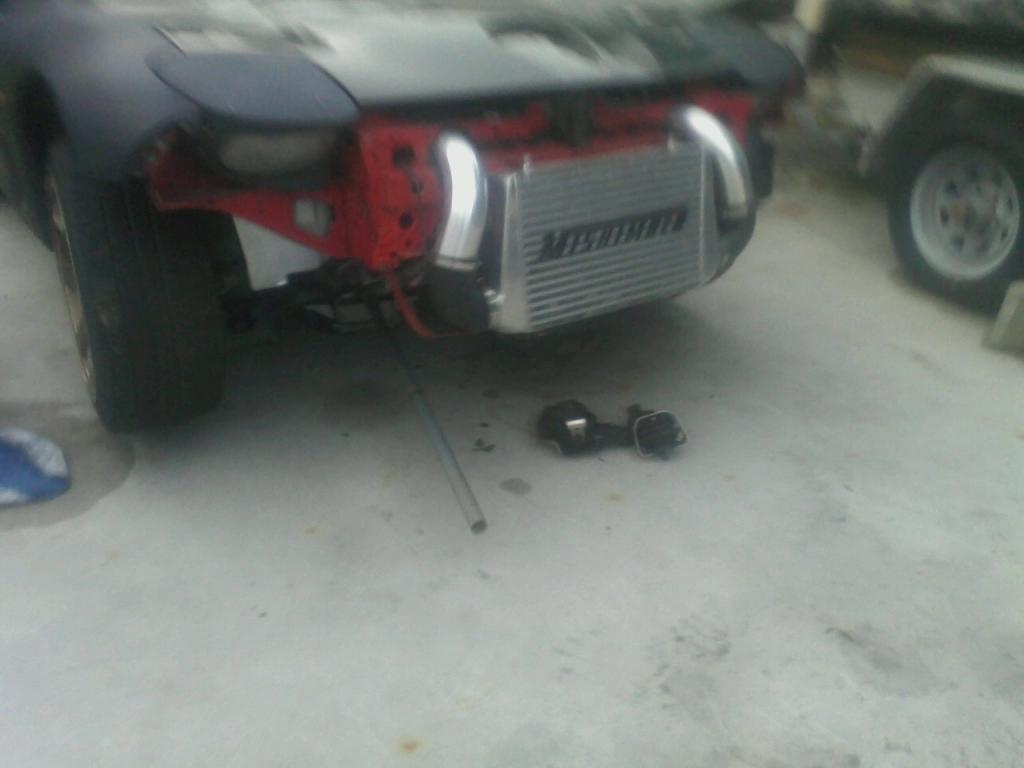 it misses its motor
9-30-2013
A little update!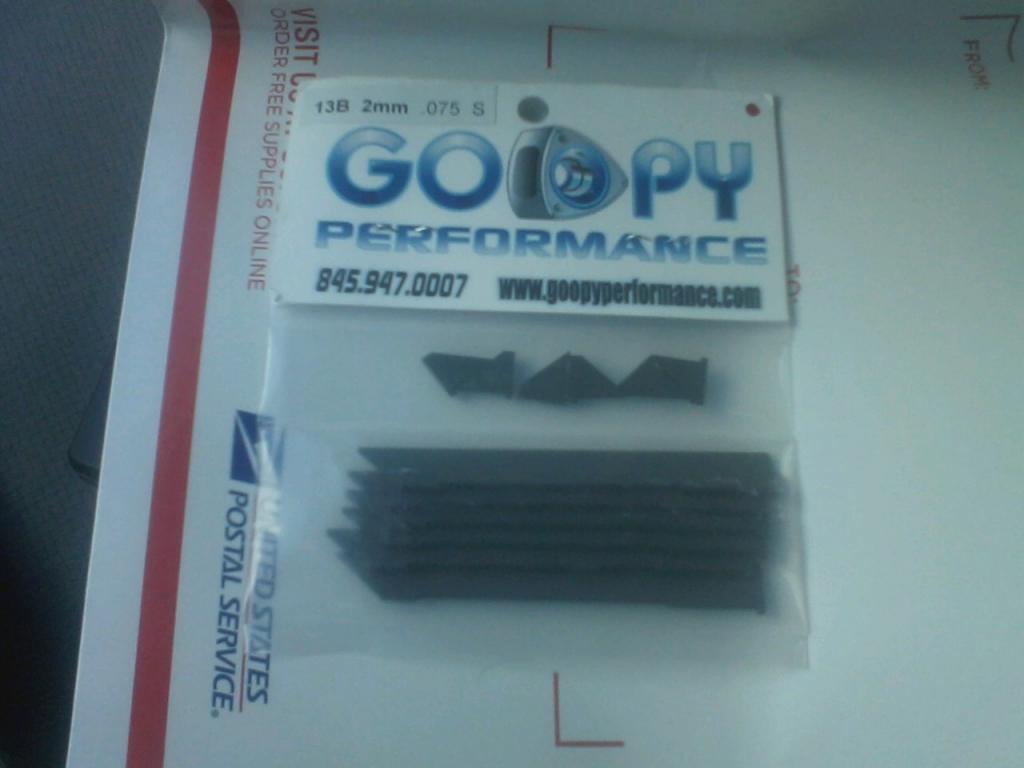 APEX SEALLLSSS!!! THEY ARE HERE!!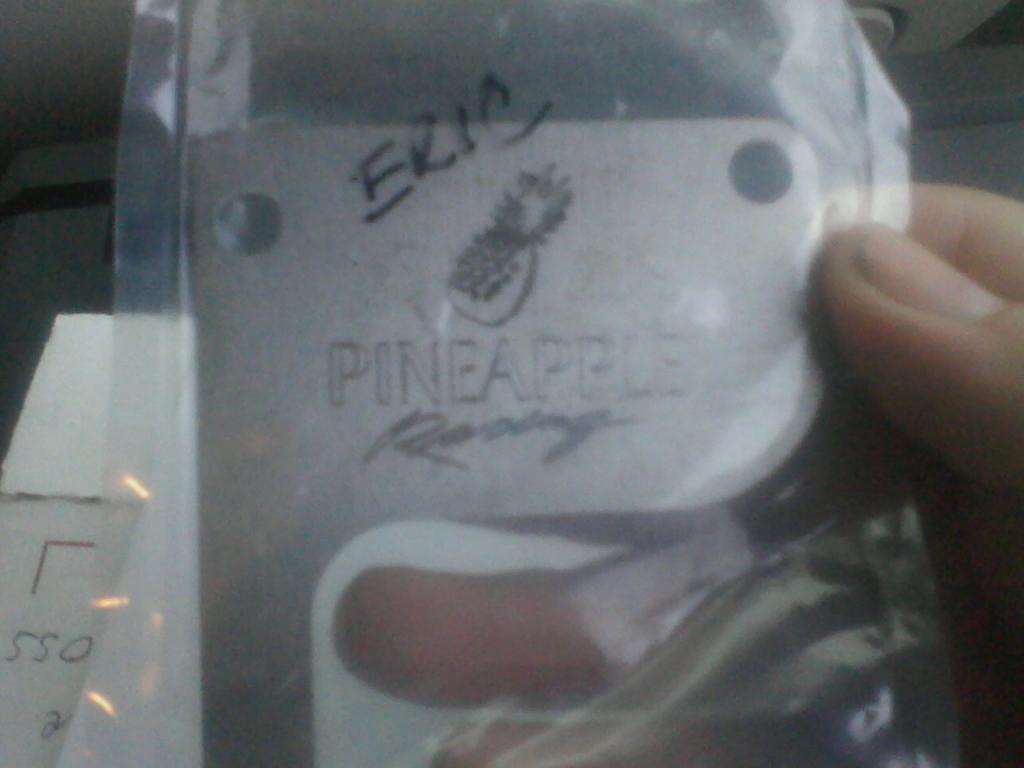 ANND OIL METERING PUMP block OFF PLATE , I've had the oil metering pump block off for a while but jsut forgot to put it up ( Thanks to Deliverance for the plate )
10-1-2013
APPLES
cr7684 my builder sent me these pics today .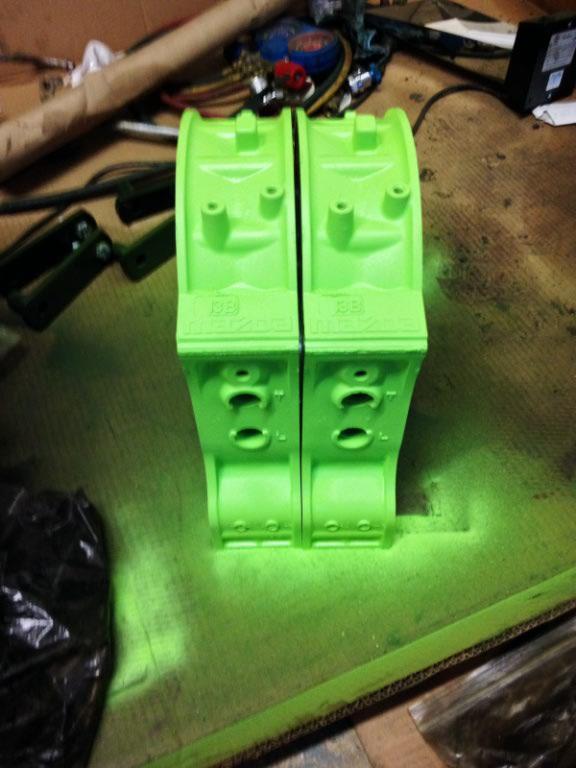 10-3-2013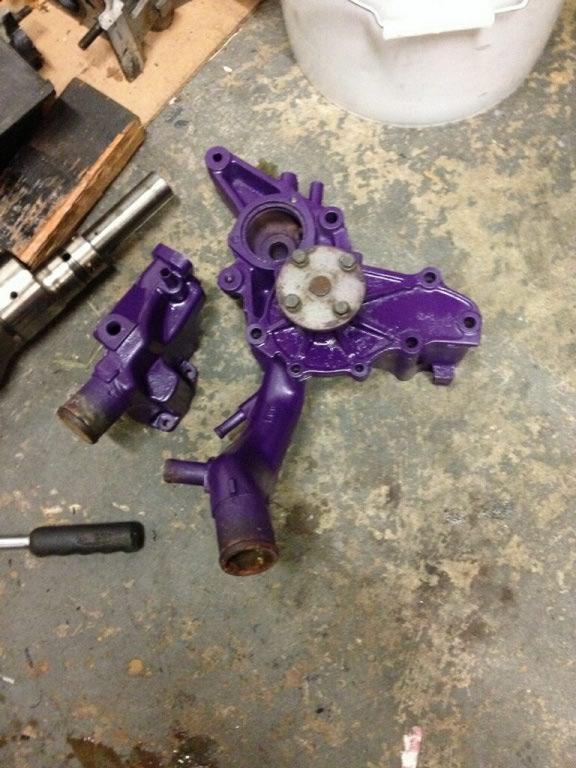 Similarities ?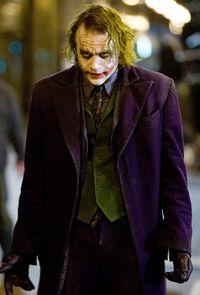 10-6-2013
some updates this weekend I spent all my time painting and conditioningall the accessories and stuff and replaced the oil cooler .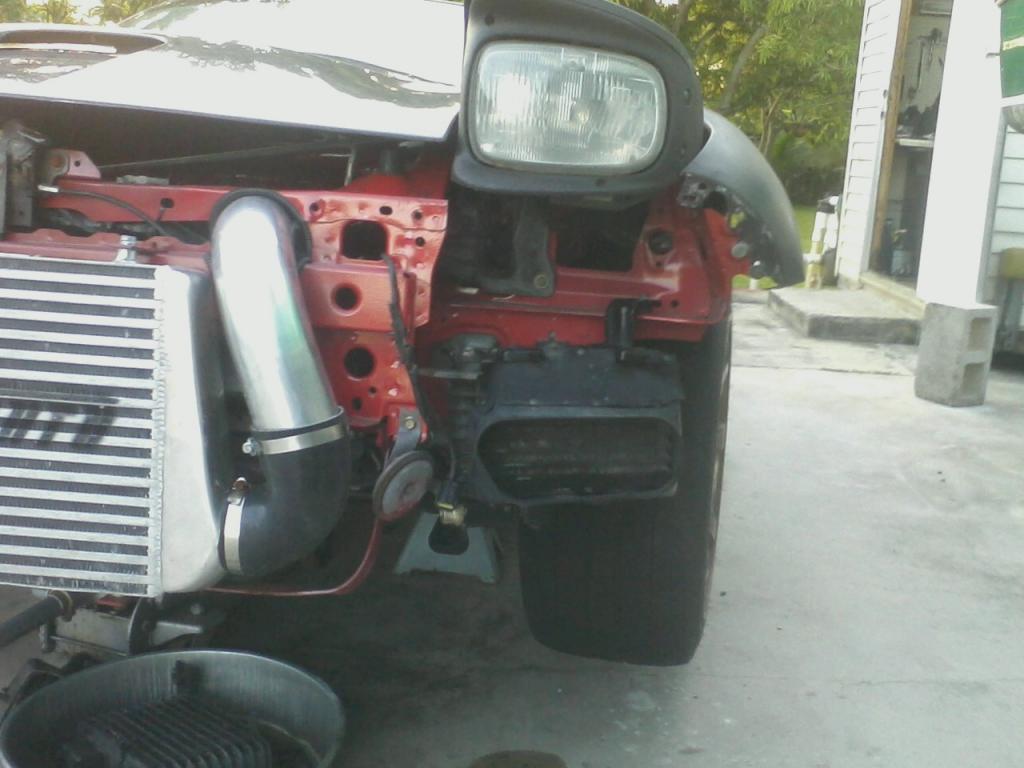 Hopefully having the vent will help with cooling.
Started working on the alternator ,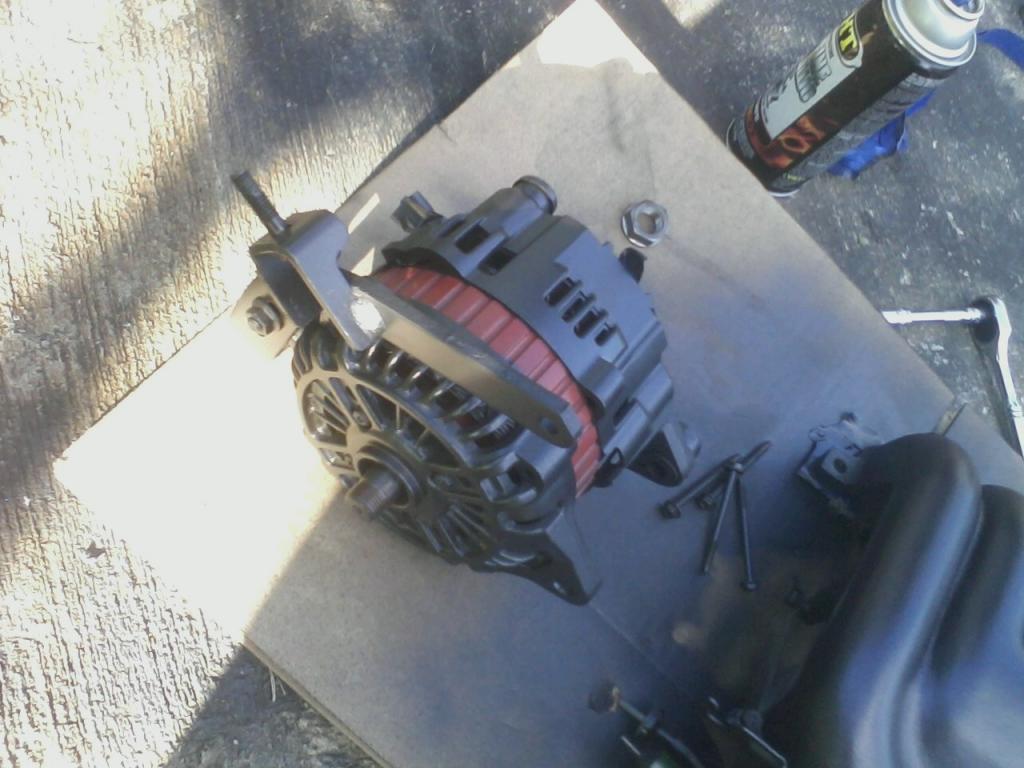 But had second thoughts . andi t ended up like this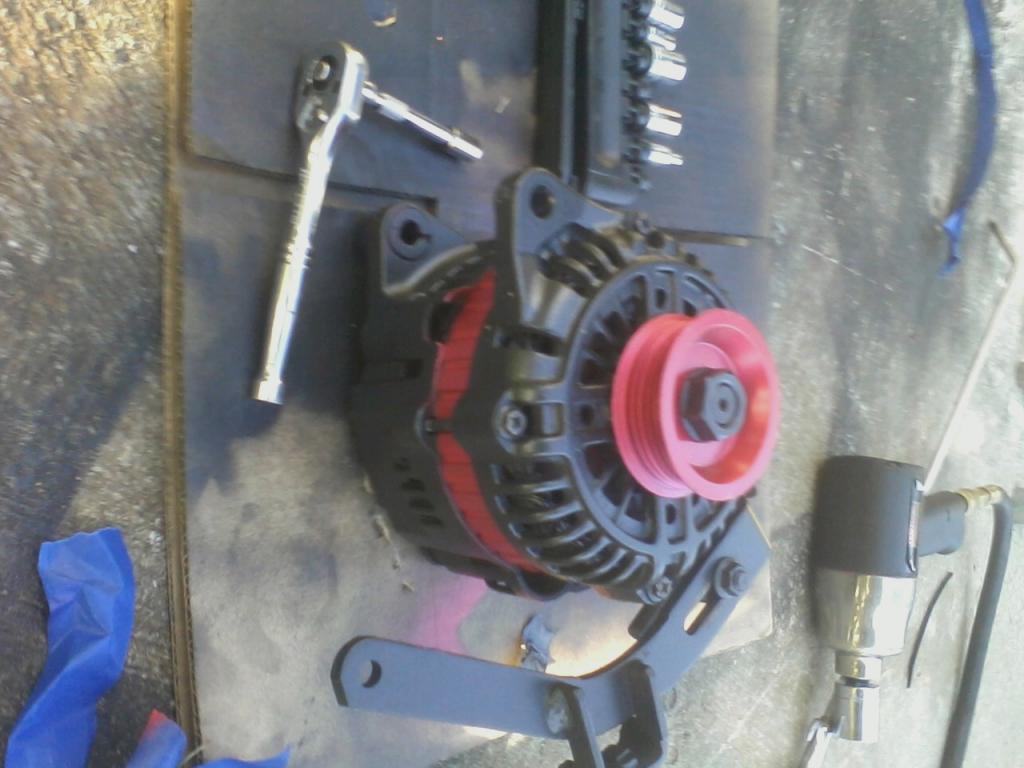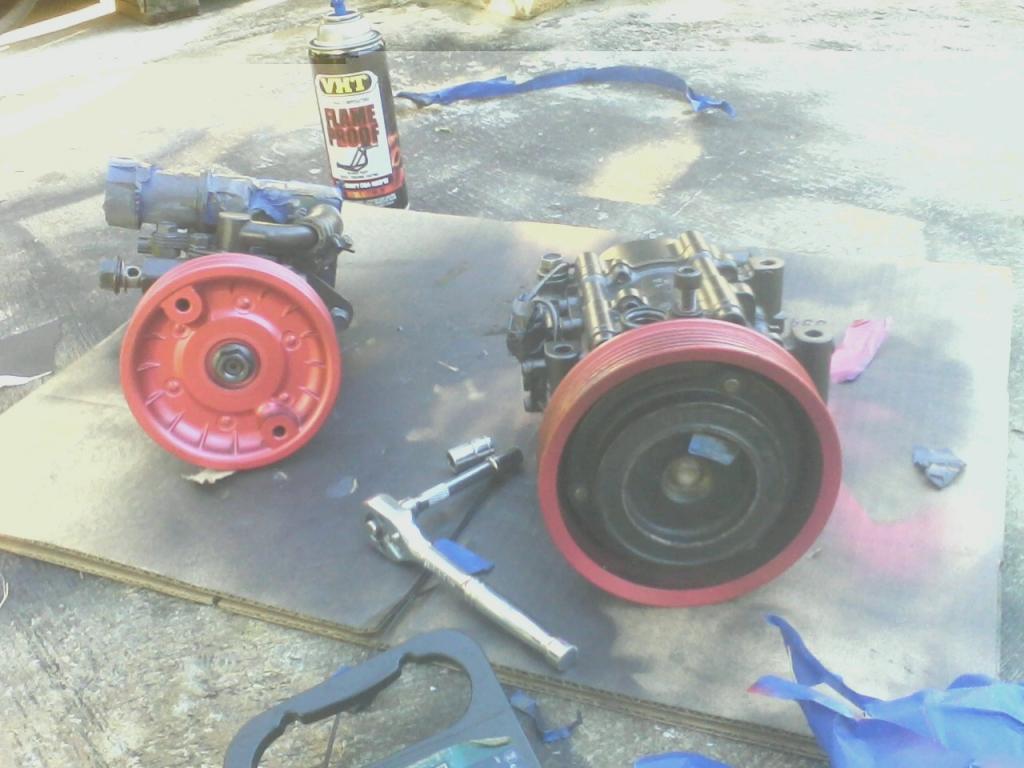 ac and PS
Lower intake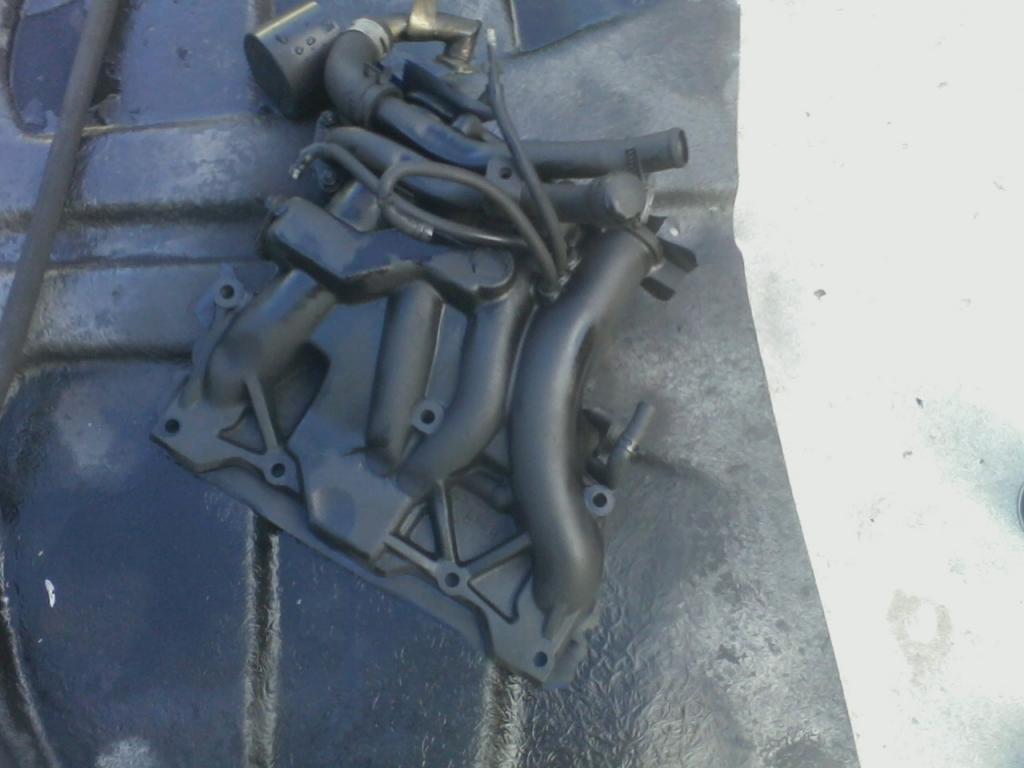 Upper intake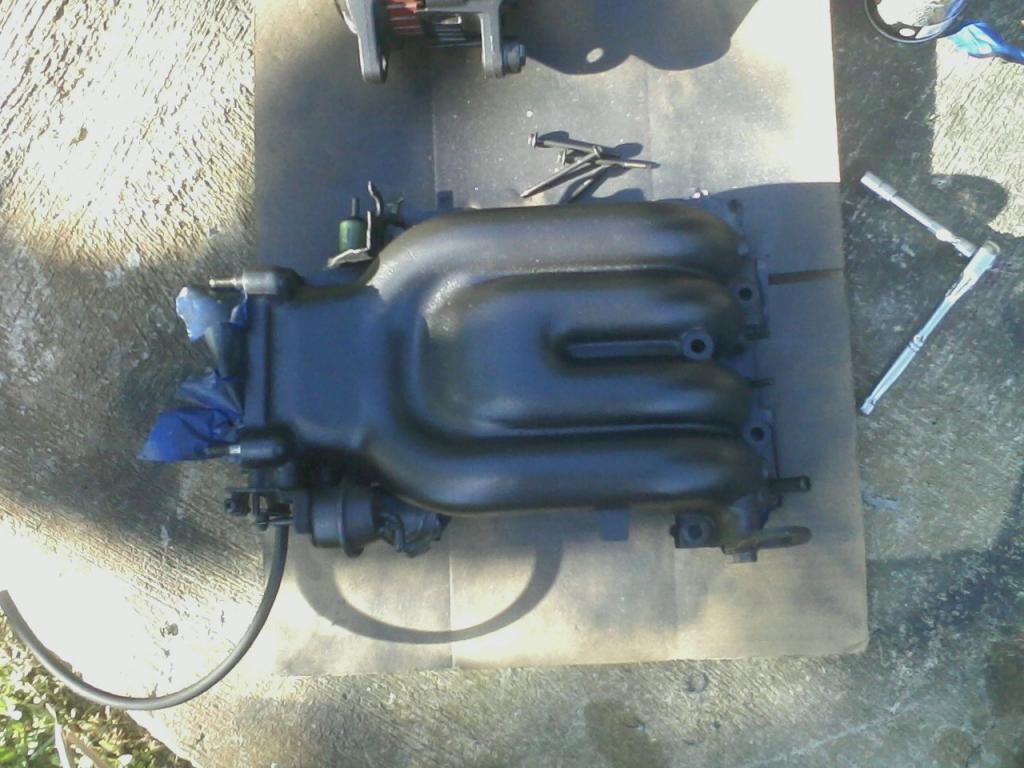 The Driveway was a mess of parts today hah
10-10-2013
NEW BOOST GAUGE , and CENTER SPEAKER GAUGE POD
spent some time taking apart the interior passing hte wiring over to the center , BUt will have to finish that during the weekend with some sunlight .. to solder . the wiring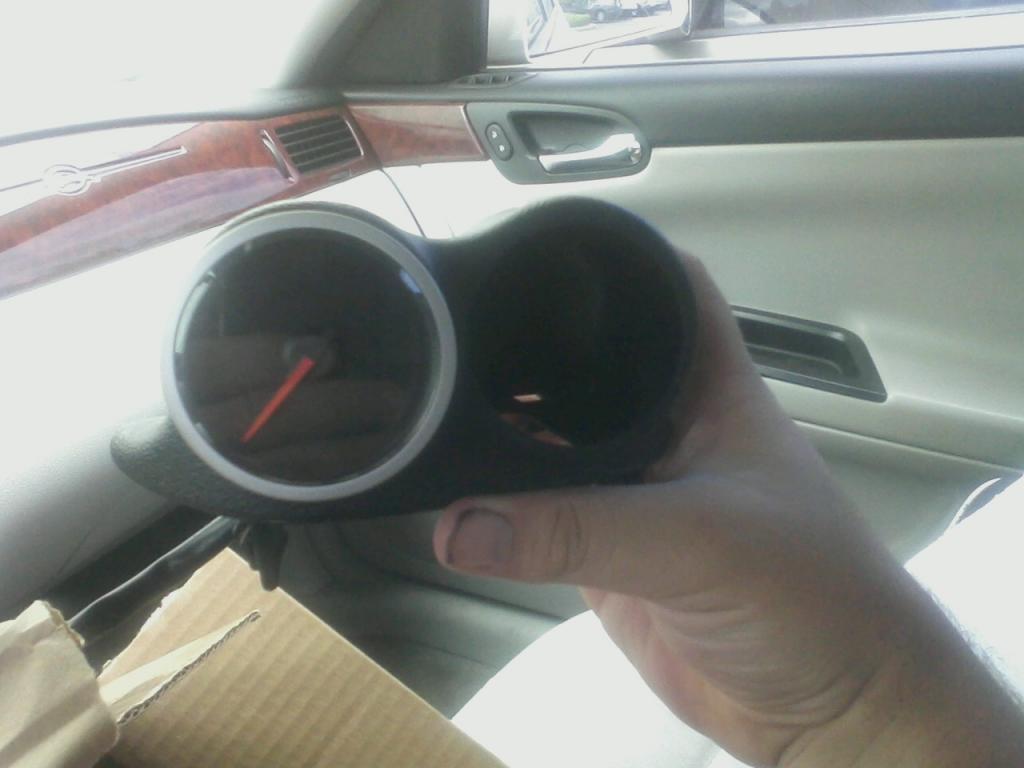 And here are some of the results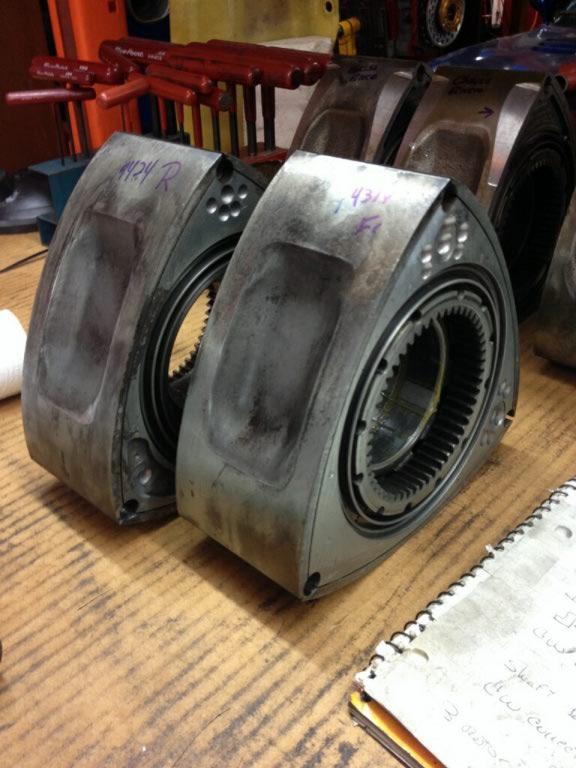 10-11-2013
the reason you cant rev a rotary to 20000 RPM is because after a certain RPM , The Eshaft starts to flex and that flex causes wobbling of the rotors ,
So if you lighten the rotors the flexx is LESS on the E shaft
But then , You clearance the rotor , for when it DOES flex even despite the lightening , The sides of the rotors will wobble some and when it does normally the rotors will contact the irons , but by removing and clearancing when it wobbles it has More room where it wont contact the Irons . so you can rev the motor even higher
scalloping what that does is it is sorta the inverse of a port the rotor iselve's edge will be incontact with the port , since you have a limit of howmuch you can port the irons without ruining the engine , This allows for quicker opening of the ports ,
, and then ofcourse balancing at your target RPM range so that when you do Rev the crap out of it any wobble is minimized by being balanced .
basically those rotors have had the WORKS done to them LOL
10-14-2013
This was during this weekend
My dad's a marine electrician so , he was giving me a hand with soldering and such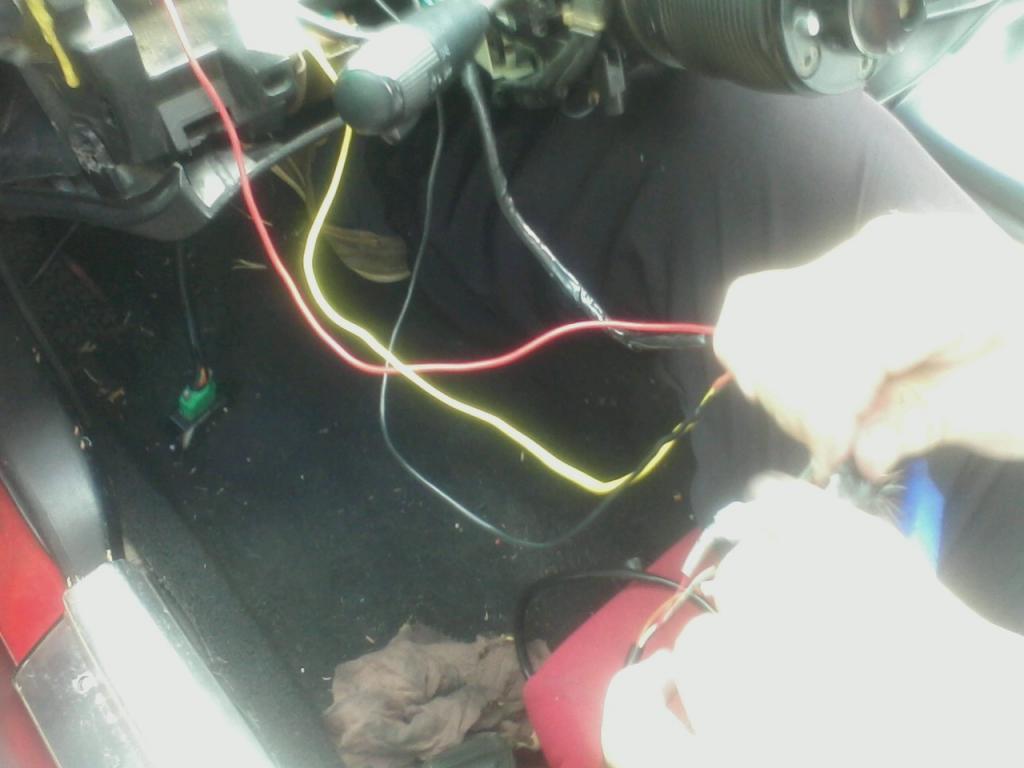 all the wires passed though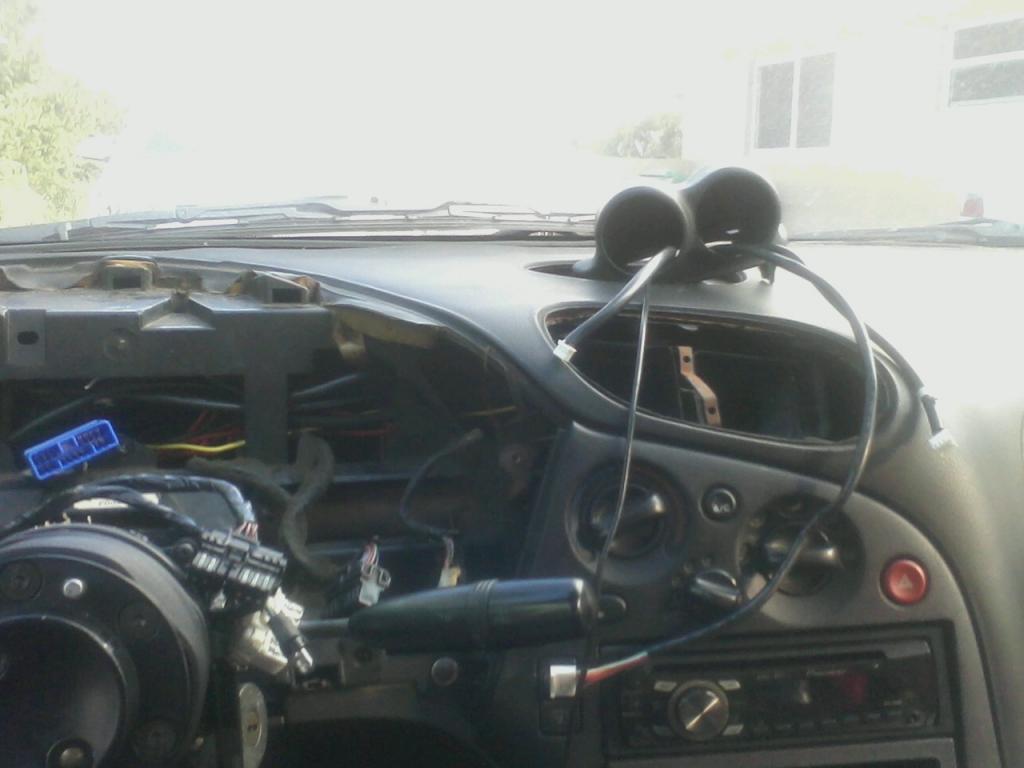 Finished product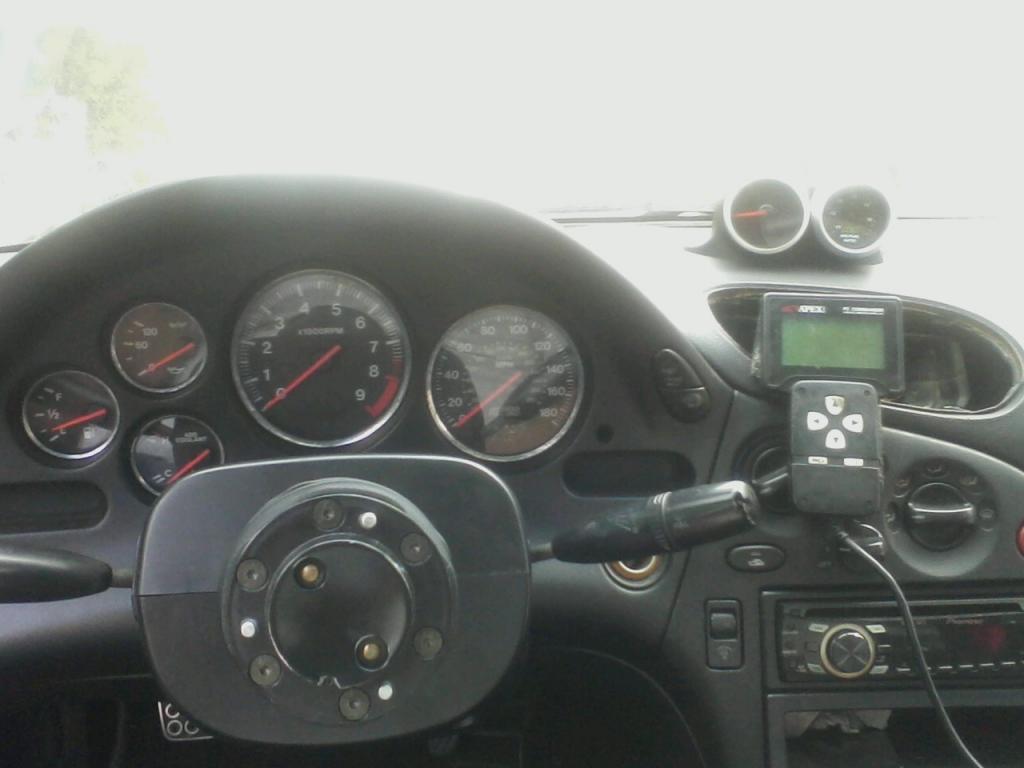 Now for some UPDATES FROM TODAY WITH CR7684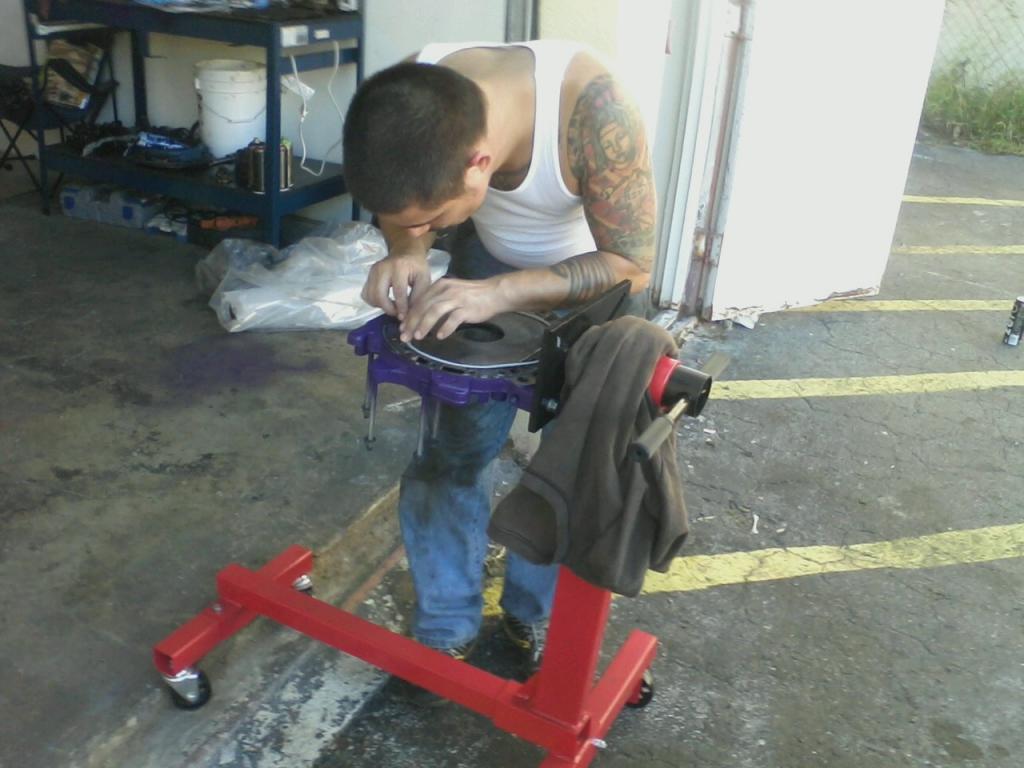 Proposing to the Iron , Putting the rubber ring on her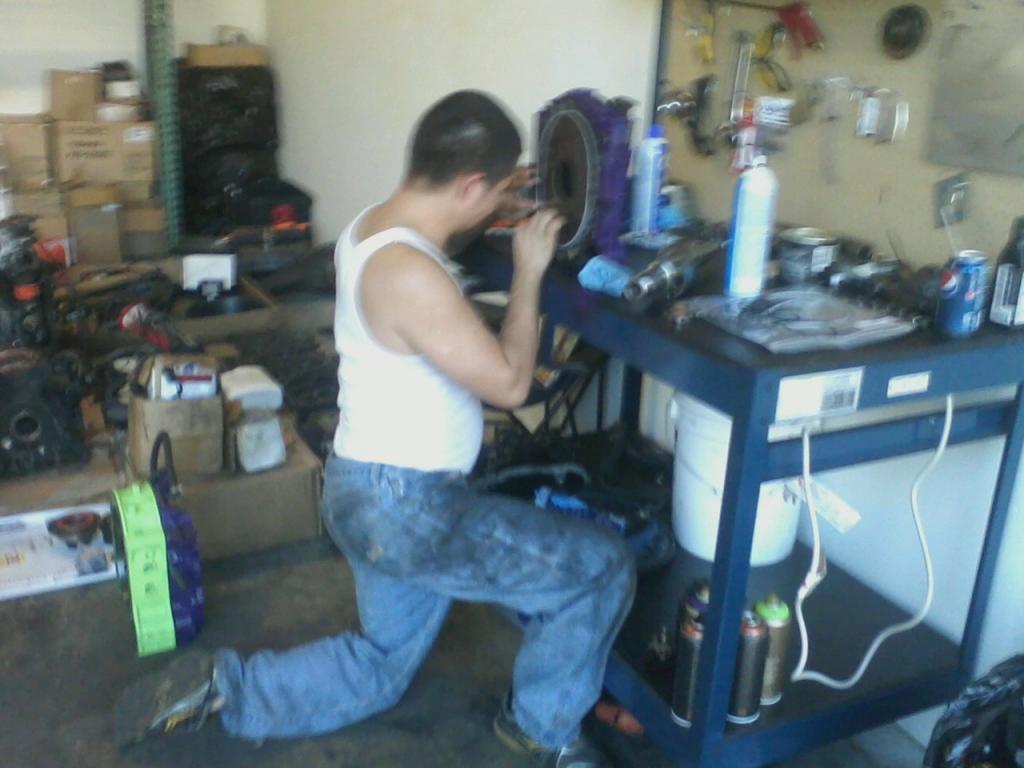 SHe said YES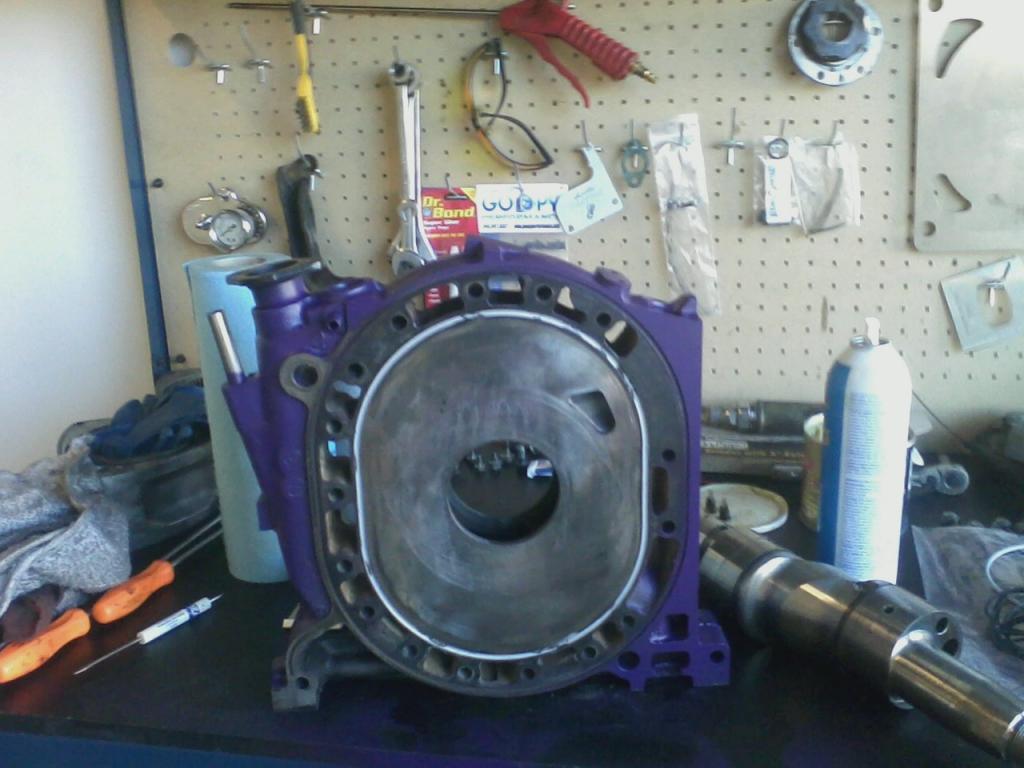 Magic Hands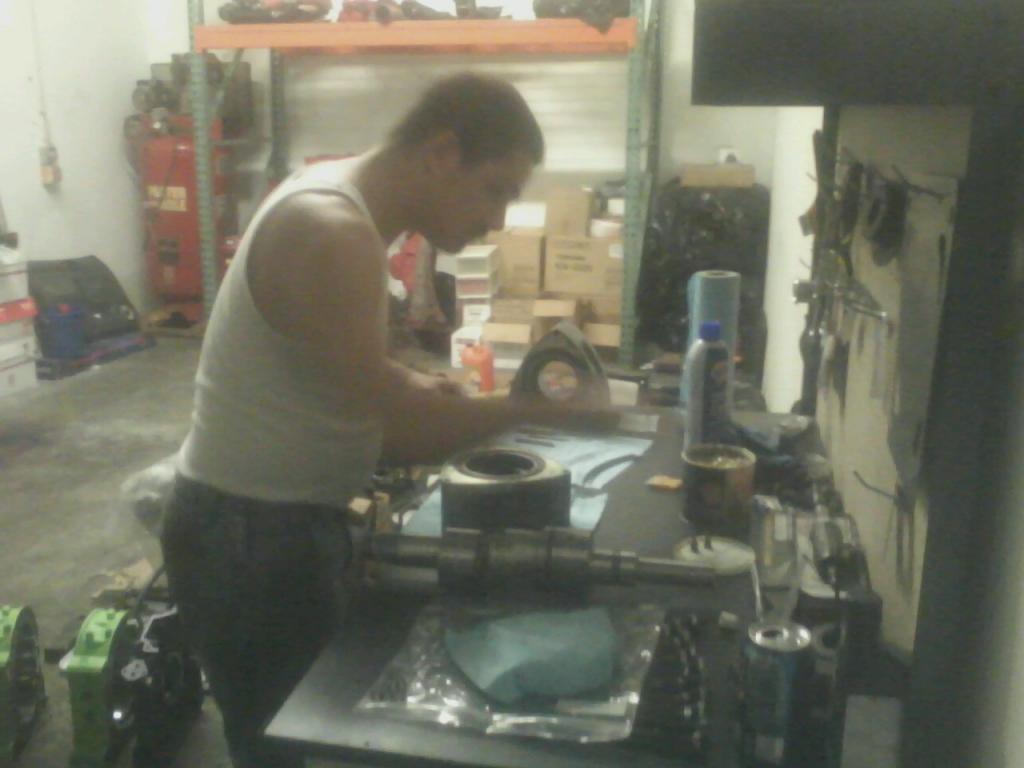 Ready for stacking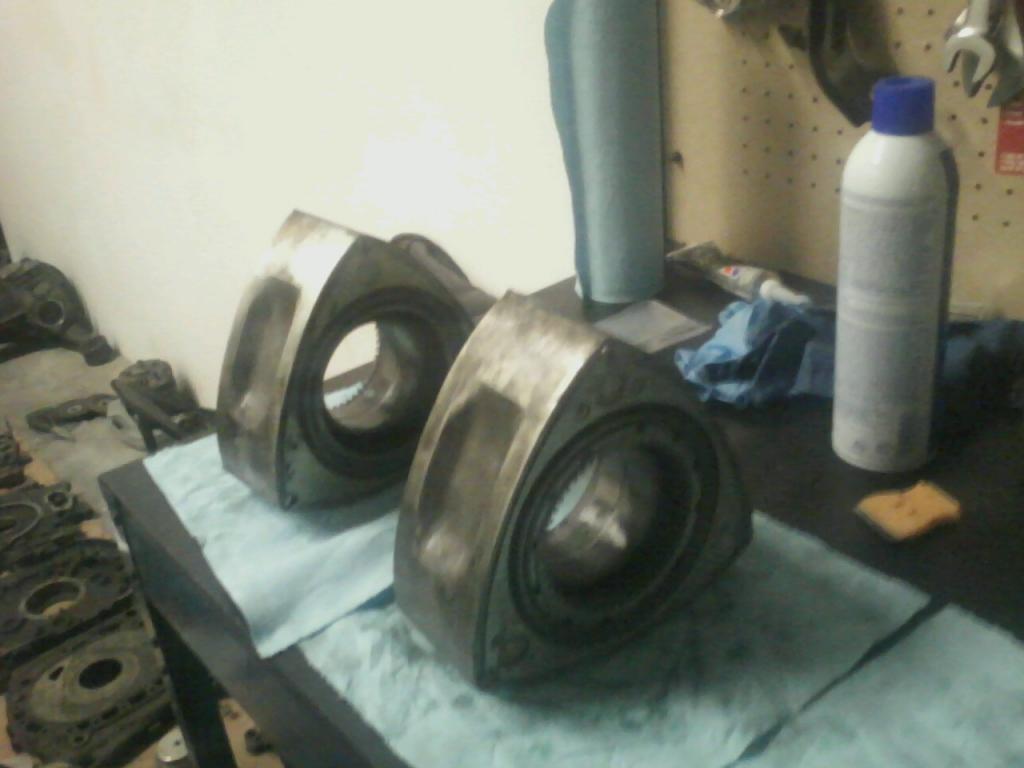 10-15-2013
I screwed up , lost some bolts and forgot to put the heatshield on the turbos so I have to take them off again tomorrow and fix all that mess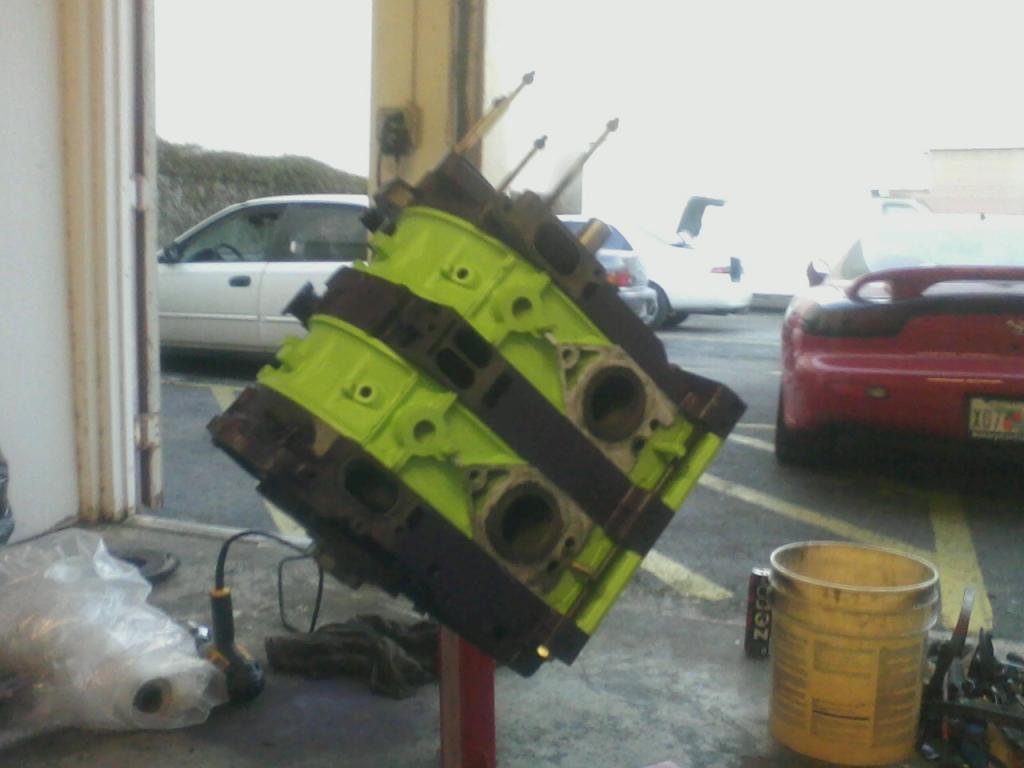 10-17-2013
wheels will be a different color nothing to go with the bronze ,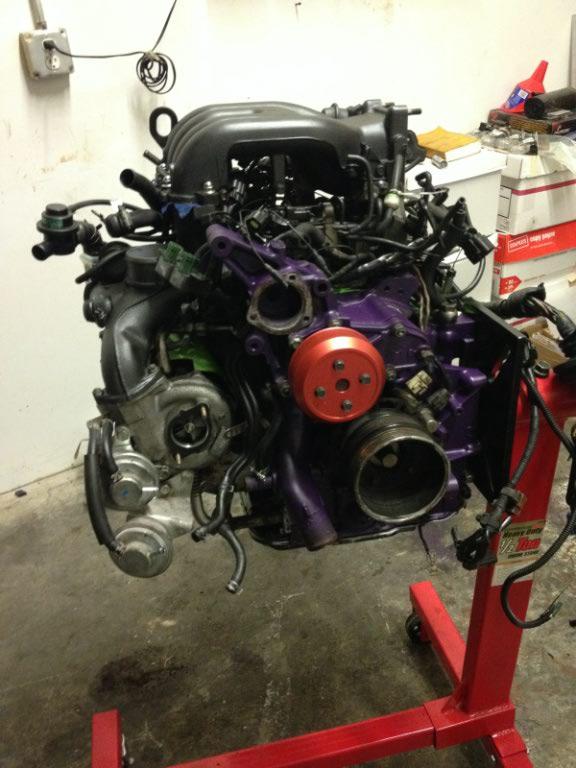 engine is home still has a few things before its complete But that shouldnt take long .
10-22-2013
ITS HOME!! , just have to put the car back together now . thats all thats left lol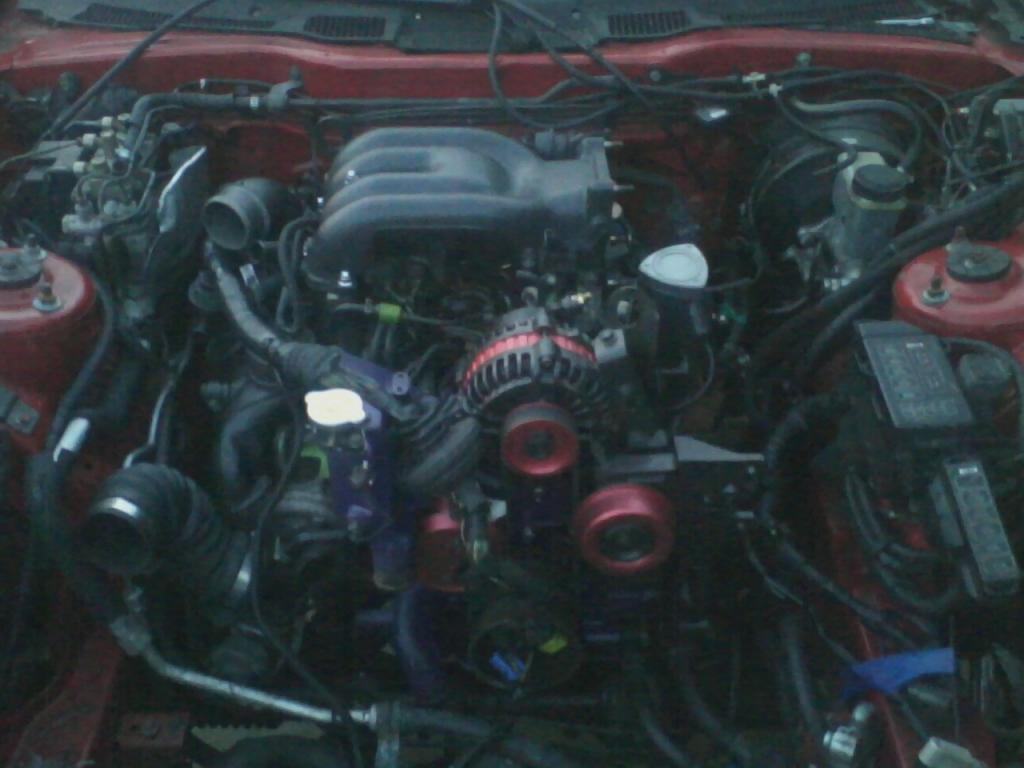 10-30-2013
My Little miata battery cant do it . =(
after some issues we're back to working on the car , chris is helping me finish and getting the car running , after bolting up everything under the car we tried to get it started . but my miata battery is no good . Not nearly enough CCA =( so round two is today .
ahh more backwards movement , found a short had to take the cluster out again . and ran out of sunlight looks like its back to the drawing board on all fronts
11-4-2013
so updates have been slow lately on the thread . But car has been under constant progress
First the damn water level buzzer would not shut up , been driving me nuts . but Did Manage to find out why ! I had left something unplugged .. oops
Then I had a small fuel leak , got that fixed asap .
my new used trans would NOT go into reverse .. Incase someone has this issue , if you forget or by mistake the copper washer falls off while installing it . that sensor does not allow you to go into reverse .
Added copper washer , and it cleared and Vuala I had reverse again .
Now in the process of fixing a bad ACV solenoid or maybe just eliminating the system ... being done with it ! LOL
"smoke comment " , someone I know was complaining about howmuch smoke my car was putting out on the very first video of me driving around , just had to settle that issue .
11-7-2013
Car is Back together 90% as of last night , and today will be a test drive to see and check for everything . i'm scared and excited .. I took a pic this morning since it was to dark last night .
11-10-2013
CAR back together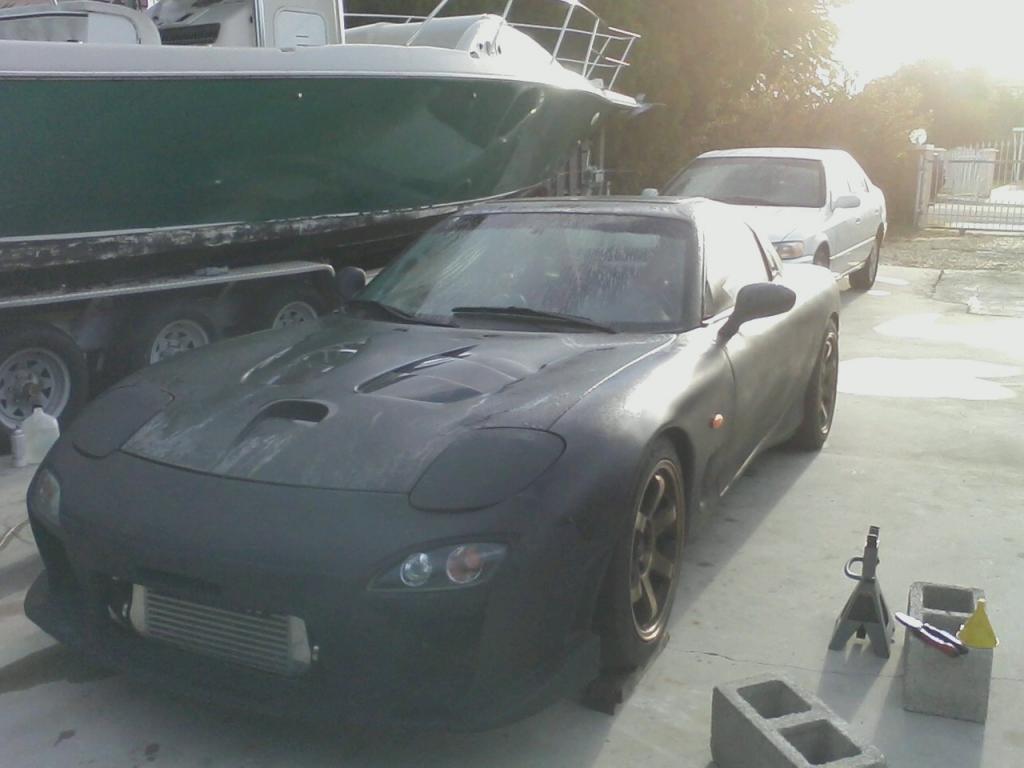 145 miles into the break in at a friend's place 3 fd's in one location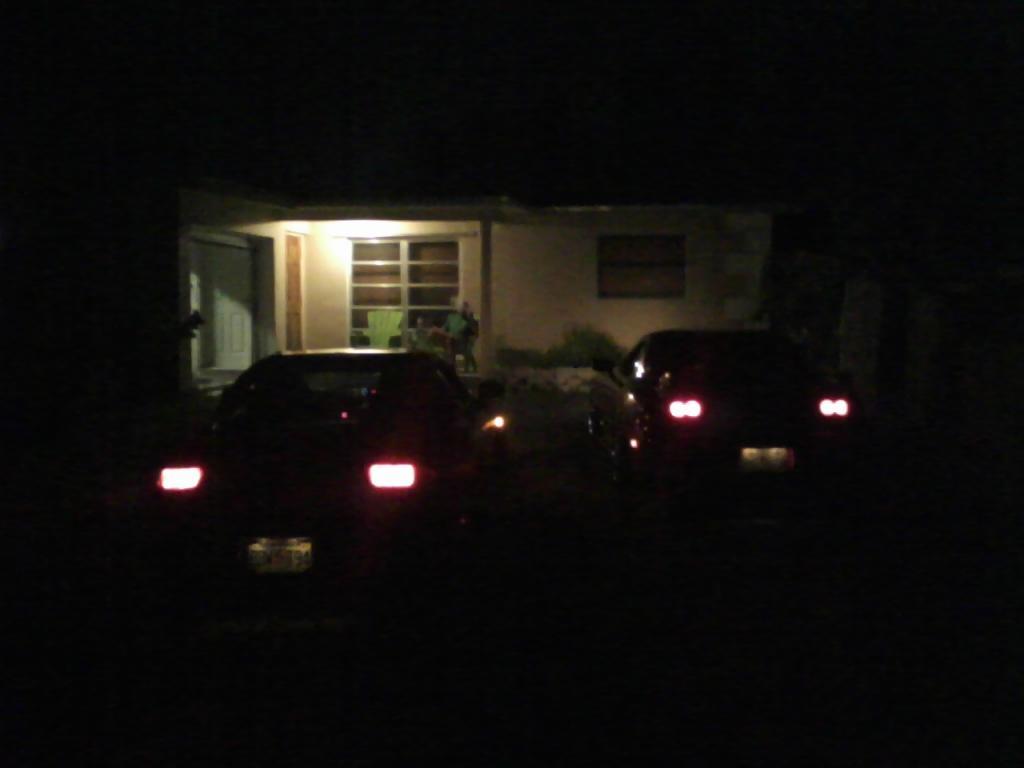 11-12-2013
It was short lived unfortunately car has been flooding when ever I shut it off . so I'm going to start to take it down and check the injectors make sure if they are leaking or not .
1-1-2014
Well I did have a leaky injector , But it didnt end up being the root of the issue , builder pulled the motor and fixed the issue ..
I got done with the break in , and started going into more boost now . LOL tunning for it and such ,
sofar what I've noticed is the ports may of been to big , I should of gone with a small street port car really doesnt come alive as early as it used to . even with the twins .
3500 with the stock ports the car moved , now it sorta luls there until its over 4500 . But everything else is pretty good . I guess I'll just live with it LOL
a couple hiccups here and there . LOL
One thing I got to paint my wheels , I was getting tired of the bronze , so my friend Dliverance hooked me up with a plastidip paintjob .

That picture was from a quick sunday cruise to some restaurant 150 miles away.. hah break in miles .
sofar apart from the car lacking in low end , which honestly I guess isnt really TERRIBLE and a leaky water pump cover everything 's good .
ANd waiting on 1 hose to complete my dual oil cooler kit so I'm going nuts waiting for that .
BUT the real test comes this sunday . Where I plan to run the car at its first auto-x its been a long 9 months . I'm probably going to be rusty ! hah
1-5-2014
First auto-x since the rebuild today , did ok car was fun , I missed that low end torque But still always fun driving the FD
<-- my best run wasnt the cleanest
<-- would of been a better run 1.5 seconds quicker bUt i ate a cone . was not opening up enouhg for that turn .
1-7-2014
Gonna try some things during my lunch hah ,
I gave it some ***** today on the way to work . with 15C intake air temps . it spooled to around 8 then past 2700 started to boost to 11 psi , and then asoon as it hit the transition it hit 14 psi
so something is off .
I hadnt boosted over 5 psi since I was breaking in the engine , apart from 2 days of some tunning after the engine break in that I started boosting a bit more .
AFR's are in the 11.1's to 10.7's in boost above 5 psi , Under 5 psi I have it at 12 afrs .
so still has a long way to go . LOL But hopefully fixing this little issue will help the low end torque . honestly the car reminds me of an RX8 as it is now .
Little update , I swapped the plugs for the wg/pc solenoids to chec kif thats the issue , instead primary boosted to 14 psi , and secondary 10 psi . so seems like one of my solenoids may be bad . gonna test them when I get home
spool is still slower then it used to be though .
1-10-2014
Alright so a little update , swapped the solenoids and nothing changed ,
decided to try something
disconnected the pre control actuator vacume hose and drove around .. in second gear full throttle pull from 2k rpms I built 12 psi max . then 10 when transition and instantly to 14 after transition .
so I dont think its the actual boost control system thats causing the issues .
it didn't hit the 10+ psi until after 2800 rpms and never reached the target of 14 psi .
PFC says max it ever hit was .84 on a diff pull
I used to have to turn the duty cycle way down to control primary boost ..
so something is definitely not right .
I think either the pre control is stuck open . Or the turbo control actuator is open fulltime so its trying to spool both turbos from the get go .
first issues I've had with them . replacing a couple solenoids is a lot cheaper then going to a whole new single turbo system . plus the turbos were just upgraded .
1-11-2014
Alright so news update . I got the car lifted and rechecckedc every actuator . and hose . and everything seemed to work , I started the car in neutral .
and recorded the turbo control working
FDturbocontrol_zps25a0467d.mp4 Video by Tem120 | Photobucket
so my question is this ! I disconnected the boost hose andc no boost obviously because car was in neutral . but if the problem is the boost side overpowering the solenoid and causing the actuator to stay open . what if I disconnected the boost side from the actuator it should theoretically work just slower
1-13-2014
did the test disconnecting the Boost side solenoid for the turbo control , same issues .
So I'm starting to think this is just a characteristic of the ports ..
1-22-2014
Seems like things are just how they are LOL
aslong as I''m over 3k its got decent power so.. just gotta drive faster LOL
ITs been a while BUT there have been some updates
my car has an aftermarket moonroof and its crap it leaks the NONE OEM roof liner dangles all over the place you can see it on most o my videos . and when I wore a helmet the moonroof bracket hit my head so I had to drive like a gangster to keep my head from banging into it. I was fed up haha
ripped my fake head liner off
and this is what was under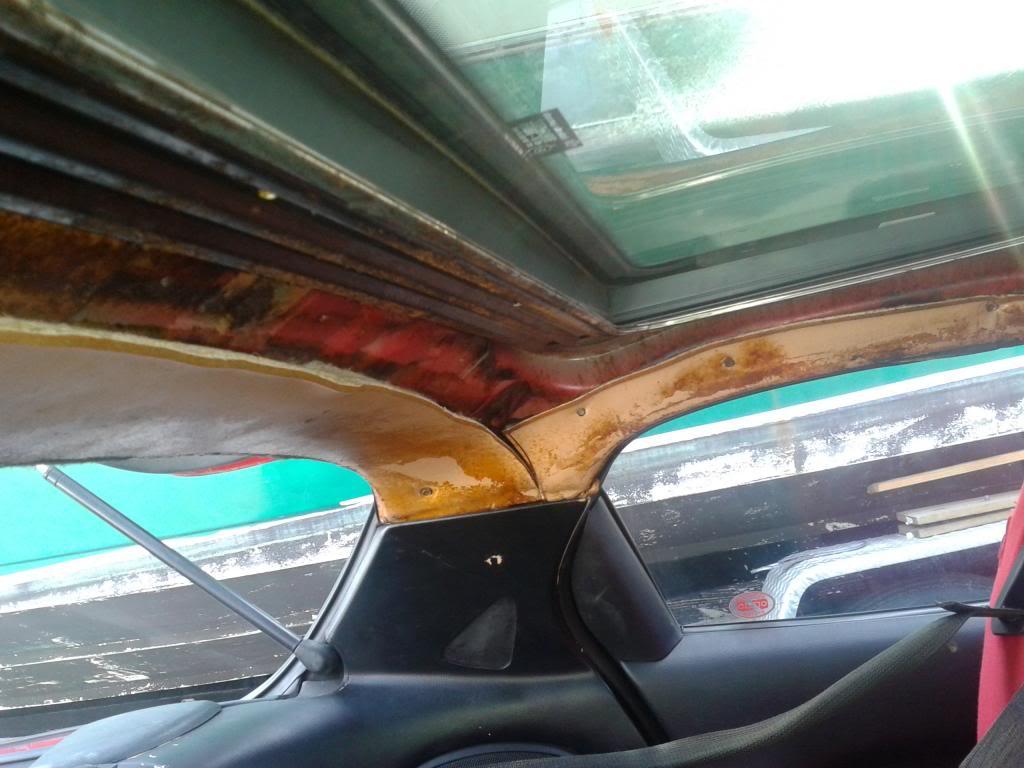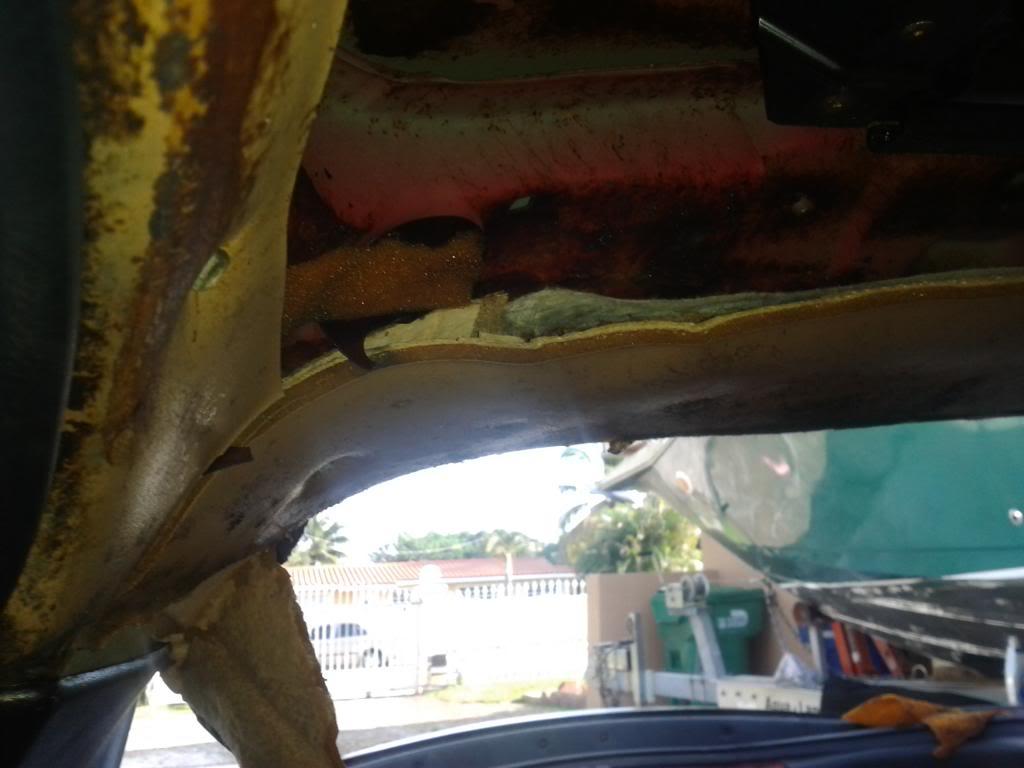 Took it all off and found out I could remove the bracket safely so I did! AND VUALA HEADROOM , plus now I got that whole race car gutted interrior look going ... LOL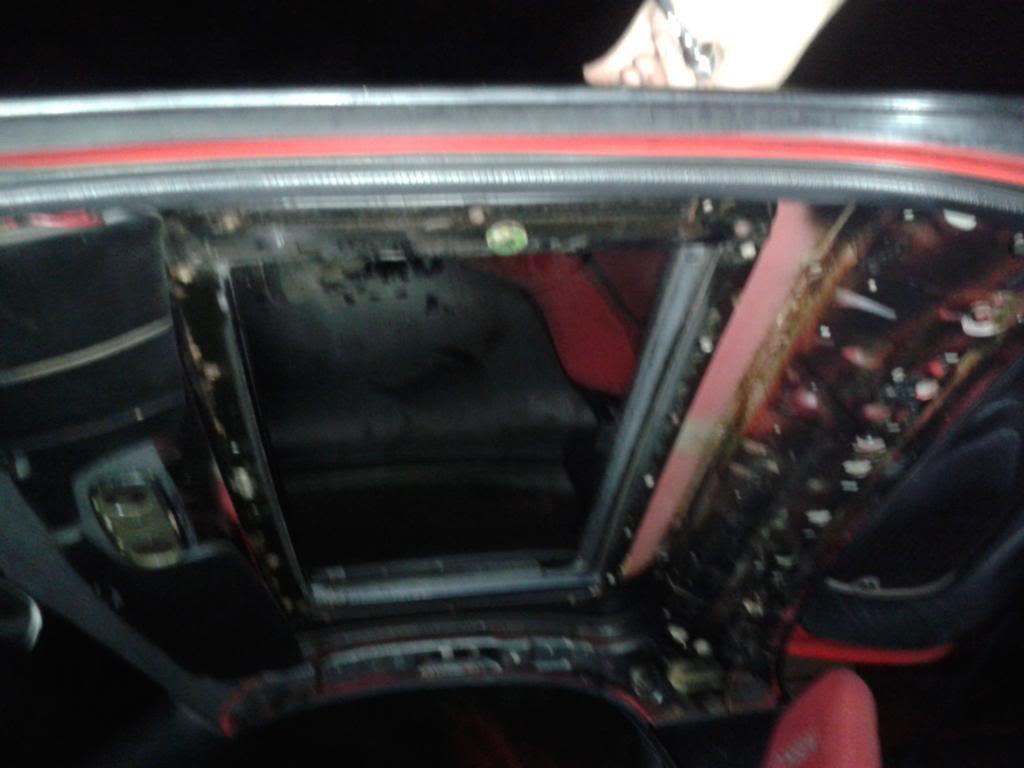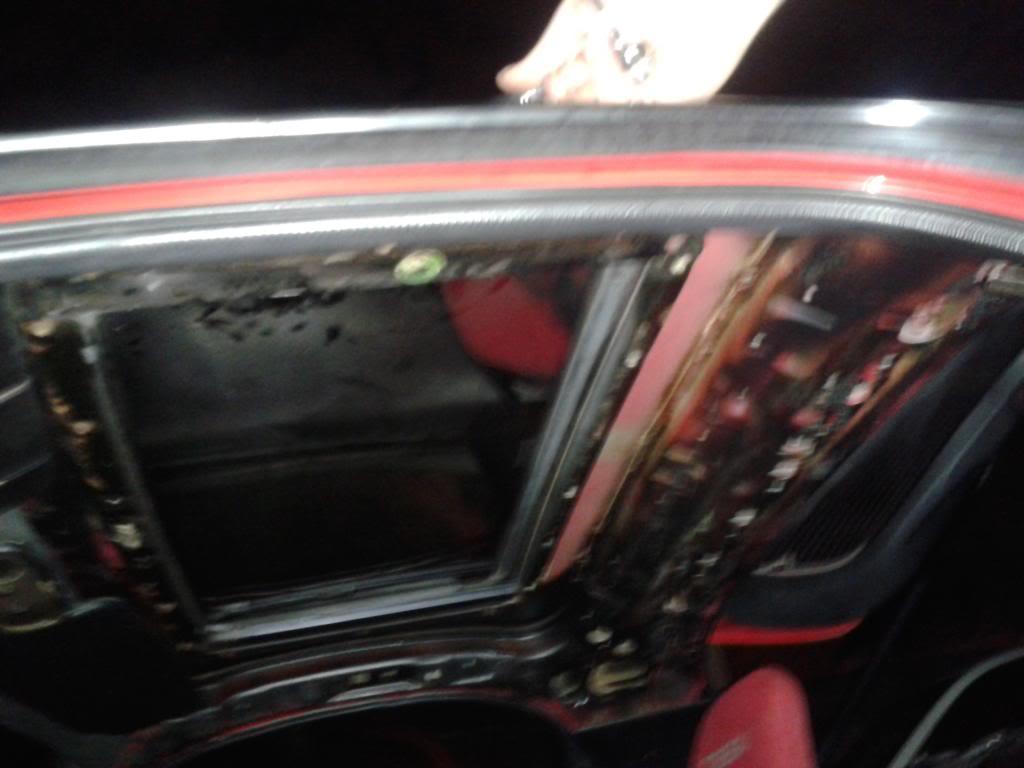 Pic sucks I know I'll get a better one eventually haha
Now since I've got the motor back i've had to add coolant .. at first I thought it was just air in the system , BUUUT eventually I realized my water pump was leaking ..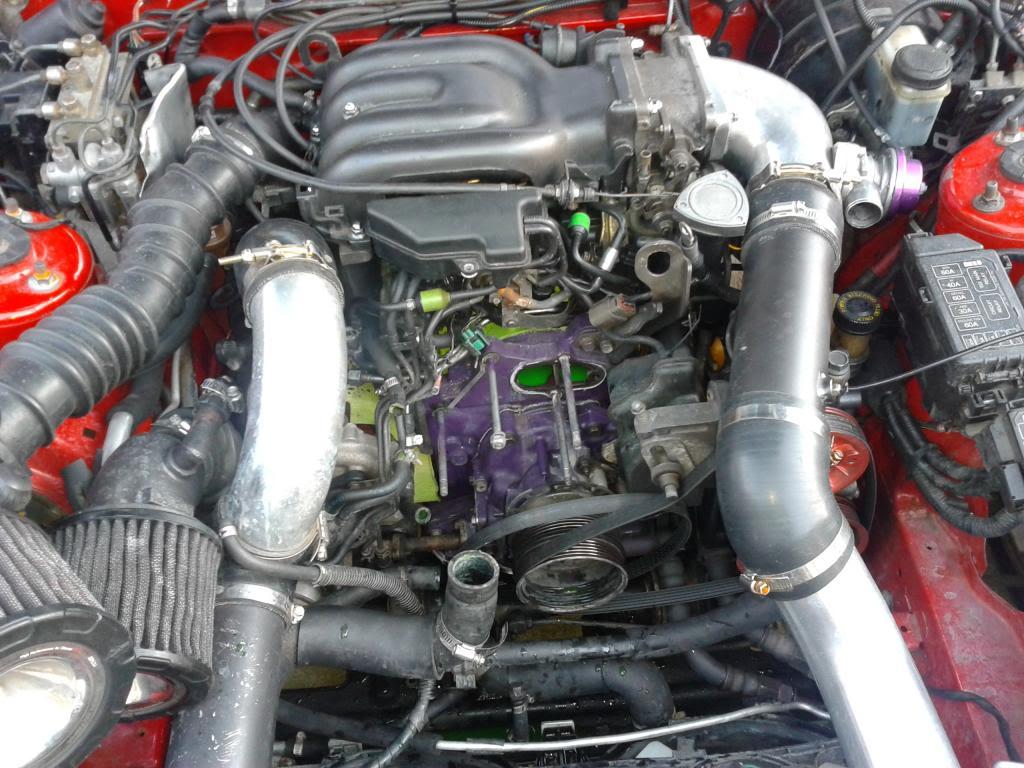 I didnt think it was the water pump itself rather a gasket .
so took it apart and used some right stuff to redo the gaskets
the waterpump to front cover gasket looked very flimsy and kinda half assed like it was done in a hurry
so I redid it
and also painted the pulleys purple to see how it would look .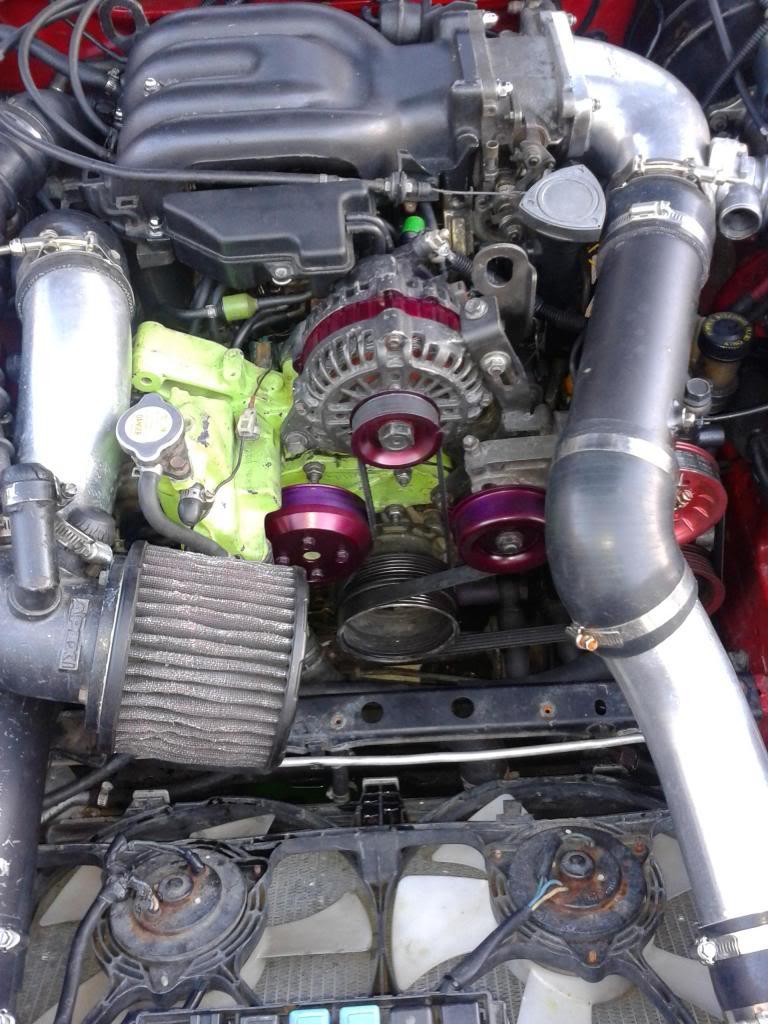 Looks better then the red I think .. just gotta do the other 2 pulleys . LOL
2-4-2014
My second Best Run from last event . car's alignment is messed up as I learned
my best run unfortunately I messed up and didn't record But oh well .
Guys at the start were all curious about what engine I had at first they thought it was a V8 lol .
Still alot of fun . and definitely getting more confidence in the car as I'm matching some people that were beating me last year .
Still a long way to go though ... Also . I turned the boost down for this event
2-12-2014
So painted my wheels green hah gotten mixed reviews but I like them takes the eyes off the paint job lol

After the last auto x the car wasnt behaving like I remembered it and it was pulling to a side sooo off to Apex Alignment I went. Best alignment shop in fl in my opinion, Owner is a road racer and autox er so you get to work with someone who knows his stuff and great person at that

Out with the old in with the new hah running a bit rich am I?? Hah used these plugs while tunning tune stil isnt satisfactory in my opinion and I honestly am not a fan of these auto lites I miss my ngks they seemed alot more robust and spark doesnt die as much during.rich running
Still has a long way to go

2-23-2014
some updates New 99 spec wing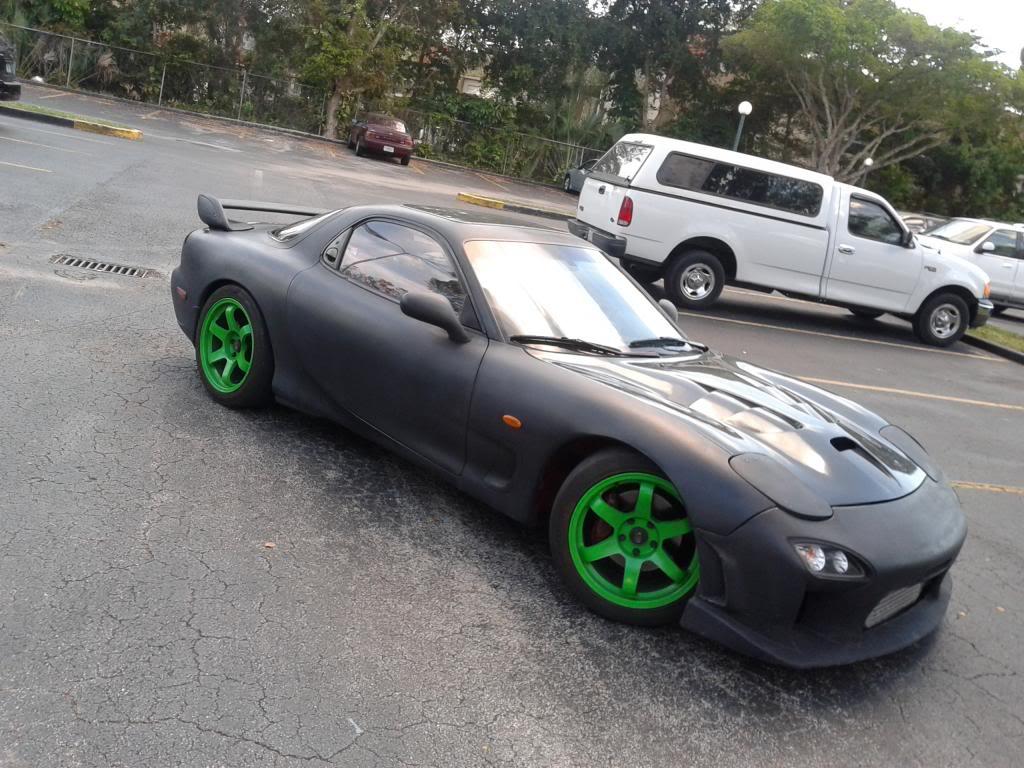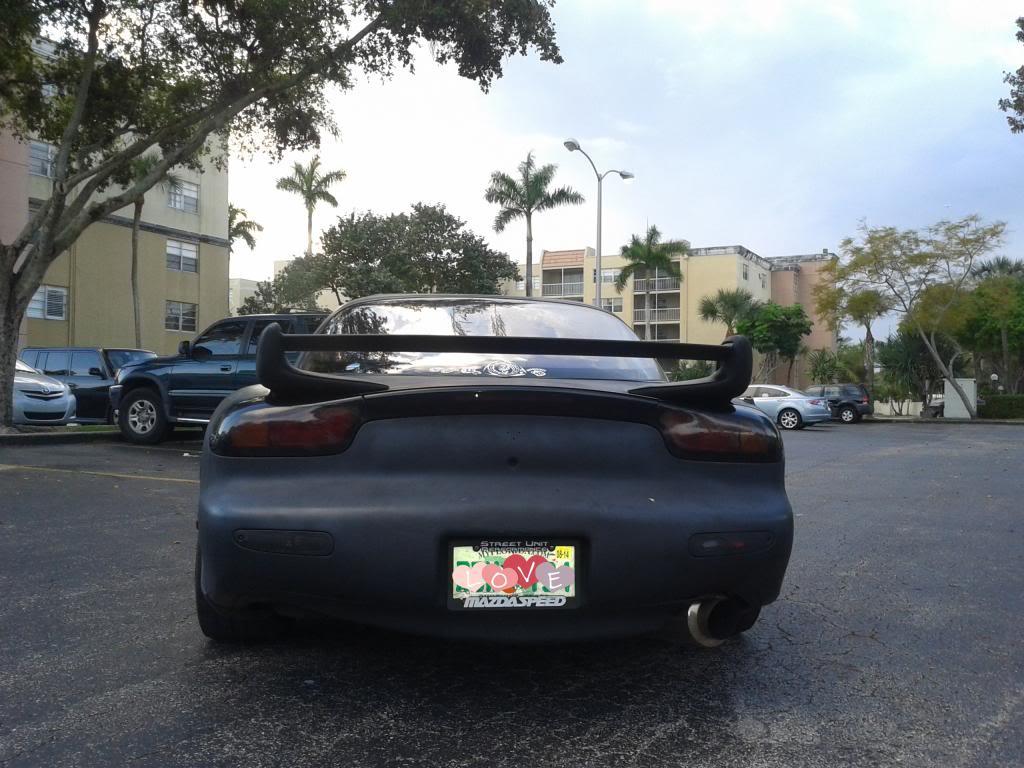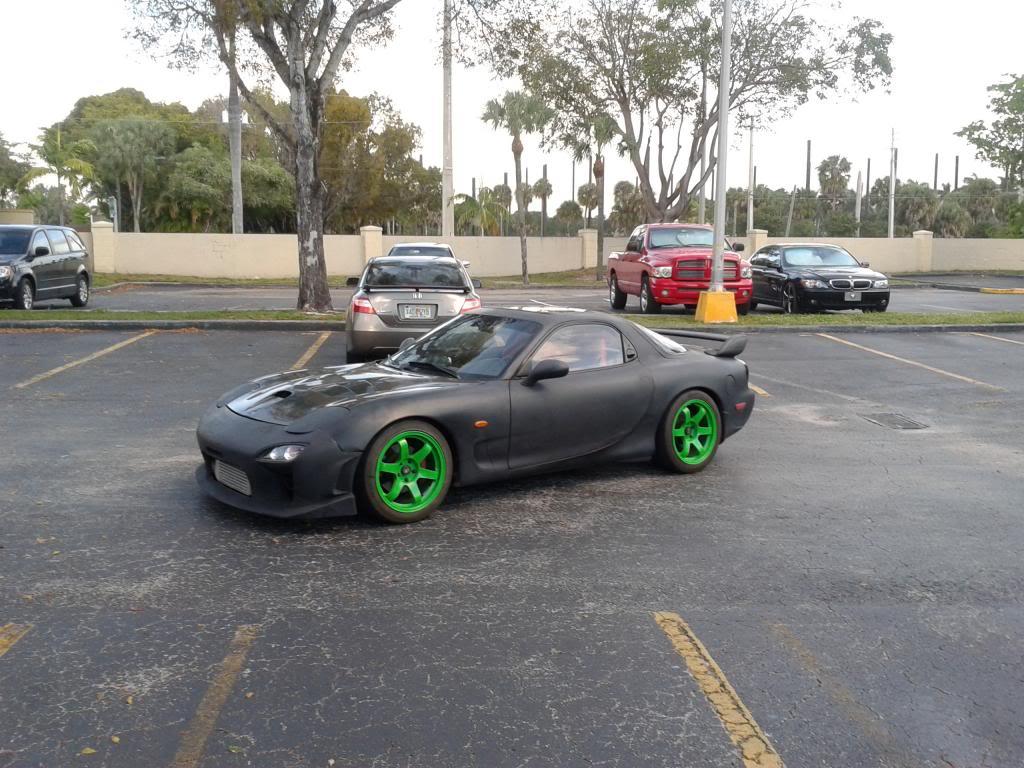 3-7-2014
some updates not the good kind unfortunately , Trans took a poop on me on wed , would not go into reverse . So took the car to a shop I know that rebuilds FD trans . decided to go with that rather then another used trans .. as I'm tired of picking up other people's mistakes .
These are sports cars and get abused so do the trannies , and if the owner does not care for the synchros
things well end up badly .. so off it goes honestly i was somewhat pissed haha so didnt bother with pictures . But we'll see Supposed to pick it up tomorrow .
3-12-2014
Got the car back ! Trans is perfect . Glad I went this route vs a JDM trans it was bit more pricy but i think well worth it!
shifts are so much smoother all the gears go in so crisp i dont know if its the difference between the royal purple and the junk that was in there before but trans and owner are both very happy .
3-13-2014
Found the Last hose to Complete my Dual oil cooler setup . Plan is to get it installed and Fix that GAP in the front bumper thats been driving me crazy for the last few months .
I wanna get it done before the next autox event to see if I see a difference in temps .
3-22-2014
Finally GOt around to starting the dual oil cooler install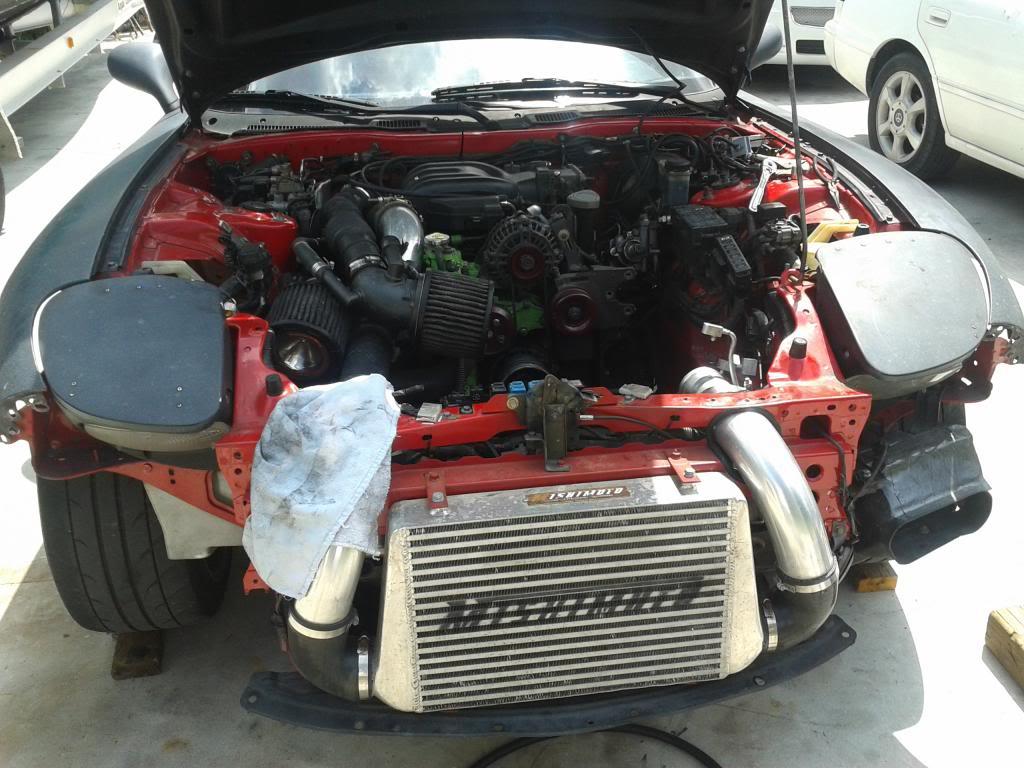 started with draining the oil , removing the bumper , removing anything that might get in the way .
Unfortunately I under estimated this . THe Oil cooler hose that needed to be replaced would not fit between the hardline , so I had to remove the powersteering , and ac compressor .in order to loosen it also went ahead and loosened that hard line from the Oil cooler pedestal since it was leaking oil from there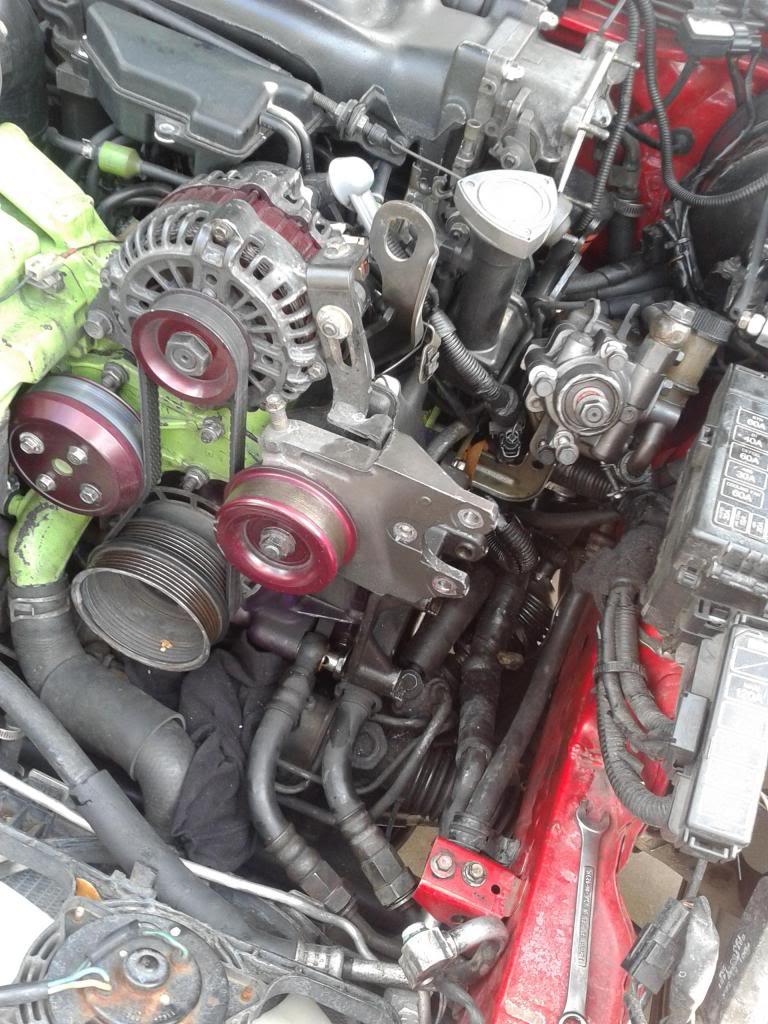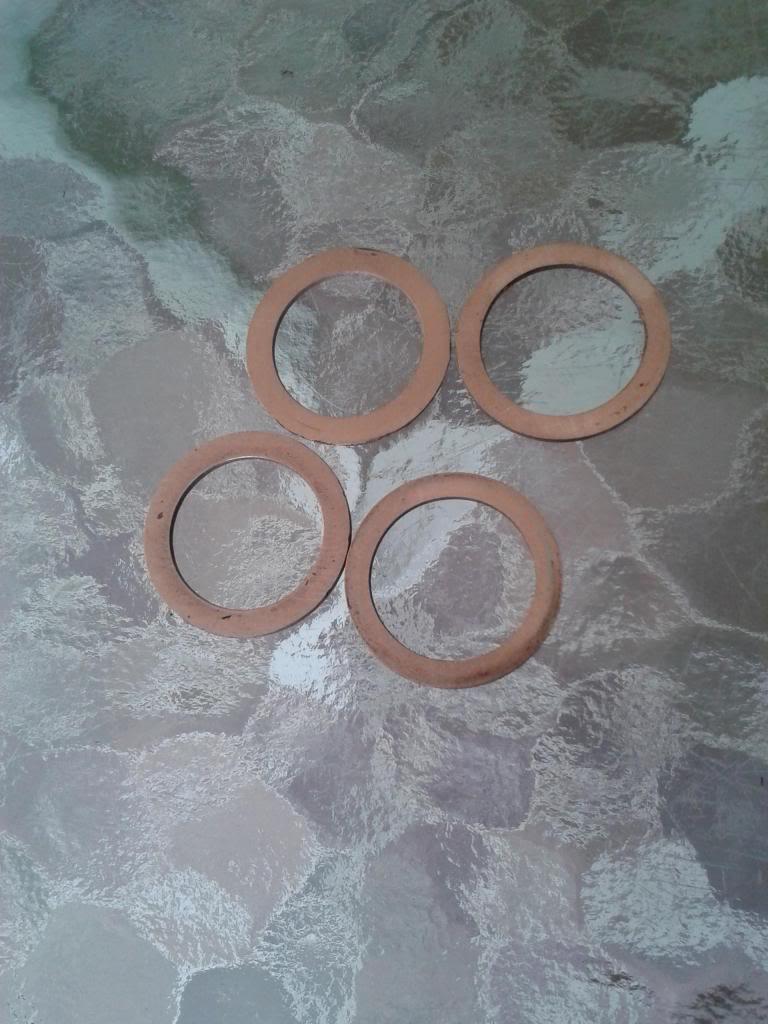 sanded down the crush washers so they would lose their grove , and heated them up so they would expand and be reusable.
I know generally you would get new ones . but this little trick works well .
3-22-2014
After replacing the Hose , I went on and installed the oil cooler in its new home ,and used duct tape to make well a duct since the oem duct was long gone . HAHA ironic this is the first time i've used duct tape to make a duct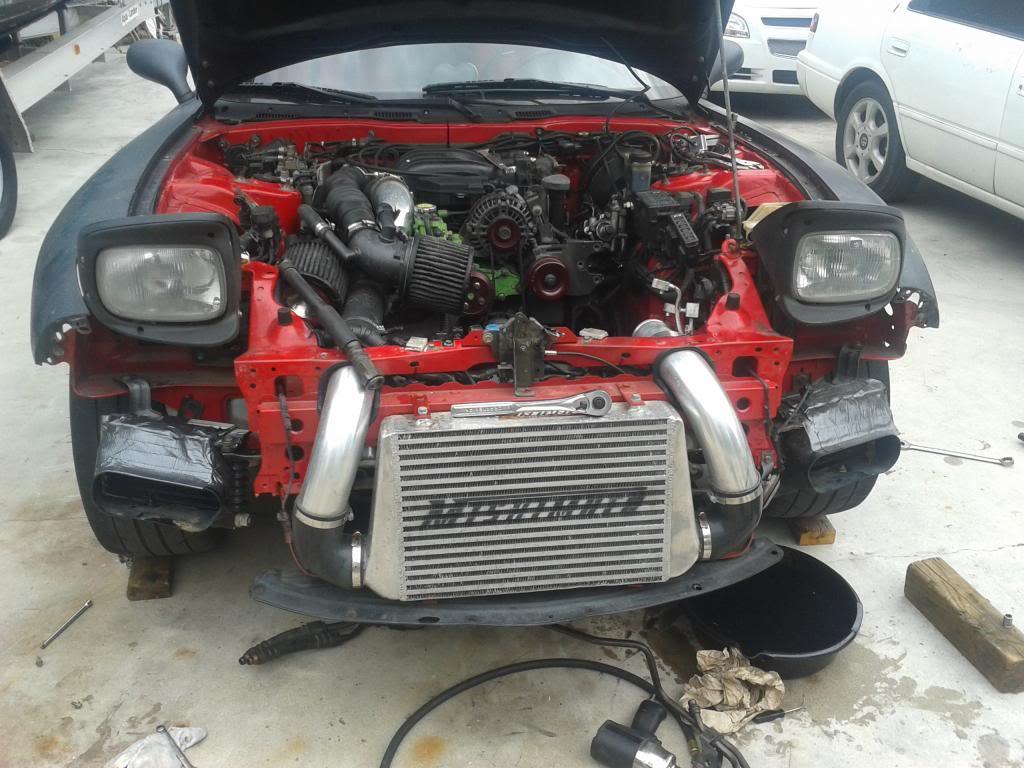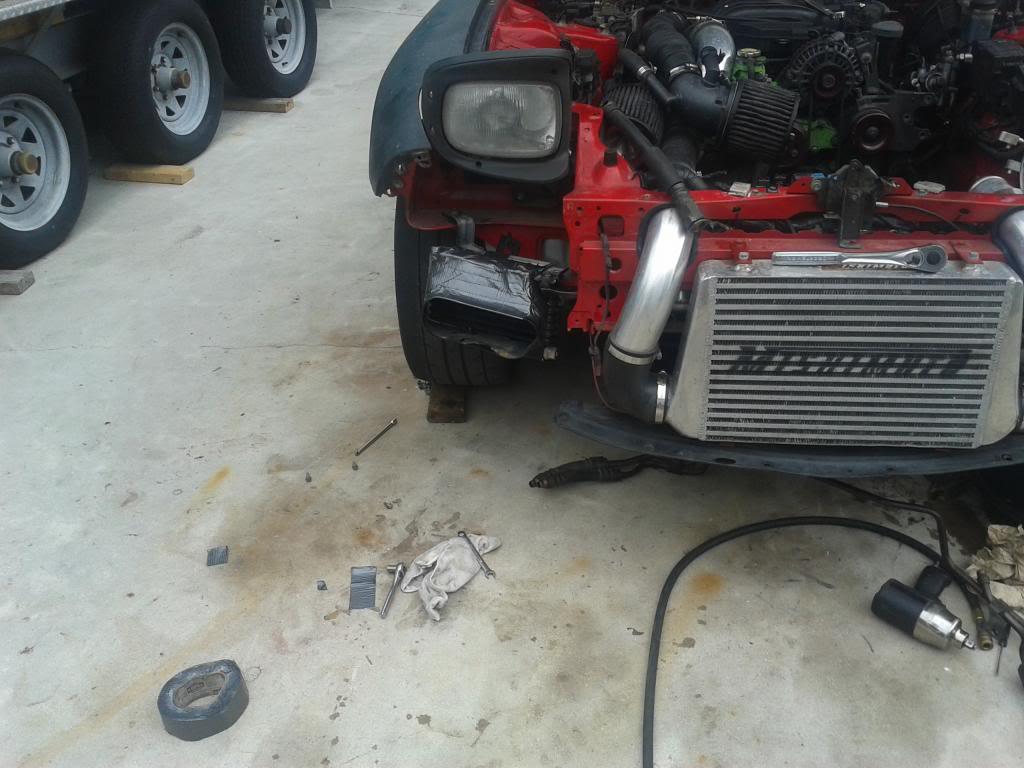 Due to some issues , tomorrow we will begin with fixing that bumper to fender gap its honestly driving me nuts.. I know its not like its a show car , but still bugs me .. haha
3-25-2014
Well got the fd finished it was a pain getting all the tubes right seems they got bent when.they got shipped from japan and they were shearing so I had to rebend things make sure nothing was rubbing
Then I moved onto the bumper cut some slits so the oil cooler ducts would slip in and adjusted re drilled some holes so the bumper itself could move backwards and here are the results its no shocar quality again but not to bad concidering how it was before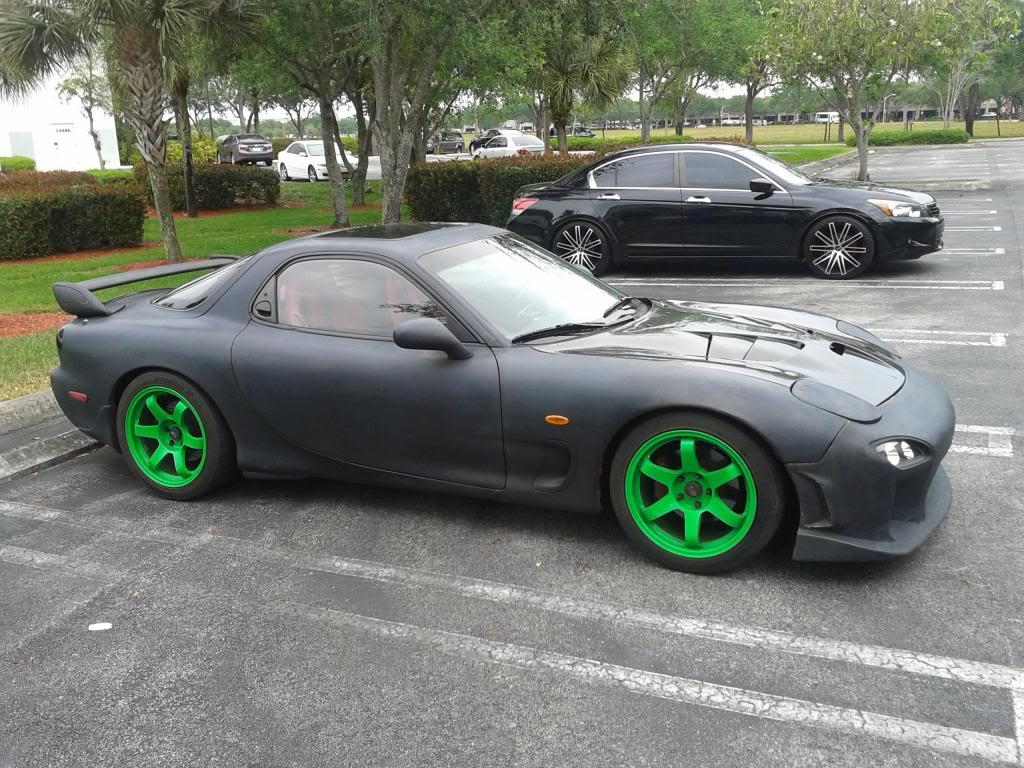 And really gotta thank my dad for giving.me a hand with it all .
3-26-2014
Ordered the banzai Racing Power FC commander holder . Waiting for it to arrive hopefully it will get here before this weekend as There is a two day auto-x event in sebring i would like to attend . and the commander holder would make things a bit easier without having to tape it in place with duct tape haha.
4-1-2014
So I had an auto cross event this last weekend , honestly it was just one of those days where I drove like crap ! , Normally i'd post a video regardless but I messed up and didnt have any space to record.
I also got the banzai racing power FC commander holder honestly that was a dissapointment its very flimsy and vibrates all the time . also I think I installed it to far forward so my thumb hits it when ever I use the Ebrake May need to do some reworking .
4-7-2014
My best run from autocrossing this past weekend car was honestly behaving great
5-31-2014
After did went and did another event , which the car was tailhappy if driven hard .
tried removing the rear swaybar . which helped but still not there .
SO I went ahead and got a racing beat front sway . might of gone a bit overboard with the stiffness though
This is a video of an event after the swaybar
After doing some adjustments inbetween runs I finally got the car pretty well setup
I had one event after that which I won my class for the first time But no video for that didnt have a camera
after that had a small accident.. ended up with a dent on my door after losing control of the car so car is now in a bodyshop getting door fixed , and a few other things
7-11-2015
Its Been such a long time Since I Posted on this .. Many things have happened ... And I guess maybe its time to start up dating! . tons of pictures and updates may be on the way along with some videos haha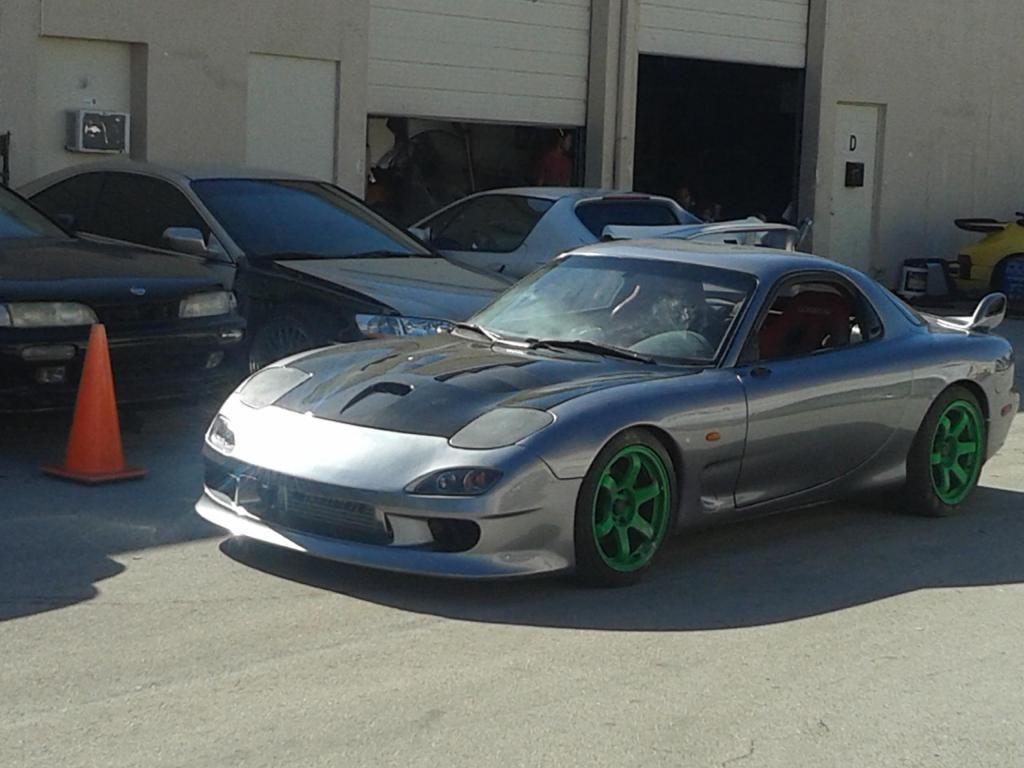 Fresh paint ... cant beat that shinyness Also Since It was getting some surgury done I decided to Replace the Roof Panel , Ordered a new one from RAY.
AND YAY! No more sunroof!
Next step was fix the Wheels... Green wheels ... Just didn't go to well with the new Painted Look .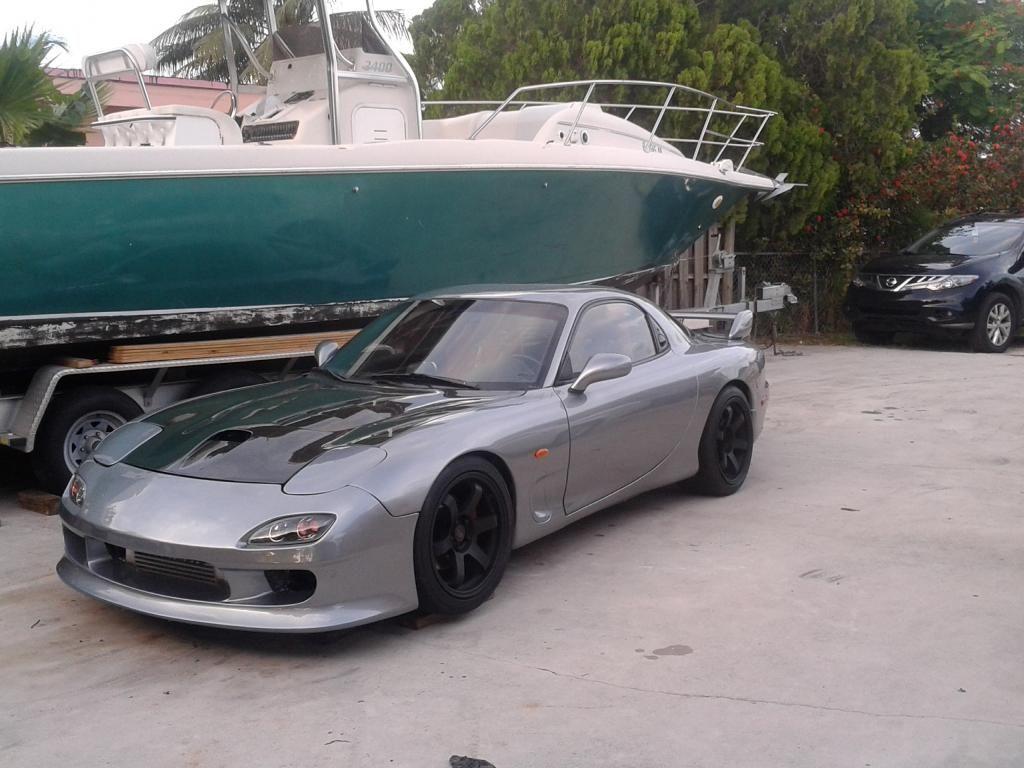 After This it was Time For my FIRST TRACK DAY!
Arrival @ sebring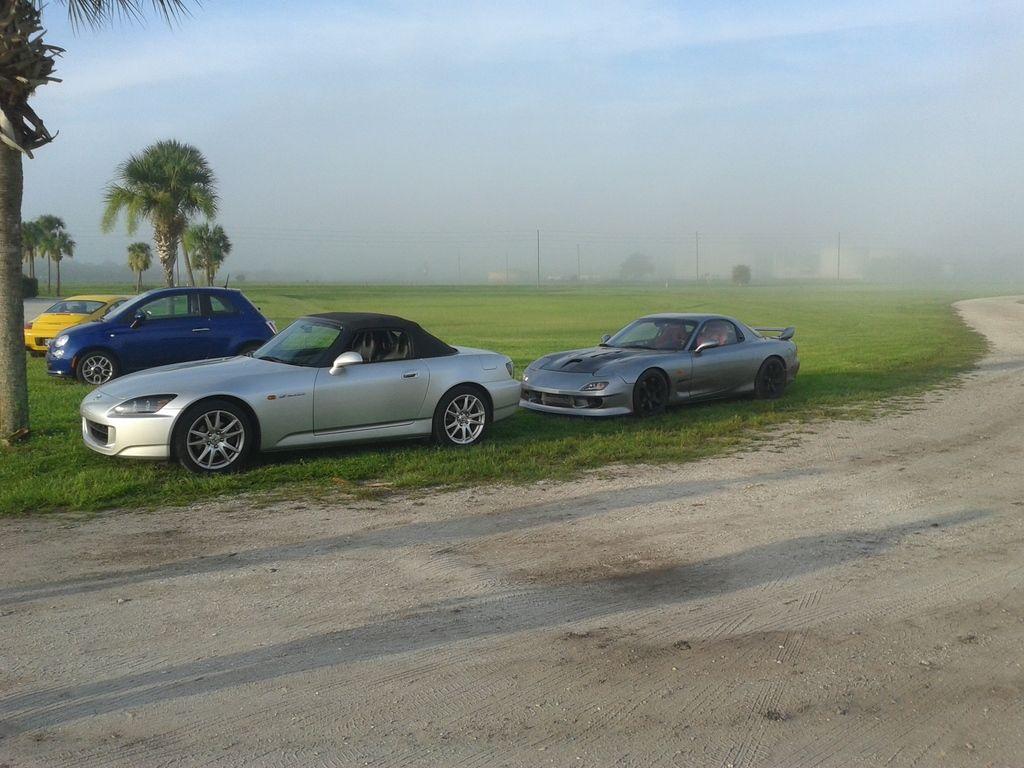 The FIrst Event , Honestly was NOT as fun as I had hoped .. Just about everything was wrong with the car . I WAS NOT PREPARED!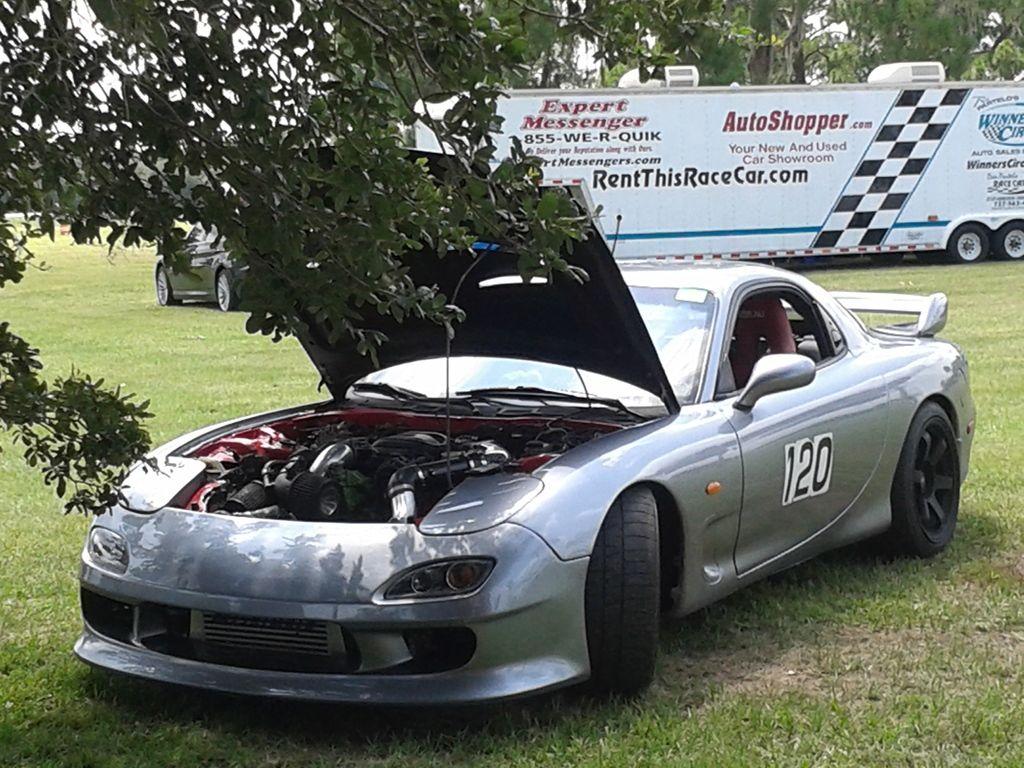 The FIrst Event , Honestly was NOT as fun as I had hoped .. Just about everything was wrong with the car . I WAS NOT PREPARED!
Car Overheated after 5 minutes Temps were way in the 100's brakes overheated just as fast was getting pedal to the Floor . in the very first sessions THis was despite Turning the Boost down to as low as it would go .
Video Of sebring It wasnt Exactly my or the car's best moment haha But still .
It had gotten nearly over heated saw 108C once or twice . But IT SURVIVED!!
and I was determined to come back and with a vengence!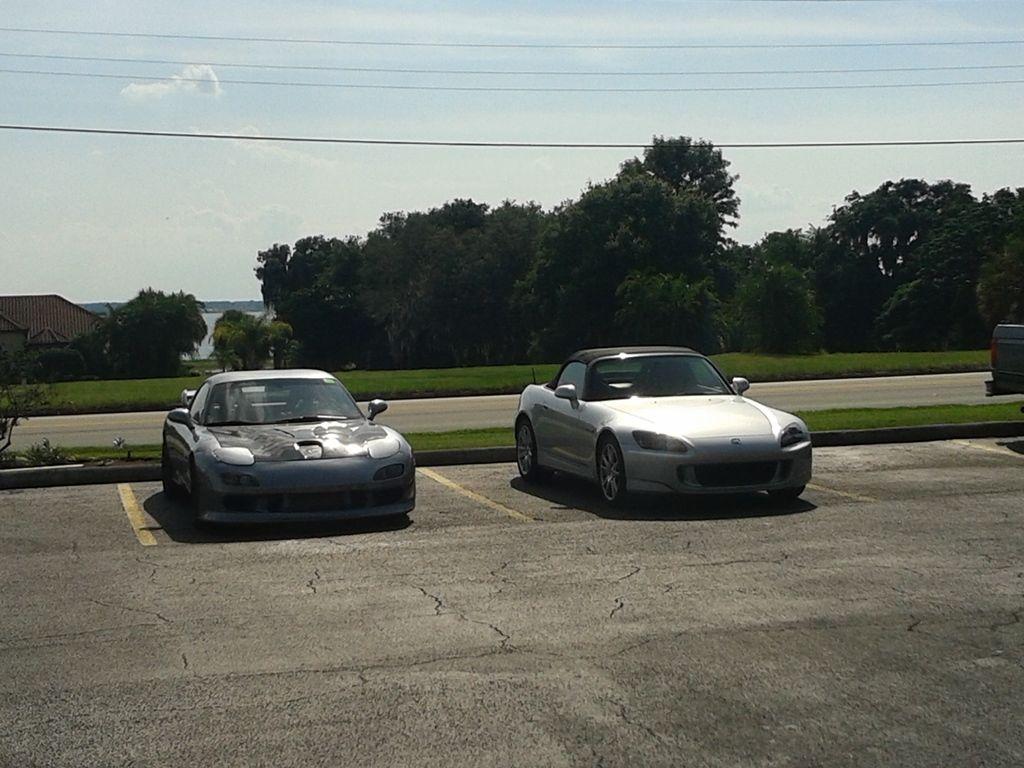 And SO it started ..
New Brakes /, brake fluid , Replaced The Old HPS Pads for some Hawk Black's in the front , and Hawk HP+ in the rears Replaced the old Super BLue Fluid with RBF 600.
Relocated My Front mount IC to a stock mount location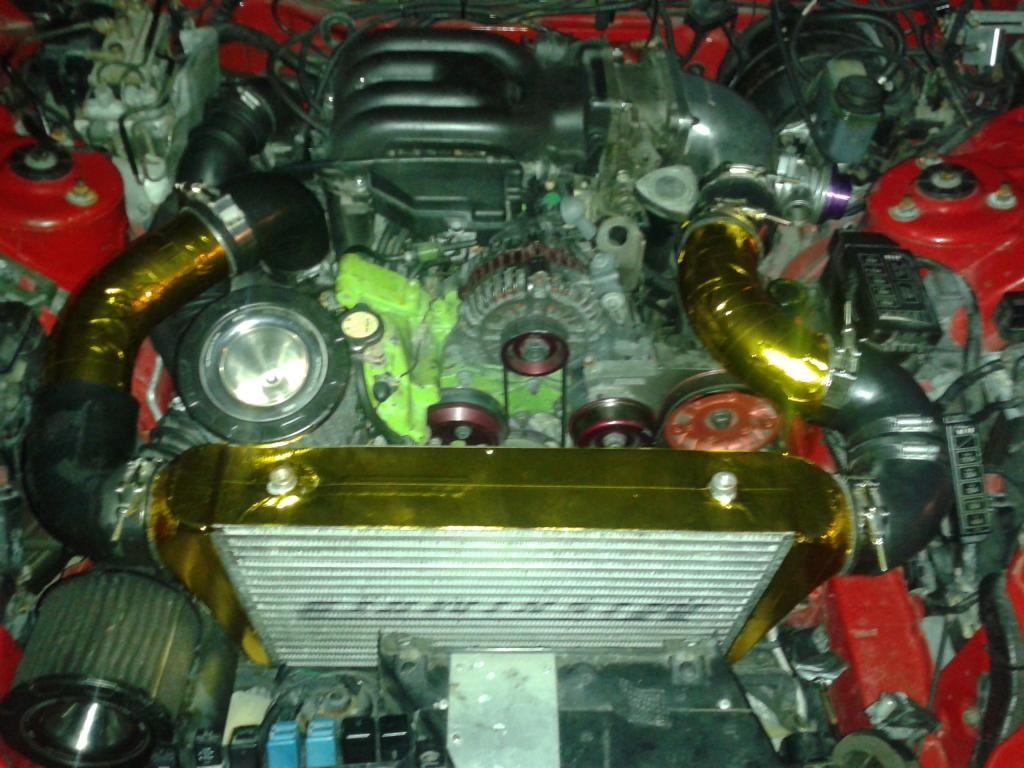 Obviousloy the stock Duct wasnt exactly Going to do the trick..... So I upgraded to a Pettit Duct And added a Fan to help some Flow for the IC during traffic and slower speeds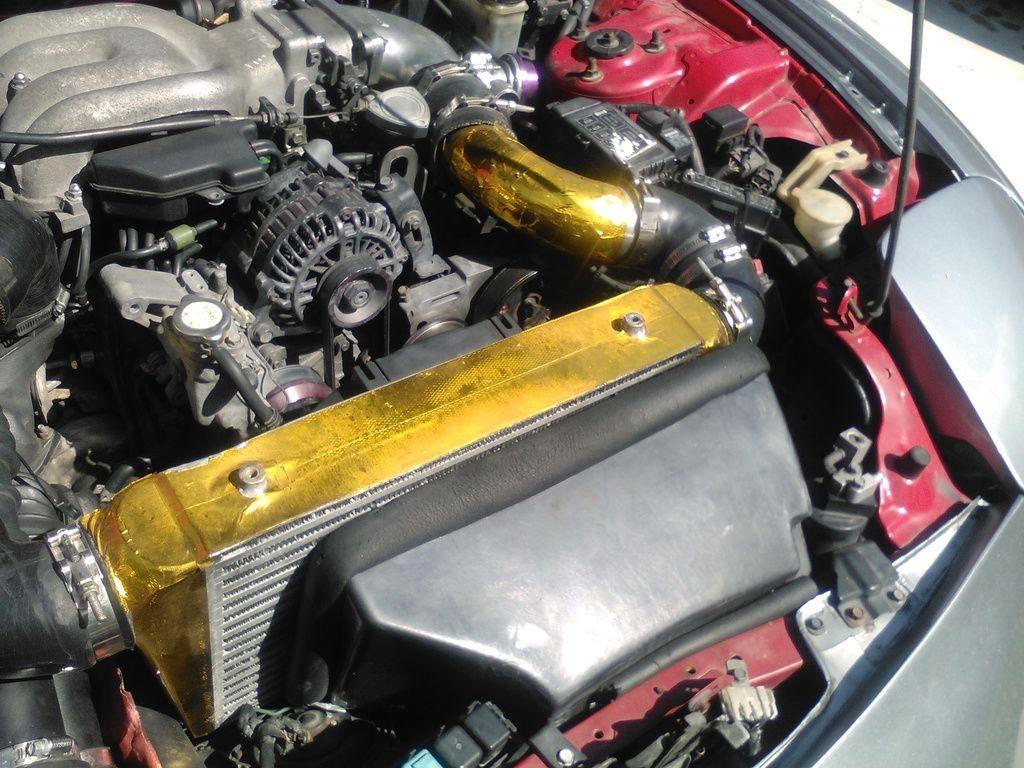 7-18-2015
Apparently My brakes caught on fire...
This was my first autocross since removing the front mount , was trying everything out make sure it actually worked .
engine temps were good.. But according to some people .. My brakes were on FIIRRE!!
yeah it was actually just my new race pads getting bedded in .
THIS IS WHY I CANT HAVE NICE THINGS!!
new paintjob Lasted all of like 3 months before I ruined IT !!
car might of been under-steering a tiny bit.. I apologize there is some choice language... in the vid. First run ofthe day .. and I made a big mess...
Cleaned up the Run , But car was still understeering quite a bit .
Picture of the damage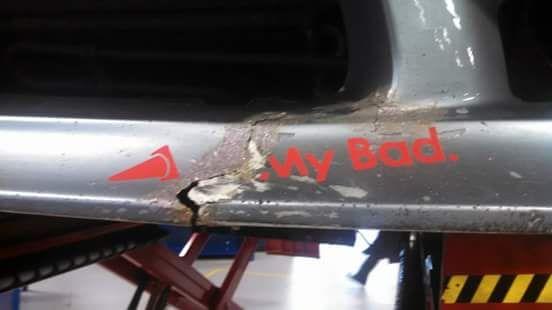 TRACK DAY NUMBER 2!! OCT 2014 ! So palm beach international . They were short on instructors so I had one for the very first session. and the Dude said you're good have fun .
the water / intake temps were good .. BUUUT My brake pedal was still going to the floor after abusing it.
thankfully I had learned hwo to be gentle with it . Lift off early brake at the last moment not the fastest way around But atleast that way the brakes lasted almost till the end of each session .
Here are some fun inserts from the Event .
Very Fast GTR.. Left me in the dust in the back straight
having Fun with a Gallardo
I was in the intermediate group and considering how easy I made it there I'm sure alot of these people Myself included could of benefited from some good coaches .. BUTTT no harm no faul had fun .... or so I thought .
with the rx7 FUN always comes at a pricee.... Heafty price ....
cracked rear rotors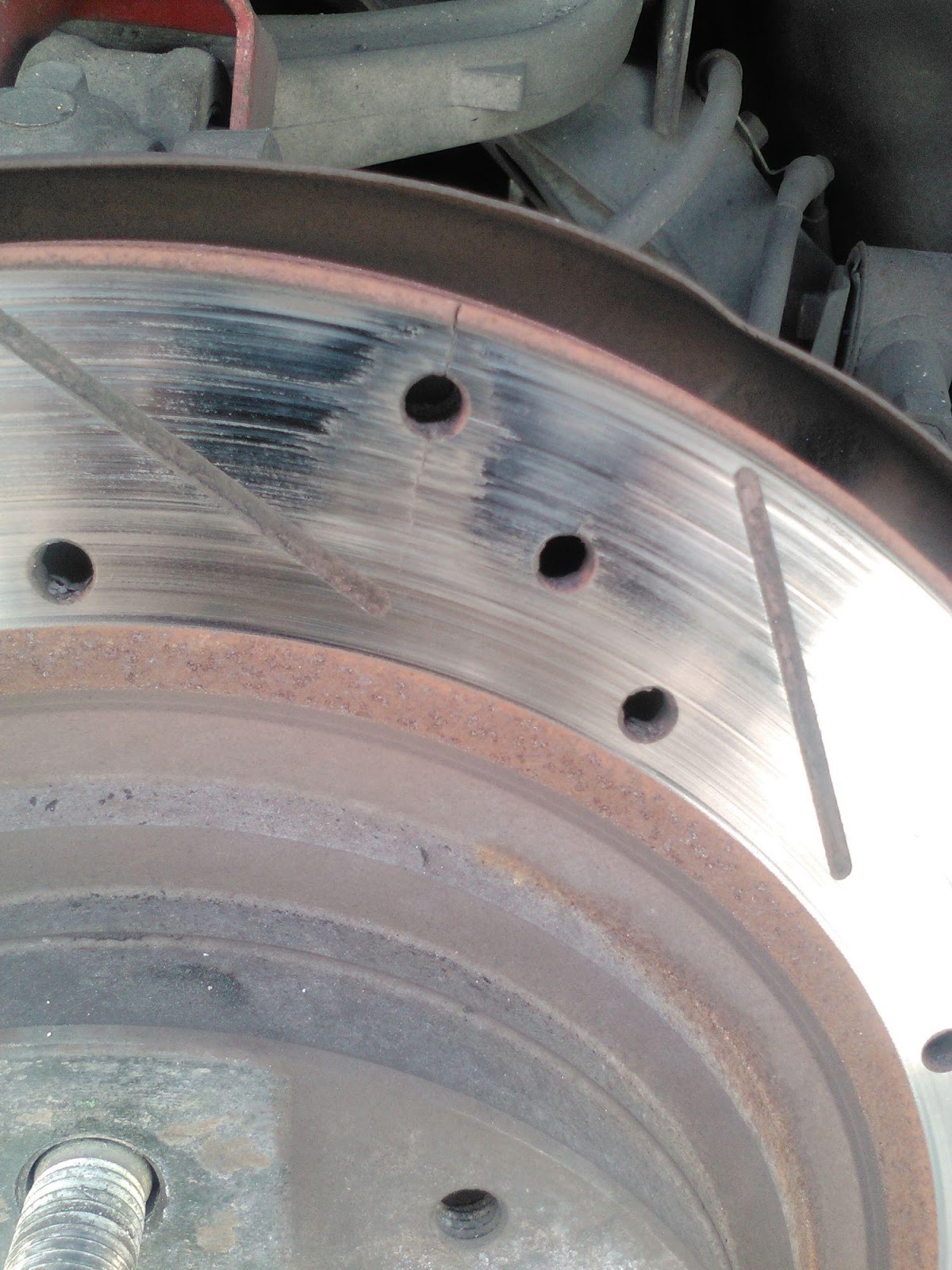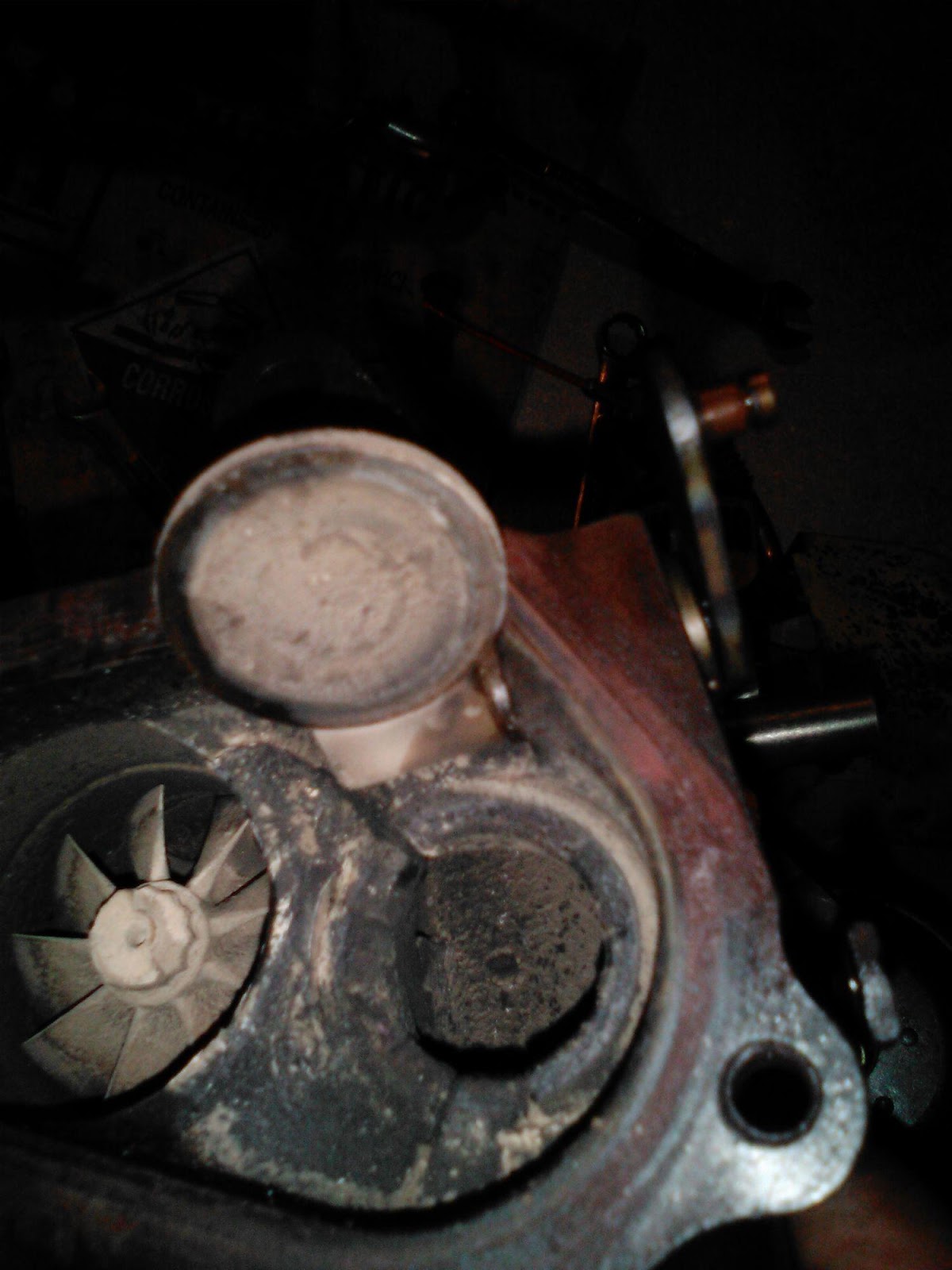 And a blown Turbo ...
AND ontop of that I still had to figure out why I was boiling my brake fluid if it was brand new and ATF super blue .
Replaced my Turbos ... THIS IS NOT A FUN JOB TWIN TURBOS ... took me 2 weekends after I put the new turbos on the Oil lines didnt want to align and OH BOY was this NOT a FUN job.. Infact I almost just about quit and ordered a single turbo setup..
Twin turbos are not for the feint of heart ... BUT I eventually managed to install the new used set .
And well they worked
Some new rear rotors .. AND at the PBIR event I learned that My brake fluid cap was a bit broken.. I tested it out and it was indeed letting condensation in so i said MAYYBEEE ?????
Got a new Cap , RBF 600 Brake fluid and re did the whole system .
a couple oF pictures form the PBIR event In Oct Of 2014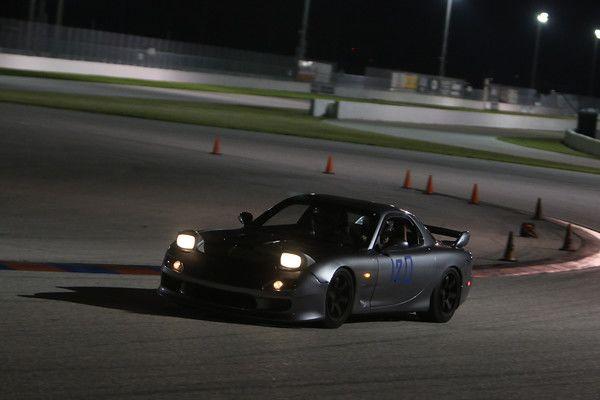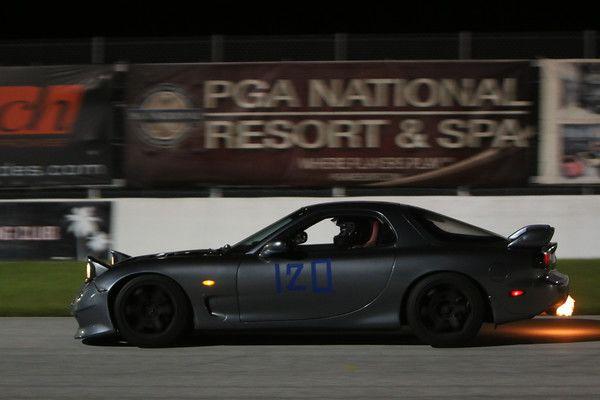 7-20-2015
Friend of mine memed me ...
7-22-2015
yeah the set that blew was actually an RZ/Spirit R set =( I have a set of the upgraded / series 7 twins now , and i'm keeping them in low boost . I need much more driver mod than power mod anyways .
But I am planning on upgrading to a nice small single I dont care if it doesnt make more power as long as it runs cooler , and isnt such a huge pain hahah !
But I do have to say its hard to beat .. I love the Car with the working twins . =(