Builds
Chris Tran T04z MB build by RotaryNationFD
By diyauto
You must be logged in to rate content!
9 minute(s) of a 18 minute read
Chris Tran T04z MB build
Compliments of RotaryNationFD @ www.rx7club.com
11-19-2013
It all started almost 6 years ago now. I found This MB base for sale for 7k as an automatic with 155k on it.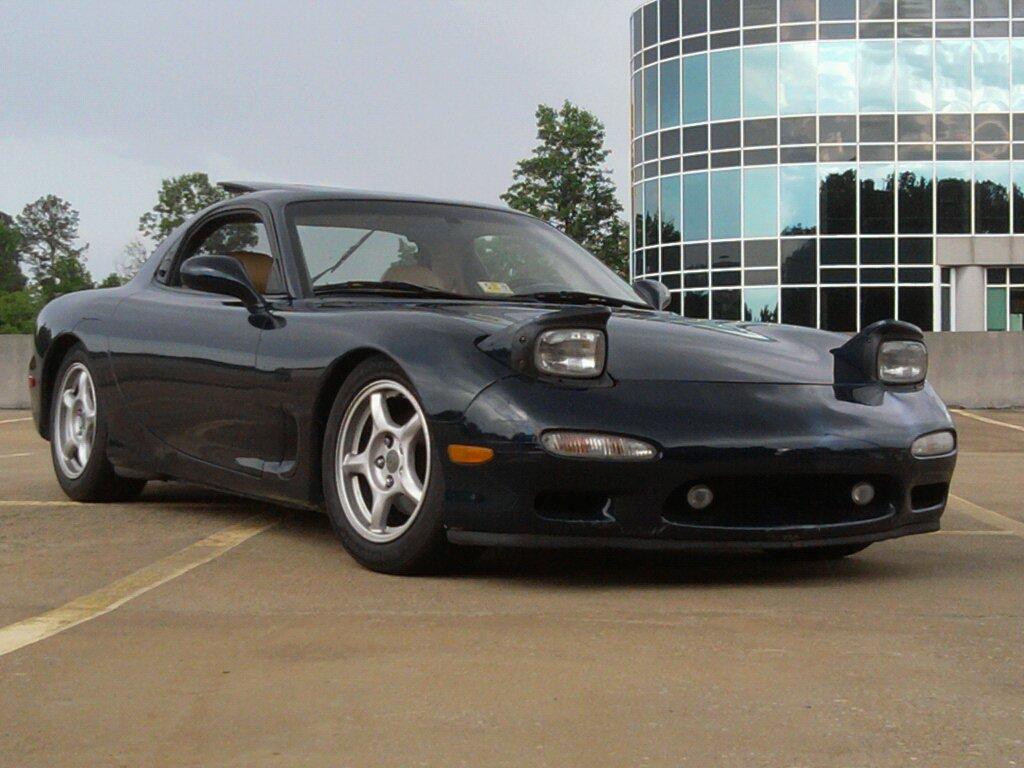 ever since then Ive been absolutely addicted to rotaries.
The motor was purchased, rebuilt and ported through Banzai-Racing since my motor was too trashed to recover. I also got the oil pan brace, fly wheel resurfaced and their poly- urethane mounts. The port is a large street port as well.
when the motor arrived to Banzai
After Banzai was done
When I got the motor home It was absolutely spotless and me and my buddy wasted no time getting to work. The Turbo kit i went with was a garrett t04z ball bearing kit from rx7store.com.. It is an ok kit it didn't come with an oil return fitting for the motor though. but to my surprise good quality for the money. The kit was 2499. which to me isn't bad.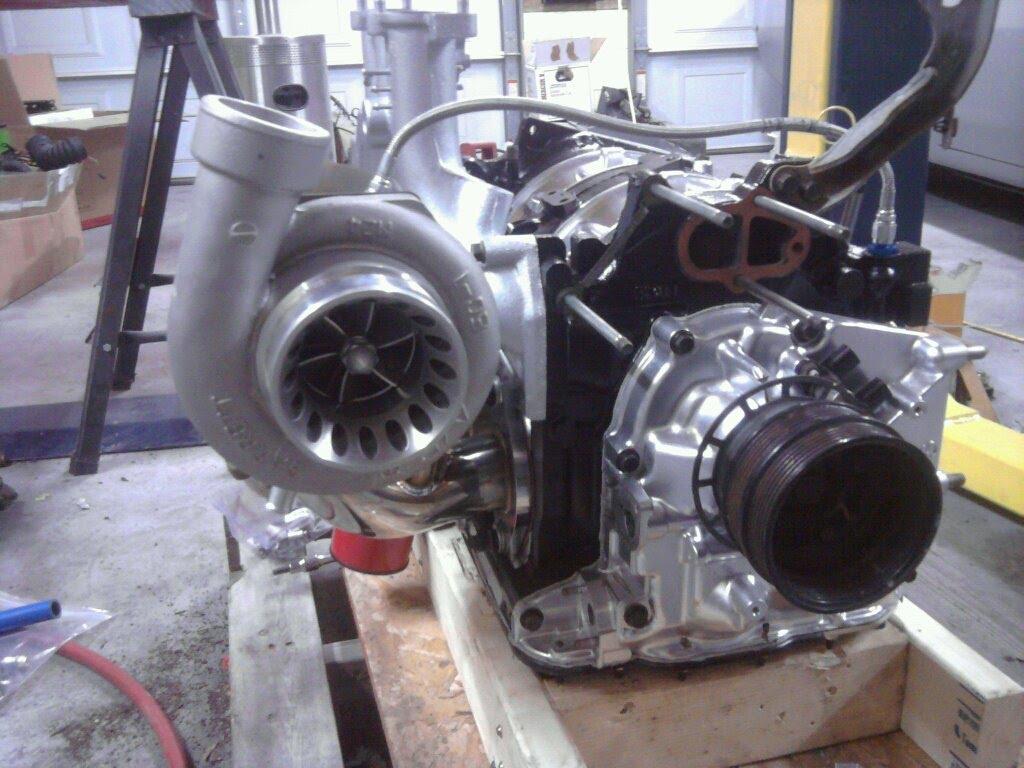 Before I went single turbo I was hard pressed on v mount intercooler set up. For multiple reasons. I like the fact that you can't see the core by just looking at the car and newbs won't know think its boosted. LOL but more so for the better boost response and cooler temperatures. I decided to go with the Rotary Extreme Track V Mount kit. Unfortunately for the price (2400) i wasn't as satisfied as i wanted to be. First off it took just about 4 and a half months to get to me and it needed some adjustment for a proper fit. However i have no complaints other then that. Oh and the fact it came in a giant blue tub i thought that was strange but everything was sorted and labeled nicely.
It also came with this cool PS cooler. but its just sitting since i don't have power steering.. so if u want it 100bucks plus shipping and take it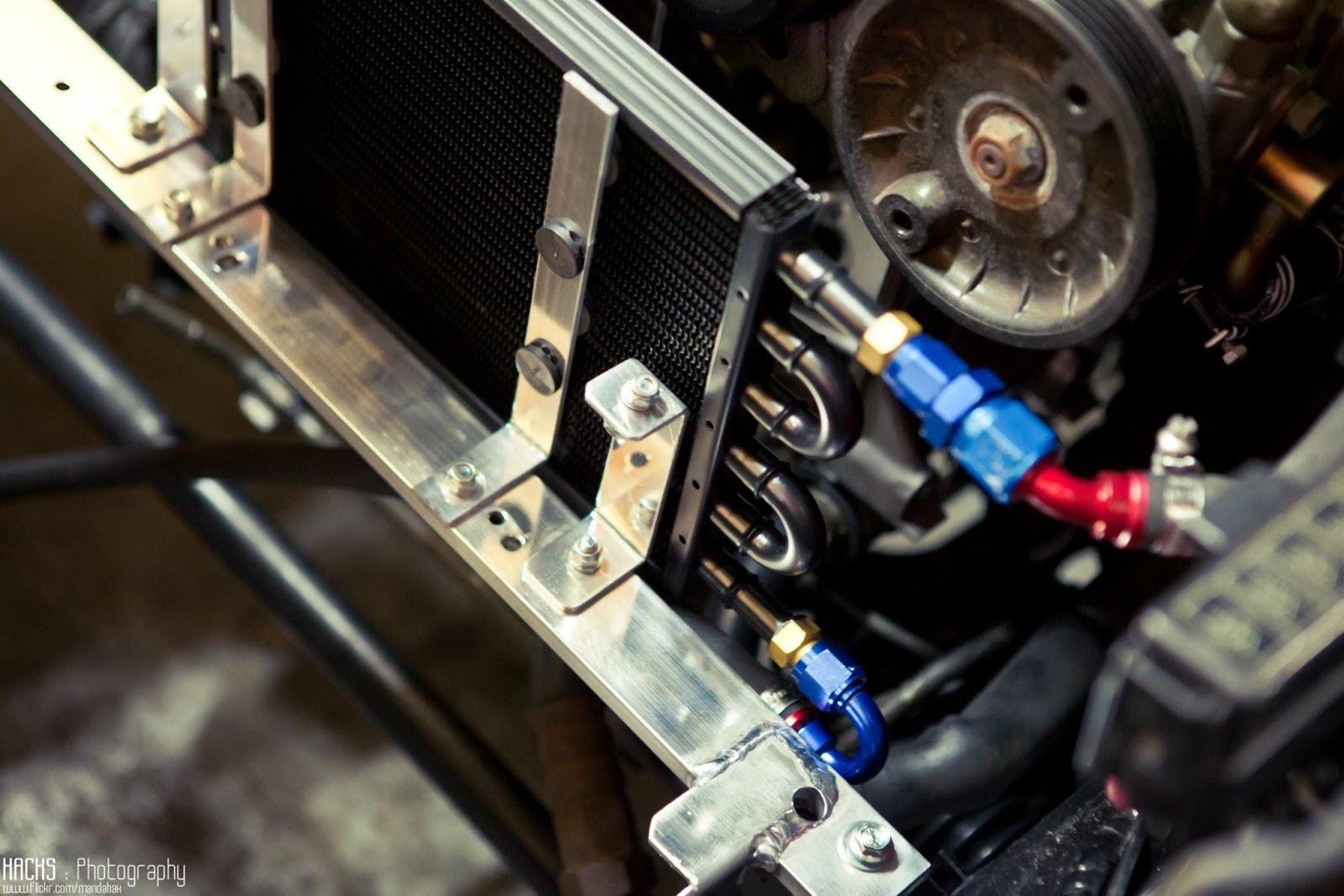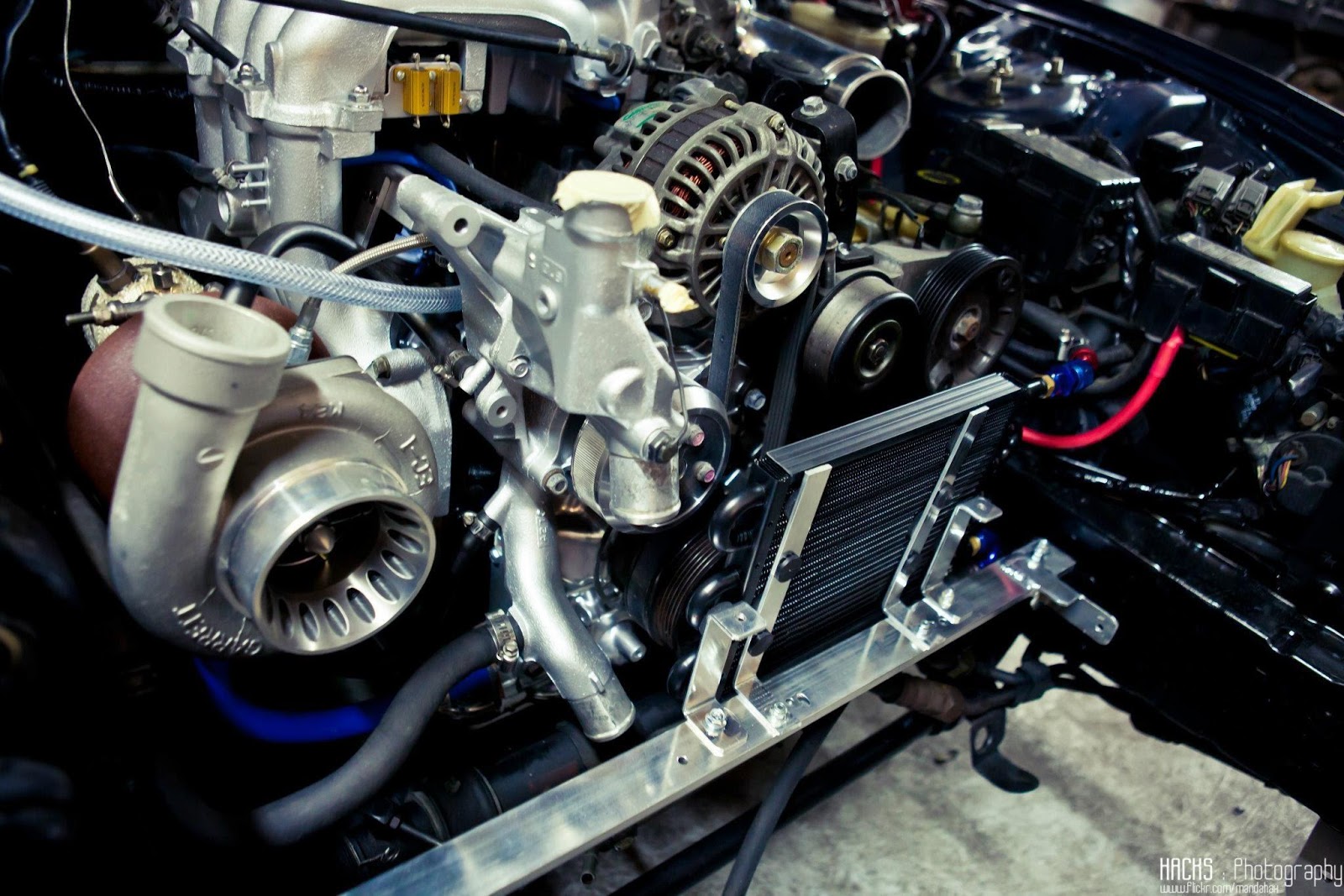 It took a few hours to get it all installed and fitted proper but it looked damn good once it was said and done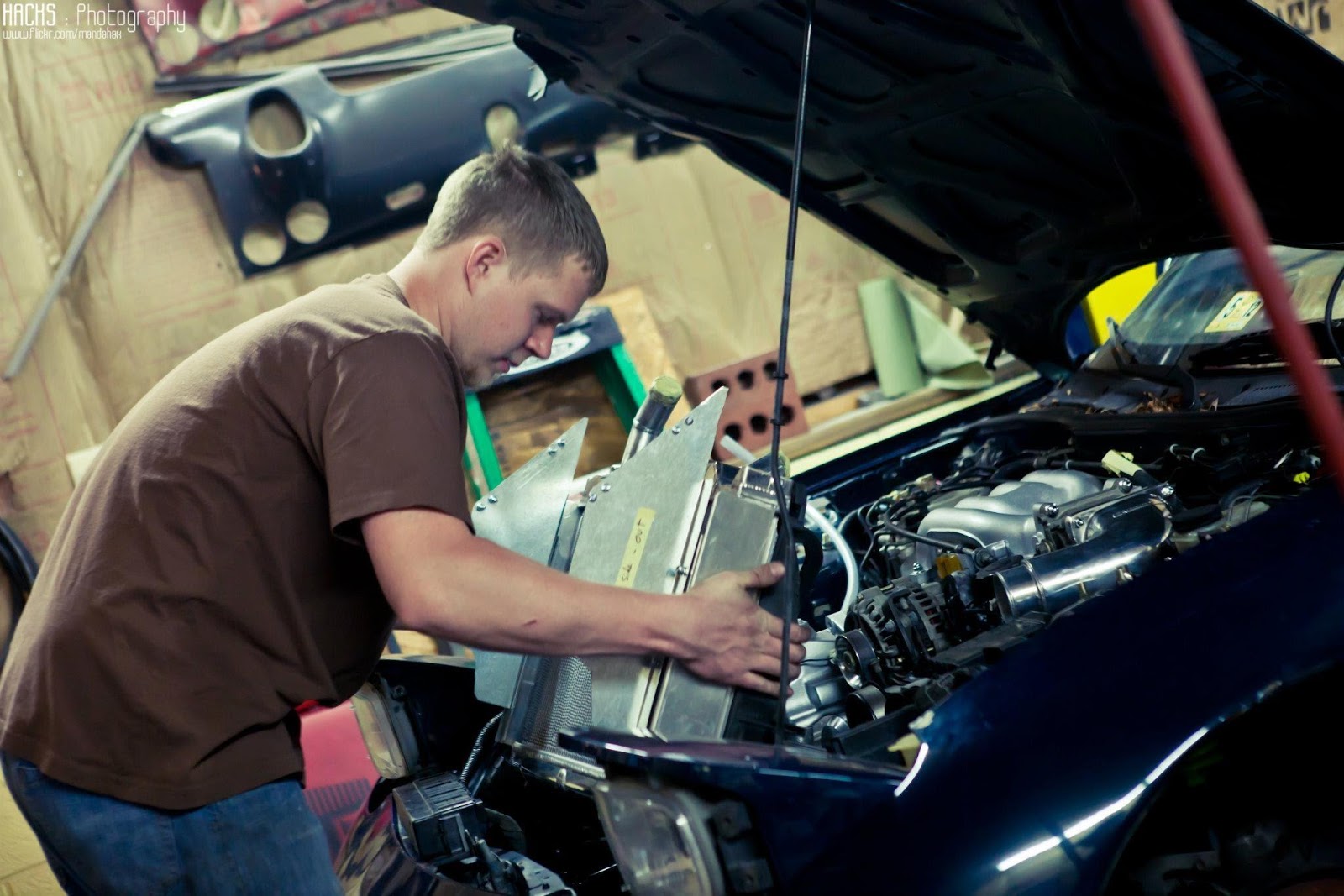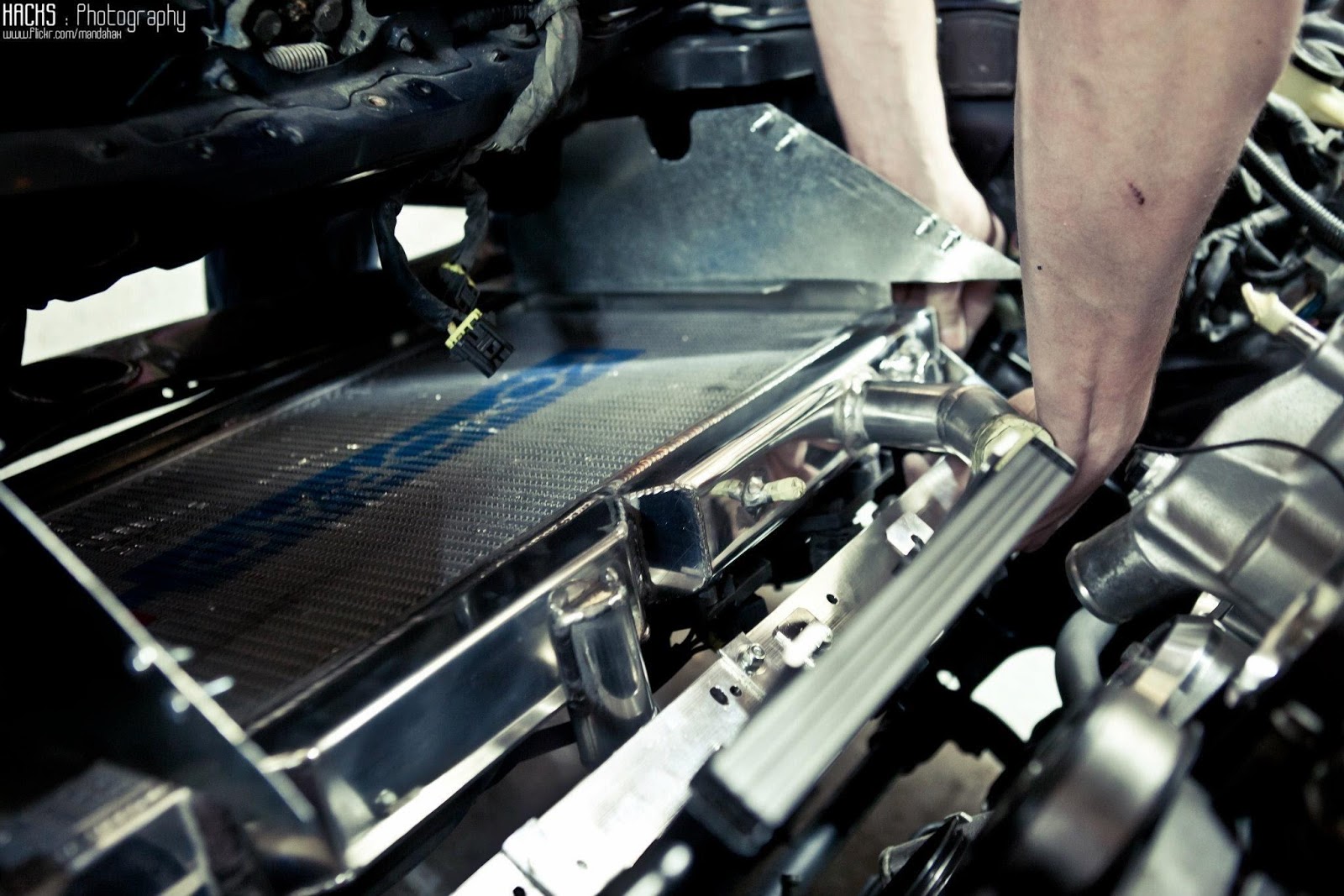 you can see in this pic where the cold pipe and elbow were off by a bit
Finished Product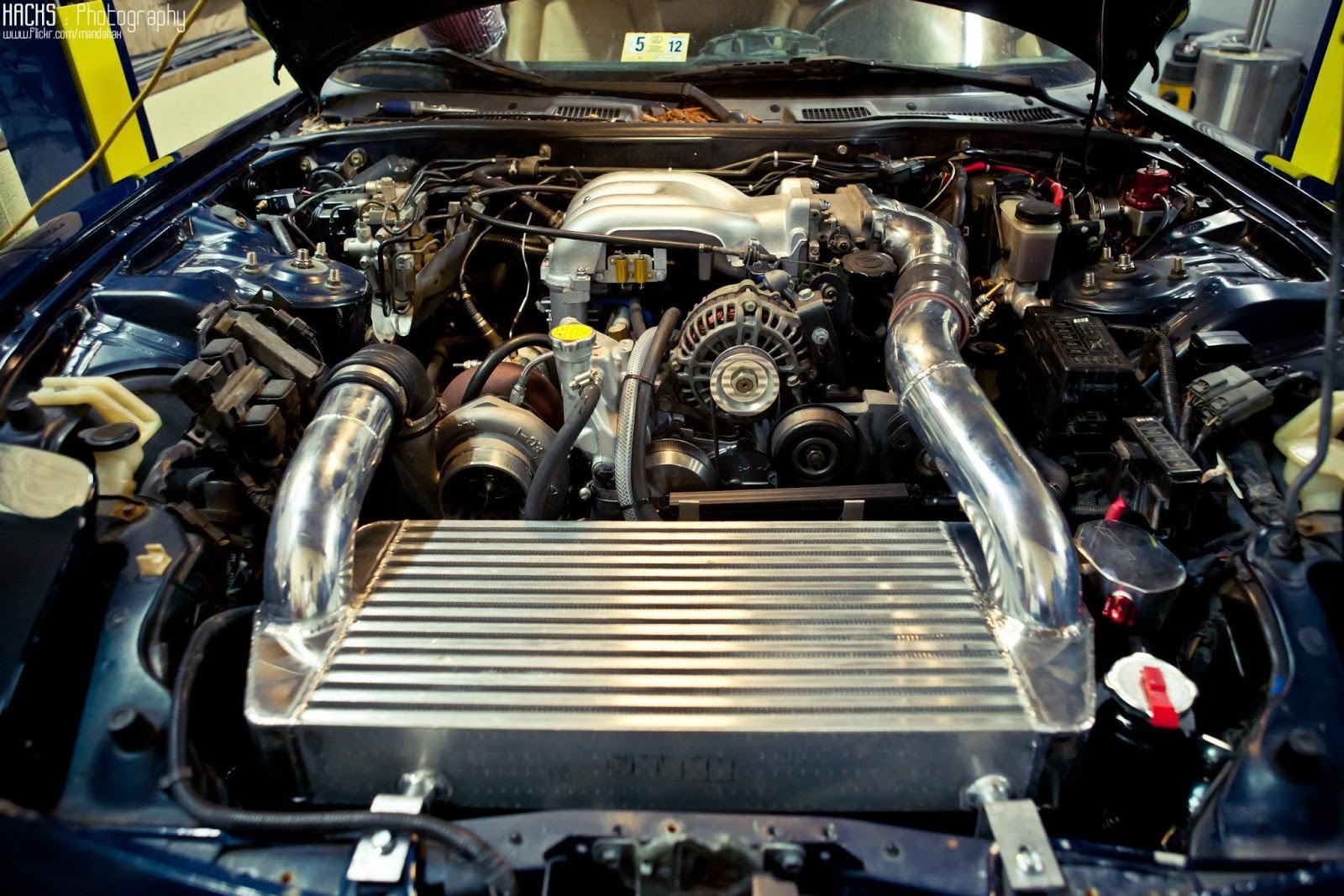 11-19-2013
If you were wondering what my entire parts list was for the motor here you go. Im also pretty **** about parts and everything listed was bought brand new.
[B]-Aggressive street ported 13b motor
-2mm super apex seals
-Banzai Racing block off plate kit
-Banzai Racing OMP block off plate
-Banzai Racing oil pan brace
-Banzai Racing polyurethane motor mounts
-Underdrive pulley kit
-Resurfaced flywheel
-Garrett T04z BB turbo
-Custom manifold
-Custom down pipe
-Custom Mid pipe
-Tail 44mm waste gate
-Greddy elbow
-Custom V-Mount intercooler/radiator set up
-Greddy oil catch can
-Pettit AST
-Greddy full titanium exhaust
-Walbro 255 fuel pump
-Modified OEM primary fuel rail
-550 primary injectors
-KG Parts secondary fuel rails and adapters
-Bosch 1680cc secondary injectors
-Aeromotive FPR and gauge
-HKS high power ignition system
-Apex'i ECU with commander
-Greddy boost controller
-Greddy turbo timer
-Prosport Wideband kit
-Prosport boost gauge
-Batter relocation kit
-Spec stage 3 clutch/B]
Smokin my *** out after the first start up haha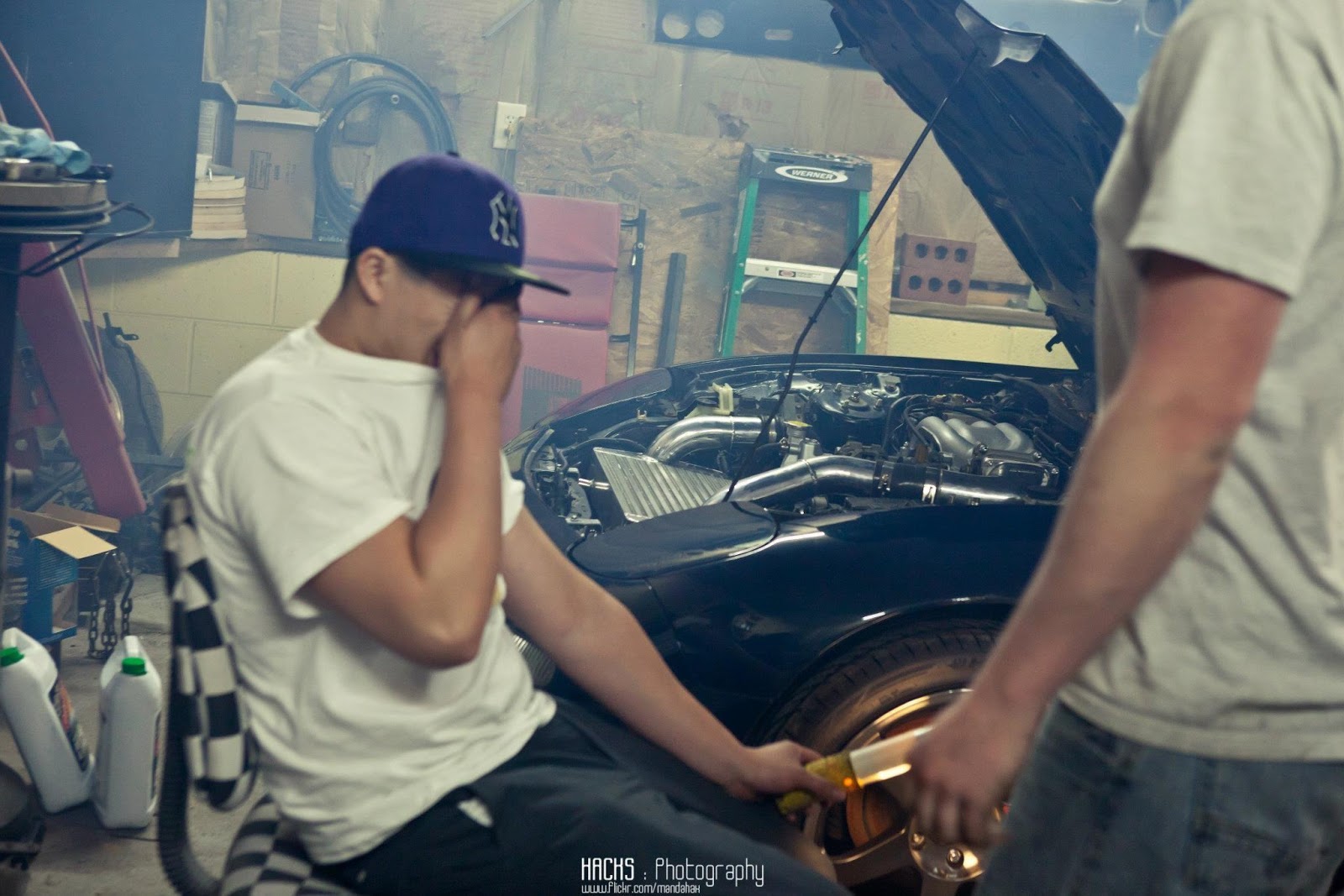 And a few accent shots my girl took just because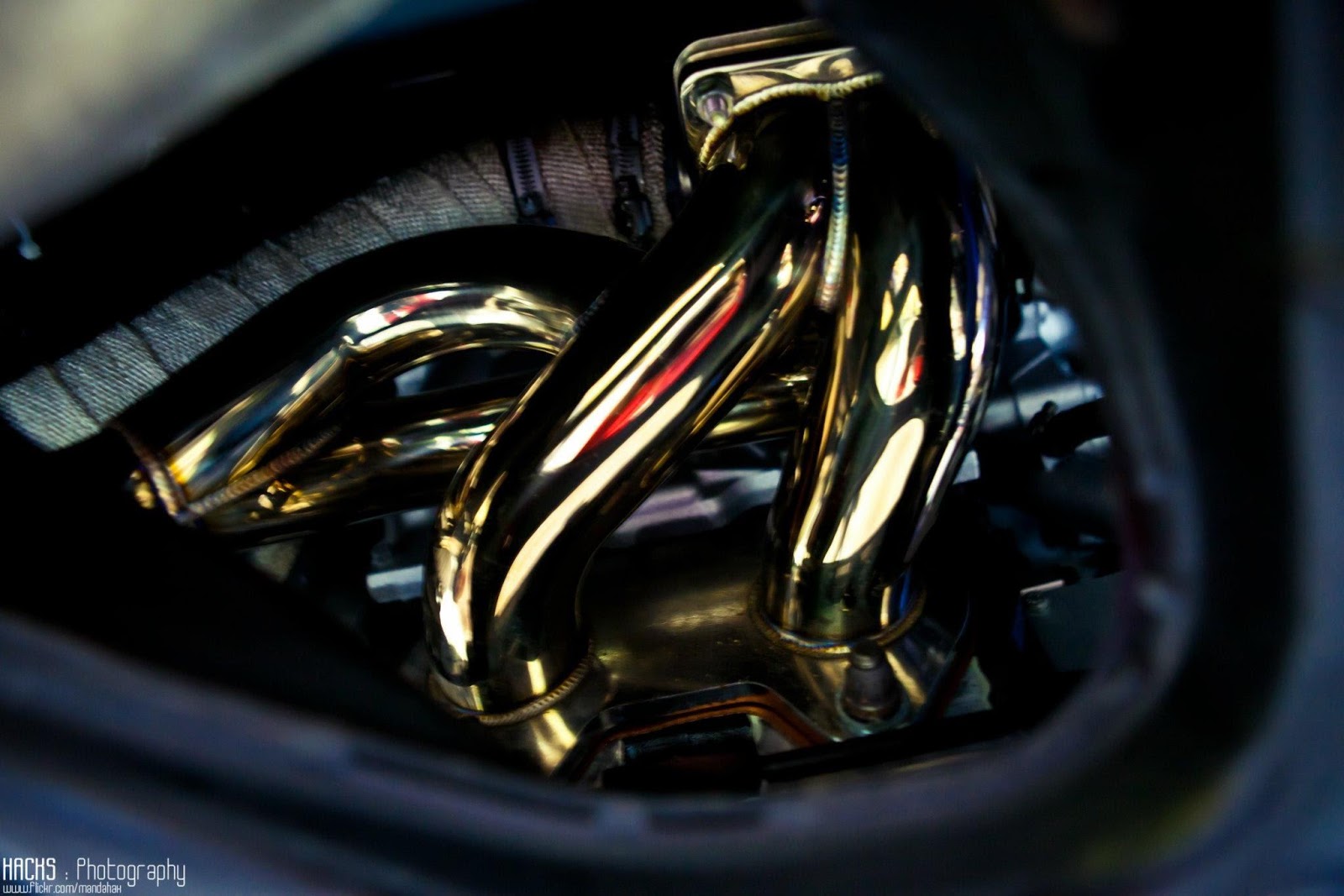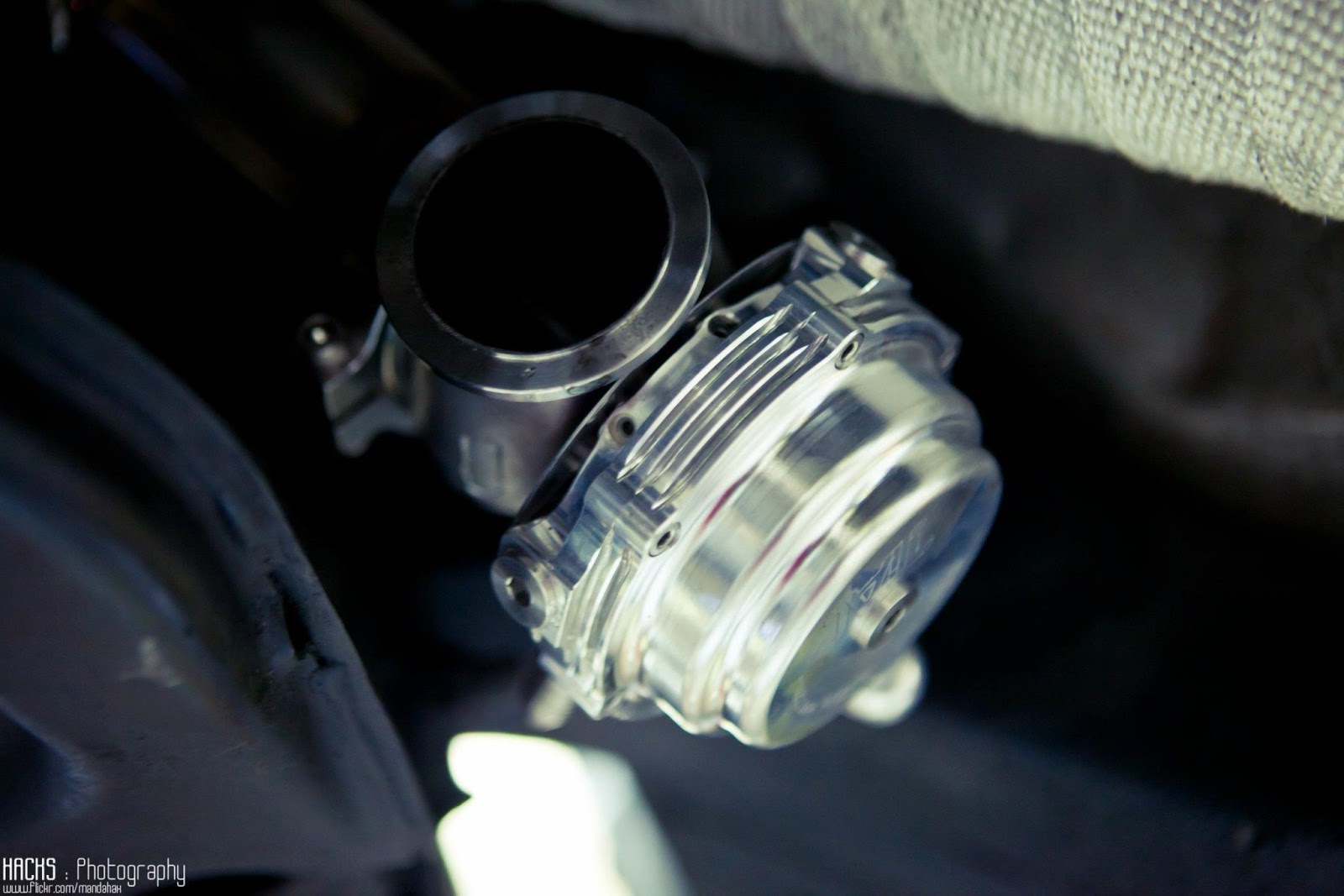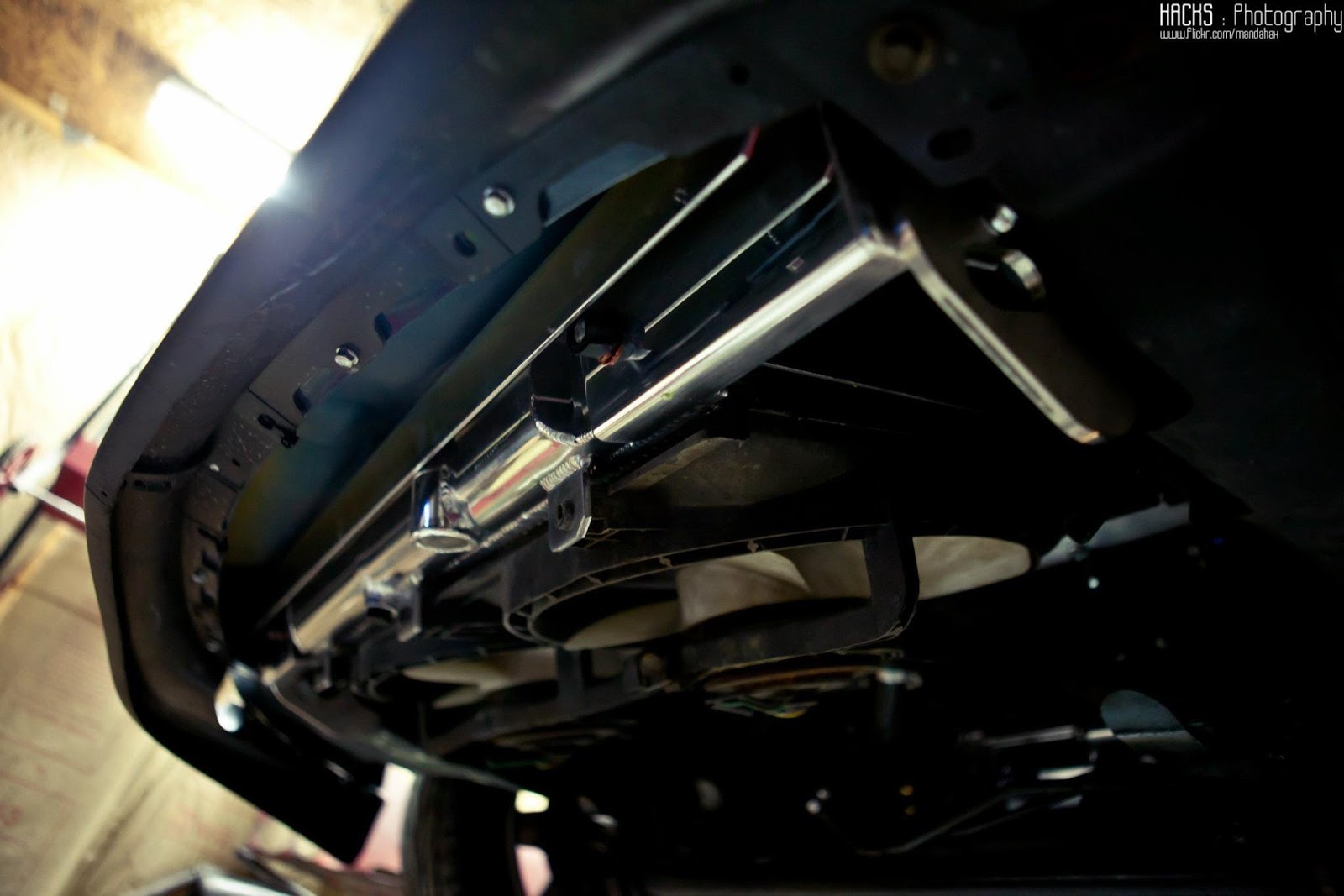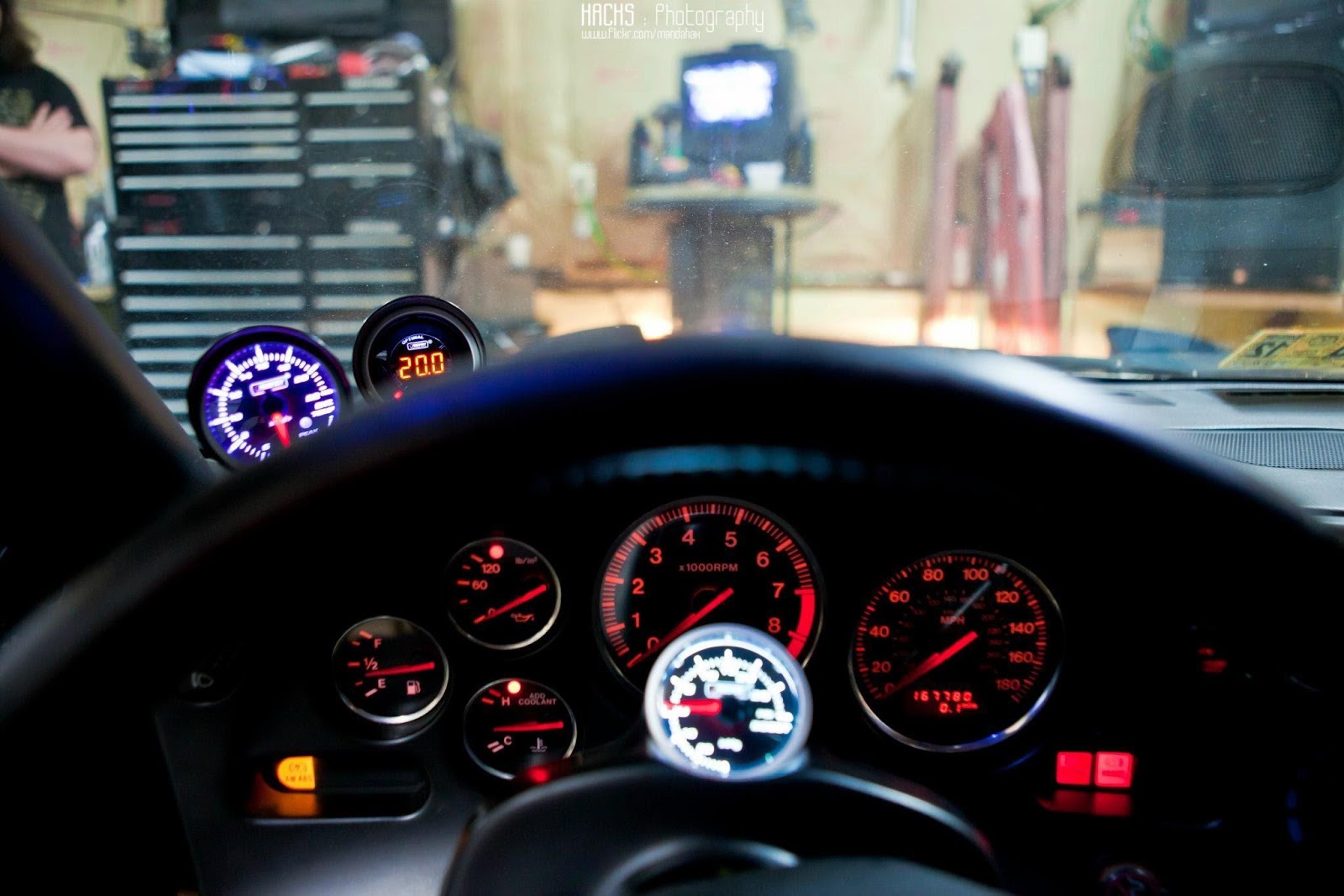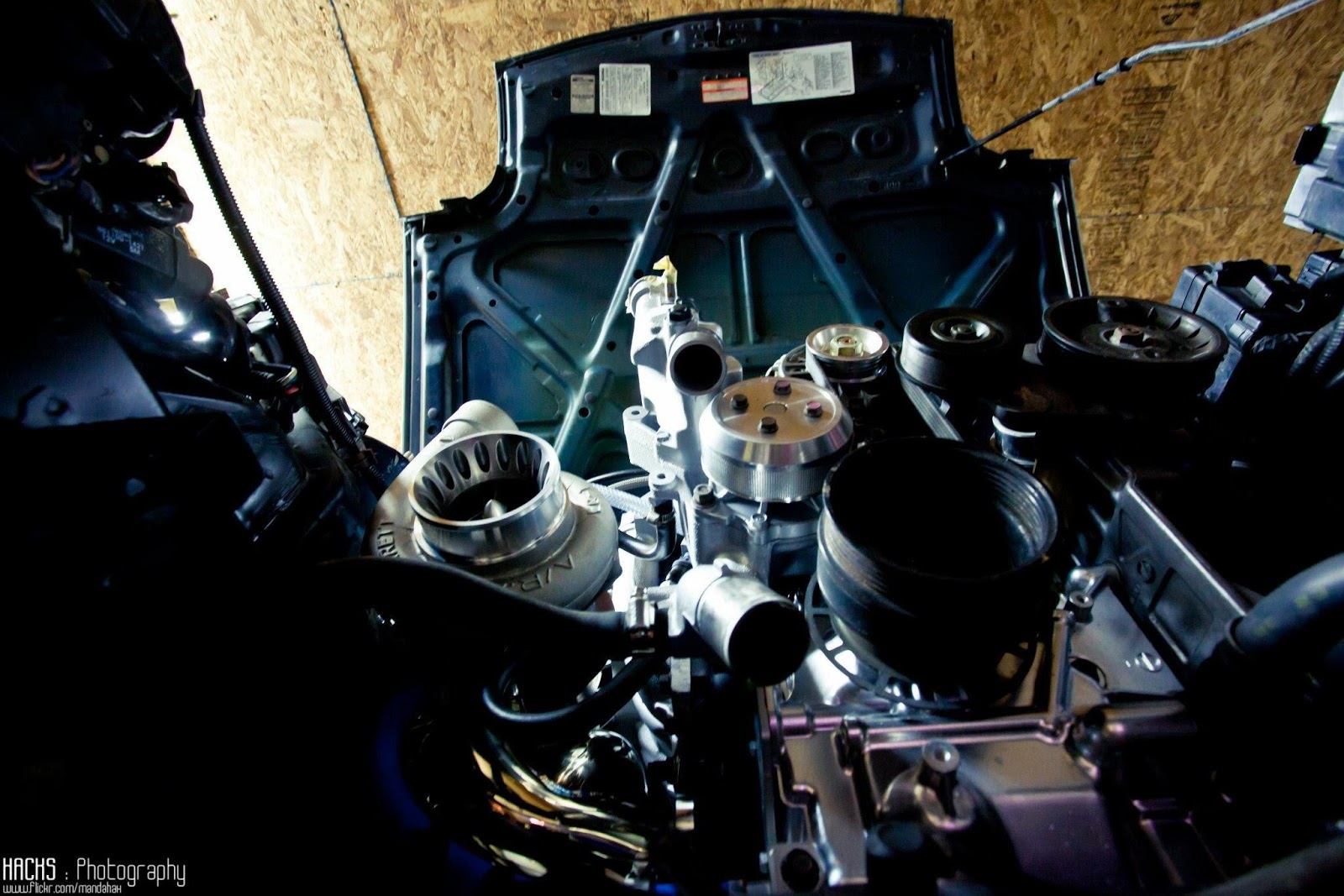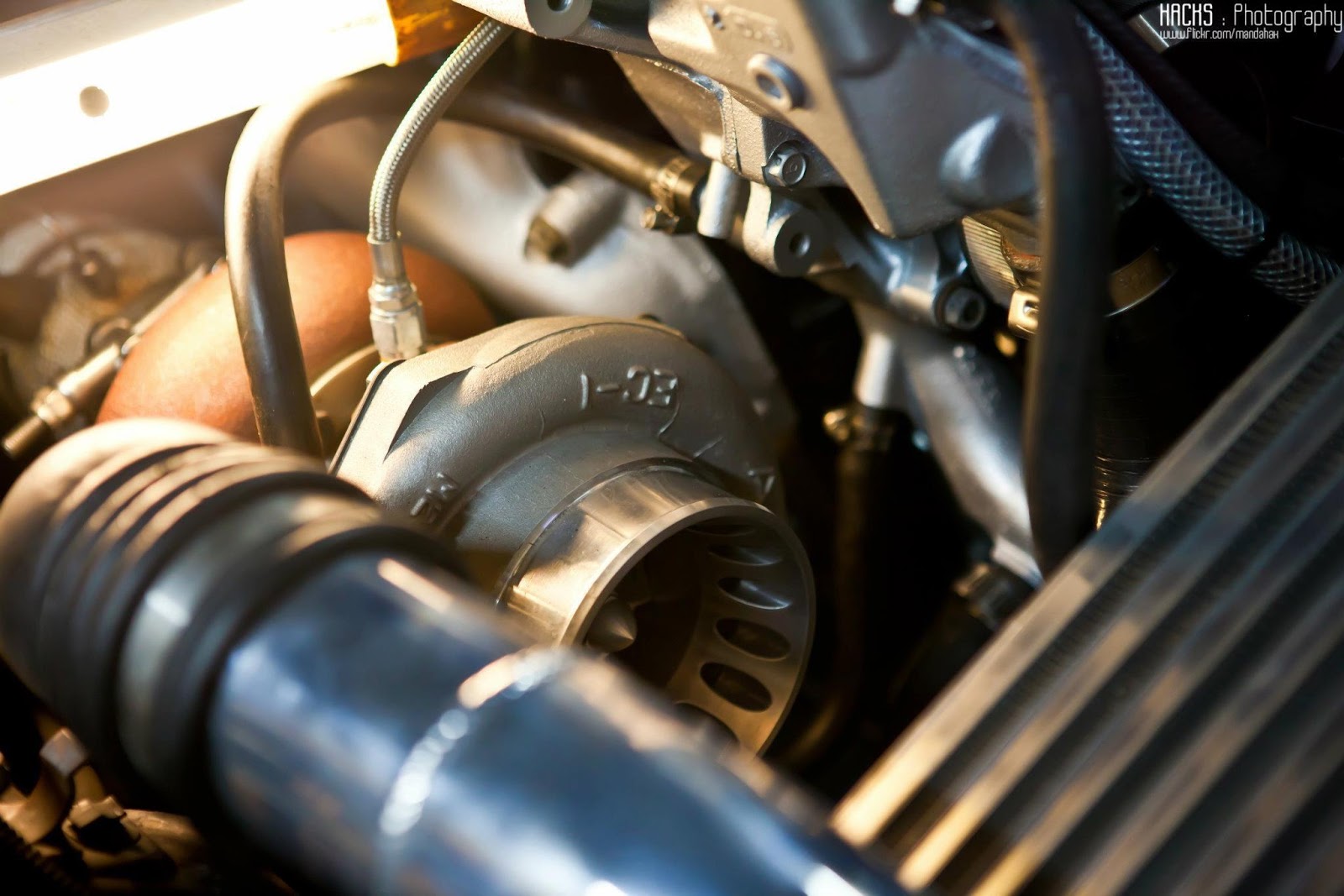 Phase 1
when i first started doing exterior mods i wanted to keep it clean and conservative. I love the stock lines of the FD as they are timeless and IMO the best looking sports car from the 90s to come out of Japan
It took me months to figure out what wheels i wanted but I got these bad boys for a great deal new so i had to jump on it
18x9.5 +22 and 18x10.5 +22 with 225 40 18 and 255 35 18 Hankook V12 Evo tires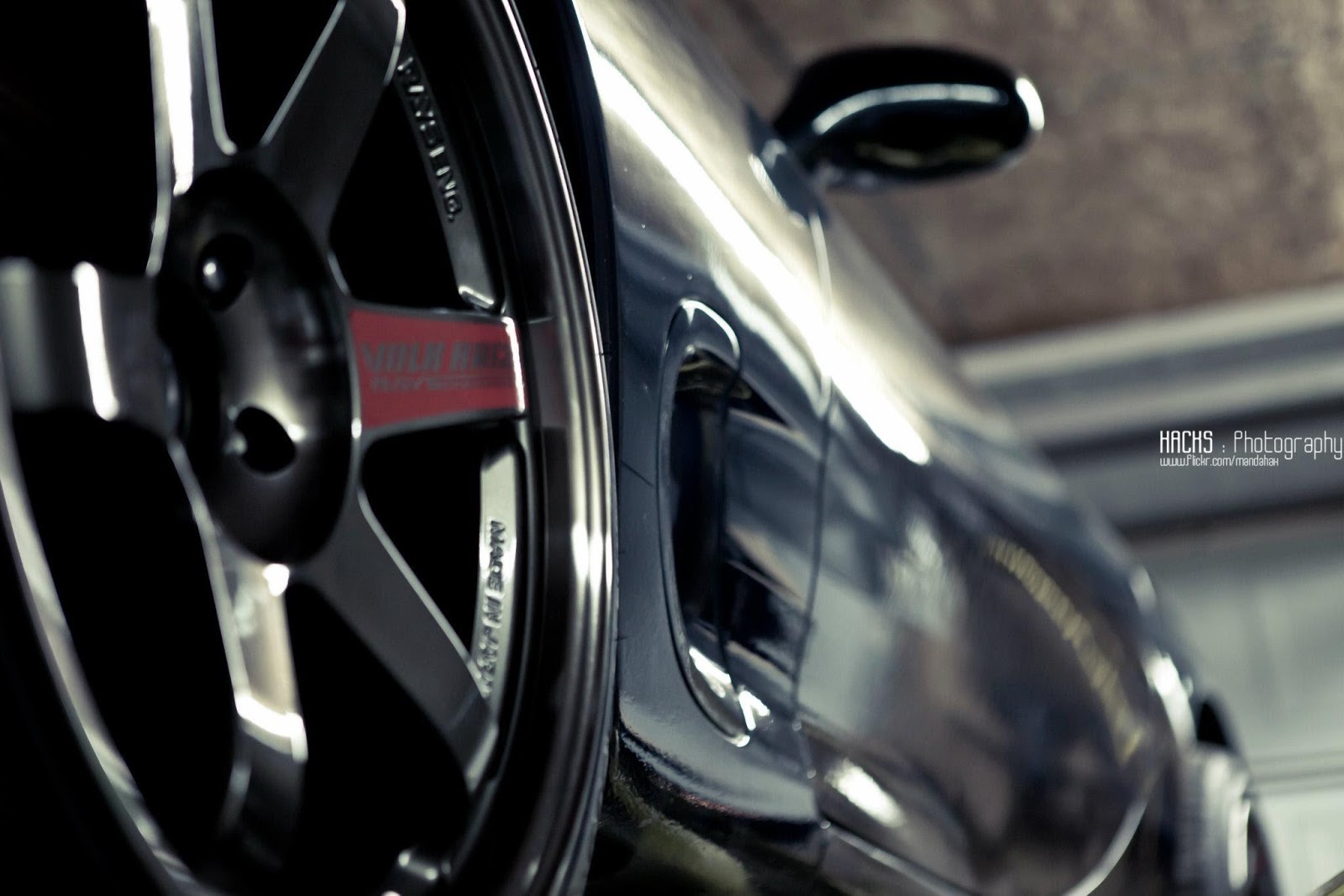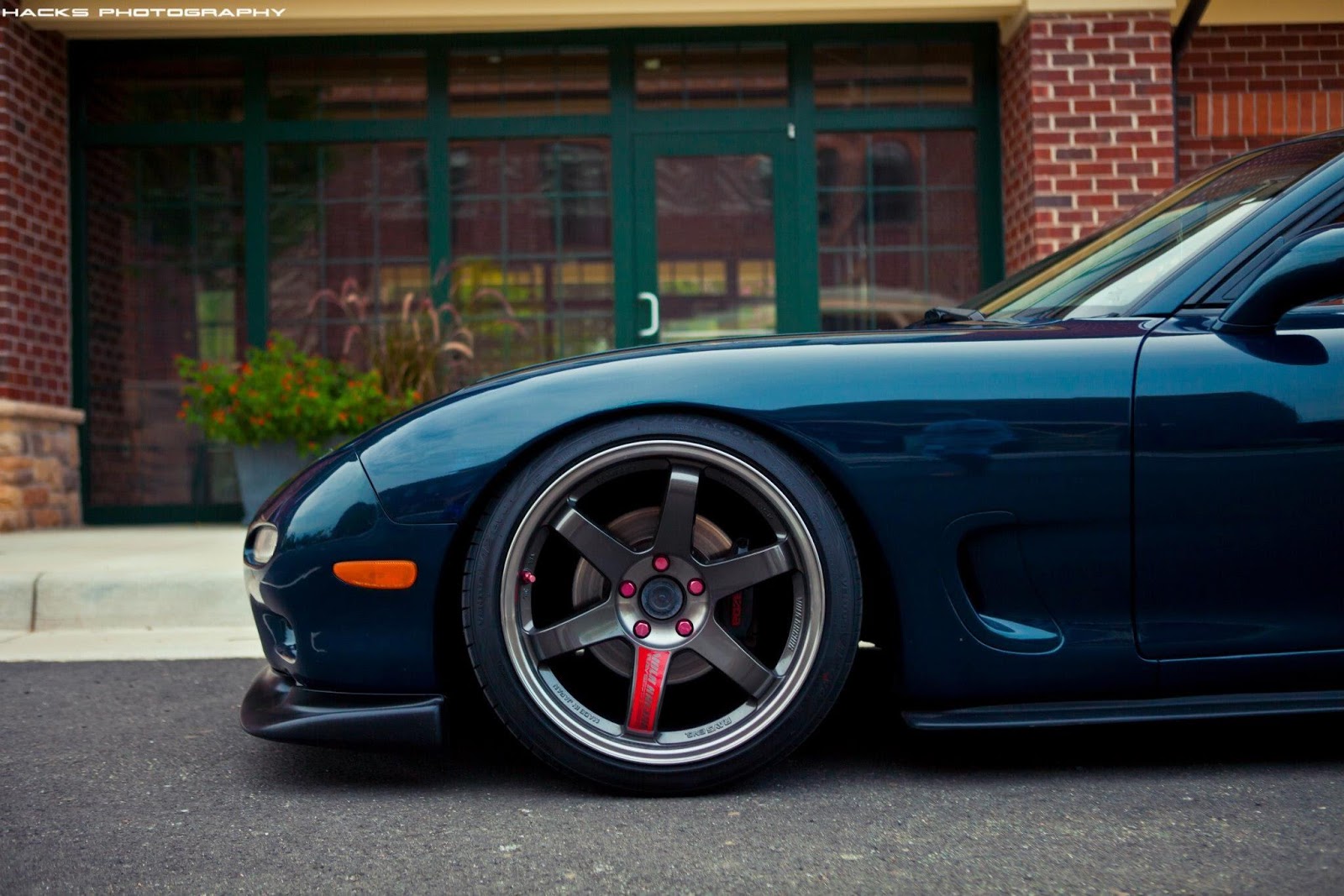 I decided to go with some shine auto side steps and street diffuser to go with my 99 lip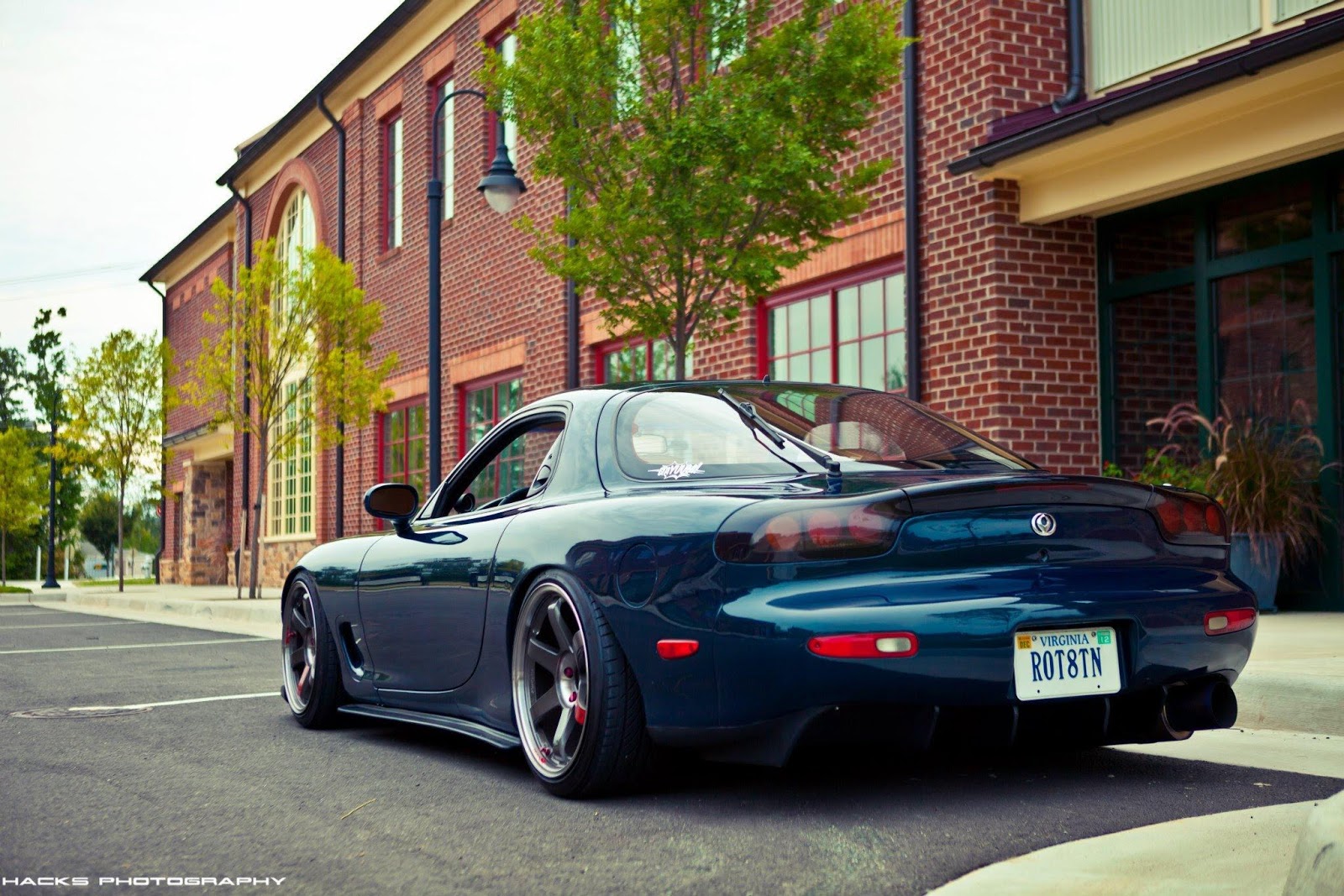 It didn't take me long to get bored of Phase1 so I added some more aggressive touches like the shine auto pro diffuser re-amemiya taillight cover which i got for 100 bucks somehow and Hotwater labs lights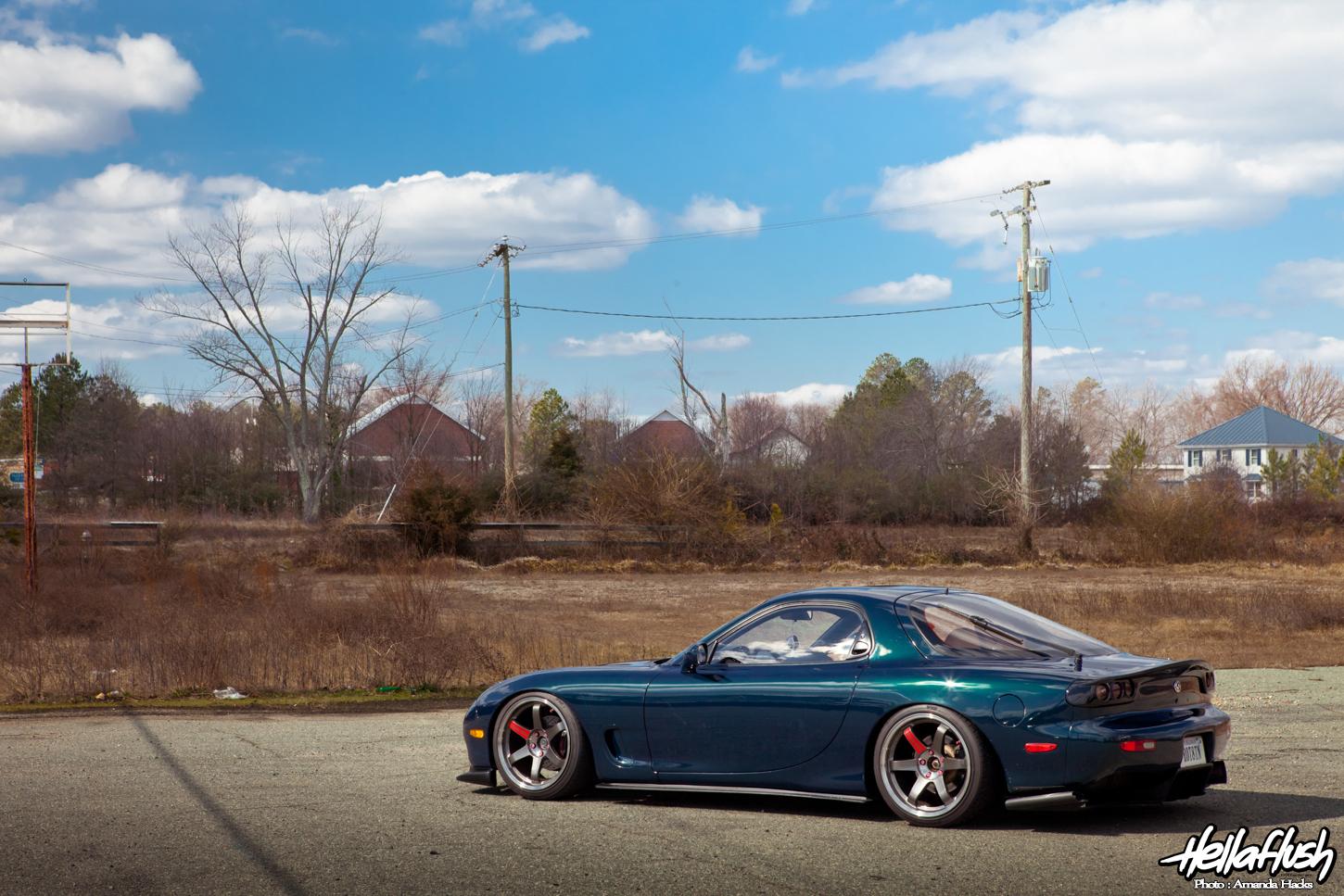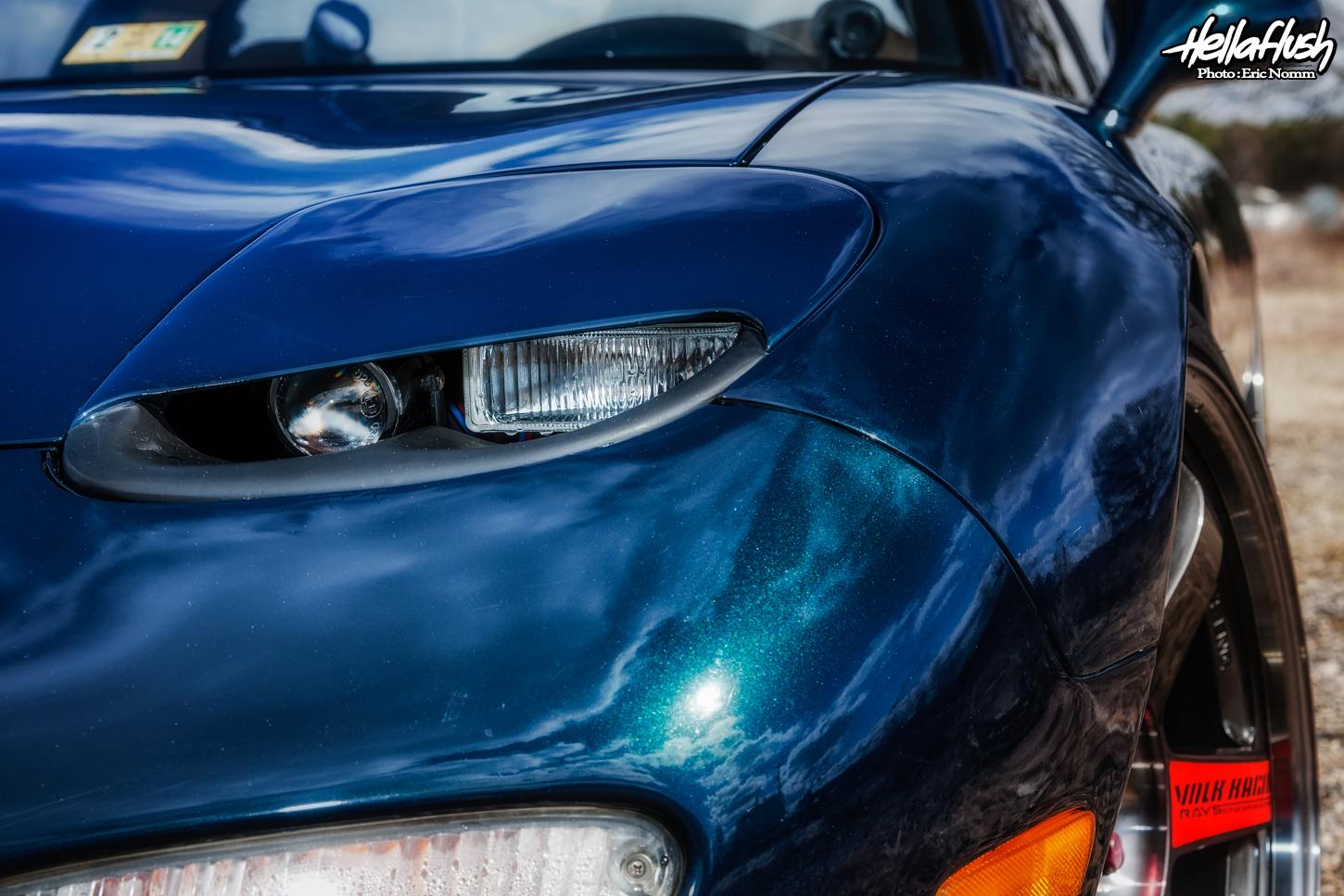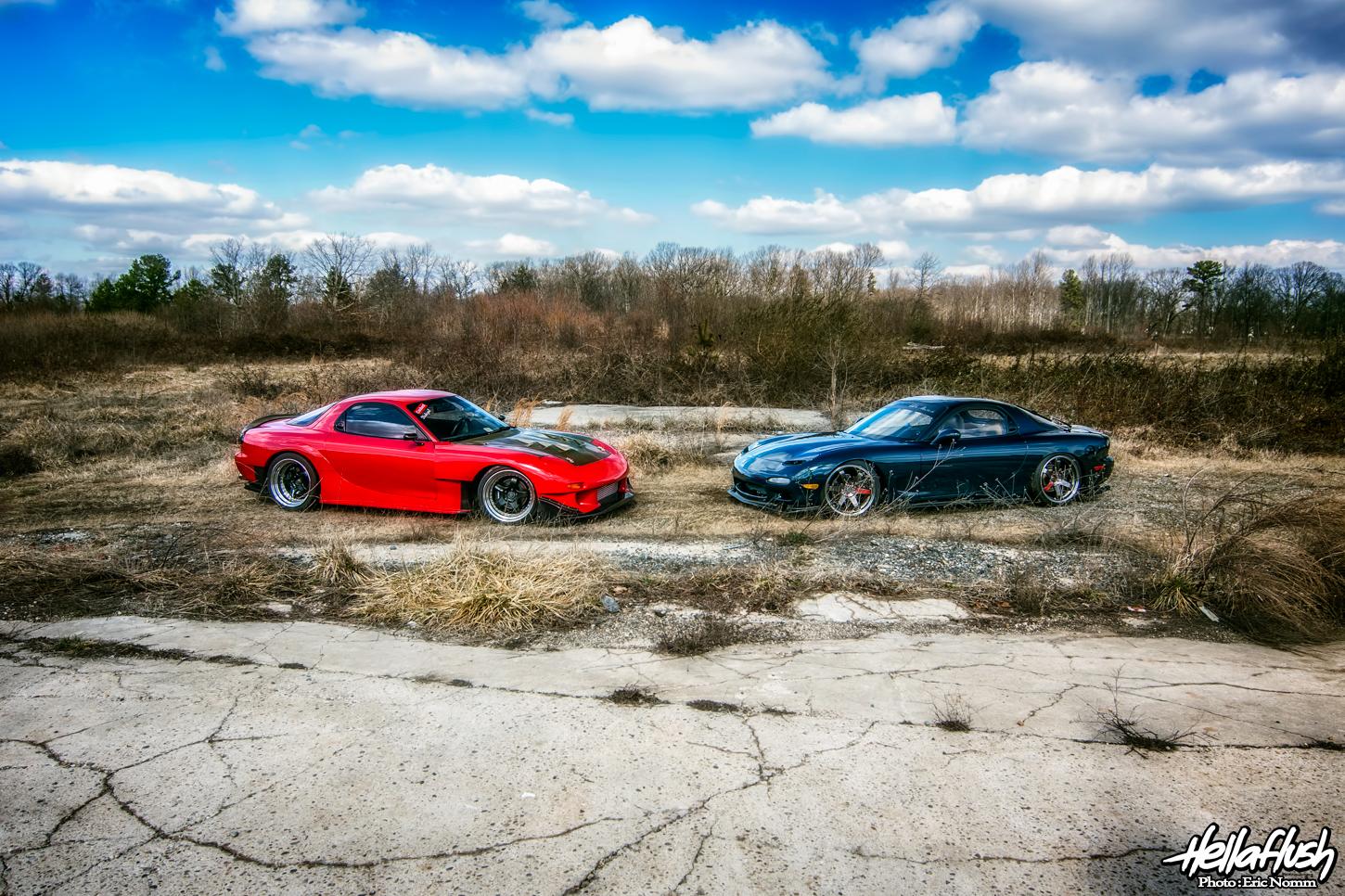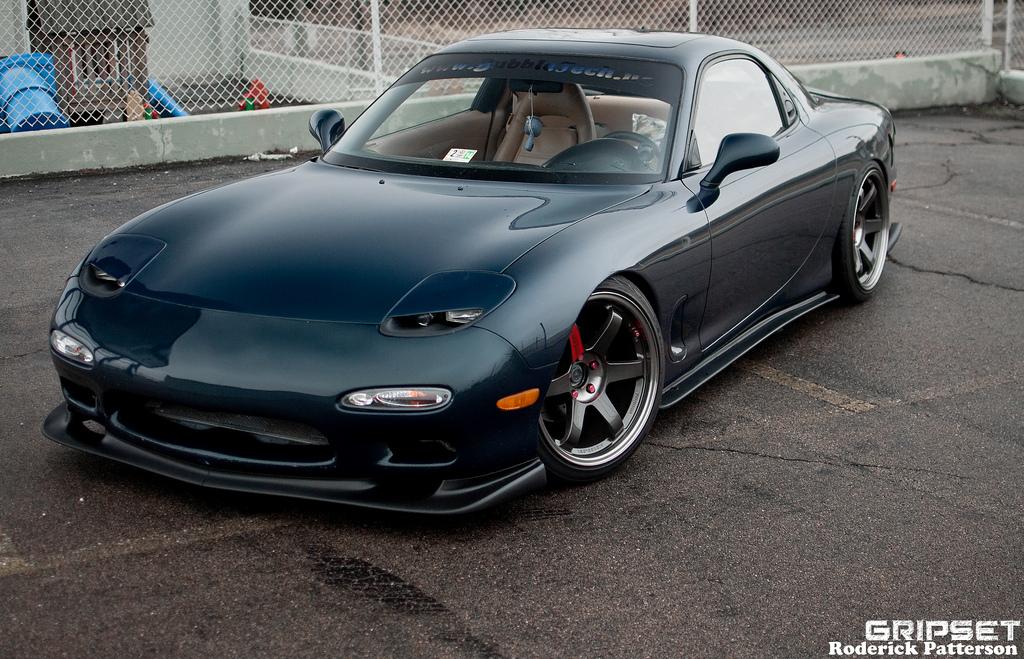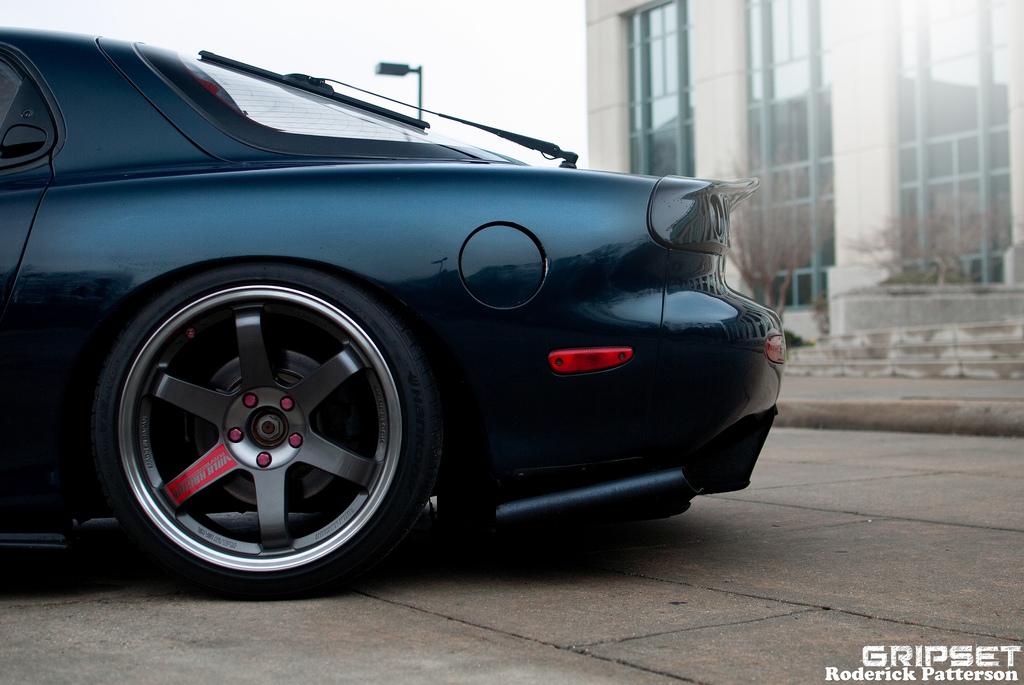 This photo in particular is one of my all time favorites of my car to date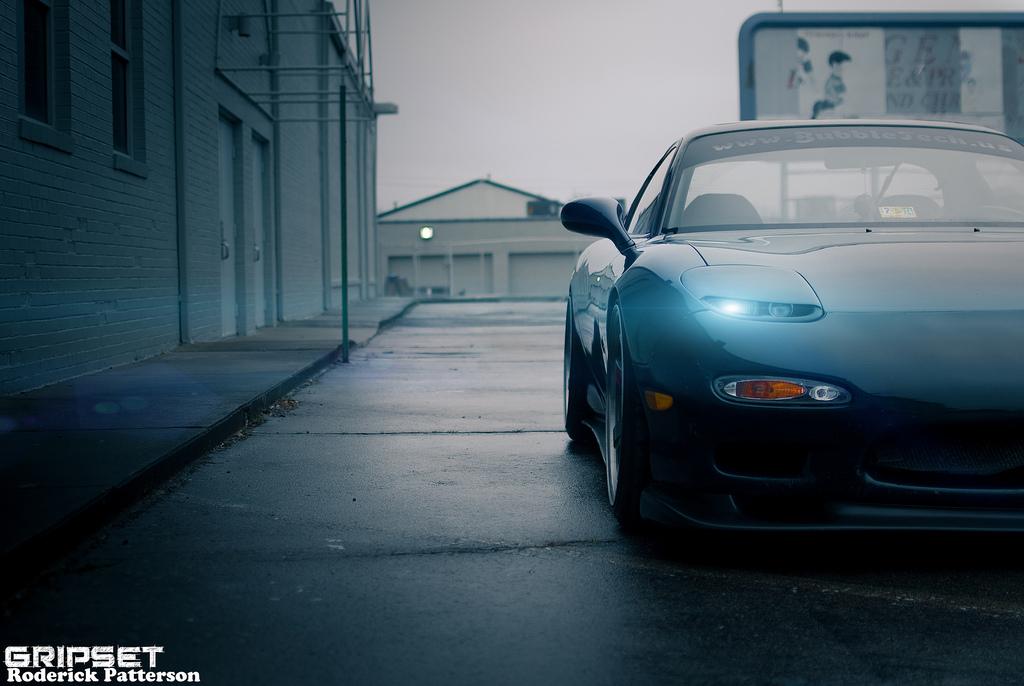 Shortly after I installed all those exterior parts I felt my interior was in need of some changing too now that my car looked a bit more aggressive from outside so i went ahead and got the classic nardi deep corn 330mm with an nag short hub and 2.5 series quick release since the works bell was out of stock :/ I also threw on a fortune auto titanium shift **** and OEM rx7 floor mats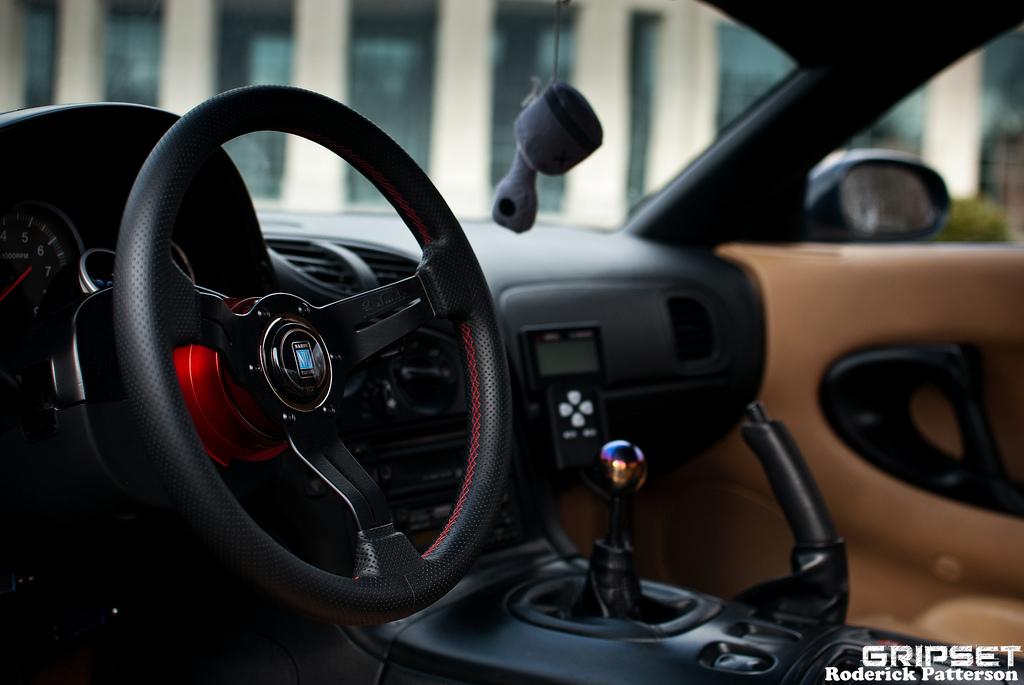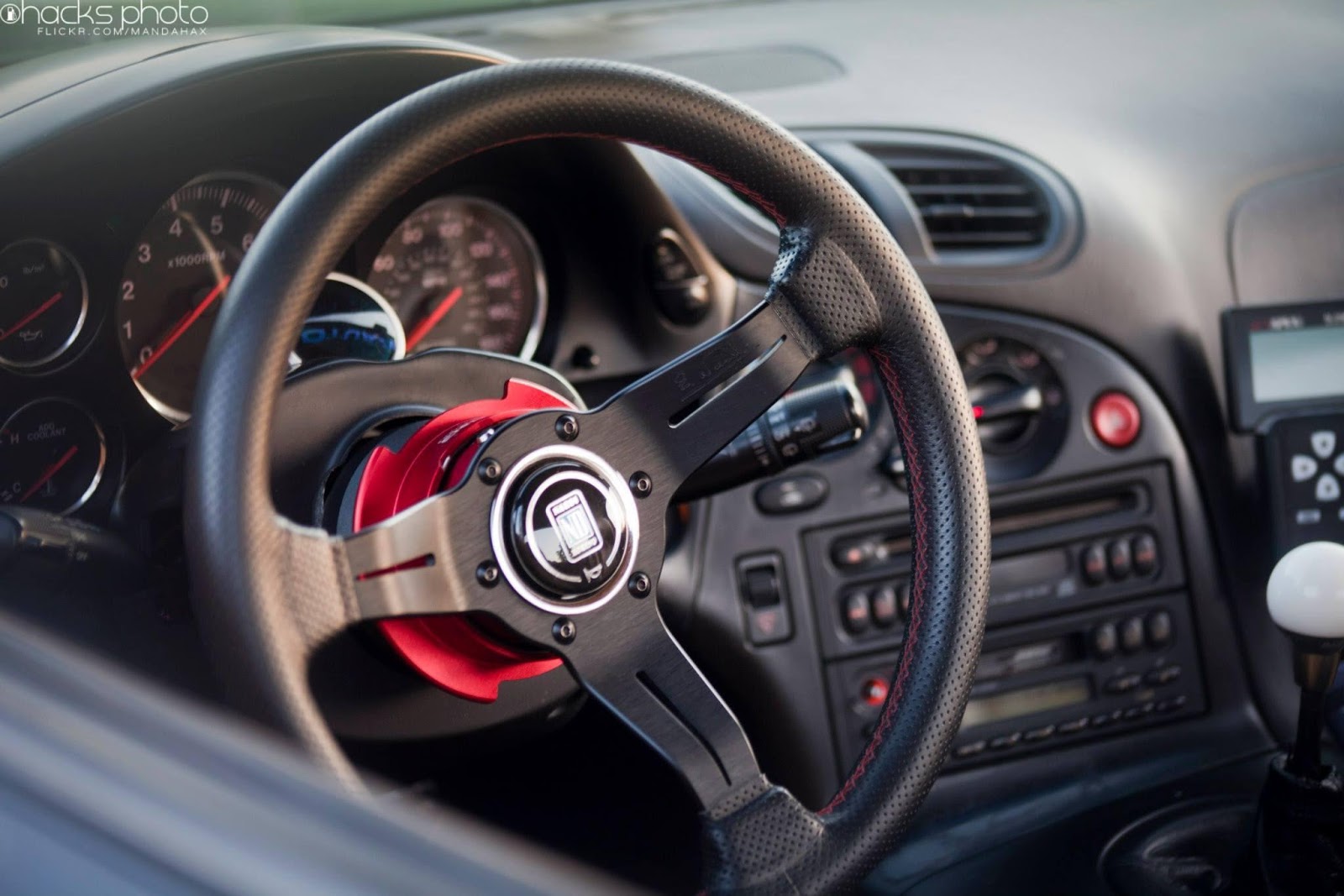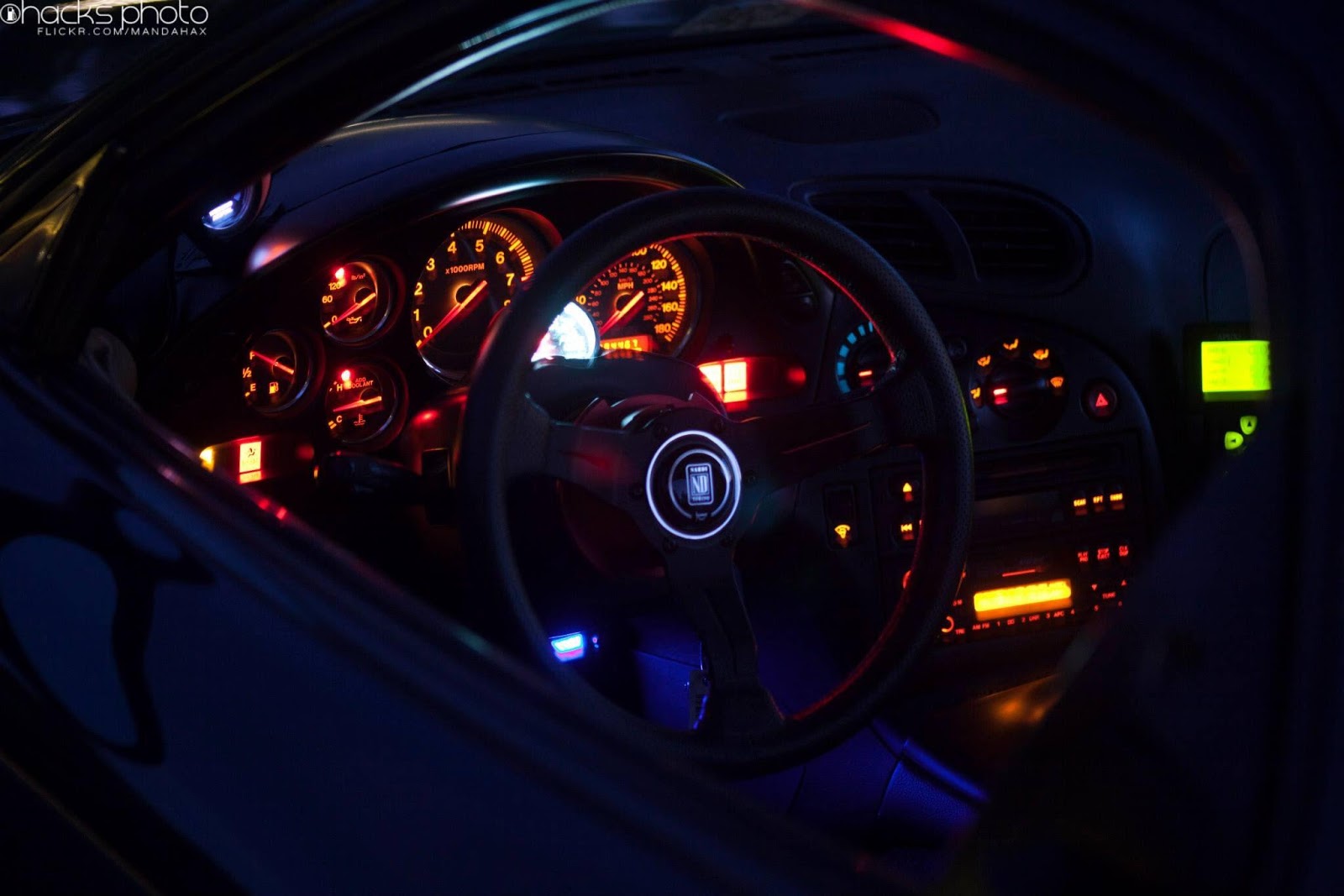 Eventually Ill get a set of red spirit r recaros, Spirit r cluster, cage and convert to black interior
Phase 3 began with my thought of stance being dumb and tracking being cool. So with that in mind I sold the te37's and bought some regas from a friend for a relatively good price.
The regas were originally 2 white and 2 gold but I spray painted them all white. they came out surprisingly well i must admit! curb age was expected since they are old wheels but since the plan was to track i didn't care really. The specs are 17x9 +38 and +18 (running 10mm spacer in front) with 255 40 17 dunlop zII direzza tires which are AMAZING unless your in rain then you feel like your going to die.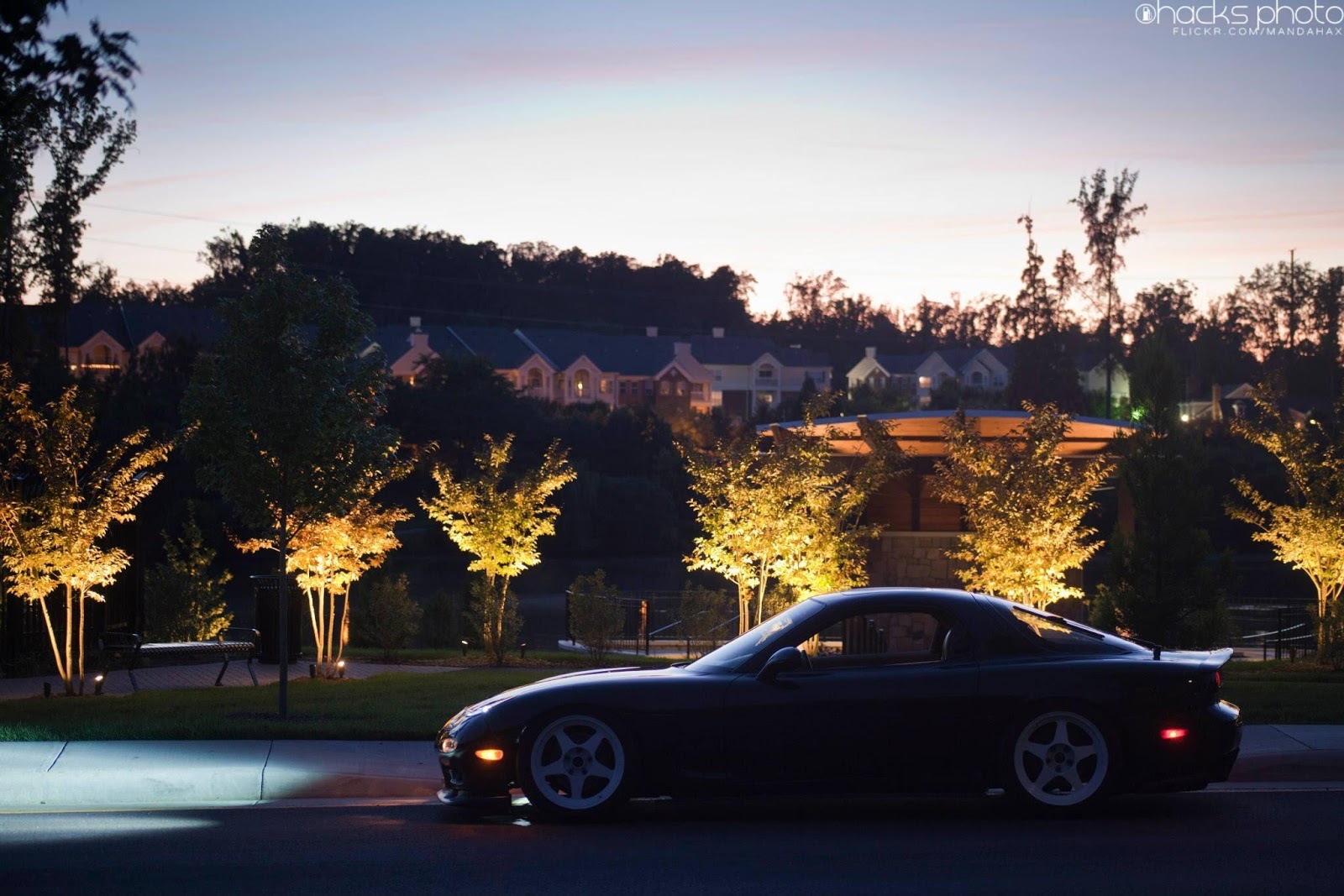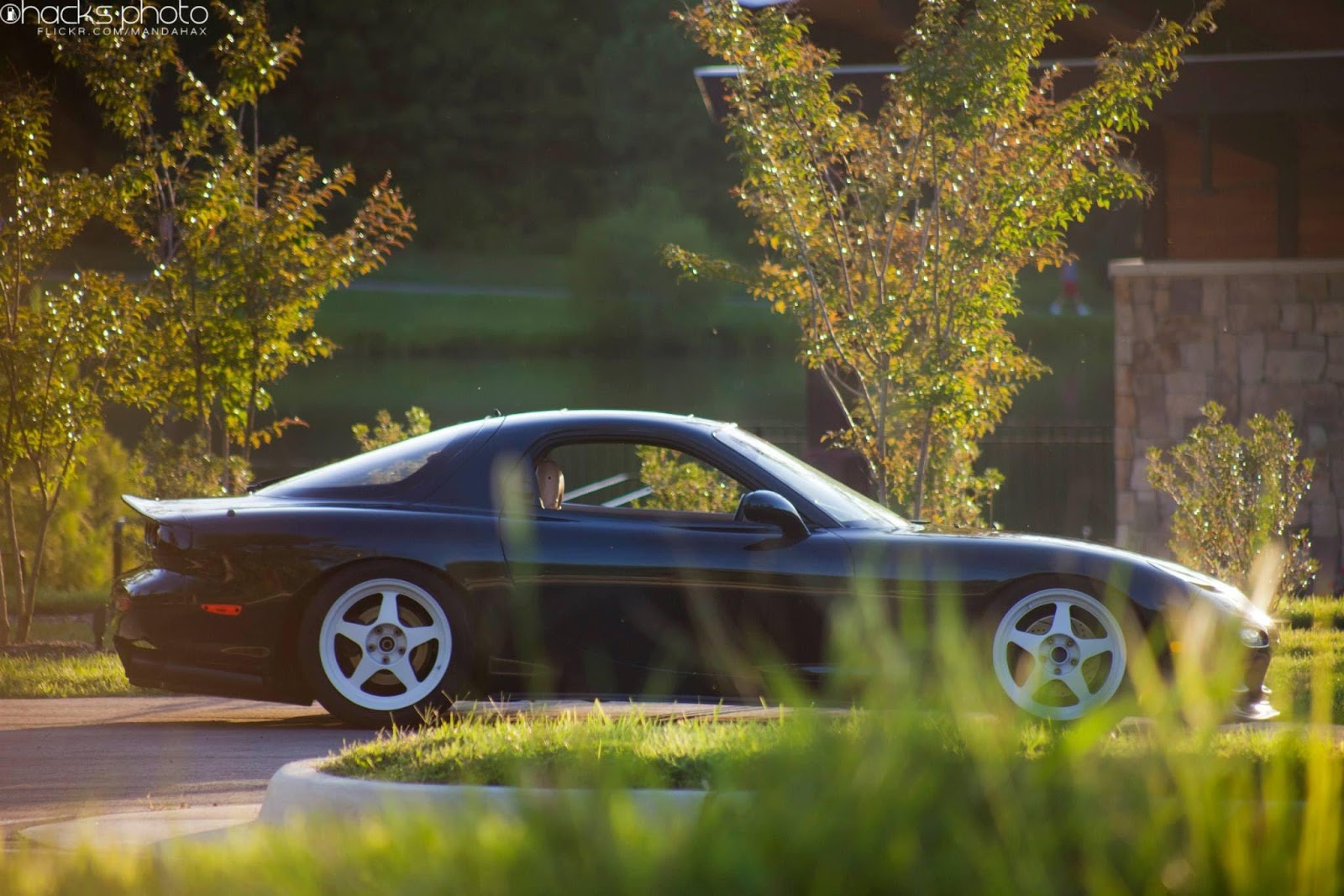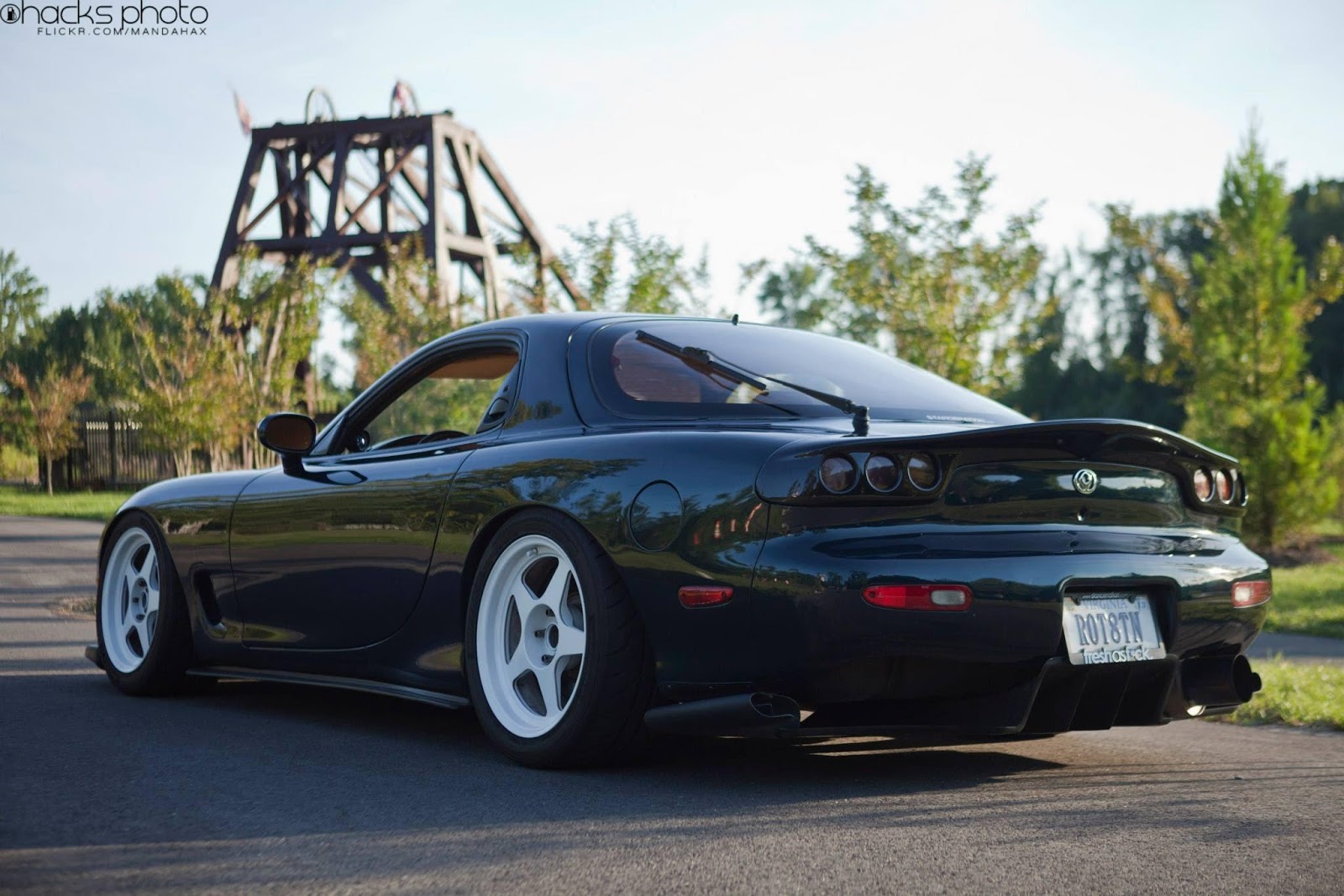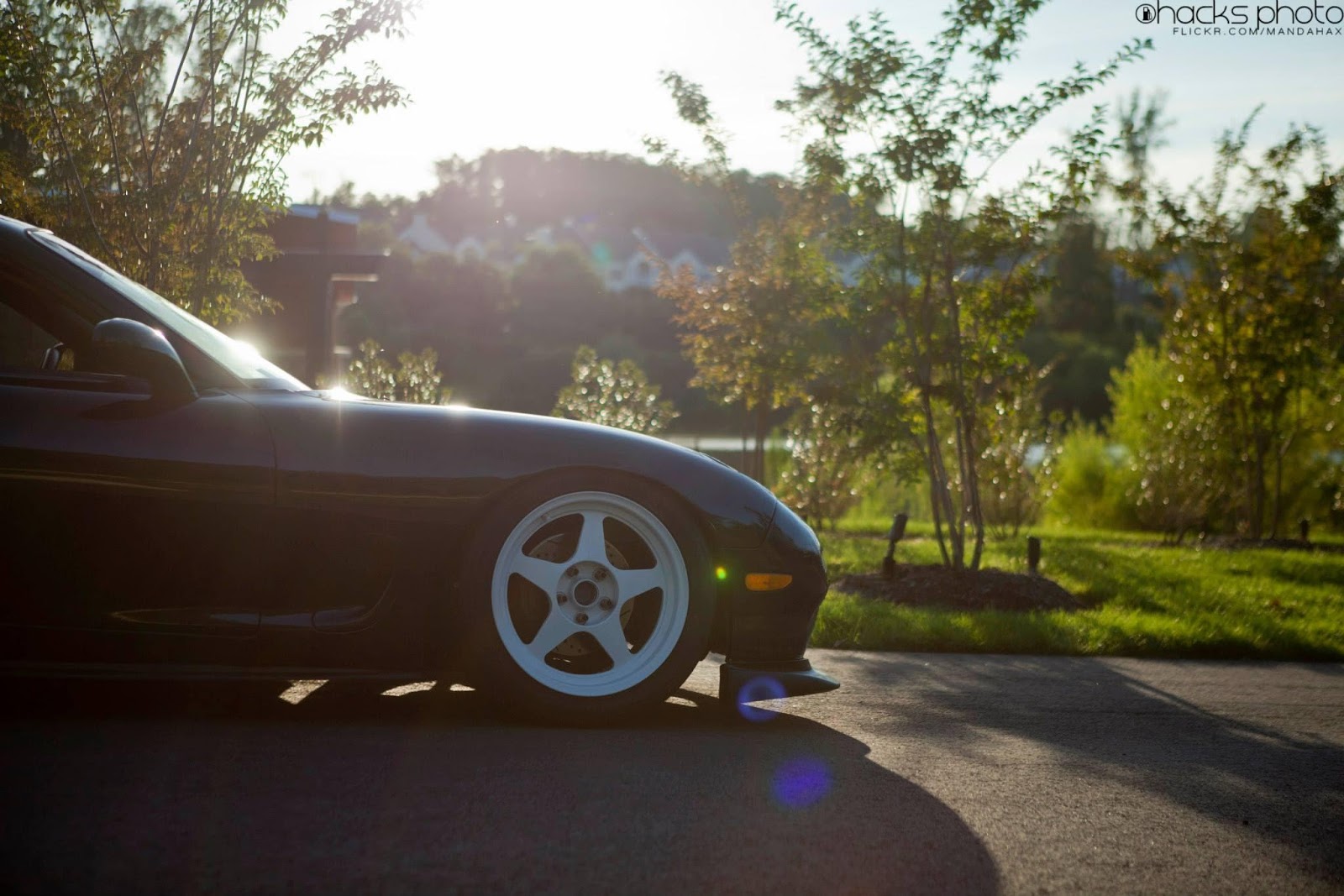 Here is my entire parts list
[B]Performance
-Aggressive street ported 13b motor
-2mm super apex seals
-Banzai Racing block off plate kit
-Banzai Racing OMP block off plate
-Banzai Racing oil pan brace
-Banzai Racing polyurethane motor mounts
-Underdrive pulley kit
-Resurfaced flywheel
-Garrett T04z BB turbo
-Custom manifold
-Custom down pipe
-Custom Mid pipe
-Tail 44mm waste gate
-Greddy elbow
-Custom V-Mount intercooler/radiator set up
-Greddy oil catch can
-Pettit AST
-Greddy full titanium exhaust
-Walbro 255 fuel pump
-Modified OEM primary fuel rail
-550 primary injectors
-KG Parts secondary fuel rails and adapters
-Bosch 1680cc secondary injectors
-Aeromotive FPR and gauge
-HKS high power ignition system
-Apex'i ECU with commander
-Greddy boost controller
-Greddy turbo timer
-Prosport Wideband kit
-Prosport boost gauge
-Batter relocation kit
-Spec stage 3 clutch
-Kaaz 1.5 way diff
Suspension
-Fortune Auto 500 series coilovers
-Swift spring upgrade
-Slotted drilled rotors
-Hawk HPS pads
-Super Now Bushing Kit
Styling
-OEM 99 spec front lip
-Shine Auto side steps
-Shine Auto Pro diffuser
-HotWater Labs custom headlight kit with HIDs
-Smoked turn lamps
-99 spec tail lights
-RE-Amemiya tail light cover
Wheels and Tires
-Volk TE37SL 18×9.5 and 18×10.5
-Hankook Ventus V12 Evo tires 225 40 18 / 255 35 18
-Desmond Regamaster Marquise Promada 17x9 +38/18
-Dunlop Direzza ZII tires 255 40 17
Interior
-NRG hub adapter
-NRG 2.5 gen quick release
-Nardi 330mm leather deep cone wheel
-Fortune Auto titanium shift ****
-OEM RX7 floor mats/B]