Non-turbo 428rwhp FD build up and history by GtoRx7
By diyauto
You must be logged in to rate content!
Non-turbo 428rwhp FD build up and history
Compliments of GtoRx7 @ www.rx7club.com
Definedautoworks.com
1-12-2011
So I figured after a bunch of requests I would post the build process of my 20b track car/ street machine. This will be a long thread! Hope its not too boring
History-
Not to sound at all arrogant, but I was the first in the u.s. to really start developing a streetable high power (300+rwhp) n/a 20b sideport engine. Re-amemiya had been building them before me, but I had never seen or read about it. My car was also the first to document using a stock subframe with a 20b in the FD. Carlos Lopez told me it was possible and ways he accomplished it. But once I started fitting the engine, there were a bunch of things I didnt expect. But it created our 20b conversion kit we sell today. Carlos also was the one who gave me the idea for throttle body manifolds, and exhaust specs. He really helped out a lot, and that was the start to a great friendship. His knowlege combined with countless others, and lots of testing/ development has made the results we get now
Here is the first setup from 2004. Tweak-it 55mm throttle bodies with custom modified mazda comp race 13b manifolds welded to custom 20b flange. Custom stainless header/exhaust. Streetported running a microtech. 348rwhp/ 218 rwtq @8300 rpm. Had semi p-ports in the engine but never had the chance to build a intake to use them.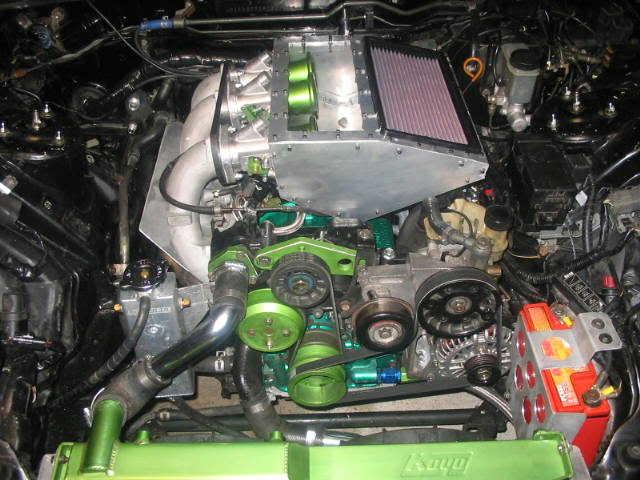 Second revised setup in 2007. Sold the throttle body setup to build a better one. Went drysump and ceramic seals, better cooling system. Electromotive ecu. Had to use the factory intake to get it up and running. Still had the semi p-ports unused. 313rwhp/221 rwtq @9000 rpm.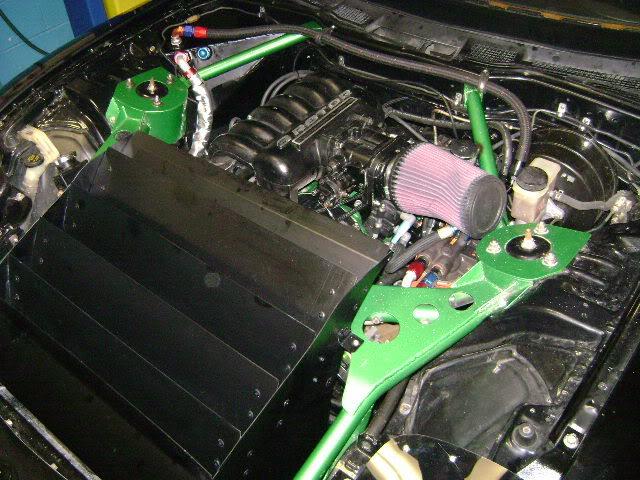 And here is the latest version of the famous n/a 20b from 2010. Semi p-ports fully functional. 428rwhp/ 245rwtq @10,000rpm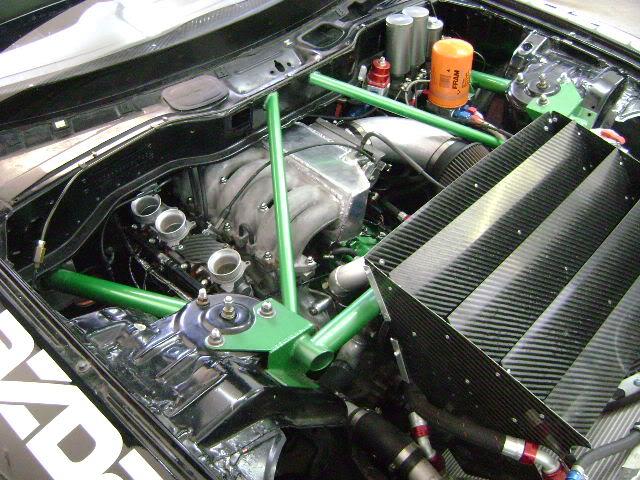 The fresh start for my n/a 20b Rx7-
Like any good idea this one started on paper. Having some time in a wheelchair resting up after my car accident, there I sat with a blank sheet and open to ideas. I was considering any car to build next, as having owned 17 Rx7's maybe it was time for something new. But after longer thought, I kept coming back to the Rx7. Thanks to guys like FDwarrior and Gmonsen and of course Peter (co-owner/best friend) for giving me pep talks as to why stick with the FD again. So after forming ideas into goals, I set out and found a nice black, non-sunroof Rx7 shell. The starting point. I put in a little under two years to get this one done. Granted I ONLY worked on it every sunday. Luckily my friend Matt (fdwarrior) would stop by and lend a hand anytime. Always good to have a second set of eyes and brians around. Both Matt and Peter helped a lot giving new ideas for this car.
Goals-
a) Extreme reliability, even under stressed racing conditions, or day to day driving
b) Extreme lightweight. Under 2500lbs wet.
c) Extremely low center of gravity
d) Mid engine car weight distribution. 48% front and 52% rear
e) Capable of running very large rubber for racing
f) Massive stopping power
g) 400+ rear wheel horsepower naturally aspirated
h) Good downforce to produce very high G loads
So here is the build process-----
Enjoy!
The engine. Carried over from the my last Rx7 unchanged. Specs- C-series 20b, 9.7:1 rotors, balanced, clearanced. NRS ceramic apex seals (allows for rpm over 8900), New FC rotor housings, semi p-ports. Full mazdaspeed drysump front cover (20b oil pump system will NOT hold oil pressure past 8900 rpm). Our Circuit port on the intake and exhaust. Oil modifications to feed front, center, and rear bearings individually.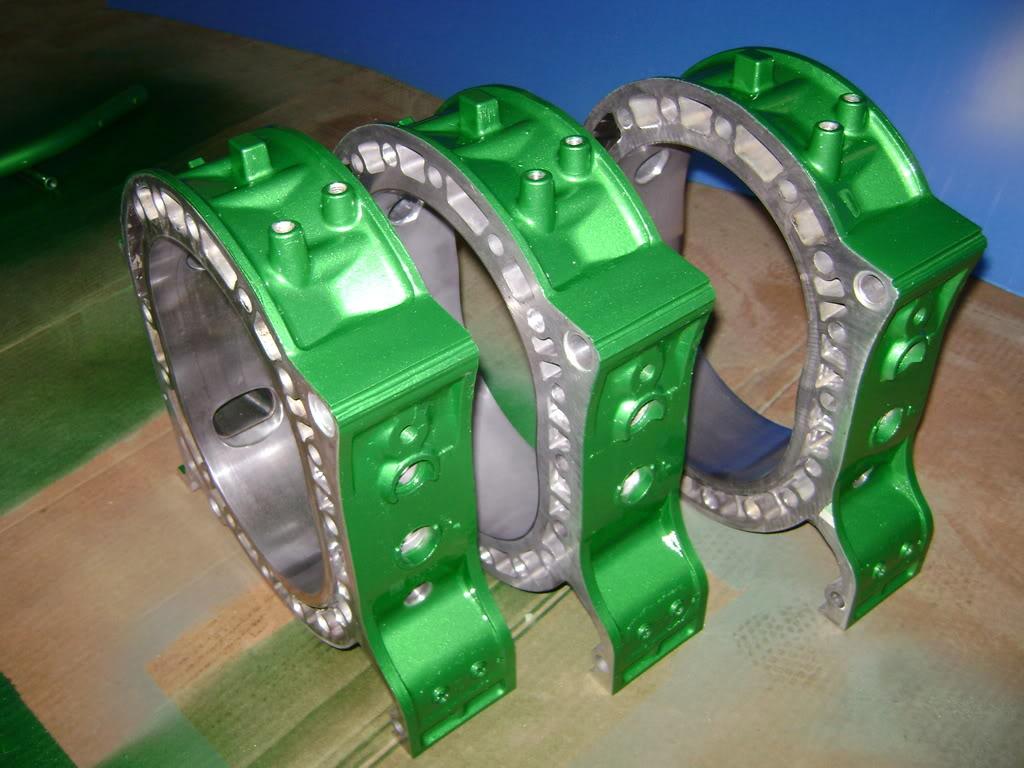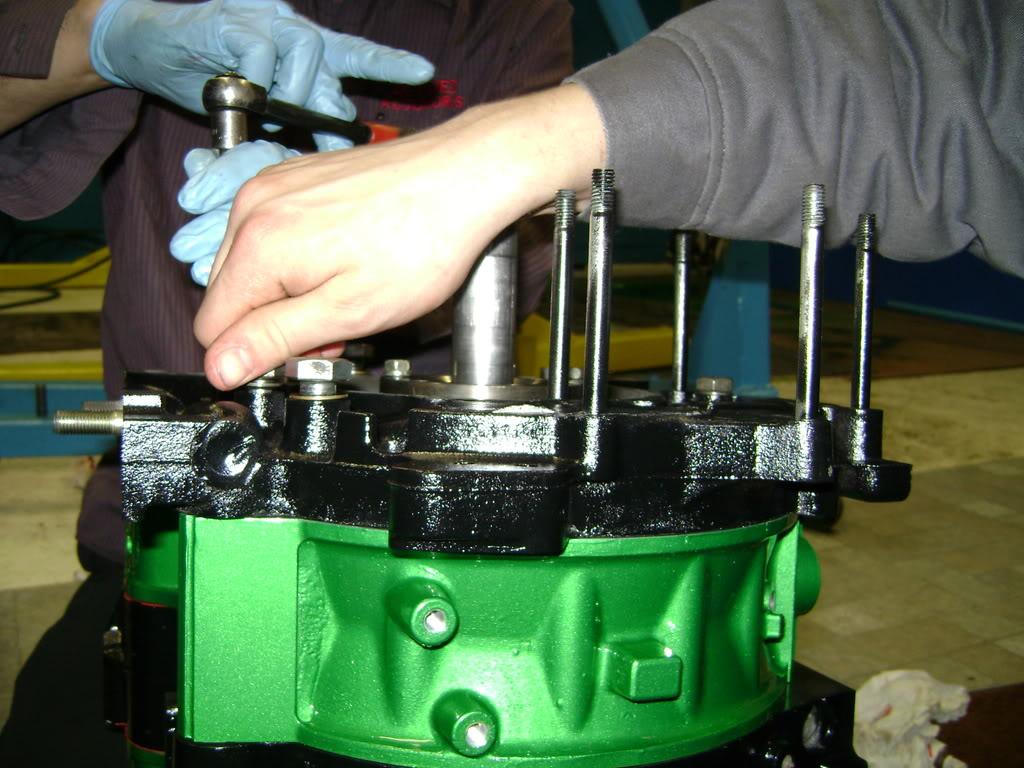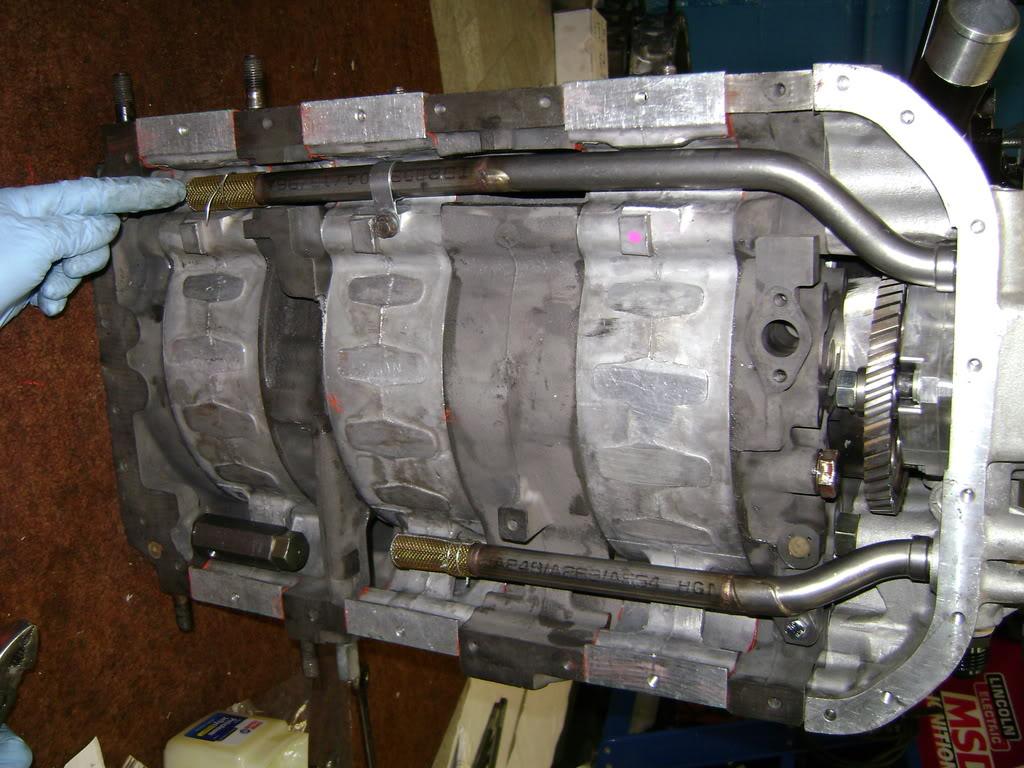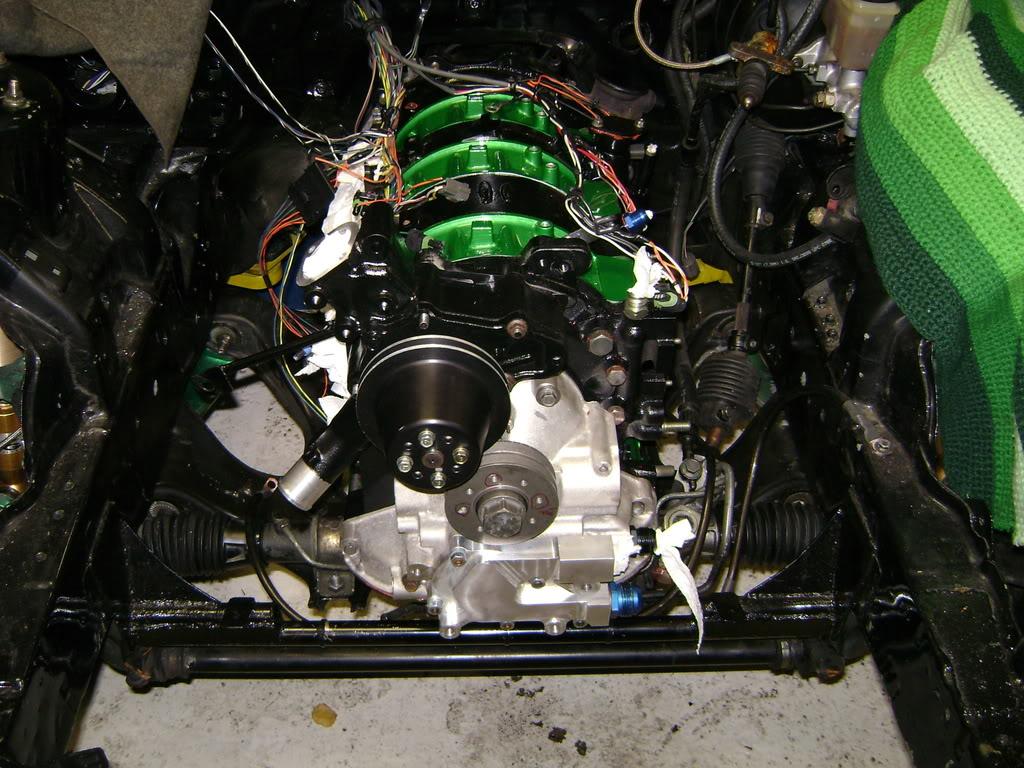 Making firewall reinforcements to fit the AP racing twin brake master setup with clutch assembly. VERY lightweight, and allowed for room to put cage tubing through to the shock towers.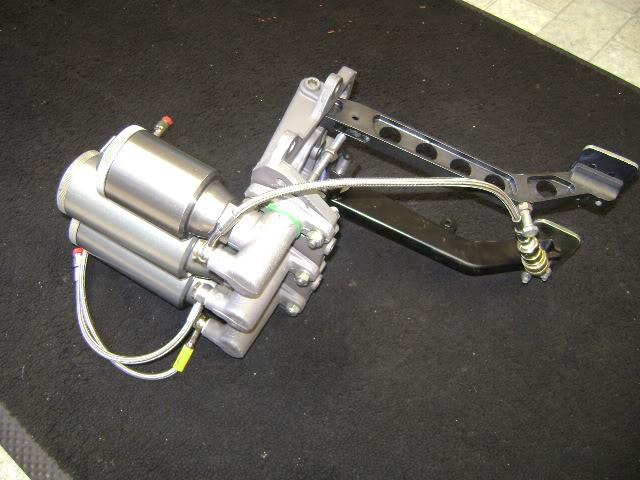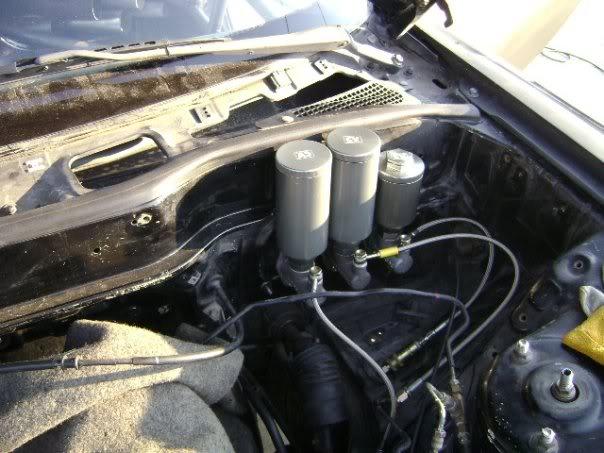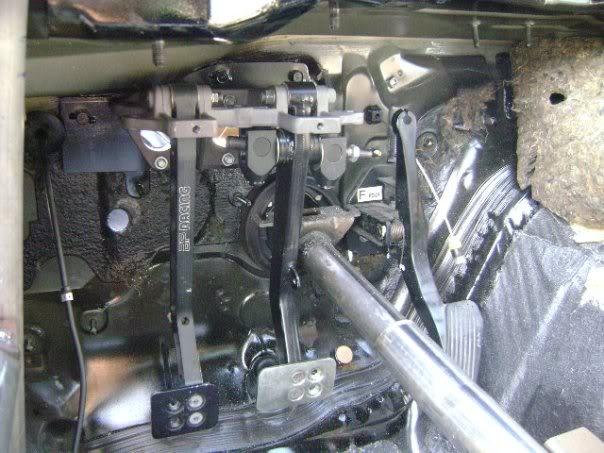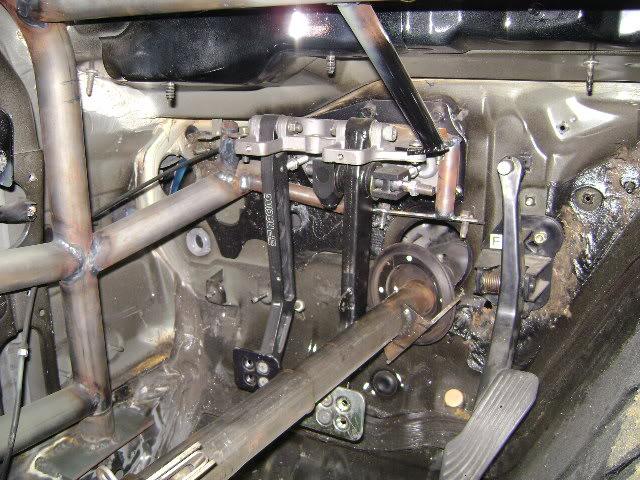 We made the roll cage for extreme stiffness. Every joint was TIG welded for strength.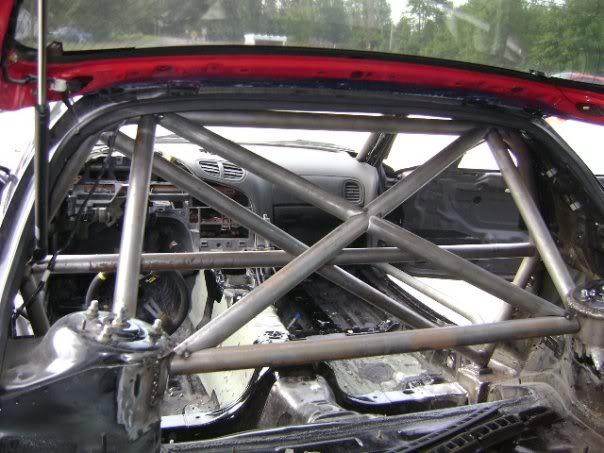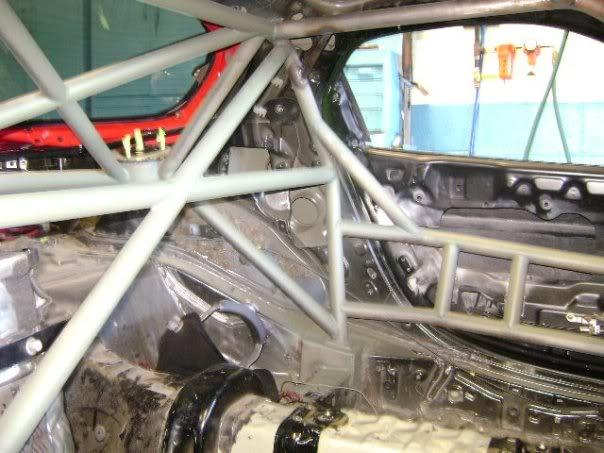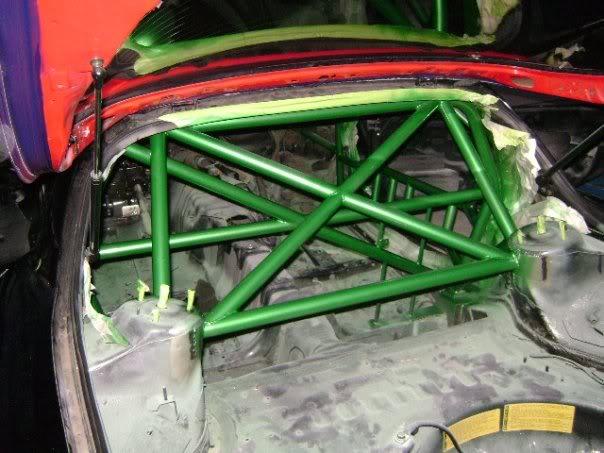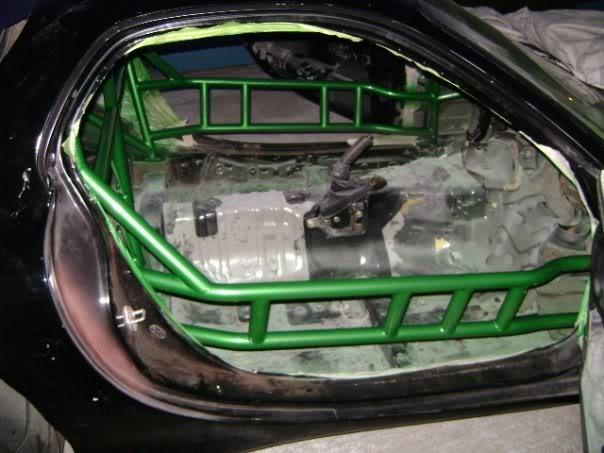 Fast track cars need wide rubber. So I had the wheels widened to 11" in the front and 12" in the rear. This allowed 275/40/17 front tires and 315/35/17 rear tires.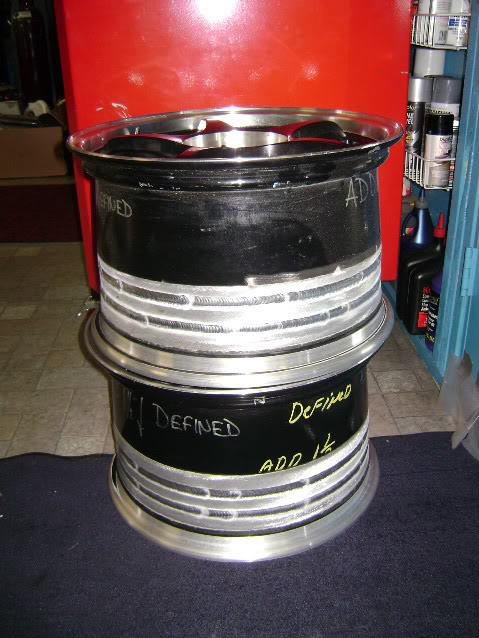 Modified the stock subframe to fit the engine even closer to the ground. With the drysump flat oil plate, I wanted to get the engine less than 1.5" from the bottom of the chassis. The engine now bolts directly to the subframe with no motor mount material. Its also 14" further back into the chassis.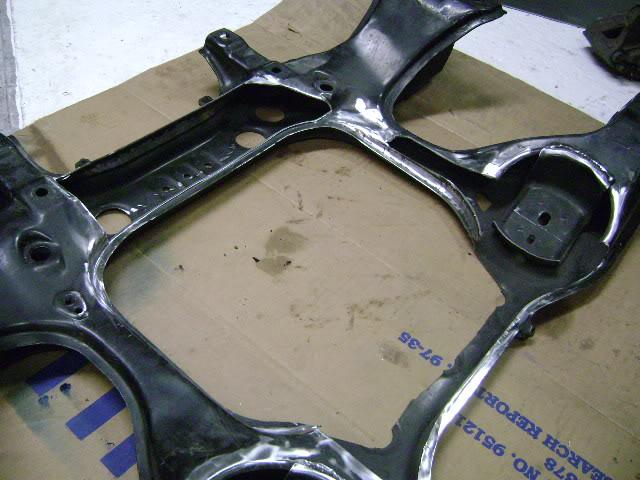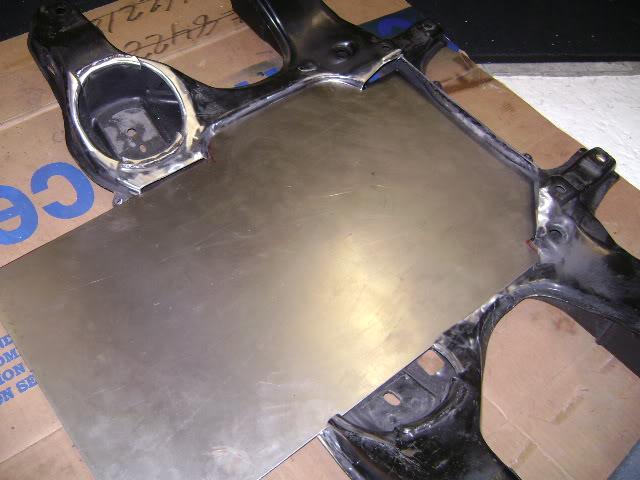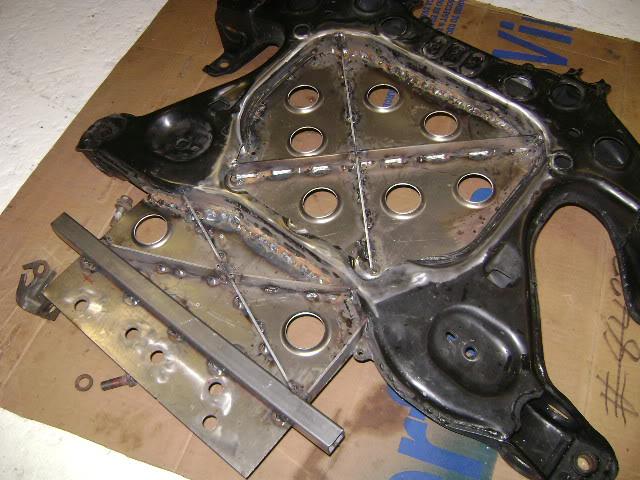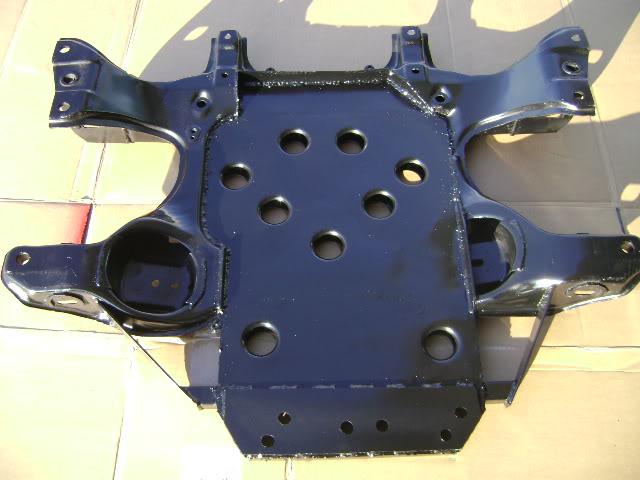 The rear quarters were cut out and TIG welded with tubs to maintain strength. Didnt want to just fill up with foam and call it a day.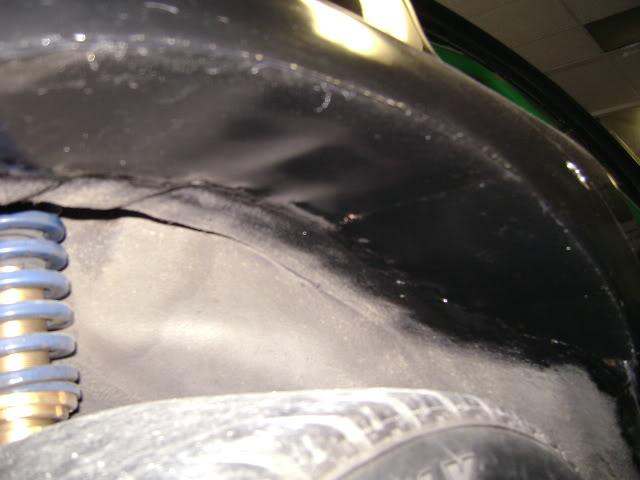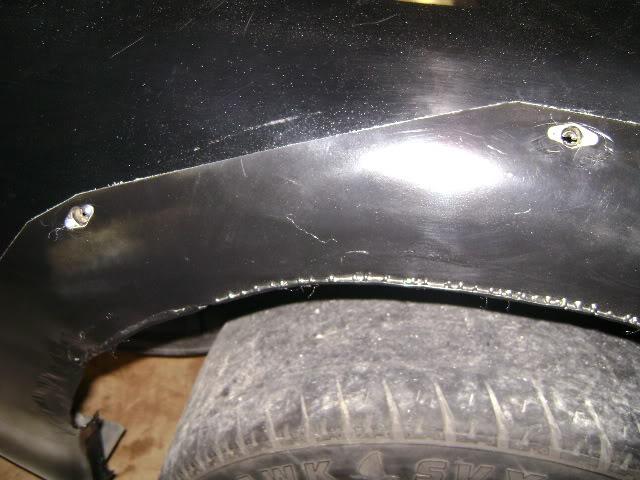 Front A-arm mounts reinforced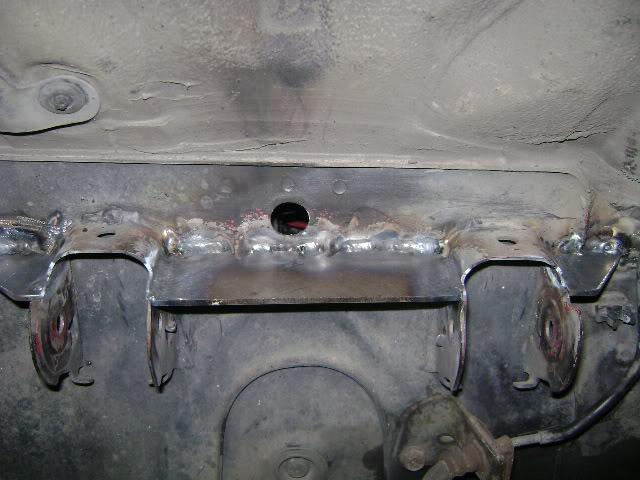 I used a series 4 turbo II waterpump for its increased flowing capabilities. We then further modified it by making the inlet and outet 1.75"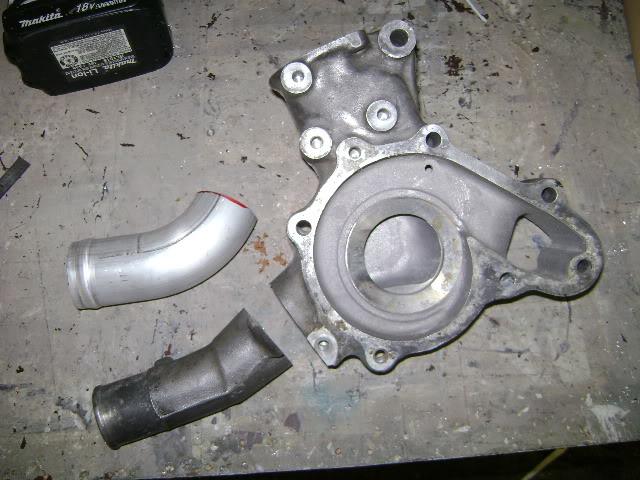 The nascar radiator/oil cooler setup was made with a quick release latches. Replaced hood latch bracket with a 1/8" steel version it fit everything in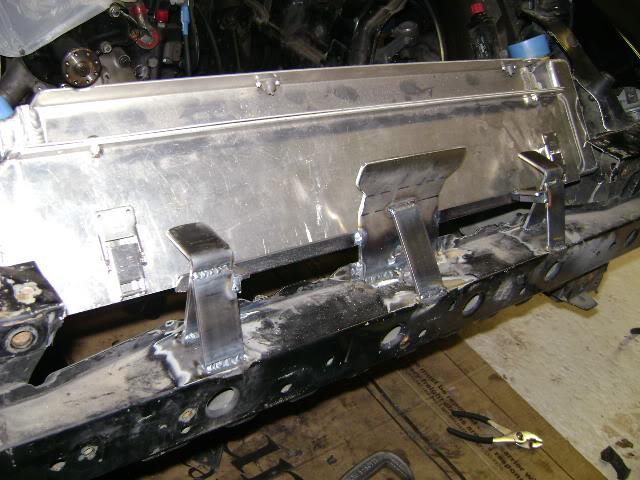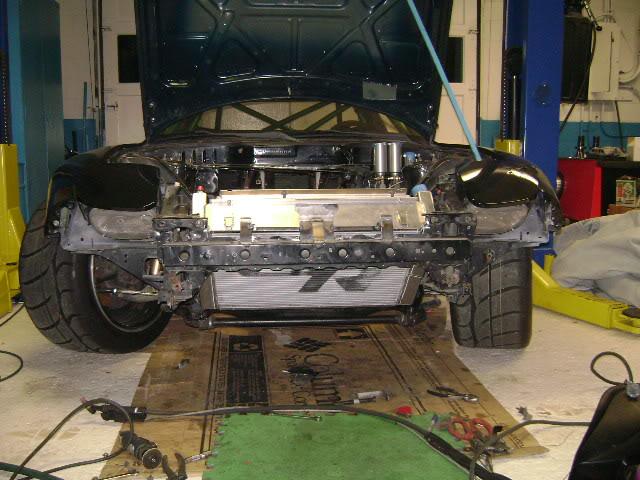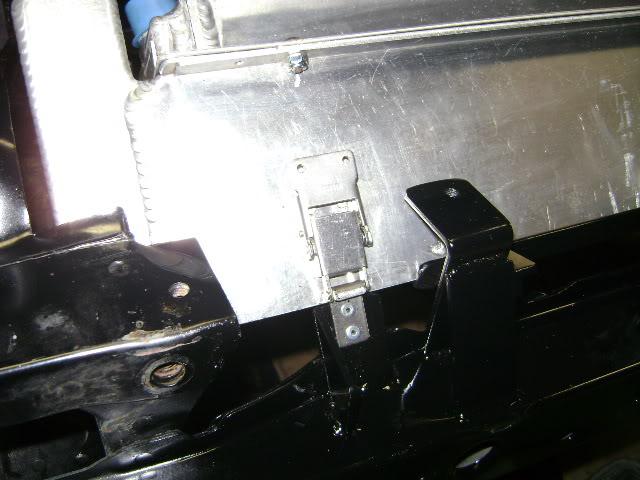 Weight was a primary concern. I wanted a target weight of 2500lbs wet. So every bracket we made was carefully constructed for strength and lightness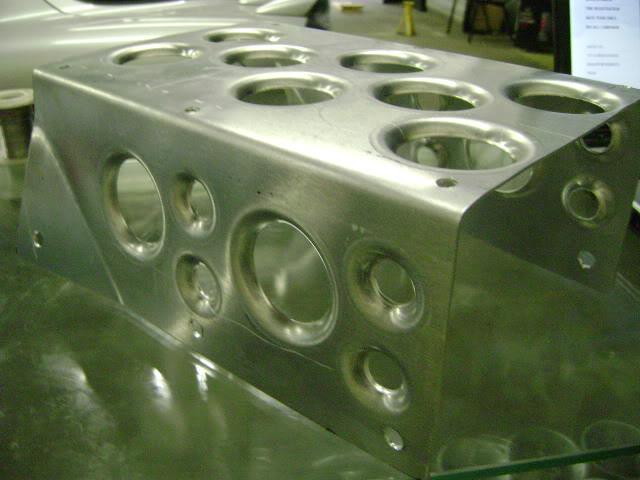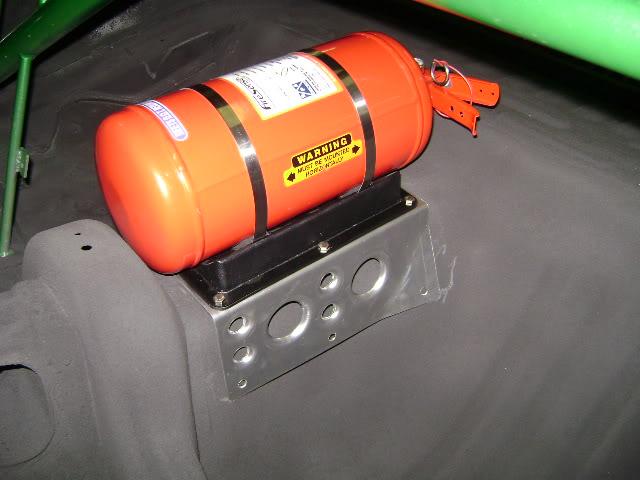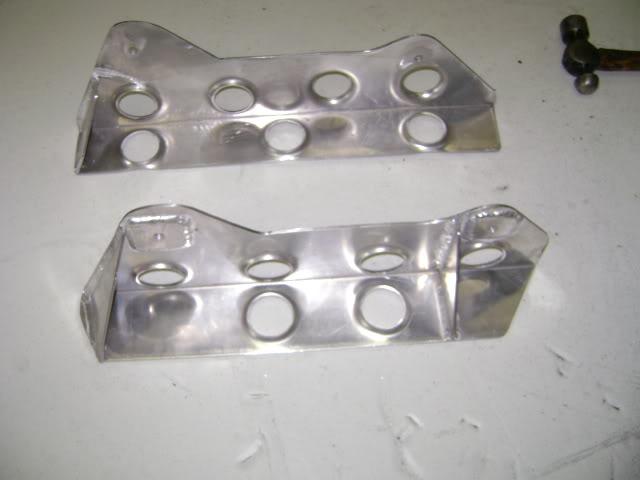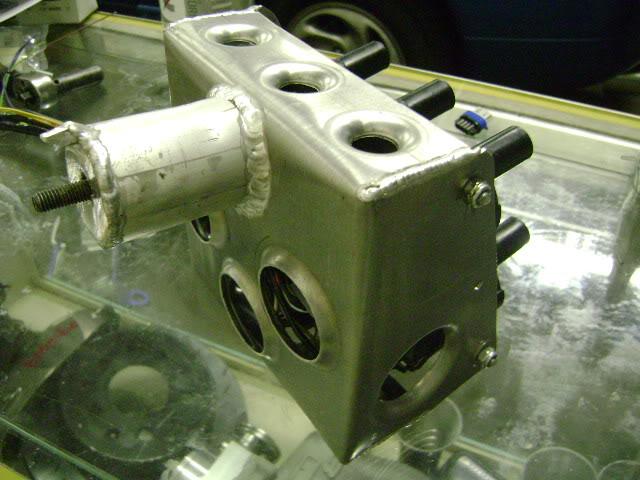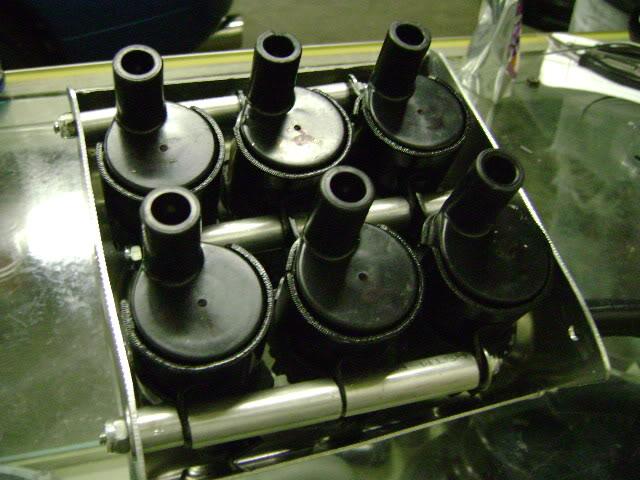 Battery box was made so it could quick release in a second. Using four camloks, its nice and simple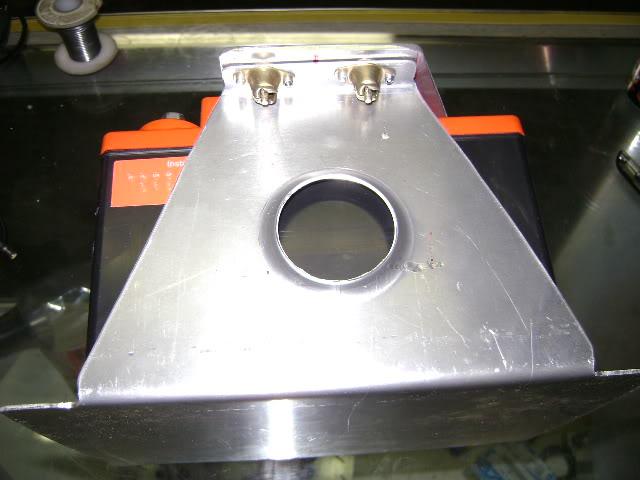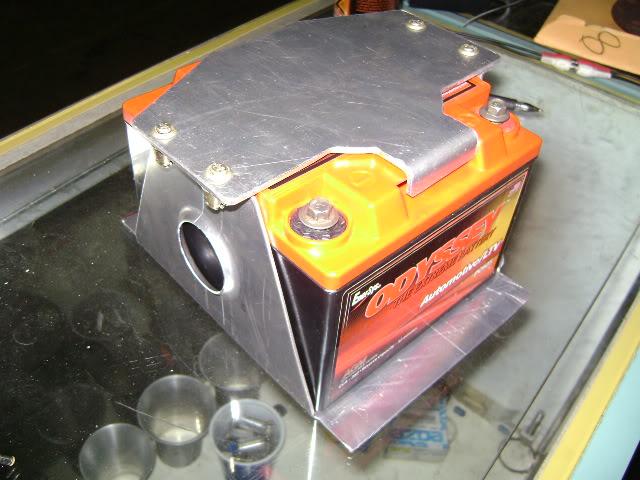 Fan-mount was made with quick release camlocks as well. Very lightweight and strong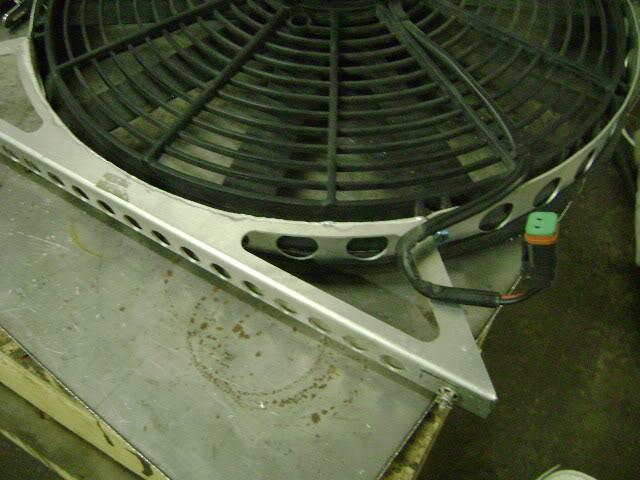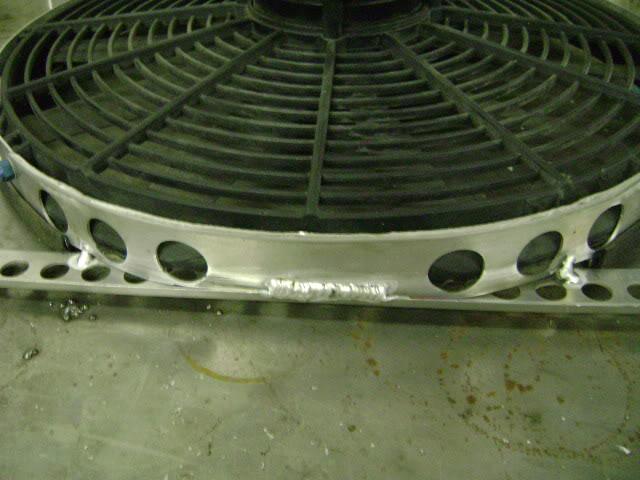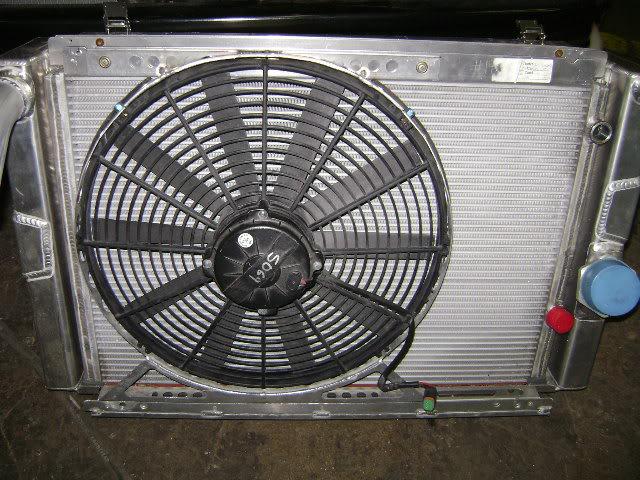 Cut the factory hood to accept a GT style vent. We made the vent assembly entirely out of carbon to save weight. This will pull a vacuum on the radiator air flow up top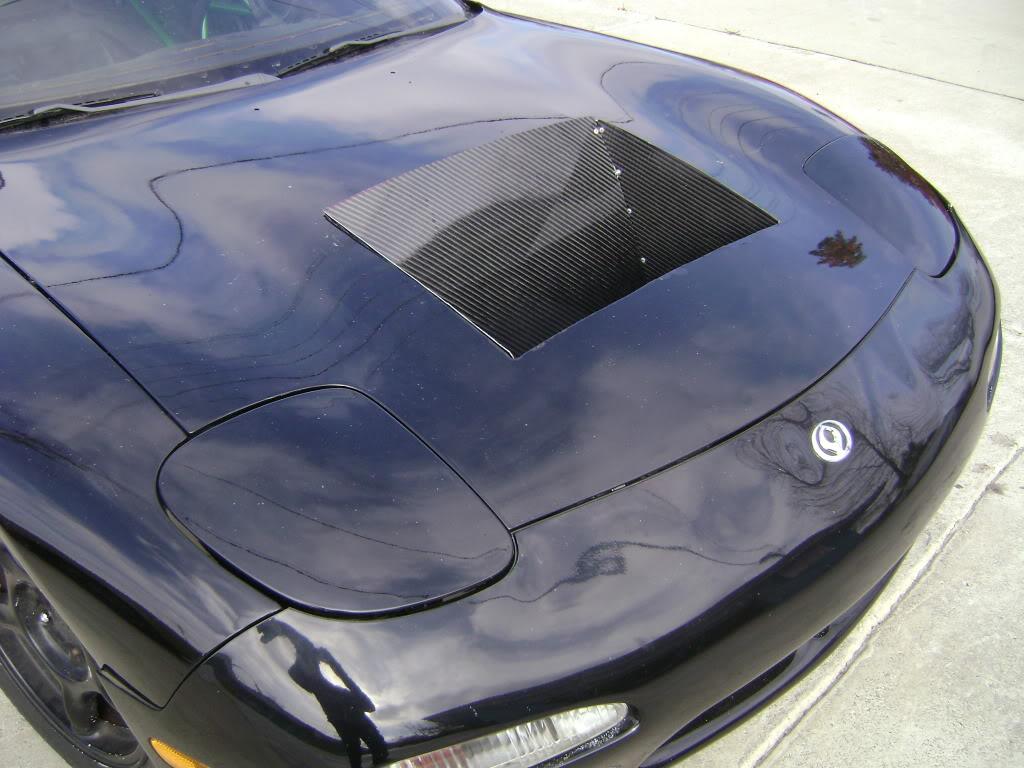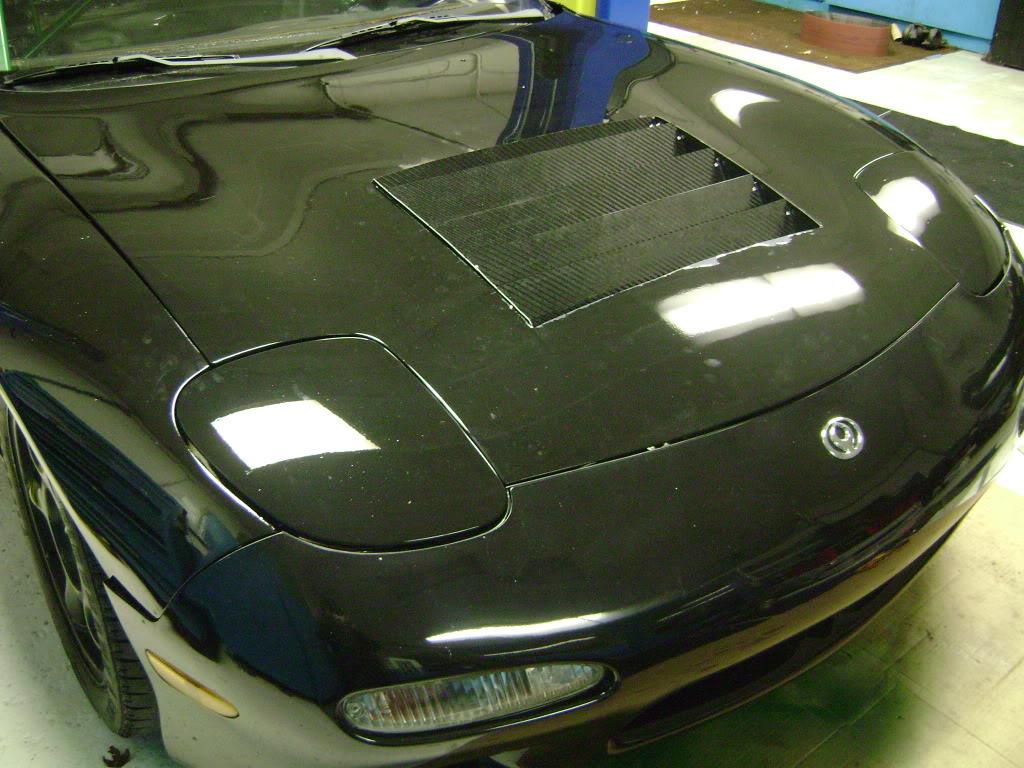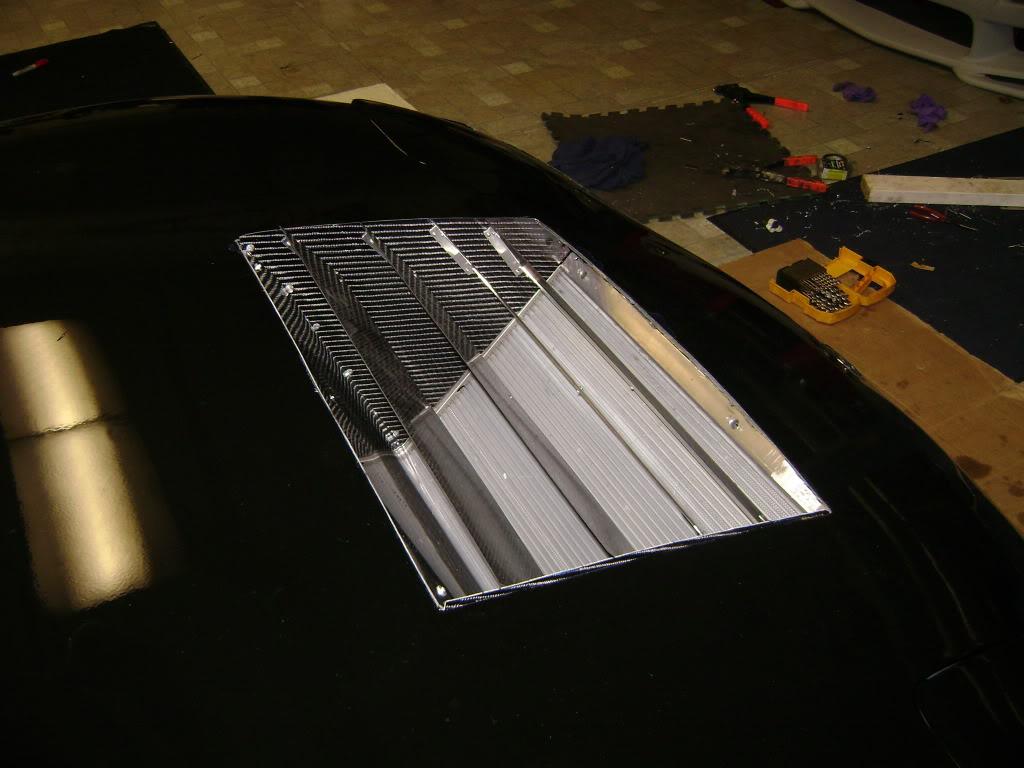 For the headlights, I deleted the standard pop-up assemblies. Then mounted the lids using lightweight aluminum brackets. Next was to custom make these twin "Lemans style" headlights using projectors. This saved over 10lbs.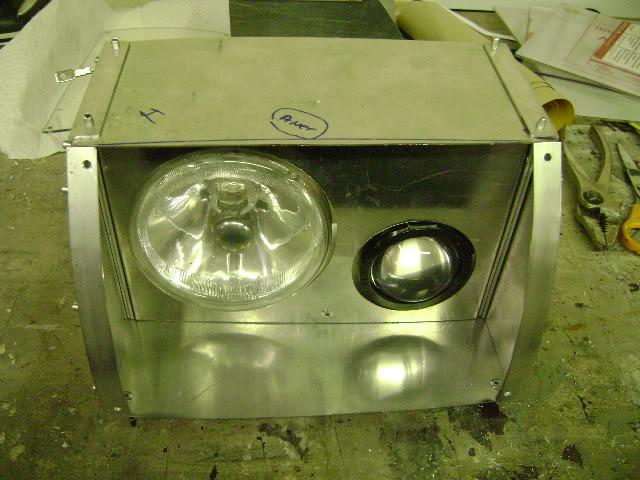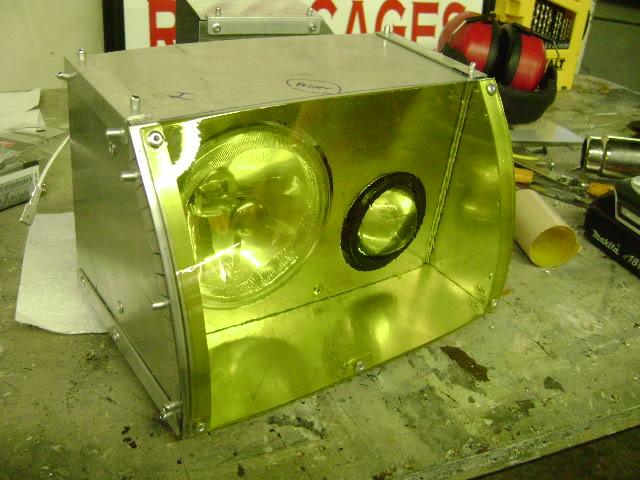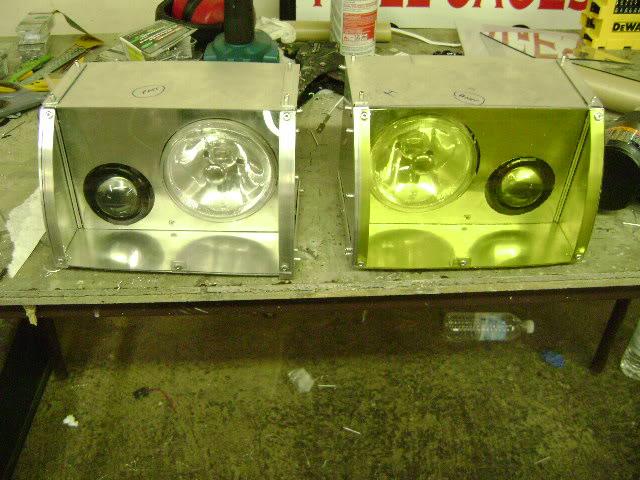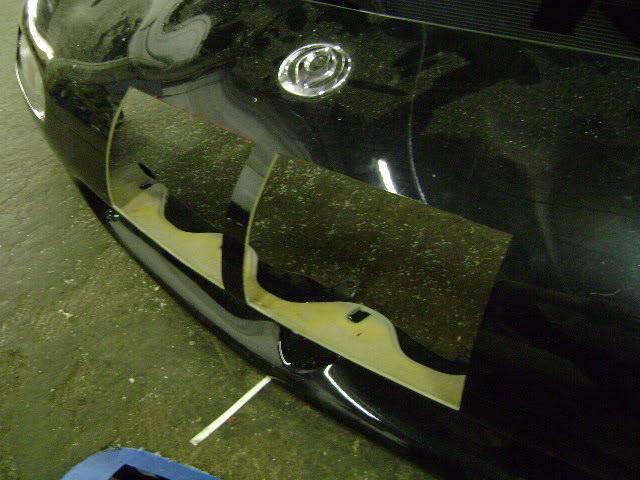 The fuel cell is a Carbon kevlar ATL bladder cell. 13 gallon capacity. I removed the rear sway bar, and will be re-locating it with tie-rod actuation. This allowed the fuel cell to fit 4 inches closer to the centerline of the chassis. I also placed it dead center in the car to make left to right weight distribution more even.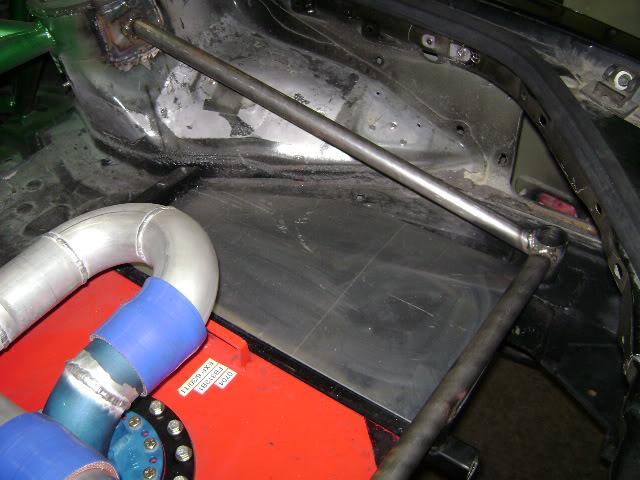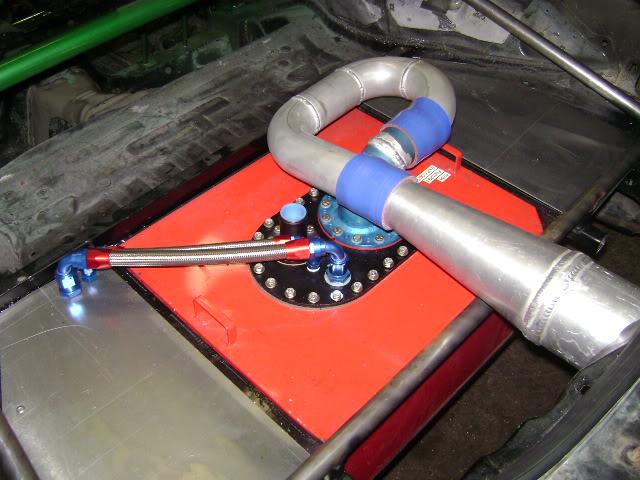 Fuel cell mount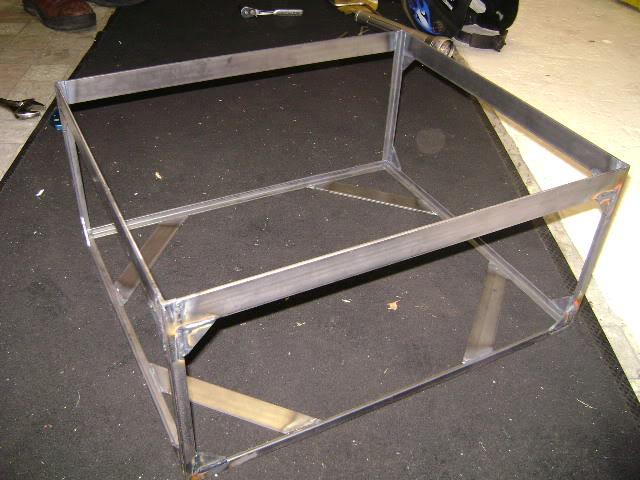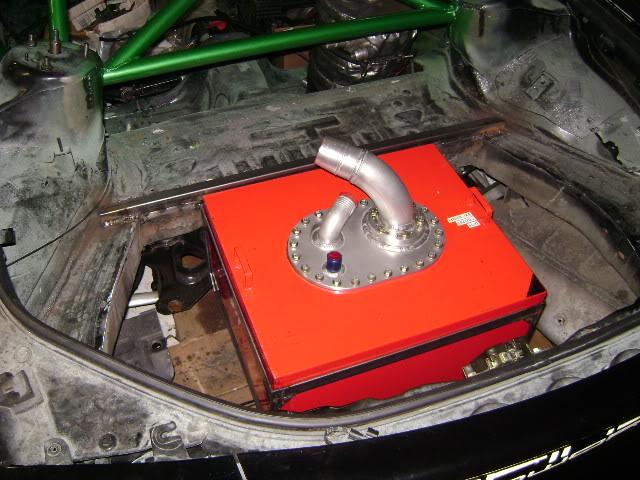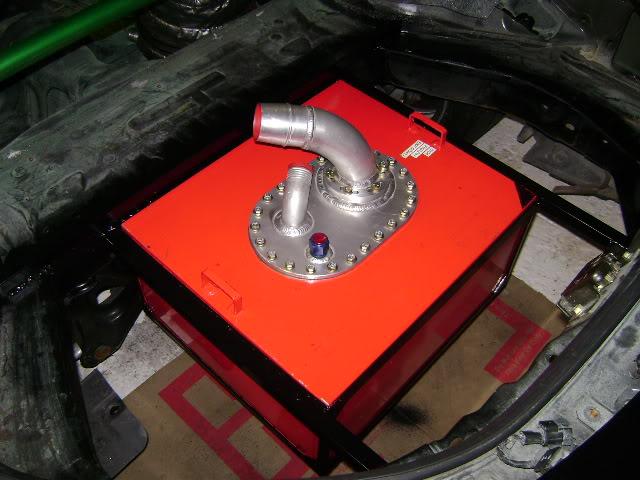 For the brake system, I again sourced our friends in the nascar world. The mounting brackets have to be custom machined to adapt to the fd. And the rotor hats will be cnc cut as well. Lots of work. This is just a mock-up before machining starts. Here are the Front Brembo 4 piston Calipers. Radial mount, monoblock cnc construction, titanium ventilated pistons. Brand new are over $1900 each! PFC two piece floating brake rotors, 13" in diameter and 1.75" thick.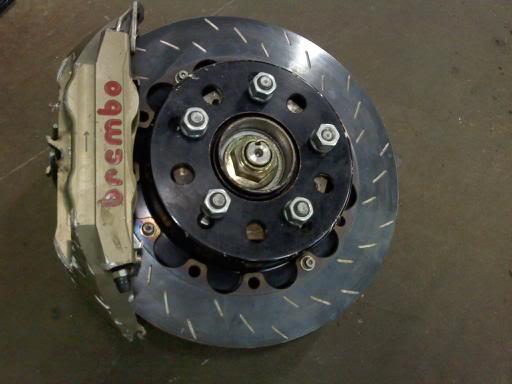 And here is the rear brembo 4 piston calipers. Radial mount, and titanium ventilated pistons. Same PFC two piece rotors, but 1" thick.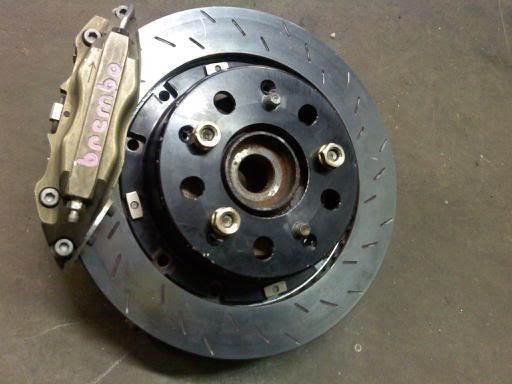 We built a custom rear muffler to test out sound absorbing abilities. I made it a quad pass design, to reduce exhaust noise as much as possible. Its the only muffler on the car. It went a bit too successful, I think the car is a too quiet. But for daily driving it is great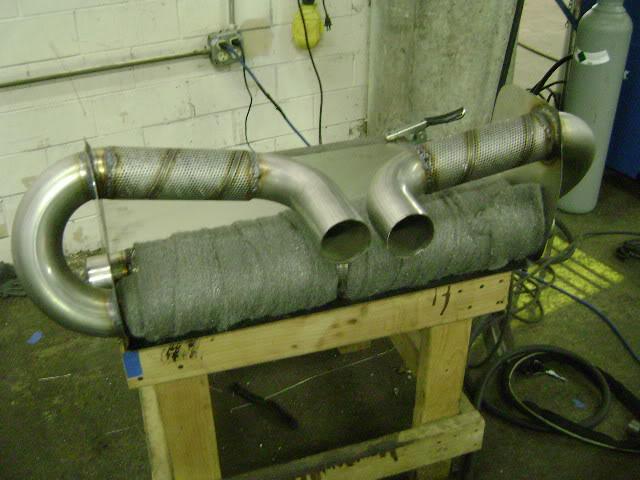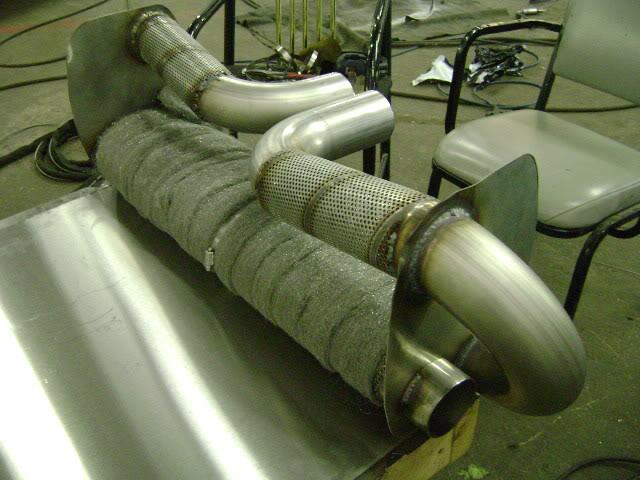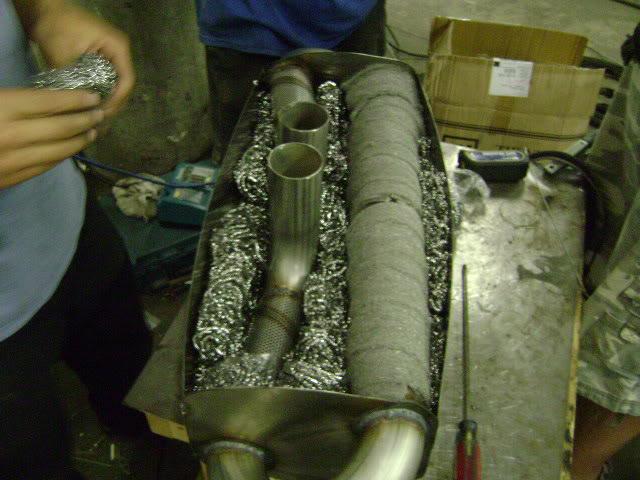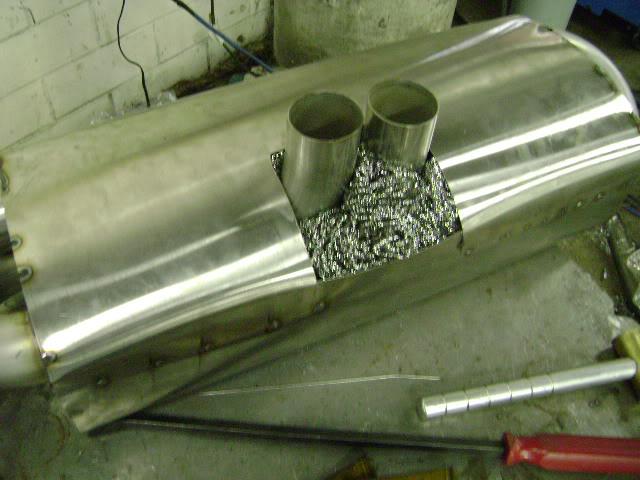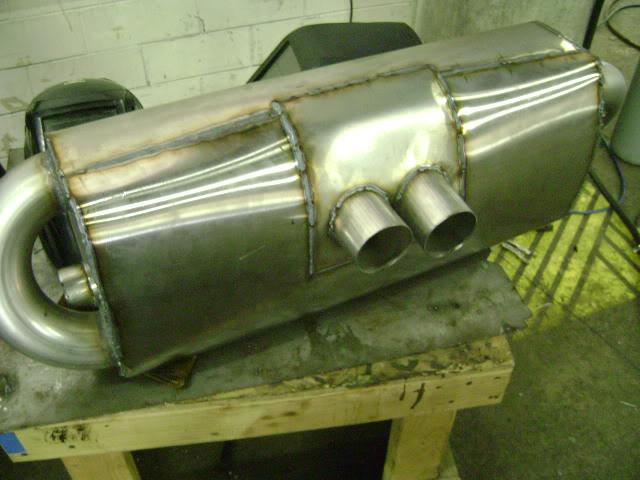 Rear wing was all hand built. While not as effective as a 3D GT wing, it was free to build. With the budget I had in mind, this wing will work fine for a while. And the entire wing weighs 8lbs!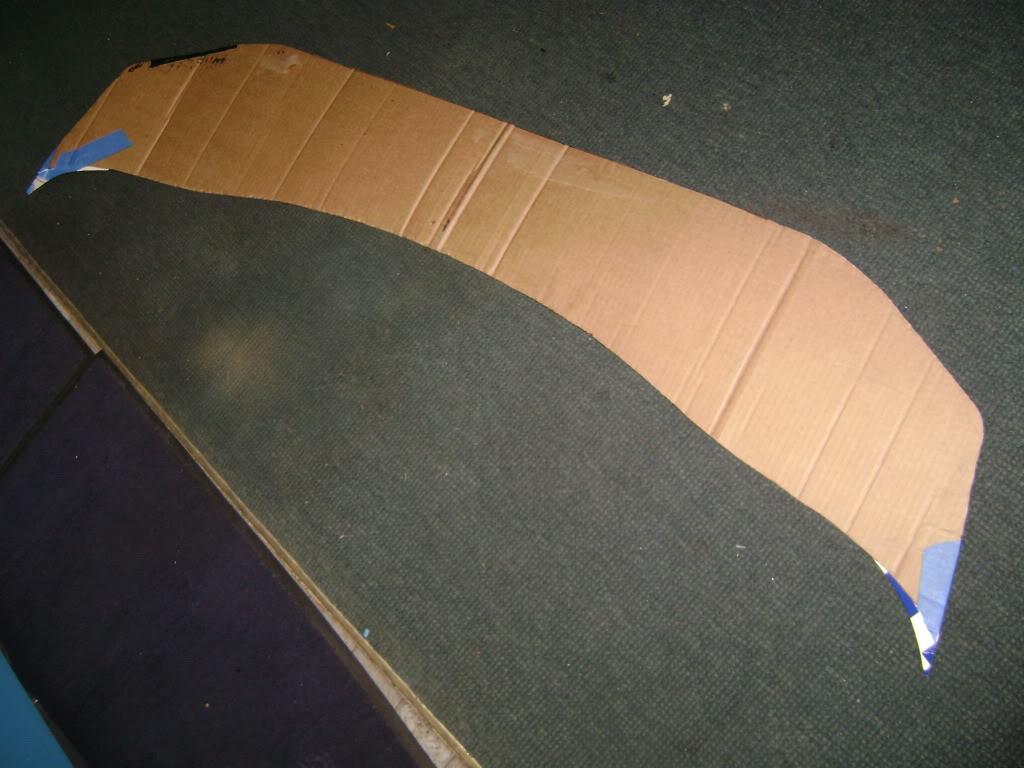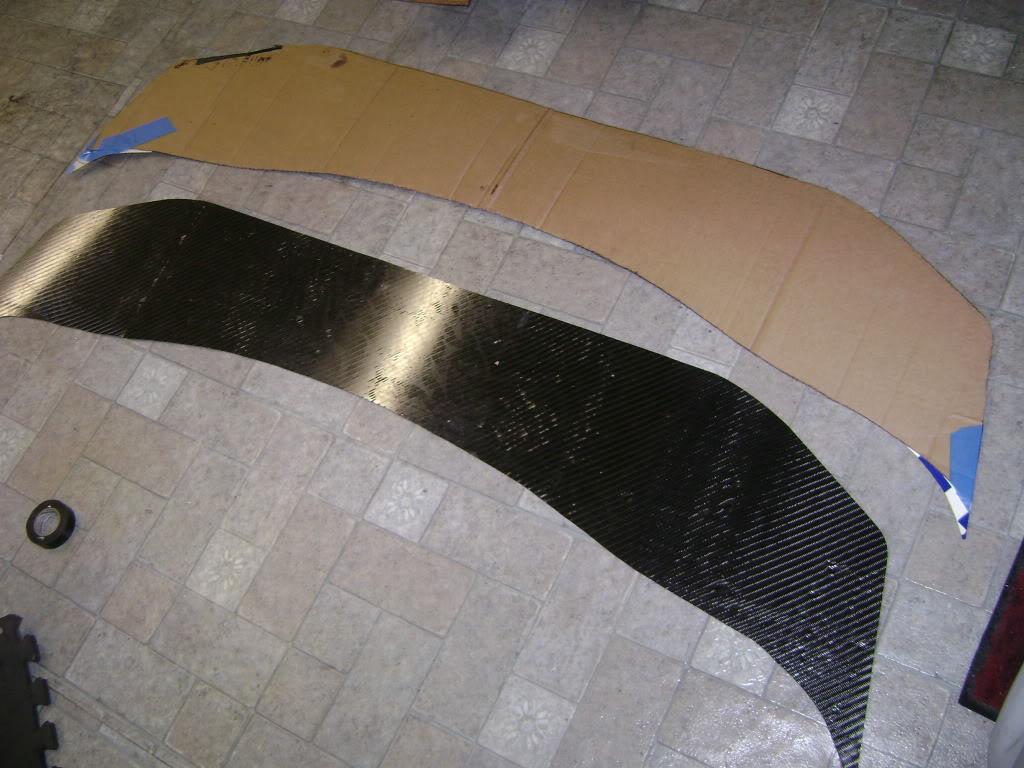 Test fit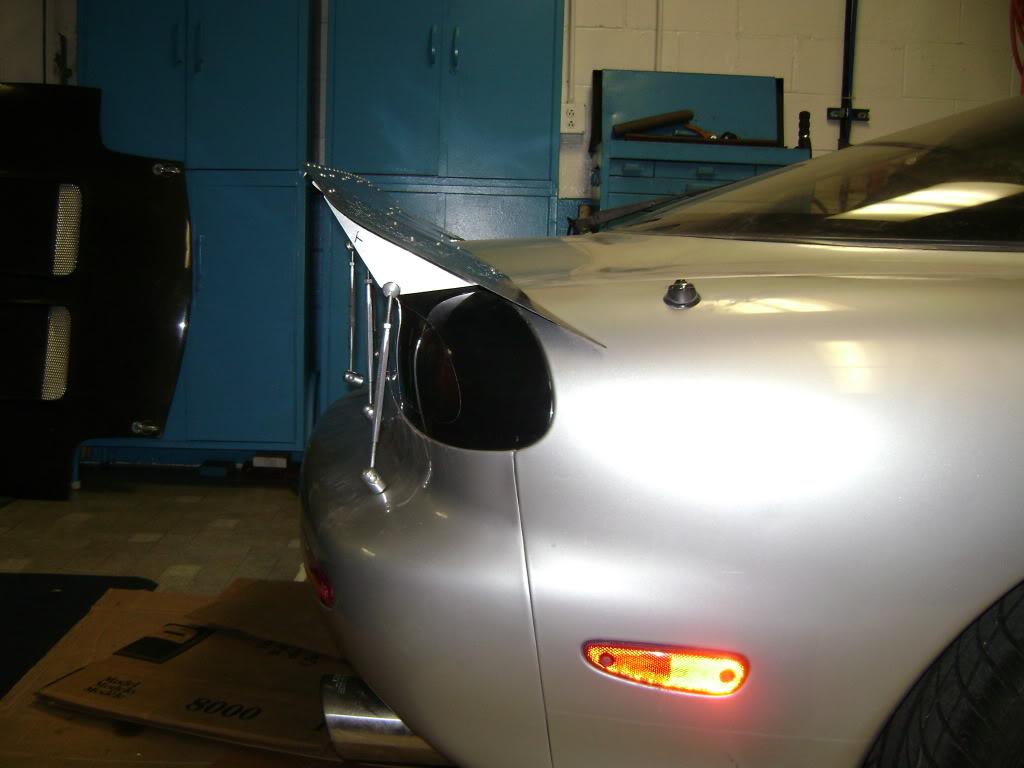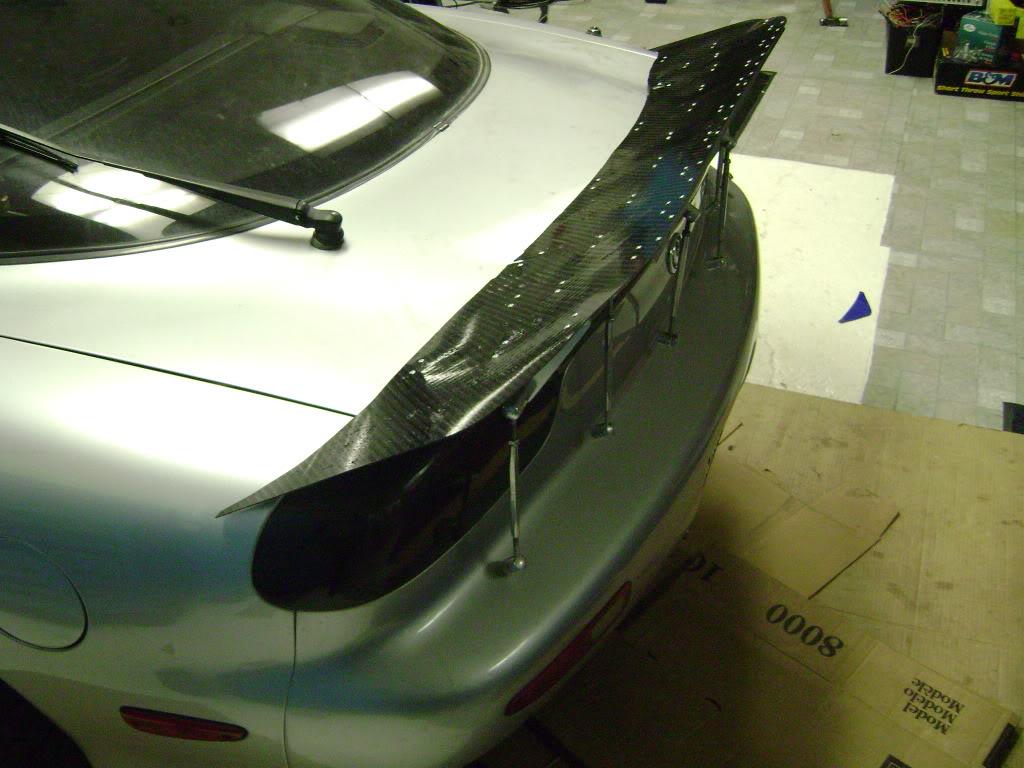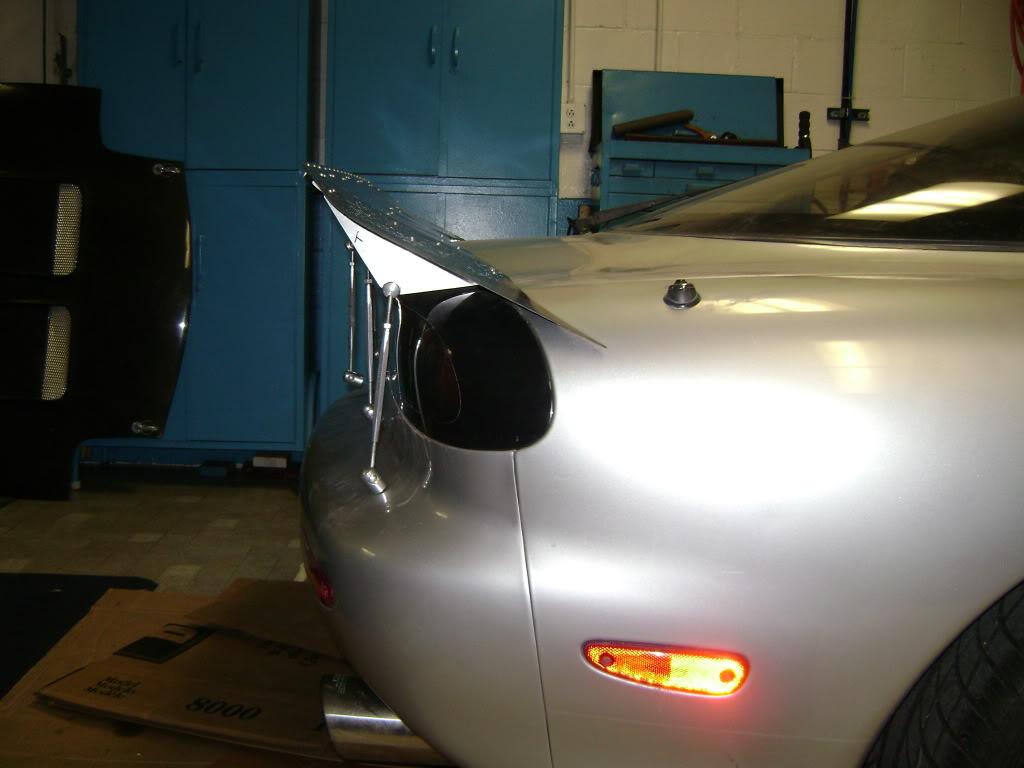 Chassis stiffness was a extreme priority. With the firewall removed and pushed back, I was careful to make unified tubular triangulation. The engine is part of the chassis reinforcement, which ties the entire subframe to the roll cage, which ties directly to the shock towers and frame.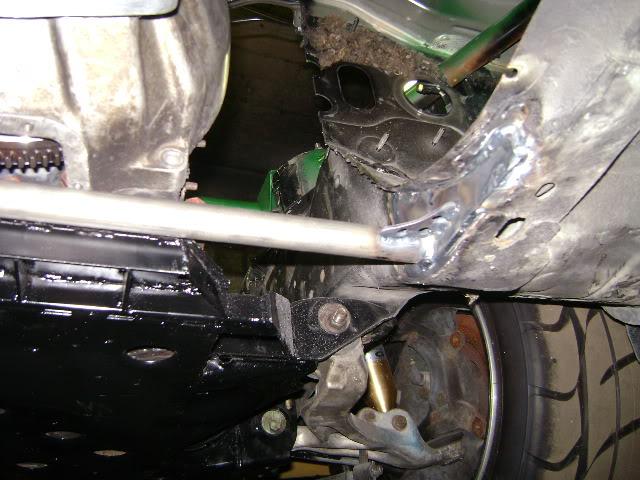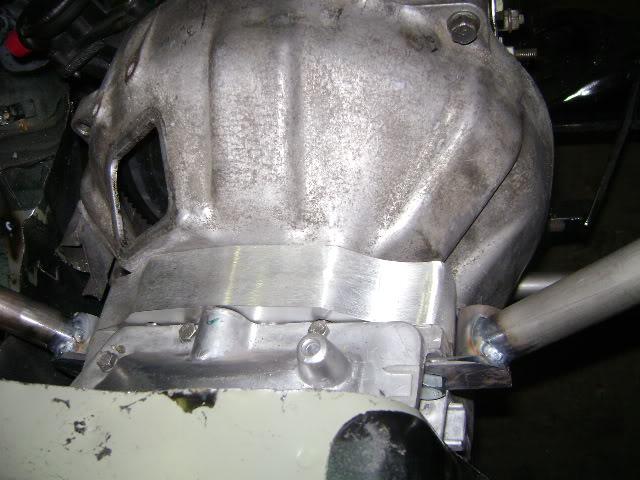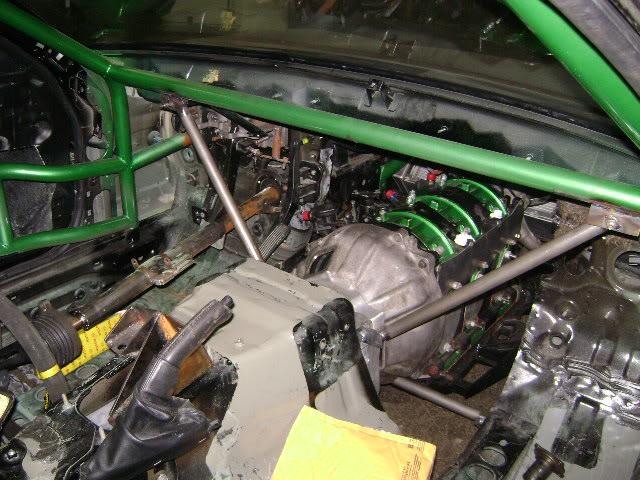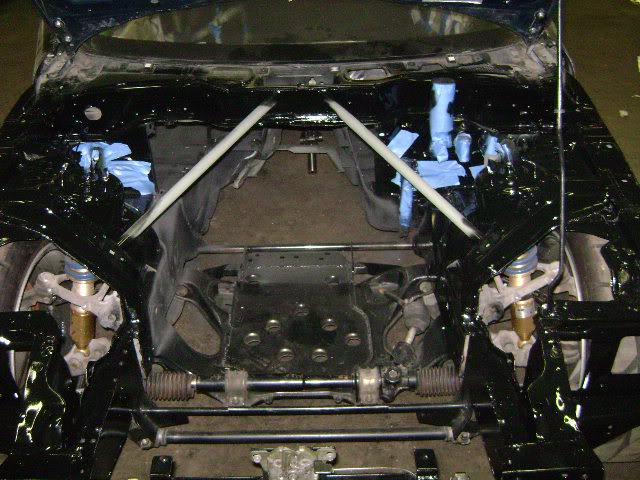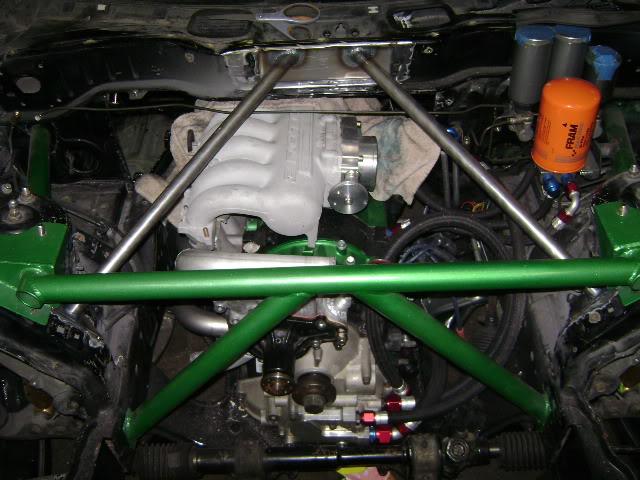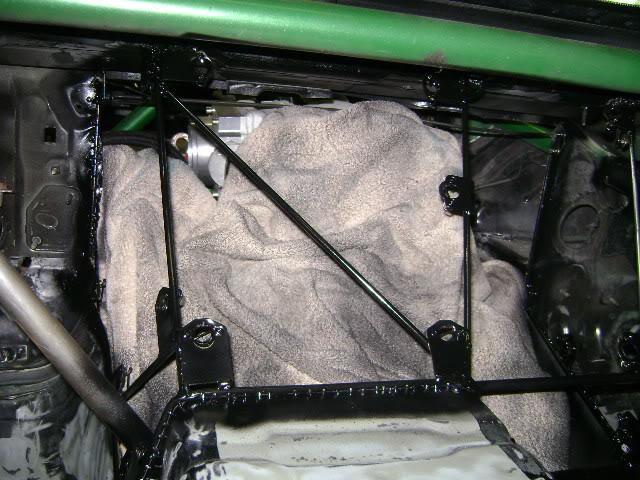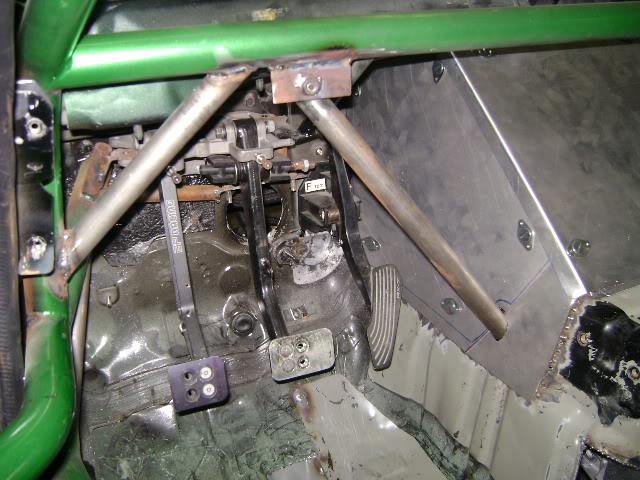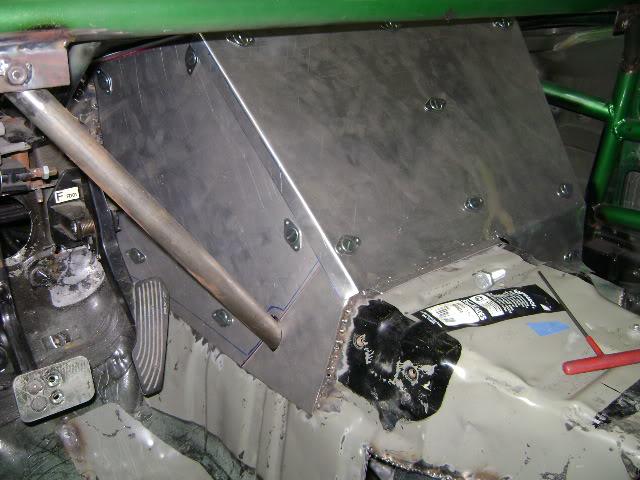 The transmission mount was custom made from chromoly, and ties directly into the roll cage. Keeping the stress off the uni-body thin gauge metal.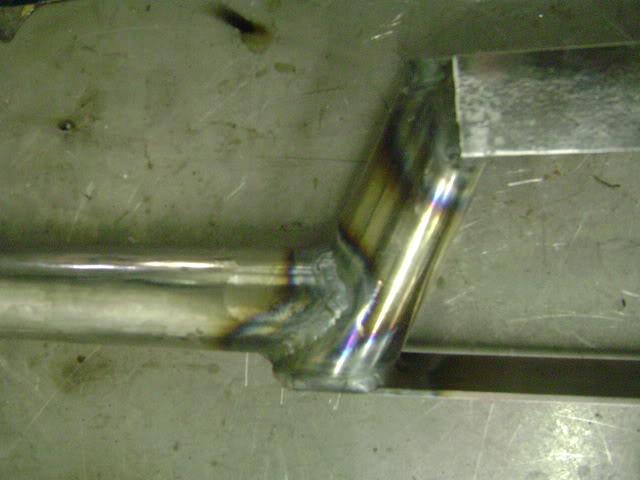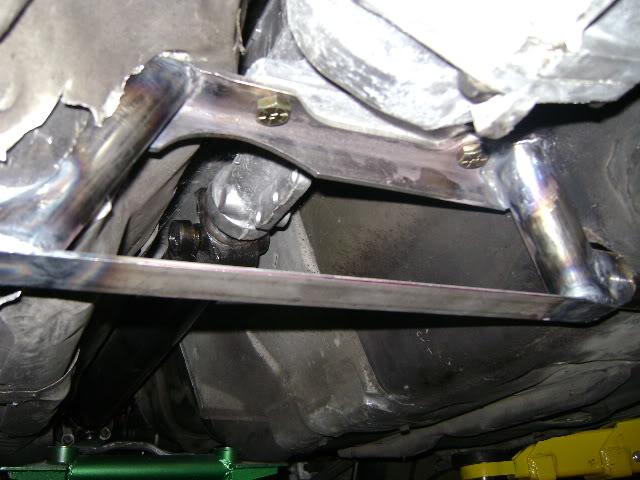 Tubular Differential mount, same one we sell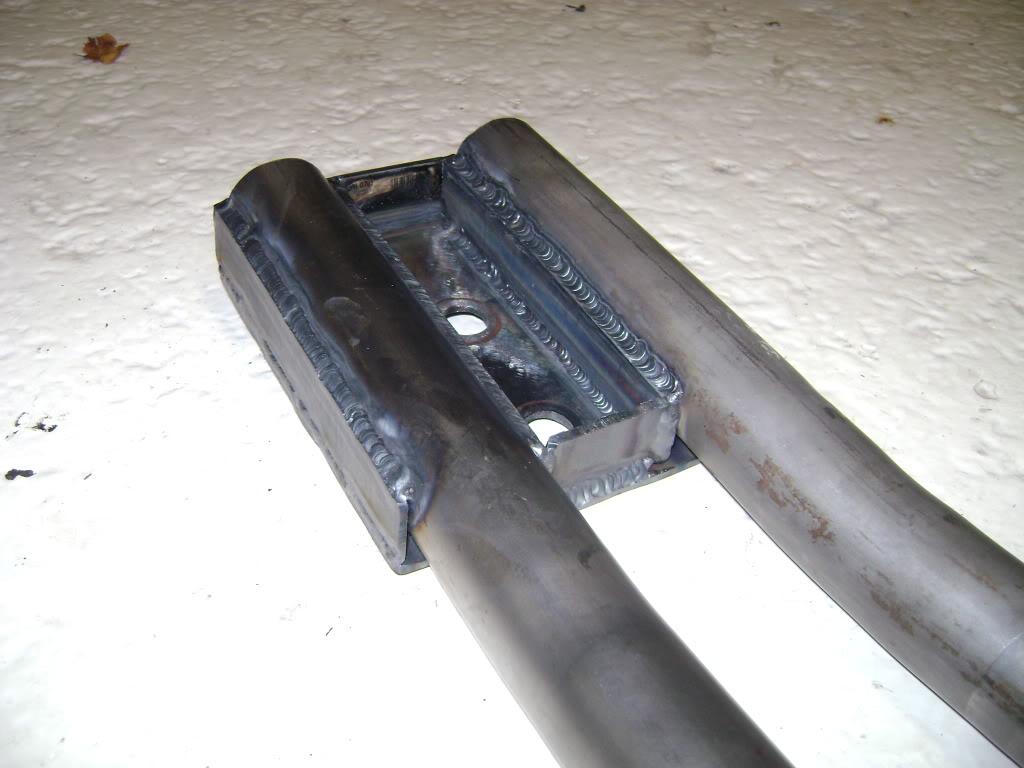 The front "strut brace" which is really a chassis brace that helps tie the roll cage together.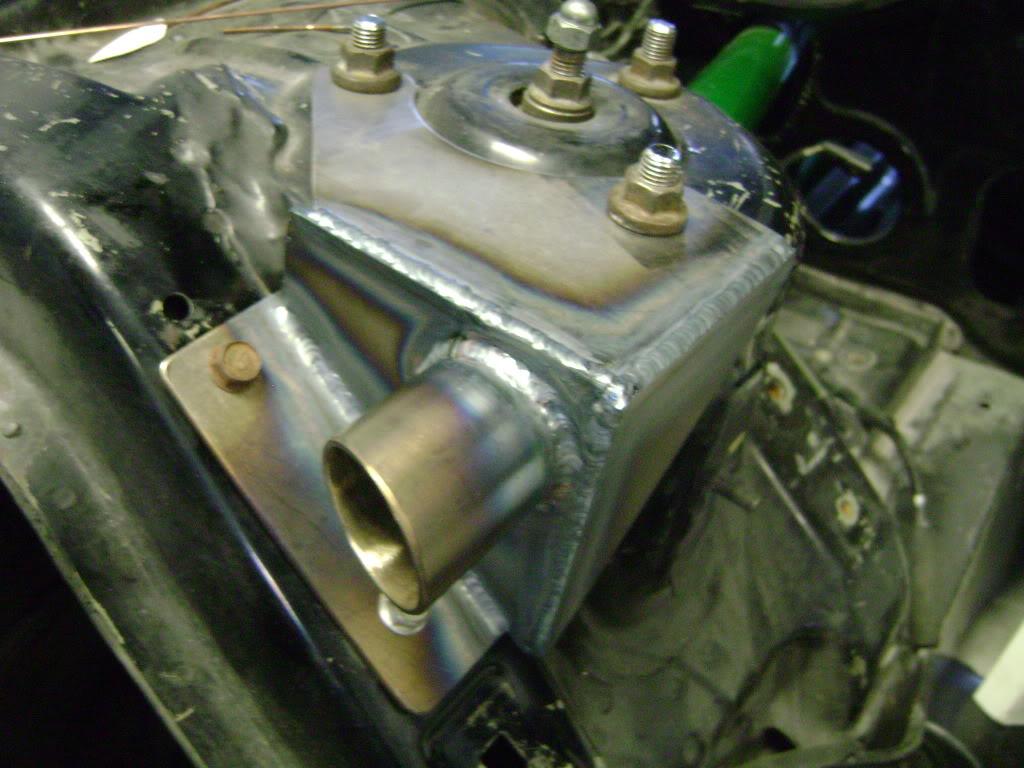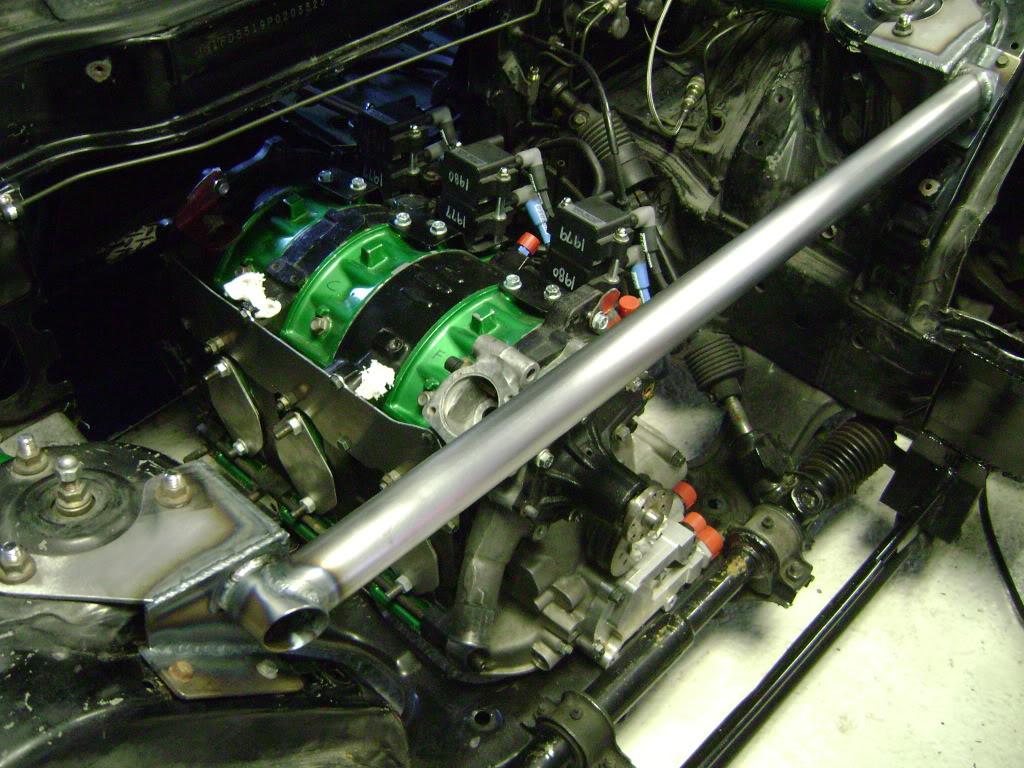 The front flexible sway bar mounts were totally rebuilt and reinforced with 1/8" steel. I then tied them together with a tubular brace which doubles as a radiator mount.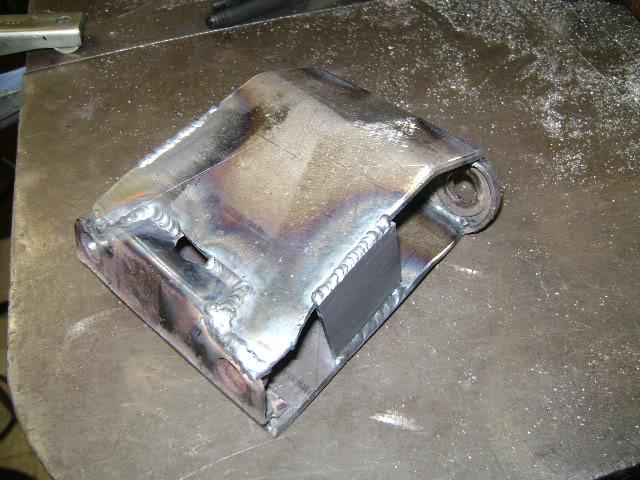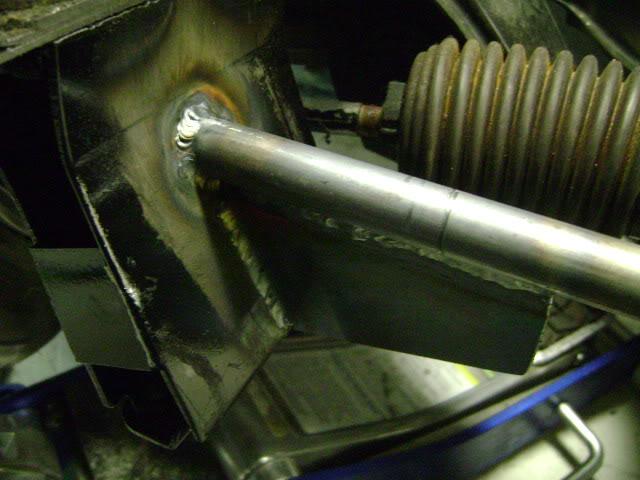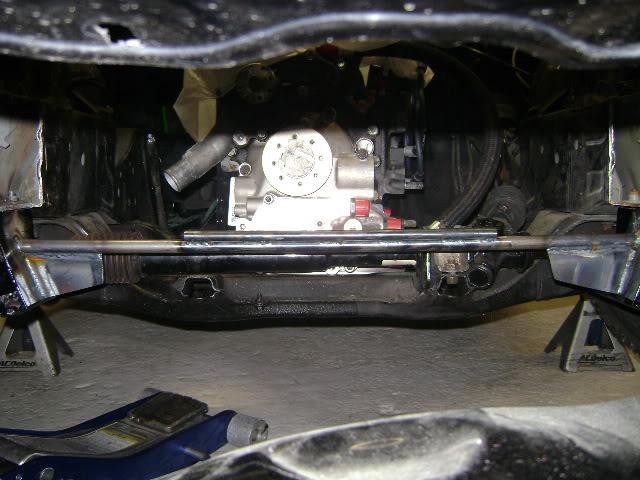 I hand cut sheets of carbon fiber, heated them and bent to shape to form a all-carbon gauge hood. Also made templates of all the vents (which were no longer functional) so they could also be filled in with lightweight carbon while keeping a clean look.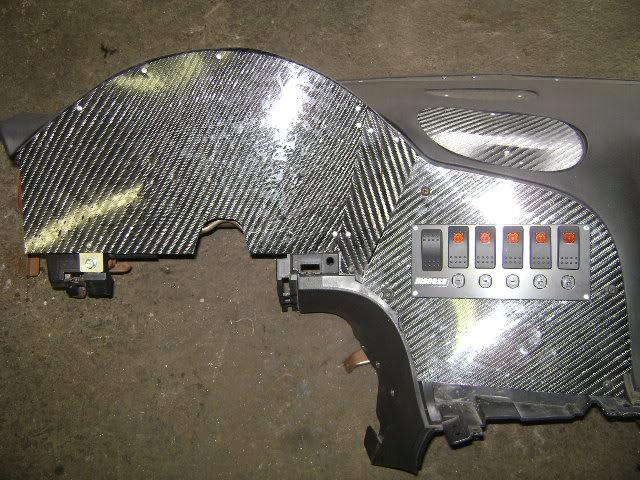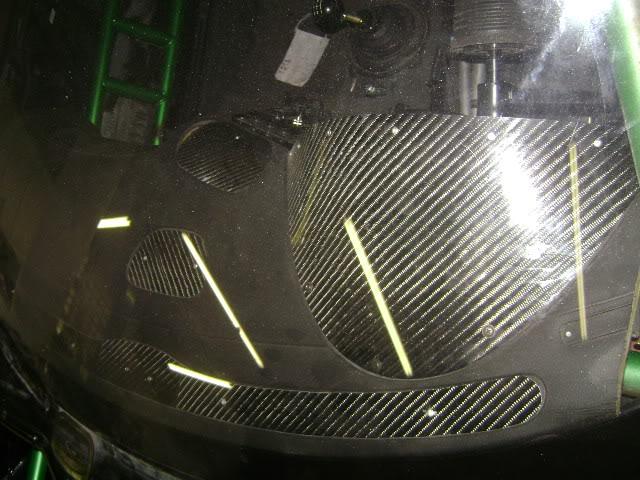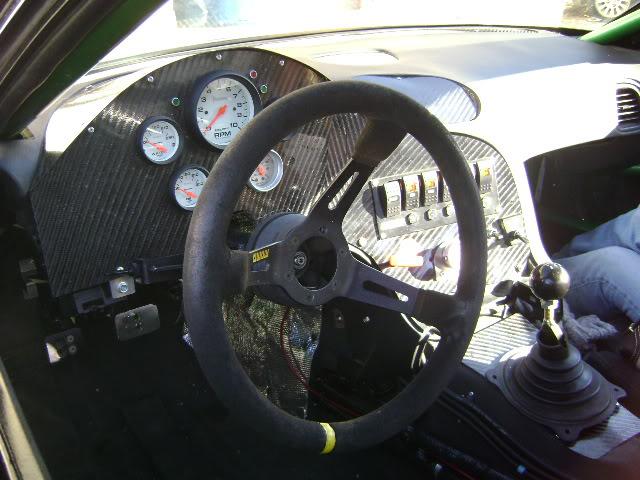 I wanted to keep heat to a minimum, even if it was a race car. So we sprayed the entire interior with Lizzard skin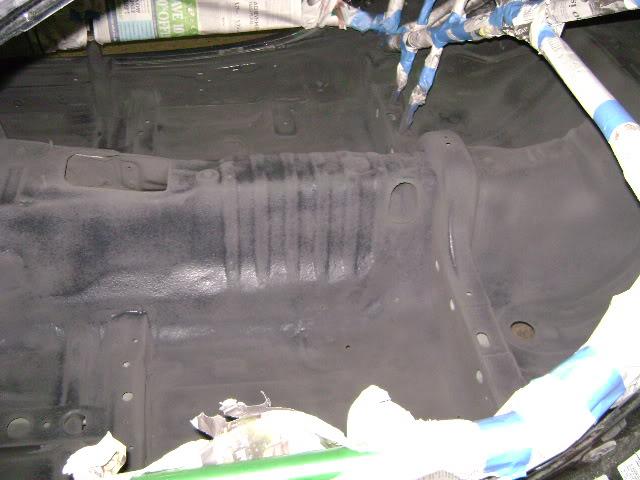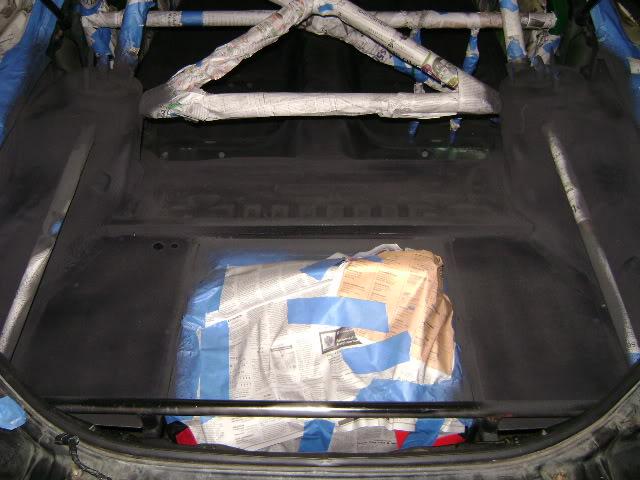 More engine setup progress.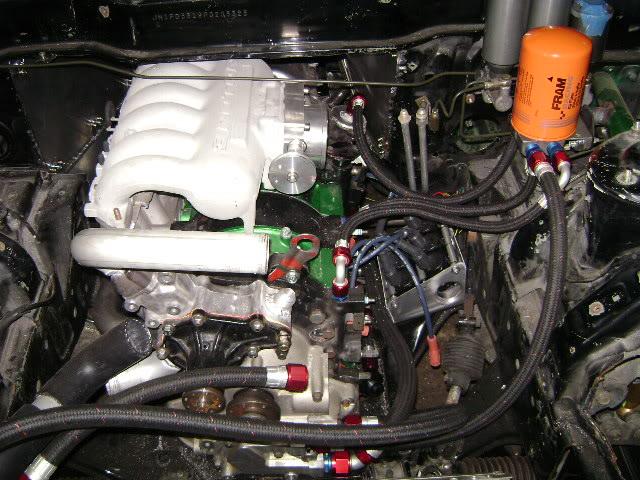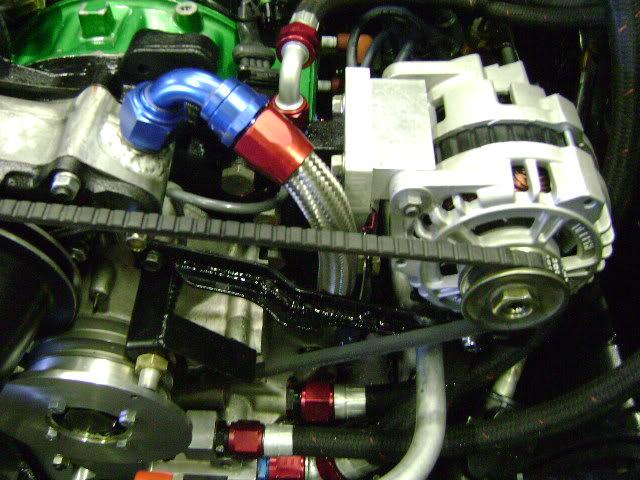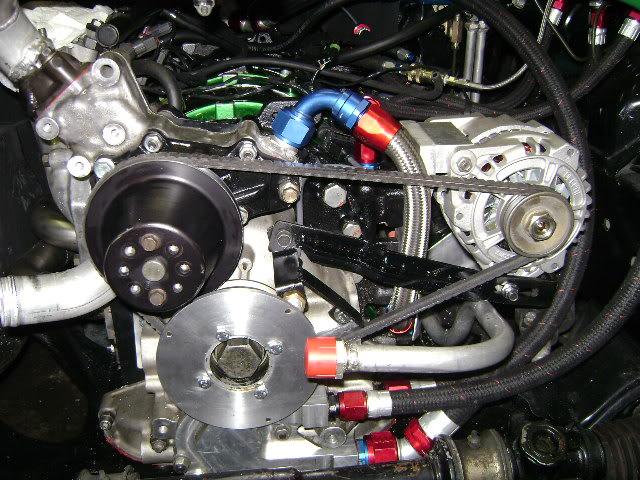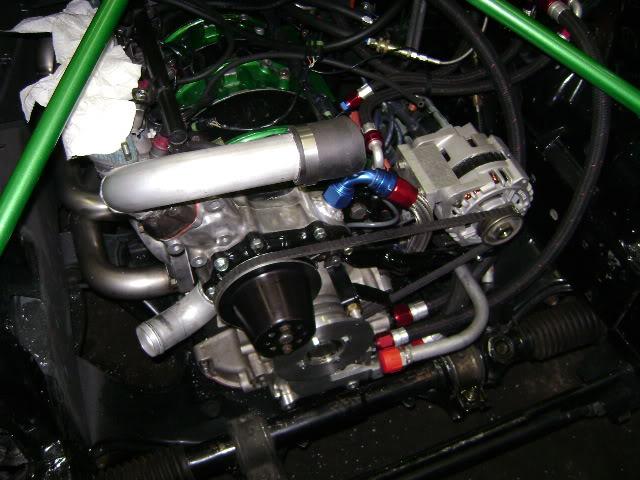 here are some further along pictures of the engine setup. This was when it still had the 90mm throttle body mounted to full stock upper intake.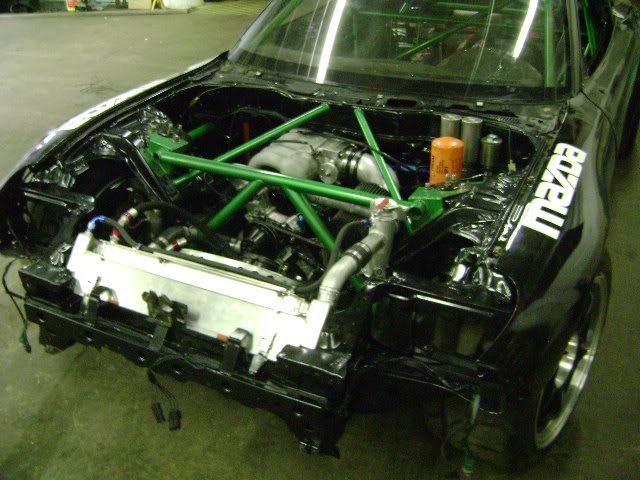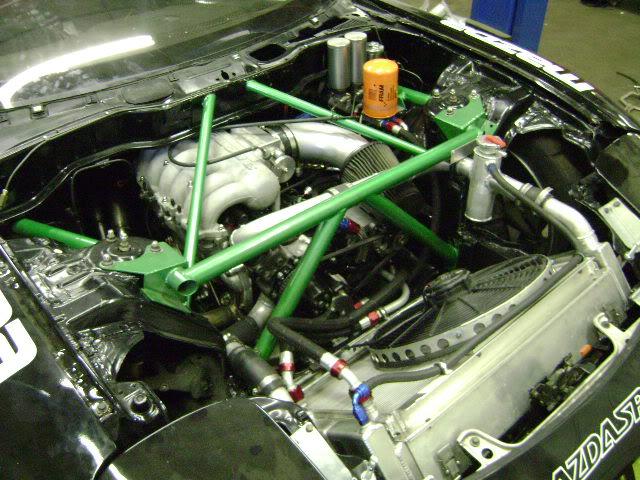 For the transmission, I needed something that would handle 10k+ rpm shift points. The Rx7 transmission does not like this! After dealing with a pissed off OEM trans for quite some time at 9k rpm, I knew it was not going to cut it. Another HUGE factor was finding a transmission that could place the shifter in the right spot with the engine relocated back 14". The G-force T-5 dogbox was the answer. More affordable than most (still expensive) it is a very badass tranny. I paid some extra for them to fit the .90 ratio 5th gear. With a 10k redline, and the much better gear ratios, the car reaches 67 mph in 1st gear.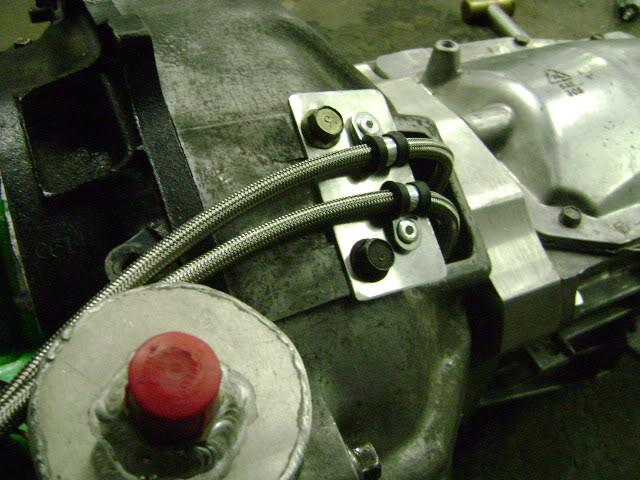 To safely handle 10,000 rpm bursts, I wanted to use a very small race clutch. Naturally this also makes for explosive throttle response. Win/win. The unit I chose was a tilton 5.5" triple disk setup. It was originally a quad disk setup from a nextel cup car, but we machined it to be a triple.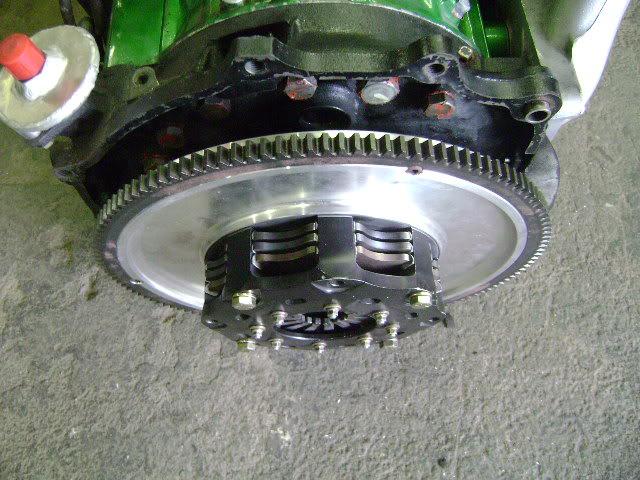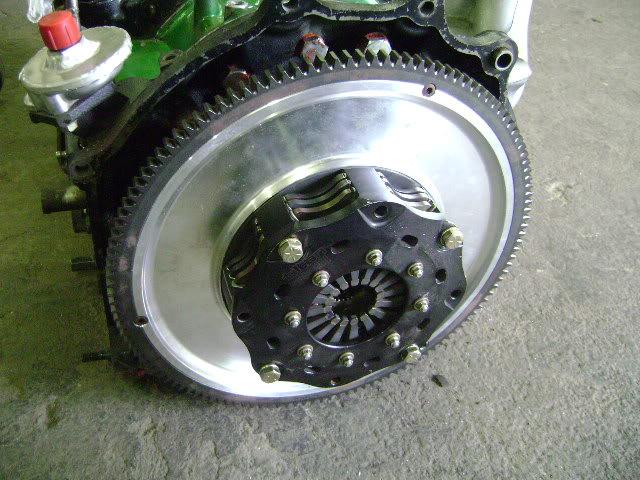 With using a T-5 dogbox, and a 5.5 tilton clutch, the throw-out bearing became a scary problem. OEM throwout arm would not even come close to working. So I picked up a used annular discharge throw-out assembly. Now everyone uses the automatic bellhousing to make this all work. Problem being the auto bell housing is a few inches longer than the TII. And the shifter would not make it. So we machined the TII bellhousing, and pinned it in position. Lots of effort later it all fit together with the *perfect* throwout clearance.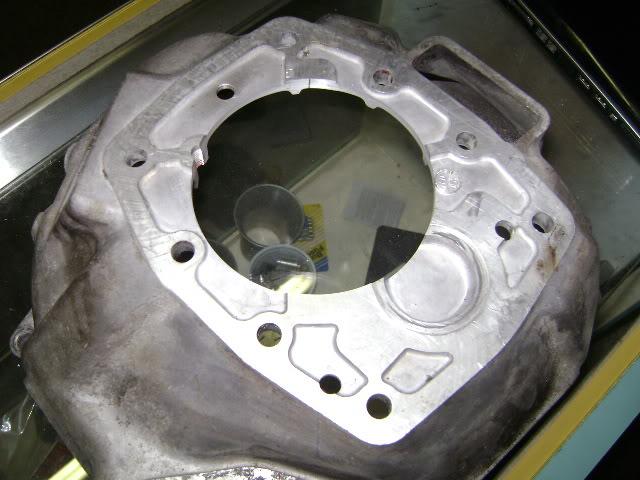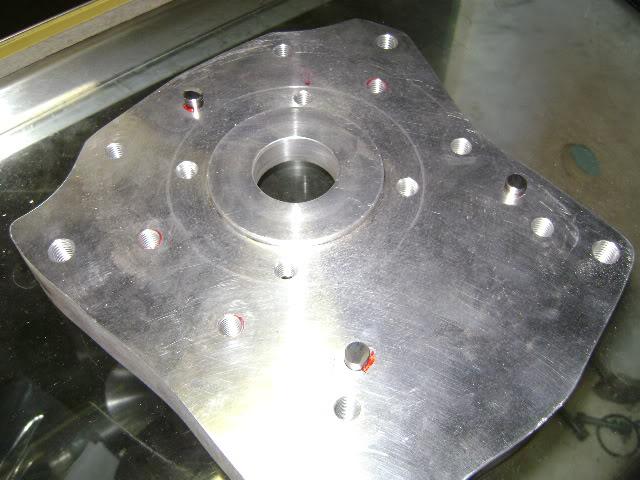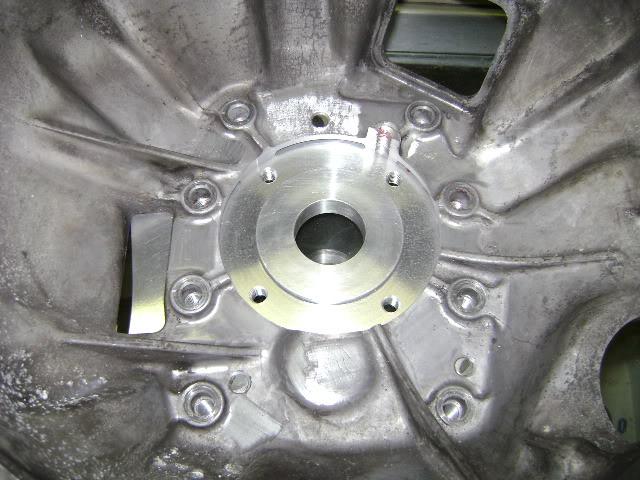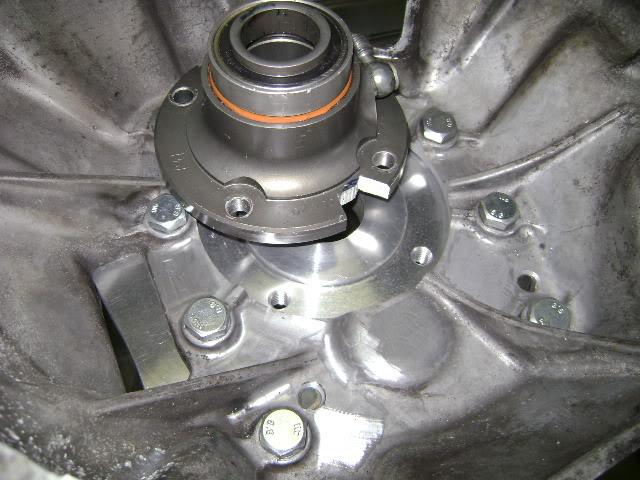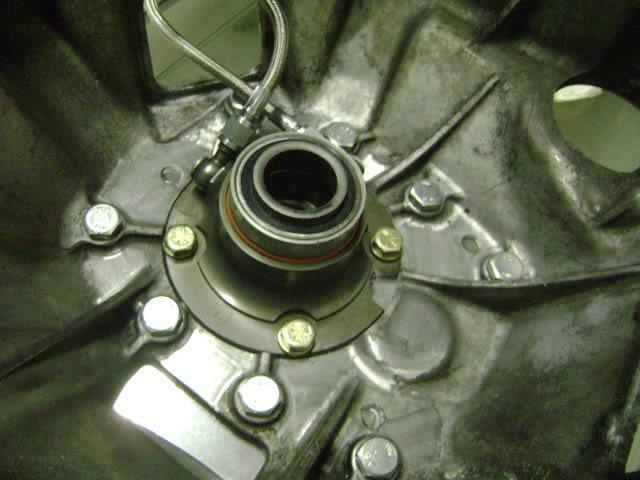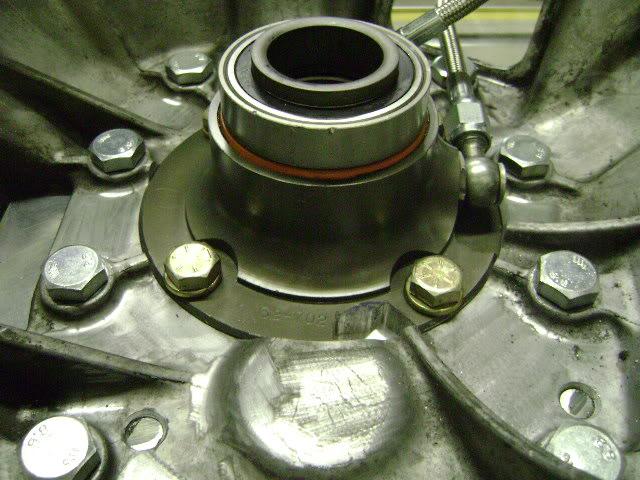 The header was very high up on my list of importance. Over the years we have done a bunch of development on my "test mule" 1st gen Rx7. Which has a 13b-re engine, with identical ports and compression etc as my 20b. Starting with my past successful designs, this header received some even newer and experimental touches. We also made it fully adjustable to find the "sweet spot" of all the intake setups.
1) Full Inconel construction.
2) Stepped runner design, to maintain higher velocity
3) Different sized primary runner diameter
4) The "I-175" mod. Cant give details yet!
These four changes help to produce extremely good torque over a broad range. Previously this engine produced 221 rwtq. Now it is at 246 rwtq. 25 ft-lb gain.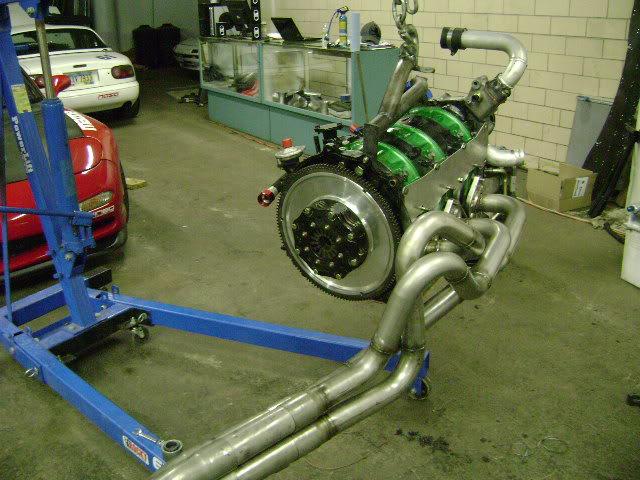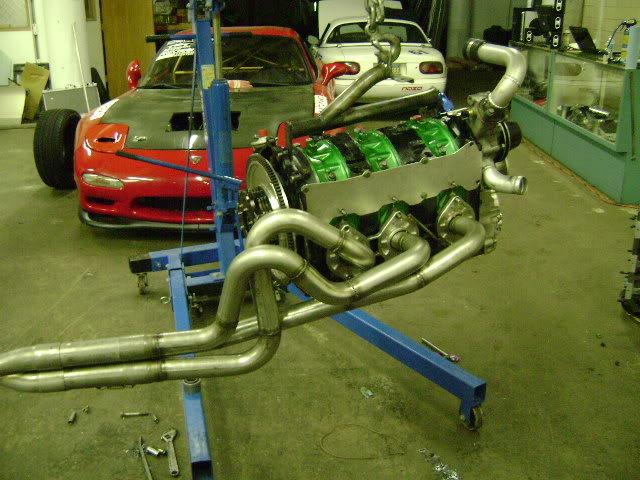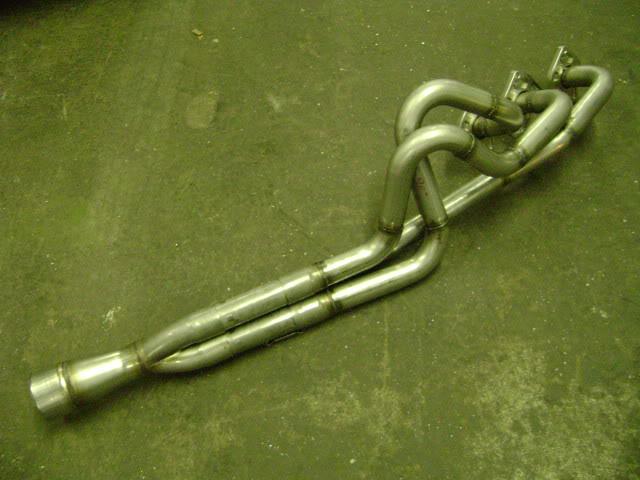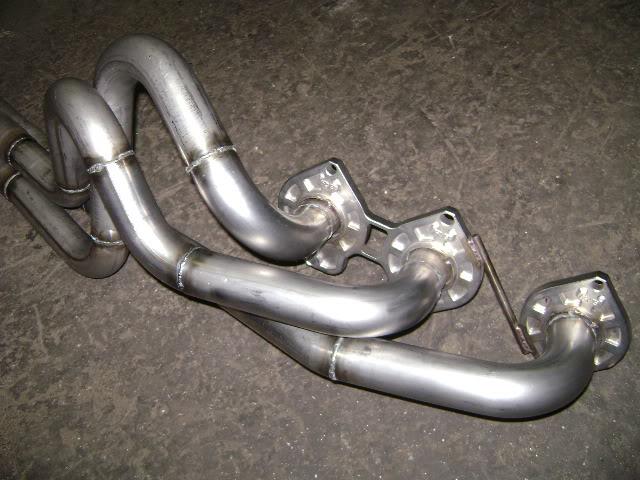 Resting on jackstands as we bled the braking system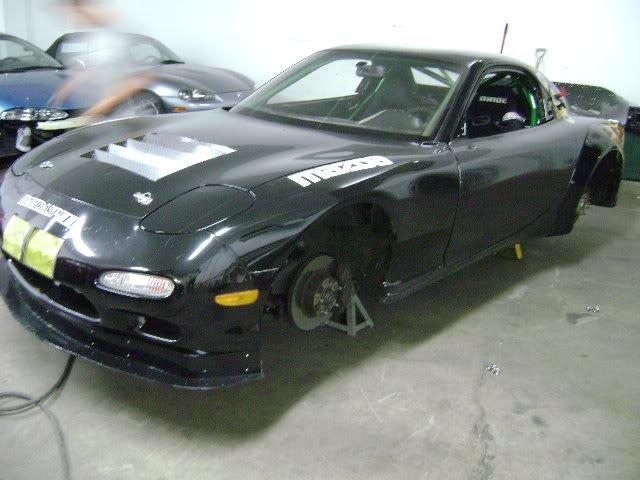 Rear roll cage and fuel cell finished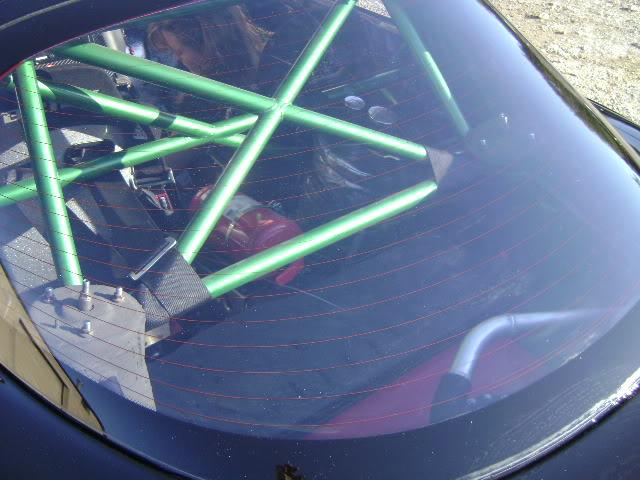 For extra front down force, I fabricated a quick front splitter setup. To keep it lightweight and strong, I used a double layer of aluminum with a piece of plywood in the center for thickness.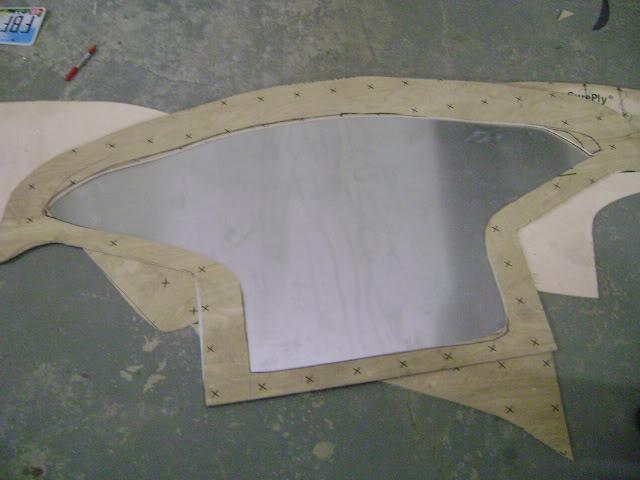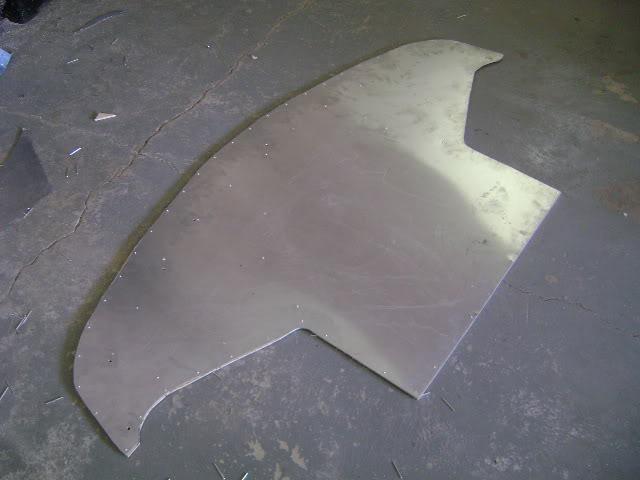 After some initial testing, I found the stock upper combined with the 90mm throttle body only gained 18 horsepower. Certainly nothing to sneeze at on a n/a engine, but still a bit off what I thought could be done. So we built this version, which uses the stock intake runners, but with a plenum box, and fully radiuses runner entrances on the inside. Unfortunately I did not get a chance to dyno this intake version without the semi p-ports functioning. It should be a easy 360-370 rwhp on just the street ports.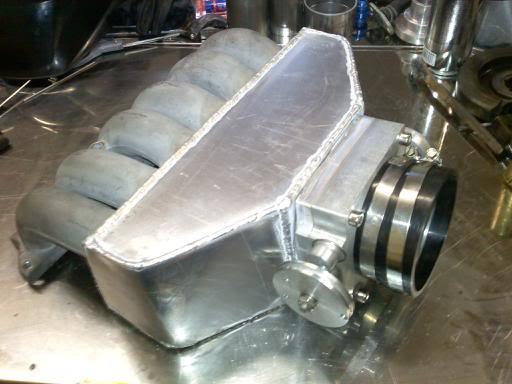 For quick testing of p-port operation, and to get a feel for what throttle body diameters to use, I sourced some motorcycle ITB's. These worked quite flawlessly, and the built in fuel rail with injectors were icing on the cake! Getting them to work for a 20b was not so easy, but went smoothly considering. Obviously I did not use the 4th throttle body in the center. Just simply left the injector un-used, nobody was the wiser.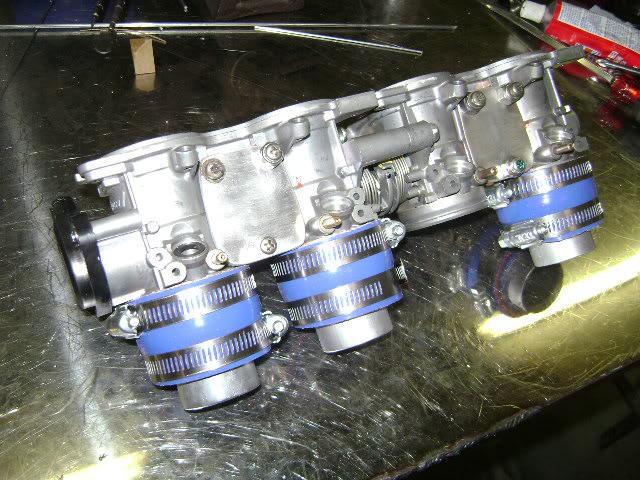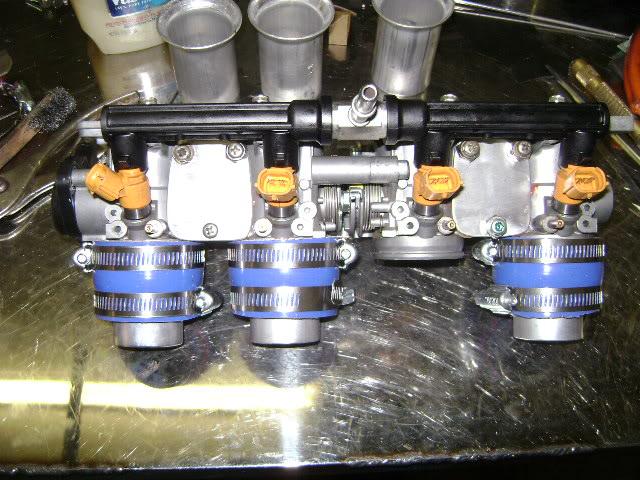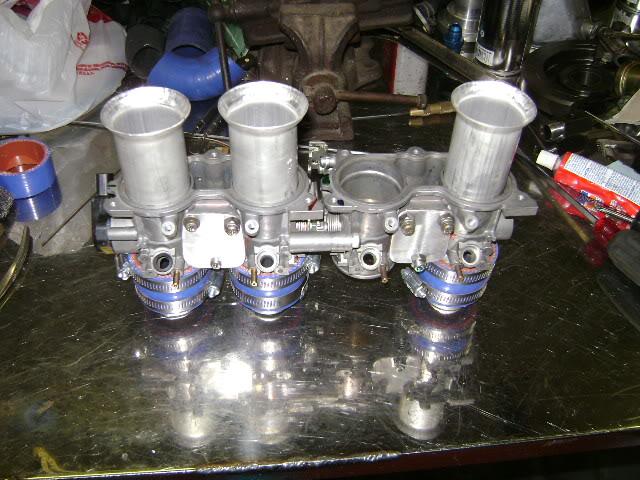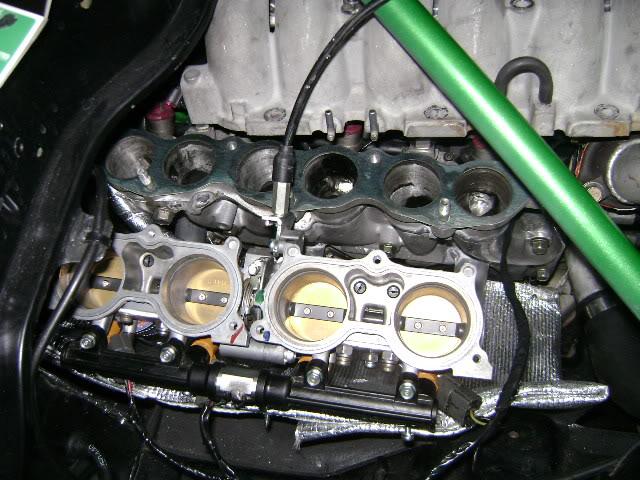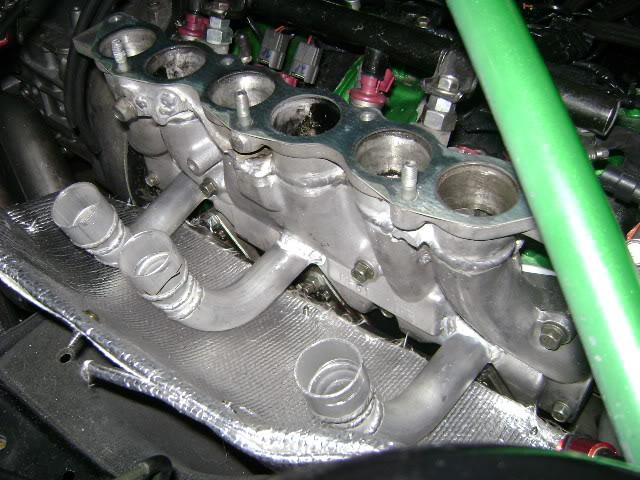 Finished product of the beta semi p-port setup. Turned out to look pretty professional for a prototype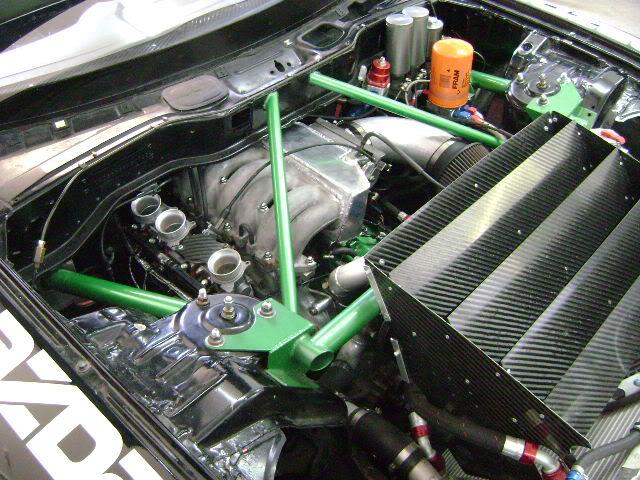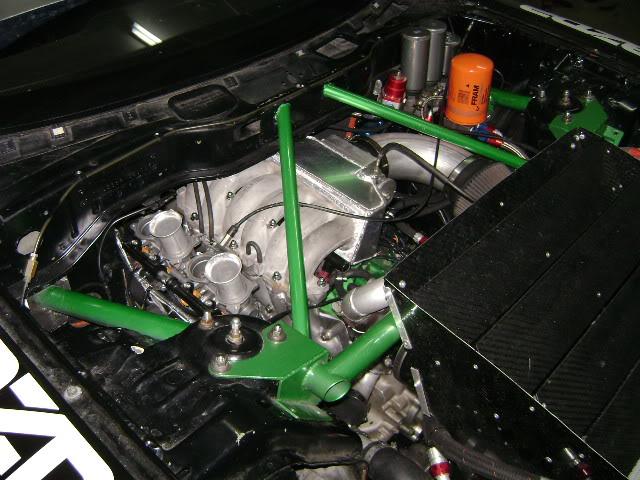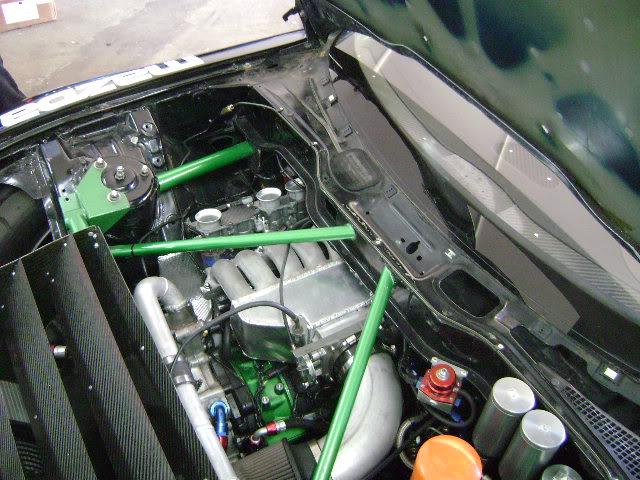 Exterior shots of the finished body, headlight setup, rear carbon wing, center mounted exhaust, and large tires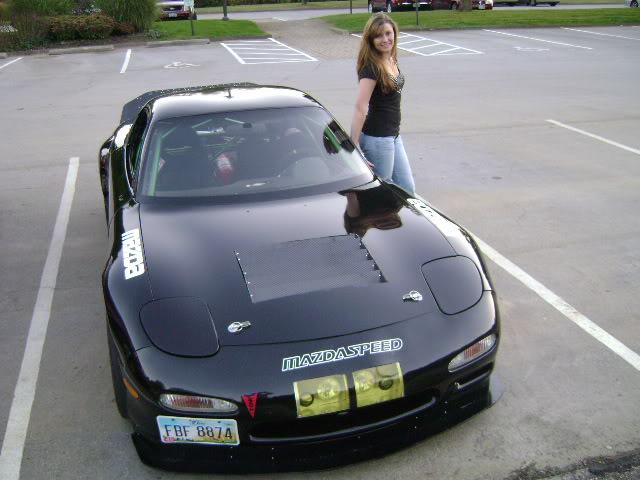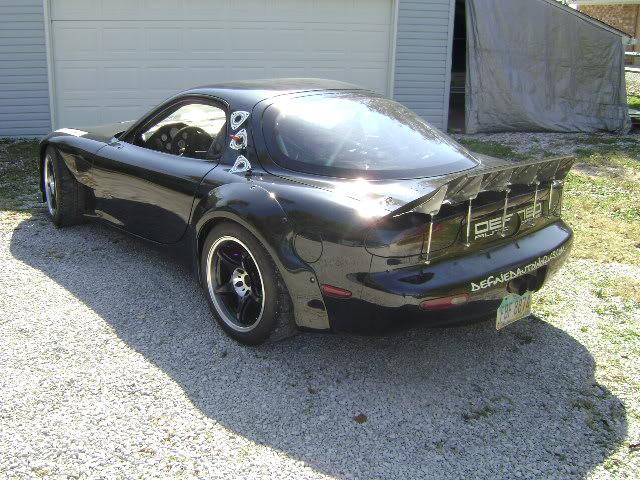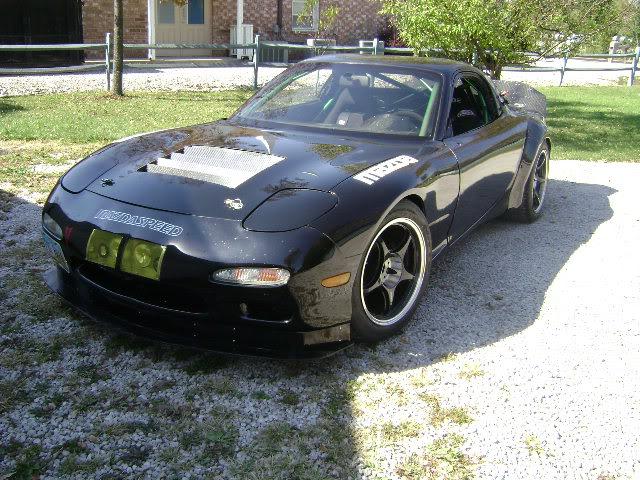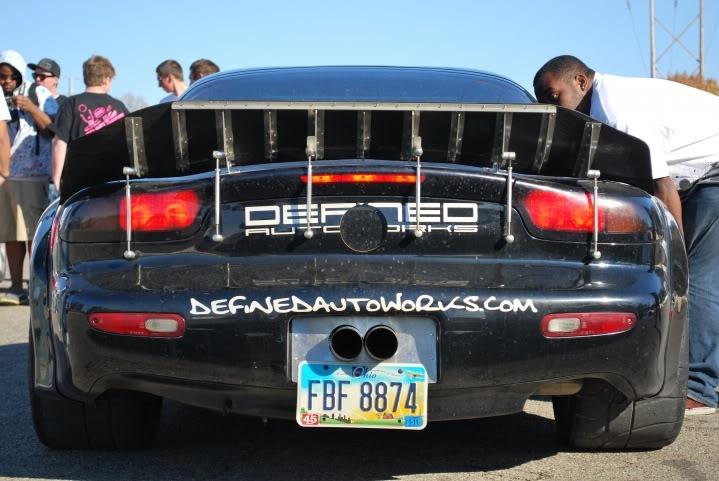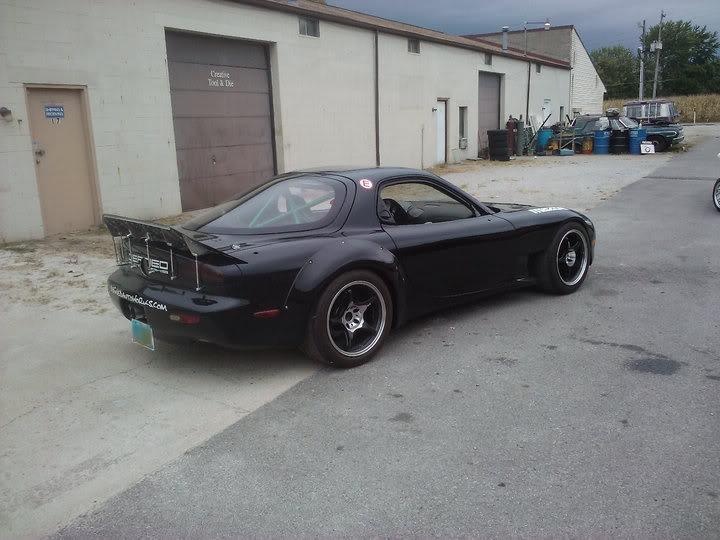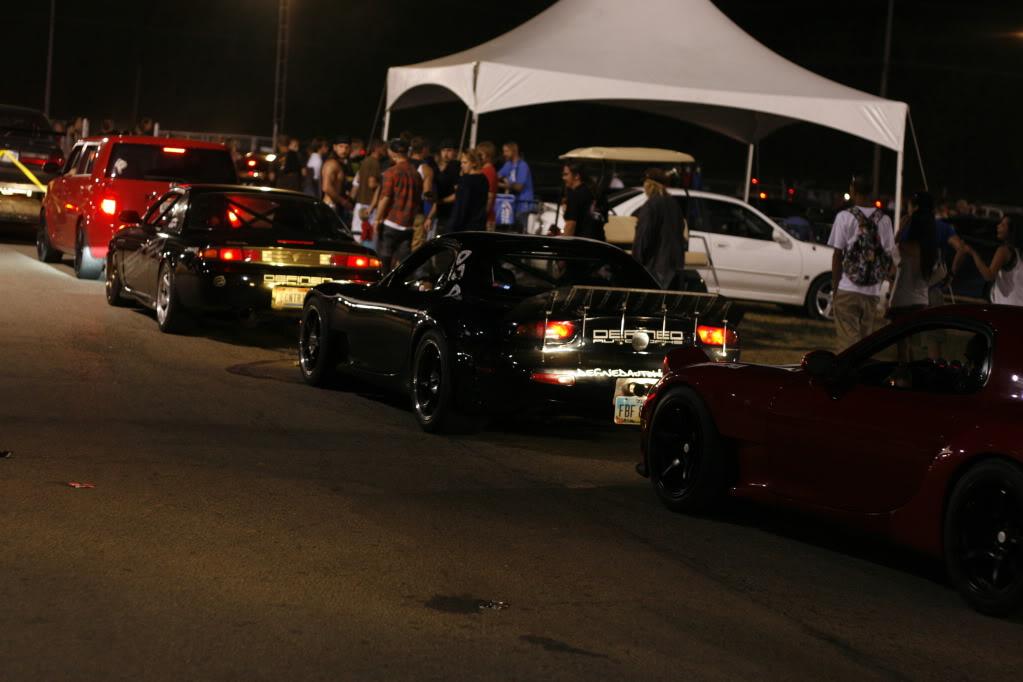 Results---
Dyno Chart of current setup. 428 rear wheel horsepower and 245 rear wheel torque.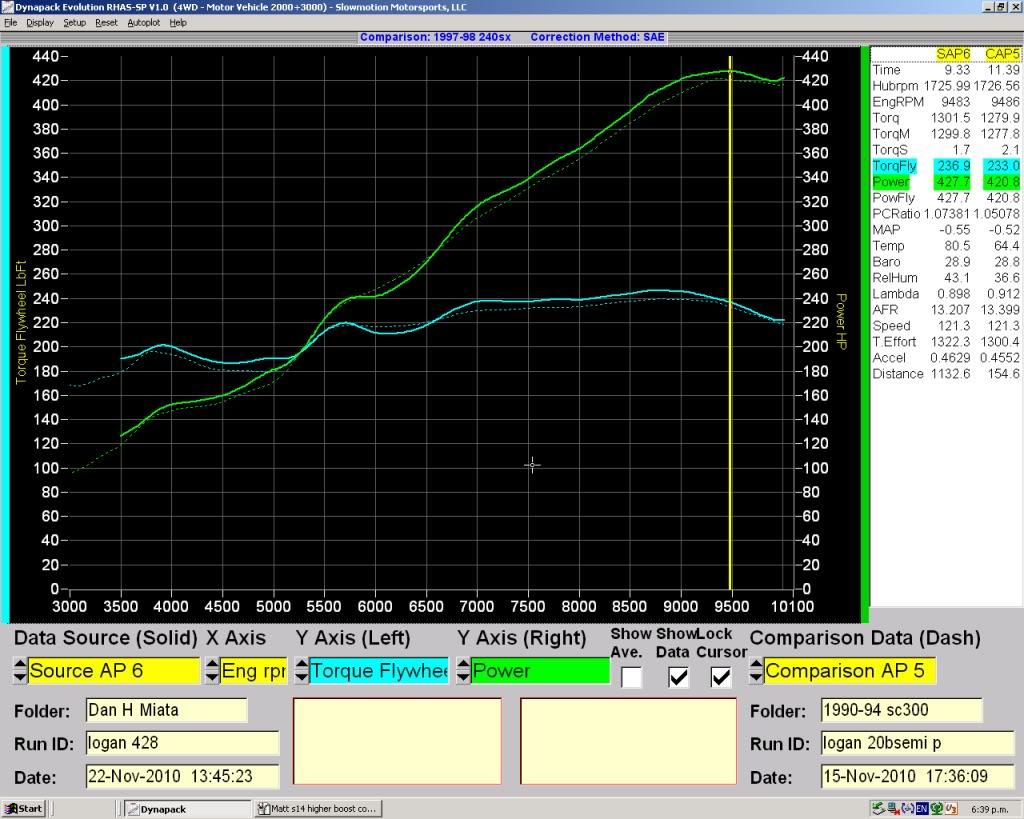 Videos
A quick lapping session to test out operating temps and pressures.
Current weight, and corner weights. 2520lbs. Almost 48% front and 52% rear. Also very very near 50/50 left to right balance. Mission accomplished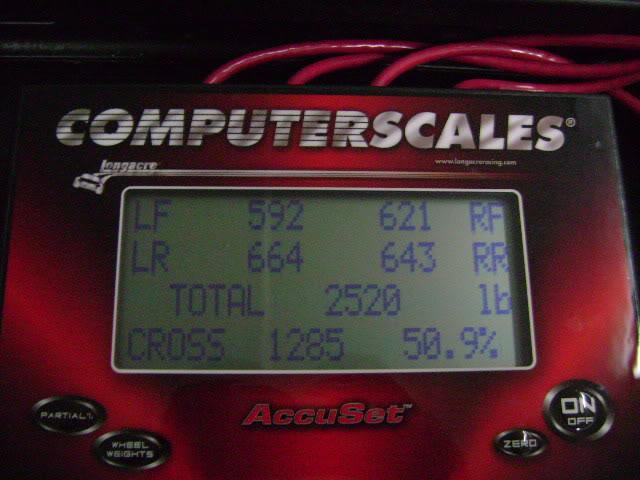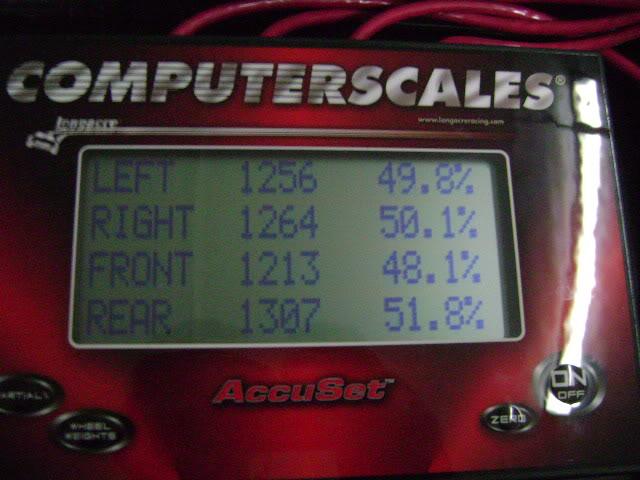 Future plans-
Over this winter I will be building a better intake system, ignition system, and muffler assembly. So more power is still to come!
1-13-2011
So I searched around and found what I consider a excellent turbo 13b dyno chart. This one is from 2008 and member imluvinit. Hope he doesnt mind

Its on a dynojet which reads close to a dynapack. So I accurately drew his TQ and HP over my chart. It would have been nice if we both had started the pulls at 1500, to show the bottom end difference, but this is good enough.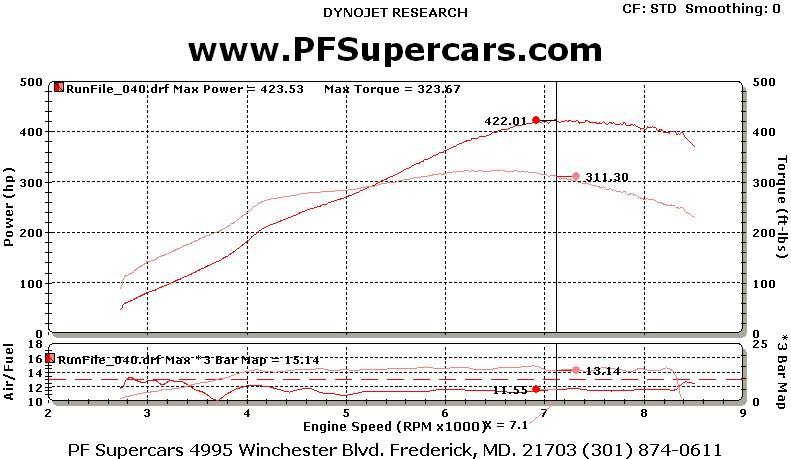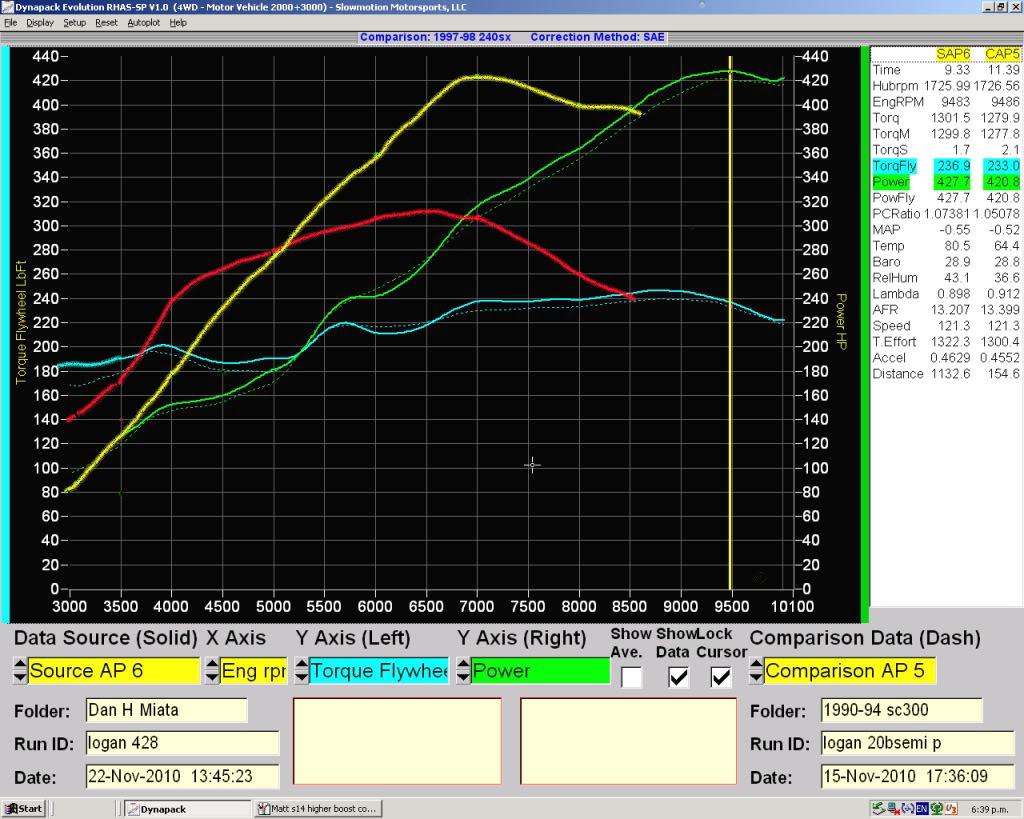 Now working with and building/driving all types of rotary engines for years, I know exactly how each setup feels and performs. So lets break down the facts. The 13b in this chart is at 15 psi. Making the 13b a 5.2 liter. My 20b is a 3.9 liter. Only way for a 3.9 liter to make the same power is high rpm. More rpm doesn't mean its better. Total power is what wins. Now daily driving, n/a 20b has more power under 3500 rpm. Making fun for traffic and light to light experiences. Also easier to accelerate at any point. The power will just smoothly pull from 3500 up. On a racetrack there is no "rush" or extreme torque rise. Makes for a much more predictable engine in mid- corner. Now which engine is faster? Tough call. Going to 8.5k and shifting in the 13b will place rpm at 5,000 for second gear. 5k in the turbo 13b is 270 horsepower. The n/a 20b going to 10k and shifting will place the rpm at 7,000 for second gear. 7k is 320 horsepower. So +1 for n/a 20b. But if you look at overall power the 13b has 400rwhp for 2,000 rpm. N/a 20b has 400rwhp for 1500rpm. +1 for 13b. End answer would be it is a toss up.

1-16-2011
The 27 extra horsepower is not what makes it so much more powerful. Here is a comparison to explain. Lets say each engine achieves its redline, then shifts into the next gear. I will start each one at the correct rpm of second gear-
*10k 20b ---------*8.5k 20b----------Difference
6500 rpm 270hp 5000 rpm 180hp -- 90hp
7000 rpm 320hp 5500 rpm 225hp -- 95hp
8000 rpm 365hp 6500 rpm 270hp -- 95hp
9000 rpm 420hp 7500 rpm 340hp -- 80hp
9500 rpm 428hp 8000 rpm 365hp -- 63hp
1000 rpm 420hp 8500 rpm 400hp -- 20hp
So you can see that in real life the extra 1500 rpm gives an additional 90 horsepower gain average over the majority of powerband.
No worries you are fine! I was planning on going 4 rotor after this, but honestly I have changed my mind. If we build a 4 rotor it will be in a different car, meant for a different purpose. Extra weight, location, heat, and expense in my opinion are not worth the extra power. It would be complex to explain and I will if someone requests me to post it. But in the end it just cant match this current setup of front/rear balance, lower CG and weight.
Quick rundown of the three options, engine only-
8500 rpm high comp, balanced, ported 20b- $11k 246rwtq 400rwhp
10000 rpm high comp, balanced, drysump, ceramic 20b- $18k 246rwtq 430+ rwhp
8500 rpm high comp, 4 rotor, drysump 26B- $23k 340rwtq 530rwhp
So for $5,000 more on engine, and roughly $1200 more on intake and exhaust, the 4 rotor is $6,200 higher expense than 20b. Additionally the mods to possibly make the 20b into a 450-480rwhp engine are not much more. I just need development time

Since before this car was even started on, I wanted to use the Ferrari F40 for the power/weight benchmark. Now its been exceeded. In the real world is different than on paper though!
I thought it would be fun to look up and post several popular well known factory powerhouse engines. Here is the first- the world famous F40 ferrari. Only chart I could find. The red lines are a different car, yellow lines F40. You can see the outstanding boost response and power down low the F40 has. Enough to take many cars by surprise.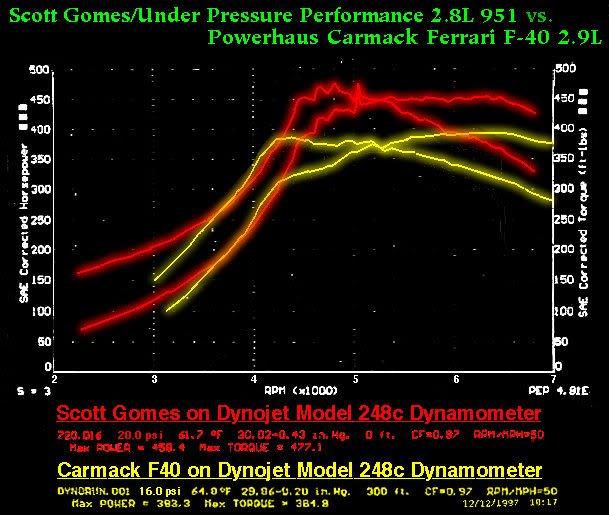 Next up is a excellent comparison. The Ferrari F430. Being a full half liter larger, its is interesting to compare to my 3-rotor. Naturally aspirated, and 4.3 liters, its a prime example of well made power. This chart I think is stock vs modified. I used the modified one, why not.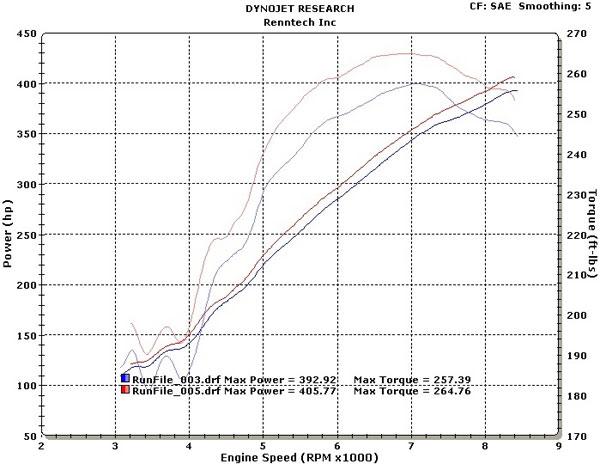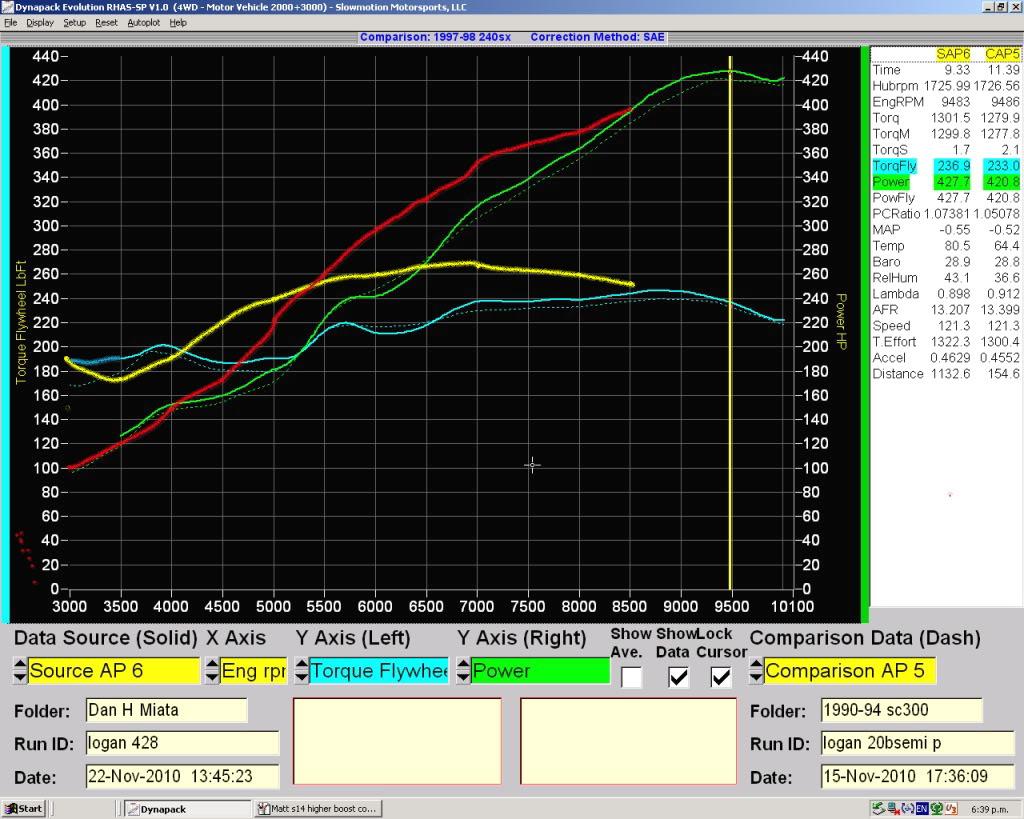 2010 Corvette Z06. Now this one I was nervous to even look up. Sure the n/a 20b in my lightweight Rx-7 will beat it. But engine vs engine...... what a scary challenge! Coming in at a massive 7 liters, its a full 3.1 liters larger! Look at the torque! Even a beginner driver cant miss. ANYWHERE in the rpm large power is there

However once both are in the effective powerbands, the micro 20b is only at a 22 horsepower disadvantage.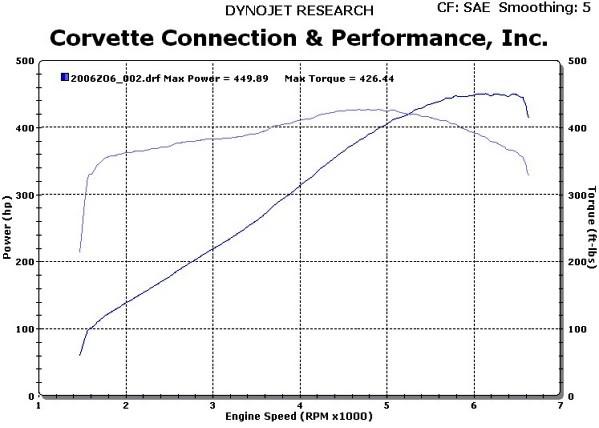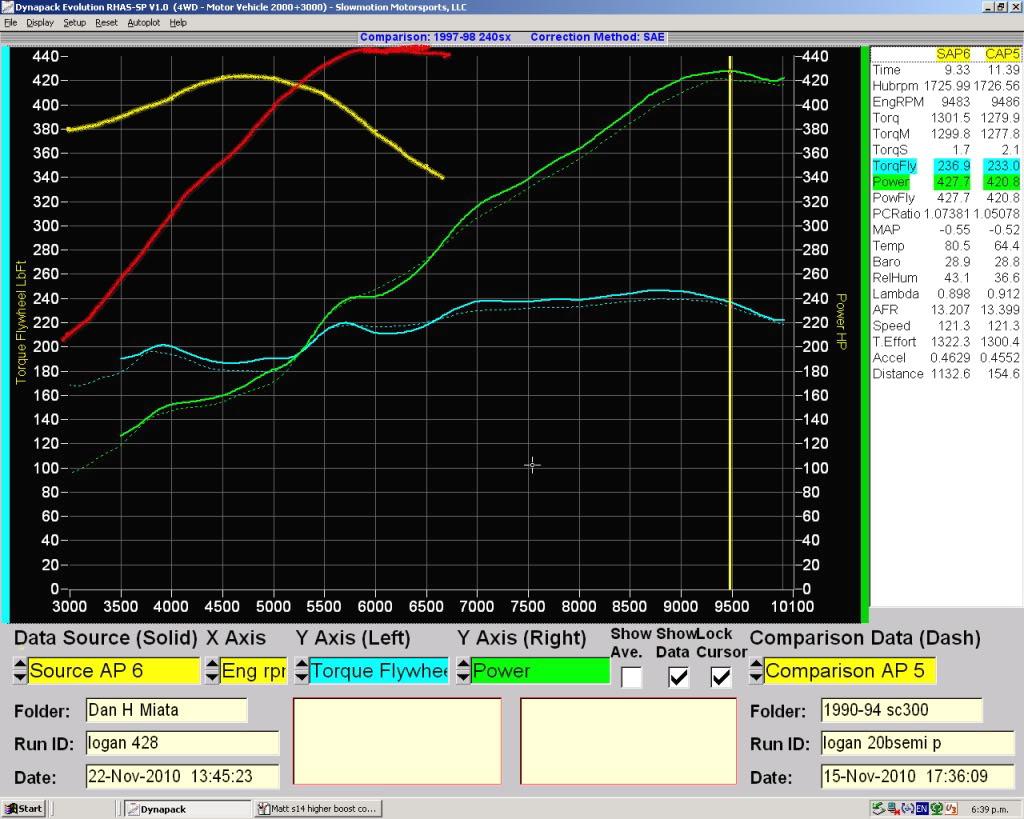 Last one I found is my favorite. The Porsche 996 GT3. The best of the best in a 3.8 liter n/a package. With 435 horsepower and 317 ft-lbs, it produces a staggering 83 ft-lbs per liter! Very Very efficient engine. It will be my new personal goal of torque

This example has had full headers/exhaust/intake and computer upgrades. First line is without computer re-flash. Second is with.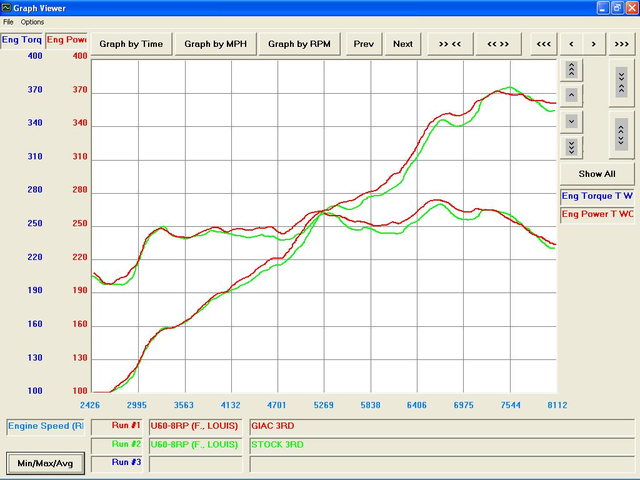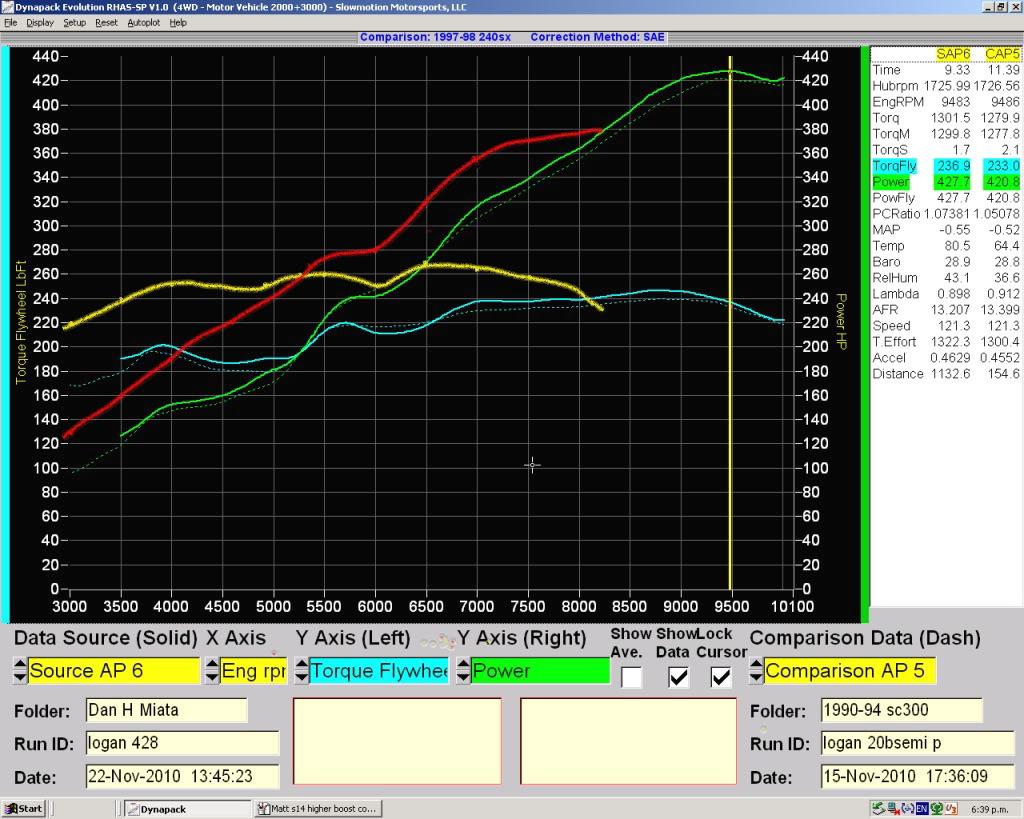 2-6-2011
I had a lot of requests to post more pics of the sheet metal intake manifold, but I lost the pics. Recently was able to find the old memory card, so here it is. This setup uses a 90mm throttle body. All the port entrances are fully venturied for optimal flow. We manufacture and sell this part for anyone interested. Its a half-way step between the stock intake and Gordons fully custom tapered runner design.
Price is $1100.00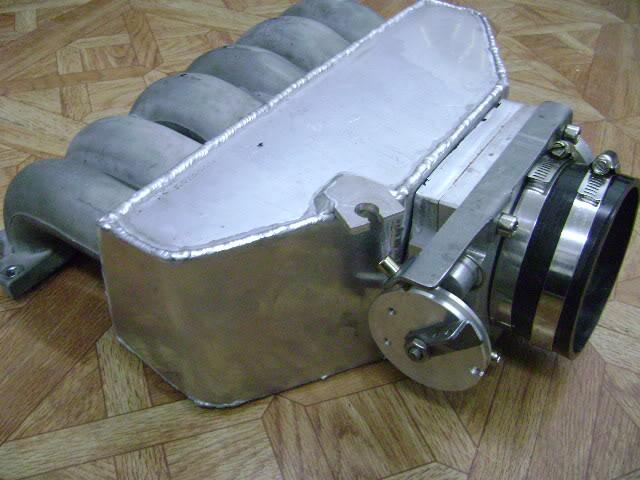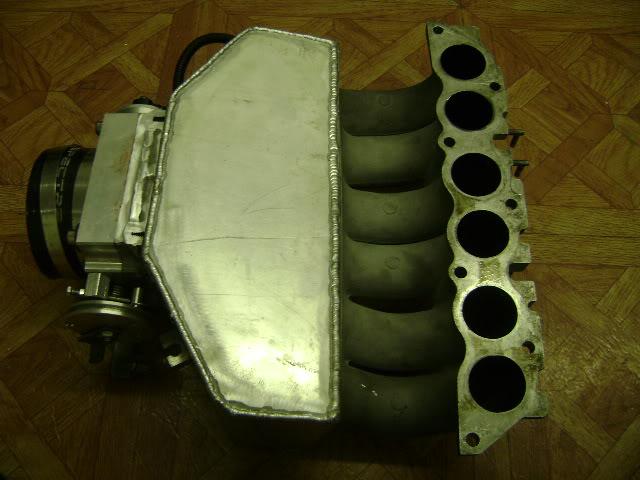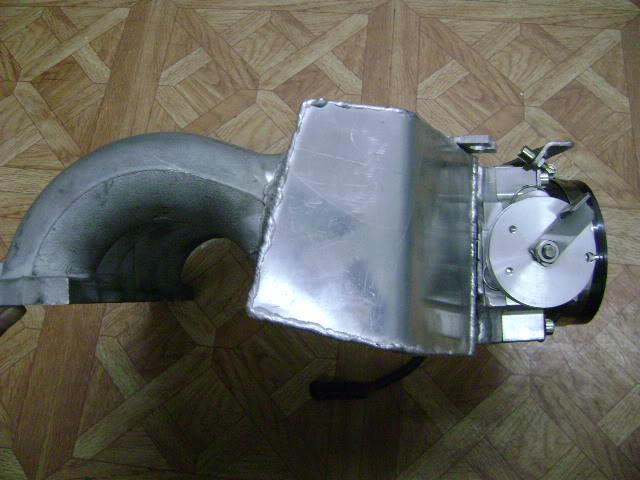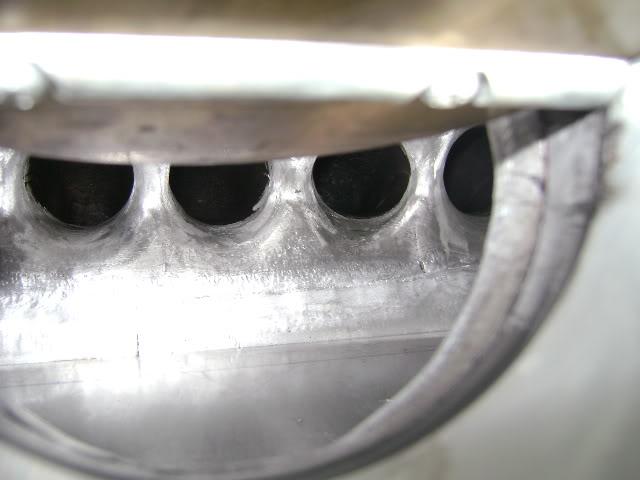 3-11-2011
Its cool guys

I am never one to miss a chance to learn more information. I did go back to the dyno today, and got to stretch the FD's legs a little. Did all types of video, and
tested 4 setups individually. Here is a overview, going off memory. Dyno charts and vids coming next!
-First I streamlined the semi p-port manifold some, just making the best of what was there. Did some pulls, and it did indeed help and made 434rwhp. Biggest surprise is 250 rwtq! excellent.
-Next I swapped in race plugs, due to so many members telling me that 10hp or more can be gained. I was a doubting tomas, but bought some anyway to test back to back. Result? 436rwhp. 2 horsepower for $190??? Yeah looks like this goes into the "busted" category.
-Then we swapped just upper intake manifolds, and ran the stock intake with semi p-ports. Shocking result #1 of the day, it make 420rwhp. Looks like semi p-ports are totally amazing in flow.
-Then I removed the gasket from the lower intake, and swapped in a stock one without semi p-port holes. This blocks off the semi p-ports at the flange. Then did some STREETPORT only pulls.
- Shocking result #2 of the day, the stock intake/streetport made 350rwhp!! Amazing!!!
Last time I tested the stock intake the electromotive software had a glitch which was not sparking leading #3. So Leading ignition missing on one rotor makes for a 28rwhp loss. In case anyone wondered lol
- Lastly we then swapped on the sheet metal intake/ streetport only. Kinda disappointing result, hit 355rwhp. It did lean out a bunch, and didnt have time to re-tune. I think it would have made 360-365. Only a 10-15 hp gain. But not bad!
3-13-2011
Different strokes for different folks

So here are some charts from the dyno. I will post much more detailed runs in a new thread, for all the techno geeks like me

The peak runs of the day, 435.8 rwhp and 251.8 rwtq. This is the same setup, just with smoothed p-port manifold. Now its time to rip it all off and put on the new slide throttles! Once I get it built that is. lol.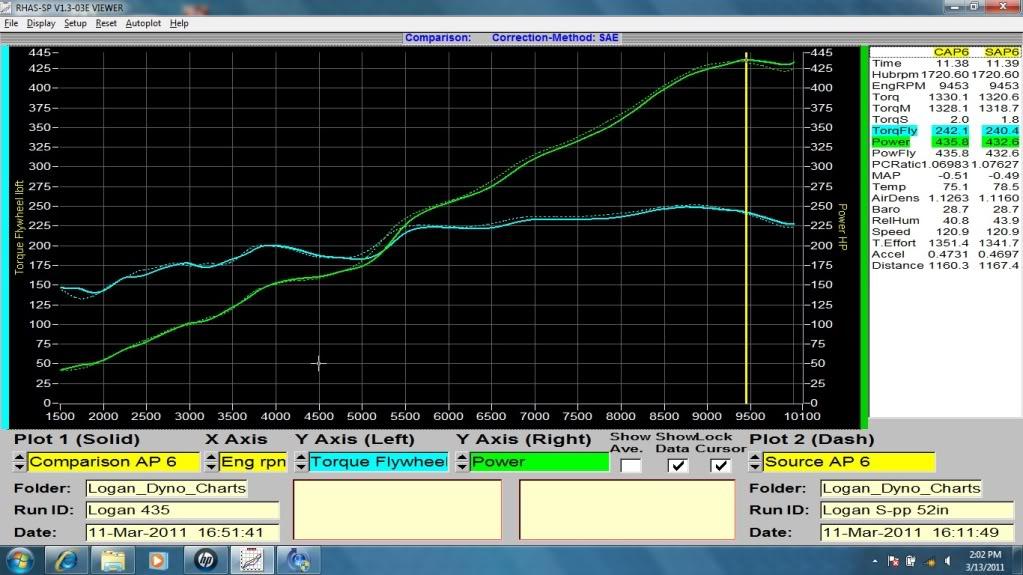 And here is a real result that was unexpected. 350 rwhp, and 240rwtq on totally stock intake (2" removed from lower, as per our 20b conversion kit) and streeport only. If you guys are not sold on shortening the stock intake, hopefully you are by now.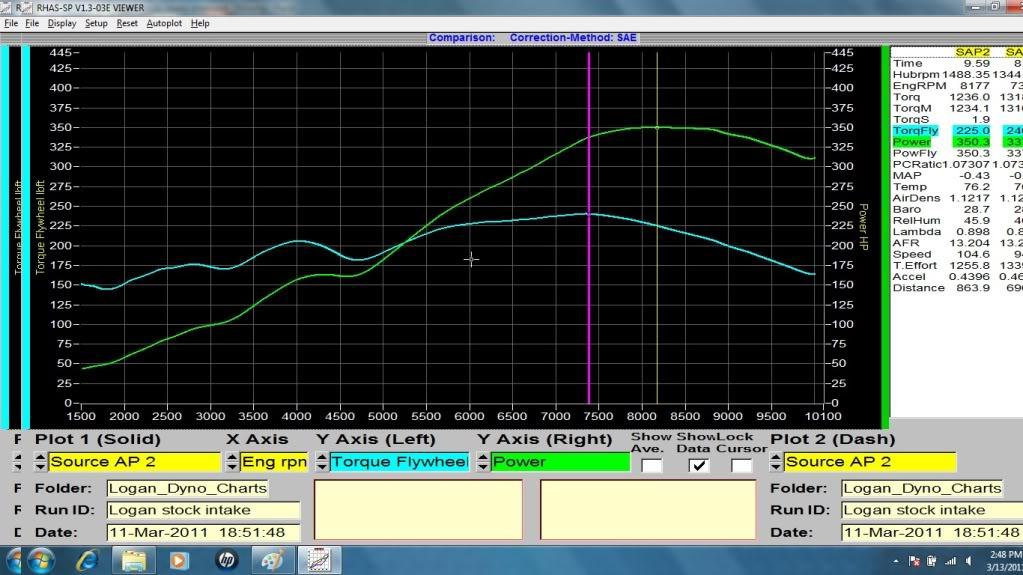 And here is the run of streetport only vs. Semi p-port. On the streetport run the p-ports were capped off at the flange just like I had done for so many years. As you can see, torque really doesnt suffer much down low.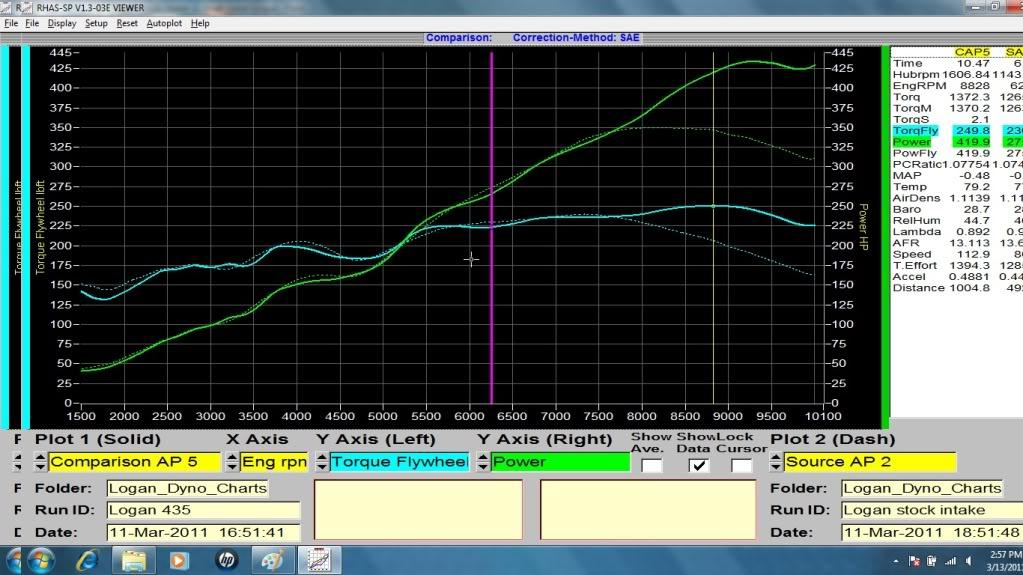 3-14-2011
Now that the dyno chart is up, you can see the direct comparison in torque. With p-ports capped at the flange is nearly identical to a pure street port. The new intake that is being built will have this advantage.
So in other news, took a friend around the block in the FD. Shifting from 2nd gear into 3rd gear.... heard a loud noise from the rear end area. I was super lucky and coasted right back to the garage. Broke the torsen case, and the diff shattered! Keep in mind that I have never launched my car from a stop, or drag raced it. Here is the carnage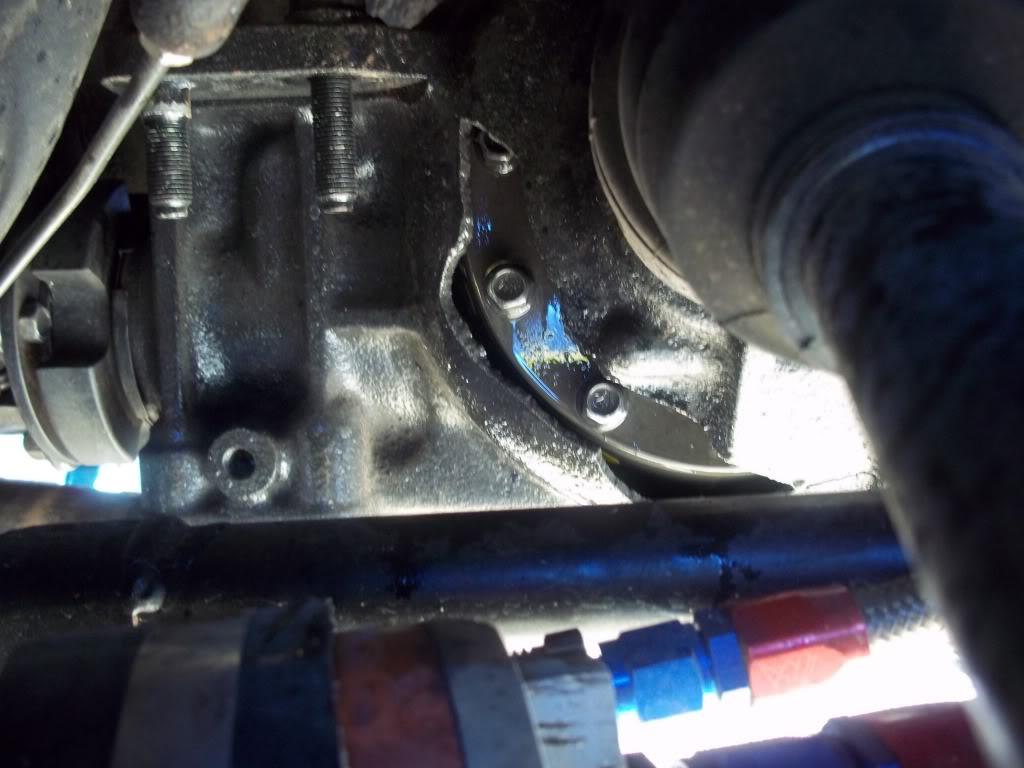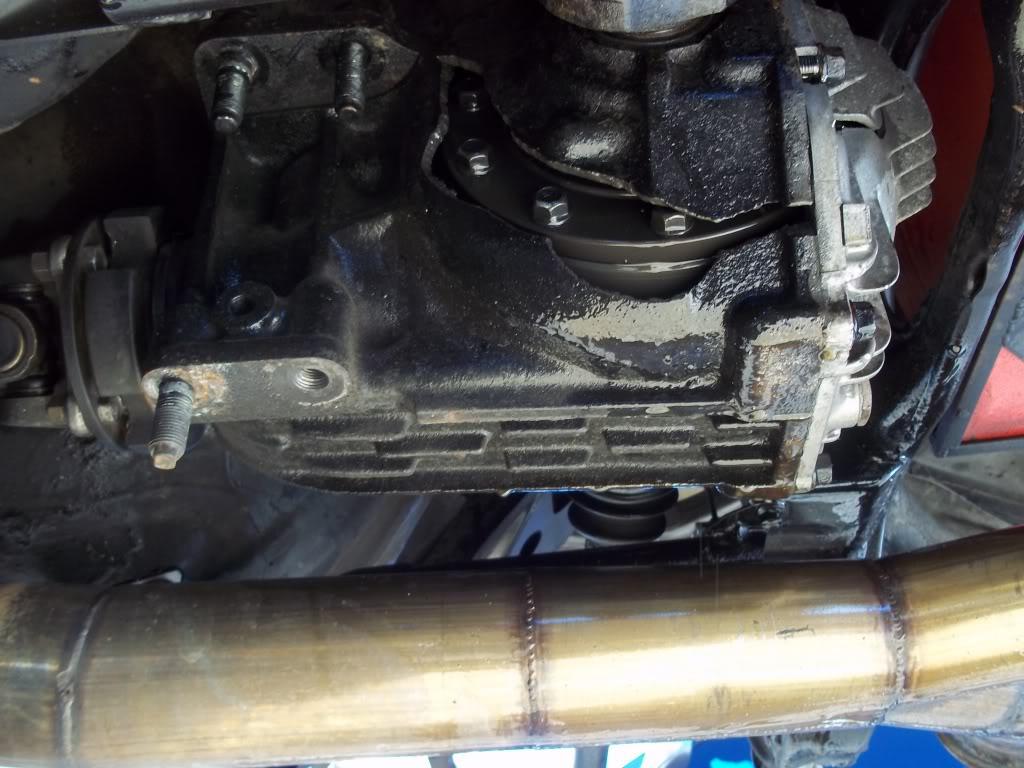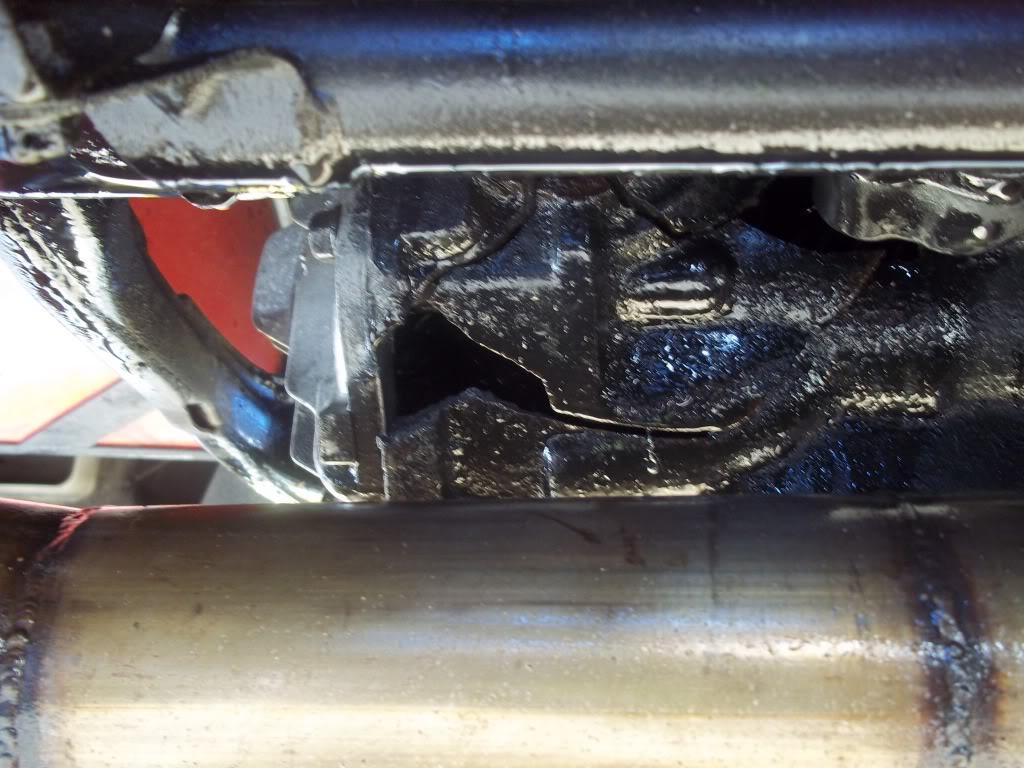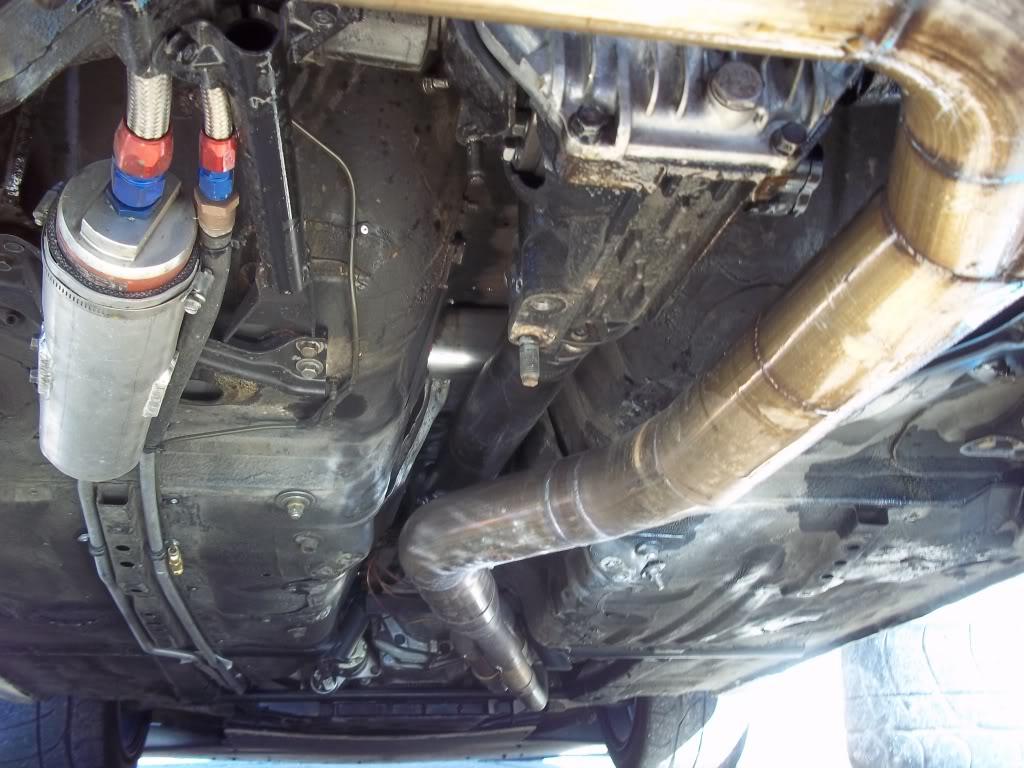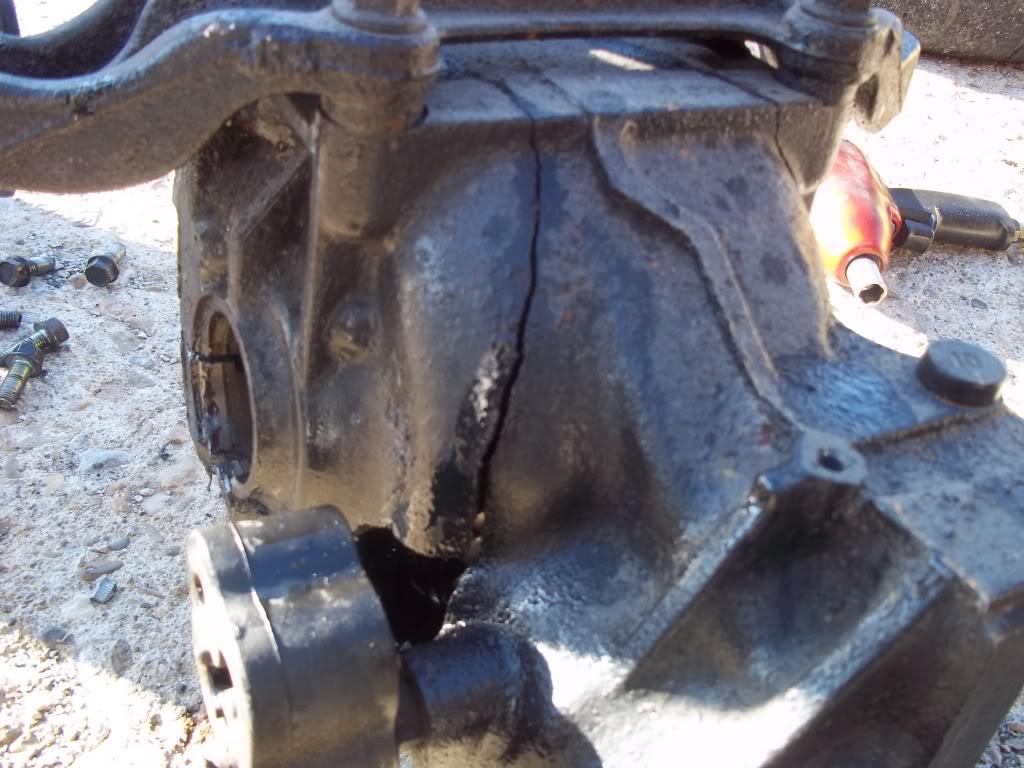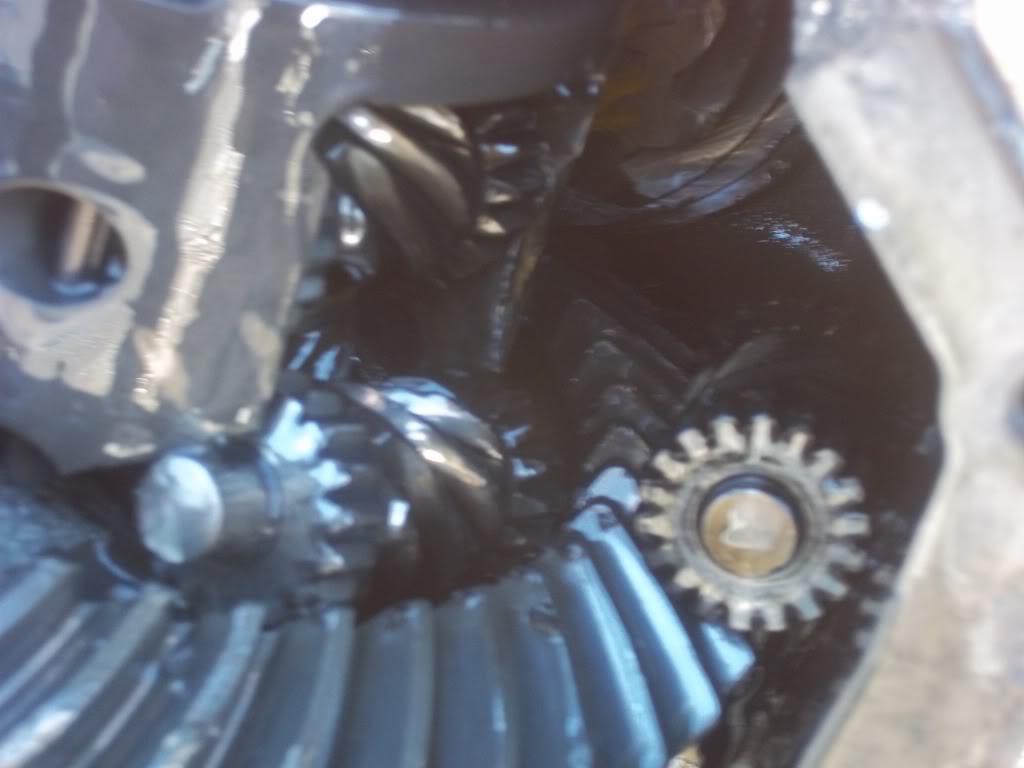 5-25-2011
Have not had a chance to get back to the dyno for quite some time now. Too much going on in the shop. I did build a new exhaust system that maybe gained power and leaned out the tune.
I also am almost done with the new slide throttle setup. So hopefully more power numbers will be soon!
Total cost for a engine identical to mine which would have the following parts-
Circuit Port on intake and n/a race exhaust port
Fully balanced rotating assembly
9.7:1 n/a rotors
Clearancing the rotors
Ceramic apex seals
3 new rotor housings
Semi p-port machine work to 3 housings
Race rotor bearings
All new staionary gear bearings
Mazdaspeed drysump front cover
all suction tubes modified for 20b
Oil modifications
Coolant modifications
Labor to tear down, clean, prep, blueprint and assemble the short block
$15,500 total (doesnt include the stock 20b longblock due to constant price changes on JDM engines)
We are working on a E-tech series that is much cheaper-
Parts that differ-
Carbon apex seals
Keep OEM housings
Uses a external 3 stage drysump system
$8,800 total (without 20b longblock)
Both capable of same power. Just the carbon apex seal engine will need refreshed after a couple seasons of racing. (replace carbon seals)
5-27-2011
Here are some updates that have been done over the months--
Removed the windshield and fabricated some a-pillar plates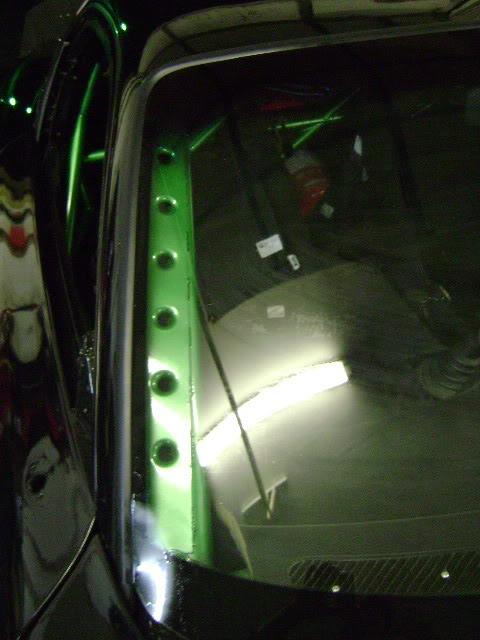 Had some rotor hats cnc machined to adapt the nextel cup/alms braking system to the Rx-7. These are monoblock, radial mount, titanium insert staggered piston calipers. And Performance Fiction dimpled rotors with full floating mounting.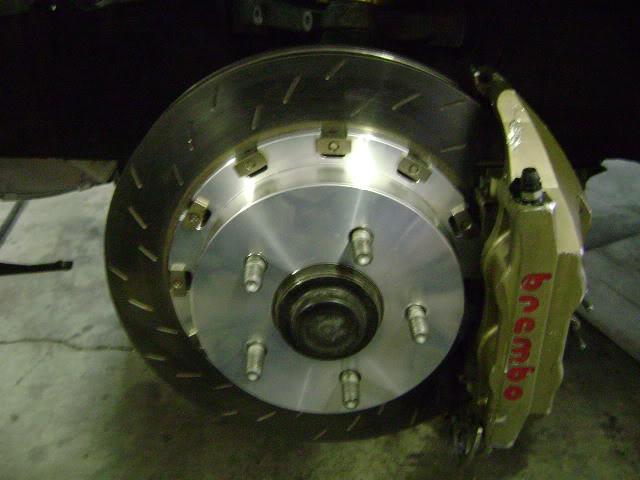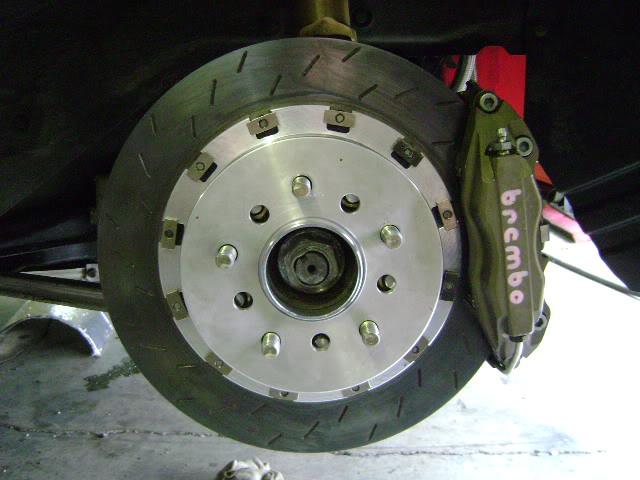 Remade the rear exhaust system, to shed weight and possibly free up some more horsepower. This system was 60lbs lighter once complete!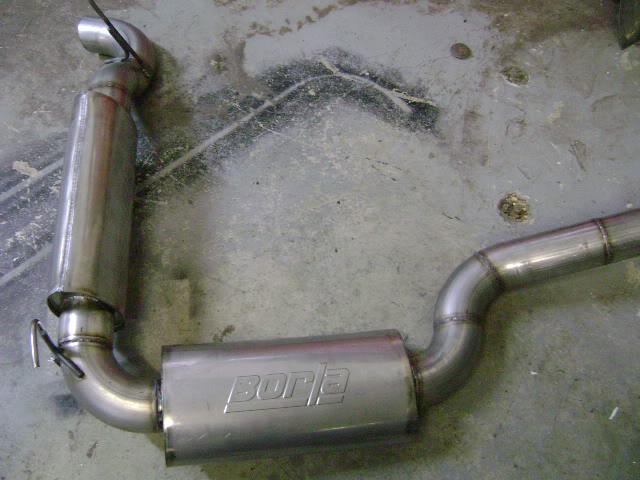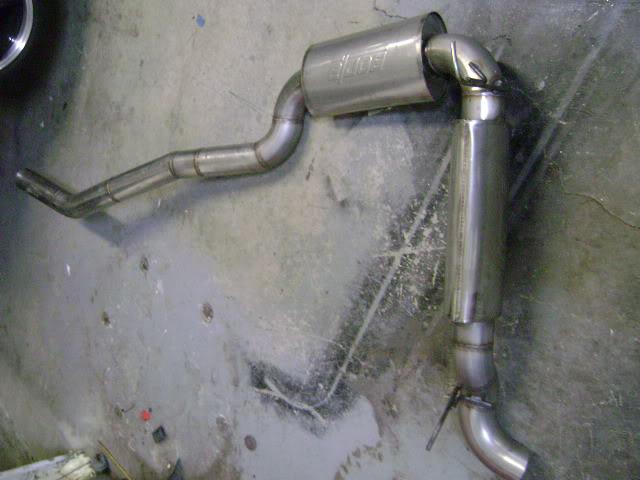 Went to some new wheels, enkei Rp-f1 18x10.5 on all four corners. Then wrapped in hoosier R6's. 285 up front and 315 in the rear. These dropped over 34lbs off the car total.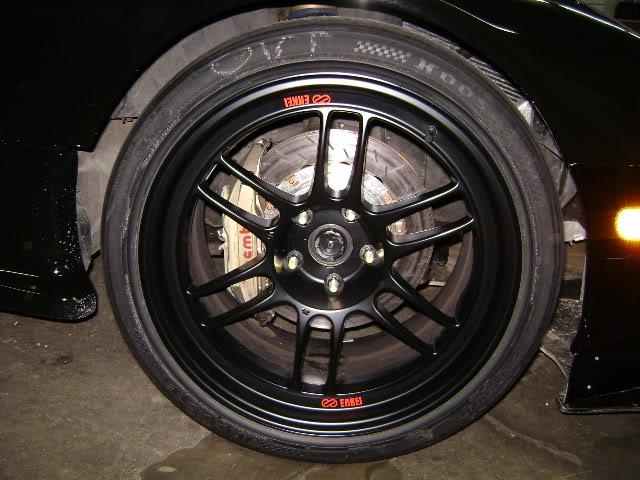 Fabricated the fuel cell and drysump enclosures to meet the SCCA and NASA rules, and finally mounted the ATL drybreak system. Also made the drysump tank vent tubes with built in catch can.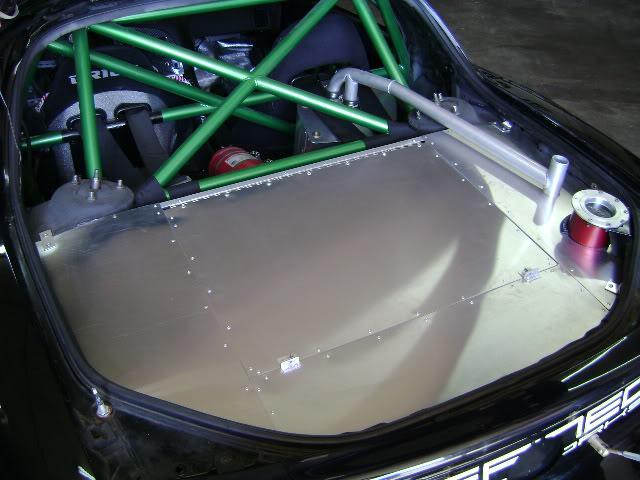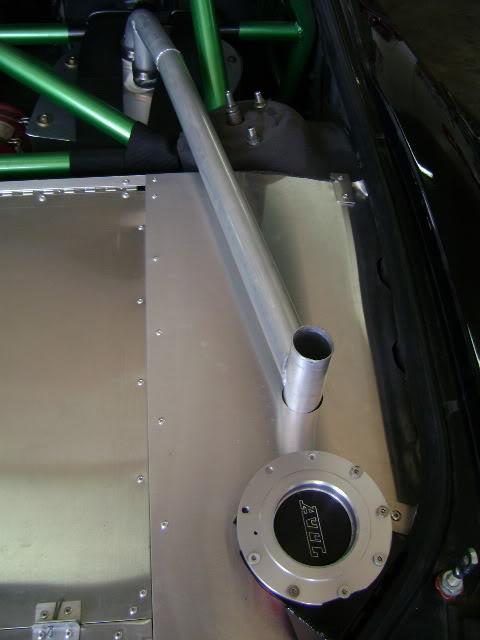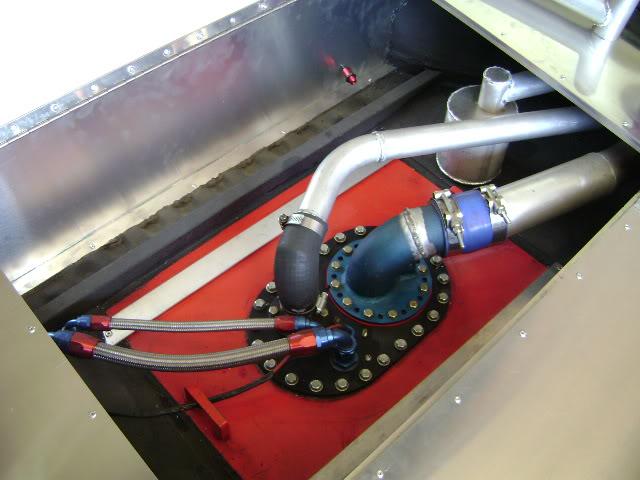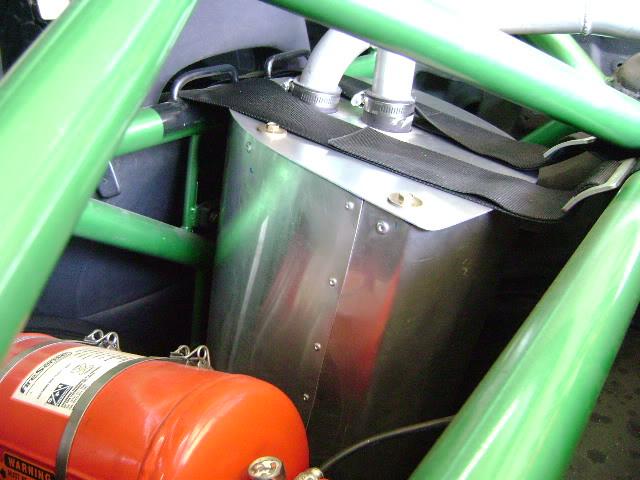 Some body shots with the new revisions-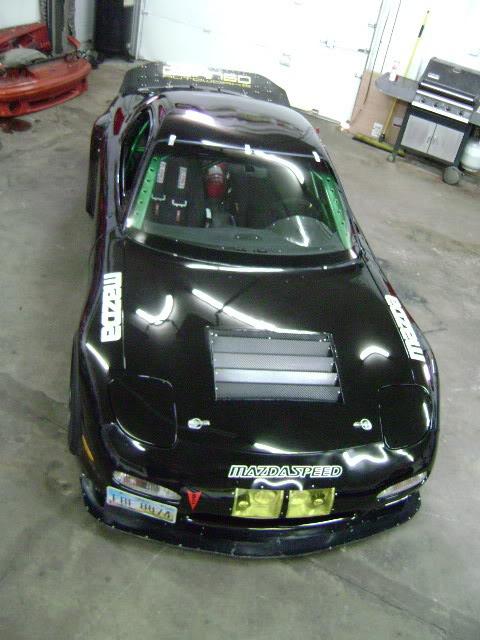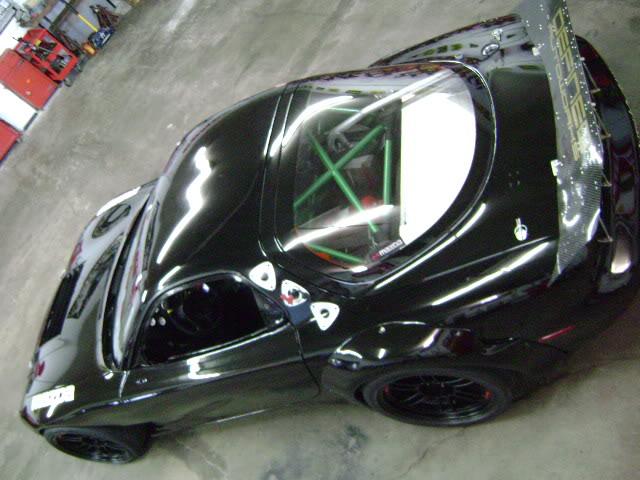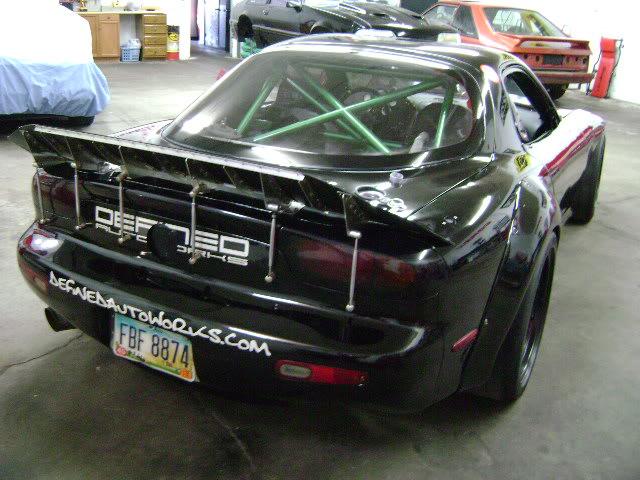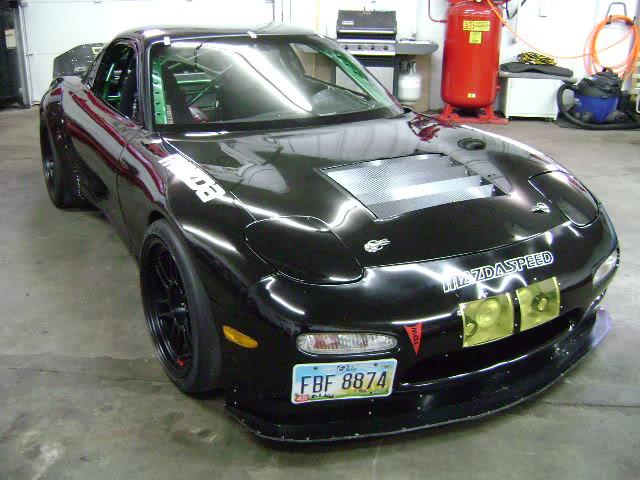 5-29-2011
So friday I finally did get a chance to visit the dyno. Had a strange feeling it wasnt going to go well for some reason. Keep in mind the only thing that changed is the header back exhaust system. First pull was 390rwhp...... ouch. New exhaust lost some power and was richer than before. After a re-tune it was up to 405rwhp, which is still 30hp down. Figured I would post this to show that its not all fun and games going for more power n/a. They are very sensitive engines and all the details count. No big deal, the new exhaust needs some tweaking and the power will be back soon. So here is the chart to show the stellar losses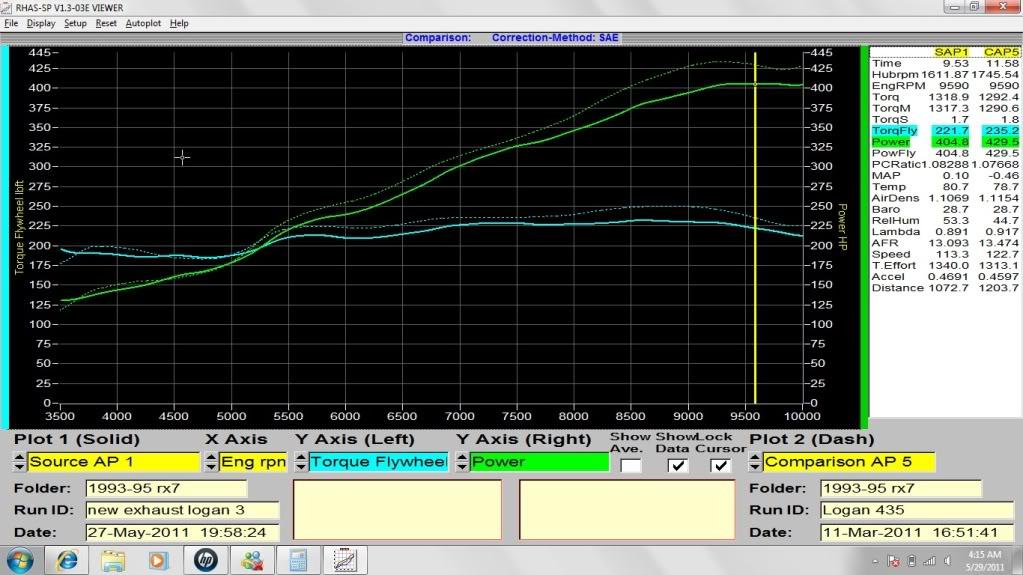 Yeah it would make power to 11k, might make power to 12k. At its current setup it cant make MORE power after 10k, but if the intake was shortened further then maybe it could. I have played around with the idea of putting a center bearing in the engine and make it capable of 11.5-12k rpm but that is on down the road.
Yes the ITB system is almost done, and then testing will start.Yep, should have even faster throttle response which is already extremely fast. Here is a teaser pic of the semi p-port slide throttles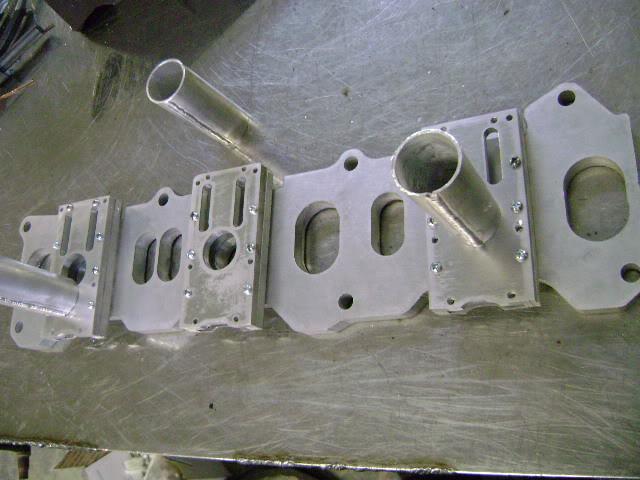 8-29-2011
Thanks Brent

Currently it is at 250rwtq, and even de-tuned can run it right there. Many intake and exhaust revisions have been going on, and maybe 260-270rwtq is possible. But not much more. Basically the ST2 setup will have tapering torque after 7k, yeilding 300rwhp from 6500-10k. I will most likely stay in ST2 all the time. I like the idea of entering ST1 periodically to give me a reason for high horsepower development however. Danny Popp is a machine, wont be seeing the rear end of his car any time soon!
I do have some videos but not worth posting yet. I want to take good vids of the next time out though!
9-27-2011
Haha, well over the summer I did build a new intake system. Never updated because it still hasnt made it to the dyno. The sllide throttles need a redesign to have less friction. Roller bearings! But here is the un-finished prototype. Should be a major increase in power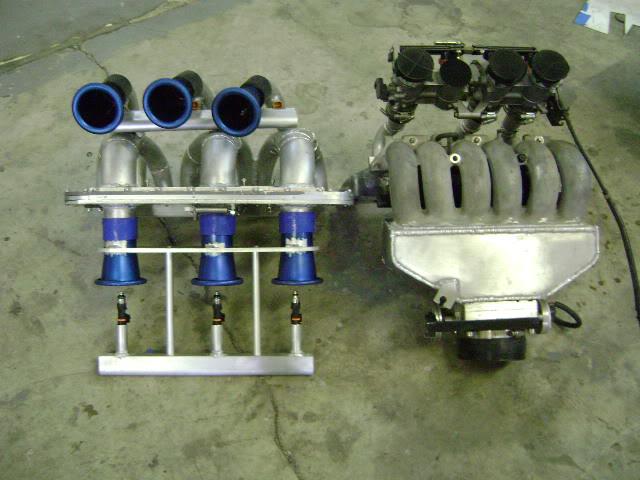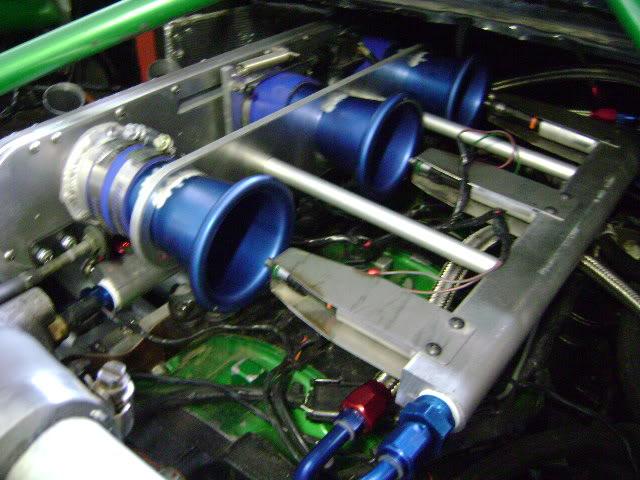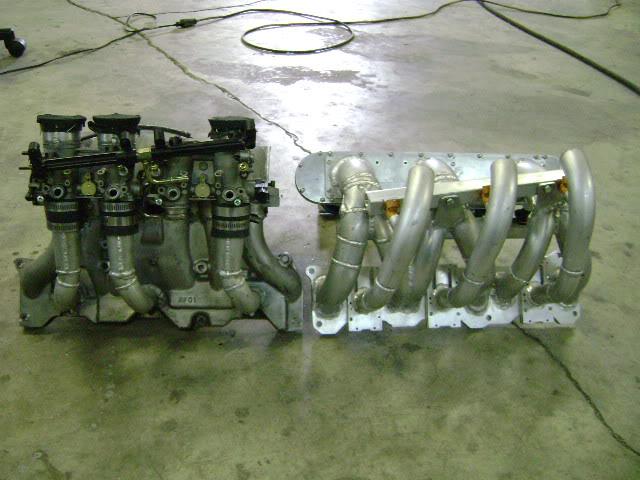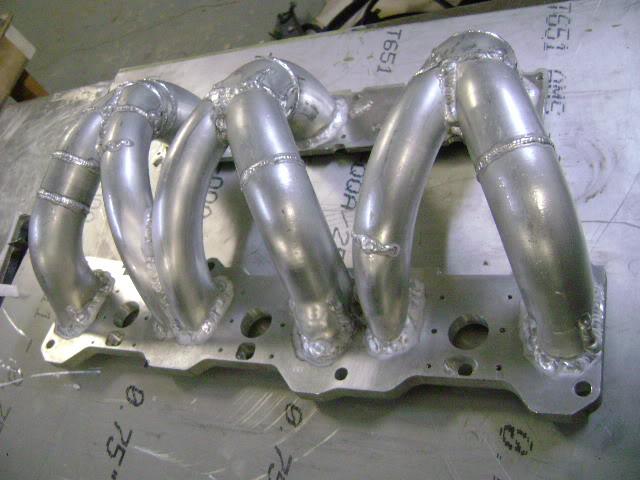 Stumbled onto some vids of the car while I started it up at street life tour. I knew someone had some video of it. Engine was still a bit cold but the crowd needed some noise

Have a race in SPO scca in two weeks, so hopefully can make it. Already have two go-pros to borrow for the event. So if all goes well there will be real vids in two weeks!!
11-25-2011
Chapter 1- recovery of lost horsepower
Alright I figured out how to save the dyno charts on this computer. So, as some of you may recall, I installed a new 3.5" exhaust this spring, and it lost some hp. Alot of hp. I was concerned that it was the diameter that killed it. BUT turns out the exhaust gaskets I used on the header (which were aftermarket, and softer) blew out the first time the engine fired up. The header leak was so bad it dropped 32 horsepower. This shows how important the proper velocity is in a n/a engine like this!
So I removed the header, put back on the stock turbo style gaskets which fixed all the leaks. Result? 432

This was without the race plugs, which add 2hp. So that is 434, right back to where I started. YES!! now I could continue to test new setups.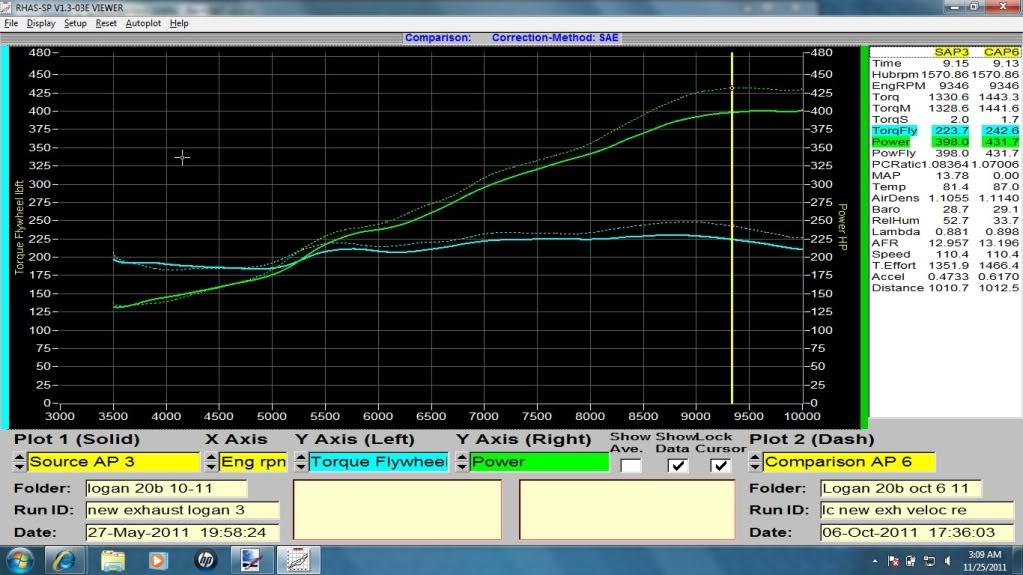 Chapter 2- finally real intake testing
So this marks the point where I started to get more serious in my attempt at very high n/a horsepower. Up till now, I was using stock based intake systems and quickly made p-port manifolds. No ITB's, or even real air horns. That had to change.
Even though the new prototype teflon slide throttle setup had too much friction during running, I just did a hillbilly modification and added a **** ton of return springs. The throttle felt like a clutch pedal but I didnt care. Just needed it for dyno testing

The actual slide throttles are being machined and are fully ball bearing supported.
Here is the pic of the new intake, which is full ITB, slide throttle, velocity stacks and external bell mouth injection. Bosch 550cc injectors for more atomization (same as ID 550cc)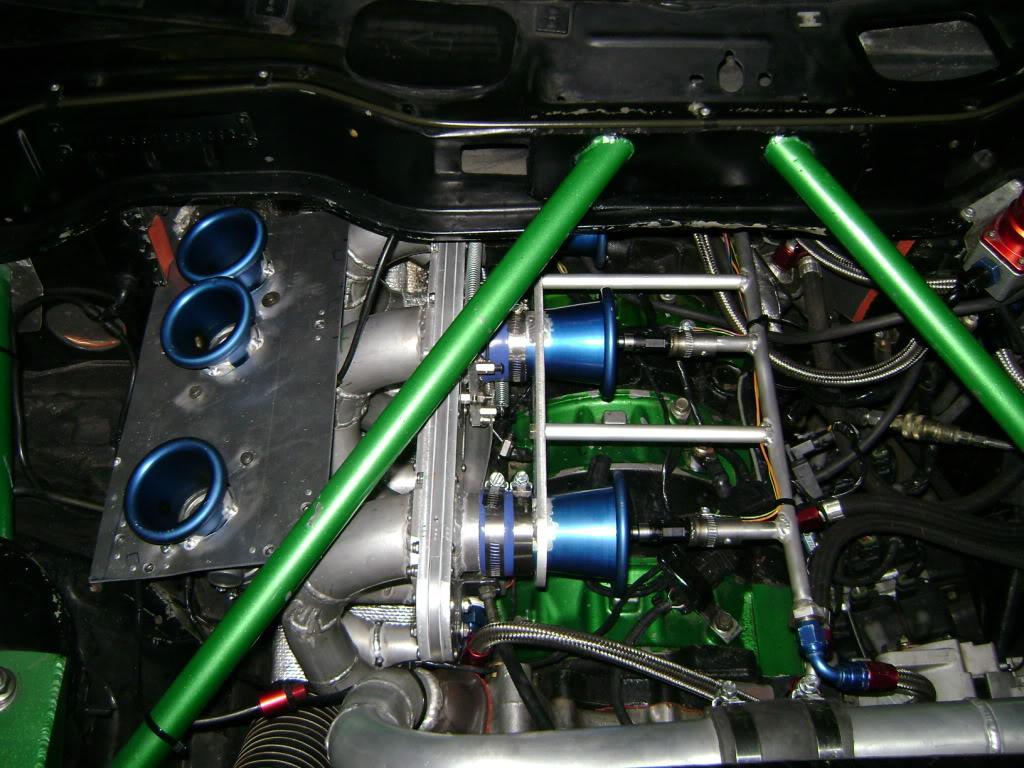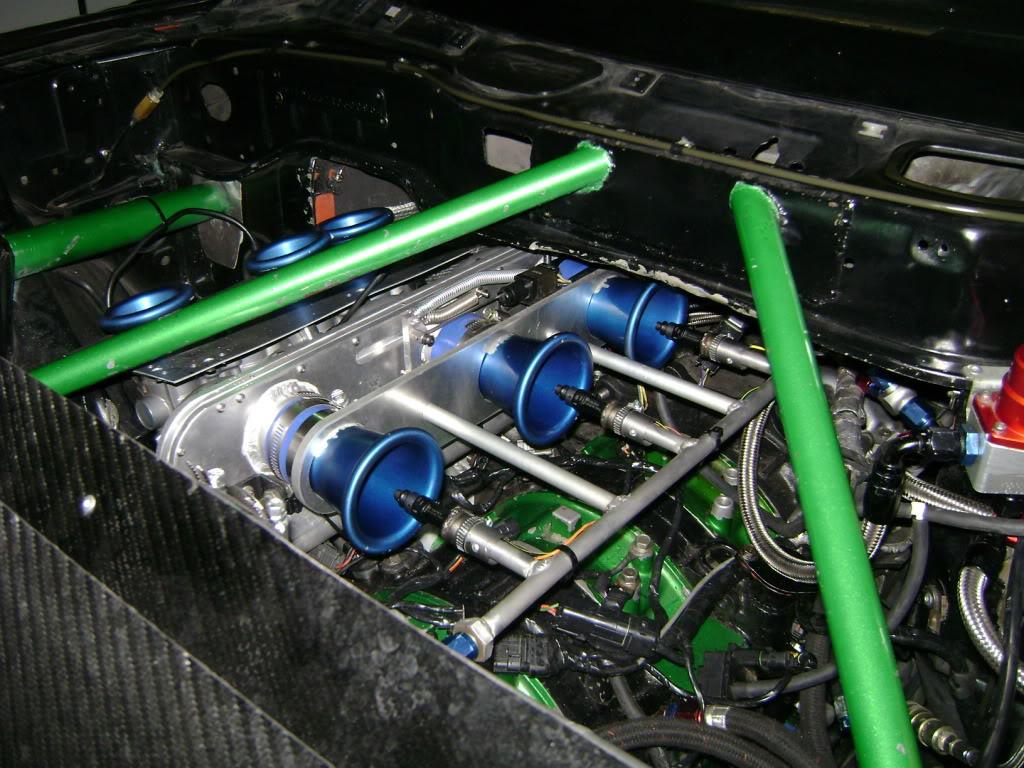 This new intake was fully adjustable in length. So I started at a very long length, and worked my way down 2" at a time. The longest length still showed HUGE promise. The increase in torque was exciting, over 30ft-lbs at 6800, and 8ft-lbs higher than previous peak.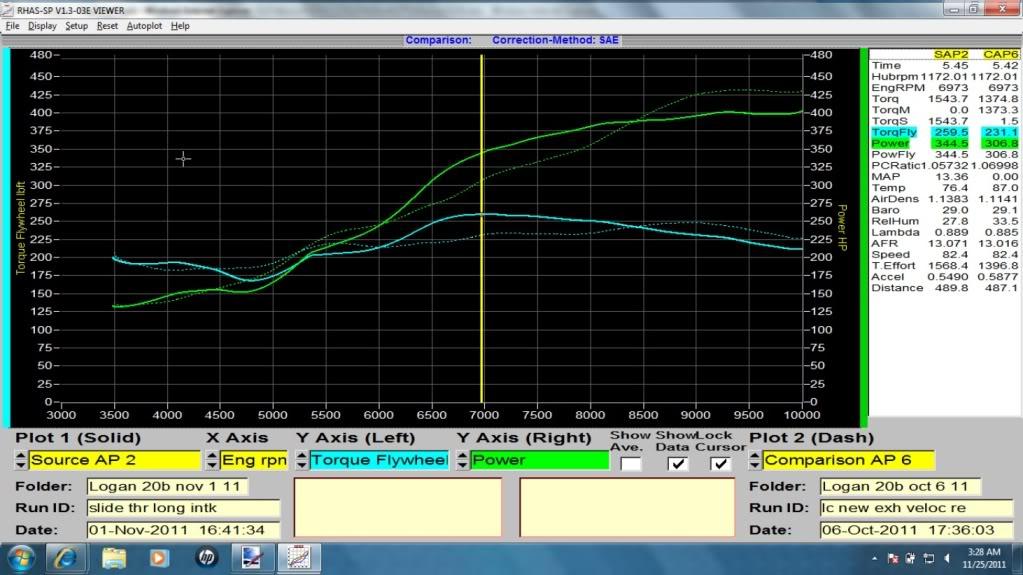 Each time the intake was adjusted, of course the torque shifted upwards. As the torque grew, the injectors maxed out. I turned up the fuel pressure, did all types of things. Couldnt get the afr over 8500 to be in range. High 14's to 10k. This hurt top end hp, would have been 438-440rwhp if I had more fuel. Peak torque however was now at 267 which is a 17ft-lb gain over the previous best!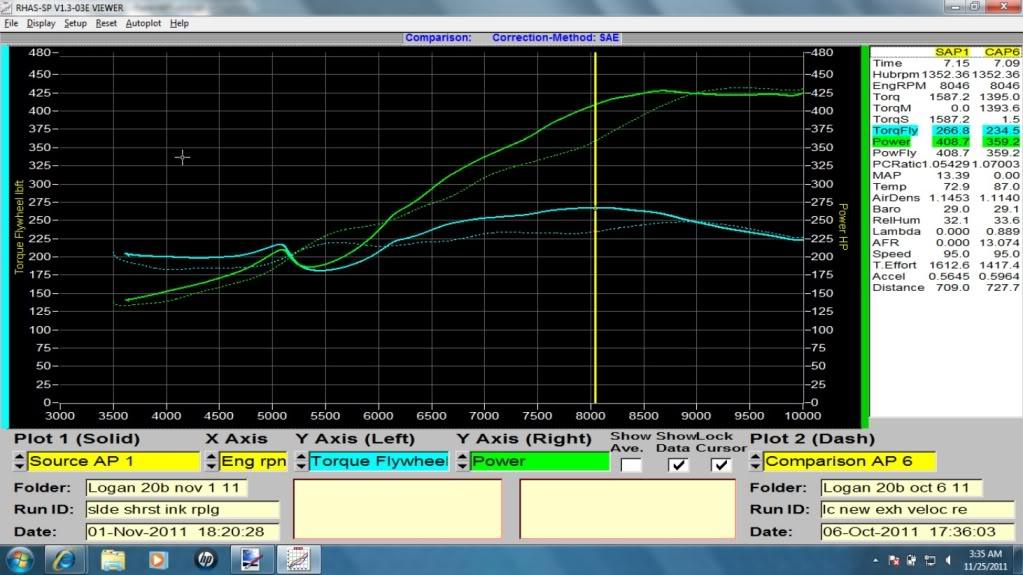 Power under the curve was more than substantial. The was the end of dyno day #1. No way could I stop just there.
Chapter 3- quest for more.
The days to come, I started to think a bit harder. Reviewing and crunching my old calculations vs. the new data. Then, Carlos Lopez happened to give me a call. During our usual conversation about all things rotary, he brought up something. That man will forget more than most will ever know. Totally by coincidence he made me realize a error I had been making for quite some time.
So I busted my *** and did all the revisions I had pondered about. And went back to the dyno where the really impressive stuff happened.
Chapter 4- where all the fun began
I will post all that very soon

11-29-2011
This will be a long update, but here goes
So to continue up on............
Part 4!!
All the revisions made for a nice improvement. I shortened the intake a bit more to shift the torque higher, and the experimental exhaust changes boosted torque VERY well.
Two downsides to this dyno session-
First- I only had a couple days to make changes and get back to the facility. (hard to get dyno time). So I installed three 1600cc injectors in the secondaries, since that what was laying around. Needless to say 1600cc injectors are not atomize friendly AT ALL!
Secondly- The 1600's didnt mount correctly into the fuel rail, so some band aids were made on the dyno (like a awesome zip tie) to make it work. This took up extra time, and I rushed the tune. Afr's at peak torque were 13.4 and going to 14.0 in the 9-10k range. 8+ more ft-lbs were on the table!! Which could have hit 465 or so.
So here is the chart-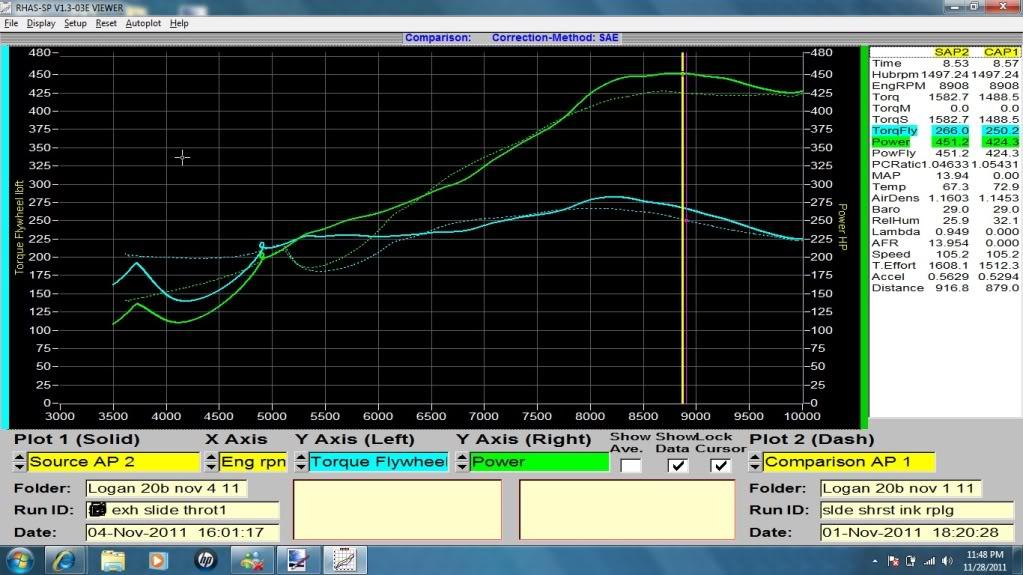 So there it is, 282 rwtq and 452rwhp

The torque gain was awesome. I felt some higher numbers could be within reach without too much trouble.
Chapter 5- Refinement of a excellent system
Striking a bit of luck we were able to convince slowmotion (shop with dyno) to let us on again in two days. I didnt change a whole lot, just some minor adjustments of what was working.
Result?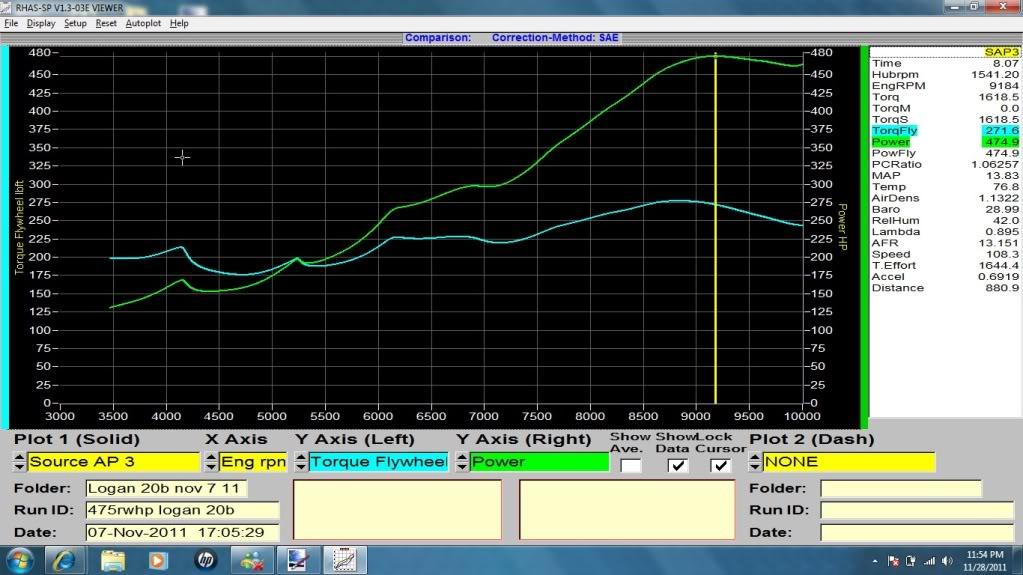 475rwhp

Outstanding

But you guys can notice a torque loss. 277rwtq is still excellent, but a loss. Looks like the intake ports have finally maxed out. I never dreamed 1" p-ports could go this far, so cant complain. Basically larger p-ports or possibly just bigger sideport ITB diameter is needed. The sideports are on a 52mm throat size, because I felt 55mm was too large with semi p-port at 10k rpm. A close estimation.
So here are some raw footage from the dyno runs, before we make a nice vid. You can see the 1600cc injectors are not doing a great job. But it worked

http://s254.photobucket.com/user/fd20na/media/IMG_0336.mp4.html
http://s254.photobucket.com/user/fd20na/media/IMG_0337.mp4.html
Chapter 5- complete inspection, streamlining, and slight disaster.
So this brings us up to my most current efforts. Since I had almost three weeks of time, all the stops were pulled to try and tap on 500's front door! While the engine itself was definitely maxed on breathing capacity, I felt making EVERY part and componet perfect might net the torque in the 287 range. 12ft-lbs would allow 500 rwhp. So what did I do? I removed the entire exhaust, and intake and looked at every detail. Remeasured every pipe with the upmost care. Modifications were much more intense this time. The intake recieved some changes I've never even heard of before haha. 10 things in total were improved-
1) Ordered three ID 1000cc injectors to replace the historic 1600cc.
2) Header was made to be true equal length, instead of the unequal method used before
3) New internal intake modifications for increased torque
4) Added three o2 bungs to each header pipe to aid in exact tuning
5) Put high temp silicone on each exhaust slip fit connection, and put saftely tabs on to eliminate any pressure drop
6) Made air boxes for both side port and p-port intakes (this always gains 1-2hp)
7) Intake gasket re-checked and port matched to eliminate some areas of turbulance
8) Header length re-adjusted a final time to PERFECTLY match my intake/exhaust math ratio
9) Finally run the proper smaller diameter main pulley to prevent waterpump cavation. Which gains 1hp or so too

10) Try race gas for the first time, 100 octane
So all little things, but little things add up. I went back to the dyno with some good hopes.
Did 4 pulls, all of which were SUPER lean. Of course using the 1000cc instead of 1600cc took some time to dial in. Even with 14:1 afr torque was already at 274ft-lbs. 13.1 vs 14.1 on my engine is a difference of over 13ft-lbs, 287-289ft-lbs was a reality.
Things were looking great..... and then.............. it destroyed 3rd gear. How the hell do you break a dogbox transmission, in 3rd gear, on the dyno?? No gear changing, no clutch releasing, just smooth pulls. At 6,000 rpm it totally generated 3rd gear. 1st gear still works and was enough to put it on the trailor. So sad. 10k rpm must be really stressful on parts I guess. Good news is that is on video

A employee happened to be taking a vid of it right when the gear broke. Should have that posted soon too.
Still amazed that going from 410rwhp all the way to 475rwhp was possible strictly by tuning the exhaust length and intake design. Next step... going inside the engine finally

Almost victory........... almost.........
12-2-2011
The new findings will directly correlate to a sideport engine. As most of the gains were not p-port related. 25-35hp is the gains a sideport engine under 9k will get vs. were I was at before. IDK about 400rwhp, but maybe. If I have some time I will do a pull with p-ports capped off. It wont be a great indicator, because I designed the exhaust to resonate at 8.5-9.5k. Sideports alone wont flow really well there, so torque will suffer. Be cool for a reference though.
Looks like the transmission didnt break a gear. I drained the fluid and there are no chunks in it. If I had to guess the pressed in dog ring separated from the gear. There were lots of metallic metal in the oil. It looked like metallic red paint. So something wore away or metal on metal rubbing. Will tear it apart soon, but going to take a bit of a risk and go back to dyno and use 4th gear. Need to get a final number before engine mods!
12-8-2011
Got on the dyno for the final time this year. Took a risk and just did runs in 4th gear instead of 3rd. Eats up more horsepower on a car like mine because the pulls are going into the 175mph range.
Results were still pretty good. Matched hp, and gained torque and a lot more under the curve. 475rwhp and 281 rwtq. In the standard 3rd gear run it would be 481rwhp and 284 rwtq.
Tuning gave me a bunch of issues. The fuel pump seems to be maxed out (walbro 255) so it was very inconsistent. AFR's on the best pull were still 12.6's so some more was in there.
interesting results-
Race gas lost hp and tq. Not a huge amount, but it did drop power. 93 octane seems to still be the best.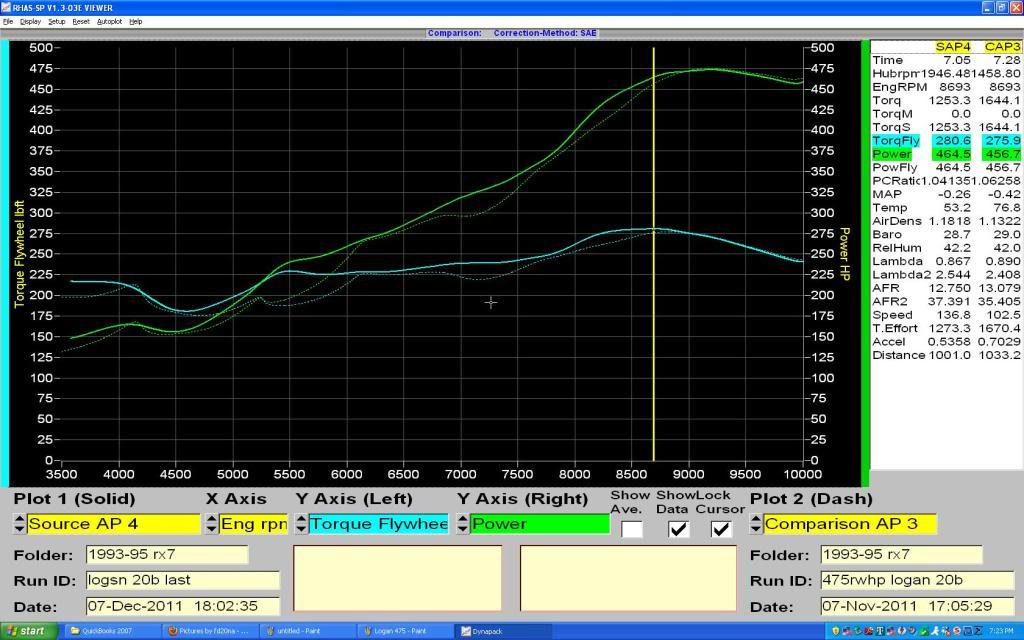 6-15-2012
Over the winter my RX was featured in a smaller magizine called "S3". A lot of good photos came out of it, so figured I would post a few. The last one with me walking away from the car wasnt planned. I didnt even know they were taking pics right then! Haha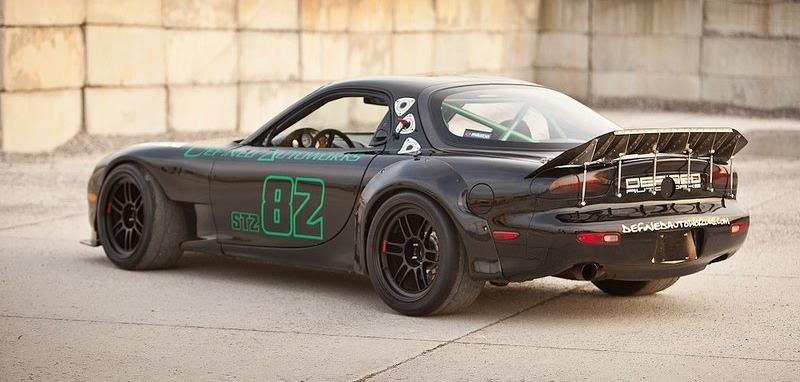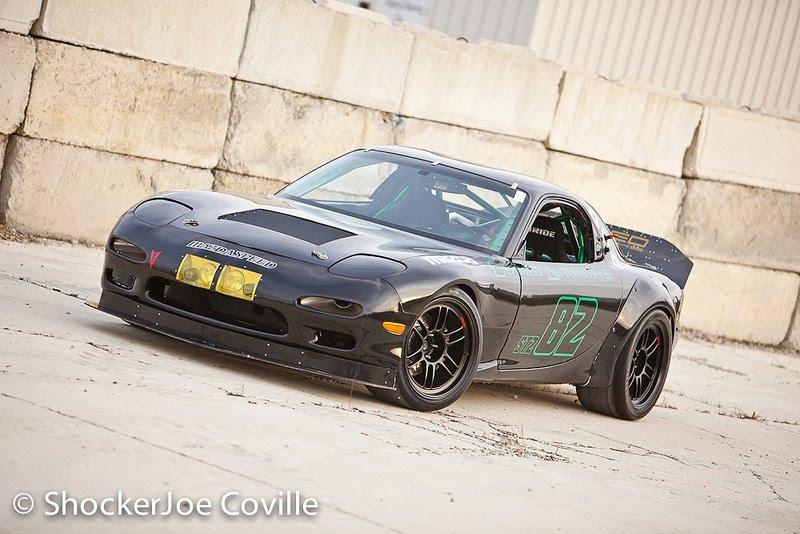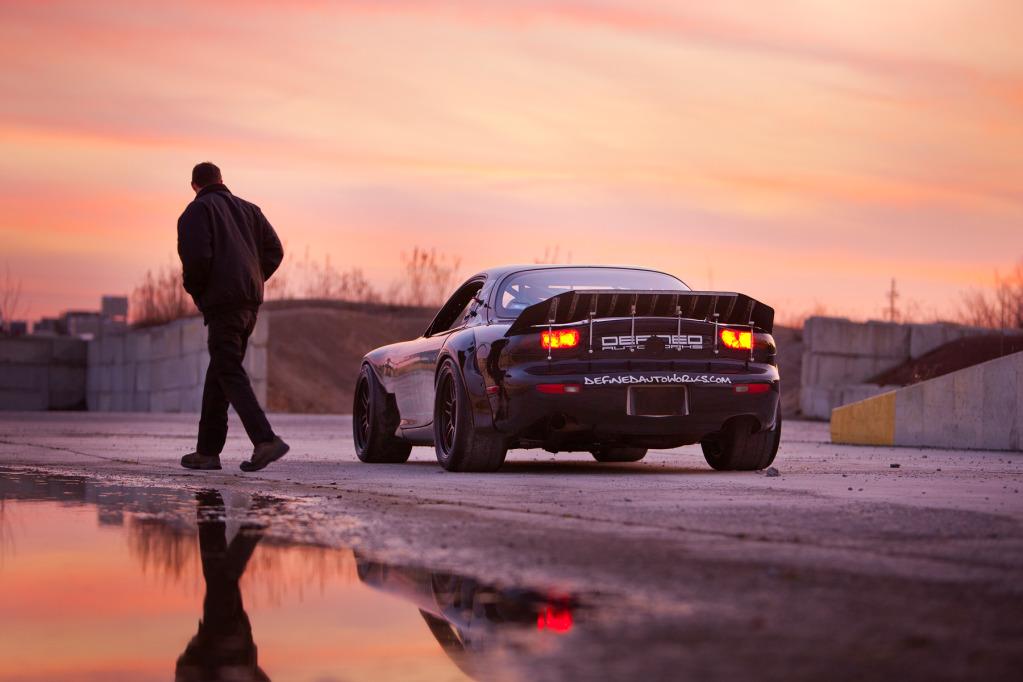 6-23-2012
Polished the e-shaft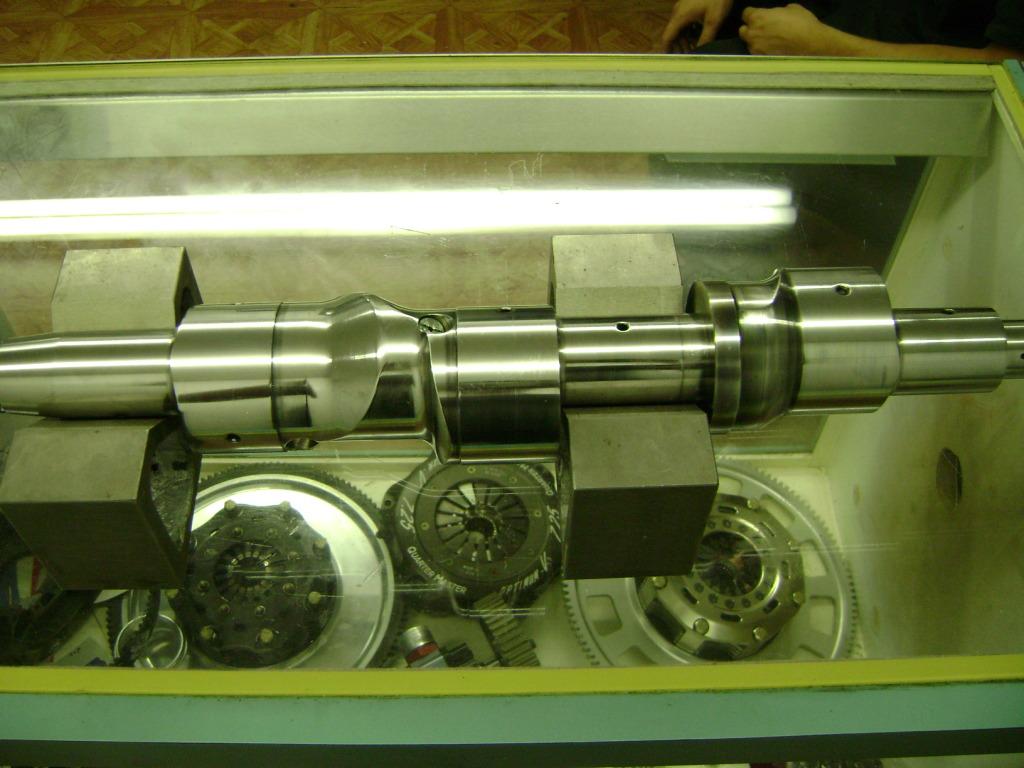 Polished the rotors as well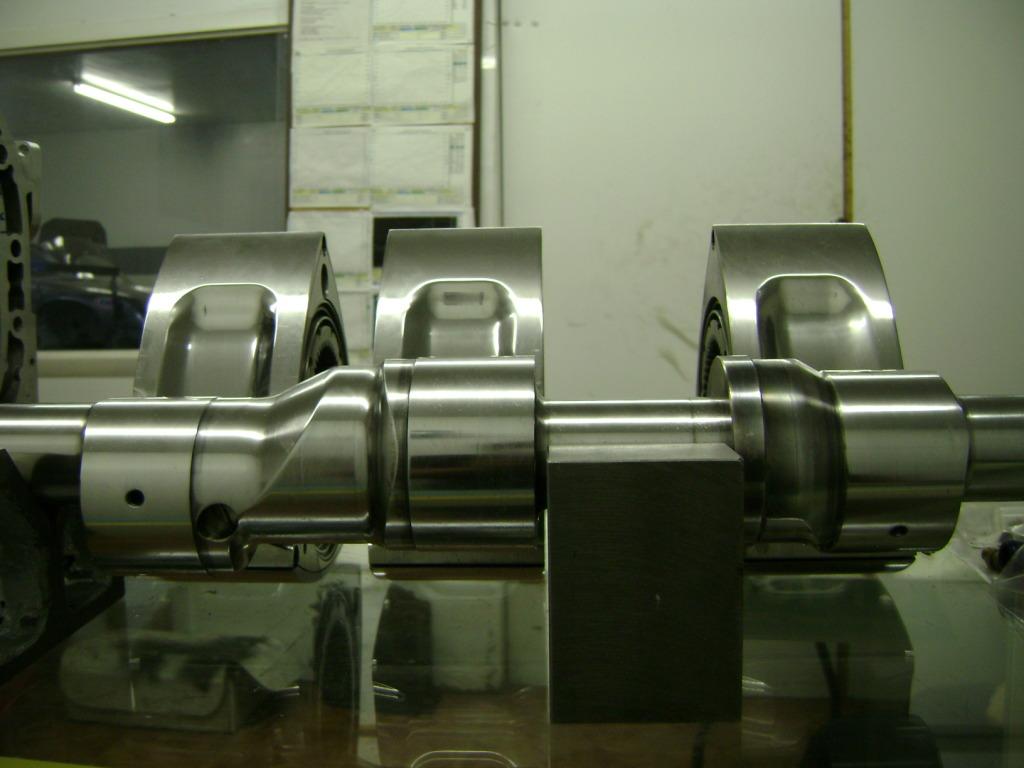 Triple spark plugs

on both engines. Might notice the 3-rotor has changed colors... that is because its going into the Nissan now!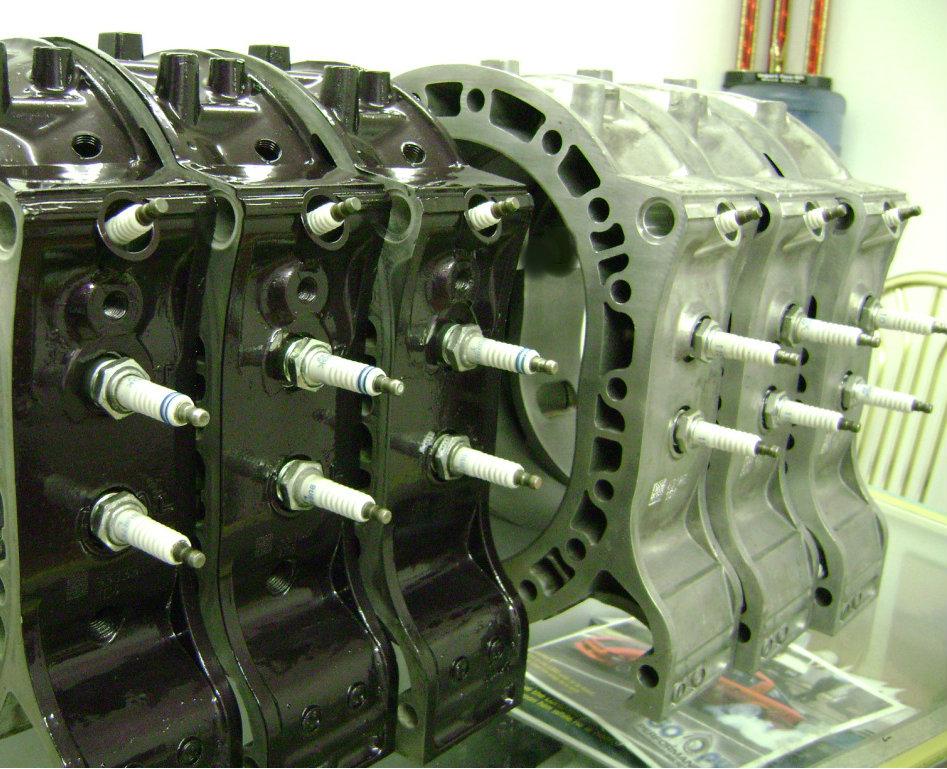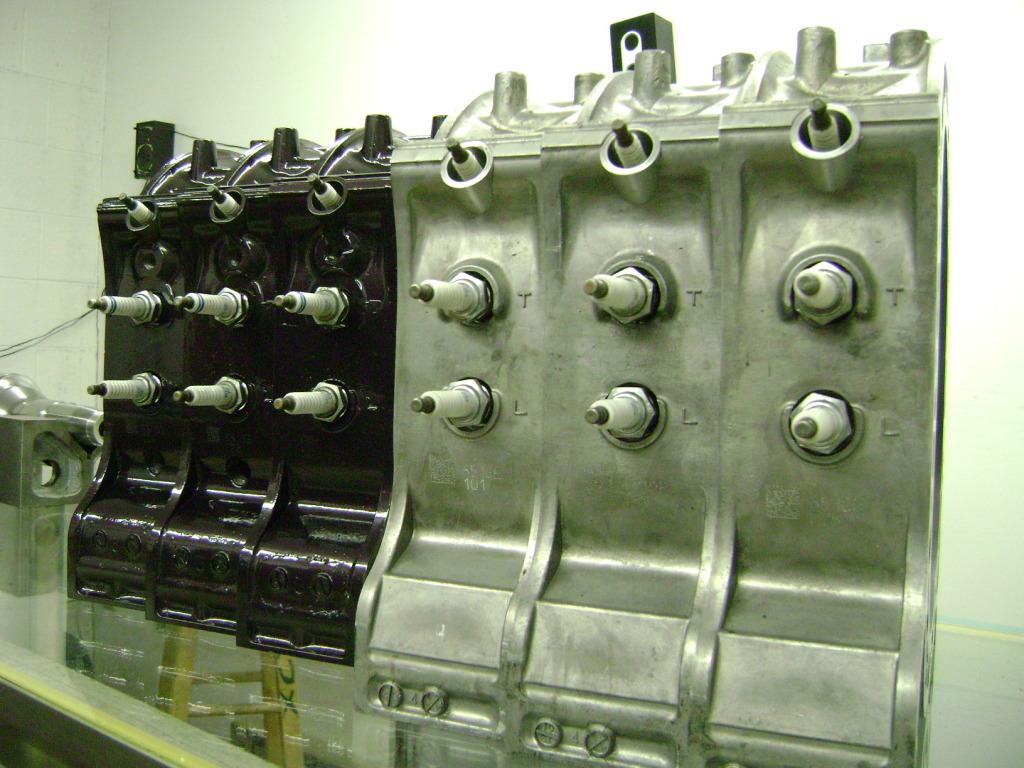 The Full p-port engine next to the semi p-port. Semi p-ports looks so small!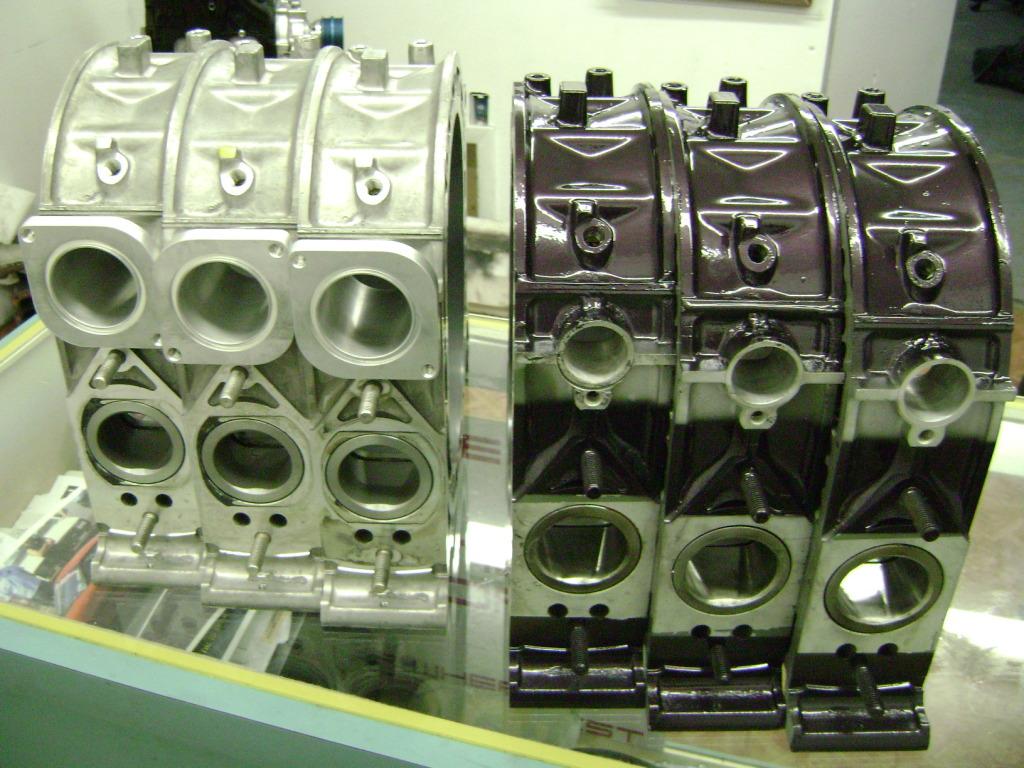 6-24-2012
Okay so I may have left a couple details out on the new full p-port engine. First- Its not actually a 3-rotor. Second- Its a 4-rotor
But testing them side by side will still apply. Sorry for teasing you guys a little bit!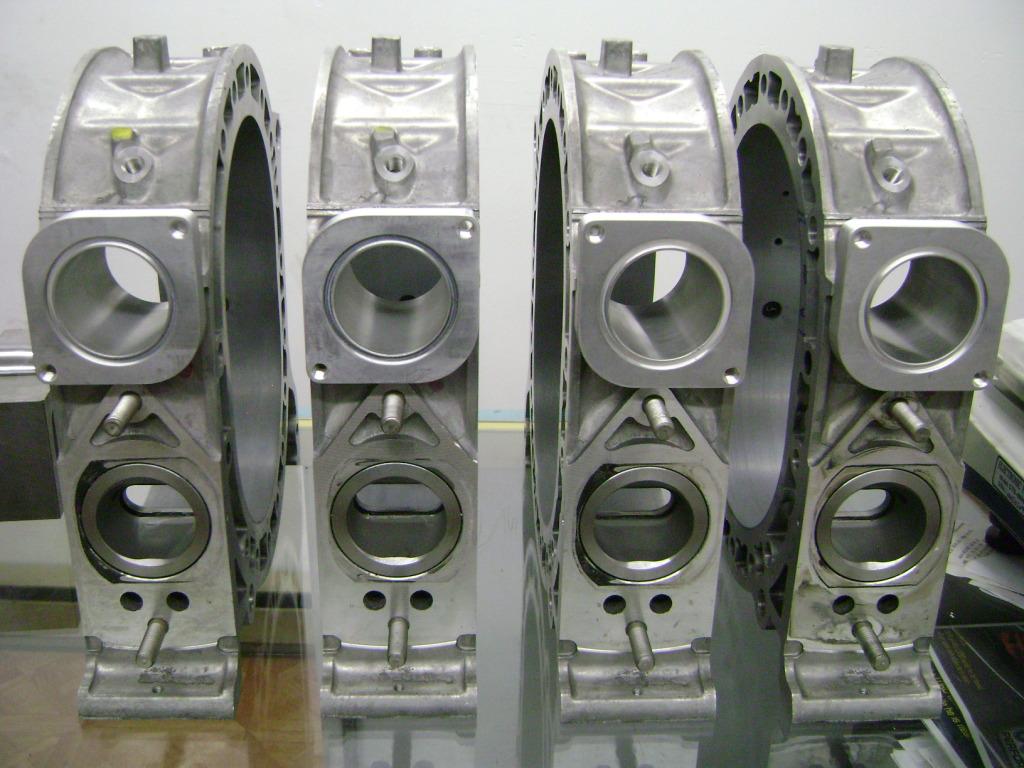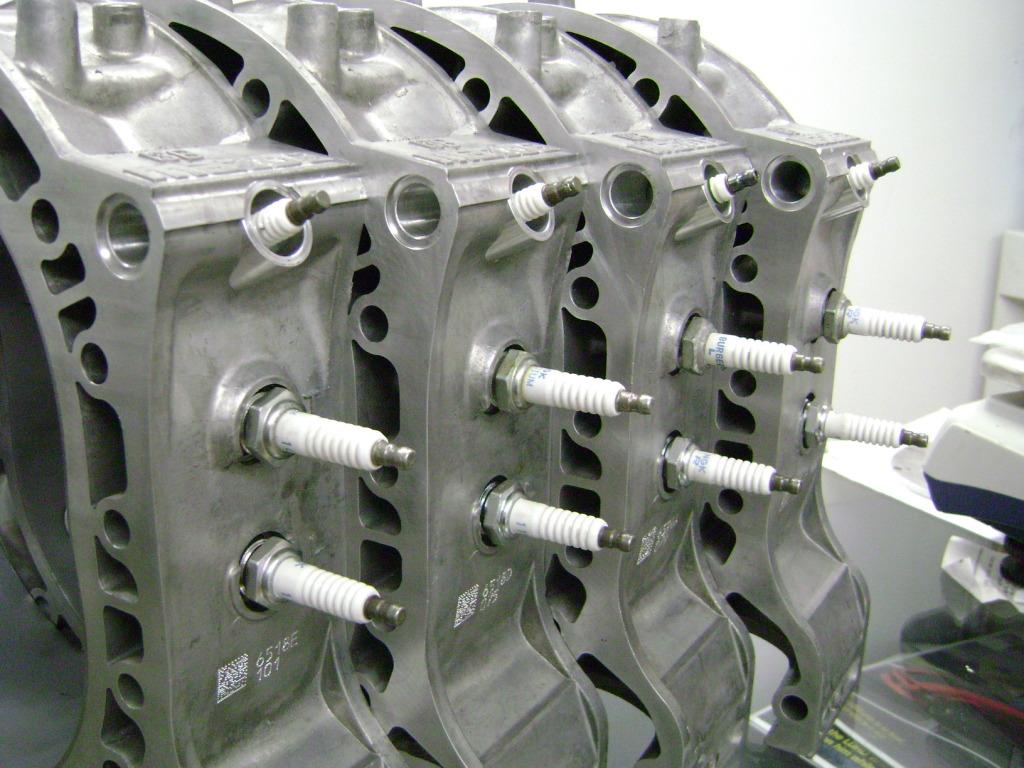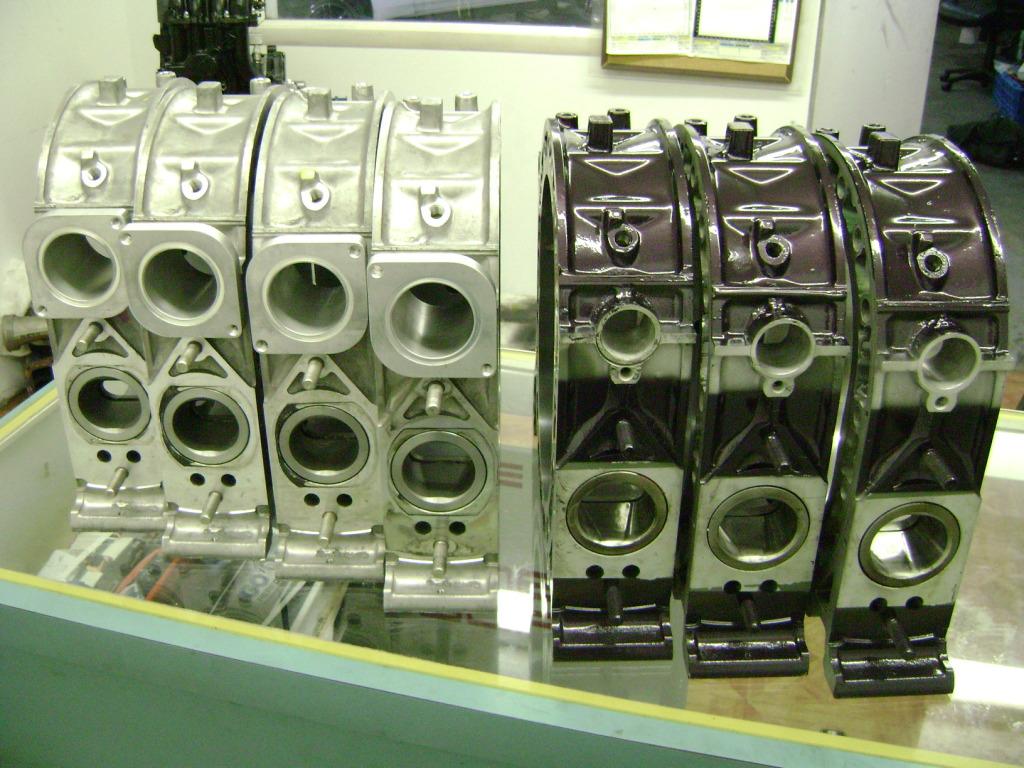 6-28-2012
The 3 rotor is finished being assembled, and going into the nissan this weekend hopefully if we get a free moment. Start up next week maybe? The 4 rotor is still waiting on balancing and a couple other parts before assembly. The 4 rotor will replicate the 3 rotors injector placement. 1 on the bell-mouth, and 1 a couple inches away from the port.
6-29-2012
The actual port is still 1", but I added a taper on the entrance. Seeing what kind of effects it has.
7-22-2012
Yeah I saw that video, pretty funny they thought it was a drift car. lol.
I have a bunch of update photos, but here is the 3-rotor in its new home. Our Nissan track car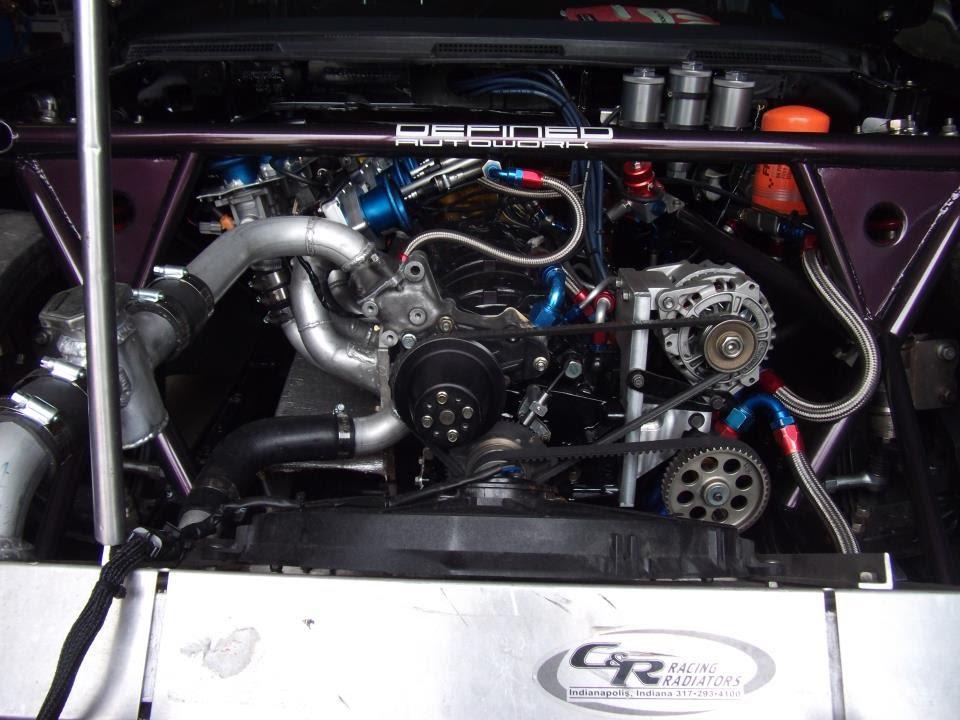 10-3-2012
It is using the Electromotive Tec3R, and we have a solution for the 12 spark plugs. Will be a little complex but not insane. Should run quite nice!
Here are some old pics of the 3-rotor assembled, and going into the new home/ nissan S14.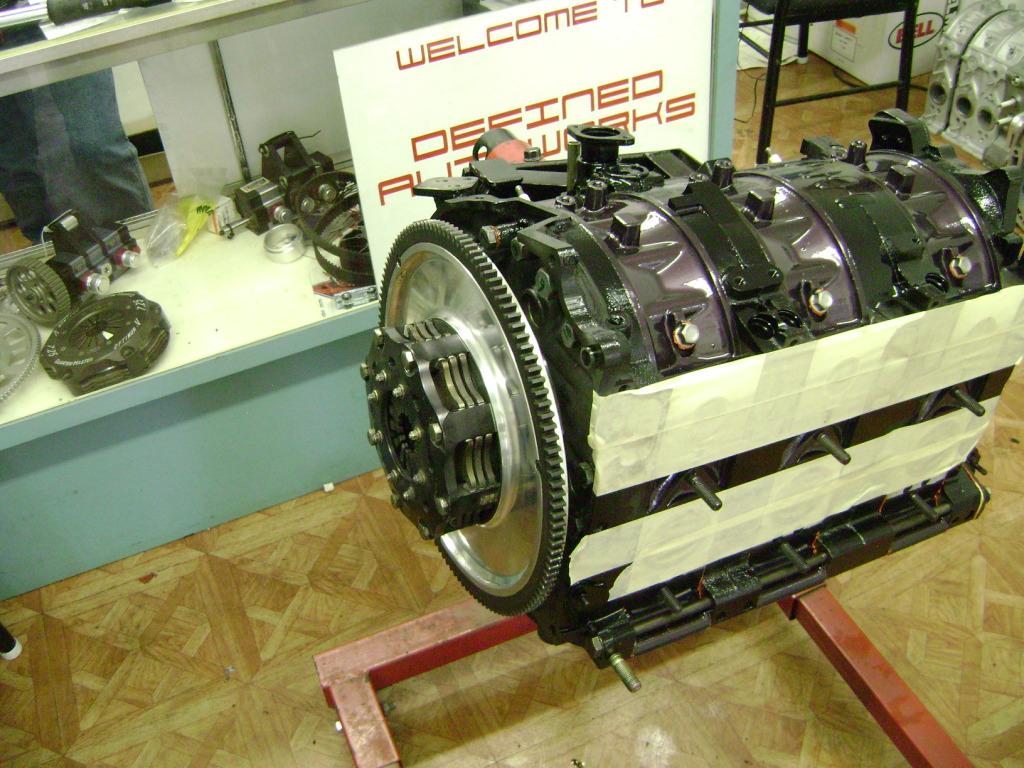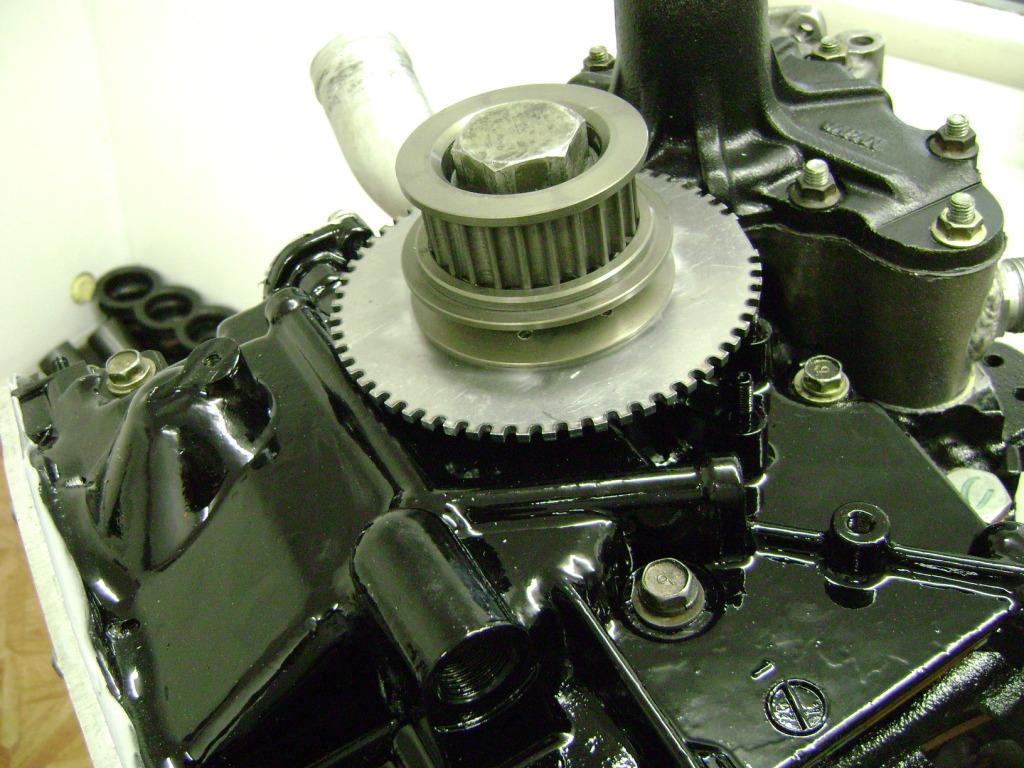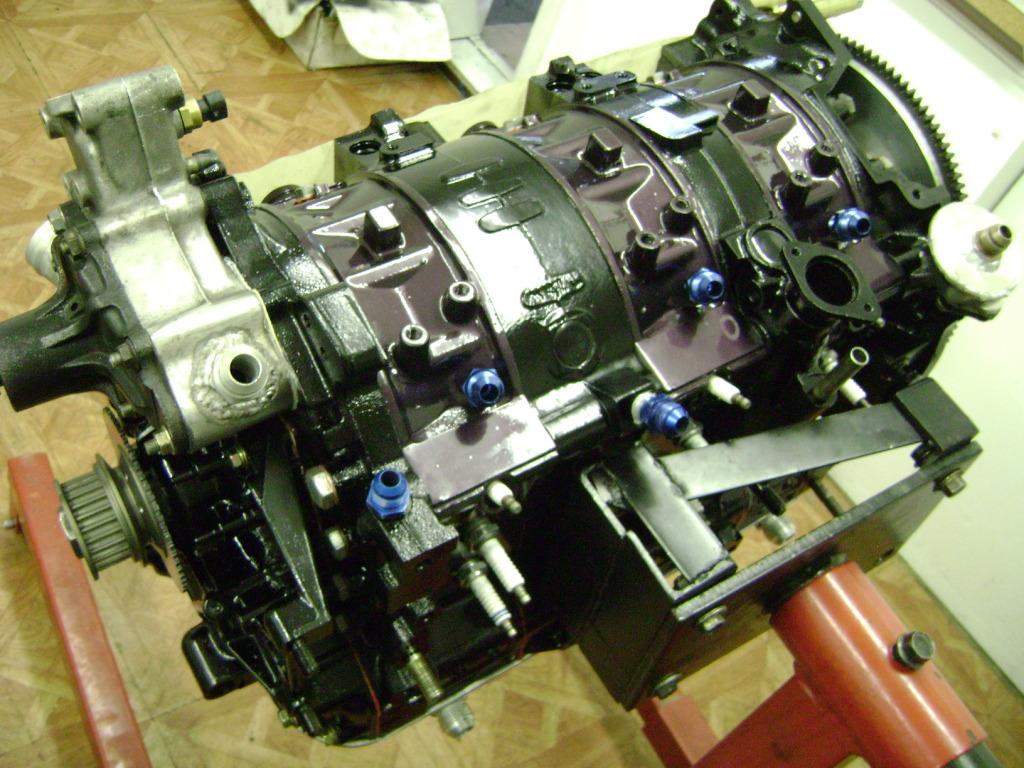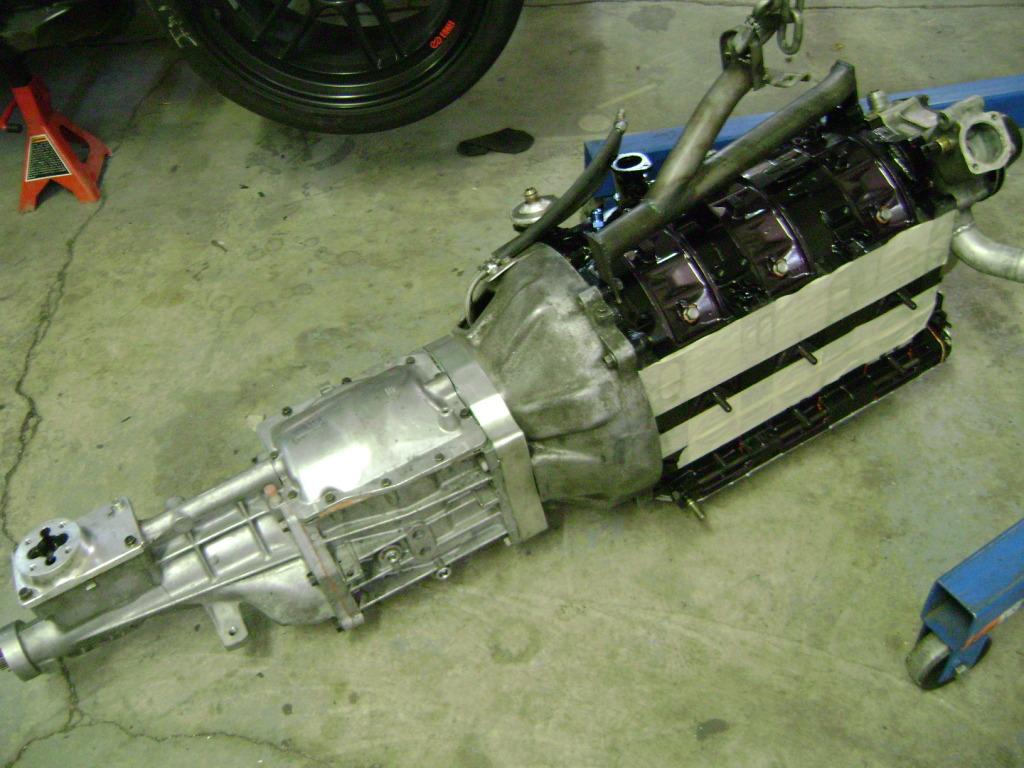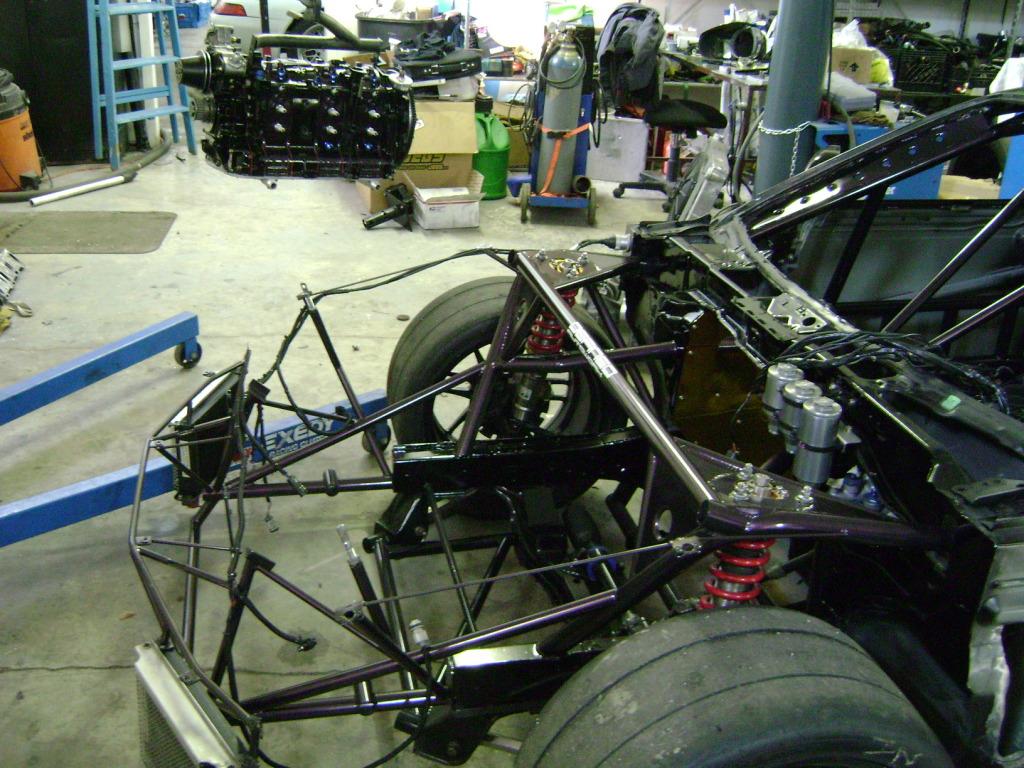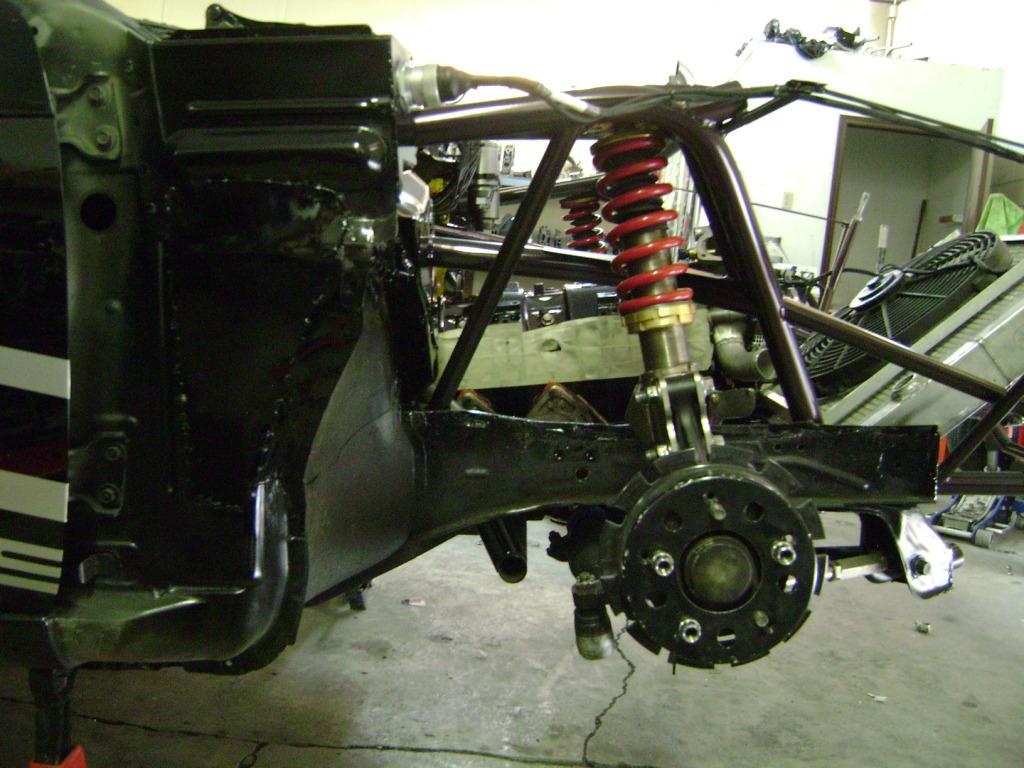 Pic of completed tube front end of the S14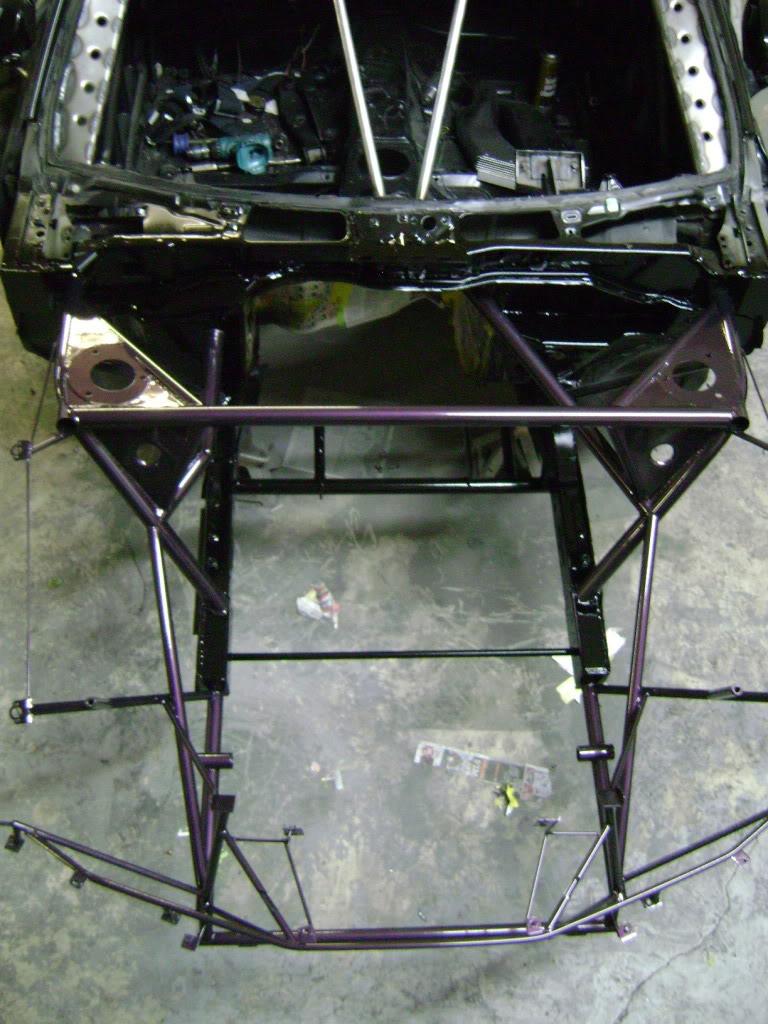 11-23-2012
Thanks, the S14 is primary for track use but it still gets driven on the streets for break-in or wild rides.
The 4 rotor is very close to assembly, hit major speed bumps in the rotor/balancing. Otherwise she is ready.
We havent had time to re-visit the high hp n/a 2 rotor stuff, and dont really need to. Some quick division of our 3 rotor horsepower would make a 318 rwhp 2-rotor with semi p-port (identical setup) If we reach 500rwhp with the 20b that is a 334 rwhp 13b. Until the 4 rotor makes more power "per rotor" than the 3-rotor, semi p-port is still king for highest horsepower recorded.
1-1-2013
On a quick thought process the 4-rotor doesnt seem a lot more than 20b, but its a 75k proposition on the low side. Add to that I'm not a fan of the swap without moving the firewall, as the extra length is just too much to pack in otherwise. I wouldnt worry about the fat iron on a n/a 20b that is for sure. We are looking into building short crank 20b's to fill the lack of OEM stuff. Only bad thing is they have to be full p-port which isnt very streetable typically. Its about $3k more vs. Mazda 20b once both are rebuilt/ported/custom intakes etc.
1-3-2013
Ok so I take the blame for this getting off track, I stated many things that needed rebuttal.
So some ending points- I know much more about LS than your average bear, and I own domestic V8 stuff.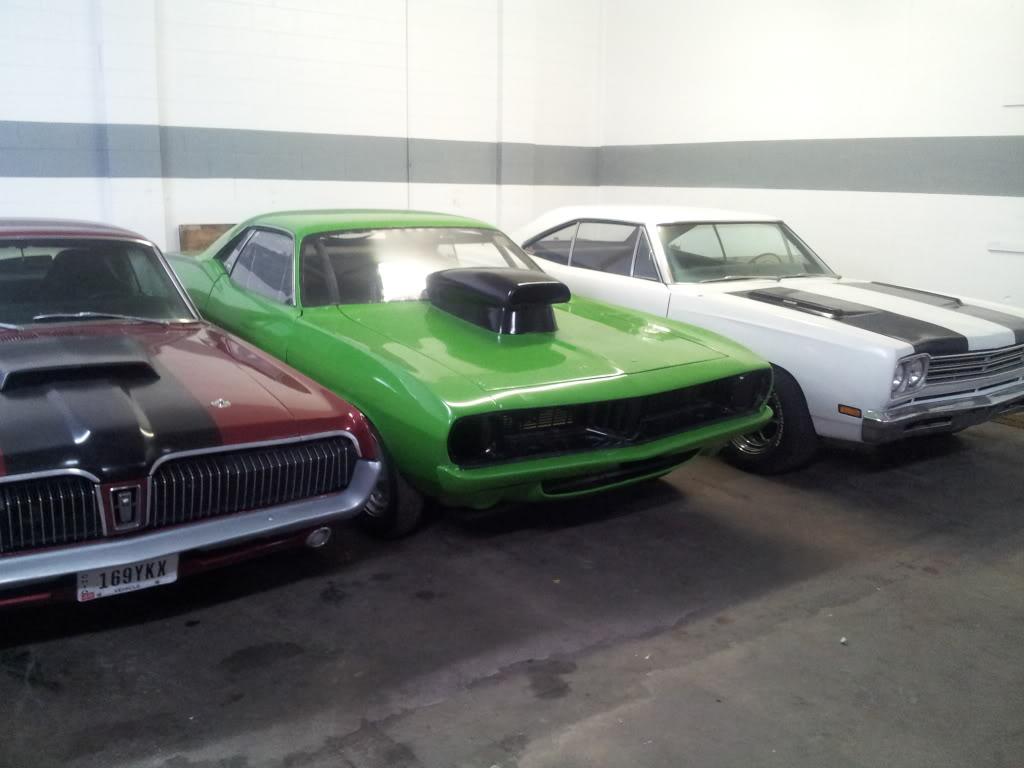 1-4-2013
Hmmm, trade for the Rx4......that is tempting!
So I finally figured out how to transfer some old videos to youtube and edit them. This was two years ago, open track day. Not going all out on the car, but its cool to get an idea of in-car
Straight section
In-car
1-30-2013
Ryan Farrell tossed a go-pro into the infamous n/a 3-rotor two years ago at deals gap. Here is the awesome result, after his editing. I'm very happy to see her in the element and accurately convey what behind the wheel is like. At that state it was actually 400rwhp, since we had to rush to the event without a re-tune. Doesnt matter though, still plenty of fun

ENJOY