Silver_7's 94 RX-7 build by silver_7
By diyauto
You must be logged in to rate content!
Silver_7's 94 RX-7 build
Compliments of silver_7 @ www.rx7club.com
2-4-2013
94 Mazda RX-7
Touring model w/sunroof
ENGINE:
- Stock Reman Motor from Mazda
- Stock rebuilt sequential turbos
- Blitz dual air intake
- Down pipe (not sure of brand)
- Resonated Mid pipe (not sure of brand)
- Apexi Exhaust
- Walbro 255 fuel pmp
- Tuned w/Apexi power FC w/commander
DRIVETRAIN:
- Upgraded clutch (Not sure of brand)
- Mazdaspeed short shifter
WHEELS/TIRES/BRAKES:
- Mazdaspeed MS-01 rims Front: 17x8 +35 Rear: 17x9 +34
- Dunlop tires Front: 225/45 r17 Rear: 255/40 r17
- Drilled front and rear rotors
SUSPENSION/CHASSIS:
- Ground Control Coilovers
- Greddy front strut tower bar
EXTERIOR:
- 99 Spec front bumper
- 99 Spec front turn signals
- 99 Spec front lip
- 99 Spec fog ligts.
- 99 Spec converted rear lights
- Tinted side markers
INTERIOR:
- R2 seats
- Viper alarm system
AUDIO:
- Alpine CDA-117 radio
- Aftermarket speakers front and rear, but dont know what they are yet. (bose system was removed)
- Optima red top battery
Things on order/needed:
-New belt
-Air pump eliminator kit
-Aluminum radiator (possible Koyo...had one in the last FD.)
-Aluminum AST or FC filler neck
-Battery Tie Down
-New starter...relay fix (very intermittent)
-Passenger head light cover (only has one tab holding it on)
-FC fan switch
-Boost gauge w/holder
-Coolant overflow (the neck on the old one is in rough shape
-Will be getting the stock mount intercooler from Dan.

-Get w/DALE on the fan setting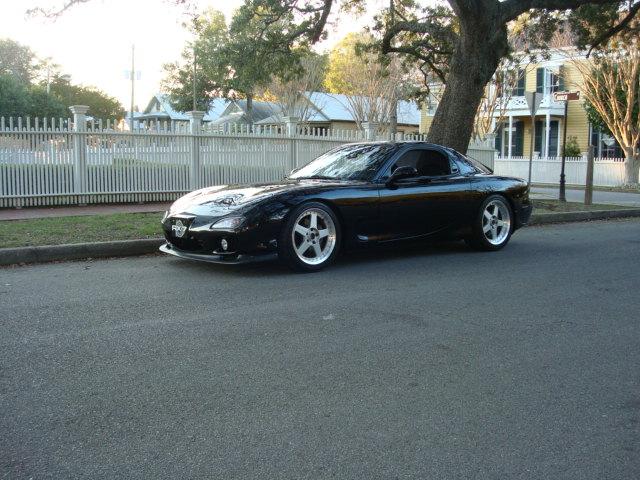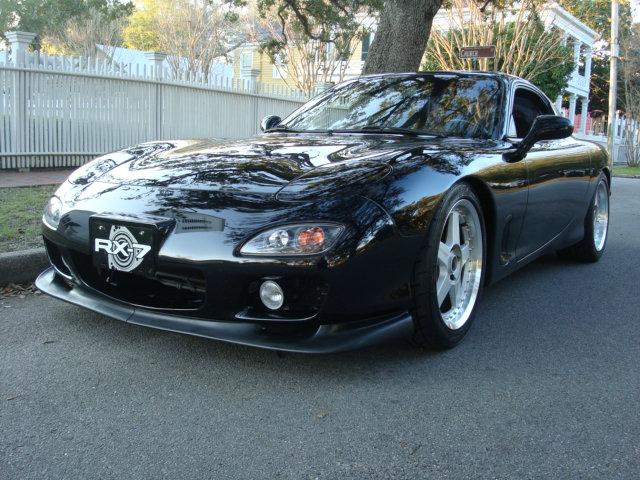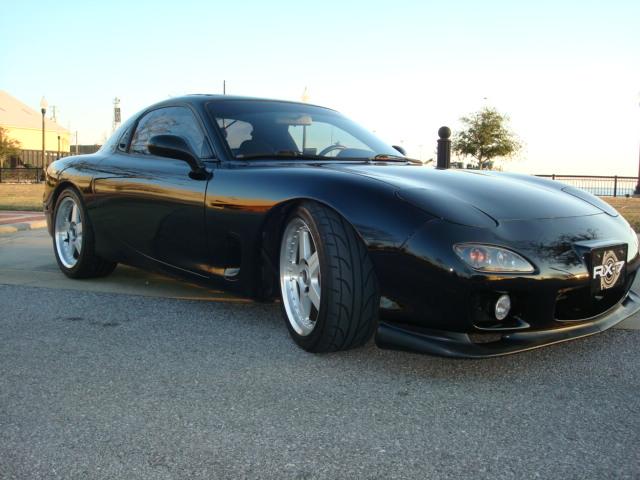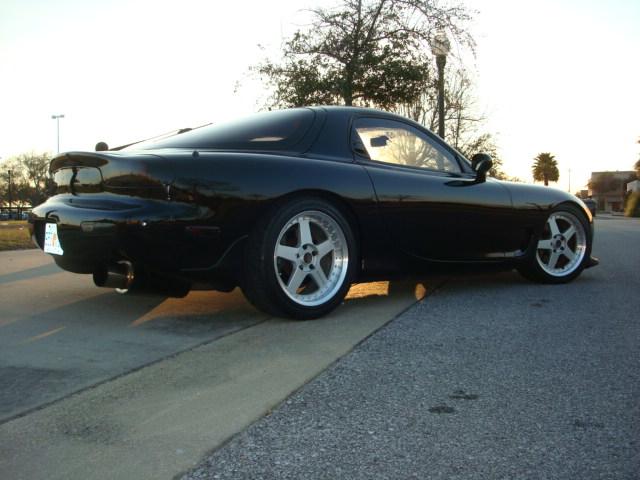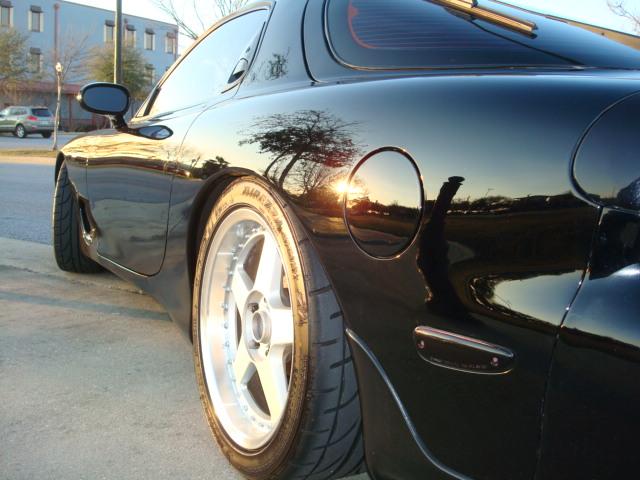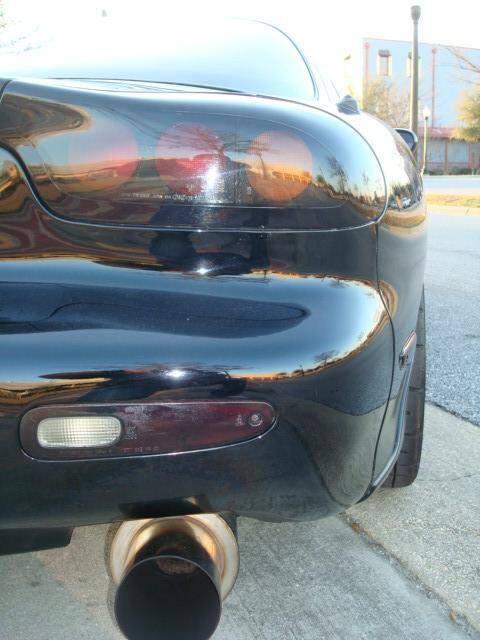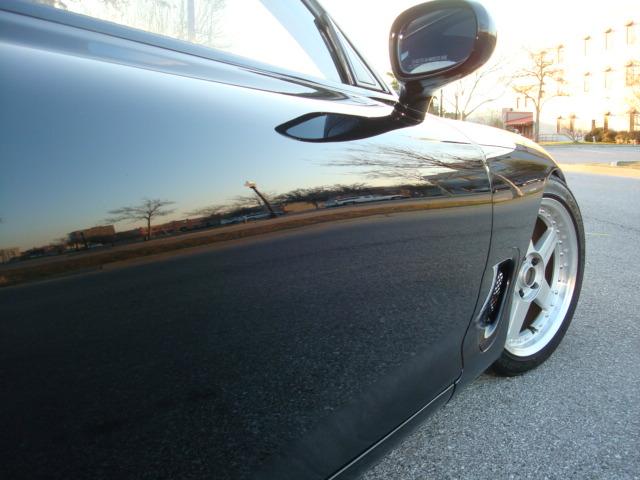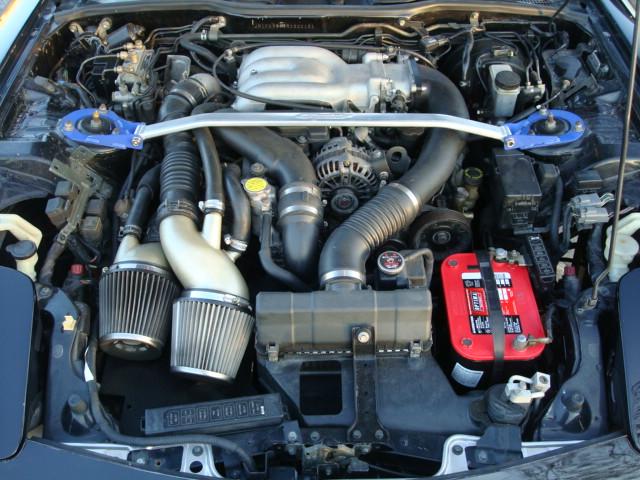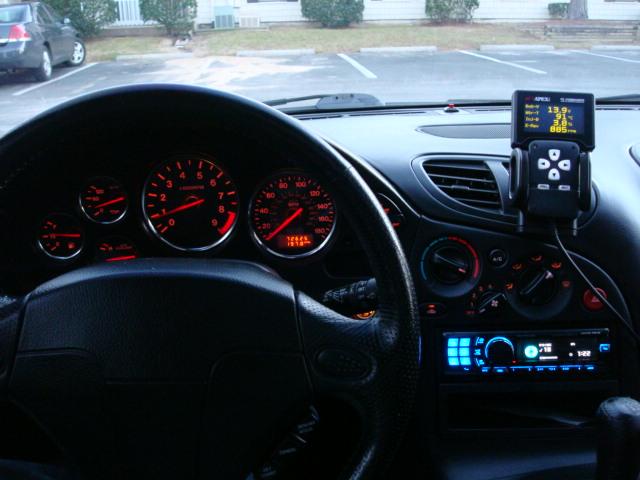 Some new parts came in today. Changed out the belts in the rx-7....they were pretty much toasted.
Parts that came in were mainly maintenance stuff...
-oil
-oil filter
-spark plugs
-spark plug wires
-Premix for the fuel
Greddy Elbow came with the car and 6x9 speaker spacers to swap out the 5 1\4 speakers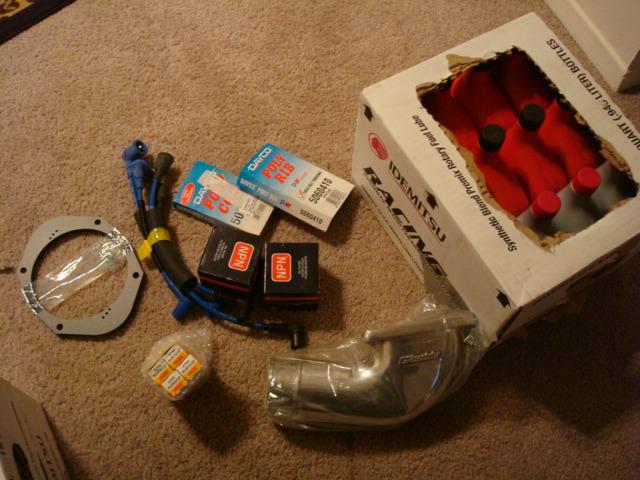 This 99 spec wing came with the car but I really dont think Im going to keep it much less put it on.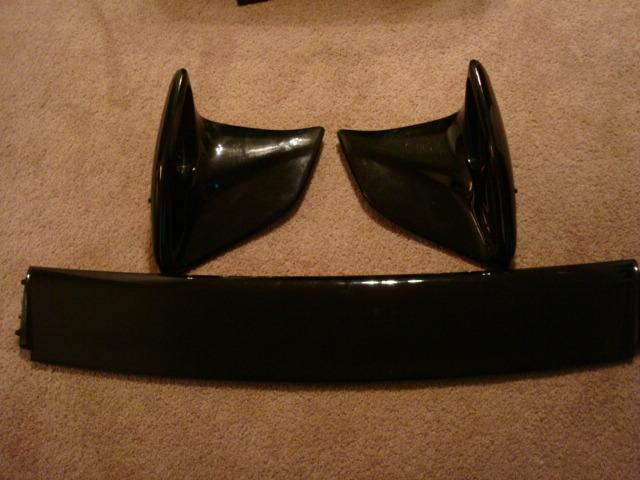 I do like that its adjustable though.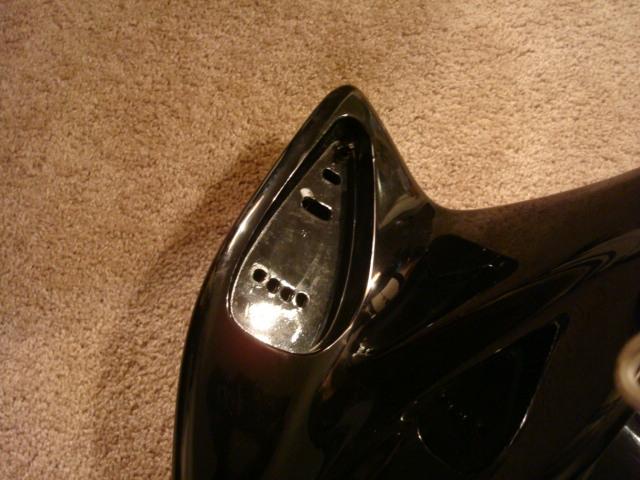 2-15-2013
Picked up a Peter Farrell stock mount intercooler with intake today. Dropped it off at DNA Powder coating to get the end tanks powder coated black.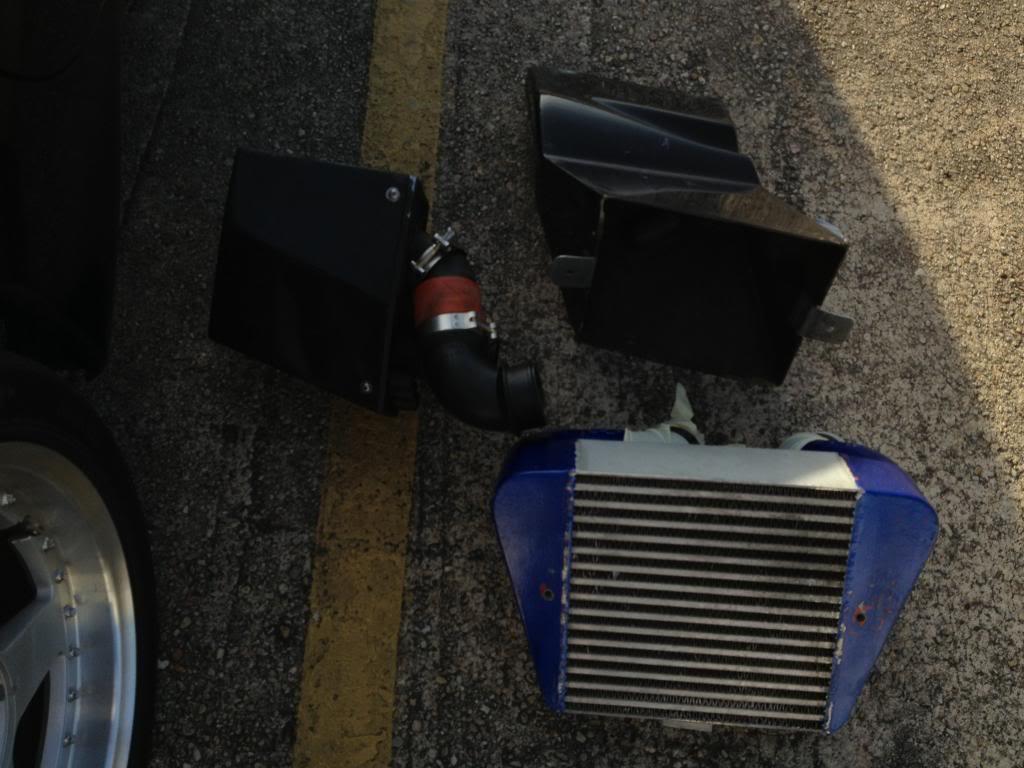 Intercooler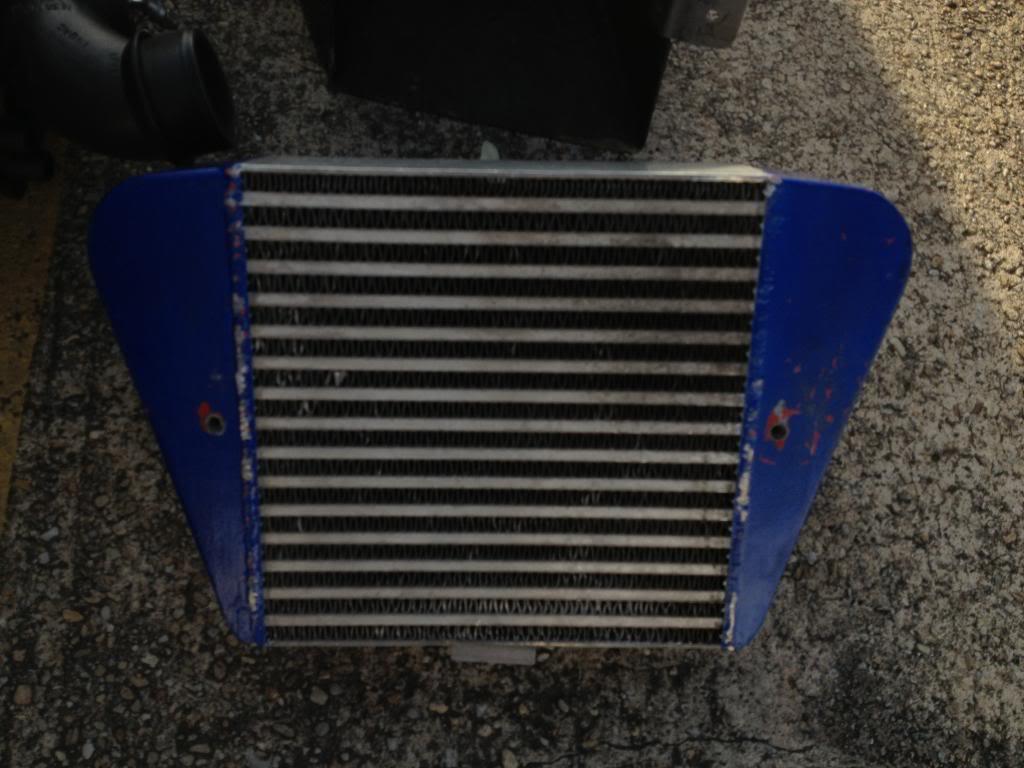 Intake box w/K&N Filter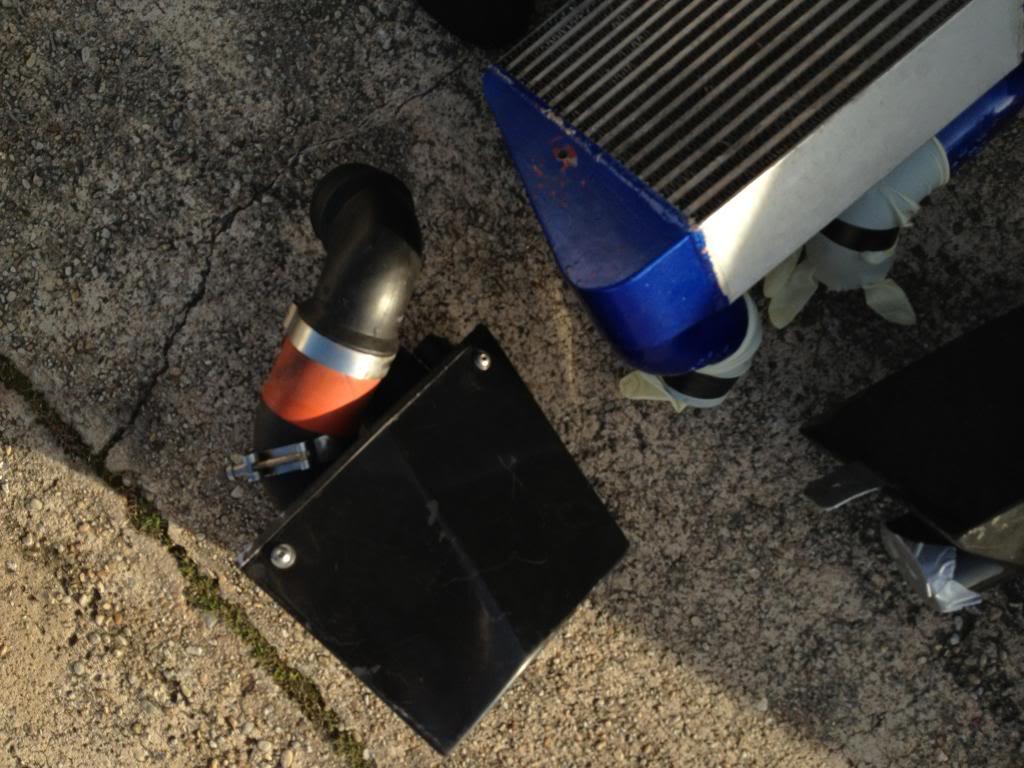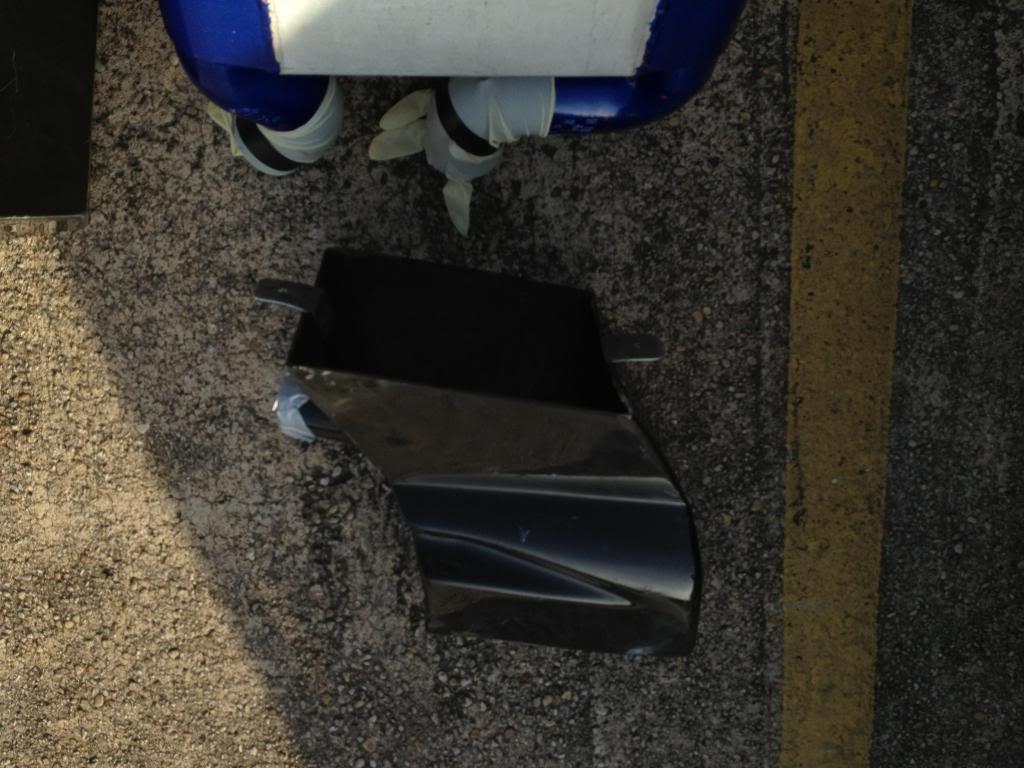 2-18-2013
Update...got the air pump eliminator in from Pettit Racing w/a new belt.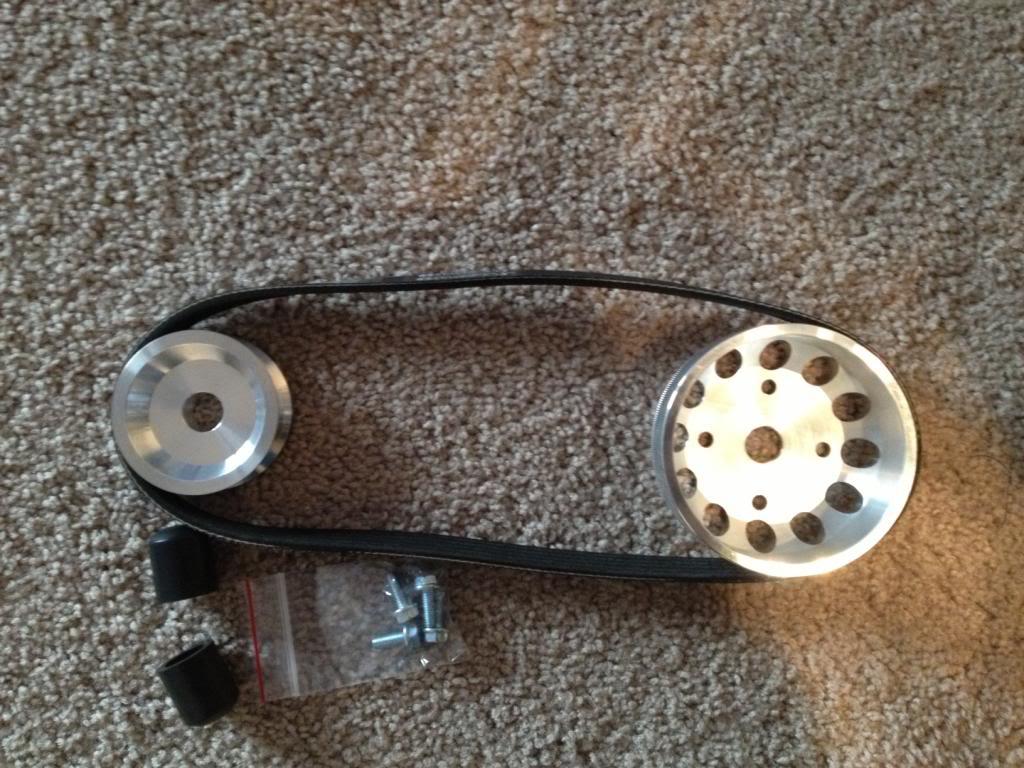 Also got the starter booster in from Pettit Racing. Hopefully this will take care of the intermittent start issue.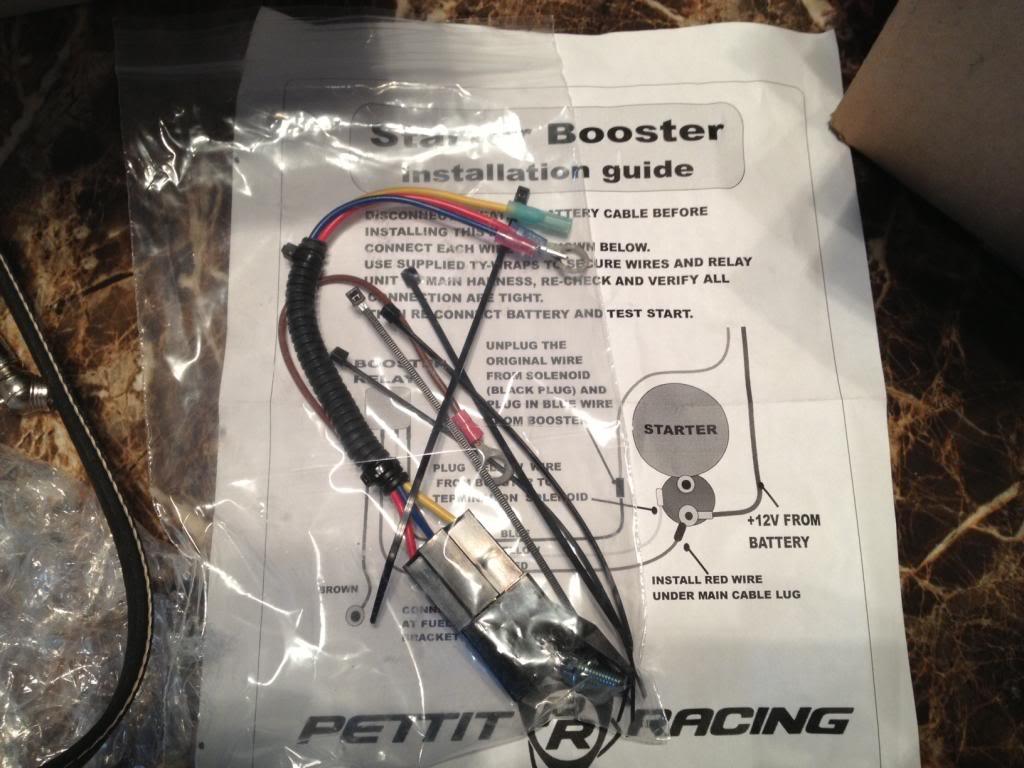 Now to try and find some time to install this stuff....blah.
2-21-2013
So small update: Ordered some more parts.
- 89-91 FC thermoswith
-A/C dash vents.
-Turbo coolant lines and clips
-Battery tie down
Also found out today that I may be having issues with my master or slave cylinder or could just have air in the system. Gotta sort that out now.

2-25-2013
Update: Picked up a used radiator from local rx7 guru Dale for a good deal. He went with a bigger radiator and I wanted an upgrade from stock plastic crap that would fit in the stock location. Worked out great for both of us. Thanks again Dale.
CSF aluminum radiator.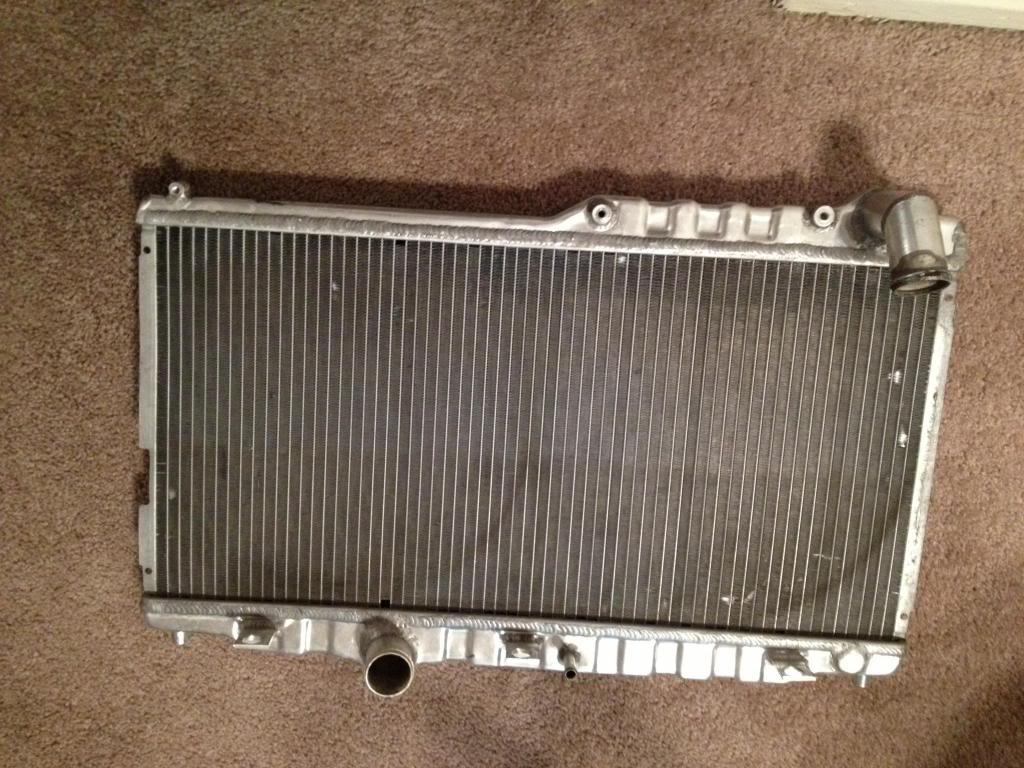 Still waiting on more parts...the wait is killing me.
2-27-2013
I almost forgot to update this thread....
On 02/25/13....ordered more parts
-OEM Master clutch cylinder
-OEM Slave cylinder
-PR steel braided clutch line
-PR radiator hoses w/new clamps
Replaced the vents today. Old vents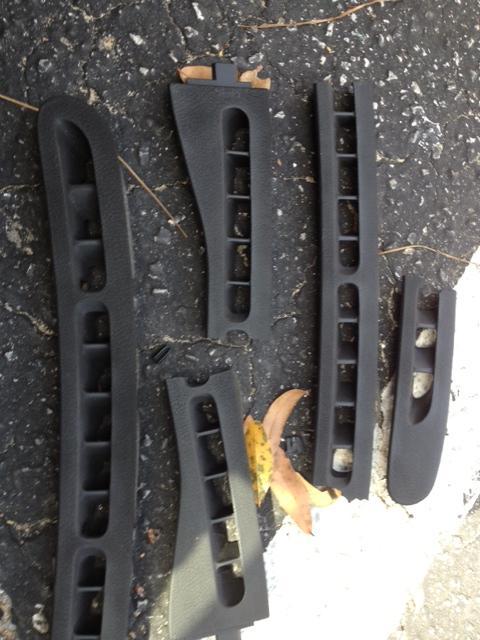 New vents installed.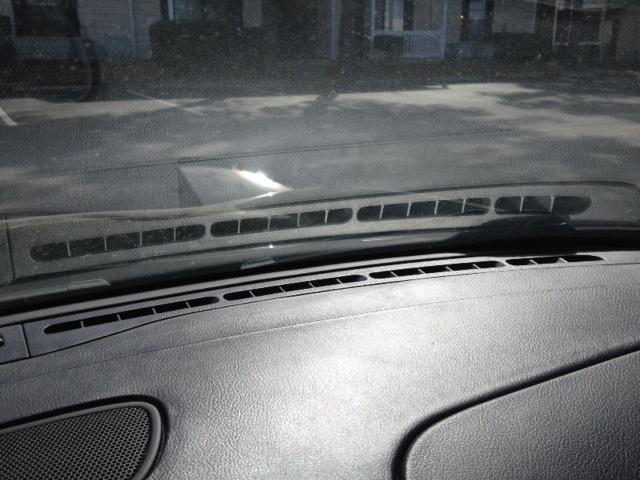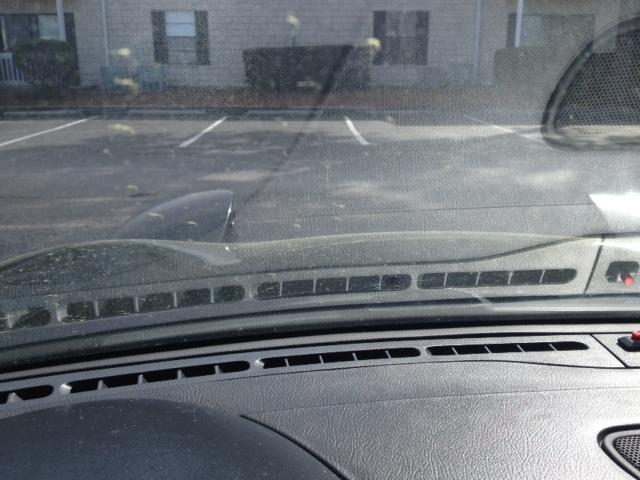 Parts update....looks like the clutch line and coolant hoses are on back order. If I don't here anything tomorrow I might try to get them from somewhere else. Everything else seems to be coming in as scheduled.
3-7-2013
Finally...the one part I have been waiting for. The clutch line is in. Hopefully I should have the master, slave cylinder and clutch line in by tomorrow.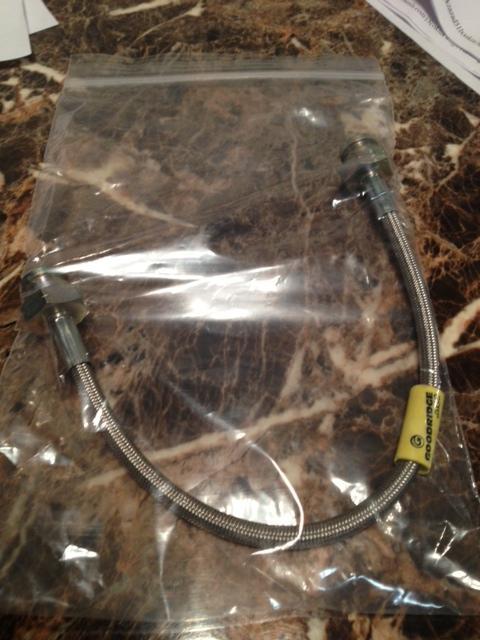 Ill probably throw in a few more misc. parts in on sat and detail the car.
3-9-2013
I finally installed my master cylinder, slave cylinder and clutch line, Adjusted the pedal....and everything feels 10x better. So much easier to drive. Time to install more tomorrow.
The SS clutch line is from Pettit Racing. The master and slave are all OEM from Ray at Malloy Mazda.
3-13-2013
Just a few pics that a friend took for me.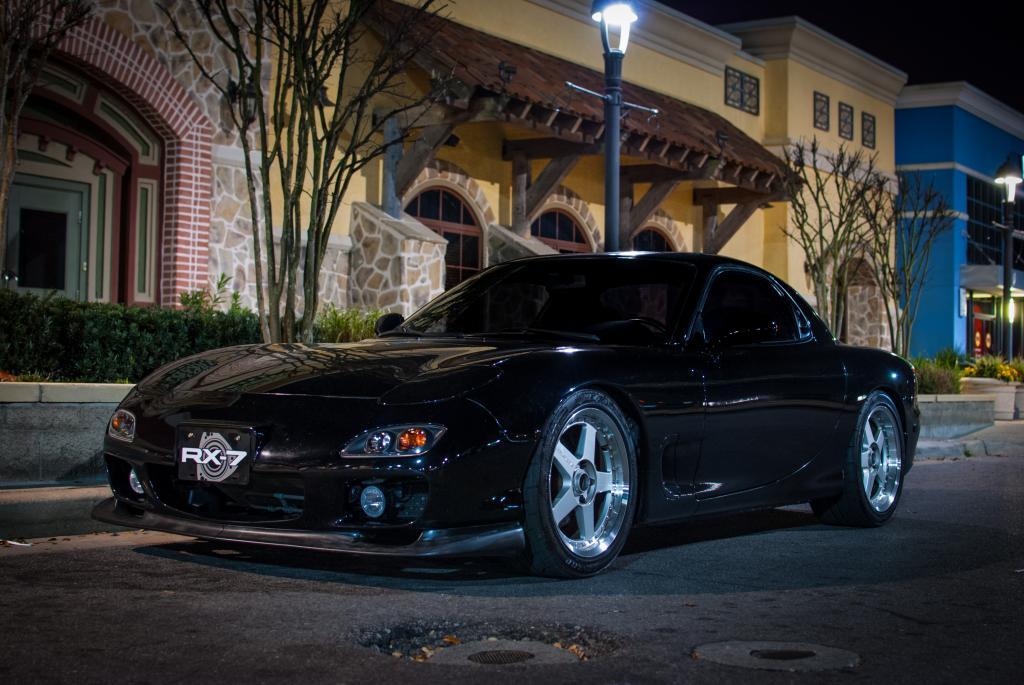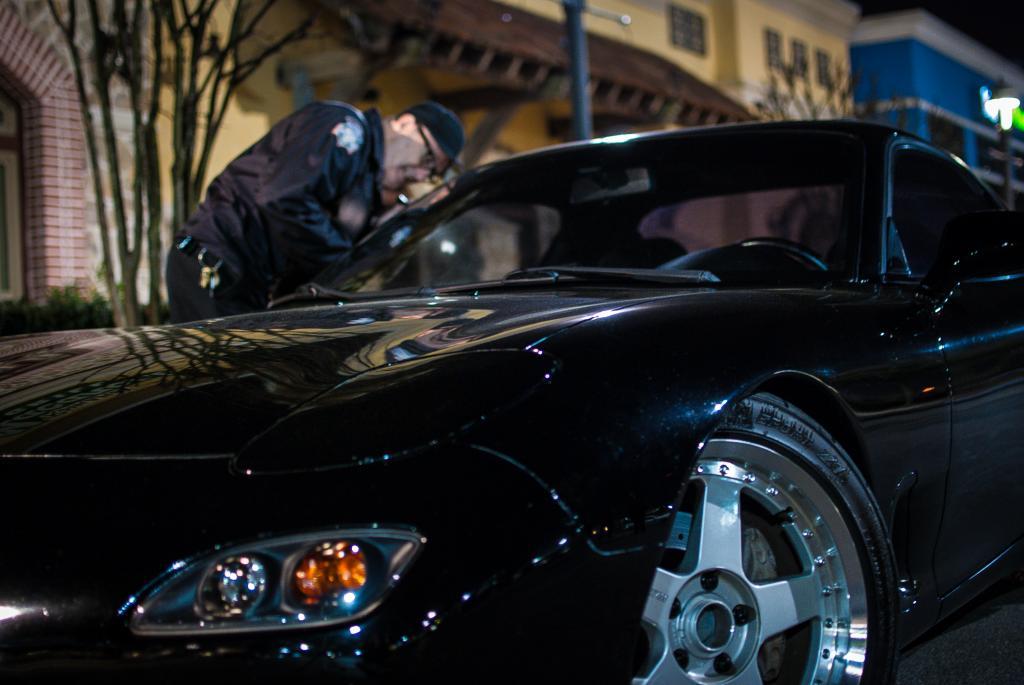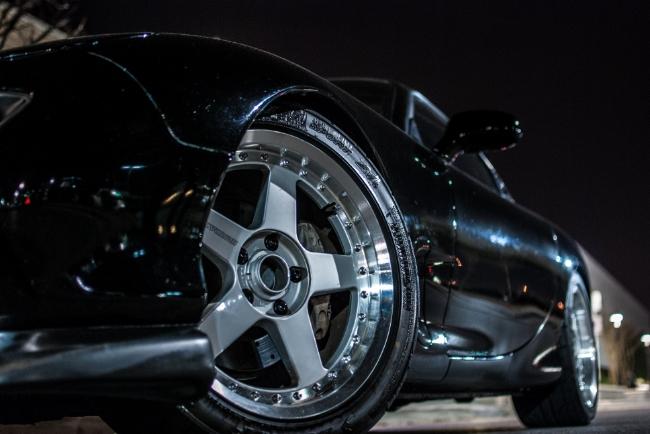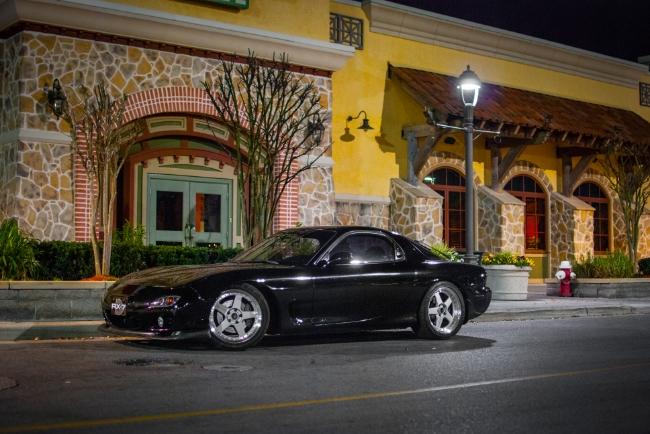 3-16-2013
Picked up the intercooler today. DNA Powder coating did an amazing job.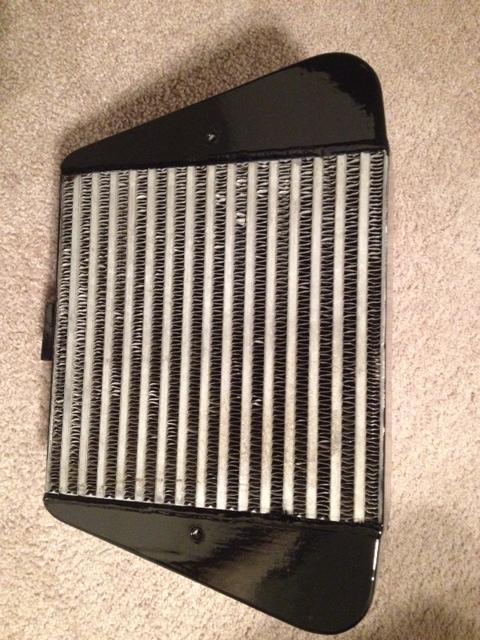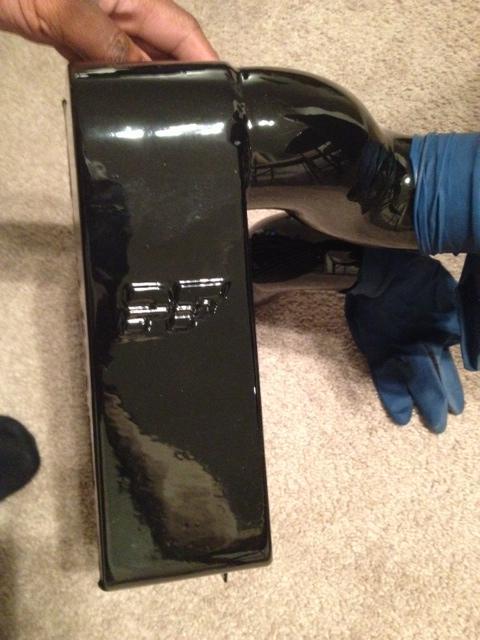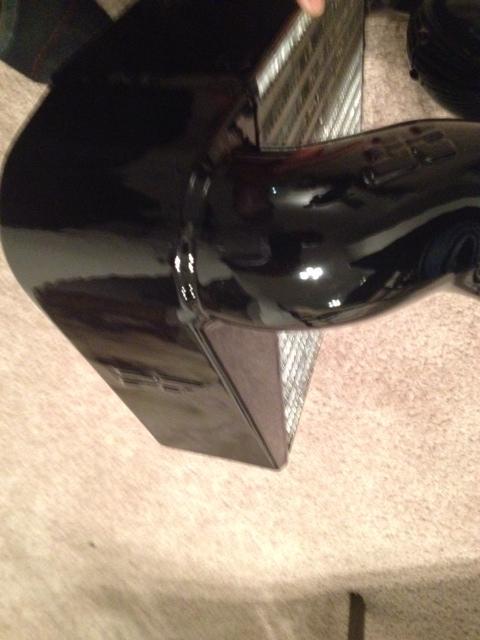 Cant wait to get it in the car.
3-23-2013
Install of the new pullies w/new belt, radiator w/new hoses, turbo coolant lines, and battery hold down begins. Sorry bout the blurry I-phone pics.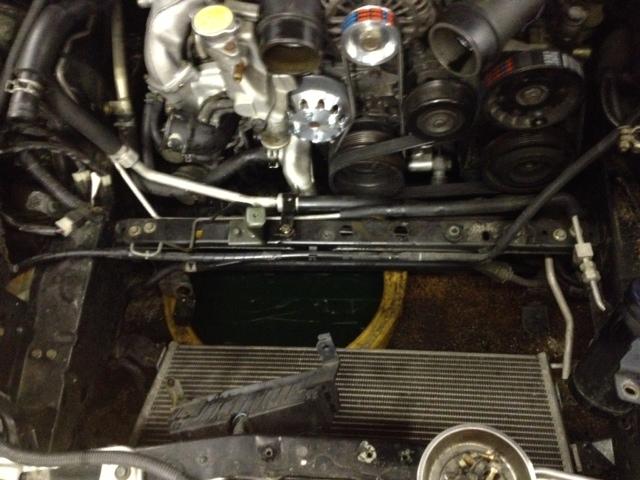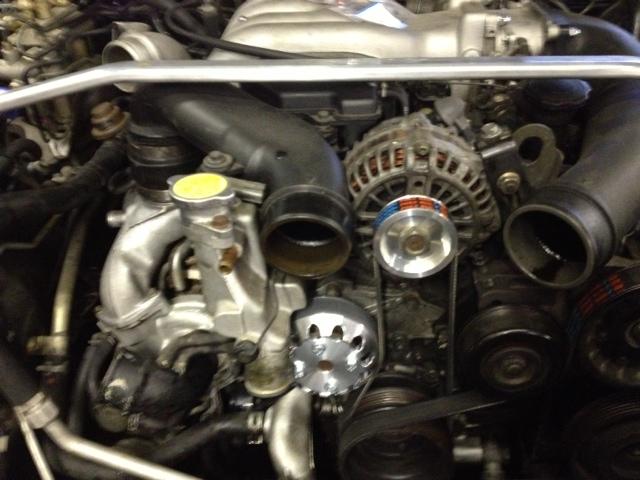 3-26-2013
Install of the PR air pump eliminator pulleys w/new belt, CSF radiator w/new hoses, turbo coolant lines, and battery hold down all installed.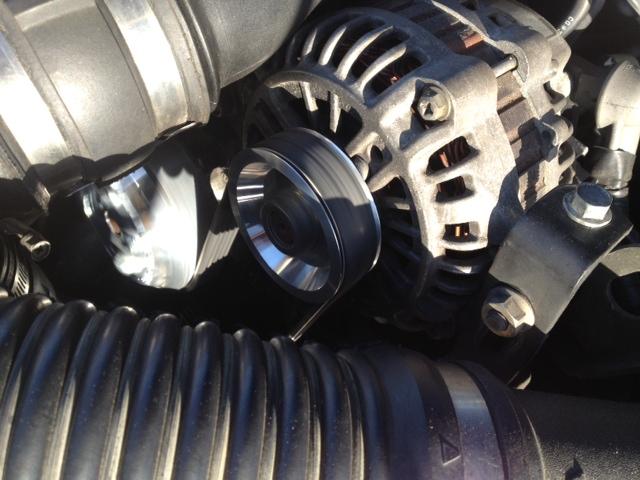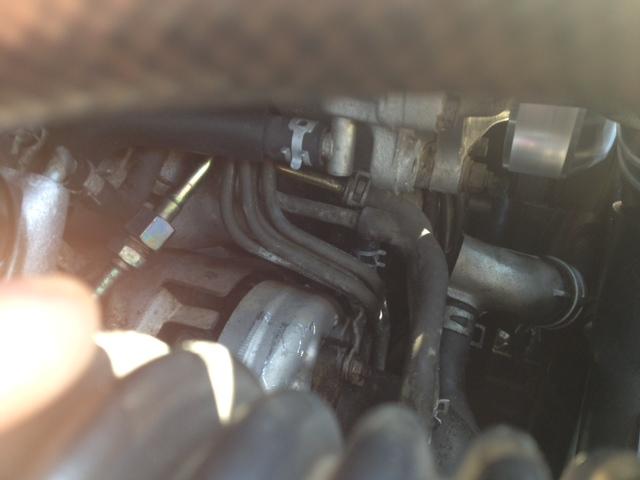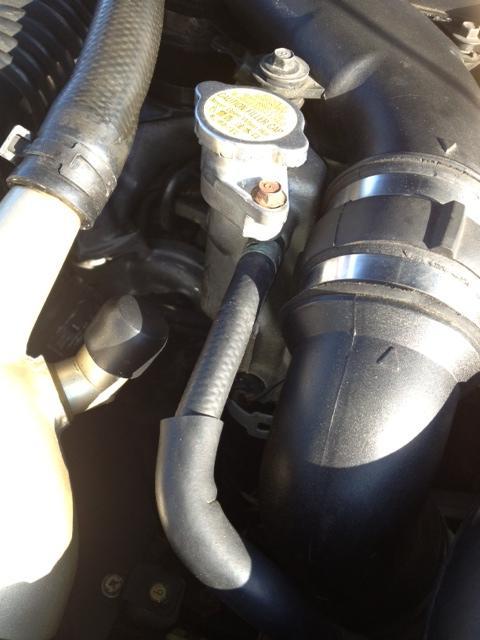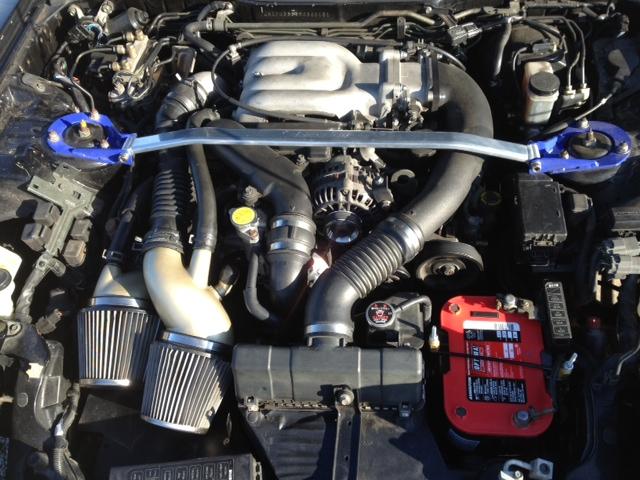 3-27-2013
Things on order/needed:
- Aluminum AST or FC filler neck (Stock ones are know to fail)
- Driver/Passenger head light cover (only has one tab holding it on)
- Boost gauge w/holder
- Black coupler for intercooler
- Accessory idler pulley
- Efini y-pipe
- Intercooler piping for Greddy Elbow.
- OEM Fender Liners
- Possible Meth
7-29-2013
Some pics from the "Rides and Tides" meet. Last time out for the 7 for a while.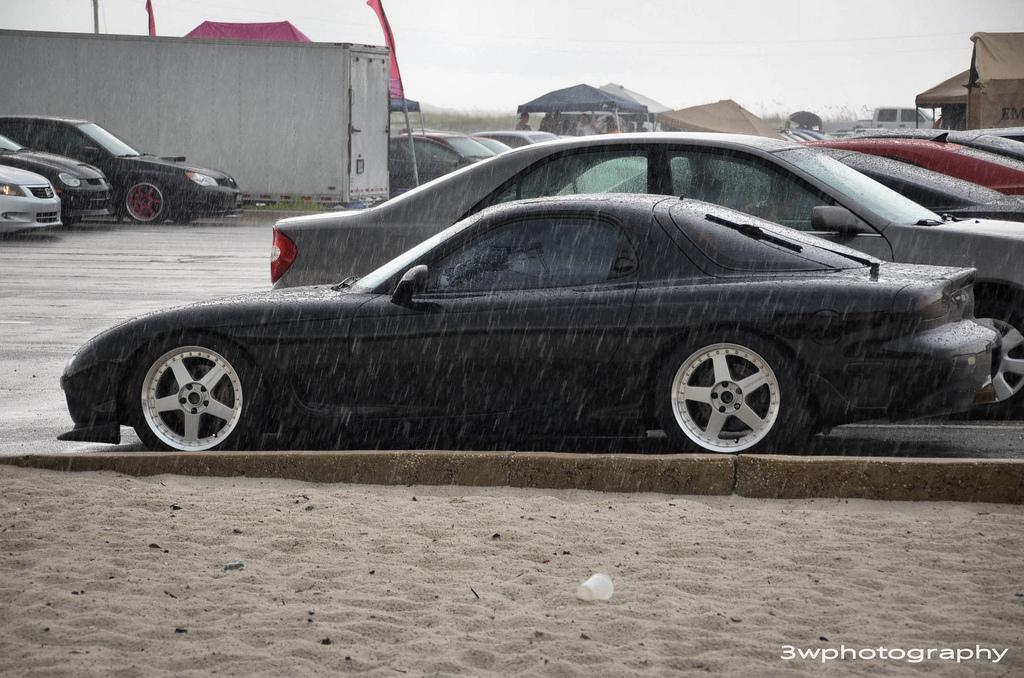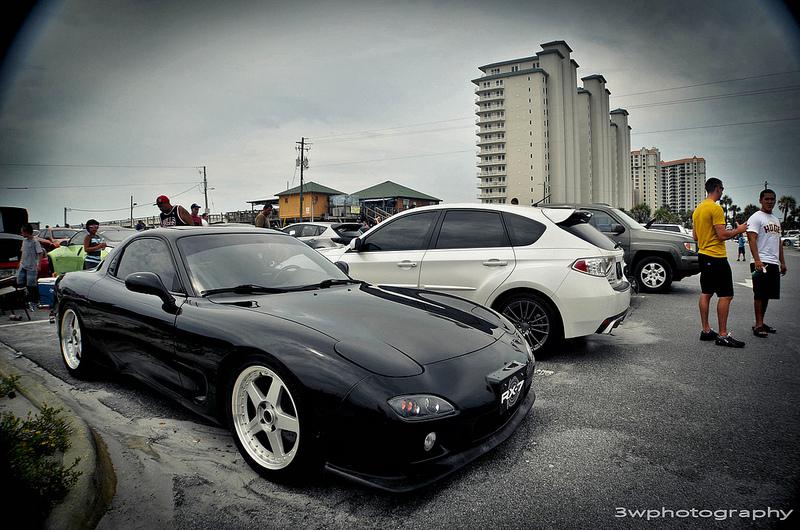 So its been a while since I have done anything to the car....time for an update.
Yesterday (Sunday 28th), Dale (local rx-7 guru) and I started pulling the motor. Started at about 10am and finally got it out and took of most of the accessories about 1ish pm. We should have a list of stuff to get and the motor taken apart on Tuesday. Gonna be a busy week.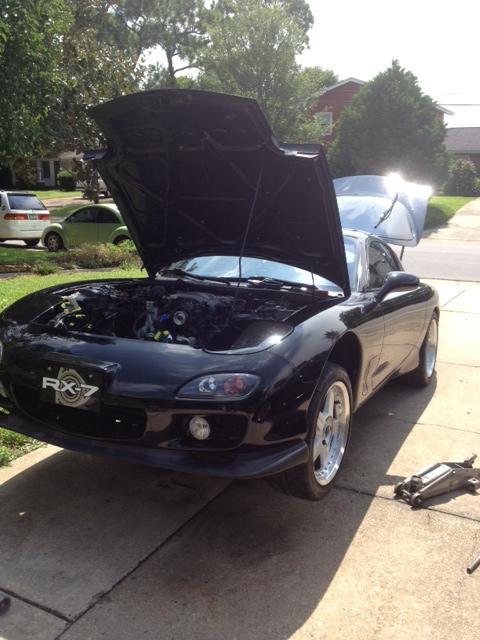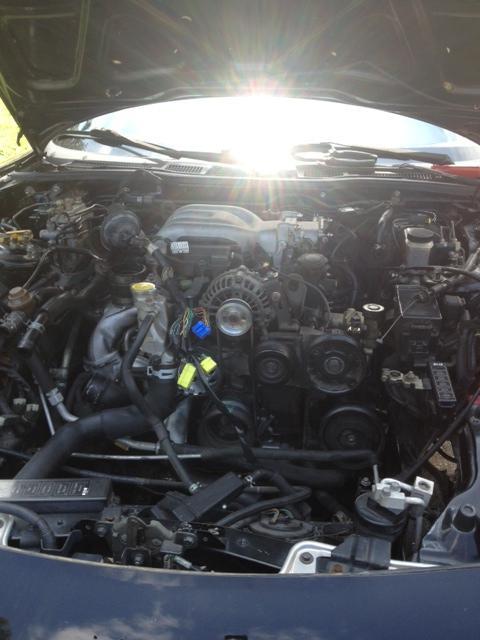 Dale the guru...lol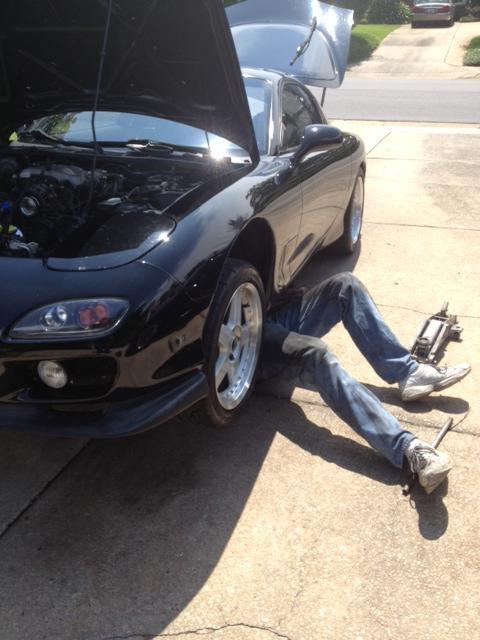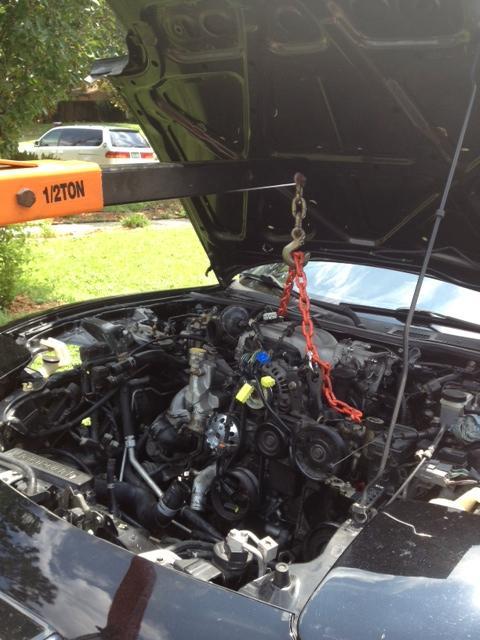 Motor finally out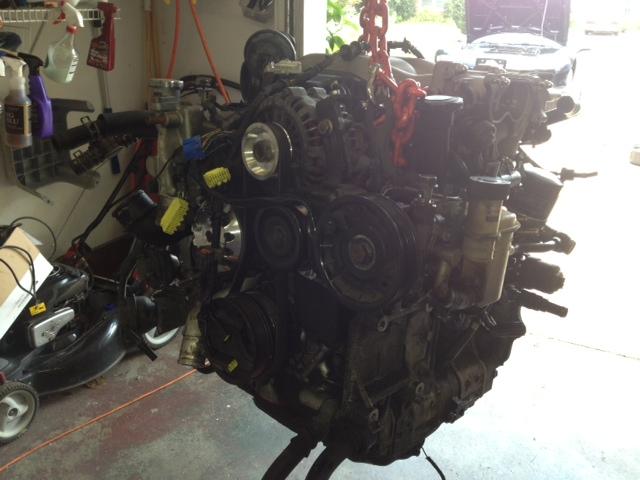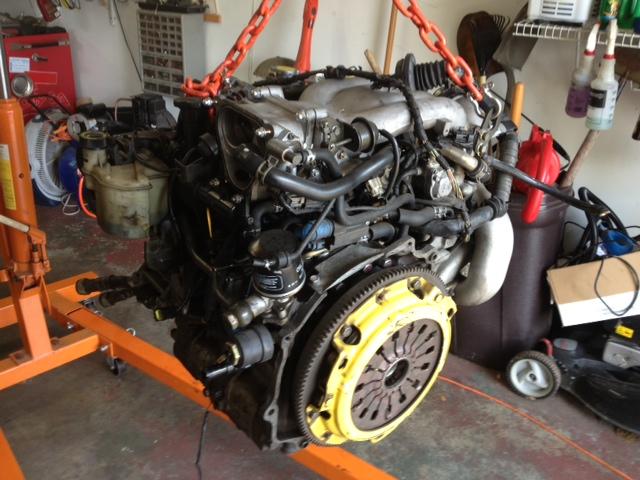 "We got no motors Ted!!!"
My puzzle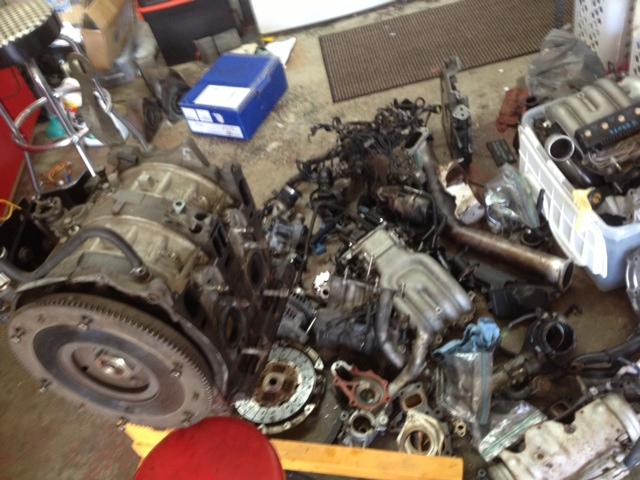 7-31-2013
Ok...so yesterday (07/30/2013) me and Dale tore the engine apart. Looks like I broke two Apex seals on the front rotor. Gauged up the front rotor housing and front rotor a bit....so Im on the look out for those parts now.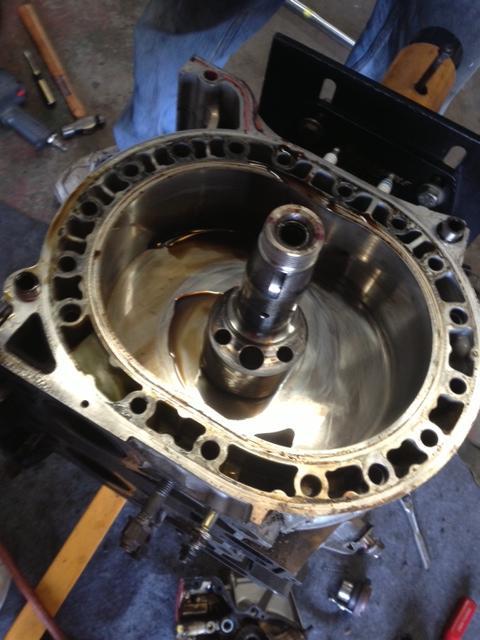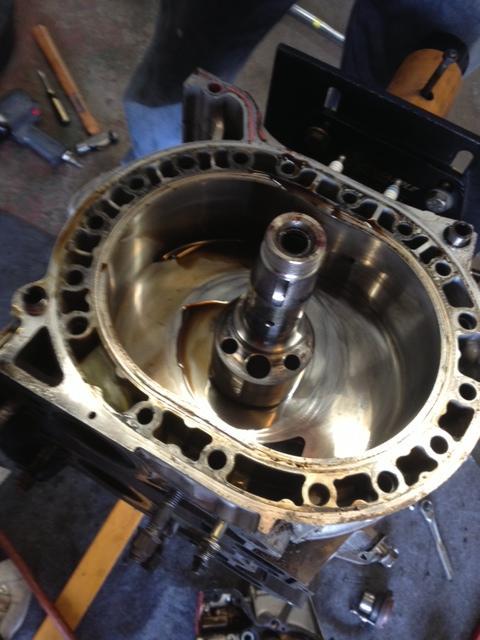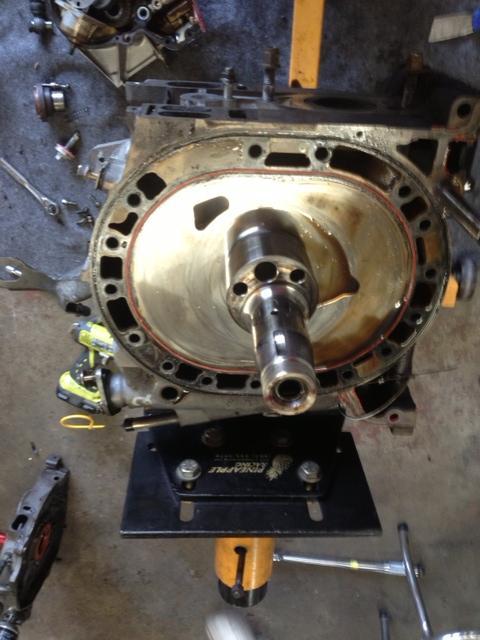 This is the culprit that was giving me issues...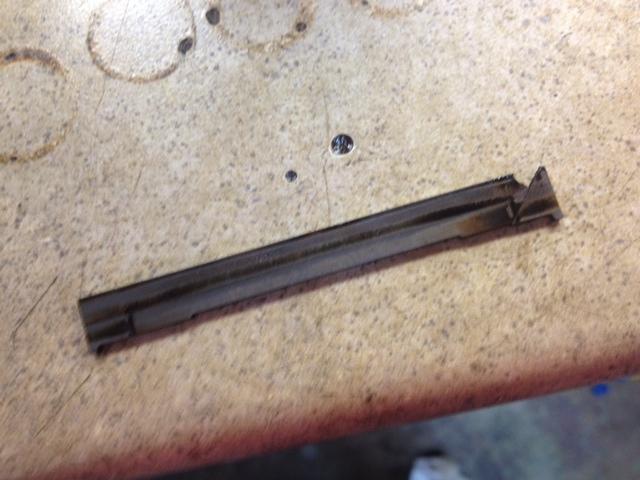 Spicy Doritos....yum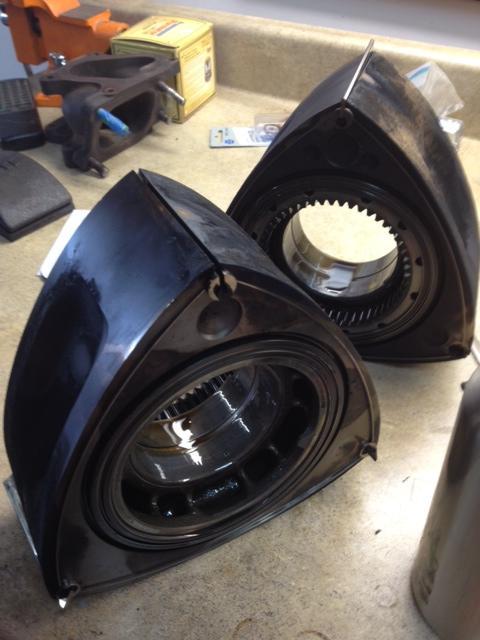 Everything else is in really good condition (thank goodness). Should be giving all the parts a good clean on Saturday. Until then, I will be looking for the replacement parts.
8-1-2013
Update....ALS seals ordered. Still looking for a new rotor housing and rotor.
8-4-2013
For sure man....its always good to find and fix an issue with the car. Yeah there are quite a few of us in Pensacola. Dale is the local guru here helping me out with the car/motor build. It has been an awesome experience.
Update (8/3/13): Cleaned some more parts and even got some parts painted. Dale found a rotor housing....so now I just need to find a rotor. ALS seals already came in and Dale is putting together a list of seals, vacuum houses and other stuff we will be needing.
Before and after cleaning the rotors. We cleaned everything even more.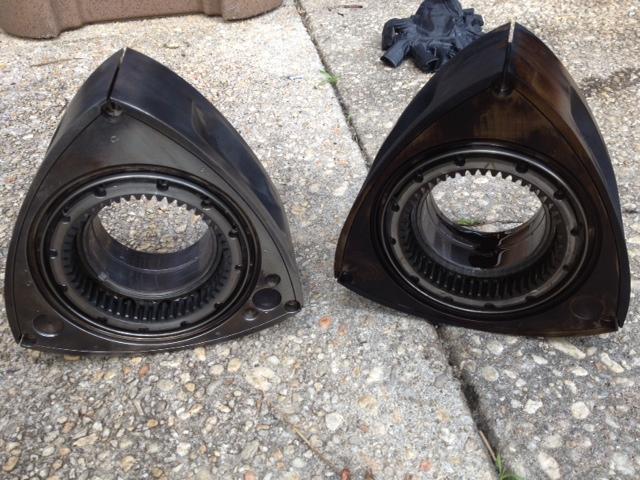 Engine Bay before pics.
Engine bay after pics.
Parts cleaned up.
Before Paint.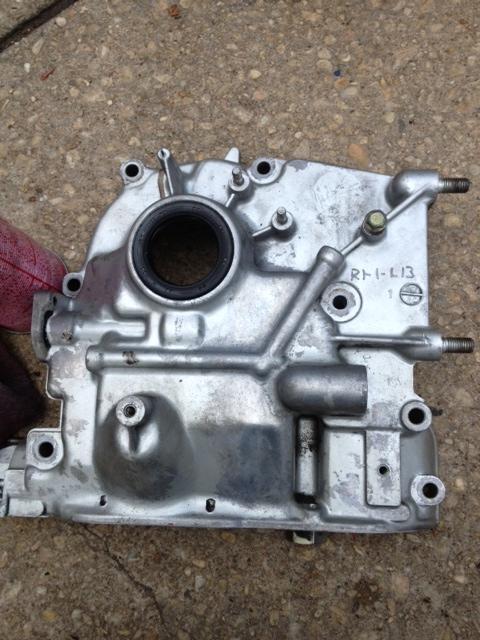 Prep for paint.
After paint...Gunmetal (paint still wet)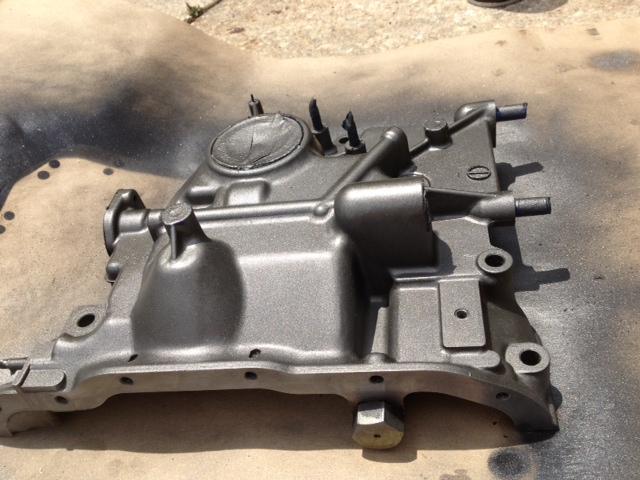 Dale the Guru working on my turbos...his car in the garage.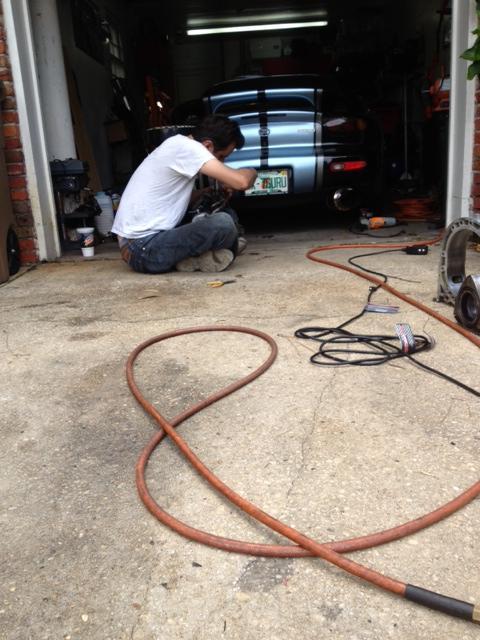 And last but not least my trophy...lol. Bad rotor housing and rotor.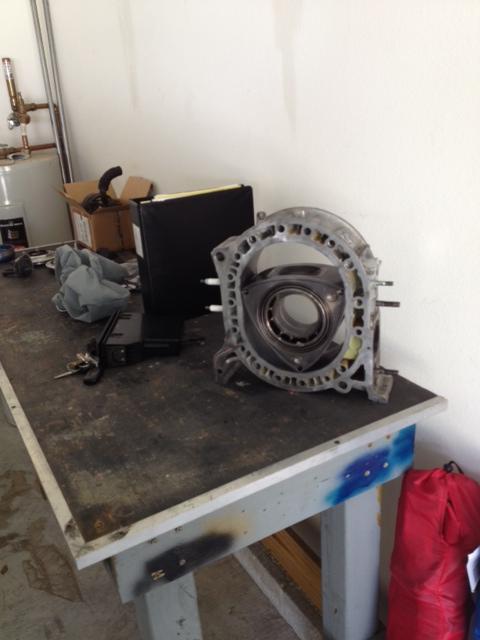 8-5-2013
Update: Ordered a crap load of seals, vacuum hoses and other misc parts. Now for the wait. Still looking for a good condition rotor
8-7-2013
Finally received my first set of parts. Should have more coming in between now and Saturday to start putting the motor together.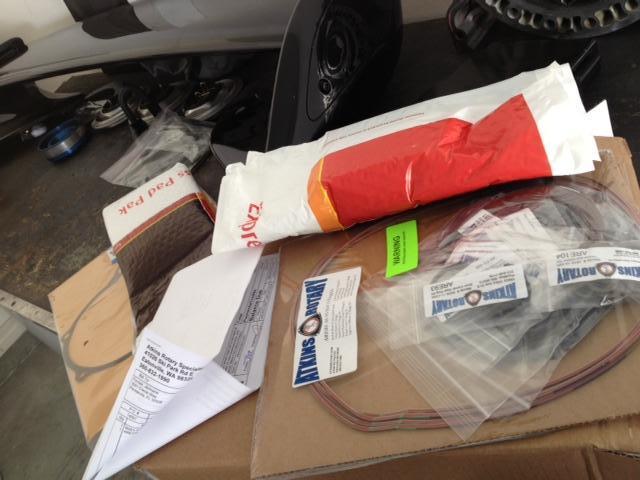 Atkins Rotary: Gaskits, O-rings, rotor bearings and other misc seals and stuff
8-8-2013
More parts from Ray at Malloy Mazda. Gaskets, Hoses, AST delete and few other misc stuff.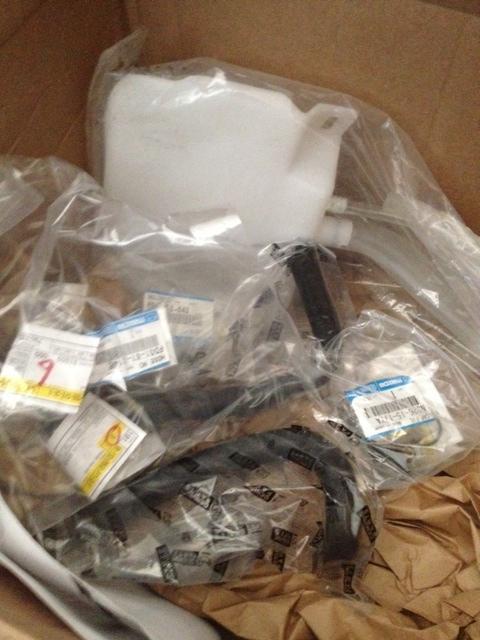 8-12-2013
Update for 8/11/13: Dale did an amazing job on a lot of the parts that were there...looked almost new...lol. We cleaned and pained more parts including the engine bay. Cleaned up the engine harness and installed a few little things just to do it. Still waiting on more parts to show up this week so that hopefully we can start assembling the motor.
Installed the Banzai block off plates for emissions delete (No body have time for dat!!!)
Got some of the engine bay painted.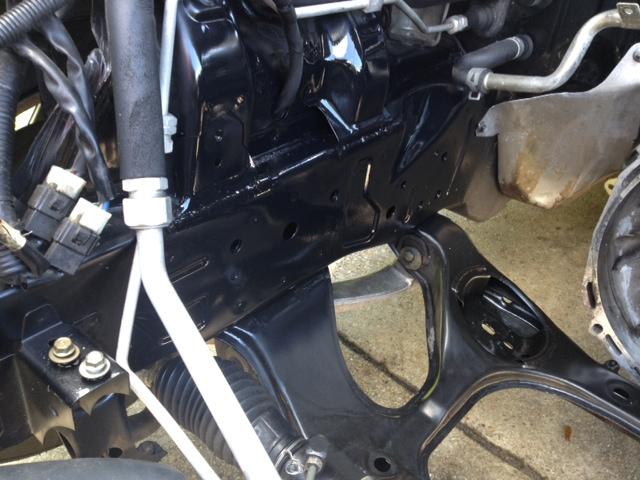 Painted the A/C compressor pulley. Was rusty and chipped all over.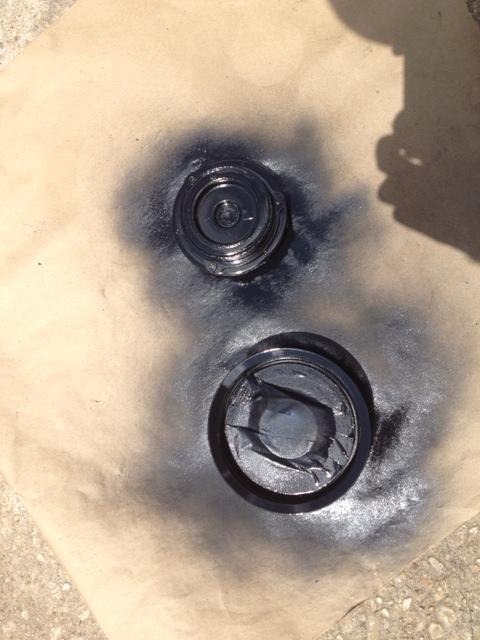 Painted a few other misc parts and A/C lines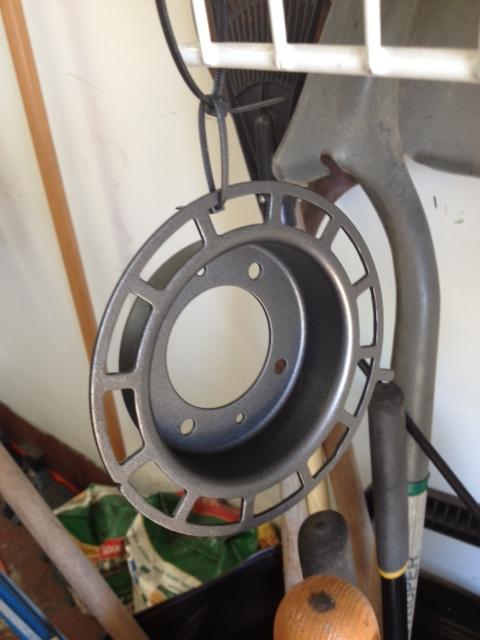 Wiring harness falling apart and needing some love.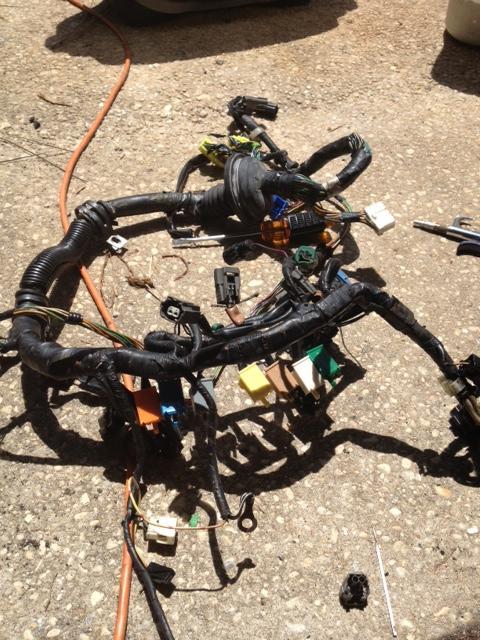 Dale going through the harness...also deleted a few things we will no longer be using.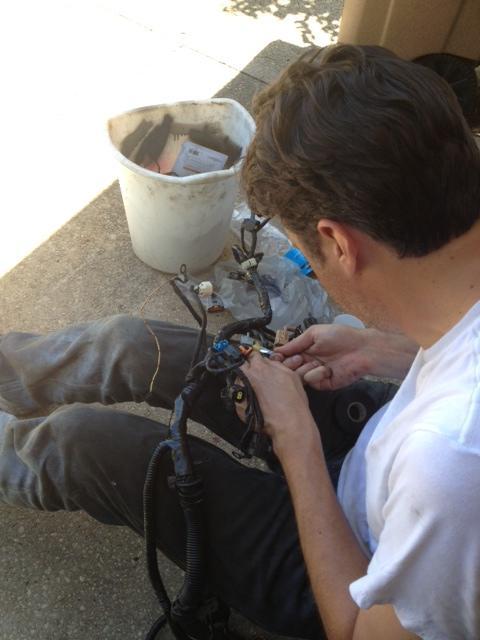 All cleaned up and pretty again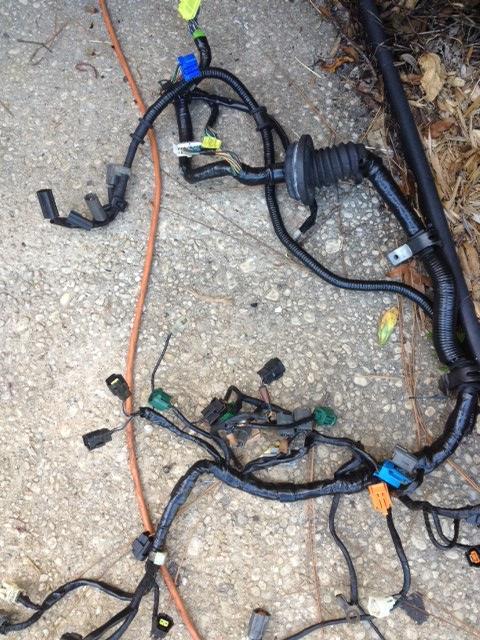 New windshield washer and coolant overflow tanks...the other ones were yellow and cracked.

Soon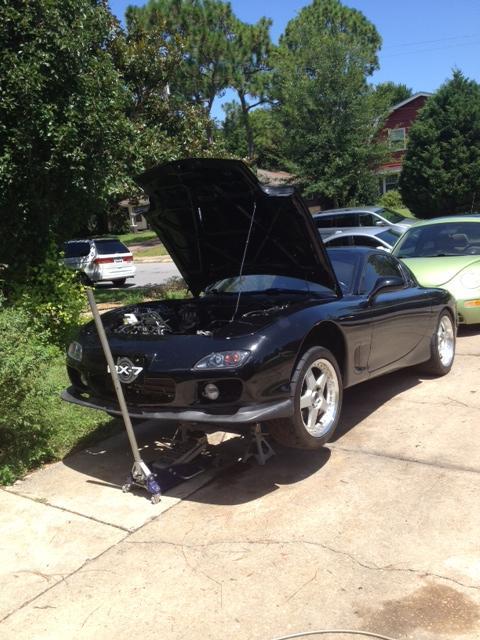 Still waiting on more parts. If they all come in this week...we can start putting the motor together by the weekend. Fingers crossed.
8-12-2013
Also forgot to mention...I picked up the downpipe. Had the wideband bung welded on.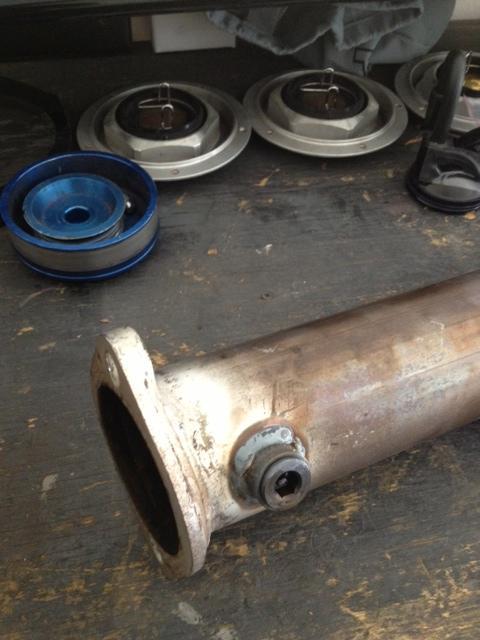 8-19-2013
Update for 08/18/13: I got the new rotor I was waiting on...but it seems that during shipping they may have dropped the box. The corner where the seals goes were out of round and the rotor was out of spec. Got in touch with another local rx7 owner and lucky enough he had two motors that he was taking apart to make one good motor, so I made a deal to break down both his motors to get the part I needed. We pretty much did that all Sunday. Dale did an awesome job painting and cleaning up more of my stuff while I was out of town. The motor is officially going back together this week and hopefully we can have it in the car by the weekend. On to the pics.
The bad rotor. The corners are usually round...this is just one of the corners.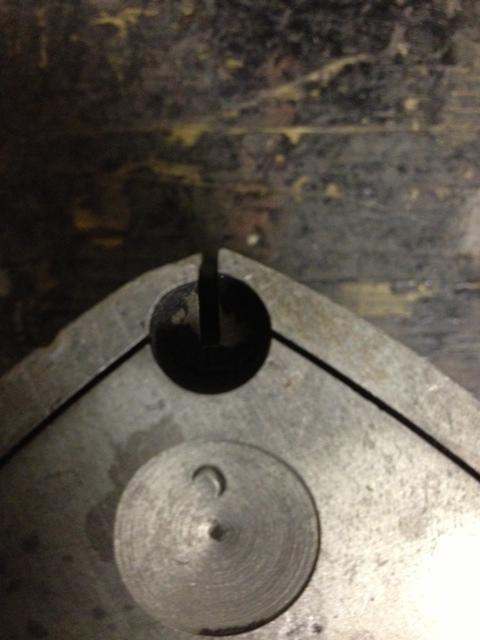 What two broken down 13B motors look like in a minivan lol.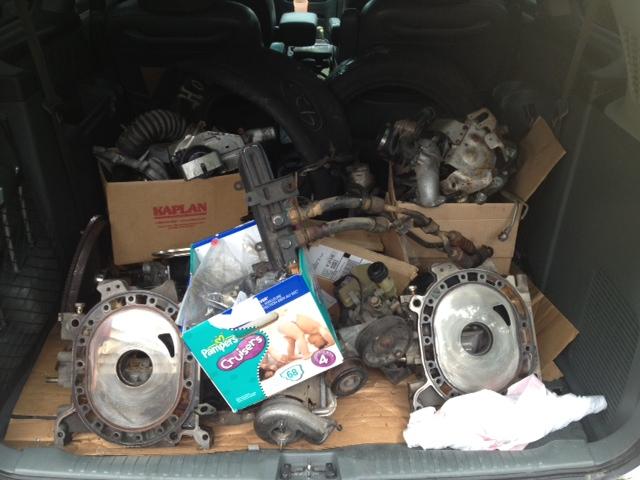 Painted and cleaned a few more parts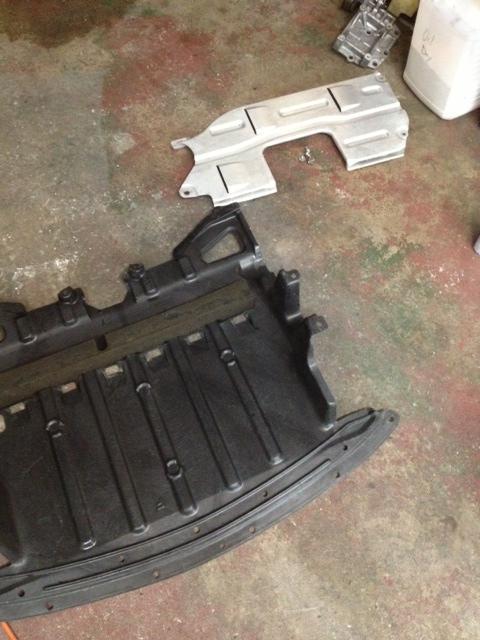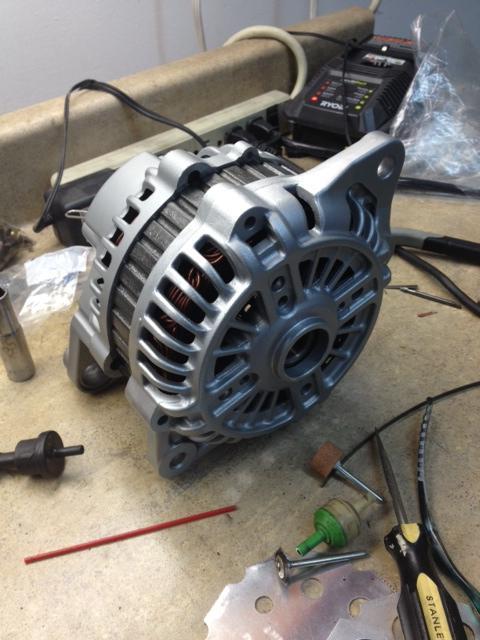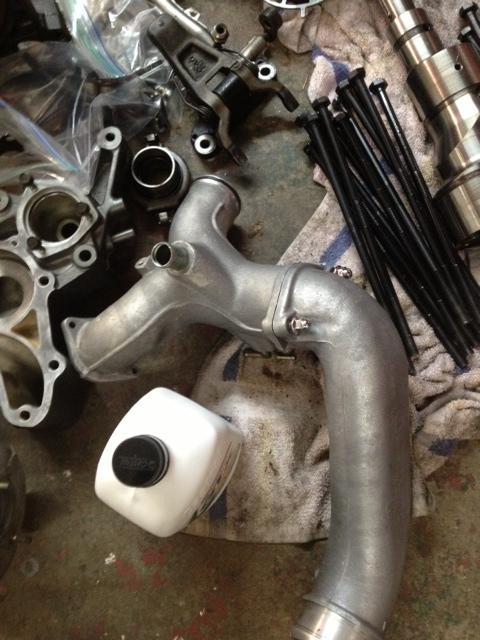 Got my motor mounts today. First time ever receiving candy with my car parts. Hmmm...lol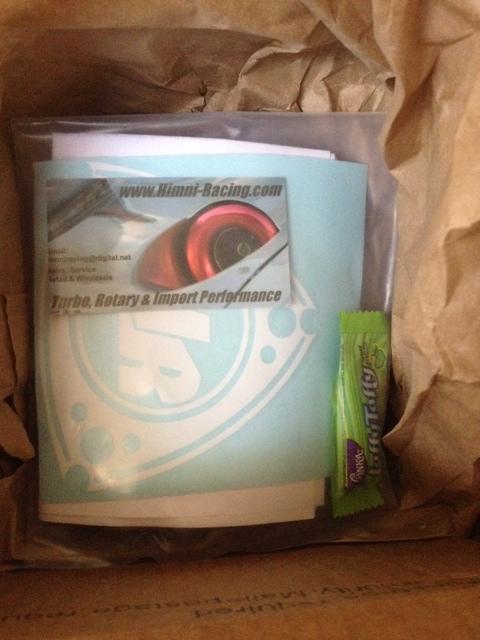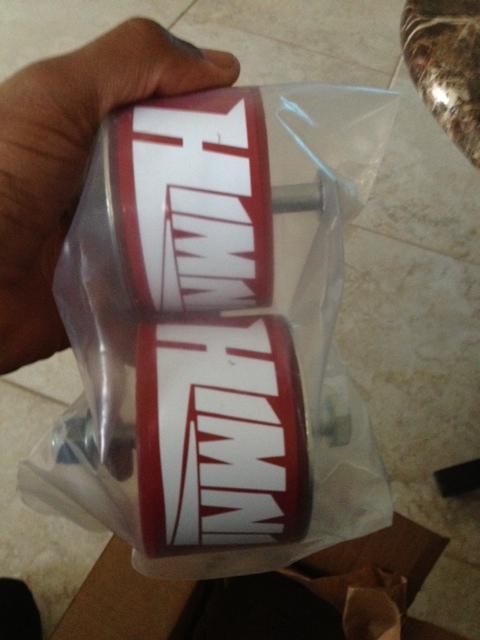 Dales car and mine in the back ground.
8-25-2013
Update 08/24/13 and 08/25/13: Dale got all the rotor seals and springs installed this week....so we went ahead and started putting the motor together this weekend. On to the pics: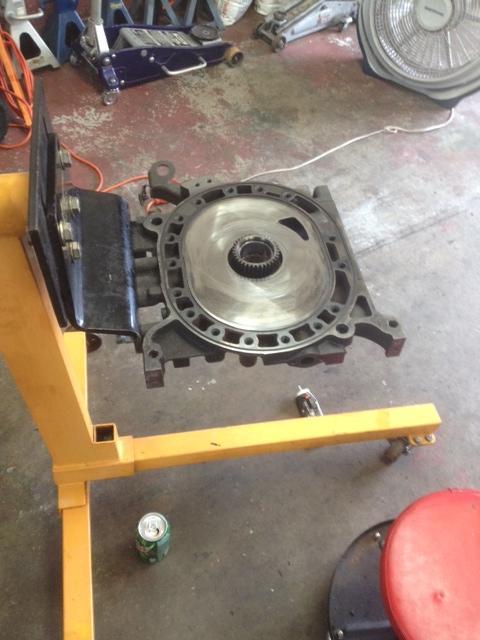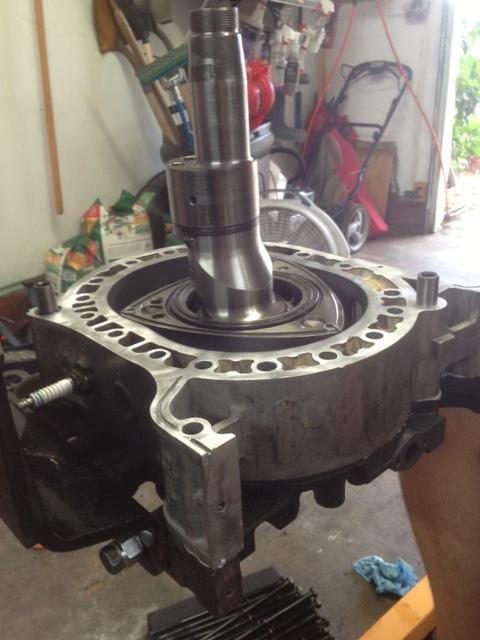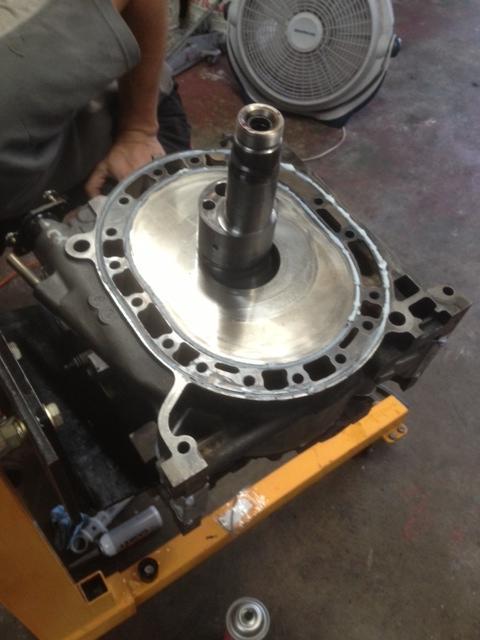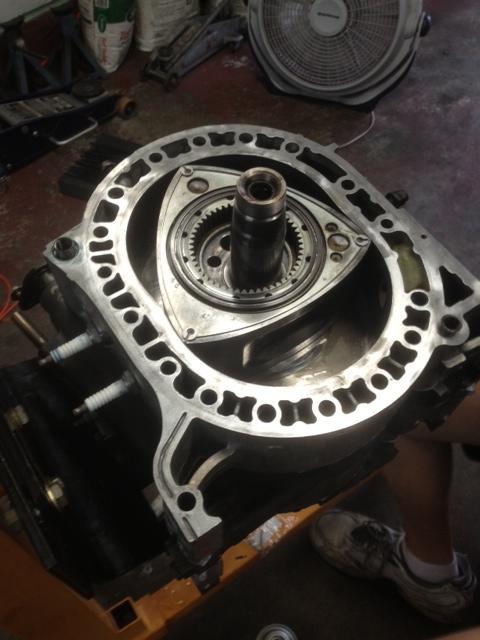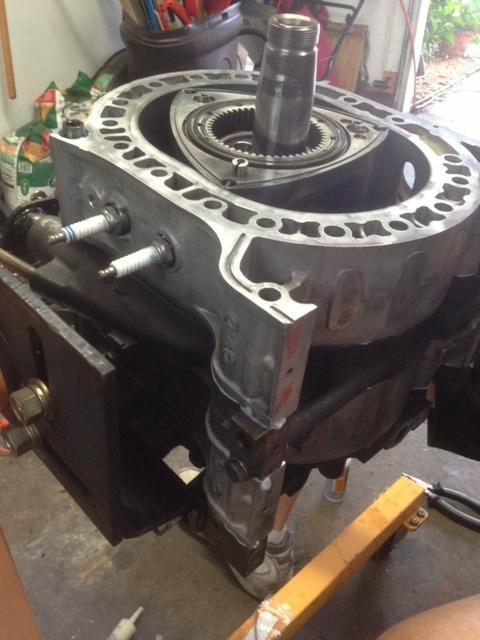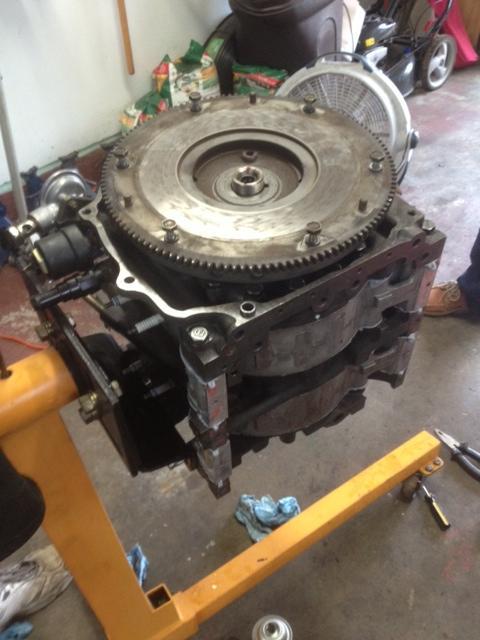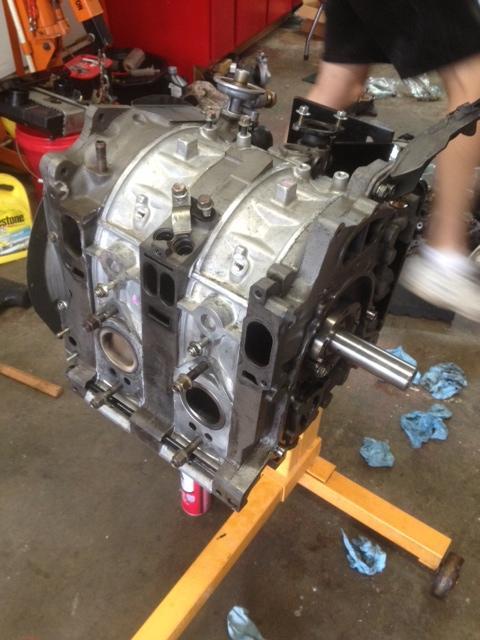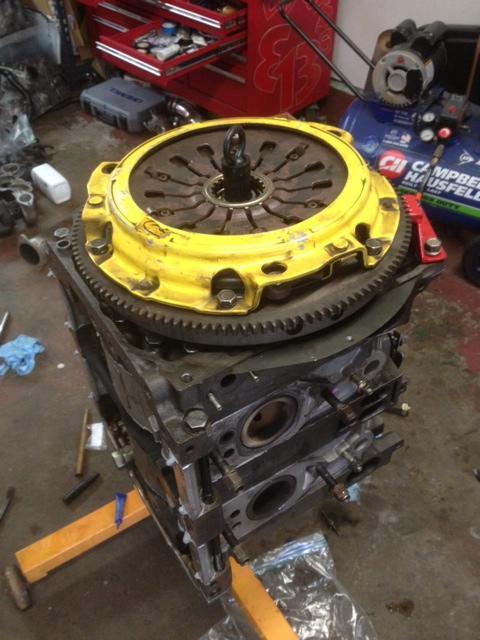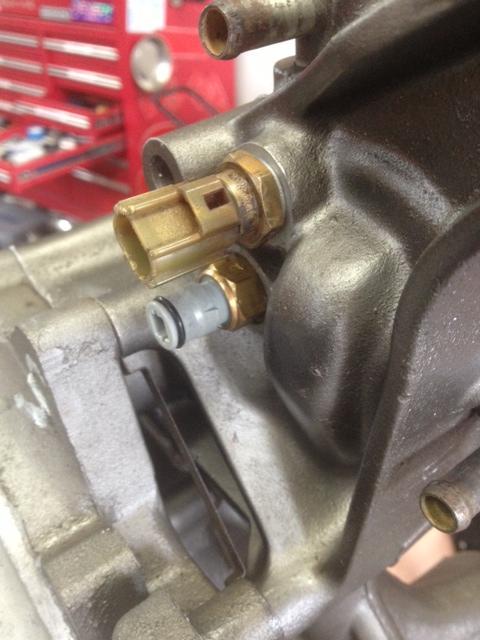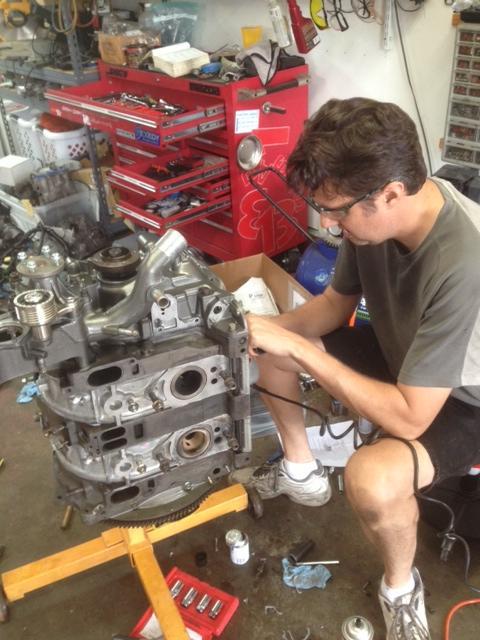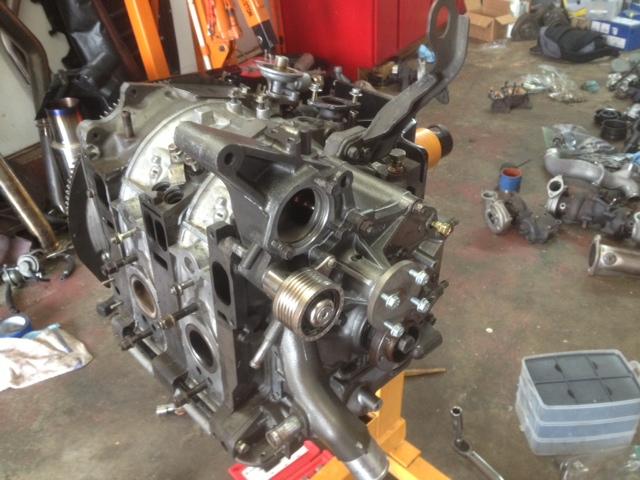 Sunday 08/25/13: Long day today. Got a lot closer than I thought we would. Had a few more things to fix on the harness and started routing the new vacuum lines. More pics: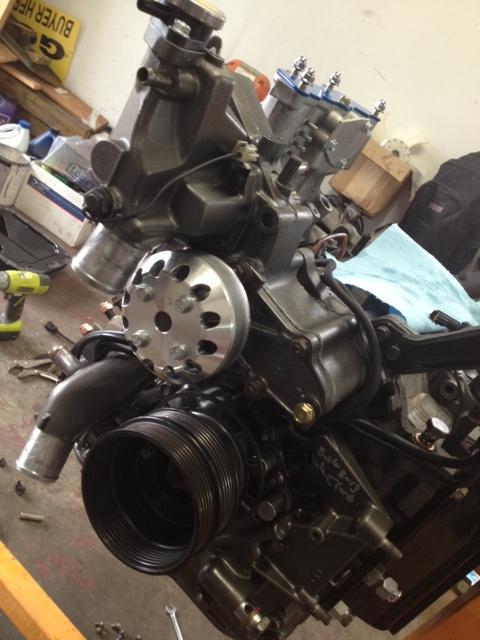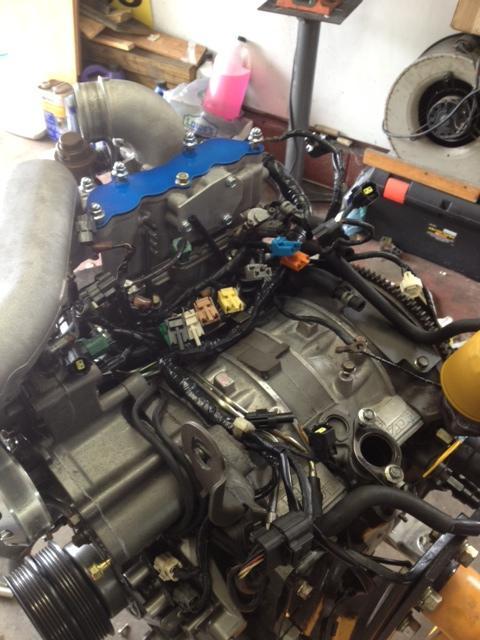 The Guru checking the vacuum line diagram
Less parts...woohoo
8-28-2013
Mid week update. Got the alternator back from B&M and the motor is fully ready to be installed. Dale worked on it some more to finalize it yesterday. Now we just need time to put it in.
Ready for install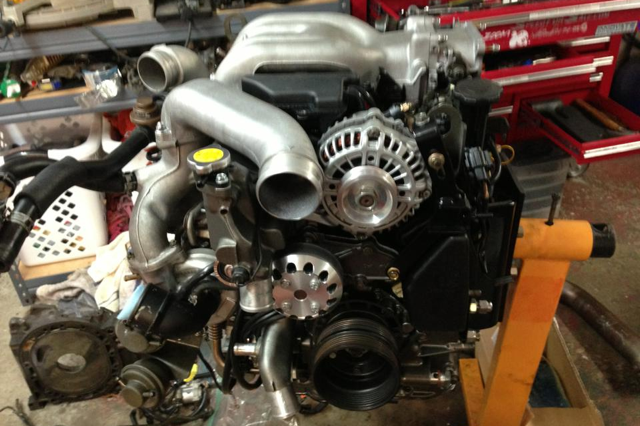 DALE is the man....or mad rx-scientist.

9-2-2013
Update 09/02/13: Dale went over the motor one more time to make sure we were not missing any important stuff, new plugs and wires installed, dropped the motor in, downpipe/exhaust installed (pain), harness installed and buttoned up a few more things before we both ran out of steam. Still have to install Apexi-FC ecu, intercooler, all fluids, intake and start/tune car. Wednesday we may go at it again and hopefully get a few more things crossed off the list. Getting closer.
Finally off the engine stand
New Viton check valves installes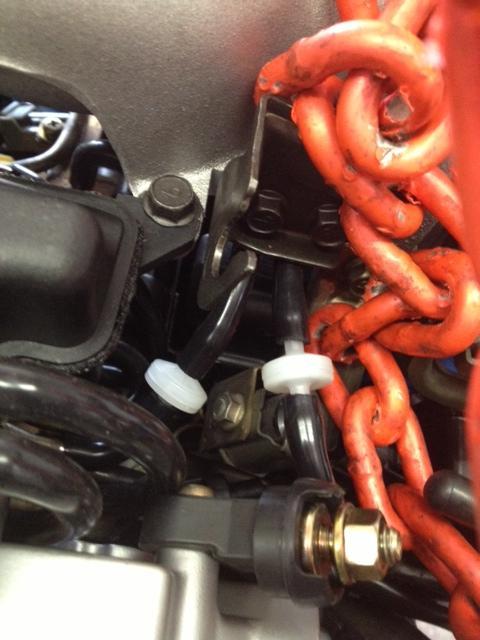 New NGK spark plugs and wires installed.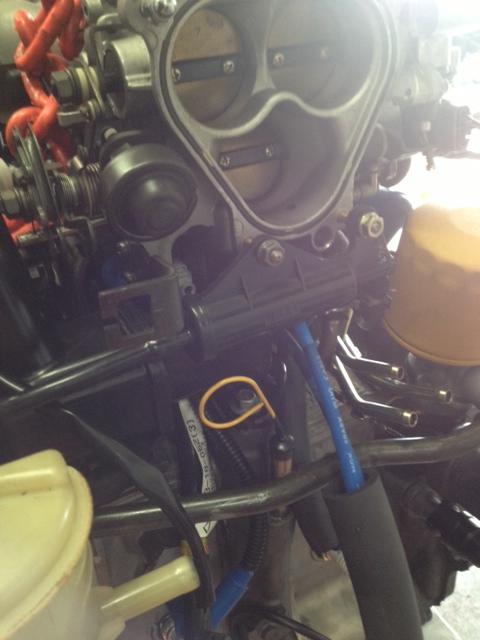 Ready to drop in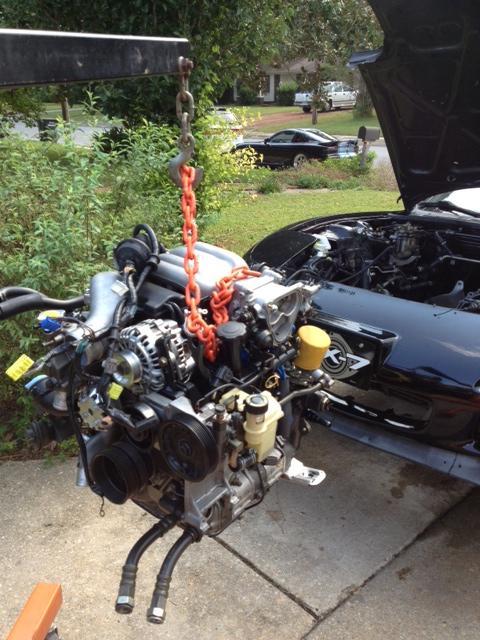 All snuggly and junk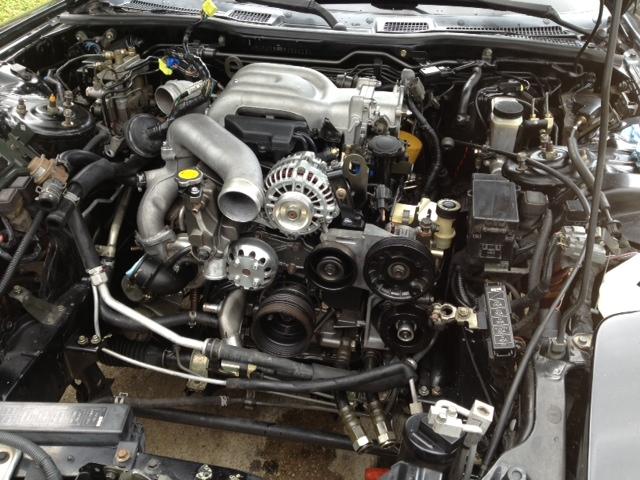 Belts and everything from the Tranny, down pipe, up to the intercooler installed and buttoned up.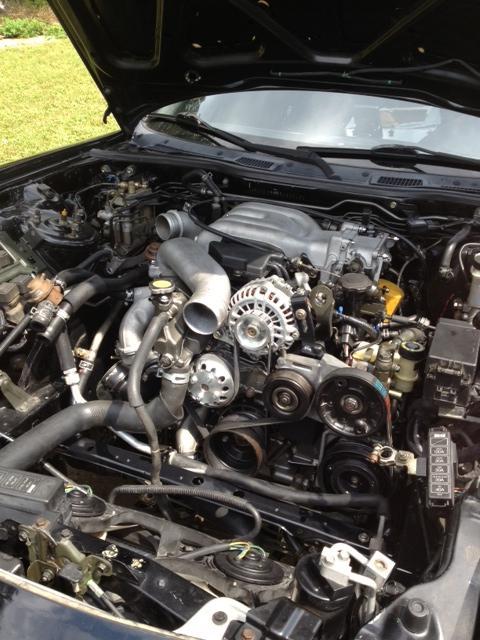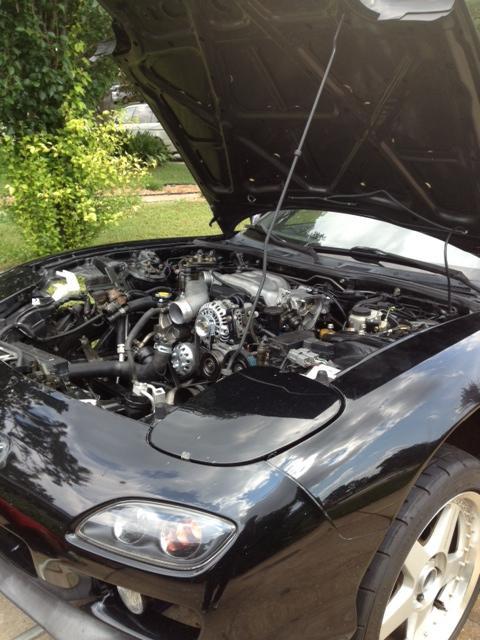 Motor in. Front suspension should settle a little more and sit lower.
9-6-2013
Update for 09/05/13: Ok so Dale did a little extra work to the car to make sure we had no leaks. Still have a few extras to do, but as of now, nothing major. The car has officially started. He had already pressure tested the fuel system and cranked to build oil pressure. Those ALS seals seat VERY nice on startup, starts nice and easy, no flooding/hard start issues. Needless to say, I am very excited.
Test fitting the intercooler and getting fluid in the motor.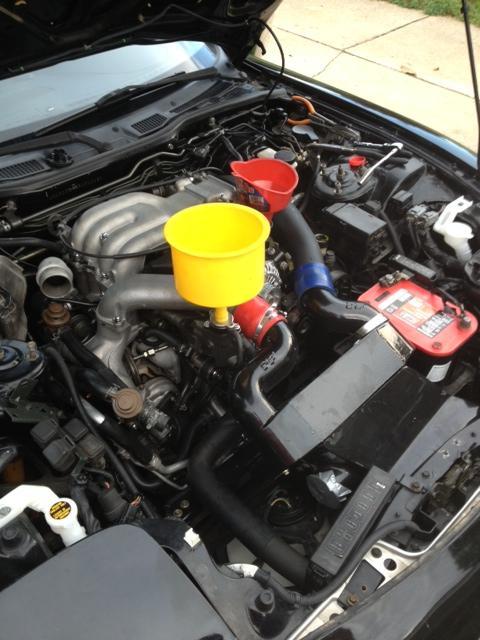 Twins all snuggly. Probably never see them again with the intake in the way.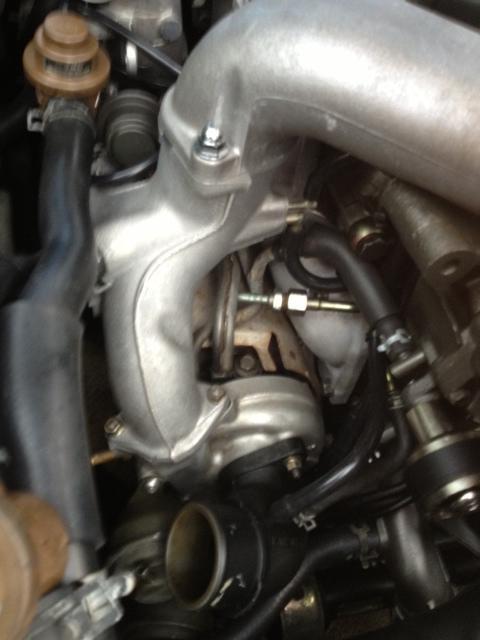 The first official start video
http://s229.photobucket.com/user/supra_7/media/Bat%20mobile/z81_zps2f094e95.mp4.html
Getting her up to temp.
http://s229.photobucket.com/user/supra_7/media/Bat%20mobile/z82_zps2113b229.mp4.html
Soon Soon....cant wait to drive her.
Thing left to do: Fully install intercooler. Install intake. Change oil after initial road test. Install a few fittings. Adjust the power FC.
9-9-2013
So as some of you know I have been driving the car this weekend trying to put some miles on it to break in the motor/seals. Everything is working very well so far (knock on wood), still no leaks, temps are better than normal and its very fun to drive

. I have more stuff that I will be ordering and working on....but for now Im just gonna drive it and enjoy it. 1k mile break in takes forever.
Update for 09/07/13: Installed intercooler, intake (pain in the @$$), temporary couplers, checked and triple checked for leaks or just anything out of the ordinary and then went for a couple test drives. After that we decided it was time to really start putting on the miles to break in the motor. On to the pics:
Motor mount pic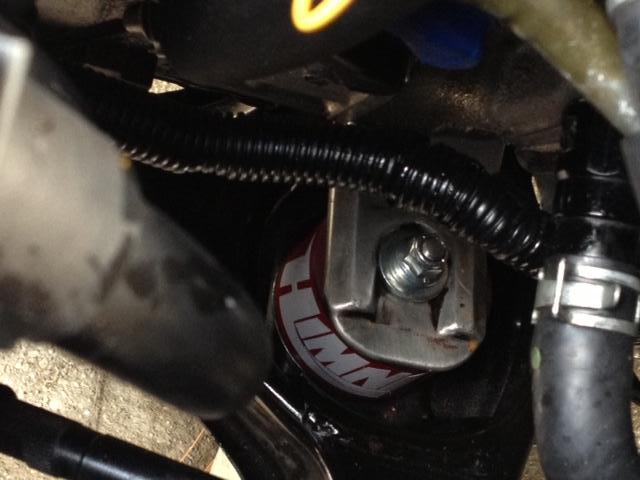 New hardware for the lip and undertray.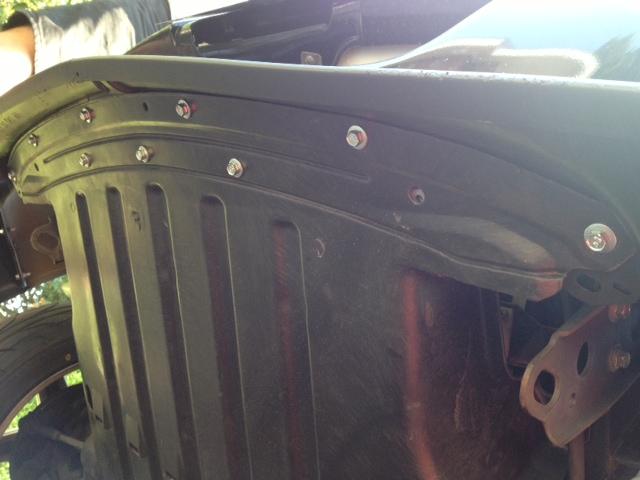 Very clean...and NO LEAKS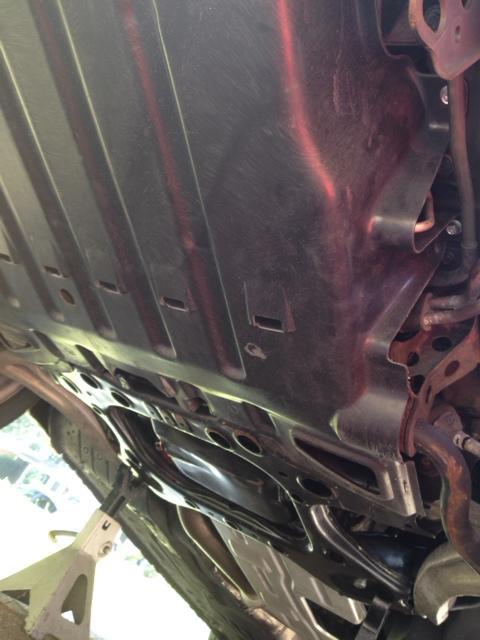 Painted the lip....doesn't look gray anymore.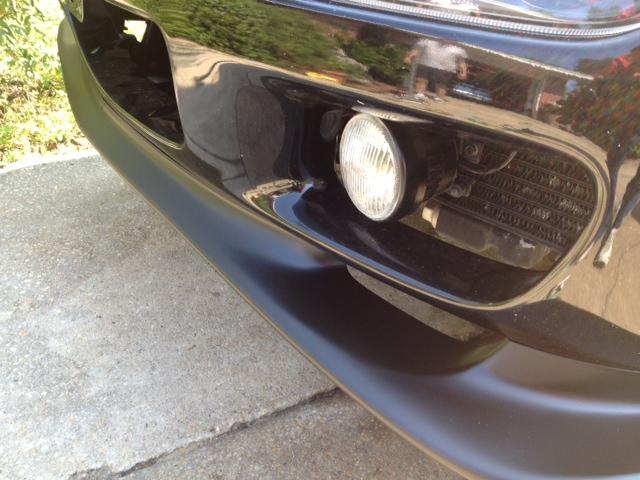 Some engine pics.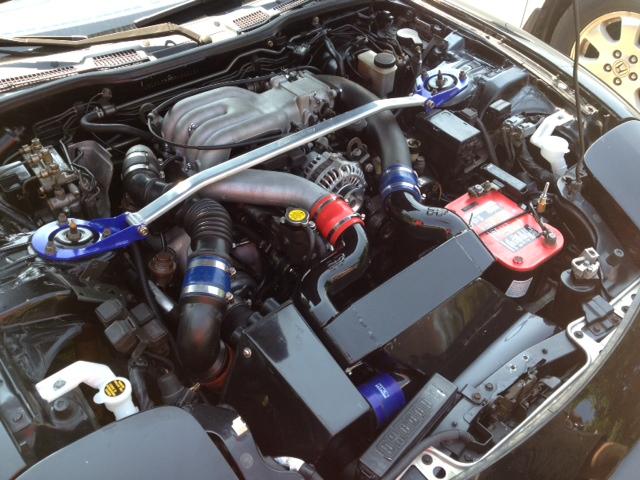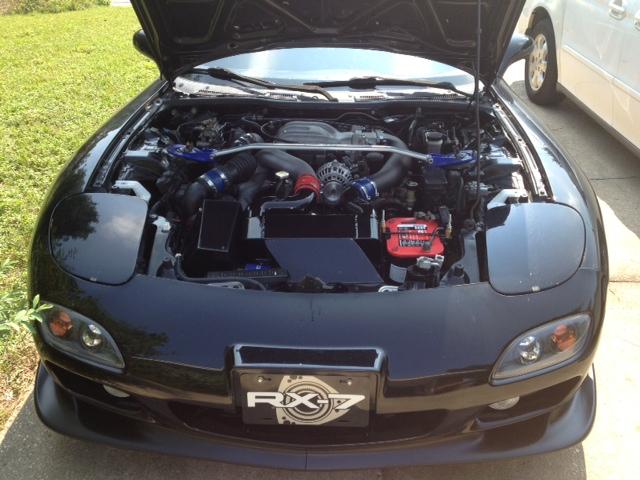 Yep...we were very excited.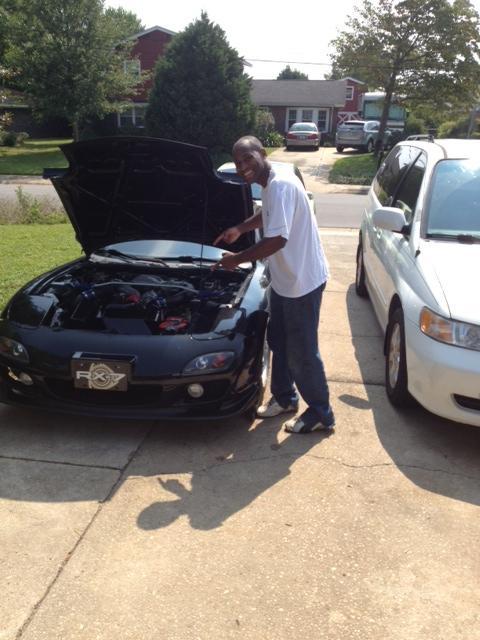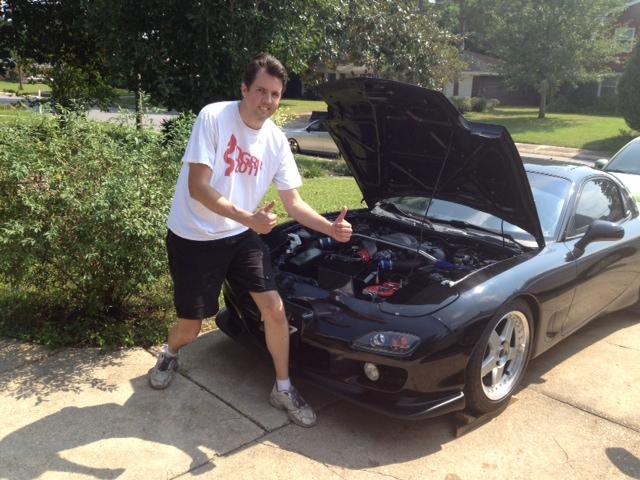 The official start mileage for breaking in the motor.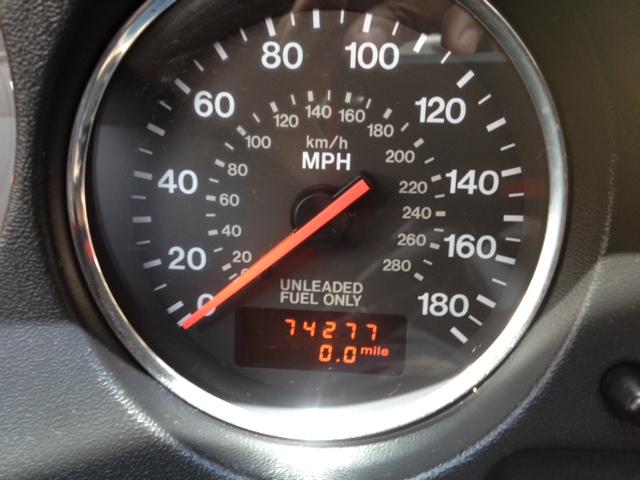 9-17-2013
Finally got her all cleaned up. Still have about 600 more miles for break in.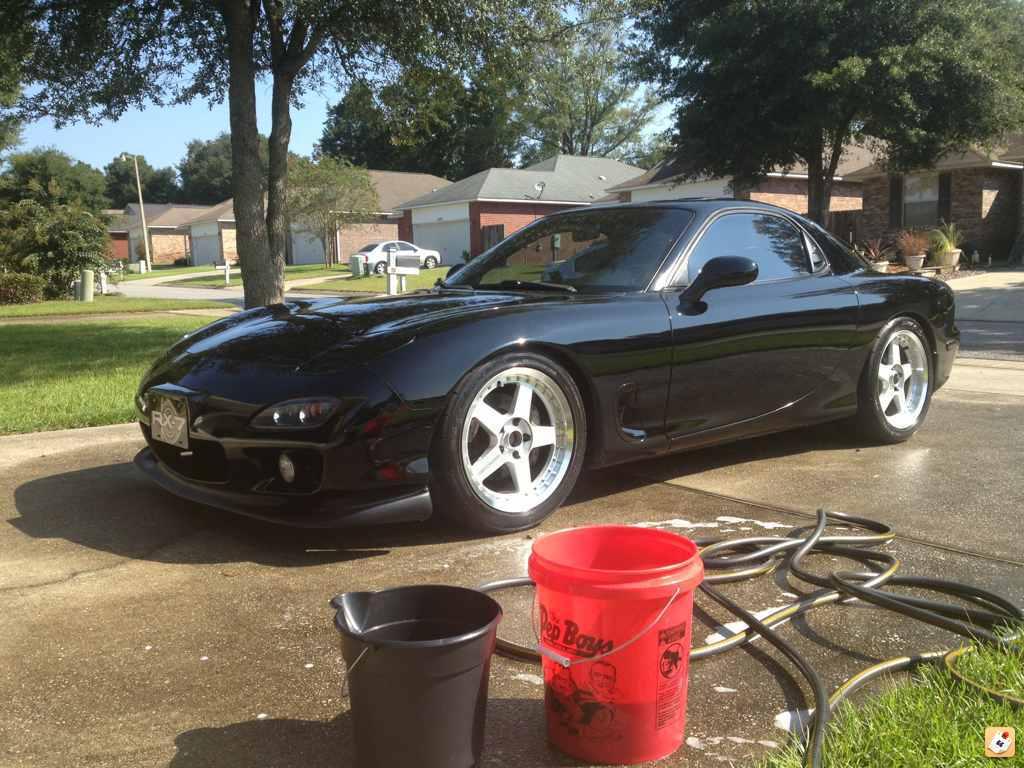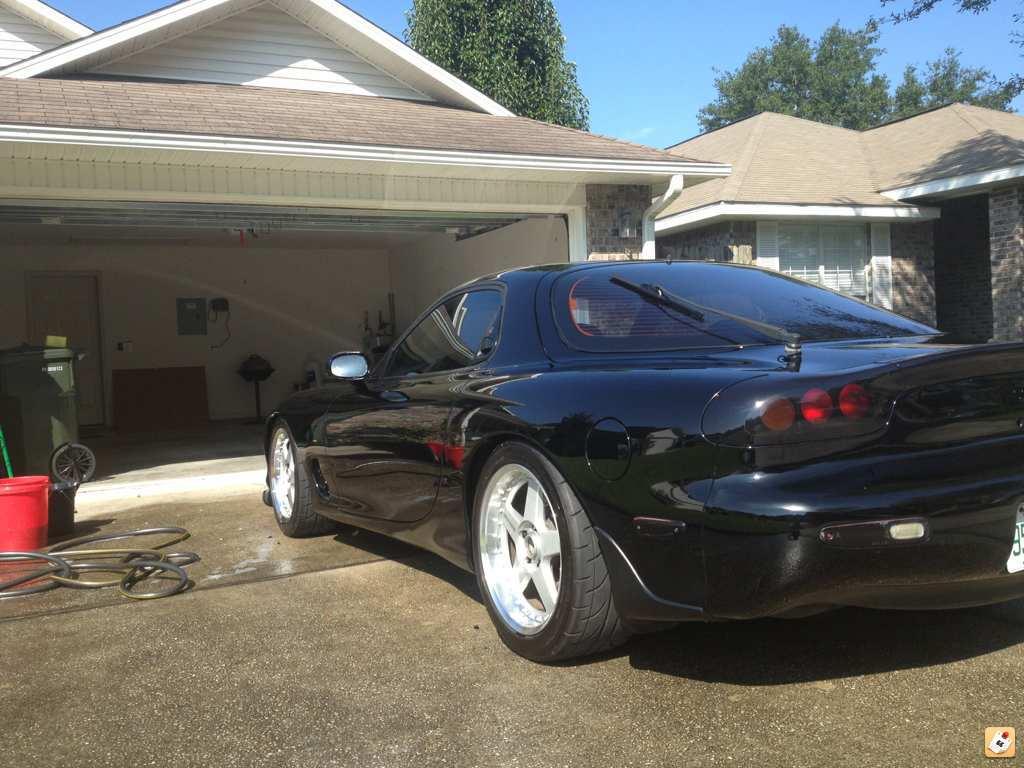 9-23-2013
Just some new pics. Got about 300 more miles for break in. Gonna get ready to pull a few small pieces like the windshield wipers and cover for paint. Still need to get a few more things to make her a little more happy once it's broken in. More to come soon....




10-2-2013
Not really an update on my 7...but some of the guys had a mod day last Saturday and I have been too lazy to update pics. I did clean the 7....but u probably wont see much of mine in the pics...lol Thanks Dale for having us.

Fixing a rear diff leak. Bad seal.
19"x12.5" ...drool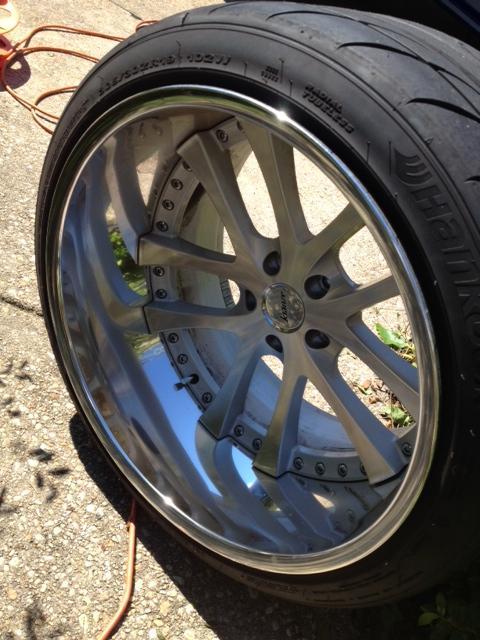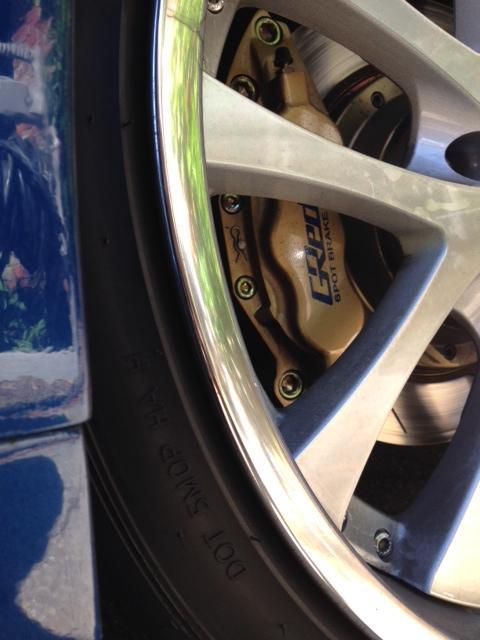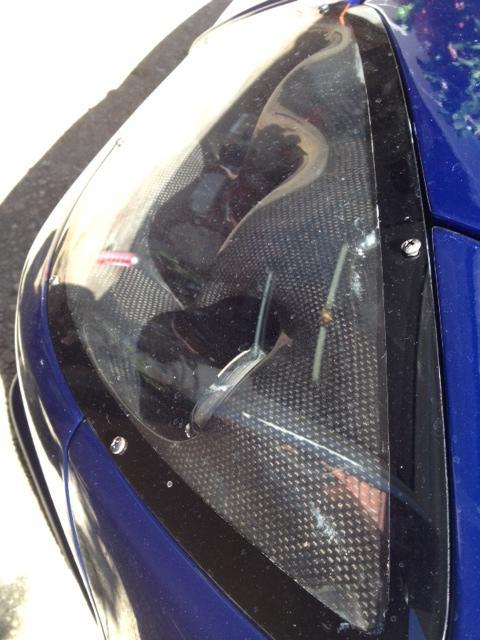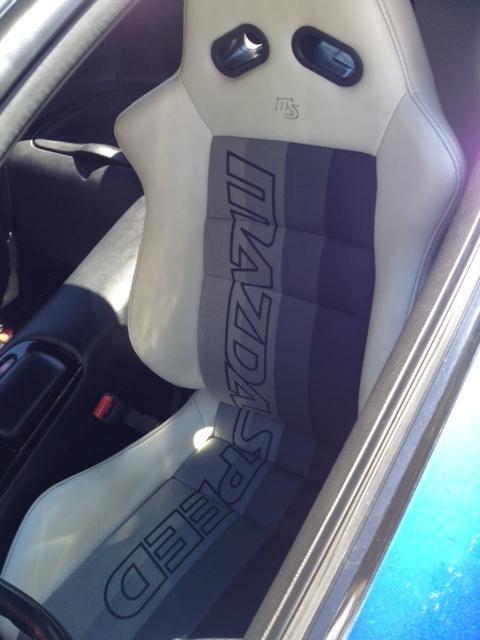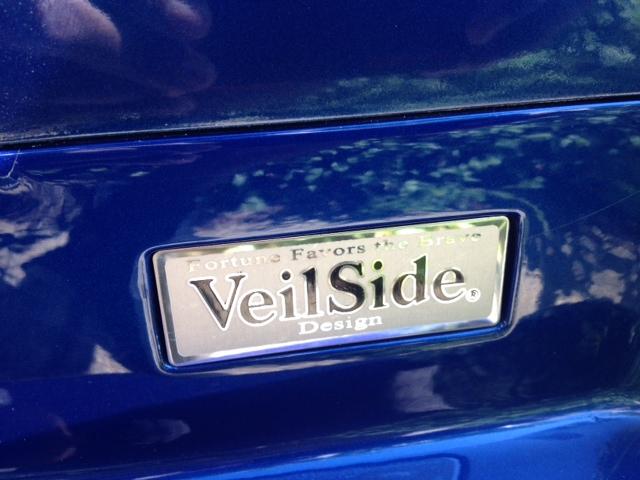 Fixing a radio issue as well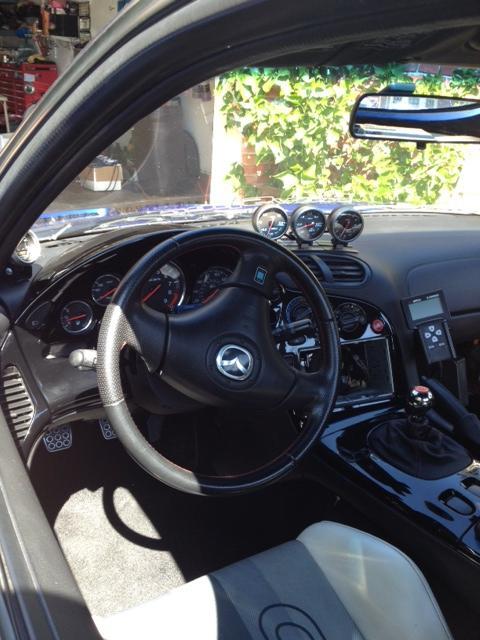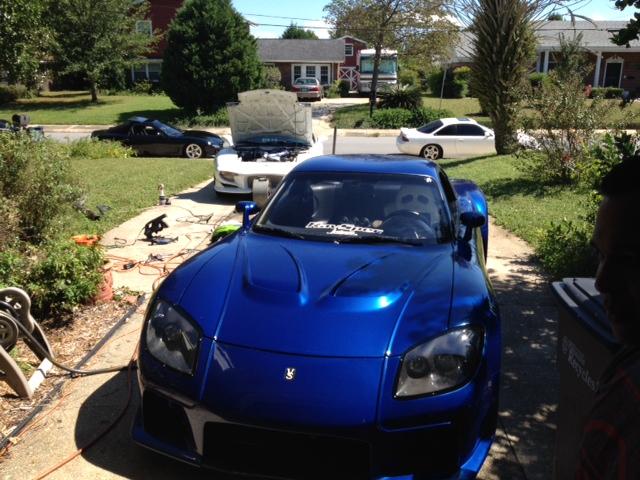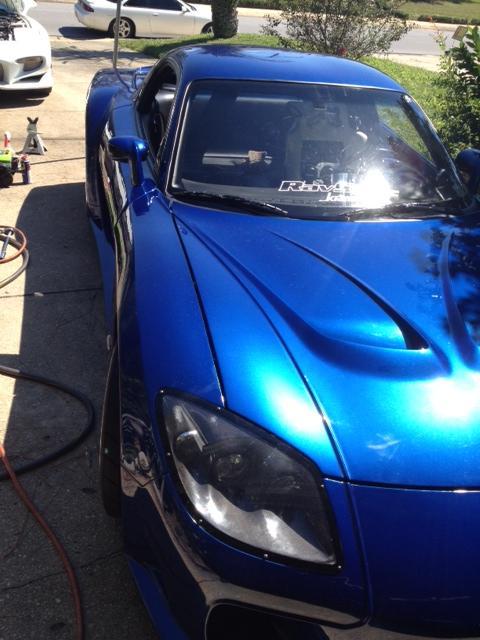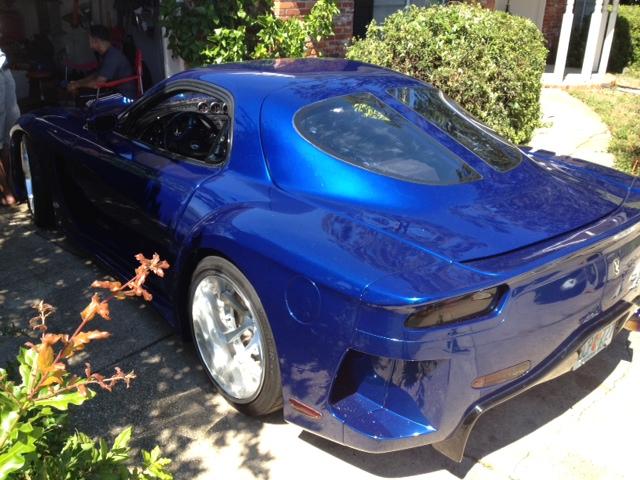 10-16-2013
Took her out a few days ago to finalize my break in.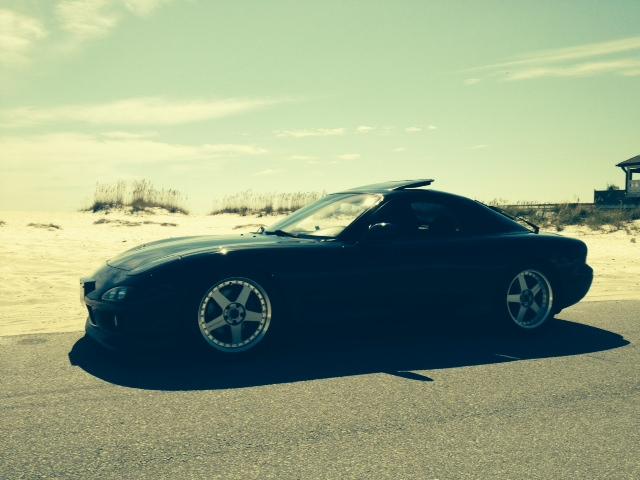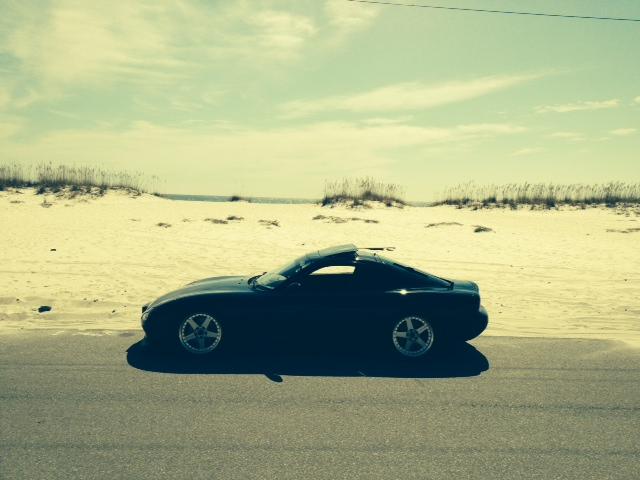 Motor is finally broken in...but now its time for some maintenance and to get a few more things before I decide to turn the boost back up (safety first)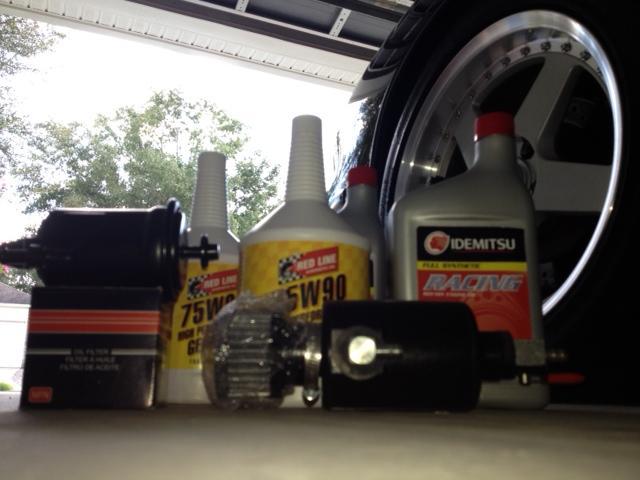 Time for another oil change w/filter, decided to go ahead and change rear diff fluid and fuel filter as well. Finally got my oil catch can in also.
10-23-2013
So got a little bored today and decided to change the intake setup on the car. The current Peter Farrell intake works great, I just hated how big and bulky it was and the fact that you had to use the stock rubber intake pipes. Plus in order to clean the filter the intercooler needed to be unbolted and moved to the side. One of the local guys upgraded his intake system and I was able to get his Greddy intake for my car...score.
Pulled off the old intake which like I said up top...was a pain in the @$$.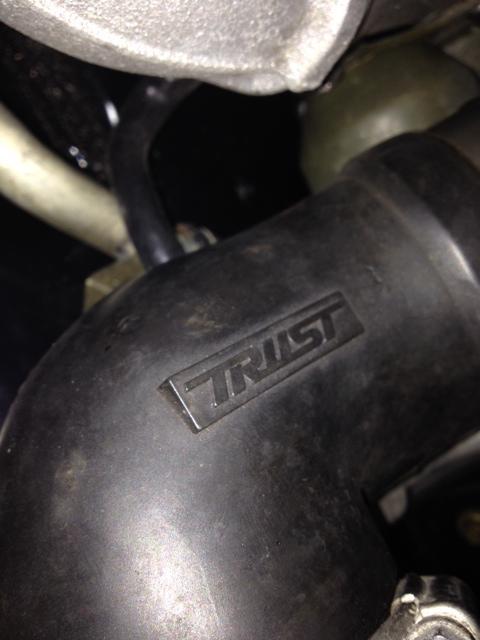 This stuff works wonders. Took me two days to clean these filter. Yes they were pretty bad. I still may get new filters later...but for now these are good.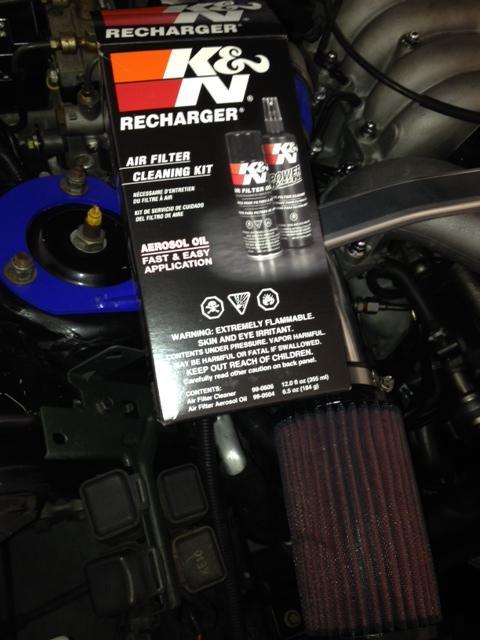 Fits great. Takes up less room. And a crap load easier to clean the filters if needed.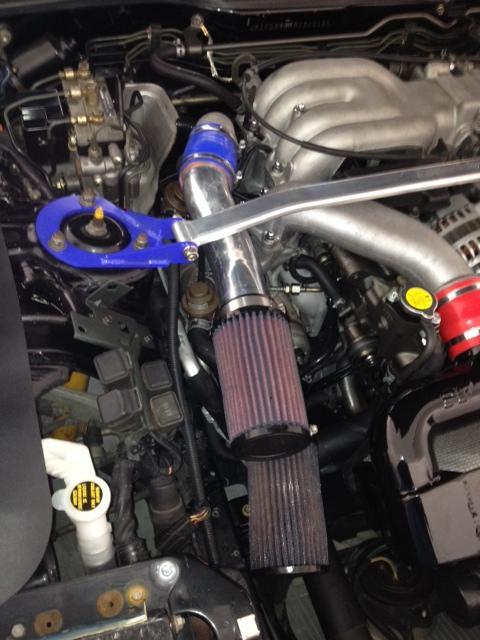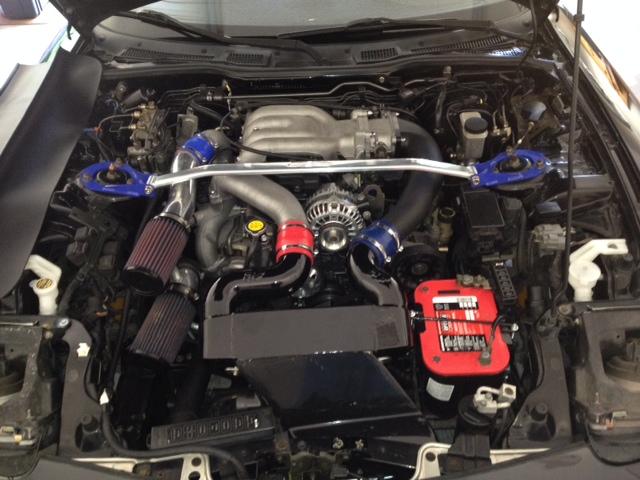 Before/after/current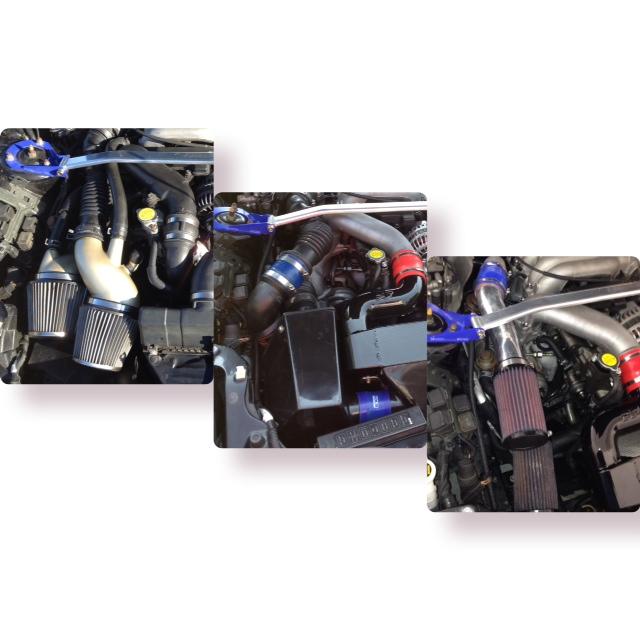 10-30-2013
Update 10/29/13: Finally got in and dropped off my new Headlight covers to be painted last Friday. Picked them up yesterday and I must say they did an amazing job. Also the first time Ive driven the car since the oil filter, oil, fuel filter and diff fluid....feels like a whole new car.
Covers after pick up.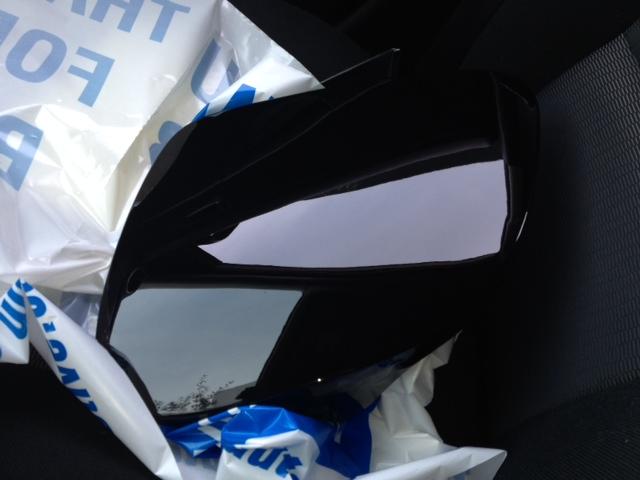 Old broken covers on the left.....New hotness on the right.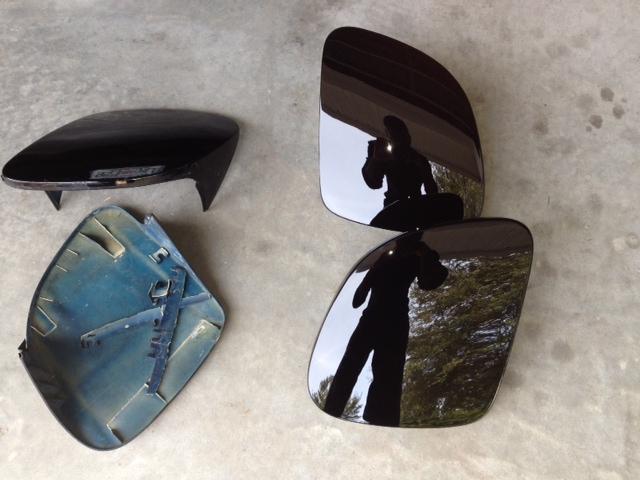 Cleaning and adjusting the headlight assembly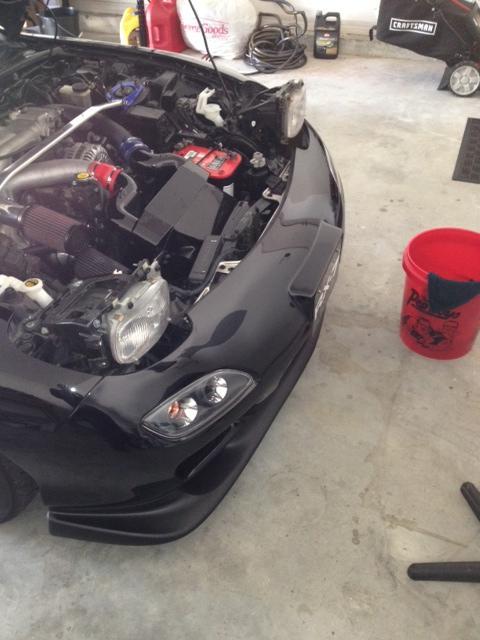 After seeing how good the covers looked and how crappy the headlight shrouds looked, I decided I needed to paint those as well.
Before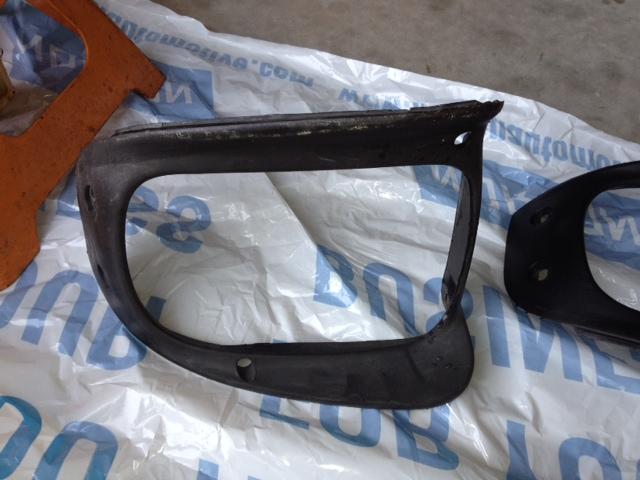 After some cleaning and first coat....Left them to dry after the second coat.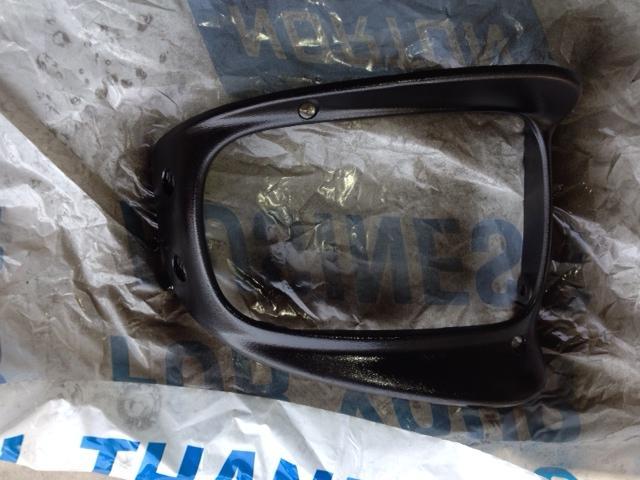 Update: Today I finished up the headlight shrouds and installed them with the new covers on the car. Unfortunately, I decided that there were a few more thing that also needed painting and kinda went a little crazy. Decided to pull the windshield wipers and the covers for paint as well. Had to do some cleaning while I was doing that as well.
Headlight shrouds after paint.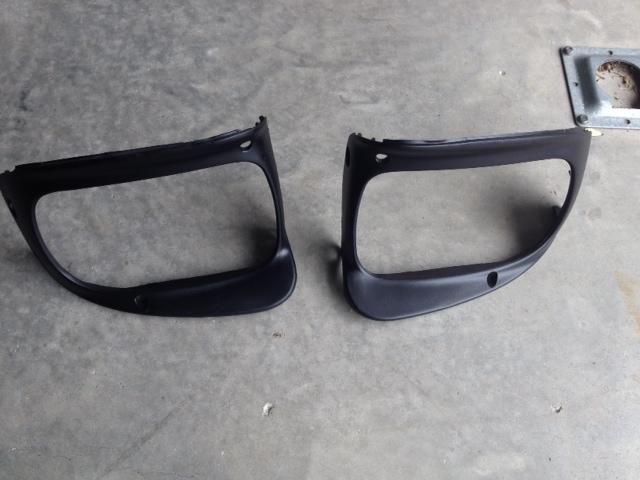 Before on the left. After on the right. I think they came out very well.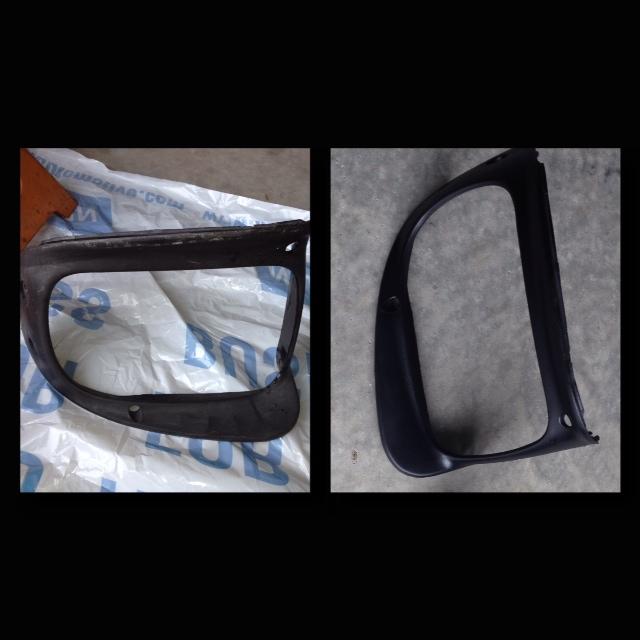 After install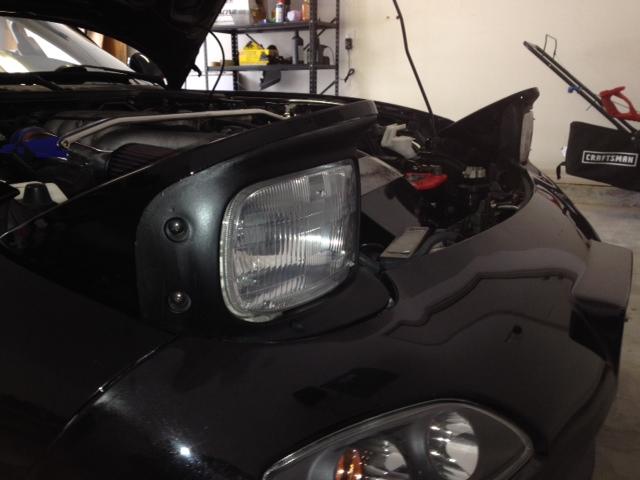 After some minor adjustment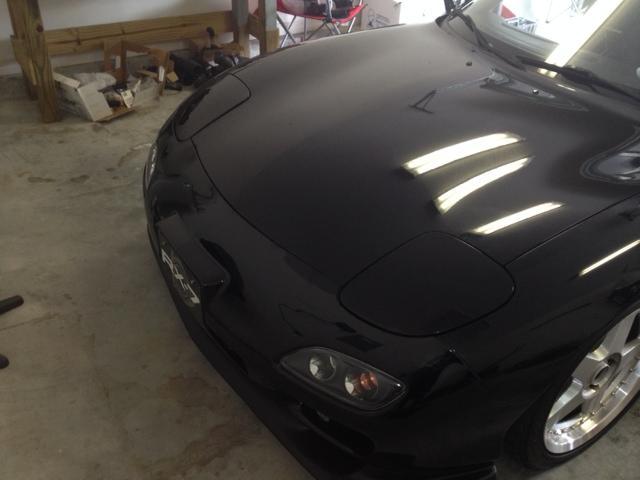 This is where I decided to pull the wipers and covers for those.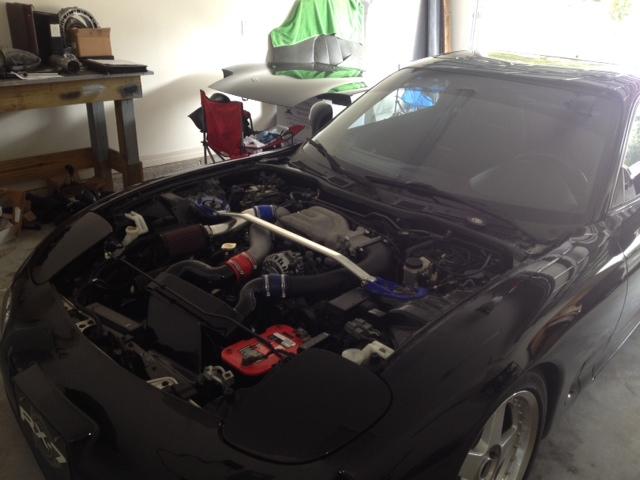 I guess its been a while since this area was cleaned.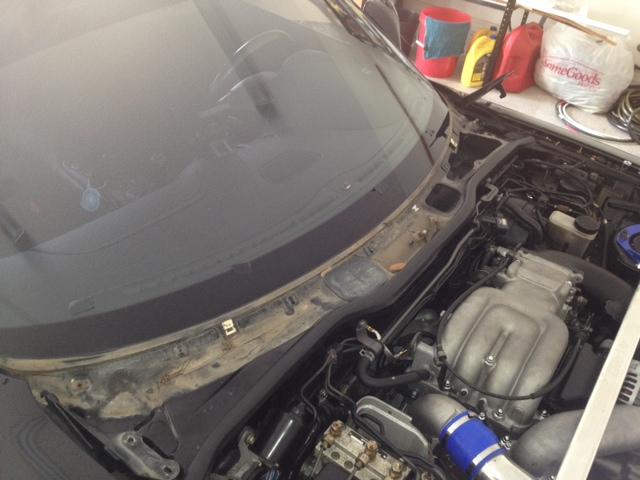 After a few minutes of cleaning. Looks waaaaay better.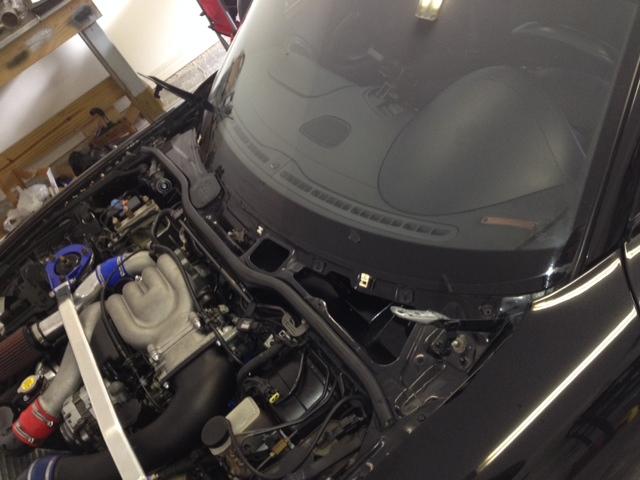 Currently cleaning and painting the wiper covers. Should have an update on those tomorrow.
10-31-2013
Update: Pulled and cleaned the windshield wiper covers yesterday and was able to get a few coats of paint on them. Left them over night to dry and installed them today. Also played around with the idea of putting a different hood on the car....but decided I wanted to keep the clean look for a little longer before going more aggressive.
After pulling the covers off of the car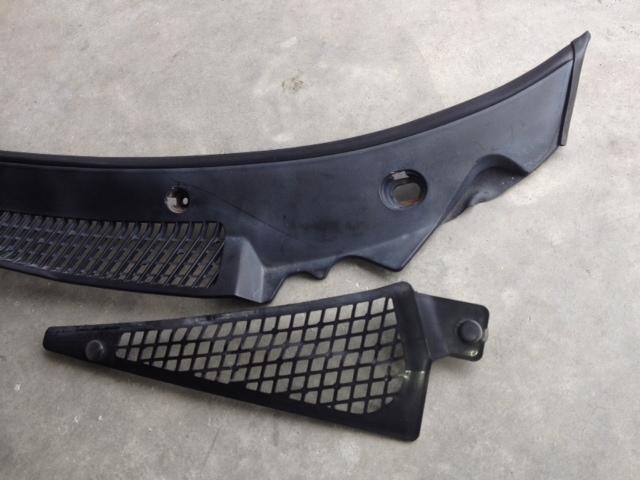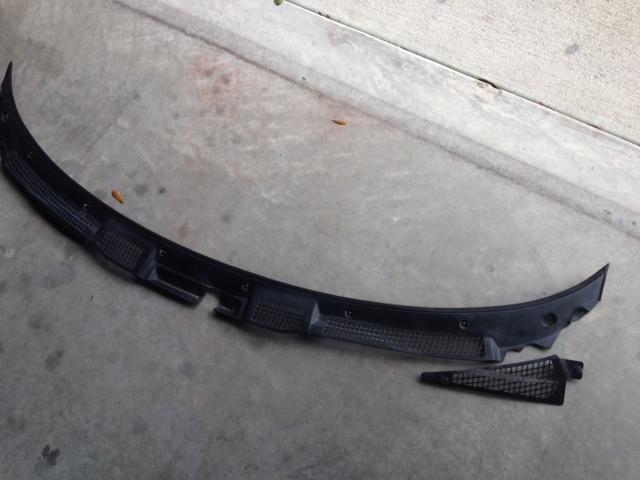 Cleaned and first coat of paint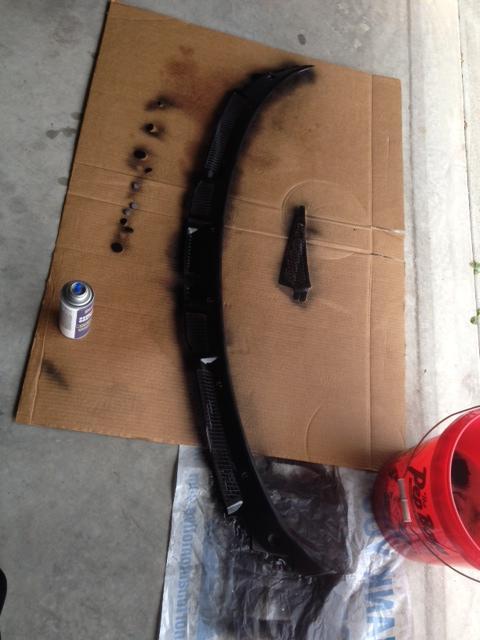 After a few coats...all dry and ready for install this morning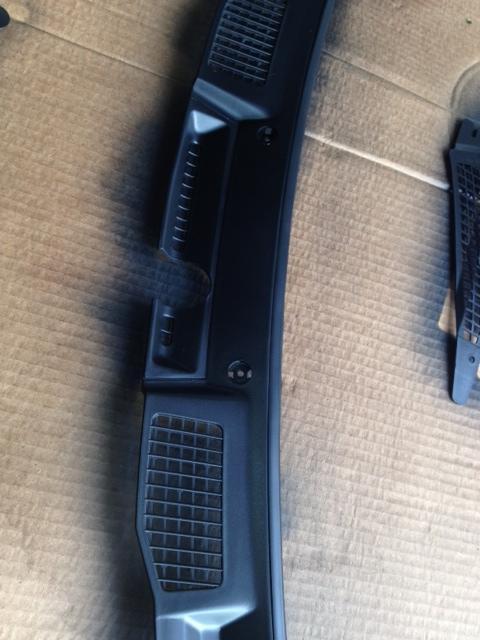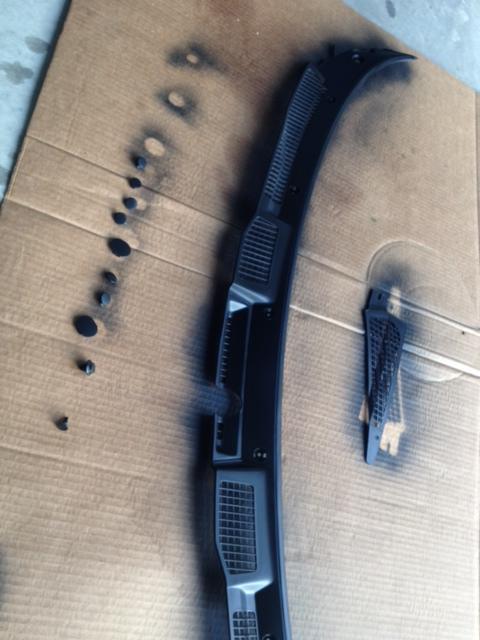 Sooo much better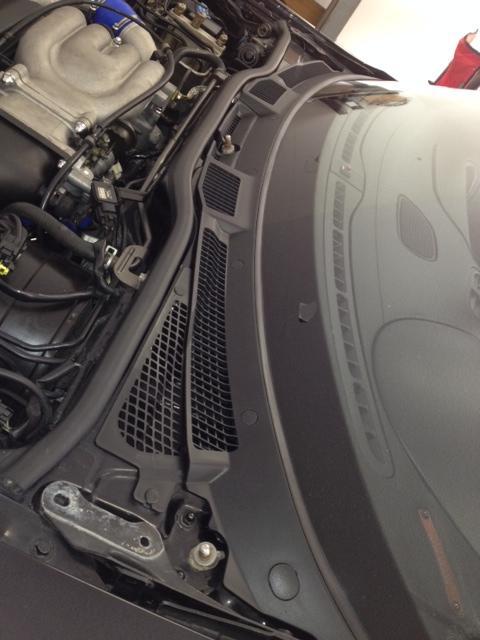 This is a teaser shot for next year I guess. Still have to get the hood restored and painted. Need hood pins and a few other stuff painted, so decided to do everything at one time after deals gap.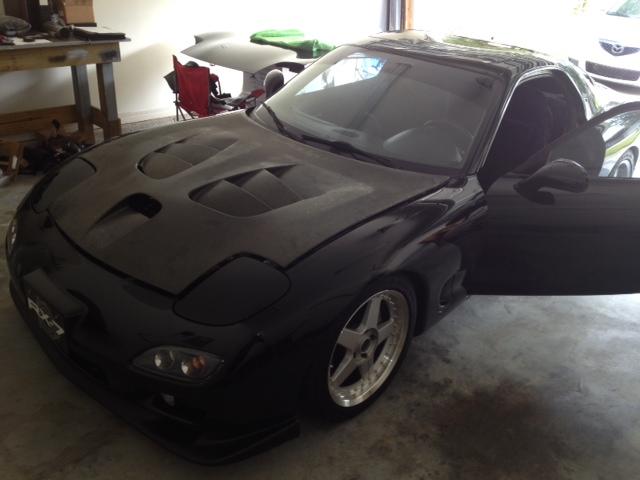 11-10-2013
Update 11/09/13: So did a few small things to the car on Saturday. Nothing major, just a few small things that have been bugging me for a while. Dale and I cleaned the front 99 spec rebar, installed manly horns from a Nissan Quest, wired the fog lights, cleaned the overspray off of the exhaust, installed the new exhaust tip, installed driver side fender liner and brake ducts. Also rolled the front and rear fenders.
Stripped the front bumper off of the car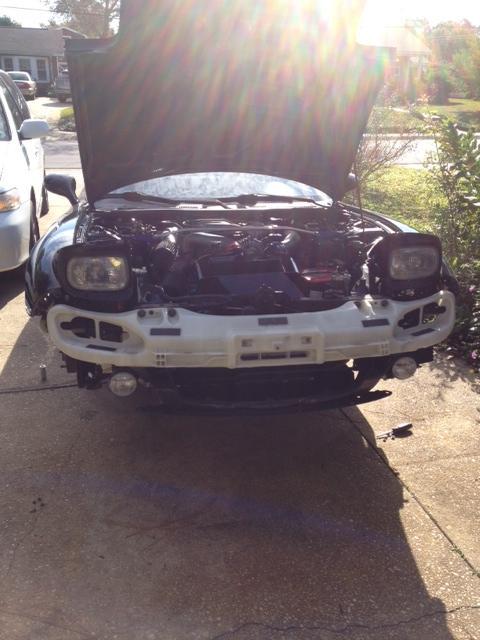 While the rebar was off...decided to give it a good cleaning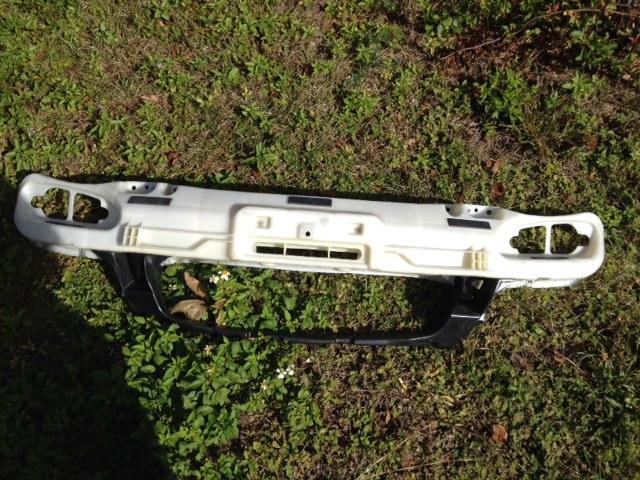 Cleaned up the 99 spec fog lights. We were able to find the connector in the junk yard off of another Mazda.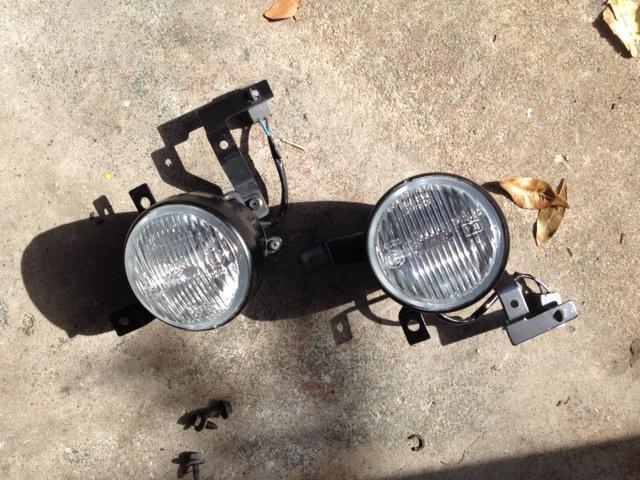 Dale pulling the fender to blow out some dirt.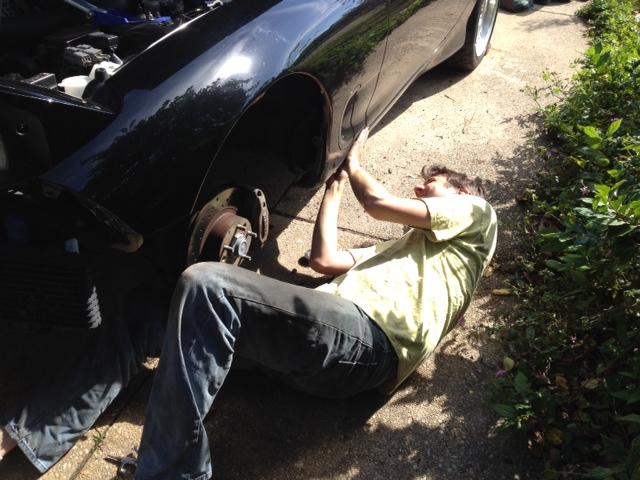 While we were under the fenders...we took the time to clean up the wiring and re-tape them.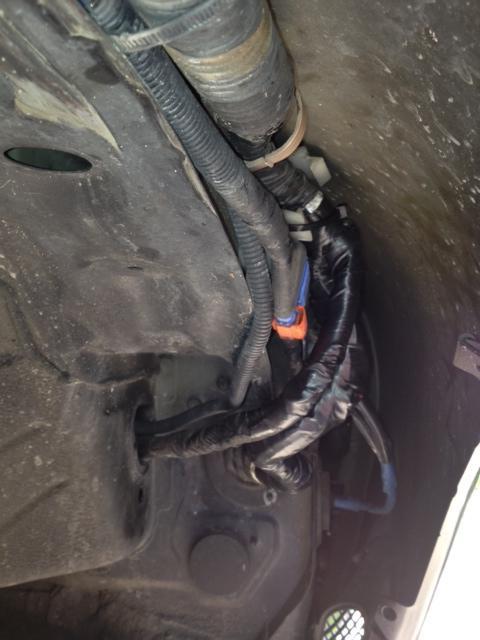 The lip on the front fender was slightly pulled down due to being so low and the tire hitting it, so we decided to roll the front and rear fenders.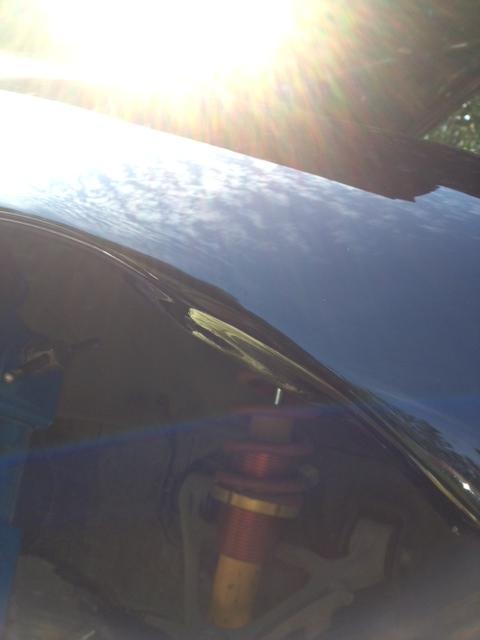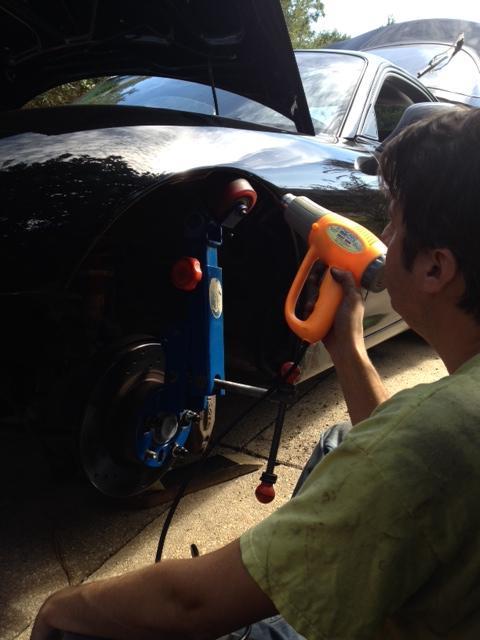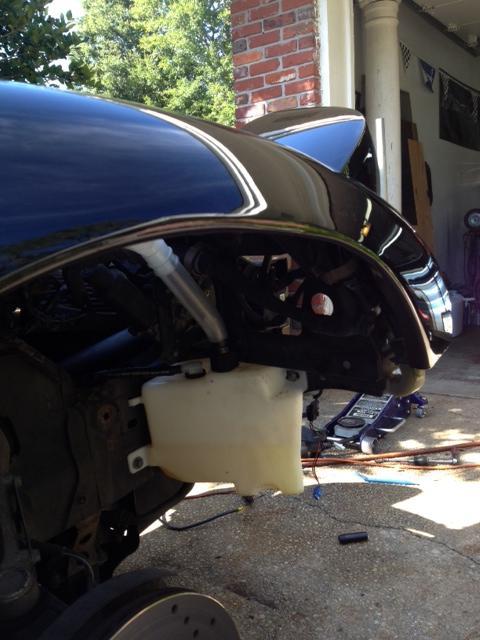 Also went ahead and installed the fender liner and brake duct.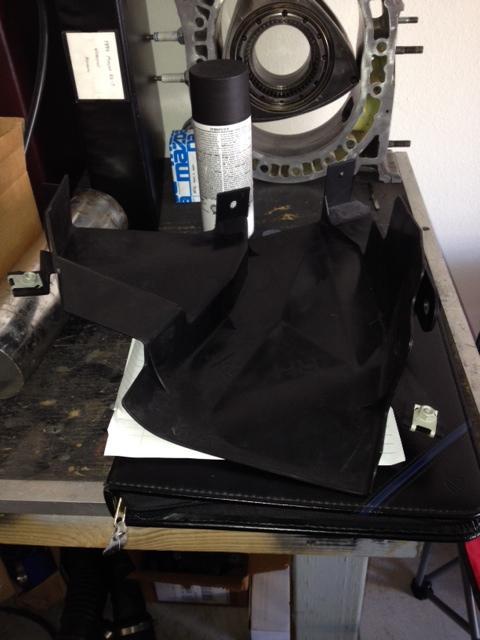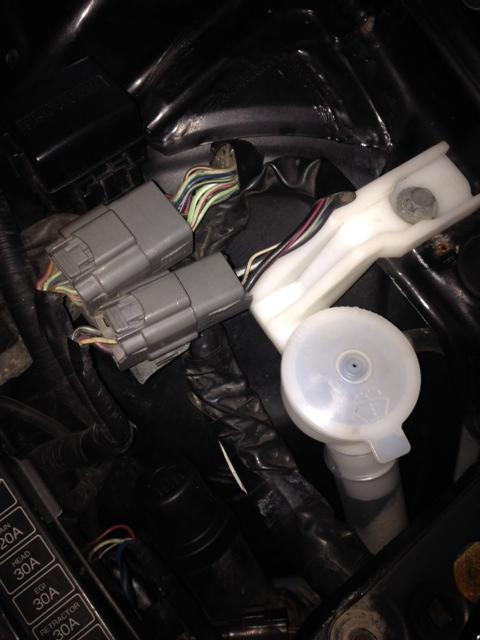 Continued.....
Stock horns on top. Manly Horns on the bottom from a Nissan Quest.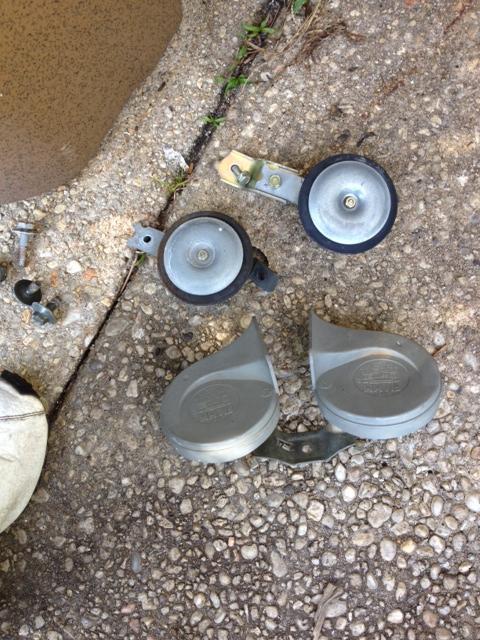 Took a little bit to line them up with the 99 spec bumper but we finally got them in place.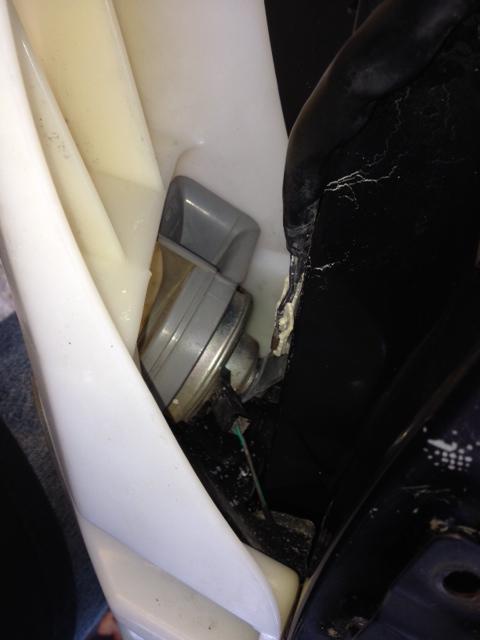 The exhaust had over spray on it from the previous owner. Dale had aircraft stripper to help take it off and clean it up.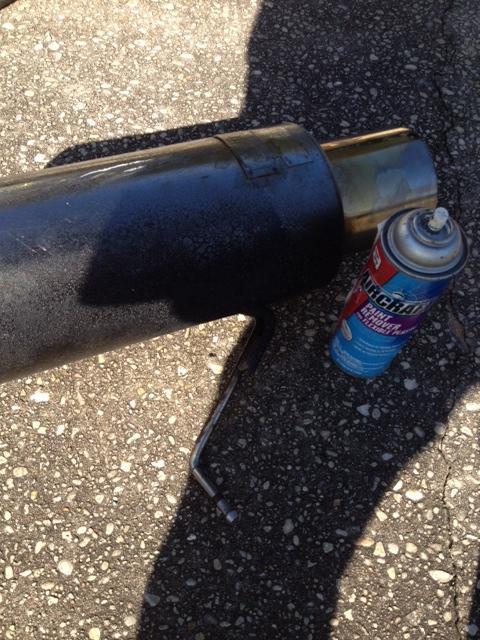 All clean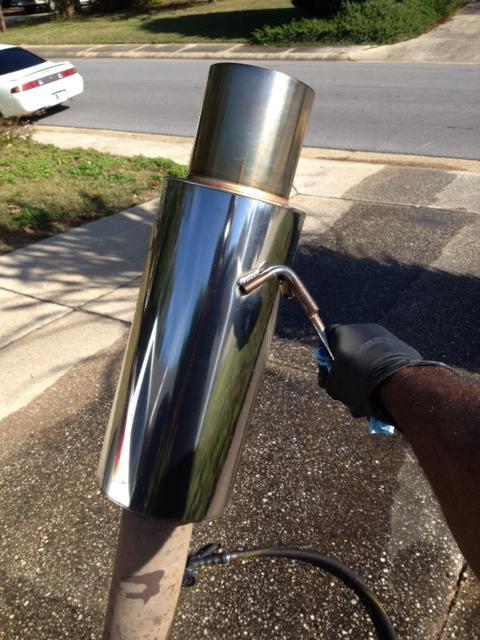 New tip installed on the exhaust.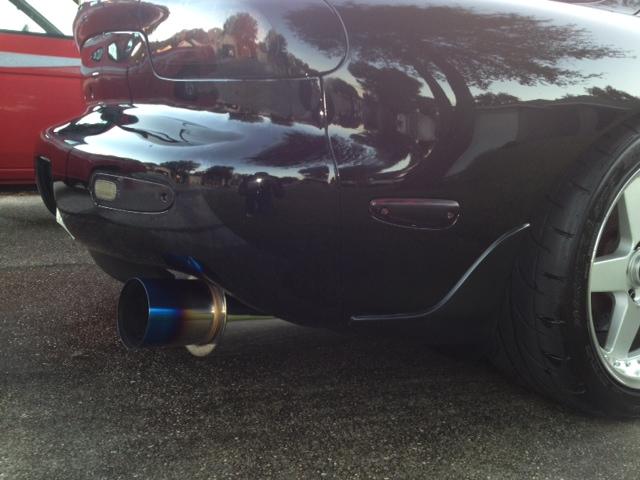 All cleaned up and back together.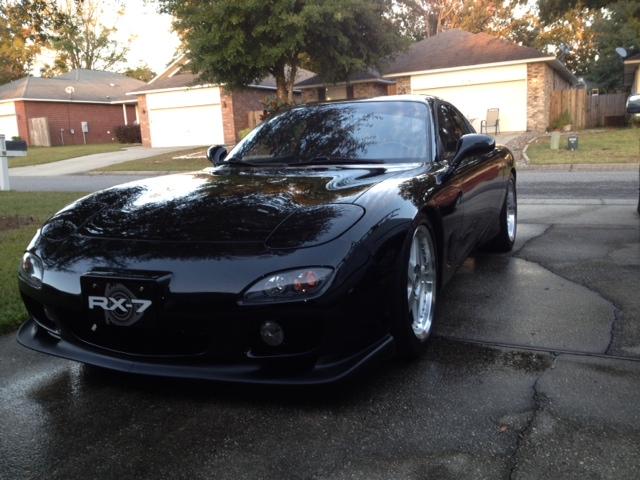 11-13-2013
Thanks man. It was a lot easier taking off the paint than I thought it would be. That paint remover is awesome.
Friend of mine took some pics of the car. Not professional, but better than IPhone pics...lol
I know....I need to paint my brakes. Soon soon.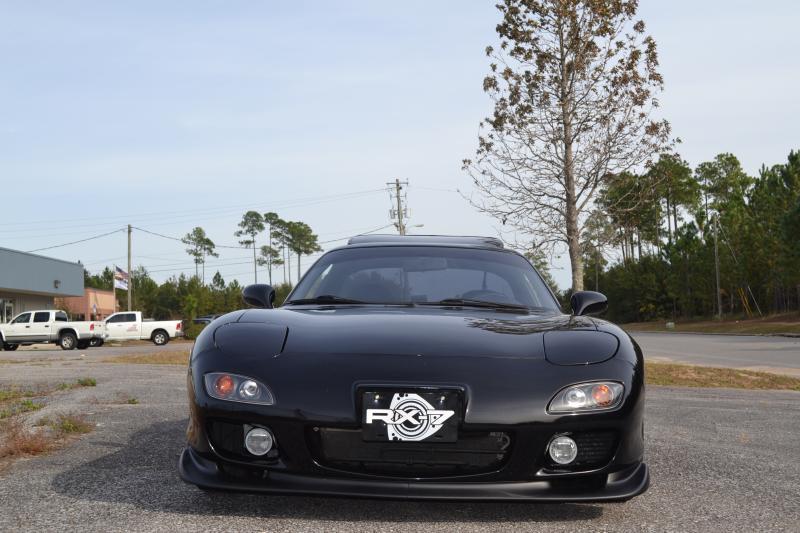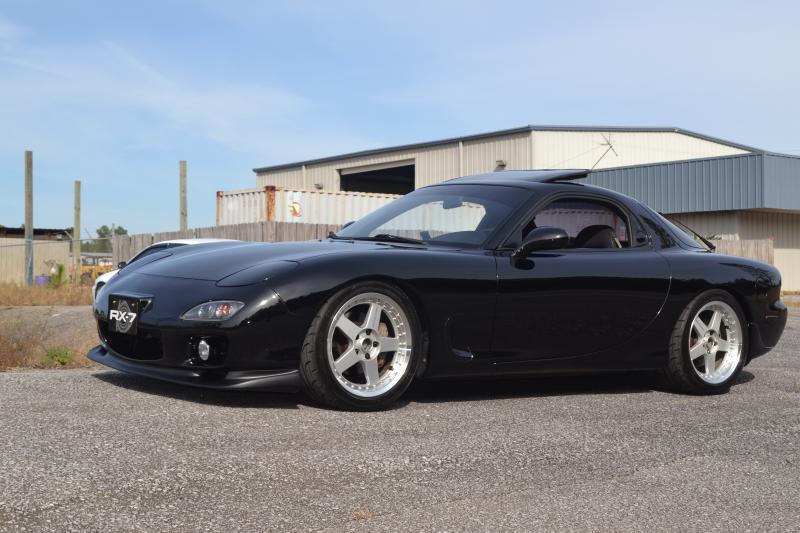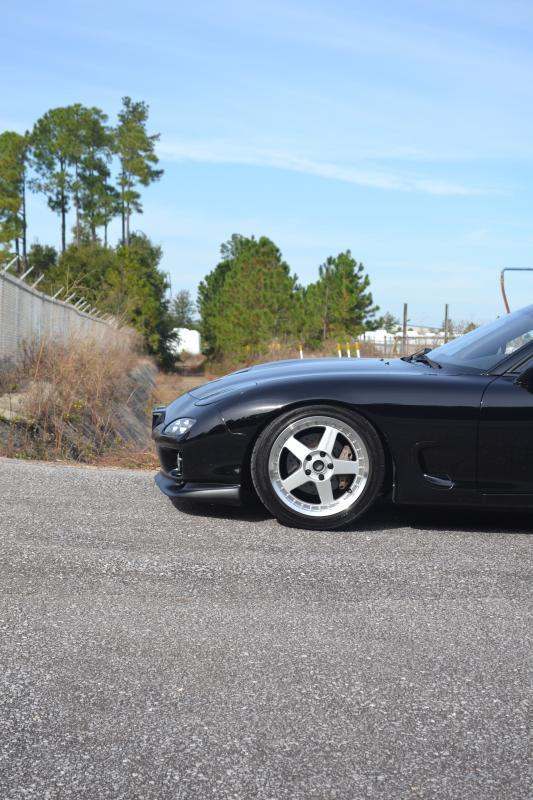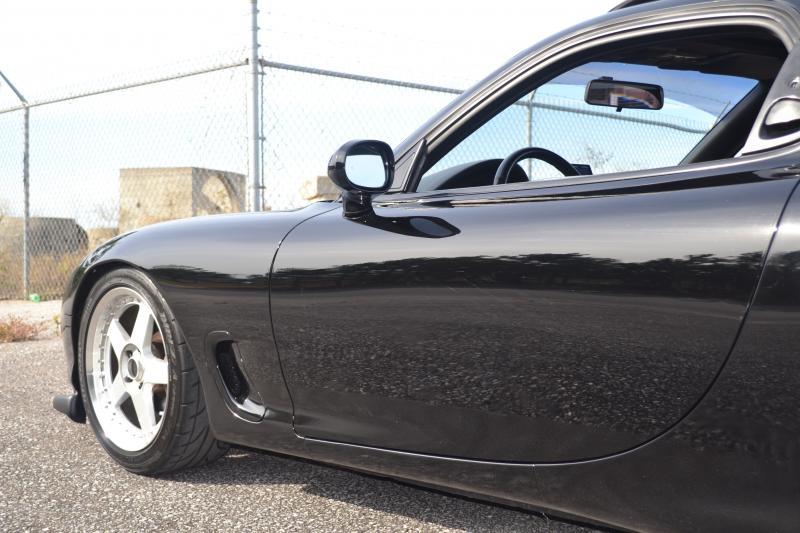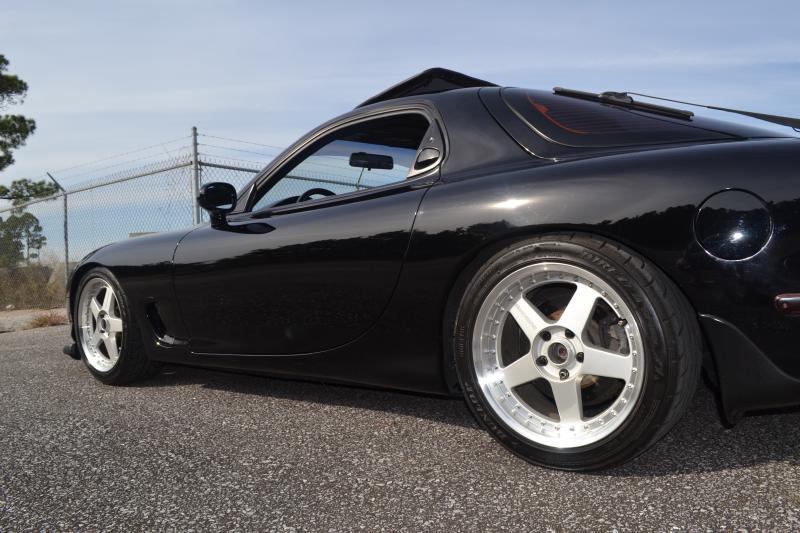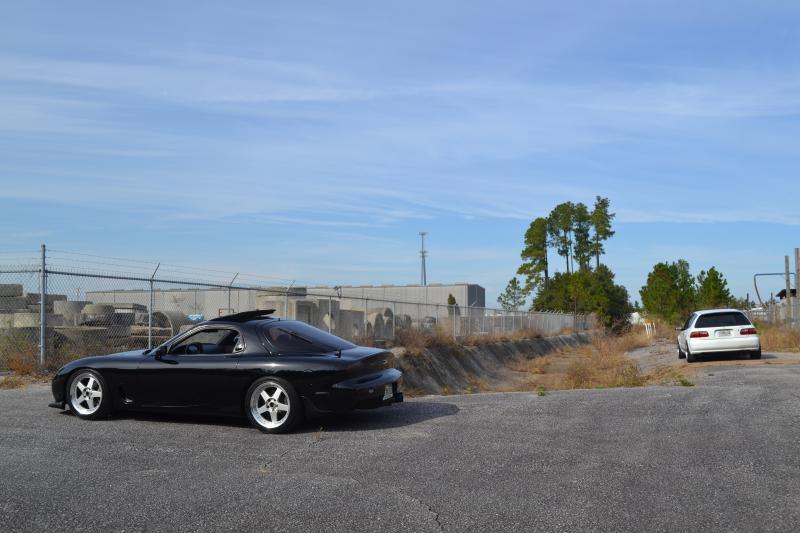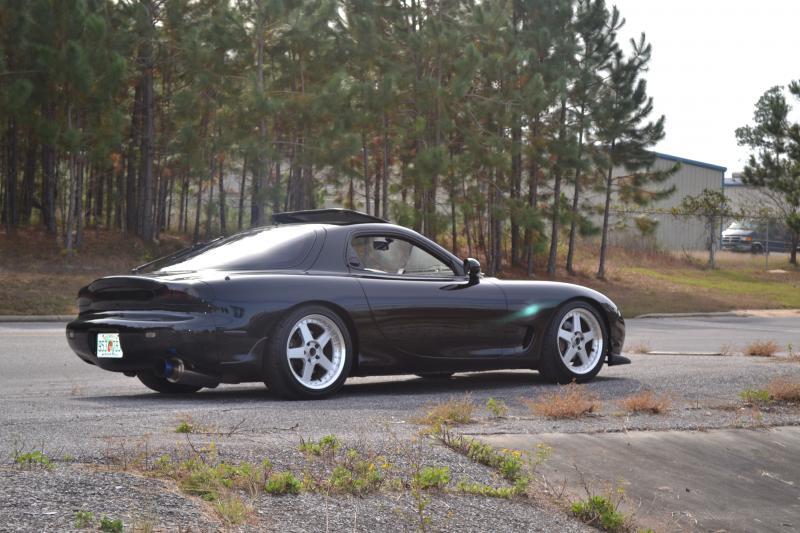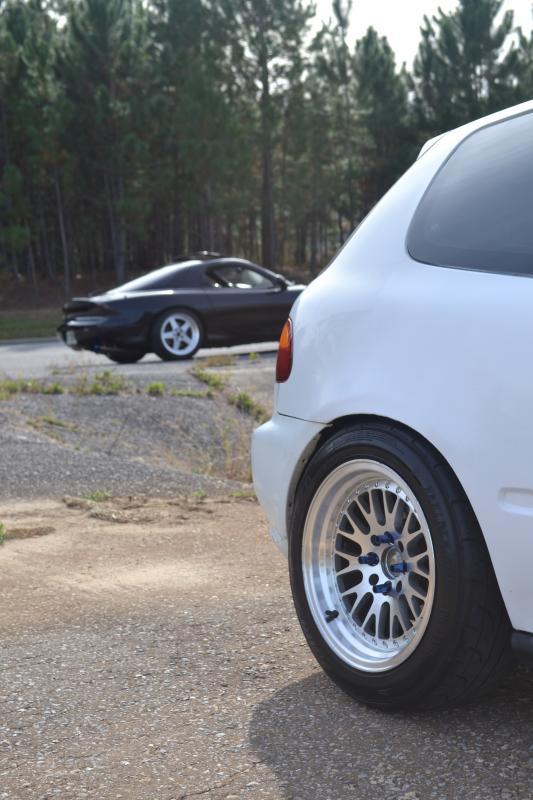 1-21-2014
Update: Nothing has changed with the car since before Christmas. With the holidays, family and just being a little busy, haven't really had much time to do anything. However, it did get warm enough to clean her up a bit and a buddy of mine was able to take a few pics for me. These are just teaser shots, but he should have more pics ready soon. Now that the holidays are over....hopefully I can get a few more things finished before Deals Gap.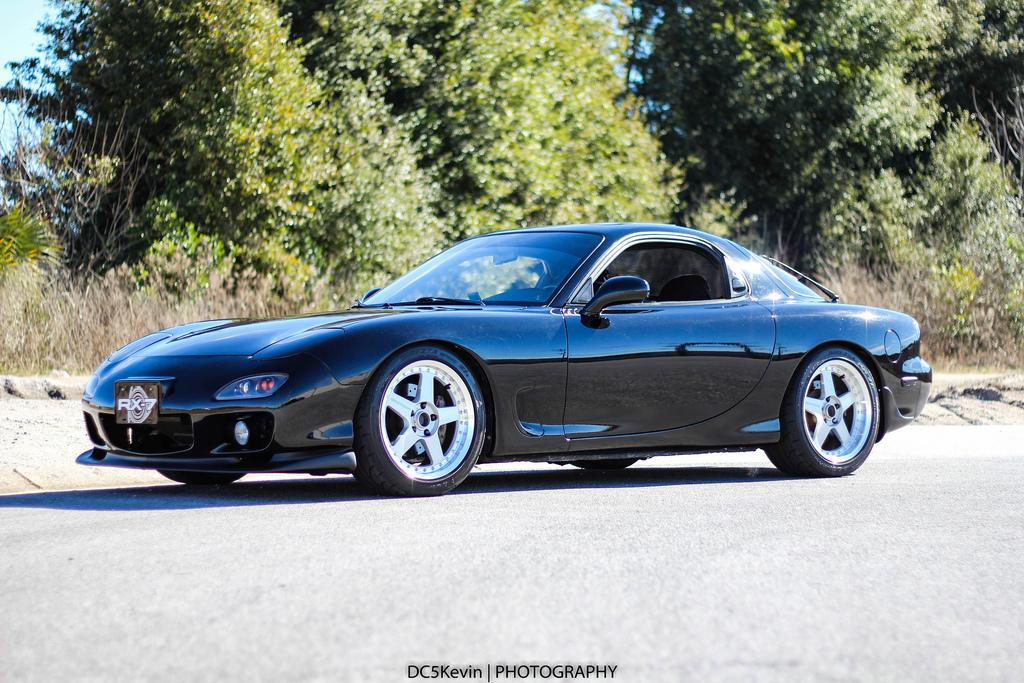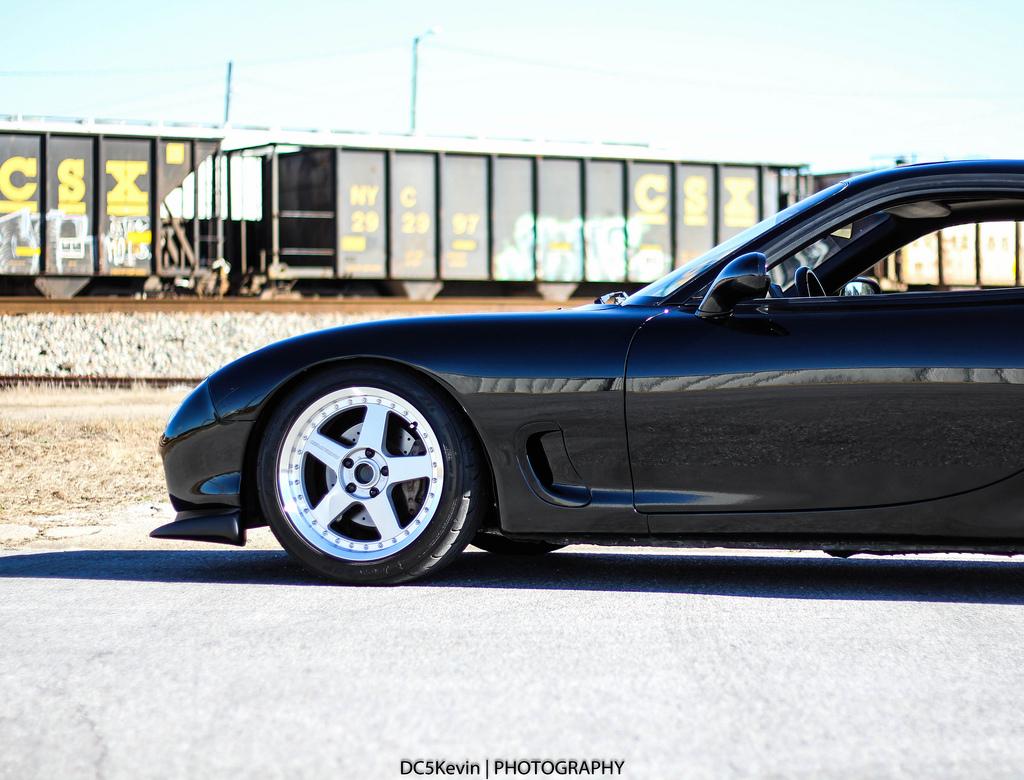 3-3-2014
Dale and I got a bit more work done to the car and got a few more parts in.
Finally got in the last block-off plate for the double throttle, new black couplers for the intake and intercooler, new passenger side fender liner and last but not least the Greddy boost controller. Got most of the boost controller ran from the engine bay to the cabin, but gotta make a small bracket to hold the solenoid. Also installed the passenger fender liner, brake duct and couplers. Gotta make some time to finish the rest.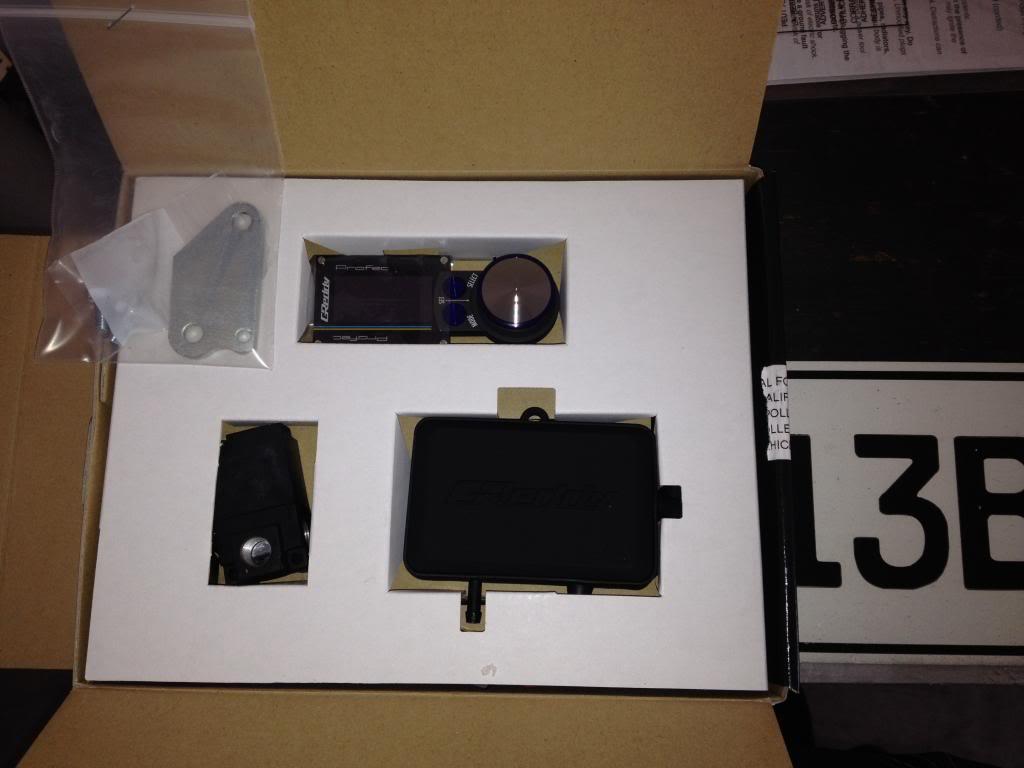 New couplers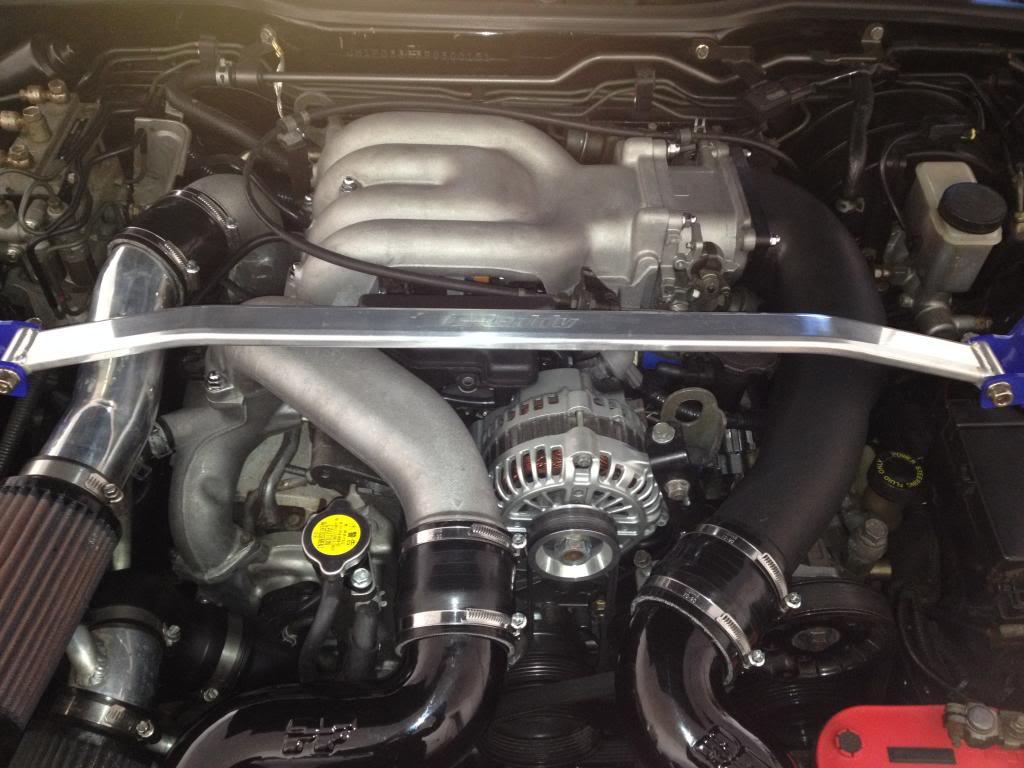 Before and After. I think after I powdercoat the rest of the intercooler piping I may switch to red. Unless I change the color of the piping...hmmm.
3-15-2014
Update 3/15/14: Today we took care of a few things that I had on my list to clean up and install before Deals Gap. We managed to fix my loose short shifter, install the boost controller, installed the oil catch can, cleaned up the engine bay a bit, and installed the double throttle block-off plate. Definitely was a good day.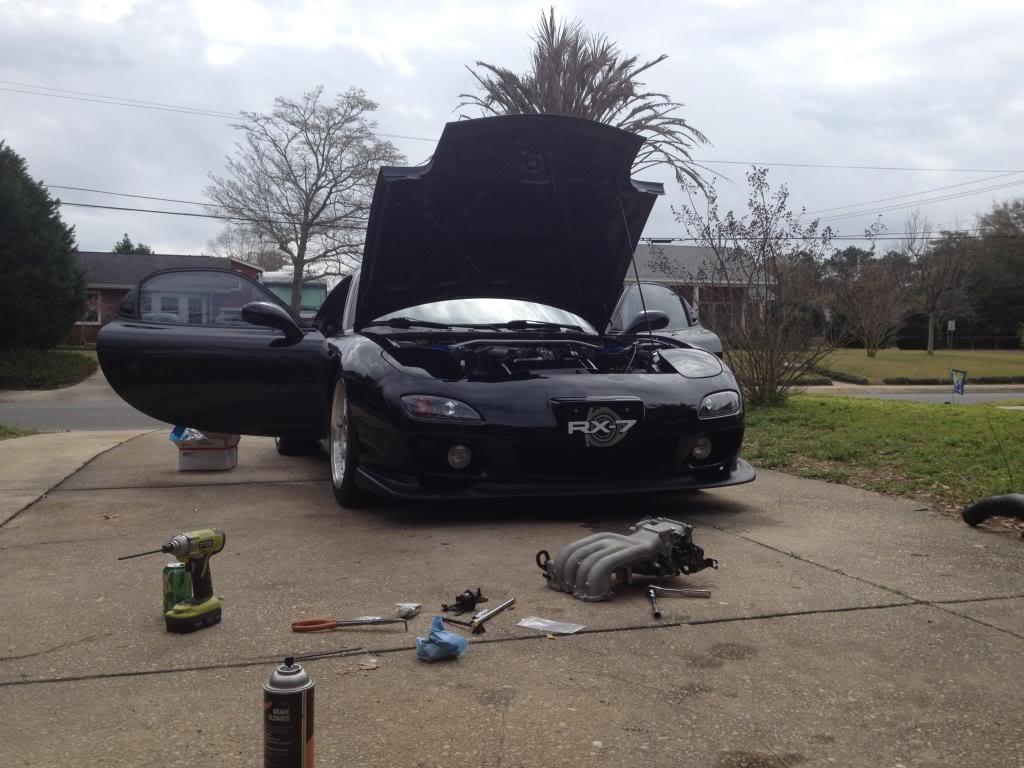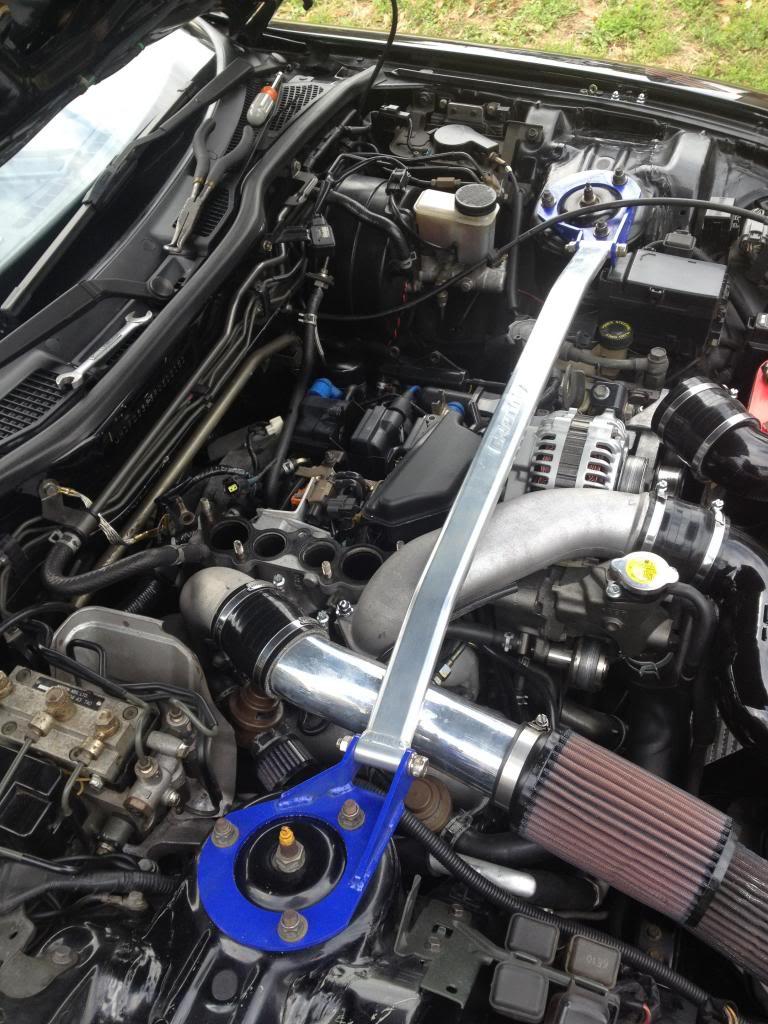 Last block off plate installed.
Catch can installed. May need to re-adjust or make a new bracket to make it sit just a tad lower. For now its fine.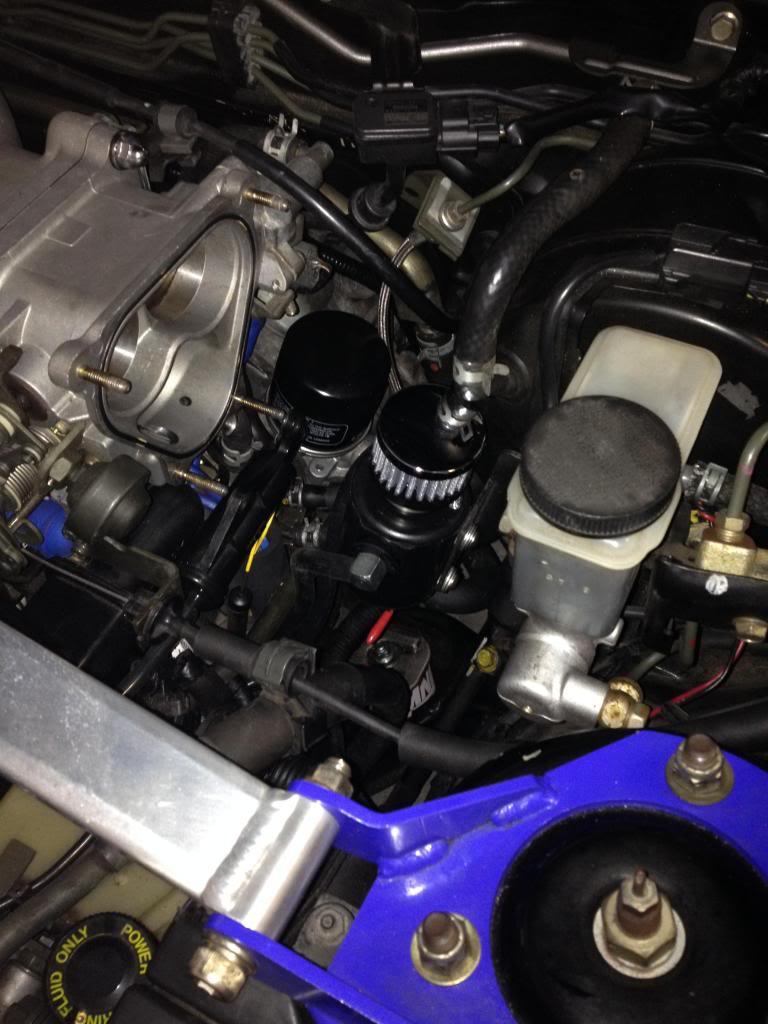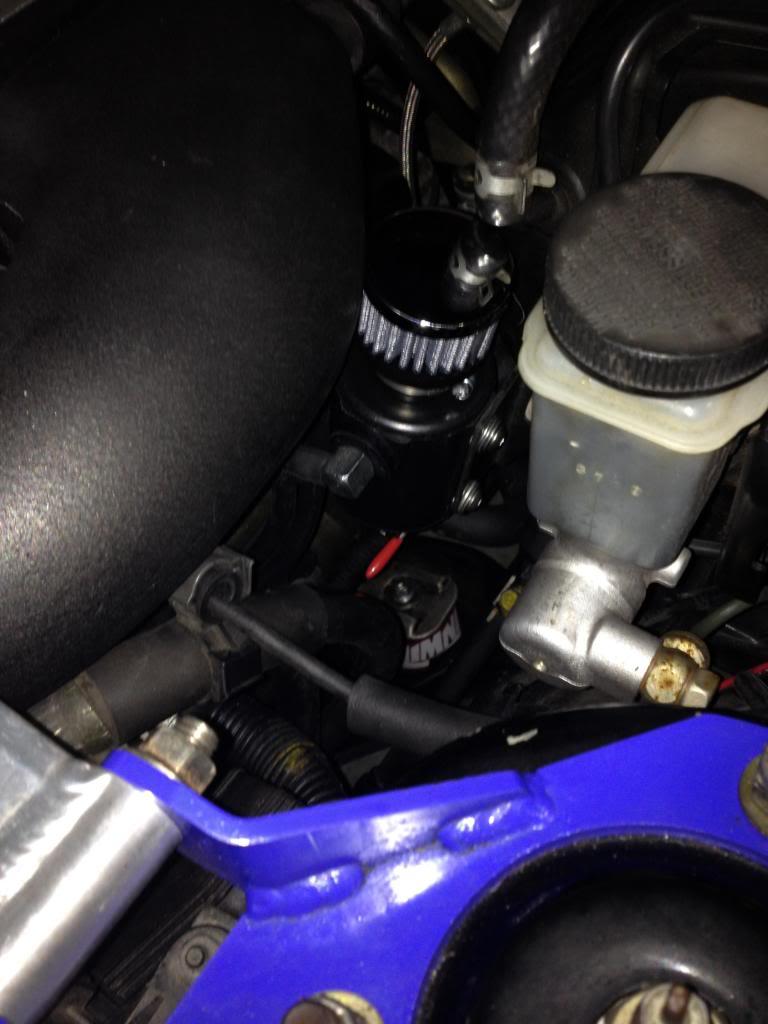 Fog lights installed. Plan on upgrading to full HID's, but that's not really a priority for now.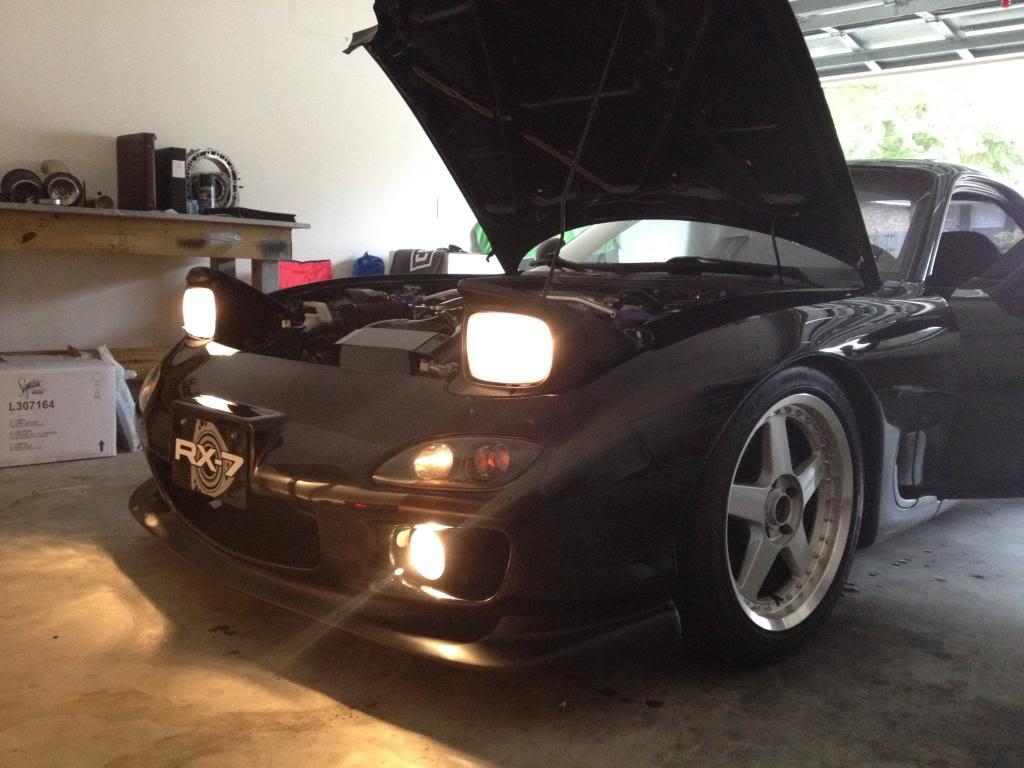 Installed a 626 pocket, which fit a crap load better than the aftermarket stuff and installed the Greddy boost controller.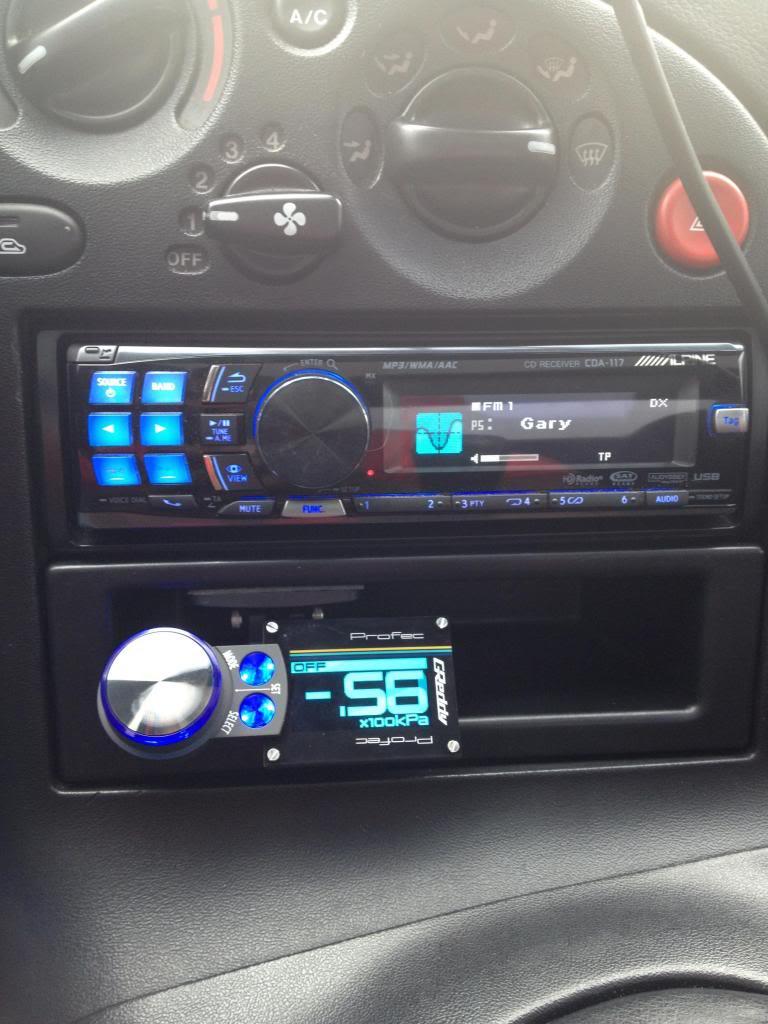 4-6-2014
Pic a took on an outing.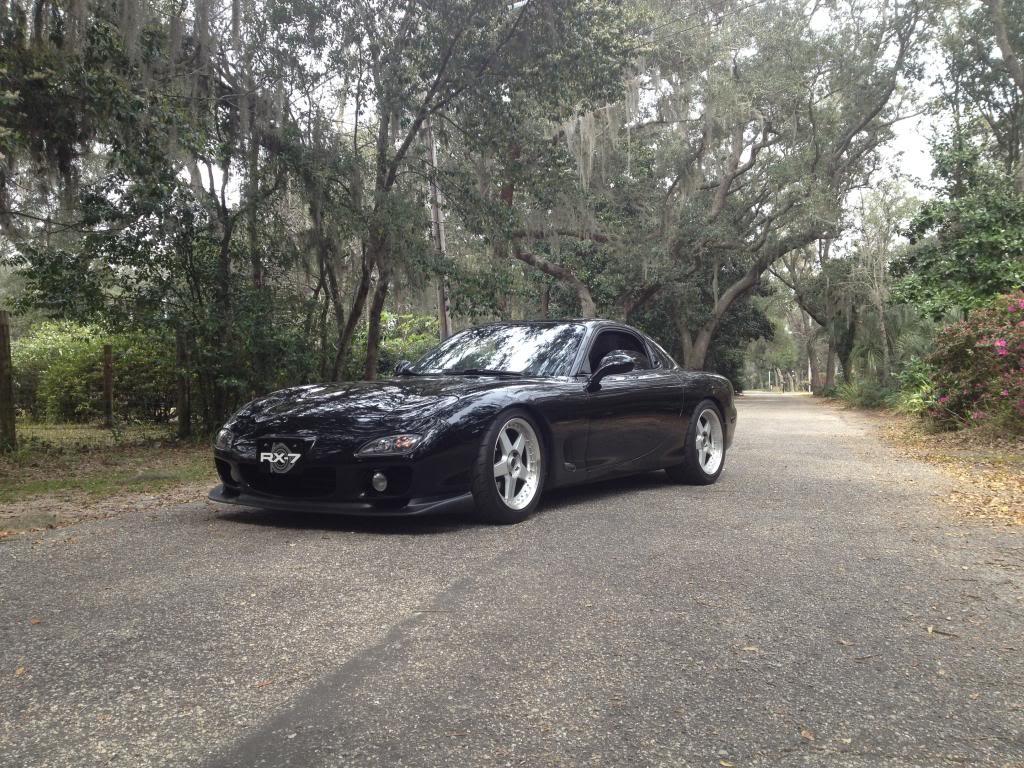 Update 04/06/14: We decided to play with a bit of plastidip today and do a few more things to get the car ready for Deals Gap. My lip started to chip and was messed up a bit from a minor mishap so we decided to platidap that. Also a friend of mine decided to plastidip his wheels and paint his brake calipers.
Getting ready to prep lip and finish boost controller install in bay.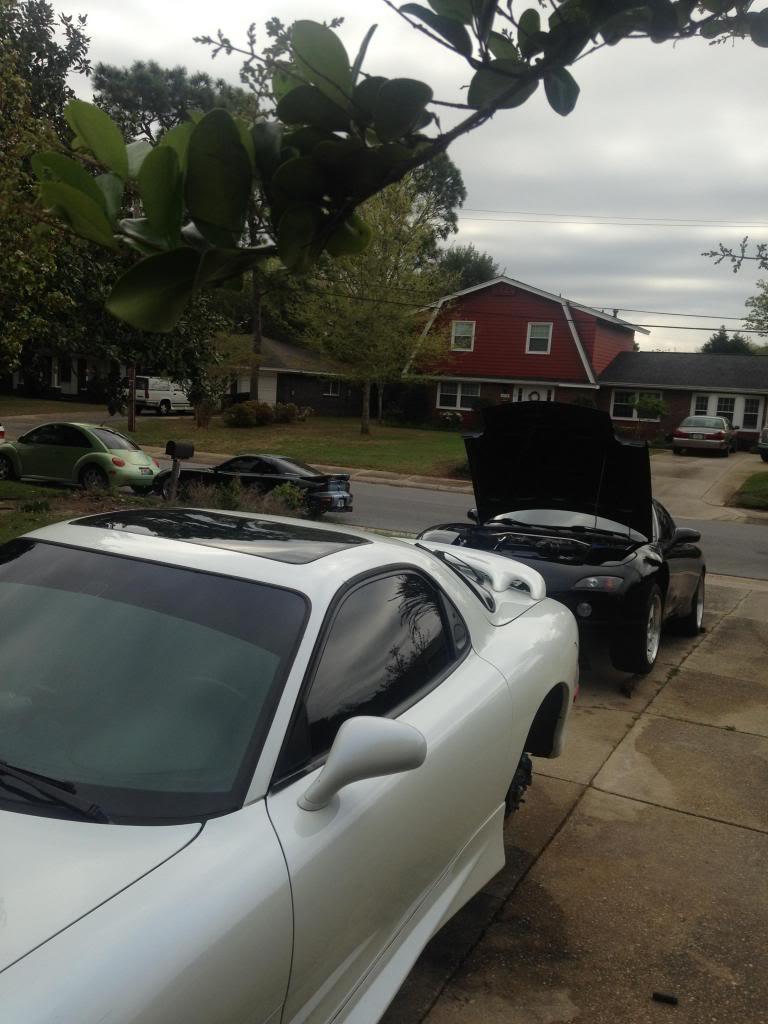 Lip before plastidip.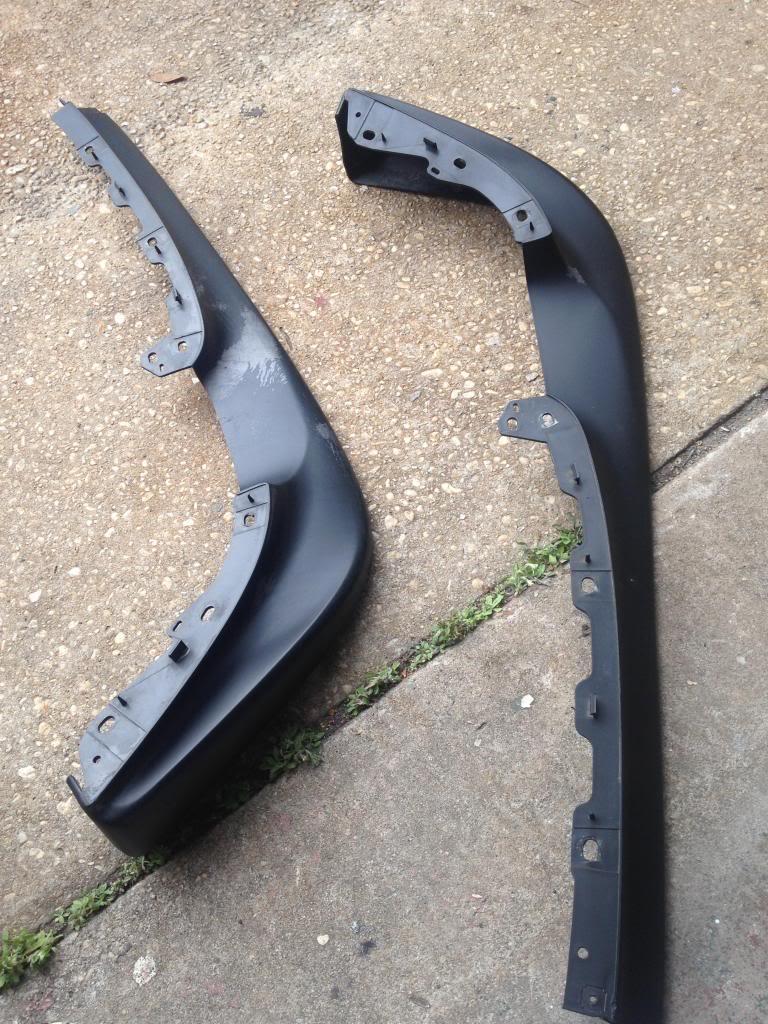 Lip after plastidip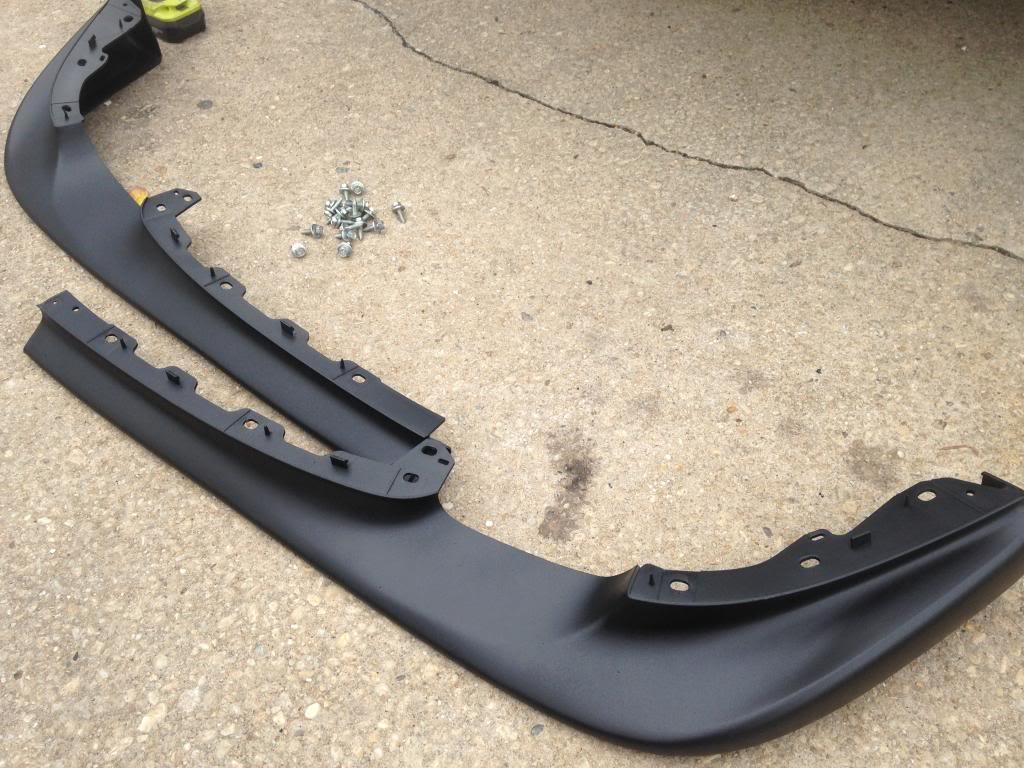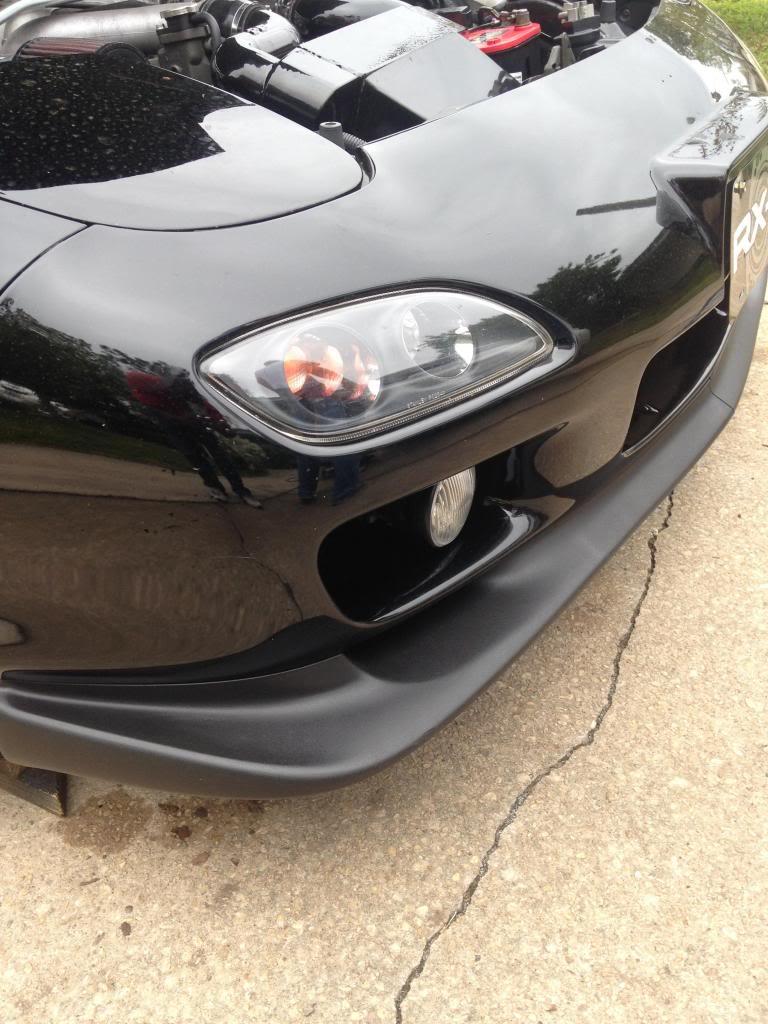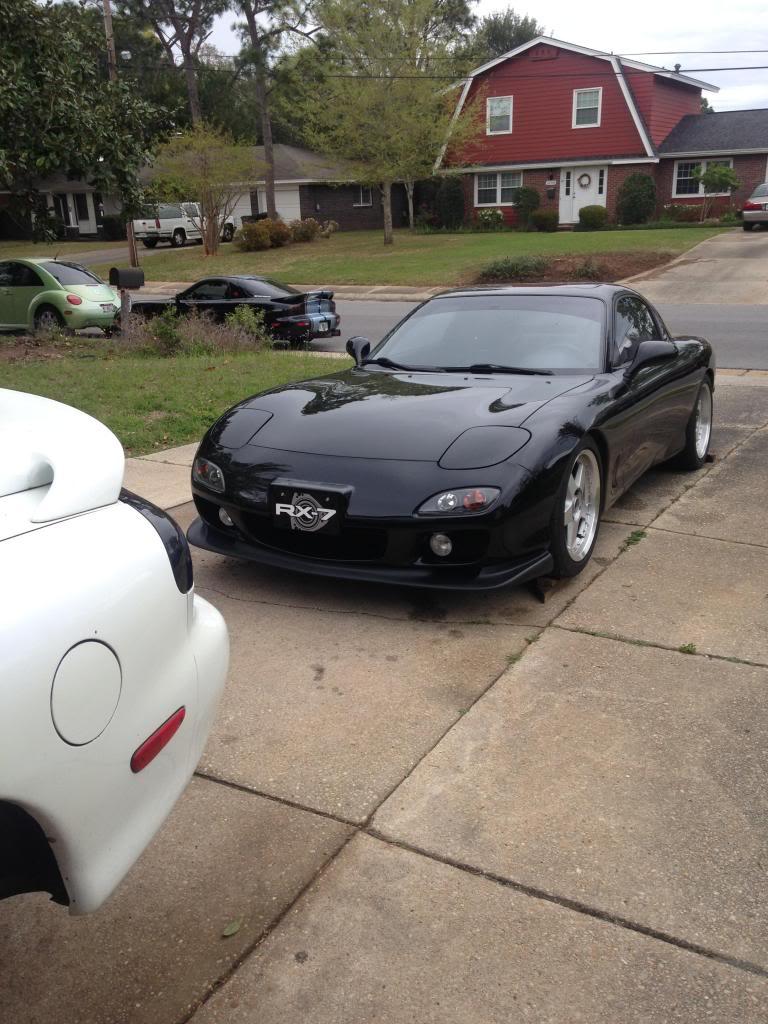 Buddies wheels after plastidip and brakes painted. Wish I got before pics.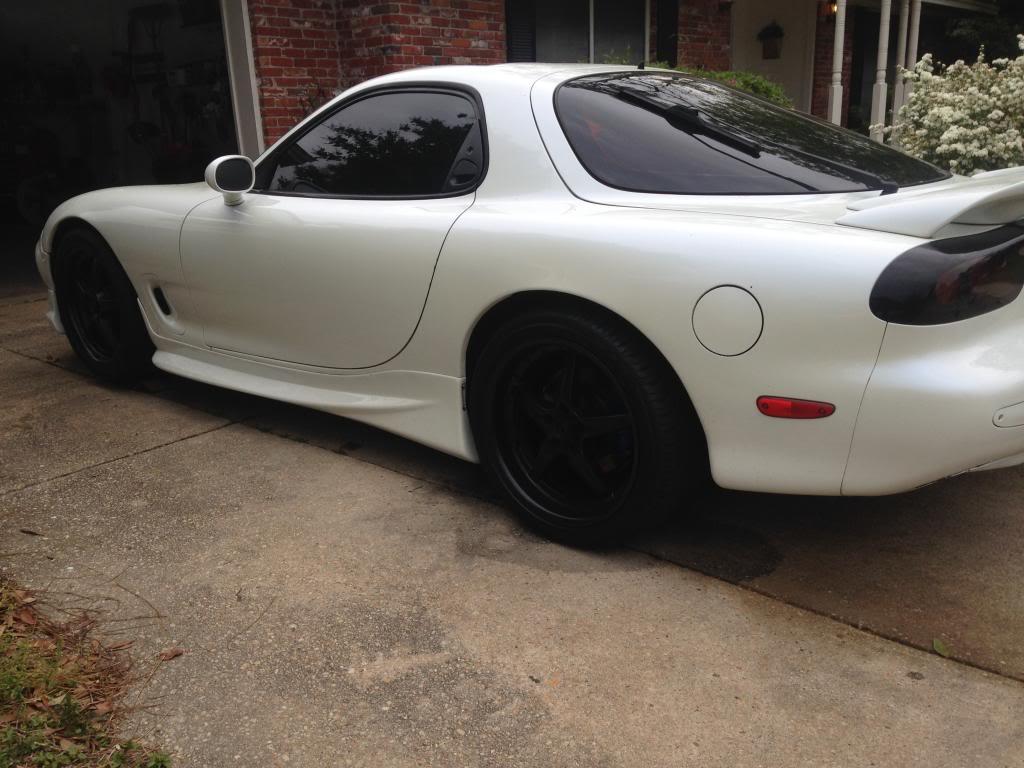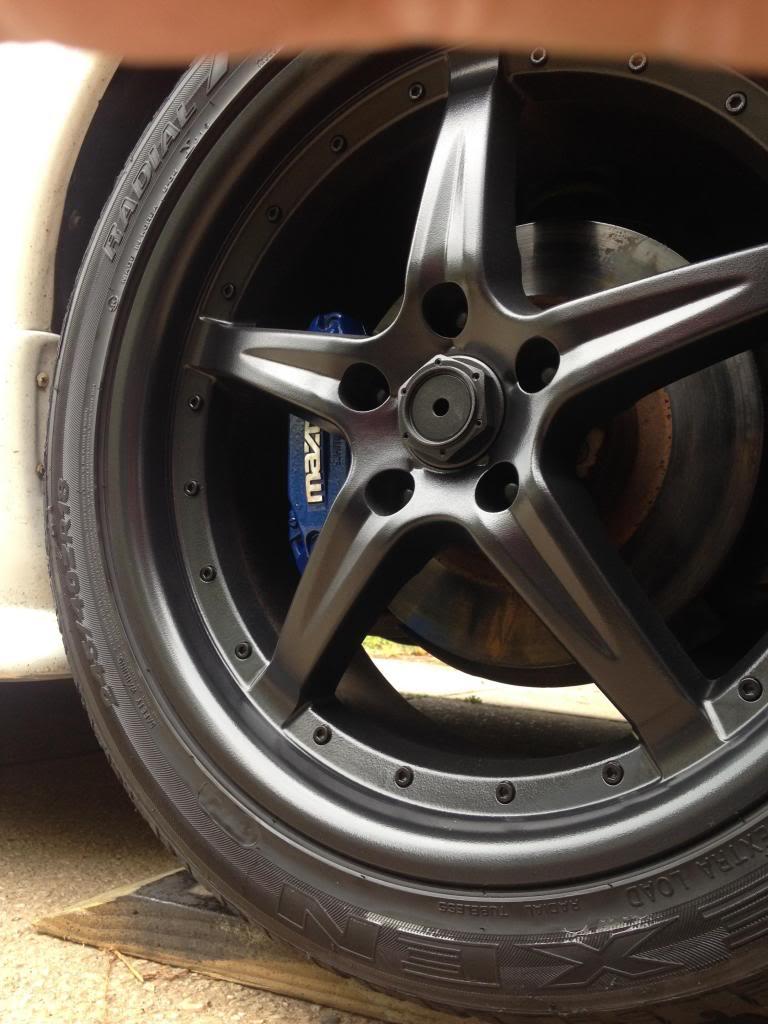 4-11-2014
Update 04/11/14: Was a little bored today and there were a few things on the car that were bugging me because they were faded, so I broke out the spray paint and got busy.
Windshield wipers front and rear and a few accessories.
Before: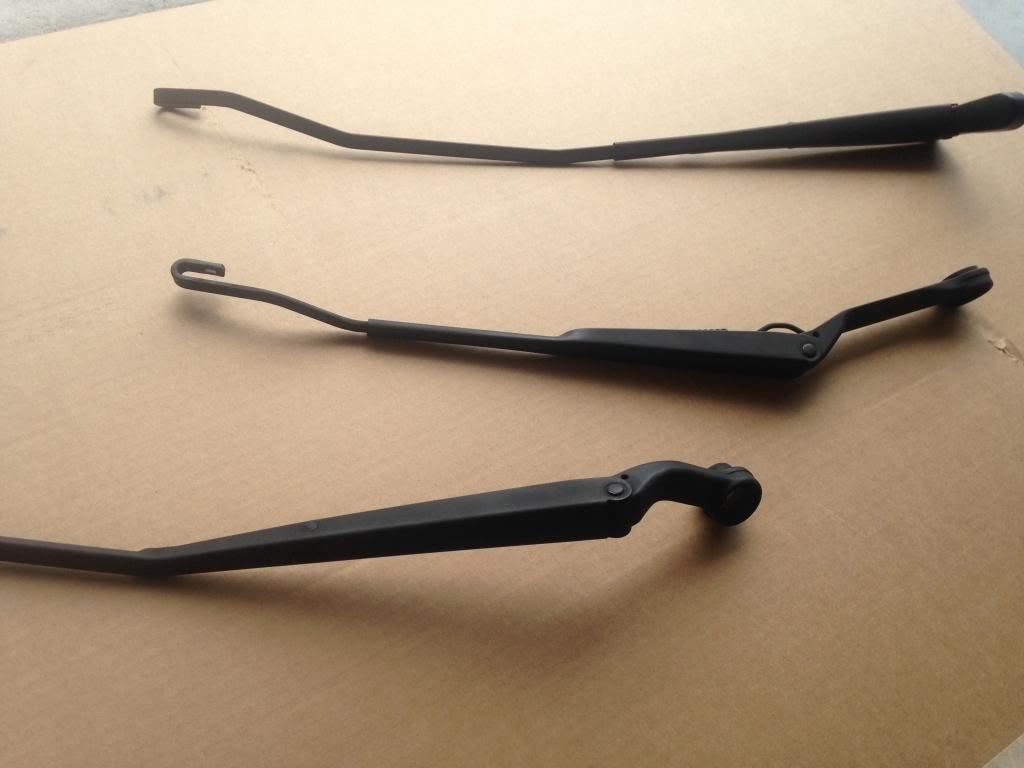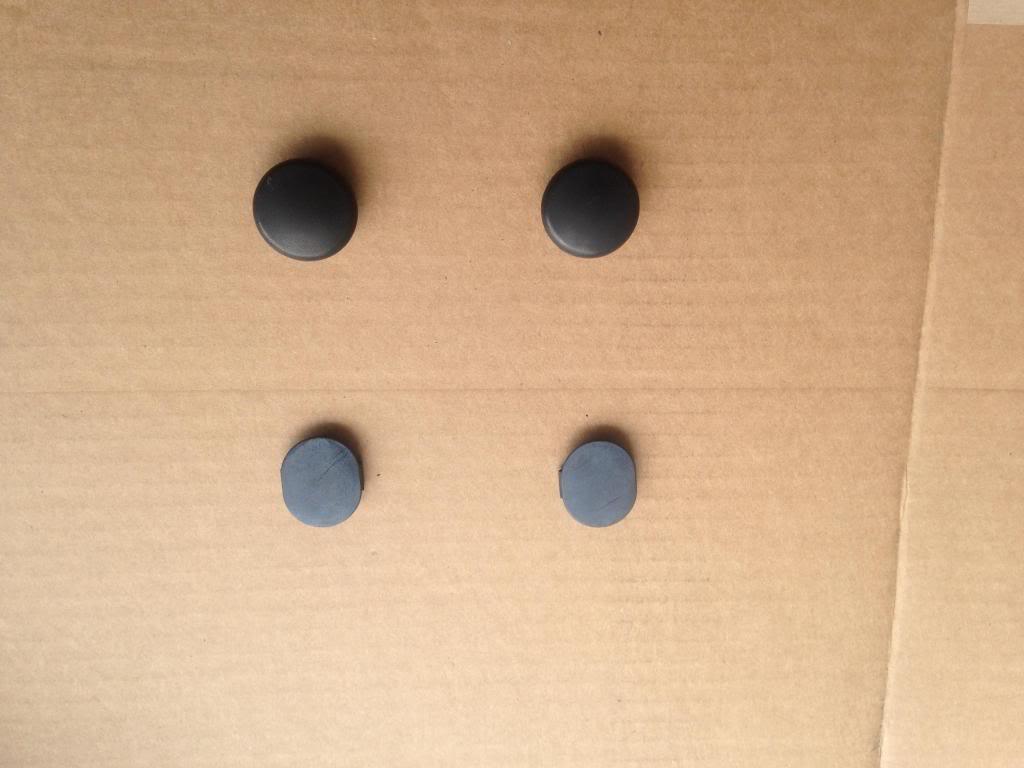 After: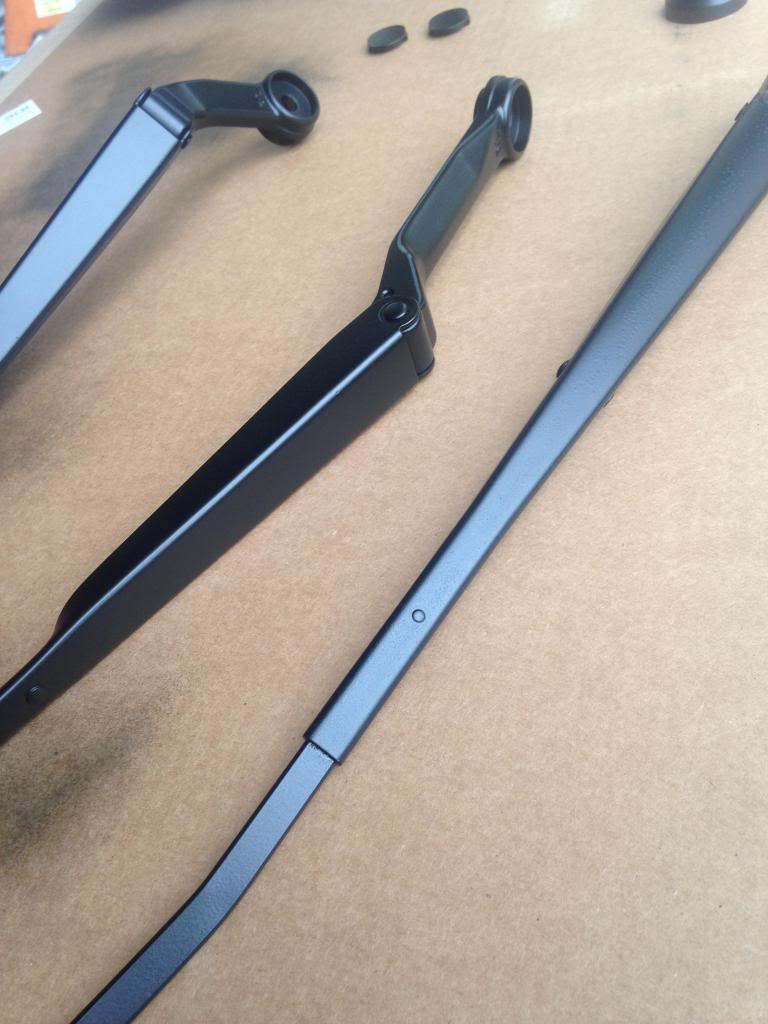 That's it for today. Think Im gonna try and do the brakes next weekend.
4-12-2014
Actually just used a bit of super clean degreaser to clean the wipers and duplicolor black paint to spray them. Put about 4 coats on them. I would also use some fine grit sand paper just to smooth out the surface areas. I plan on getting them re-done once the whole car gets painted but for now I'm pretty happy with them.
4-21-2014
Ok...so last week we played with plastidip on the rest of my buddies car. Def not hard at all and came out pretty good. Was finally able to get some before and after pics...
Before: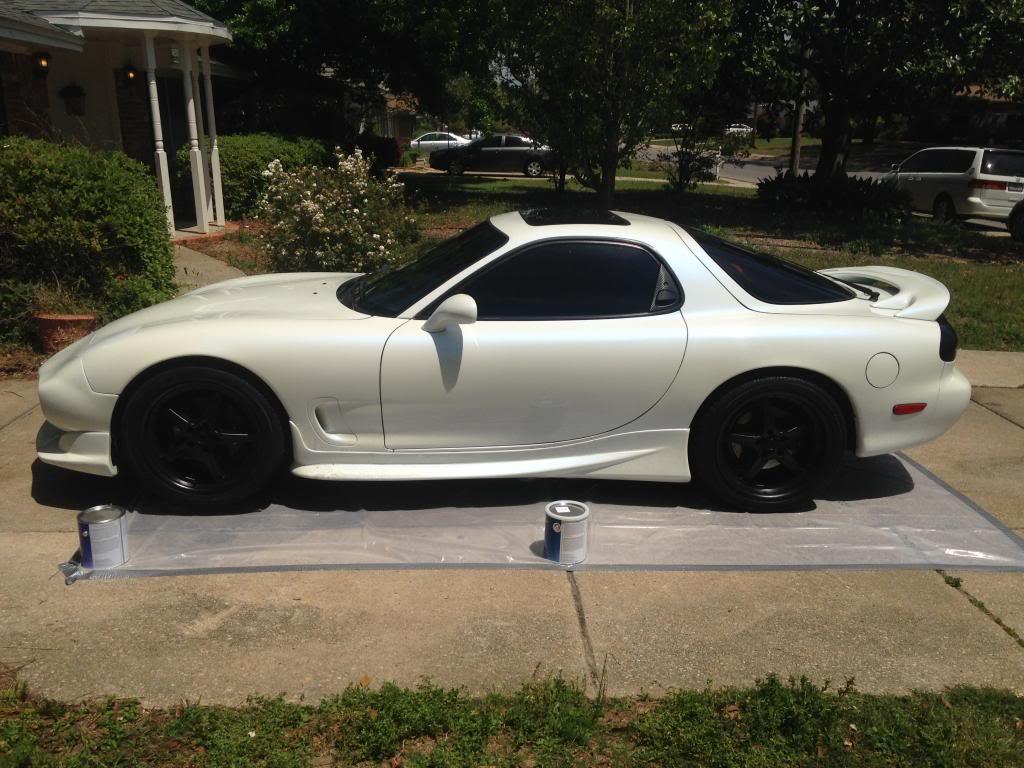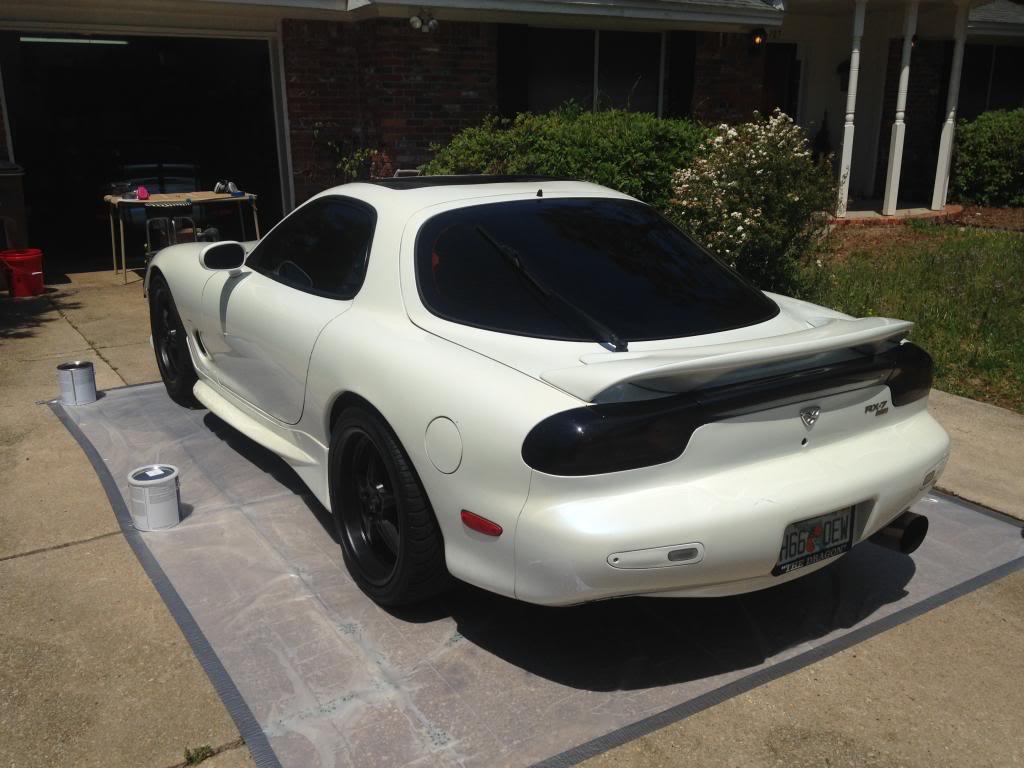 After: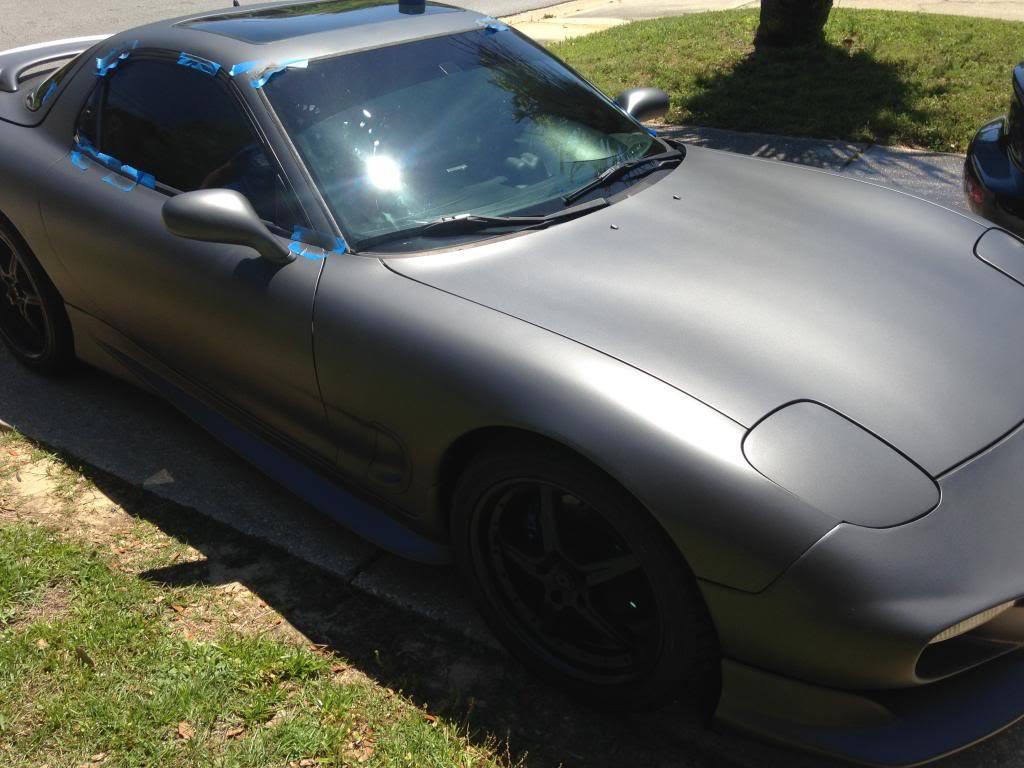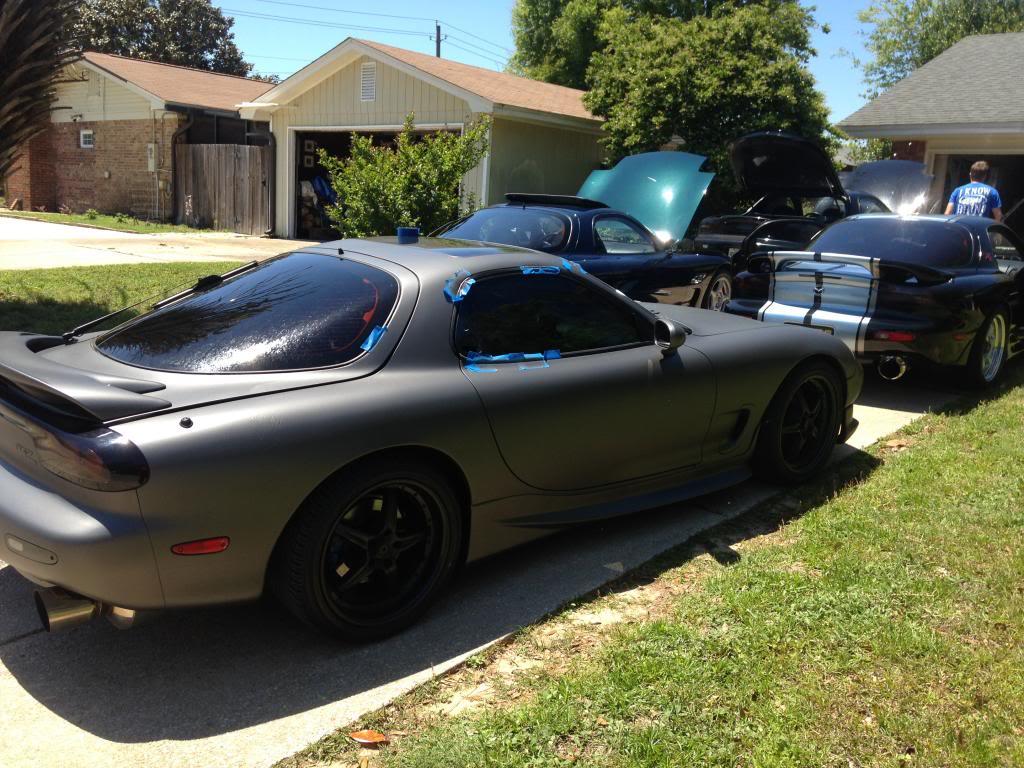 He did a little more touch-up this week.
Update 4/19/14: Ok...so this was the last weekend before Deals Gap...a few of us that are going decided to get together to put some final touches on the cars and get some cleaning done. Cant wait to check out all the other cars. Thanks to Dale for throwing this little shindig.
Getting ready to work on the cars.
Decided to clean and paint a few plastic pieces from the trunk tail light area. They were faded. Also found out how dirty under the covers can get....ugh.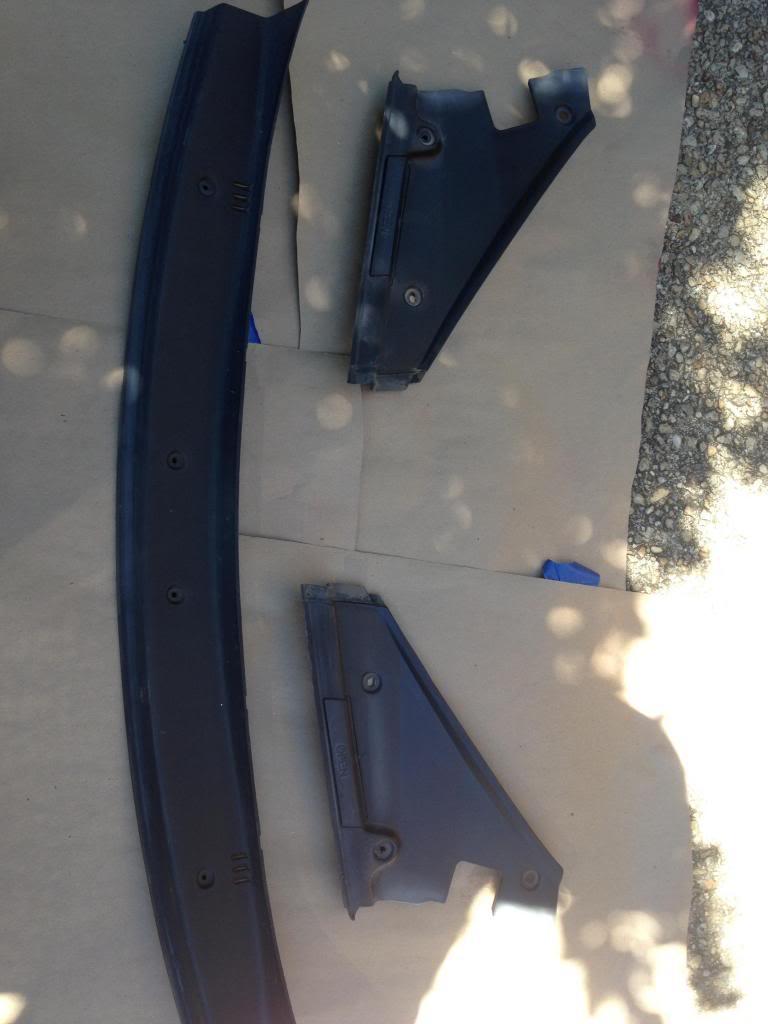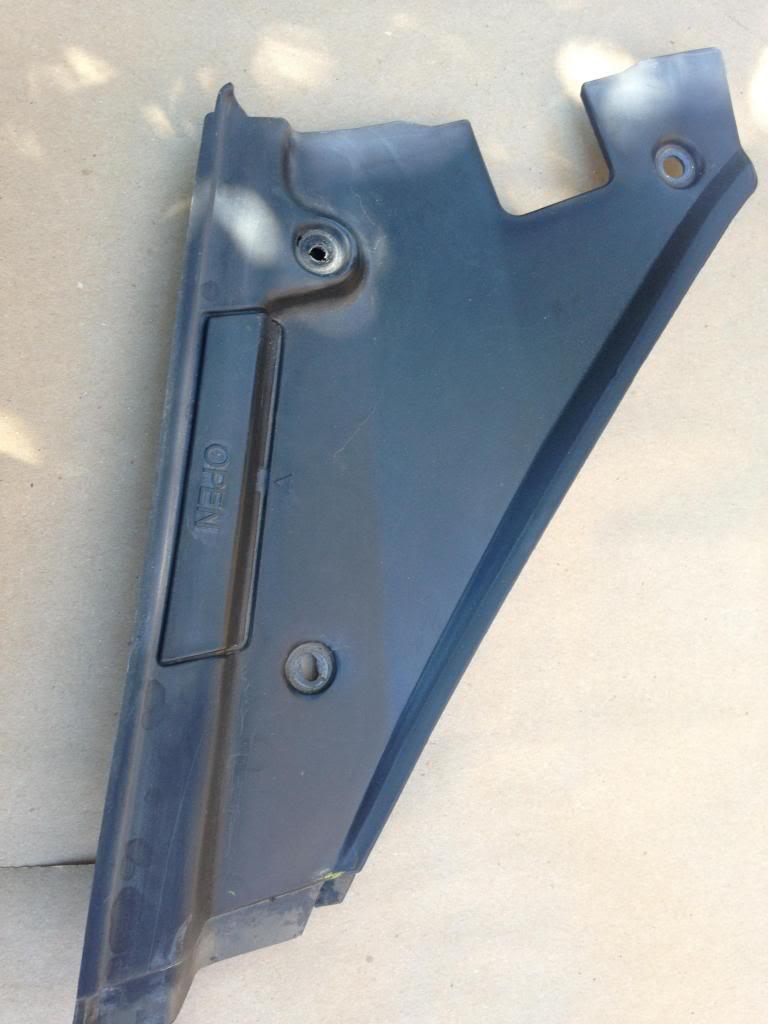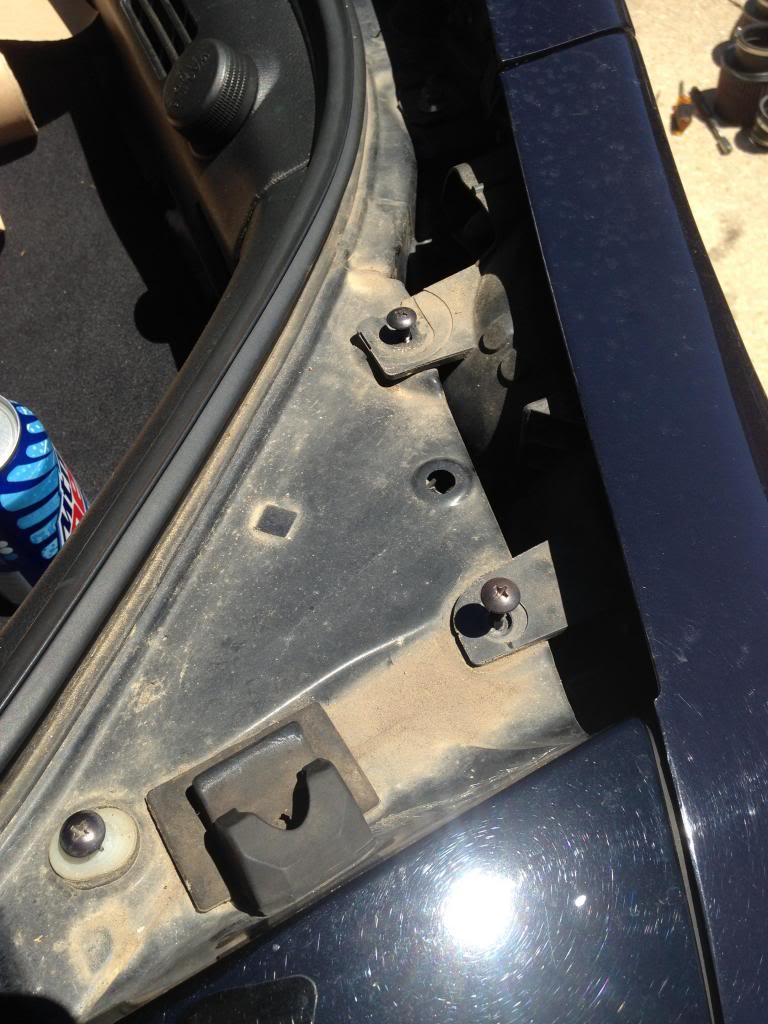 After cleaning and paint.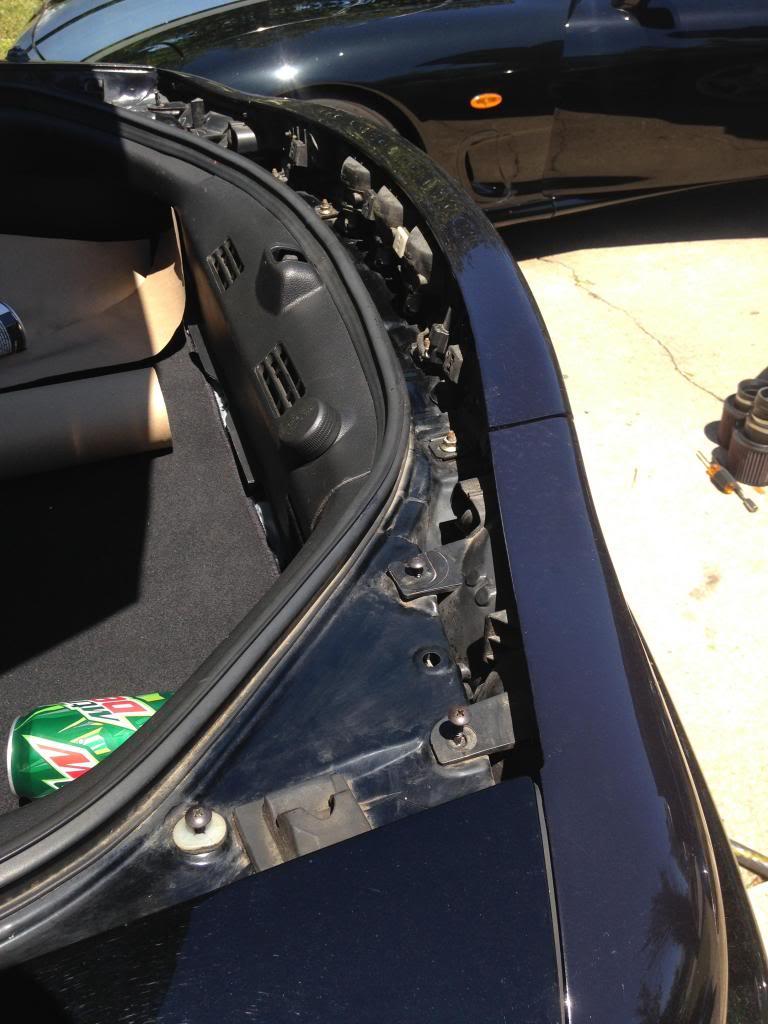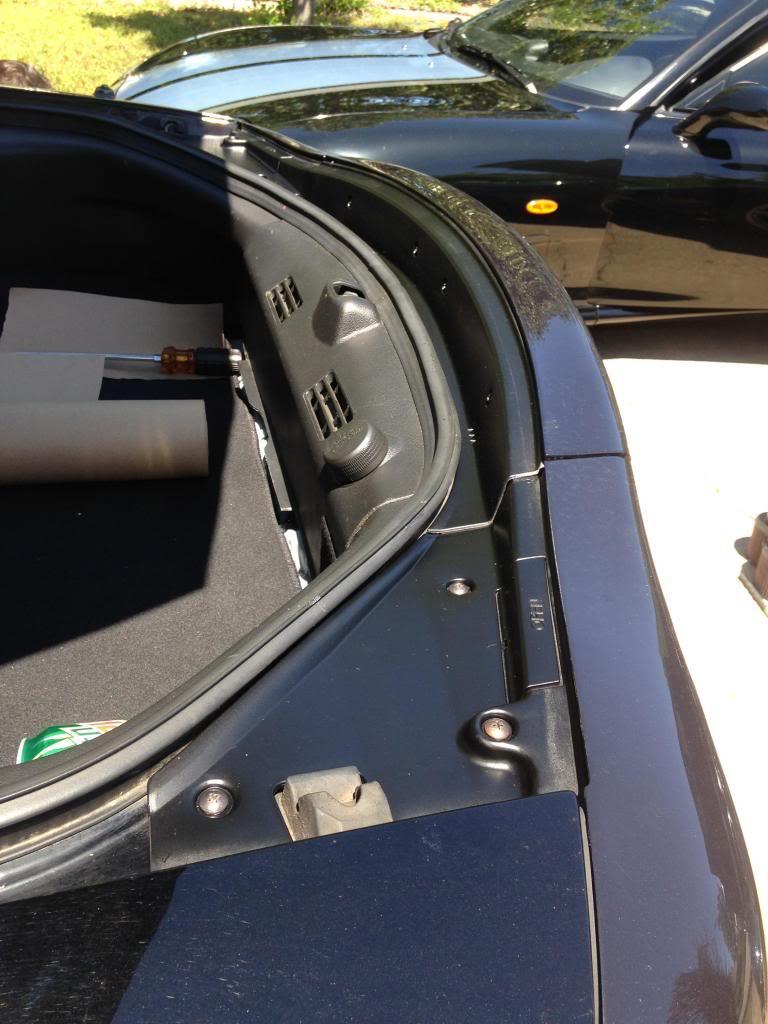 Decided to paint the brakes as well. Pretty happy with painting them red.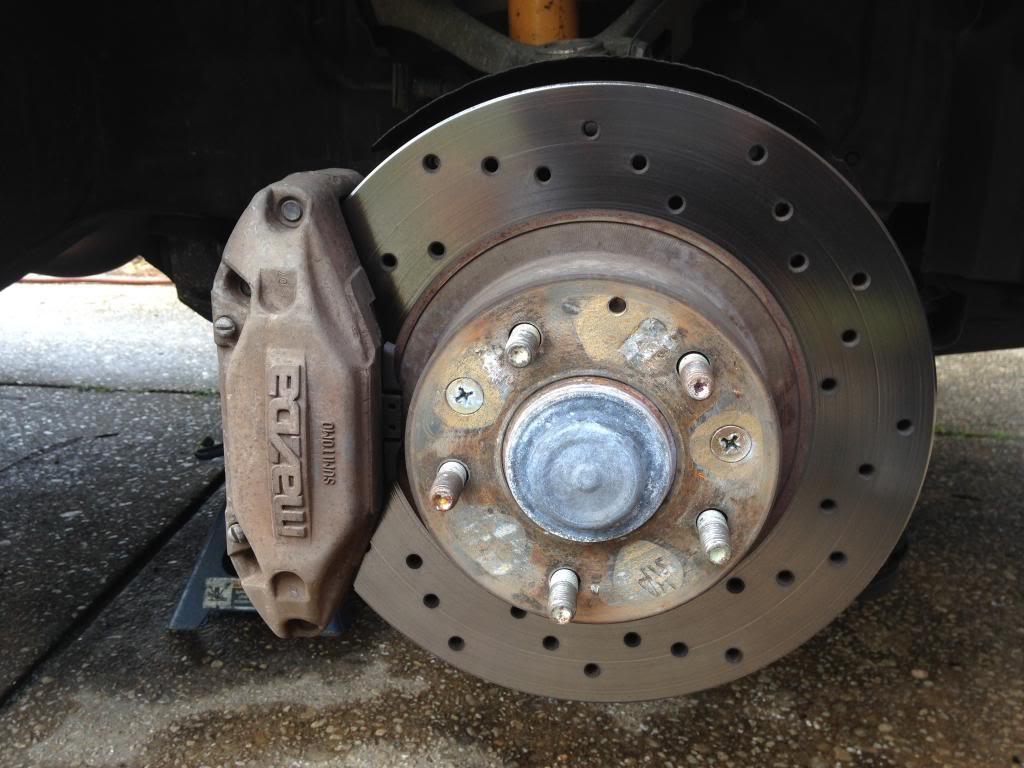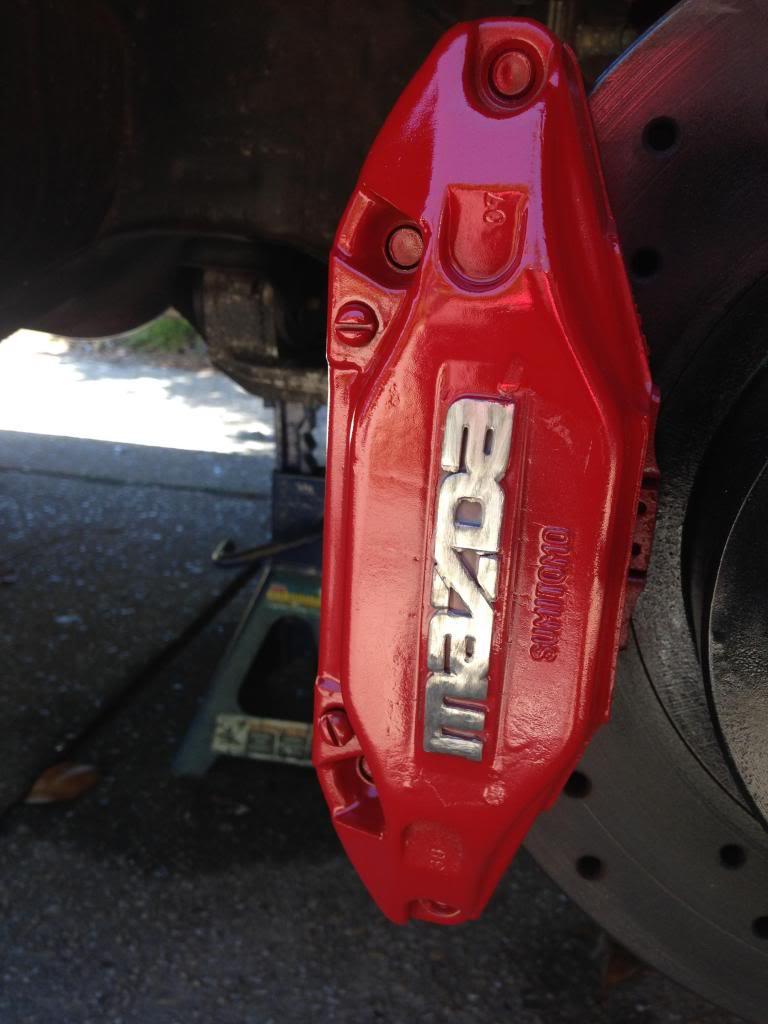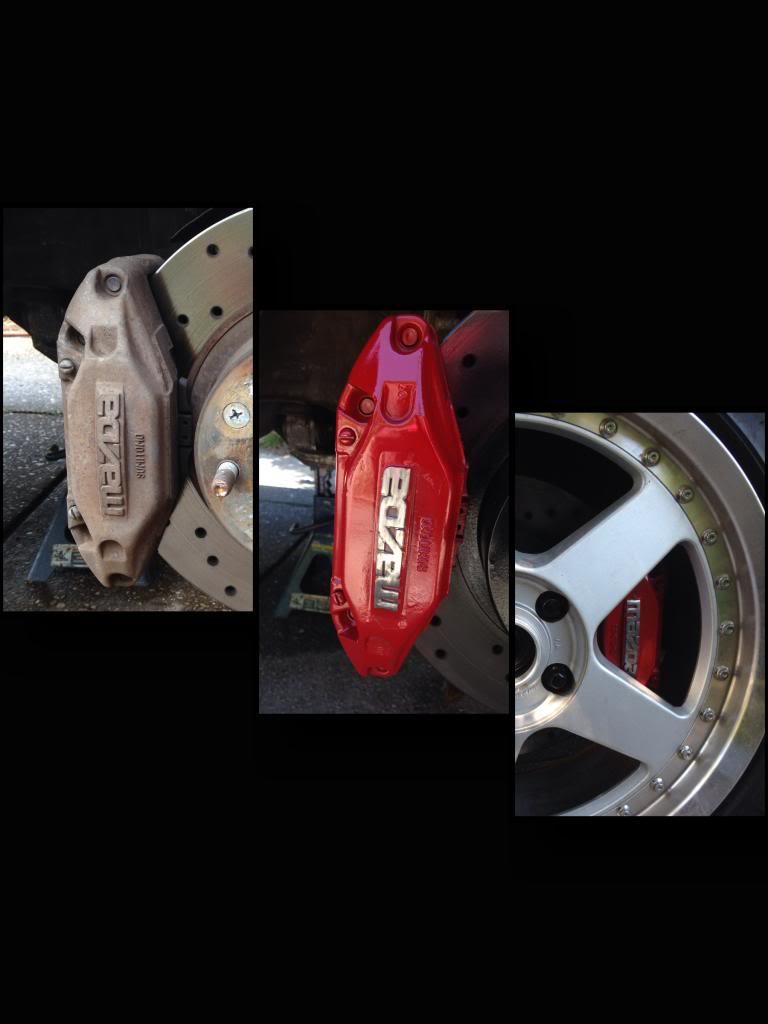 Just for the heck of it, decided to clean behind the wheels since I had them off. They look a lot better but no way I was getting them any cleaner. Left is as clean as I could get them and right was before cleaning.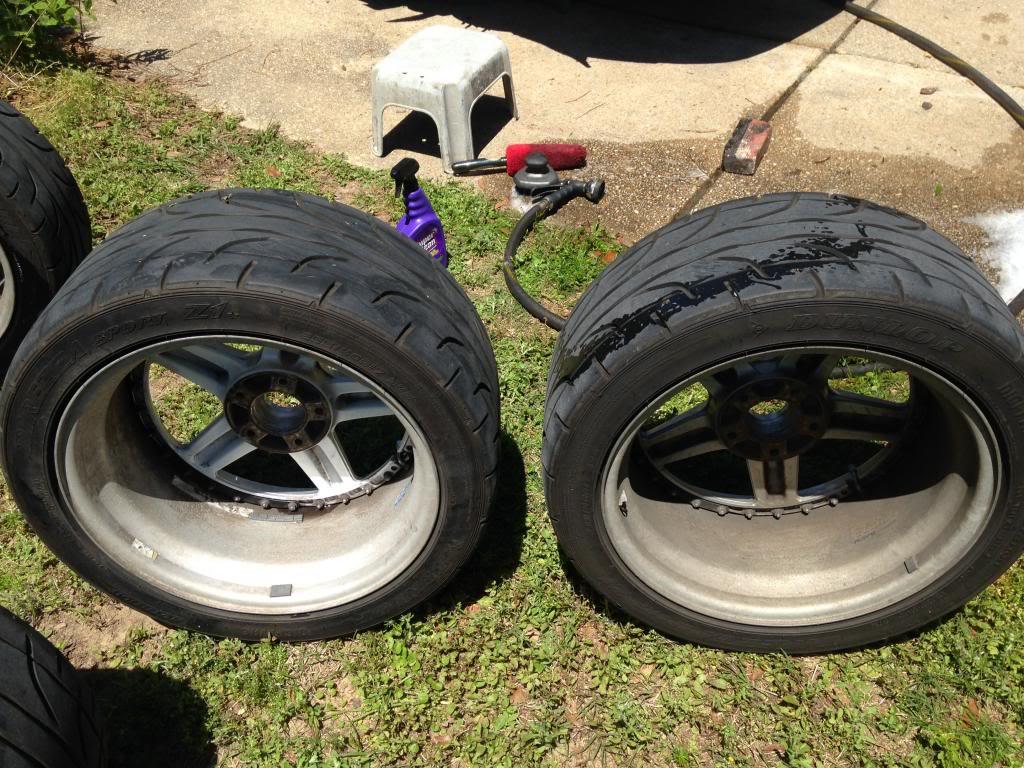 Hopefully...next few post will be from Deals Gap

All cleaned up inside and out getting it ready for Deals Gap. Not the best pics.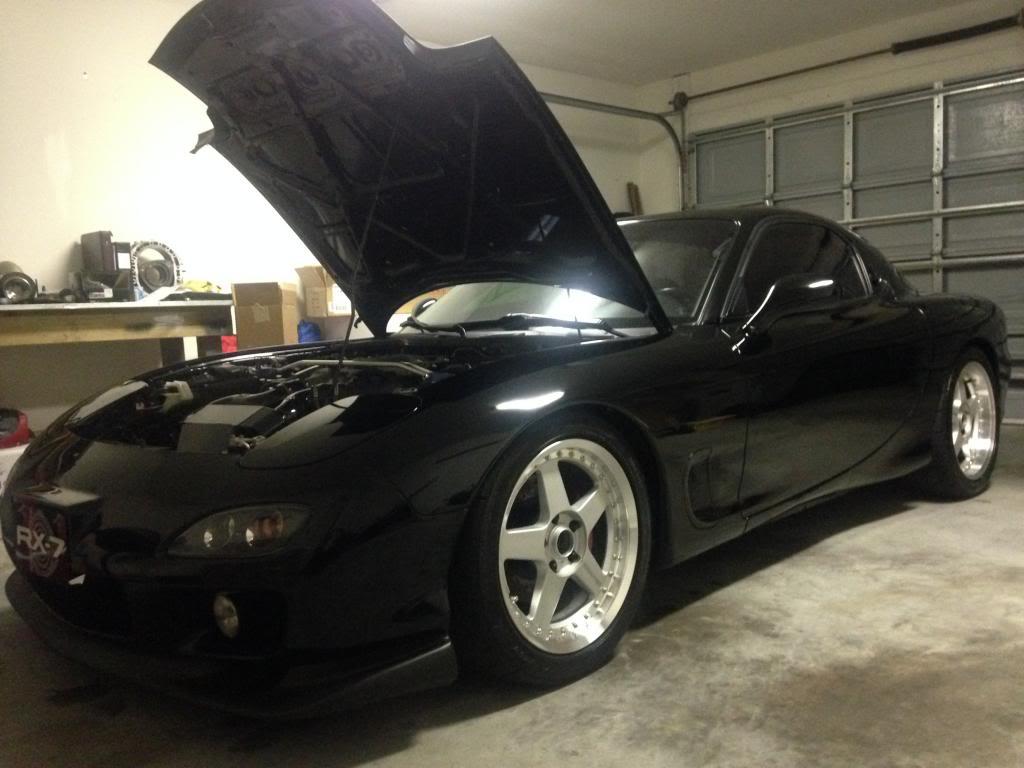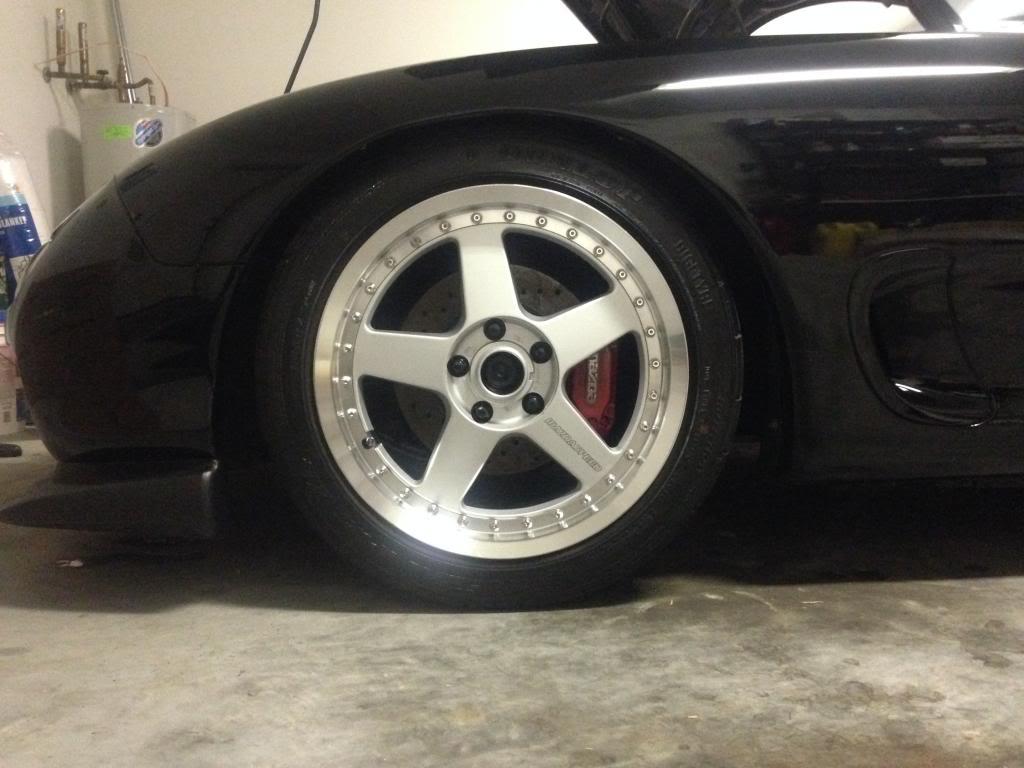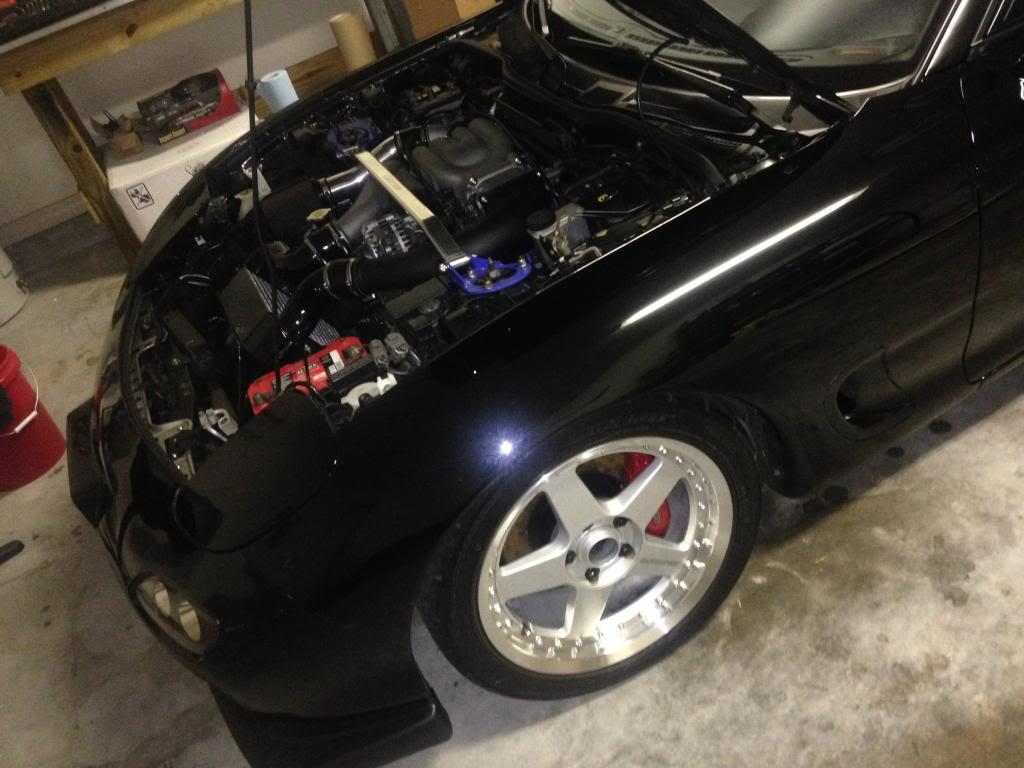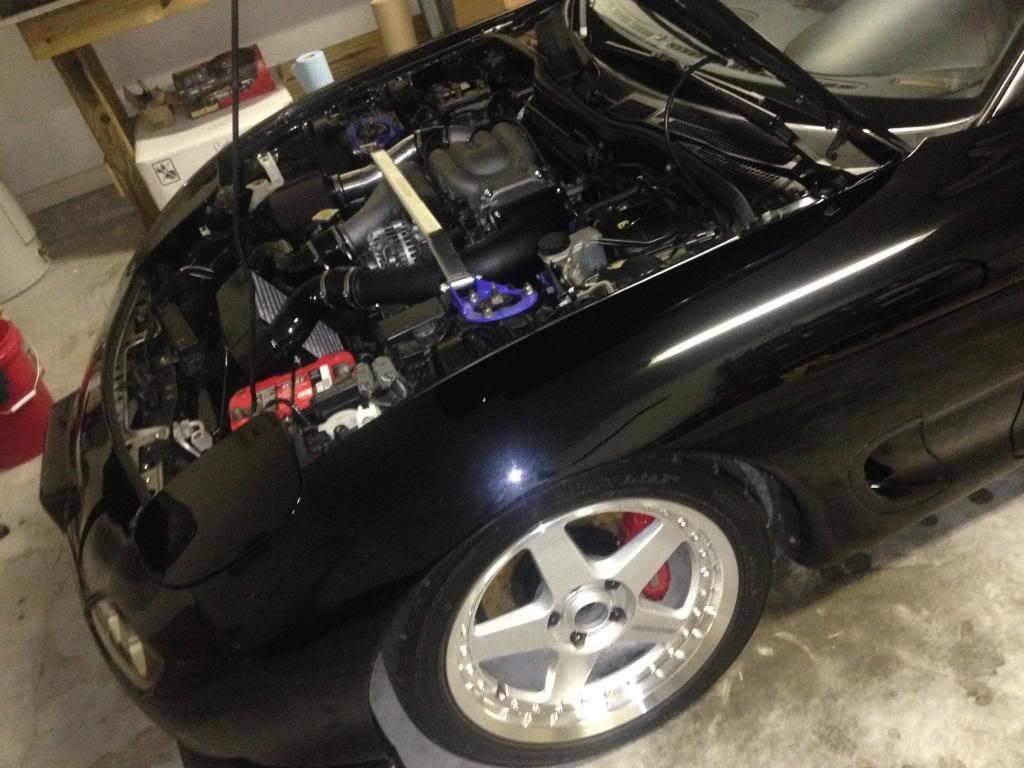 5-5-2014
Ill be uploading a few pics from Deals Gap in the next few days. Probably wont be doing too much work on the car for the rest of the year. I want to save up to re-do the whole suspension. The car performed very well, but the suspension can definitely use some more work
5-7-2014
Few pics from Deals Gap. Cant wait to do it again.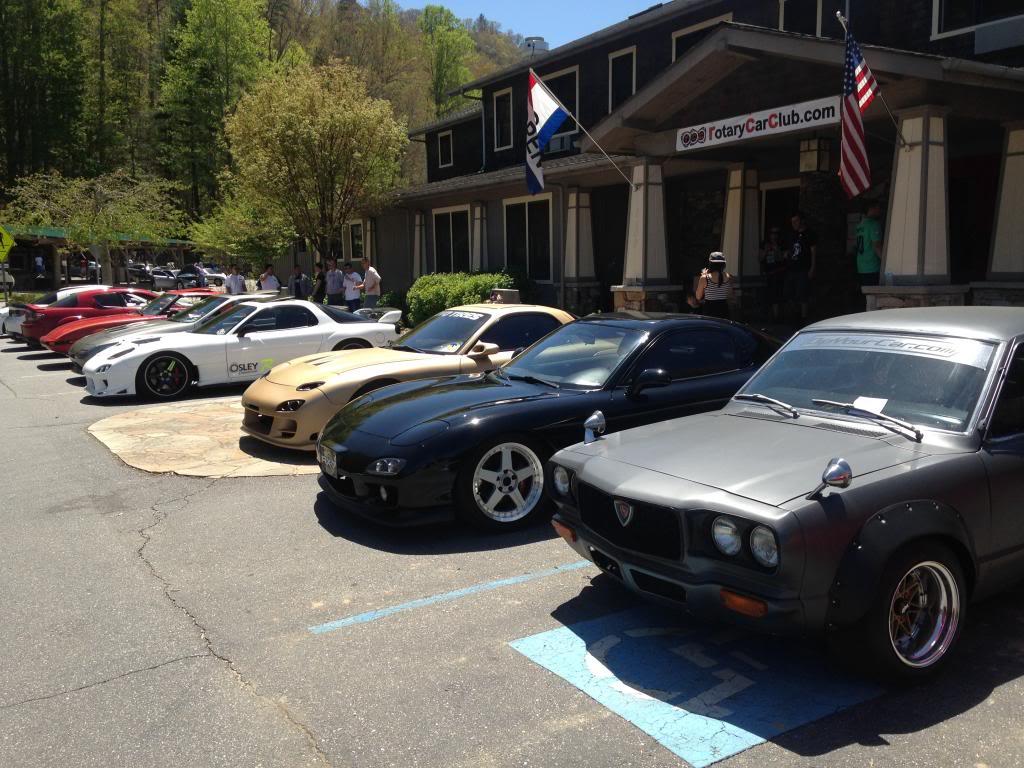 Low Res pics...will be ordering High res pics soon.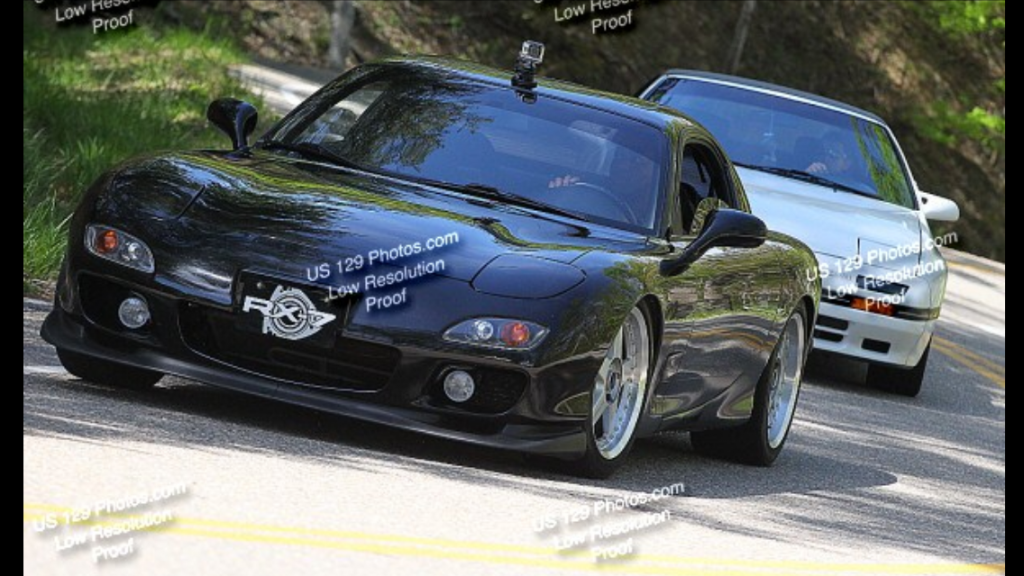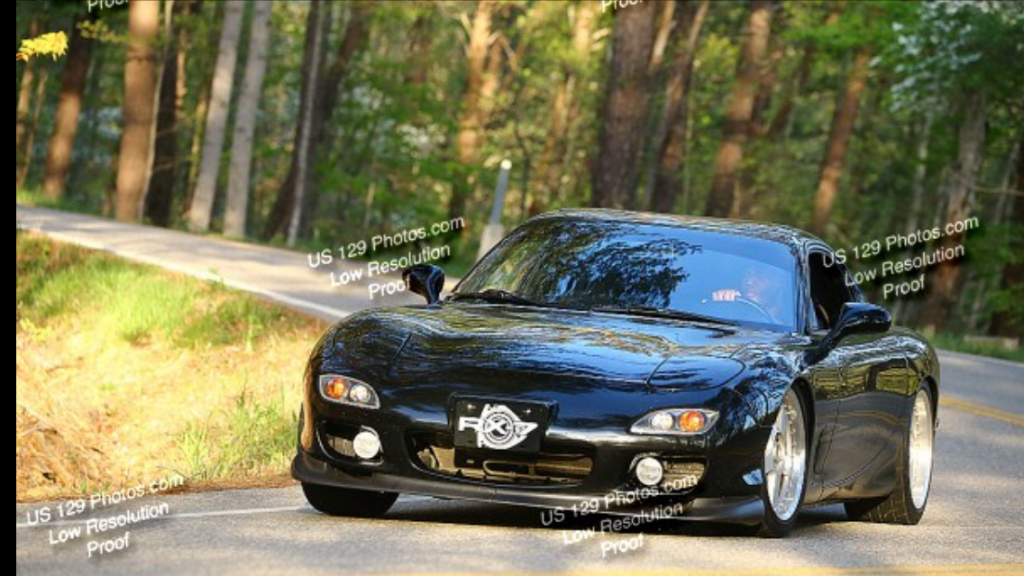 6-9-2014
Not a lot has been happening to the car....other than me driving it every now and then. Had to get my alternator rebuilt since a few diodes went bad. Everything is now back together and she is up and running again. Hopefully I can post something more next time.
7-15-2014
Just some recent pics.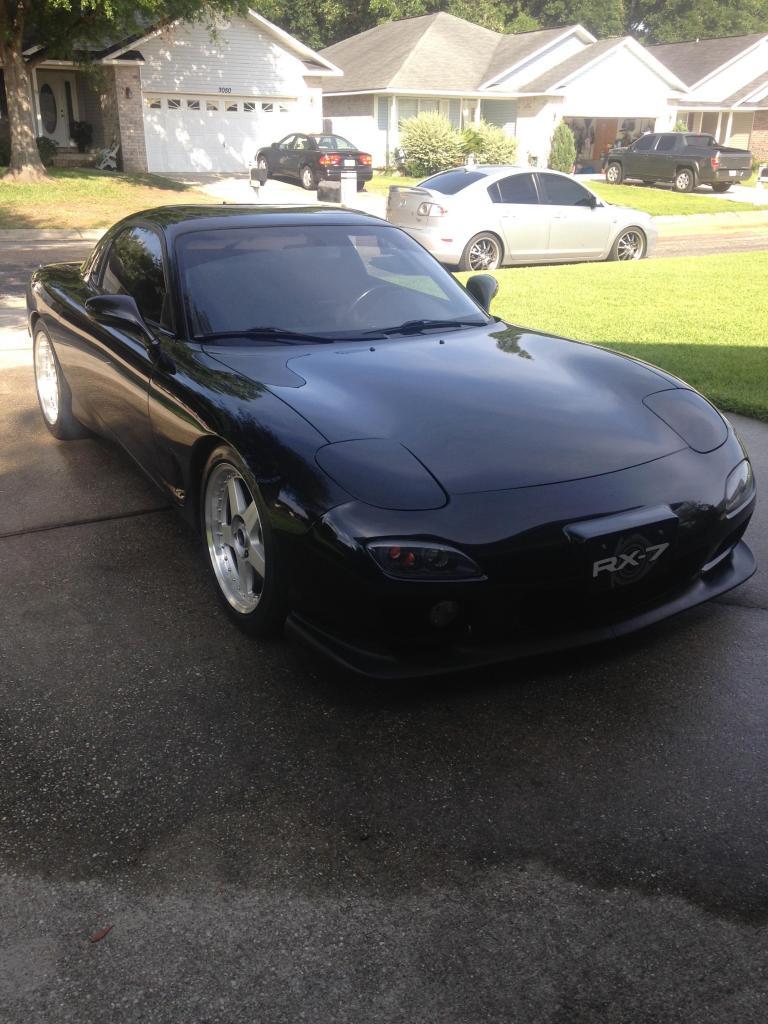 Decided to take both ladies out...lol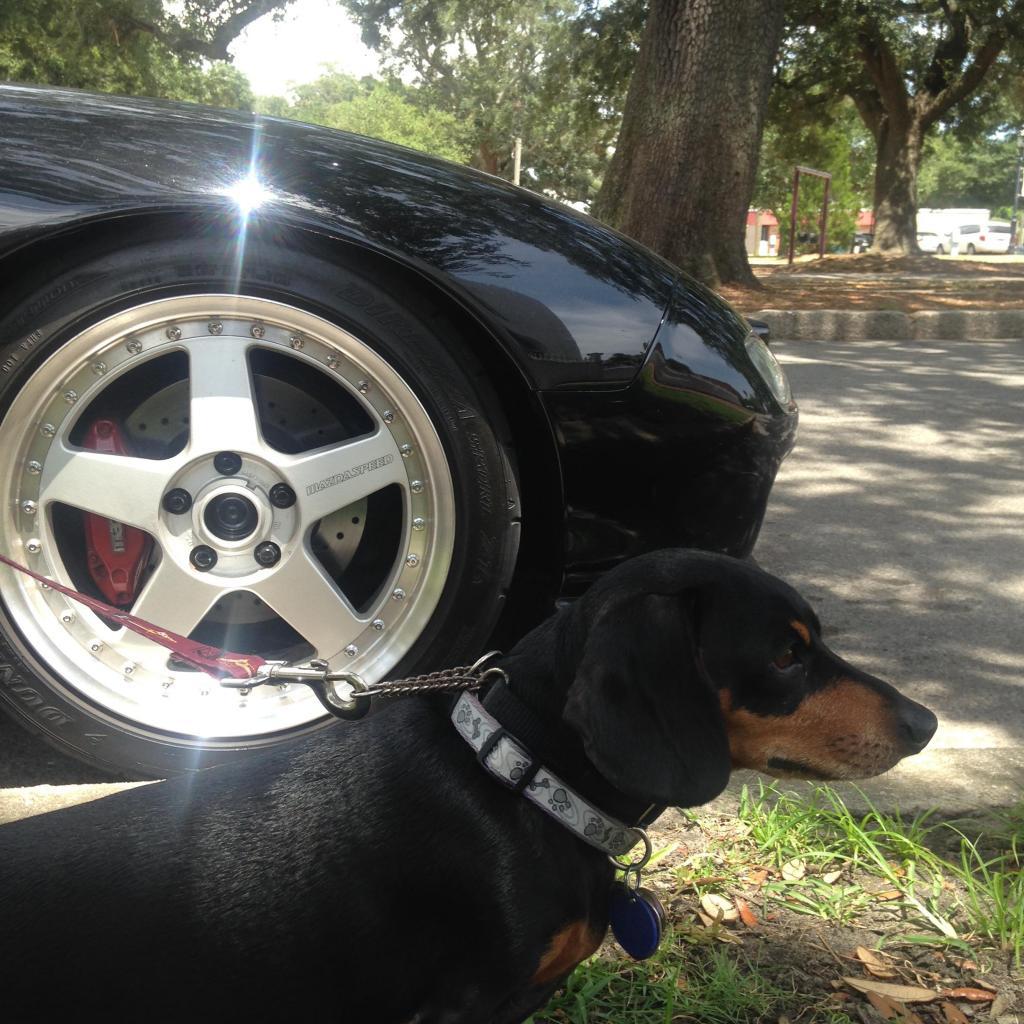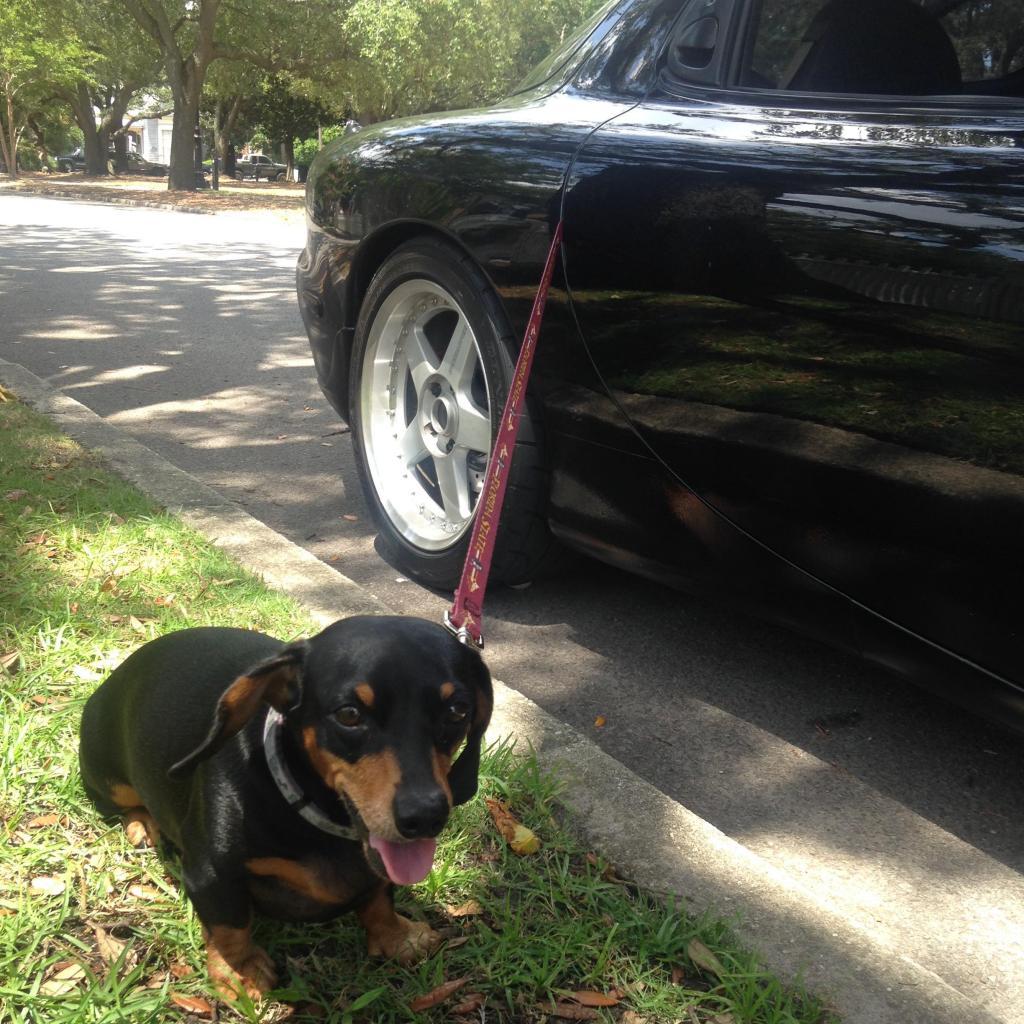 Buddy found my car online from a local car meet.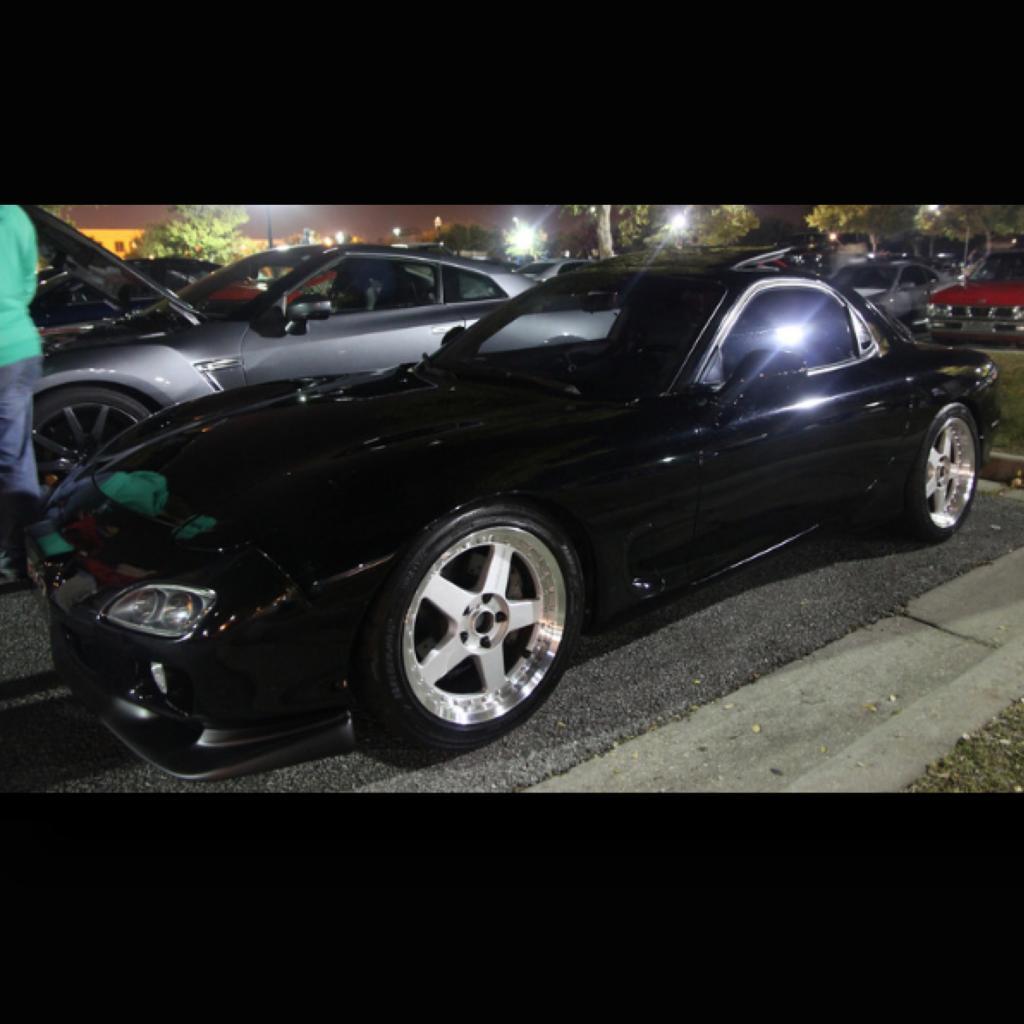 9-9-2014
Cleaned up the car this weekend and took her out...met up with a few friends. Car still puts a smile on my face. Fixed a few small suspension squeaks that were driving me crazy but nothing major. Hopefully I can get the ball rolling on the car again after the holidays.
Forgot that I didn't take pics of the carbon fiber door sills from turbojeff.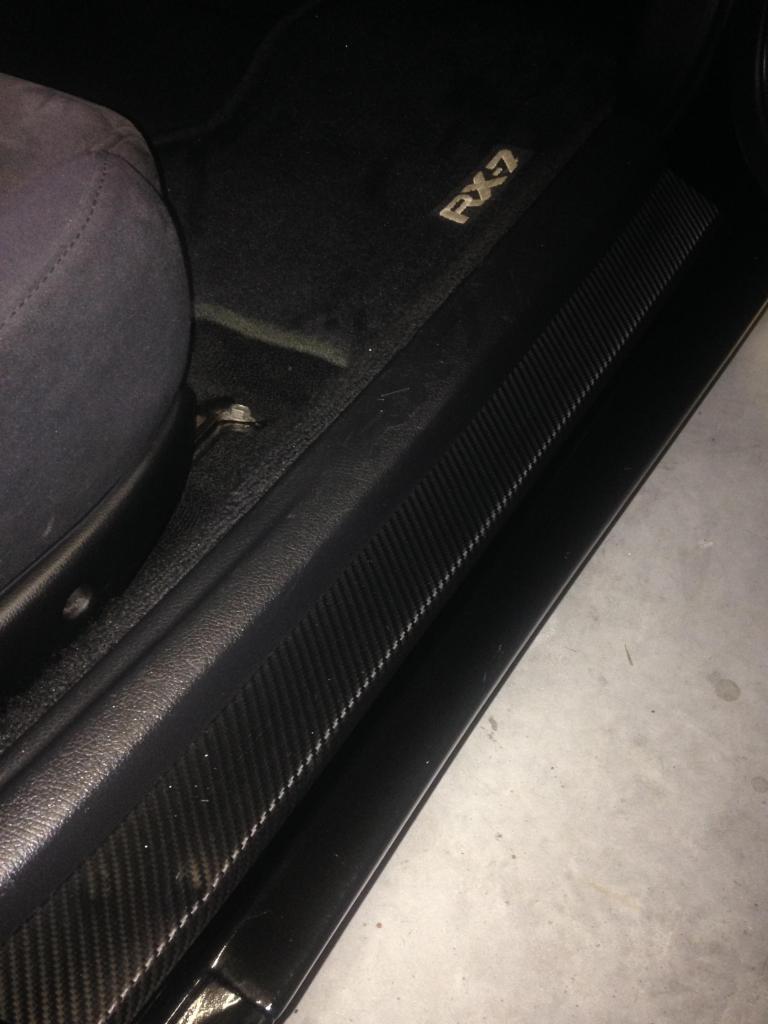 Just hanging out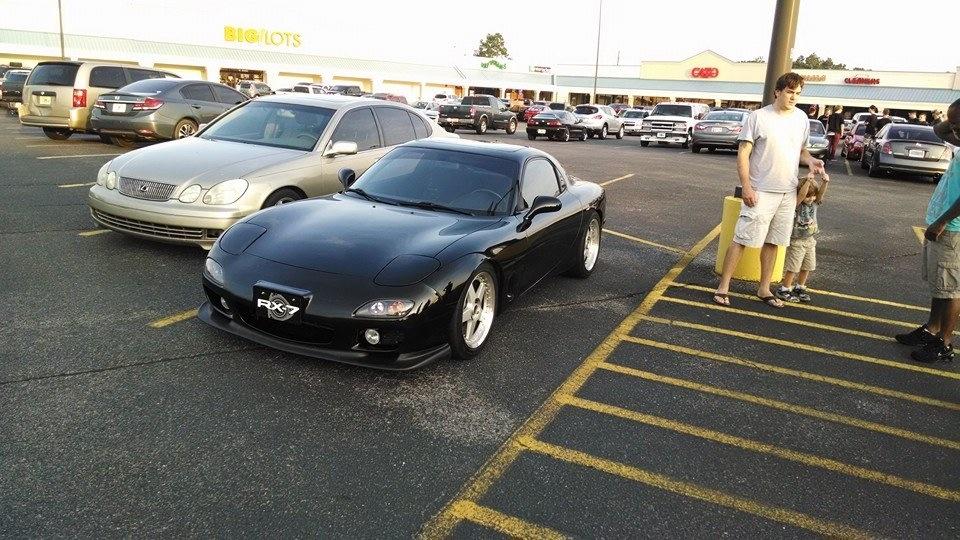 10-7-2014
Hopefully I can get some more actual build updates vs just pics next year.
Cool weather mean hunting season...lol