1967 Resto-mod progress by Tweeder
By diyauto
You must be logged in to rate content!
1967 Resto-mod progress
Compliments of Tweeder @ http://classiccougarcommunity.com
5-17-2014
What I started with. This is just a quick run through..



It will only allow me to upload 3 pics at a time.

The tear-down. I'm not sure why it isn't putting the pictures in order?

Sand Blasted.

Sheet metal work (only some of it.)




Sub Frame connectors.

Moved front spring hangers inward by 1 inch. Stronger hangers too.
Fit Ford 9-inch and anti-roll bar.
Shorten 9-inch by 5 3/4 inches.

Roll cage.

Tire fitment.

Hood Build

Re-assembly and final paint prep.

Primer coat.

Color and clear coat.








6-23-2014
So, update on the progress. Got the 4-wheel disc debacle squared away. Made my own brackets, had them hardened. Got correct rotors from the local NAPA machine shop, and installed the new brake system. Got them all bled, and E-brake installed. Rebuilt the AC/Heater box, new fan motor, new heater core and A/C evaporator. Repaired the cracks and broken box with some fiberglass repair from Autozone. Bolted it all under the dash. Rebuilt all the actuator doors, all new seals, and grommets. Re-installed factory under dash electrical harness, new ignition key, and re-installed all new vacuum lines. Installed center dashboard speaker as well. Ordered up my custom wheels, and with luck, tomorrow I will re-install all 4 window actuators, glass, door locks, and handles. Then next week sew up my new door panels, install my door speakers and rear quarter speakers, then finish off with the dash pad, and rear deck panel. As well as new windshield and re-install rear glass. After that, all that's left is to re-furnish the taillight housings, headlamp housings, and engine.. Then she'll be back on the road. Another Cat saved from the junk heap...
8-13-2014
Short update. Got the side glass installed and all adjustments figured out. Thanks guys for the help with that. Haven't gotten to put as much time into the car as I wanted the last month, but have made some progress.

Had to make my own speaker enclosures for the kick panel (to work with the roll cage).








Test fit the enclosure on the kick panel, then wrapped in fiberglass.



Sand smooth and paint.


Wheels came in, also installed battery box, started cutting trunk panels and door panels.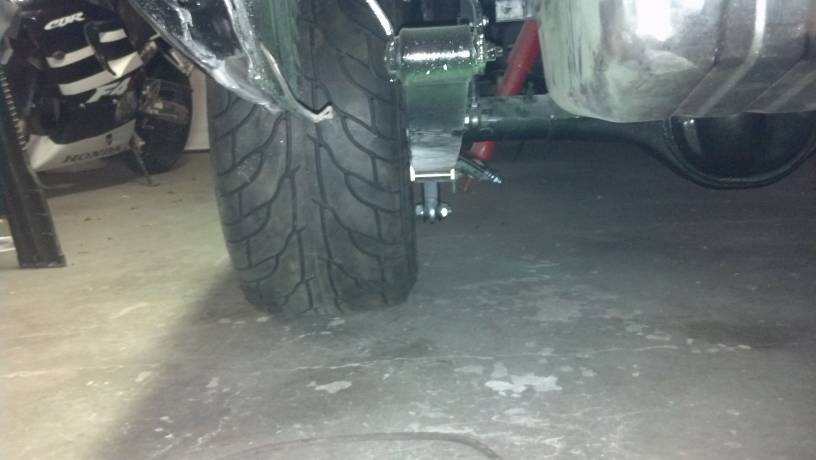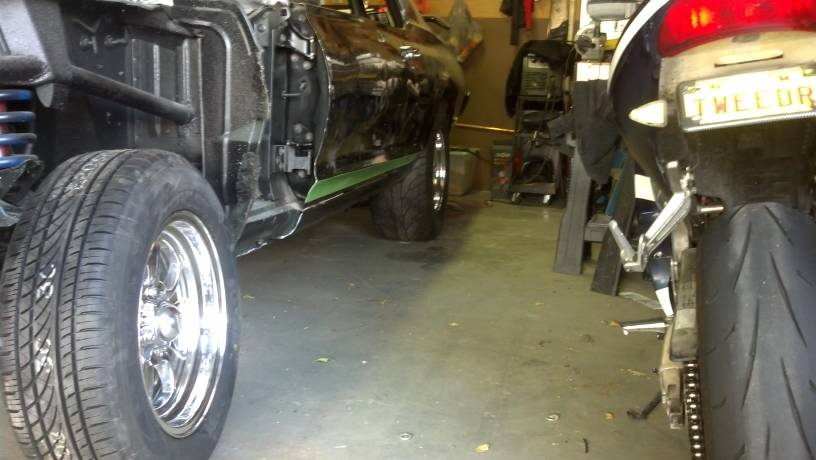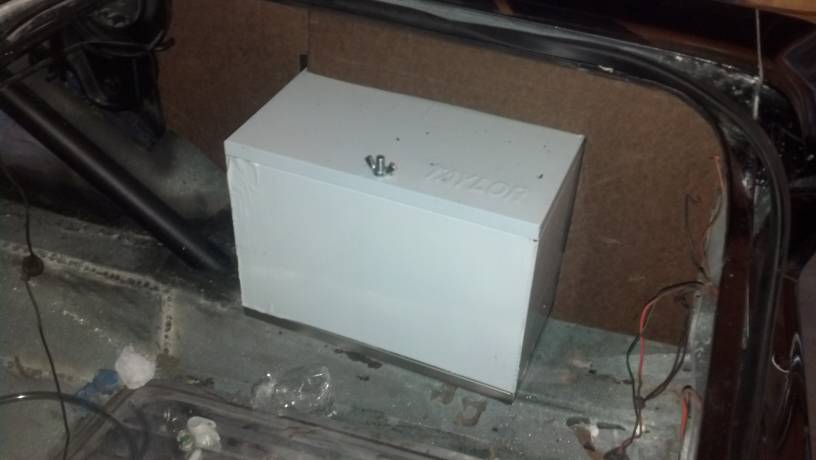 Also built my subwoofer enclosed. 2 twelve inch sub's going to take 1000 watts.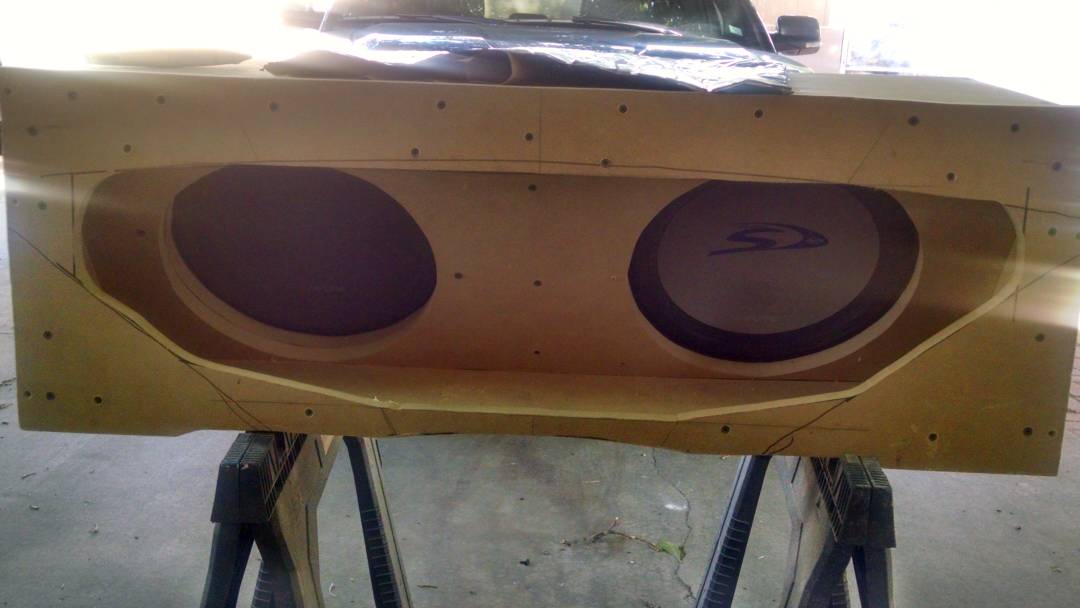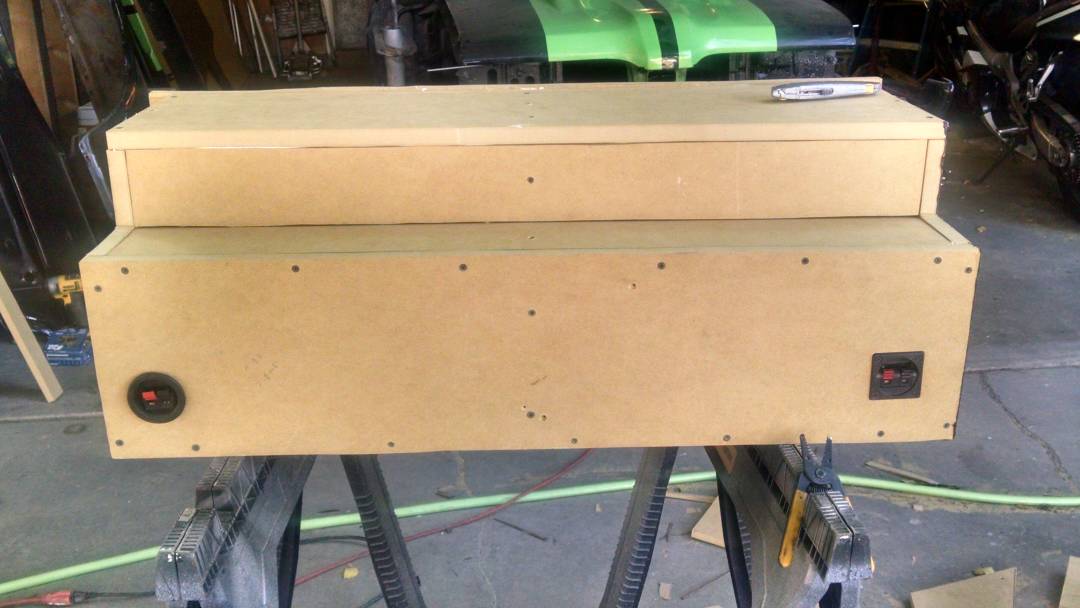 8-19-2014
Got the rest of my dynomat. Installed the subwoofer enclosure all the trunk panels cut and carpeted.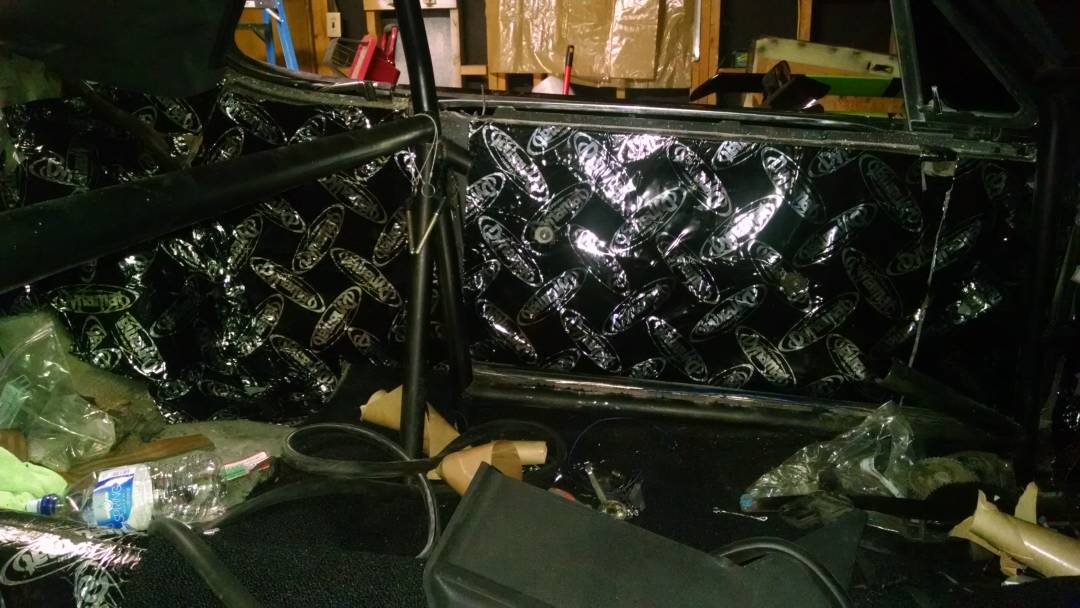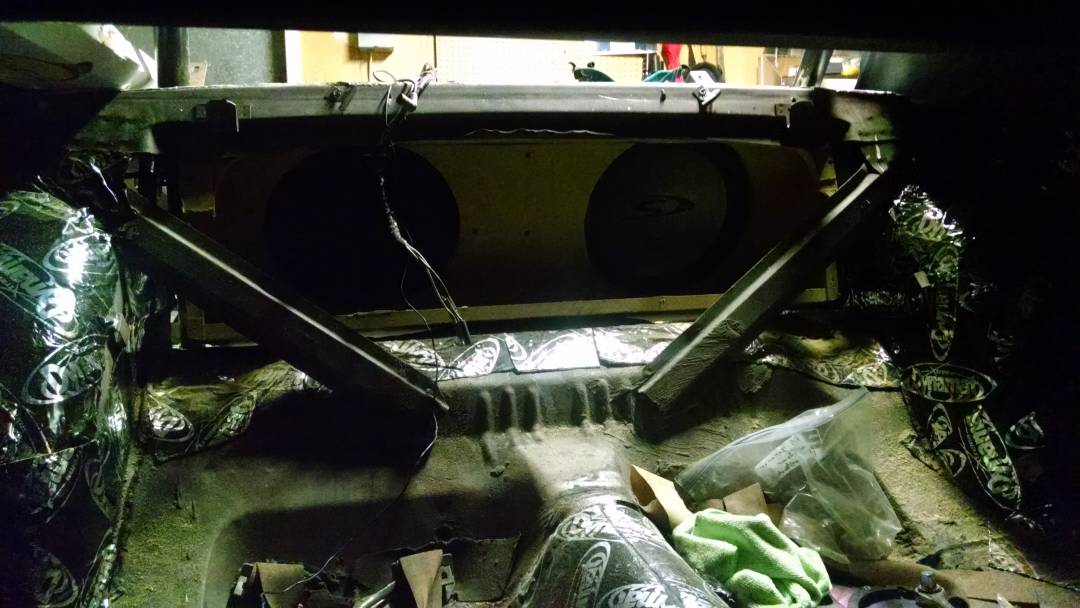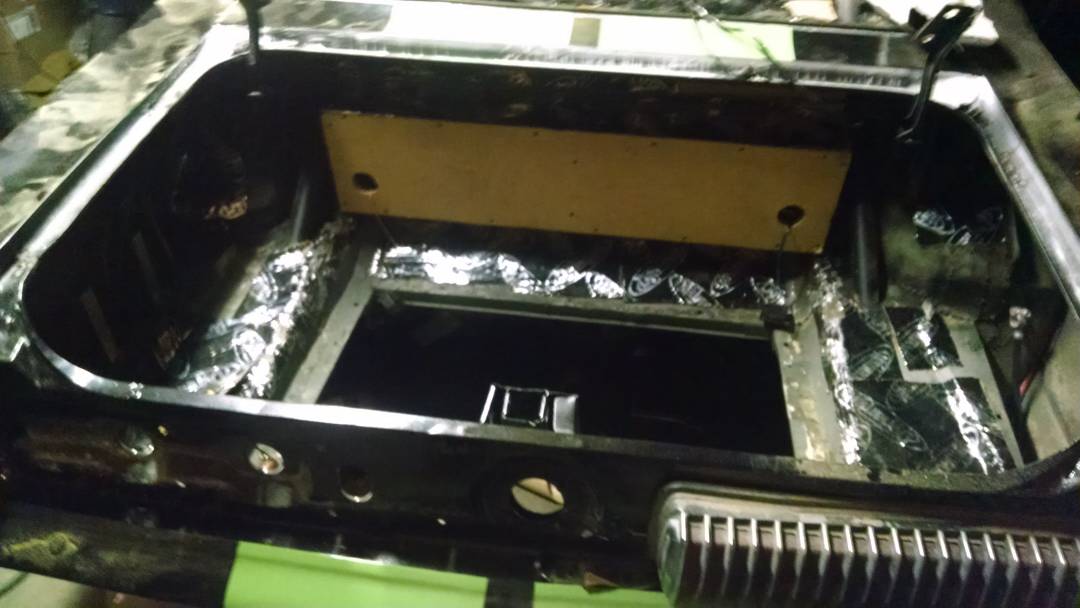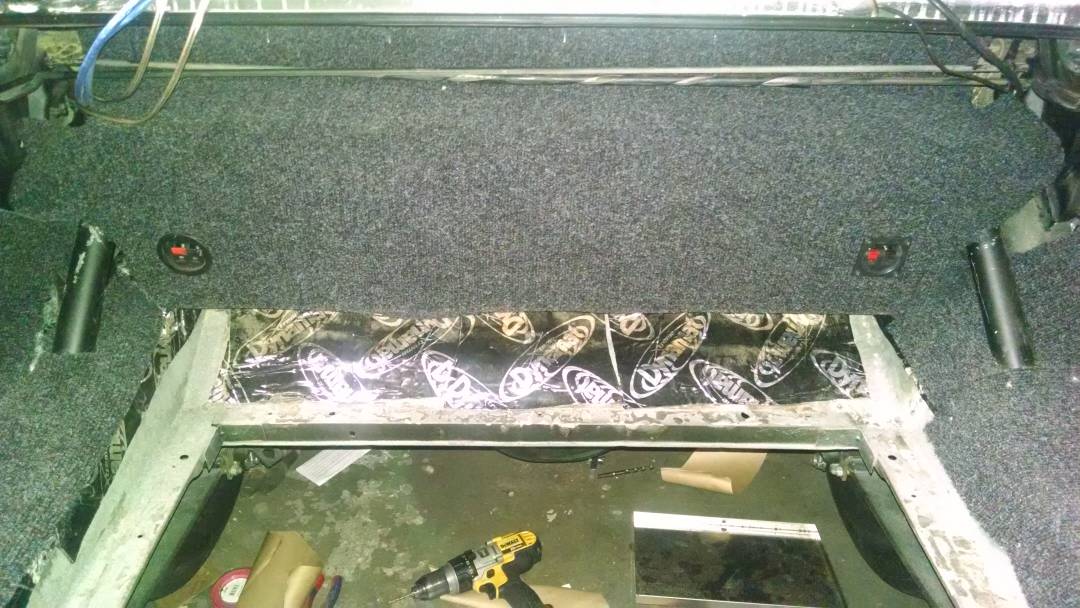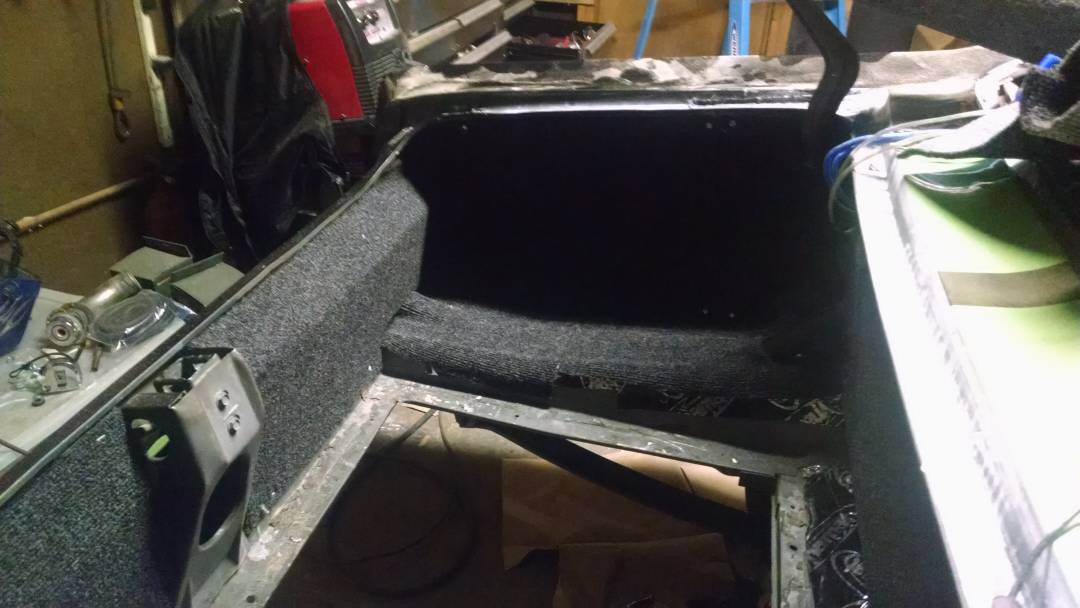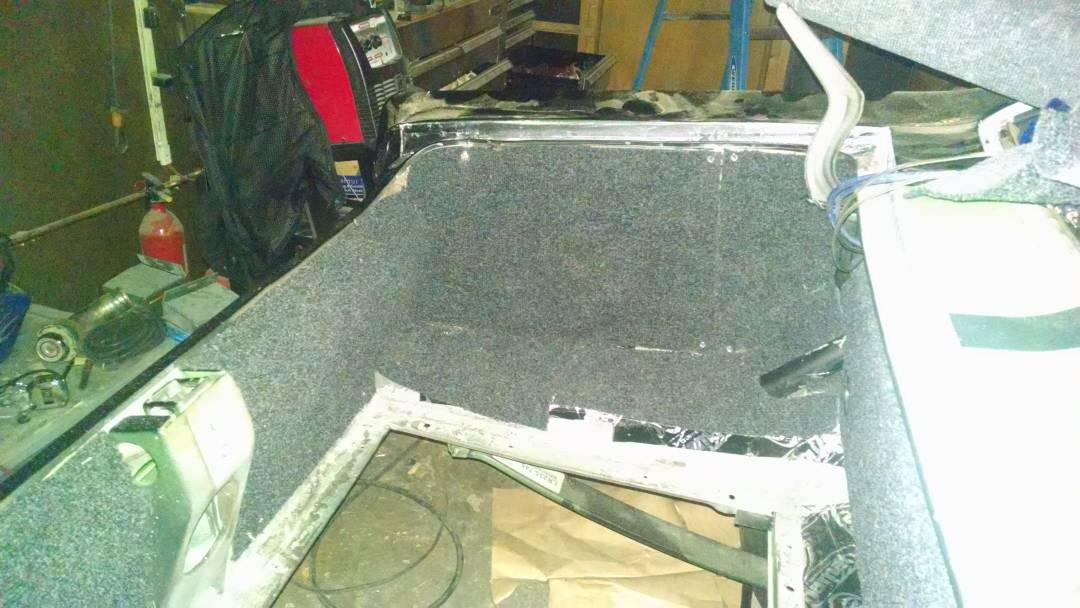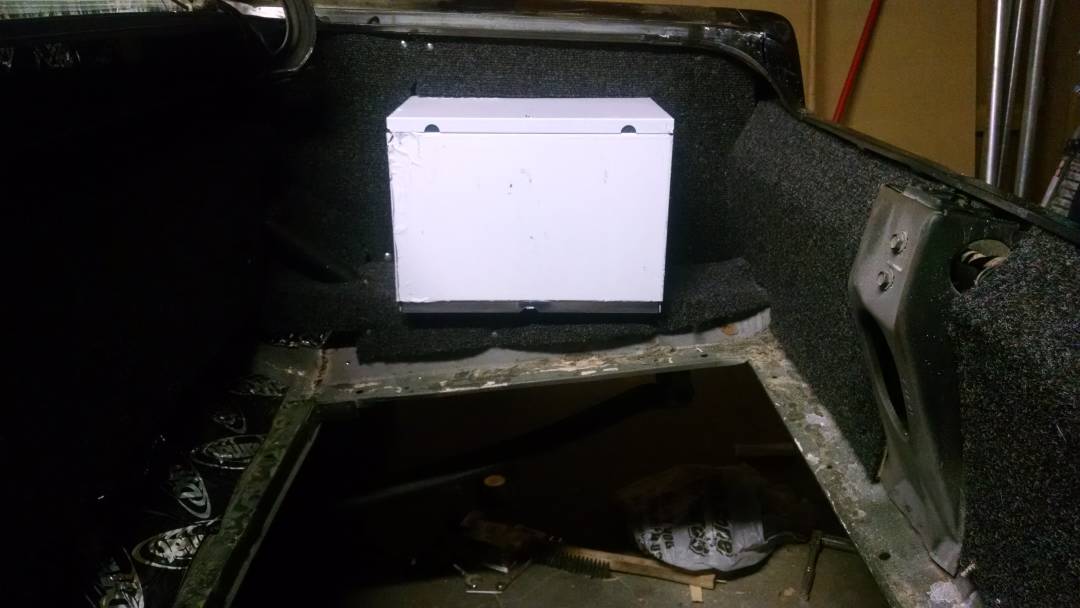 I know it isn't factory, but it is nice and clean. I'll cut the bottom piece as soon as my leak test on my tank is finished, then I'll carpet that and install. Then later this week I will finish upholstering my door panels and install those. This weekend install the brake and accelerator pedals, my new fuse blocks, and check to make sure all the electrical is squared away. Then reinstall the instrument cluster, front and rear windshield.
Then next week transfer the cam from my 5.0 into the 289 and port the heads. Be ready to install in 2 weeks..
11-28-2014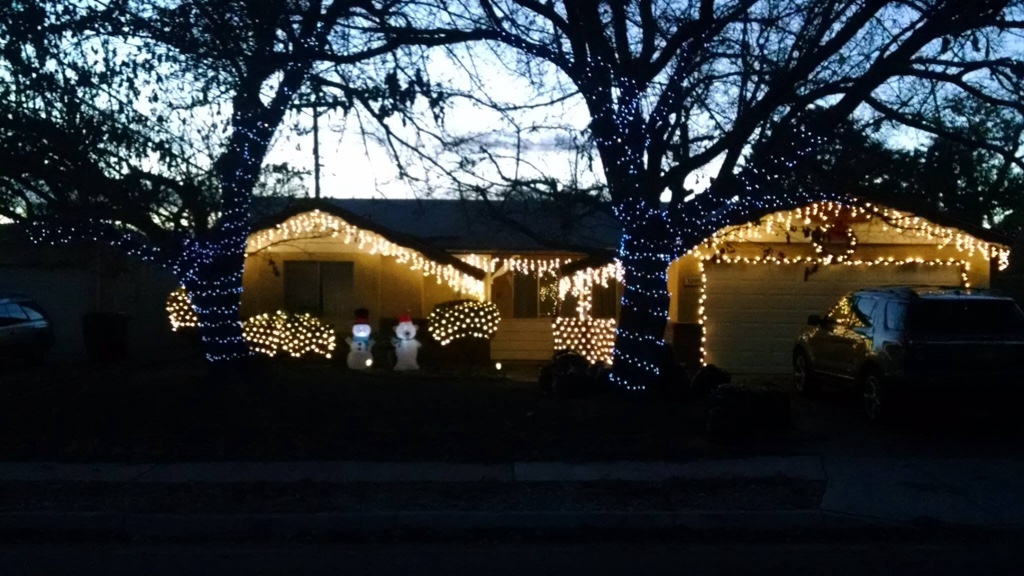 Ok, been 4 months, time for an update. Electrics are done, interior is done (other than rear seat area). Decided NOT to re-use my 289, I found a guy here in town looking for a period correct 289 for his Comet, and decided to sell him mine. We made a deal. I would transfer the cam like I had planned, transfer the heads and intake and we had a deal. Couple weeks, and 30 hrs total work and he gave me $3800 for the long block. Since, he has installed it in his Comet and says he's getting 348 hp at the flywheel. Pretty decent..

Now I need an engine. Since the 5.0 is blown and most of the parts are now on the 289, what do I do?? Looked at the finances, promised the wife a great vacation and landscaping next summer, and broke down and had my buddy order up my Dart sportsman, 4.000 Eagle crank, 6.200 eagle I beam rods, 4.125 Ross dished Pistons. Have ARP hardware, and clevite bearings. The machine work is done, and I will be swinging over to his shop tomorrow to pick those pieces up. I will paint the block on Monday, and assembly starts Tuesday.

After going shooting this afternoon and popping off nearly 1000 rounds, I come home to an early Christmas..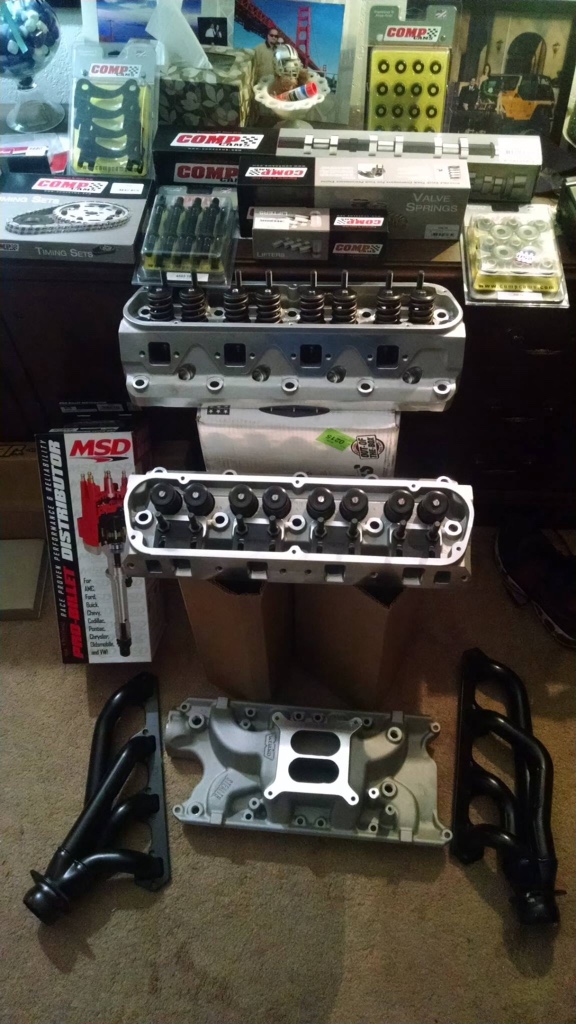 Dart Pro 1 heads, 2.025 intake 1.600 exhaust. 225cc intake runners and 75cc exhaust.
Comp Camps custom grind 260/266 @50 619/619 lift with 114 lobe separation.
Comp Cams lifters, springs, guides, seats, studs, timing chain, etc.
Weiand Stealth intake, MSD Pro Billet distributor, and Heddman Mid-length 2-inch primary headers. Spending the rest of my vacation for the year next week, and plan on having an engine/Trans (sorry, didn't use that other short word for a reason) in the car by next Friday..


3-18-2015
Thank you both. Been a year and half build so far. Engine is not in the car yet, got the engine, crank, etc back from the machine shop a month ago. Assembled it 3 Saturday's ago. Took it and had it bench dyno'd last weekend. Made 580HP at flex plate with a 950 Holley XP and MSD Digital 6AL. After break In of course, they put her through 4 passes, first pass was 572hp and 518torque, three more passes and got 583.4HP and 522.6 torque. I'm going to put a 1050 AED blow through with MSD digital boost box on it. Then the Novi 2500 blower, so should make real close to the 1100 hp I want at 14 psi.. Should be getting the transmission in this Saturday hopefully? Lentech Automatics AOD Strip Terminator, and 3800 stall. Have to run a fuel line and install my A/F ratio gauges, then the motor goes in the car. Won't happen this weekend, have a funeral to attend, but hopefully next Saturday engine and Trans will go in.. Be a few more months before I get my carburetor and ignition box..