A car with no name. by 67catmando
By diyauto
You must be logged in to rate content!
A car with no name.
Compliments of 67catmando @ classiccougarcommunity.com
2-25-2012
I think this section is pretty cool. I have had this car for over 3 years now. There has been some progress made on it but I am gearing up for a final push to complete my car. I take pictures along the way but probably not as often as I should. It seems like I get time to work directly on the car about once a month. Maybe I get a full day in about that often but I do work towards finishing the car more frequently. I have compiled a ton of parts to go on the car, so I guess that is a good thing. This is a restomod project so I have the freedom to do whatever I like. Perhaps that is what is making it take so long. The scope of this project has expanded a bunch. This is what I have done so far:.
This is what it looked like when I got it. Cheap paint job flaking but overall pretty straight and rust free.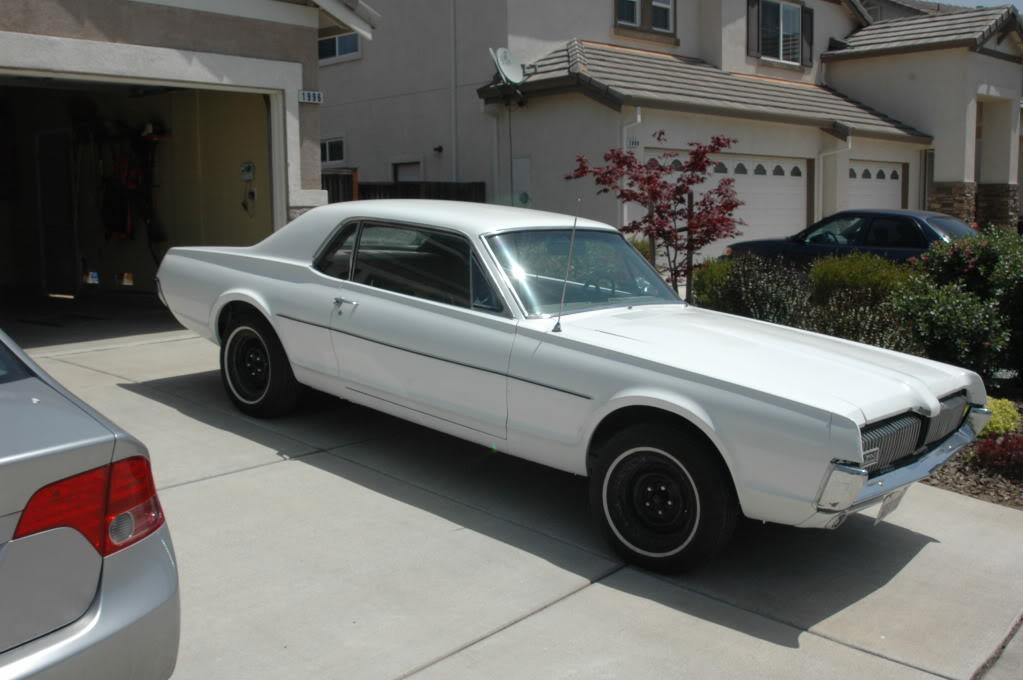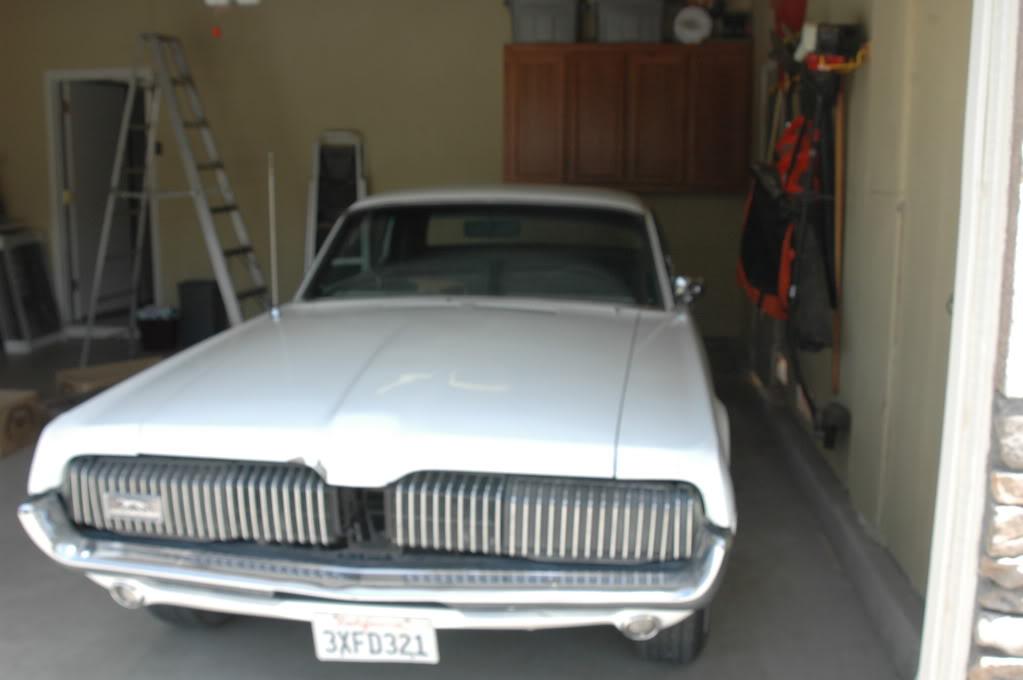 I changed out the floor shifter with a dynacorn reproduction so I could fit a console. The power steering was only half there, control valve, ram and PS pump missing, so I swapped in new Manual steering. Thank heaven Borgeson has that conversion kit now.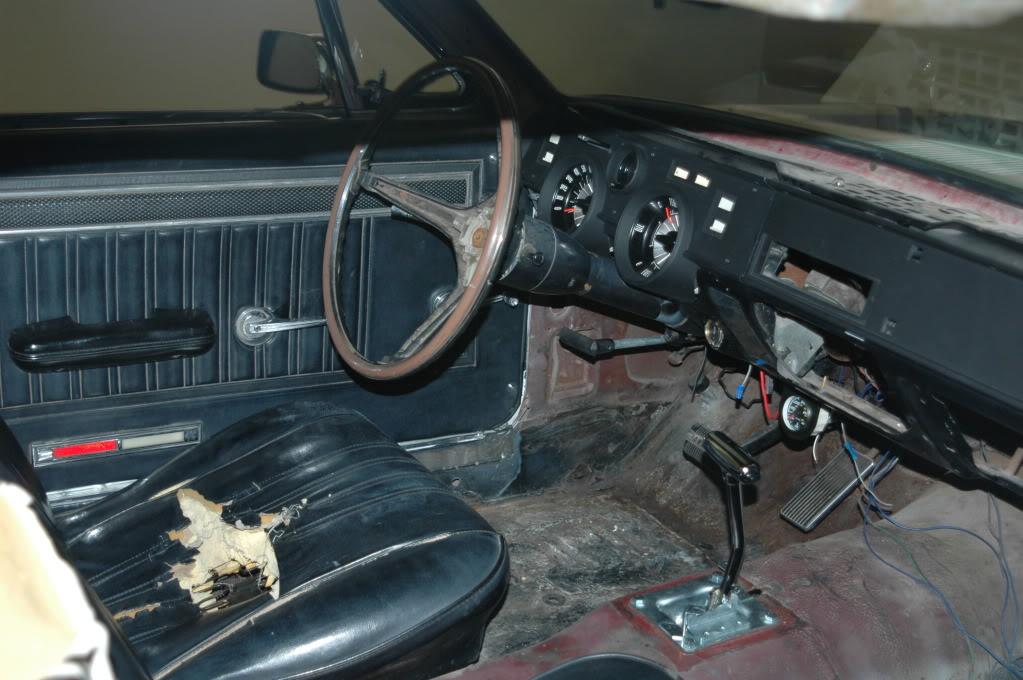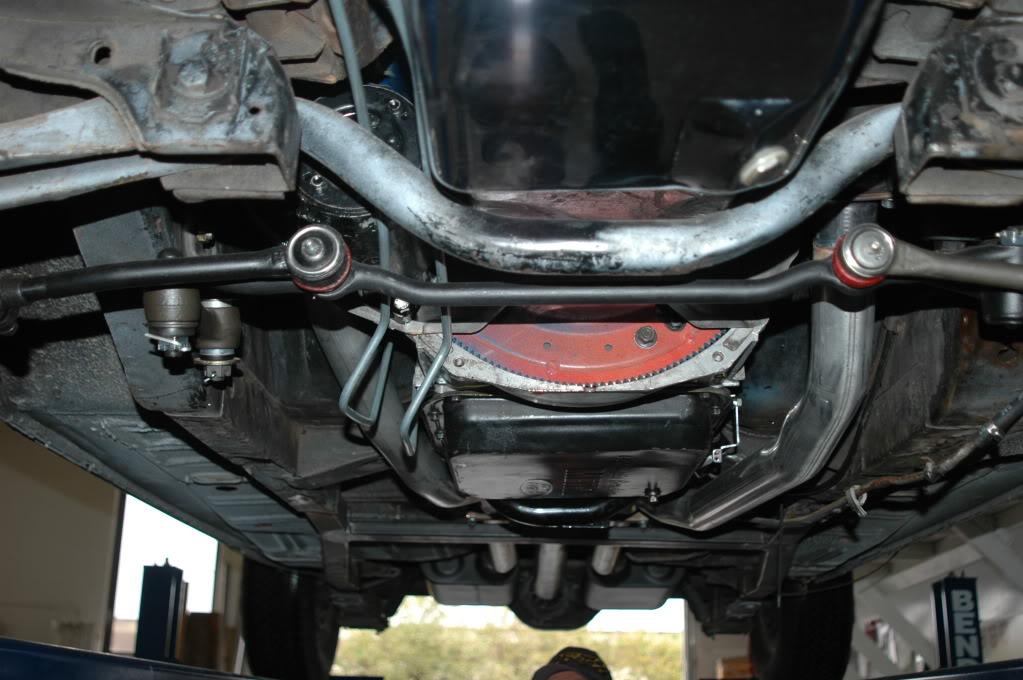 I pulled the motor, painted and changed the water pump and several of the accessories, air cleaner etc.
I swapped the 20 inch radiator for a 24 inch 3 row, changed the hoses, thermostat, heater core, overflow tank and got the thing running at 180 on the button.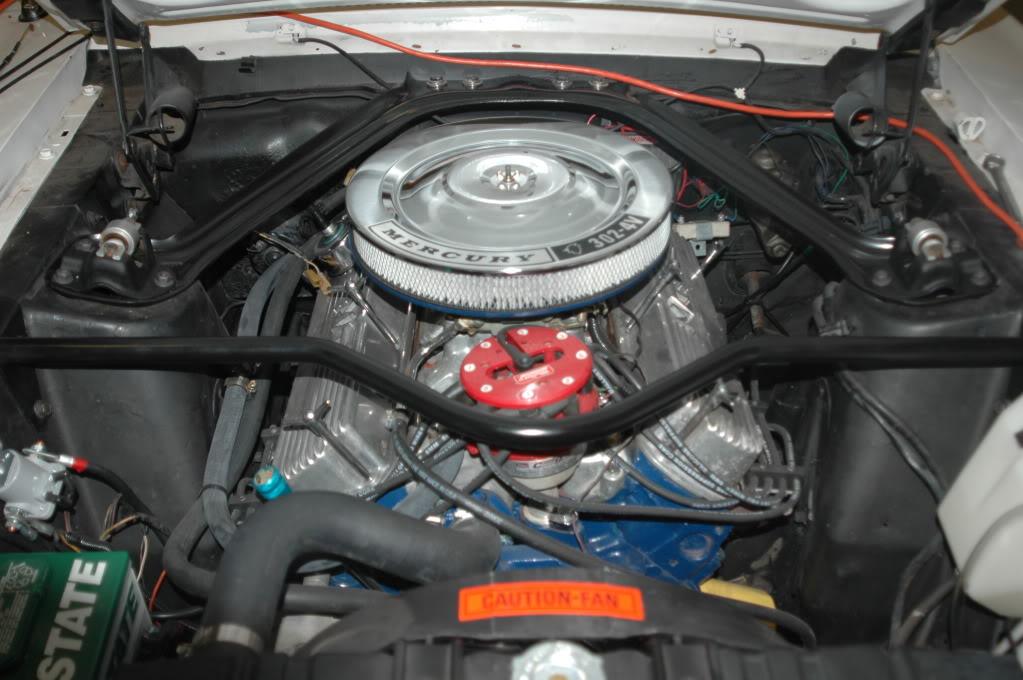 I swapped out the leaky C4 for an AOD. I had a sub frame connector and drive shaft loop installed.
I had new mufflers, new exhaust and new shorty headers installed. Oh yeah, custom exhaust tips nestled into the valance too.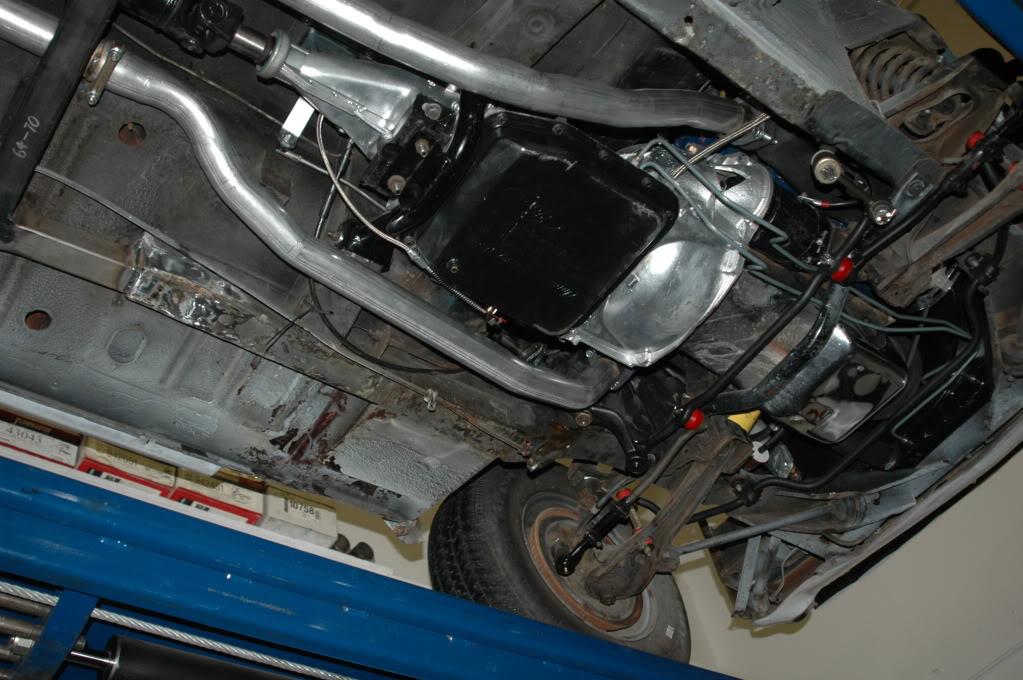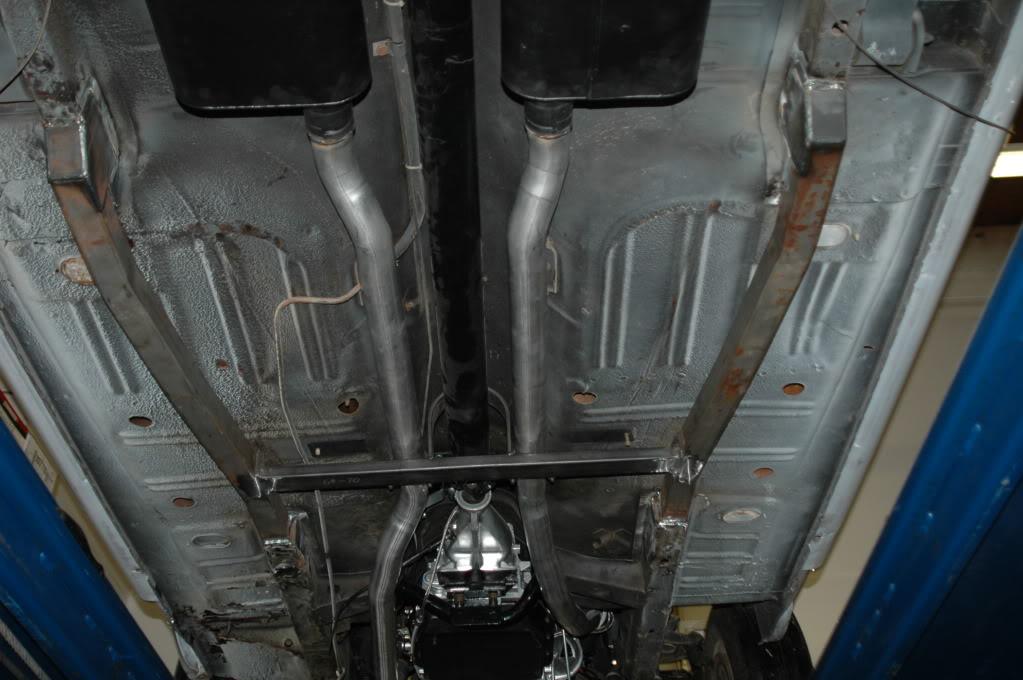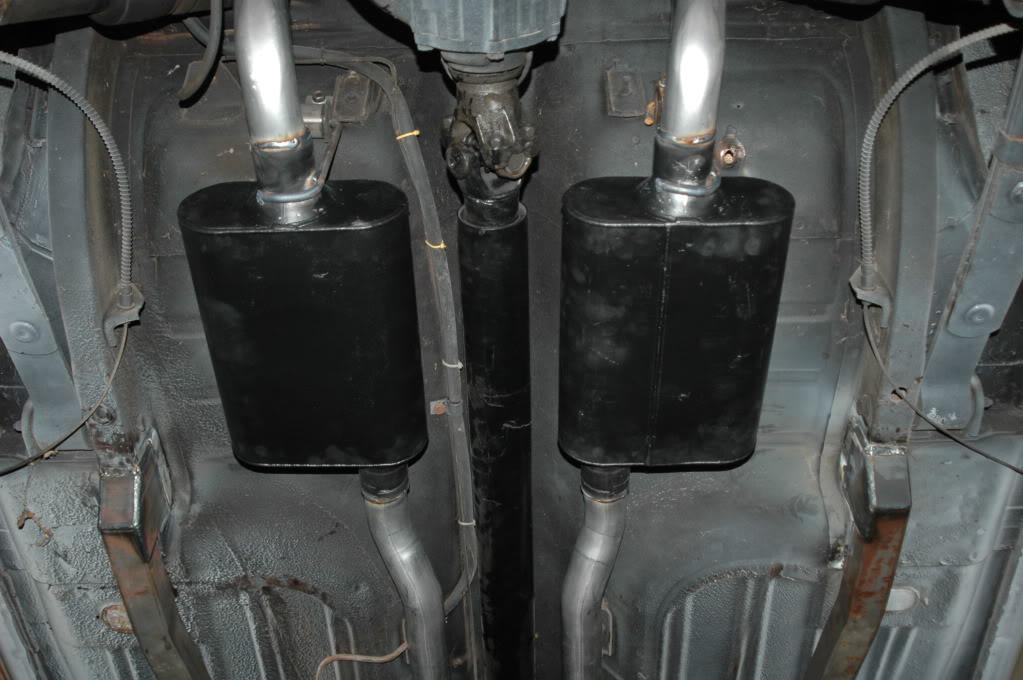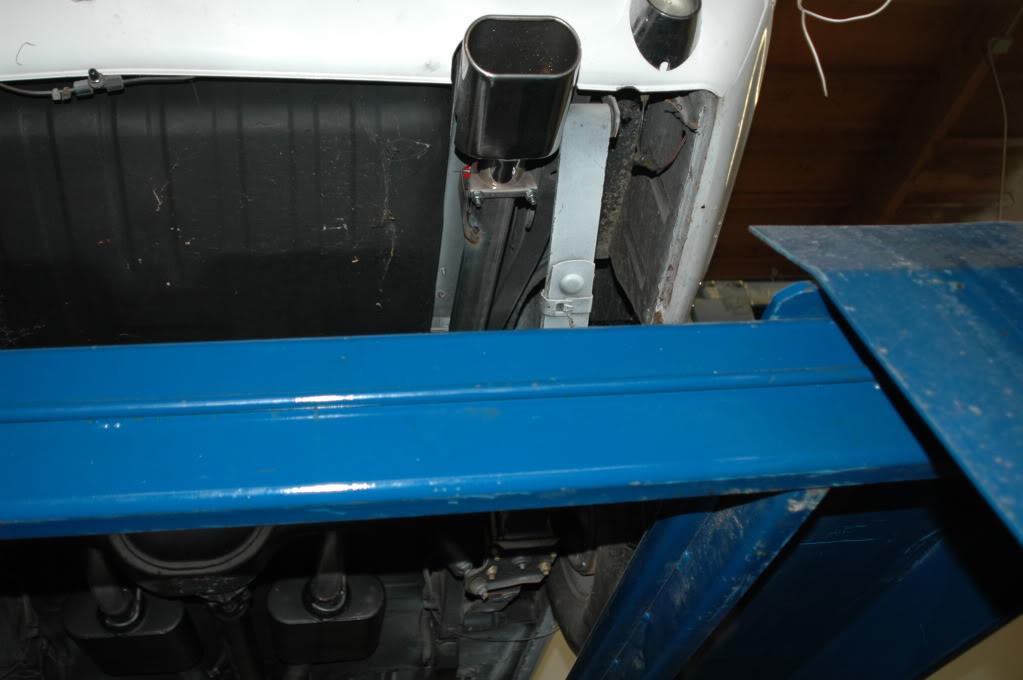 I am in the middle of the mustangsteve GT disc brake swap. The car is up on jack stands. I need to find some time to button up the front and move to the rear brakes.
I did a shelby drop for one inch and installed all new front suspension. New uppers, lowers, shocks, 1 1/8 inch sway bar, 1 inch drop springs, export brace, monte carlo bar, strut rods, locking eccentrics, etc.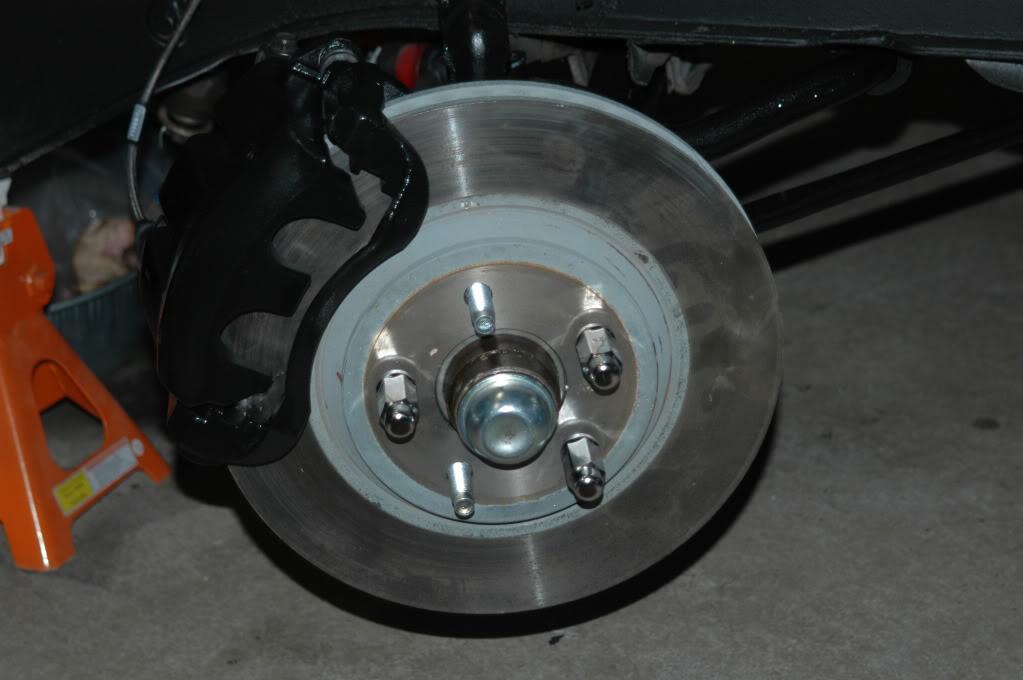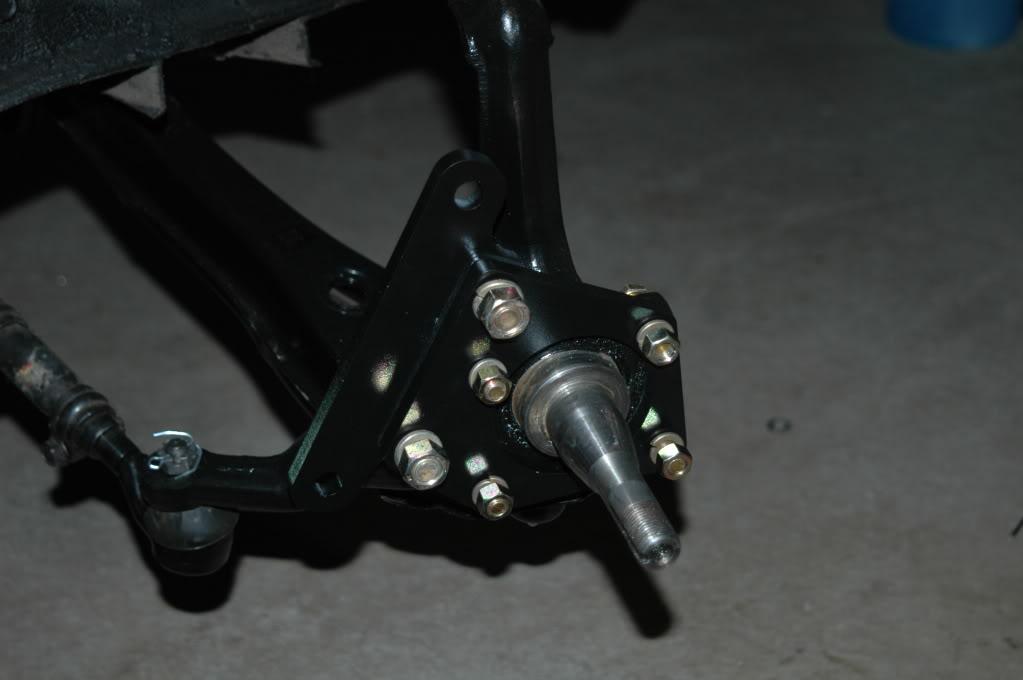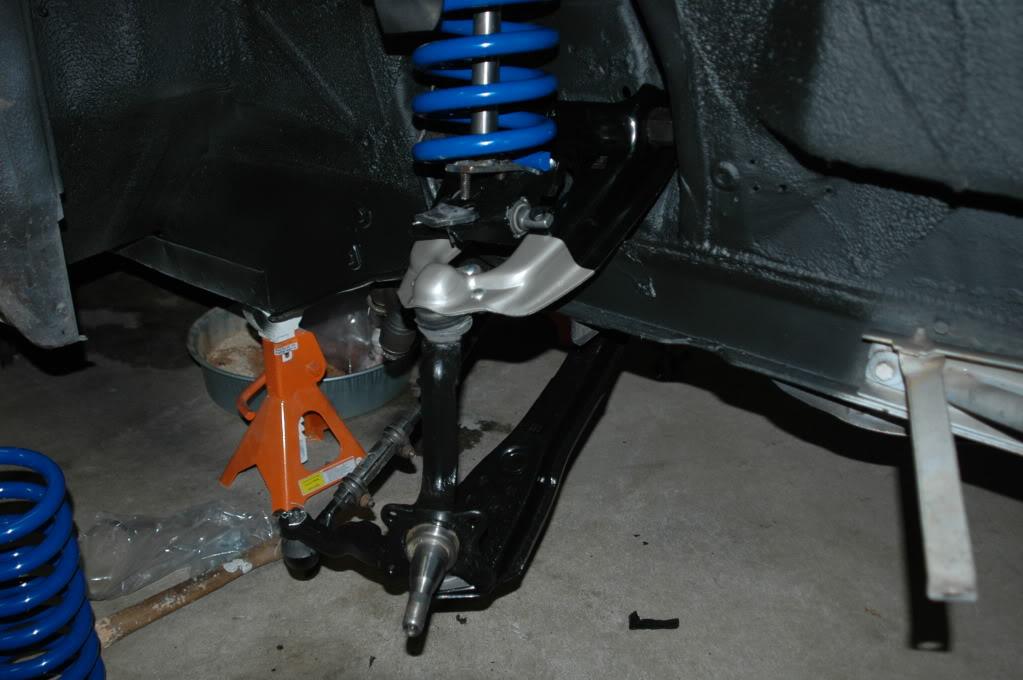 My knee kept hitting the parking brake when I would get into the driver's seat to dream a little, so I pulled it and fitted the car with a kick style from a 72 torino, which matches pedals perfectly. I still have to run the cables to the GT brakes. You have to space it away from the kick panel. That puts it into the fresh air vent. I solved it by capping the vent hole for now but I may try to make a shorter vent tube.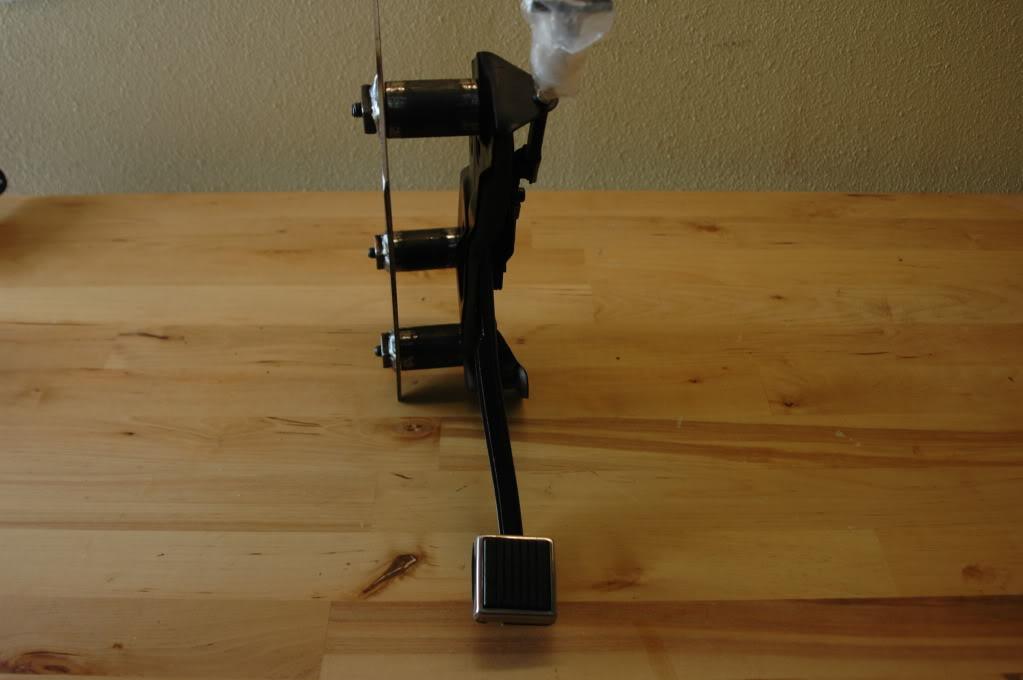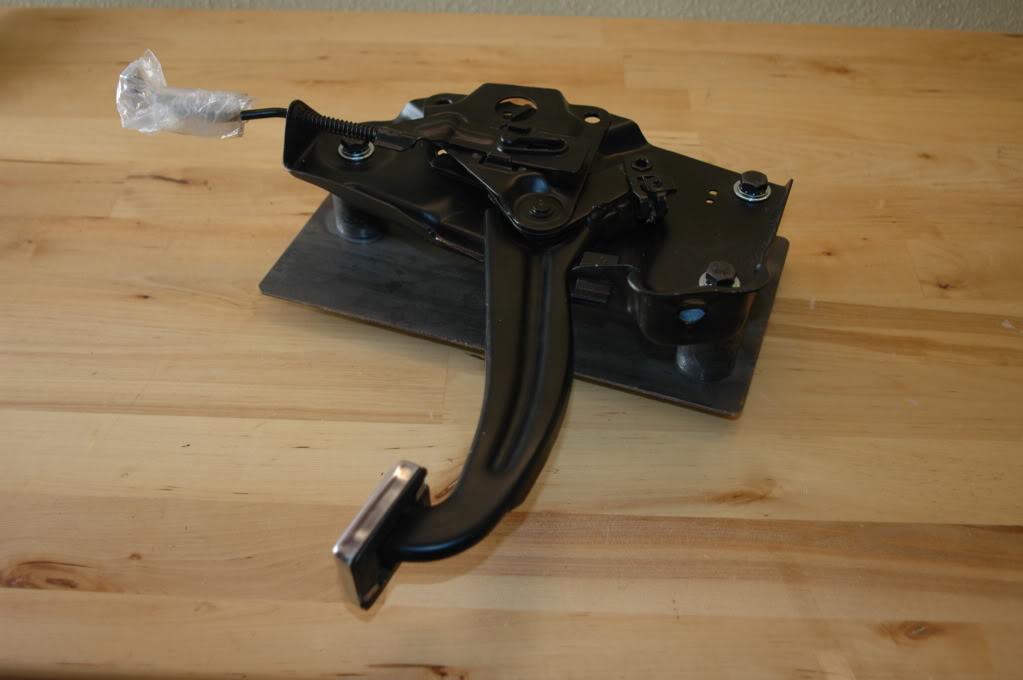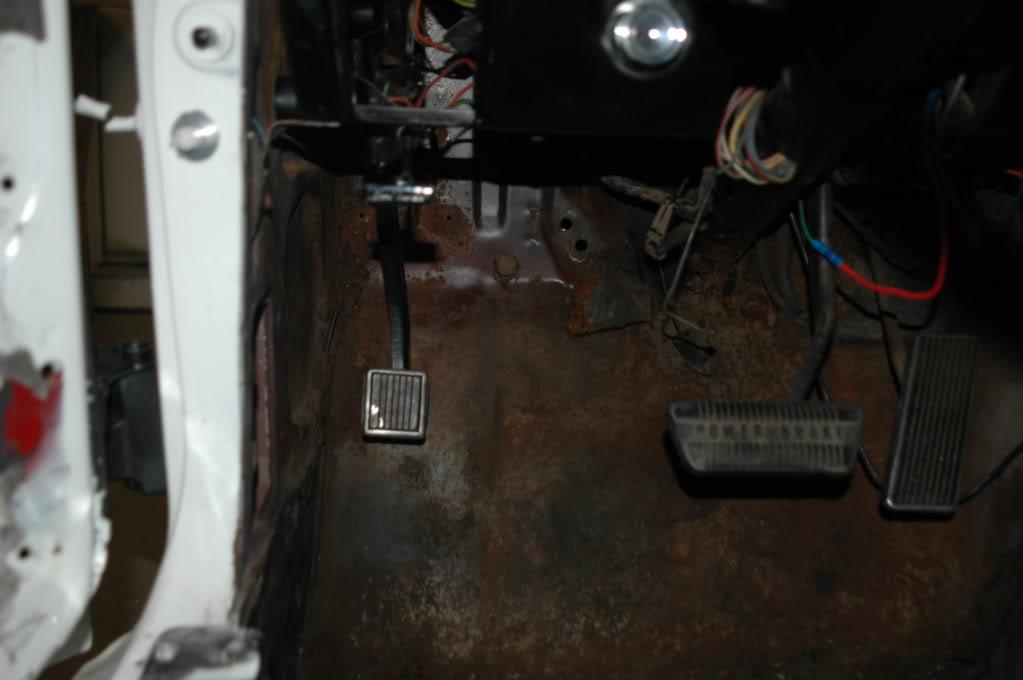 I had the seats recovered in parchment and added headrest by using 69 seats and had them wrapped in 68 vinyl.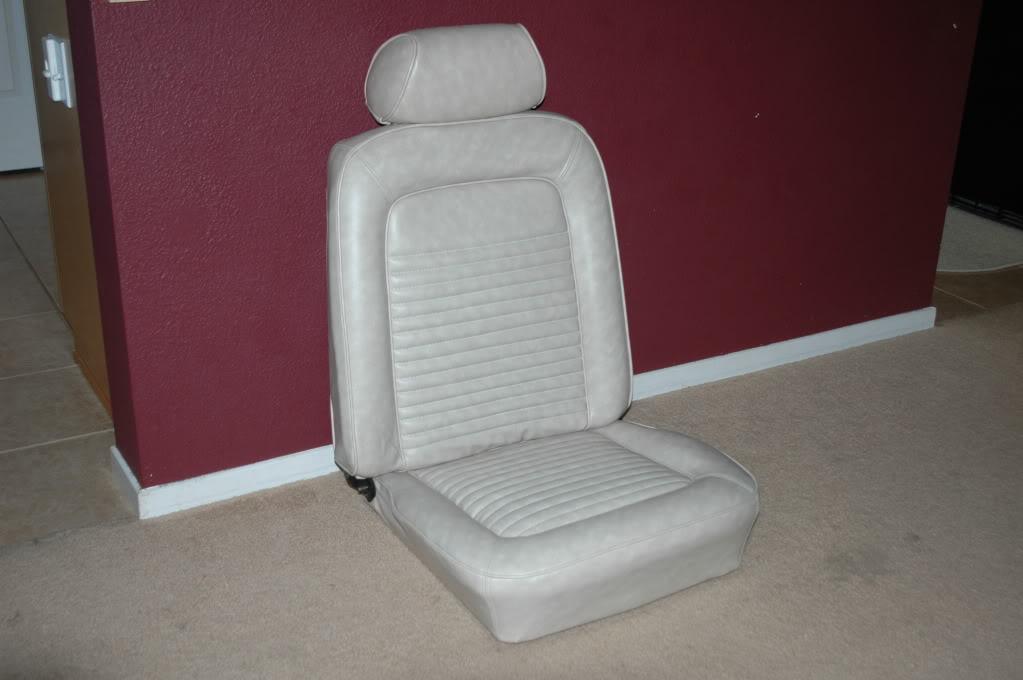 I cut out a wood fascia for my standard interior dash. I have a little woodshop. It is color matched to a Momo wood wheel I found. I just need to do some finishing details like put in the turn signal lights and wiper switch holes. Then I will finish it in a high gloss.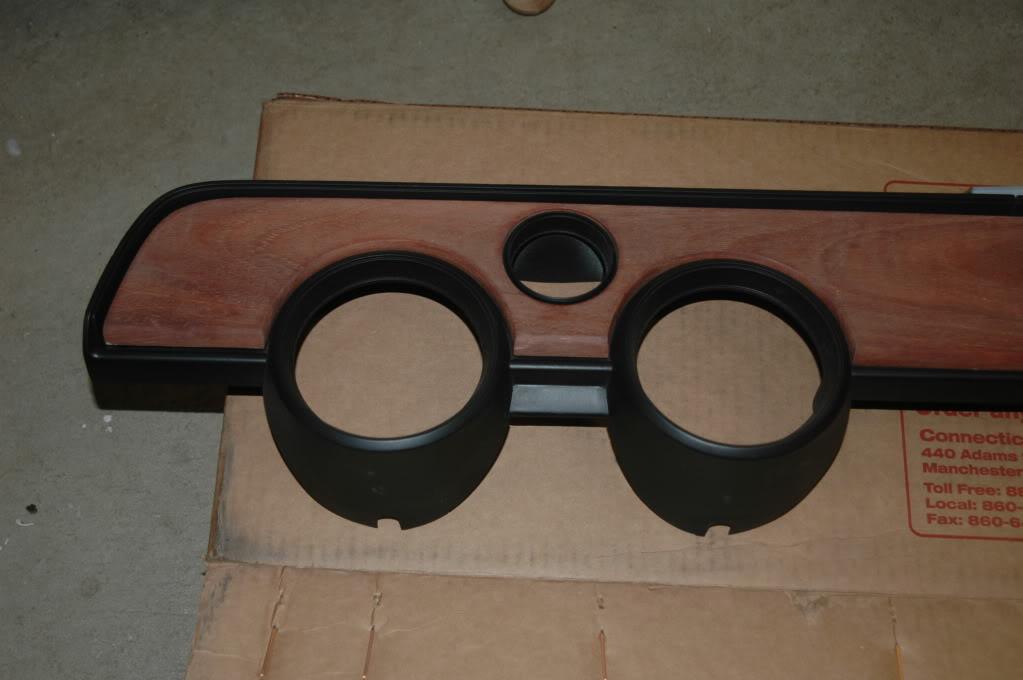 I detailed the gauges, and found a NOS speedometer(not pictured). I am still looking for a reasonably priced NOS multi gauge. I got one a used one that looks pretty good though.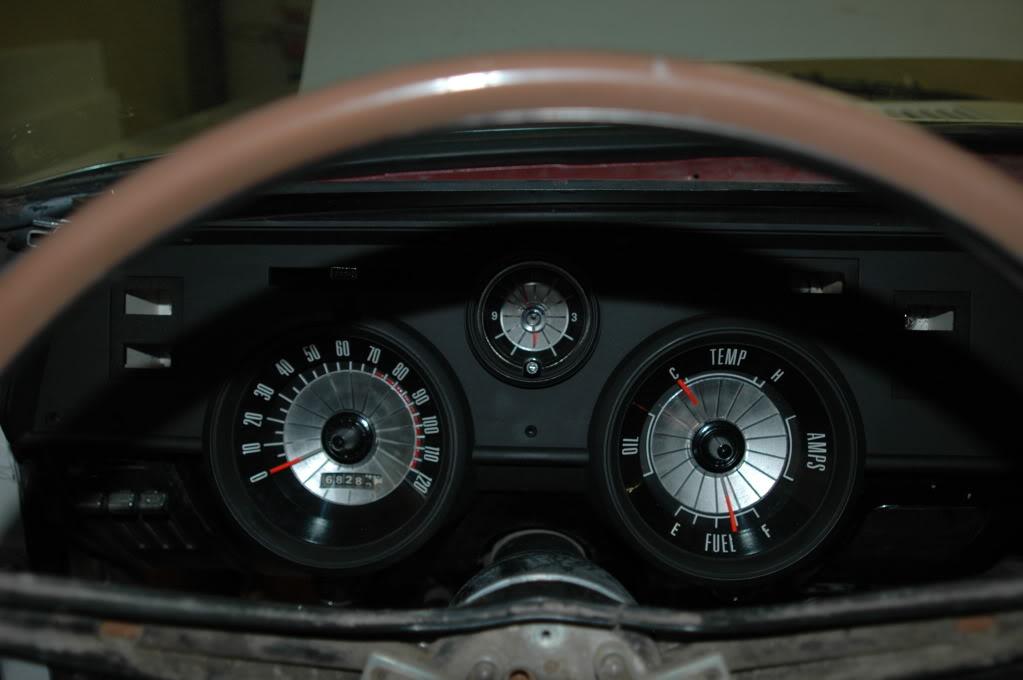 I had all of the holes on the car, trunk molding, trunk lock, door handles, antenna, mirrors, emblem holes, shaved.
Installed door poppers, door solenoids (removed after mockup),
I have my wheels and in hand and will be installing them soon. I hope they look as good on the car as they do in a stack. Well that is what I have started (because it seems like nothing is actually DONE).
Here is the rest of the plan.
The car with no name will be completely shaved. No emblems no trim.
4 wheel disc brakes. Low stance slight rake. Wheels fat and tucked.
Power door and trunk poppers.
Power mirrors.
Power windows.
Console
Probe motor conversion with H1/H4 lights from RCCI
Parchment interior
All new wiring to support all of the new electronics.
Stereo/alarm etc
I am sure there are things missing but I will try to keep this post updated.
2-16-2012
I am still debating. I have been piecing together a really nice A+ console, a 68 xr7 non AC in parchment, found nos parts and did a quartz conversion on a sweet rally clock. However, I need to put in switches for the windows and mirrors and would like to have an armrest and maybe a cup holder or 2 if I was making one from scrap. I am having a hard time laying out the switches on the padded top at all because it gets quite narrow. I want the driver to have all 4 windows controls and not on the doors. Also I am not sure the XR7 clock matches the rest of the gauges too well. The console I have put together is too nice to mess up with a bunch of holes.
Lately I have been leaning towards a custom console that butts up to a chrome radio bezel. I was thinking of putting the wood trim to match running down the console and maybe on the doors. I would use the shift indicator and the rear lamp. Otherwise, maybe a stitched vinyl sides that transition to carpet on the outsides, wood in the center, a billet trim ring around the shifter, an armrest with a box, and 2 cup holders. I think I will build it to see if I like it. It is going to be a lot of trial and error with fitting the frame on the hump.
I am not sure, I picked the 72 Torino because the parking brake release rod came straight forward instead of jogging over like some of the later mustangs and cougars. Plus it has the stainless trim ring around a rubber pad that matches my 67. I did not weld it in. I used grade 8 bolts and solid 2 inch thick steel spacers to get it away from the kick panel. The nuts are welded to the plate which is mounted on the outside of the kick panel. It is super solid. I wanted the level of the pedal to look right with the other pedals so it is mounted high under the dash. Also, this allows the pedal to travel without scraping the carpet on the floorboard. This is what causes it to encroach on the vent. I am thinking I can take a vent and cut a couple of inches off of the tophat shaped vent tube and pvc glue weld of the fins back into the tube. It needs a bunch of its length to accommodate the metal flapper door pivoting inside. I was also thinking of looking at other models for a shorter vent tube and similar mounting. But for now I just capped it with a plate of steel and a gasket. It does occupy the same space as the high beam switch. I haven't figured out what to do about that yet. I may change this to a switch on the dash if I cant find a better location. Regarding the washer pump, I plan to do an electric pump conversion with a switch or push
3-10-2012
Well I got some garage time. I bought a lot of Cougar grilles off of craigslist. There were about 7 grilles in all. Some were varying degrees of broken. I still have a complete (but completely crooked) grille on the car. I am going to make a really nice grille on the bench. I was fortunate that it looks like at least 3 of these grilles were from 1968 which I hear are stronger. I just threw away everything that was beyond saving, rusted out buckets, broken grilles, etc. Now besides a real mess, I have all the parts I should need to get the grille done right. I think I am going powder coat everything I can for durability. This is what I have to work with....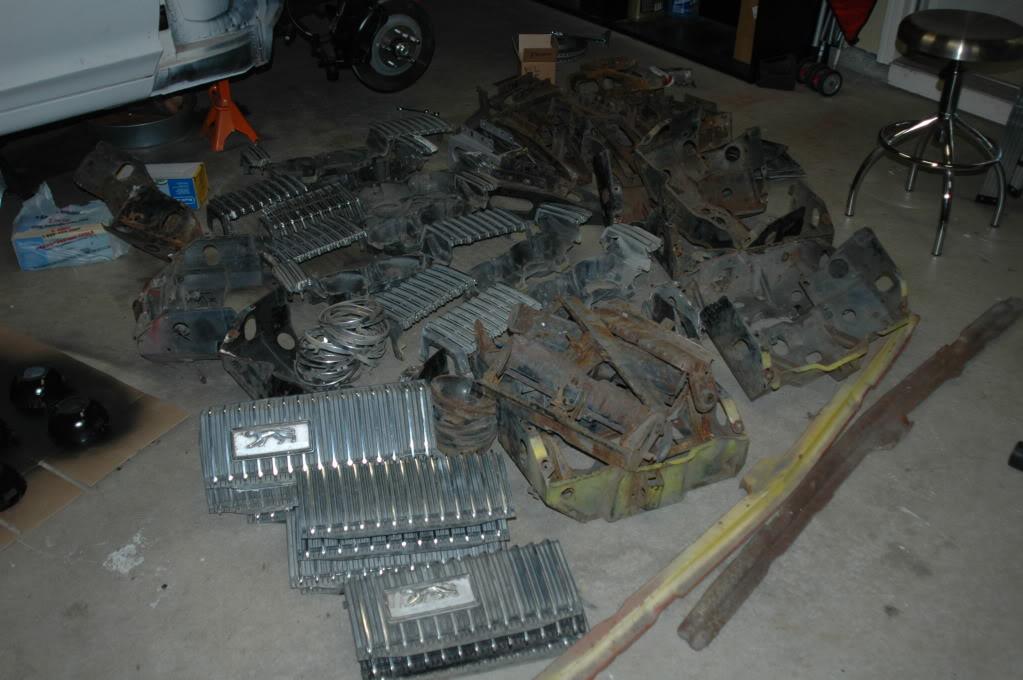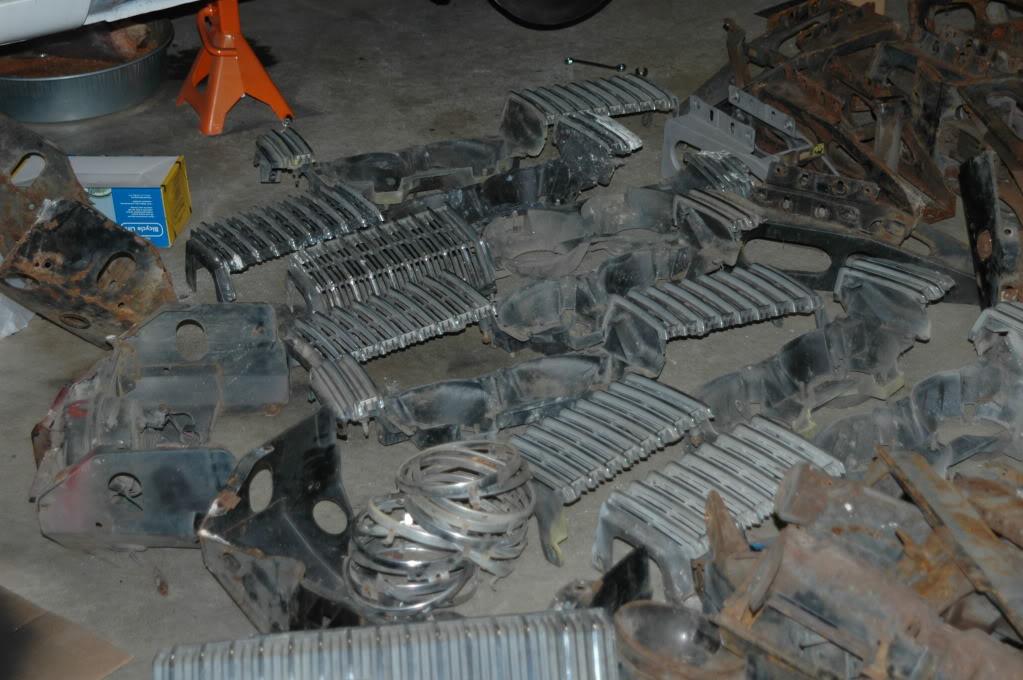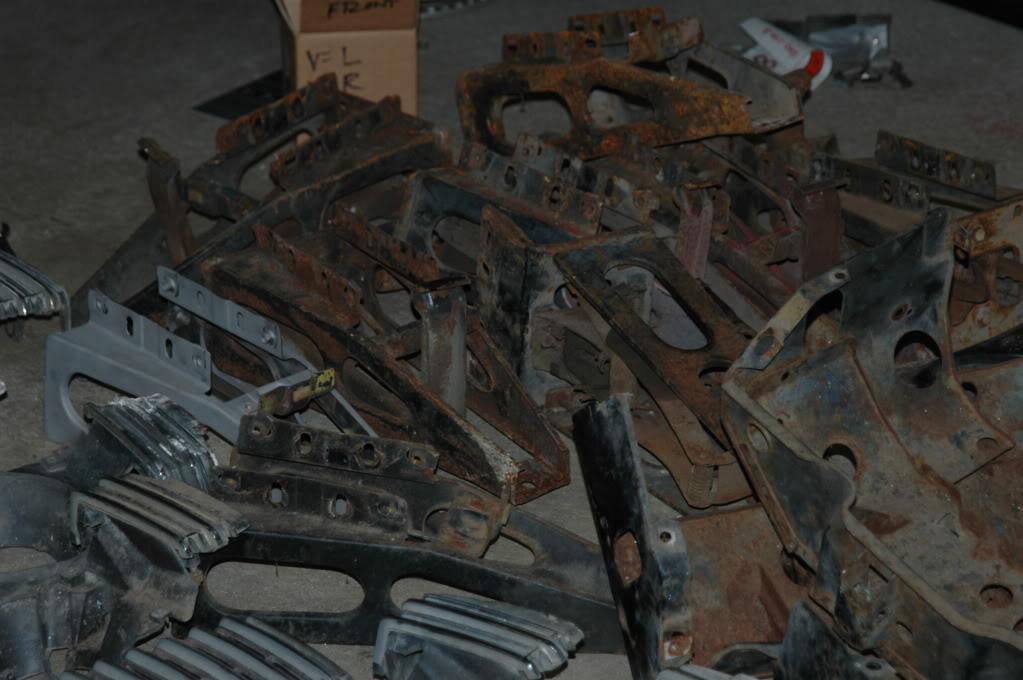 Now comes the careful selection process. I did learn some of the differences between 67 and 68 grilles though in the process of taking all of these apart. The rust looks worse in these pictures than it really is. Nothing beyond blasting really.
I think I will try to make a frame to fasten the largest piece to. DrDesoto told me he made a frame and hung it upside down. I will probably look into the lower temp powders too. But most importantly, I will test it on one of the junky pieces. If I can't find anyone to do it, I will paint the thin pieces and powdercoat the boxes, doors, light cups, center latch etc. I really like how Ahunt191's grill parts came out.
3-12-2012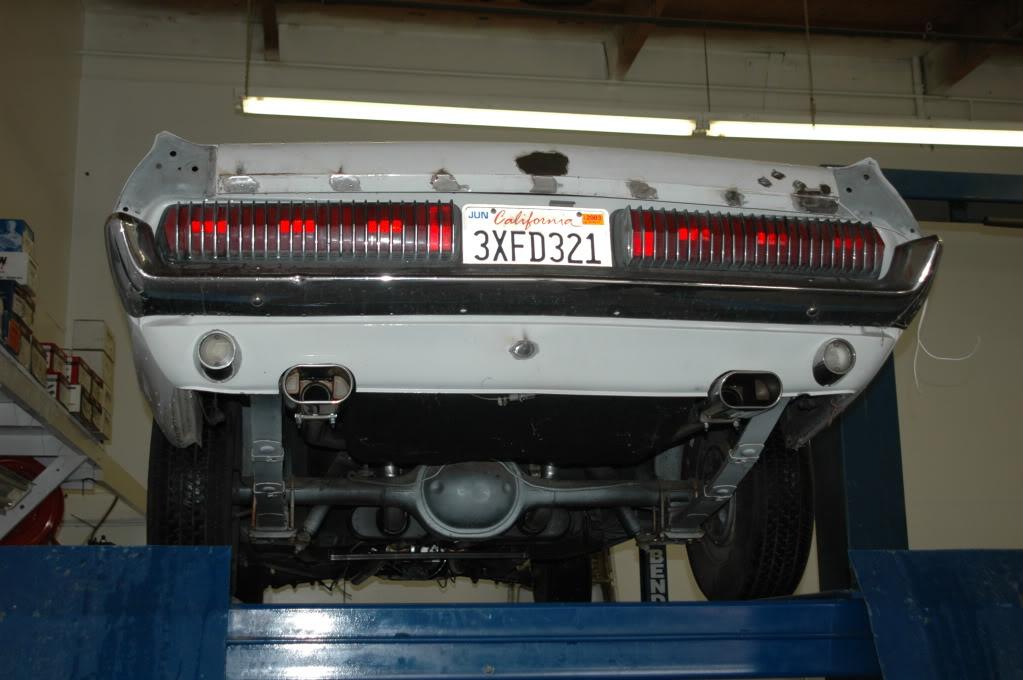 I will try to get one on the ground today but here is what it looked like on the lift.
They are generic stainless exhaust tips I found at Tognotti's. They had to be modified a bit to get them to fit. If you look close at the picture you can see that they were notched top left and top right to clear the tank and the spring shackle. I had em notched so they would have a longer profile on the underbelly of the exhaust tip. I figure once they are painted black inside you wont see the notches. They run real close to the tank so I will have to shield the pipes a bit.
3-18-2012
Yeah, if I think it is too noticeable, I will work out some kind of perforated screen to put in there. I got all of my headlight pieces except for my probe brackets which I have yet to fabricate.
I will probably drop most of it off for powder coating on Monday. I stopped by a powder coater and he was confident he could coat the pot metal without damaging it. So I will take him a scrap grille and get him to confirm before he moves on to the grade A 68 pieces I selected.
Then I am going to drop off some metal work to my welder. Feels good to make some progress. I wish I had all of these metal working welding skills. If I had let things like not having skills get in the way of embarking on this project,...I never would have!
4-17-2012
I picked up the powder coating today. The color of low sheen black came out great. For the most part everything came out great. There are a couple of pieces I will may have do again with a new part due to some warping. Good thing is I have lots of cores. Specifically, the driver side headlight door's chrome grille warped a bit from hanging and/or the door warped a bit. Either way they are not fitting together as well as the passenger side. I may try to have a pair of doors coated without separating the chrome from the door. But all in all I am very pleased considering I knew the risks of powder coating. Surprisingly the main part of the grille came out great with only minor distortion to the thin grille bars. Nothing that cant be straightened out with a wooden spoon. This was what I was most concerned about because grade a pieces are hard to come by. I had everything blacked out including the little headlight trim rings and I think it is going to look great when I reassemble them. Here are some pictures.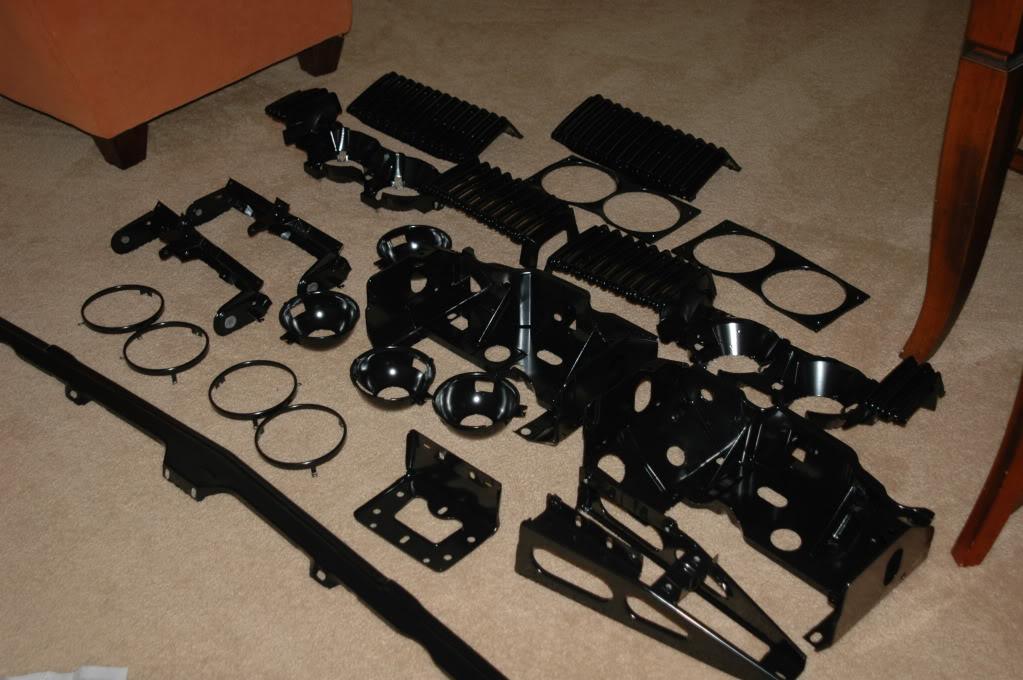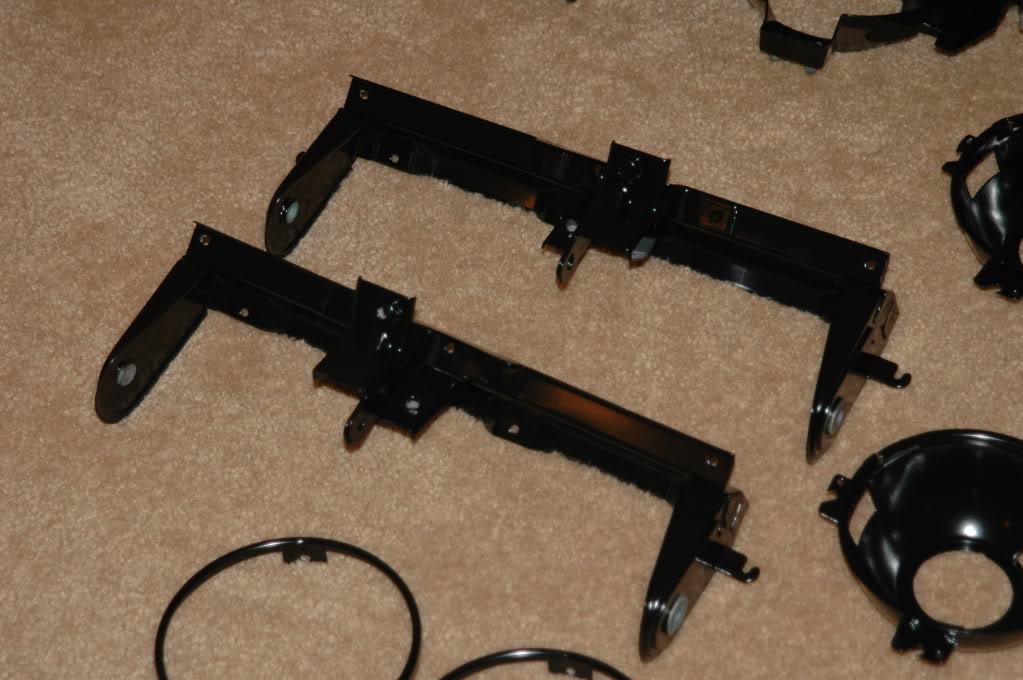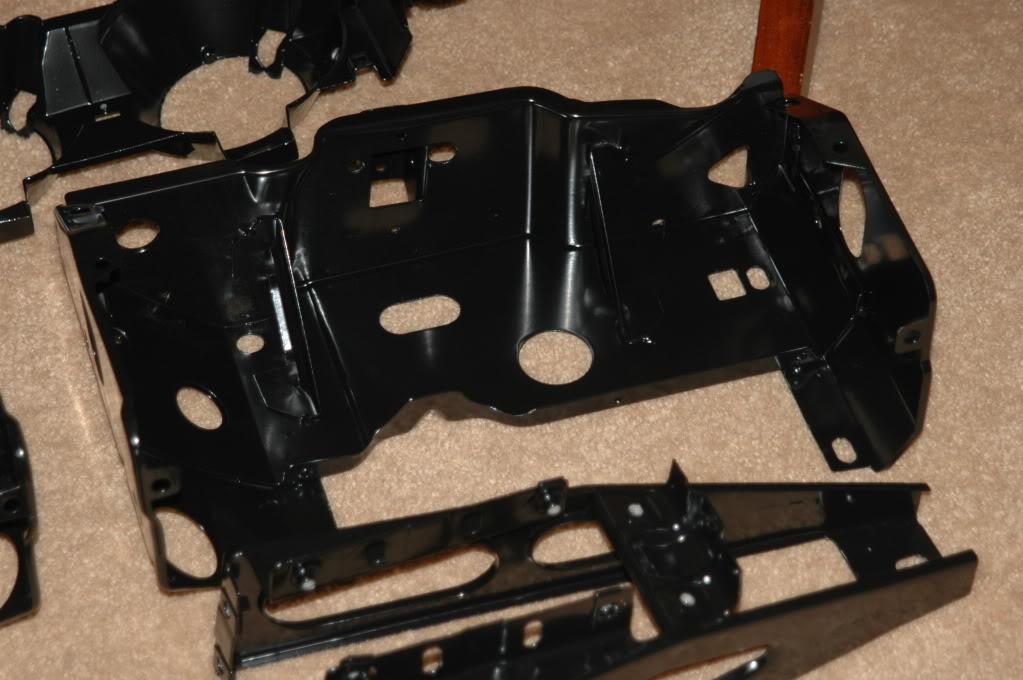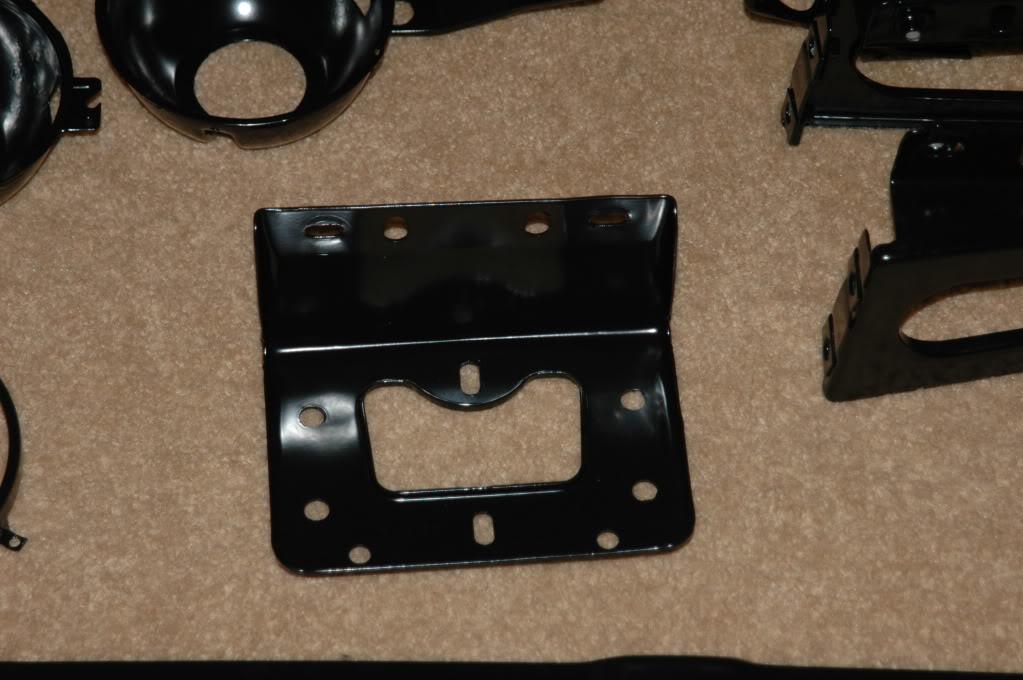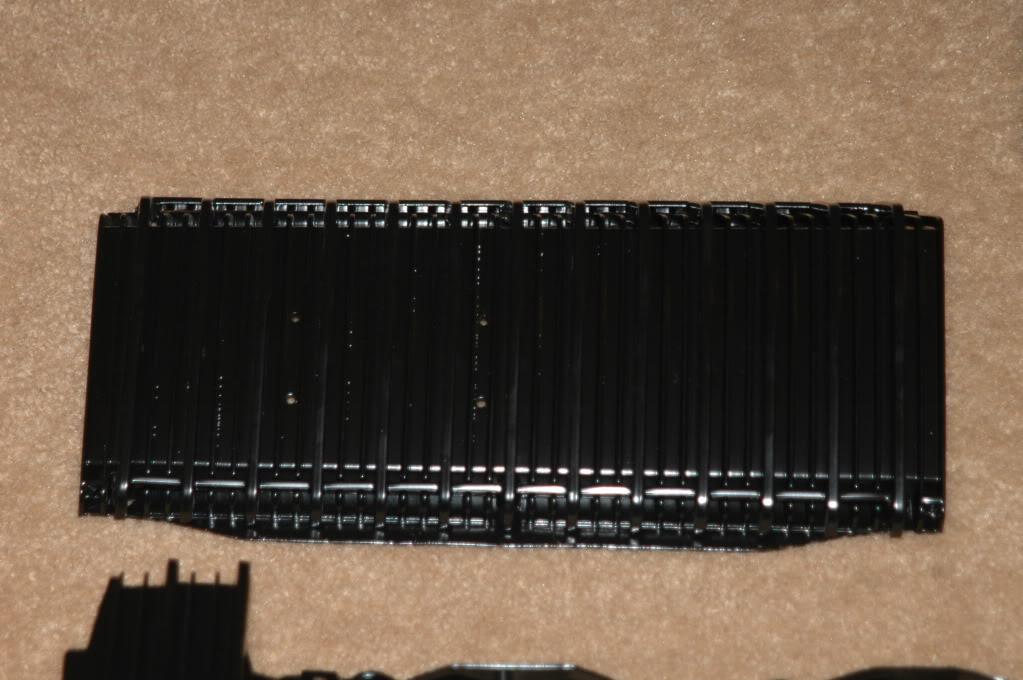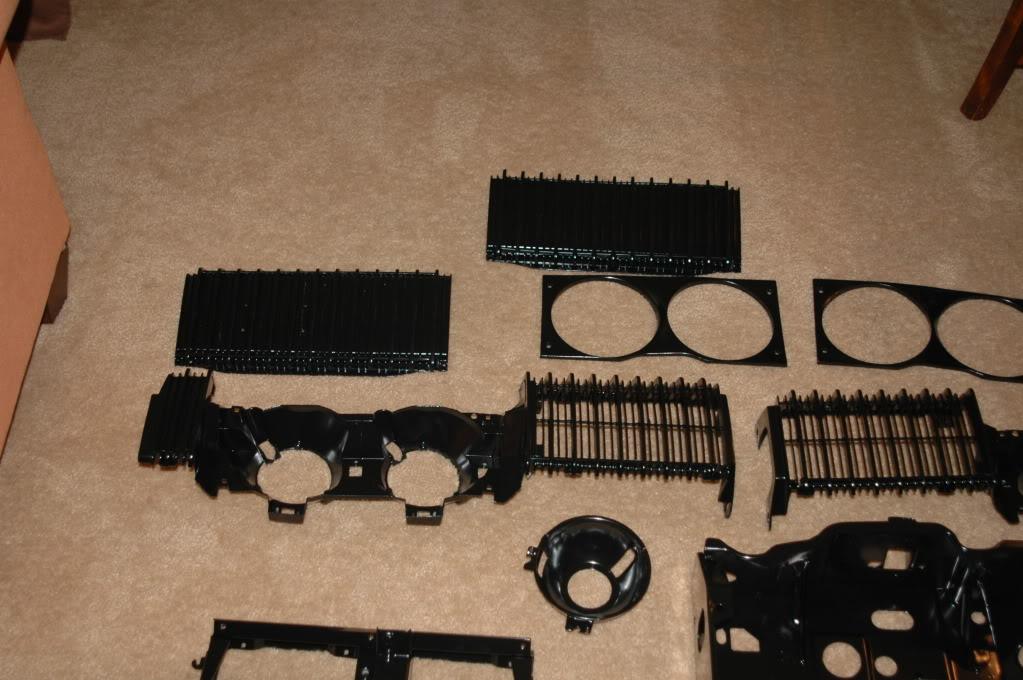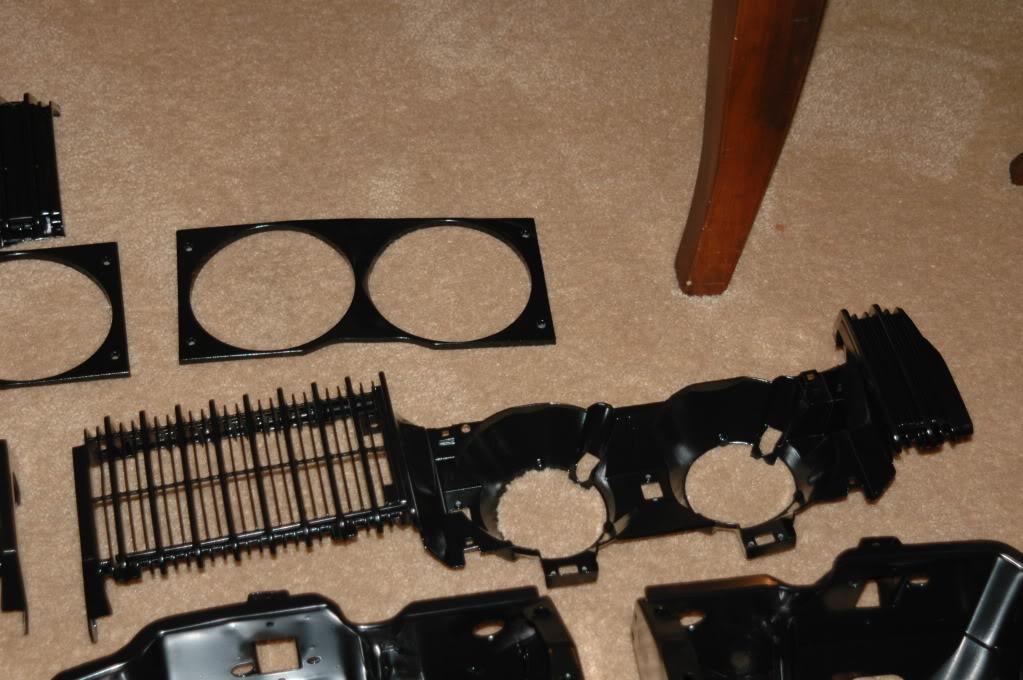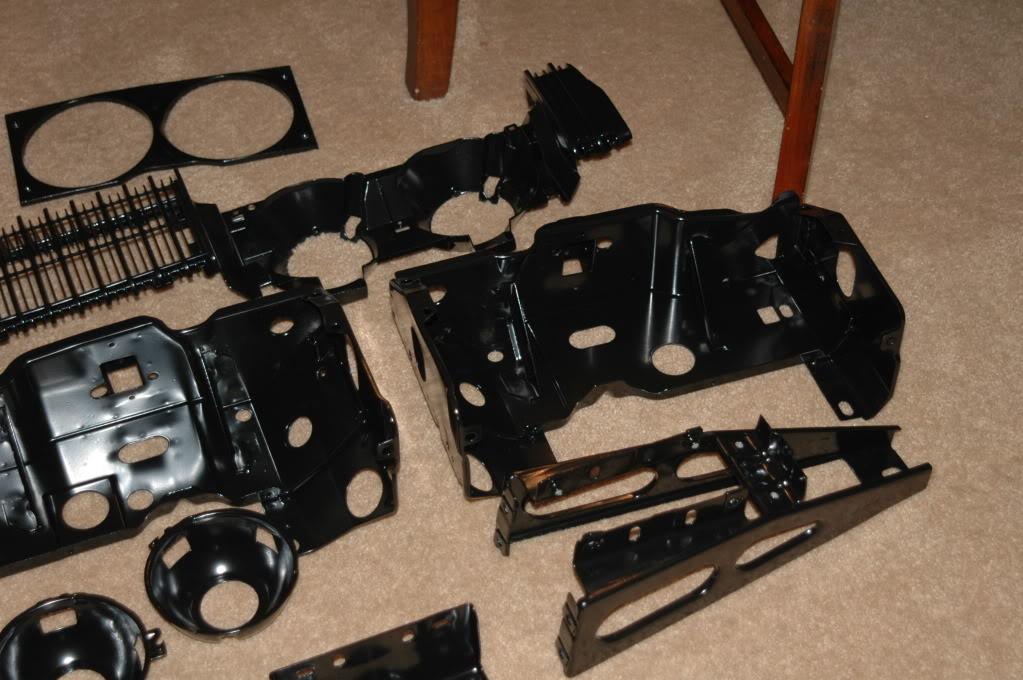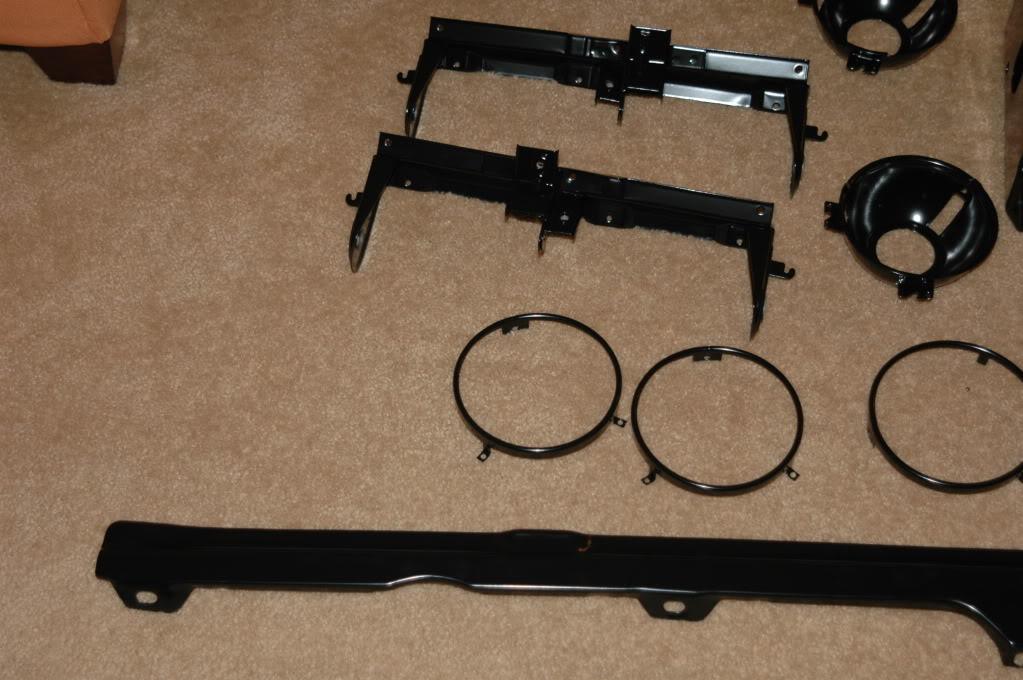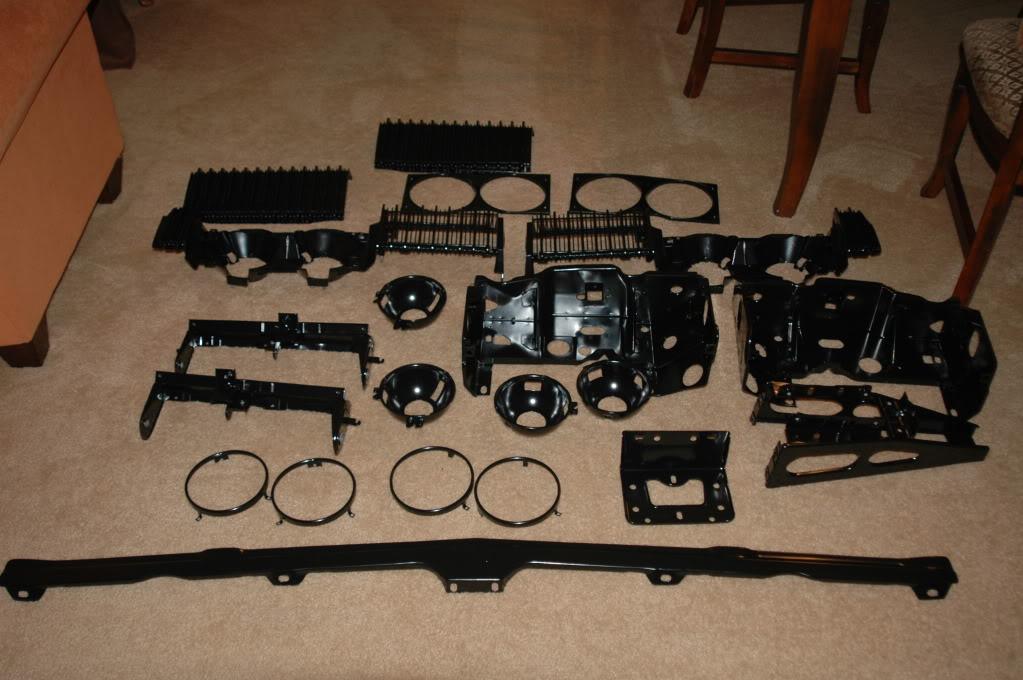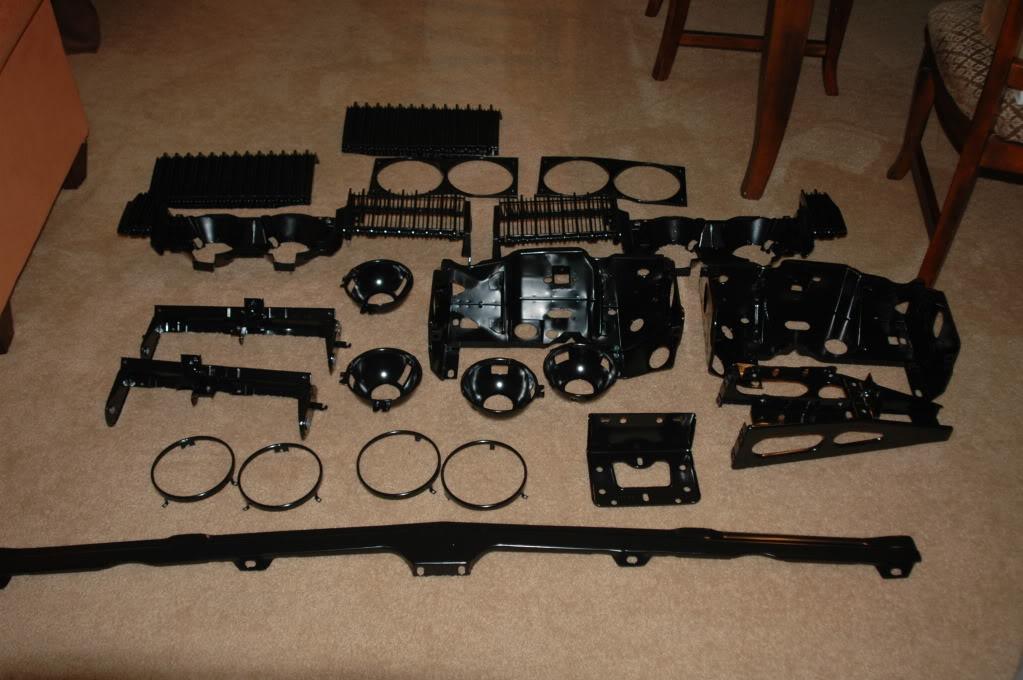 Hopefully my metal man calls soon about my other project...
Thanks guys. So I tried to gently bend one of the headlight door grilles that was warped. No such luck. I broke it in half! It was surprisingly easy. Well back to the powder coater with another set of doors...This time I think I will have him coat them without taking the chrome grilles off. We'll see what he says.
It will be a week or so before I reassemble these. I need to do a big batch of hardware with the oil and phosphate. All of the j clips and bolts etc. Then I will be ready to reassemble the halves.
5-6-2012
I went out into the garage and began looking for some good headlight doors in a pile of about 15 doors and wouldn't you know it, there were only a couple of 68 doors. Unfortunately, they are not going to get the job done. Just my luck. So I got on the computer last night and ordered 2 grade A doors from WCCC. I also ordered up a set of NOS inner plates to replace the one that got a dent during powder coat. Why do I have the feeling I should have rattle canned the grille and been done with it!
I picked up a vibratory tumbler at Harbor Freight to tumble the bolts before I do the phosphate and oil finish. I have done a couple of batches already. It takes a while but is easier than blasting. This thing is awesome so far. I will keep you posted.
5-7-2012
I put a sticky tool drawer liner down on the bench because I was afraid it would walk. My bench is level, but maybe I should tilt it towards the wall. It has 20 or so hours on it now. I have noticed it gets pretty hot. I thought it was the same as the one made by eastwood which allows water in the drum, this one is dry only. I don't know if that would improve performance or make mud because the parts come out with a thin film of dust covering them. This made me think they were not done. After a quick rinse, I was impressed how clean the parts got. I am going to order up the manganese today. I have several more batches to go before I coat em. I want to do as many as possible in one shot.
5-11-2012
I received my headlight doors from WCCC today. They are excellent. When they say grade A they really mean it. It is almost a shame to powder coat them but it will make the coating that much nicer.
I spent the day doing the brakes on my daily driver, a 2006 Honda Civic Sedan. Lol that little demon in the background. I even installed a new set of headlights since mine were getting cloudy. If you can believe it, you have to remove the whole front bumper to change the headlamps. It didn't take long, thanks to a couple of youtube videos on the subject. Probably need to pull the engine to change the oil.
5-29-2012
So I finally got a little garage time and went to button up the brake lines on the mustangsteve gt conversion. I got it all set up to my satisfaction and went to put my new wheels on and....wait for it...they didn't fit. Mfer. I picked out some sweet wheels too! They are too flat for the 2010 mustang disc brakes. Anyways, anyone local looking for a sweet set of wheels and tires? Pristine and still stickered...zero miles. Adam,...adam,...need a way to say good job for finishing your degree?
5-30-2012
They say 17". But Adam is right it is about the back profile. These have plenty of backspacing at 4.75 and 5.5, they are just too flat inside to clear the bulge of the mustang caliper. They would be great with drums for sure. They are 17 x 8 and 17 x 9.5 with 245 in front and 285 in back.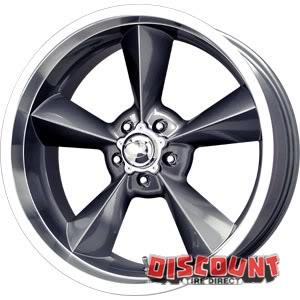 I am bummed about this one. Oh well,..moving on.
According to MustangSteve the Torq Thrust 2s don't fit either. But that is the idea I am going for more arch on the back of the spokes. I could put a spacer in but I should have longer studs to be safe. I didn't get as far as checking the rear rim for fit. I plan to roll the fenders though. I could check if anyone is interested in the rims. Right now I don't have anything to set the front end down on, so I have a problem to solve.
6-22-2012
I just got home from a little vacation and got back to work on the car. While I was gone, I ordered all of the gear to plumb my disc brakes. I got my wheel spacers in so I can test fit the tires with spacers. Hopefully, I won't have to buy new wheels and tires.
I went out to Sacramento to Pacific Powdercoating to get some more coating done. The last batch cost me $600 which seemed high to me at the time. I took all of the bumper brackets(which were chromed and stood out like a sore thumb in the wheel well?!?), fender braces, tail lamp bezels, dash and package tray trim etc and all kinds of trim and they told me it would be under their minimum $175. Oh well live an learn. I will keep you guys posted.
Then I went out to Sacramento Chrome and Paint to check them out. They do the chrome paint process WCCC has been trying to develop. I saw them chroming some plastic and it looked awesome in person. I decided that is the way I will go.
Tomorrow I plan to be in the garage all day come hell or high water. Hopefully I will have some evidence I was out there. Like a car sitting on wheels instead of jack stands.
6-25-2012
I pulled the oem master cylinder and distribution block. I plumbed the new master and am converting to power brakes. I got as far as removing the old pedal, pulling the export brace to get access etc. I still need to modify the firewall, put in the booster, install the pedal, and plumb the front brakes.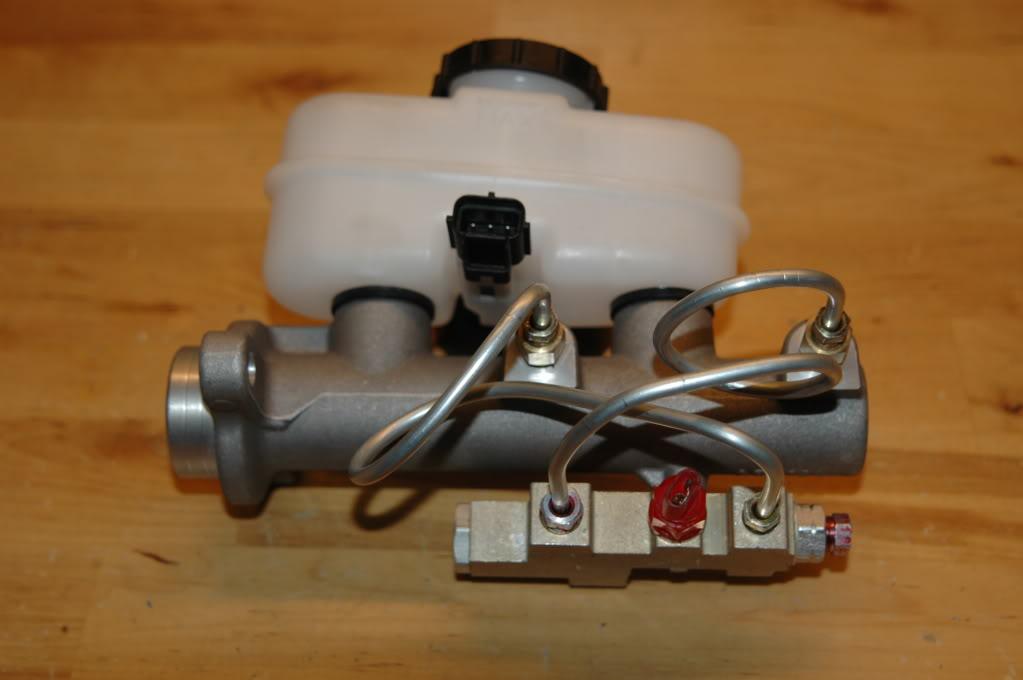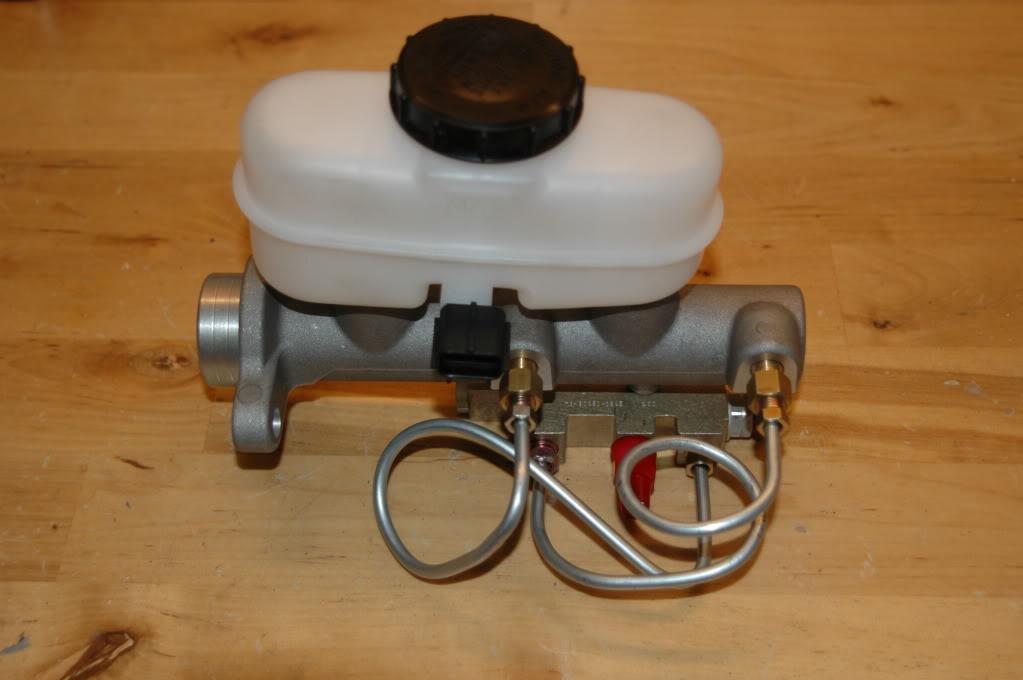 That is a disc brake distribution block from an 83 Thunderbird. It has an integrated proportioning valve. I don't know which of the silver bolts is for the prop valve.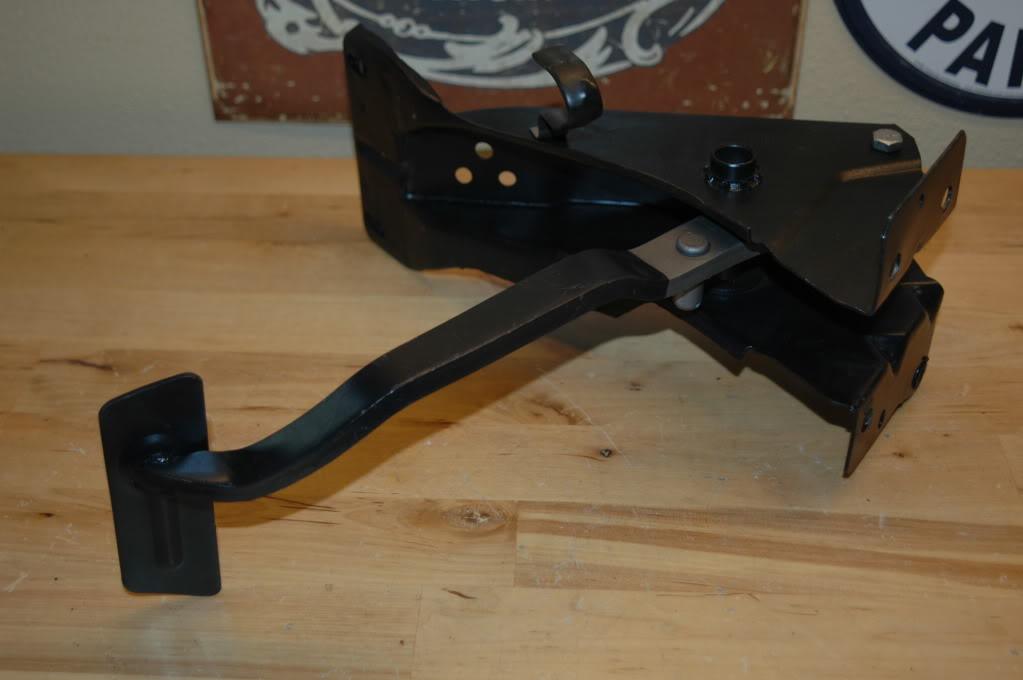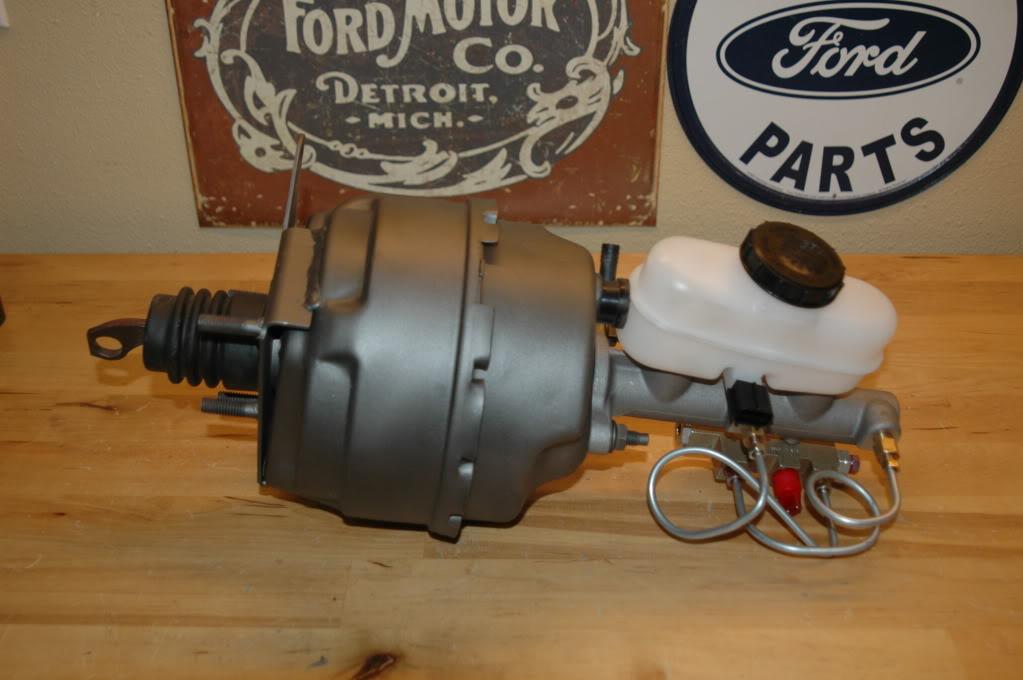 Got a power pedal and hangar refurbished and ready to go back in. I slowed down because I want to run wire wheel around under the dash / inner firewall and maybe spray with por 15 before I button it all back up.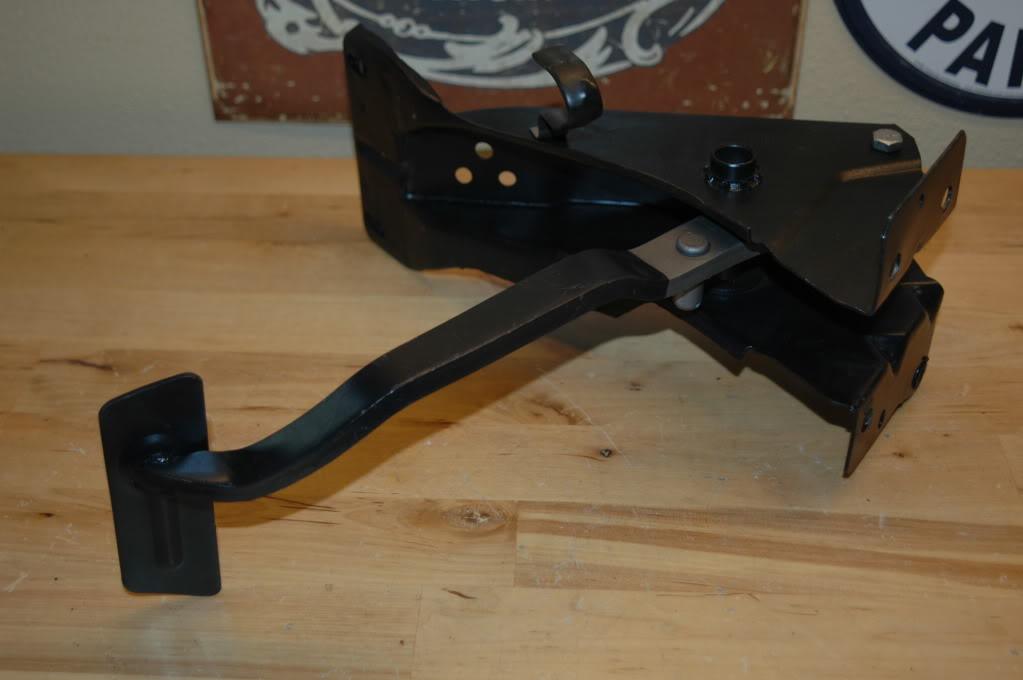 12-2-2012
Got a metal work project back a couple of weeks ago. I haven't posted in a while. I had the front bumper shaved. Here is a few pictures. Now that that is done I have to have the back one done and then off they go to chrome.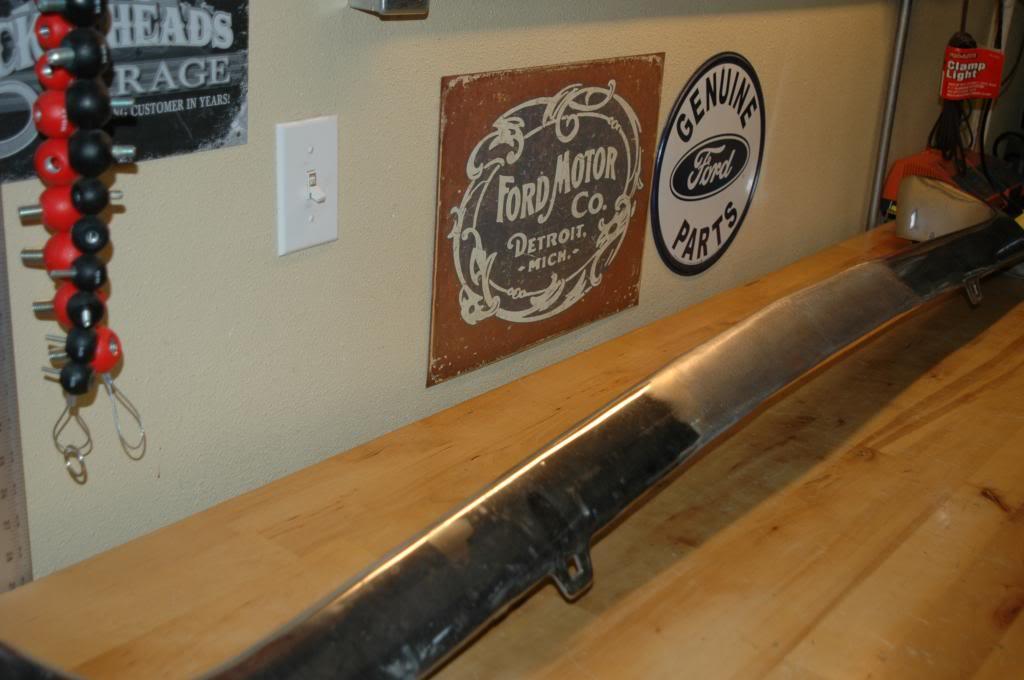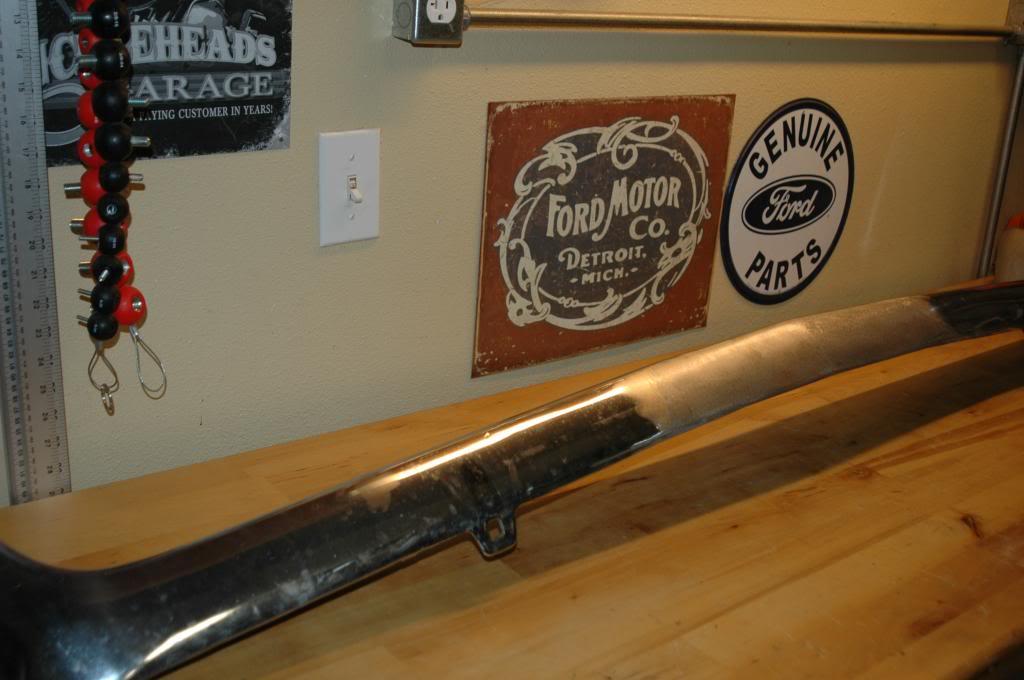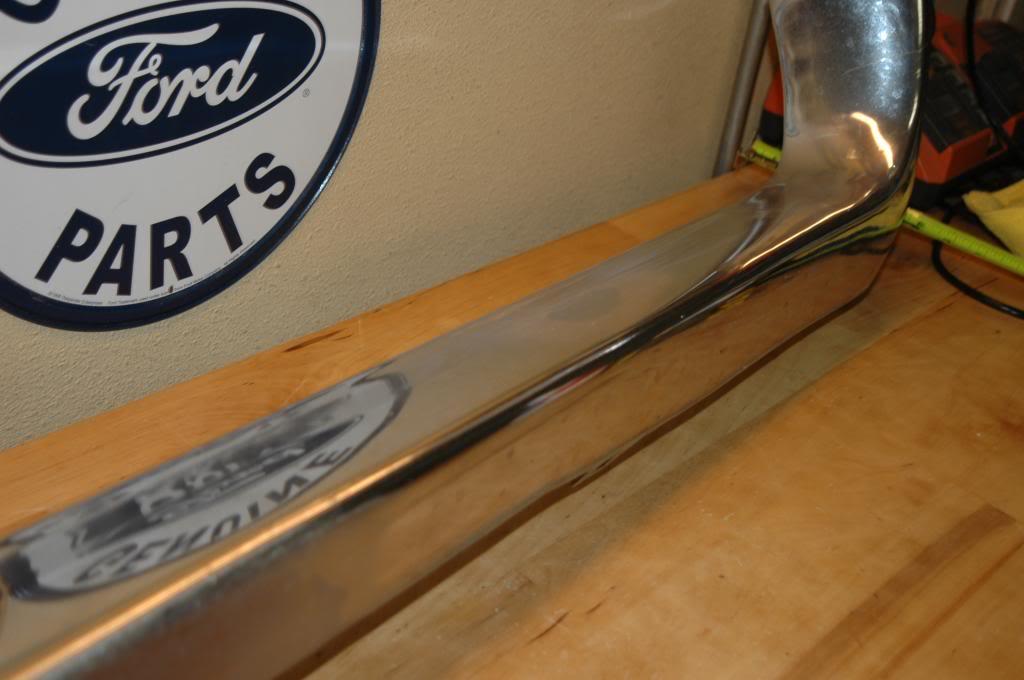 12-6-2012
I can't take credit for the metal work. I had my metal guy do it. Durling Mechanical in Fairfield, CA (Plug) He welded in the bolts and then grinded them smooth you can't even see the weld. He also shaved my lower valance to remove the license plate dip and shaved the two parking lights off. This came out sweet. I always thought that if car designers had their way, they would not have to accommodate a license plate up front. It really cleans up the front end.
I did consider chopping it to narrow it too but I decided to leave it factory.
I am going to use one of these to comply with the law requiring two.
Here is the valance and bumper.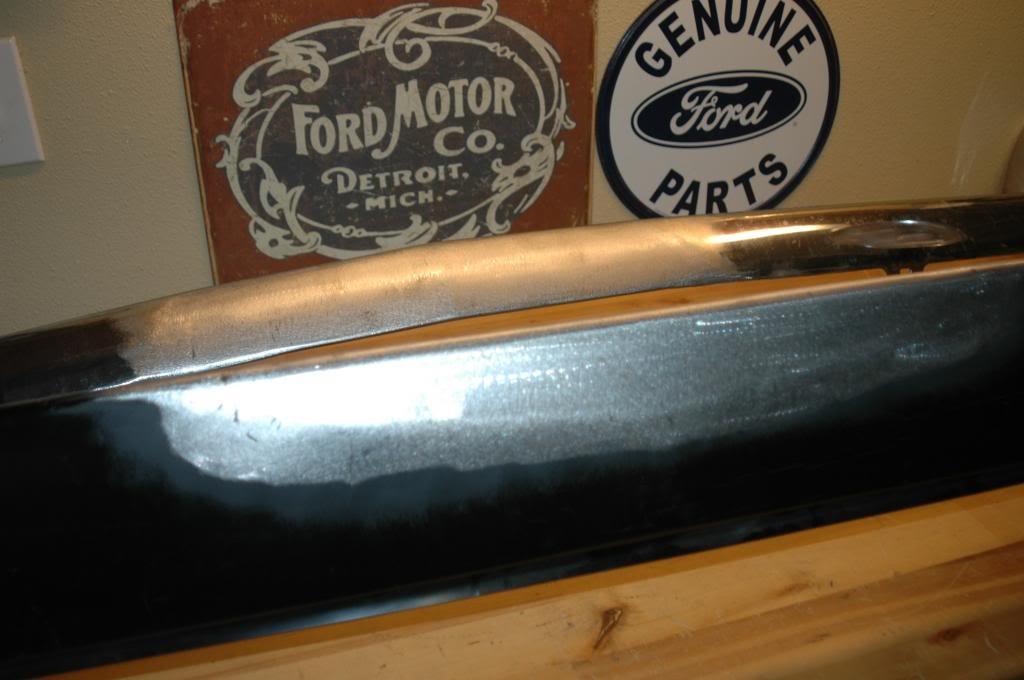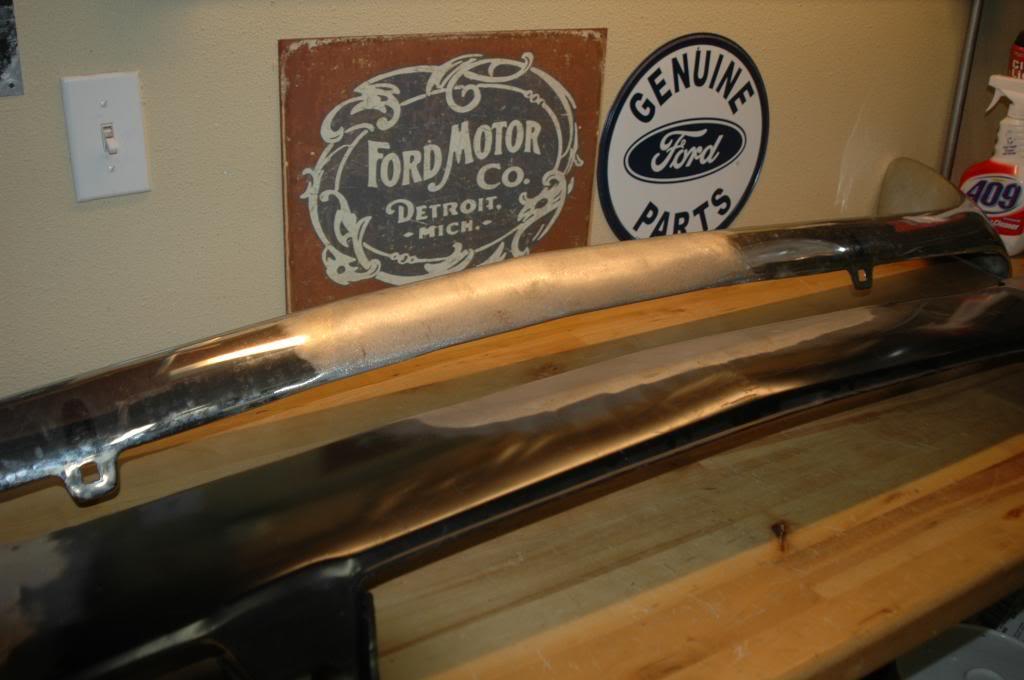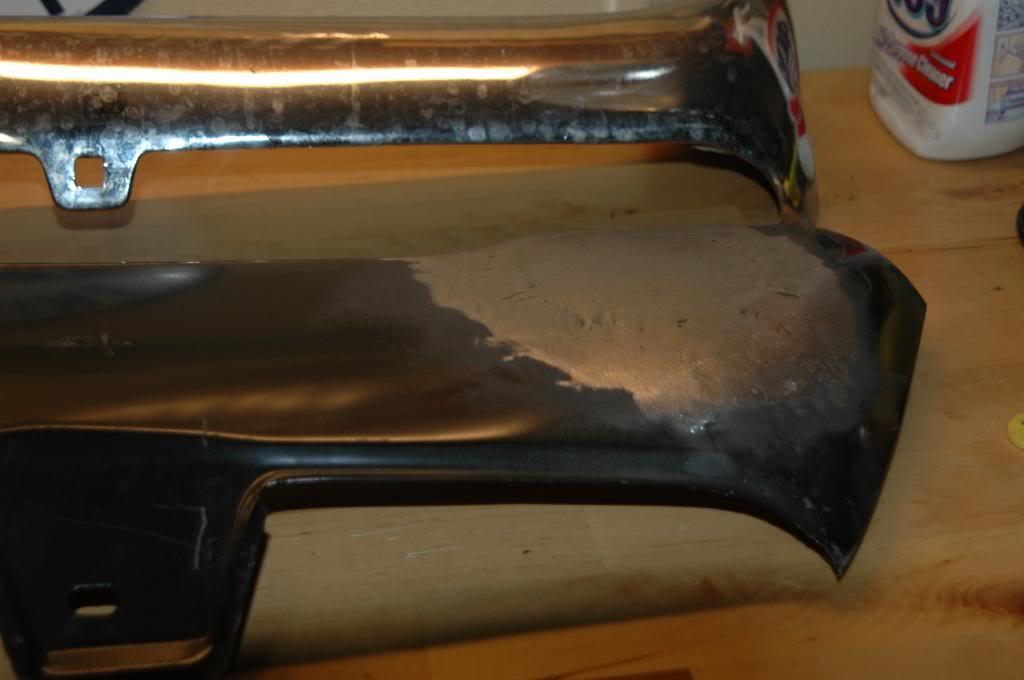 Here is the concept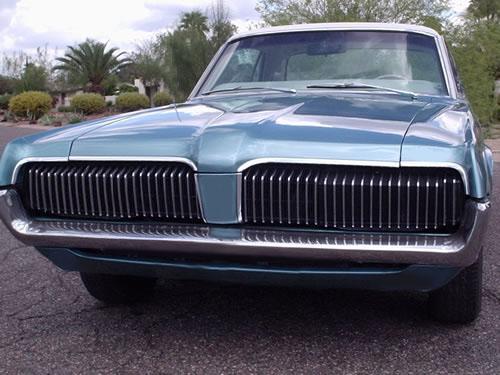 I am using the parking lamps/turn signals from a 69 mach one in the corners of the valance.
I will ask him how he did it but it looks like a little finesse grinder work. No to the second question, I am going to use the bolts to fasted to the brackets. I had the brackets powder coated black so they would disappear under the car. I had the rock shield and grille powder coated black and there will be no aluminum trim, some additional sculpting required. It should look like the bumper is just floating on a field of black.
I am still debating the lower bolts. You can't shave both sets of bolts without welding them to the brackets. I am hoping it will be solid enough to roll without the lower bolts. If it is, I will shave the tabs before chrome. In the back, I am going to shave all 4 bolts and have the brackets welded to the bumper.
8-11-2013
I have been quiet for a while. Time is short, but I wanted to post a update. Take a look at the rear valance. It is on the bench and will still need a little body work but you get the idea.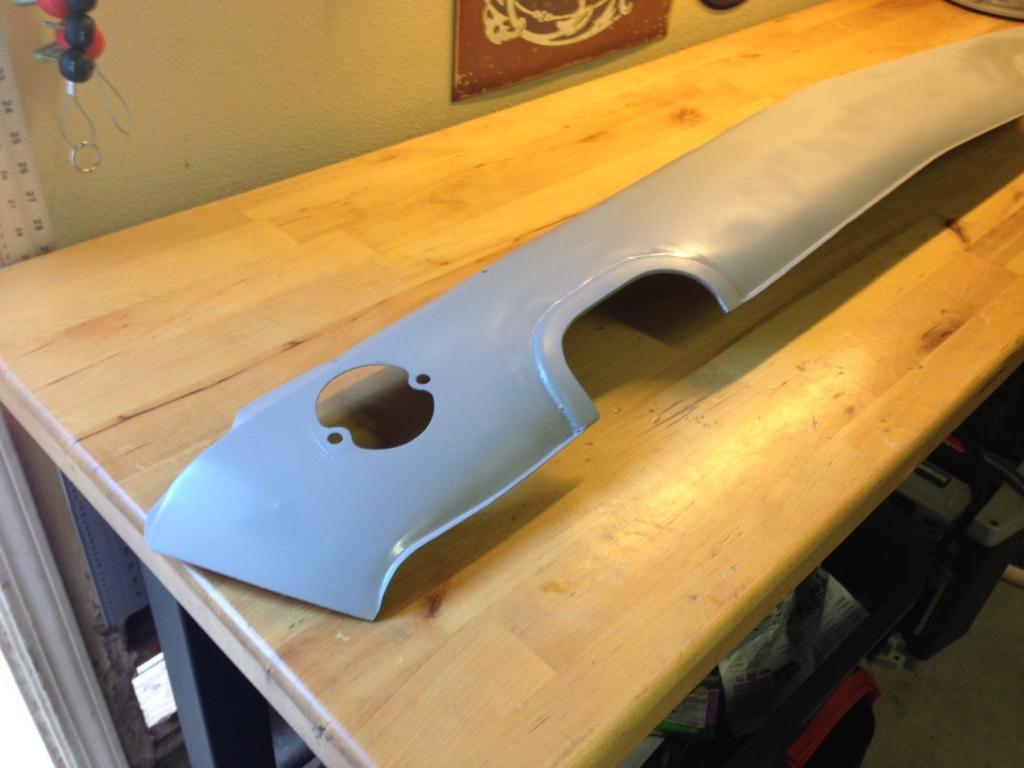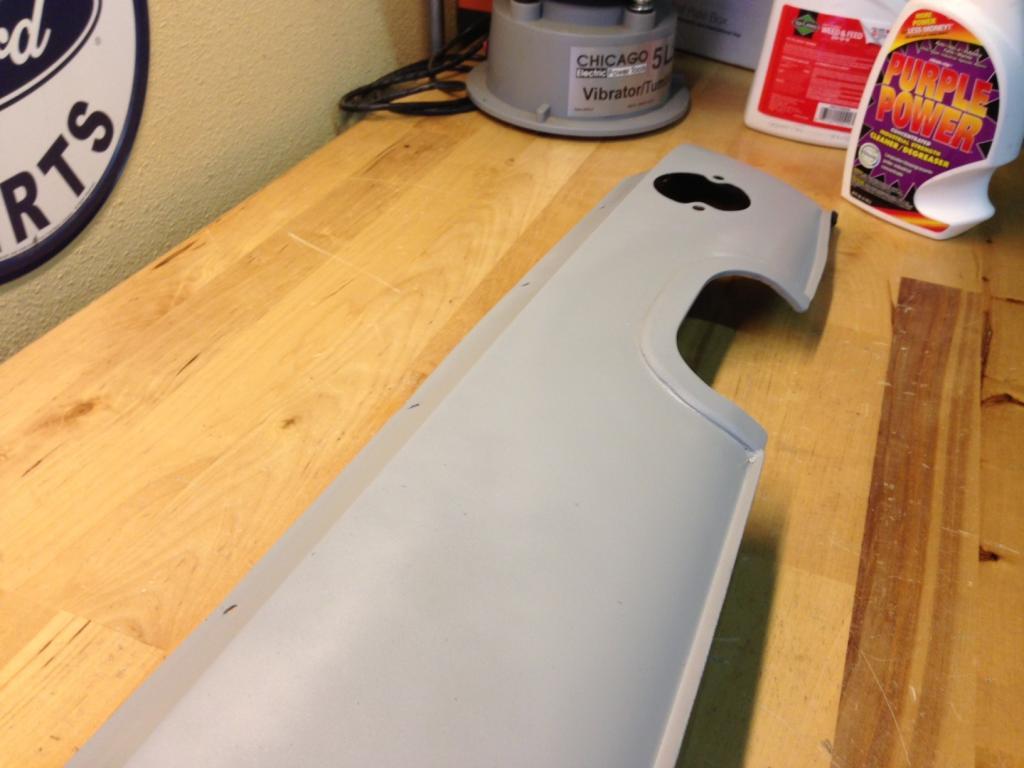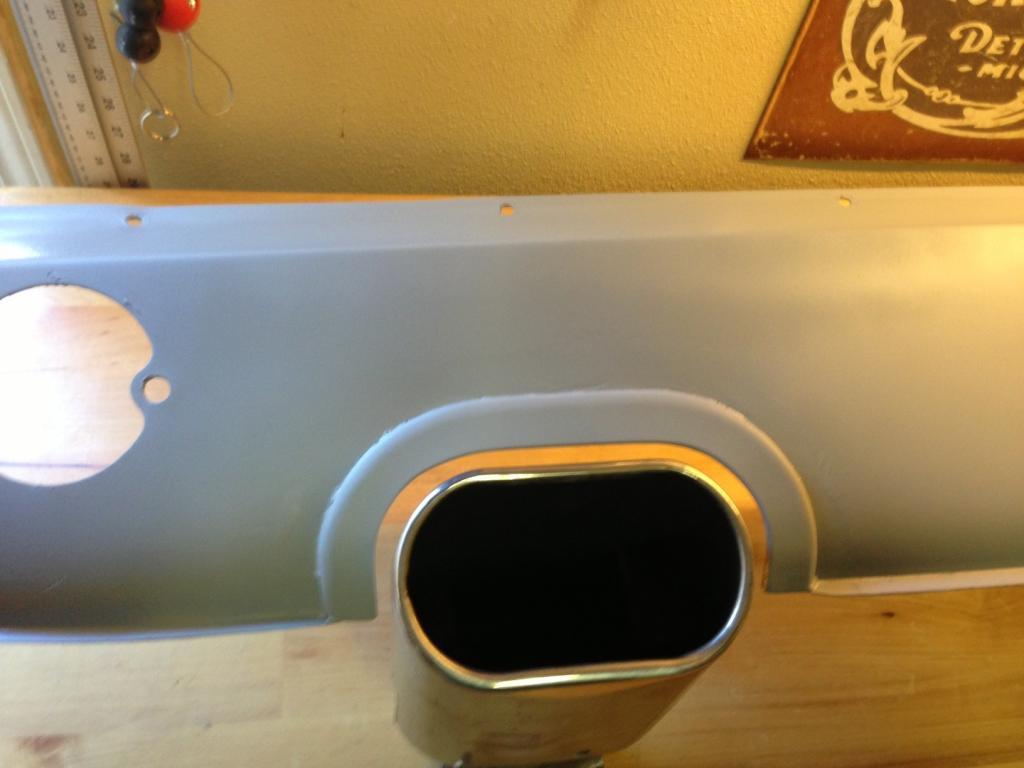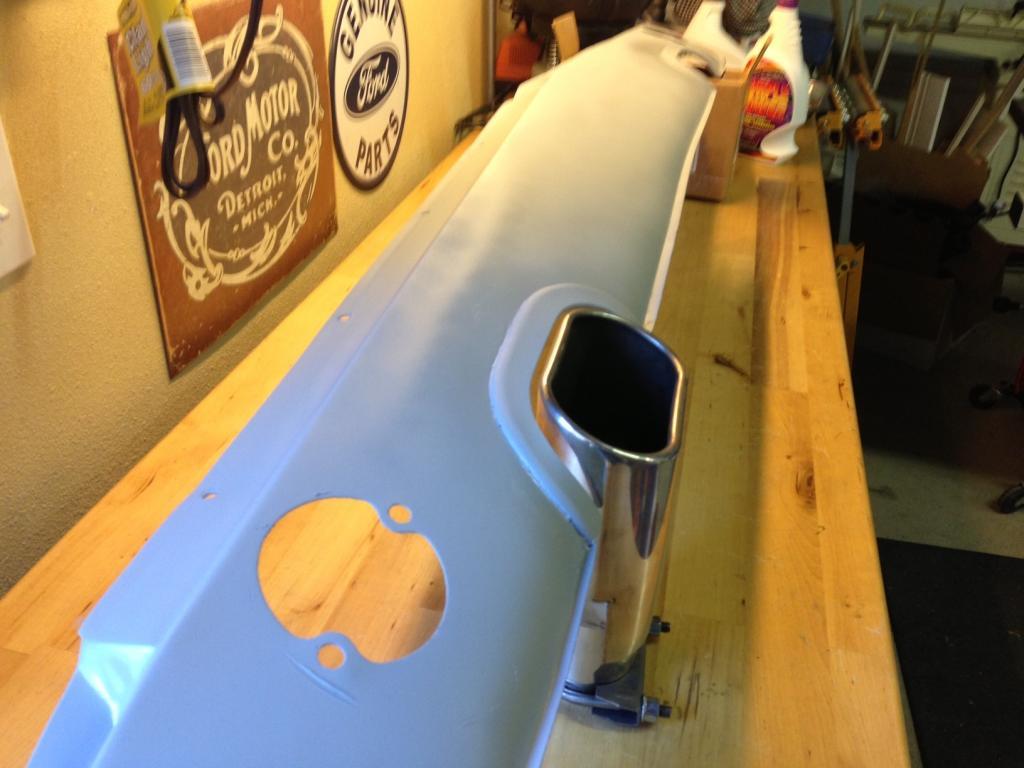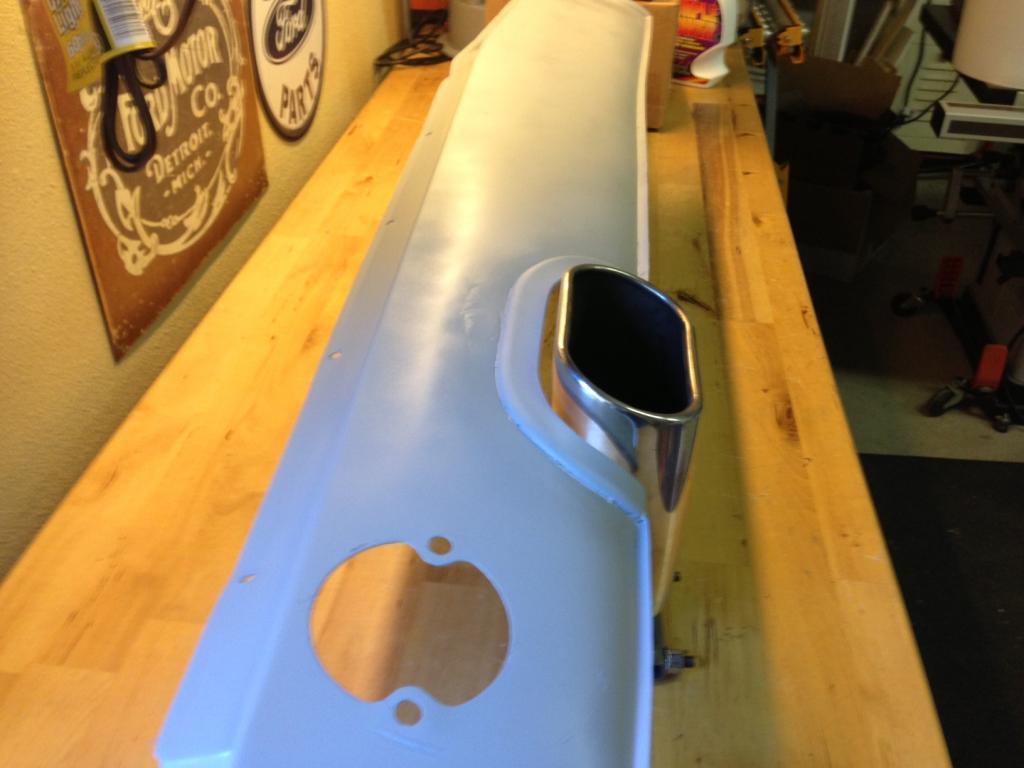 Again I cant take credit for the metal fabrication. This was done by Bob Durling at Durling Mechanical in Fairfield, CA. He also shaved the rear bumper bolts to match the front. I was going for the look that a 69 mustang has around the exhaust tips.
8-12-2013
Yeah, it matches the front only in the sense that it is shaved from the outside. The rear bumper has the bracket welded to it. So instead of removing the bumper from the bracket, he welded the two together and then dealt with removing the head of the bolt. So the bolts will still go through from the inside of the trunk out into the bracket. The bumper was adjusted right before it was removed, so it should go back on and be cool. Fingers crossed.
Thanks for the boost guys. I am really glad I found a talented metal worker/machinist who is helping me get the ideas turned into a reality.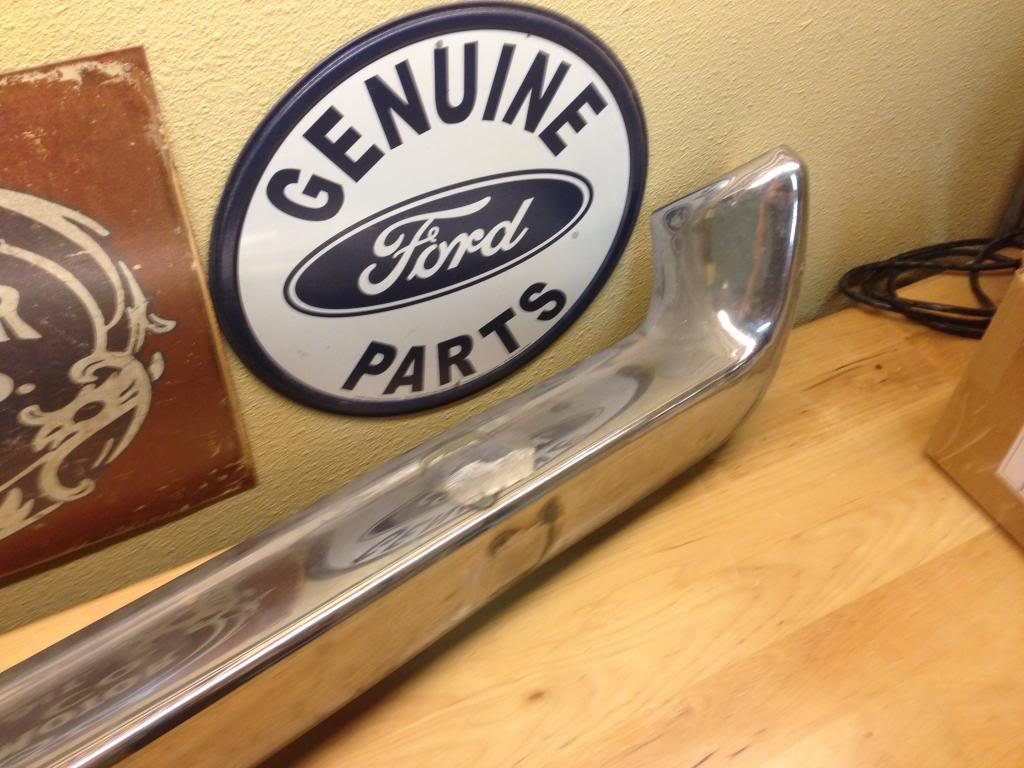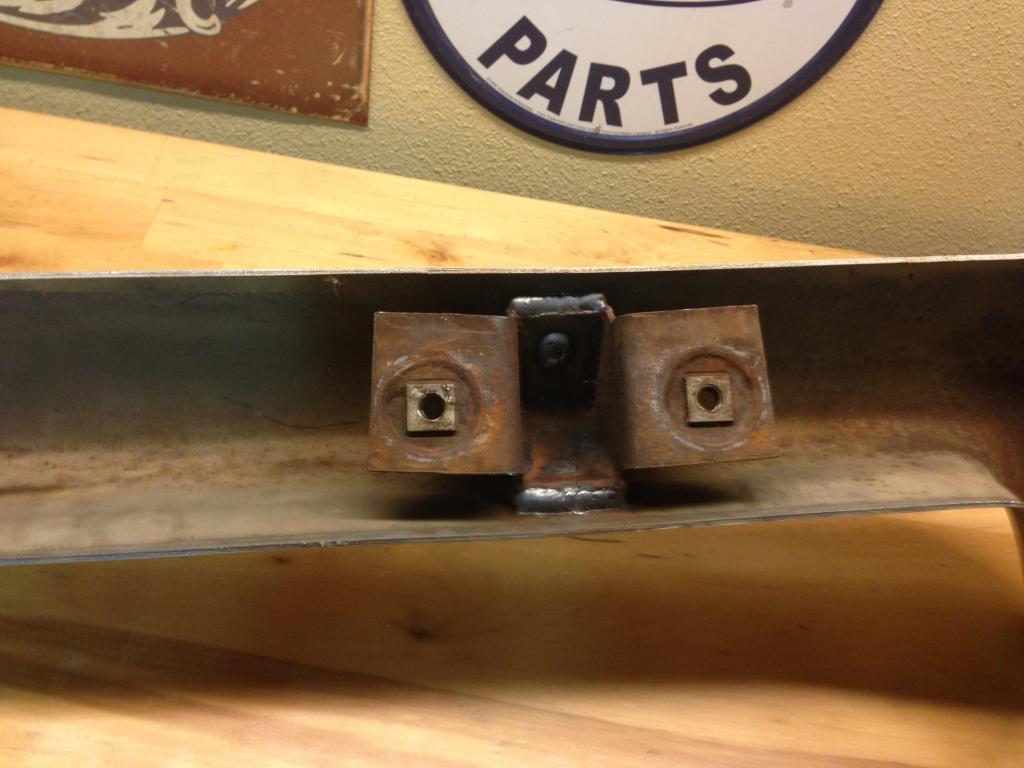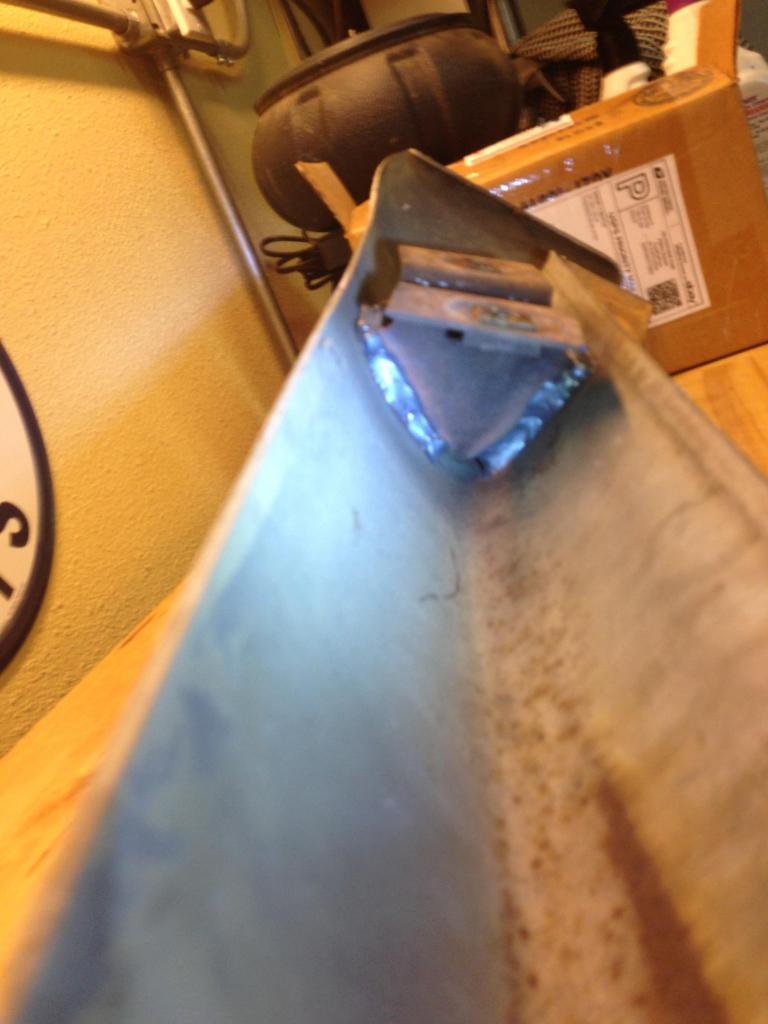 8-26-2013
This is what it looks like back on the car.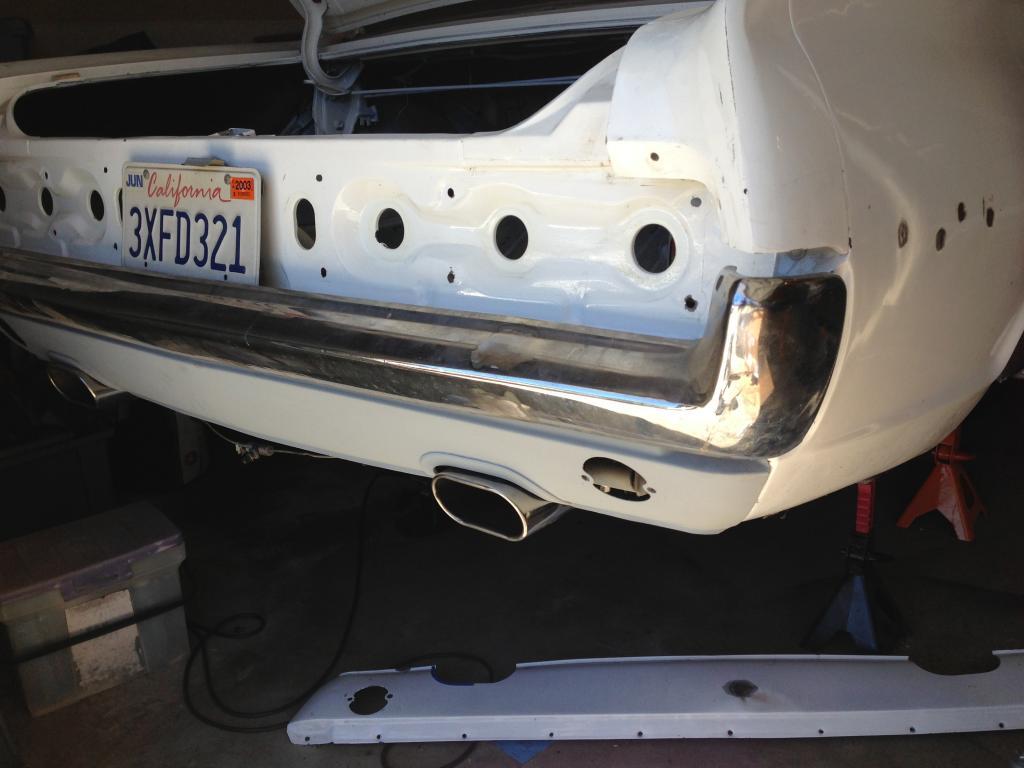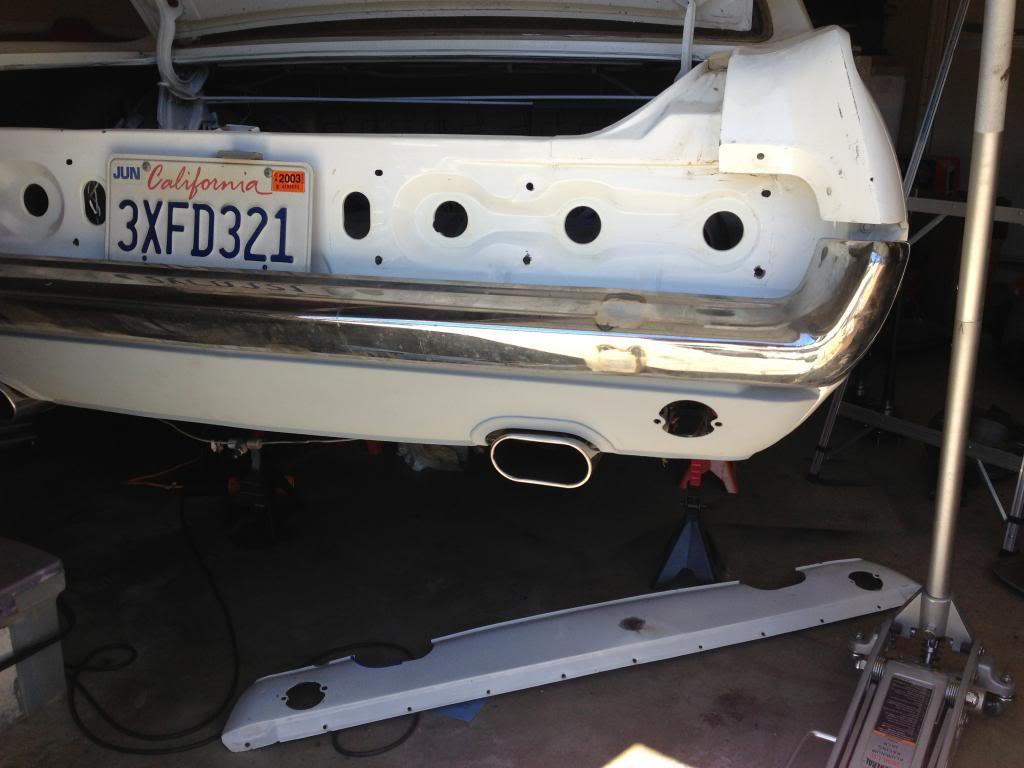 I will have to do a little fine tuning to get the tips to center up with a consistent gap but I will do that after paint.
Yes it was a piece of flat 3/16" steel cut to the shape of the cut out and then contoured to match the curve of the valance and welded onto it. That white valance on the ground is the first pass at it. It fit the exhaust perfect but it had some bondo at the opening that wouldn't allow for the trim to be added. So I started with a second straight bondo free valance.
6-13-2015
It has been a while...I dropped my car off at the body shop in June of 2014! It is still there. However, I have been taking progress pictures and getting some side projects done. I thought it was about time I posted an update.
The car is coming out great. The body man is meticulous. He even painted the car once just to check the body work, fine tuned it and painted it again. All of the mods are coming out great and I am pleased with the results.
The shaved drip rails look great. Here it is in primer, which I think shows the effect better than some of the color pics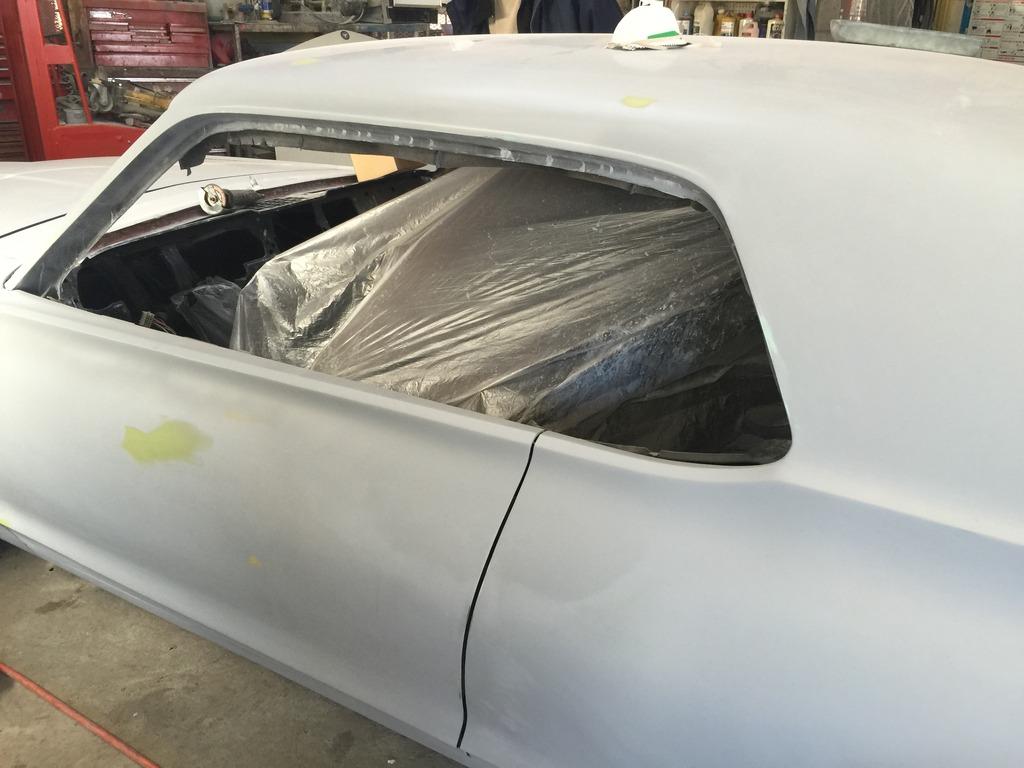 Here are the front and rear extensions in primer: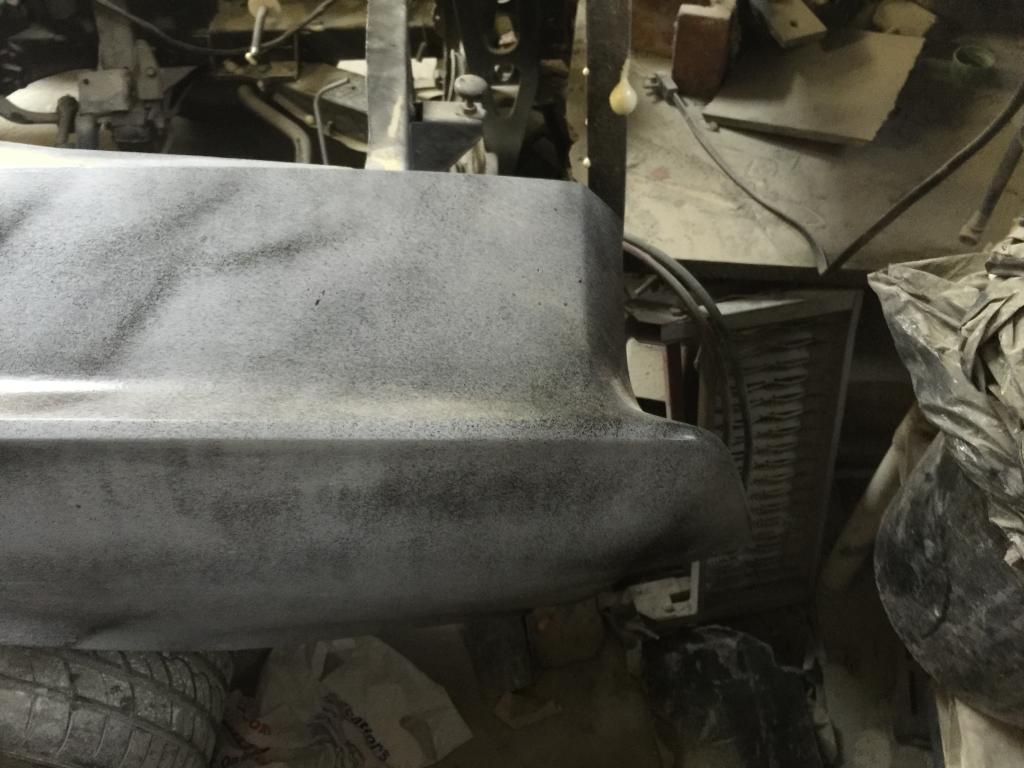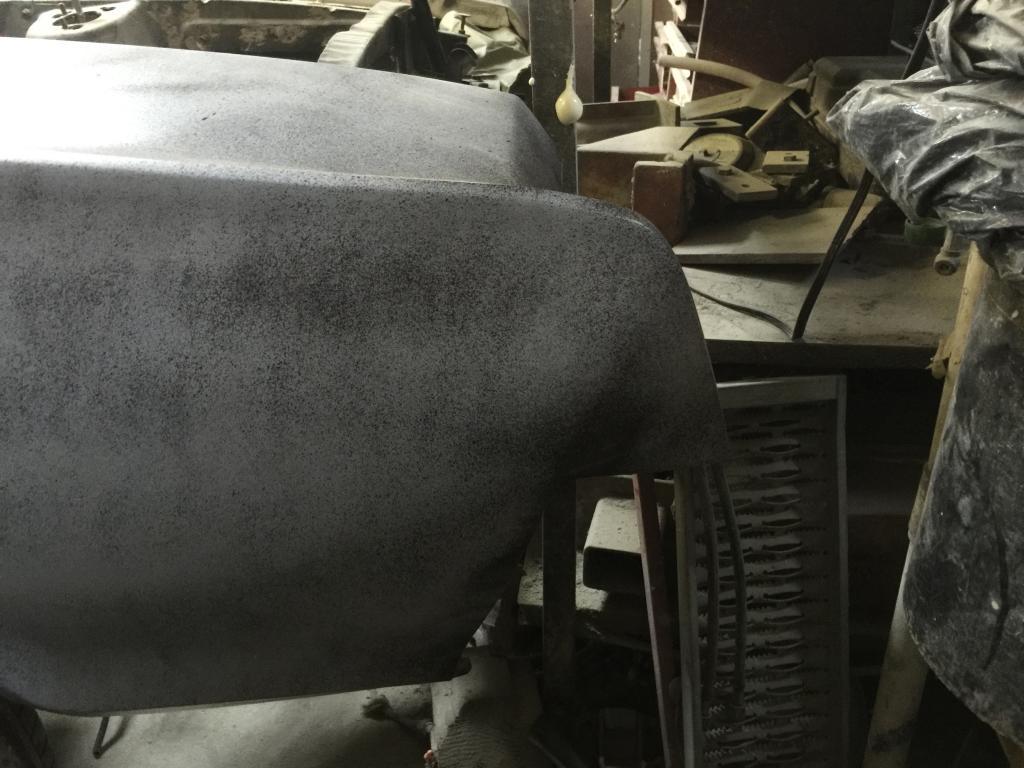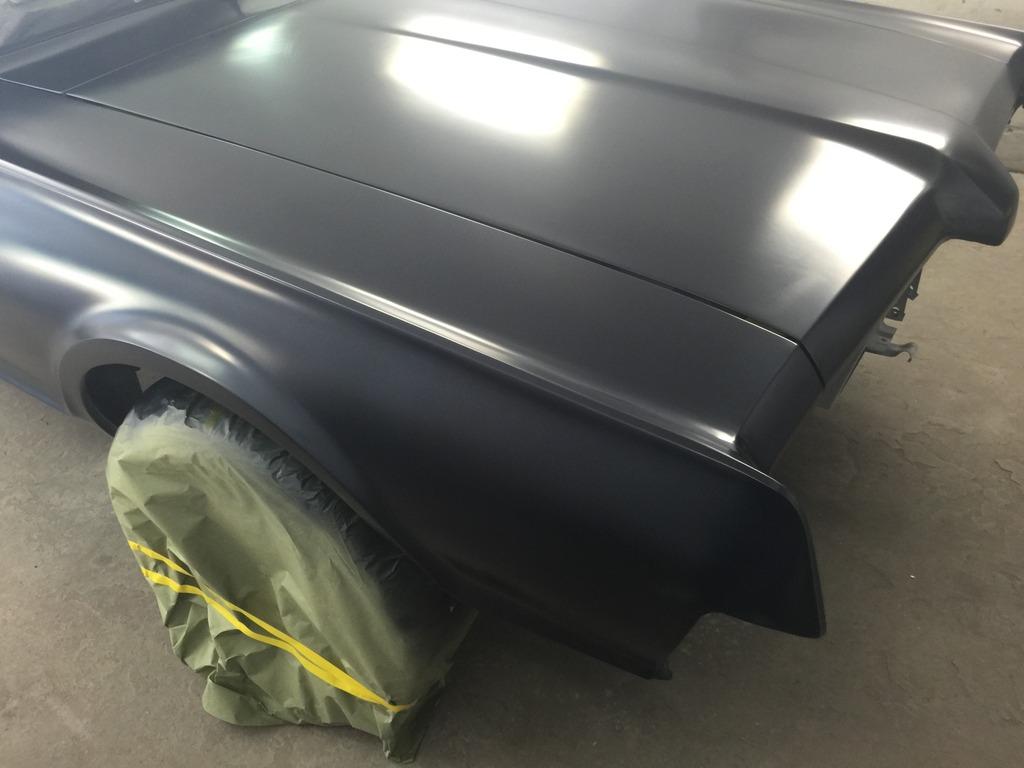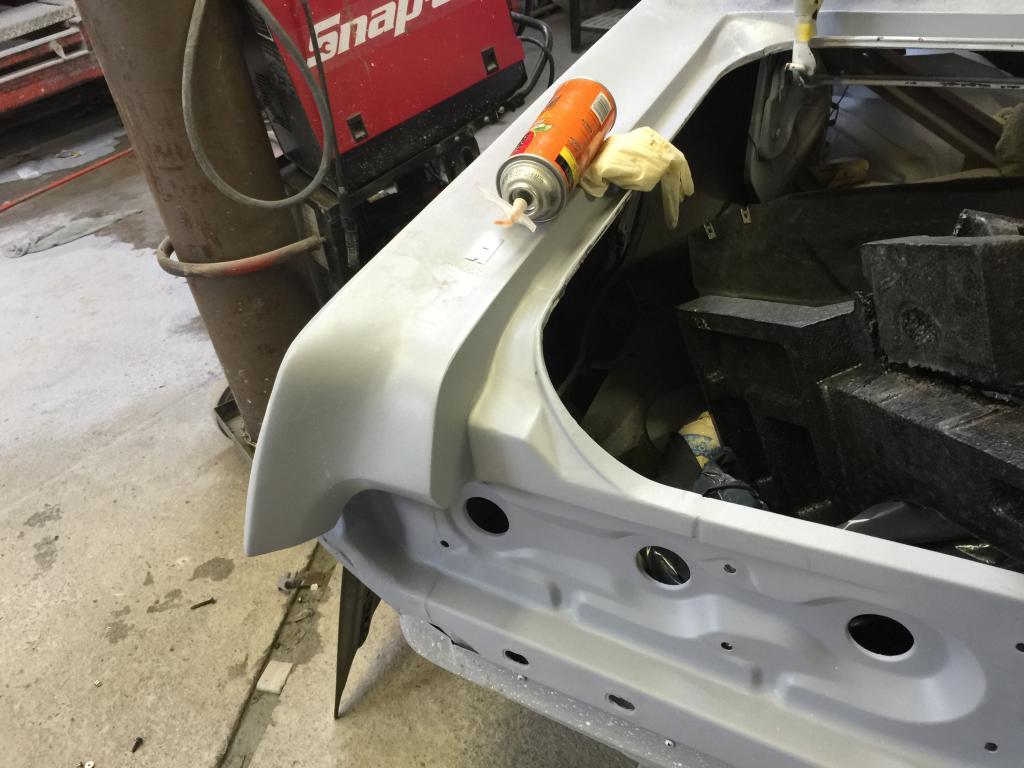 The hood needed some special fitting to deal with the fact that I am not using any trim on it. Here are the results.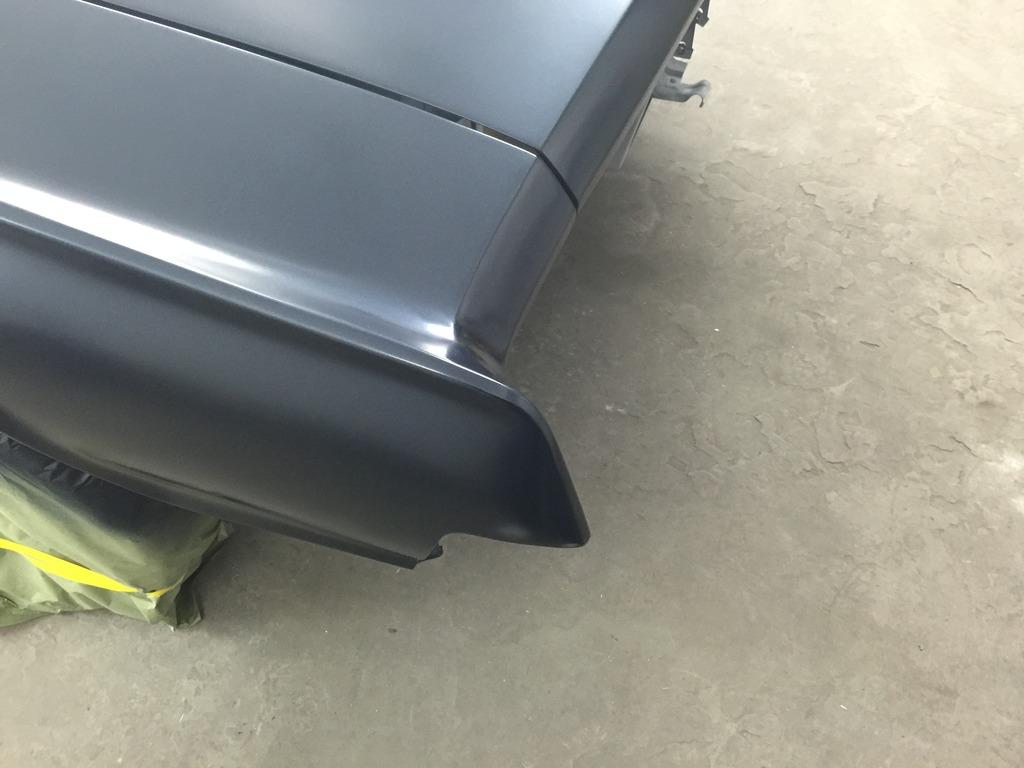 Here is the shaved hockey stick. This was kind of tricky because without the drip rail, the hockey stick has nothing to attach to so it had to be shaved too. This complicated the door fitment because the door rides about 3/16th higher than the quarter under the window.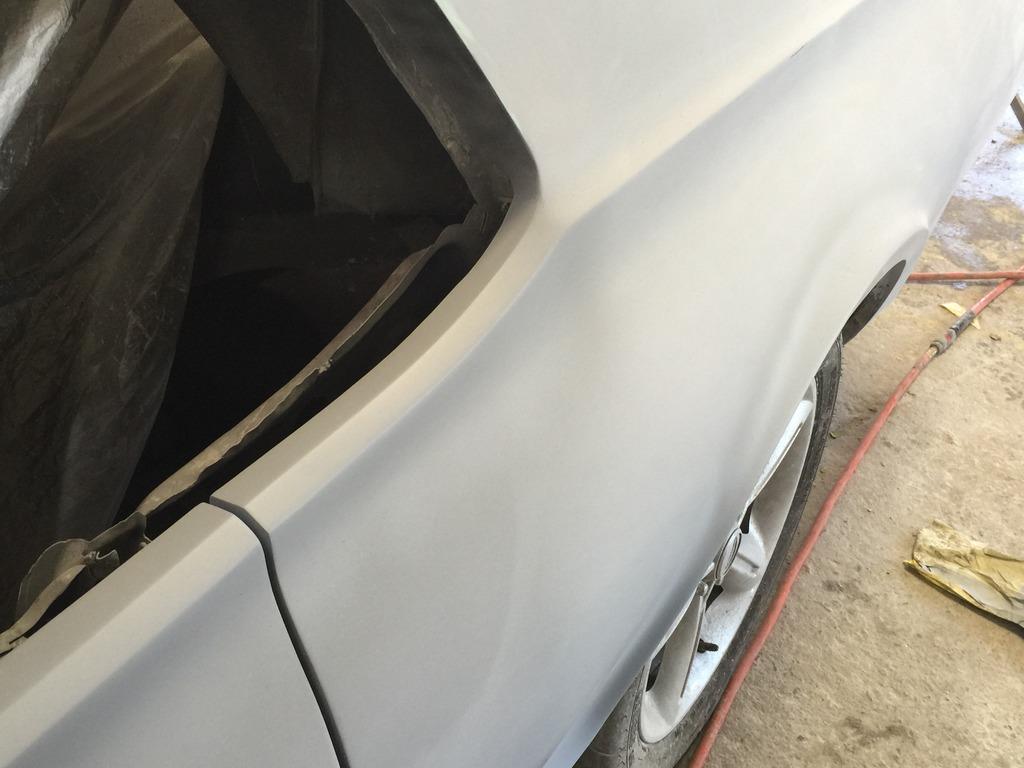 You can see it caused a contouring issue: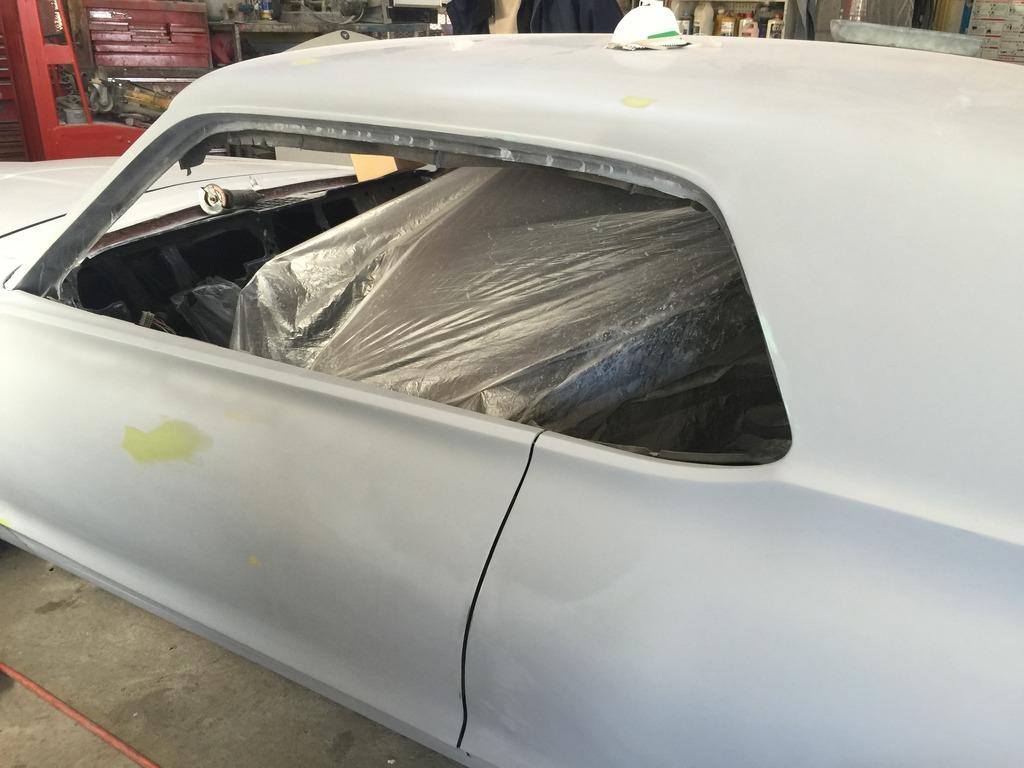 However, it disappears in the color coat because it is so dark.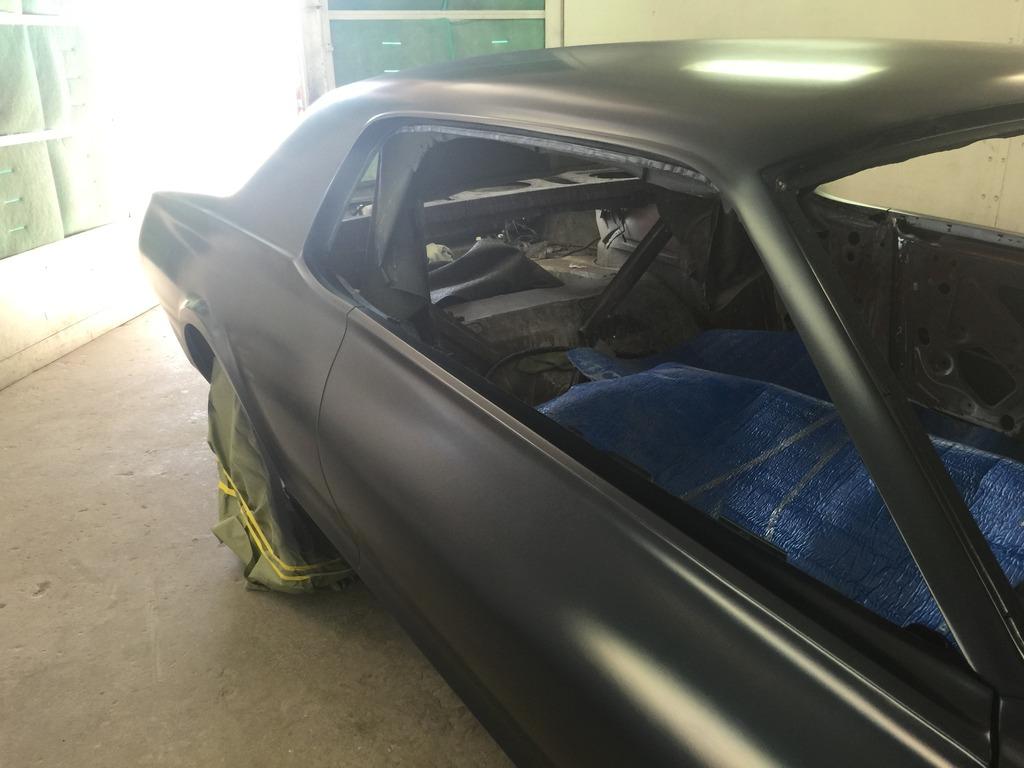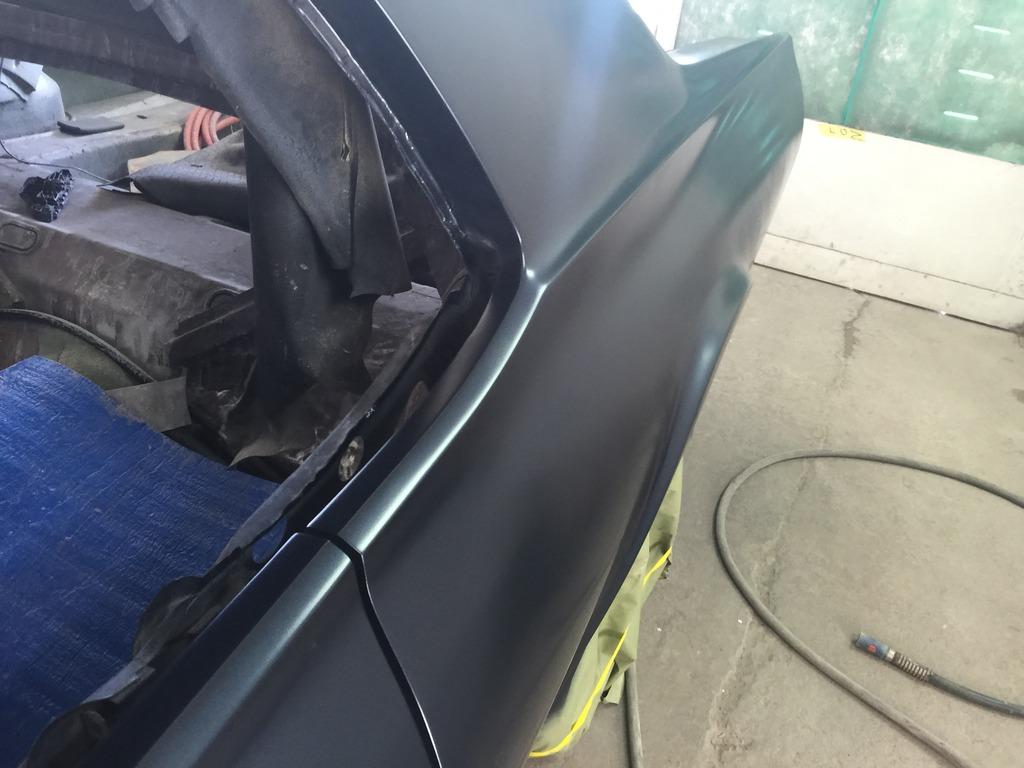 The area behind the rear quarter window was also smoothed. As was the full run over the windows.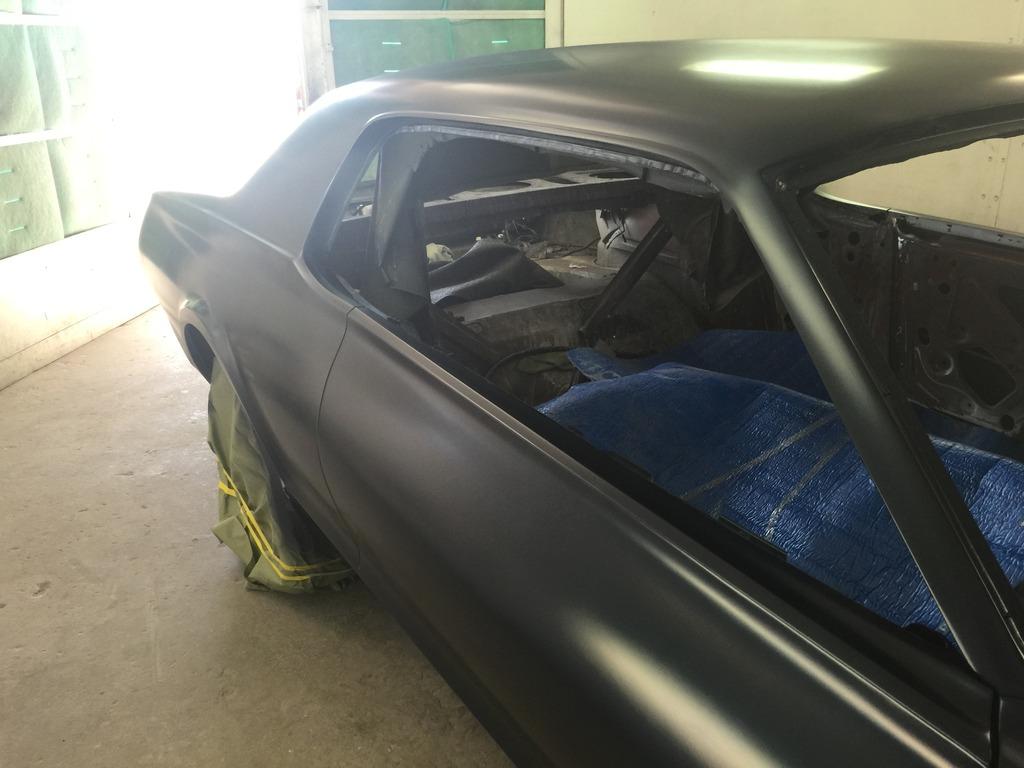 Shaved doors...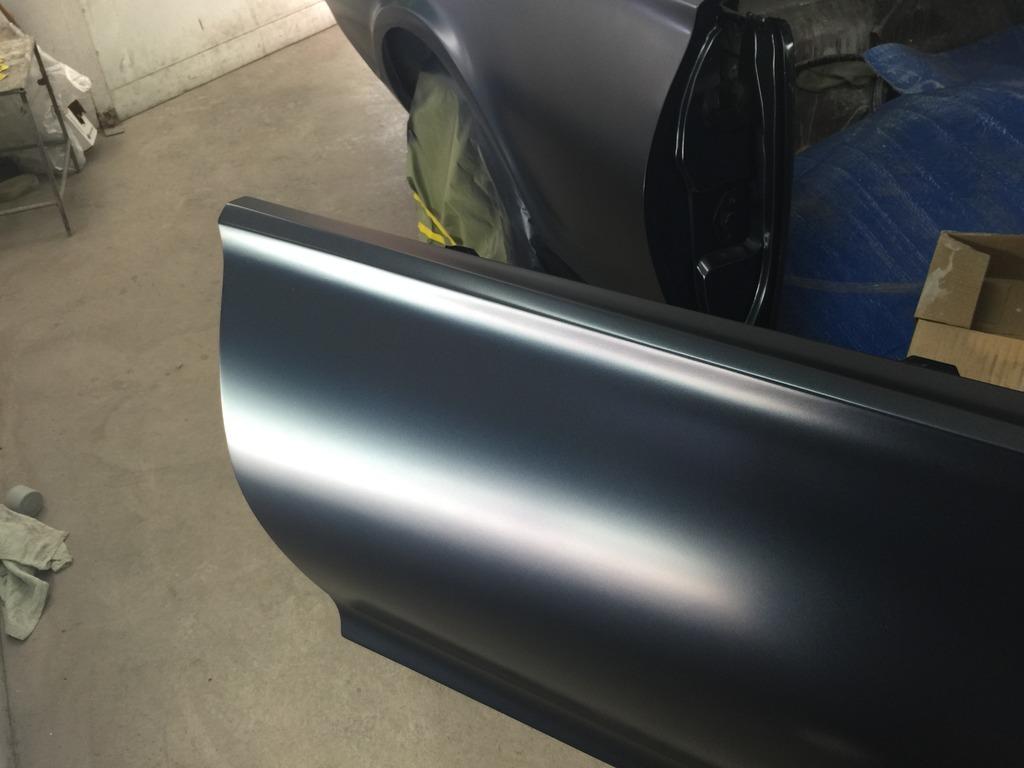 I had the custom rear valance shaved/welded in. It came out great. There is probably a reason not to do this, but I couldn't think of one that would be worse than cutting a couple of spring bolts...so I decided to do it.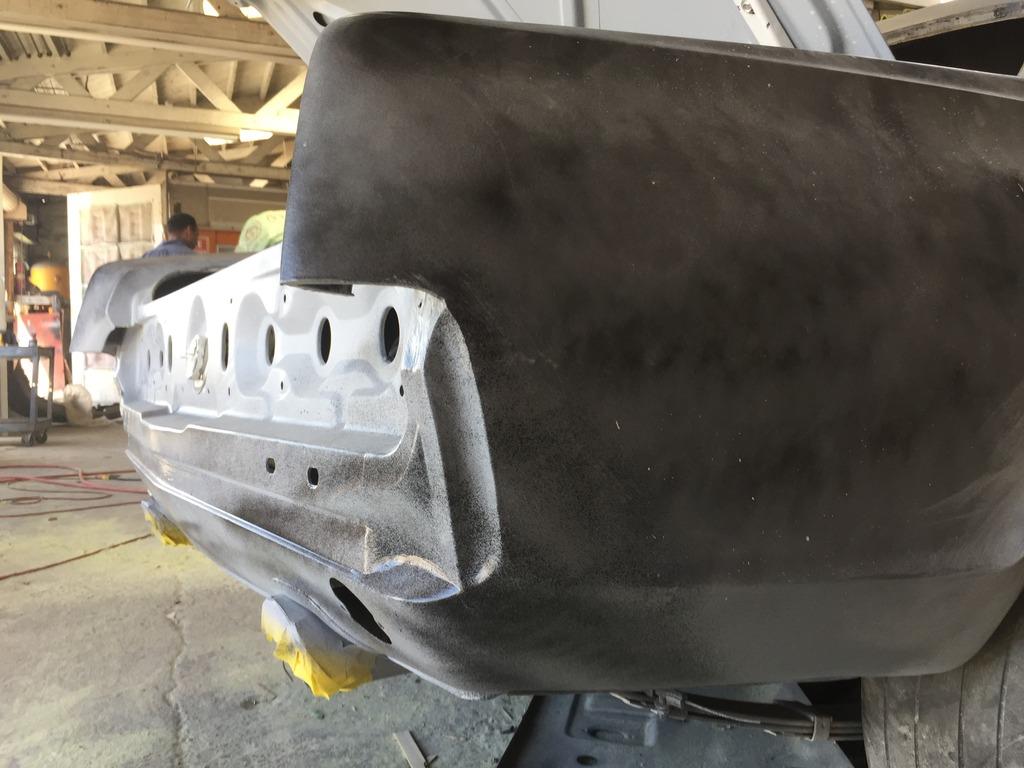 Custom rear exhaust valance "flanges" (is that the right word?)
Get a load of the shaved cowl vents. I am very happy with this mod. I am left with some figuring to do in order to get air into the heater box. However, since it is fiberglass, I figured I could rework it easily enough to draw air from the front vs the top. More to come on this snowball.
Oh and as you can see the hole for the antenna was shaved to.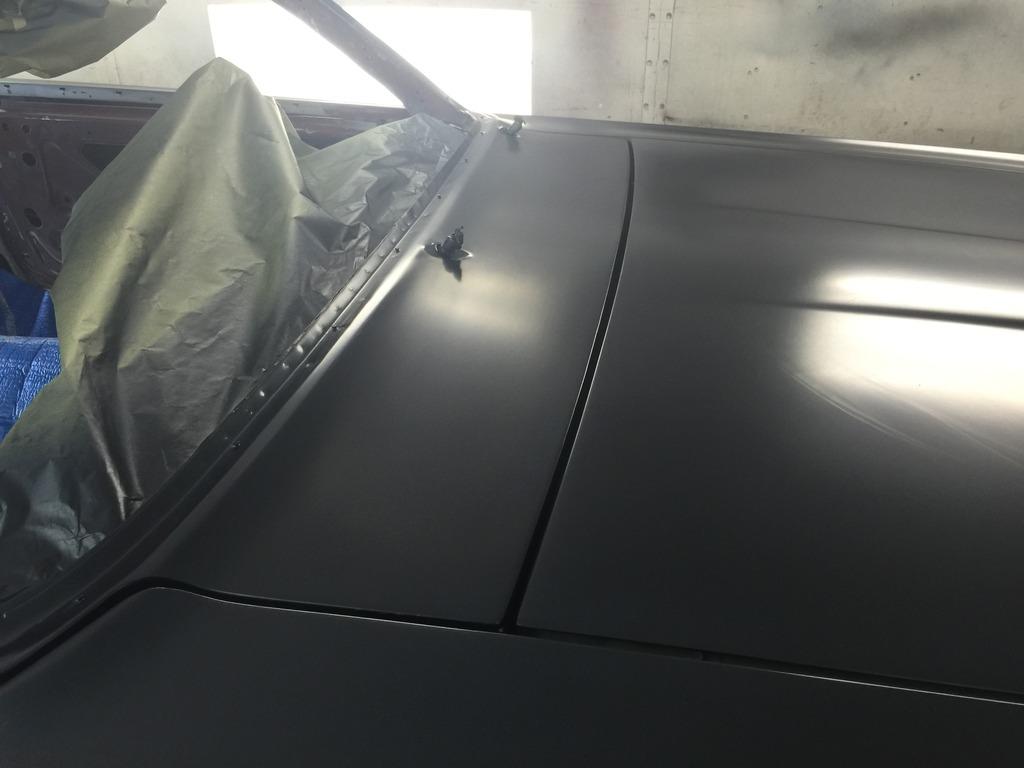 Had the fenders rolled for the big wheels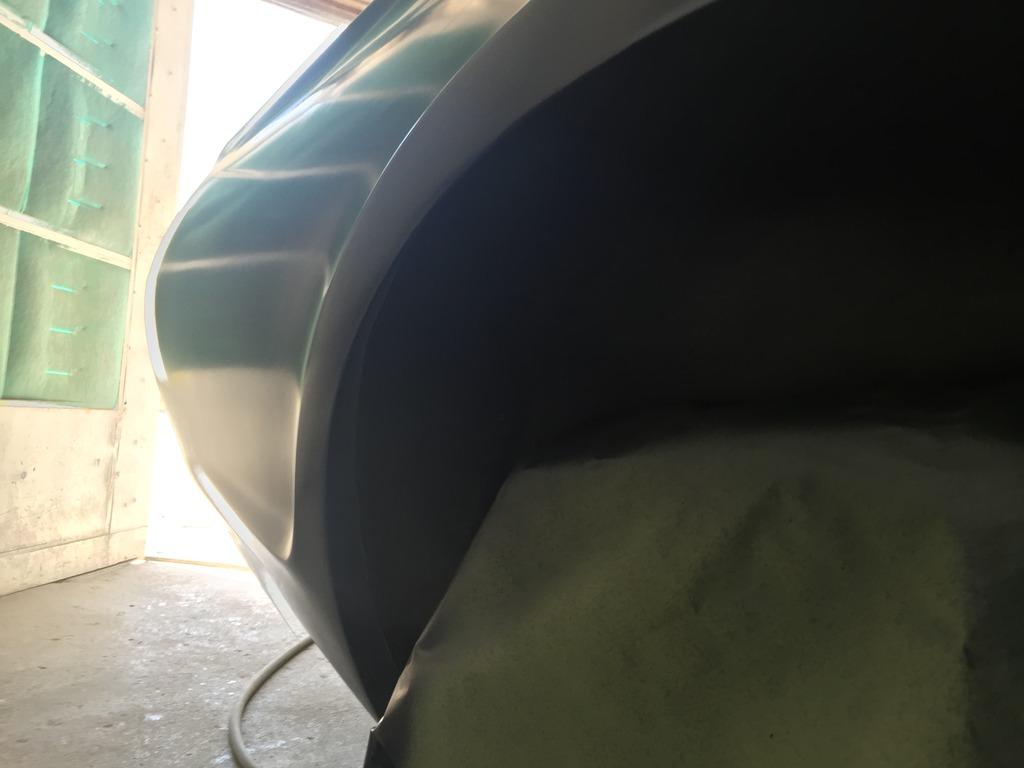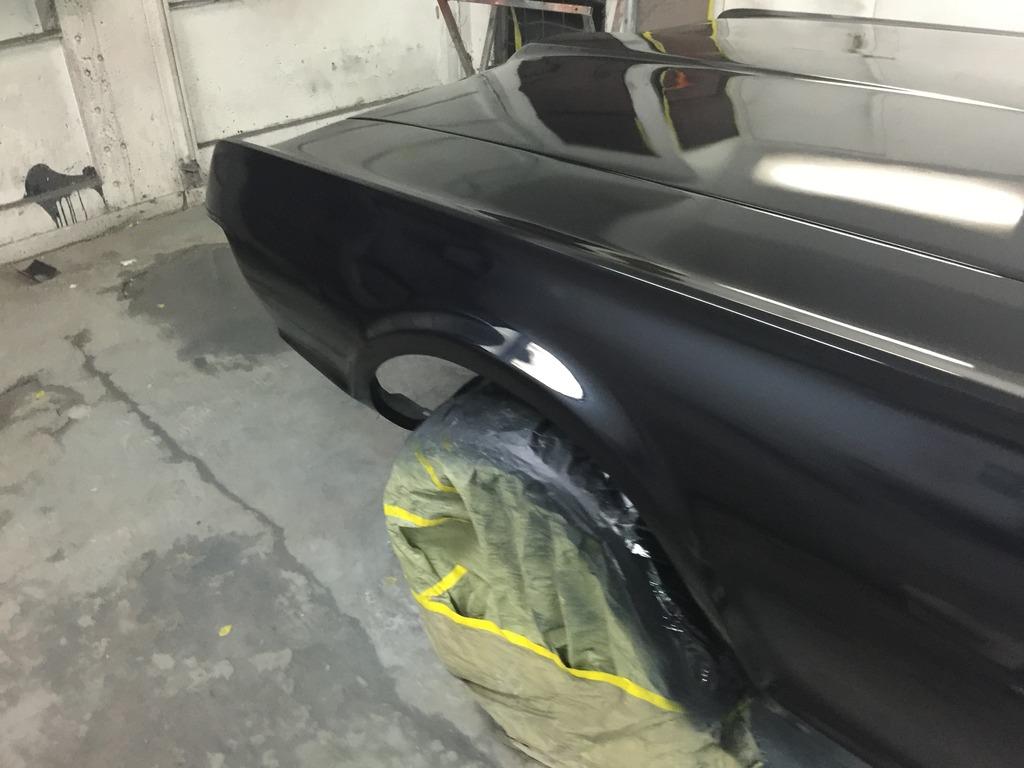 In clear still wet.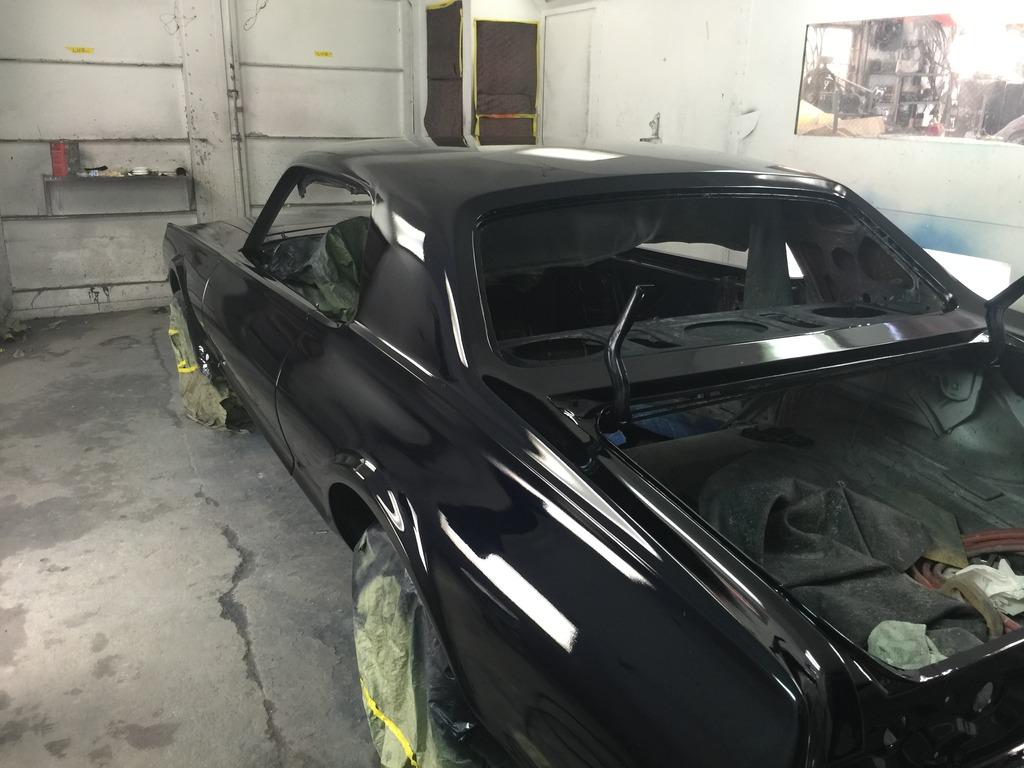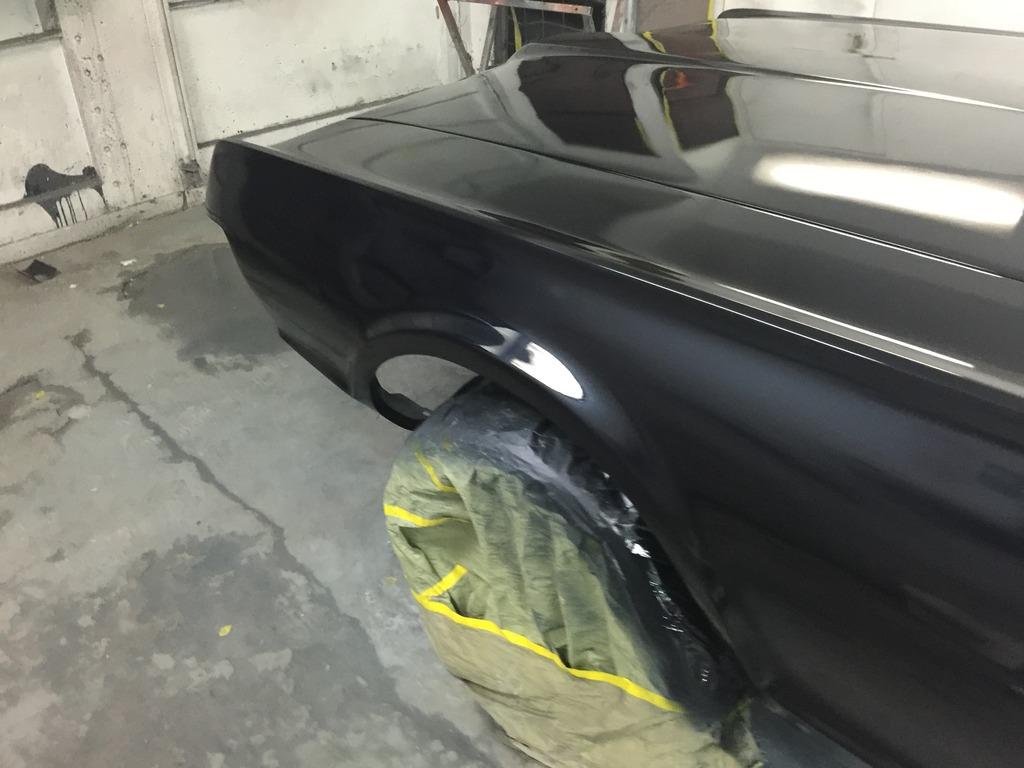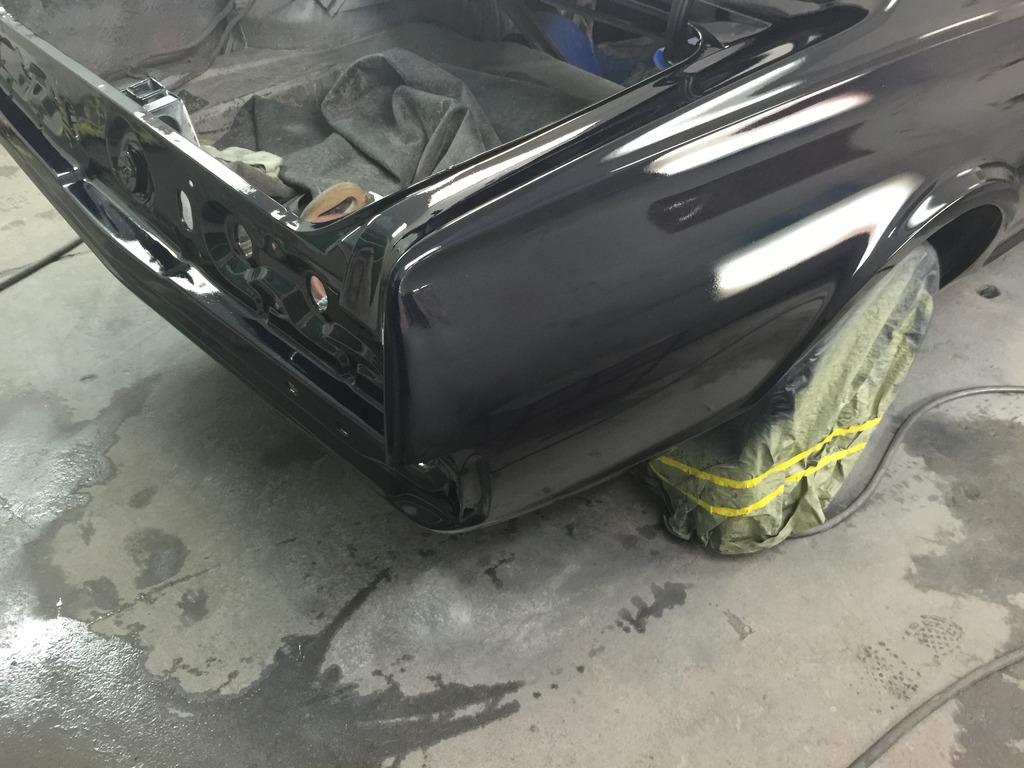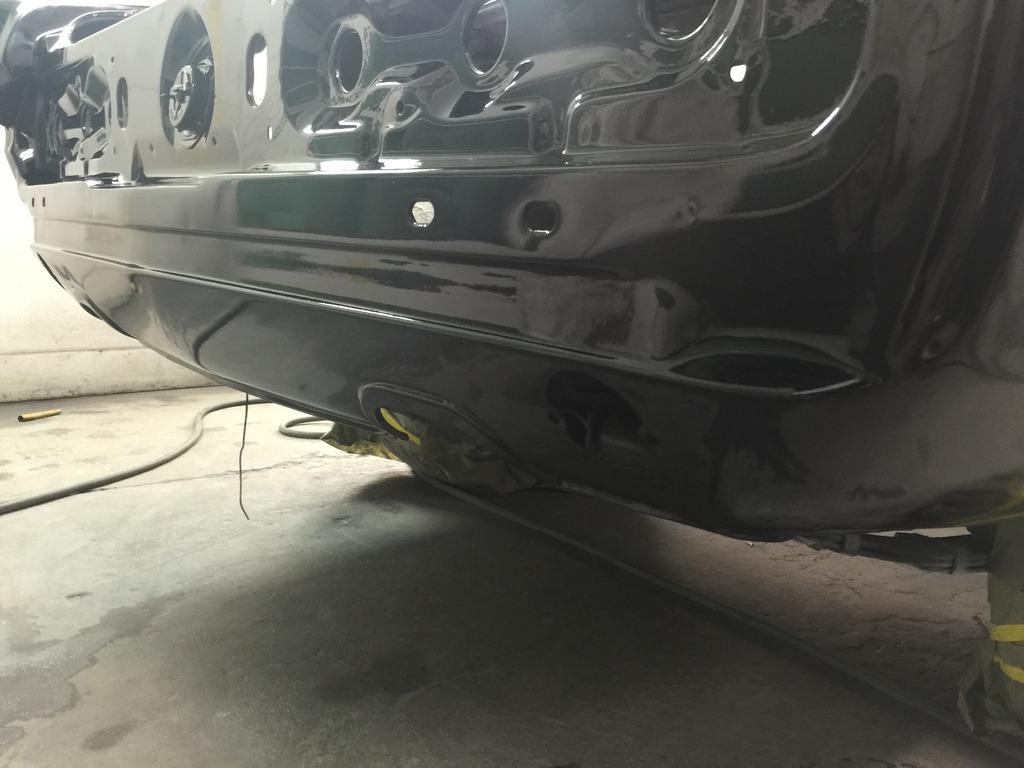 In the sun. It takes full sunlight to see the blue. Otherwise it looks black.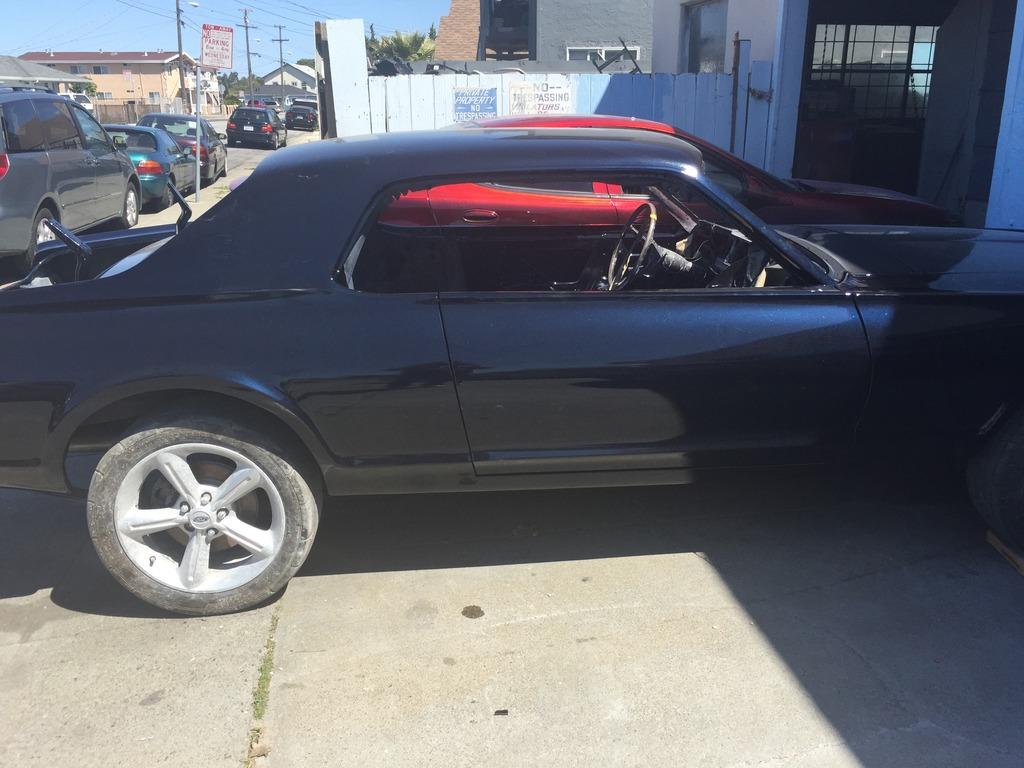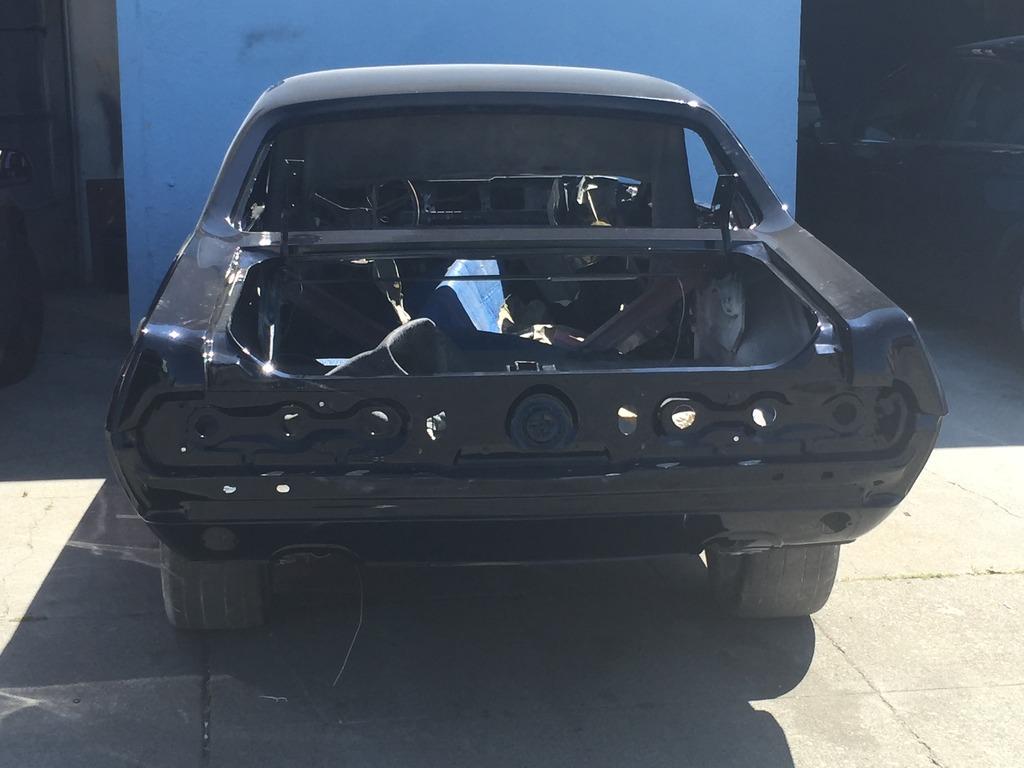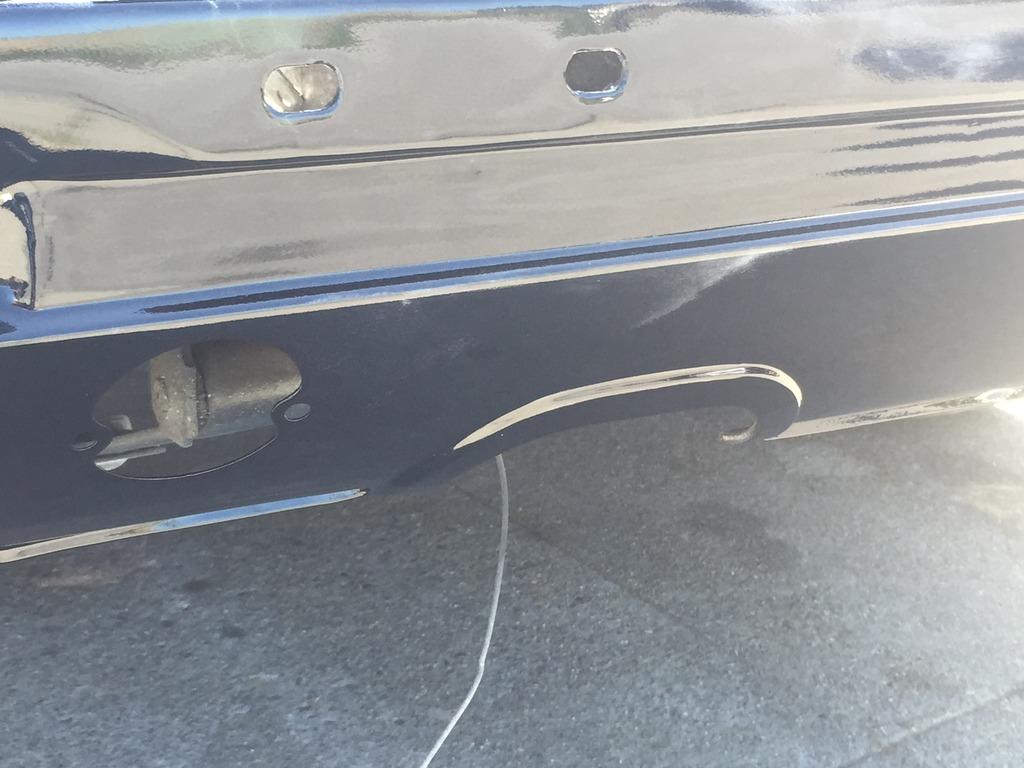 Here is how the shaved front plate is coming out. The center medallion was shaved and the hood was contoured to fit without trim. The center sheet metal is still in need of body work as is the rock shield. Both will be body color. As you can see the bumper needs to be lifted a bit in the middle. That was what this fitting was for. I have since removed it and returned it to the bumper/chromer for last tweaks.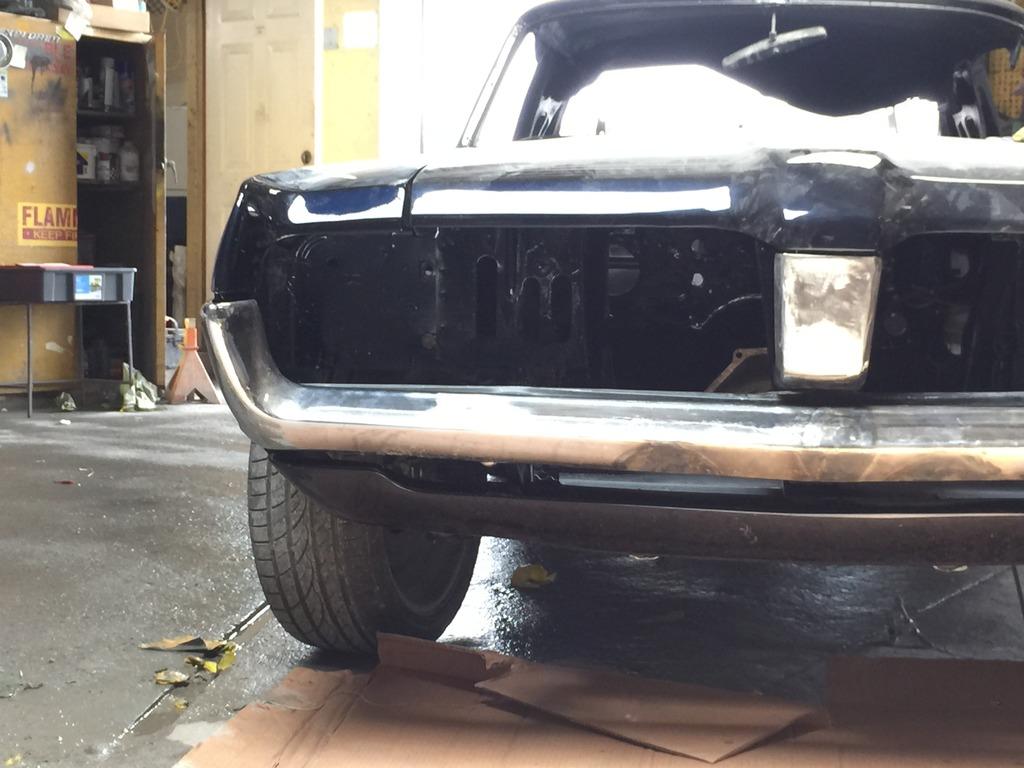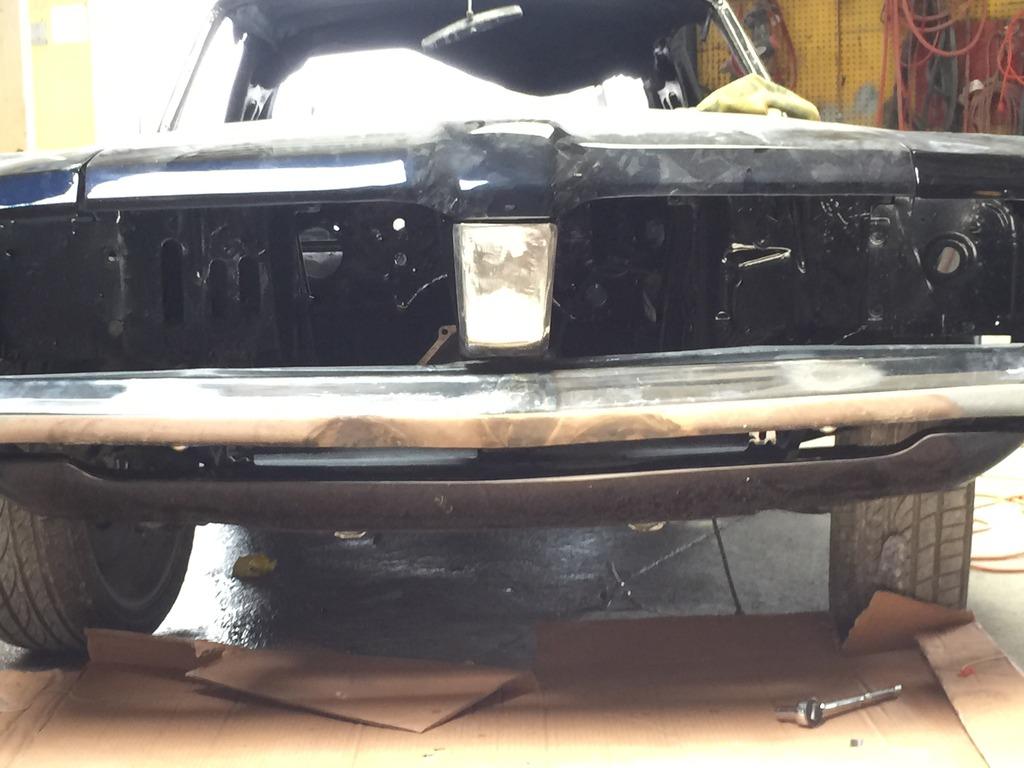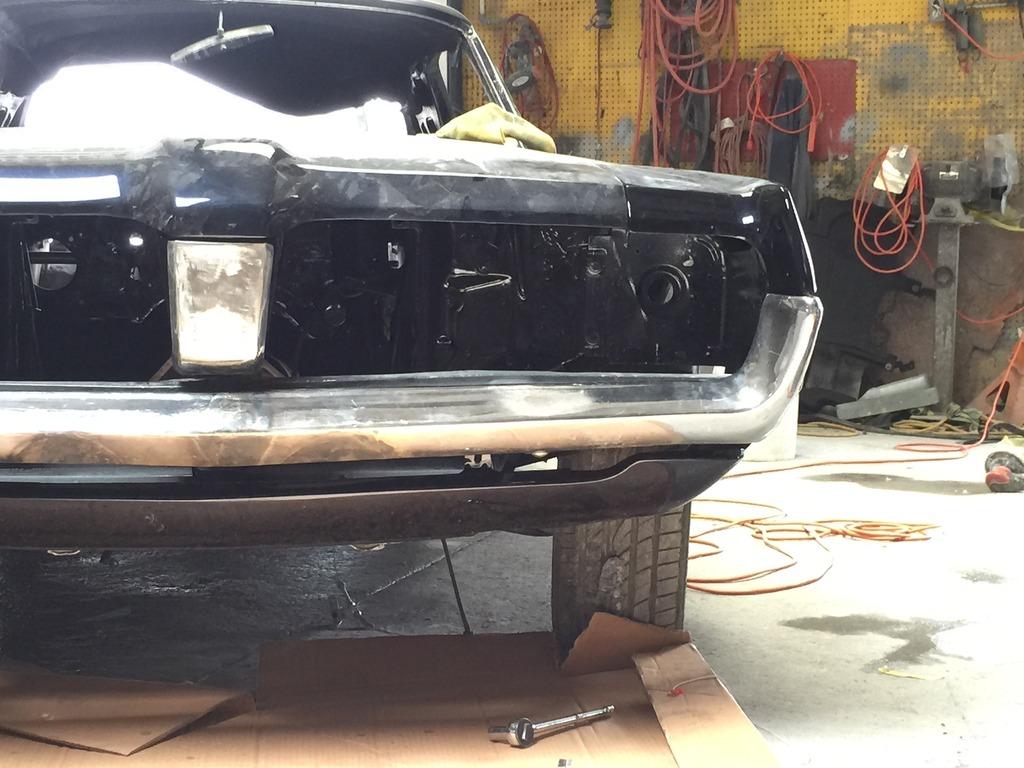 Oh and as you can see the license plate depression was also shaved from the front valance as well as the parking lamps/turn signals. I like the way it came out.
I got another coat of black powdercoating done. Including the engine braces and another set of headlamp doors and parts. I They came out great this time. Last time I broke a piece and another piece had bubbling. One of the plates that goes over the lights had a new dent from softening up in the oven. Not bad considering people advise against powdercoating pot metal parts. I will be assembling it all soon. But first I need to finish cleaning bolts and doing an oil and phosphate.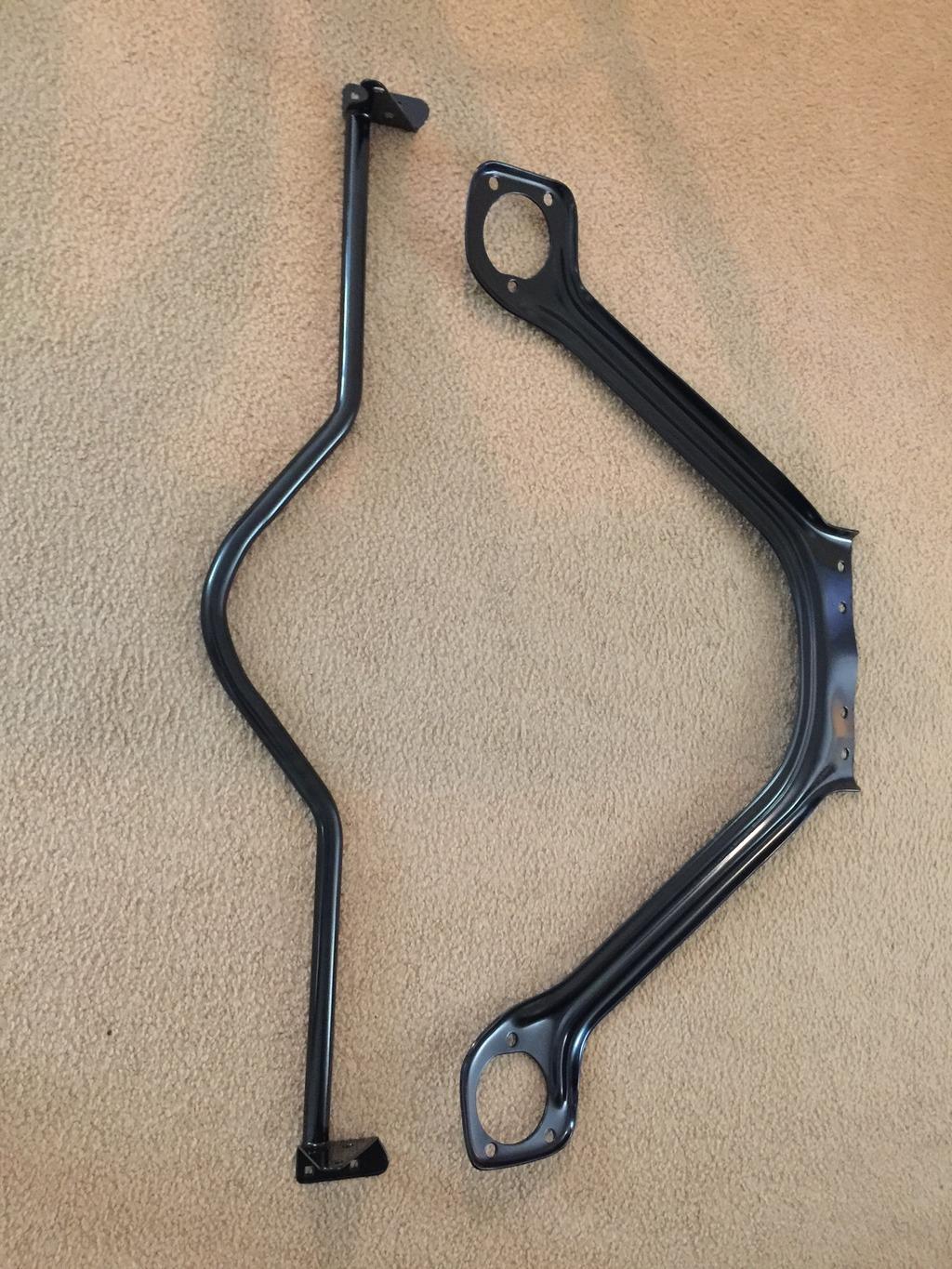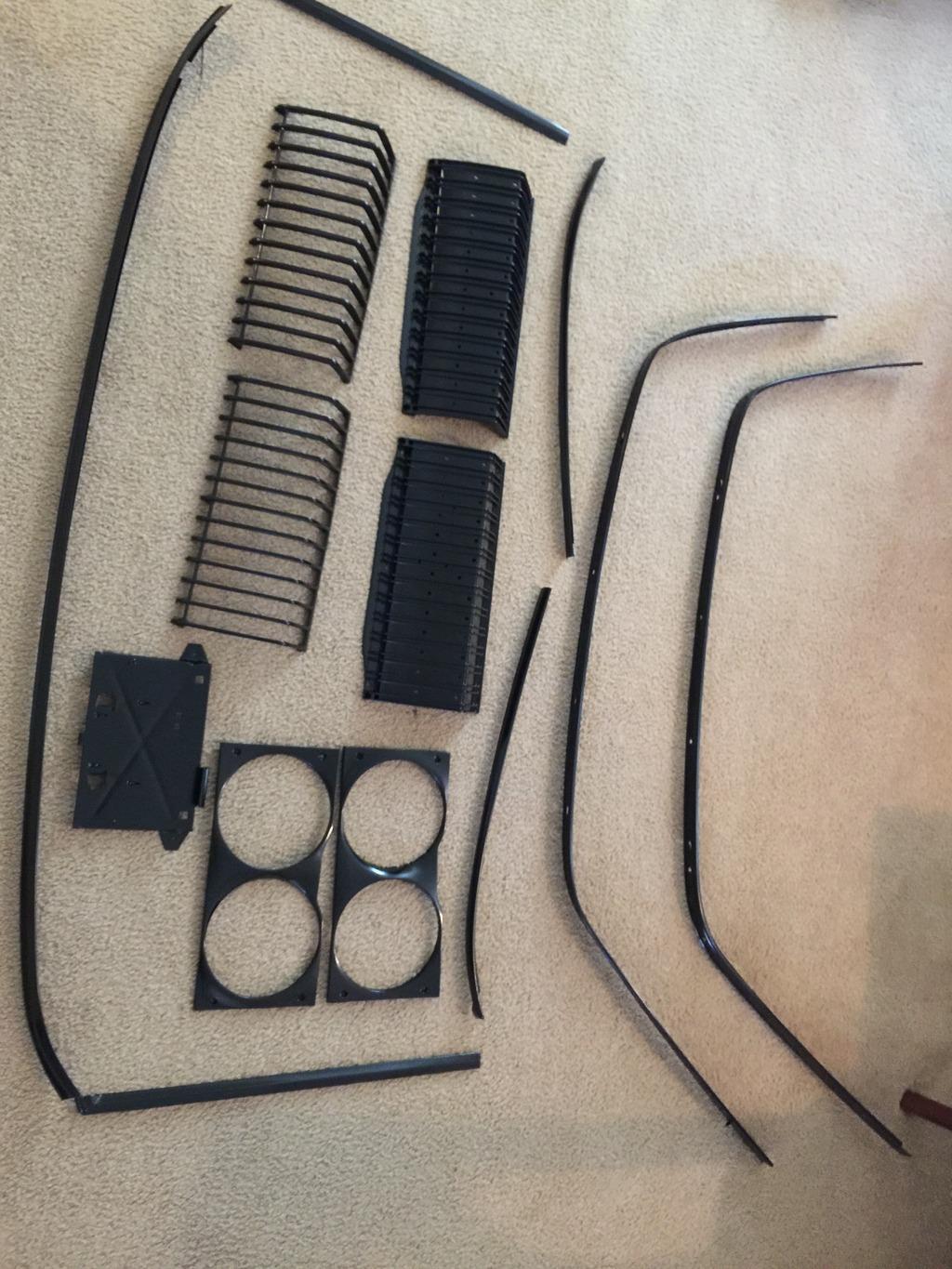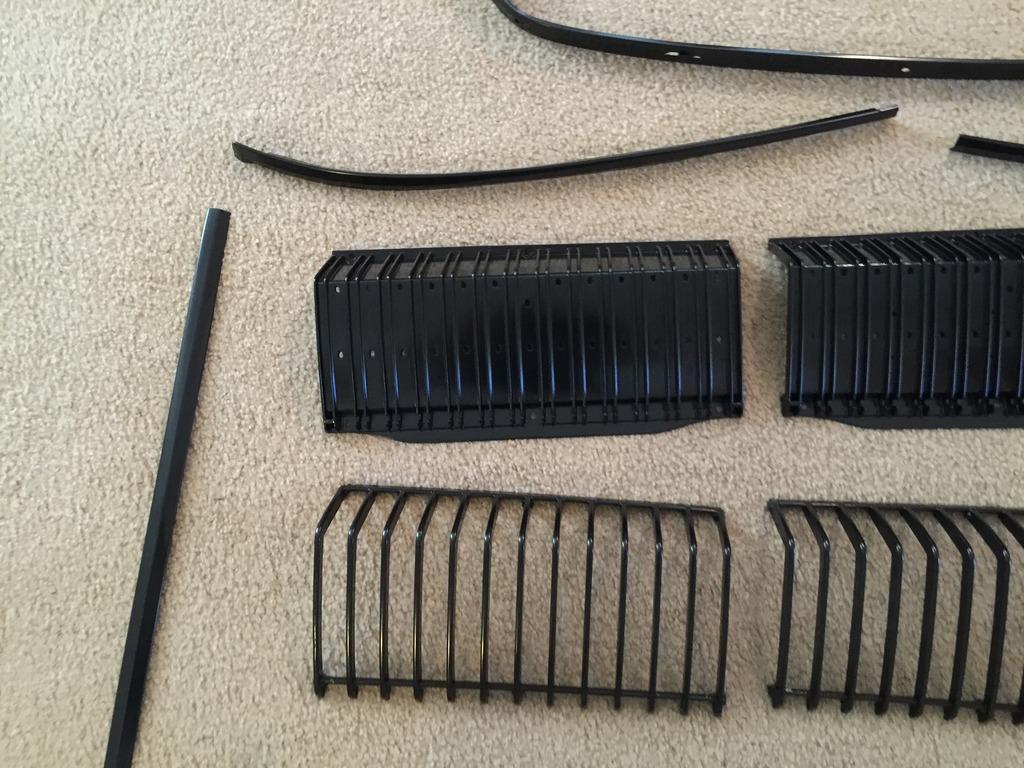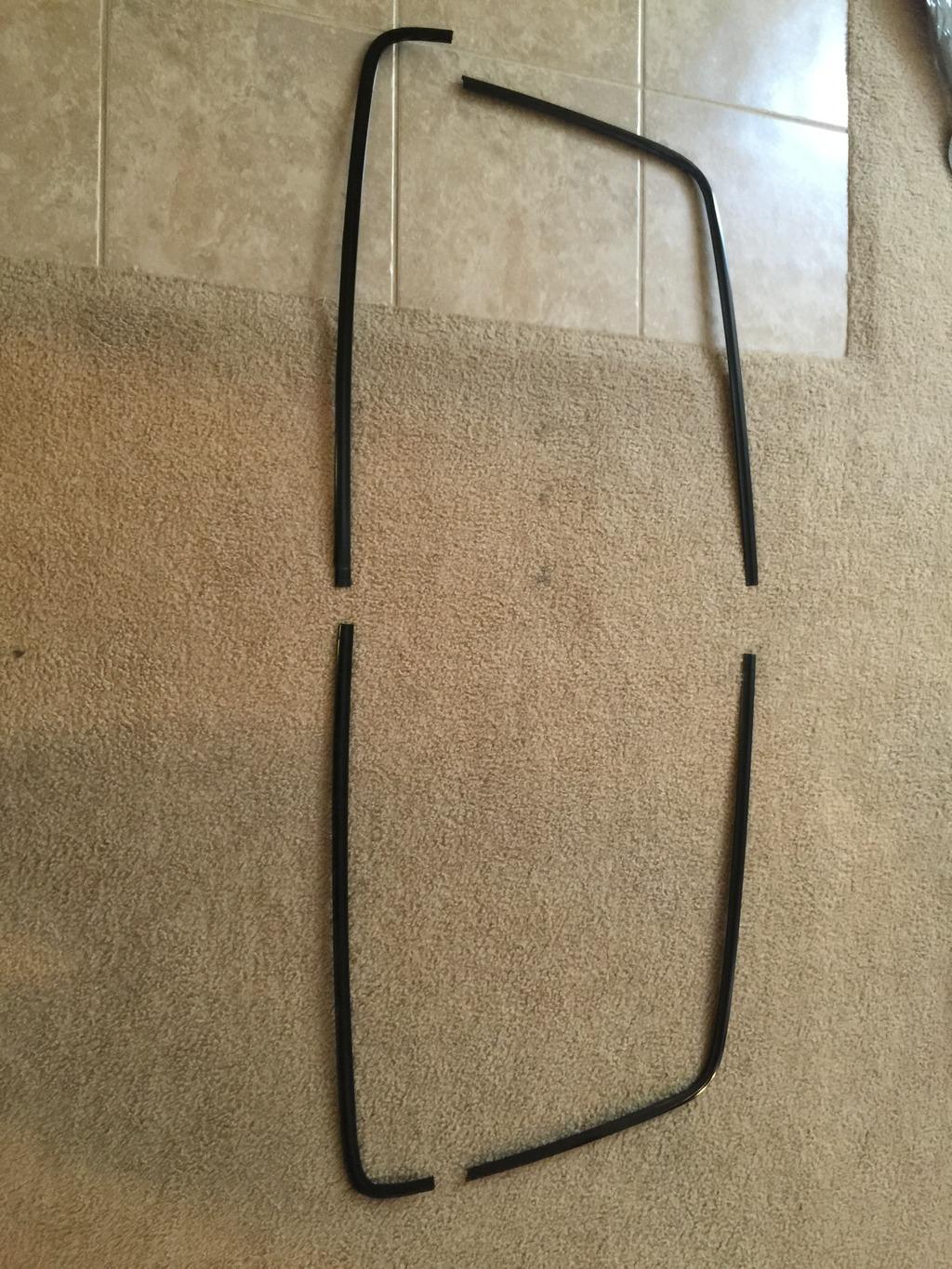 Oh yeah, I had all front and rear window trim and the over the door trim powder coated black too. I will have to do the window stainless and quarter window trim done too.
I plan to tuck 69 Mach 1 turn signals in the corners of the lower valance.
6-27-2015
I liked the finish on the black trim so much I decided to refurbish my mailbox with my last batch. It was looking a little worn out and had some surface rust. Now it will match the trim on the cougar ... My wife thinks I have a problem...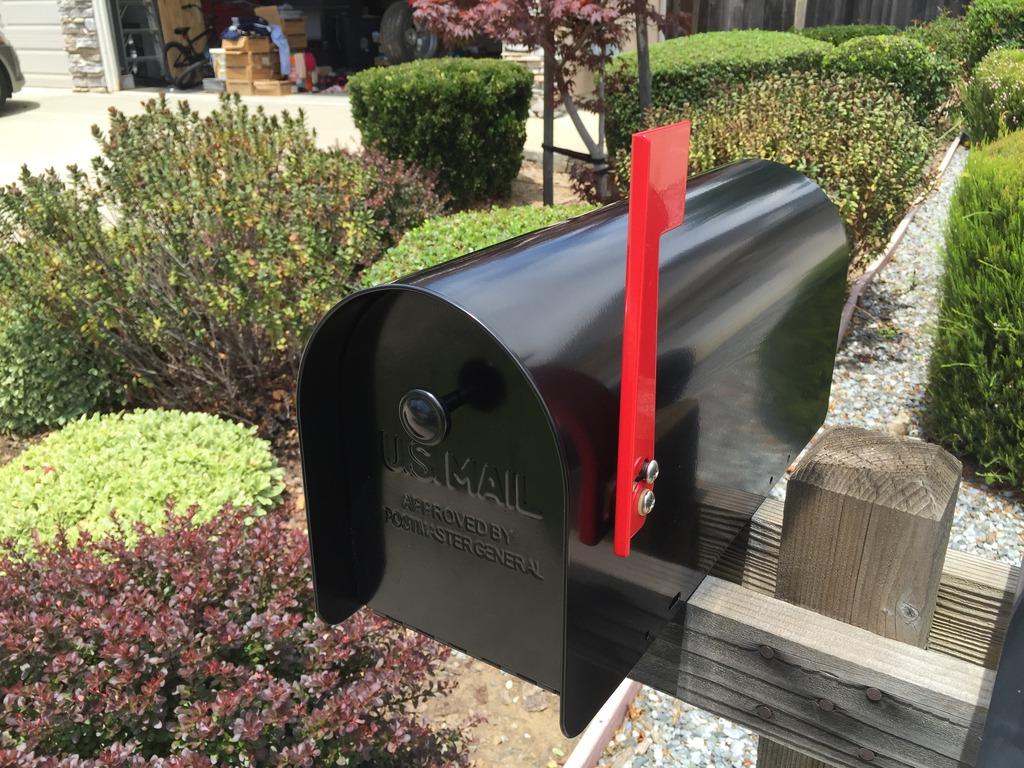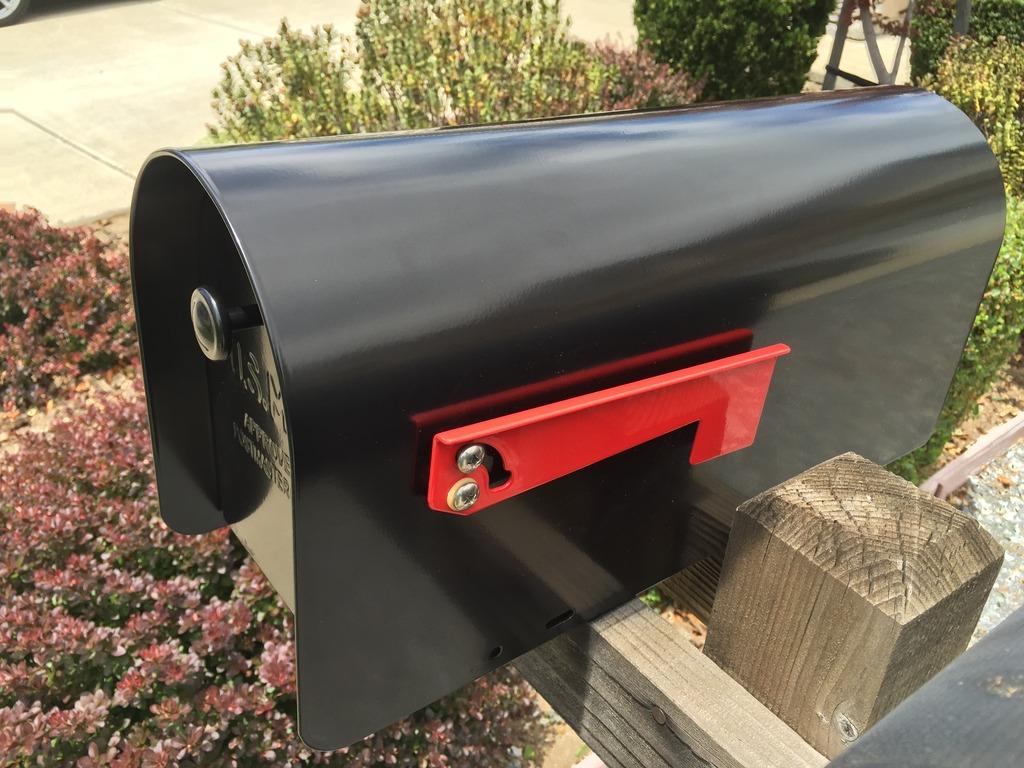 7-2-2015
Thanks. That is a great idea about the emblem... I may have a 70s no post sticker style around here somewhere....
I just got a call that my bumpers are ready from chrome. I am going to pick them up tomorrow am. I will post pictures as soon as I can.
7-3-2015