Tex-cat restoration by XR7-Gry
By diyauto
You must be logged in to rate content!
Tex-cat restoration
Compliments of XR7-Gry @ http://classiccougarcommunity.com
11-9-2011
A few years ago I found a 70 Cougar XR7 vert for sale in Texas. At the time I had no use for another cat so I talked my brother into buying it

The car looked solid and it had the right options for a convertible (Power windows), so my brother bought it believing he was buying a nice driver quality car that he could restore over time.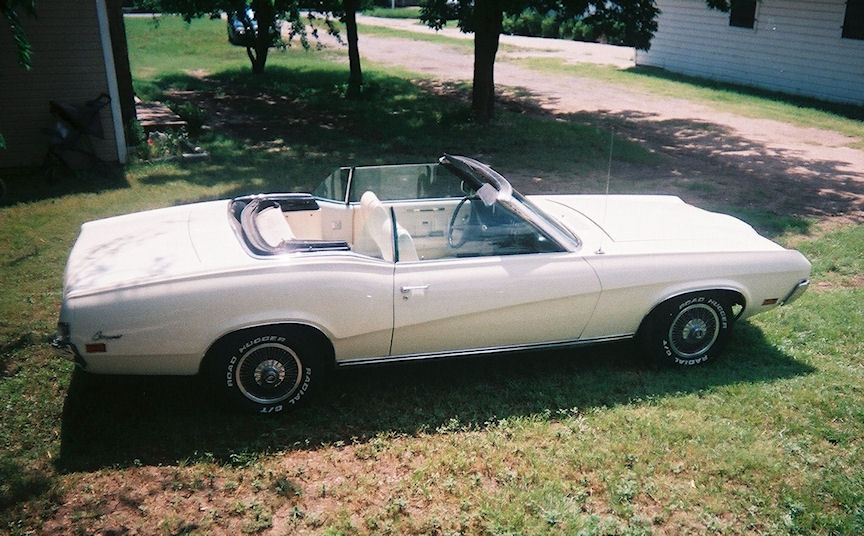 The XR7 looked very nice under the Texas sun back in February 2008



Unfortunately the car looked a slightly nicer in the pictures than in real life (doesn't they all do?) and on the list of things that needed attention was the carpet that needed to be cleaned (and to have the power windows fixed. Not surprisingly the floor had some rusty spots here and there common to convertibles. It was nothing major, but all in all enough for me to say that I would recommend to have the complete floor pans replaced instead of patching it up here and there. As a result my brother decided to let it sit in his garage while he was waiting for me to help him with the body work. So back in July this year we started to work on the car. The plan was to get the floor fixed and to have it licensed, but then we also discovered that the car had been hit in the rear and that we would have to redo some poor previous repair work. One thing took the other and suddenly we had to realize that this would be a lot more than we planned for. Here are some pictures of the work so far.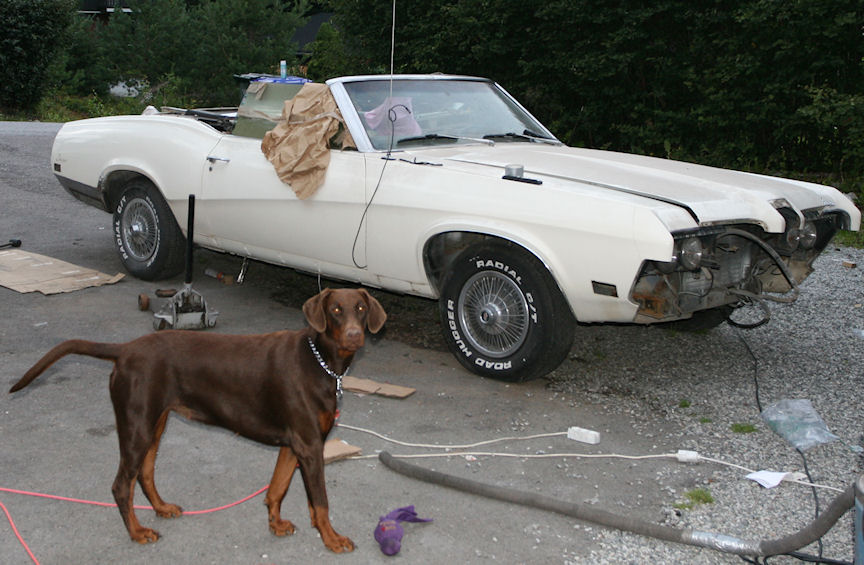 Here we have just started to take it apart. My beautiful Hera says hello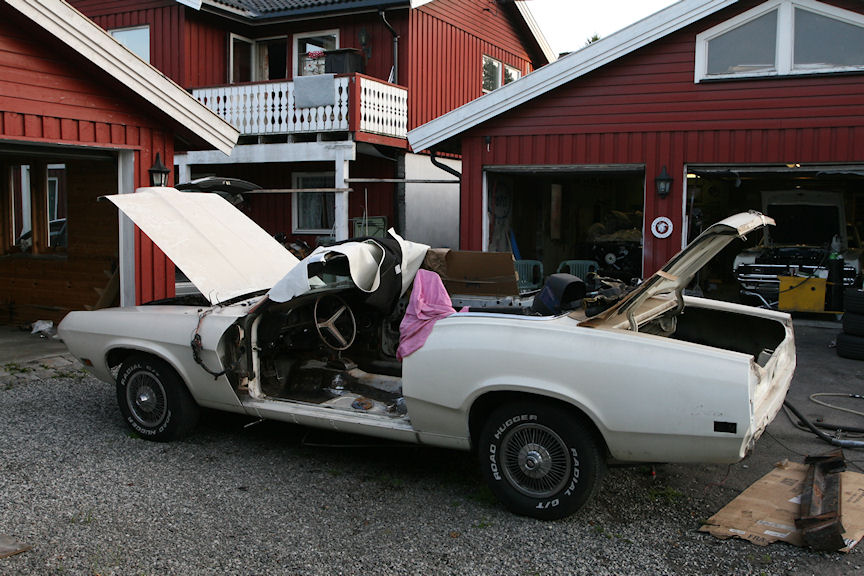 Drivers door turned out to be junk. Fortunately I had some good rust free spare doors up on my garage loft.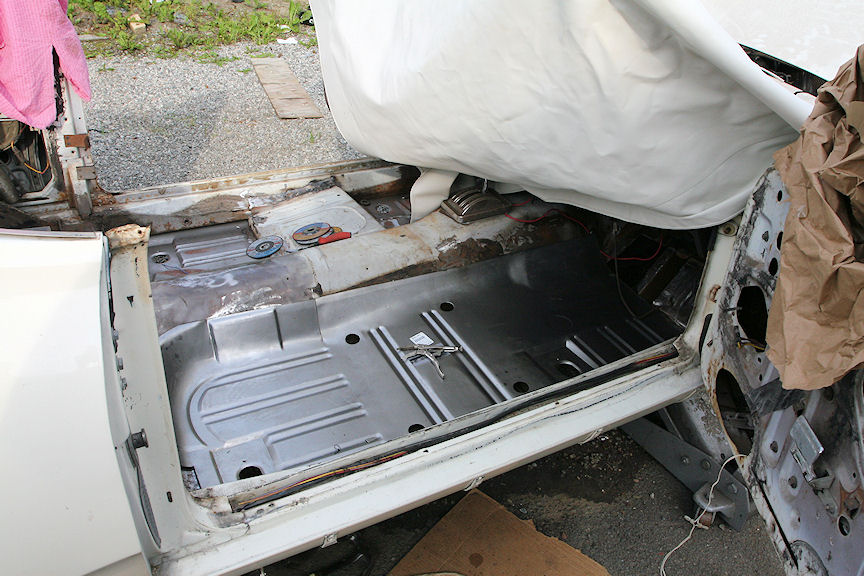 Left side floor is done, here is the right side floor on its way in. We decided to go for the Mustang floor pans and not care about the profiles that are not so correct.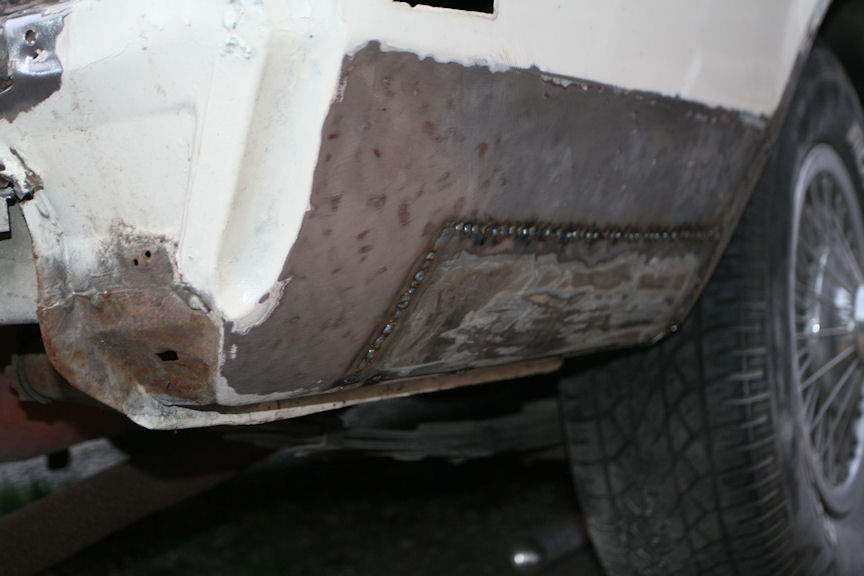 We also found a little rust in both quarter panels behind rear wheels.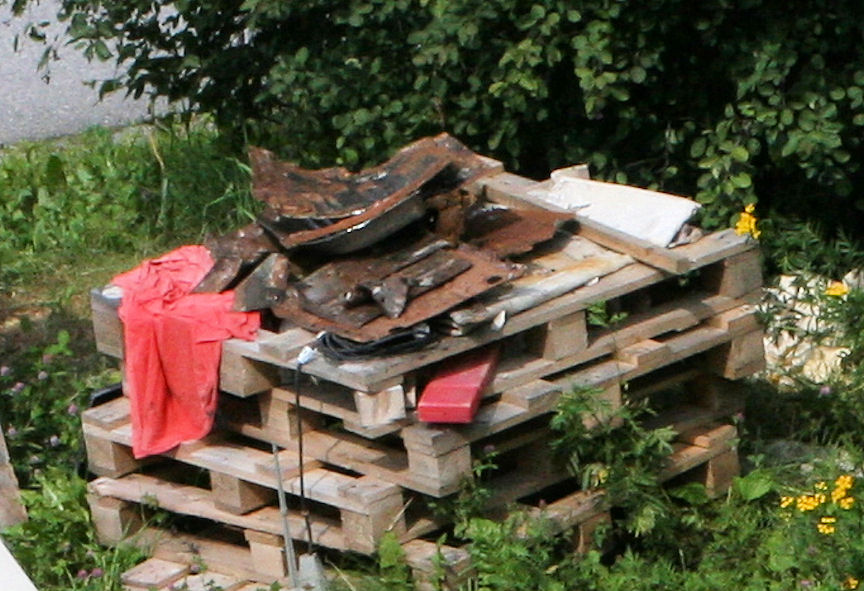 The old floor piled up. There was not much worth saving here.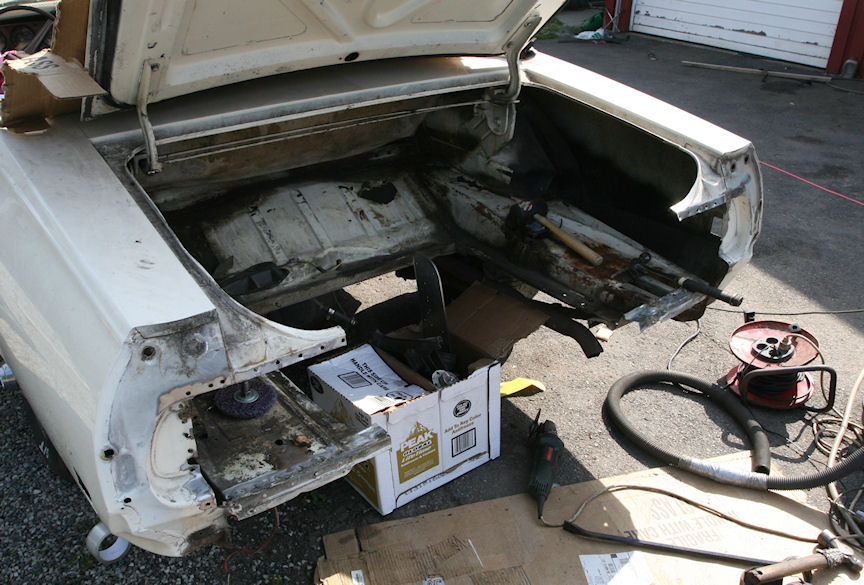 Here is the old damaged tail light panel and rear of the trunk floor cut away and waiting to be replaced. At this point we realized that the car would need a new paint job as well as the body had a lot of problems. Among them were a twisted and dented hood, and we also found that this Cat originally had the less desirable side trim and the screw holes along the side of the car had only been filled with bondo. So next step was to strip all the old paint and bondo from the car. Then we found that the hood was not worth saving and a good one is now on its way from the US. . .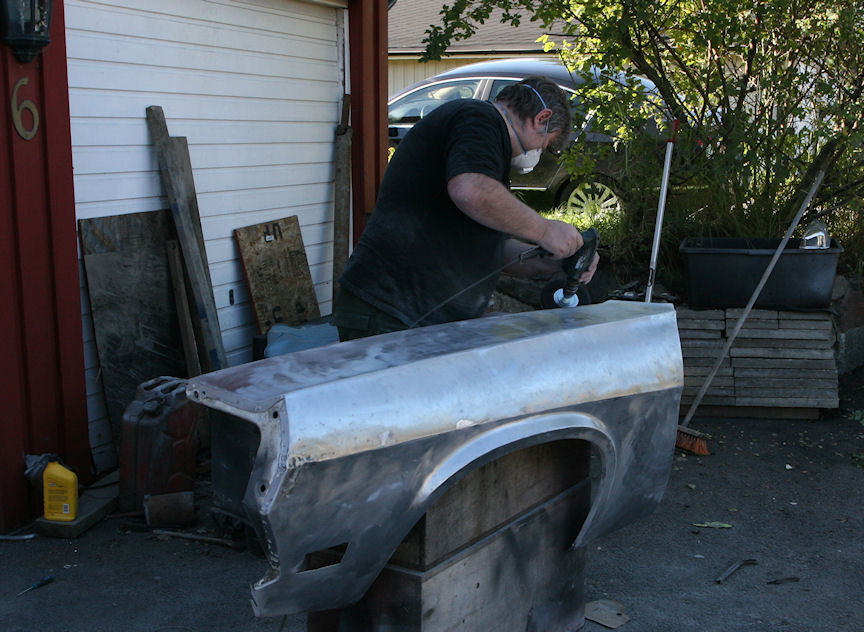 Here is my brother removing the old paint with 3M strip discs.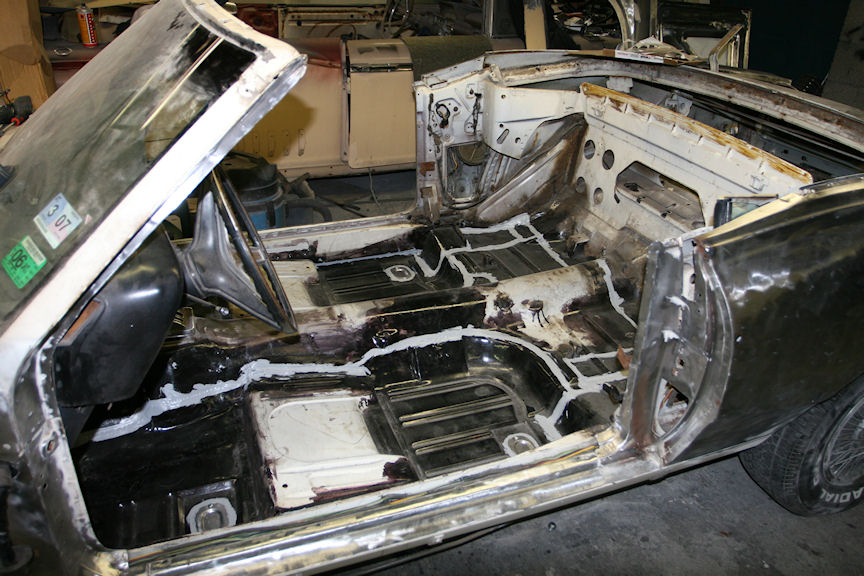 Here has sealer been applied to the floor pans.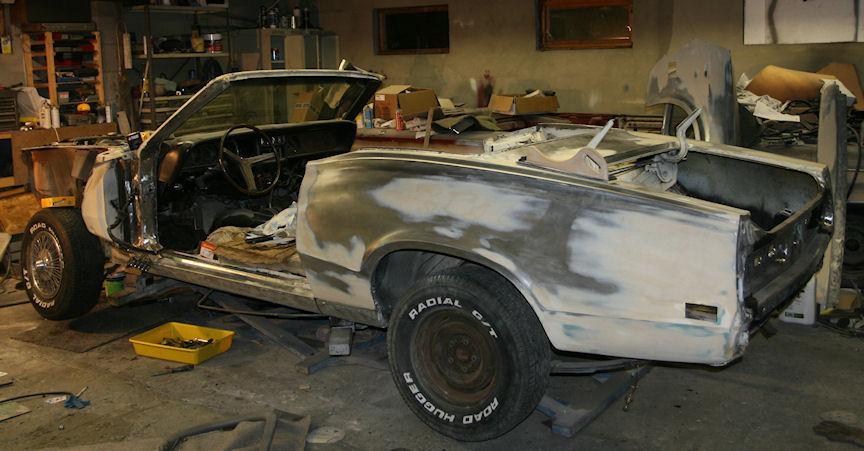 The body work is coming along nicely.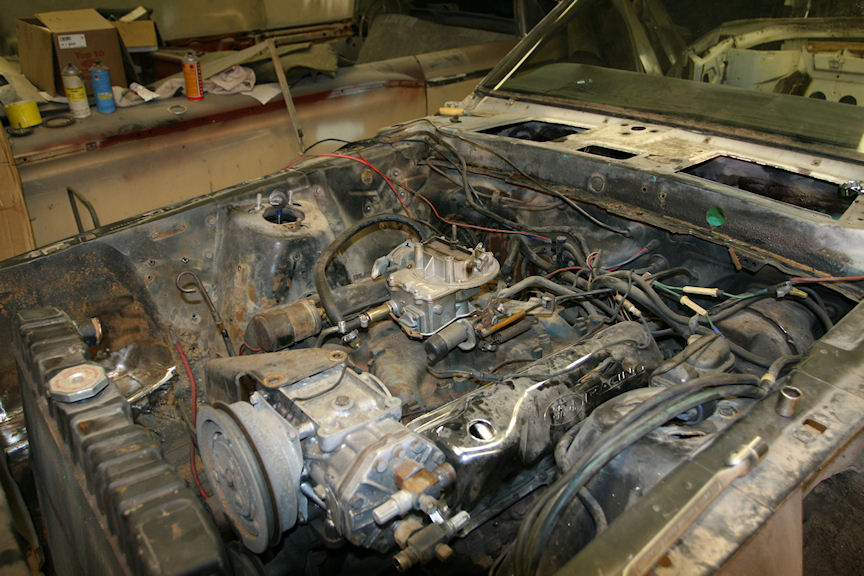 The engine was smoking quite a bit and just from driving the car in my driveway I got a feeling that it was kind of weak and worn. The engine compartment did not look much nice either, so we decided to pull the engine and take it apart to see what it needed to be reliable for the future. This would also give us the opportunity to clean up the engine bay.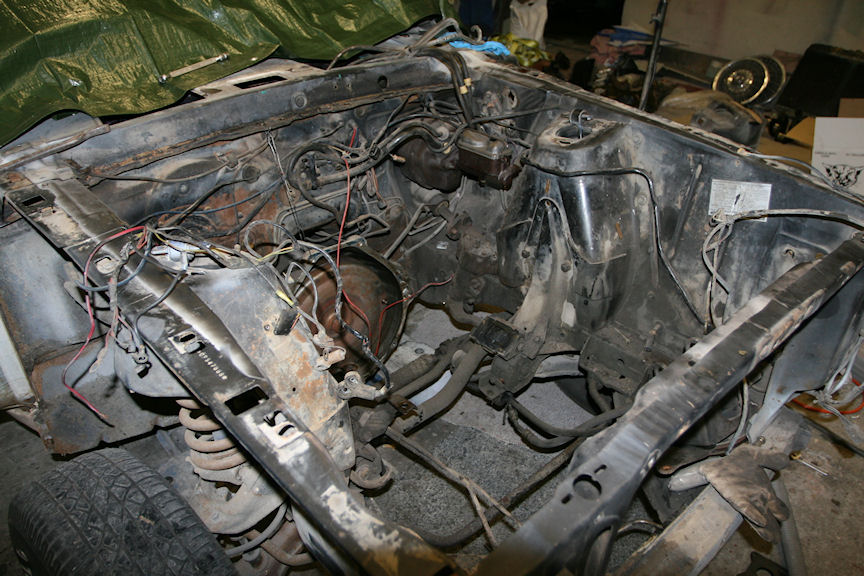 Not so nice after 40 years in service.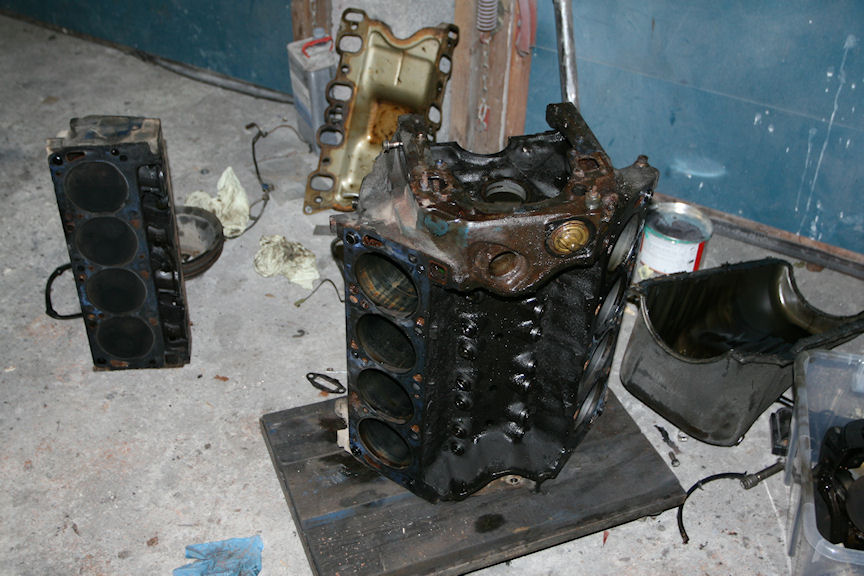 It turned out that the 351 Cleveland 2V engine was in bad shape. The block was inspected and sent to the machine shop to be rebuilt with 0.30 over forged pistons. The old cylinder heads were in terrible condition and will need to be replaced.
11-13-2011
The carpet cleaning project took a another turn and we decided to take the front suspension and steering off to refinish what could be saved and to replace whatever was worn out which was mostly everything.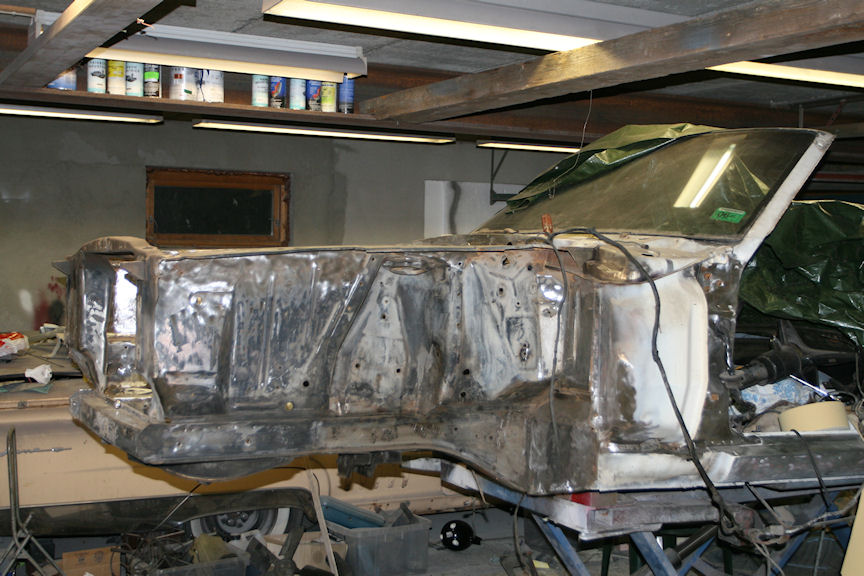 Of course when we have gone this far we might just as well clean the front up a bit and get it all painted.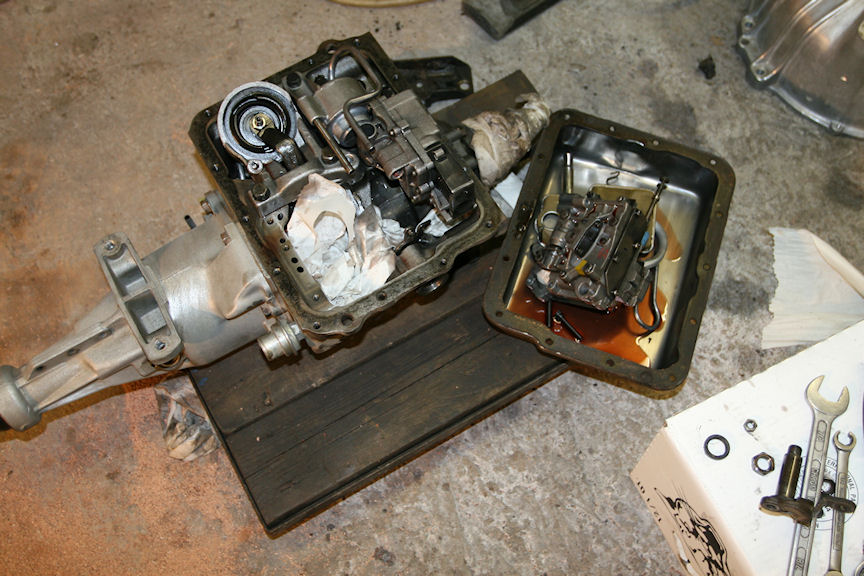 With the engine out it was tempting to pull the transmission as well. It turned out to be easier than I like as the transmission mount was broken. The FMX was covered with years of oil and dirt so it took quite some time to clean it up. It also had a leaking seal in the selector shaft so it was replaced.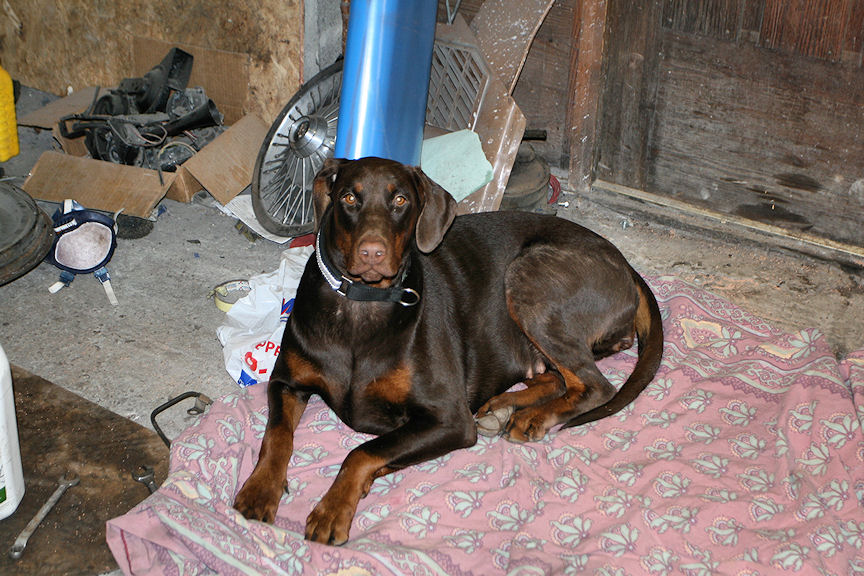 My Doberman Hera is very interested in what's going on and loves to watch.

11-25-2011
It is about time to post a few new pictures. Since last time all the small parts for the engine compartment and front suspension have been cleaned and painted. We are not restoring this car to original perfection, so most of the suspension parts we decided to save have been painted semi gloss back. Before the parts were painted we had them first cleaned from old grease and dirt in the white spirit bath, they they went in the citrus acid bath for a couple of days and after that scrubbed with a wire brush. Then they looked like new and were ready for paint.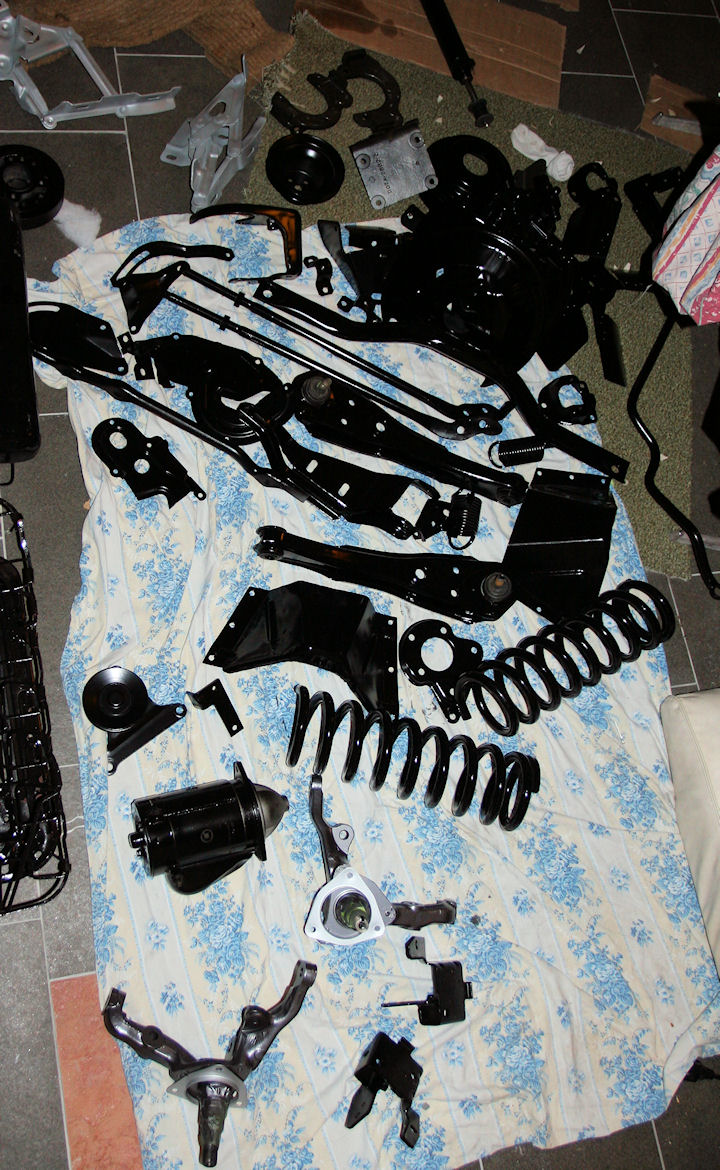 The engine block and crank is back from the machine shop. Block has been bored .030 over and the crank is 0.010 under. The machine shop also normalized the rods and decked the block.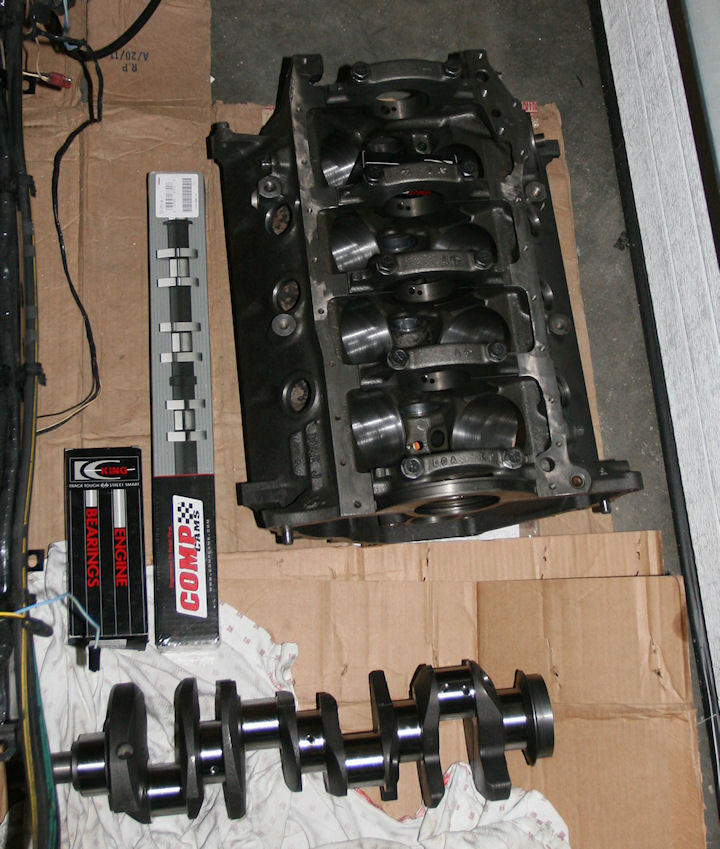 As you can see we have also removed the rear suspension and rear axle. we also decided to take out the dash and rebuild the heater/AC so now there is absolutely nothing left on the body that can be removed. Later the outside of the body will get a coat of Epoxy primer. So far front of the car and the floor have been painted with a red primer. Inside of the engine bay got a coat of grey primer.
I have not mentioned what the plans are regarding the future color on the car. I can say so much, white is history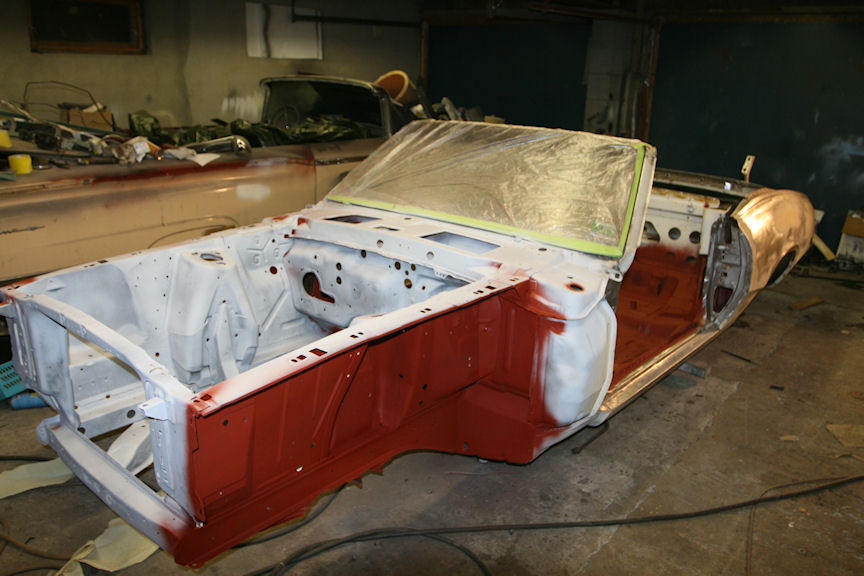 11-26-2011
You guys are so funny


First of all, this fast going restoration is a result of several peoples effort. I am just supervising the restoration (and then some), my brother, his youngest son, his daughter and also good friends have been involved in the work so far. Without them the restoration would have been slow going.
Yesterday I mentioned that the car will be painted in a new color. When we started to work on the car I just for fun showed my brother the dealer color and upholstery album for 1970 and asked him to look close at the colors and pick the one he would have chosen if he had been able to order the car from factory. I was thinking he would chose Competition green or blue, but to my surprise Competition Gold was his favorite. At the time a full restoration and repaint was not the plan so we somewhat left it there. Later when it was clear that a full restoration was the way to go I asked my brother to think seriously about a color change for the cat. I also have a spare Eliminator hood scope and a front spoiler that I suggested to put on the car. All this will give the car a much more aggressive look which I think will make it look great. To my surprise he agreed with me and that is now the plan.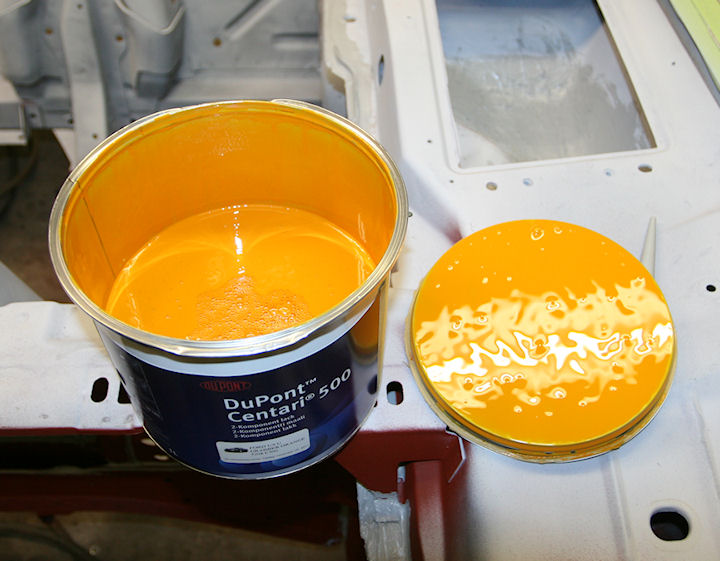 The paint....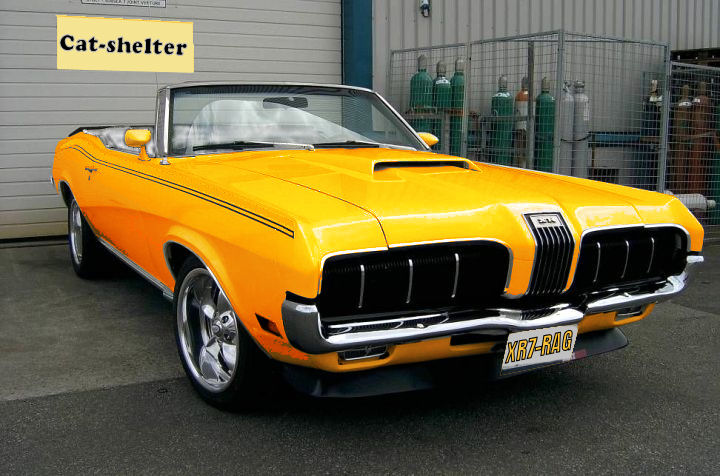 And here is a 70 XR7 photshopped to how it will become when it is finished

11-30-2011
Someone got really dirty (not me) cleaning the underside of the Cougar making it ready for me to paint the primer and apply seam sealer. Originally this cat had an army green color on the underside, but since this is just a driver quality restoration we have decided to paint it with whatever leftover paint I have or to use black. Time will show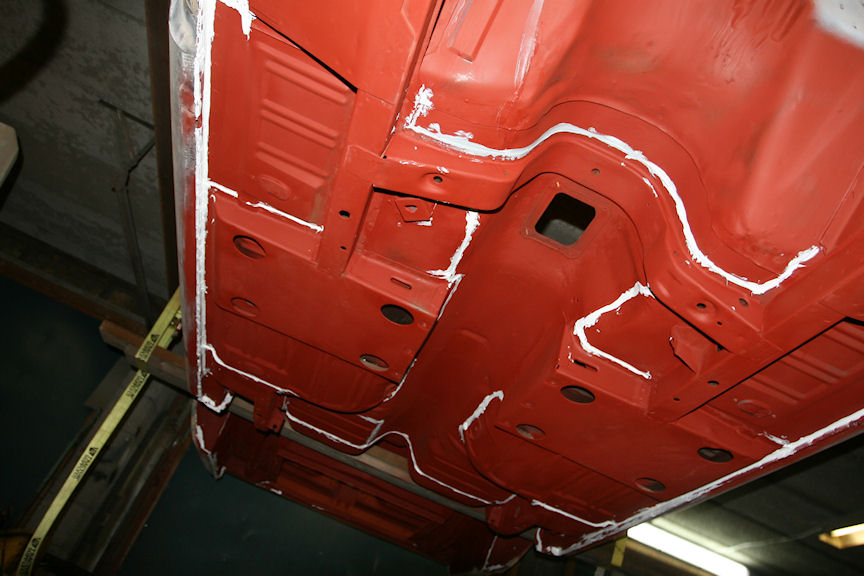 12-8-2011
Just an updated picture...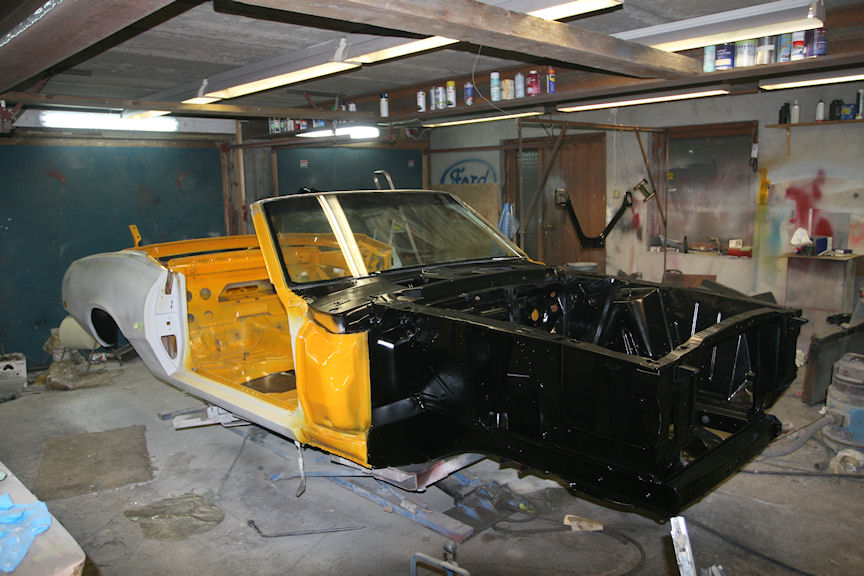 12-19-2011
The project has been slowing down a bit lately as I have had shoulder surgery and really should not do much. That's not easy, so I am sneaking into my garage now and then telling my "crew" what to do and how to do it



First of all, we had all the bolts and nuts and a little more at the plating shop to have them restored before we started to re assemble the front and rear suspension. it is a lot more fun to work on a car when these are looking like brand new.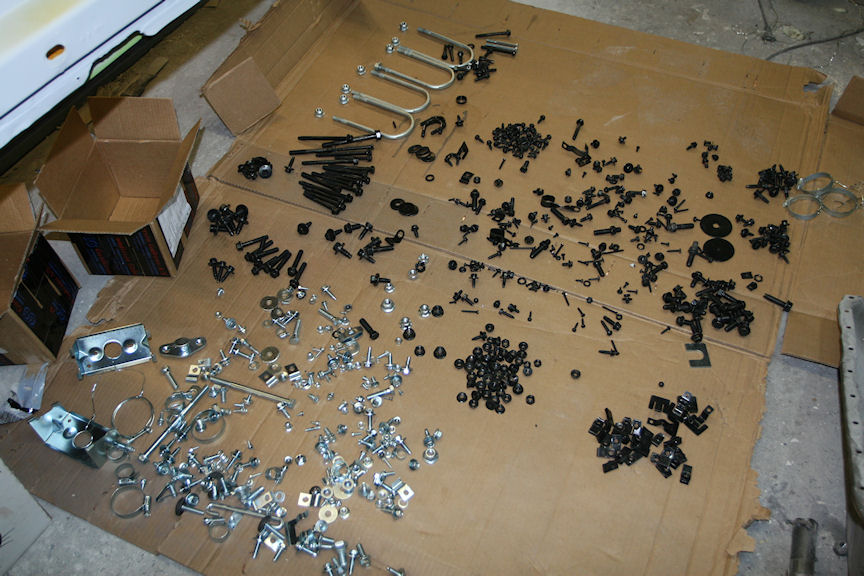 Here is the rear axle back in place. We decided to put on a set of new brake lines, otherwise everything is just cleaned and painted.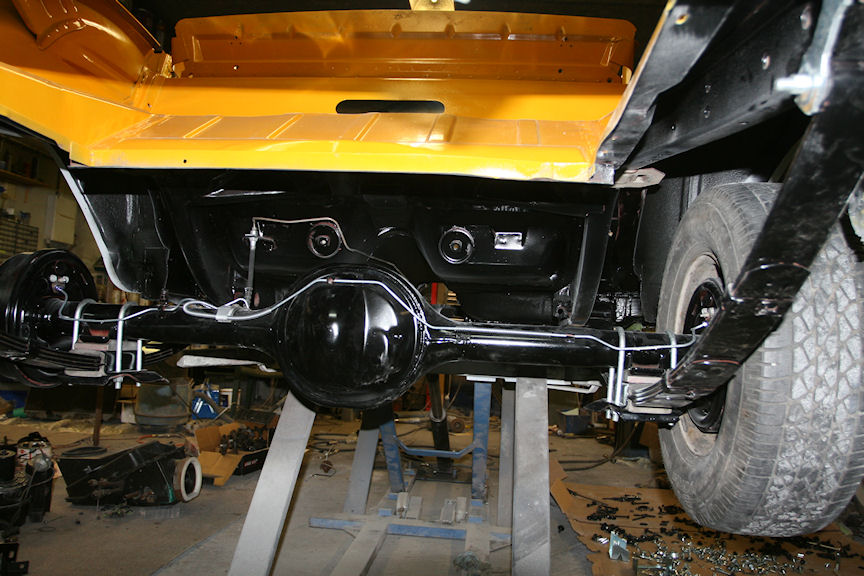 Most of the front suspension and steering is also back in place with new strut rod bushings, new stabilizer bushings and all four tie rods have been replaced.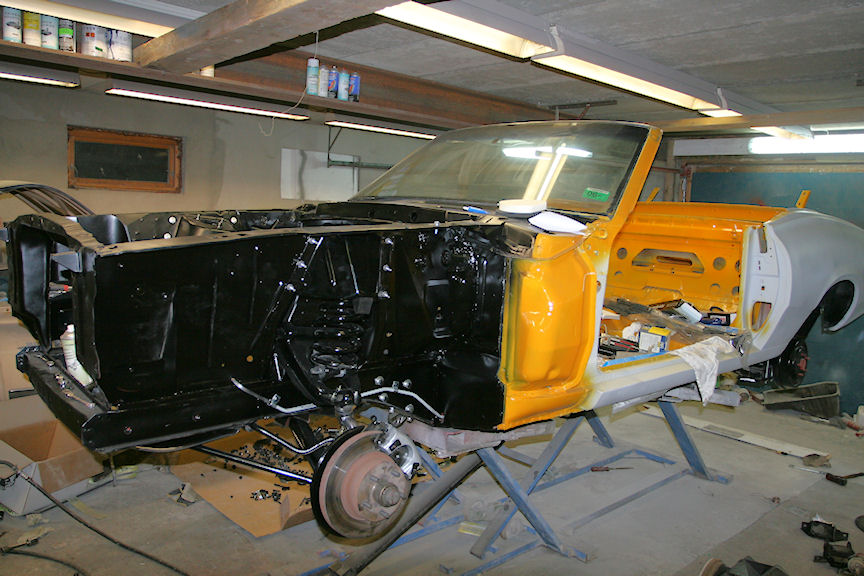 12-23-2011
Thanks for posting those pictures. It is nice to see other cars with the same color but with a few details done different than we have planned for Tex-cat.

Our goal was to get the transmission and engine block installed before Christmas, and we made it just in time. Since the original engine mounts were broken we had a set of reproductions ordered from Mustangs Unlimited. Maybe it is just my usual bad luck, but man we struggled to make those fit. I sometimes wonder if they have any quality control on the parts they sell at all. Oh well, I adjusted them to fit properly with a good sledgehammer and a file.
Usually I fully assemble the engine before I have it installed, but in this case as we had the cylinder heads shipped the slow way in a container to Norway, and the container is supposed to be here sometimes in January, so the rest of the engine will be put together then. The container also contains a rust free hood from Arizona, so painting of the car will have to wait until we have all the body parts ready. That means there will be a pause in the work until the container is here. (That means I am going to Thailand on a vacation in January

)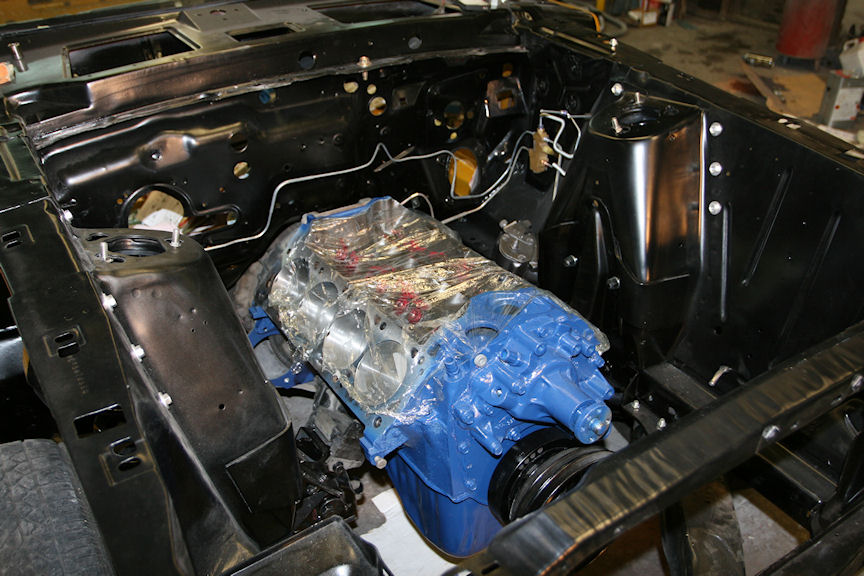 12-30-2011
I told that we would keep our hands off the car until we had more parts. Well, we had a lot of bad weather here not suited for moving the car to my brothers garage lately, and it is hard to just look at it doing nothing so we got a few more things done the last couple of days. We got the gas tank and fuel lines installed, rear brakes are back on it including new parking brake cables, we got the brake booster and master cylinder back in the car and also installed the restored A/C and heater box. Most everything on this car is going smooth and quick, so this is a fun car to work on.

Yesterday we finally had the cat moved to my brothers place.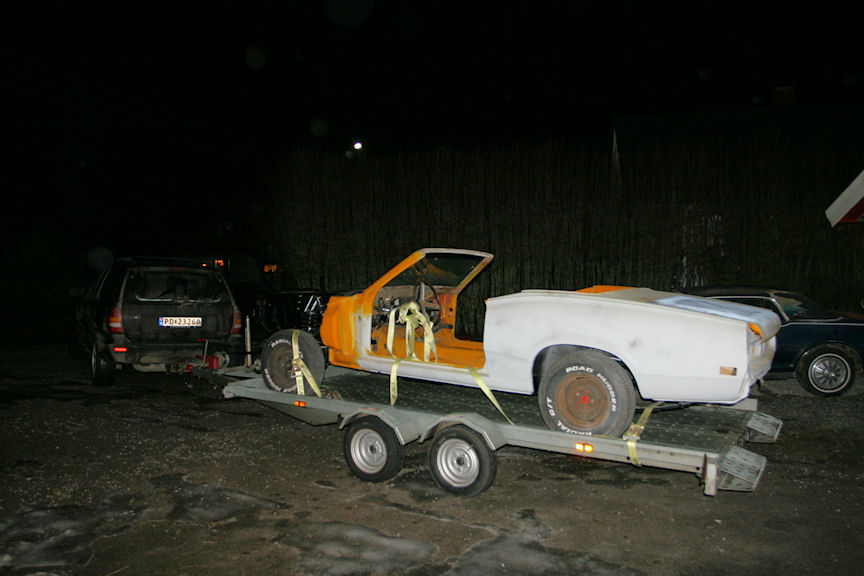 Now , there is one part I have found that we really need. Maybe someone here can help? The bolt on the center link going into the idler arm had been replaced with a non correct bolt that is just a little too small. As a result there is a little play in the idler arm and I really need the correct bolt for it. These bolts are pressed into the center drag link, and not easy to find without buying the complete unit. I would prefer to just get the bolt shipped as shipping the whole link to Norway would be somewhat expensive. So if someone has a bent center drag link, or even a good one and can get the bolt pressed out of it and shipped to me, please let me know . Thanks.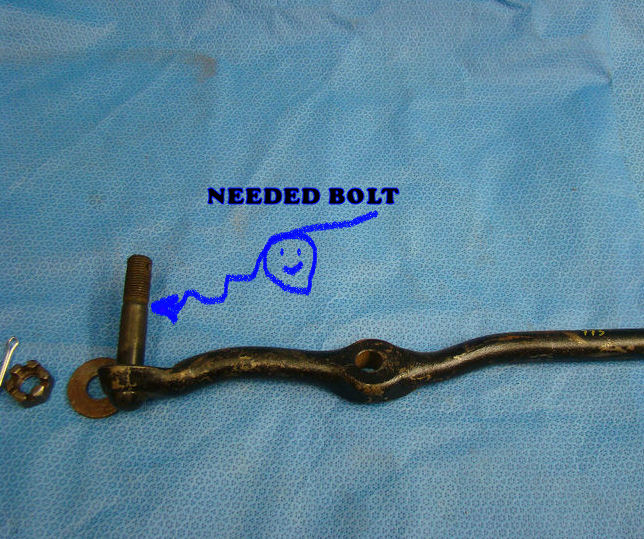 4-10-2012
Time flies and very little have been done to the Cougar lately as we ahve been waiting for the new hood to arrive to continue the restoration. The new hood was supposed to be dent free, which unfortunately was not entirely correct. The hood had been hit in the front and the nose was badly bent. To make sure everything would fit properly I had to order a new reproduction grille and a lower hood nose piece from WCCC so I could see if the grille would fit as it should. It was surprisingly hard to get it right as these hoods are incredible stiff and has double layers steel, but it seems like I finally got it where I wanted. By the way, the reproduction grille is a really nice piece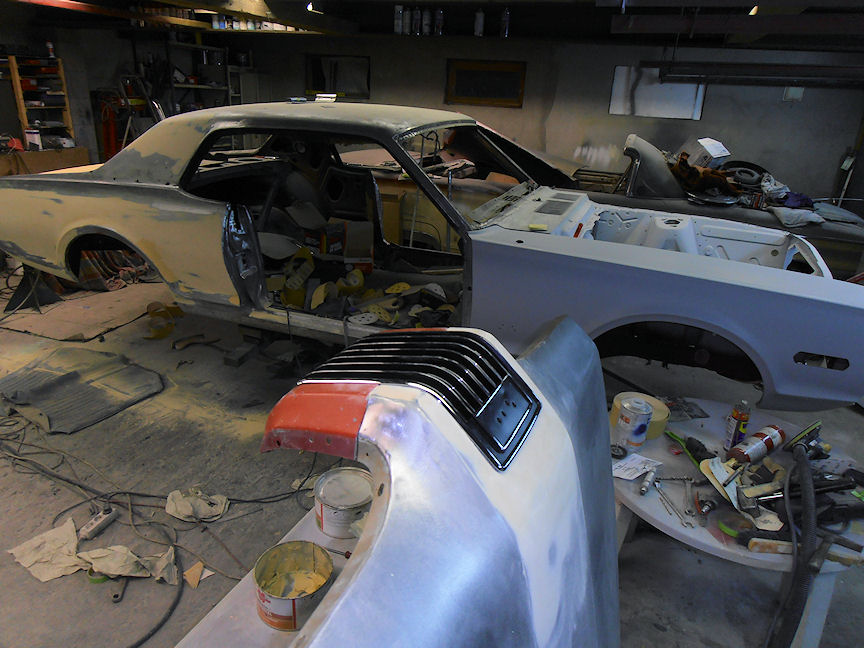 My brother also wanted an Eliminator scoop on the car so I pulled one out of my closet and drilled the holes. I think there is no other single part you can add to a Cougar that brings this much attitude to the car as these hood scoops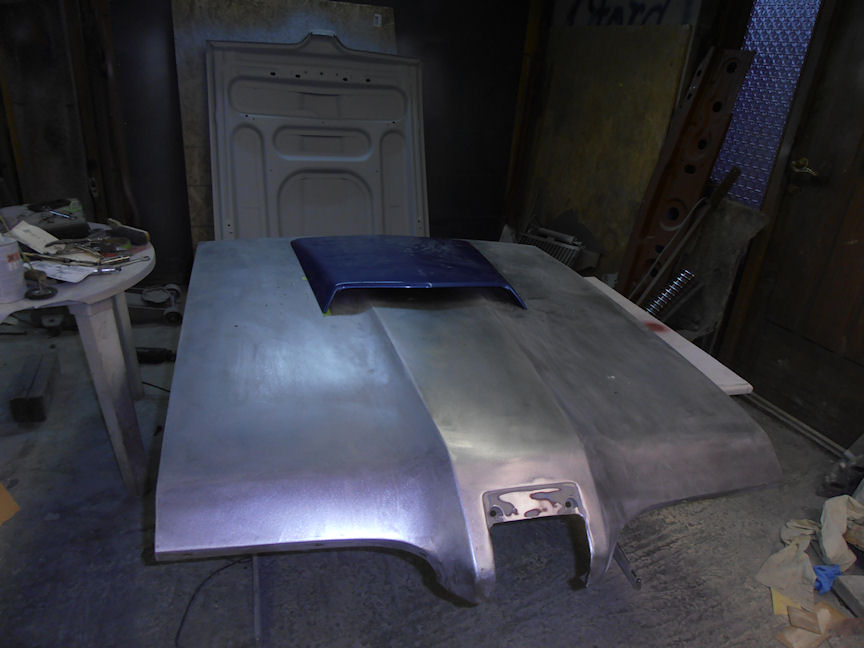 The box with the cylinder heads, intake and exhaust manifolds also has arrived. Unfortunately the seller of the parts had thrown all the parts in the same box without anything to protect them from scrubbing and denting on each other. As a result the rebuilt cylinder heads had bent valves, cracked valve guides and the aluminum intake was trash. The cylinder heads are right now at a machine shop here in Norway where they are trying to save them, so we are crossing our fingers and hoping for the best.

BTW, I am still in need of the idler arm bolt for the center link or a complete center link.....

12-11-2012
It's been some time since my last update on this one and today the car went in to be painted. Hopefully it is back here soon and I will post some updated pictures when it is. Also Mr Wellington (that's the 68 in the background on the picture from my last post is back from paint shop so it will be a busy winter putting these two cats back together.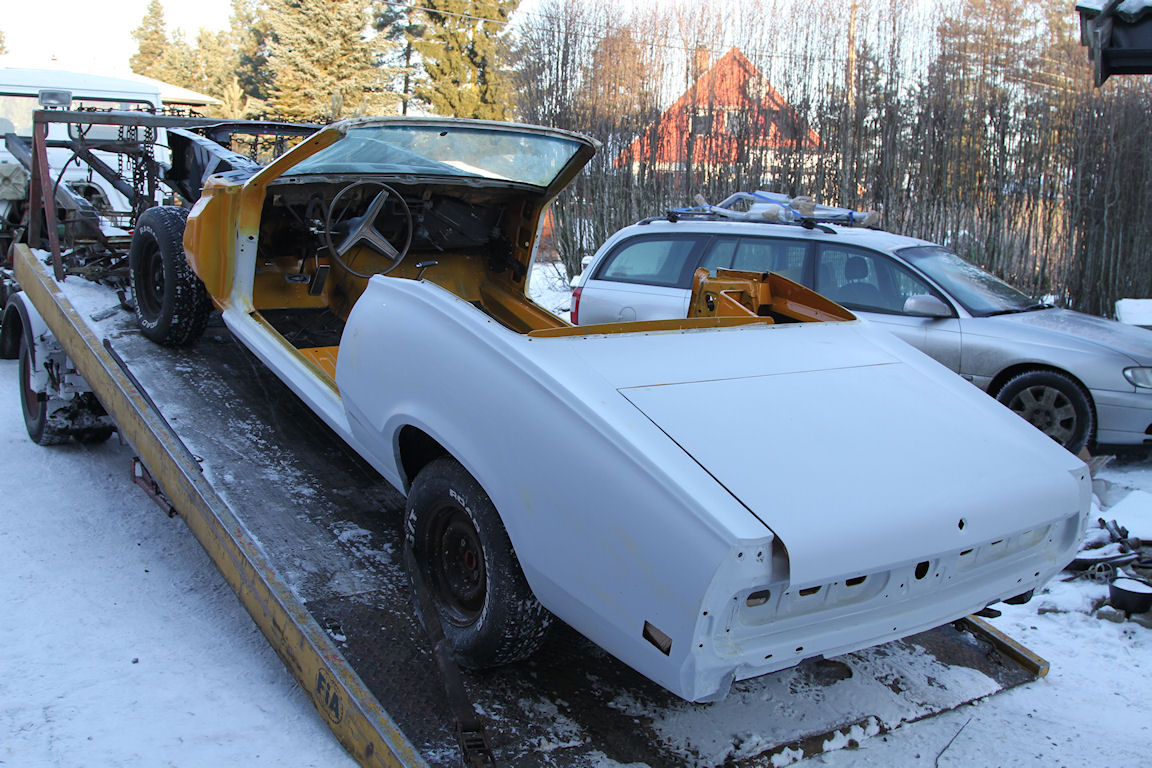 12-18-2012
Today the car came back from the paint shop, and it looks just wonderful.


I just wanted to share a couple more pictures with you. These are from my guest room. There is not much space left for guests anymore as I now have body parts for almost 2 cars in there.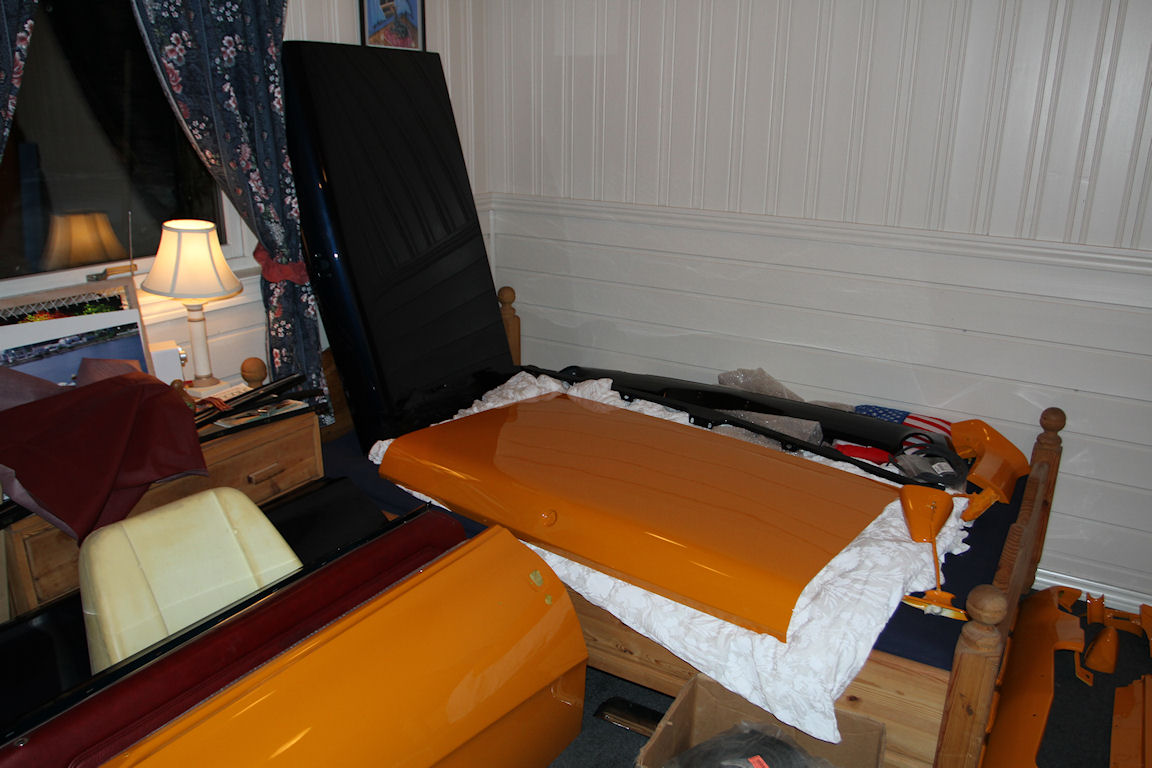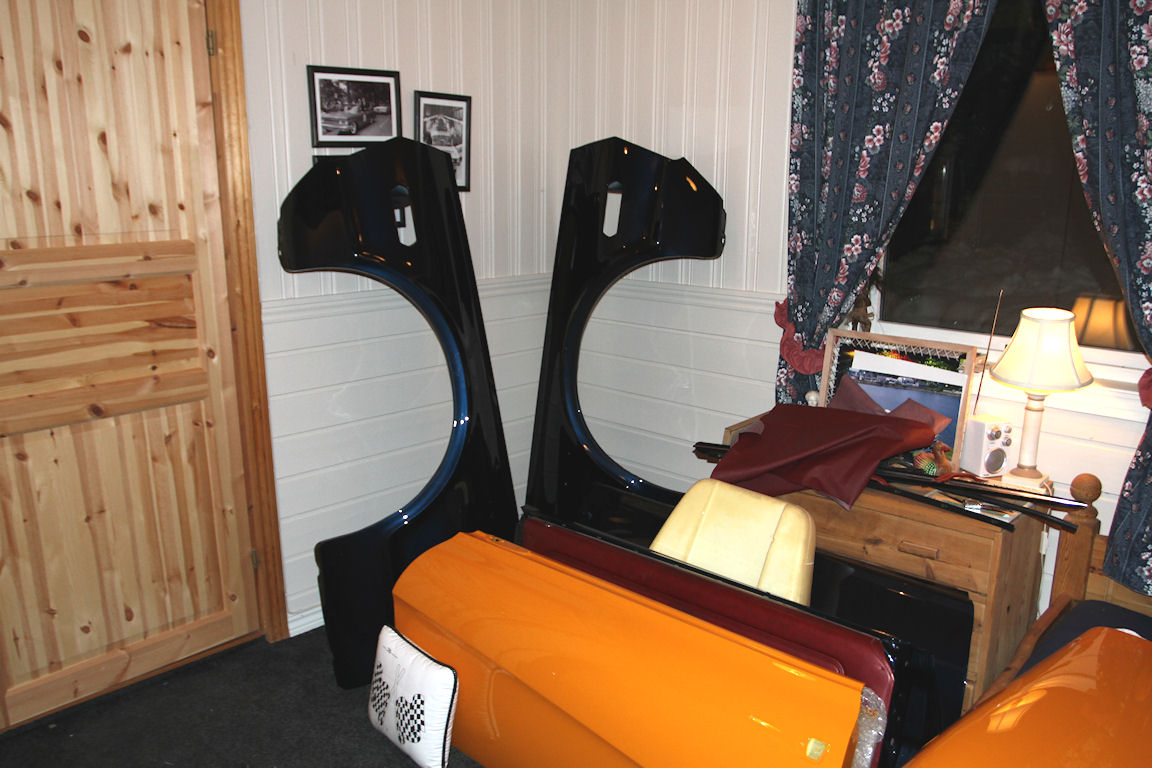 My Opel Wagon (similar to a Cadillac Catera) is pretty roomy for an European car and it's excellent for moving Cougar parts.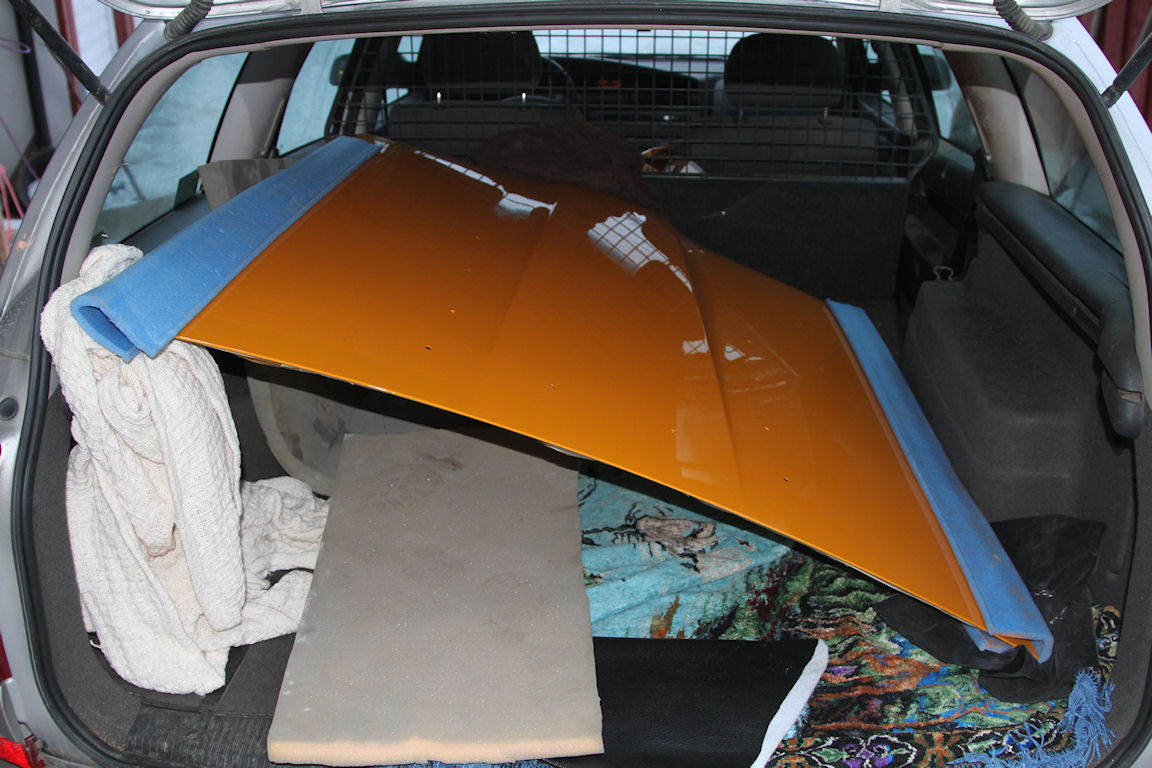 4-20-2013
It's a long time since my last update on this car. That does not mean that nothing has been done since December
So where do I start.... I guess with engine. The cylinder heads had to be put on of course. Then We had bought a set of new rocker arms from Rock Auto, but of course I got wrong parts so I had to wait for the correct parts to arrive. (shipping take time when you live in Norway).

While I was waiting for the rocker arms to arrive I decided to install electrical wiring system and dash, put on the doors and top bows. The passenger door came on fine, but for the driver side we bought a reproduction door hinge and it did not fit very well. I had to do a few modifications and then it seemed to work fine. I will come back to that later. I also installed the door glass and power window regulators. After adding some weight to the doors I readjusted them to fit right but I really struggled with the driver side door as it just for some reason just did not seem to fit right.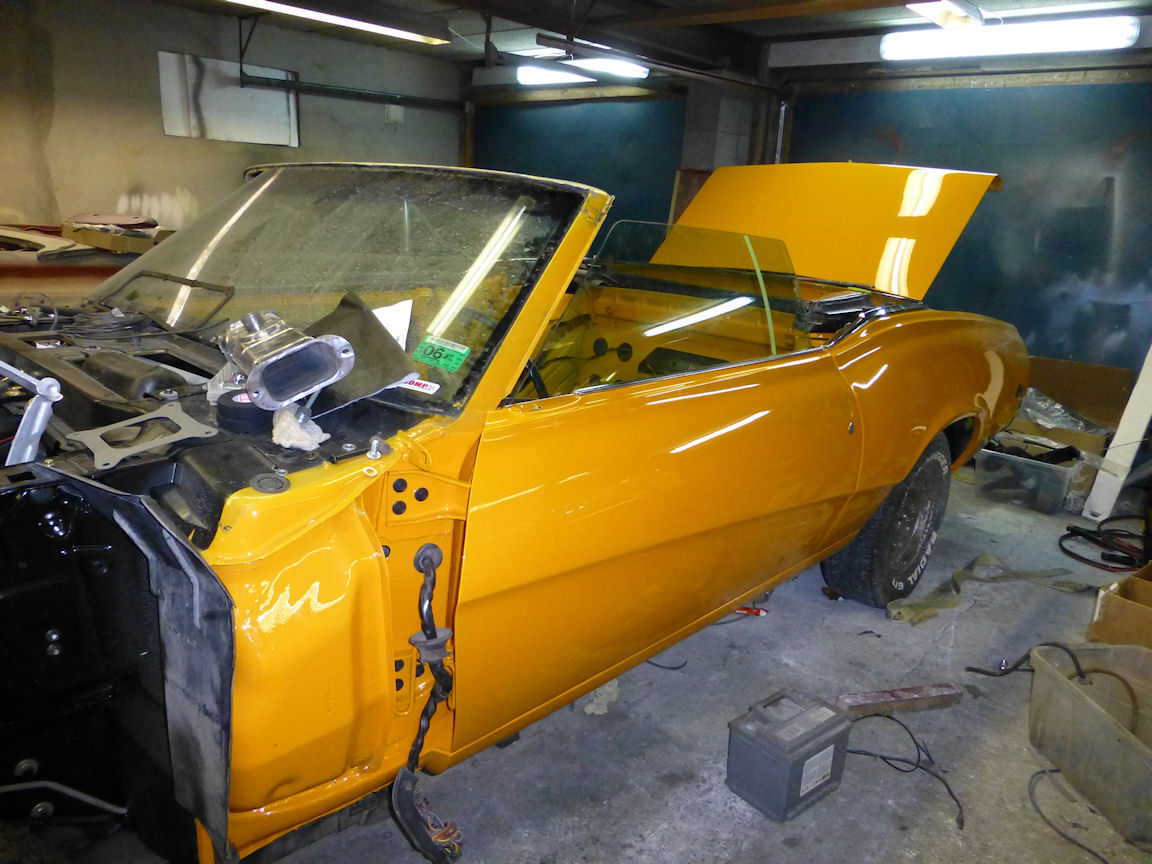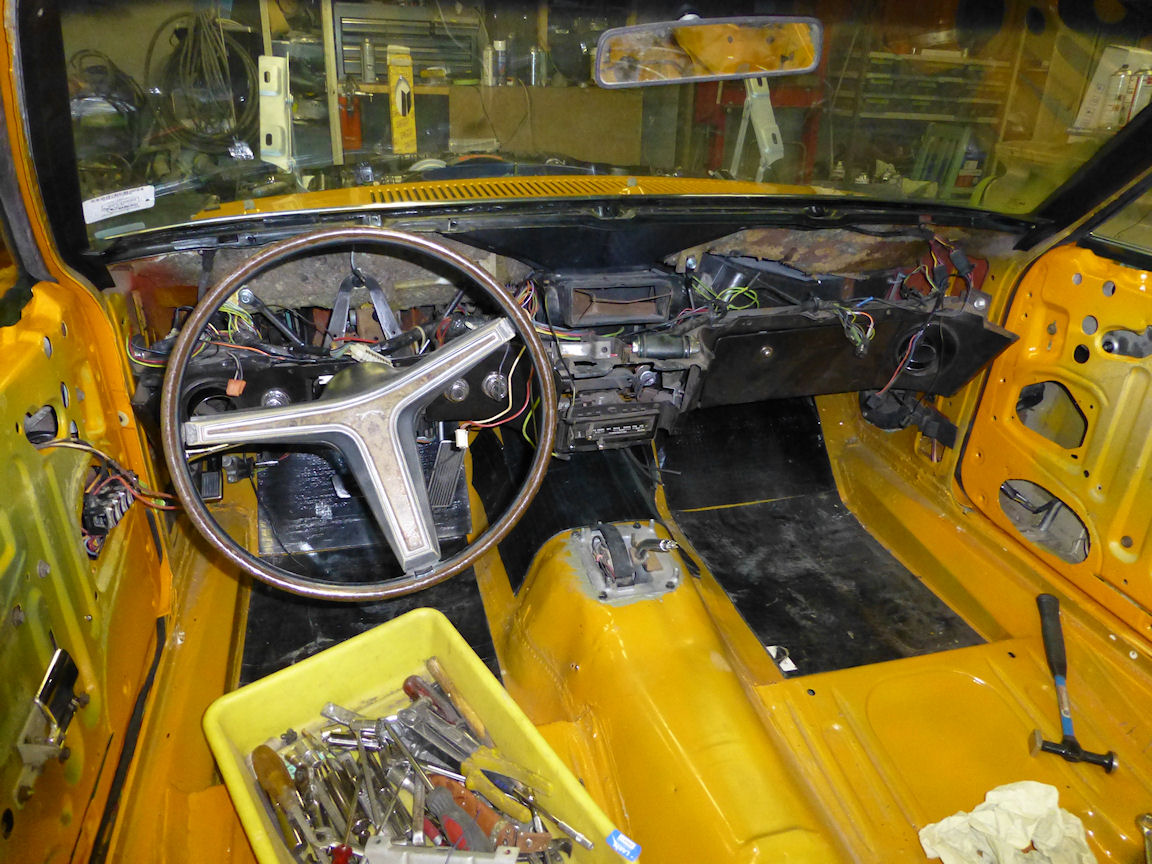 A week or so later I got the correct engine parts and could go on with the engine compartment. the wiring system needed a lot of repair so I decided to make a new one from scratch.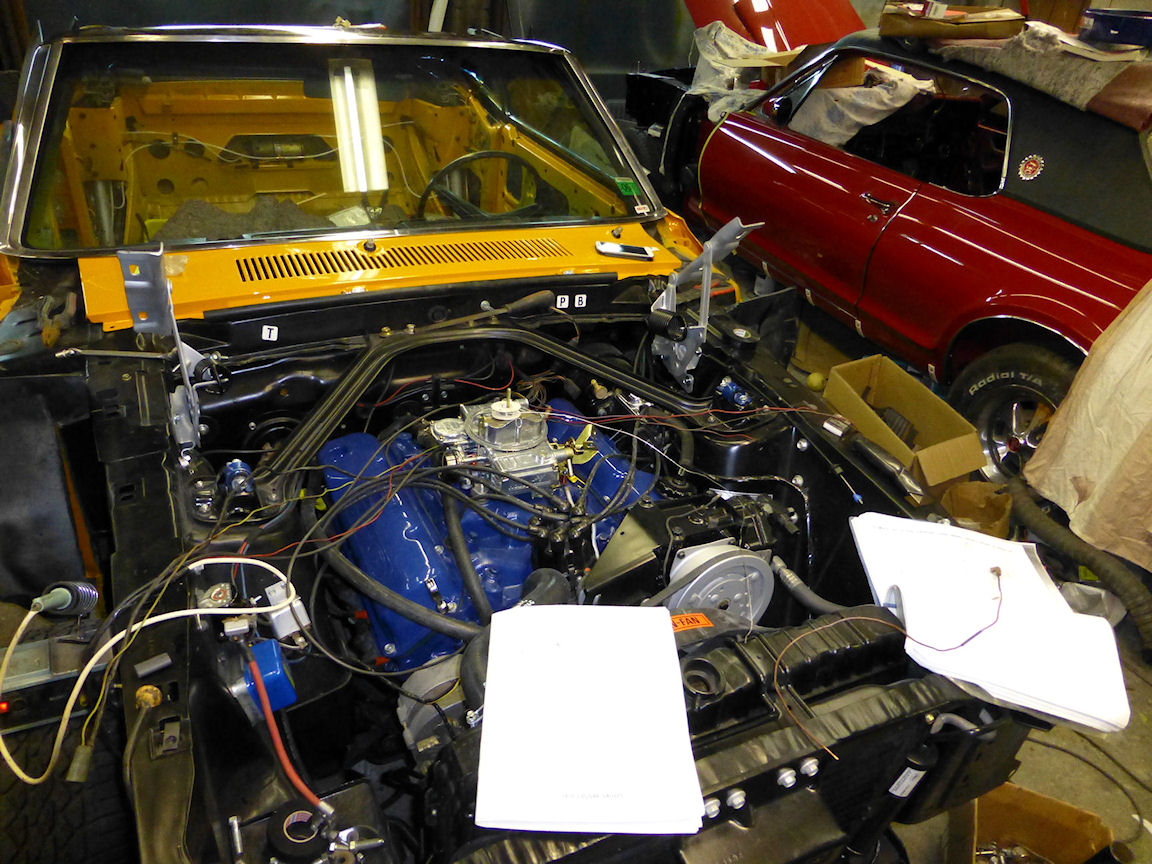 Then it was time for the exhaust. I decided to install the exhaust manifolds that came with the new cylinder heads and a complete dual exhaust system from Mustangs Unlimited including a new H pipe to fit the original 2V exhaust. But then I realized that the H pipe and the left manifold did not fit together. It turned out I had a manifolds from a 71, not a 70. Luckily I had a good LH 70 manifold here so a quick change made things better. After that all went fine and all in all I am impressed by how well these exhaust systems fit.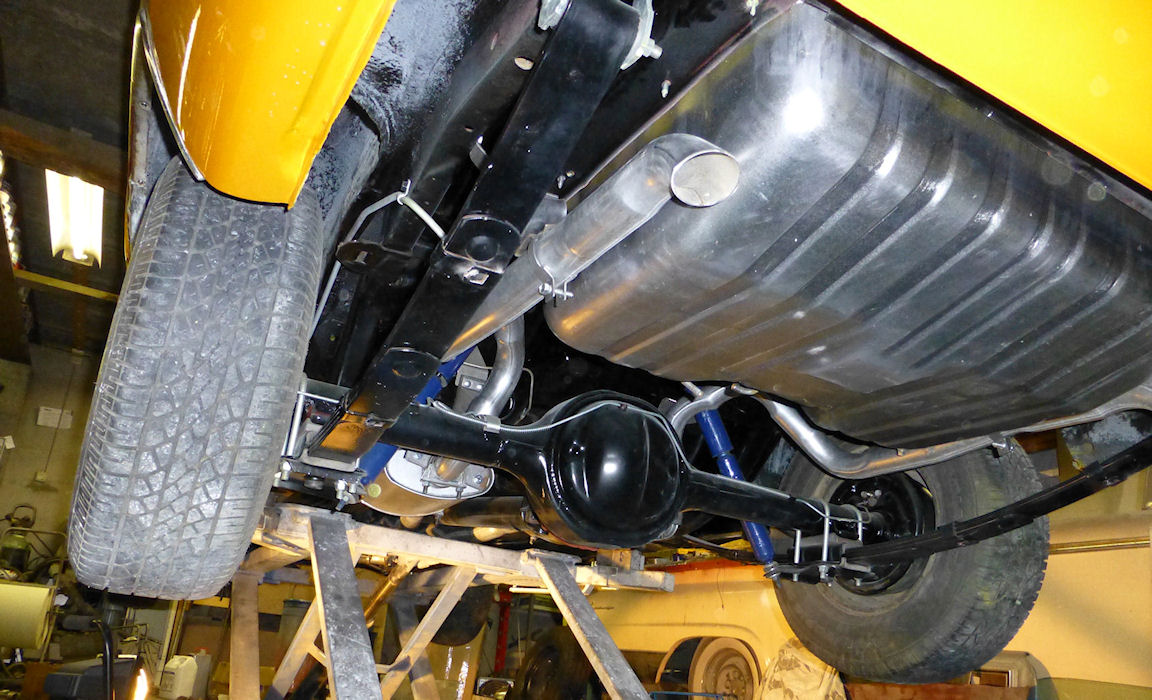 Here I got the restored wheels on and also the fenders are back on the car. Before I put on the left fender I once again had to readjust the left door as it for some reason was out of position, but with the fender on I was not at all happy and opened and closed the door a number of time to find out what was happening. Well, I am not sure, but to me it seemed like the metal in the reproduction door hinge were so soft that it was unable to hold the weight of the door. Can you believe they are selling this kind of junk and can get away with it? Oh well, I ordered an original hinge from WCCC and replaced the new hinge with a rebuilt old one and after that all the problems were gone. Maybe these hinges are good for the lighter Mustang doors, but for a heavy Cougar door with power windows they are just not usable.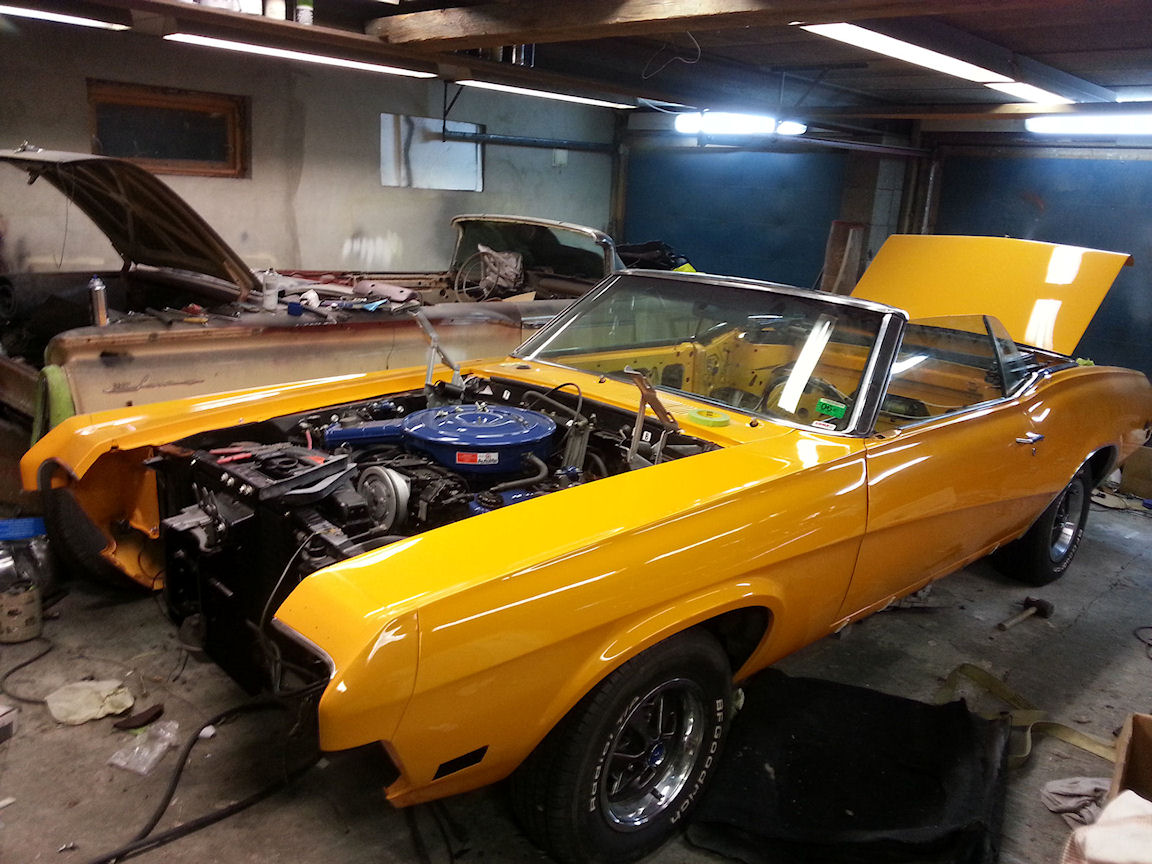 The hood in place.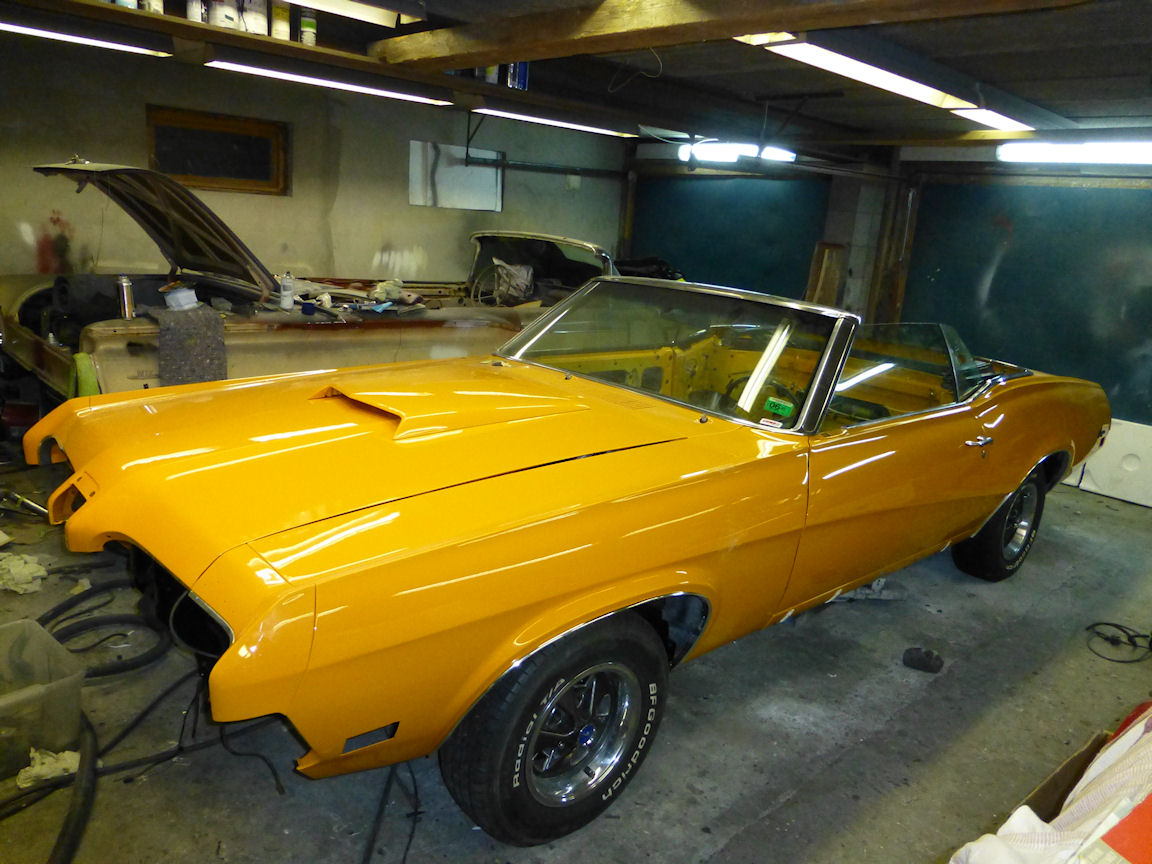 Reproduction grille is really nice.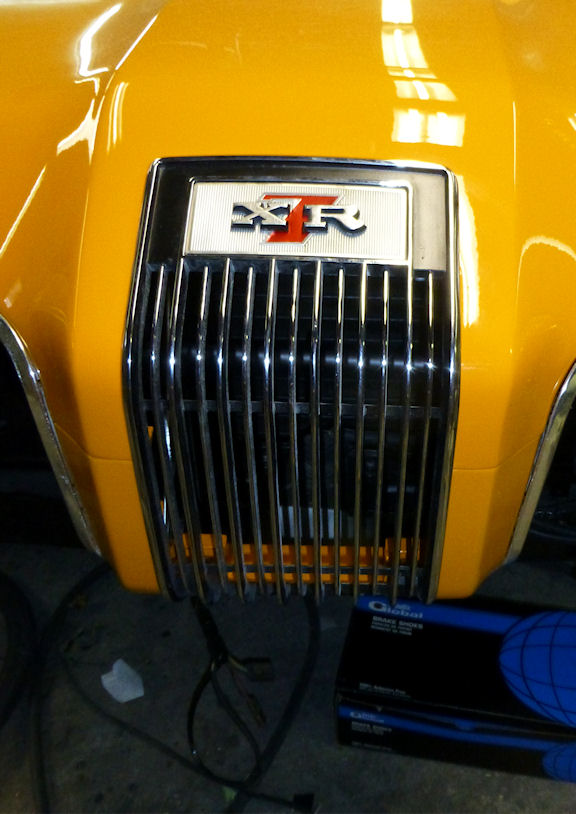 Then it was time to take the steering apart and get things done right. It had only been temporarily hooked together before to be able to steer the car in and out of the garage so now thankgs were put together right and hoses for the power steering connected. As you see this is not a show restoration, this is going to be a nice driver car.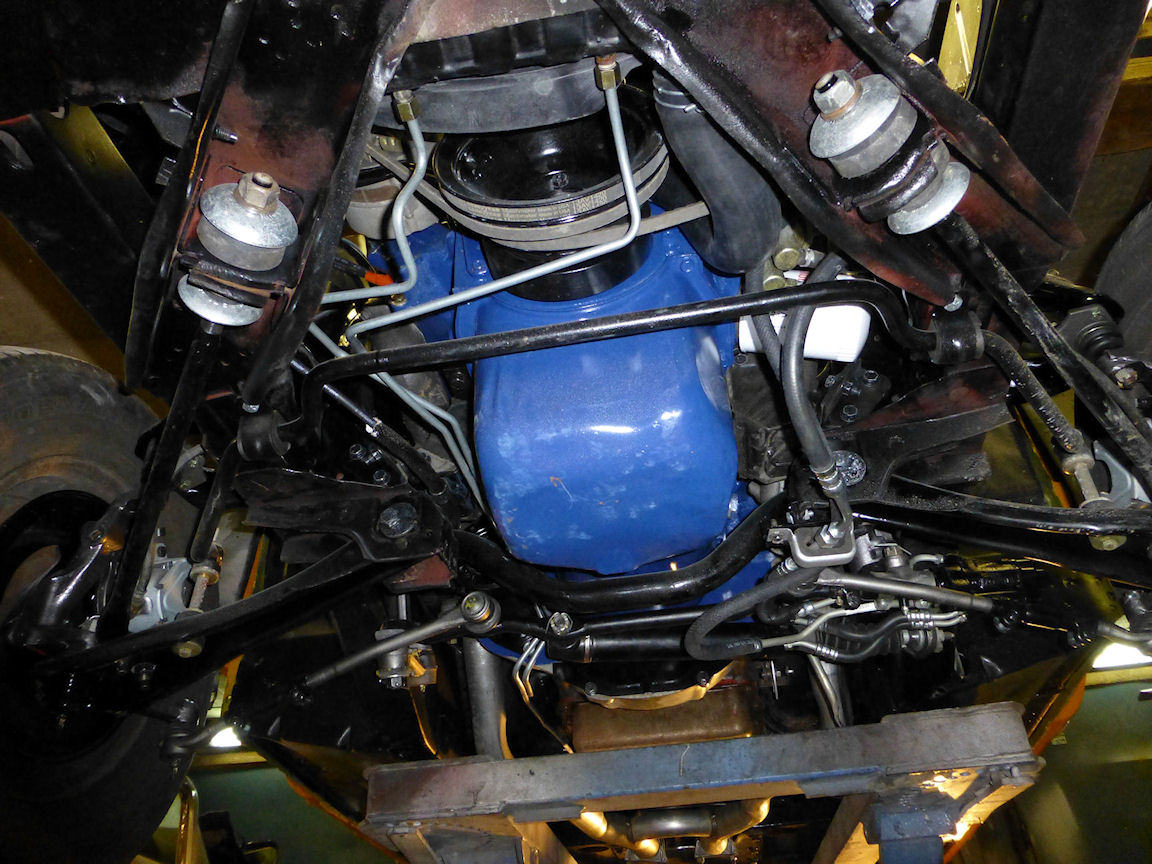 This car had been exposed to a lot of hot Texas sun, and the instrument lenses were so gray that you could not see through them. Also the woodgrain on the dash were terrible faded and lost all its color. Once again I had a set of nice lenses over from another car and I also had a number of really nice woodgrain panels, but they were from a 69 so they needed some modifications to fit.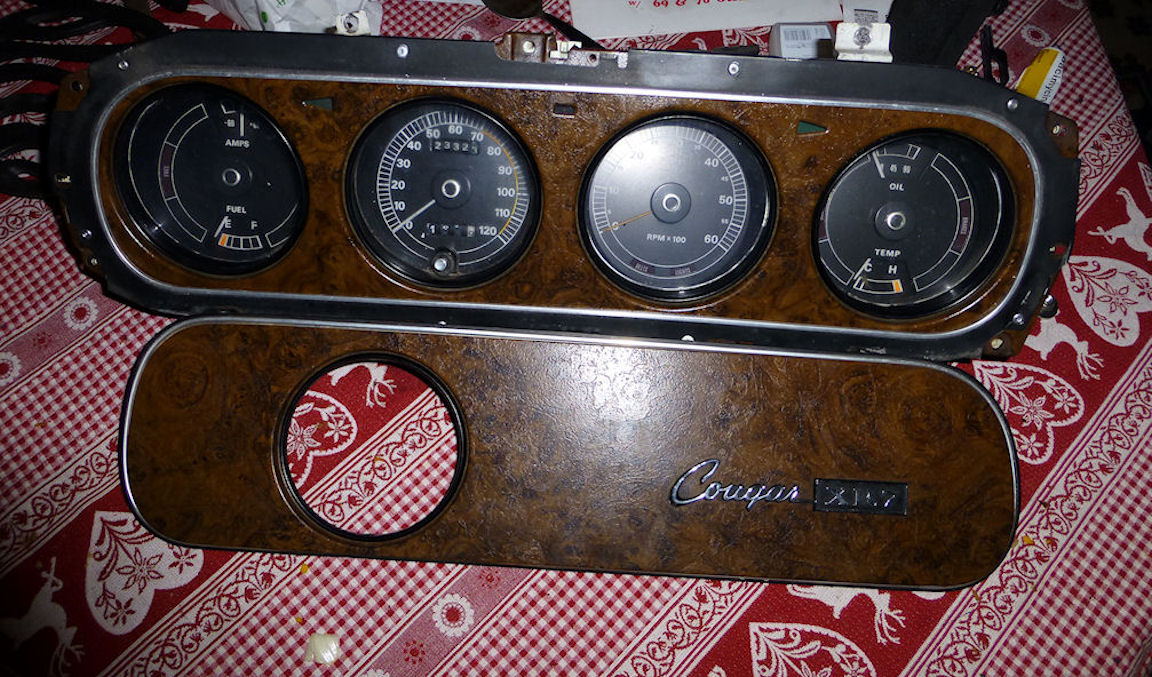 According to the Marti report this car did not come with a console when new. Luckily someone had installed a console in it, but the person had not realized that before you put a console into a non console car you have to remove the ash tray under the dash. So they managed to squeeze the console under the ash tray which again cased the console to crack pretty bad. To fix it I made several brackets and glued them on the back side supporting the plastic and it turned out pretty nice. I also managed to find a correct console insert for the car and replaced the rear lid with a correct reproduction one. The gear know is the one that used to be in my XR7-G that I restored. It turned out to be from a 70 Eliminator since it had a silver Cougar insert so I think it was a perfect knob fro this cat.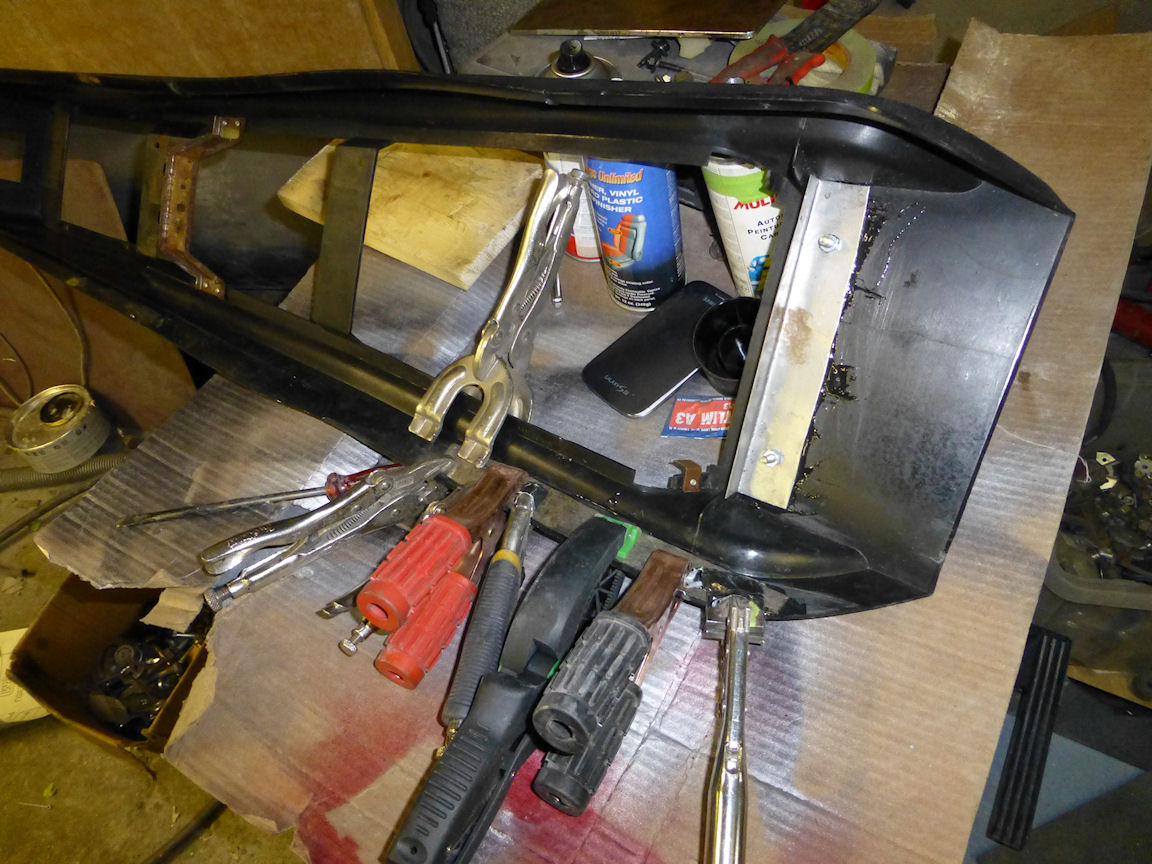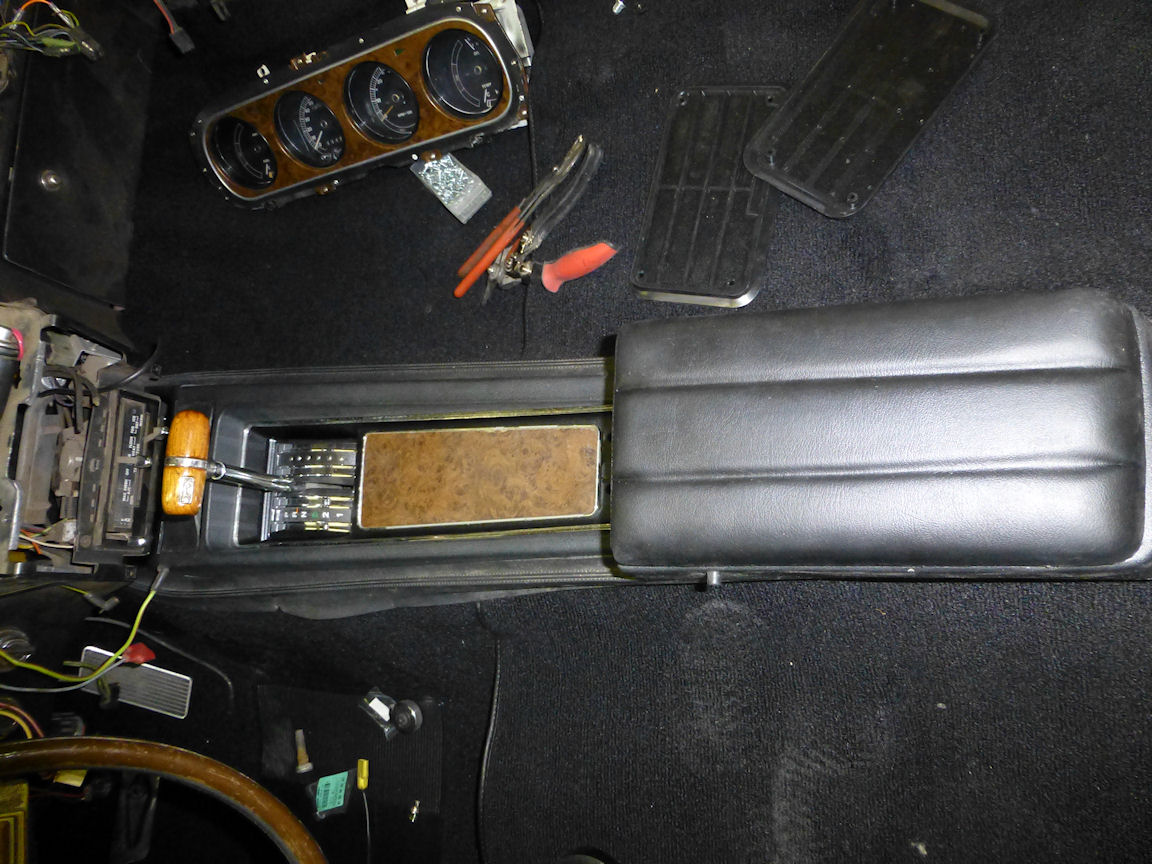 Here I am installing a new convertible top. At first we planned to put on a white top, but made a last minute change and went for a black canvas top instead. WCCC has a video on Youtube showing how to install a top. I would not recommend to follow those instructions without also reading the instruction for bow placement in your shop manual and following the top manufacturer information as setting the rear bow hight correct is essential for the result.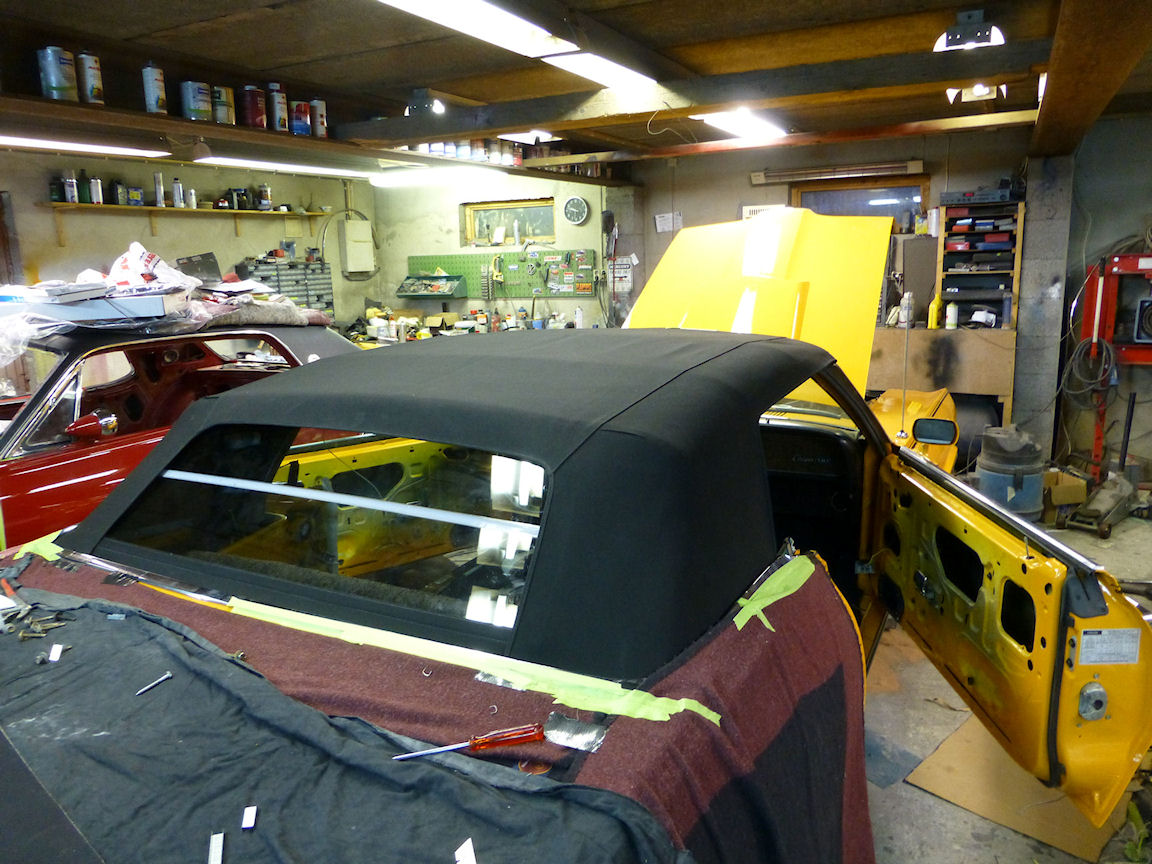 Here is the top finished and you can also see that a lot of the exterior details are back on the car.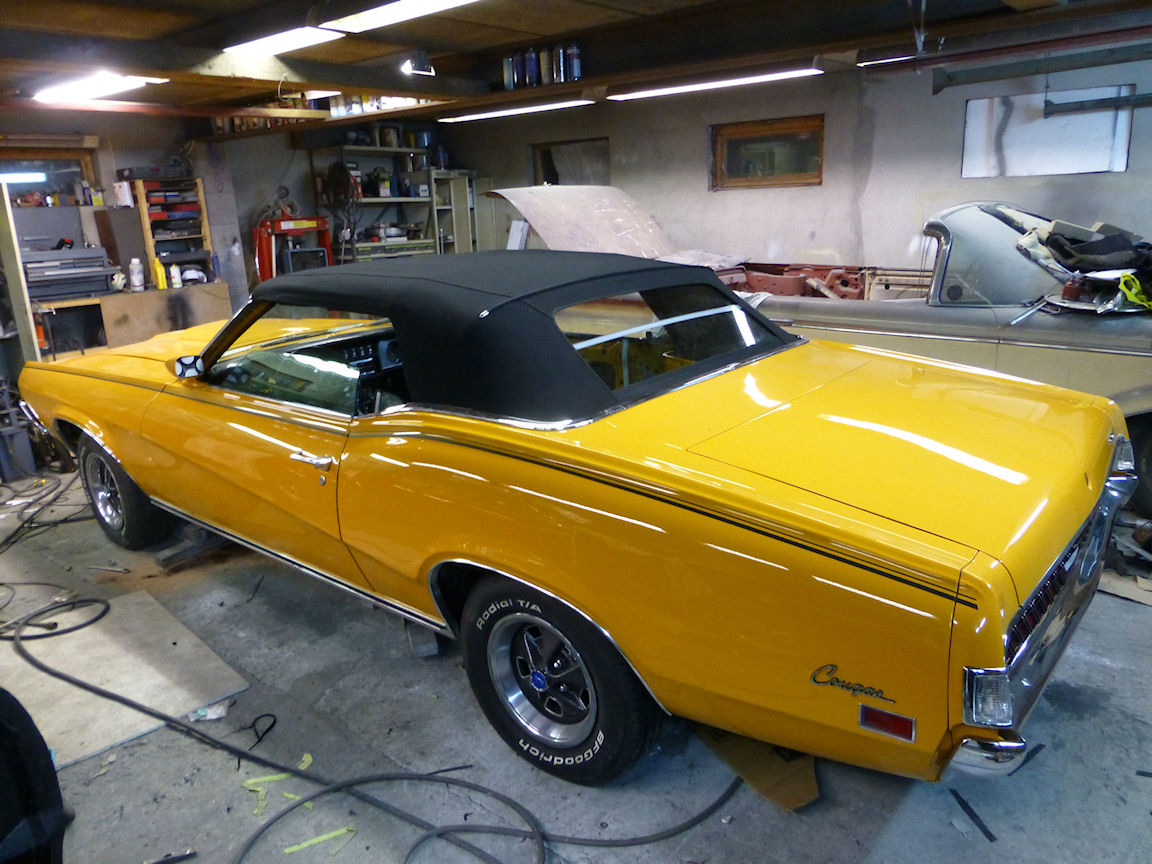 The car is out in the sun for the first time as I needed to put it in my other garage until I get the new leather upholstery from Johns Classic Cougar and some other parts needed to complete the restoration.