Builds
One old race car to return to the track a bit sooner by purpleGT
By diyauto
You must be logged in to rate content!
3 minute(s) of a 12 minute read
One old race car to return to the track a bit sooner
Compliments of purpleGT @ mgexp.com
4-28-2013
I've got these two old race cars sitting in my garage. One is my '66 MGB, which I raced in E-production during an all too brief period in the early 80s. The other is a '64 Midget, which my late racing partner gave to me after he bent it pretty badly in a race at St.Louis Int'l Raceway. Plan was to put it back together for my youngest son to race. However, my son's career path and other interests have put that project on the back burner, although I did get the bent frame pulled straight and started preparation for a major body rebuild, before I had to set it aside.

Anyway, out of the blue, I get an email from the son of my late racing partner. It seems that he's looking to get back into racing and wants to run vintage. He asks if I'm using his dad's old racer and would I consider selling it to him. Well, obviously, the car is his for the asking and I'm delighted to see it go to someone who will prepare and race it as well as his old man did. He's a welder and fabricator by profession, so I'm confident the car will be restored to a very high standard.

Anyway, the car will be returning to the St. Louis area within the next several weeks and could be running vintage events by late this season.

I'm going to introduce him to this forum, when he comes to pick the car up, and make sure he joins & participates.

BTW, this young man is in posession of the x-Terry Terriberry F-production Midget, which I've mentioned on this forum before. Not sure what he's going to do with that one, as it's a "tube frame" car and not vintage-eligible.

When we load the car onto his trailer, I'll be sure to take some photos to post on here.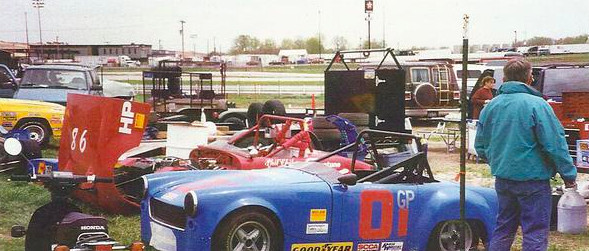 Don't worry. I'll be sure to get Matt to participate in the motorsports forum. He's a good lad and I'm just delighted to be able to help him out. It's really sad that his old man was taken from us so early (he was only 56 or 58), but he got Matt into racing and Matt ran an RX7 in one of the IT classes for a few years. He's now got two kids of his own (the oldest is only four), so he's got a full plate, for sure.
BTW, he also has his dad's old MGB, which his dad bought new in '76. Of course, his dad and I back-dated the engine & suspension to '67 specs way back in '78. Matt literally grew up in that B, as his dad and I used to drive our Bs just about everywhere, including Nelson Ledges, with Matt strapped in, in his baby carrier (his mom was a nurse, who worked a lot of weekends at the hospital and had no time to be bothered with "car stuff".
Anyway, it's a great feeling for me to be sending that car "home" again.