Builds
Race Car Back To Retro Daily by CobraV8
By diyauto
You must be logged in to rate content!
17 minute(s) of a 42 minute read
Race Car Back To Retro Daily
Compliments of CobraV8 @ theminiforum.co.uk
8-22-2009
Hi all,

I am in New Zealand. This is my second Mini, last one was about 20 years ago.

I purchased the car as a used Japanese Import, previously used as a circuit car in Japan.

The car was in amazingly clean condition - hardly a stone chip on it. But... lots of bits and pieces missing to use it as a road car.

The car has had its roll cage removed in Japan, along with flares, race seat, harnesses, gauges, I expect a bigger motor and wheels. (darn it).

My aim is to make the car into a Mk1 lookalike, and use it as an every day car, mixed with some club racing.

As purchased: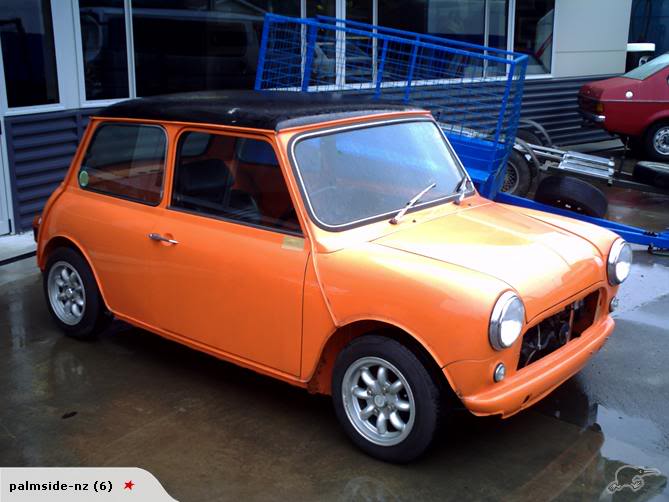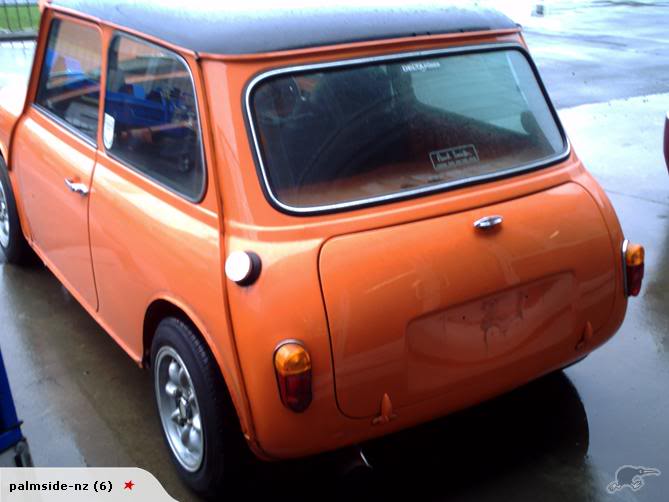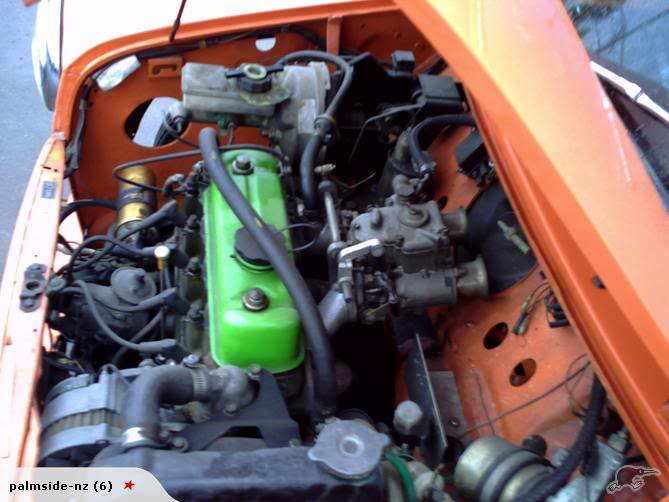 So.. the condition is good, just missing some of the bits that I want to have on the car:

- Seats
- Bumpers (the car has been deseamed on bumper seams)
- Flares (there are holes in the body where they have been)
- Wider wheels (has 145 tyres!)
- Interior trim

I purchased the car from these photos, and had shipped to me by train, a bit of a risk I know, but it was from a reputable firm, and the photos showed the great condition, and when it arrived, it was way better than I could have hoped for.

What it does have:
- 998cc motor Dont know all of the mods, but obvious ones...
- Weber Carb on shortie manifold
- Long Centre Branch manifold, Good exhaust system
- Hilo Suspension
- Front Cooper S Discs, and Cooper S drums rear
- GAZ shocks
- Negative camber bottom arms
- Adjustable camber plates on the rear

So it is a great starting point.

I have a Cooper S 970s motor that needs rebuilding. Has been bored to 999 and has forged flat top pistons, good valves, but needs some more porting work. Very light weight Steel Flywheel, SCCR 3 synchro box. I had this motor in my race car about 20 years ago. Not sure of future spec, but either make the current head flow well, or fork out for a 7 port. This motor revved well before (8500 changes) but I want it to breathe better - 10,000 revs should be easy with the short stroke.

I have started the project already, and will post photos of work I have done to date.
Step 1 - Get the car road legal

The car was basically ready, just a few things missing that are required for a warrant of fitness (I think you call this an MOT or roadworthy test?):

- Number plate light (couldnt find a decent one - bought a trailer one new that looks similar for the mean time)
- Interior Mirror
- Sun visors

Now...my father, brother and I are all petrol heads, and have collected many mini bits and pieces over the years. So.. getting most of the bits I need should not be a problem.

I got the above bits a day or two after getting the car, cleaned them up, put them on, and off for inspection straight away. Passed with flying colours.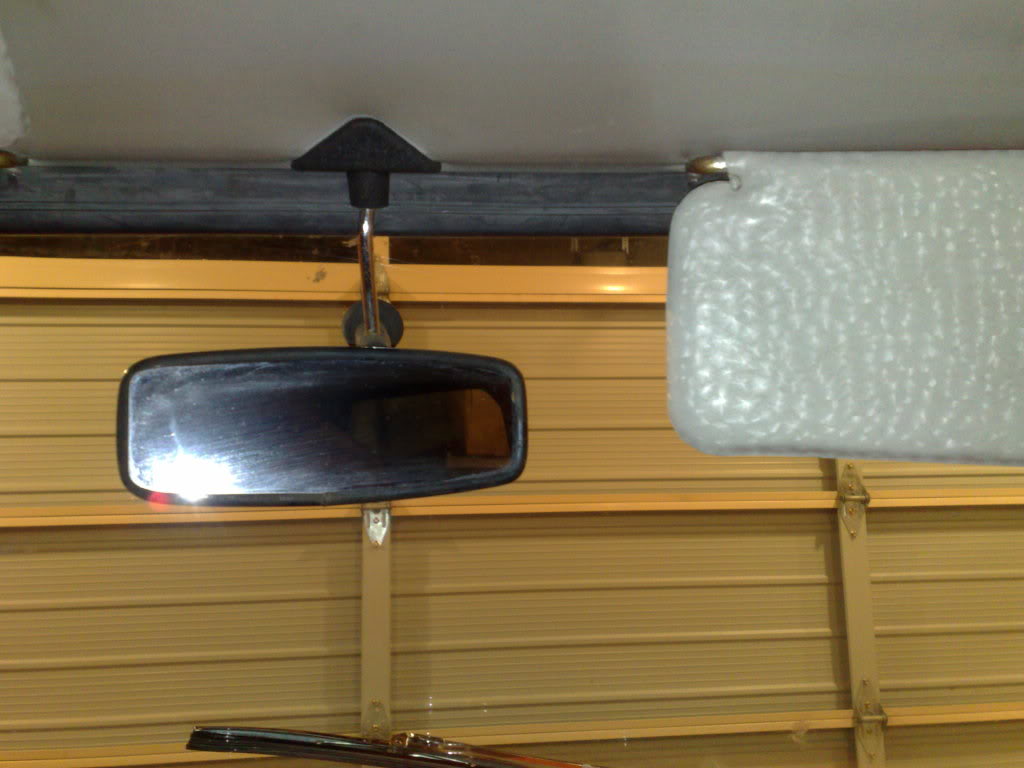 Step 2 - Pretty bits
Straight after that installed some bits and pieces I have had sitting around waiting for a car for 20 years:
- Mk1 Morris Cooper S Grill and Moustache (with quick release nuts to hold it on), also added some bonnet stripes like the old Cooper S race cars had (yes I know more modern cars had them too, but dont see many of these in New Zealand)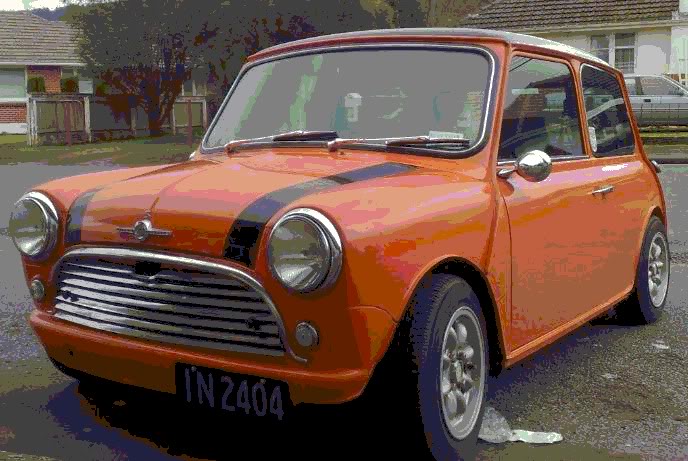 - Mk1 Morris Cooper S front badges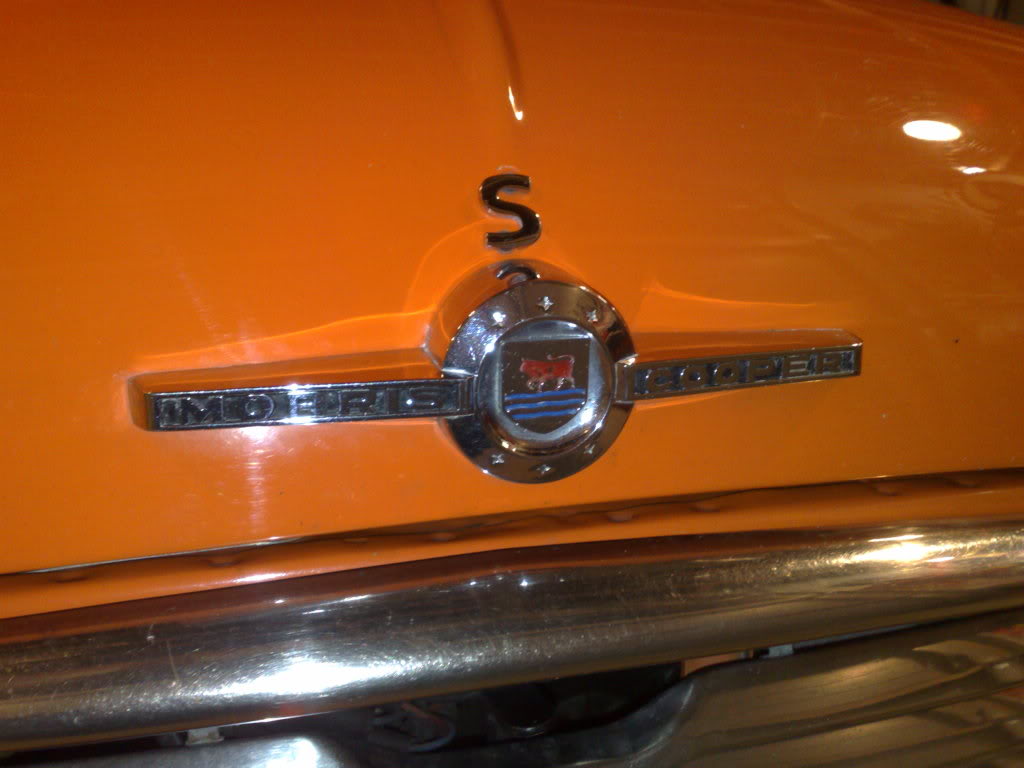 - Mk1 Morris Cooper S rear badges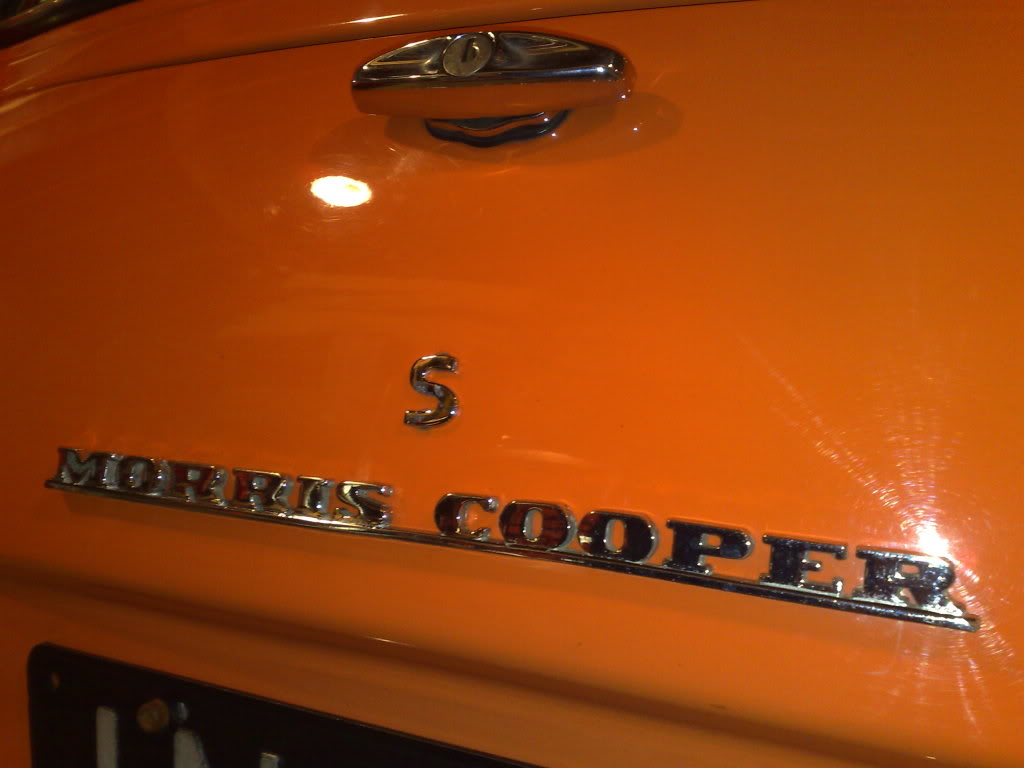 - set of seats so the family can go for a ride, I only had one front and a rear seat that was in decent condition, so.. have kept the Mini 30 seat for now with the old seats.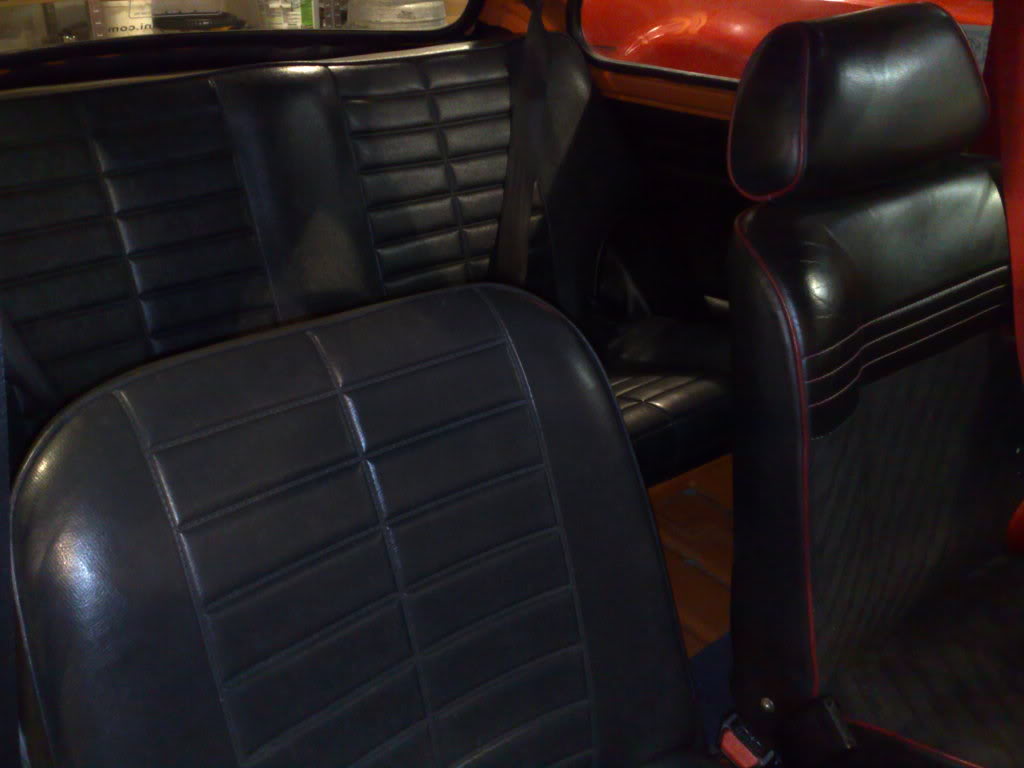 Step 3 - Next step - shiny bits

Now.. I do like the deseamed look, but... prefer the car to look semi-standard, enhanced by all means, but, like it came in the main. So... I am made some brackets for the bumpers to mounts to the body.

Now... I dont have a lot of lightweight steel sitting around, so.. I used some old clutch straps. Cut them, drilled holes and bent to an angle to allow the bumper to be fastened on. Next I put the bumper on a jack, and put it against the body, trying to get it all to lign up how it should.

This forum is great for pictures to get a guide as to the correct height (hard not having the seam to know for sure). I settled on being tucked up as tight as I could against the boot hinges on the rear. I also only have one bumper left from my old car, so... rear end first.

Done - one rear bumper, back to normal(ish)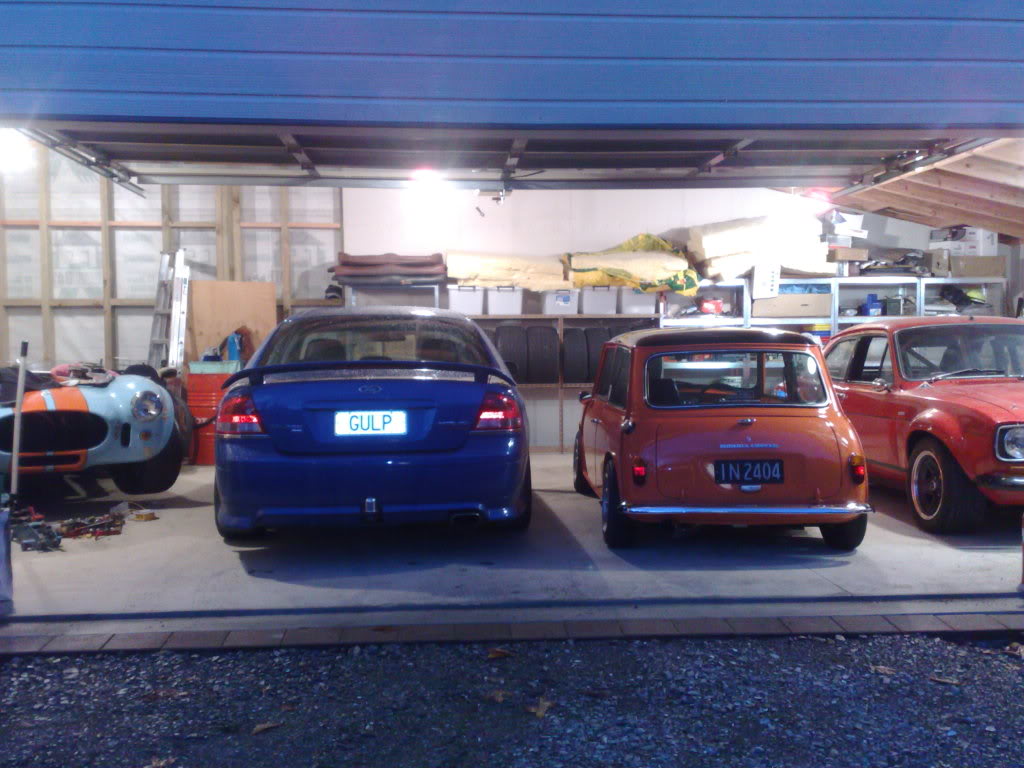 The Mini fits in well with my other toys.

Next, some bullet mirrors, purchased of a local trading site. I know... they are wing mirrors, naughty. But... didnt know that till too late. The drivers side one is fine, passengers side ok - but lose some of the image. I needed mirrors to cover the holes left over from the stripping of bits in Japan, and I think these look good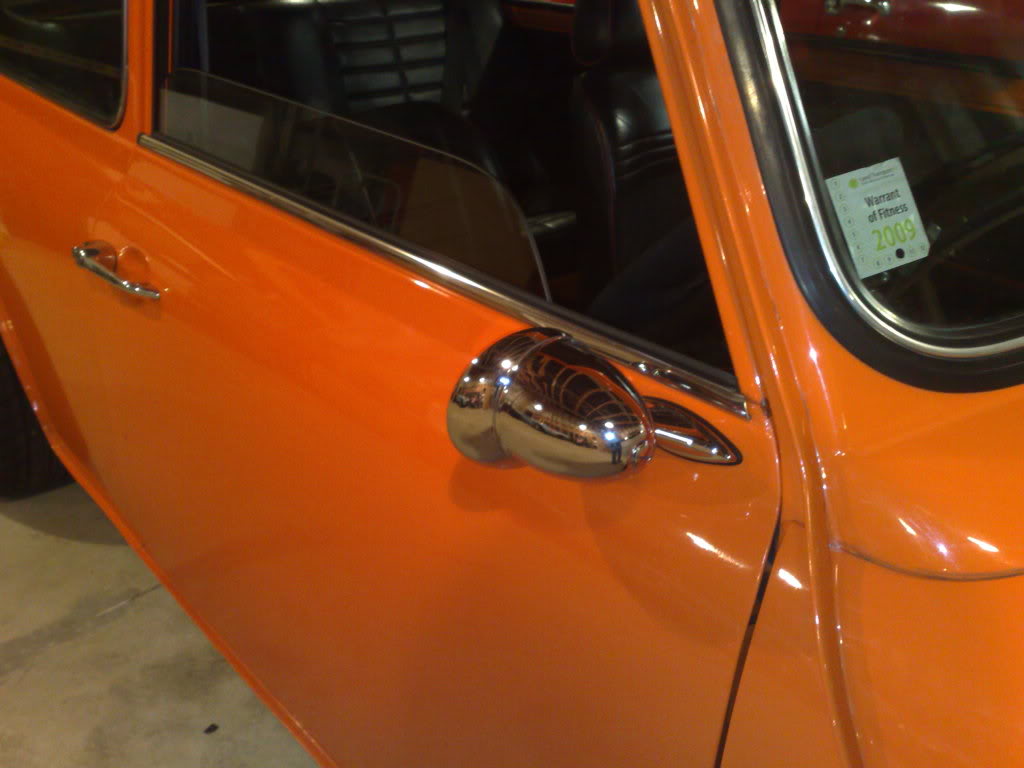 Step 4 - Interior

Now... as I said the car was basically empty when I got it. It had a Mini 30 seat as the drivers seat, but it is actually a passengers seat (handles on left). It was resting on a piece of wood to boost the height up, as there was a box of switches beside the seats for lights, electric fan, hazard lights.

There are no gauges, no trim other than door trims (Mini 30 but with pockets missing).

So... I started with the dash. In my old Mini I made a full alumium dash and covered it in vinyl. Speed on passengers side, and Tach water temp and oil pressure on drivers side (no room in middle cause of weber air box). I contemplated this.... but wanted the standardish look. So... decided on the centre binnacle.

We had an old centre three gauge unit sitting in an old wreck at my parents farm, so... pulled it all to bits, cleaned the gauges and housing up - and hey presto: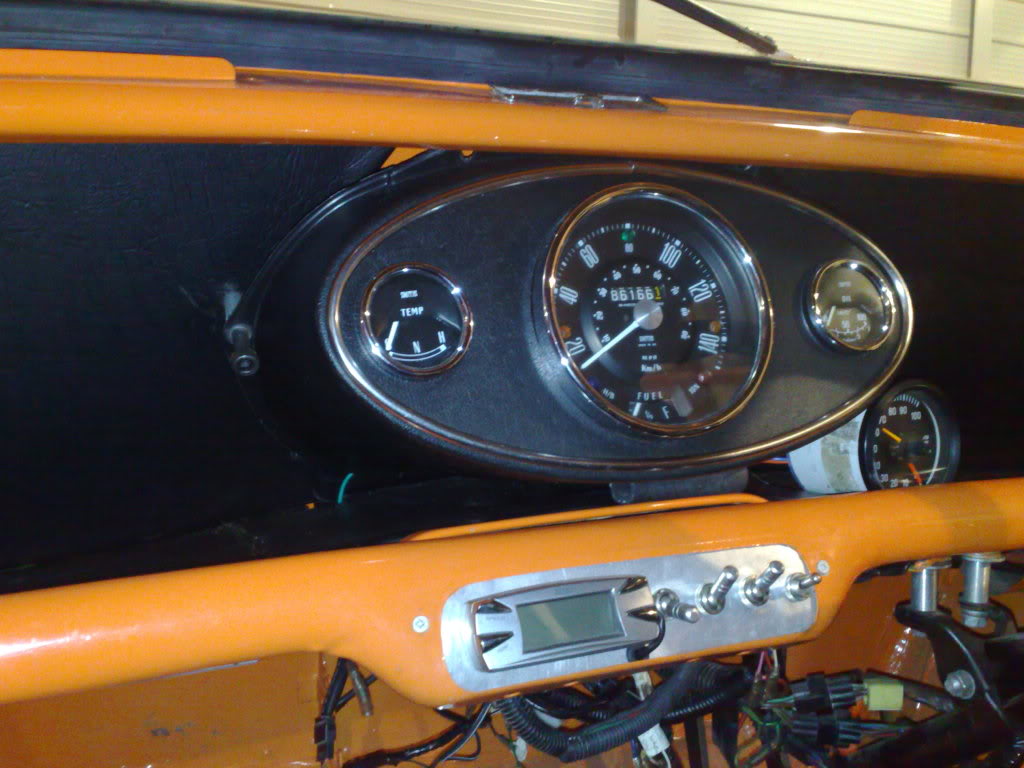 I also moved all the switches back to the dashboard, but didnt have a decent panel, so made one out of aluminum. While sorting the wiring out, I found tucked under the dash a small electronic speedo, rev counter... needed it for the warrant, so.... attached it next to the switches. Works fine, the speedo is about 50% high, but will do until I get the wiring and speedo cable on. I think I will paint this panel and put a chrome surround around it when I can find one.

Wiring... that was a pain. The car is a 1990 Mini Cooper / 30 (as far as I know) so it would have had the three gauges in front of the steering wheel. Also wiring had been moved about everywhere for its life as a race car. So... start from scratch.. find all the wires I need by looking at colours (off this forum) and tracing with a multi meter. I found that the voltage regulator was a bit dicky - fuel and temp reading too low, but luckily Dad had a NOS one sitting in the shed. Anyway... got it all done, including running wiring for a Tachometer that I bought off the trading site that included a digital reading for oil temp, oil pressure and water temp. Unfortunately... the gauge is not compatible with the electric fuel pump, or a standard coil - damn, so... I temporarily put in my old VDO tach.

Next step was to make a dash panel. I decided to make a shelf out of aluminum, and pieces for the firewall, then cover in black vinyl. They look very much like the standard ones, just better quality - I think they turned out well.

Steering Wheel. The car had a very deep dished racing wheel on it (must have been for a midget/japanese man). So... I purchased one off the trading site, nice swede: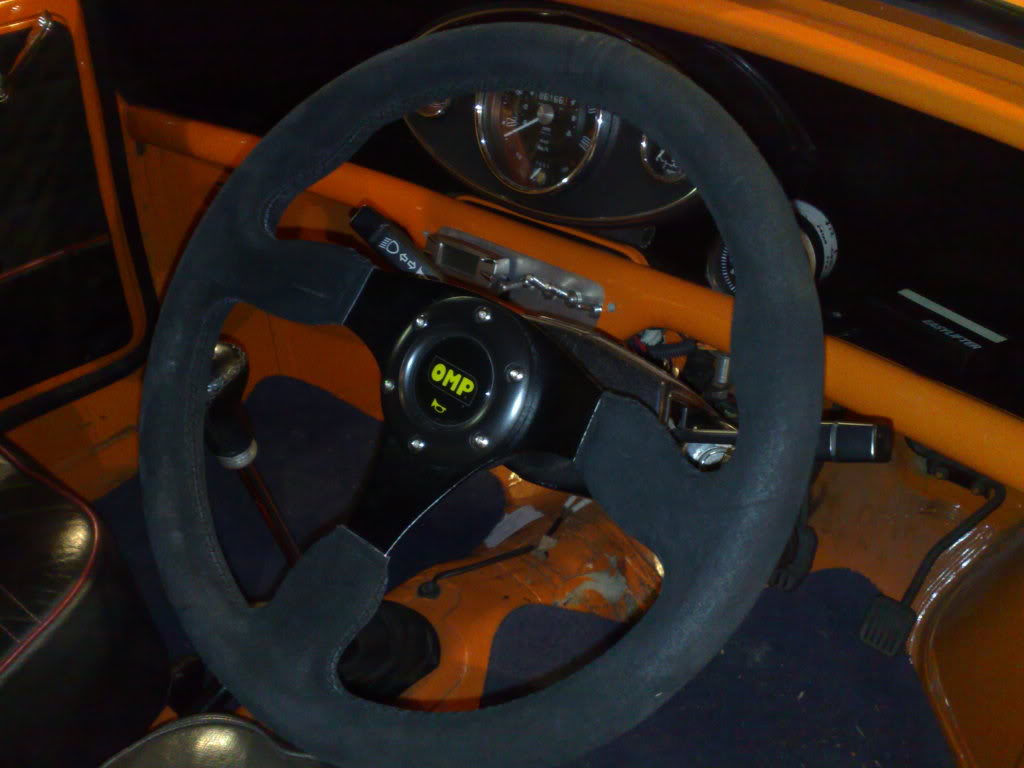 Also off the trading site, I found some old rear door cards. Not sure if they are genuine or aftermarket. They were white, with a big S in the middle. I think they may have been off an Austalian made Clubman S - an unusual model they made. Anyway, I had some leather paint left from a previous project, so got my spraypainter brother to paint them black: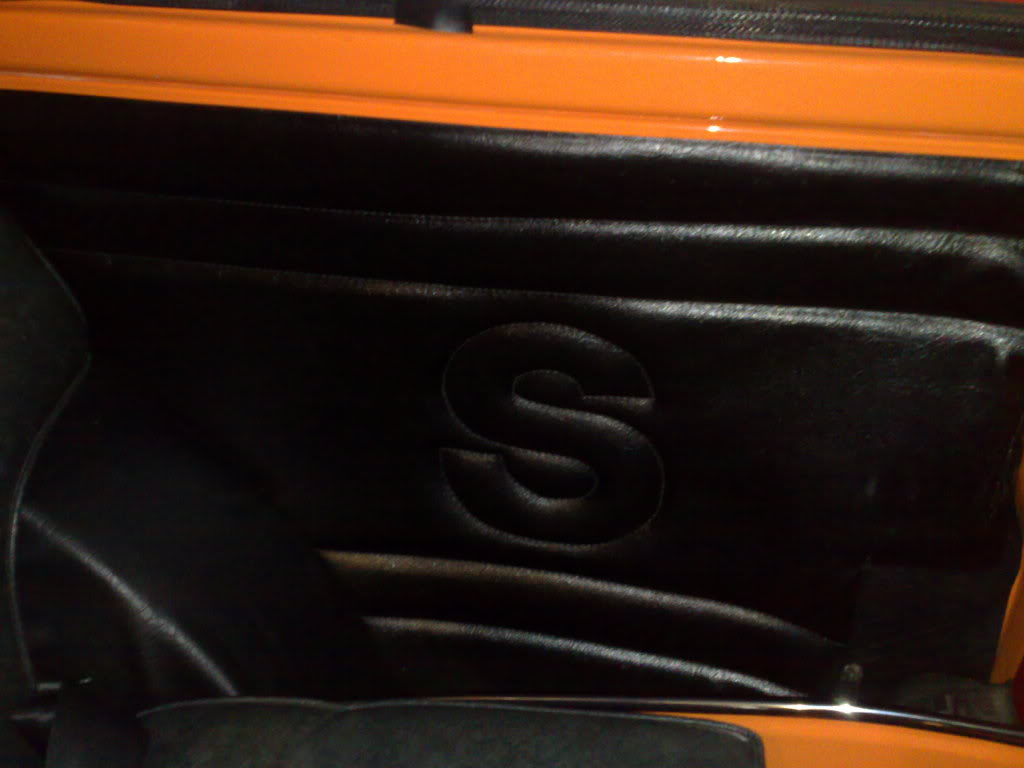 I also made some covers for the rear arches and rear parcel tray out of vinyl.

The car had no chrome on the rear storage buckets, so... I looked everywhere, and could not find any decent ones at all. Solution - I purchased some of the chrome stick on trims that people put on door edges from the local 'SuperCheap Auto' store - and they look good.
Still to do on interior:
- Speedo Cable
- Oil pressure line
- a panel to mount the Tachometer
- Carpet
- clip up all the wiring
- maybe a heater? Winter is just finishing here, and I have been using the car without one fine, so may not bother

Tip - want a shiny door handle - I see somehow my car ended up with Mk1 Escort door handles: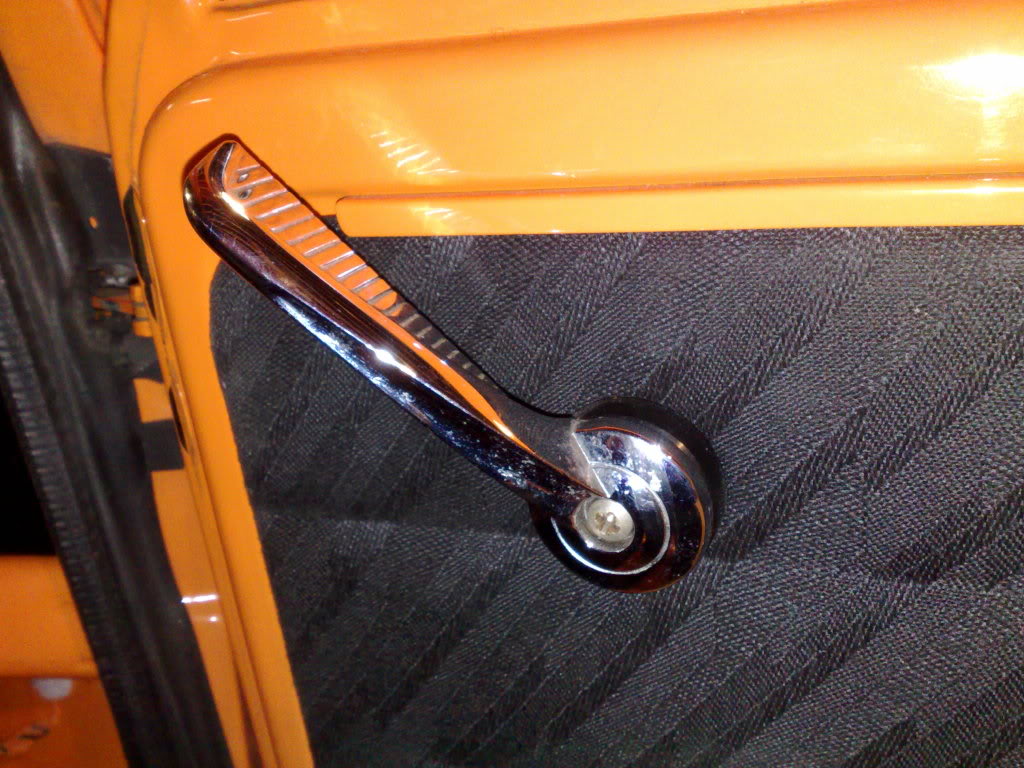 Step 5 - Wheels, guards

The car came with Cooper labelled 12 inch wheels, tho.. they look different to most I have seen on here. I like them, but... they are too narrow, only have 145 tyres and dont look like they are big enough for wider tyres. Also... I think that they look too narrow to have arches, but the body has holes where some have been.

I have considered 10 inch wheels, but... tyres seem to be hard to get. I still have some reversed Cooper S wheels widened to 6 inches, they look quite cool, but dont do much cooling for a race car compared to an alloy. I could get 6 inch Minilite copies that were made in NZ years ago called Aldics, and may still for a set of slicks.

The car has been lowered a lot! It sits very low, and has had the front and rear guards cut out, rears have been tubbed, so still have plenty of clearance.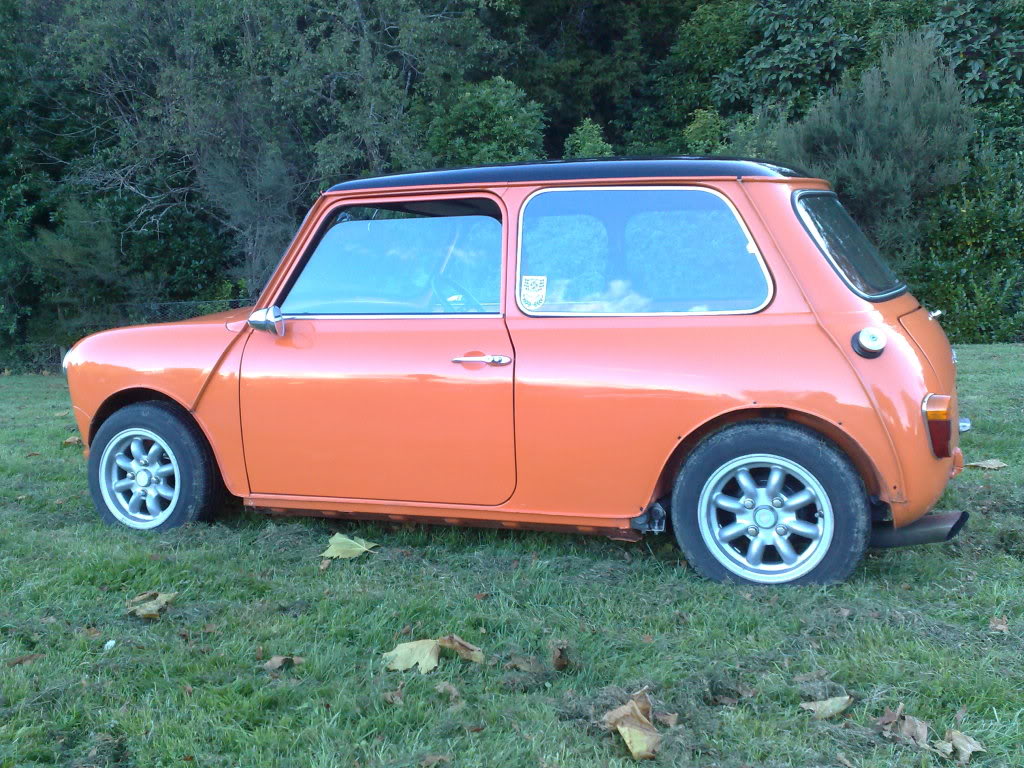 So.. my issue is, I need to find some guards that will fit the larger radius guard opening. All the standard flares, Wood and Picket etc are too small. I like the look of the ones on this guys car so much, I have changed design plan slightly. As I have big arch openings - and need big arches to fill it, I am going with big wheels and Group 2 Wides like this: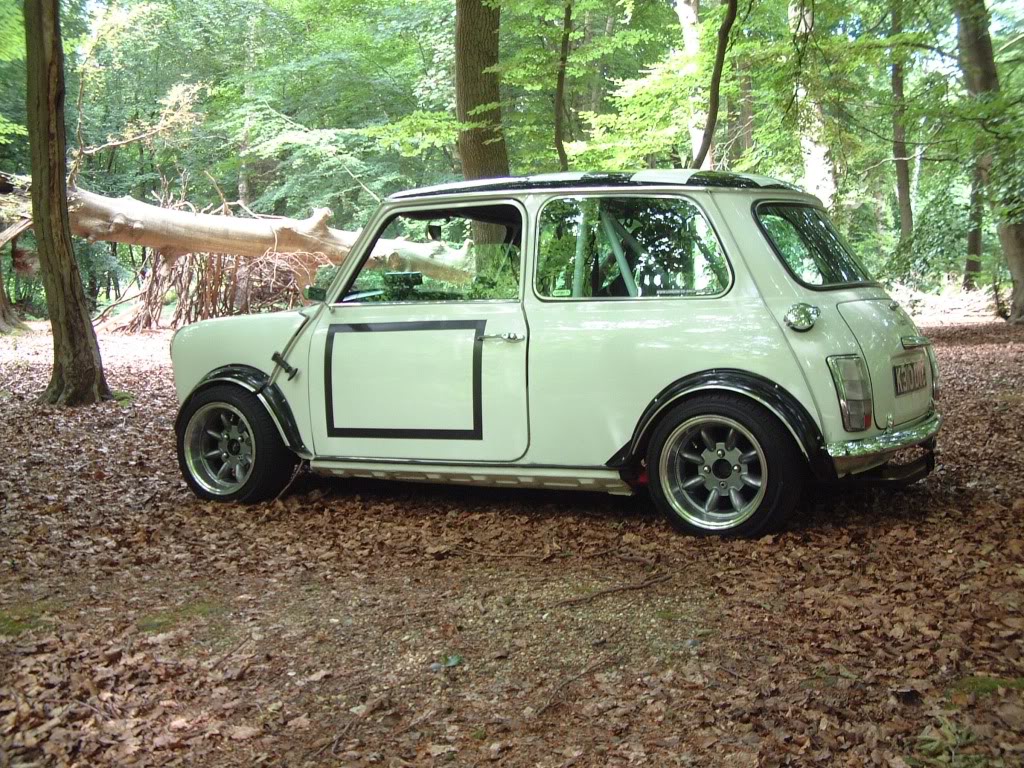 So... i bought the wheels and tyres locally - Performance Superlights 13x7 Deep Dish- made in Australia: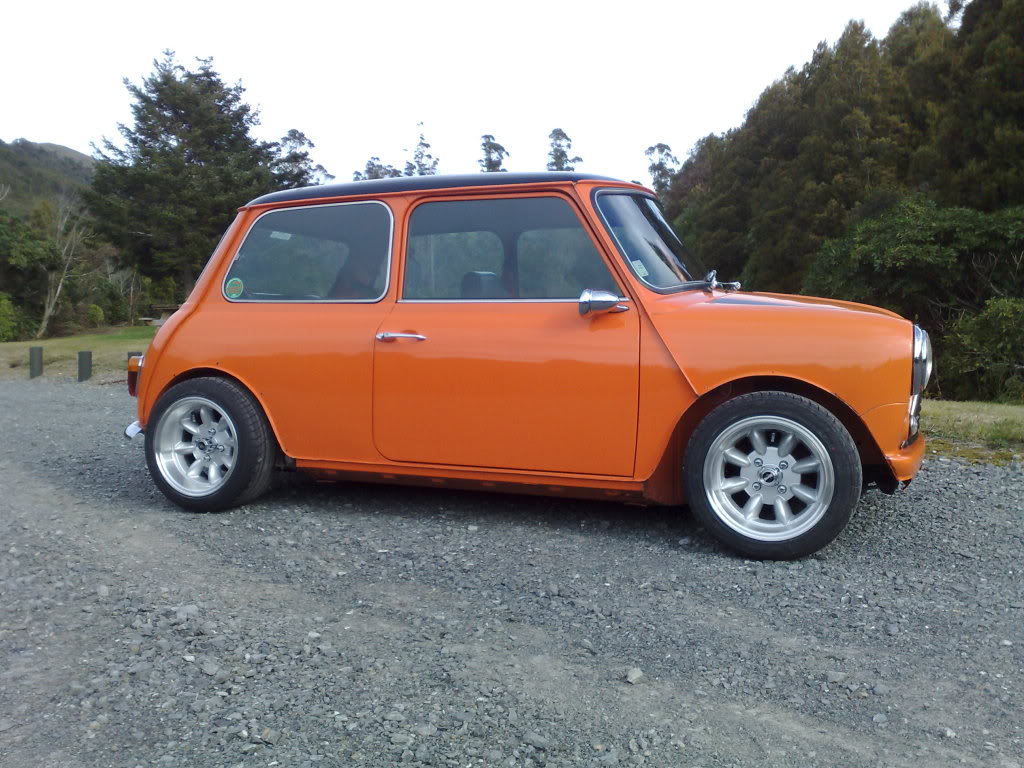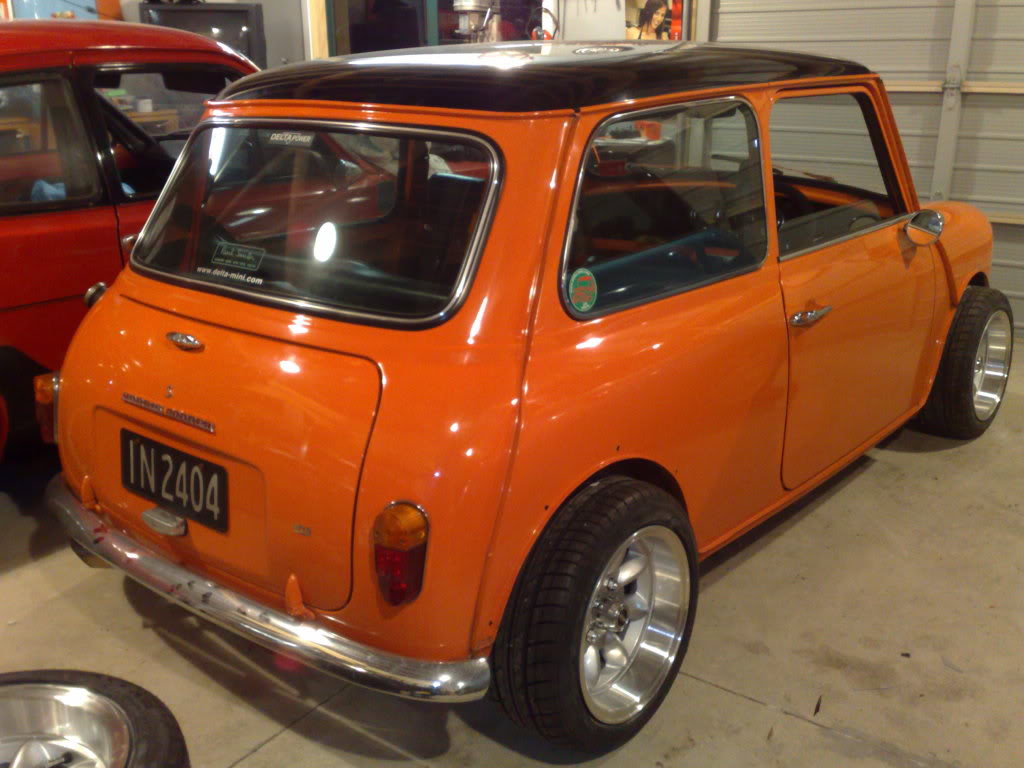 I had to cut and rebend the front lip of the arch because of the huge offset and how low the car is makes it worse. Painted the repair with some anti-rust paint until I get some flares sorted:
A friend is a signwriter - so made me a little 970 badge for the boot ( I could not find one anywhere):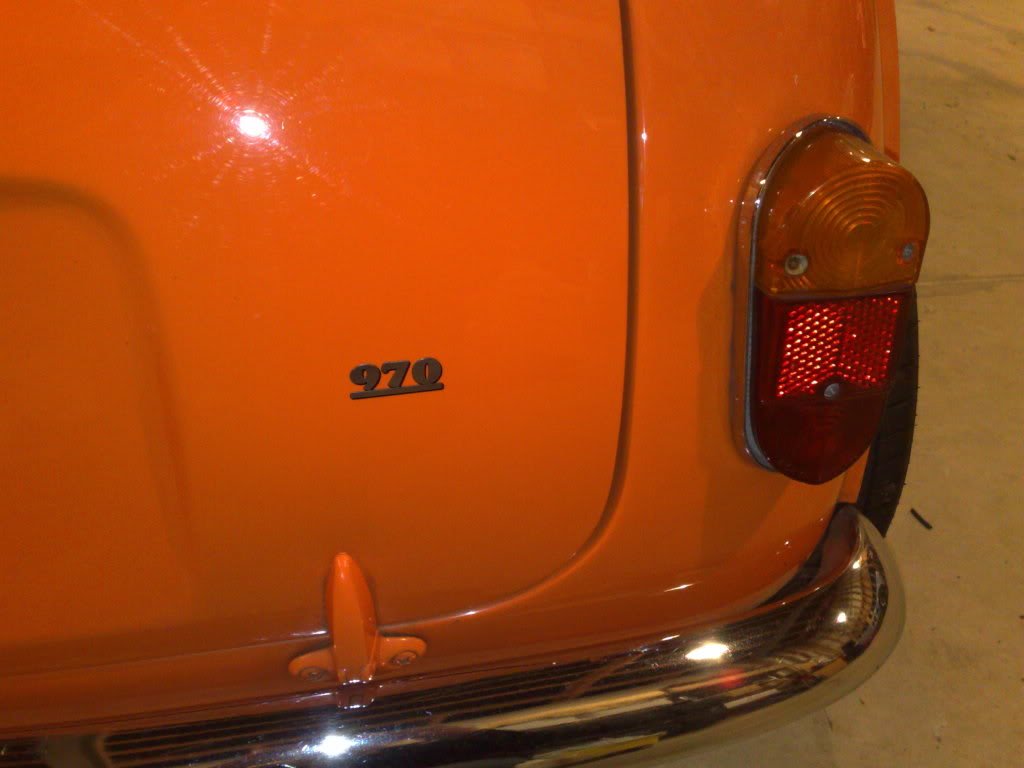 Step 6 - The Boot

Because I use this car to run around in, and generally enjoy as much as possible, I want a boot to carry the groceries. The car has a normal race car boot - a petrol tank, and a battery. Also... a big electric pump bolted in the middle of the back of the seat panel.

So... I moved the pump up high, and up next to the tank, made a boot floor out of wood to sit on top of the spare wheel, and covered it in vinyl: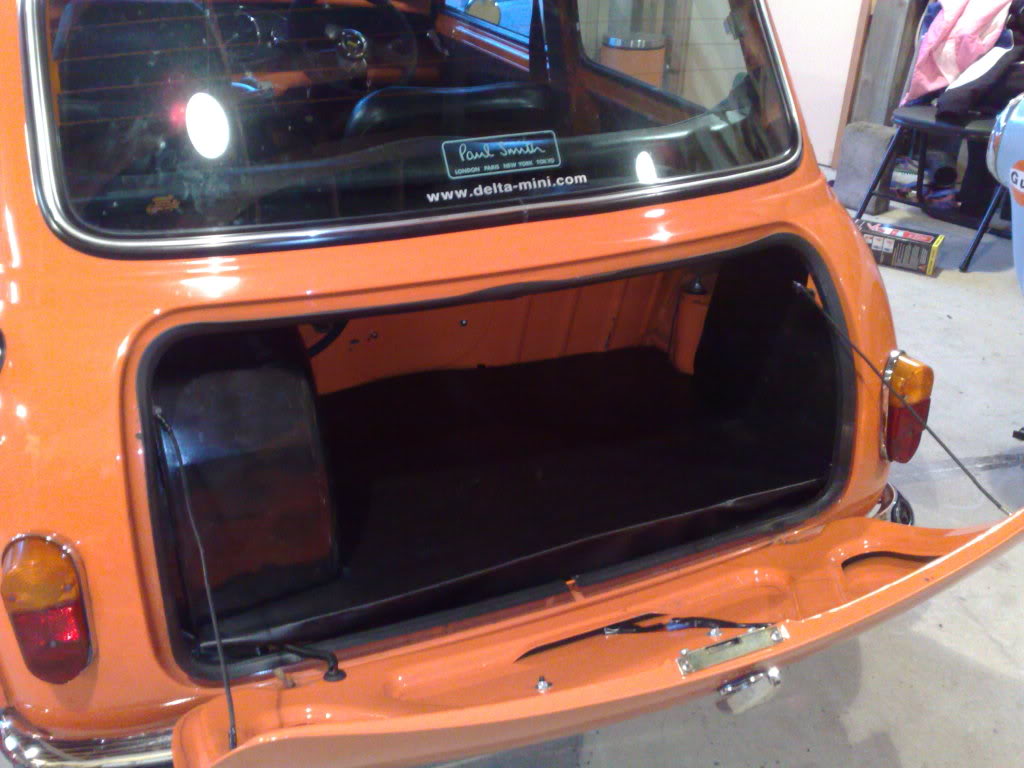 I included a little panel on the drivers side so that the area behind the tail light assembly can hold a little tool kit and a wheel brace. A jack and jack handle lives behind the battery under the floor. I even left room for a small petrol can to sit up on top of the right hand shock mount: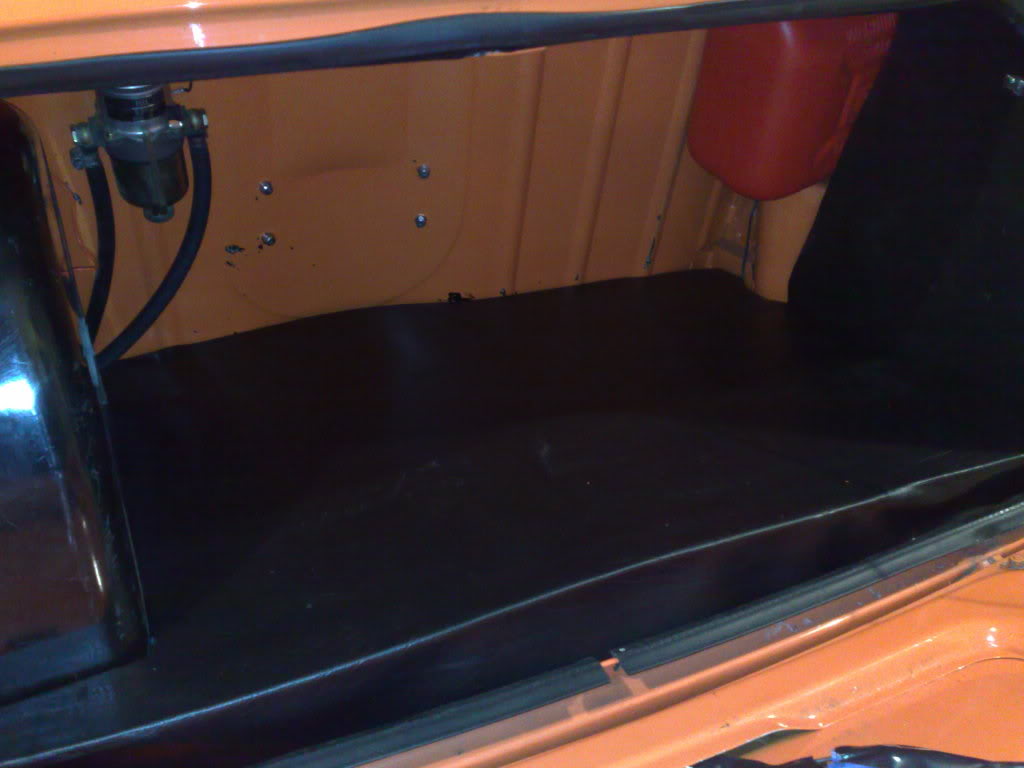 At this point, I have run out of spare bits, and need to order some. I looked at all the UK websites, and found that only Minisport listed a set of Group 2 wide arches and bumpers with overriders so.. ordered:
- MK1 Bumpers with overriders and nudge bars
- Group 2 Race arches and chrome strips
- Carpet and carpet mats, fasteners etc
- Aston petrol caps
- Leather Bonnet Strap
- freight estimate was horrendous (hundreds of pounds) so... I emailed the sales email address.

Well... it took a few days to hear back, but the quote was not too bad, and they said they were ready to ship that day. I added a few little odds and ends (gaskets, adjustable tie rods etc), and waited for a final price, and waited, and waited. I emailed asking if they had my emails, no reply. Next day - same, and the next. So.... I rang (had to call late at night here as we are 12 hours ahead). They apologised, and said they would have a price very soon and would email.

Three days later - email saying they didnt have:
- Carpets
- Bumpers
- Tie rods
- Aston caps

So... i was pretty angry - what happened to 'ready to send', they didnt have most of the bits. So... I told them I was looking elsewhere, after being delayed for weeks.

I have emailed Minispares, but they dont seem to have Group 2 wides on the website, so... will wait for their reply. I have also added some top chromes for the doors like the Mk1 Coopers have, and a fake right hand tank fitting (which Minisport didnt have). Hopefully they have the bits, and freight to New Zealand can be managed without a mortgage. You guys dont know how lucky you are if you can drive to a Mini store, or ... order from a few places separately.

There wont be much progress till these bits all arrive, maybe I will have to start looking at the 970 engine! I also want to get a roll cage underway at some stage soon.
Thanks mate - am enjoying a nice easy project, all the time the car has been useable.

The orange and black, especially with the big wheels and stripes etc is a real head turner - I get a lot of comments on how people like the car. I reckon it will be really well set off once it has the Mk1 bumpers and flares on as well. Only problem is the kids get a bit embarrased becuase so many people stare at the car while we are driving along! You dont seem to see many Minis being used over here these days. There are plenty here still, but.. not many used every day.
Thanks mate. A lot of the credit goes to the Japanese people who built the car, they have done a great job with the bodywork, the pictures do not show how much, it is immaculate inside and out, almost a pity to cover up the floor etc with carpet, but it does get grubby and scratched with daily use, dogs, kids, transporting things on the inside without the carpet etc.

I enjoy the project, so much so it annoys the wife how much fiddling about with the car, and research on the Internet. I also need to get the Escort back on the road (only a bit of wiring needed), The Cobra ready for the Summer race season, the Suzuki Fronte needs a new transaxle.... it never ends does it?
By the way - does anyone know about Paul Smith Limited Edition Minis?

I doubt my car was one - if it is there is nothing left of it - other than maybe the lime green rocker cover.

see http://atsearch.auto...200928337747249

I have a Paul Smith label on the back window, wondered what it was there for, thought about scrapping it off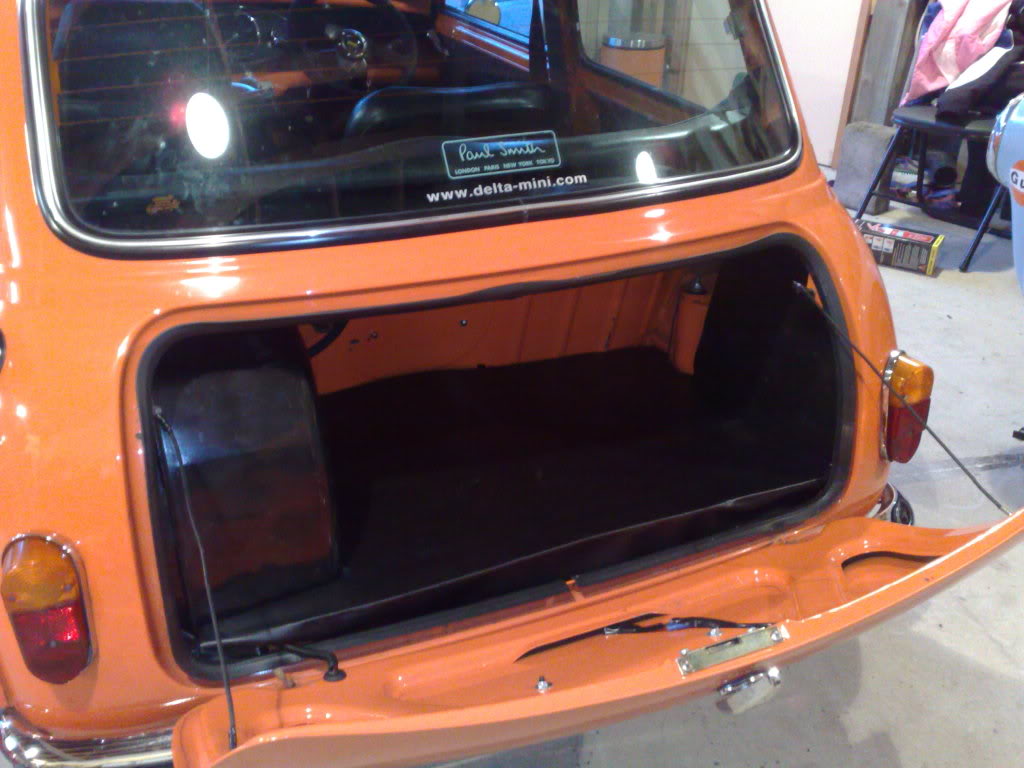 Looks the same as on this car for sale
http://www.itsamini....k/PaulSmith.htm

If it was one of these -it is very rare. I am only missing the glovebox, badges, seats, denim toolkit,......... etc, but I do have the window sticker and green rocker cover!

They even have their own register http://www.paulsmithmini.co.uk/